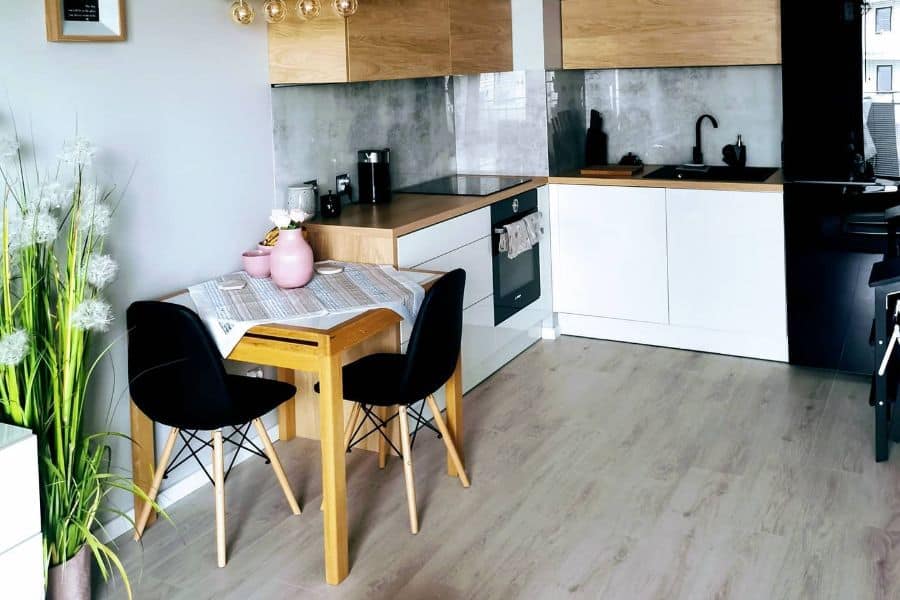 The Top 65 Kitchen Flooring Ideas
by — Andra DelMonico

Published on July 19, 2021

Updated on October 20, 2023
"I always had a fantasy of being a chef, because I like kitchen life." – Geoffrey Rush
Updating your kitchen is one of the best ways to upgrade your home and increase its value. While many people focus on the appliances, lighting, walls, and cabinets, there's one area that can make an even bigger impact.
Changing the flooring in your kitchen transforms the entire look and feel of the space.
Kitchen flooring ideas embrace almost all types of flooring. However, that doesn't mean they are all the best options.
The flooring you choose needs to look great, be within your budget, and be durable enough to last. Consider these ideas for the new floor in your kitchen.
1. Discover the Elegance of Herringbone Flooring
Herringbone flooring adds an immediate touch of elegance to any kitchen, elevating it from ordinary to captivating. This zigzag pattern works exceptionally well with materials like hardwood, ceramic tiles, or luxury vinyl planks. To accentuate its sophistication, pair it with minimalistic kitchen decor or soft-toned cabinets. By integrating this design, you not only ensure a stylish kitchen floor but also create a harmonious balance with other interior elements.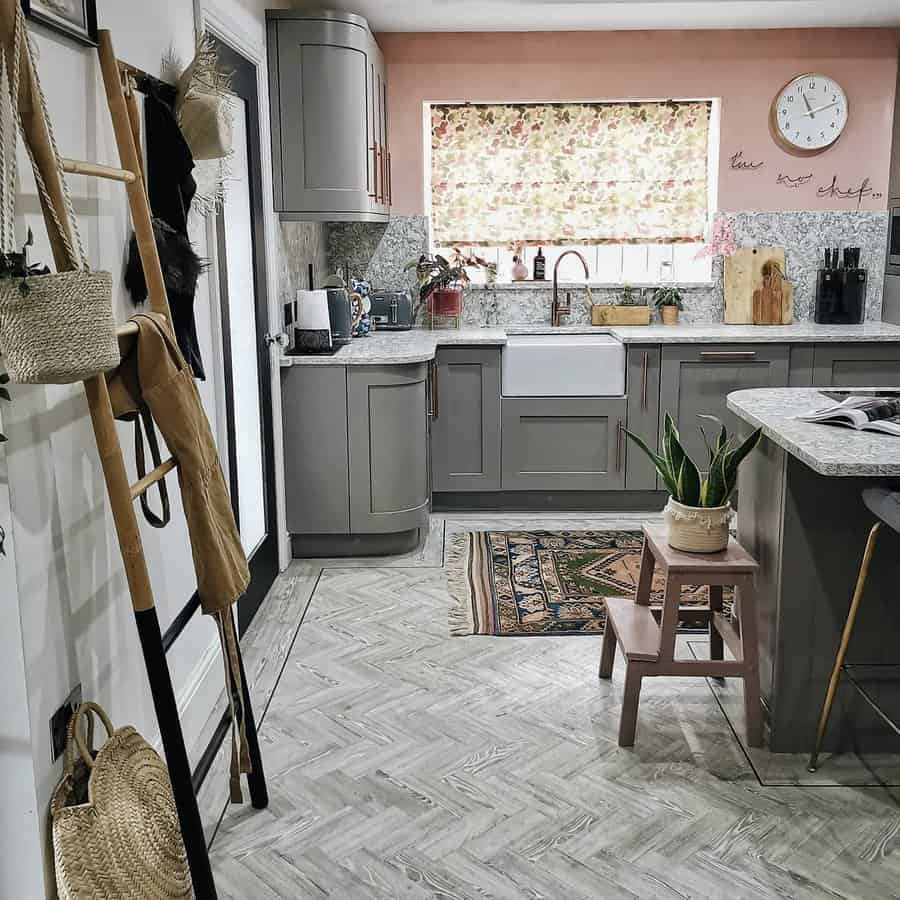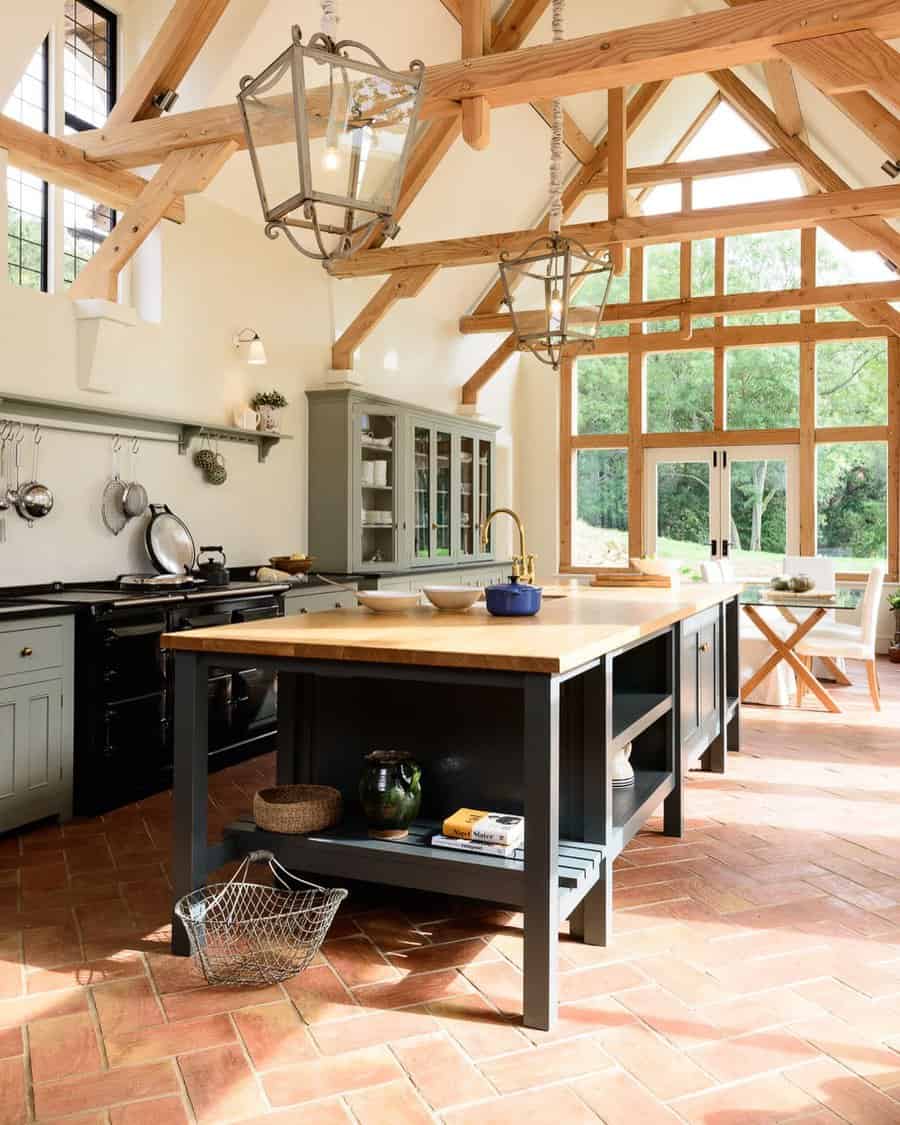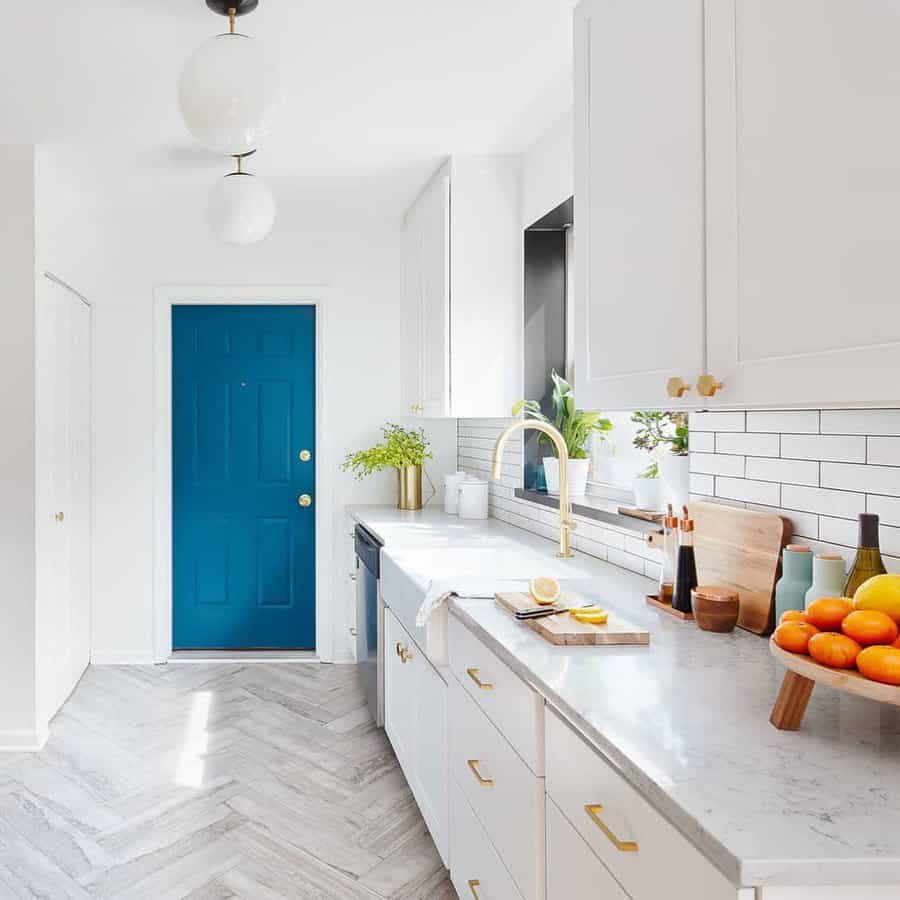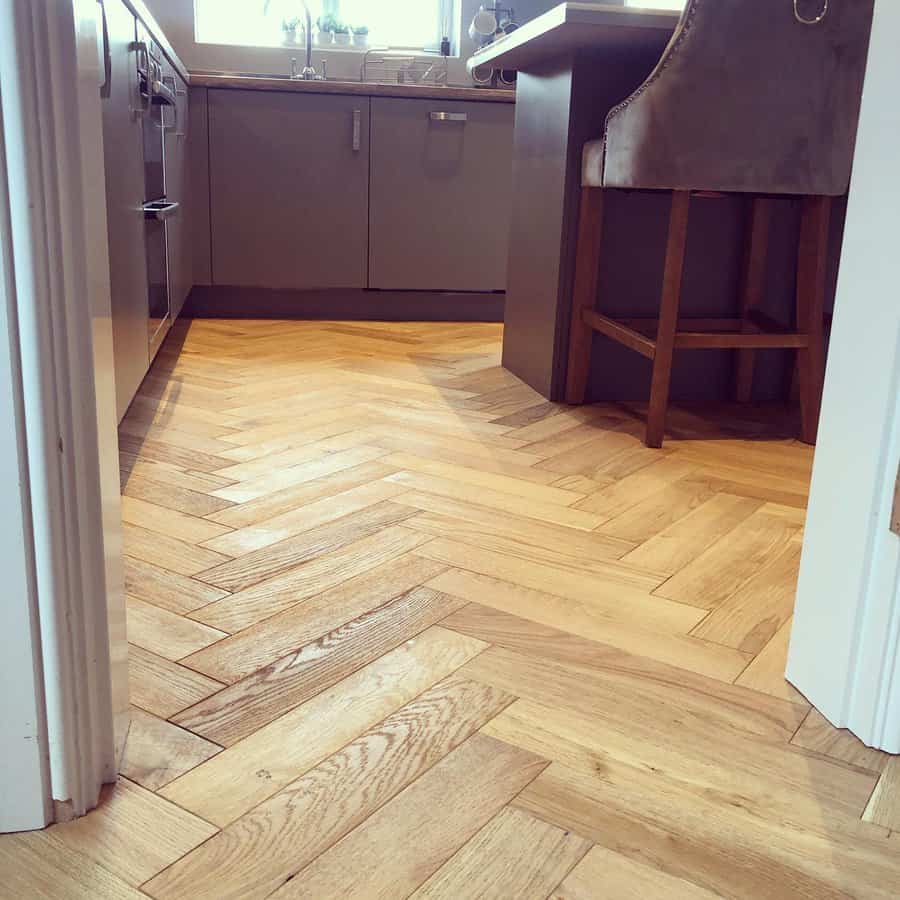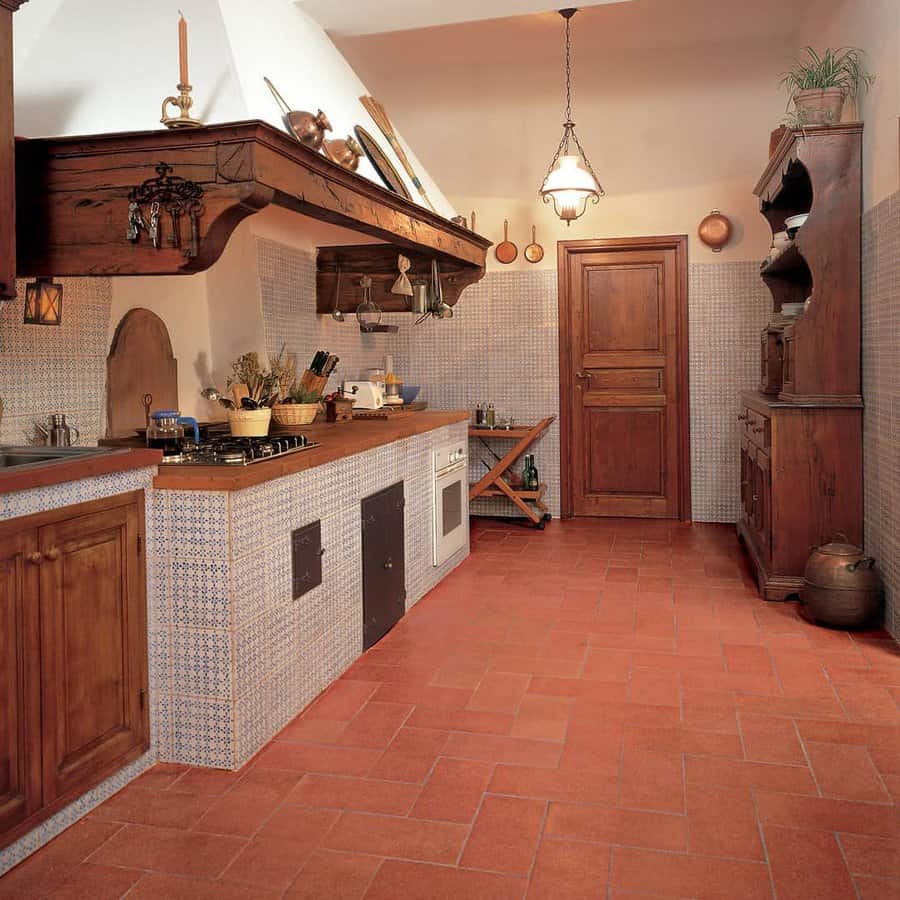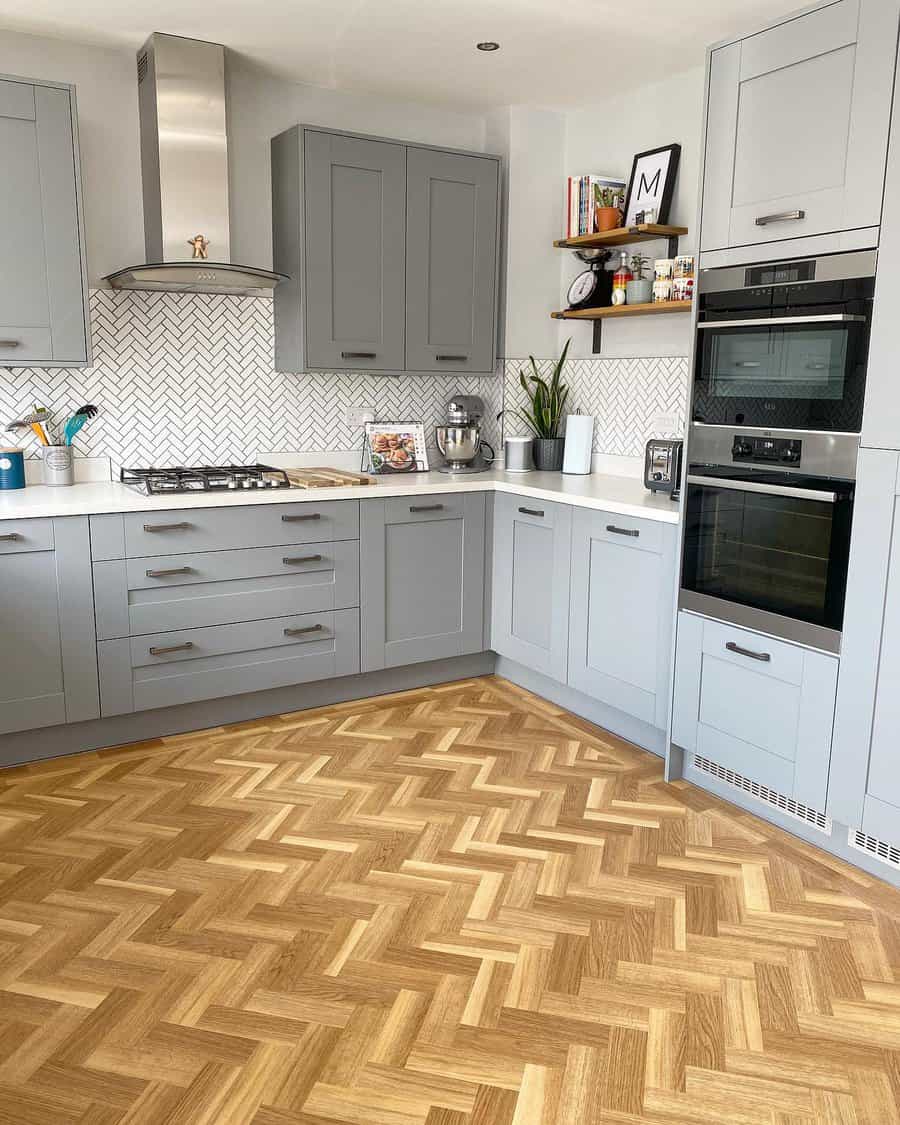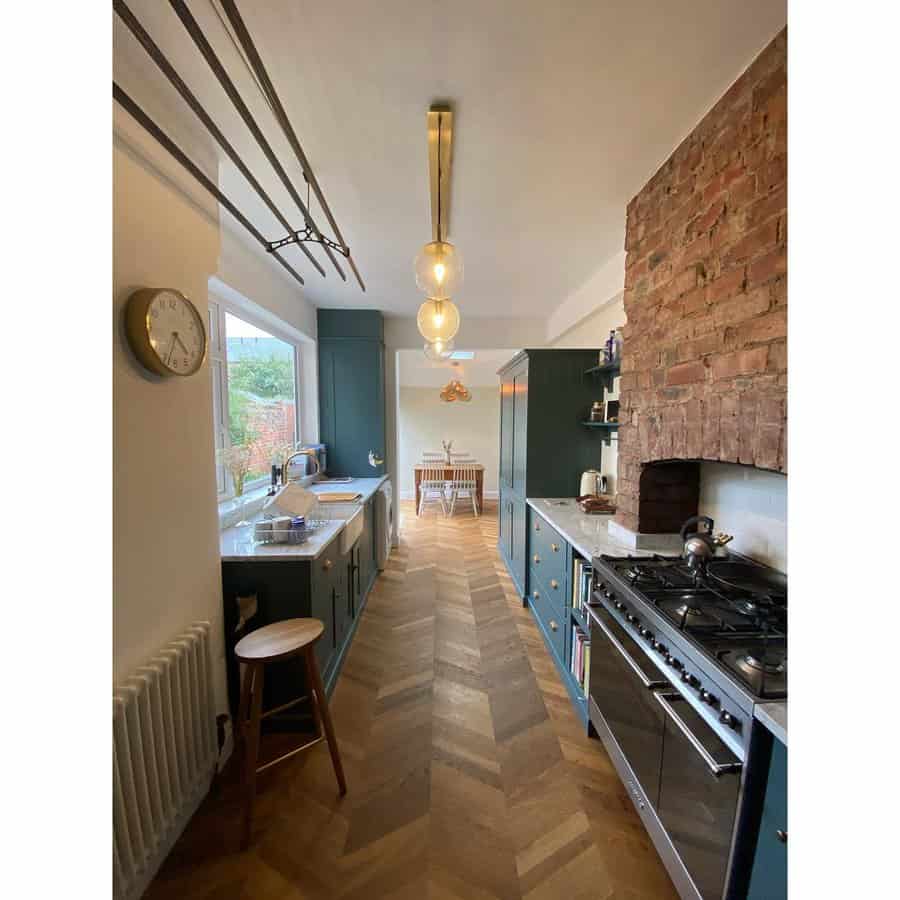 2. Embrace the Comfort of Luxury Vinyl Tile
Luxury Vinyl Tile (LVT) offers the allure of premium materials such as hardwood or marble without the accompanying maintenance or expense. Its extensive range of patterns and textures allows you to tailor your kitchen flooring to your specific style. For a cohesive look, consider pairing LVT with matching countertops or cabinetry. Besides its aesthetic charm, LVT's durability and water resistance make it a practical choice for bustling kitchens, ensuring longevity even in the face of spills and foot traffic.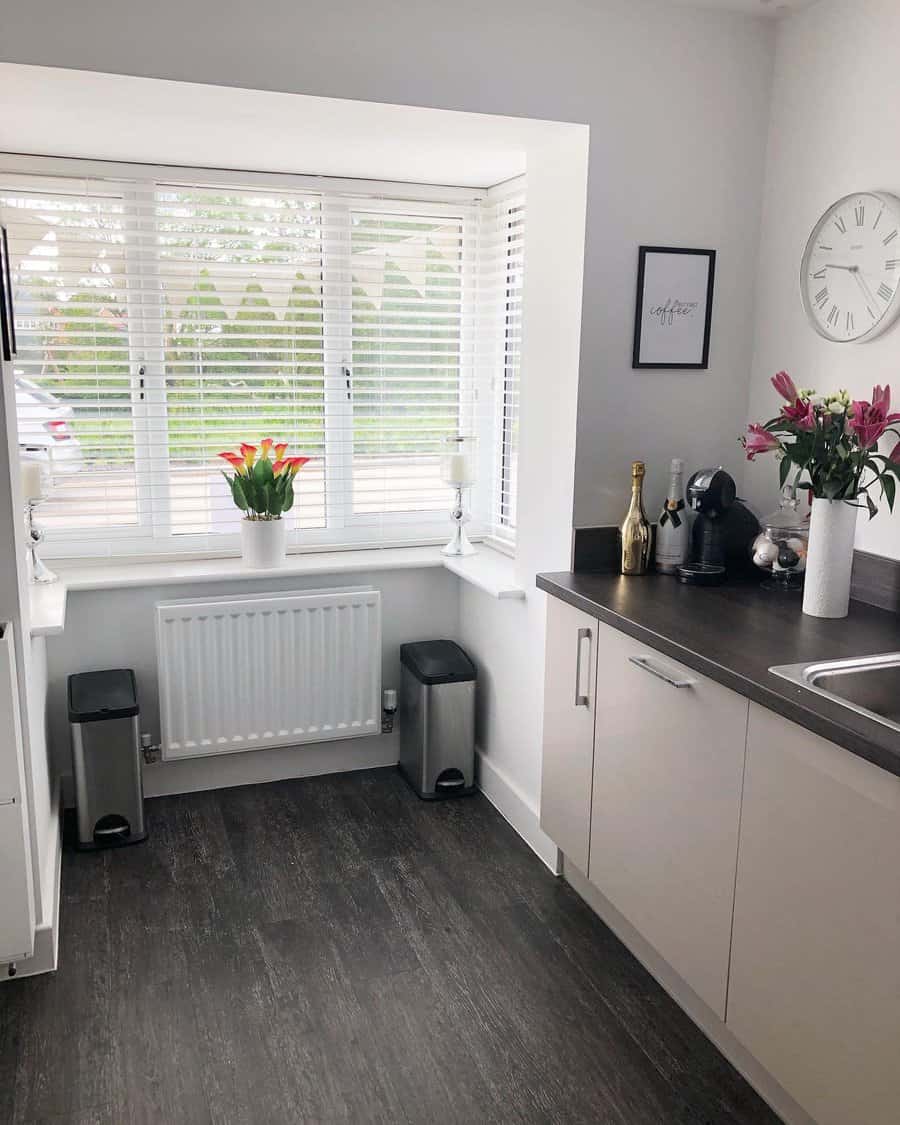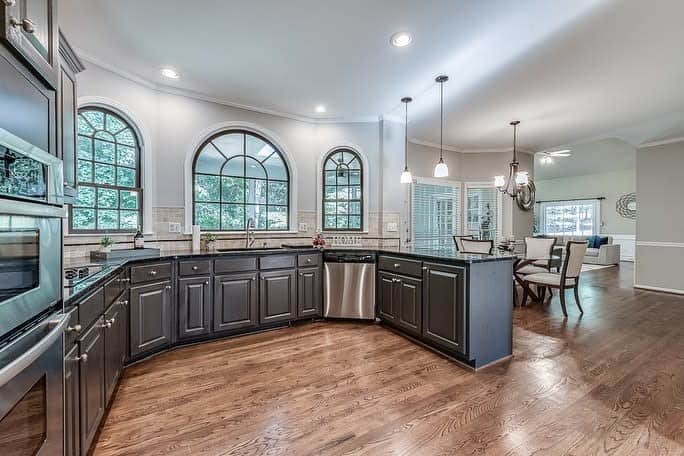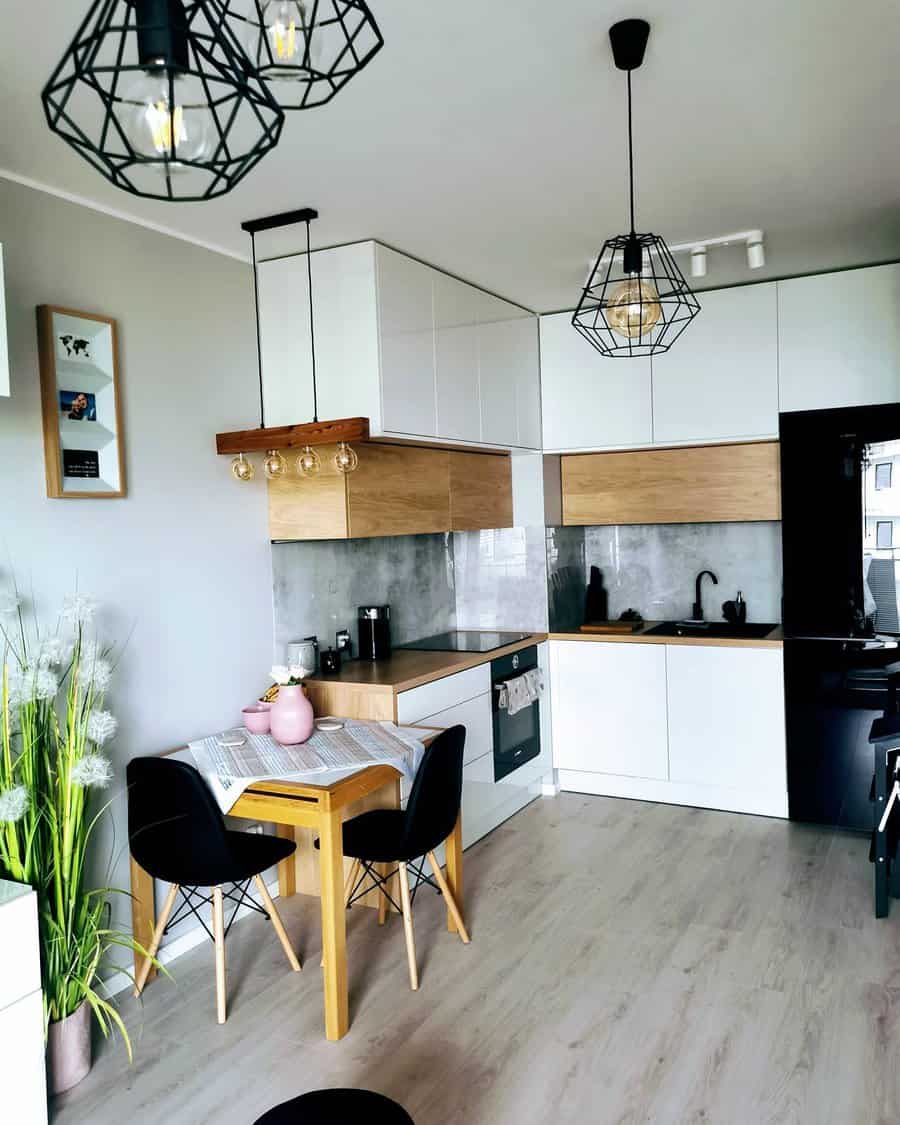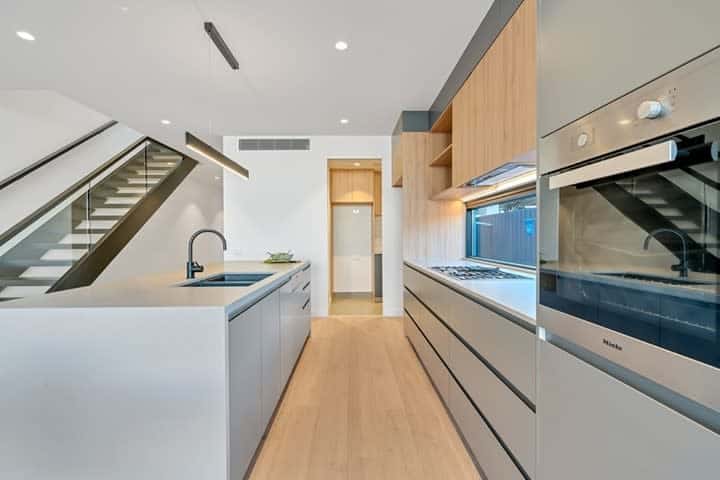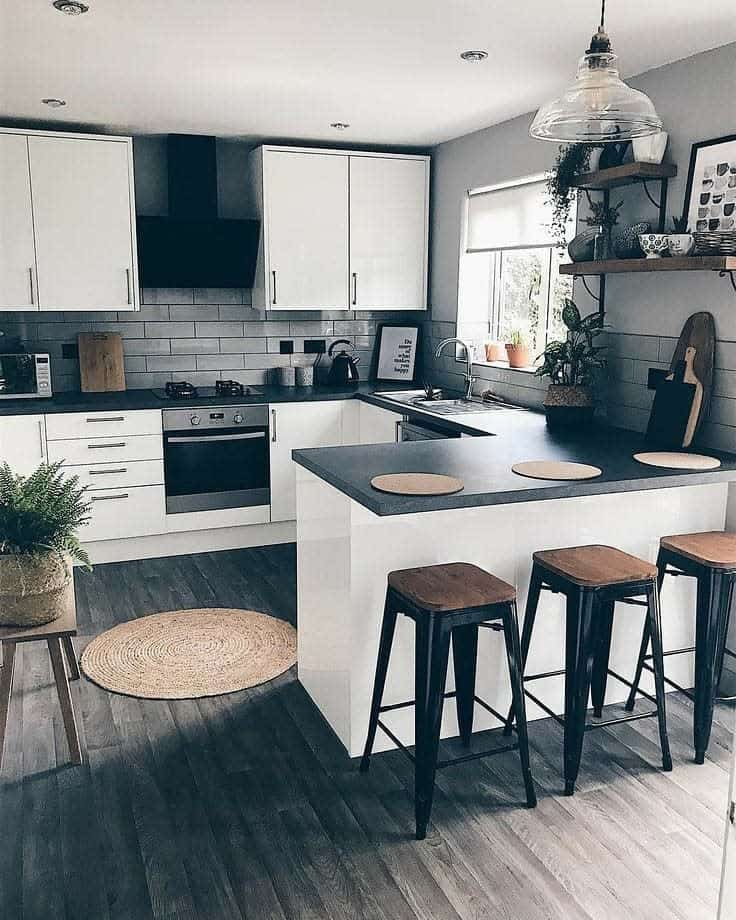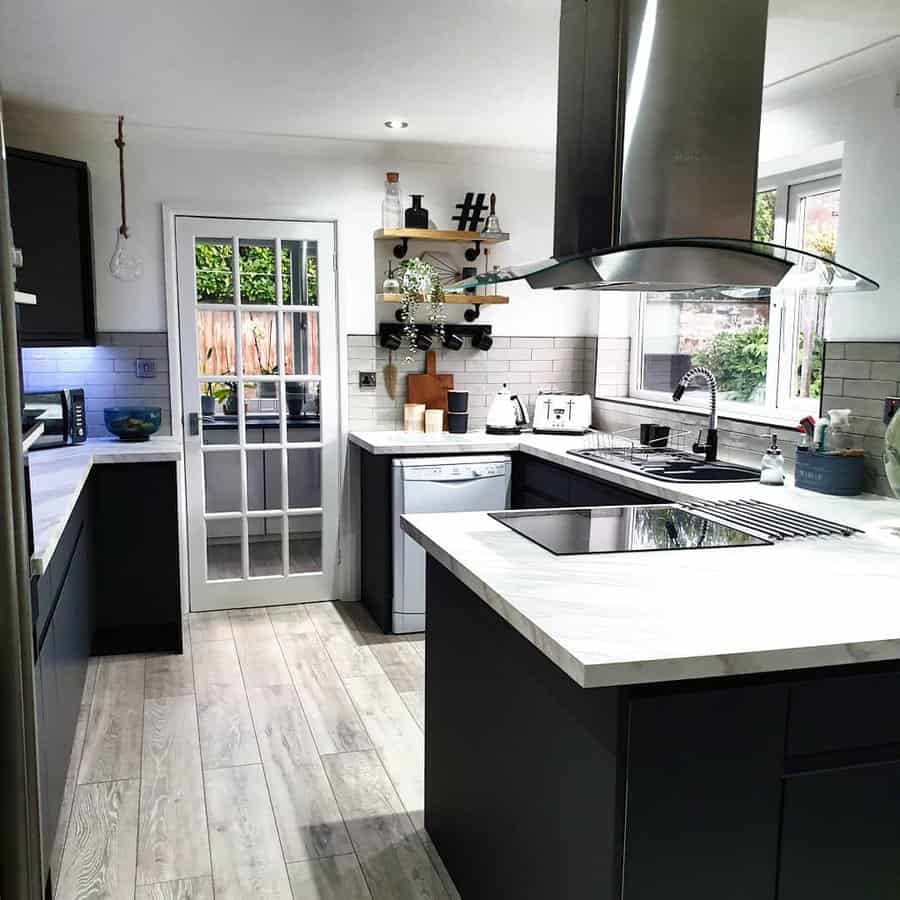 3. Dive into Unique Honeycomb Tile Designs
Honeycomb tiles infuse modern sophistication into your kitchen, with their geometric allure creating captivating patterns. Their design offers both visual depth and a tactile surface, ensuring a safe grip in the often-busy kitchen environment. To further enhance their appeal, consider pairing them with contrasting grout or matching cabinetry. Whether you're drawn to classic monochrome or a more audacious color scheme, these tiles seamlessly fit any kitchen aesthetic while ensuring durability and safety.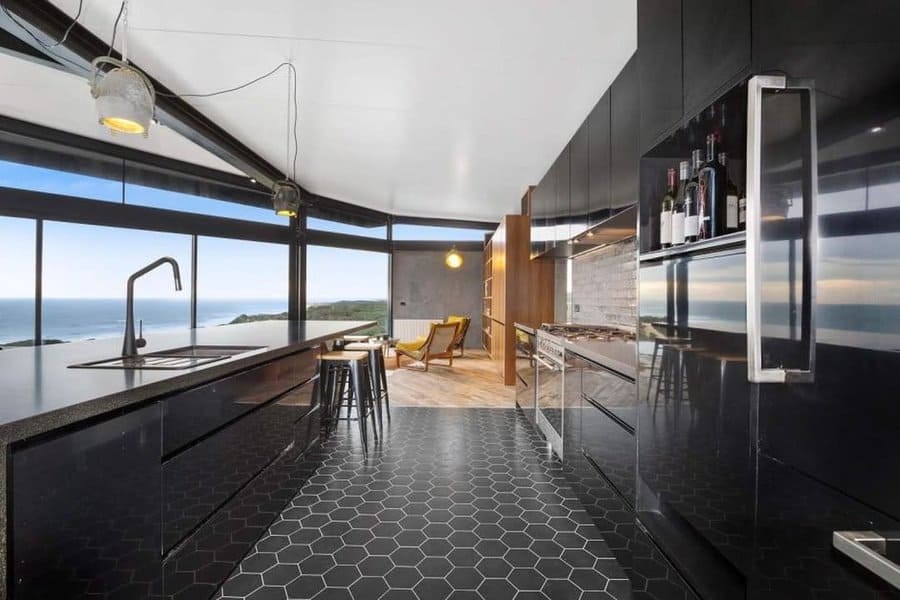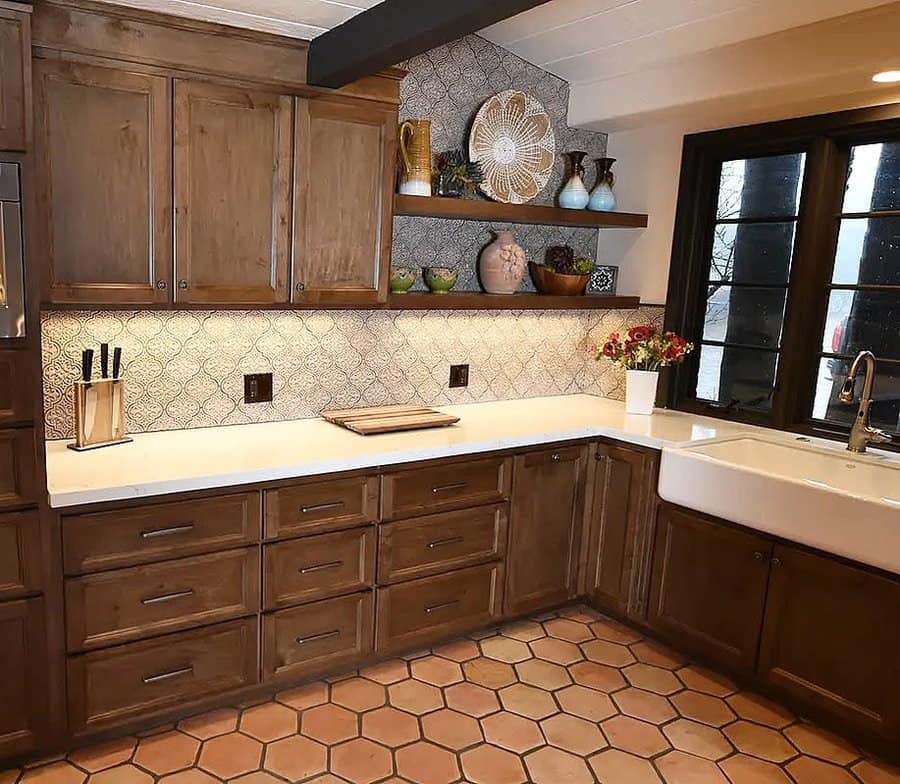 4. Experience the Timelessness of Stone Tile
Whether you opt for sleek and polished marble or rustic and textured slate, stone tile flooring adds a sense of luxury and charm to any kitchen. The unique patterns and variations found in the natural stone create a captivating visual interest, making each floor truly one-of-a-kind.
Not only does stone tile flooring offer remarkable durability, but it also withstands the demands of a busy kitchen. Its resistant nature makes it an ideal choice for areas prone to spills, stains, and heavy foot traffic. Whether you're a culinary enthusiast or a design connoisseur, stone tile flooring is a fantastic investment that will stand the test of time.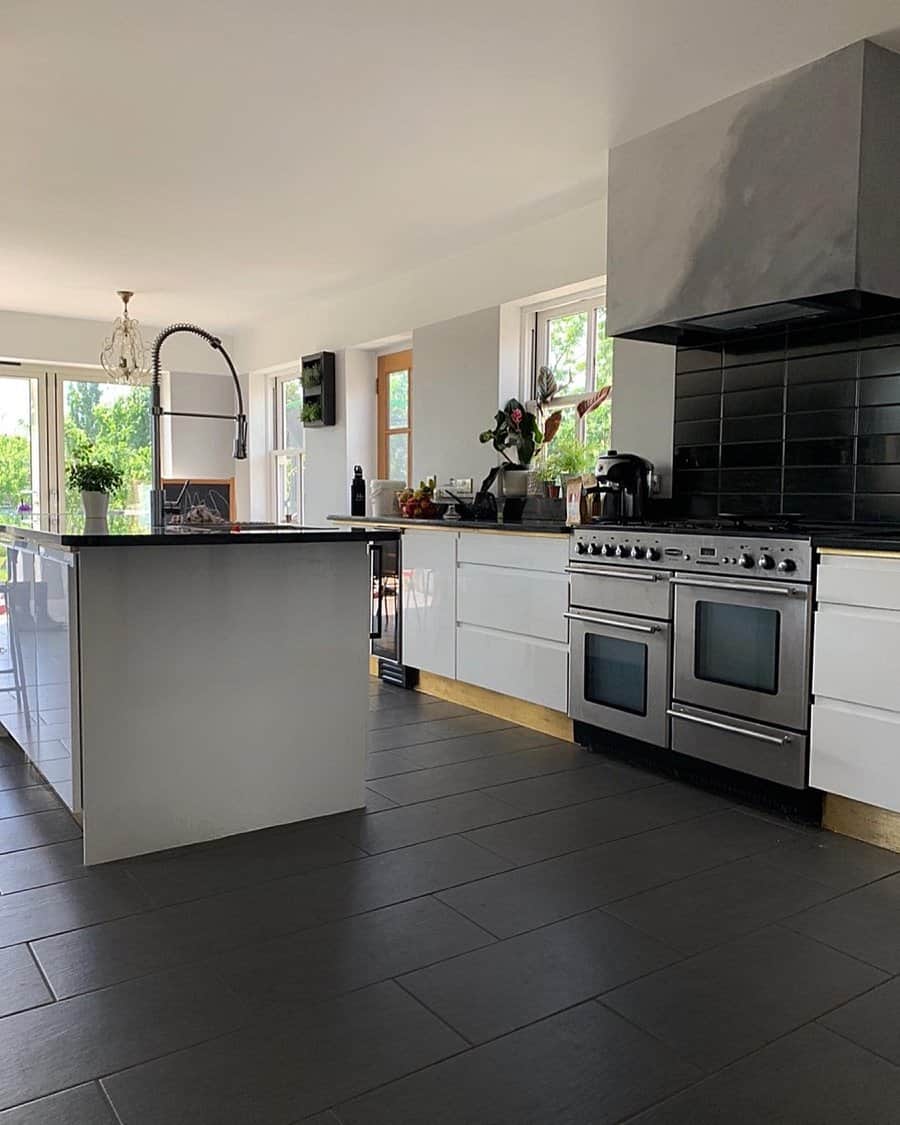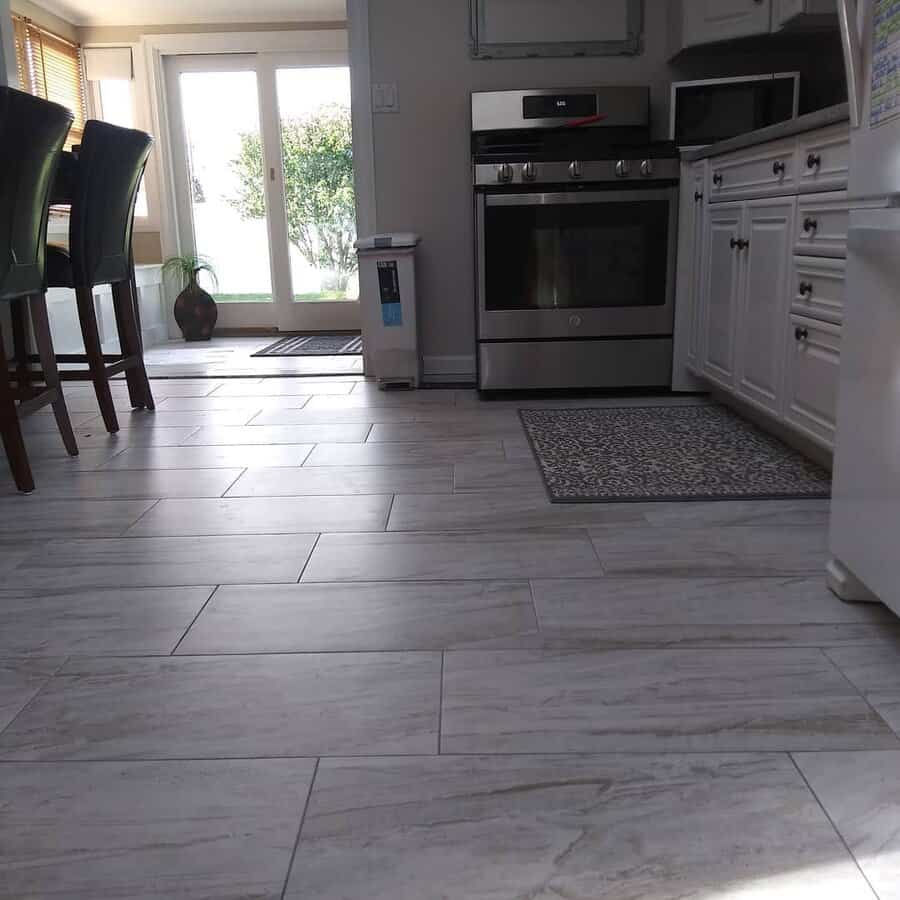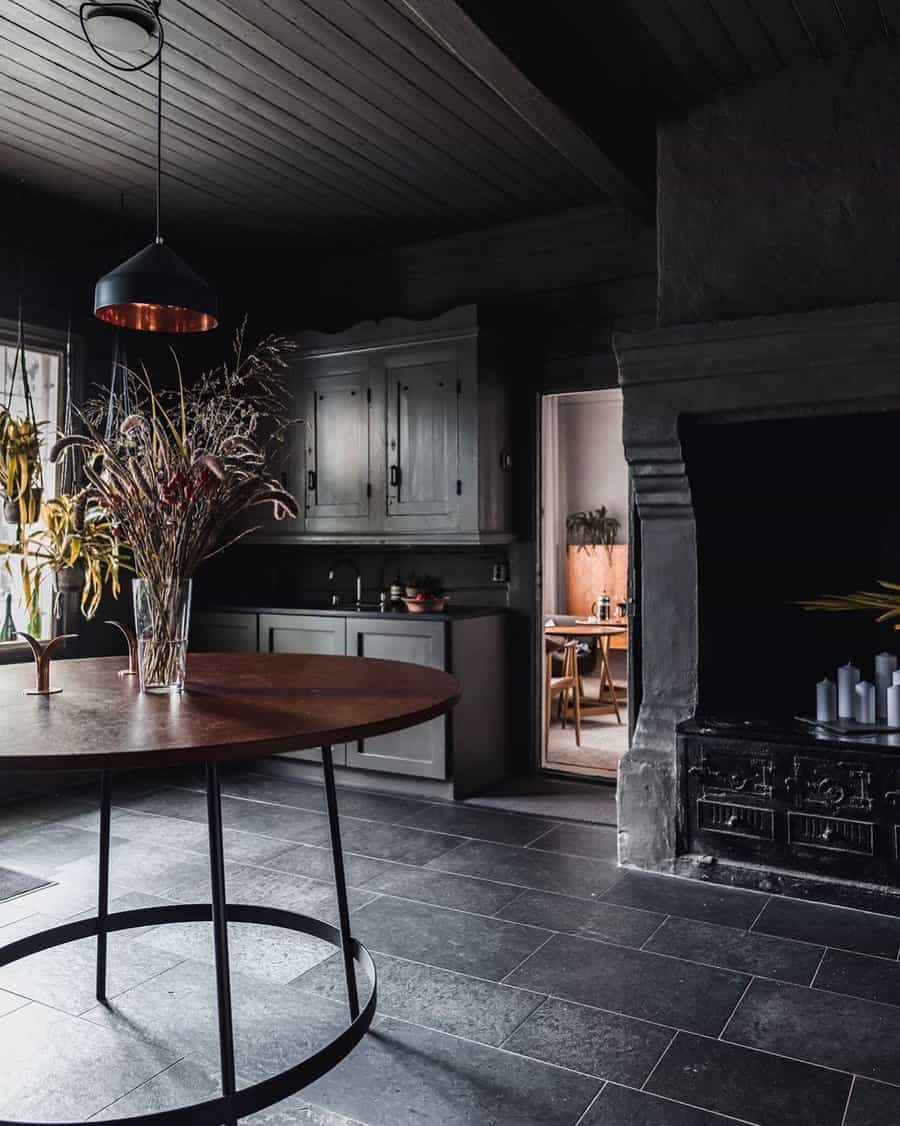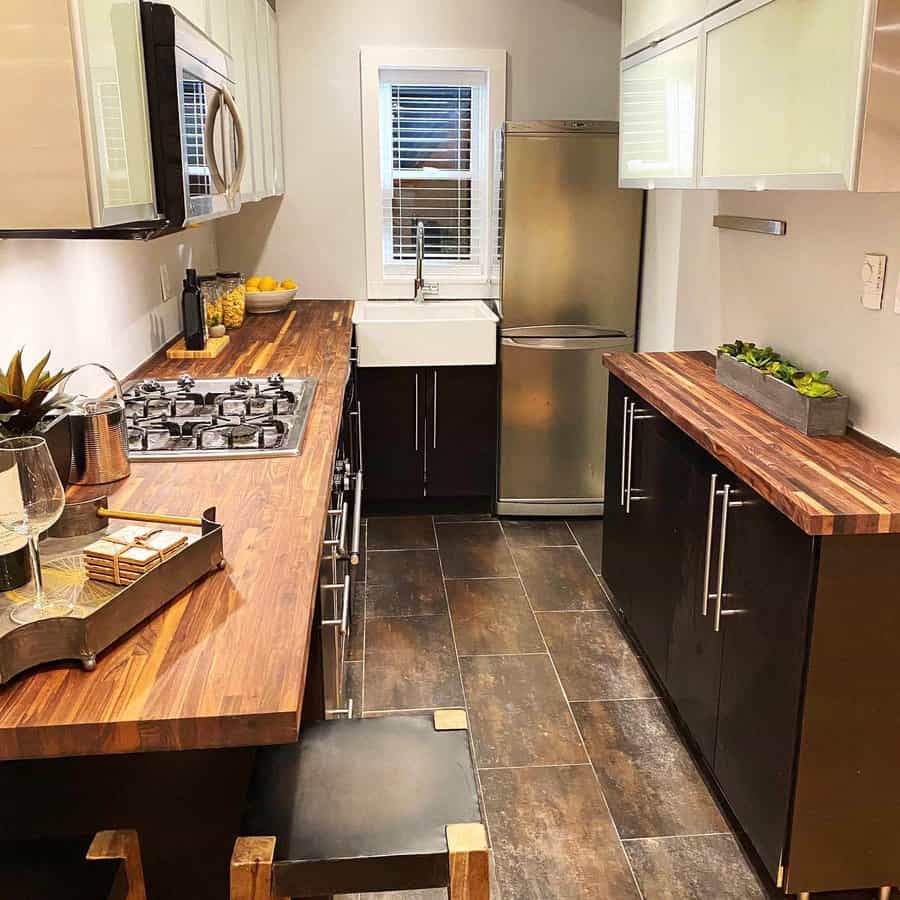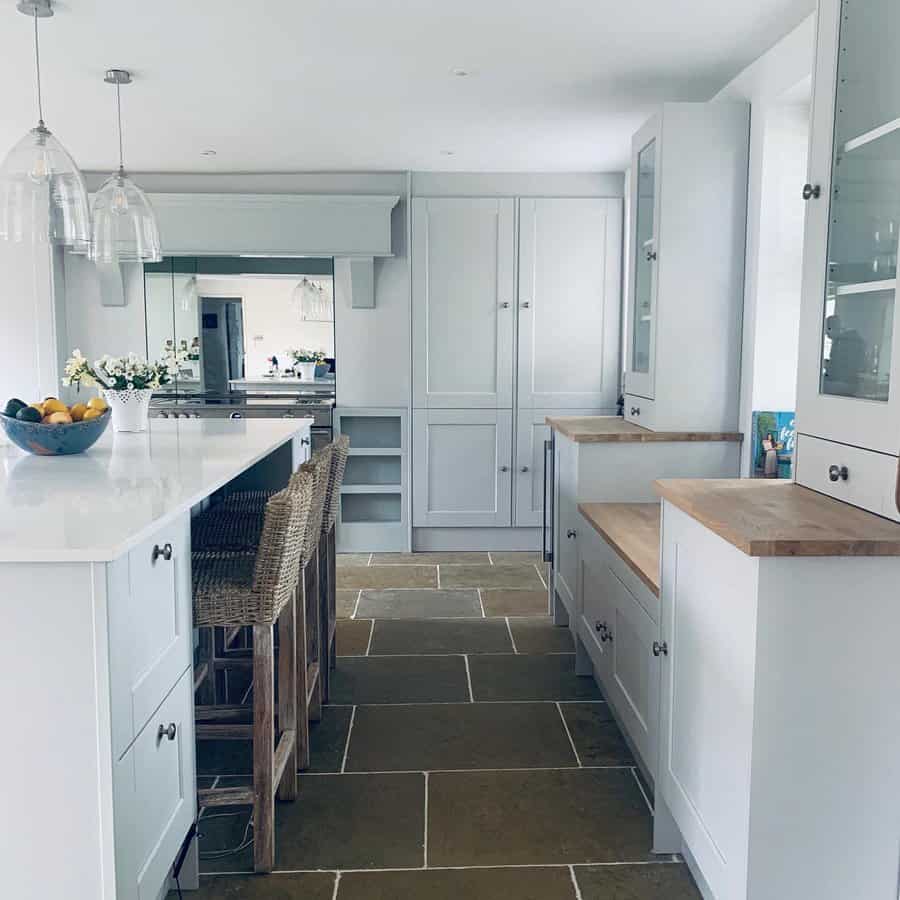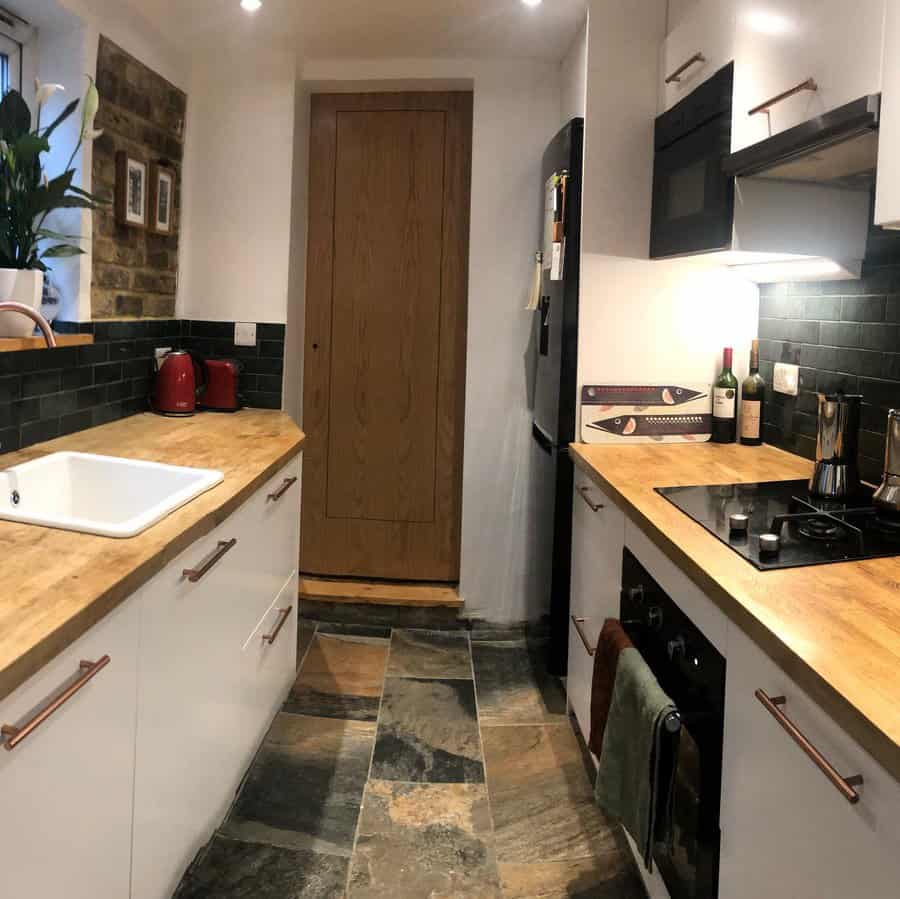 5. Relish the Classic Look of Checkered Tile
Black and white checkered tile flooring seamlessly introduces a touch of retro elegance to your kitchen. Its bold contrast becomes an instant focal point, suiting a range of styles from modern to farmhouse. To heighten its impact, pair the flooring with white cabinetry or introduce colorful accents for added flair. This iconic pattern not only elevates the room's aesthetics but also resonates with timeless charm, making your kitchen both nostalgic and undeniably stylish.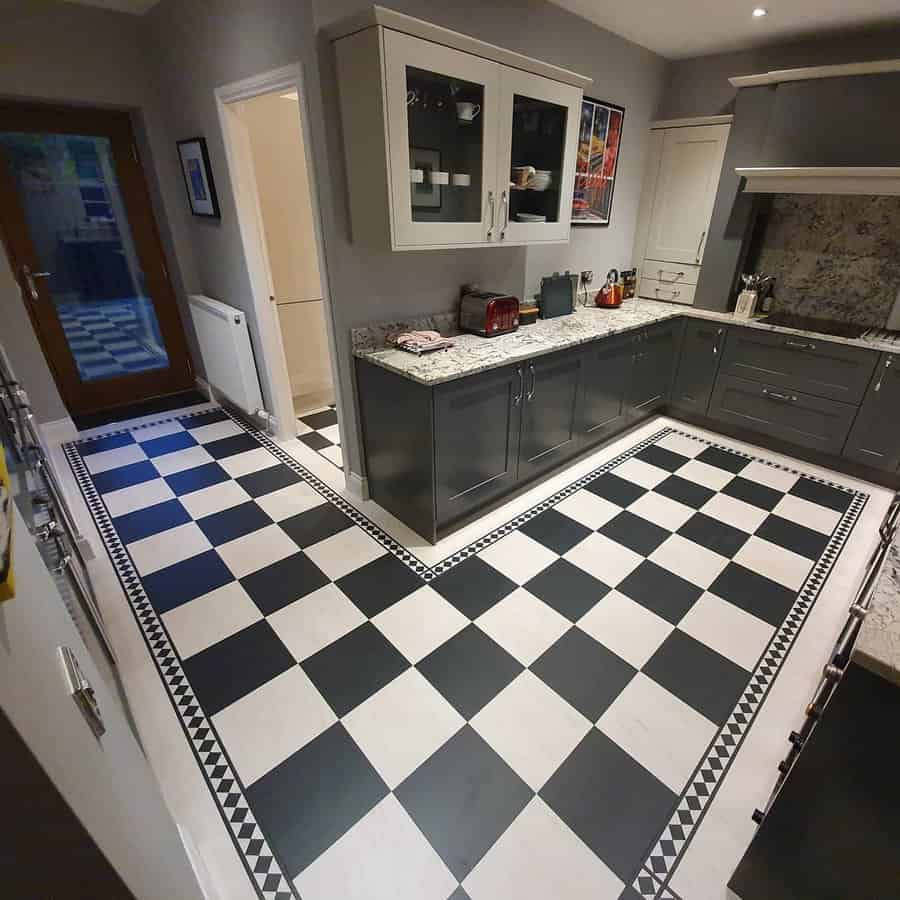 6. Enjoy the Modern Vibe of Polished Concrete
Polished concrete tile flooring elevates kitchens with a blend of modern aesthetics and enduring practicality. Its reflective finish amplifies light, creating a spacious ambiance, while the neutral palette acts as a versatile backdrop for varying decor styles. To accentuate its contemporary feel, consider pairing it with metal accents or colorful kitchenware. Beyond its chic appearance, polished concrete ensures durability, making it a worthwhile investment for the heart of your home.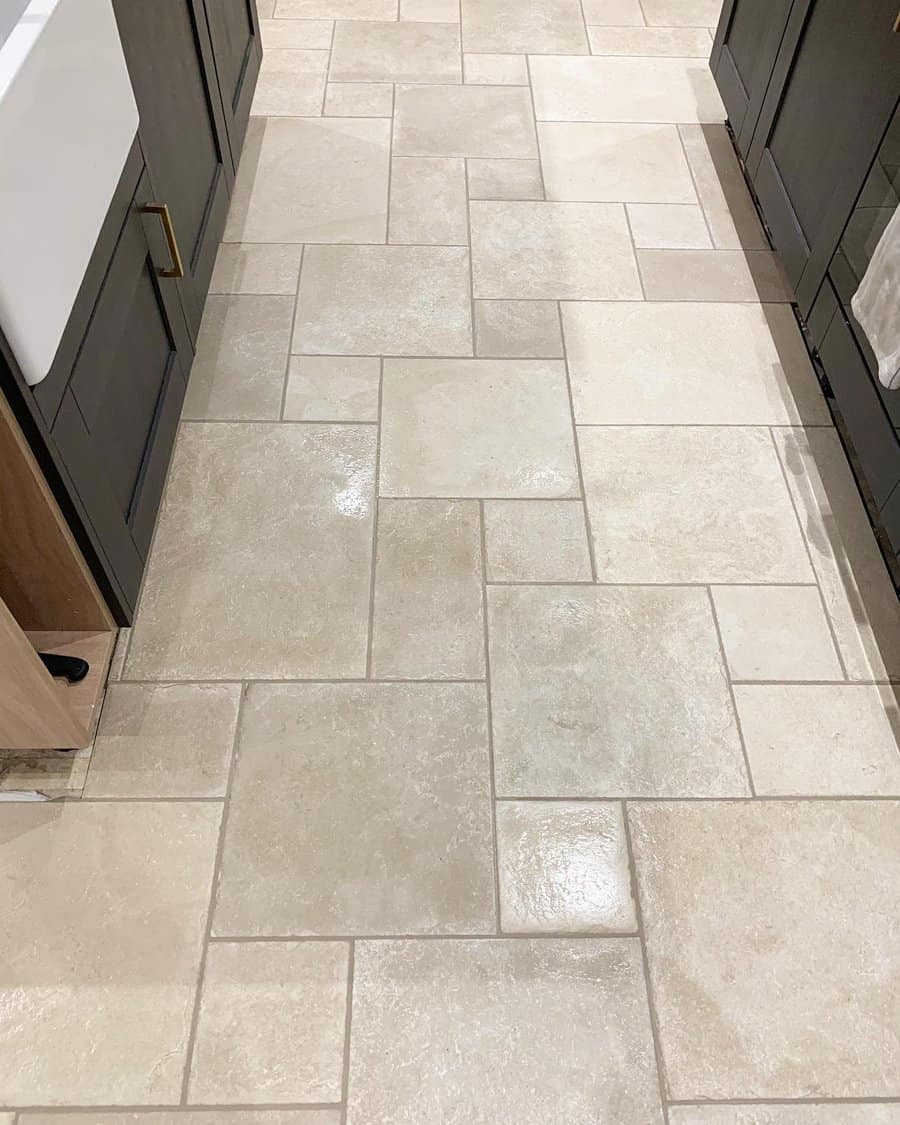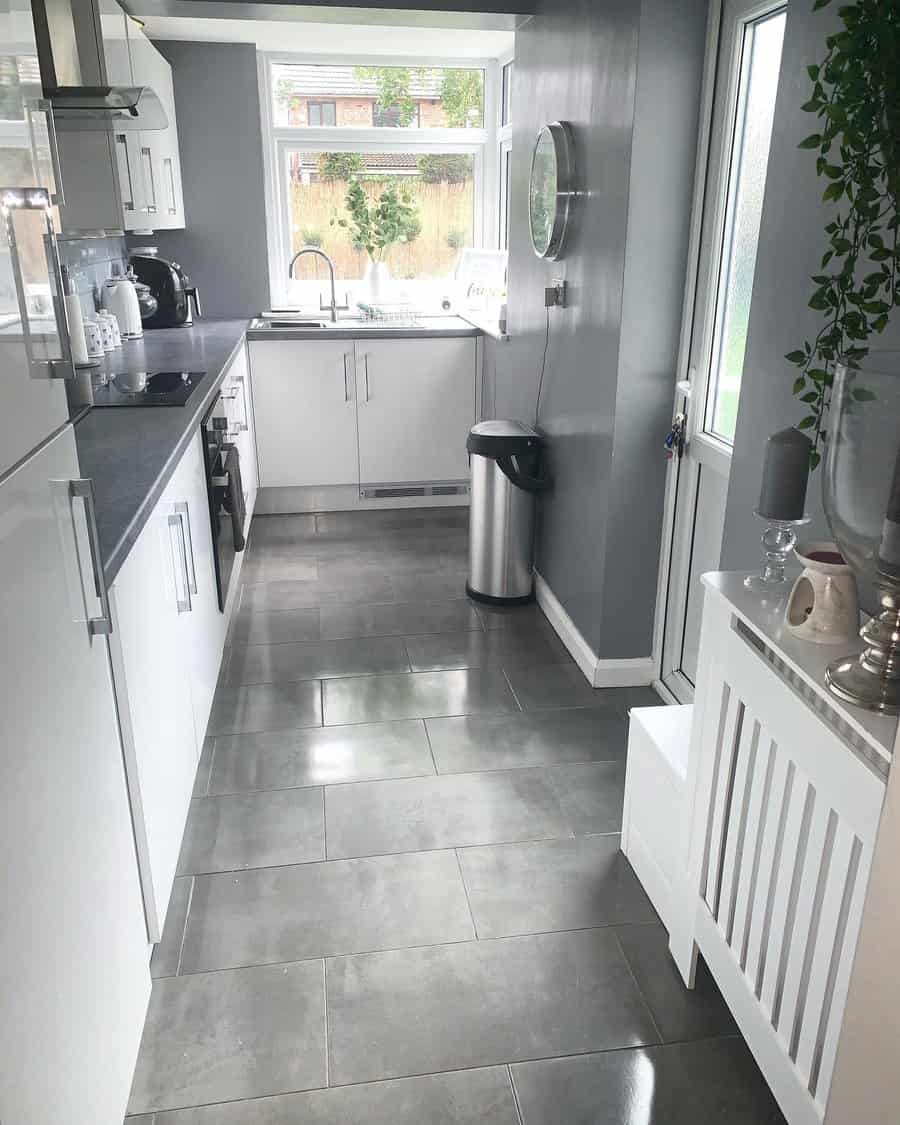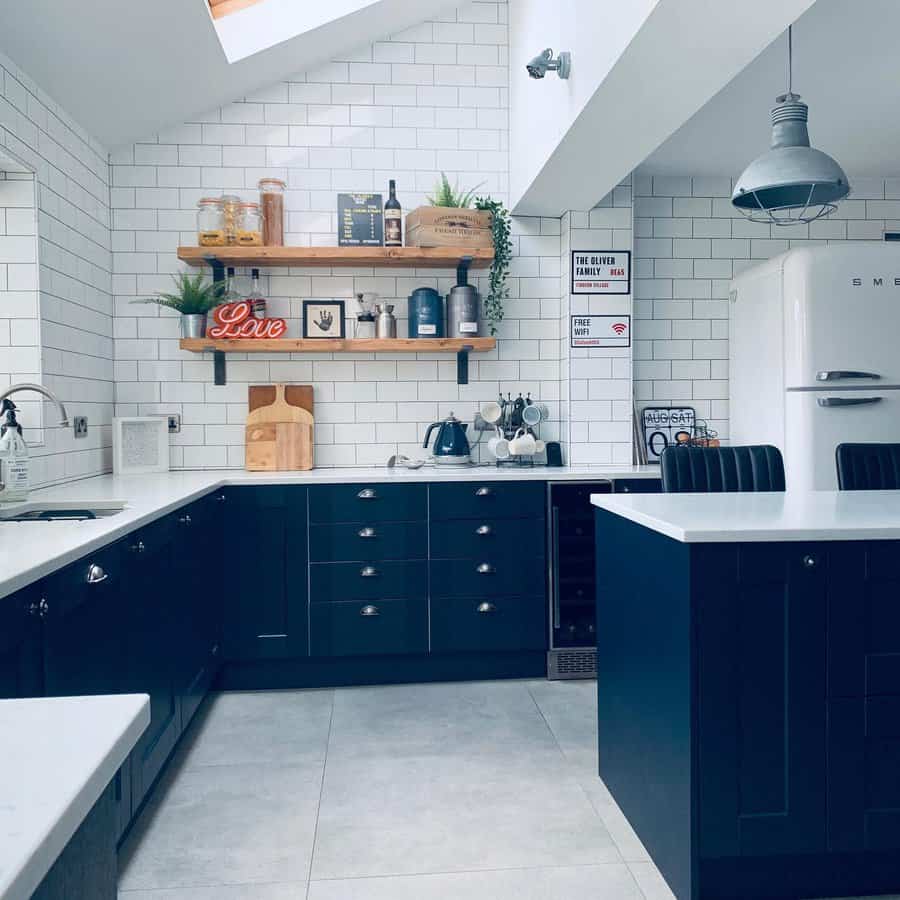 7. Choose the Versatility of Ceramic Tile
White ceramic tile flooring offers a timeless blend of style and function for kitchen spaces. Its pristine shade enhances brightness and imparts an expansive feel. Versatile enough for various decor styles, from contemporary to farmhouse, its easy-to-clean surface is a boon for high-traffic kitchens. To maximize its impact, consider using colored grout or pairing with contrasting cabinetry, ensuring a balance between classic elegance and modern flair.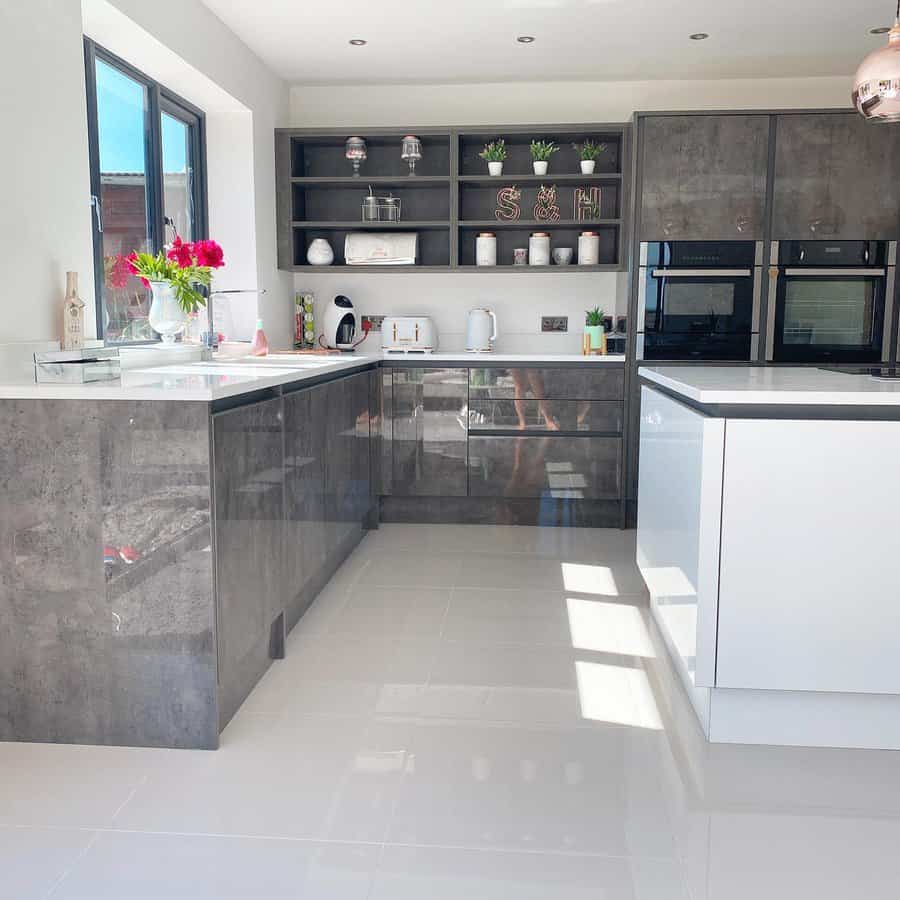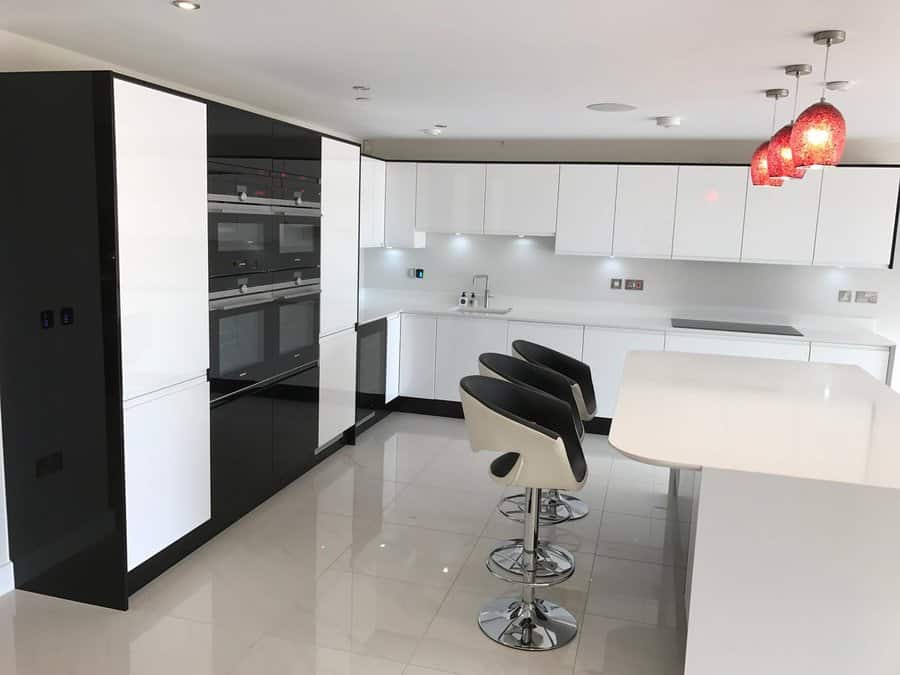 8. Admire the Artistry in Terrazzo Flooring
Terrazzo flooring captivates with its intricate mosaic of marble, quartz, and assorted materials. This artful choice infuses kitchens with vibrant patterns that serve as a stylish centerpiece. For an enhanced design, match terrazzo with minimalist kitchen fixtures to let the floor take center stage. Beyond its visual appeal, terrazzo's resilience to stains, scratches, and moisture ensures it stands up to the rigors of daily kitchen use.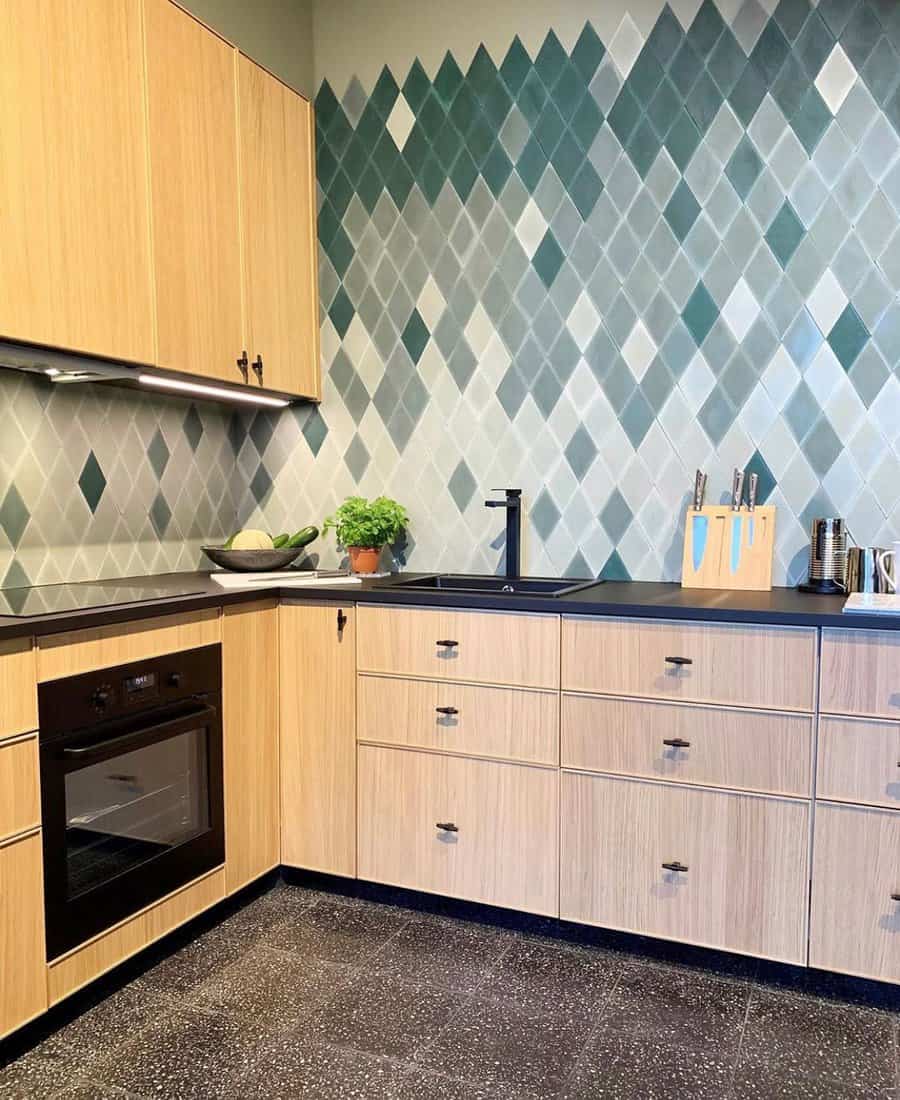 9. Add Flair with Decorative Tile Options
Decorative tile flooring, adorned with patterns like Spanish or geometric designs, turns your kitchen into a visual delight. These tiles, whether vibrant or subdued, act as a dramatic centerpiece, introducing both texture and depth. To optimize its visual impact, juxtapose the detailed tiles with modern cabinetry or merge it with traditional decor for a harmonious blend. In essence, decorative tiles provide an artistic touch, ensuring your kitchen is both functional and a feast for the eyes.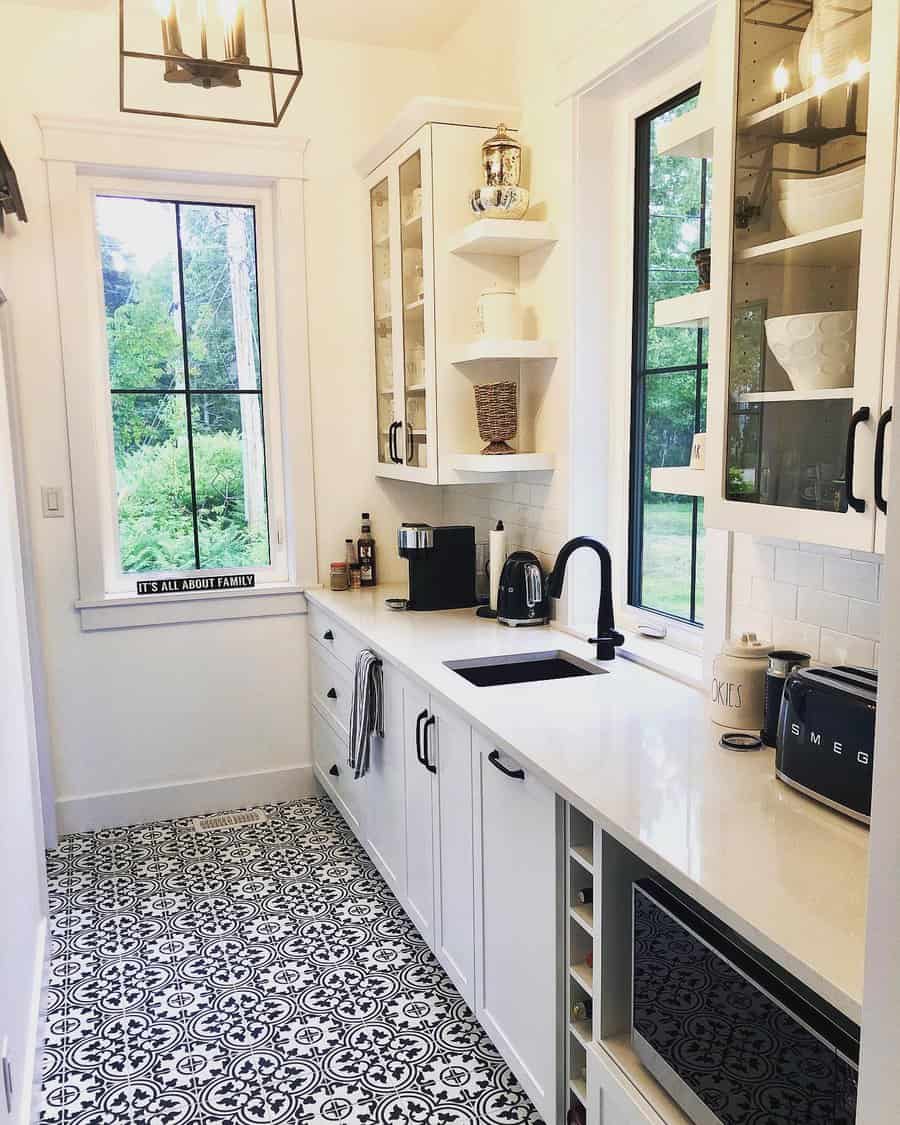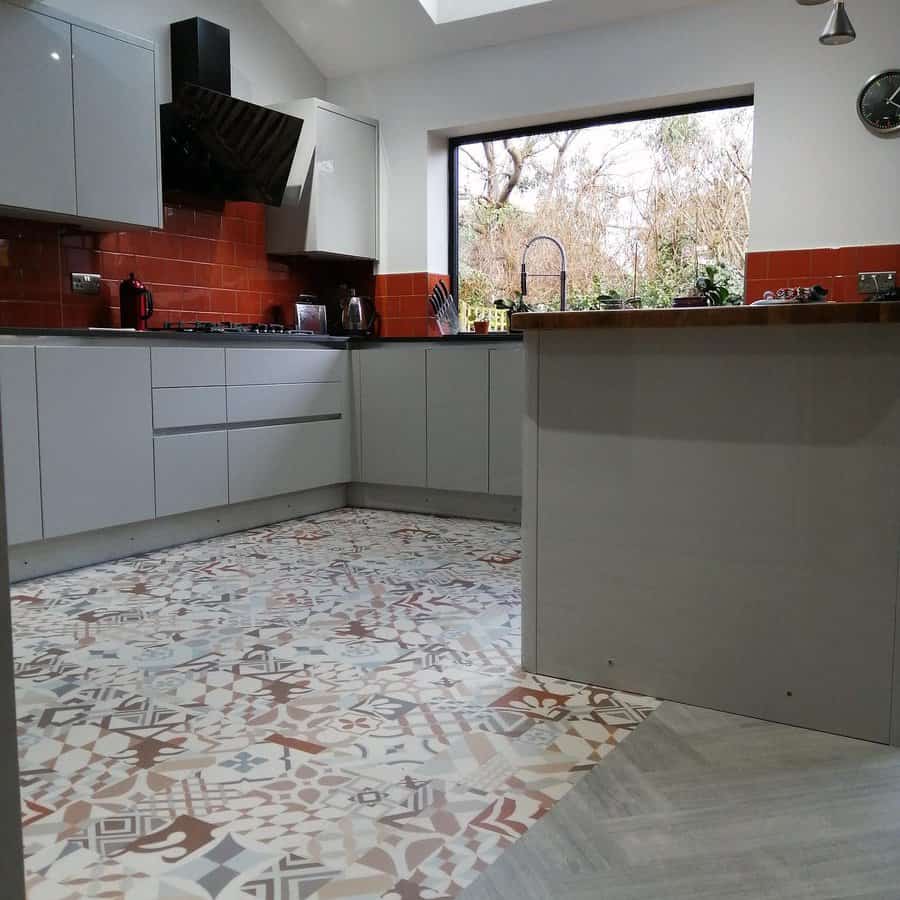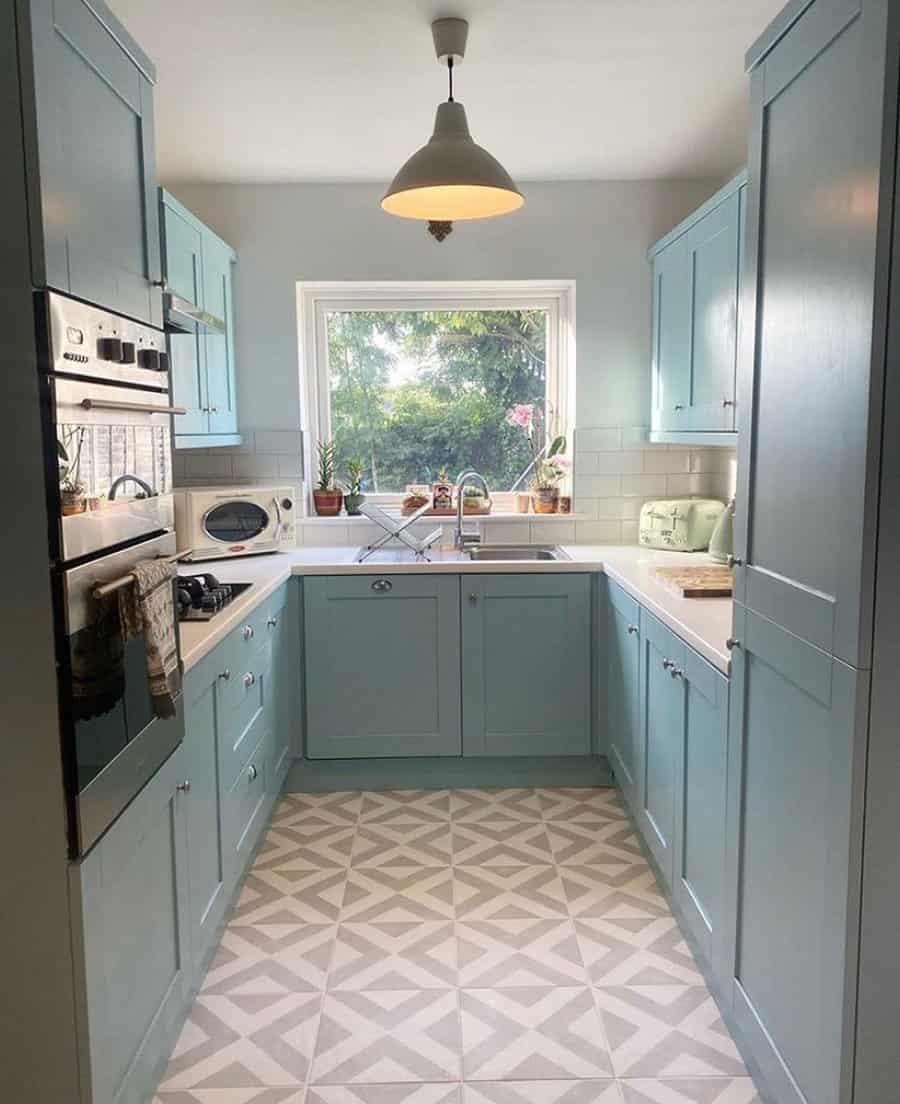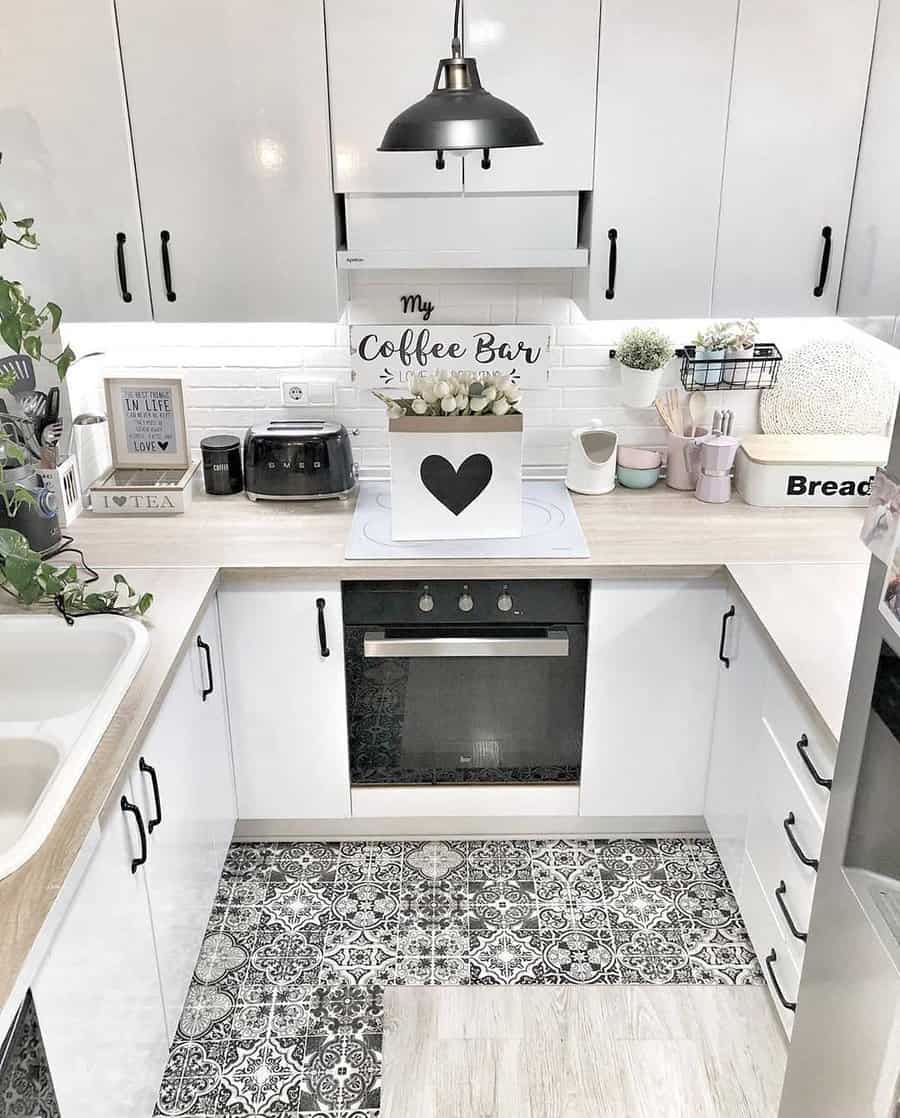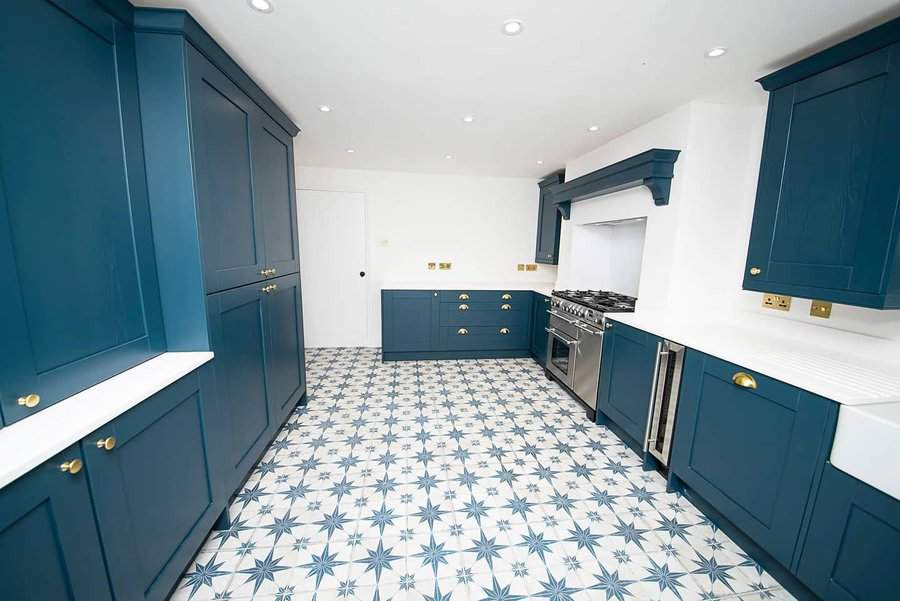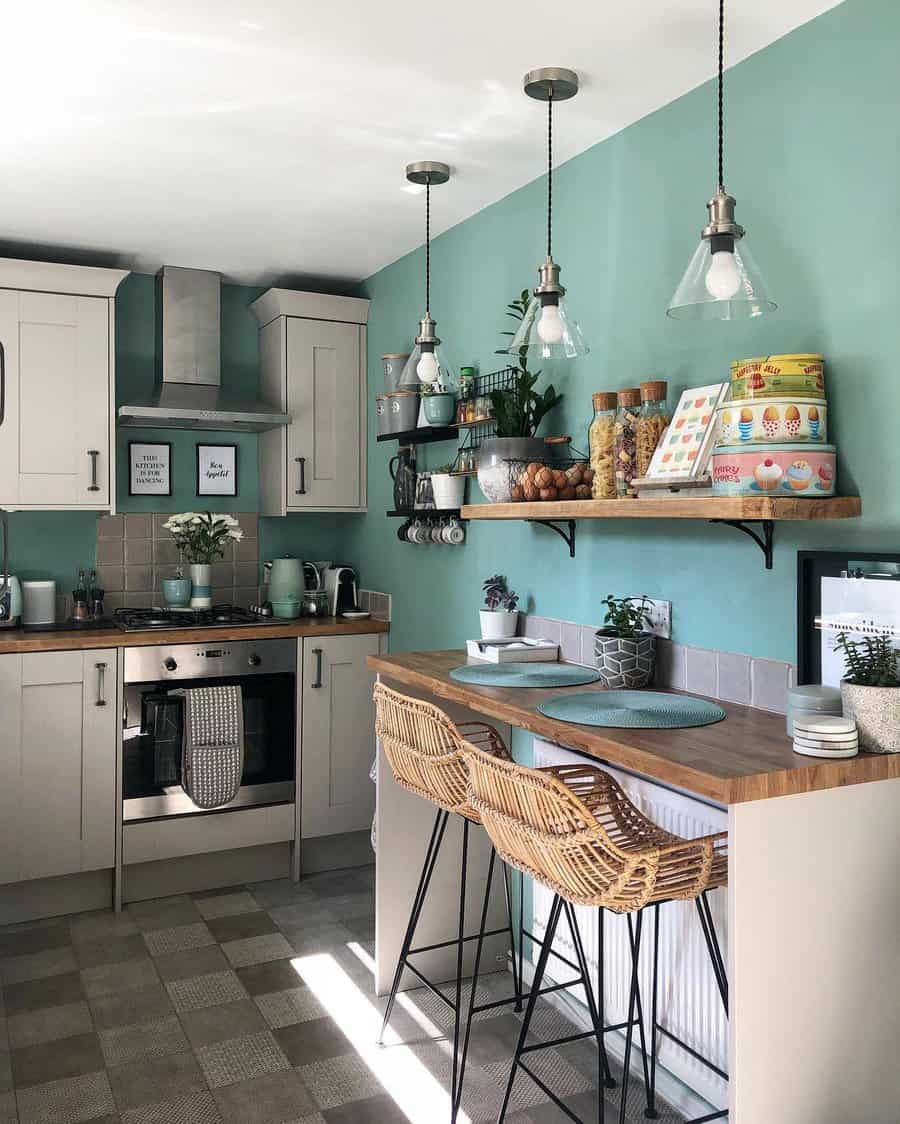 10. Feel the Warmth of Timeless Wooden Floors
Wooden flooring infuses kitchens with warmth and timeless elegance. Whether dark-hued, light-tinted, or white-washed, it offers a versatile base for both modern and traditional styles. The rich wood tones are not only aesthetically pleasing but also durable for bustling kitchens. To amplify its classic beauty, couple wooden floors with contemporary fixtures or rustic details like exposed beams. The natural grain variations ensure each kitchen retains its distinct character and charm.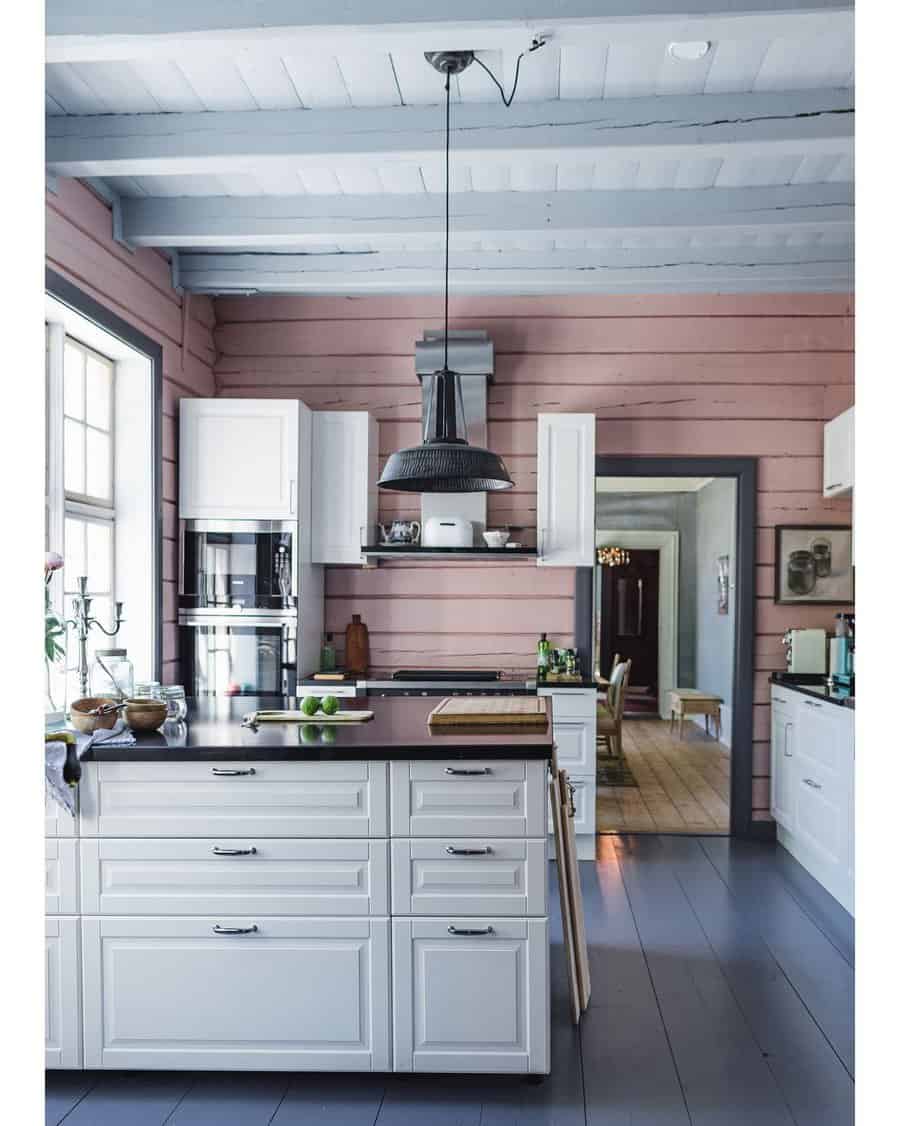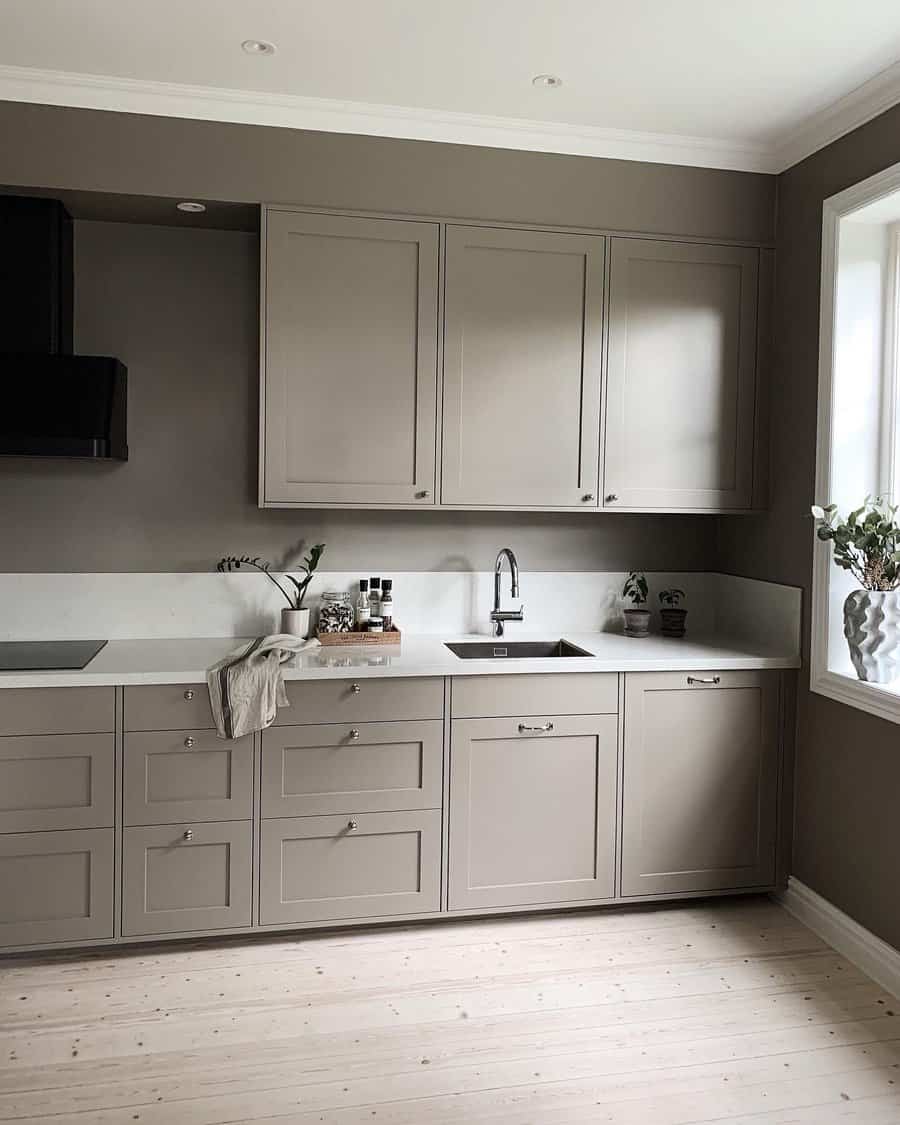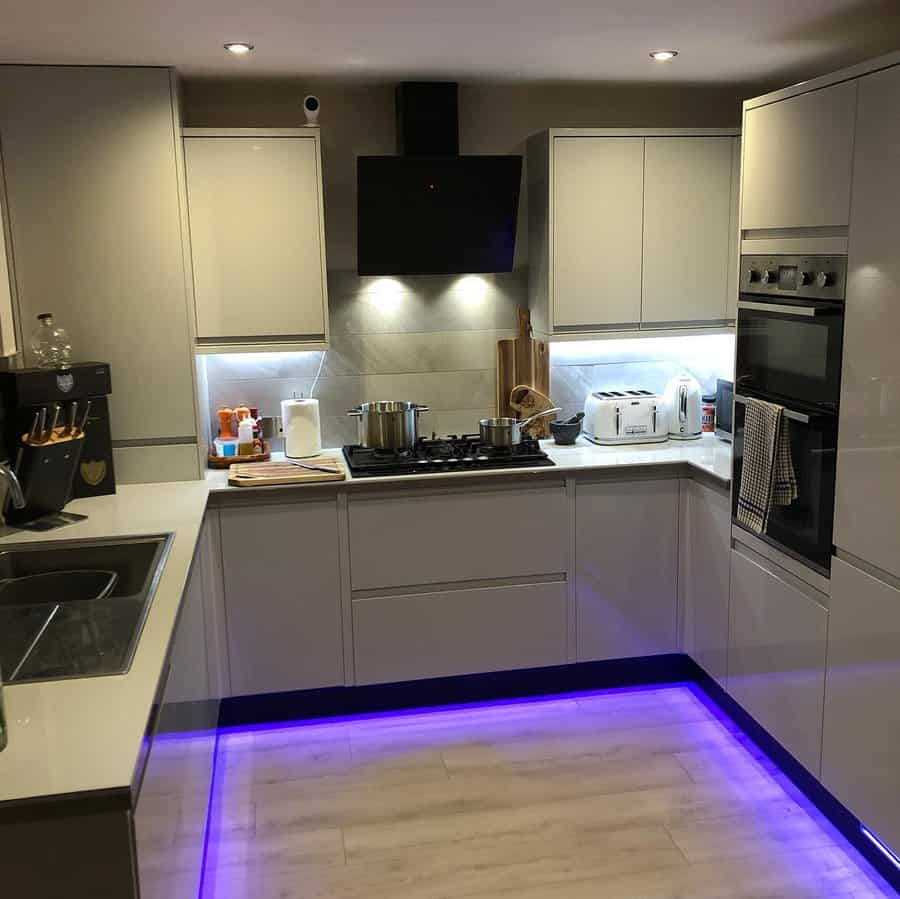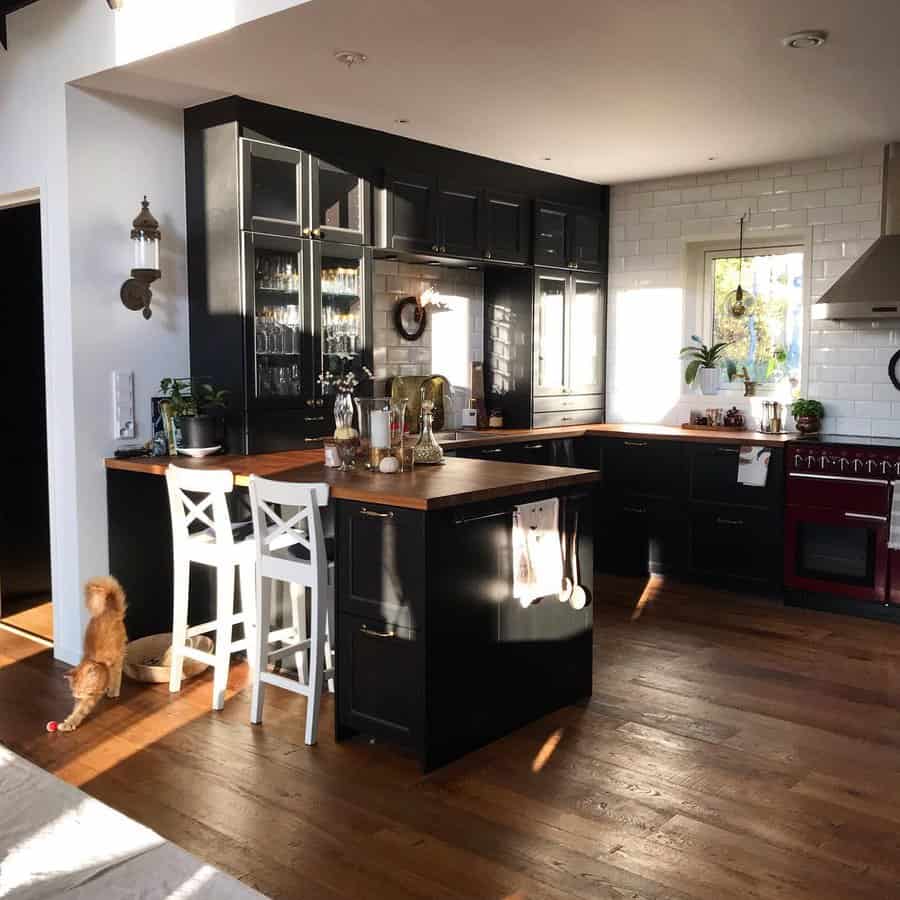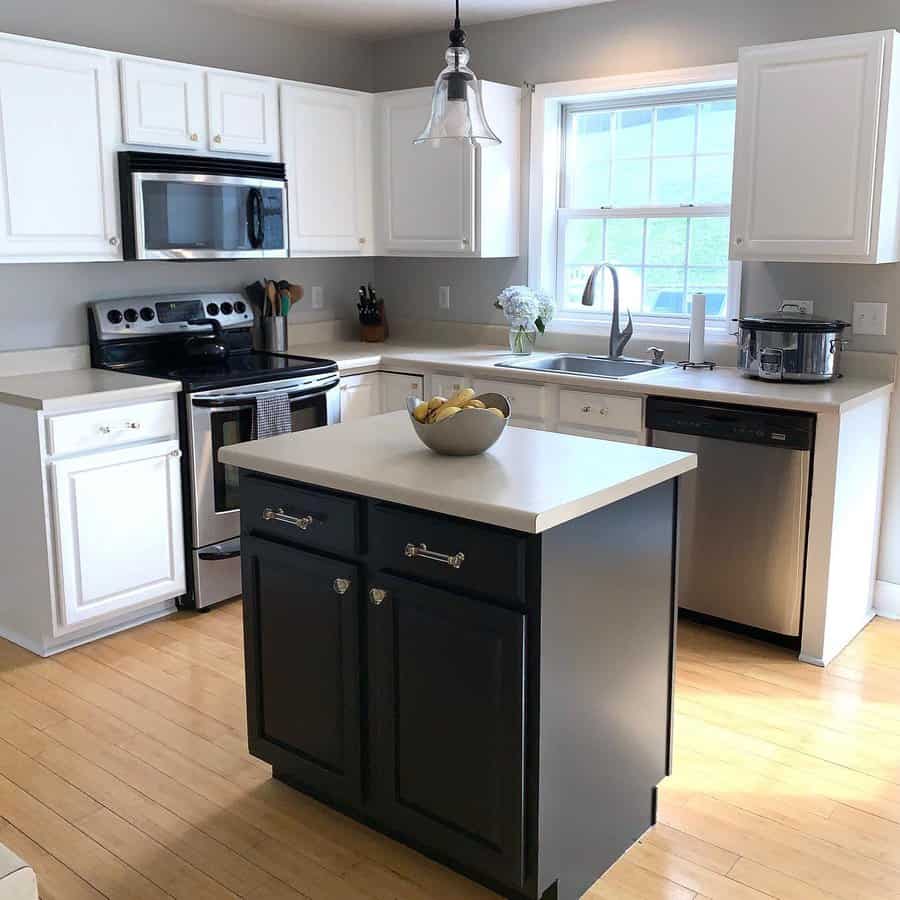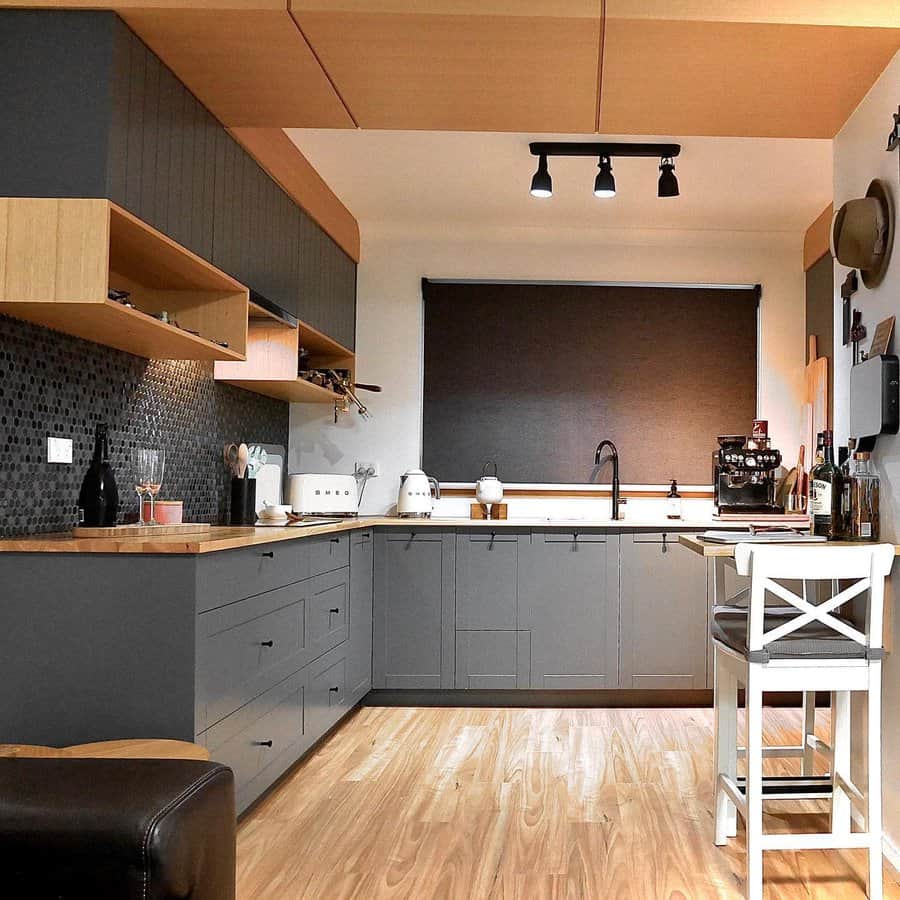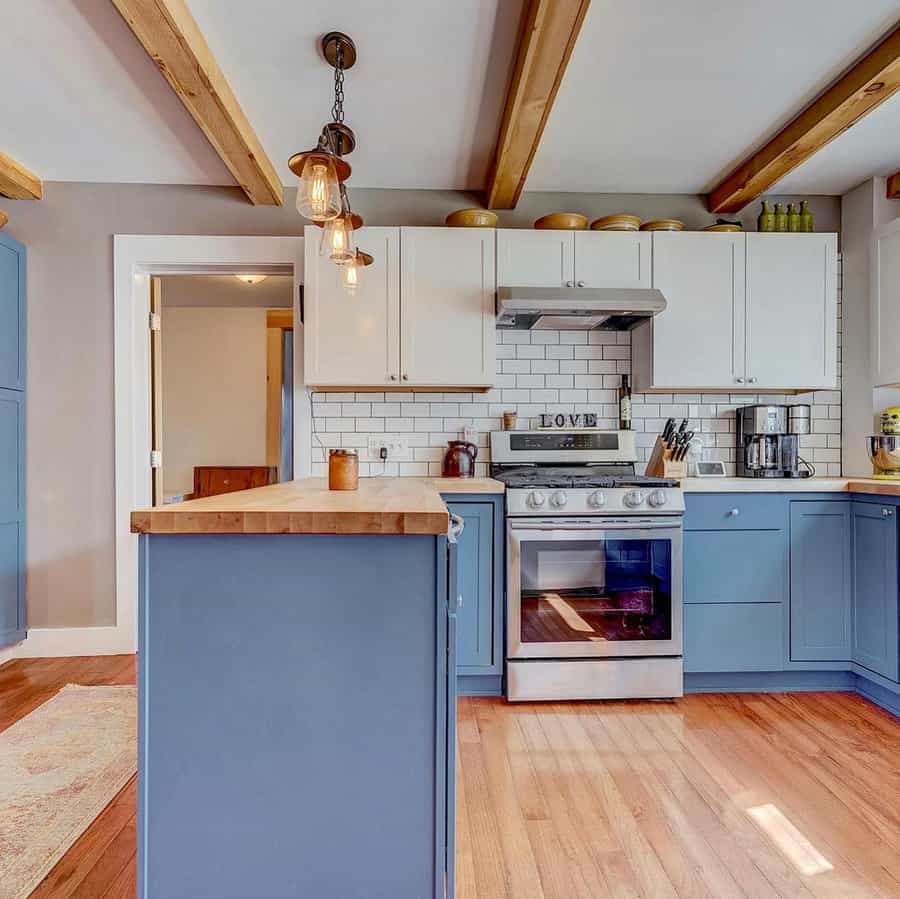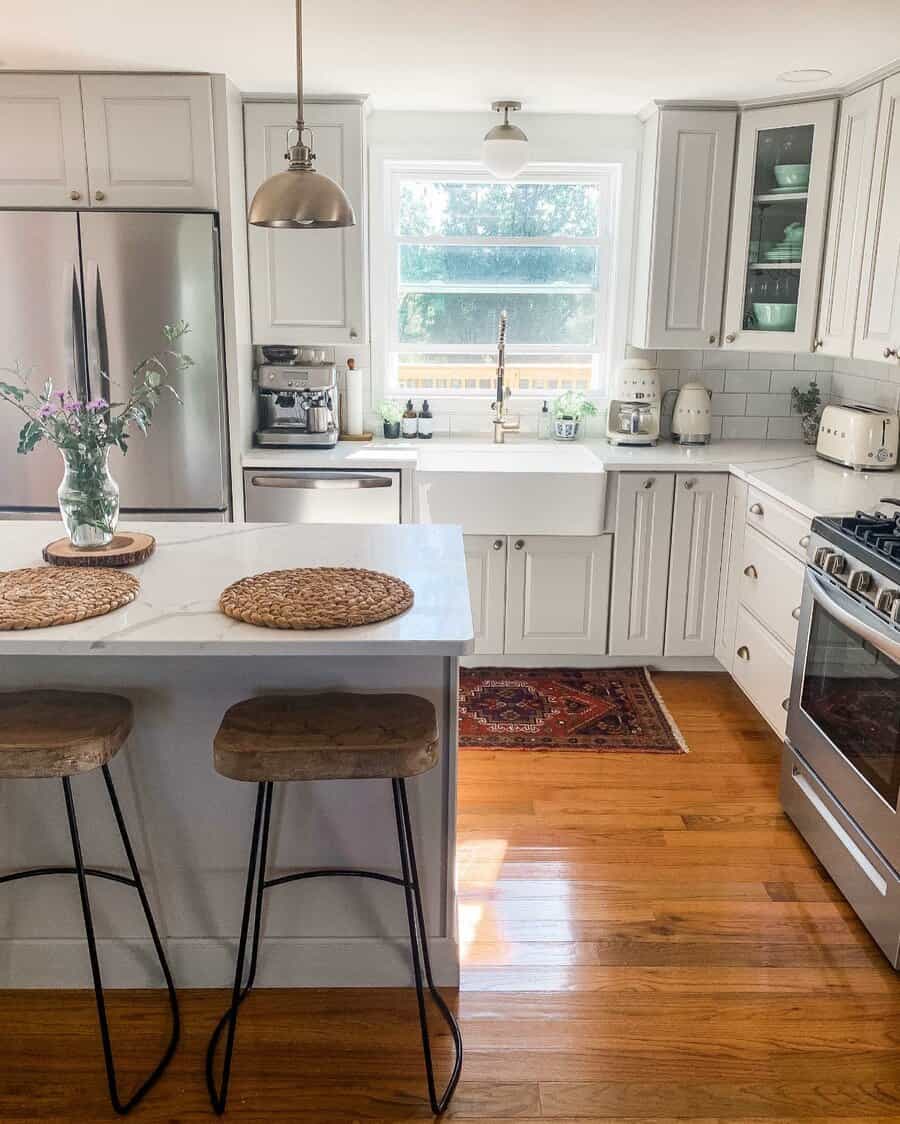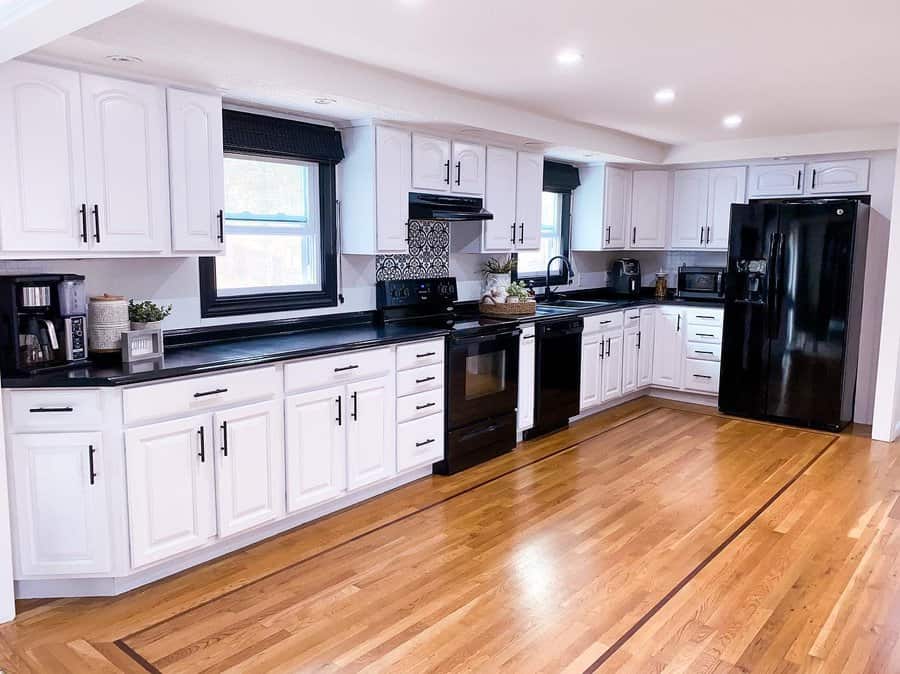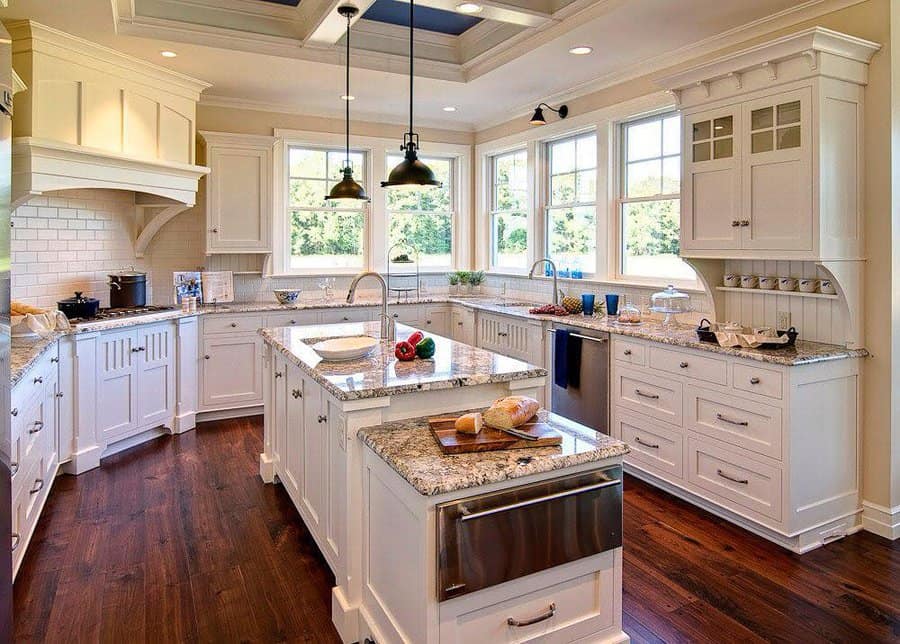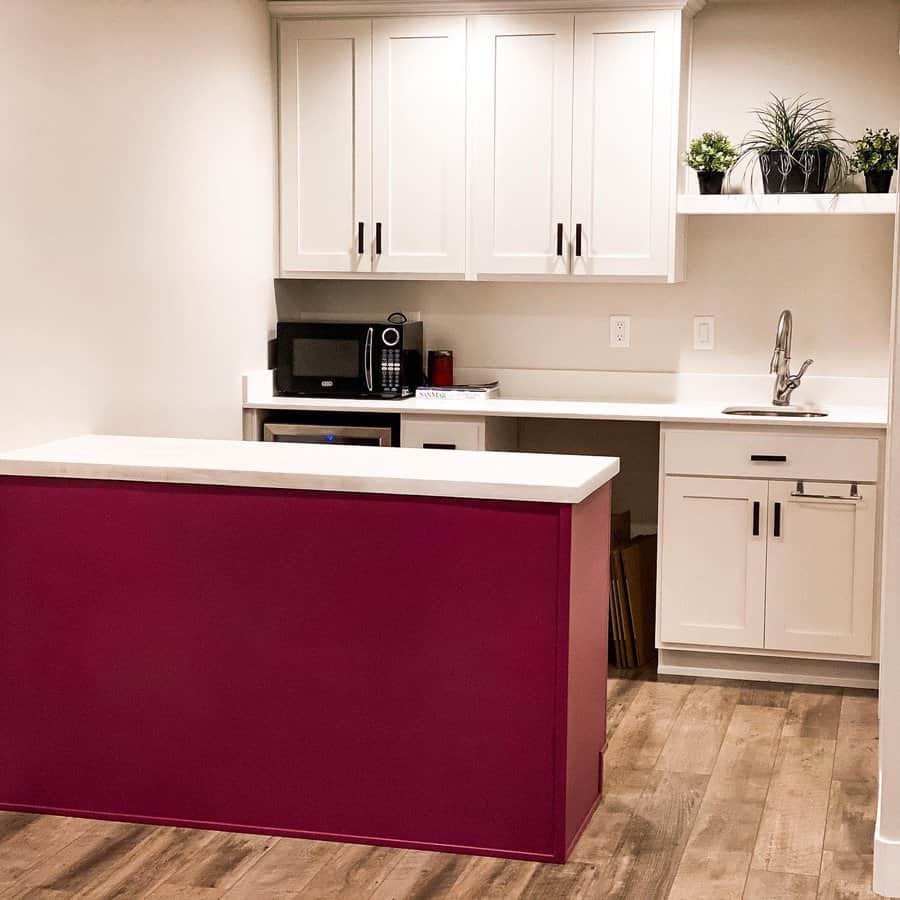 11. Bask in the Grandeur of Marble Tile
Marble flooring imbues kitchens with an unmatched luxury and sophistication. Its natural veining and patterns effortlessly serve as room centerpieces. Beyond its elegance, the smooth marble surface offers easy maintenance. Diverse marble shades, from classic white to bold black or green, cater to various design preferences. To elevate its lavish appeal, harmonize marble floors with sleek cabinets and upscale fixtures, ensuring a kitchen space that is both opulent and enduringly stylish.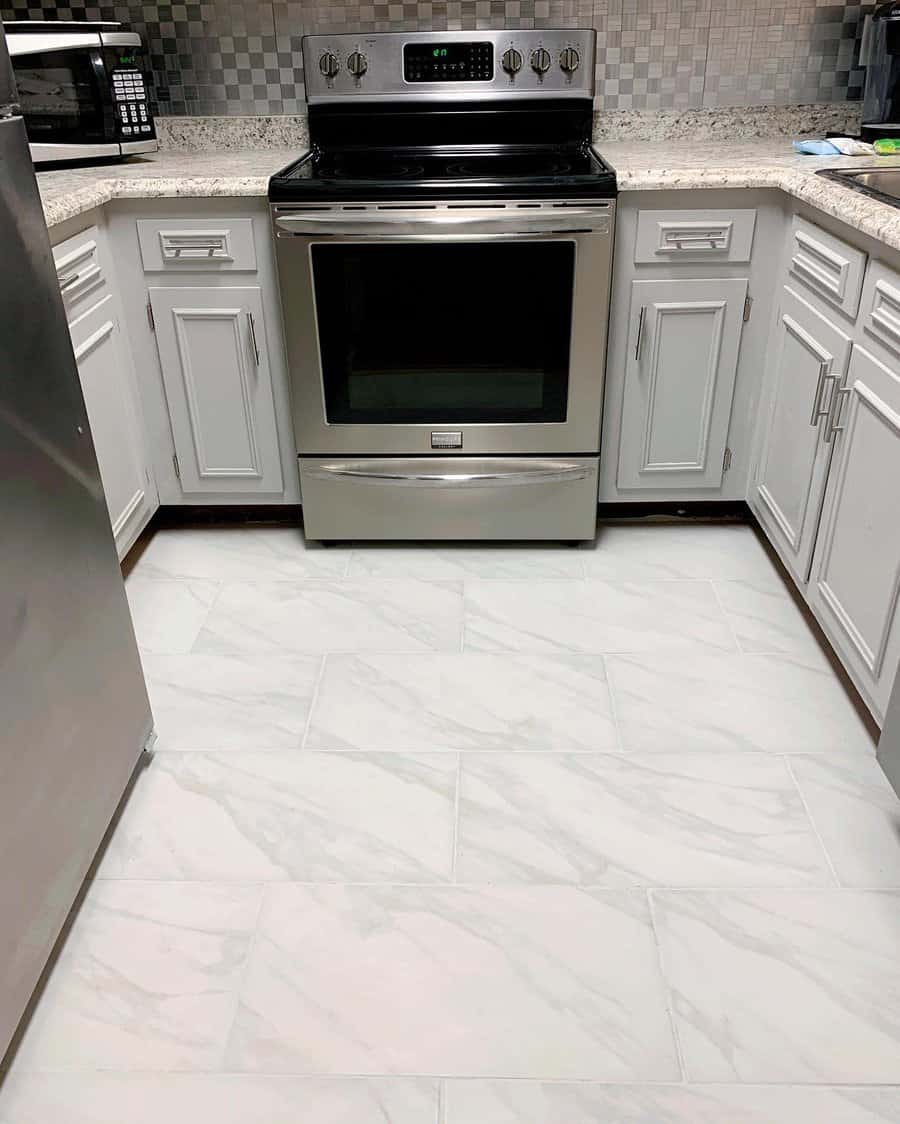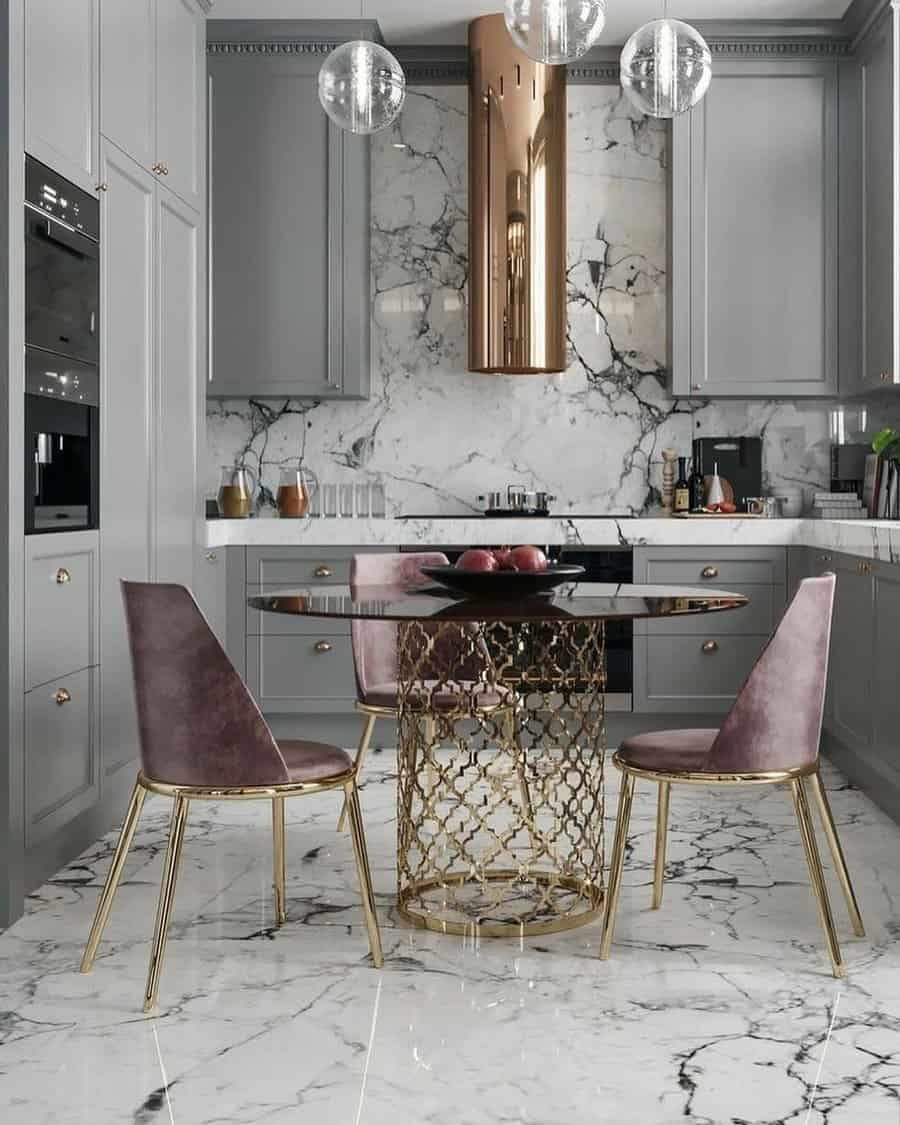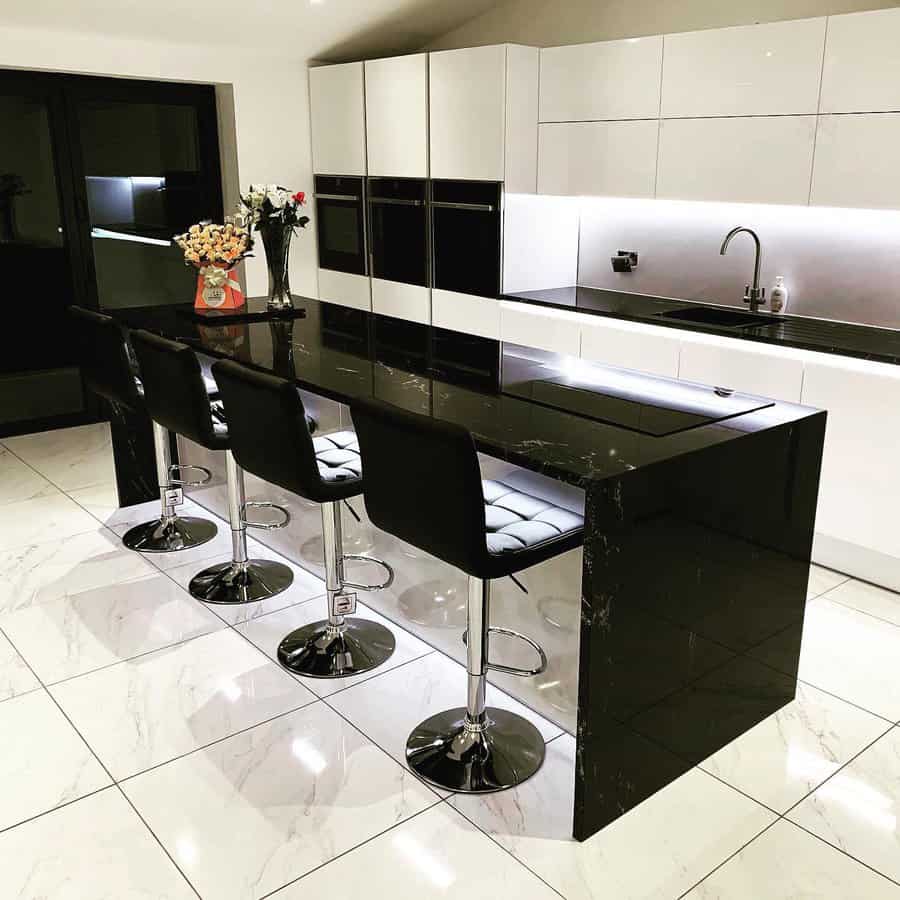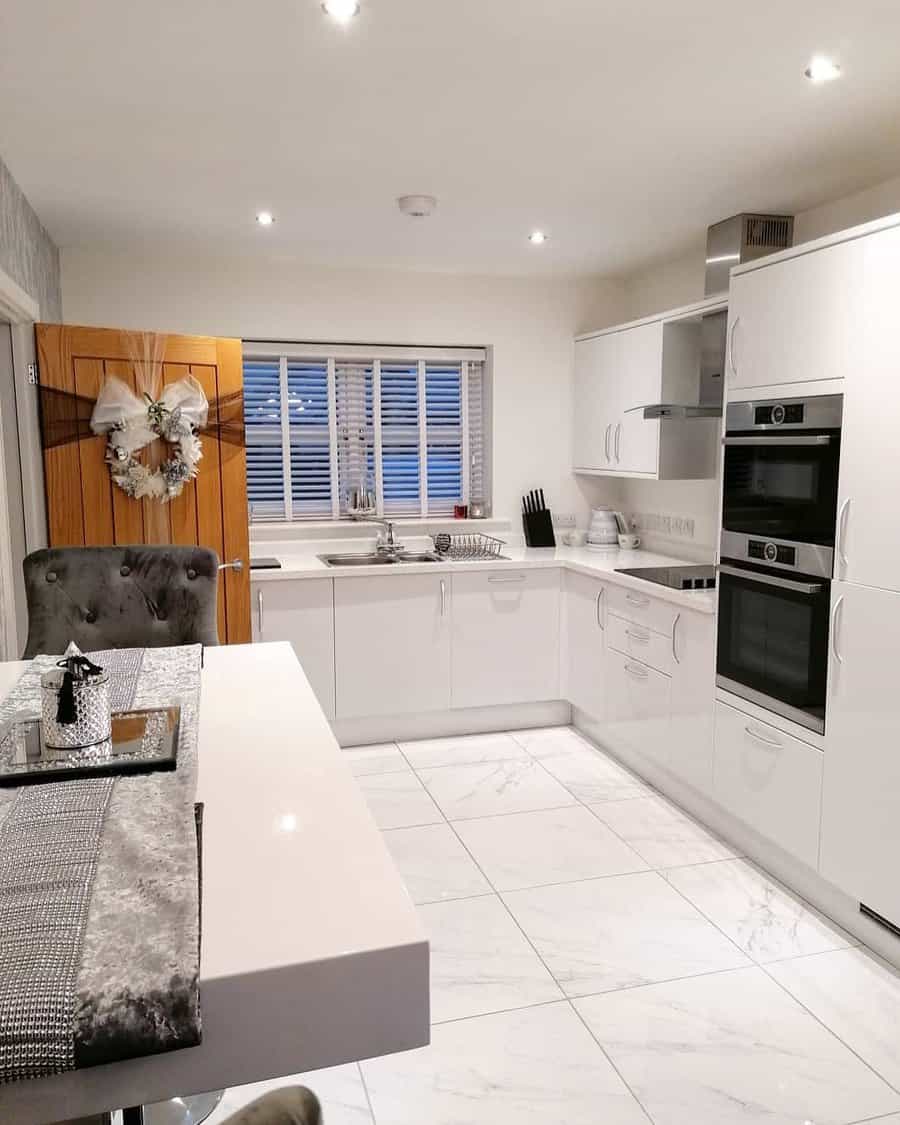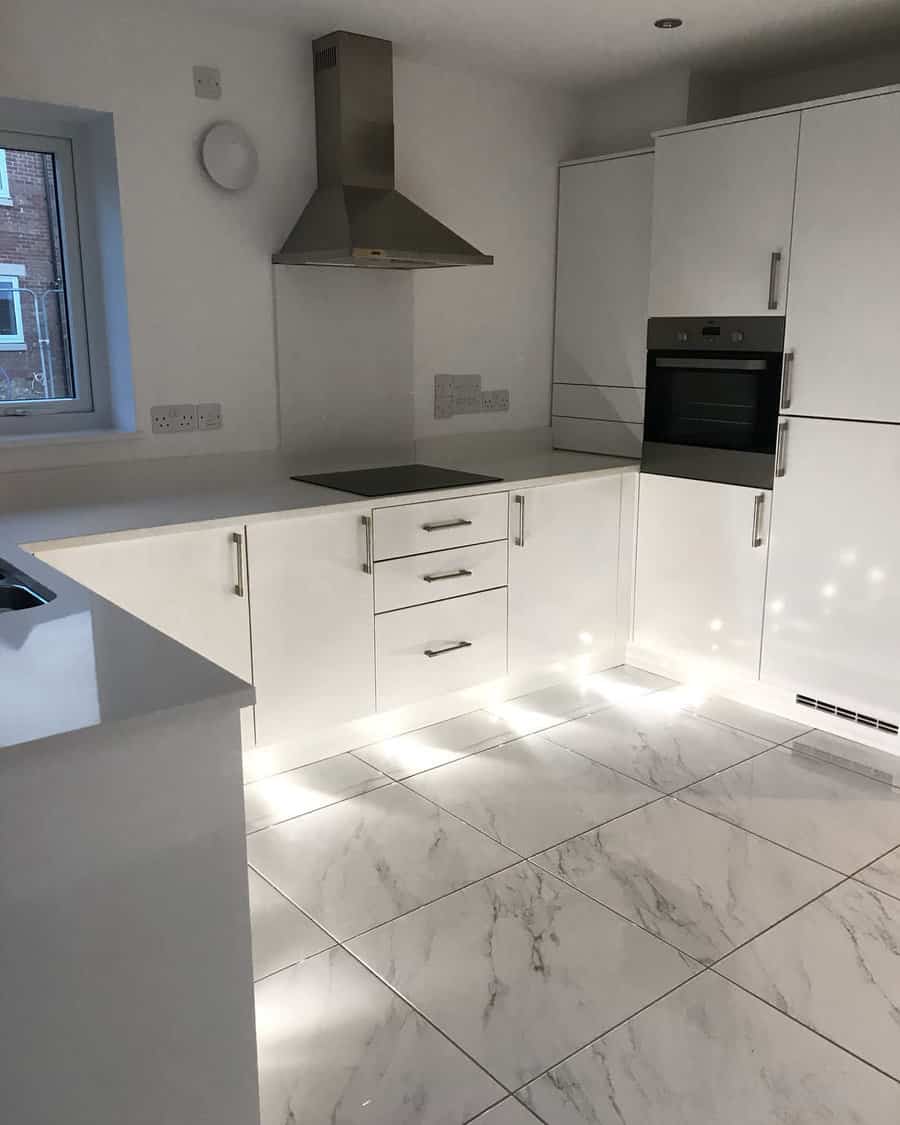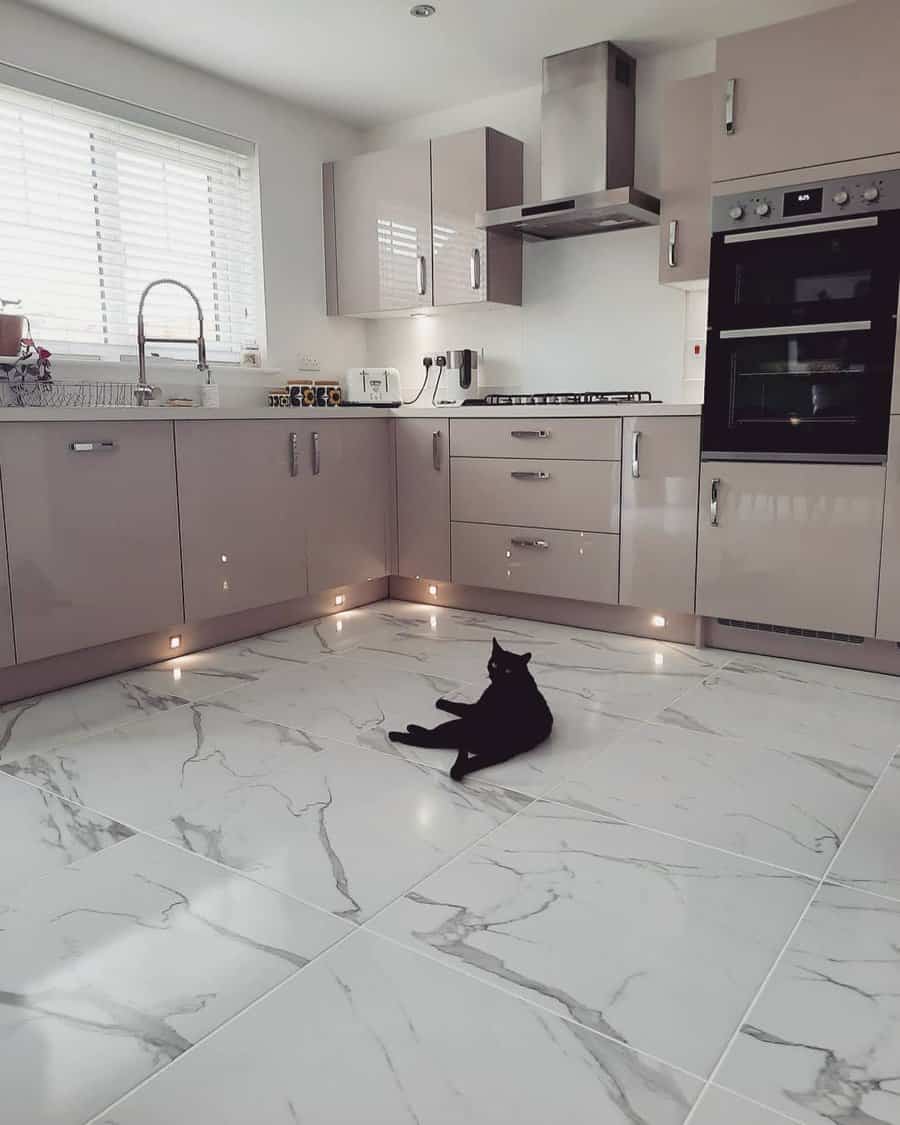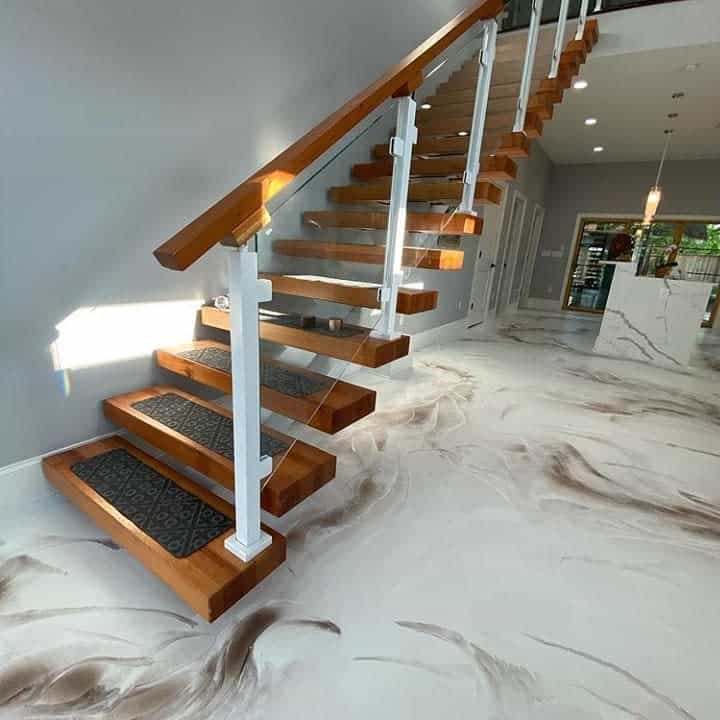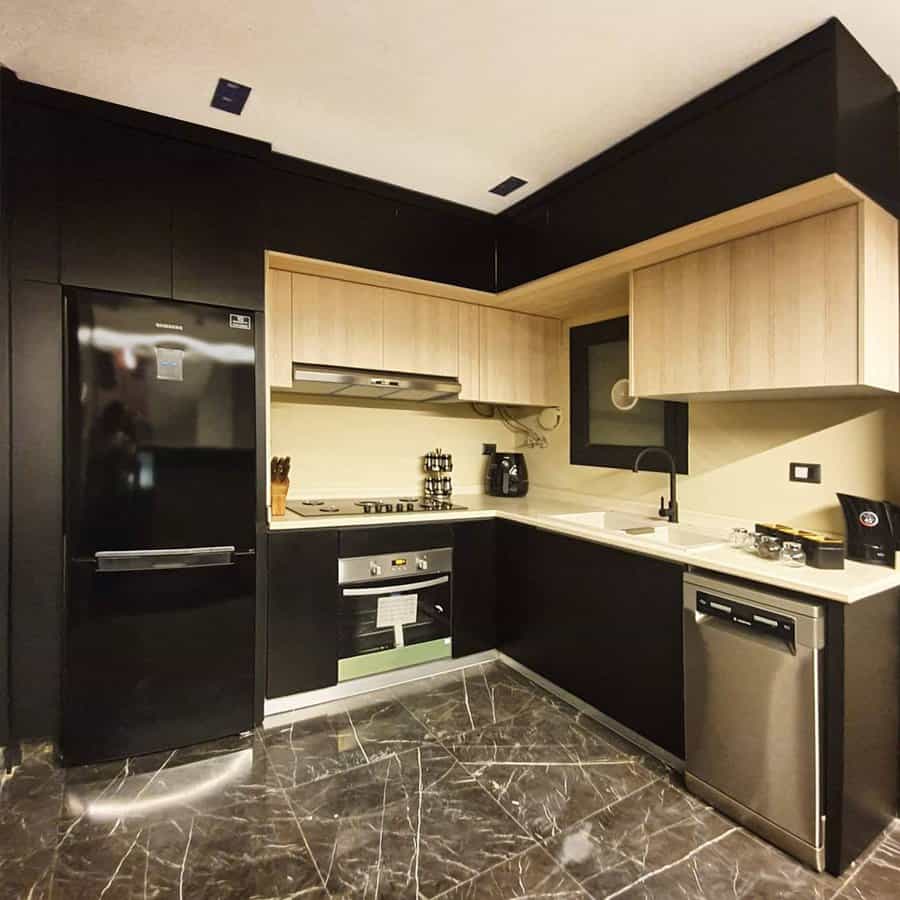 12. Rediscover the Durability of Linoleum Floors
Linoleum flooring boasts diverse design possibilities, offering classic patterns, bold colors, and comfort underfoot. Its smooth surface is both visually appealing and gentle on your feet, enhancing kitchen comfort. Linoleum's eco-friendly composition, derived from natural materials like linseed oil and cork, ensures sustainability and easy maintenance. Whether you prefer retro checkered patterns, chic geometrics, or monochromatic styles, linoleum adds character and charm while contributing to a green kitchen environment.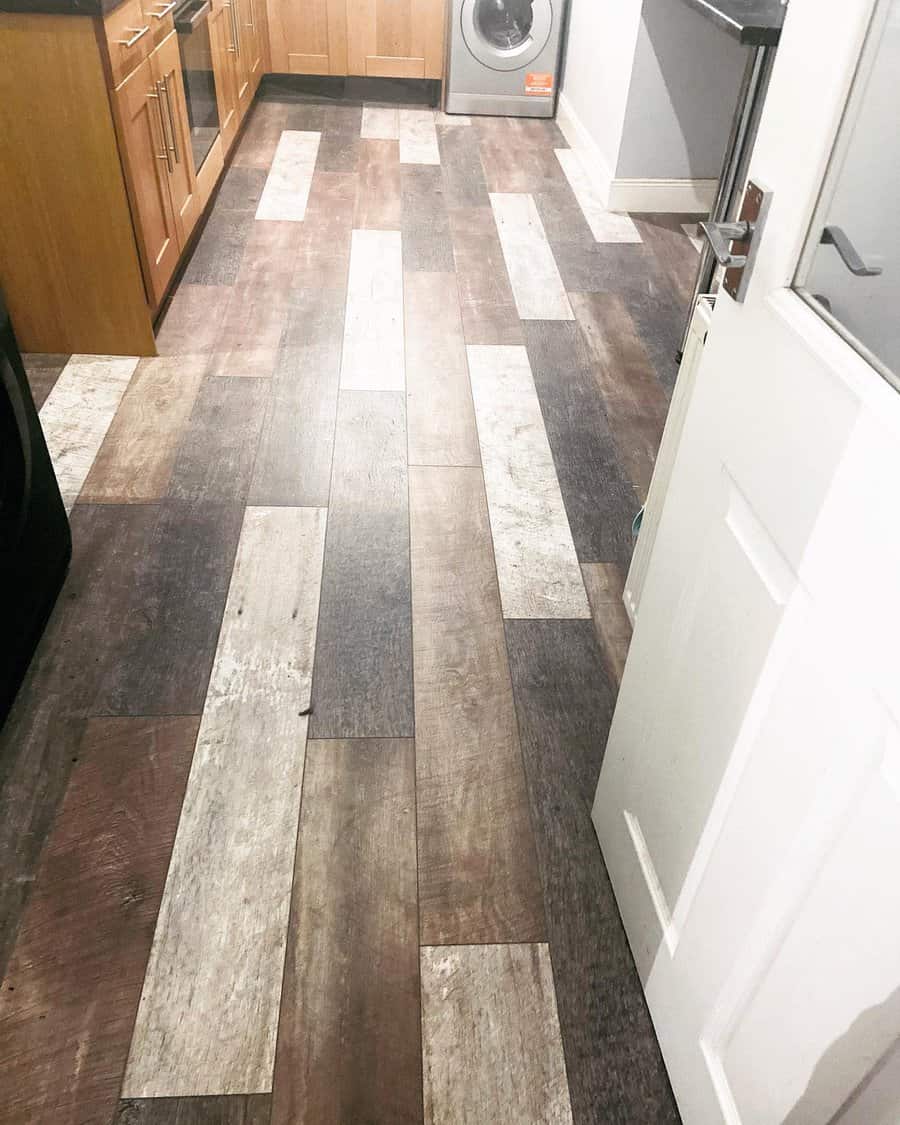 13. Impress with Intricate Stamped Tile Patterns
Stamped tiles offer a delightful fusion of elegance and charm, with designs ranging from Moroccan-inspired motifs to geometric patterns and floral themes. Beyond their visual appeal, these tiles introduce texture and depth to your kitchen space, adding layers of interest. Stamped tiles shine in creating focal points within your kitchen, making them an exceptional choice to elevate your flooring into a lasting work of art. Explore the myriad design options to craft a floor that resonates with your style and remains a source of delight for years to come.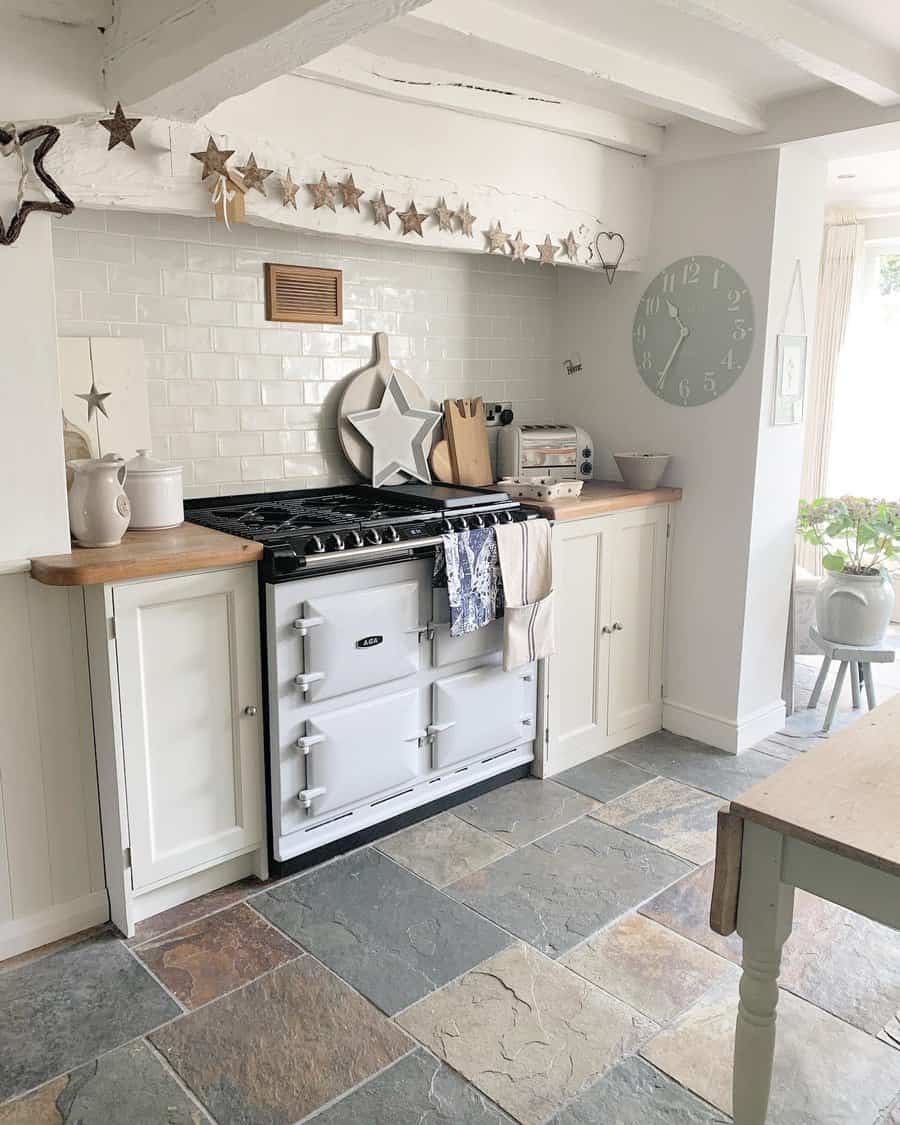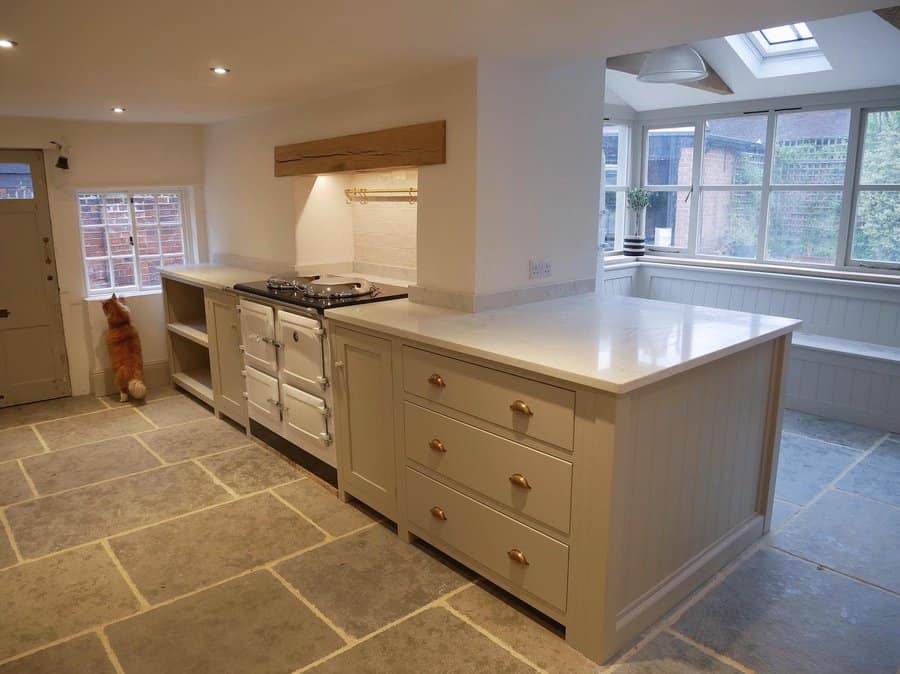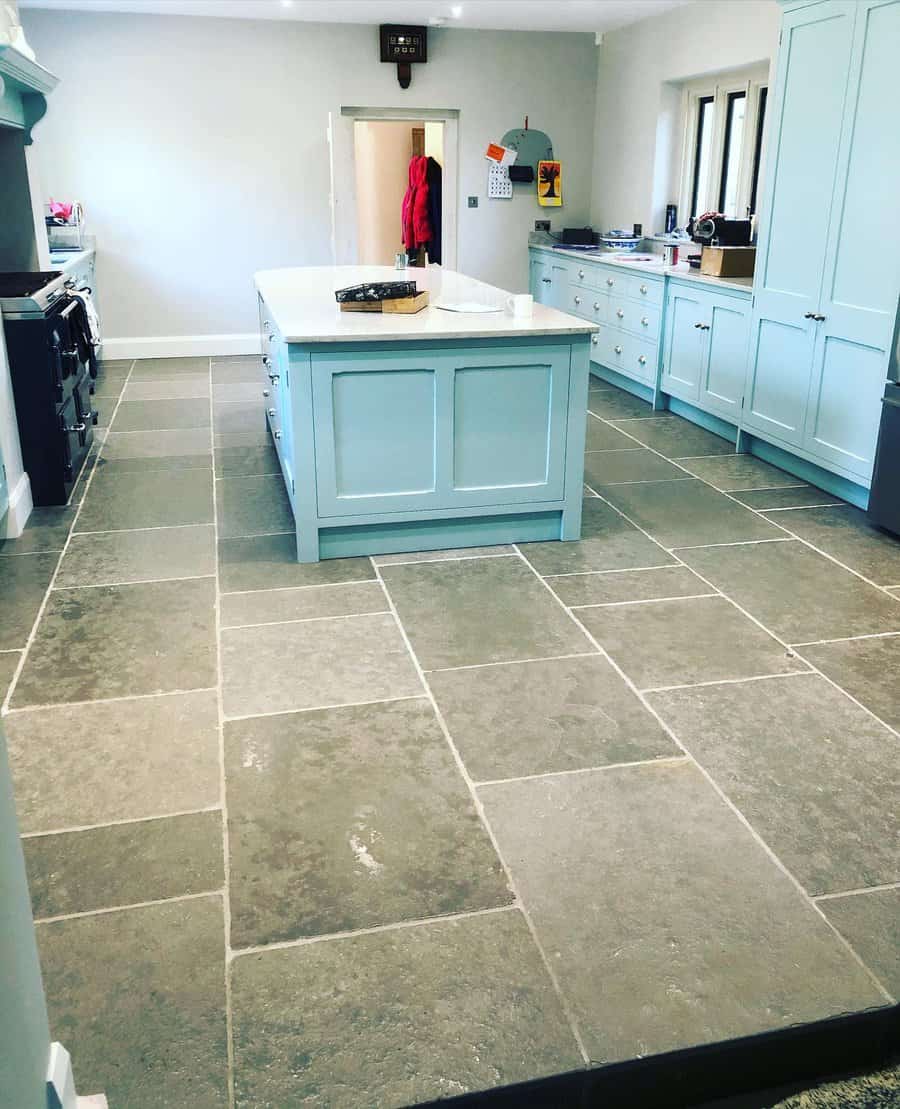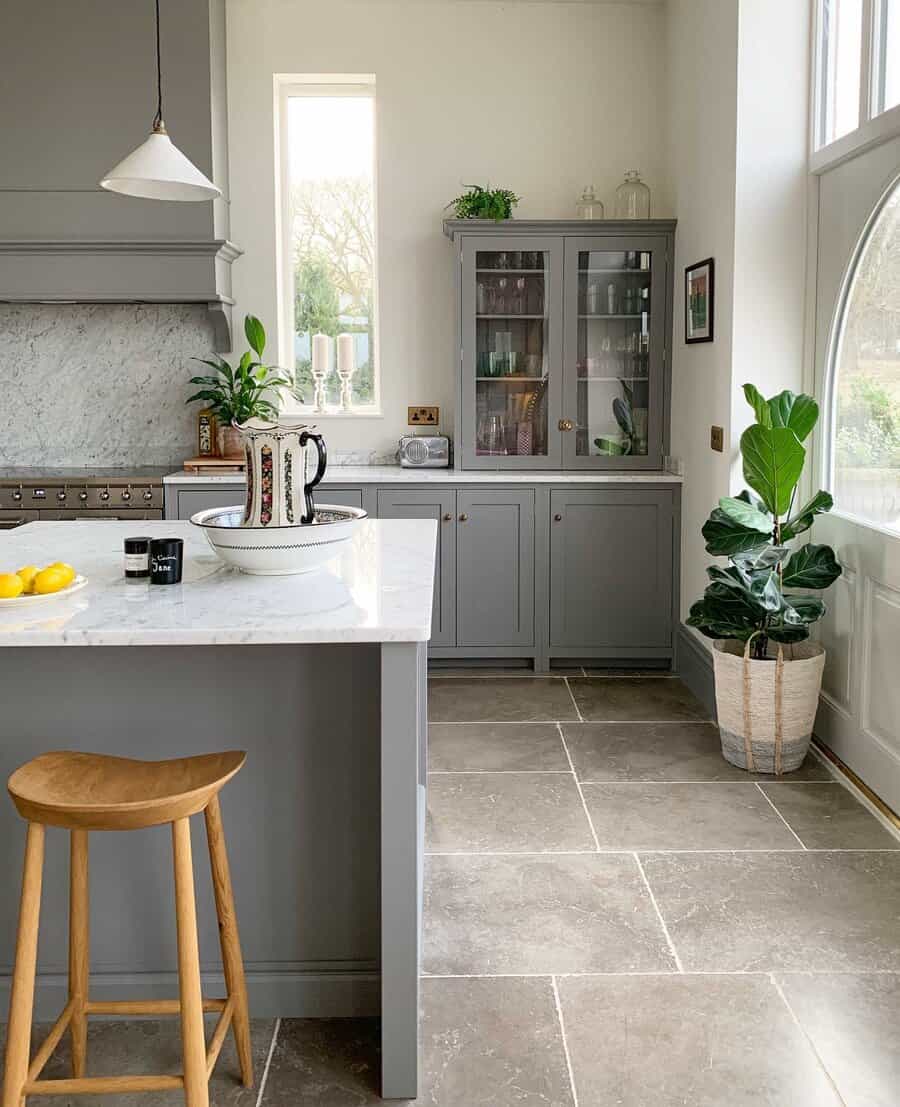 14. Marvel at Colorful Mosaic Tile Creations
Penny flooring, an extraordinary choice for your kitchen, introduces a captivating mosaic effect using shiny pennies. This unique and eye-catching idea allows for creative expression, whether you opt for a single color or a mix of shades. Beyond its whimsical charm, penny flooring offers durability and easy maintenance, making it perfect for bustling kitchens. The metallic sheen of the pennies adds a touch of understated glamour, ensuring your kitchen stands out as a bold and creative statement, leaving your guests in awe.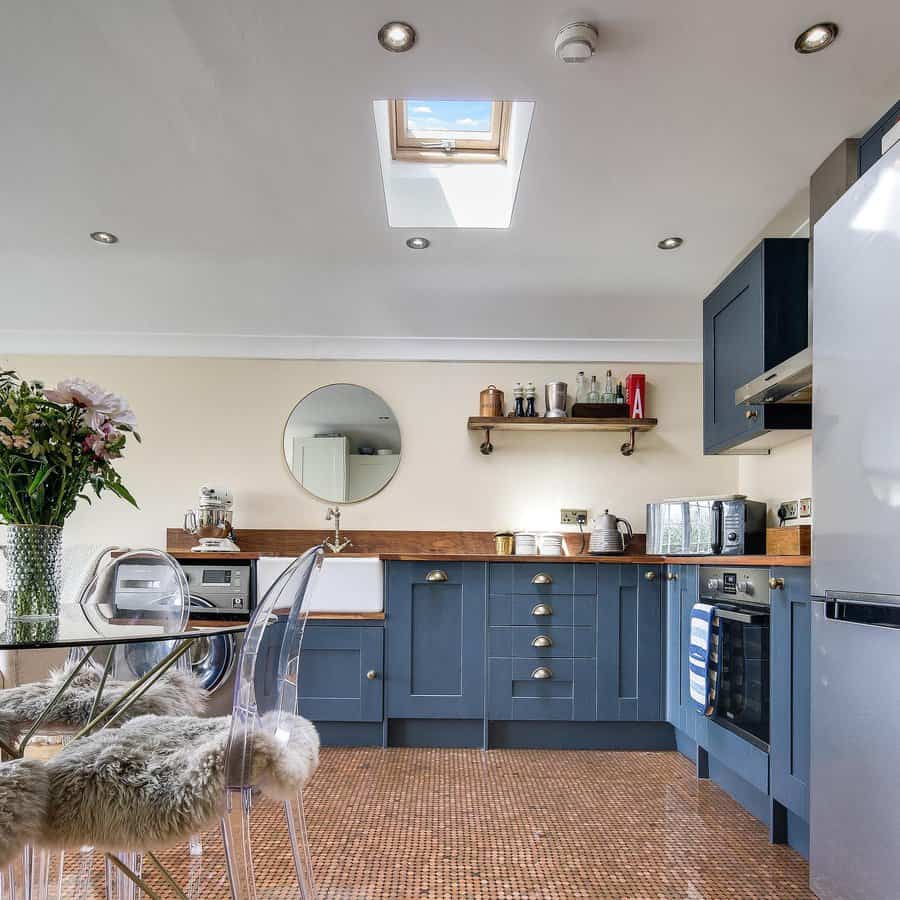 Kitchen Flooring FAQs
What is the best flooring for a kitchen?
The best flooring for your kitchen is one that's durable enough to withstand high foot traffic and is impervious to water. This will help it to last as long as possible and be easy to clean. Tile is a great option because it checks all of the boxes. 
What is the most durable floor for a kitchen?
The most durable flooring for your kitchen is porcelain tile. This tile is tough and non-porous. It's scratch-resistant and waterproof. Natural stone is also a great option because it can also last a lifetime.
How do I choose a floor for my kitchen?
The flooring that you choose for your kitchen needs to be durable and easy to clean. This will help it to last as long as possible. Consider the style, design, and color of the floor. It should match the rest of the kitchen and your home's architectural and design aesthetic.