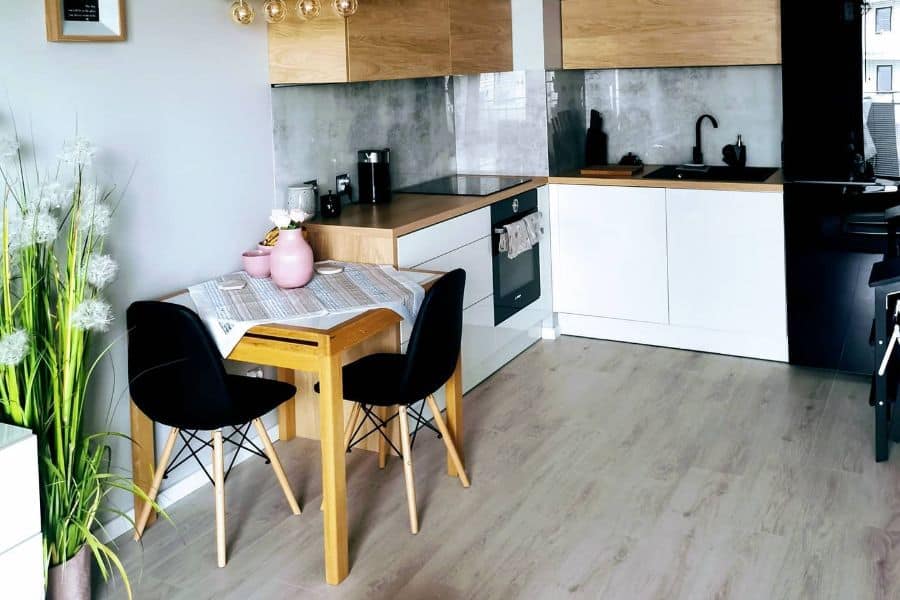 The Top 65 Kitchen Flooring Ideas
"I always had a fantasy of being a chef, because I like kitchen life." – Geoffrey Rush
Updating your kitchen is one of the best ways to upgrade your home and increase its value. While many people focus on the appliances, lighting, walls, and cabinets, there's one area that can make an even bigger impact.
Changing the flooring in your kitchen transforms the entire look and feel of the space.
Kitchen flooring ideas embrace almost all types of flooring. However, that doesn't mean they are all the best options.
The flooring you choose needs to look great, be within your budget, and be durable enough to last. Consider these ideas for the new floor in your kitchen.
1. Chevron
Add a unique style to your kitchen floor by arranging the wood planks or tile in a chevron pattern. This is a simpler version of parquet flooring. The chevron design creates a subtle design that won't overwhelm the kitchen.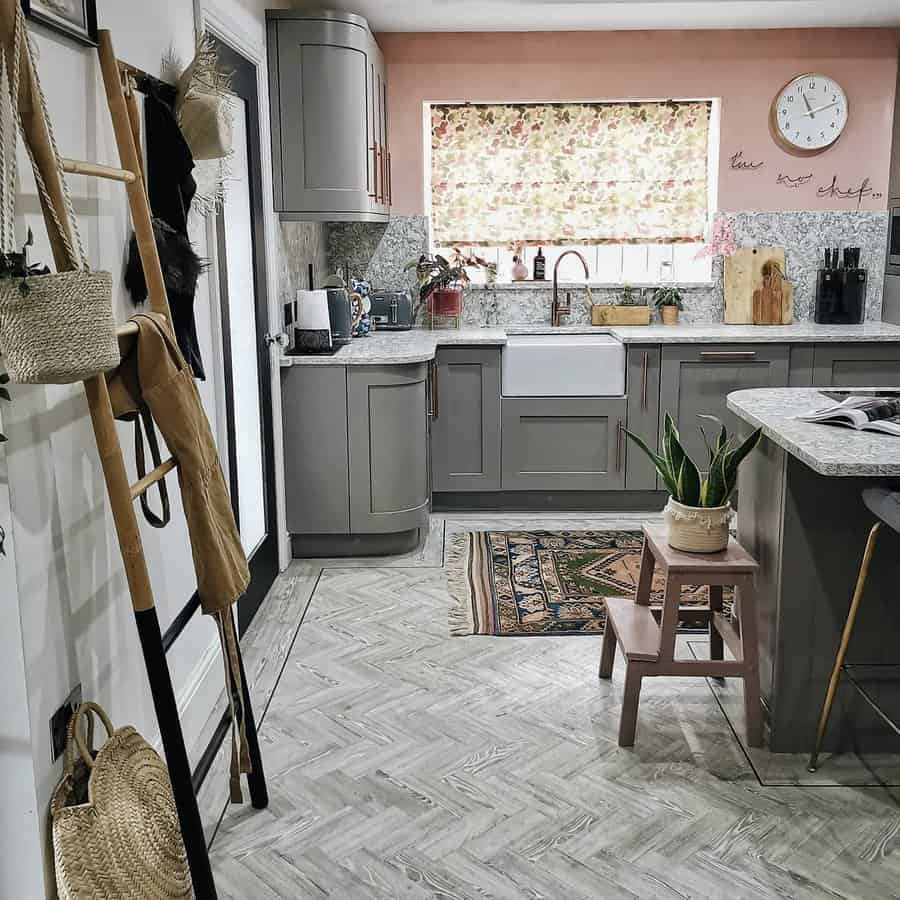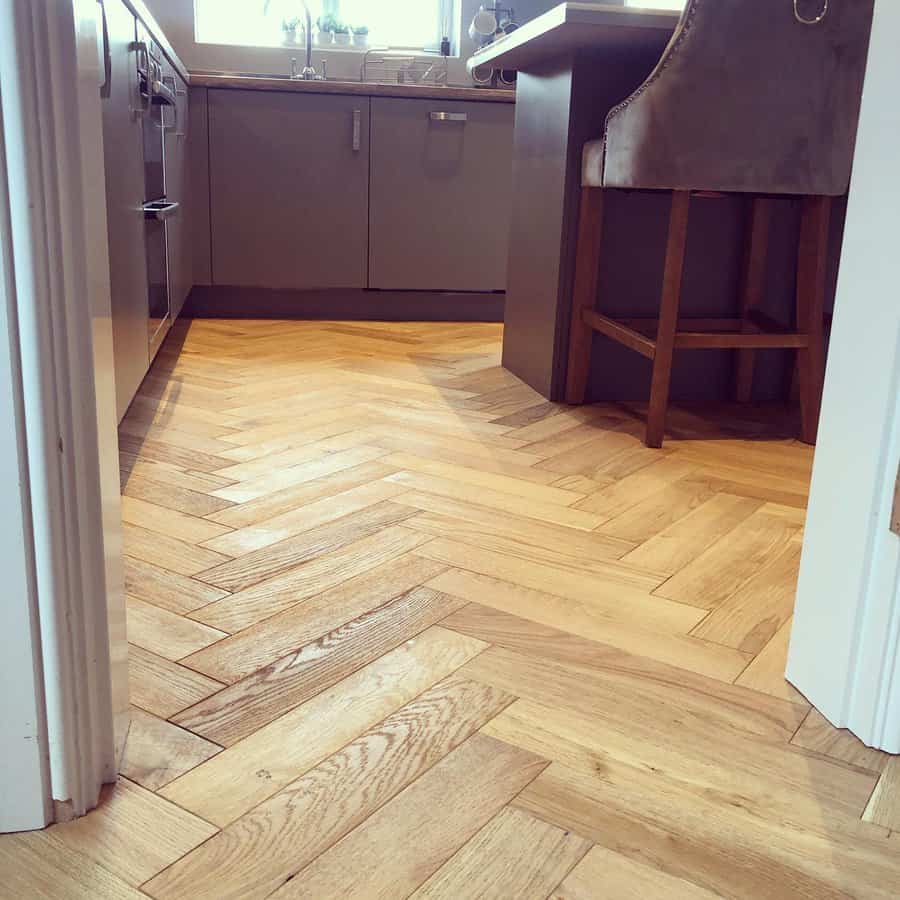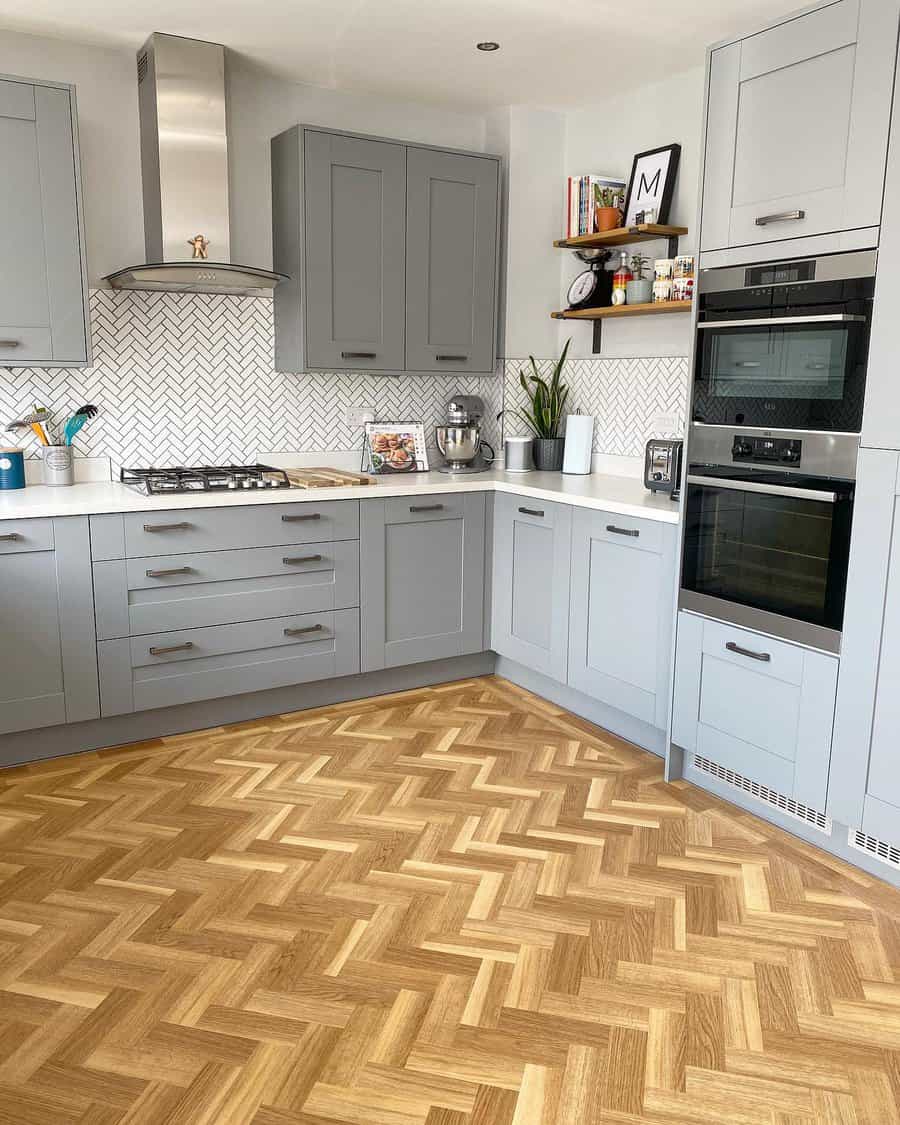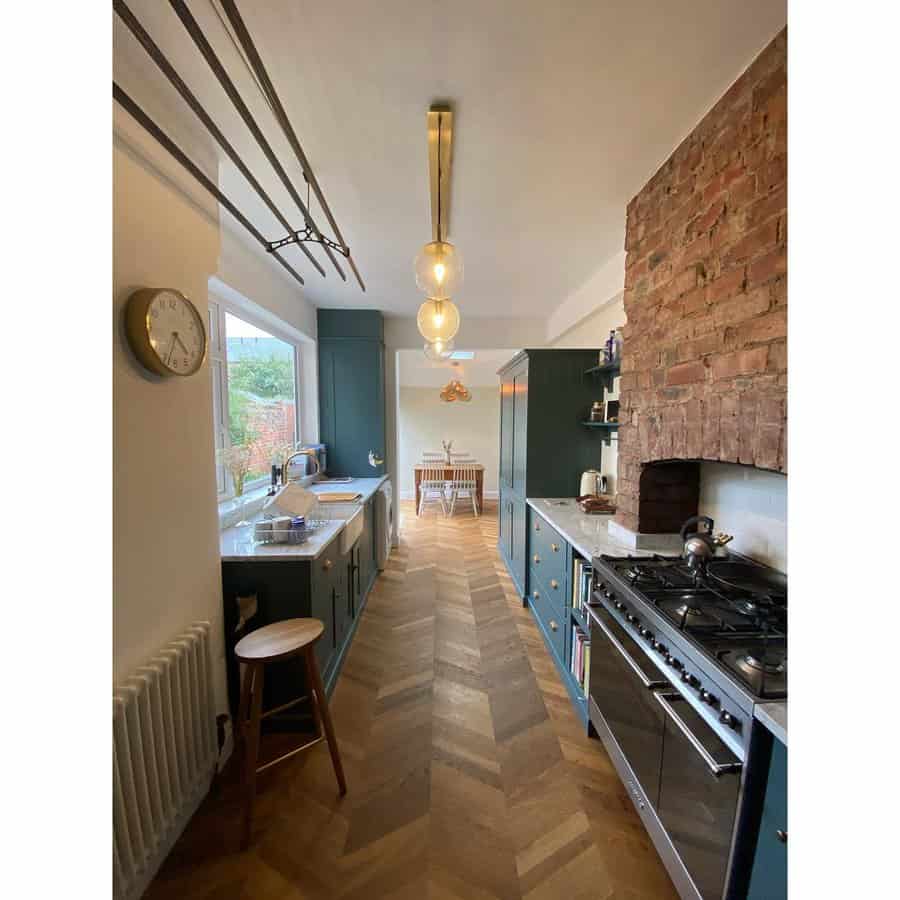 Traditionally, wood flooring is used for creating the chevron pattern. You can use small to large planks to scale the size of the pattern to suit the size of your kitchen. However, if you don't want a wood floor, you can create the same pattern with rectangular-shaped tiles.
2. Dark
Choosing a dark-colored flooring for your kitchen will add sophistication and drama. It can also help your kitchen to feel larger when you pair it with light-colored walls and cabinets.
The contrast between the light and dark draws the heaviness down while making the upper area feel larger.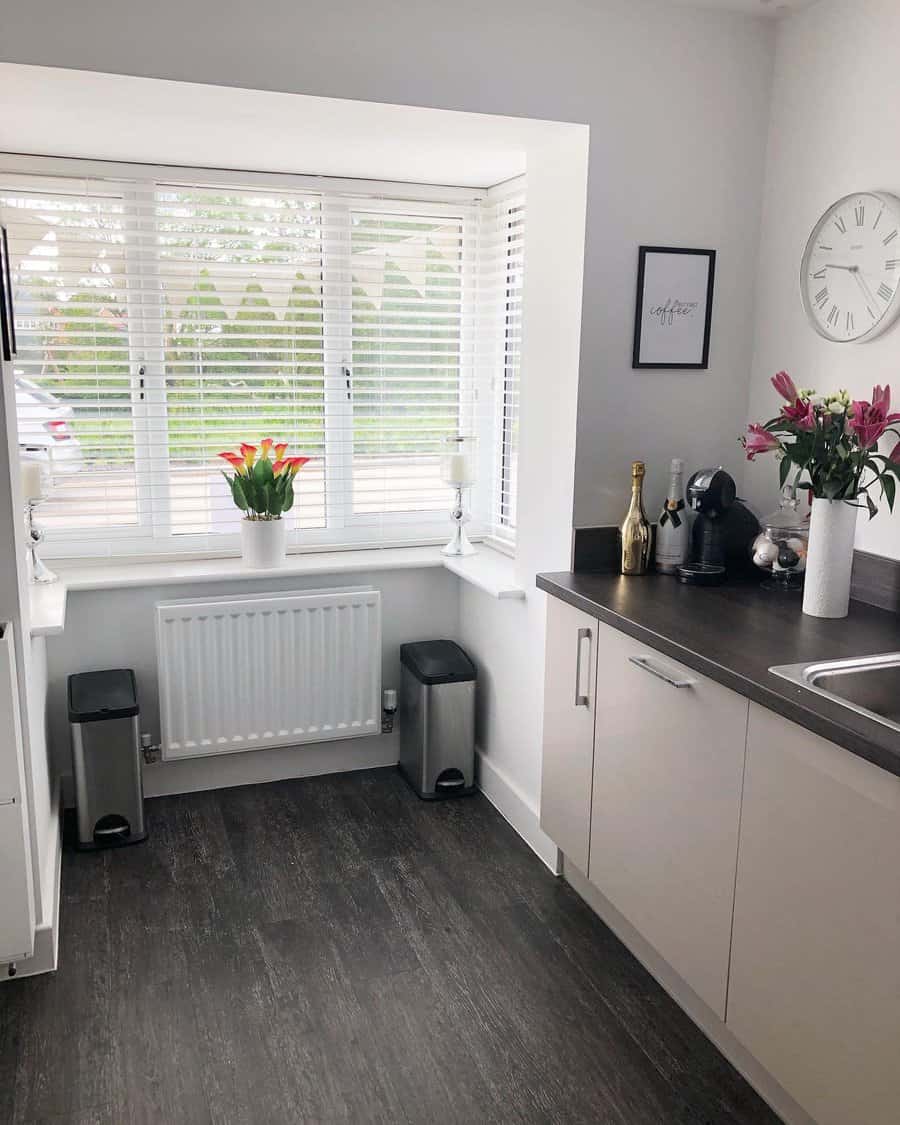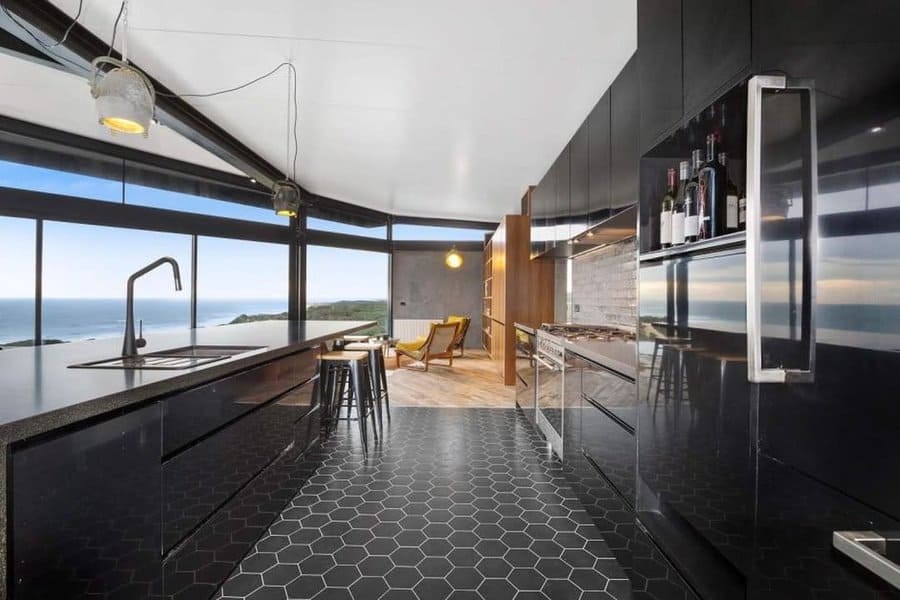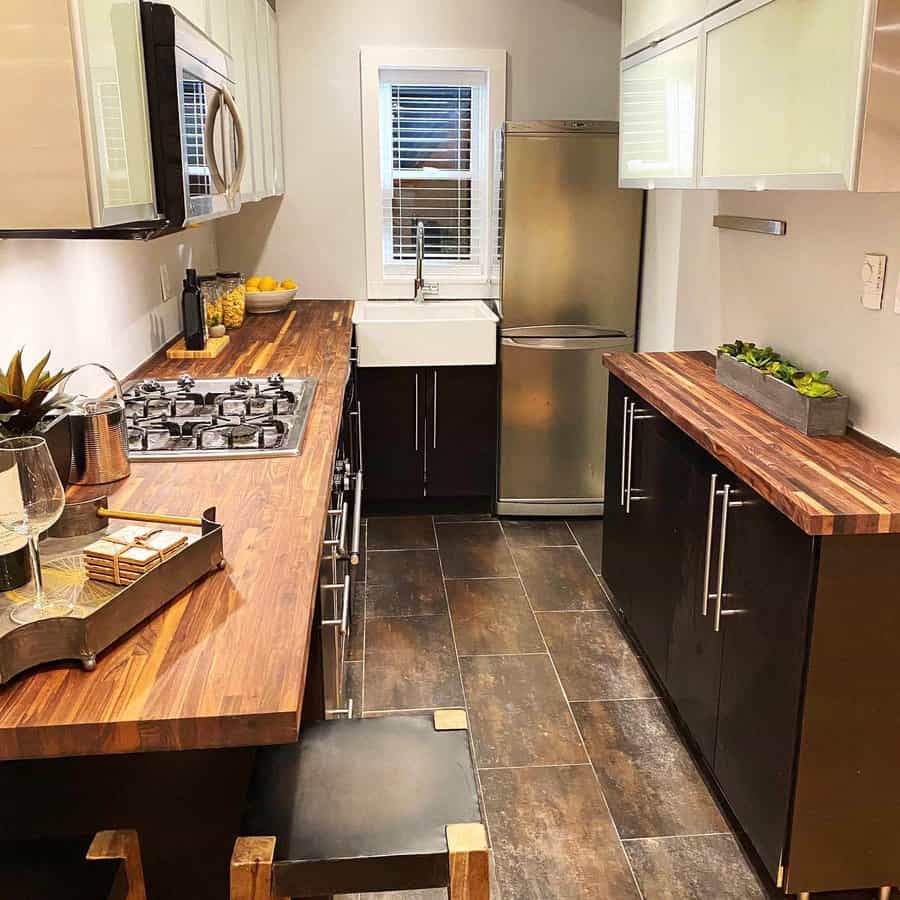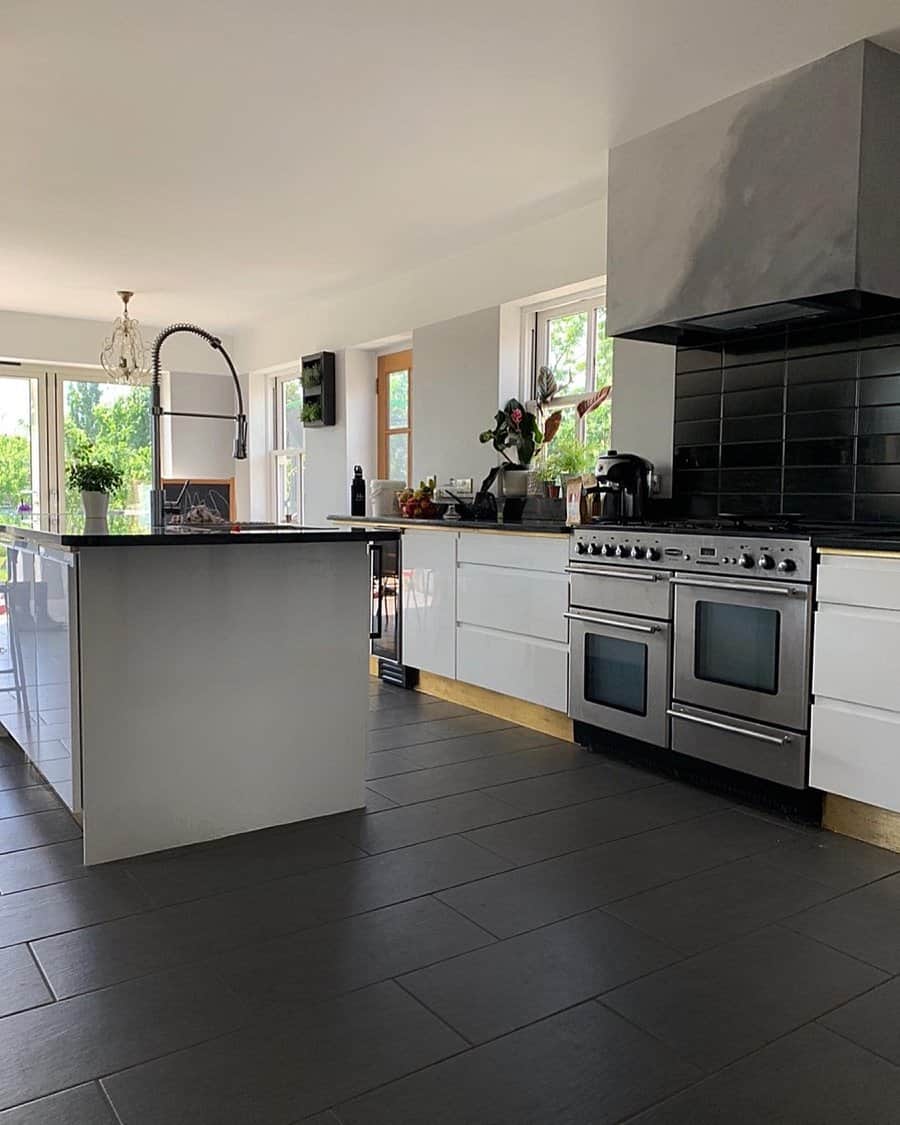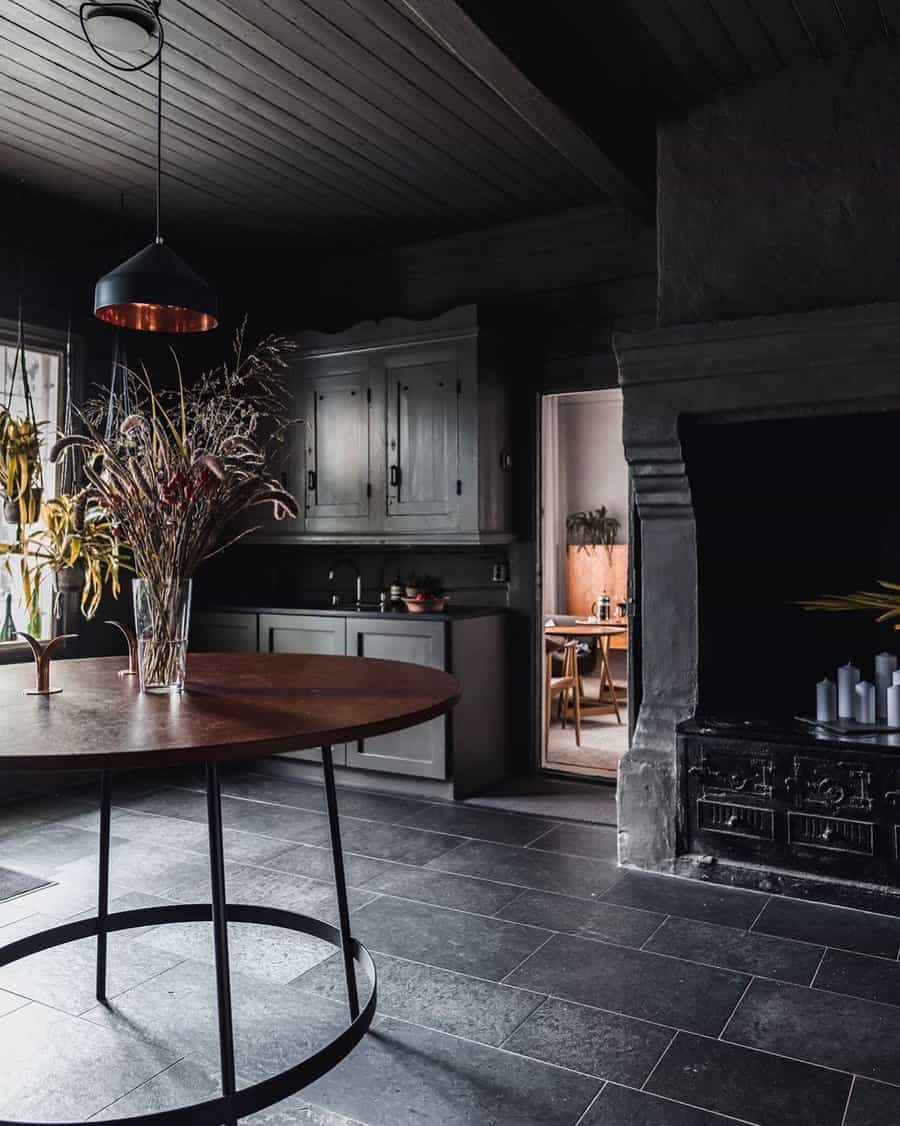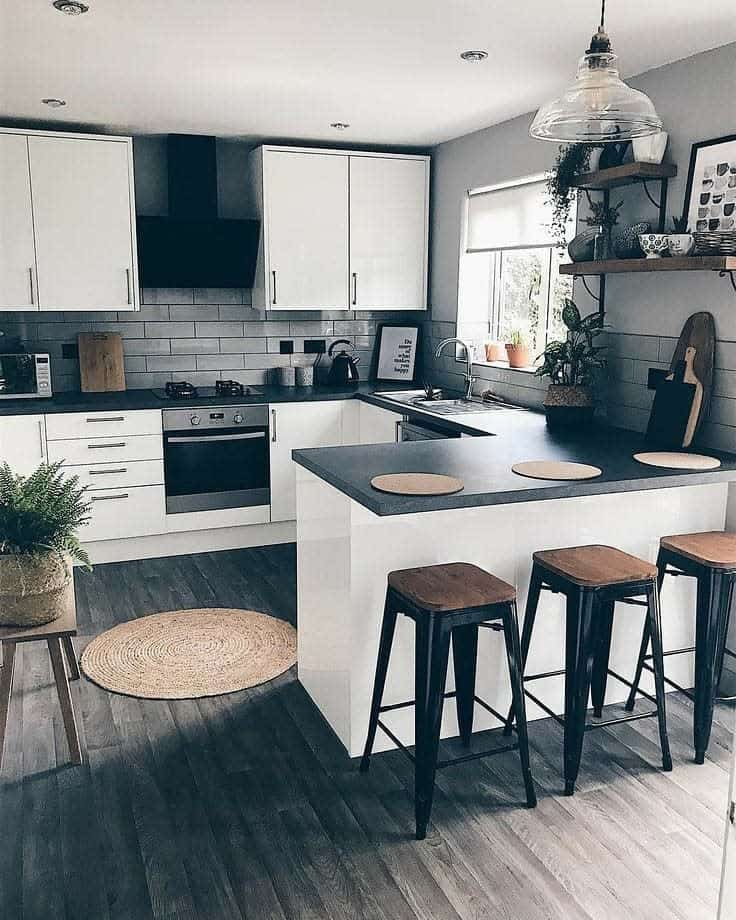 You could stick with a natural look by choosing a dark hardwood or engineered wood floor. Your kitchen will have a traditional feel with this approach. For a modern feel, choose a sleek black slate.
It will have varying shades from dark charcoal grey to pitch black. You can also opt for a black tile for a contemporary feel.
3. Floor Tile
Tile is one of the most popular materials for the kitchen floor because it's affordable and durable.
You have two main types of tile to choose from: ceramic or porcelain tile. Both are strong, but porcelain is less porous and more durable. Both types of tile come in a range of sizes, colors, and shapes.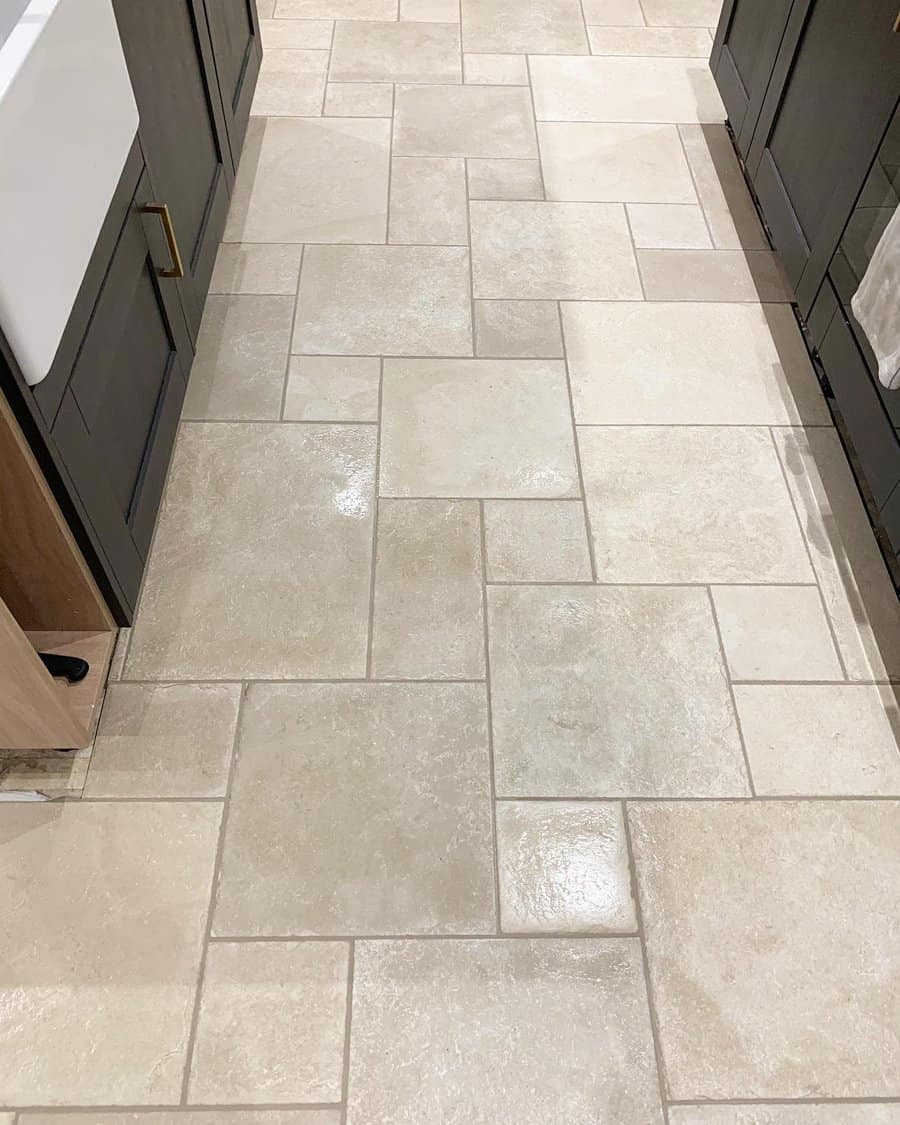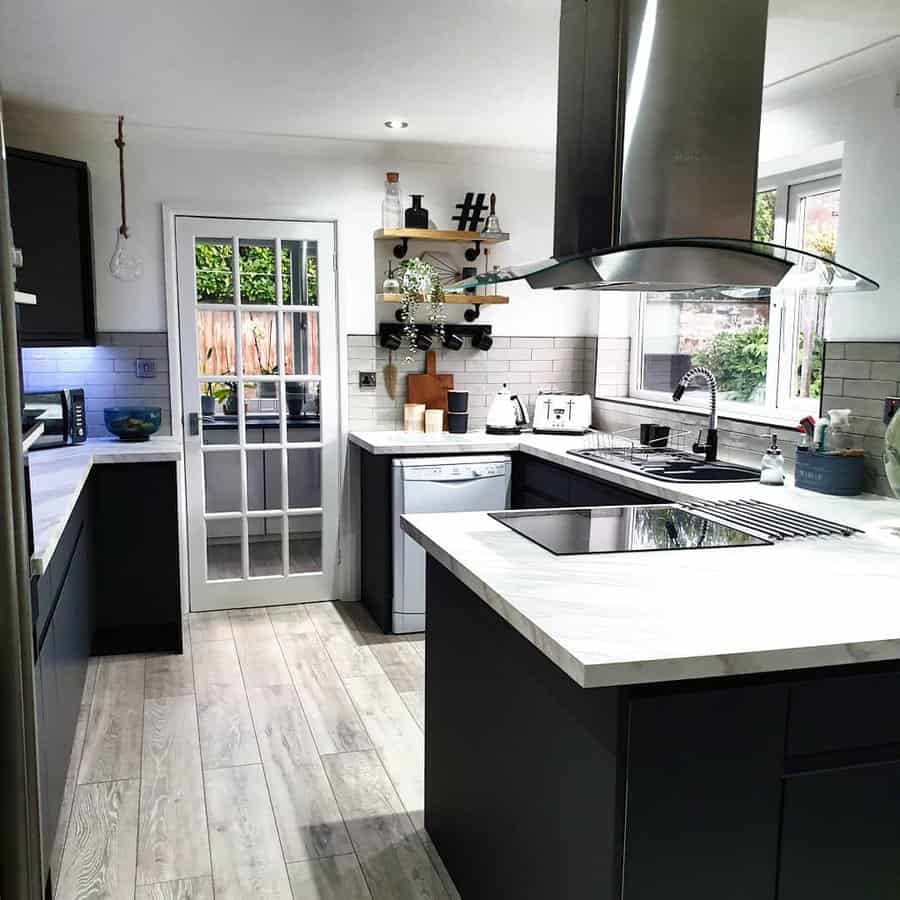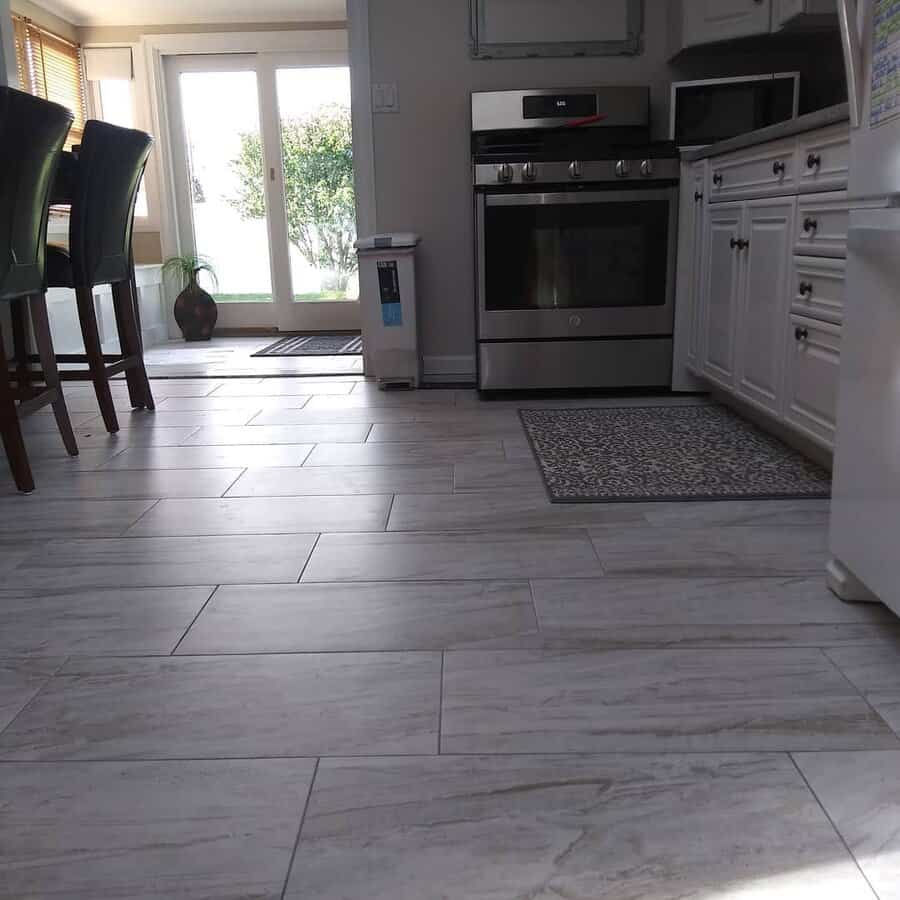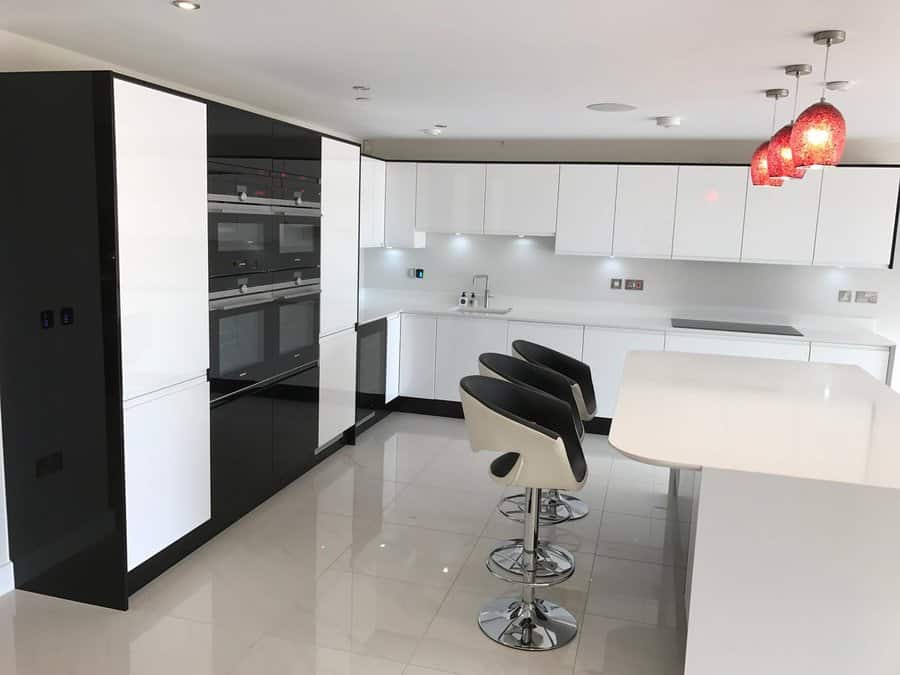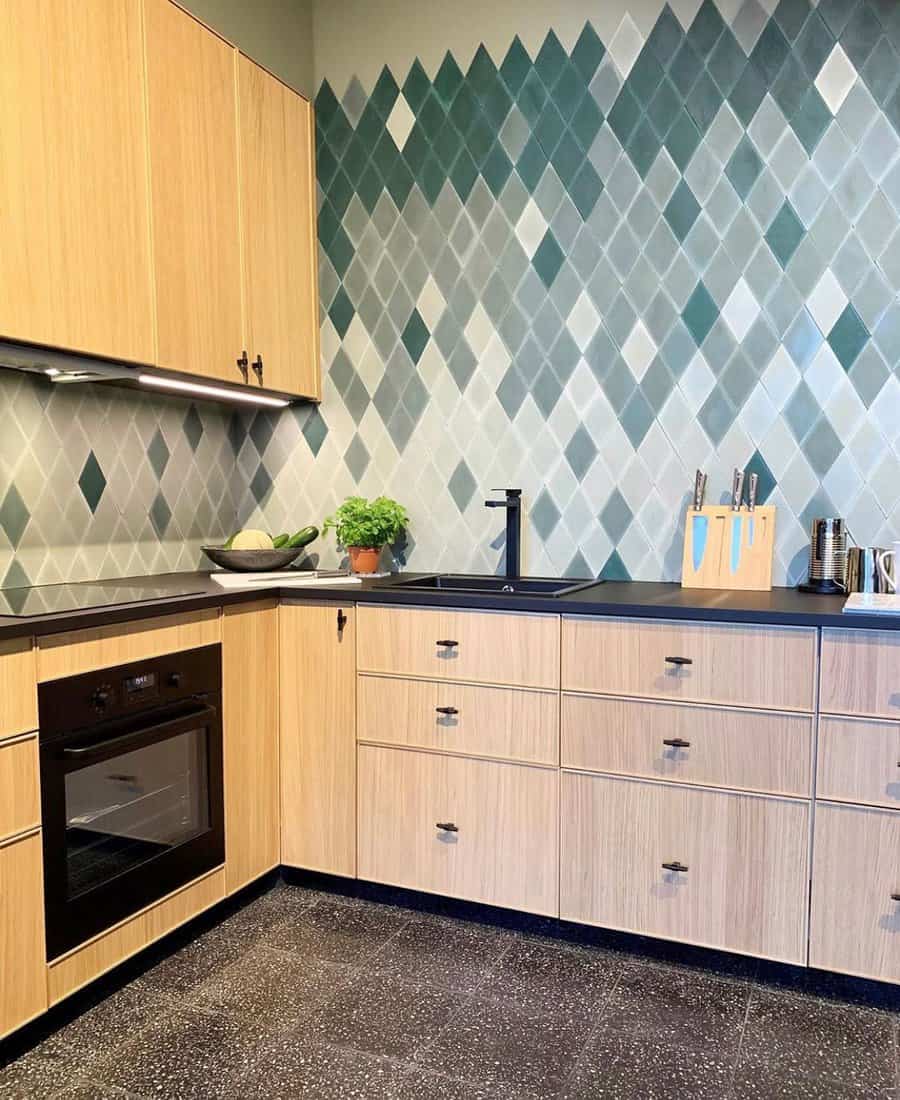 If you aren't ready for the full commitment of tile replacement, then a more affordable and less permanent option is vinyl tile. You can lay luxury vinyl tile over your existing floor for a quick and easy change.
While it may not last as long as other flooring materials, it will quickly transform the look of your kitchen.
4. Grey
Grey is the popular modern neutral. It's replaced beige and tan as the soft neutral color used for designing and decorating. A light grey floor is best accomplished with natural materials.
A plain grey tile will look dull and industrial, which isn't the look most people are going for in their home kitchen.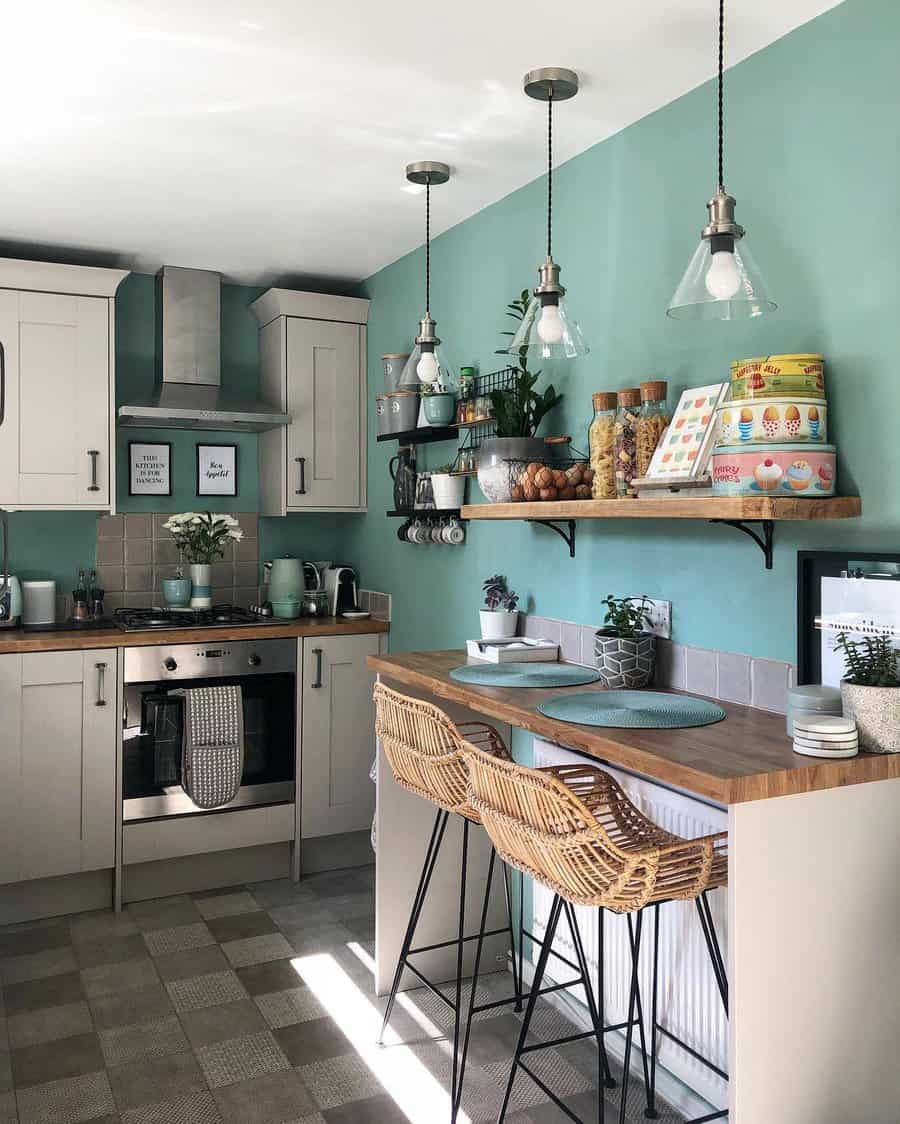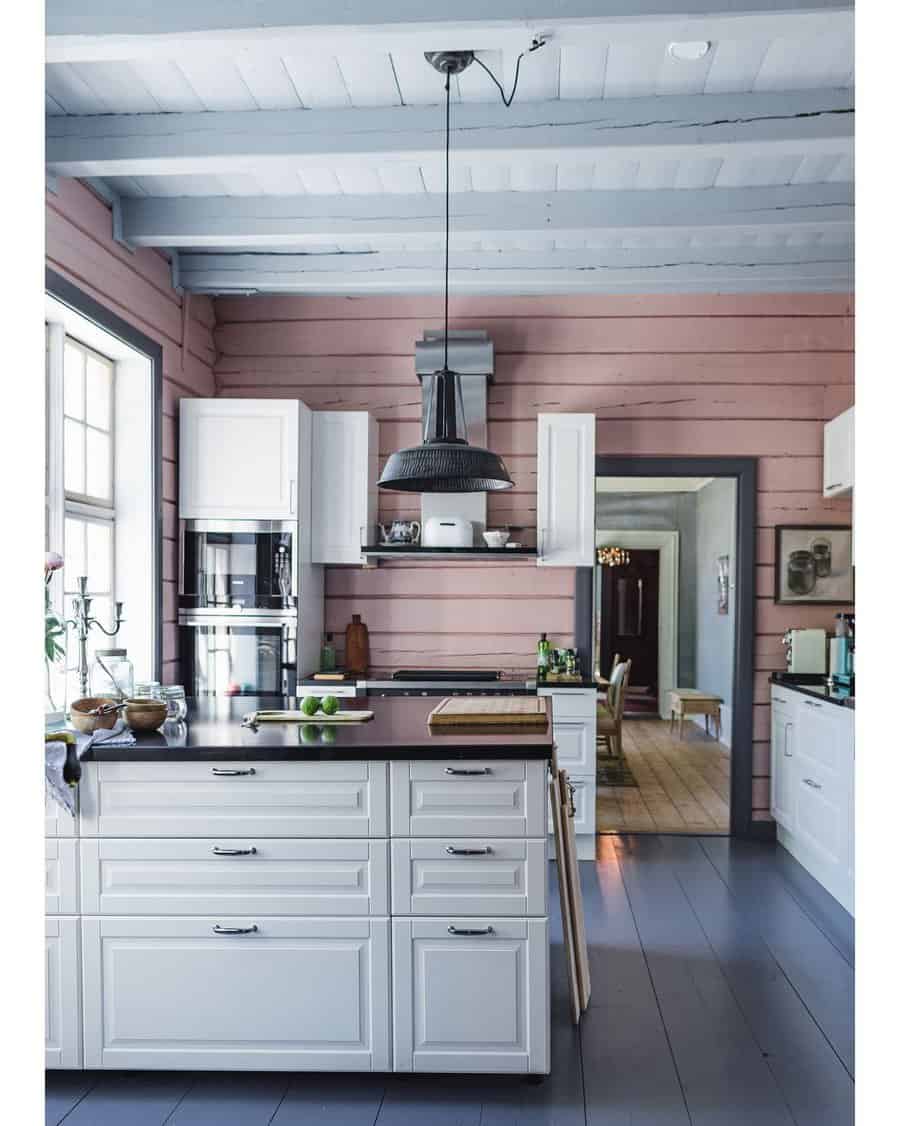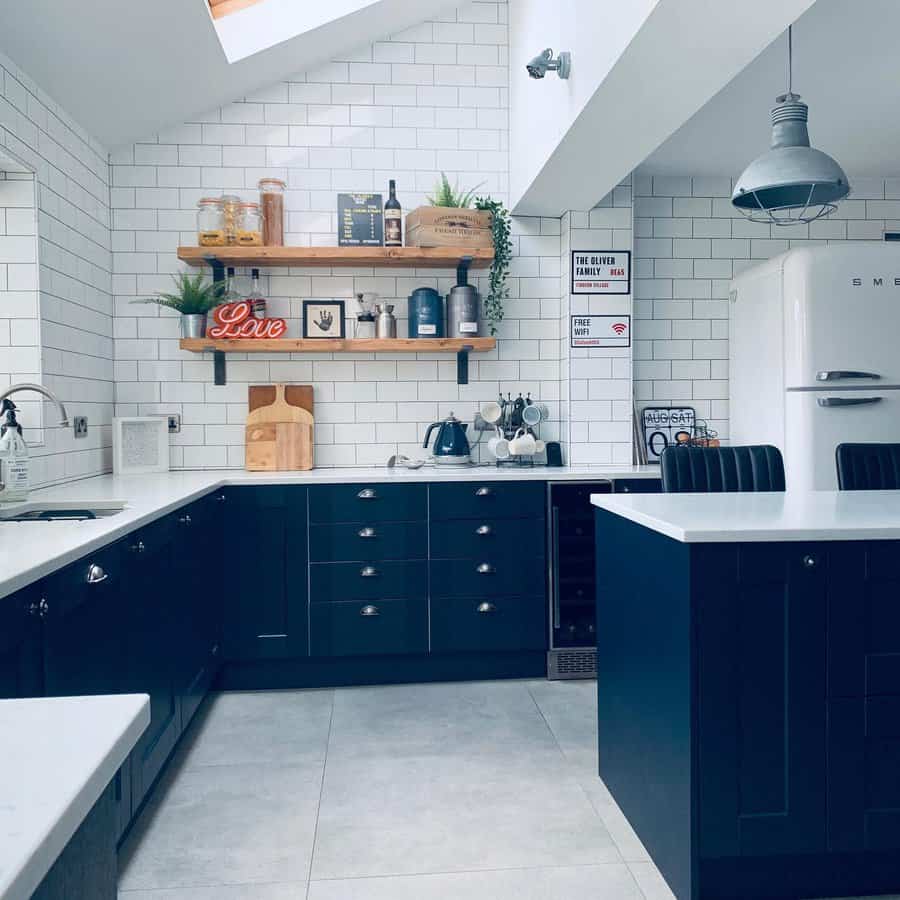 For an easy floor solution, try concrete flooring. You probably already have concrete as the foundation in your kitchen. Clean it up and seal it to prevent stains and make it more sanitary.
5. Light Colors
Choosing a light-colored floor for your kitchen will help to keep the space feeling light and bright. Modern kitchen design embraces light woods that blend well with the minimalist design approach. You'll see it often used in Scandinavian interior design.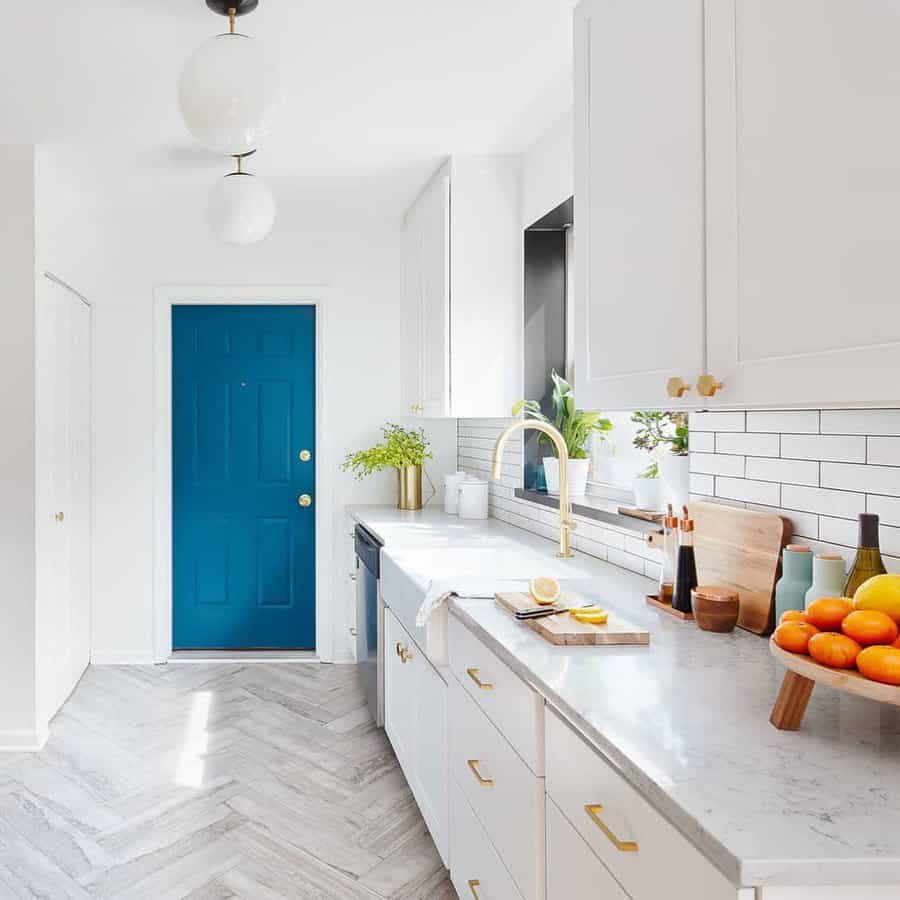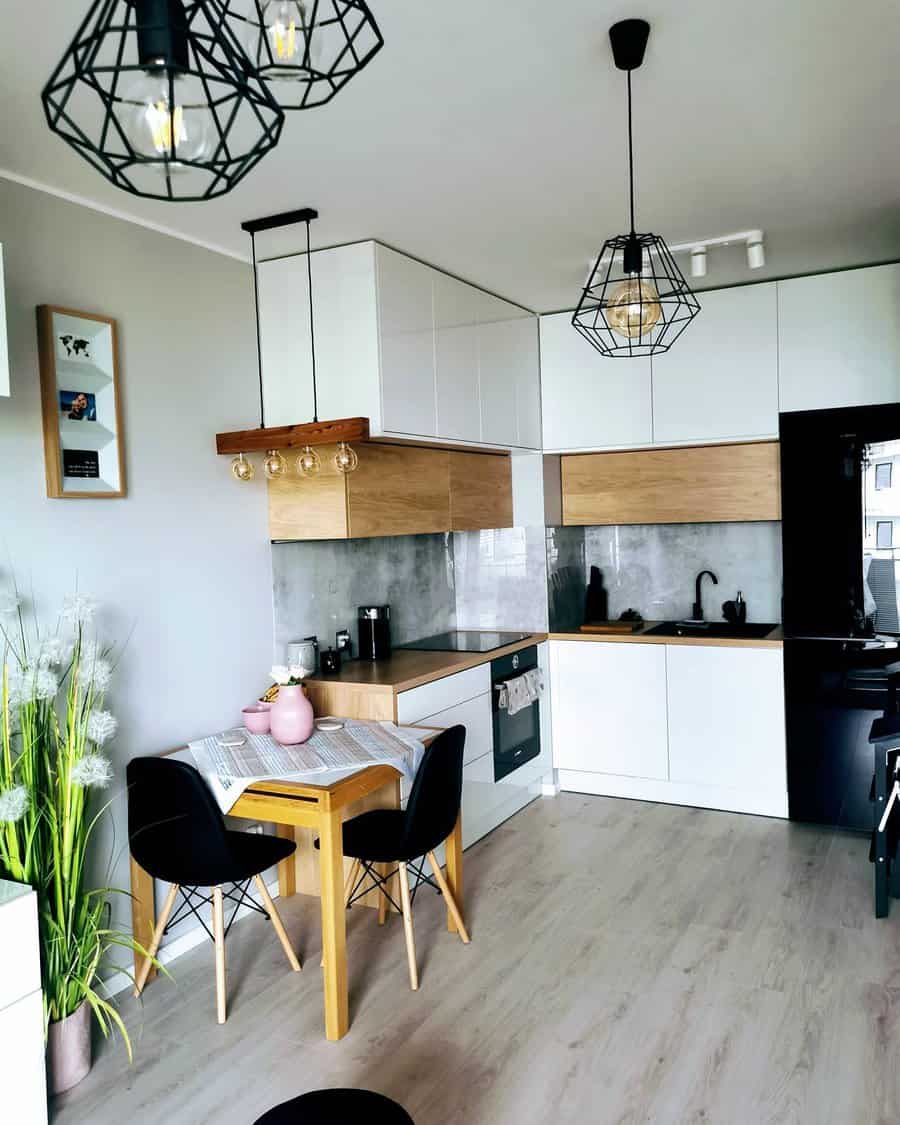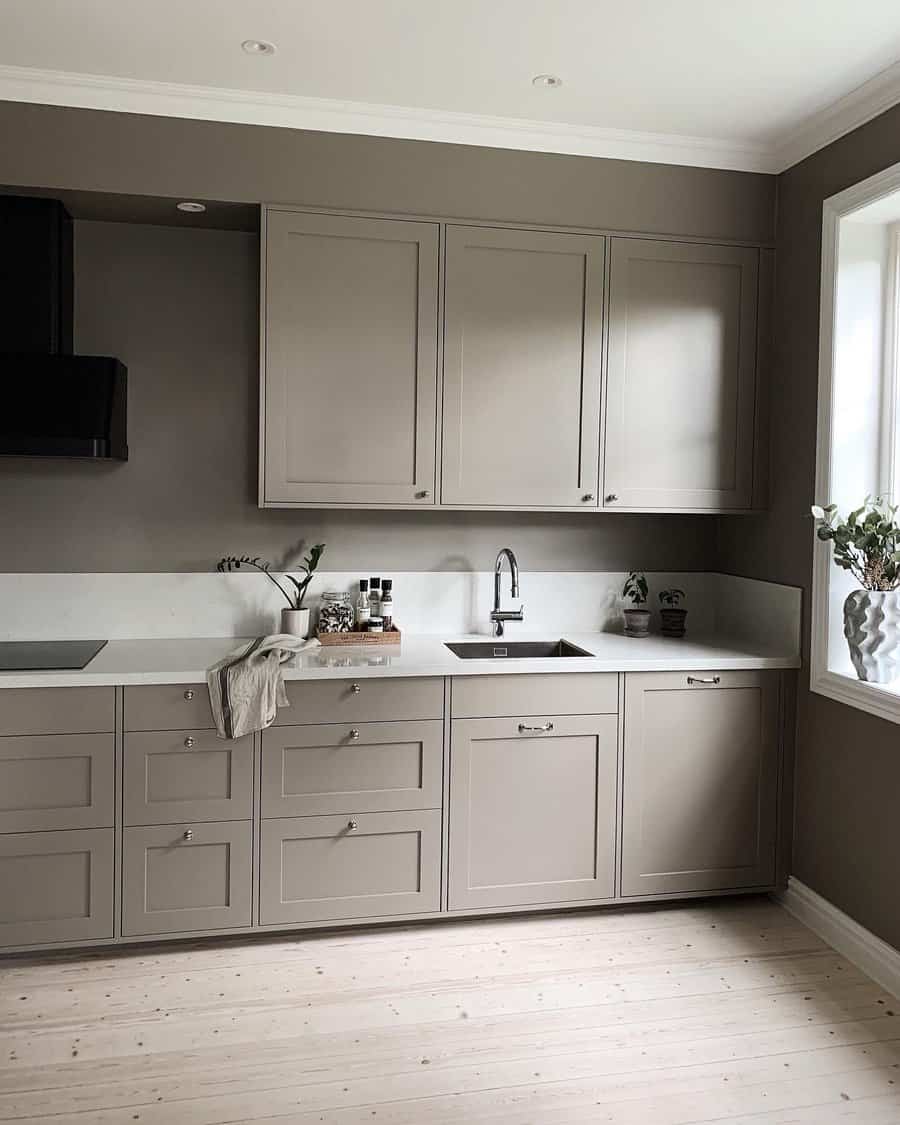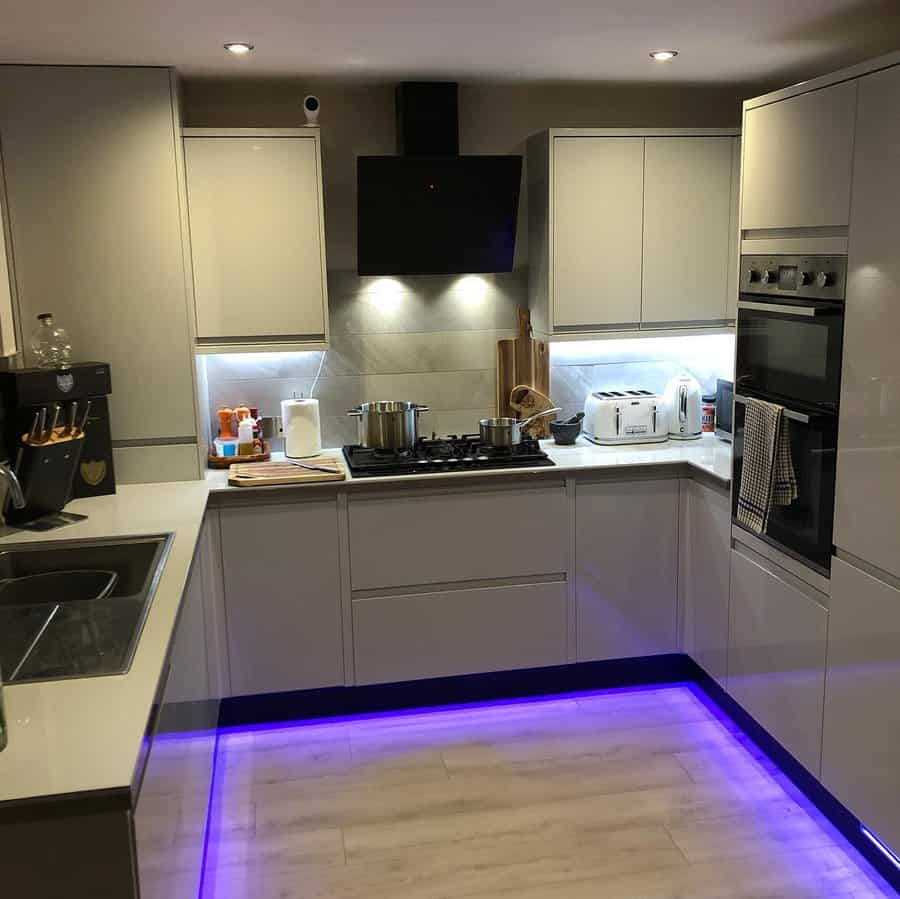 You could also choose a light-colored tile. It doesn't have to be pure white. Instead, choose a light marble that features shades of grey veining. You could also use natural stone that's in a light shade.
What's nice about these two options is that the light color is predominant, but the floor has depth with the darker shades accenting the floor.
6. Marble
Large marble sheets are the classic look of elegant and high-end homes. A bright white or light grey marble will look elegant and keep your kitchen looking bright.
The large sheets of marble will look and be the most expensive. However, it also creates a smooth and continuous look that will flow throughout your whole kitchen.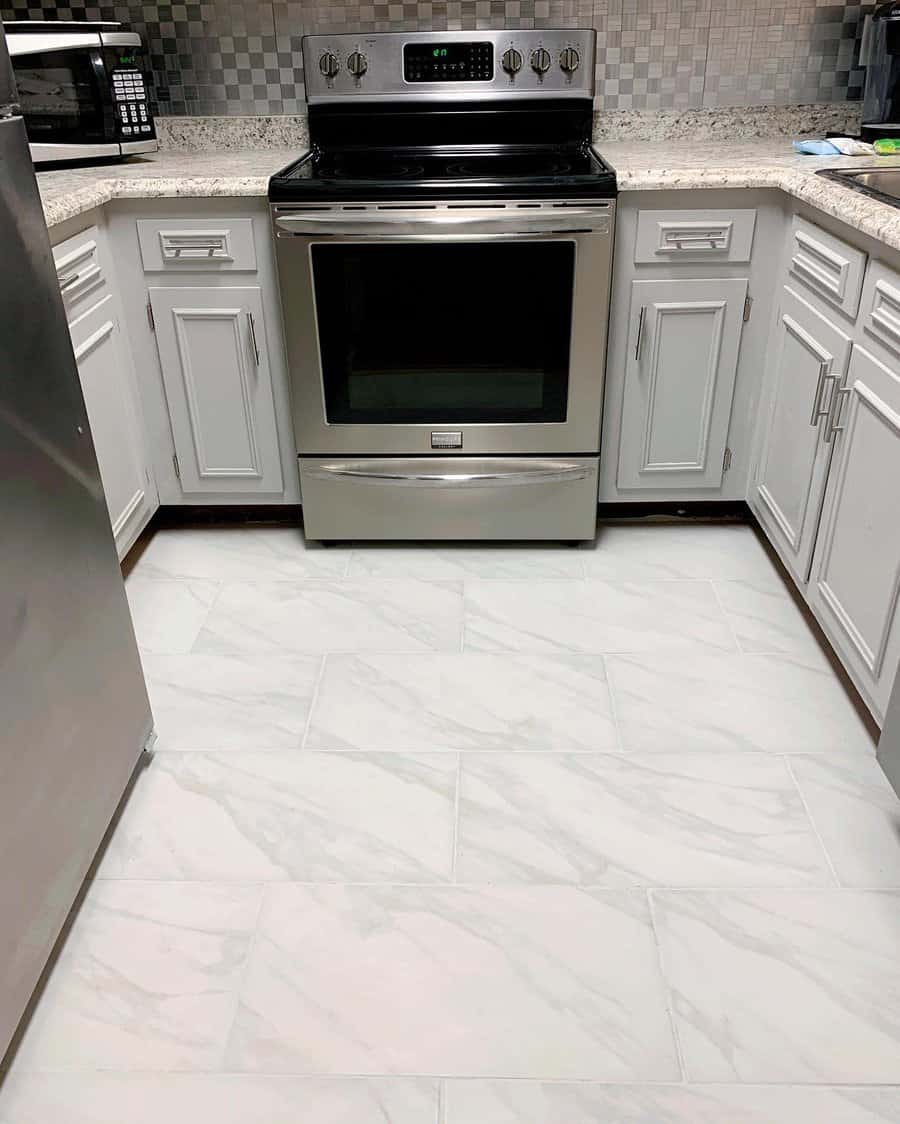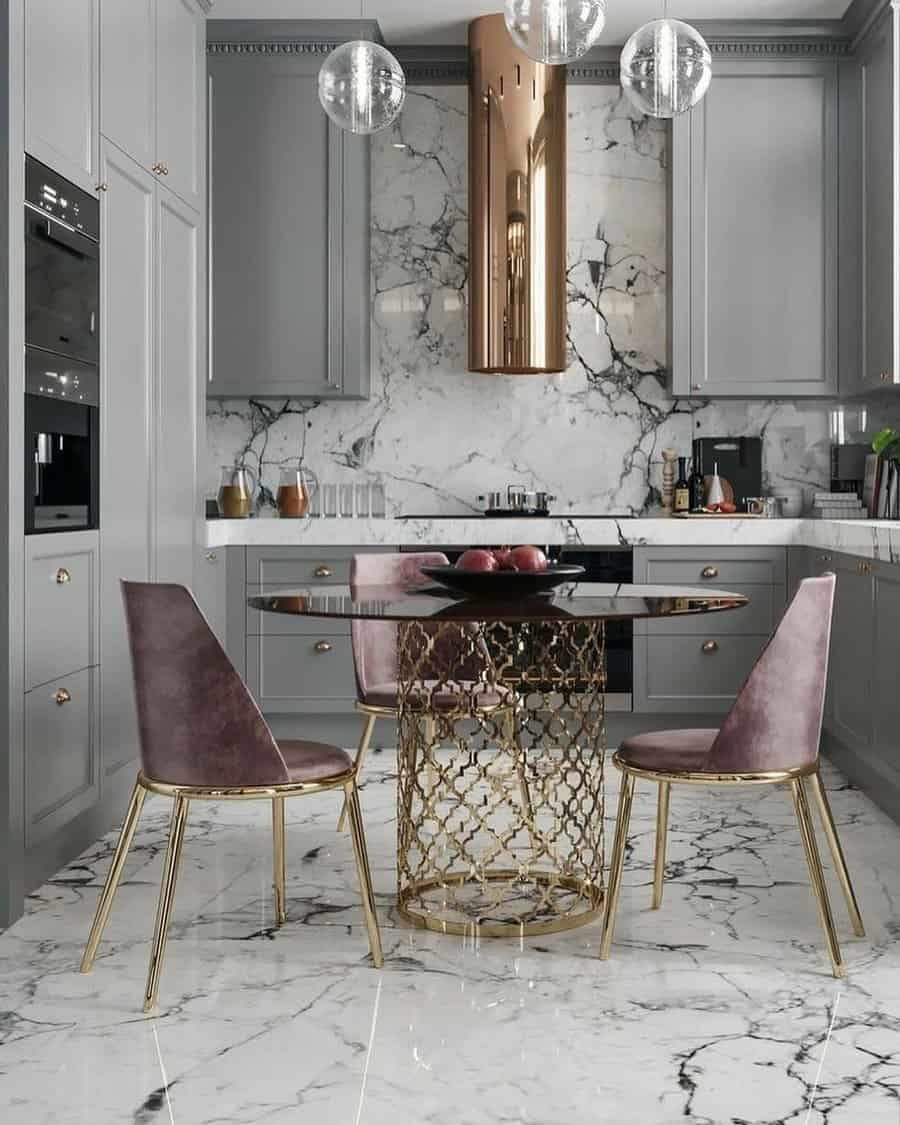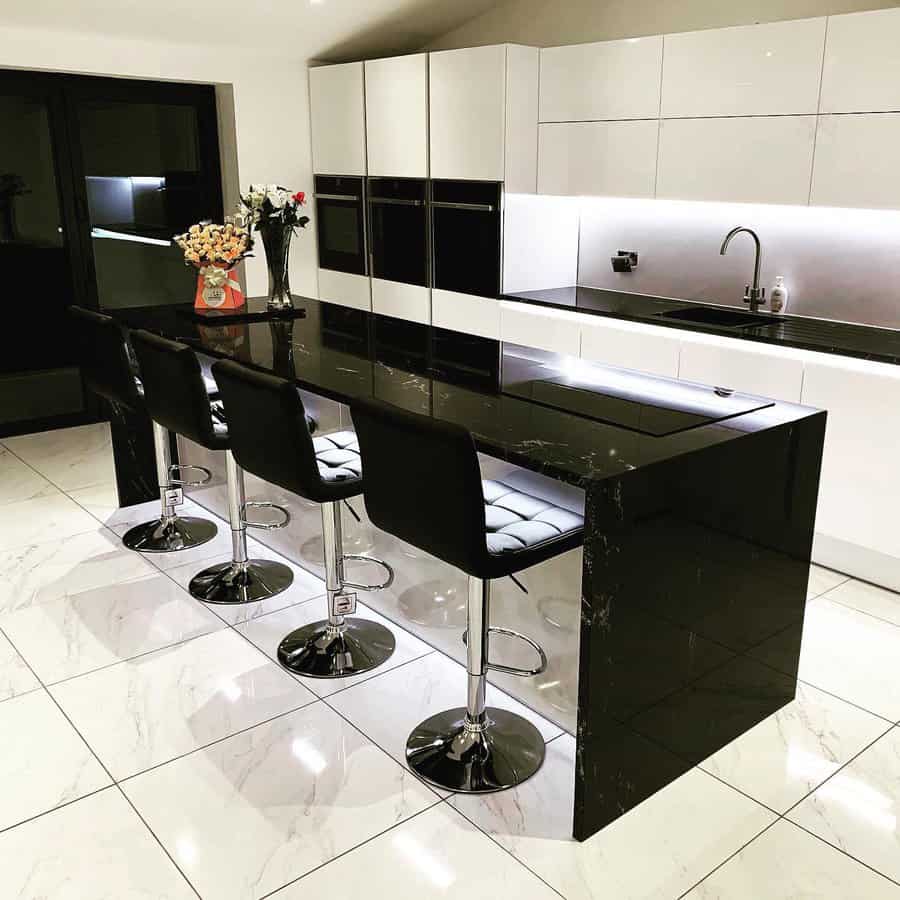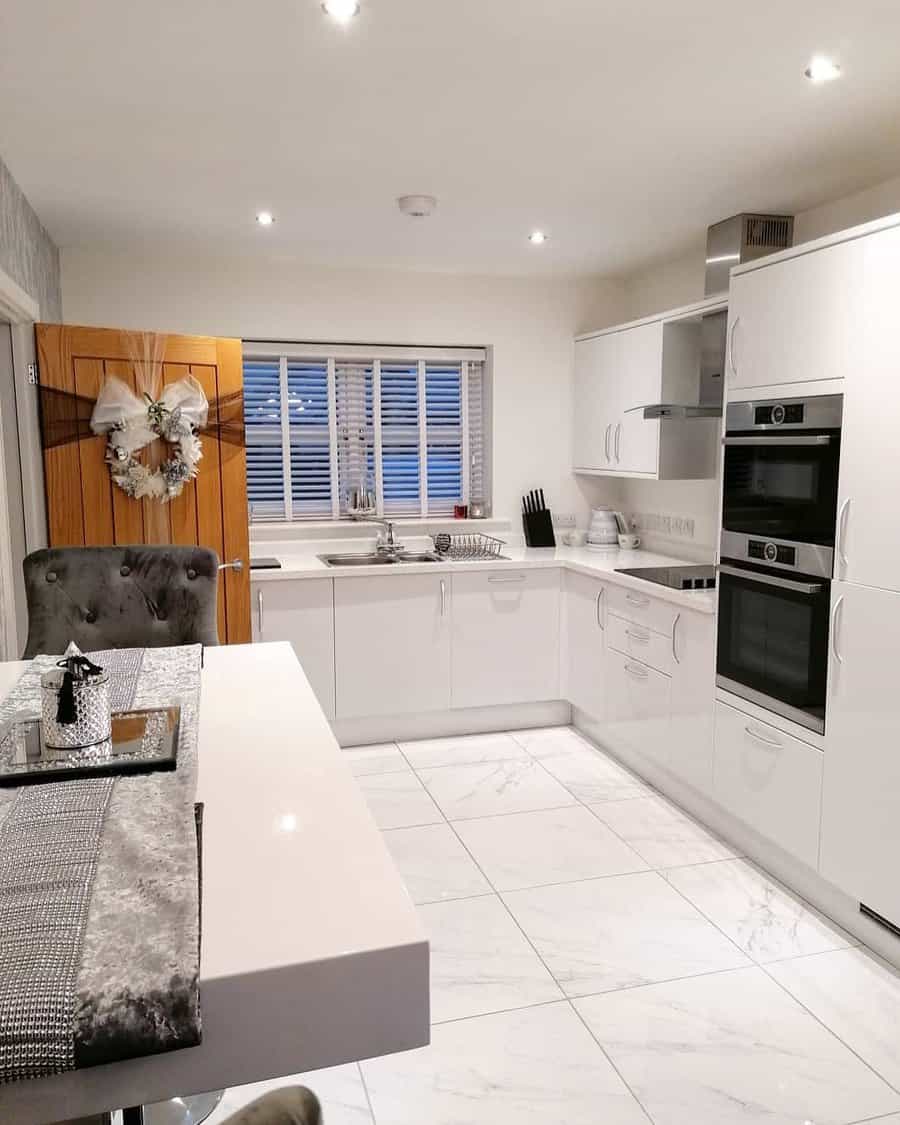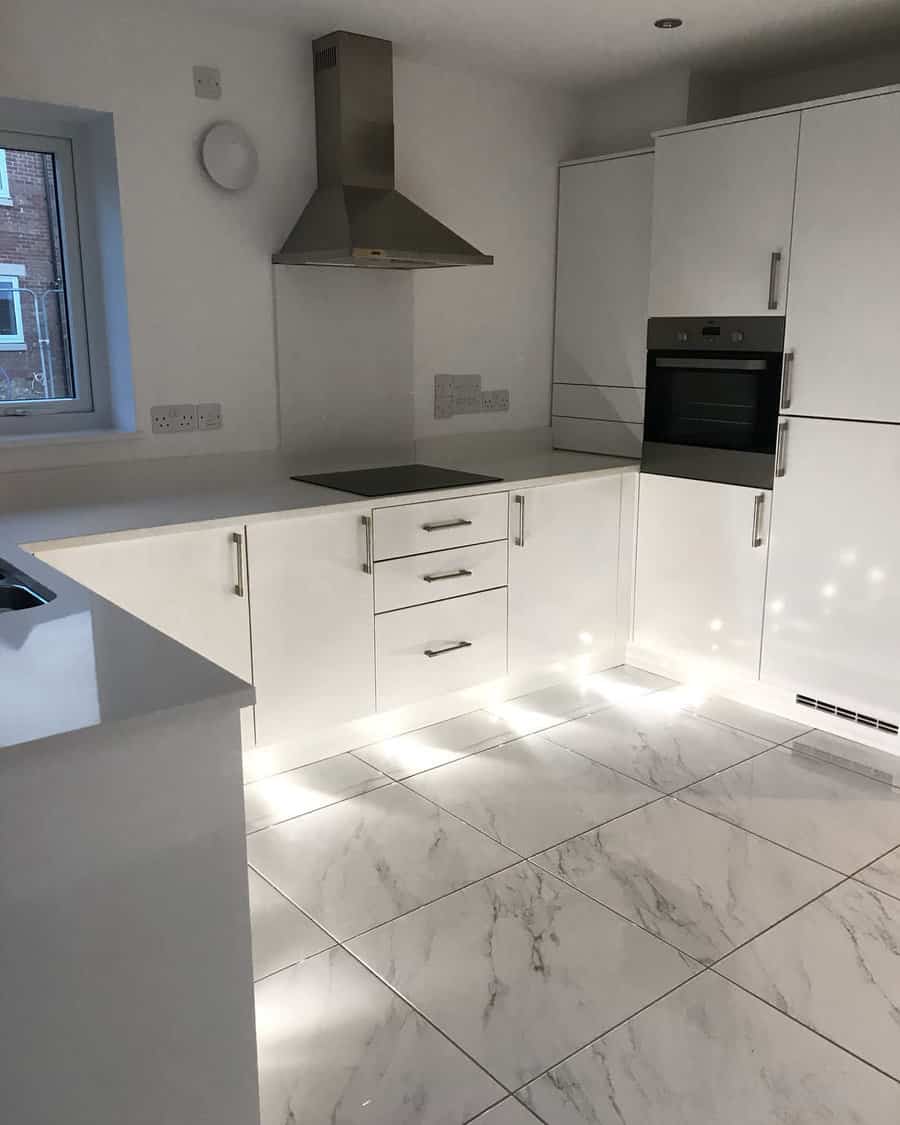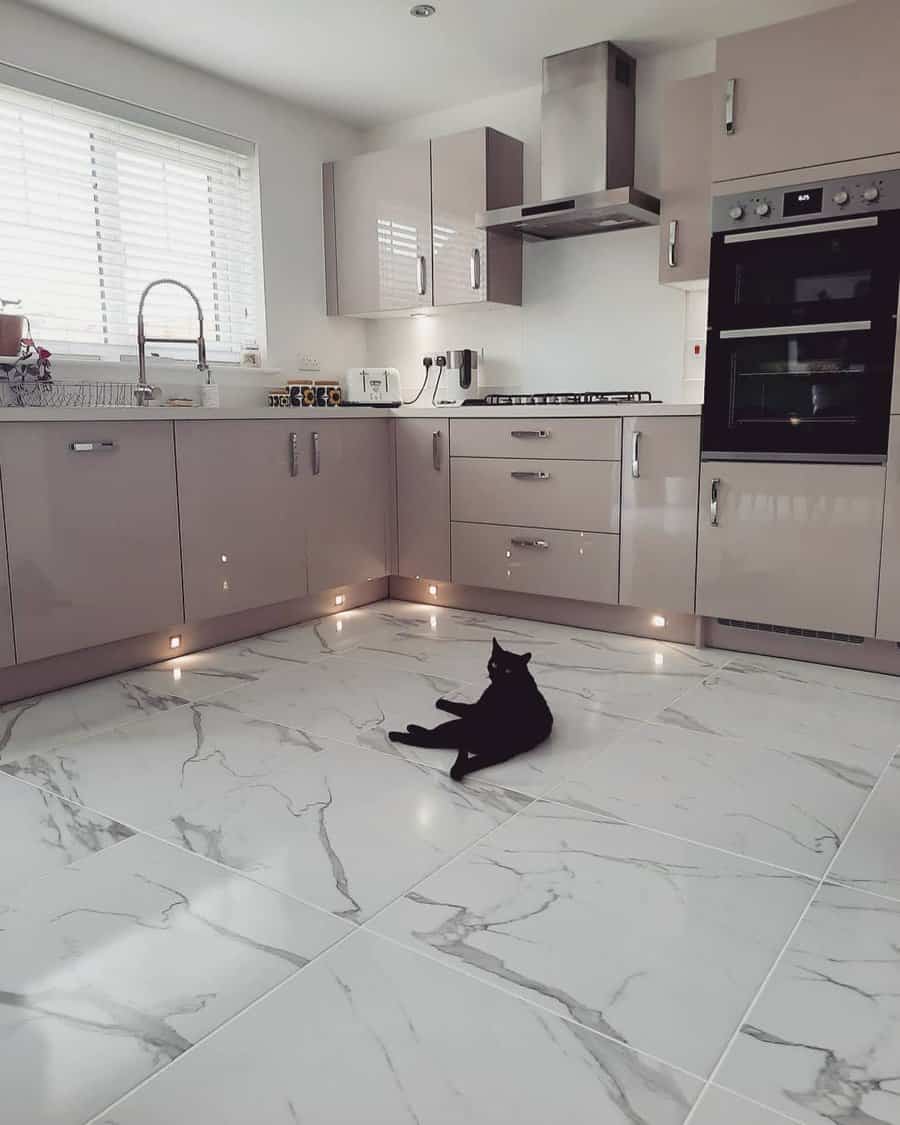 If you have your heart set on marble for your flooring material, consider using marble tile flooring. These are smaller tiles that are made from marble.
A popular shape in flooring trends is a small rectangular, similar to subway tile. This combines the vintage feel of subway tile with the elegance of marble.
7. Modern
A rising trend in home flooring materials is sustainable and environmentally friendly flooring materials. This is material that's made from natural materials that won't damage the environment and are easy to restore.
Cork flooring is one of the most popular flooring materials for this trend. While you could choose cork that looks like traditional cork, you could also choose cork flooring in a more elegant pattern.
You can find modern cork flooring with a chevron, plank, or geometric pattern.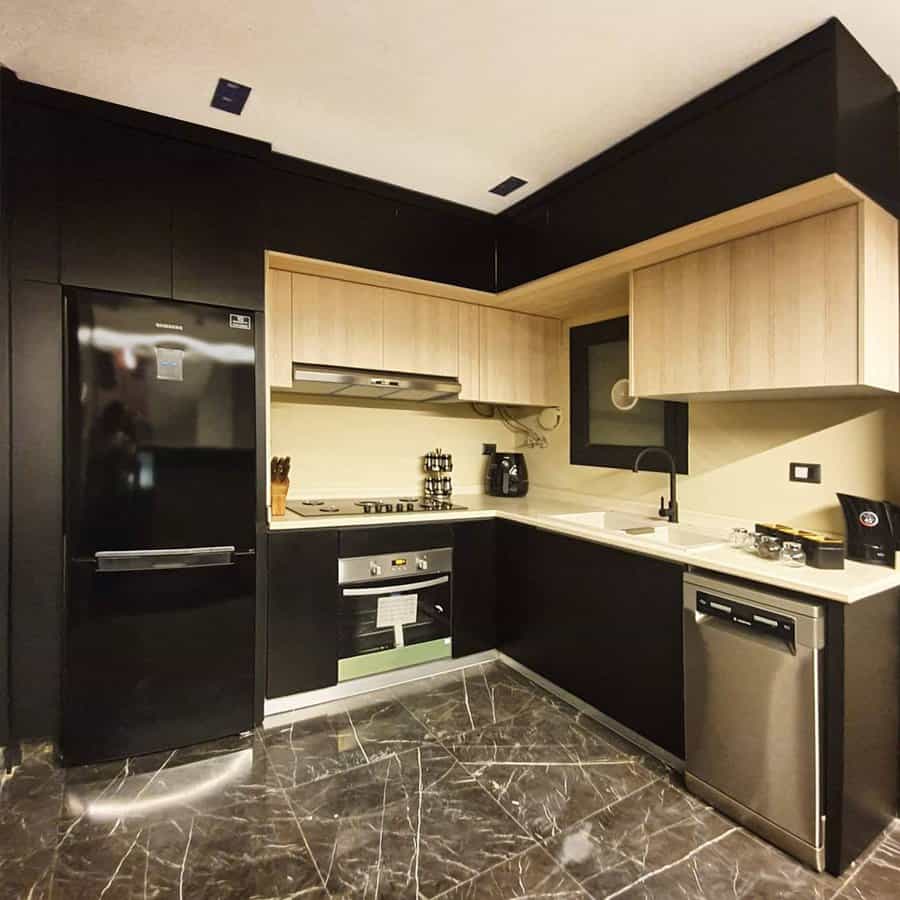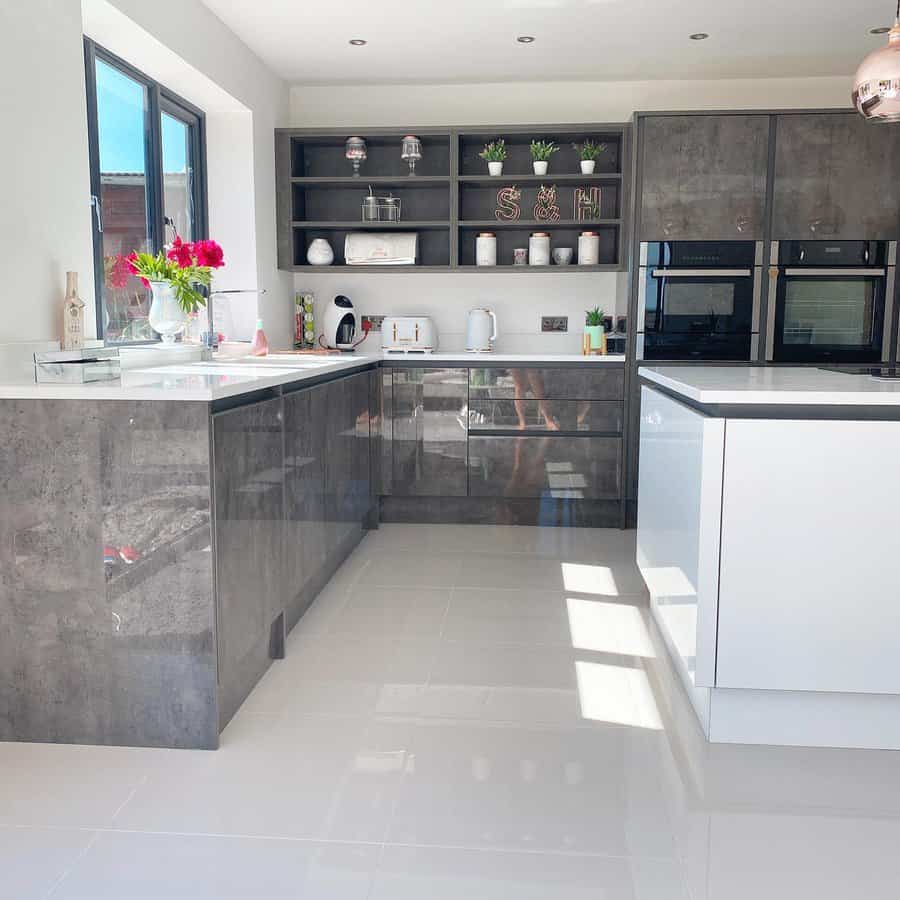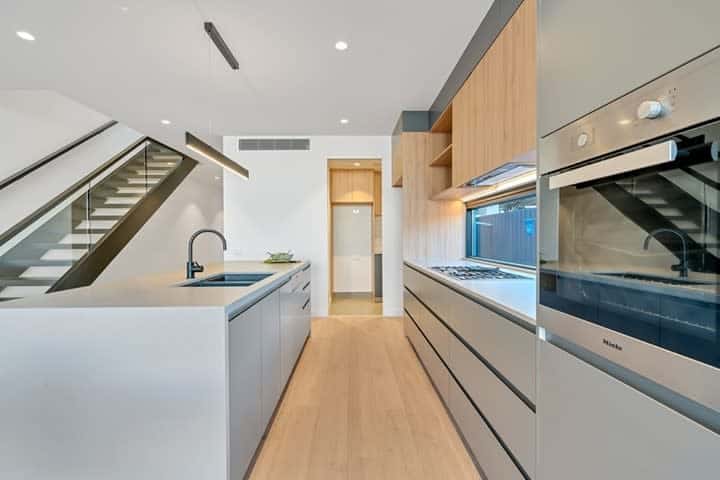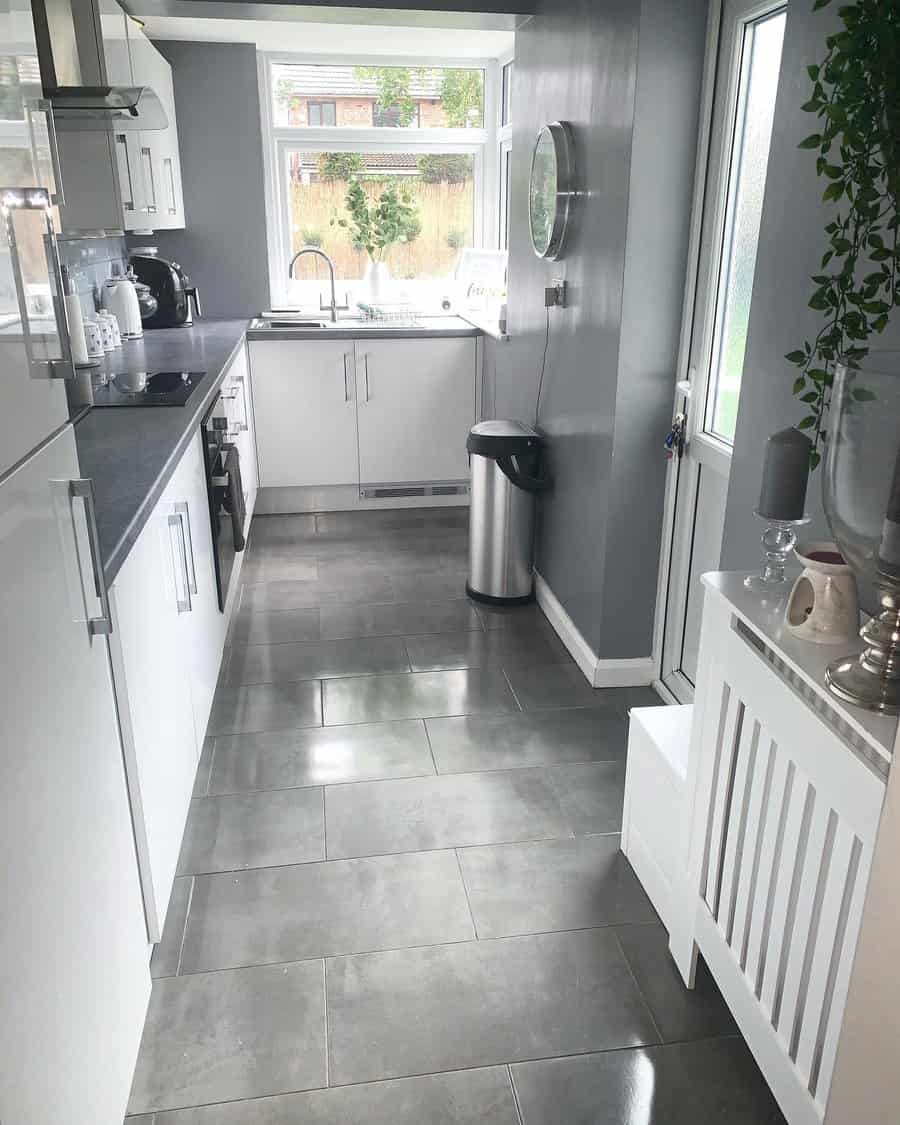 The other most popular sustainable material is bamboo flooring. It looks like standard light wood flooring.
What's nice about bamboo is that not only is it environmentally friendly, but it's also incredibly durable. This helps your flooring to last a long time, even with heavy use in the kitchen.
8. Pattern
Kitchen floor tile tends to be a bit boring, with either wood or plain tile floors.
Make your kitchen stand out by creating a pattern on your kitchen floor. You can do this with almost any kitchen flooring option you decide to use.
If you want wood flooring, skip the standard running planks and create a chevron or herringbone pattern. Or you could lay a parquet flooring for an elegant pattern.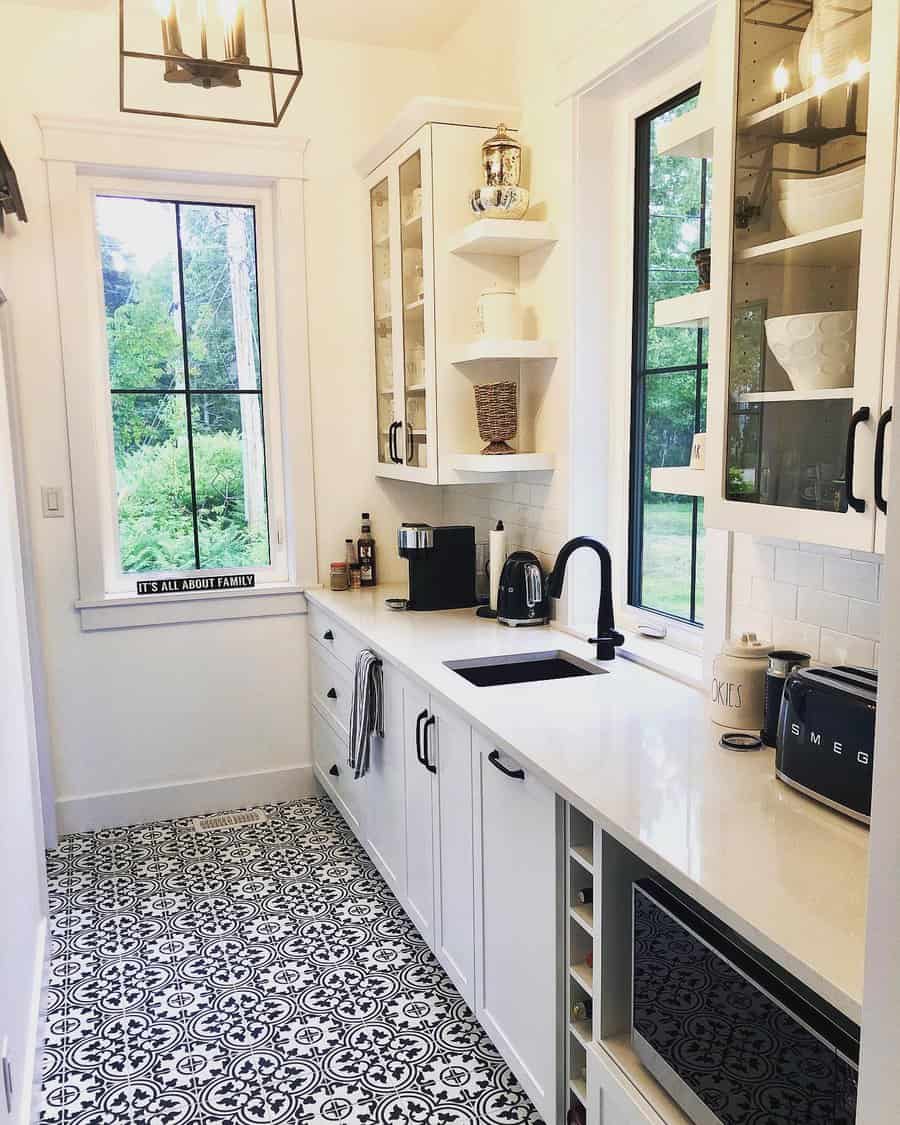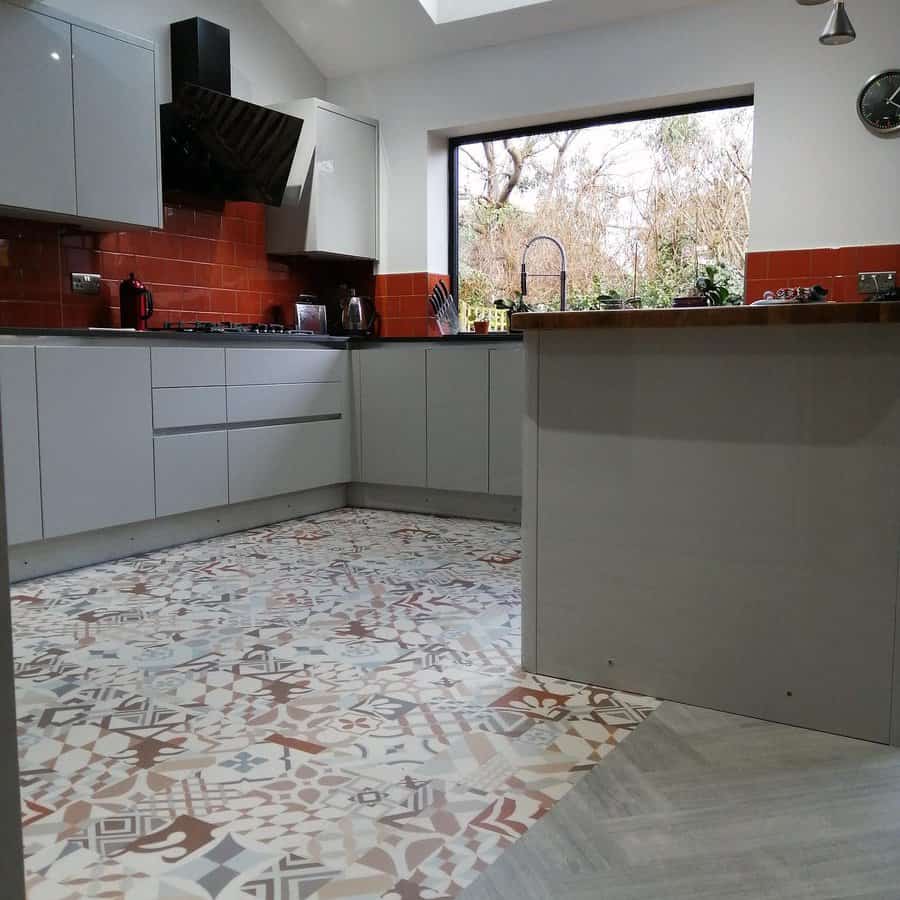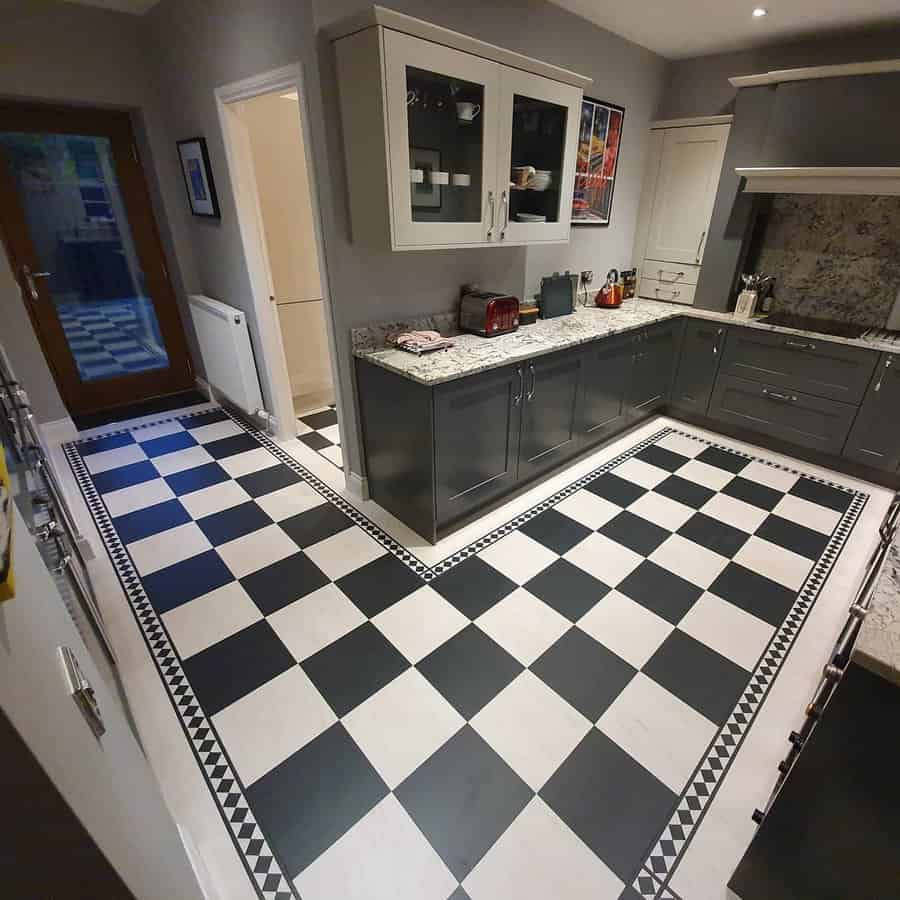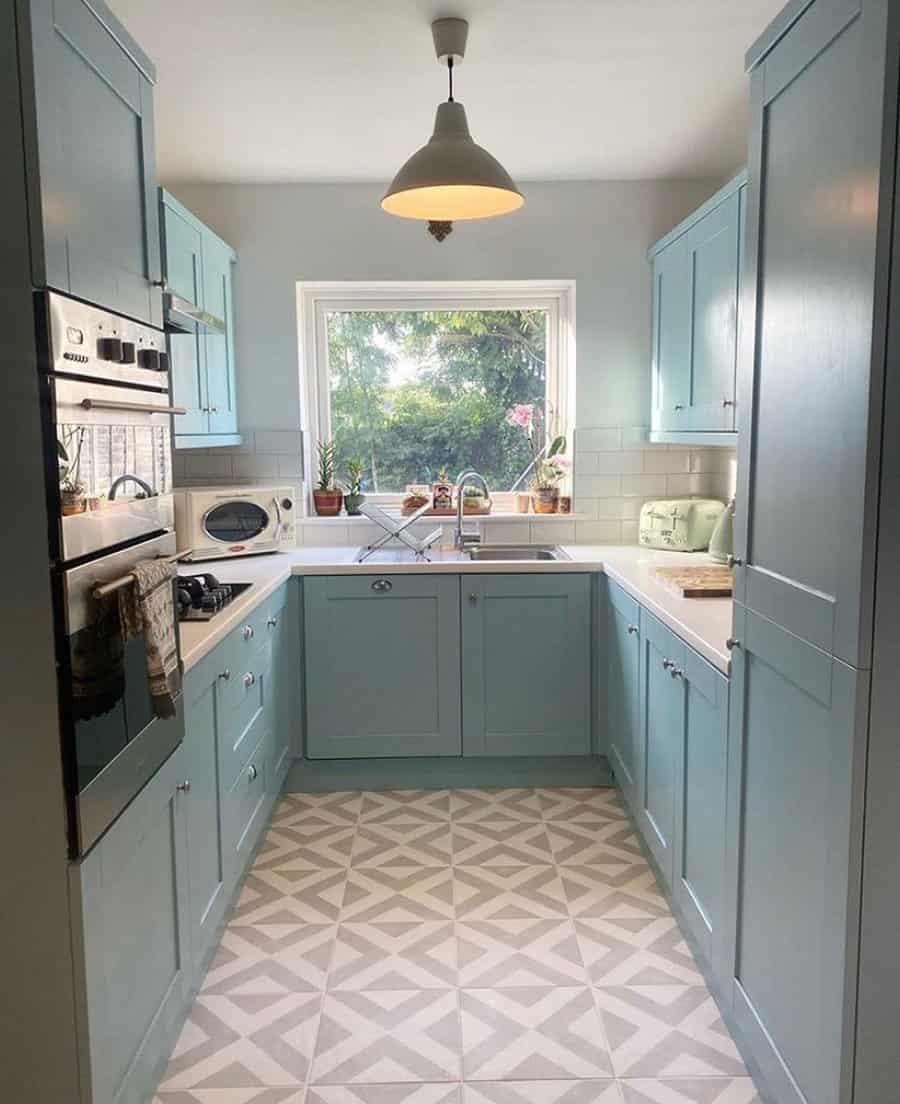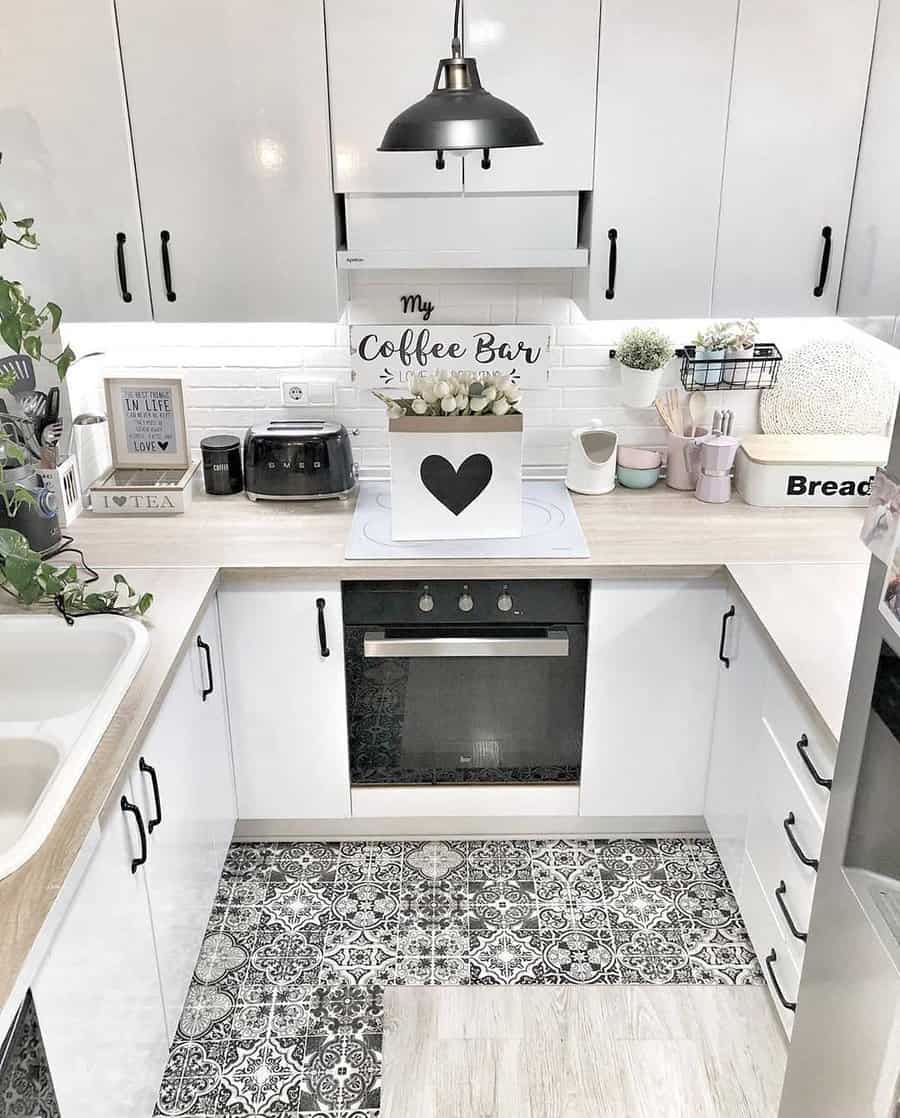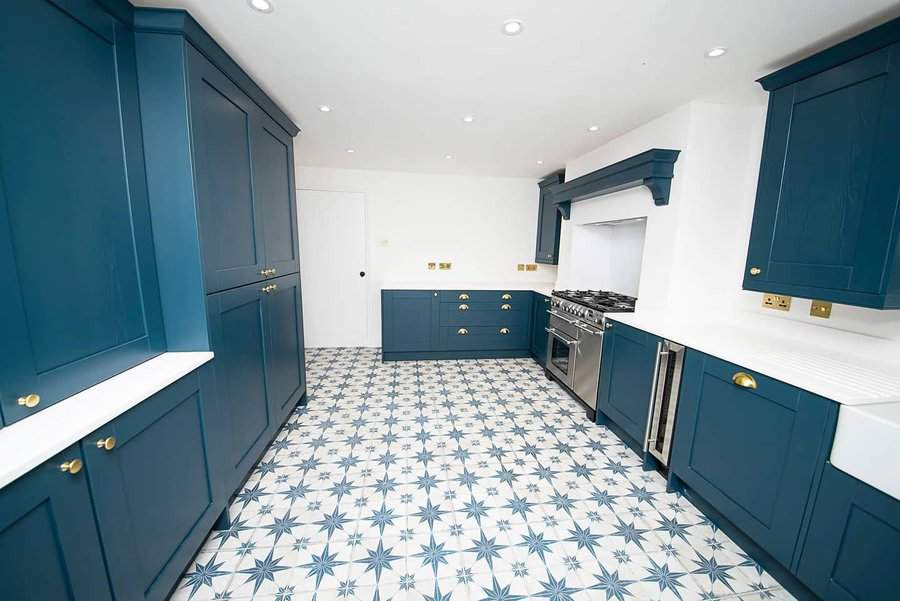 Tile is another easy flooring material to create patterns with. You could use a small tile to create a mosaic pattern. This works best for small kitchens.
Lay a larger tile that has a pattern on each tile. Larger-sized tiles and scaled patterns work best in larger kitchens.
You can also use multiple plain tiles to create a custom pattern on the floor.
9. Rustic
Give your home the final touch to your rustic aesthetic with a wooden floor. You could do this with authentic reclaimed or salvaged wood.
This will give your kitchen floor an uneven and worn look. This is nice but also not completely practical. You don't want to risk injury to someone who is barefoot in your kitchen.
This can result in a lot of cleaning up of the wood before you install your rustic kitchen flooring design.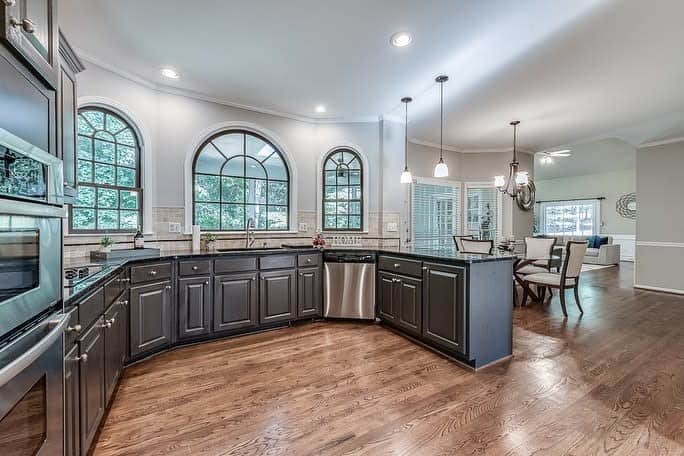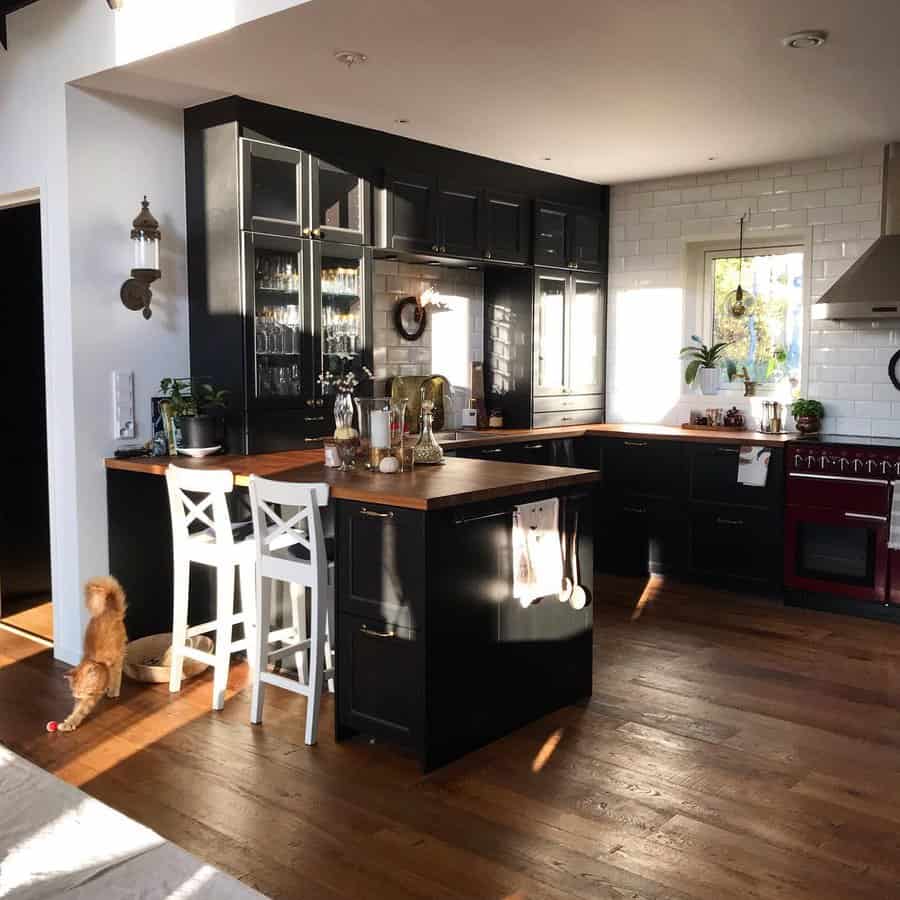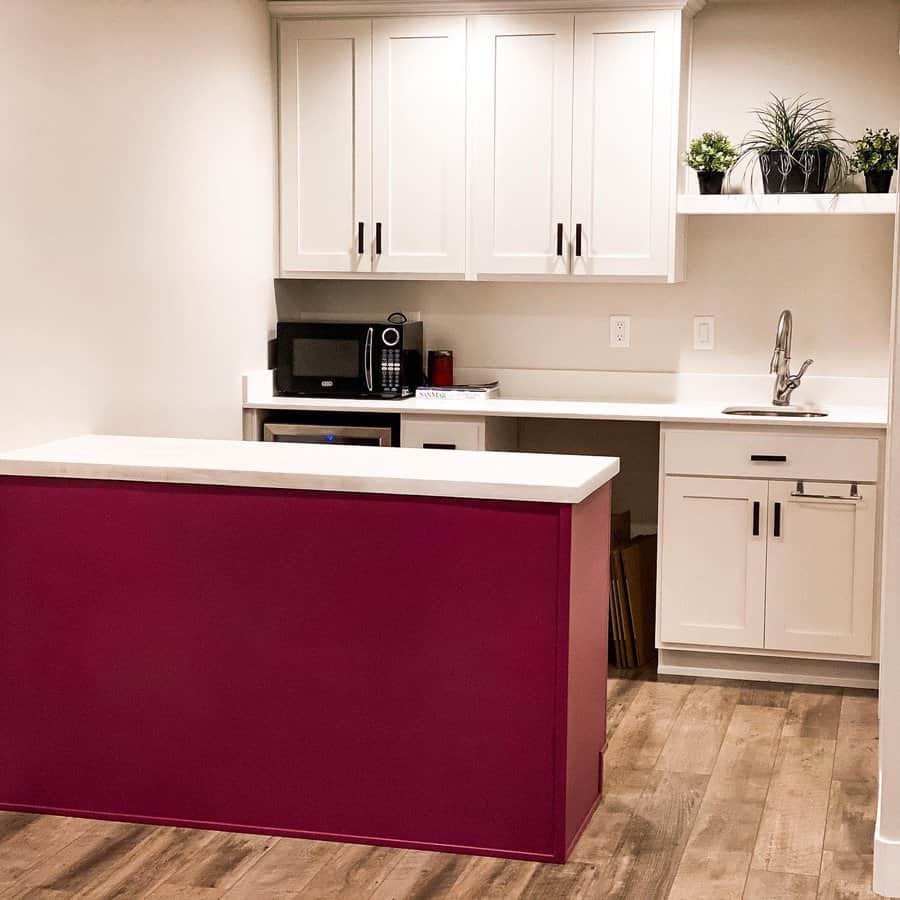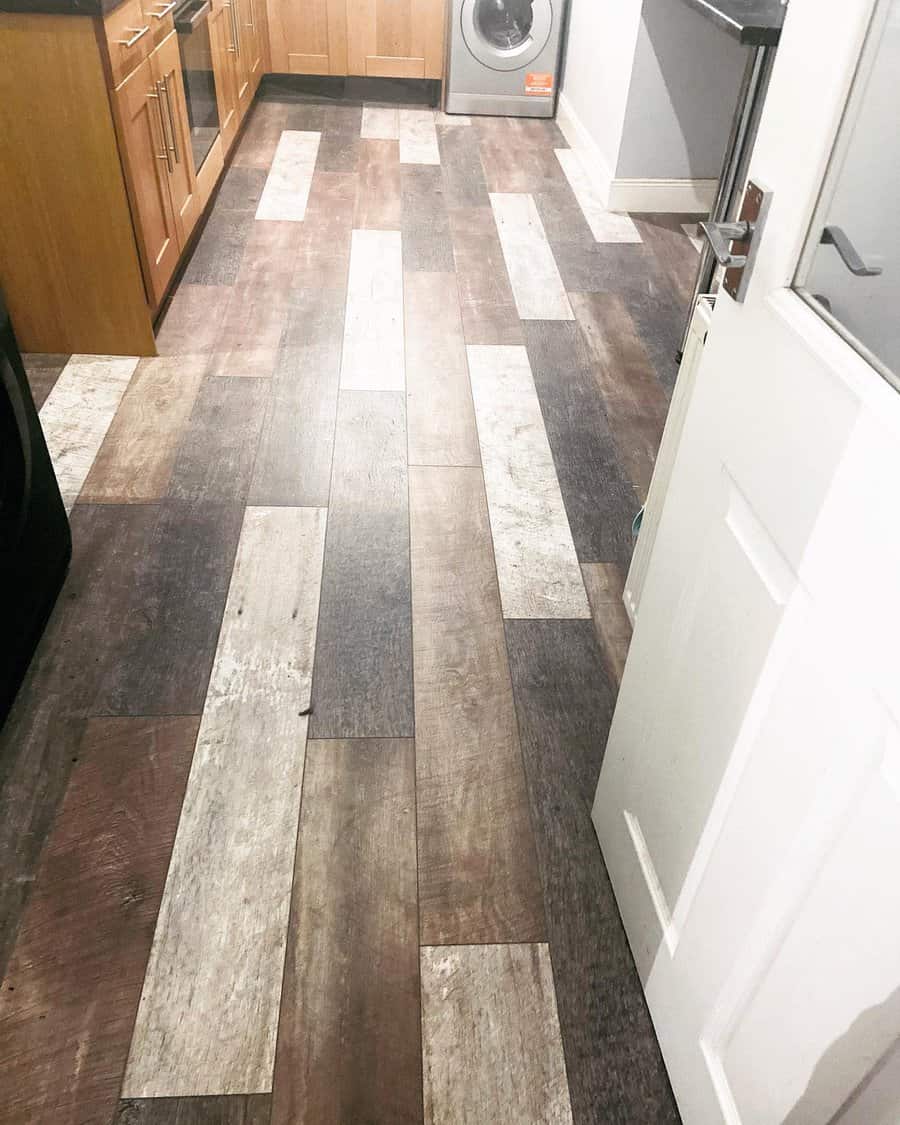 A great alternative is to use laminate flooring. Both laminate and vinyl flooring can mimic the look of rustic wood flooring without all of the work and maintenance requirements. Finish the look by laying a kitchen rug on top that's woven out of jute or a low pile oriental rug.
10. Stone
Natural stone can give your kitchen a warm and welcoming feeling while also looking sleek and modern. The aesthetic you give your kitchen will depend on the type of stone and how it's cut.
Rustic stone flooring is hand-cut and irregular in shape. They tend to look more generic in color and work well in a kitchen that has a rustic or farmhouse feel.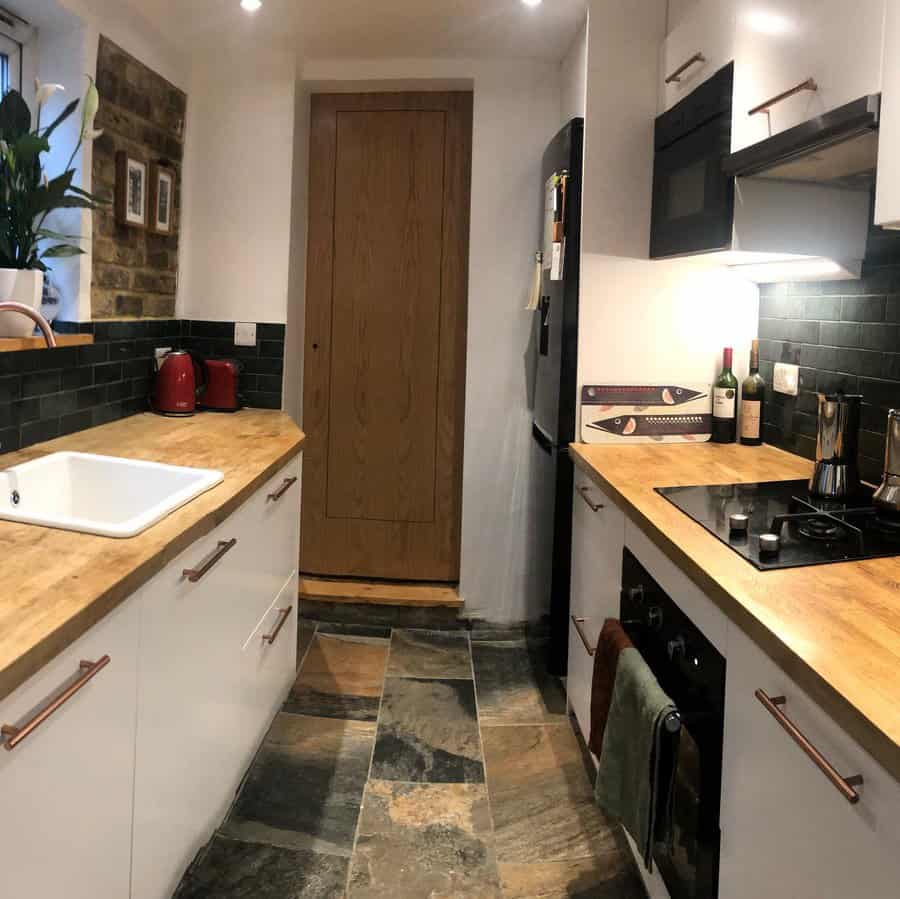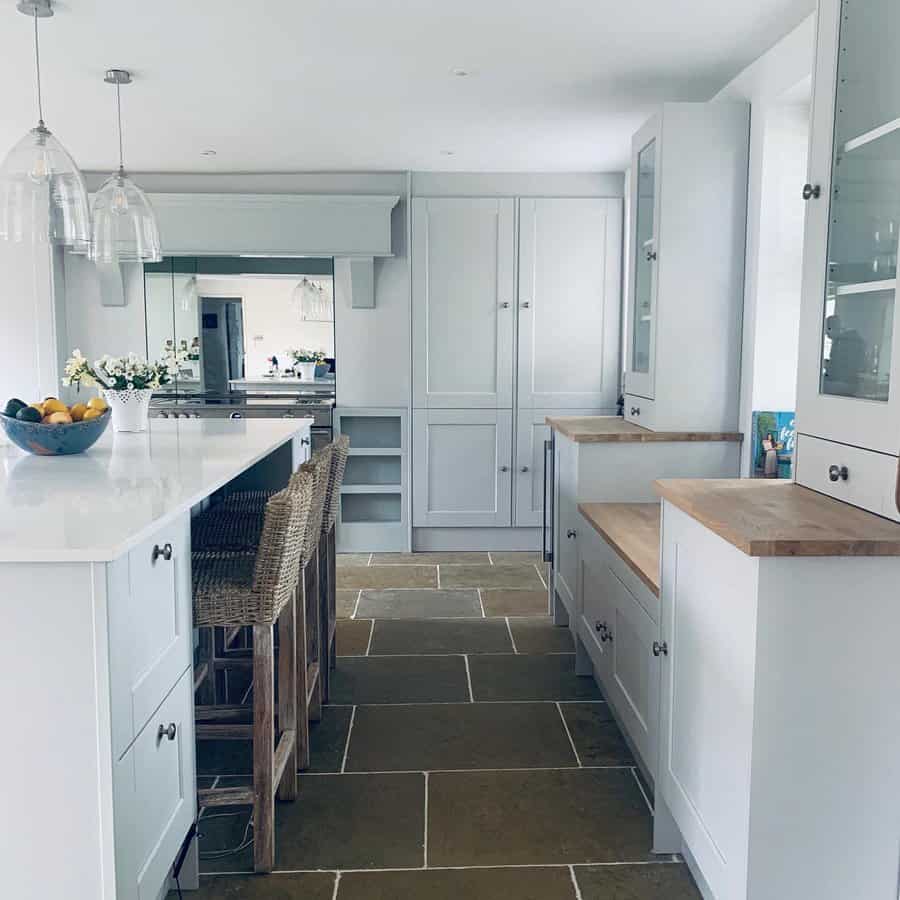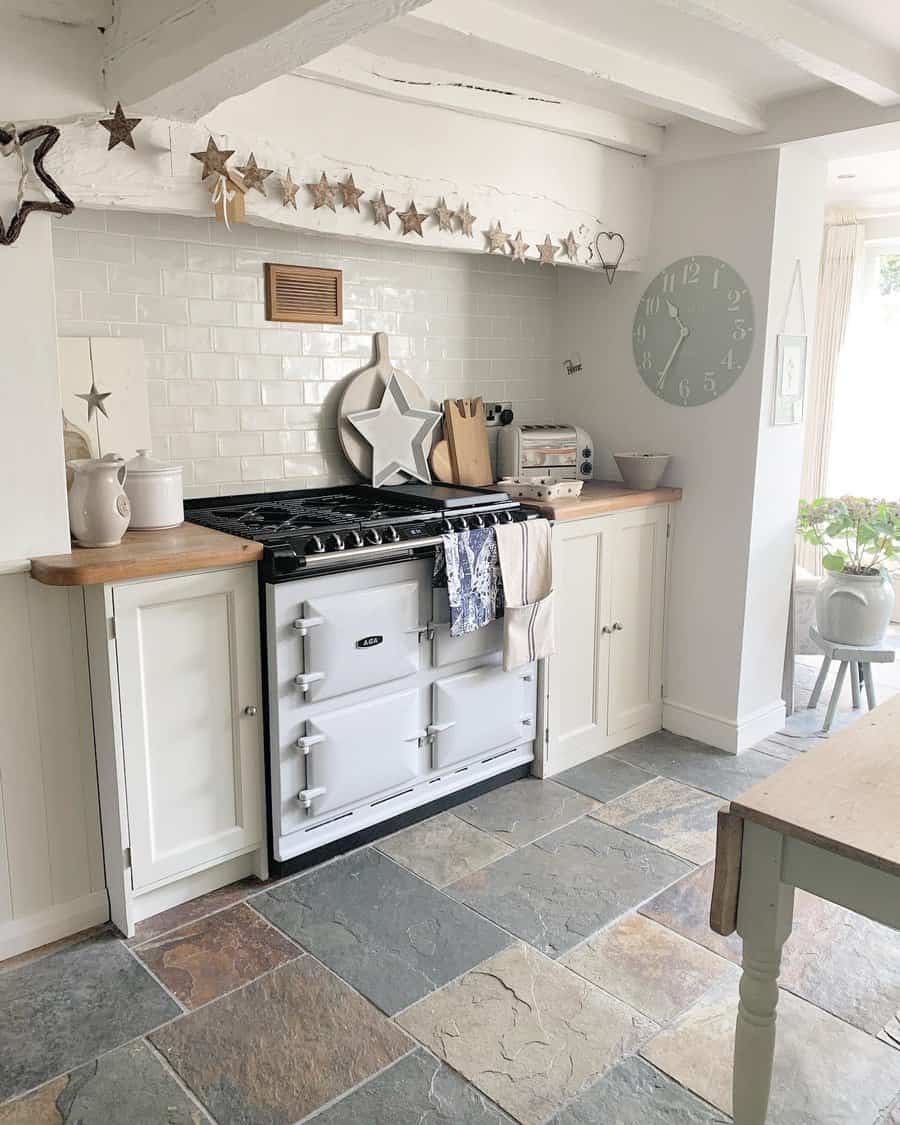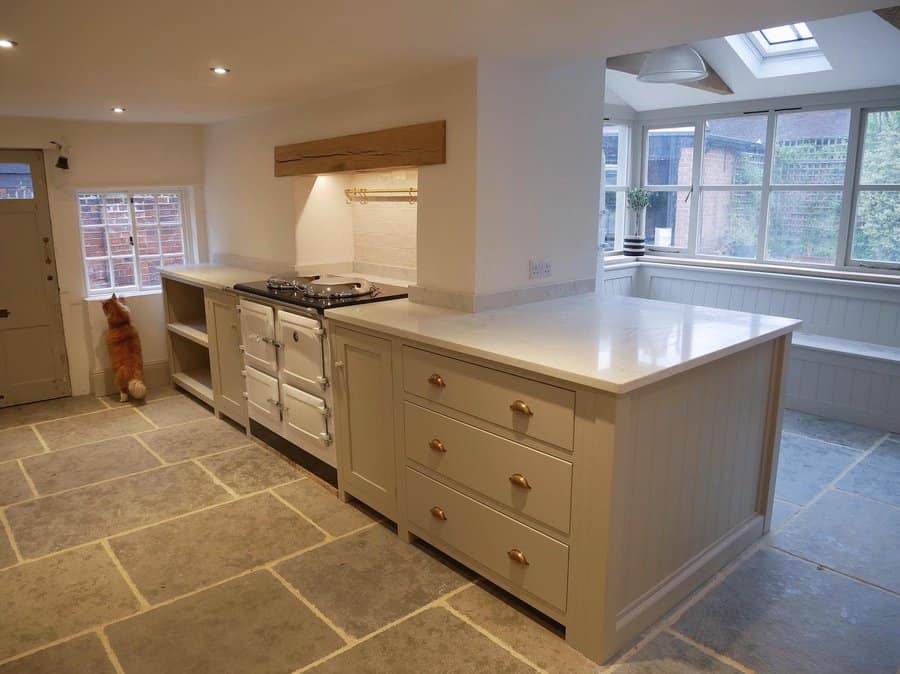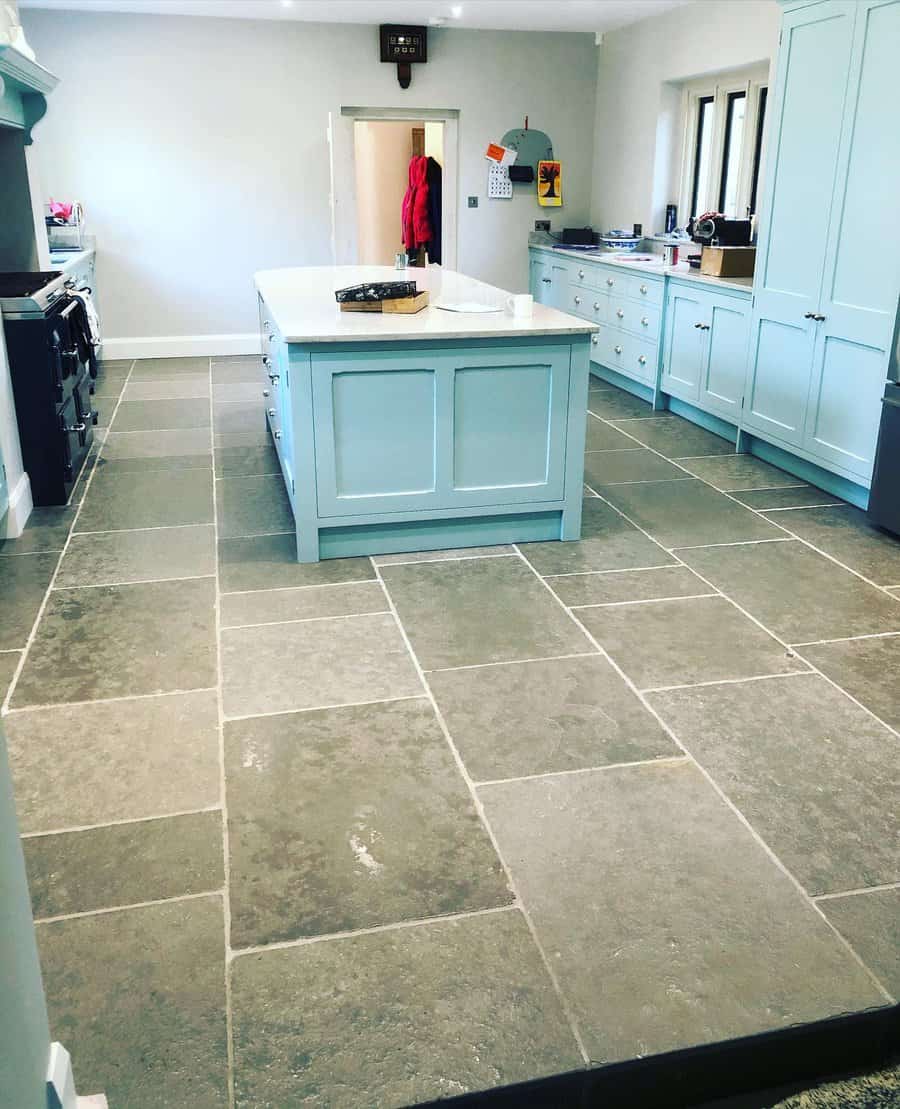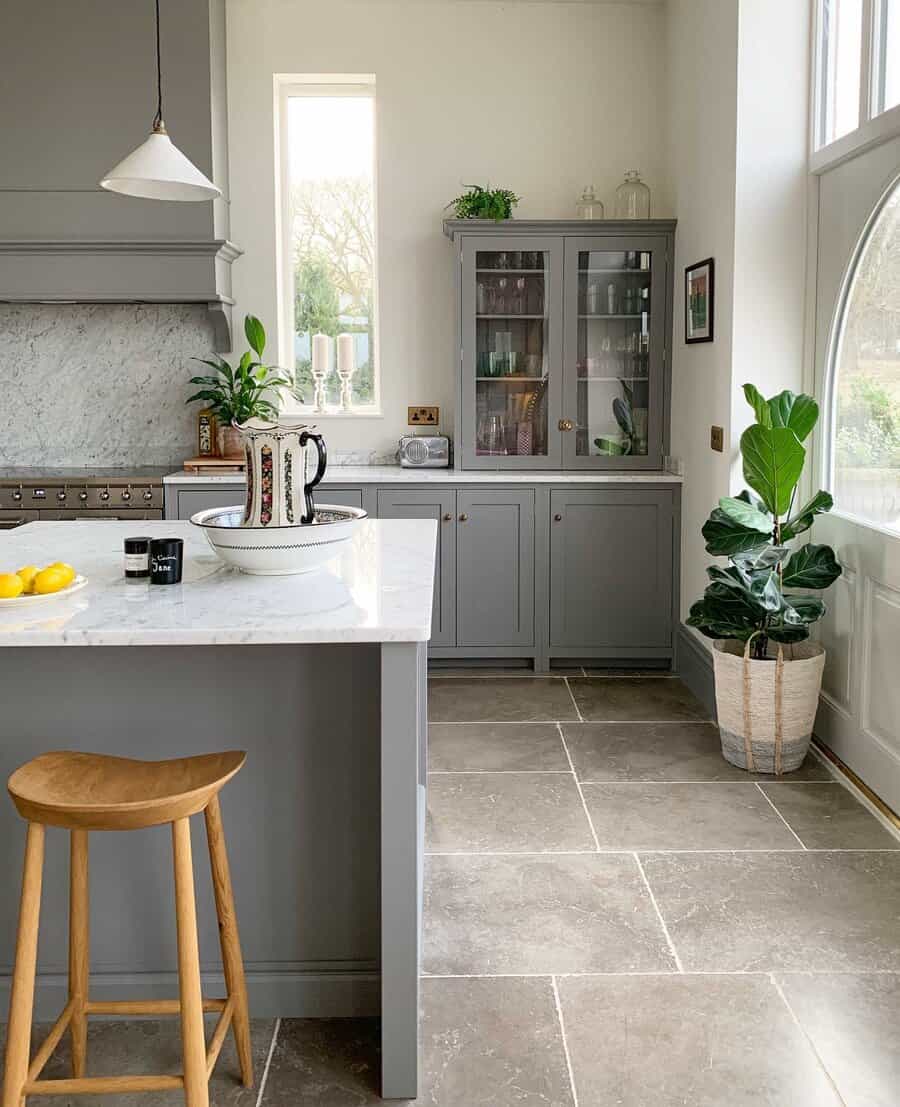 Stone tile is a better option for kitchens that are more sophisticated. Subway tile made from stone can give your home a vintage feel. Especially if you choose a white or black stone.
Large slabs of stone can look at home in a modern or contemporary kitchen. The large sheets minimize grout lines and create a continuous look.
11. Terracota and Brick
For a rustic and earthy feel, choose a natural material like terracotta or brick. Both of these have a warm reddish or orange hue. Using either as your kitchen tile will add a coziness to your kitchen.
Traditional terracotta floor tiles are smaller, which doesn't always look great in all kitchens.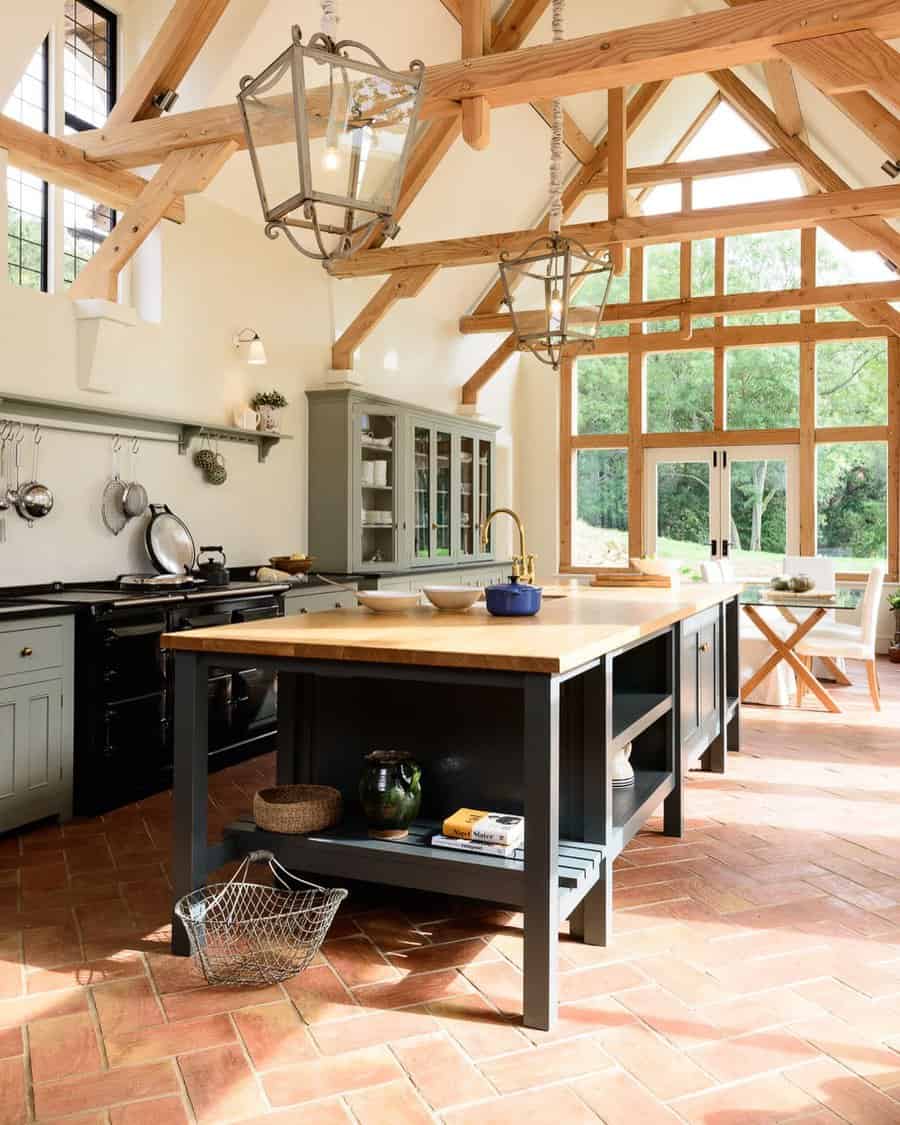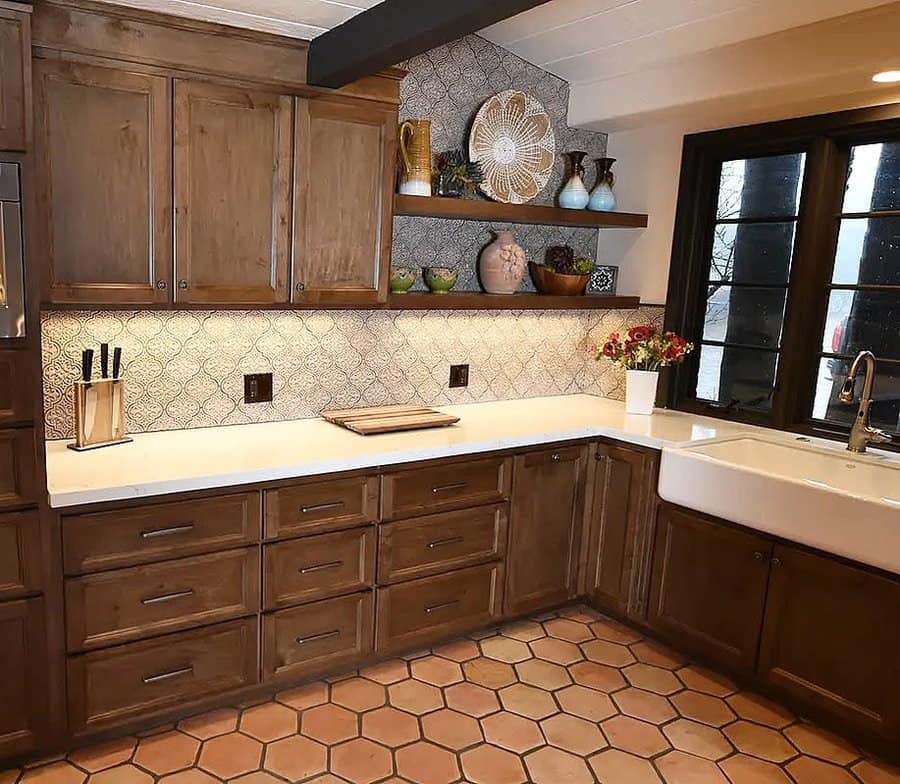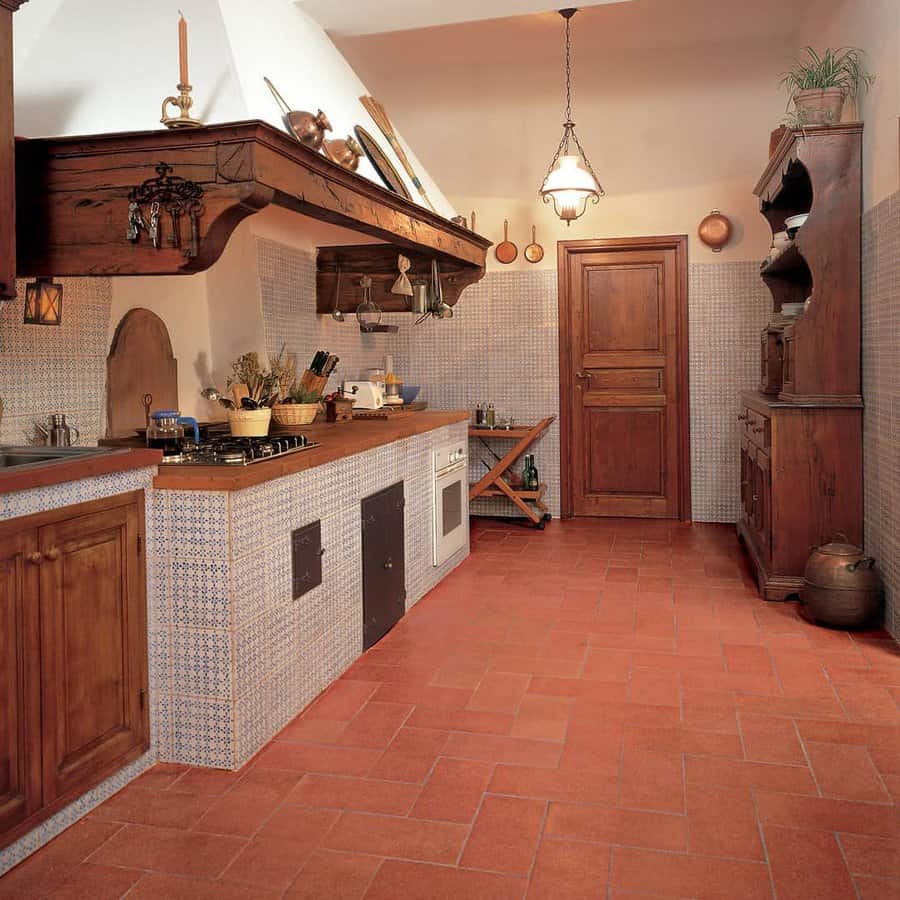 Give your terracotta a modern look by choosing one in a geometric shape or large-scale tile. This will update the look of the terracotta and keep your kitchen from looking outdated and old.
Instead of laying bricks in a traditional pattern, give them a different look by placing them in a chevron or fishbone pattern.
12. Unique
If you're the more innovative or creative type, then get creative with your kitchen flooring. When choosing a unique flooring idea, don't let yourself get swept up by kitchen flooring trends. Some flooring trends look beautiful but lack the durability your kitchen floor needs.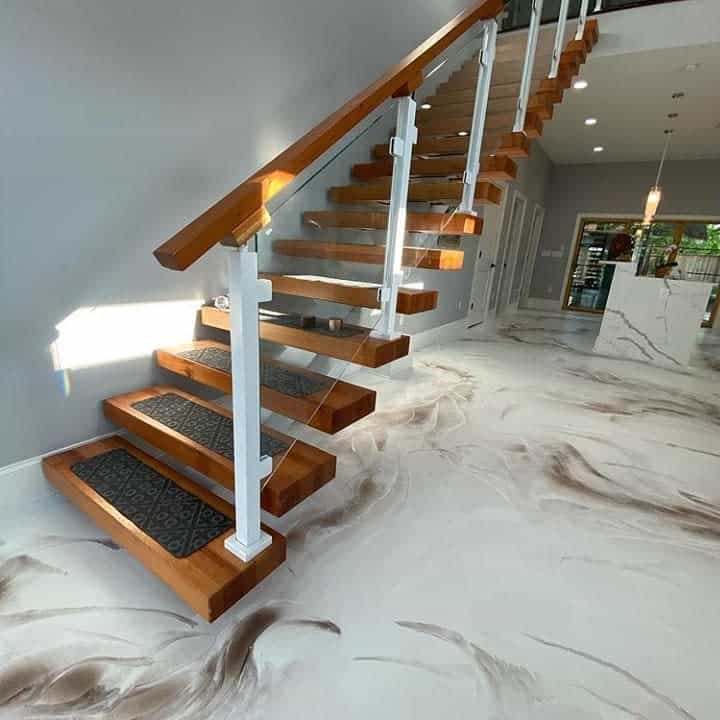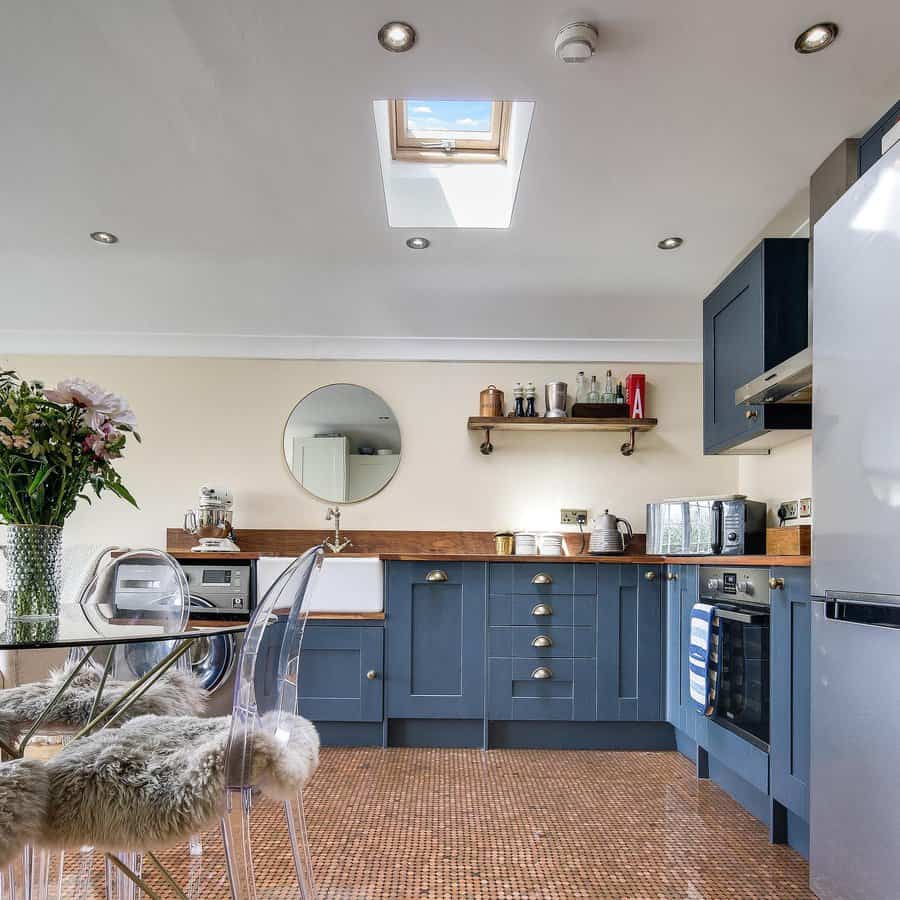 Some resilient flooring options that you could consider are poured resin, limestone, concrete, and rubber flooring. These are all strong and water impervious materials that will hold up in the kitchen.
Some of them you'll want to seal. Otherwise, their porous nature will create a health risk as they harbor bacteria.
13. Wood
Hardwood flooring is an easy way to upgrade the look of your kitchen. If you have the budget for it, replace your flooring with a hardwood floor.
This solid wood flooring is beautiful and incredibly durable. Harwood tends to have a dark tone, which adds richness to your kitchen.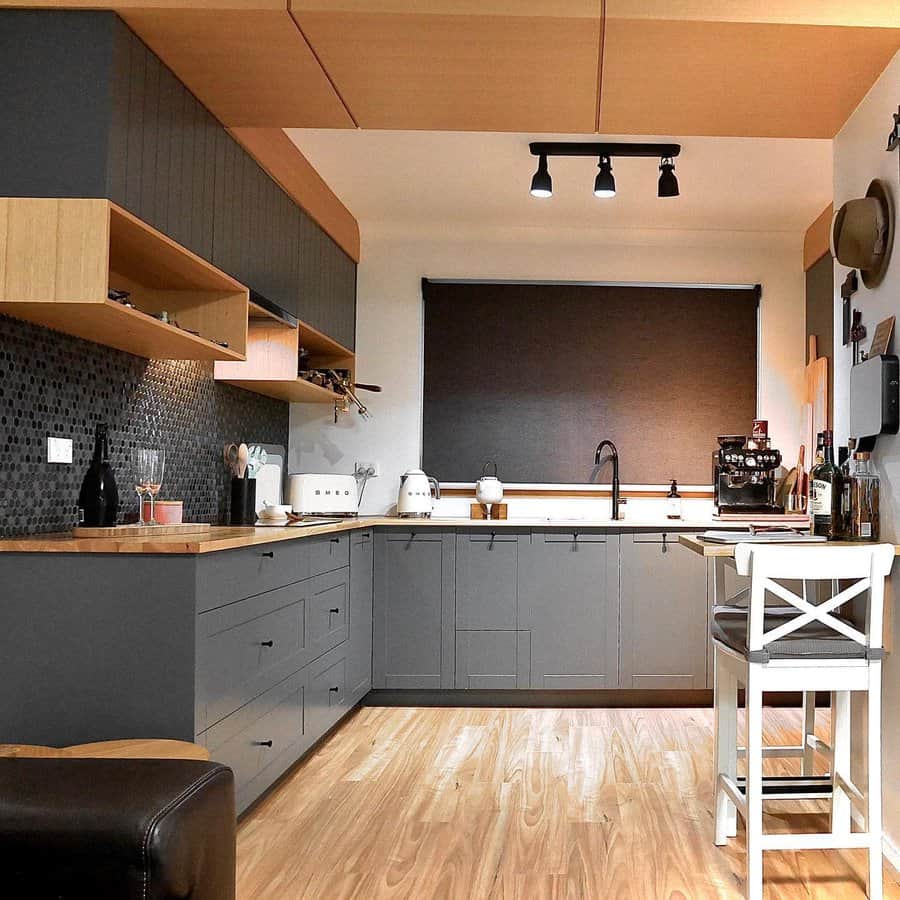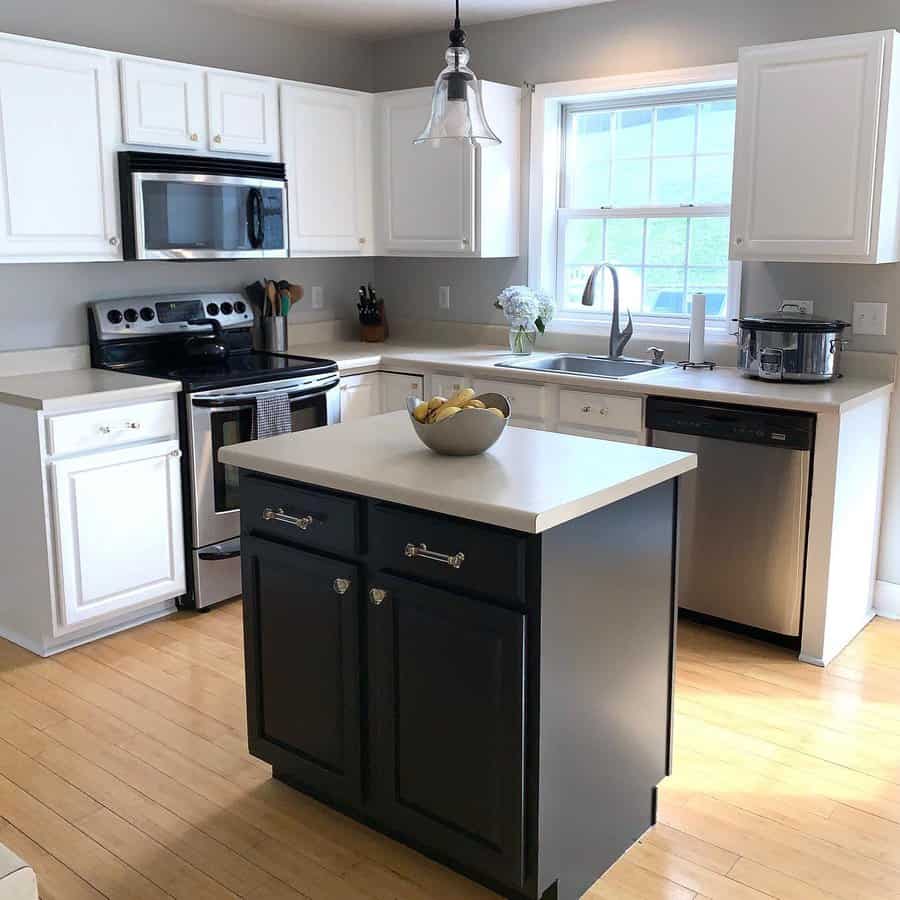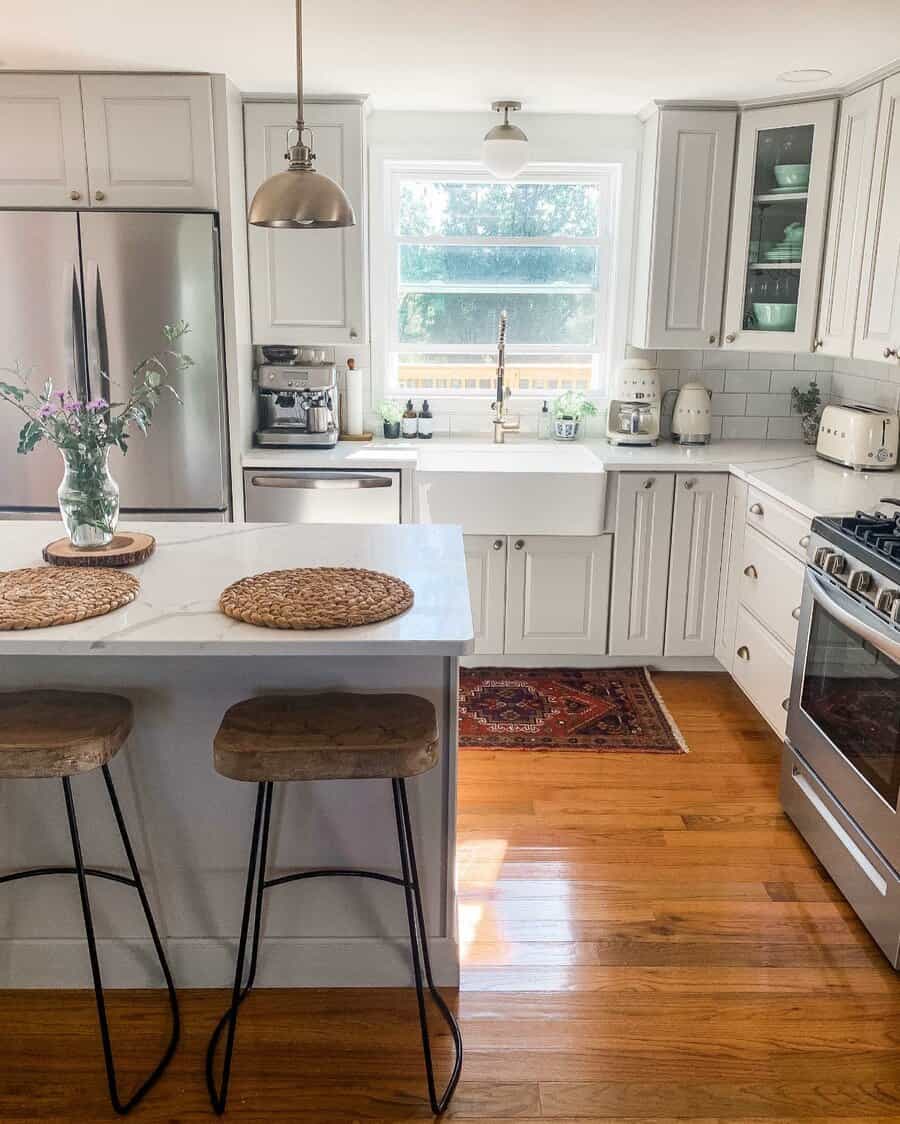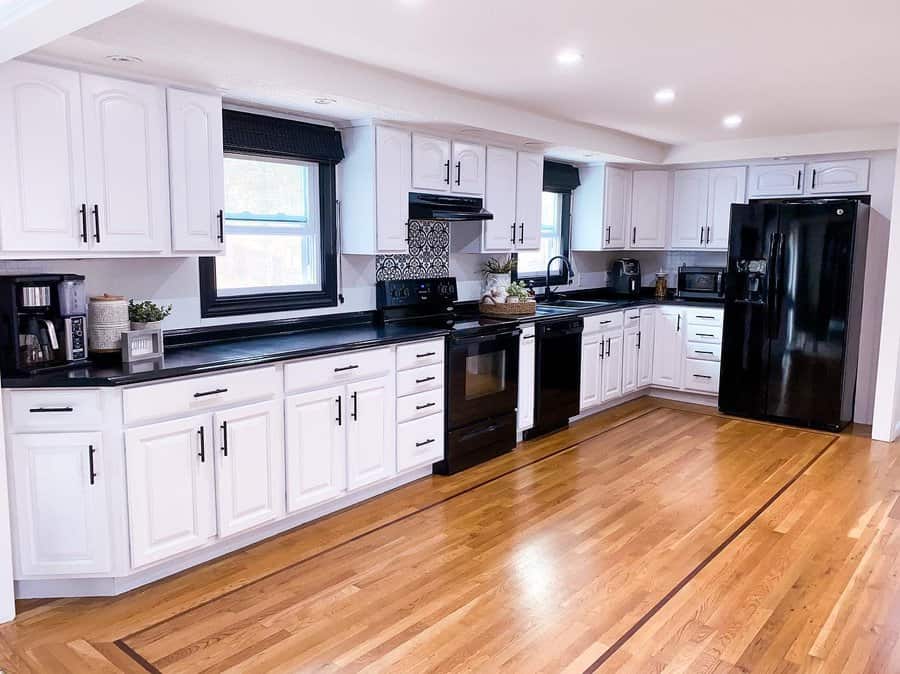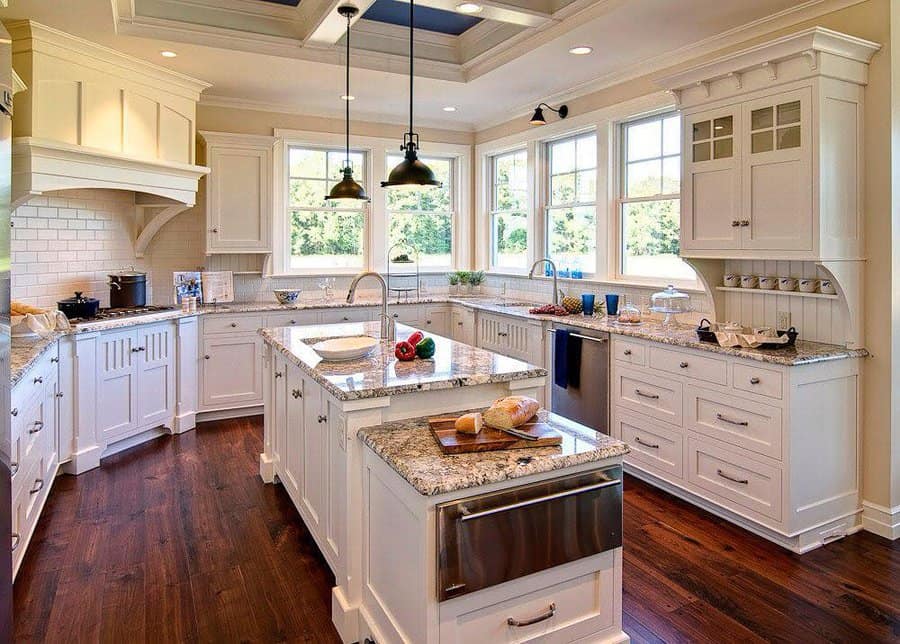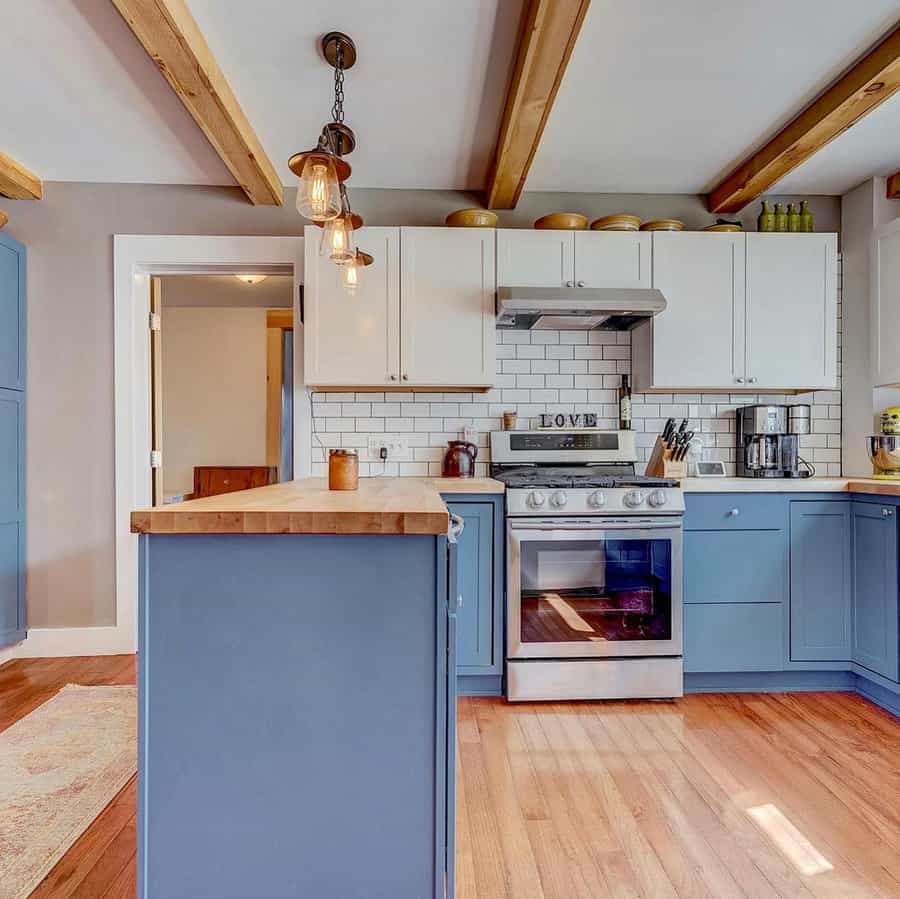 If real hardwood floor is out of your budget, don't give up. A more affordable alternative is vinyl or laminate flooring. These are planks that are engineered hardwood to look and feel exactly like real wood but aren't.
Modern options are incredibly durable and even waterproof. This makes them perfect for use in the kitchen.
They also come in a range of wood types and shades, which makes it easier to match the rest of your kitchen.
Kitchen Flooring FAQs
What is the best flooring for a kitchen?
The best flooring for your kitchen is one that's durable enough to withstand high foot traffic and is impervious to water. This will help it to last as long as possible and be easy to clean. Tile is a great option because it checks all of the boxes. 
What is the most durable floor for a kitchen?
The most durable flooring for your kitchen is porcelain tile. This tile is tough and non-porous. It's scratch-resistant and waterproof. Natural stone is also a great option because it can also last a lifetime.
How do I choose a floor for my kitchen?
The flooring that you choose for your kitchen needs to be durable and easy to clean. This will help it to last as long as possible. Consider the style, design, and color of the floor. It should match the rest of the kitchen and your home's architectural and design aesthetic.