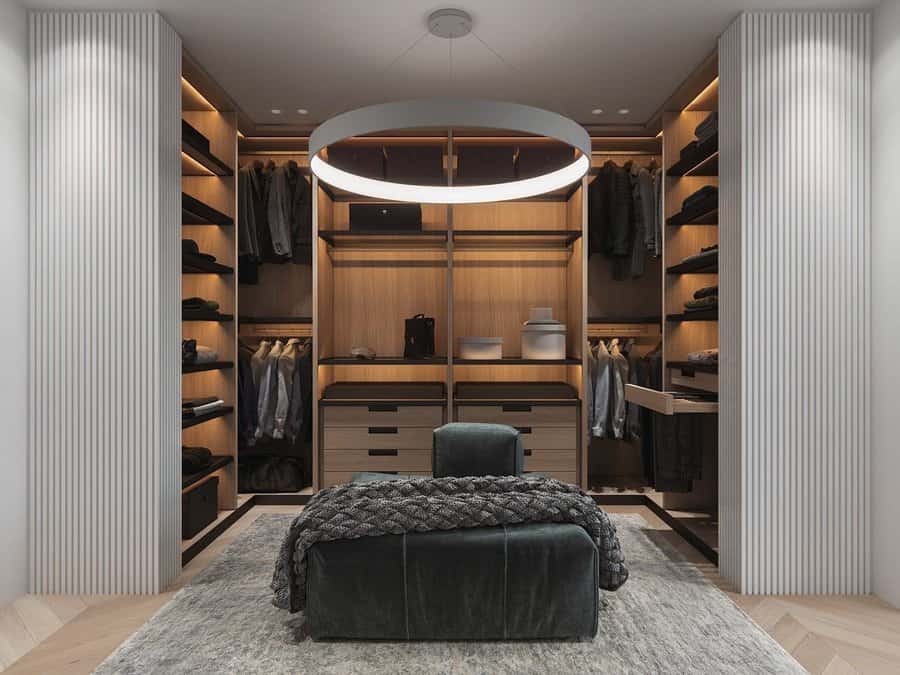 Closets are nice for adding additional hidden storage to your bedroom. But to make the most of this additional space, it needs to be organízed. This means doing more than having a shelf or two or a hanging rod. Everyone's needs are different, so consider your clothing and accessories collection along with your organizational style when upgrading your closet. Check out these bedroom closet ideas and turn your closet into a useful storage space in your home.
1. Install A Built-In Sliding Door Closet
If you're looking to maximize your storage space and add organizational appeal to your bedroom, built-in sliding door closets are a great option. Not only do they look stylish and built-in, but they provide plenty of space for all your items.
Whether it's built-in shelves to stack folded clothing, open shelving to hold accessories, or built-in drawers and cupboards for organizing all your possessions, built-in closets give you the freedom to customize and tailor the design to fit your needs.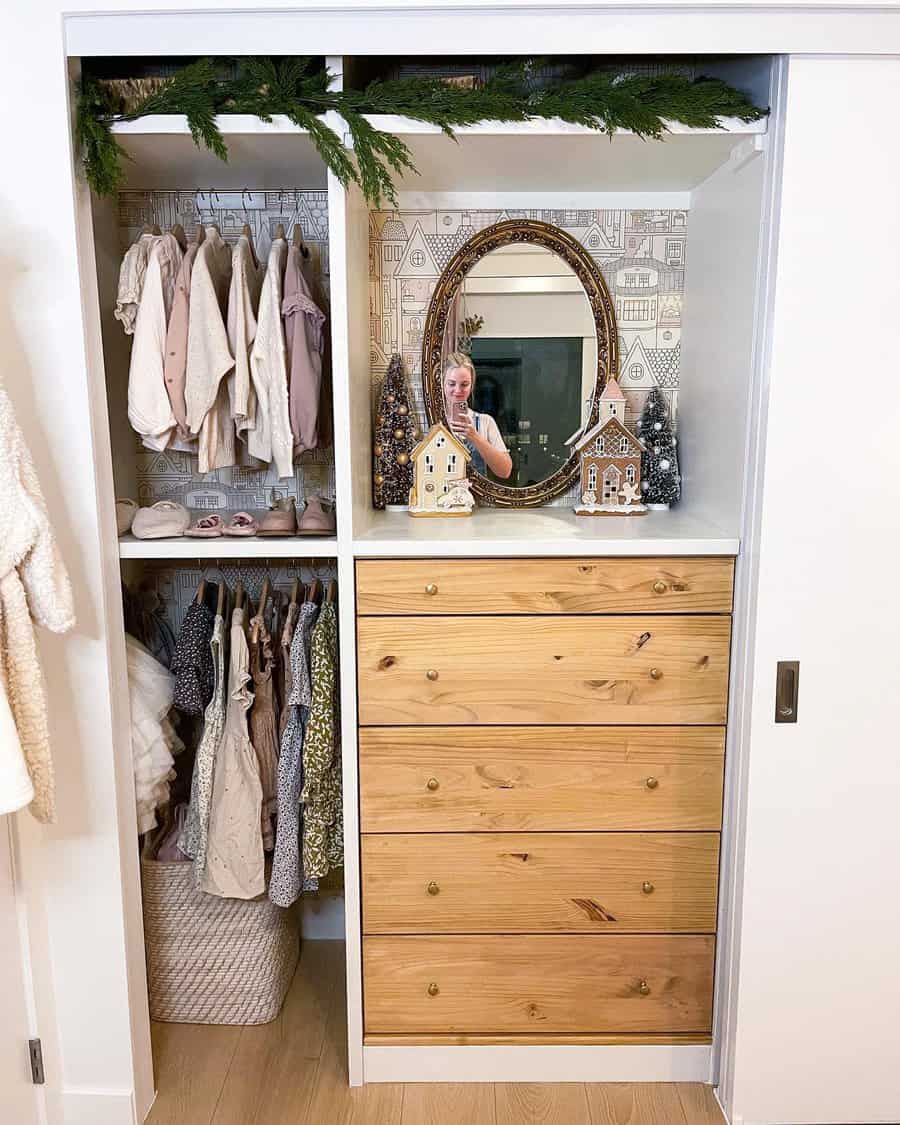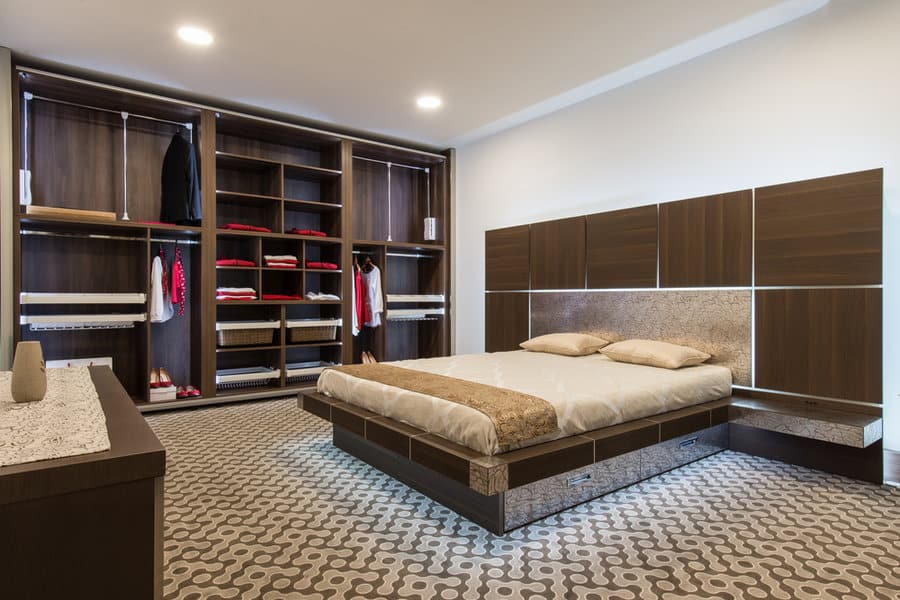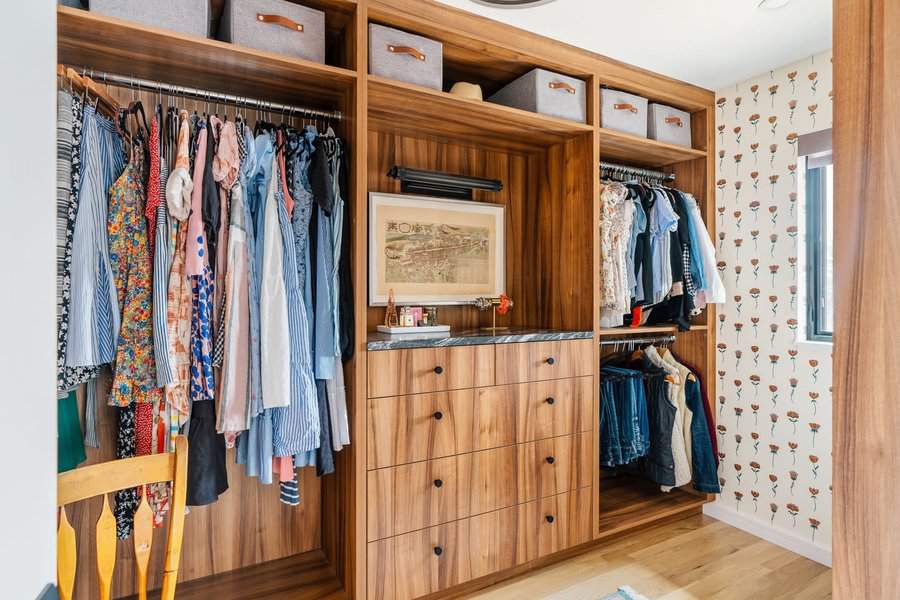 2. Add Multi-Purpose Drawers
Turning your closet from a cluttered mess into an organized system of storage is the perfect way to add character and value to your bedroom. Investing in a closet with multi-purpose drawers is one of the best things you can do to increase closet space and keep everything neat.
For closet organization solutions that involve more than just adding additional shelving, consider combining shorter clothing racks with fabric drawers to maximize efficiency and store out-of-season clothing. With the right combination of closet pieces, you will be able to make the most of your closet while also creating an environment that you can easily keep neat and tidy.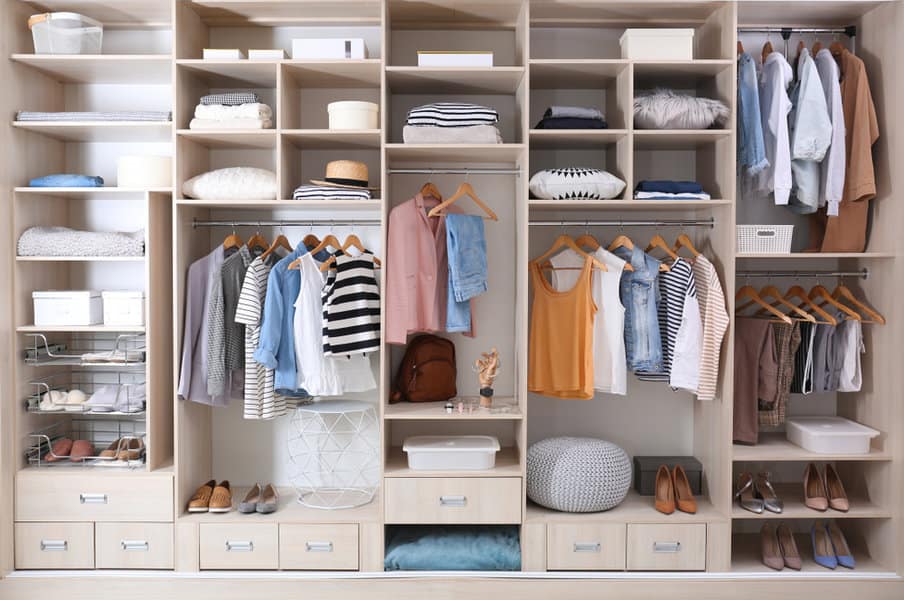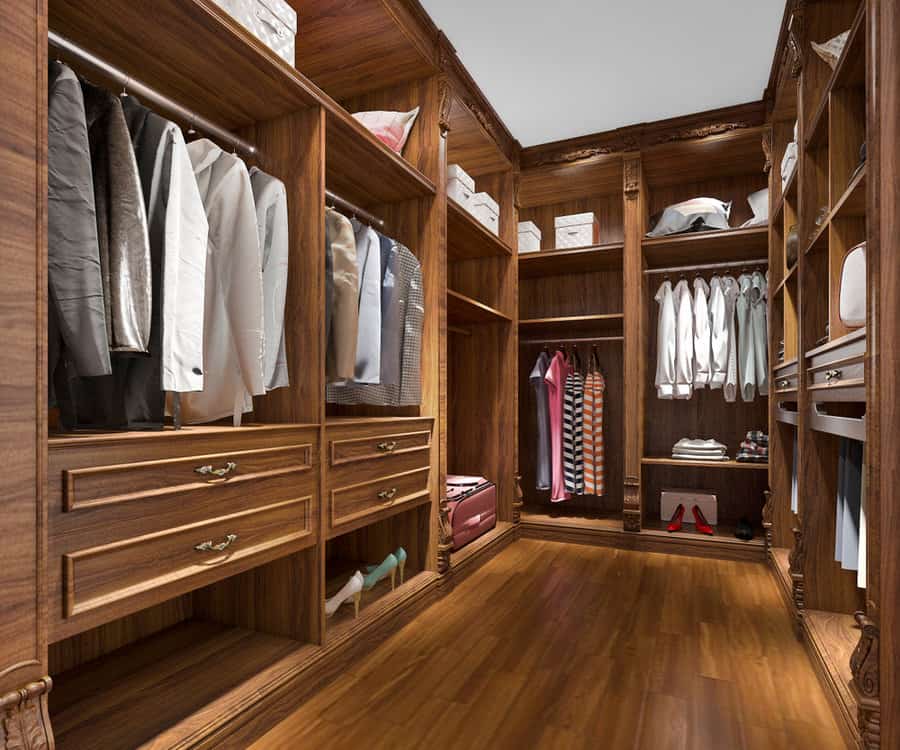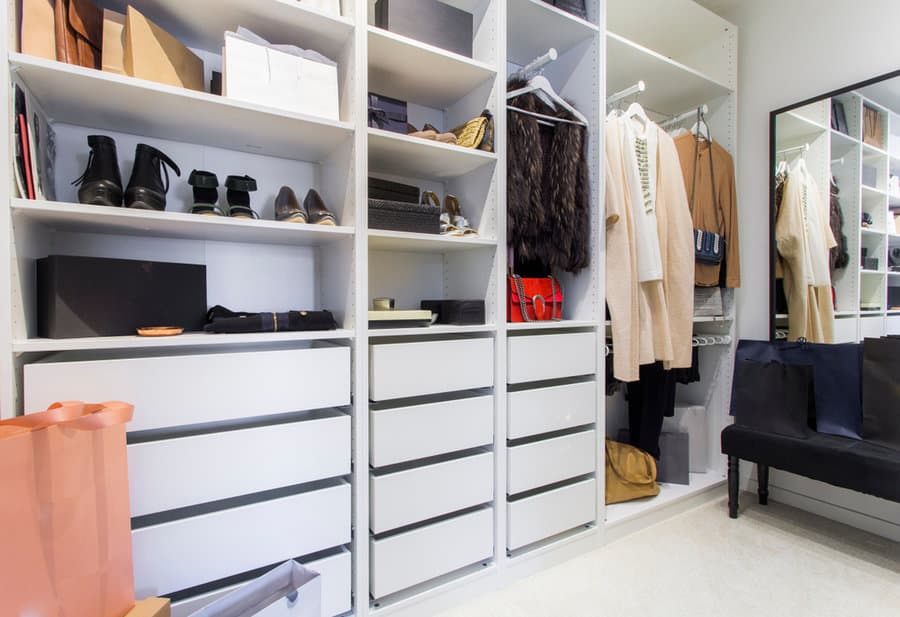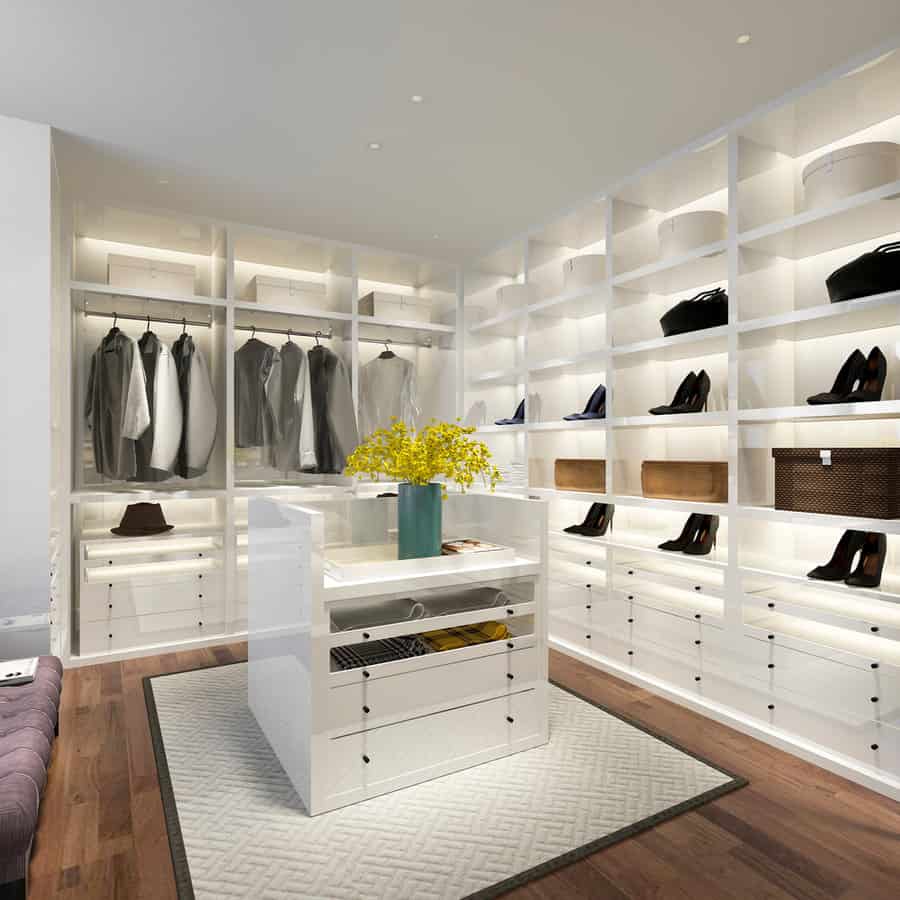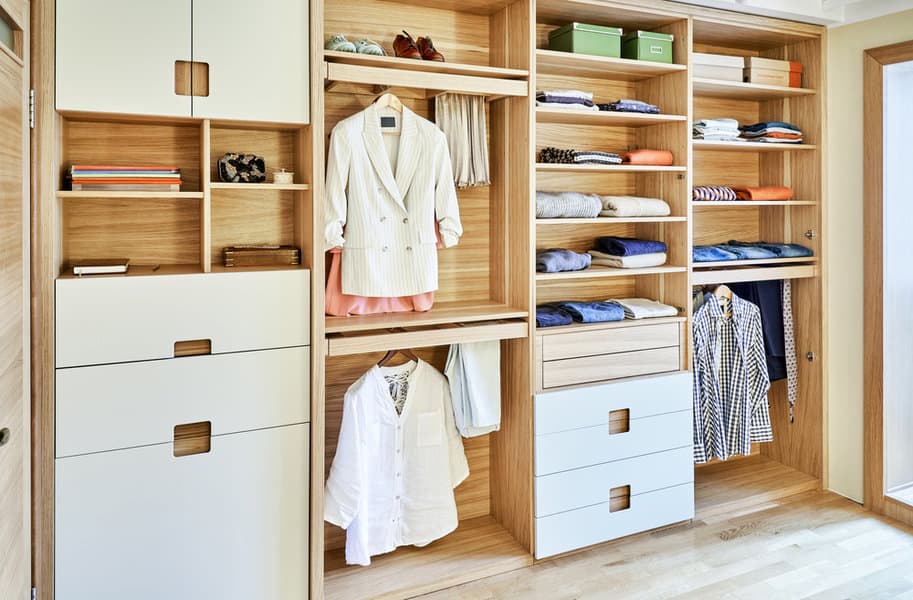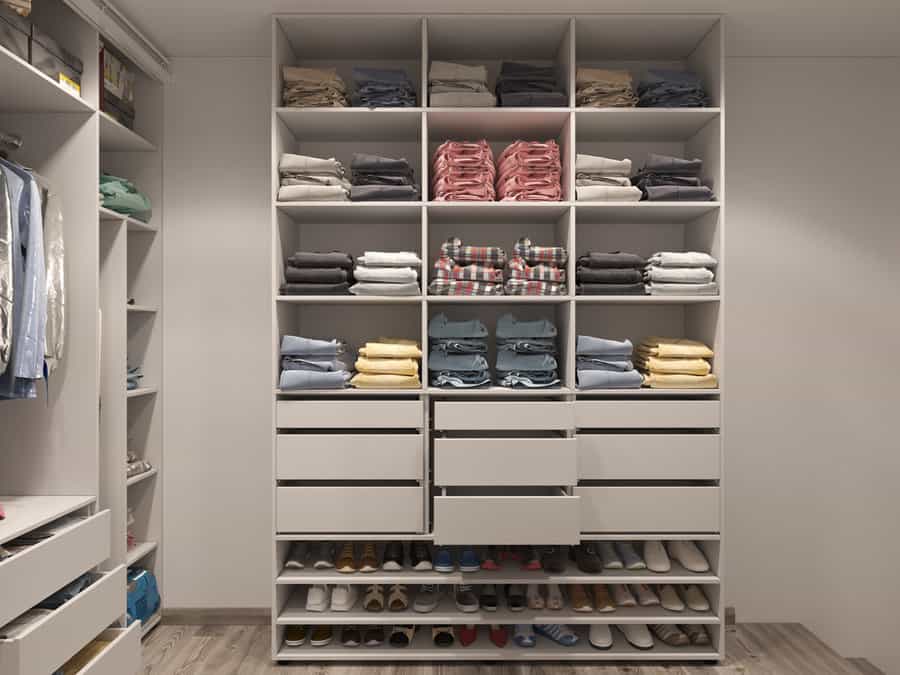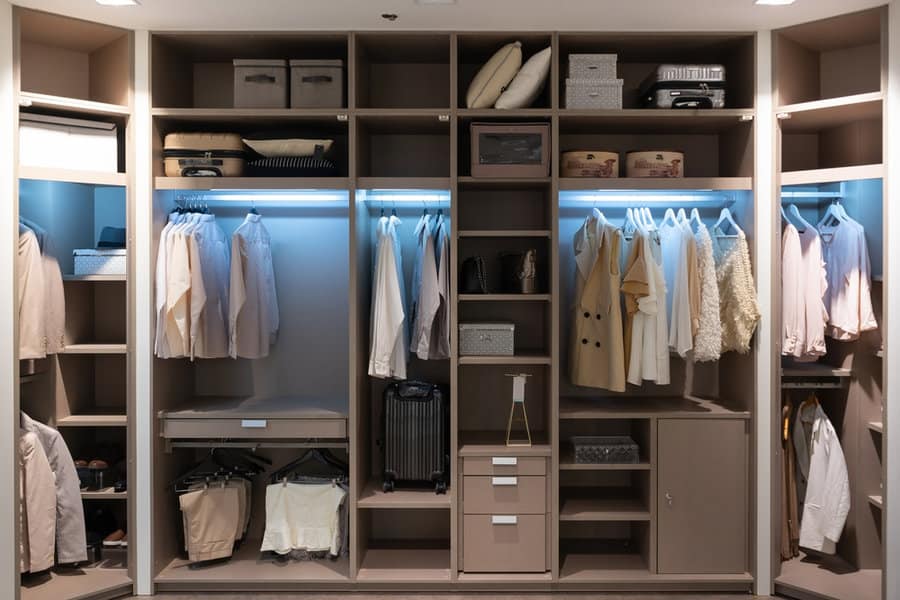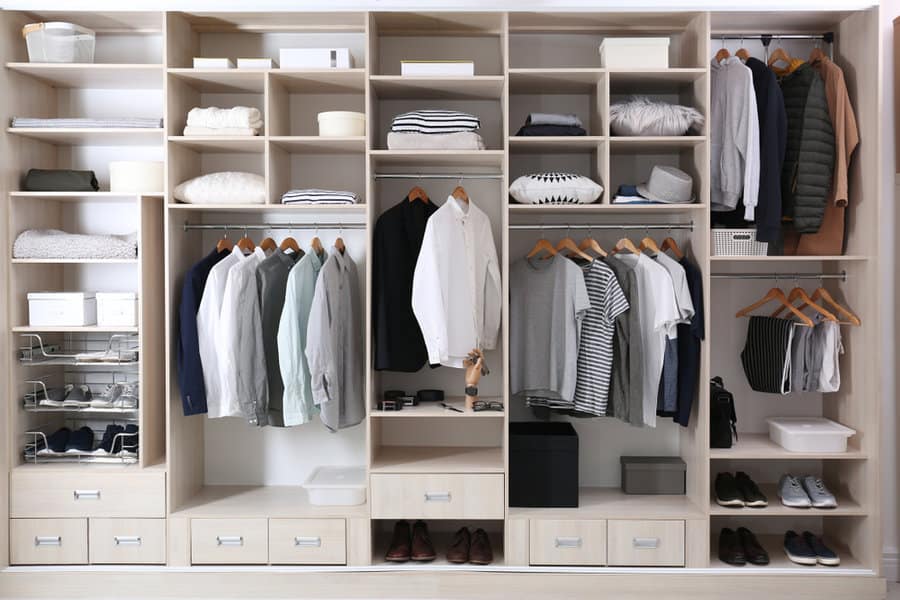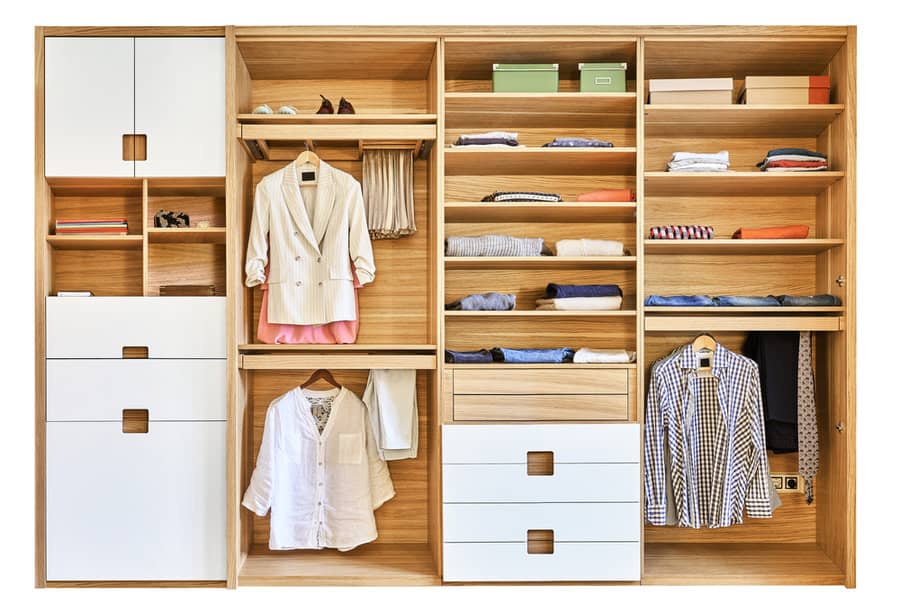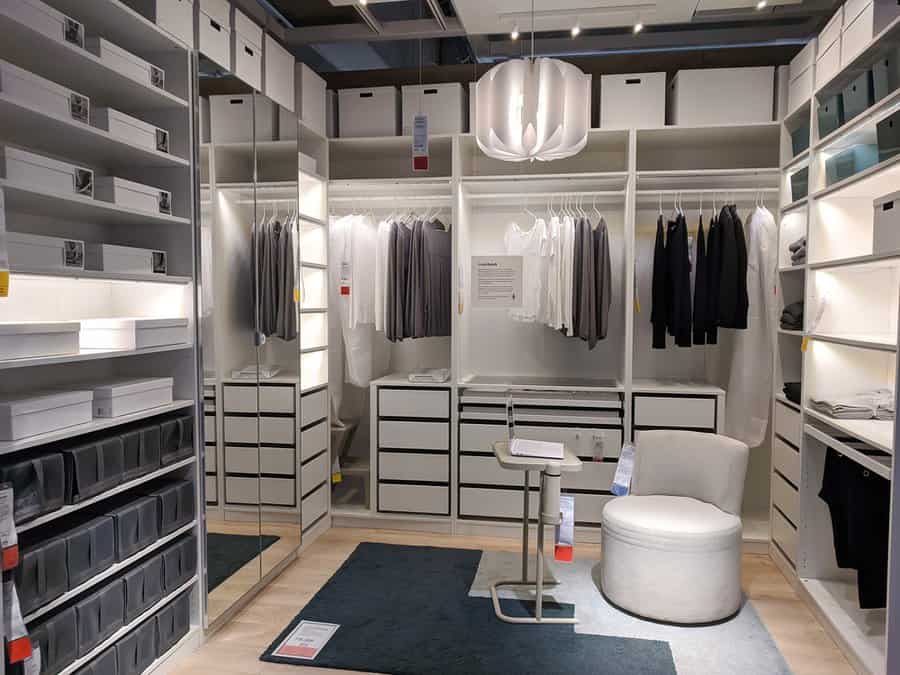 3. Consider Bottom Storage For Kids' Access
A great way to organize kids' bedrooms is to invest in closet options that have bottom storage. Having kids access their clothing or toys easily can help encourage great organizing habits. For example, an adjustable kids' closet system with pull-out drawers and cubbies gives kids easy access to their items while still allowing a parent complete control over the look of the space.
Best of all, these systems are easily customizable so your kids can switch out what they keep in them as they grow up. With the right kids' closet choices, you'll have created a smart and stylish space for your kids that encourages orderliness and tidiness.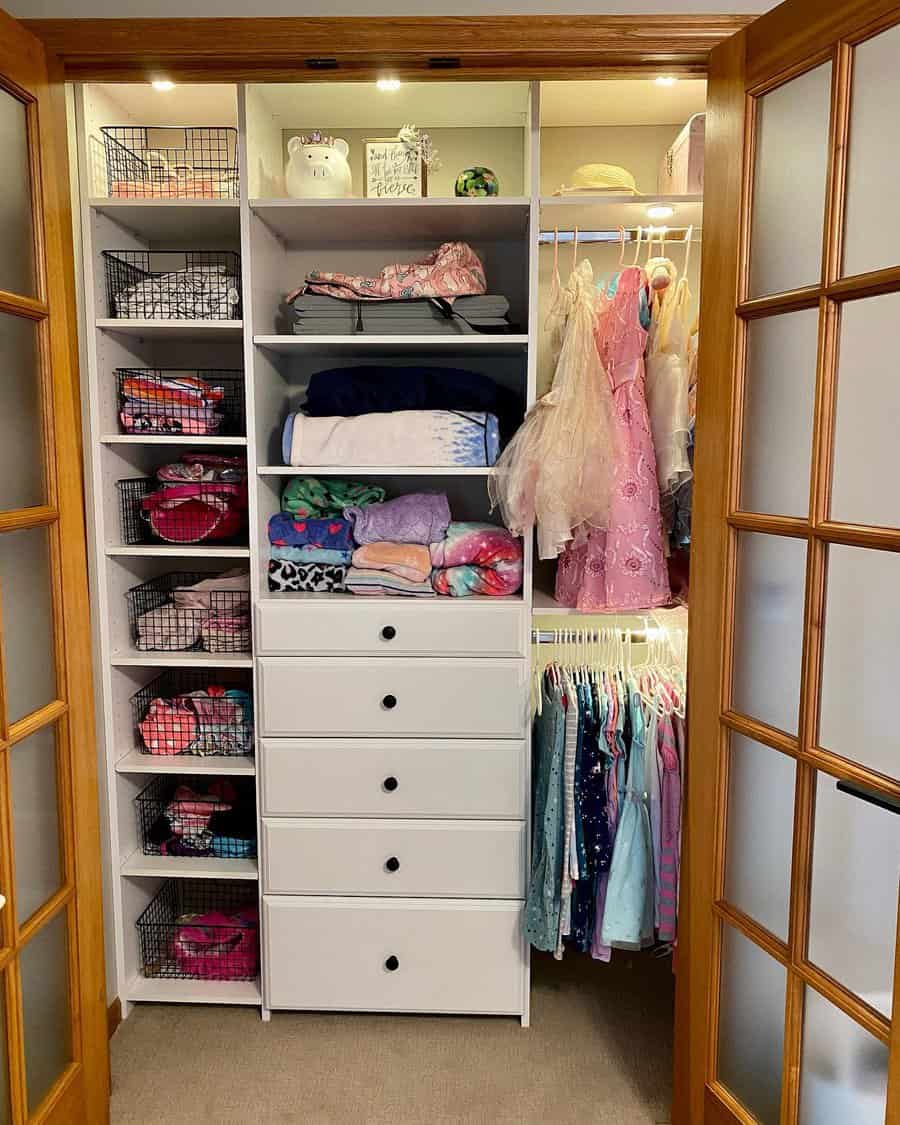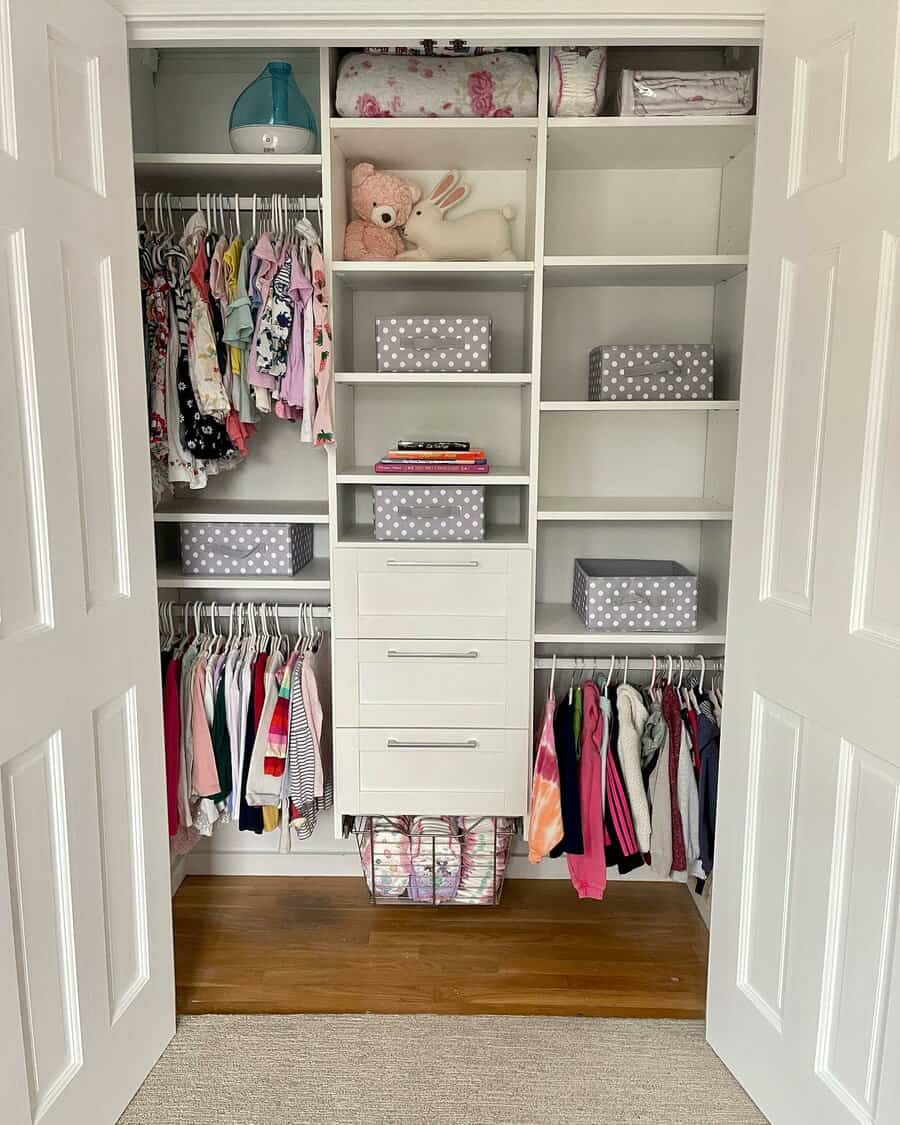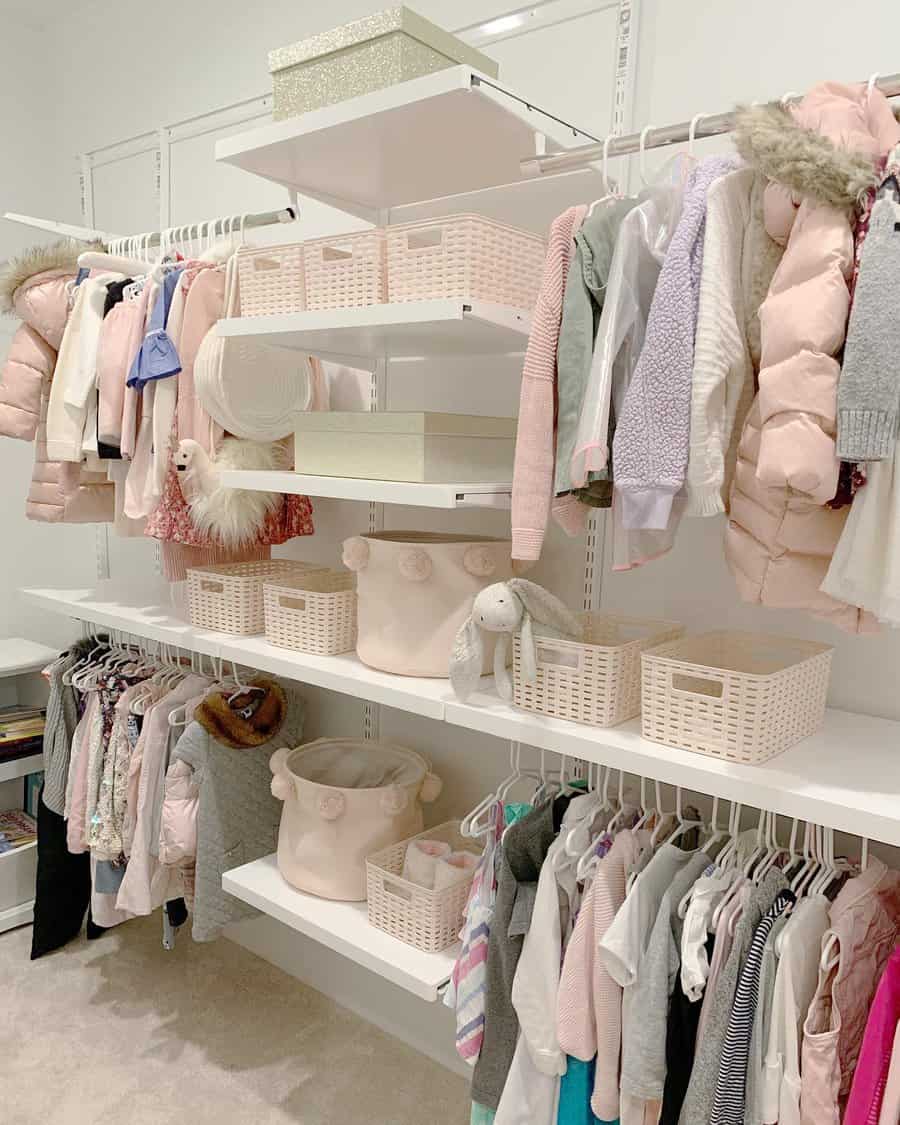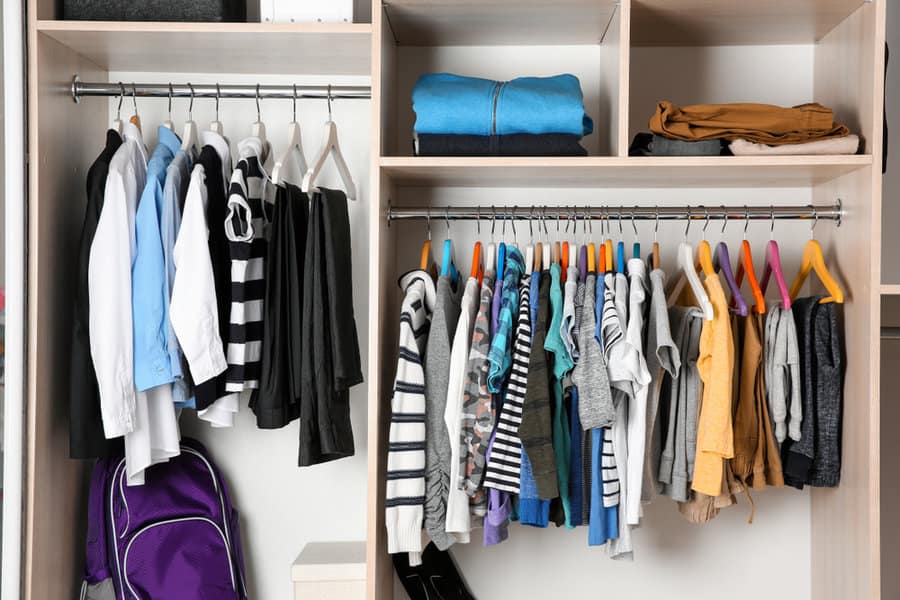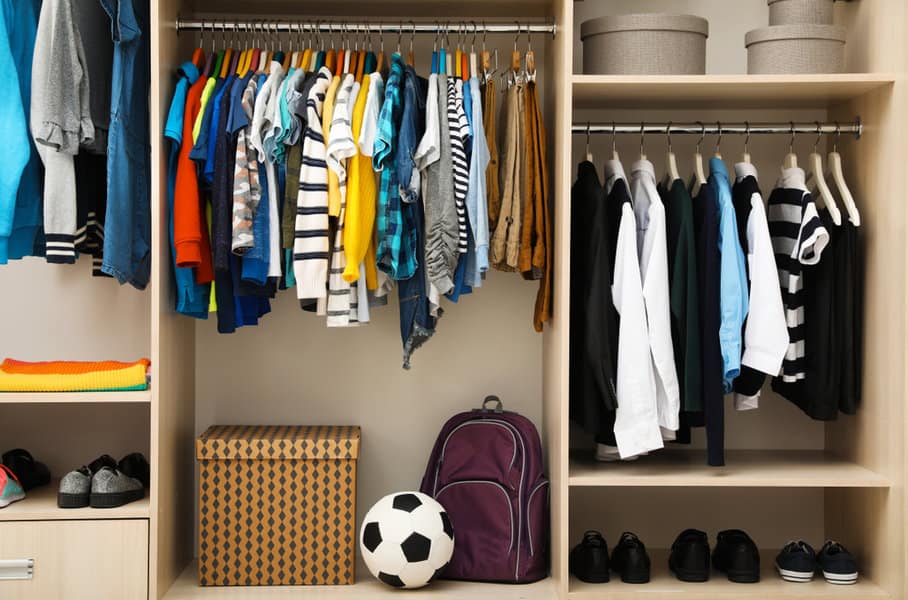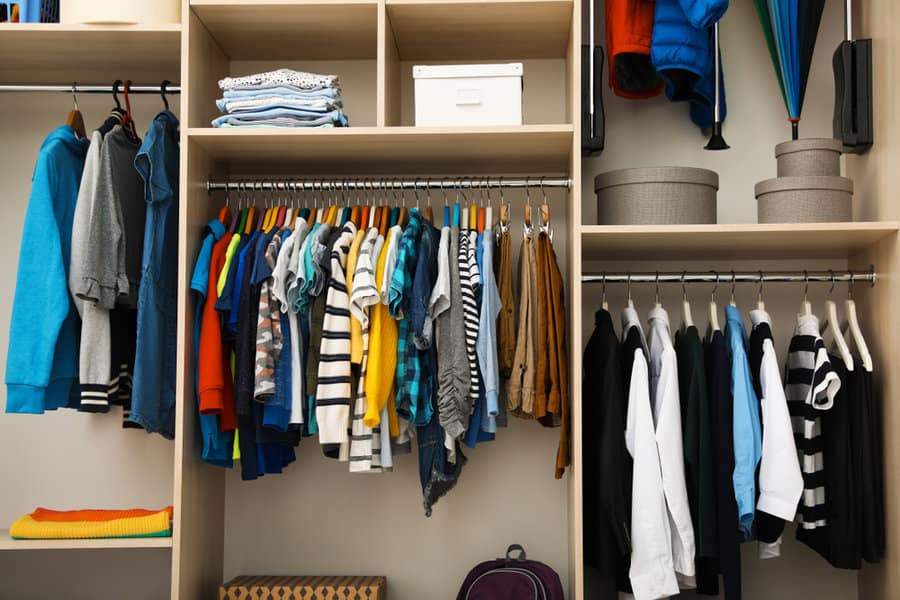 See more master bedroom closet ideas here.
4. Recessed Door Closets
If you're looking for a creative way to spice up your bedroom wardrobe, then recessed door closet ideas may be the right fit for you. By stumbling outside of the box and away from traditional enclosed closets, recessed door closets allow you to maximize space while adding a sleek modern detail to your home.
Accentuating your entire room with precision, recessed door closets look beautiful when accompanied by recessed lighting as well as extra molding detailing.
Truly an excellent choice, recessed door closets provide an eye-catching alternative that adds colorful dimension and charm to many different styles of bedrooms.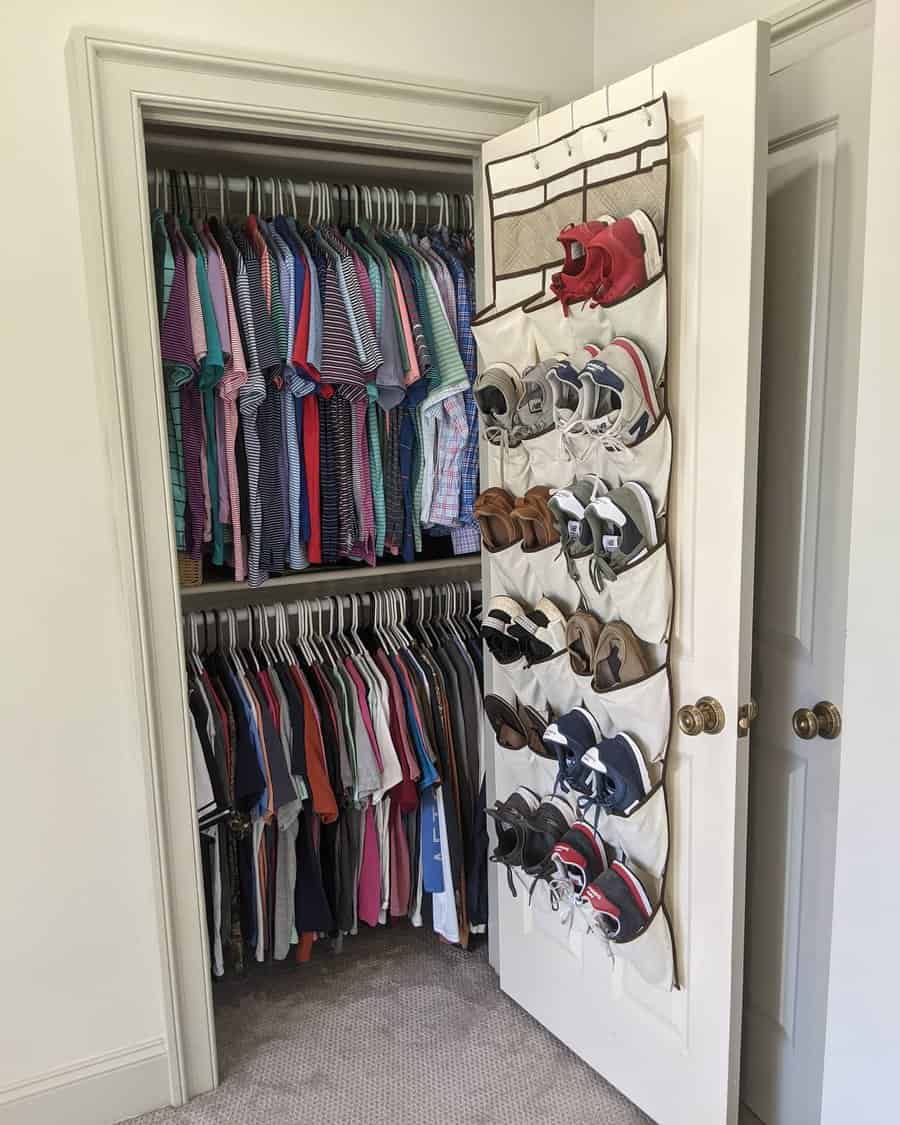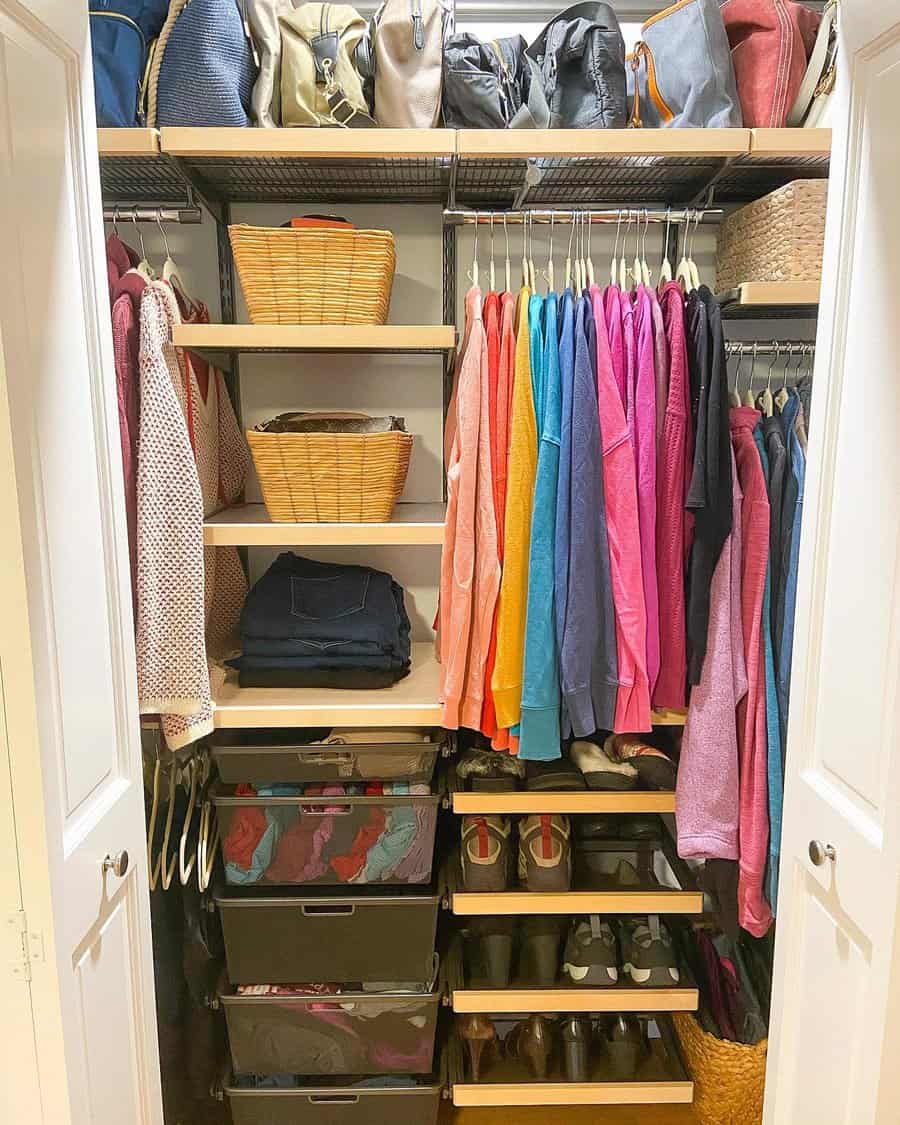 5. Invest In A Walk-In Closet
When it comes to making the most out of a bedroom closet, walk-in closets are an ideal choice. If you have the space for one, walk-ins increase your storage capacity while keeping your space looking stylish and organized. Walking into a walk-in closet is like walking into a room; you can have shelves and drawers built-in at different heights, ranging from floor to ceiling.
With all the extra space, larger items such as suitcases, holiday decorations, and bulky winter jackets can be stored safely away without compromising on style or ease of access.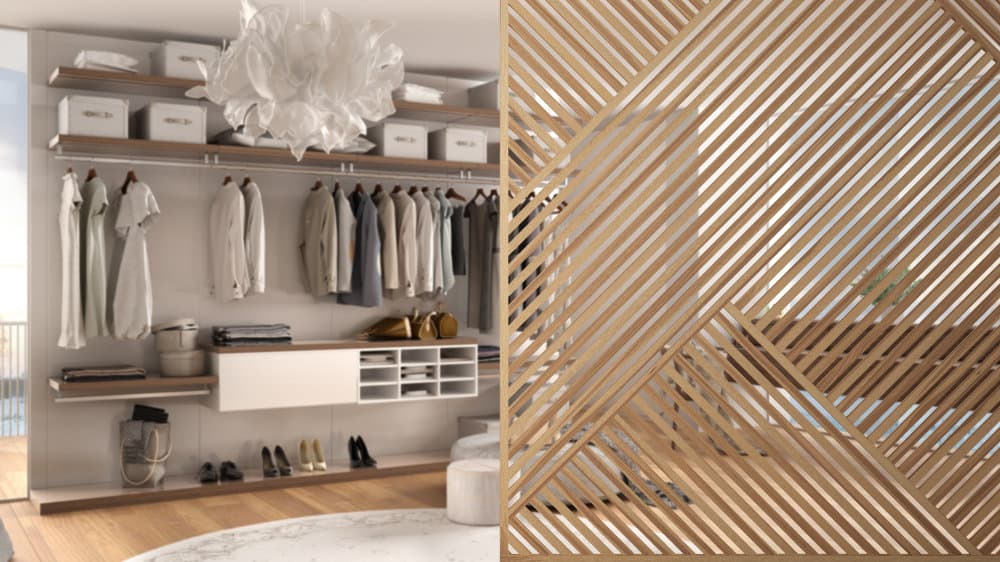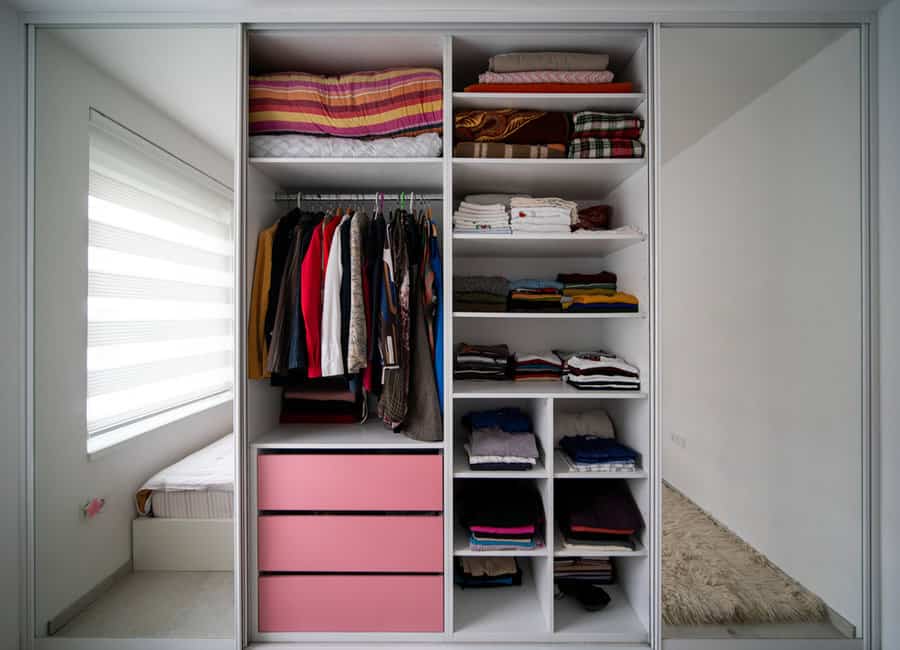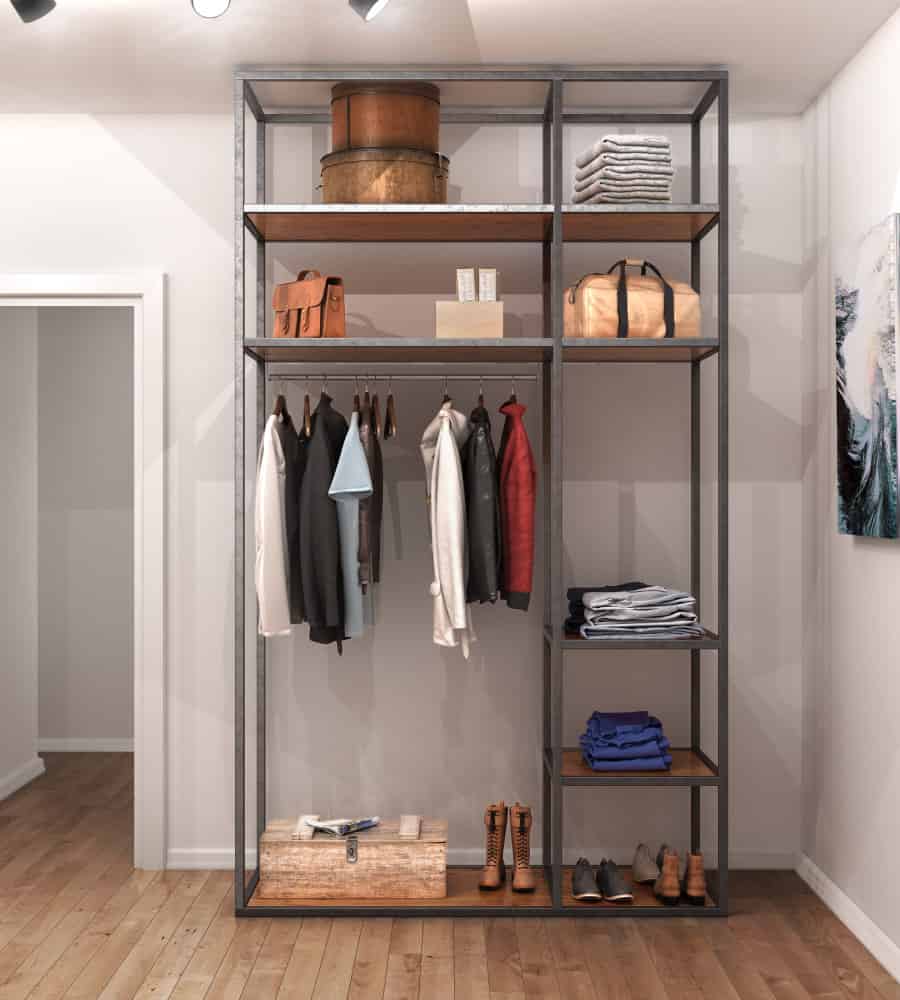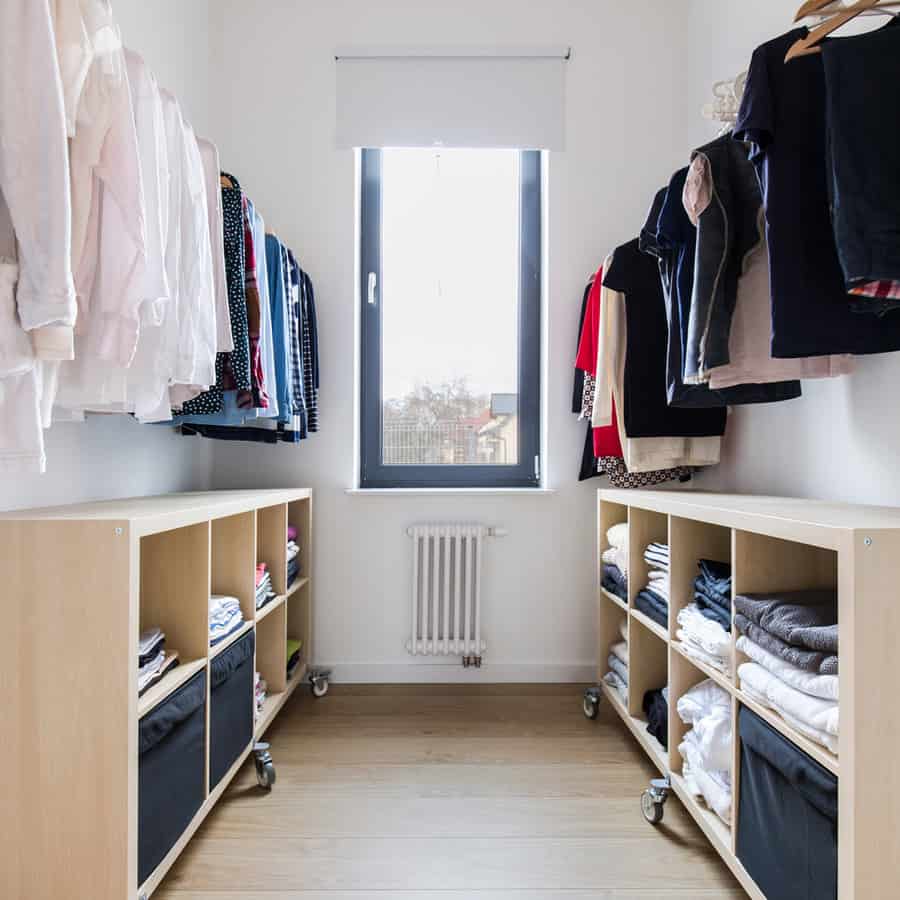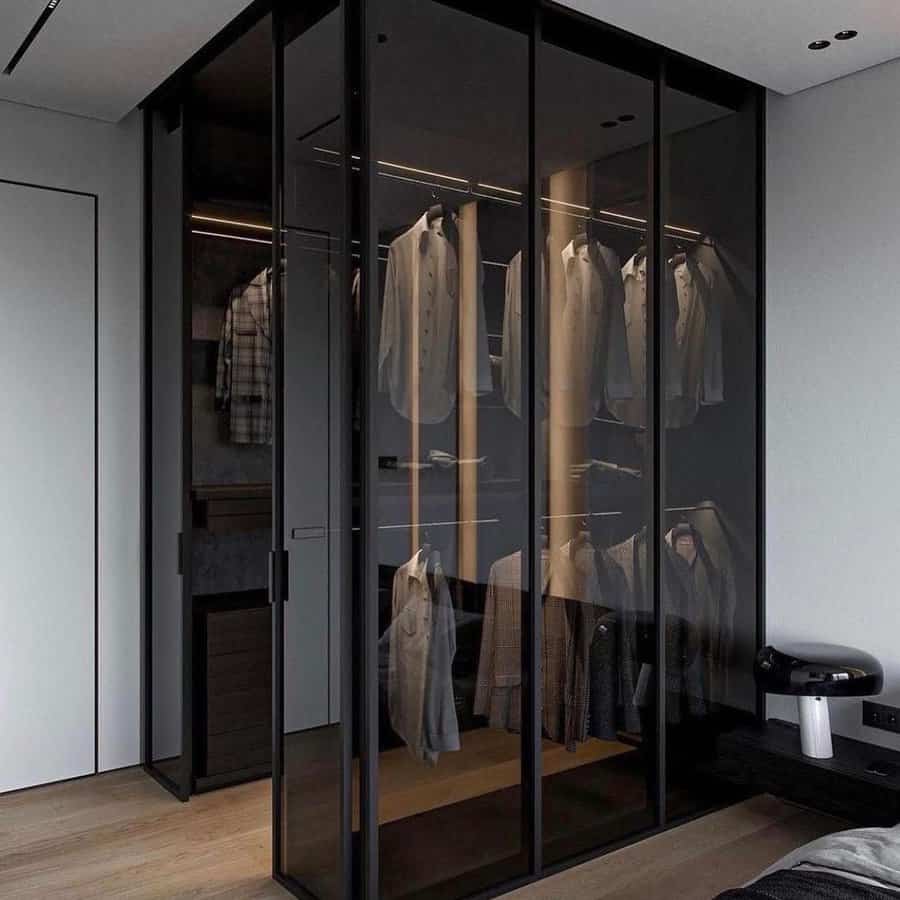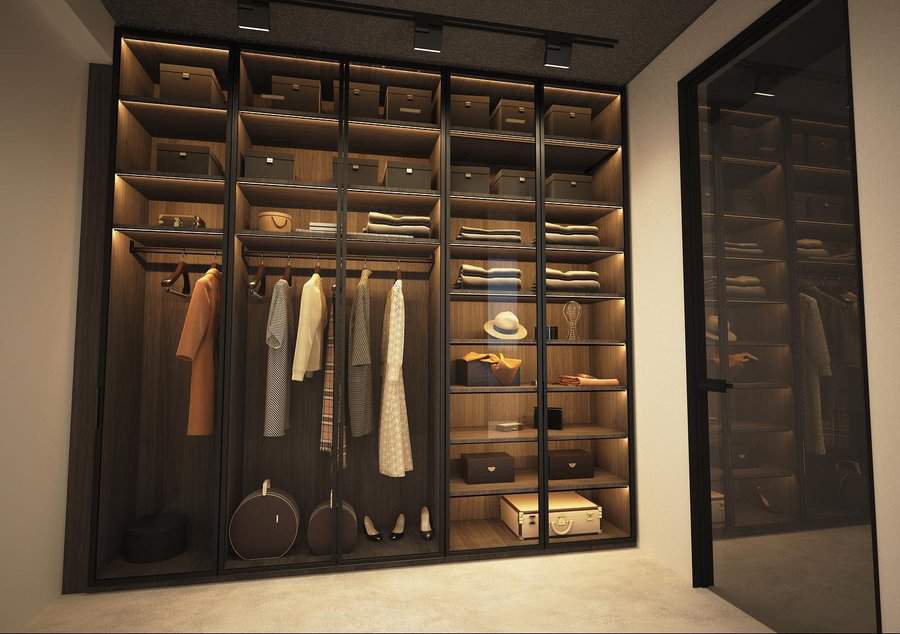 6. Get Aesthetically Pleasing Organizers
If you're looking to spruce up your closet with some closet organization ideas, then fortunately you don't have to look too far. A closet with aesthetic organizers is a great way to liven up any bedroom closet. Not only is it visually pleasing but also keeps your wardrobe organized and in one place – no more searching for outfits!
Stacked basket organizers are another great addition that can maximize closet space and be used for linen storage as well. Also, adding closet benches for storage of shoes and other items works well without taking up too much space. There are so many options when it comes to closet organization ideas that can work wonders for your bedroom closet.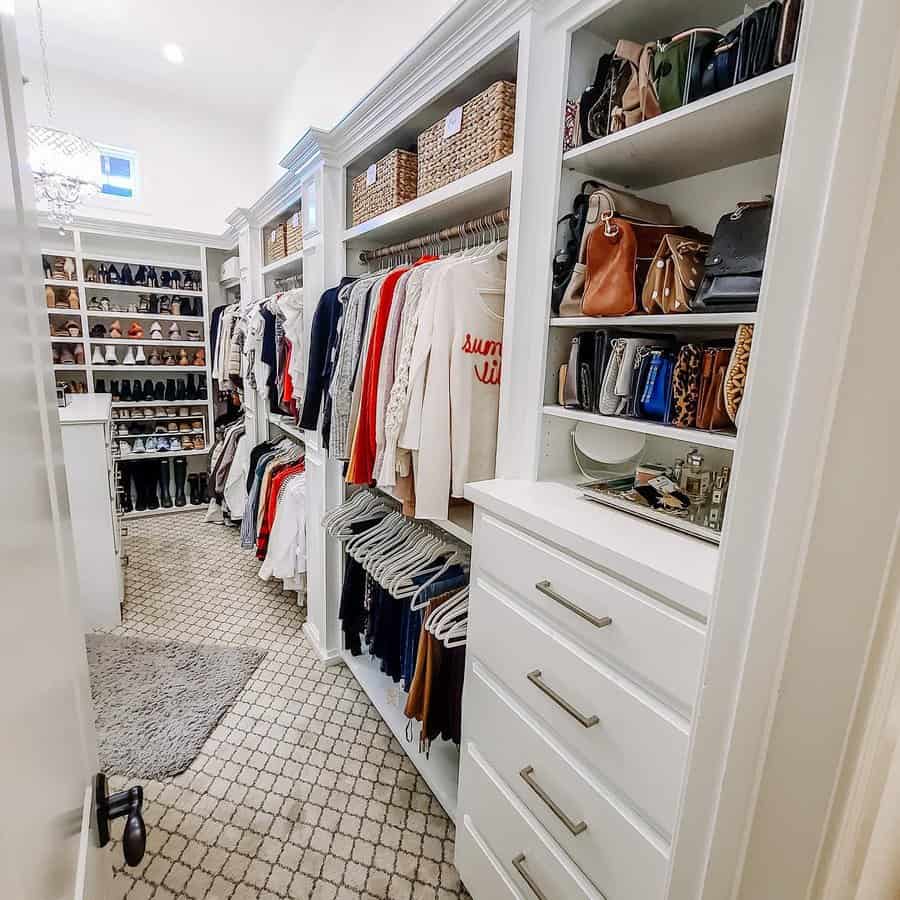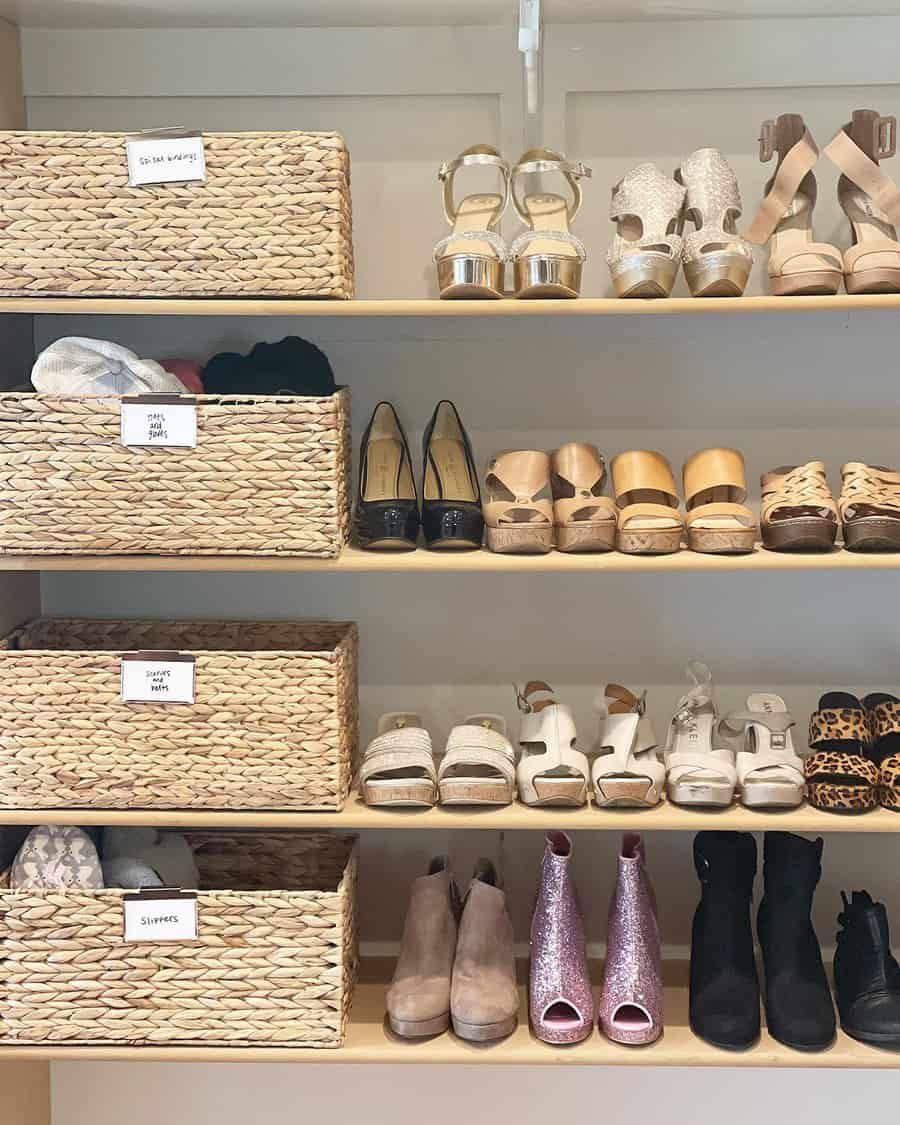 7. Add Functional Seating In Your Walk-In Closet
A walk-in closet provides a great opportunity to be creative with bedroom storage. To make this space truly functional and aesthetically pleasing, consider adding some seating. Upholstered velvet chairs or stools can add character and charm, while a bench positioned against one wall can give you both storage and a place to rest as you contemplate your outfit choices.
You can also turn the walk-in closet into an oasis by incorporating lush textures such as cashmere blankets draped over spare chairs, an Oriental rug on the floor, or decorative wallpaper on the walls. Whatever your style may be, it's easy to make the walk-in closet the highlight of any bedroom!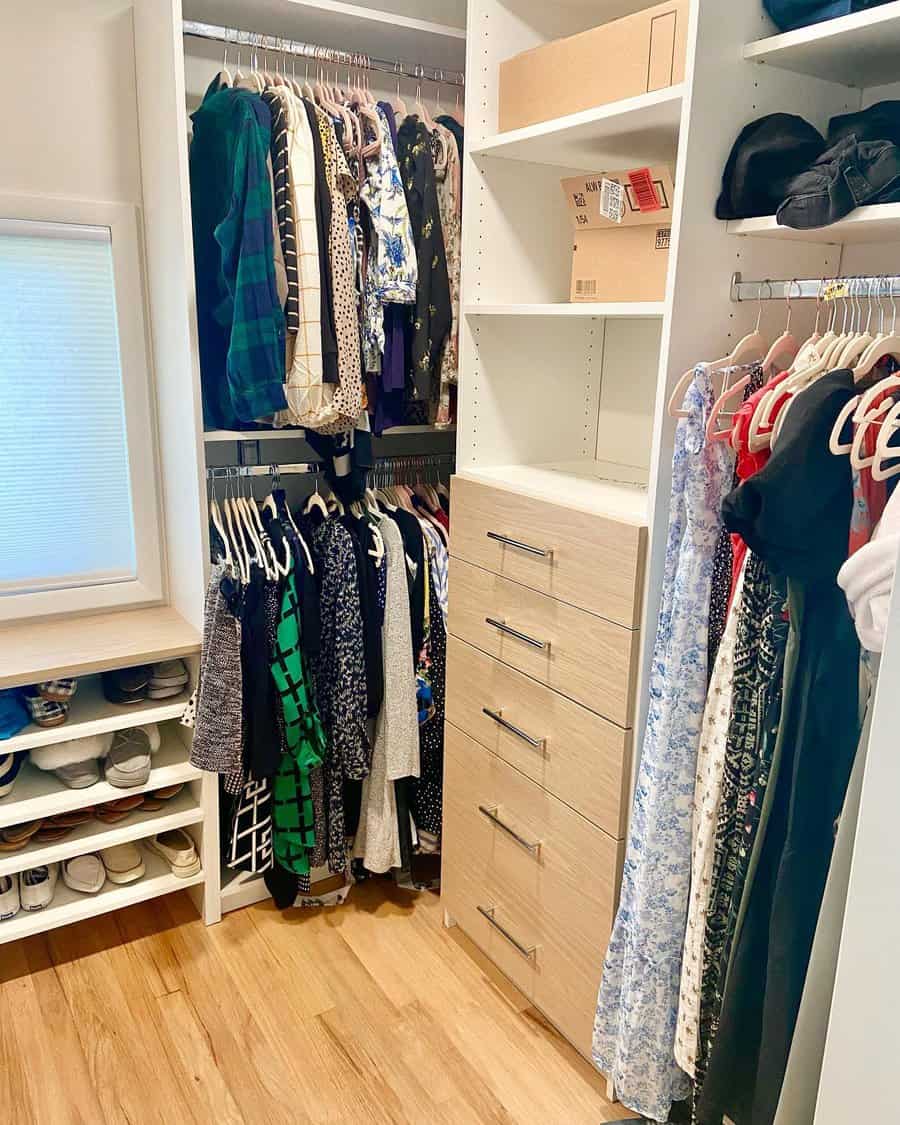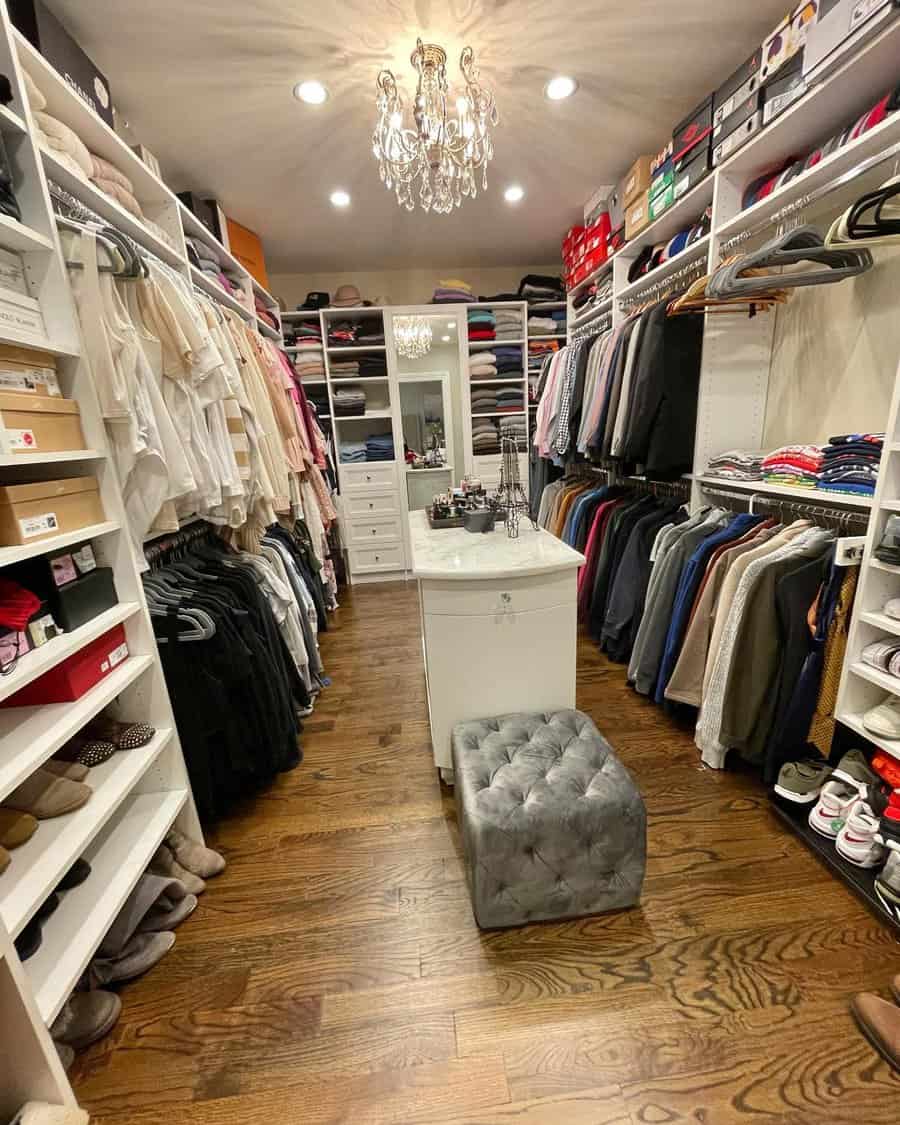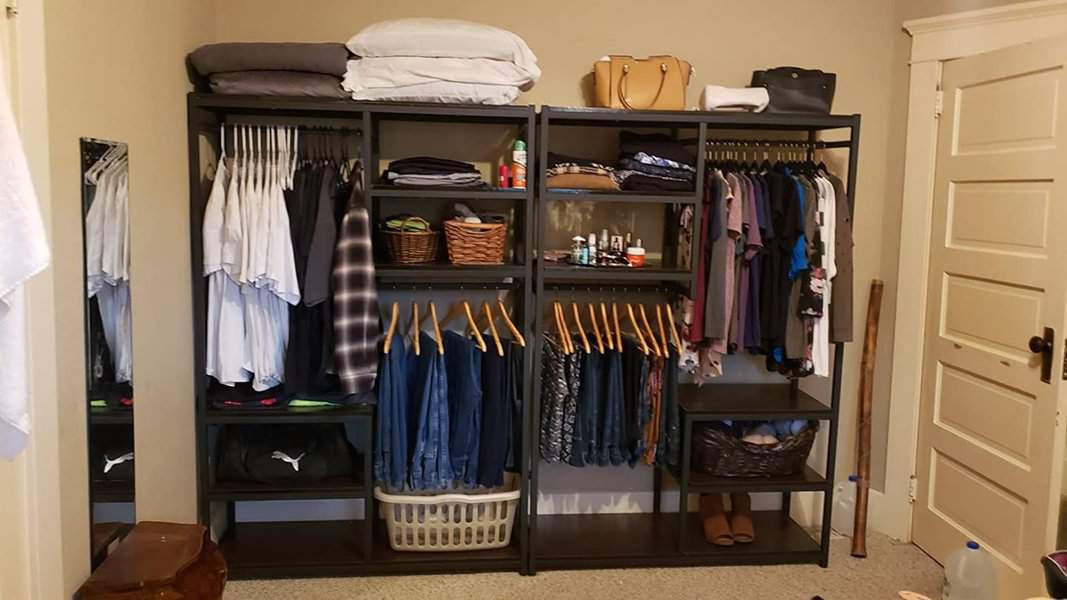 8. Diversify Shelf Height For Custom Storage
If you're looking to maximize your bedroom closet's efficiency and style, modular shelves are a great solution. By adding modular shelves, you can easily achieve an organized and neat look by separating items like clothing, shoes, accessories, etcetera.
Additionally, modular shelves come in various sizes to fit any space. Furthermore, investing in closets with custom storage can bring your desired vision to life. These customizable storage spaces take minimal effort or time and offer countless possibilities no matter the size of your closet.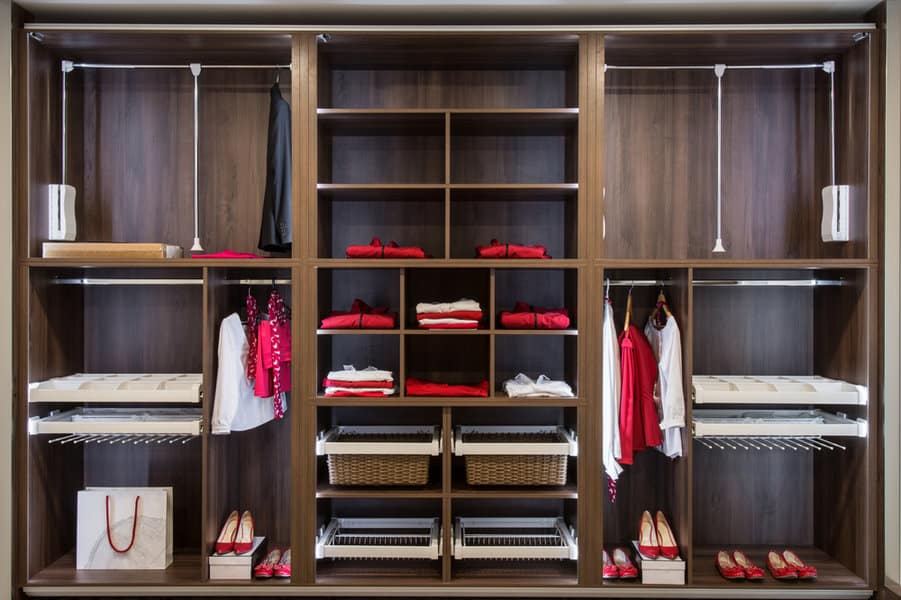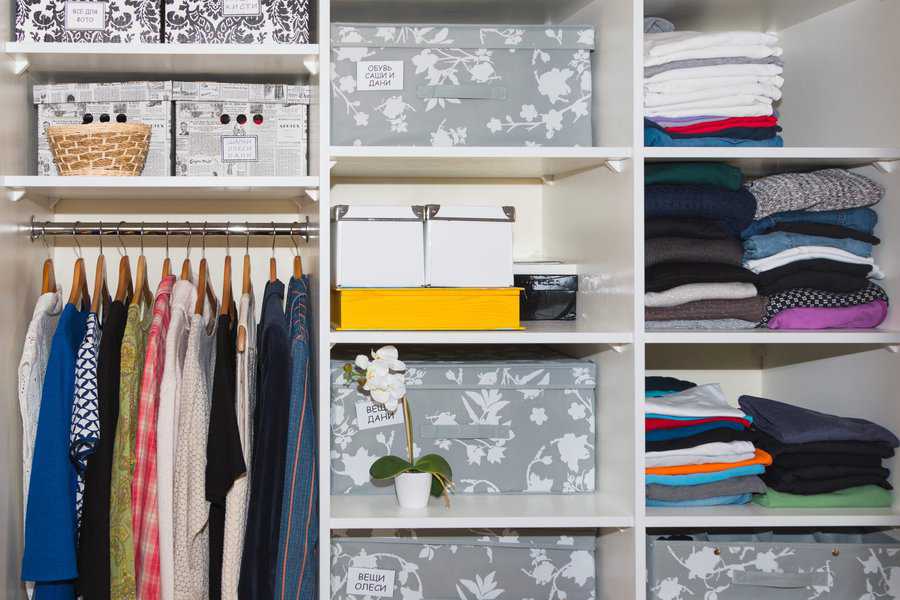 9. Choose White For A Clean Look
A white closet can create a refreshingly clean look in a room whether you choose white shelves, white drawers, or both. For extra impact, try adding an eye-catching accent color by painting one shelf or drawer in the white closet for contrast.
Not only will your white closet be elegant and timeless; but it will also serve as a functional part of your bedroom that keeps things neat, organized, and put away while still having stylish appeal.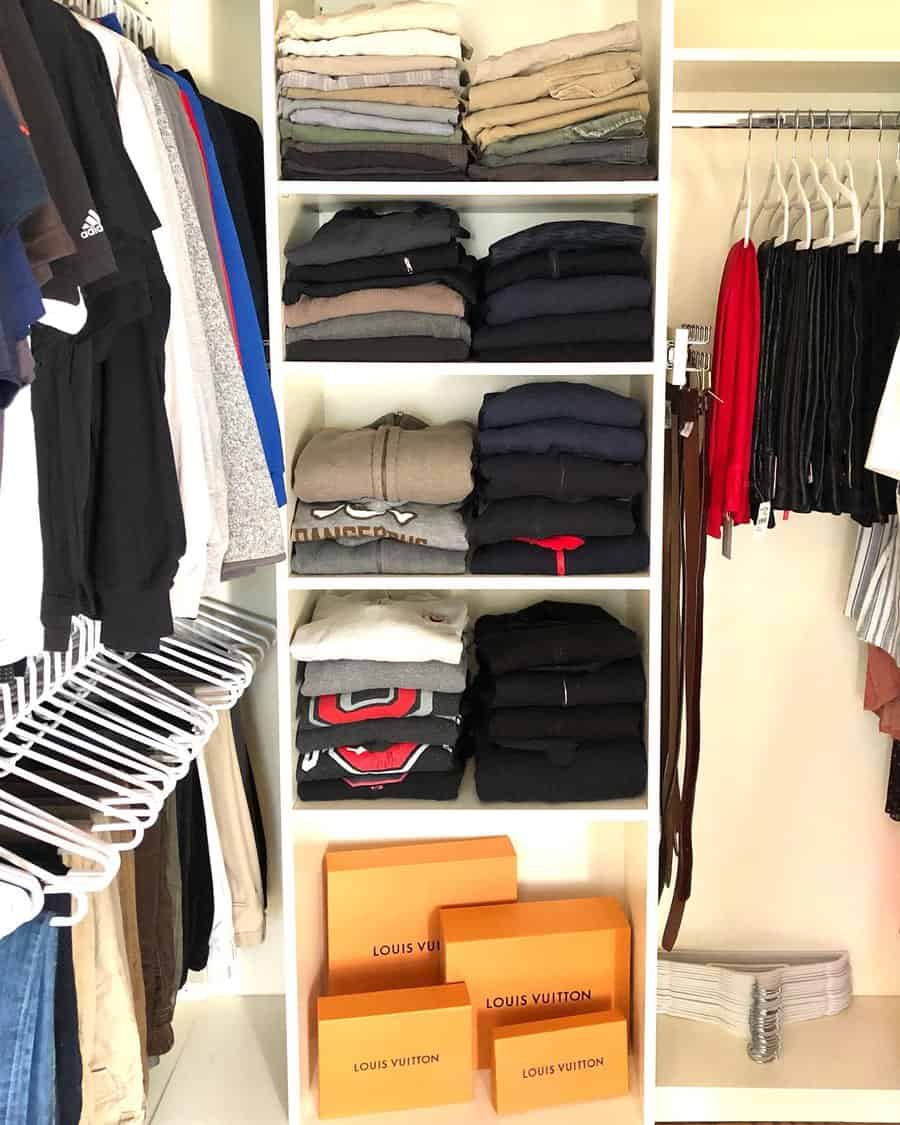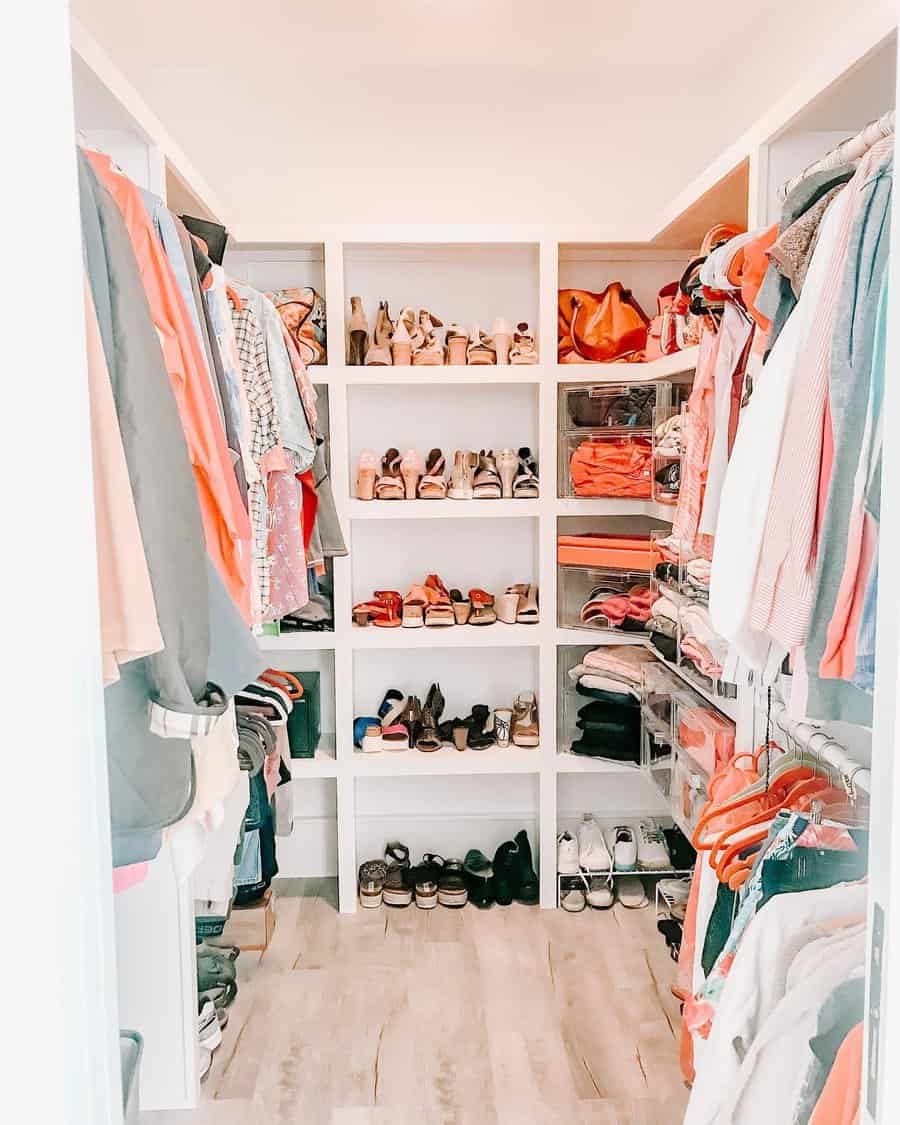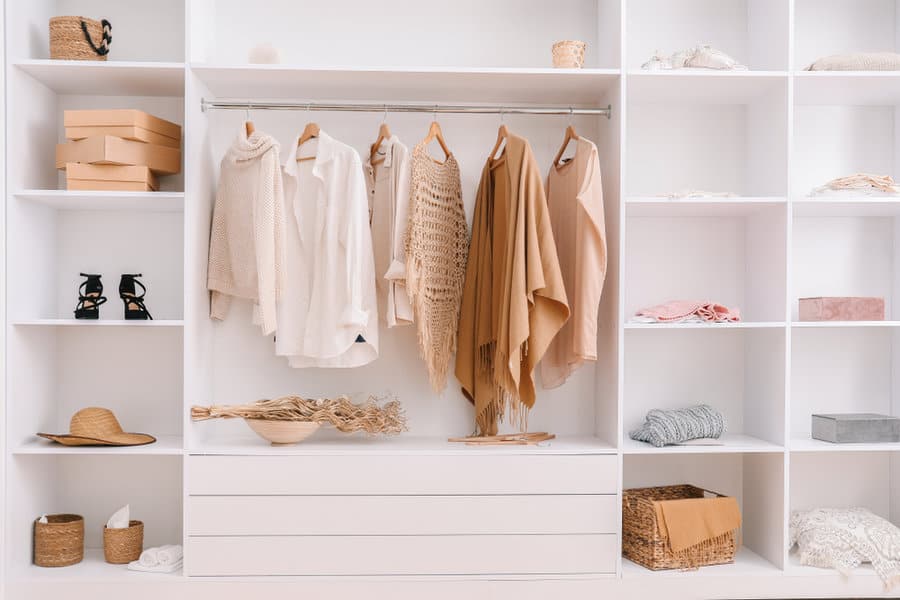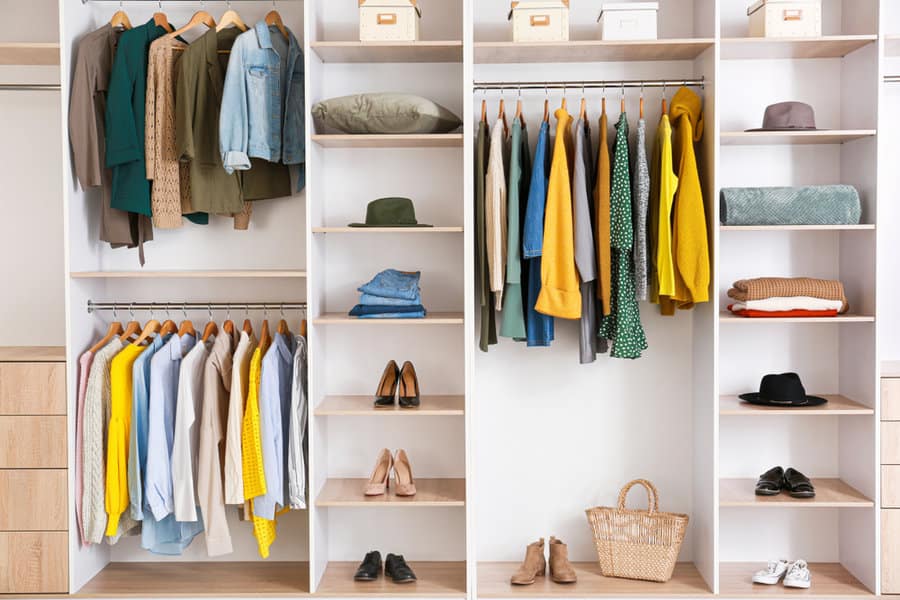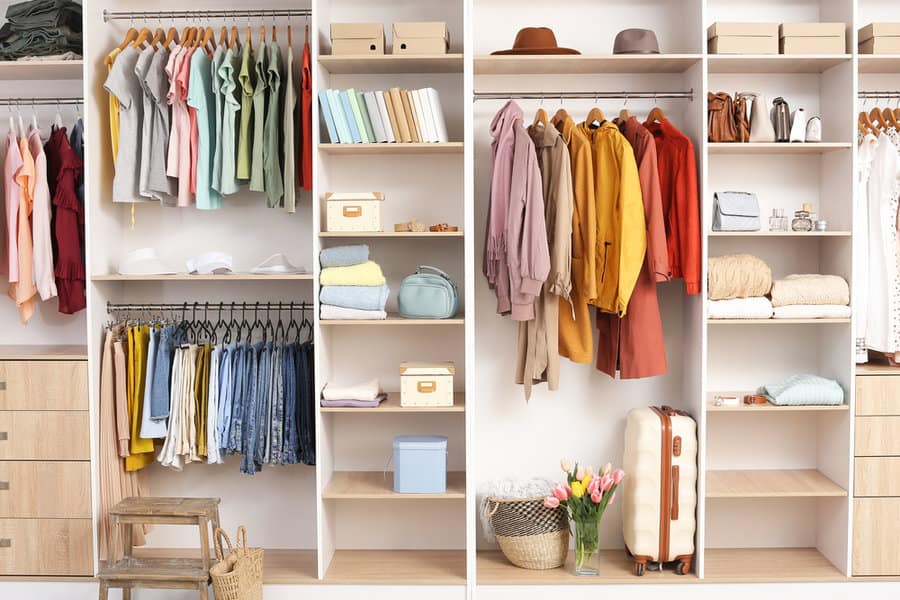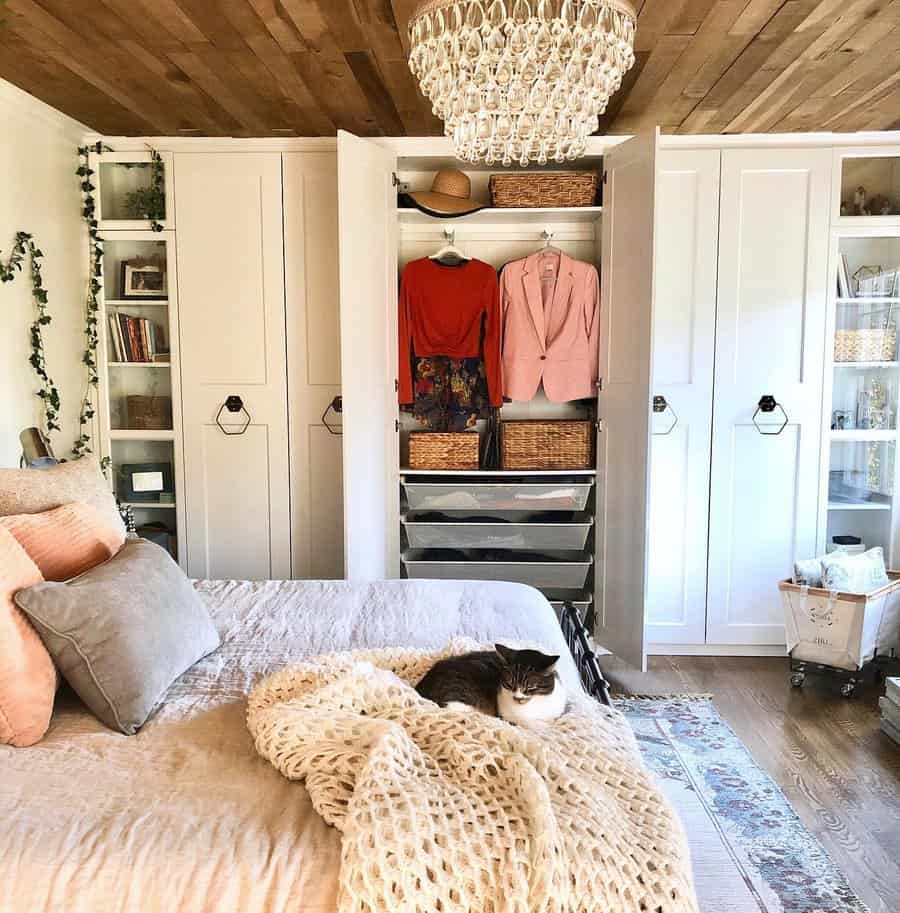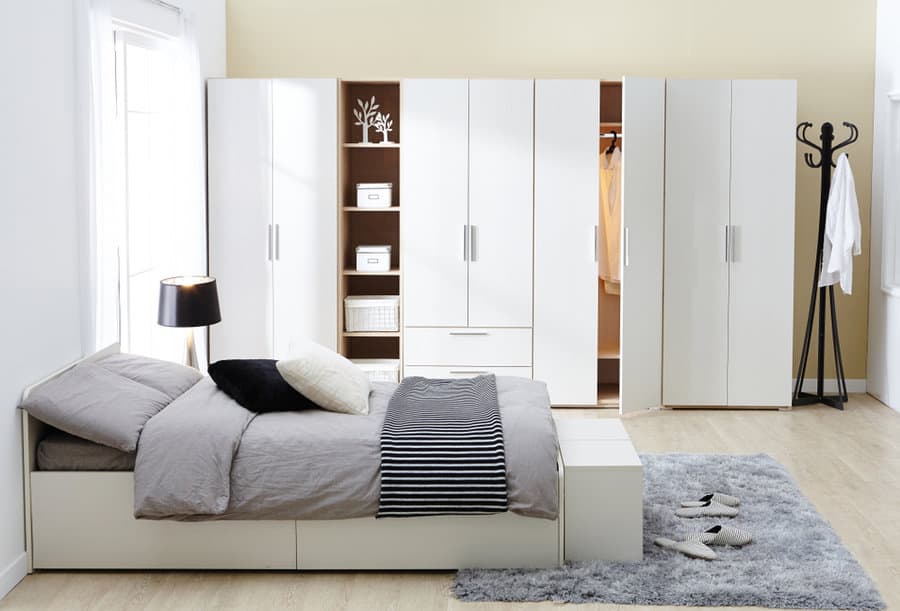 10. Organize Clothes By Season
To ensure you always have what you need when needed and your clothes are properly organized, try organizing them by season. This way, you know exactly where each item of clothing is located – no more stressing over finding that late-summer skirt in a jumbled pile of winter coats! And if you're really tight on space or prefer folding and stacking, order storage bins for the shelves or filing boxes for the widths of your closet.
Even sorting clothes by type (heavier items below and lighter ones above) can make a world of difference in how easily and quickly you can access all your fashion pieces.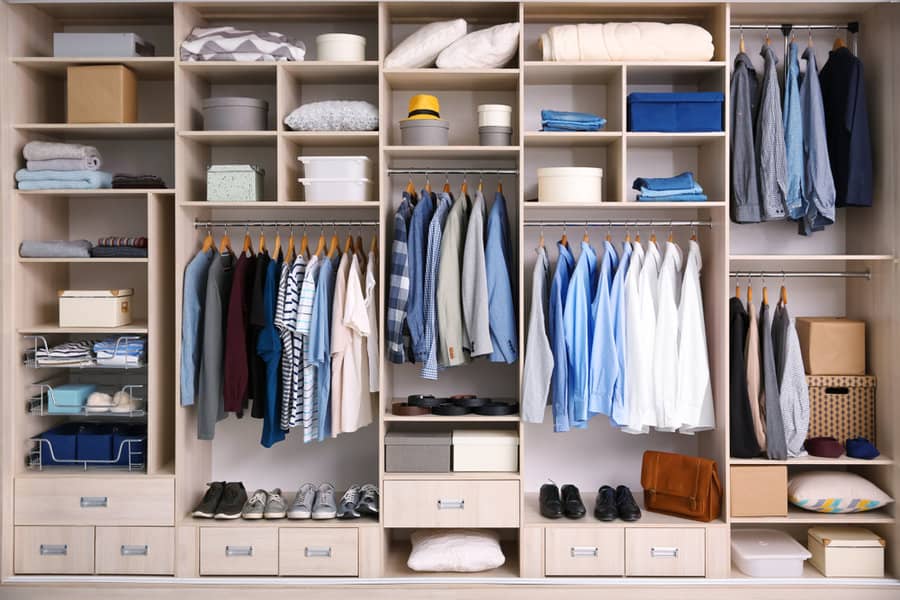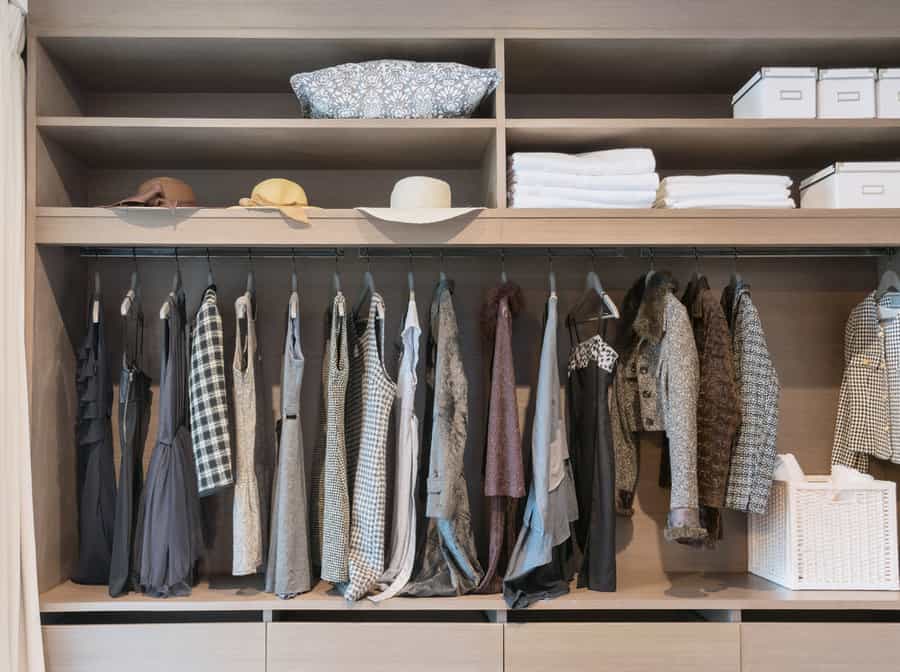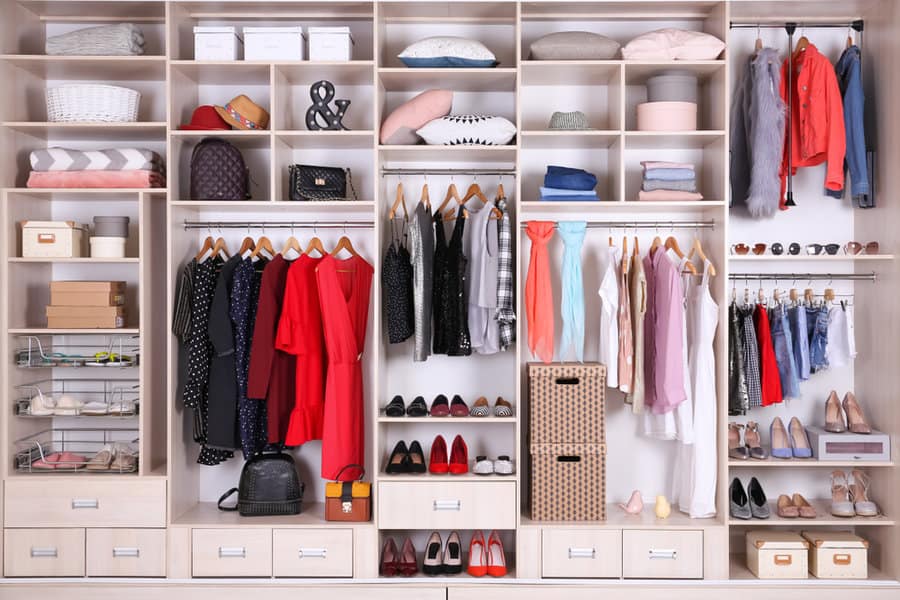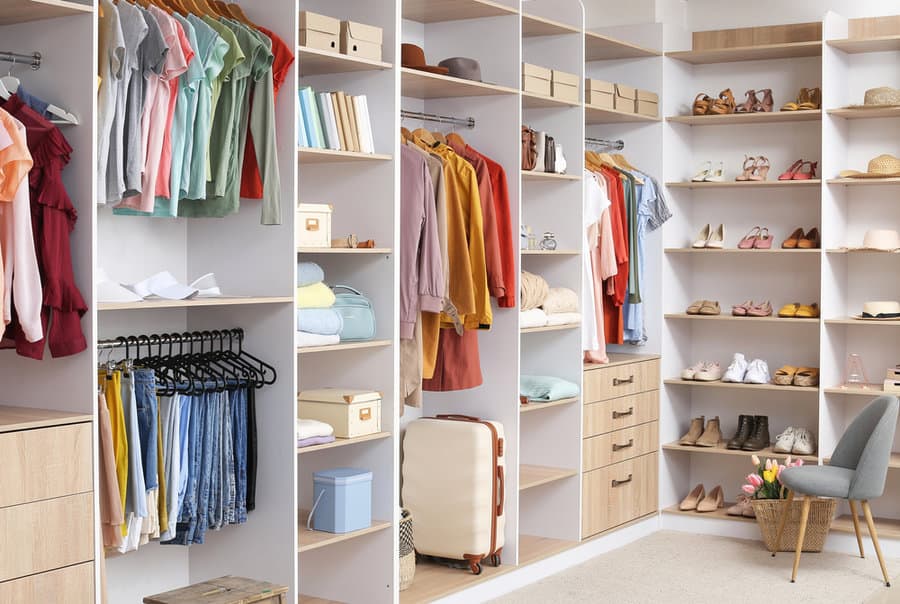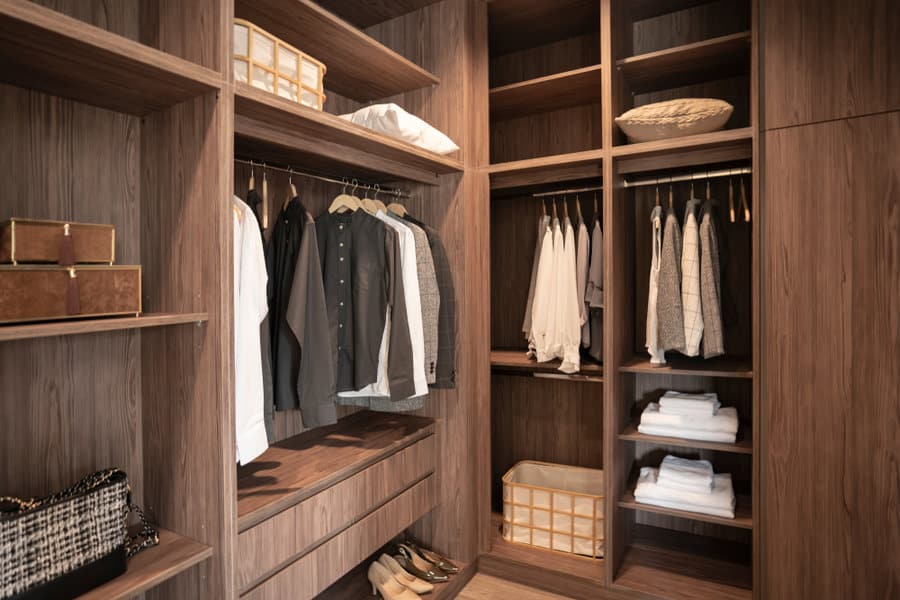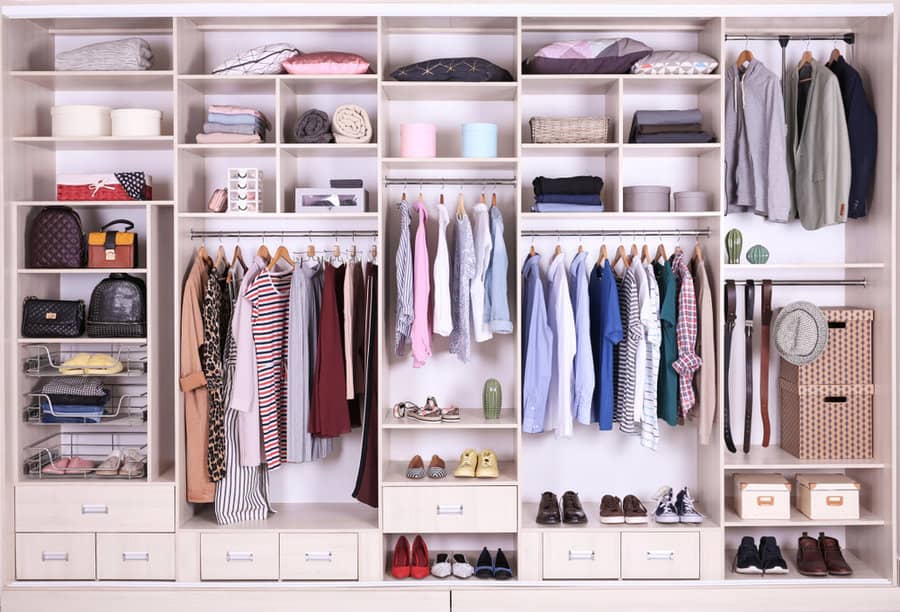 11. Store-Bought Organizers For Empty Closet Space
When it comes to bedroom closet ideas, one of the best ways to maximize storage is with empty closet organizers. Whether you purchase these premade or make them yourself, empty closet organizers provide an easy and customizable way to organize your most used items.
A great project to start with is a clothing rack that can be hung from the ceiling with hooks or a hanger system which allows for quick retrieval of frequently worn clothes and accessories. Additionally, empty shelves are a great way to organize items like shoes, handbags, hats, and other items you may need for an outfit but don't have time to store away each day.
With empty closet organizers, all it takes is a few simple steps and suddenly you have created an organized oasis out of what was previously just wasted empty space.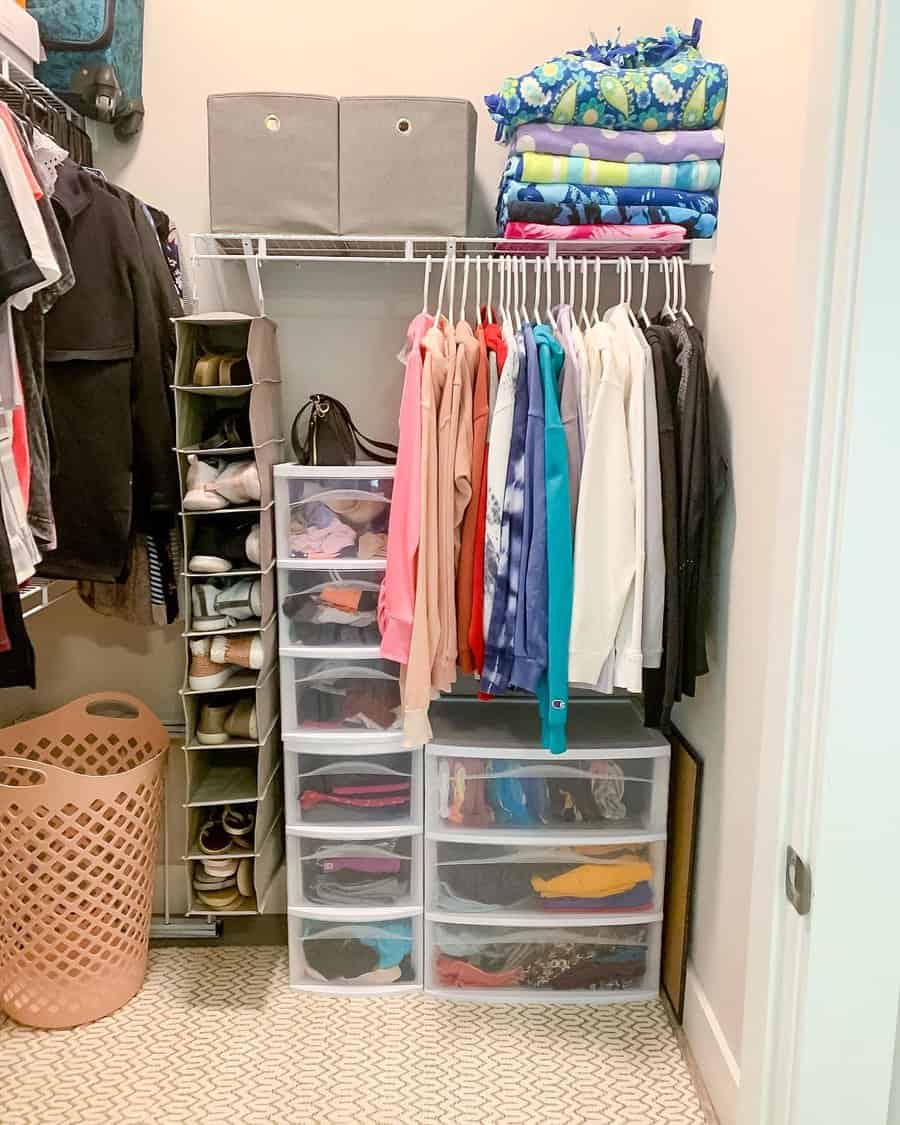 12. Designate Space For Footwear
A closet with shoe shelves is essential in a bedroom closet. With plenty of stylish storage options available, it's easy to find footwear storage systems that will fit your closet while also keeping your shoes looking great. Whether you need individual boxes or shoe racks and rotating carousels, having all of your footwear beautifully organized will make getting dressed each morning so much easier!
For larger closets, consider adding extra drawers and shelves – these are great for organizing accessories like scarves, bags, and hats. With closet organization ideas like these in mind, you can create the ultimate bedroom closet with ease.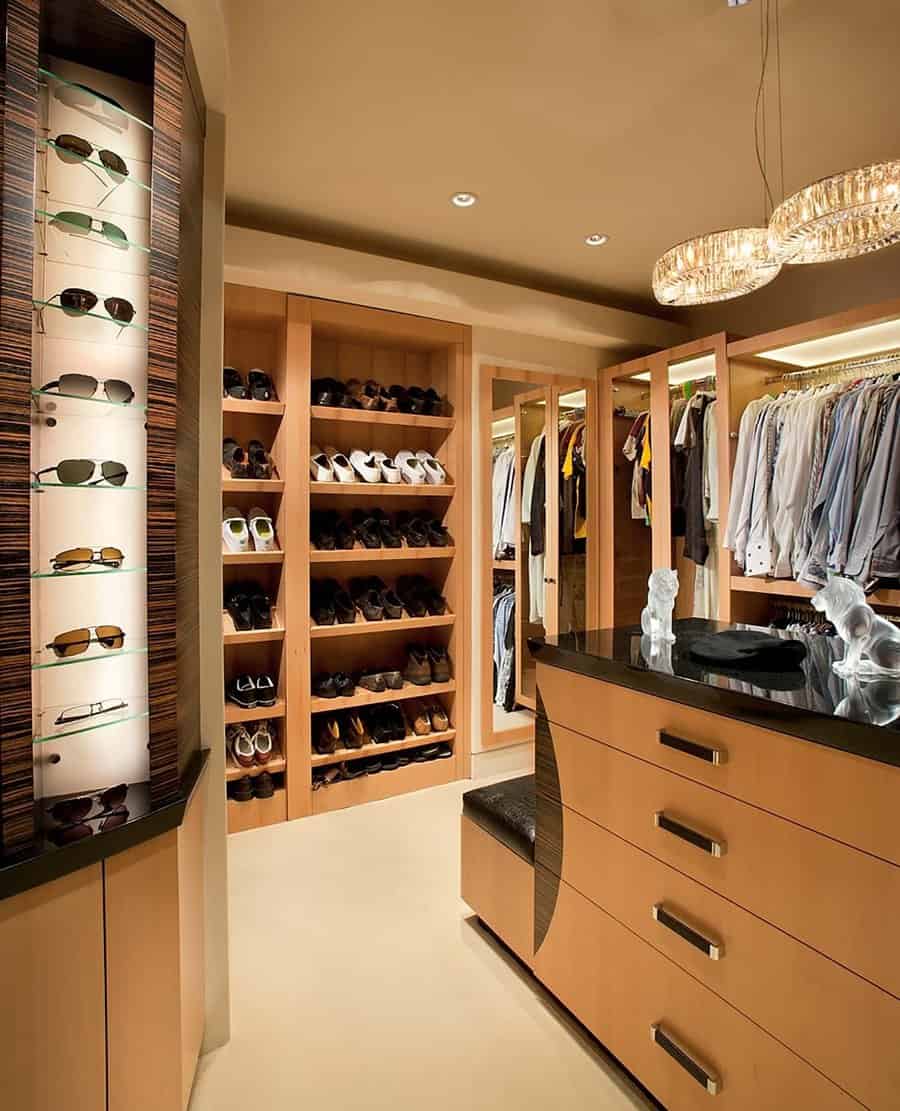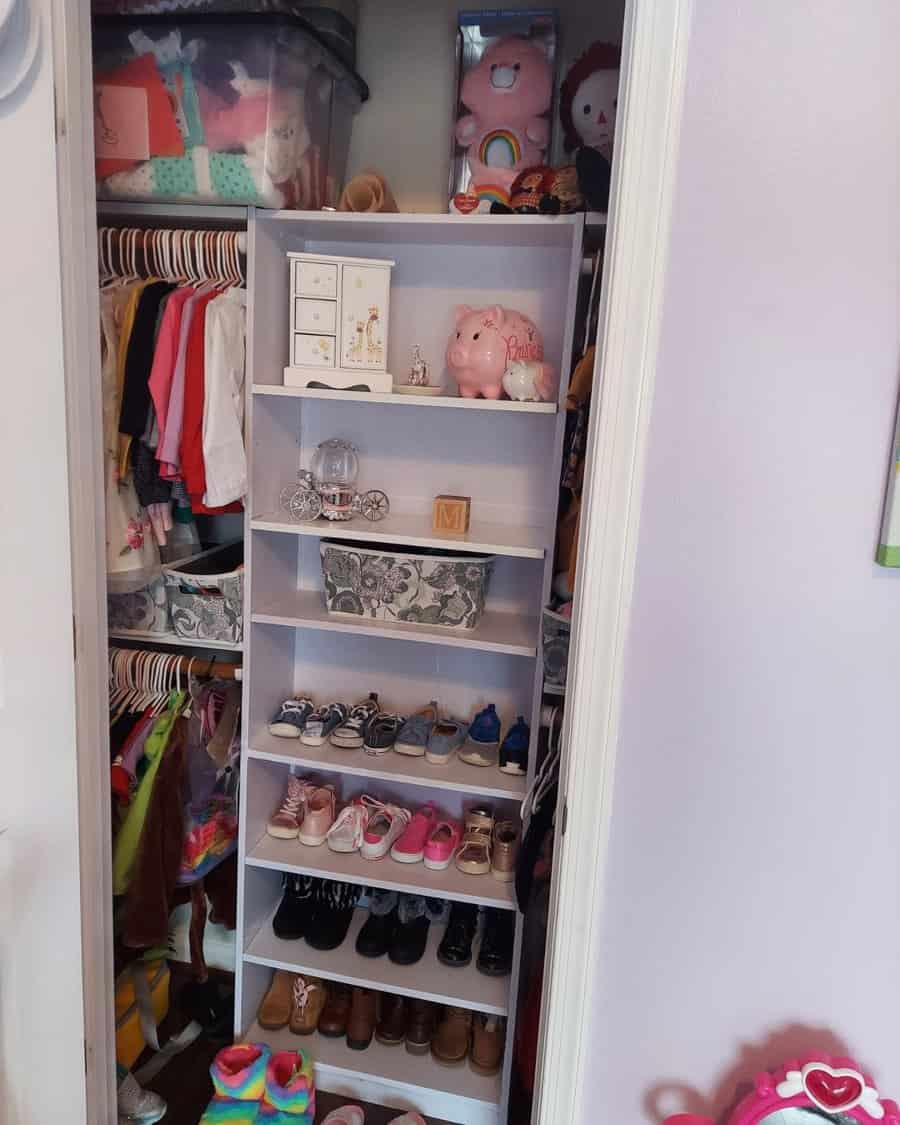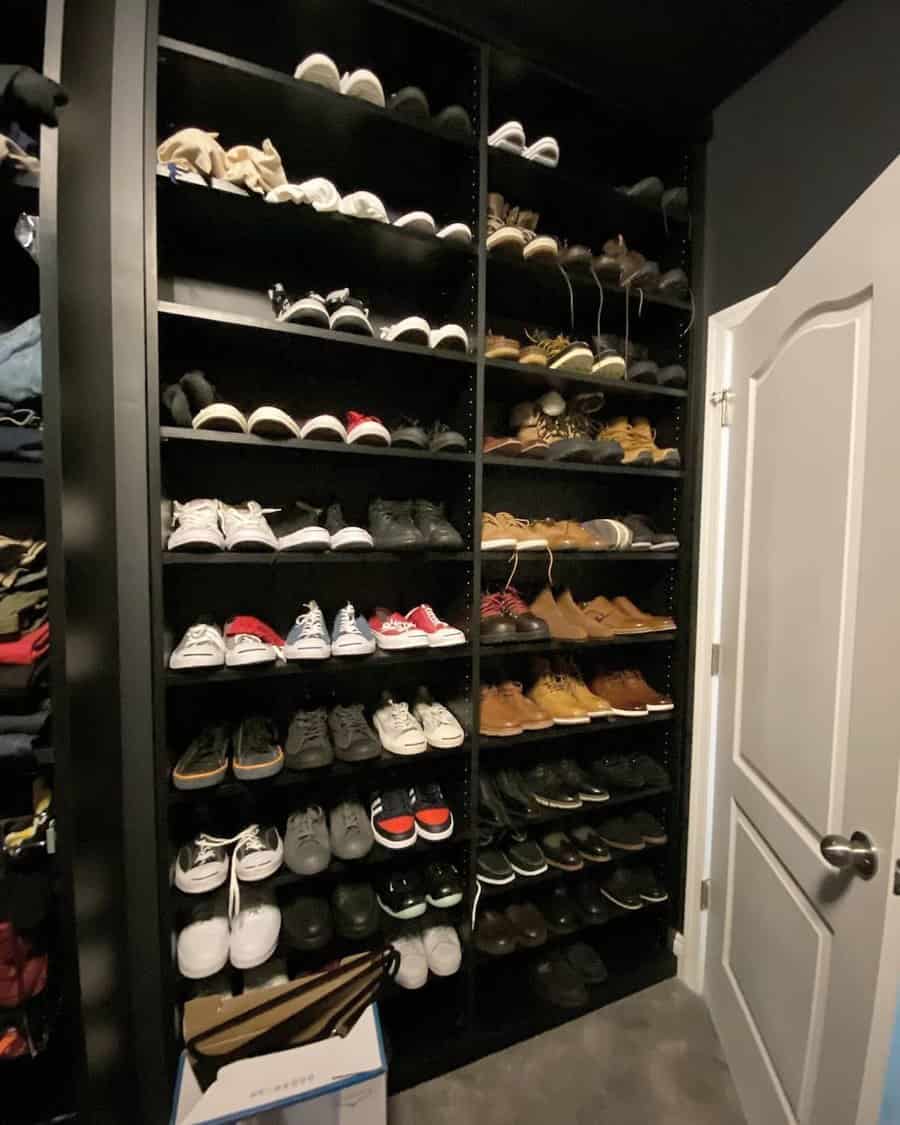 13. Walk-In Closet Island For Small Accessories
Are you looking for ways to make the most out of your bedroom closet space? To start, consider a walk-in closet with an island as the centerpiece. The island provides counter space for folding and sorting your clothes, while also acting as an attractive storage solution.
To maximize efficiency, you should add adjustable shelves or drawers around it to store small accessories such as ties or jewelry. Finally, make sure you leave plenty of room to walk in the closet without having to climb over items on the floor. With this setup, you can stay organized and take advantage of every corner of your bedroom closet.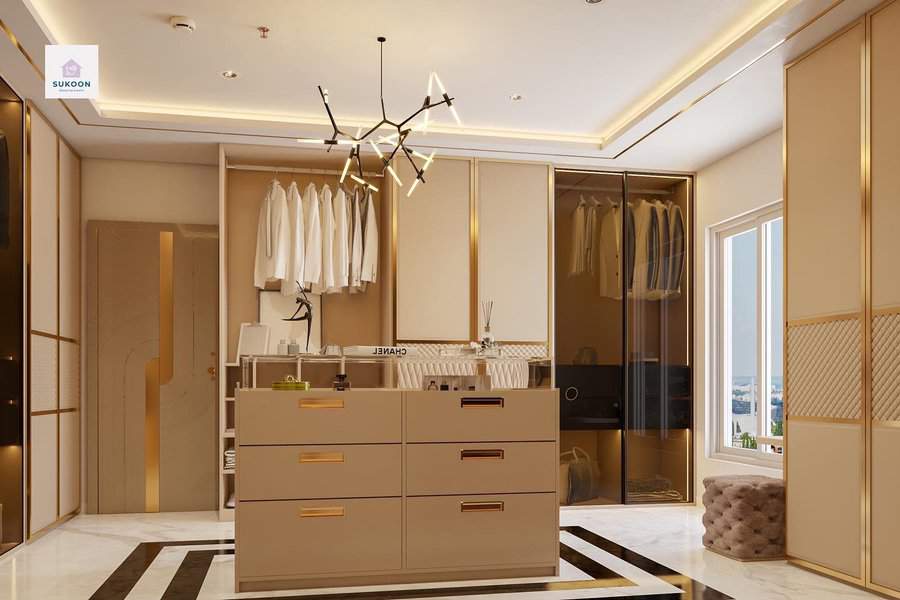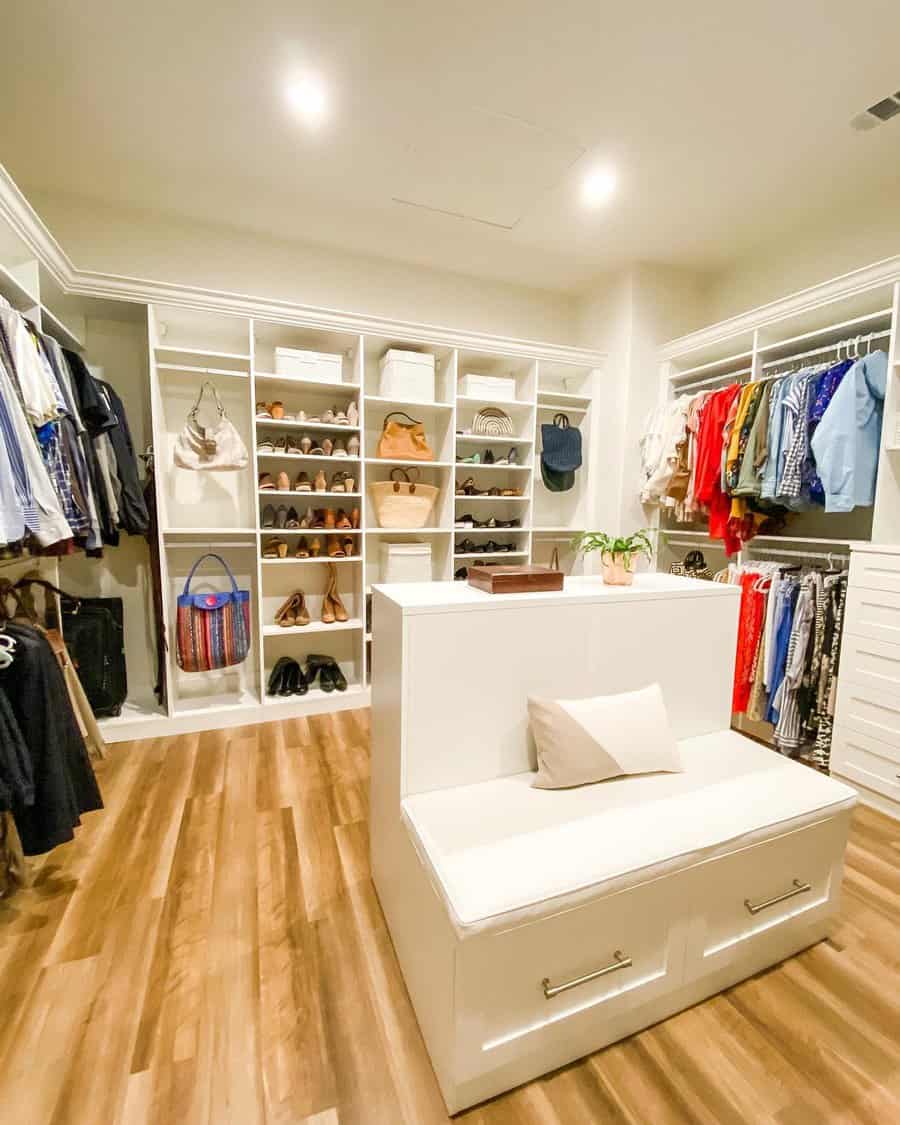 14. See-Through Closet For Easy Access
Who said closets have to be boring? Making your bedroom closet a see-through glass closet is a great way to spruce up the décor. Not only does it create an interesting visual, but it makes it easier for you to see what's inside and immediately grab what you need.
Just make sure you keep it organized if people are able to see it! An open closet is also a great option if you want easy access to items without having to rummage through drawers and hangers – think shelves and cubbyholes where everything can go in its place for a neat and fuss-free look.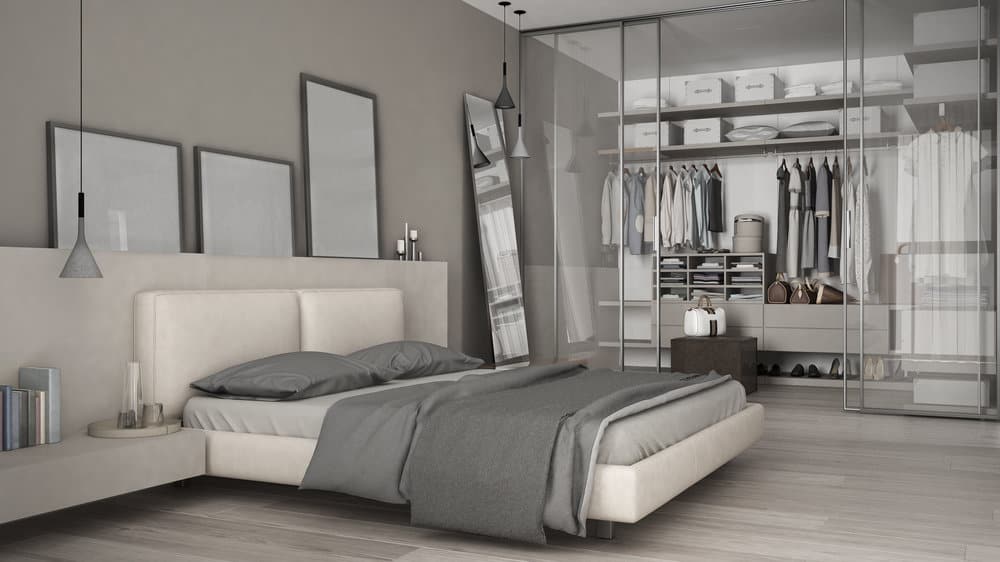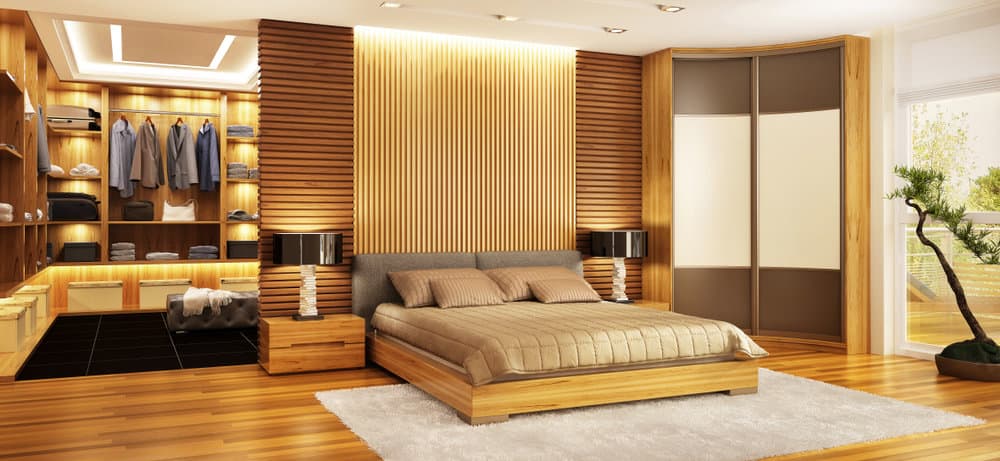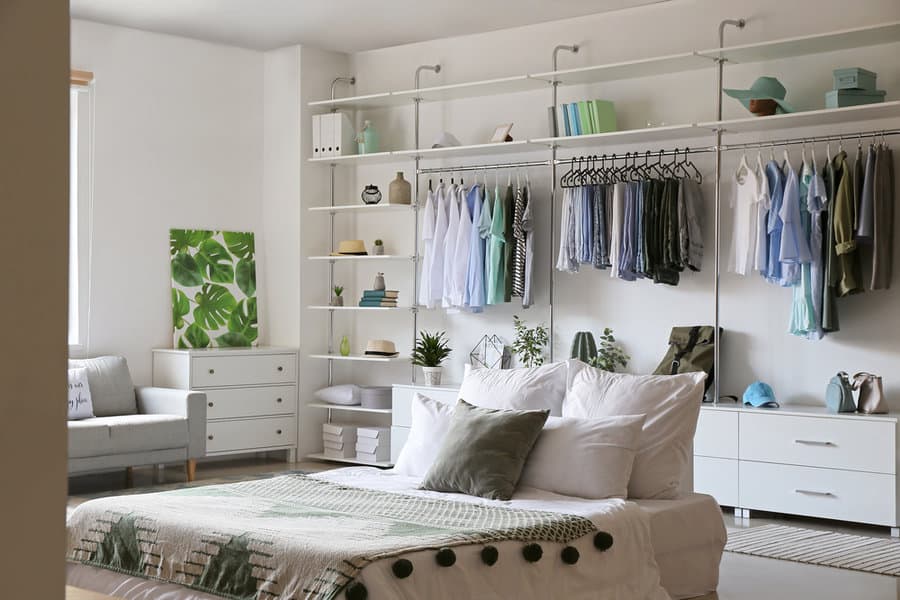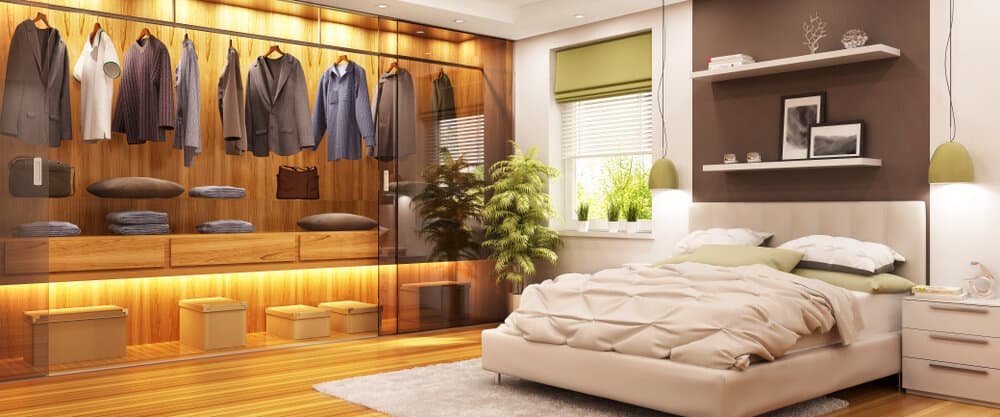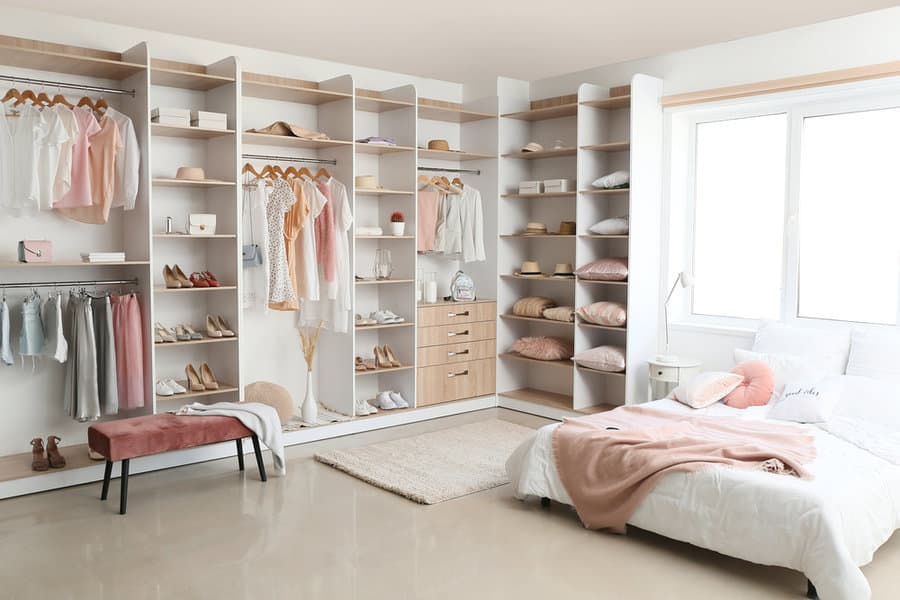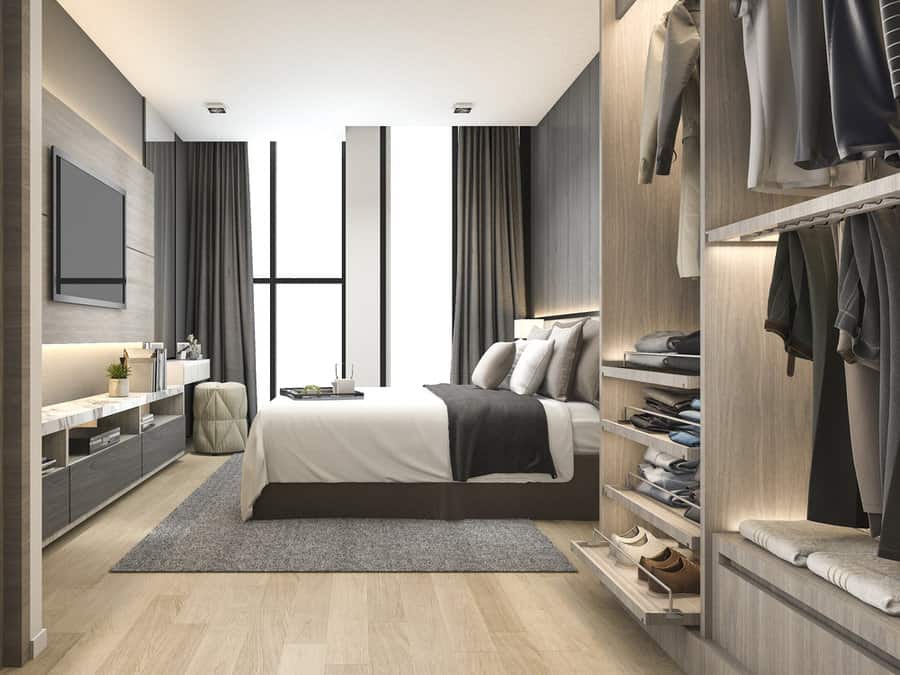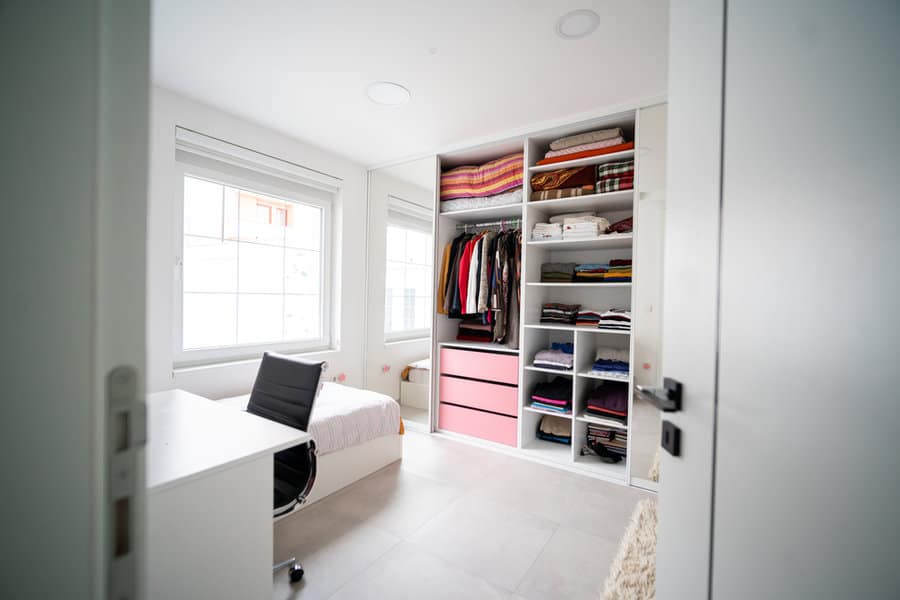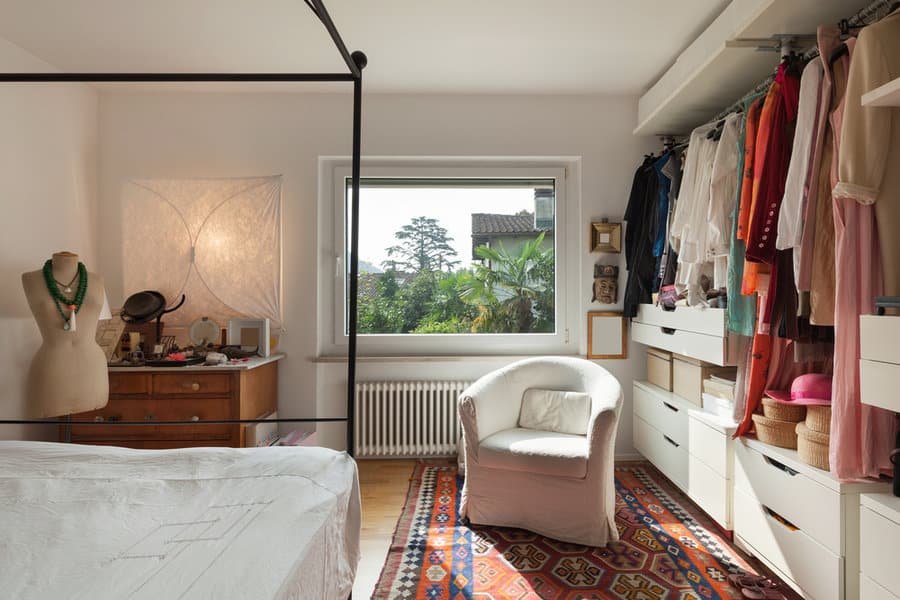 15. Camouflage Your Closet
Creating the perfect bedroom closet doesn't have to be difficult! One creative idea you can use is camouflage–by matching your closet doors to the walls, you can make them seemingly disappear into the background. Installing handleless doors also helps make closets feel less cluttered and gives off a sleeker look.
Putting in mirror doors can also help enlarge a space, while also making it easier to choose an outfit in the morning since you can check out how it looks right away! With these bedroom closet ideas in mind, you can create a minimalist dream come true.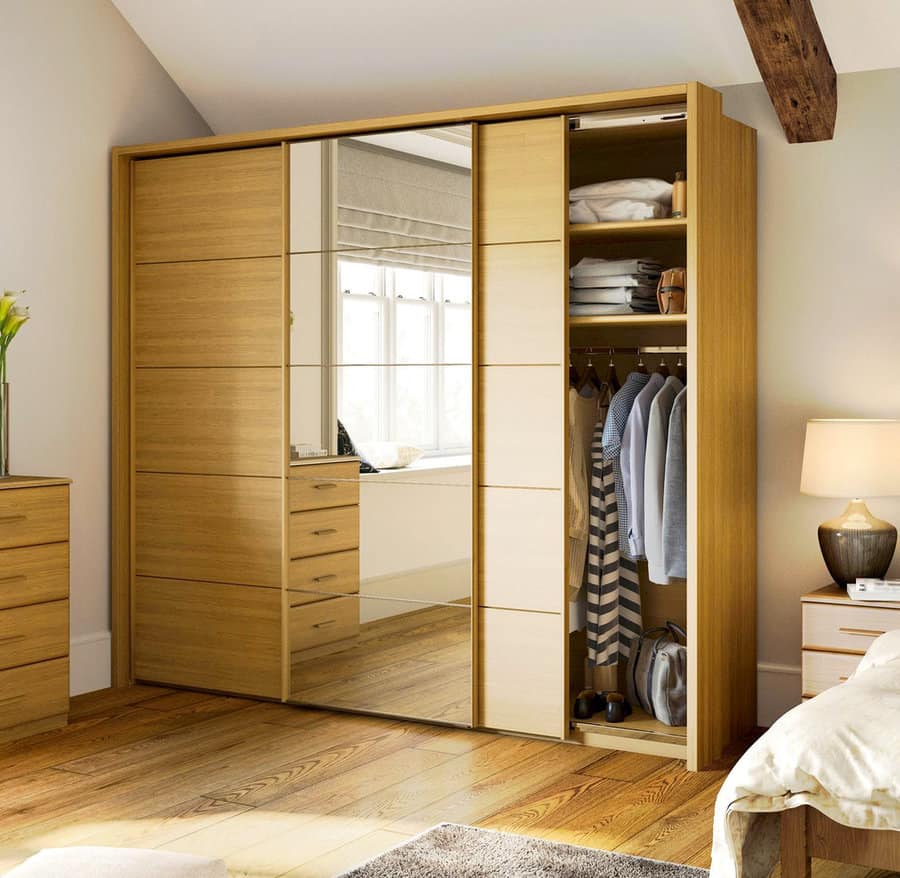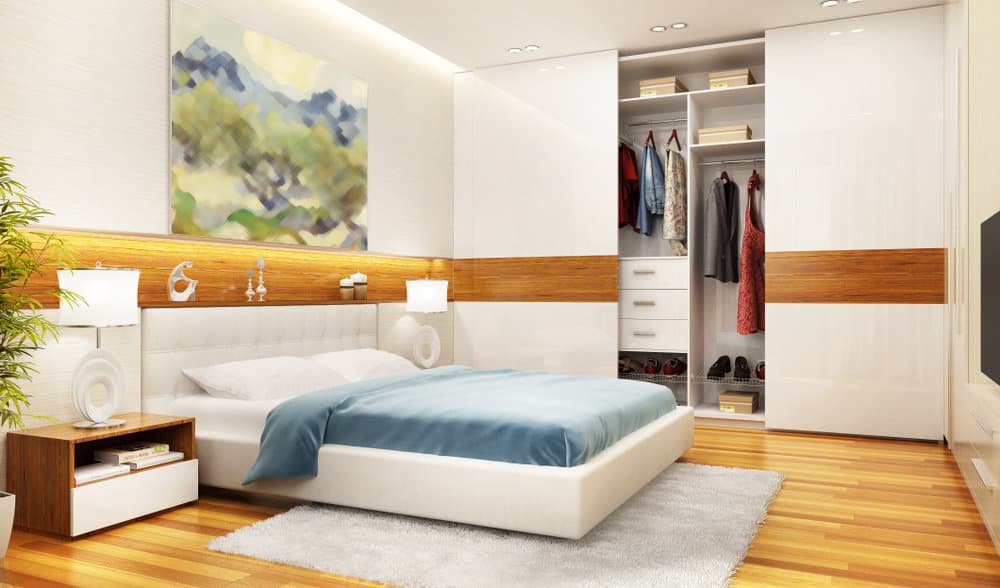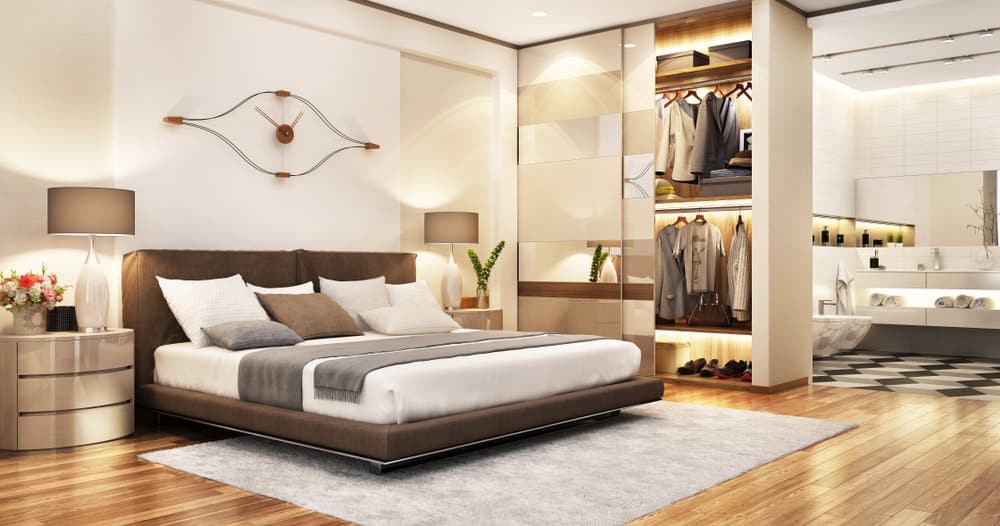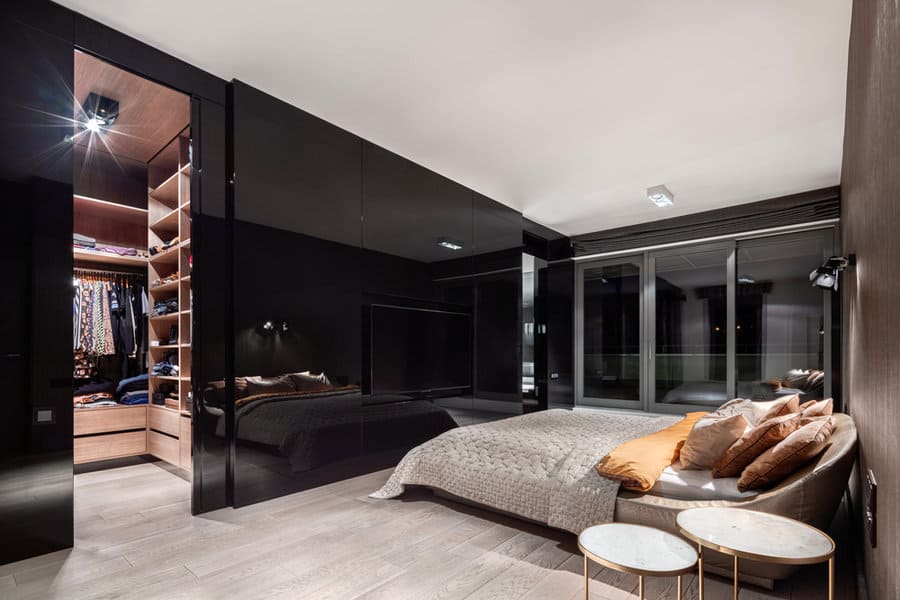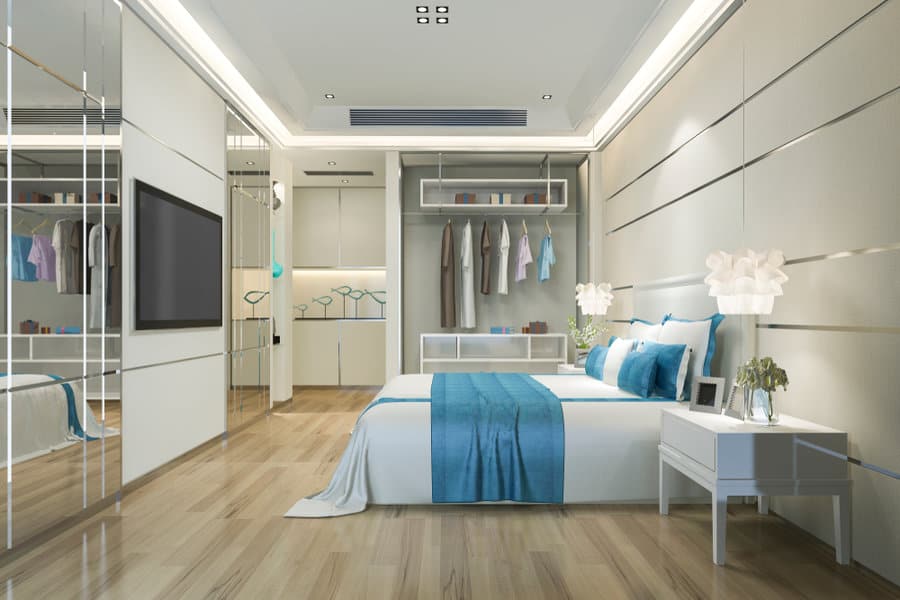 FAQs
What is the difference between a wardrobe and a closet?
A closet is a small separate room built into the main floor plan of the home. A wardrobe is a piece of furniture that stands alone inside the bedroom. Typically, a wardrobe is meant for hanging clothes with a hanging bar. Some wardrobes may have a shelf or two or a drawer. Closets can be organized to have as many hanging bars, shelves, or drawers as you need or will fit.
What is a good size bedroom closet?
The standard closet is at least 24 inches deep. This would be a reach-in closet. If you want a walk-in closet, it needs to be at least 36 inches deep. For the width measurement, the closet should be at least half the length of the room but is usually wider than this. A common standard size for a walk-in closet for a 12 x 12 bedroom is a 6 x 48 inch closet.
Can you build a closet in a bedroom?
Yes, you can build a closet in an existing bedroom. To do this, you will need to choose where in the room you will build the closet. Then decide how large you want the closet to be. Start with a wood frame and then wire for electrical if you want to have a light in the closet. Finish the closet walls with drywall and then paint it. Add a door to the opening and a light fixture.