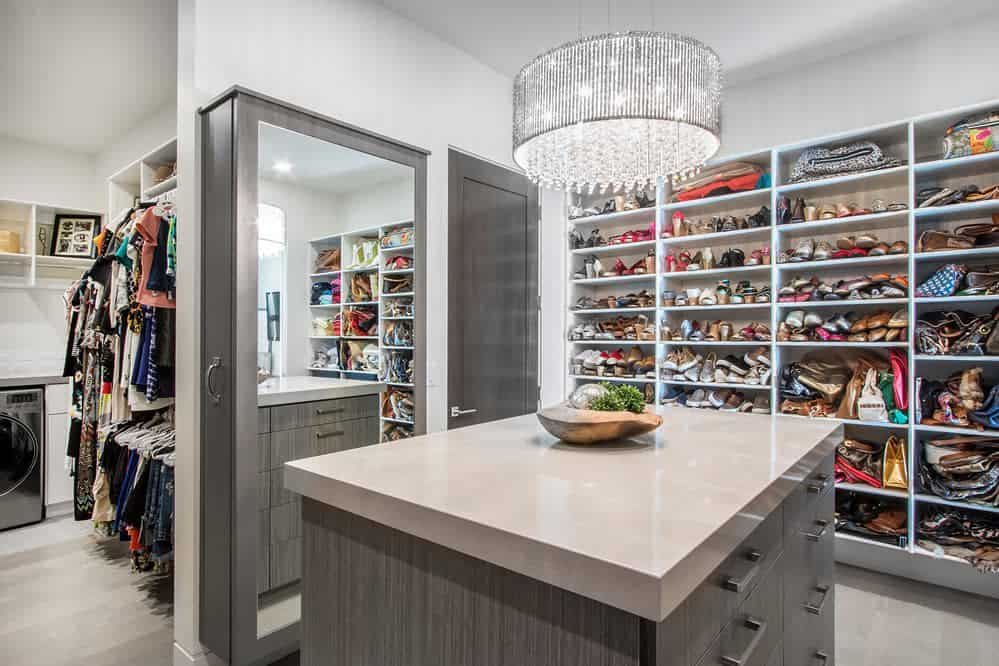 The Top 38 Master Bedroom Closet Ideas
When designing a home interior, most people naturally focus on the areas that receive the most traffic (and fall under the most eyeballs!). But neglecting the nooks and crannies of your home design — in this case, the master closet — would be doing your residence a disservice.
It's true that few, if any, guests will ever see your closet. That doesn't mean you shouldn't put as much care and attention into creating the perfect look and layout. After all, there's no better way to start your day than by picking an outfit from your perfectly organized bedroom closet.
Keep reading for our favorite master bedroom closet ideas that will help you organize and redecorate your most prized possessions.
1. Open Shelves
Creating an organized and accessible closet in the master bedroom can be a tricky endeavor. For a more convenient experience, using open shelves can be beneficial for organizing items in an accessible way. The open shelving accommodates storing items like clothes, shoes, purses – anything you can think of!
To make this area truly unique and distinctive, adding decorative pieces such as baskets, cubbies or bins will surely elevate the space to the next level. Transparent storage containers are also great because they allow easy access while maintaining an overall neat look. All these elements together create a beautiful one-of-a-kind master bedroom closet that is not only practical but also very stylish.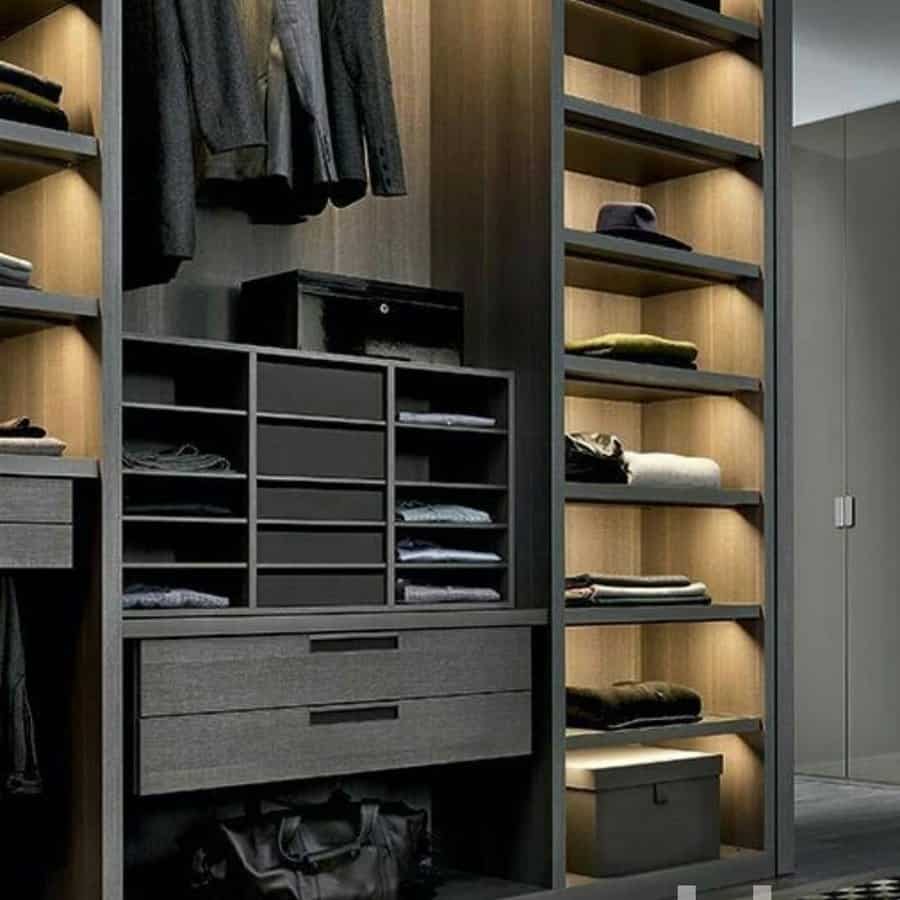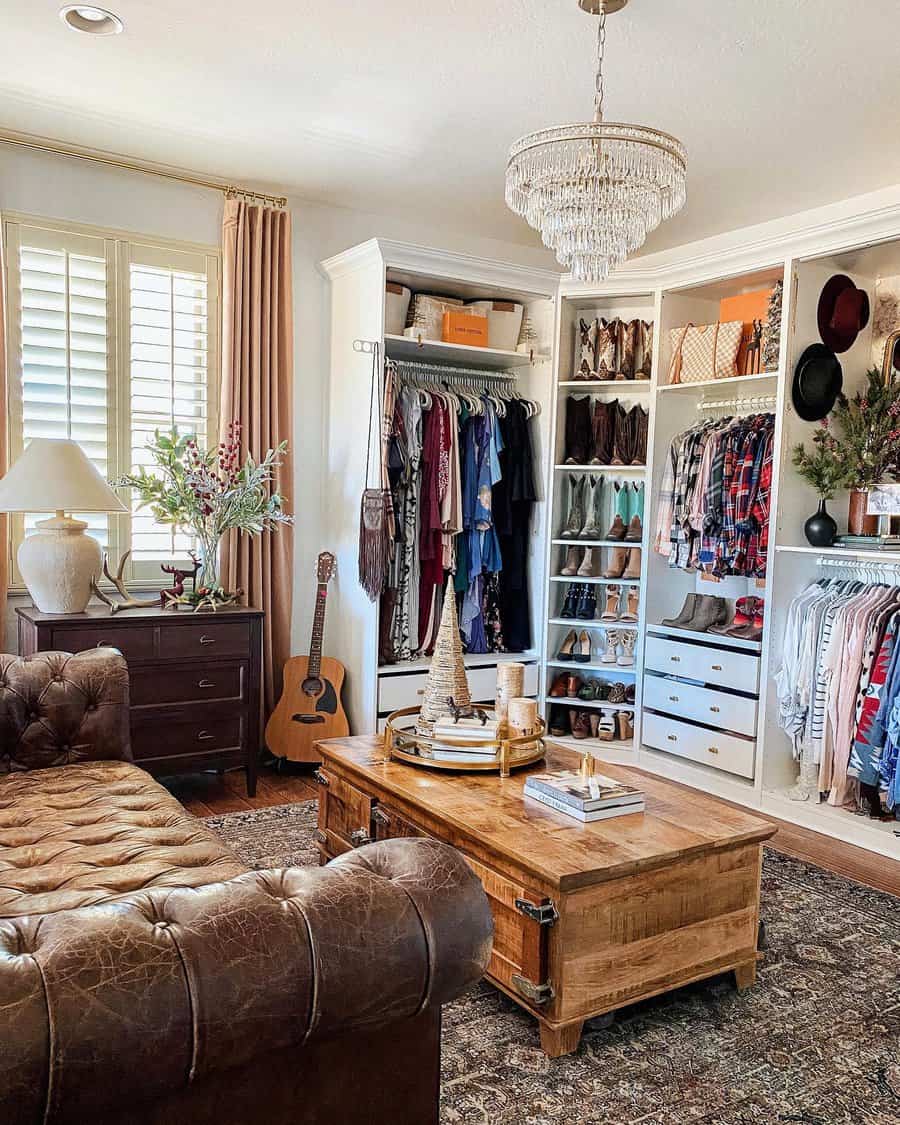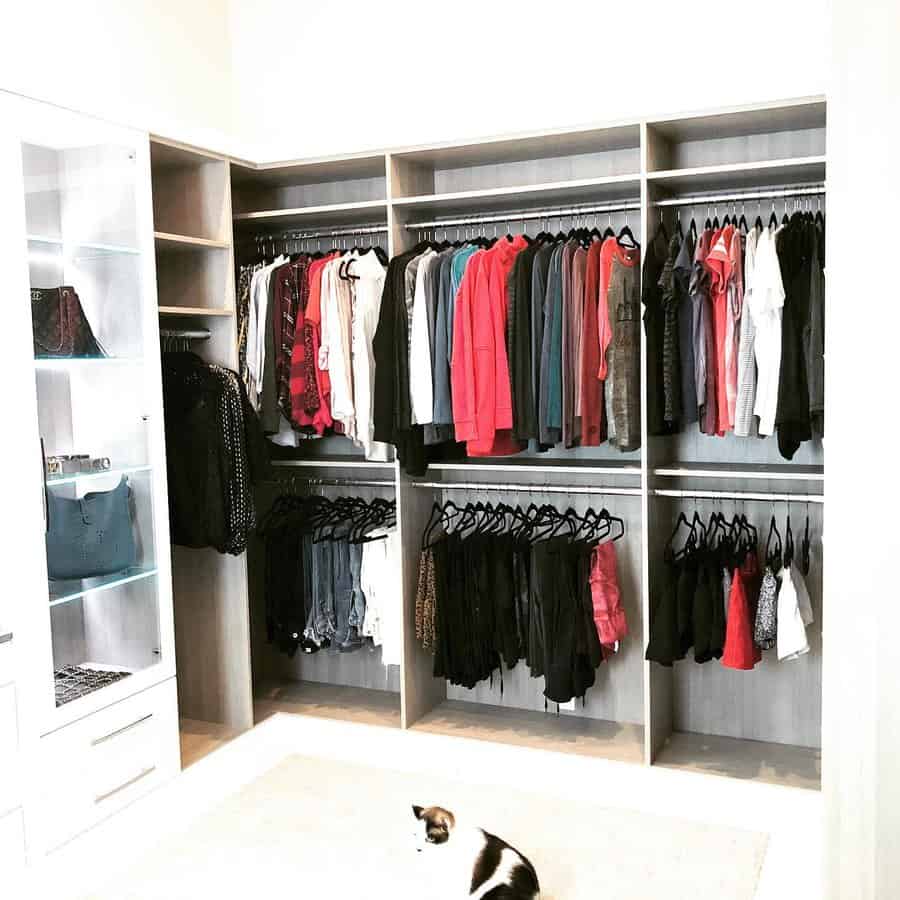 2. Closet With TV Mount
If you're looking for creative master bedroom closet ideas, why not consider a closet with a recessed TV mount? This will save valuable space in the room while adding a modern touch.
You could even include additional features such as specially designed pull-out storage drawers and multiple hanging rods to maximize the storage options. With plenty of organization strategies available, you'll have everything in its place in no time!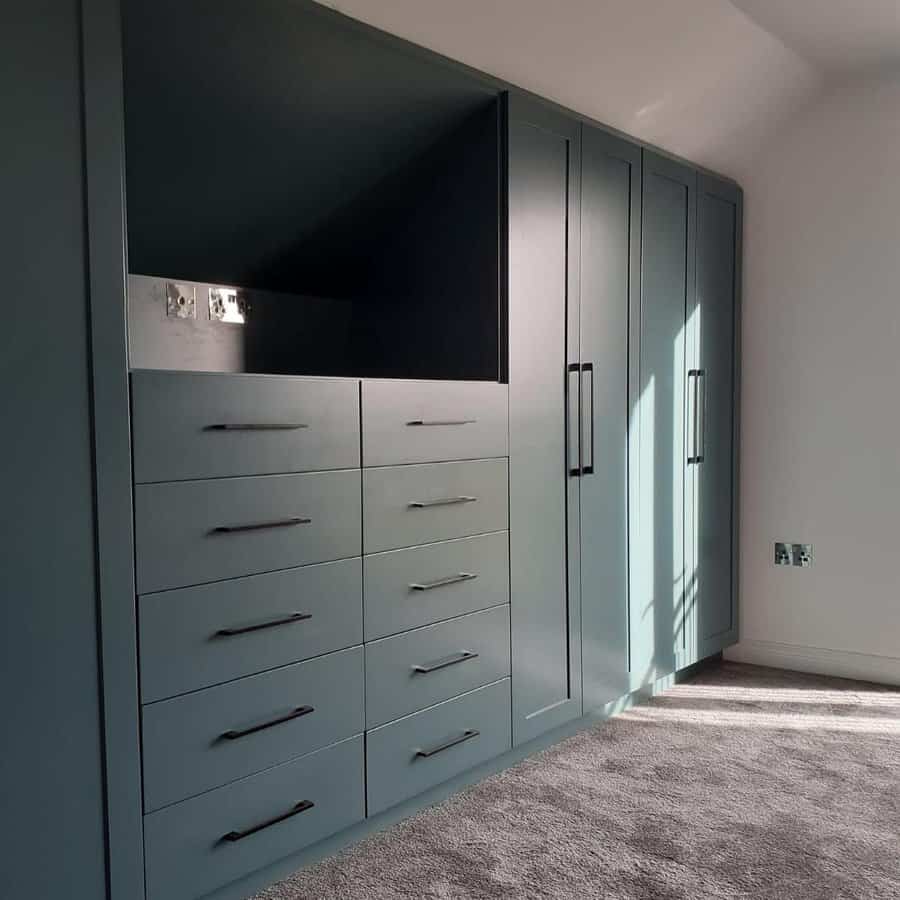 3. Walk-In Closet Island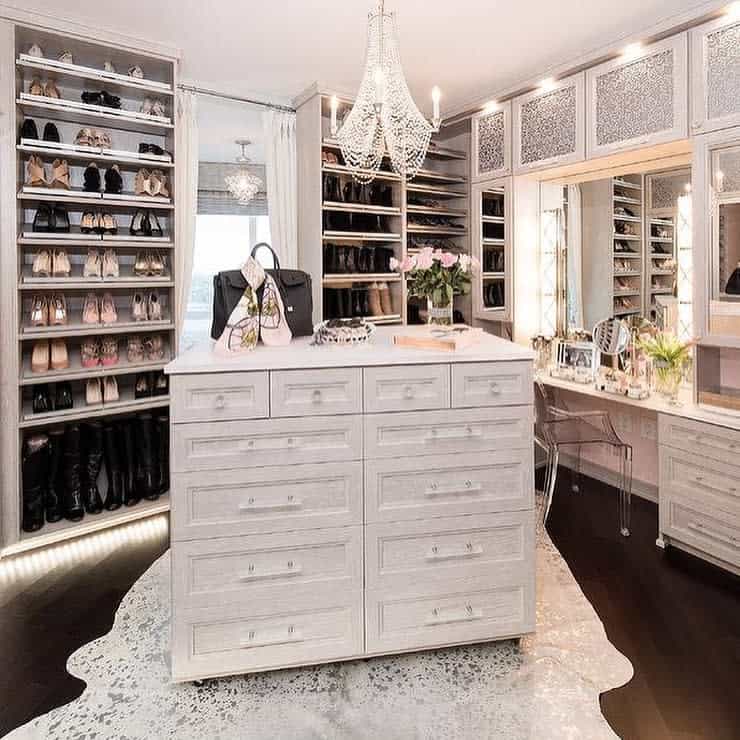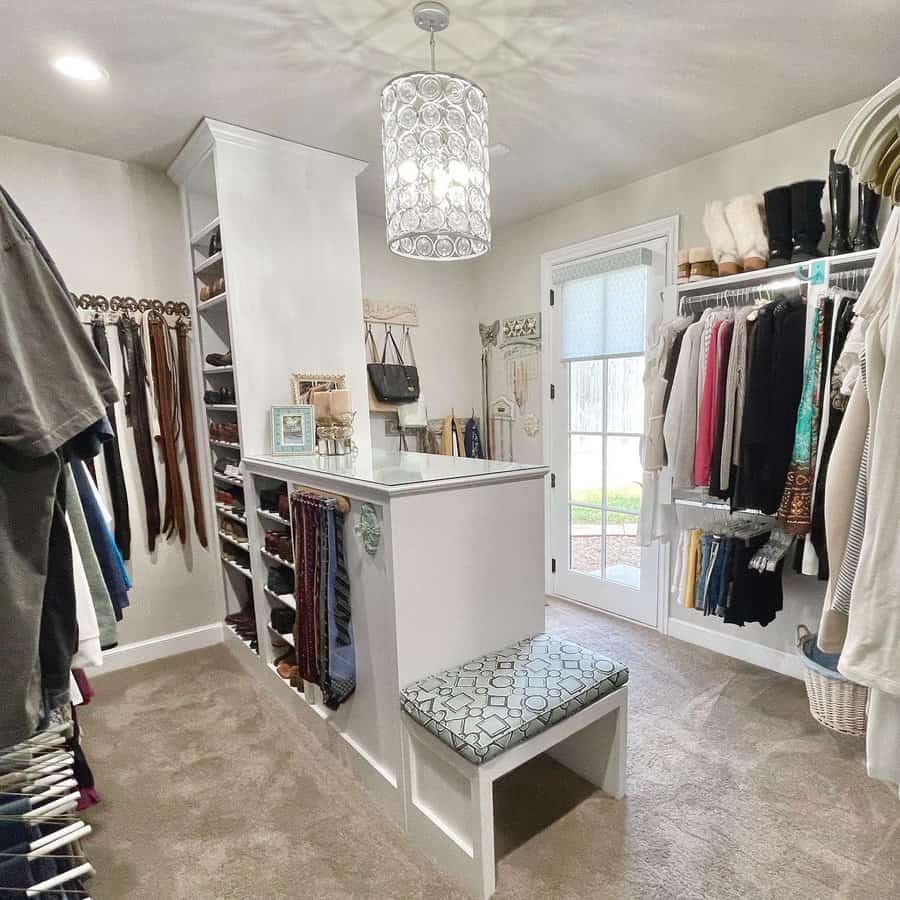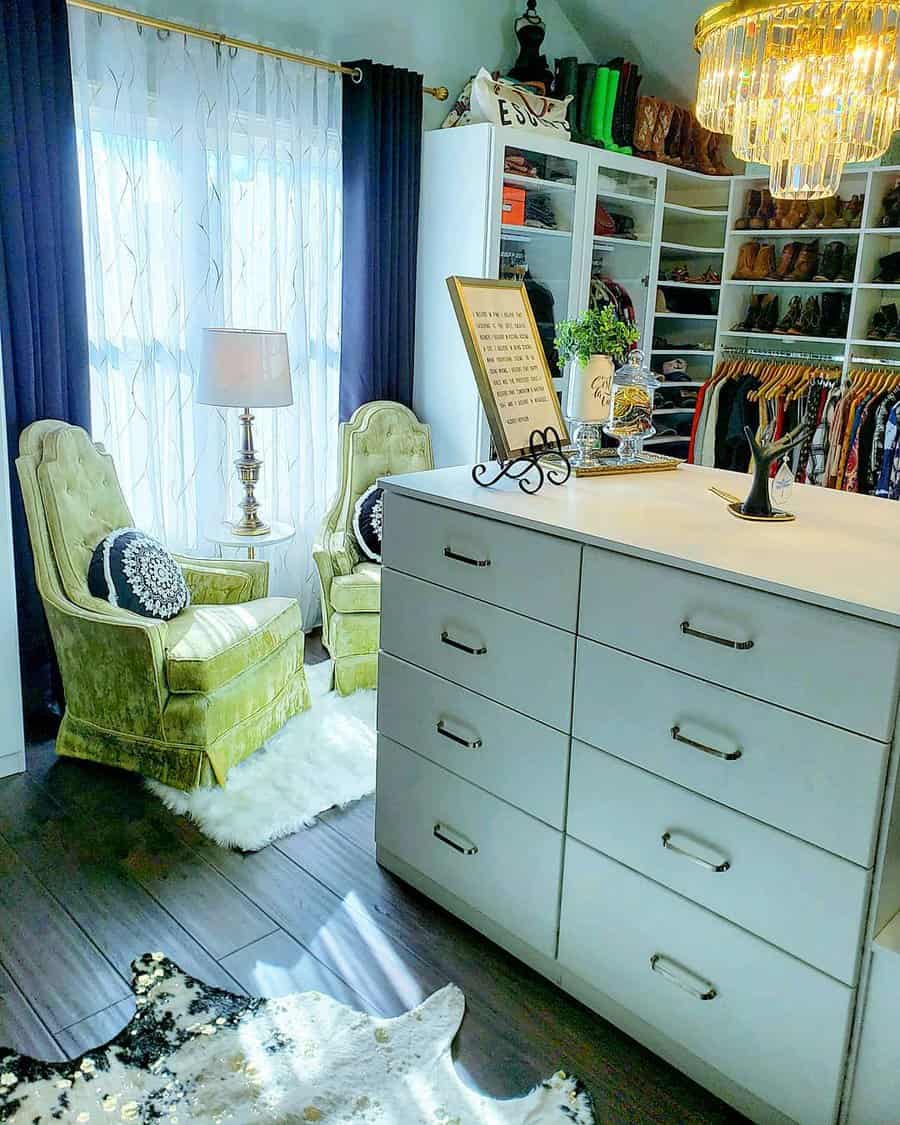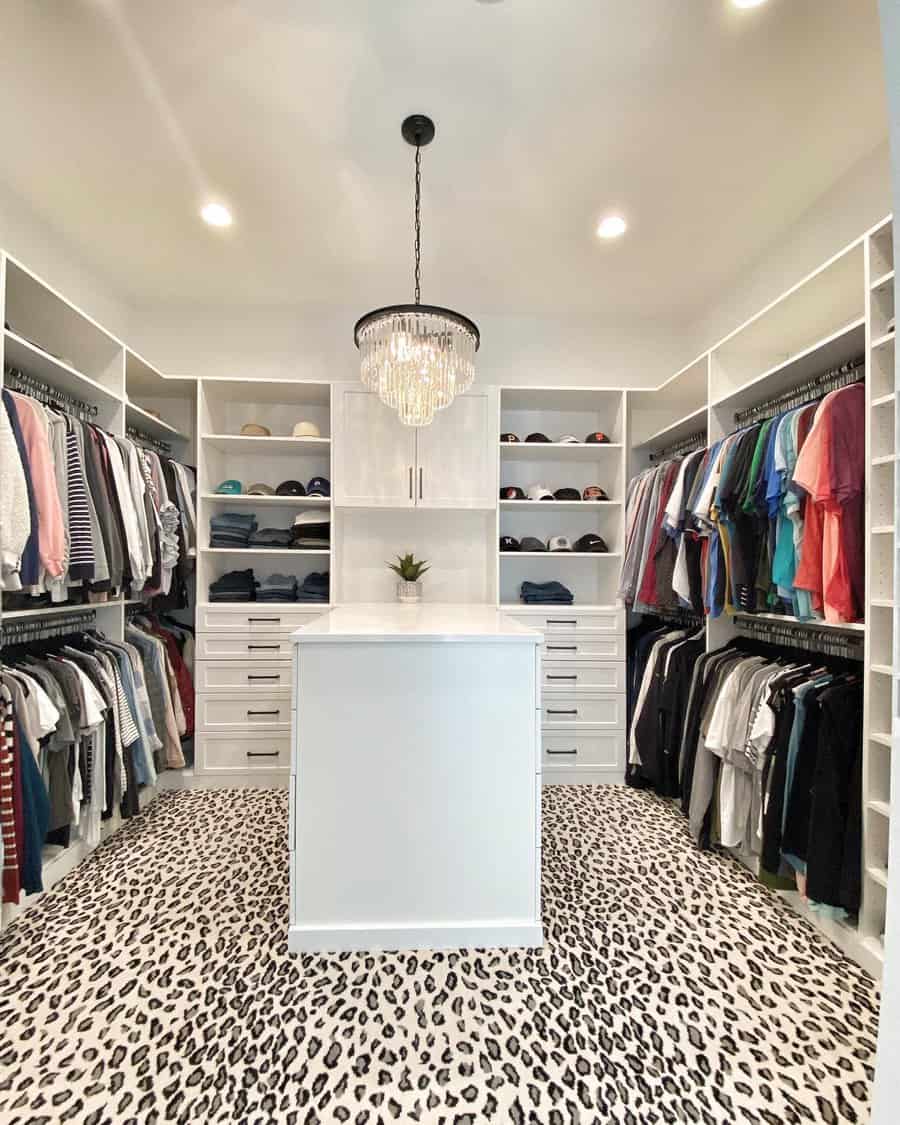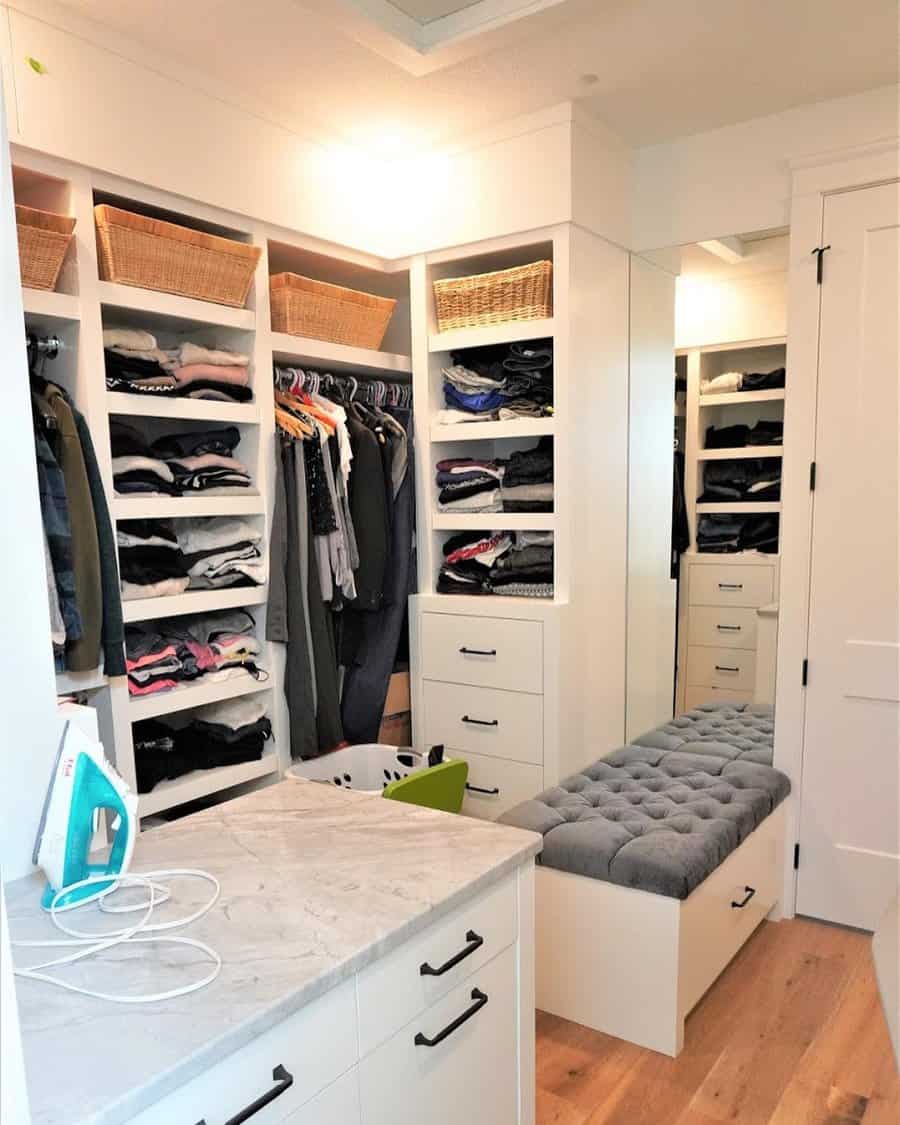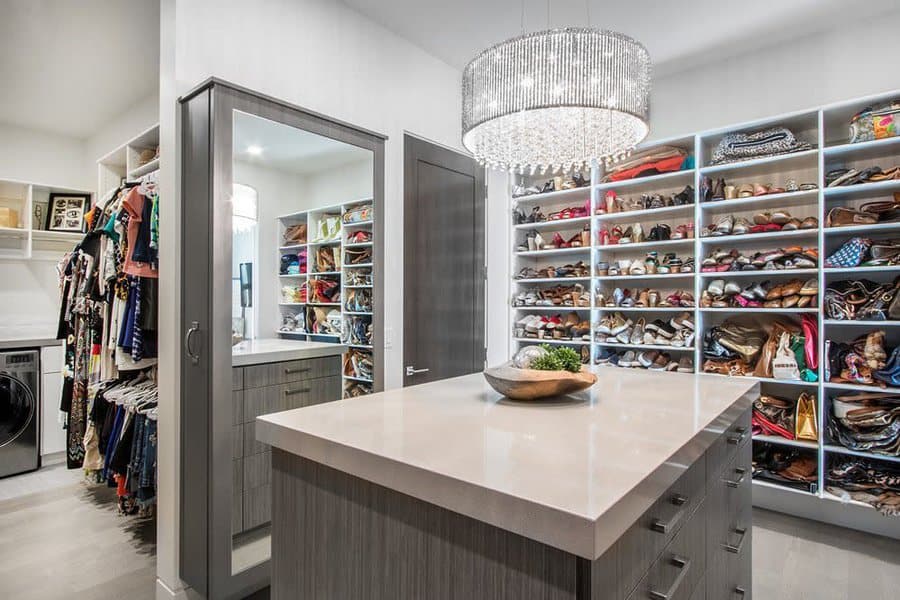 4. Walk-In Closet With Organizers
The master bedroom is a special space, so why not make its closet into something extraordinary? Create a spacious walk-in closet with an island cabinet in the center. This glamorous design allows you to easily organize your wardrobe and accessories while keeping everything looking neat and tidy.
With plenty of raised shelves and drawers, you'll be able to store all your clothing items without causing clutter. You can also accessorize your island cabinet with hooks and hangers for even more organization options!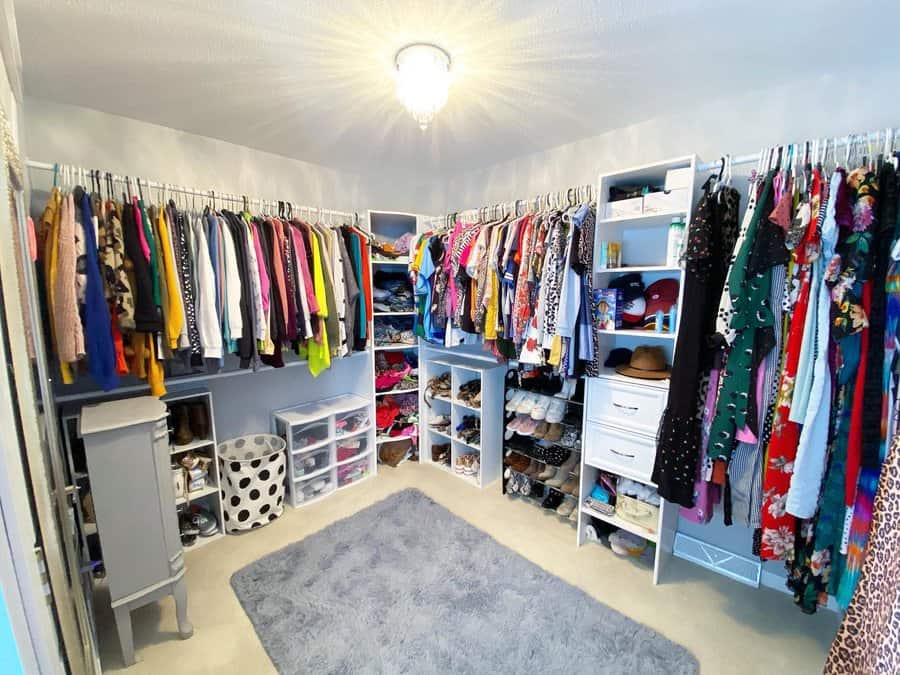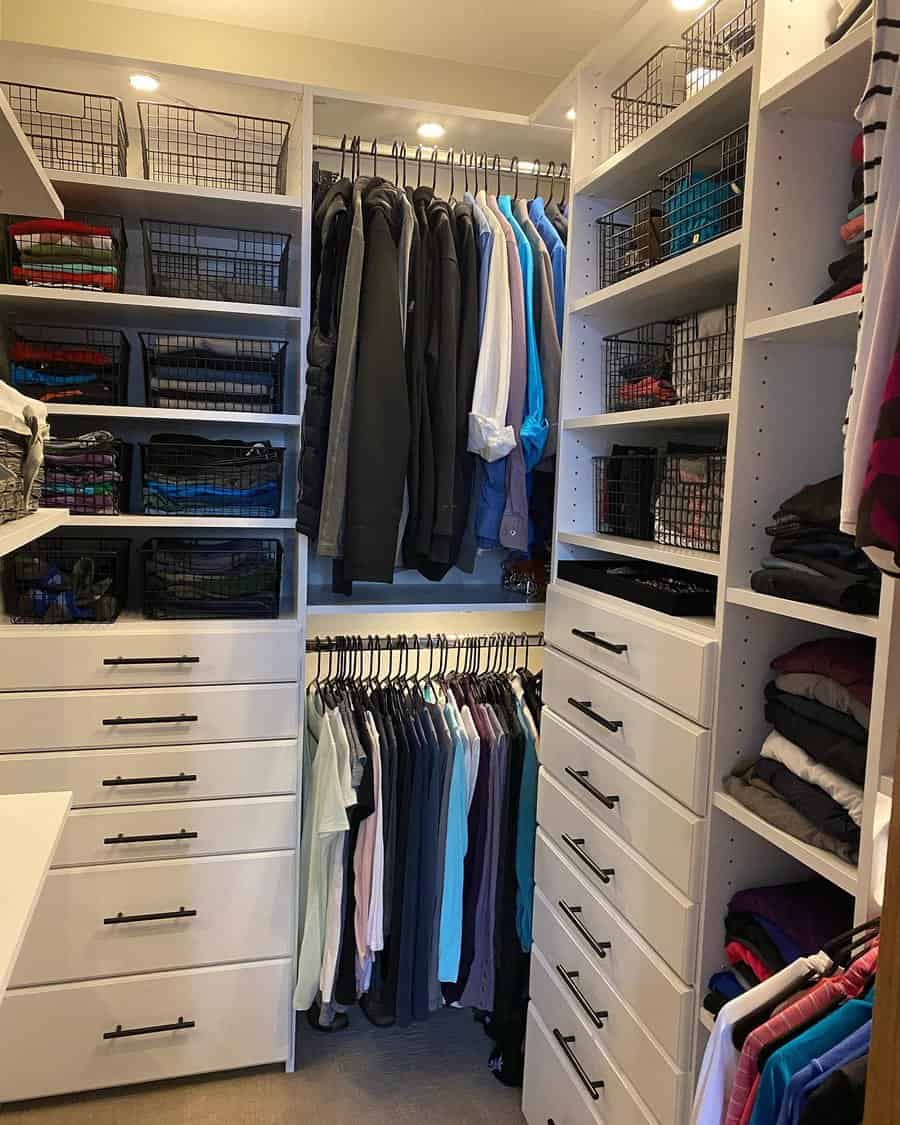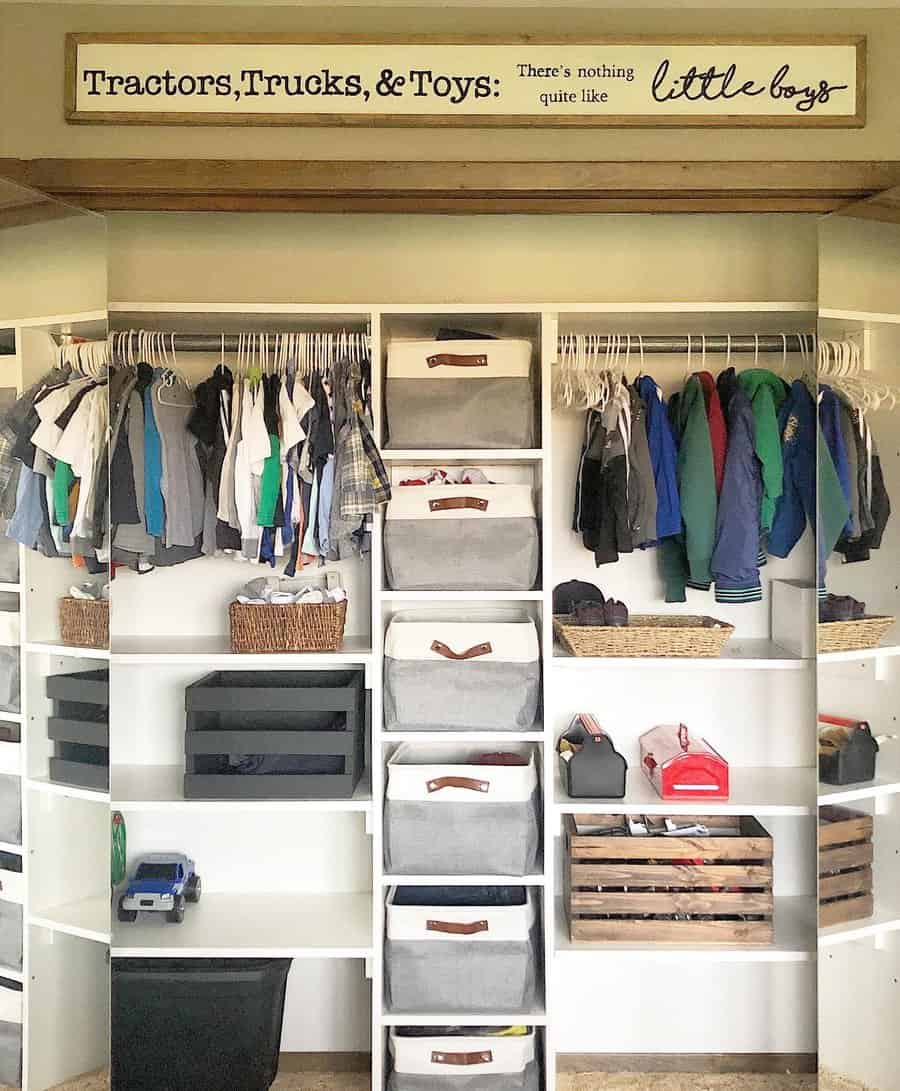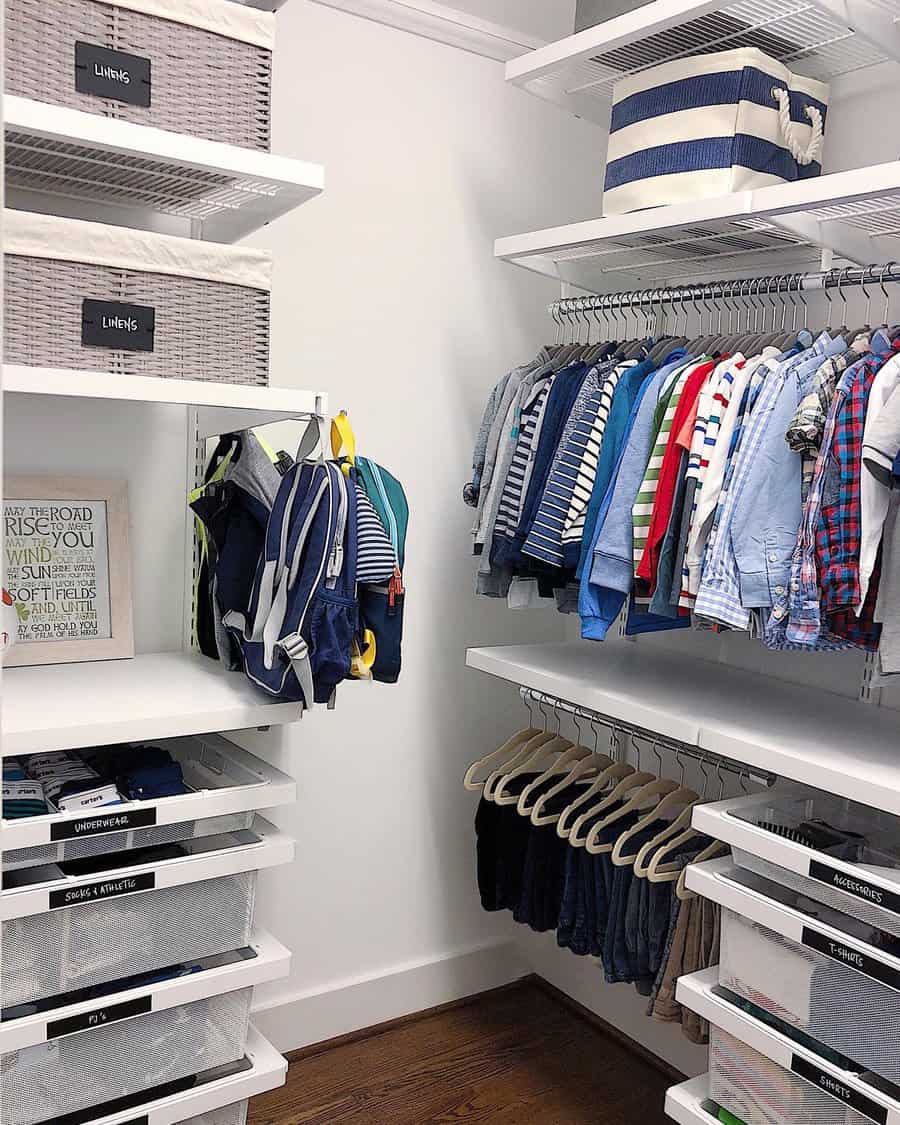 5. Glass Showroom Cabinet
Transform your master bedroom closet into a high-end boutique. Not only will it up the glamour factor of the room, but it can also be quite functional and save you time getting ready in the morning!
Combine open wardrobe racks with a glass showroom cabinet to not only store your items but also let you select ahead of time what outfit you'll be wearing that day.
Finally, add warm lighting and a full-length mirror to help finish off every look. With these ideas, adding stylish storage will become easier than ever!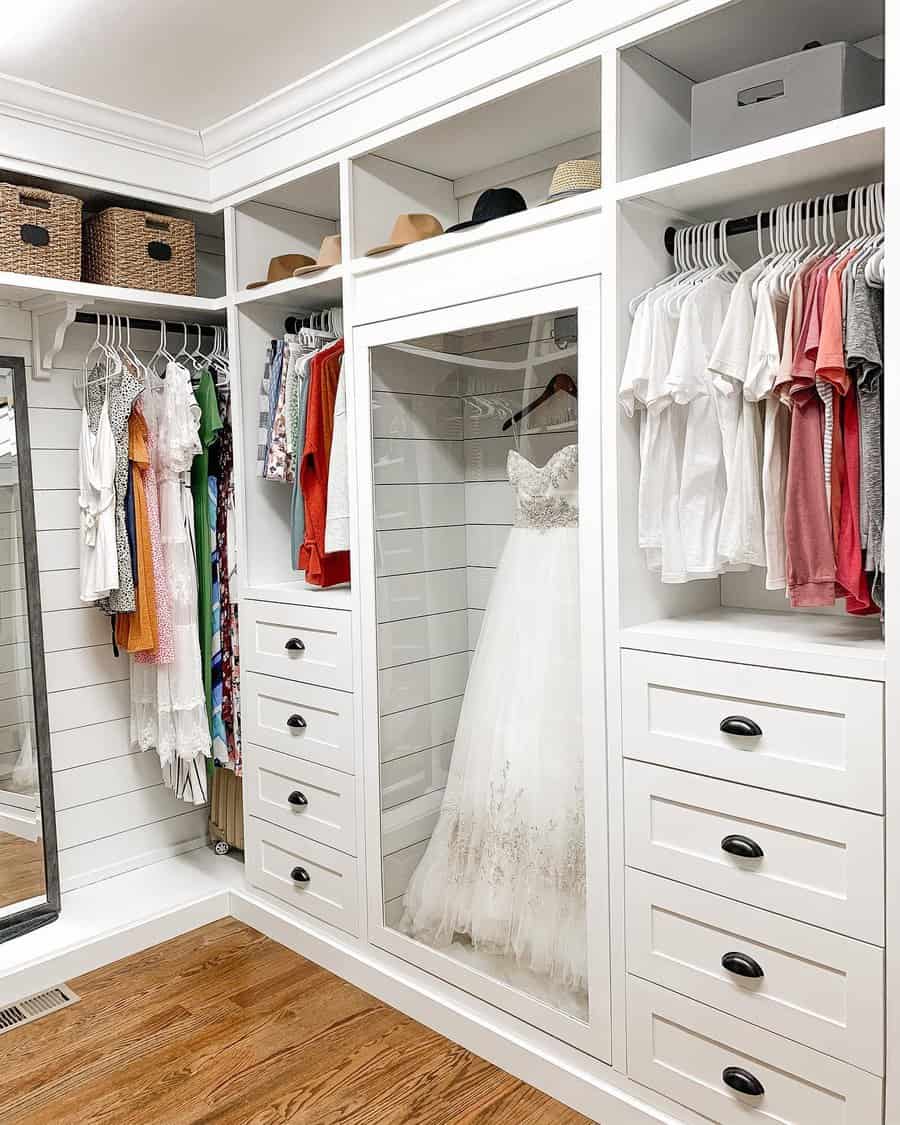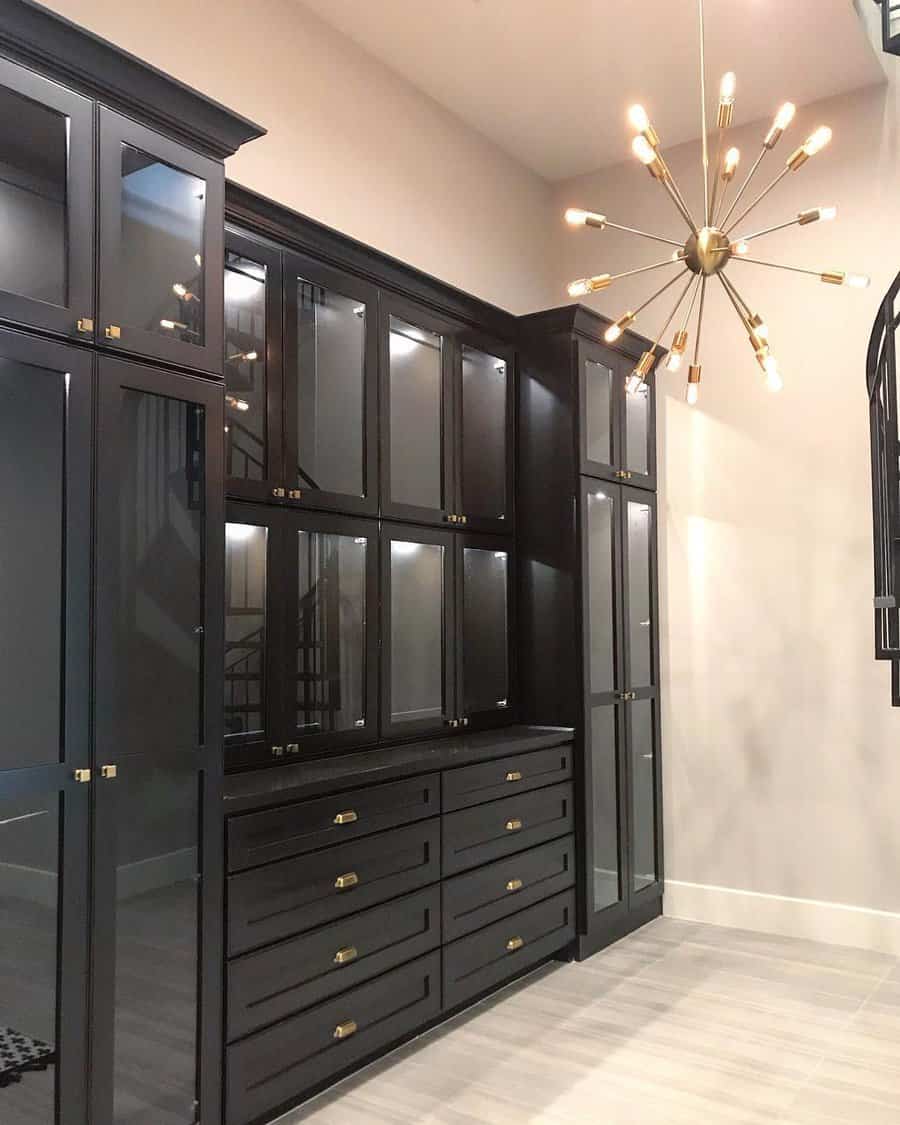 6. Modular Shelves
If you're looking to make more use of your master bedroom closet, consider adding modular shelves. Modular shelving allows you to customize your closet space based on your needs and desired layout.
Whether you are trying to fit in extra hanging space, increase the number of drawer units, or just create a place for shoe storage, modular shelves can make creating your dream closet easy and adjustable. With the right pieces, it is possible to maximize the utility of even the smallest closets while keeping everything neat and organized.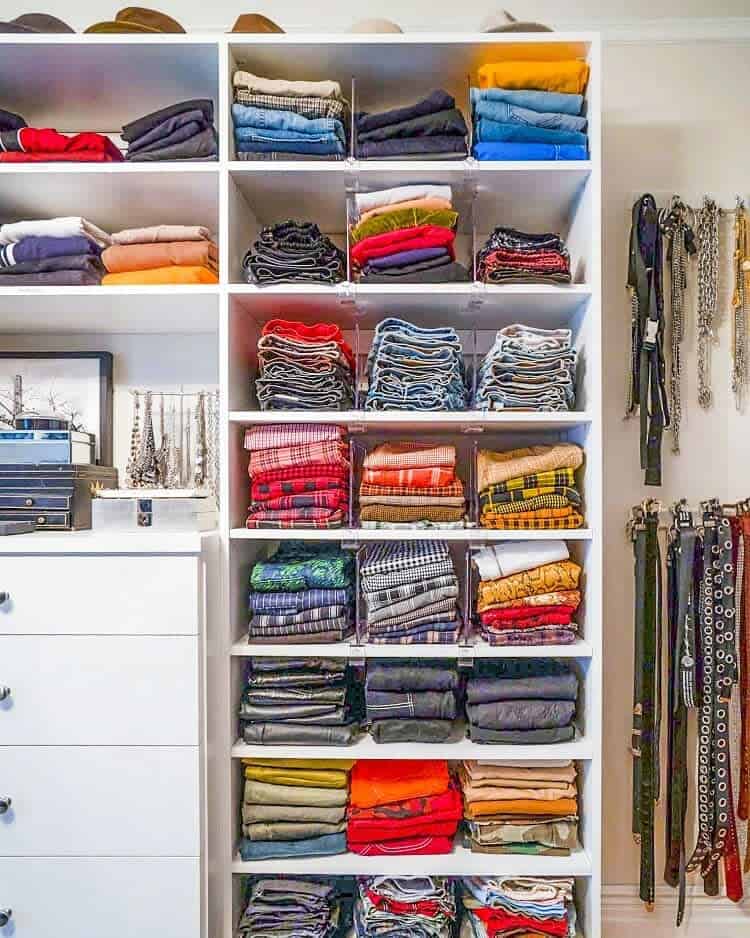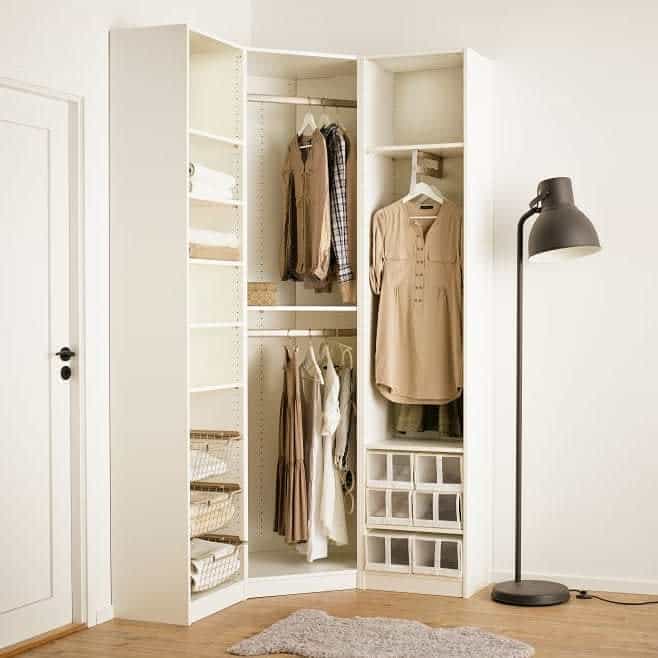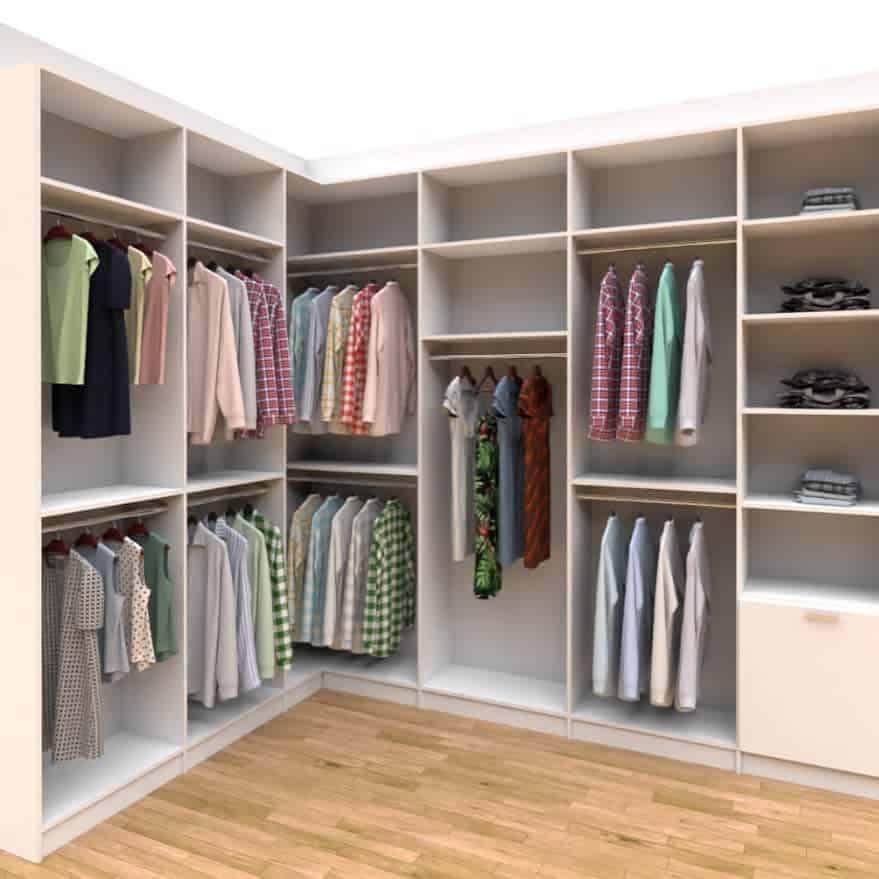 7. Closet With LED Lighting
If you're looking for creative master bedroom closet ideas, consider installing a lighting strip down the edges of your closet. Not only will these LED strips make it more convenient to locate clothing and accessories in the dark, they will also create a relaxing ambiance throughout your room.
Whether you're getting dressed in the morning or just want to pick out some comfy pajamas for the night, you can enjoy the comforting glow of LED lights around you. Incorporating this type of closet solution into your master bedroom allows for added convenience and style that'll leave you feeling motivated and inspired every day!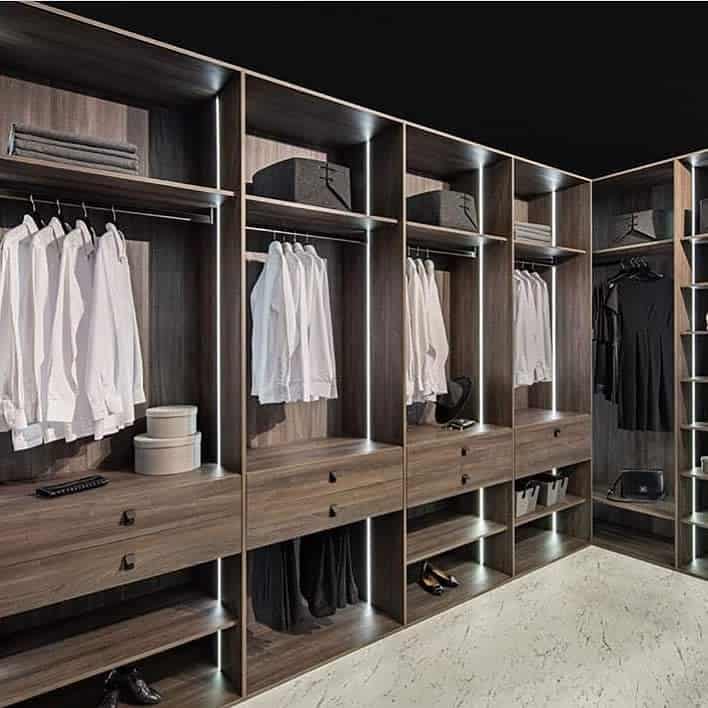 8. Under-The-Stairs Closet
Creating the perfect master bedroom closet can require some creativity. An interesting idea is to utilize an under-the-stairs closet if you have that space available. By doing so, you can maximize the closet's capacity and truly make it work for your needs.
Installing shelves vertically can help to make the most of what may otherwise be awkward or difficult to organize space while adding motifs such as hooks or bins can add both a creative touch and a sense of organization. With careful planning and creative ideas, your master bedroom closet could turn into a stunning conversation piece that provides maximum storage opportunities!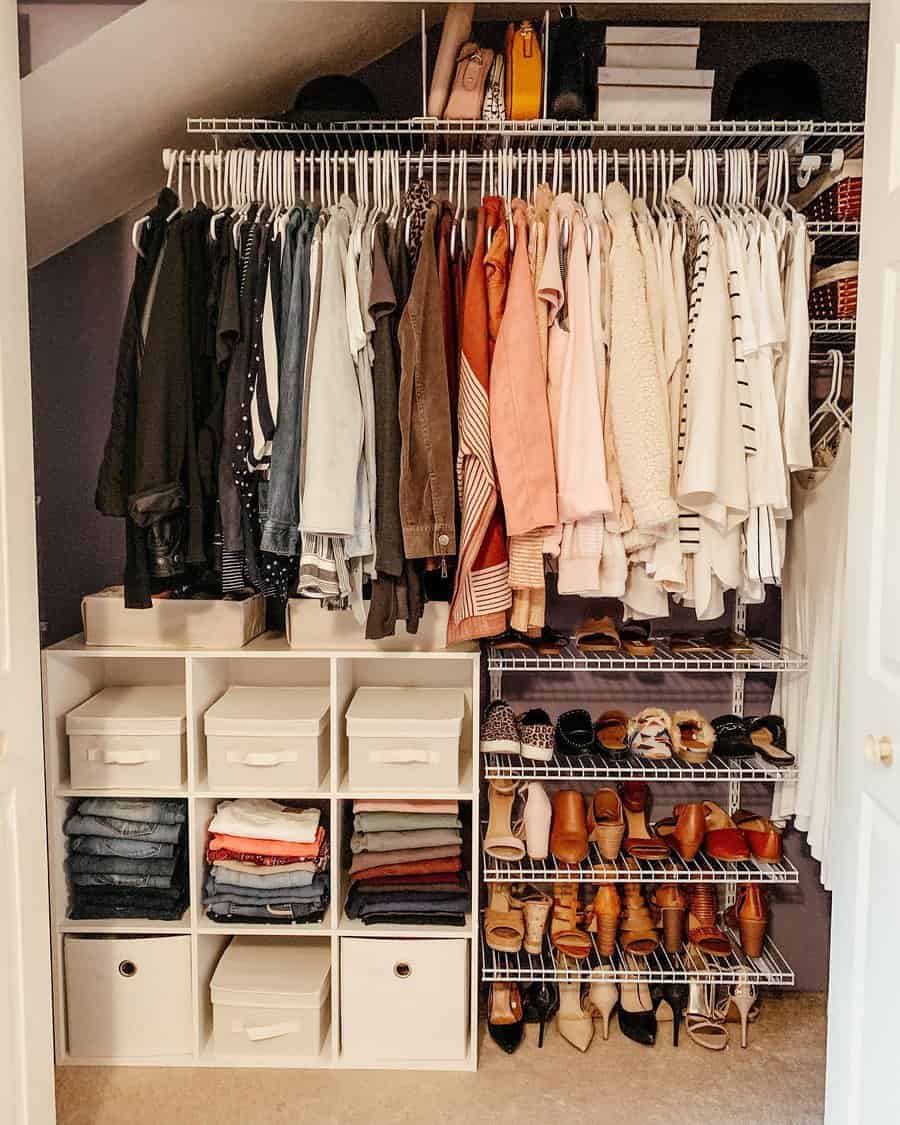 9. Full-Wall Closet Shoe Shelf
Find the best way to maximize the storage of your master bedroom closet with stylish ideas that match your decor. You can add a full wall shoe shelf, making sure each pair has a home and keeping your sneakers and heels visible. Getting creative with displays could also be a great way to showcase your collection of jewelry or handbags and have them within arm's reach.
Consider painting the back wall white for an ethereal look, and introducing glass front cabinets to draw in natural light for an open and airy feel for you to get ready in every morning. Enjoy creating the organized space you've always dreamed of!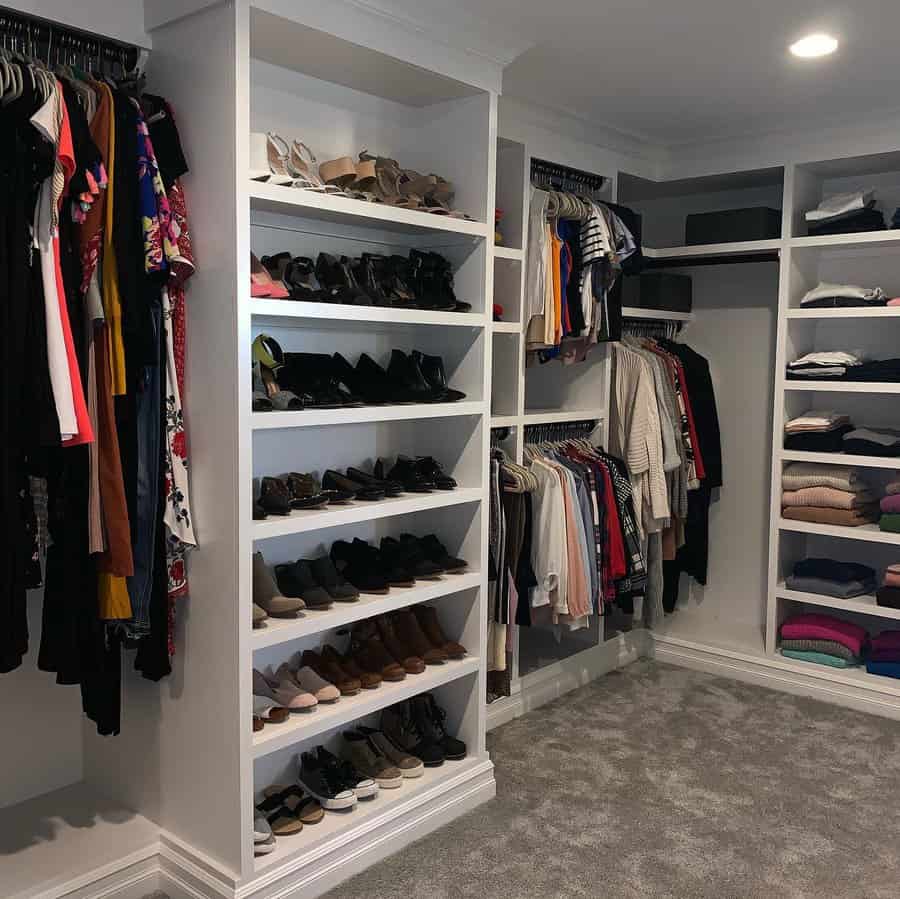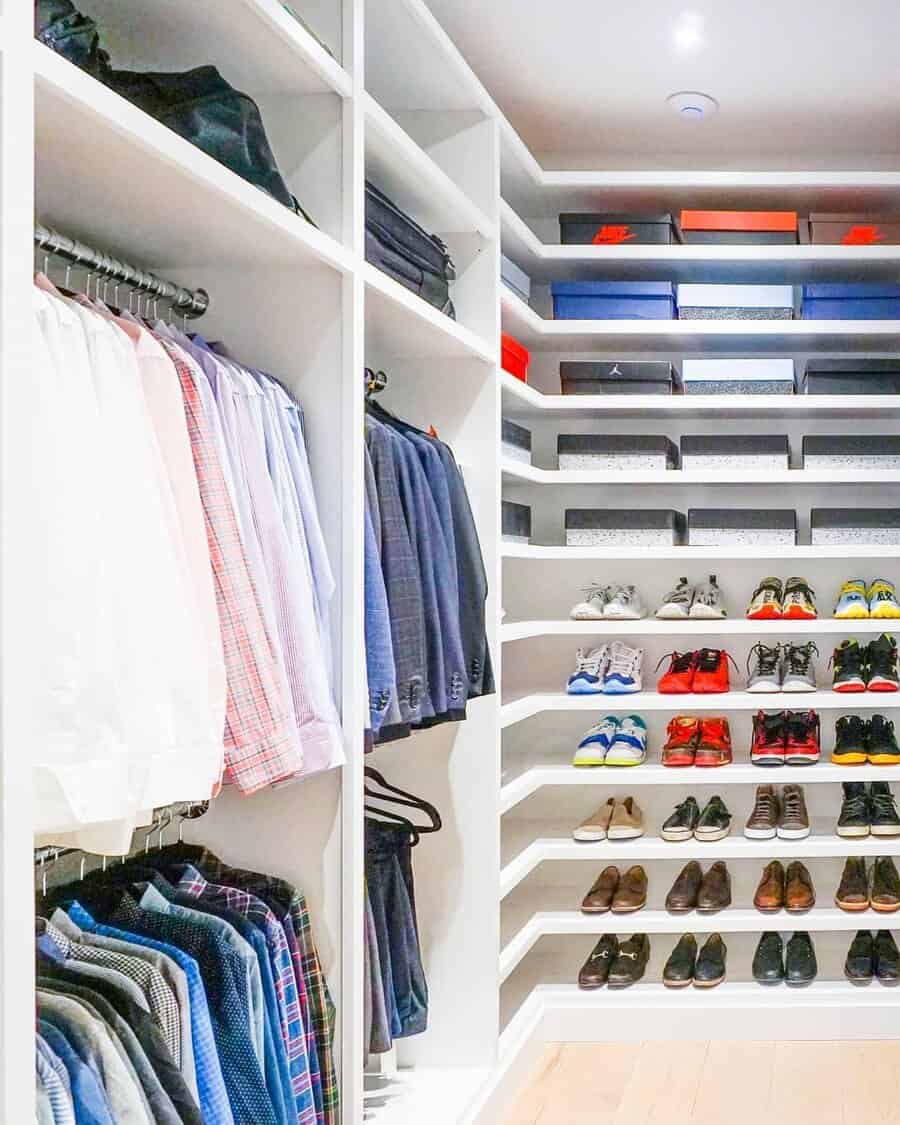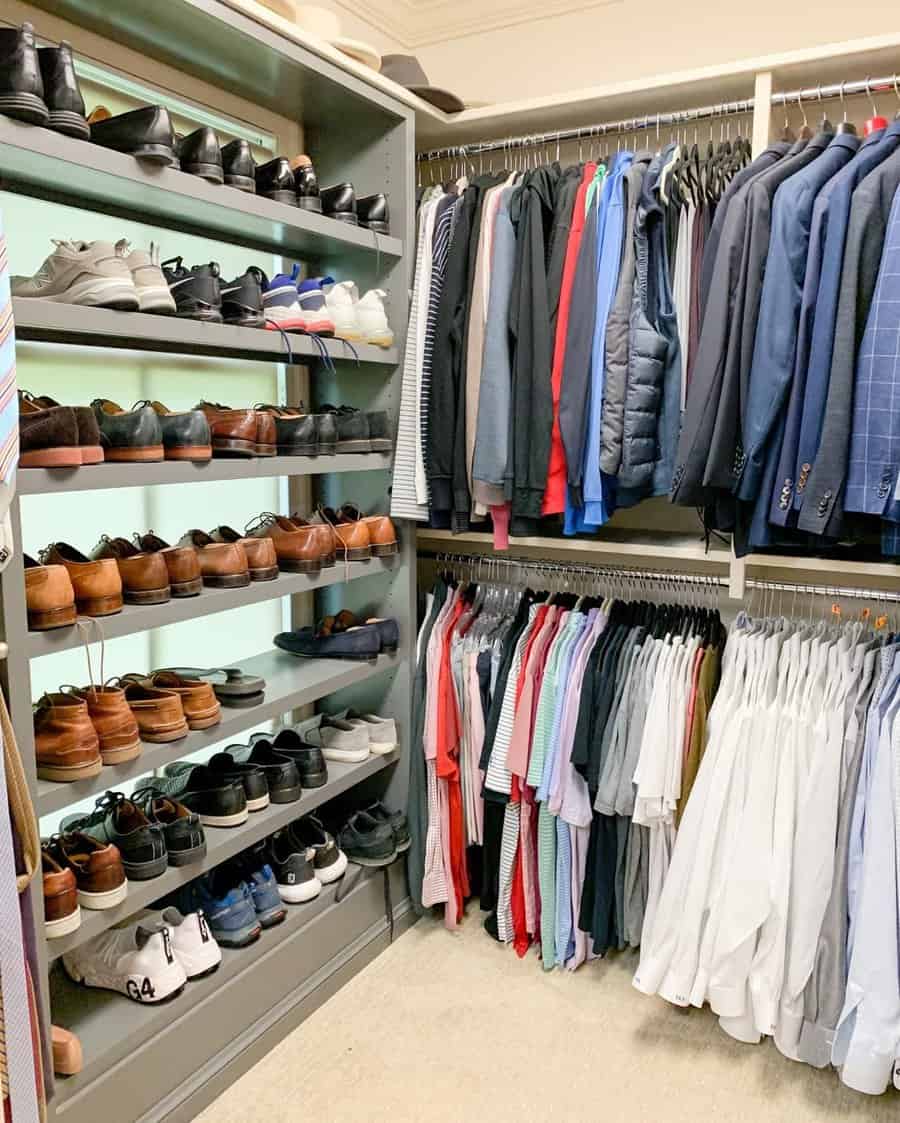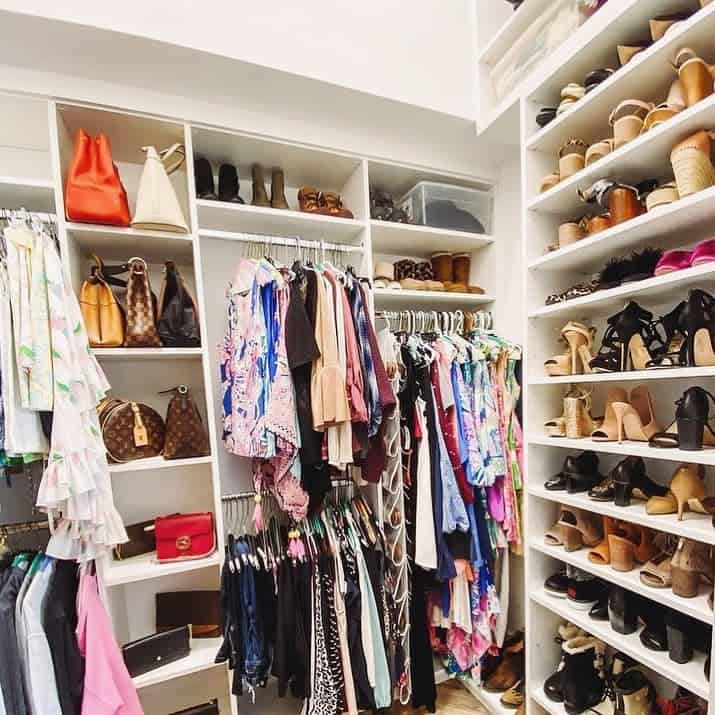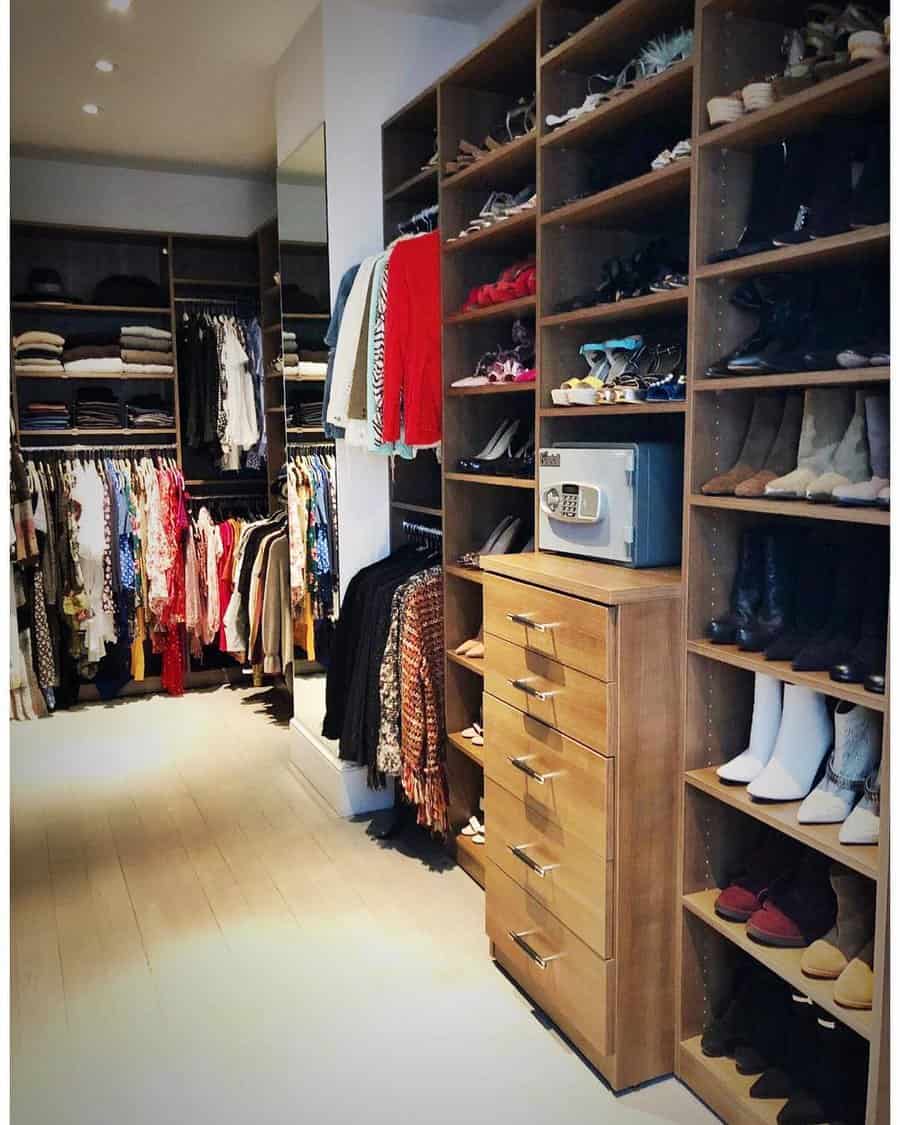 10. Walk-In Closet With Vanity Area
Creating a functional master bedroom closet doesn't have to mean sacrificing style for space. For those looking for creative storage solutions, having a walk-in closet with a vanity area could be the perfect blend of fashion and function.
Not only can you fit more items along the walls and keep your clothes organized on shelves, but also you can tuck away a chair and use the area to apply makeup or try on different outfit options. A custom-built master bedroom closet with a vanity area can help you streamline your morning routine and give more personality to your bedroom design.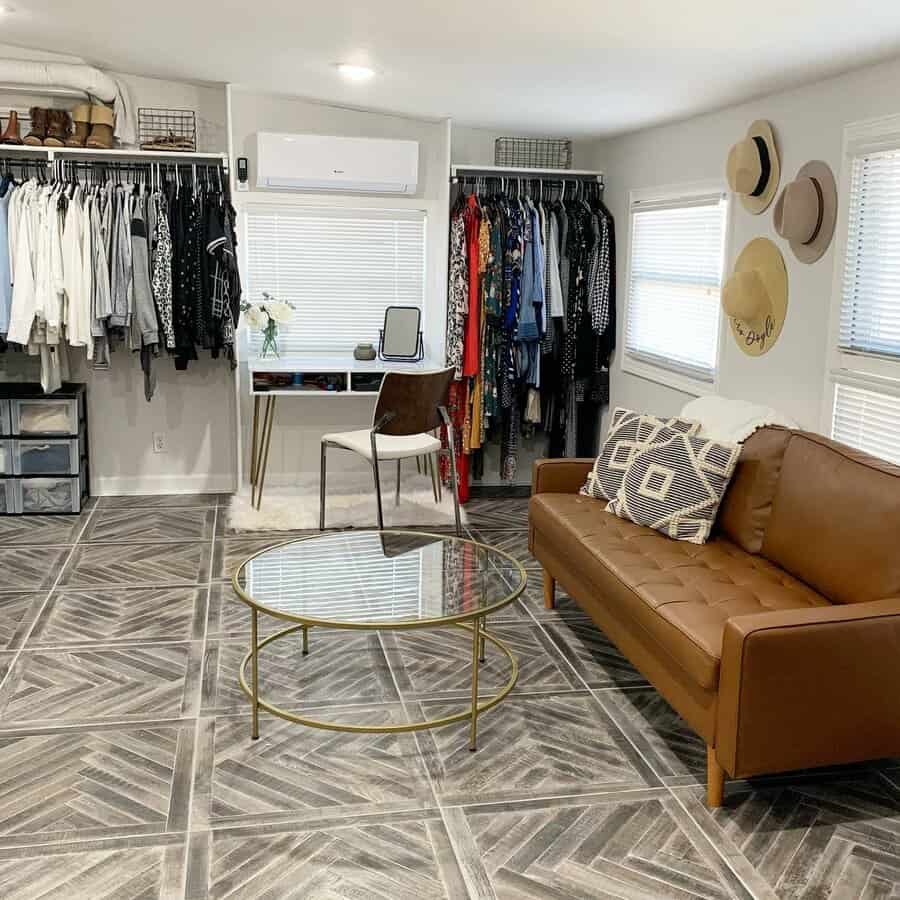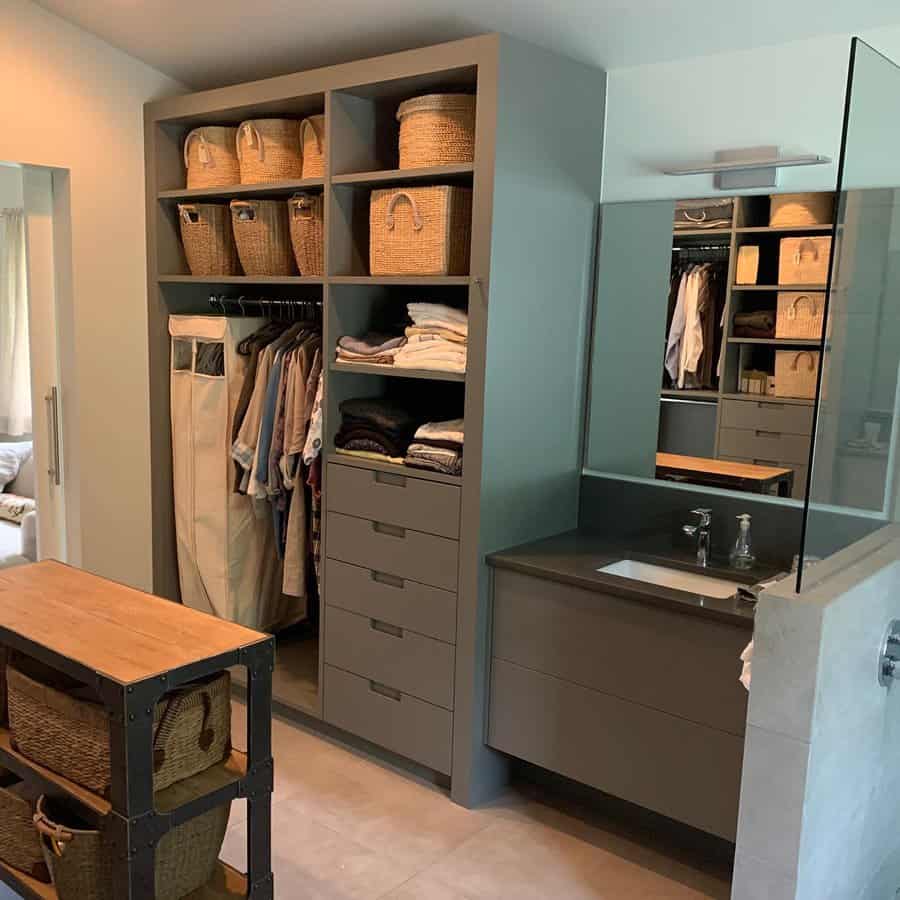 11. Mirror Closets
When it comes to creating a comfortable and attractive master bedroom closet, the possibilities are endless. One of the key elements to consider is making use of mirrors; they open up the space and create an illusion of a bigger closet area.
A masterpiece way to utilize this feature is by having mirror closets; not only do these maximize storage capabilities, but also offer style to your master bedroom retreat. Plus, what better way to make sure you look your best each morning than with full-length mirrors that allow you to view yourself from head to toe?
To complete the space, organizing shelves and bins in colors that complement the surrounding design can help establish order and consistency throughout. Whether you go for clean lines or bolder accents, exploring different techniques for designing your master bedroom closet can guarantee many years of stylish success!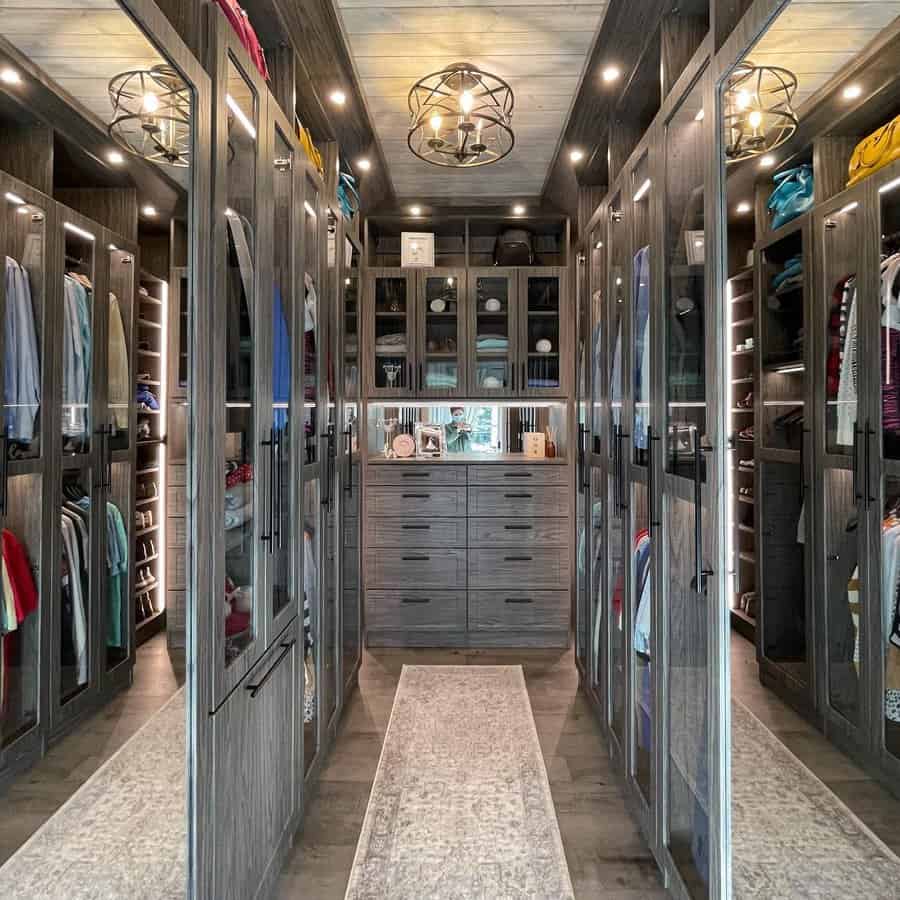 12. Cabinets With Gold Metalware
Transform your master bedroom closet into an elegant and glamorous space with shiny elements. For a sophisticated but still unexpected touch, adorn cabinets with gold metalware; these simple but impactful additions will add the perfect hint of elegant glam to the room.
When you enter the closet, you'll be welcomed by a gilded ray of sunshine that radiates your style. Be creative and try something unique with your master bedroom!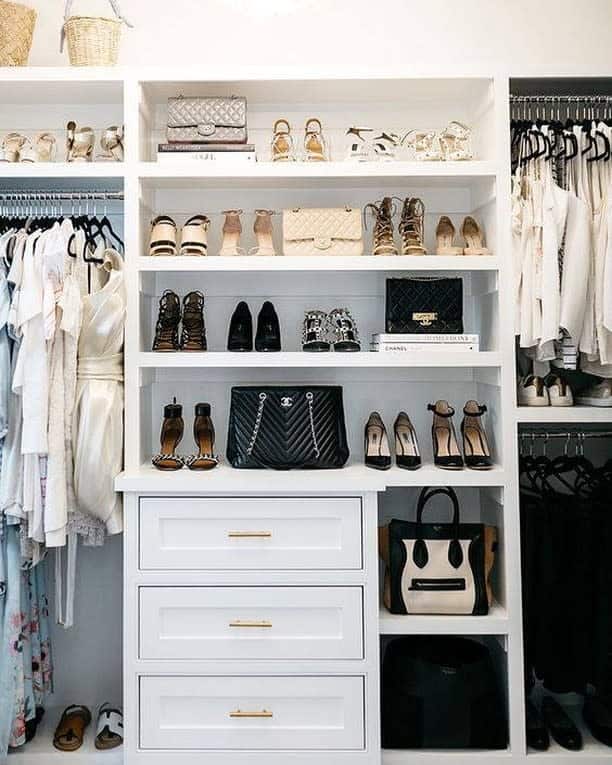 13. Wall-Mounted Shoe Rack
If you have a small master bedroom closet, don't stress! Creative closet ideas can help you make the most space. A great solution is to hang a wall-mounted shoe rack.
This will free up room on the floor of the closet and let you maximize your vertical space. If you want to add some style to your bedroom closet, consider getting a shoe rack with colors or patterns. It's one small change that can make a big difference!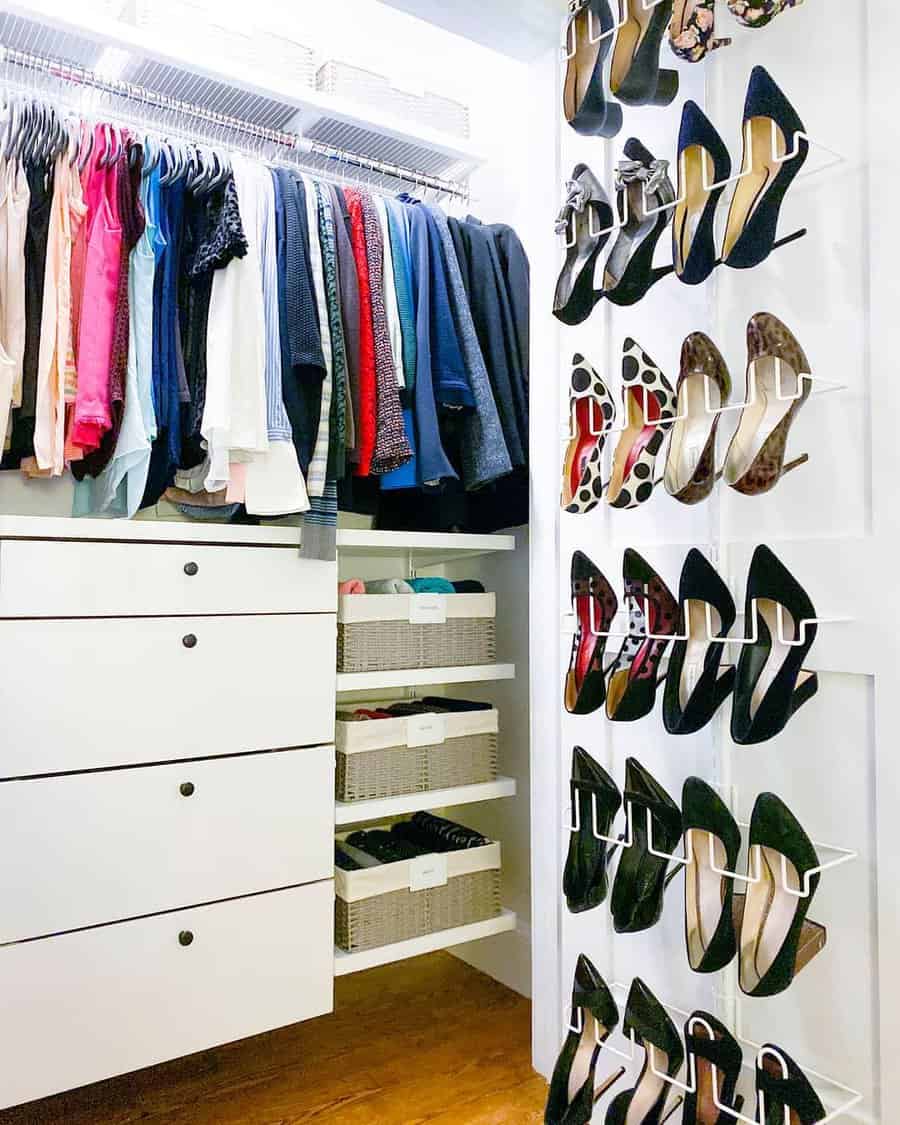 14. Floating Shelves
For those looking to give their master bedroom closet that special touch, look no further. Consider using floating shelves to add a modern flare, as well as customize floor-level storage for increased space efficiency.
Whether you opt for wire drawers in an open connected closet or closed-door cabinets with extensive shelving, the options are limitless when it comes to creating unique and creative solutions for storing clothing, shoes, and accessories. And best of all — these custom features won't break your budget.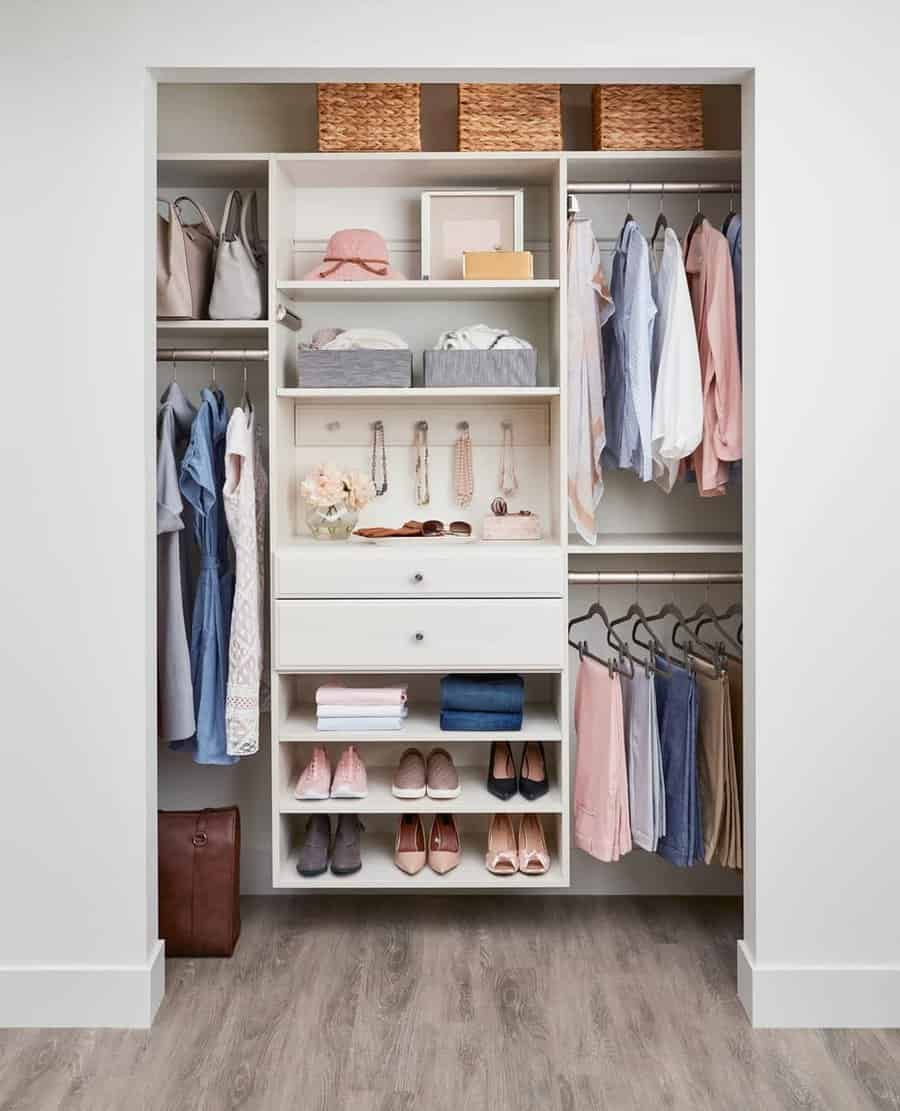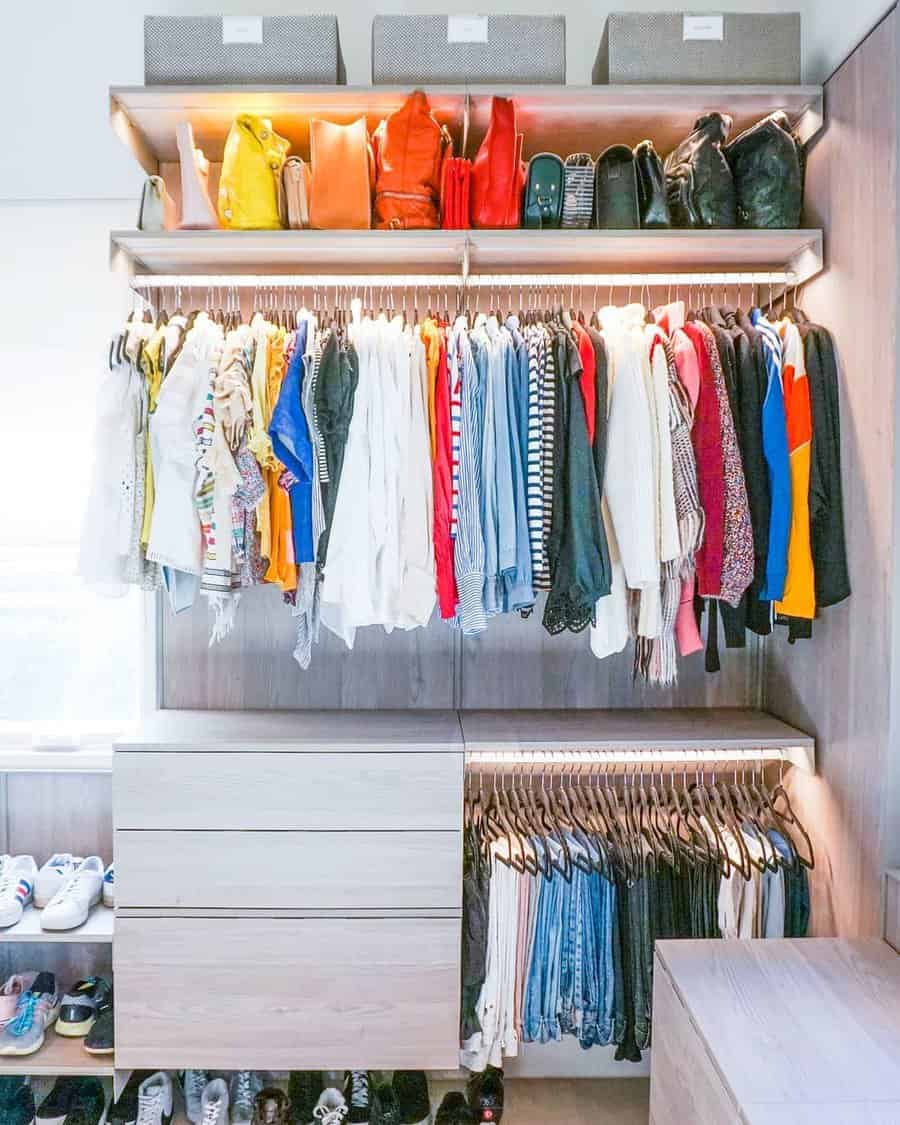 15. Sliding Closet Door
Transform your master bedroom closet with a custom sliding closet door. Not only does this lend a stylish edge to the space, it also offers an efficient way to organize and store items. Start by mapping out your closet measurements and calculating the type of pocket door that will fit best in the opening.
You can then choose from various design options such as frosted glass or wooden panels for maximum interior design appeal. Don't forget about adding extra storage into the wall, as well as decorative fixtures like shelving and hanging bars – all of which can work together to create an organized and highly functional master bedroom closet.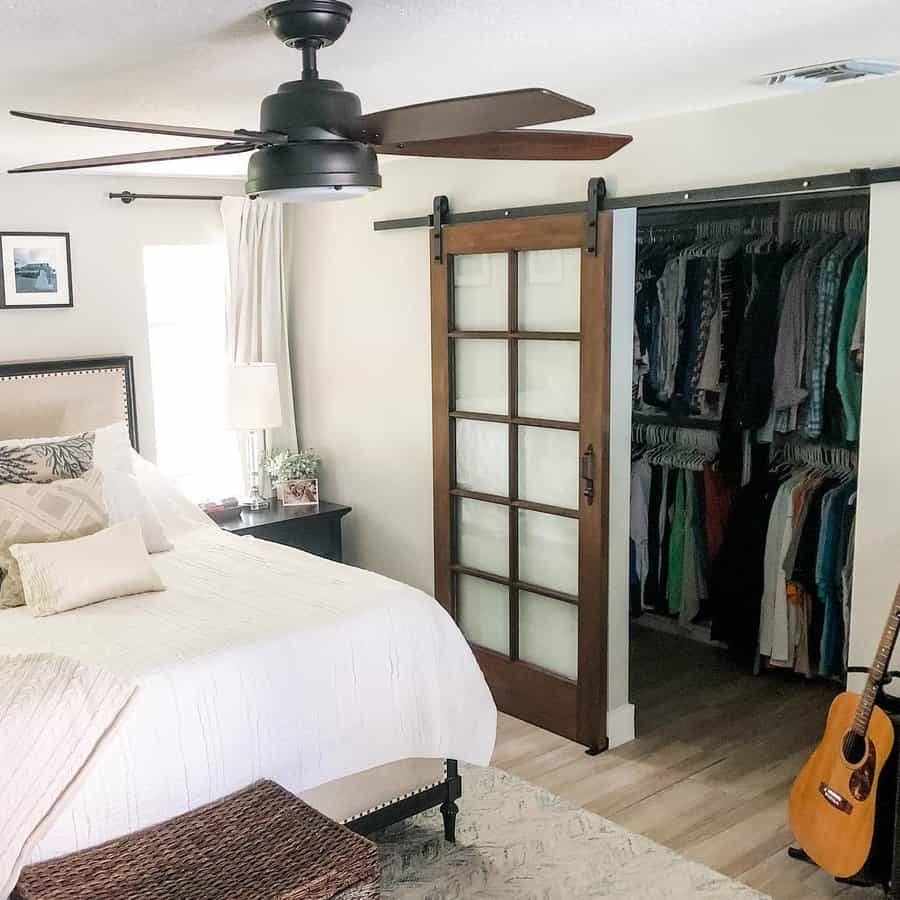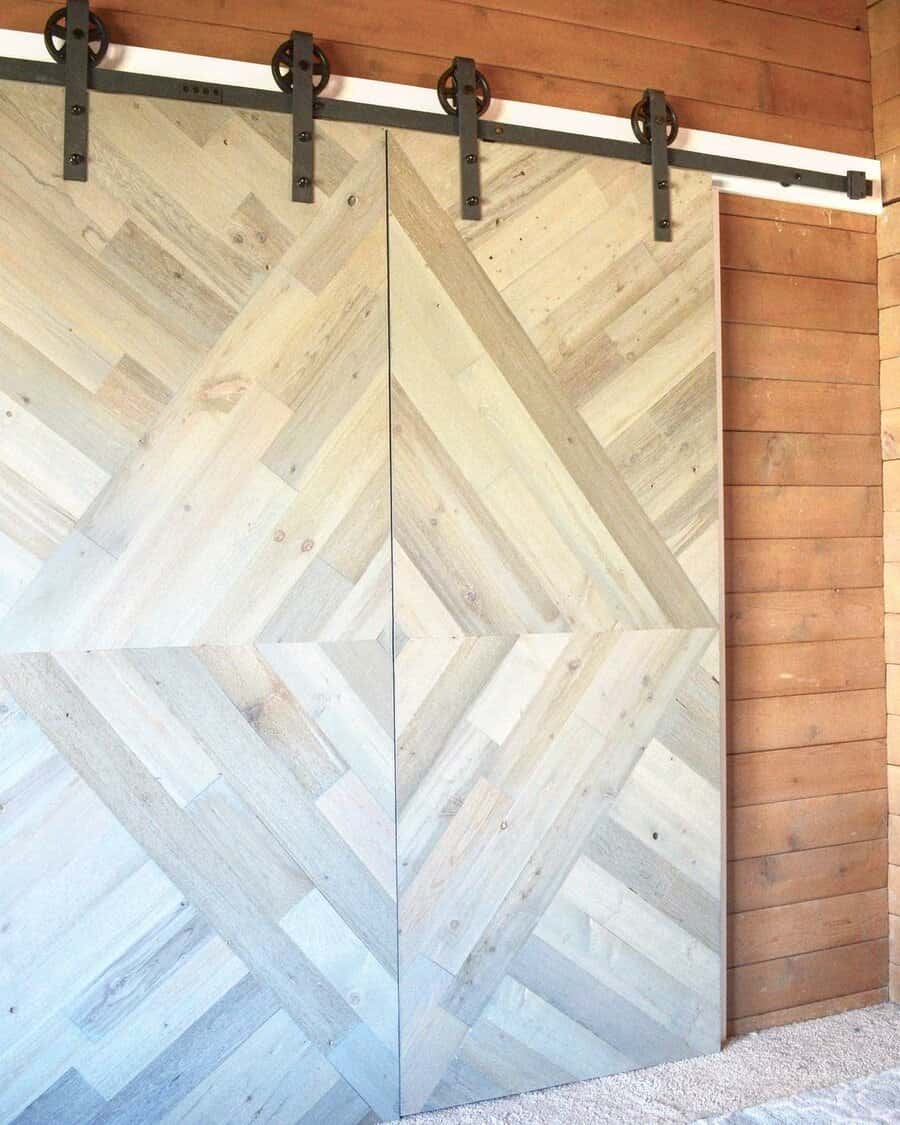 16. Bay Window Cabinet
Looking for new and creative ways to upgrade your master bedroom closet? Consider using a bay window cabinet. This innovative storage solution adds a unique charm to any room, creating a cozy and inviting atmosphere in your bedroom.
The bay window provides extra space to store clothing items and accessories without sacrificing style. It also allows natural lighting into the space, adding brightness and life to the room's design. With ample storage potential, a bay window cabinet gives you more area for showcasing standout pieces or simply for organizing everything neatly out of sight.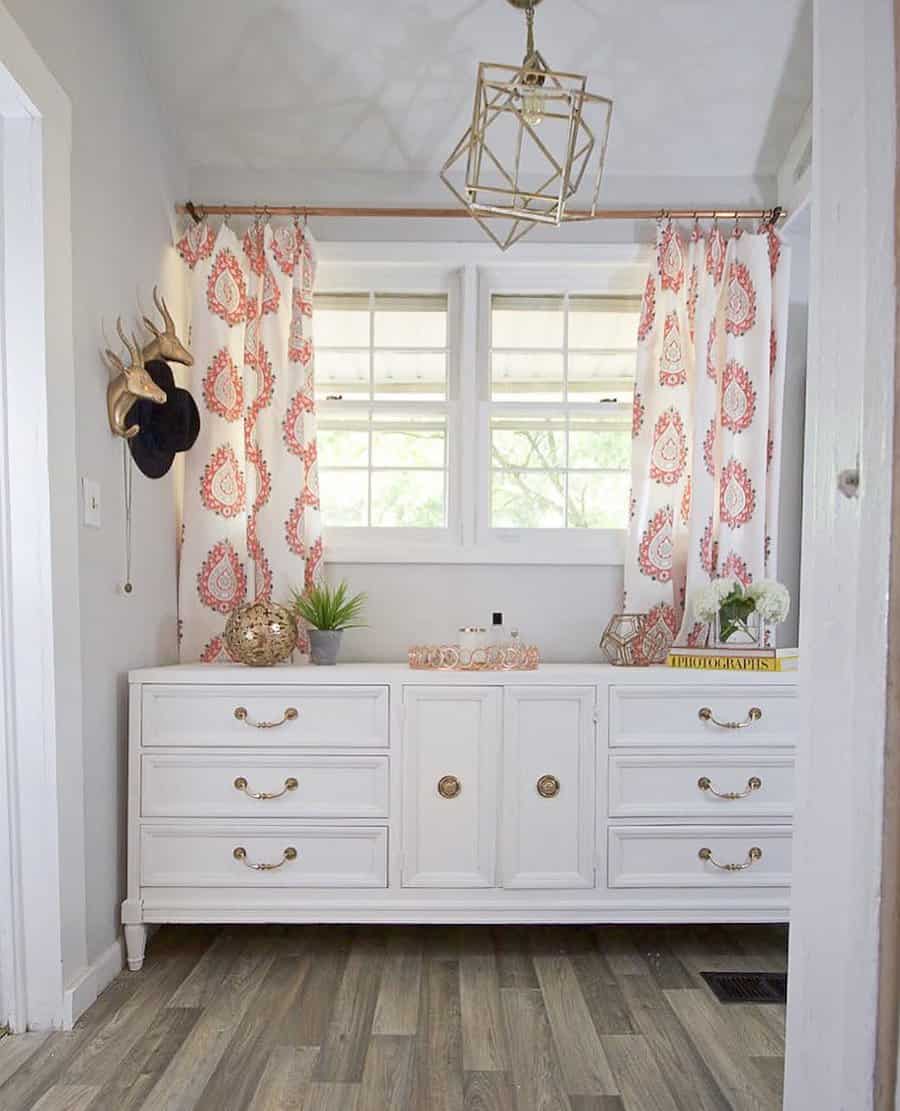 17. Walk-In Closet With Rolling Ladder
Creating a luxurious closet for your master bedroom can be a fun, creative project. One great idea is to make use of a spacious room by adding a walk-in closet with a rolling ladder.
You can then arrange your clothing collection in two or more separate styles. Maybe one side for suits, another for everyday wear, and a third for seasonal items. And don't forget the shelving and cabinetry. You can add drawers, doors to hide shoes and jewelry containers, plus all kinds of unique accessories!
Finish the look off with soft lighting and comfortable seating – all you need for creating your dream wardrobe space!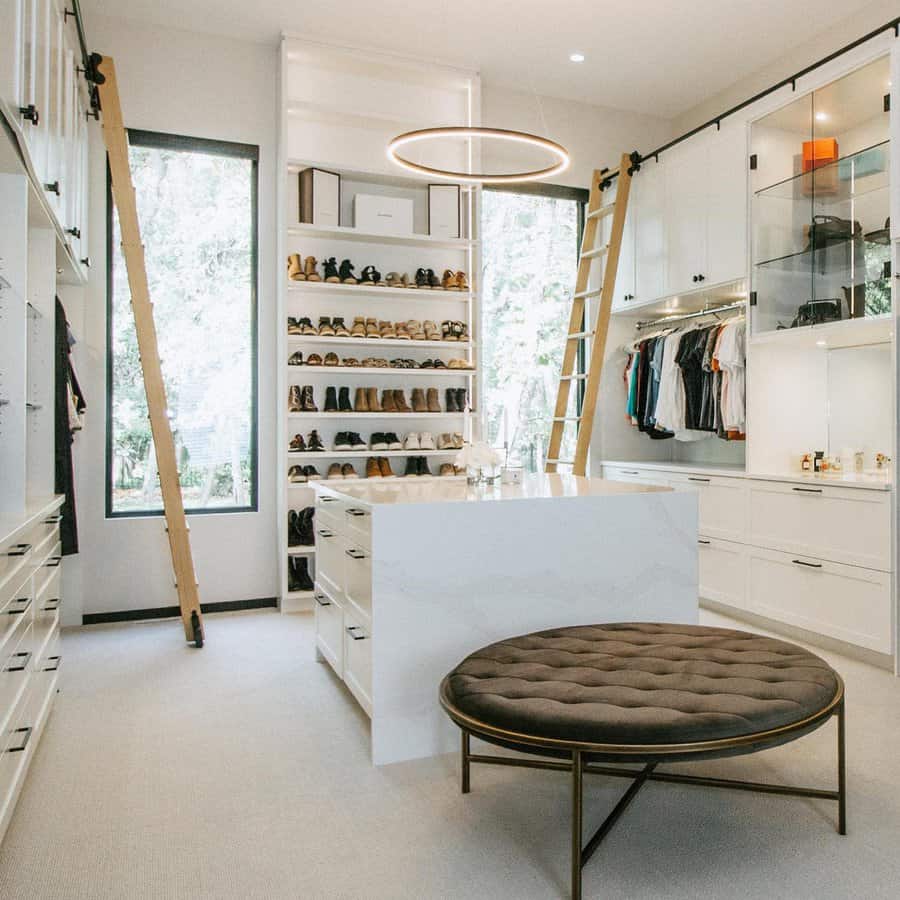 18. Walk-In Closet With Enclosed Storage
A master bedroom should be a haven of relaxation and rejuvenation. Creating the perfect closet space that follows this philosophy is key. For example, why not incorporate a walk-in closet with enclosed storage for optimum organization and ease of use? Dust-free surfaces and no visual clutter ensure that the closet system remains an unobtrusive background in your tranquil haven.
Organize everything from clothes to shoes and accessories in their own place and make sure your closet looks aesthetically pleasing to you. With the right master bedroom closet ideas, you will create a peaceful space just for yourself.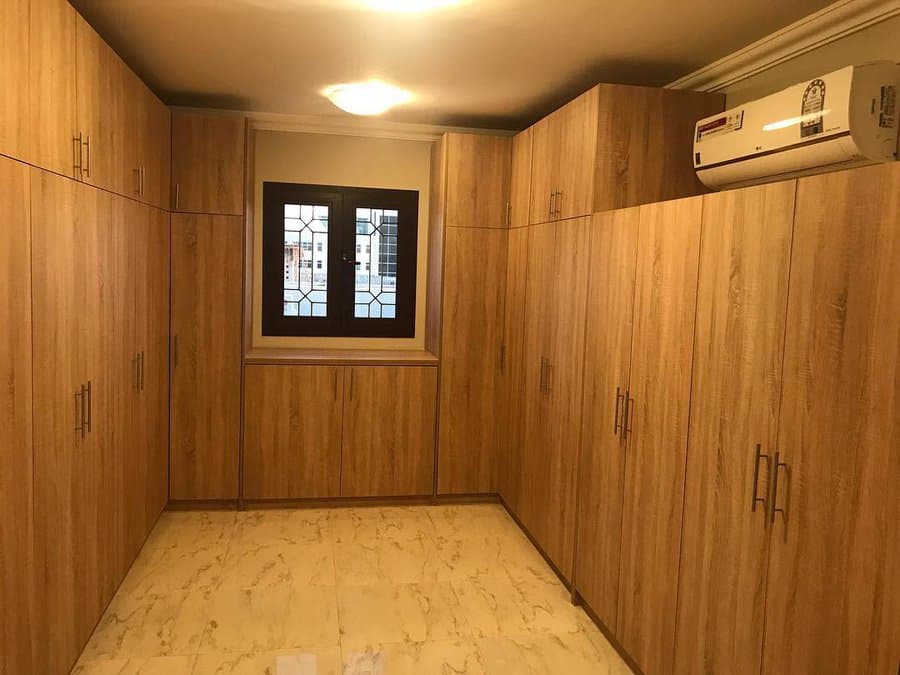 Master Bedroom Closet FAQs
How many square feet are in a walk-in closet?
Walk-in closets vary in size and shape. But the most desirable size for a walk-in closet in a master bedroom is at least 100 square feet.
This sizing assumes that there are two full-time residents using the closet. If more or fewer people will be storing clothing in the closet, then the square footage should be adjusted to match.
With that said, a walk-in closet can be constructed within as little as 25 square feet. And there's nothing stopping you from adding the amenities of a walk-in closet (standalone lighting, diverse storage options, etc.) to a standard-sized closet!
Is removing closet doors a good idea?
That depends on the space.
If you have a small master bedroom and an expertly organized wardrobe, removing the existing closet door can make the room feel larger.
On the other hand, your closet door can help hide mess and clutter out of sight so you can lay back and relax after a long day. Rather than removing the door completely, consider replacing it with a different style or a set of curtains.