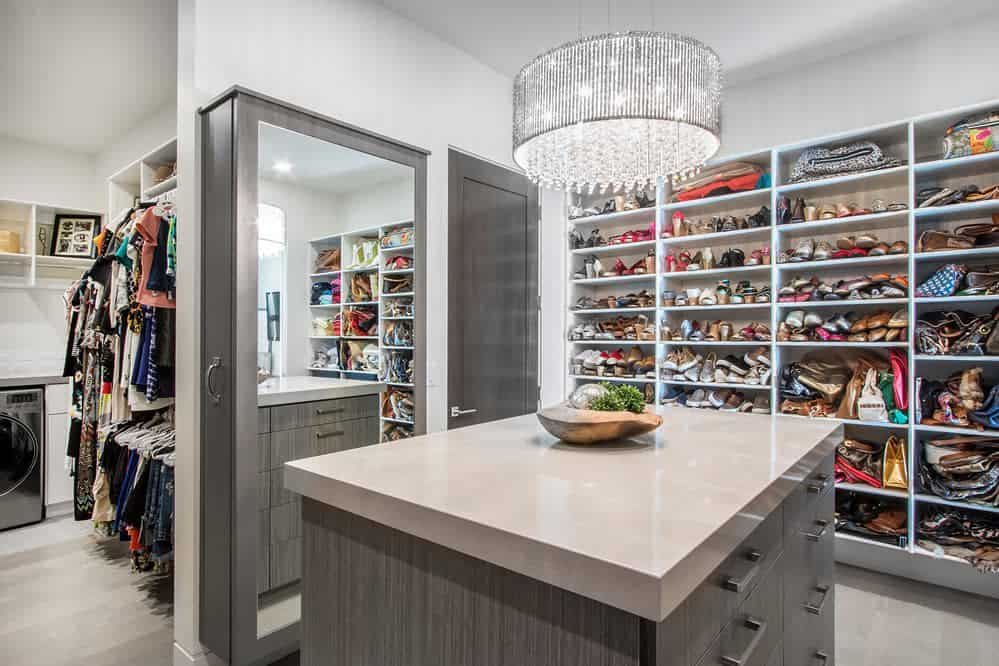 The Top 38 Master Bedroom Closet Ideas
by — Kendrick Hulse

Published on September 6, 2021

Updated on October 6, 2023
When designing a home interior, most people naturally focus on the areas that receive the most traffic (and fall under the most eyeballs!). But neglecting the nooks and crannies of your home design — in this case, the master closet — would be doing your residence a disservice.
It's true that few, if any, guests will ever see your closet. That doesn't mean you shouldn't put as much care and attention into creating the perfect look and layout. After all, there's no better way to start your day than by picking an outfit from your perfectly organized bedroom closet.
Keep reading for our favorite master bedroom closet ideas that will help you organize and redecorate your most prized possessions.
1. Showcase With Open Shelving
Open shelving in a master bedroom closet effortlessly merges functionality with style. Not only do they offer easy access to clothes and accessories, but they also allow for personalization. To enhance the design, incorporate decorative baskets or transparent bins. These additions maintain organization while adding a touch of sophistication. Pair with complementary decor in the room for a harmonious feel.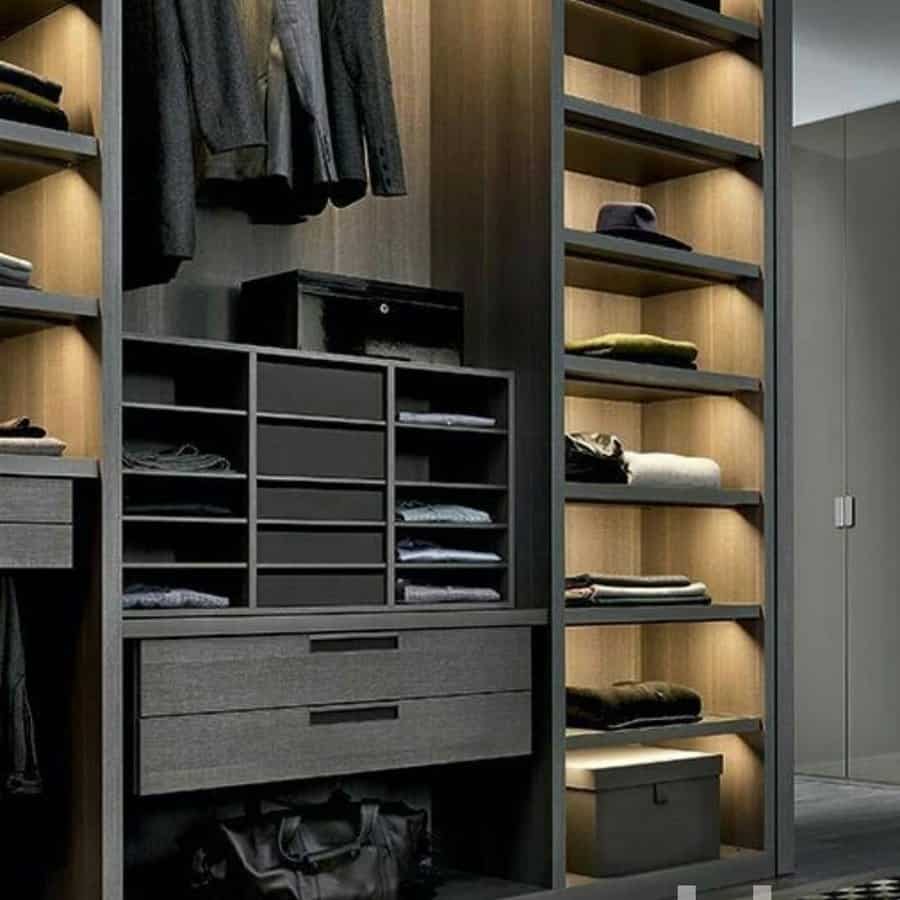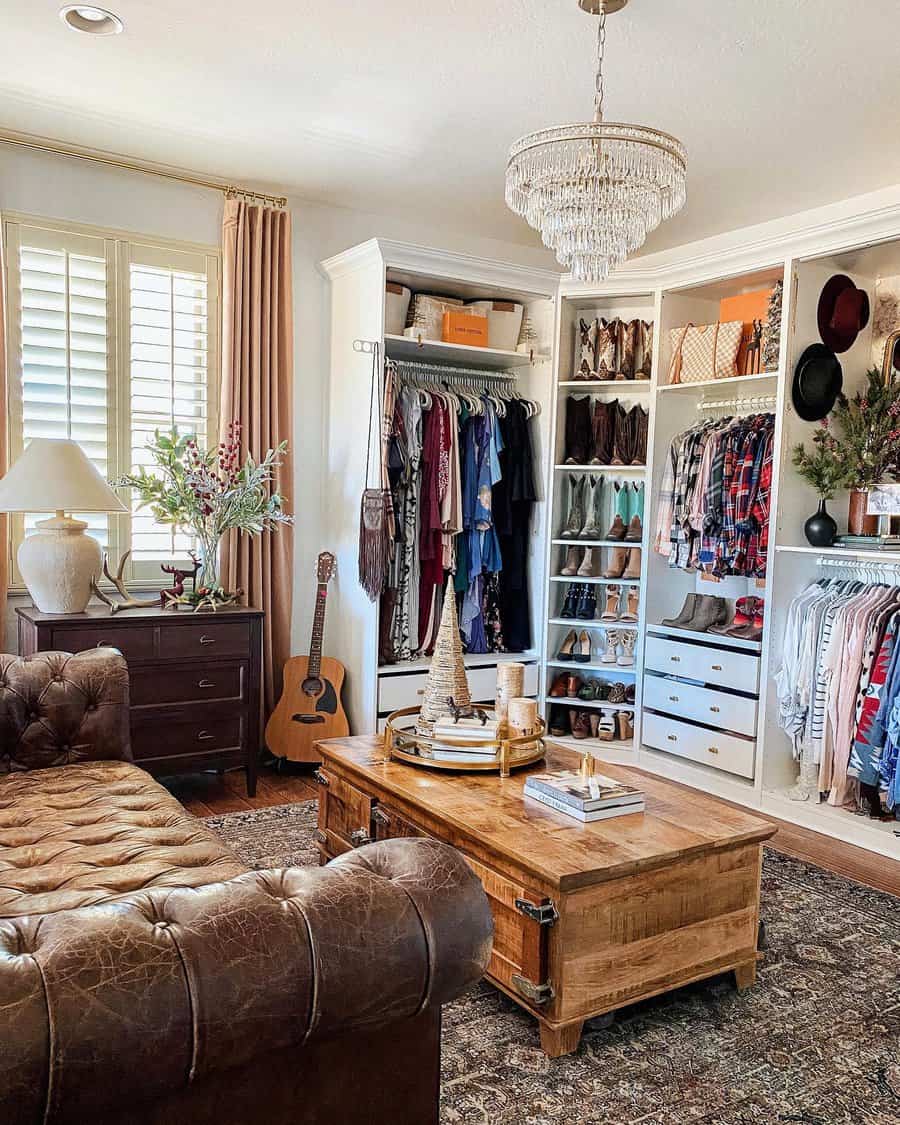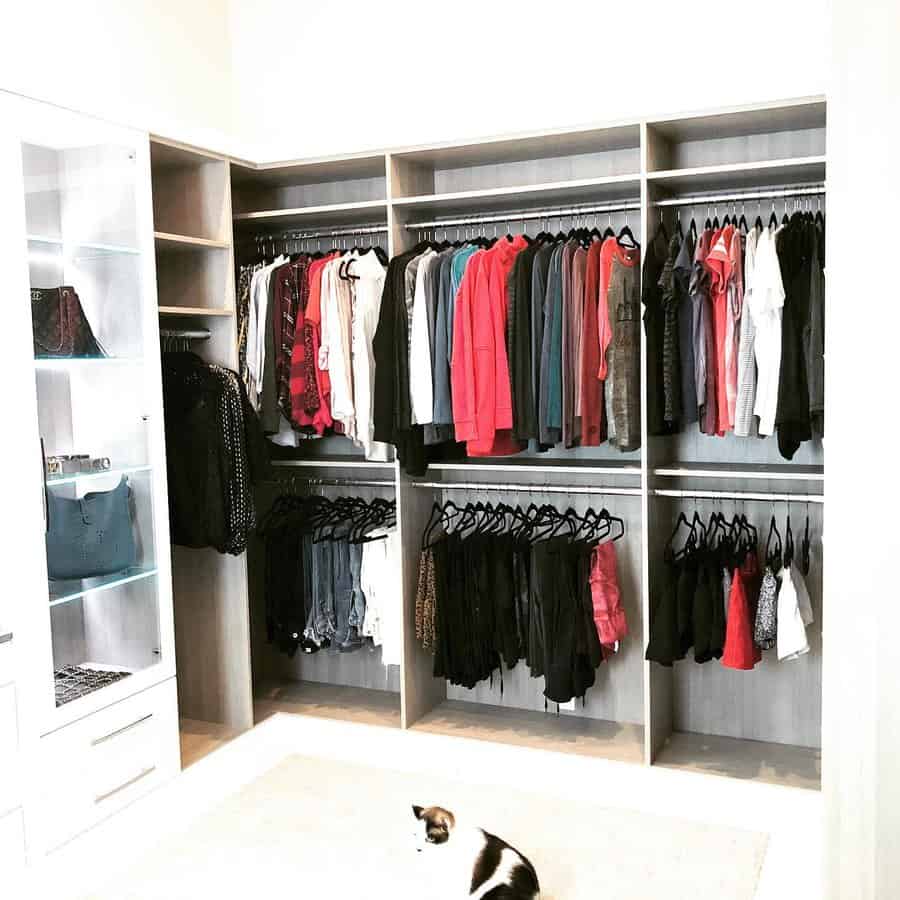 2. Transform with a TV-Mounted Closet
A TV-mounted closet introduces modernity and maximizes master bedroom space. Incorporate pull-out drawers and diverse hanging rods to optimize storage. As a design tip, choose a TV frame that complements room aesthetics, ensuring a seamless blend with other design elements. This setup ensures both entertainment and organized storage coexist elegantly.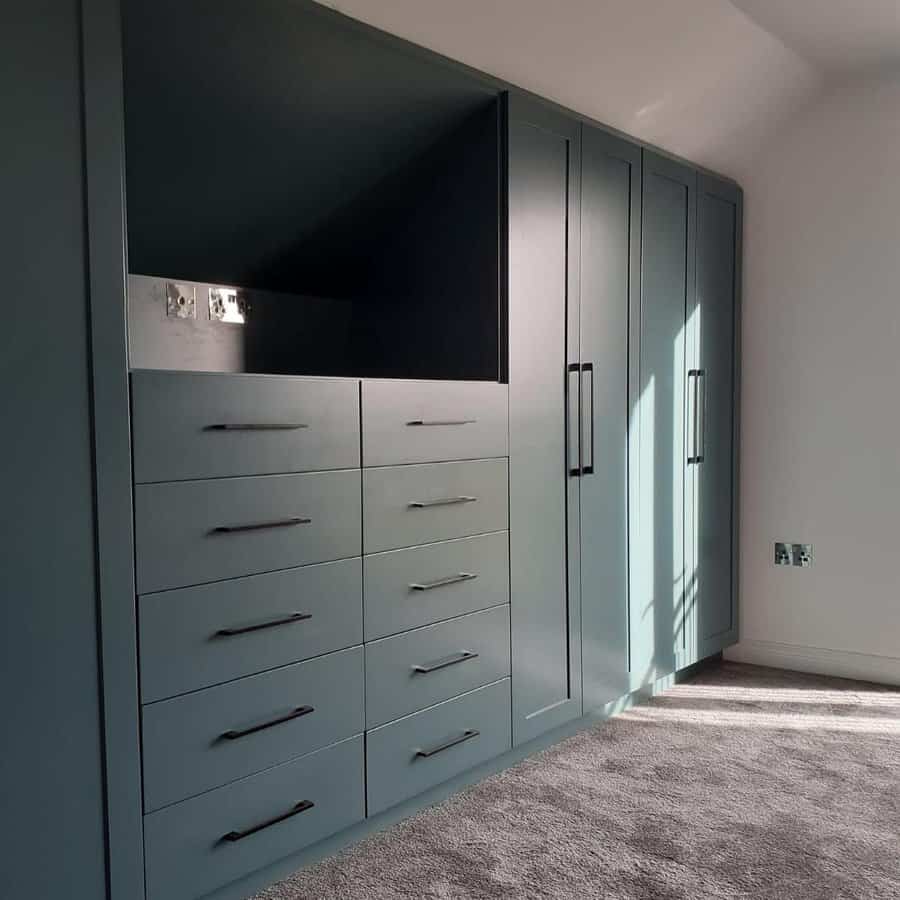 3. Central Island in Walk-In Closet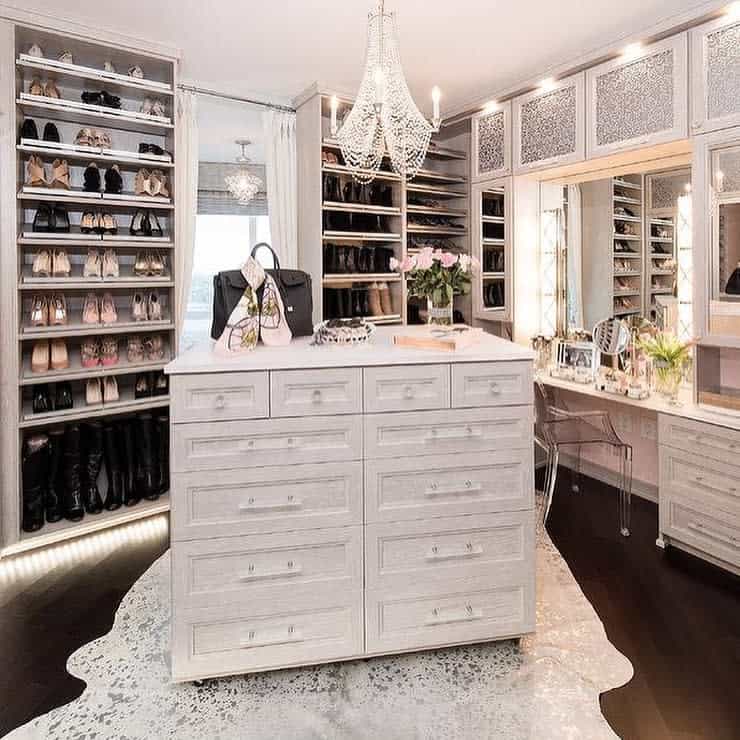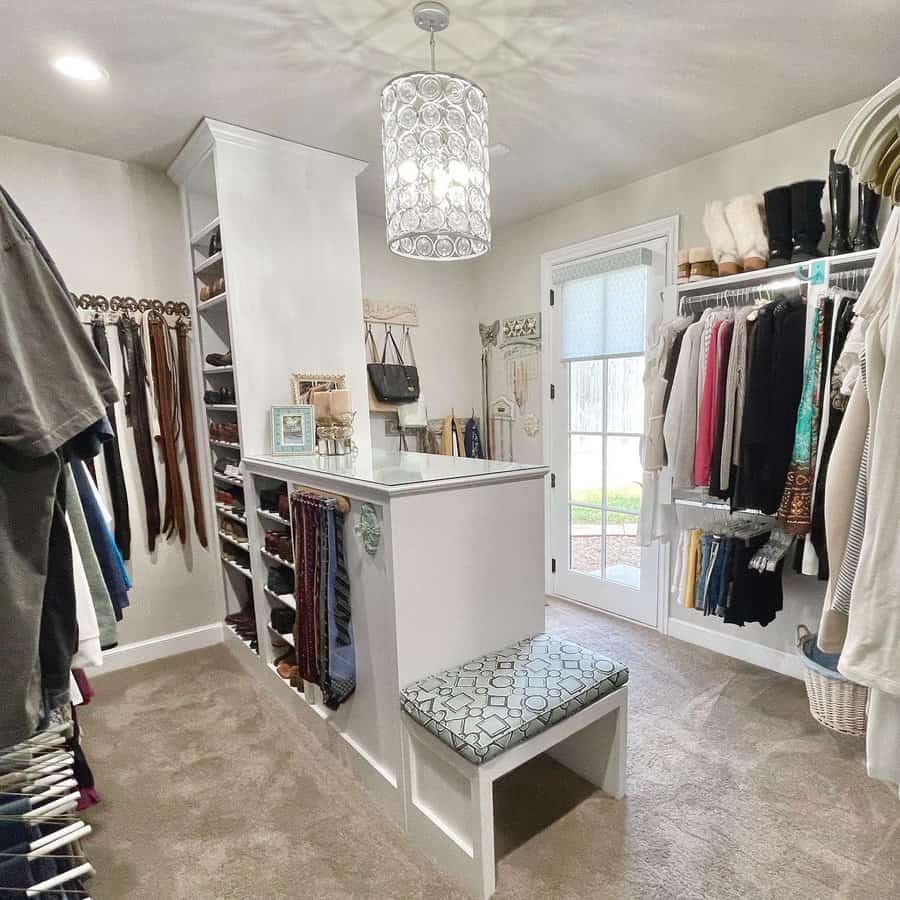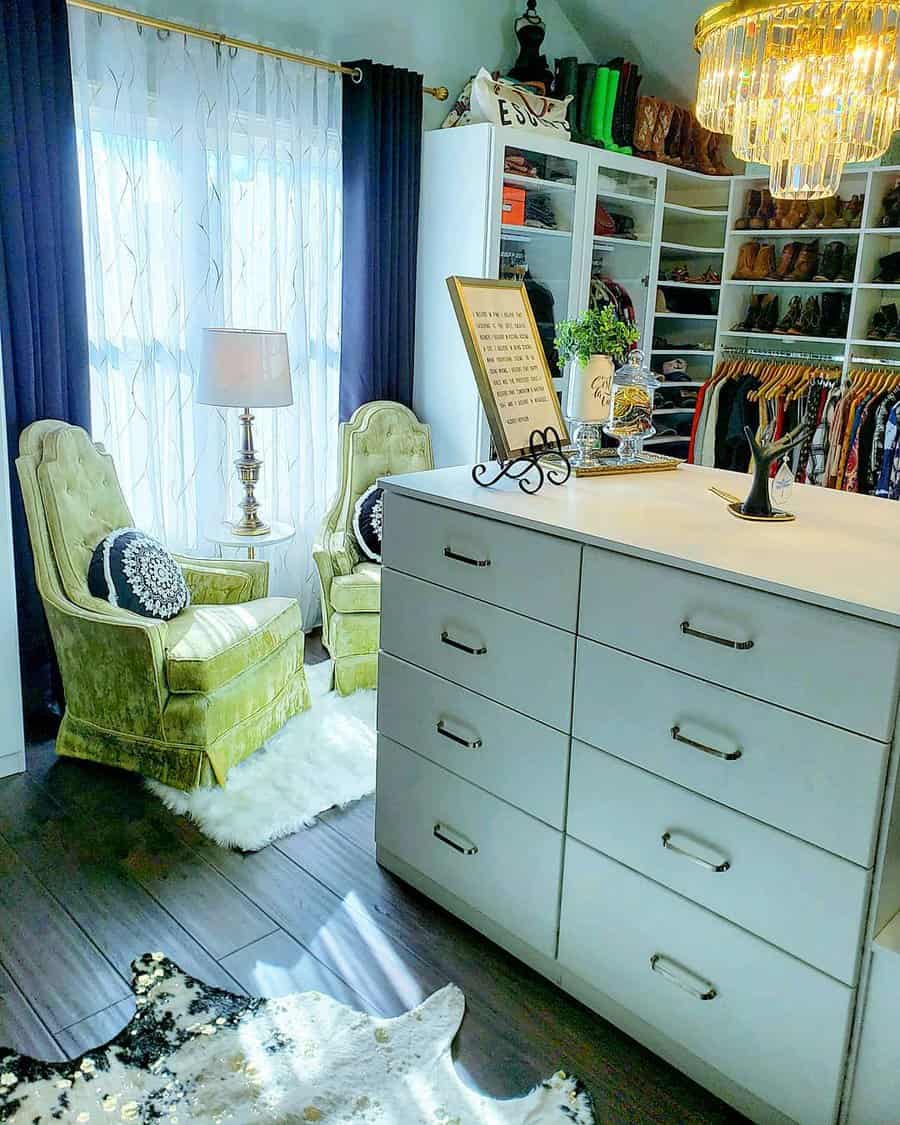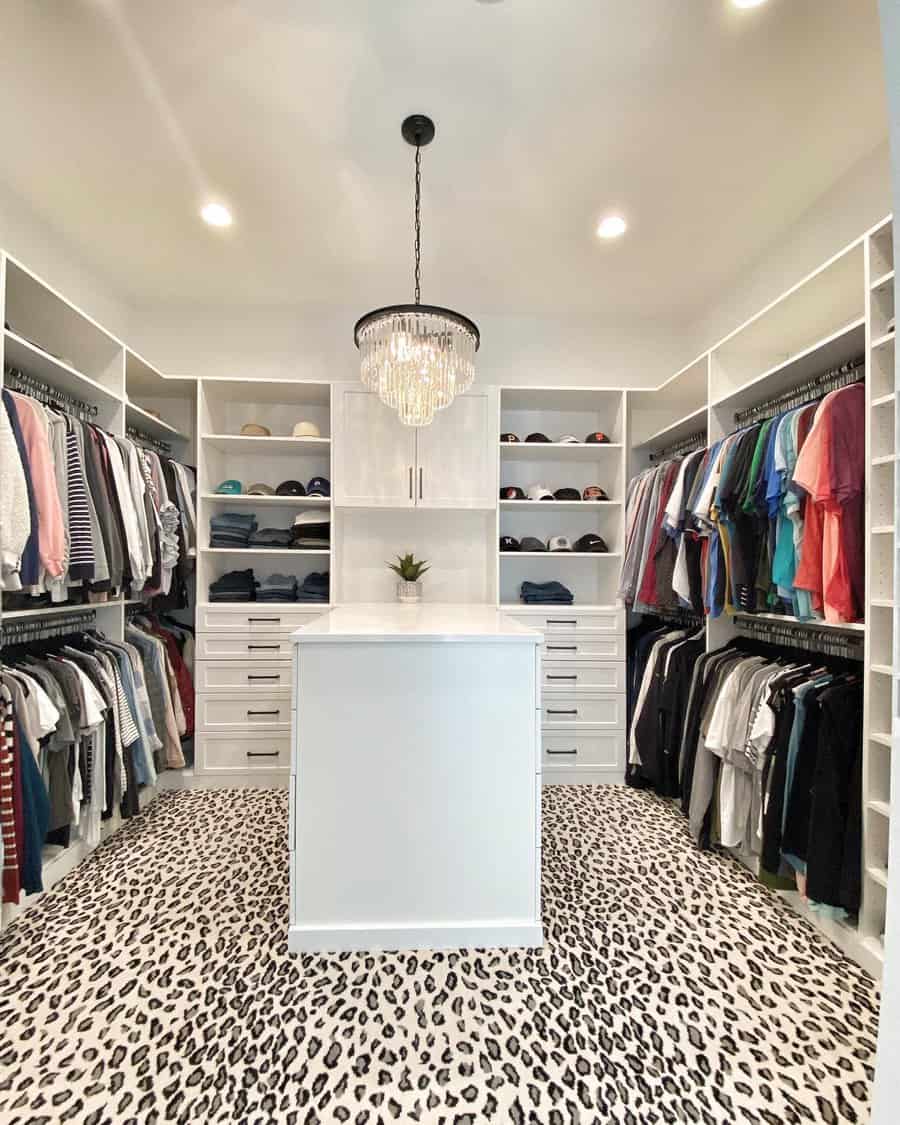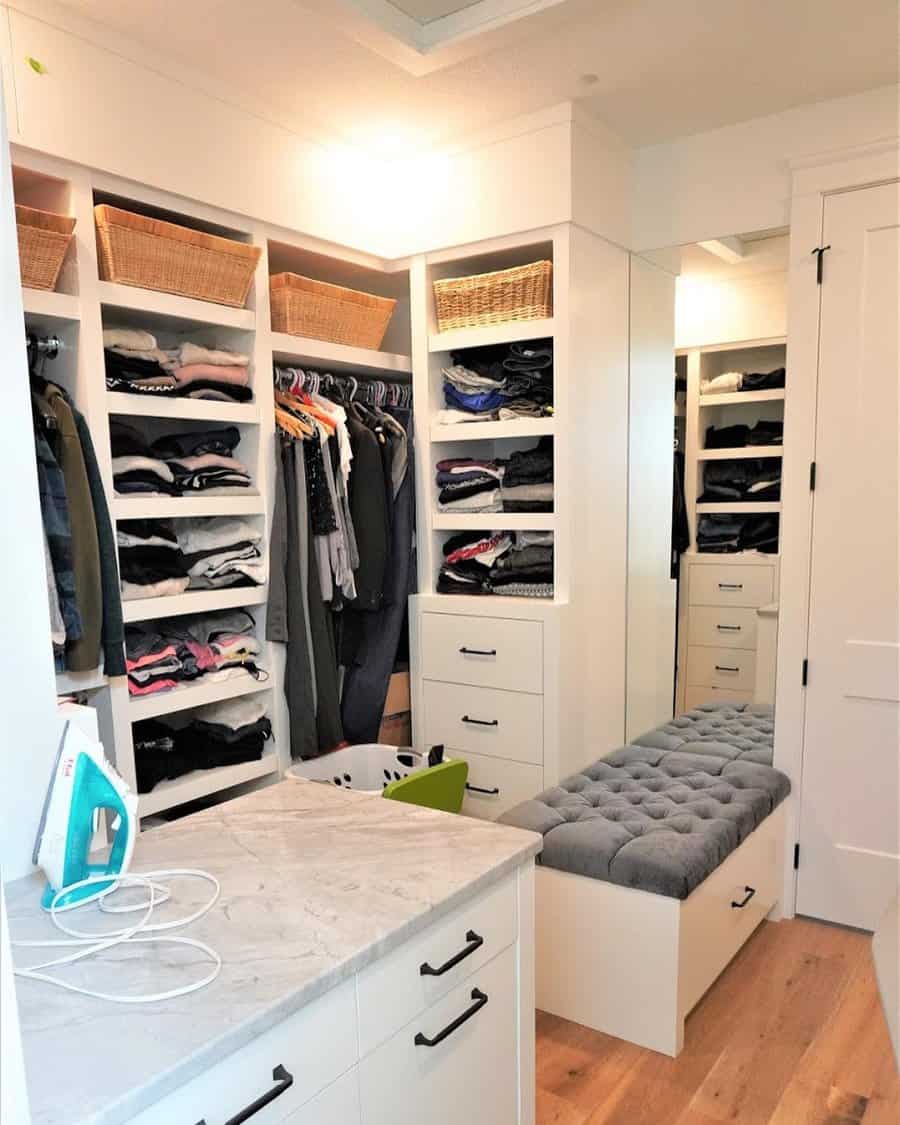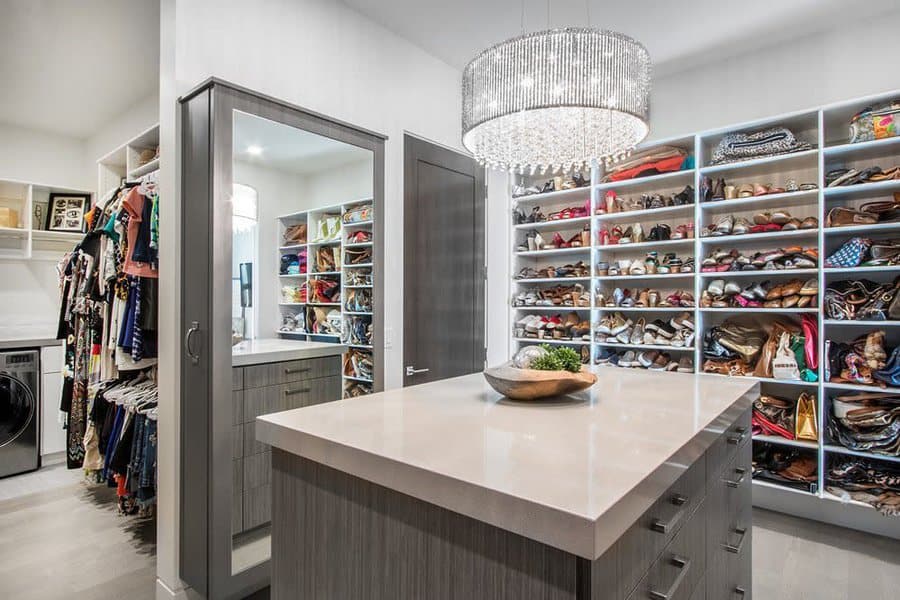 4. Organized Bliss in Walk-In Spaces
Elevate your master bedroom with a central island cabinet in a spacious walk-in closet. This layout promotes effortless organization of your wardrobe and accessories. Use raised shelves and drawers to prevent clutter. Enhance the island's functionality with hooks and hangers, ensuring every piece has its place, harmonizing style with utility.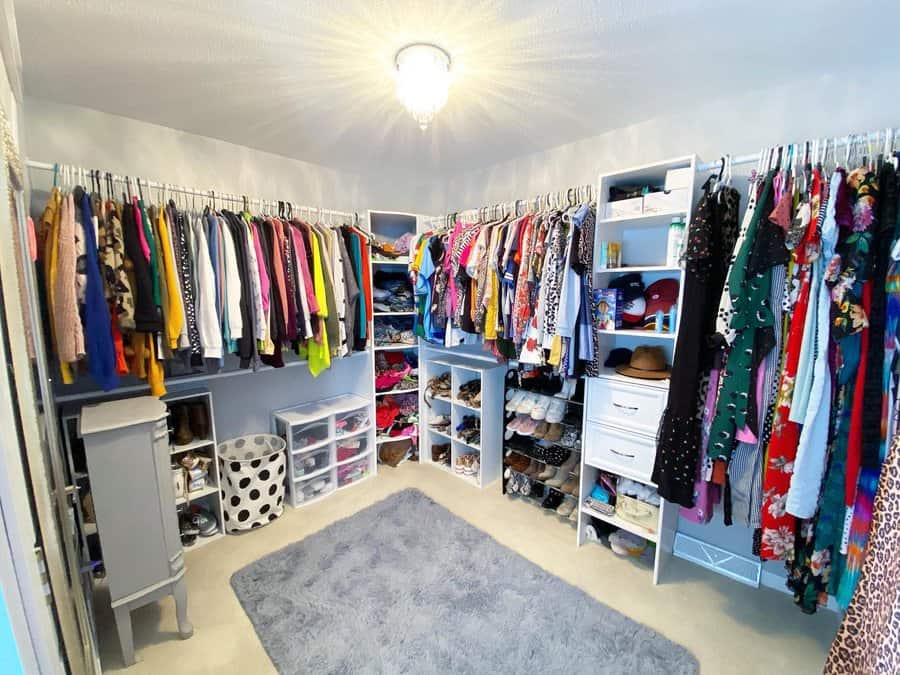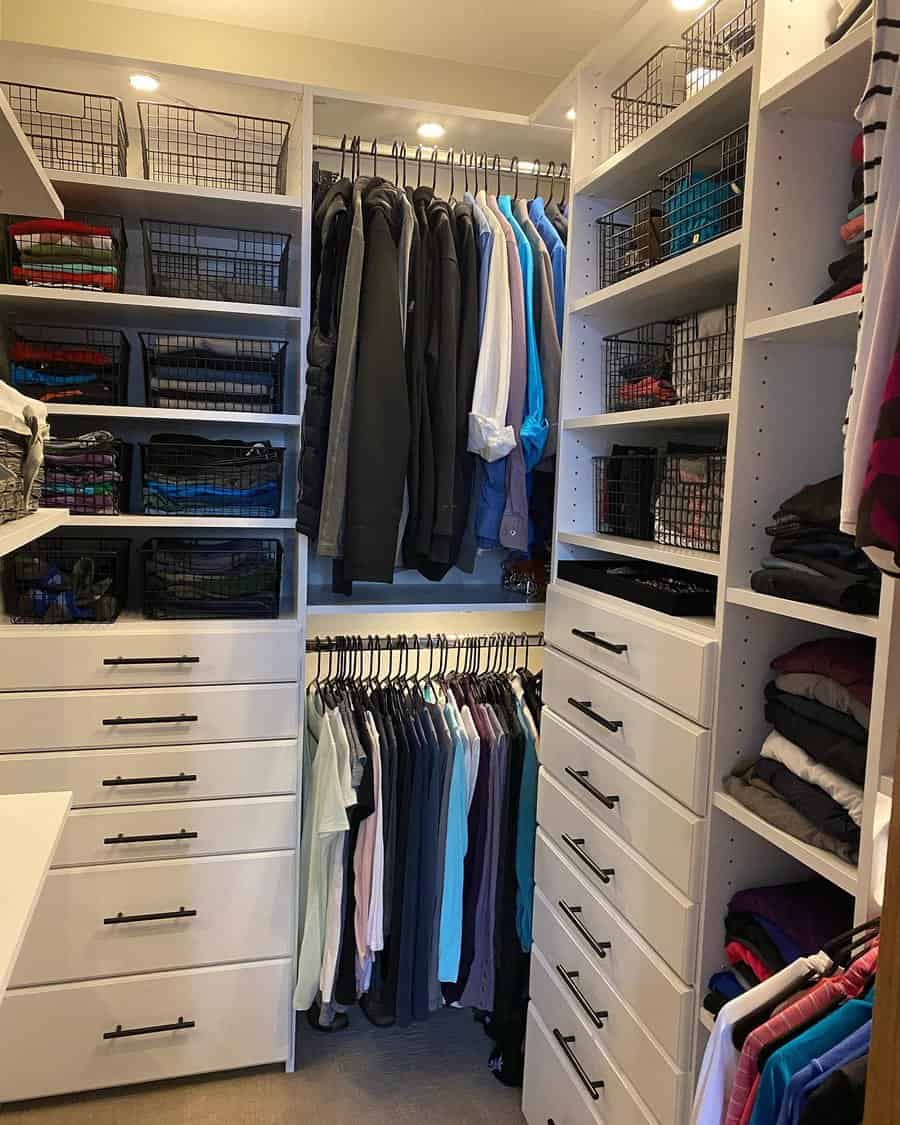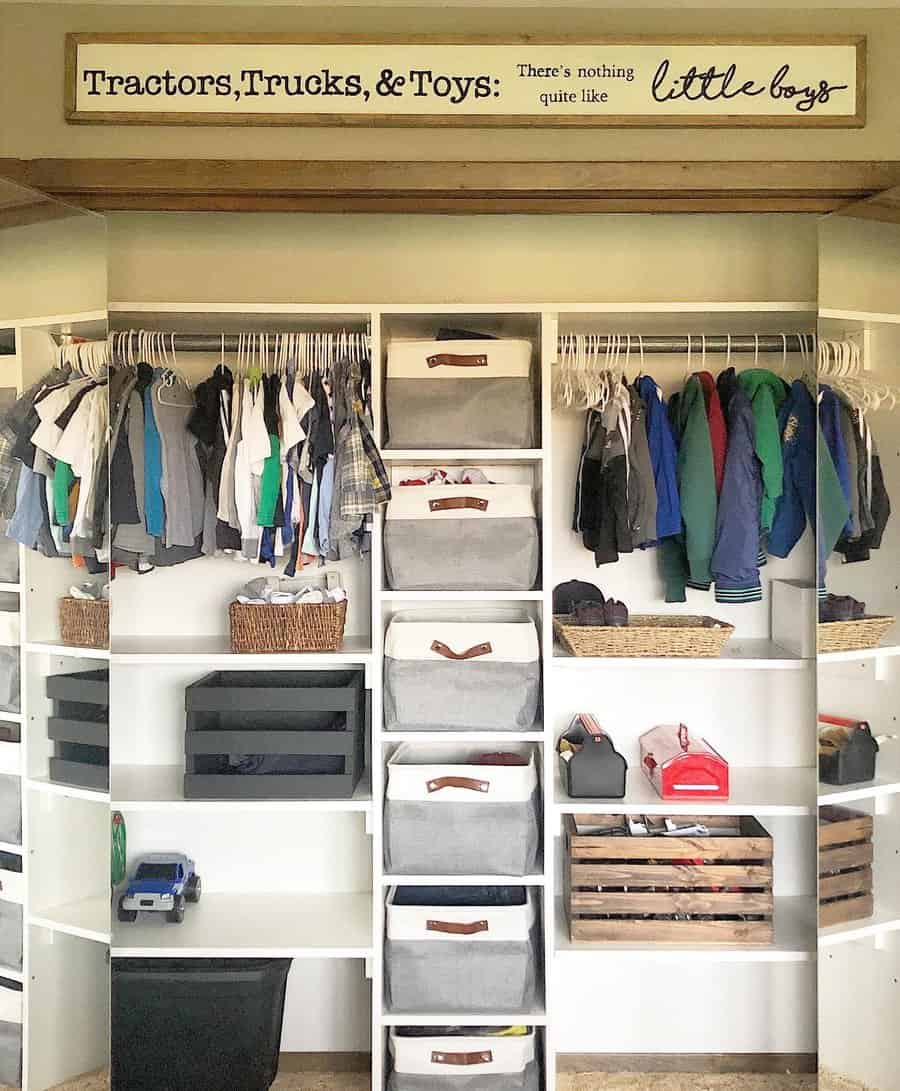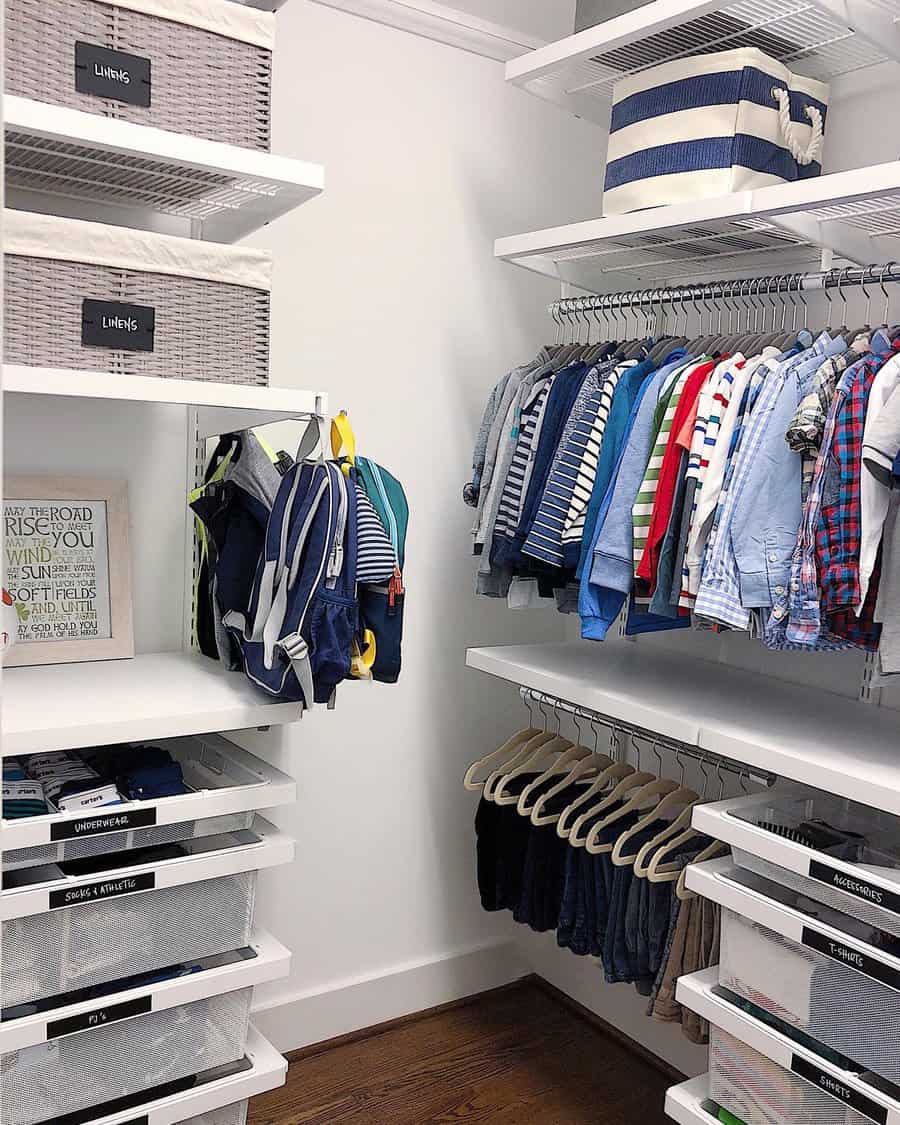 5. Glass Cabinets for Luxe Display
Turn your master bedroom closet into a boutique-style haven. Elevate both glamour and functionality by combining open wardrobe racks with a glass showroom cabinet. This allows easy outfit selection while saving time on busy mornings. Enhance the ambiance with warm lighting and a full-length mirror for a polished appearance. These touches effortlessly elevate your storage space into a stylish and practical sanctuary.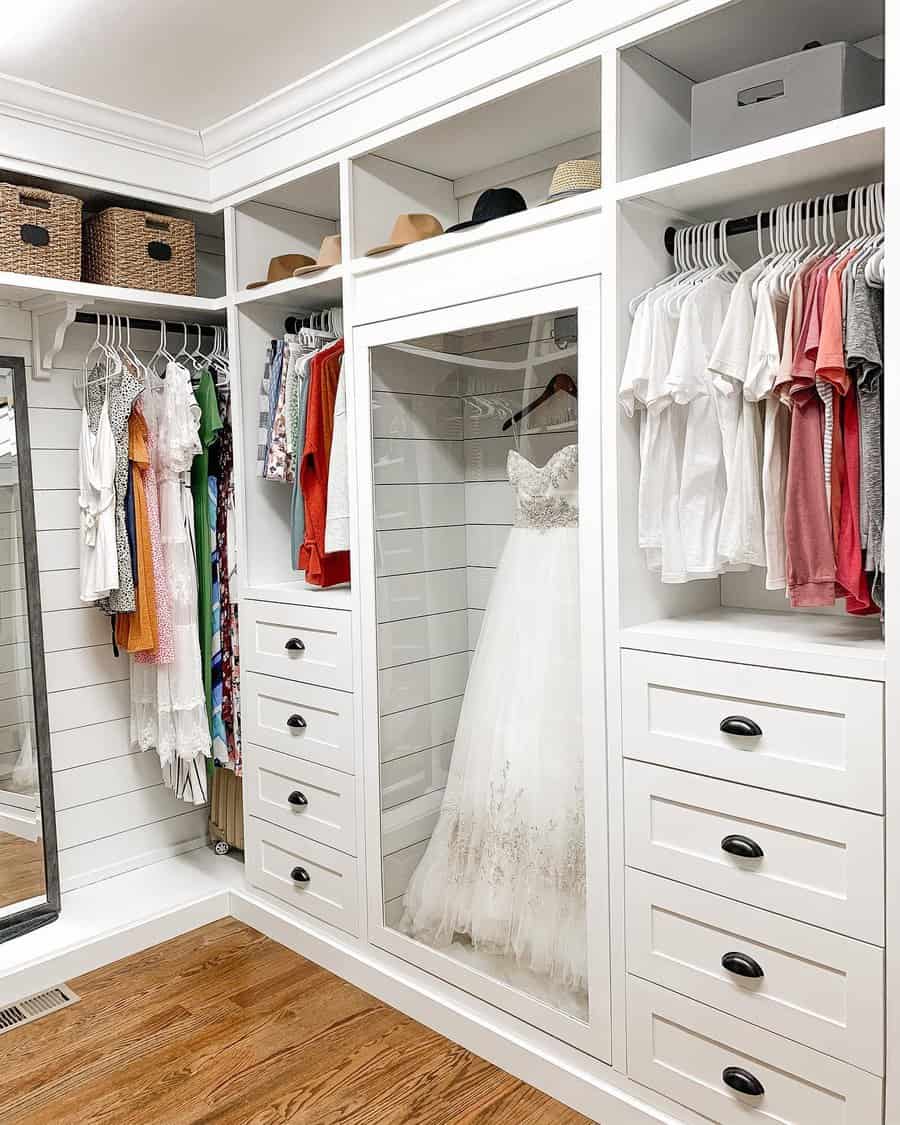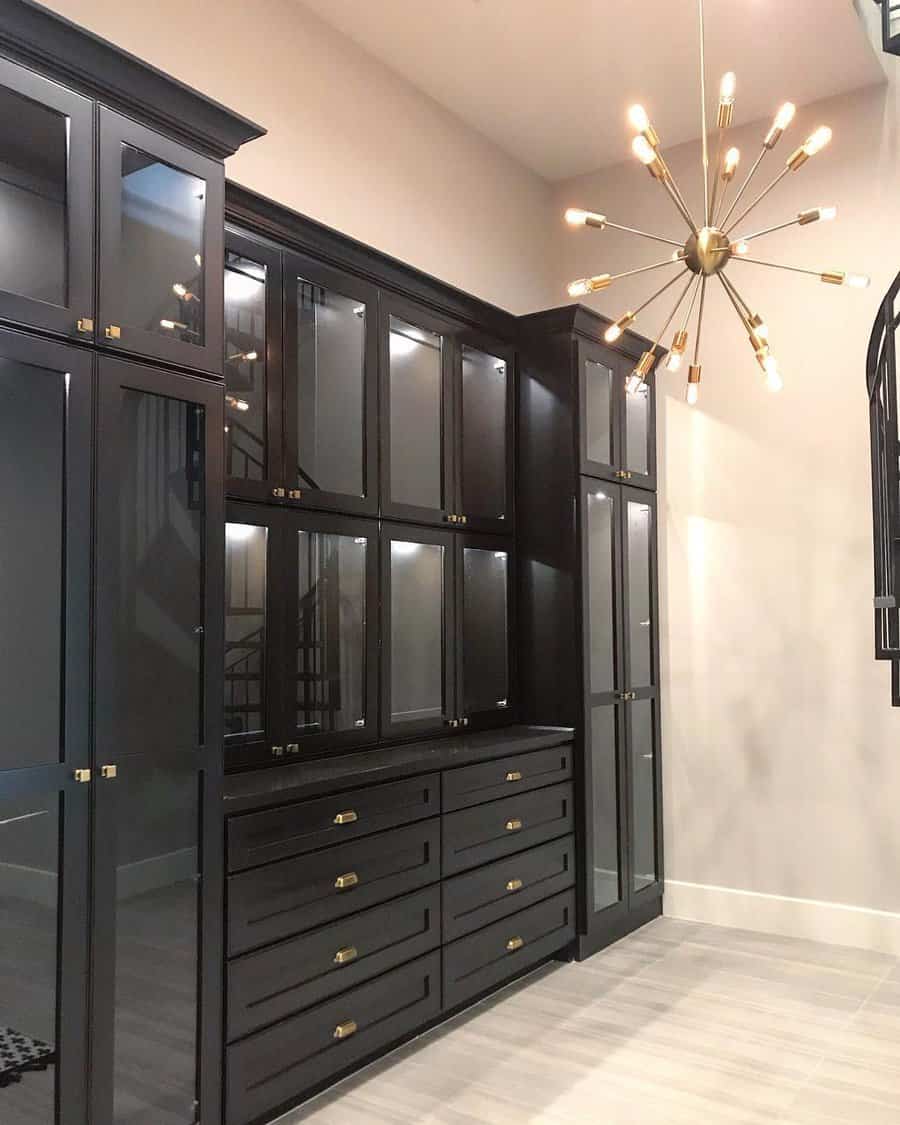 6. Adapt with Modular Shelving Units
Maximize your master bedroom closet's potential by incorporating modular shelving units. These versatile systems enable personalized organization tailored to your needs and preferences. Whether you require more hanging space, additional drawers, or dedicated shoe storage, modular shelves offer flexibility. Even in compact closets, these units help you achieve your dream organization, ensuring everything stays tidy and accessible.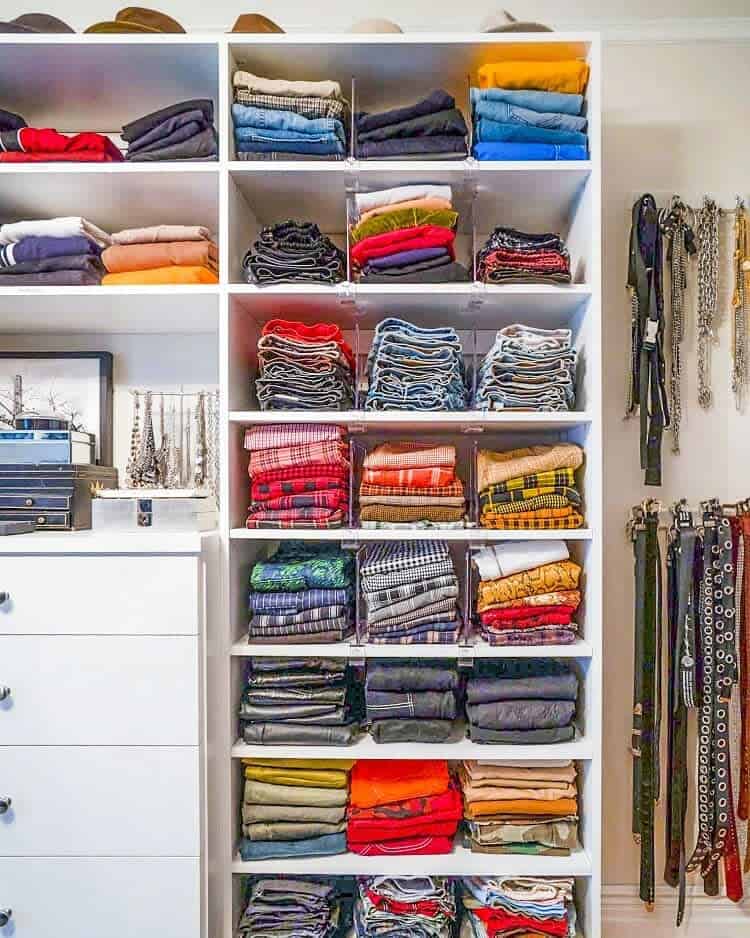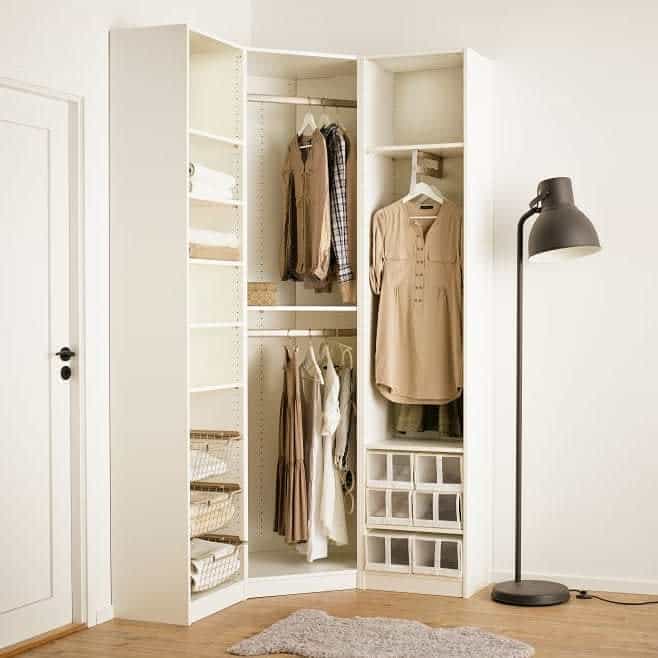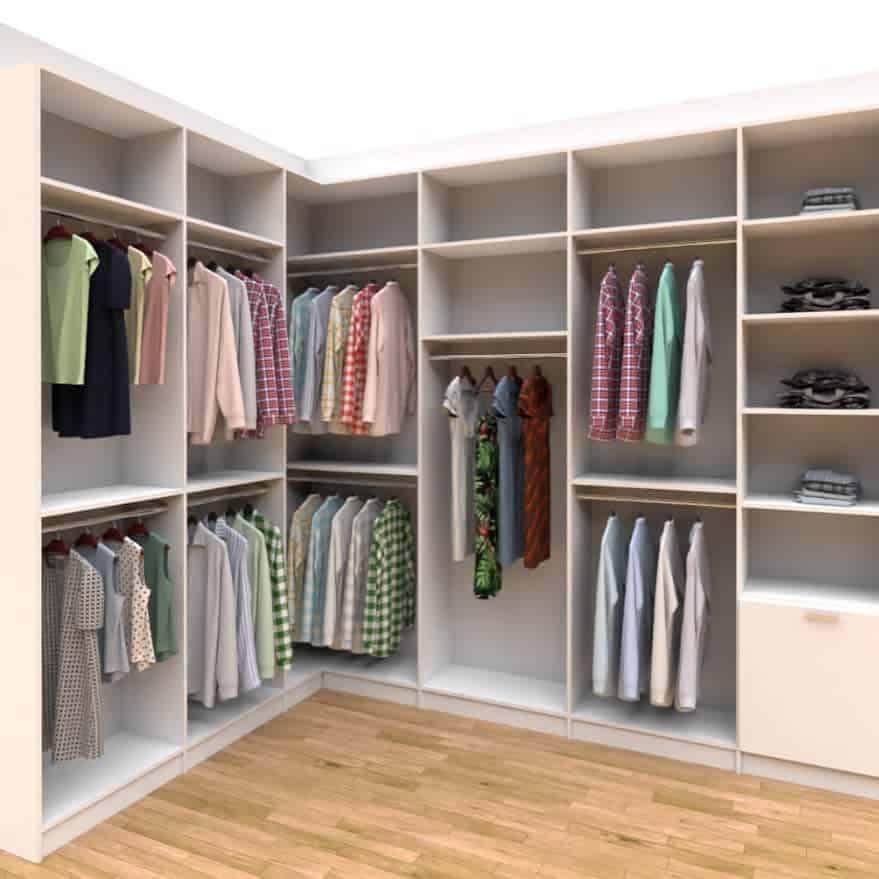 7. Illuminate Elegance with LED Accents
Enhance your master bedroom closet's allure by adding LED strips along its edges. These lights not only aid in locating items in the dark but also infuse a soothing ambiance into the room. Whether you're dressing for the day or selecting cozy nightwear, the comforting glow of LEDs adds convenience and inspiration. Incorporating this lighting solution elevates both style and functionality in your master bedroom, creating a motivating atmosphere for daily use.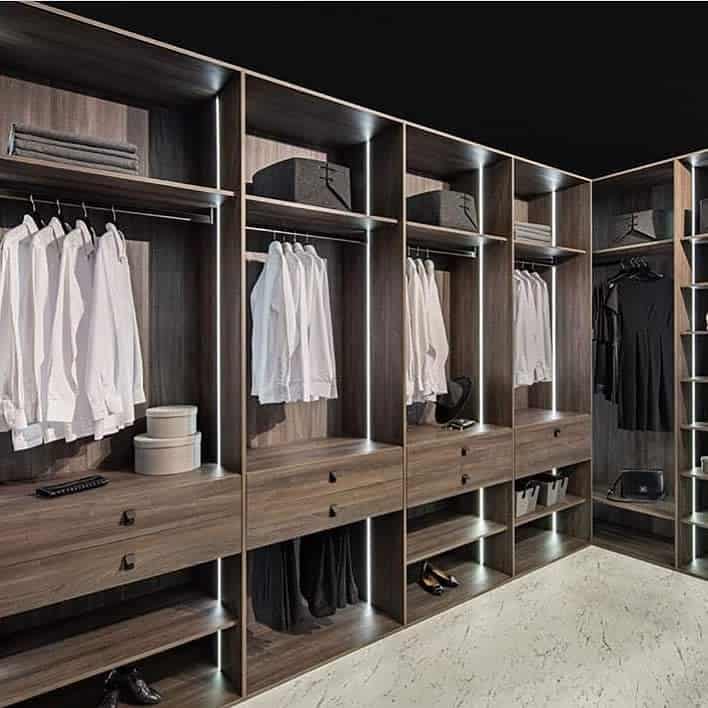 8. Maximize Space: Under-Stairs Closets
Unlock the potential of your master bedroom closet by utilizing an under-the-stairs space if available. Vertical shelving optimizes this unique area, turning awkward spaces into functional storage. Add hooks and bins for creative organization and visual appeal. Thoughtful planning and creativity can transform your master bedroom closet into an eye-catching storage solution that maximizes space and becomes a conversation piece in your home.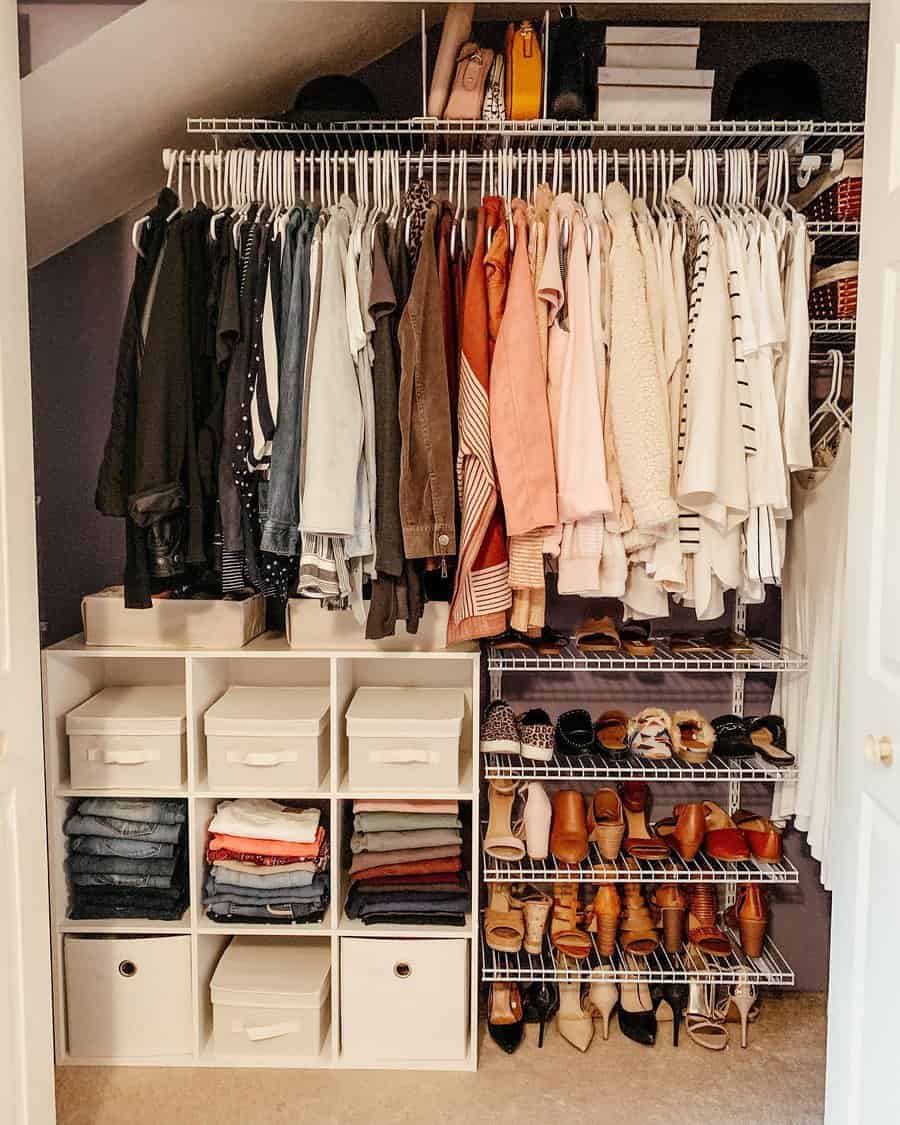 9. Dedicate a Full Wall to Shoes
Maximize master bedroom closet storage with style and functionality. Dedicate a full wall to a shoe shelf, ensuring every pair has its place while keeping your footwear collection visible. Get creative with displays for jewelry and handbags within easy reach. For an ethereal touch, paint the back wall white and introduce glass-front cabinets to invite natural light, creating an open and airy atmosphere for your morning routine. Enjoy crafting the organized, dreamy space you've longed for!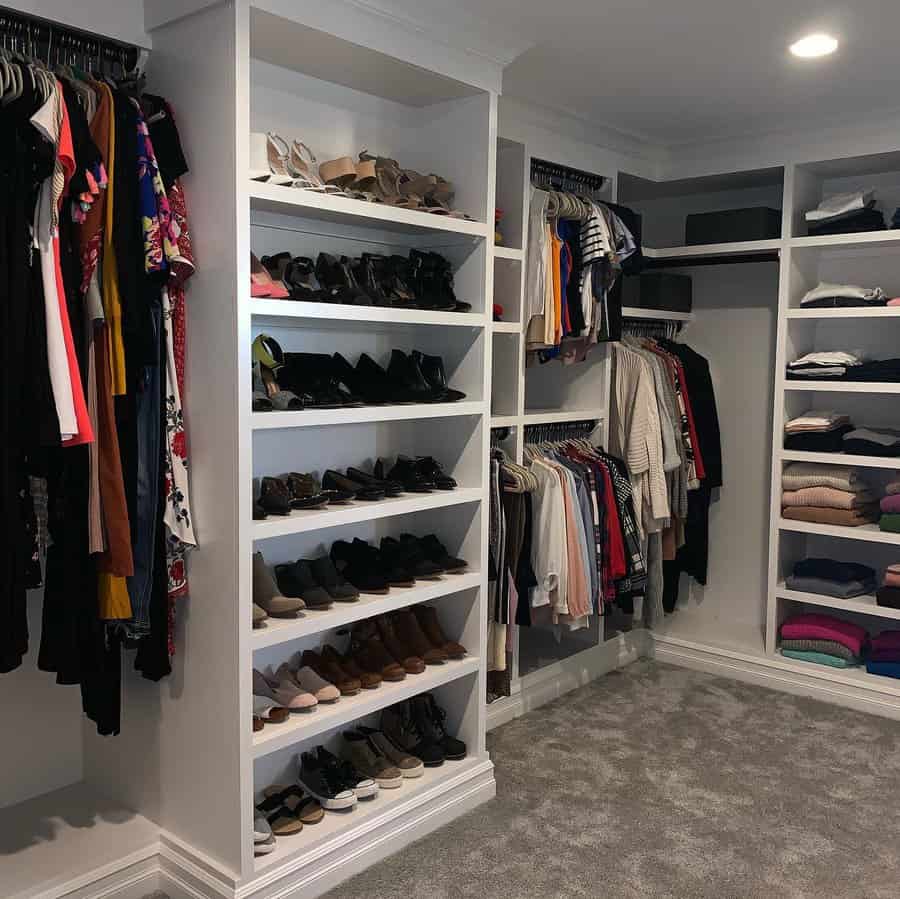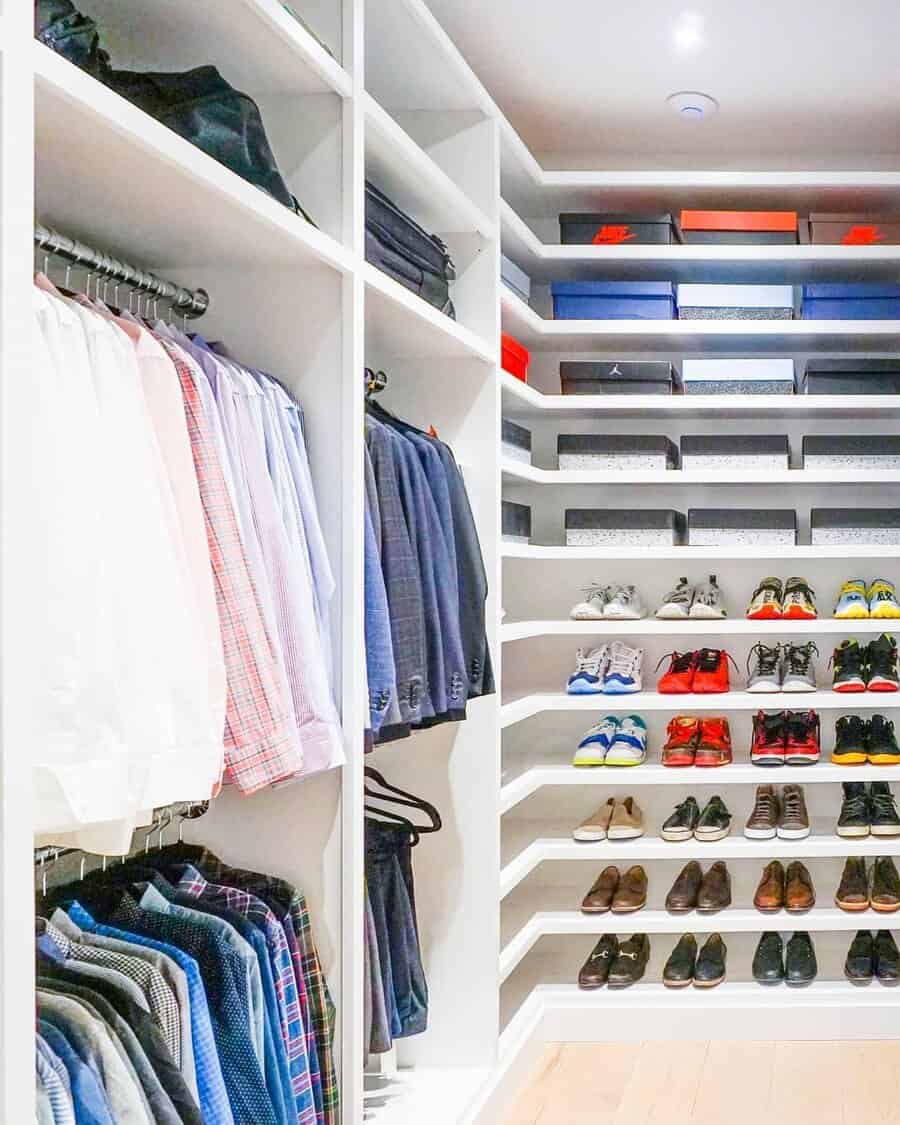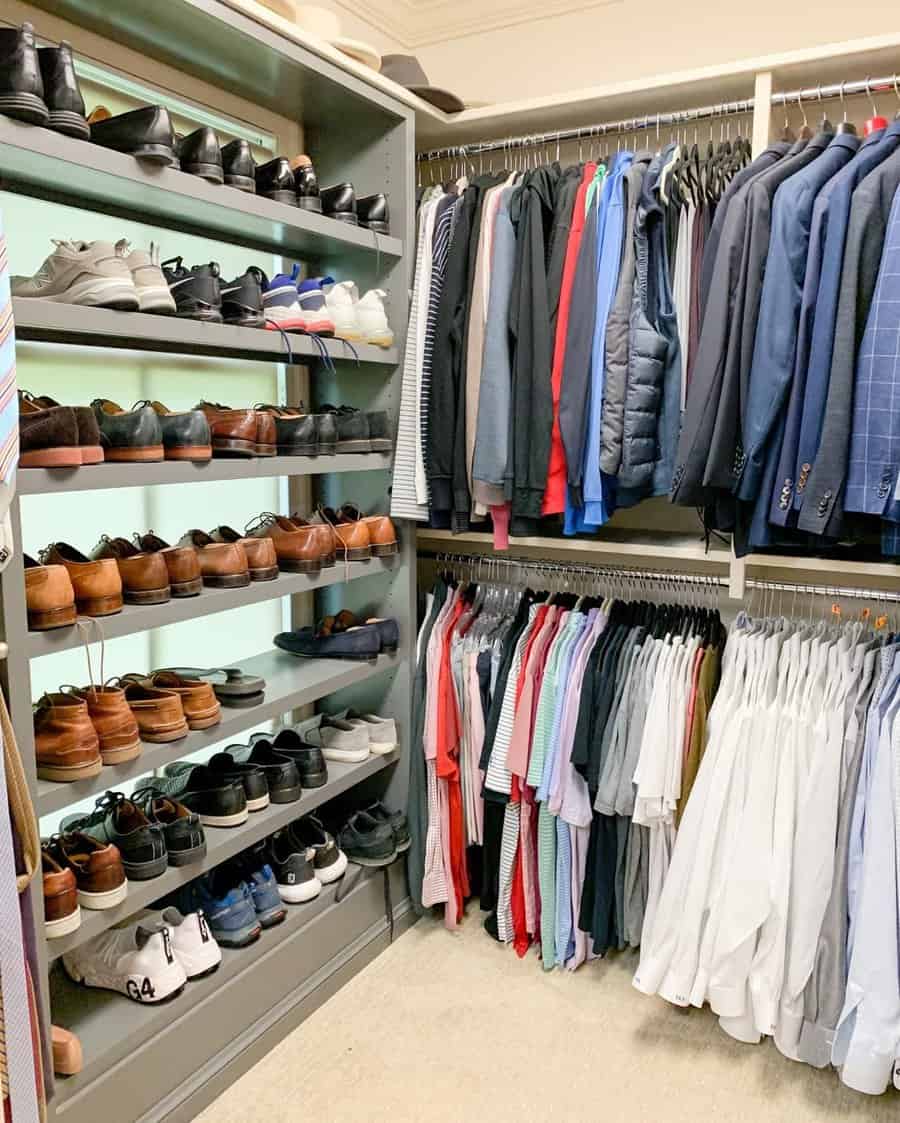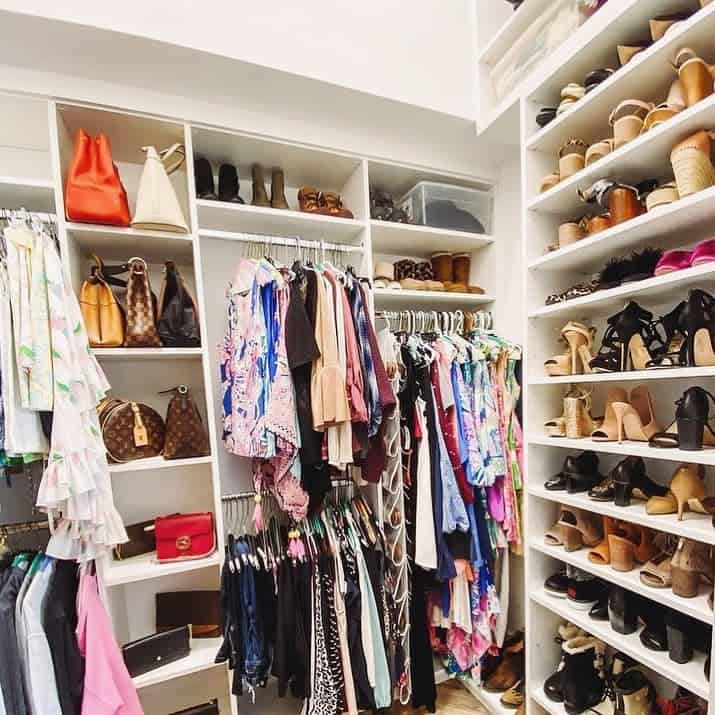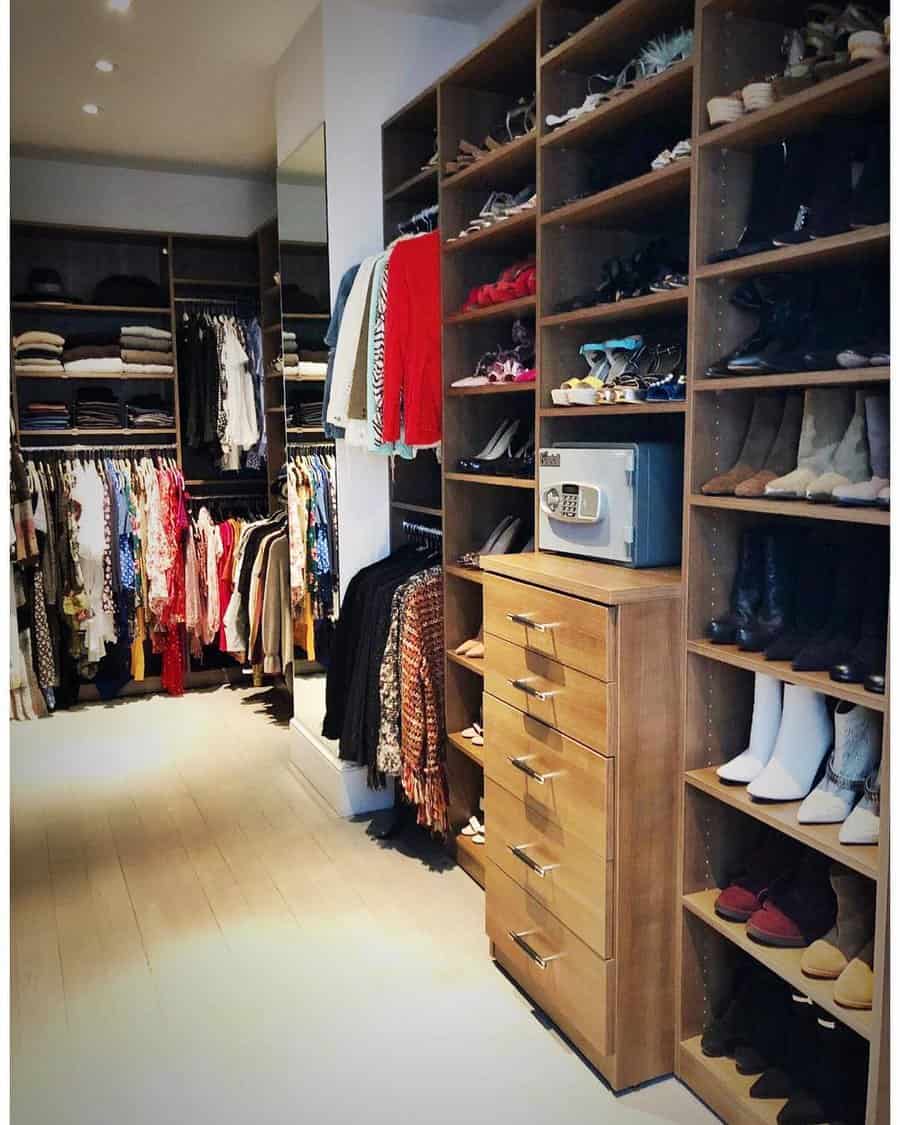 10. Walk-In Elegance with Vanity Corner
Achieve both style and functionality in your master bedroom closet by incorporating a vanity area into your walk-in design. Maximize wall space for clothing storage and organization while creating a dedicated spot for makeup application and outfit selection. A custom-built closet with a vanity corner streamlines your morning routine and adds a personal touch to your bedroom's design, marrying fashion with practicality.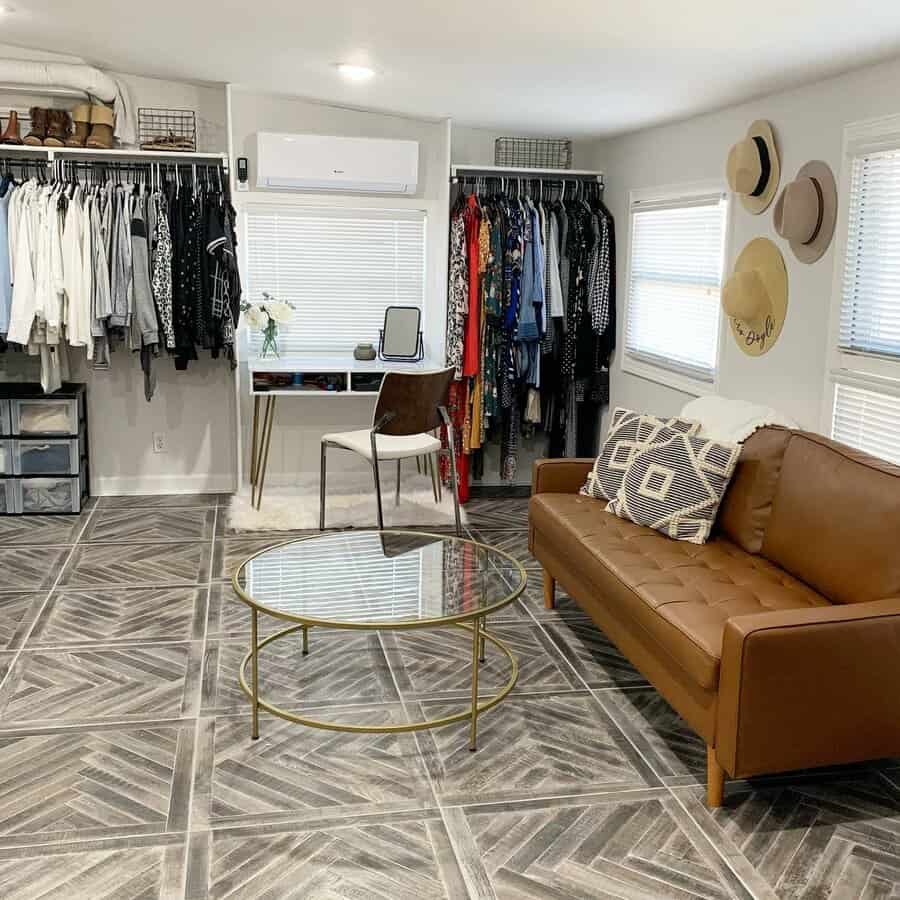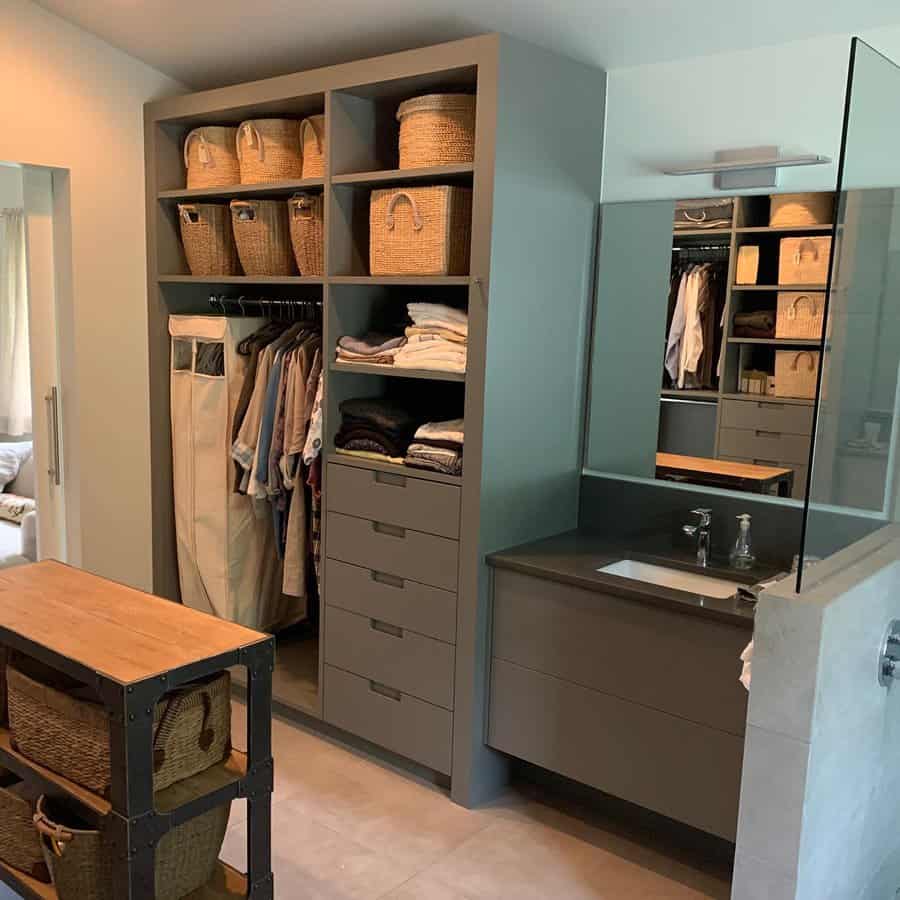 11. Reflect Beauty with Mirror-Finished Closets
When crafting an inviting and visually appealing master bedroom closet, mirrors emerge as a game-changer. They create an illusion of spaciousness and amplify the closet's allure. Mirror-finished closets not only maximize storage but also infuse style into your sanctuary.
Full-length mirrors ensure you start each day looking your best. To achieve ultimate organization and consistency, consider color-coordinated shelves and bins that harmonize with the overall design. Whether you prefer sleek minimalism or bold accents, experimenting with diverse techniques guarantees enduring, stylish success for your master bedroom closet.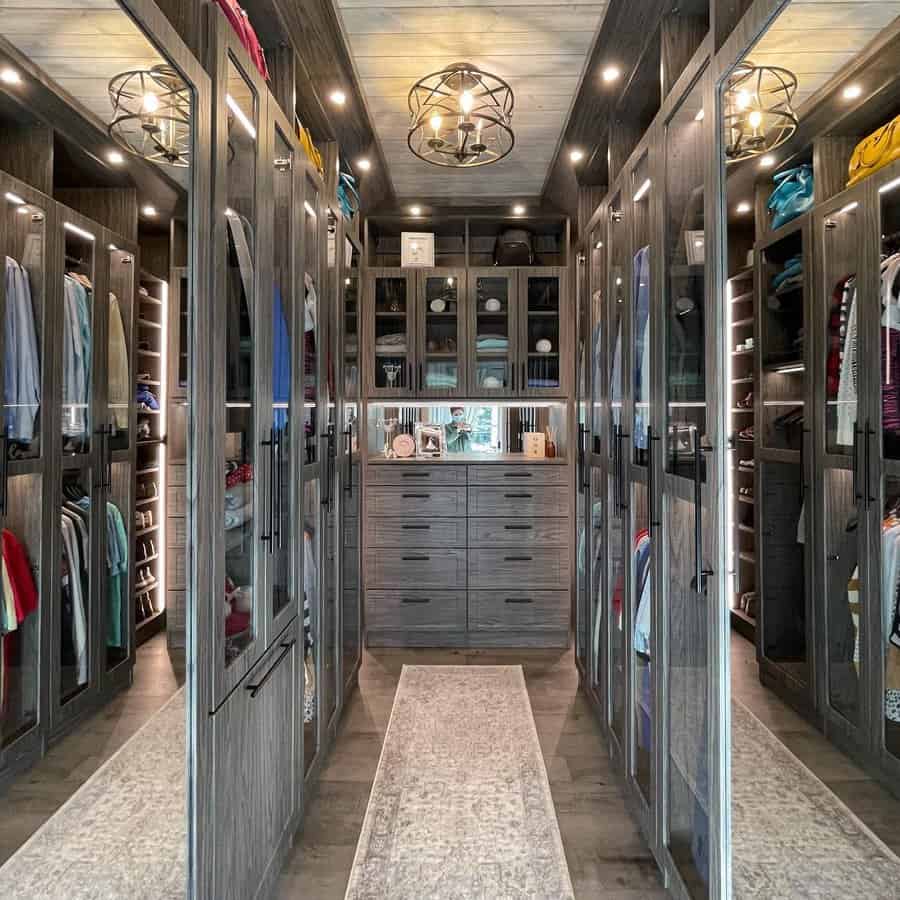 12. Enhance Cabinets with Golden Accents
Elevate your master bedroom closet to a realm of elegance and glamour with a touch of shine. Infuse sophistication into the space by adorning cabinets with gold metalware, adding a subtle yet impactful element of elegant glam. Each visit to your closet becomes a moment of golden radiance, reflecting your unique style. Get creative and infuse a touch of opulence into your master bedroom!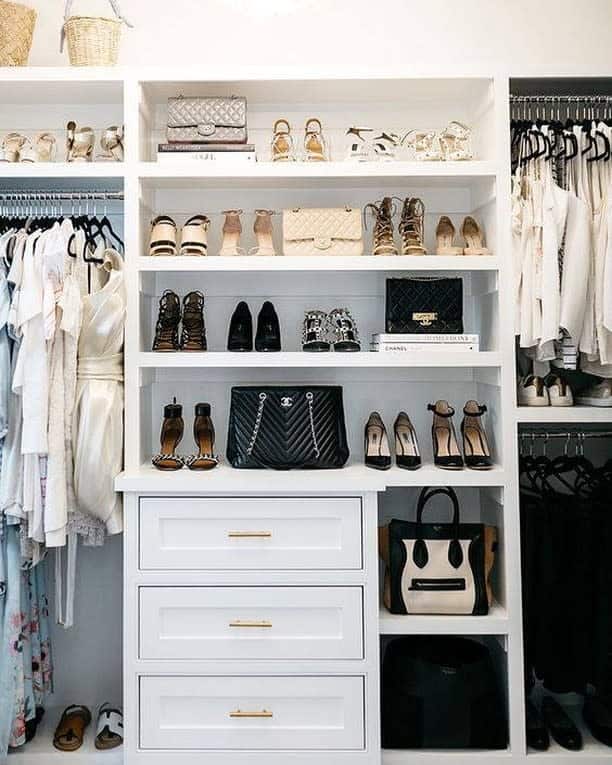 13. Elevate with Wall-Mounted Shoe Displays
Small master bedroom closets can still shine with clever solutions. Opt for a wall-mounted shoe rack to free up floor space and make the most of vertical storage. Elevate your closet's style by choosing racks with colors or patterns, transforming a small change into a noticeable difference in your bedroom's design and functionality.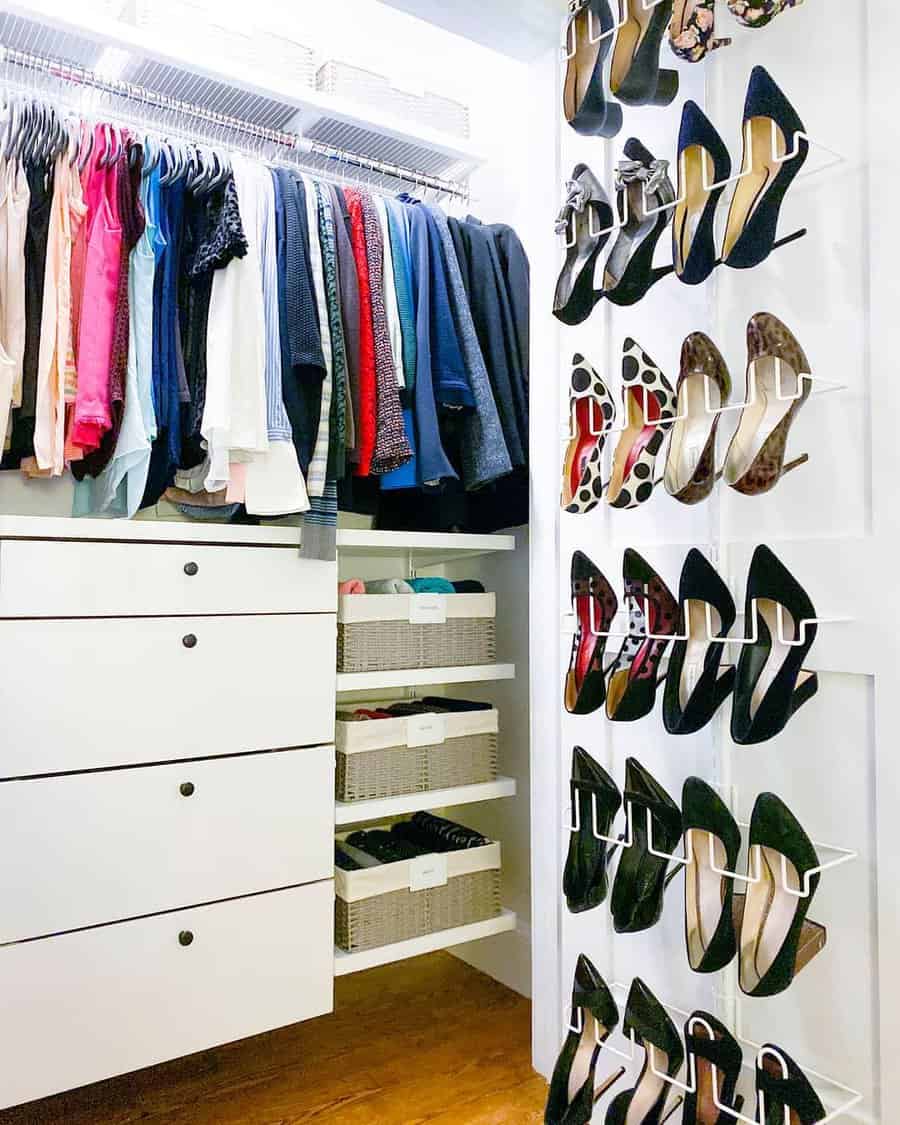 14. Create Dimension with Floating Units
For a distinctive master bedroom closet, explore the world of floating shelves. These modern additions not only impart a sleek touch but also maximize floor-level storage. Whether you prefer open wire drawers or closed-door cabinets with extensive shelving, the possibilities are endless for crafting unique storage solutions for clothing, shoes, and accessories. Best of all, these custom features are budget-friendly, making style and efficiency accessible to all.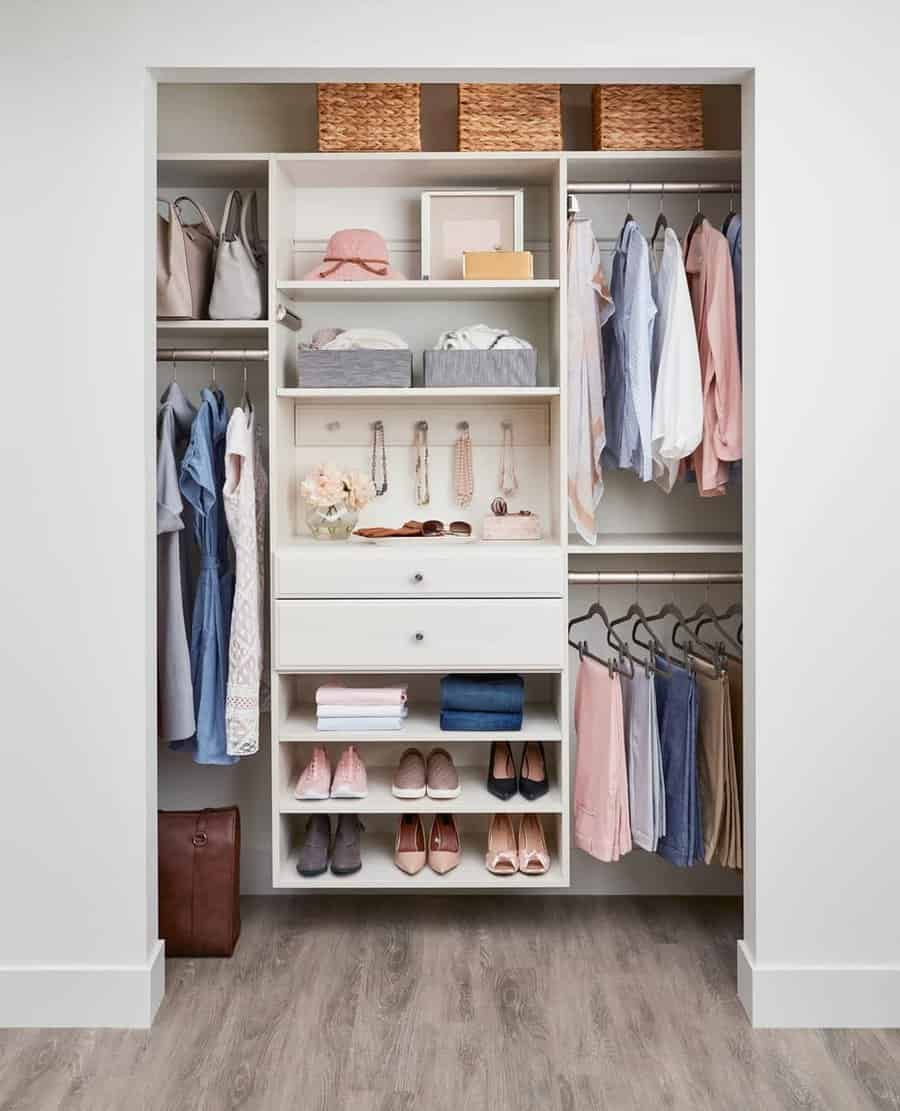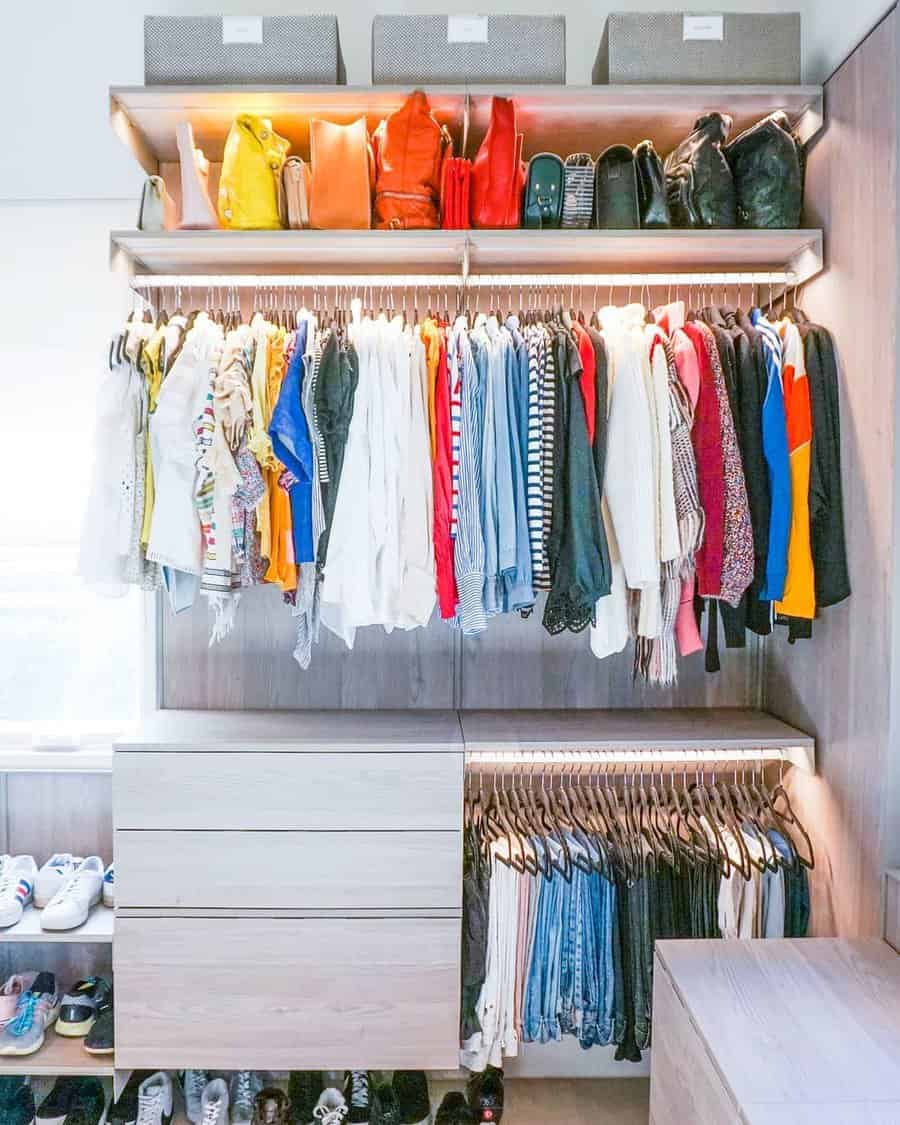 15. Modernize Access with Sliding Doors
Revamp your master bedroom closet with a custom sliding door, combining style with efficiency. Begin by measuring your closet space and selecting the most suitable pocket door type. Choose from design options like frosted glass or wooden panels for added interior appeal.
To optimize organization, consider wall-integrated storage and decorative fixtures such as shelving and hanging bars. These elements work in harmony to create a highly functional and organized master bedroom closet, marrying aesthetics with practicality.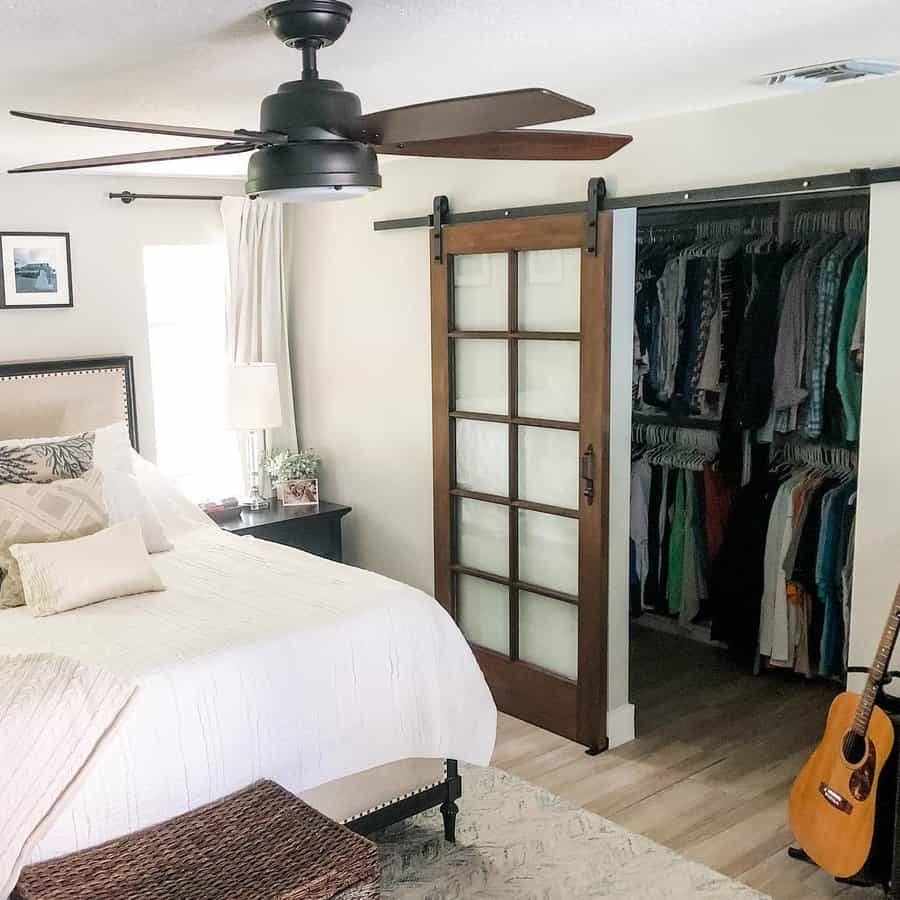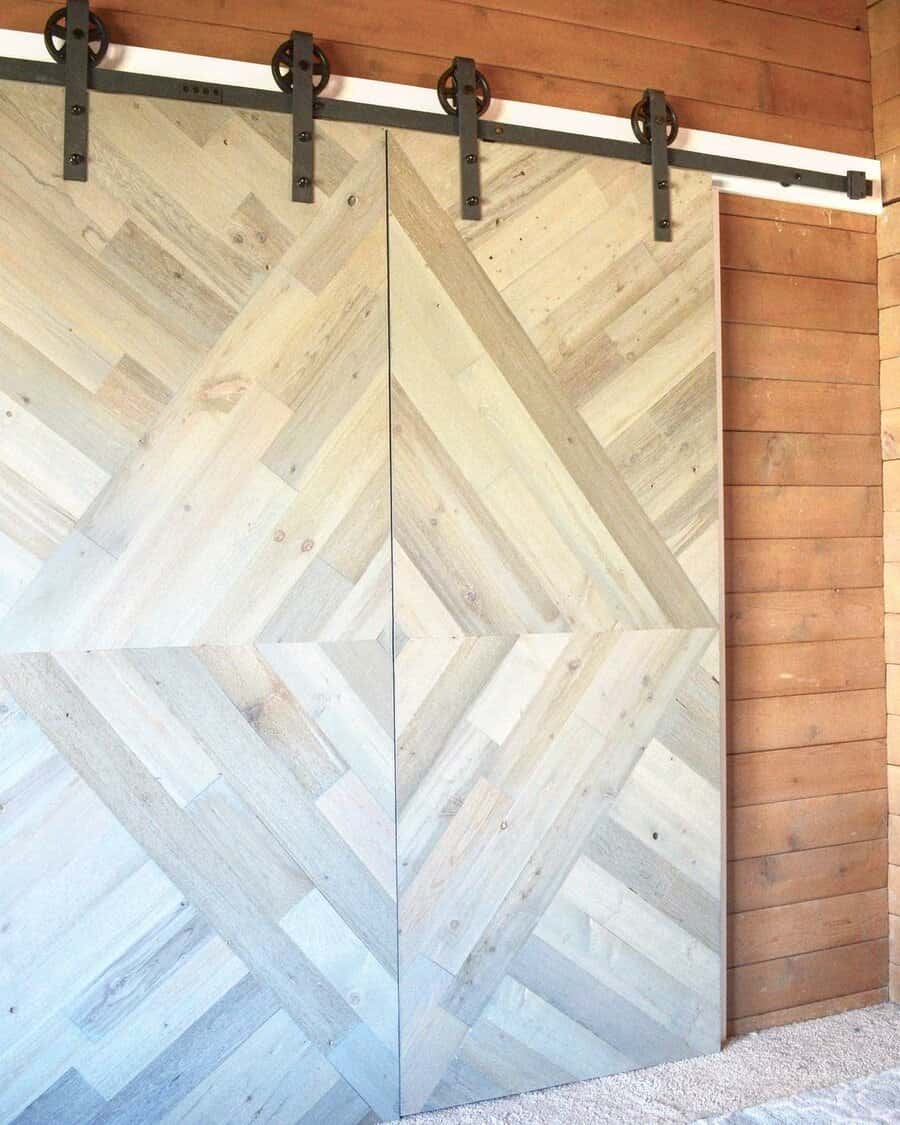 16. Integrate a Chic Bay Window Cabinet
Seeking fresh ways to elevate your master bedroom closet? Embrace the charm of a bay window cabinet. This innovative storage addition infuses unique character and coziness into your bedroom while offering extra space for clothes and accessories.
The bay window introduces natural light, brightening the room's design. With ample storage potential, it provides space to showcase standout pieces or maintain impeccable organization. Unleash the potential of your master bedroom closet with a chic bay window cabinet, where style meets practicality.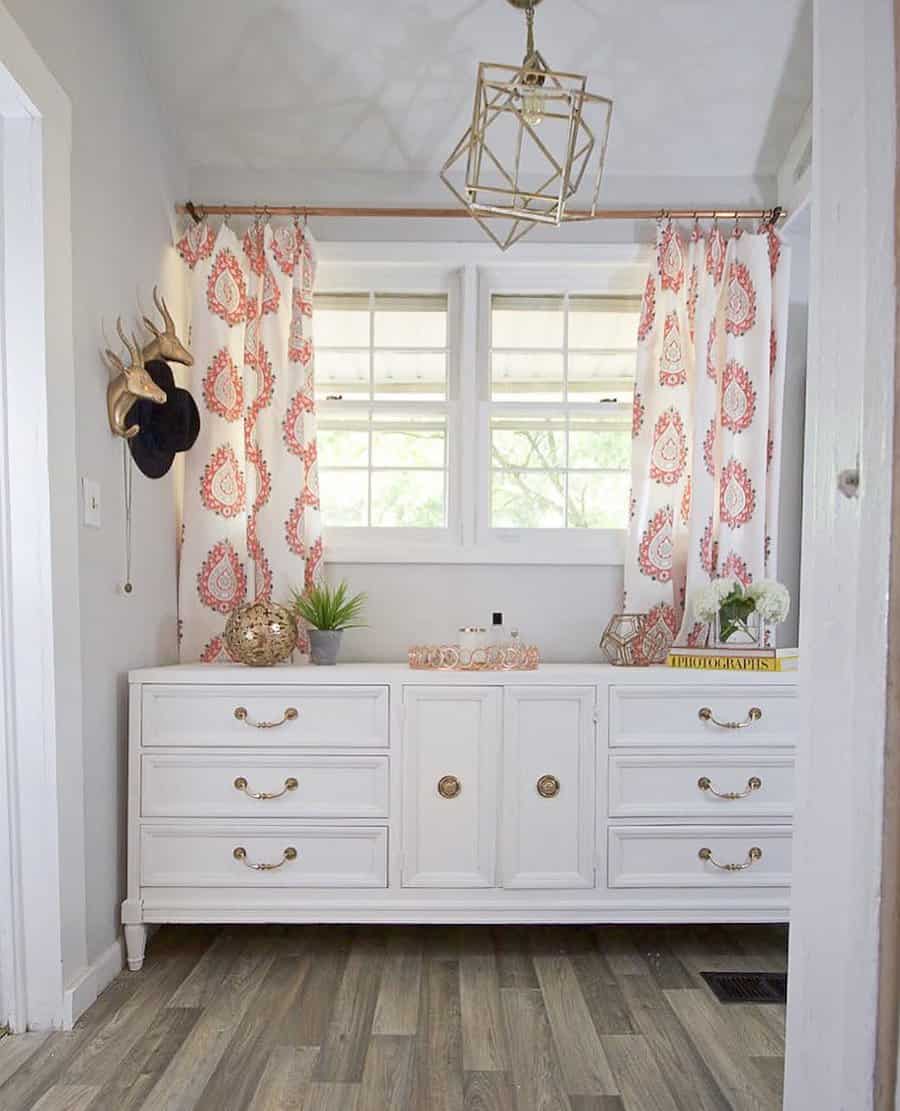 17. Climb Higher with Rolling Ladder Closets
Transform your master bedroom into a luxurious closet haven by embracing creativity. Utilize spacious rooms by incorporating a walk-in closet with a rolling ladder. Divide your clothing collection into separate sections, such as suits, everyday wear, and seasonal items, enhancing organization.
Integrate versatile shelving and cabinetry with drawers, doors for discreet shoe and jewelry storage, and unique accessories. Elevate the ambiance with soft lighting and comfortable seating, turning your dream wardrobe space into a reality that combines both functionality and style.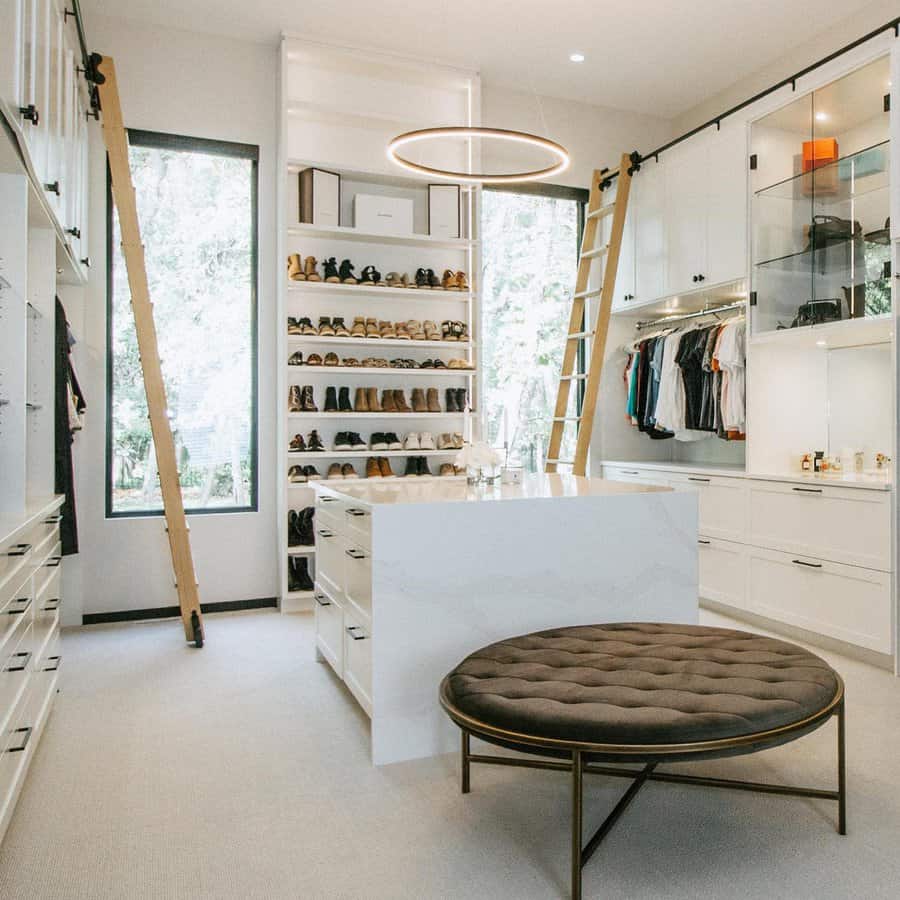 18. Enclosed Storage: The Walk-In's Finest
Crafting a serene master bedroom entails creating a closet space aligned with relaxation and rejuvenation. Opt for a walk-in closet with enclosed storage, promoting optimal organization and visual calm. Dust-free surfaces and minimal visual clutter maintain a tranquil atmosphere.
Dedicate specific spaces for clothes, shoes, and accessories, ensuring aesthetic appeal. With the right master bedroom closet ideas, you'll cultivate a peaceful sanctuary solely for your enjoyment and relaxation.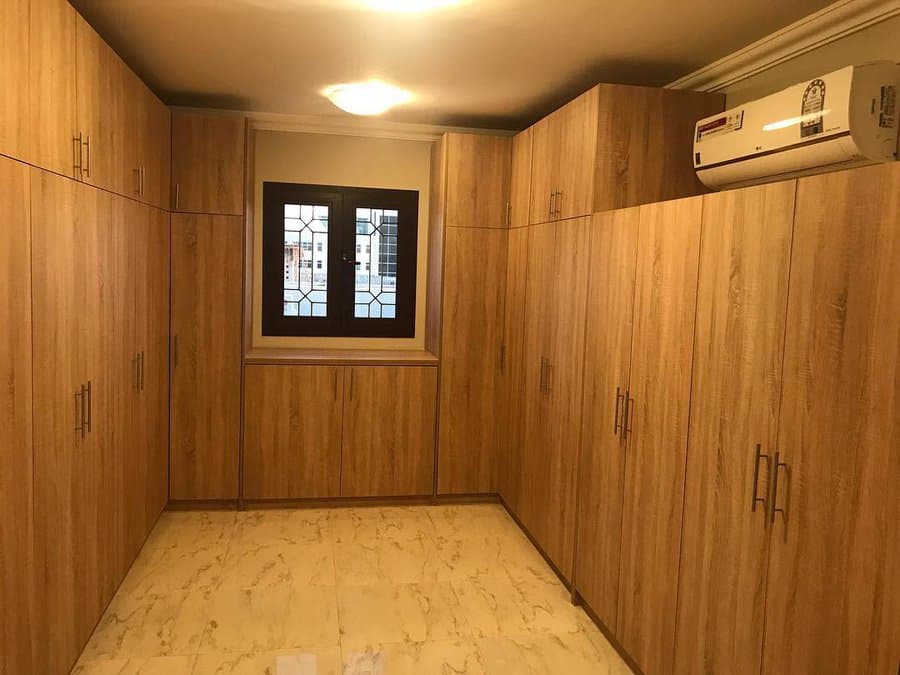 Master Bedroom Closet FAQs
How many square feet are in a walk-in closet?
Walk-in closets vary in size and shape. But the most desirable size for a walk-in closet in a master bedroom is at least 100 square feet.
This sizing assumes that there are two full-time residents using the closet. If more or fewer people will be storing clothing in the closet, then the square footage should be adjusted to match.
With that said, a walk-in closet can be constructed within as little as 25 square feet. And there's nothing stopping you from adding the amenities of a walk-in closet (standalone lighting, diverse storage options, etc.) to a standard-sized closet!
Is removing closet doors a good idea?
That depends on the space.
If you have a small master bedroom and an expertly organized wardrobe, removing the existing closet door can make the room feel larger.
On the other hand, your closet door can help hide mess and clutter out of sight so you can lay back and relax after a long day. Rather than removing the door completely, consider replacing it with a different style or a set of curtains.