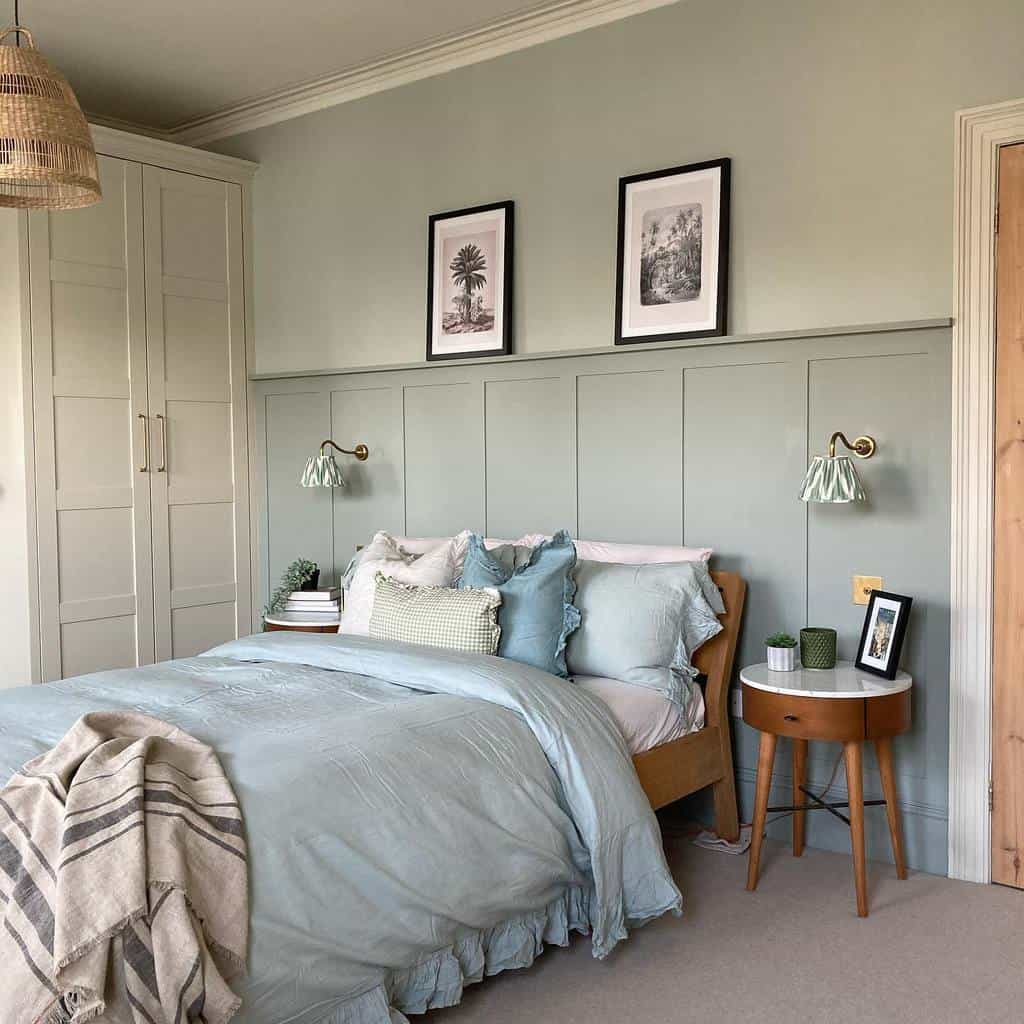 59 Bedroom Paint Color Ideas
While all of us need our bedroom to be a restful sanctuary, what we find appealing is as different as our DNA. A dramatic black-walled bedroom may feel perfect for some, while others find black completely depressing.
No matter your personal color preference, Benjamin Moore, Sherwin Williams, and other paint companies have the perfect bedroom paint color for you. Check out our favorite bedroom paint ideas to try out in your own home.
1. Black
Don't automatically shy away from black when considering your bedroom paint color options. Black is a classic paint color that pairs well with any other color you like. To prevent black bedroom paint from looking dull, use it on wainscoting or shiplap to provide light-catching texture.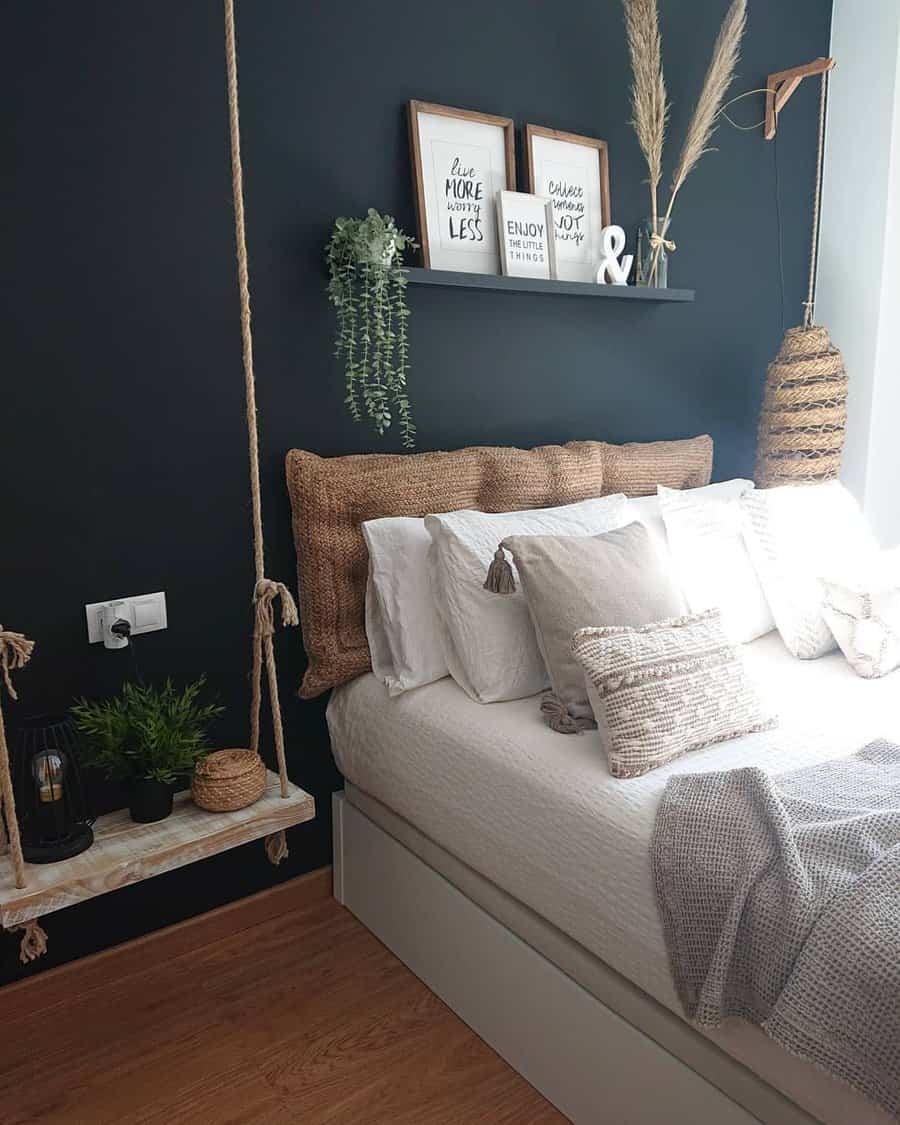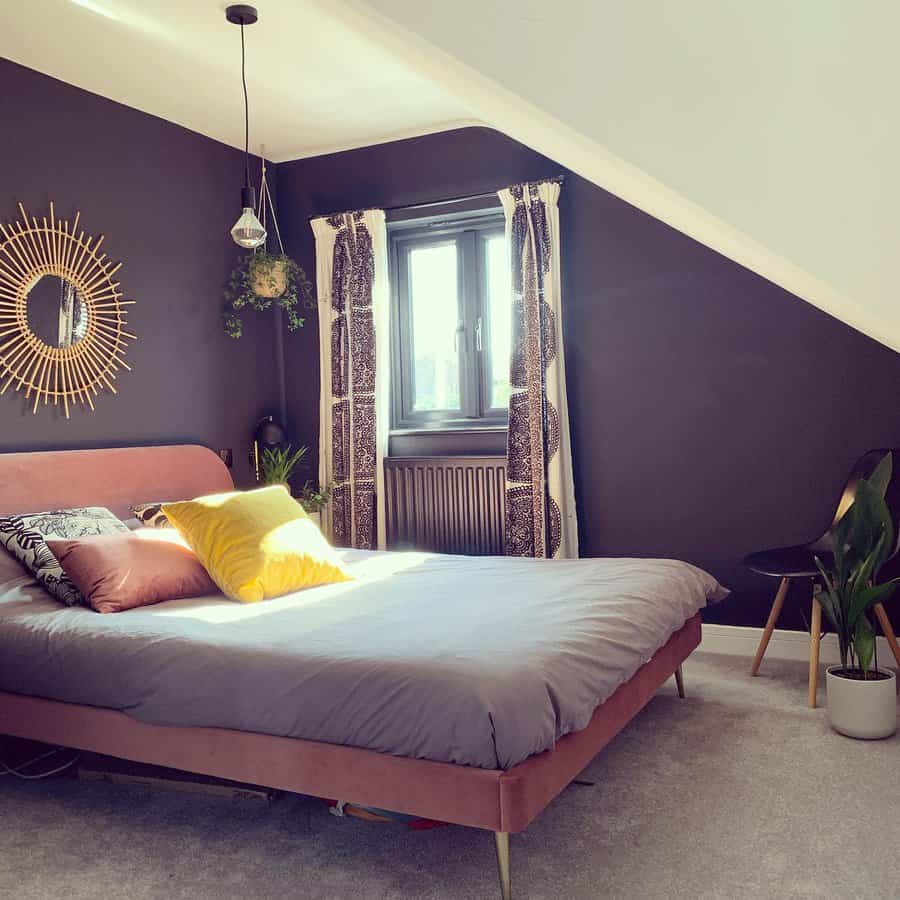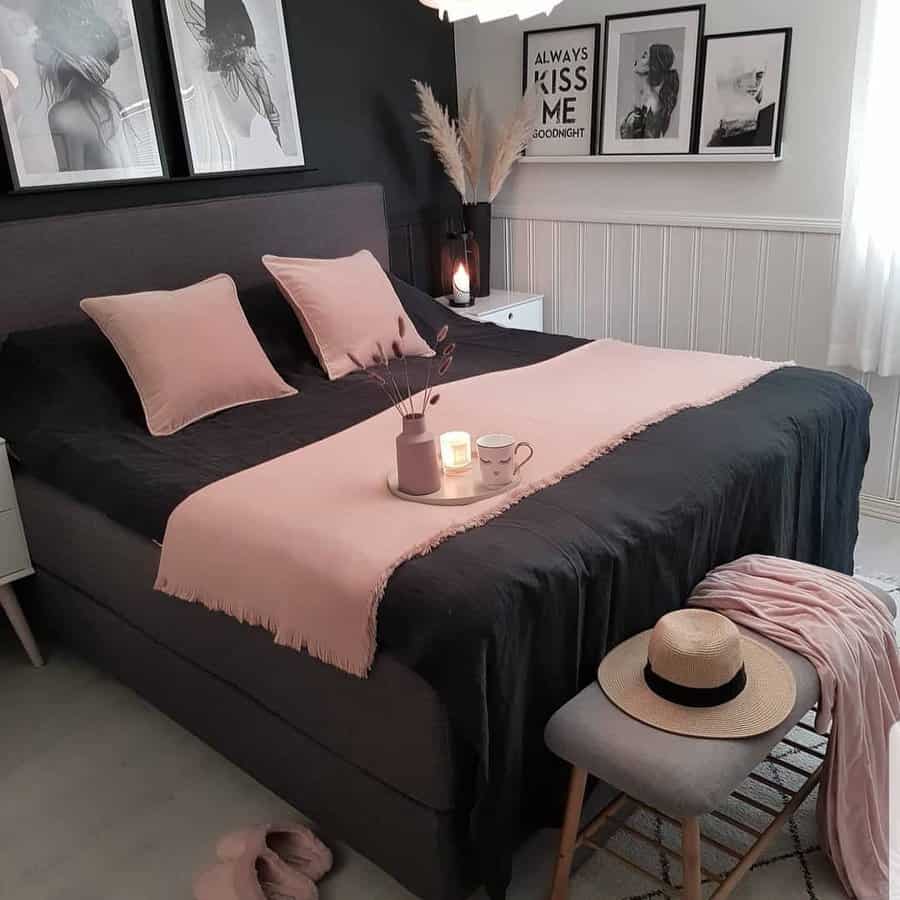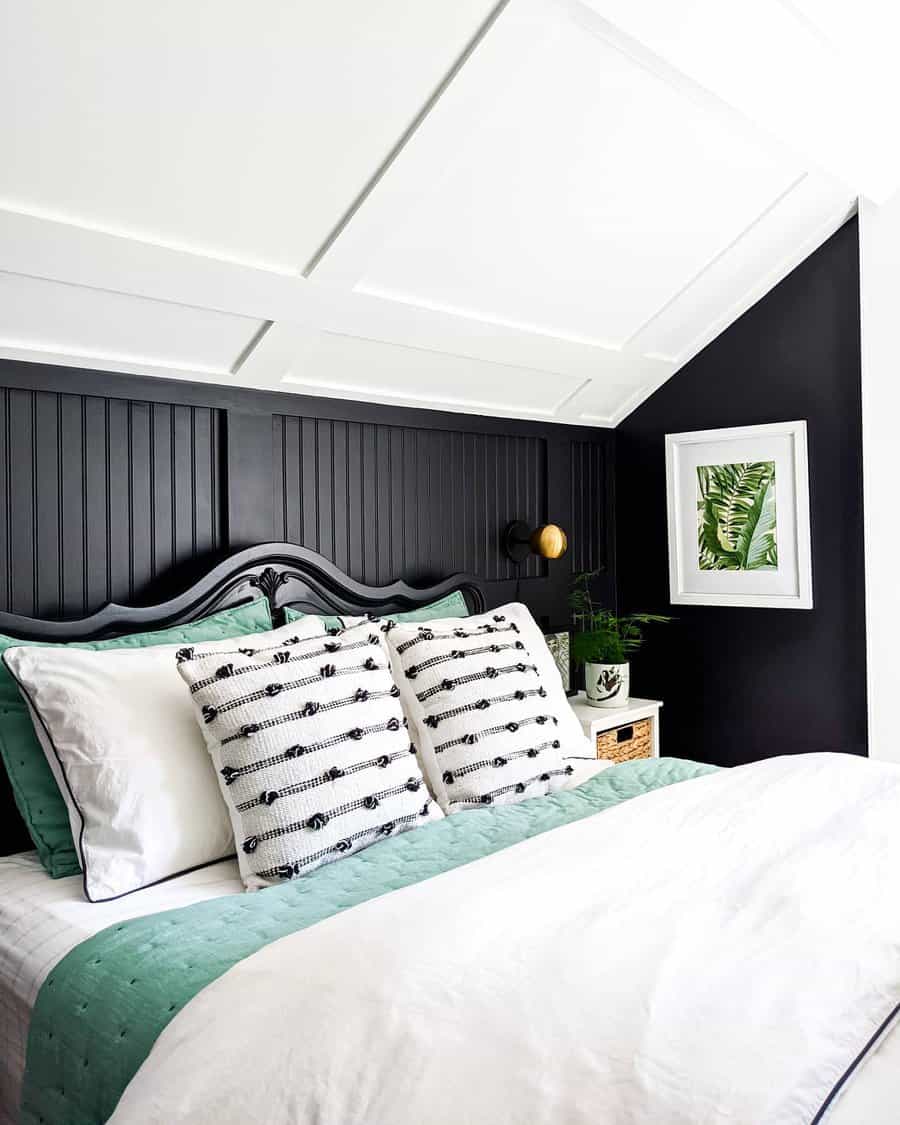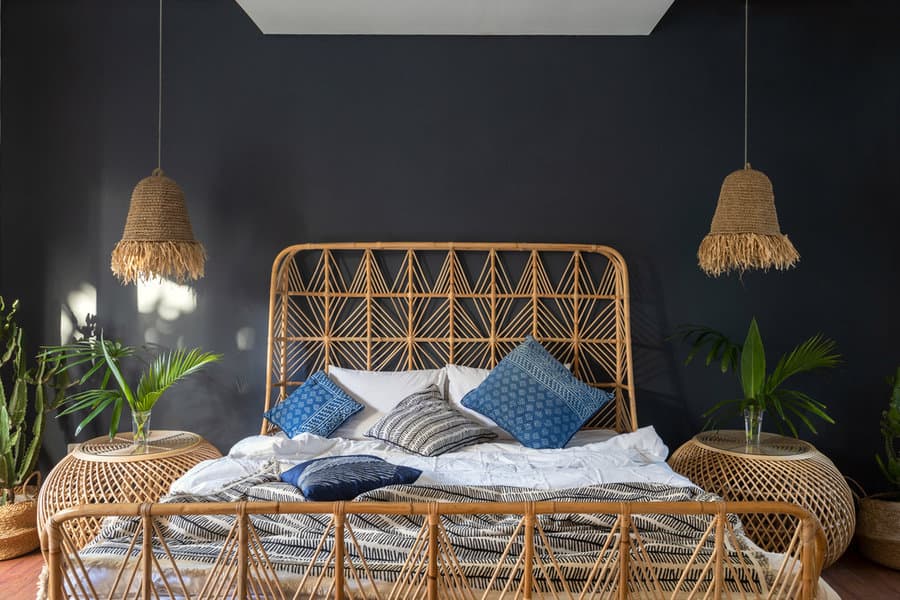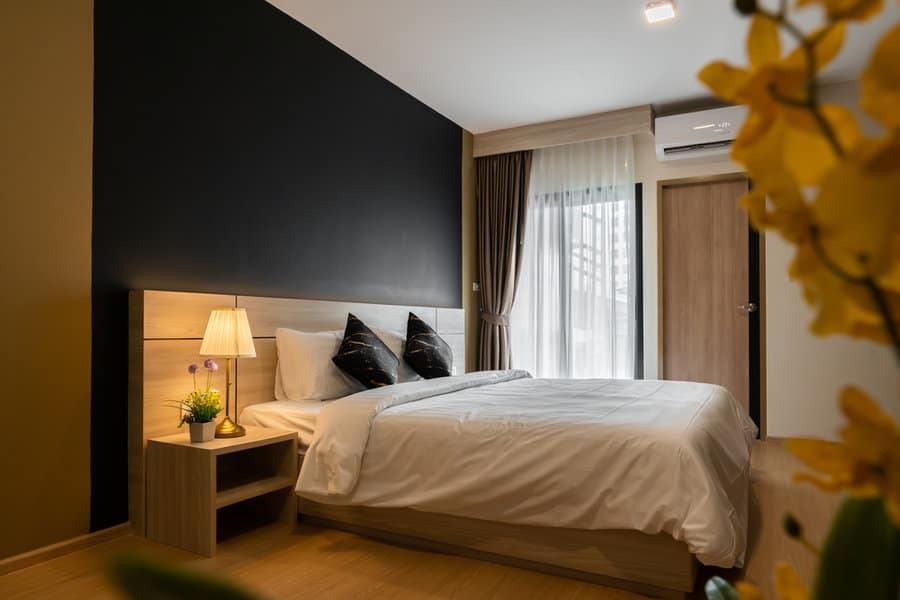 Black is a fabulous paint idea for an accent wall, especially behind the bed. Display lighter colored artwork and decor on your black wall, and be sure to have a few other black accents in the room to balance your color scheme. "Onyx" by Benjamin Moore is a deep black with warm undertones—a great black shade for bedrooms.
See more black bedroom ideas here.
2. Bold
Bold and bright color combinations add a lot of fun to the bedroom. If your personality is loud and proud, don't feel compelled to resort to a pastel or neutral bedroom color scheme. Brilliant teal, warm plum, deep rust, or goldenrod are all excellent bold bedroom paint color options.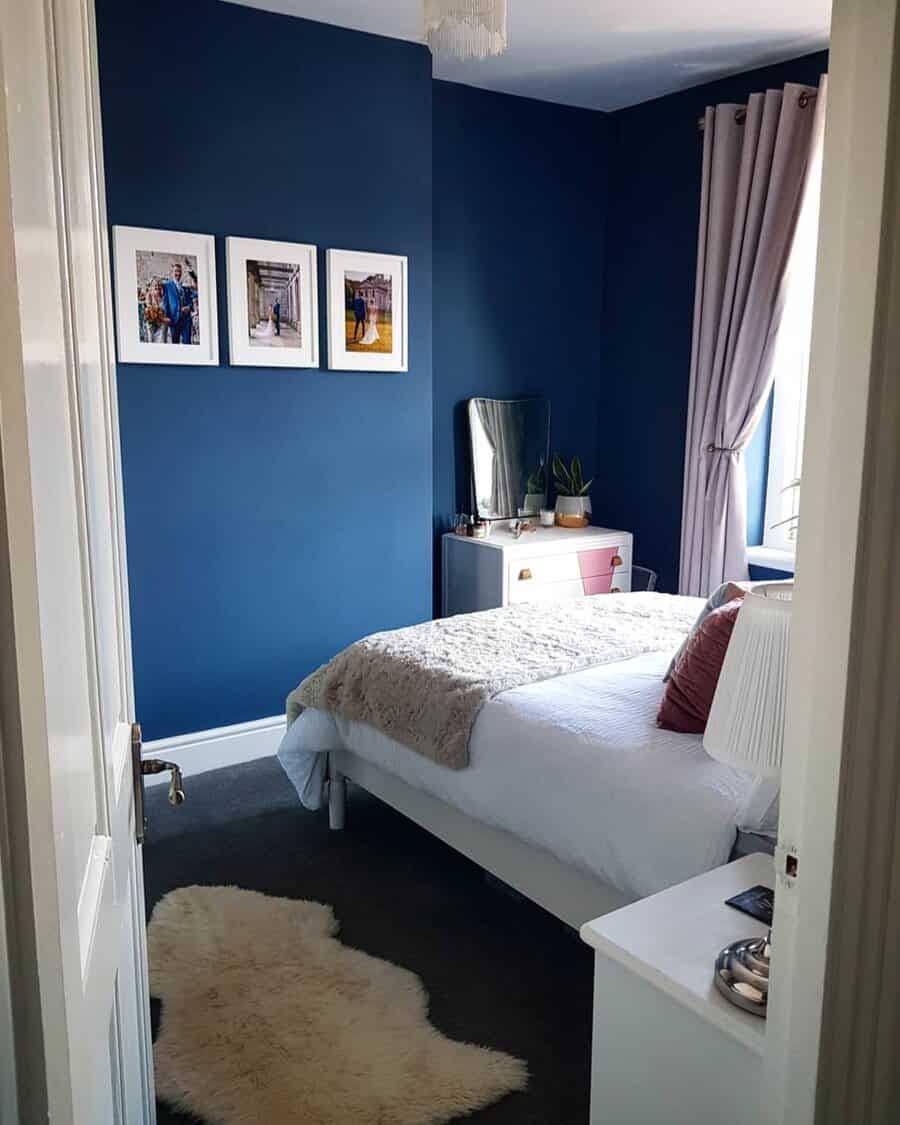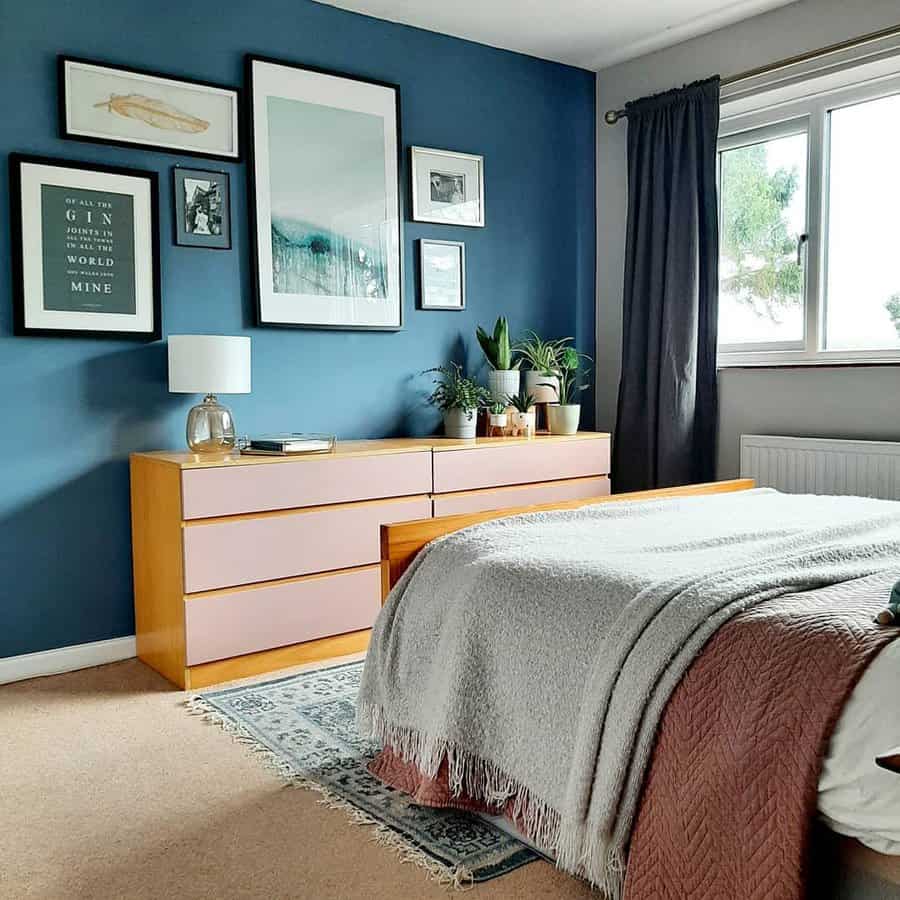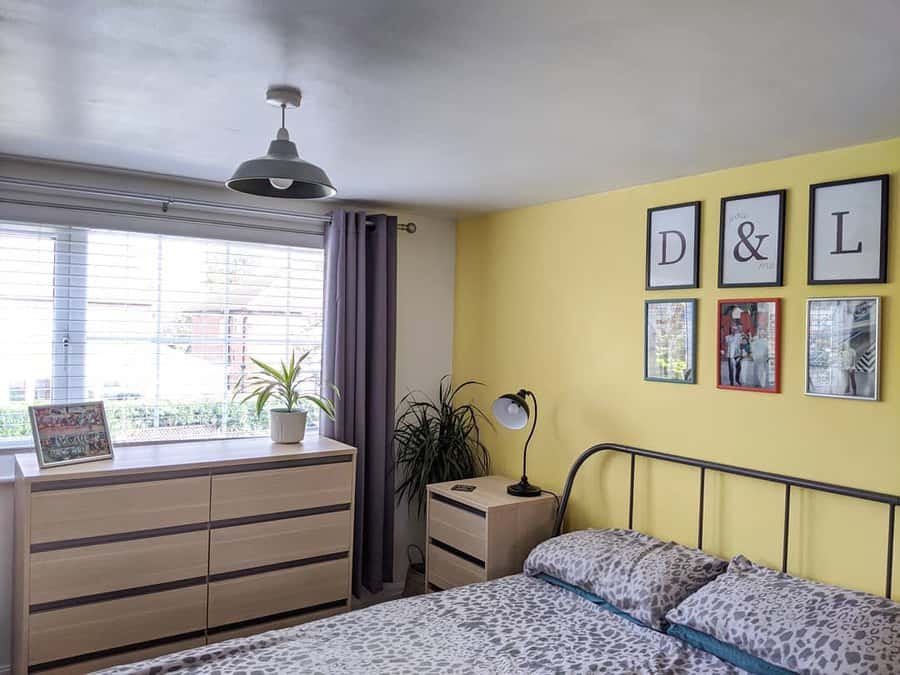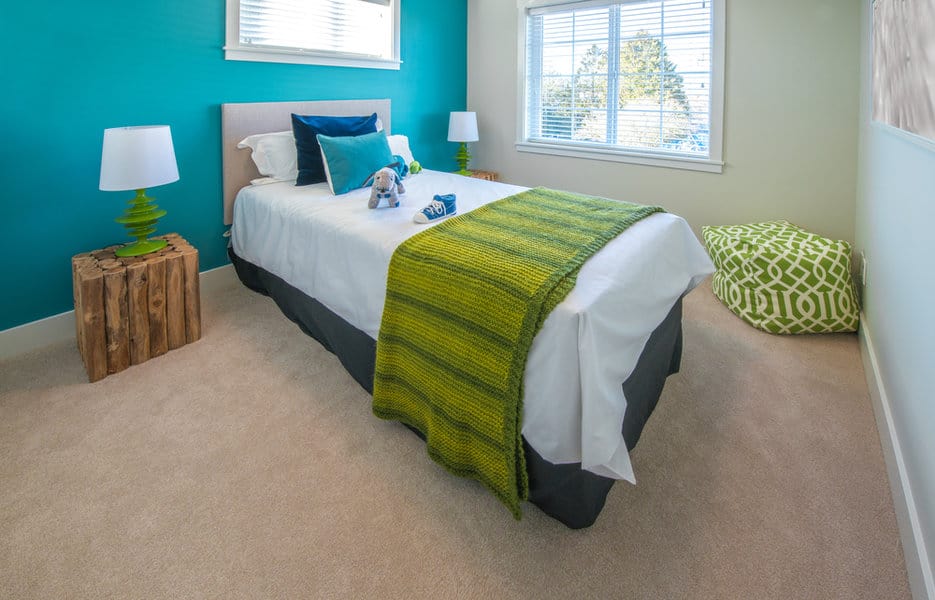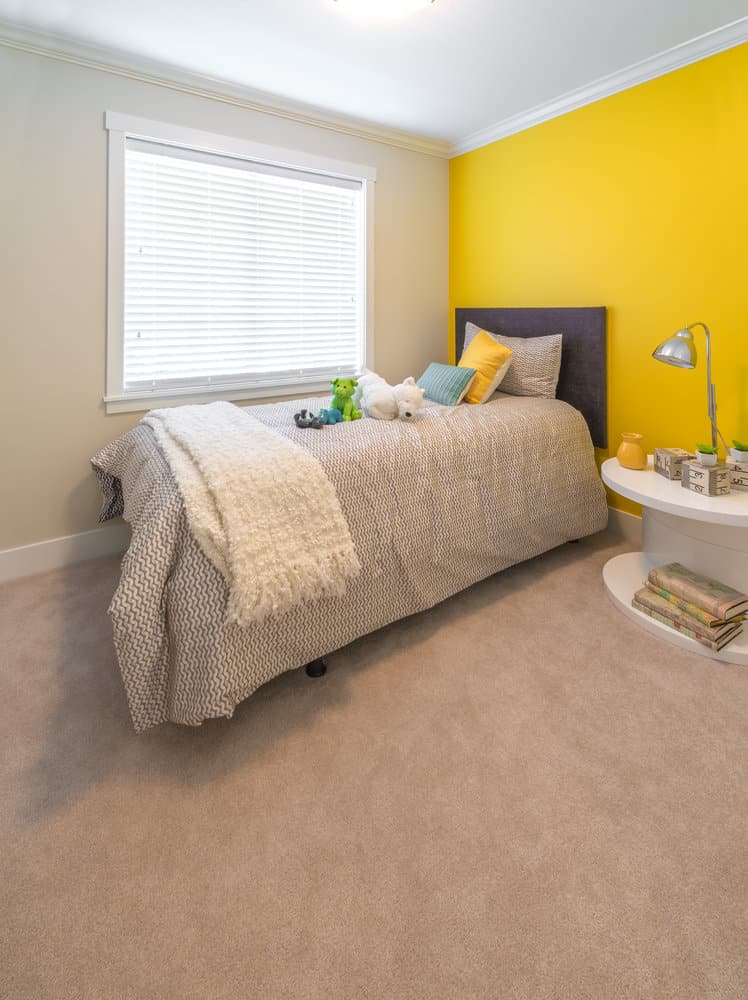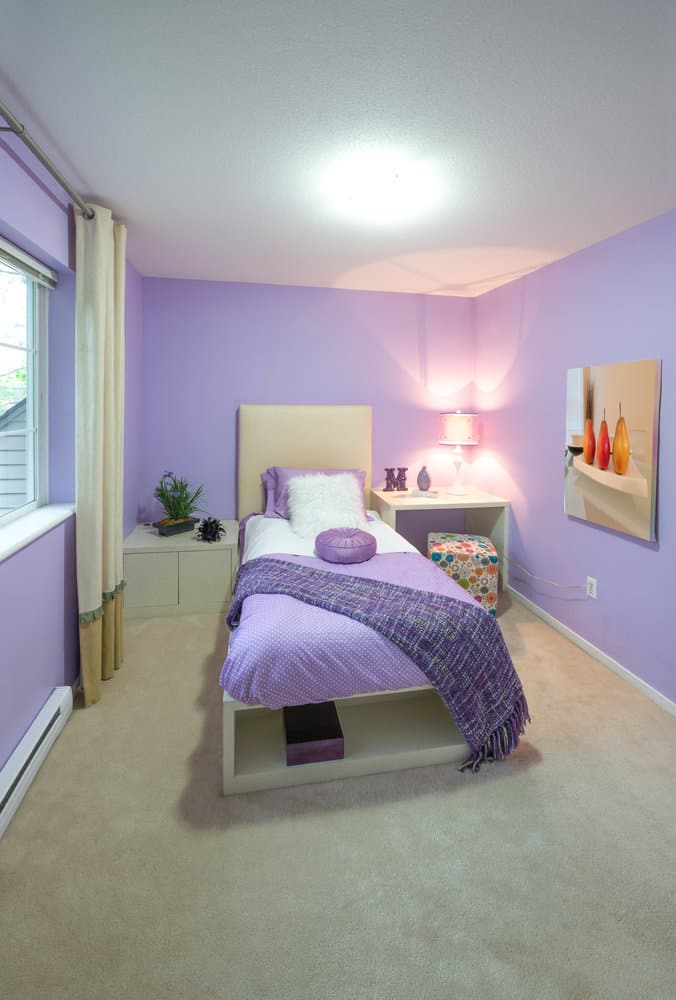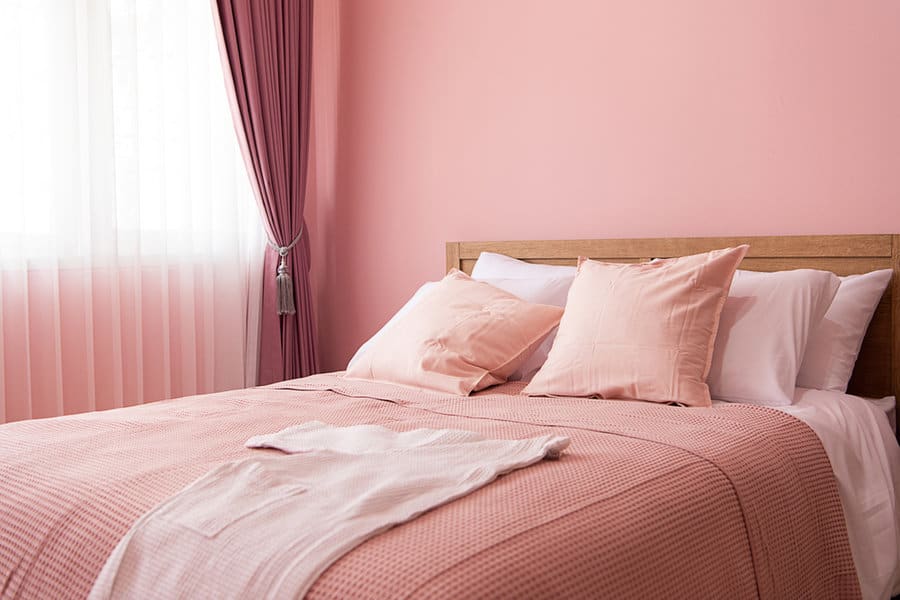 Still, a bedroom filled with too many bold colour combinations can interfere with creating a peaceful sleep environment. If so, use your favorite bold color on bedding, rugs, pillows, and perhaps an accent wall.
3. Ceiling
We often forget about ceilings when our mind is on interior design, opting to leave them their standard builder's white. But the ceiling is yet another blank canvas for creating the best bedroom on the block. And think about it: we do spend a lot of time looking up while we're lounging in the bed.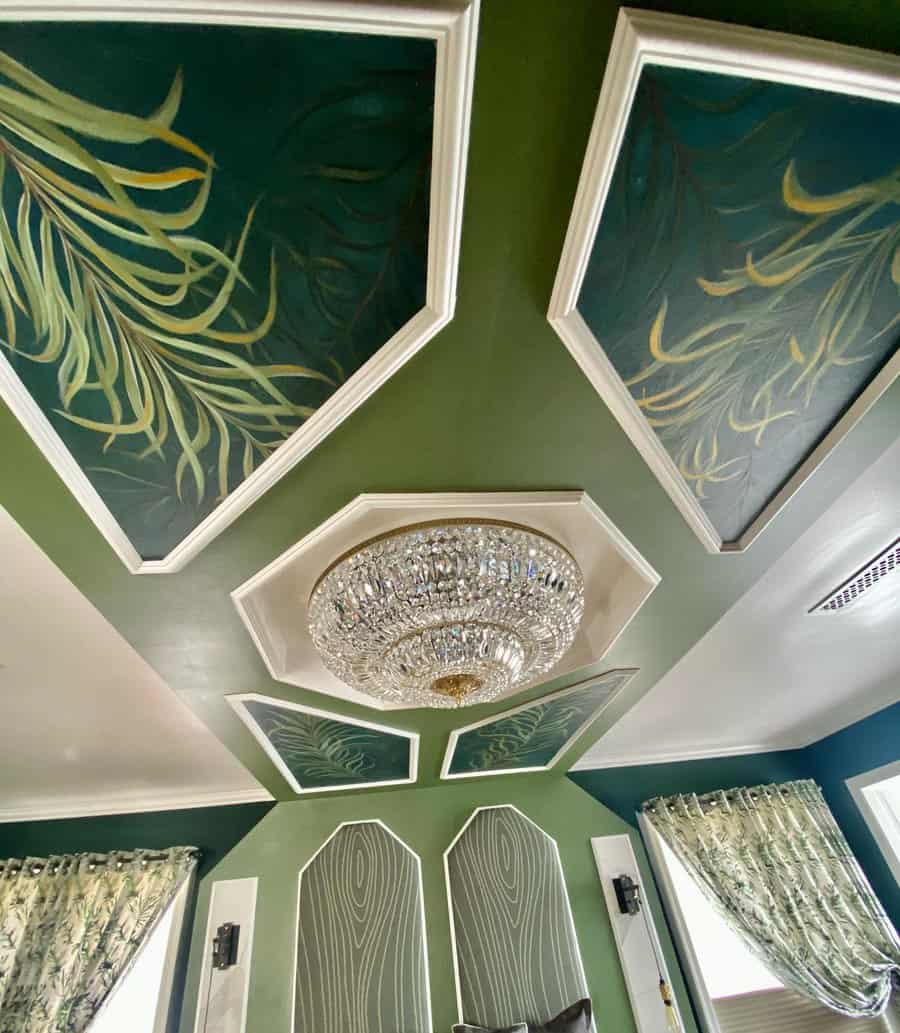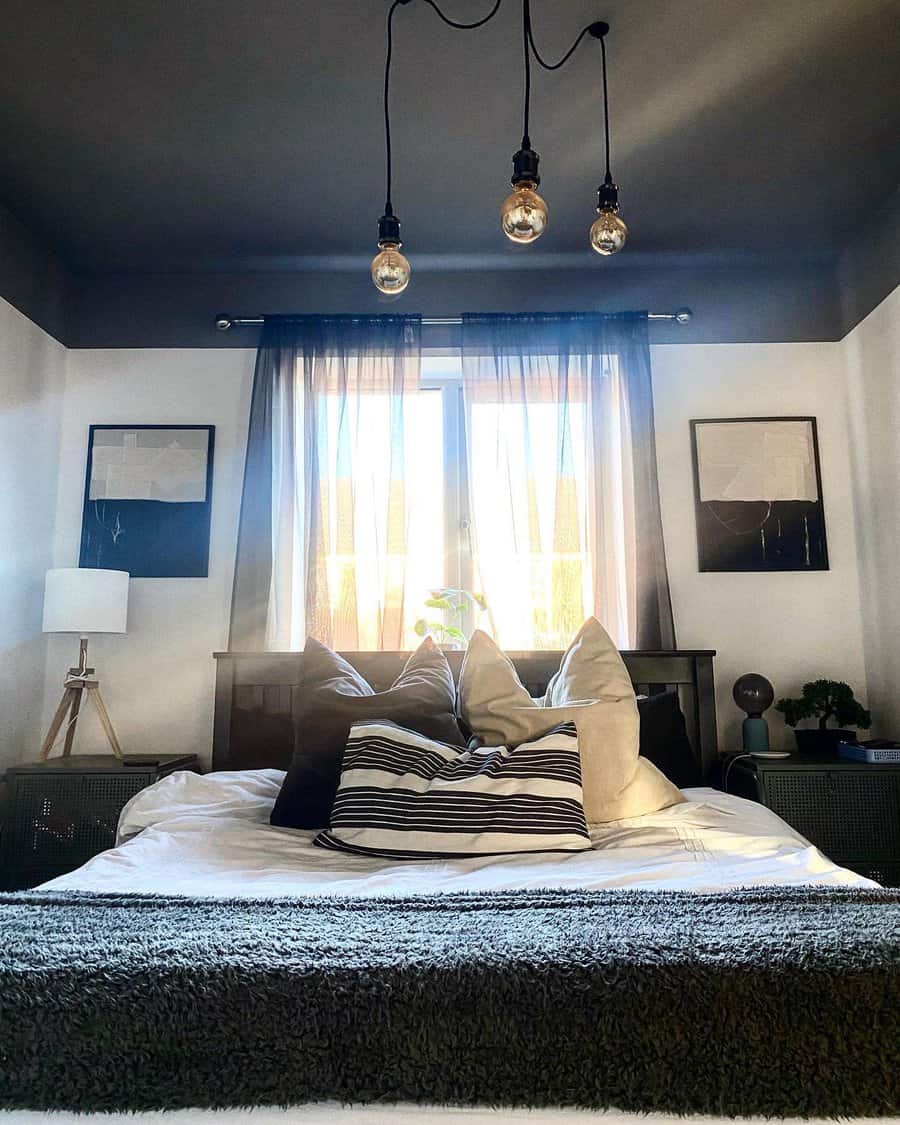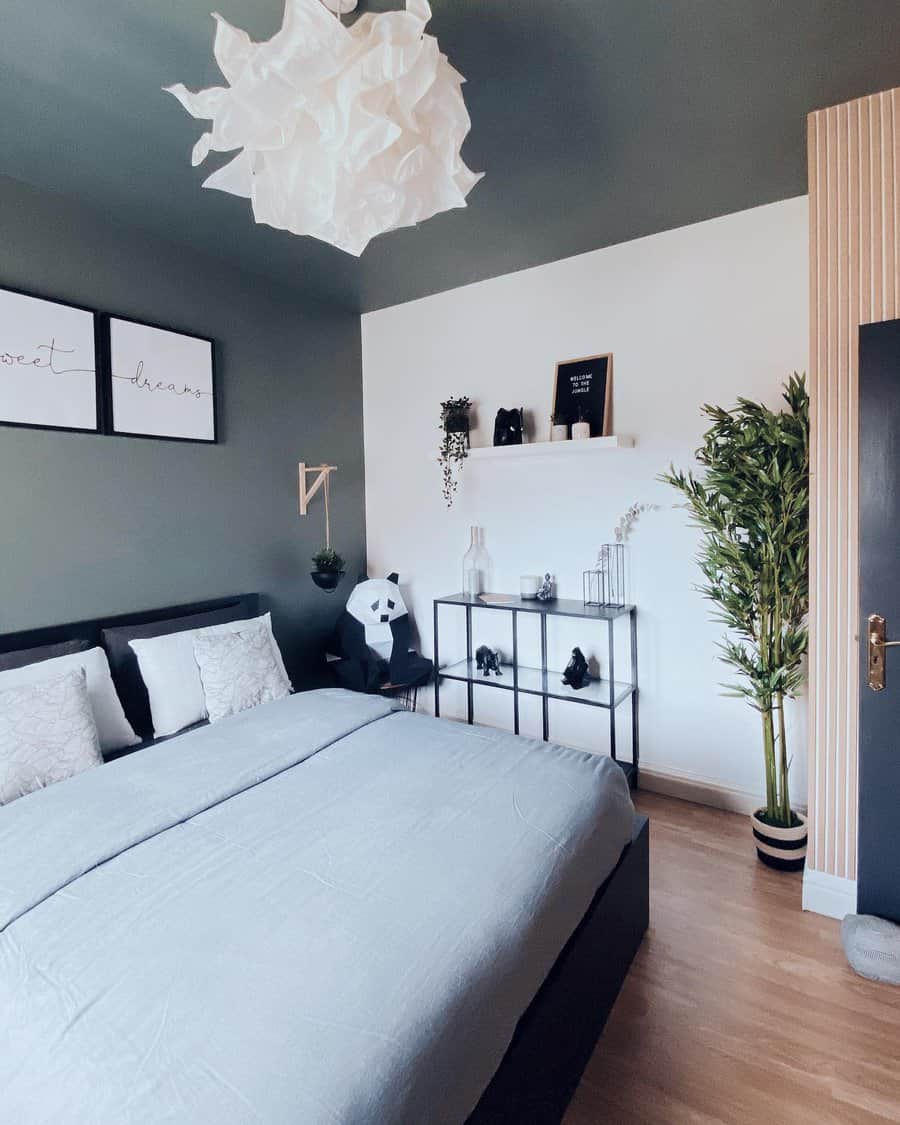 Add your ceiling to the room's design by carrying the bedroom wall color onto the ceiling. You can also paint it a completely different color, perhaps one that's already on an accent chair or your bedding fabric. Paint stripes or geometric shapes, or even hire an artist to paint a ceiling mural a la Sistine Chapel.
Note that certain types of paint are better for ceilings than others. Use the interactive tools on the Benjamin Moore website to see which type of paint will work best on your ceiling.
4. Dark
Taking inventory of your existing decor is an important first step in choosing a bedroom wall color. If most of your furniture and bedding is light colored, adding a darker shade from the color wheel helps those items stand out.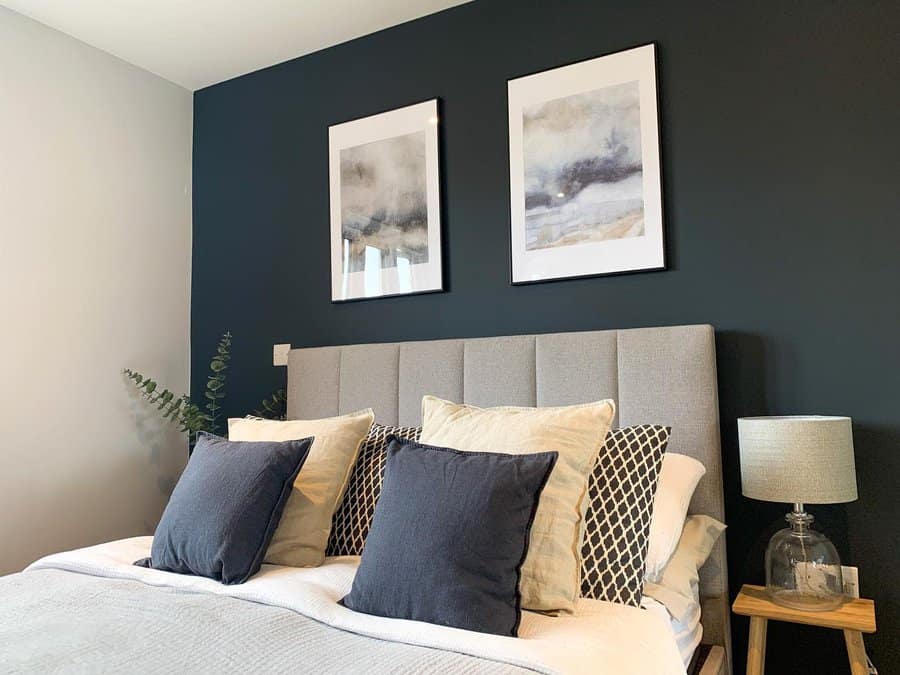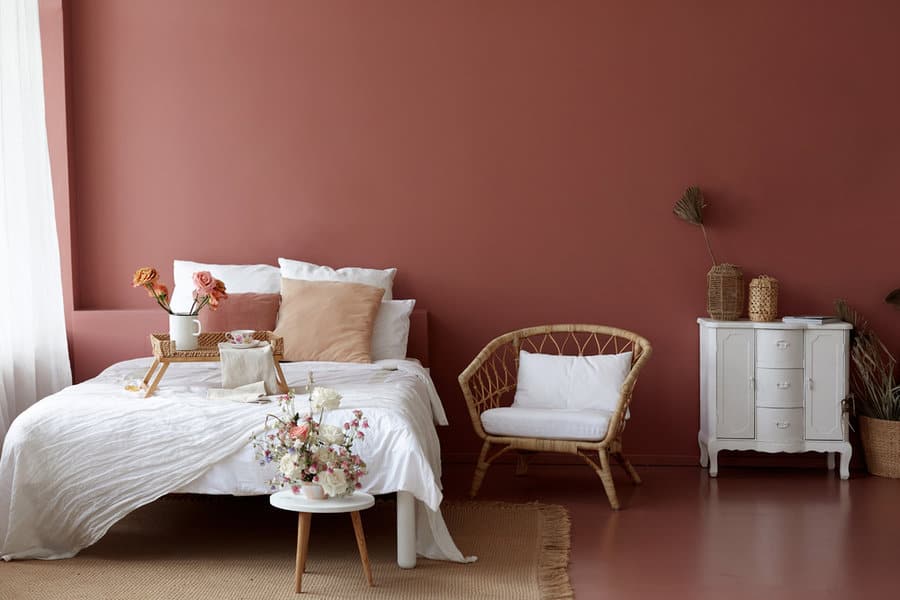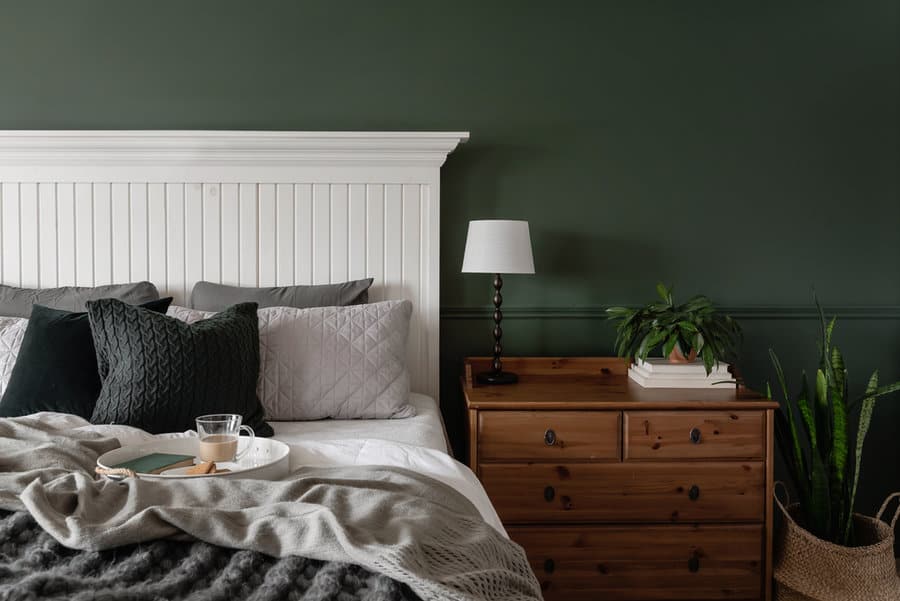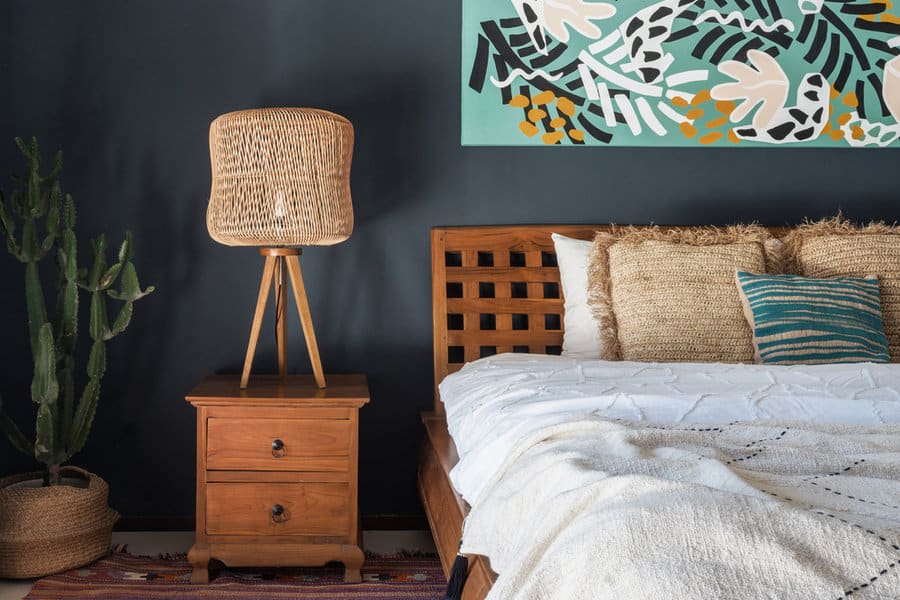 A dark wall paint color can be warm and dramatic, enhancing the room's cozy factor. Dark navy blue and deep greens are classic master bedroom colors that pair well with traditional, dark stained wood furniture. To keep a dark color scheme from overtaking the room, paint three walls that color then cover an accent wall with wallpaper that pulls together your unique color combination.
5. Mural
Wall murals are as old as humanity itself, tracing back to the earliest cave paintings. While intricate murals are best left to professional artists, simple mural designs are easy for any DIYer to accomplish.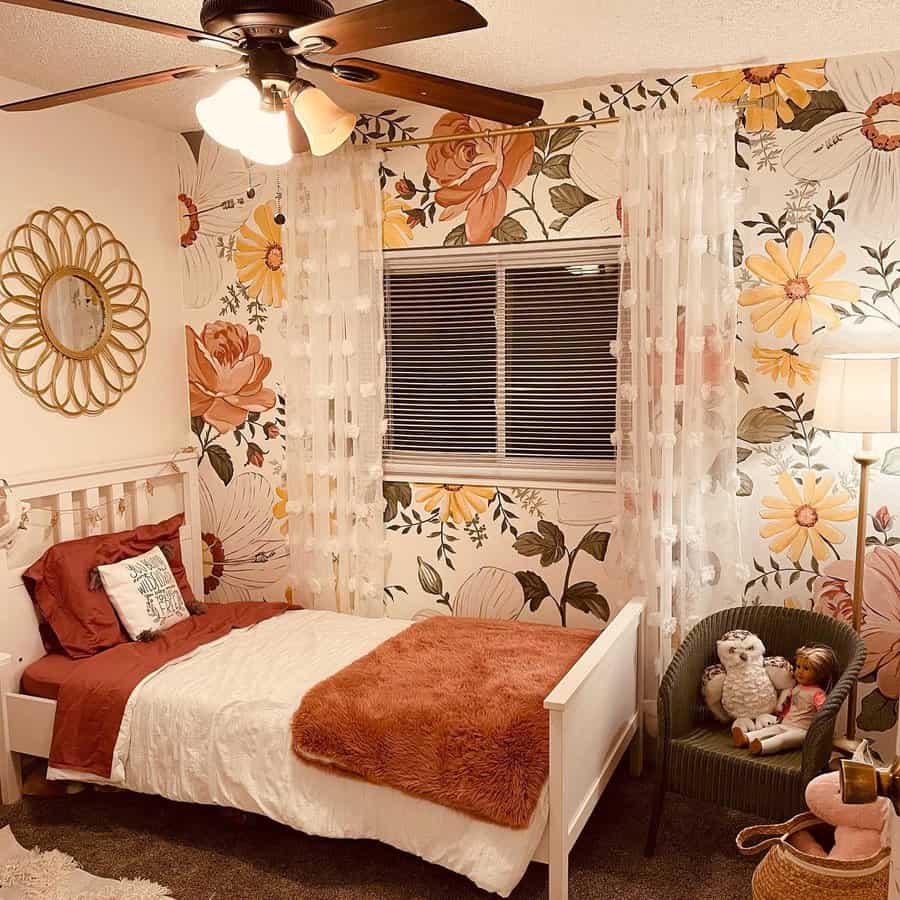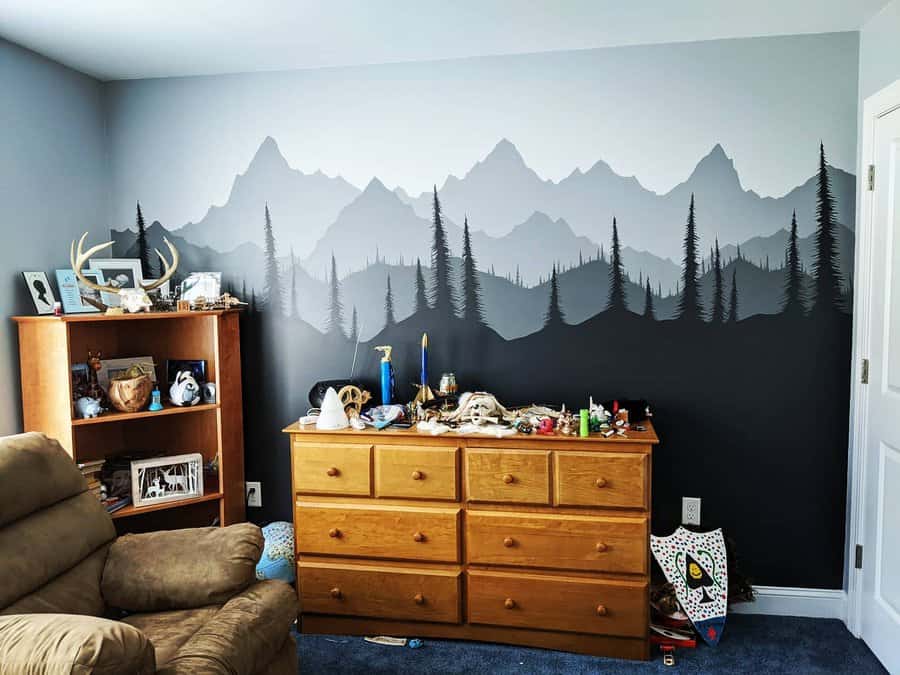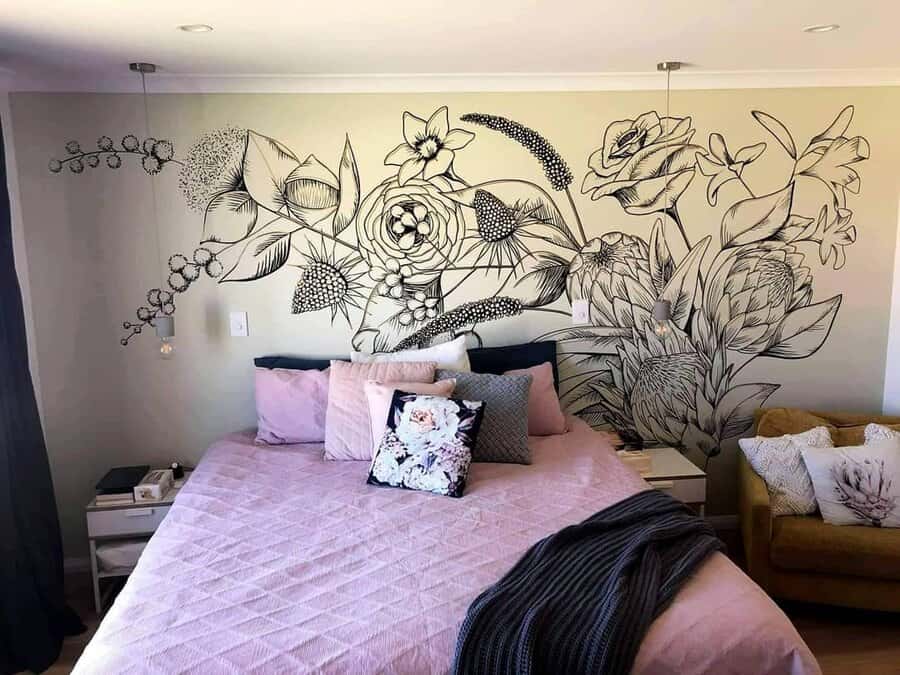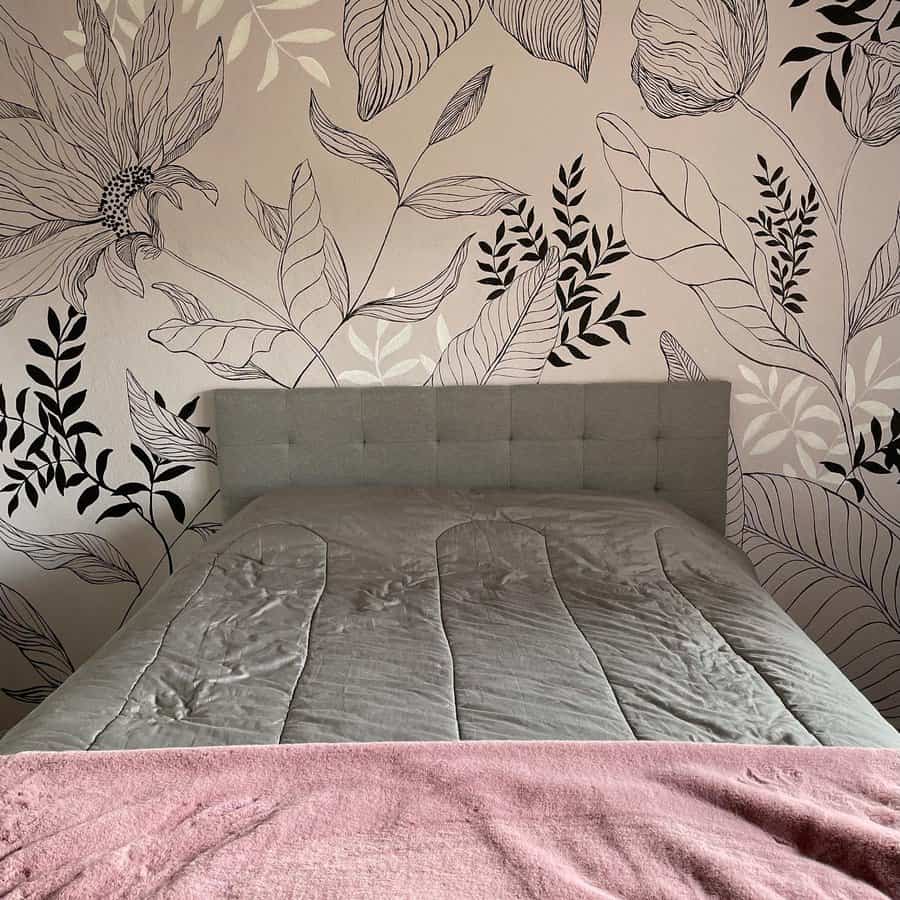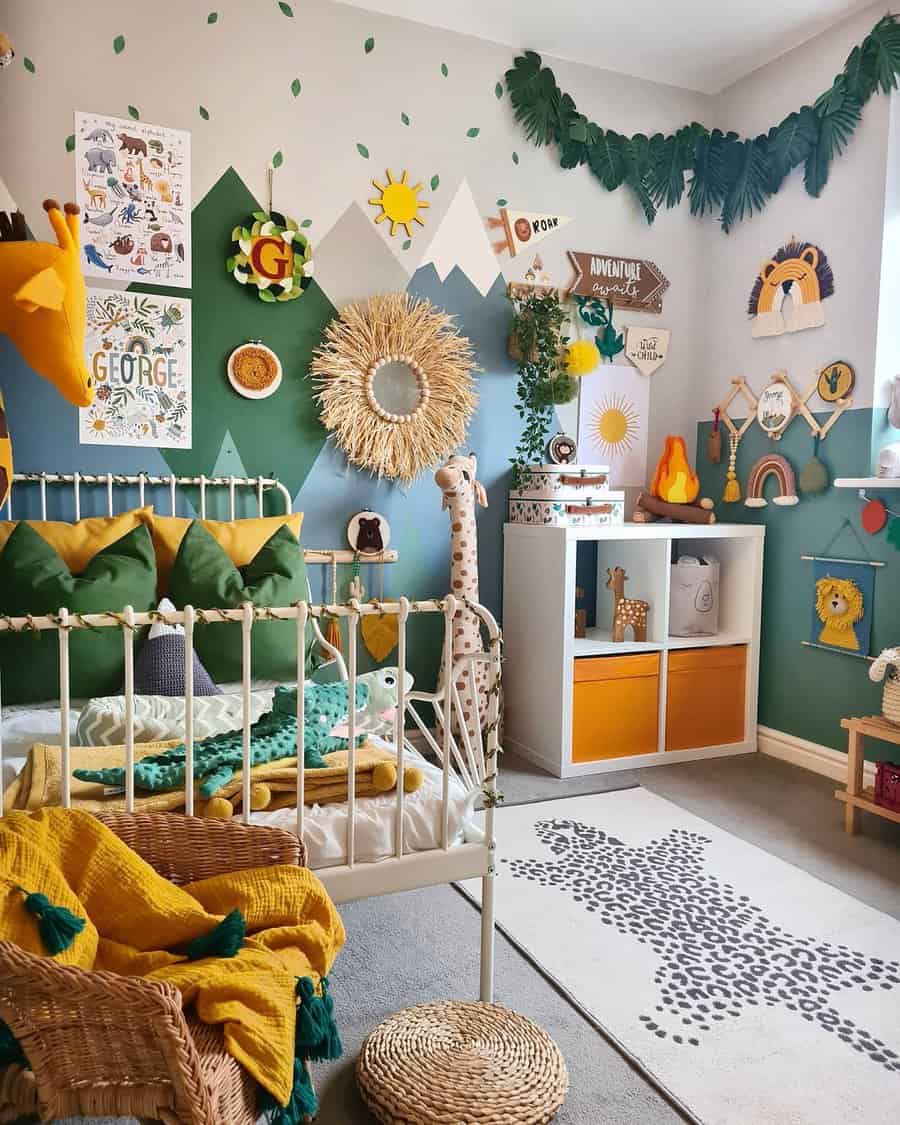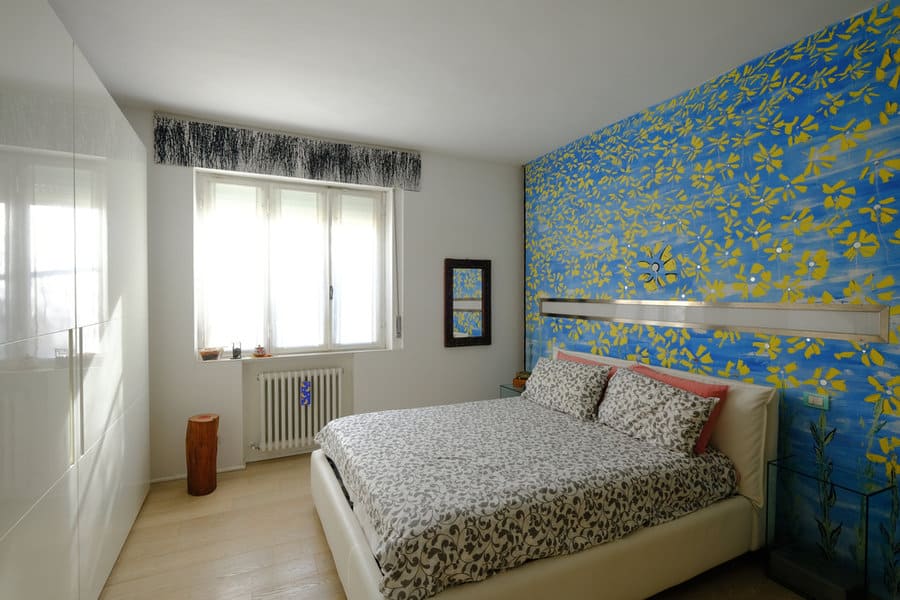 Check out this video for a simple but stunning mountain mural suitable for the master bedroom, nursery, or guest bedroom. All you need is several shades of grey paint (we recommend sample-sized cans from Benjamin Moore) and the ability to draw jagged lines:
6. Muted
Muted colors are a beautiful middle ground between bold and pale color options. Not quite dark and definitely not pastel, a muted shade of blue, green, or purple is often the best color shade for bedroom walls. These earthy wall colors are simultaneously soothing and impressive.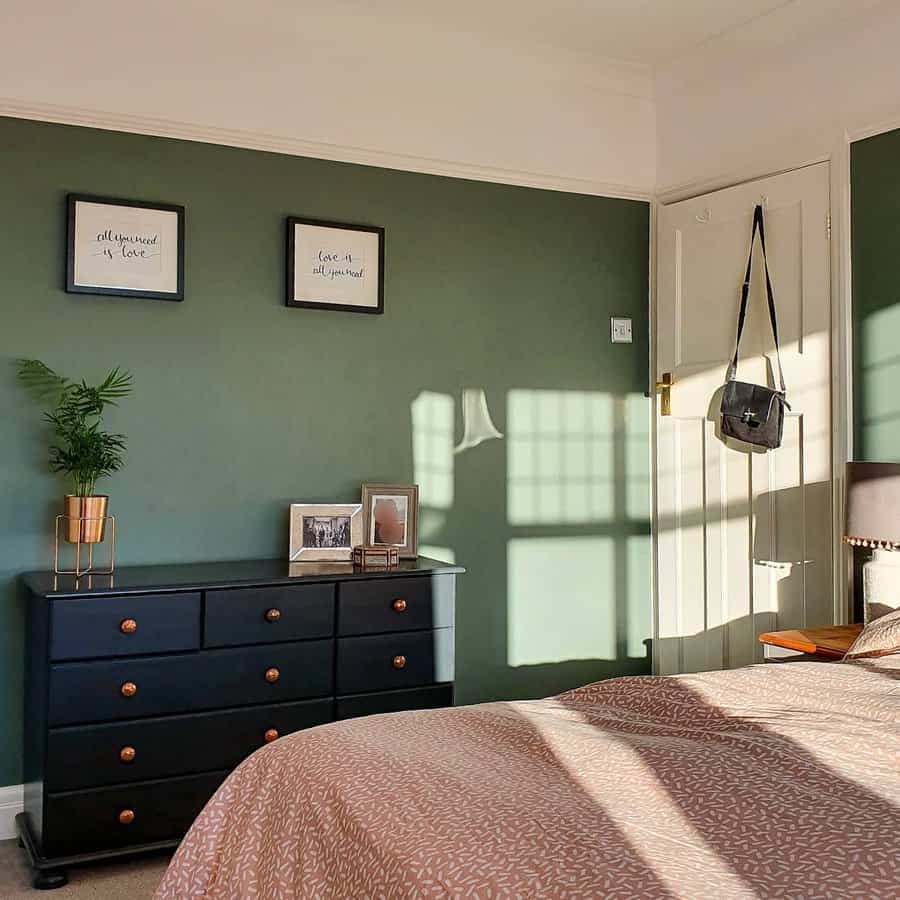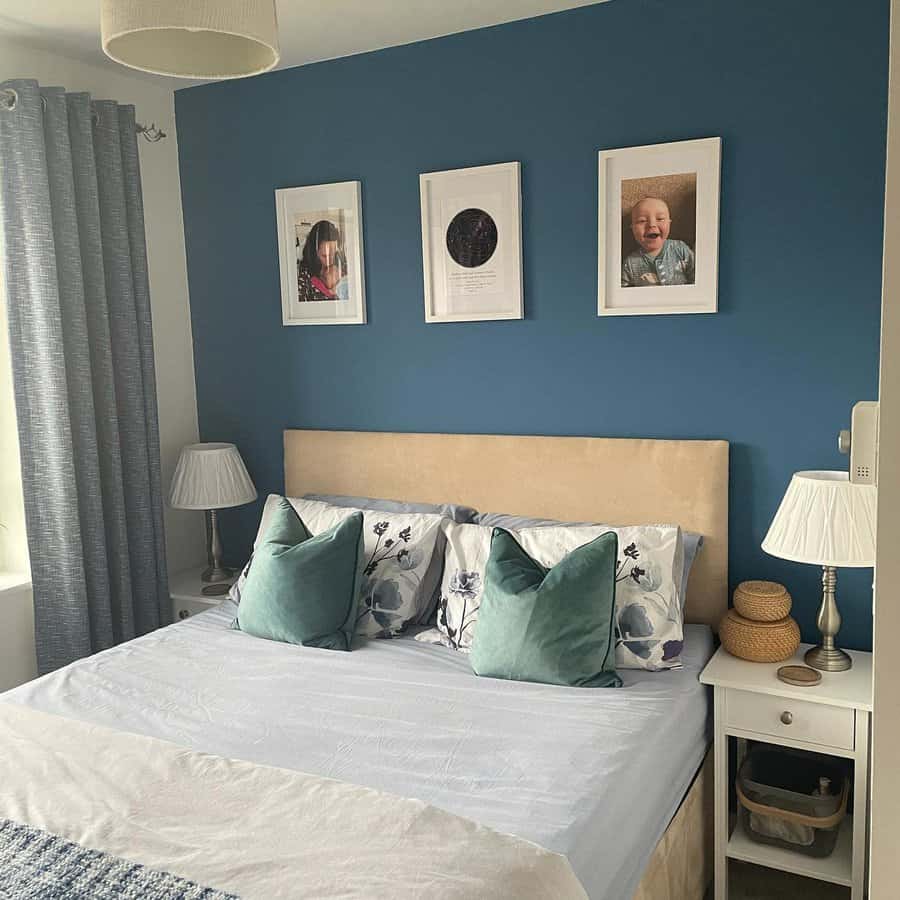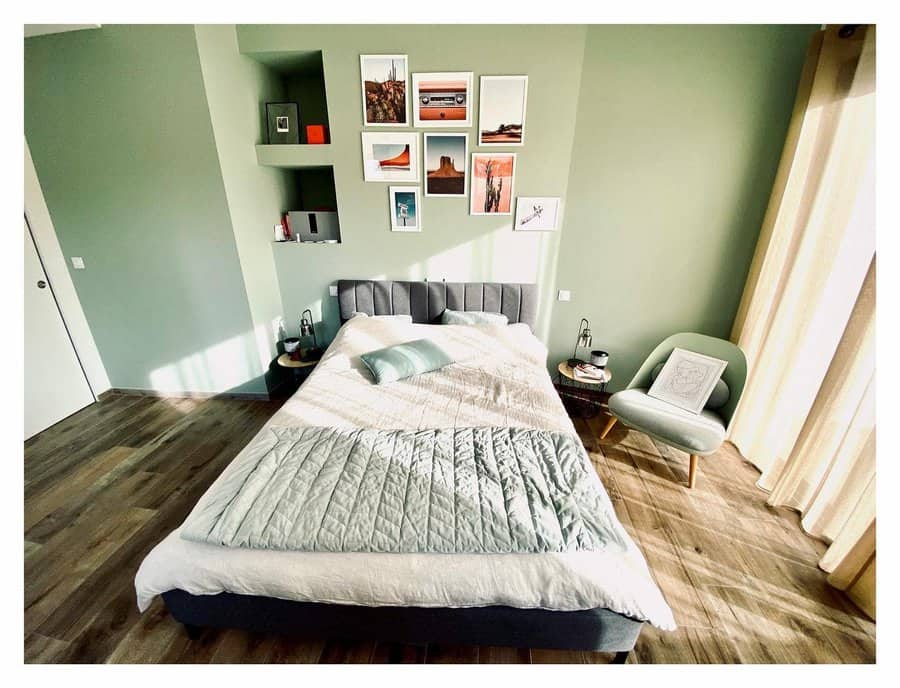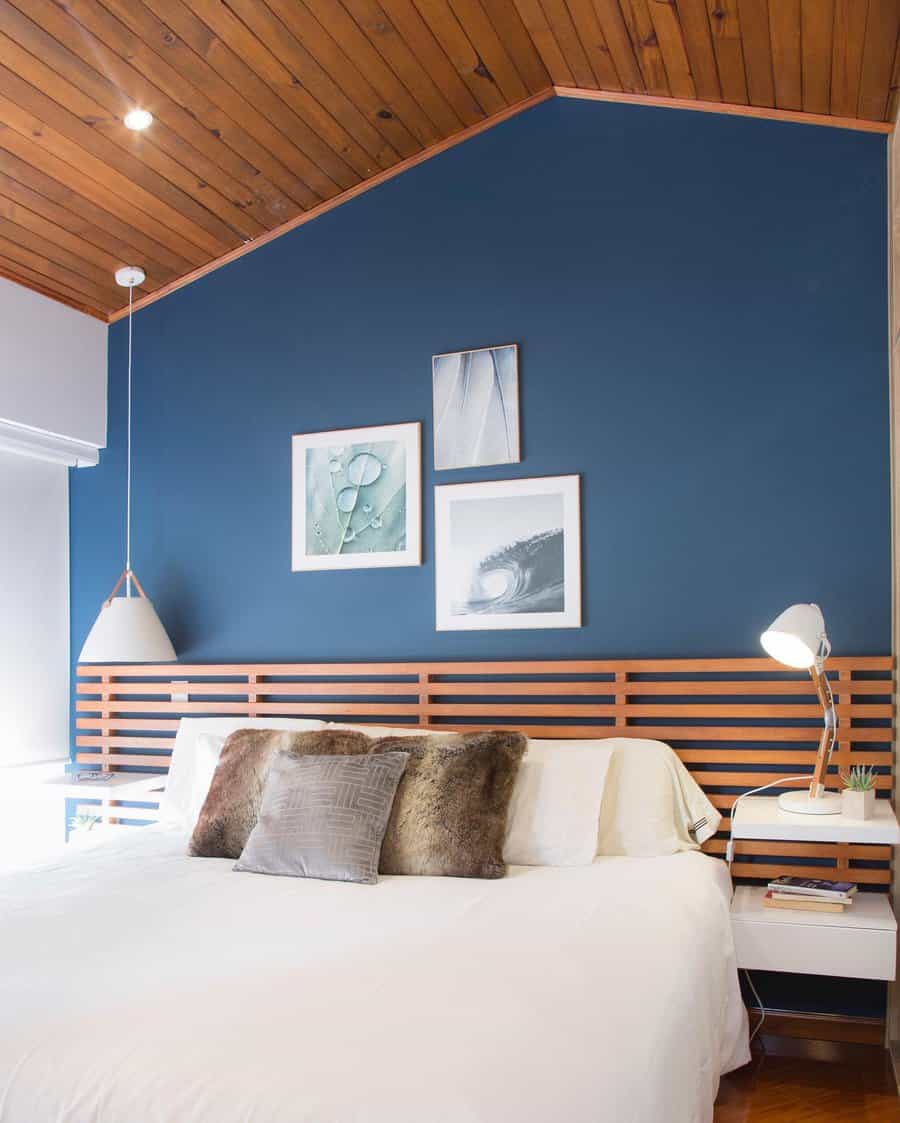 PPG Paints chose a muted color called Olive Sprig as their 2022 Color of the Year. This soft, subdued green brings to mind aloe vera or soft sage and works equally well in the bedroom as a main or accent color. Pair it with light wood tones, clean white, and accent the room with a favorite darker color.
7. Neutral
A neutral color scheme is a trendy choice that also transcends time. Focusing on warm woods and soothing earth tones, a neutral bedroom color creates a peaceful vibe that ensures good sleep. Some best-selling Benjamin Moore paint shade options in the neutral family include Muslin, Pale Oak, and Manchester Tan.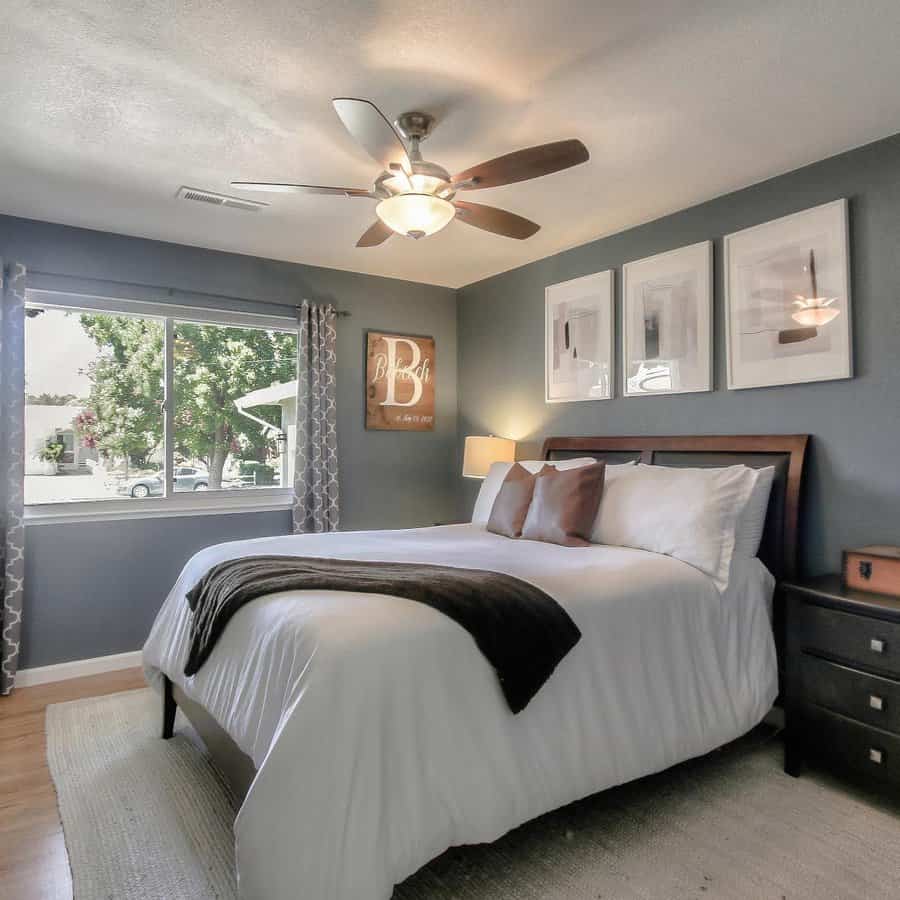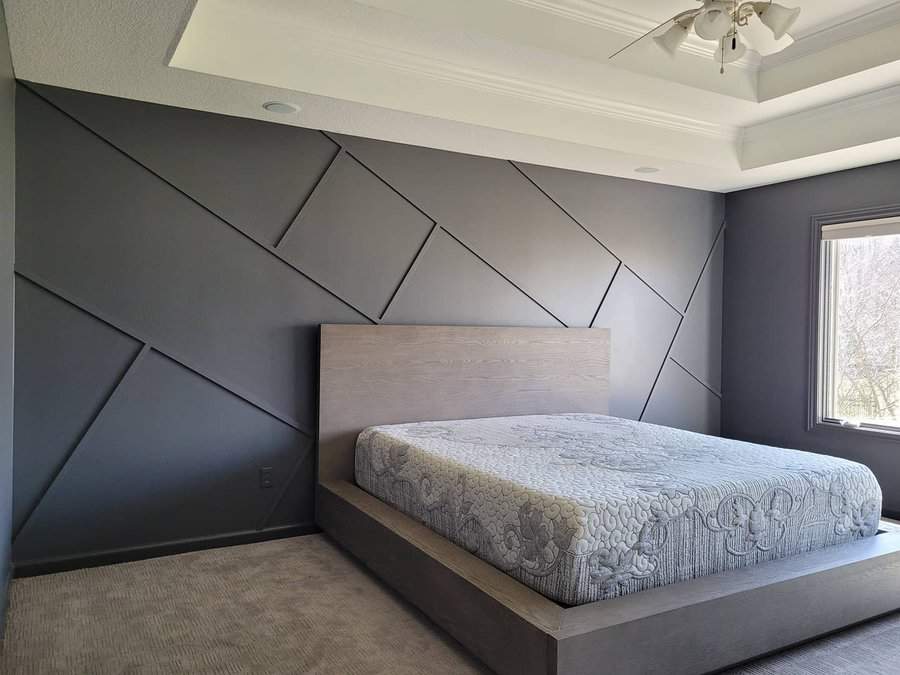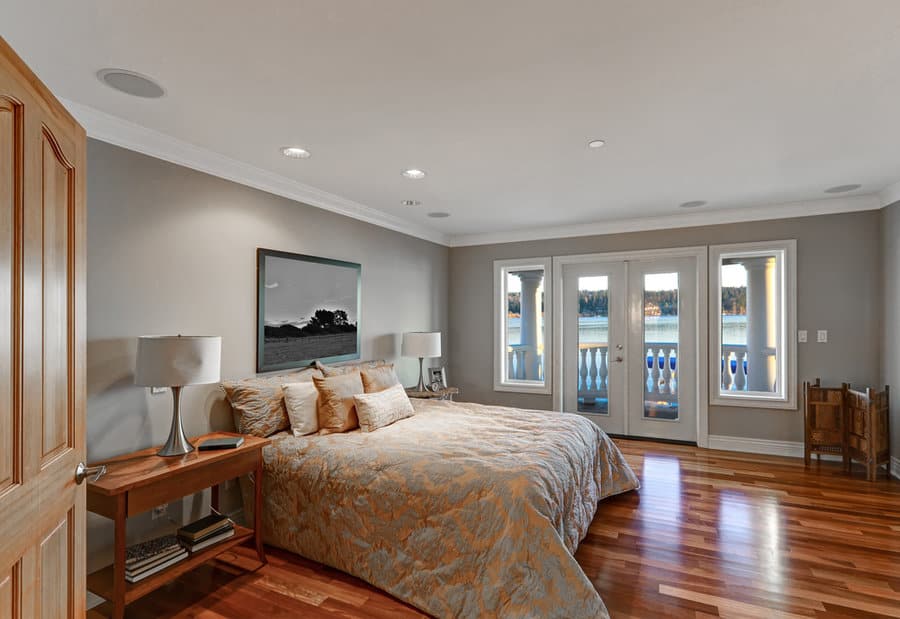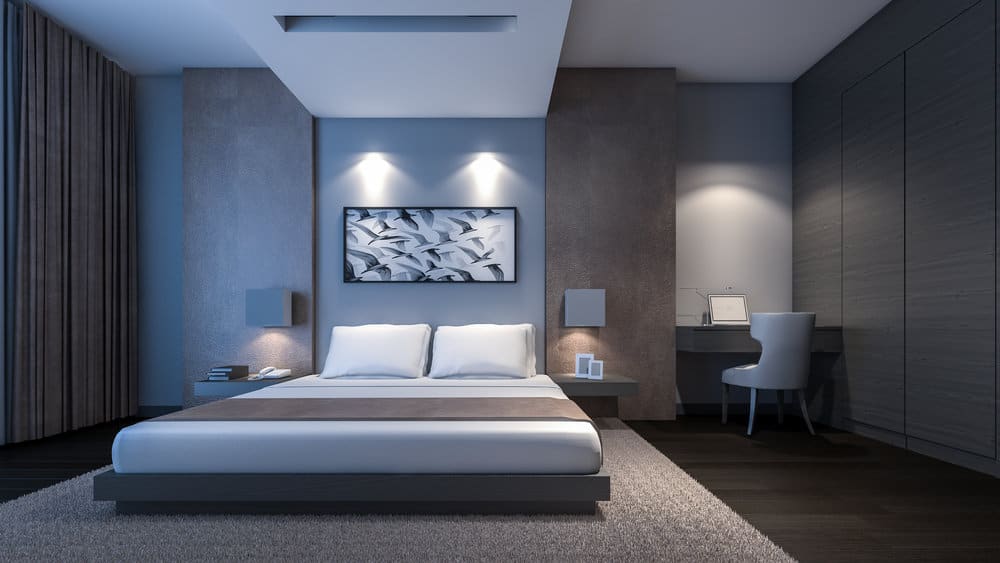 Grey is another great neutral color idea, and your options extend from light grey to deep charcoal. Sherwin Williams' Agreeable Gray is a warm shade between grey and beige (often called "greige") that will work in any room. If Agreeable Gray is too warm for you, shop for a cooler shade, such as Earl Grey or Wall Street.
8. Ombre
The term "ombre" describes something that has tones of color that softly shade into each other, usually graduating from dark to light. This results in a soothing, sunset-like application of color that is perfect for any bedroom.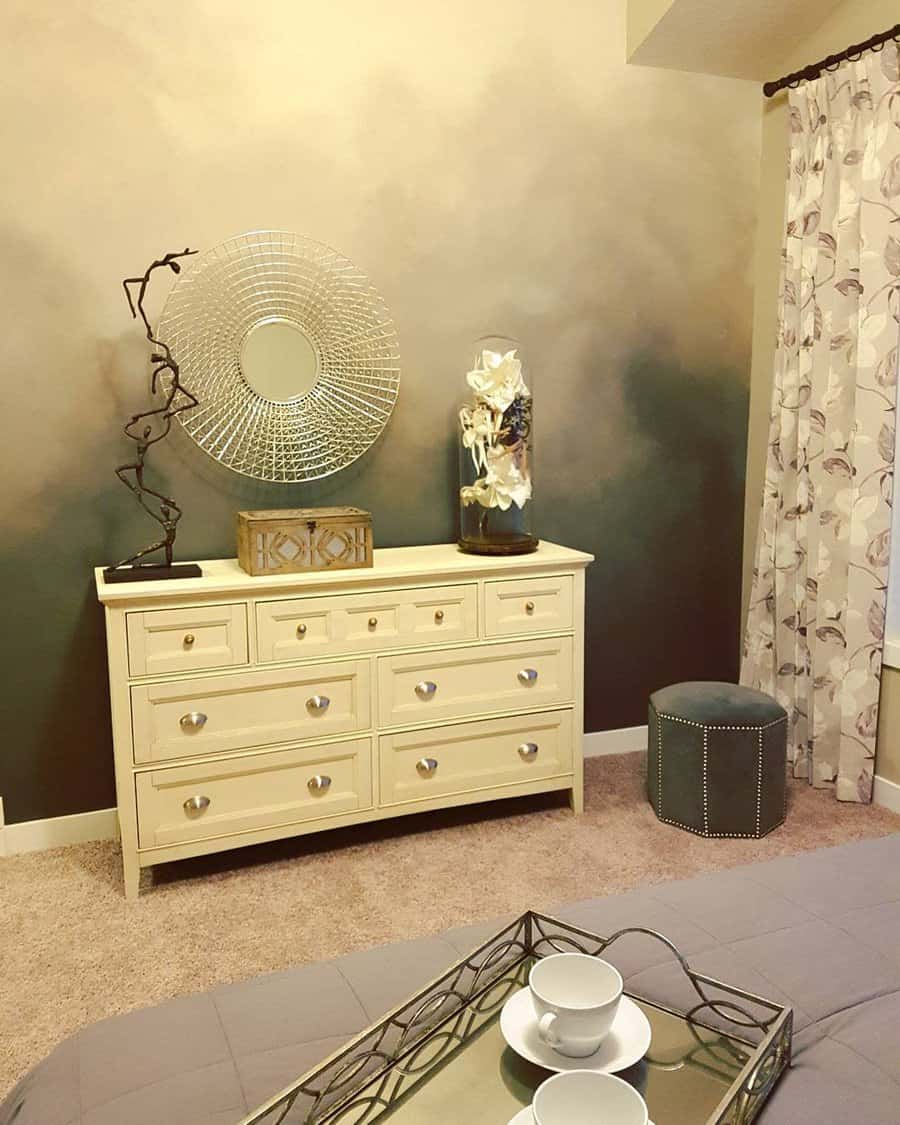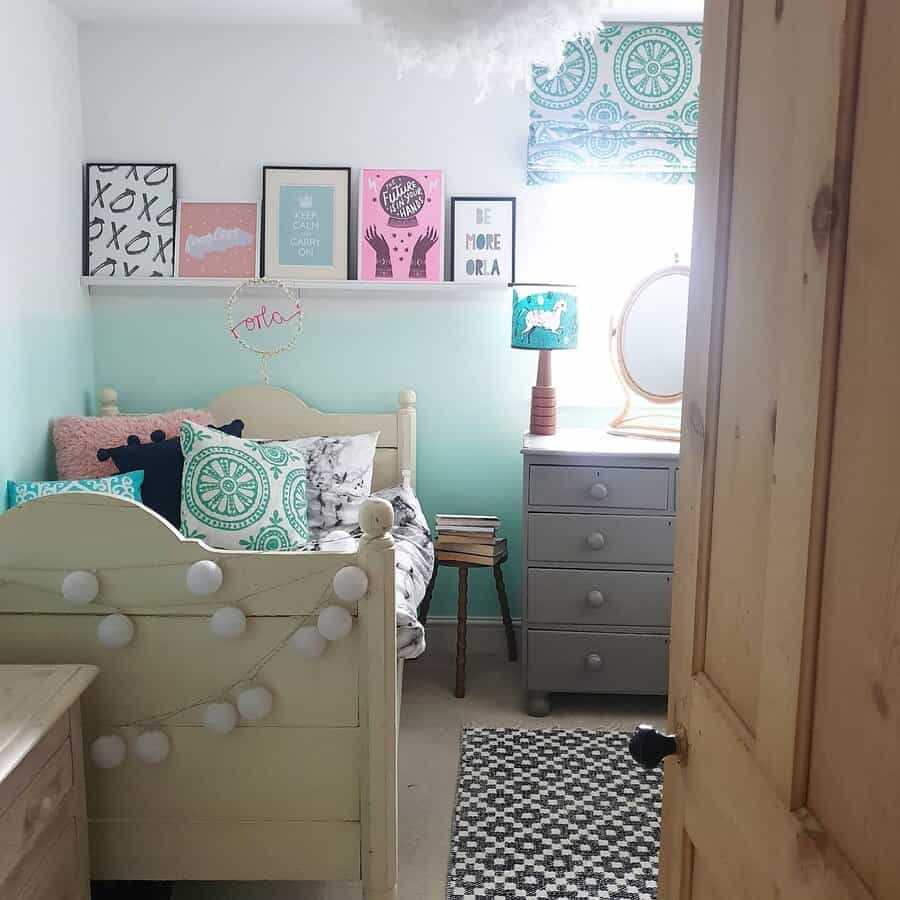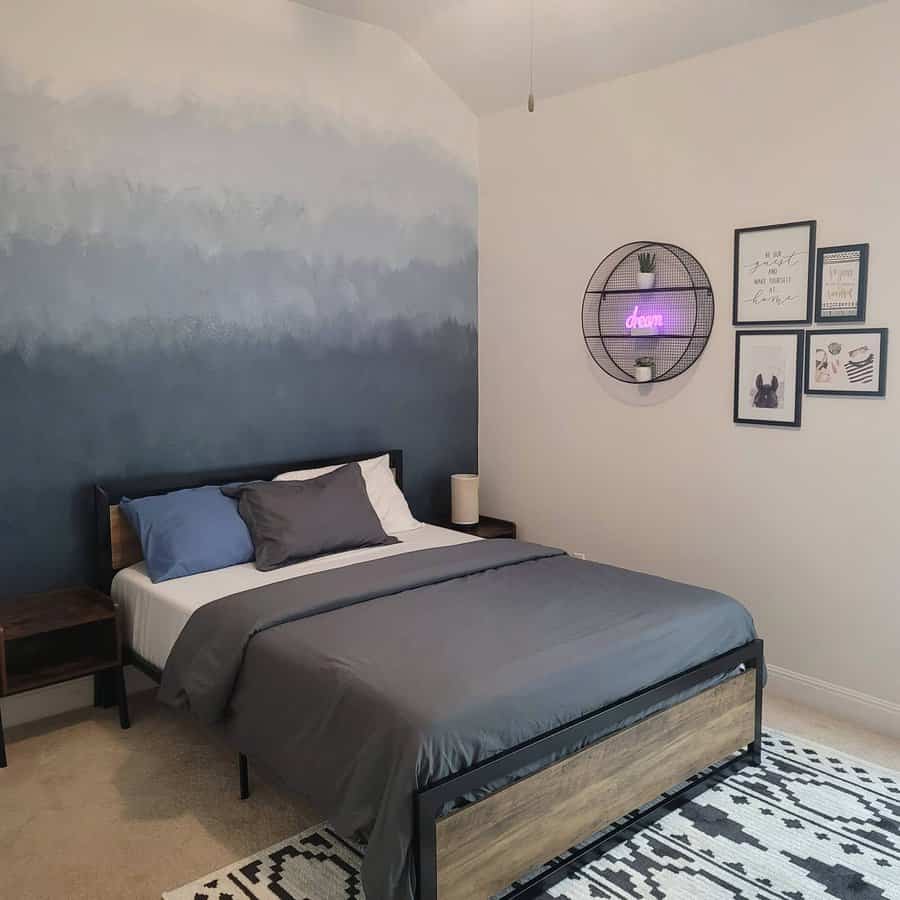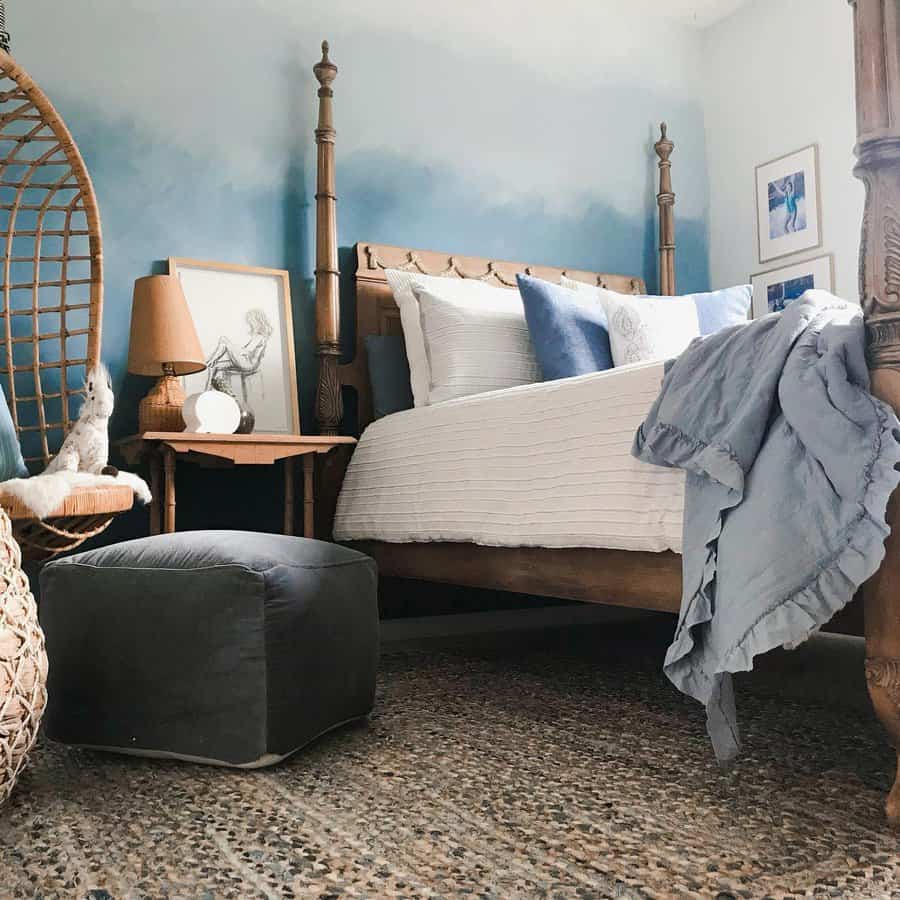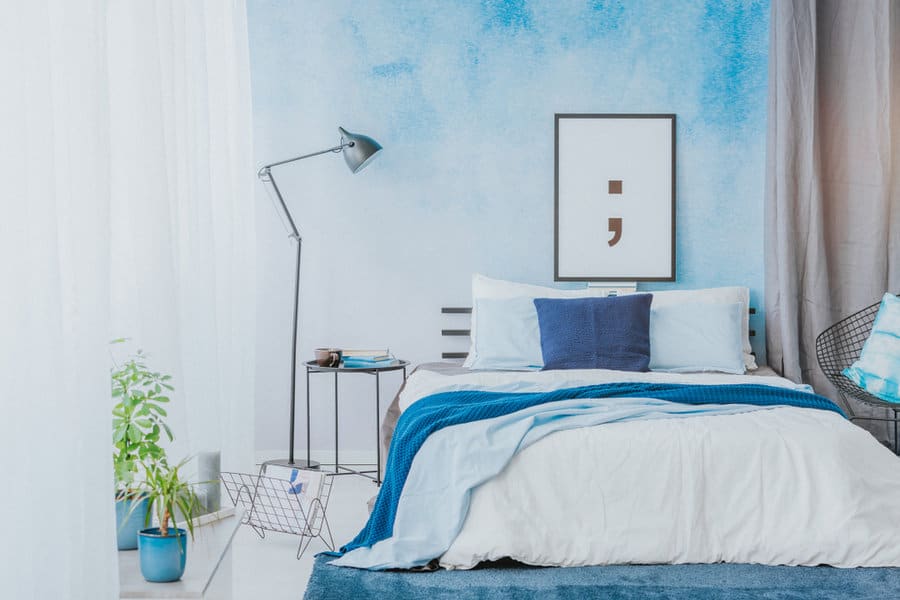 An ombre pattern can be subtle or defined, and include any number of colors. Sometimes each shade is a clear band of color with softly blended lines, and other times, it's hard to tell where one shade begins and the other ends. This video shows how to paint an ombre effect using two colors of Benjamin Moore paint, Kendall Charcoal and Revere Pewter:
9. Pastel
Pastel colors have always been popular in bedrooms, and it's easy to see why. These soft candy hues bring a soothing softness to the bedroom and pair so well with white or wooden furniture. They've been a mainstay in baby nurseries and children's rooms, which may be another reason many adults find them so comforting.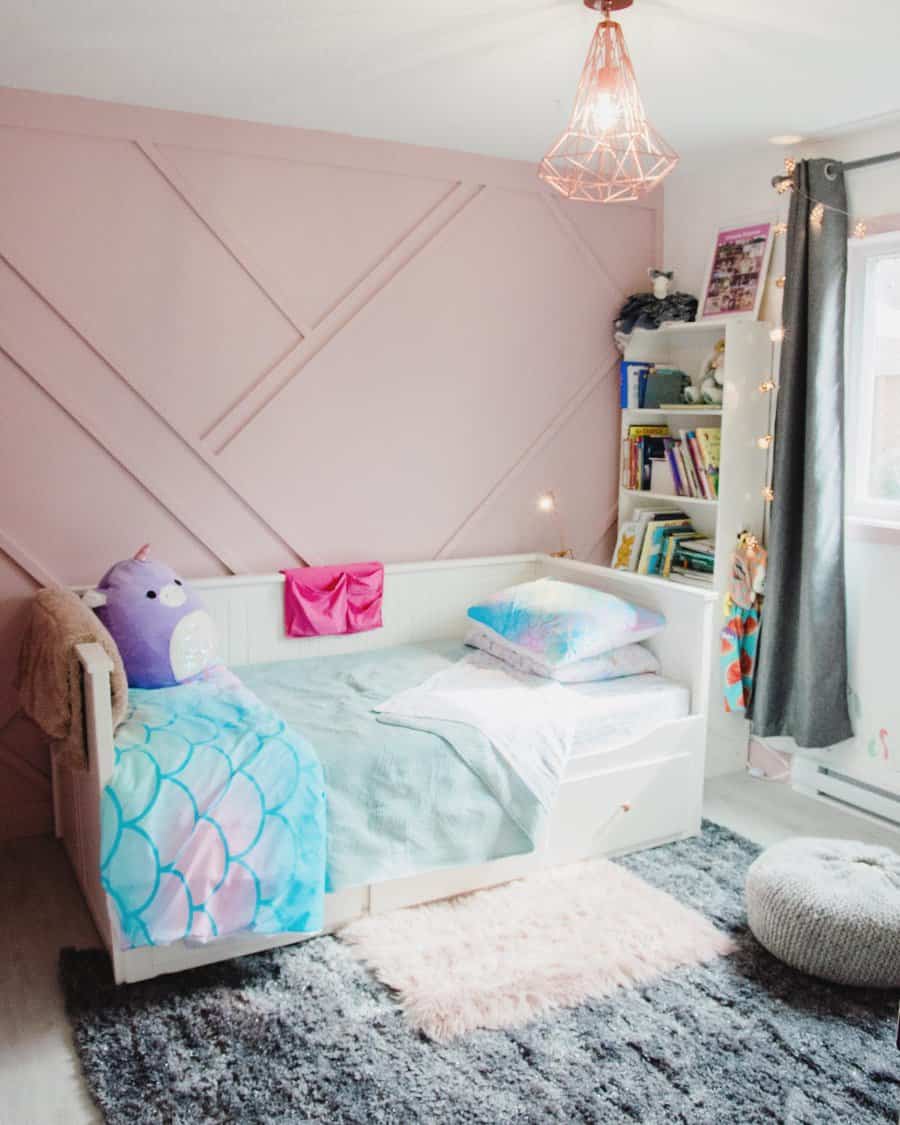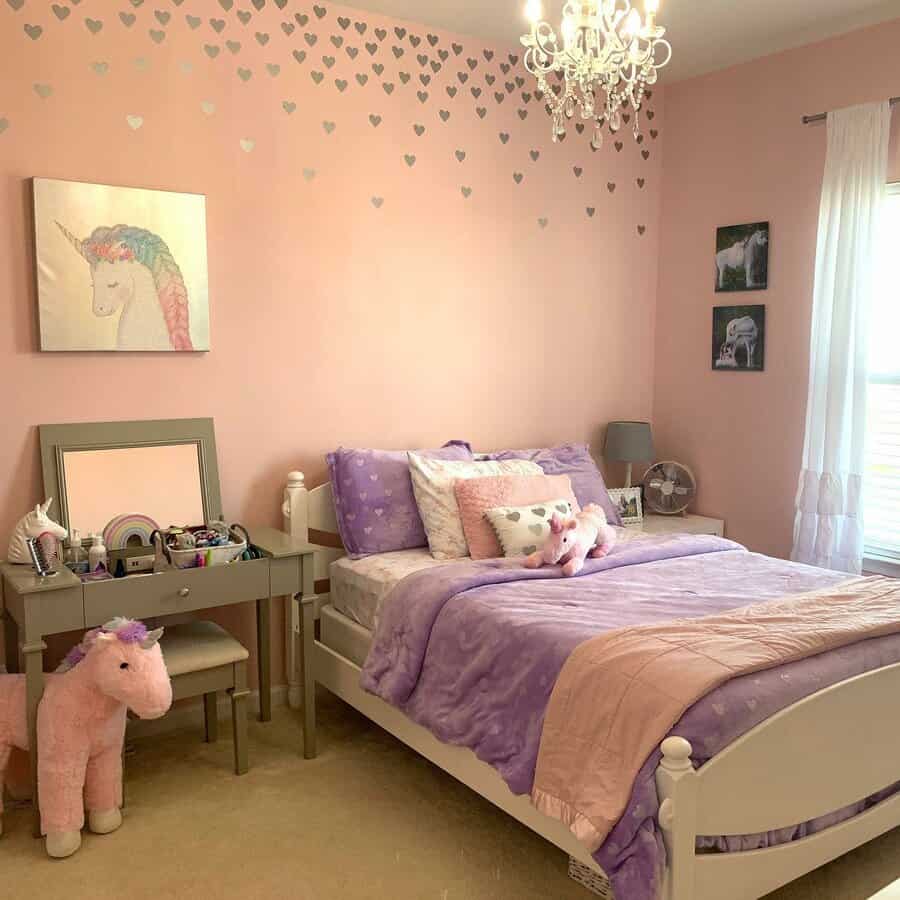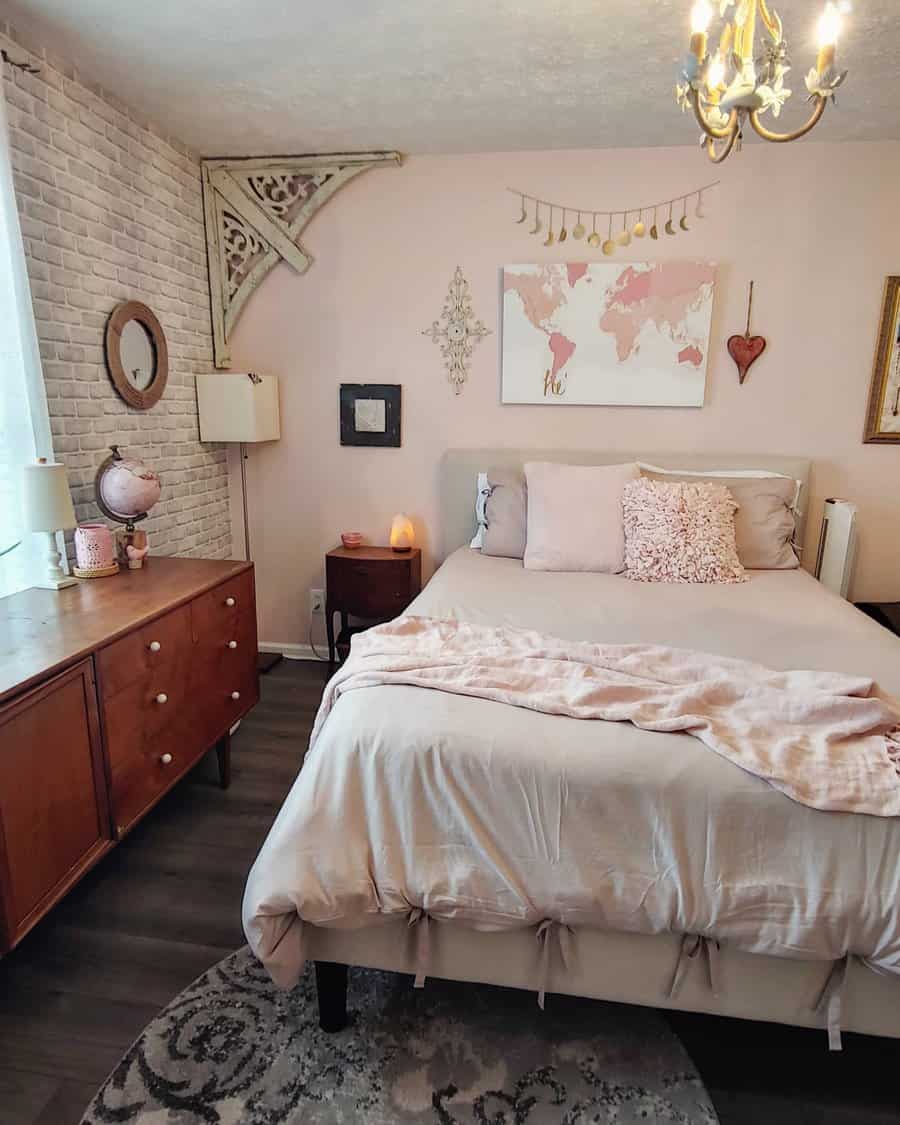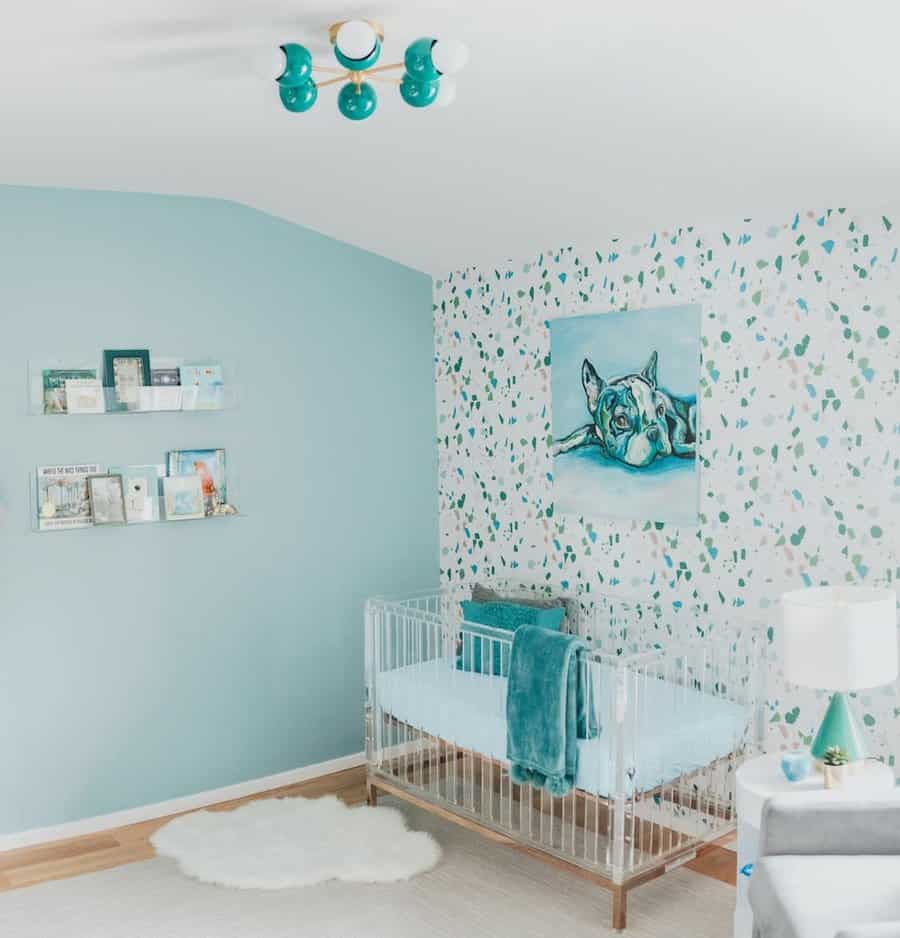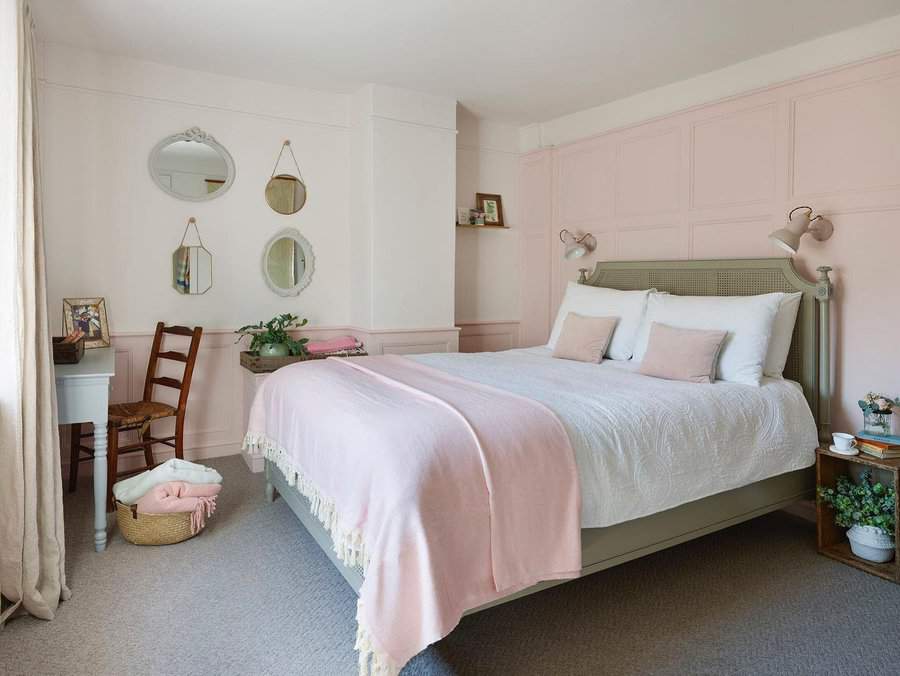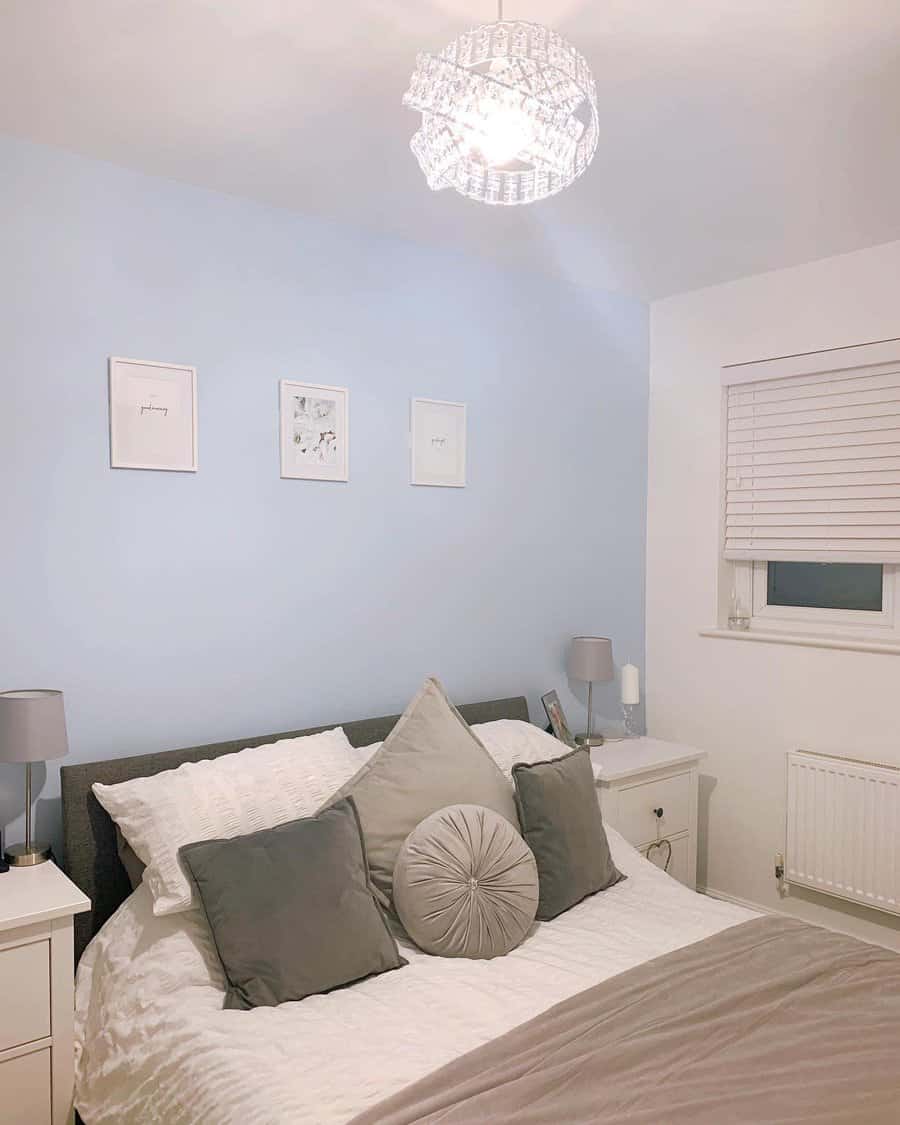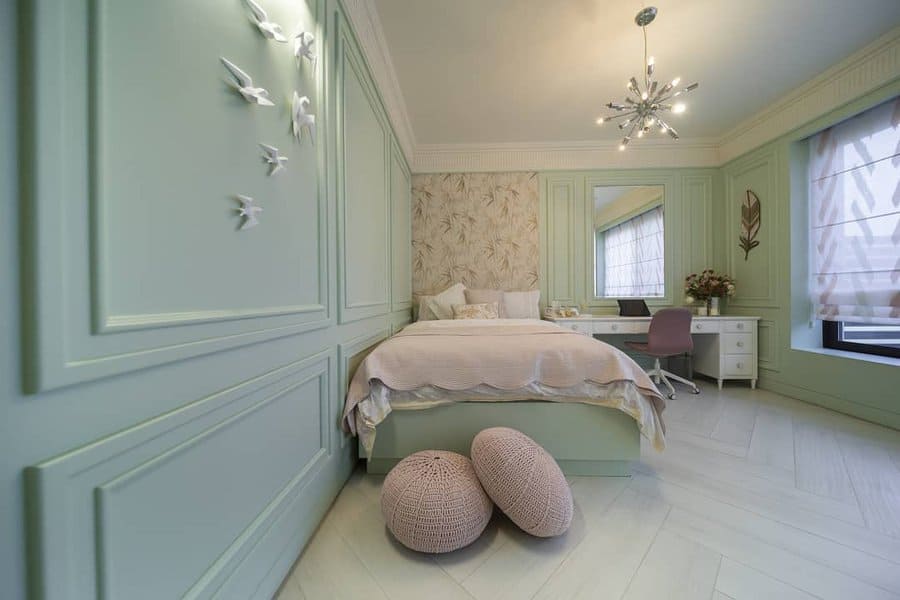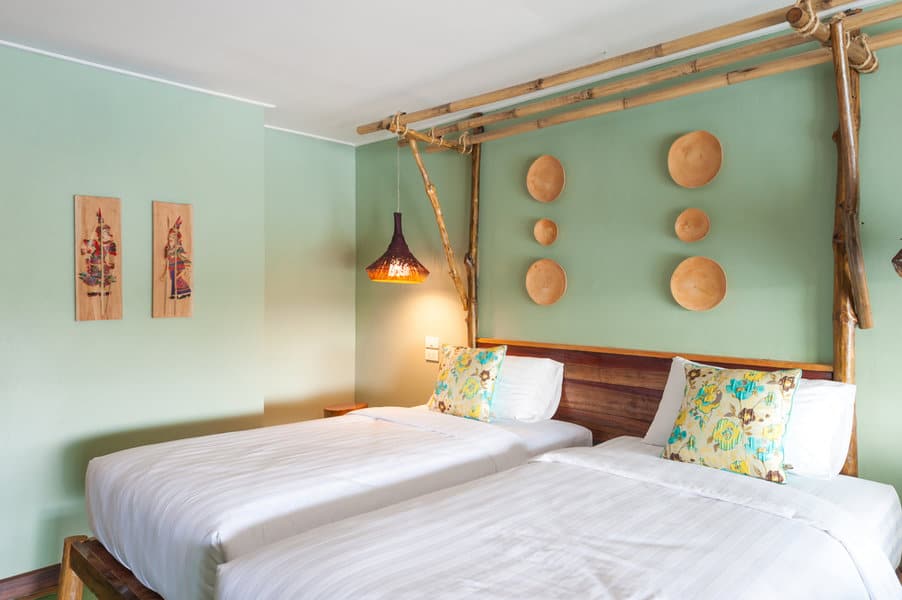 The lightest pastel shades are a great option if you like the brightness of white, but want a touch of color. Cloud blue or butter yellow are close enough to white that they can be used as a neutral, paired with a range darker and brighter accent colors.
10. Shapes and Pattern
As every art teacher knows, it's fun to play with paint. Stencils, painters tape, and other materials make it easy to get creative with shapes and patterns on your bedroom walls. Benjamin Moore and other paint companies offer color brochures that provide additional inspiration for creative paint applications.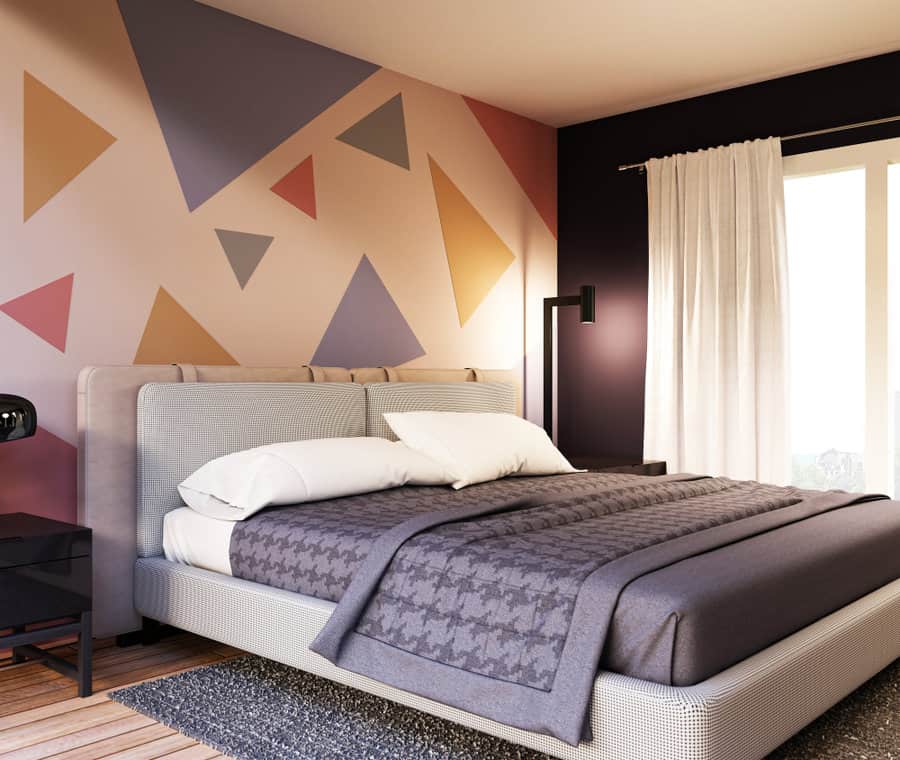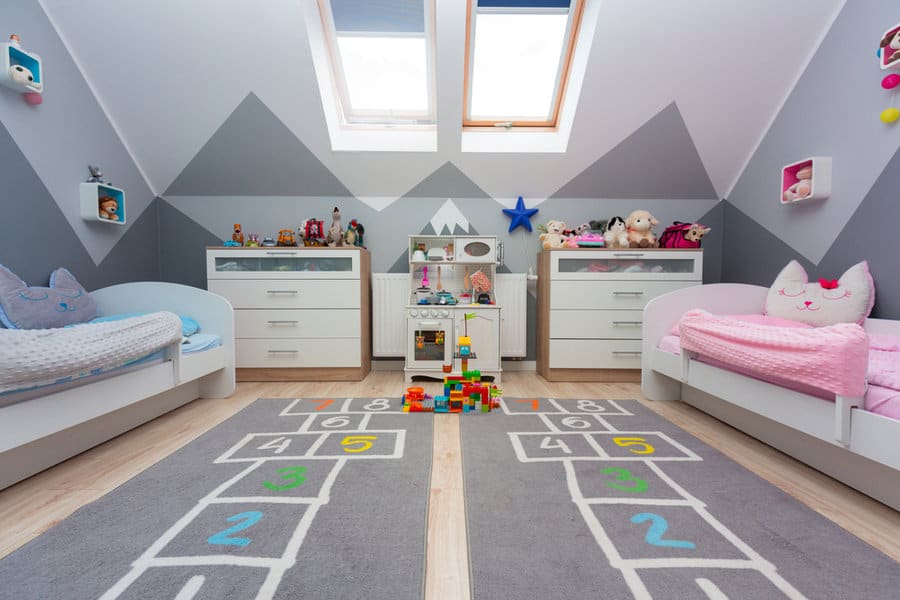 Paint a huge archway over your bed, or tape off subtle stripes for a much cheaper wallpaper alternative. Section walls horizontally or vertically and paint sections in complementary colors. Paint diamond or grid patterns in two similar colors to add dimension to a large bedroom wall.
11. Two or Multi Tone
If you want to use more than one color in the bedroom, the best thing you can do is research color collections online. These color groupings are created by interior designers and take the guesswork out of deciding which colors go together.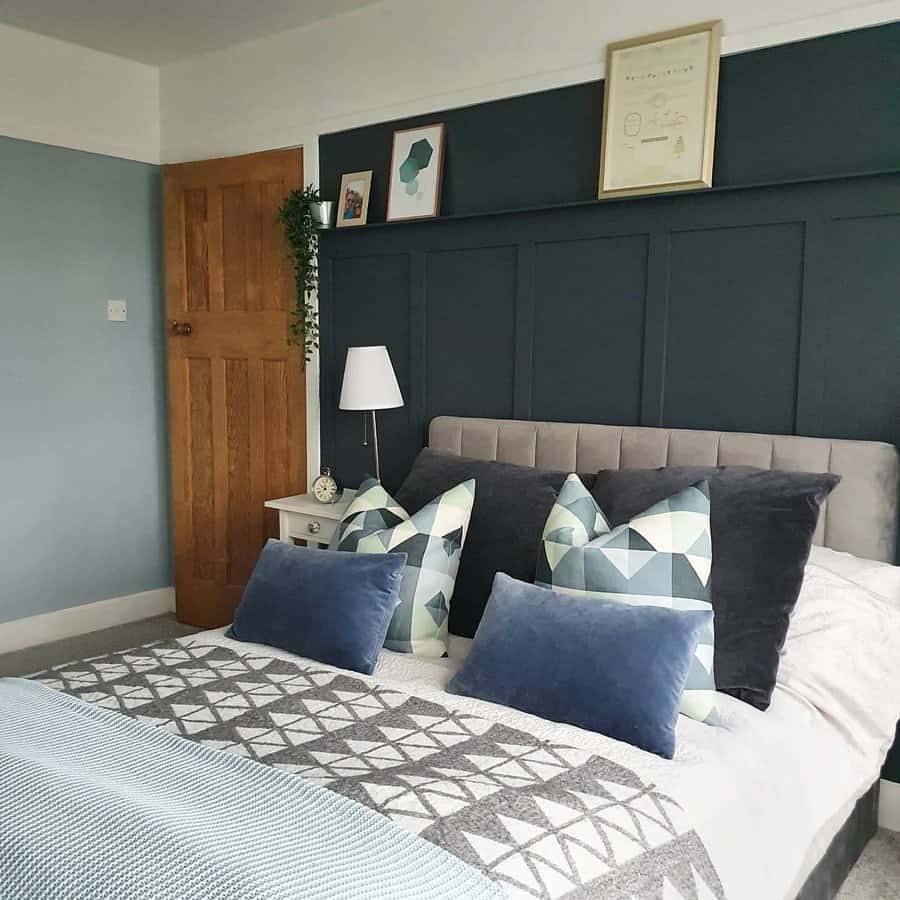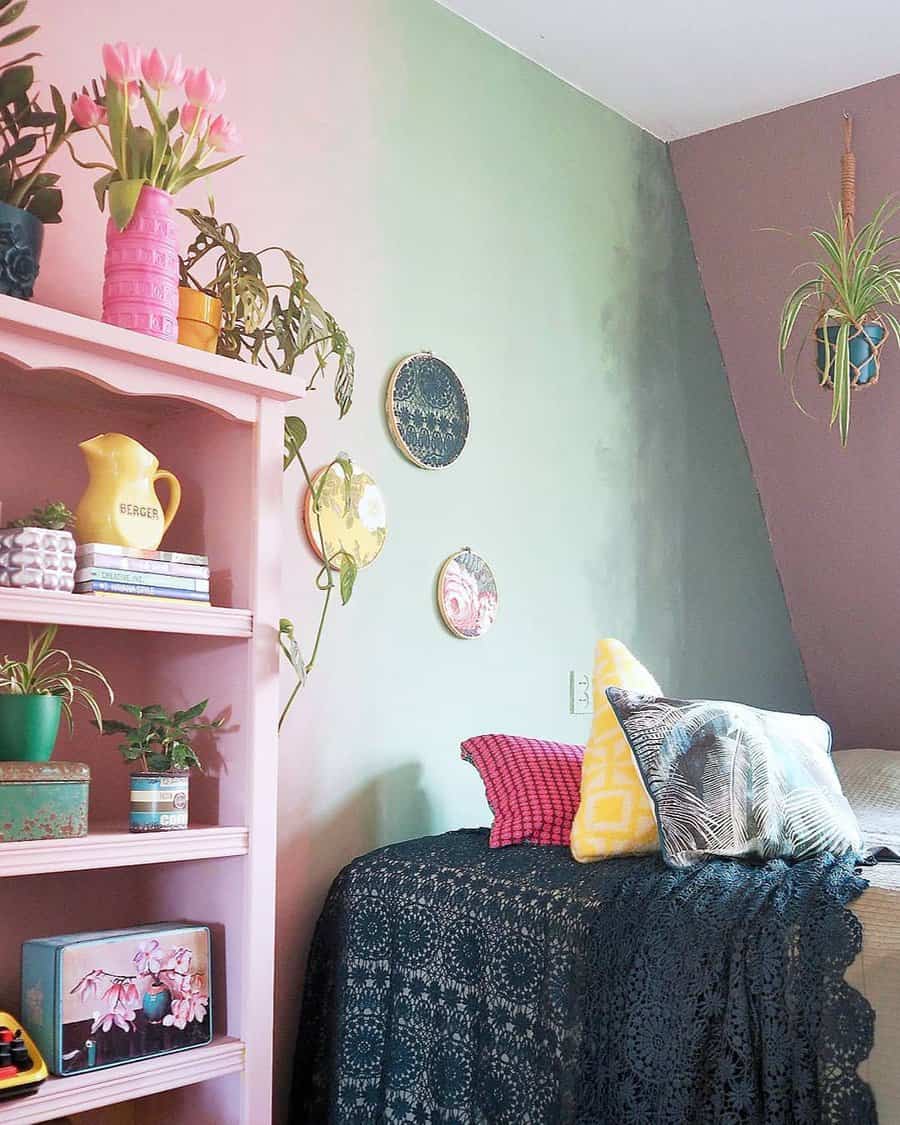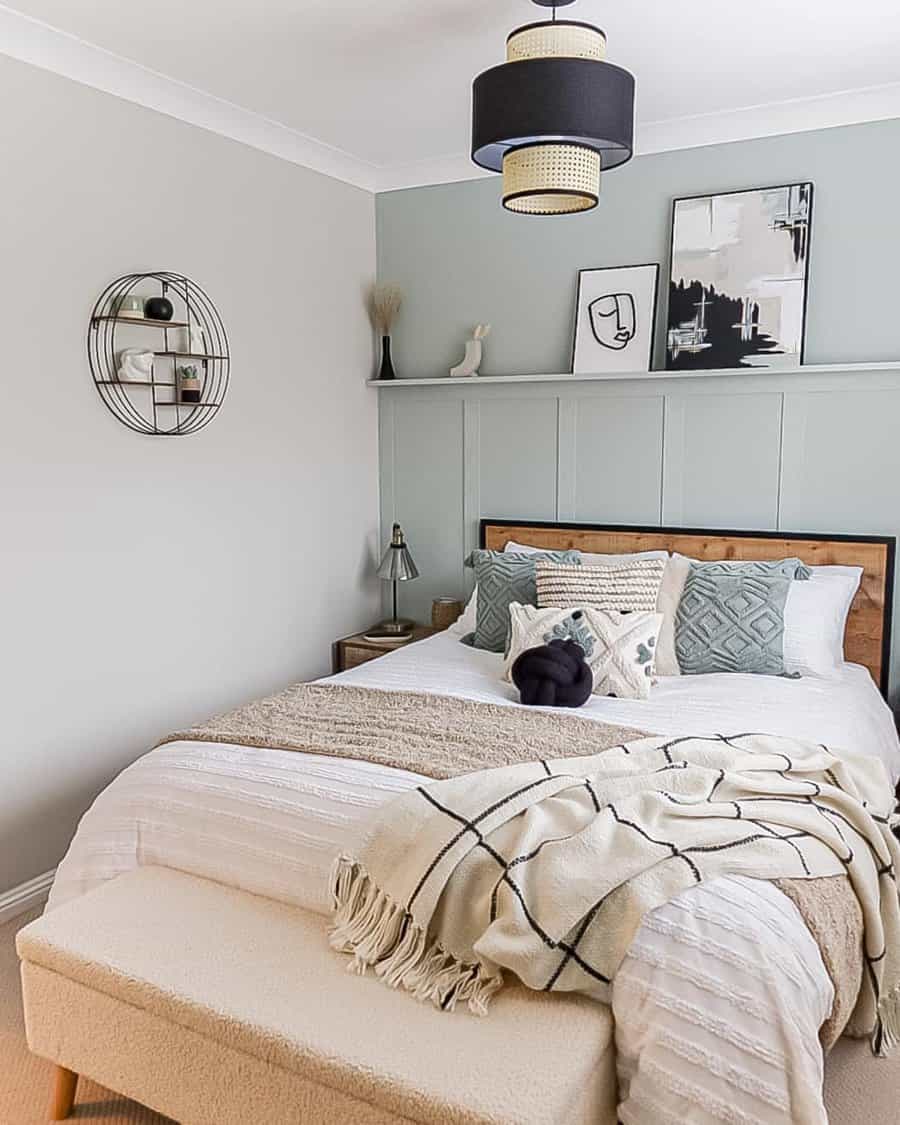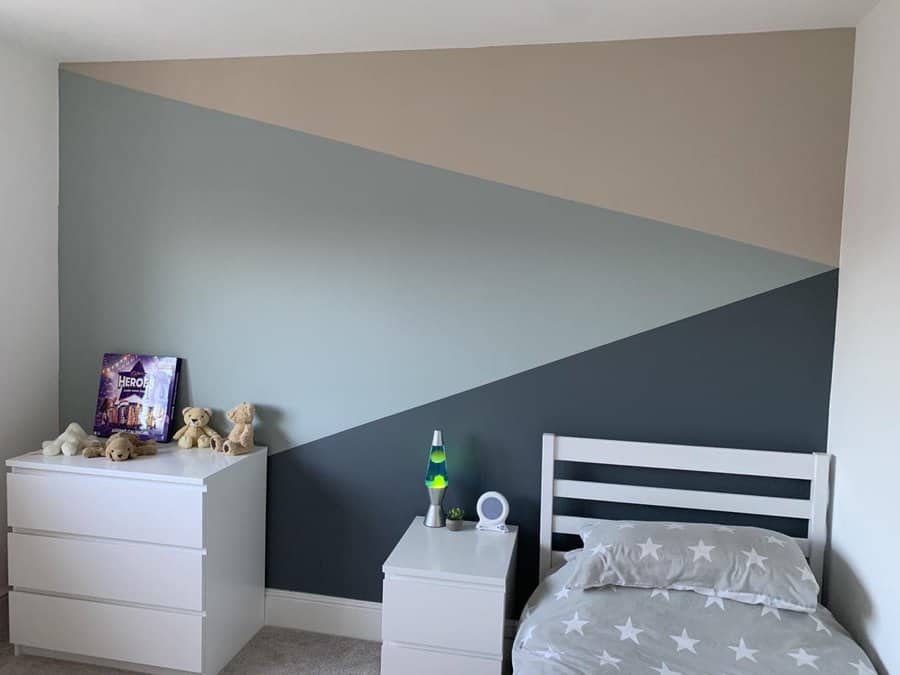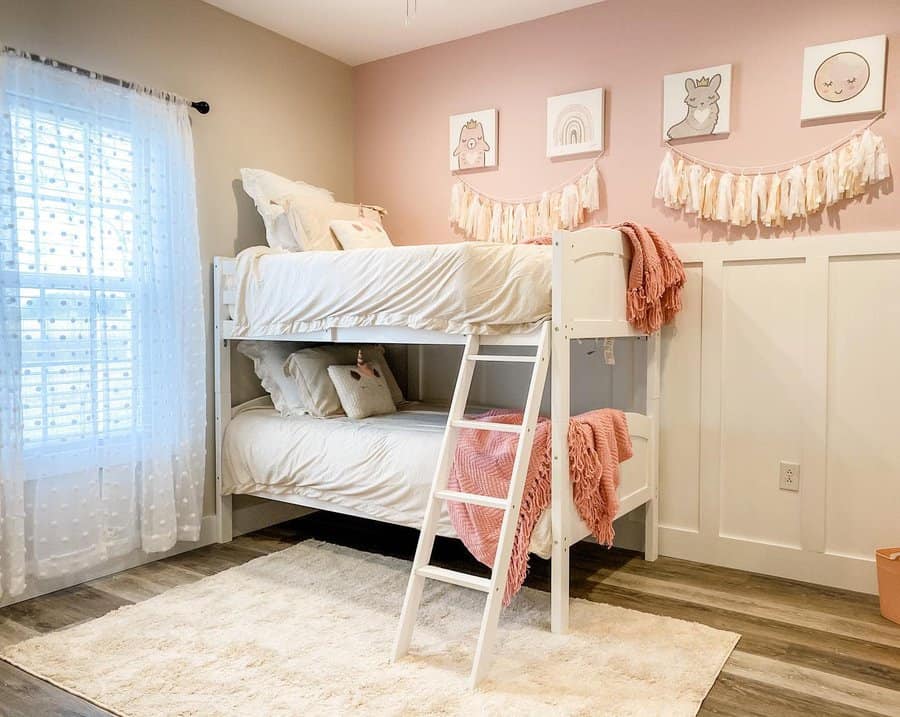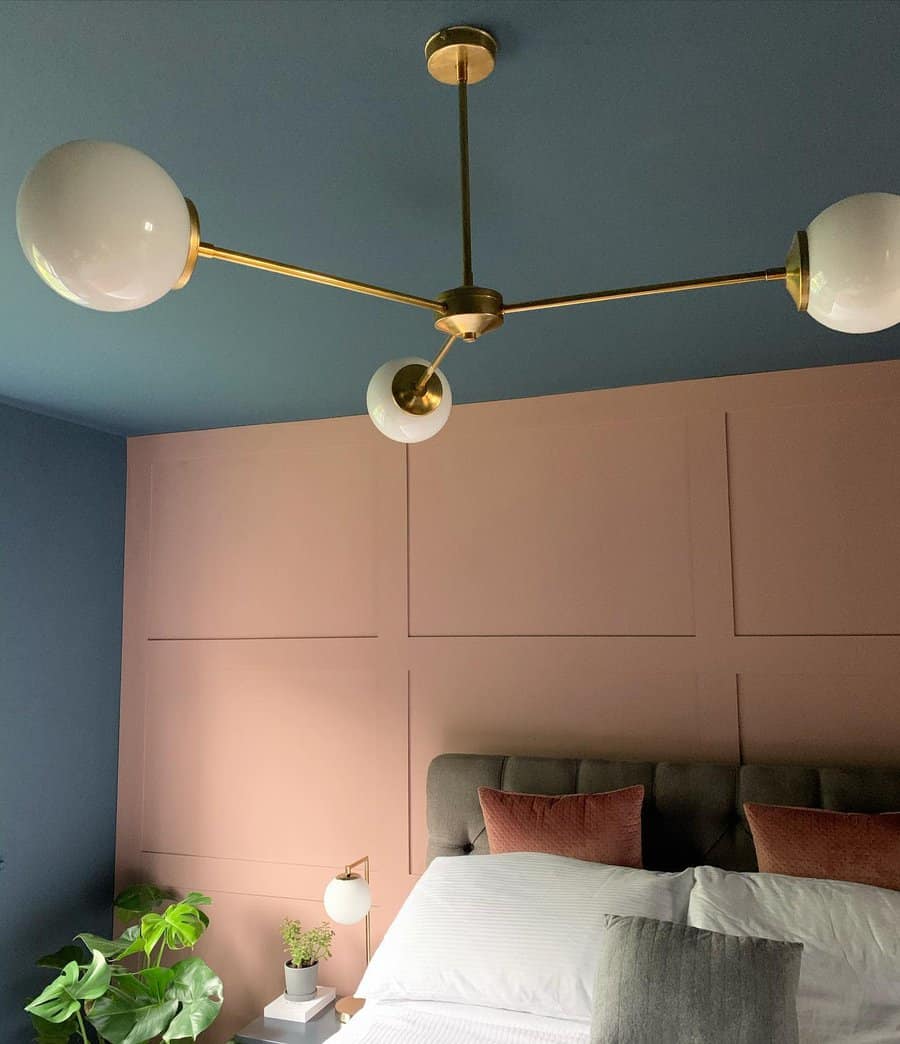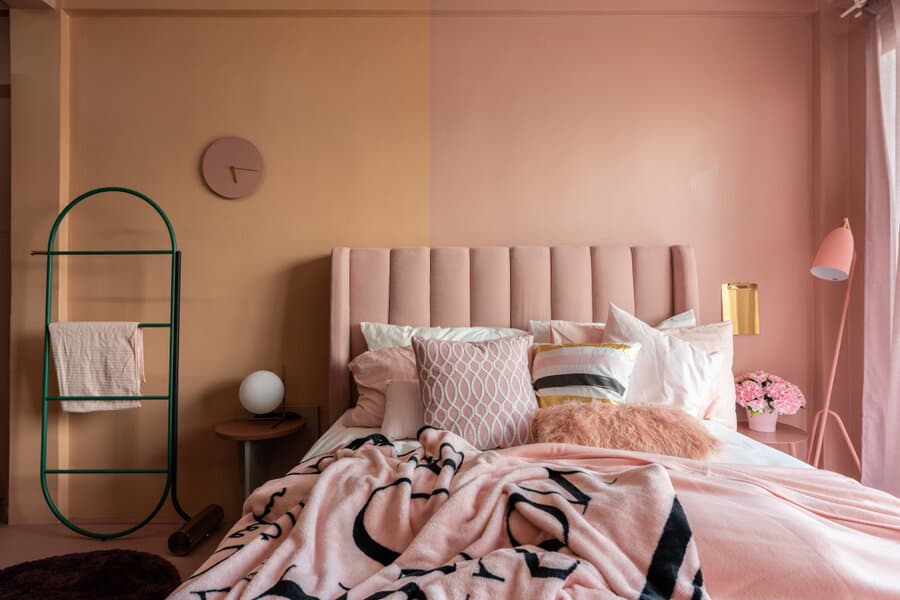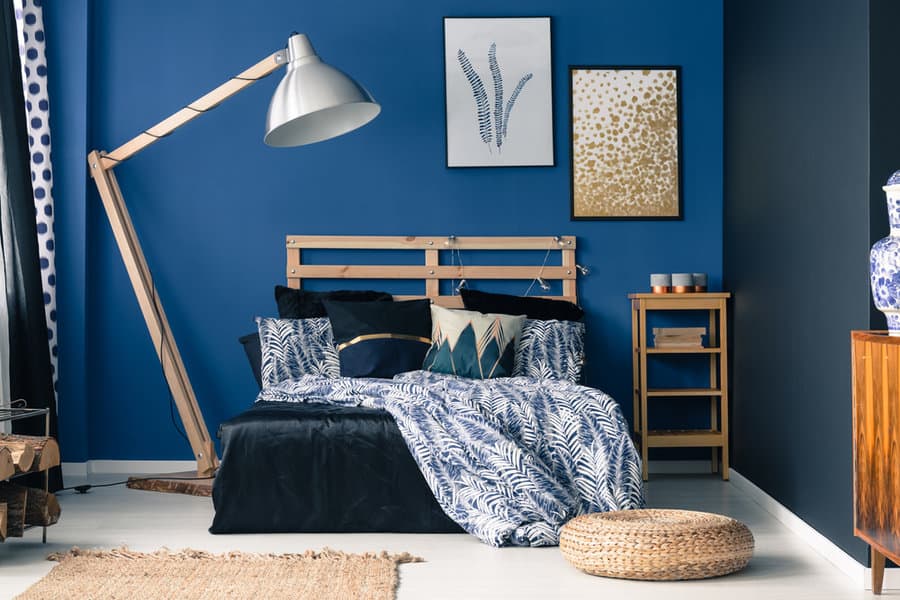 For example, Benjamin Moore's Historical Color Collection shows several colors on one paint strip that help guide your two-tone or multi-tone choices. Order the Collections Fan Deck online or pick up paint strips at your local hardware store.
12. Warm Color
Who doesn't love warm colors in the bedroom? Even if your primary color is cool or neutral, every room benefits from touches of warmth—especially in spaces dedicated to sleep.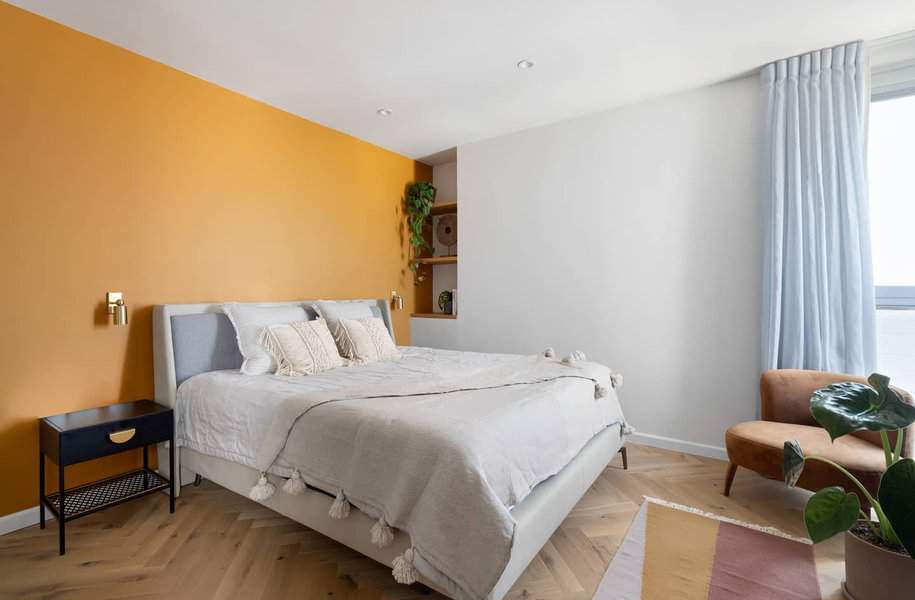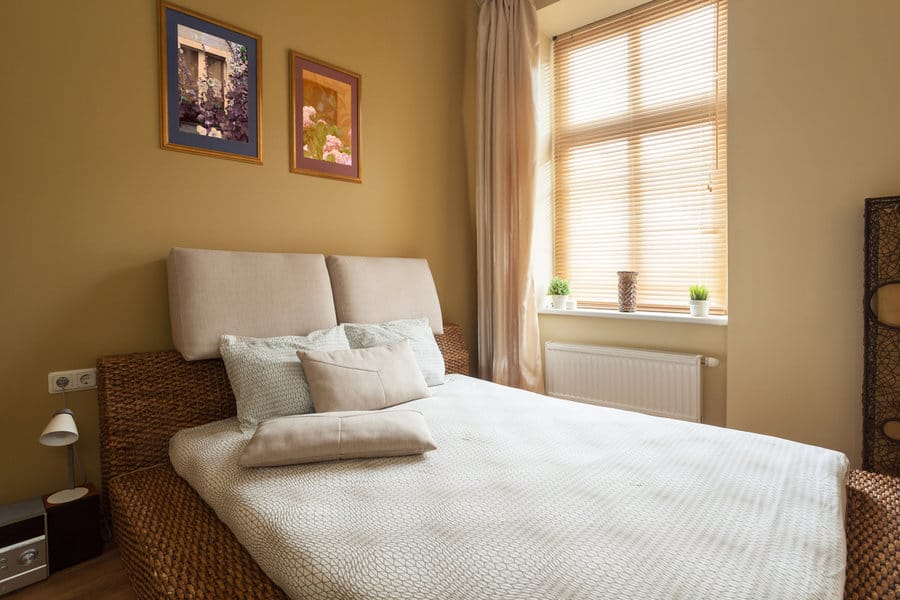 A cozy accent color behind the bed draws your eye to the room's main feature and also makes the natural light feel warmer. Best-selling Benjamin Moore warm color choices include Caliente, Rosy Peach, Coral Dust, Electric Orange, and Bryant Gold. Since warm colors can look very different in the store vs. inside your home, be sure to try out a color sample before committing to a larger bucket of paint.
Bedroom Paint FAQs
What are the best bedroom paint colors for sleeping?
Rest-inducing bedroom color schemes should include one or more of the following hues: blue, green, pink, or grey. While virtually any shade of blue bedroom paint will bring a calm vibe to the room, lighter color hues are better if you prefer warm colors, such as yellow or orange. Muting their boldness will ensure a master bedroom that's easy to sleep in.
Is white a good master bedroom paint color?
White is a cool, clean, and serene color choice for the bedroom. It maximizes natural light and is a great wall color in a small bedroom—especially when paired with farmhouse, cottage, or shabby chic style. Benjamin Moore's Chantilly Lace and Sherwin Williams' Alabaster are two of the best paint colors for a white bedroom.