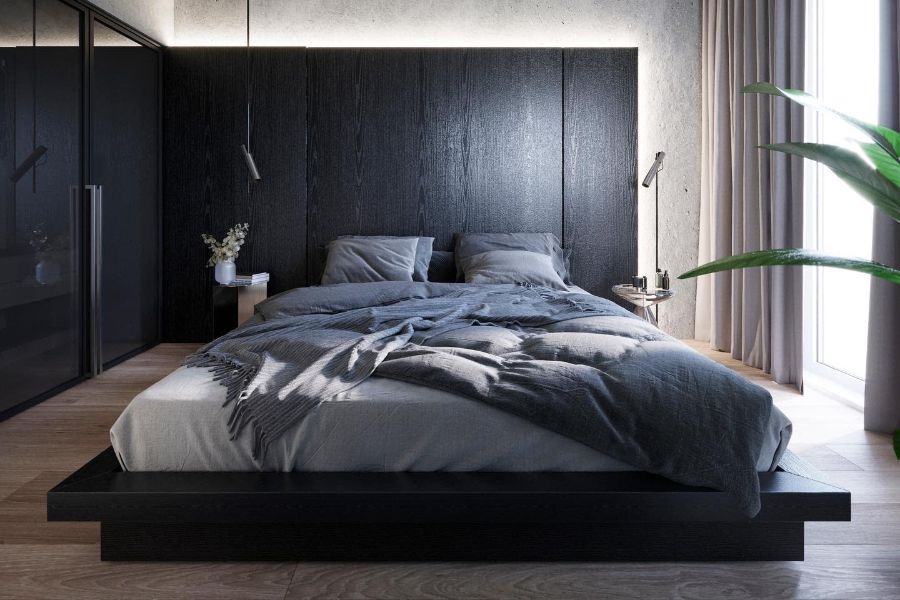 43 Beautiful Black Bedroom Ideas
Black bedrooms aren't just for rebellious teenagers! And incorporating black into your bedroom decor does not need to be scary.
Despite many homeowners' gut reactions, black is a neutral. You can pair it with almost any other color to great effect.
This eclectic color scheme can be just as effective as an all-white bedroom design. It's all about how you use it. Keep reading for the best black bedroom ideas that will teach you a new appreciation for this dramatic shade.
1. Be Creative With Wall Art
A black bedroom can be the perfect canvas for wall art. Spice up your space by creating an edgy, modern look with a wall decal of your favorite song lyric or an abstract painting in daring colors like electric blue and aurora pink.
Be creative and use wall art to add dimension to your master suite or guest room. Unleash your inner artist and liven up any drab wall with striking wall art that will make any visitor take notice.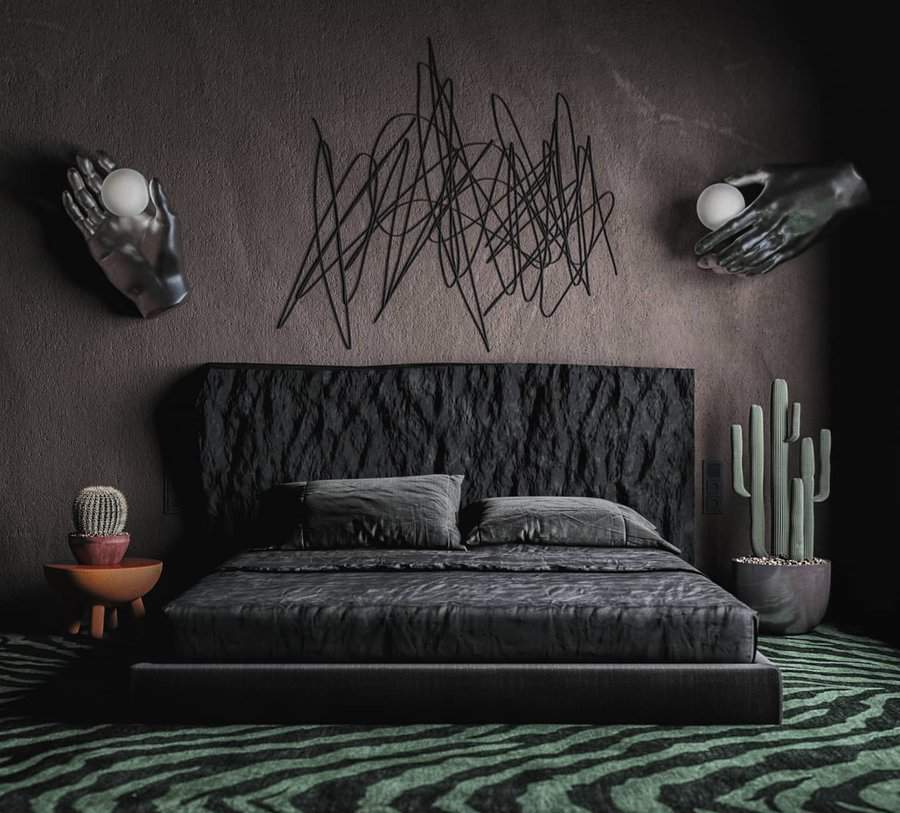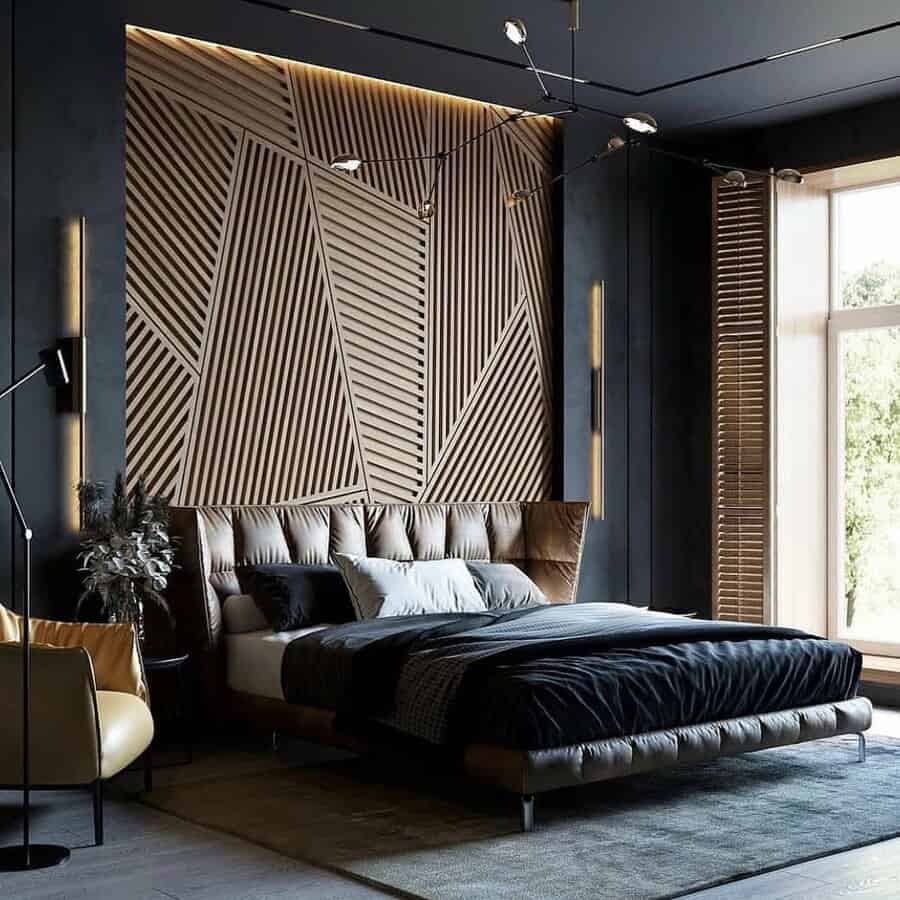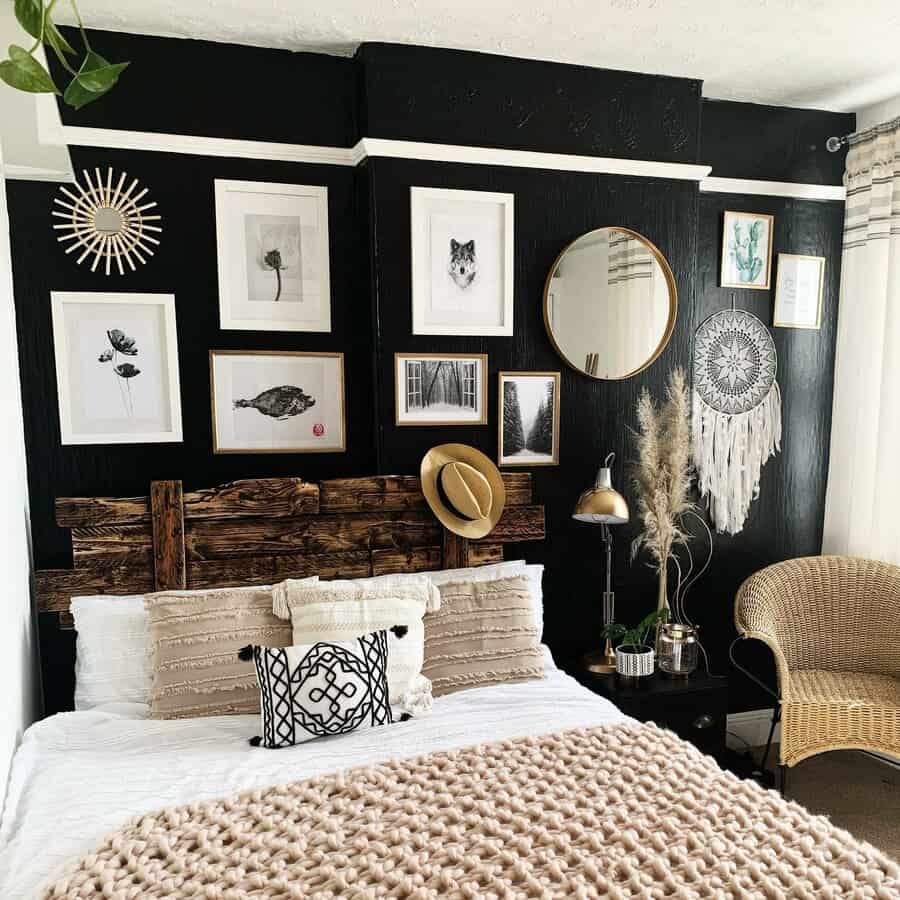 2. Paint A Black Accent Wall
A black bedroom with a black accent wall is the perfect way to create a dramatic statement. A black wall provides a backdrop of bold contrast that will draw eyes to its intricate details.
Clean and simple lines will stand out from the black, making this black accent wall the focal point of any room.
The black wall creates an element of depth and mystery, creating a room that feels luxurious and unique. With just one black wall, you can create an entirely new look for your bedroom!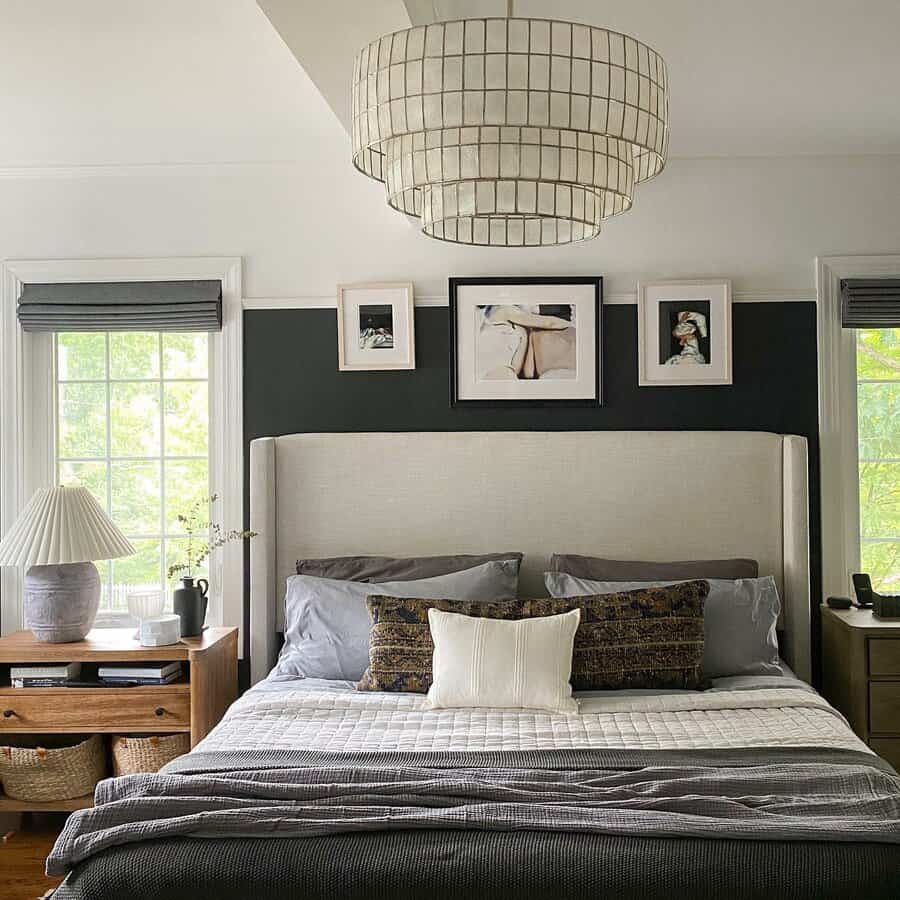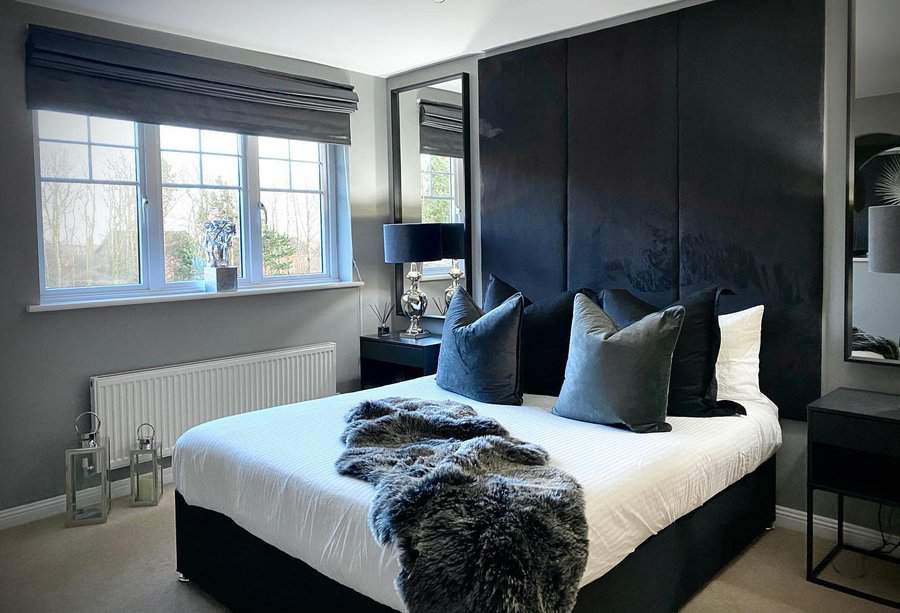 3. Add A Chandelier For A Gothic Look
A black bedroom can be an inviting space to relax, when designed with creative flair. Adding a chandelier instantly adds a touch of class and captivating elegance – perfect for bringing the glamour and drama into your gothic interior.
Whether it's a deep shade of black, or another moody hue like navy blue, adding different textures like velvet and chiffon can help liven up the room without compromising on its sophistication.
With modern elements crisscrossing with traditional pieces, you're able to create an intimate yet statement space that is all yours.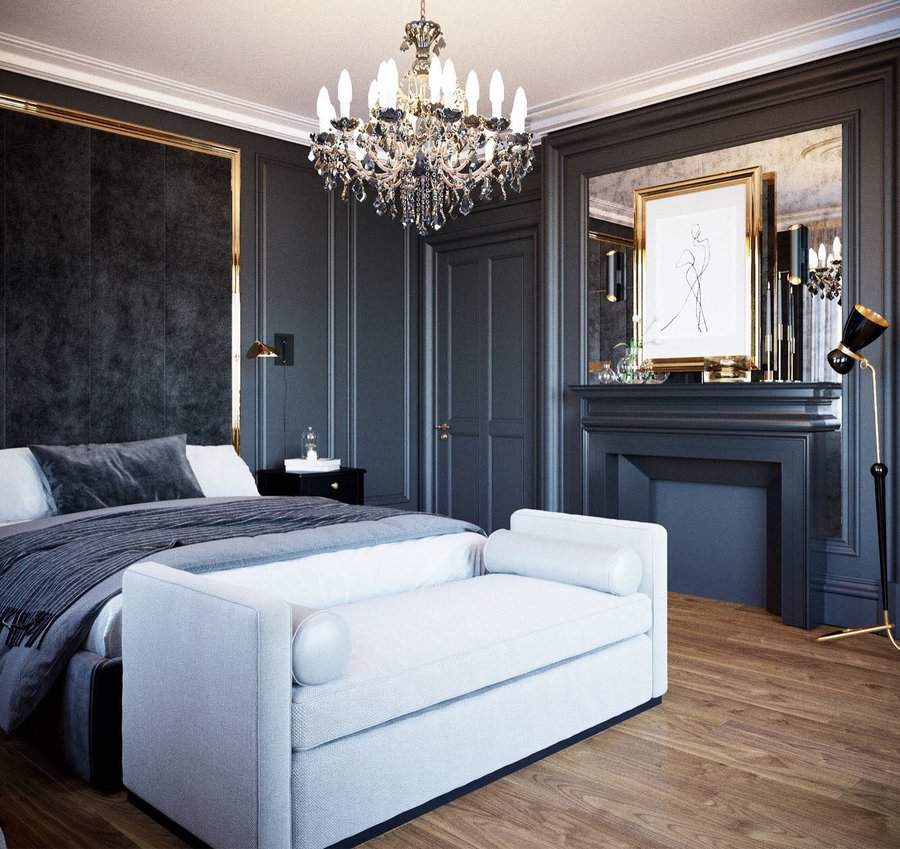 4. Light Up The Room With A Glass Window
If you're looking for a room full of mystery and sophistication, step inside a black bedroom. The full-length glass window floods the room with bright light that reflects off of the dark walls and furniture creating a cool, contemporary atmosphere. Loose plush material adds texture to the bedding while velvet details make each piece stand out against the darkness.
A full-length mirror makes the most out of the space while supplying an extra spot to show off your unique style and really complete the look.
Whether you're winding down before bedtime or having a romantic evening in, a black bedroom is full of unique style and inviting vibes that are sure to create an unforgettable experience.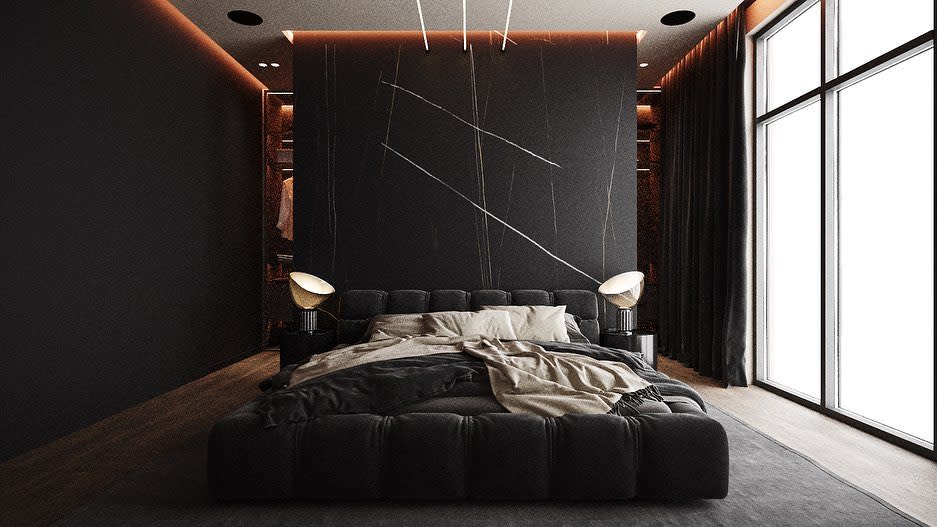 5. Contrast With Beige Elements
A black bedroom can create a dramatic contrast, making it feel like a bold statement. To make it more inviting, adding some beige elements is the way to go. Start off with a beige flooring to draw attention to your black walls and furniture.
Follow up with a beige headboard, window curtains, and pillows for a softer contrast against the starkness of the black interior. This can help make your bedroom look more interesting while also striking the right atmosphere without diluting the impact of your daring style.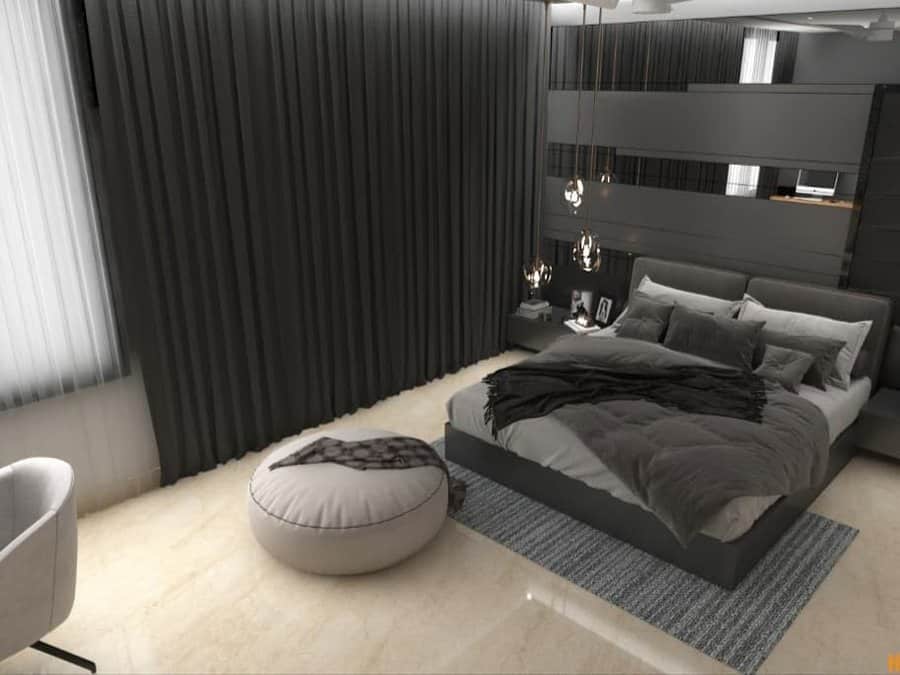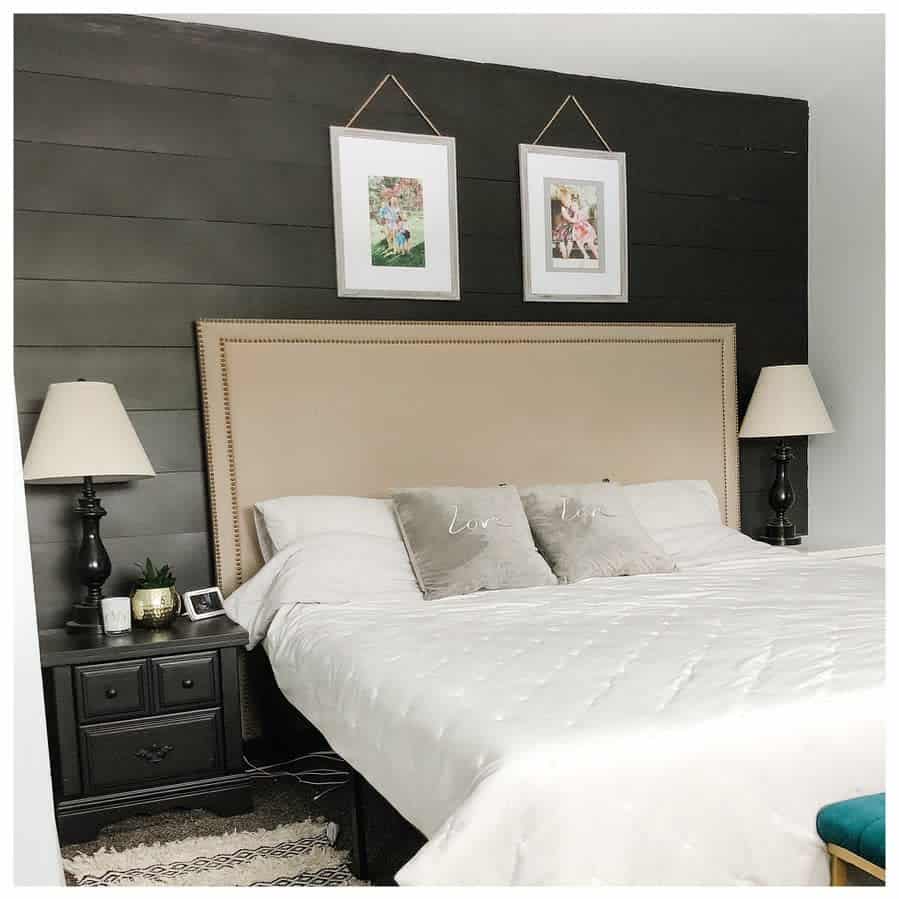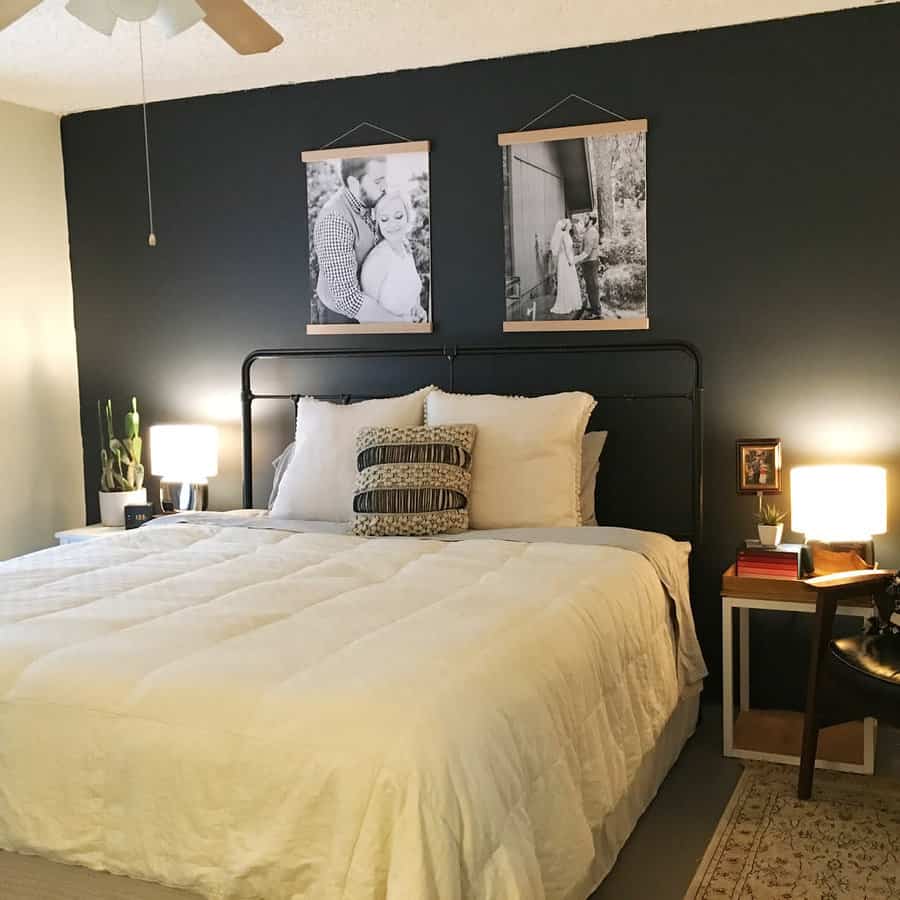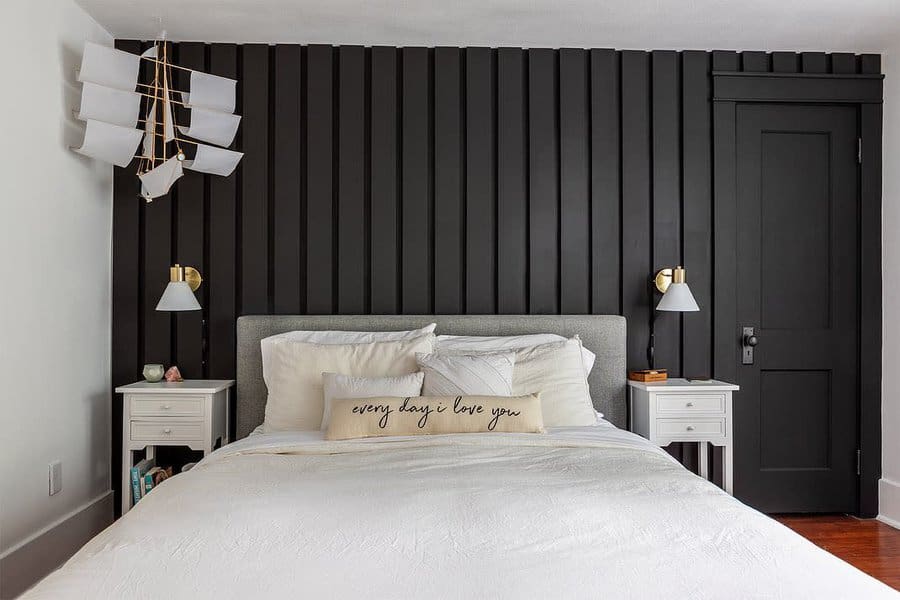 6. Contrast With Wooden Elements
A black bedroom with wood flooring has a unique and modern aesthetic appeal. Paired with wood furniture or a wood headboard, the two wood materials give a subtle but effective contrast for an elegant visual.
The wood flooring warms up the dark colour of the walls, while the wood headboard brings out the embanked tones of light that reflect from the floors.
This simple combination is perfect to create a calming atmosphere in any bedroom!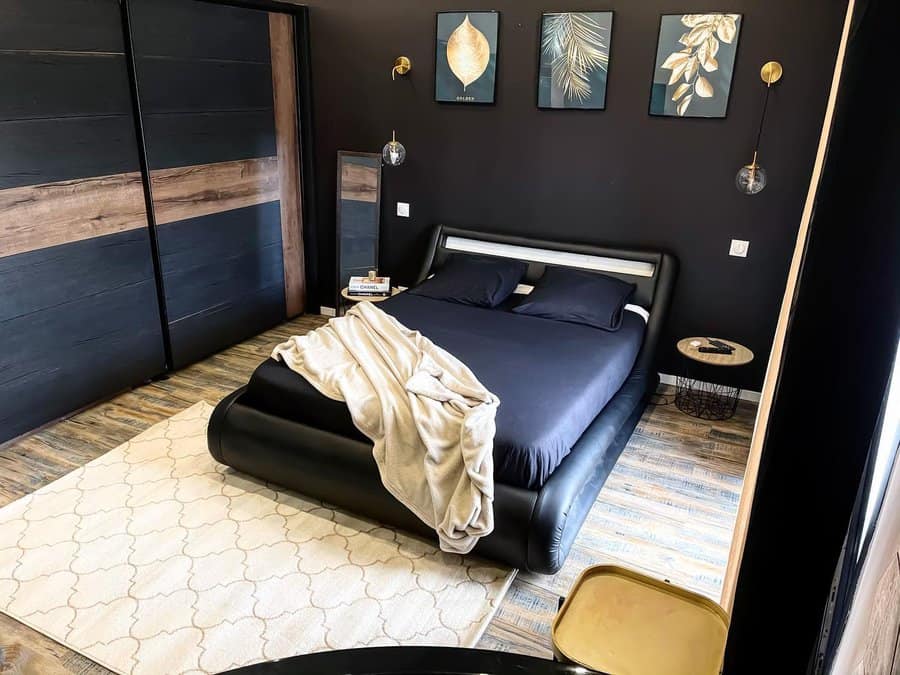 7. Add Statement Bedside Lamps
Create a sanctuary fit for royalty with statement bedside lamps as the centerpiece of your black bedroom. Delight in the striking contrast between bold, dark hues and statement lighting that is sure to become the focal point of any room.
Let your imagination run wild while evoking a sense of comfort and relaxation with carefully chosen pieces that speak to your style and taste. The possibilities are endless when it comes to creating an elegant oasis of tranquility with one sleek type of décor – black.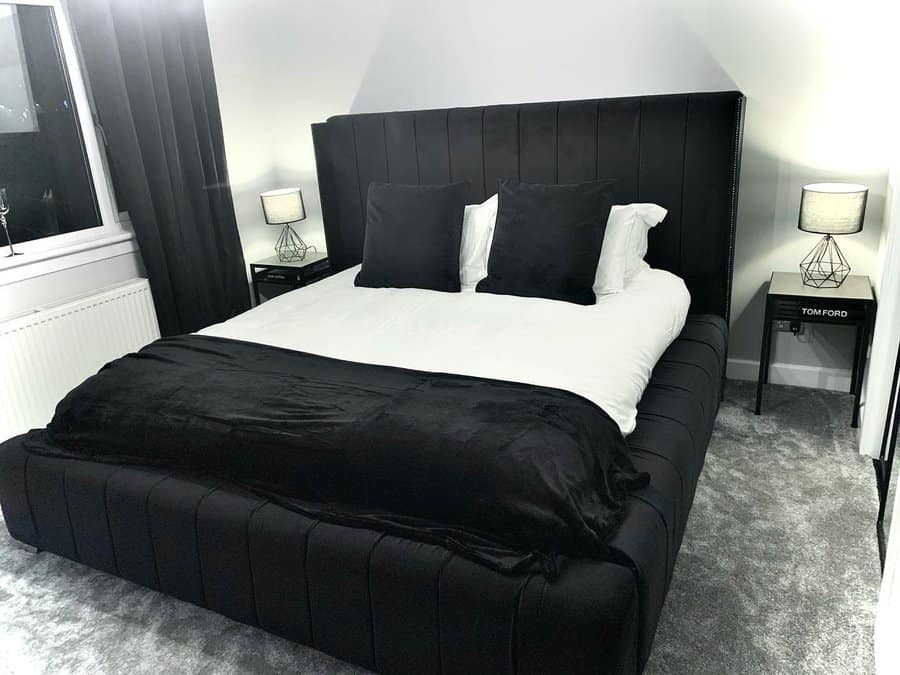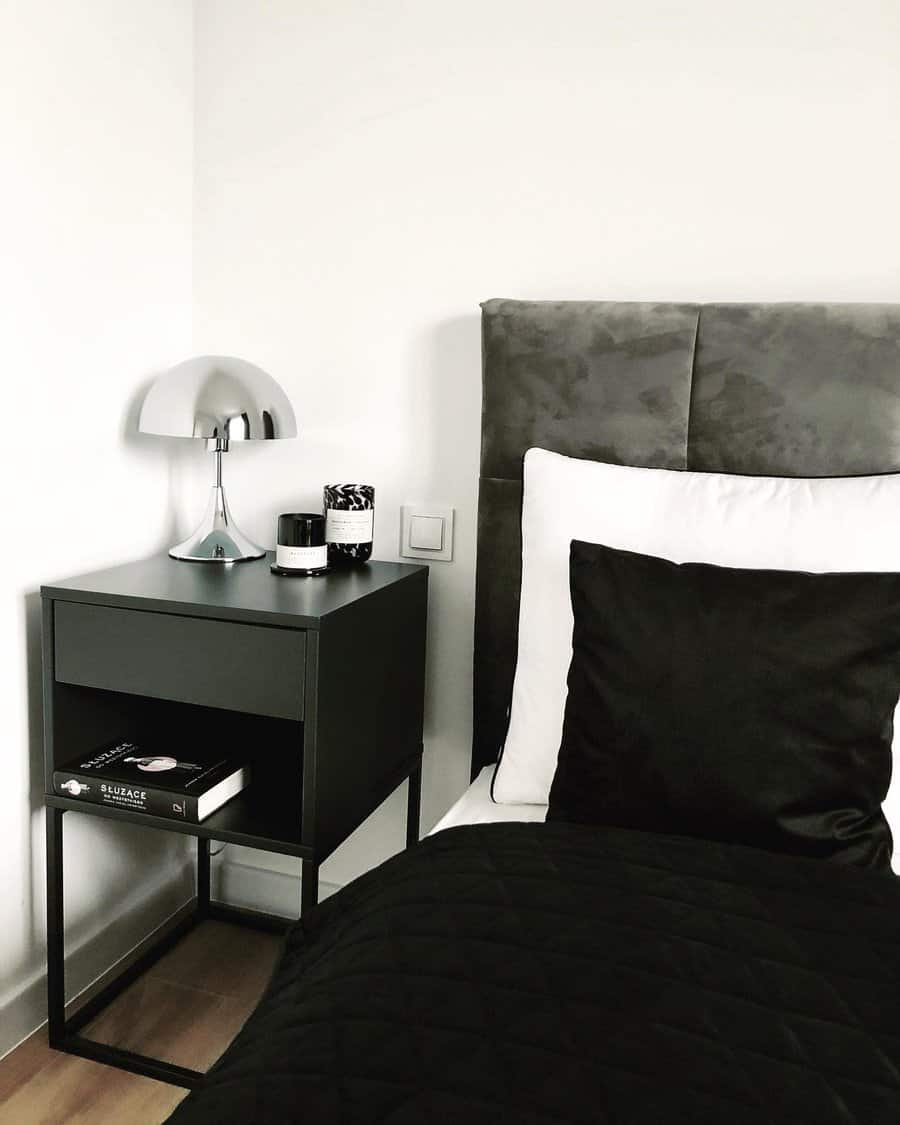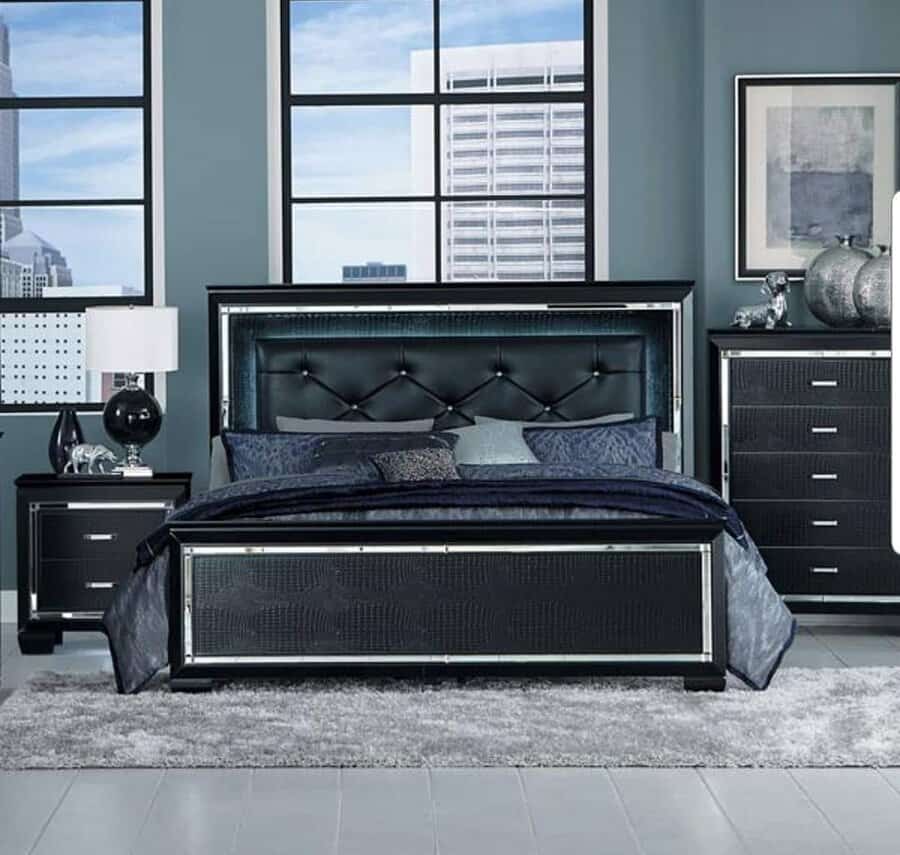 8. Hang String Lights For A Mystical Vibe
A black bedroom with string lights can be the perfect sanctuary for a midnight escape. Its dark walls provide anonymity, and string lights adorning the headboard offer just enough light to aid in relaxation.
Creating a space with statement furniture, sleek decor, and textured accents is an ideal way to make this hideaway feel elevated while still avoiding harsh tones or prints.
A black bedroom provides a sophisticated and timeless environment that anyone can enjoy.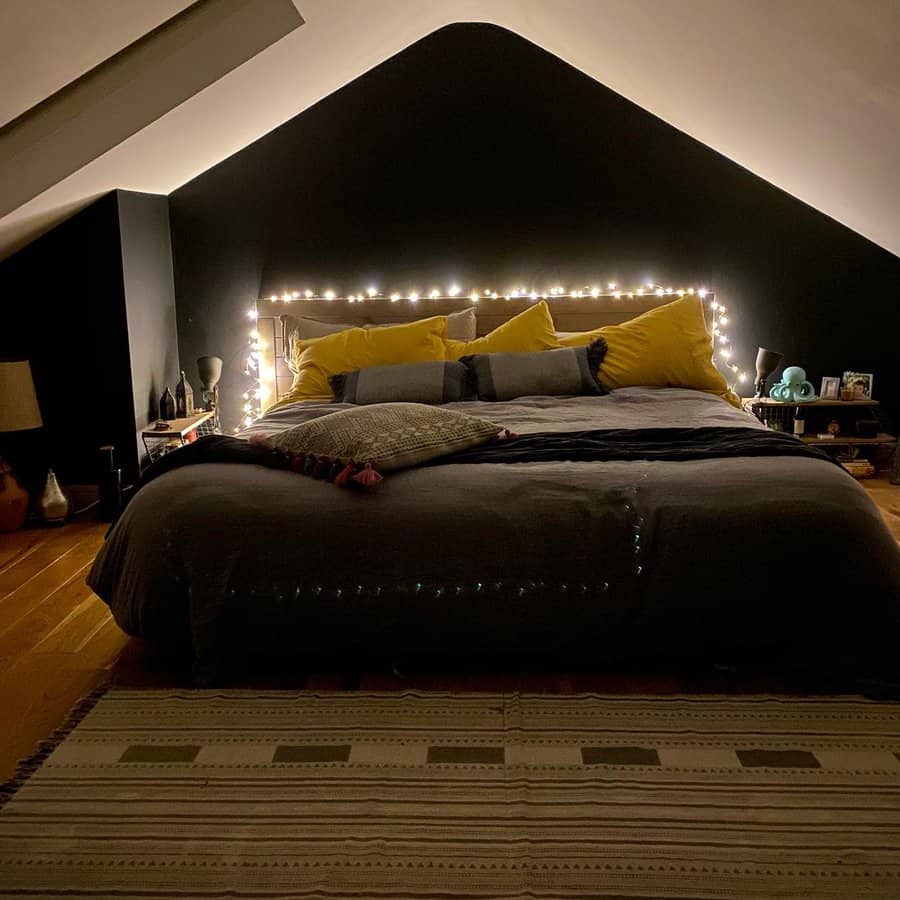 9. Go Industrial
Give your industrial interior a bold upgrade with the addition of a black bedroom – it's guaranteed to turn heads! Happily, achieving this design is easier than you might think.
Begin by painting your walls a deep charcoal gray and adding industrial accents like metal bed frames and industrial lighting. Then use mulberry-toned accent decor like pillows, curtains, and artwork for subtle yet distinctive pops of color that will bring the room to life.
Lastly, don't forget the concrete walls! They are essential to creating an industrial atmosphere and offer harsh lines with a bit of texture to complete this sleek monochrome look.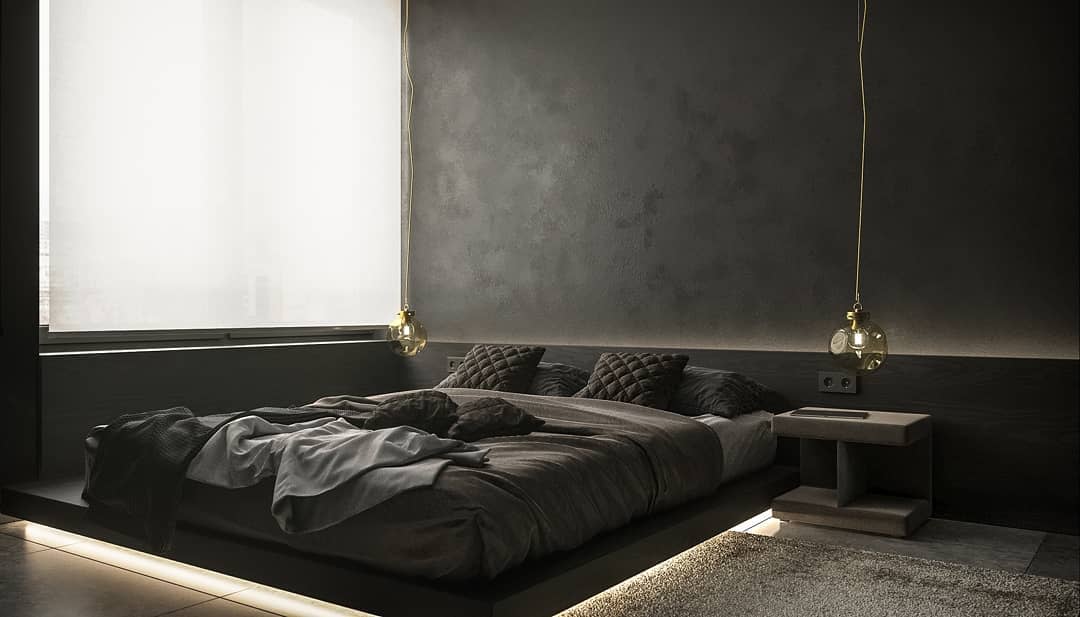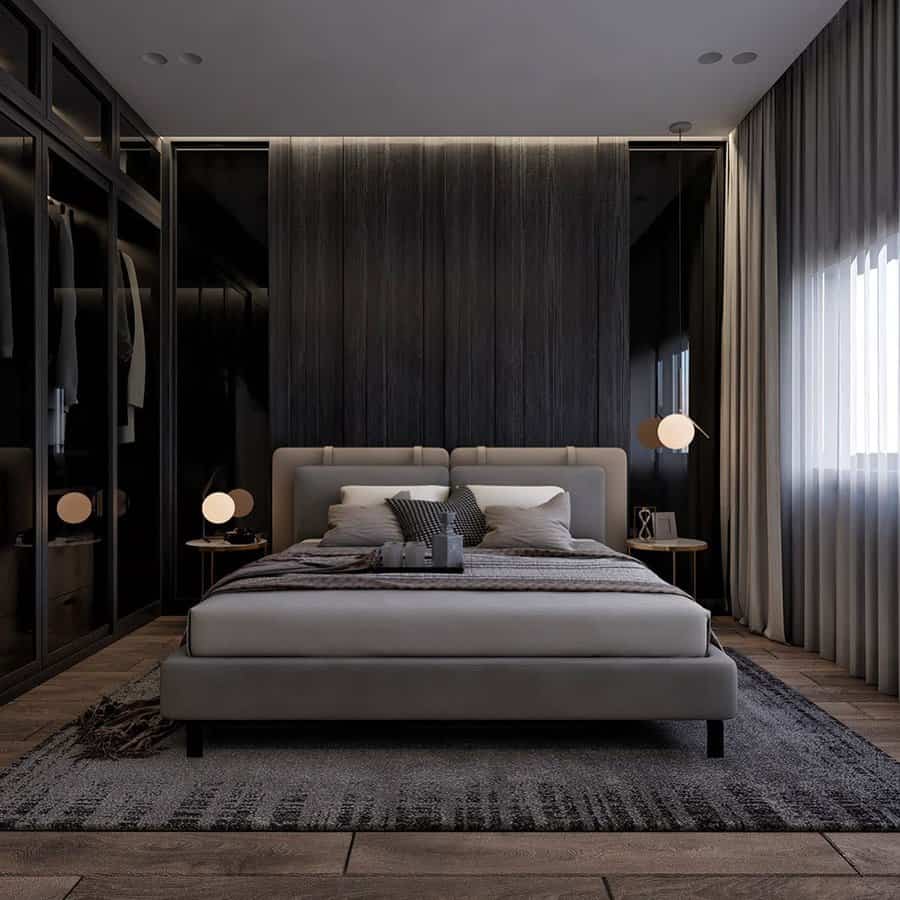 10. Hang Sheer Curtains For Extra Brightness
When it comes to creating a black bedroom, white sheer curtains are the perfect complement. The white softness of the curtains creates a dreamy atmosphere that contrasts beautifully against the classic and sleek black walls.
Together they create an elegant and stylish sanctuary where you can let your worries slip away and just take time for yourself.
Whether you want to sprawl out on your bed with a good book or just watch movies, this kind of space ensures cozy relaxing vibes in any apartment space.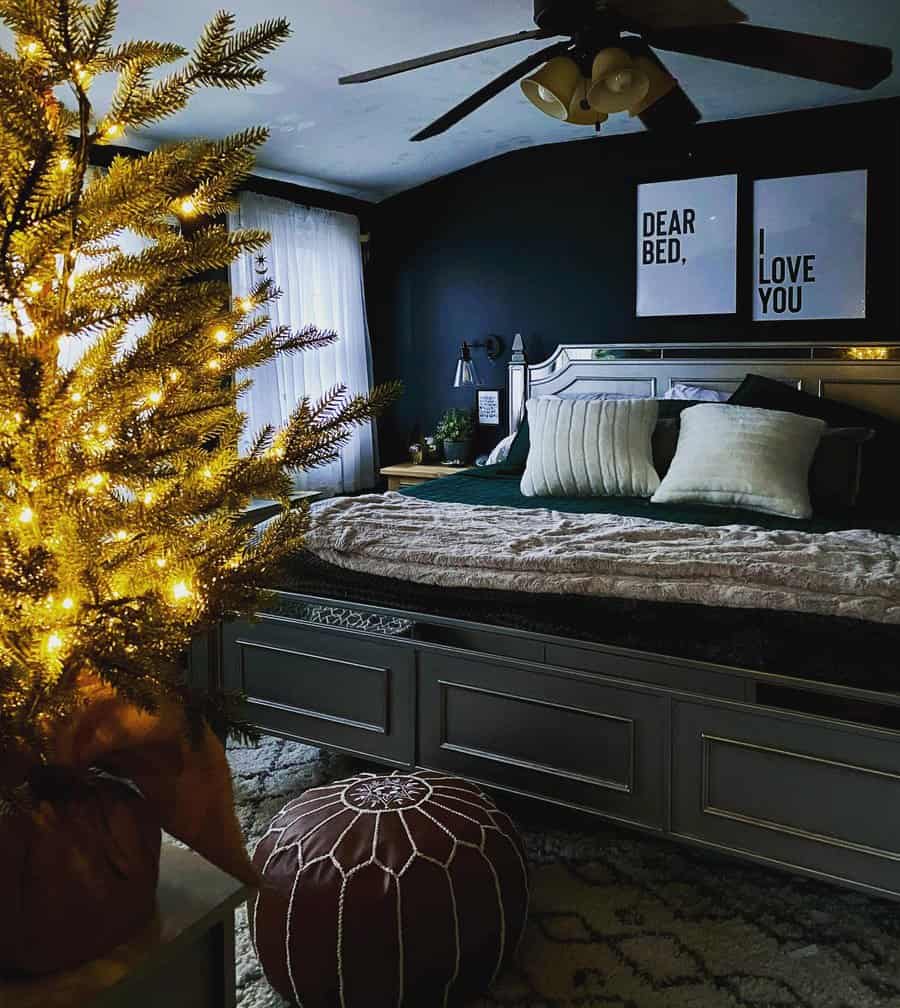 11. Install Mirrors For An Illusion Of A Larger Space
A black bedroom can offer a sense of opulence and sophistication. Whether you desire to adorn your walls with huge wall mirrors or dress them with oversized mirrors, a black bedroom will give you the freedom to make a statement.
With wall lighting that glistens off the mirrors, it creates a mystical and alluring atmosphere. By adding simple, modern fixtures to complete the look, your black bedroom can be transformed from subtle and serene into bold and striking.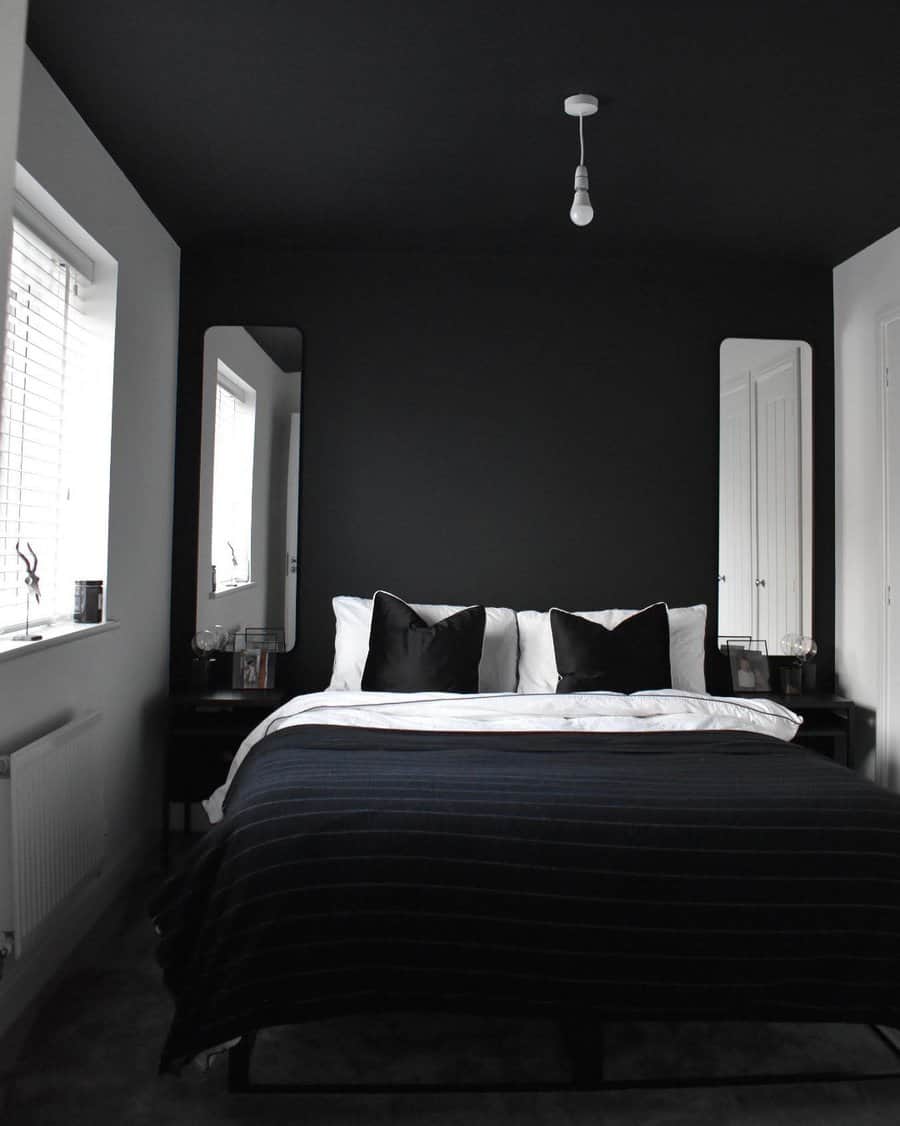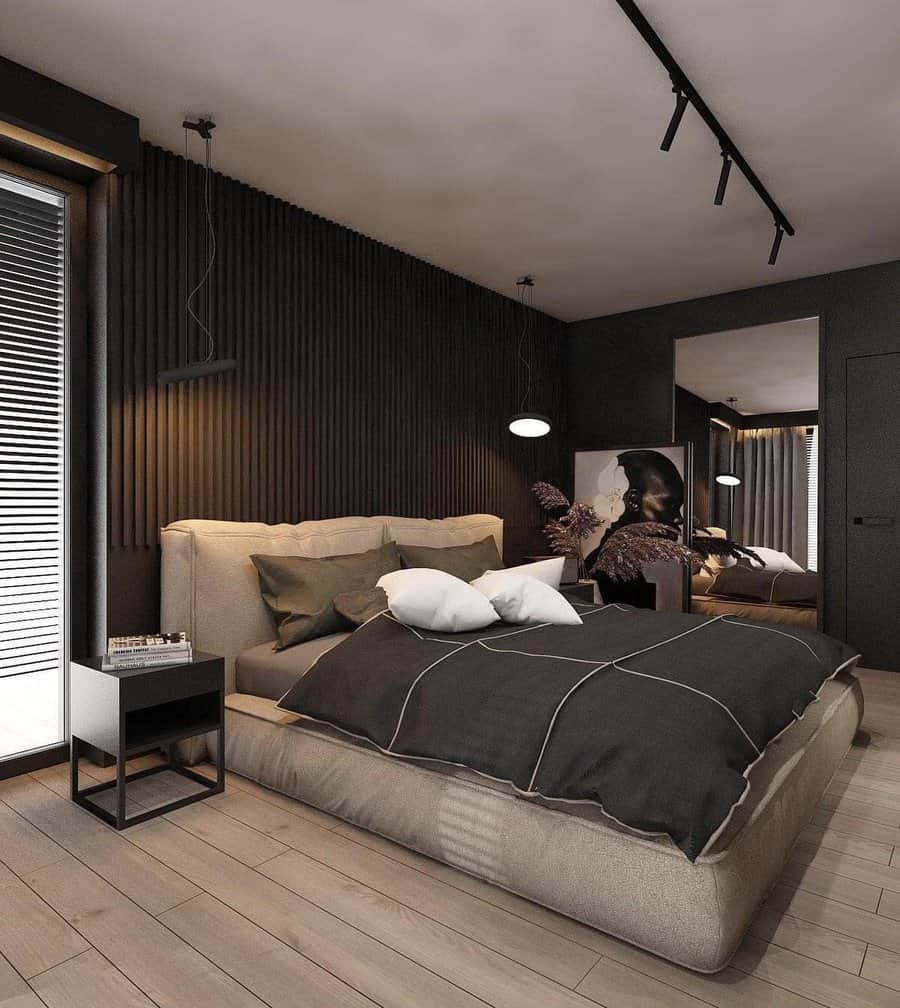 12. Add A Skylight Window
Sleeping in a black bedroom feels like retreating into a cozy, creative cocoon. The walls envelop you in darkness, creating an atmosphere of mysterious warmth and comfort that is unparalleled.
A skylight window set high up on the ceiling provides a comforting glimmer of stars to drift off to as you dream away.
Add some candles for extra atmosphere, and your attic bedroom will become your own personal sanctuary.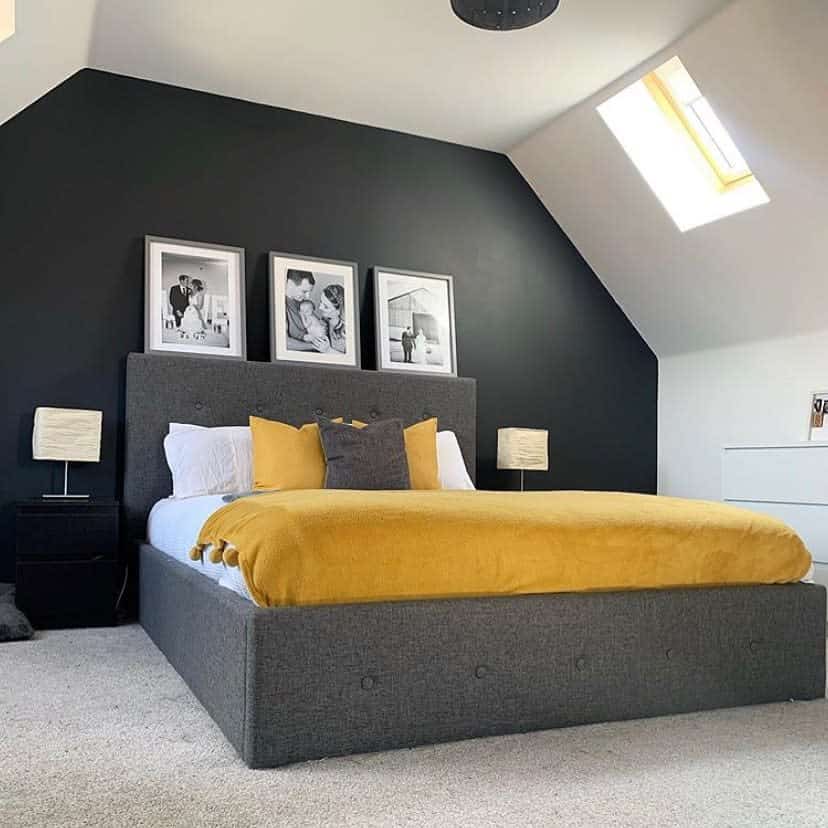 13. Inject Color
The possibilities for creating a stunning black bedroom are endless. From colored upholstery to colored furniture, the combination of black and vibrant hues can create an inviting and chic atmosphere that is perfect for a cozy night in.
Using pops of color paired with bold patterns and textures will create a unique look that you'll never want to leave. Whether it's deep blues or jewel tones, any colored furnishing will be the perfect finishing touch for your black bedroom design.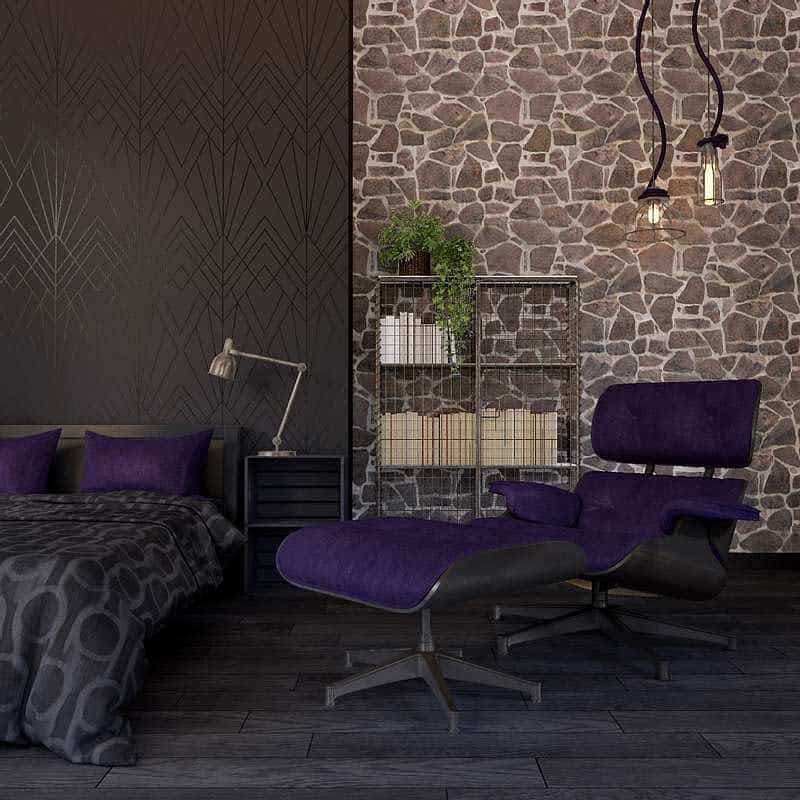 14. Build A Floating Wall Shelf
Creating a black bedroom can be a stunningly bold style statement with the right decor. Imagine opening the door to a wall shelf filled with votive candles, framed prints, and wall hangings – each of which balances out an otherwise stark black wall.
A plush rug, ceiling lights that dangle at will, as well as an overhead shelf to showcase treasured items complete the look. With these pieces in place, a masterful composition is born – one that invites rest and contemplation seamlessly.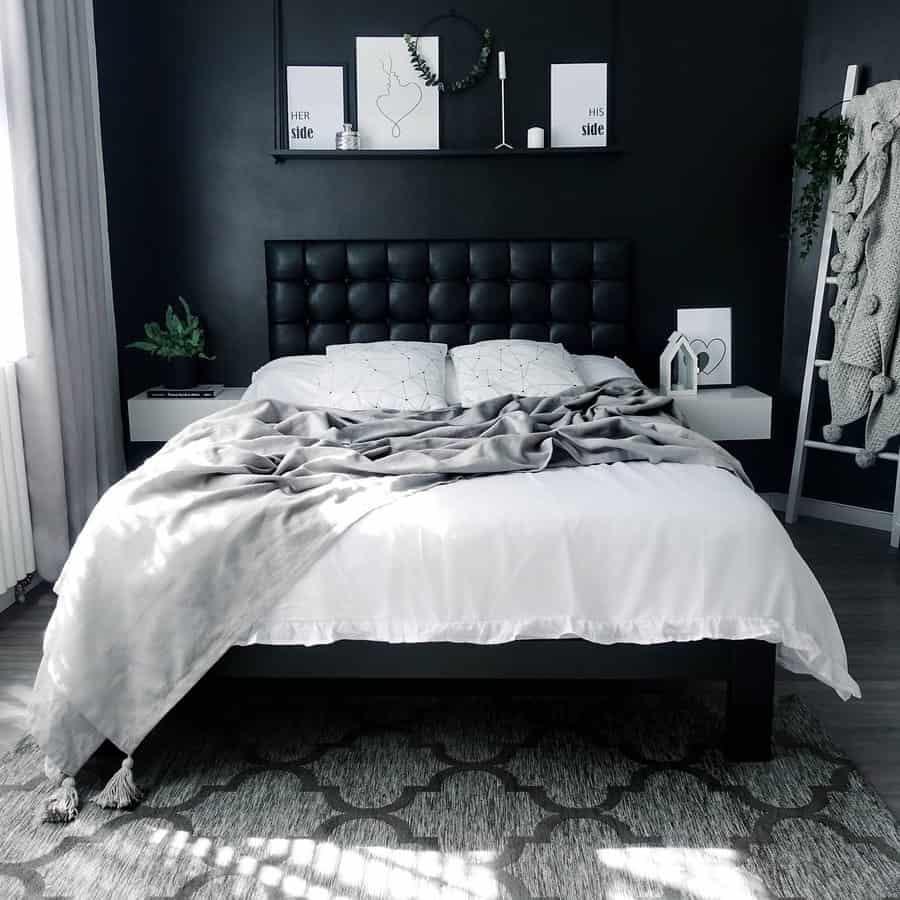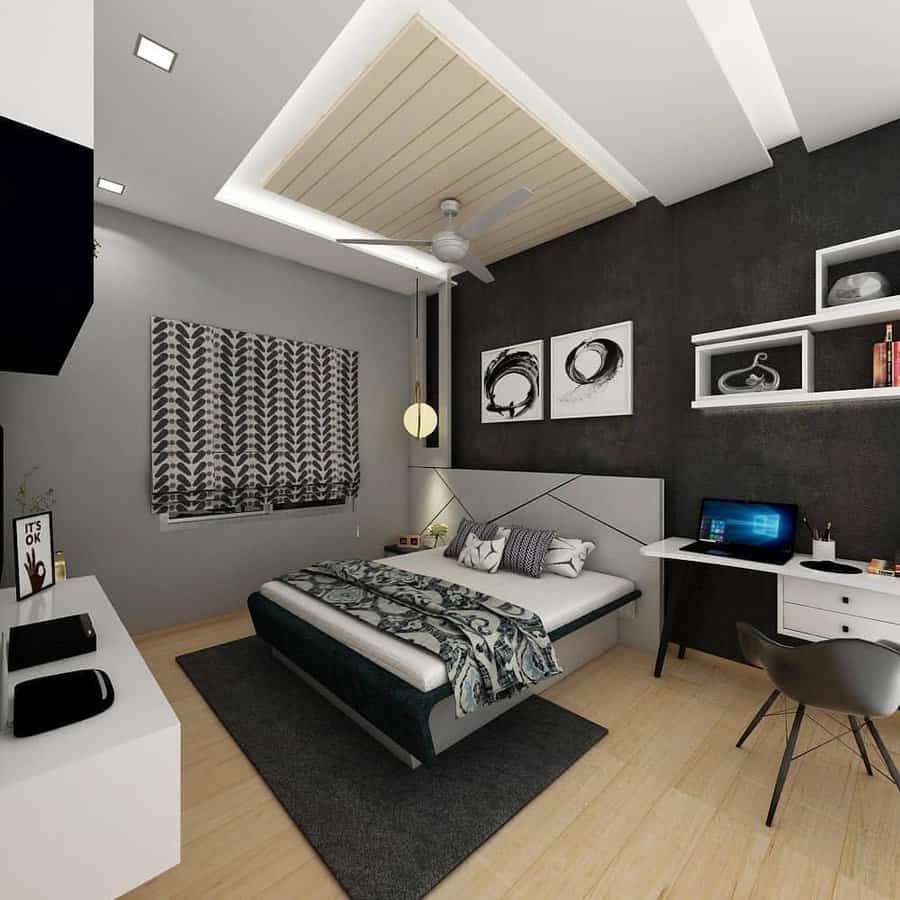 15. Opt For Black/Dark Wood Walls
Black furniture and bedding set the mood, adding black wood accents will truly create an impact. Transform your bedroom into a luxuriously dark space that is perfect for relaxation by installing black wood paneling on walls and the ceiling, or using black wood furniture pieces to complete the look.
Whether you choose to make a statement with dark wood walls and black curtains, go for a monotone color scheme with black duvets and black sheets, or add shine with black photo frames – it's easy to find ways to make use of black wood in the most stylish of black bedrooms.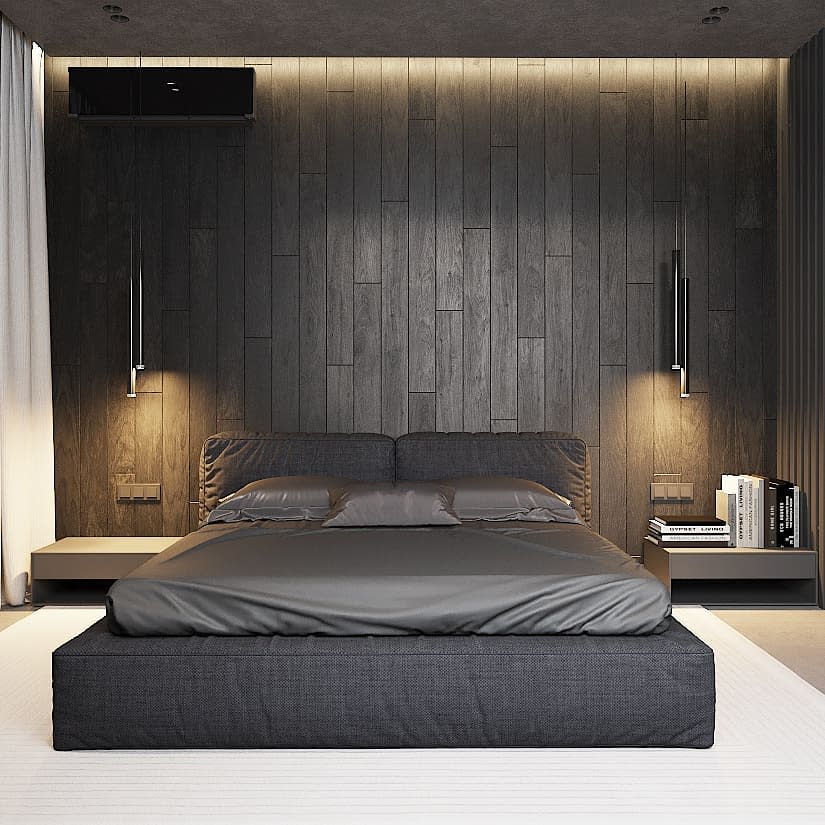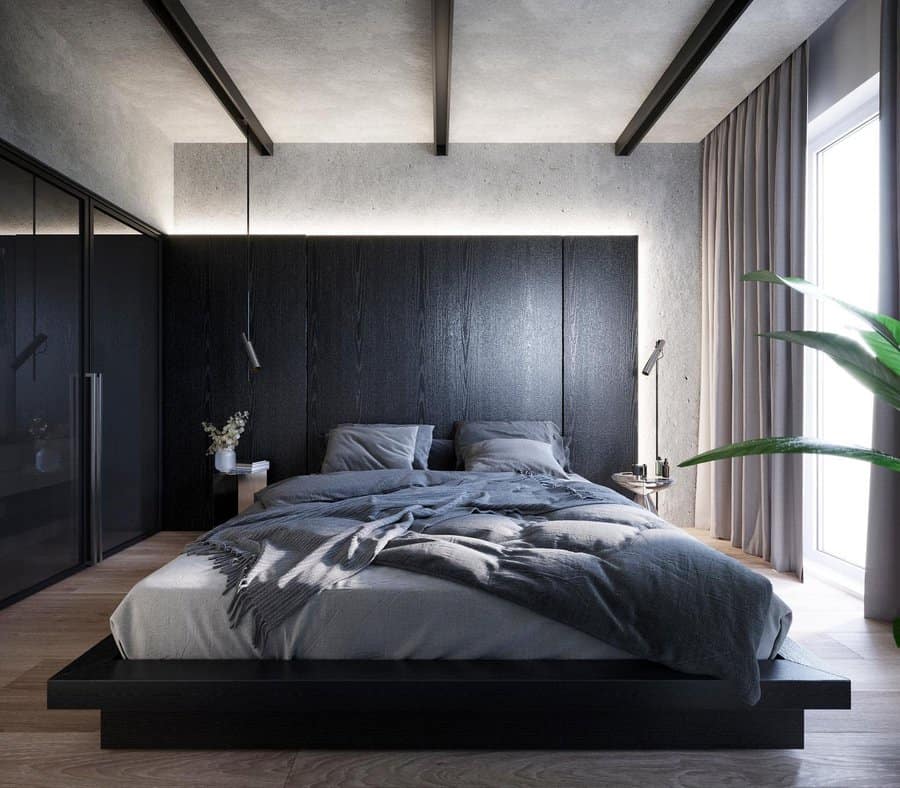 16. Be Creative With Throw Pillows
You can transform a black bedroom into something luxurious and inviting by adding printed throw pillows on the bed. Fluffy soft pillows can be displayed to not only add style but also provide a cozy feeling.
Choose printed throw pillows that bring out the colors already present in your design scheme whether it be bold colors or subtle pastels, use them to spice up the room.
To make sure you draw attention to your printed throw pillows, use neutral and complimentary beddings to make their beauty stand out. There is over abundance of printing and style options to choose from so explore away!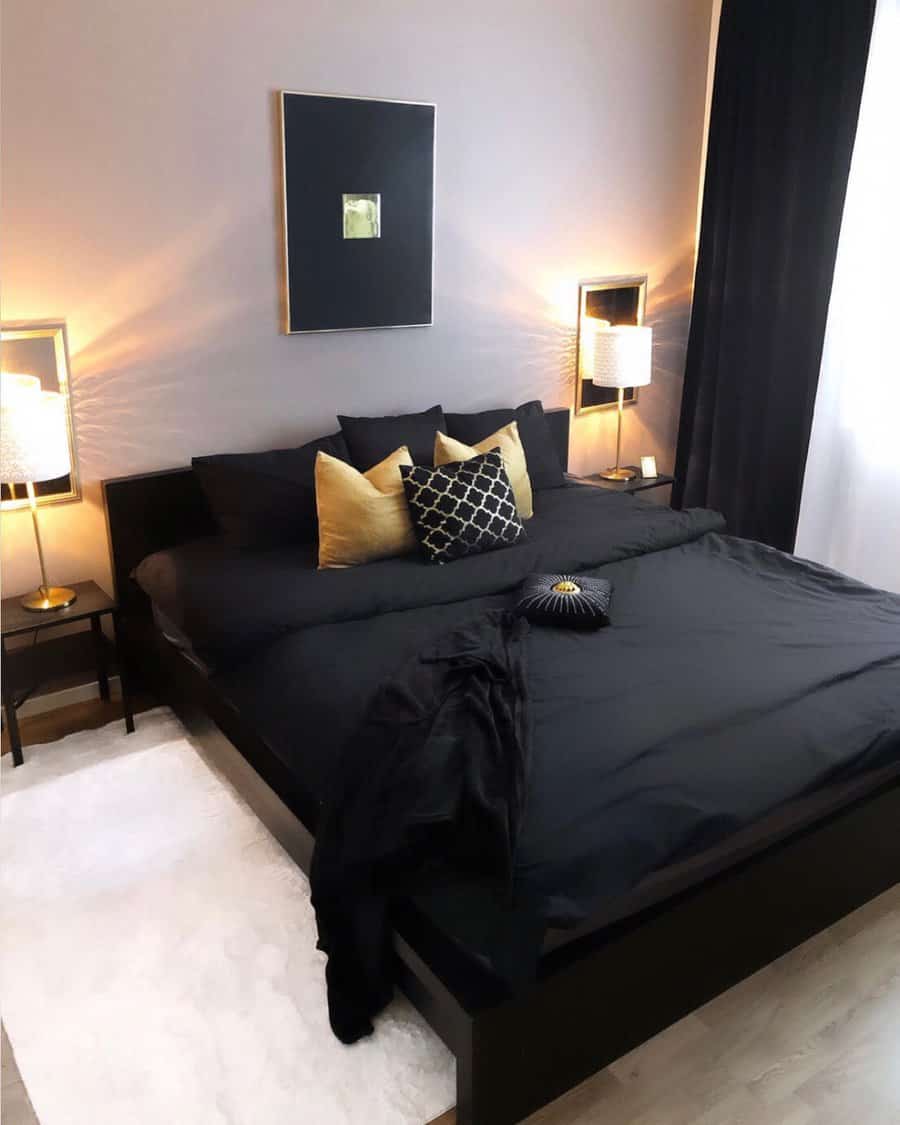 17. Incorporate Prints
If you are looking for a creative touch for your bedroom, incorporate printed beddings and curtains with a black background. The contrast will provide an interesting design that catches the eye and adds sophistication to any room.
You can incorporate different prints of various sizes, using lighter shades like grey and navy to offset the black base. Additional details in the form of lamps, picture frames or other accessories with subtly contrasting patterns could bring life to your space even further.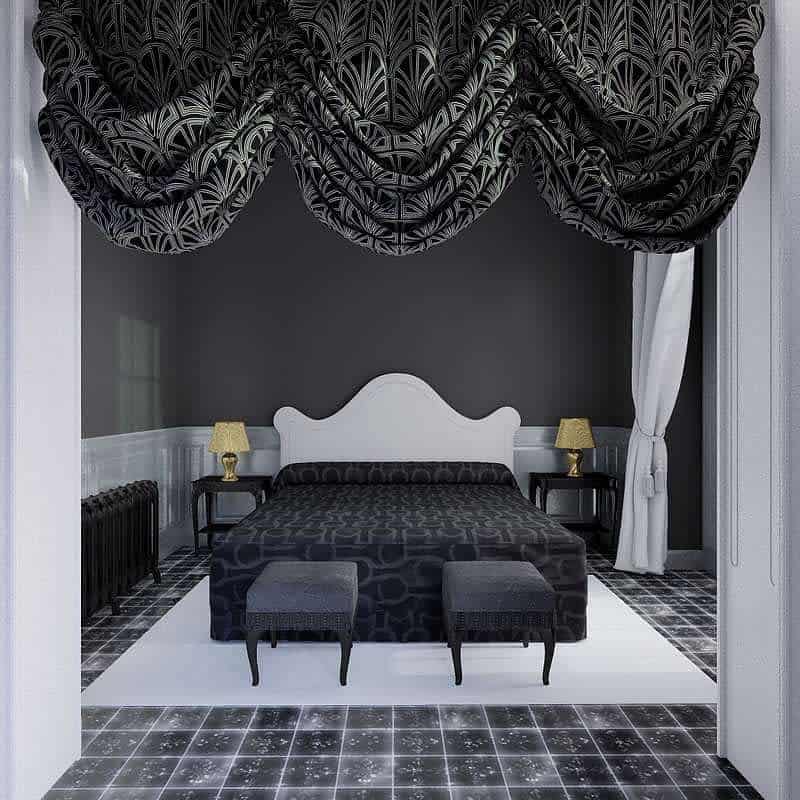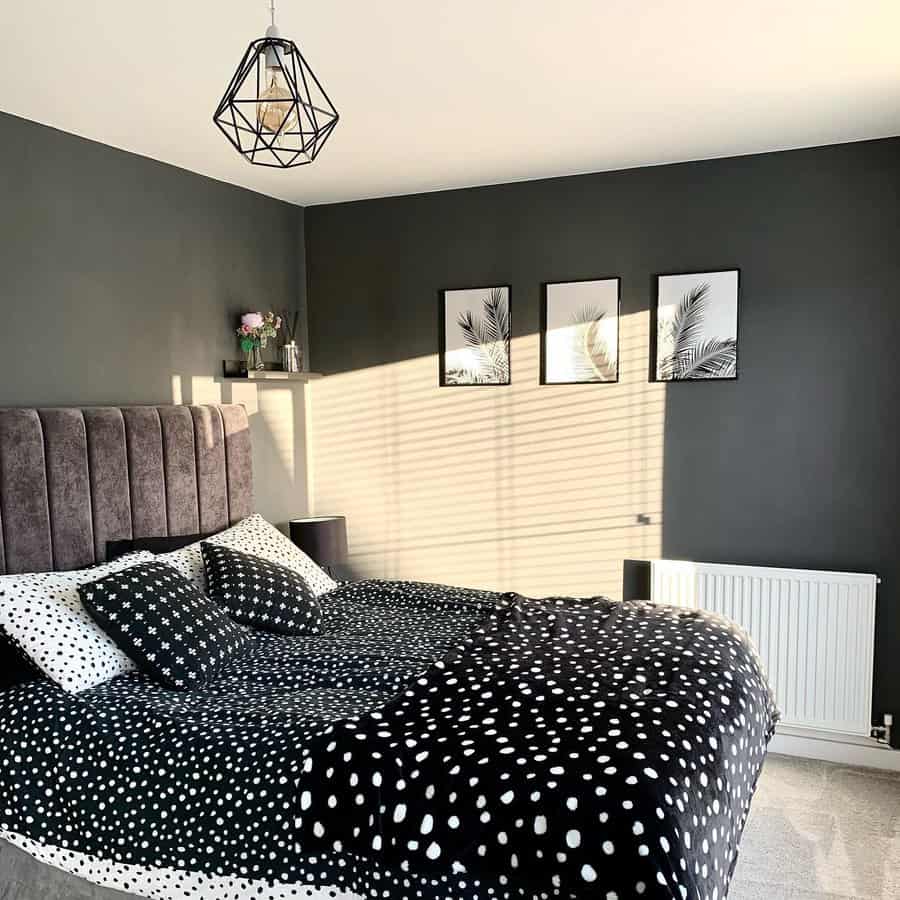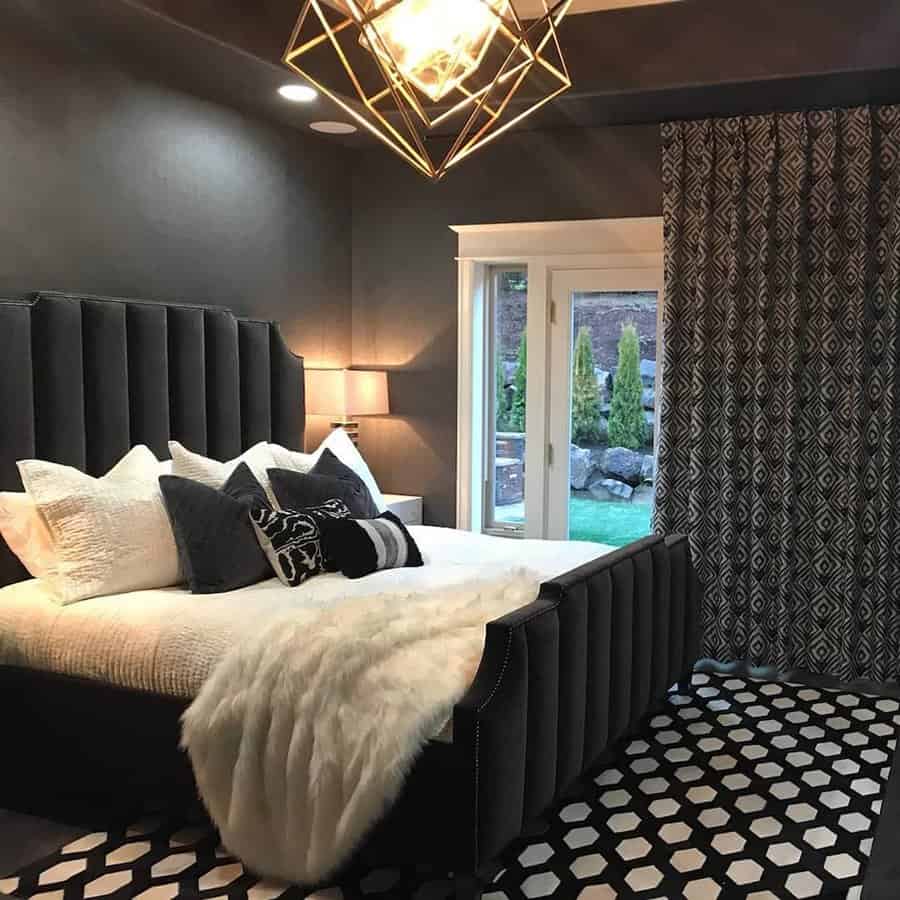 18. Stick With Black & White
For a bedroom that will turn heads, go for a black motif with white elements. The contrast between the white furniture and white lamps scattered throughout the room truly sets off the darkness of the walls and carpeting. Not only is white an eye-catching combination with black, but it also has subtle energy of its own.
It's airy and inviting, making this kind of bedroom stylish yet comfortable; crisp but inviting. Create your dream atmosphere to come home to by adding white elements to your otherwise dark bedroom.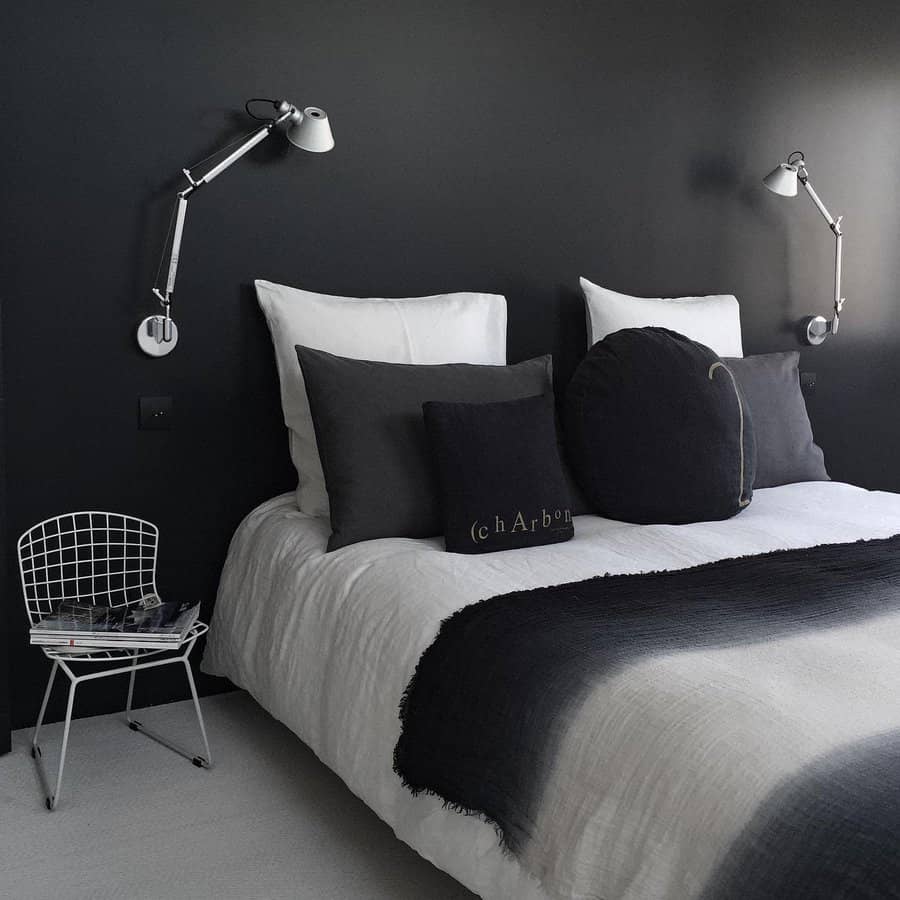 19. DIY A Geometric Batten Wall
When thinking of black bedrooms, you might imagine a dreary and depressing space. But black walls can create an exciting and energetic atmosphere! For maximum impact, combine black geometric batten walls with black furniture pieces to create a stylish aesthetic.
If black is too intimidating for your preference, opt for an accent wall in black noir. Keep the majority of the walls a soft color to balance out the drama and make sure you have plenty of natural light streaming into the room.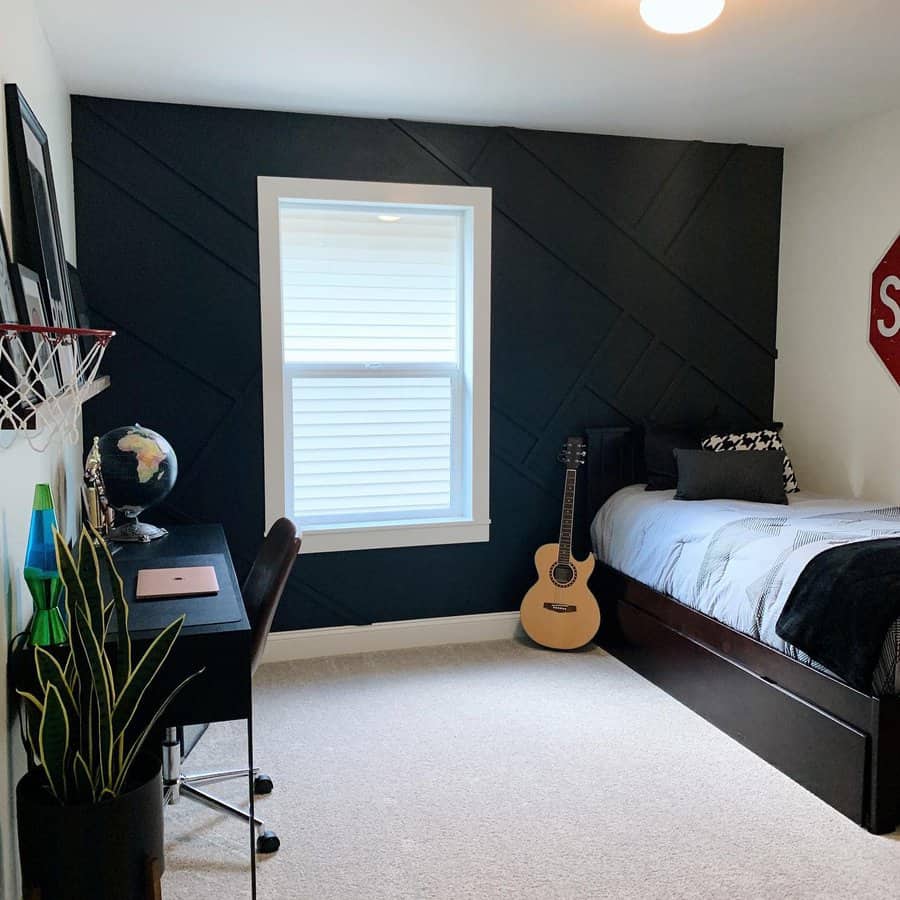 20. Add A Cozy Rug
To give your space a truly inviting atmosphere, consider adding a faux fur rug or a woven rug to your flooring. Not only will these two rug options bring some much needed texture to your bedroom, but they will also serve as the perfect place for you to start and end your day with their comfortable feel beneath your toes.
The faux fur rug is ideal for creating an intimate yet modern look whereas the woven one is great for elevating a traditional decor. With either one of the rugs, you could be sure to have a calm atmosphere when reclining on it after a long tiring day!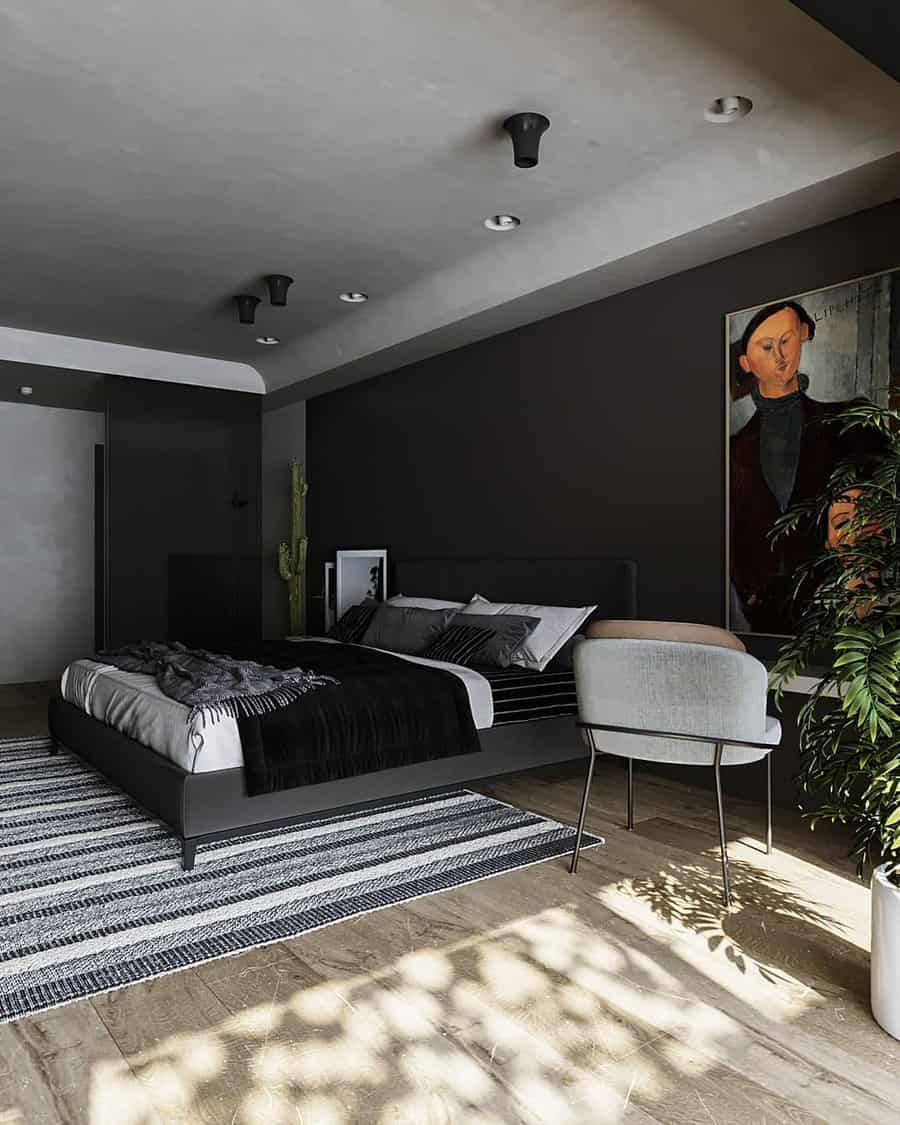 21. Go Dark Rustic
Create a dark yet inviting space with the perfect black bedroom. To begin your decorating journey, go for a dark rustic interior to give your room an earthy and laid-back vibe, then add elements like rattan furniture to add some warmth and texture to the room.
Make sure to incorporate DIY crafts like macrame wall art and basket wall hangings, which will bring personality into the room while making it feel cozier. These pieces of handmade decor will make your black bedroom an irresistible sight to see!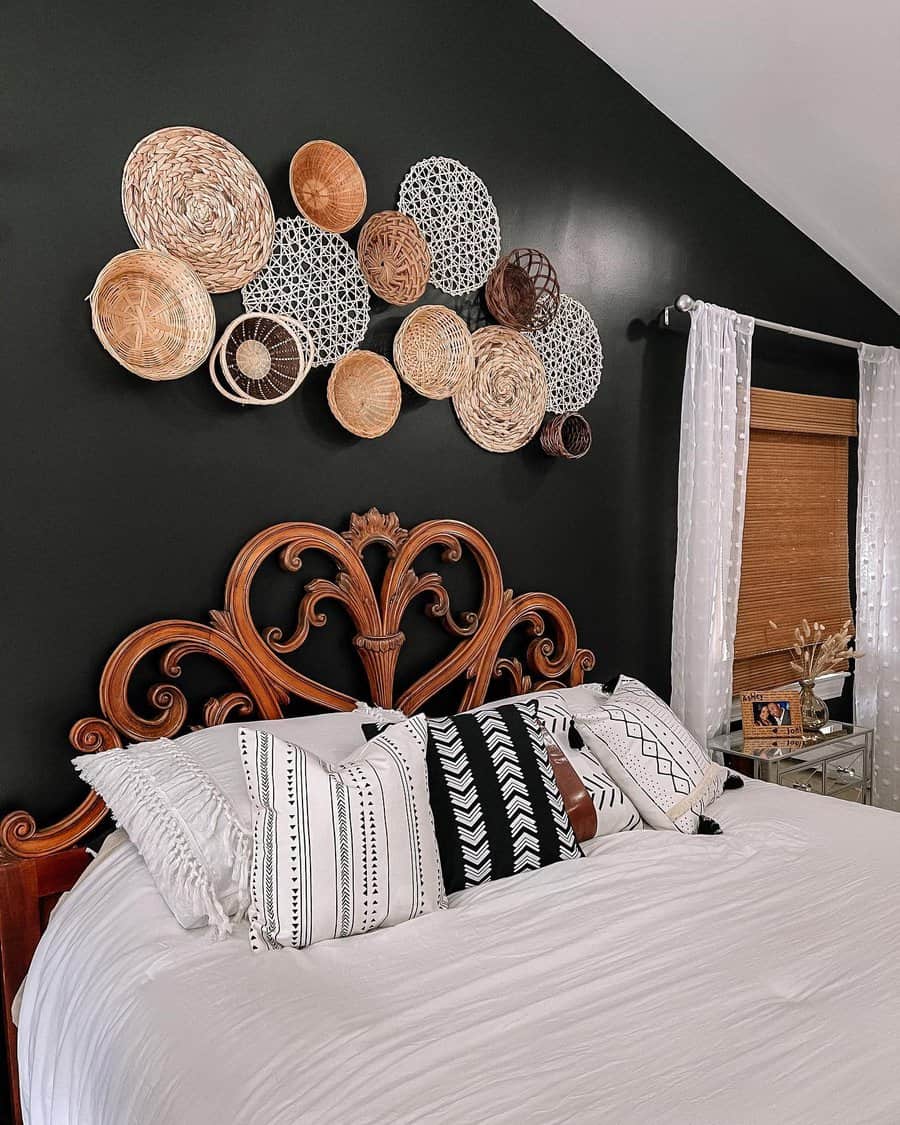 21. Go For Scandinavian Furnishings
Scandinavian interior design is the perfect way to transform any black bedroom. Not only is this style effortlessly stylish and minimal, but it pairs uniquely with black furniture to create a stunning palette.
With Scandinavian design, it's all about refining the space with straightforward and unique furniture. There are so many pieces available to breathe life into a black bedroom, making it an inspiring and iconic place to relax in.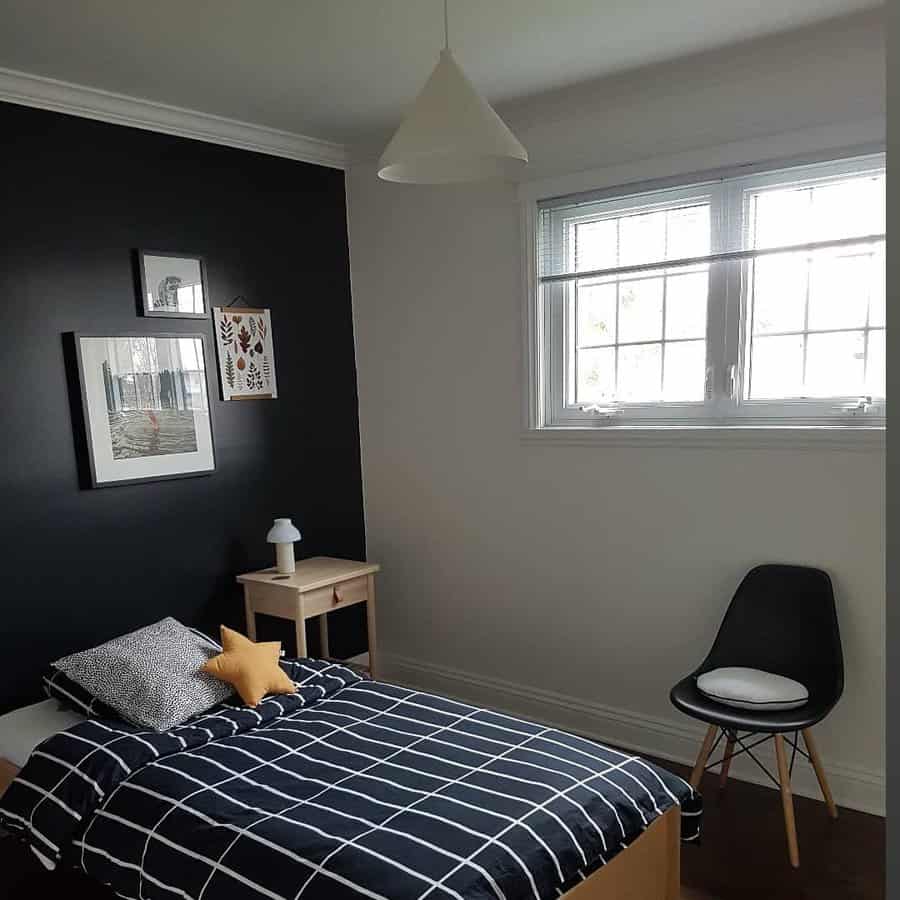 22. Install A Printed Wallpaper
An aesthetically dark and risky interior design choice, a black bedroom adorned with dark printed wallpaper can be surprisingly inviting. This bold look can become the centre piece of any home, commanding attention yet also offering warmth and comfort to anyone who steps inside.
To complete the look, beddings such as dark pillows and comfy blankets in dark hues are an excellent complement to this daring space. And as if that isn't enough, soft lighting adds an extra dimension of style to really show off the unique beauty of the dark printed wallpaper that frames your one-of-a-kind bedroom.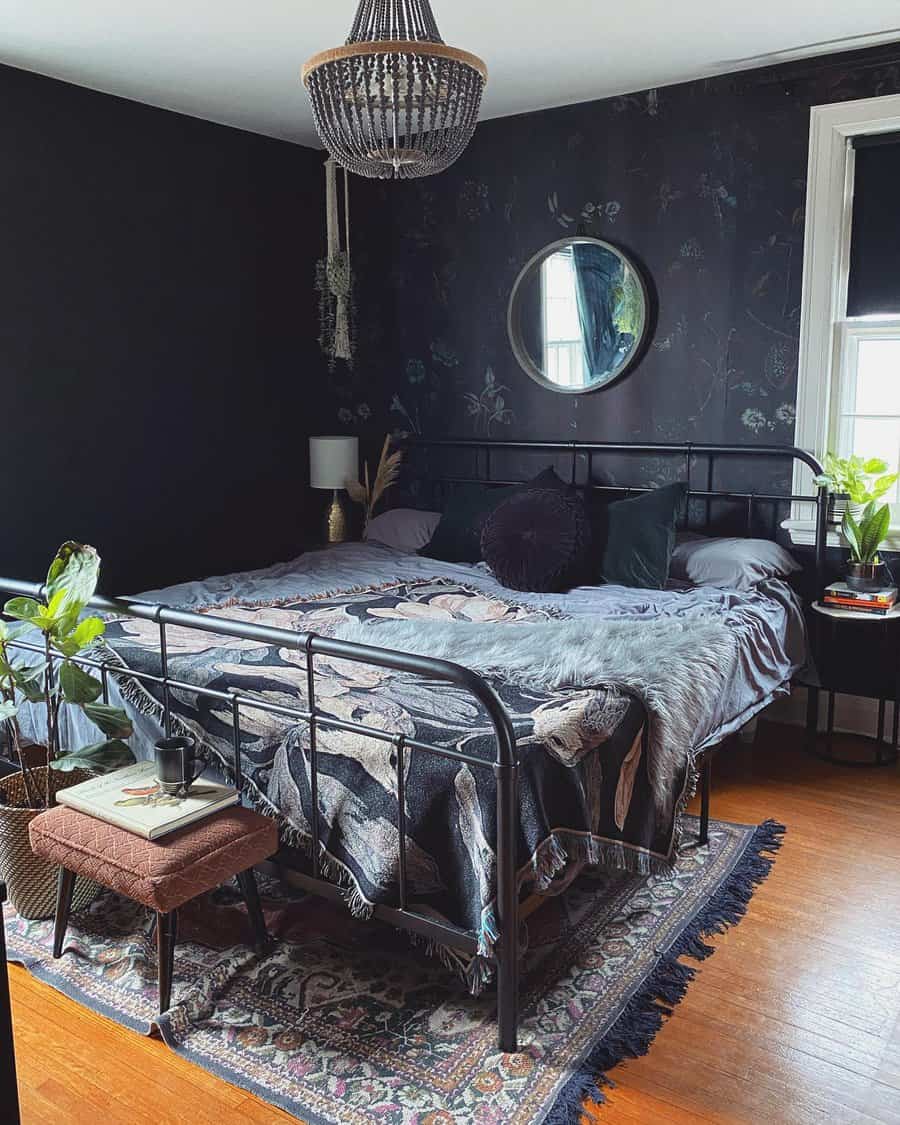 23. Incorporate Greens Into Your Black Space
Spruce up your bedroom with green elements using potted and faux plants. Make it look like what the Scandinavians call 'hygge' – a concept of coziness, comfort and contentment. To achieve this, place eucalyptus on the walls or around room decor such as hanging art painted green.
Nothing can make a big difference in creating an overall cozy atmosphere than adding plants! Decorate surfaces like your nightstand with lush green foliage.
Not only will they look beautiful but they will give off a feeling of peace and wellbeing.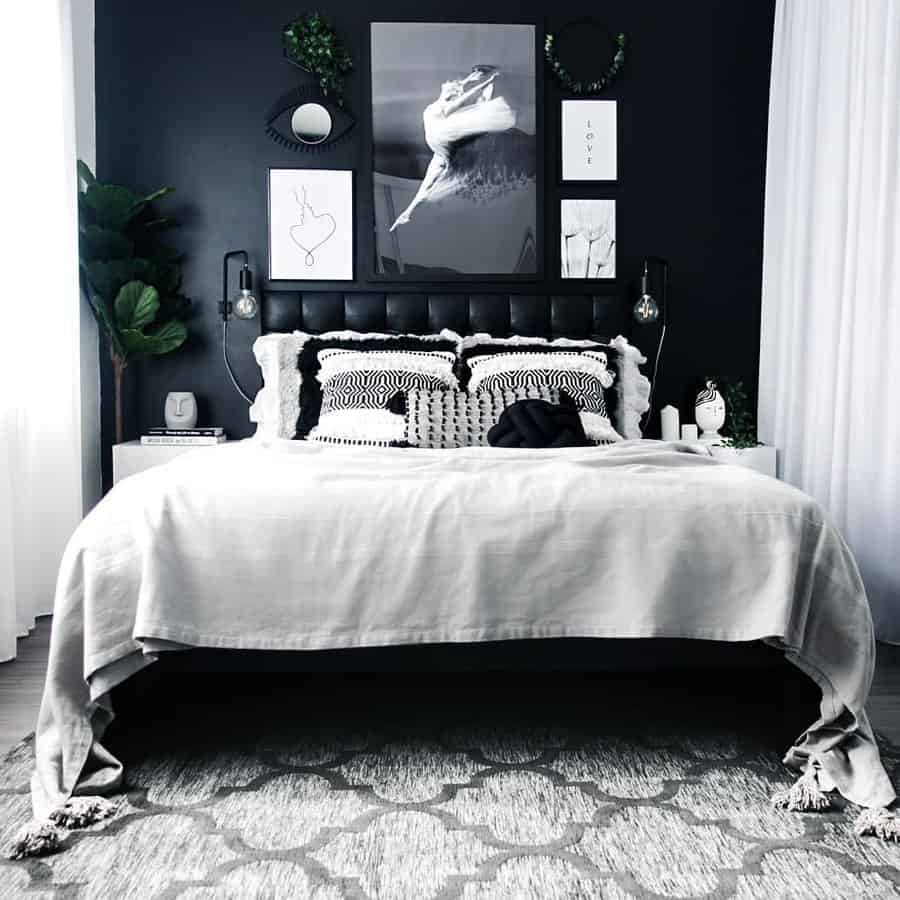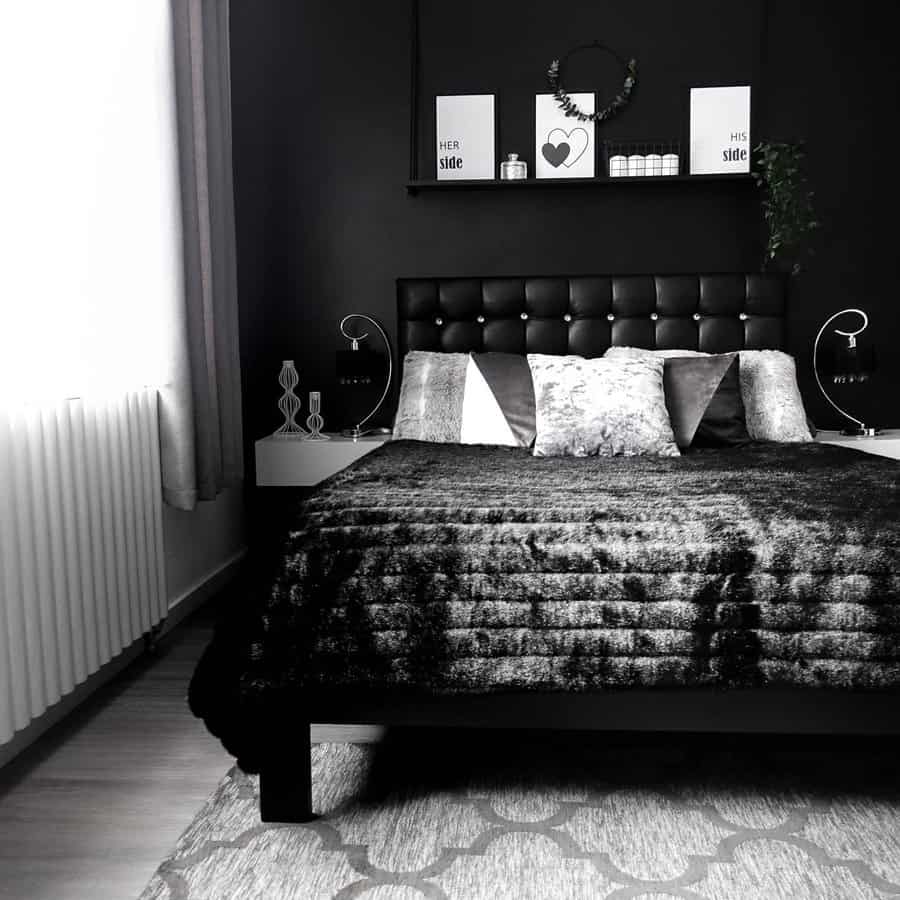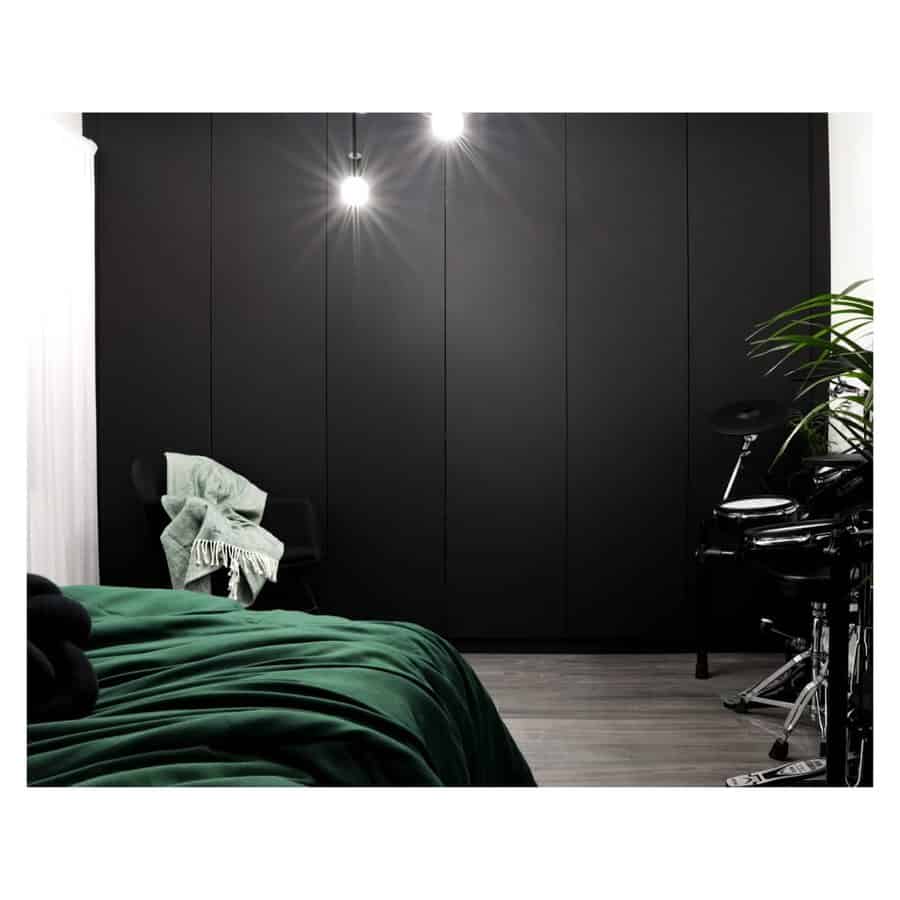 Black Bedroom FAQs
Should you paint a bedroom ceiling black?
It might sound crazy but painting your master bedroom ceiling black could completely transform the space (in a good way!).
A black ceiling can make the room look and feel larger than reality. This illusion is most effective when the walls are painted a lighter color.
Painting your bedroom ceiling black can also make it feel cozier. This is a great option if your bedroom features a lofted ceiling or is too spacious for your needs.
How do you paint over black walls?
Even if designing a black bedroom doesn't intimidate you, covering that dark paint in the future might!
The best way to cover black paint is to start with a light grey primer. This hides the color underneath and preps the wall for a lighter shade with no bleedthrough. Even with this technique, though, multiple coats might be necessary.