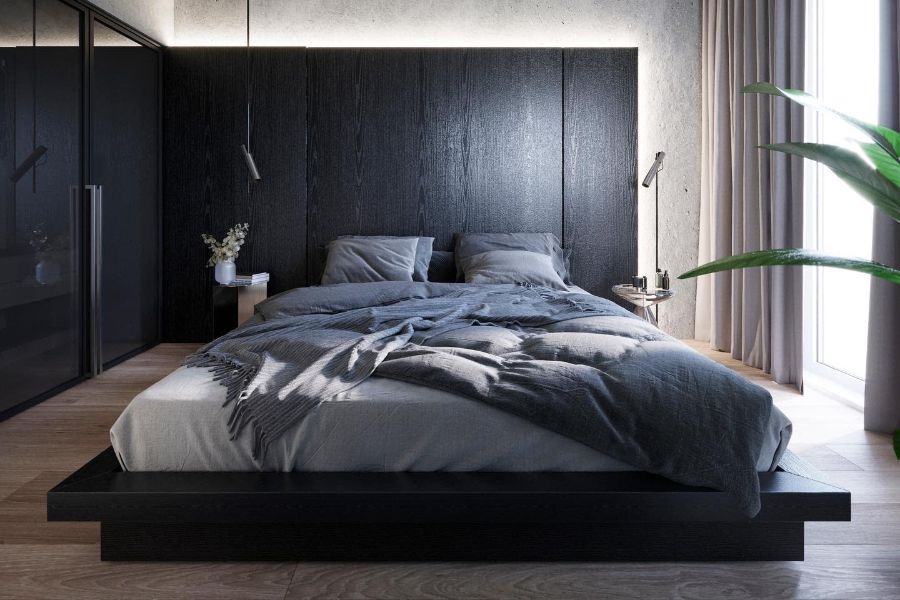 43 Beautiful Black Bedroom Ideas
Black bedrooms aren't just for rebellious teenagers! And incorporating black into your bedroom decor does not need to be scary.
Despite many homeowners' gut reactions, black is a neutral. You can pair it with almost any other color to great effect.
This eclectic color scheme can be just as effective as an all-white bedroom design. It's all about how you use it. Keep reading for the best black bedroom ideas that will teach you a new appreciation for this dramatic shade.
1. All Black
Yes, black is dramatic. And many homeowners are afraid to include this color in their home decor except in very small doses. If anything can change your mind about a predominantly black bedroom, though, it's these stylish examples.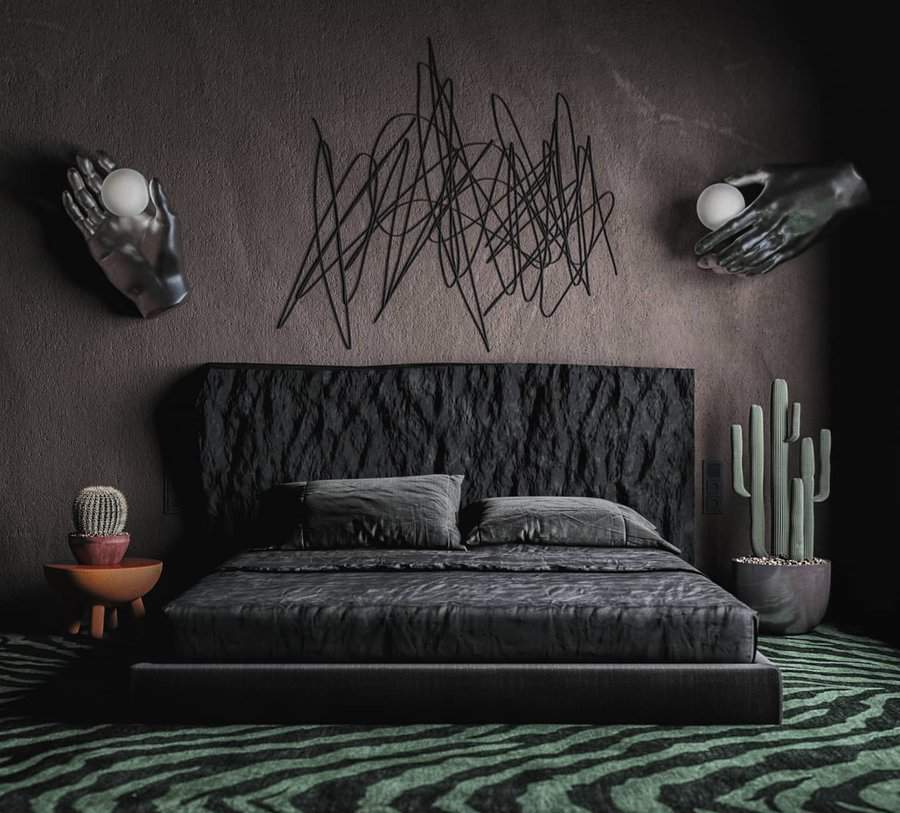 All-black decor does not need to be flat or claustrophobic! Incorporate different textures — velvet, leather, wood, stone, etc. — to breathe some life into your ultra-dark bedroom design.
Of course, a black bedroom does not need to be 100% black. Accents like natural wood grain or metallics can take some of the heaviness out of a dark and moody color scheme.
2. Black and White
Contrast is one of the key factors in creating an effective color scheme for your bedroom. Well, there are no two colors that contrast better than black and white!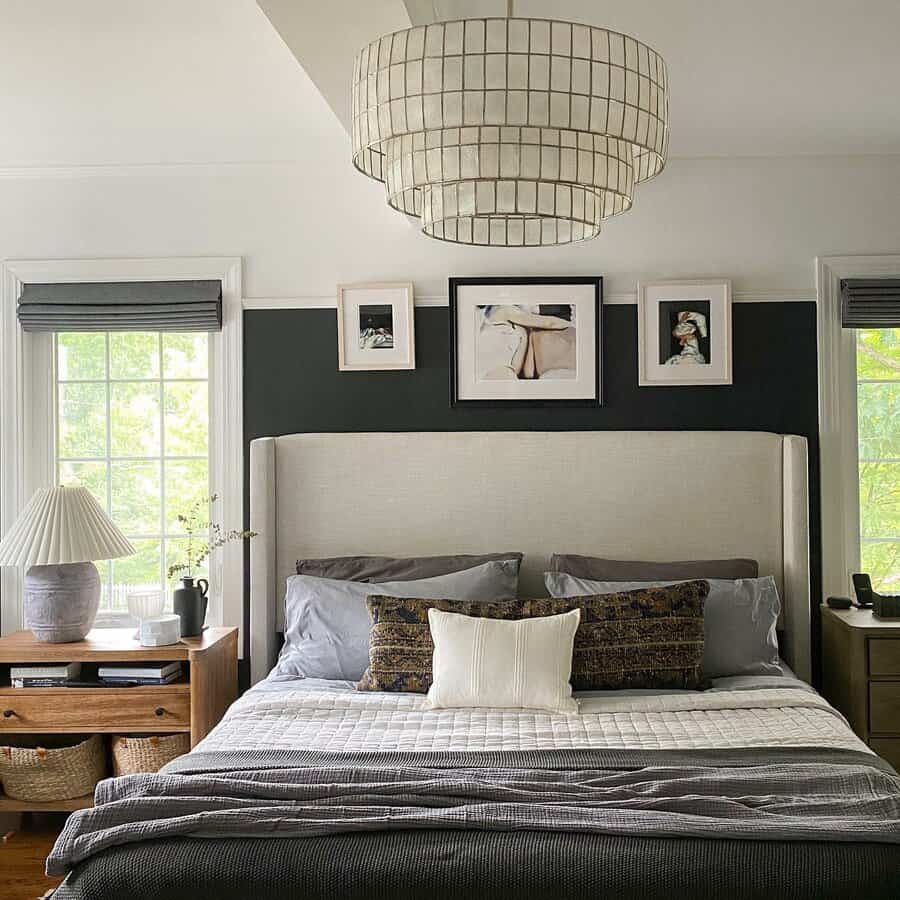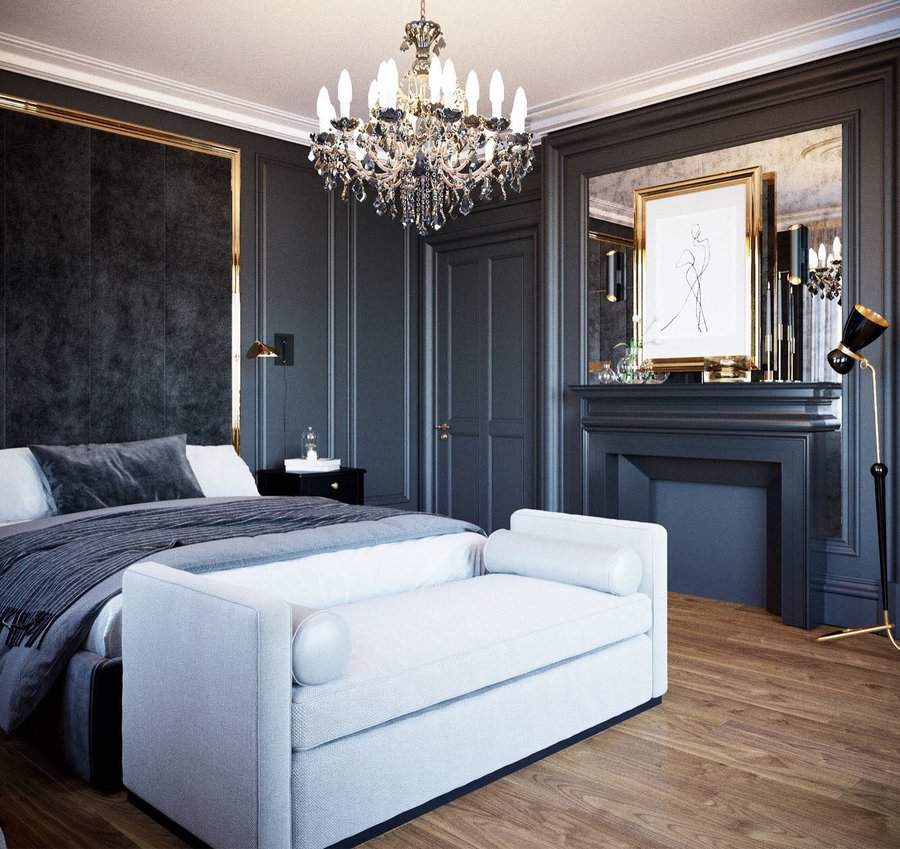 White bedroom walls paired with black furniture might be your go-to. But you shouldn't sleep (no pun intended) on the opposite color palette. Combining black wall paint with white furniture and decor is both contemporary and unexpected.
Remember: A black-and-white bedroom can include other coordinating colors. Blend your black and white decor together using bridging shades of grey and other neutrals. Or, for a pop-art look, include one or two vibrant accent colors in your bedroom design.
3. Contemporary
Black bedroom decor is perfect for giving your living space a mature, contemporary aesthetic. So don't hesitate to include black bedding, furniture, or even walls in your new bedroom design.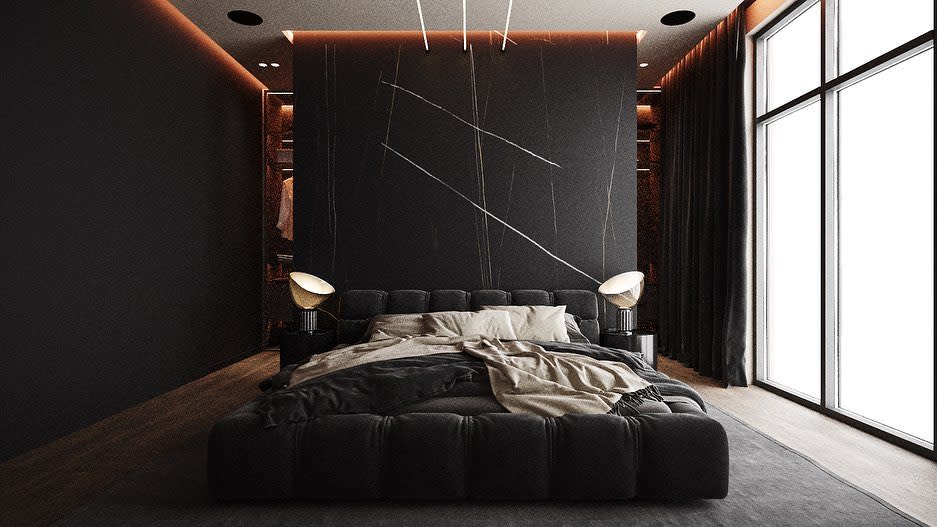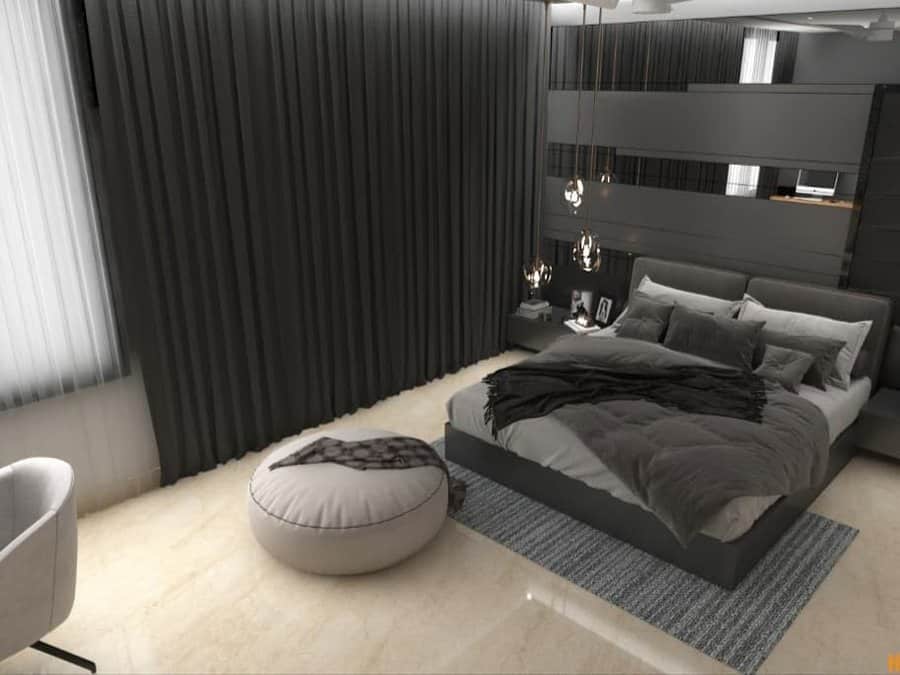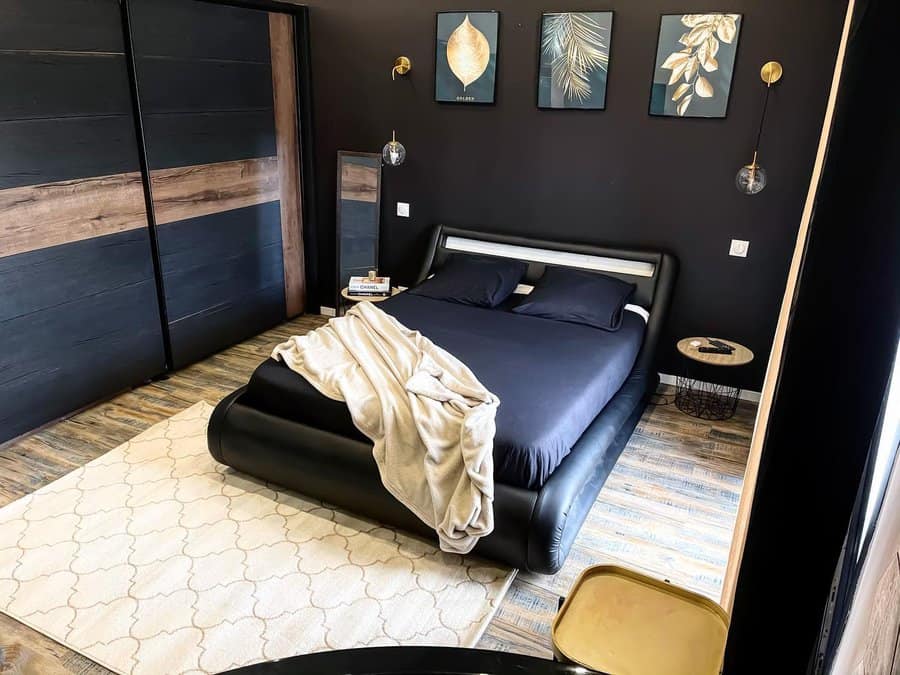 There are two directions in which you can take your contemporary bedroom. First, pair your black decor with metallic finishes and modern furniture. Or, second, go the natural route with warm wood furniture and more organic shapes.
For the best results, expand your room's color scheme past just black and white. Neutrals are super trendy in contemporary design, so reach for your favorite shades of grey and brown as well.
4. Furniture
You can't have a stylish, functional master bedroom without furniture! In many cases, the headboard, nightstand, and other furniture are the most crucial elements in determining your bedroom aesthetic overall.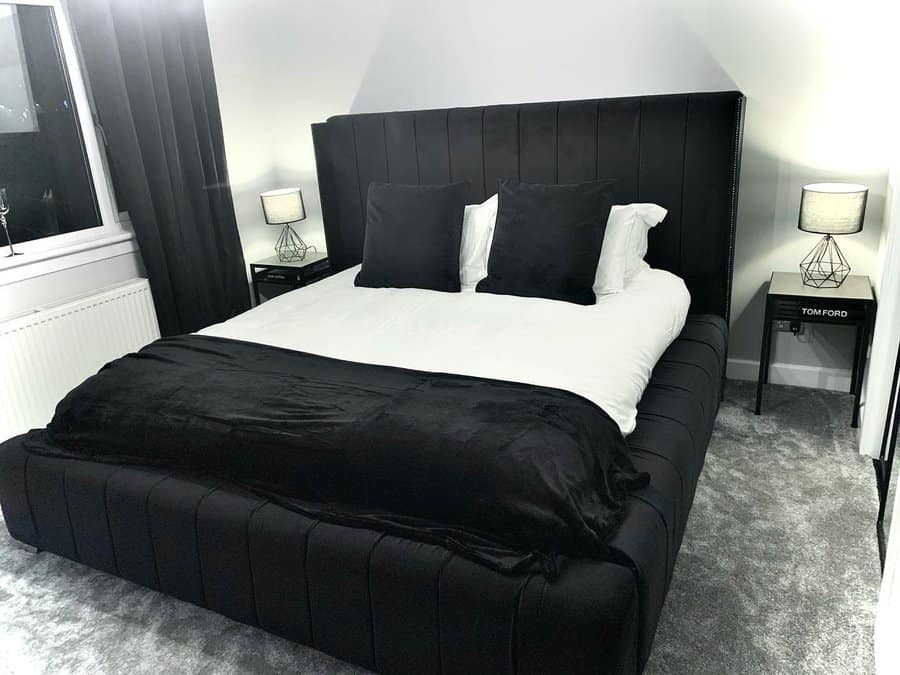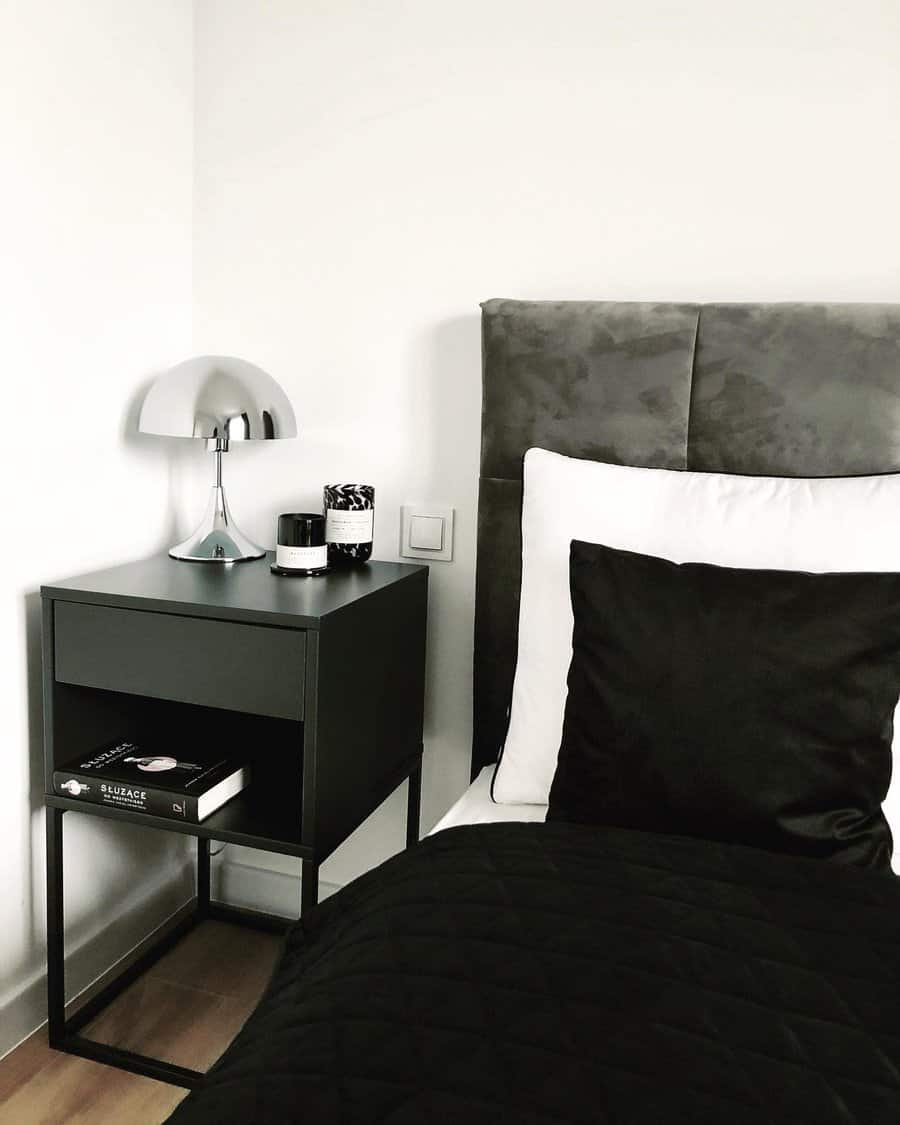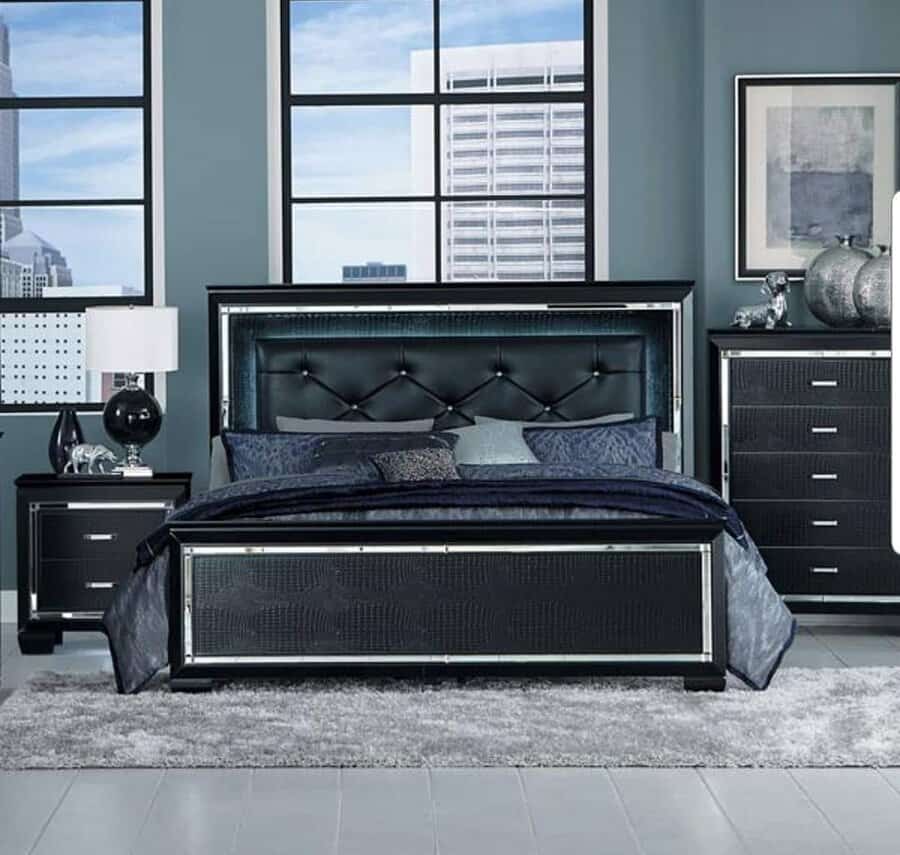 Wood furniture painted black is the most obvious choice for a dark bedroom design. Pay close attention to the details when shopping for or DIYing your own black bedroom furniture. Little things like opting for a matte finish over a satin one can make a big difference in the final look.
Paint might be cheap and convenient but it's not the only way to give your bedroom furniture a dark edge. Experiment with textiles like black leather, suede, velvet, and canvas for your headboard.
5. Luxury
Black decor is hard to get right. As a result, well-done black bedroom design is often accompanied by a luxe atmosphere.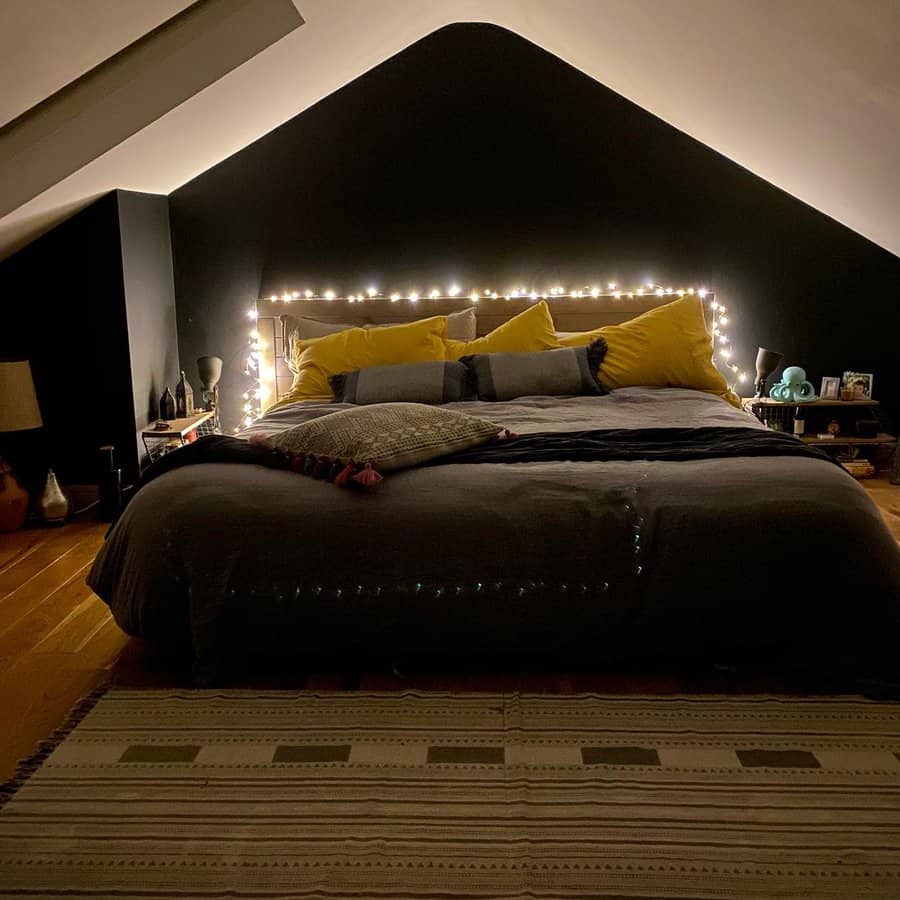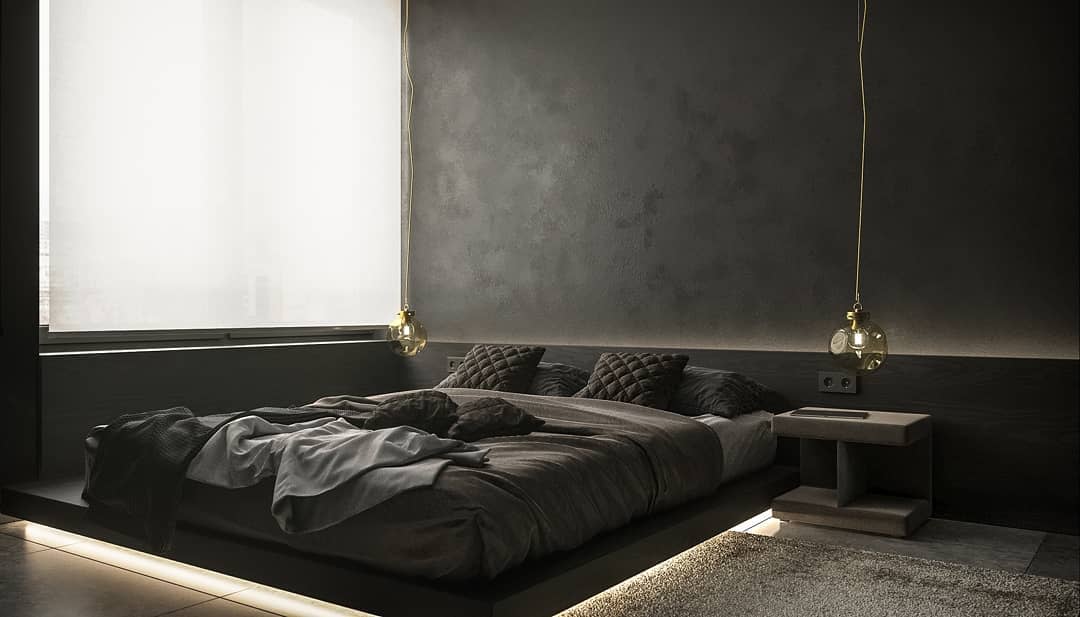 Although black decor can make a space feel small, you can counteract this effect with statement mirrors and integrated lighting in your walls and ceiling. Create the illusion of large windows by hanging floor-to-ceiling drapes.
One of the easiest ways to give your black bedroom ideas a luxurious touch is to not use black at all! Instead, opt for very, very dark grey for your furniture, wall paint, and bedding. (Likewise, use light cream instead of stark white for contrast.)
6. Master
Designing a master bedroom typically means access to more space for furniture and decor. But it can also mean accommodating multiple functional spaces within a single room.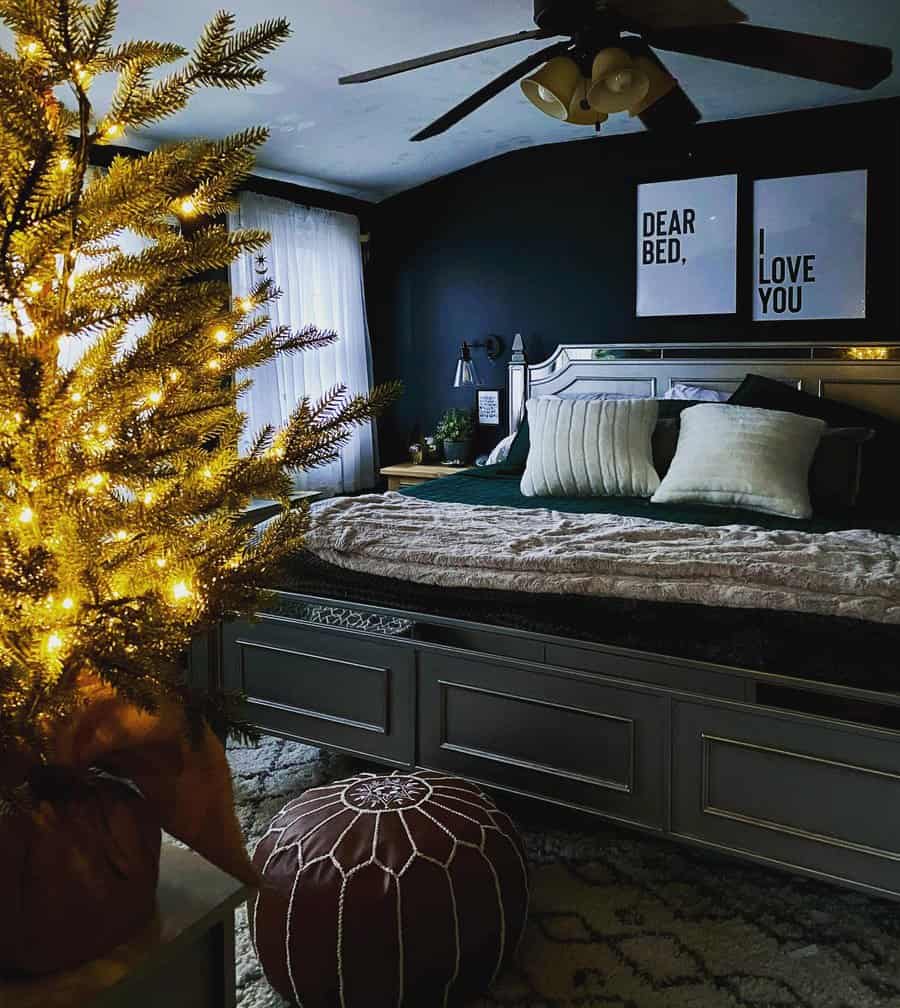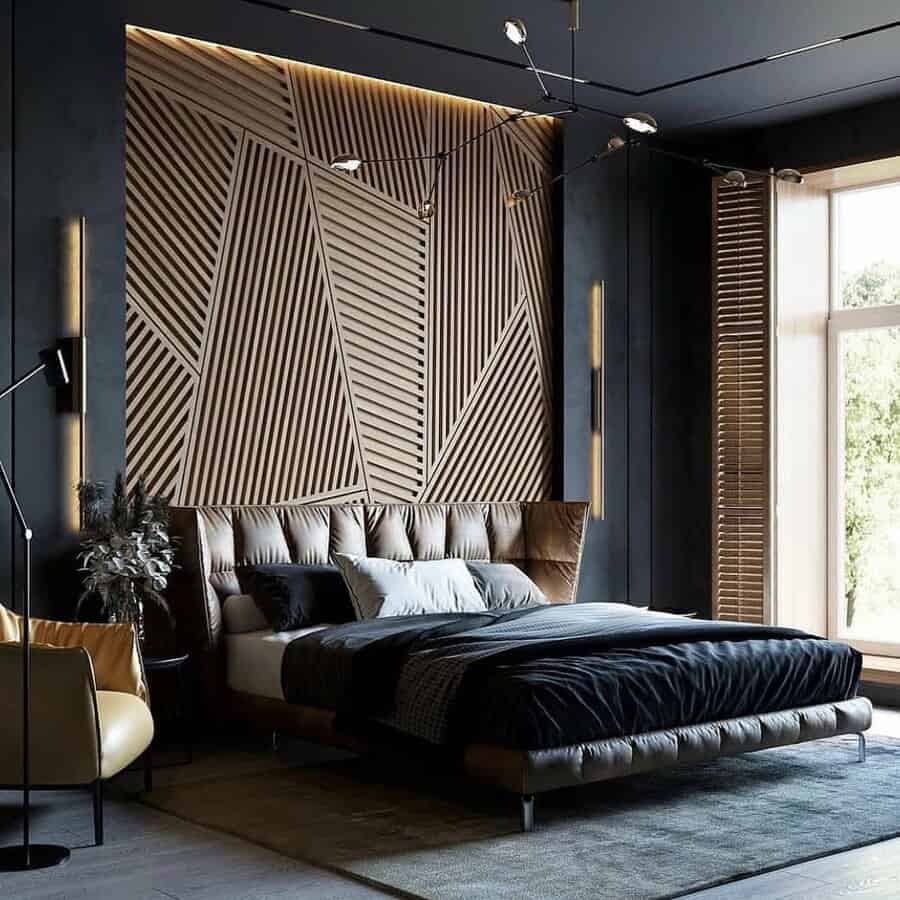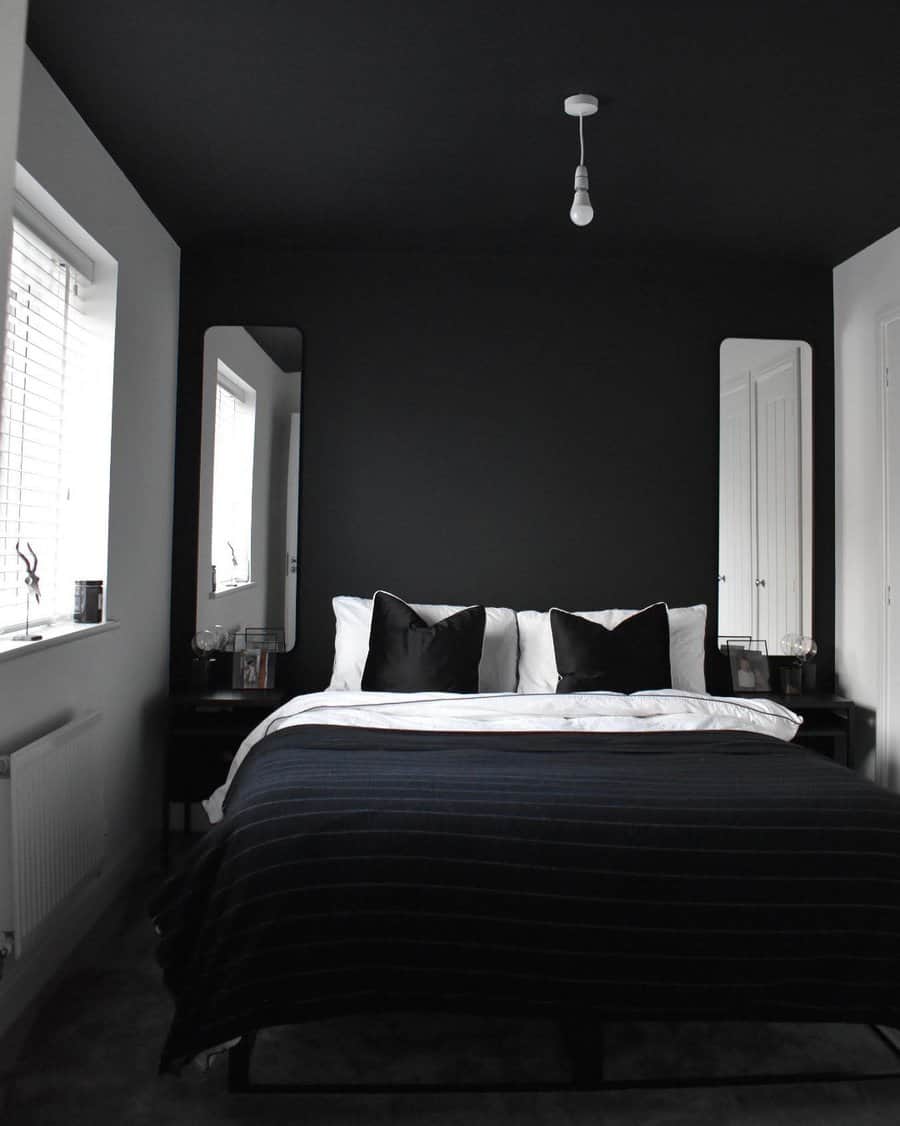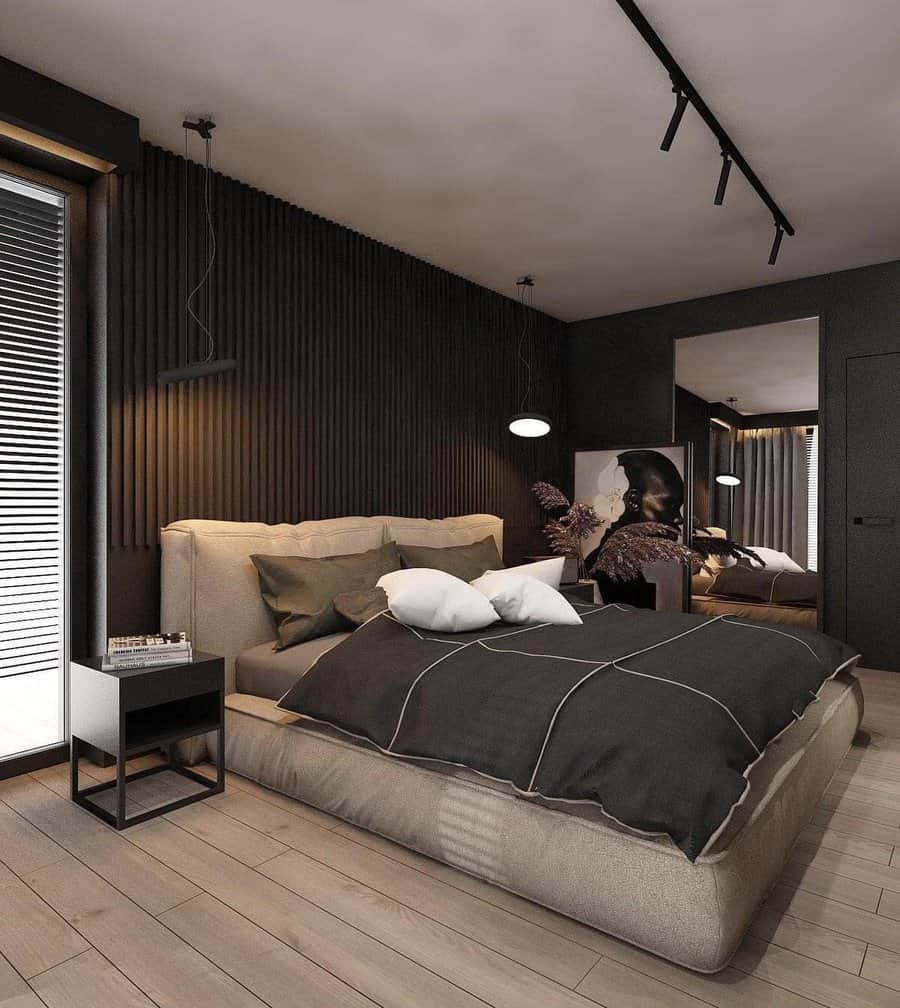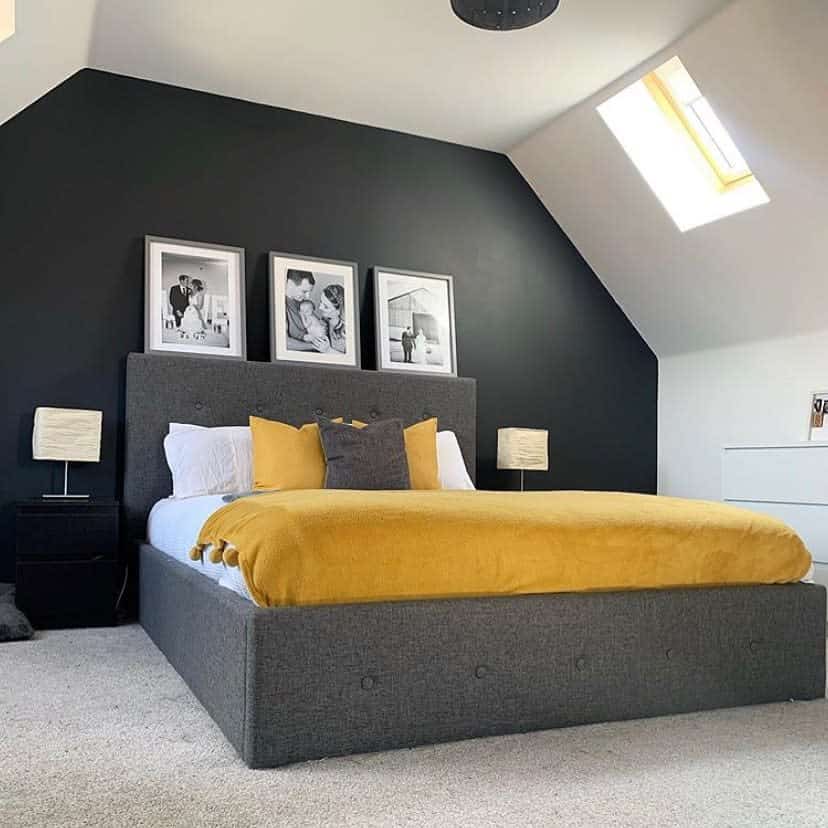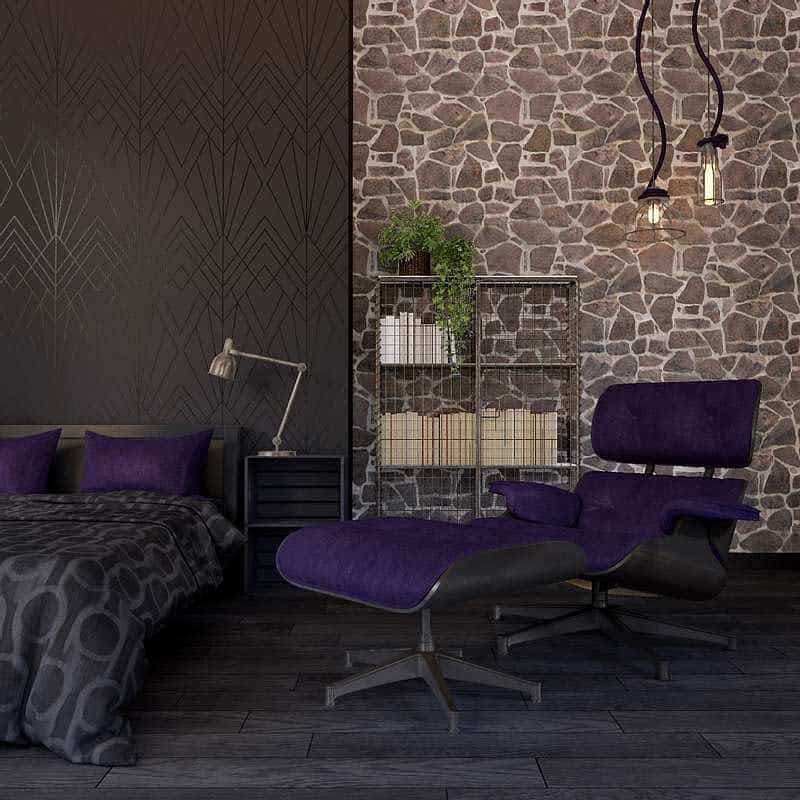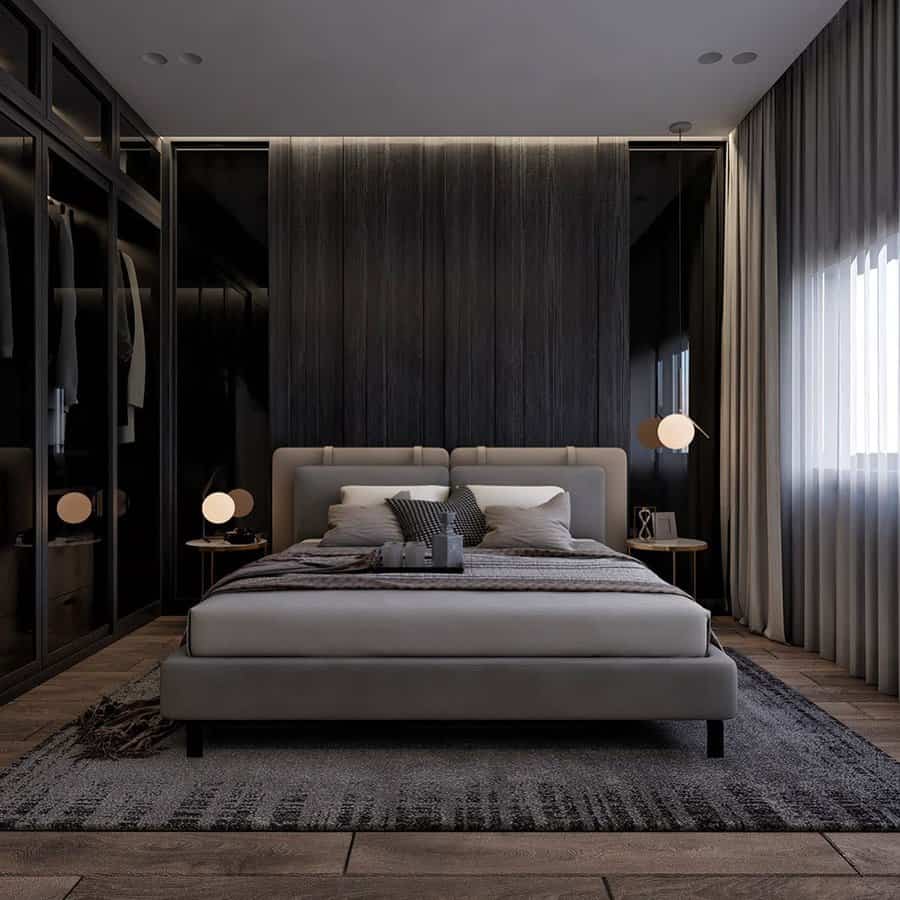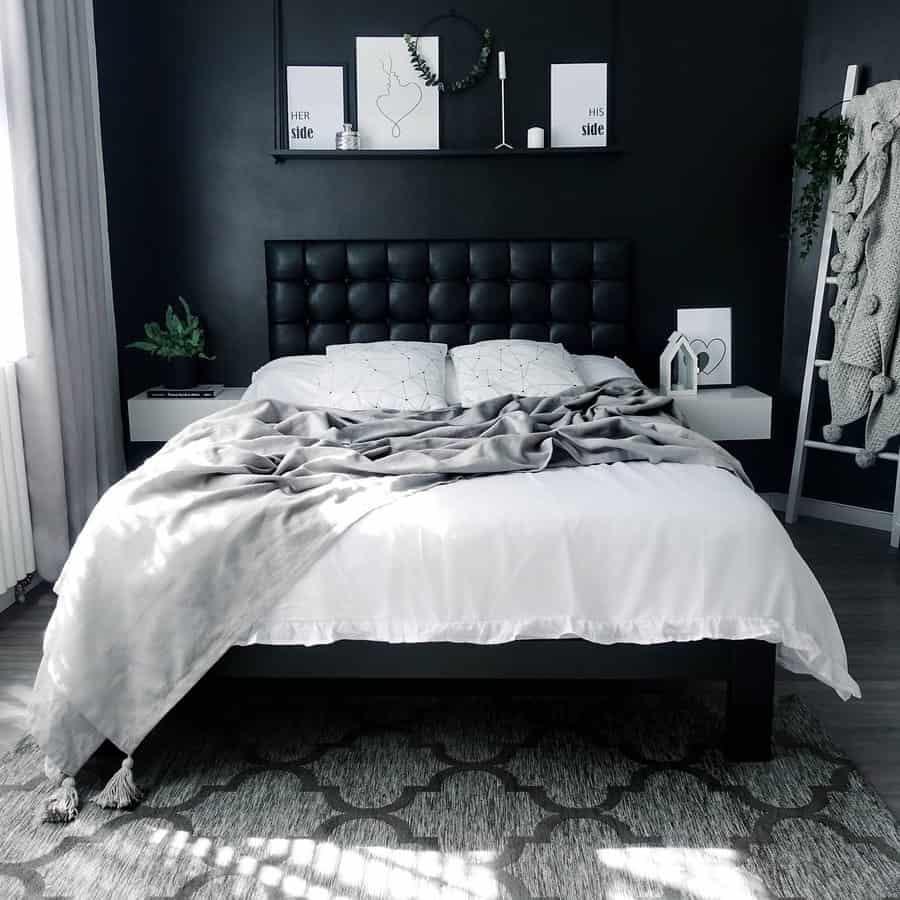 Adapting your favorite black bedroom ideas to your home's master might require toning down the overall look. Take advantage of design techniques like painting a black accent wall instead of the entire room.
If you share your master bedroom with a partner, then redecorating can also come with some compromises! Use this as an opportunity to incorporate accent bedding, furniture, and other decor that suits everybody's tastes.
7. Modern
Black works extremely well in modern bedroom design. It offers maximum contrast and emphasizes the different lines and shapes featured throughout your bedroom.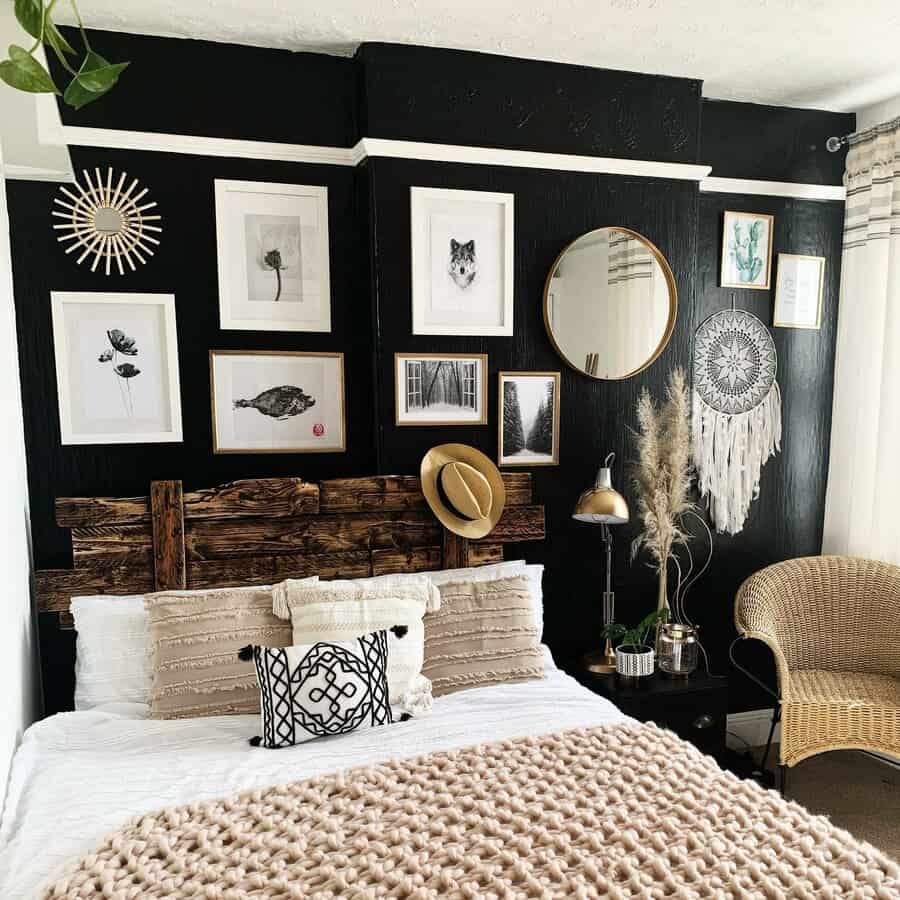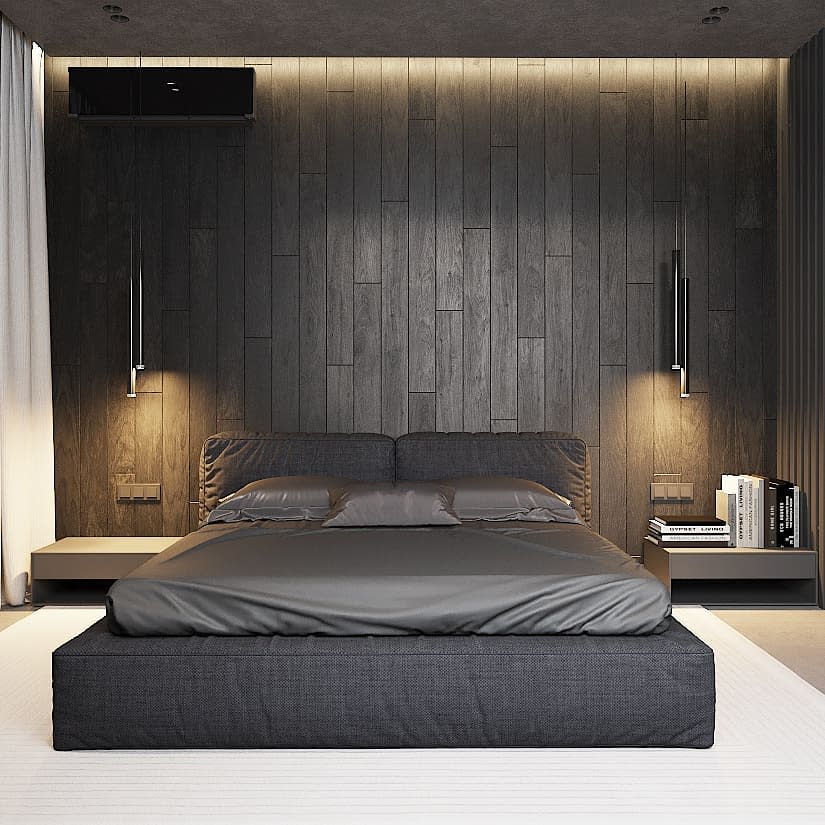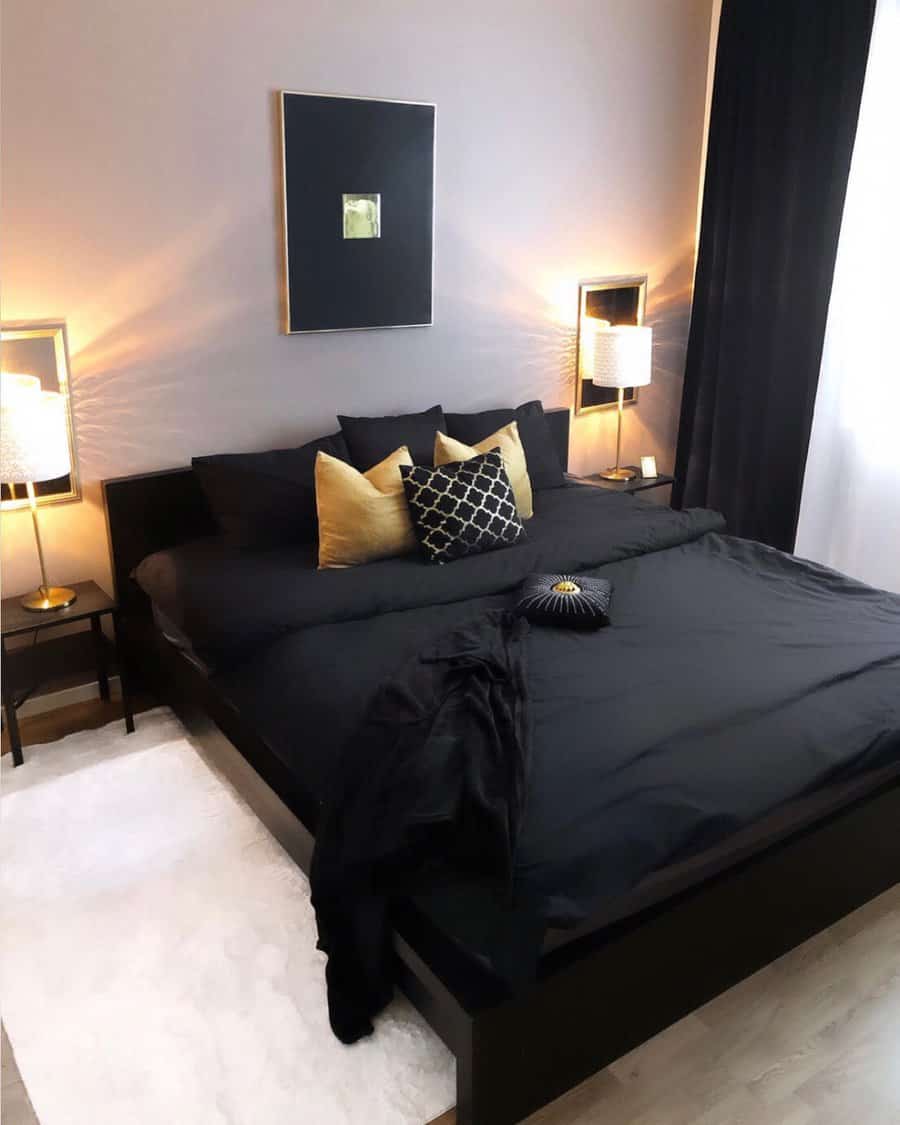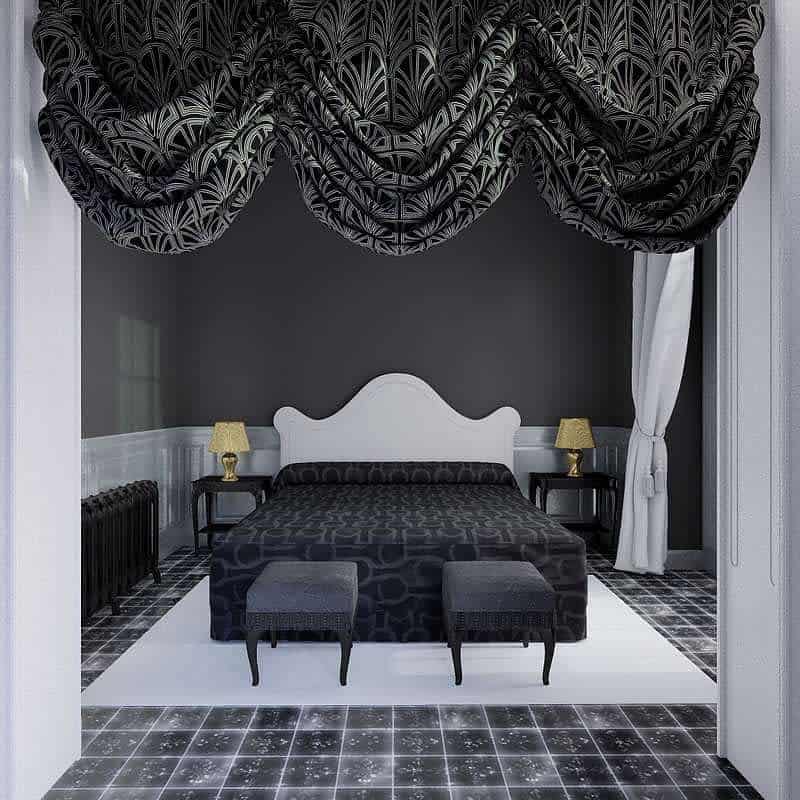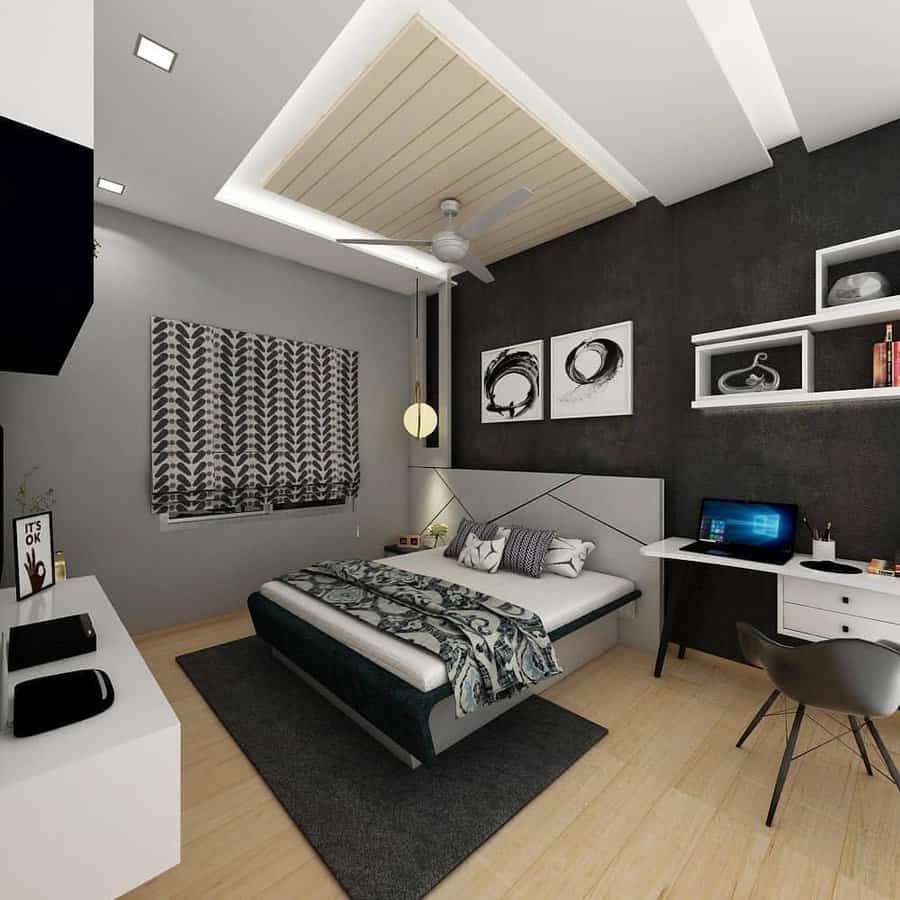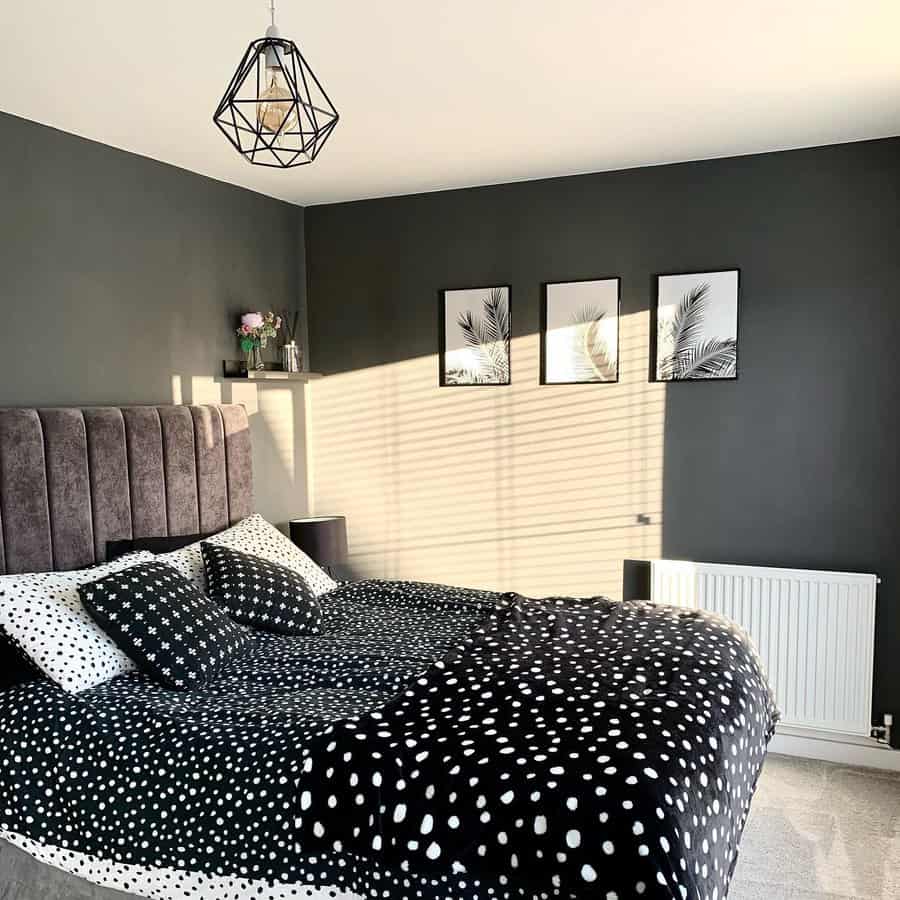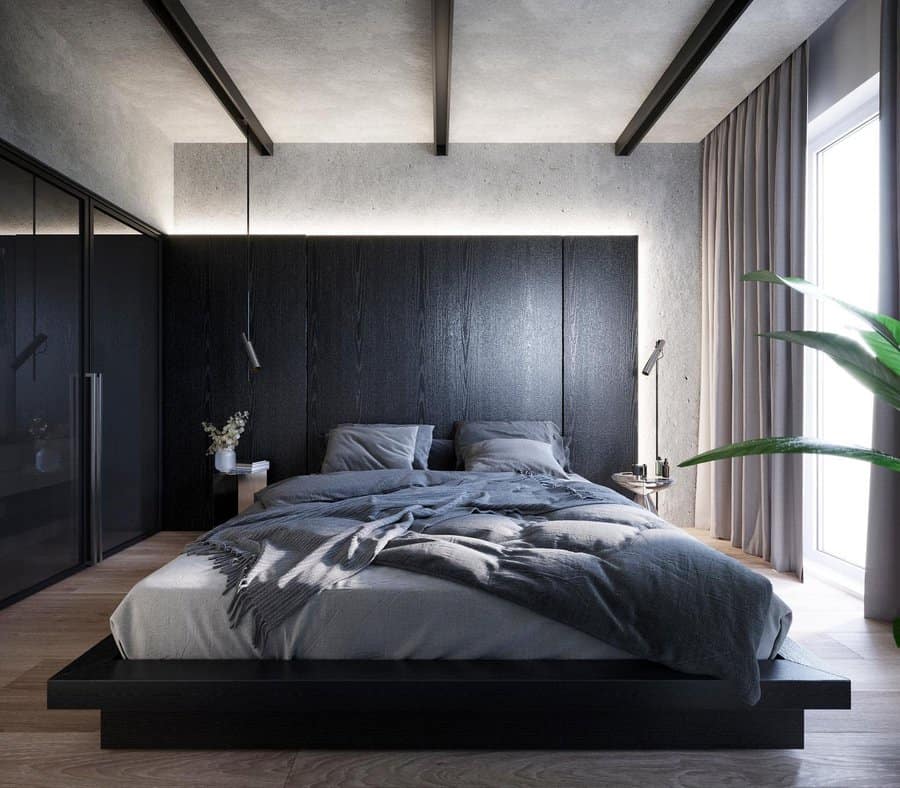 Color scheme aside, fill your modern bedroom with sleek furniture. Avoid overly ornate pieces or decor that does little more than add clutter.
While modern design is minimalistic, you aren't limited to flat wall paint. Textured paneling or wallpaper will liven up your bedroom design without ruining the monochromatic look. Use this idea throughout the entire room or for a single accent wall.
8. Wall
Whether you paint the whole room or stick to an accent wall, a dark color like black is guaranteed to make a big impact!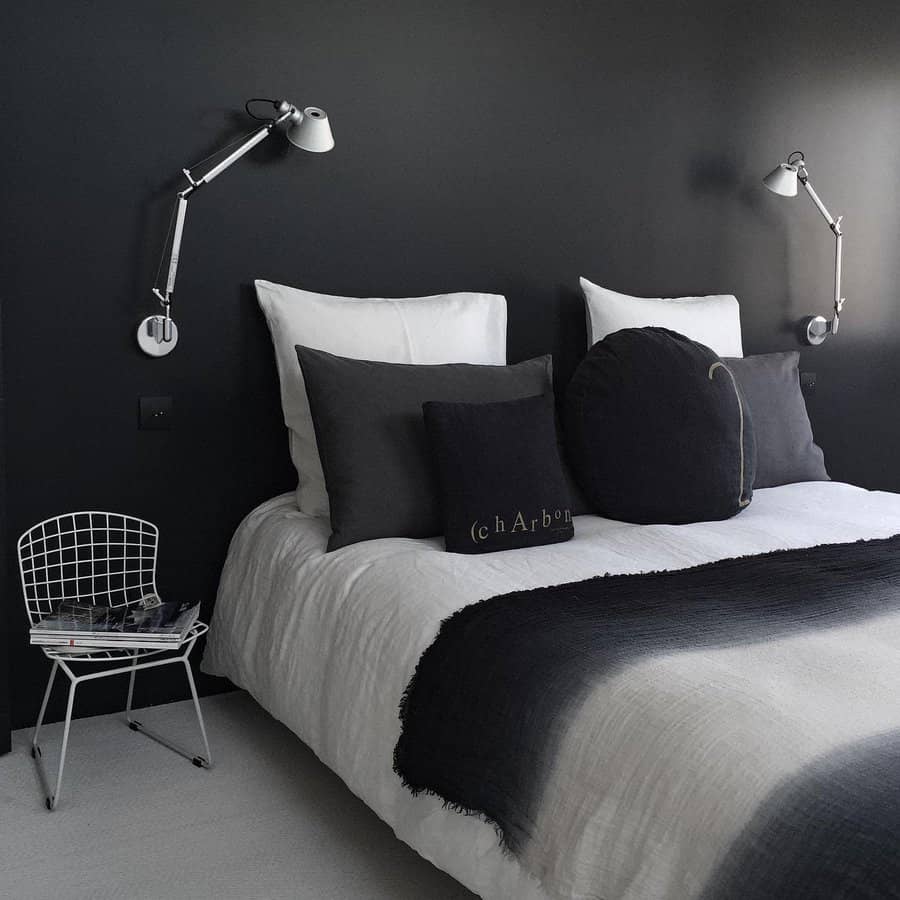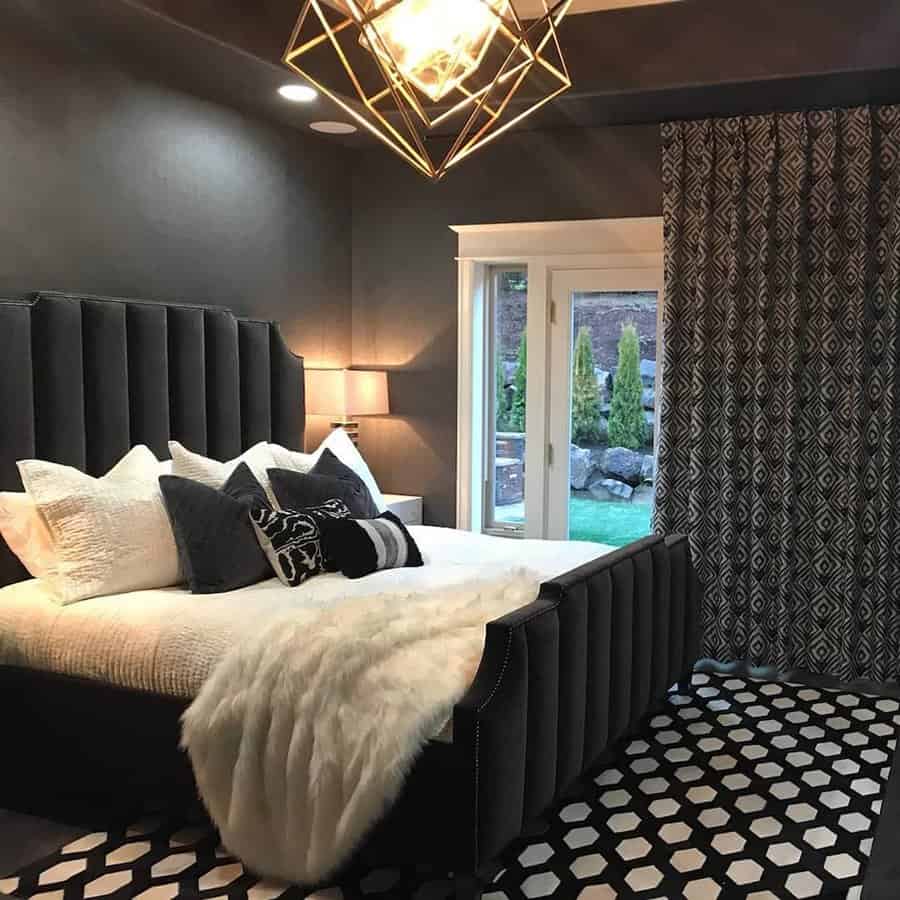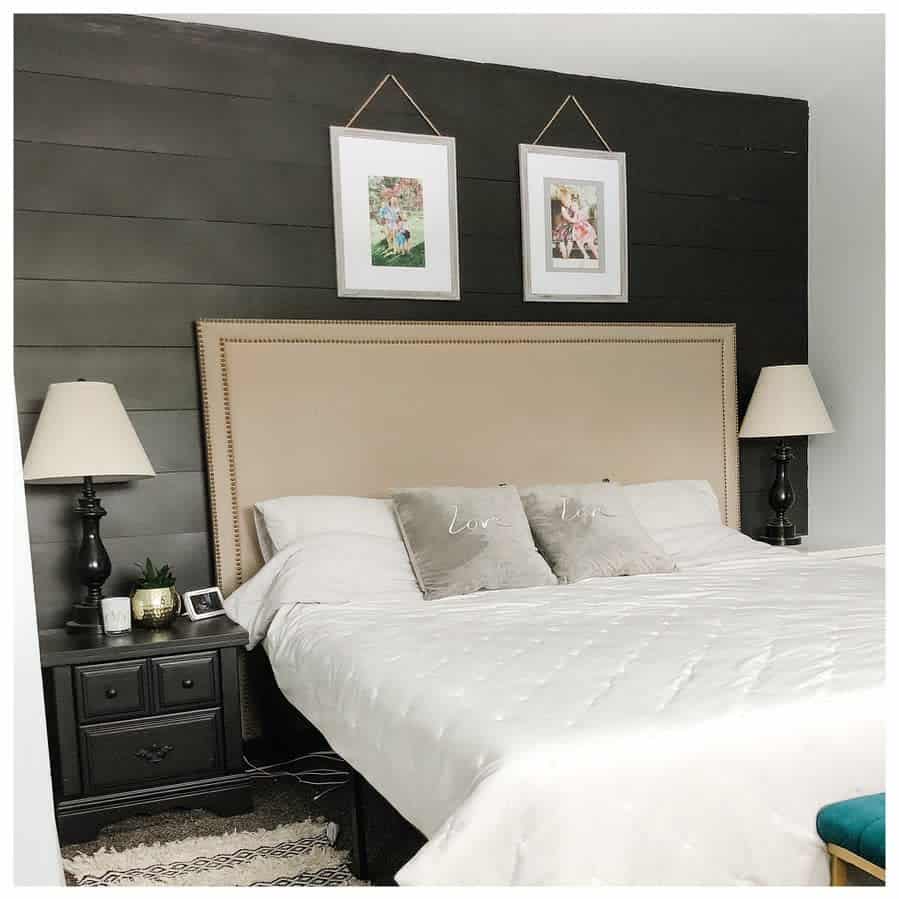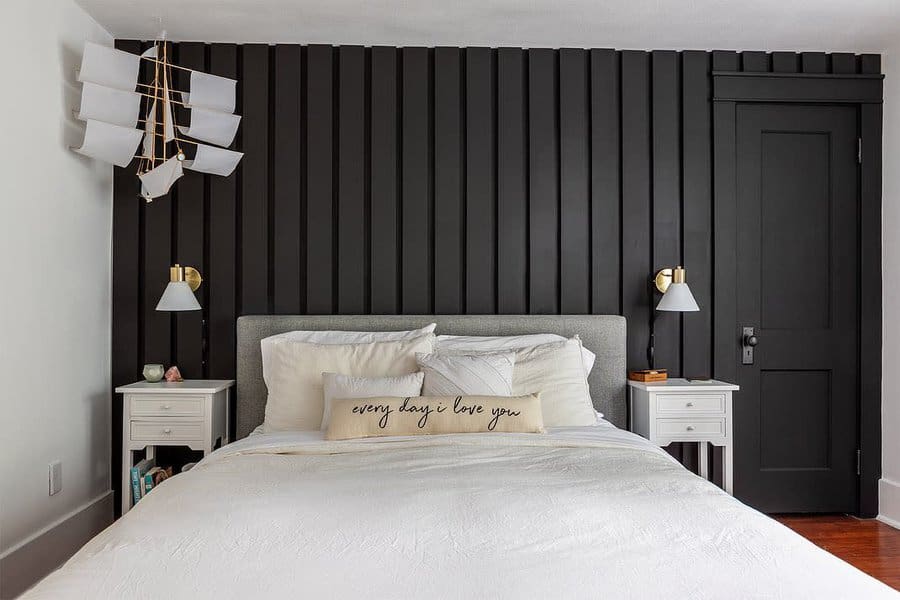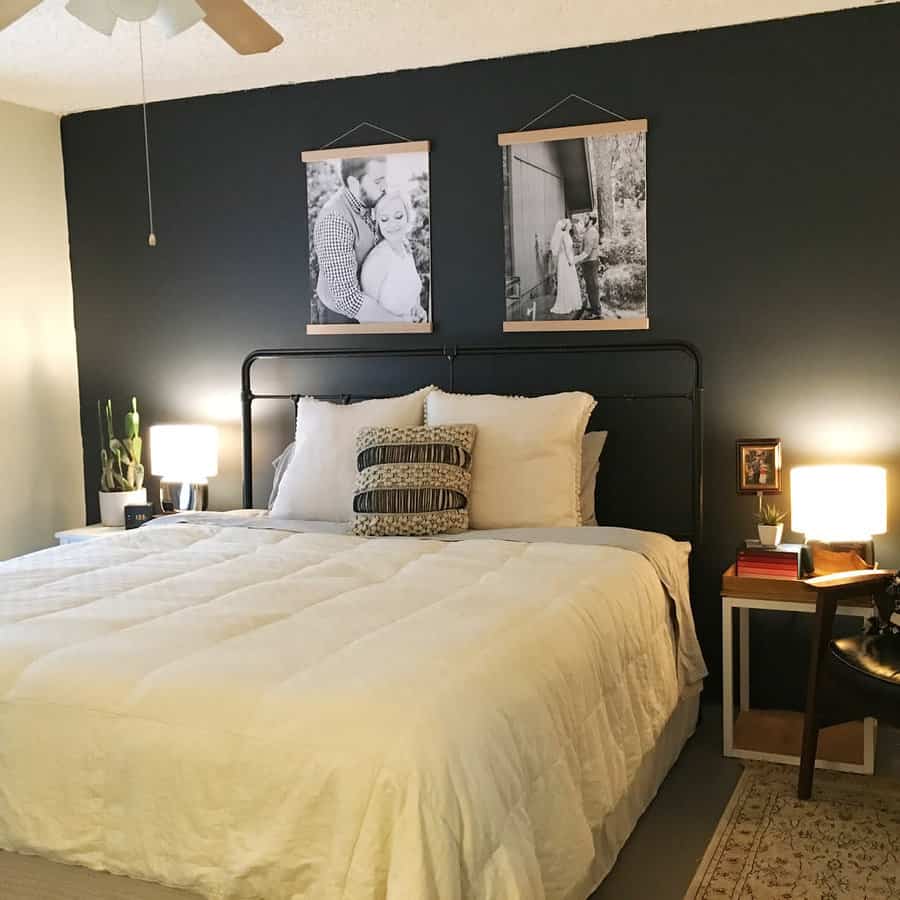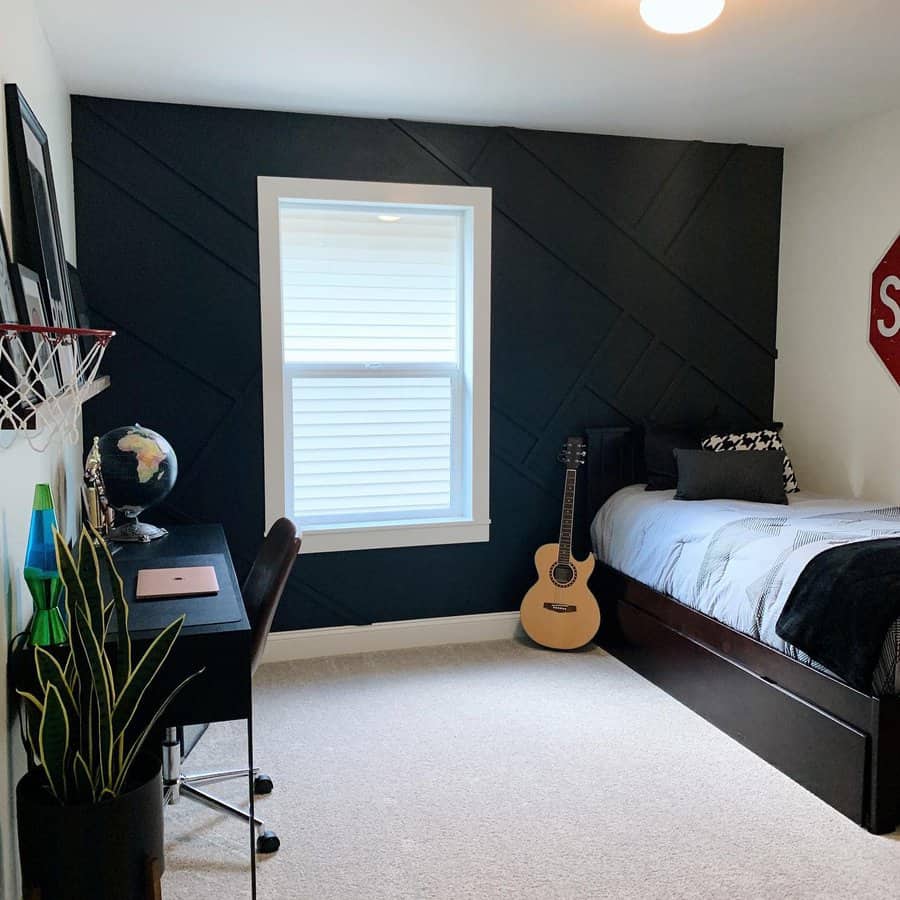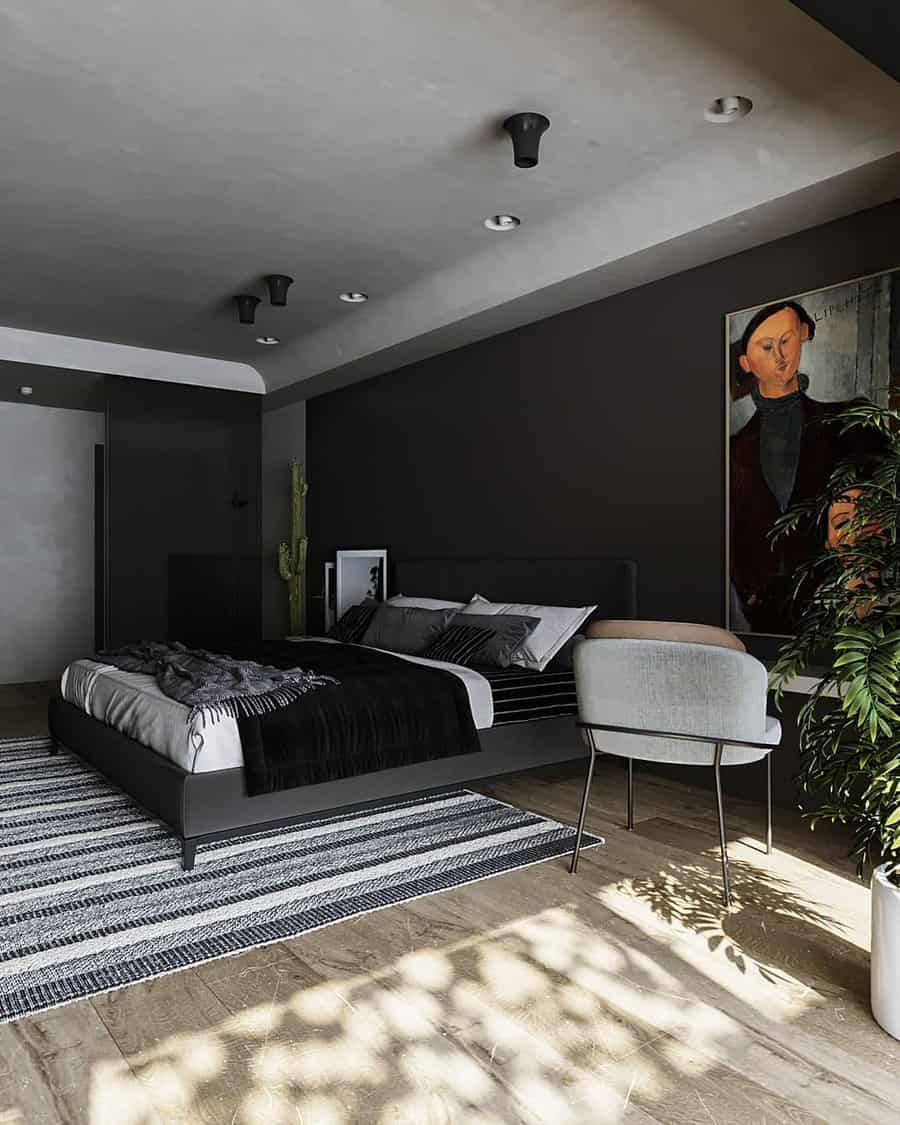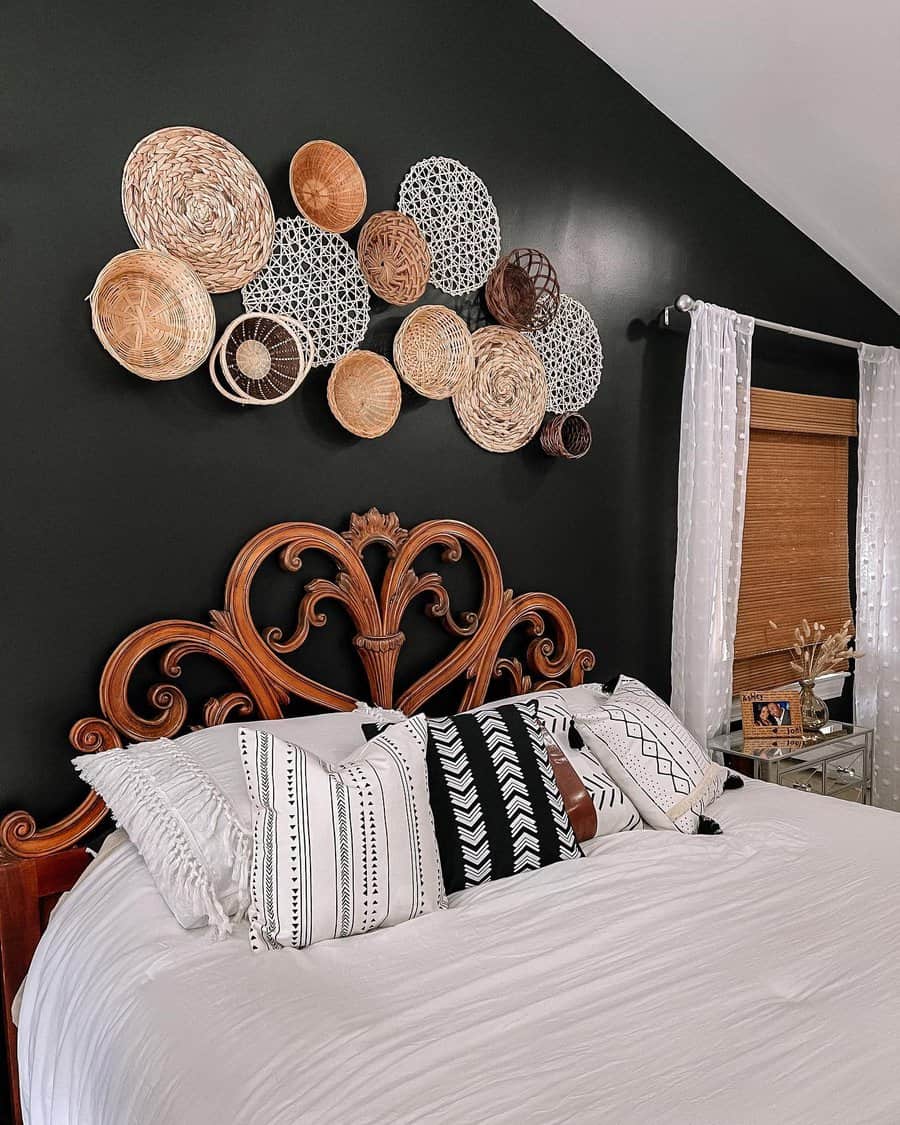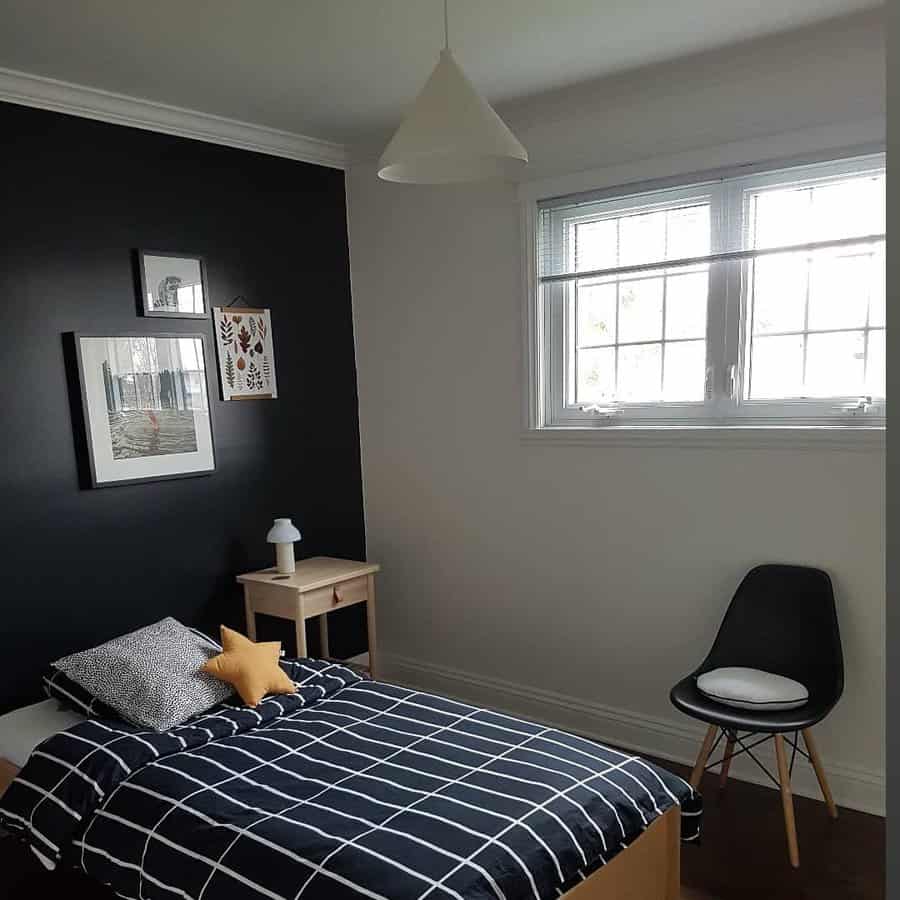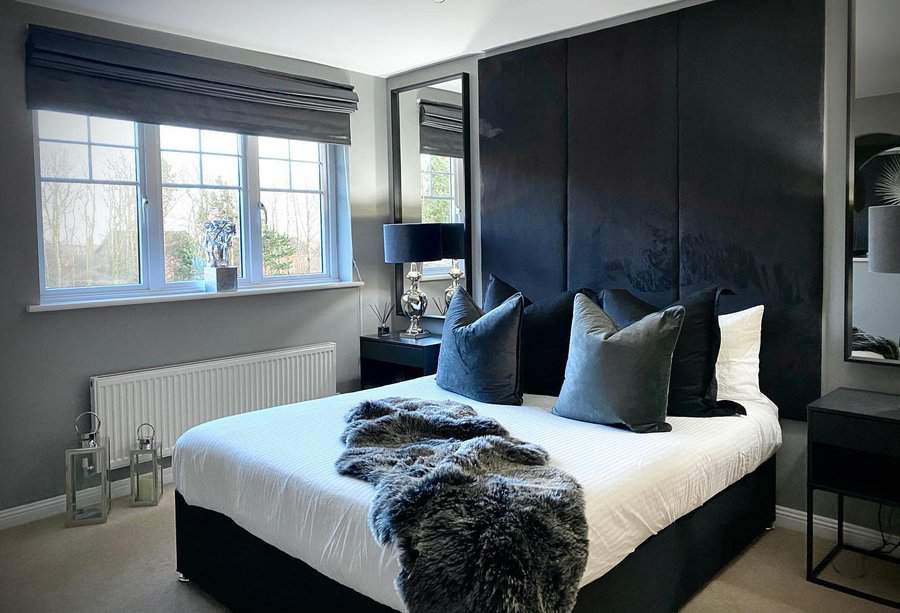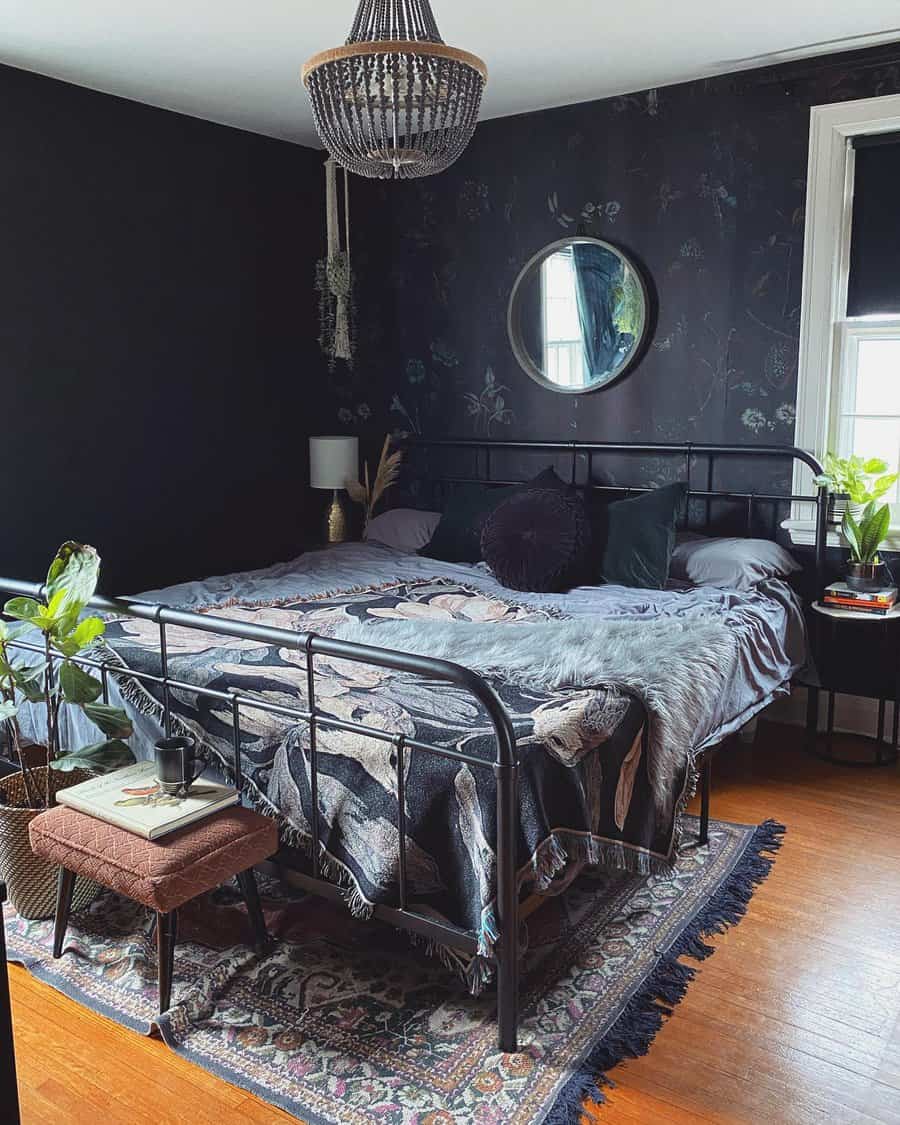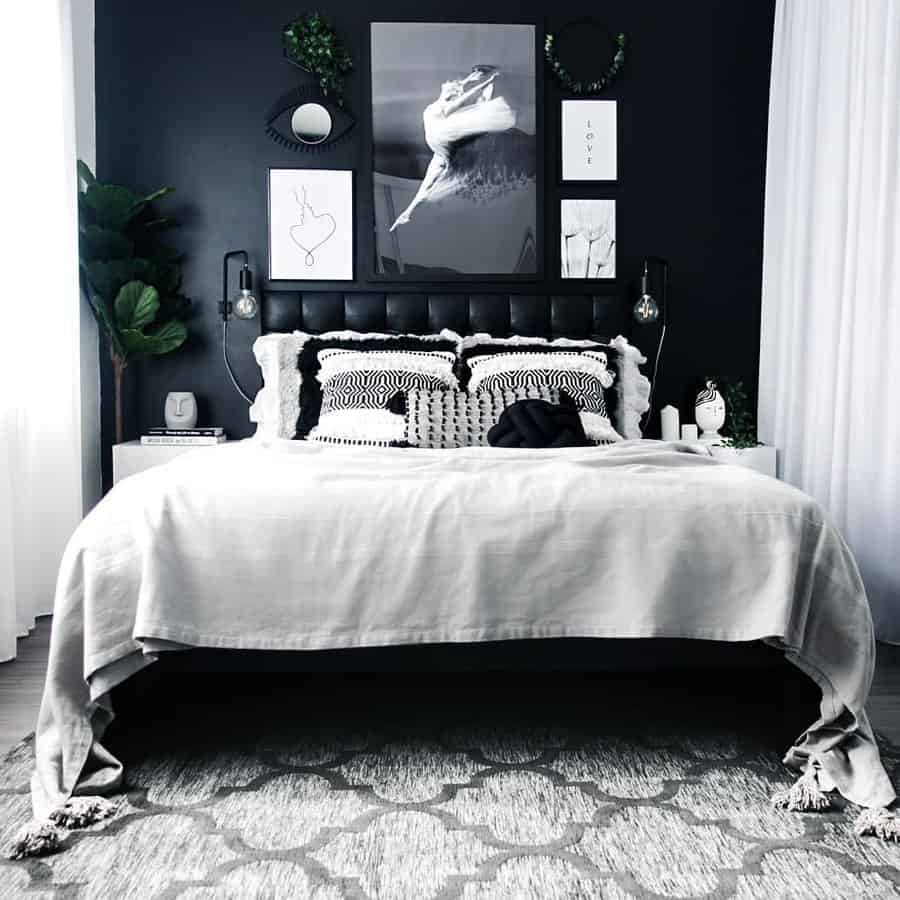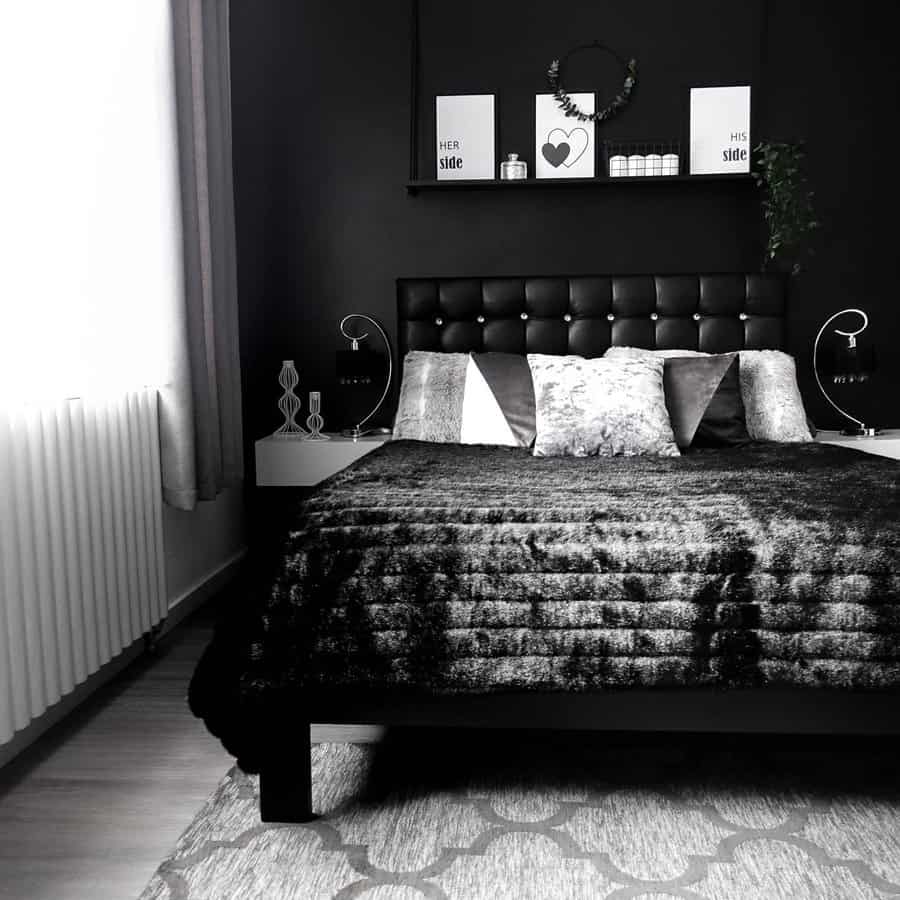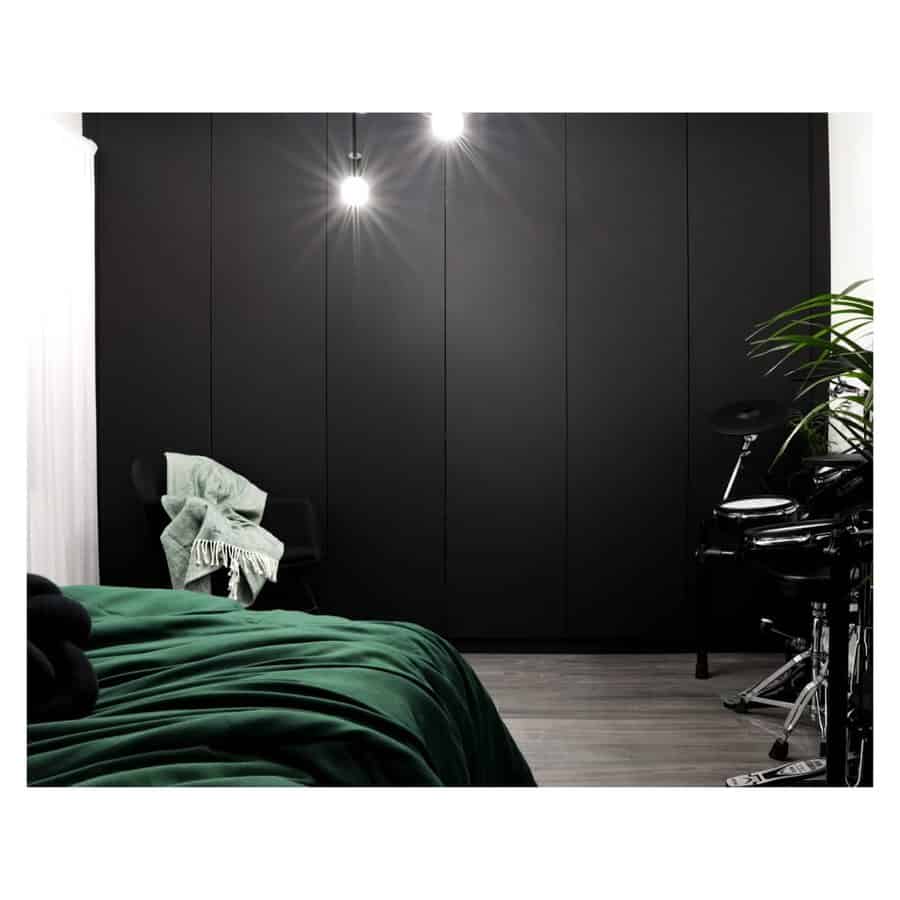 Break up your black bedroom walls with contrasting artwork and decor. Framed prints or photos with white margins look stunning against black walls. Mirrors can also help brighten up your bedroom when hung against a dark backdrop.
Also, think about your bed and how it will look against your chosen wall color. An all-black headboard and bedding will fade into the wall behind it. Opt for a lighter color of grey or white to ensure your bed frame and pillows really pop.
Black Bedroom FAQs
Should you paint a bedroom ceiling black?
It might sound crazy but painting your master bedroom ceiling black could completely transform the space (in a good way!).
A black ceiling can make the room look and feel larger than reality. This illusion is most effective when the walls are painted a lighter color.
Painting your bedroom ceiling black can also make it feel cozier. This is a great option if your bedroom features a lofted ceiling or is too spacious for your needs.
How do you paint over black walls?
Even if designing a black bedroom doesn't intimidate you, covering that dark paint in the future might!
The best way to cover black paint is to start with a light grey primer. This hides the color underneath and preps the wall for a lighter shade with no bleedthrough. Even with this technique, though, multiple coats might be necessary.