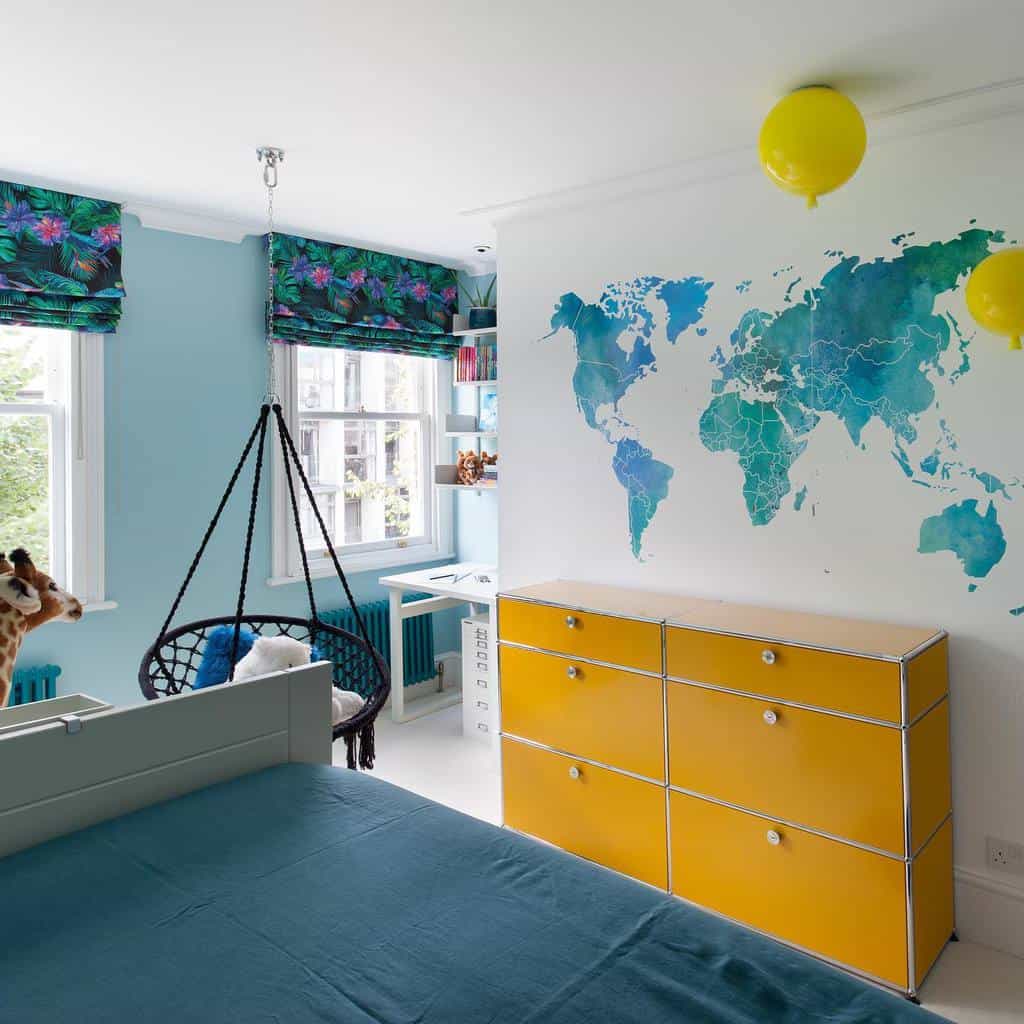 43 Beautiful Blue Bedroom Ideas
From pale chambray to dark navy blue, the color blue is an ideal shade for bedrooms. The world's most popular color is beloved for its ability to soothe and calm us—a perfect attribute for bedroom decor.
Whichever shade of blue is your favorite, you can't go wrong in basing your bedroom color scheme around this heavenly color. Peruse our 40 favorite blue bedroom ideas and enjoy all the ways blue can elevate your bedroom to a tranquil retreat.
1. Carpet
A large blue rug or blue carpet can provide the anchor for your azure bedroom design ideas. A deep blue color on the bedroom floor is a sea-like swath that clearly states your color intentions.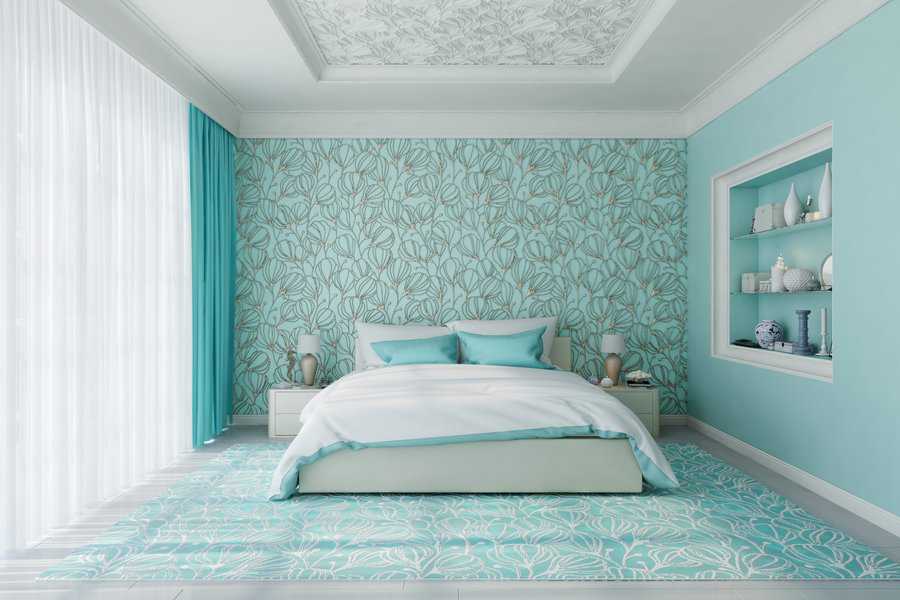 An extremely light blue carpet can almost serve as a neutral for other muted colors, especially if it includes a hint of grey. Patterned blue rugs provide you with many blue tone options to incorporate into your bed linens, wall art, and paint colors.
2. Classic
In 2020, Pantone's Color of the Year was Classic Blue. This color falls somewhere between royal blue and navy blue and is the perfect medium shade for all your blue bedroom ideas.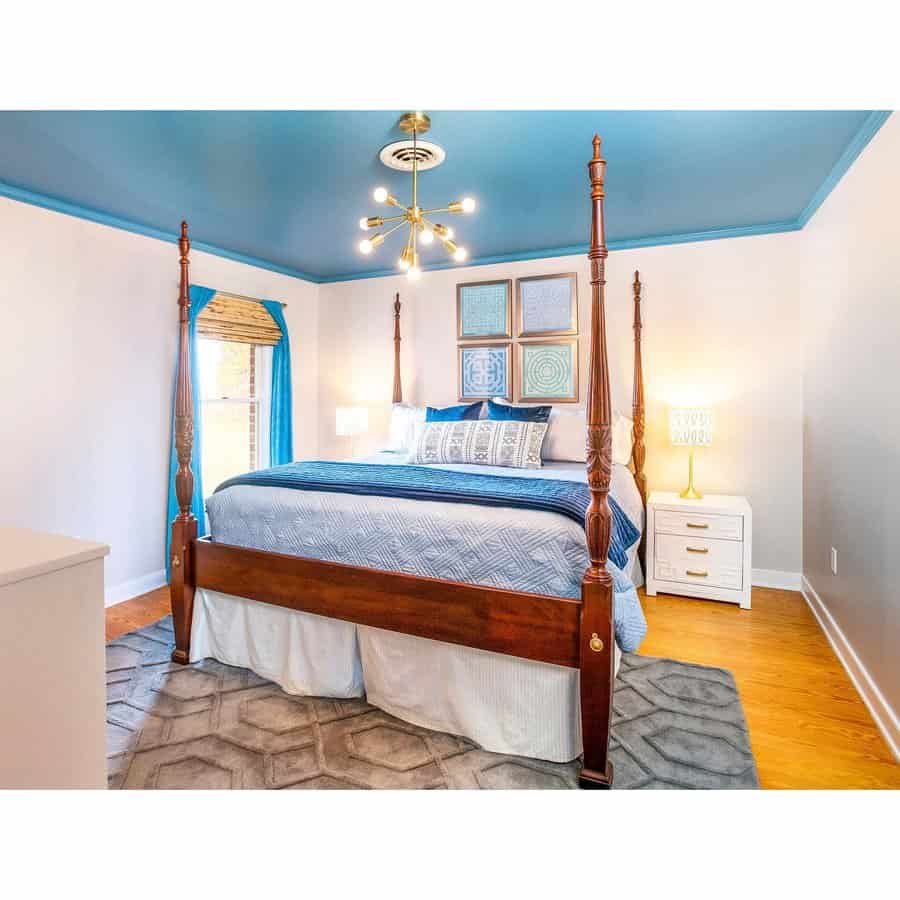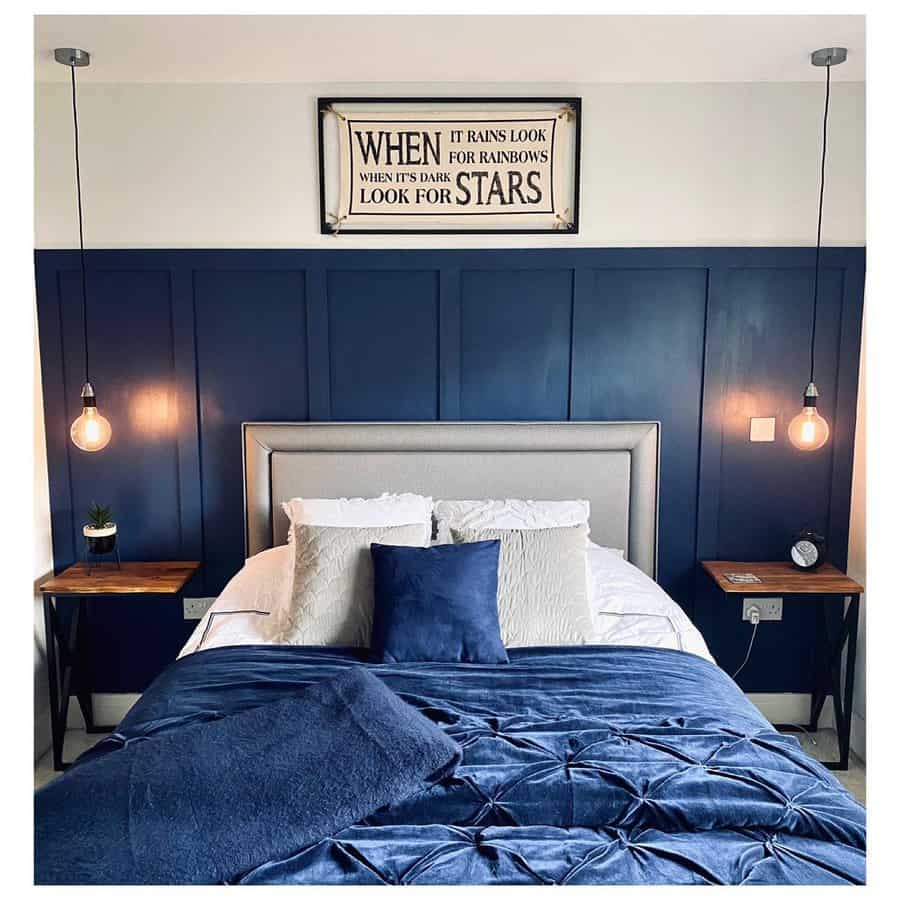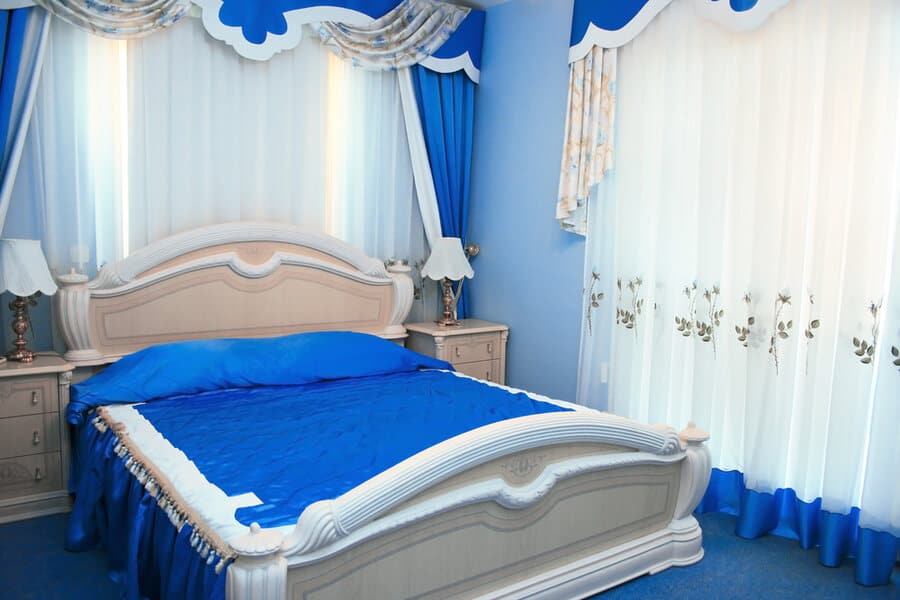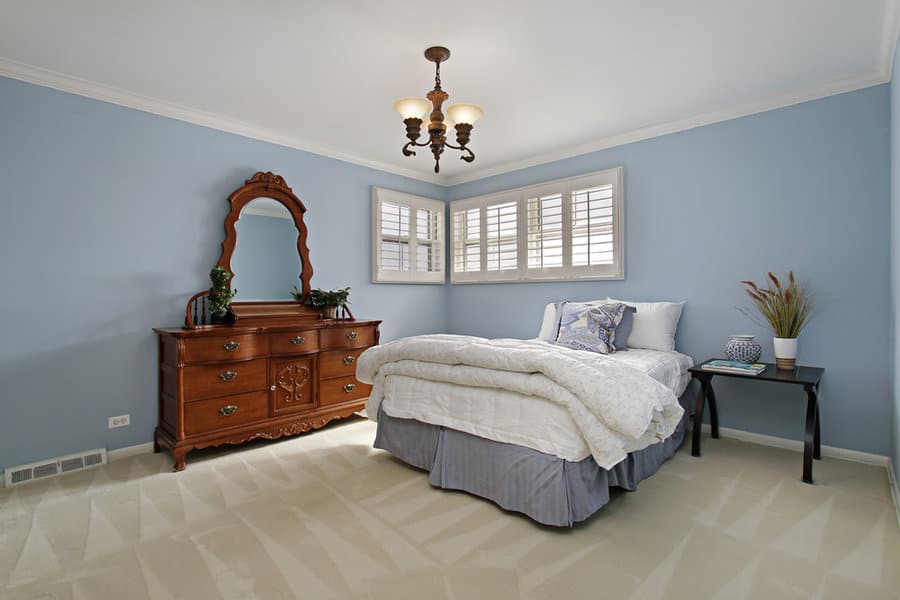 A classic, dramatic pairing is deep blue with white and hints of gold. Pull design inspiration from traditional blue decor accents such as blue willow dishes or blue ticking stripes.
3. Decor
Blue is a dominant color in decor items from around the globe. Fabrics that rely heavily on blue include Japanese Shibori cloth, Indonesian ikat cloth, and the highly detailed damask fabric that originated in China but was named for Damascus, Syria.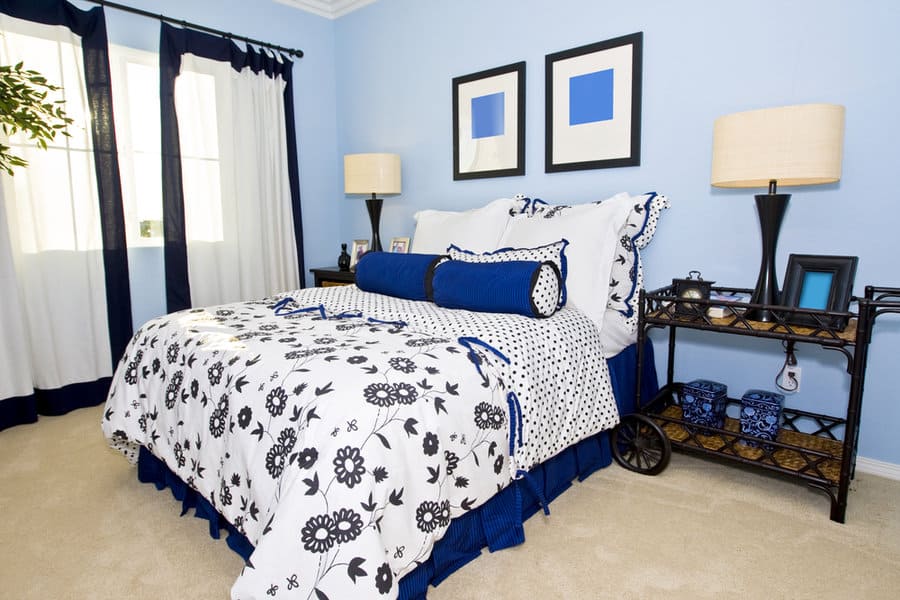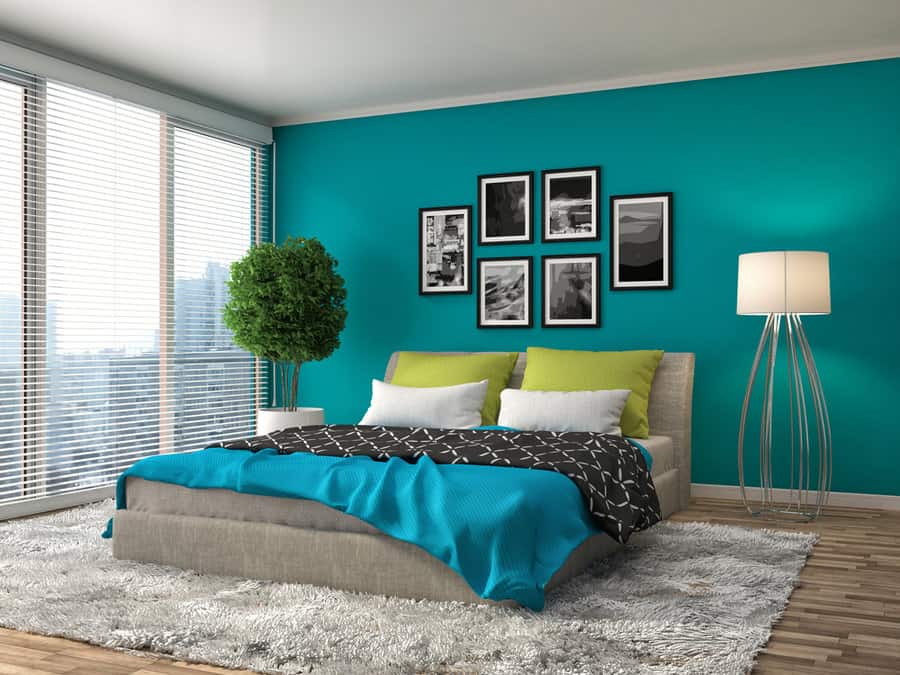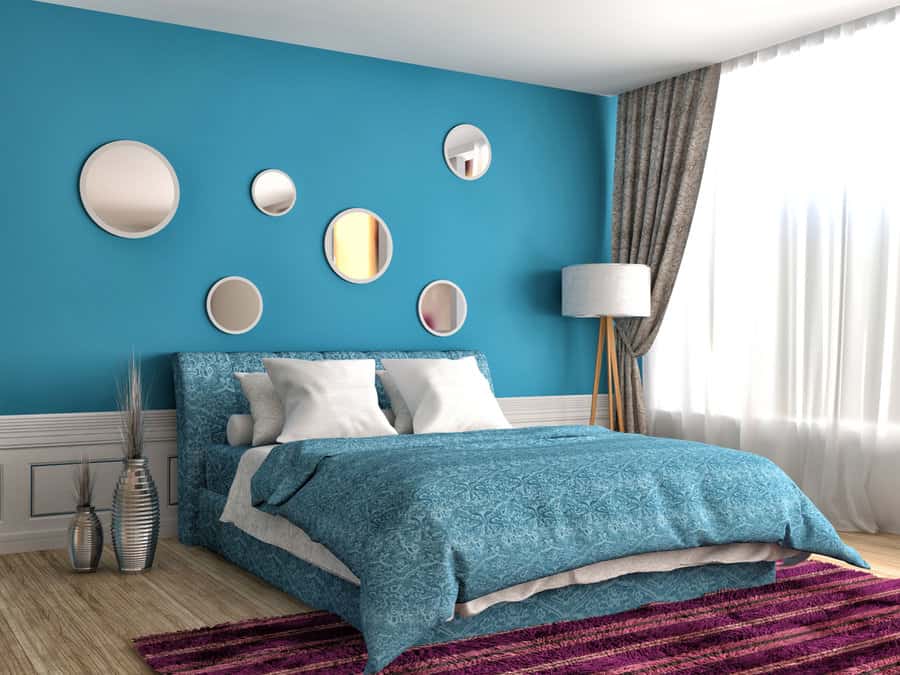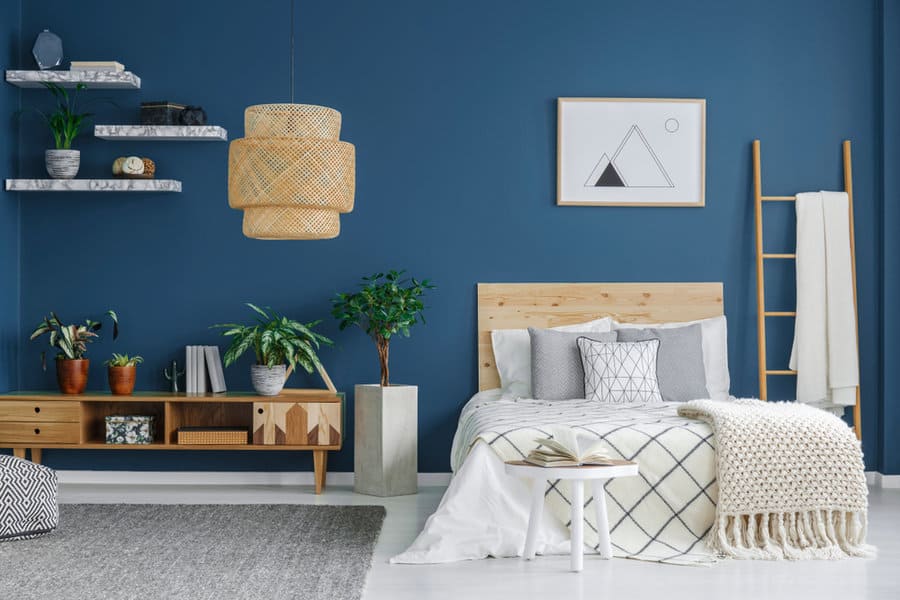 Find lamps, wall decor, and other blue accents that match the colors found in your blue bedding. If you love a certain blue color, but an all blue bedroom is too much for you, shop for blue bedroom decor. It's a great way to add touches of blue to an otherwise white or neutral colored room.
4. Elegent
Blue is a truly elegant color, and in its darker values, can be quite dramatic. Navy walls—or an even darker shade, like midnight blue—is a dreamy paint color to choose. Dark blue brings indoors the depth of the night sky and provides a chic background for lights to glow against.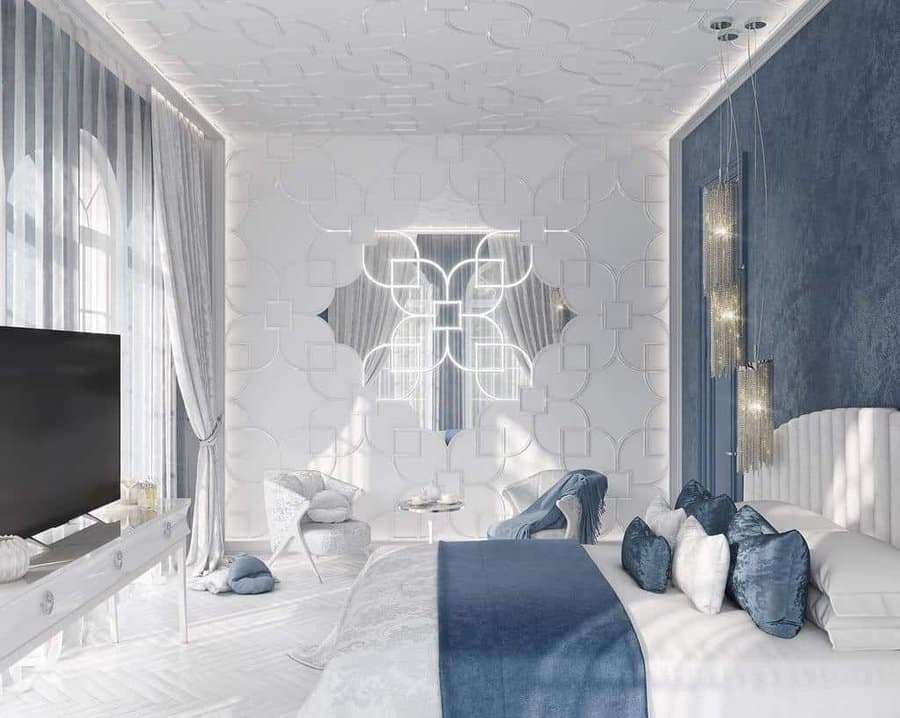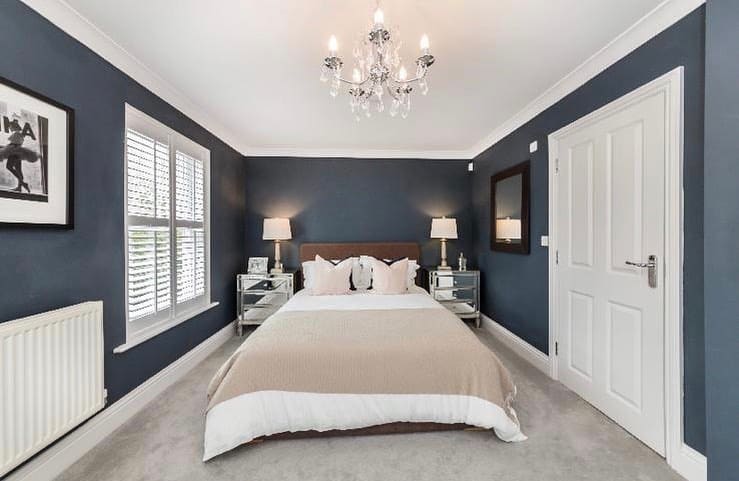 Light blue can also project an elegant air, especially when coupled with cream, light grey and other equally muted colors. Tiffany blue has long been considered a sophisticated light blue hue and is instantly recognized by home decor experts. Similar to robin's egg blue, Tiffany blue paint is a fantastic base for creating an elegantly iconic color scheme.
5. Feminine
Blue has long been considered a color for boys, but that stereotype has faded. Blue can be extremely feminine, especially when it appears in its softer, lighter blue shades. Floral and damask prints that incorporate multiple shades of blue are a good feminine touch in an otherwise navy blue bedroom.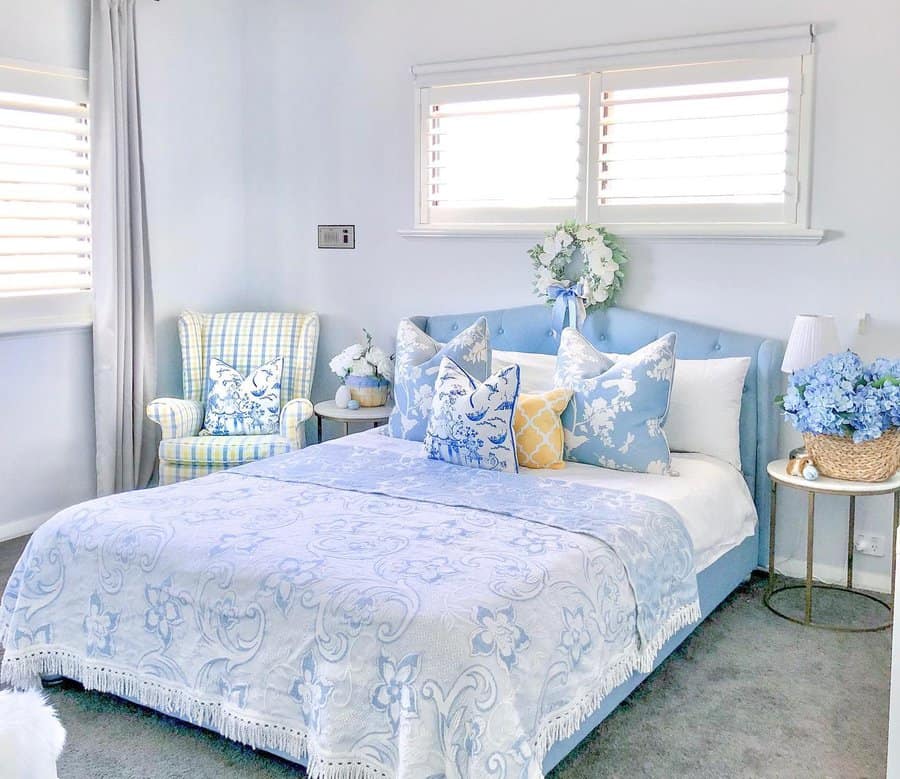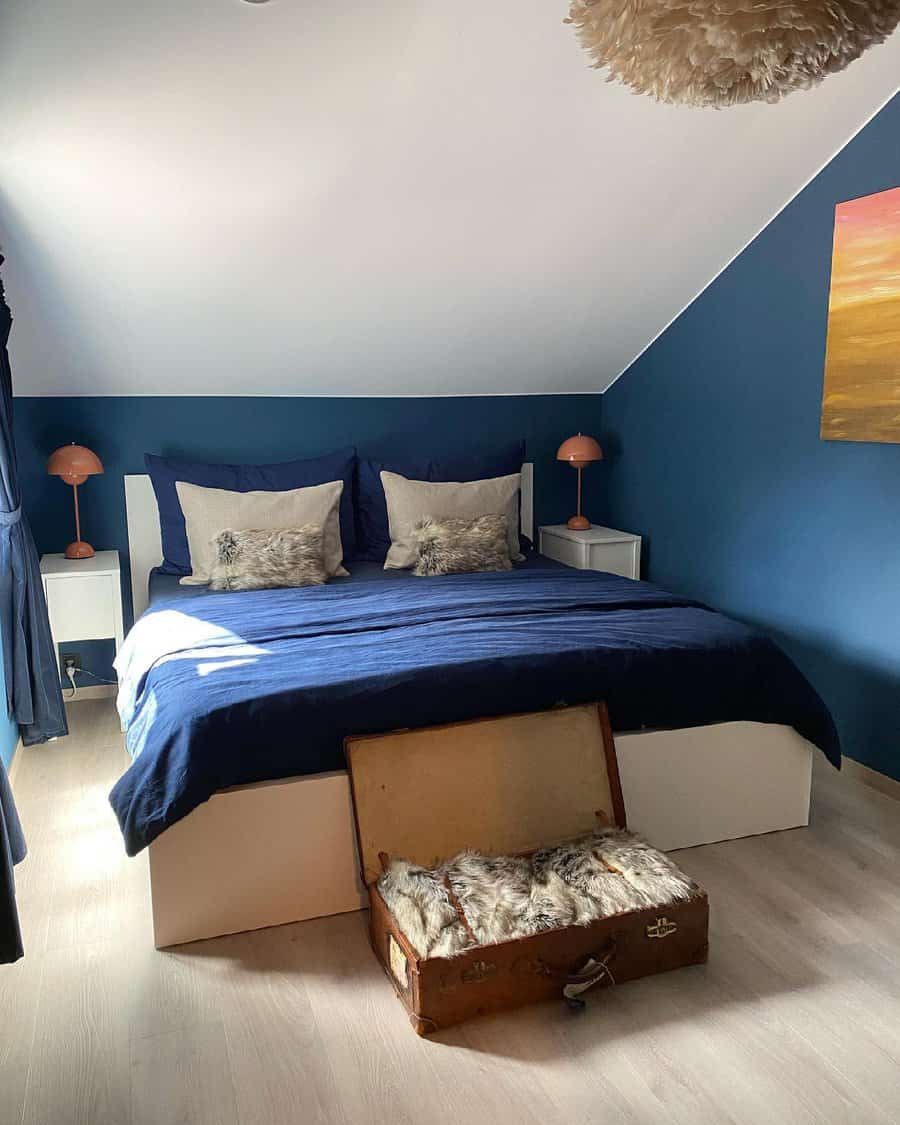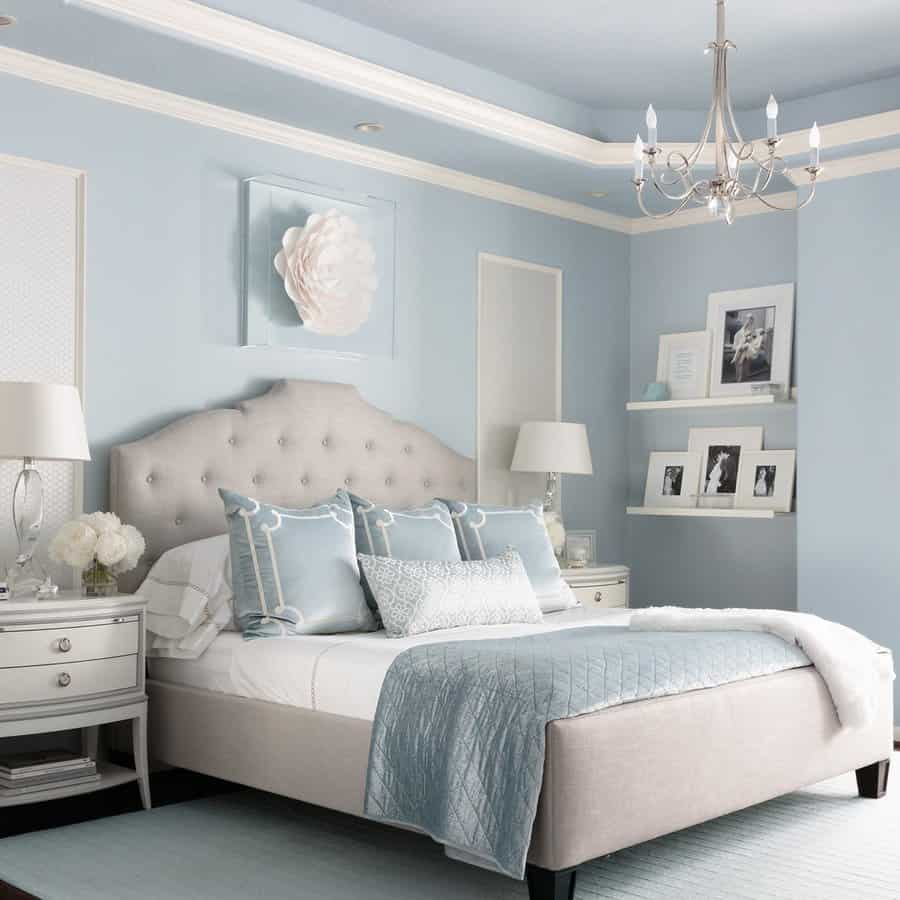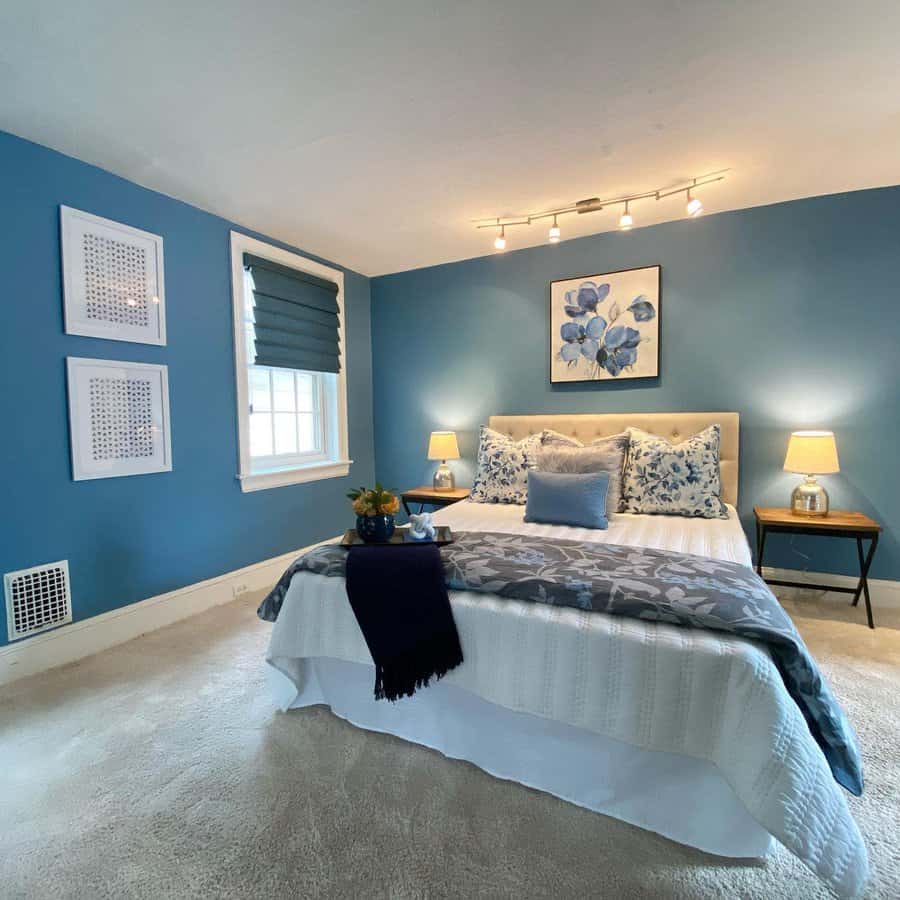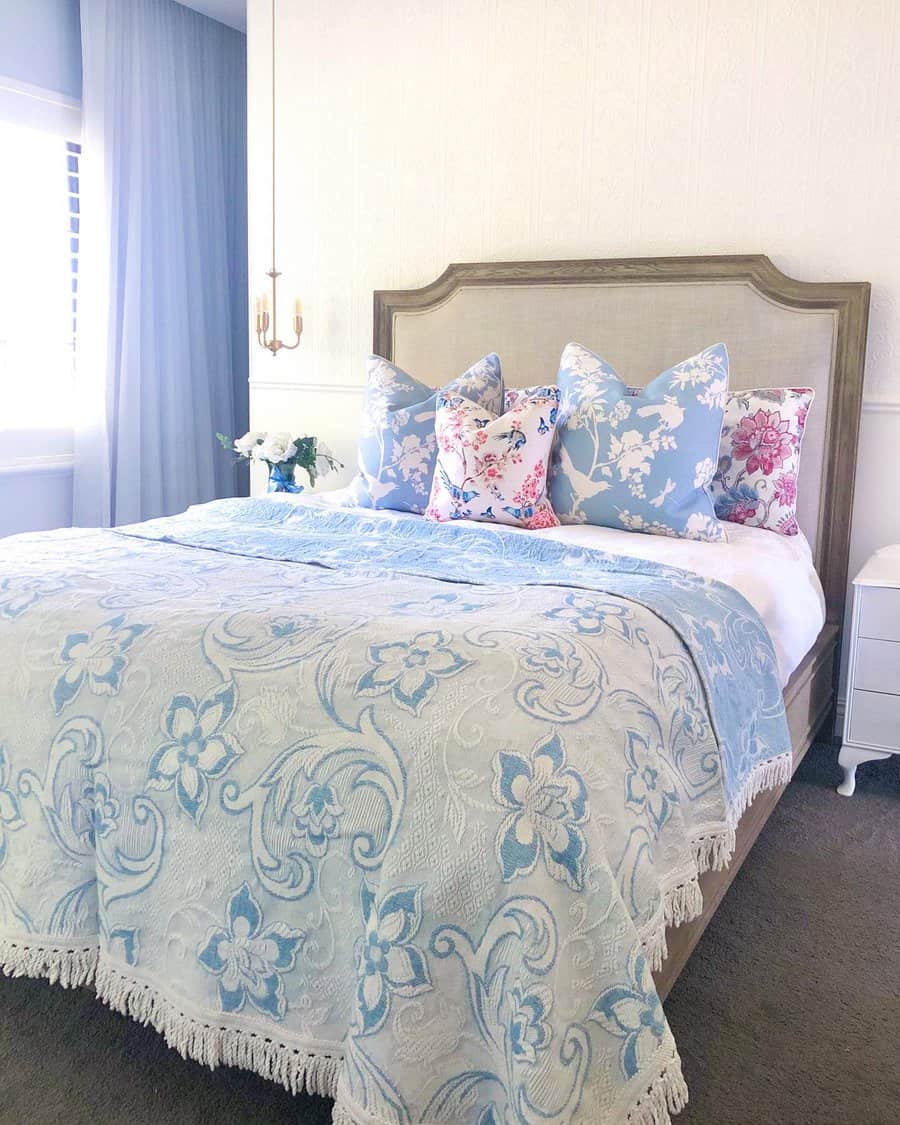 Accentuate your blue bedroom with items that we don't often find in blue, such as blue curtain lace or decorative pillows printed with blue roses. Cover an accent wall with soft blue floral wallpaper and find a matching light blue bedroom rug. Shop for vintage ginger jars to decorate your nightstand or dresser.
Read also: Best Bedroom Colors for Couples
6. Furniture
Blue bedroom ideas can include blue furniture, such as a plush upholstered chair or a vintage dresser painted with a distressed blue finish. You may not be able to find a full bedroom furniture suite in navy blue or light blue, but you can certainly use blue paint to transform any wood piece into your favorite color. That would be a great way to enjoy a blue bedroom if you're renting and not allowed to paint the walls.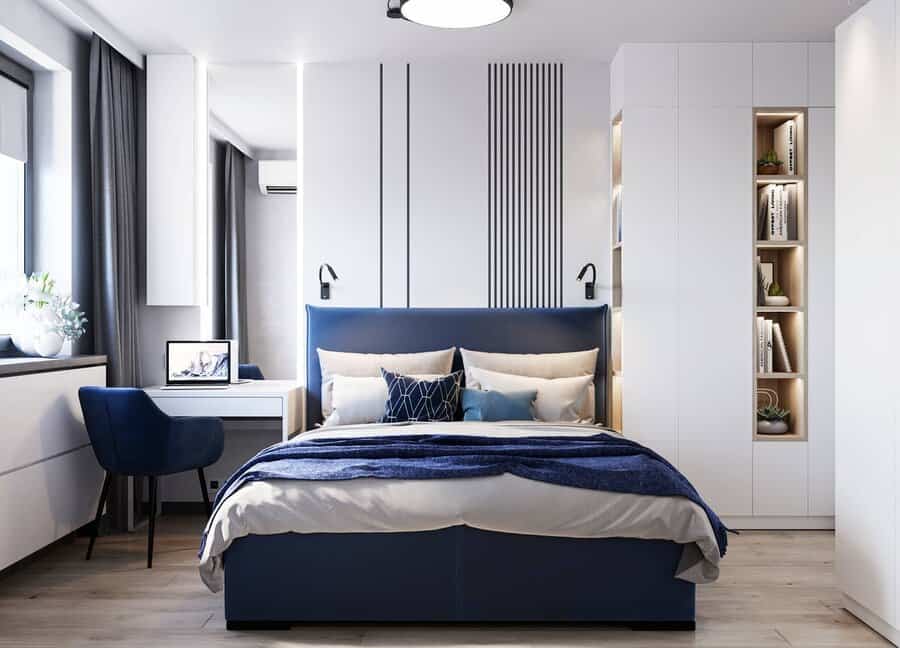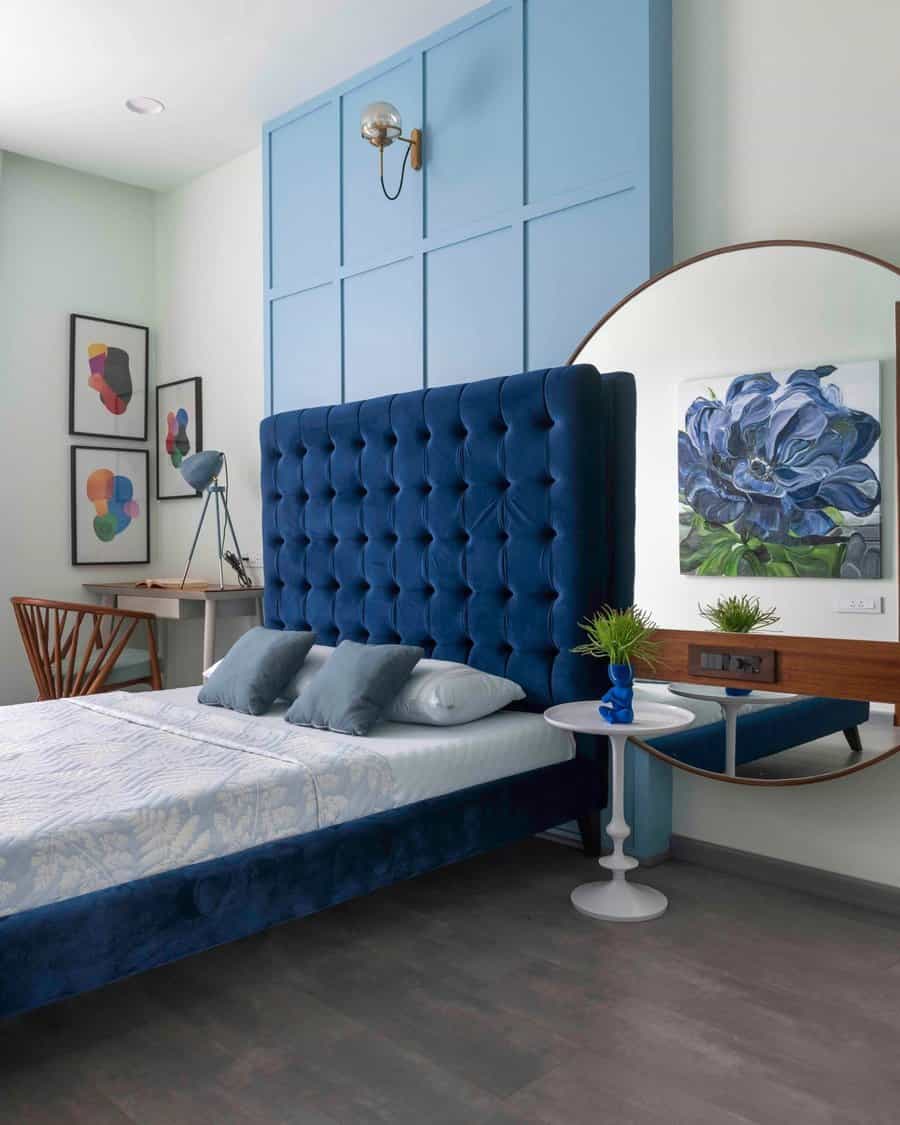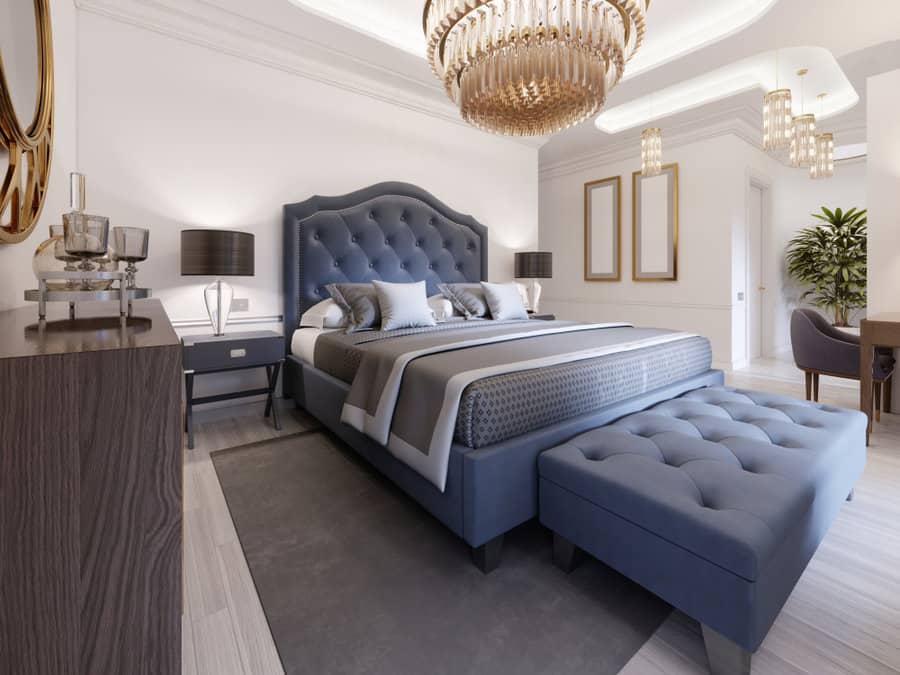 You can also reupholster existing pieces in your favorite deep blue fabric. If it's too difficult a DIY project, hire a professional upholsterer. Use fabric with interesting prints and textures, such as blue velvet or chenille. Denim is a great upholstery or throw pillow fabric to incorporate into a casual blue bedroom.
7. Headboard
What's more inviting than cozying up against a plush upholstered headboard and binging Netflix at the end of a long day? An upholstered bed is a wonderful way to showcase your favorite light, medium, or dark blue color in a big way.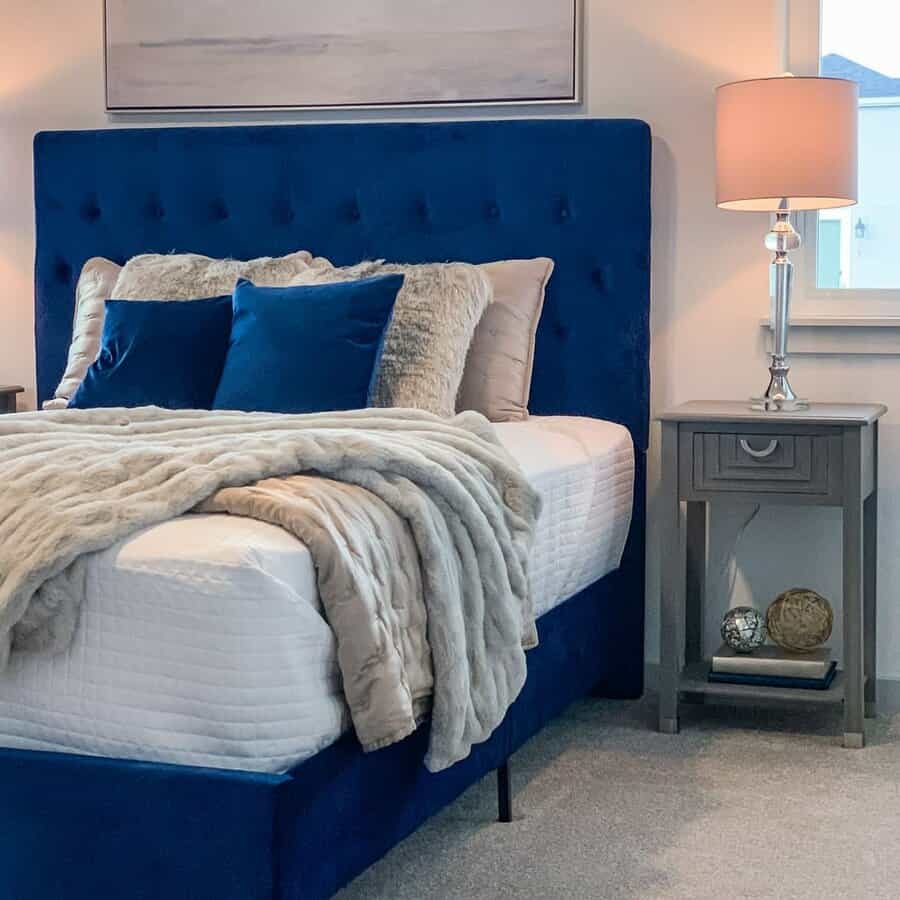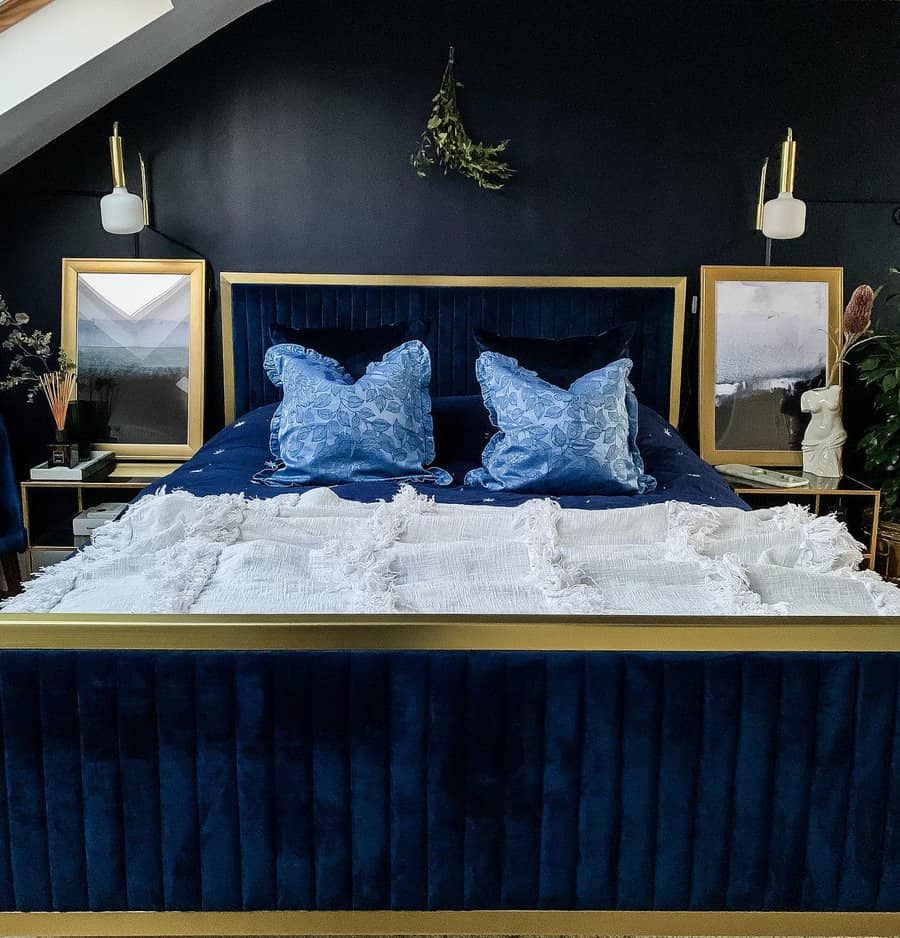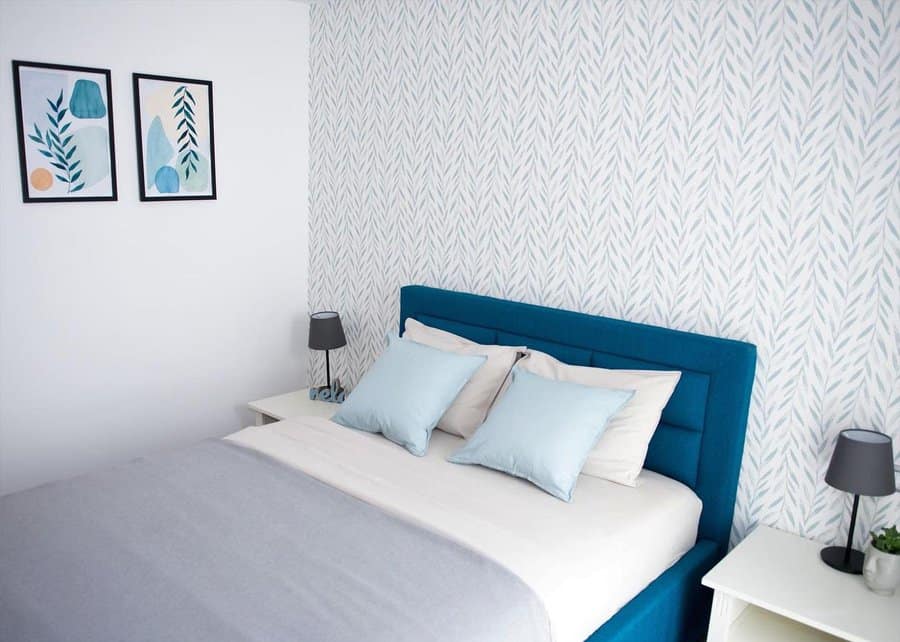 If you have a wooden or metal headboard, consider painting it white then distressing it with a dark blue paint wash. It's a more subtle way to incorporate blue into your headboard and will contrast nicely against white or blue walls.
8. Kids
Most kids love blue and welcome it in their bedroom color scheme. It can be a magical addition in sky blue hues, as part of a mural on the walls or the ceiling. Or go for the opposite effect with navy blue bedroom walls and a navy blue ceiling embellished with glow-in-the-dark constellations.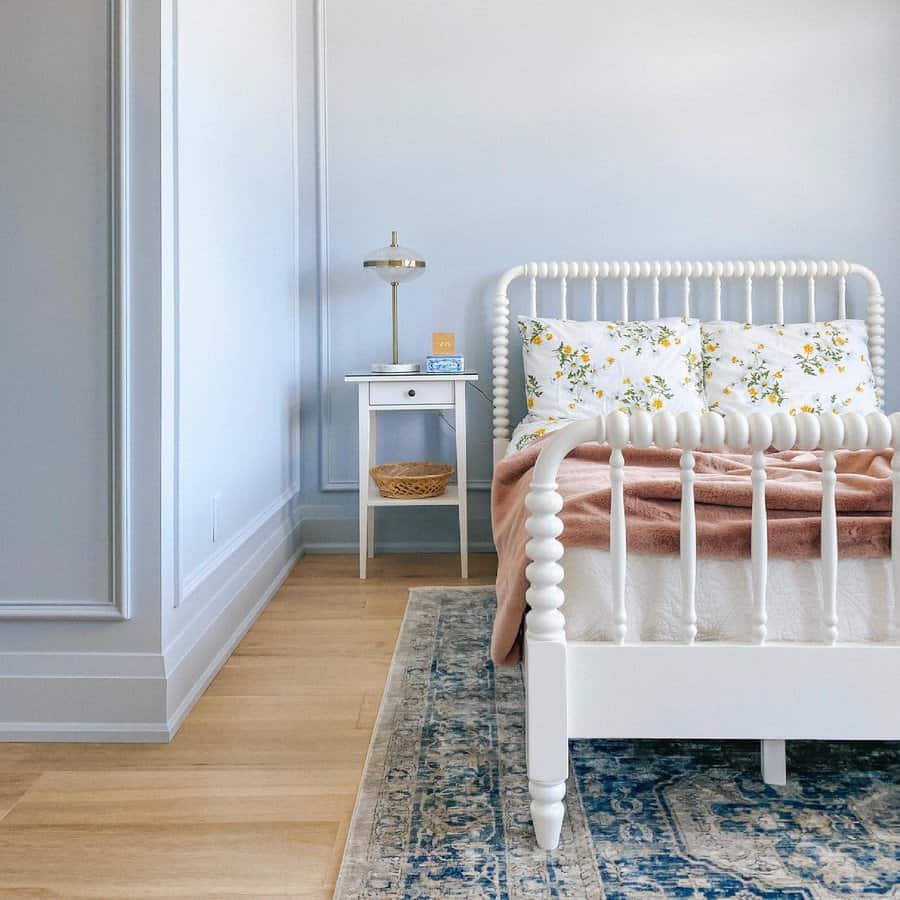 In a little girl's room, consider light blue walls with a wallpapered or contrasting color accent wall in pink or purple. For a boy's room, a cobalt blue bedroom wall would be a great accent element behind the bed.
See more kids' room decor ideas here.
9. Light
Light blue comes in so many shades and values. From the color of greyish-blue clouds to pale turquoise and true sky blue, there's a light blue wall color for any bedroom.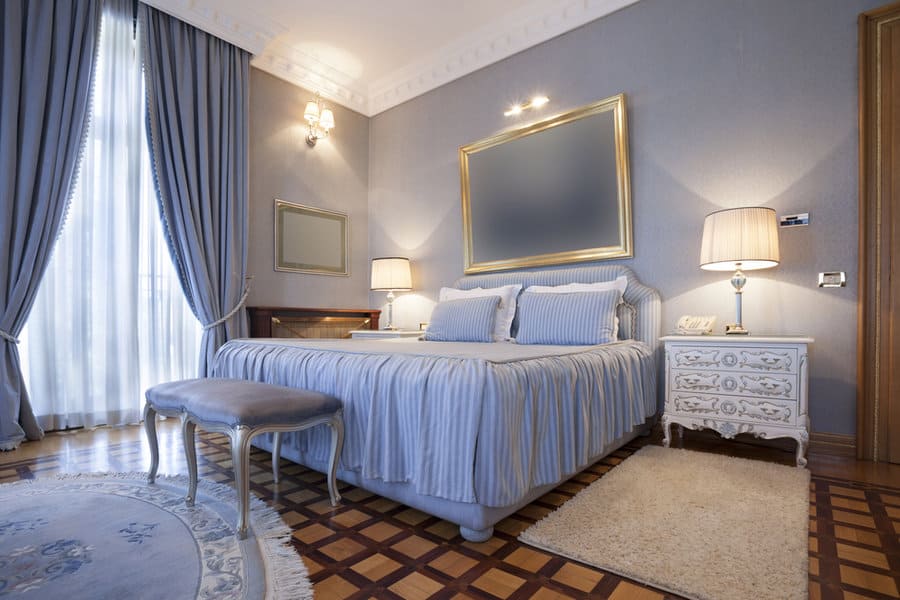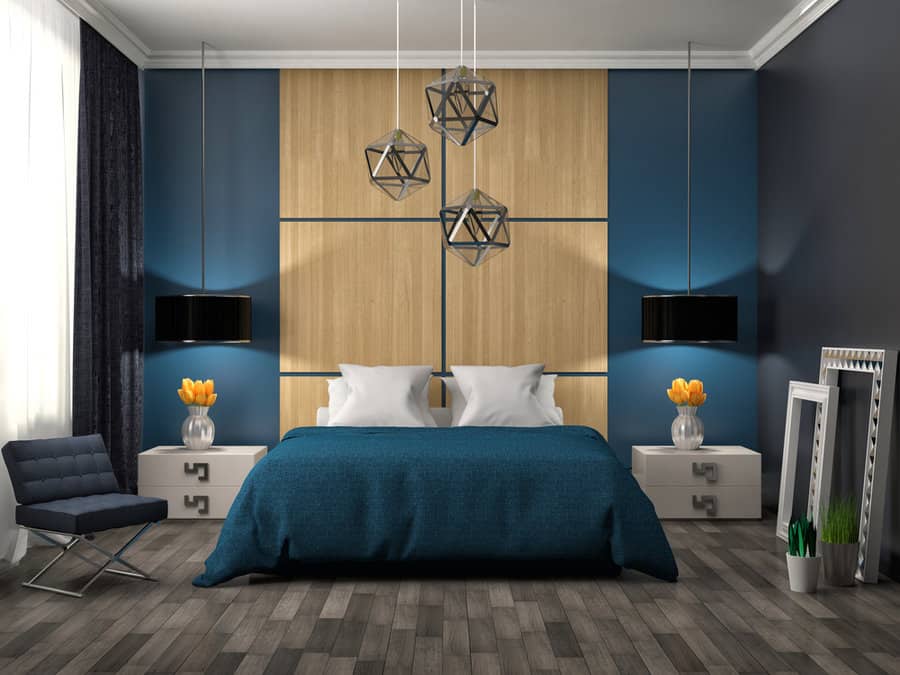 Light blue and navy blue bedroom ideas go together well. Paint two light blue walls and two dark blue walls, then make your other interior design accents a combination of those colors. Add a grounding neutral, such as white or beige, in your flooring and furniture.
10. Master
The master bedroom, or primary bedroom, should be every homeowner's haven. Since blue is such a tranquil color, it's an ideal hue to use in adults' bedrooms.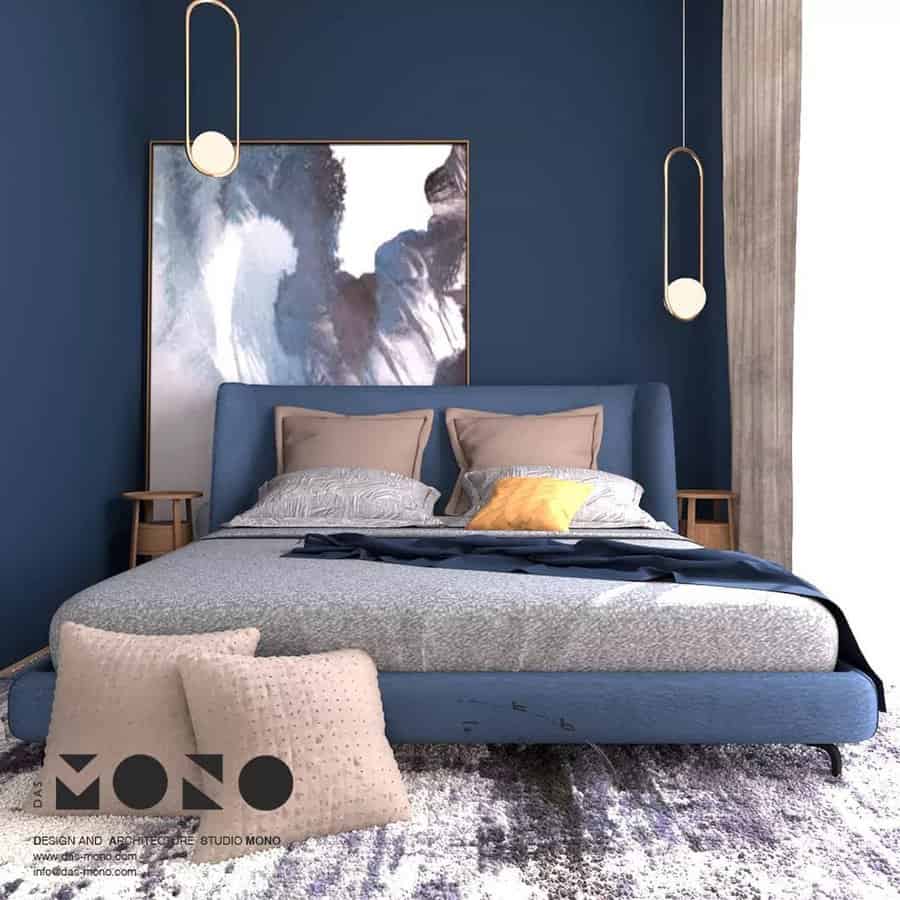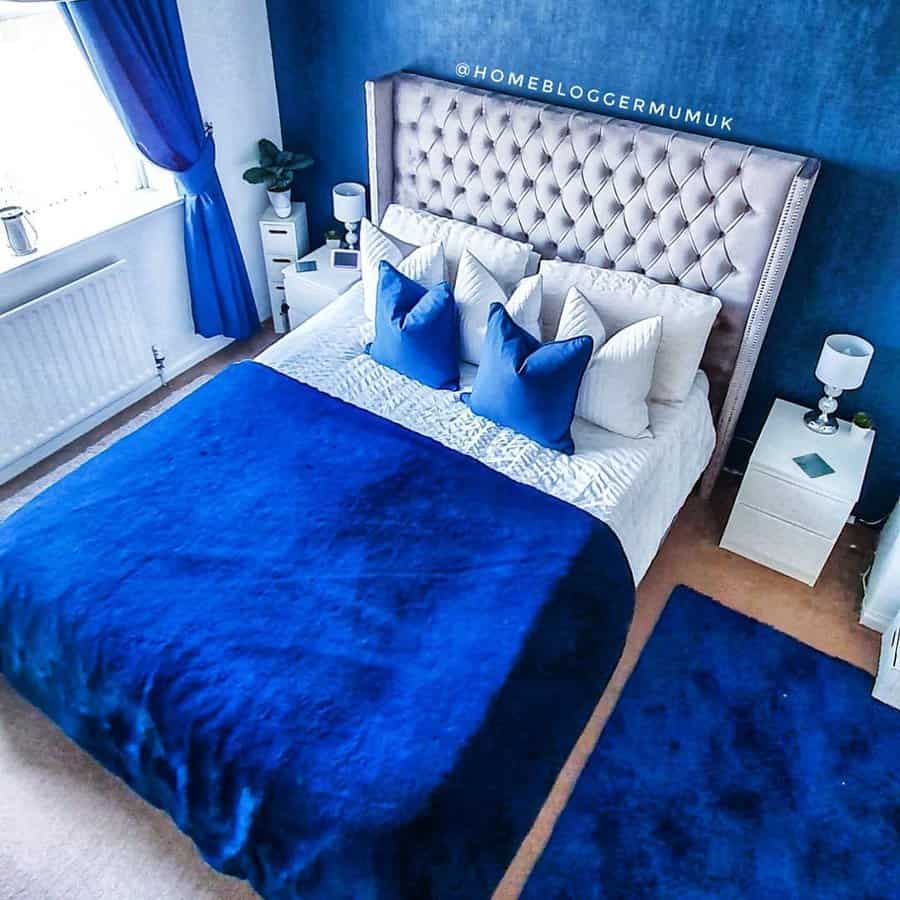 Spoil yourself with lush blue fabrics, such as velour, silk, and high-count Egyptian cotton sheets. Include them on your throw pillow collection, and mix in faux fur and chenille pillows as well. A navy blue bedroom color scheme is perfect for a dark and cozy primary bedroom retreat.
See more master bedroom ideas here.
11. Modern
Although people often think of neutrals when they plan modern bedroom decor, a navy blue bedroom is not out of place in a modern home. Modern navy blue bedroom ideas include alternating white wall and blue wall paint to accentuate the room's angles.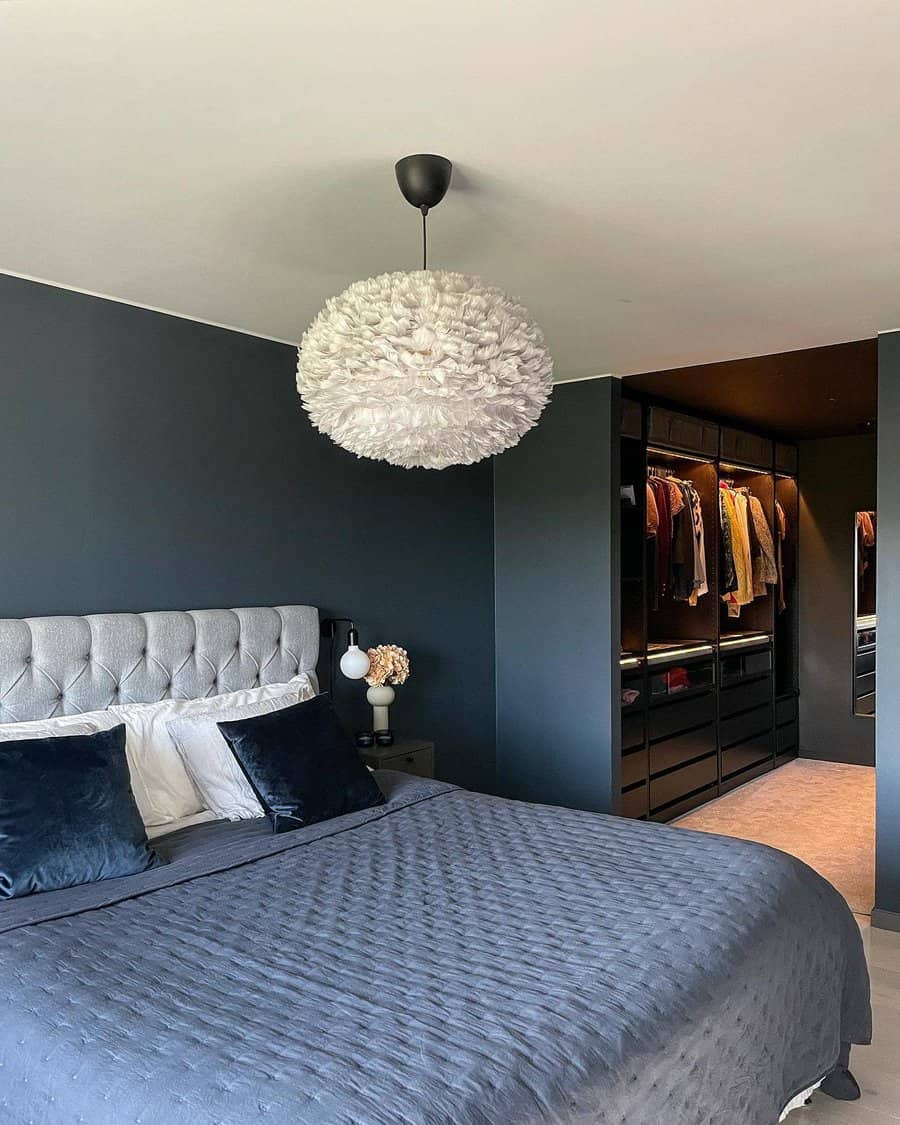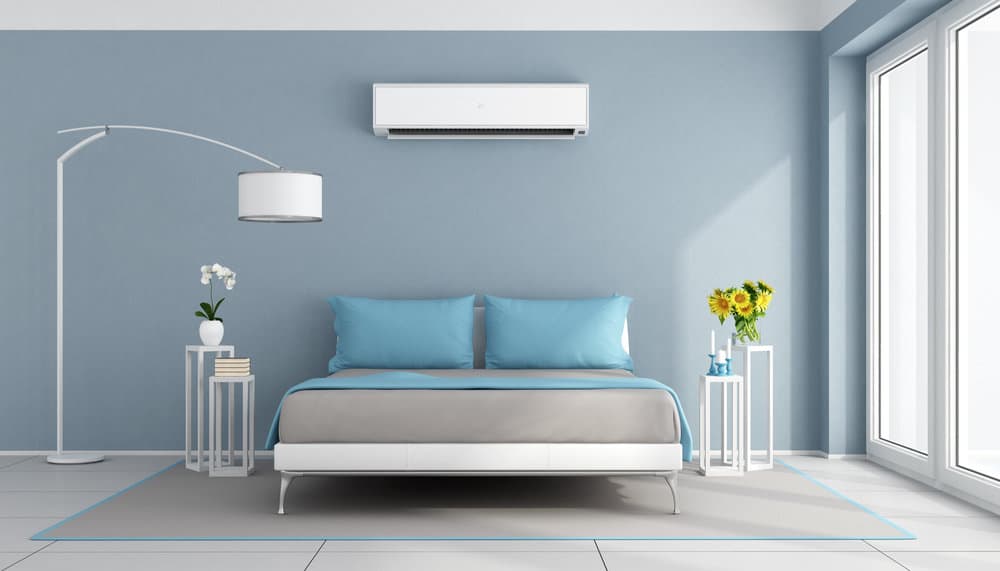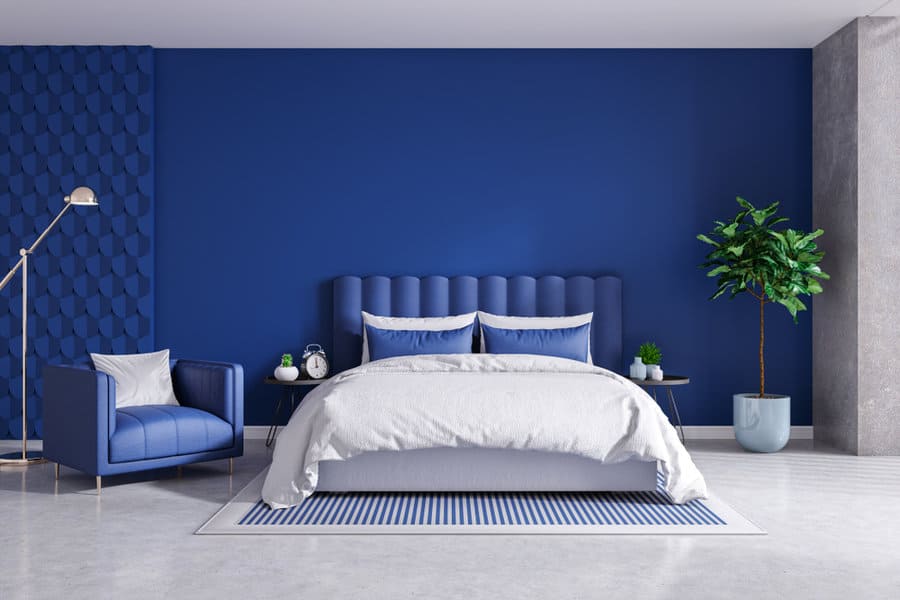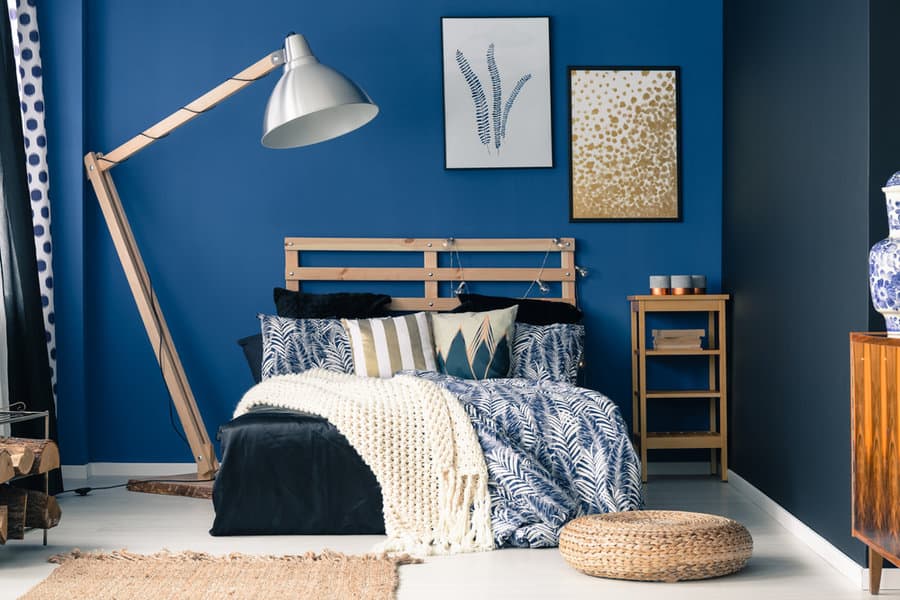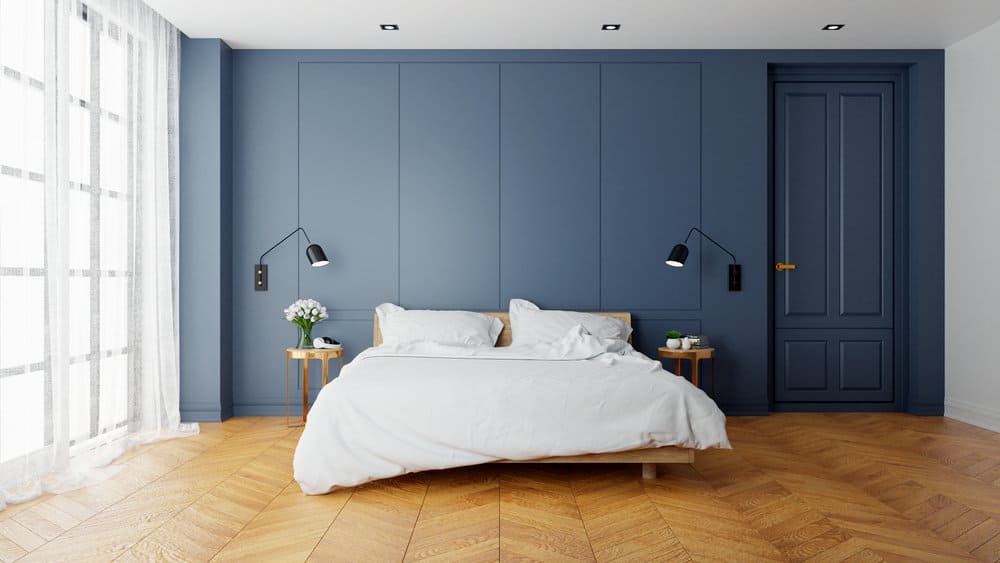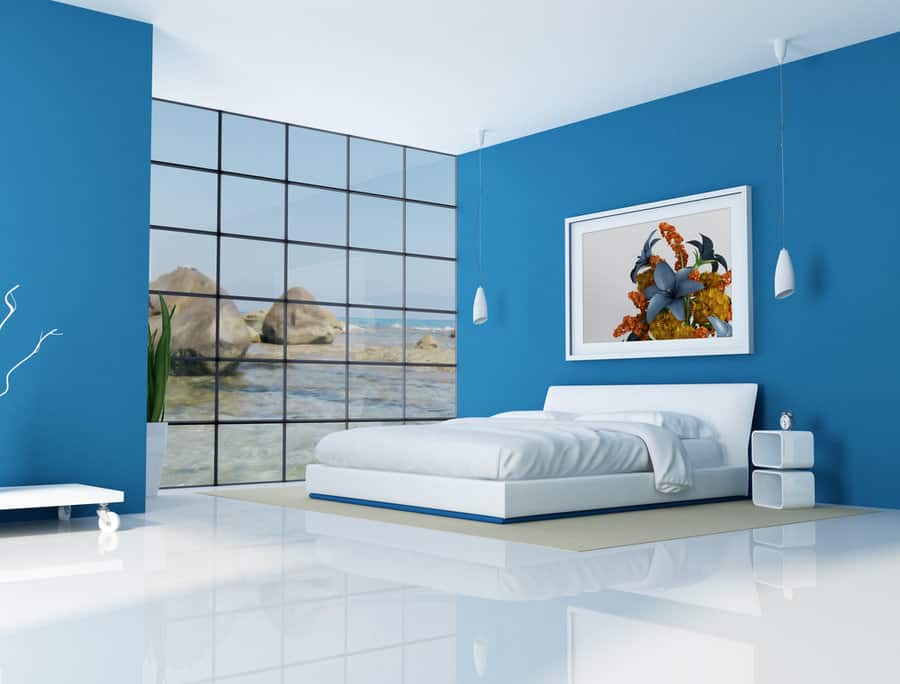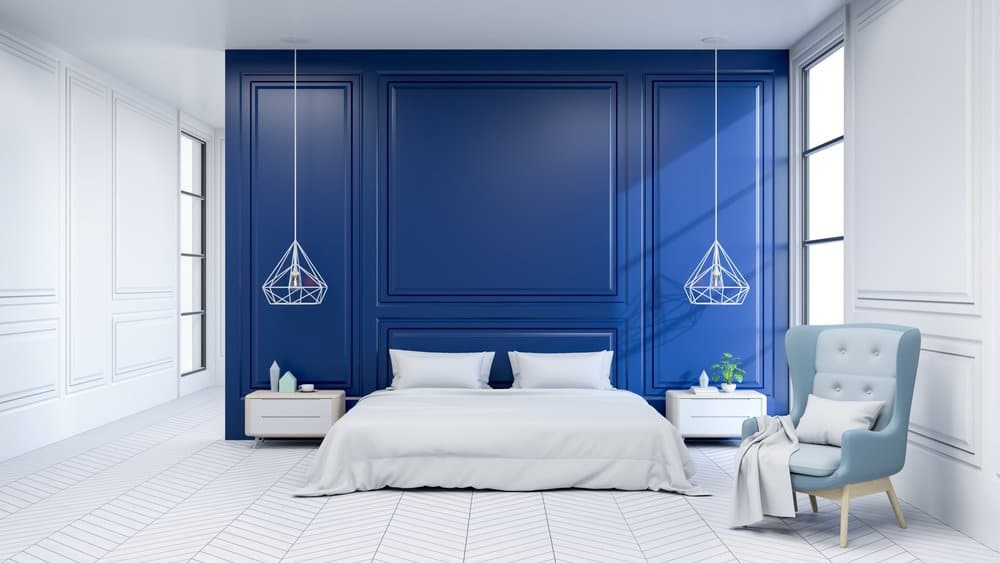 Light blue is an excellent wall color for a modern, Asian-inspired, Zen-like bedroom. Use light colored wood furniture, pale wood flooring, and keep the space free of clutter.
12. Wall
Some say that having blue bedroom walls can actually help you fall asleep faster. In feng shui, the Chinese interior design theory that controls the flow of energy, light blue is believed to calm and cool the mind and body. Dark blue is connected to self-awareness and understanding.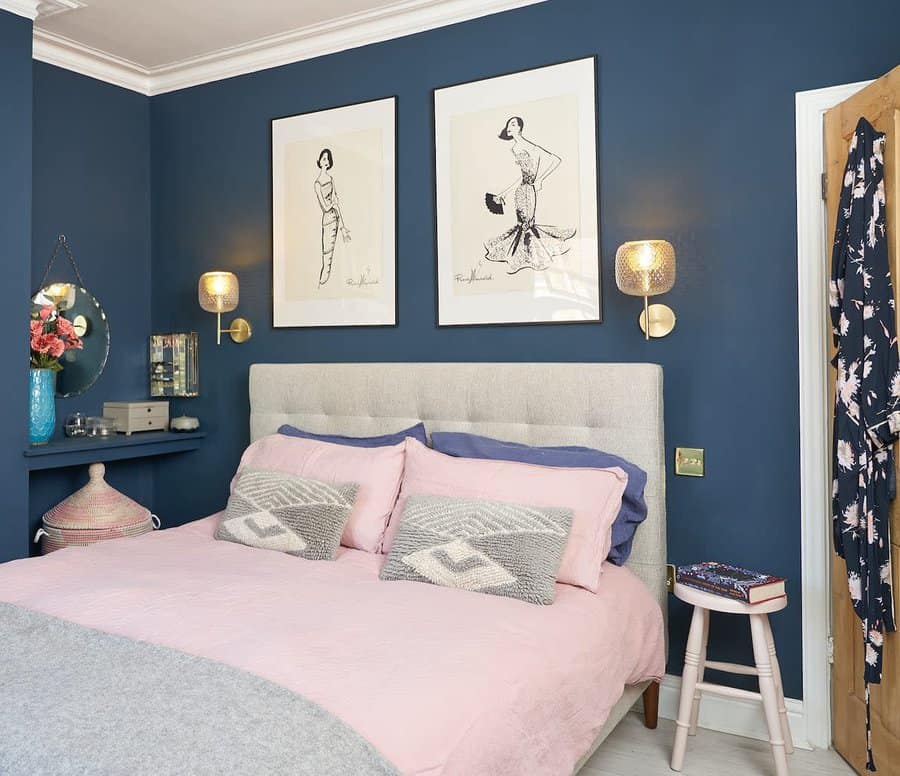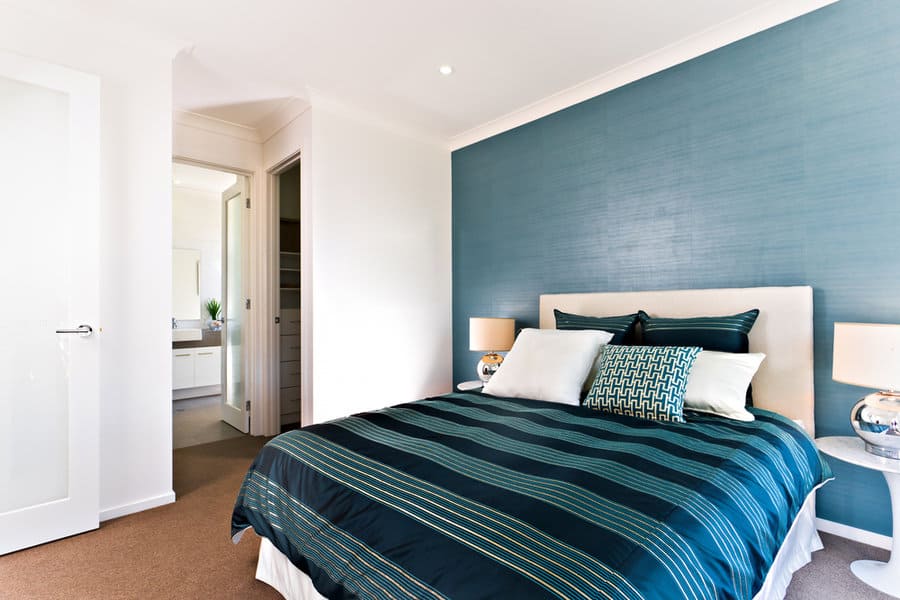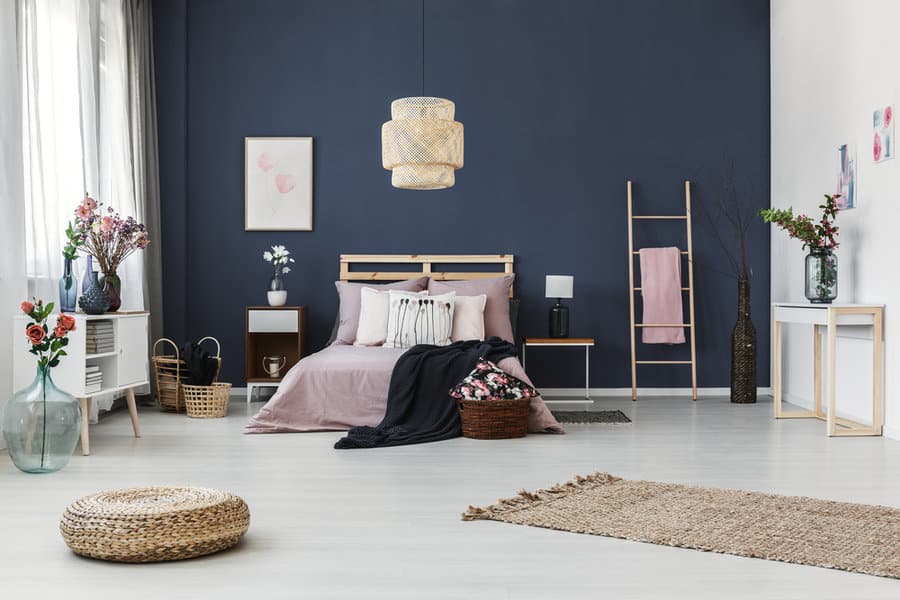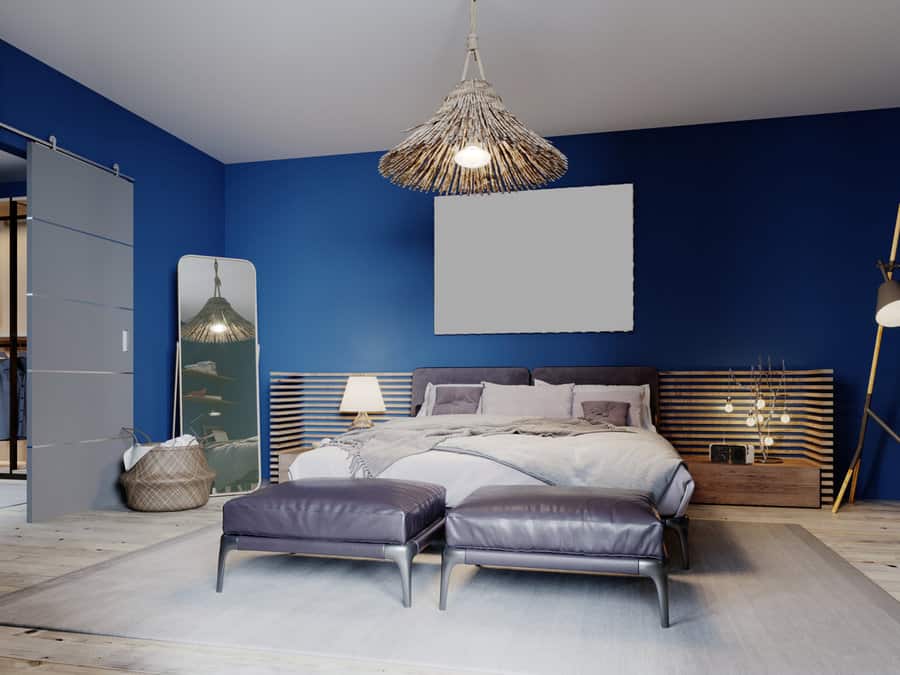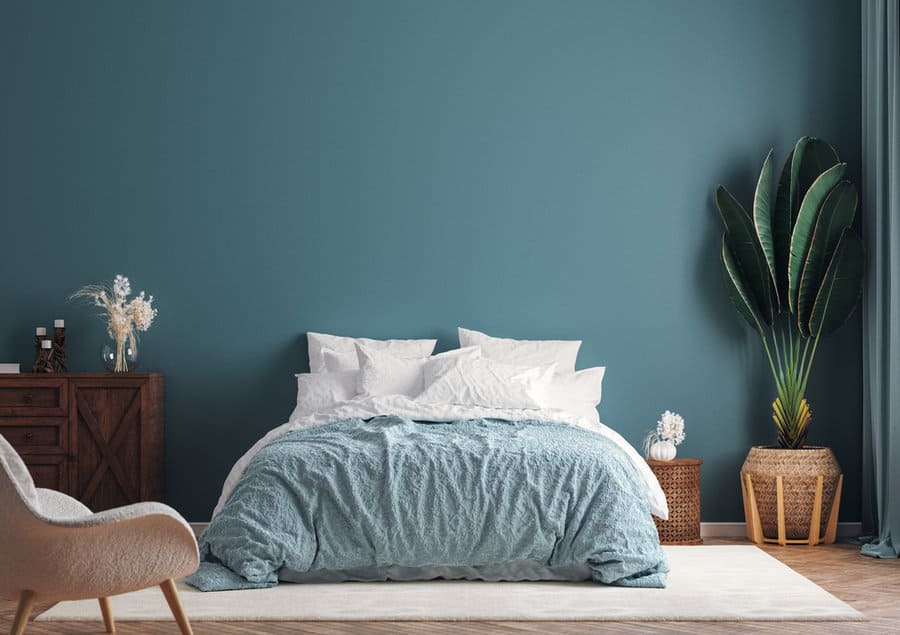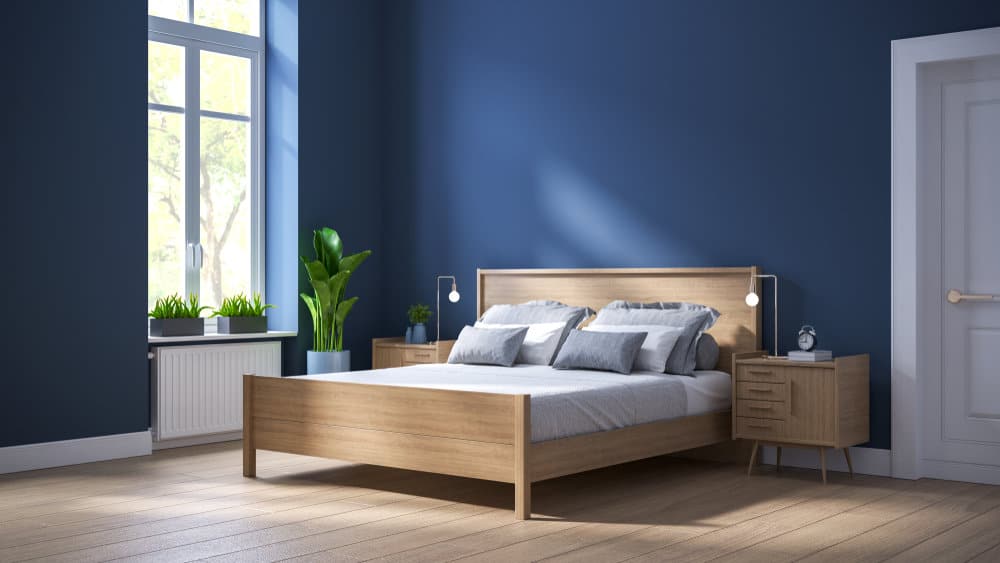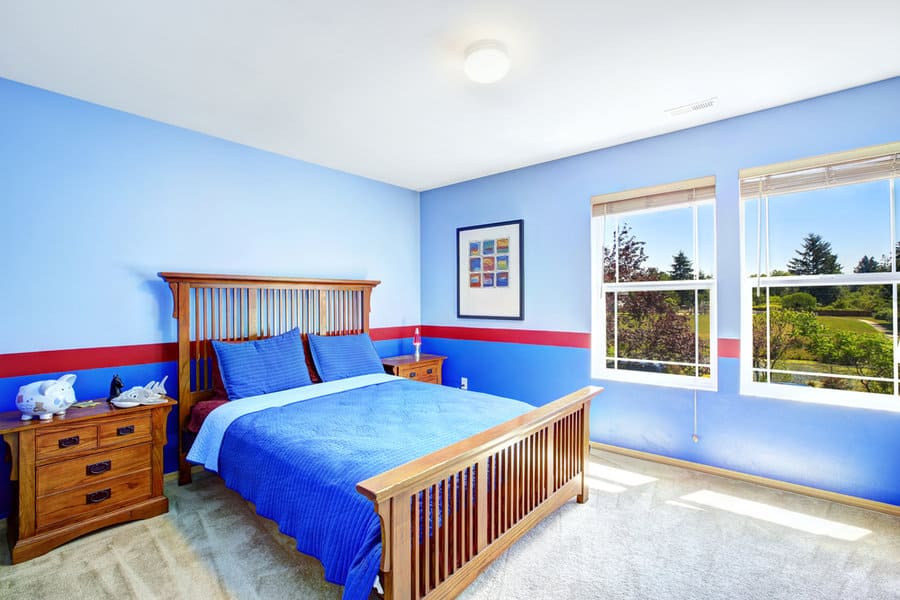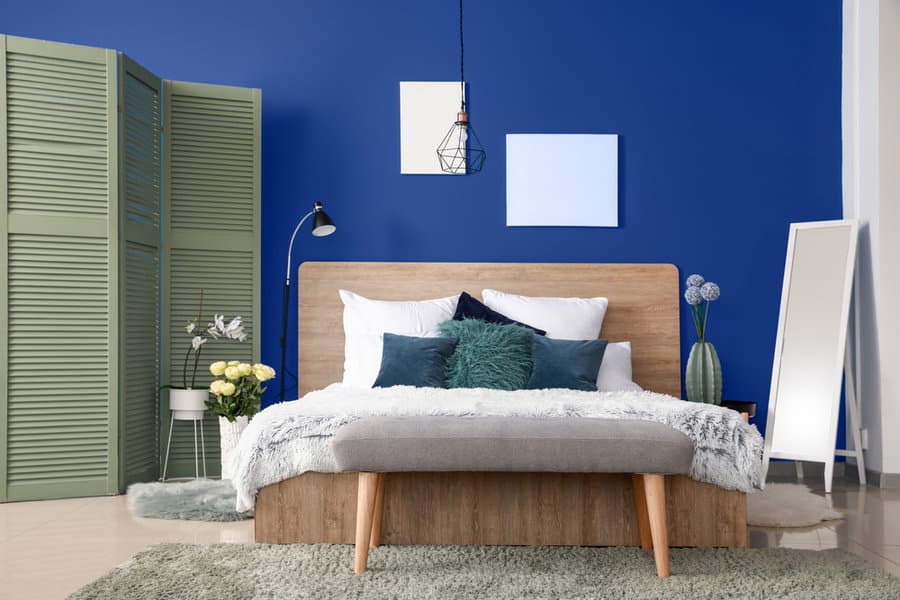 Experiment with wallpaper and various painting techniques to add interest to your blue bedroom. A simple blue sky and mountain mural makes a strong statement behind the headboard. Striped or herringbone wallpaper in various shades of blue makes a fun accent wall.
Blue Bedroom FAQs
What colors go with blue in a bedroom?
Blue is almost like a neutral color in its ability to coordinate with other colors. Some classic blue color combinations include pairing it with white, grey, silver, or gold. Blue and green are a particularly soothing bedroom idea that evokes the calmness of nature.
How can I add warmth to a blue master bedroom?
It's true: blue can feel a bit cold unless it's balanced with some warmth. Choose warm wood finishes on your bedroom furniture and include small touches of orange, yellow, or red in your textiles. Replacing silver fixtures and accessories with gold or bronze also helps add a cozy glow to the room.