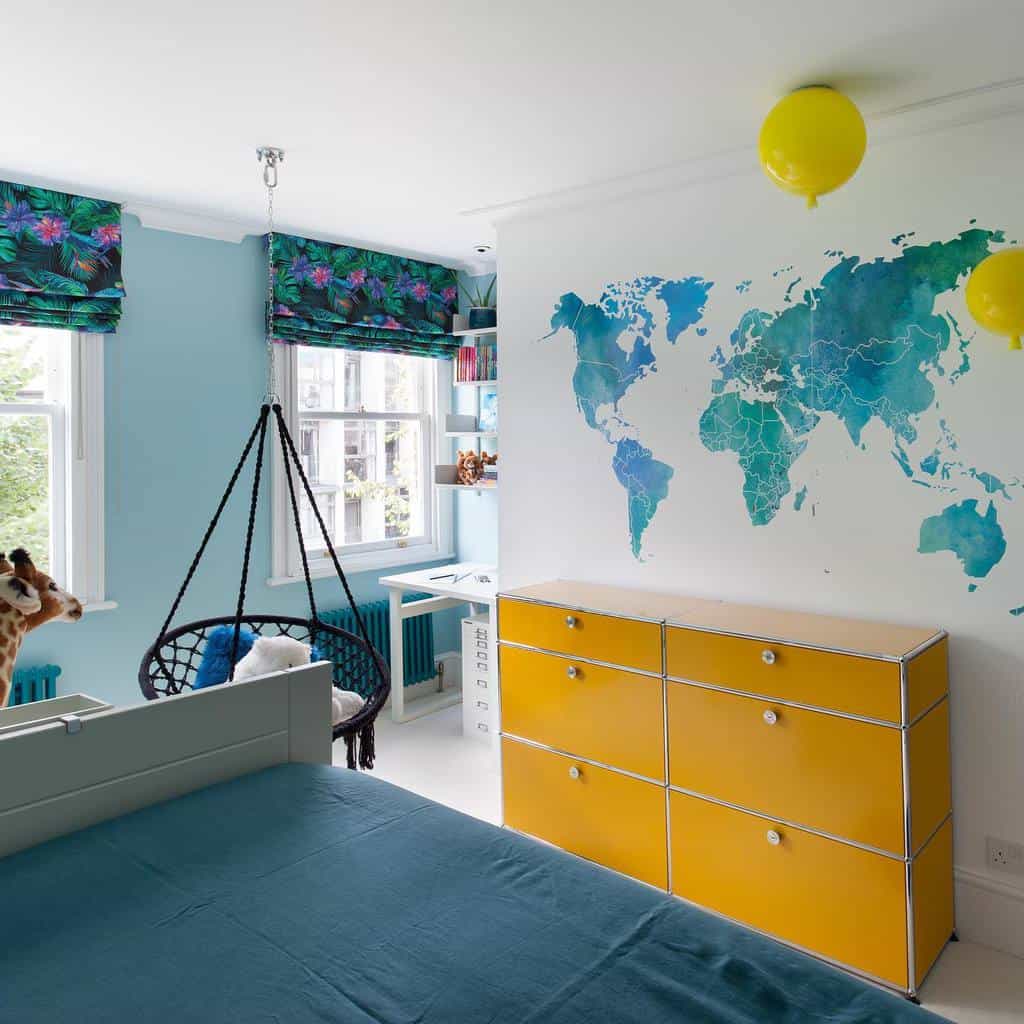 43 Beautiful Blue Bedroom Ideas
From pale chambray to dark navy blue, the color blue is an ideal shade for bedrooms. The world's most popular color is beloved for its ability to soothe and calm us—a perfect attribute for bedroom decor.
Whichever shade of blue is your favorite, you can't go wrong in basing your bedroom color scheme around this heavenly color. Peruse our 40 favorite blue bedroom ideas and enjoy all the ways blue can elevate your bedroom to a tranquil retreat.
1. Incorporate Playful Prints
If you're looking for a unique and creative way to redesign your bedroom, a blue bedroom adorned with prints is the perfect way to add an inviting touch of blue while still making a bold statement.
Imagine printed wallpaper with beautiful landscapes along the walls, printed flooring that creates a cozy atmosphere, and printed bedding that invigorates your sleep. The calming vibes emanating from the blue color will leave you feeling revitalized.
Take this cove into the future by introducing metallic fixtures, warm lighting, and of course, plush furnishings. With this perfect combination of past and present, you'll be captivated by your own blue bedroom every single day.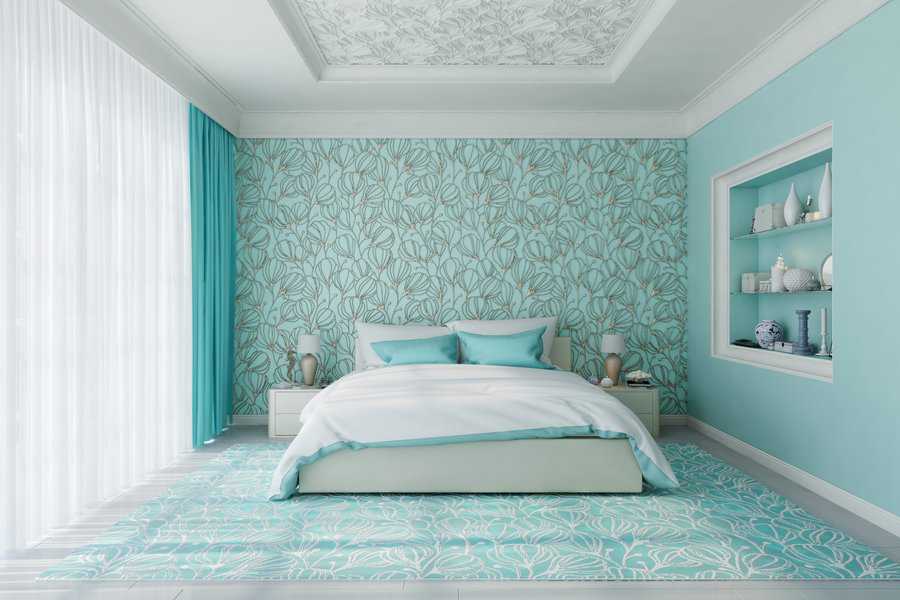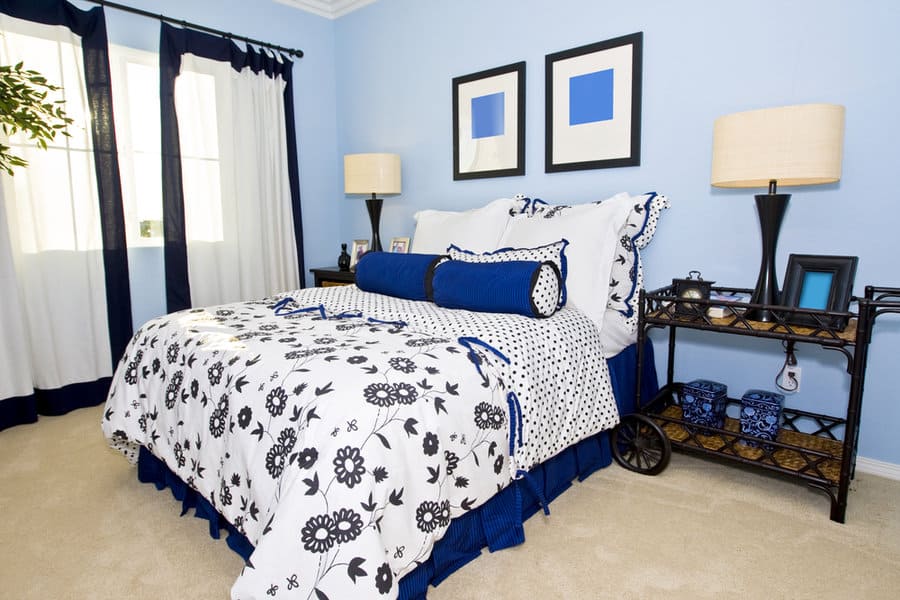 2. Go Coastal With Blues & Browns
Step inside a blue bedroom and find your perfect calming retreat. With blue and beige or brown elements, the interior design has a coastal feel to it which will make you dream of an oceanside getaway without having to leave your home.
Whether you choose to relax or take up inspiration for creative projects, this blue bedroom is the ideal place to do so in comfort and style.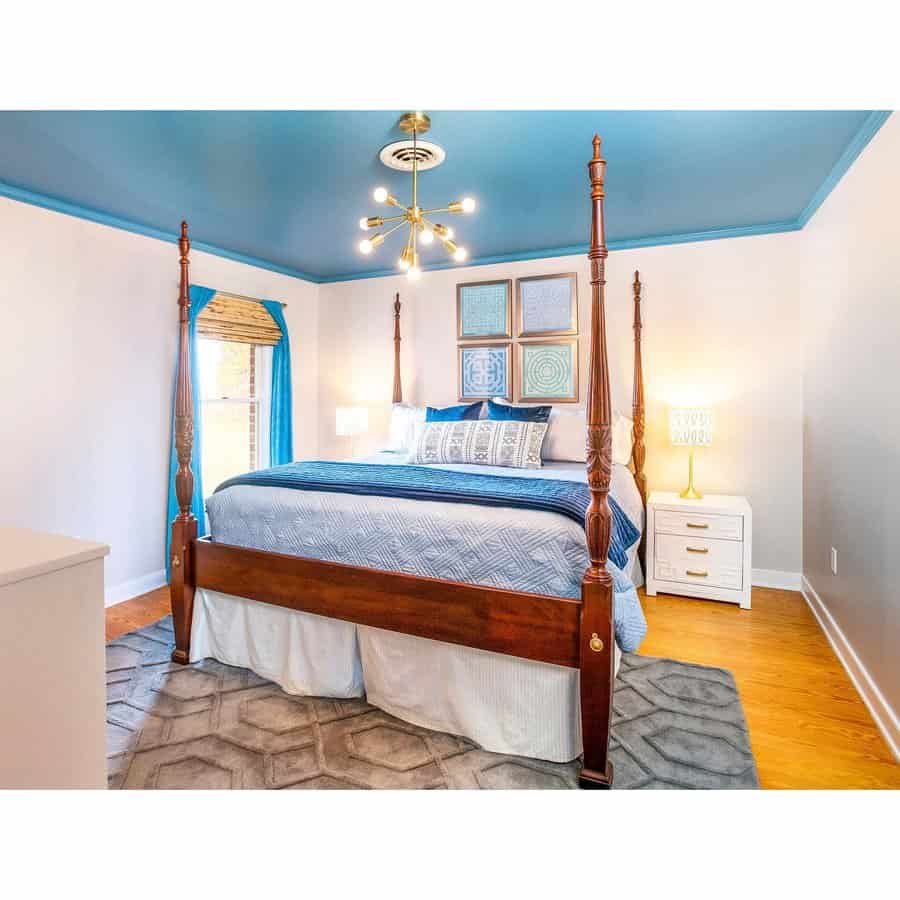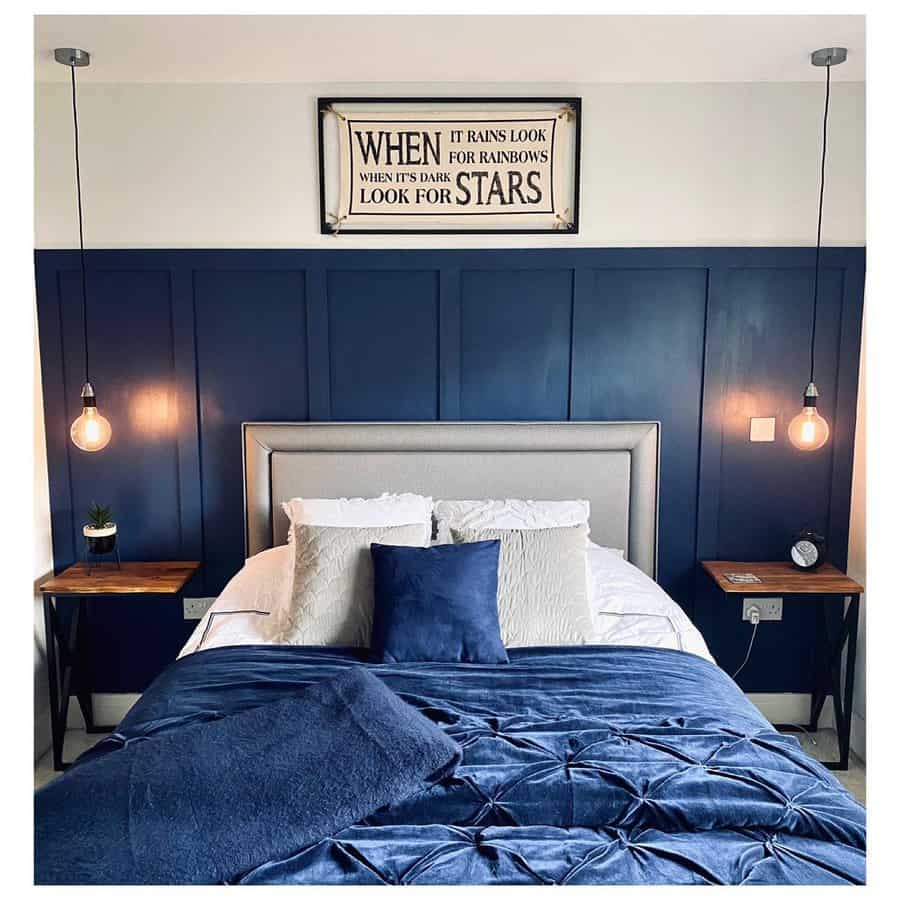 3. Go Greek With Santorini Blue
There's something inviting about a vibrant Santorini blue bedroom – from the vibrant blue bedding to the vibrant blue walls, it just screams 'relaxation'! To top off this peaceful aesthetic, one can add a few gold details that really make the colors pop.
Whether it's some golden frames around contrasting artwork, or golden bedside lamps giving the room a warm glow at night, these gold touches really add depth to an already soothing atmosphere.
In essence, there's nothing quite like this vibrant and peaceful Santorini look that is sure to uplift even the most fatigued spirit.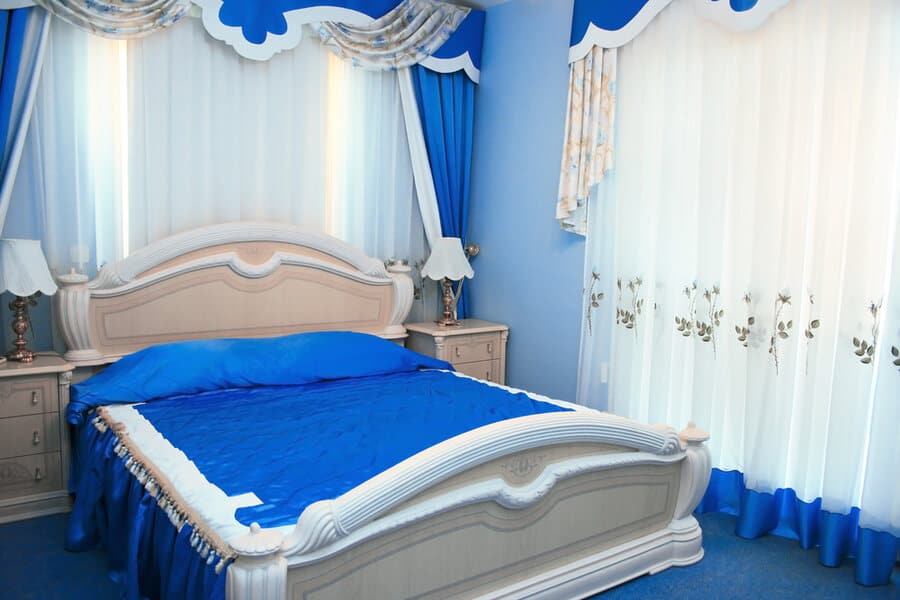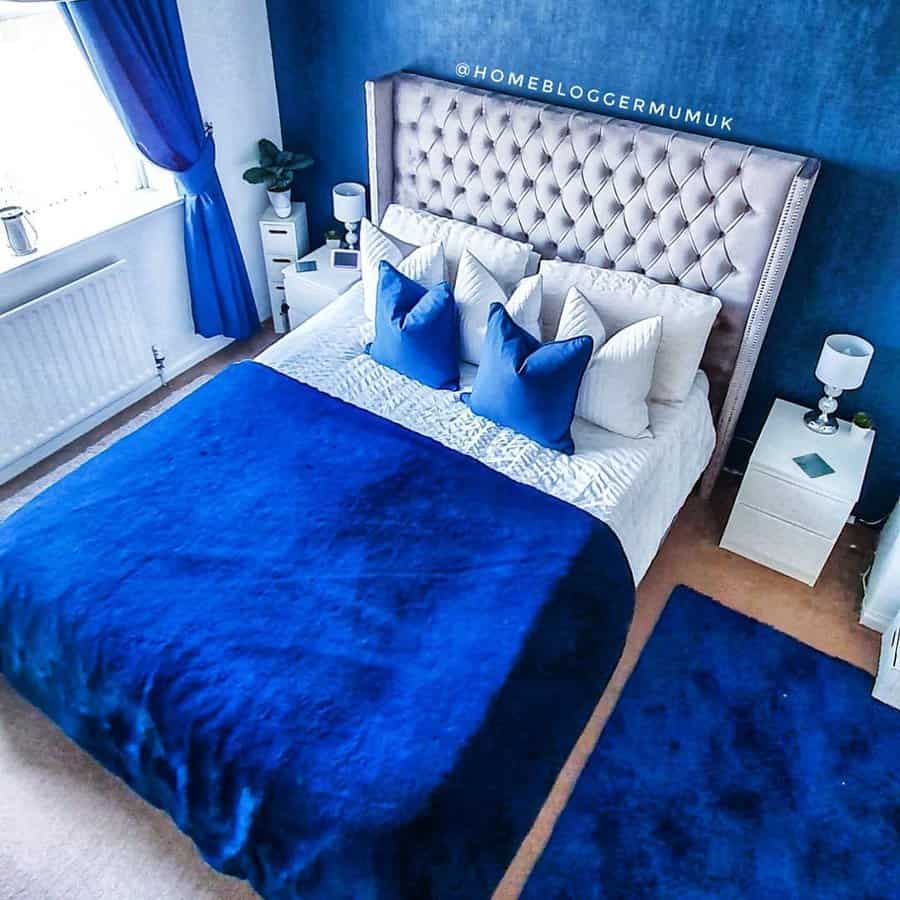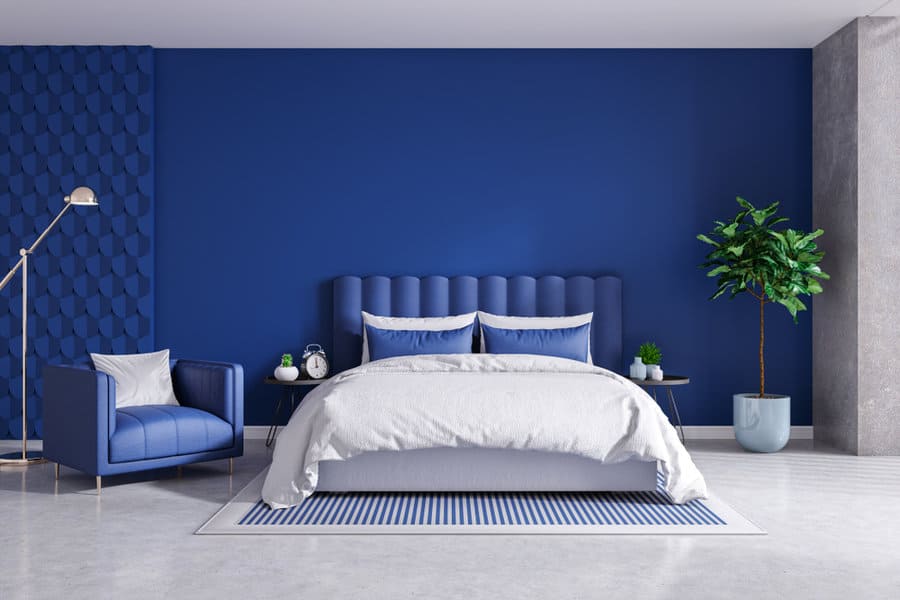 4. Add Vintage Pieces
Imagine yourself in a blue bedroom filled with vintage details reminiscent of the Victorian era. Sparkle from vintage vanity sets, lush velvet accents on the walls, and lace-draped furnishings transport you to a timeless world of beauty and serenity.
The deep navy shade of the walls beckons you in like the pull of a forgotten fairytale, while touches like vintage-style wallpaper and Victorian-style furniture inspire images of a wondrous past. F
ind solace in this room and admire its vintage style that is sure to bring a touch of sophistication and classic elegance.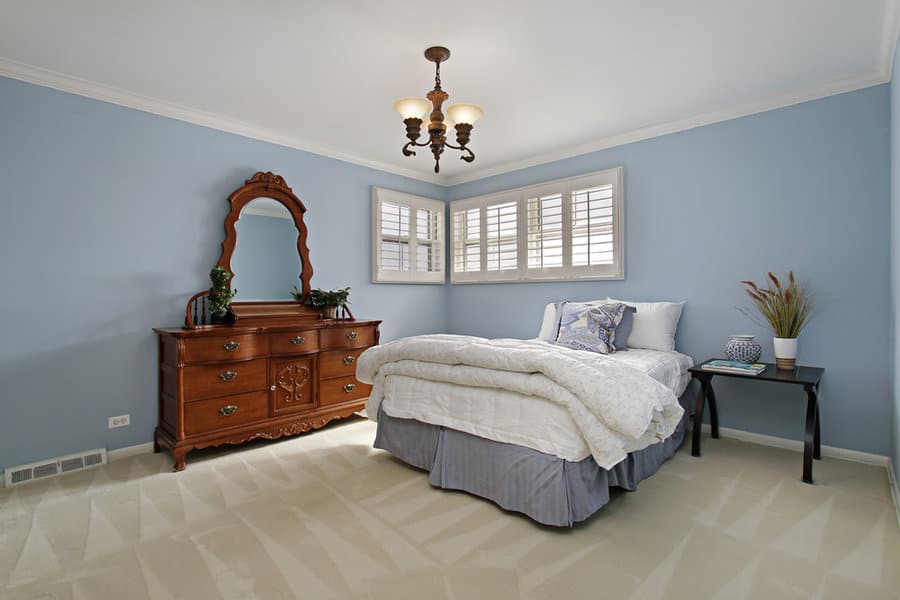 5. Color Block
Create pops of energy in an otherwise plain bedroom by color blocking. Start with a bold backdrop of navy blue, and then bring the room to life add green and teal undertones and red, orange, or pink accents for vibrant contrast.
Color blocking is an excellent way to make a room feel more interesting, layered, and customized than just using one standard shade.
Whether it's done in subtlety or in clusters of blocks, color blocking will instantly update any room and transform your space into something totally new!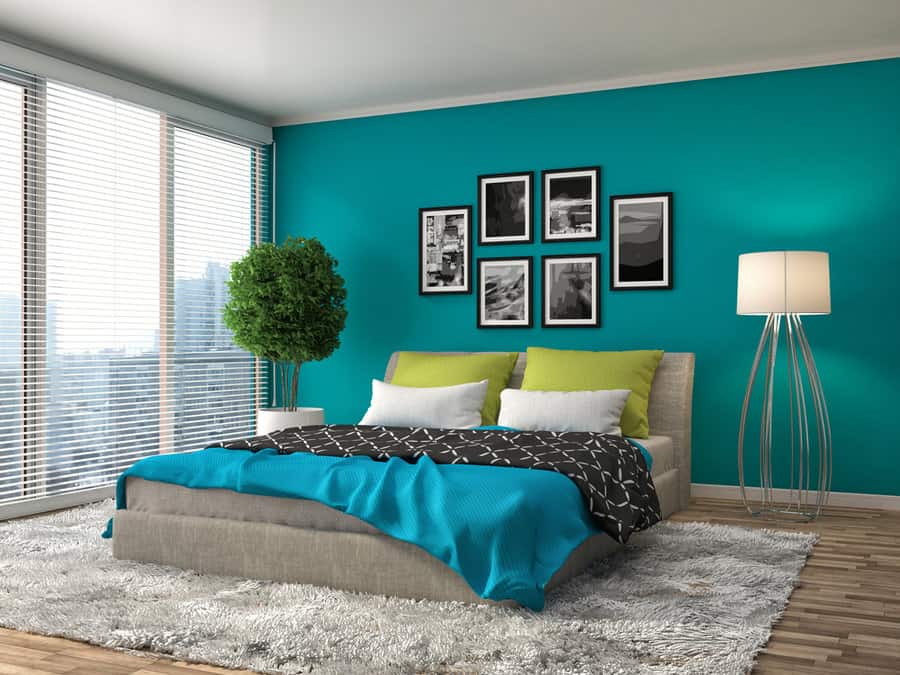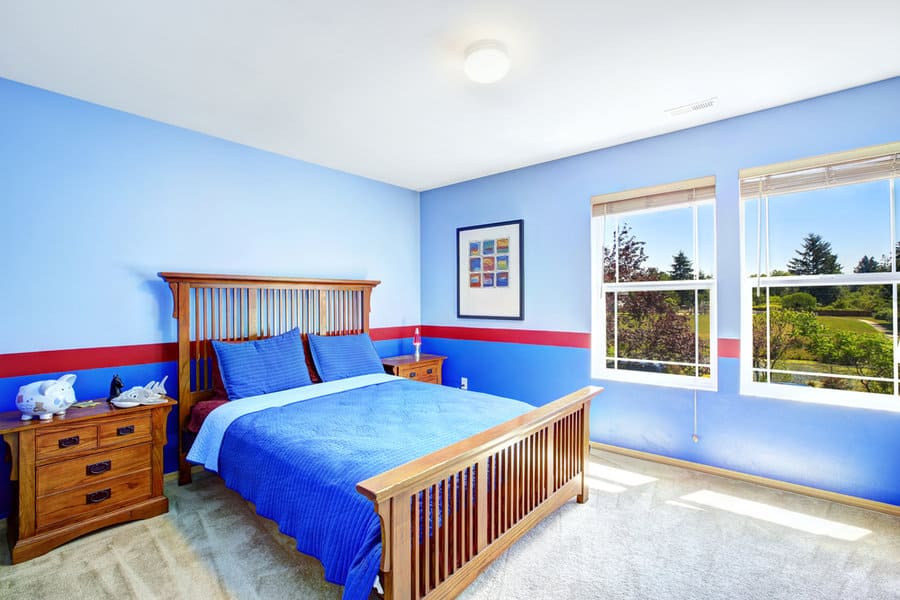 6. Add Mirrors To Reflect Light
Imagine a beautiful blue bedroom surrounded by multiple wall mirrors that reflect the rays of sunshine that flood in and bathe it in brilliant light. The multiple reflective surfaces create an ethereal experience leaving you feeling dreamy and inspired.
Taking a step inside this space, you can be sure to revel in the endless reflections and unique illusions, allowing your creativity to run wild and free. Whether it's searching for the reflection of yourself within multiple mirrors or admiring the way these walls gracefully reflect each other's light, there's something truly special about a blue bedroom with multiple wall mirrors!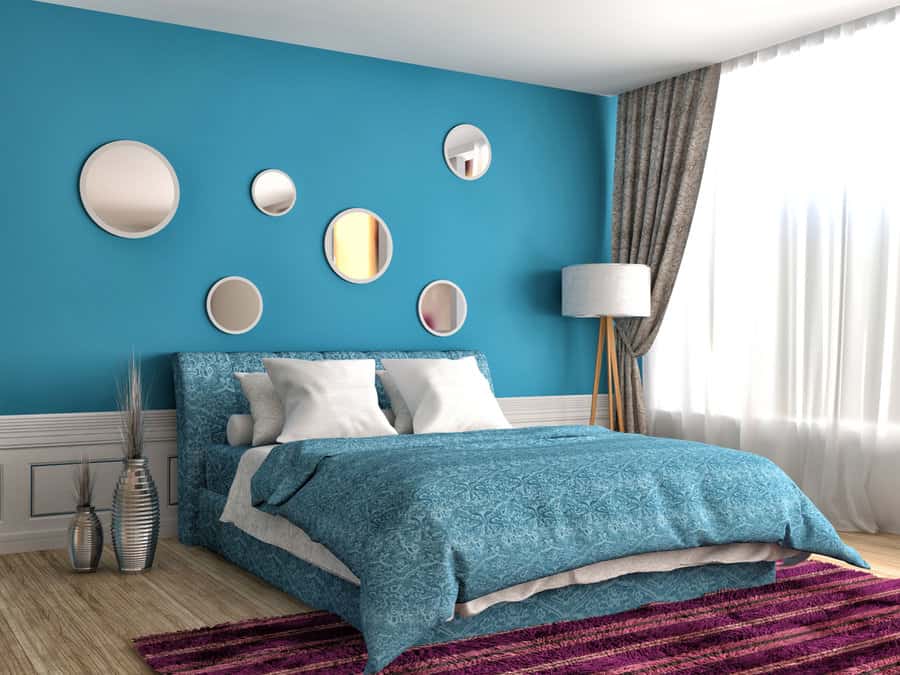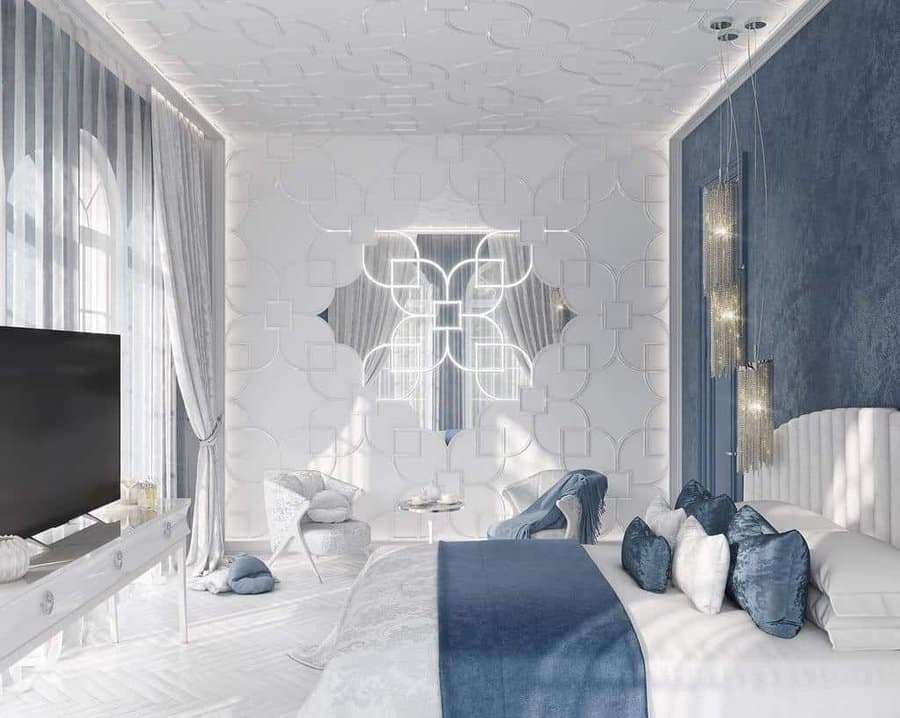 7. Create A Green Space
Step into a greenspace by adding plants into your blue bedroom. With its light wood furniture and white bedding, the bedroom is the perfect retreat to relax and take in the calming blue wall hue. A profusion of plants gives life to the room, while they also provide air-purifying benefits — it's like taking a stroll through a serene garden!
Illuminated by natural light coming in from outside, adding plants to a cool-colored bedroom creates an uplifting atmosphere that eases stress and brings you one step closer to nature.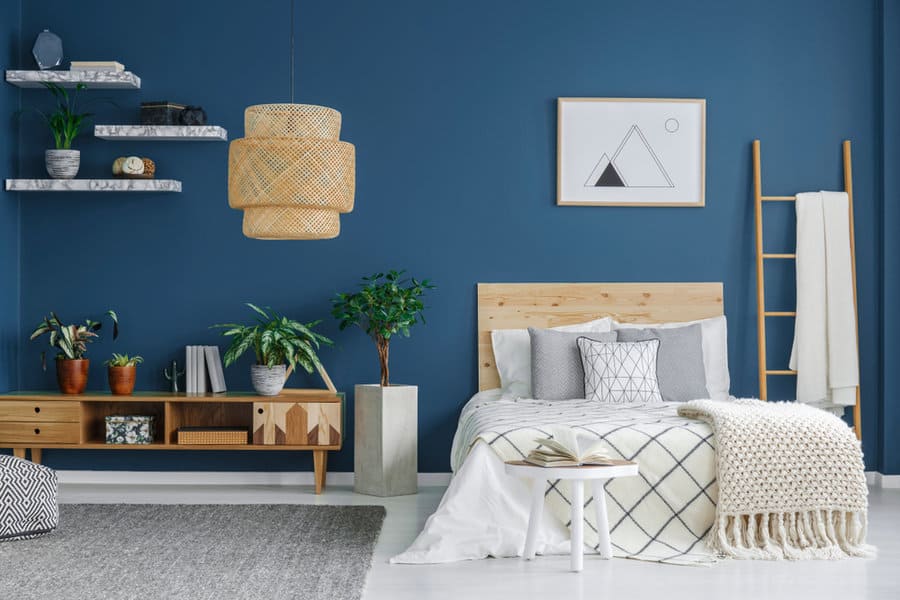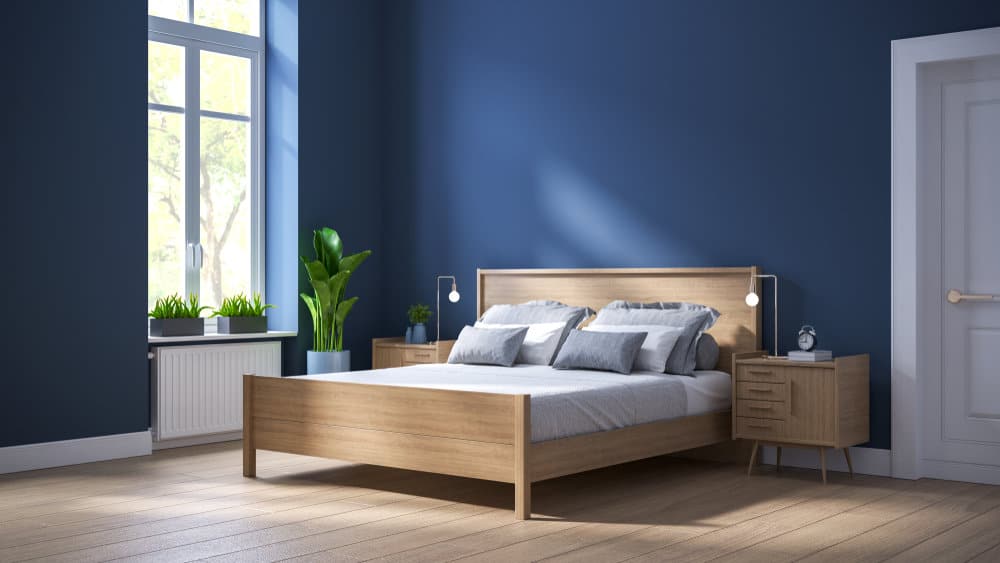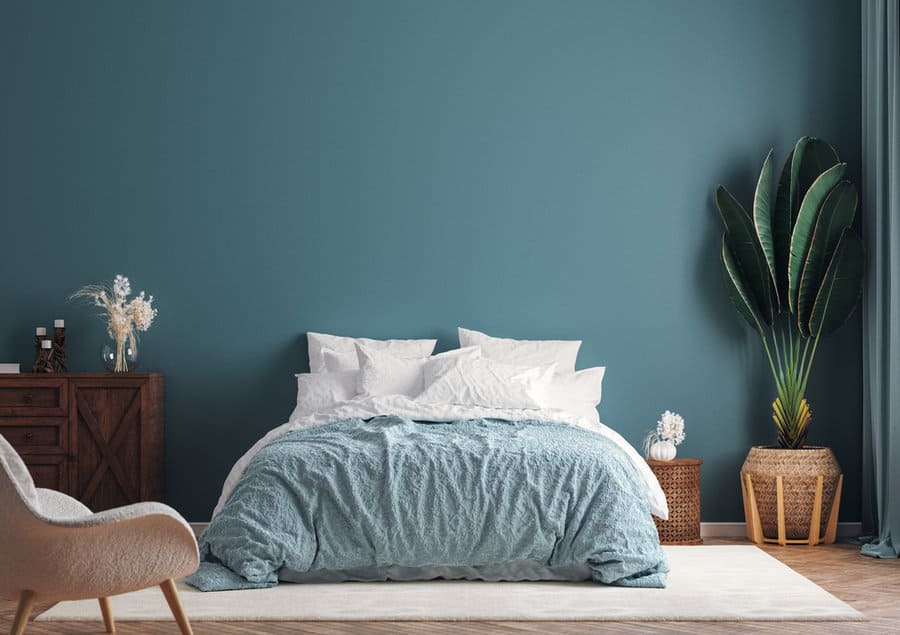 8. Open Up The Bedroom With Blue & White
Creating a blue bedroom with white elements is a great way to achieve a balance between warmth and coolness. The blue walls act as a foundation, creating a soothing backdrop that beckons relaxation and peace.
Meanwhile, the white ceiling gives lightness to the room's atmosphere, ensuring that the blue walls don't become too overwhelming. To bring extra pizzazz to the blue theme, light wood furniture is added for contrast and texture.
This combination of blue tones and white accents will give your bedroom a unique look while still providing an inviting atmosphere that promotes deep sleep.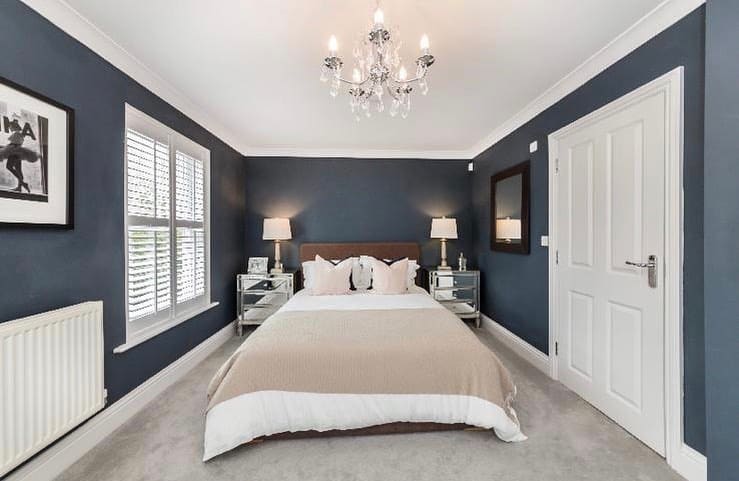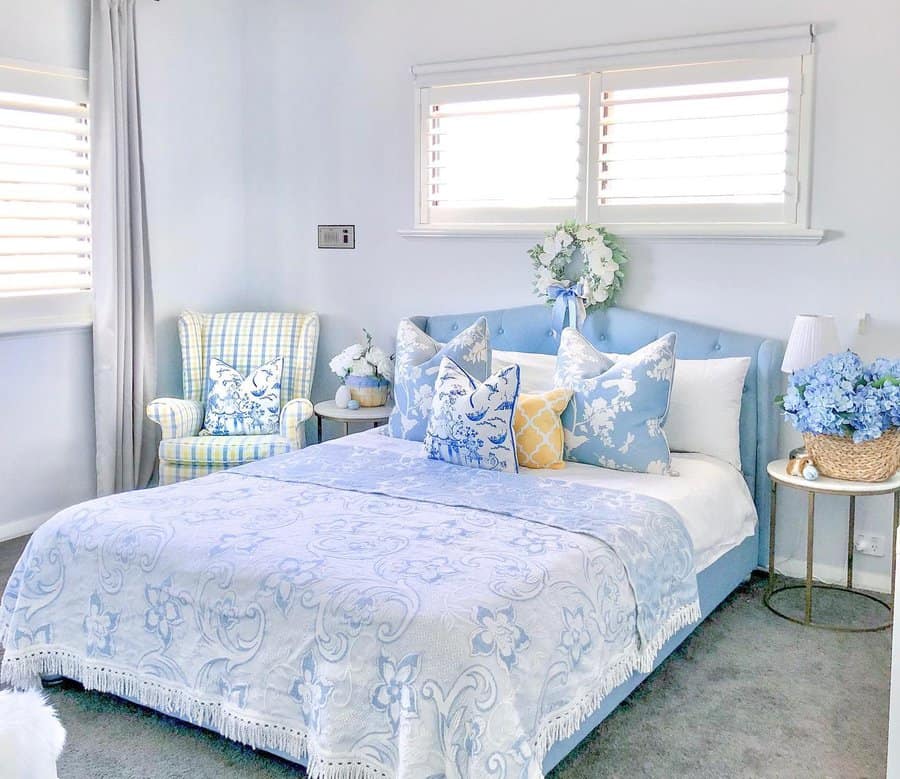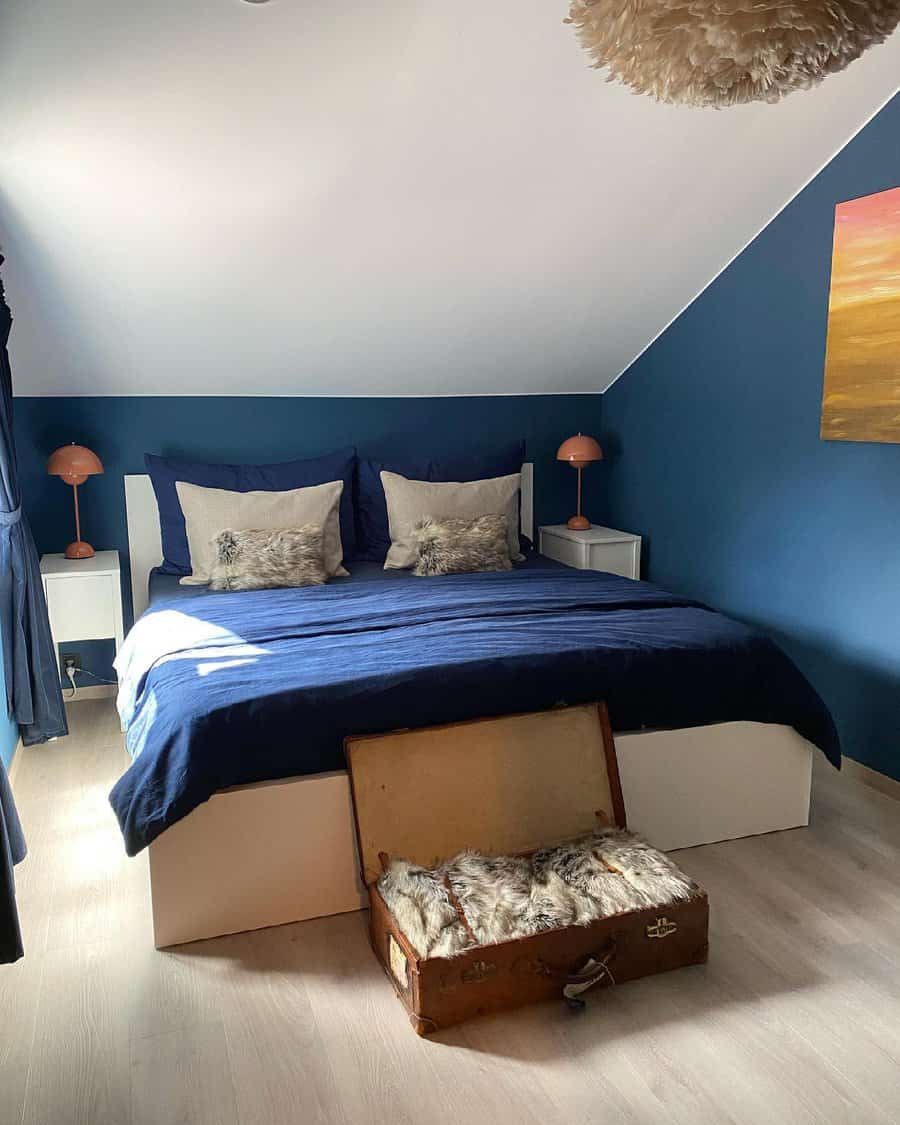 9. Make It Dainty With Light Blue
For a light blue bedroom with a dainty vibe, consider light blue walls and light wood furniture. Then layer in some inviting details, such as white or yellow curtains to let natural light in and floral bedding to give the room a cheerful lift.
To create an enchanting atmosphere, add subtle soft details like warm fairy lights and a patterned rug on the floor. This combination of light blues, warm whites, and lush florals will make your light blue bedroom an oasis of peace and tranquility.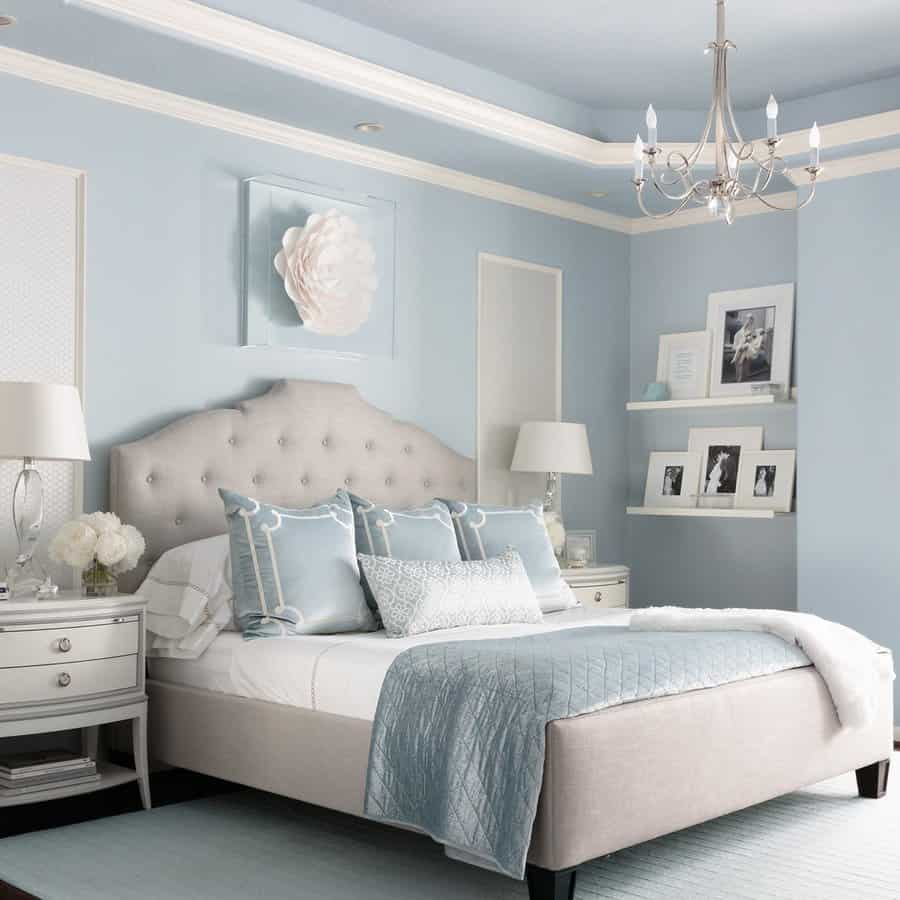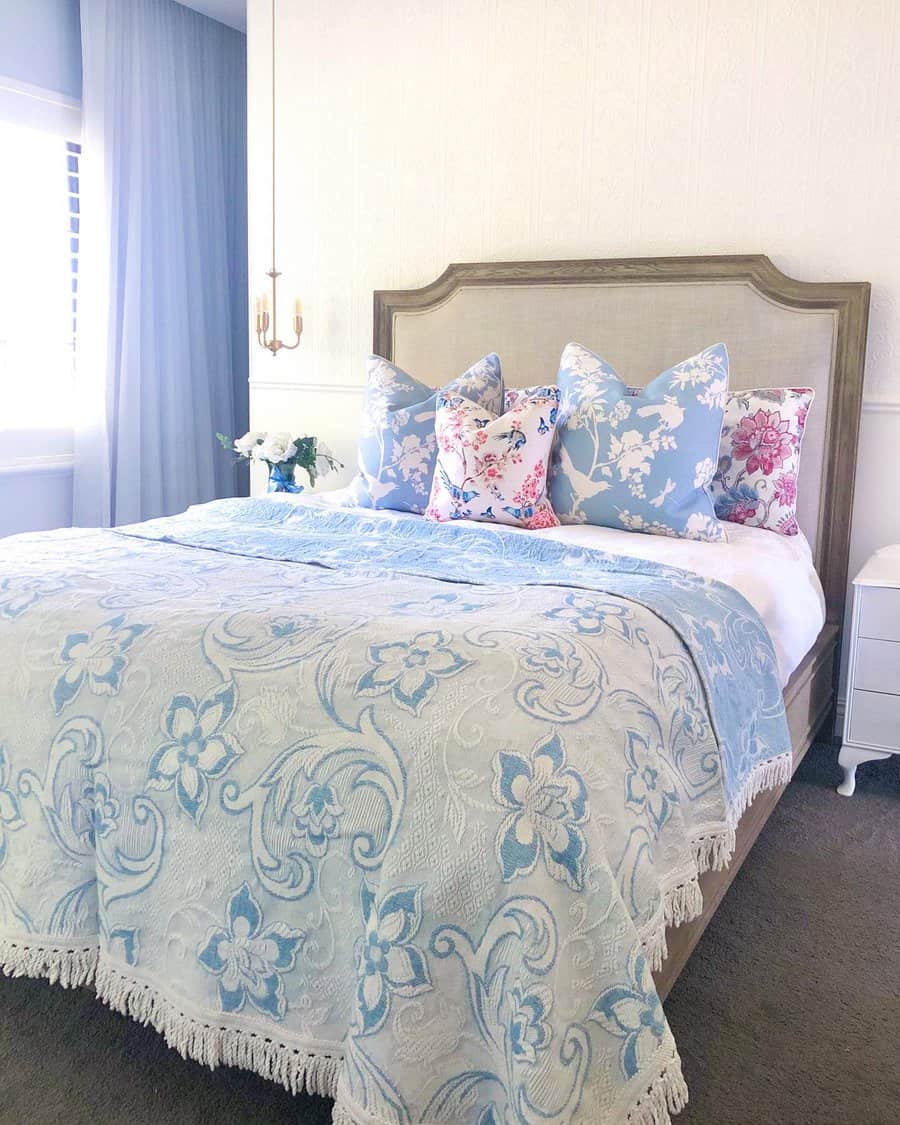 10. Create Dimension With Dramatic Lighting
The perfect way to liven up a blue bedroom is by adding some dramatic lighting. Step into a modern blue bedroom, where drop lights dangle from the ceiling in an elaborate pattern and bedside lamps are scattered around the room.
Lay low underneath string lights that dance along the walls and window frames, creating a dramatic illumination. As evening approaches, bask in the moonlight radiating from these remarkable fixtures, taking your sanctuary to a whole new level of peace and comfort.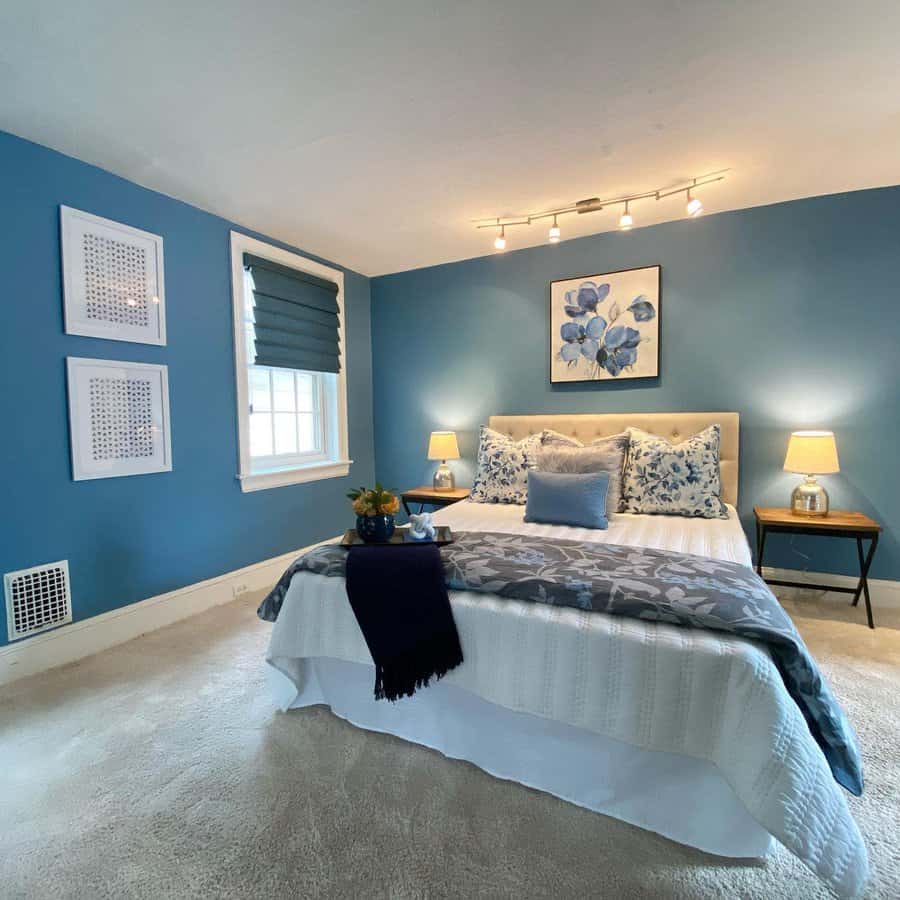 11. Blue Furnishings In A White Bedroom
A white bedroom with blue furnishings is a creative way to bring some fun and personality into your home.
The stark contrast will make everything pop! Paint your walls white and bring in blue curtains or shelving to form the backdrop for blue upholstered armchairs or a velvet blue blanket thrown over the bed. The possibilities are almost limitless when it comes to decorating with blue in the bedroom.
Whatever elements you decide to use in your blue design, the end result will be a perfect paradise of calming shades.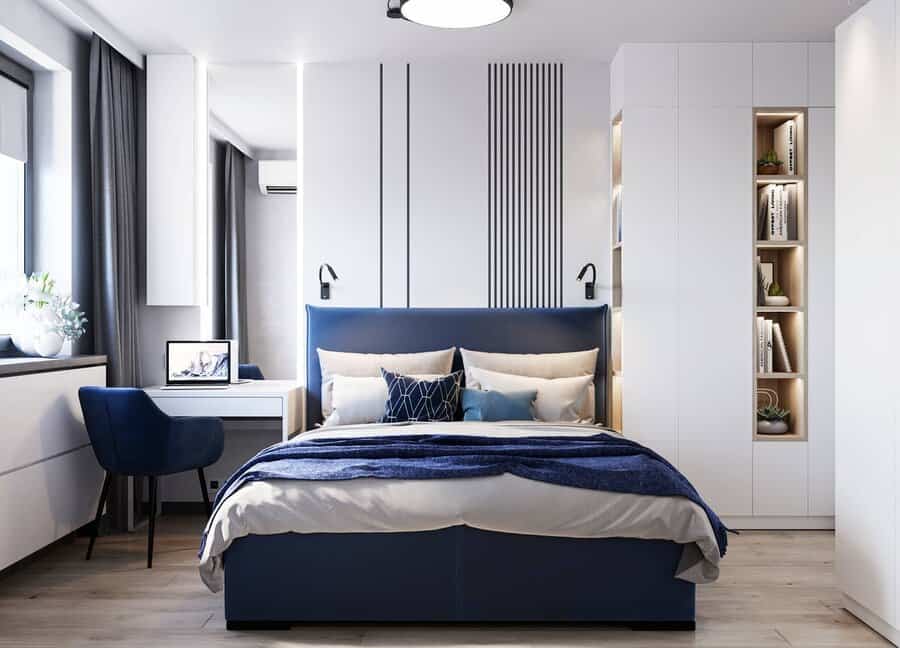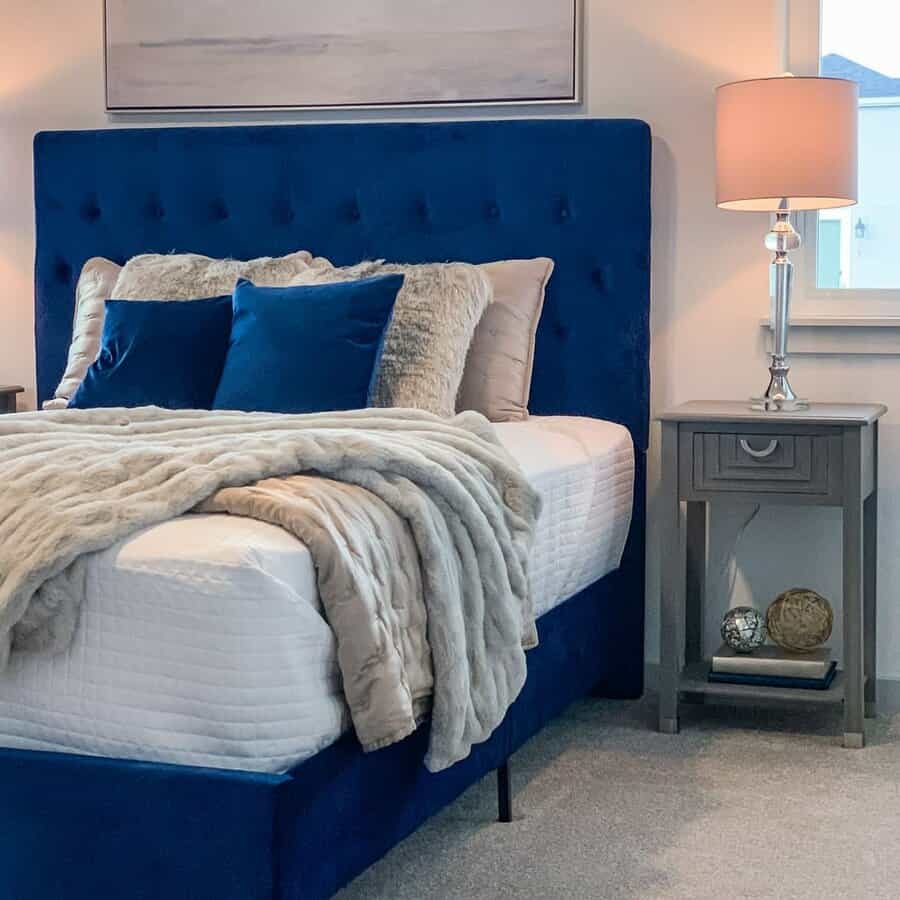 12. Create A Blue Accent Wall
A blue accent wall is a perfect choice to create the calm environment needed for a restful sleep without having to paint your whole bedroom blue.
To add to the blue décor, why not paint a blue headboard? It will create the perfect contrast against your white sheets and give your room some much-needed color. Choose light blue or midnight blue, whatever hue works best for you!
Whatever you decide, this blue accent wall and painted blue headboard will definitely be a statement in your bedroom.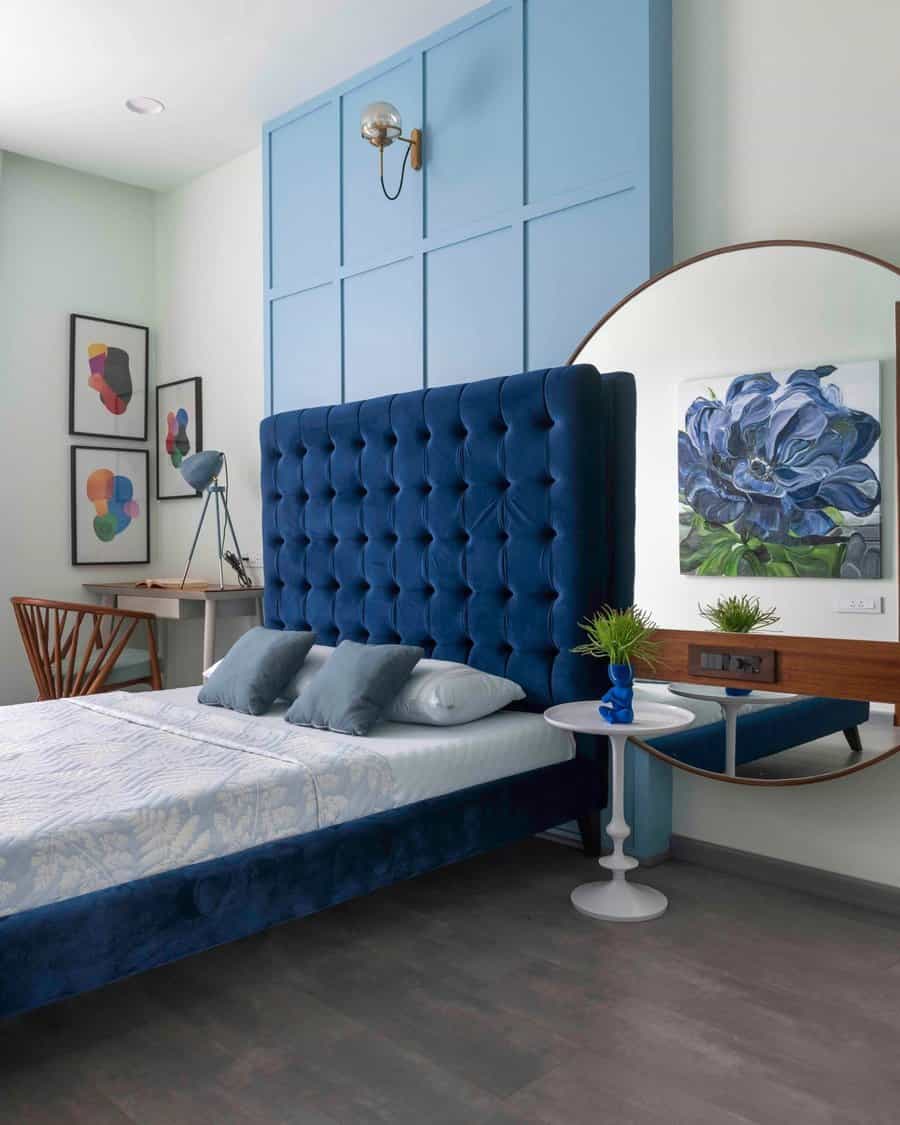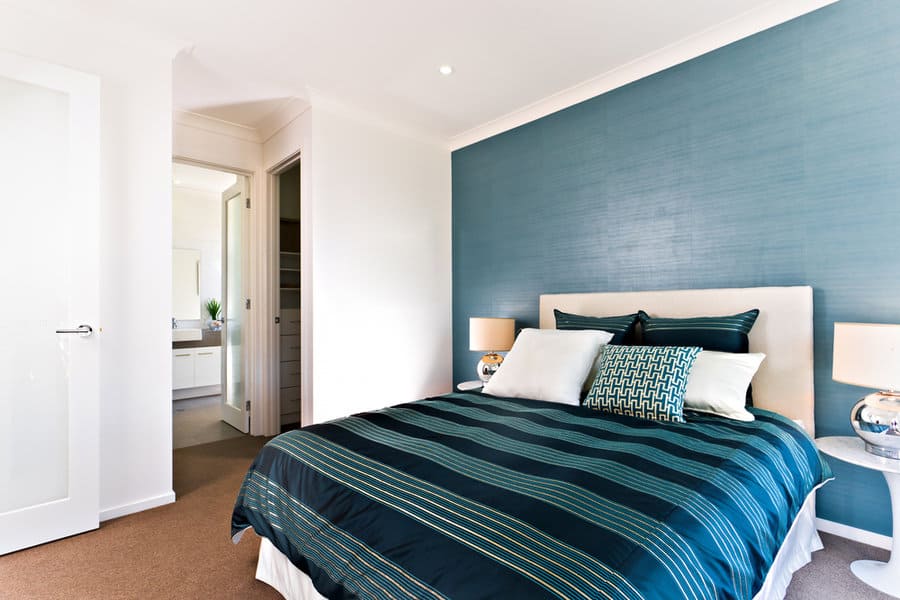 13. Keep It Elegant With Blue & Gold
The blend of sophistication and playfulness in a blue bedroom with gold details is unparalleled. Gold-framed mirrors, gold pendant lamps and a gold chandelier all come together to create a unique and stylish space that can be updated as design trends change.
Whether you create an oasis of restful sleep or use it as a creative escape, this type of room reflects both your personality and your ability to make something truly personal and timelessly attractive.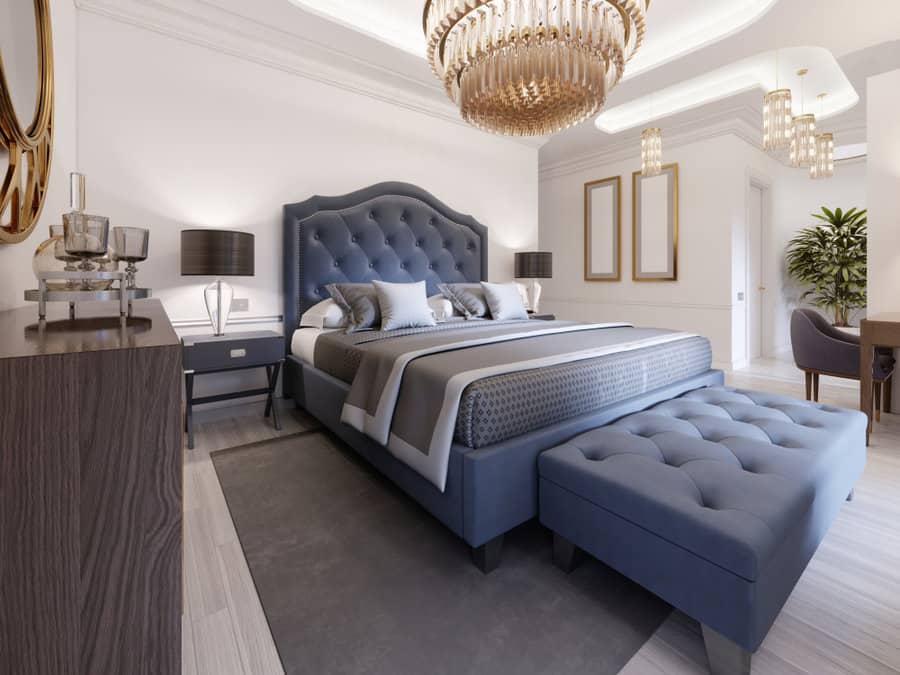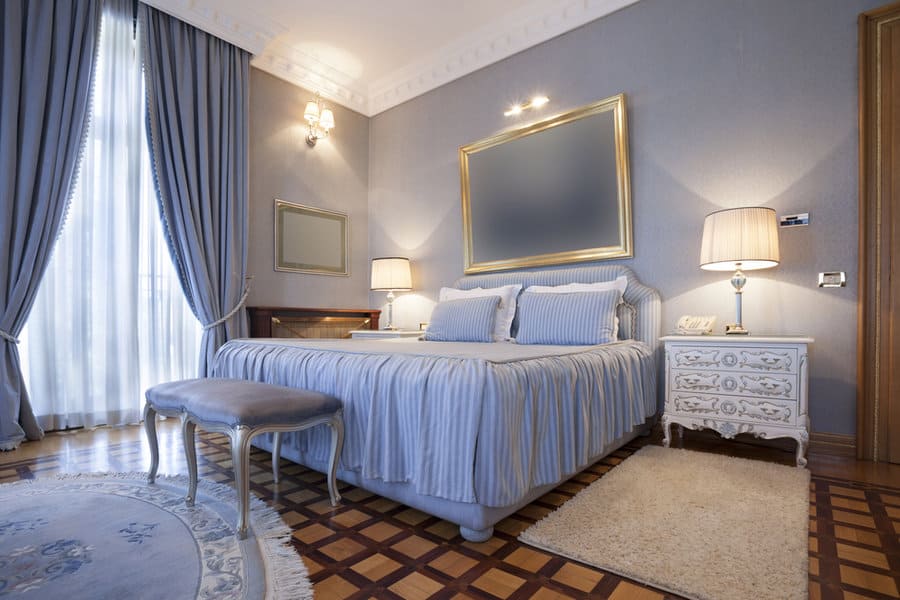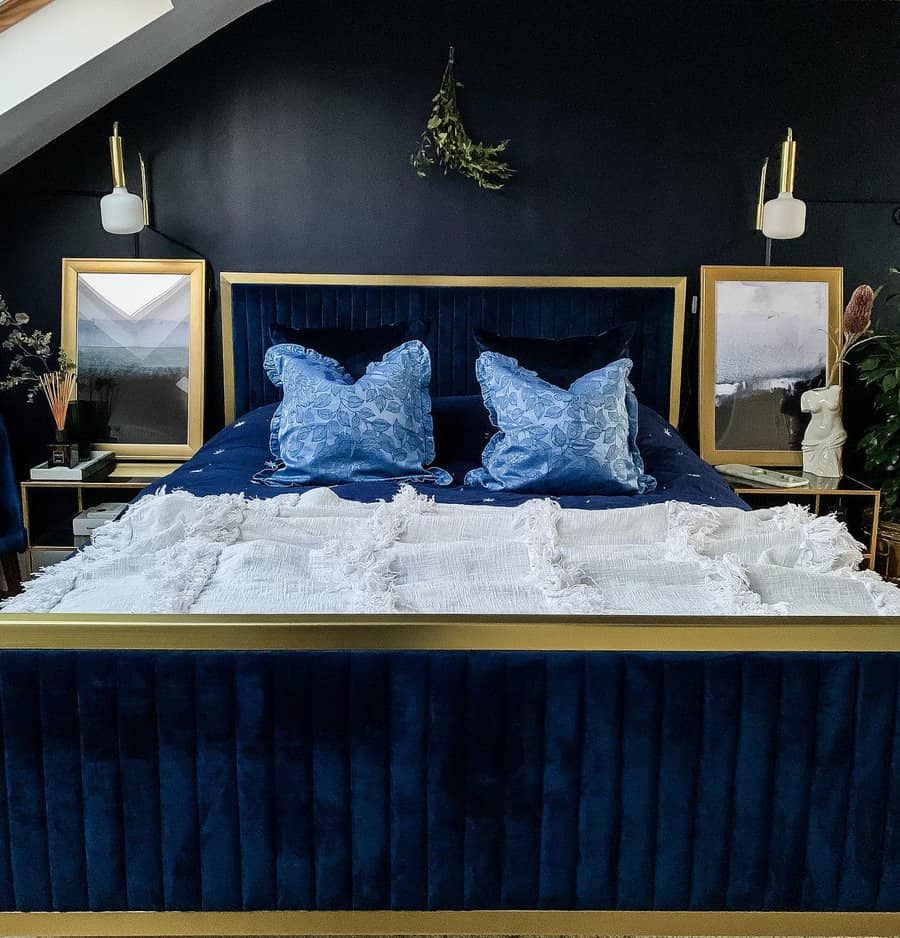 14. Color Block With Shades Of Blue
With color blocking of all shades and hues, curate a sanctuary that cultivates peace, tranquility, and relaxation. Whether decorating with light pastel blues or bold navy pops of color, transform your room into one that's invitingly romantic and deliciously serene.
Create a space where you can express yourself through color while accentuating key elements in your bedroom with color blocking of various shades—it's the perfect color palette for immediate escape.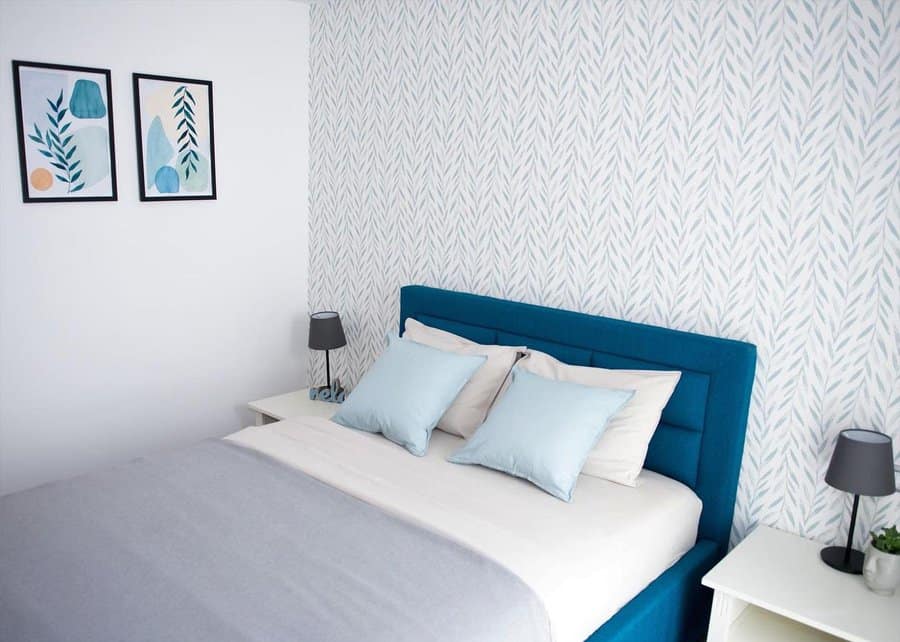 15. Complement Blue Walls With White Furniture
A white, cloud-like bed at the center of a light blue room makes you feel peaceful and serene. The white furniture around the bed bounces off of the white bedding and white curtains, making for a crisp, clean aesthetic.
Start with white bedding and furniture for a pristine and dreamy look, then complete the magical atmosphere by adding light blue walls and white curtains. Such a combination will help boost your energy and make you feel more creative than ever before!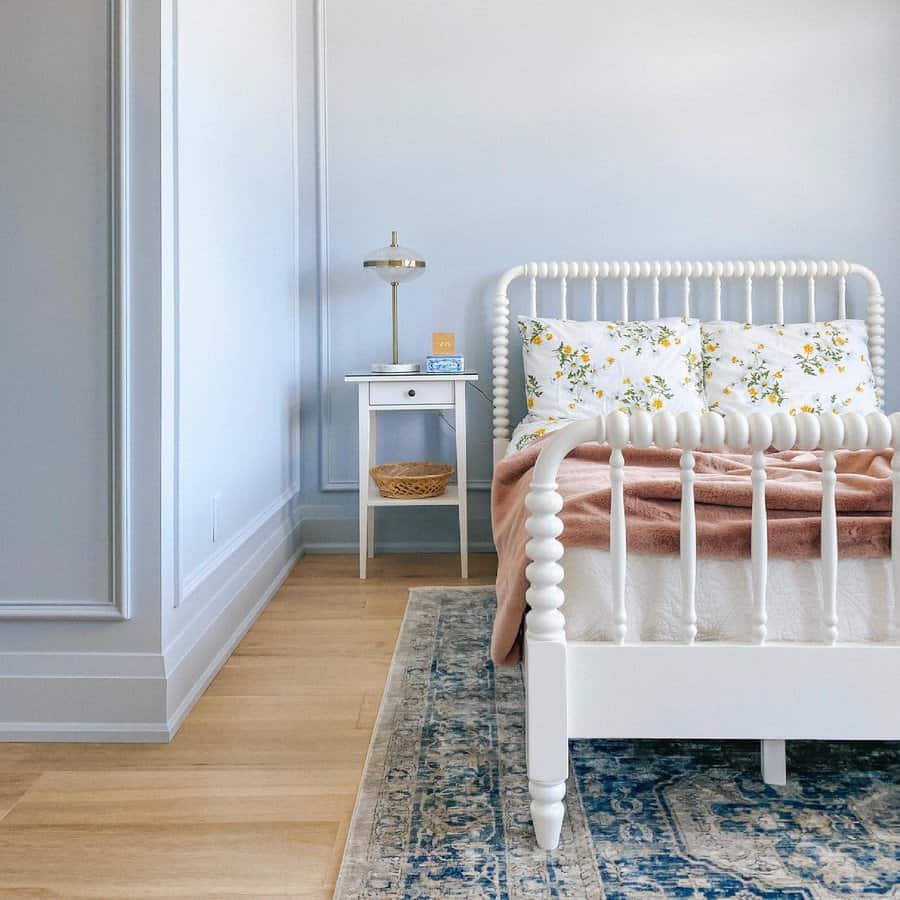 16. Recreate A Contemporary Look
A contemporary interior has never looked as inviting as a blue bedroom. Everything from the geometric decor to the leather lounge chair invites you in to stay awhile. The blue walls set a calming atmosphere and make for an ideal space to relax and unwind from the day.
With just a few additional details, such as some statement plants or brightly colored letters, the room truly comes alive and provides an energized space for creative endeavors too.
Whether you are looking for a place of peace or inspiration, this contemporary escape creates the perfect haven with endless possibilities.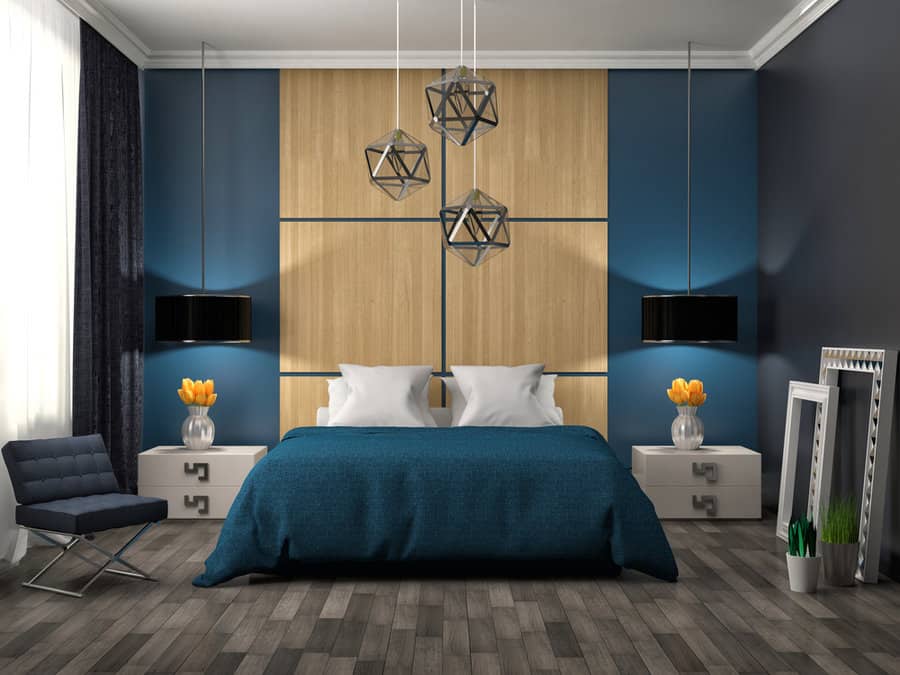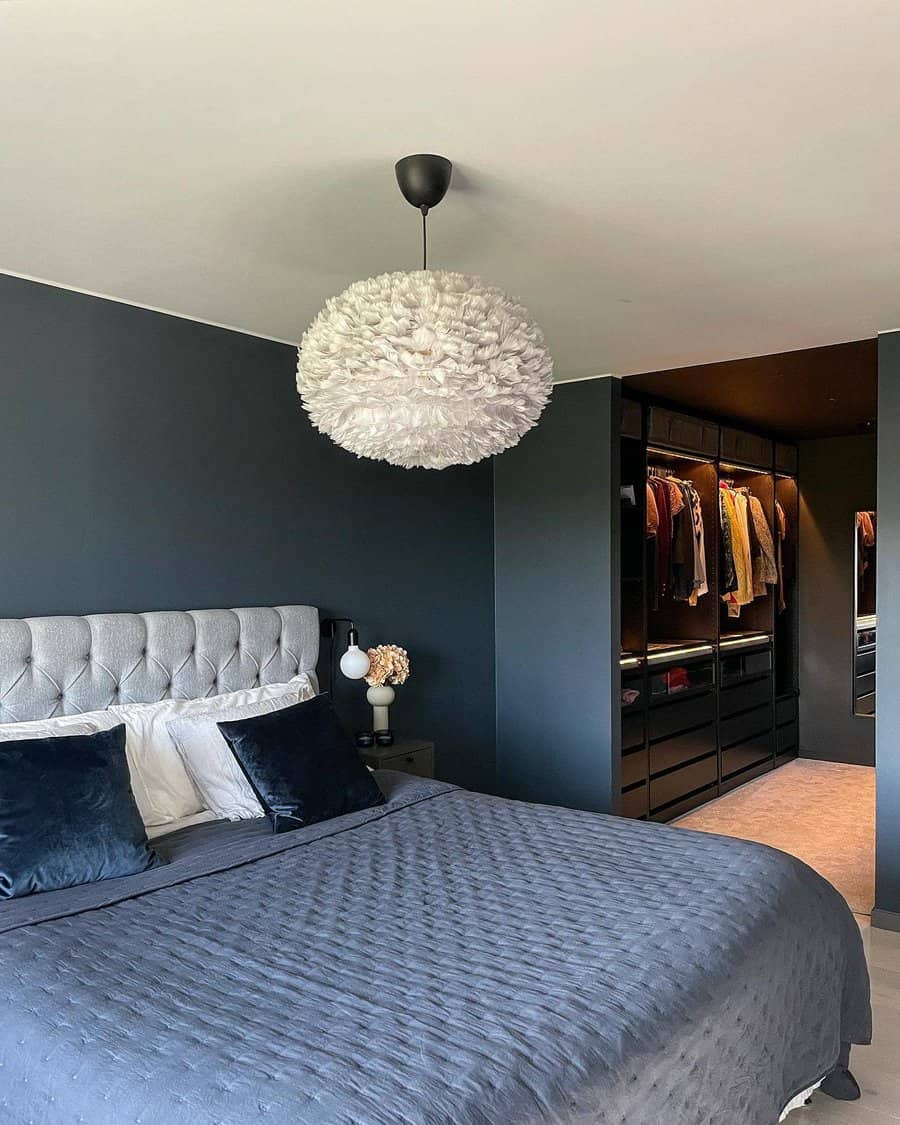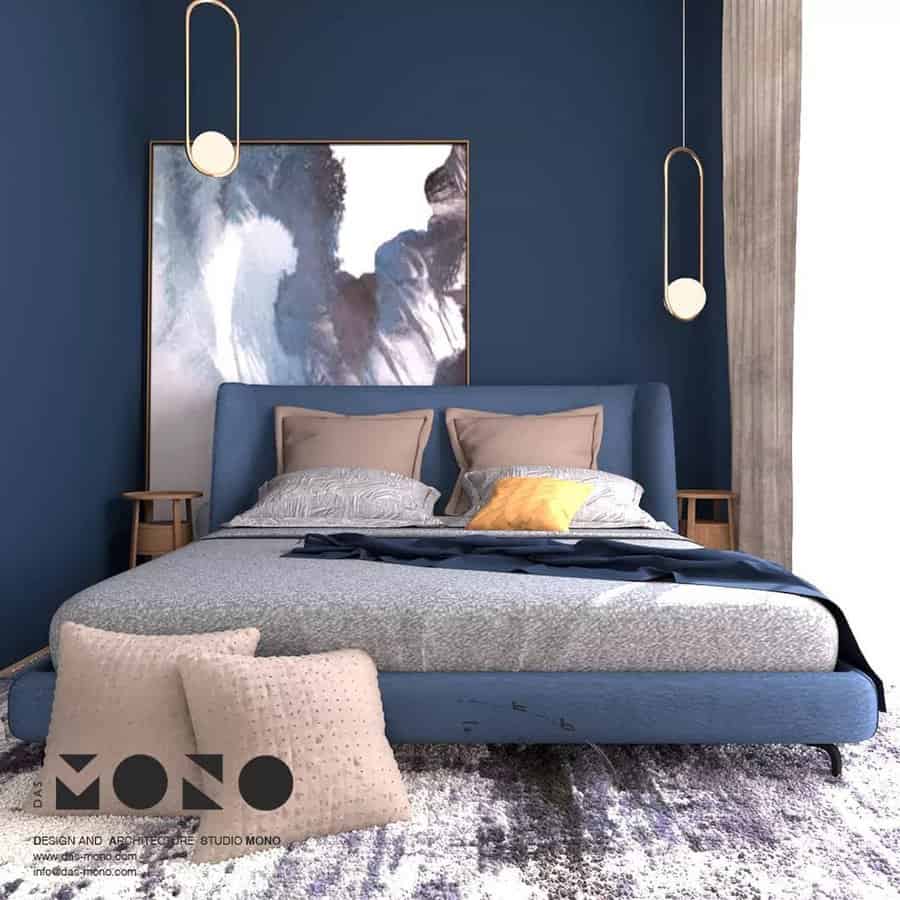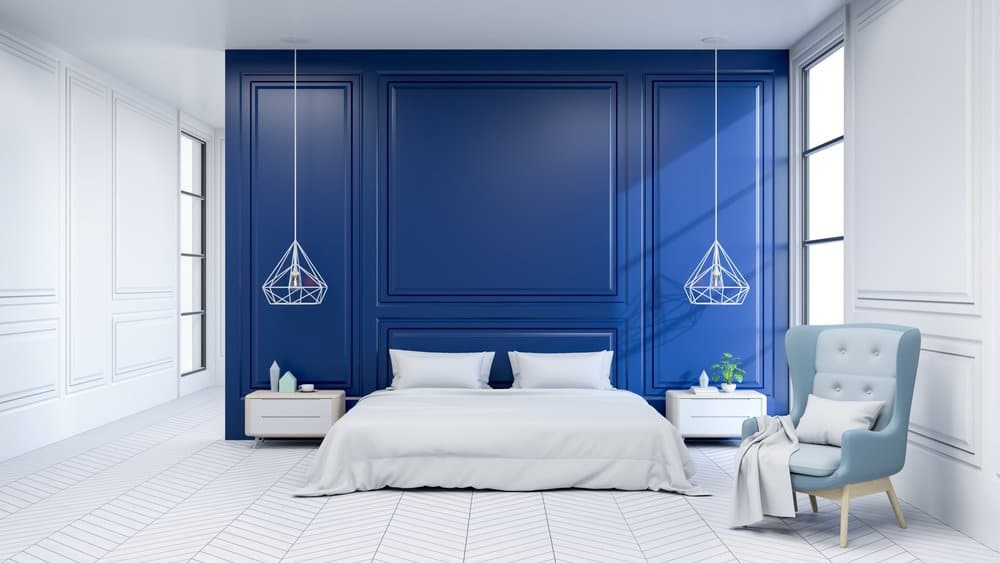 17. Keep It Minimal
Put a new spin on minimalist interior design when you decorate with blue! With a blue bedroom, you can add in simple furniture and still create a stunning and eye-catching space. Relaxing shades of blues can create an atmosphere of serenity, while darker hues are perfect for the modern minimalist look.
From navy to sky blue, this is the perfect way to take your room from ordinary to extraordinary without overwhelming it with furniture and accessories.
Don't be afraid to mix light and dark blues for an even more unique look – there are so many possibilities when it comes to designing a beautiful blue bedroom.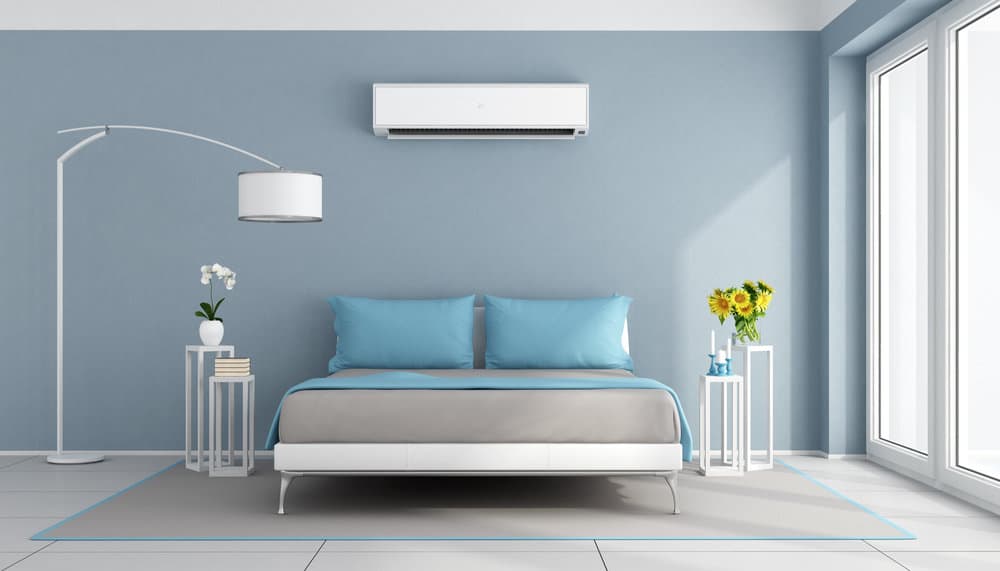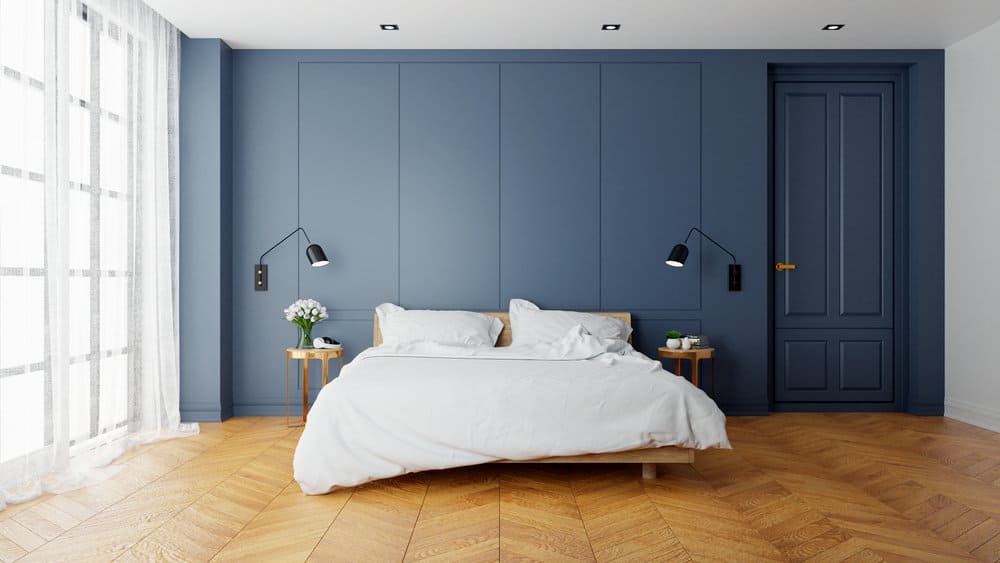 18. Install A Full-Length Glass Window
A blue bedroom is a classic choice for any home. It's calming and inviting, creating a serene ambiance that's full of opportunity.
Adding a full-length glass window can make all the difference in your design; the light brings life to the space, brightening up dark tones and giving an airy feel as it opens up the room. The combination of natural light and warm blue hues can create a truly special atmosphere in any bedroom.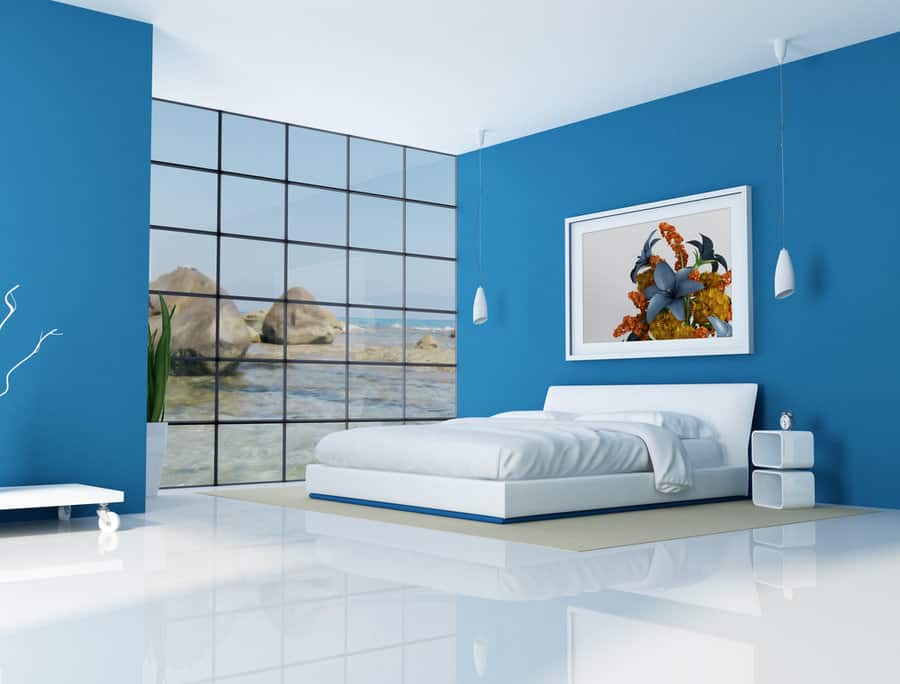 19. Make It A Cozy Sanctuary
Escape to the ultimate restful retreat by turning any room into an oasis of calm, beginning with the perfect cozy blue bedroom. Set the foundation with throw blankets in a variety of textures, such as cable knit and faux fur. Layer on a beautiful wool rug that provides both an element of coziness as well a timeless style.
A unique pendant lampshade stands out against muted blues and adds an air of calmness. Don't forget throw pillows decorated with subtle embroidery in subdued hues to bring everything together; these decorative elements will give your bedroom a luxurious feel that you won't be able to resist coming home to after long days.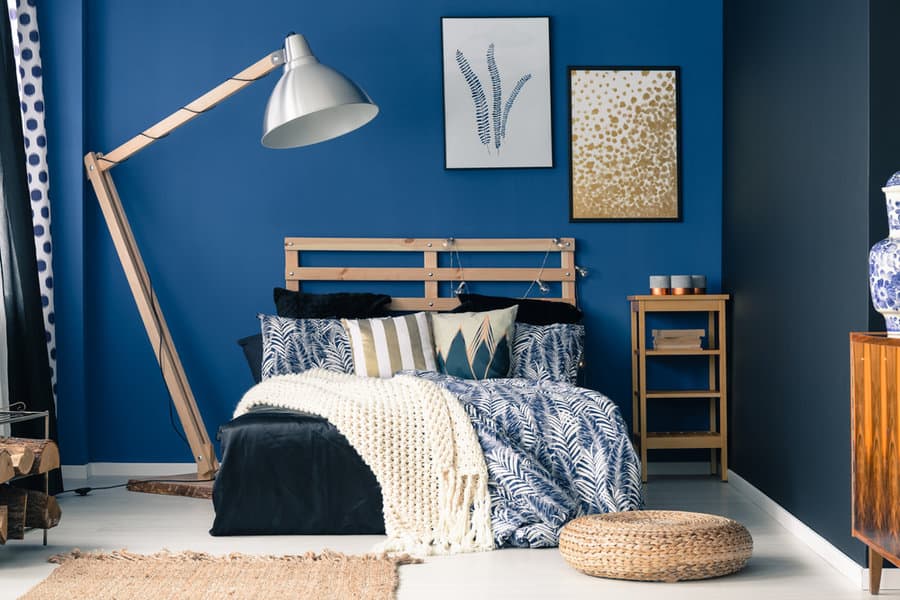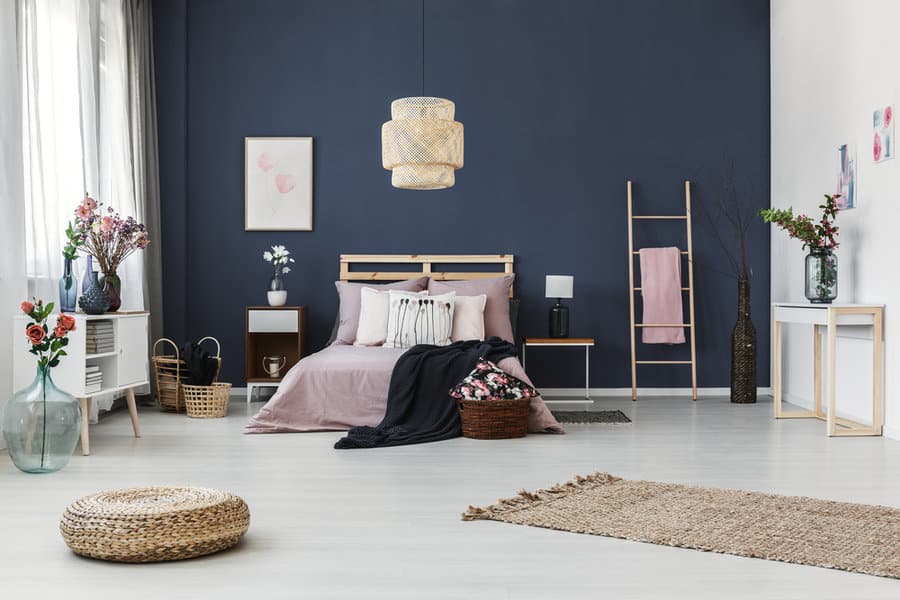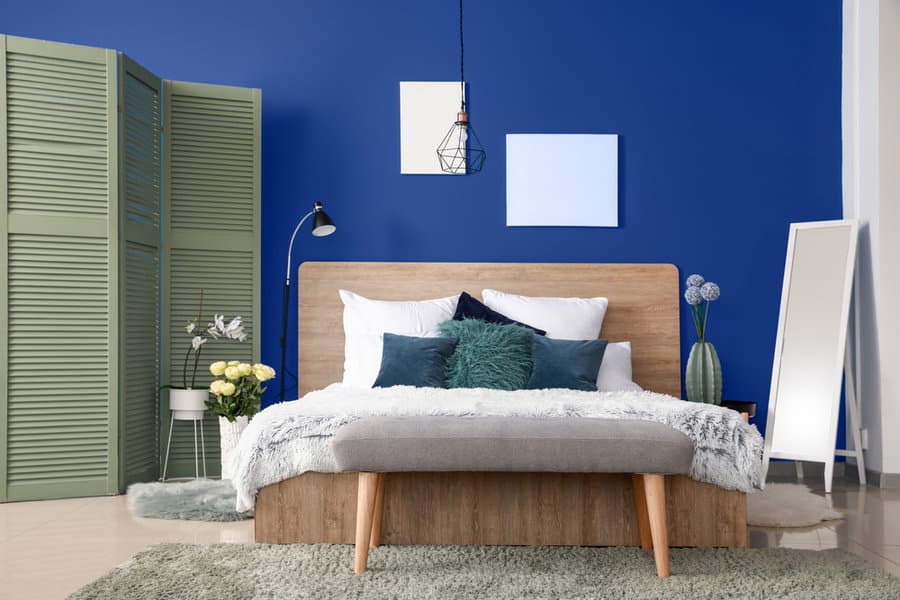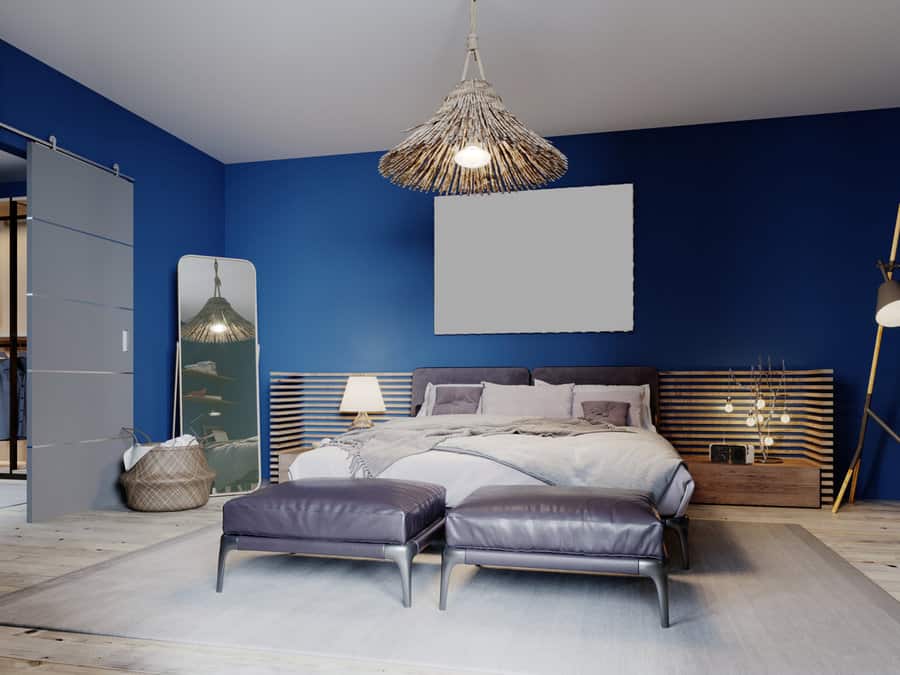 20. Relive The Roaring '20s
Step into the 1920s and find yourself in a blue bedroom full of art deco style and vintage flair. The walls, done up in a deep shade between navy and indigo, make a stunning backdrop for the art deco details spread throughout the room. Accent pieces like smooth lamps and luxurious furniture carve out this time period perfectly.
To add a touch of beauty to the mix, search for floral details among curtains and bedding — all working together to transport you back in time with each glance.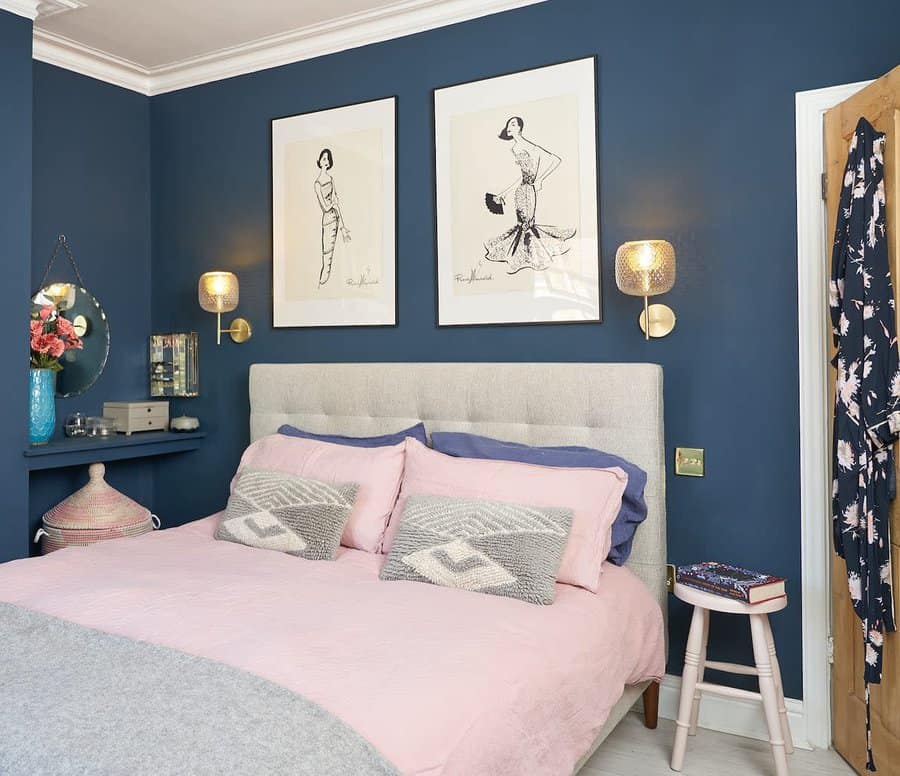 Blue Bedroom FAQs
What colors go with blue in a bedroom?
Blue is almost like a neutral color in its ability to coordinate with other colors. Some classic blue color combinations include pairing it with white, grey, silver, or gold. Blue and green are a particularly soothing bedroom idea that evokes the calmness of nature.
How can I add warmth to a blue master bedroom?
It's true: blue can feel a bit cold unless it's balanced with some warmth. Choose warm wood finishes on your bedroom furniture and include small touches of orange, yellow, or red in your textiles. Replacing silver fixtures and accessories with gold or bronze also helps add a cozy glow to the room.