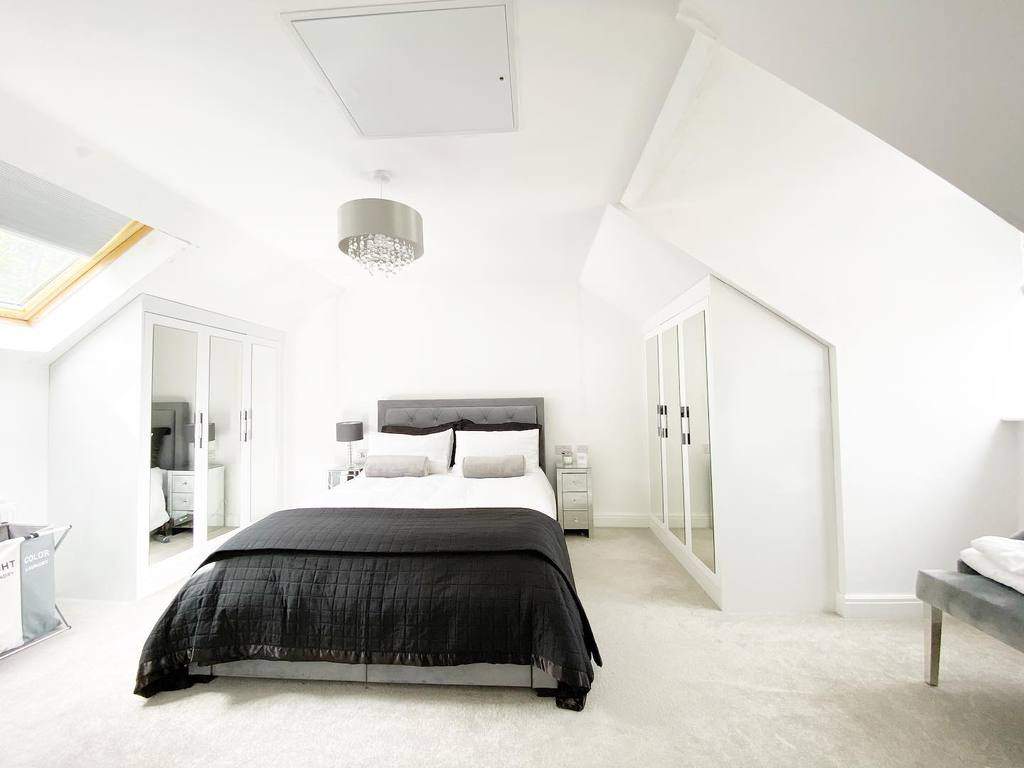 79 Bedroom Color Scheme Ideas and Designs
The best bedroom paint color is the one that makes you feel good when you're relaxing in your treasured space. However, color theory dictates that certain hues do a better job of creating a restful environment.
Since color has the power to affect our moods, it's important to choose a bedroom color scheme that calms your mind. You're bound to find the perfect one in our collection of over 70 top bedroom color scheme ideas.
1. Color Accent Wall
When considering color scheme ideas for the bedroom, pick colors that create a soothing atmosphere but also leave room for creative flair. A great way to do this is by focusing on one accent wall and make it the statement feature of the room!
Pick a color that compliments your bedding and speaks to your personality–think shades of blue, muted pinks, and earthy yellows. This single color along with your other color choices can liven up an otherwise dull bedroom.
To make things even more interesting, consider textured wallpaper with accents like exposed brick or wood paneling that pair well with color-toned walls.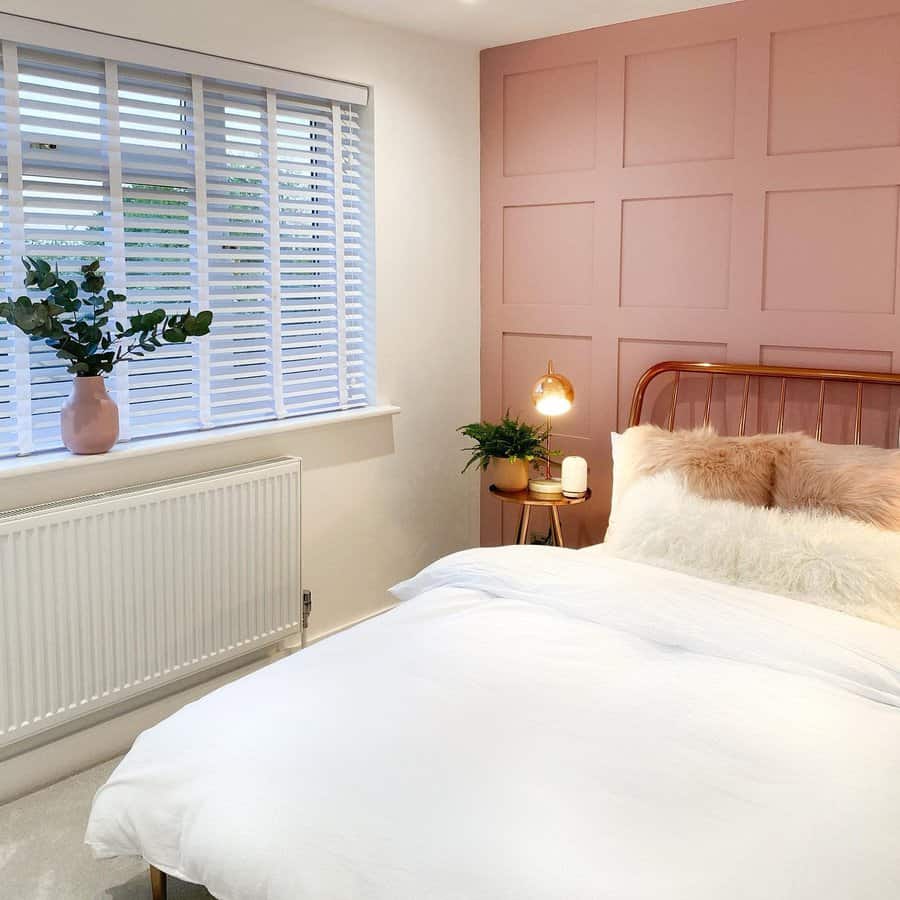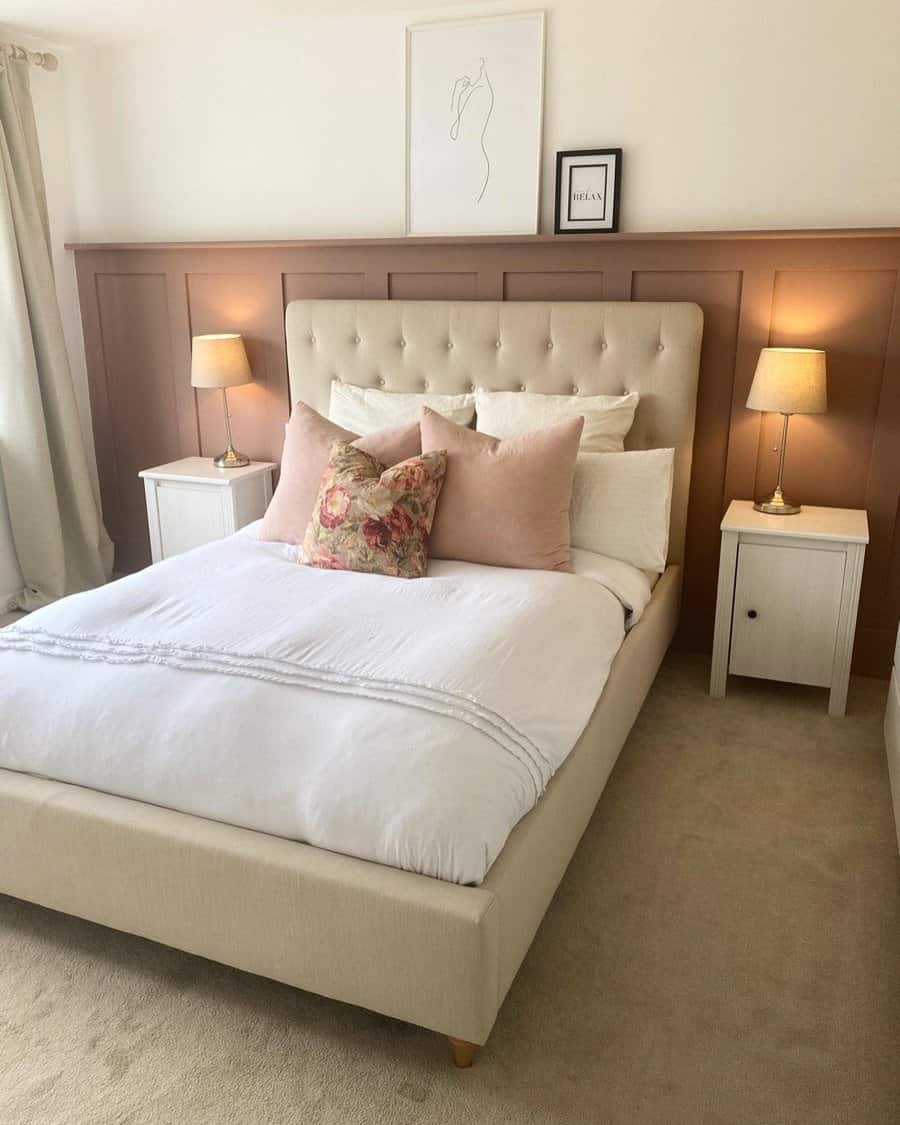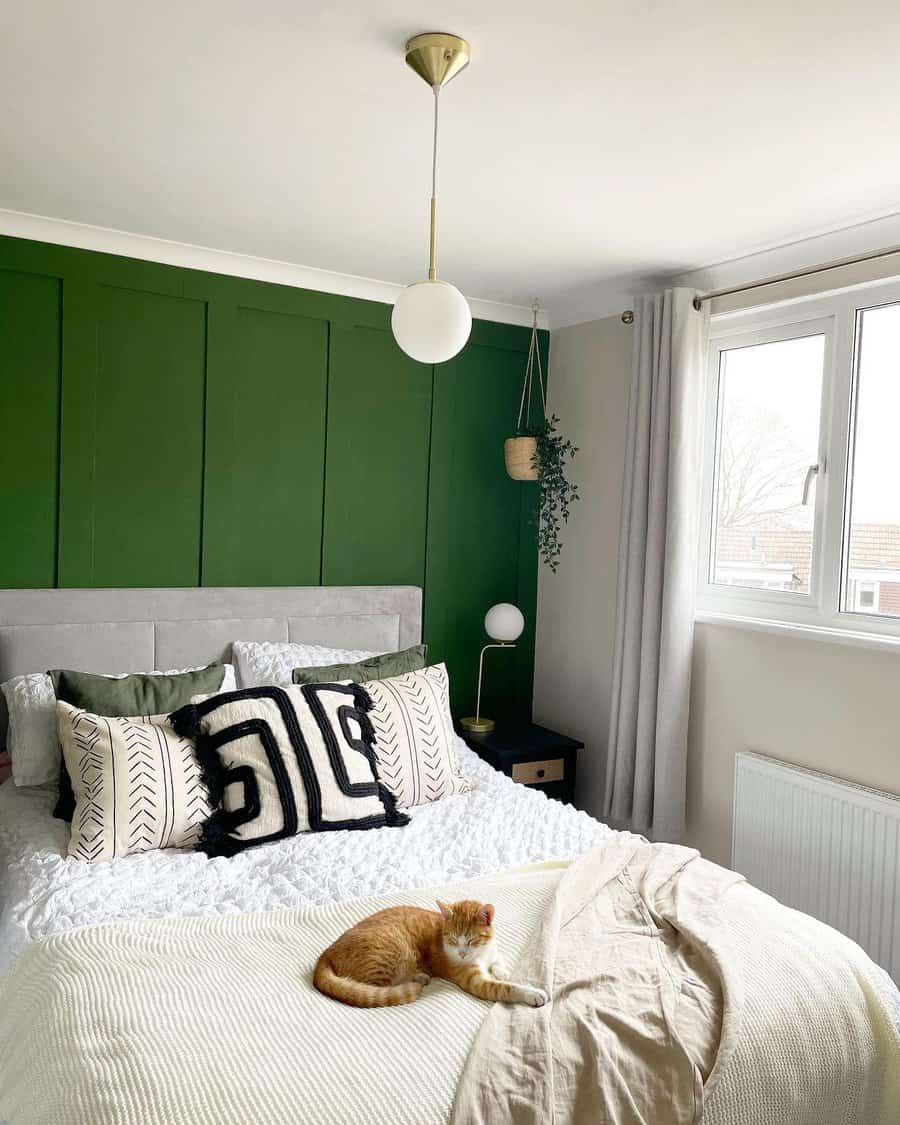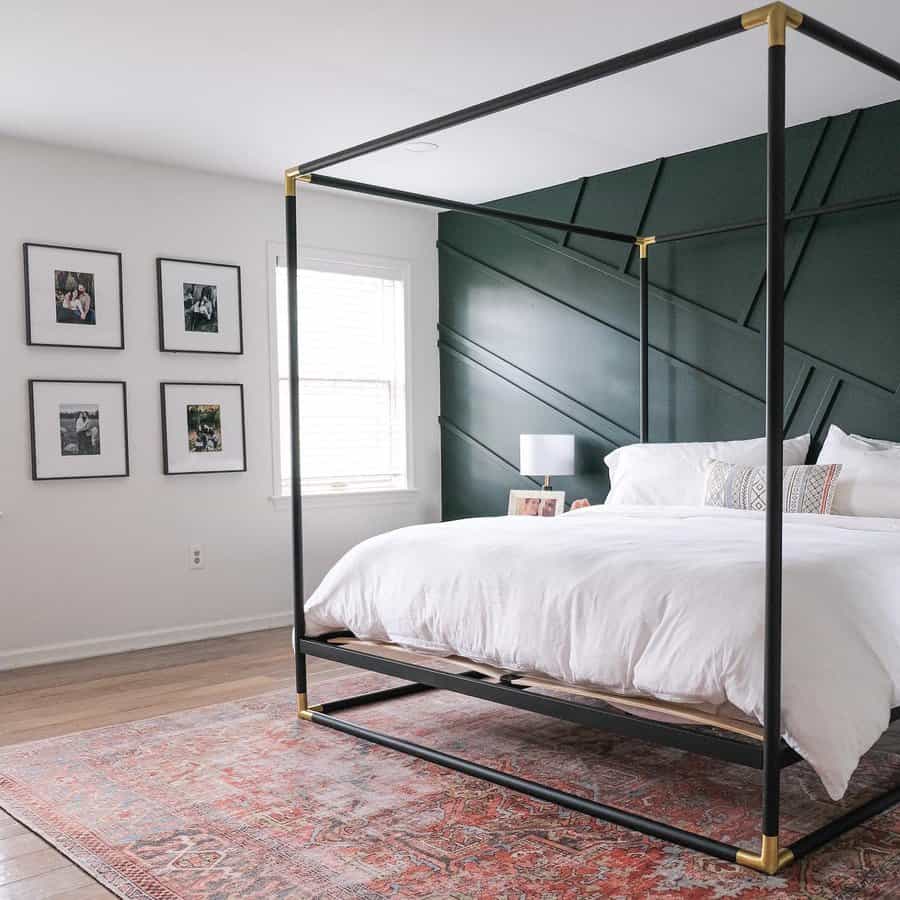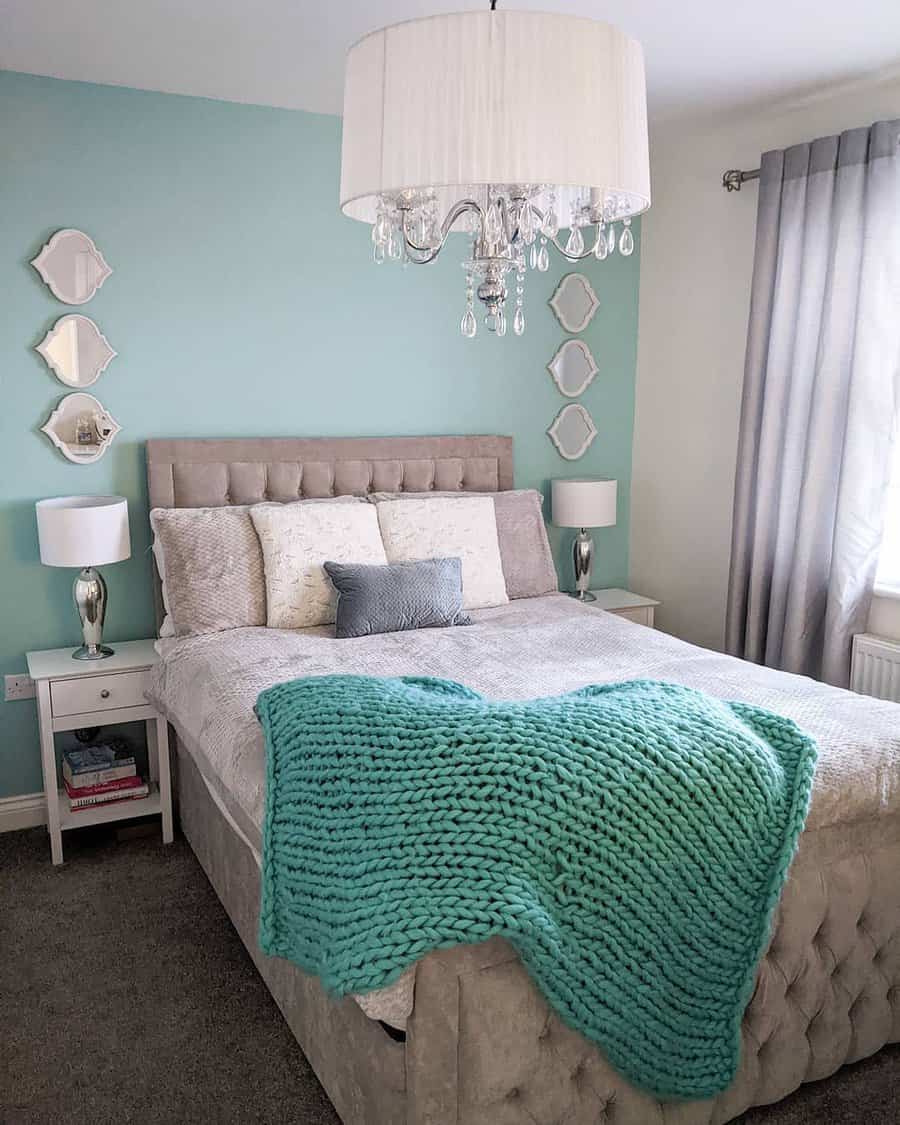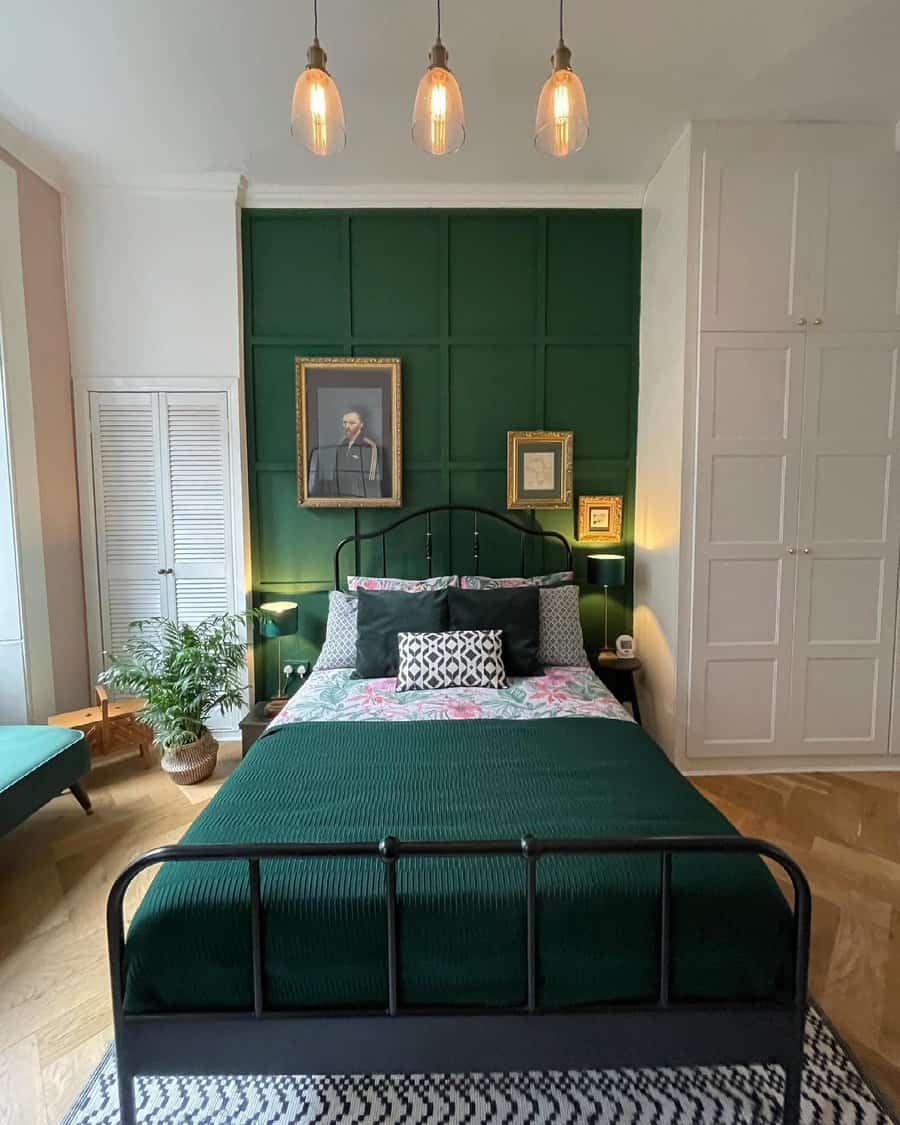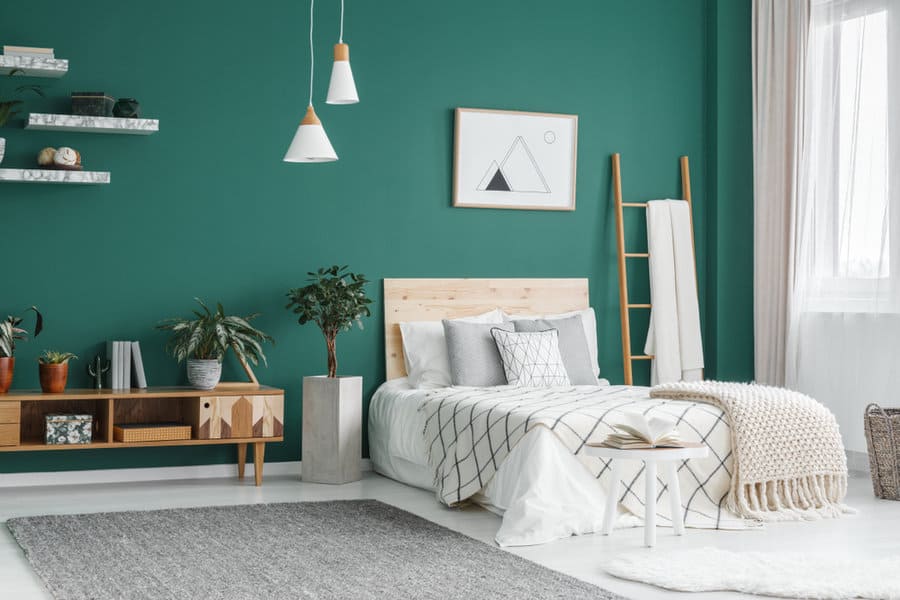 2. Monochrome
A black and white bedroom is a timeless style that creates an illusion of grandeur. To create a monochrome look, paint all four walls black and white in a checks or stripes pattern, then introduce some black furniture such as a bed frame, dresser, and nightstand with minimalistic black and white accent pieces.
This type of simple yet daring color scheme will be never outdated and can be spiced up with colorful accents such as pillows, rugs, or artwork. Everyone should have fun when deciding on their bedroom's color palette and choose something that reflects their own personality for their perfect room haven.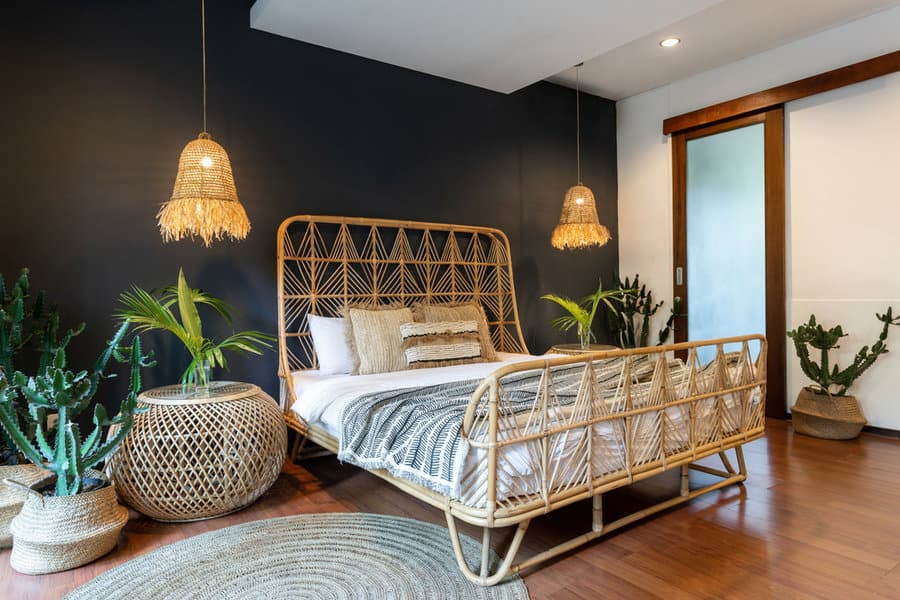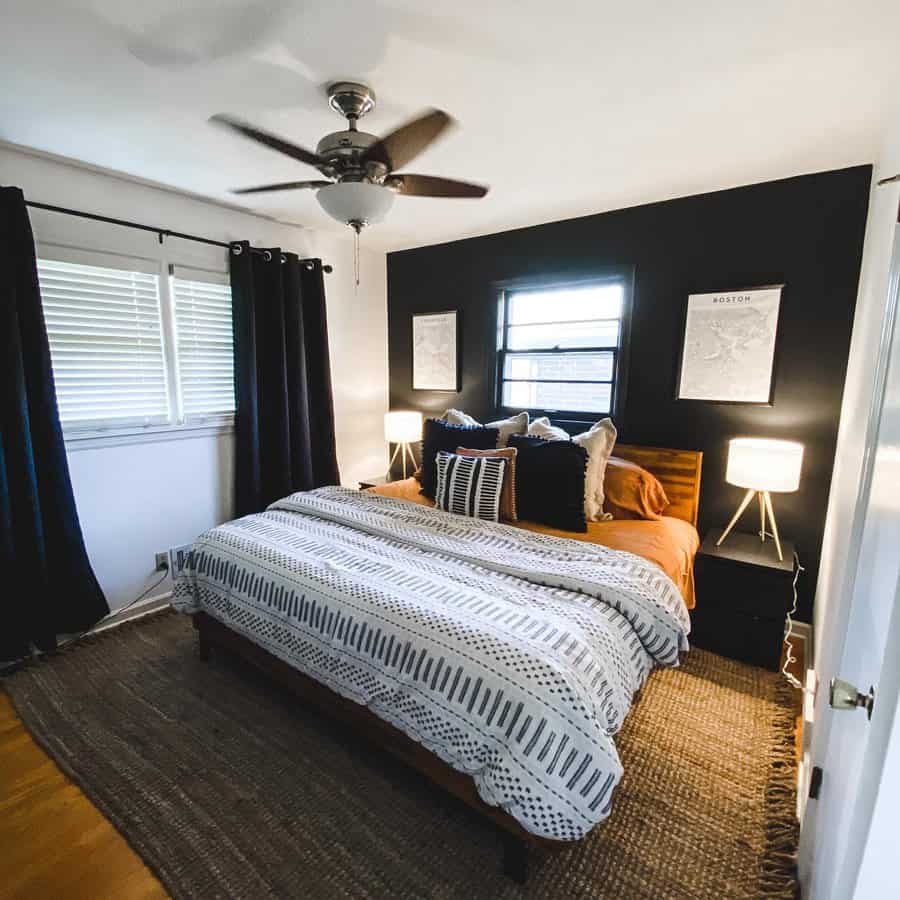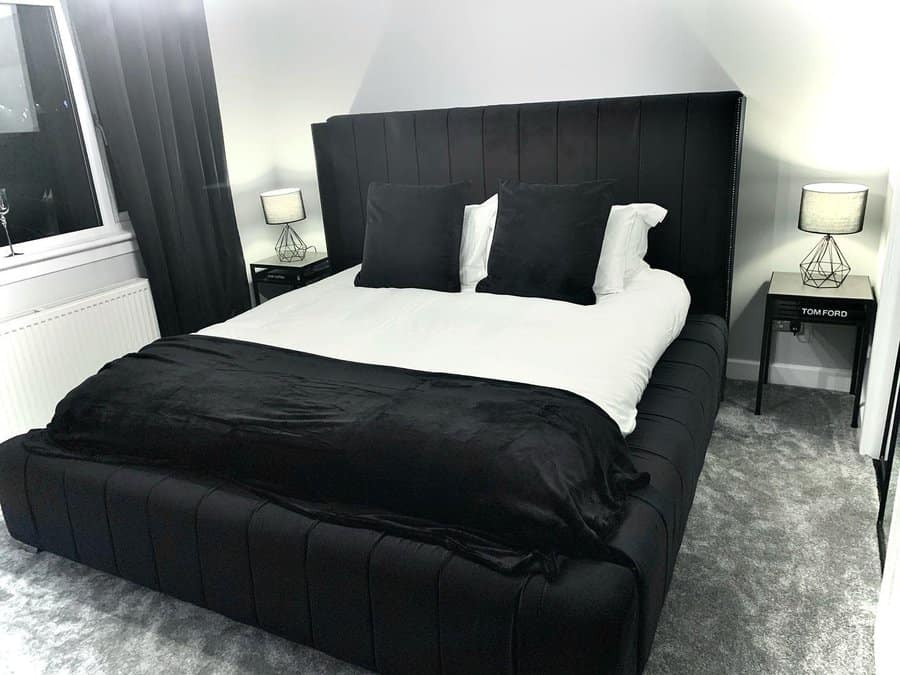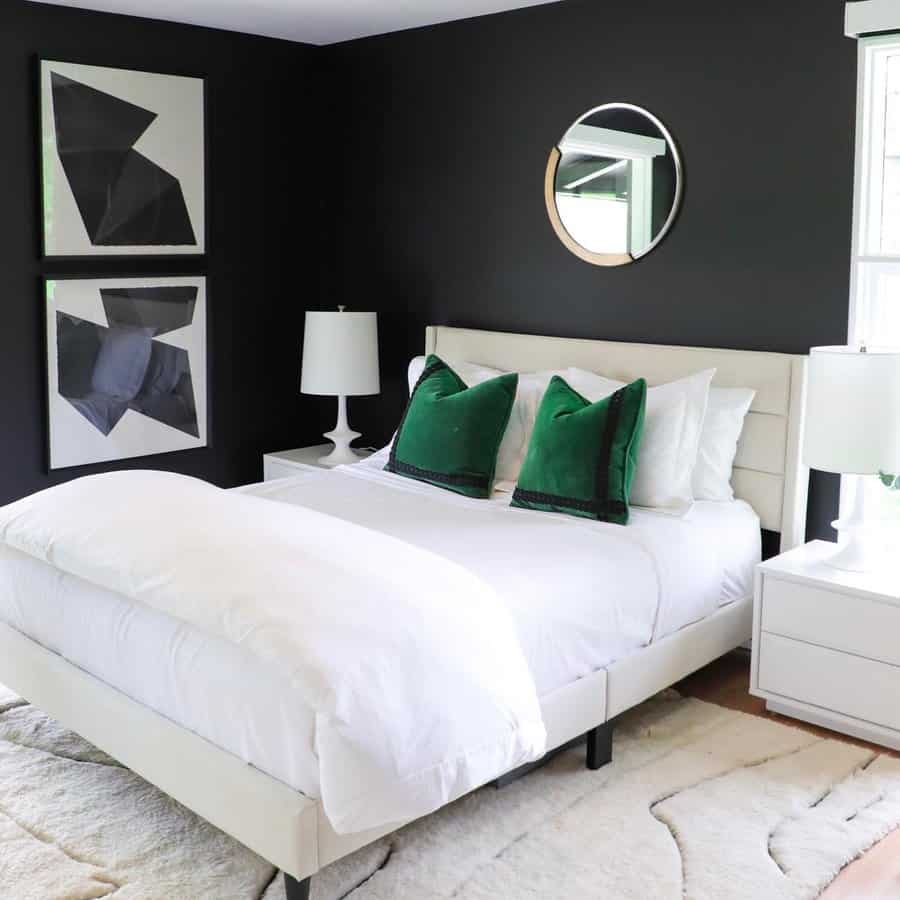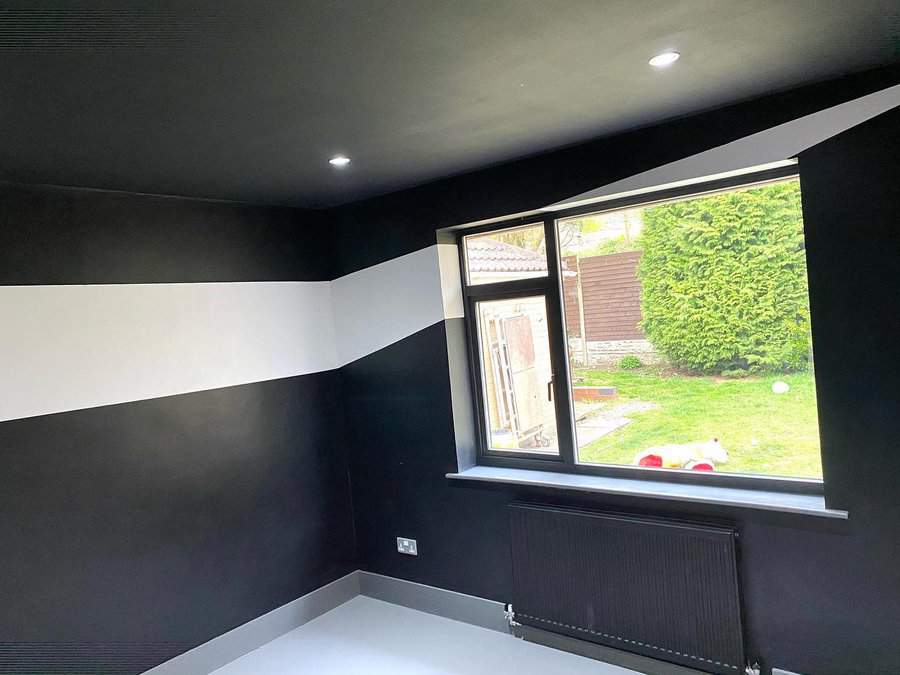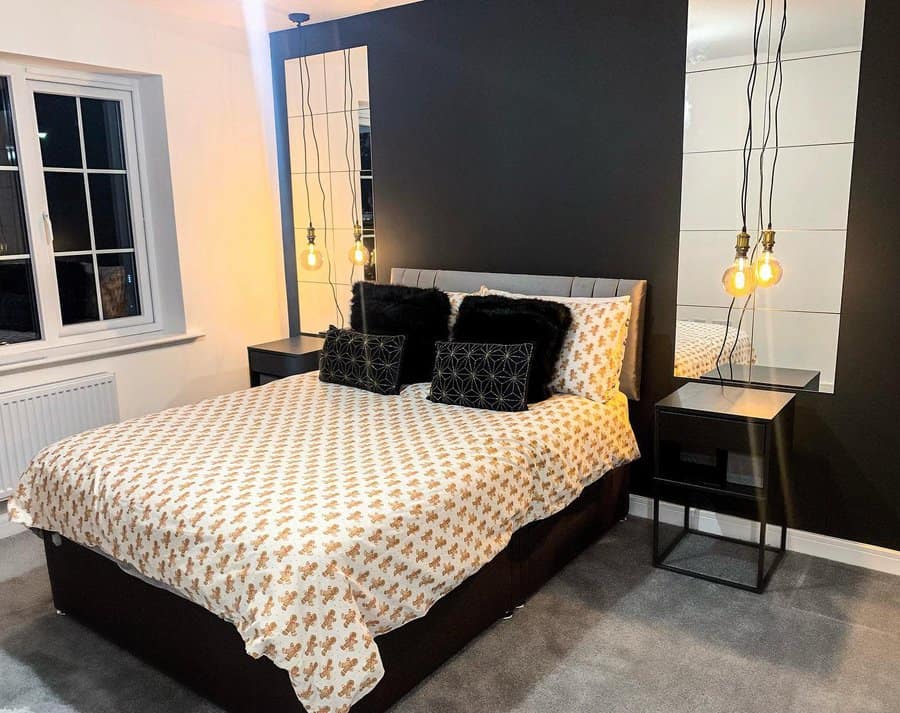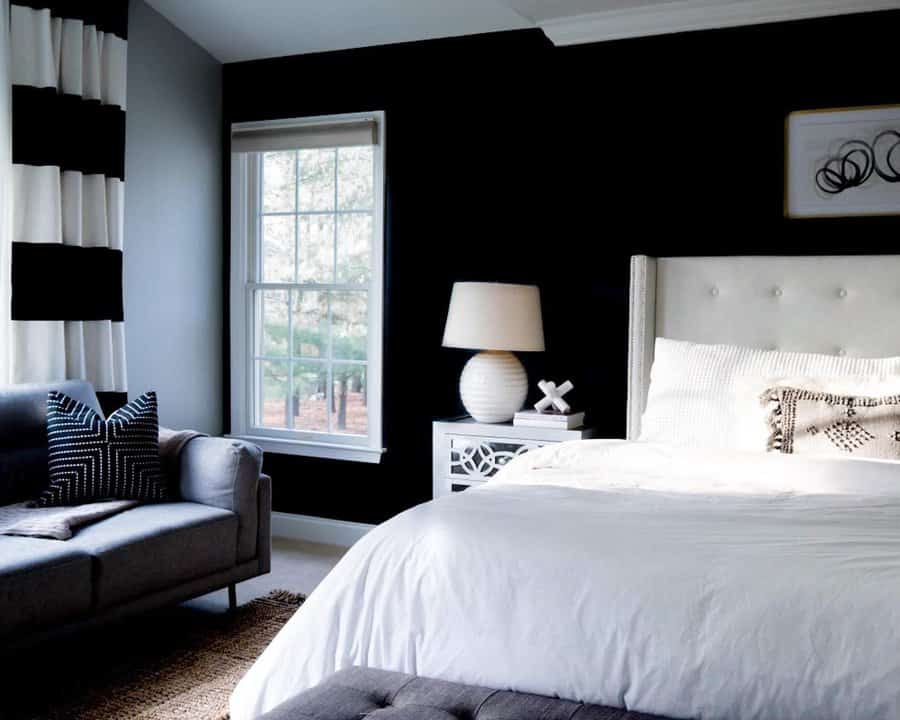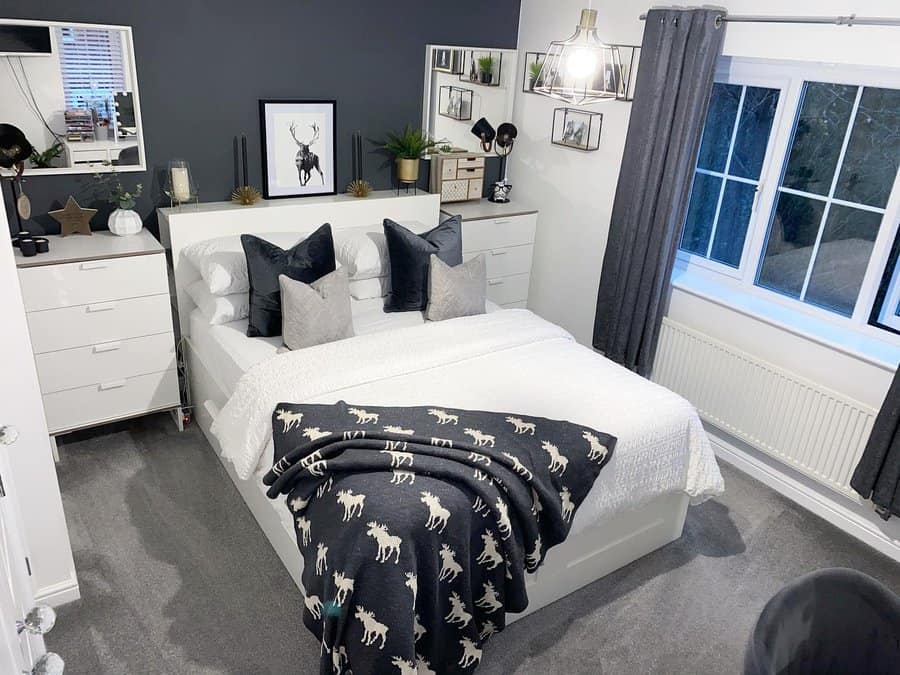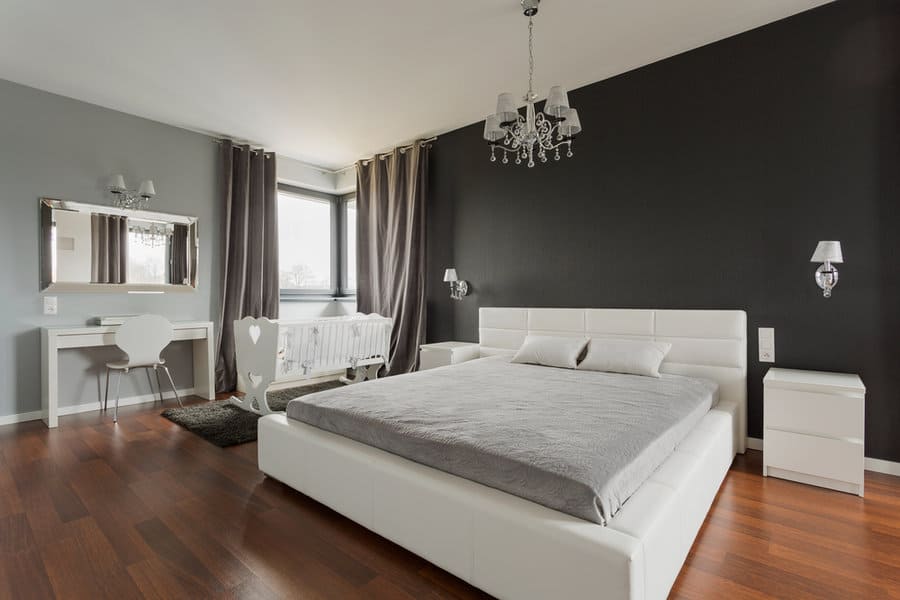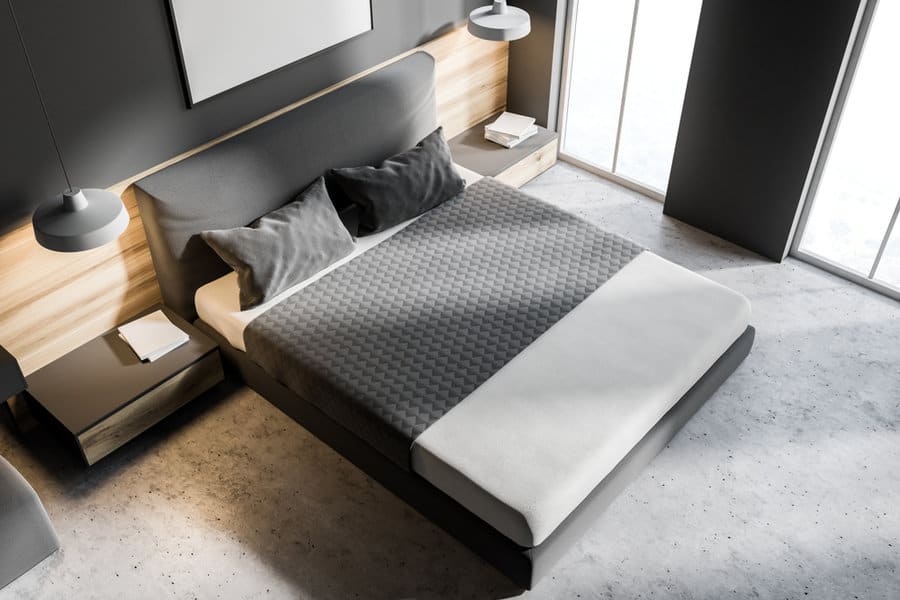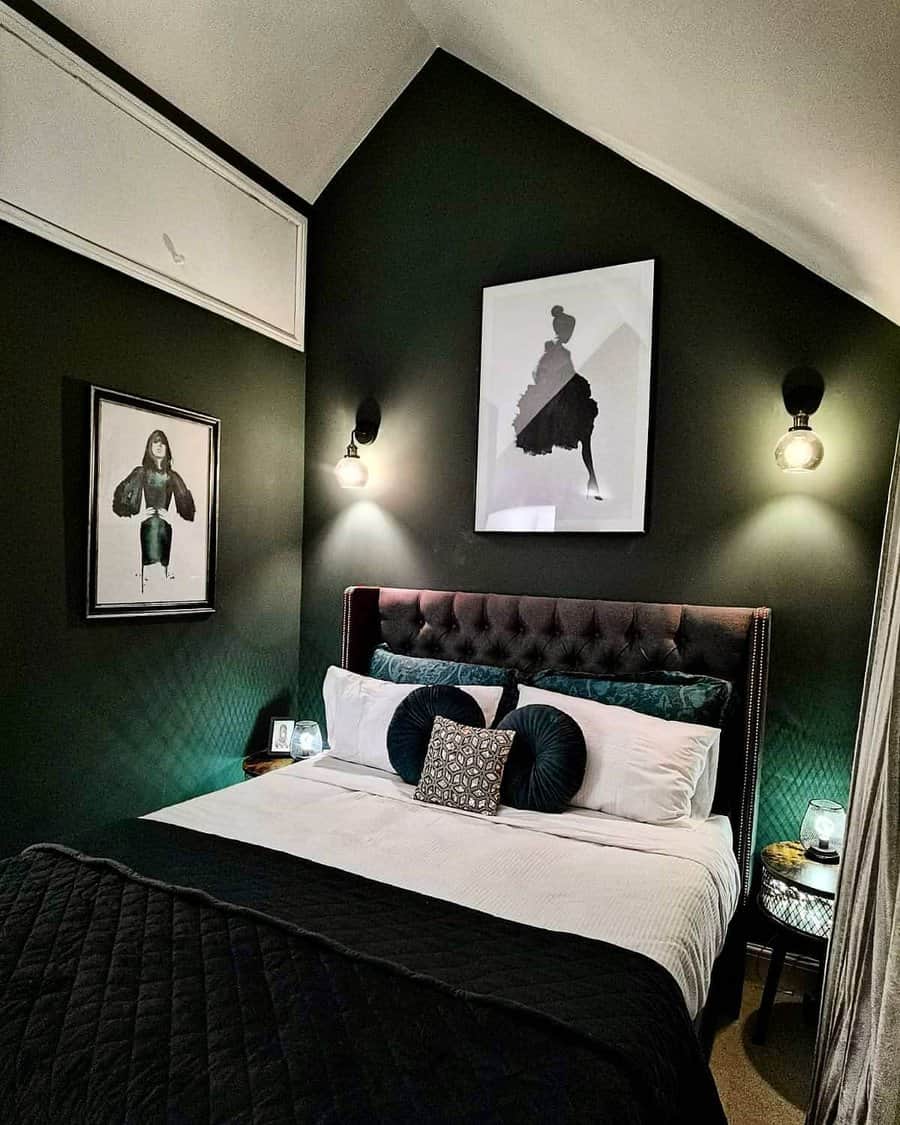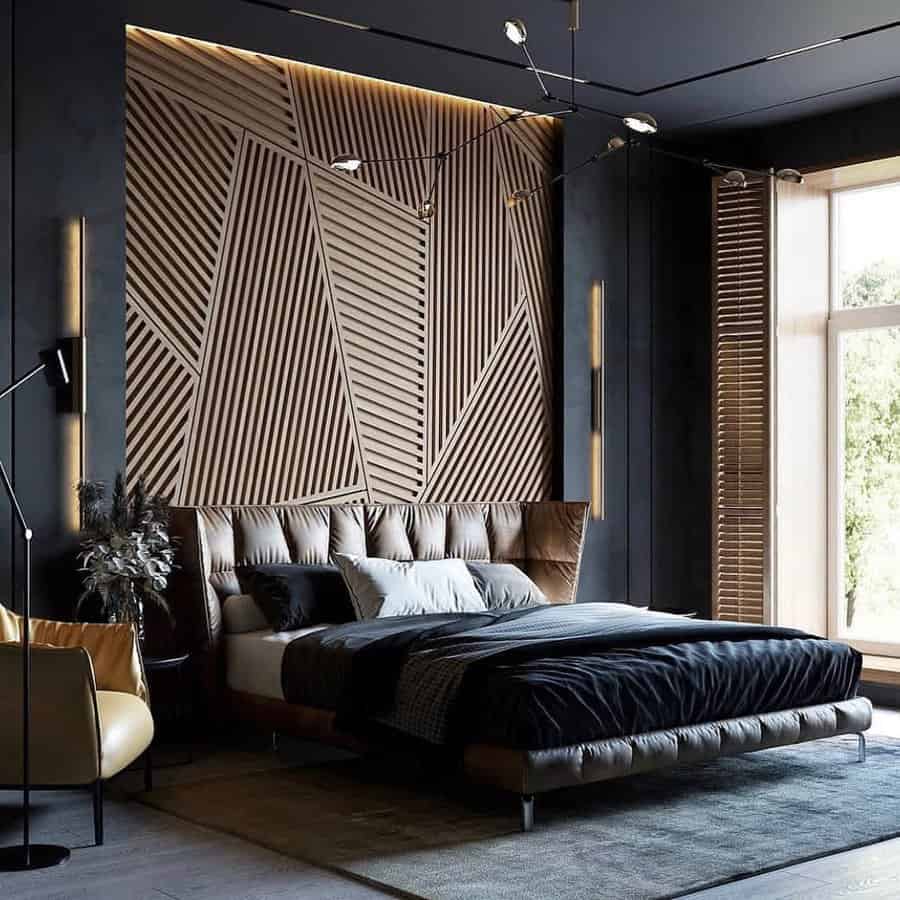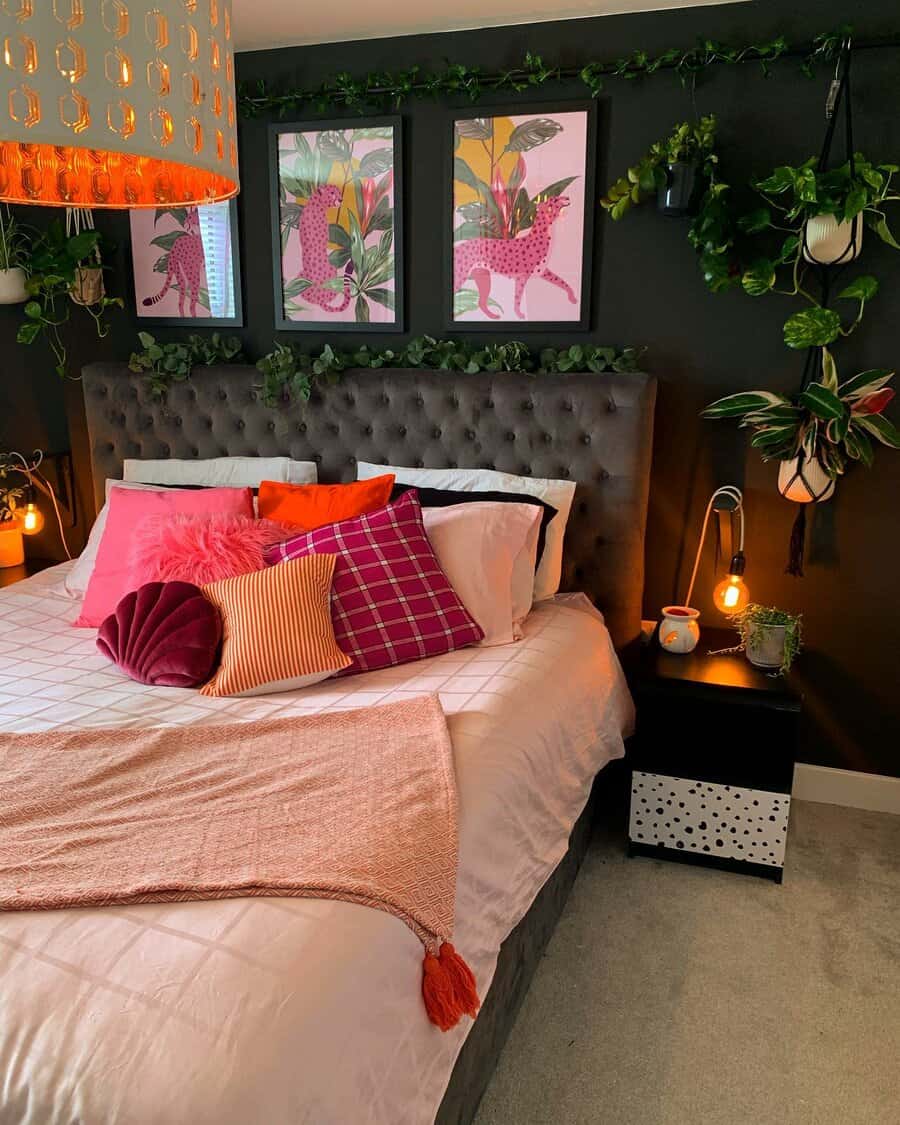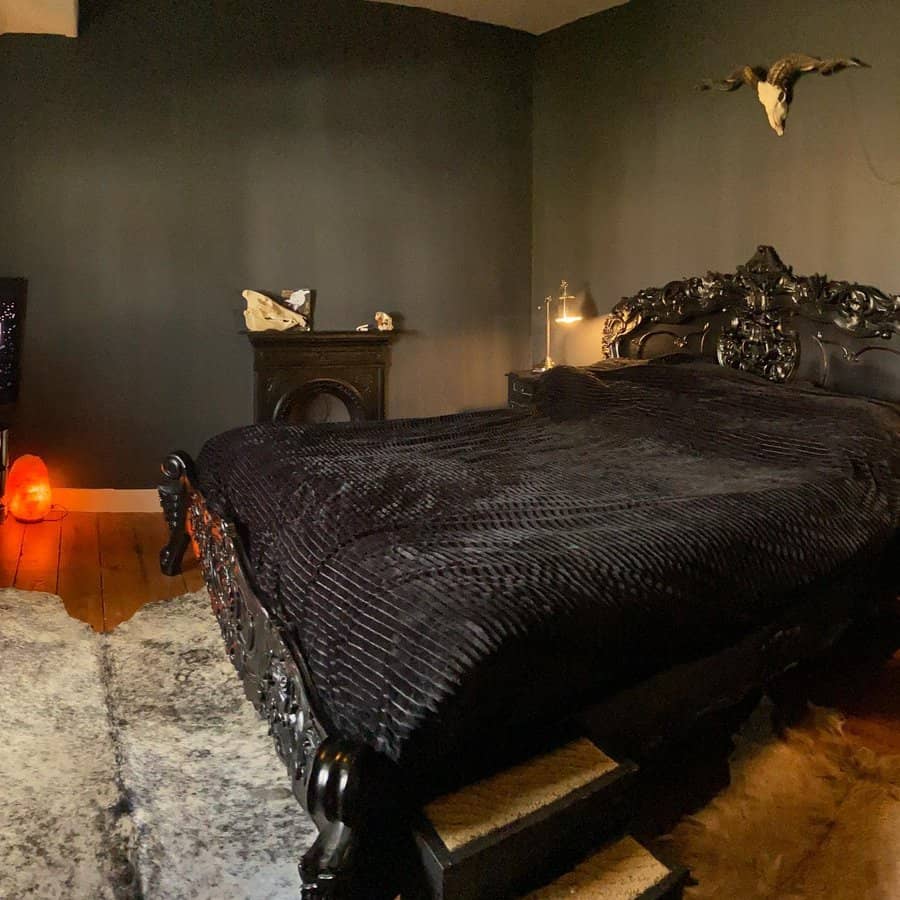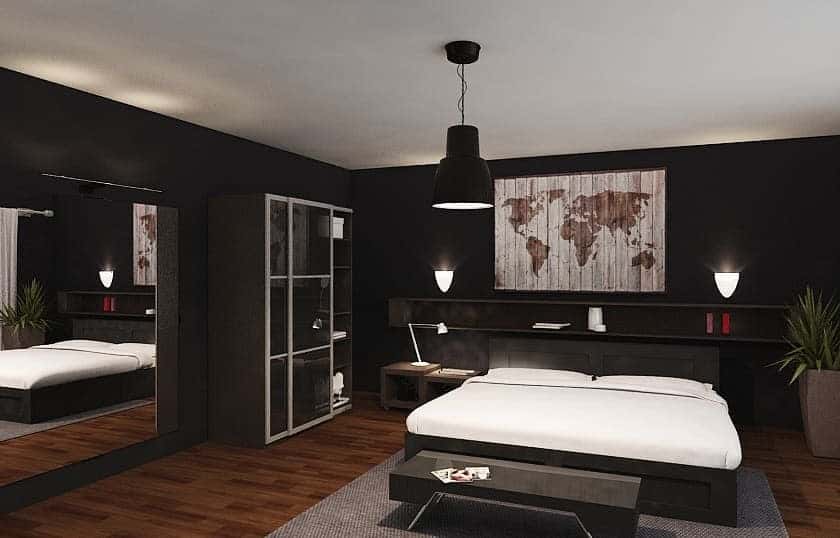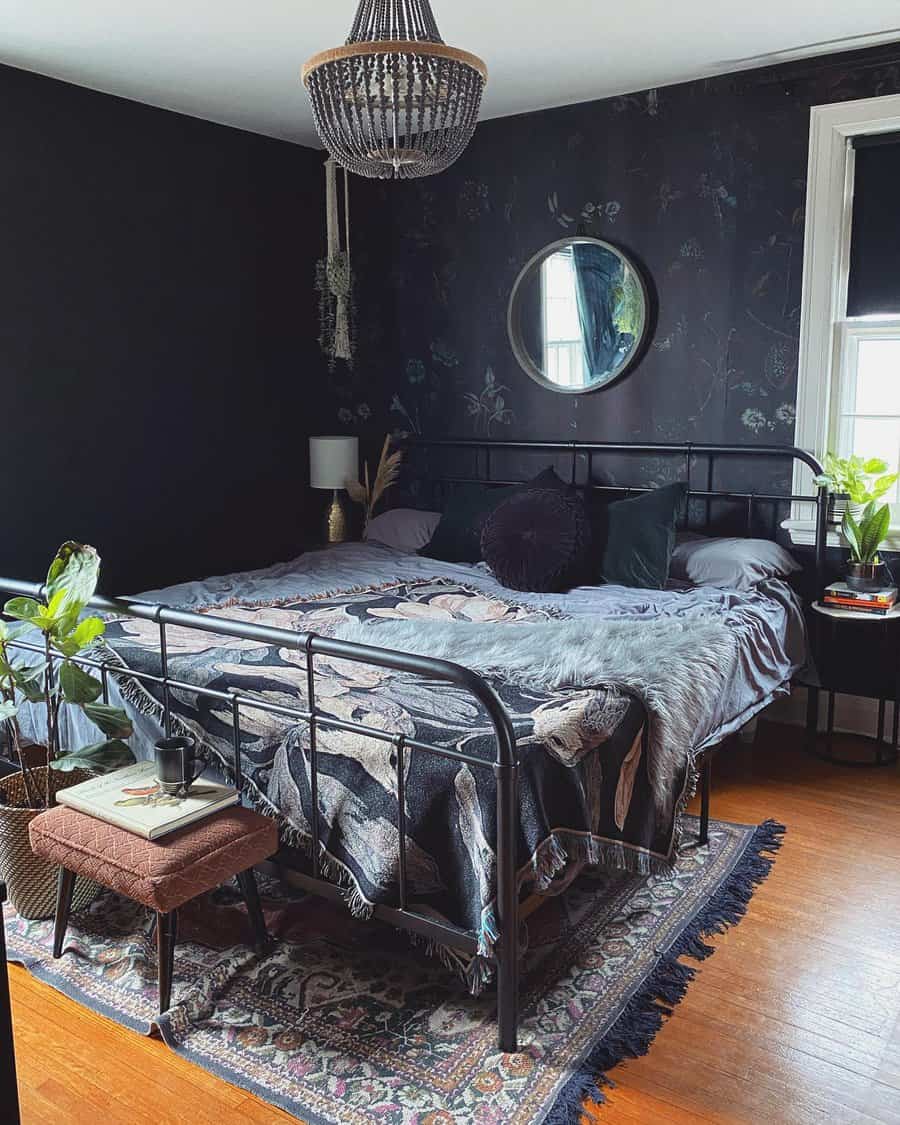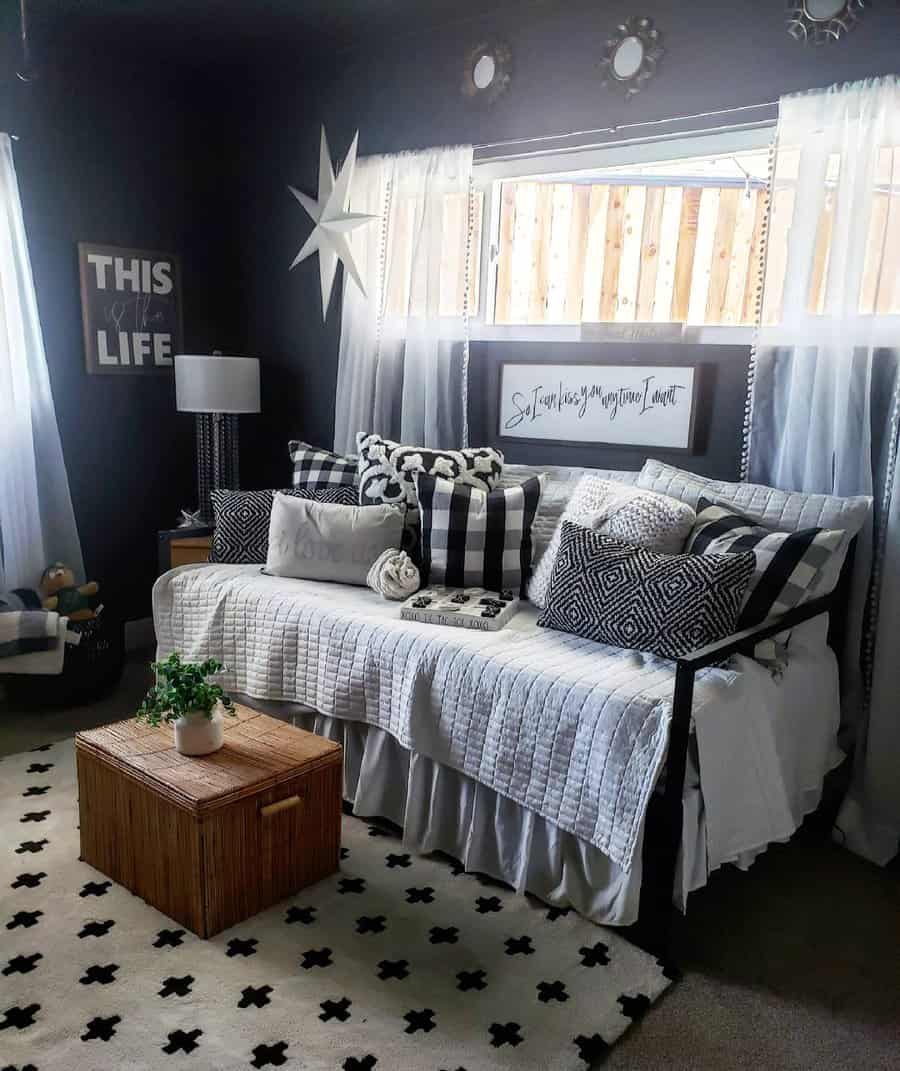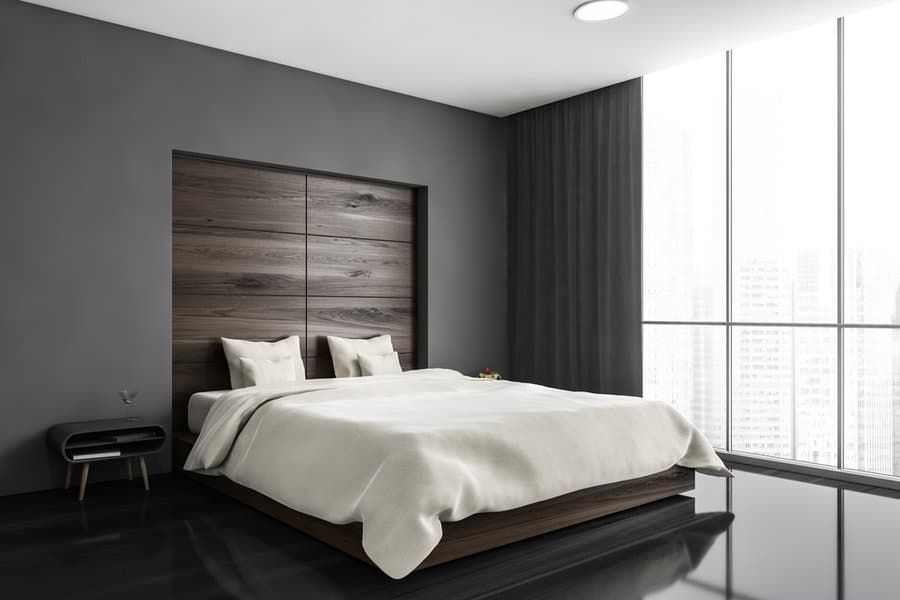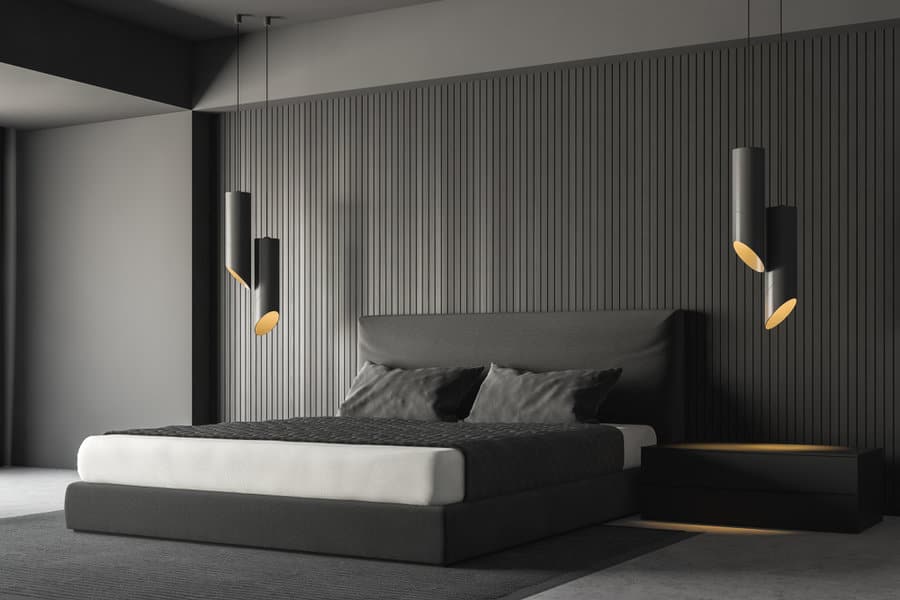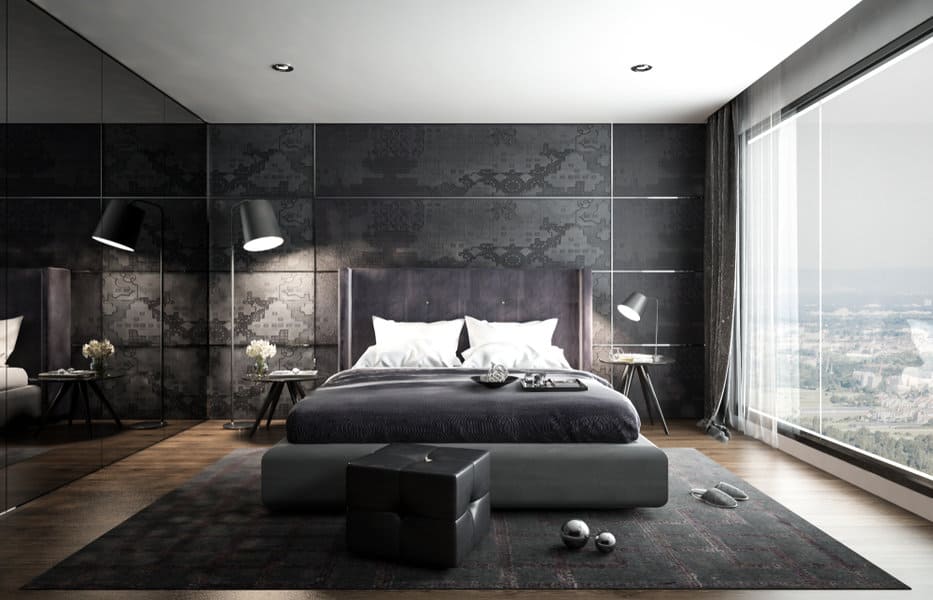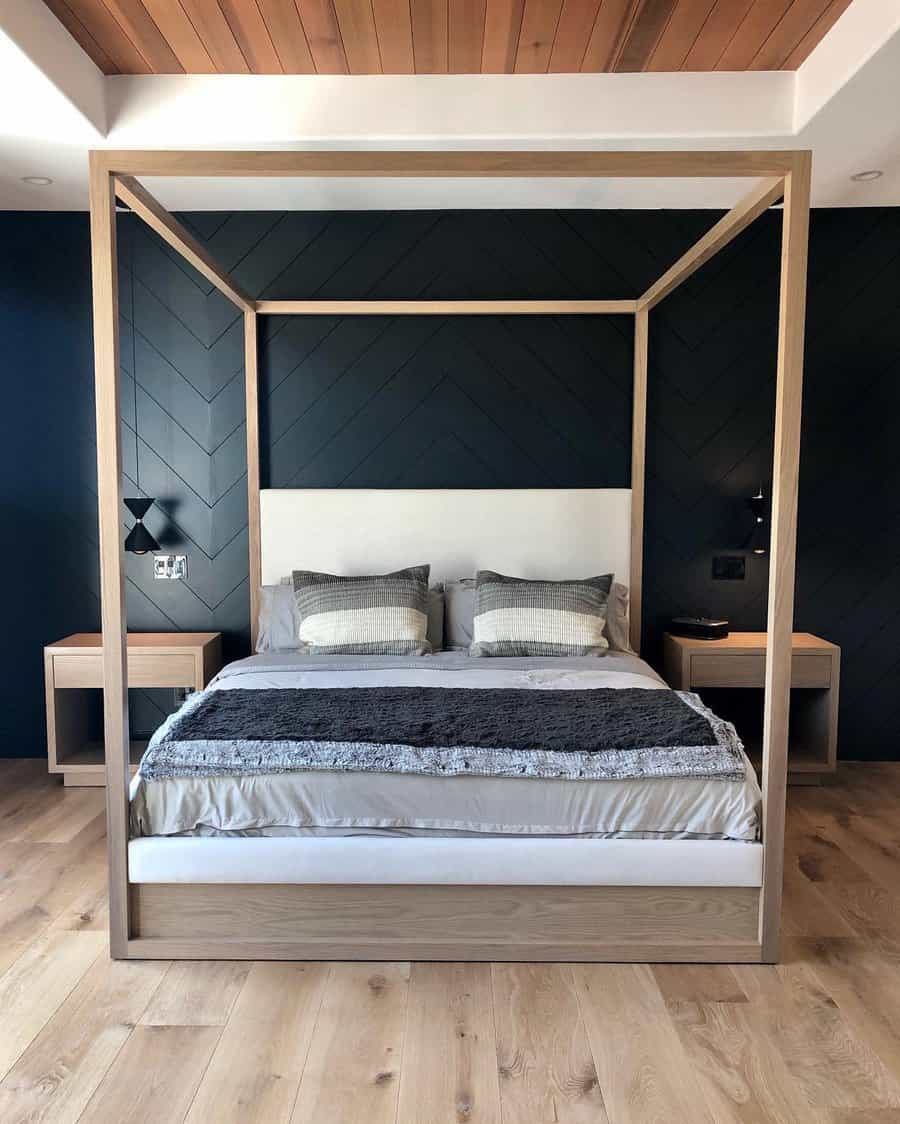 3. Coastal Blue
If you're looking to spruce up your bedroom but don't want to go overboard with color, coastal blue walls and a blue-and-white theme is a great ways to go. This combination creates an inviting yet calming atmosphere that helps encourage both relaxation and productivity.
There are plenty of possibilities with this two-tone palette; start by adding some coastal-inspired artwork, like coastal photography or even wall stickers depicting sea life, then carry the blues throughout the room using comfortable bedding, curtains, pillows, rugs, mats, and more. And lastly, don't be afraid to add some pops of other colors as accents!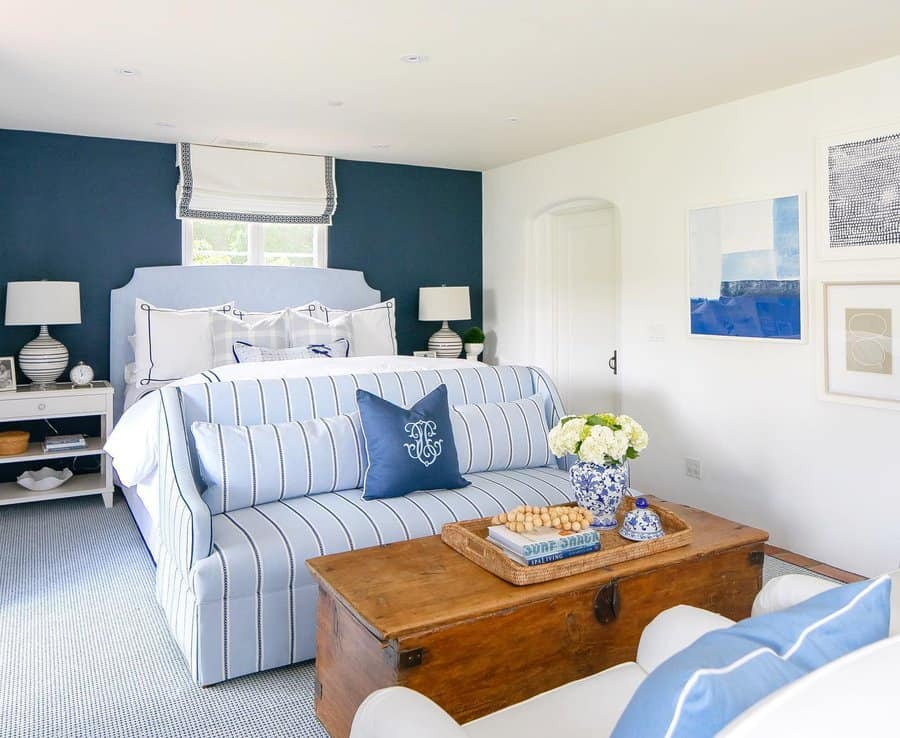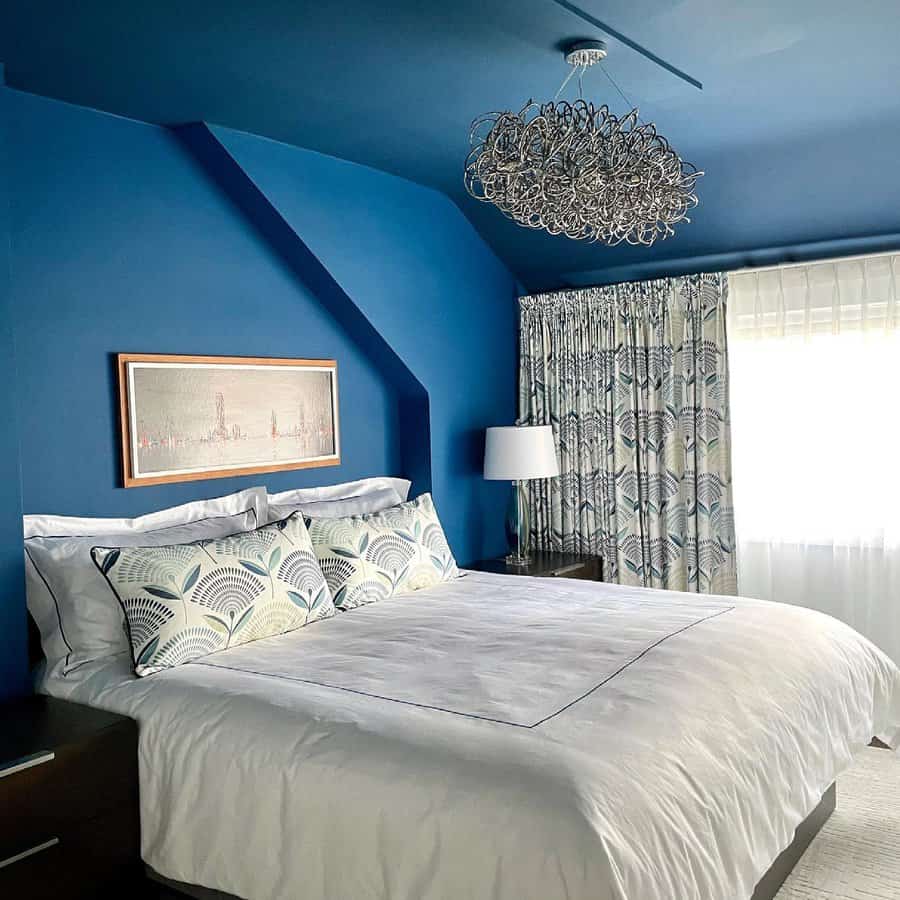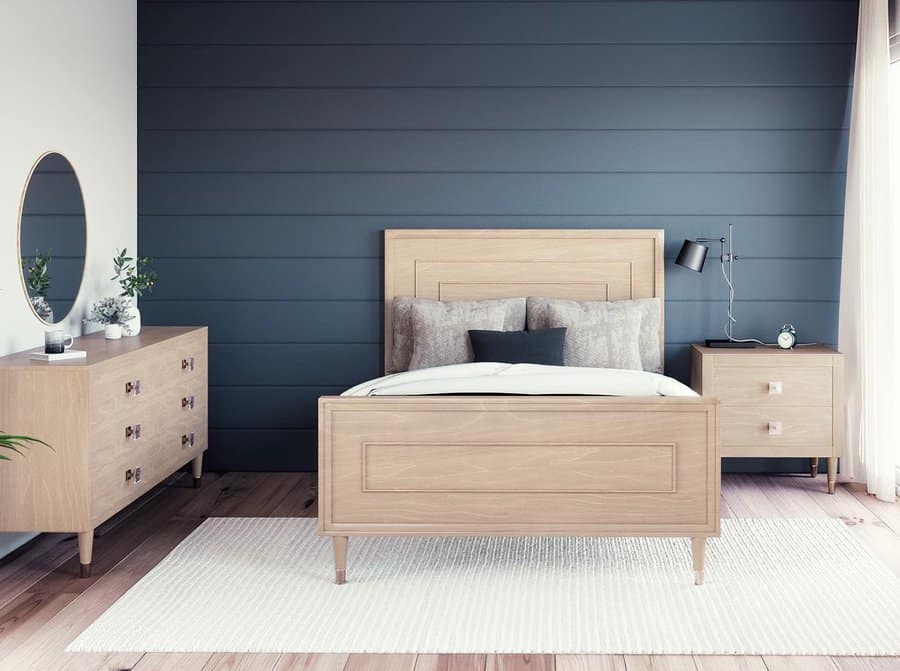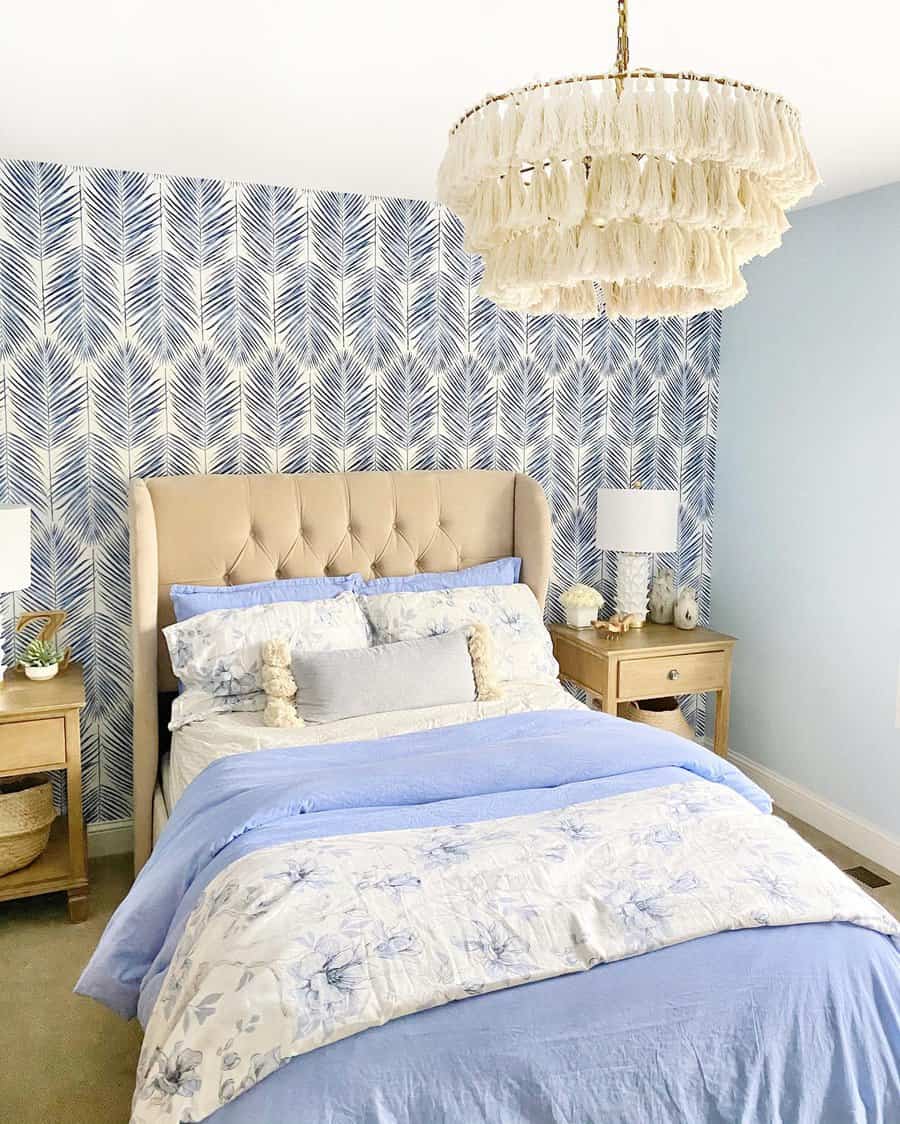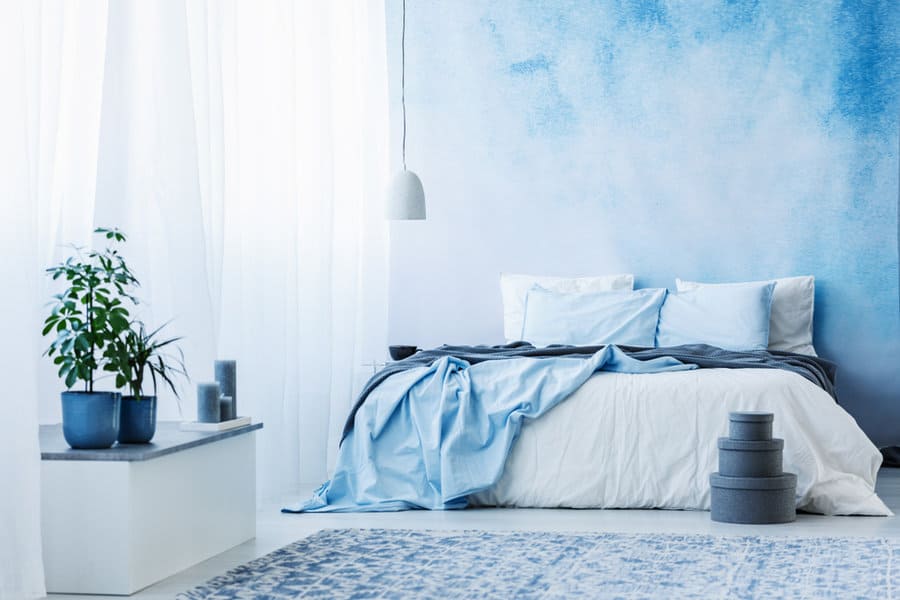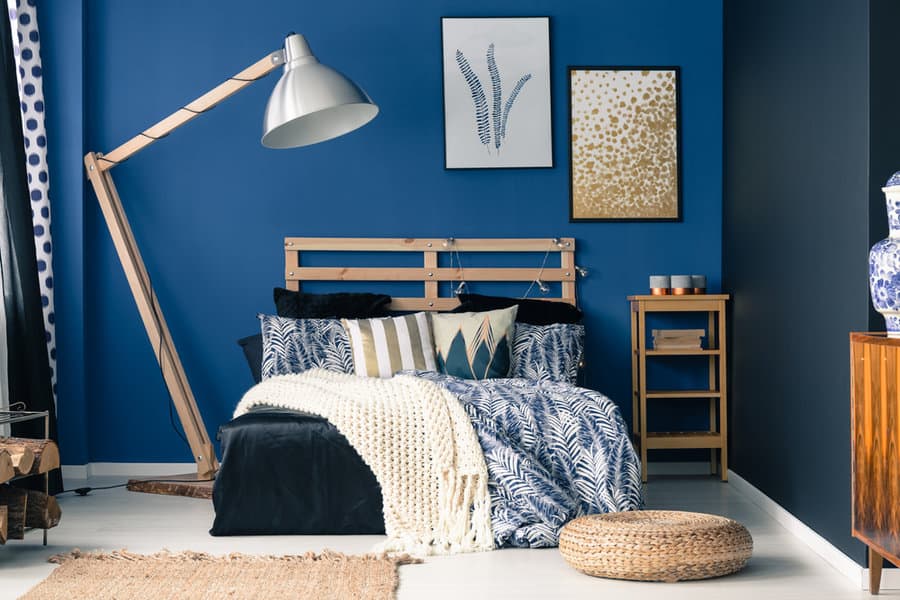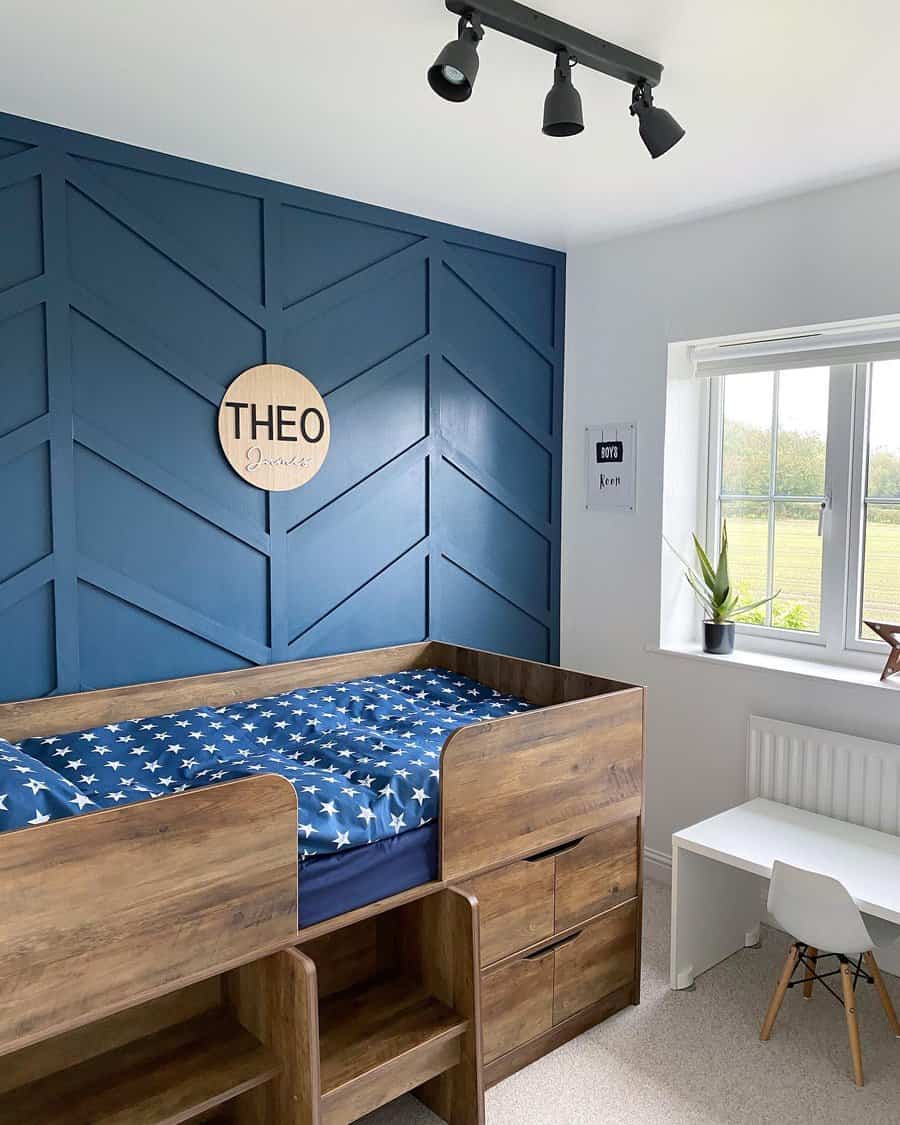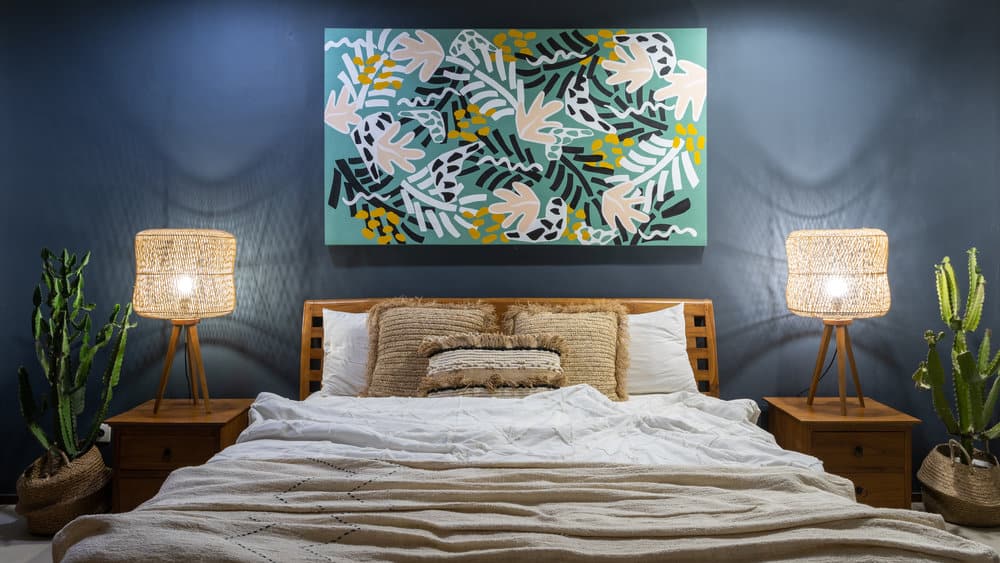 4. Vibrant Orange
When it comes to decorating a bedroom, vibrant orange can be a great color to start with! This vibrant hue can be used both as an accent wall and a head-turner for the entire room. For a more traditional look, pair vibrant orange walls with neutral tones of cream, off-white, and taupe, while enhancing the vibrancy with bright accents and textures.
For something modern and vibrant, try popping vibrant orange walls with bold shades of purple and green, while adding pops of metallic gold for some luxury appeal. However you choose to use vibrant orange in your bedroom color scheme, you'll love the end result!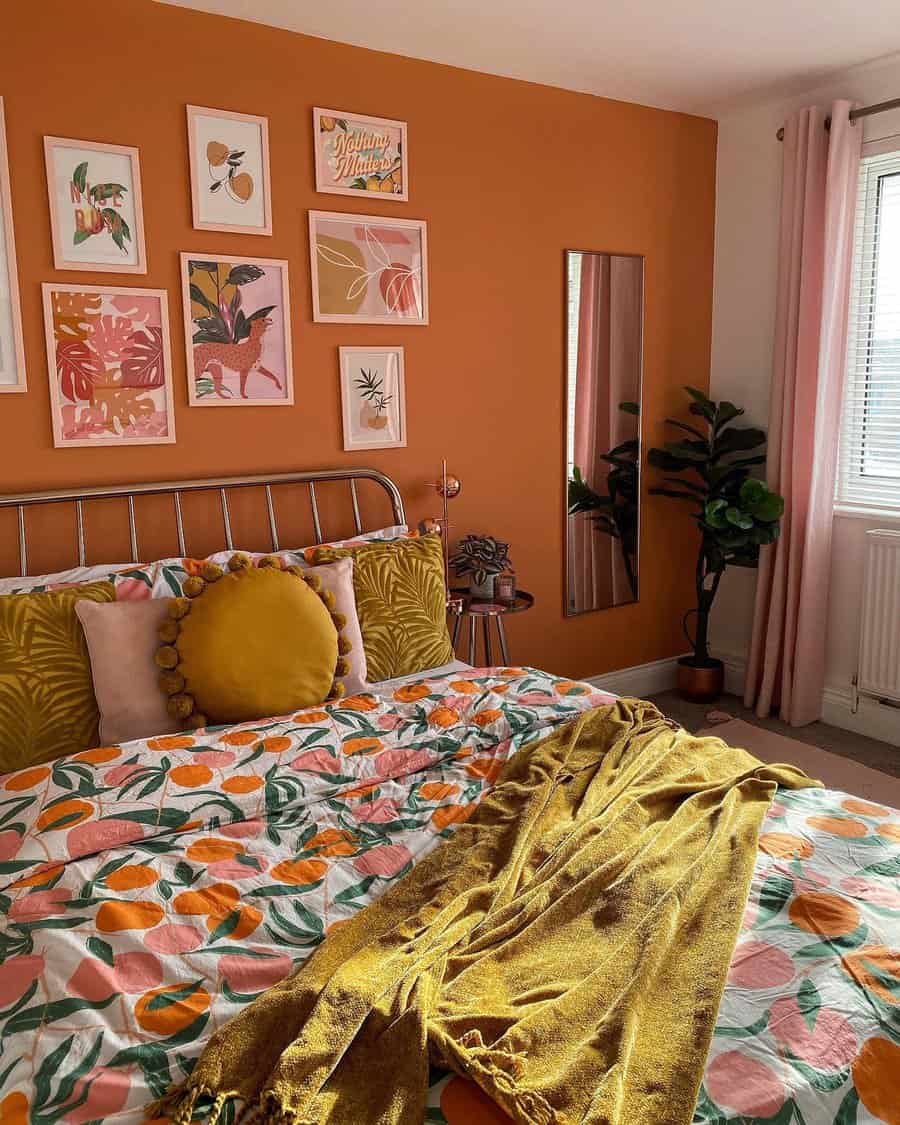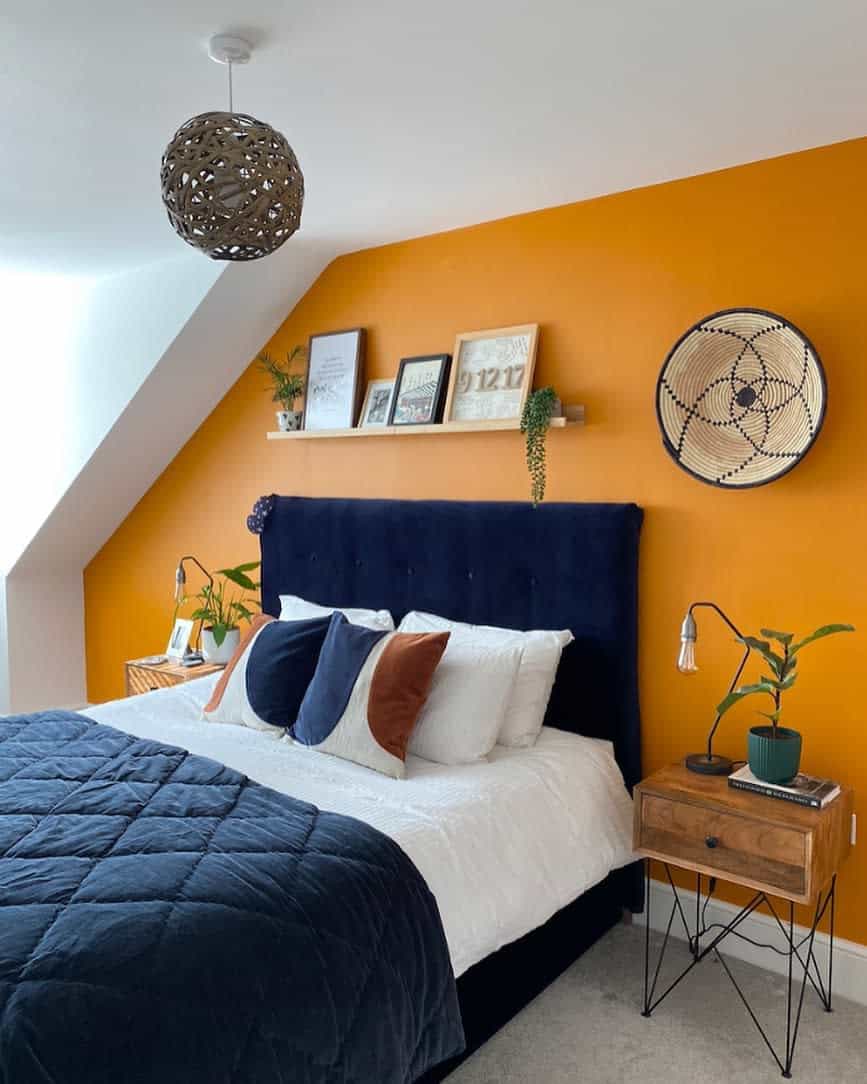 5. Muted Browns
When it comes to developing a bedroom color scheme, muted browns, and brownish-grays are excellent choices. They provide a beautiful neutral backdrop that can take on any of your favorite hues — maybe muted olive green or icy blue – as accent colors.
These muted shades also make it easier to keep the room looking well put together, no matter what kind of furniture you decide to invest in for the space. You can even go for a full-on monochrome look by adding varying shades of browns and greys throughout the entire room.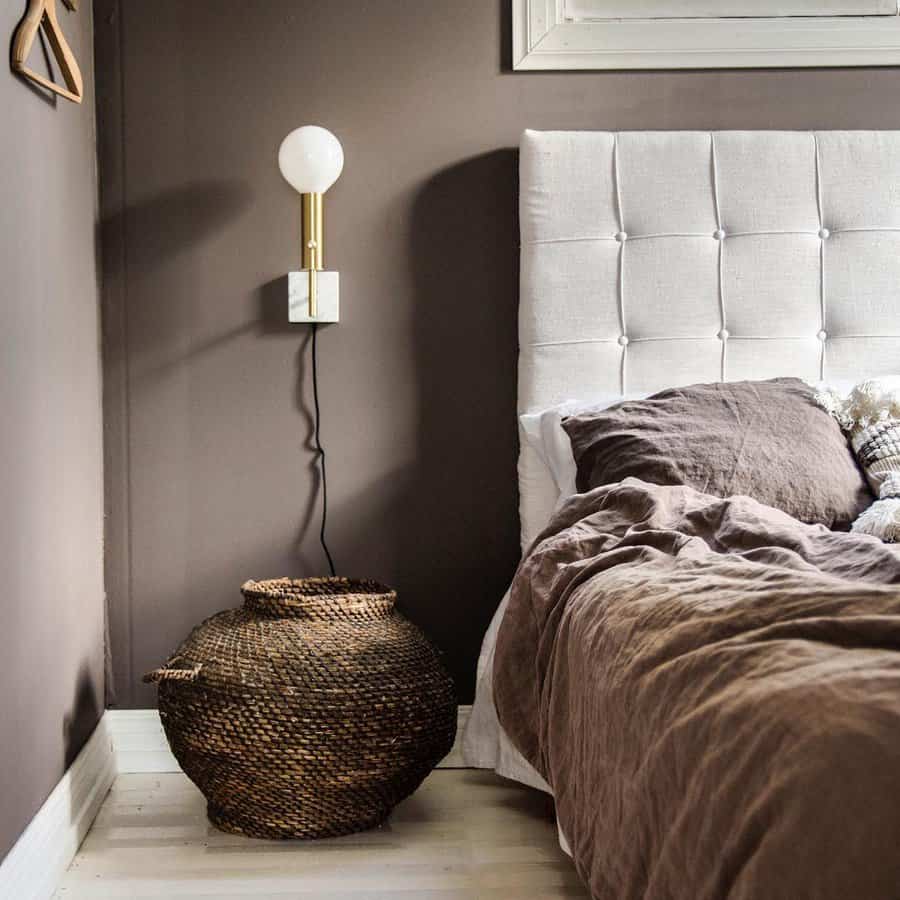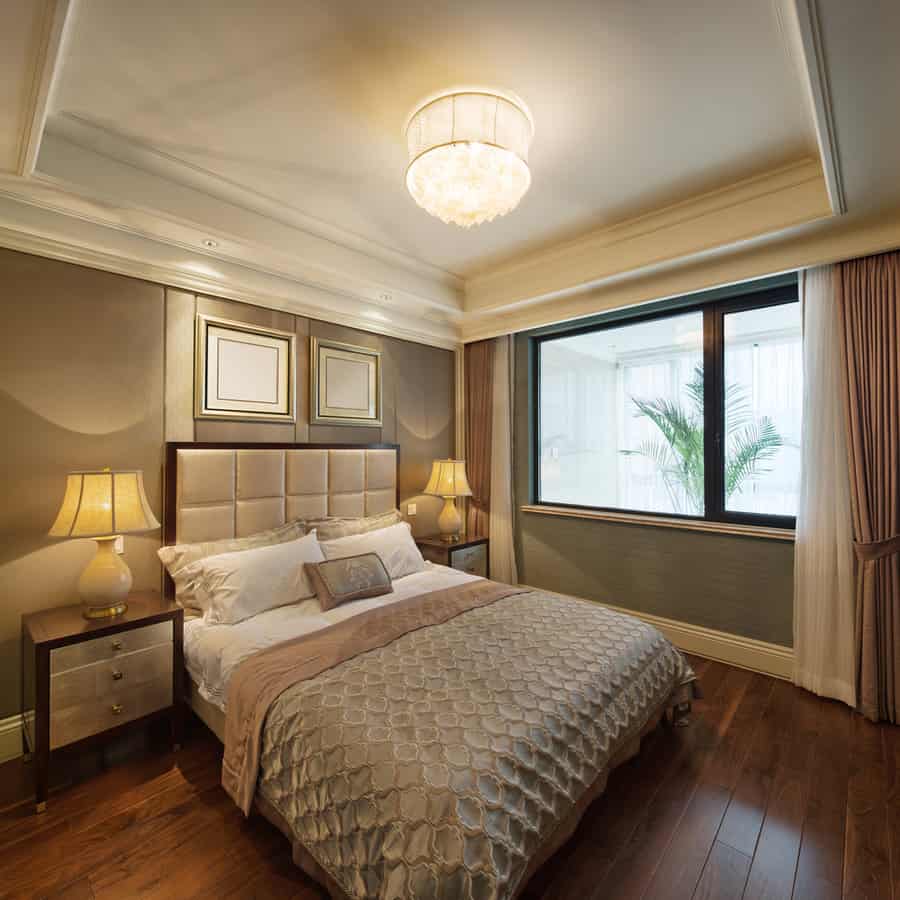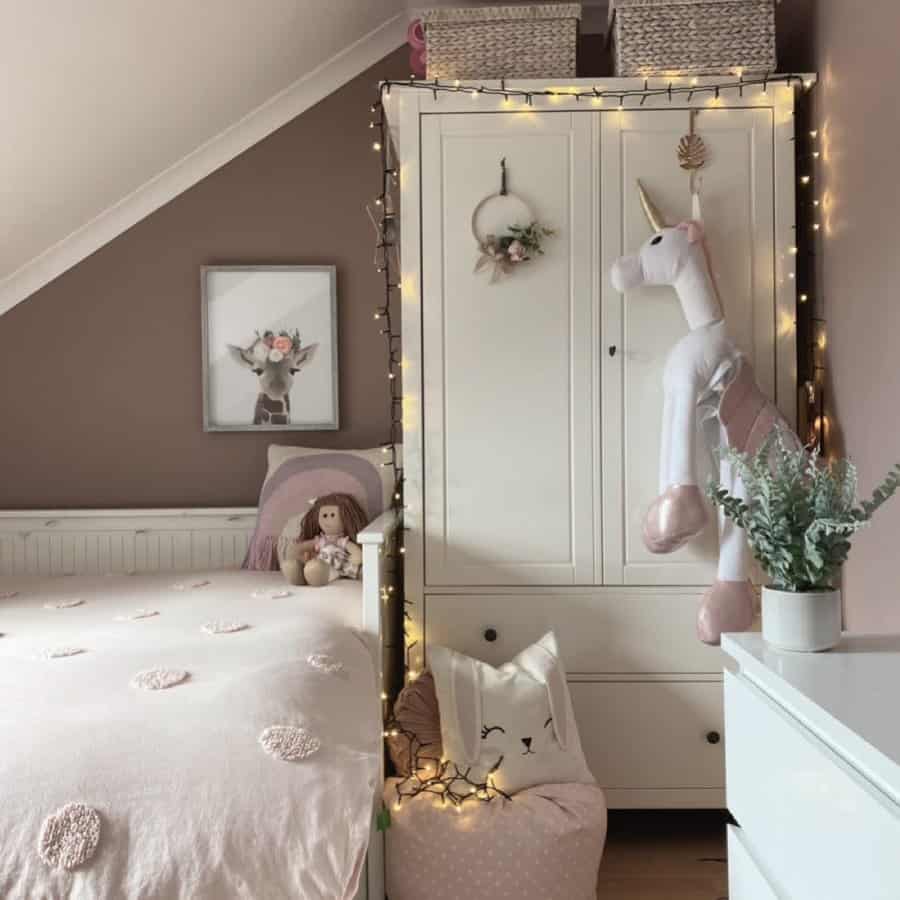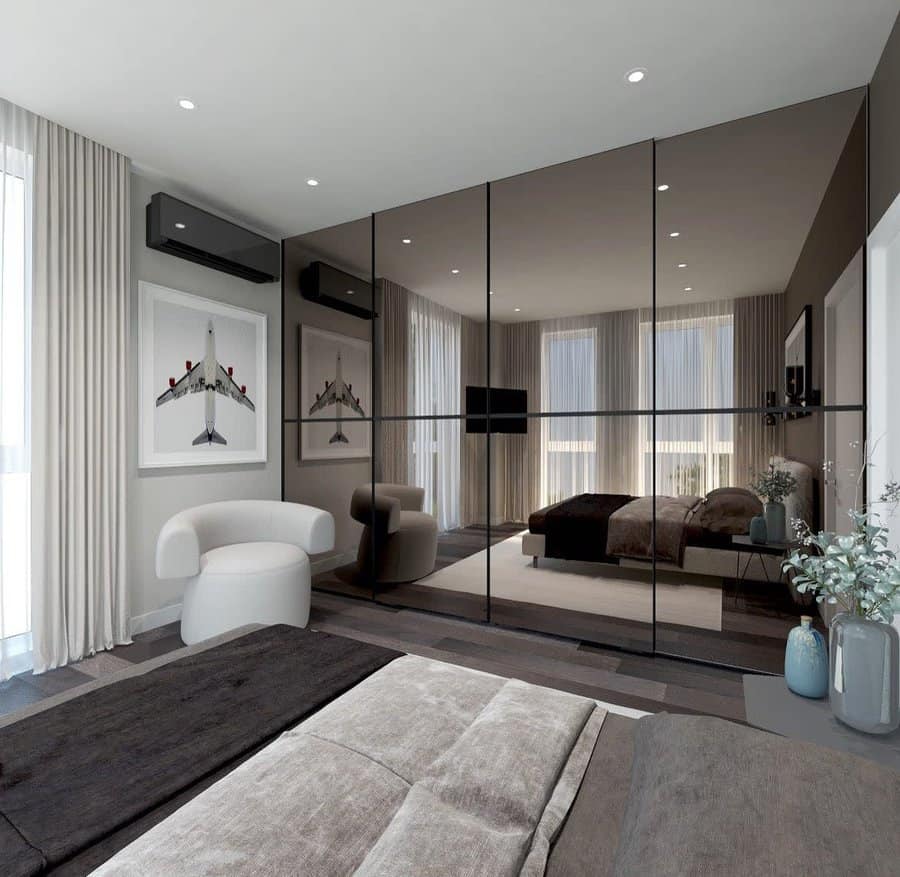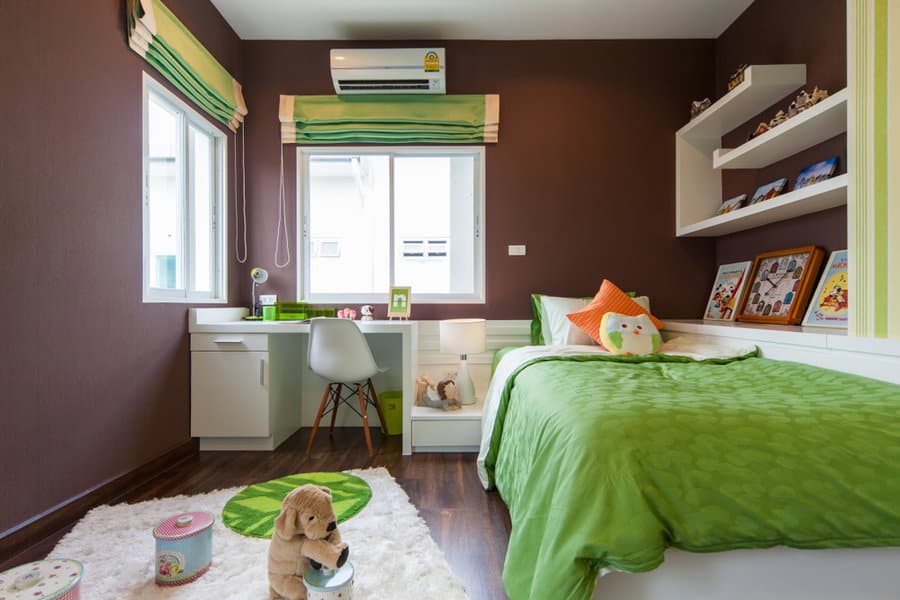 7. Dual-Toned Walls
When it comes to bedroom color schemes, dual-toned walls can create an eye-catching, yet soothing atmosphere. For example, painting one wall a dark teal and the other three walls a lighter cream color can liven up the room while still making it feel relaxing.
Or, if you prefer more natural elements, paint light beige walls with an accent of warm maple brown to achieve a cozy home feel. Don't forget to add accents of greenery or pops of any other vibrant color that complements your dual-tone walls for an extra boost of creativity!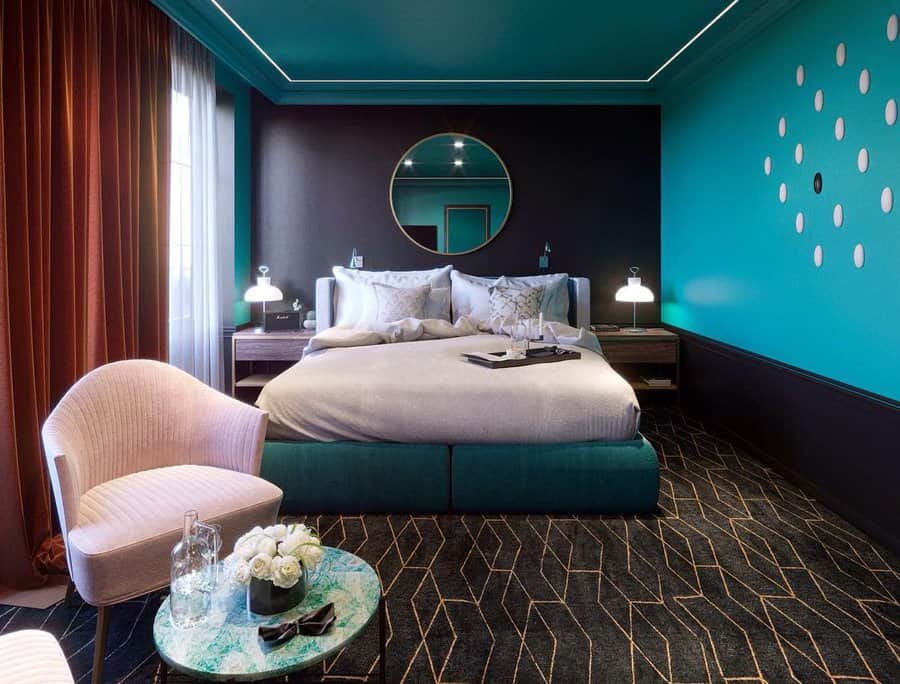 8. Tiffany Green
When it comes to bedroom color scheme ideas, Tiffany green and light green walls are definitely a standout. They provide an ambiance that's calming yet uplifting at the same time – plus, they help to make the room look bigger! If opting for Tiffany green, consider accentuating with bold colors like black or white to compliment this classic hue.
Alternatively, combine Tiffany green with pops of neutral colors like grey or taupe for a subtle look. On the other hand, if more of a pastel is desired, light green walls can be brought to life when paired with shades of blues and peaches. Get creative and mix different textures – such as wallpaper, paint, or fabric – for an exciting visual surprise!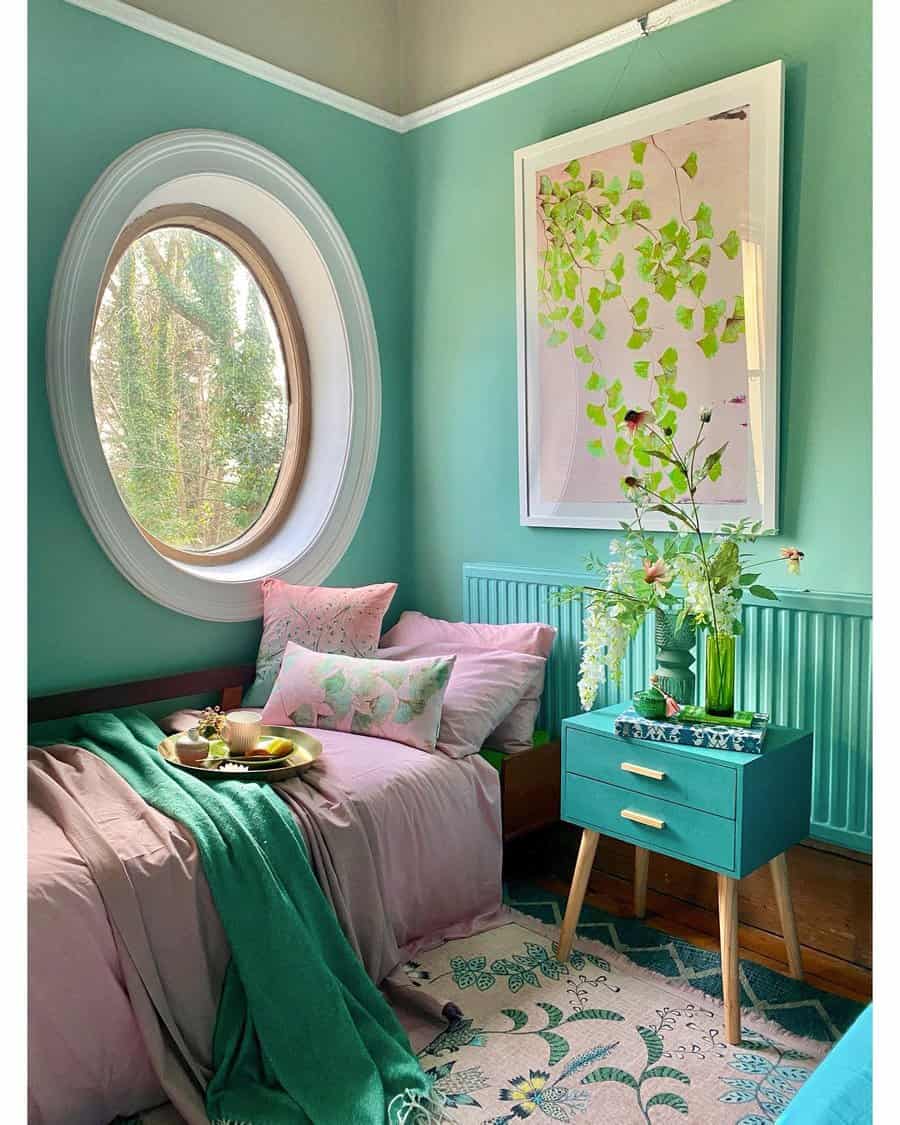 9. Monochrome Printed Wallpaper
If you're looking to upgrade your bedroom color scheme, printed wallpaper is a great way to give it an extra dimension. For a classic feel, opt for floral printed patterns and muted hues that ooze elegance. On the other hand, for a more contemporary look go for bolder prints in vibrant colors.
To infuse some life into your kids' room – choose from wild jungle scenes and cartoon-inspired motifs to create an inviting interior space with plenty of personalities! Just remember, whatever you choose should reflect your individual style.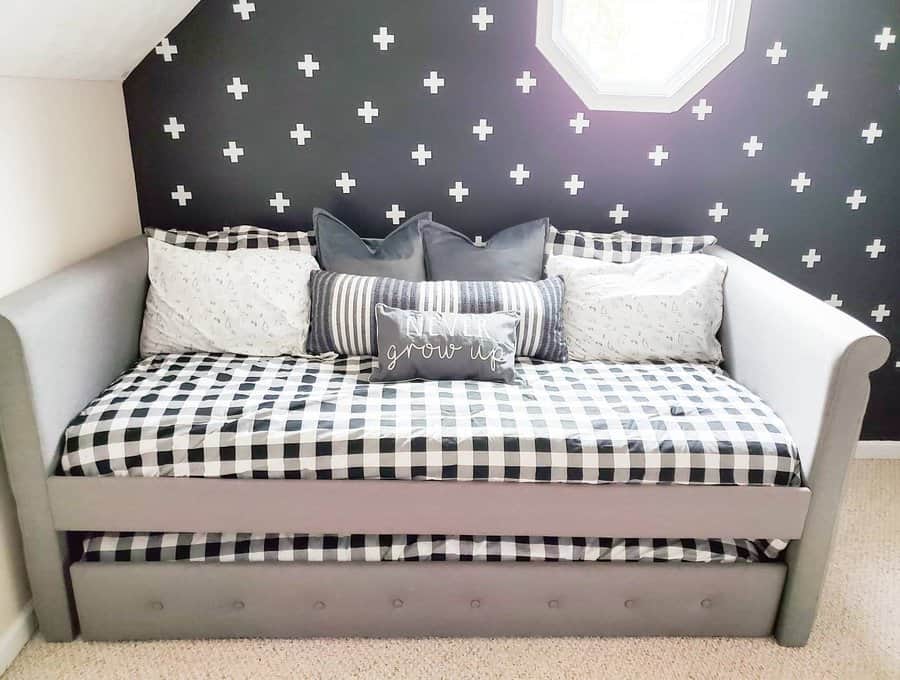 10. Pastel Blue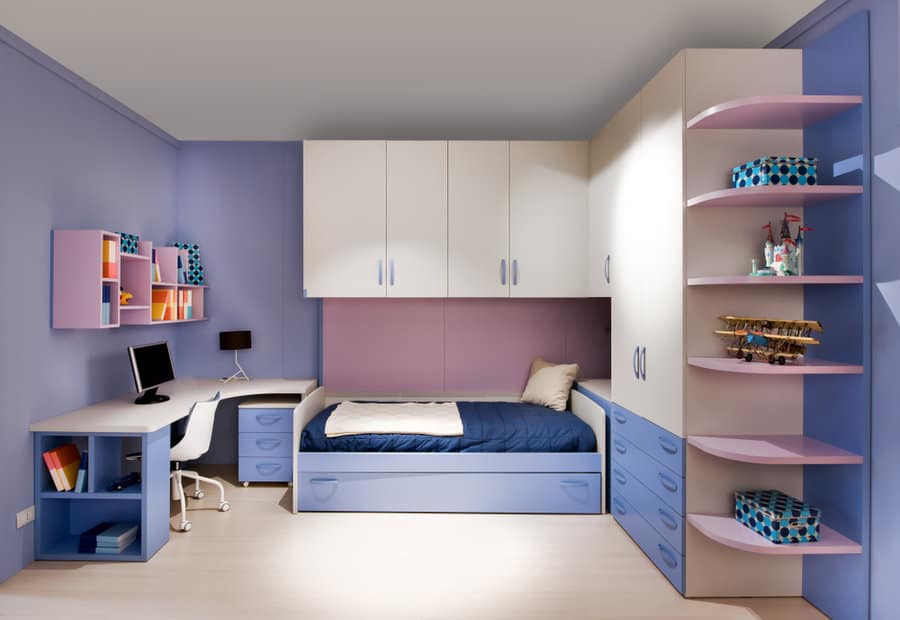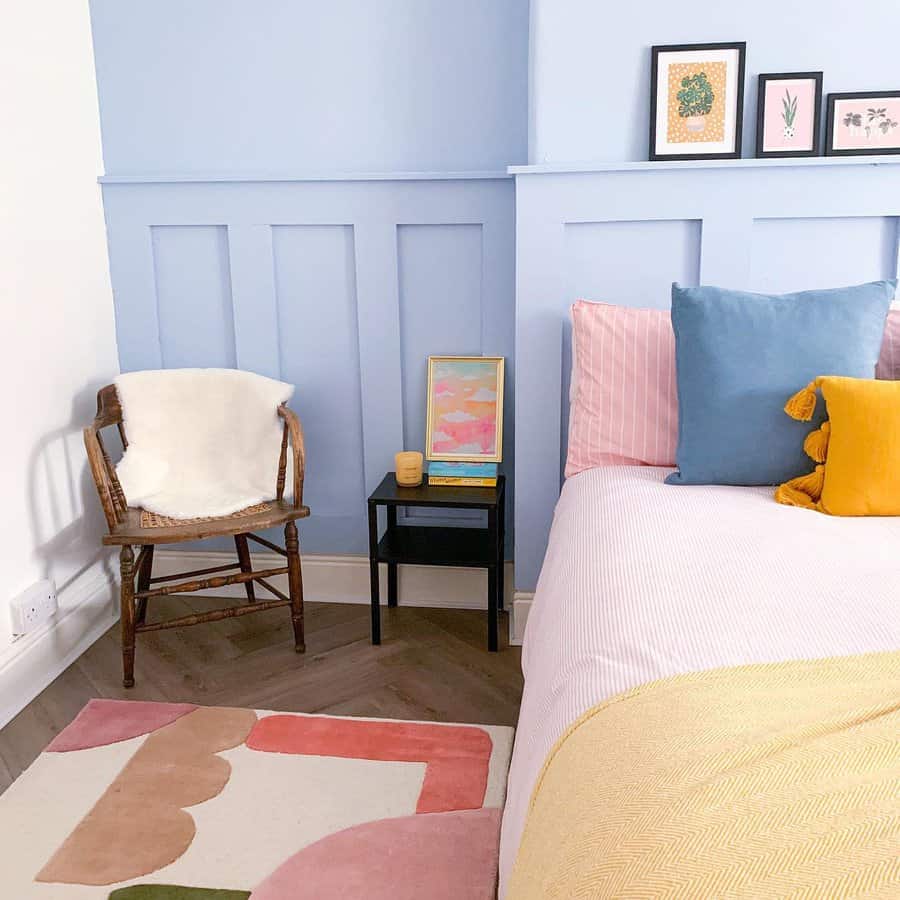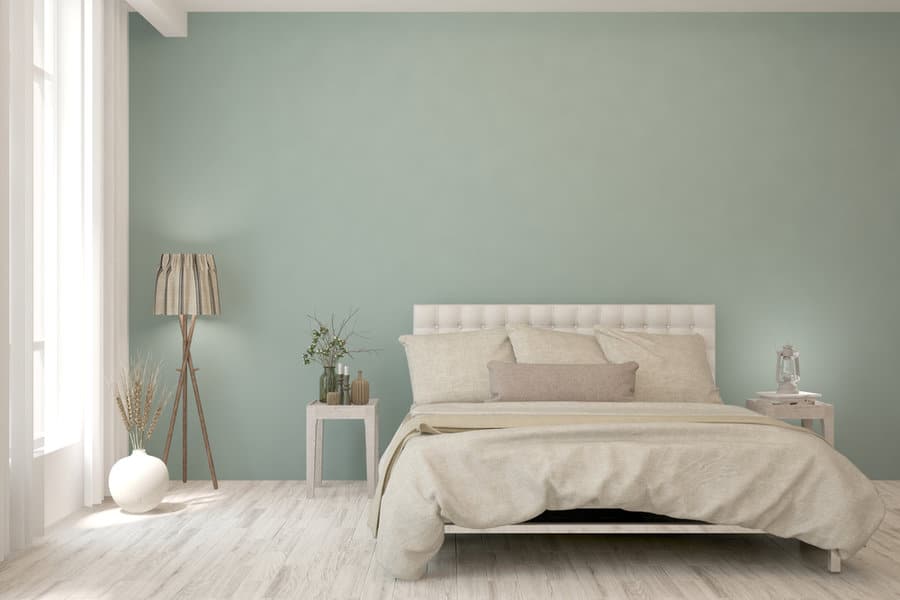 11. Bone White
When selecting a color scheme for your bedroom, think beyond the neutrals. Start with bone-white walls and then incorporate shades of beige-like hues to give the room a warm and inviting feeling. Accentuate wall art or furniture pieces with brighter colors like navy blues, greens, and pinkish tints.
Don't forget about natural tones like olive green, creamy whites, and lightweight browns that can contribute to a peaceful atmosphere.
Keep in mind that you don't have to go monochrome – adding comfortable variations of whites to purples, reds, and oranges can create an energizing environment while still providing a soothing blend of colors overall.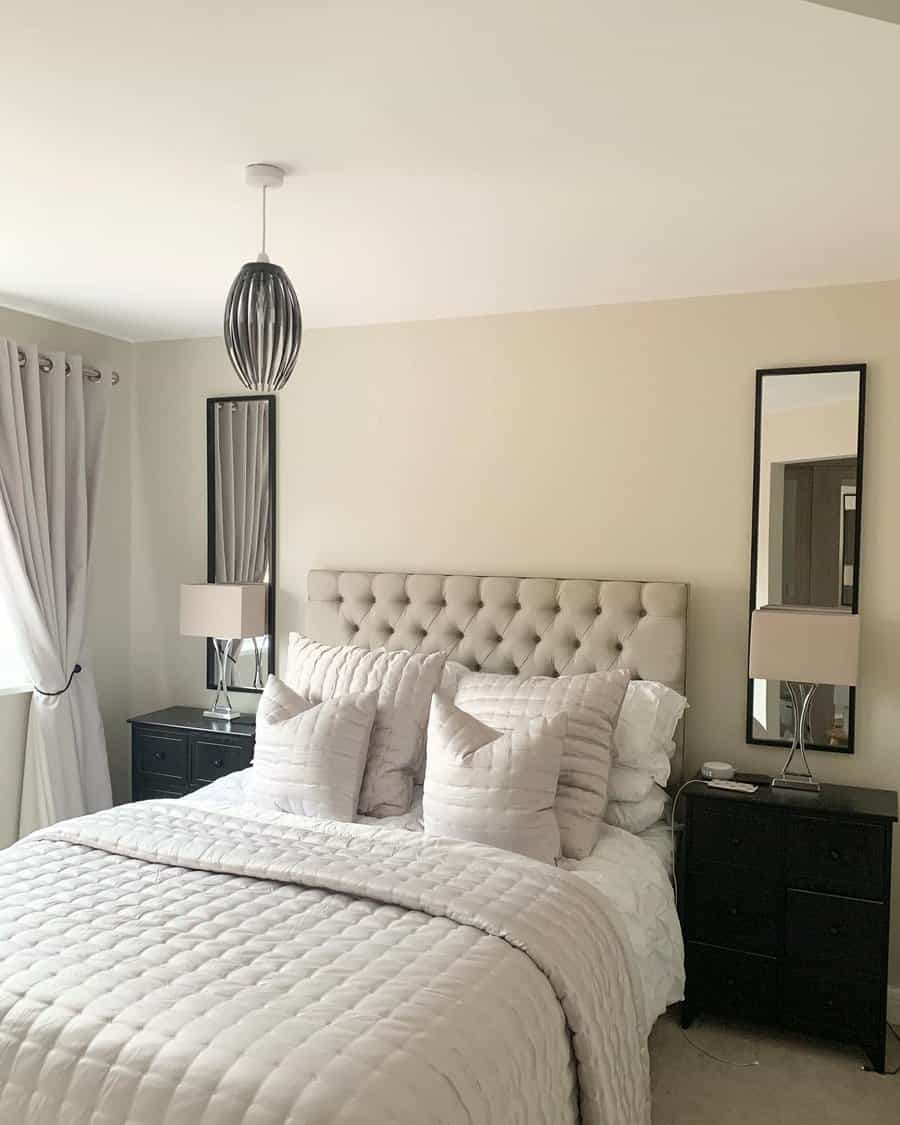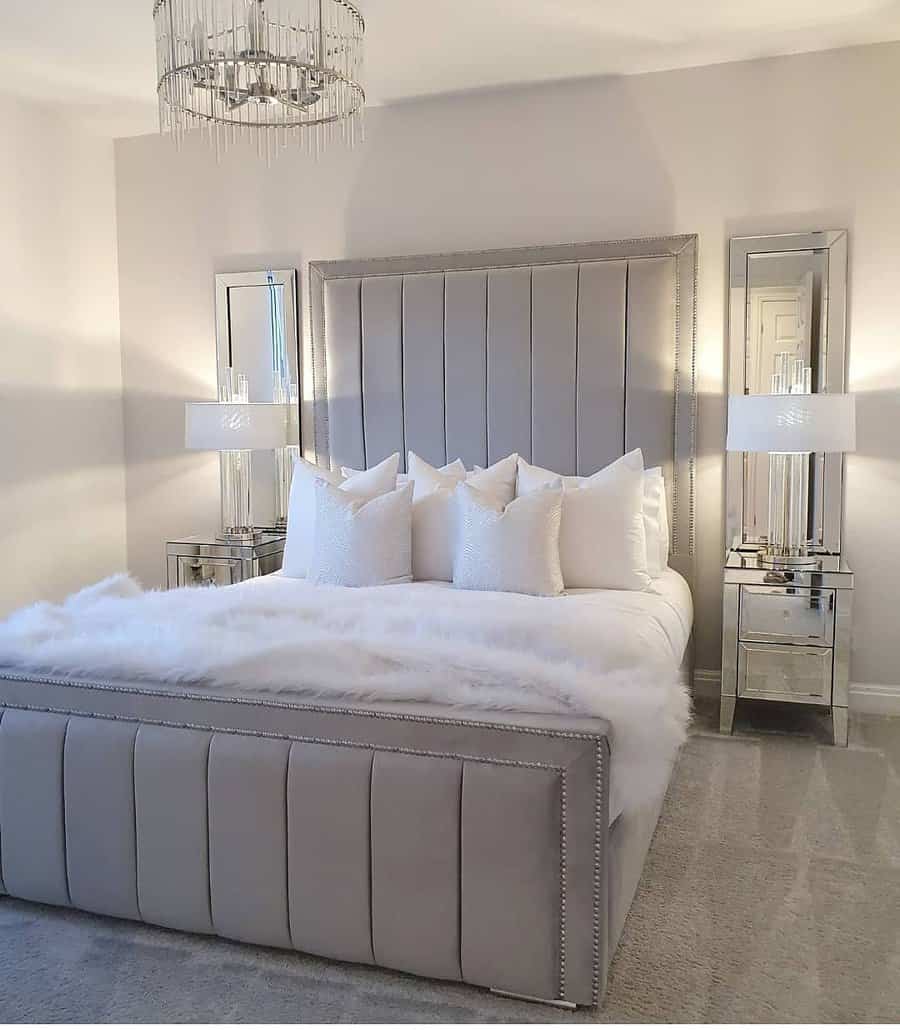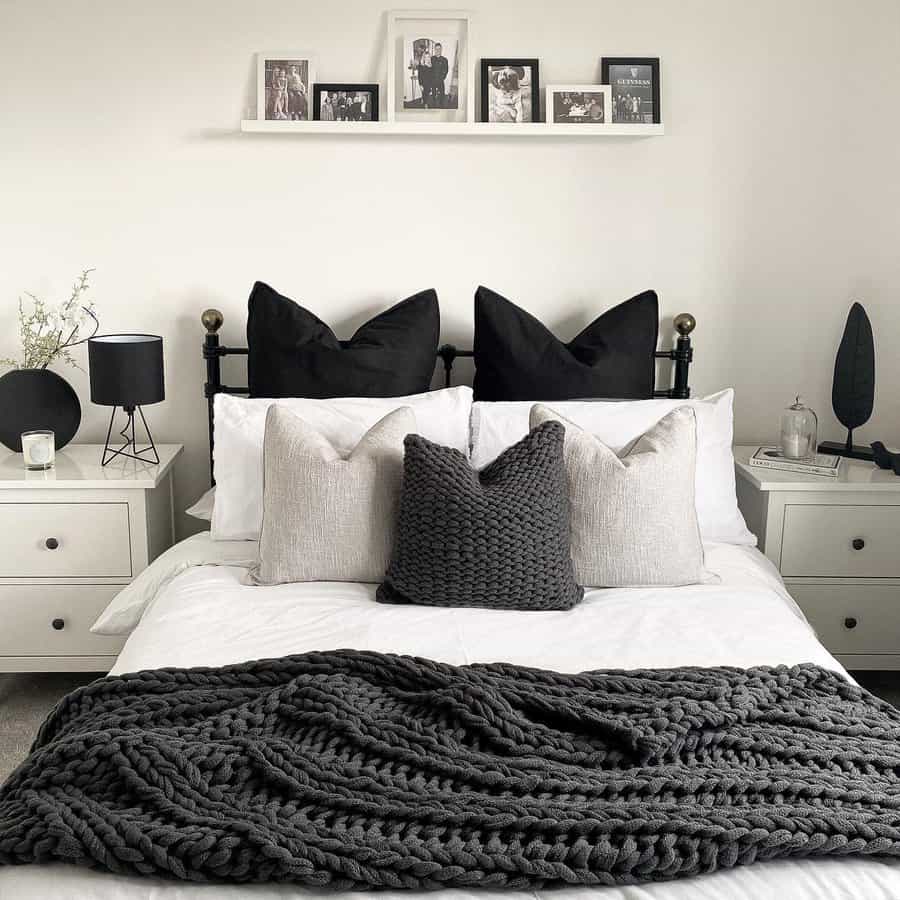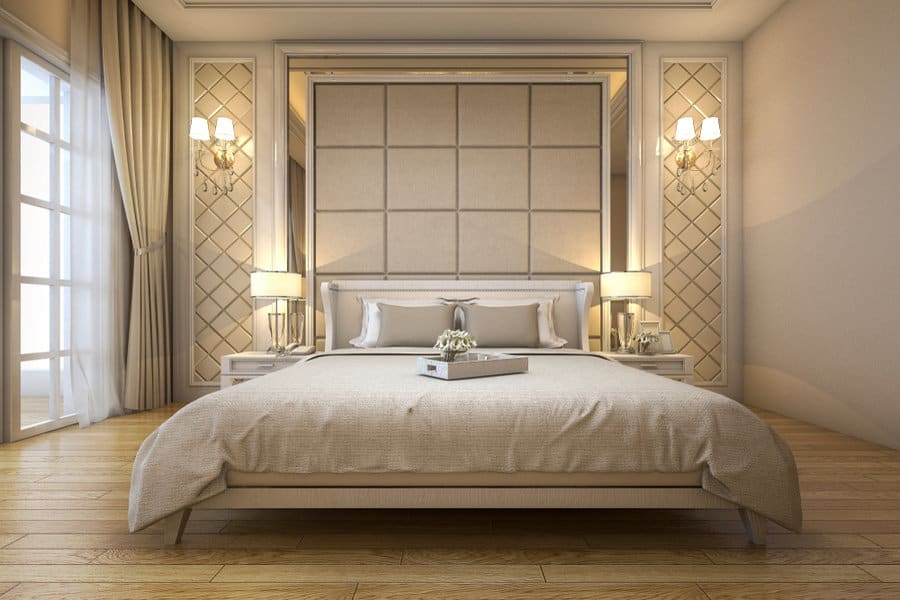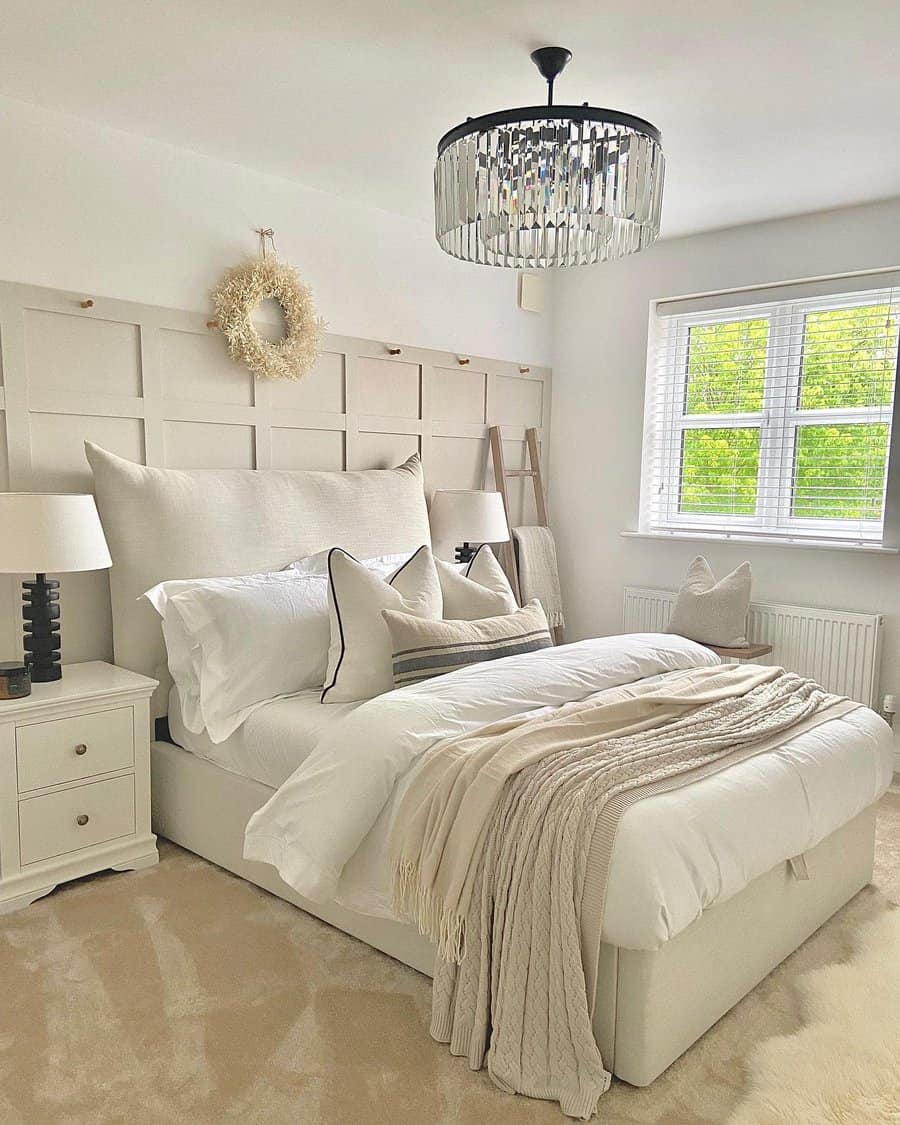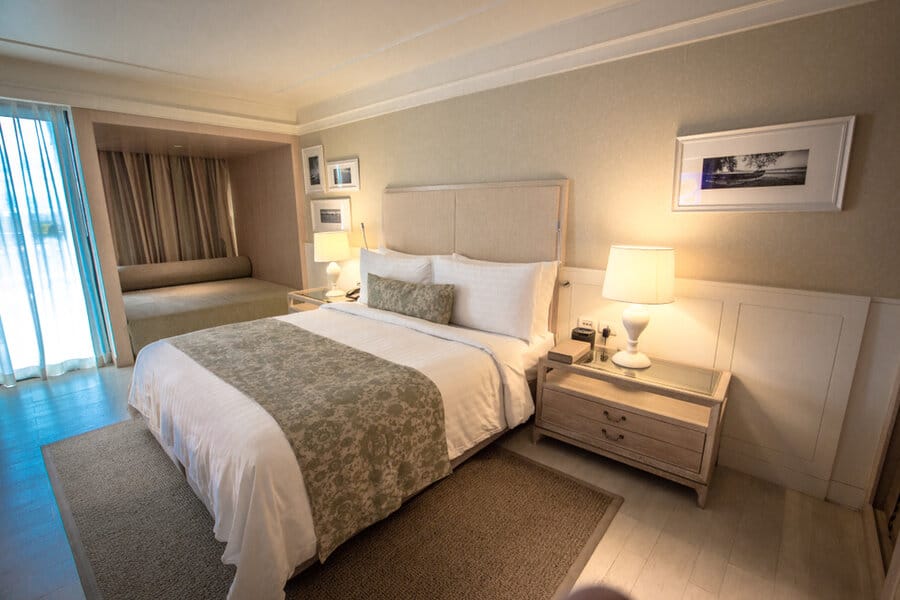 12. Clean White
When it comes to designing a bedroom color scheme, there are many options to choose from. One classic and timeless choice is clean white walls that reflect light in the room. You could also add a bright pop of color, such as salmon pink, soft mauve, or even a bold yellow, to give the bedroom a cheerful and inviting atmosphere.
A great way to introduce these colors into your bedroom décor is through bedding or accent pillows. If you want something muted, then pastel tones like peach and pale blues might be more suitable for your space. With its clean lines and minimal details, a neutral palette works just as nicely too – think hues of grey, taupe, and cream. No matter which color schemes you go for, make sure it makes you feel relaxed and comfortable!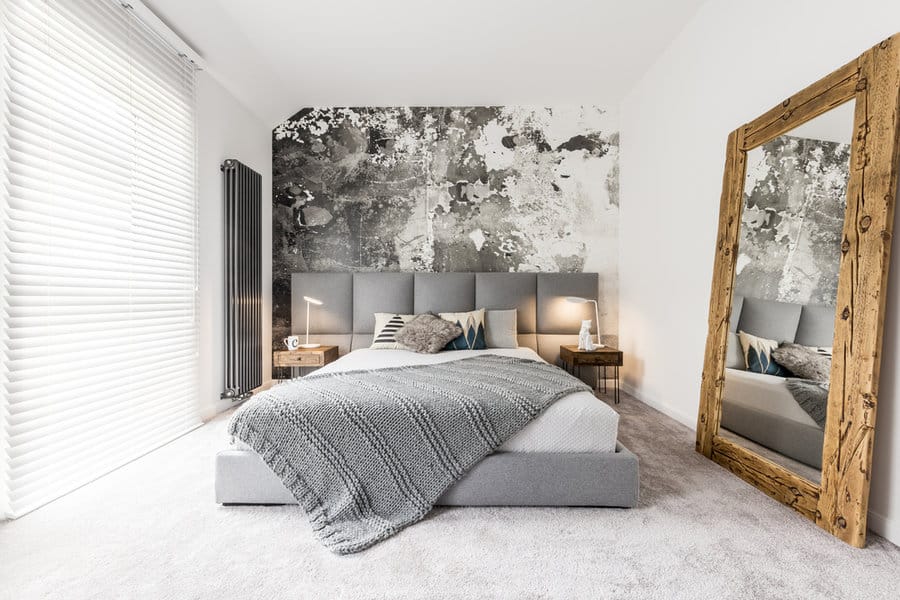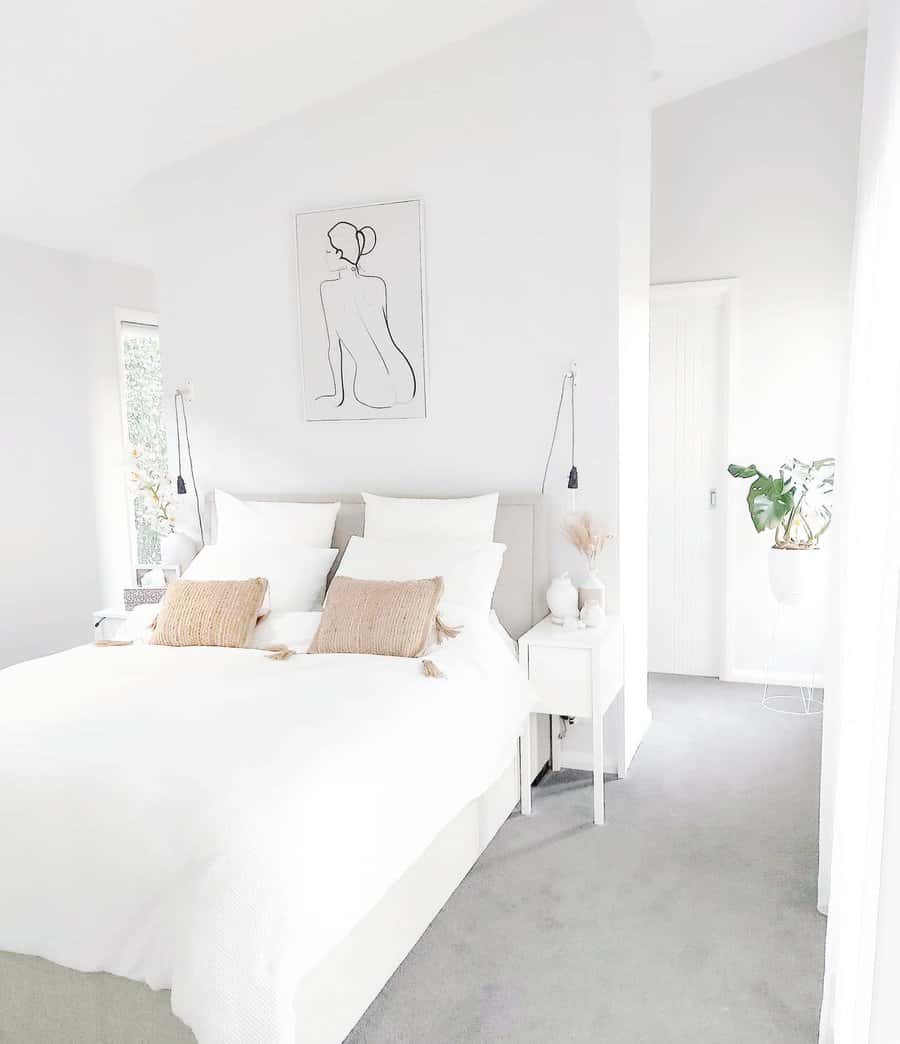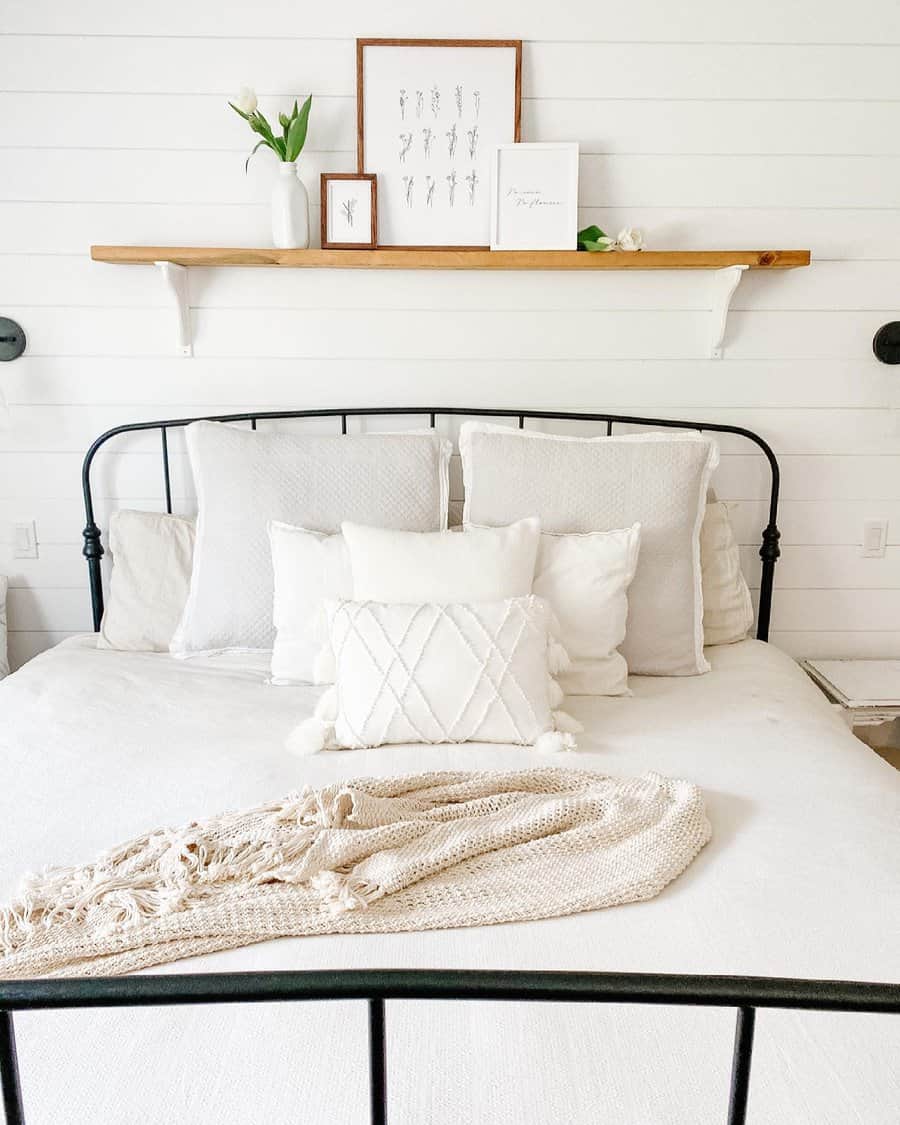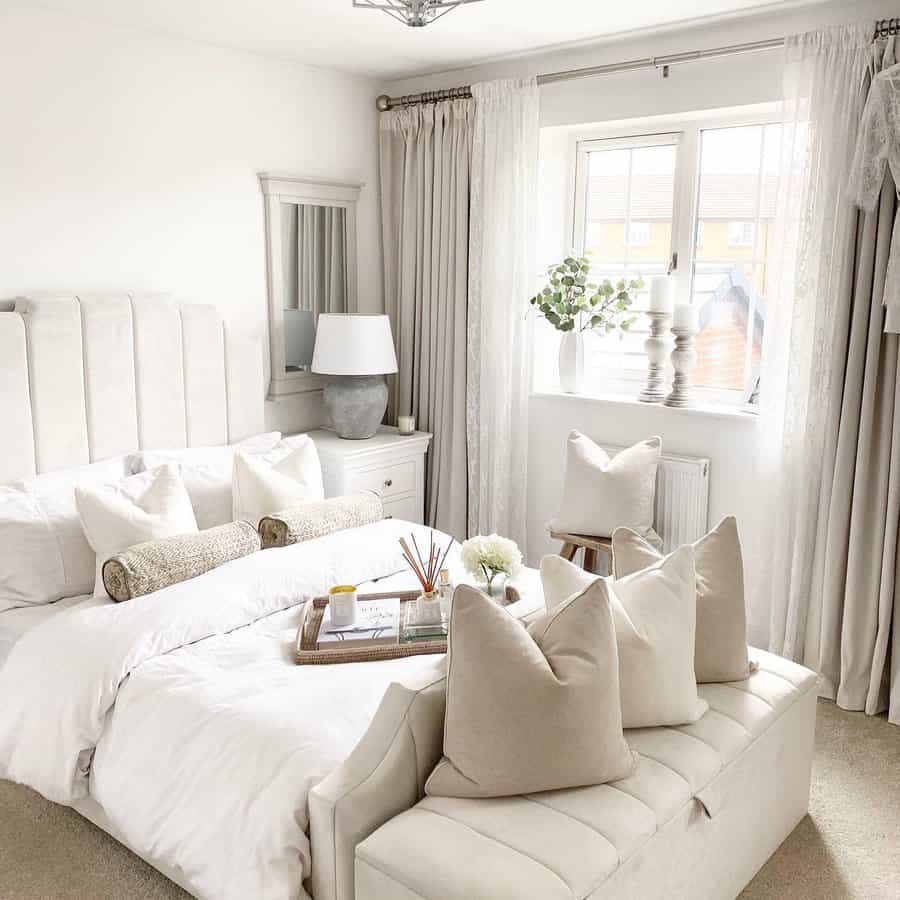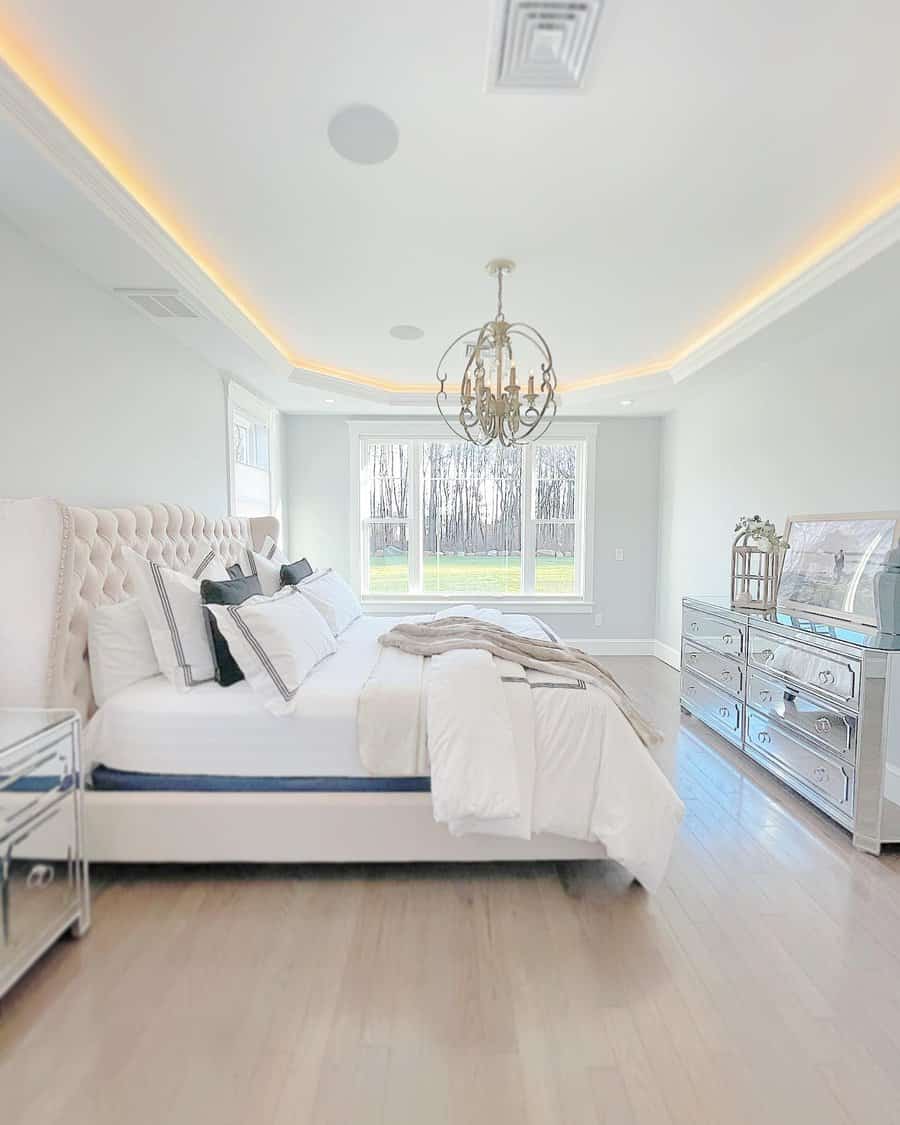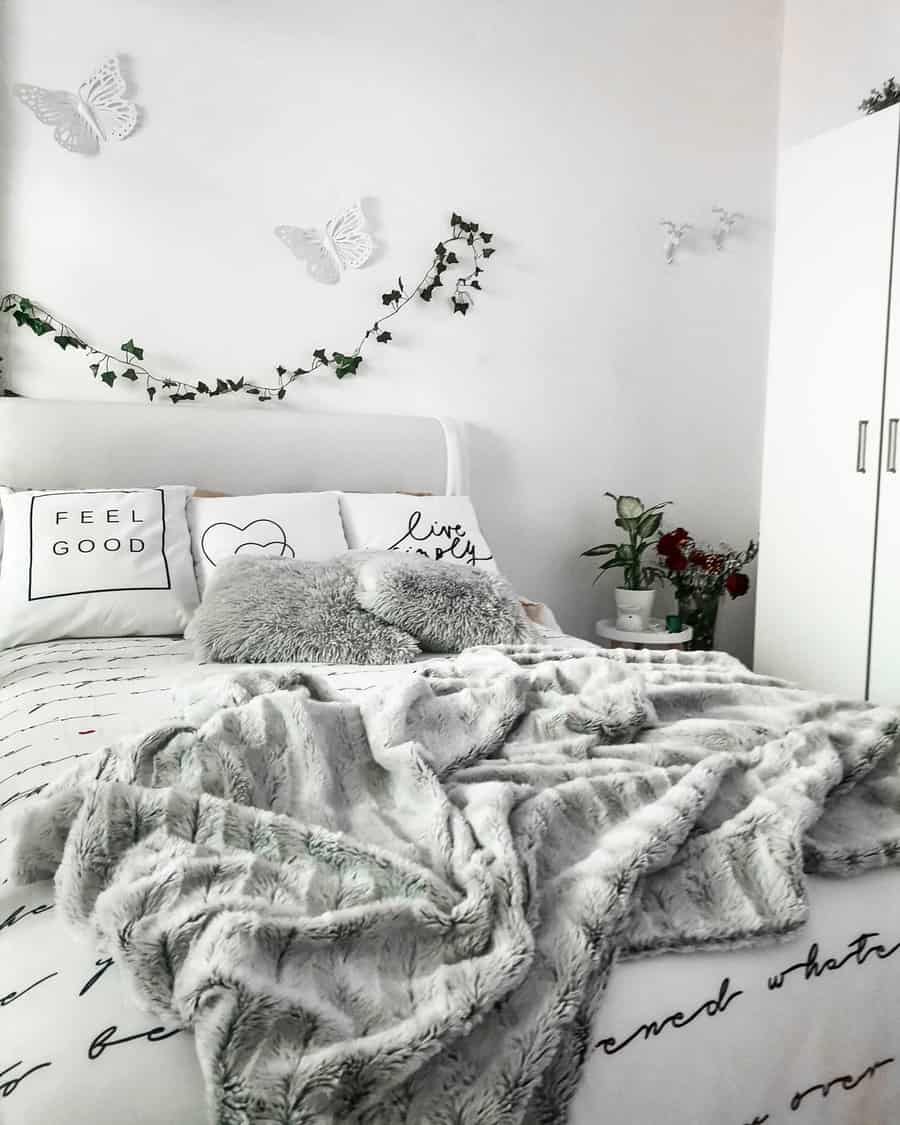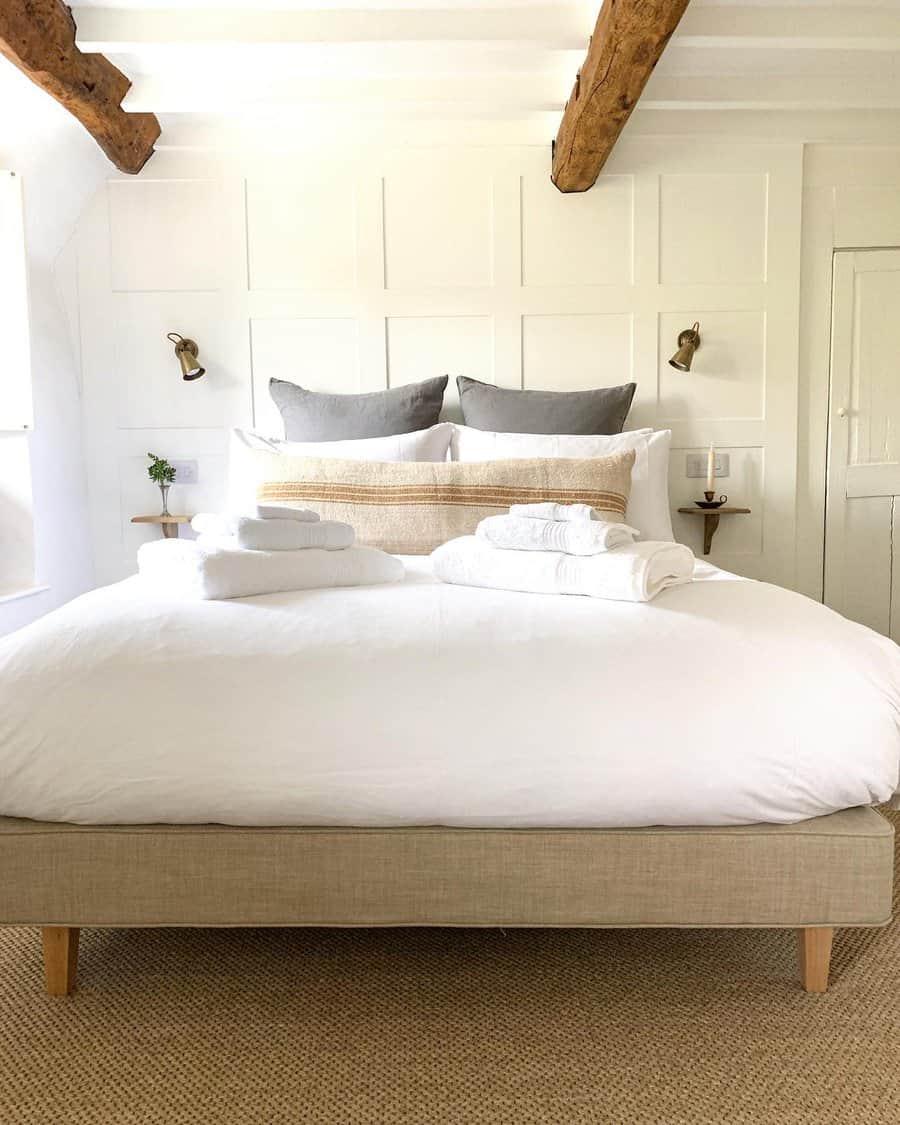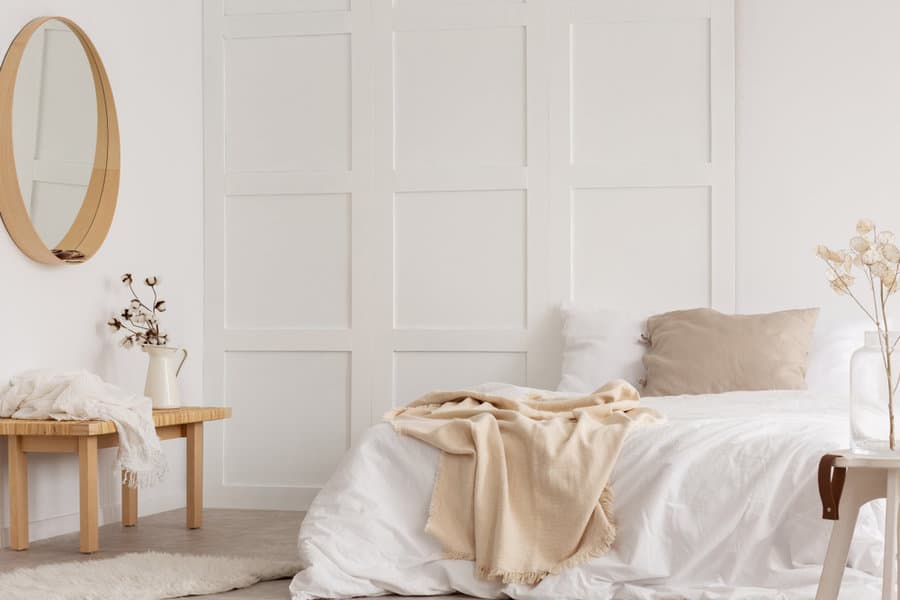 13. Exposed Brick Walls
Embrace exposed brick walls in your bedroom color scheme ideas to bring a unique element of texture and dynamism. For a cozy atmosphere, pair exposed brick with warm neutrals and organic materials, like wood, jute, and rattan. If you want something livelier, combine exposed brick with unique displays of art that embody your personal style.
Create bold drama by blending deep navy and jewel tones with exposed brick for a statement-making look. Opt for more monochromatic color palettes that employ varying shades of the same color (e.g., cool blues and grays) for an understated yet sophisticated air. Whichever direction you go, exposed brick adds the perfect rustic touch to elevate any bedroom space.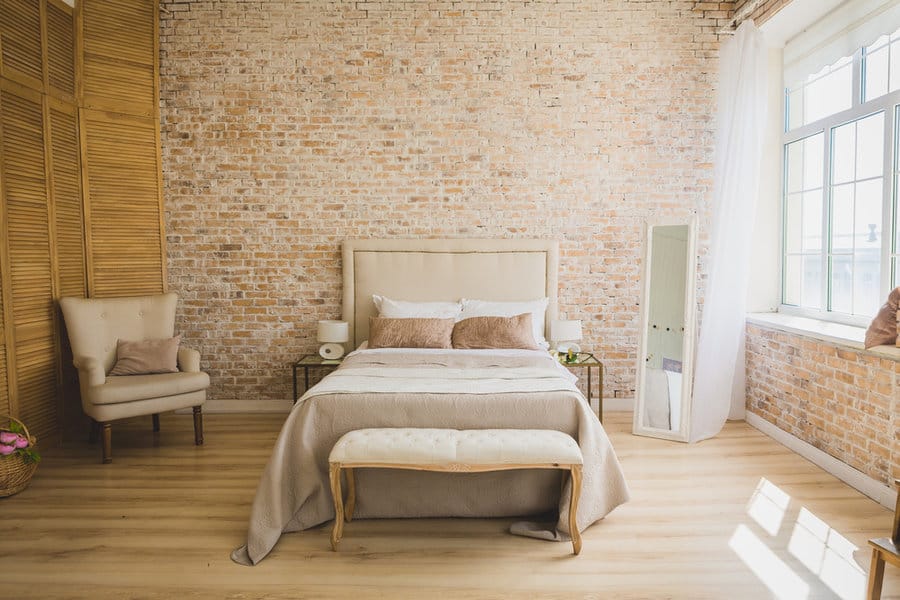 14. Sage Green
If you're looking to shake things up in your bedroom, sage green walls are a great way to start. You can use other earthy hues like warm beiges and terracotta as accents to complete the look. Or, if you prefer a more airy feeling, try keeping the sage green soft and muted by pairing it with blush and pale blue accents for a beautiful yet subtle look.
If you want something a bit more modern, mix sage green with icy blues and cool grays! No matter how you go about it, sage green is sure to bring new life into your bedroom creating an entirely different space for you to relax in.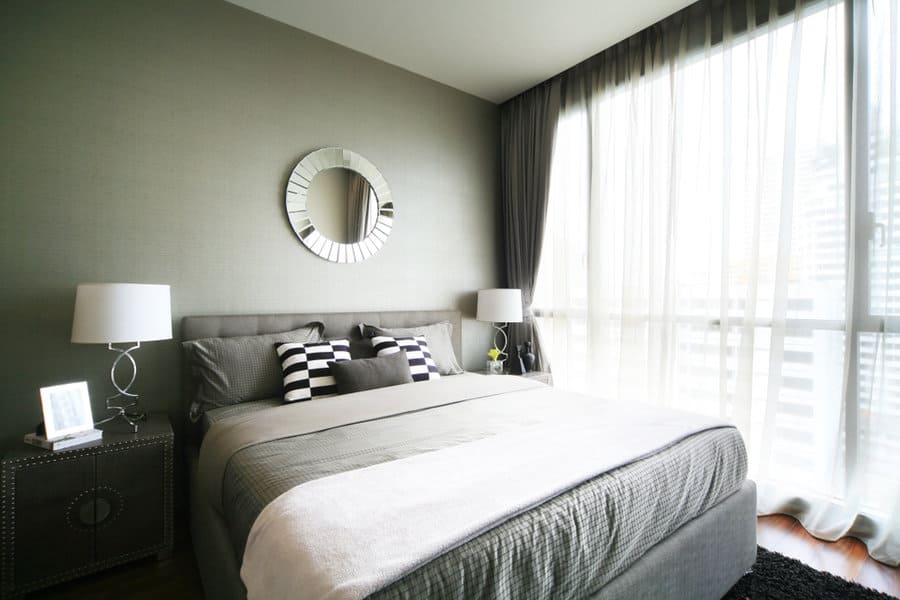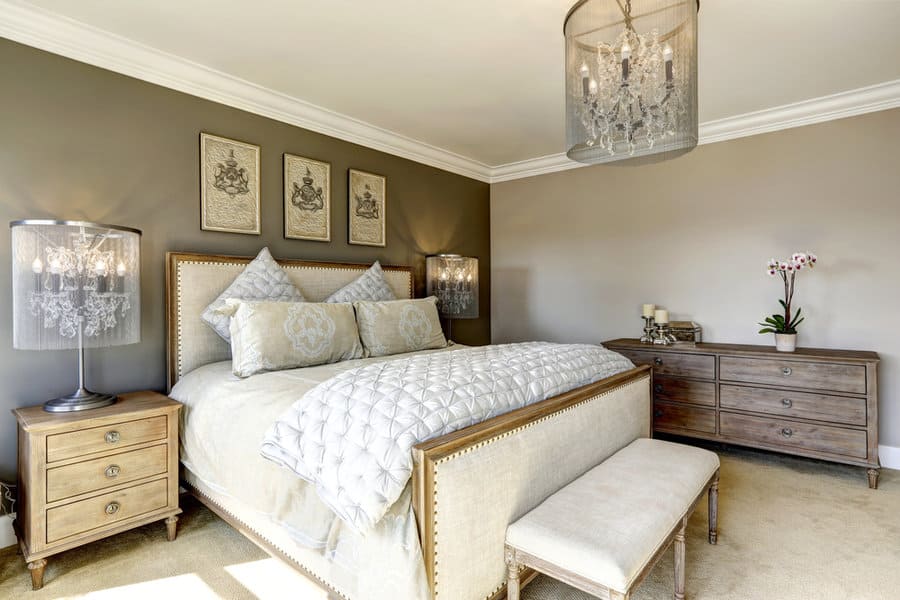 15. Light Grey
When creating the perfect bedroom color scheme, light grey walls can create a calming and serene atmosphere. To add contrast and warm up the room, consider adding wood as an accent. Whether it's a light-colored wooden bedframe or a light-colored dresser, you'll love how it brings texture and character to the space.
For extra flair, incorporate splashes of bright colors in small doses, like light pink pillows or a single teal nightstand. With this light grey plus wood contrast color combination, it won't be long before you have a cozy and inviting sleeping oasis.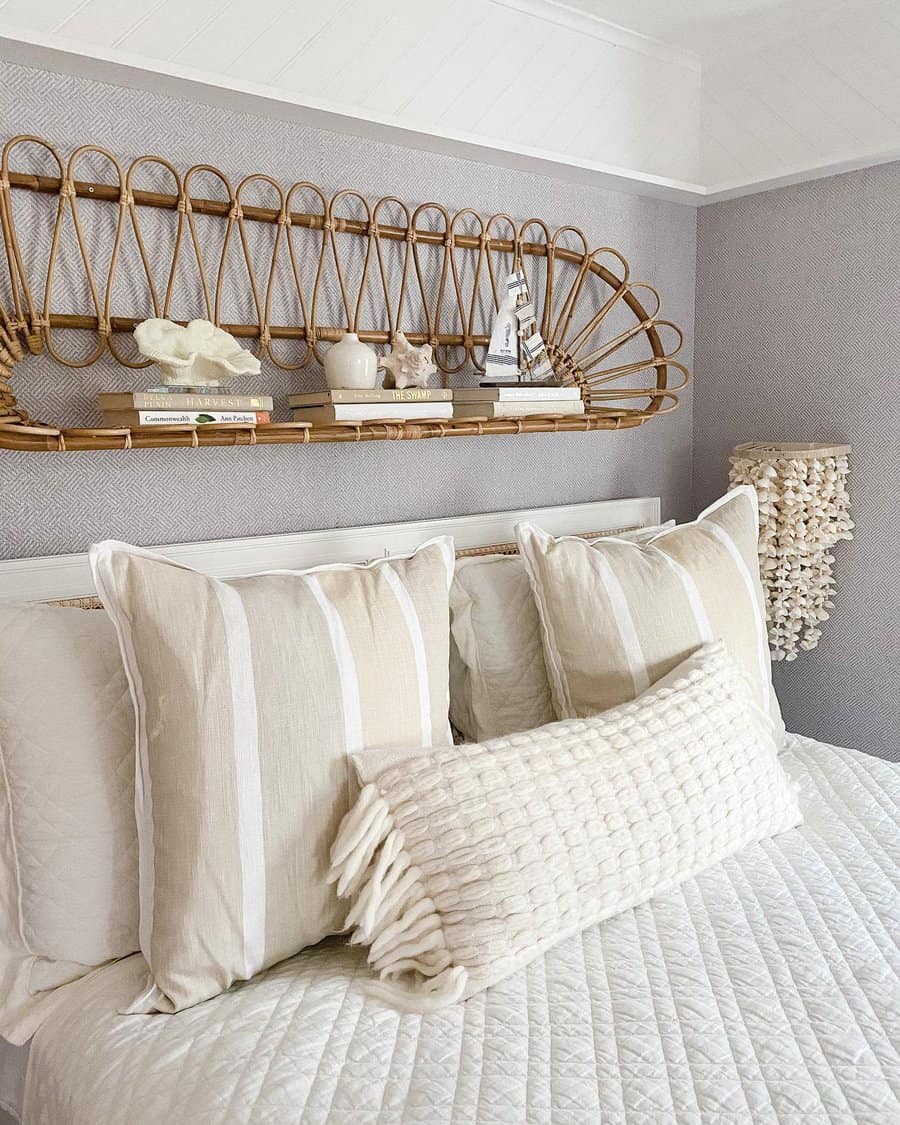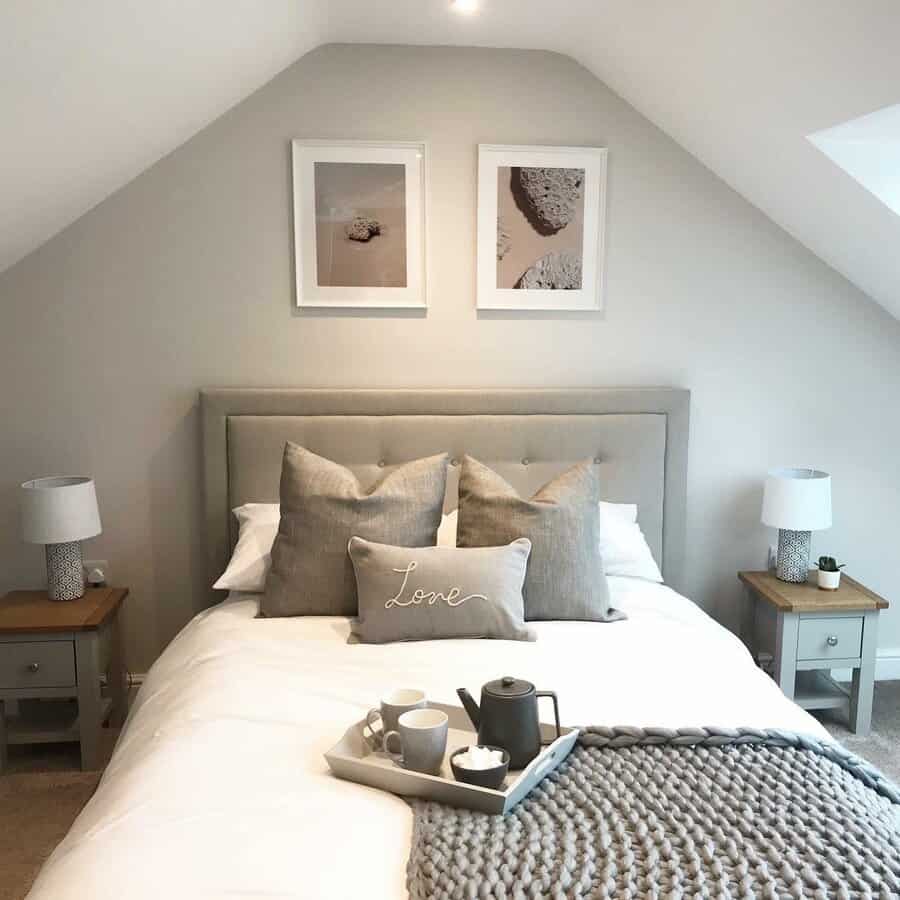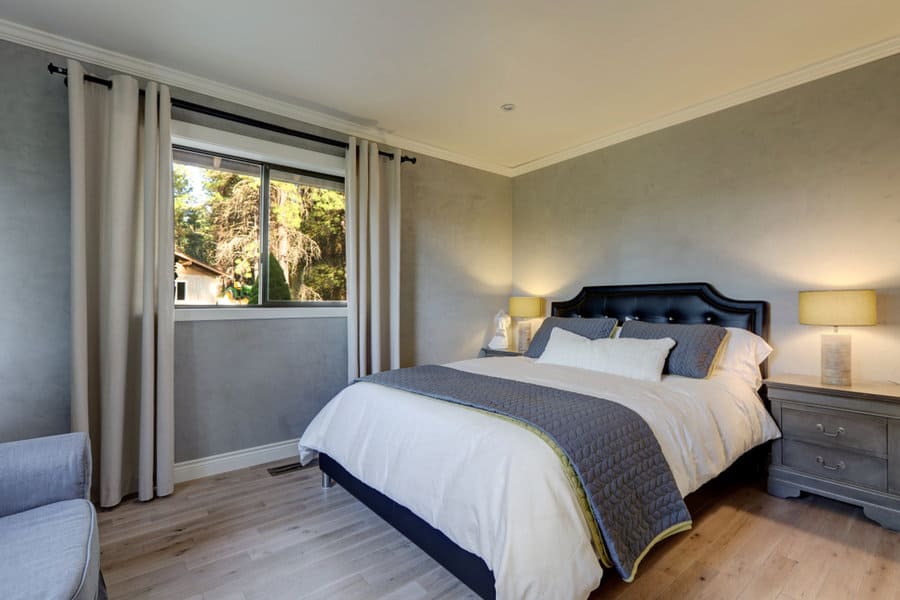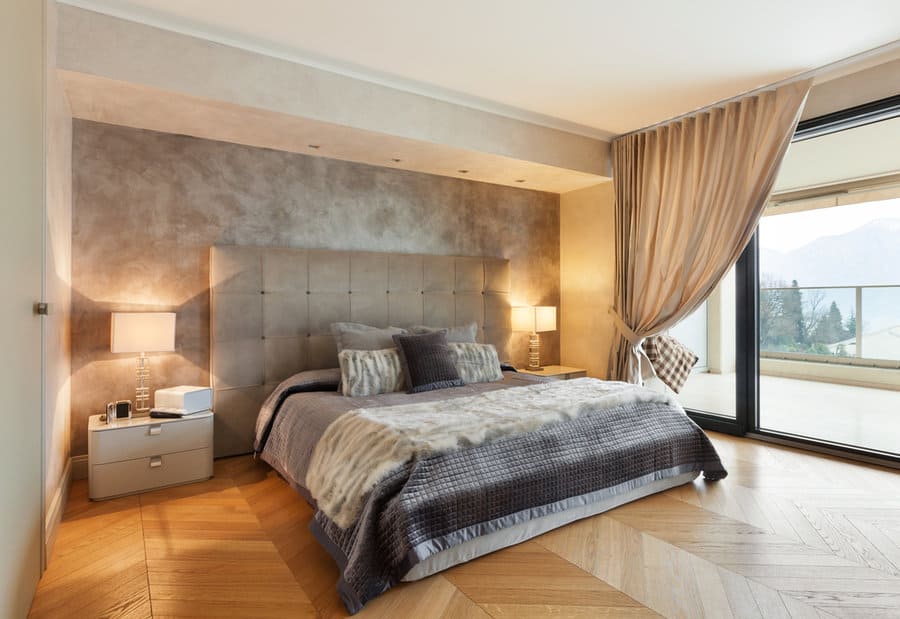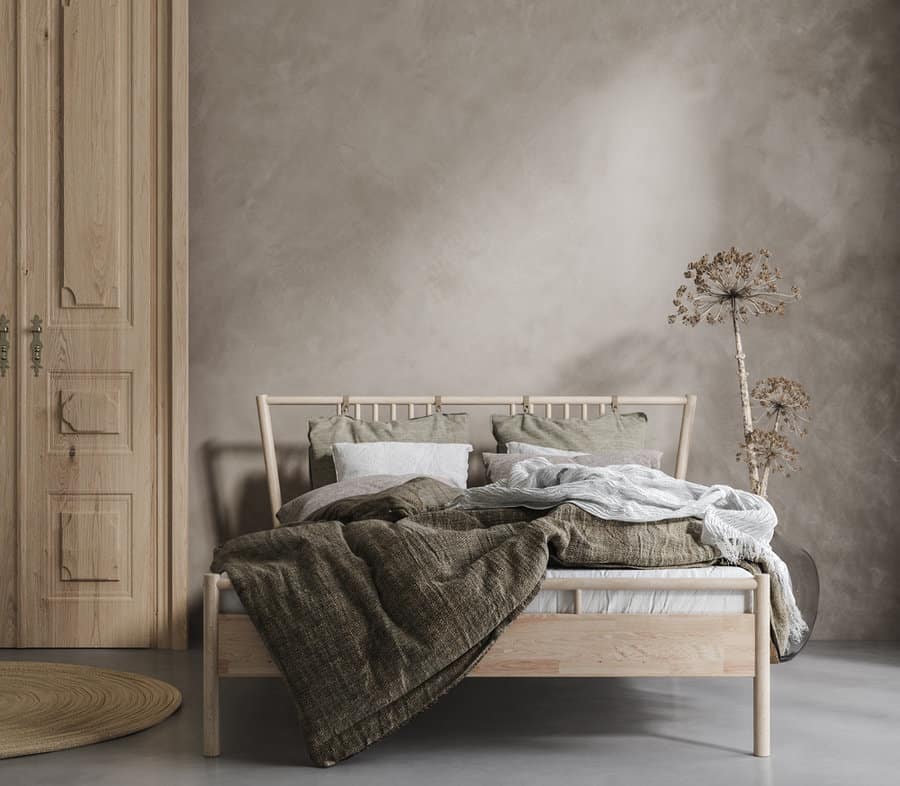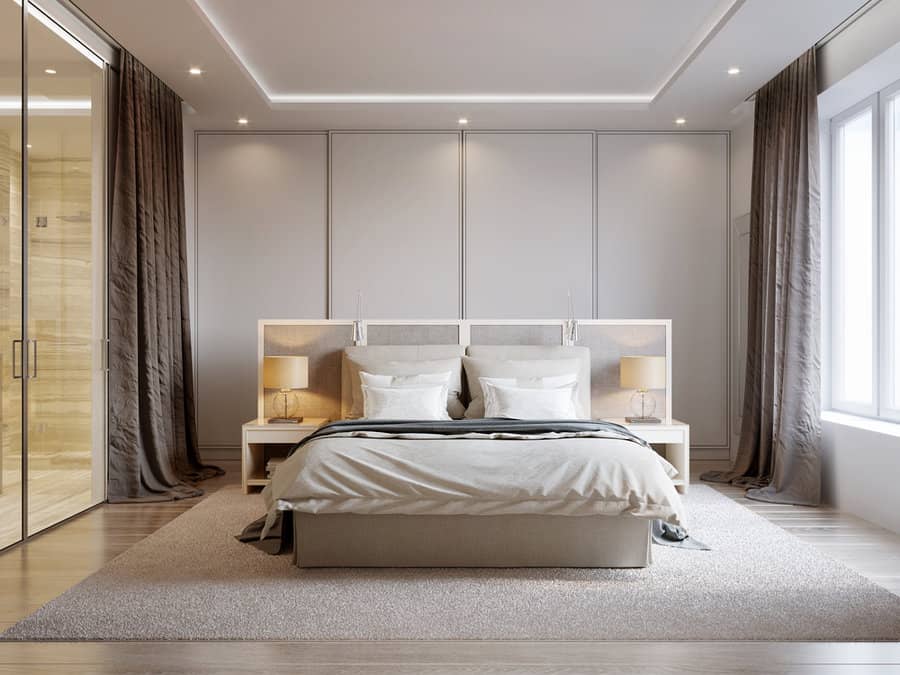 16. Blush Pink
When decorating your bedroom, why not consider blush pink walls for a feminine touch? Not only is blush pink a timeless color in interior design, but it creates a pleasant ambiance and opens up the space.
Neutrals such as blush pink pair well with white furniture, allowing you to easily accessorize with bold colors and patterns if desired. Or embrace blush pink even further by adding in blush pink textiles—bedding, rugs, or curtains!
Add in some brass accents or dark wood to complete the look. With blush pink walls you will be sure to have an inviting yet sophisticated bedroom that's hard to resist!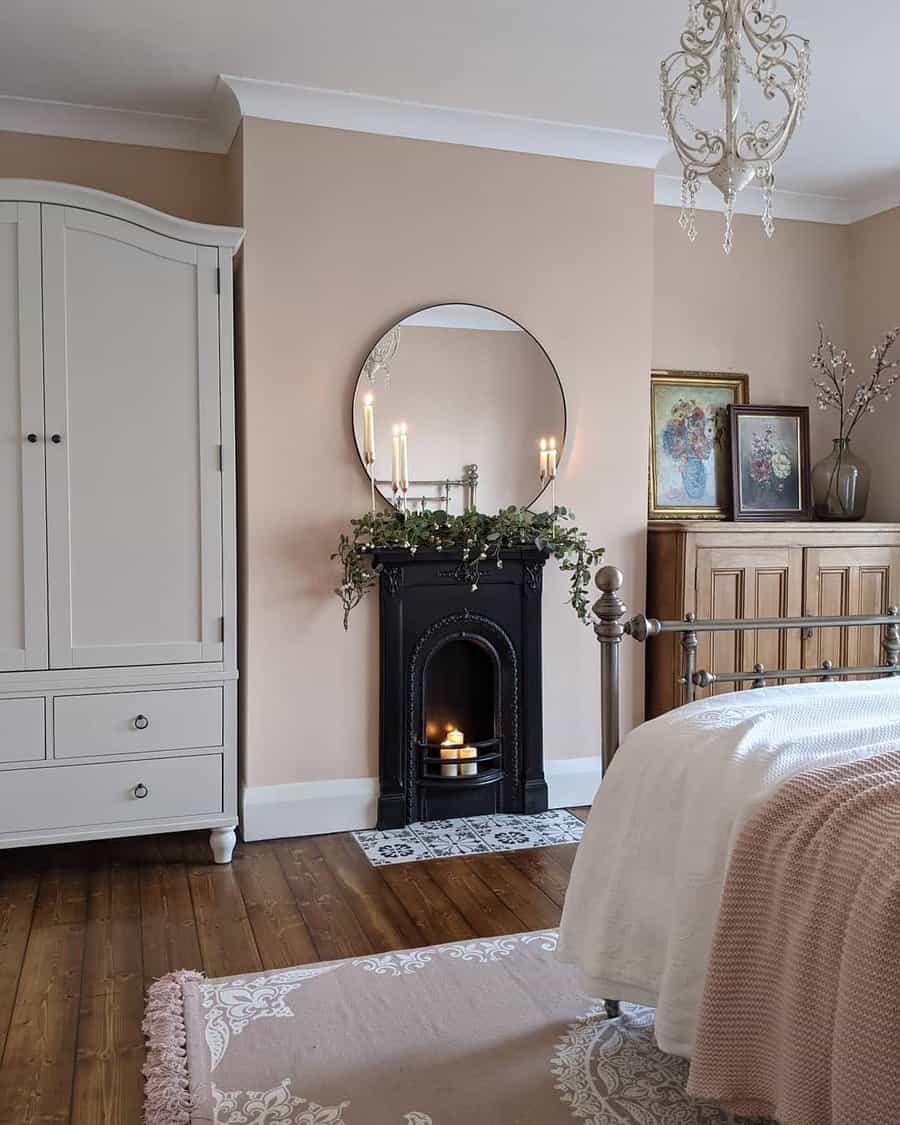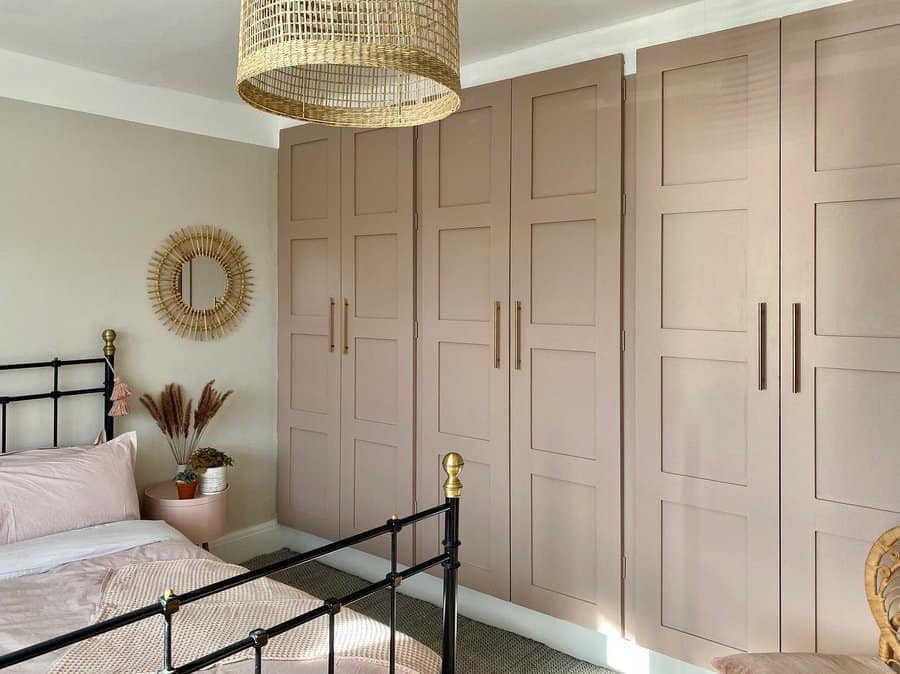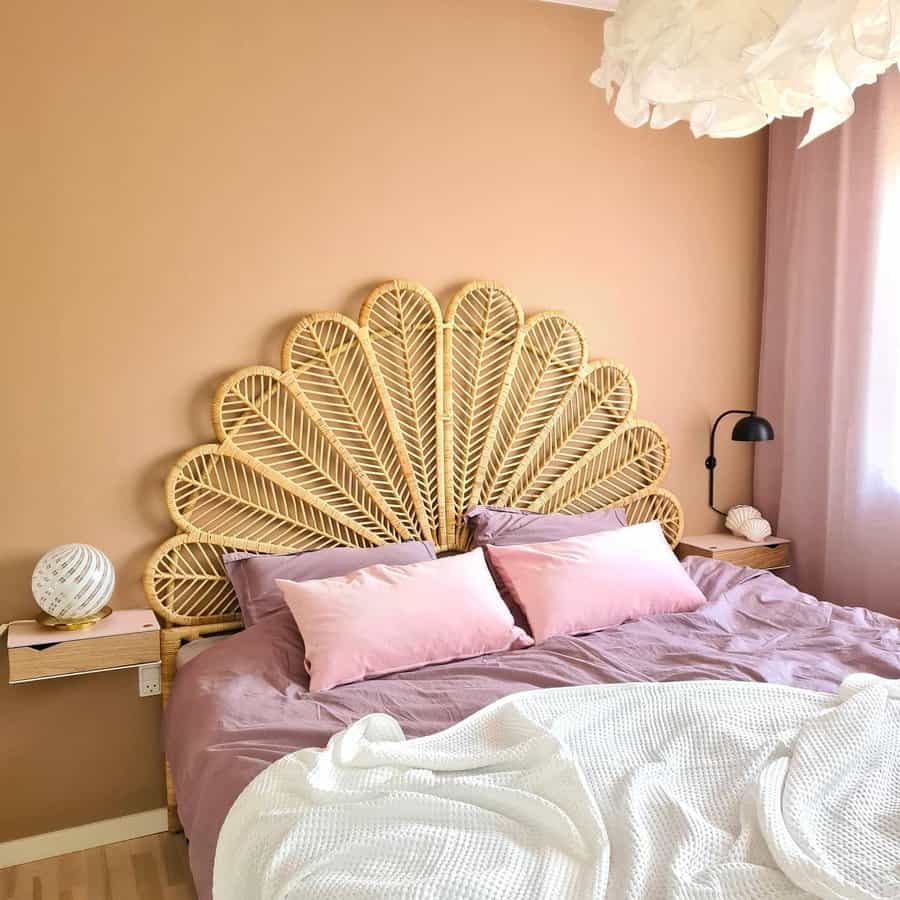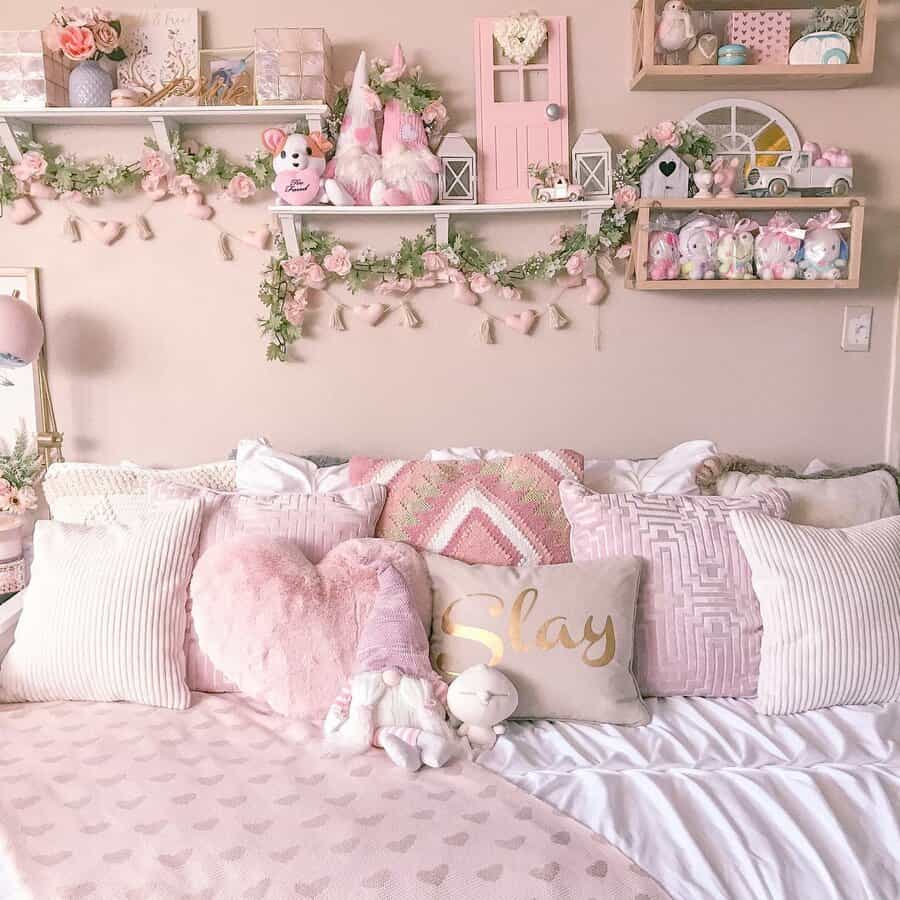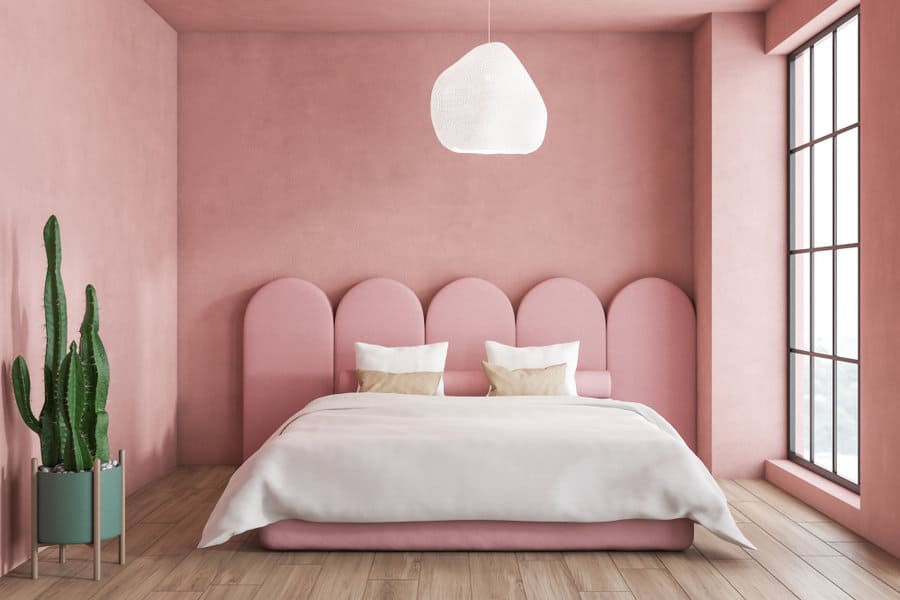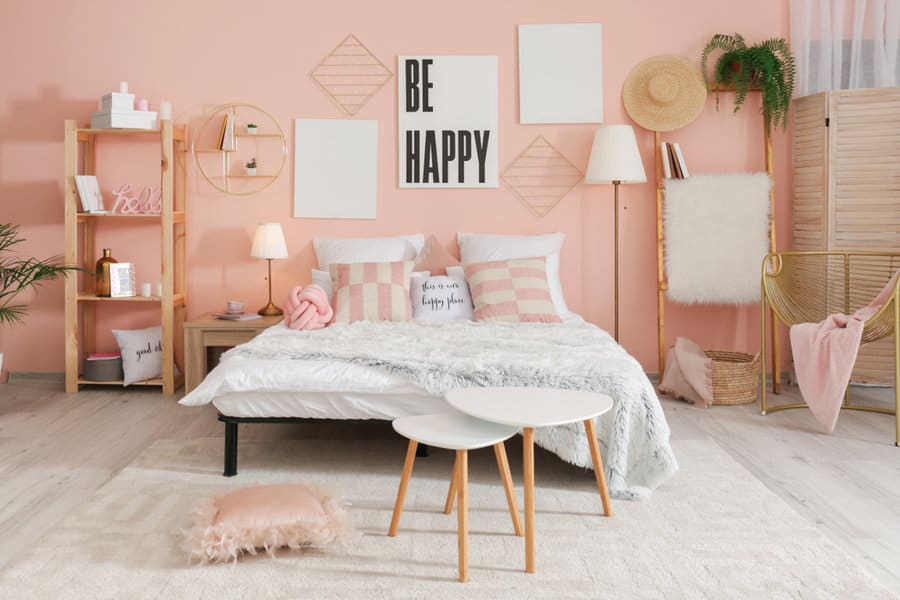 Bedroom Color FAQs
Can I paint my bedroom a dark color?
It's a generally-held belief that dark colors make rooms look smaller. While this can be true, a dark color on your bedroom walls can actually make the room feel larger by disguising the lines that delineate corners and boundaries. If you prefer dramatic bedroom decor, a dark shade of blue, green, red, or grey might be one of the best bedroom paint colors for you.
What are the properties associated with other common colors?
The ways that blue, brown, pink, black, and white influence your psyche have been discussed above. Here are a few other common hues on the color wheel and the feelings they can inspire:
Red:

Is a passionate, exciting, stimulating color.

Orange:

An intense color that is invigorating and warm.

Yellow:

Is sunny and cheerful, reminiscent of summertime.

Green:

A quiet, soothing color that gives off harmonious vibes.

Purple: Has long symbolized royalty, elegance, strength and wisdom.