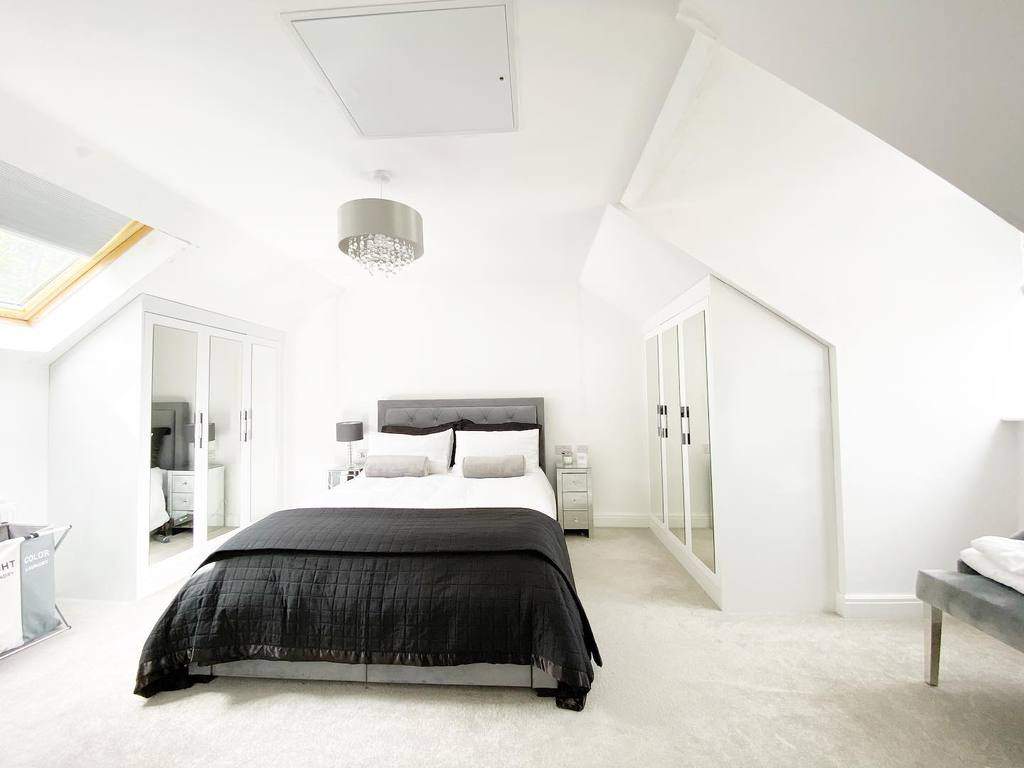 79 Bedroom Color Scheme Ideas and Designs
by — Kari Apted

Published on March 29, 2022

Updated on October 6, 2023
The best bedroom paint color is the one that makes you feel good when you're relaxing in your treasured space. However, color theory dictates that certain hues do a better job of creating a restful environment.
Since color has the power to affect our moods, it's important to choose a bedroom color scheme that calms your mind. You're bound to find the perfect one in our collection of over 70 top bedroom color scheme ideas.
1. Bold Bedroom Accent Wall Ideas
When exploring bedroom color schemes, aim for a tranquil yet expressive ambiance. A fantastic approach is to dedicate one wall as your standout feature, adding character and style to the room.
Choose a hue that harmonizes with your bedding and reflects your personal taste—think calming blues, subtle pinks, or warm, earthy yellows. This chosen color, combined with your other design choices, can breathe life into an otherwise mundane bedroom.
For an added layer of intrigue, contemplate textured wallpaper with accents such as exposed brick or wood paneling, which beautifully complement the colored walls and infuse the space with texture and depth.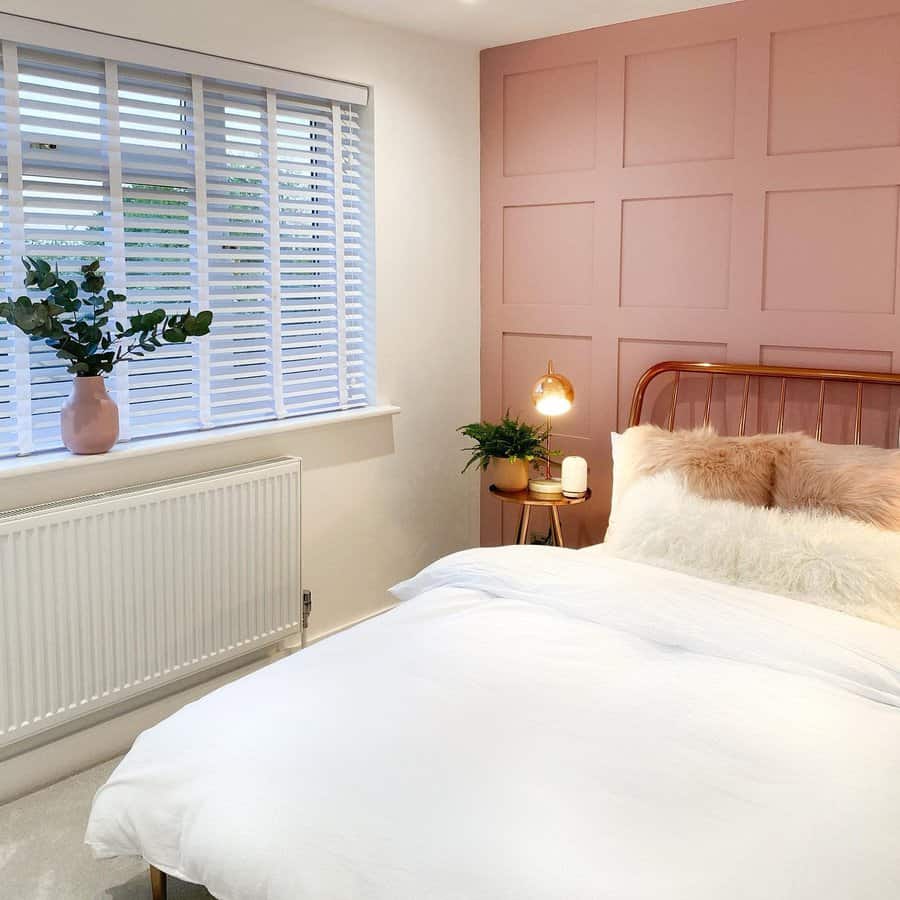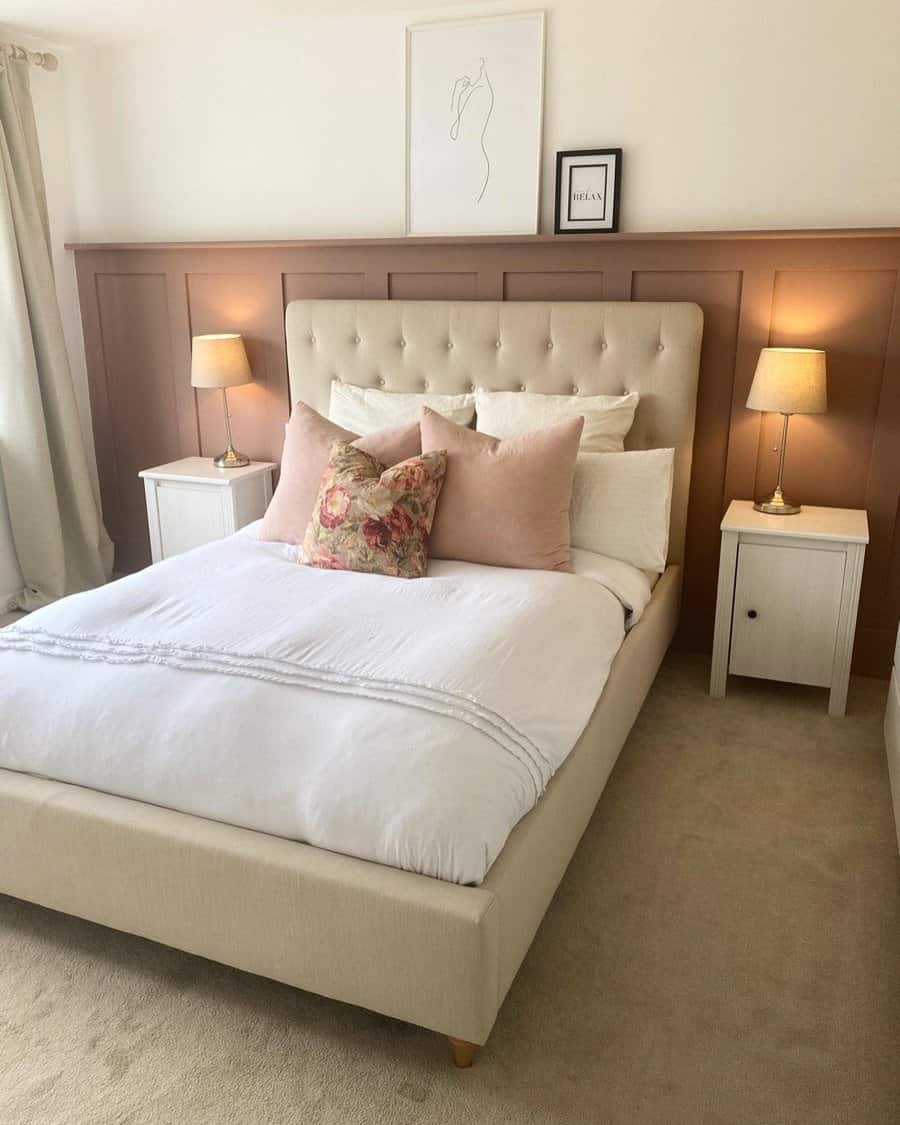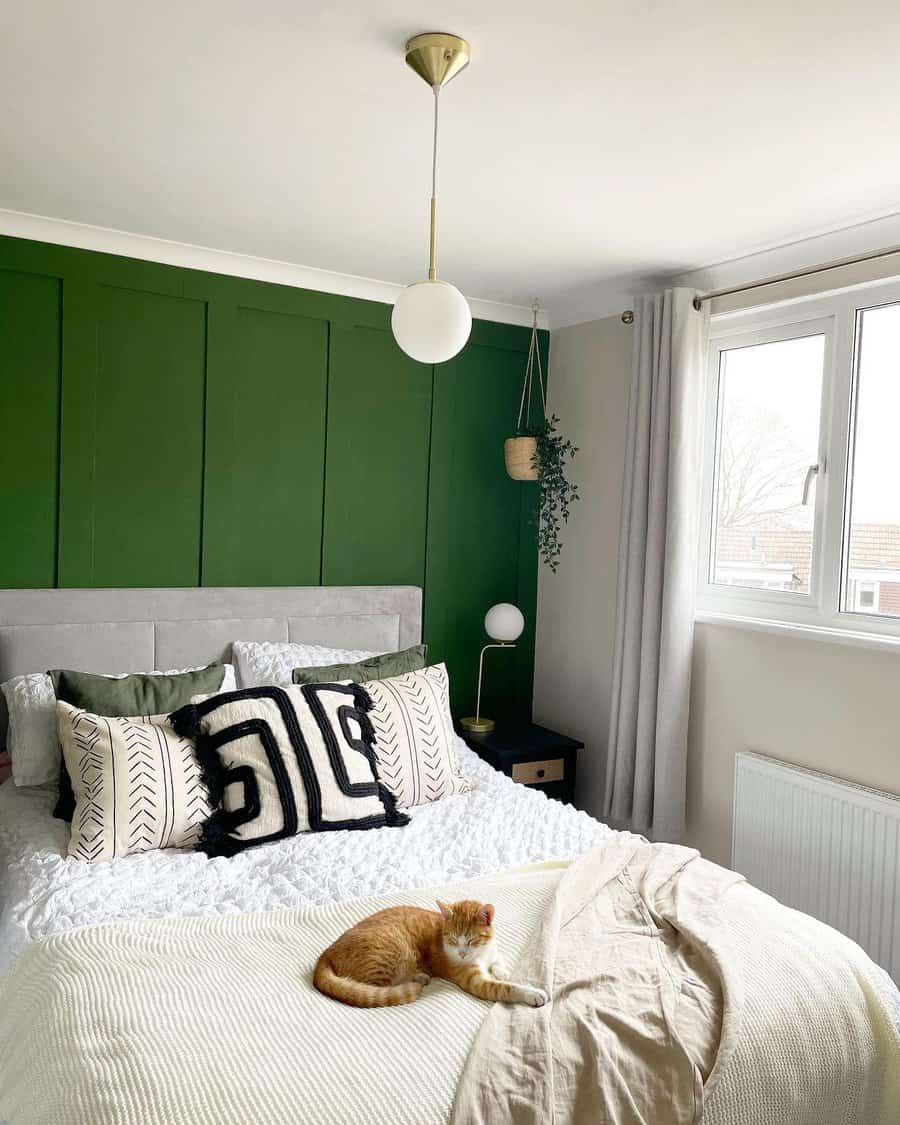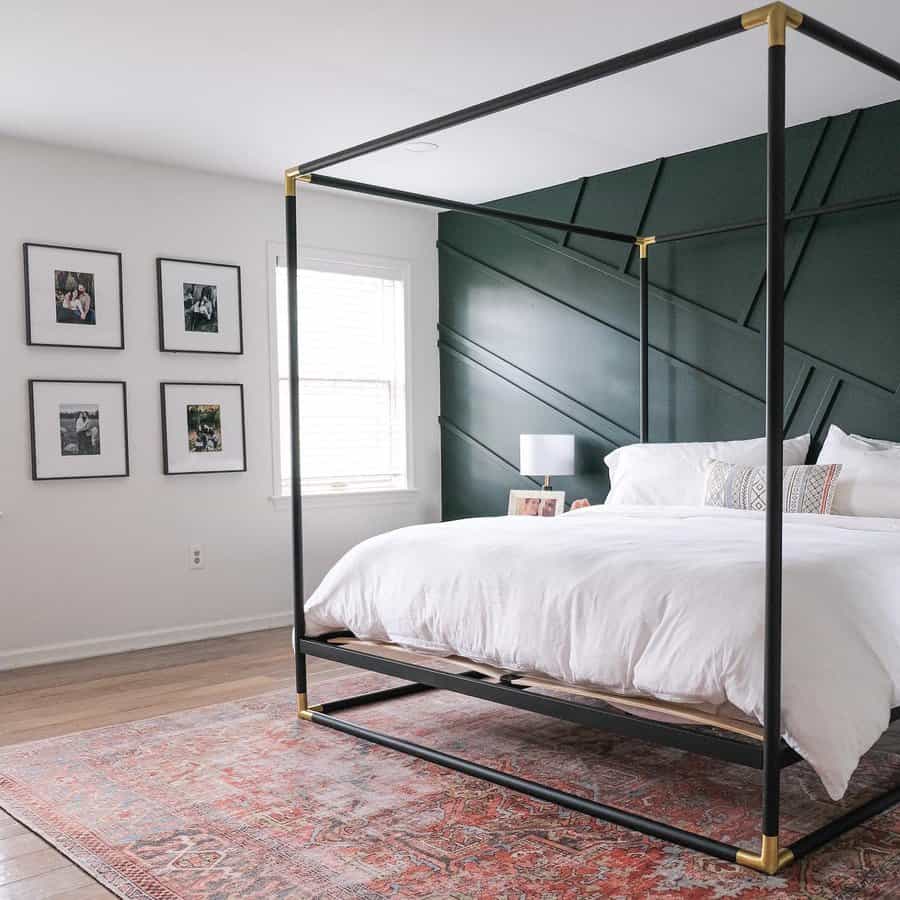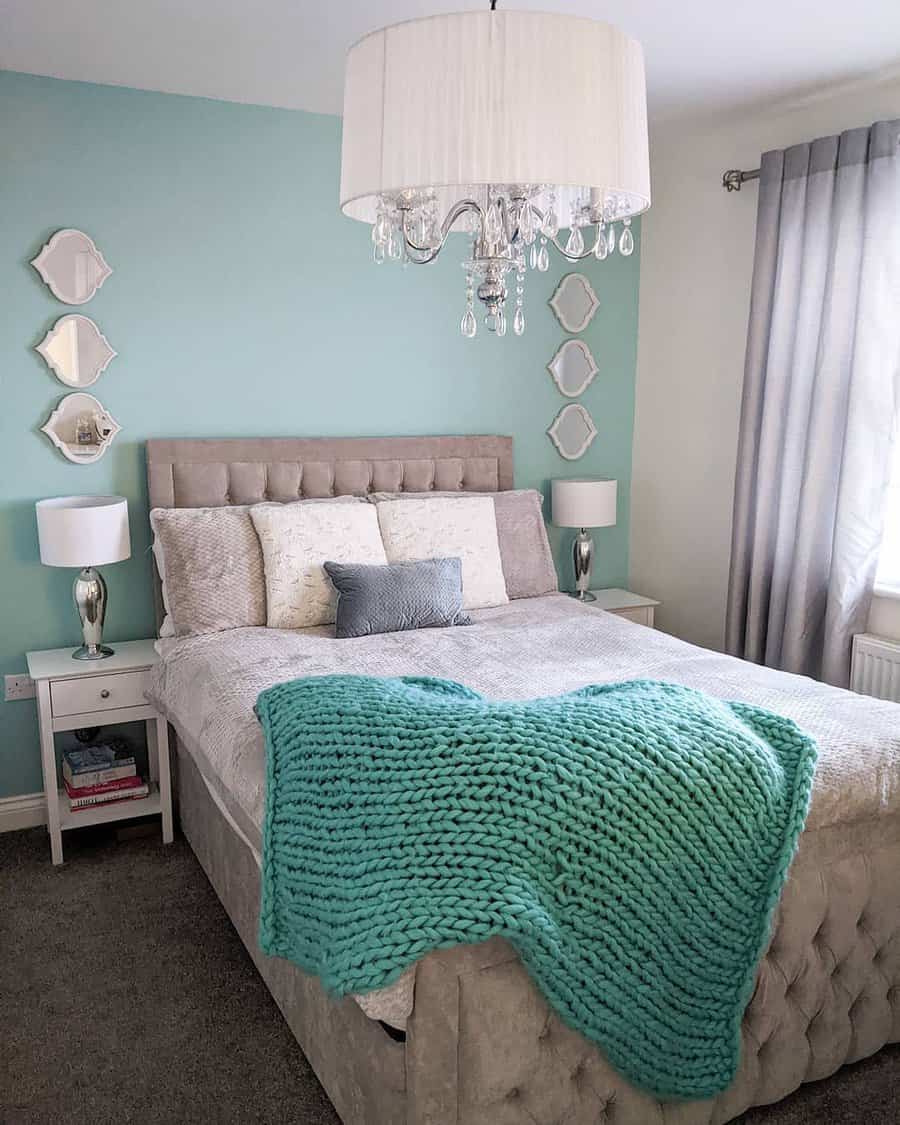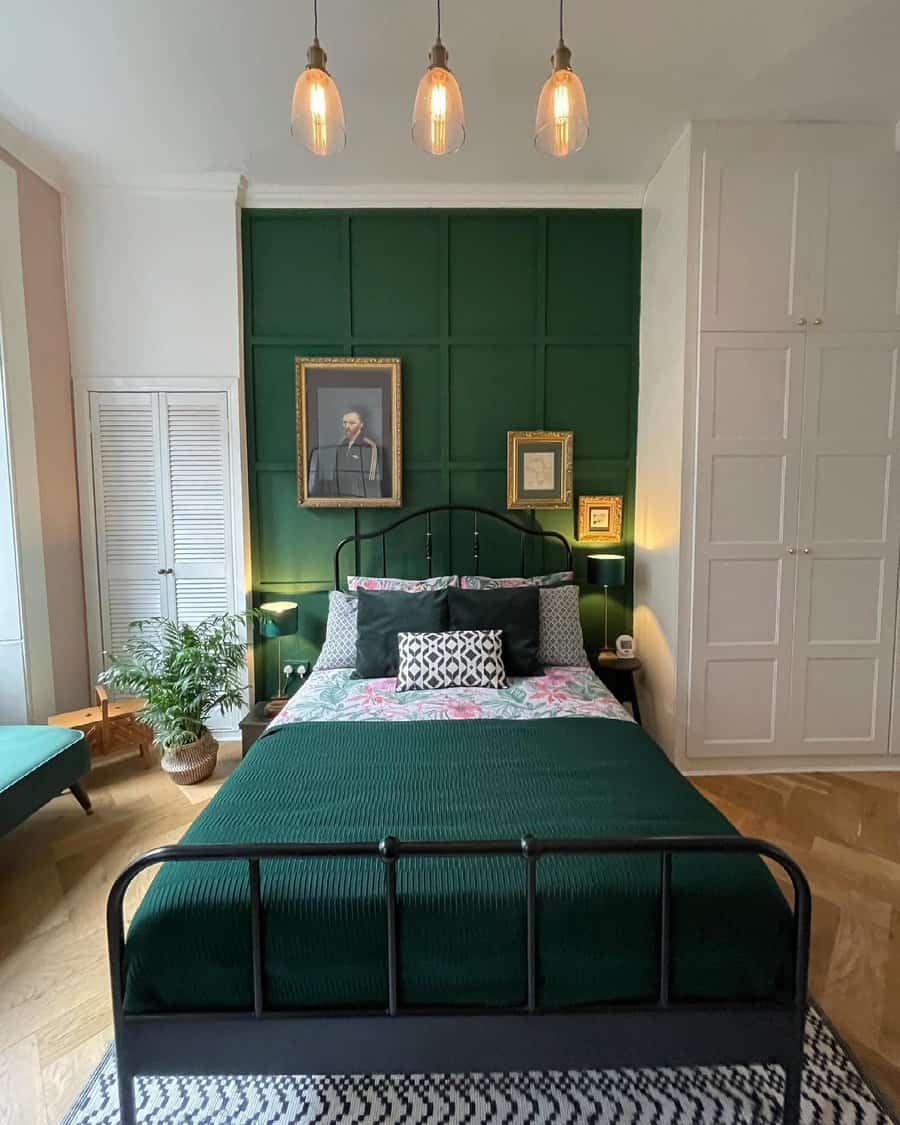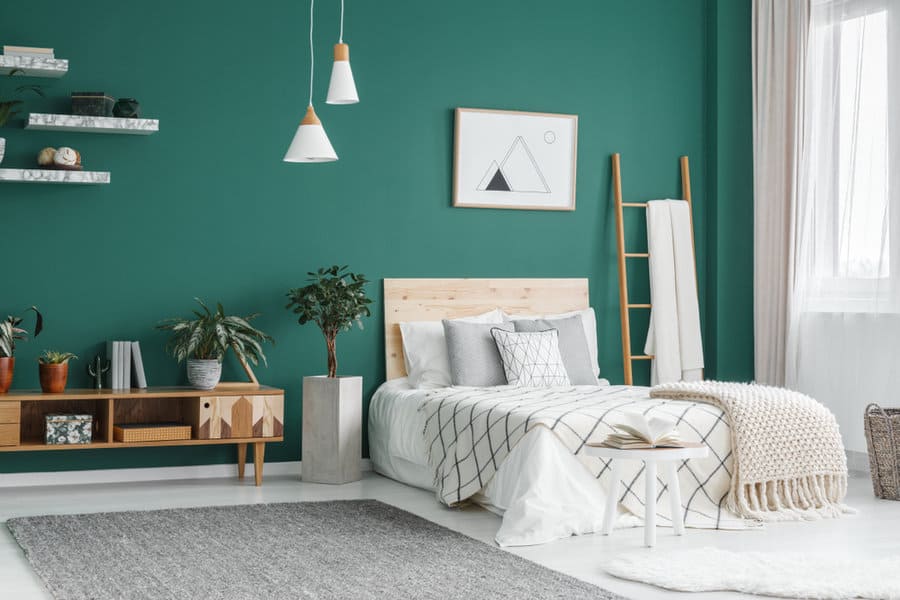 2. Elegant Monochrome Bedroom Designs
Achieving an elegant monochrome bedroom design involves embracing timeless sophistication. Start by painting all four walls in a classic black and white checks or stripes pattern. Complement this with black furniture like a bed frame, dresser, and nightstand, adorned with minimalist black and white accents.
This chic color scheme stands the test of time and can be elevated with strategic pops of color through elements like pillows, rugs, or artwork. When crafting your bedroom's color palette, ensure it resonates with your personality to create your ideal sanctuary.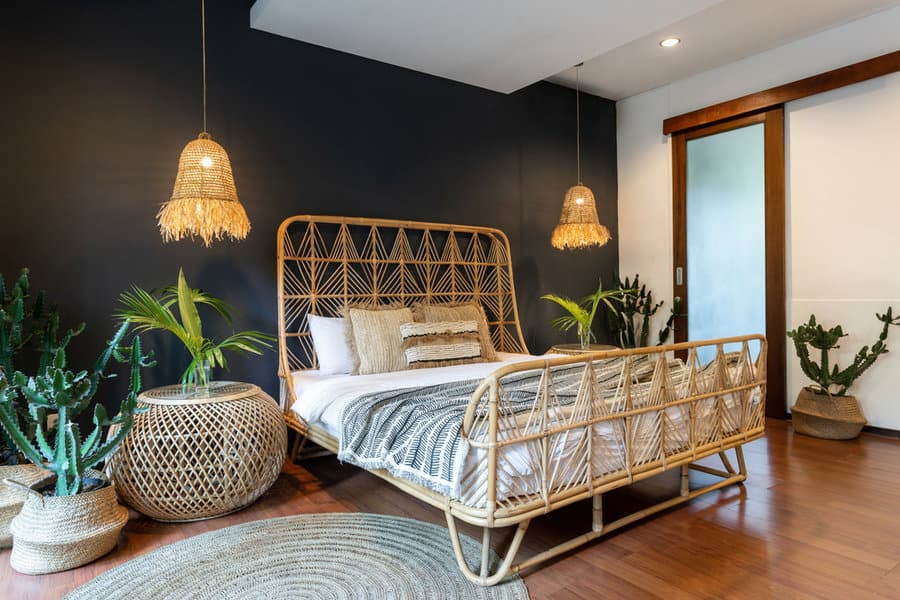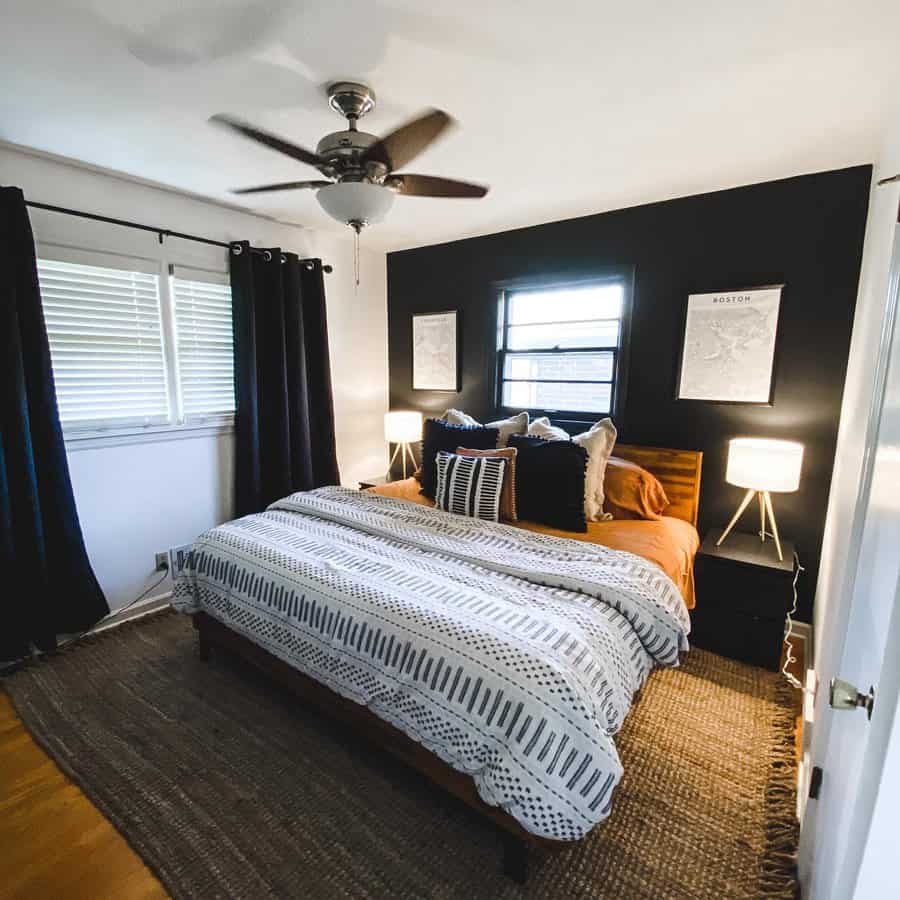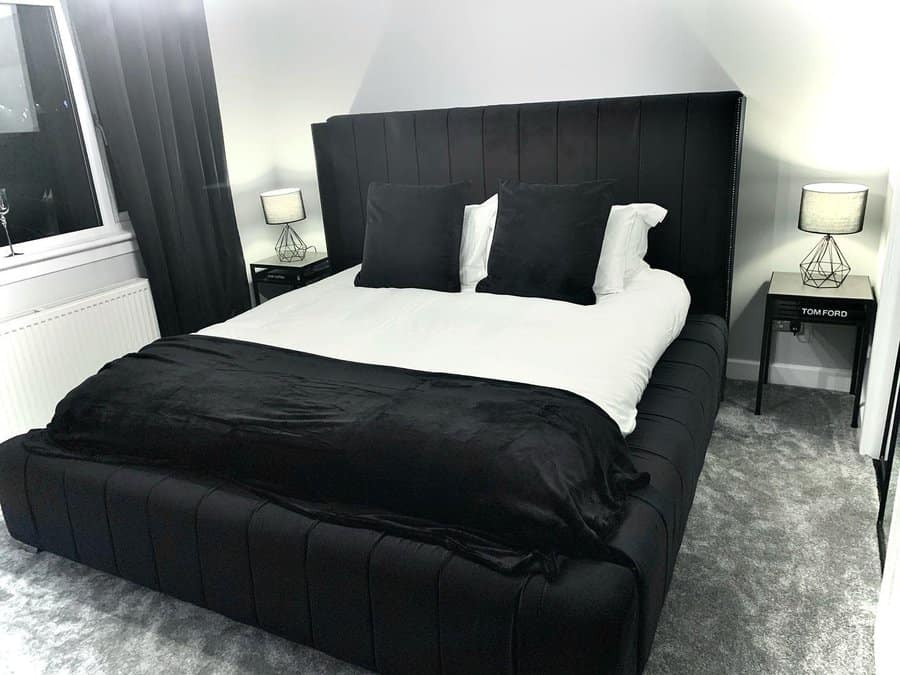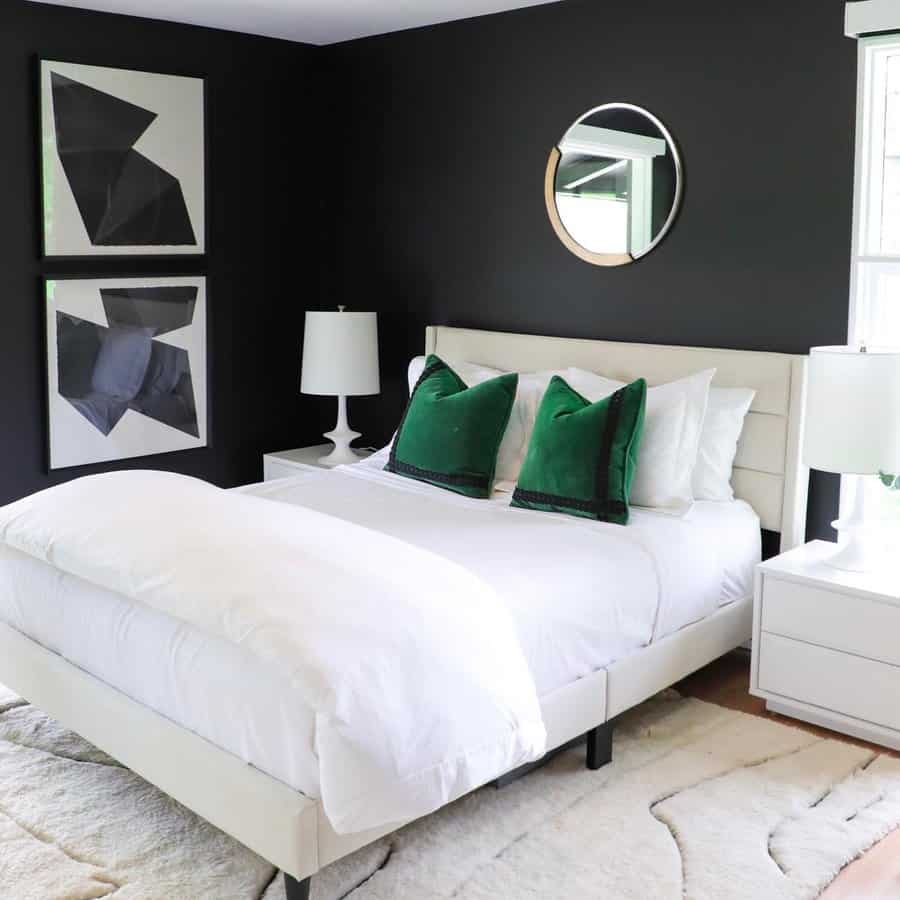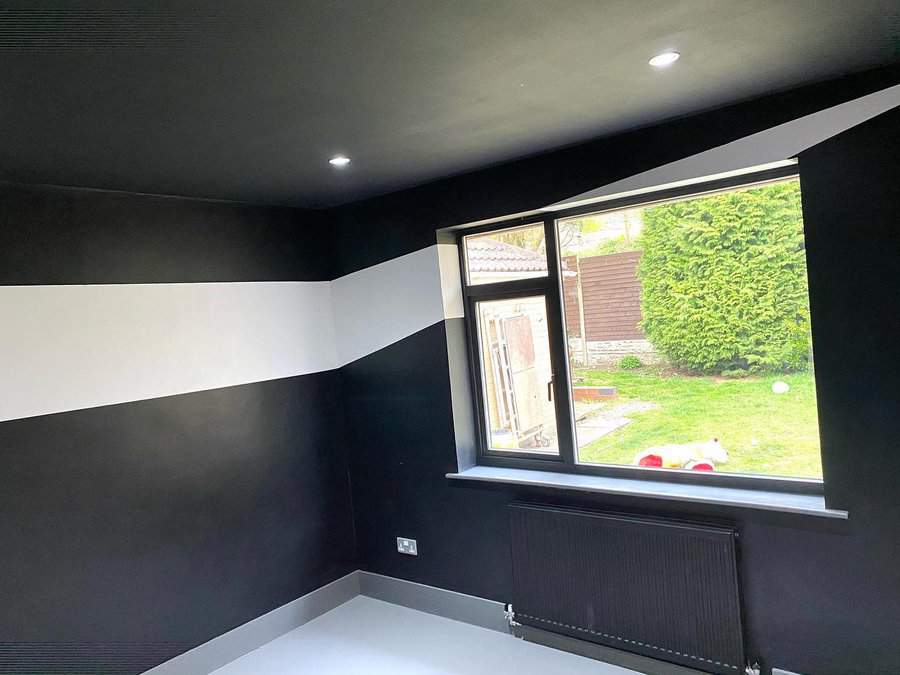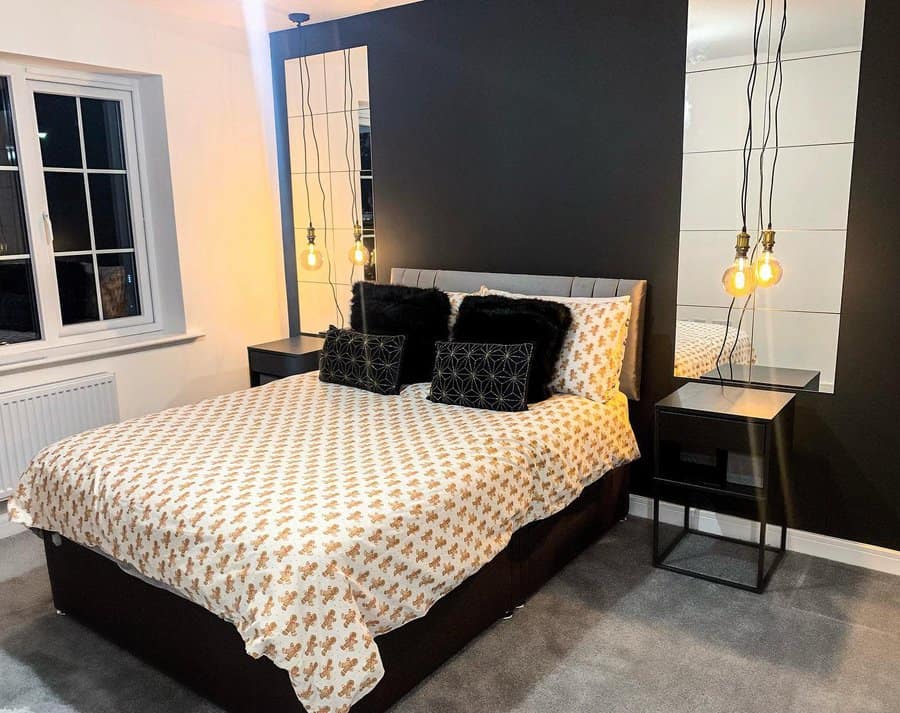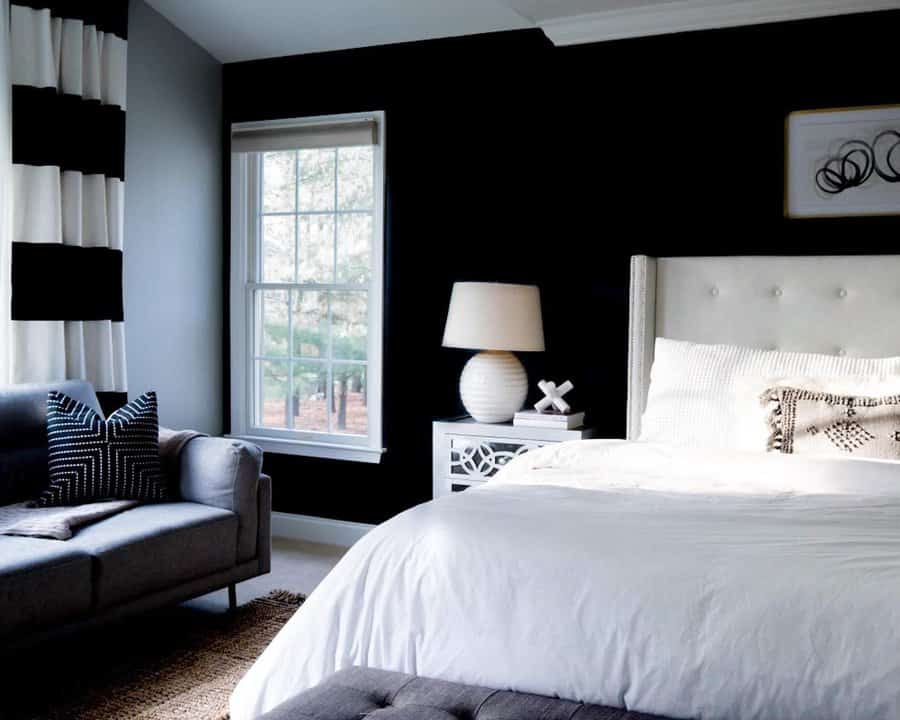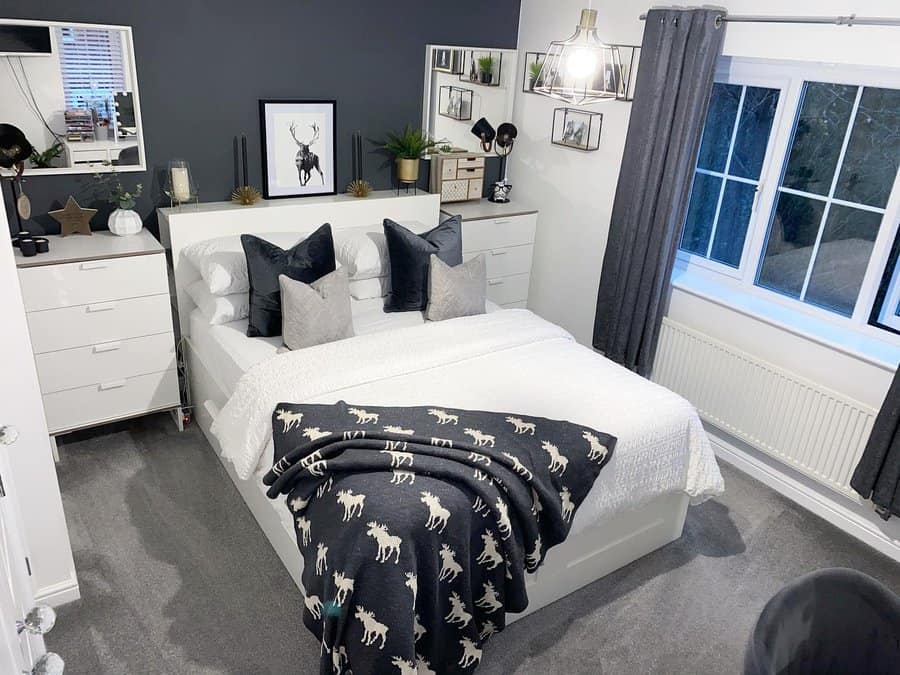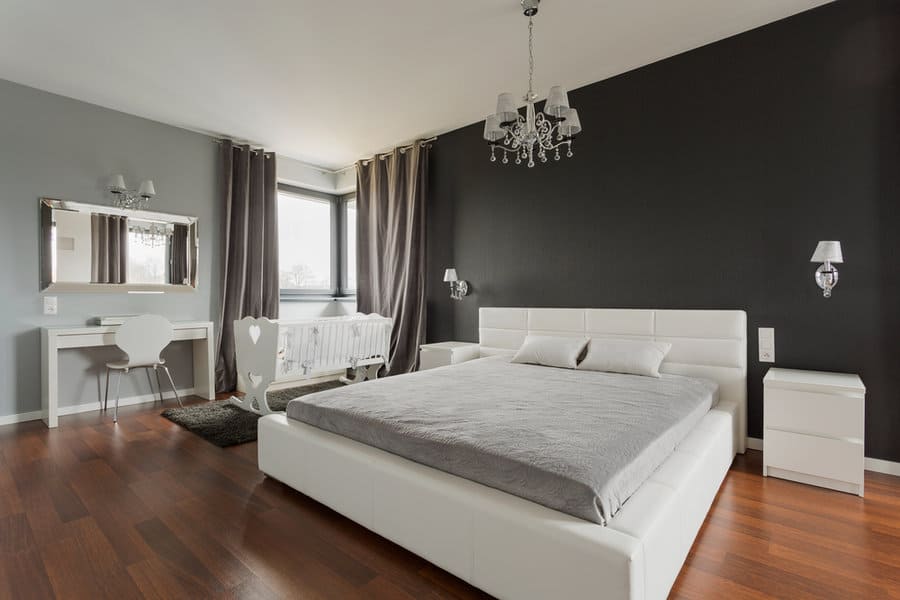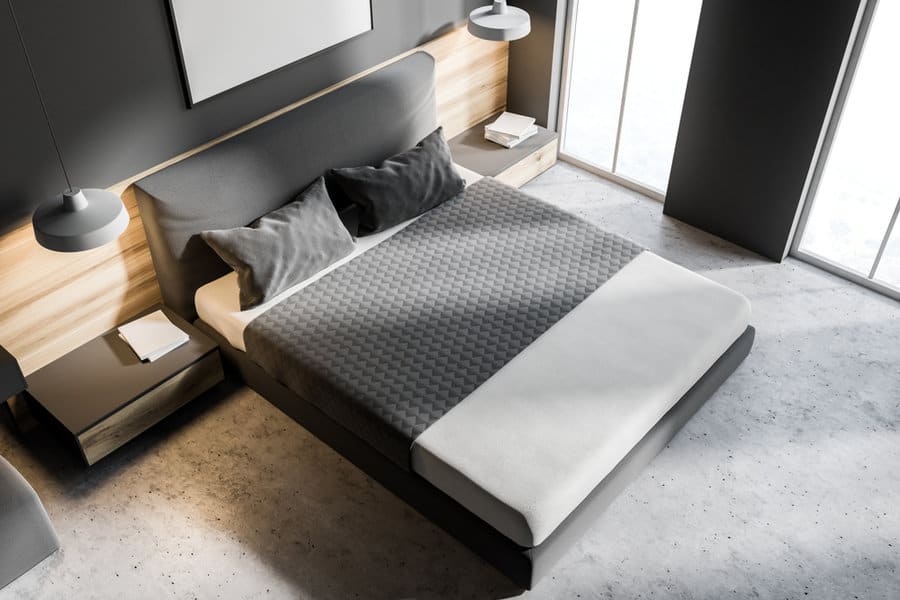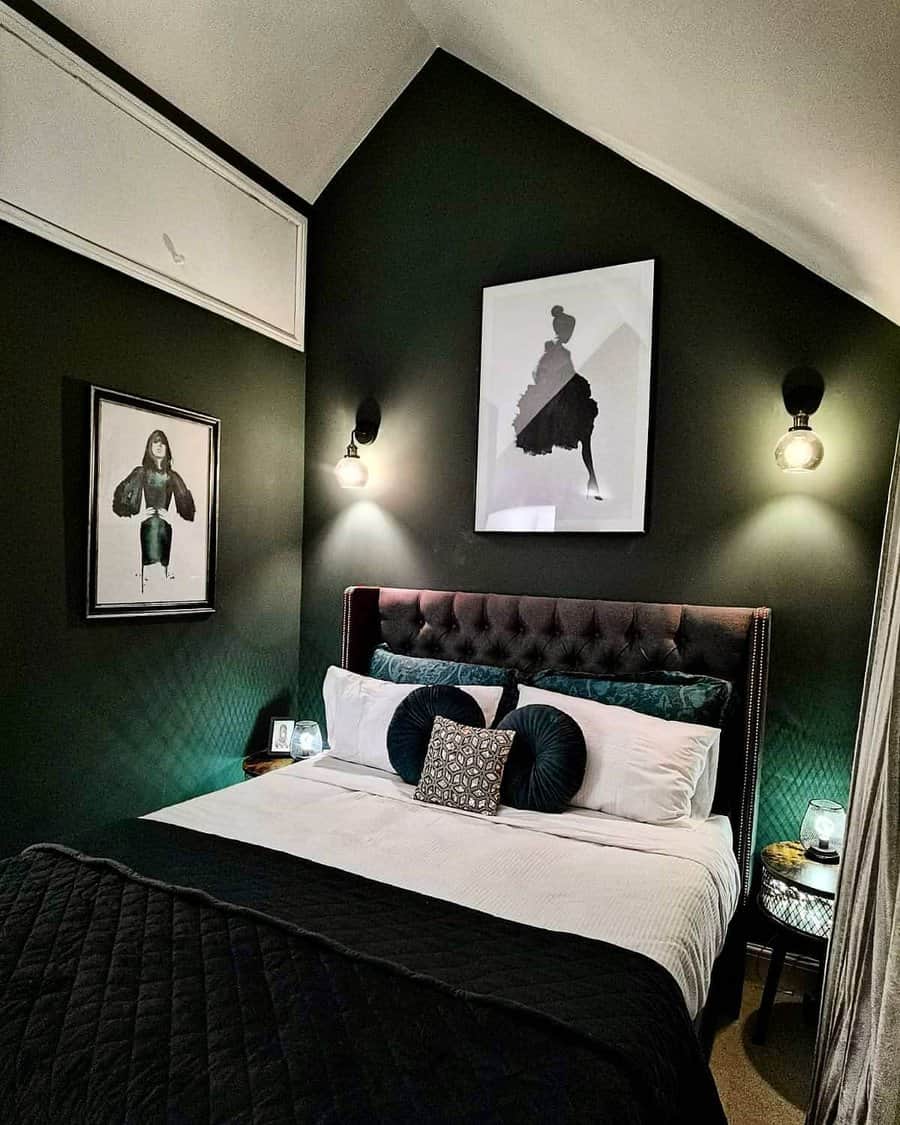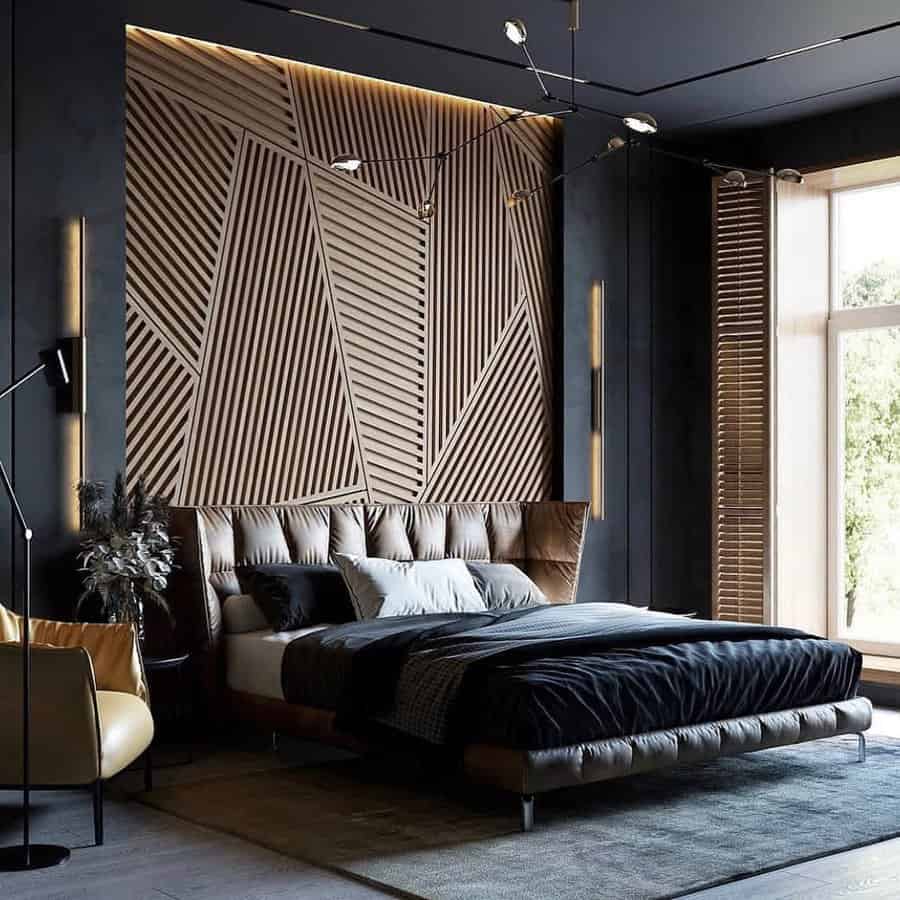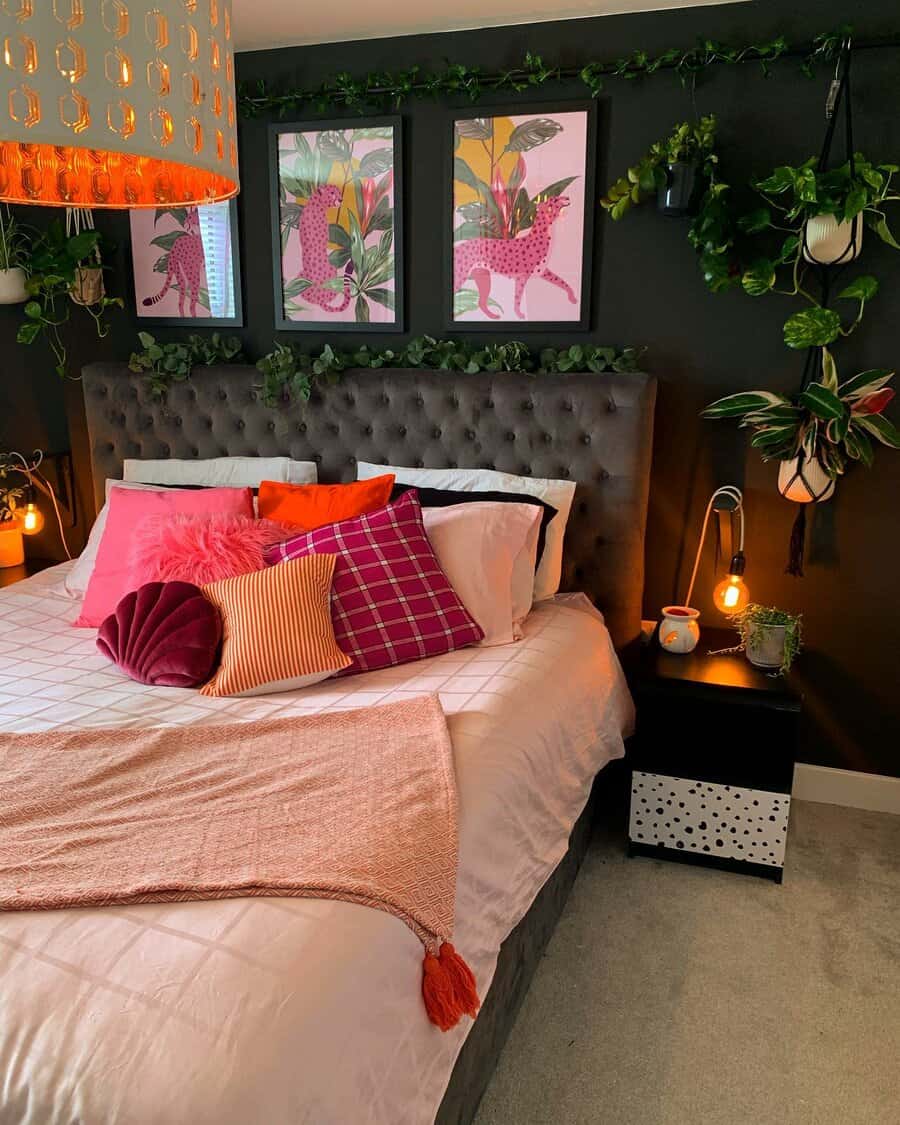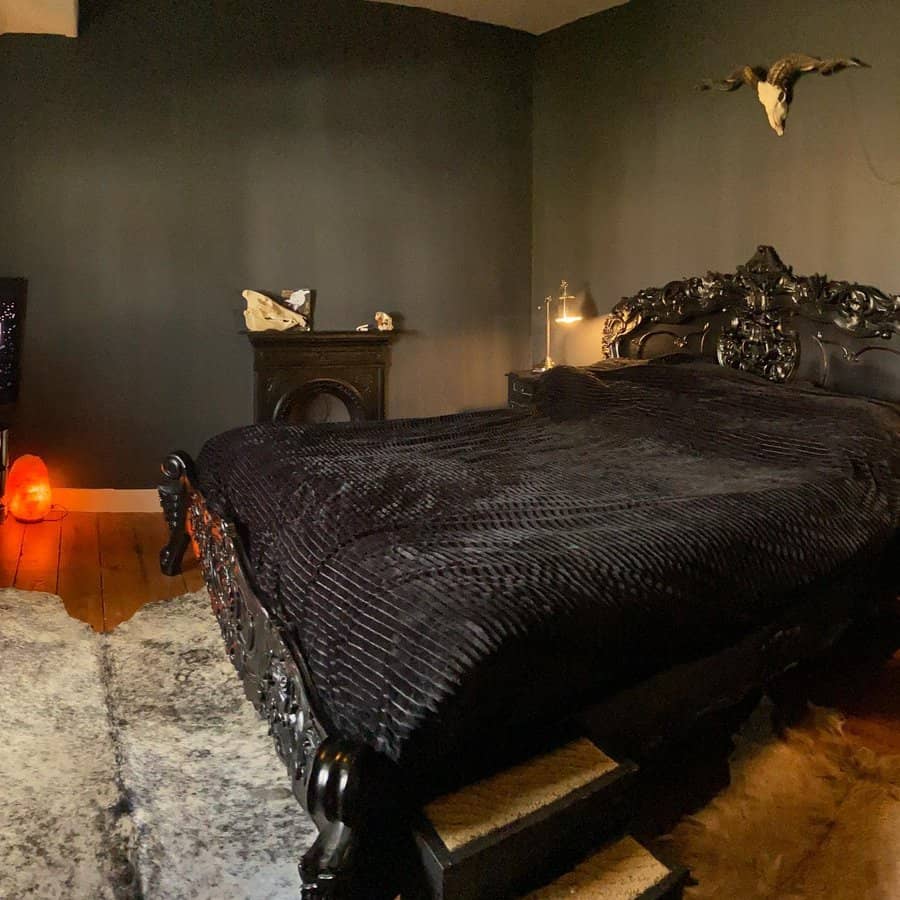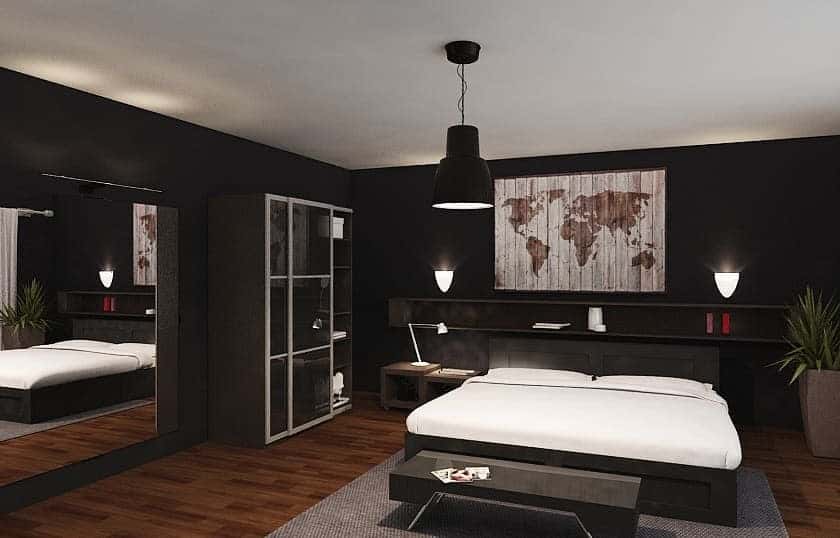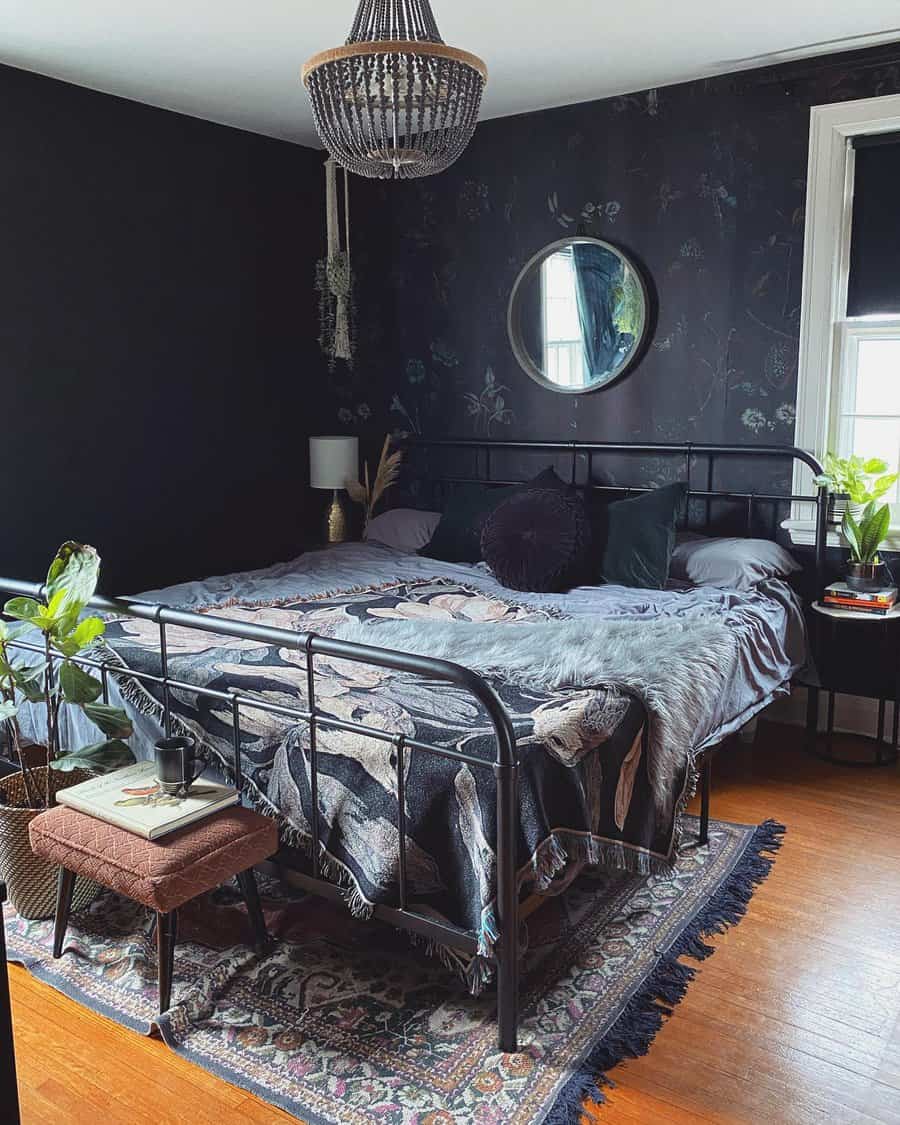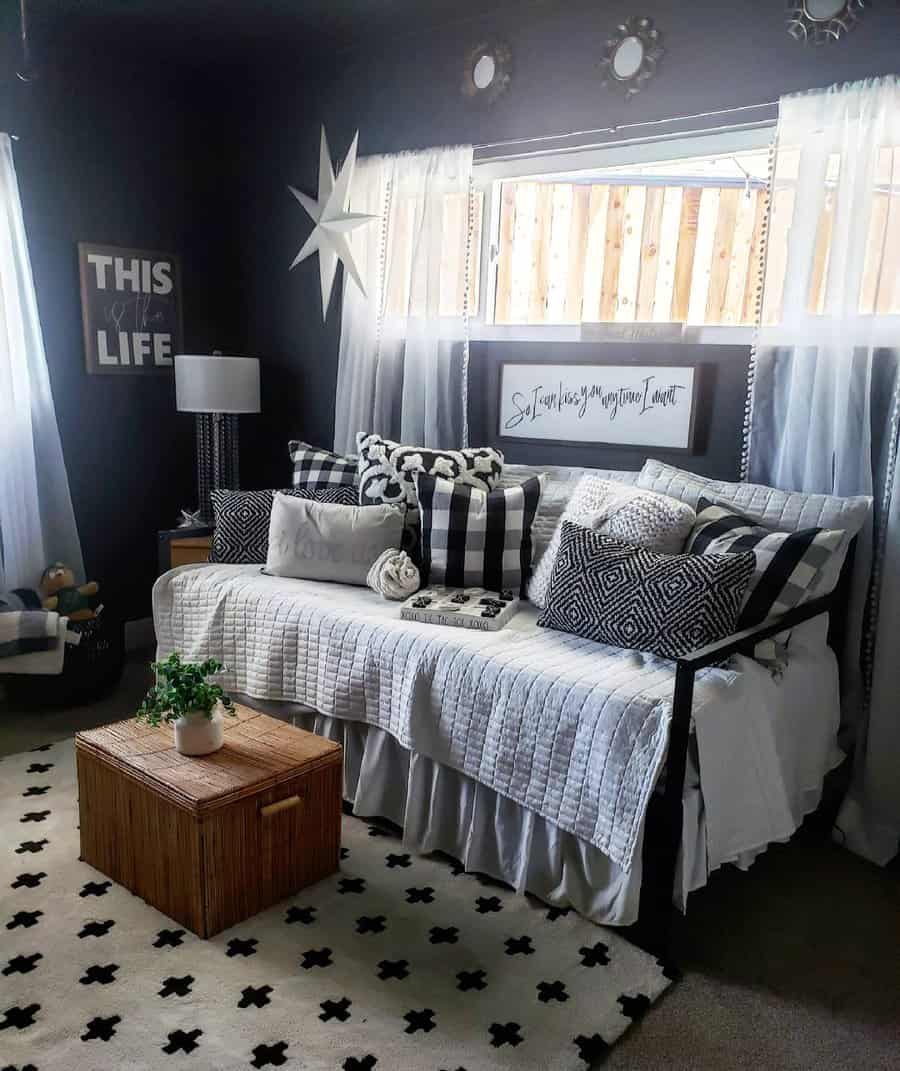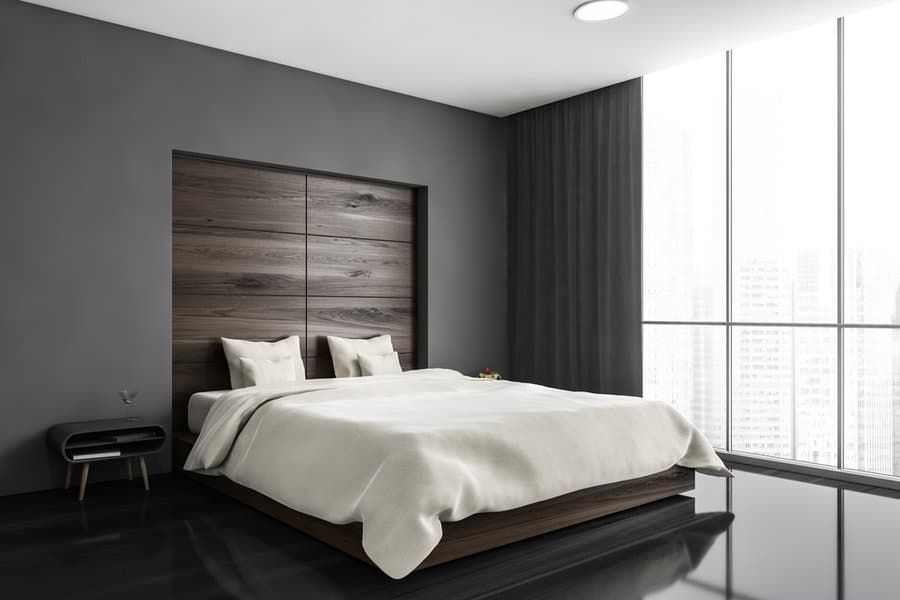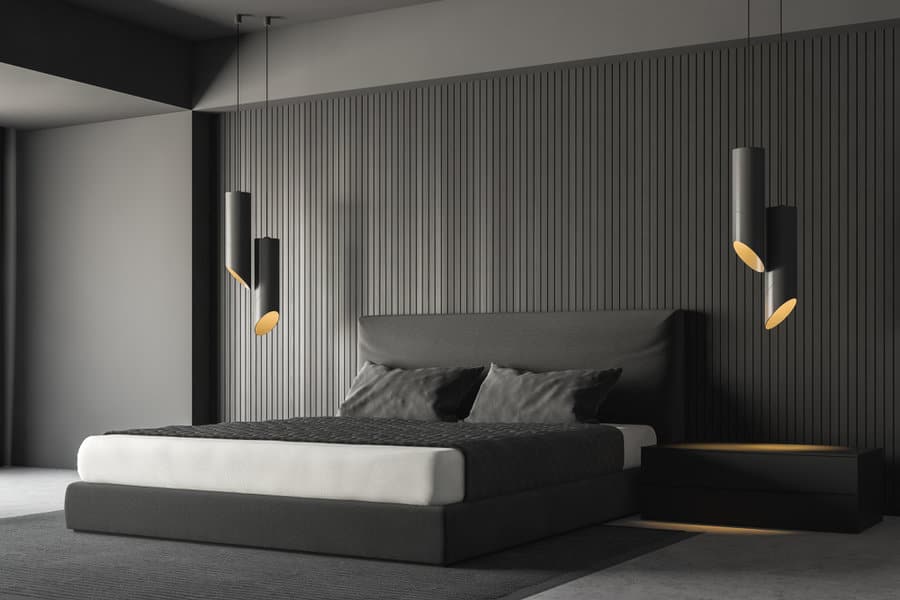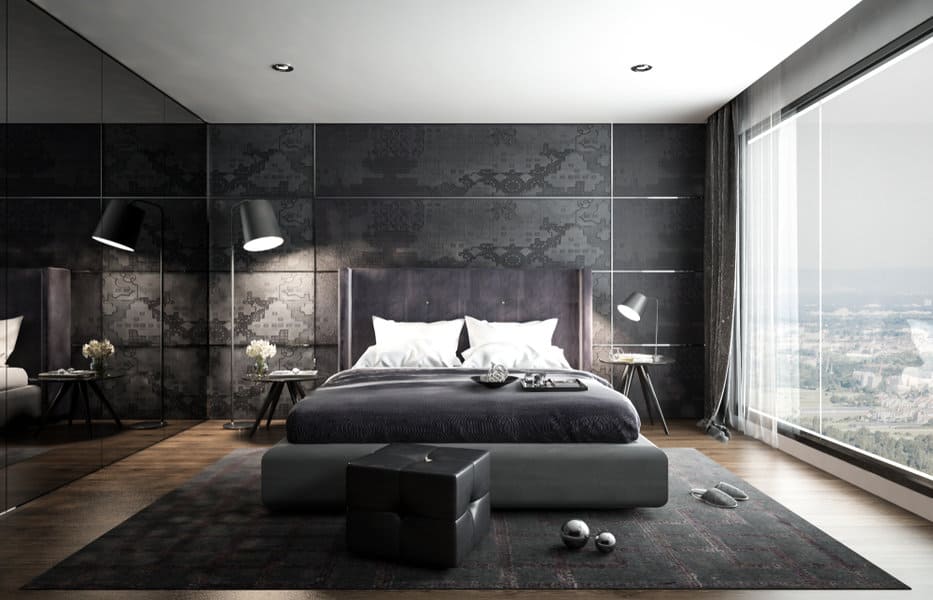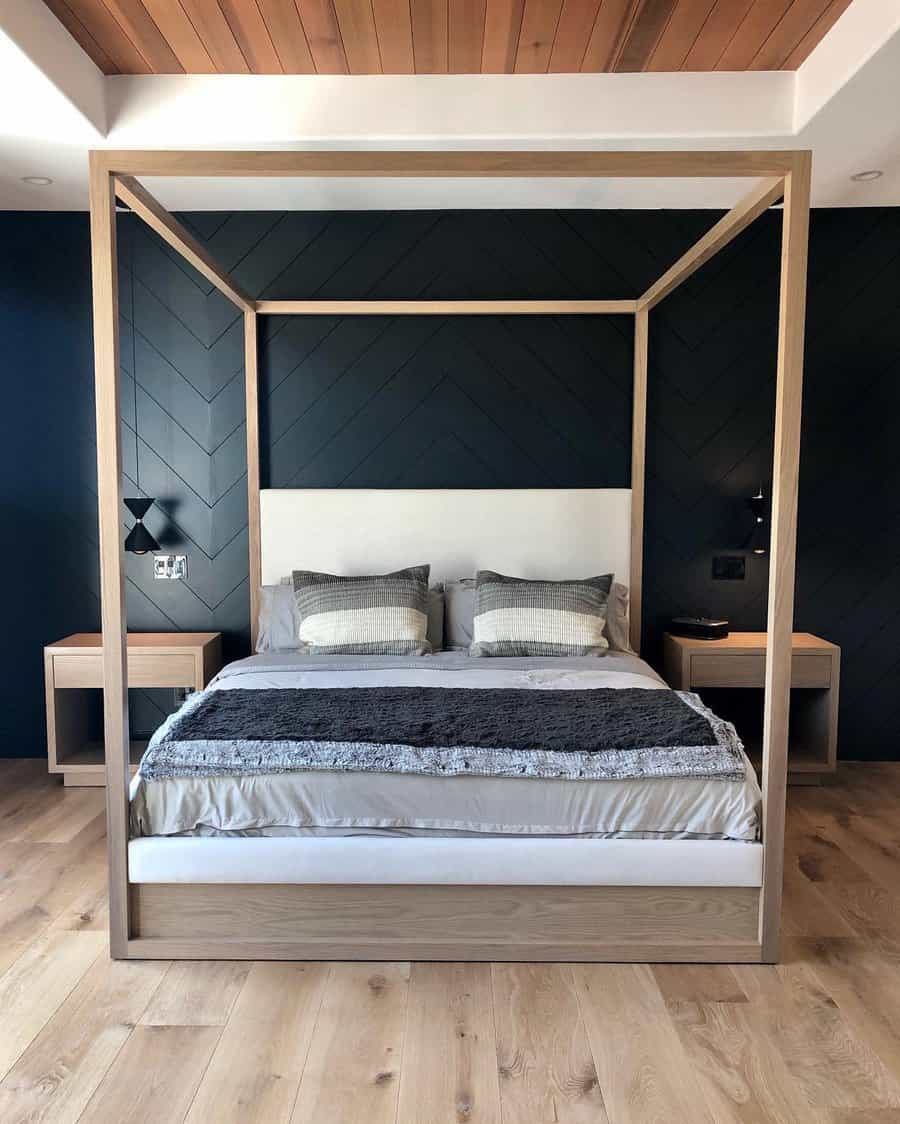 3. Serene Coastal Blue Bedrooms
When seeking a bedroom refresh that's not too overwhelming, consider the tranquil charm of coastal blue walls paired with a blue-and-white theme. This duo crafts an inviting and peaceful atmosphere, ideal for both relaxation and productivity.
Embrace the versatility of this two-tone palette by incorporating coastal-inspired artwork, such as seaside photography or sea life wall stickers. Extend the soothing blues throughout the room with cozy bedding, curtains, pillows, rugs, mats, and other furnishings. Don't shy away from infusing subtle pops of complementary colors for added depth and character.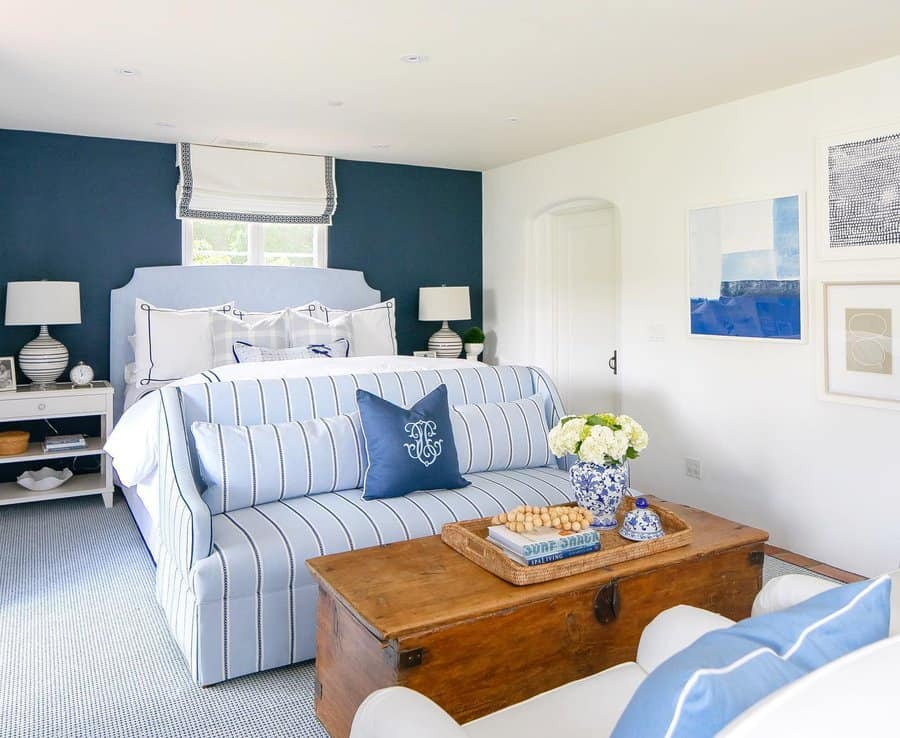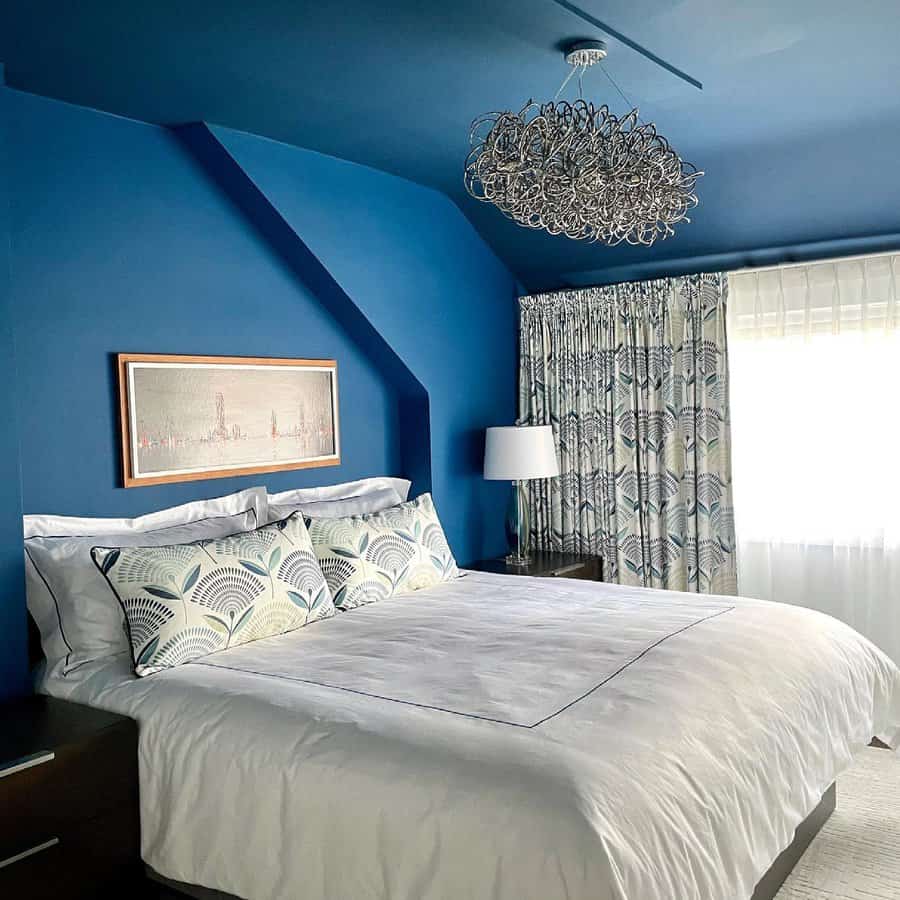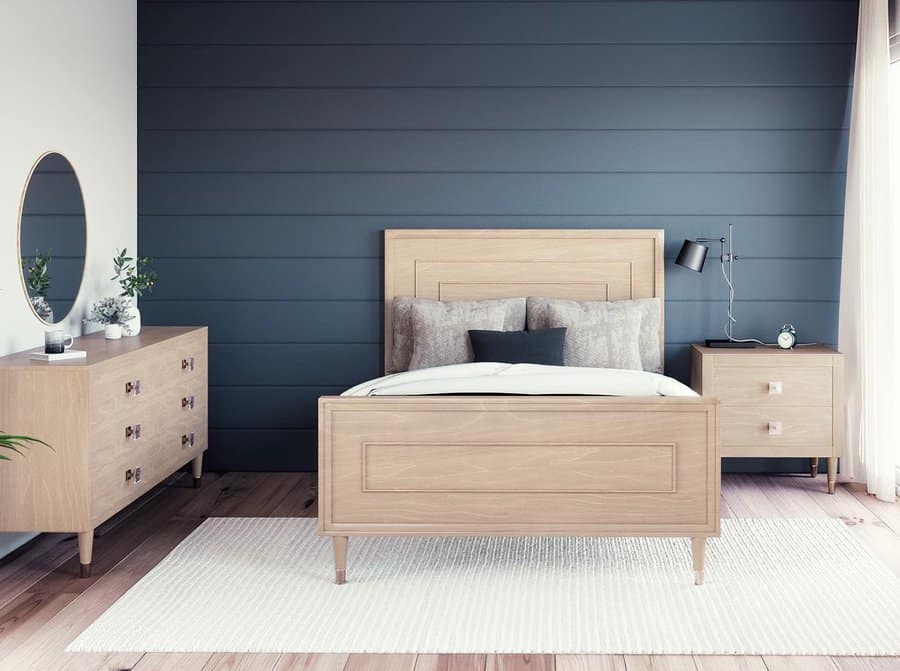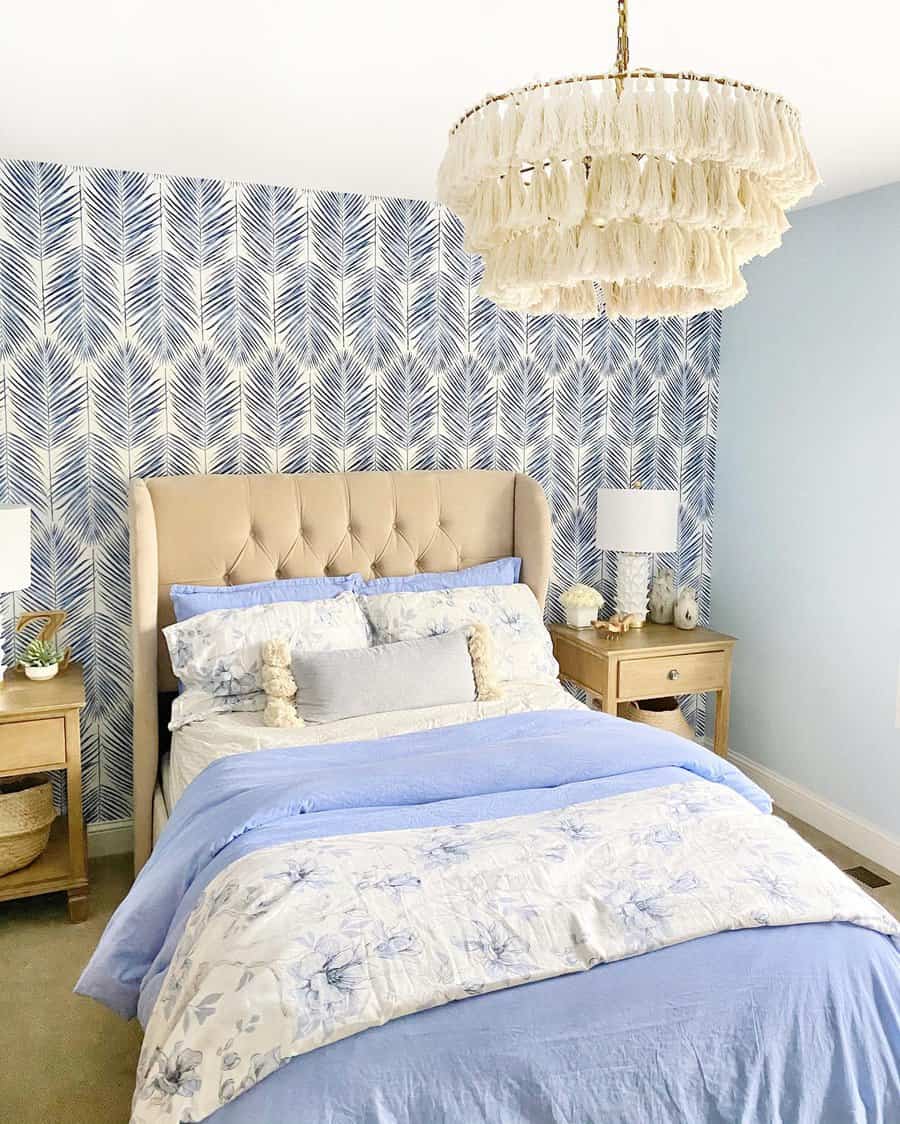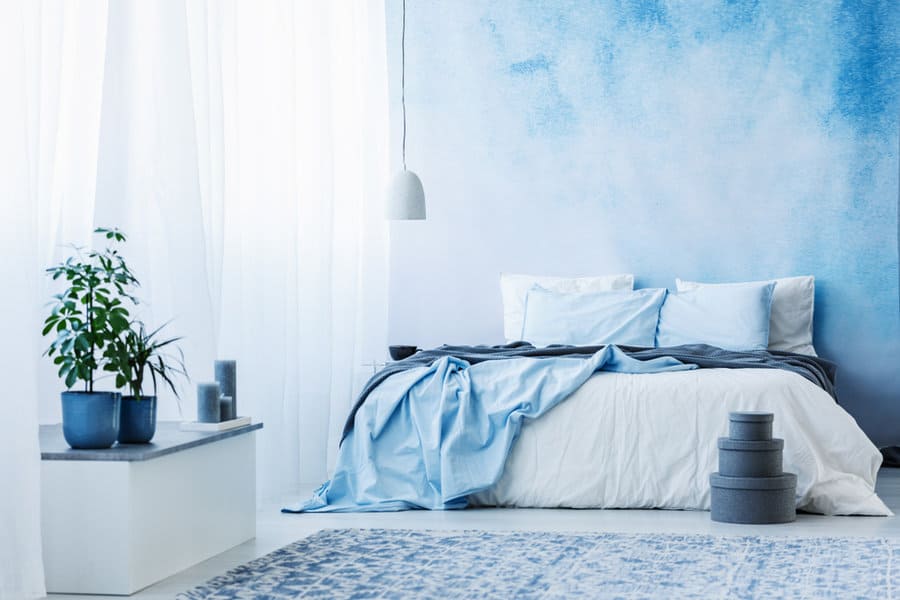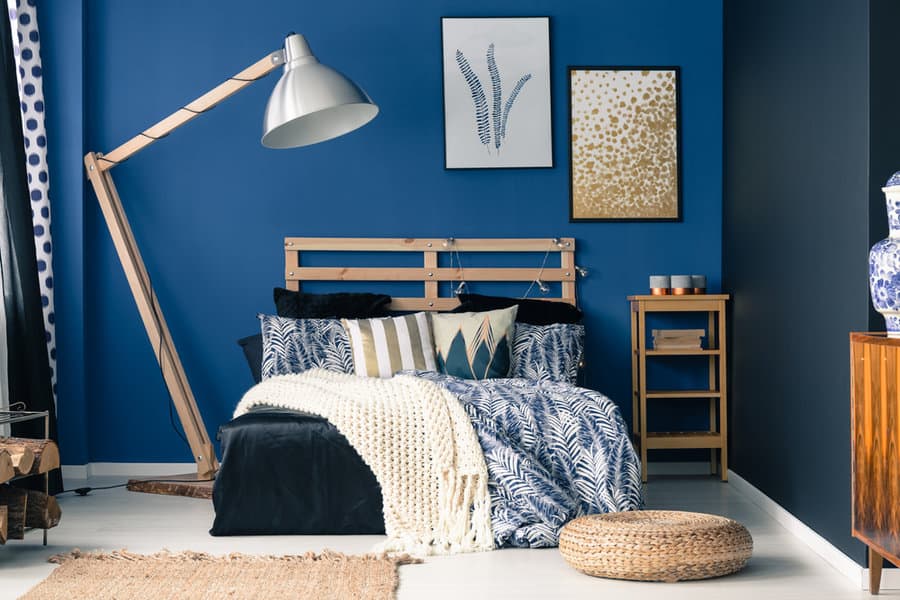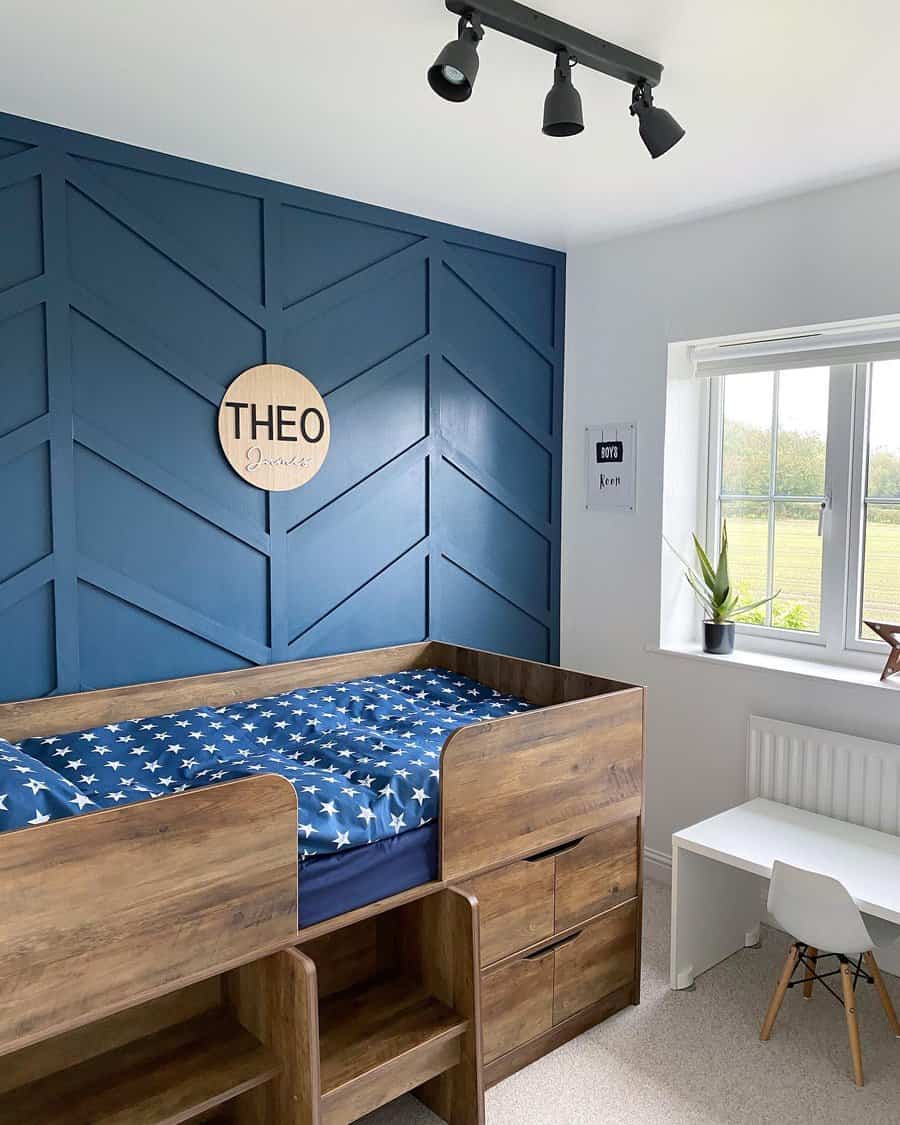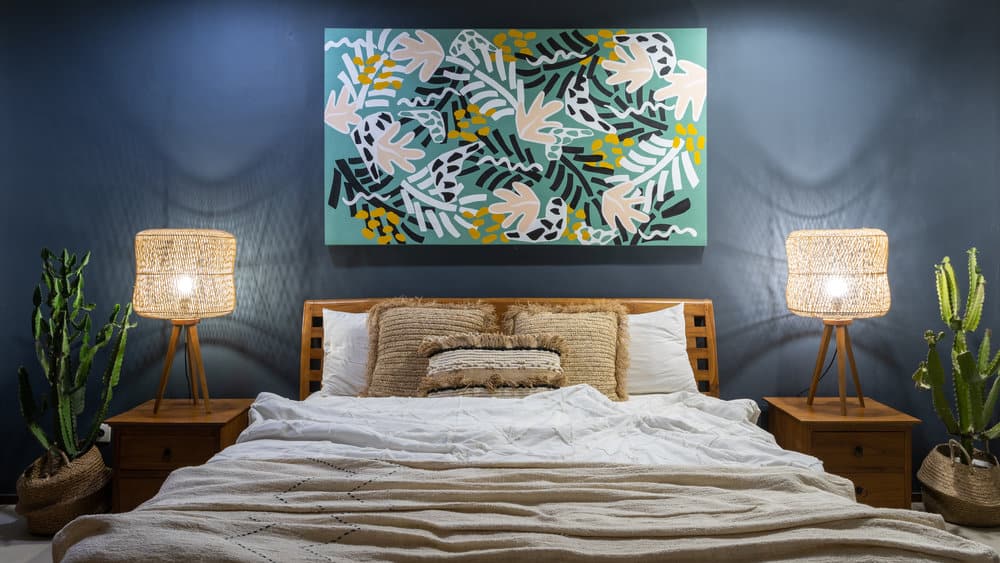 4. Energize with Vibrant Orange Decor
Revitalize your bedroom with the invigorating power of vibrant orange. This bold hue can serve as an accent wall or take center stage for a dramatic transformation.
For a classic ambiance, pair vibrant orange walls with neutral tones like cream, off-white, and taupe, amplifying the vibrancy with bright accents and rich textures.
For a modern and energetic vibe, juxtapose vibrant orange walls with bold shades of purple and green, incorporating touches of metallic gold for a touch of opulence. Regardless of your approach, vibrant orange can infuse your bedroom with newfound vitality and charm.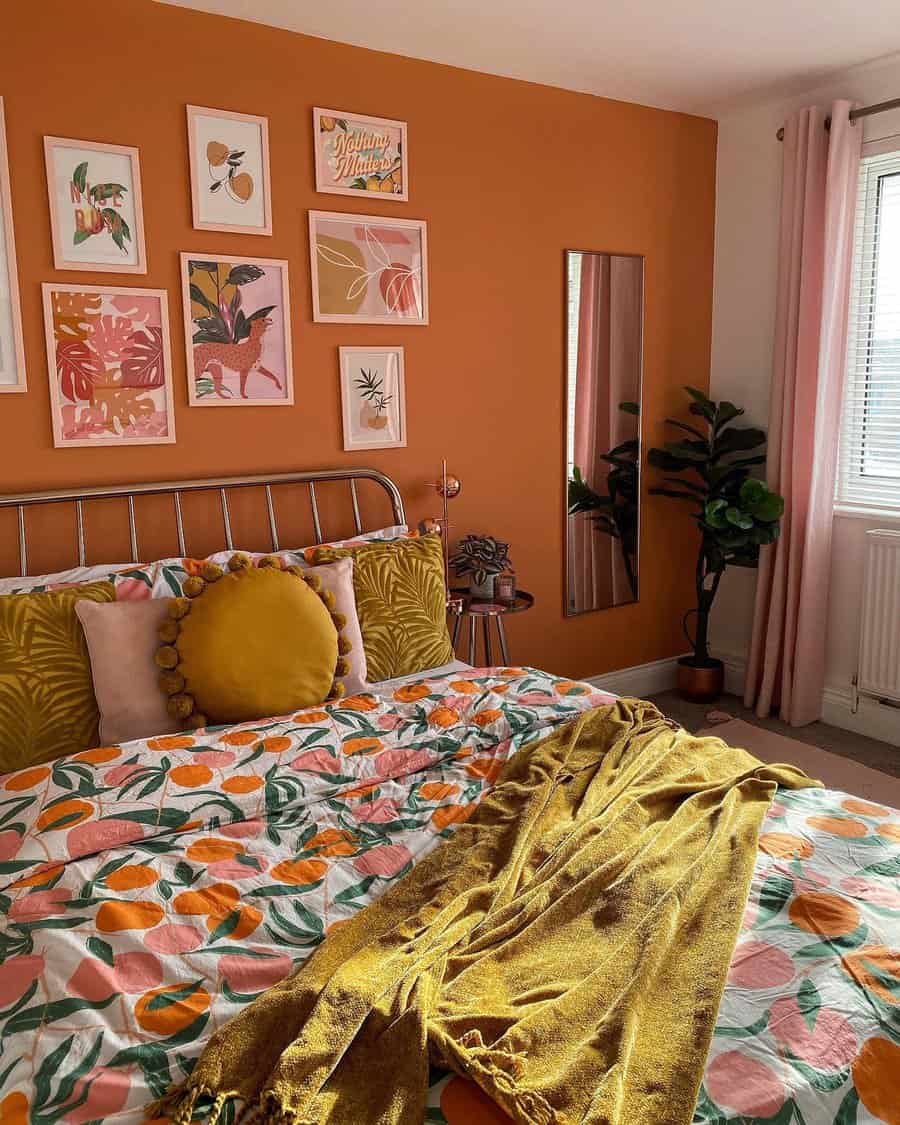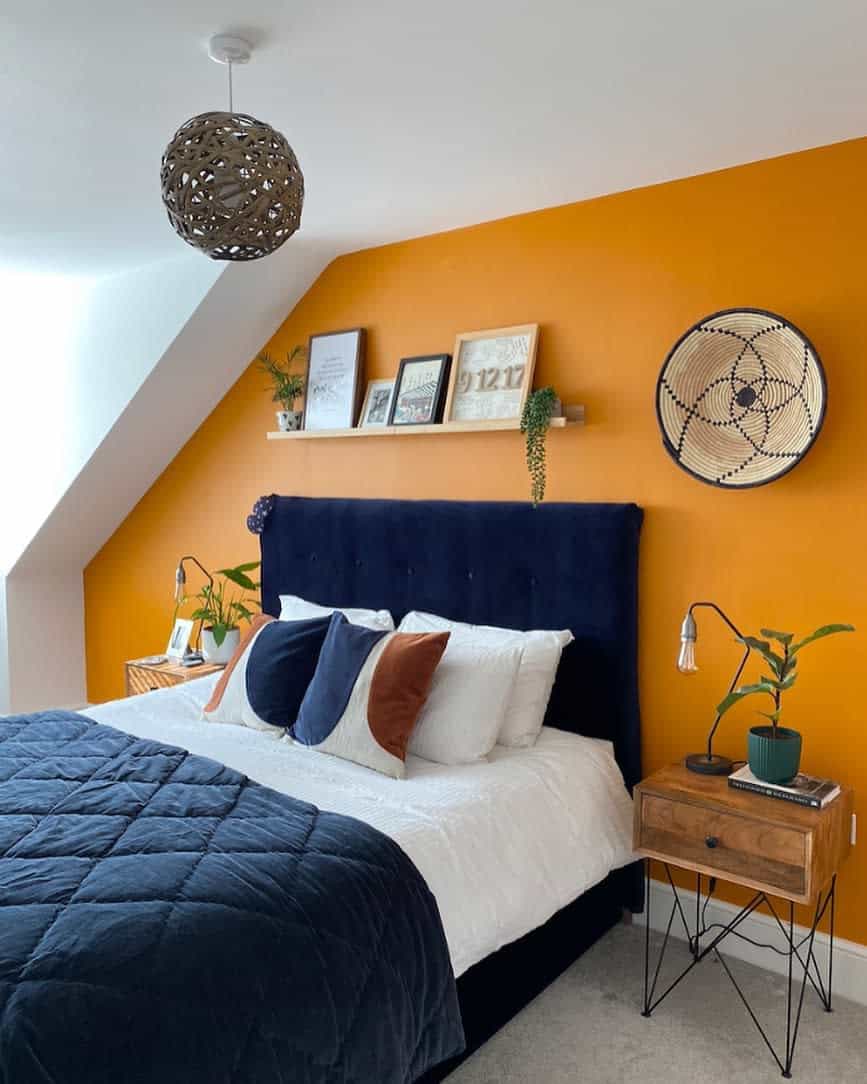 5. Subdued Beauty: Muted Brown Palettes
Crafting a sophisticated bedroom color scheme? Consider the understated allure of muted browns and brownish-grays. They serve as a versatile, neutral canvas that effortlessly complements your choice of accent colors, whether it's muted olive green or icy blue.
With these muted tones as your foundation, maintaining a cohesive look becomes effortless, regardless of your furniture selections. Explore the option of a harmonious monochrome design by incorporating various shades of browns and grays throughout the entire room for a seamless, inviting ambiance.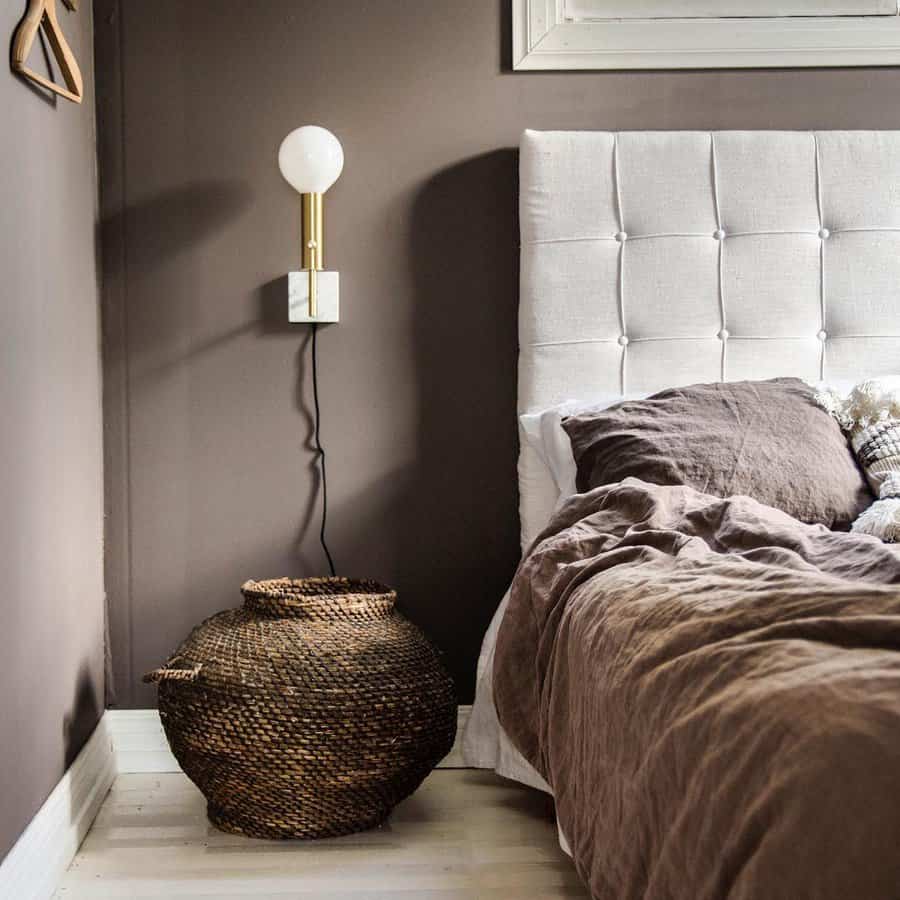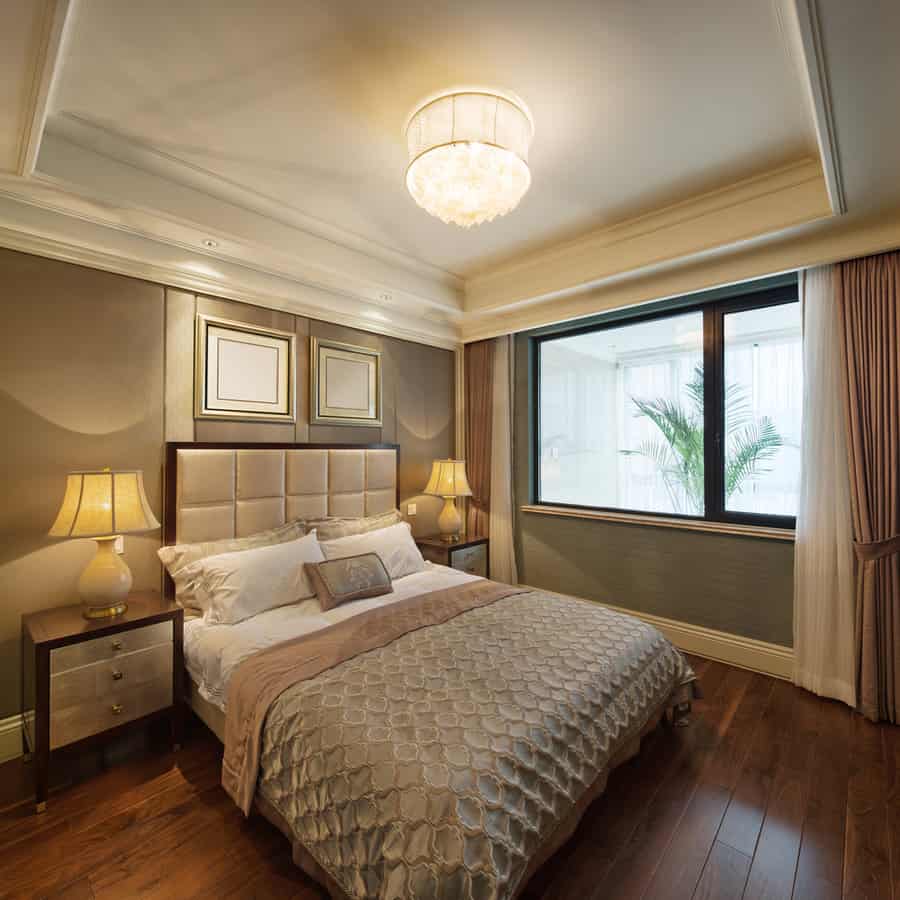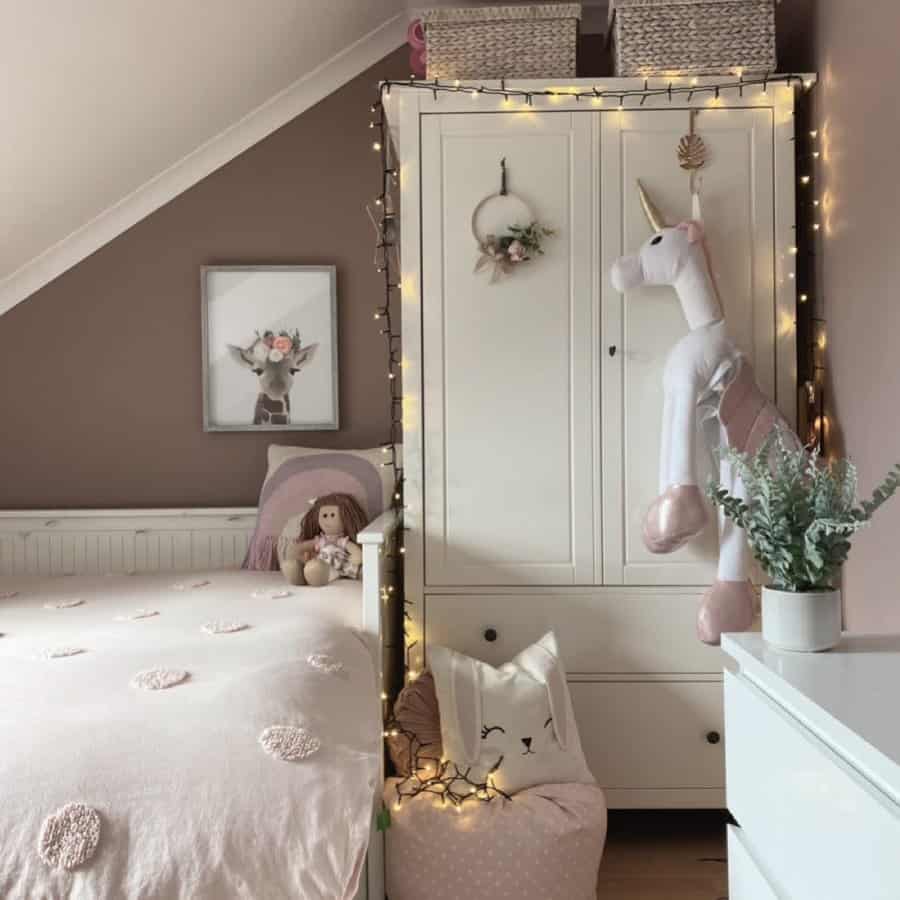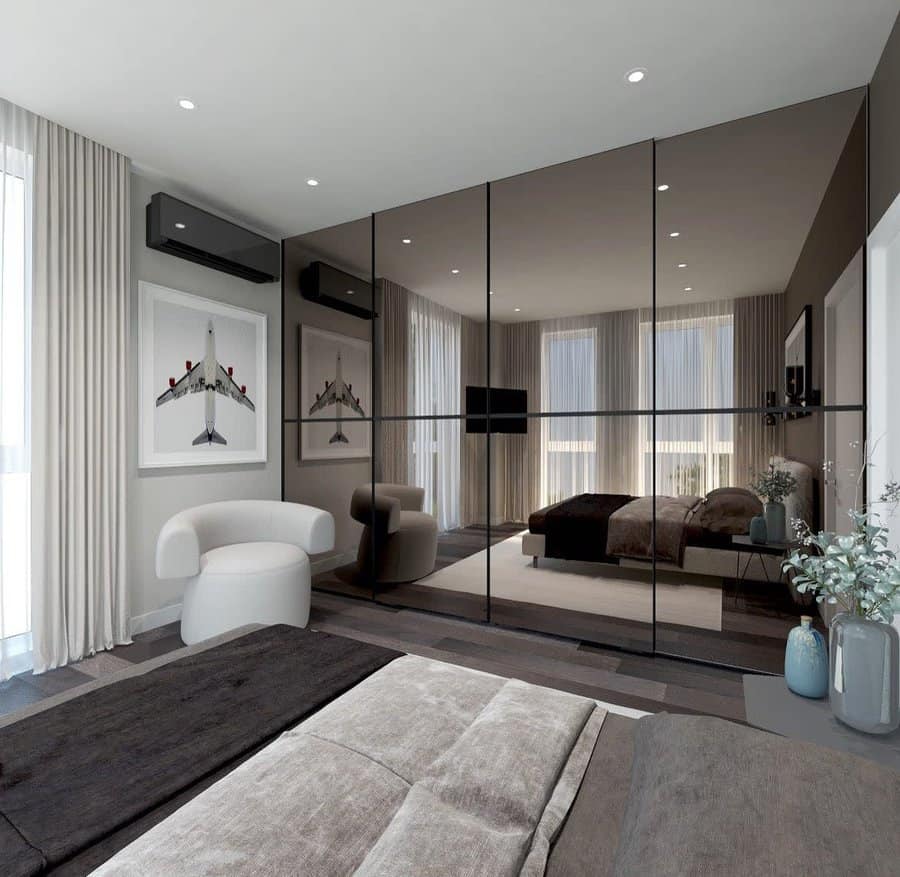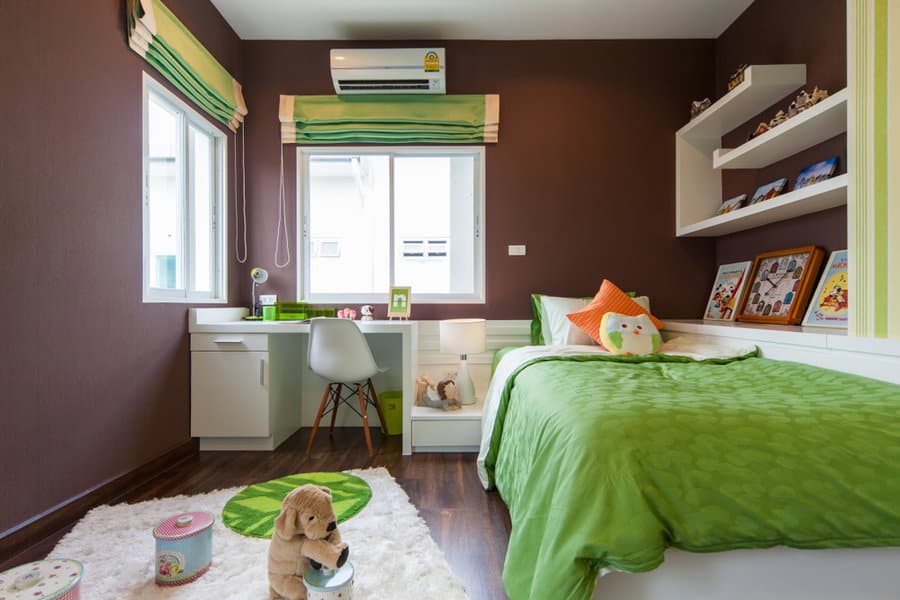 6. Chic Dual-Toned Bedroom Walls
Exploring bedroom color schemes? Consider the allure of dual-toned walls, striking a balance between eye-catching and tranquil vibes. For instance, painting one wall in a deep teal and the remaining three in a lighter cream shade can infuse the room with energy while maintaining a soothing aura.
Alternatively, for a touch of natural warmth, opt for light beige walls with a warm maple brown accent. Enhance the coziness with greenery accents or pops of complementary vibrant colors, elevating your dual-tone walls and sparking creativity throughout the space.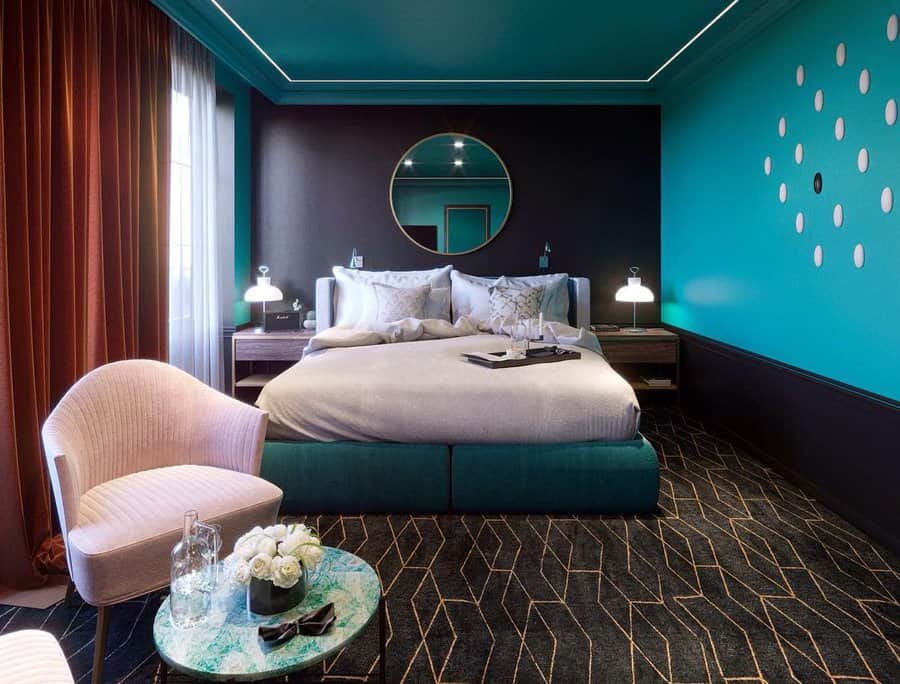 7. Tranquil Tiffany Green Bedrooms
When exploring bedroom color schemes, Tiffany green and light green walls emerge as serene and space-enhancing options. These hues strike a balance between tranquility and vibrancy while creating an illusion of more space.
For a timeless appeal, complement Tiffany green with bold colors like black or white. Alternatively, embrace subtlety by pairing it with neutral tones such as grey or taupe. For a softer pastel aesthetic, marry light green walls with shades of blues and peaches.
Unleash your creativity by mixing different textures—wallpaper, paint, fabric—to introduce delightful visual depth and intrigue to your tranquil Tiffany green bedroom.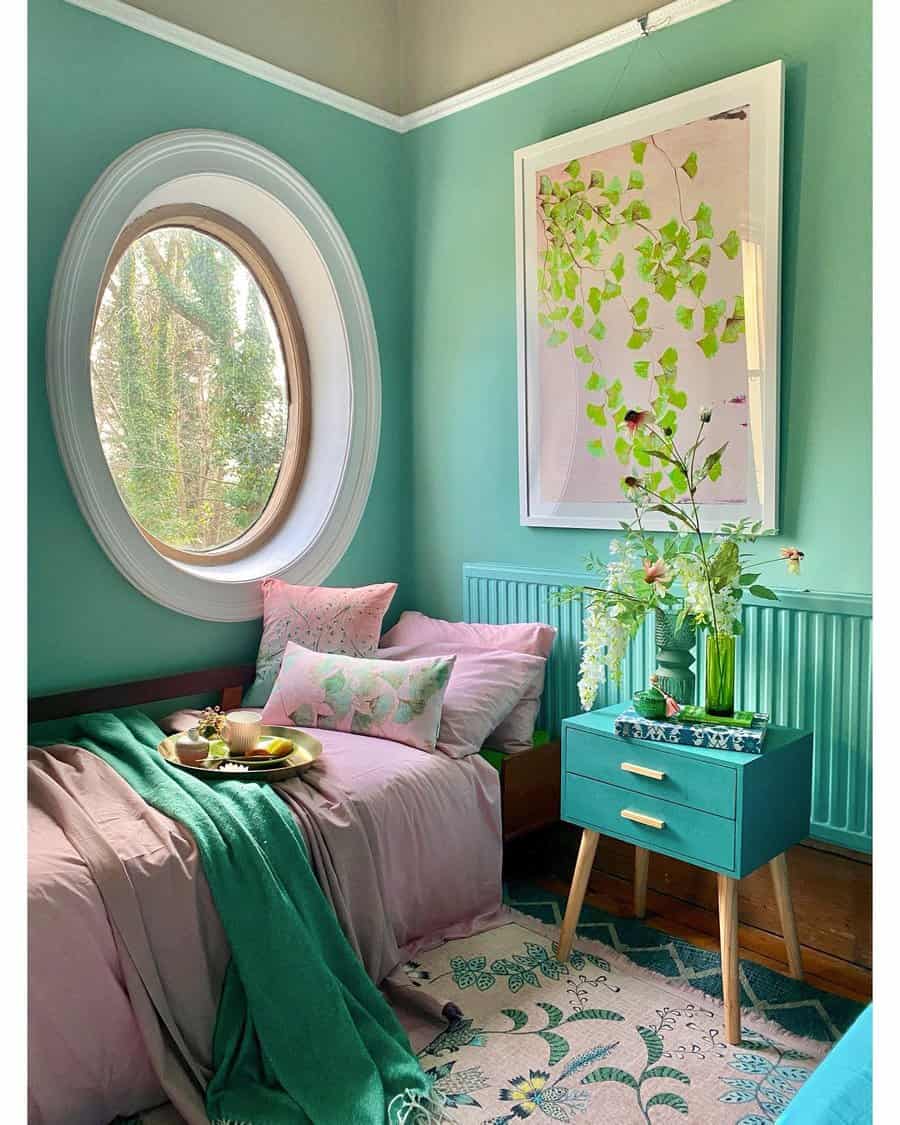 8. Stylish Monochrome Wallpaper Inspiration
Elevating your bedroom color scheme is effortless with printed wallpaper, adding depth and character to your space. For a timeless ambiance, explore floral patterns in muted, elegant hues.
For a modern twist, opt for bold prints in vibrant colors to make a statement. If you're designing a kids' room, consider playful jungle scenes or cartoon-inspired motifs for a space brimming with personality.
Above all, your choice of wallpaper should be a reflection of your unique style, bringing your bedroom to life in a way that resonates with your individuality.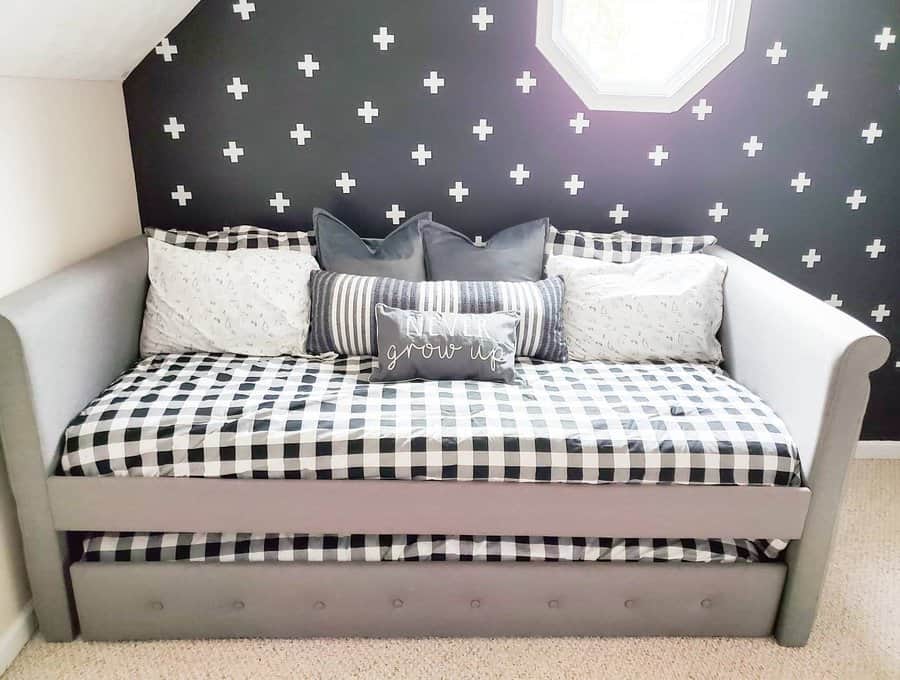 9. Calming Pastel Blue Bedroom Designs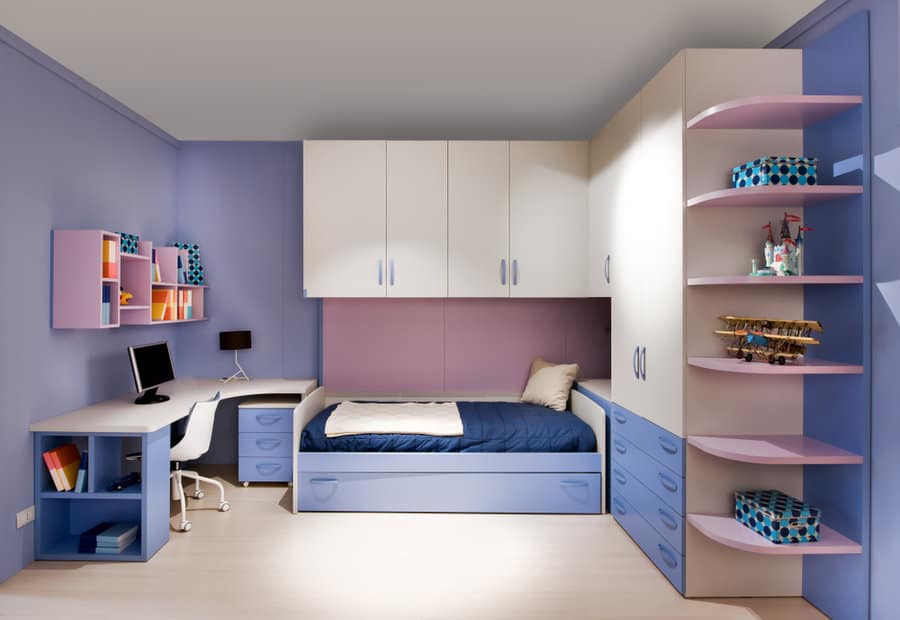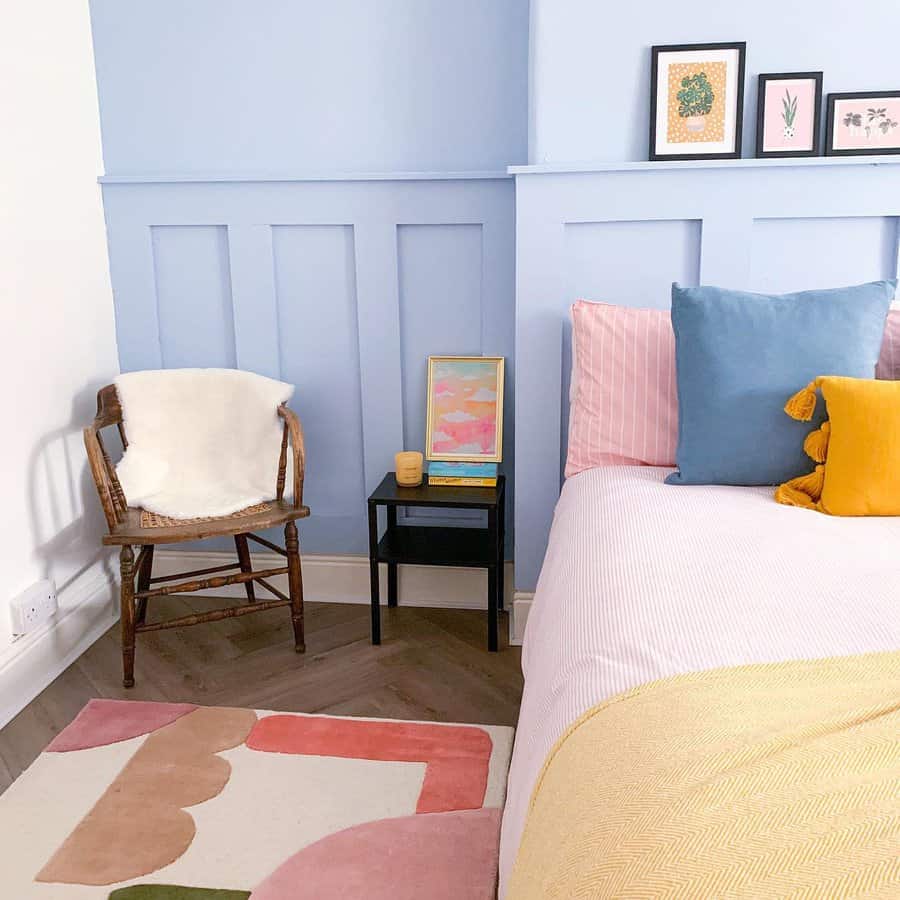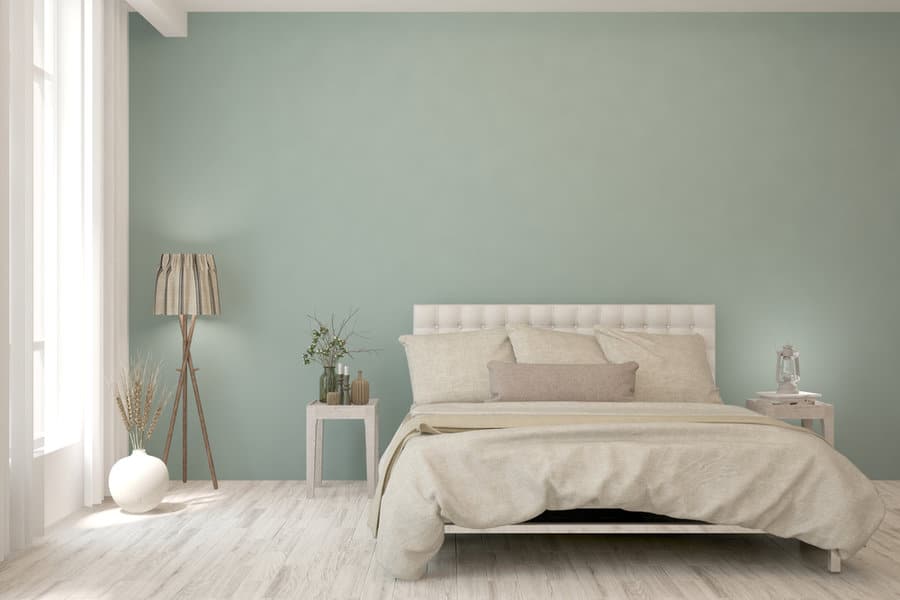 10. Timeless Elegance: Bone White Rooms
When crafting your bedroom color scheme, explore beyond the ordinary neutrals. Begin with bone-white walls as a canvas, then introduce warm, inviting hues resembling shades of beige.
Elevate the ambiance with accents in vibrant colors like navy blues, lush greens, and delicate pinks, whether through wall art or furniture pieces.
For a serene atmosphere, consider incorporating natural tones like olive green, creamy whites, and subtle browns.
Don't feel restricted to monochrome—mixing various shades from whites to purples, reds, and oranges can infuse vibrancy and energy into your space while maintaining an overall soothing color palette.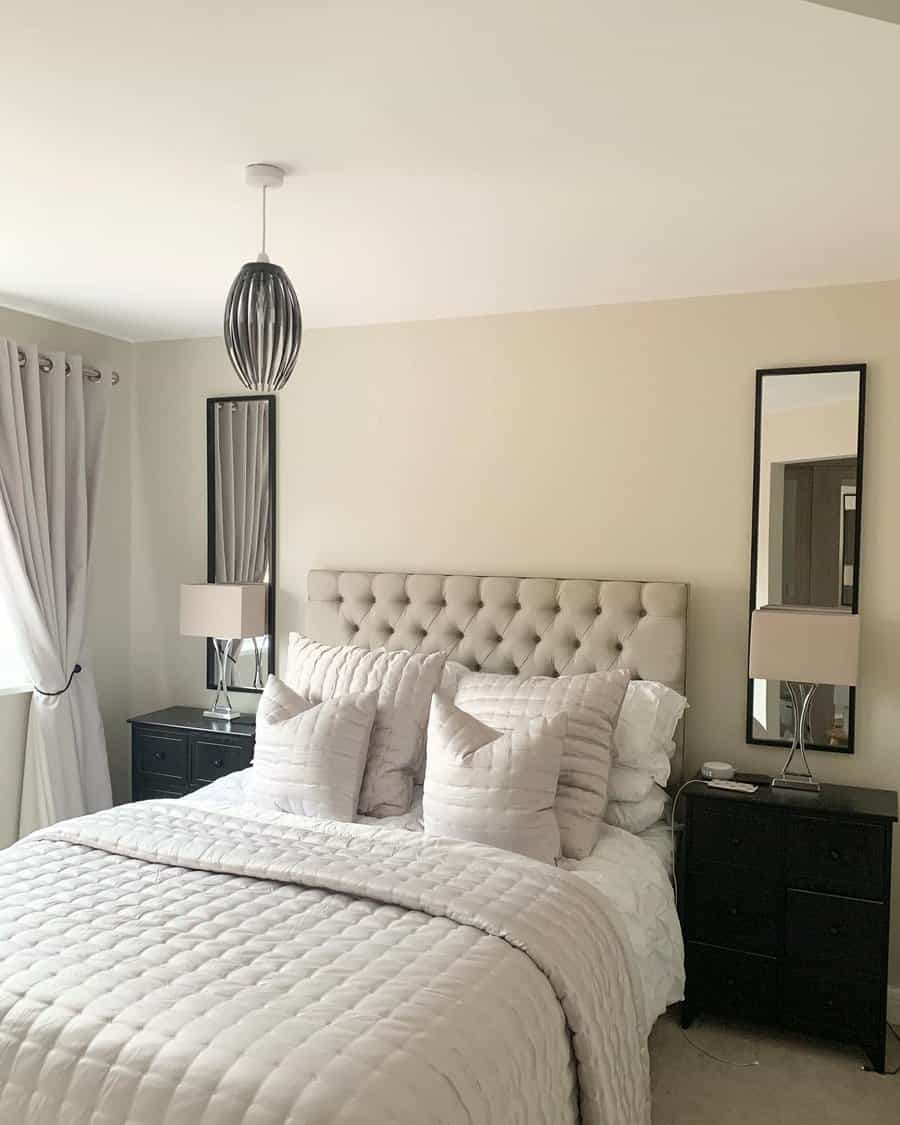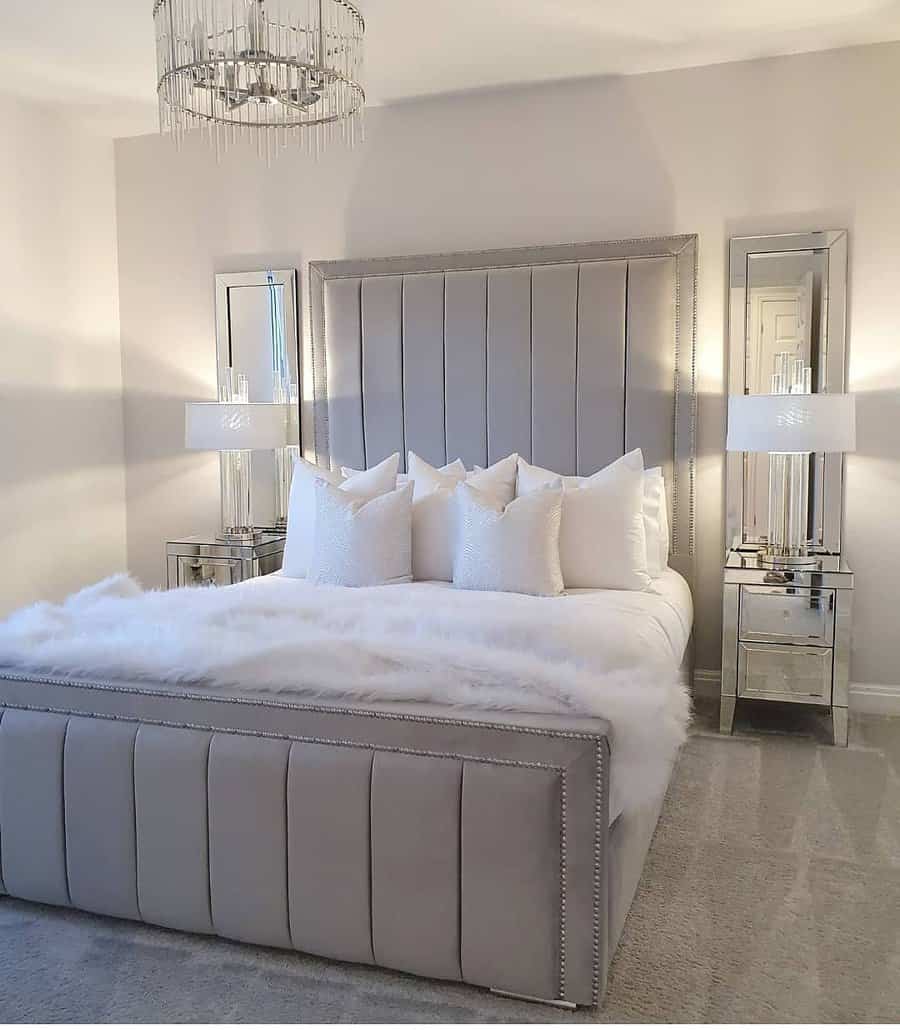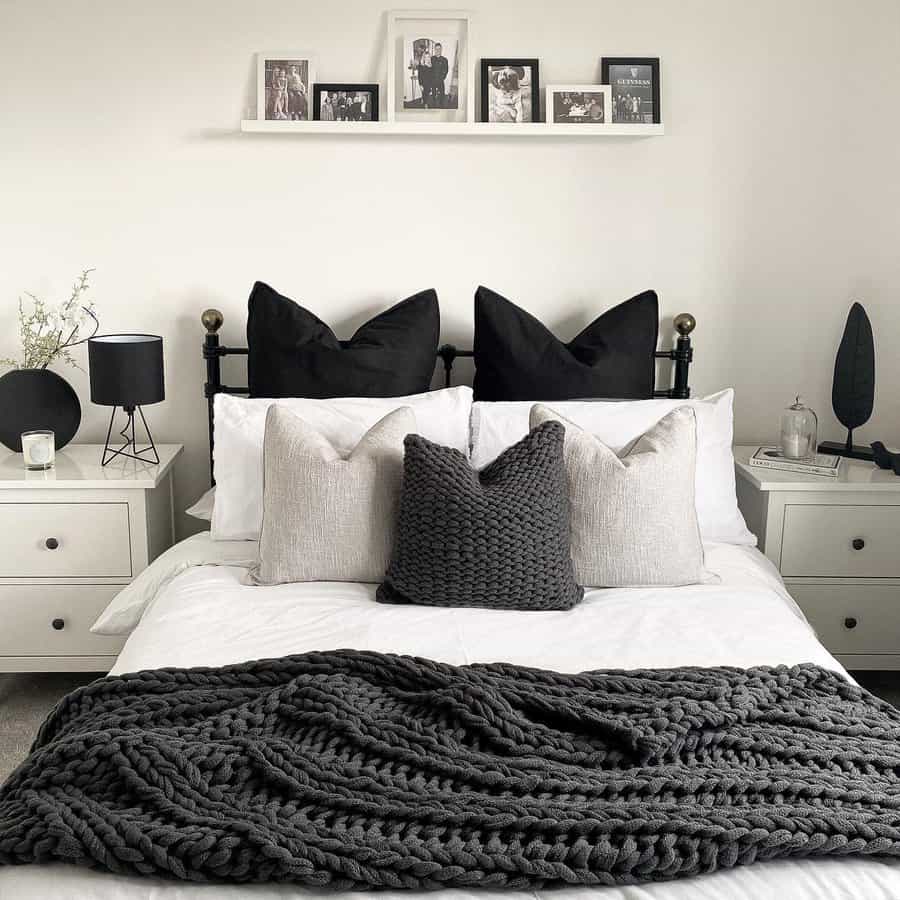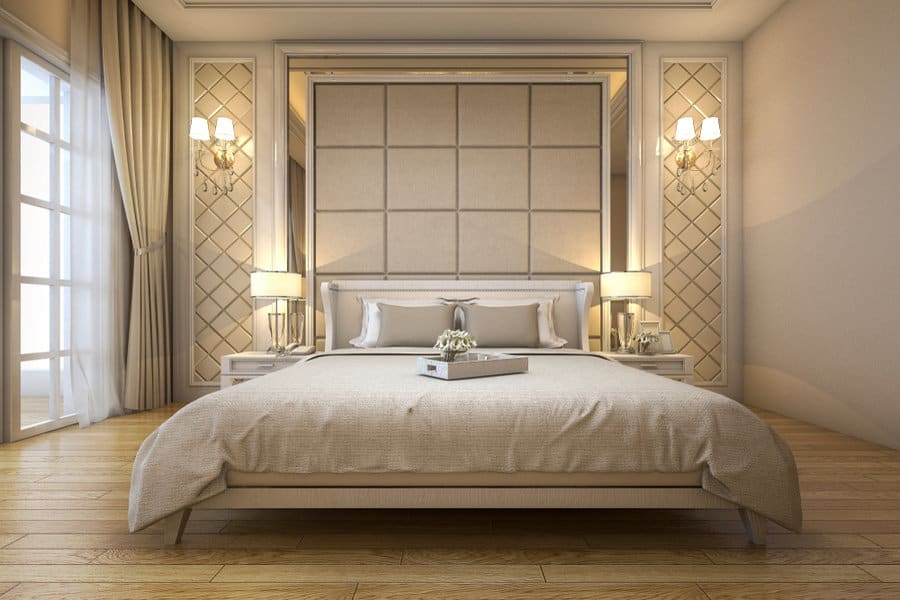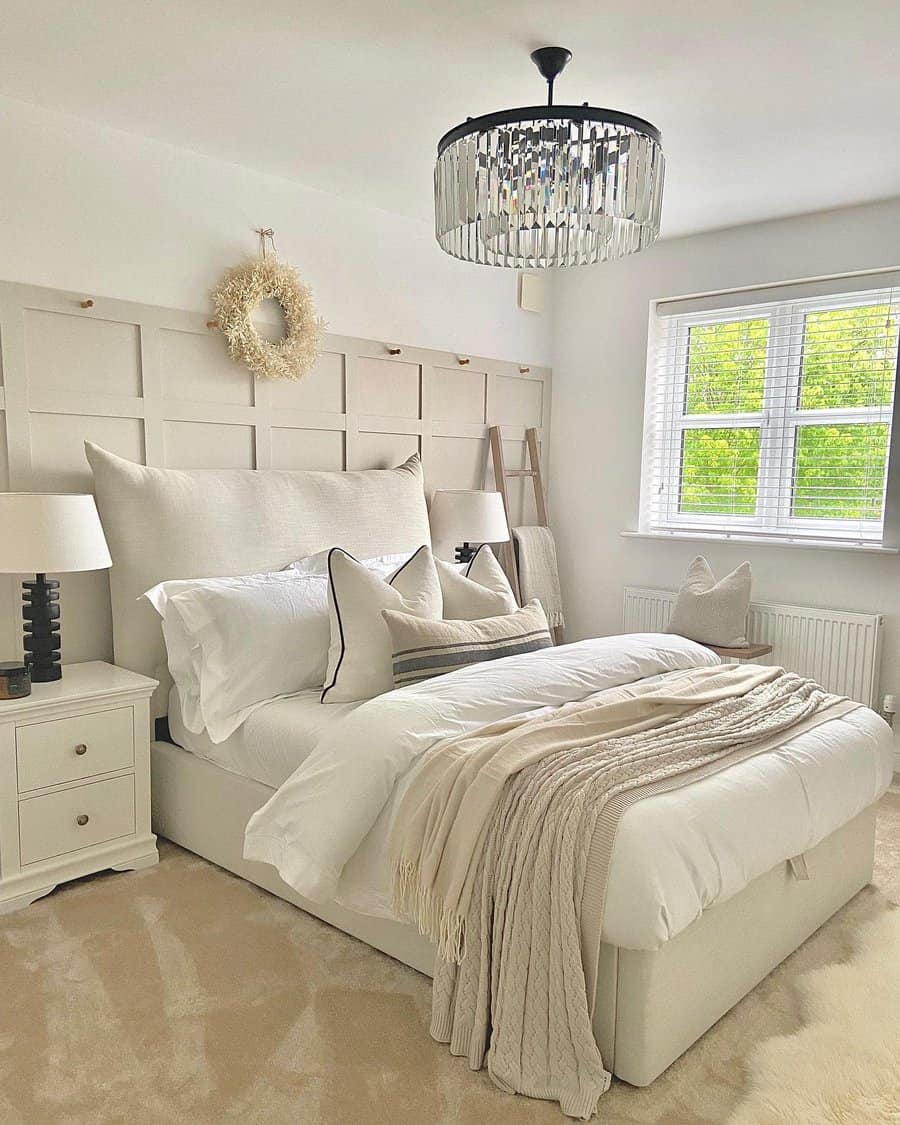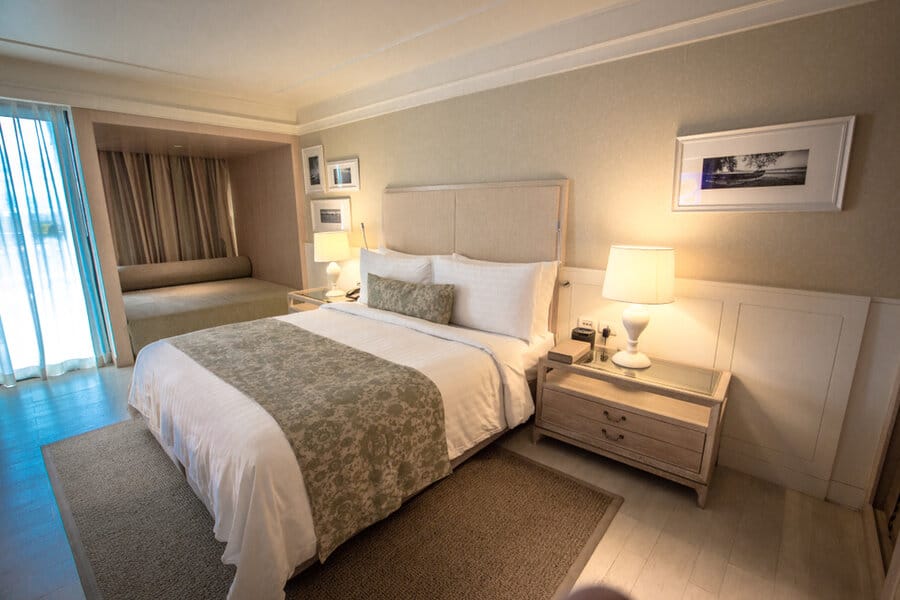 11. Minimalist Elegance: Clean White Decor
When crafting a bedroom color scheme, the choices are endless, but clean white walls stand as a timeless and versatile option, illuminating the space with natural light. To infuse character, consider adding a vibrant touch, such as salmon pink, soft mauve, or even bold yellow, to create an inviting atmosphere.
Incorporating these hues through bedding or accent pillows can be a subtle yet effective approach. For a more subdued ambiance, explore pastel tones like peach and pale blues. If you prefer a minimalist aesthetic, embrace neutral shades such as grey, taupe, and cream, with their clean lines and understated details.
Ultimately, whichever color scheme you choose, prioritize a sense of relaxation and comfort that resonates with your personal style and preferences.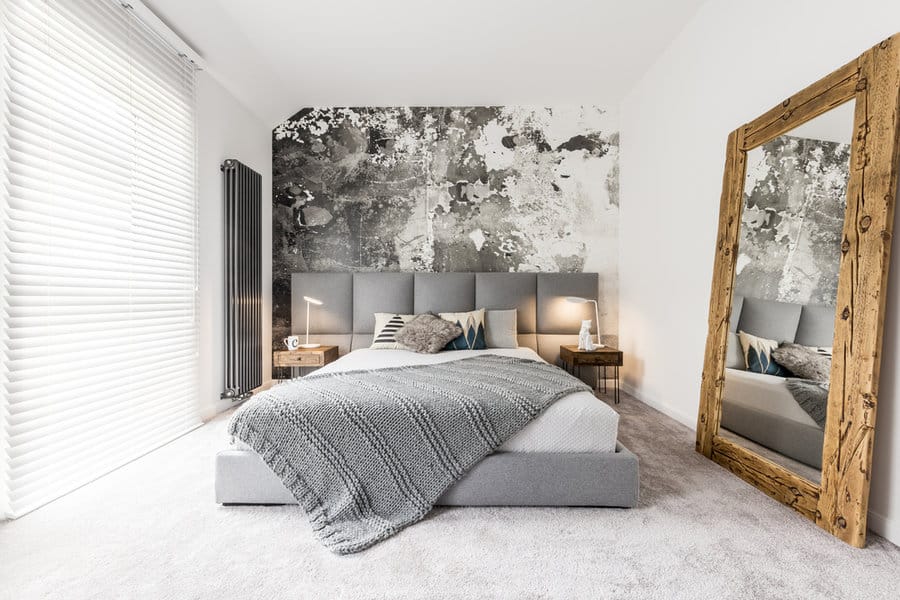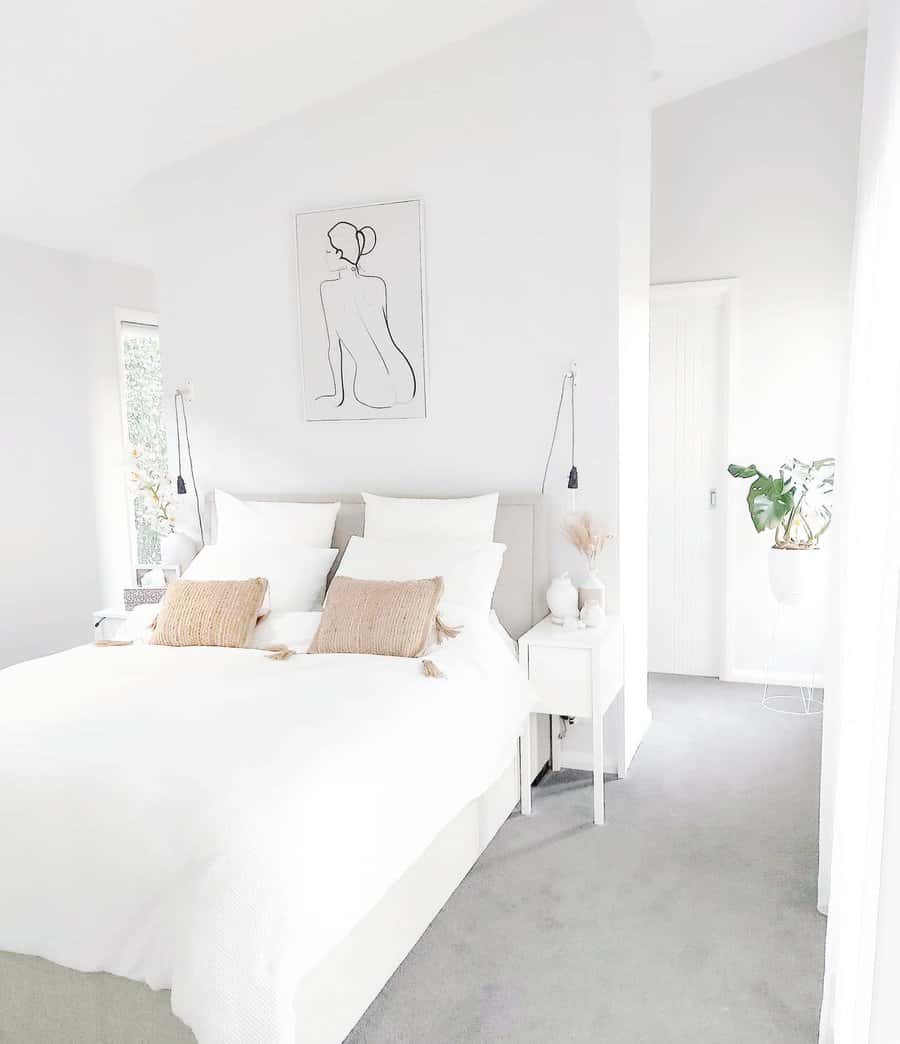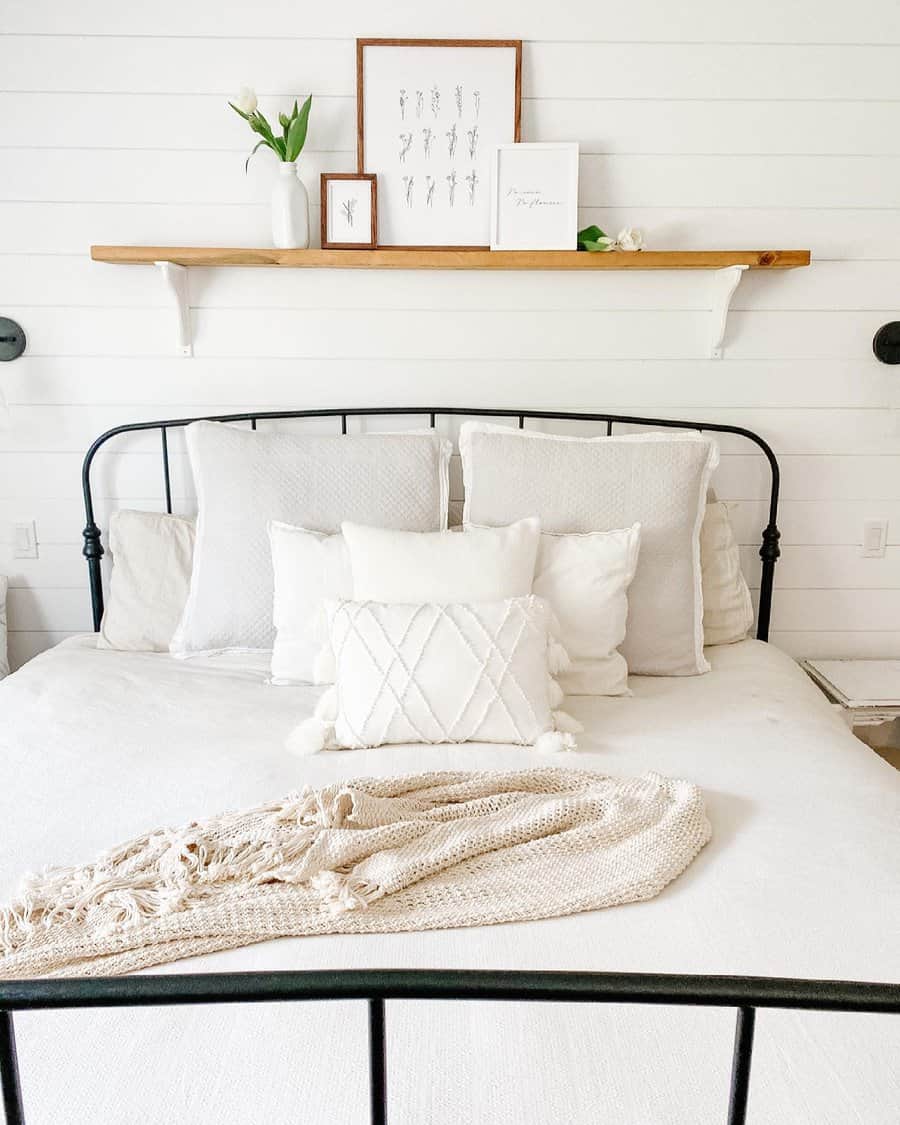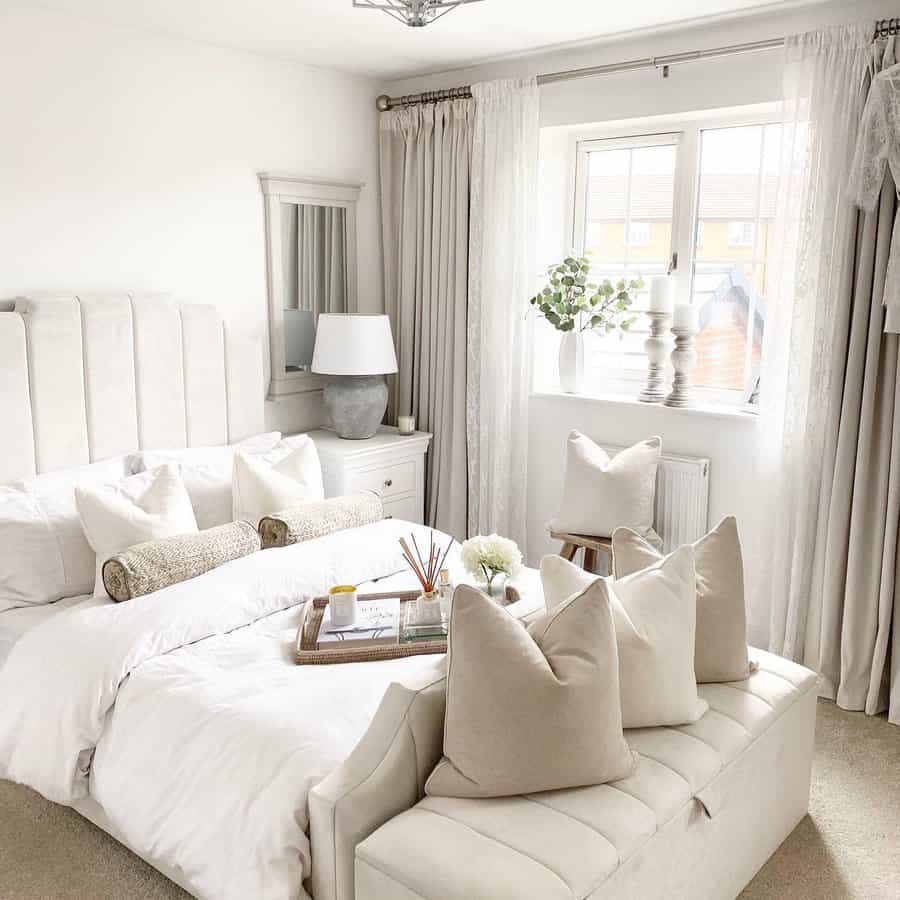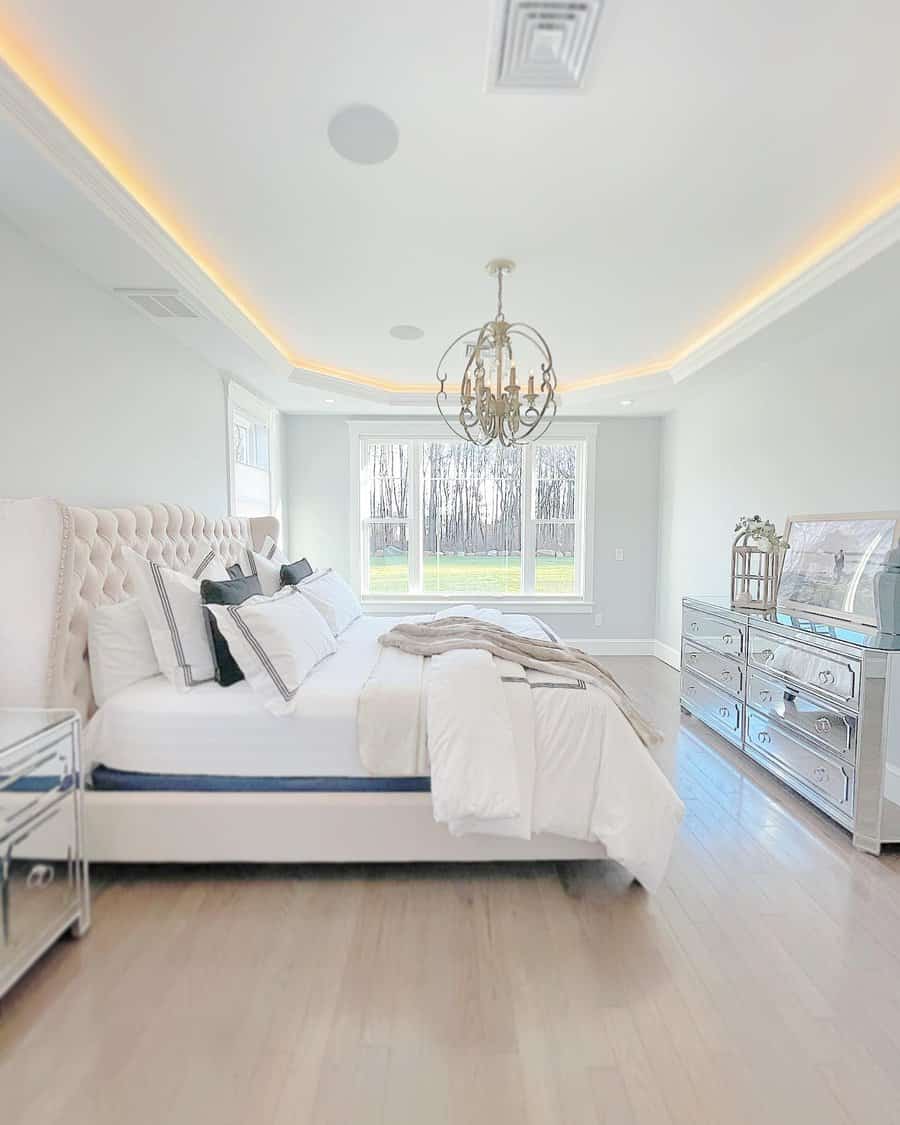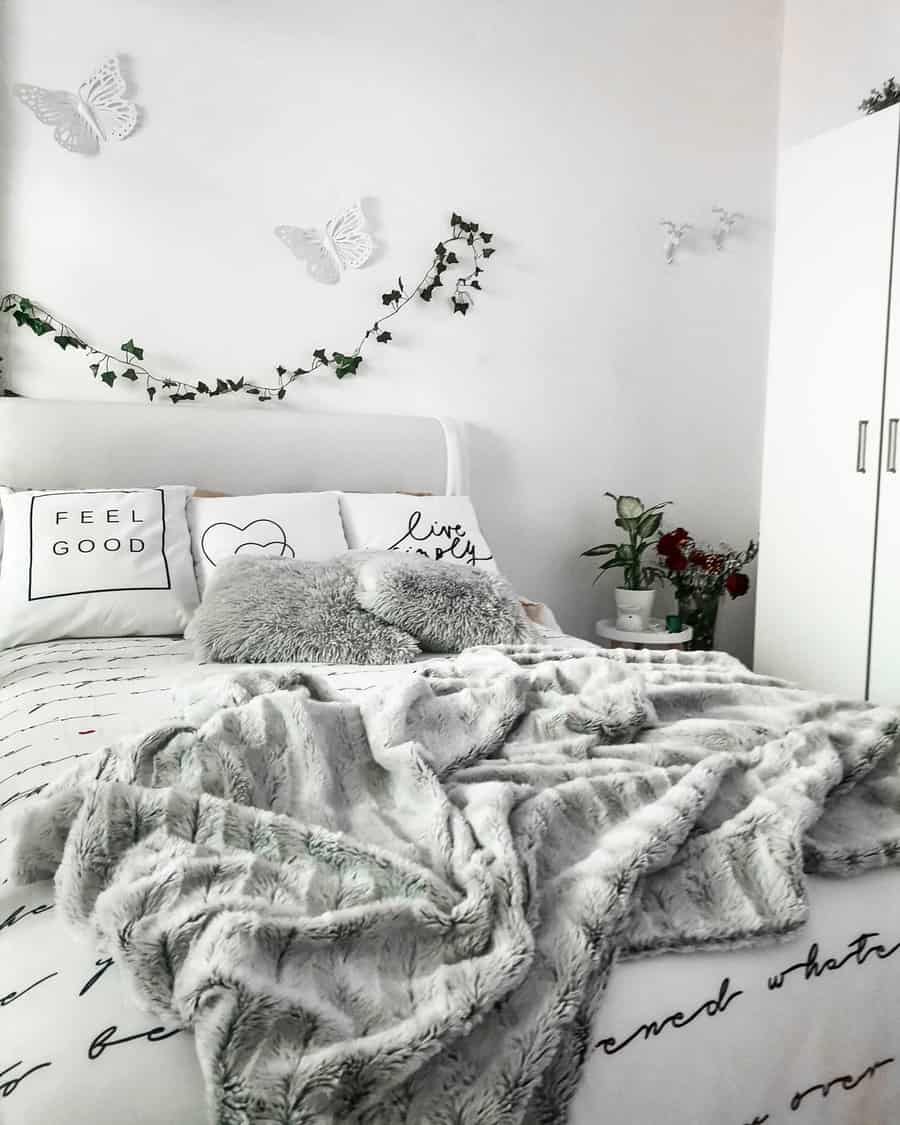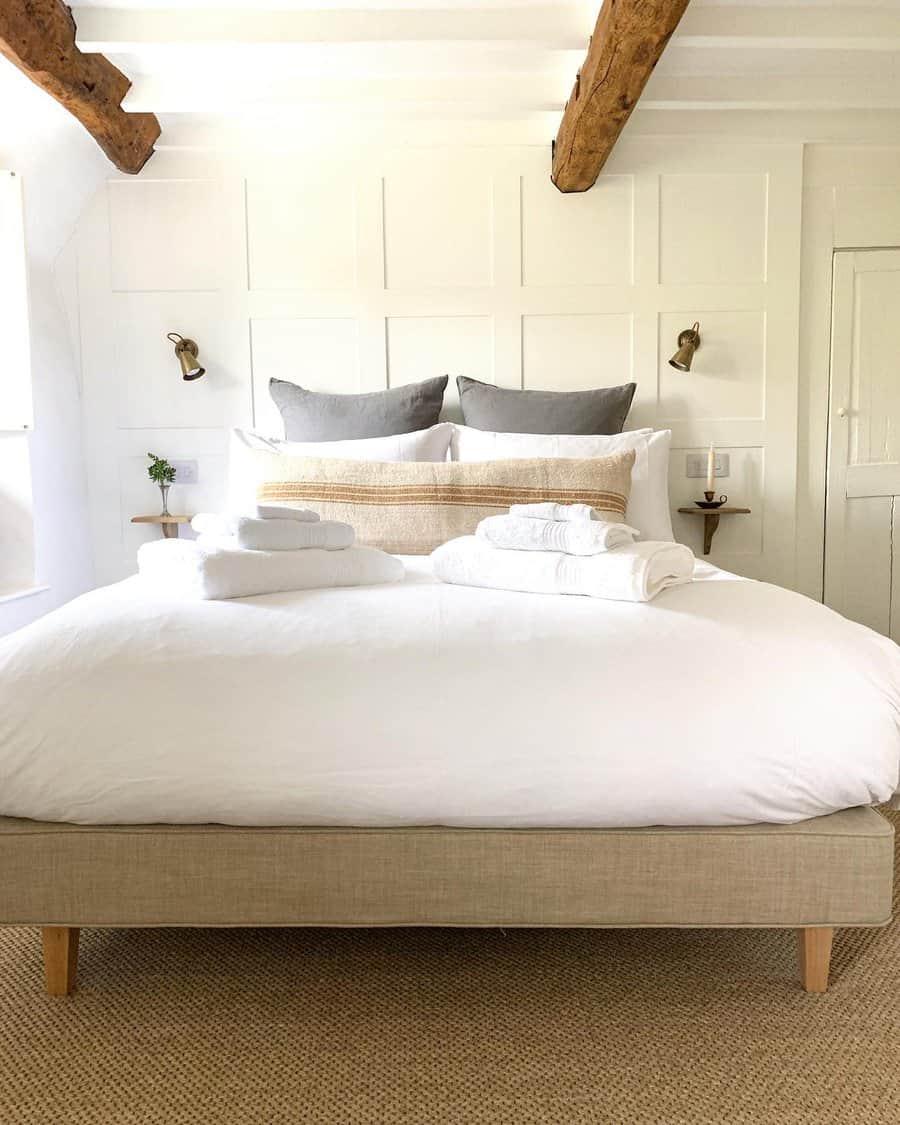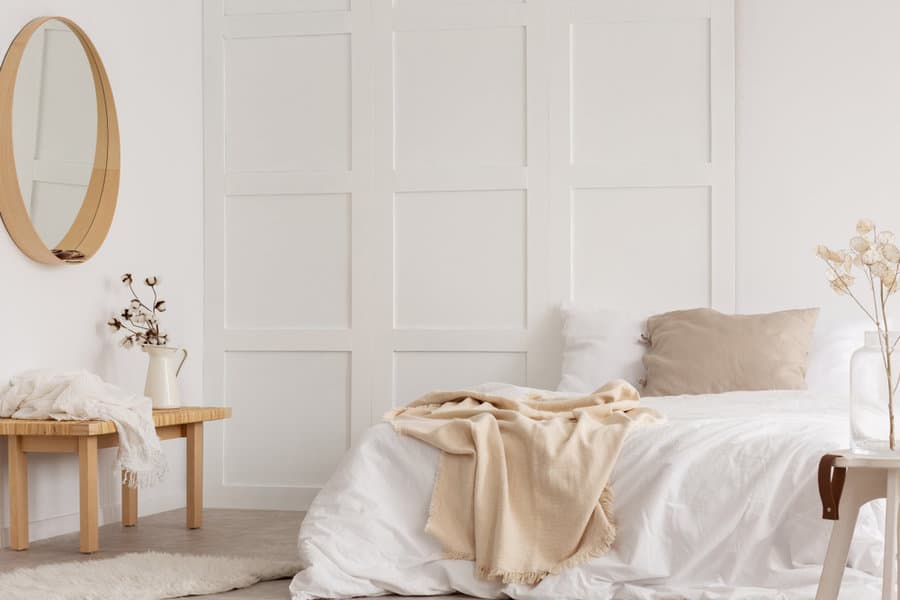 12. Rustic Charm: Exposed Brick Bedrooms
Embrace the rustic allure of exposed brick in your bedroom color scheme for a distinctive infusion of texture and character. To cultivate a cozy ambiance, partner exposed brick with warm neutrals and natural materials like wood, jute, and rattan.
For a livelier atmosphere, juxtapose exposed brick with unique art displays that reflect your personal style and creativity.
For a bold statement, fuse deep navy and jewel tones with exposed brick to create dramatic flair. Alternatively, explore monochromatic palettes featuring varying shades of the same color, like cool blues and grays, for an understated yet refined aesthetic.
No matter your preference, exposed brick lends rustic charm that elevates any bedroom space with its unique blend of texture and style.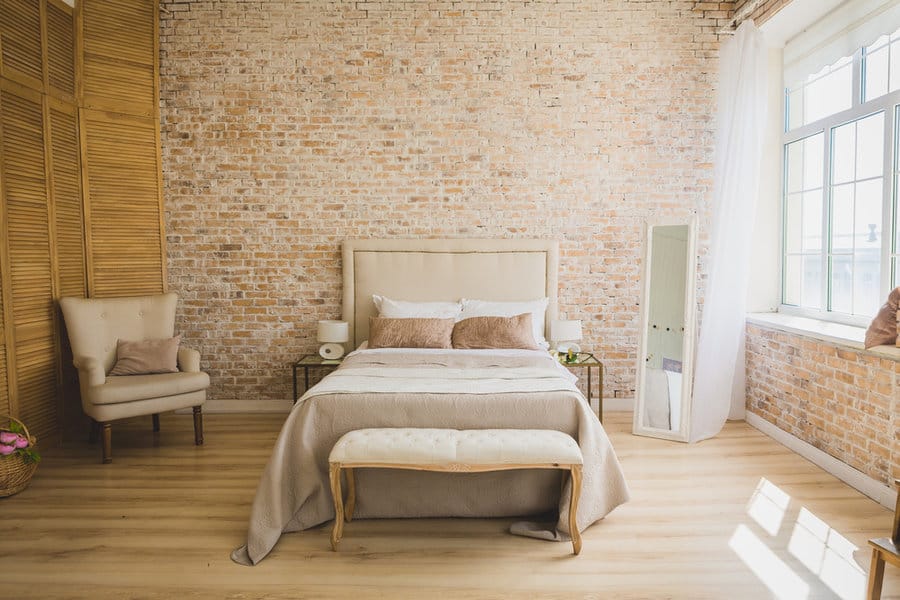 13. Refreshing Sage Green Schemes
Inject a breath of fresh air into your bedroom by embracing sage green walls as the foundation of your color scheme. To enhance this tranquil hue, incorporate earthy tones like warm beiges and terracotta as accents for a harmonious and grounded atmosphere.
For a lighter, more airy feel, opt for a softer and muted sage green, beautifully complemented by blush and pale blue accents, creating a serene and understated aesthetic.
For a touch of modernity, blend sage green with icy blues and cool grays to introduce contemporary sophistication. No matter your approach, sage green breathes new life into your bedroom, transforming it into a rejuvenating space for relaxation and revitalization.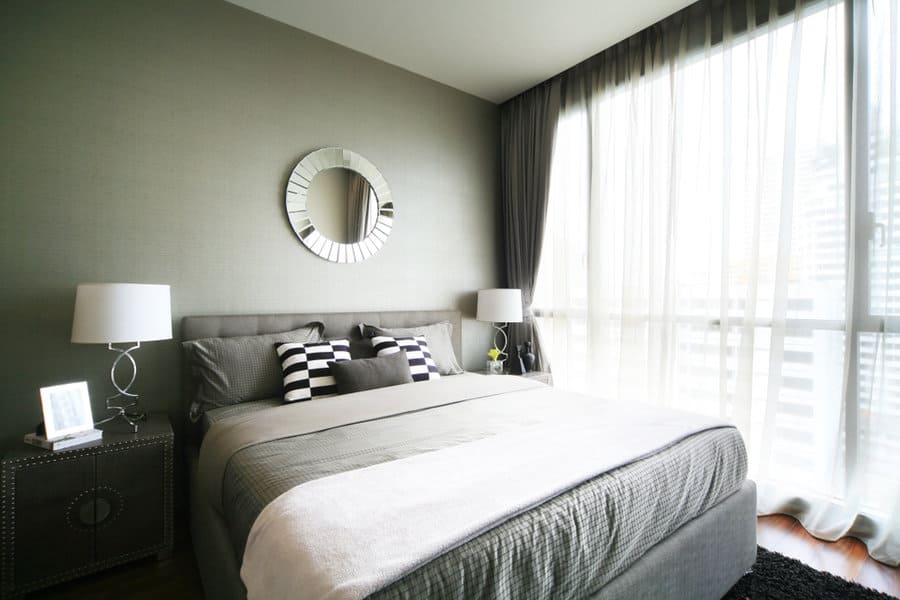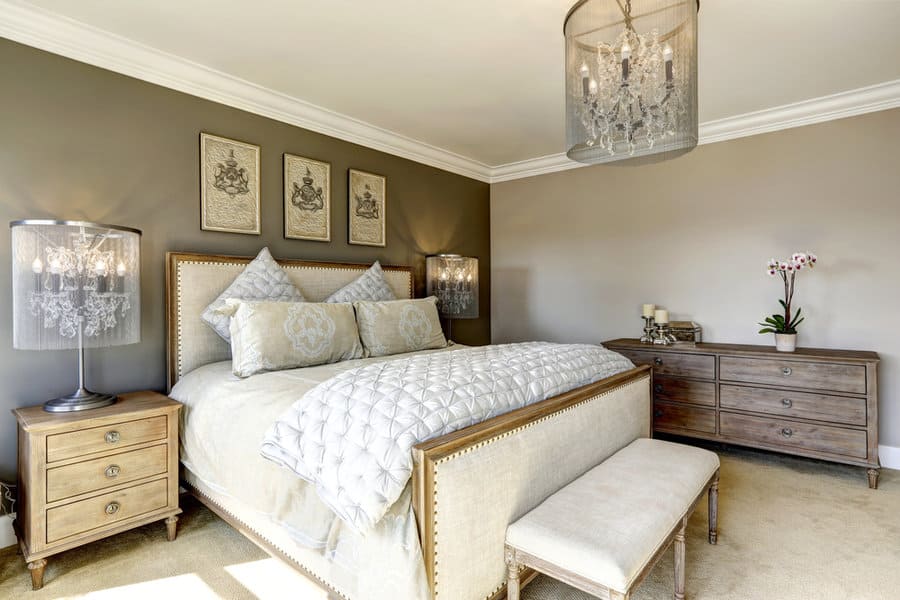 14. Serenity in Light Grey Bedrooms
Crafting an ideal bedroom color scheme begins with light grey walls that instill a sense of calm and serenity. To infuse warmth and contrast, introduce wooden accents. Opt for a light-colored wooden bedframe or a dresser to bring texture and character to your space.
For a touch of flair, incorporate vibrant splashes of color in moderation—think light pink pillows or a single teal nightstand. With this harmonious blend of light grey and wood contrast, your bedroom will swiftly transform into a cozy and inviting oasis for rest and relaxation.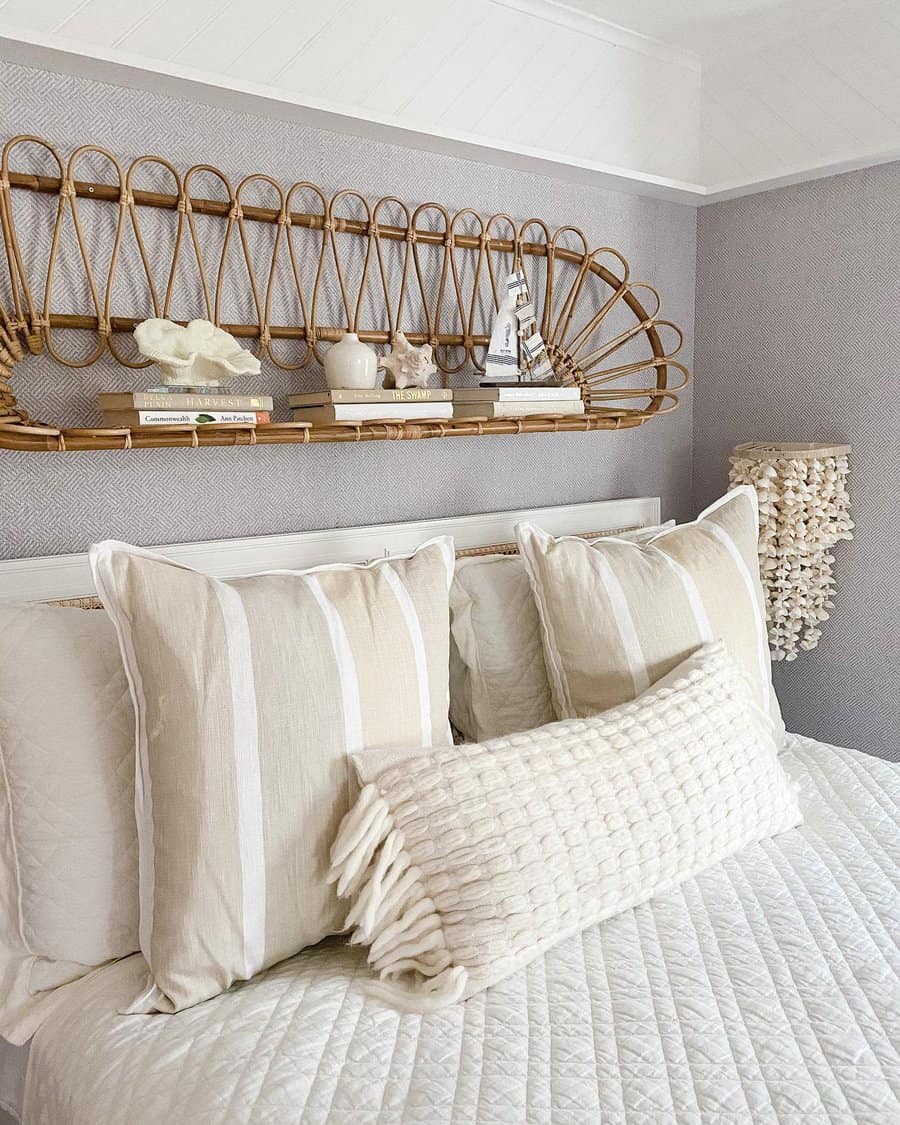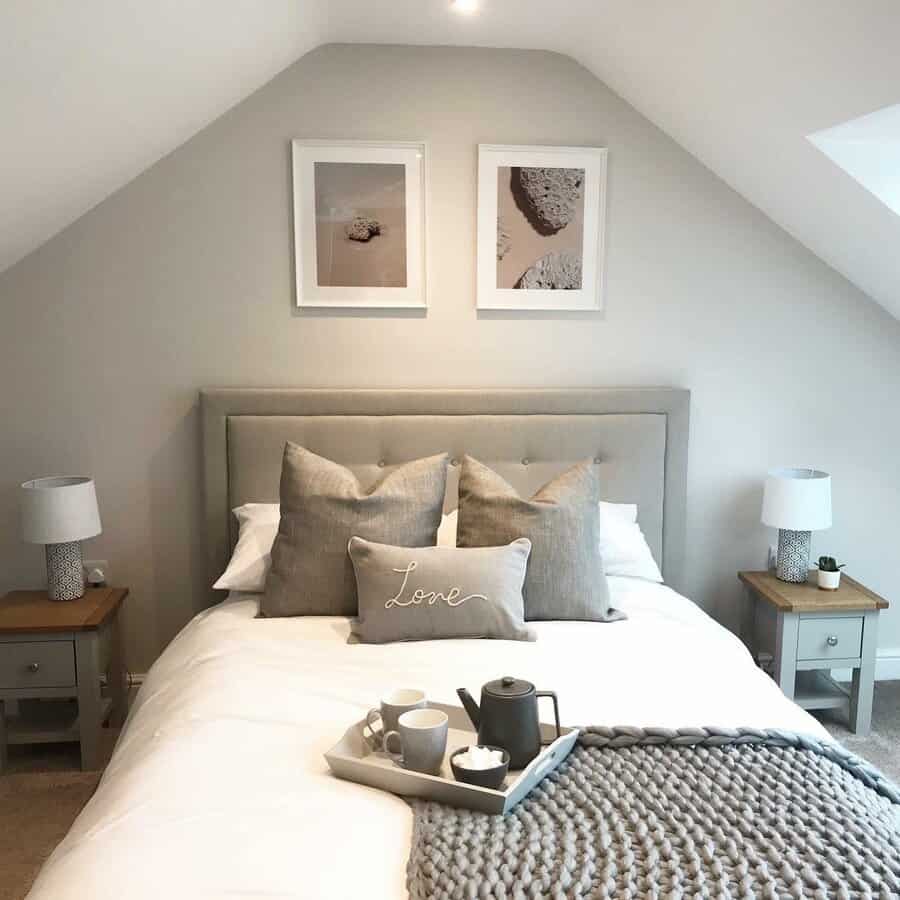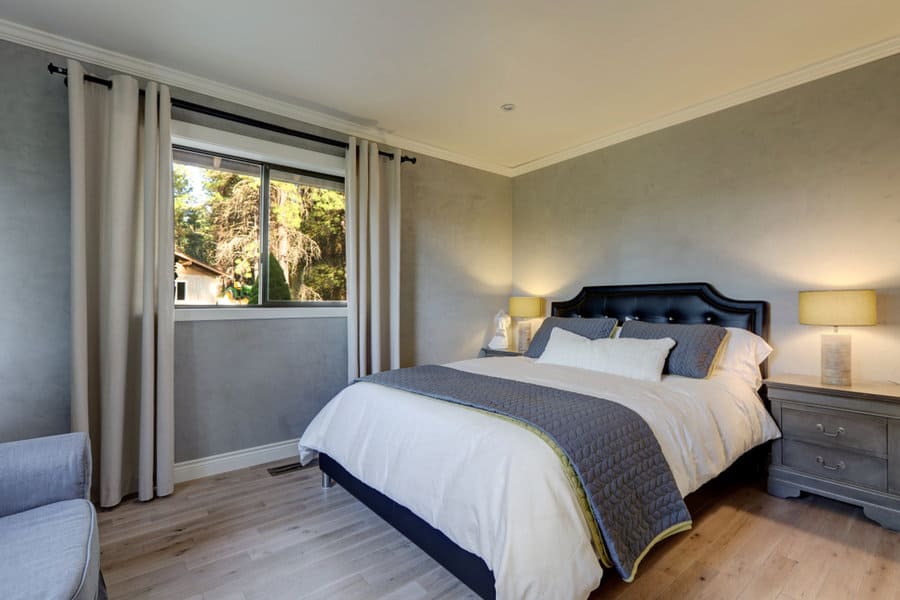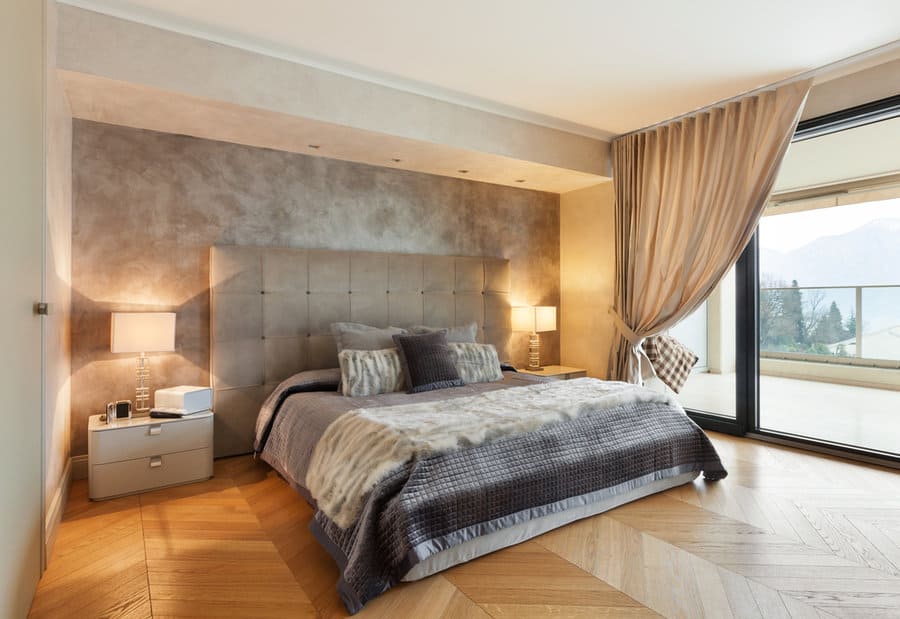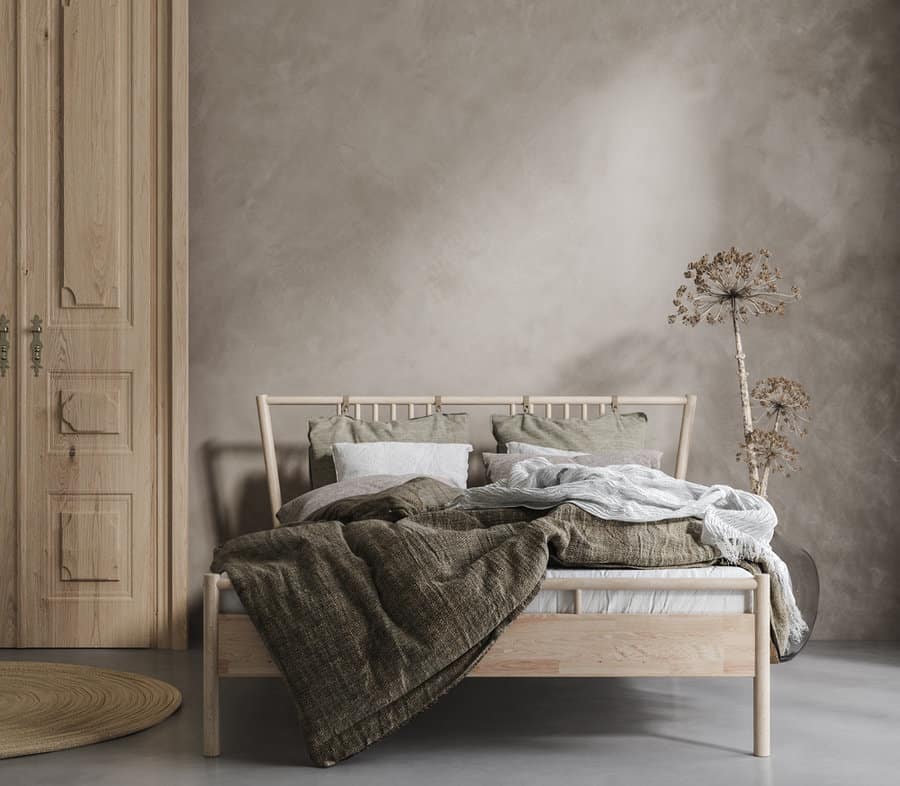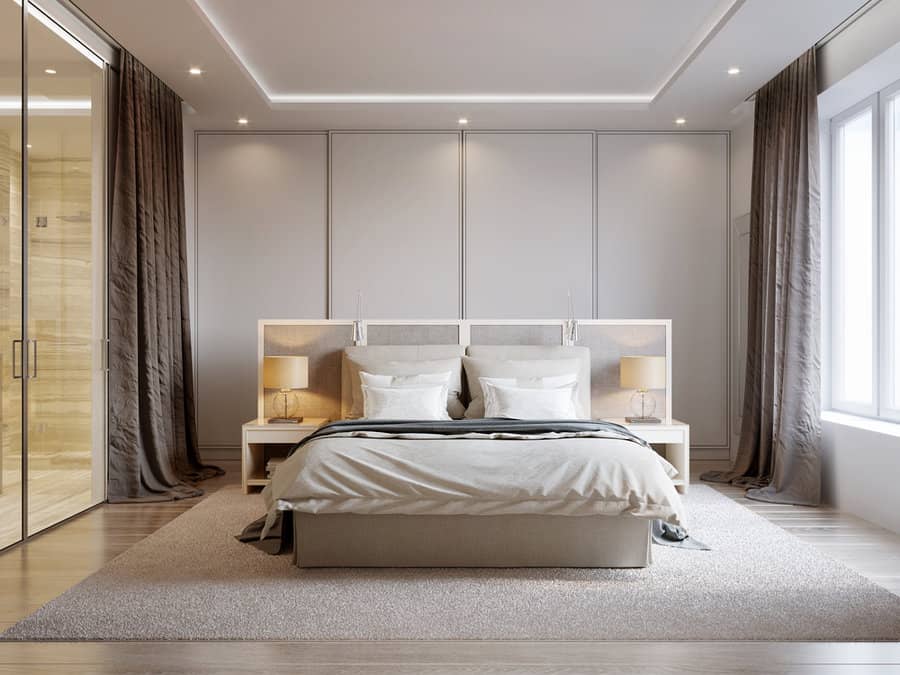 15. Pretty in Blush Pink Decor
Elevate your bedroom's femininity with the elegance of blush pink walls. This timeless hue not only imparts a pleasant ambiance but also imparts an airy spaciousness to your room.
Pairing blush pink with white furniture creates a neutral canvas for playful accessorizing with bold colors and patterns. Alternatively, go all-in on the blush pink theme by introducing matching textiles in bedding, rugs, or curtains.
To round off the look, incorporate brass accents or dark wood elements for added sophistication. With blush pink walls, your bedroom will exude an irresistible blend of invitation and refinement.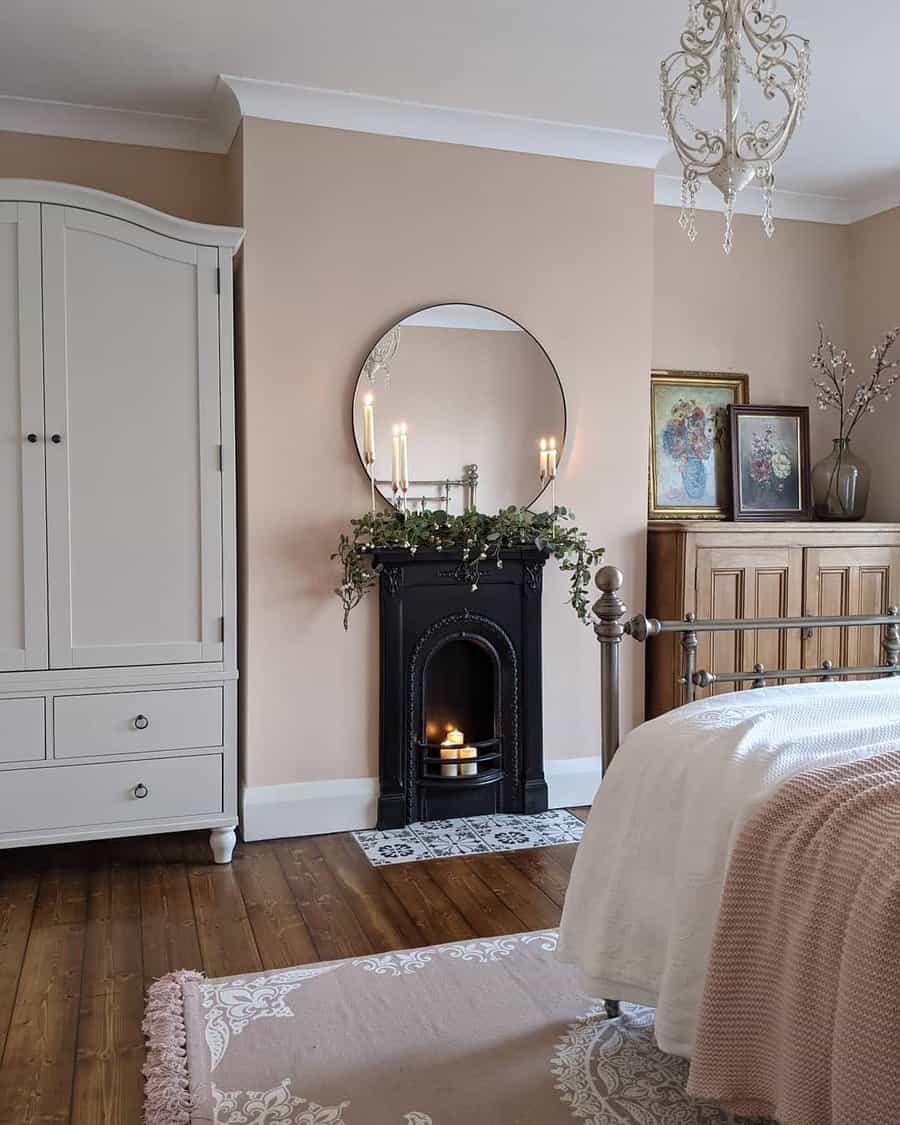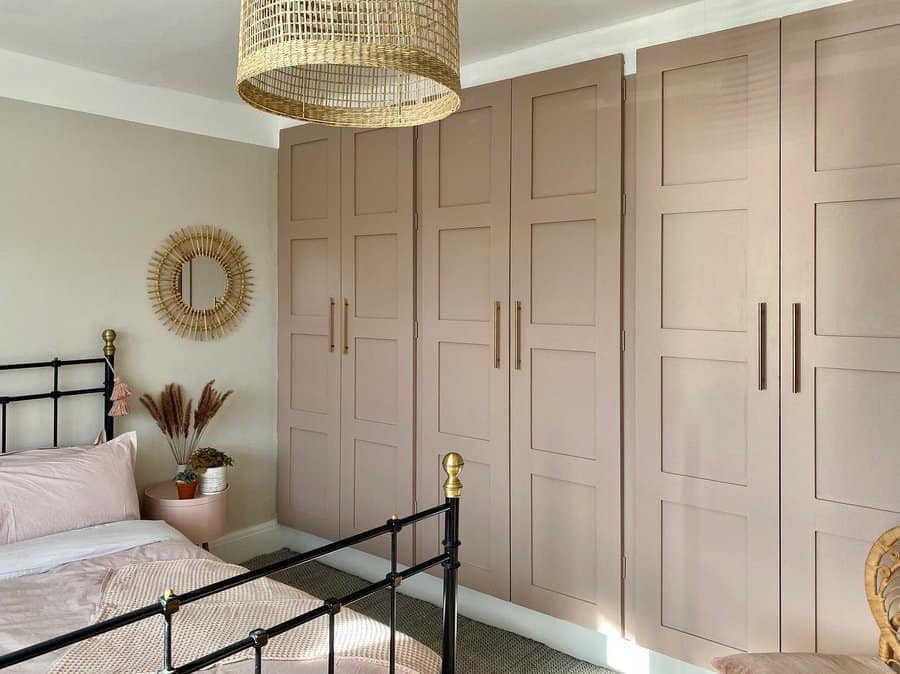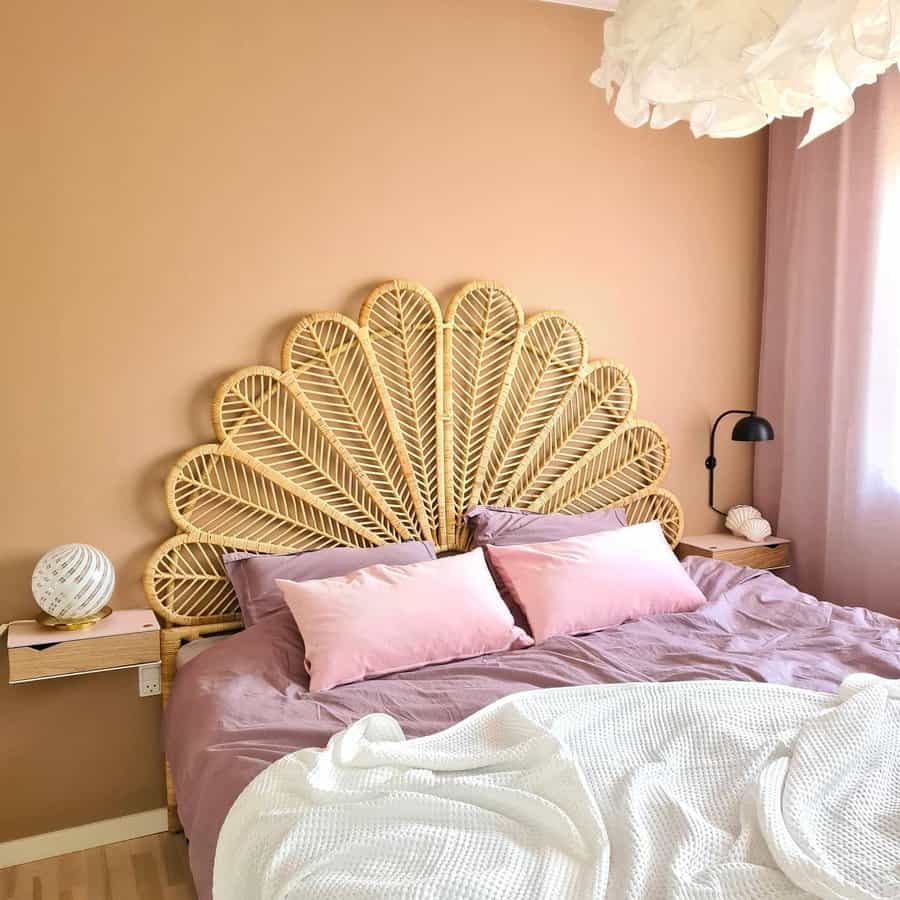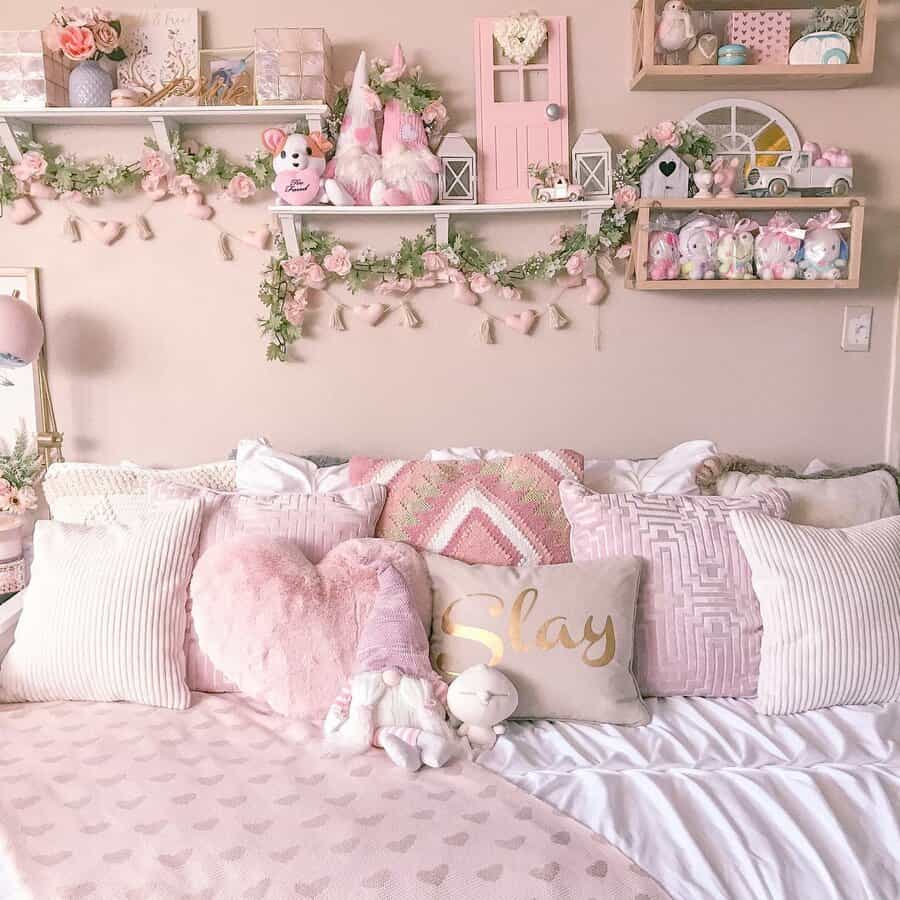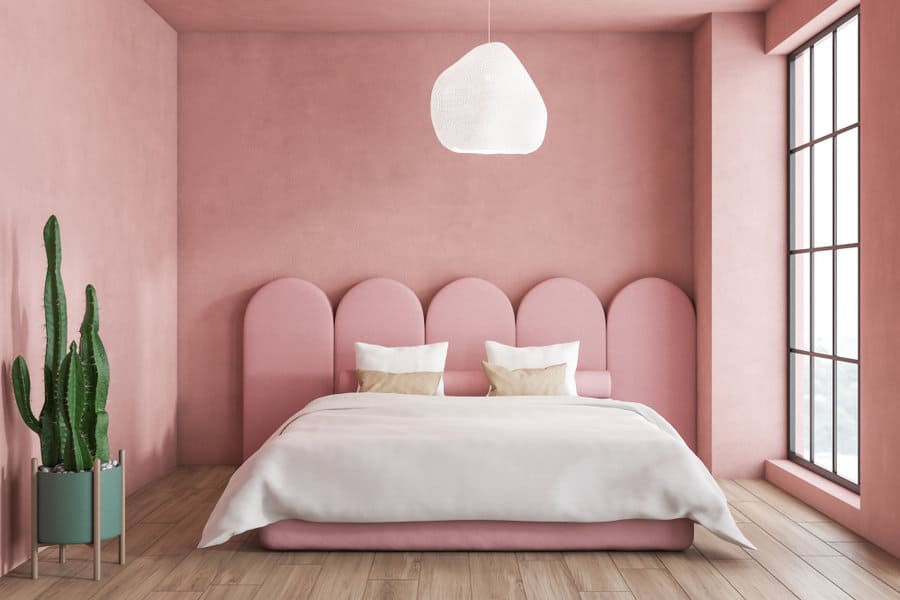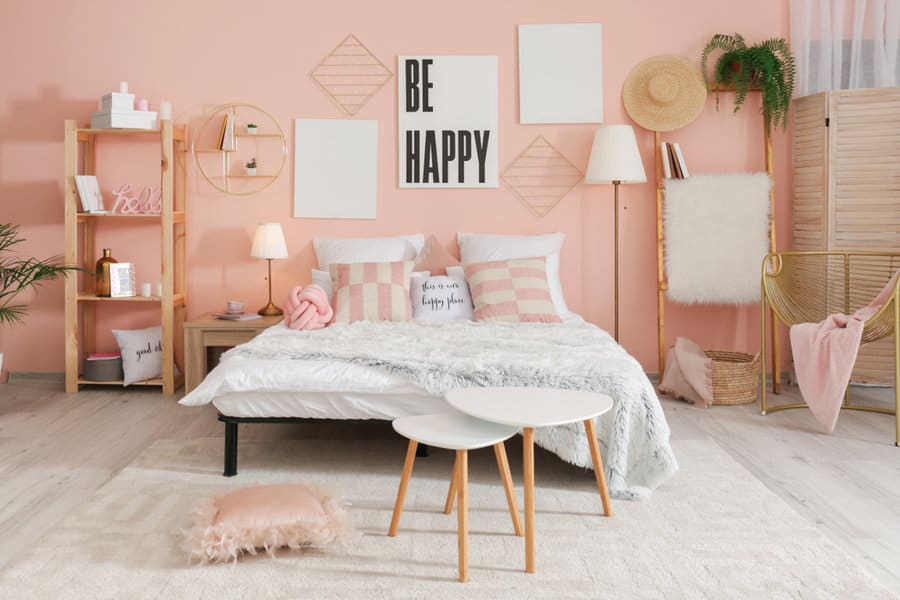 Bedroom Color FAQs
Can I paint my bedroom a dark color?
It's a generally-held belief that dark colors make rooms look smaller. While this can be true, a dark color on your bedroom walls can actually make the room feel larger by disguising the lines that delineate corners and boundaries. If you prefer dramatic bedroom decor, a dark shade of blue, green, red, or grey might be one of the best bedroom paint colors for you.
What are the properties associated with other common colors?
The ways that blue, brown, pink, black, and white influence your psyche have been discussed above. Here are a few other common hues on the color wheel and the feelings they can inspire:
Red:

Is a passionate, exciting, stimulating color.

Orange:

An intense color that is invigorating and warm.

Yellow:

Is sunny and cheerful, reminiscent of summertime.

Green:

A quiet, soothing color that gives off harmonious vibes.

Purple: Has long symbolized royalty, elegance, strength and wisdom.