What Color Grout To Use With Gray Tile?
Homeowners always focus on choosing the tile that will go in their homes, but they tend to forget about the grout. However, this can be a huge mistake. Choosing the right grout color can make or break your new tile design. There are three color family options: a lighter, darker, or matching shade. Because the tile is gray, the best lighter shades are white or light gray. The best darker shades are dark gray and black. The only matching shade is gray. Follow this handy guide to know what color grout to use with gray tile.
Tips For Choosing Grout Color
When choosing the grout color for your gray tile, it helps to keep some helpful tips in mind. The first is to consider the size of your room. If you want the space to feel larger, the grout should be close in color to the tile. This helps the two colors blend together, making the space feel more open because there are no harsh lines to interrupt the look of the tile.
If you are remodeling a room, you need to consider the existing grout color in the room. The best design is to have grout that matches throughout the room. This will create a cohesive design.
Another option is to highlight the pattern you've created with your tile. For example, if you have chosen a subway tile and then created a herringbone pattern, then using a contrasting colored grout will highlight the pattern.
Consider the color of the actual tile. There is more to gray than just the color at face value. Look at the undertones of the gray. If you're using a natural gray stone, then there are multiple colors mixed in that you can pick up on. Match your grout to the undertones for a cohesive look.
Finally, consider the textures in the room. A high gloss tile will look better with a lighter colored grout because it won't compete with the glossy texture of the tile. If you're using a natural tile with an imperfect edge, matching the color of the grout to the tile will help to blend these rough edges.
White Grout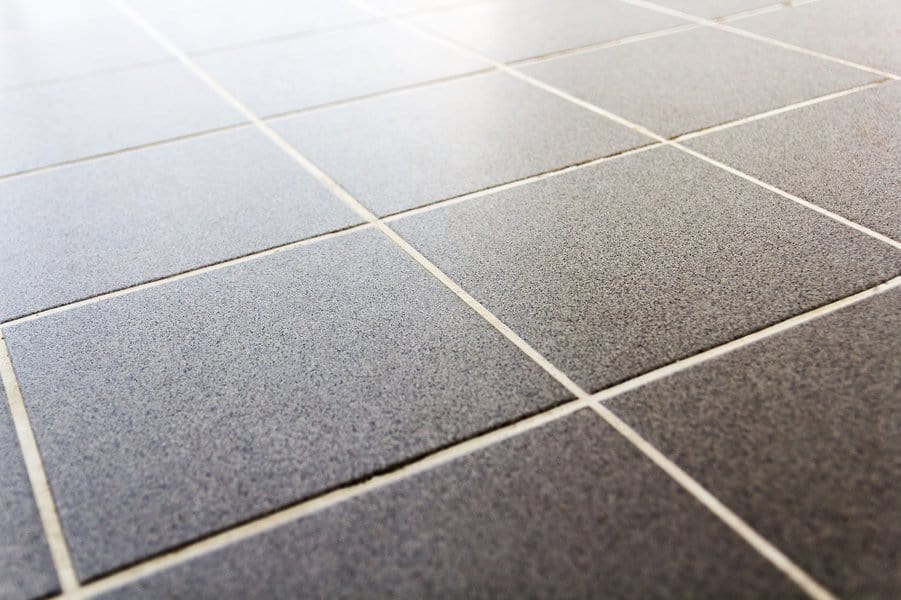 Using lighter grout is a traditional approach. Bright white grout looks clean and crisp, especially when you use it with white tile. However, white grout can also look good with dark gray tile. For example, it can brighten up darker gray subway tiles. The contrasting grout color adds a bright contrast to the tile color and can brighten up the feel of the entire room. This is a good look for a wall tile design. 
White grout lines also look good with lighter colored tile. For example, if you have a light gray marble tile or a white tile with gray veining, white grout will blend the tiles together. This is a good design for floor tile, where the lack of tile distinction helps the floor look bigger. In addition, this showcases the gray veining and lets you focus on the beauty of the stone without getting distracted by the grout. If you are unsure if white grout will look good with your natural stone tile, you can visit a tile shop and hold grout samples next to your chosen light tile.
One thing to note about white tile grout color, or any light grout, is that it is hard to keep clean. White will show every bit of dirt, mold, or mildew.
Gray Grout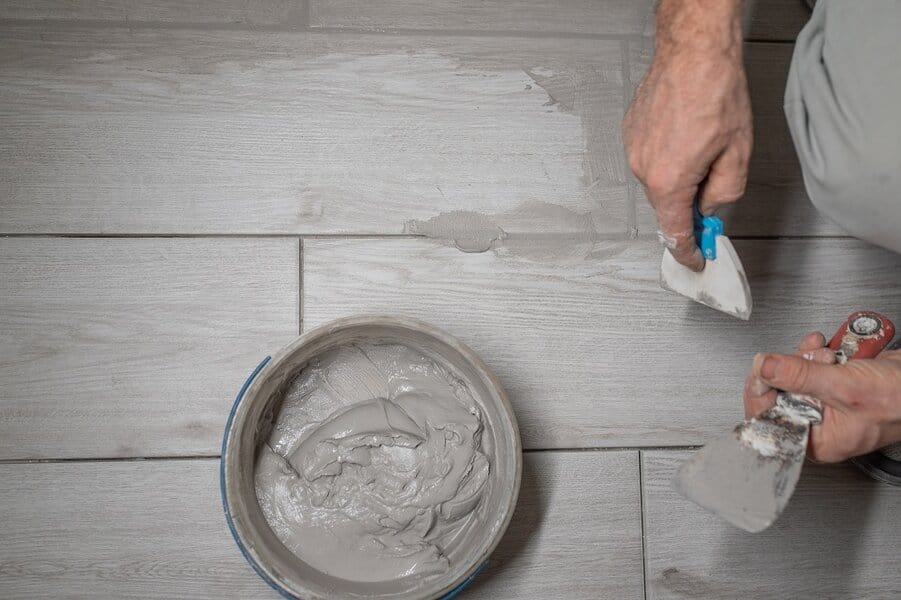 The simplest approach is to use a gray grout for your gray tile. With this approach, it is best to match the tile's gray color to the grout's gray color. Using two different gray colors will look slightly off as if you tried to match the gray colors and failed. So if your tile is light silver shadow gray, you will want a light gray grout color. If your tile is a natural gray stone, pair it with a warm gray grout. If your tile is dark gray, use charcoal gray grout to match.
Black Grout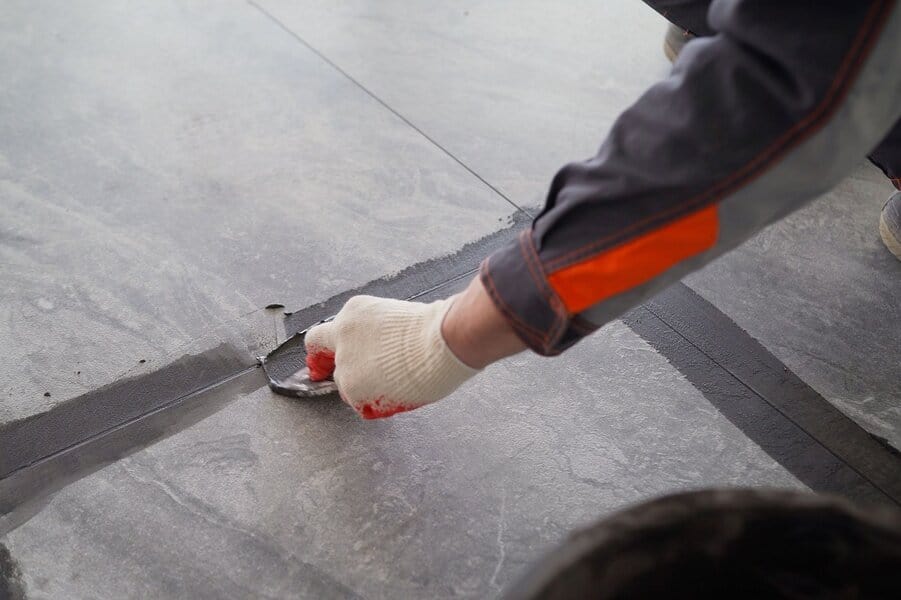 A darker grout can give your tile design a modern look and feel. Dark grout colors blend seamlessly with dark gray or black tile. In addition, the all dark design can help a smaller space feel bigger by creating the illusion that the tiled walls are sinking back and making the space feel bigger.
If you have white tile, black grout is perfect for highlighting the tile pattern you've created. However, this creates a lot of harsh lines, so you will want to be careful about how you use this design. Too many black lines can create a busy pattern that will be overwhelming. If you plan to use black grout with a light colored tile, consider the size of the tile and the size of the space you are using the tile. This will help to keep everything proportional.
Another thing to note about using a dark grout with light tile is that installation can be difficult. This is because the dark grout can stain the light tile, which can degrade the final look of your tiled design. In addition, removing the grout stains can be impossible. However, the benefit of dark tile is that it looks nicer for longer because it doesn't show dirt as easily.
Read also: What Color to Paint a Black and White Tile Bathroom?
Brown Grout Colored Grout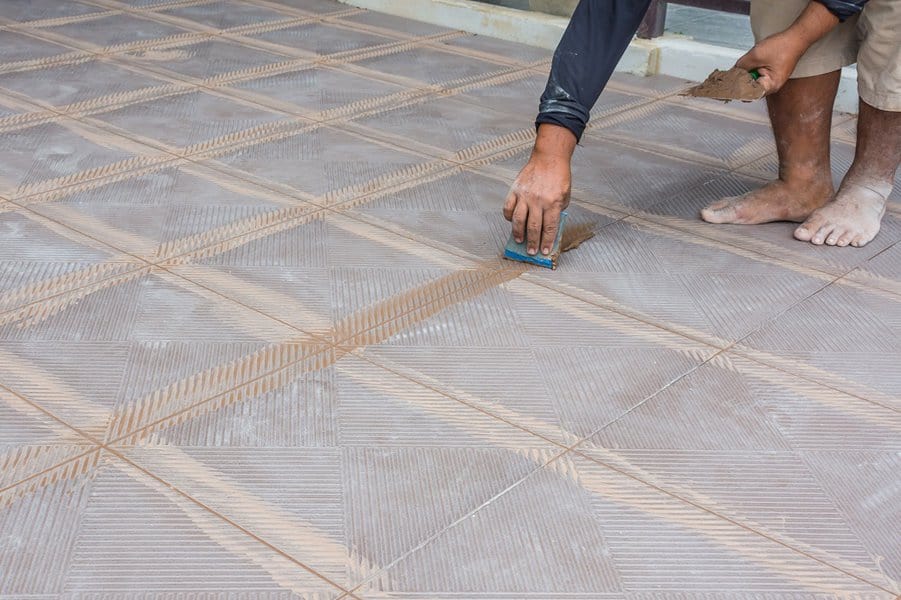 If you're using a natural stone with gray coloring, you may find that a neutral grout color is your best option. However, Brown and beige hued grout aren't just for beige tile. It can actually be a good color match for natural stone tiles with gray coloring. This grout and tile color match gives your home a contemporary look. But, depending on the natural stone you choose, it can also look more traditional or country cabin.
The brown coloring with gray is often seen in tiles designed to look like natural wood. When you stand back, the coloring looks gray. But when you get up close, you can see the brown colors filtered throughout. Using a brown or beige colored grout like DeLorean gray gives the tile an organic and natural feel, helping your wood tile to look more like natural wood and less like tile.