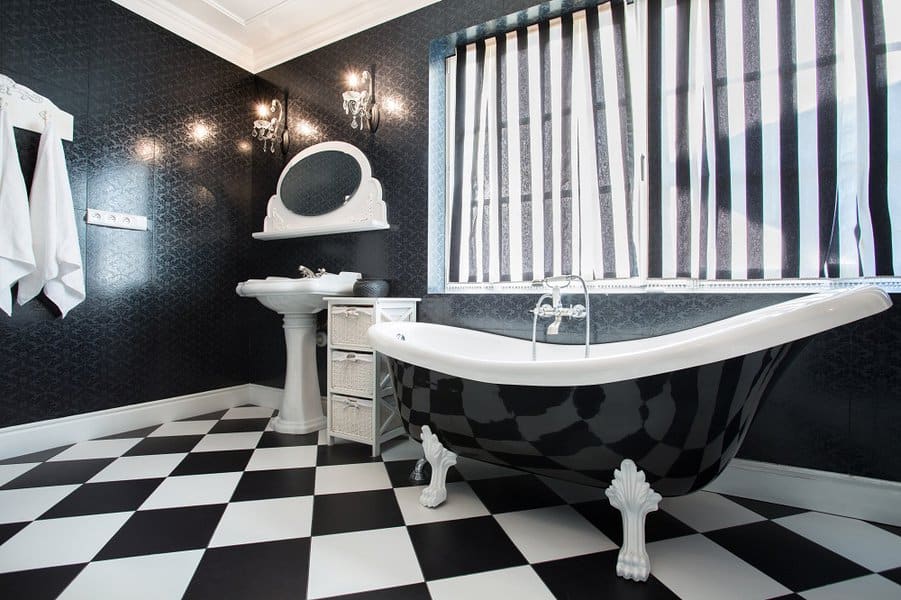 What Color to Paint a Black and White Tile Bathroom?
by — Kari Apted

Published on June 1, 2022

Updated on October 13, 2022
Black and white have enjoyed a resurgence in popularity, partly due to how frequently these colors appear in farmhouse design. However, black and white is a classic combination that truly merges well with any style of home decor.
In the bathroom, black and white tile introduces contrast and style to your bathroom design. Since both colors are neutrals, just about any paint color will coordinate with this type of tile. There are certain colors of bathroom paint that look exceptionally great beside black and white tile. Here are nine of our favorites.
Read also: 77 Black and White Bathroom Design Ideas
Black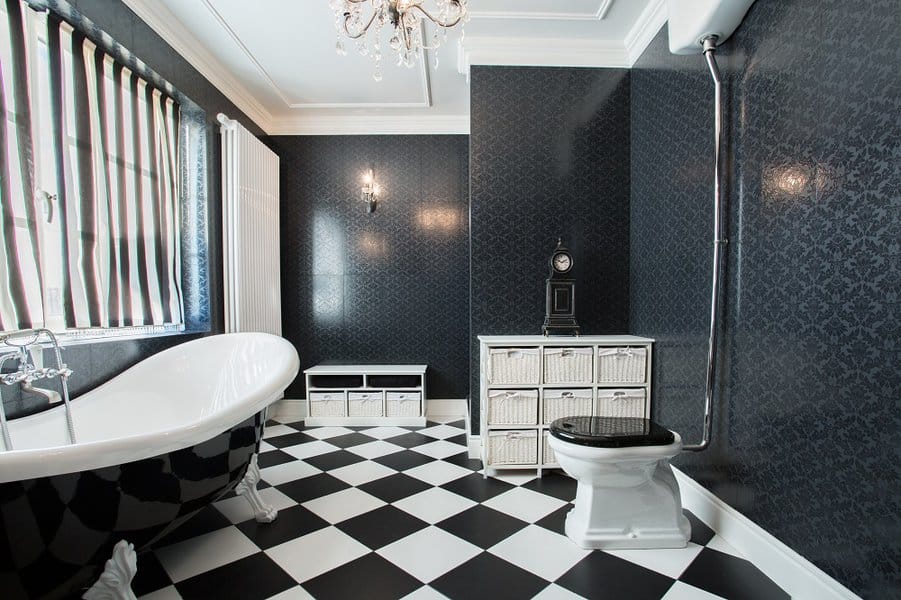 Black isn't often recommended as a wall paint color, but when it's paired with white and black subway tile, it's a logical choice. Black wall paint is a dramatic selection, especially above beautifully swirled black and white encaustic floor tile.
Black bathroom paint is also lovely with ceramic tile in a checkerboard style, or next to mosaic tile that combines black, white, and grey hues. If black paint on all four walls seems too heavy, paint your biggest wall black and use white or grey for your other wall color. Be sure to use a dark color of grout when your walls are dark—otherwise the grout lines will become an unwanted focal point.
Blue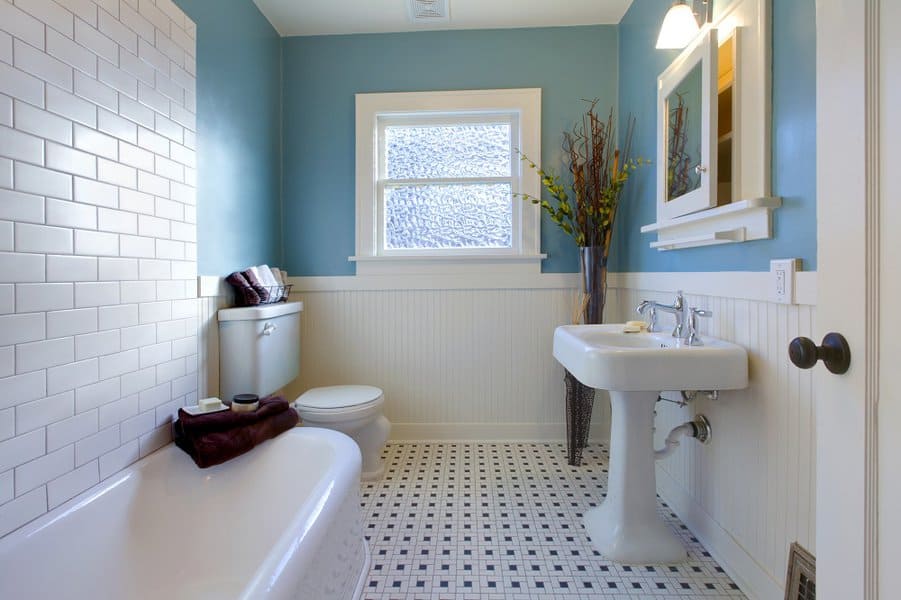 Blue is the world's favorite color, and it's easy to see why. In all of its cool varieties, it's a soothing color that brings a touch of the outdoors inside. Sky blue, baby blue, cobalt, or turquoise are equally great wall colors in a black and white tile bathroom.
You can use tile paint to add touches of blue to your existing white and black tile. If you have tiny mosaic or penny tiles, create a random blue tile pattern to bring the whole color palette together. Look for other ways to incorporate blue into the room design, such as placing a fluffy blue rug on the bathroom floor.
Another way to make your blue wall color pop is to replace your ordinary silver bathroom faucet and cabinet hardware with gold or copper fixtures. These warmer metals are complementary colors beside blue and can be the finishing touch that takes the bathroom from "nice" to "wow!"
See more blue bathroom ideas here.
Green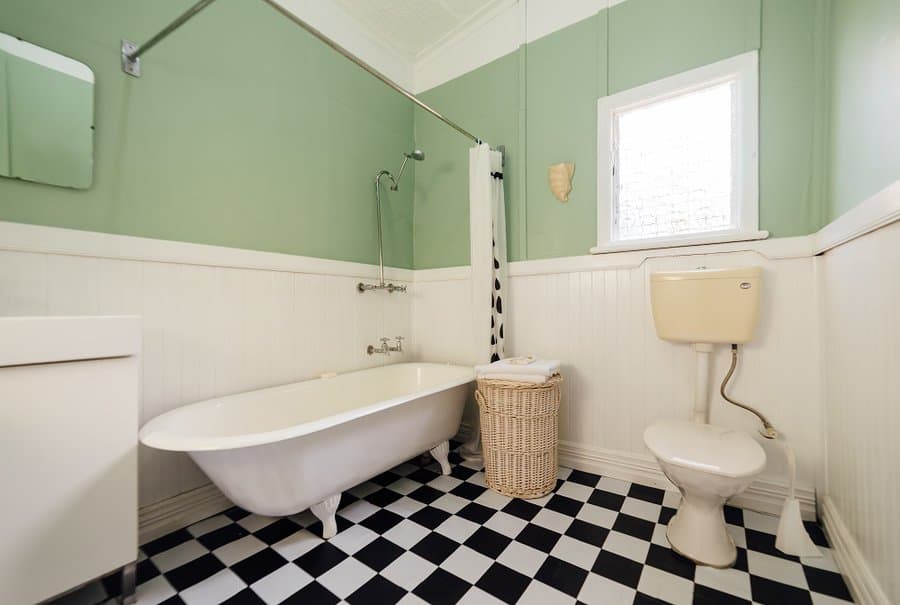 Depending on which shade you choose, green can be a bright accent or an almost neutral color. Fortunately, any shade of green that's your favorite can work as a bathroom paint color in a black and white bathroom.
If you prefer brighter design ideas, look for a shamrock green, lime green, or chartreuse paint color. If you're more into the earthy, neutral greens, test bathroom paint samples in soothing sage, soft seafoam or pale pea green.
Darker shades of jade or hunter green are also look great next to black and white tile. These darker hues are great for creating drama, but can also make a large bathroom feel smaller and cozier.
If you're refinishing your bathroom black and white tiles, incorporate small touches of green tile if you can. Small accent tiles in your chosen shade of green will help pull the design together.
Greige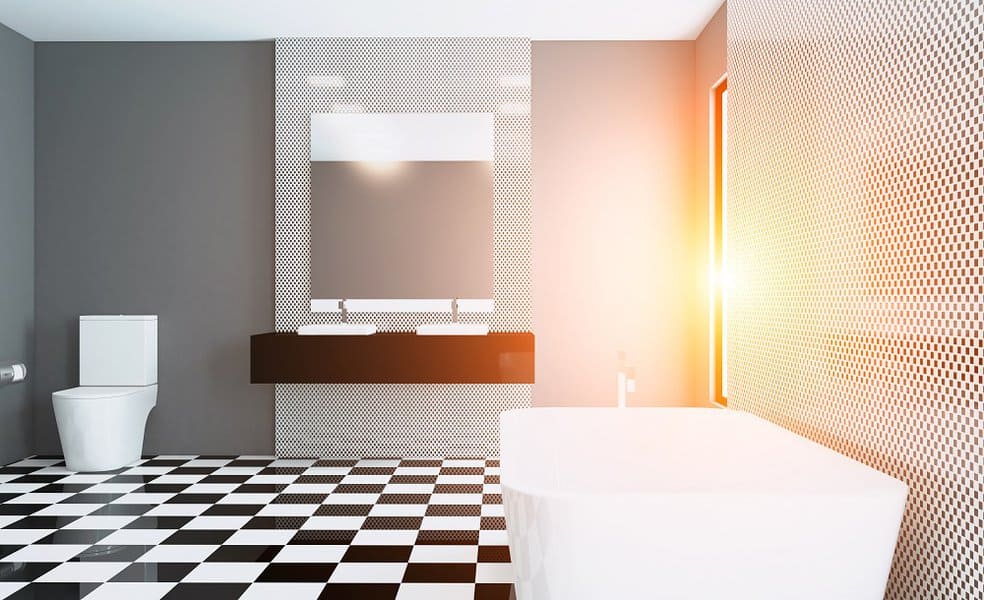 Greige is a relatively new word to most people, but it's simply what happens when you blend grey and beige together. Greige adds a soft, casual tone to a black and white tile bathroom, much like a subtle taupe or khaki. It's warmer than grey and a good way to bridge the gap between the deeply contrasting neutrals of black and white.
A pearl shell glass mosaic tile in shades of grey, greige, beige, black, and white is a great backsplash or accent tile choice if you decide to use greige paint. The little greige and beige tile accents will help visually balance your neutral color palette.
Read also: What Colors Go With Beige Bathroom Tiles?
Grey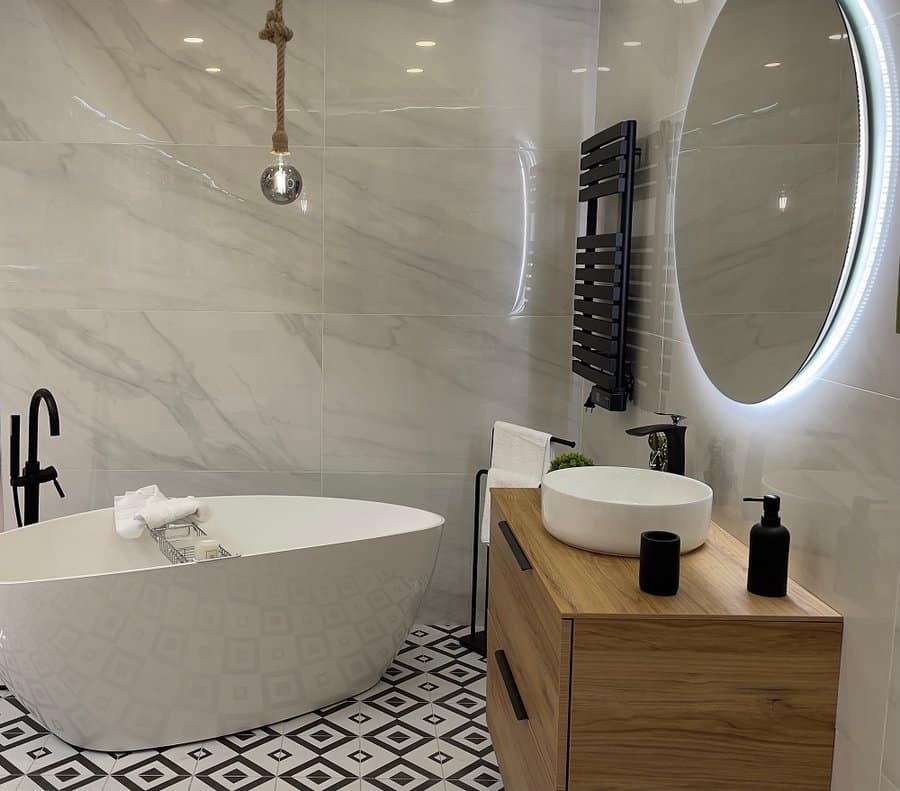 If you have a grey tile bathroom, grey paint could make the whole room feel depressing. But if you're looking for a good color paint for a black and white tile bathroom, grey—a mixture of both colors—is ideal.
Any shade of grey will work, too. Everything from light grey to deep charcoal looks excellent on a wall beside black and white tile. Patterned grey tile that incorporates black and white into its design is a good option if you are renovating and want to equally represent each wall and tile color. Use grey grout instead of white grout for a more polished appearance.
See more grey bathroom ideas here.
Pink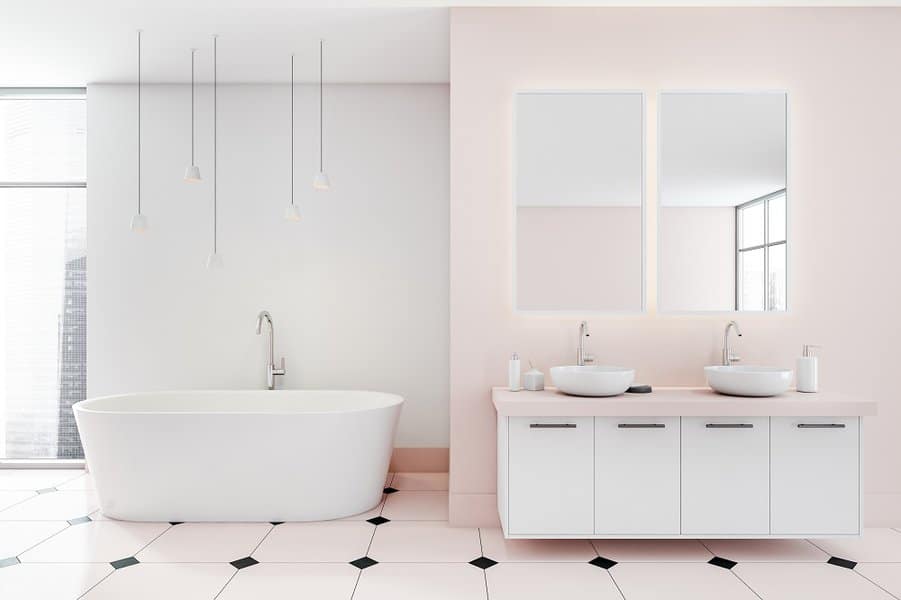 Pink—especially an earthy shade of blush or dusty rose—is an elegant, sophisticated color beside black and white tile. These pink hues are known to be soothing, relaxing colors, making them an excellent bathroom wall color to look at while enjoying a long soak in the tub.
Of course, pink comes in many shades, and hot pink is a fun, dramatic pairing with black and bright white. Try to incorporate all three colors in your rugs, towels, and accessories.
Because pink and green are complementary colors, finish your pink/black/white bathroom design with a few green plants. It will add a natural vibe that both softens and highlights the shade of pink you chose.
Red
If "exciting" is the mood you're going for, paint the walls bright red when you have black and white floor and wall tile. Choose a glossy, candy apple red or cherry red for a 1950s diner vibe. Install shiny chrome faucets and drawer pulls to further capture that retro ambience.
A muted brick red or an orangey, dark vermillion will also look good with black and white tile. Subway tile provides clean lines that help balance a bold color like red, even in its milder forms like antique rose or red ochre.
White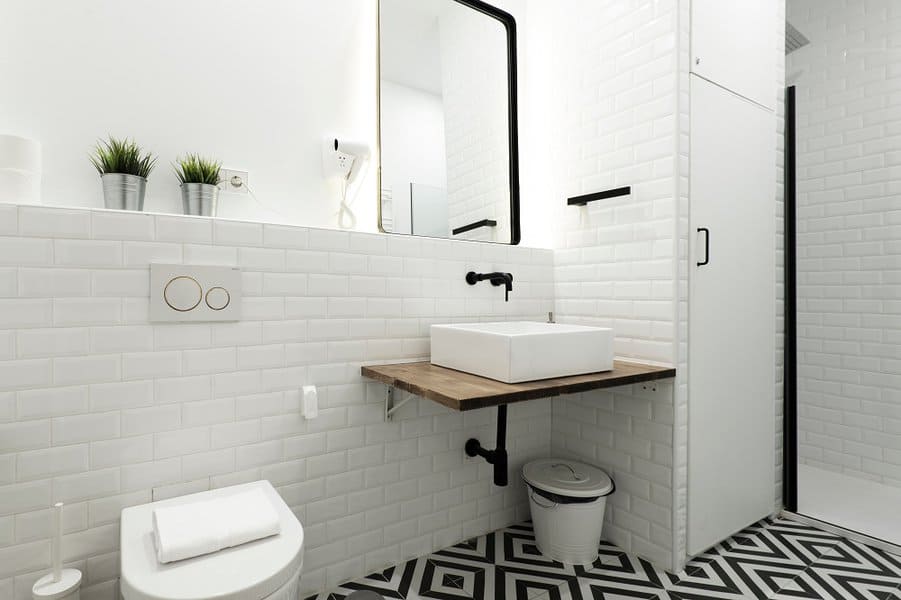 If you're wondering what color to paint a black and white tile bathroom, white is an obvious choice. White bathroom ideas are best for making a bathroom feel crisp and clean.
Note that white paint comes with dozens of different undertone options, so it's vital to take home paint swatches before choosing a paint color. Usually, cool white works best with a black tile/white tile combination. However, if your white marble or white subway tile has a warm undertone, you'll need to match it accurately or your pure white wall will look almost blue beside it.
Yellow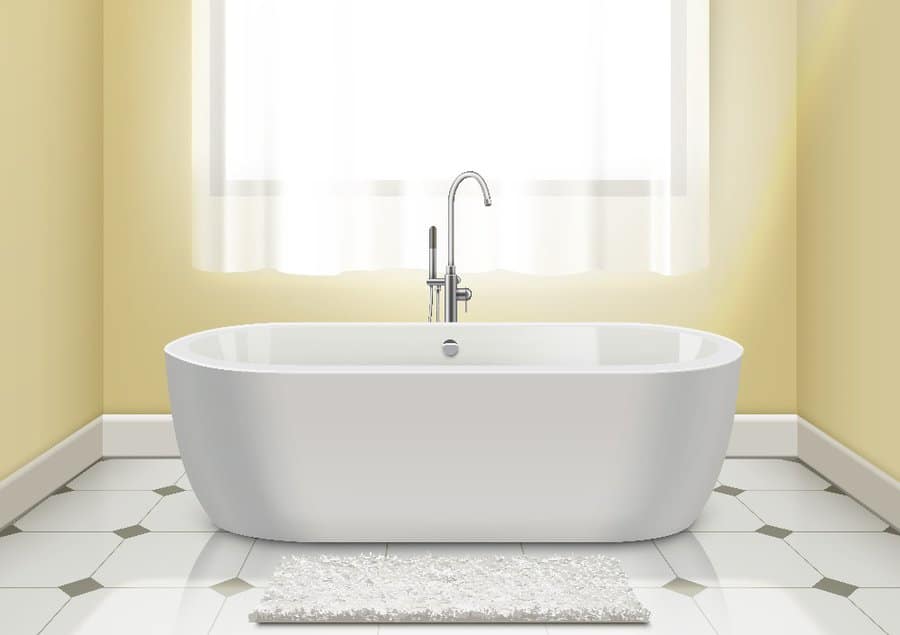 There's a reason that you frequently see bumblebees in paintings and home decor: black and yellow look simply wonderful together—especially with a splash of white.
Yellow is known as a happy, cheerful, mood-elevating color and is particularly great for brightening up a small bathroom. You can choose virtually any shade of yellow and it will look good with your white and black tiles. Pale butter yellow, bright sunflower yellow, or a deep, dramatic gold are all great bathroom paint color choices.