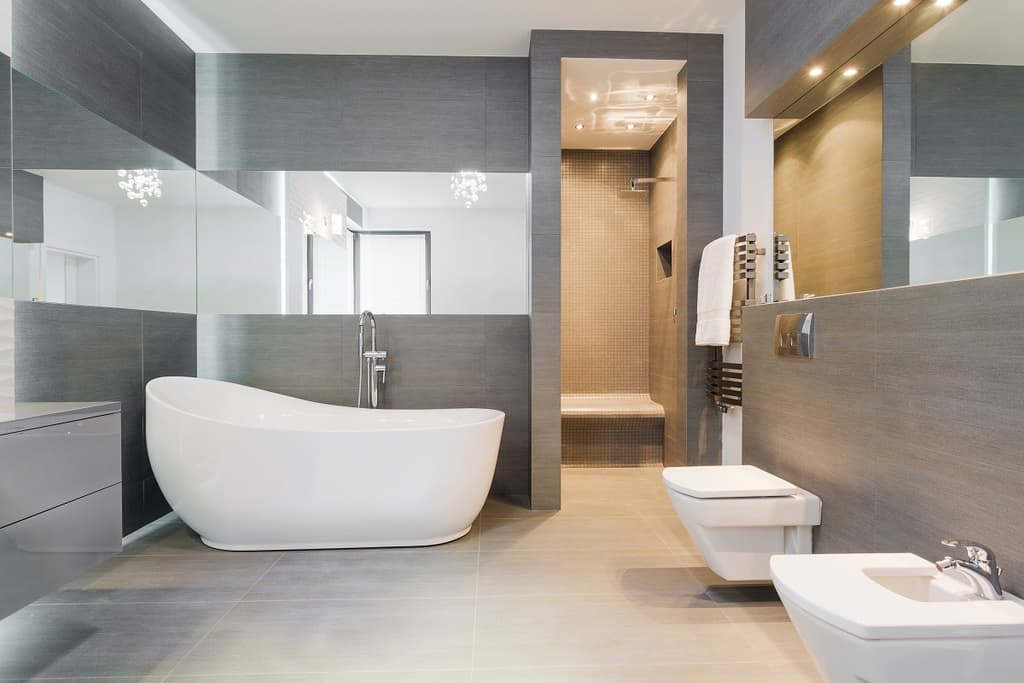 What Colors Go With Beige Bathroom Tiles?
by — Kari Apted

Published on April 14, 2022

Updated on April 27, 2022
If you have boring beige bathroom tiles, you've likely wondered how to make your bathroom more interesting. Beige is not known as a particularly exciting or beautiful color, but that same neutrality is also what makes it such a great foundation.
You might be pleasantly surprised to learn that nearly any color can go with beige; you just have to know how to match it. Here's a list of our favorite beige bathroom color pairings and tips on how to maximize their impact.
Define Your Beige
Beige is not just one color, but a name given to both warm and cool shades of pale brown. Warm beige has yellow, orange, or red undertones while cool beige has blue or grey undertones. In most cases, it's best to pair warm beige tiles with warmer colors, and cool beige tiles with colors that fall on the cooler side of the color wheel.
Note that white goes well with any shade of beige tile. This clean, neutral combination forms a simple background for any decor style. However, white also comes in warm and cool versions, so be sure to match the temperature with your particular shade of beige.
Warm Beige Pairings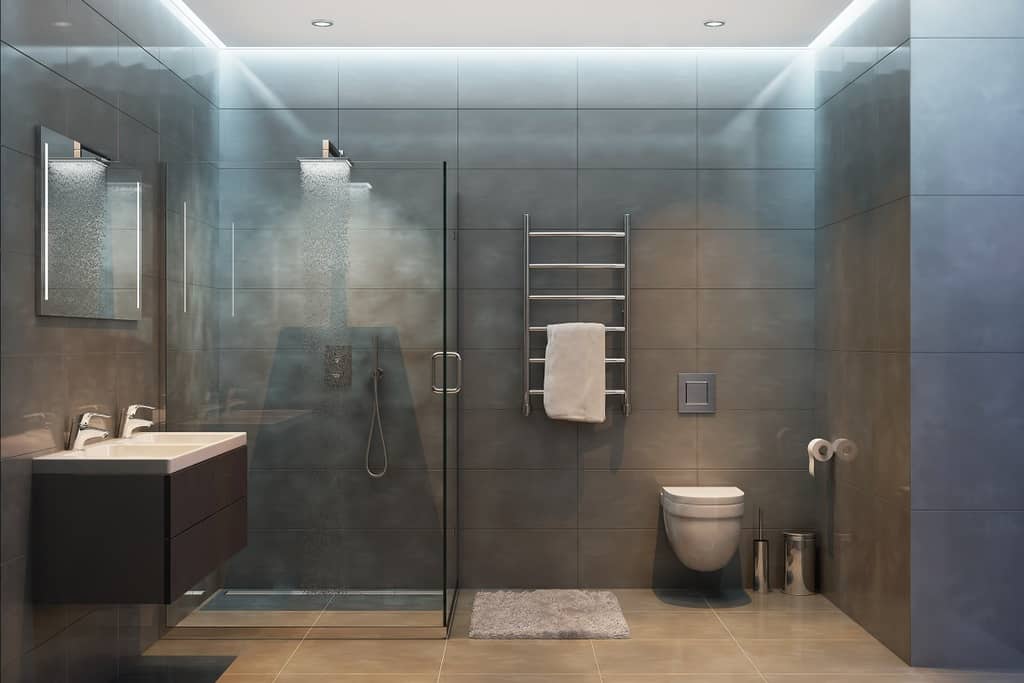 Red
Warm, rustic reds are right at home beside beige bathroom tile. Spicy and exciting shades of red create a dramatic, welcoming bathroom, whether they are used on all four walls or as an accent color. If you need a lighter color with this particular combo, go with cream instead of bright white to maintain your warm ambience.
Darker reds, such as maroon or burgundy, also look great with beige. If dark scarlet walls are too much for you, limit your use of these reds to an accent color in your towels, shower curtain, and other accessories.
Orange
Rust orange is a trendy color that goes well with warm beige tile. Dark pumpkin and other spicy, earthy oranges are excellent colors alongside beige, especially when combined with deeper shades of brown. Cream and pale gold are excellent choices if you need a lighter, third color to complete your design.
Burnt sienna is a lovely warm orange-tinted brown and another good choice for a beige bathroom. Find a gorgeous paisley or mandala print fabric that incorporates all the hues mentioned in the red, orange, and yellow sections for a warm and stylish bathroom.
Yellow and Gold
Bright yellow might be a bit too much in the bathroom, but muted shades of yellow can work well with warm beige tiles. Pale, butter yellow or a dusty turmeric shade of paint can add a warm, Mediterranean vibe to a beige tiled bathroom. Balance the yellow with touches of cobalt blue as is common on tiles imported from Portugal, Mexico, and Morocco.
All shades of gold look great with warm beige, from pale golden wheat to a deeper shade of desert sand. Add metallic gold accents where you can, such as a gold mercury glass vase, gold mirror frame, and gold knobs on the cabinet doors.
Coral
Coral is a peachy color that falls somewhere between orange and pink. As a warmer hue on the color spectrum, it looks best beside a beige that has a similar undertone.
Dark coral or light coral—or a combination of the two—is a great color to use if you have shabby chic or cottage home decor. Corals also look stunning with beige, cream, and metallic gold accents.
Pink
If you want a gorgeous feminine aesthetic in your beige tiled bathroom, go with blush pink. This soft shade of pink has a slight beige undertone, making it an ideal color pairing. Add silver or rose gold accents and perhaps a touch of warm white. Soft and peaceful, these colors are elegant yet soothing.
Other shades of pink can work with beige tile, too. While hot pink may be too much, baby pink and warm beige create a calming vibe together.
Cool Beige Pairings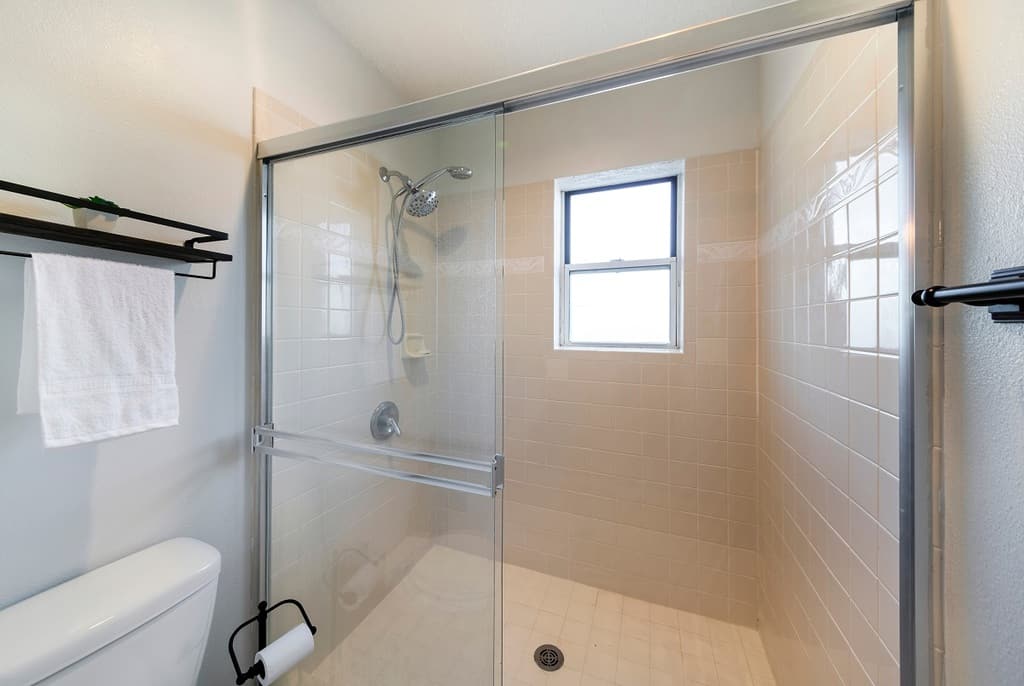 Blue
Think of how beautiful sand and sea are beside one another, and you'll see why blue and beige are such a logical color duo. Whether you go with dark navy, deep royal, or sunny turquoise blue, literally any blue hue flows well beside cool beige tile.
See interesting blue bathroom ideas here.
Green
Green is another color that nature has already decided is perfect next to beige and all shades of brown. Beige is the logical tile color choice for any green hue, from pale sage to emerald to the deepest shade of pine.
Green will add a Zen-like calmness to a room with a beige foundation and it's easy to build upon that vibe with the addition of natural materials. Wooden floating shelves, macrame wall hangings, and houseplants round out this trendy, boho style.
Purple
Lavender, amethyst, and eggplant are just a few of the purple colors that look royally regal beside neutral beige. Lavender with beige and white come together into a stunning French country bathroom. Dusty plum is an earthier choice if you prefer your purples more muted than bold.
Grey
Just thinking of a grey and beige bathroom sounds too boring for words, but used properly, the two hues can merge quite well. In fact, greige—a mixture of grey and beige—is a color all its own and perhaps the best way to bridge the gap between the two neutrals.
Greige walls and slate or charcoal grey come together in a neutral spectrum that creates a calming bathroom design. Add pops of your favorite bright color, or simply enjoy its monochromatic style. One beautiful way to meld grey, greige, and beige is to incorporate a mosaic border that includes tiny tiles in each color.
See some interesting grey bathroom ideas here.
Black
The iconic Burberry Archive Beige scarf beautifully tells the story of why black and beige look so elegant together. In the bathroom, black will be just as classic next to beige tile. While you may not want to paint your walls black, you can paint them white. Mimic the Burberry plaid on an accent wall, then paint your vanity black. Add black rugs and towels and don't forget tiny touches of red to complete the look.