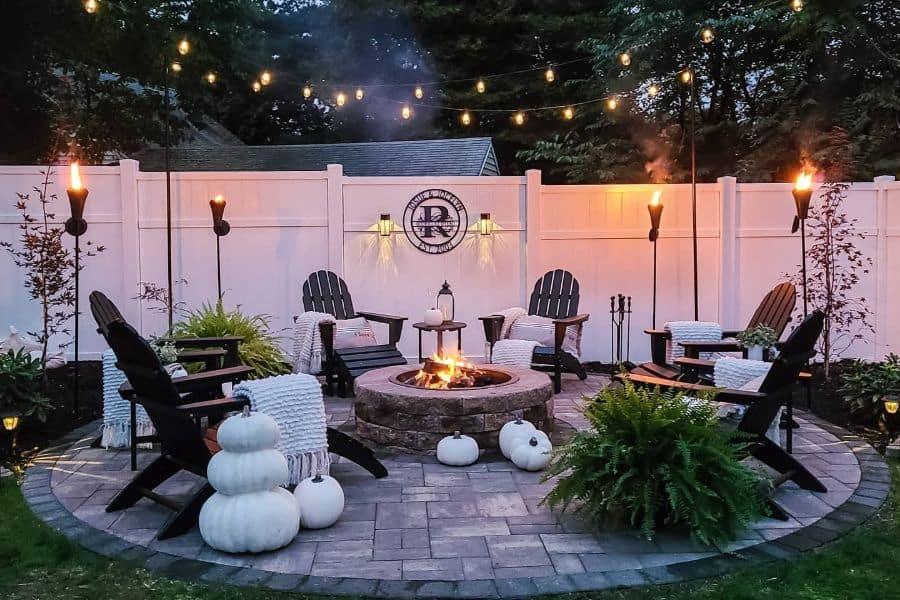 The Top 34 DIY Patio Ideas
A beautiful and functional outdoor living space is on many homeowners' wish lists. But the sheer expense of designing such a space stops many from pursuing their dreams.
While building or renovating a patio can be costly, it can also be surprisingly cheap. The secret to saving money is to take on the bulk of the work yourself.
Keep reading for our favorite DIY patio ideas that prove a stylish backyard doesn't need to cost a fortune!
1. Bench
Bench seating is simple, versatile, and all-around perfect for nearly any outdoor living space. It's also really easy to DIY.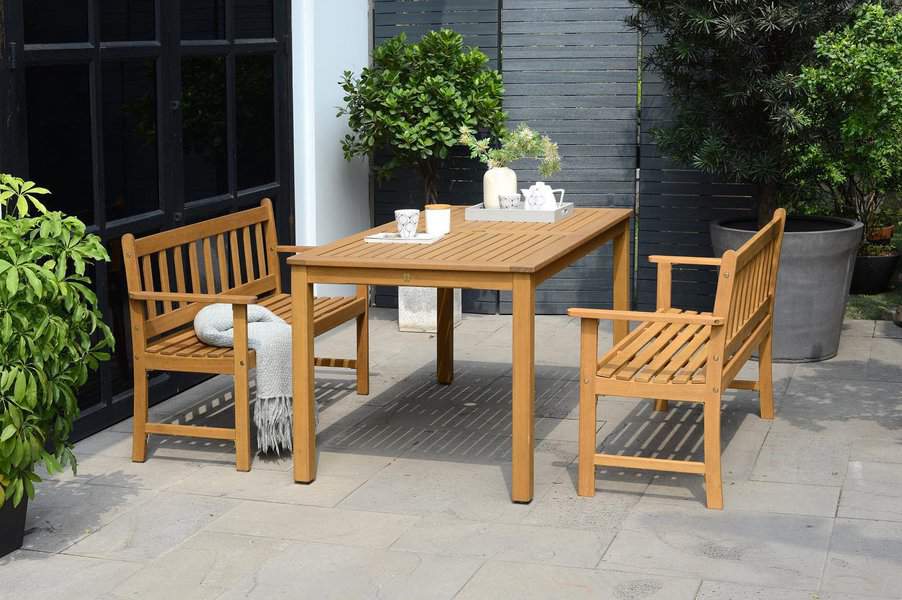 If you're handy with a set of tools, you can build a bench in a matter of a weekend. You can even include special features — built-in planters, hidden storage, etc. — in your custom bench design.
Of course, you don't need to be a carpenter to create your own bench. Refinishing a used bench seat or constructing one out of reclaimed pallets or crates are a couple of easy options for DIY beginners!
2. Budget
While DIY is often marketed as budget-friendly, it's surprisingly easy to spend more on completing a project yourself than just buying the finished product!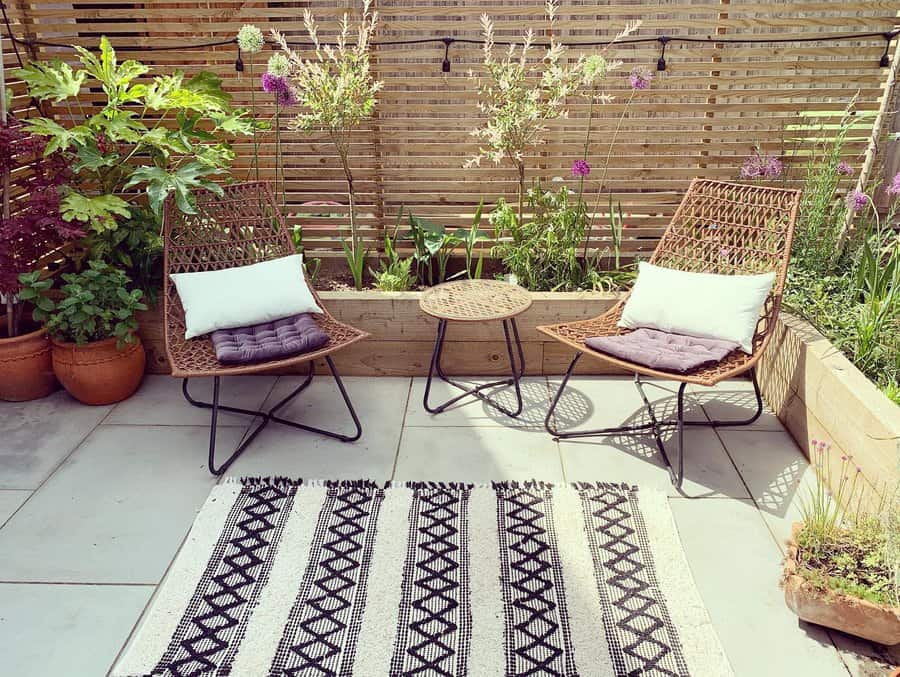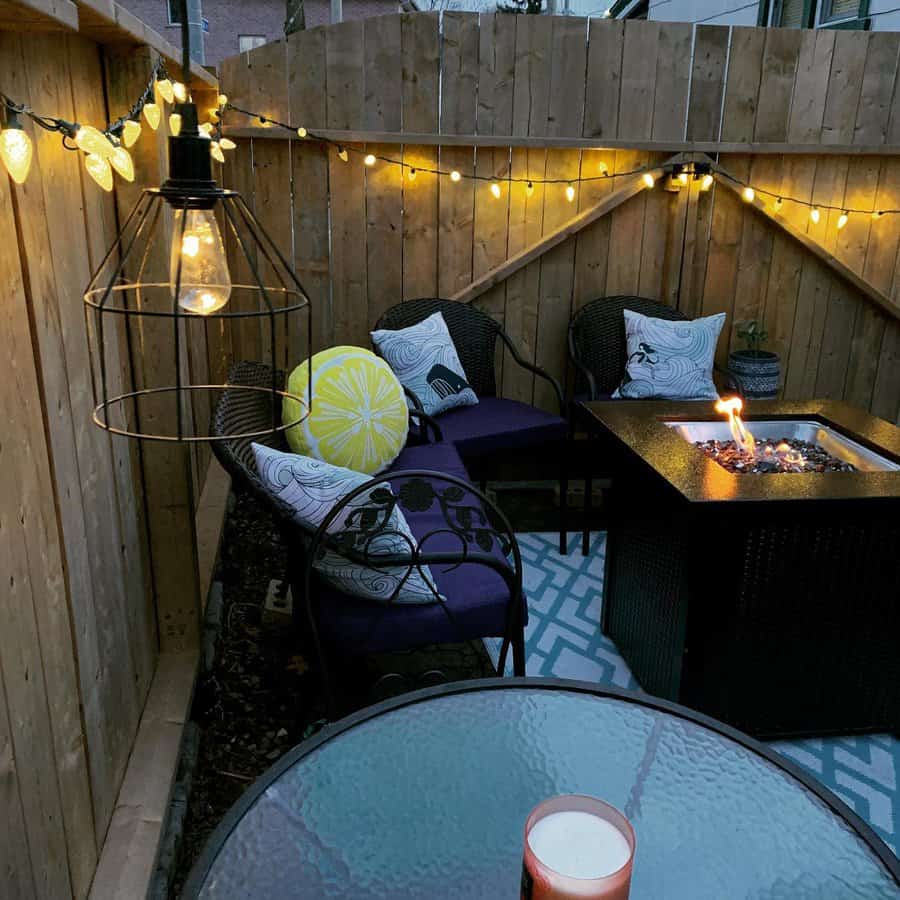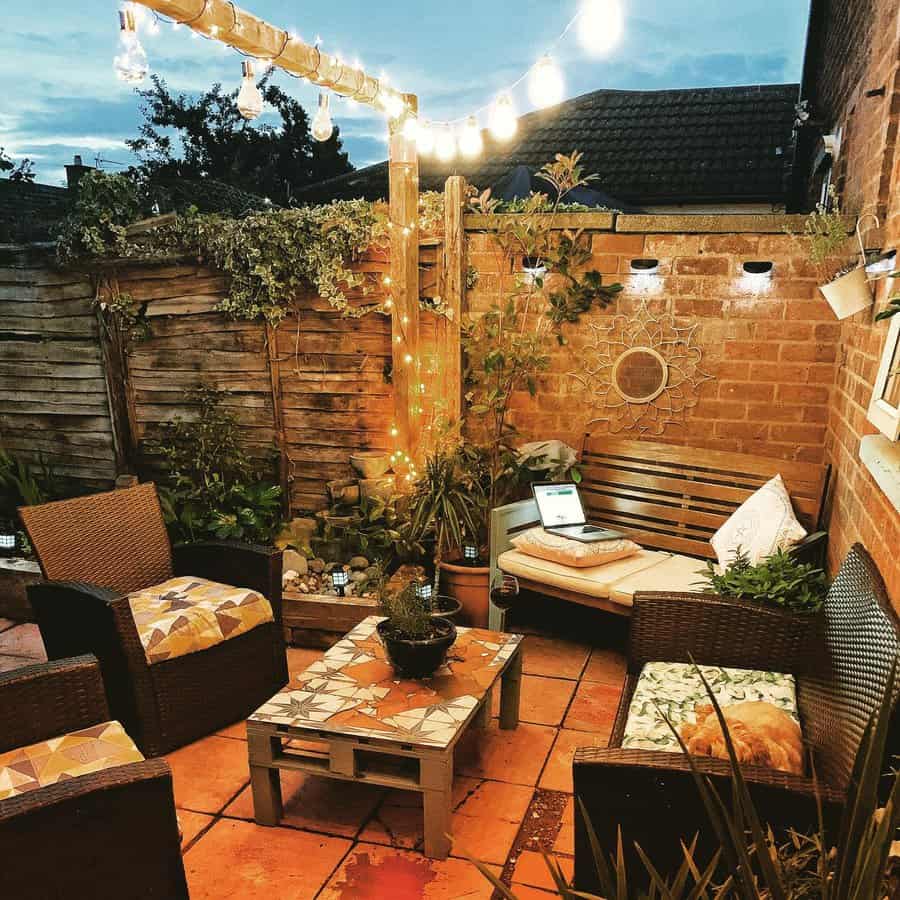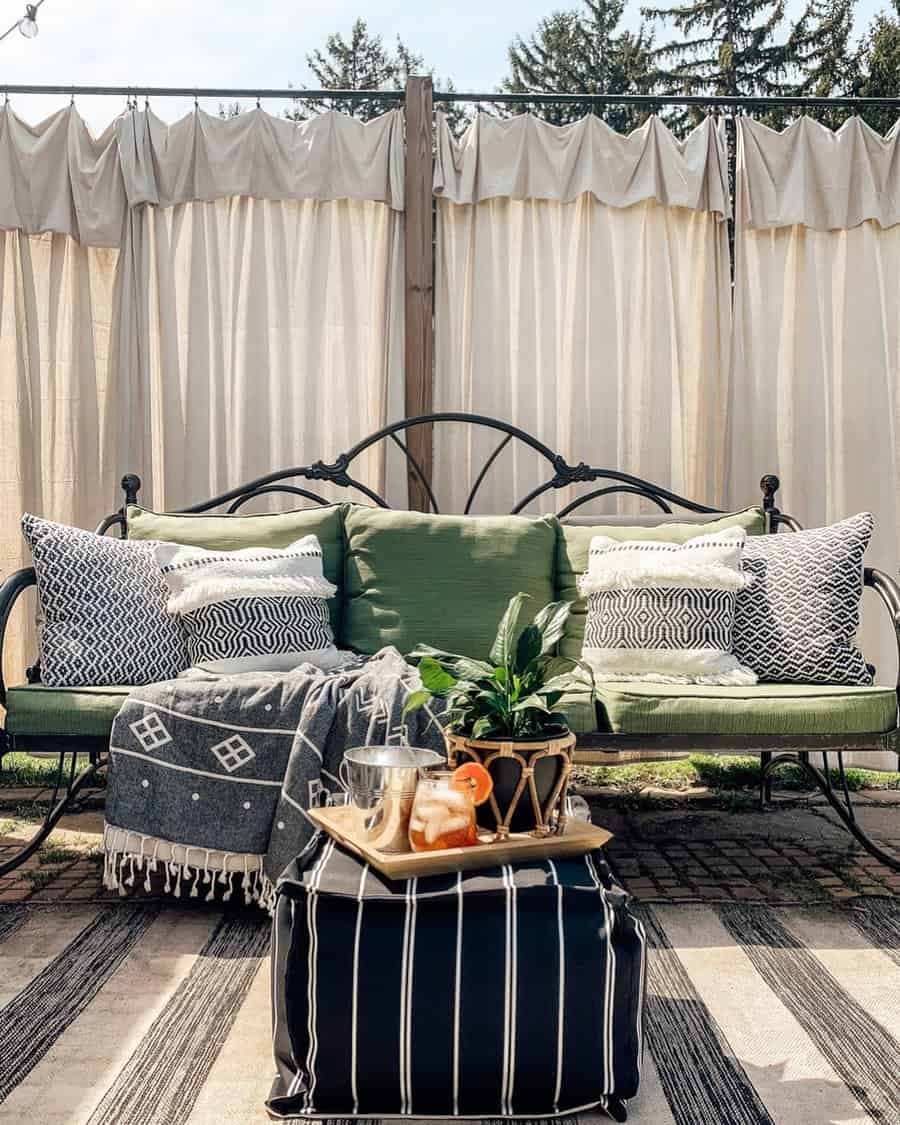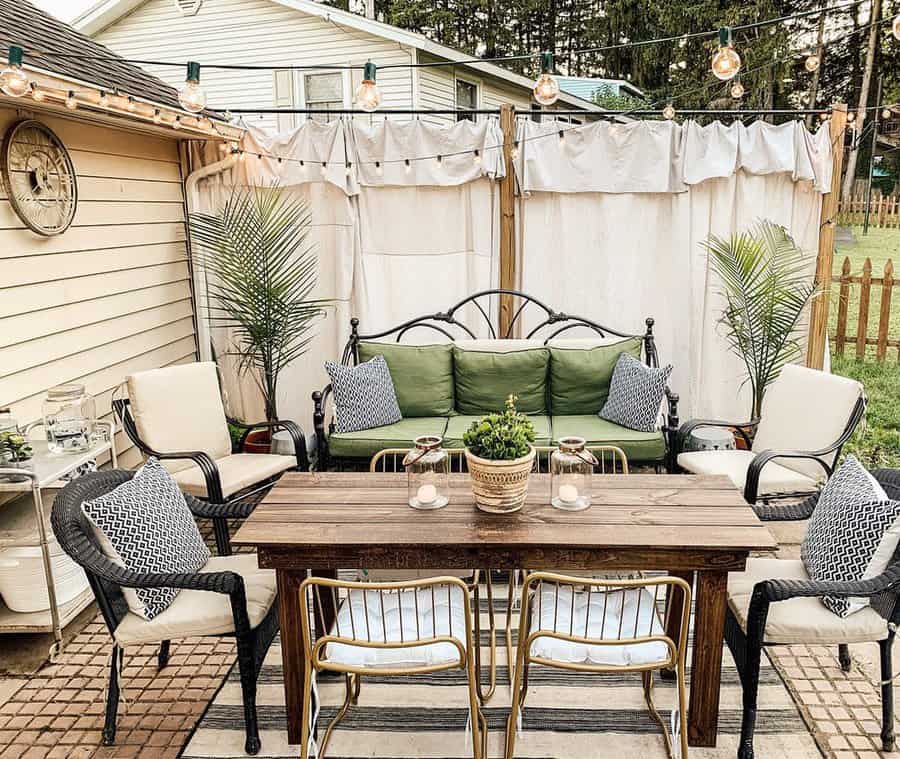 The easiest way to design a patio without spending a fortune is to source affordable materials.
Look around your property for items you can repurpose in your DIY patio ideas. It's also worth checking with neighbors (take advantage of Facebook Marketplace and similar outlets!) who may have leftover supplies from their own landscaping projects.
3. Concrete
Installing a concrete patio is the perfect opportunity to add a bit of character to your outdoor space.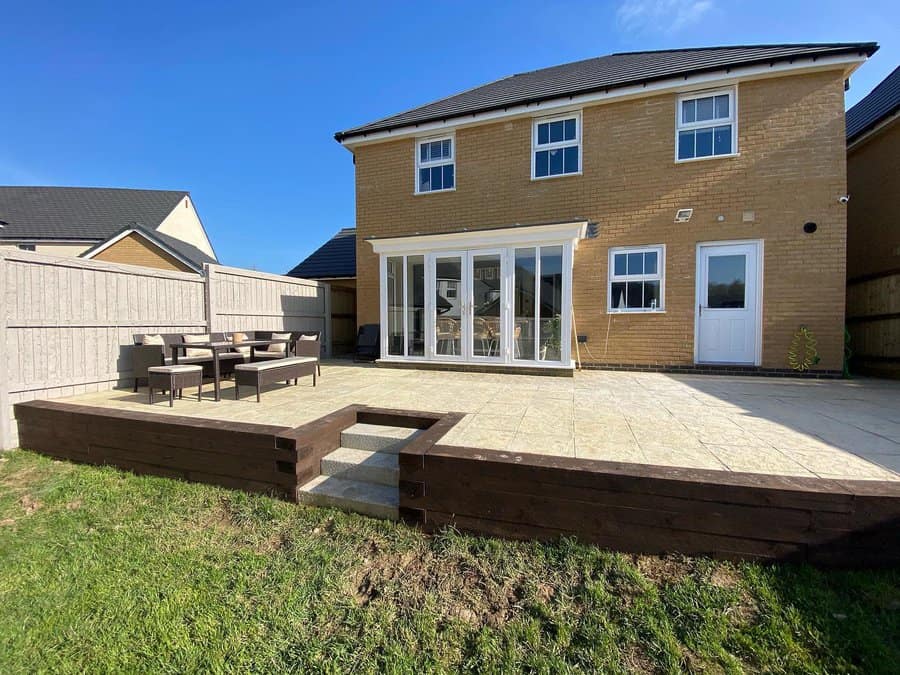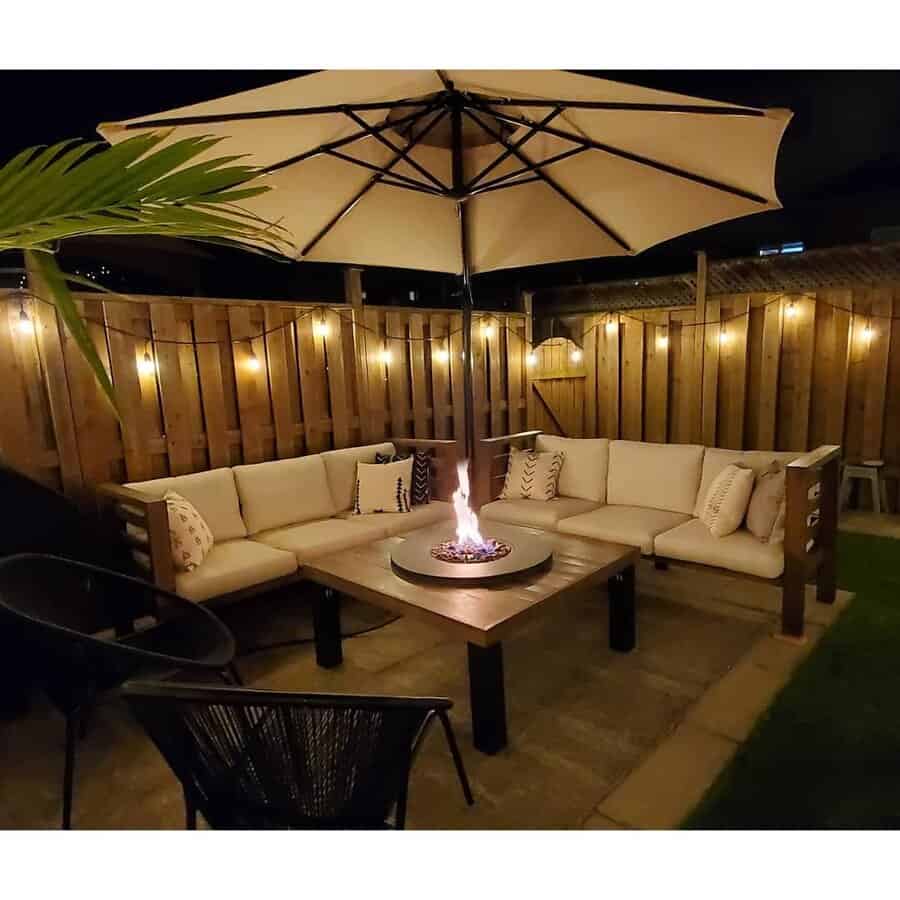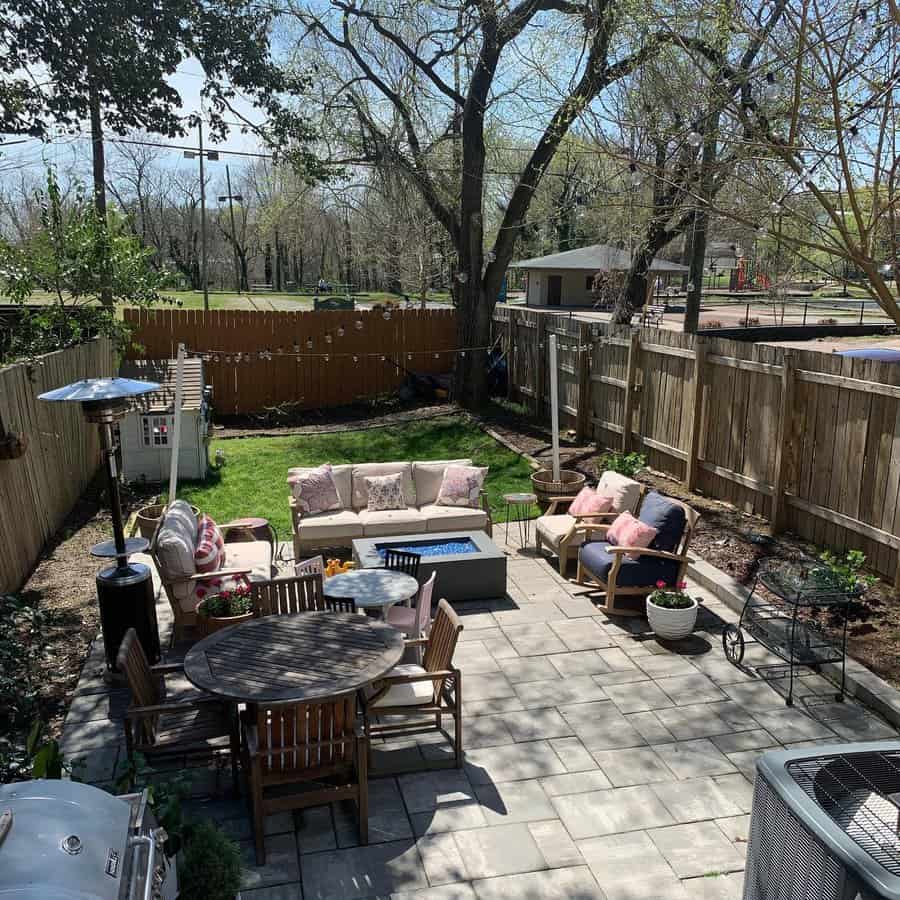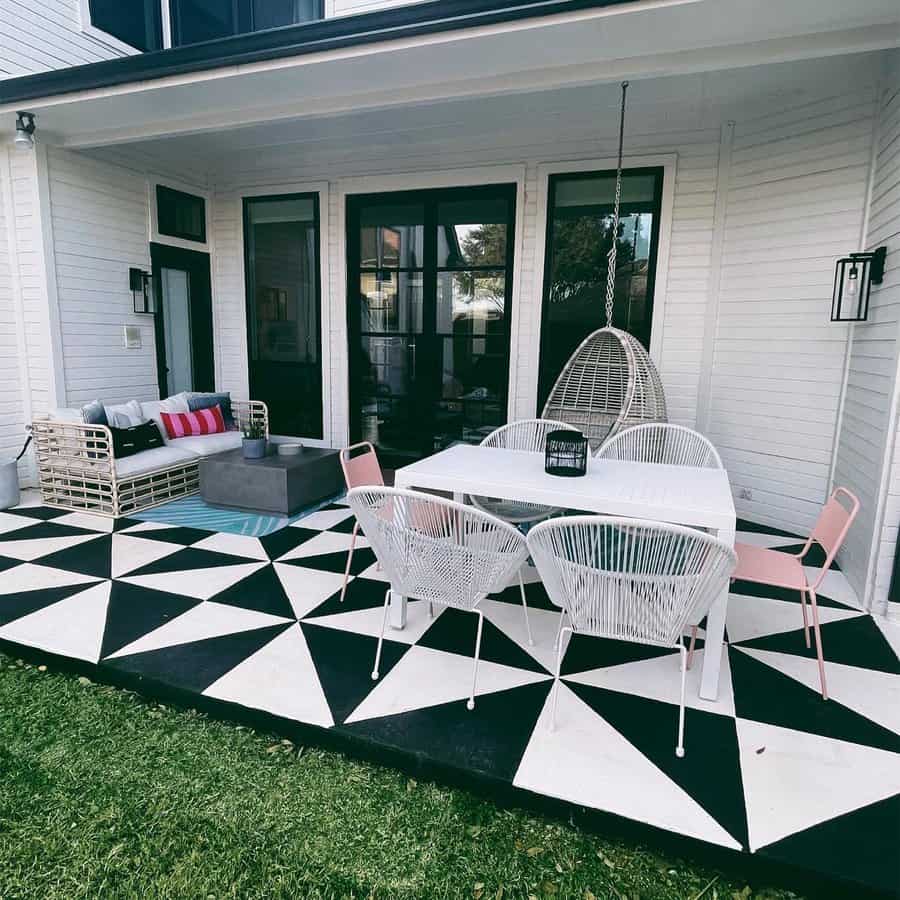 Even if pouring a concrete patio slab from scratch is outside of your wheelhouse, that doesn't mean DIY is completely out of the question.
If your concrete patio is looking a bit worse for wear, consider refinishing the surface. A thorough cleaning is often enough to make a concrete slab look brand new. You can also try painting the surface for a fresh aesthetic.
4. Decor
Looking to test your design skills but aren't yet confident enough to tackle an interior room? Even novice designers will have an easy time decorating a patio or balcony.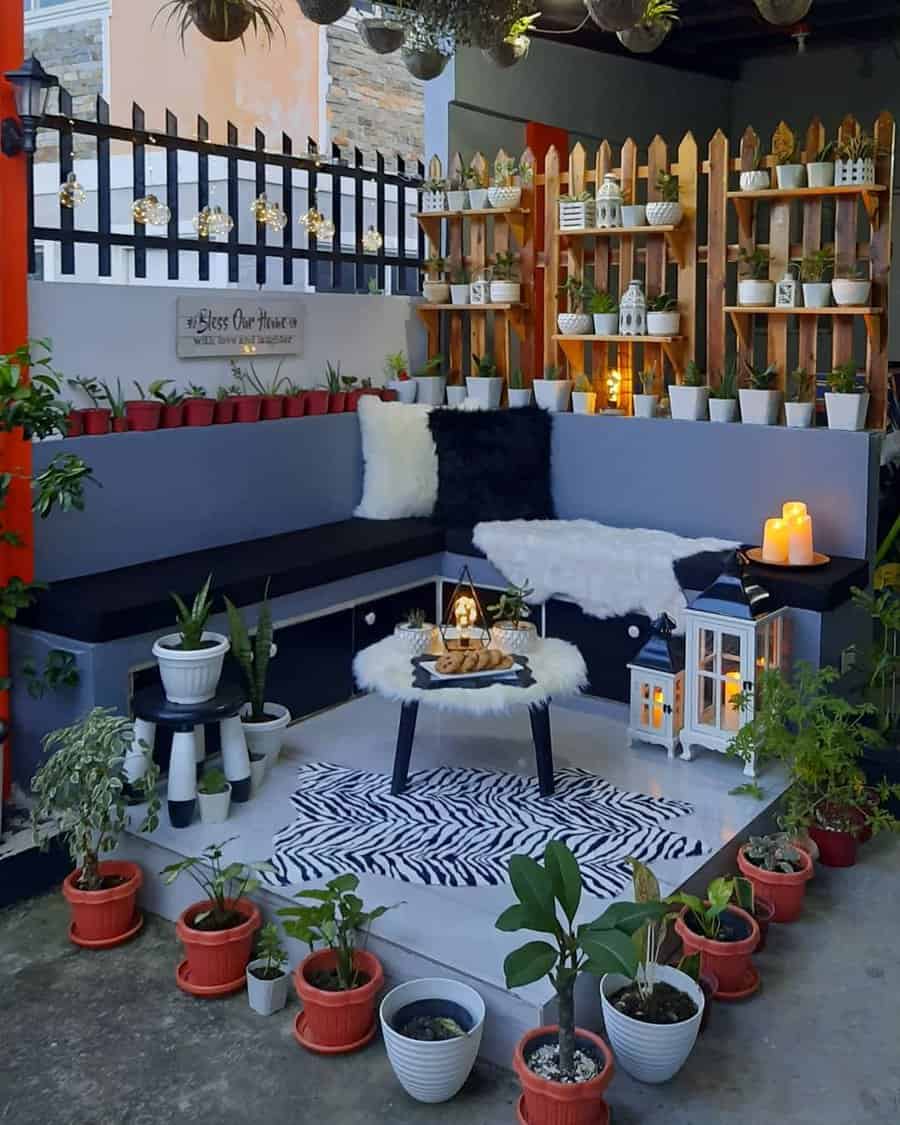 Many of the most stylish patio designs have a relaxed, lived-in quality. So, whether you love or loathe mismatched decor, there's no need to limit your patio to a single aesthetic.
Create your own patio cushions and throws from outdoor-safe fabric for maximum comfort. Potted plants in unique containers are always an ideal choice.
5. Firepit
If there's one thing most backyard patios could benefit from, it's a fire pit.
It doesn't take much to make a DIY fire pit. A ring of large stones will suffice in many cases. Or you can invest in an affordable but durable metal fire pit.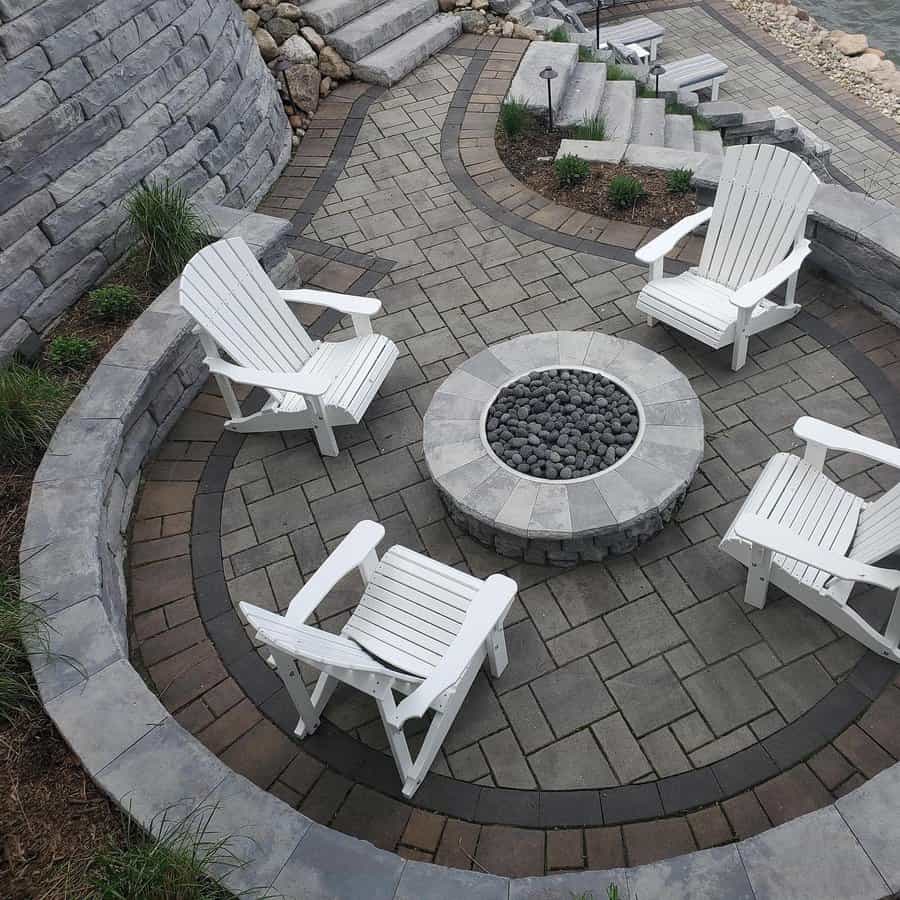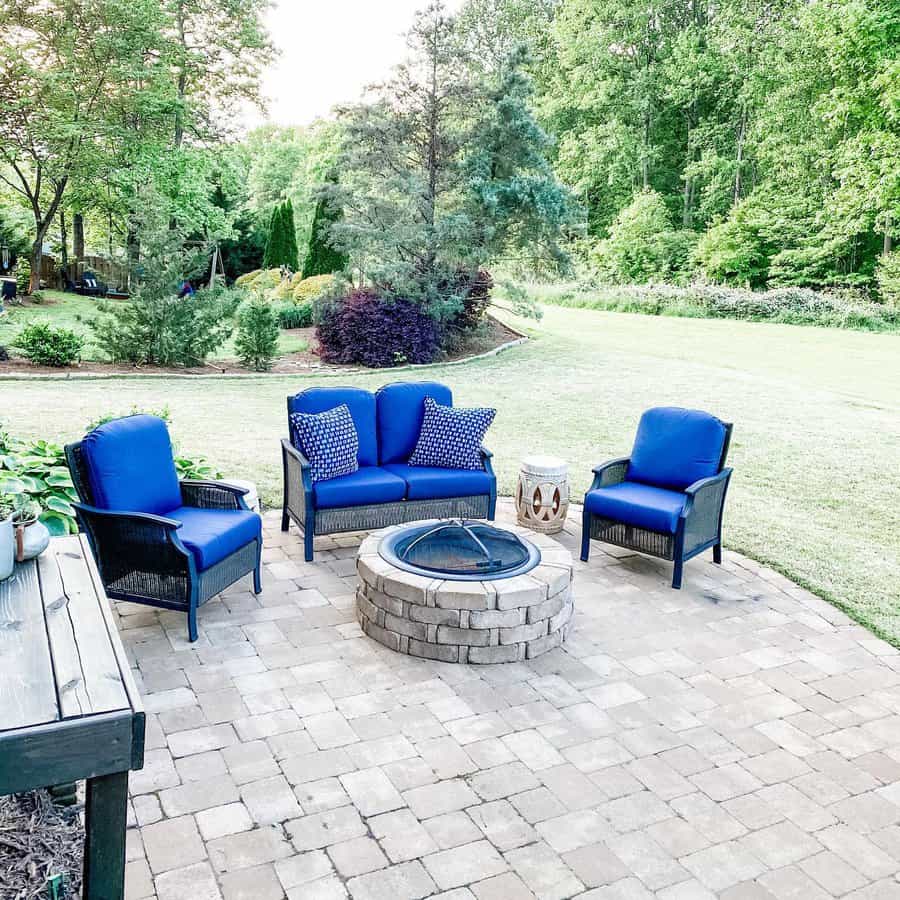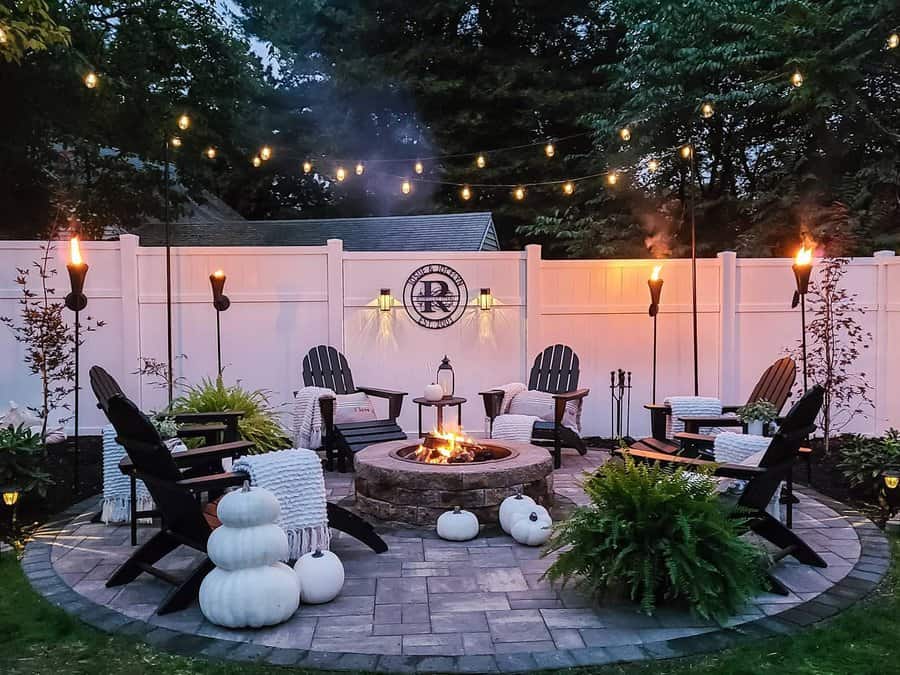 Along with offering a wonderful place to gather and keep warm when the sun sets, a fire pit can also be used for roasting marshmallows or as a makeshift light source. All you need are a few comfortable seating options scattered around the perimeter.
6. Garden
Whether you have a spacious backyard or a tiny balcony, no patio is complete without a bit of greenery.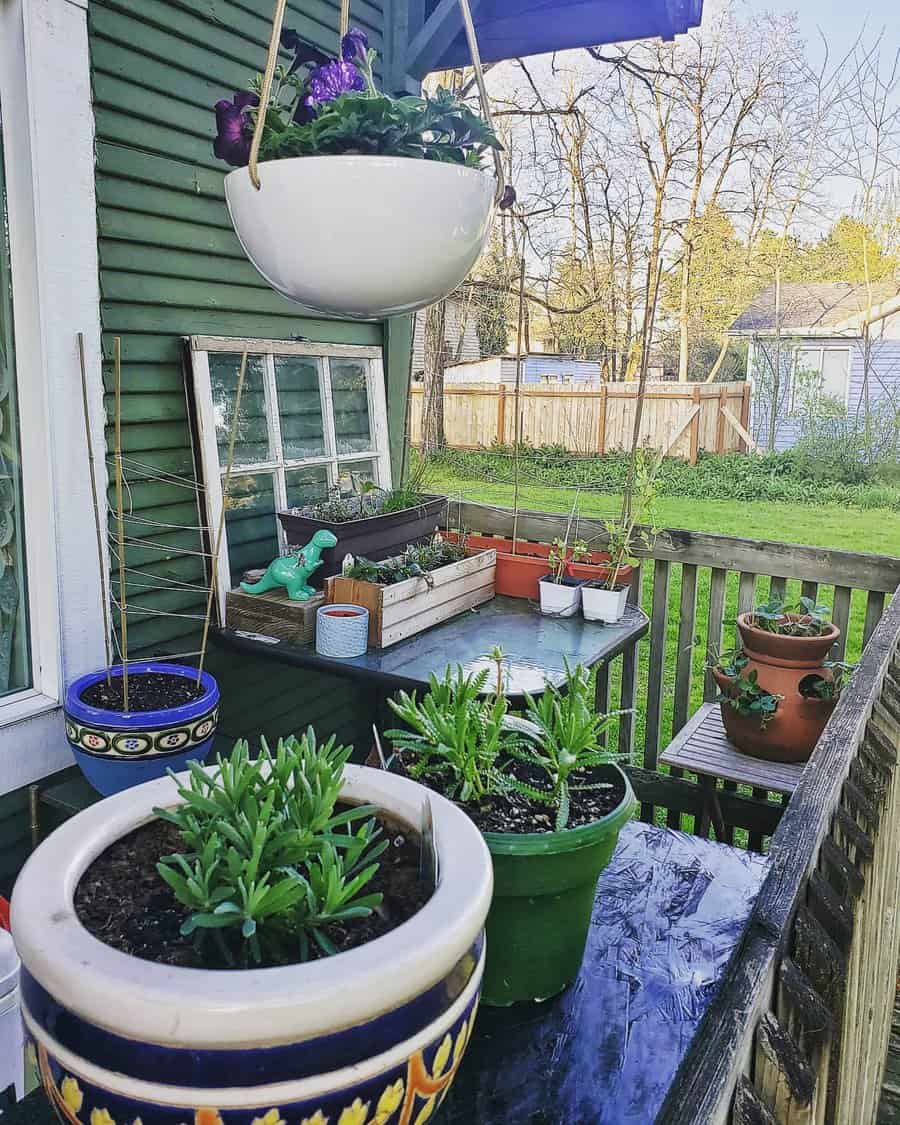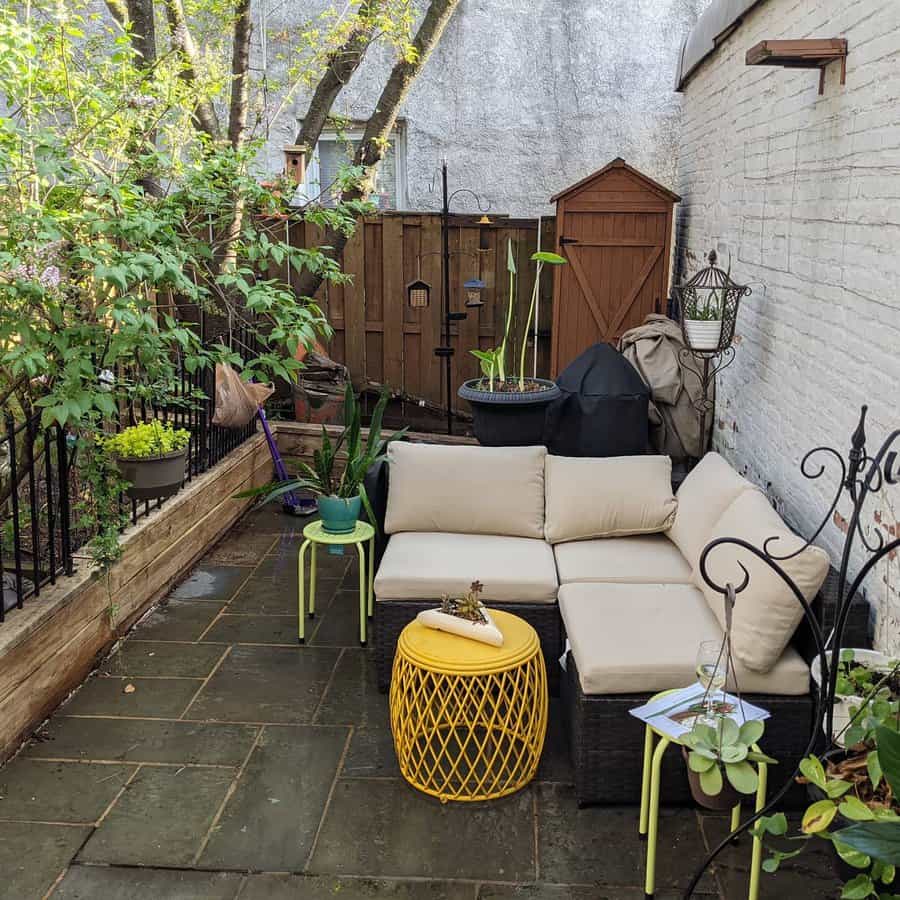 Potted plants are super convenient — especially so if you don't have access to proper garden beds. Containers can be rearranged whenever you want. This setup also makes it easy to bring more delicate specimens inside in bad weather.
DIY garden containers are quite easy to build. Reclaimed pallets are the perfect material for this project. You can customize your containers to fit the space and your particular vision without spending a small fortune.
7. Gravel
Differentiating one section of your yard from another can have a huge impact on the design overall. While pavers and poured concrete can cost a pretty penny, gravel can be sourced for surprisingly cheap.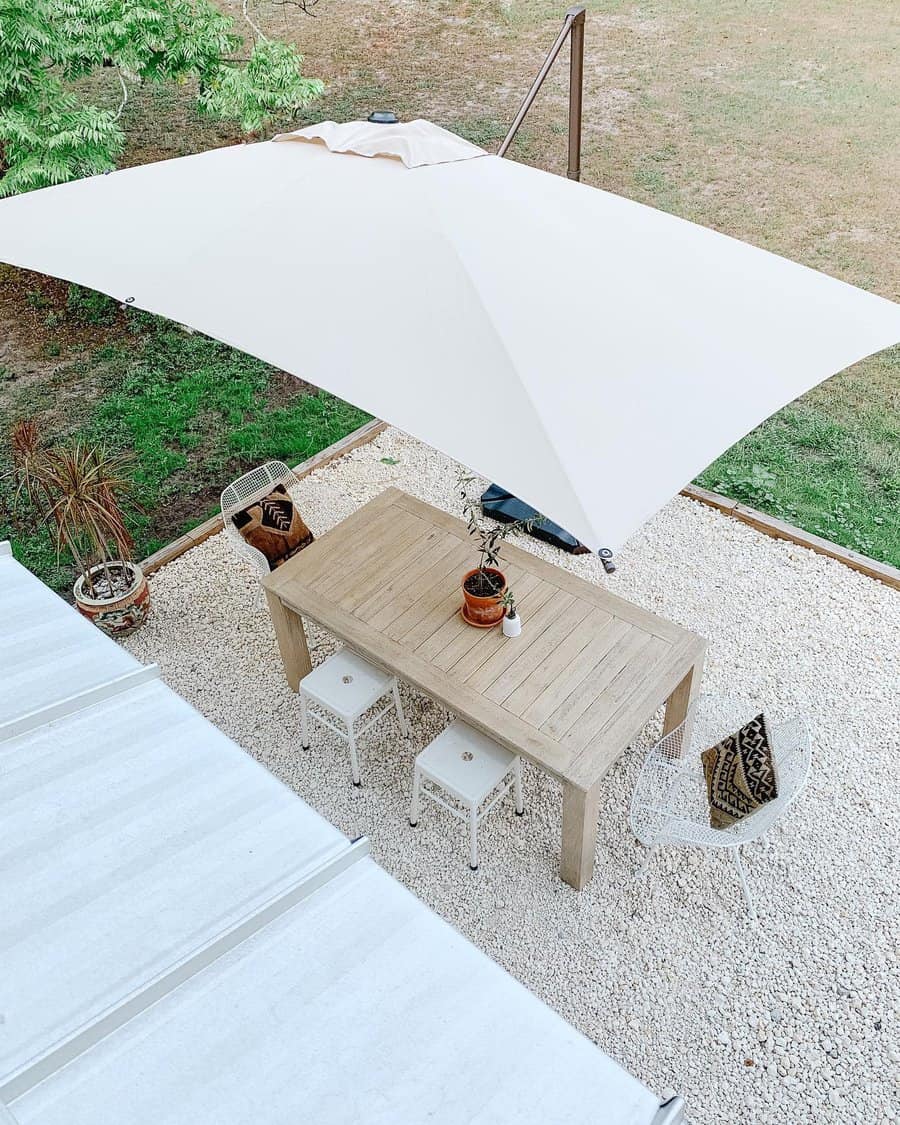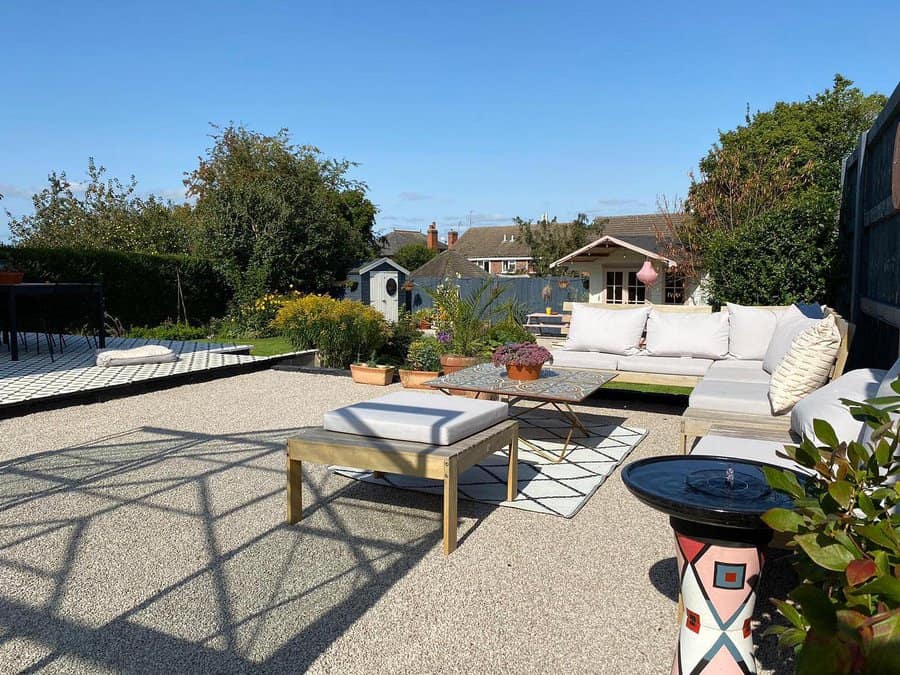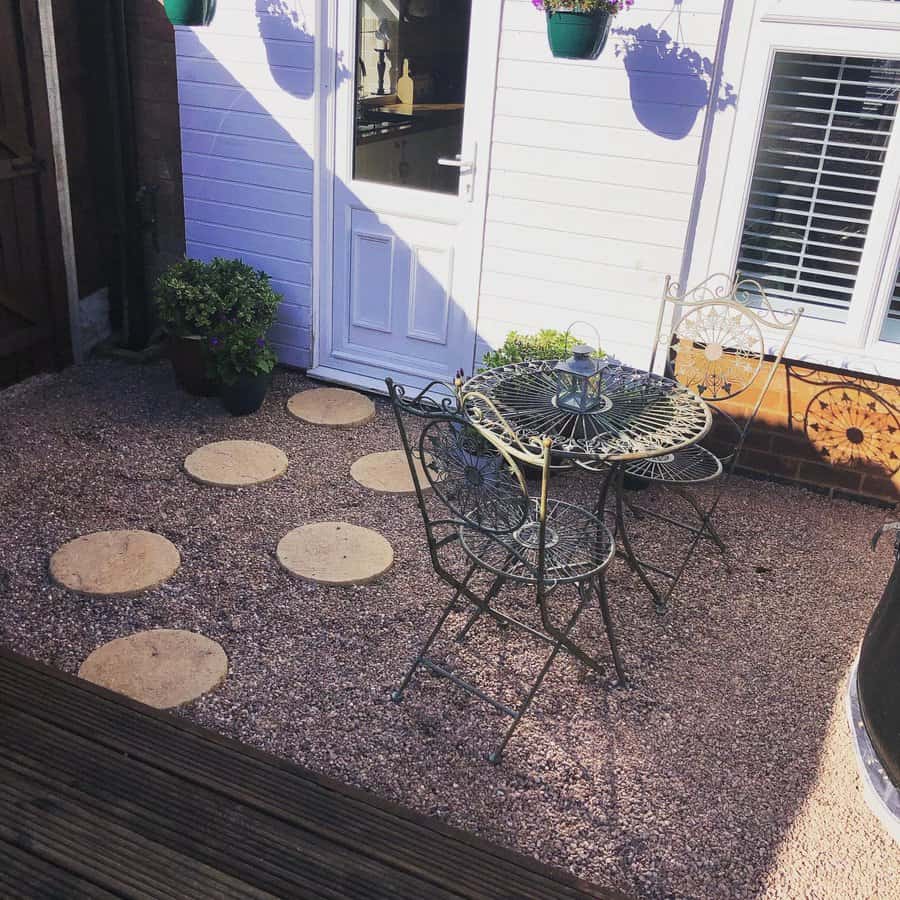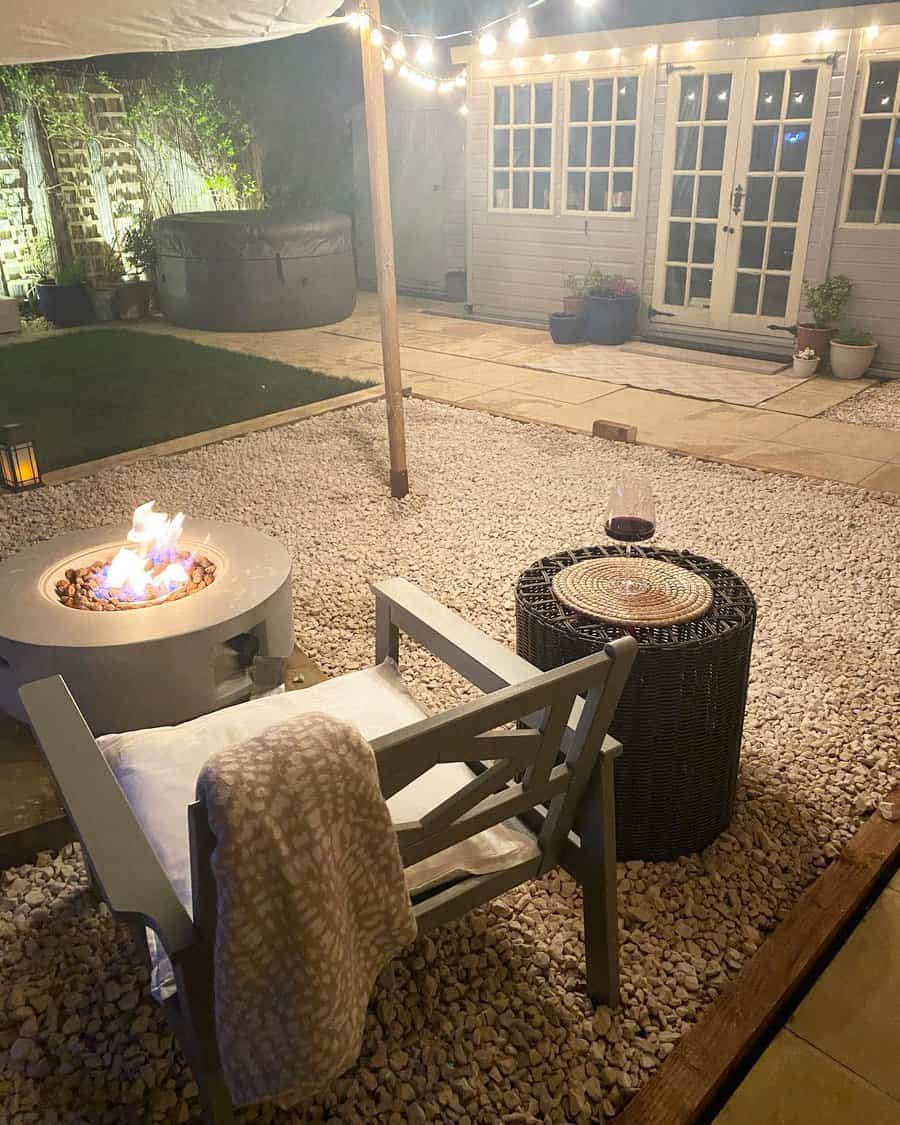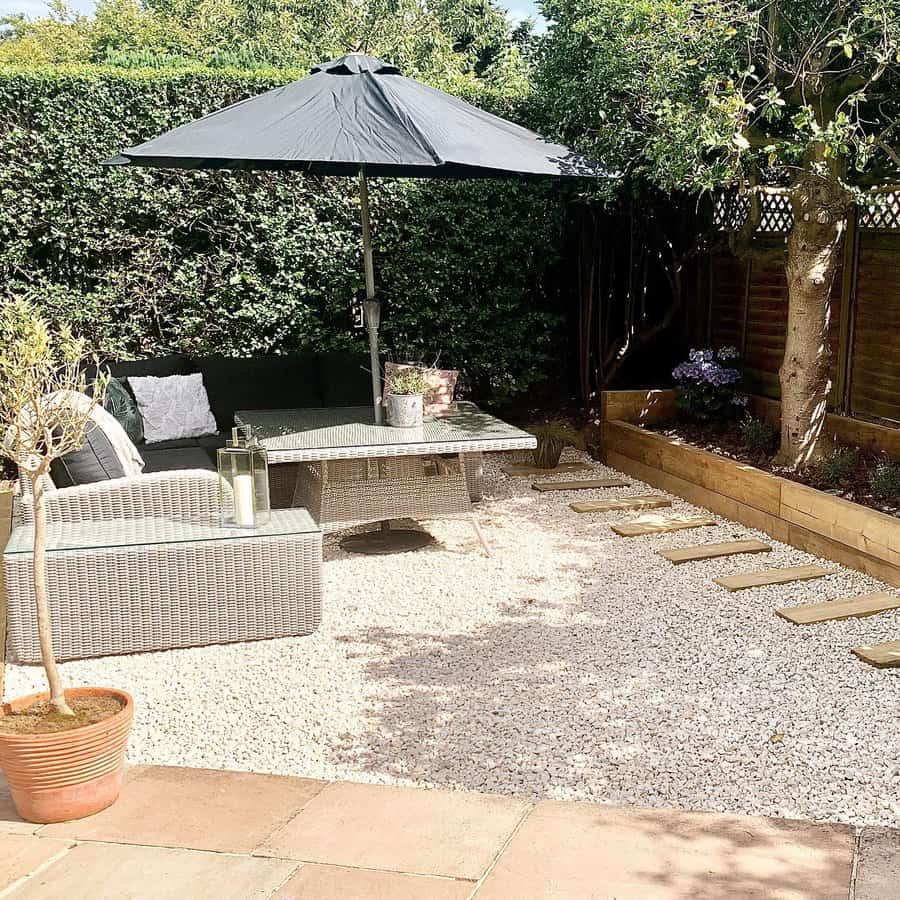 Use gravel to create a makeshift patio slab for furniture and a fire pit. Or use it to fill the gaps between larger stone pavers.
Gravel is also ideal for filling in areas where grass struggles or completely fails to grow. Eliminating unsightly patches is a great way to make your outdoor living space instantly more attractive.
8. Lighting
Adequate lighting is a must if you plan to enjoy your patio after dark. (The glow of nearby streetlights or a fire pit only goes so far!)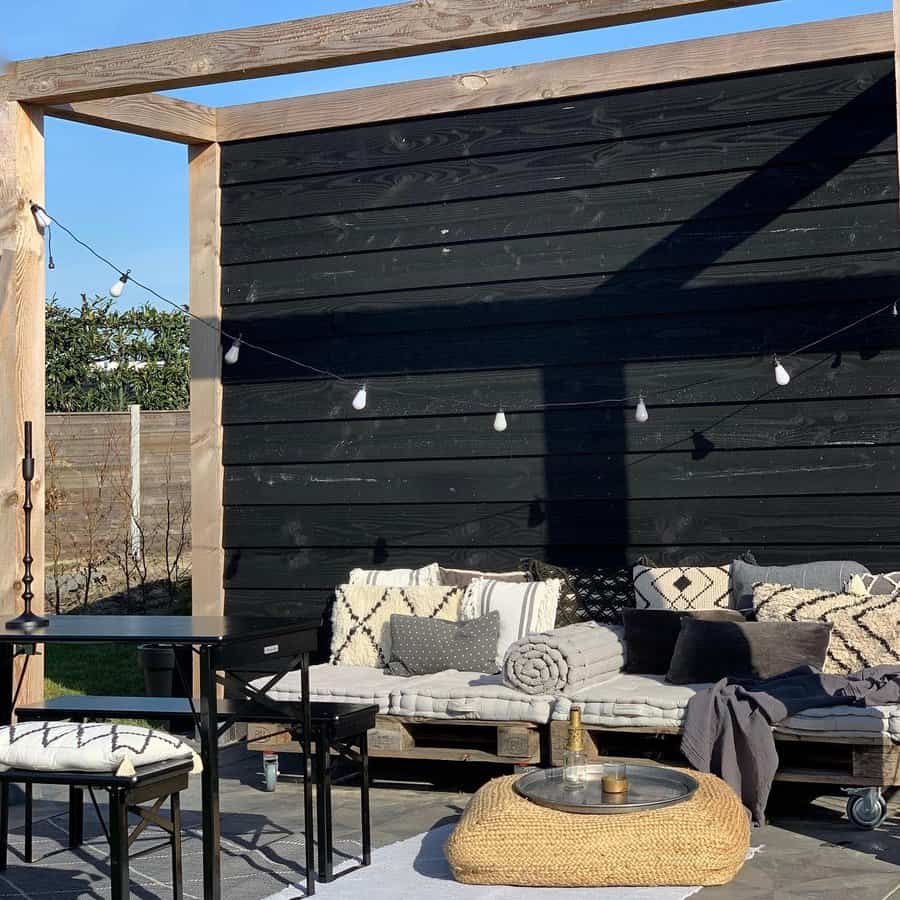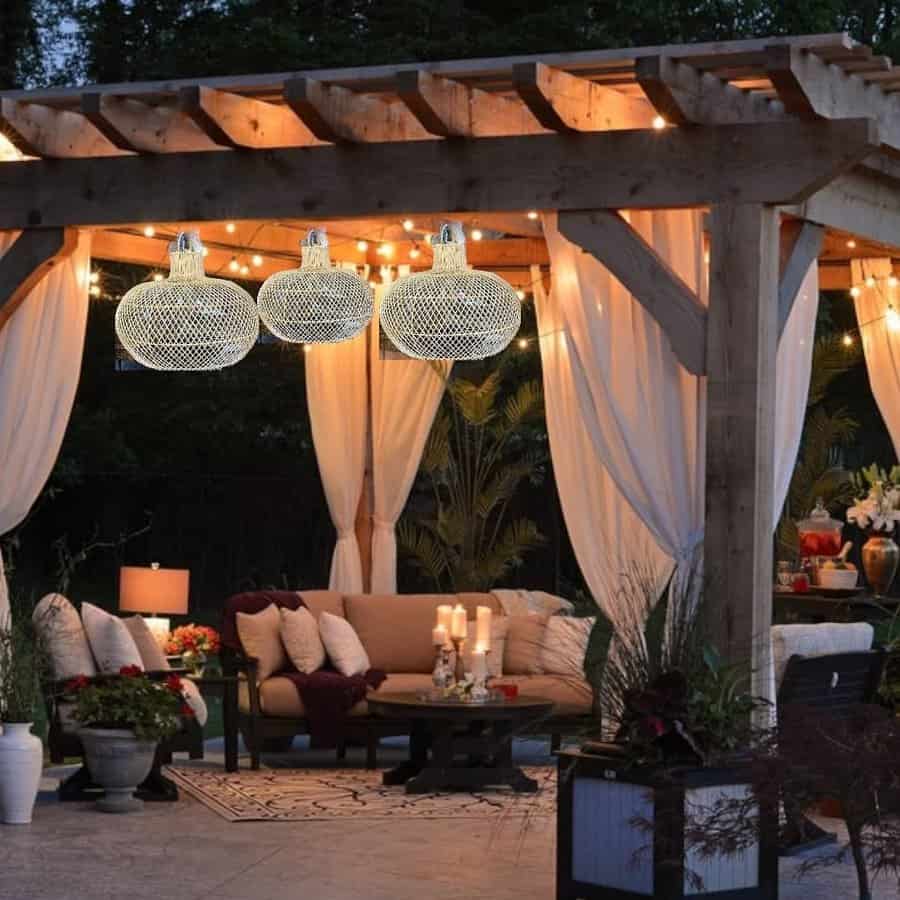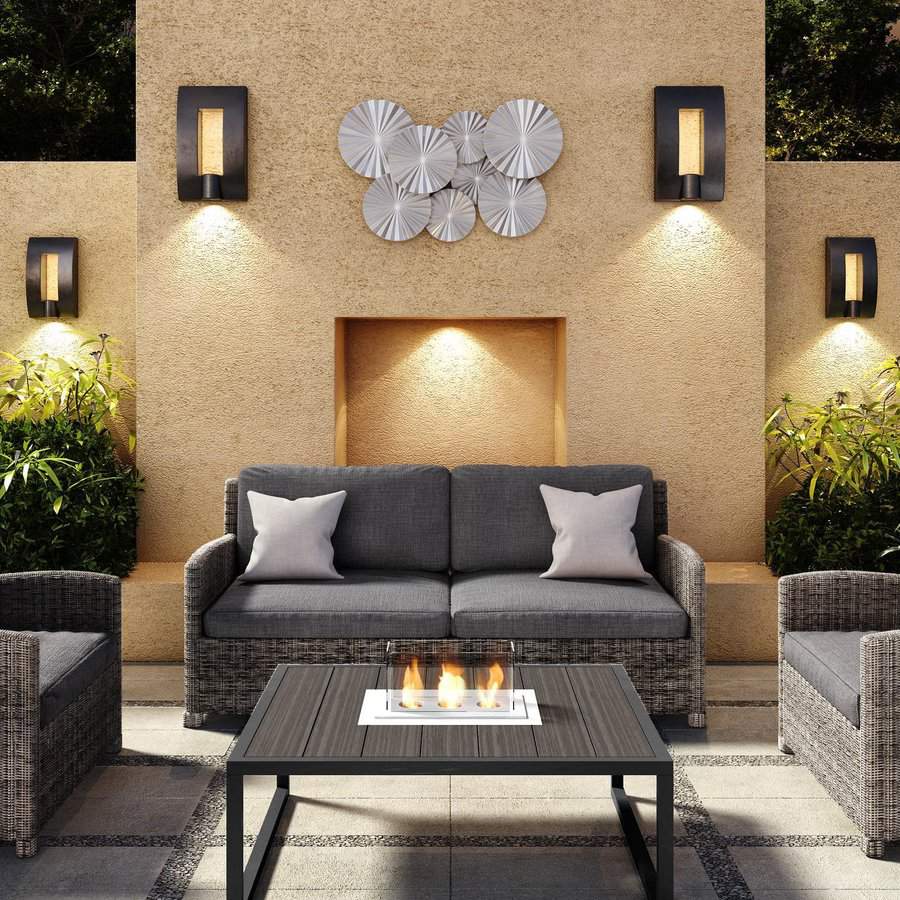 String lights are super popular in the world of patio design and require zero skills to set up. For a more modern approach, you can even use outdoor-safe LED strips to light your patio.
If you find yourself in need of lighting where no outlet is present, don't fret. There's an incredible number of battery- and solar-powered lighting solutions to choose from.
9. Open
One of the most overwhelming aspects of patio design is the sheer amount of available space. Unlike interior design, decorating a backyard often means seeing boundaries where there are none!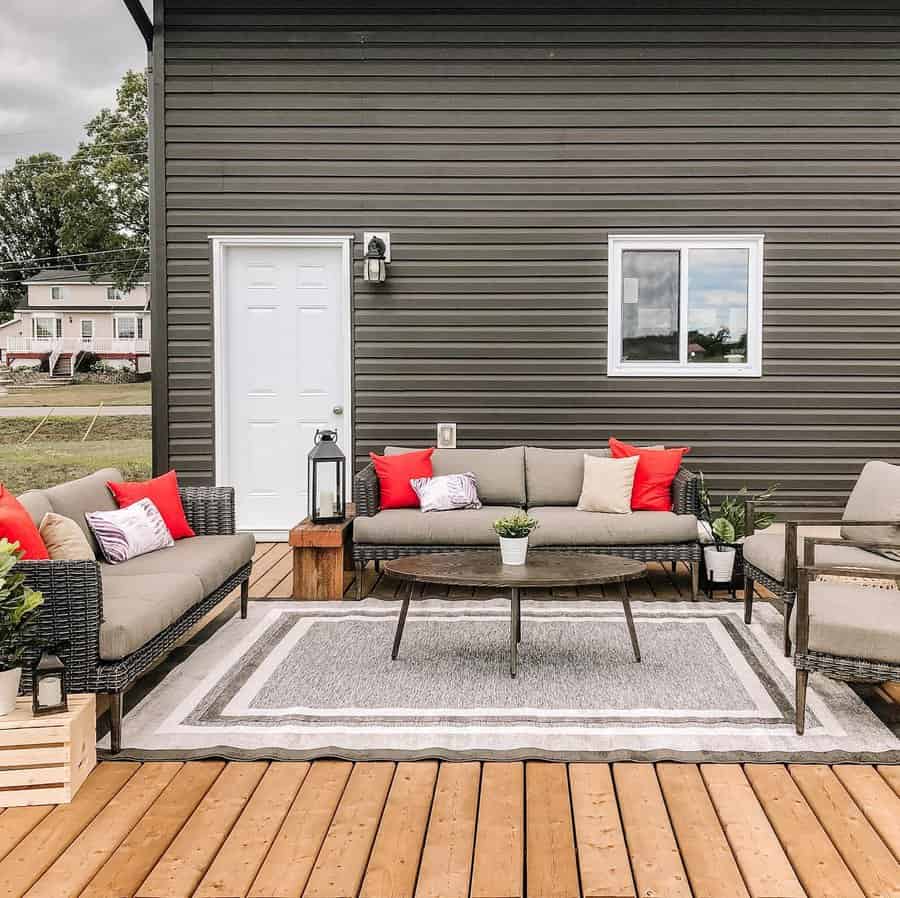 Chances are, you don't need to add any physical boundaries. Use your patio furniture to create individual zones while maintaining the space's openness.
If you do want to divide up the patio, you can create a DIY privacy screen using tall planters or a trellis.
10. Pergola
New or old, a pergola can bring a touch of luxury to any backyard patio. But there are also many ways to upgrade this backyard structure on your own.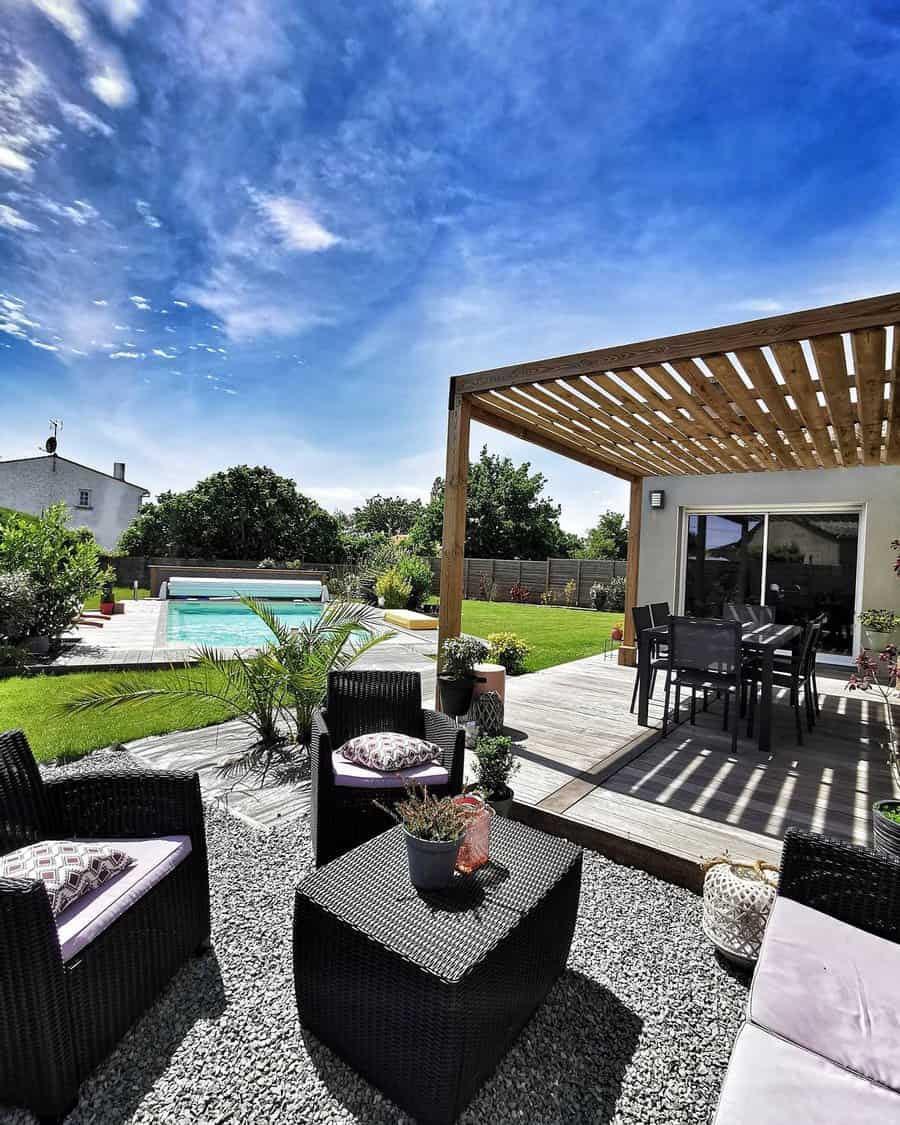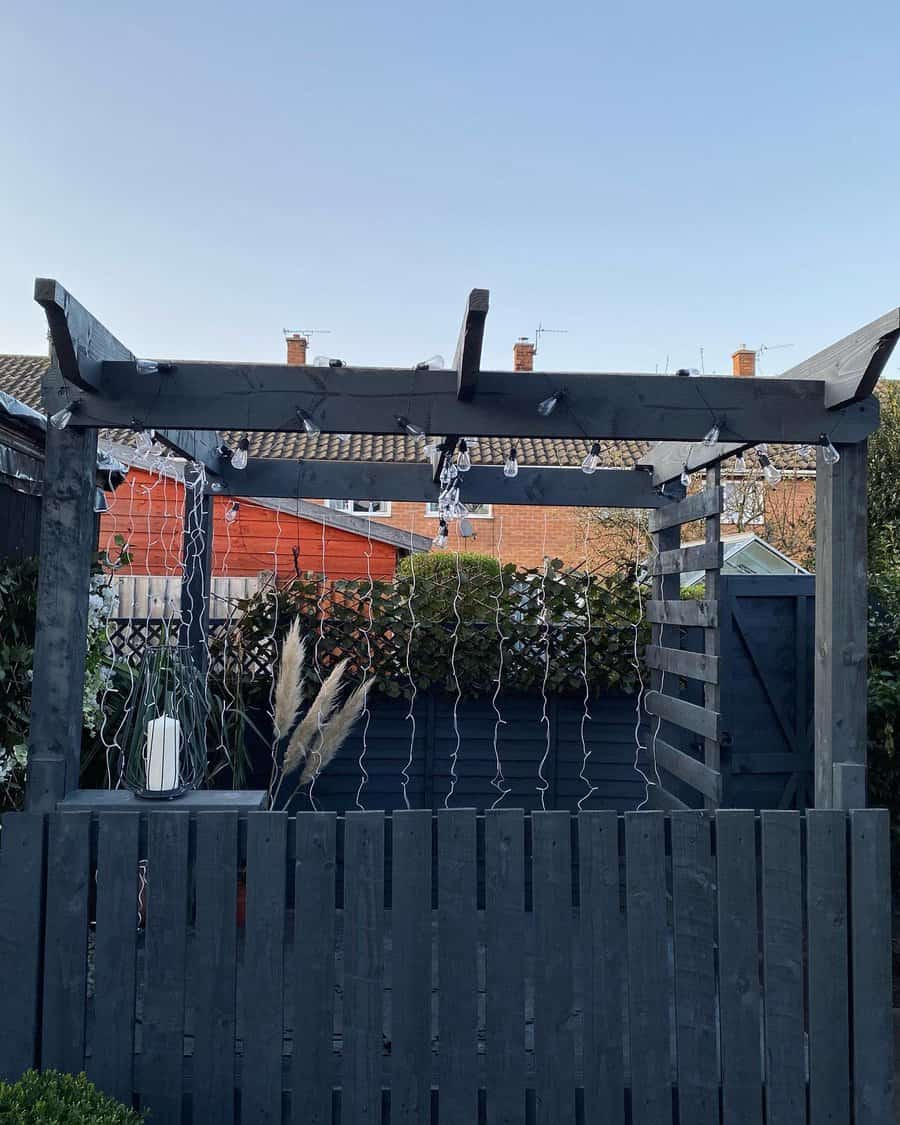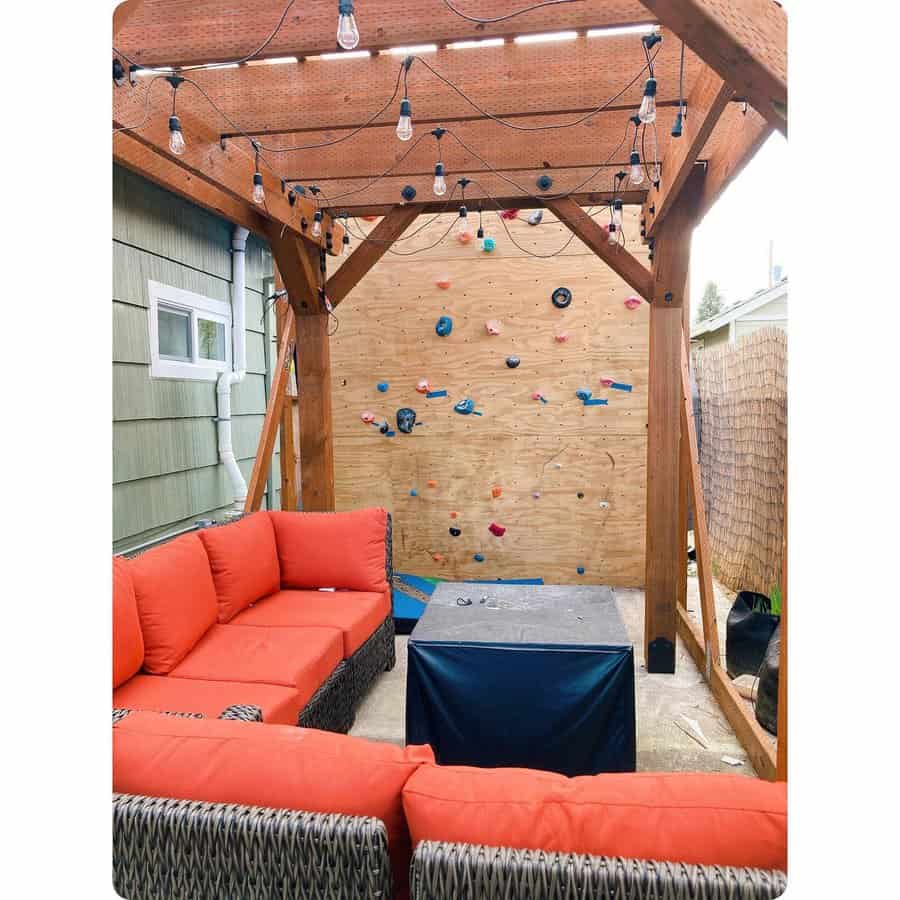 String lighting is remarkably easy to hang from a standard pergola. Use a nearby outlet or solar panels to power your patio lights.
Keep out wind and prying eyes by mounting curtains or trellises around your pergola's perimeter. You can do the same with the roof of your pergola to block out some of the sun's scorching rays.
11. Swing
There are a couple of ways to go about adding a swing to your patio. The one you choose will largely depend on your engineering skills and confidence with a basic set of tools!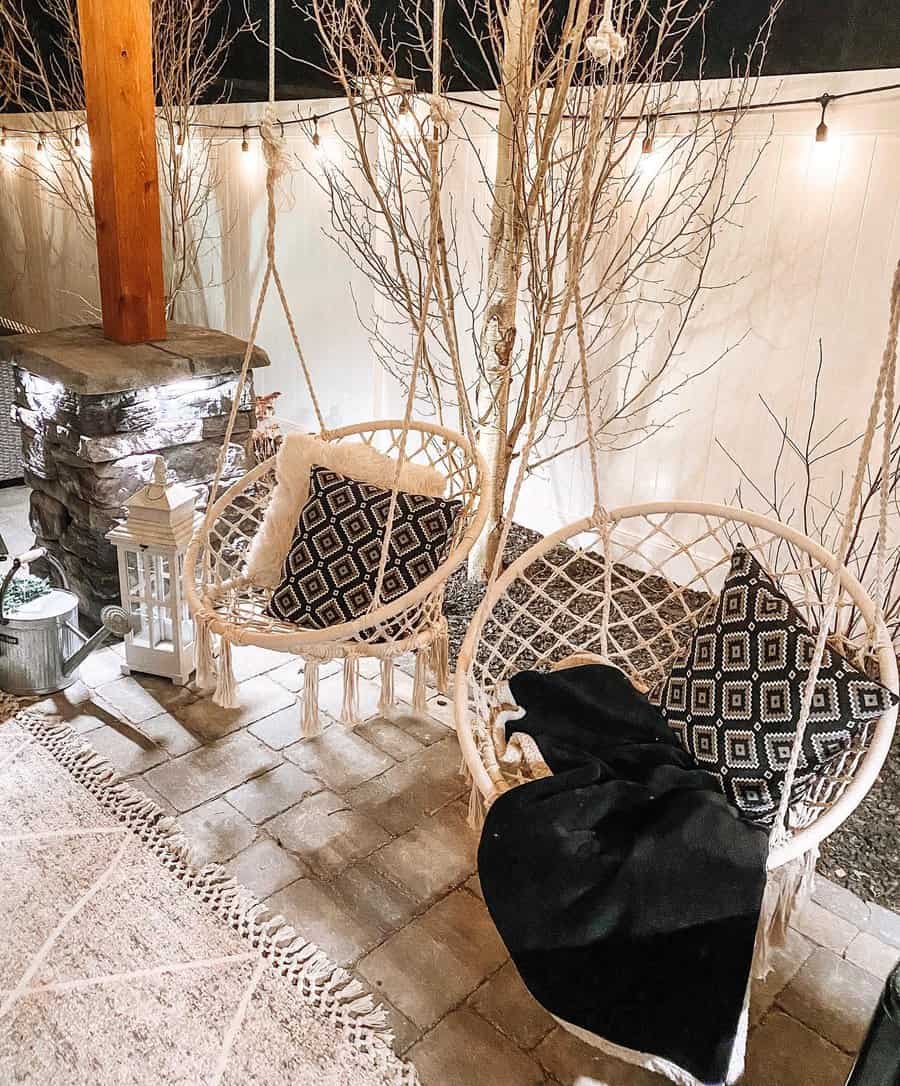 If decorating under a pergola or a covered porch, you may be able to hang the swing right from the structure overhead. Uncovered patios can also benefit from this seating option. You'll just need to invest in a freestanding swing design instead.
Finish off your porch swing with custom throw pillows, a seat cushion, or even a full-size blanket for colder nights.
12. Unique
Something to keep in mind as you decorate your patio space is that it is just as much yours as any room in your home. So don't be afraid to let your personality show in the final product.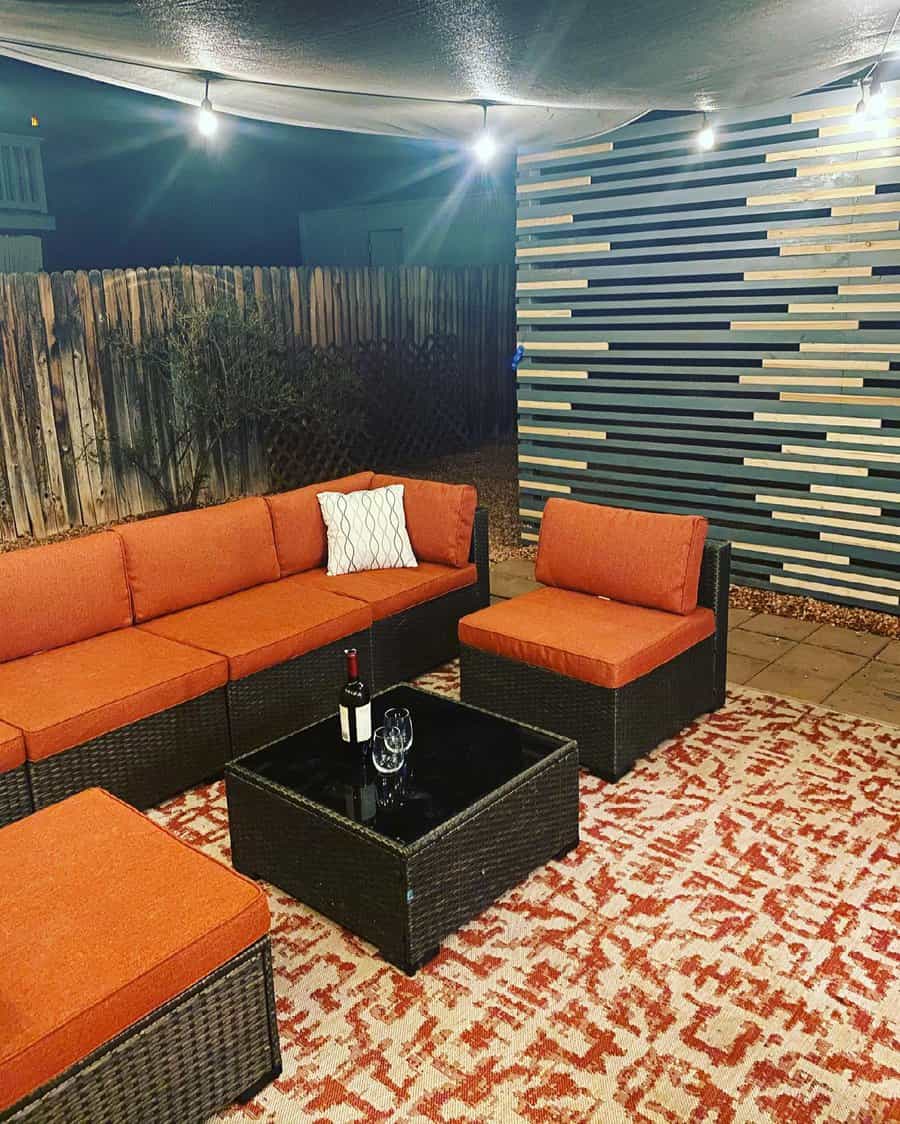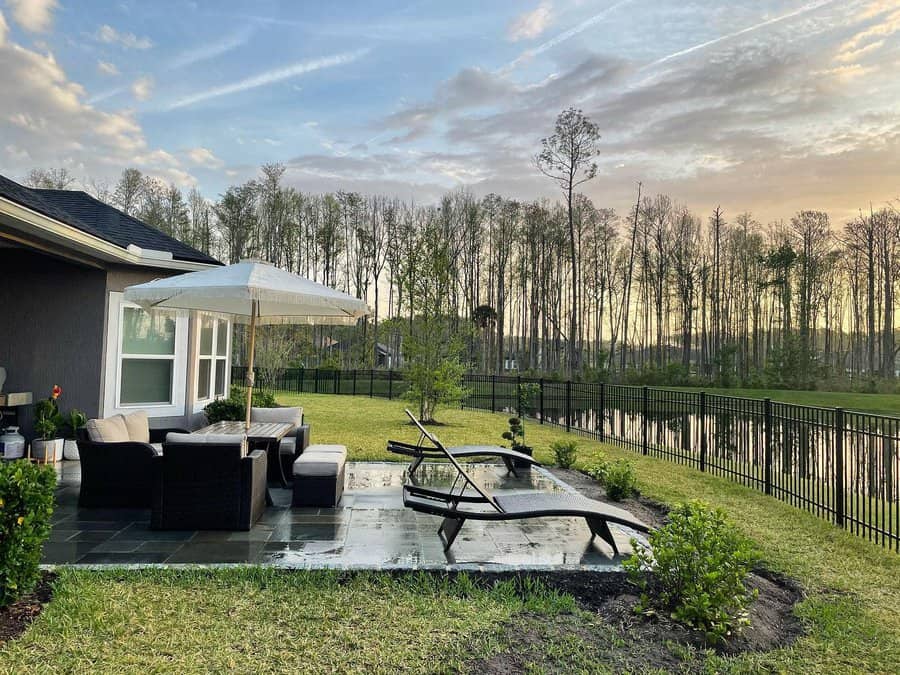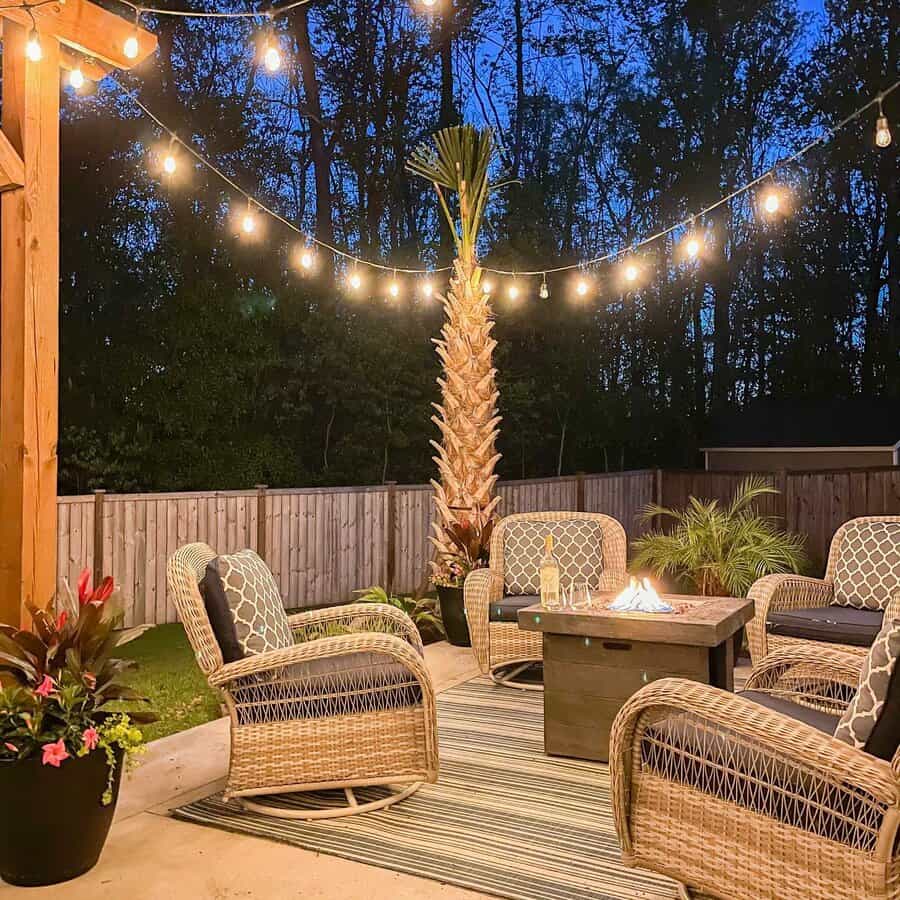 Personalizing your backyard patio can take many forms. It could mean investing in a one-of-a-kind set of furniture. Or painting the space to suit your preferred aesthetic.
Almost anything is possible when DIYing an outdoor living space. Just be sure to use only materials and finishes designed to stand up to the elements.
DIY Patio FAQs
Is a building permit required for a DIY patio?
While not all DIY patio projects require an approved building permit, some do. It's crucial to check with your local governing agency before starting any projects of your own.
Constructing a patio from scratch or building an additional structure (like a pergola) are scenarios where a building permit is most likely to be required. Small DIY projects that only affect the appearance of the patio are rarely regulated in this way!
Can you build a patio on grass?
Most patios include a hard, flat surface made of concrete, stone pavers, or wood. However, it's also possible to design a patio on a material like pea gravel or even grass.
Keep in mind that placing a patio area on grass or another soft surface will pose a few design challenges. Be sure to select furniture that won't sink into the ground below. Avoid using decor that could be stained or damaged by contact with the grass.