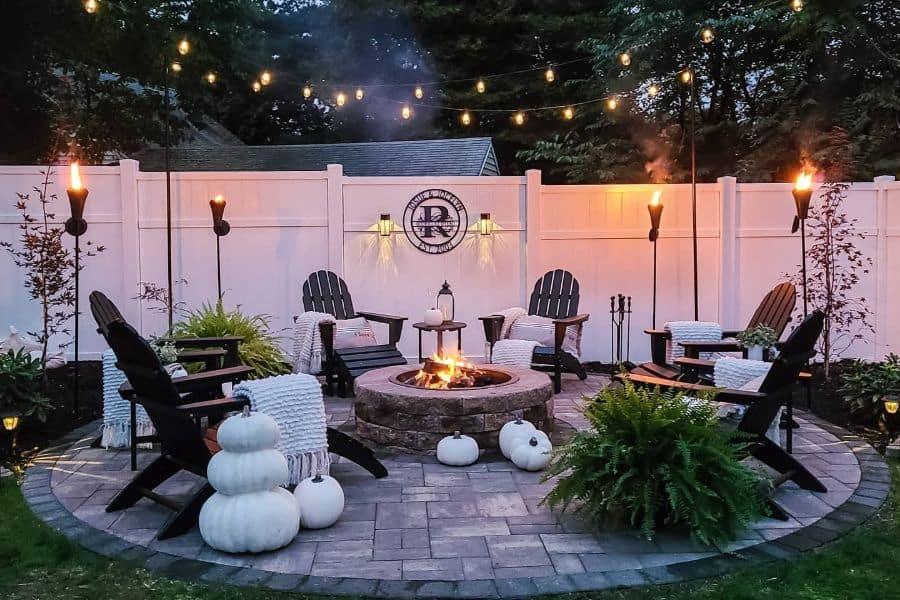 The Top 34 DIY Patio Ideas
by — Kendrick Hulse

Published on January 14, 2022

Updated on October 4, 2023
A beautiful and functional outdoor living space is on many homeowners' wish lists. But the sheer expense of designing such a space stops many from pursuing their dreams.
While building or renovating a patio can be costly, it can also be surprisingly cheap. The secret to saving money is to take on the bulk of the work yourself.
Keep reading for our favorite DIY patio ideas that prove a stylish backyard doesn't need to cost a fortune!
1. Create Cozy Seating with Wood Pallets
Transform your outdoor area with a touch of creativity by crafting cozy seating using wood pallets. This budget-friendly DIY project allows you to repurpose shipping pallets into chairs, couches, or swings, adding a unique and personal flair to your patio. These projects are not only simple to undertake but also offer an opportunity to showcase your individual style. Spend an afternoon giving new life to old pallets, and your patio will become a welcoming oasis for relaxation and enjoyment. For an even more inviting atmosphere, complement your pallet seating with colorful cushions and outdoor throws to match your overall decor scheme.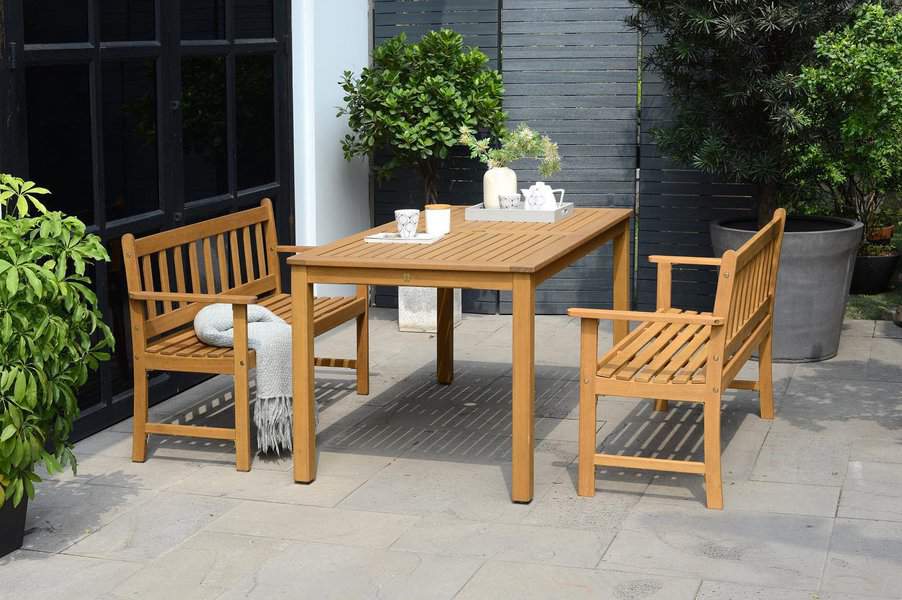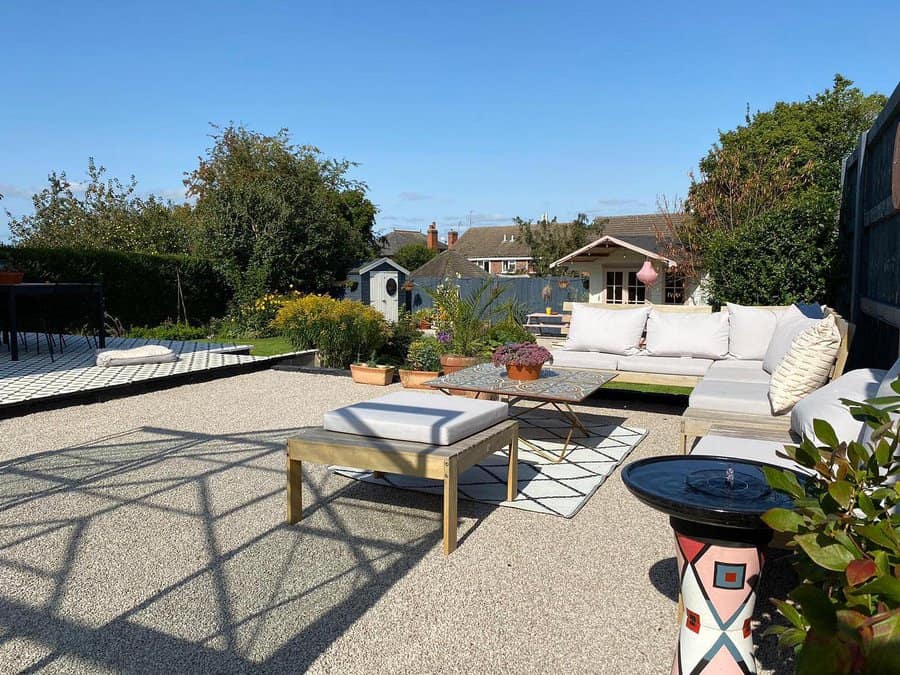 2. Define Space with an Area Rug
Enhance your patio's ambiance without breaking the bank by using an area rug to define the space. This cost-effective DIY solution adds warmth and style to your outdoor area, making it more inviting. Opt for a weather-resistant rug to ensure durability and easy maintenance. To complement this design element, consider coordinating outdoor cushions, potted plants, and string lights to create a cohesive and charming outdoor retreat that's perfect for both relaxation and entertaining.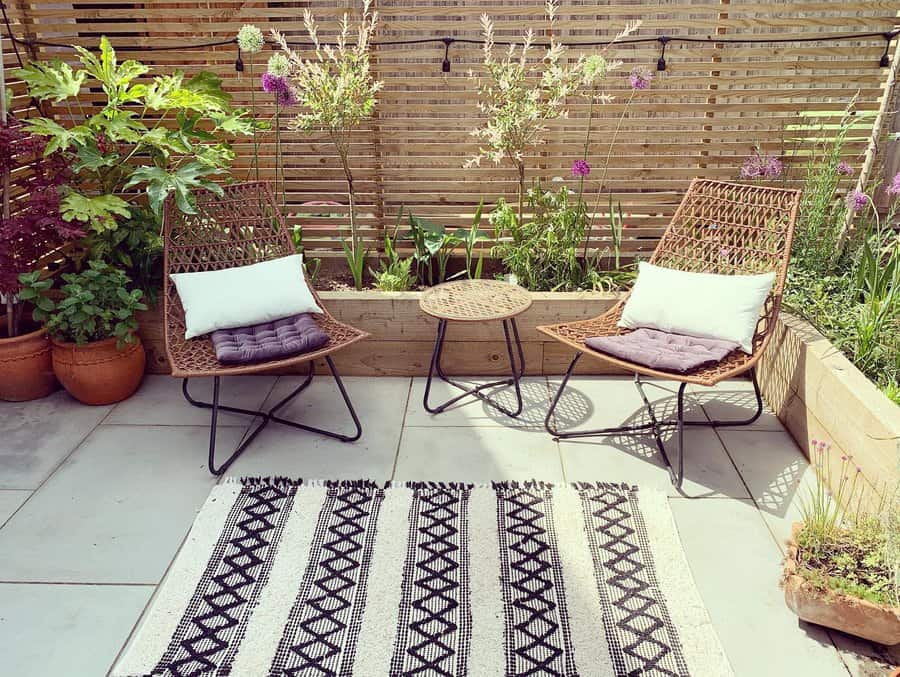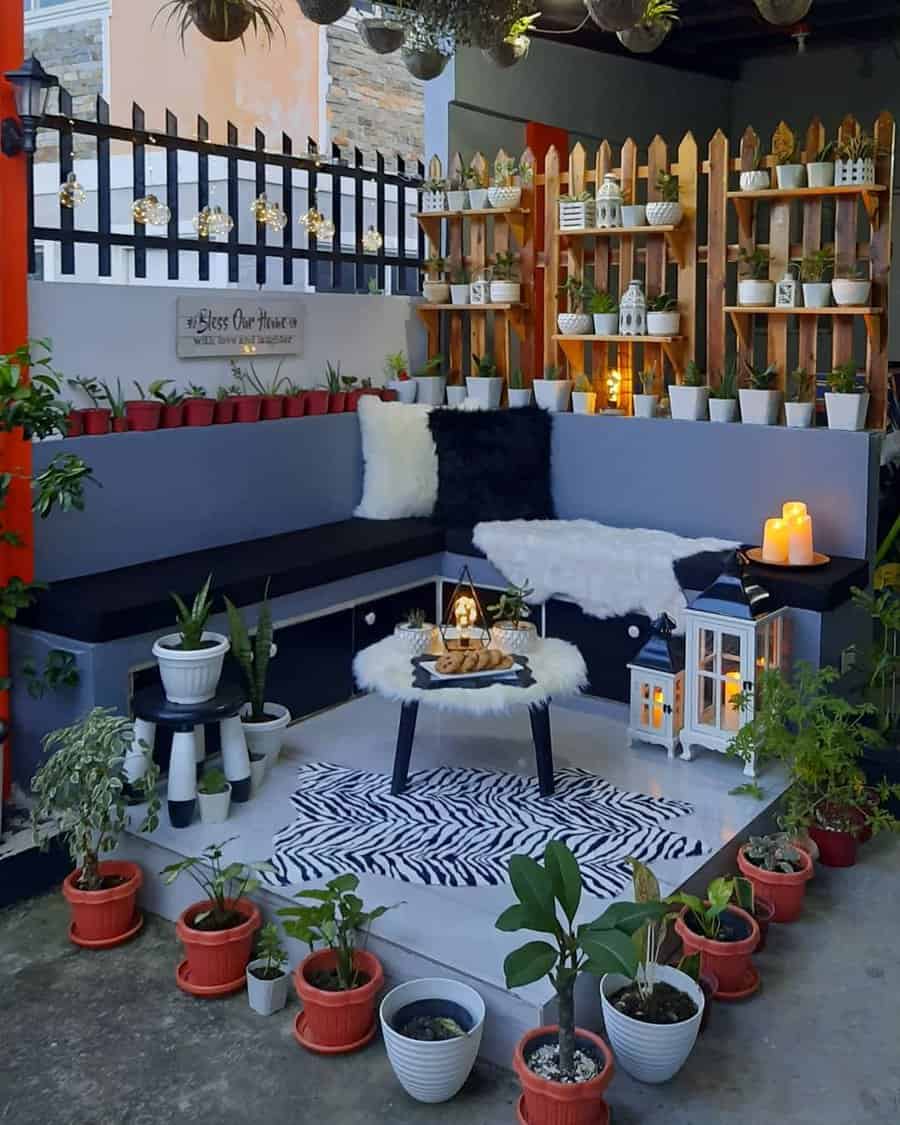 3. Illuminate with Hanging String Lights
Elevate your patio's atmosphere with the magic of hanging string lights. This creative lighting idea not only adds charm but also extends your outdoor enjoyment well into the evening. Consider incorporating solar lights around your seating area for an eco-friendly and enchanting glow. To complete the look, set up a cozy hammock between two trees or pillars for a tranquil relaxation spot. These straightforward yet impactful patio ideas will turn an ordinary space into a welcoming haven for leisure and social gatherings. Don't forget to adjust the light intensity to create the desired mood, whether it's a romantic dinner or a lively get-together with friends.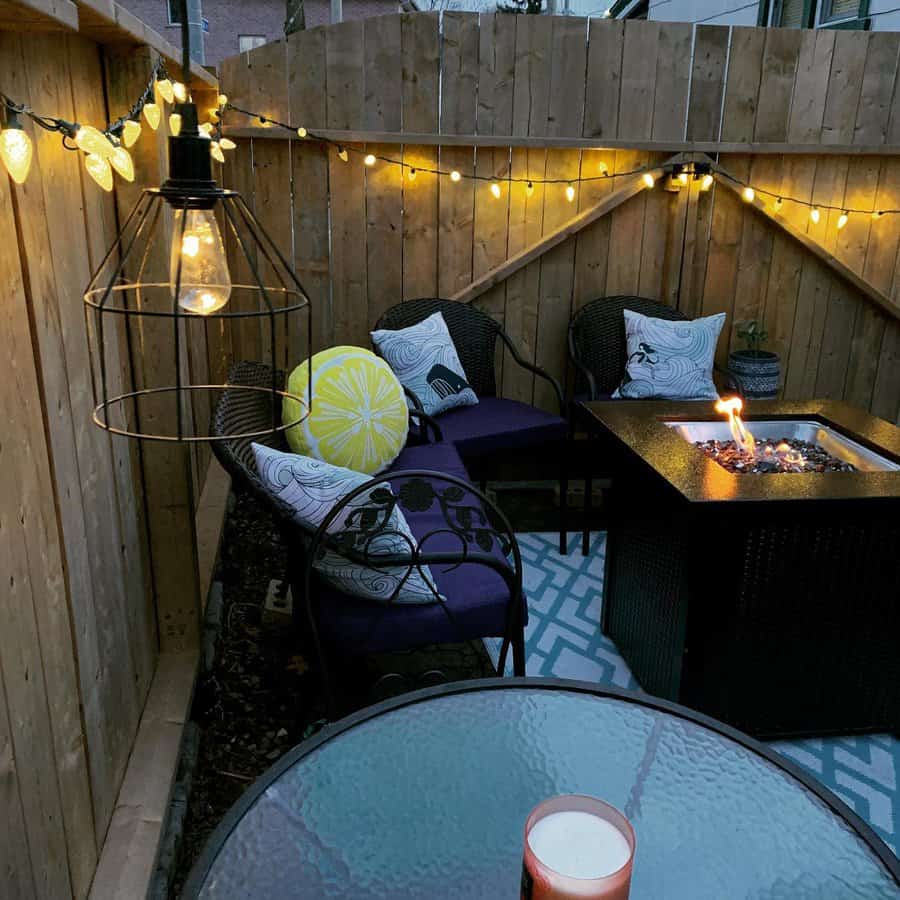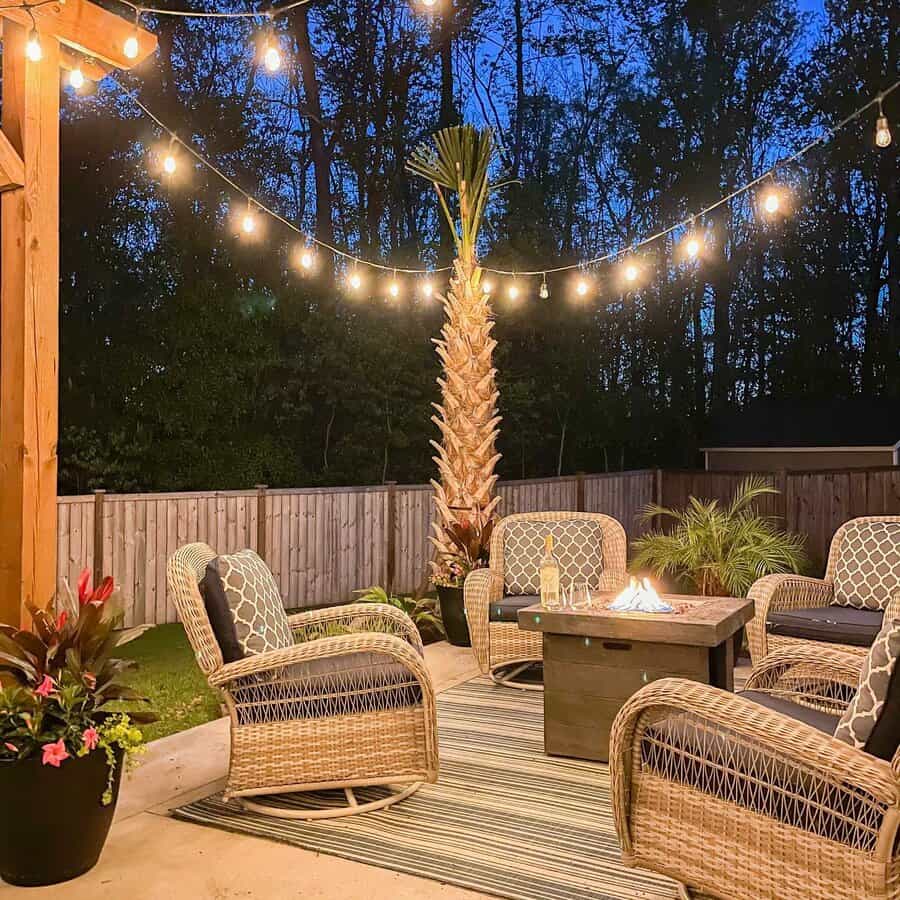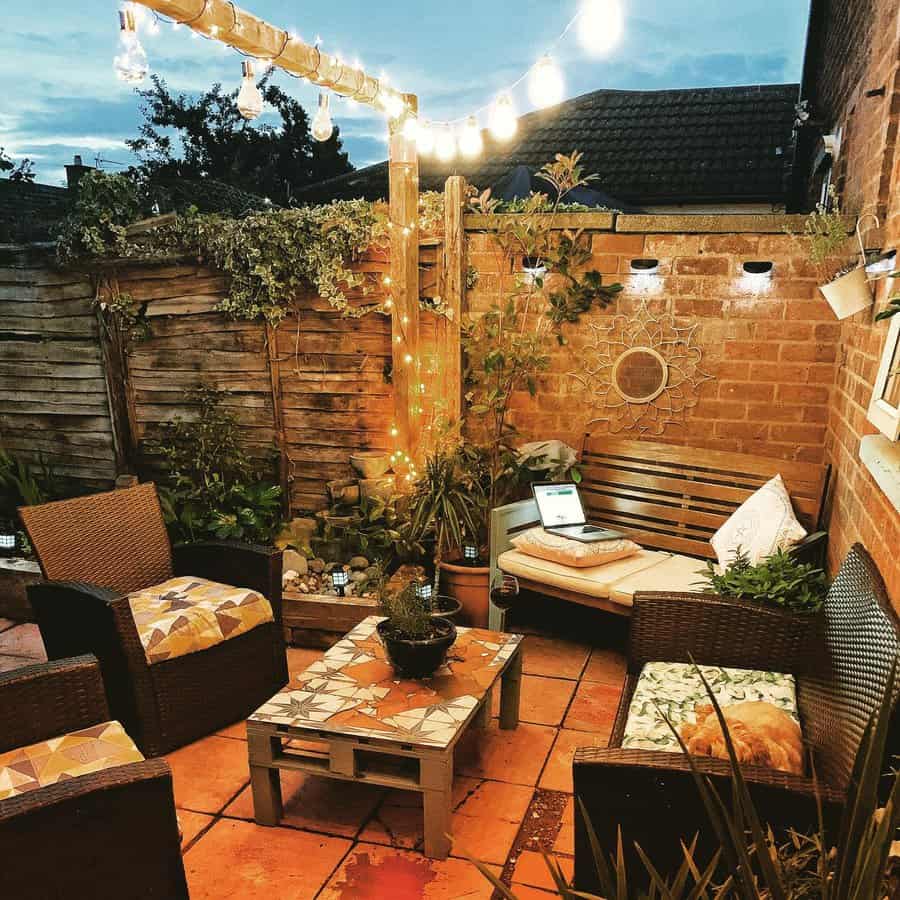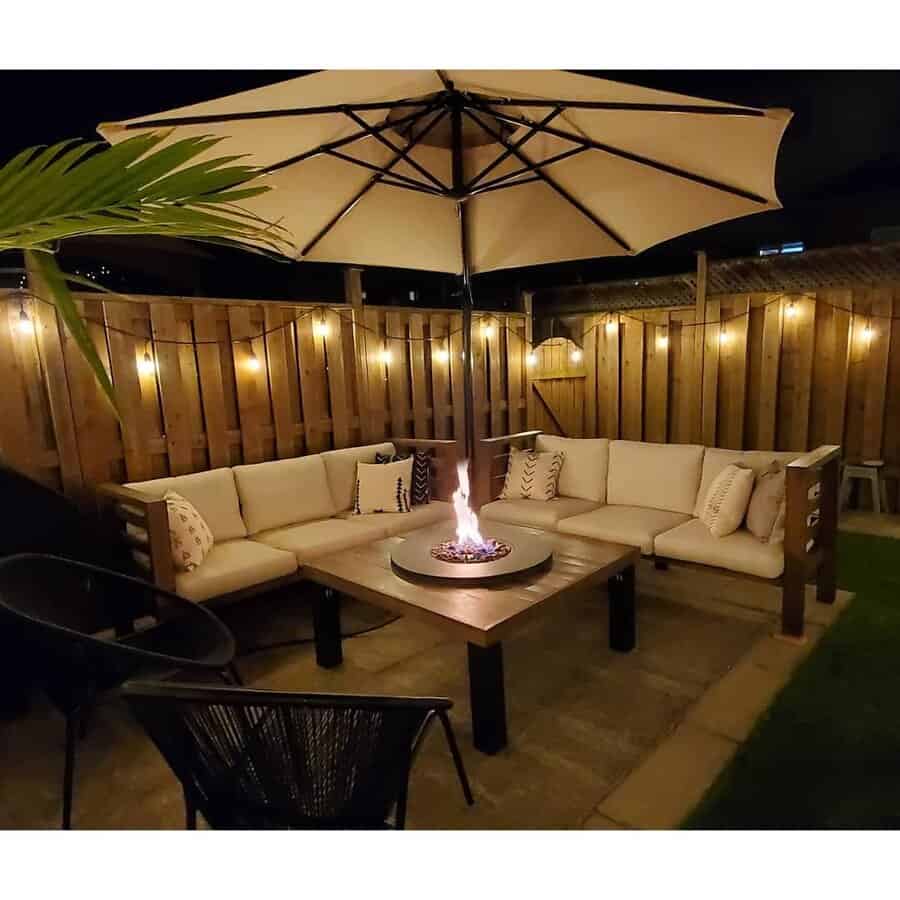 4. Add Privacy with Outdoor Curtains
Achieve both privacy and style on your patio by incorporating outdoor curtains or screens. These versatile additions not only offer seclusion but also introduce pops of color and texture to your outdoor oasis. To infuse a laid-back boho charm into your space, consider crafting a unique backdrop using affordable materials. Mix and match fabrics, furs, and drapes to create an effortless yet captivating look. This simple yet effective patio idea transforms your outdoor area into a private sanctuary with a fresh and inviting ambiance, perfect for relaxation or hosting intimate gatherings. For added functionality, choose weather-resistant materials to ensure durability and ease of maintenance.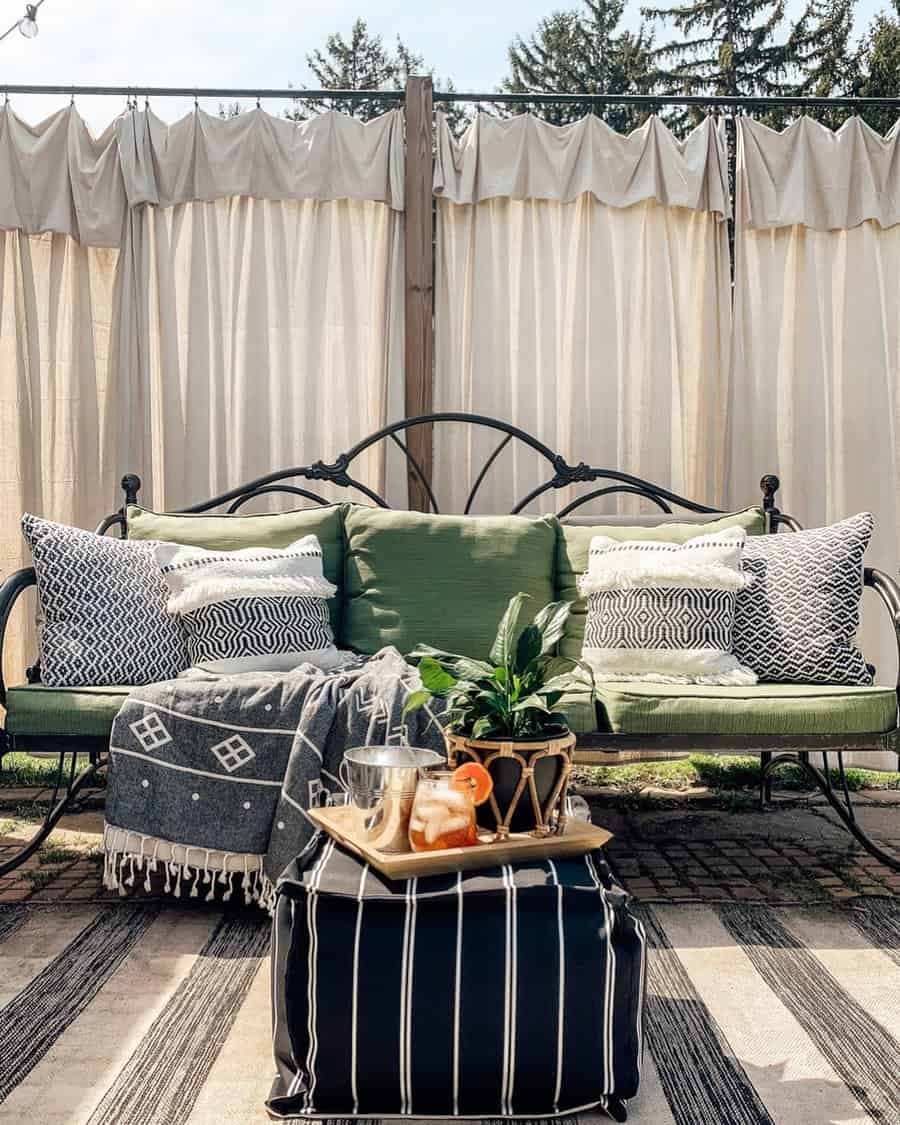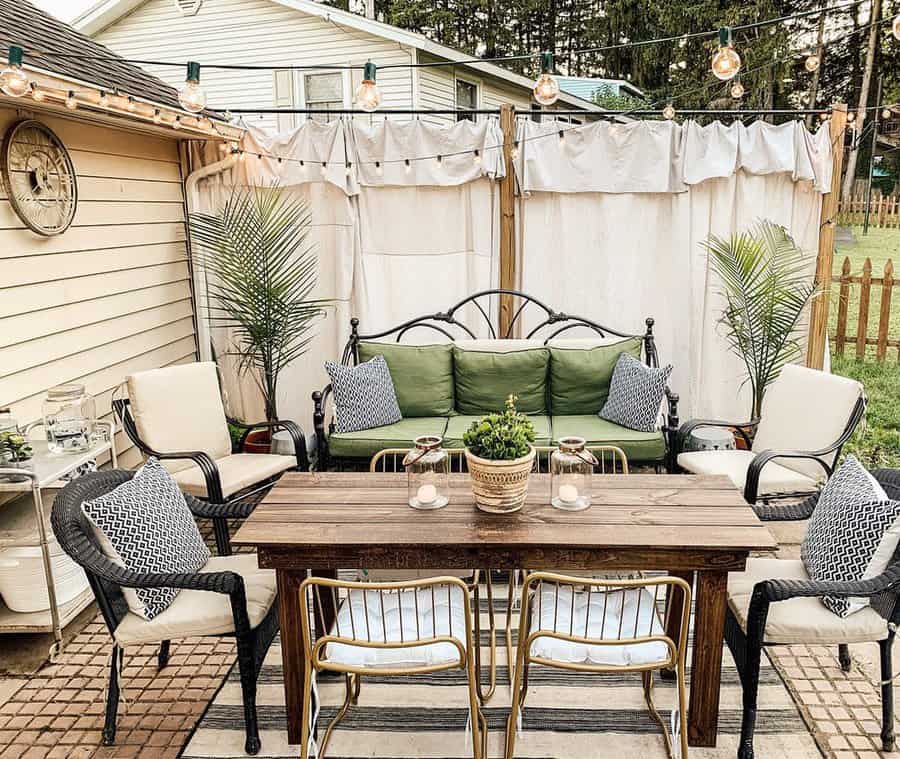 5. Elevate Your Patio with a Deck
Enhance your outdoor space by elevating it with a patio deck, providing protection from the elements and expanding your usable area. This upgrade allows for the creation of a cozy dining nook or a sun-soaked relaxation haven. To infuse color and privacy, adorn your deck with potted plants, adding a touch of nature to your surroundings. For added charm, hang strings of white or colored lights above the patio, creating a captivating evening ambiance ideal for unwinding and enjoying a refreshing beverage after a busy day. Make sure to select weather-resistant materials for both your deck and outdoor furnishings to ensure long-lasting durability and minimal maintenance.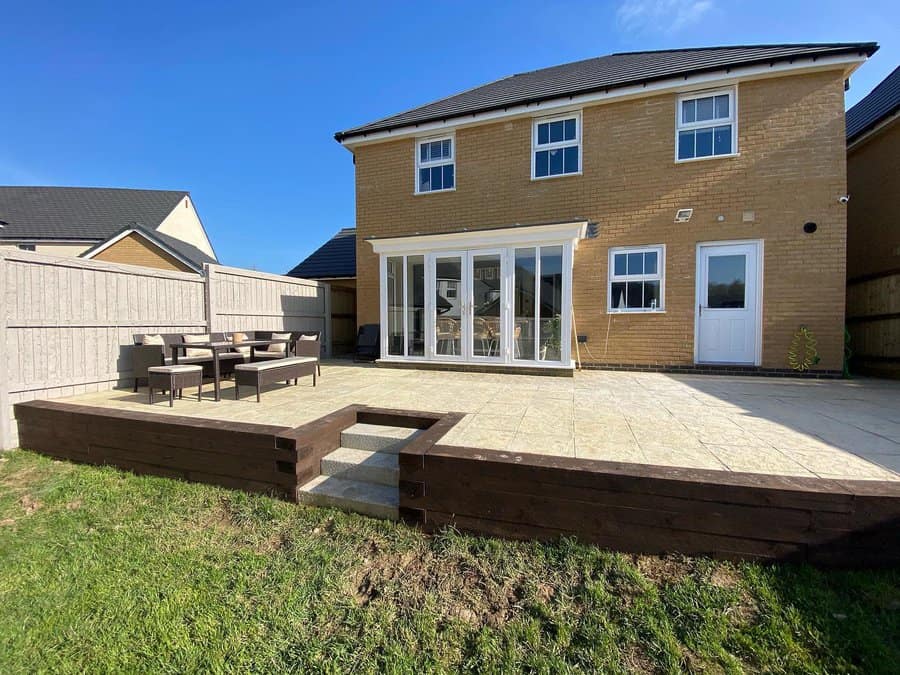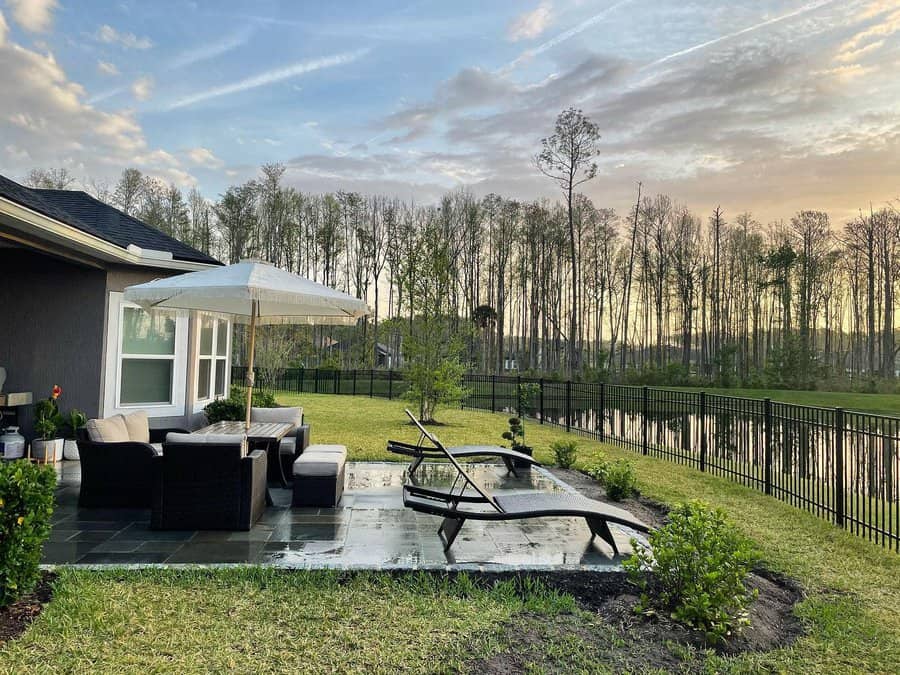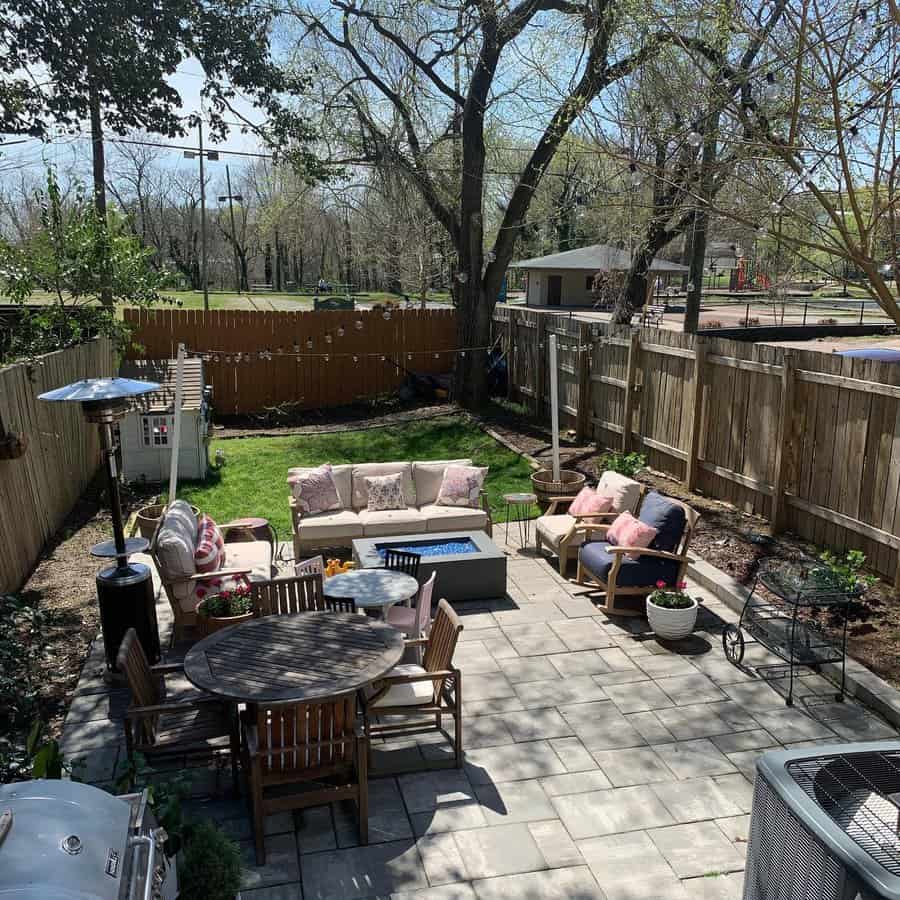 6. Enhance Flooring with Decorative Touches
Elevate your patio's aesthetics by incorporating decorative tiles into your flooring. These tiles not only introduce visual intrigue but also offer a tactile dimension while enhancing texture and color. Whether you opt for a patterned or plain style, you can transform your outdoor space into a vibrant and inviting environment. With a wide range of design, size, and color options available, you have the flexibility to craft a one-of-a-kind statement piece that complements your personal style. This straightforward yet impactful patio idea effortlessly elevates your outdoor decor, making your patio an even more enticing retreat for relaxation and entertainment.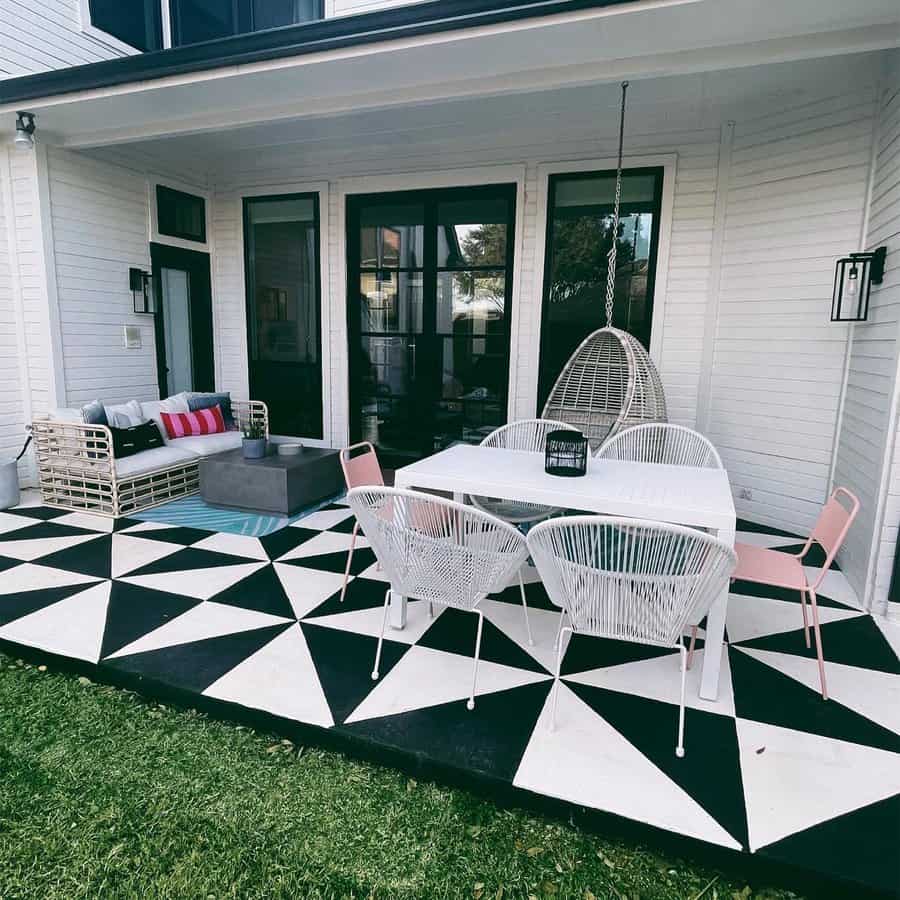 7. Cozy Up with a Fire Pit
Create a warm and inviting atmosphere in your outdoor space with the addition of a fire pit. Whether you opt for a gas-powered or traditional wood-burning design, a fire pit is perfect for extending your outdoor enjoyment into cooler evenings. Arrange chairs or benches around it to encourage conversations and marshmallow roasting as the sun sets. The cozy ambiance it provides is ideal for hosting parties or family gatherings throughout the year. To complete the look, consider incorporating comfortable seating, outdoor blankets, and ambient lighting to ensure that your fire pit area becomes the heart of your outdoor oasis.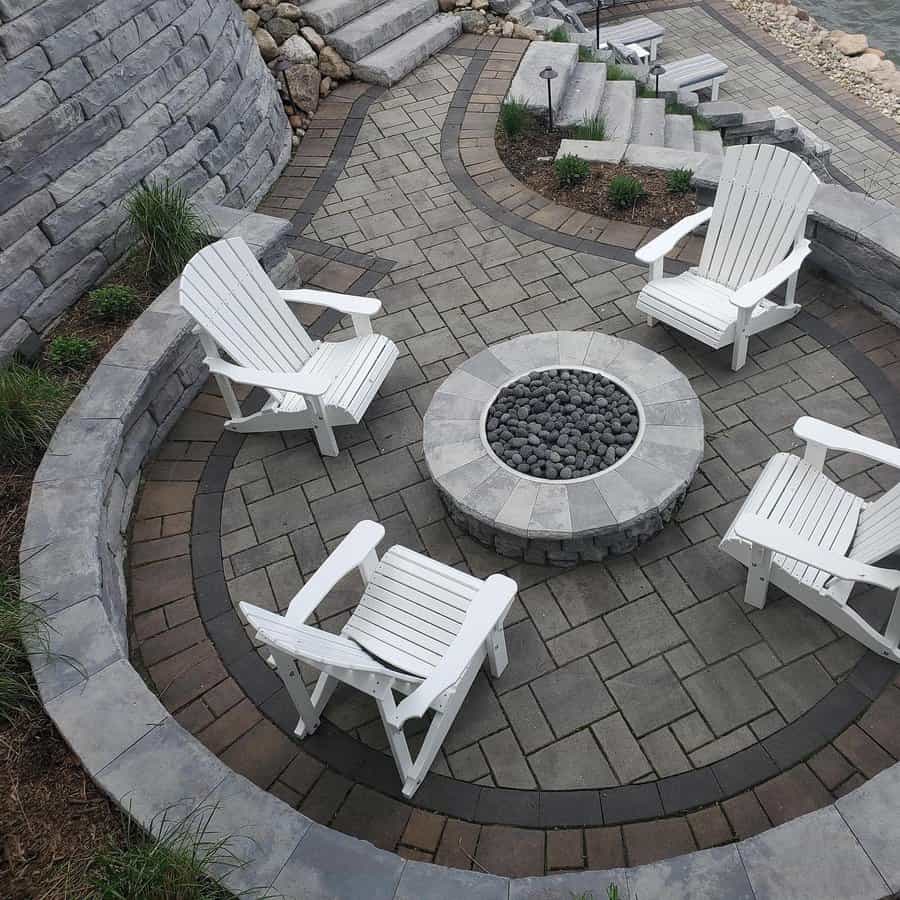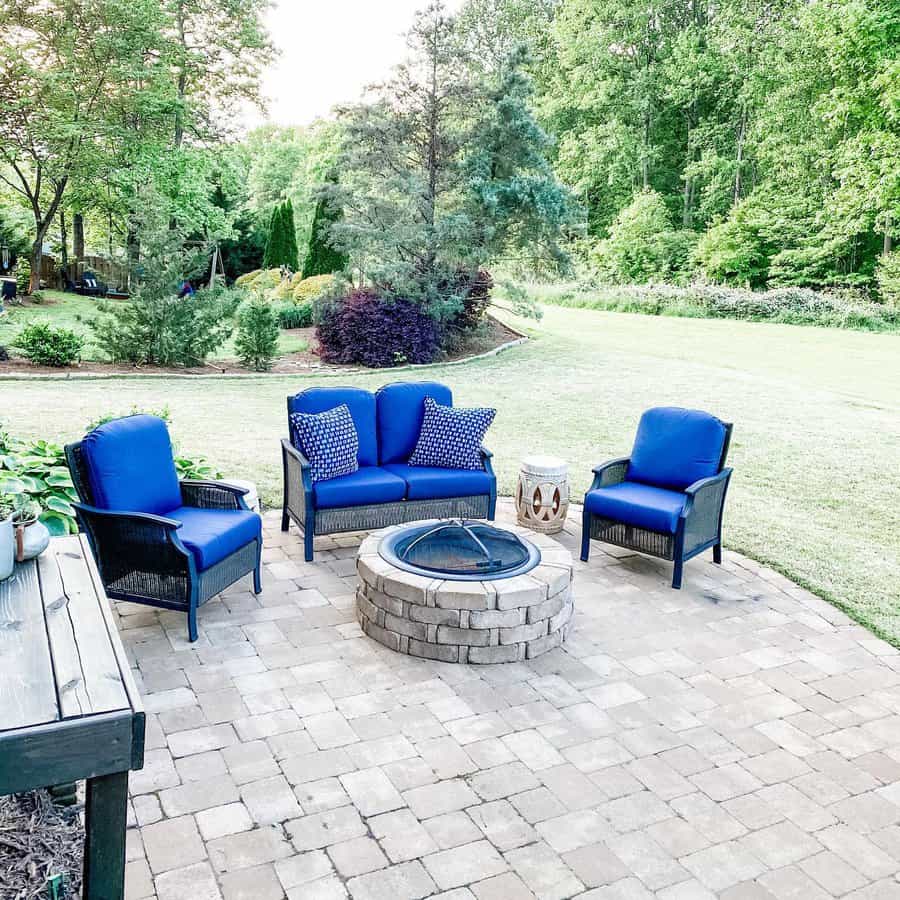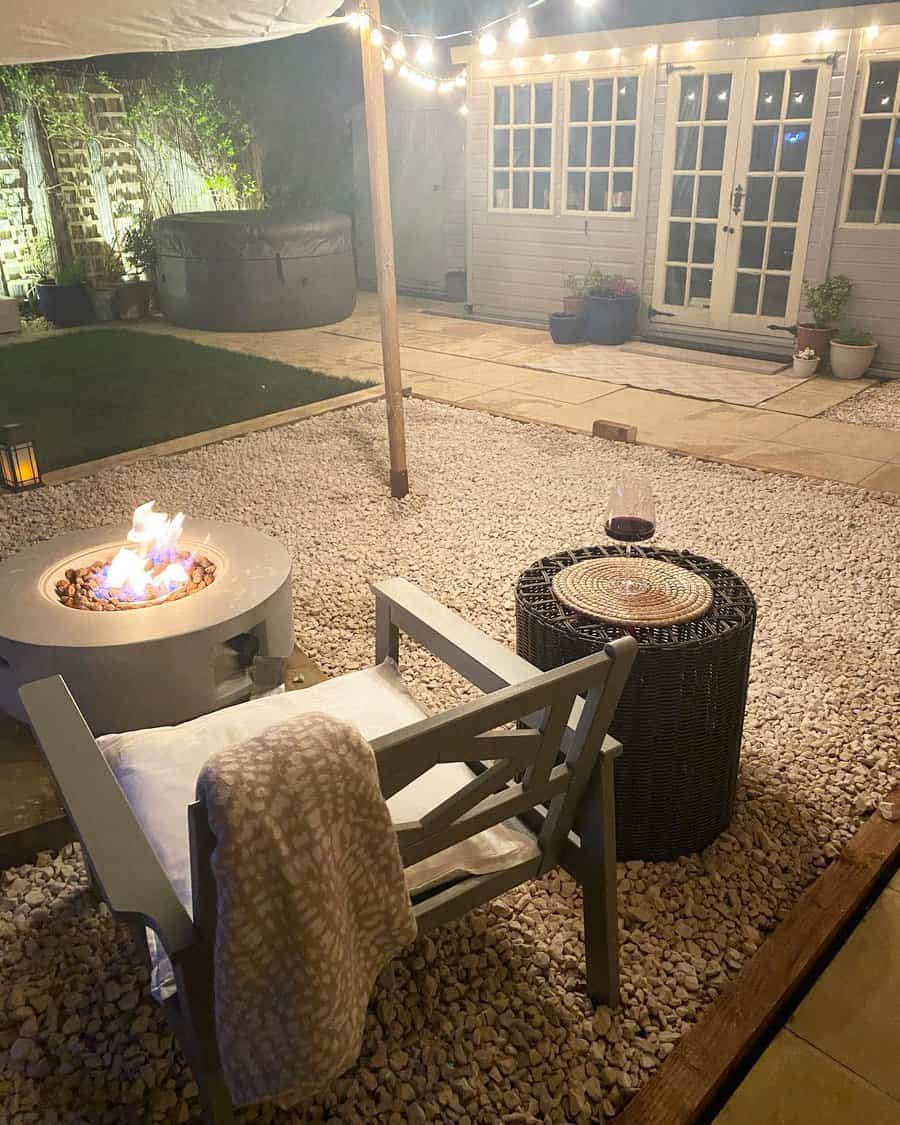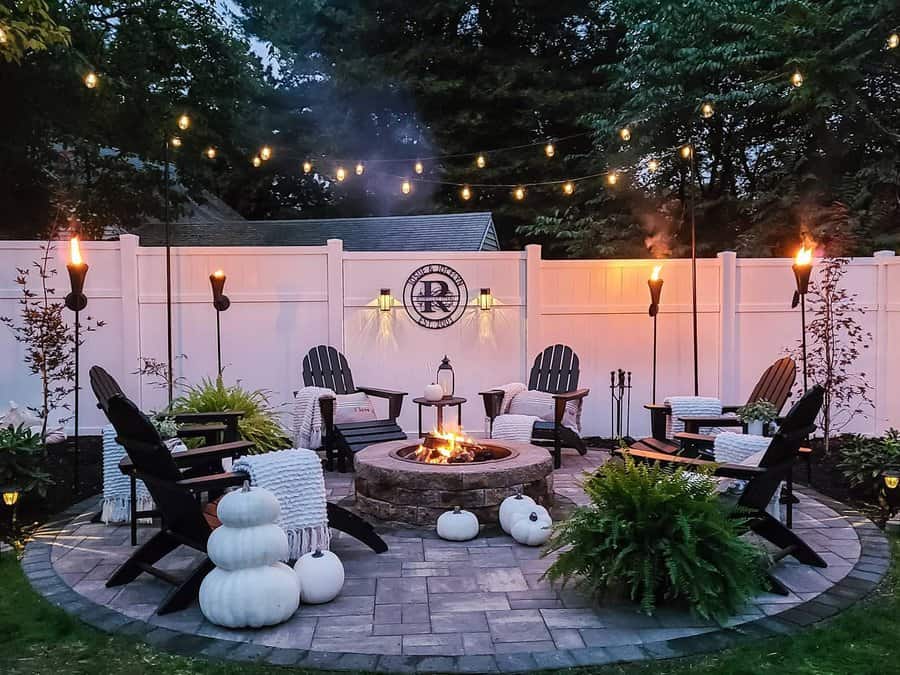 8. Green Up Your Space with Plants
Infuse life and vibrancy into your patio by incorporating lush greenery into the design. Transform your outdoor space into a private oasis by selecting resilient and low-maintenance perennials for a chic and inviting patio garden. Whether you're hosting guests or spending quality time with family, this botanical addition enhances the ambiance and provides a refreshing outdoor experience.
Strategically position charming planters around the area and consider suspending them in the patio corners to introduce vibrant bursts of color to your space. Embrace your inner green thumb and breathe new life into your outdoor areas by embracing the beauty of nature. For a cohesive look, select plant varieties that thrive in your climate and complement your overall patio decor, creating a harmonious and welcoming environment.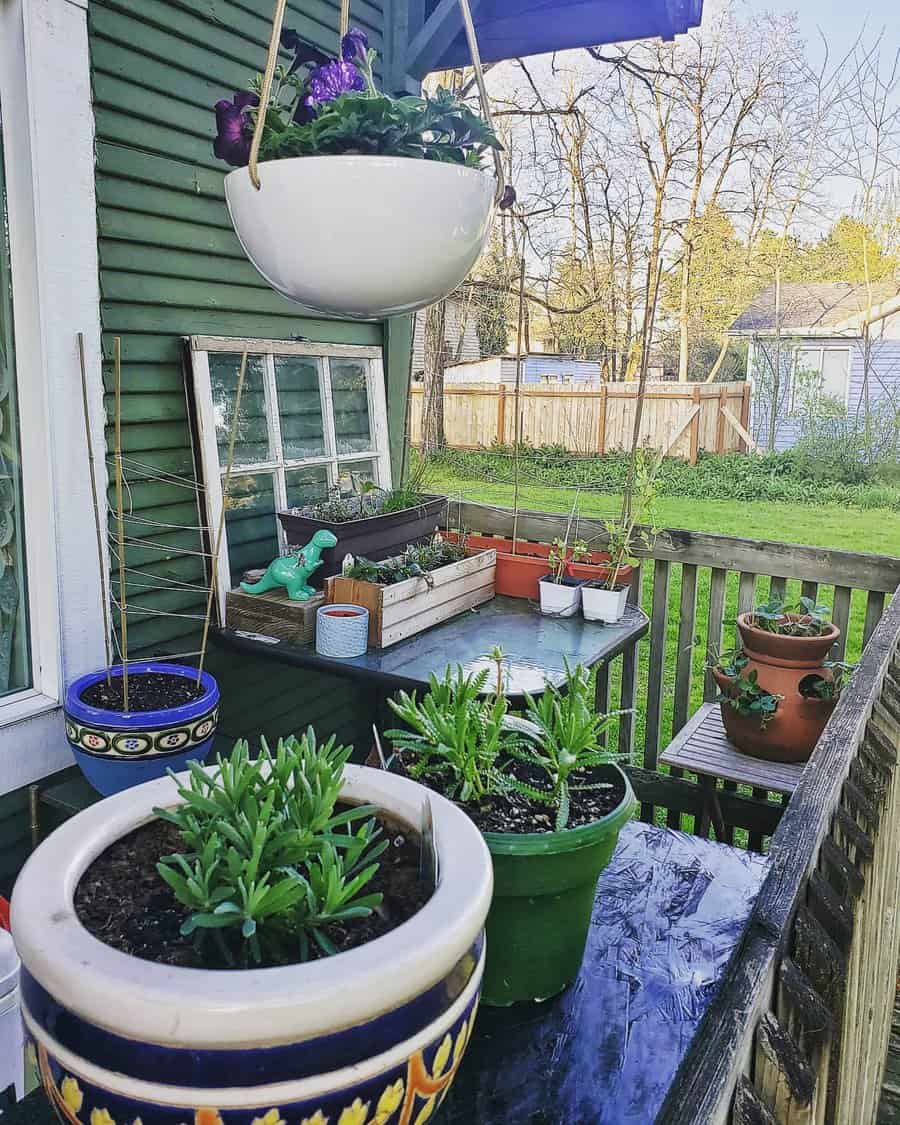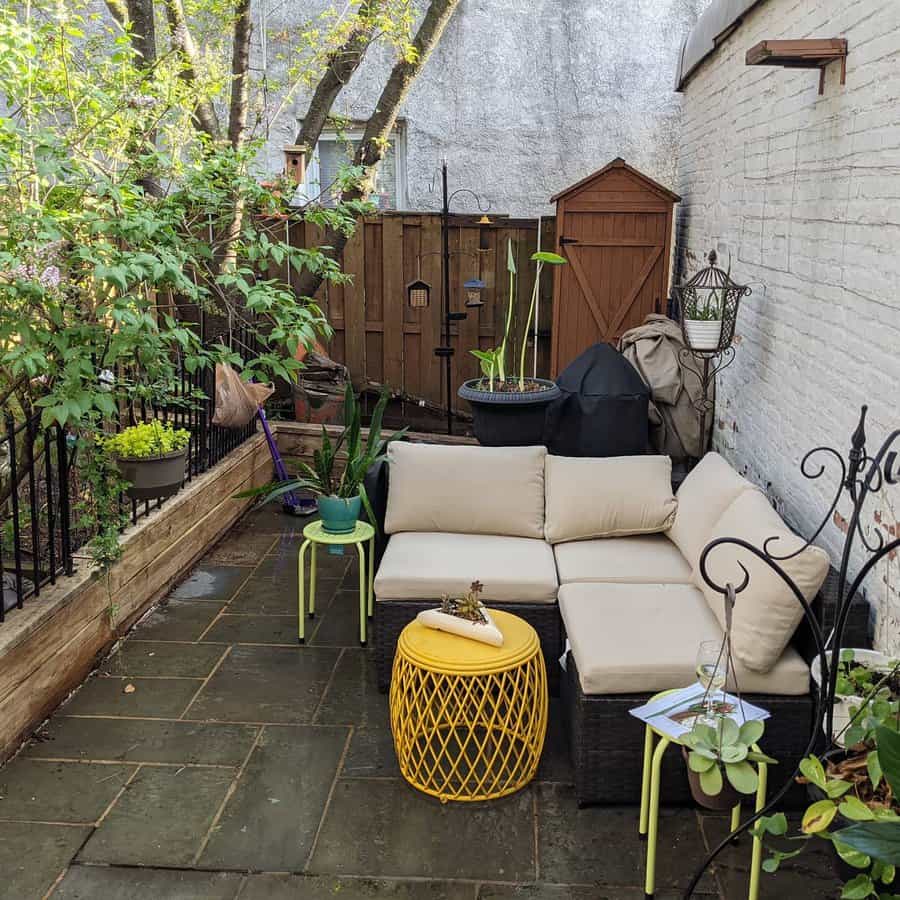 9. Stay Cool with a Shade Sail
Transform your mundane patio into a stunning outdoor haven by introducing shade sails or umbrellas that offer both relief from the sun and serve as captivating art installations. These functional shade solutions, adorned with colorful patterns and playful shapes like sunbursts, not only provide respite on sunny days but also become unique focal points of your outdoor space.
To enhance the ambiance further, illuminate the perimeter of this feature with warm, programmable lighting. This creates a dramatic effect and extends the enjoyment of your outdoor gatherings well into the night, creating a cozy atmosphere around your fire pit or seating area. These shade sail ideas add both functionality and style to your patio, making it a more comfortable and visually appealing place to relax and entertain.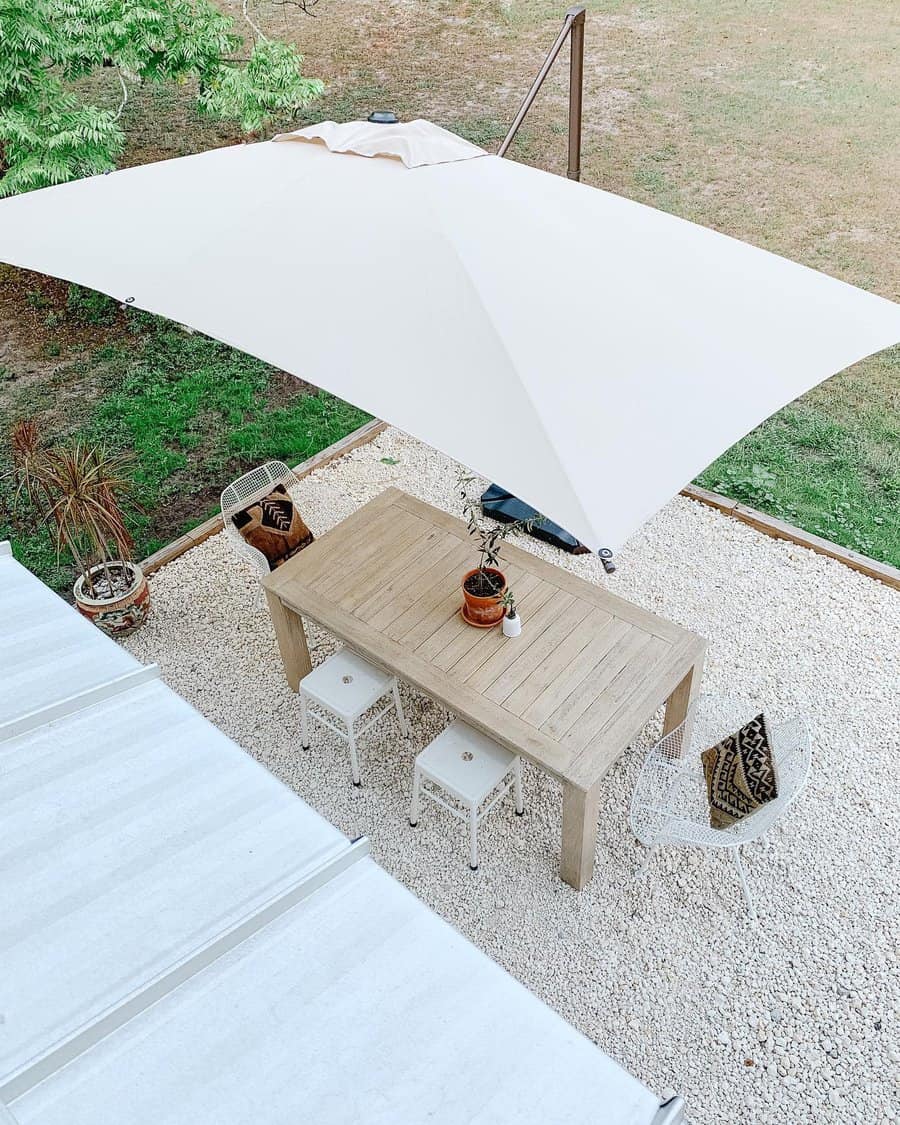 10. Transform with Stone Landscaping
Elevate your outdoor living space with the timeless elegance of stone and pebble landscaping. Introducing these natural elements adds a touch of rustic beauty to your patio, creating an inviting atmosphere for entertaining and relaxation in your backyard.
Experiment with combining larger stones and small pebbles to craft a distinctive and visually appealing look. Additionally, arranging stepping stones in various patterns can provide an extra layer of charm and intrigue. With these creative ideas, you'll establish an outdoor retreat that never fails to impress, ensuring year-round enjoyment and admiration from guests and family alike. For added visual interest, consider pairing your stone landscaping with complementary outdoor furnishings and decor, such as rustic wooden furniture or potted plants.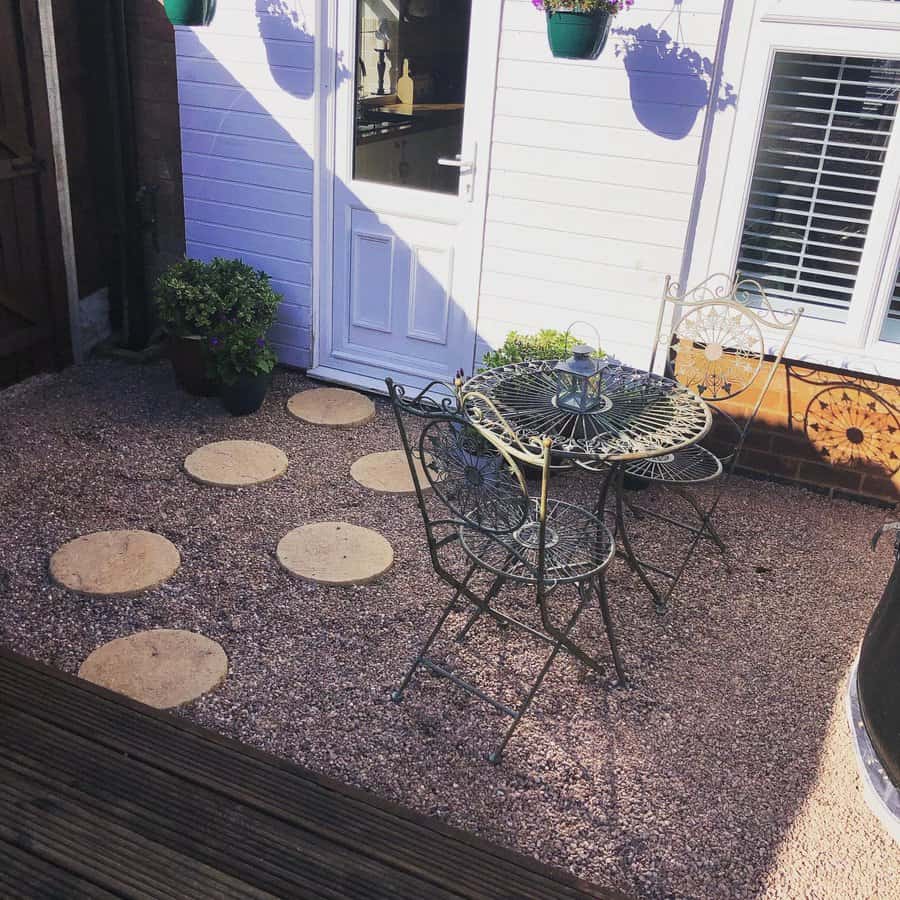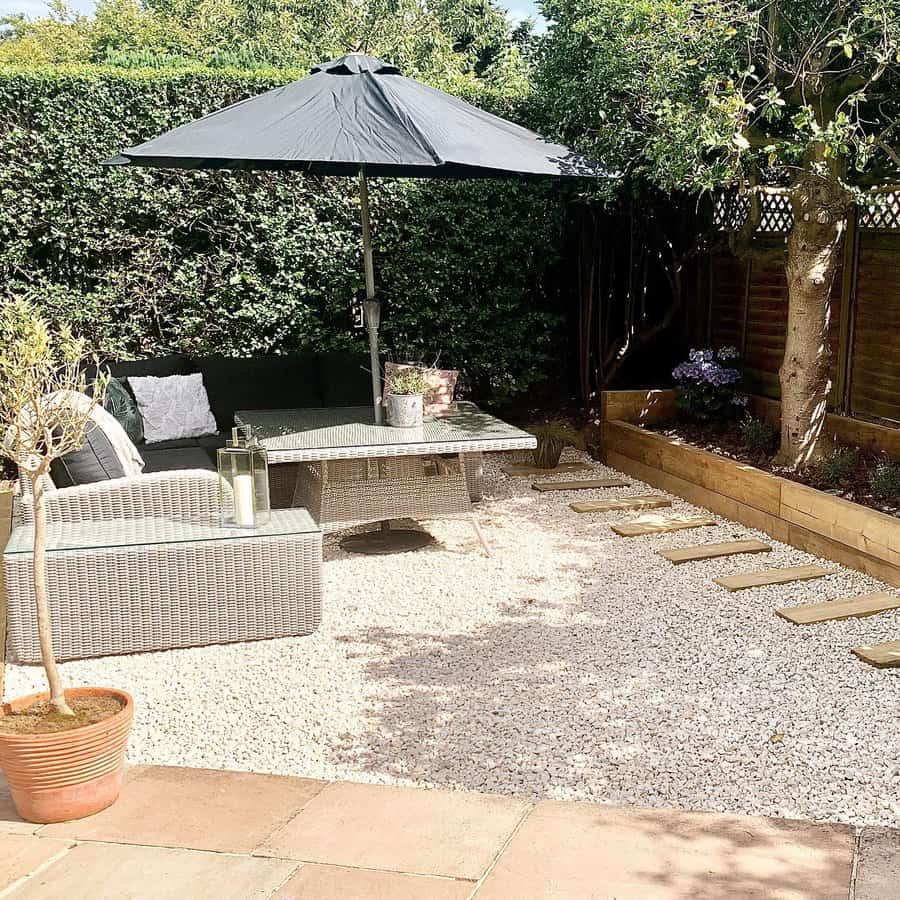 11. Create a Pergola Retreat
Craft an inviting and versatile outdoor retreat by incorporating a patio pergola into your space. This addition provides a cozy and welcoming atmosphere, perfect for gatherings with friends and family. Elevate the ambiance further by adorning the pergola with curtains, lights, and other accessories, creating an ideal setting for dining, entertaining, or simply basking in the beauty of the outdoors.
When it comes to decorating your patio pergola, the possibilities are nearly limitless. Whether you opt for a rustic vibe with salvaged wood elements or a modern look with sleek lighting designs, let your imagination guide you in making the most of this unique addition to your outdoor living area. Consider comfortable seating, weather-resistant materials, and shade options to ensure your pergola retreat is not only stylish but also functional for various occasions and seasons.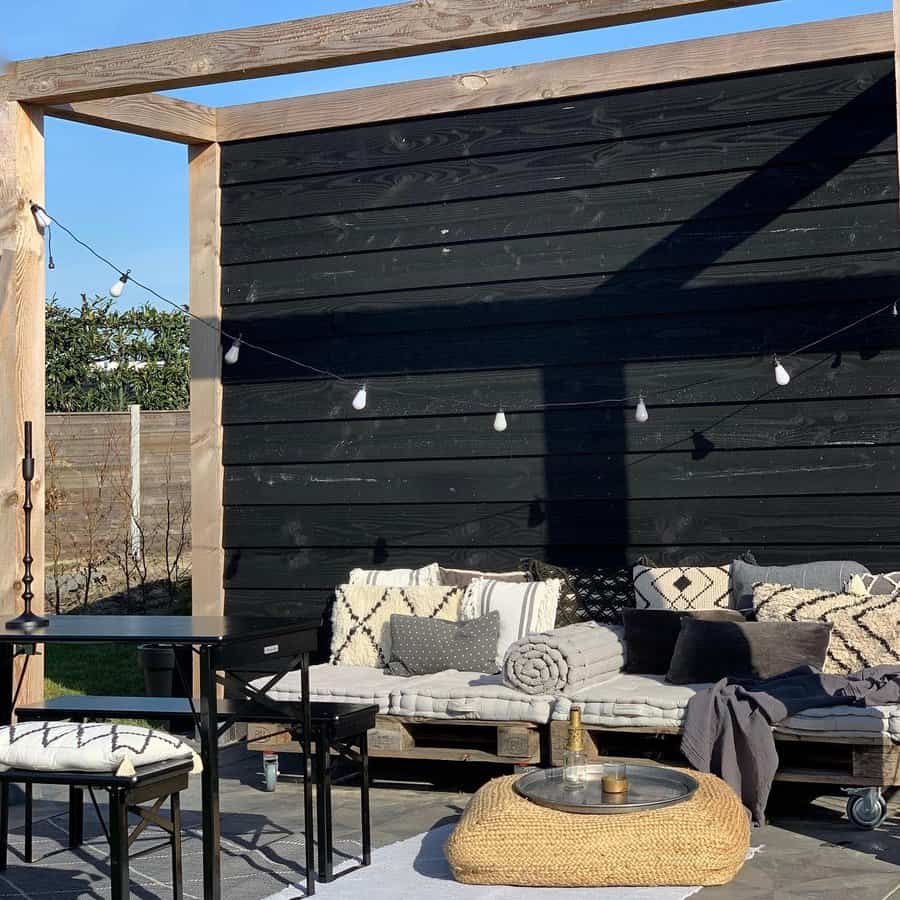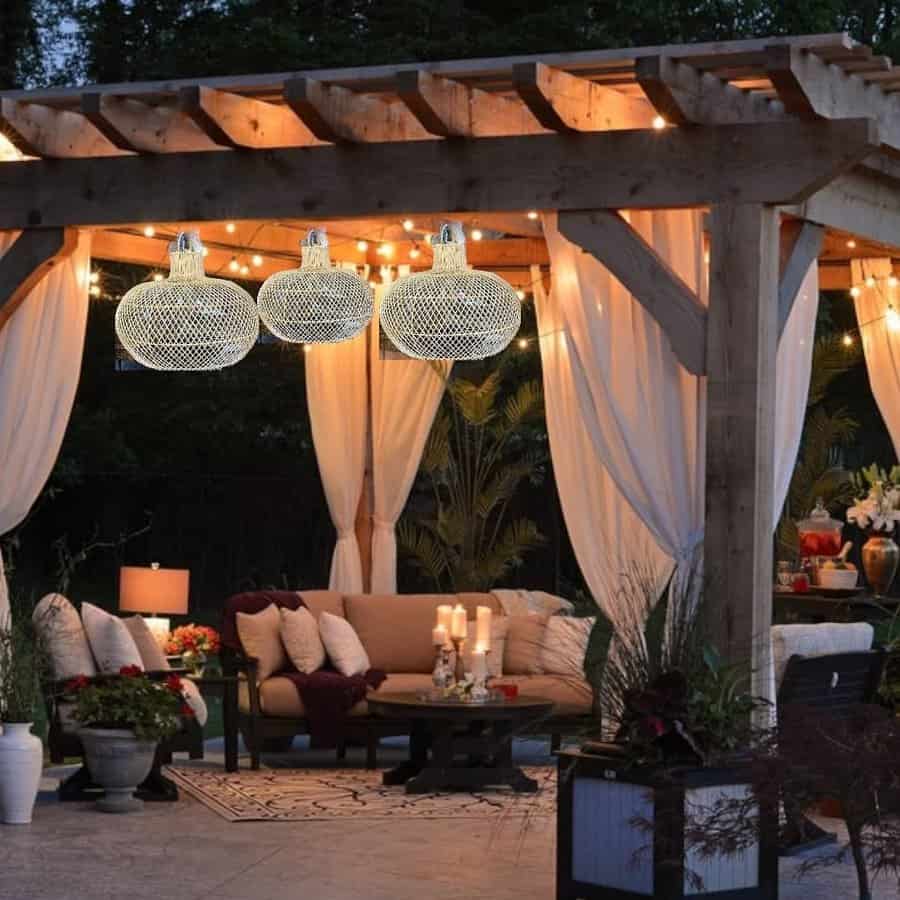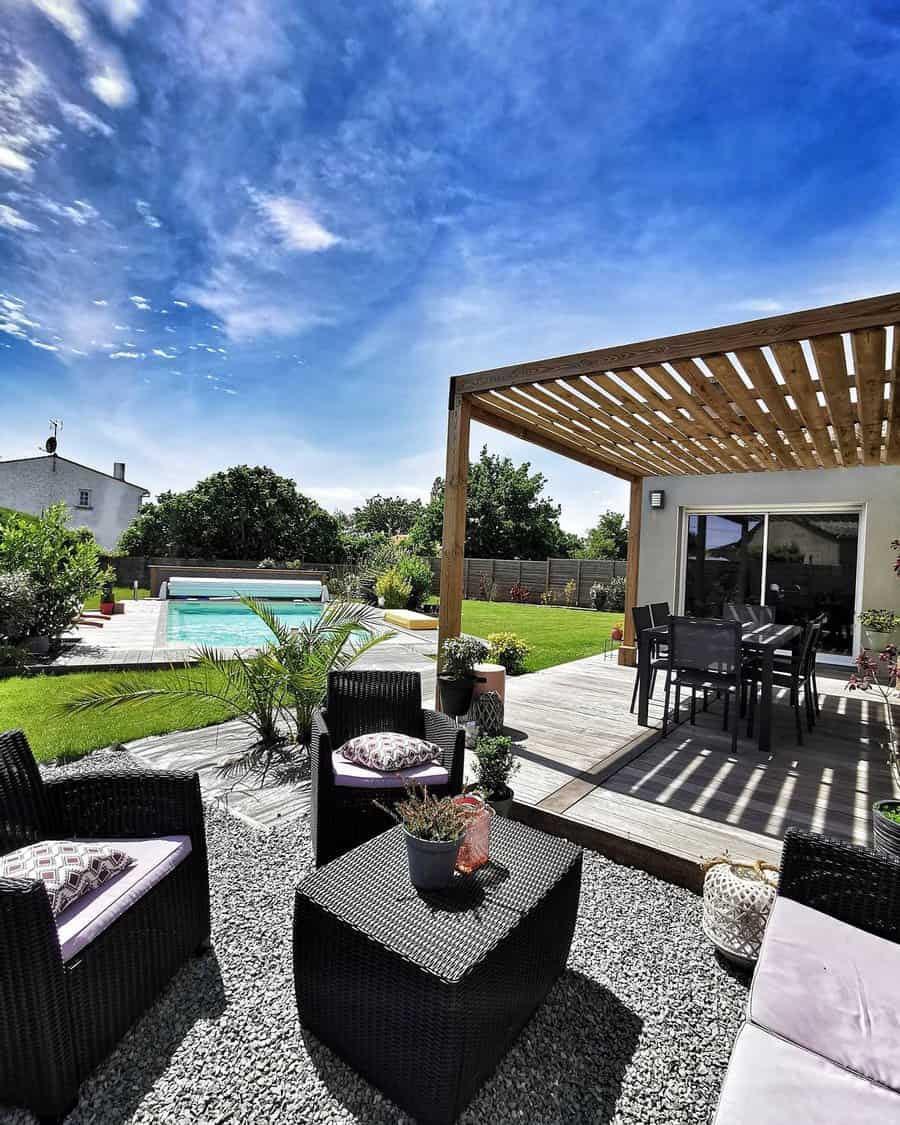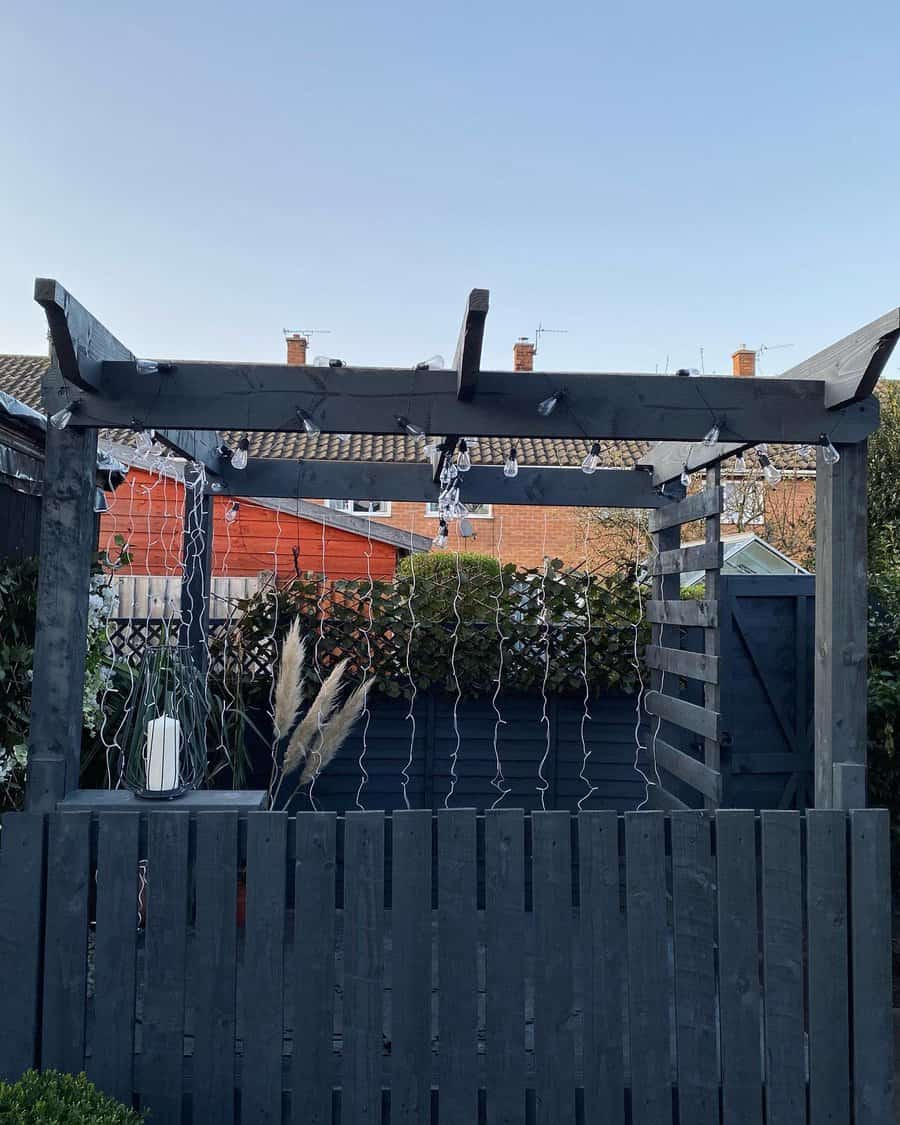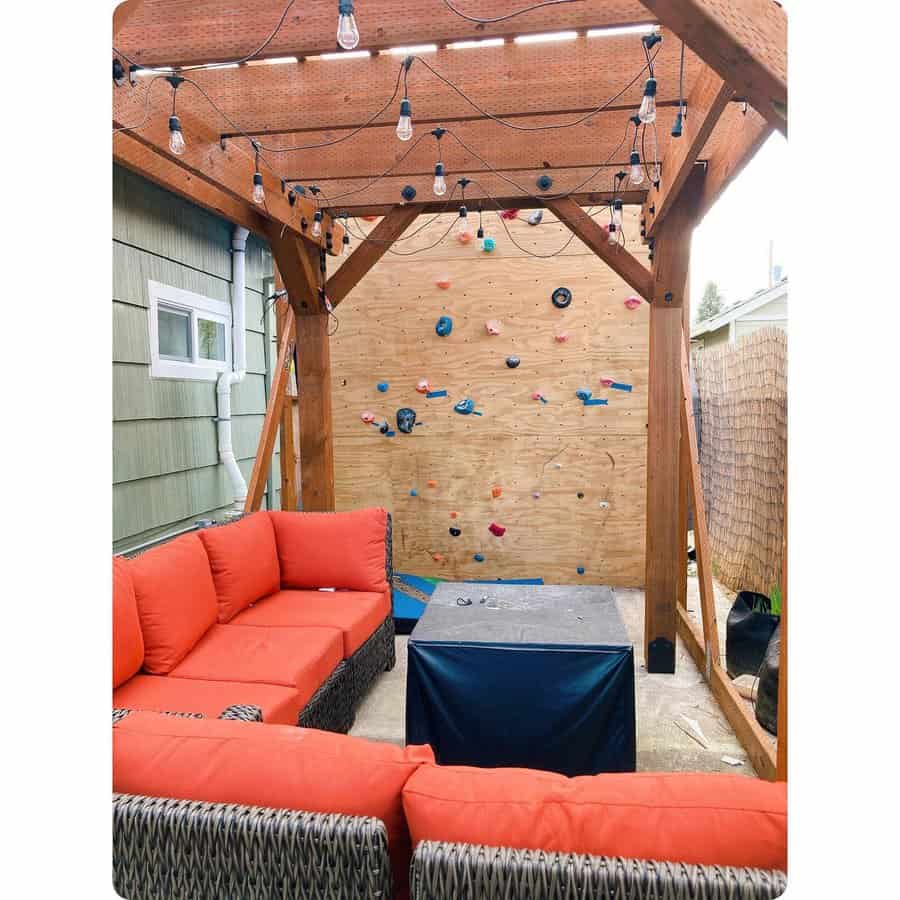 12. Relax in Stylish Wicker Furniture
Indulge in ultimate relaxation with stylish wicker furniture that exudes vacation-like lounge vibes. The soft and lightweight nature of wicker allows for easy rearrangement, facilitating the creation of cozy conversational spaces for socializing with friends. To complete the aesthetic, consider adding a fire pit or outdoor fireplace for chilly evenings, some of which can double as functional tables.
Inject bursts of color into your patio with vibrant planters or by painting your fence or door in a cheerful hue. If you have extra space, transform it into an outdoor movie screening area for a unique and cozy experience. Embrace the great outdoors and savor beautiful summer days by making the most of your patio with these ideas. Don't forget to include comfortable cushions and throws on your wicker furniture for added comfort and style.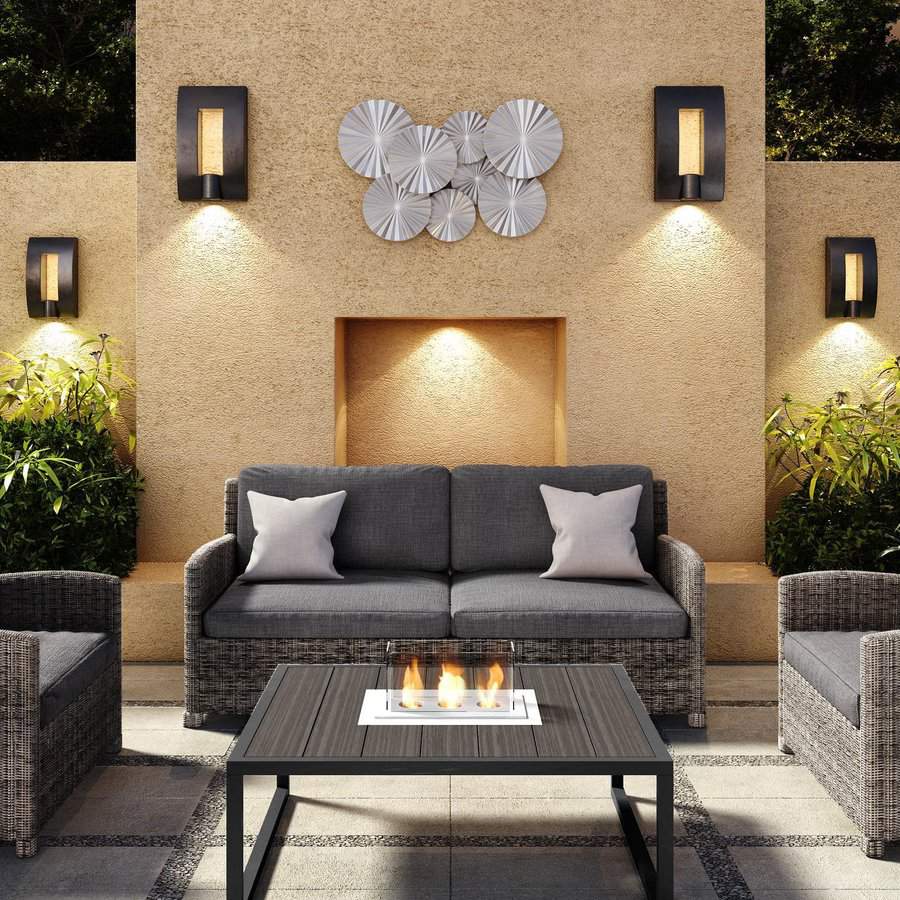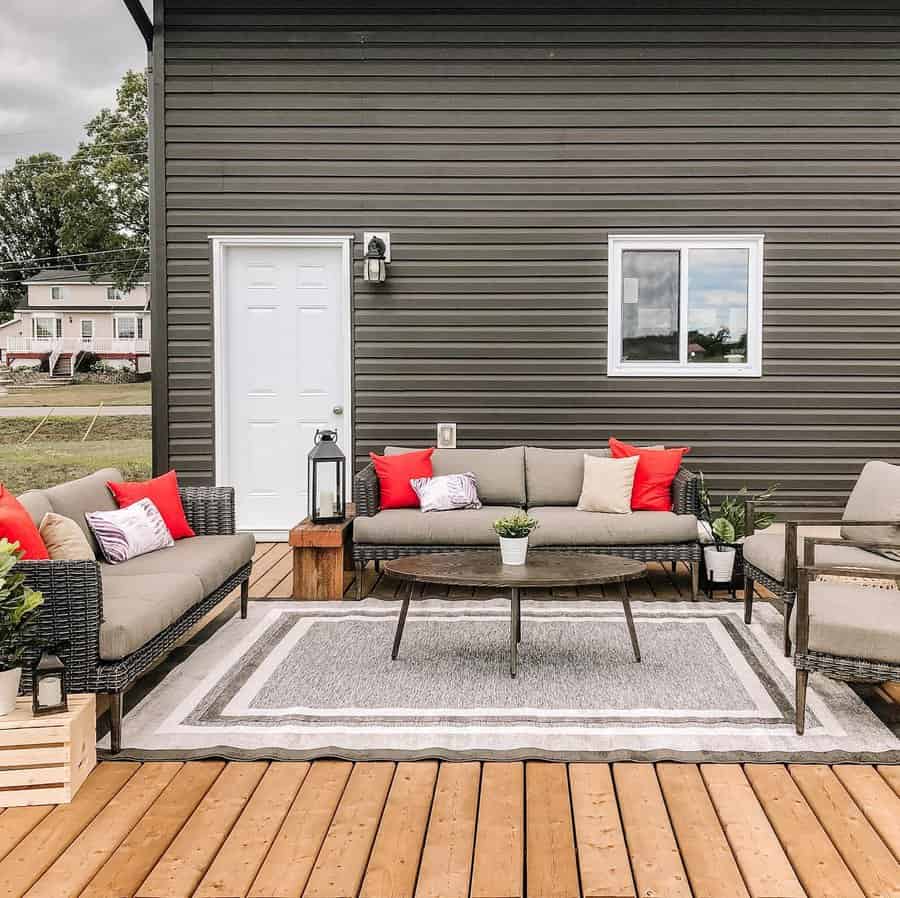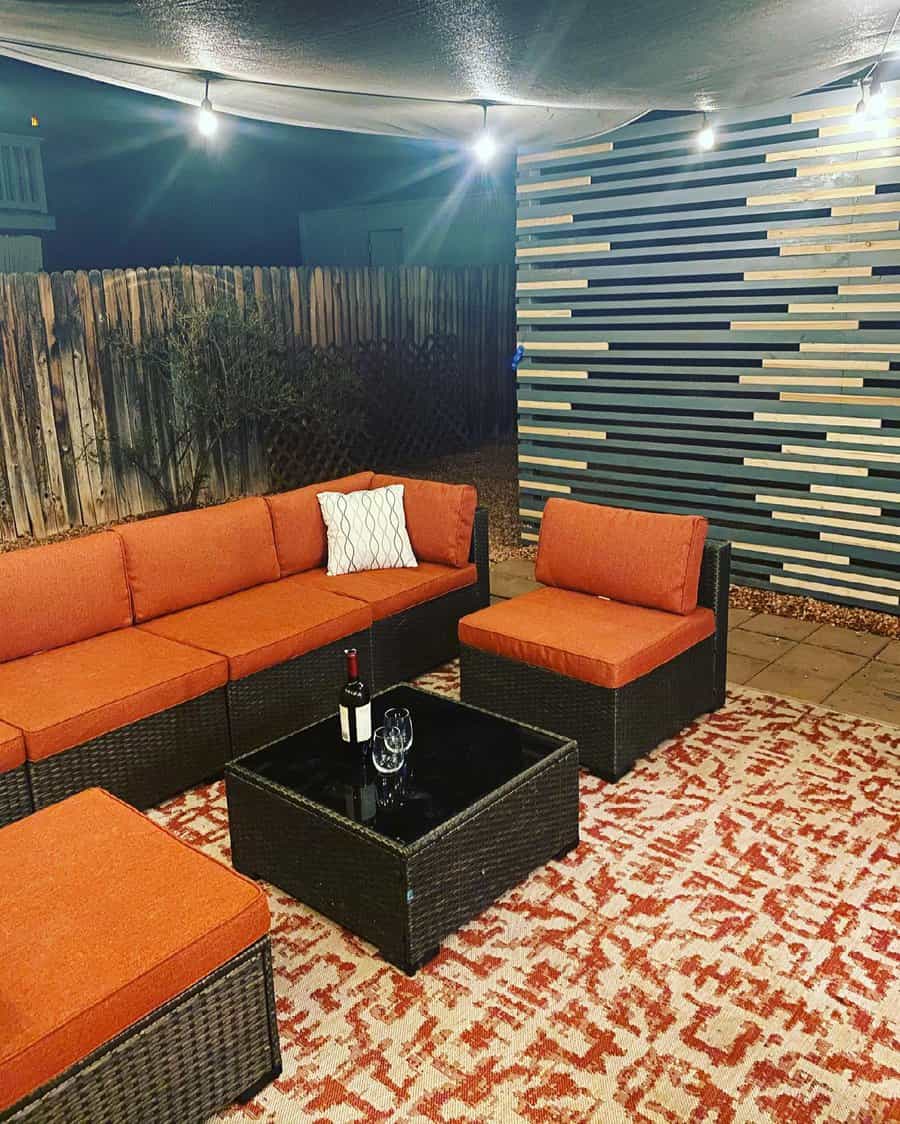 13. Swing in a Hanging Chair Oasis
Elevate your patio's charm and comfort this summer by incorporating a trendy hanging chair oasis. These chairs offer an ideal spot to bask in the sunshine, whether you're reading, chatting, or enjoying a sunset. Opt for a chair with bold colors or textures like rattan, wood, or cotton to infuse unexpected vibrancy into your relaxation area.
What's more, if you prefer flexibility, choose a design that's easy to move around, allowing you to adapt your patio's layout as needed. Seize the opportunity now to create this inviting retreat because summer's beauty is fleeting. Add cozy cushions and blankets to your hanging chair for extra comfort, and consider pairing it with a small side table for added functionality and style.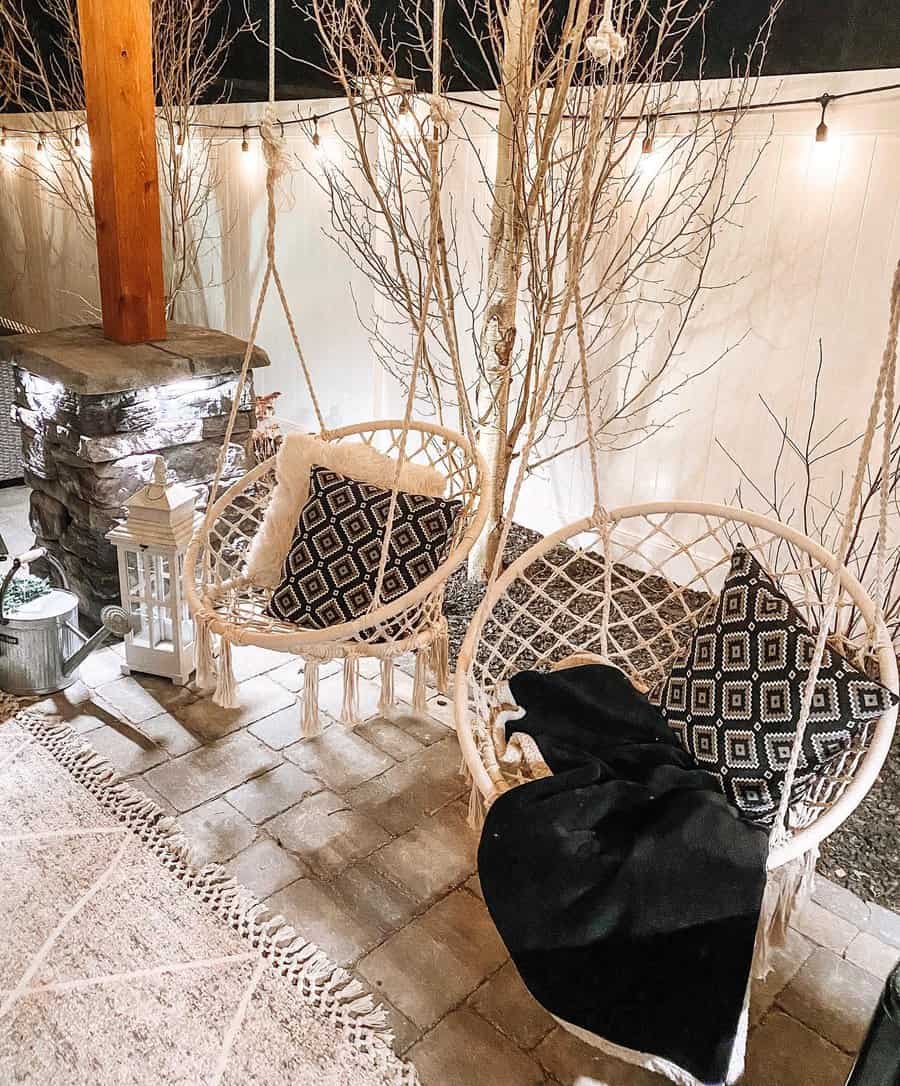 DIY Patio FAQs
Is a building permit required for a DIY patio?
While not all DIY patio projects require an approved building permit, some do. It's crucial to check with your local governing agency before starting any projects of your own.
Constructing a patio from scratch or building an additional structure (like a pergola) are scenarios where a building permit is most likely to be required. Small DIY projects that only affect the appearance of the patio are rarely regulated in this way!
Can you build a patio on grass?
Most patios include a hard, flat surface made of concrete, stone pavers, or wood. However, it's also possible to design a patio on a material like pea gravel or even grass.
Keep in mind that placing a patio area on grass or another soft surface will pose a few design challenges. Be sure to select furniture that won't sink into the ground below. Avoid using decor that could be stained or damaged by contact with the grass.