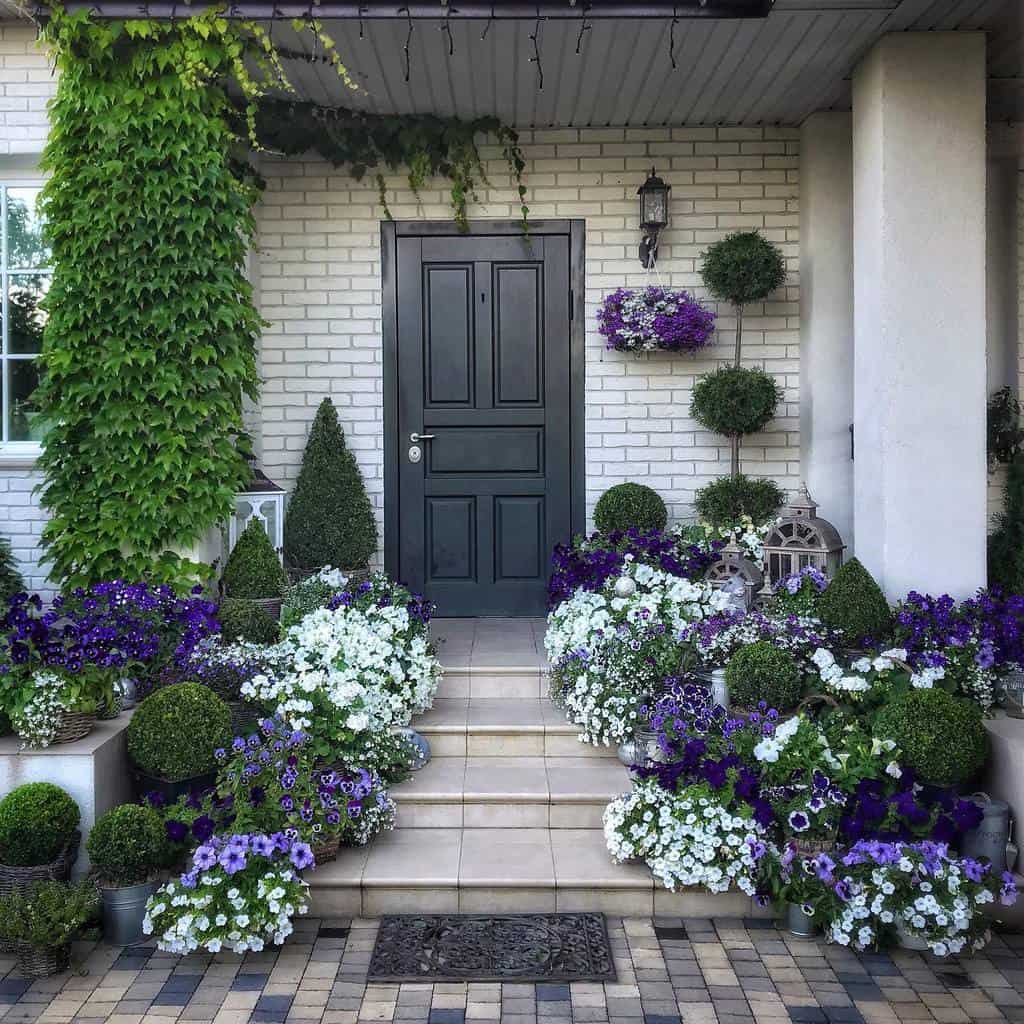 "My garden is my most beautiful masterpiece." -Claude Monet
Everyone with a front yard has the opportunity to create a masterpiece to be enjoyed for years to come. Simple or complex, the inherent beauty of plants makes it easy to make even a dull entrance interesting.
If you're feeling low on creative inspiration, take a look at this collection of 48 amazing front garden ideas. You're bound to find several new landscaping ideas to enhance your home's curb appeal.
1. Country
Country garden landscaping brings to mind classic English country gardens. They commonly include wide paths lined with herbs or flowering shrubs. Another necessary ingredient in a country garden is English ivy climbing up fences and building walls. Hydrangeas, delphiniums, and a rose filled flower bed are all at home in country landscape design.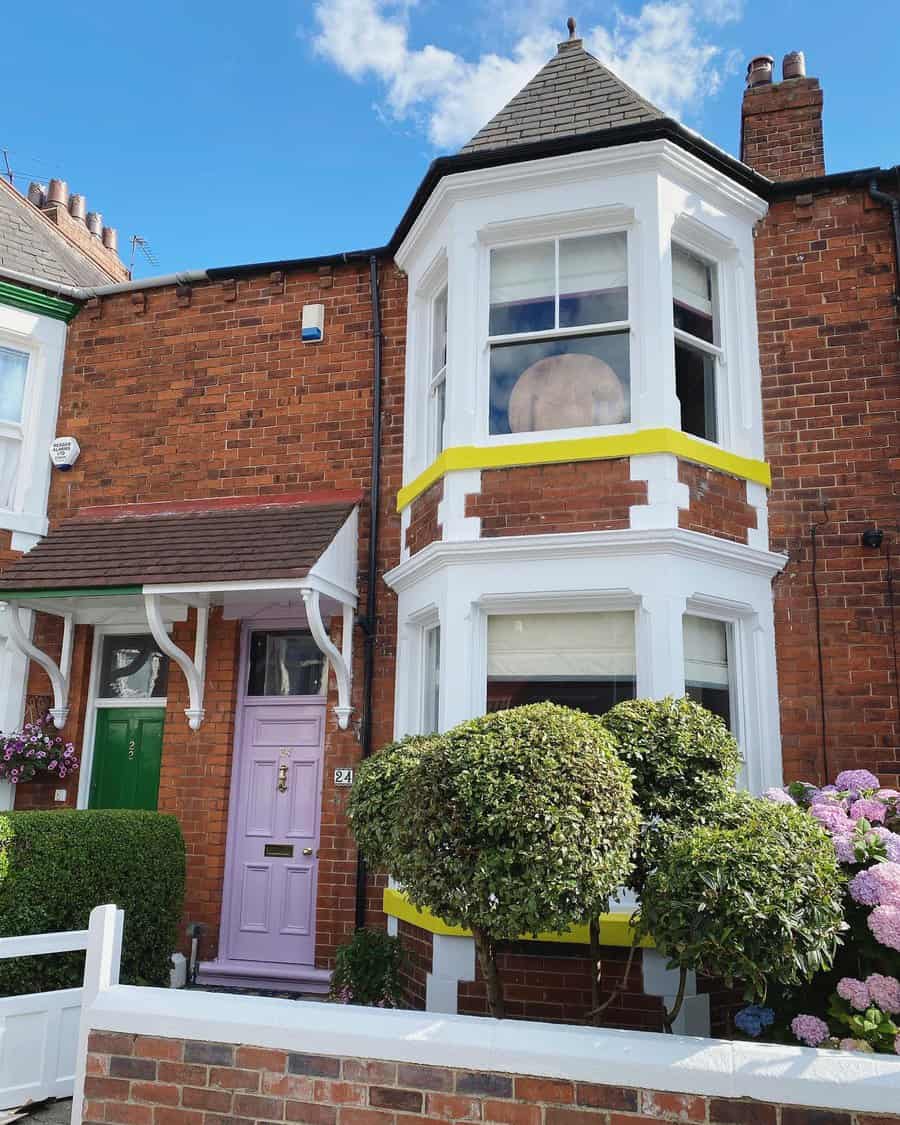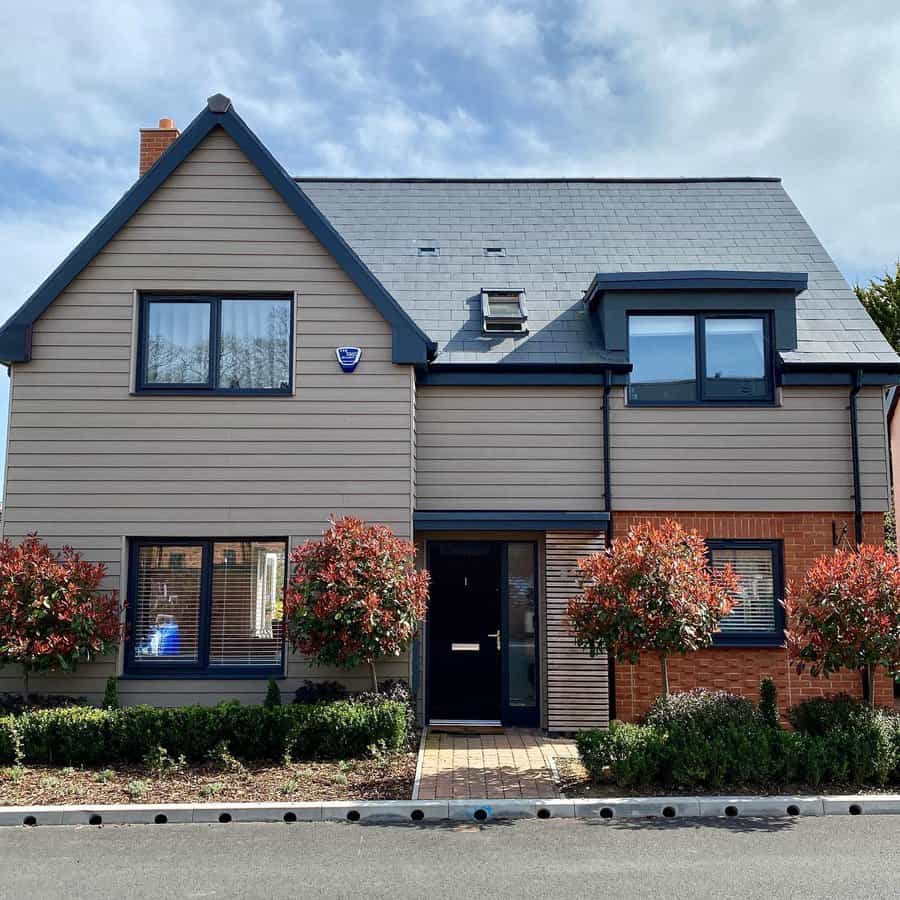 Country front garden ideas are simultaneously casual and well-groomed. Ideally, each plant or tree is chosen for its ability to add to a warm, welcoming garden design. Colors tend to be more muted, with lots of white flower varieties and plenty of pastel hues such as lavender and pink.
2. Driveway
The driveway is a miniature road leading to your home, and it shouldn't be boring. The right landscaping ideas can turn your driveway from a plain patch of concrete to a beautifully welcoming focal point.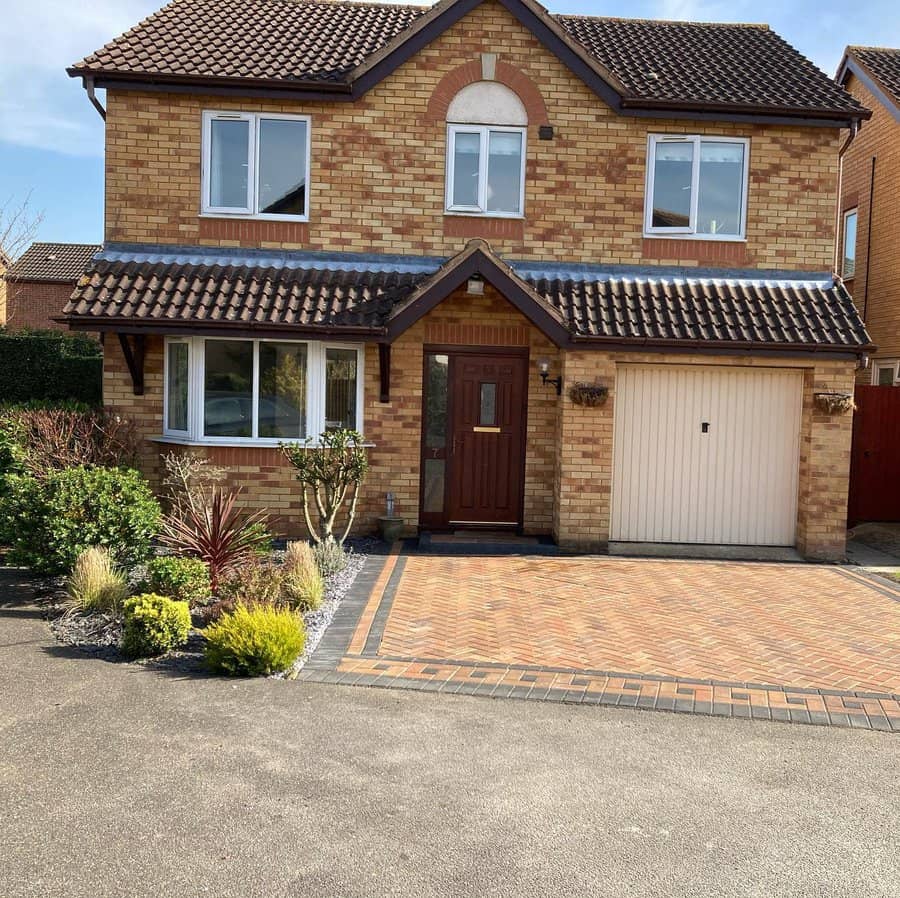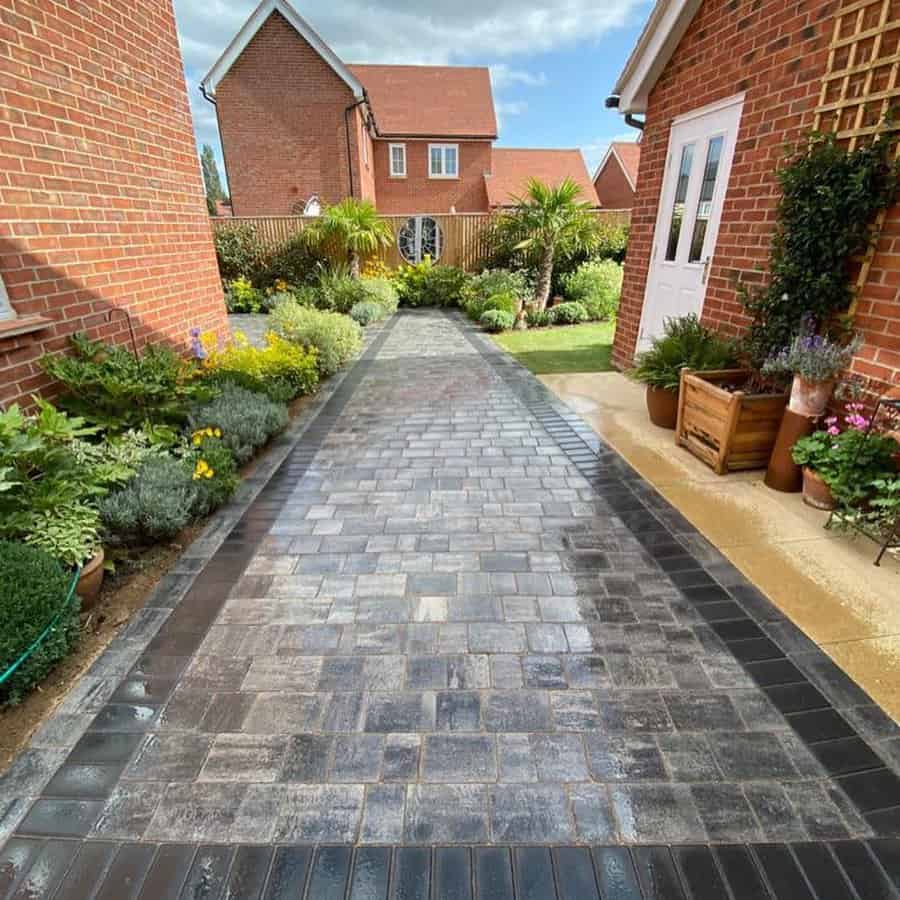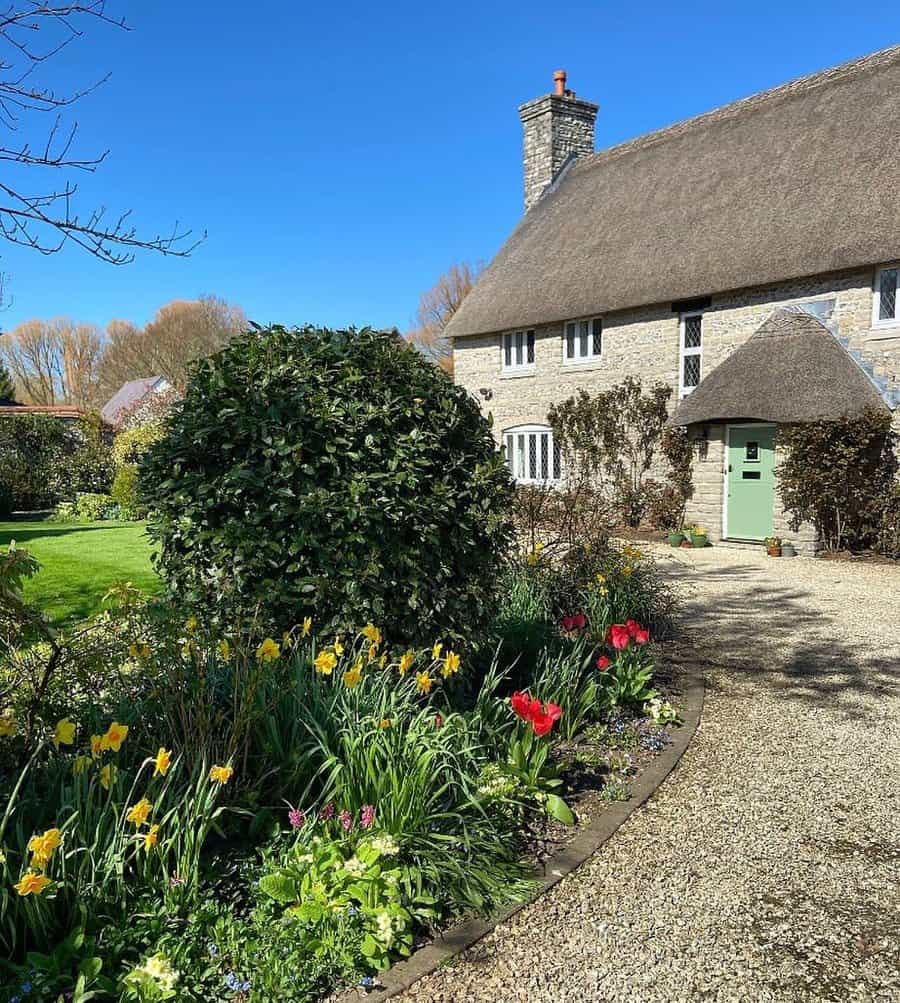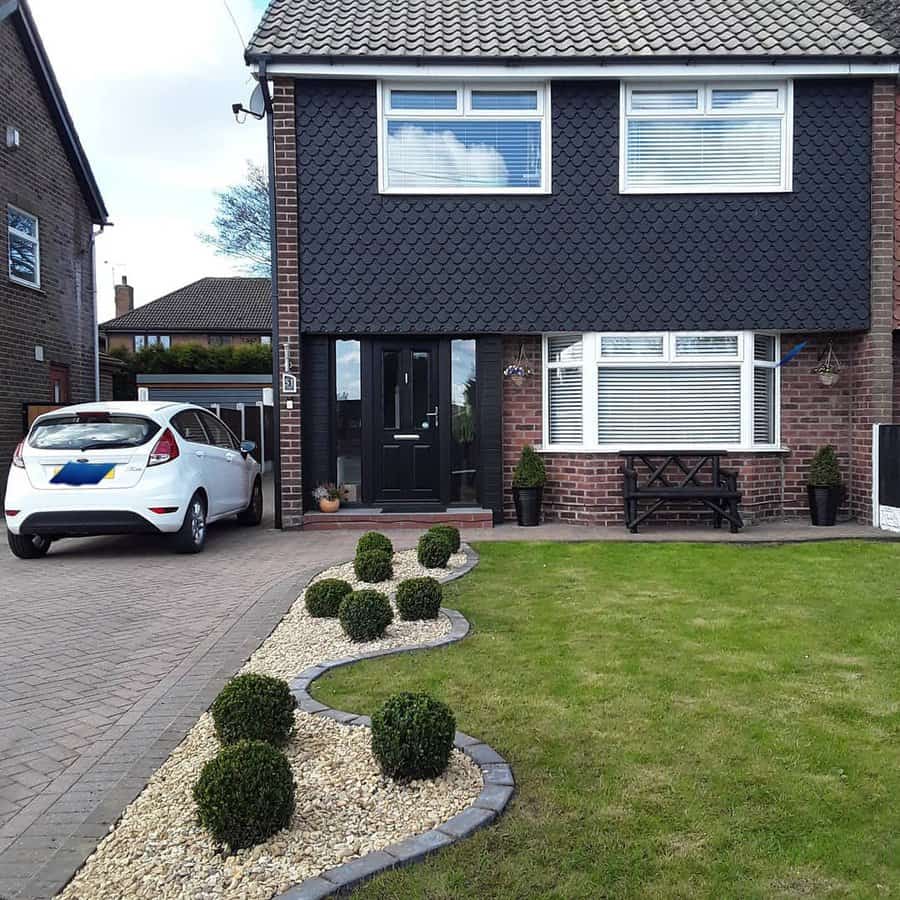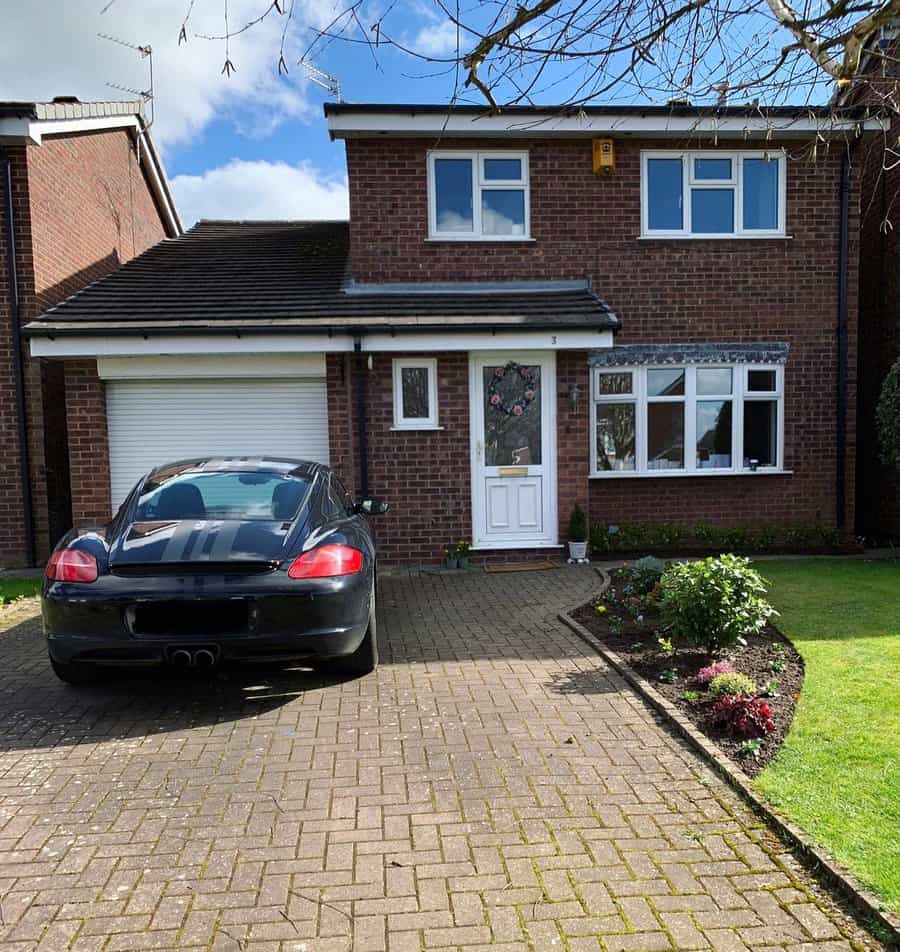 Consider replacing a drab concrete driveway with one made from bricks or pavers. Include a raised curb for aesthetic and functional reasons. It will help drivers stay on the pavement and keep soil and mulch contained within the adjacent garden bed.
If your lawn meets the driveway, make sure you keep it well-trimmed and properly edged. Avoid planting expensive bedding plants along its borders, as visitors may accidentally drive over them.
3. Entryway
Your entryway should be the main focus of your home's exterior. If there's a path leading to your front door, the way you landscape the areas around it greatly impacts your home's curb appeal. Always keep entryway hedges and ornamental grass borders neatly trimmed.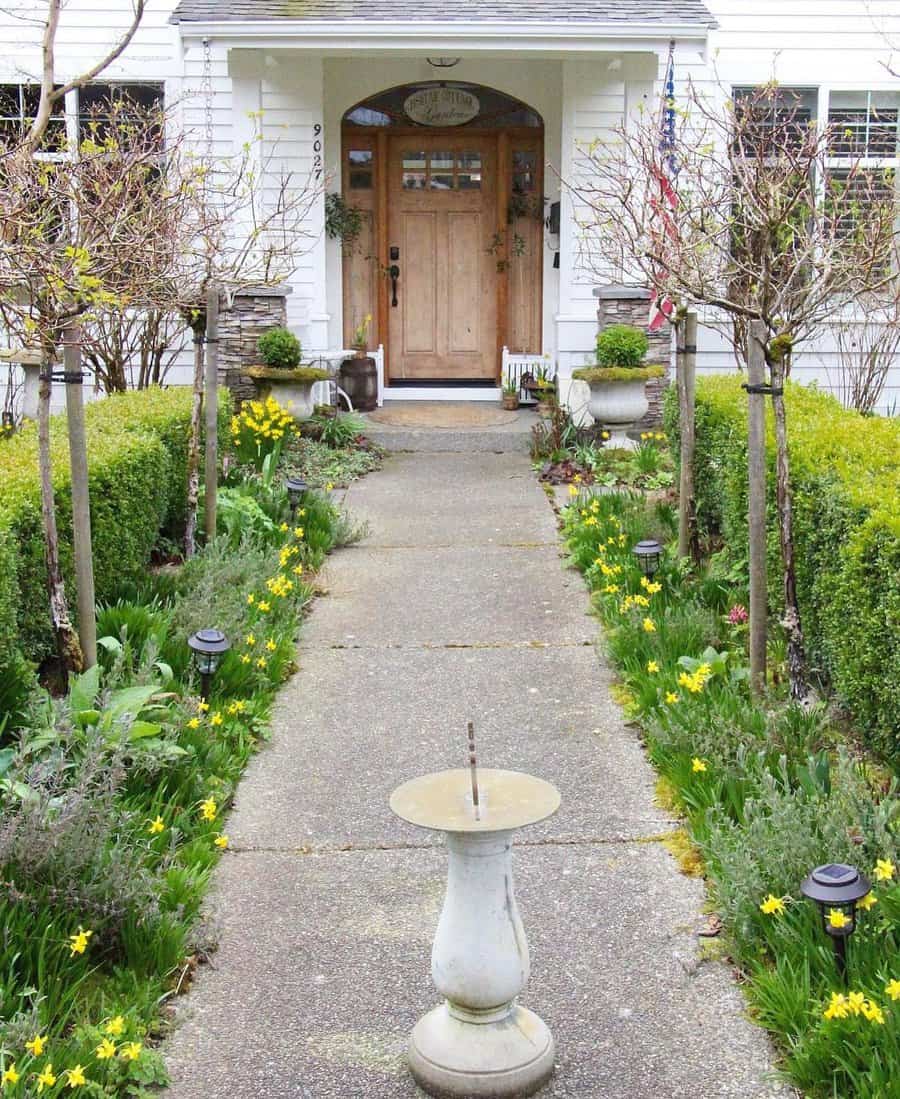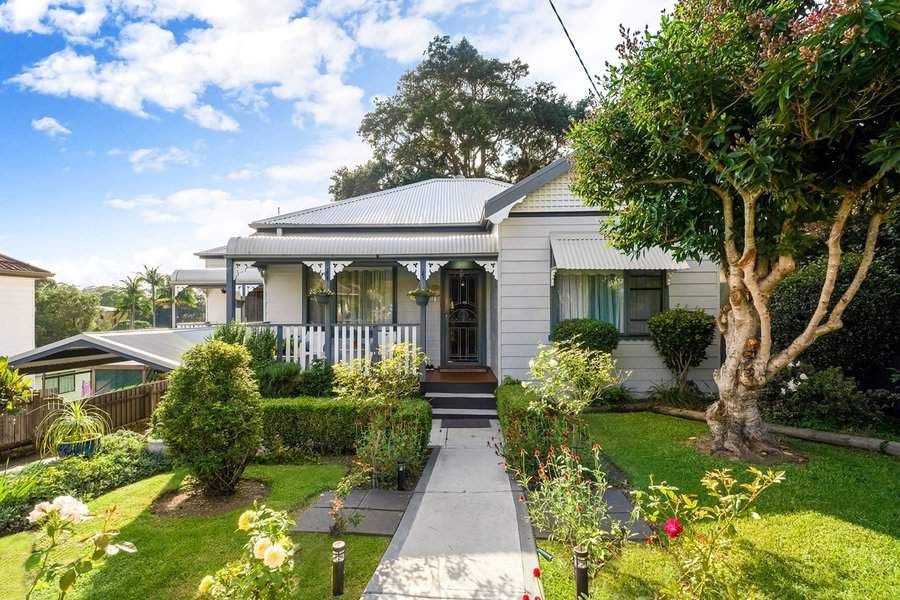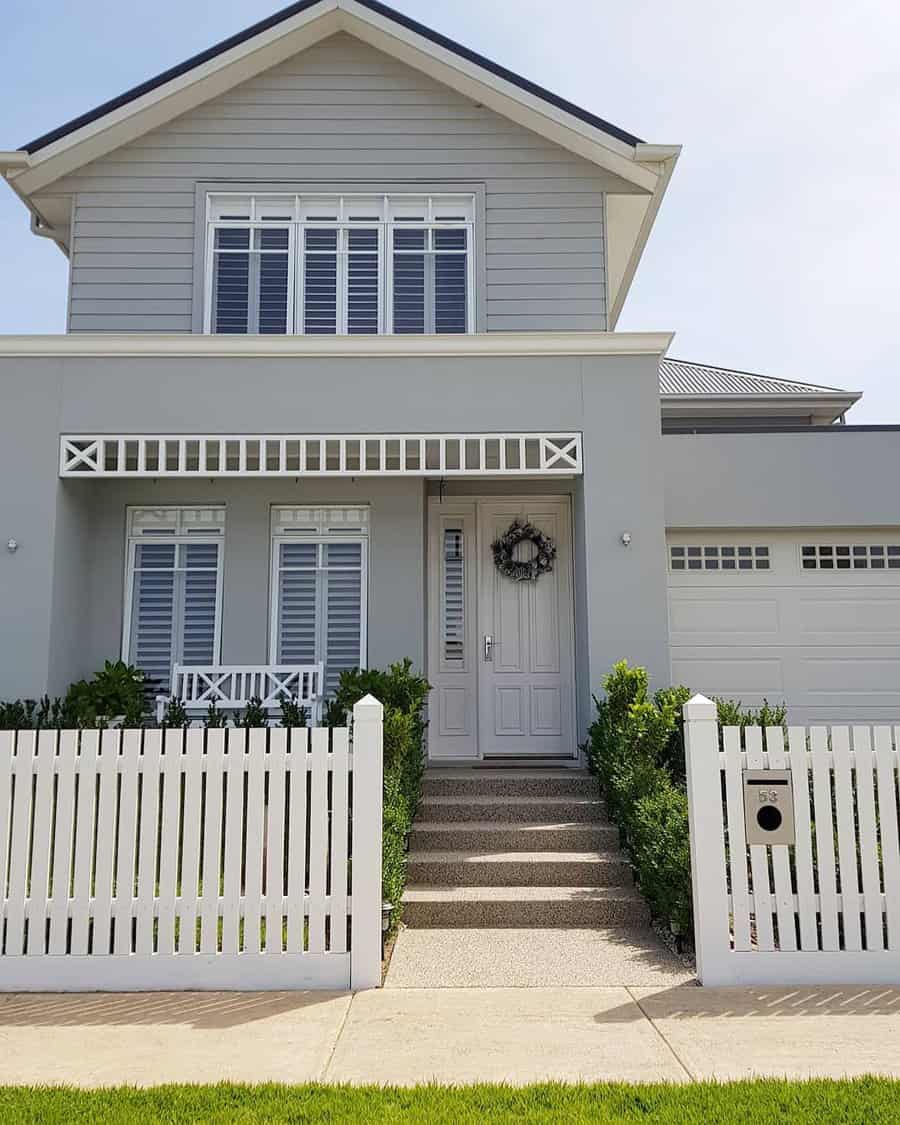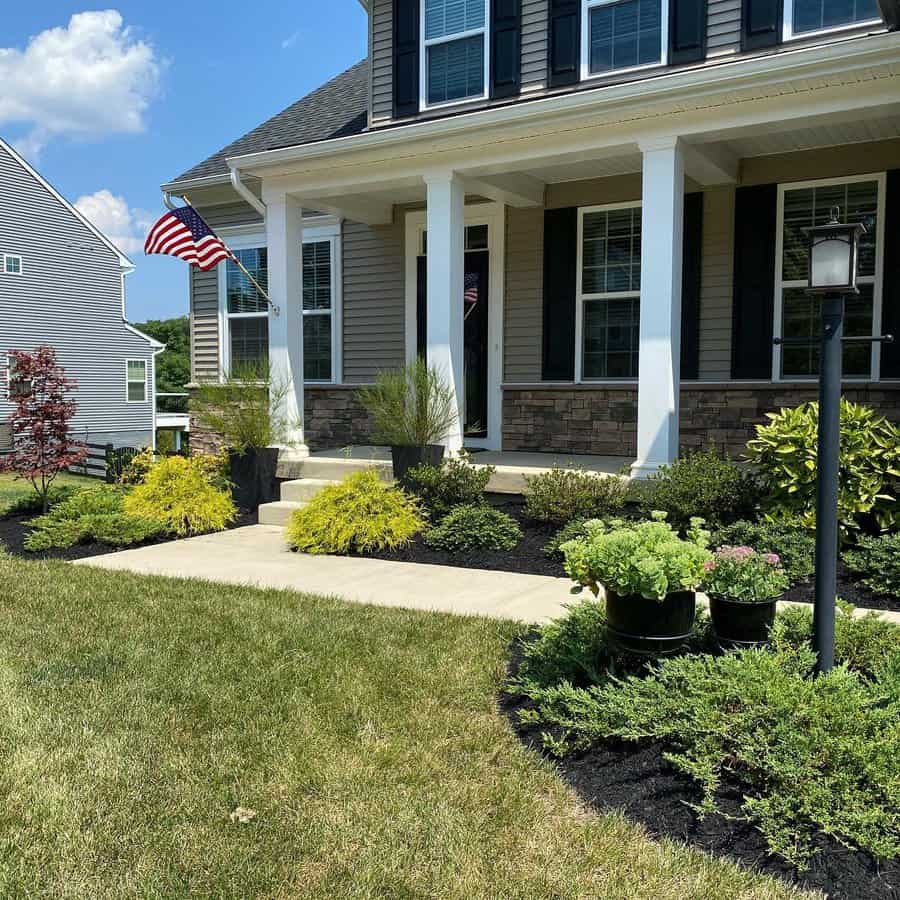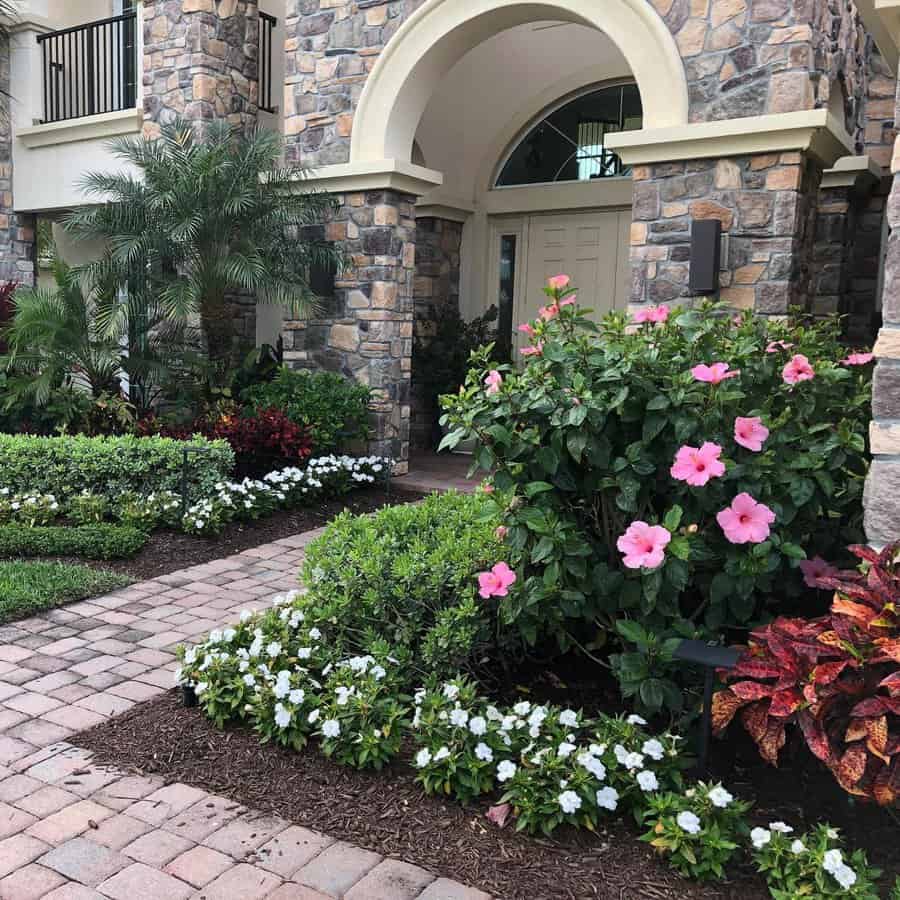 Refresh the structural aspects of your front yard entryway. Replace broken pavers or cracked concrete paths. Put a fresh coat of paint on the front door, and set tall potted plants in large containers on each side of the path.
4. Fence
A front yard fence is an integral part of many front garden ideas. From the classic white picket fence to modern front yard horizontal fencing, these structures add so much to garden design. Line sections of the fence with planters for easy container gardening.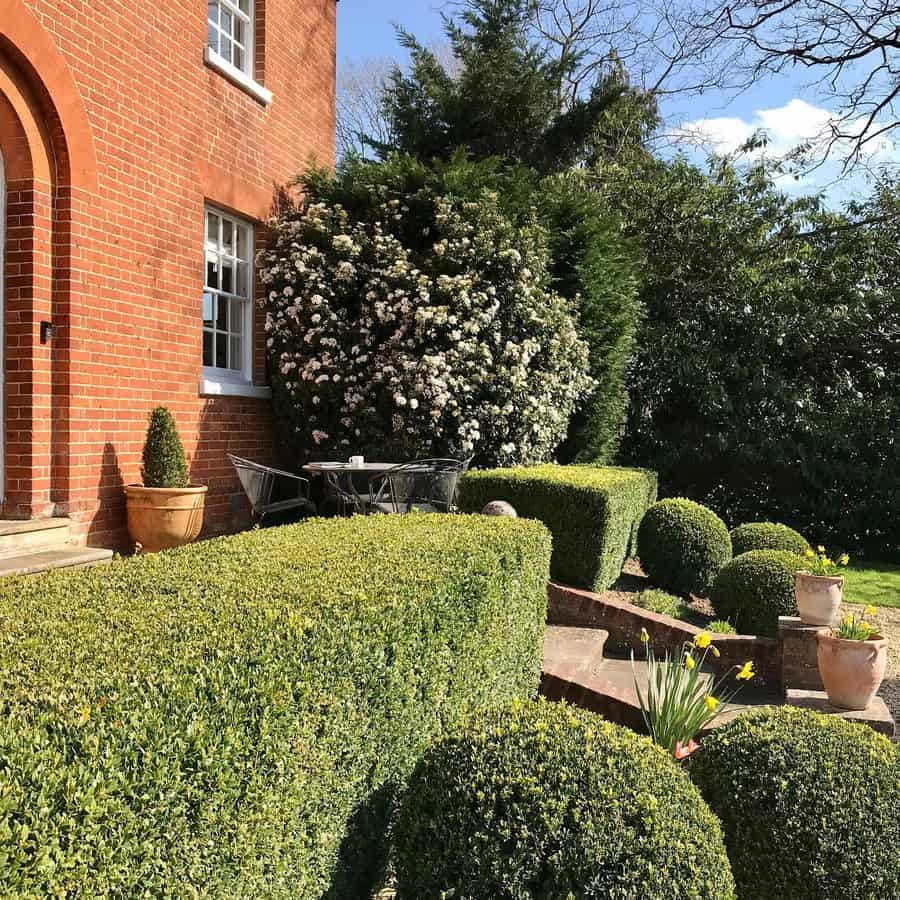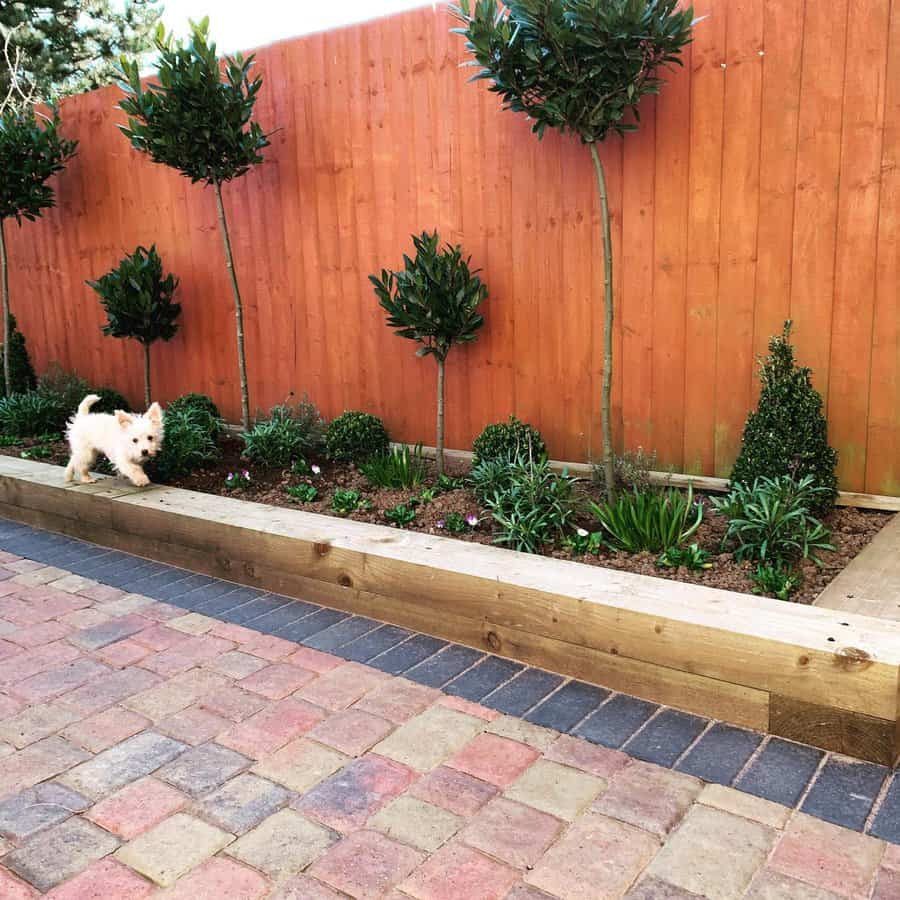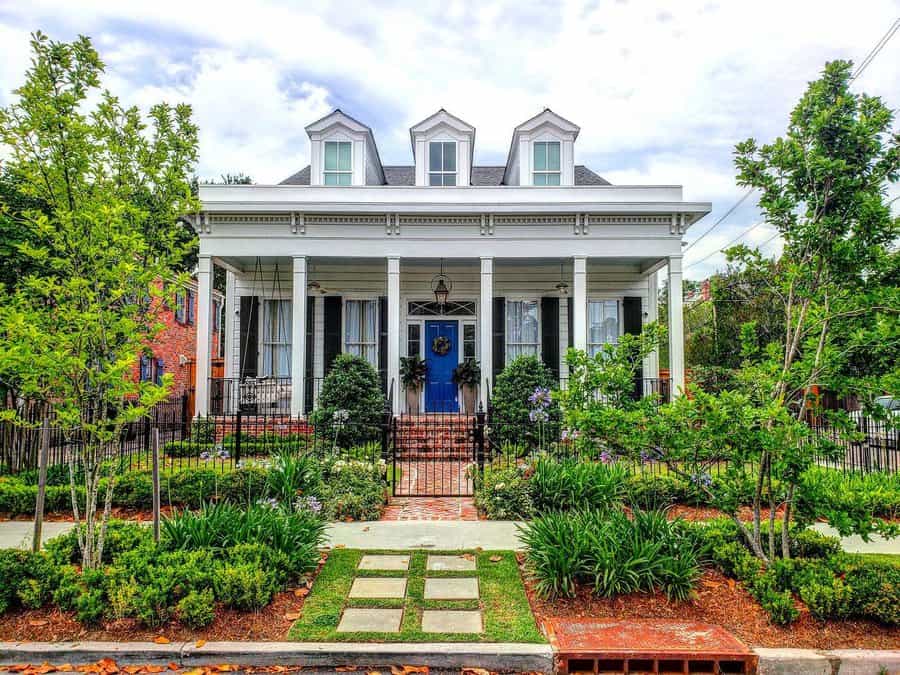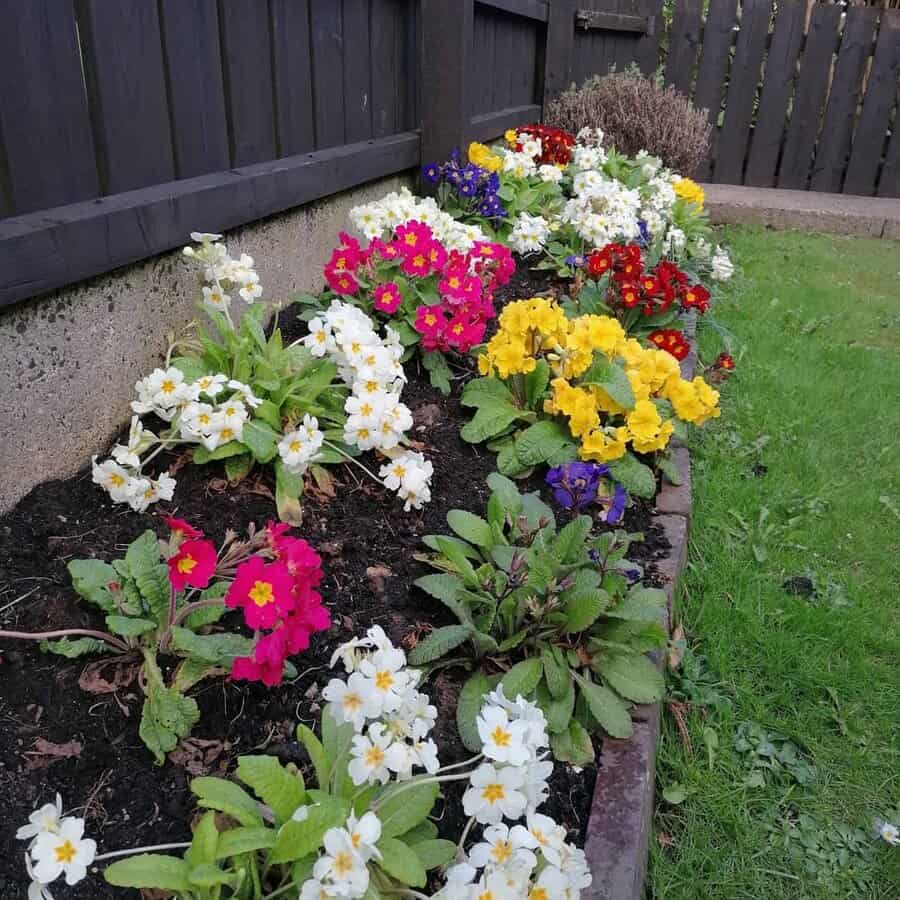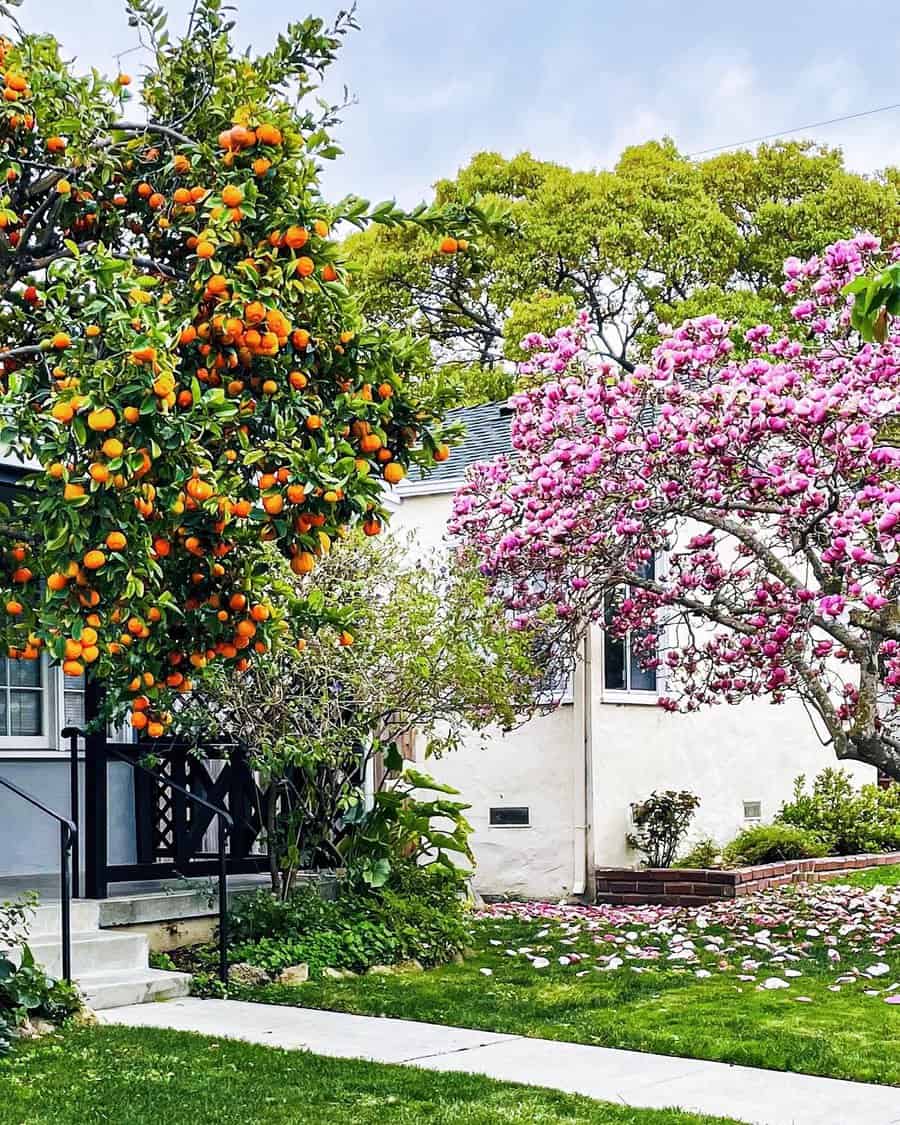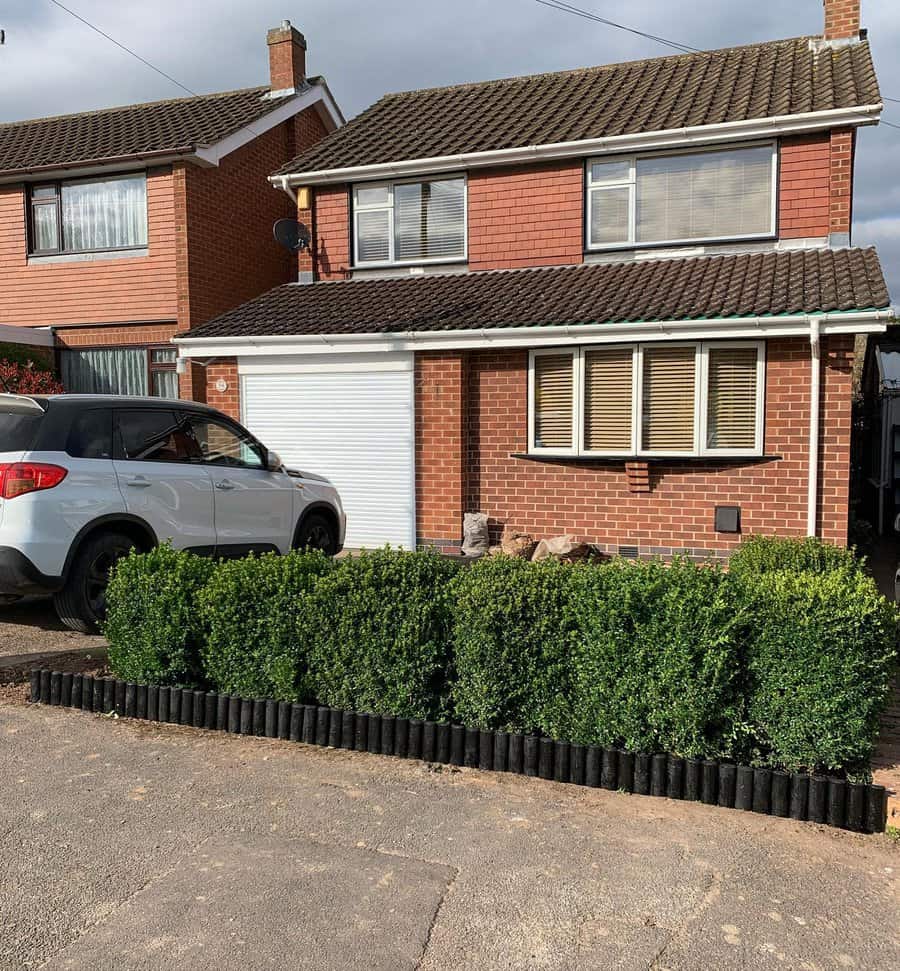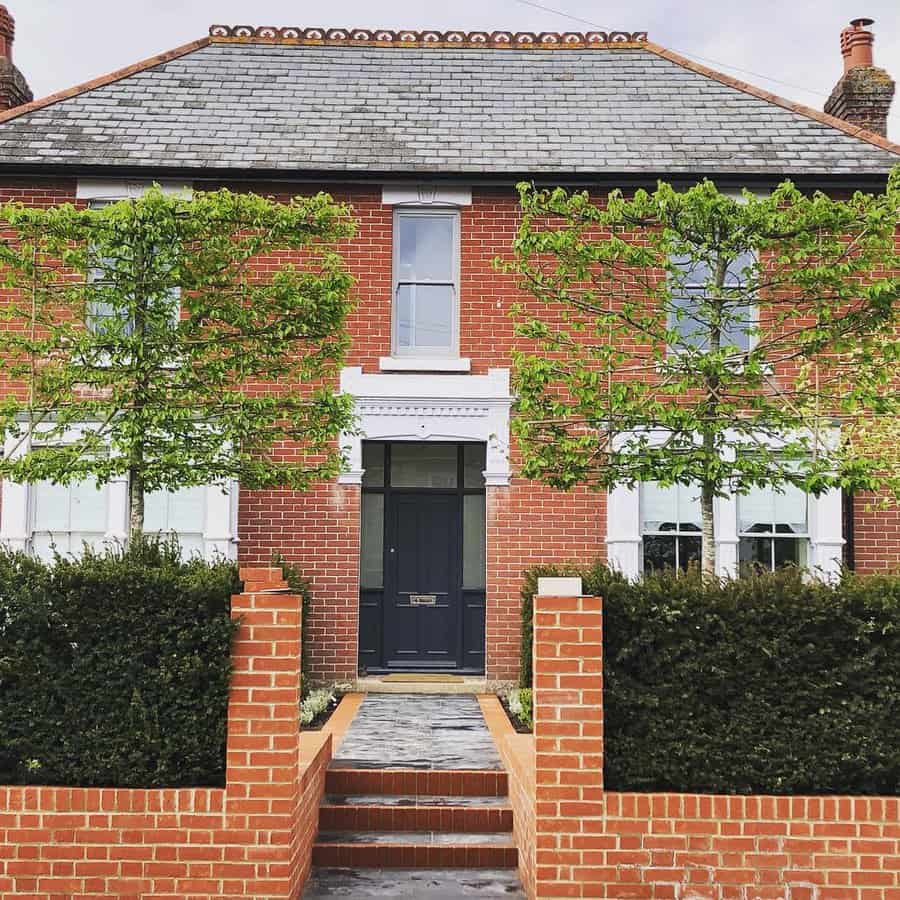 A tree lined fence not only defines property lines, it can provide a beautiful structure for climbing plant varieties. A fence is one of the best front yard landscaping ideas for determining which planting goes where. Layer various flower types along the fence for a colorful yard landscaping feature.
5. Front Door
Ideally, your front yard landscaping ideas visually lead to your home's entrance. Make a stunning home decor statement by painting your front door color to match the most abundant flowering plants in the yard. Or go for simple elegance with a geometric topiary on each side of the door.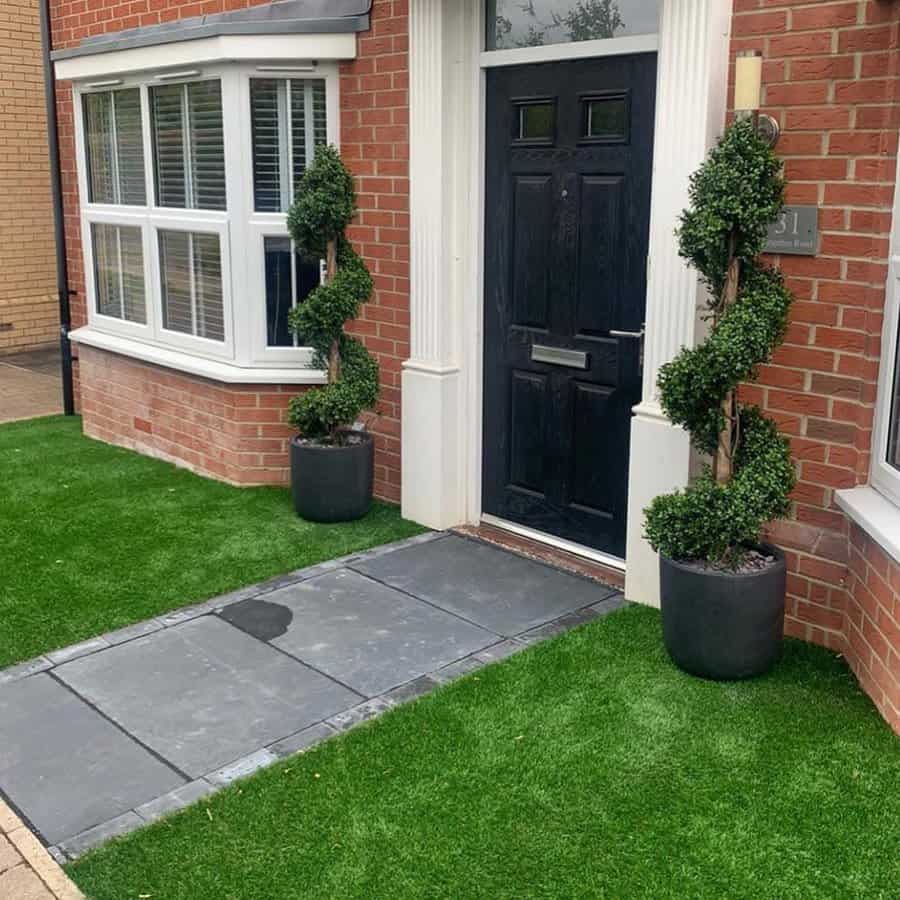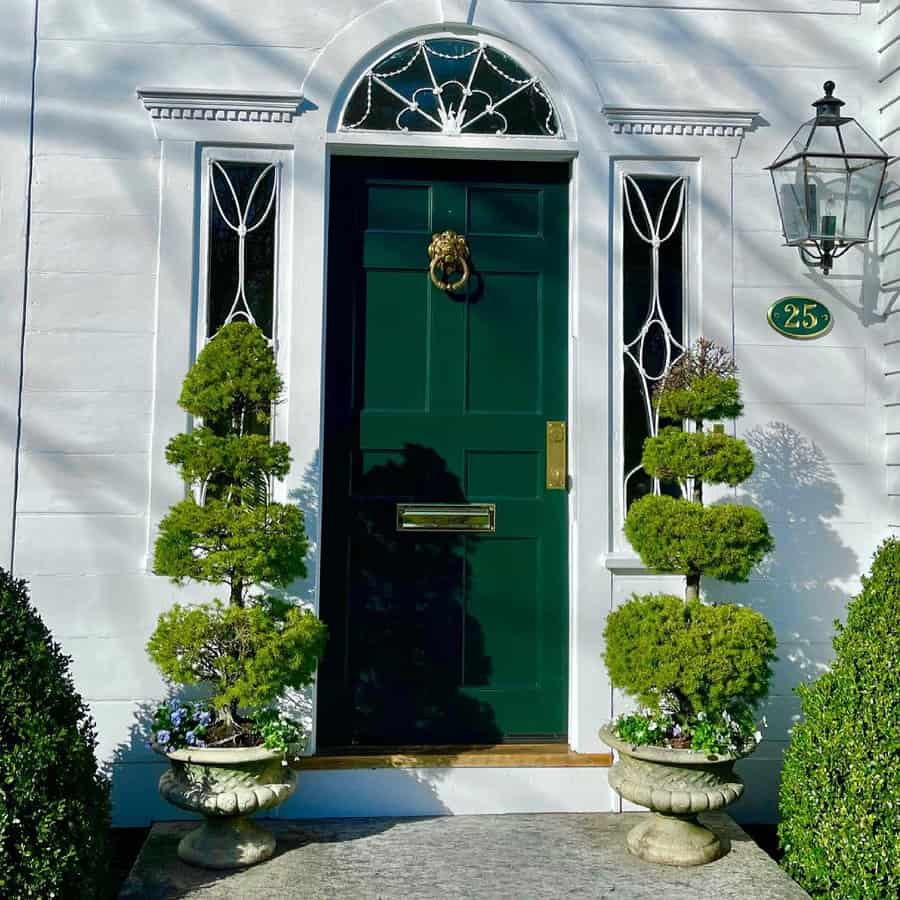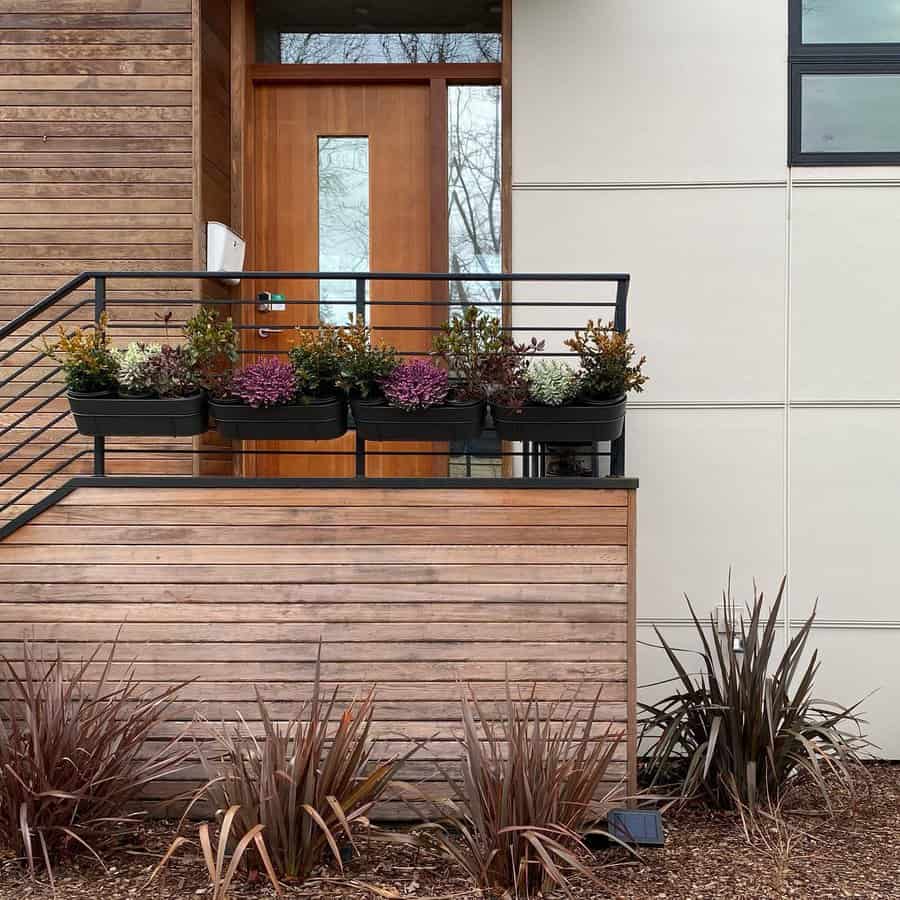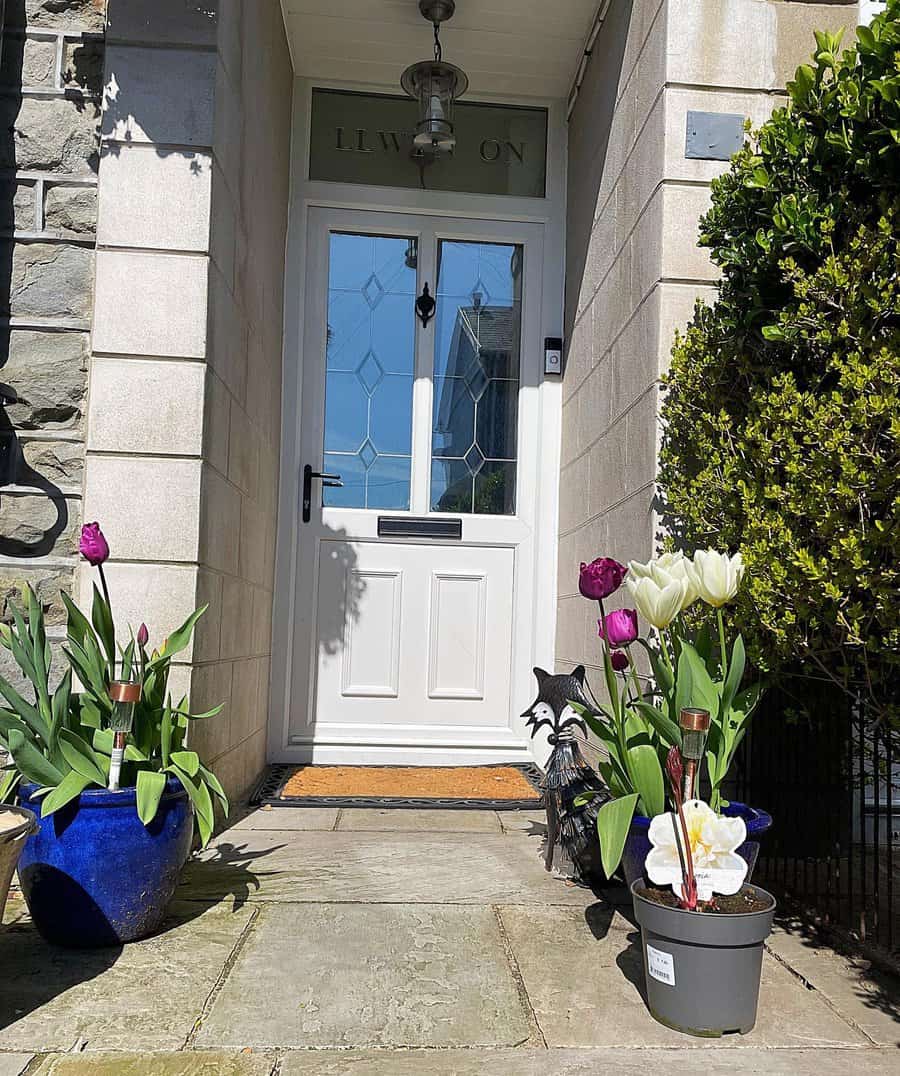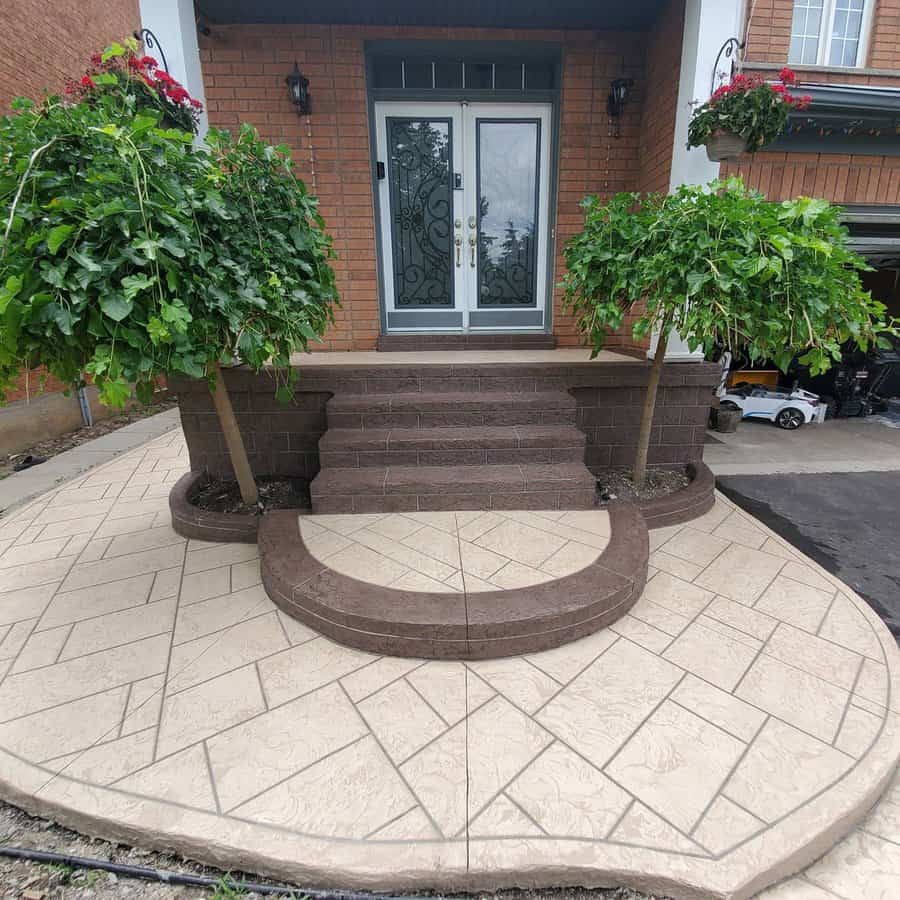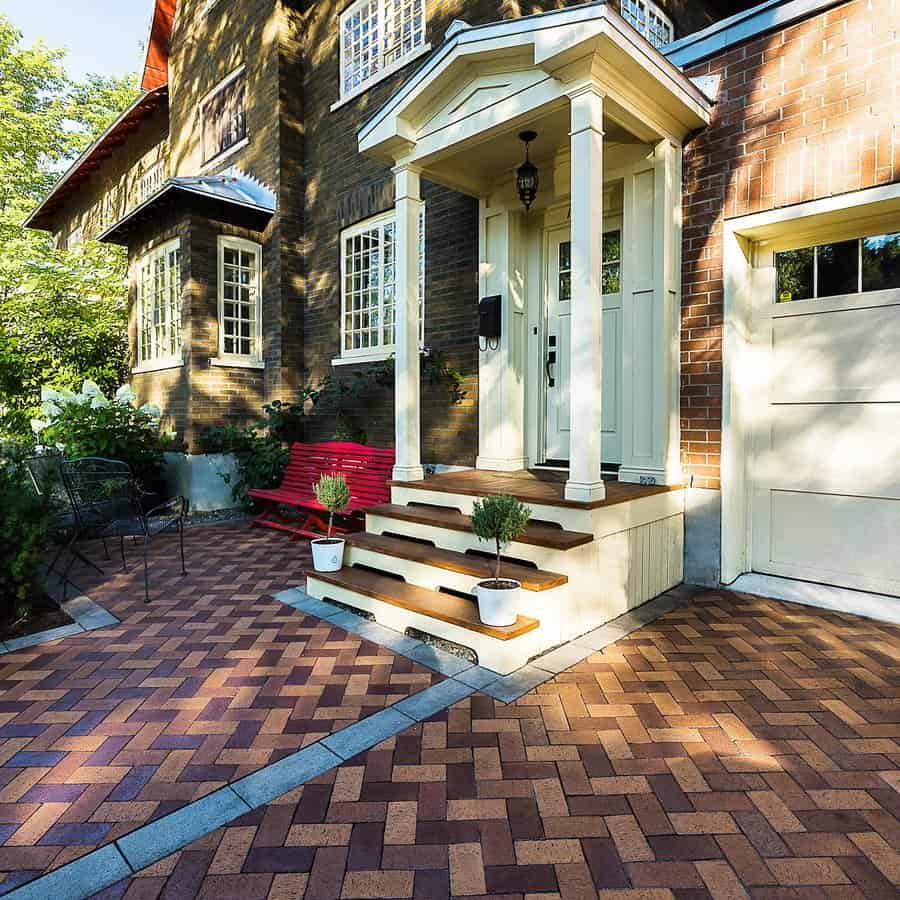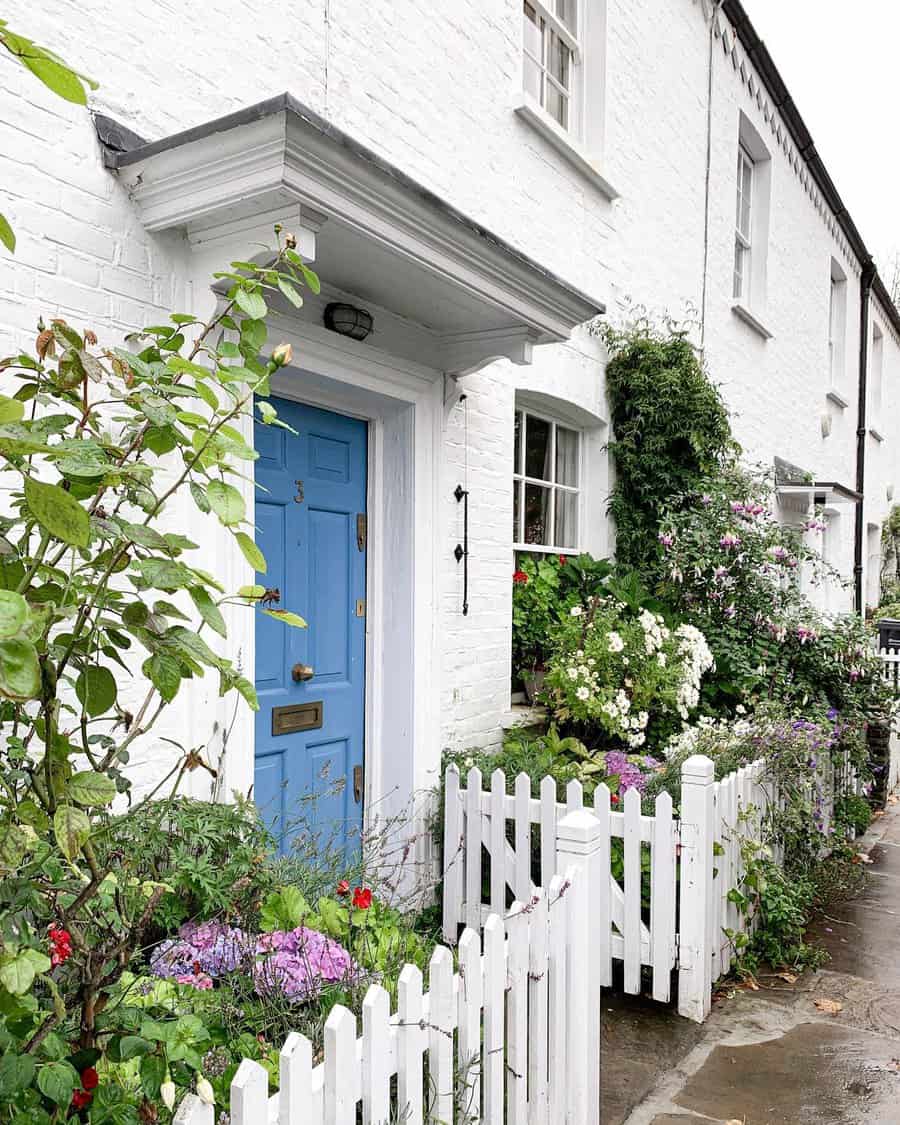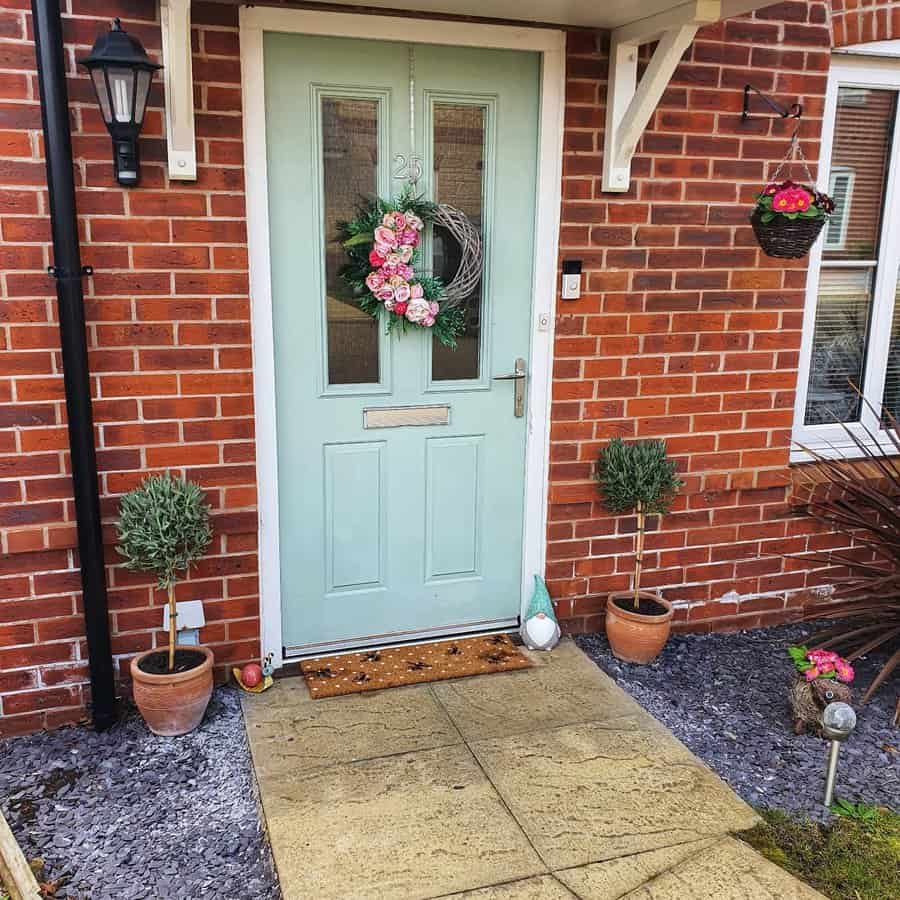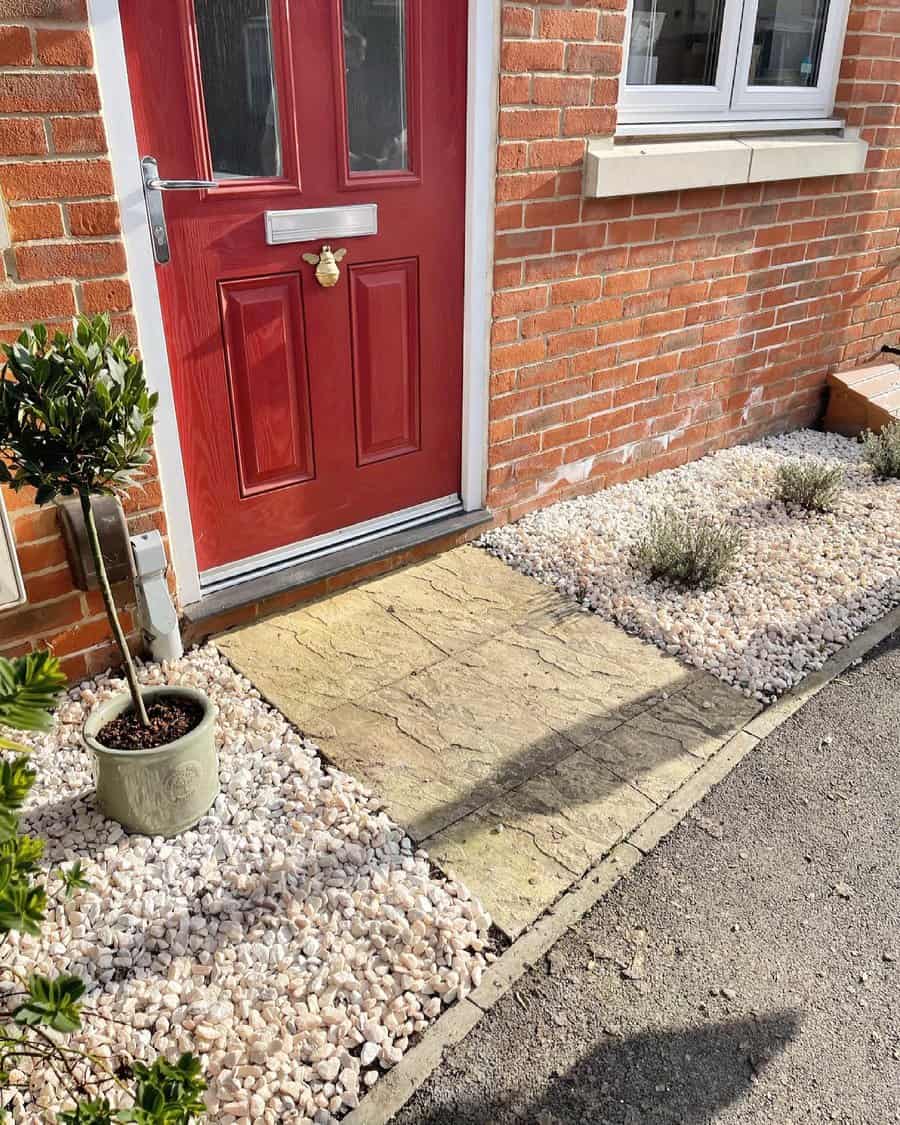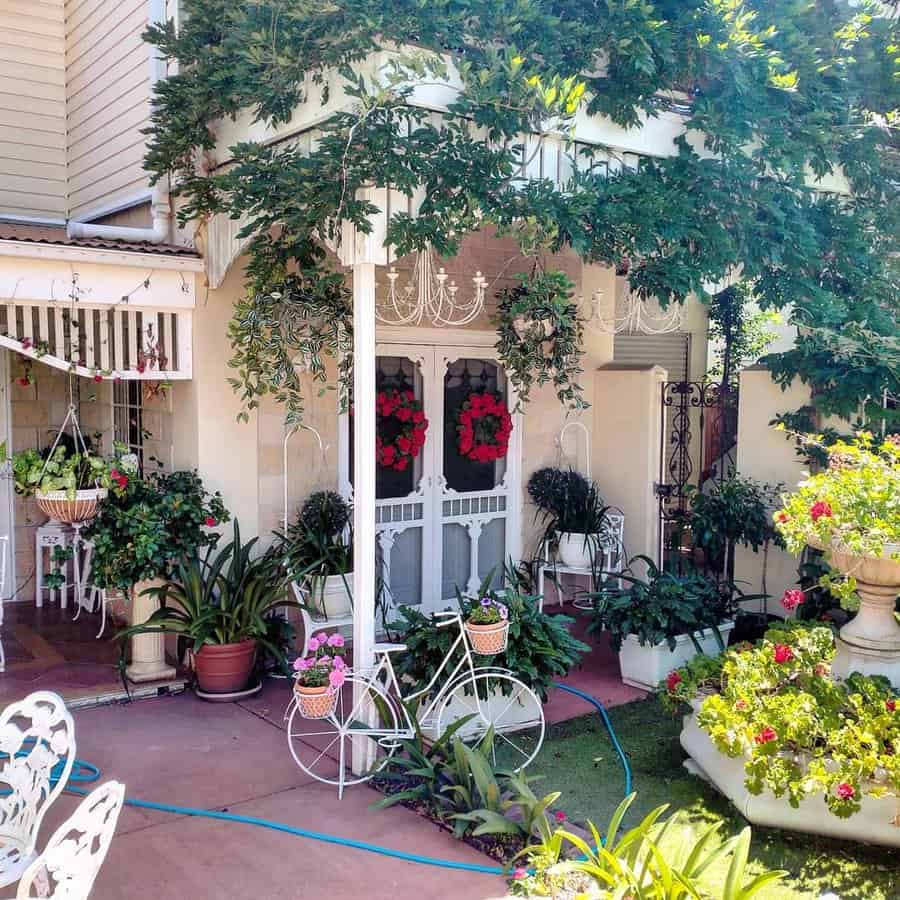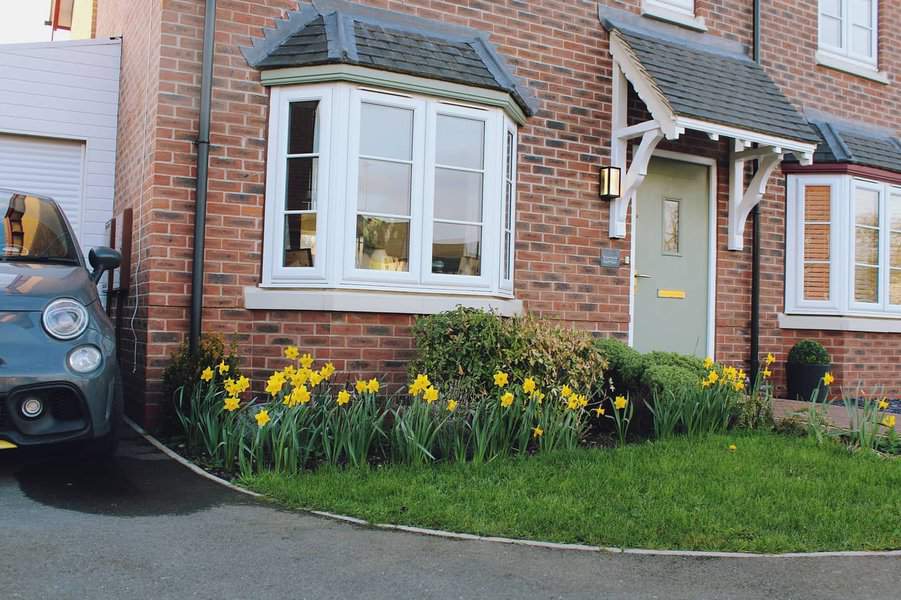 Hang new house numbers beside the door—at least 4" tall so they can easily be seen from the street. Plant a beautiful tree variety near your entrance, such as a red Japanese maple. Hanging baskets and stone planters are excellent small front garden ideas to add color to the front door area.
6. Landscaping
Yard landscaping is a bit more difficult than it initially appears. Yard design elements are similar to those used in all works of art. They include balance, contrast, harmony, line, proportion, and overall unity in design.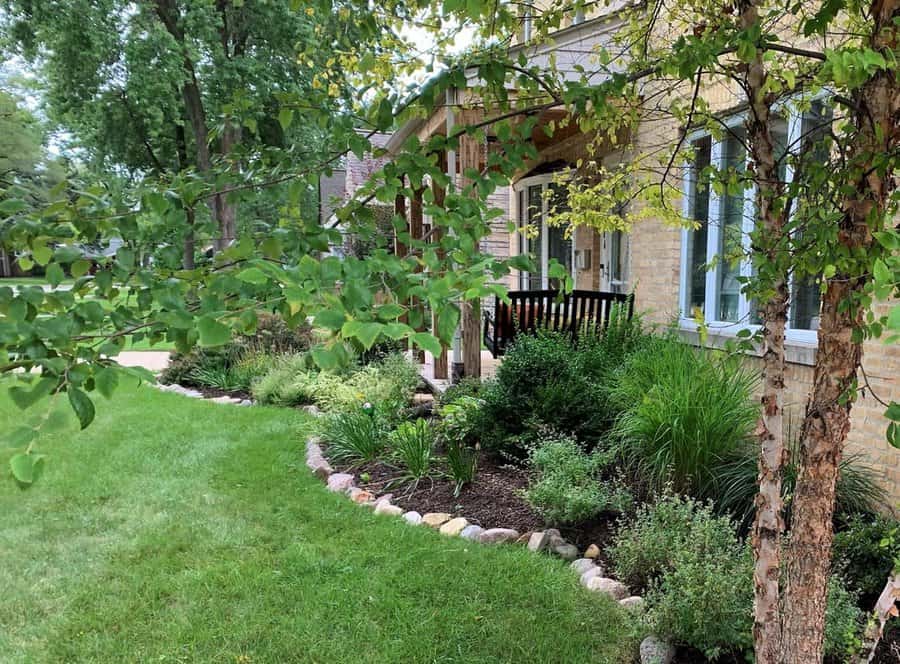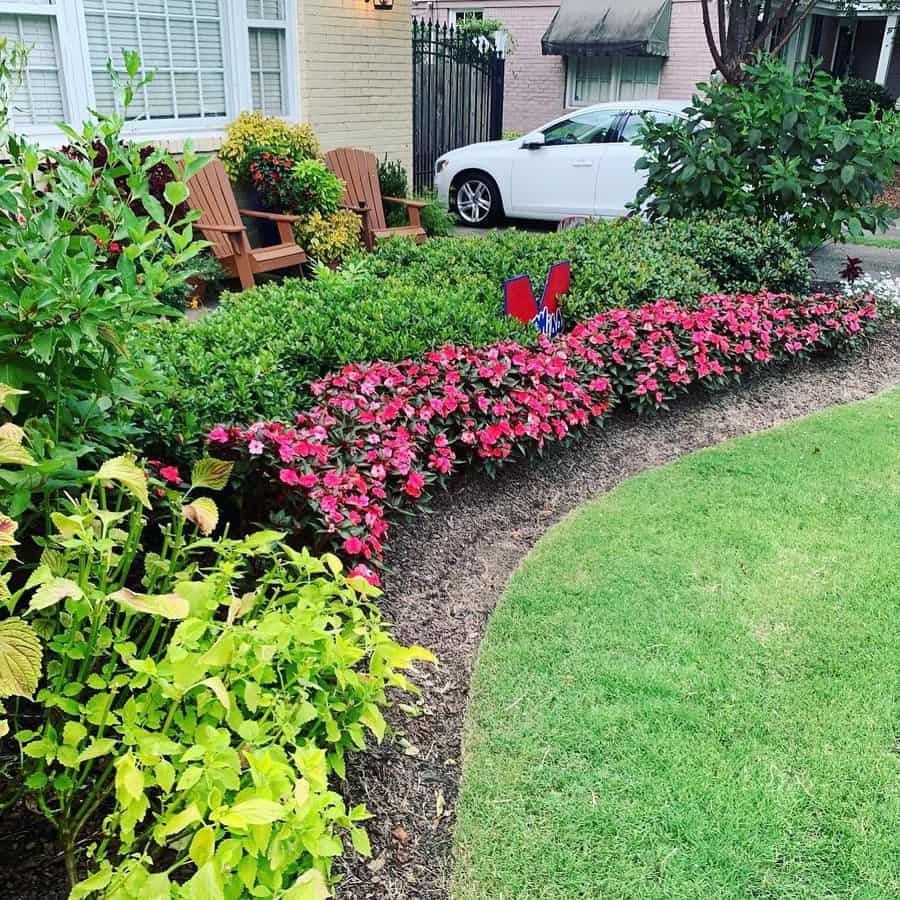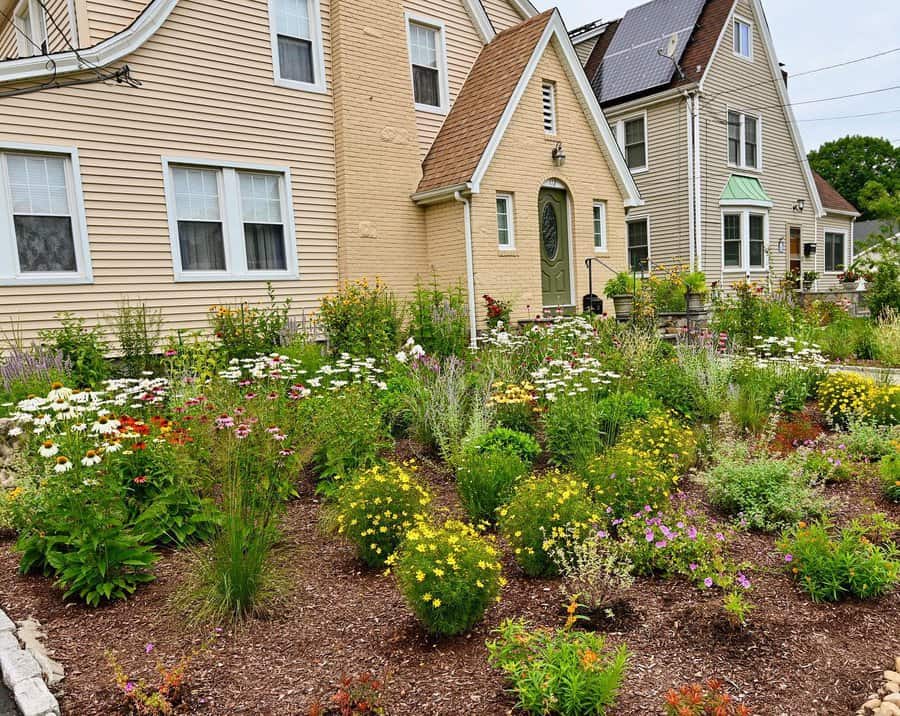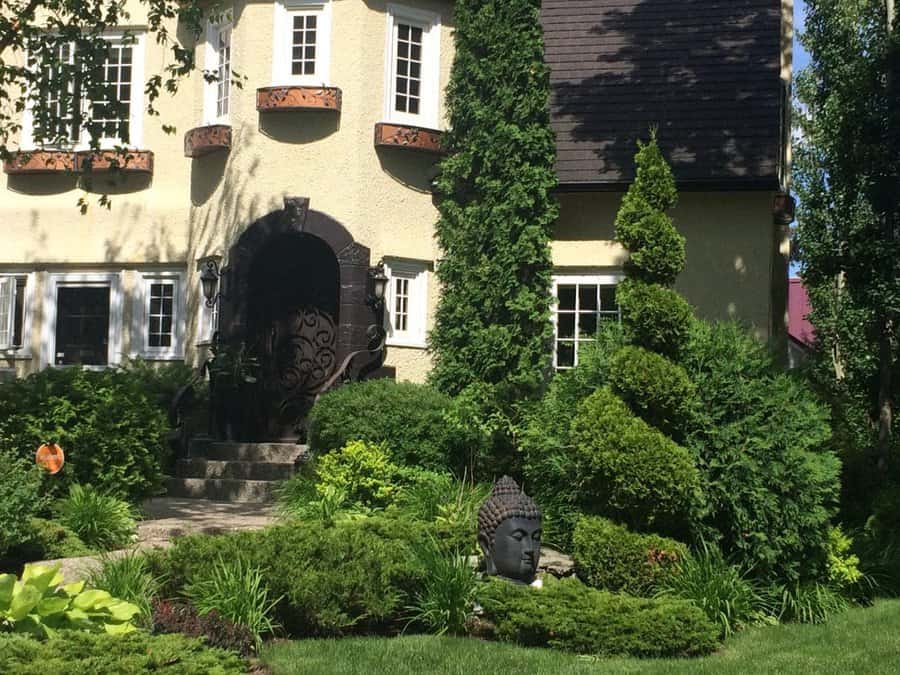 Before breaking ground on your landscape plan, draw a rough diagram of your yard landscaping ideas. Research which plants grow best in your climate, and make sure you place them where they receive the right balance of sun and shade.
7. Low Maintenance
If you're new to landscaping, you will have more success if you choose low maintenance plant varieties. Fescue is one of the easiest types of grass for your lawn. Easy to grow shrubs include yew, barberry, and forsythia.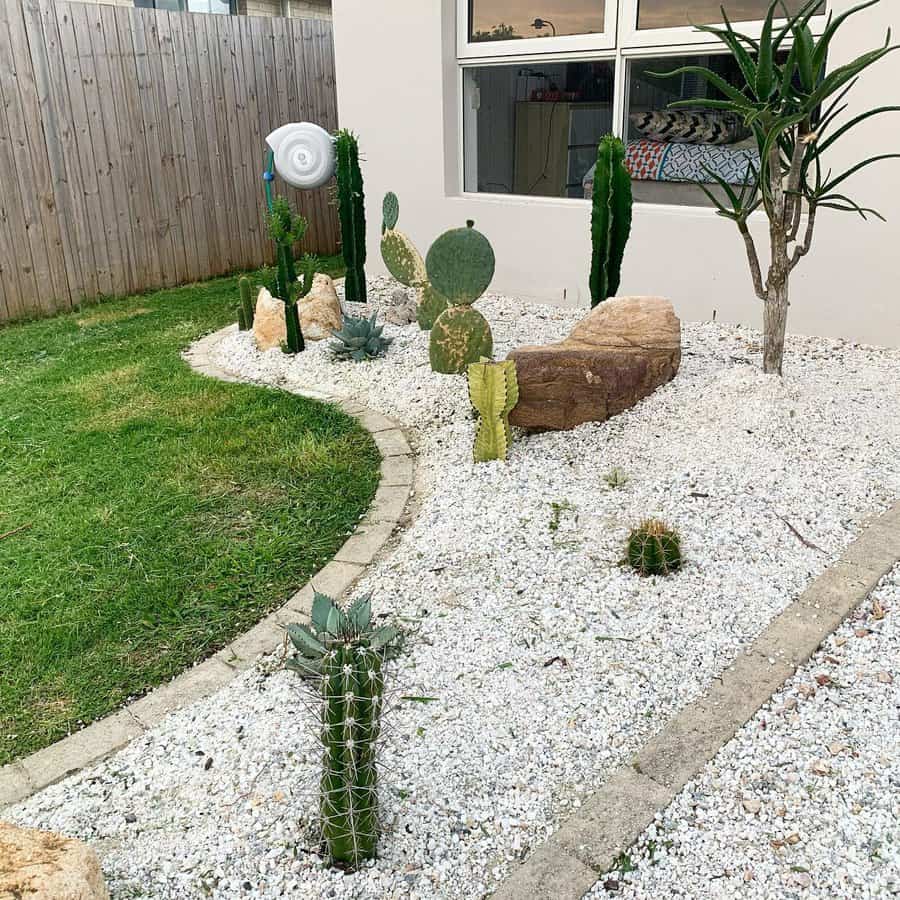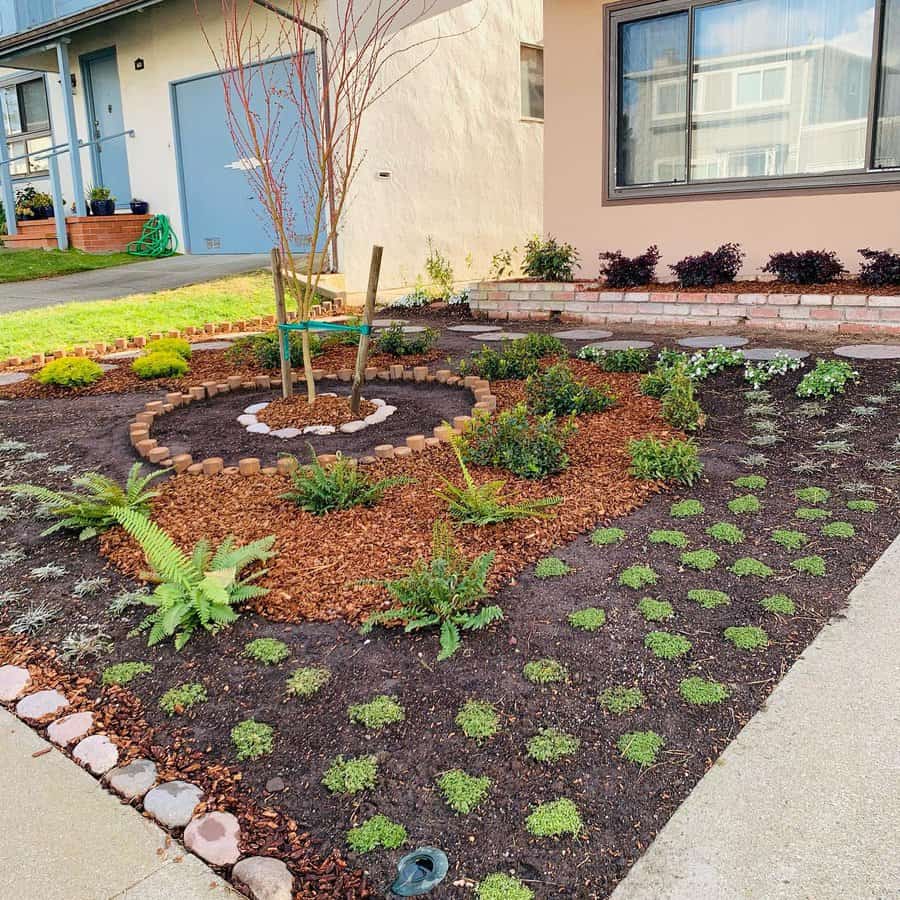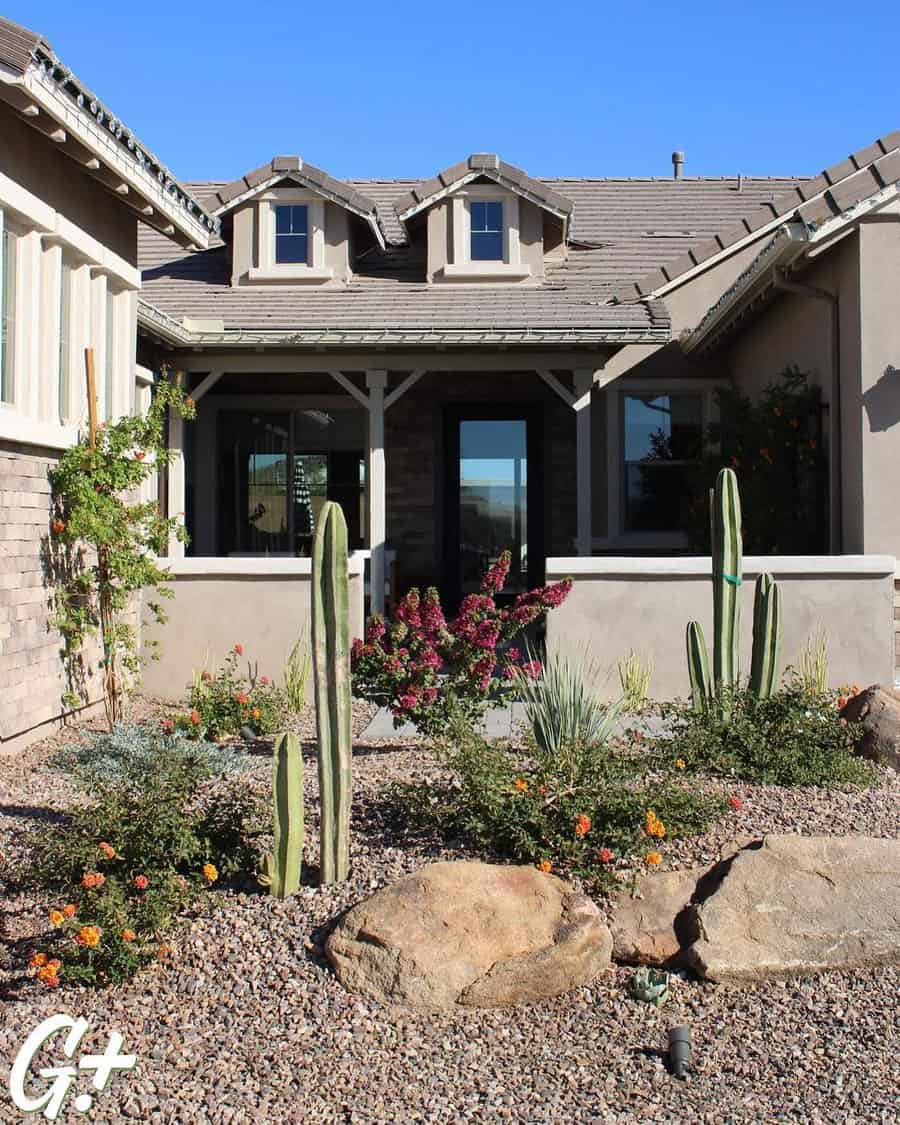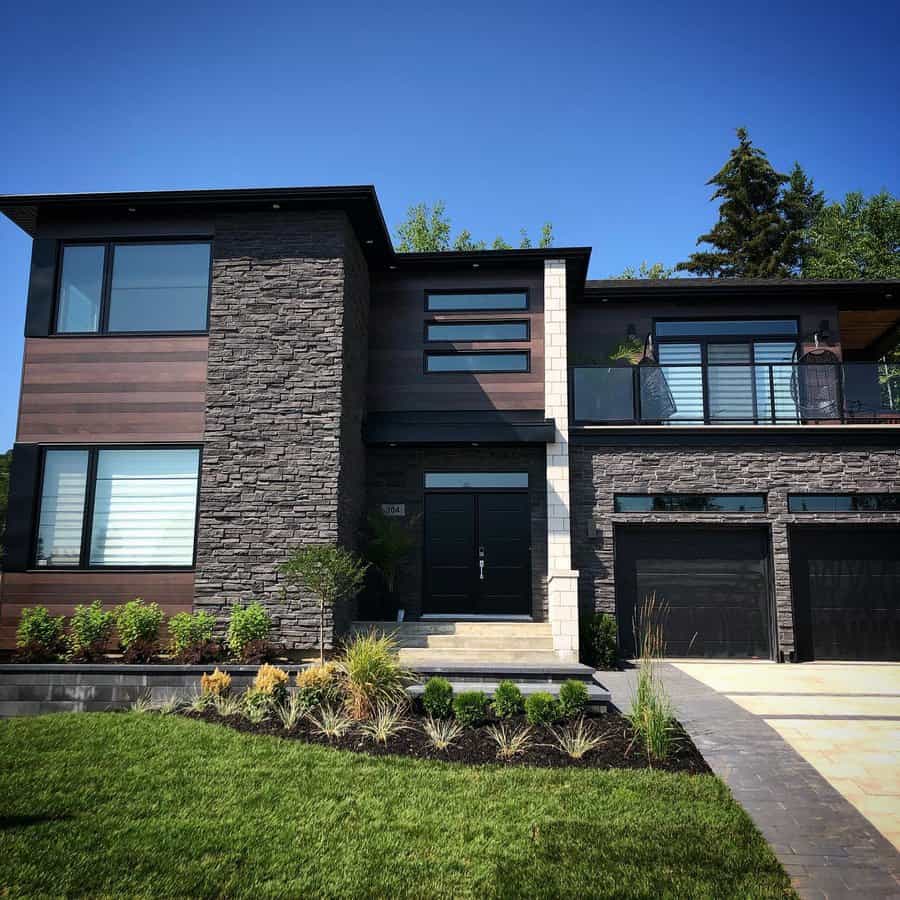 If you only have a tiny patch of ground suitable for grass, consider artificial turf instead of living grass. It's the ultimate low maintenance landscaping idea. Easy-growing landscape tree varieties include silver birch, ornamental cherry, crepe myrtle, and crab apple.
Ground cover is another virtually effortless type of yard landscaping, particularly on a slope where nothing else will root. Landscape ground cover plant varieties include creeping juniper, Aronia, sedum, and fast-growing creeping phlox.
8. Modern
A modern outdoor space—whether in the front yard or backyard—should reflect the same minimalist aesthetic present in modern interior design. Shrubs should be neatly manicured, perhaps into geometric shapes, and set among simple landscape sculptures.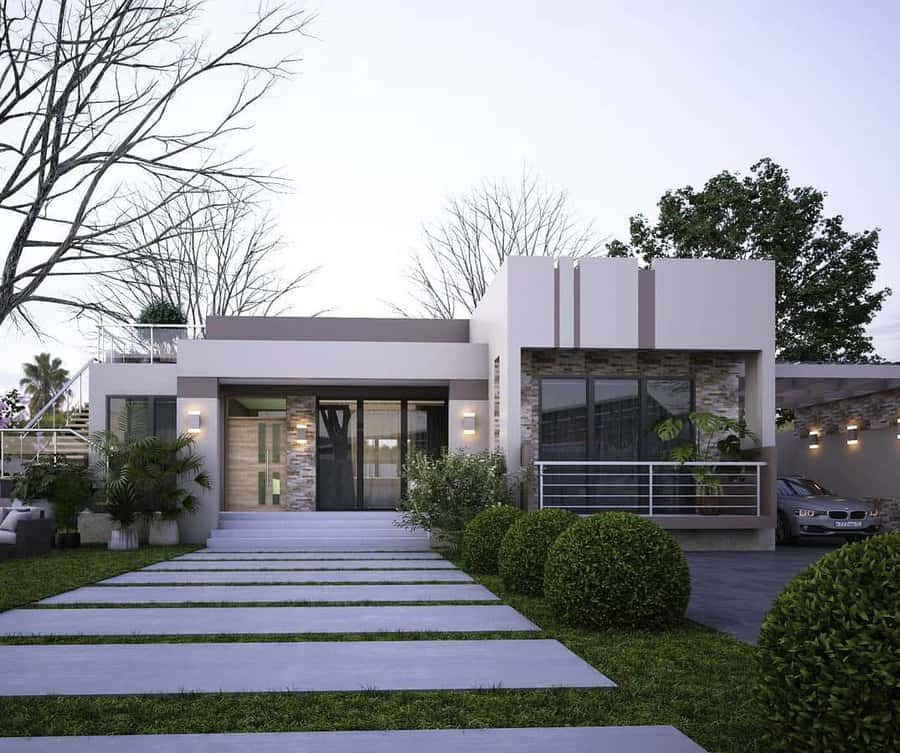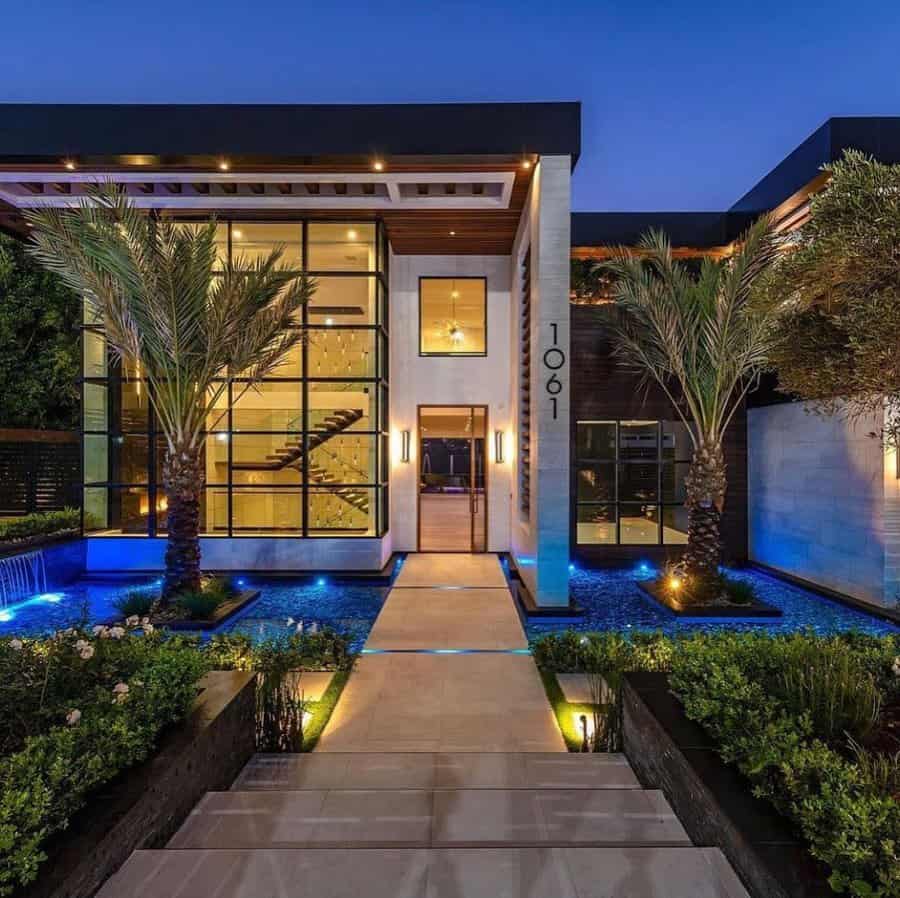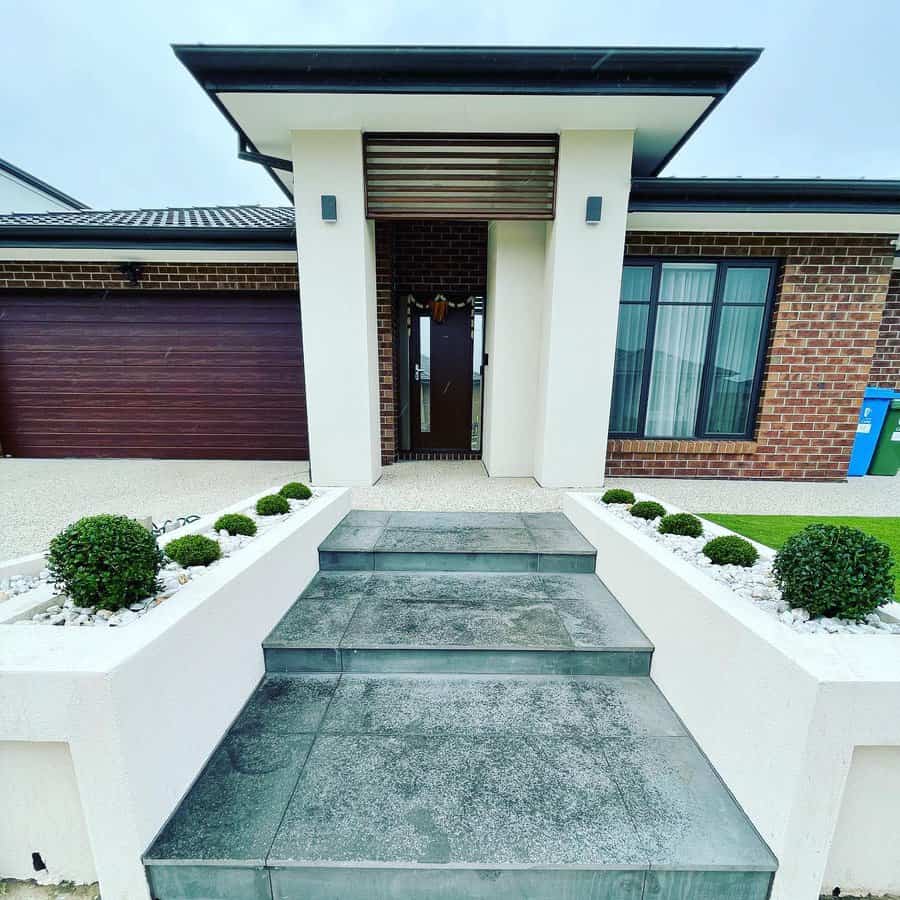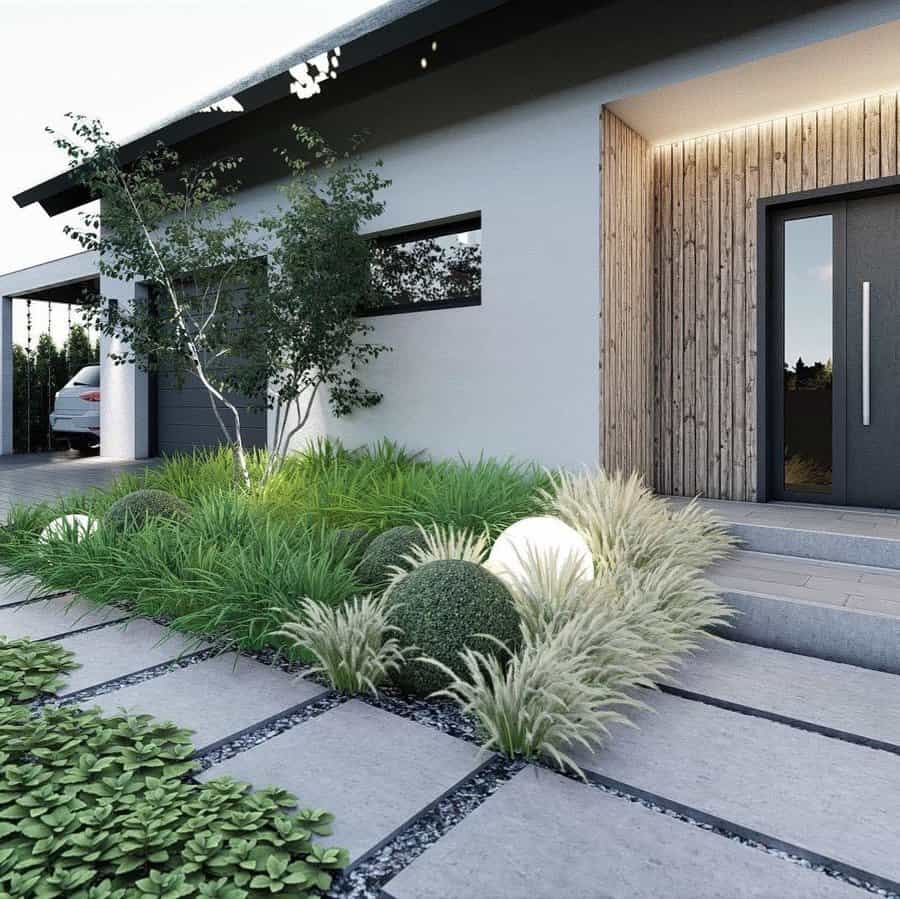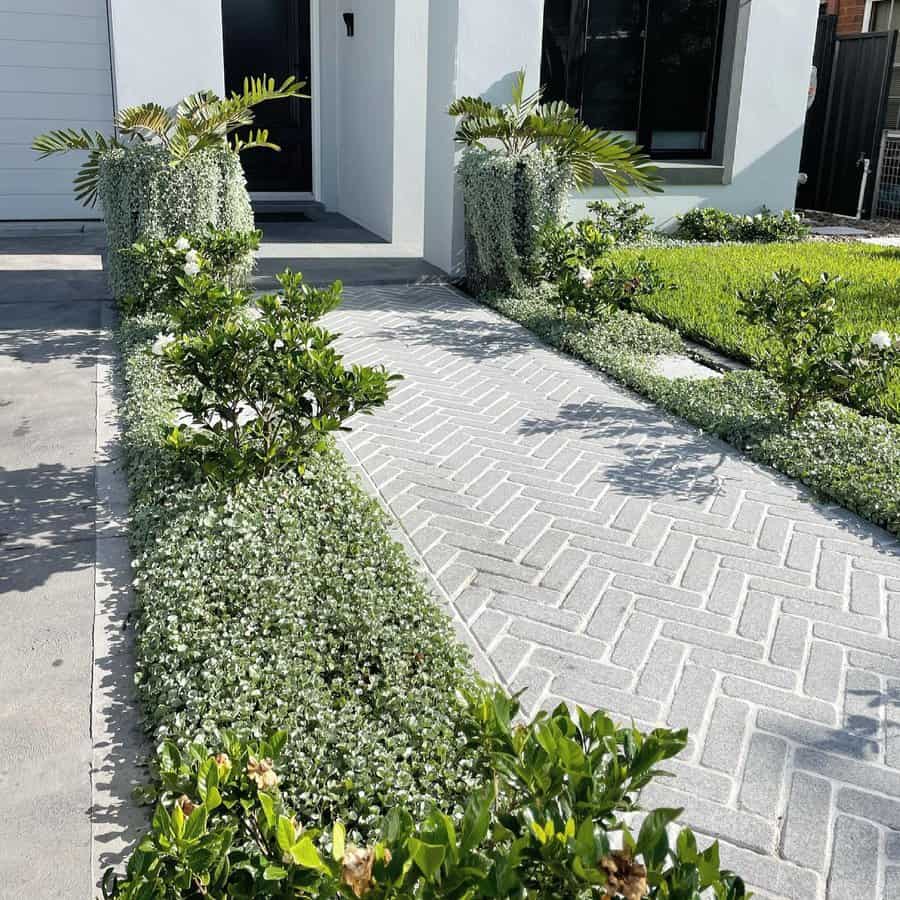 White, black, or grey gravel is a modern substitute for mulch in a planting bed or around a small tree. Keep planters solid colored and simply designed if a modern landscape is your goal.
9. Small
Even a small front yard benefits from good landscaping decisions. First, be careful to keep small front garden ideas scaled to the size of the small space you have to work with. This will keep any one plant from visually taking over the landscape.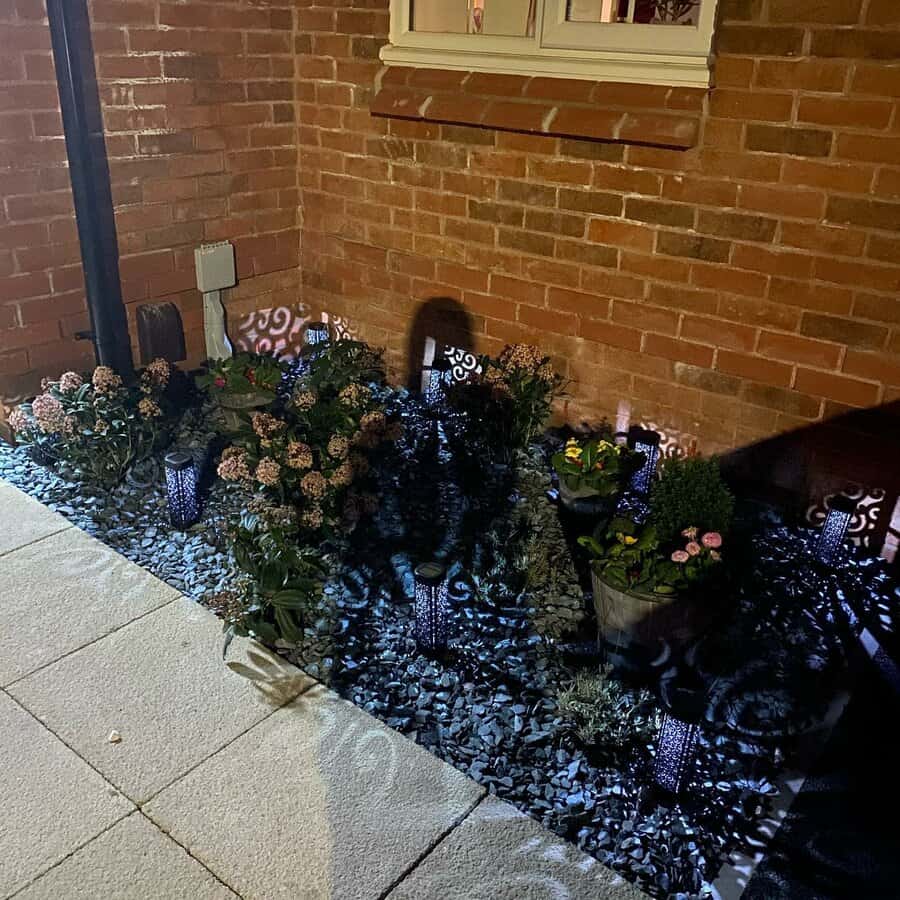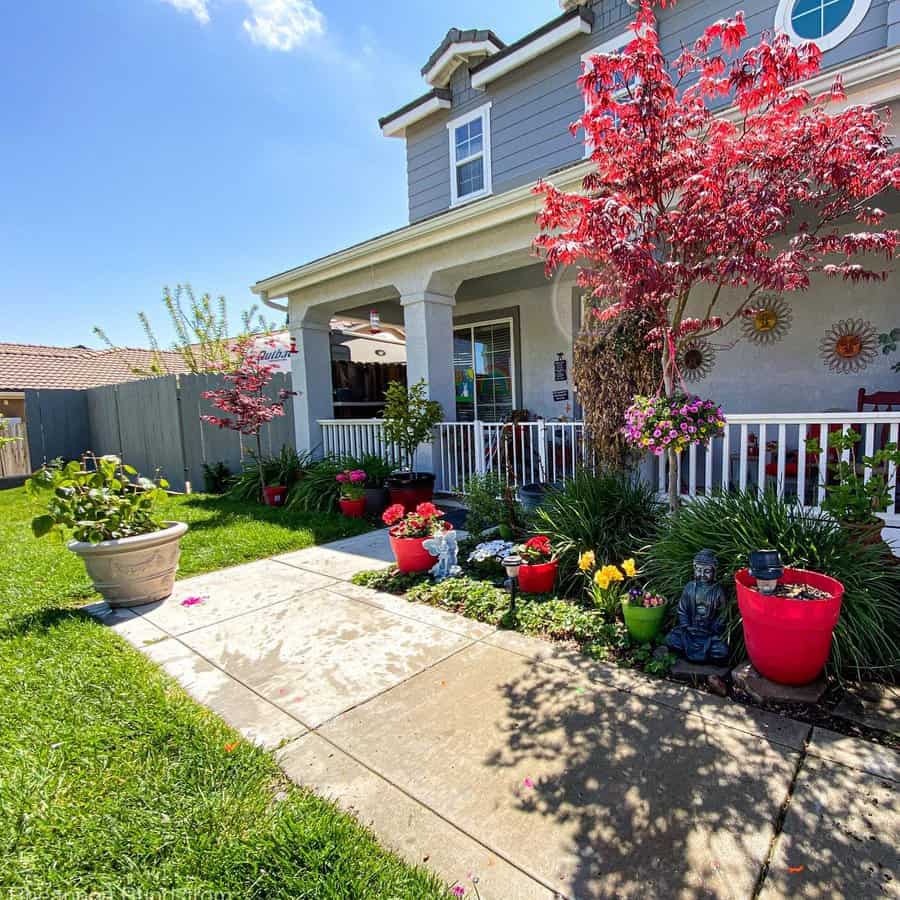 If you live in a condo and your only front "yard" is a flower bed, you can still have a beautiful small garden. Choose plant types that look great at least three out of four seasons. Good small front garden ideas also avoid leaving big gaps in the landscape.
10. Tropical
A tropical climate offers more plant and landscape ideas than virtually any other zone. Fill a flower bed with canna lilies, birds of paradise, hibiscus, and other colorful flowering plant species. Hosta grows well in tropical shade, and croton's brilliant green, red, and yellow leaves also make excellent houseplants.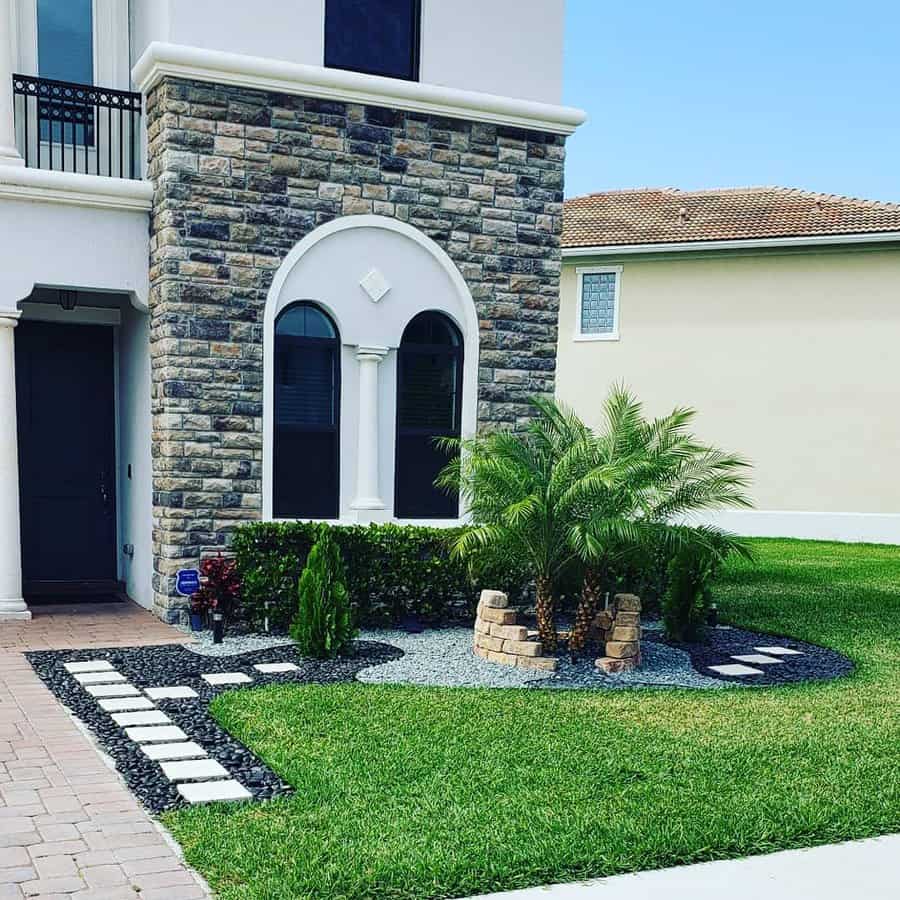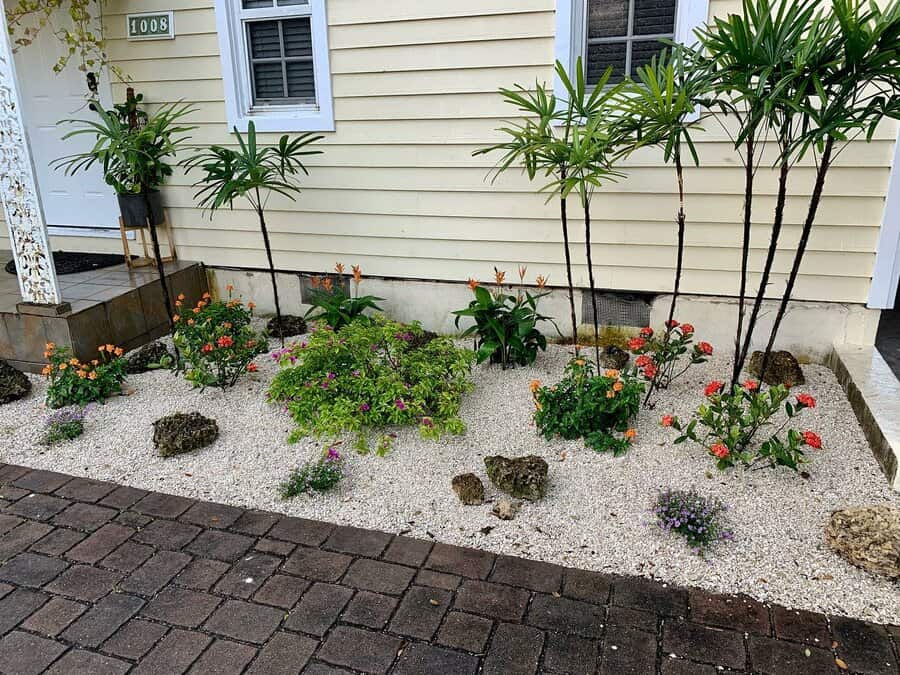 Go Palm Springs fabulous by adding palm trees in various heights and types. Banana, orange, lemon, and lime trees need a tropical environment to grow well. Not only do they provide food for your family, they add pops of color and gorgeous greenery to the landscape.
Tiki torches are a good tropical yard landscaping idea when set along a path or porch entrance. A small water feature or fountain enhances a tropical yard landscape and should be included if possible.
If you have room and ample shade, elephant ears add a dramatic touch to a tropical yard garden. Plant fragrant jasmine, plumeria, and passion flowers for a garden idea that takes you on vacation.
See more tropical garden ideas here.
11. Unique
Unique gardens are like bohemian home decor: anything goes! From stepping stones handmade with your children to whimsical metal yard sculptures, your front yard garden design is really limited only by your creativity—and perhaps your homeowner's association.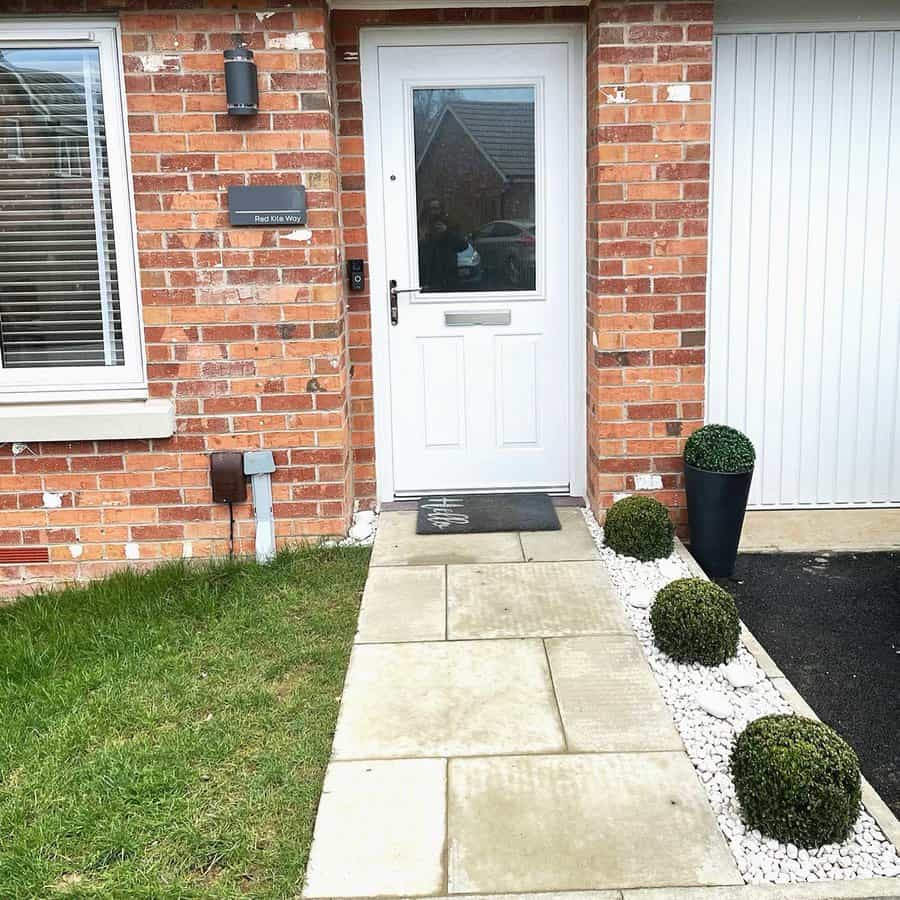 Get creative with rock mulch by making patterns in contrasting colors that swirl around landscape trees or plants. Build a simple arbor or archway over the front path entrance and train climbing vines to cover it. Try your hand at shrub sculpting to create twisting topiaries or fun hedge animals.
Front Garden FAQs
How do I make my front garden look good on a budget?
Garden design ideas don't have to be expensive to look amazing. Get an early start in spring by planting flower seeds in containers indoors. It's far cheaper to grow your own colorful flowers from seed than to wait later in the season and buy full-size plants. Ornamental grass is an affordable embellishment planted beside the front door steps or along a path. 
A simple and practically free way to improve your front garden is to stay on top of maintenance. Mow the lawn weekly, pull up weeds as they sprout, and pressure wash the driveway and pathway at least once a year. 
What is the best hedge for a front garden?
Hedges provide privacy and help define property boundaries. The best hedge is one that you feel is attractive and grows well in your climate. Choose an evergreen shrub, such as boxwood, for year-round privacy. Other good choices include holly, yew bushes, and arborvitae. If you want a flowering hedge, go for an azalea, lilac, forsythia, or rose of Sharon.