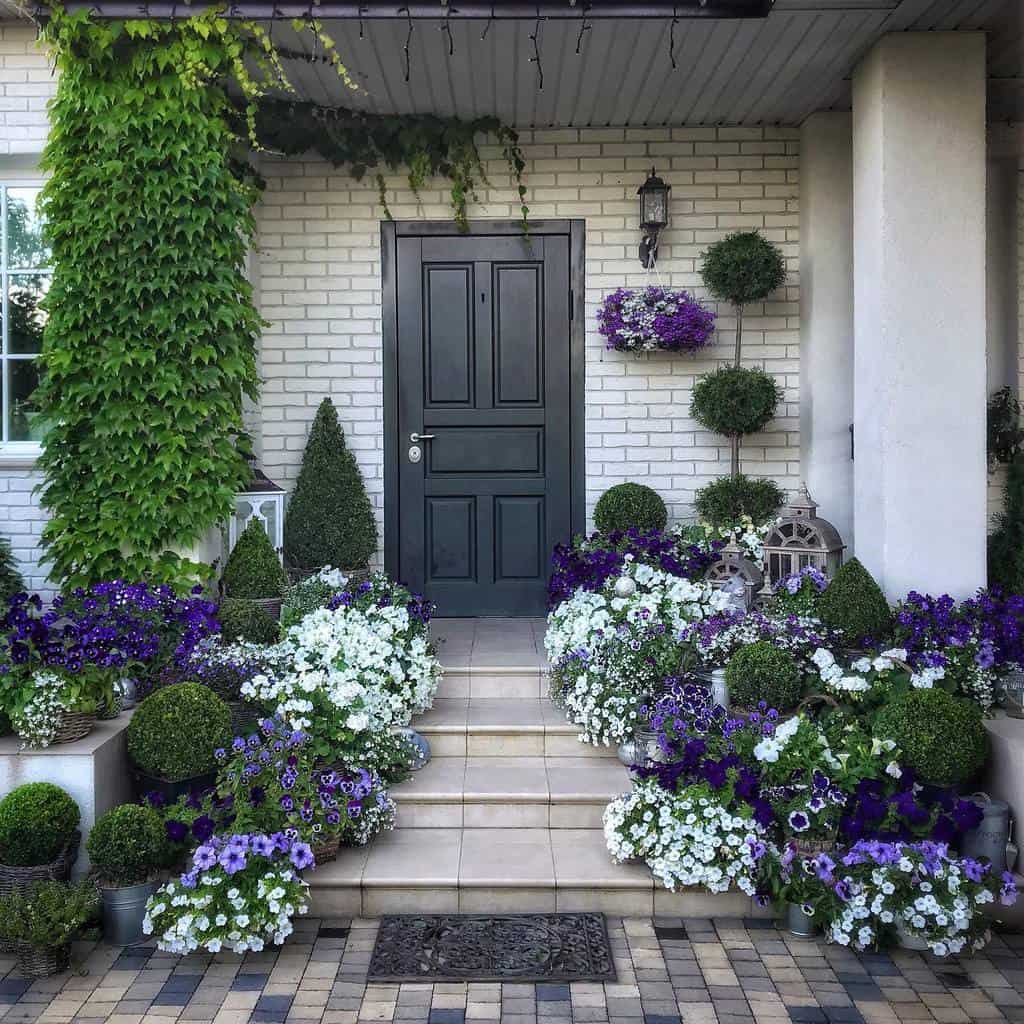 "My garden is my most beautiful masterpiece." -Claude Monet
Everyone with a front yard has the opportunity to create a masterpiece to be enjoyed for years to come. Simple or complex, the inherent beauty of plants makes it easy to make even a dull entrance interesting.
If you're feeling low on creative inspiration, take a look at this collection of 48 amazing front garden ideas. You're bound to find several new landscaping ideas to enhance your home's curb appeal.
1. Line The Entrance With Flowering Shrubs
A front garden is your chance to create an outdoor space that oozes country-style charm. Plant flowering shrubs like hydrangeas for an eye-catching centerpiece, or combine vibrant blooms with rustic basket-style hanging baskets for a quaint cottage vibe.
Then why not finish off the look with gravel and stepping stones running through the soft grass, creating winding pathways of playful discovery as you find your way around the garden? A perfect idea to make your front garden look stylish and inviting.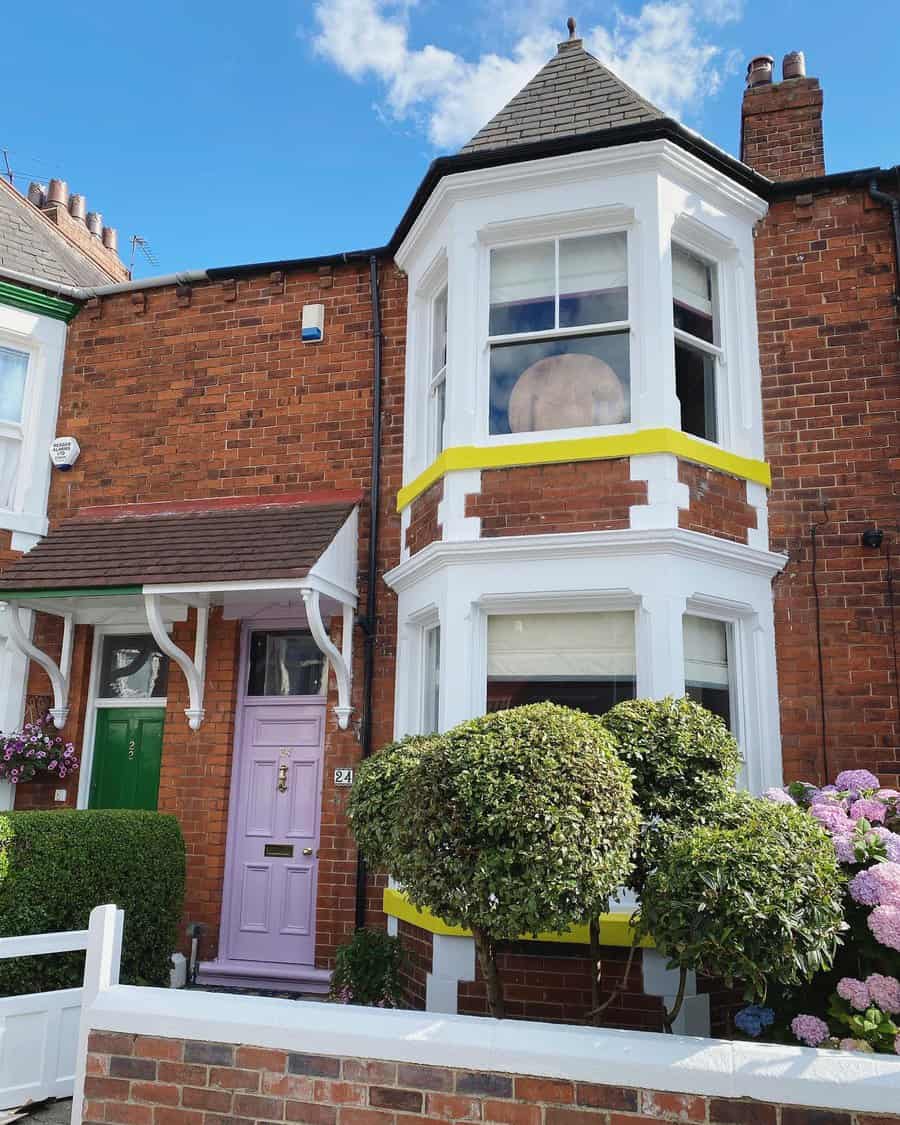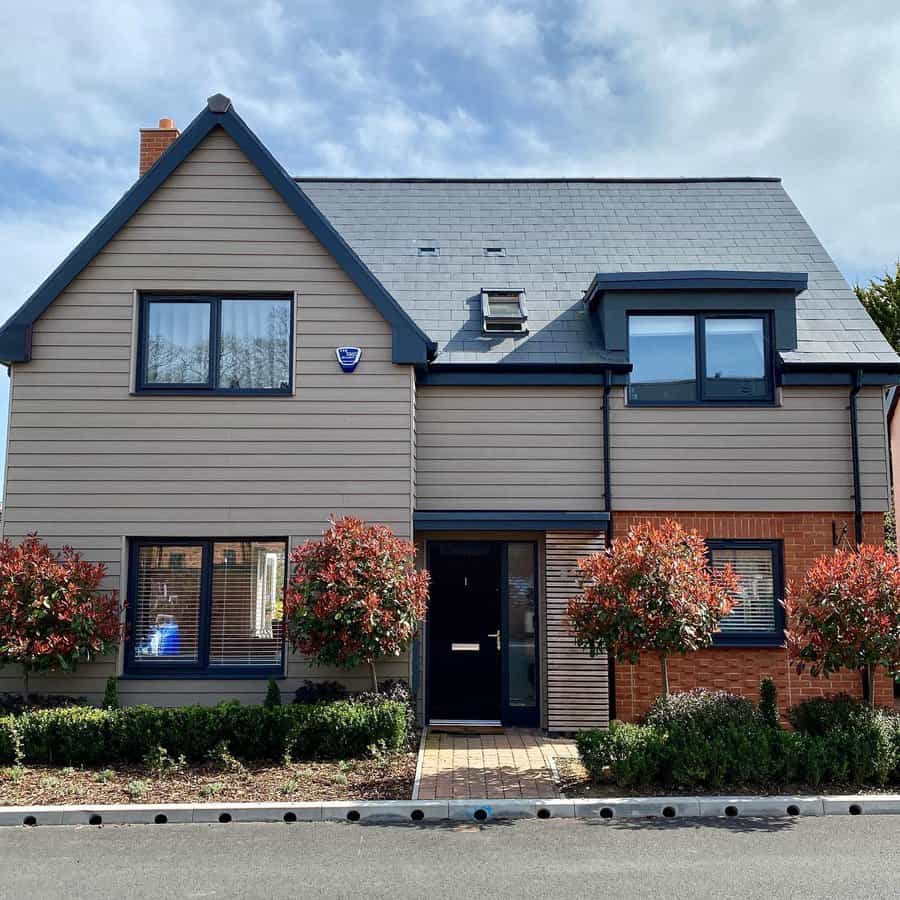 2. Install Stamped Pavers To The Driveway
Transform your front yard into a quaint oasis with side landscaping that leads up to your driveway. You can lay down some stamped pavers for an extra touch, and create a lush shrub garden for added depth and texture.
With side landscaping, you can break up what may be an area of simple grass or dirt to provide interest and focal points as you make your way from the street to your front door. Incorporating various plants, trees, lighting, and statuary within your side landscaping helps give off the true cottage feel and reinforces the overall design aesthetic to immediately welcome guests.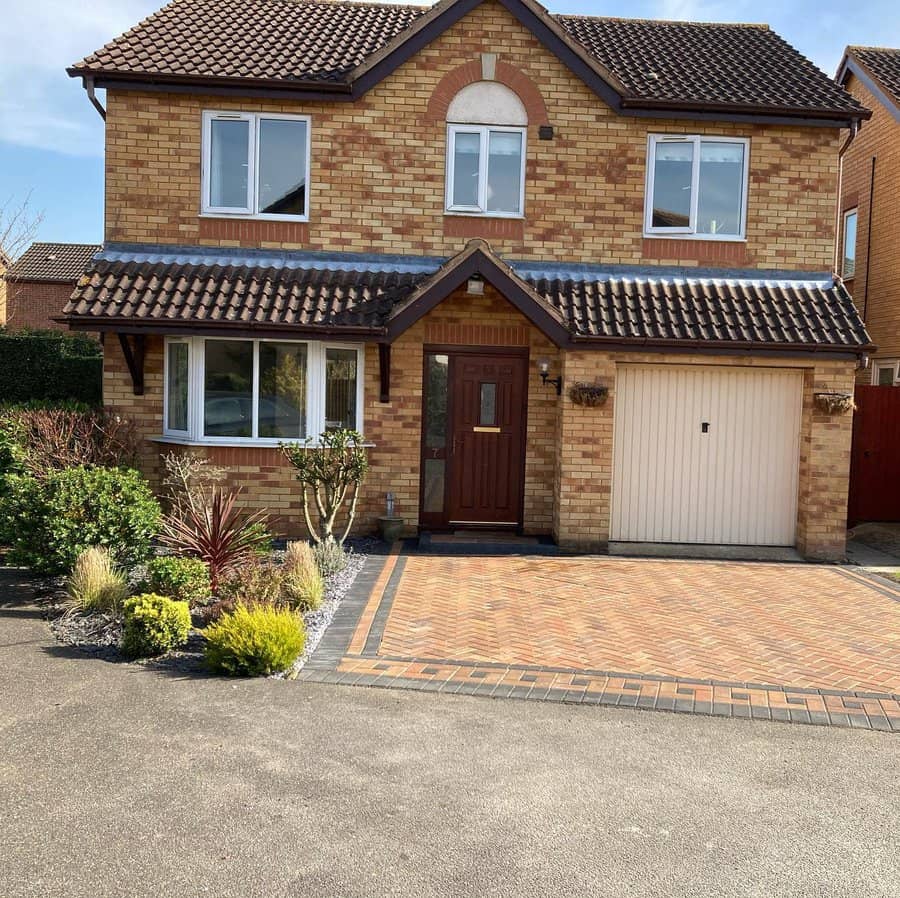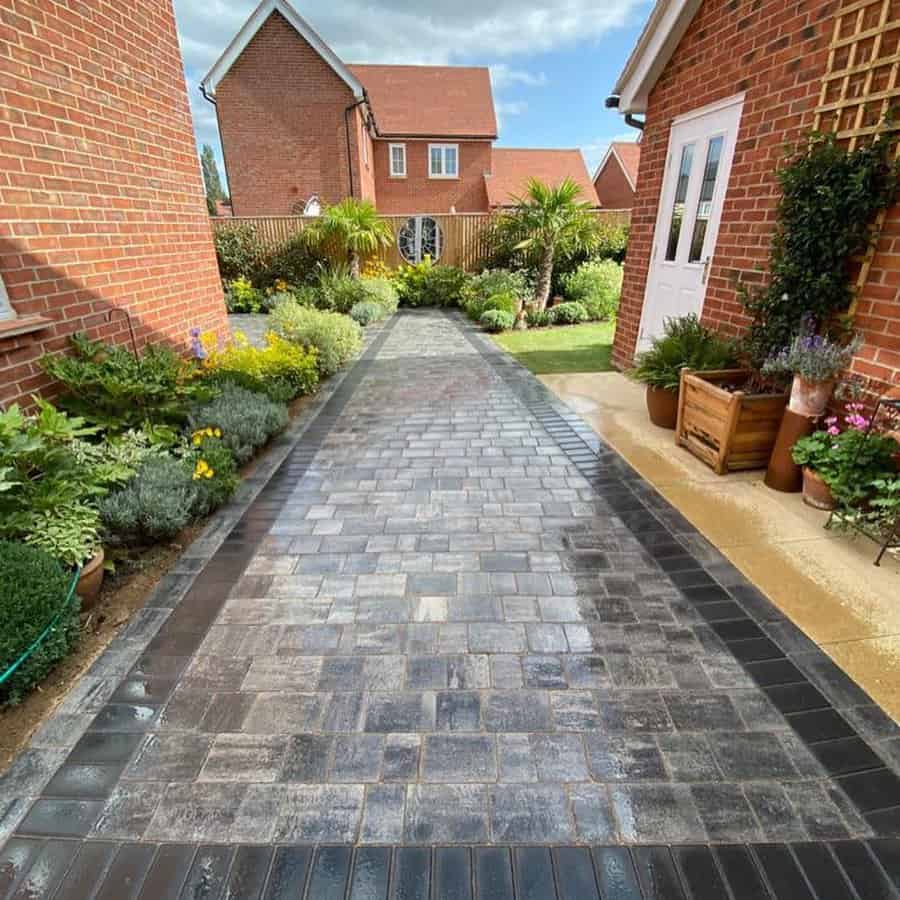 3. Make It Nostalgic With White Pebbles
Transform your front garden into the perfect mix of beauty and practicality with white pebbles on the driveway, lush side landscaping, and an airy vibe. Transforming your garden shouldn't be daunting – come up with a plan, shop around for plants and materials, and create something beautiful that best suits your needs.
Invest in low-maintenance plants that don't require much attention and will still add life and vibrancy to your entrance. Consider incorporating white furniture pieces in your design to bring more light into the space, or create a cozy seating space with some comfy sofa cushions.
No matter what style you decide on, use white pebbles on the driveway to make it look neat and tidy; combined with creative side landscaping it can make any house feel like home.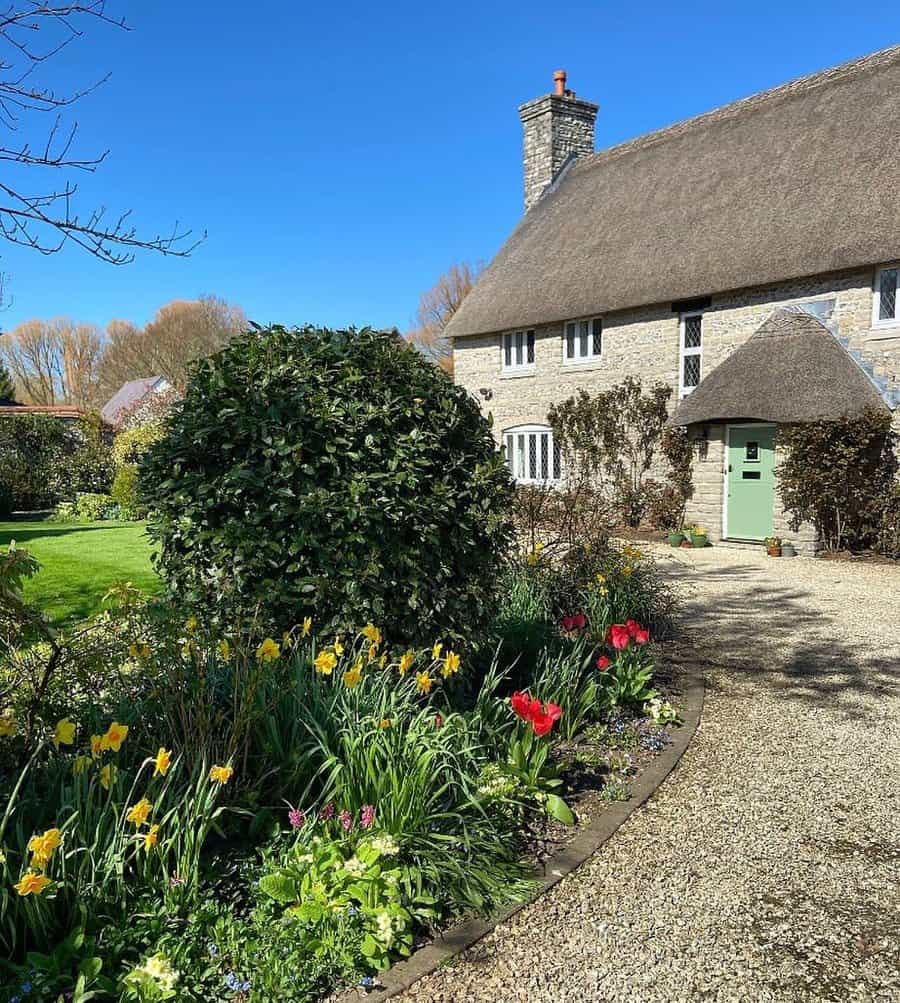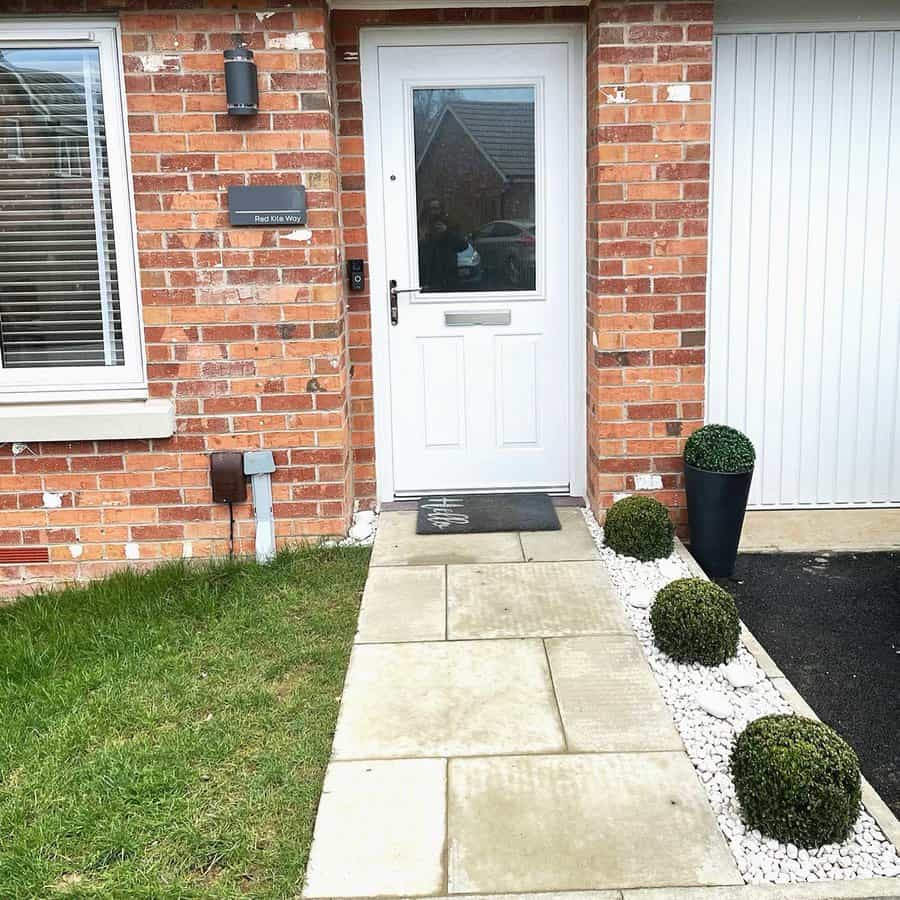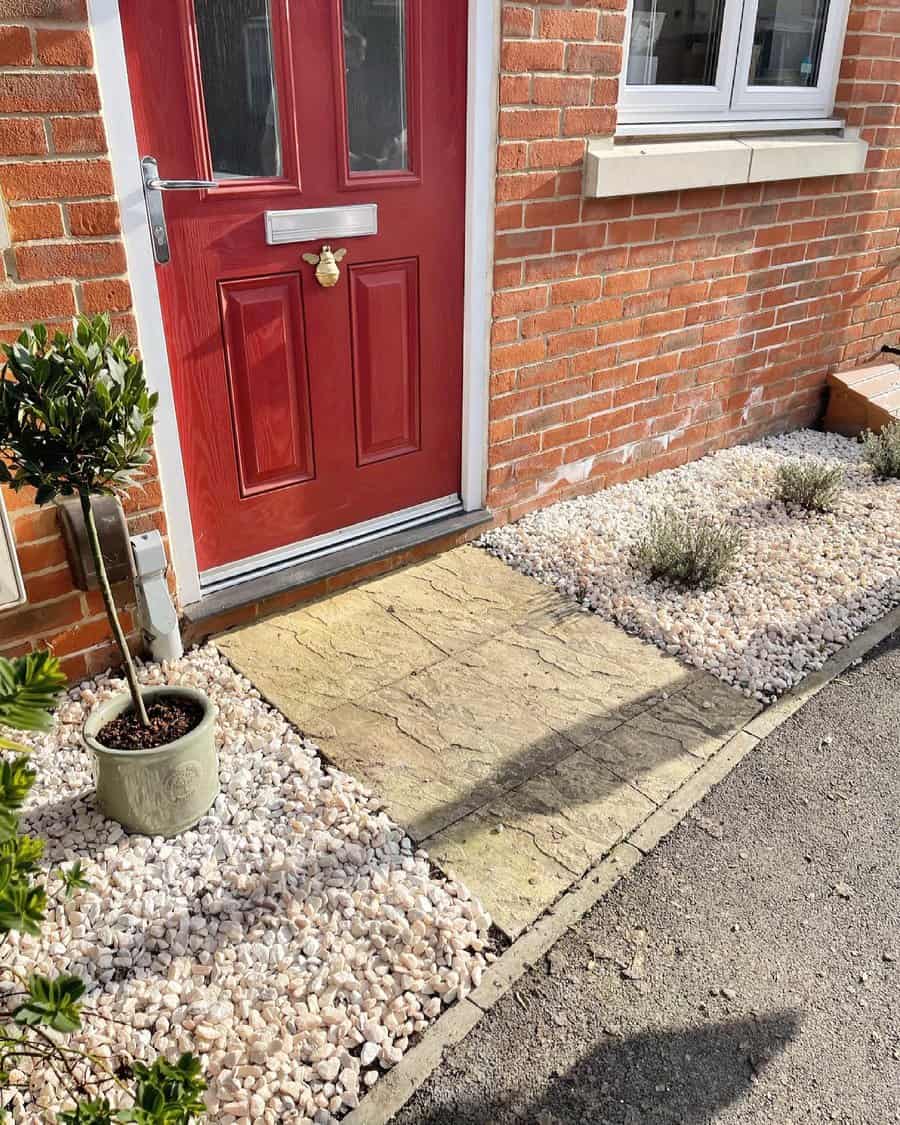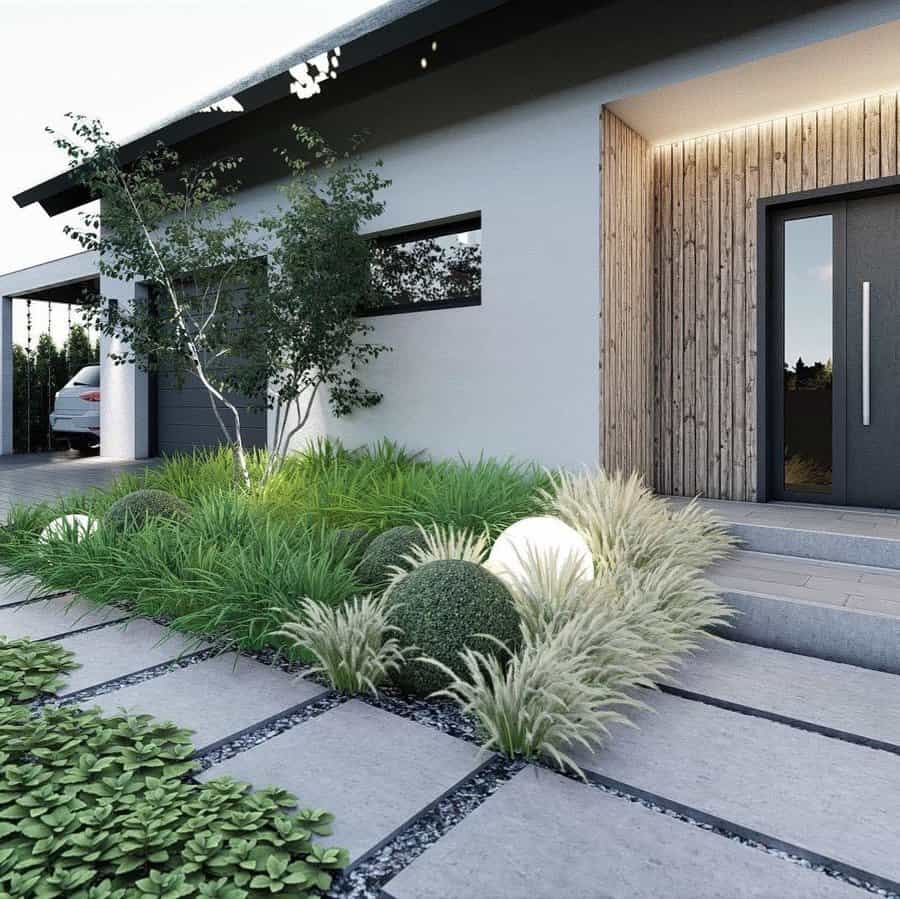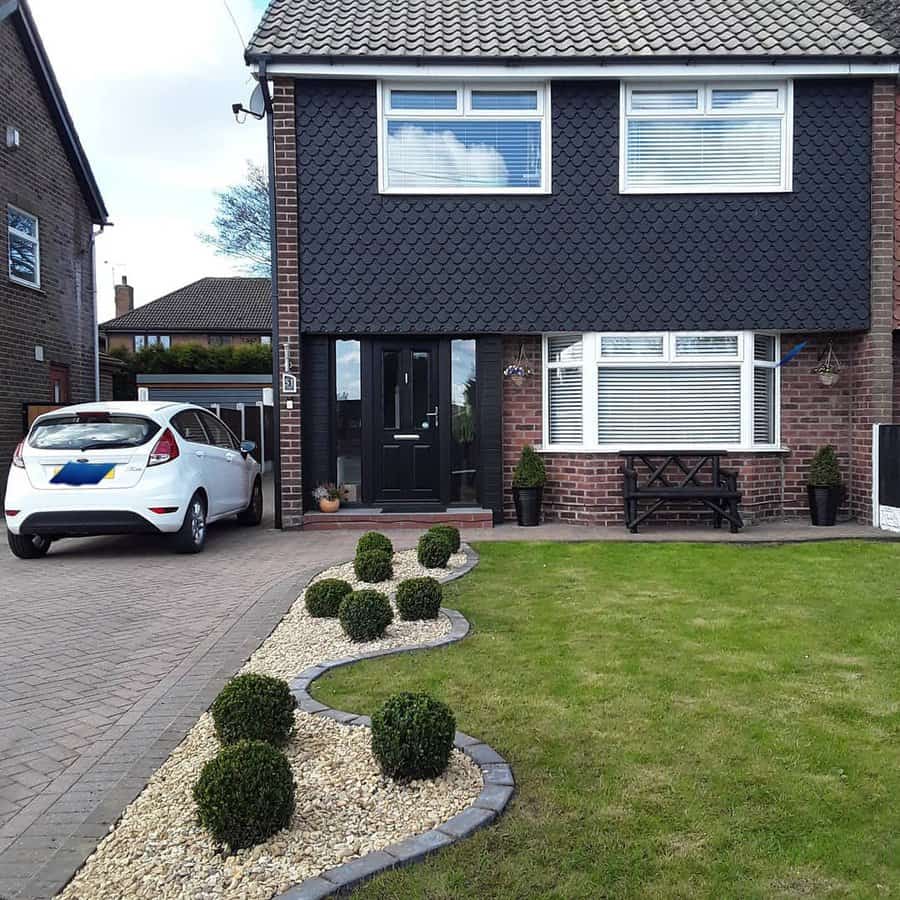 4. Craft Leading Lines With A Landscaped Walkway
Your entryway should be the main focus of your home's exterior. If there's a path leading to your front door, the way you landscape the areas around it greatly impacts your home's curb appeal. Always keep entryway hedges and ornamental grass borders neatly trimmed.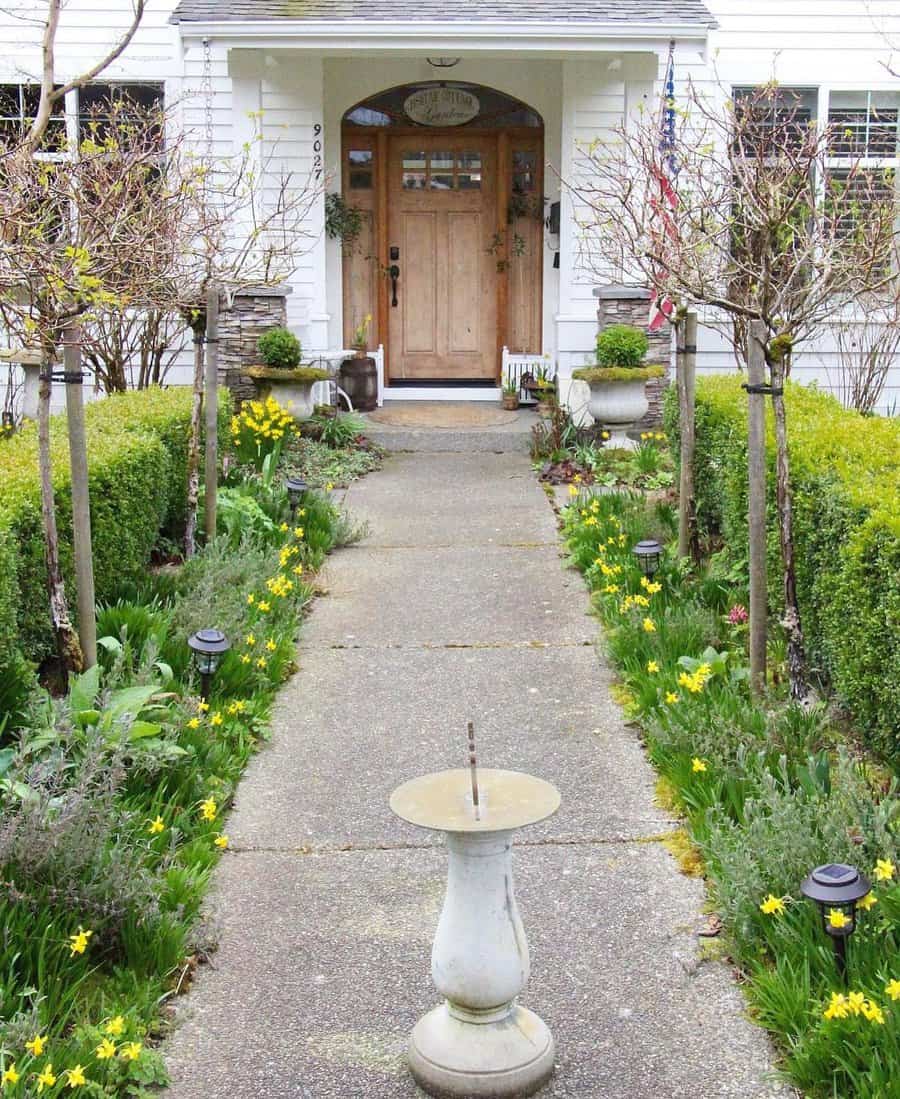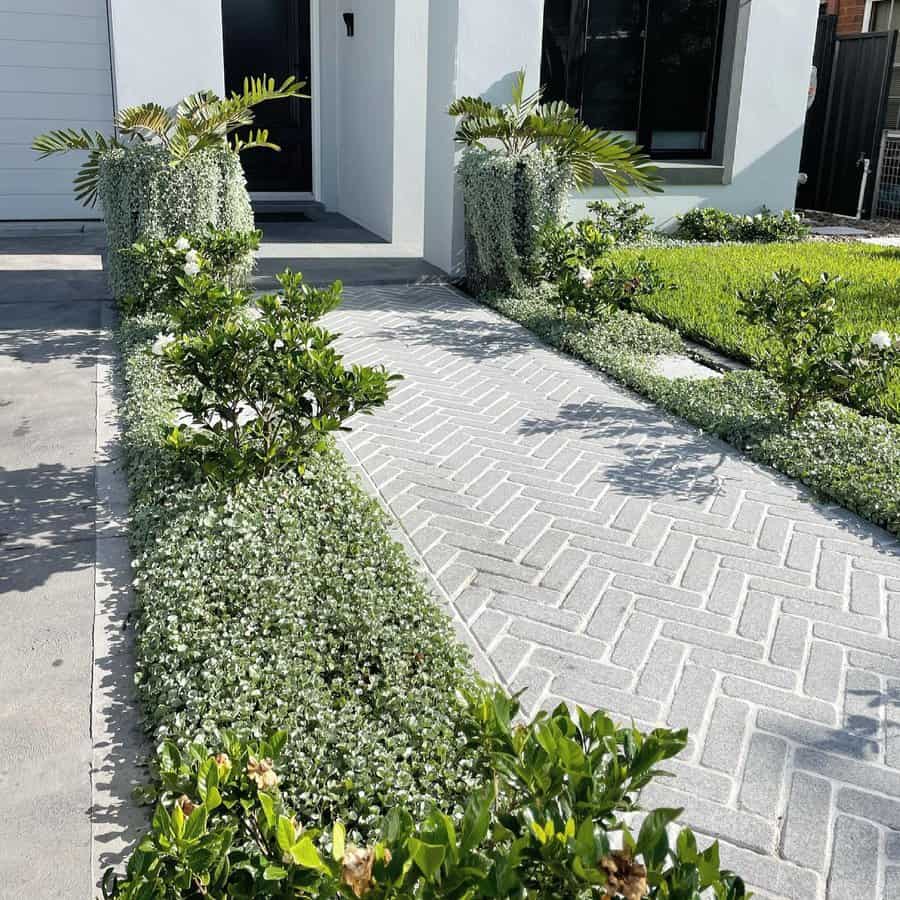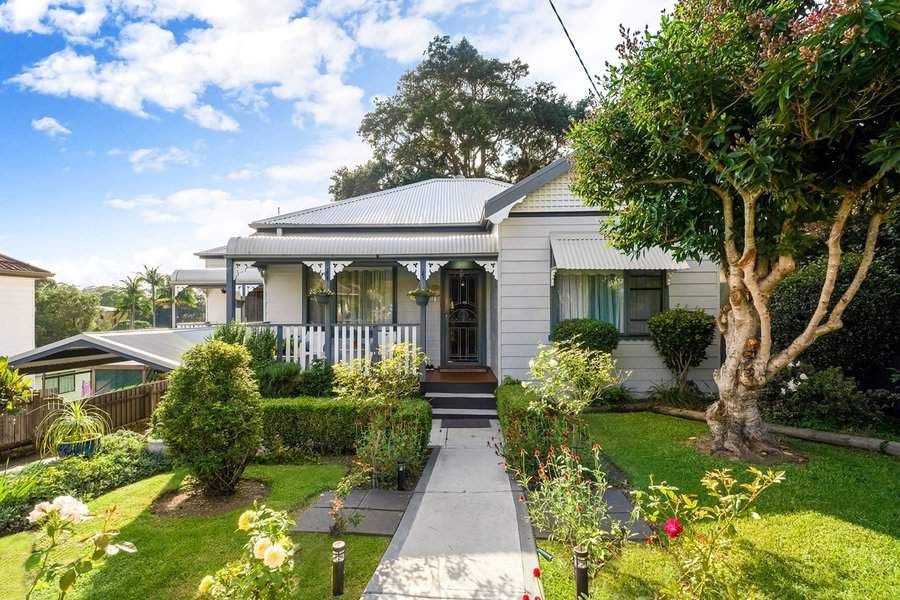 5. Elevate Your Front Garden
If you want to create a unique elevated front garden that looks like something out of a magazine, consider installing a charming outdoor staircase at your front door. The elevated design is perfect for organizing your garden and home into separate sections while adding some beautiful visual interest to your exterior space.
With the help of stepping stones, windy paths, and some colorful desert plants you can create an entrancing vertical garden that will be admired by everyone who passes by. Use tall cacti and other succulents for an eye-catching display, or plant blooming flowers for a vibrant look that is guaranteed to cheer up your visitors!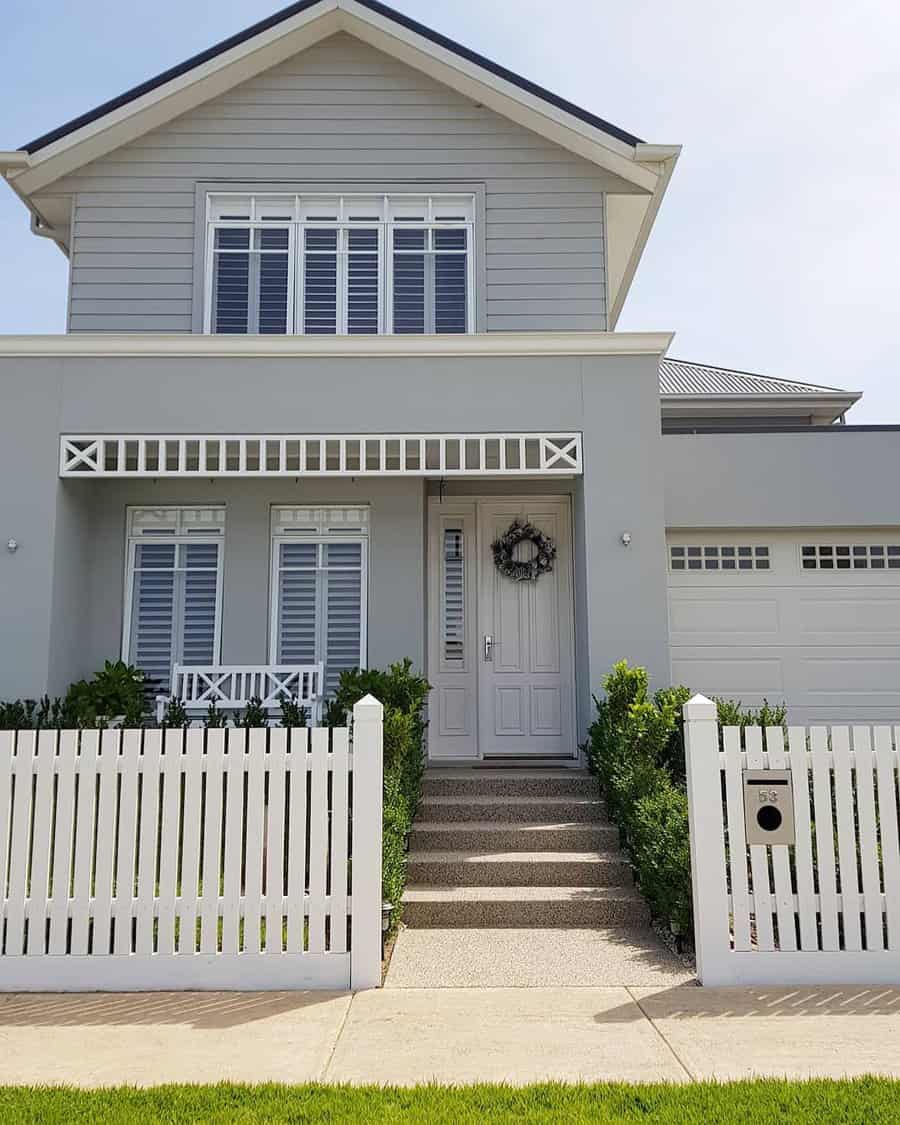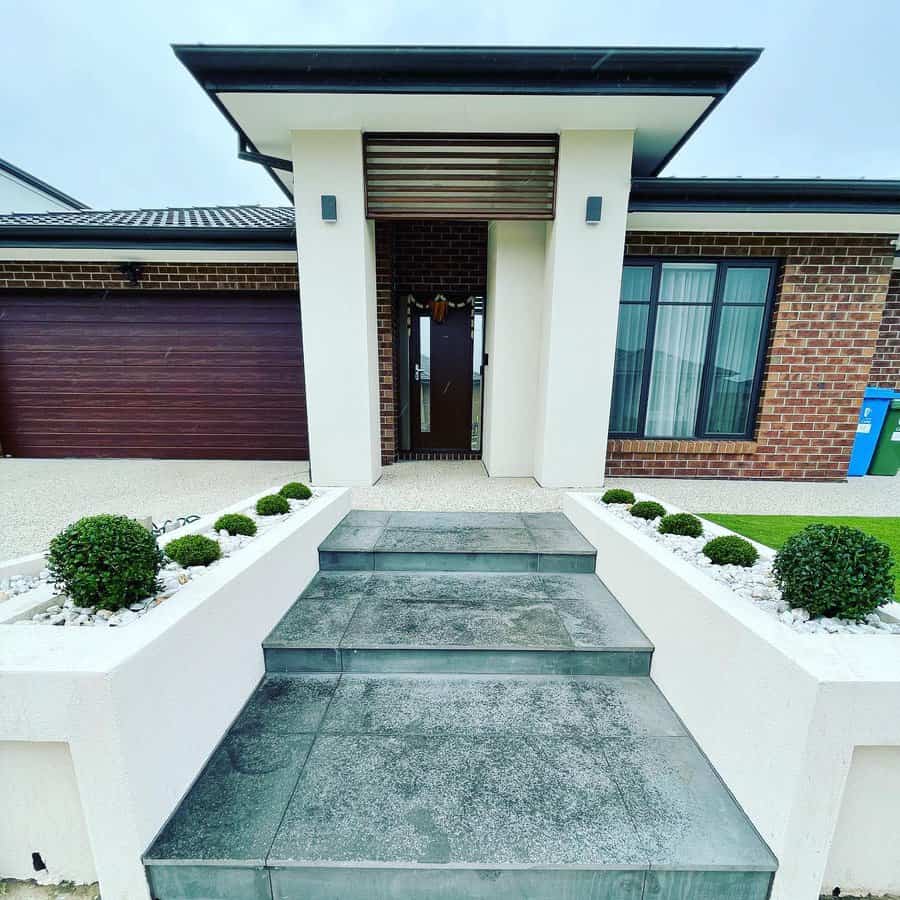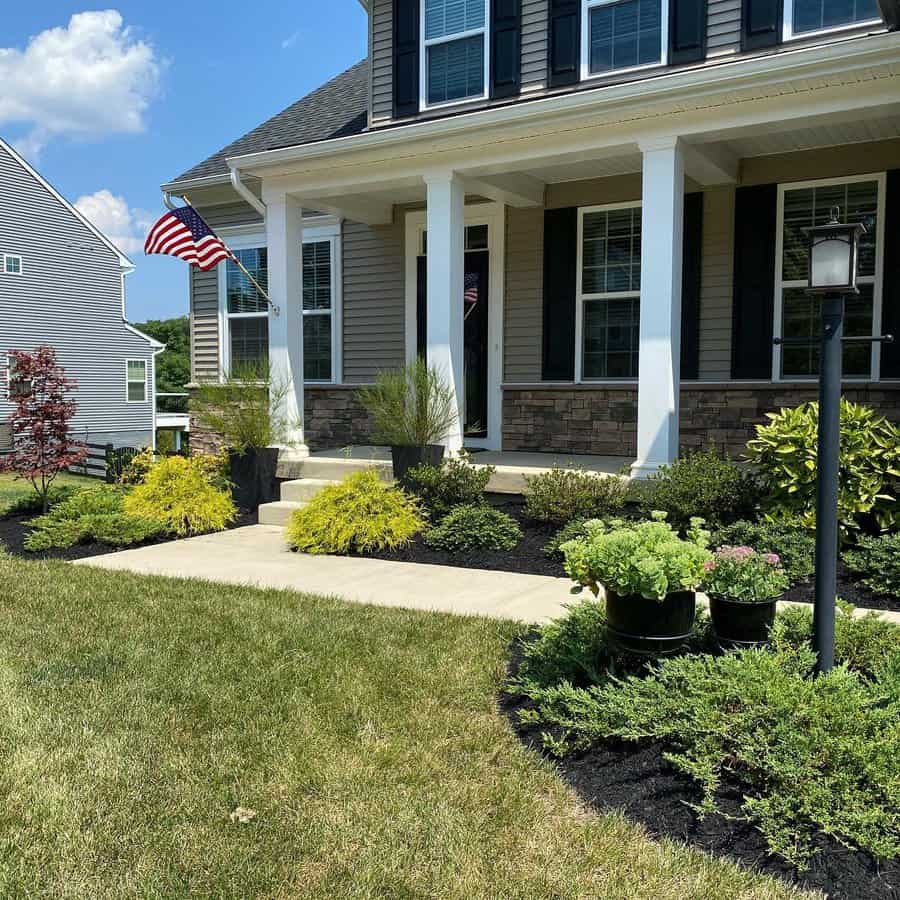 6. Build An Arched Privacy Wall
If you're looking for a creative way to spice up your front garden, consider adding an arched privacy wall. Not only does it offer extra privacy, but it also serves as the perfect complement to existing flower landscapes.
Best of all, the arched design adds depth and dimension that helps give any garden character and charm. Plus, depending on the materials used and whether or not your arched wall is painted, your backyard can truly become a personalized paradise that screams creativity!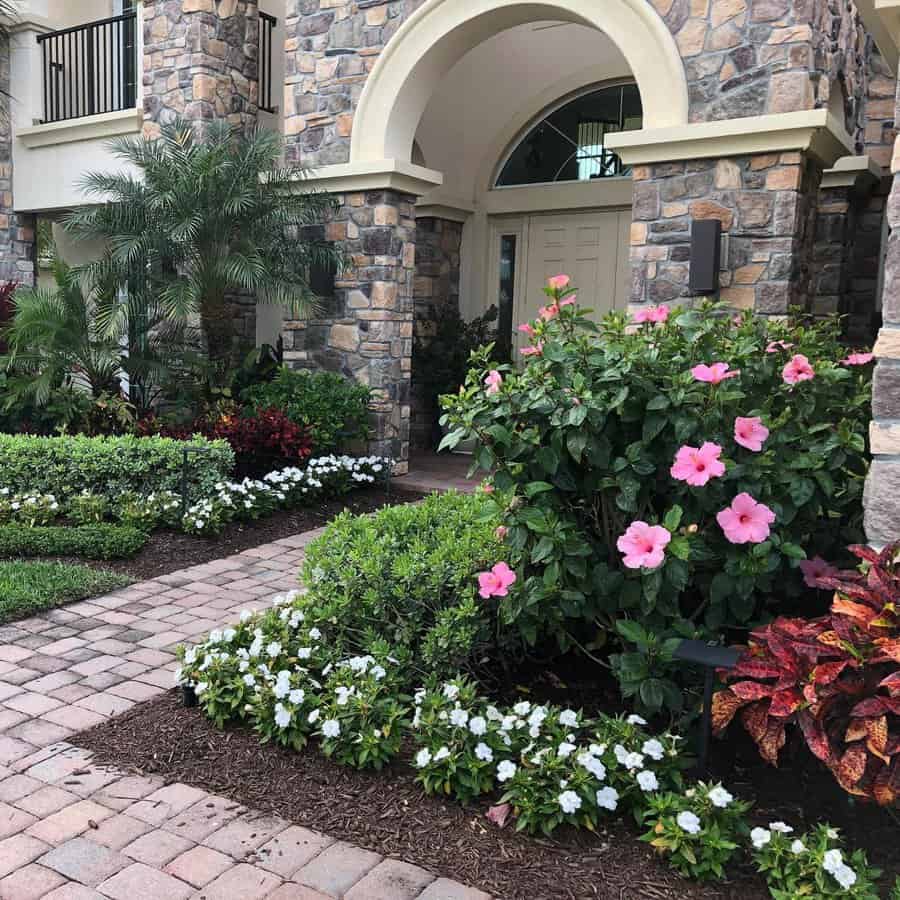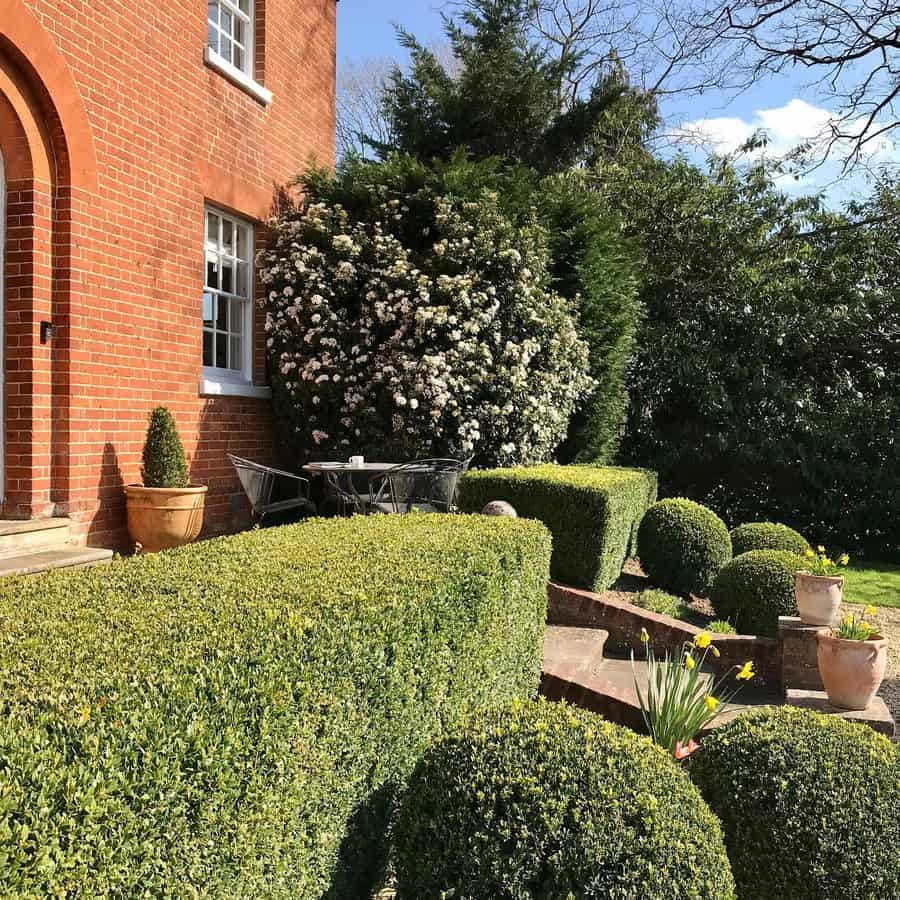 4. Add An Enclosed Fence
Creating a stunning front garden can be a great way to freshen up the look of your home. For creative garden ideas, try enclosing the space with a wood fence for a natural, rustic feel.
Behind that wood fence, you could use a simple plant box as an elegant backdrop to break up the wood fence and provide some contrast with its muted greens. With these two simple techniques, your front garden will become an eye-catching aesthetic in no time!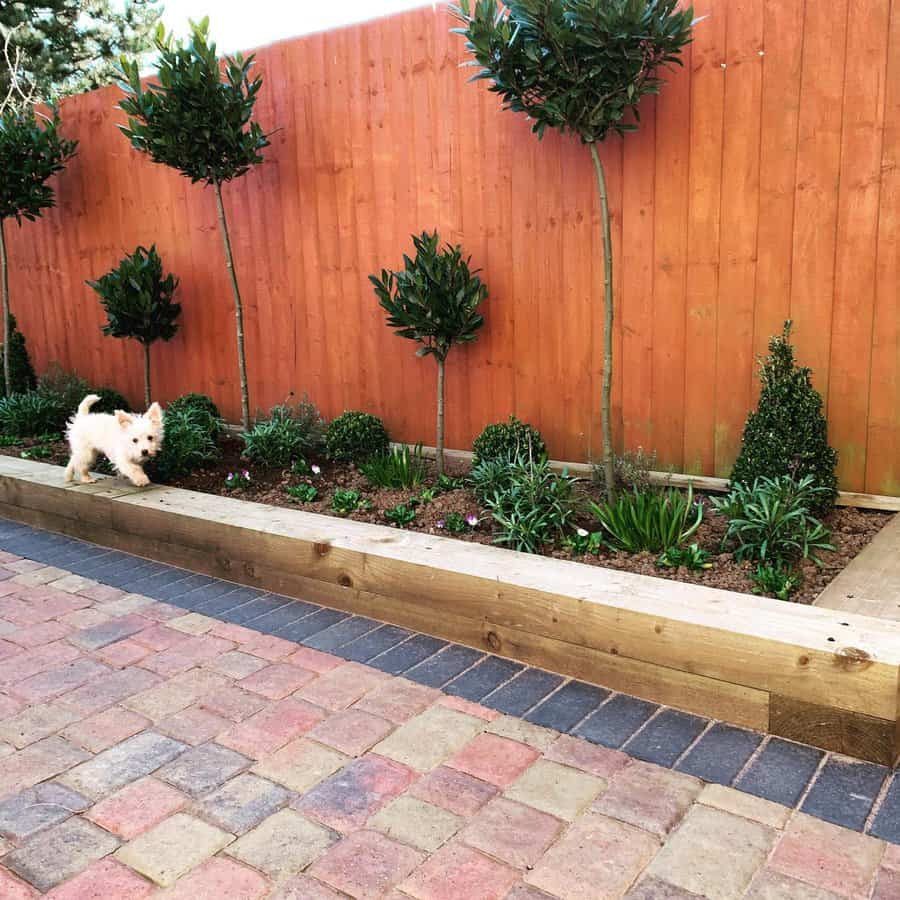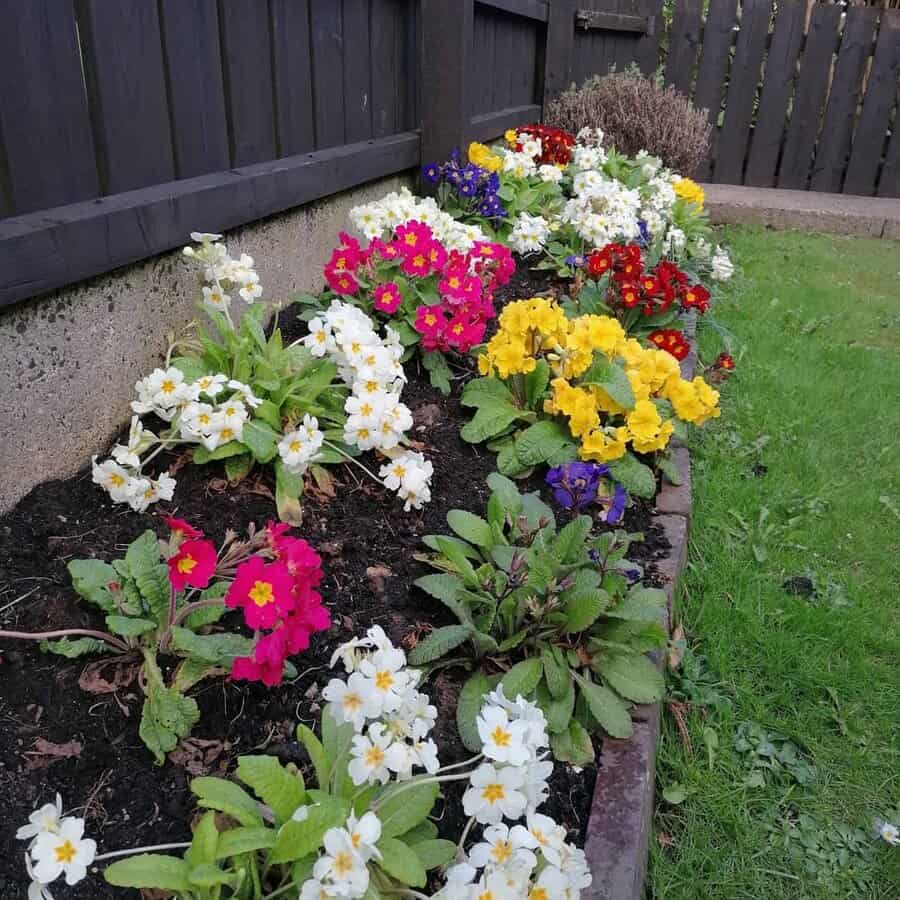 5. Pavers In Grass
Transform your front garden into an outdoor living space by adding pavers in the grass for a walkway – this creative idea will make your garden stand out from the rest! With pavers in the grass, you can create a unique landscape architecture that is both elegant and eye-catching.
Your pavers provide structure to your garden; while the abundant green grass balances out the concrete elements and brings a lush, vibrant mood to your outdoor space. Enhance your front garden ideas by installing pavers as a centerpiece of modern outdoor design.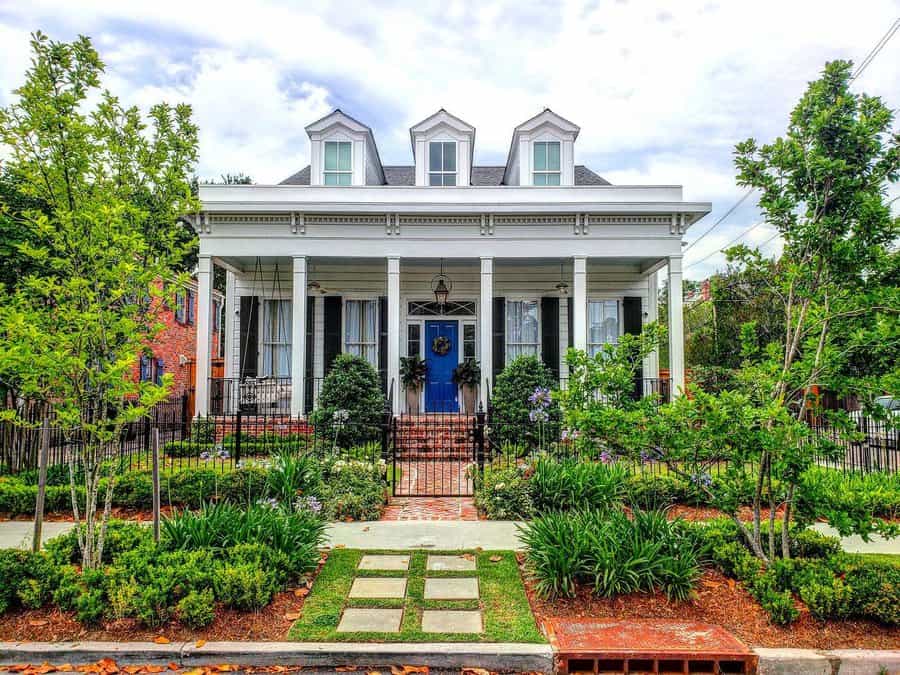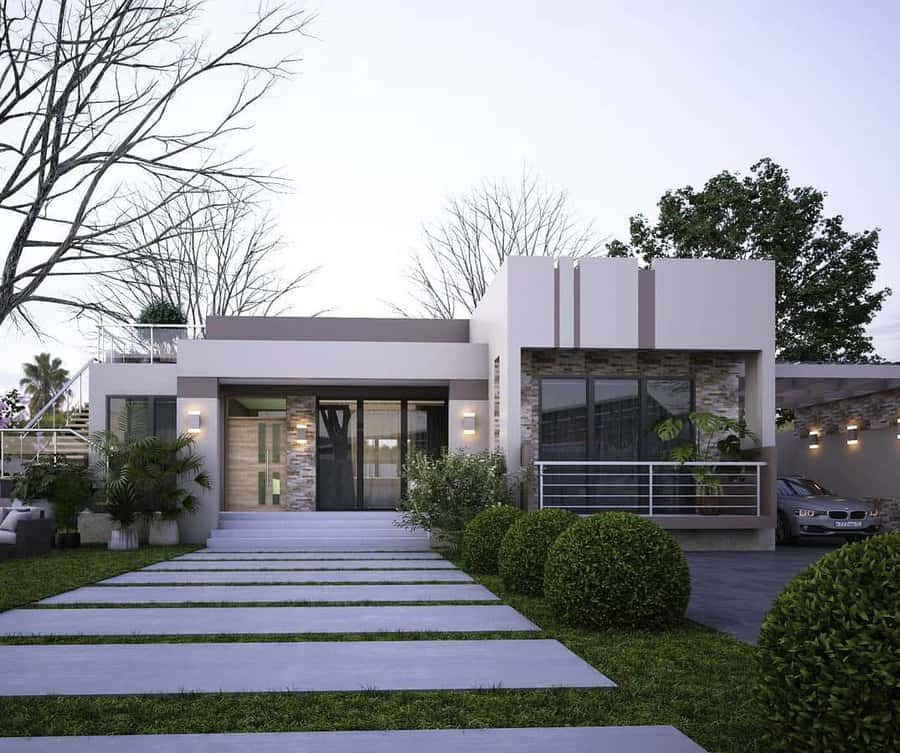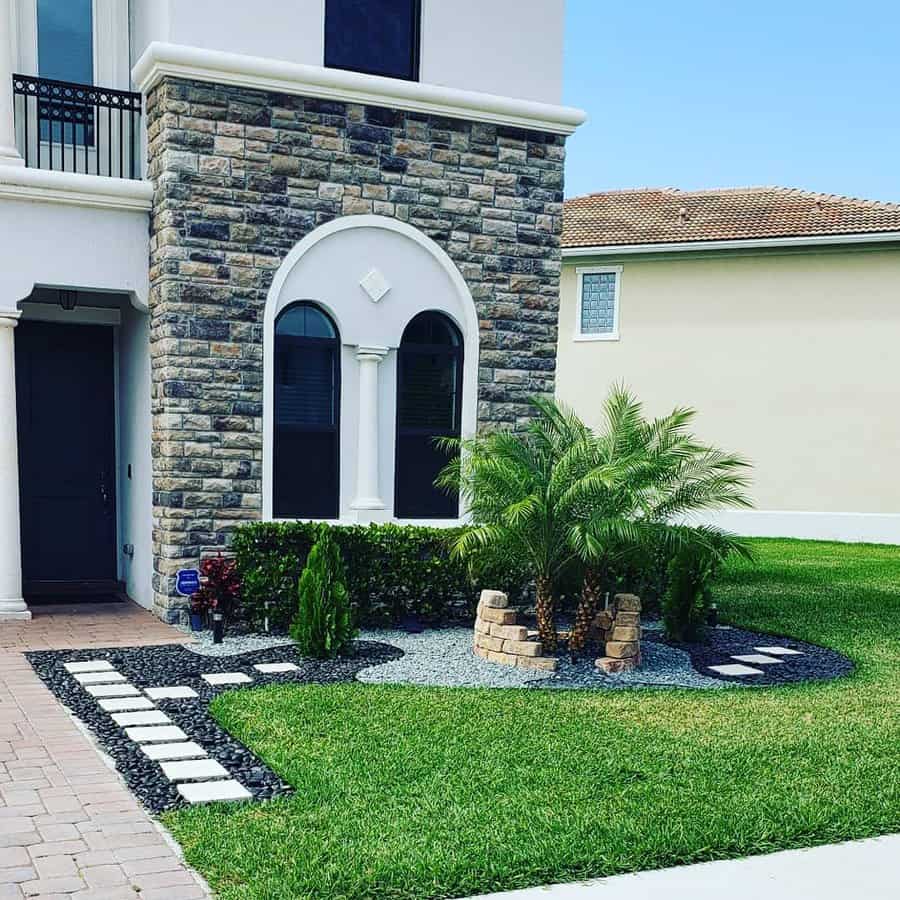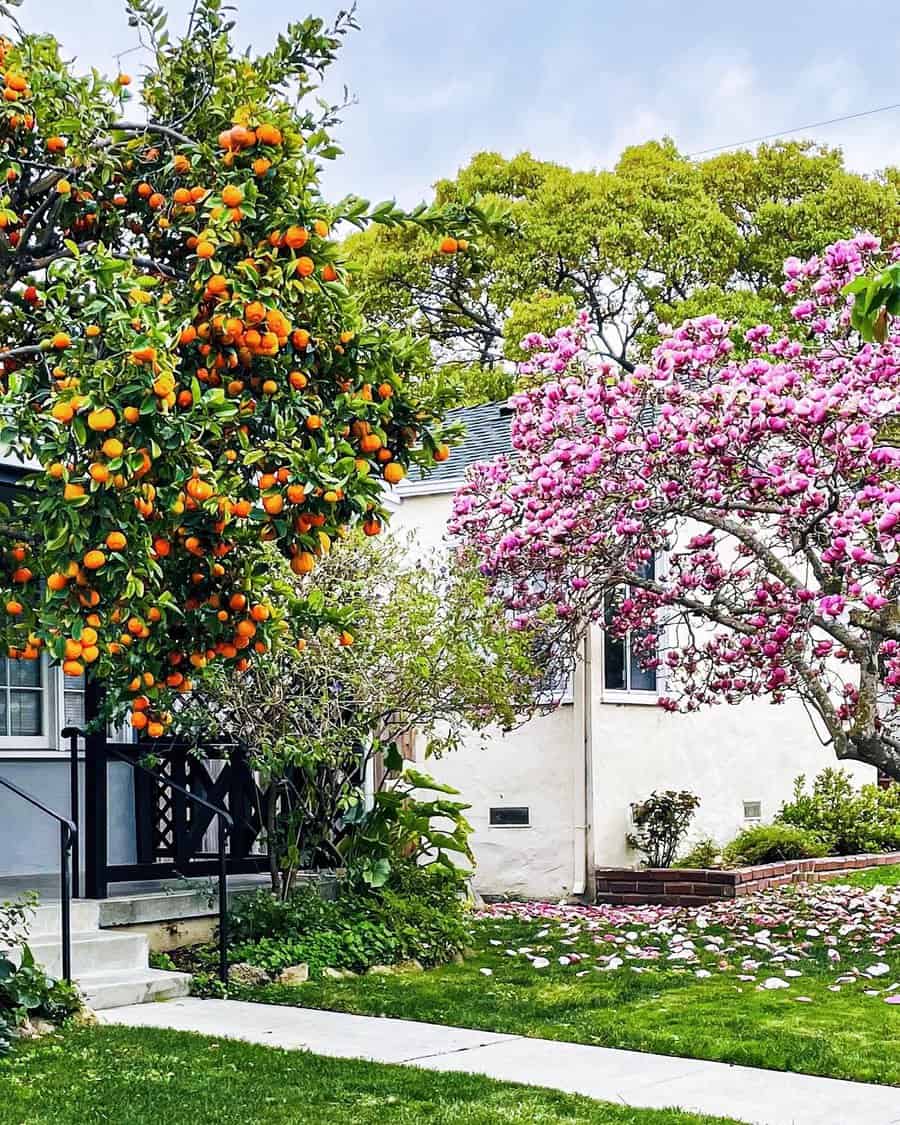 6. Box Trim Your Shrubs
A well-maintained front garden can create an inviting and attractive exterior to any home. Box-trimmed shrubs are a great way to add structure and foliage, creating a border for your garden with greenery. Plant some colorful annuals for added interest, or add paving stones and carry the box-trimmed motif into the pathways.
A water feature is always a great option too: experiment with different bubbling urns, fountains, and cascading ponds to generate a tranquil atmosphere that will give off a sense of luxury. Maintaining the freshness of your box-trimmed shrubs allows them to flourish while giving off an elegant, polished impression that creates beautiful curb appeal all year round.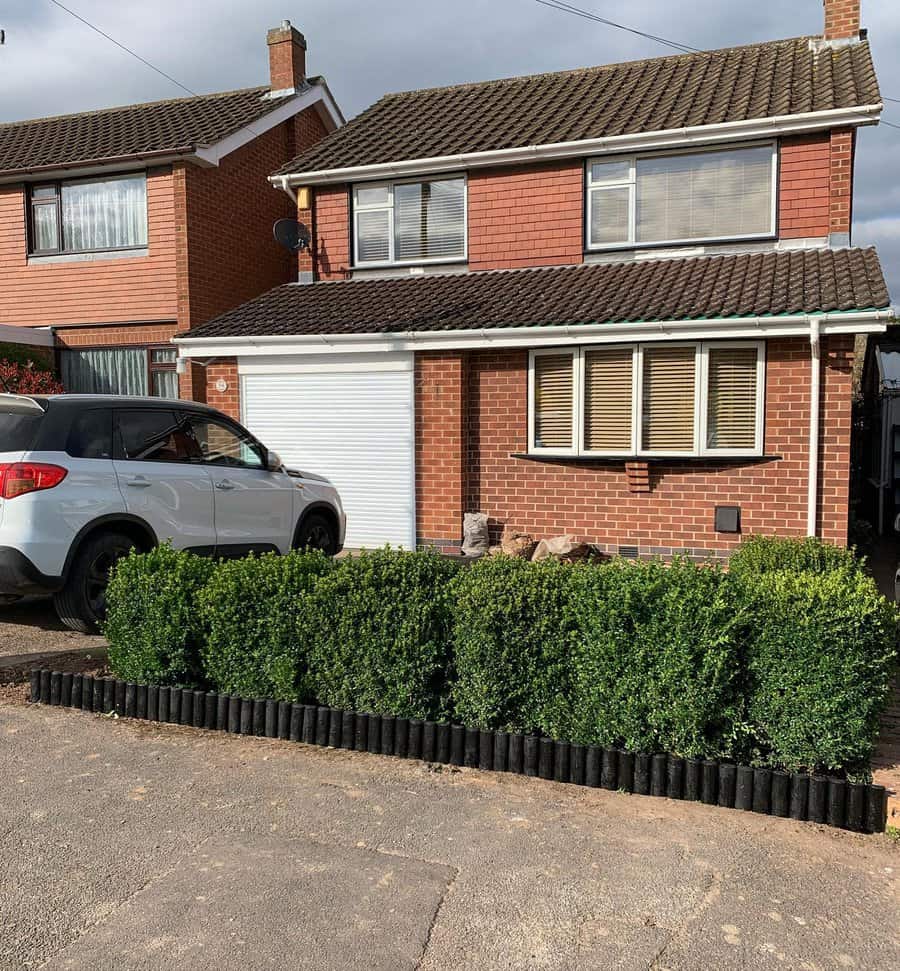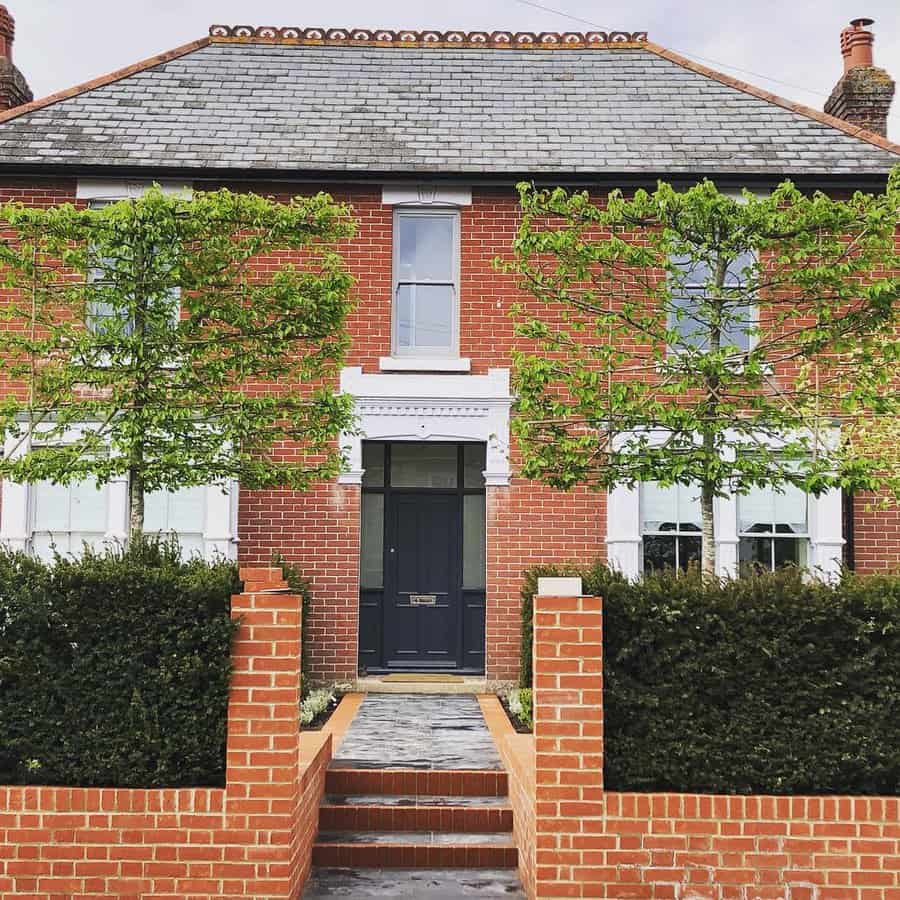 7. Jazz Up Your Front Door
Enhance the front of your home with front garden ideas that will make people green with envy! Consider adding a front door with potted plants on either side to really create an inviting feel.
Or, if you're looking for a more subtle effect, put trimmed bushes in pots and line them up in the front of your house to give it a neat and tidy look. With either of these options, you can enliven the front of your property and create plenty of curb appeal.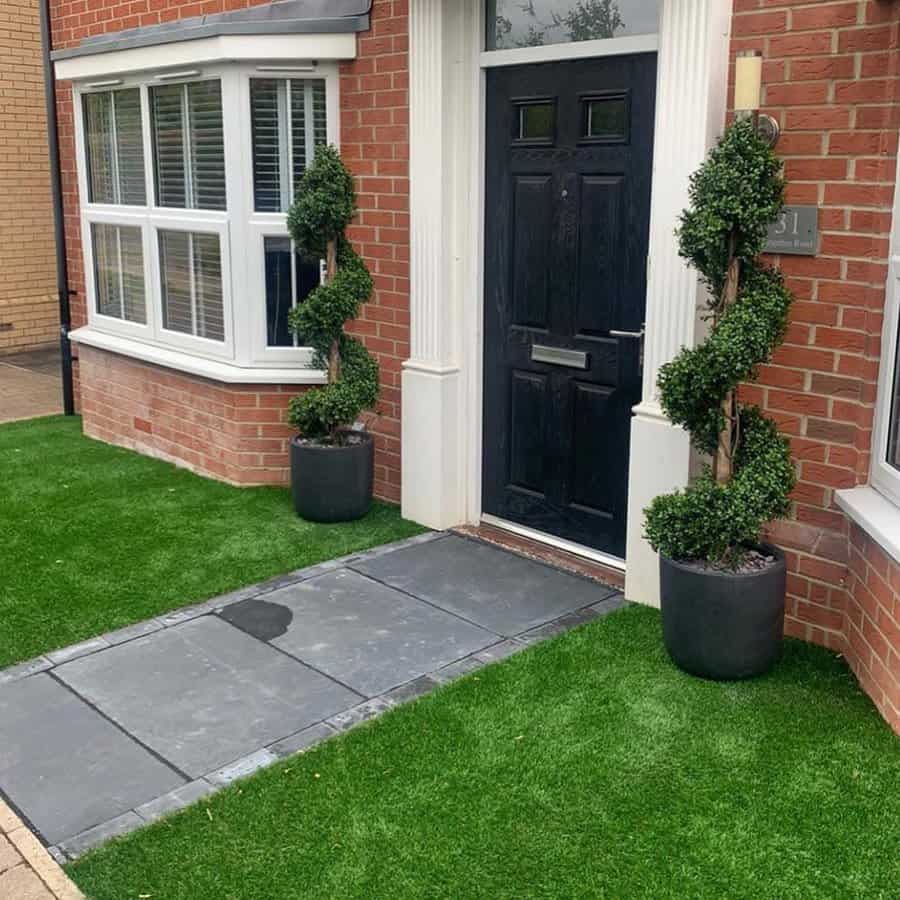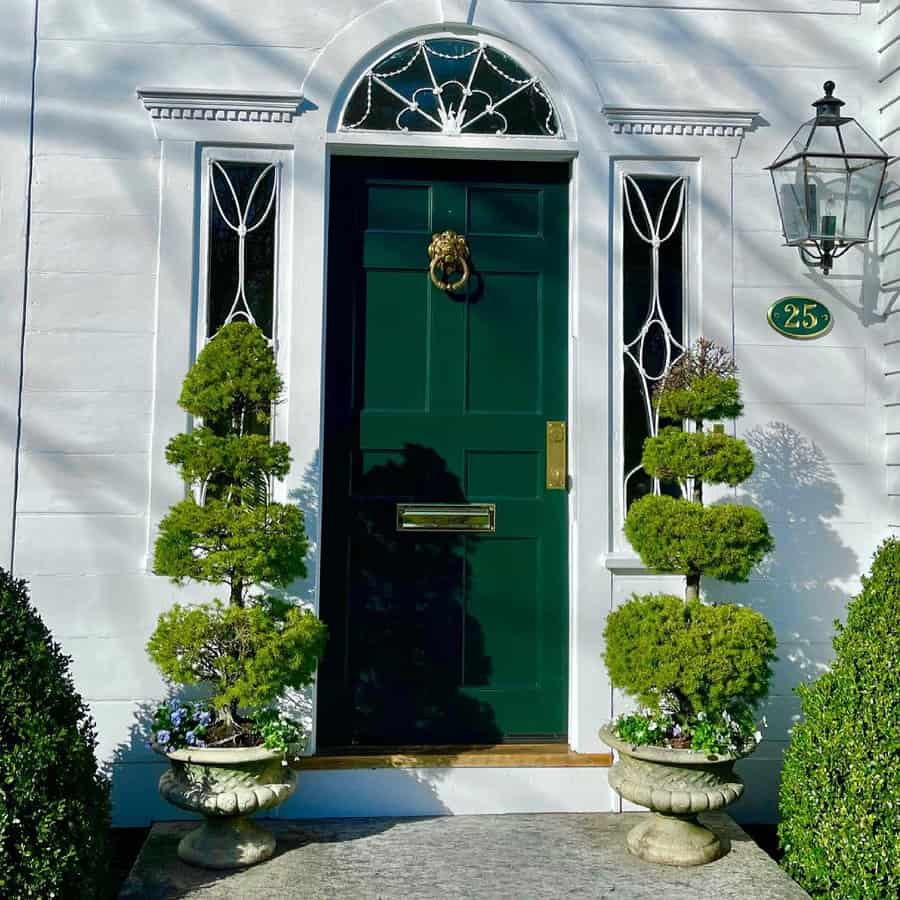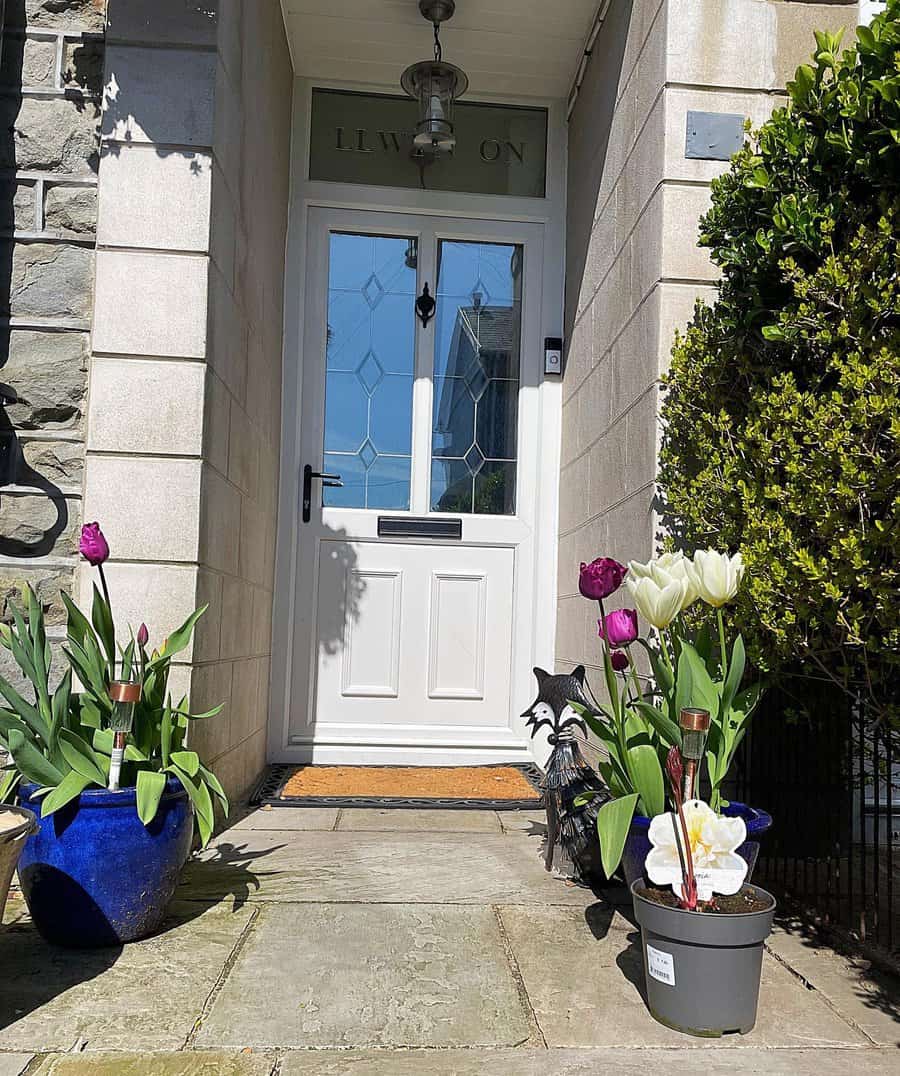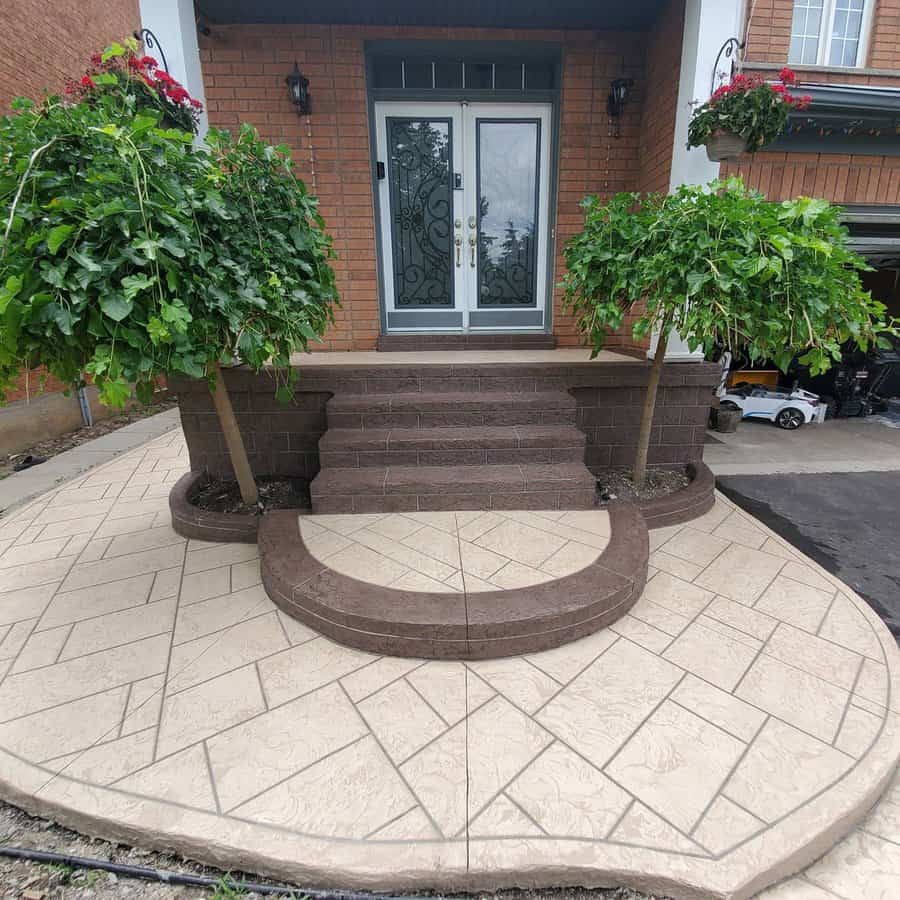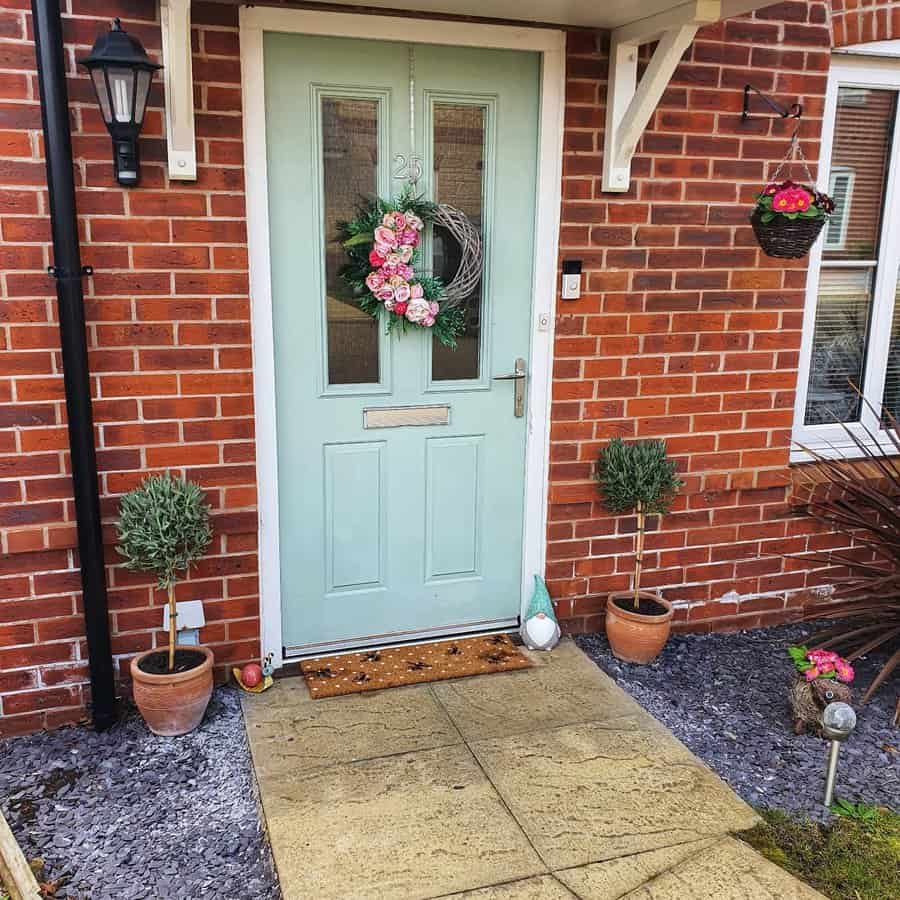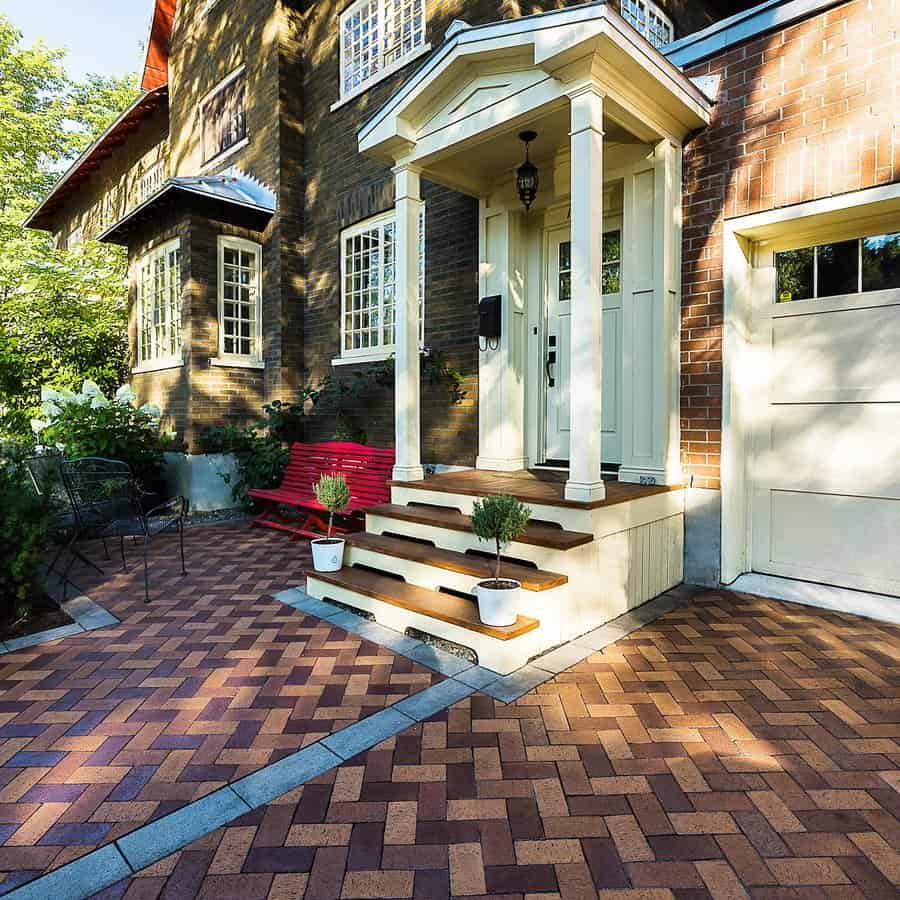 8. Add Blooms To The Front Door Railing
Looking for a unique way to spruce up your front garden? Try mounted flower pots hooked to the railing. This outdoor decor is different from traditional plantings and can give your garden some modern charm.
Just make sure to select planters that are lightweight enough for mounting and choose flowers or plants hardy enough to withstand any changes in temperature and moisture levels. With mounted flower pots on your railing, you'll have an eye-catching garden that you'll be proud to show off!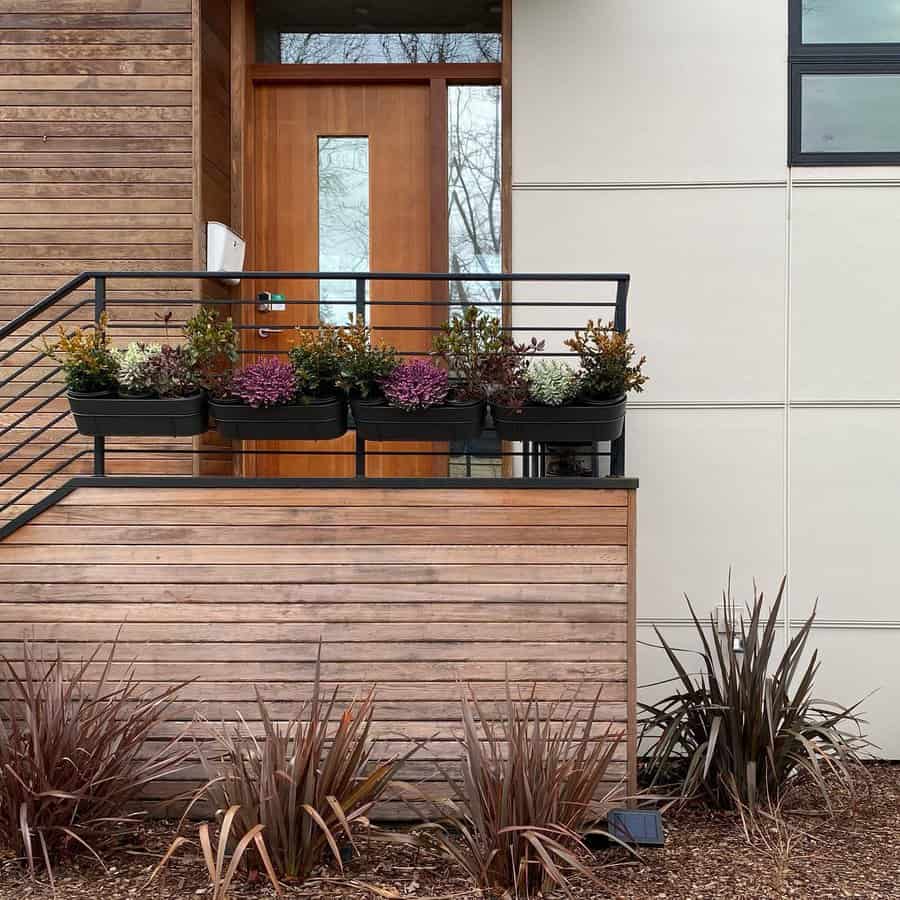 9. Create A Dainty Wild Flower Garden With A Lattice Fence
If you're looking to spruce up the front of your home, why not consider a wildflower garden with a lattice fence surrounding it? Not only will wildflowers bring vibrant color and life to your front yard, but the lattice fence can serve as leading lines that draw the eye straight to your front door.
This is a great way to welcome visitors in both an aesthetically pleasing way and make them feel right at home!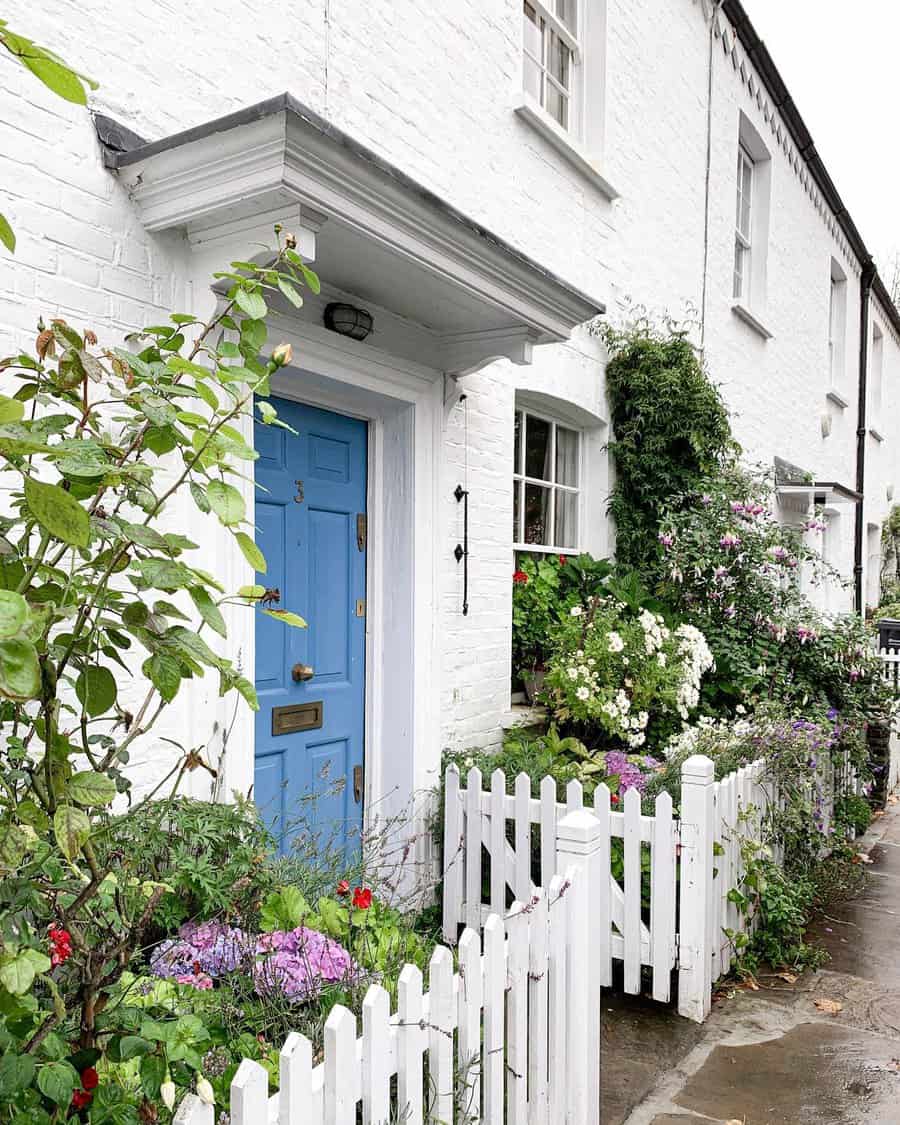 10. Add Quirky Planters
For those looking to break away from the conventional flower- and shrubbery-filled front garden, why not explore some quirky alternatives?
Instead of merely lining your walkway with planters, why not incorporate a quirky bicycle planter as a quirky way to exhibit some of your favorite blooms? Or add in some unexpected garden props – an old wheelbarrow filled with cascading succulents for instance – to really stand out. The sky's the limit: have fun creating a unique and unforgettable entrance to your home.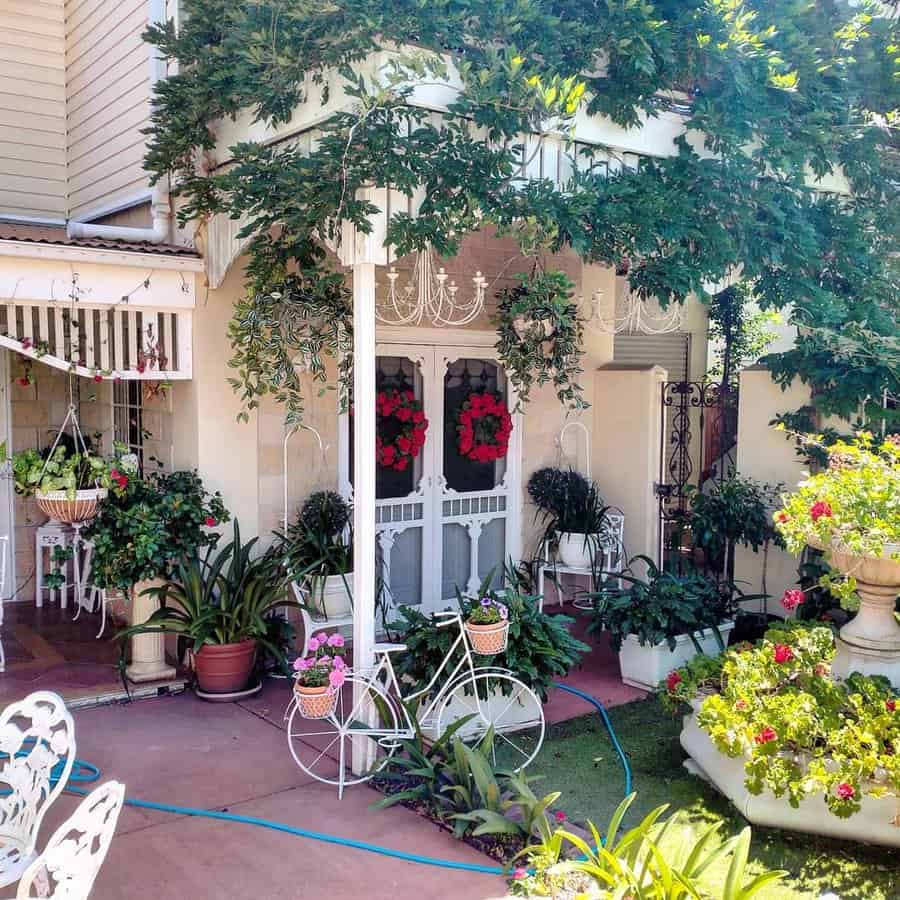 11. Set Up A Curved Landscape
Transform your front garden into an oasis of tranquillity with curved landscape pathways, mixed borders of shrubs and wildflowers, and lush tropical plants. Create charming little pockets so that anyone walking past can enjoy the springtime fragrances and flutter of butterfly wings.
If you don't have much outdoor space, why not try creating a hanging garden or placing potted plants throughout the entryway?
Accentuate the beauty of your front garden by using decorative stones, adding a curved seating area for peaceable sunset moments, and gathering friends for tea parties to celebrate the summer. There's no limit to what you can do with your front garden!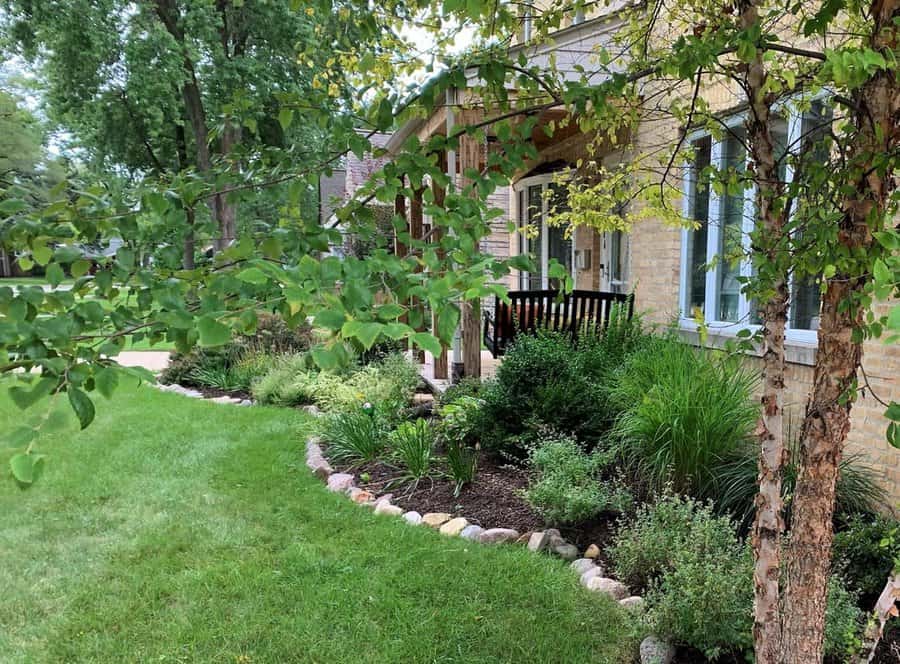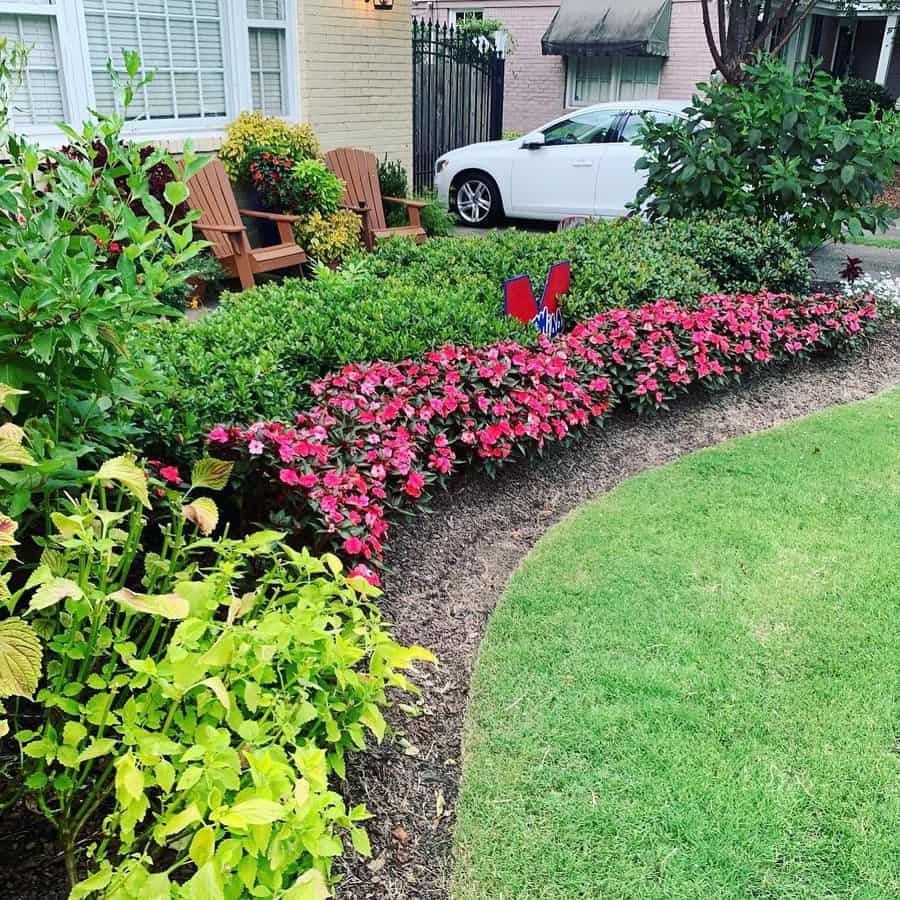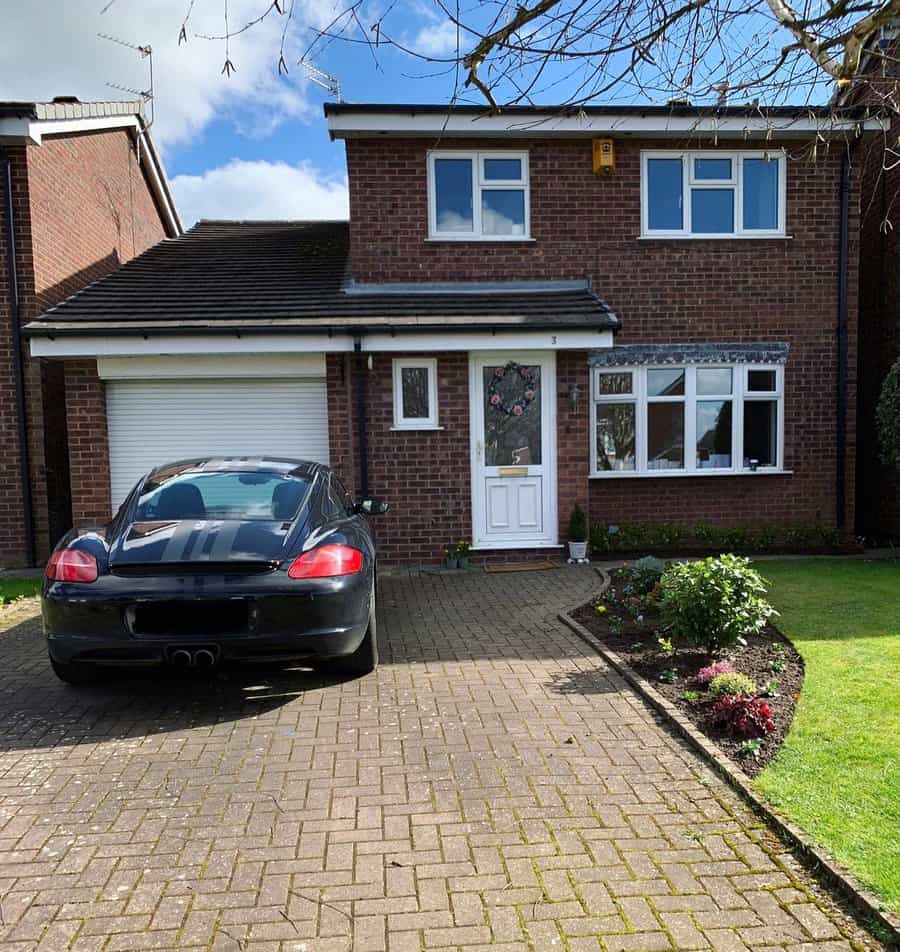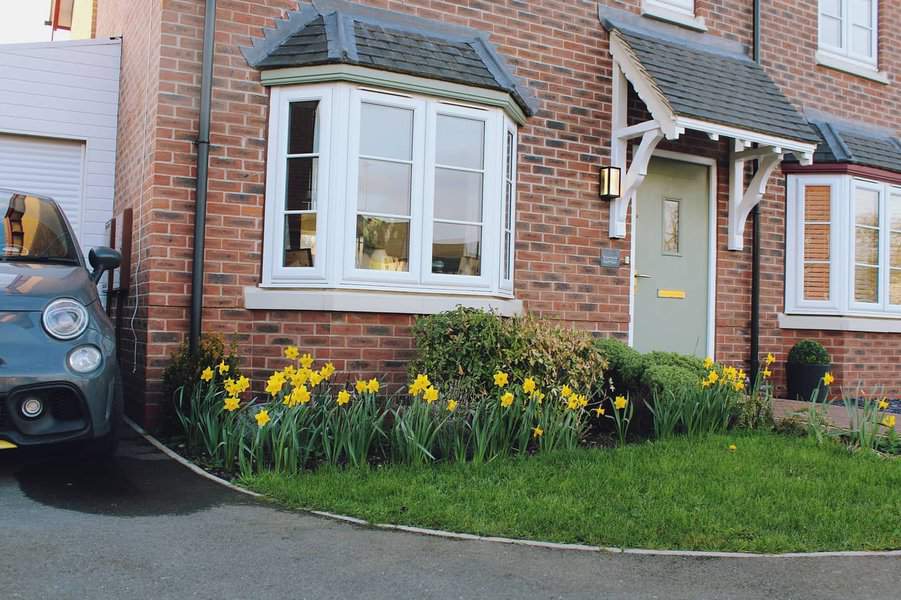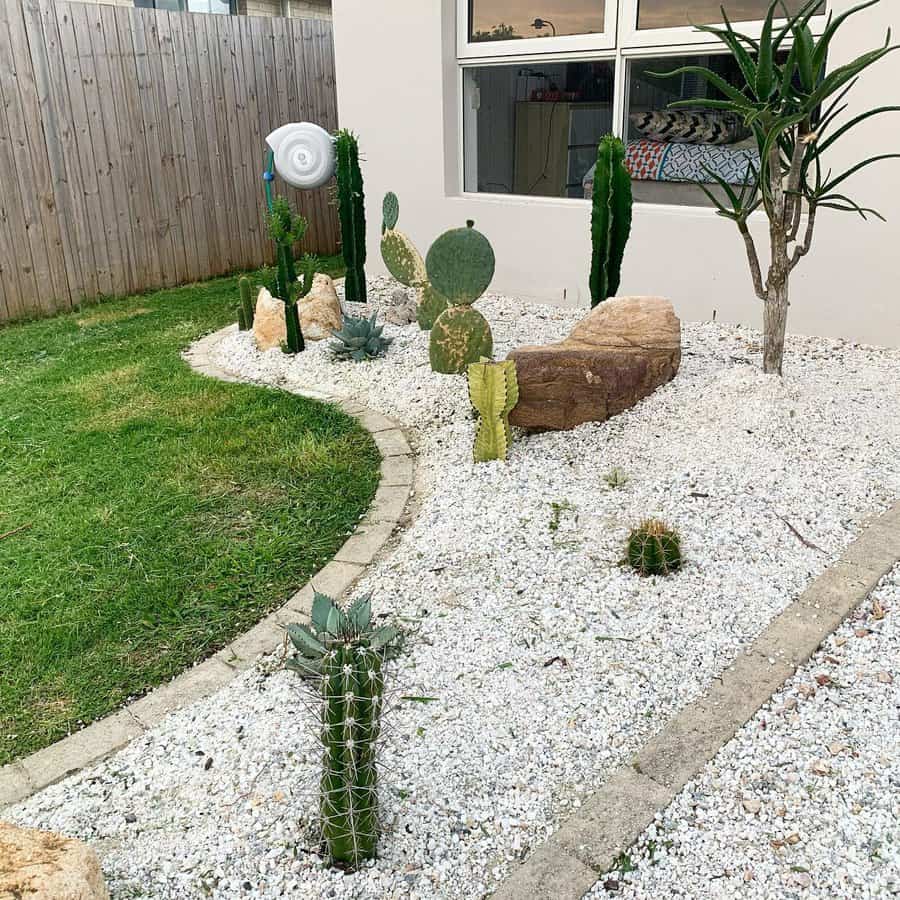 12. Grow A Lush Front Flower Garden
A front flower garden can be a great way to add some curb appeal to your home. With a little creativity, you can create a lush and wide front garden that is bursting with color and life. Add interest with layers of flowers and foliage at various heights, from bedding plants to tall shrubbery, for an eye-catching design. For added ambiance, include native wildflowers for the added pop of seasonal color, or choose perennial favorites for year-round color harmony.
Don't forget to carve out some spaces – like small pathways or benches – so you can linger in the beauty of nature up close and personal!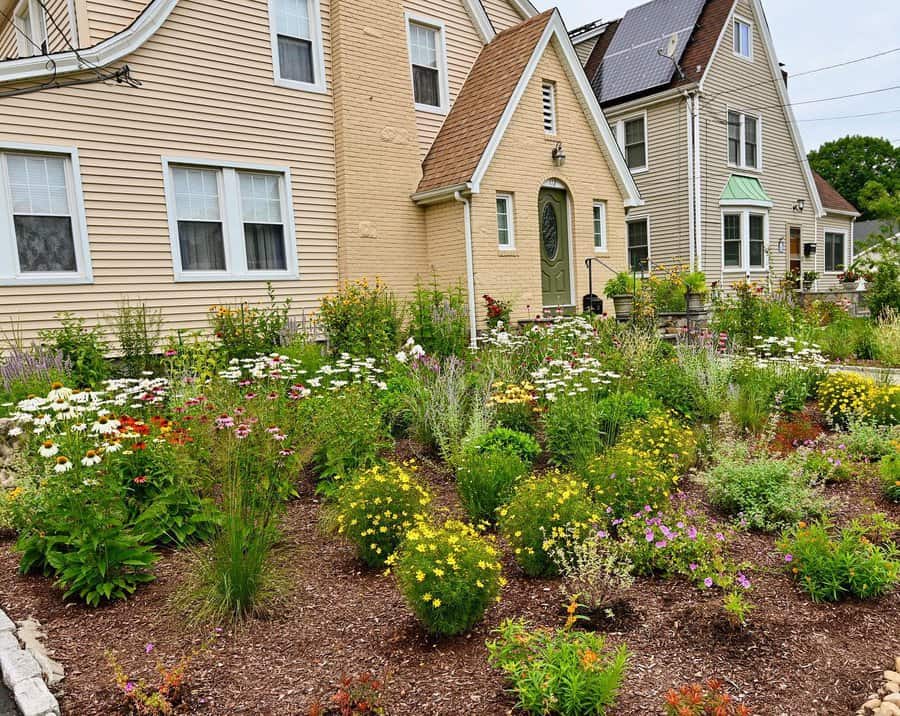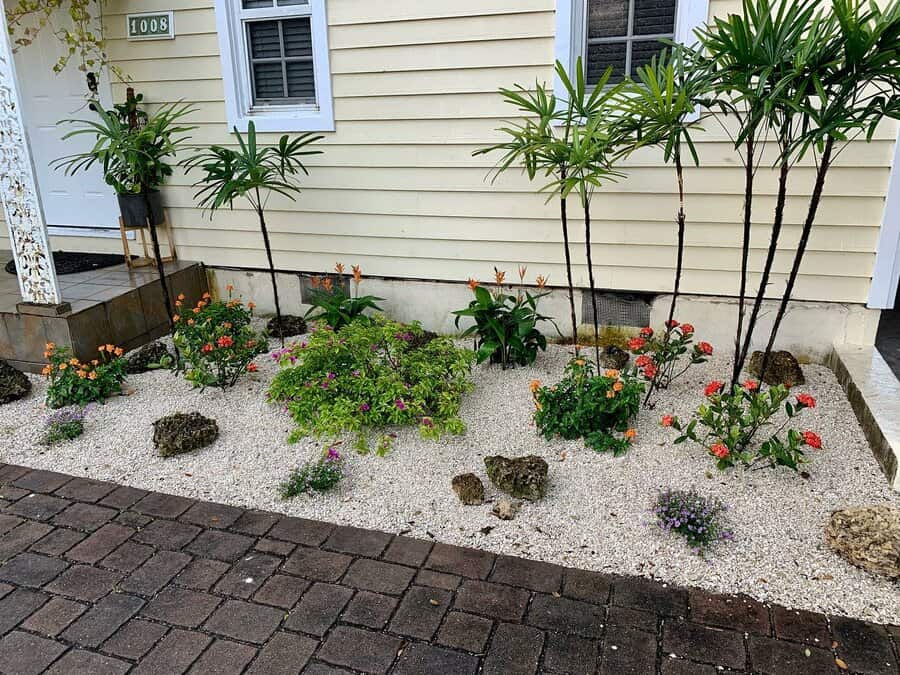 13. Get A Garden Statue
Spruce up your garden with a garden statue to add a bit of creative flair. Garden statues can help add an accent to any garden, and by carefully placing them in the right spot, you can make the garden look like an outdoor gallery or sculpture garden.
Whether you want to choose something more whimsical, such as an animal statue, or if you'd prefer to go for something more traditional like a cherub or rabbit, adding a garden statue to your front garden is sure to make passersby stop and admire your artwork.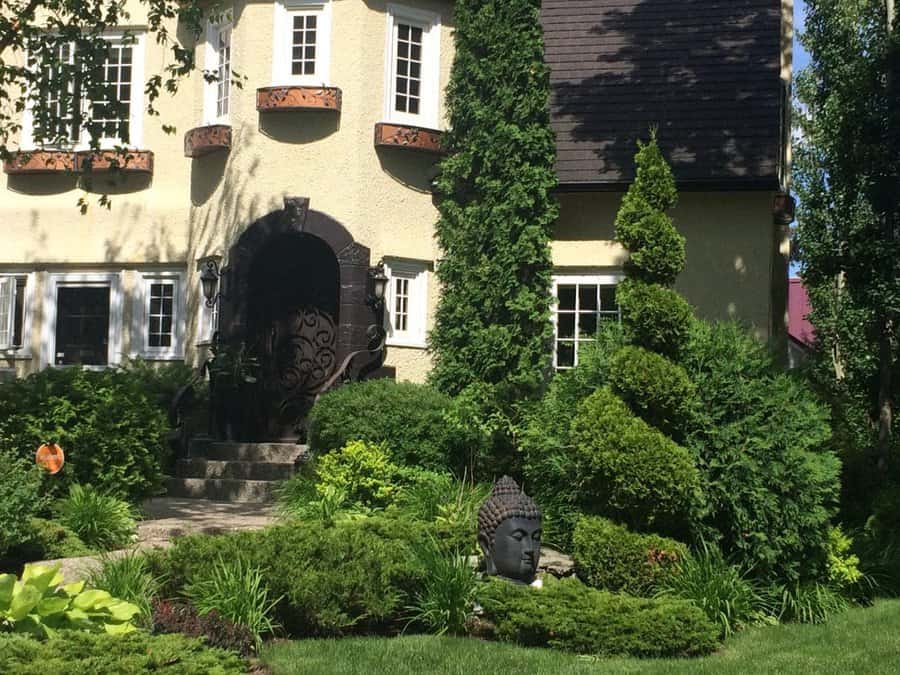 14. Choose Low-Maintenance Varieties
If you're looking for something low-maintenance yet eye-catching in your front garden, cacti and low-growing shrubs such as yew and barberry are great choices. Cacti make for a beautiful addition to any outdoor space and come in a range of sizes and shapes so that you can create interesting displays or sculptures.
Yew is also low maintenance and will provide evergreen color to your garden during the winter months when other plants may be dormant. Barberry is low-growing, comes in several varieties and has attractive foliage – perfect for creating striking patterns or features within your garden design. With some careful consideration, you can achieve stunning results with low-maintenance plants that will stay looking amazing all year round!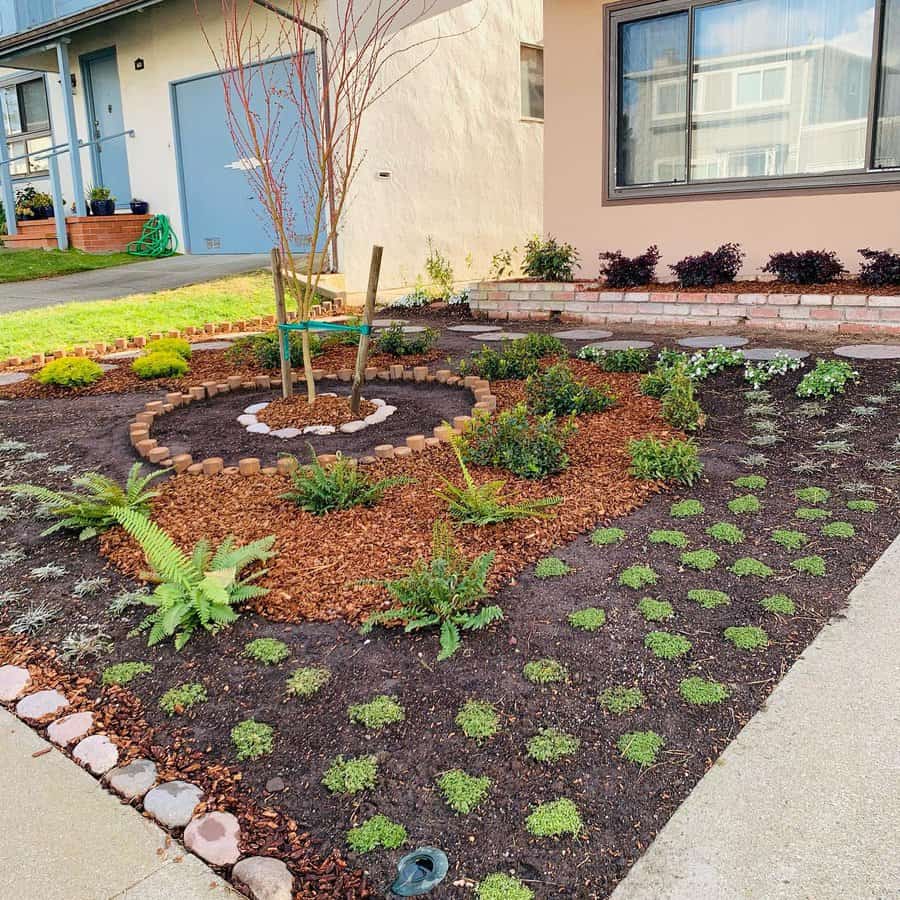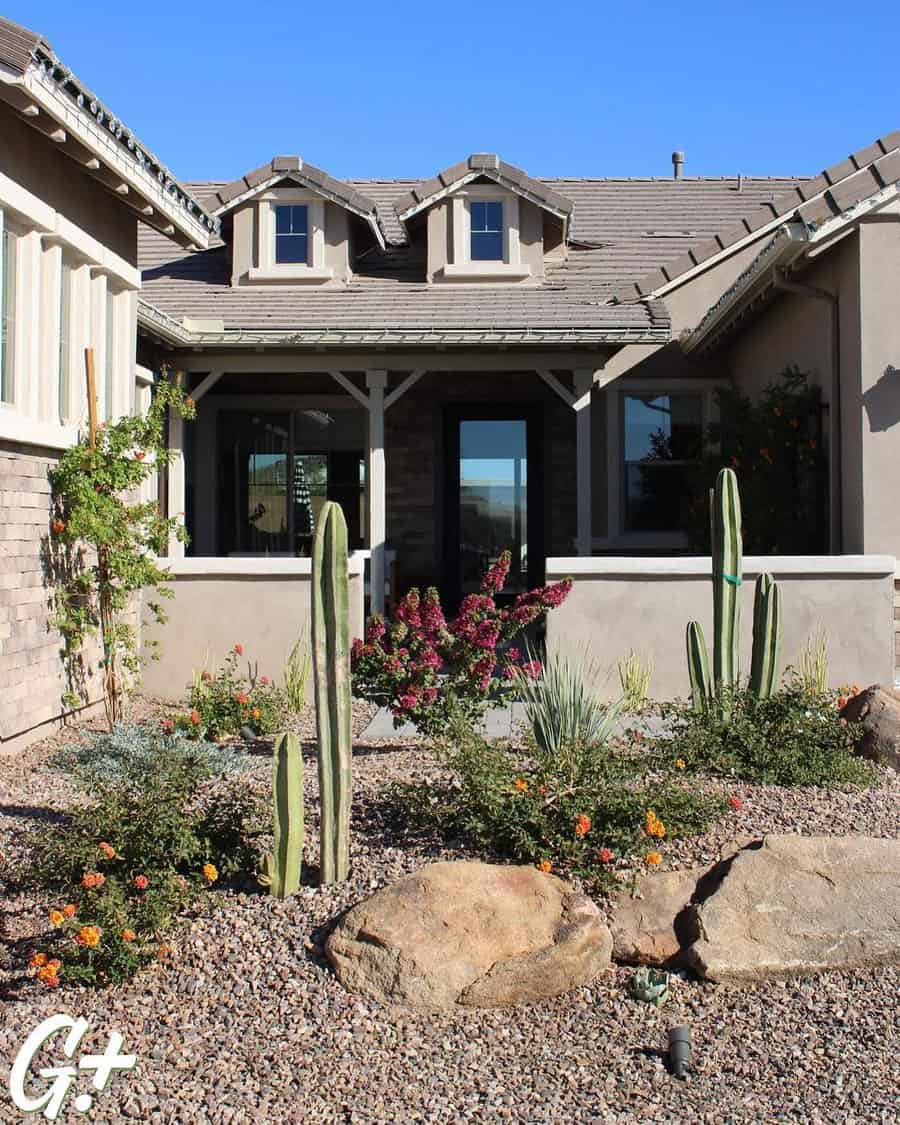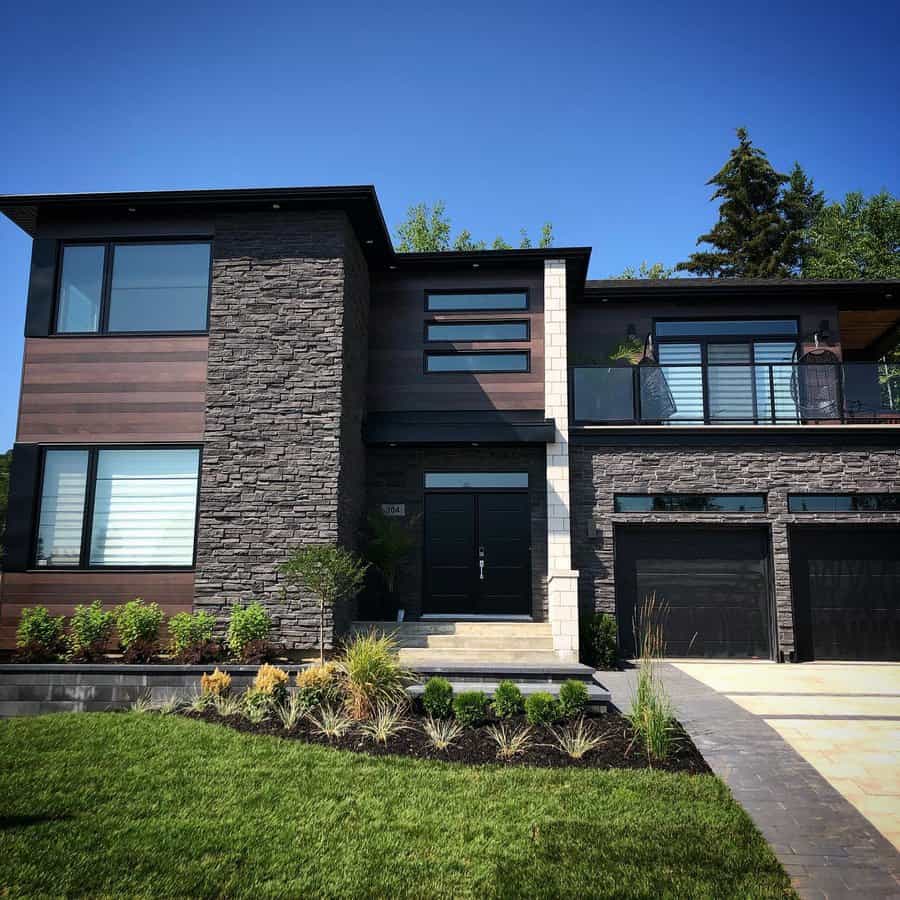 15. Set The Mood With Floor Lighting
A garden floor lighting feature is an imaginative way to highlight your front garden and create an eco-friendly (and stunning!) area in which guests and loved ones can relax and spend quality time.
Taking outdoor lighting to the next level, garden floor lighting can consist of light-emitting diode (LED) strips, in-ground solar lights or path markers, or even a combination of both. This attractive addition to your garden will be sure to wow the neighbors and make your front garden truly stand out!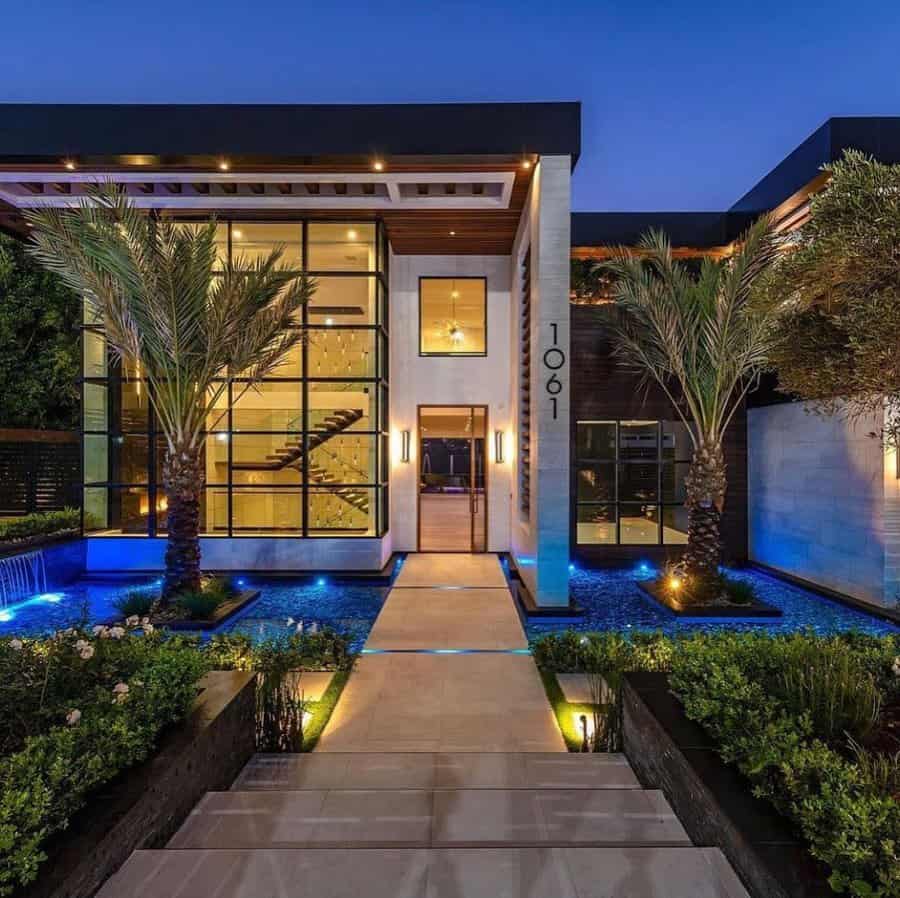 16. Install A Corner Front Garden
A small corner front garden adds an attractive accent to a front entrance, even if there's limited space to work with. Create a small bed filled with lush foliage plants that can filter pollutants from the air and be enjoyed throughout the year.
Incorporate small shrubs or small trees, succulents, ornamental grasses or rock gardens for an extra dash of color, texture, and contrast to the area. Intersperse blooming annuals or perennials when possible for added prettiness. Overall you can make a big statement in small spaces with front garden ideas built around designs tailored for small front spaces.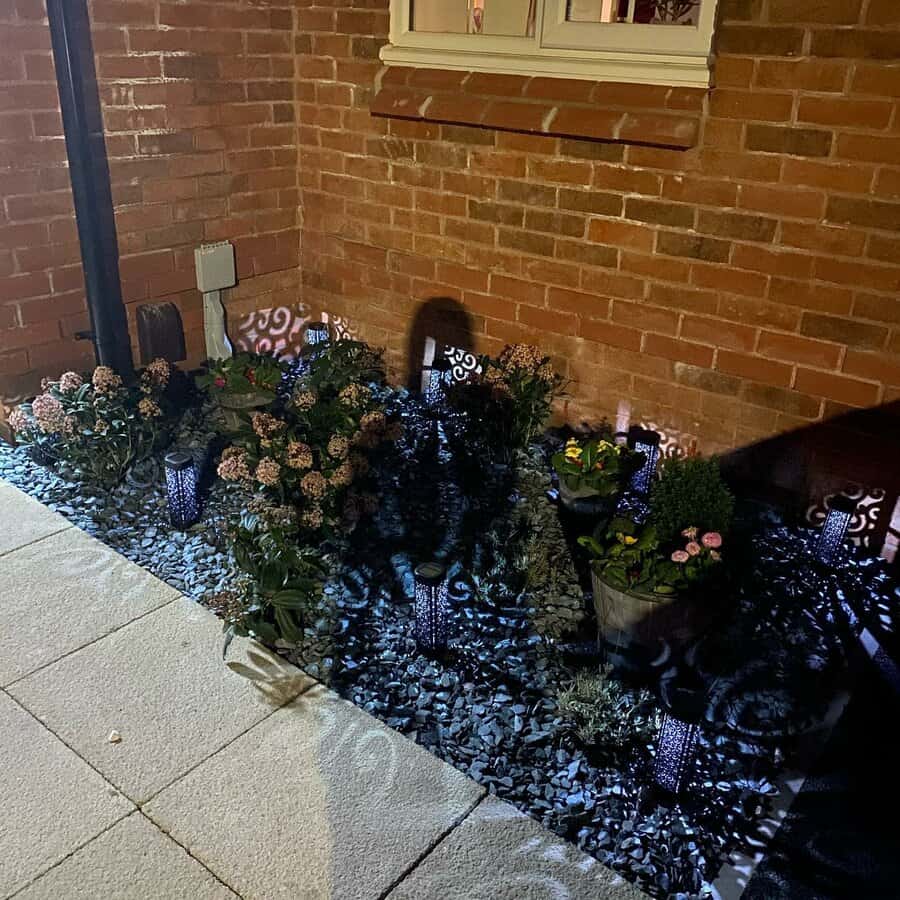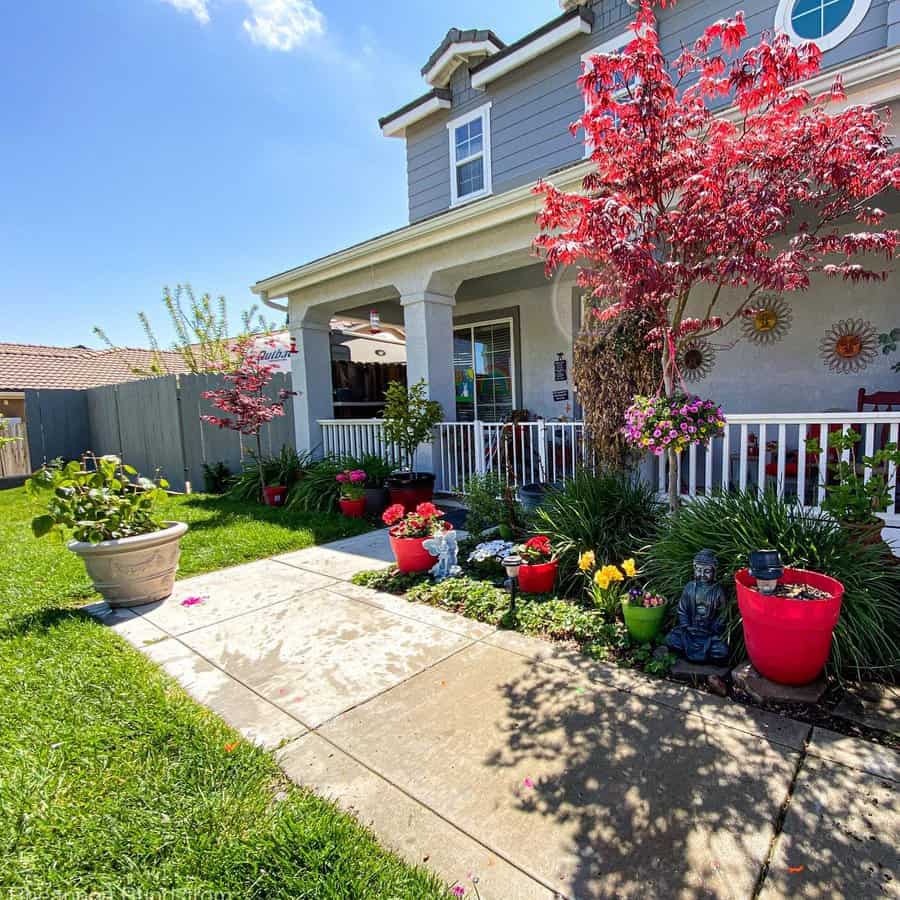 Front Garden FAQs
How do I make my front garden look good on a budget?
Garden design ideas don't have to be expensive to look amazing. Get an early start in spring by planting flower seeds in containers indoors. It's far cheaper to grow your own colorful flowers from seed than to wait later in the season and buy full-size plants. Ornamental grass is an affordable embellishment planted beside the front door steps or along a path. 
A simple and practically free way to improve your front garden is to stay on top of maintenance. Mow the lawn weekly, pull up weeds as they sprout, and pressure wash the driveway and pathway at least once a year. 
What is the best hedge for a front garden?
Hedges provide privacy and help define property boundaries. The best hedge is one that you feel is attractive and grows well in your climate. Choose an evergreen shrub, such as boxwood, for year-round privacy. Other good choices include holly, yew bushes, and arborvitae. If you want a flowering hedge, go for an azalea, lilac, forsythia, or rose of Sharon.