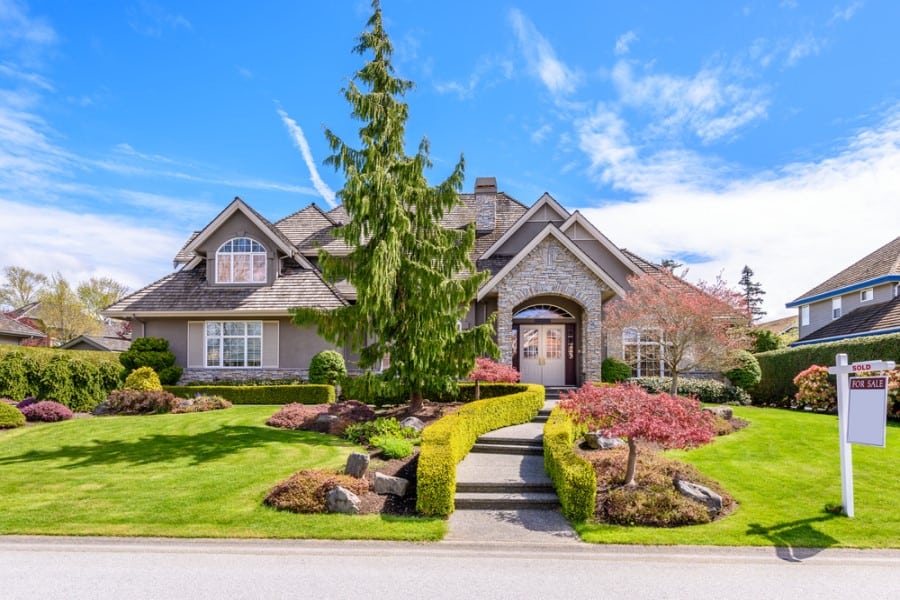 The Top 79 Landscaping Ideas For The Front Of The House
by — Kendrick Hulse

Published on November 1, 2021

Updated on June 5, 2023
We all know the importance of a good first impression. But have you ever thought about what kind of impression your house gives to guests and passersby?
Some aspects of your home's exterior can't be easily changed. Fortunately, high-quality landscaping can do wonders for your home's curb appeal!
From installing a simple flower bed to overhauling your entire front yard, fresh landscaping can help you see your home in a brand new light. (And, if you're thinking about selling, could add value to the property!)
Keep reading to be inspired by our favorite landscaping ideas for the front of the house!
1. Stone & Pebble Landscaping
Transform your front yard into a tranquil and captivating space with the beauty of a pebble landscape. This innovative idea brings a touch of serenity and elegance to your outdoor space, creating a welcoming ambiance for all who visit.
Use an array of pebbles and rocks to design a unique and visually stunning landscape. Create winding pathways adorned with smooth river rocks, leading guests through your front yard with a sense of intrigue. Incorporate a rock garden as a focal point, where a variety of plants and succulents can thrive amidst the rugged beauty of the stones. The soothing sound of gravel crunching underfoot adds a sense of calmness to your surroundings.
A pebble landscape evokes the essence of a Zen garden, bringing balance and harmony to your front yard. The low-maintenance nature of this design ensures that your outdoor space remains effortlessly beautiful throughout the year.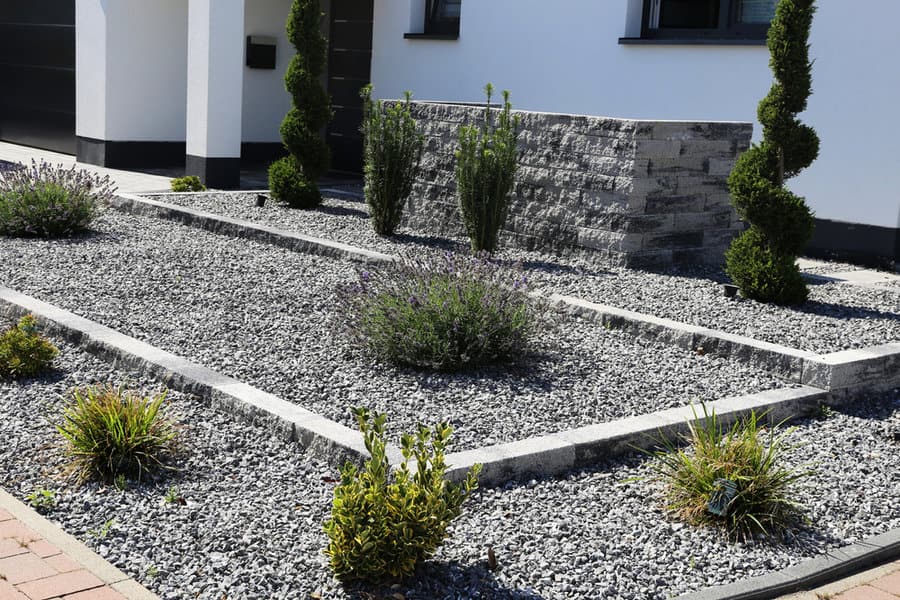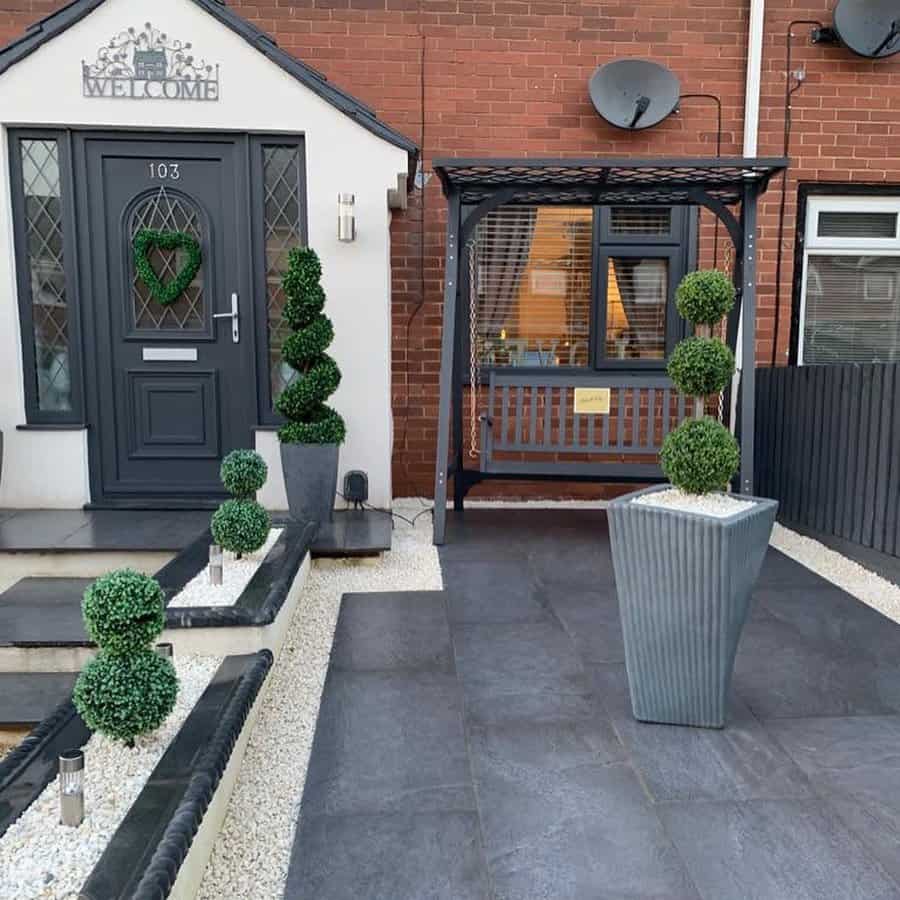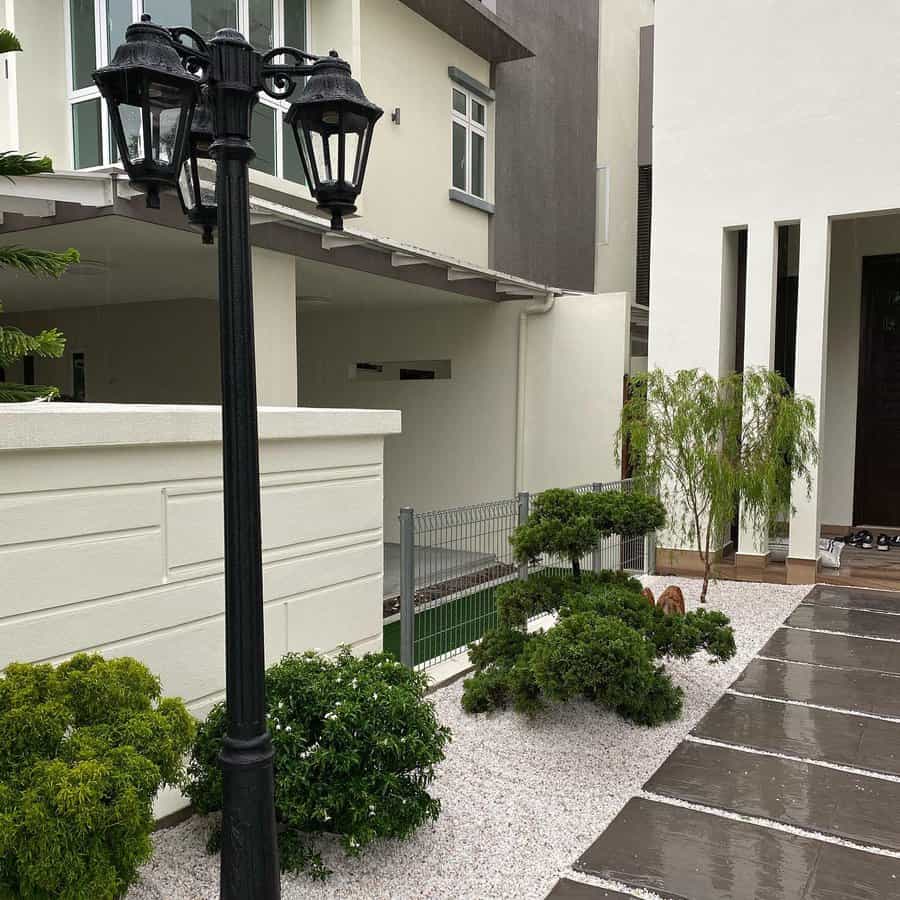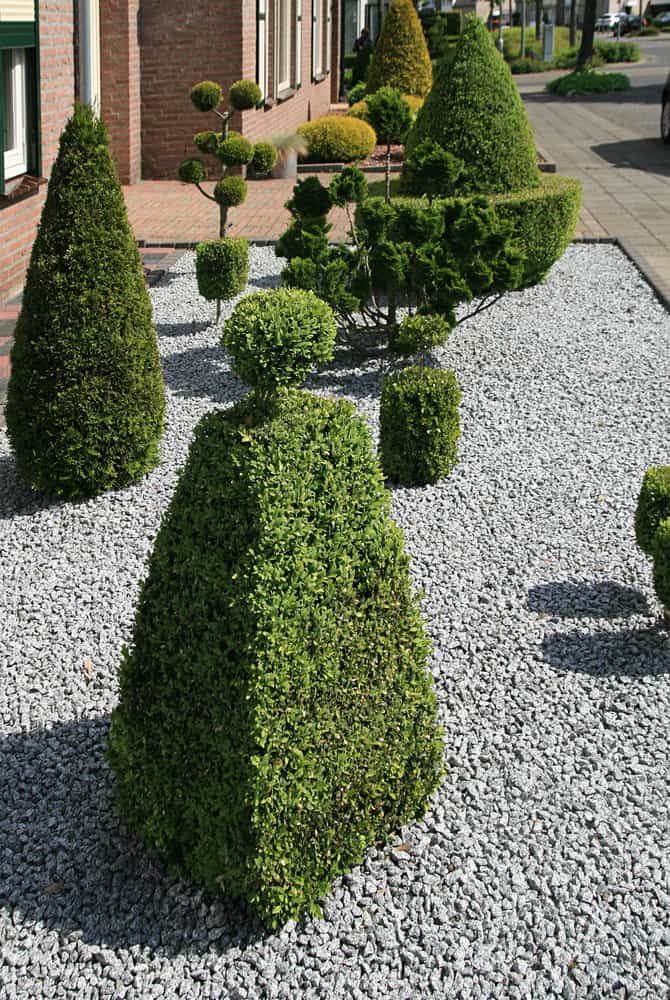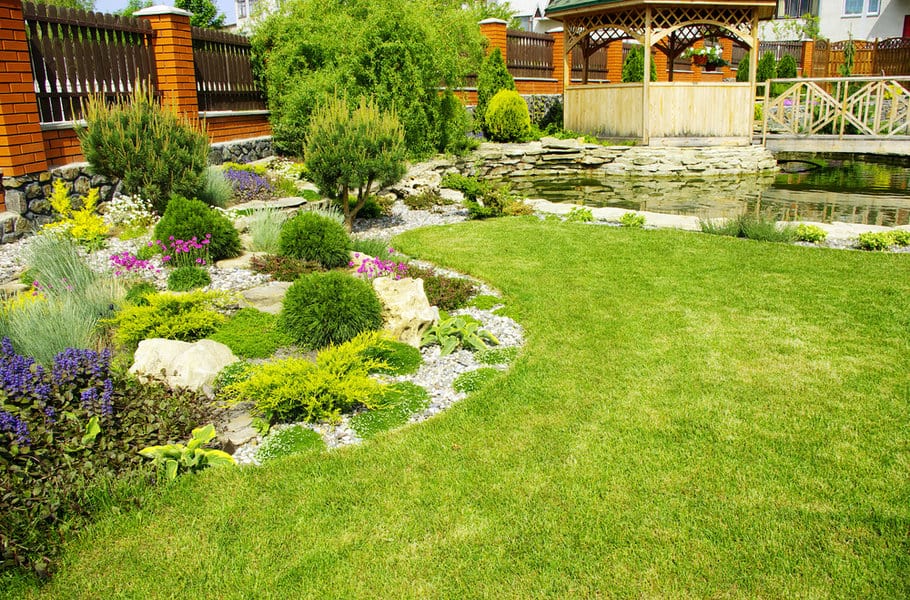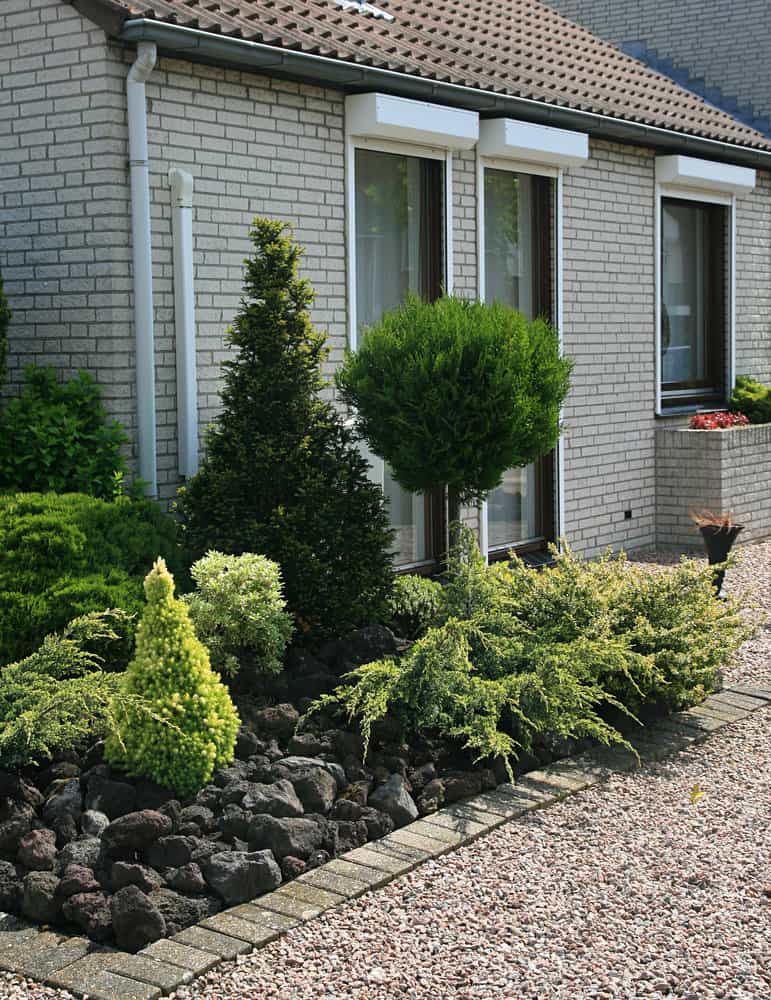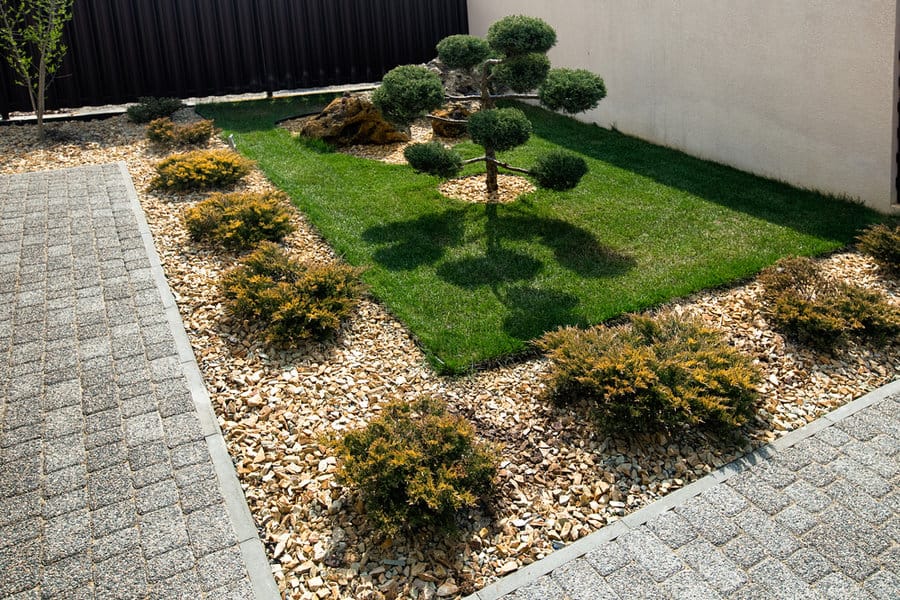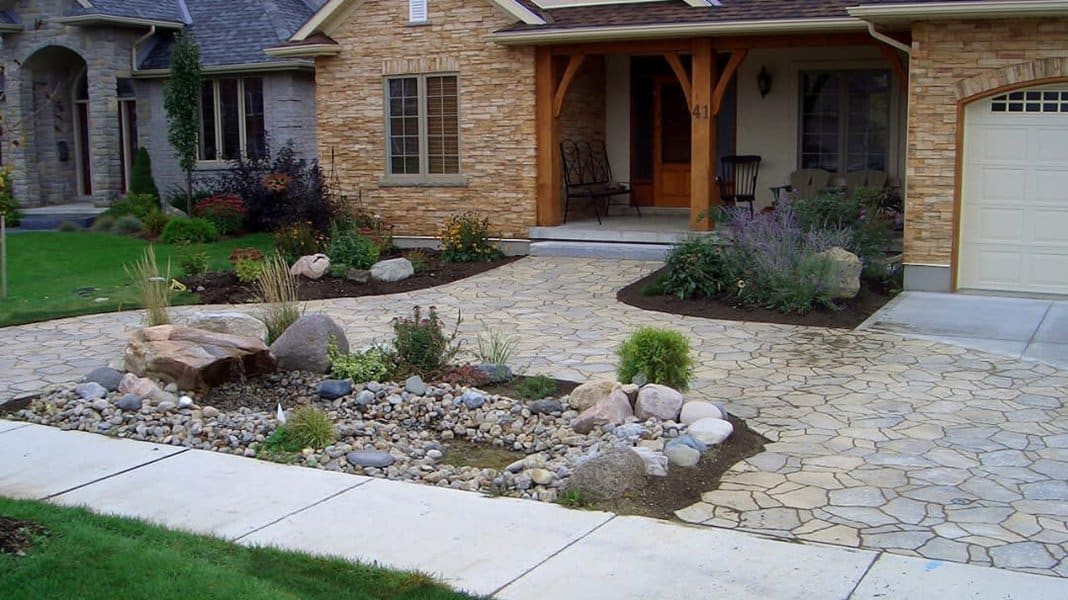 2. Retaining Walls
Retaining walls not only provide practical benefits but also serve as stunning design elements that enhance the overall aesthetic of your outdoor space. These structures can be crafted from various materials such as natural stone, concrete blocks, or even timber, allowing you to choose a style that complements your home's architecture and personal taste. Use retaining walls to create different levels and terraces, adding depth and visual interest to your front yard.
They can be utilized to create flower beds, showcase vibrant plantings, or even define pathways and seating areas. Incorporate strategic lighting to highlight the textures and shapes of the walls, creating a captivating ambiance during the evening hours. Retaining walls not only add structural integrity to your landscape but also provide a canvas for showcasing your favorite plants and flowers.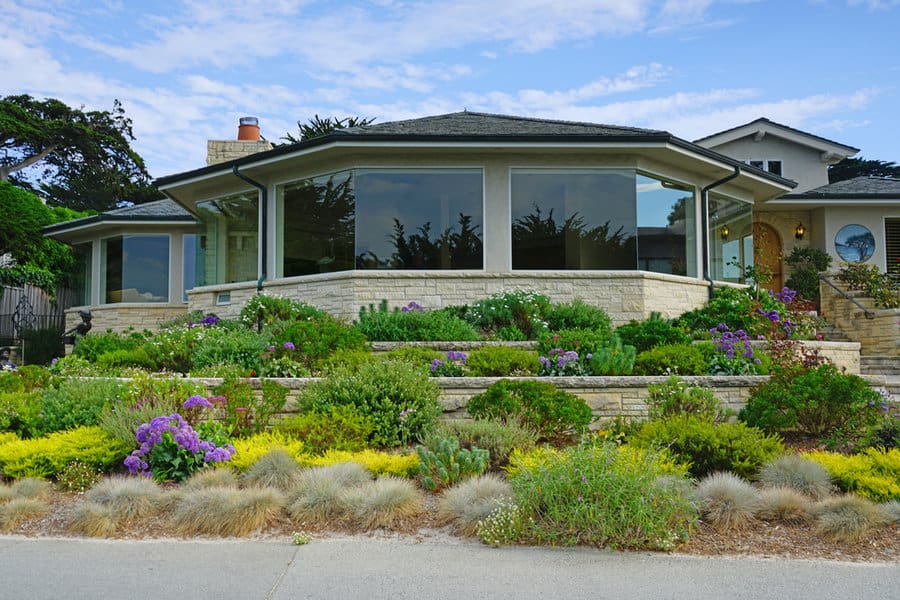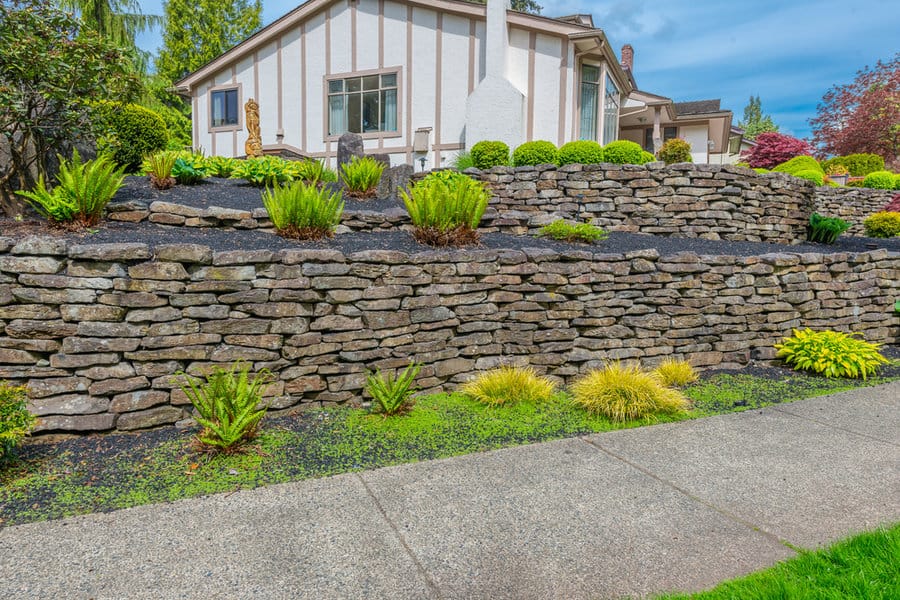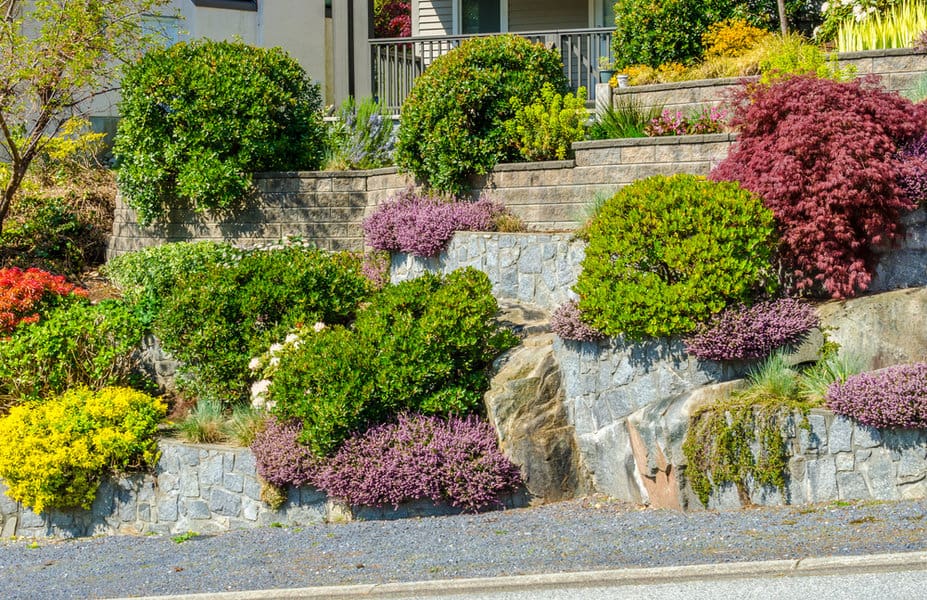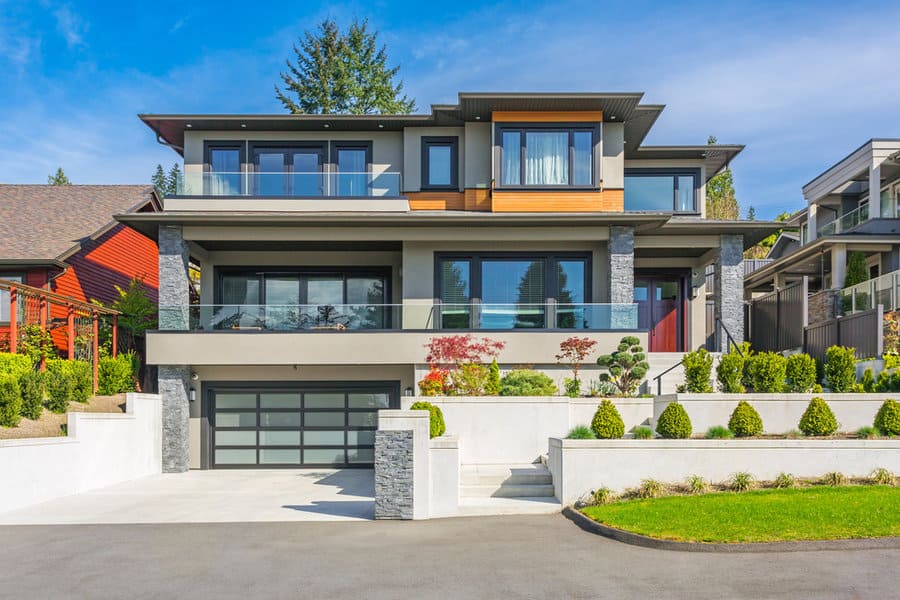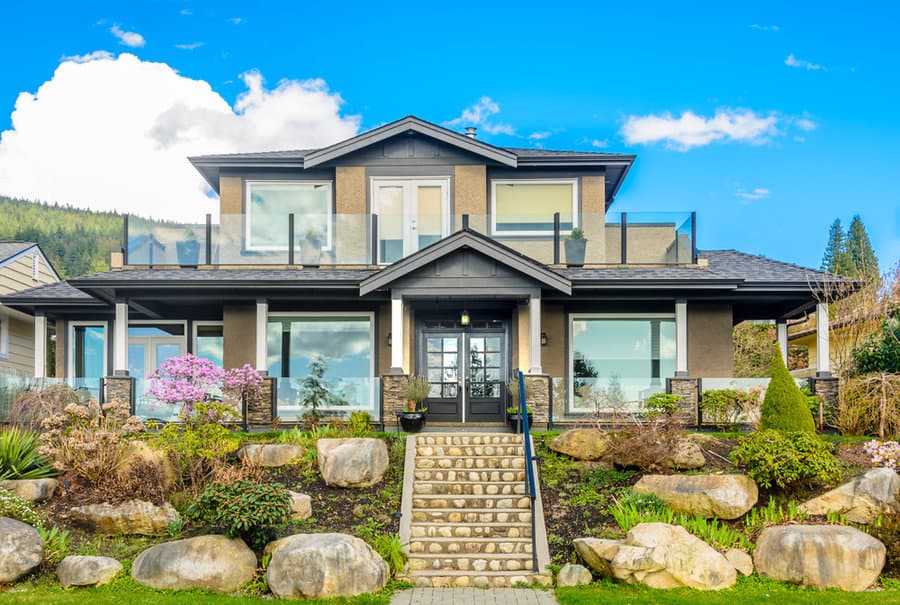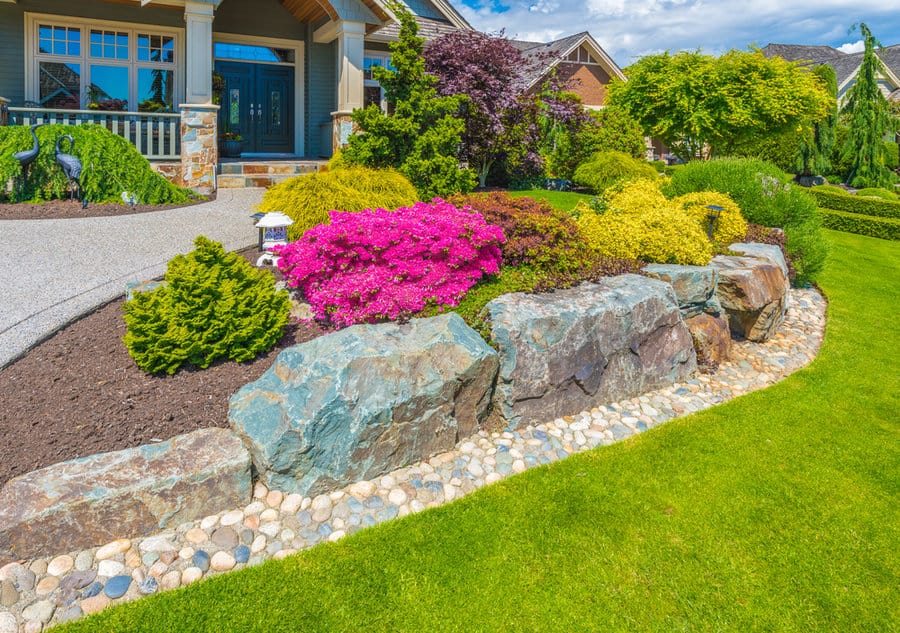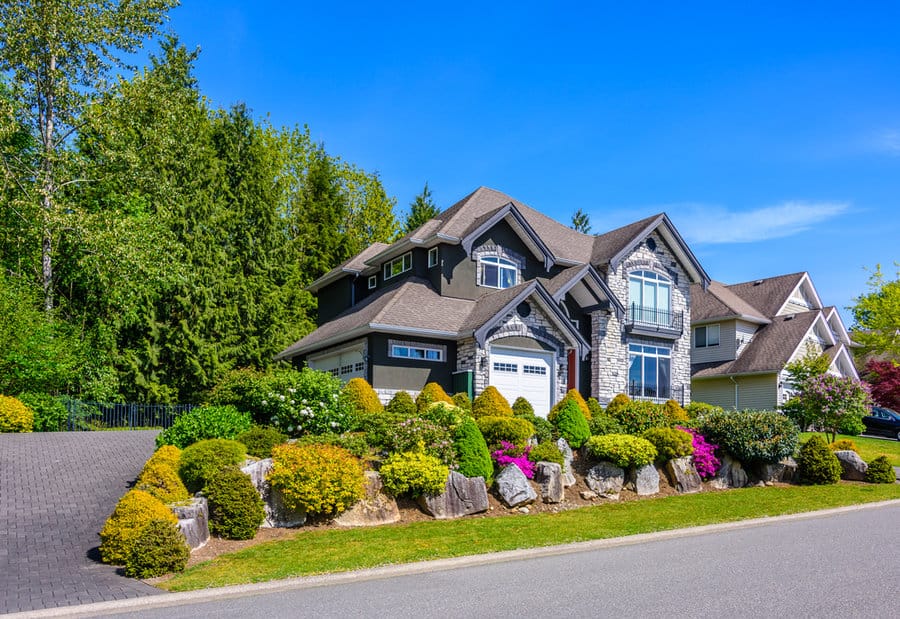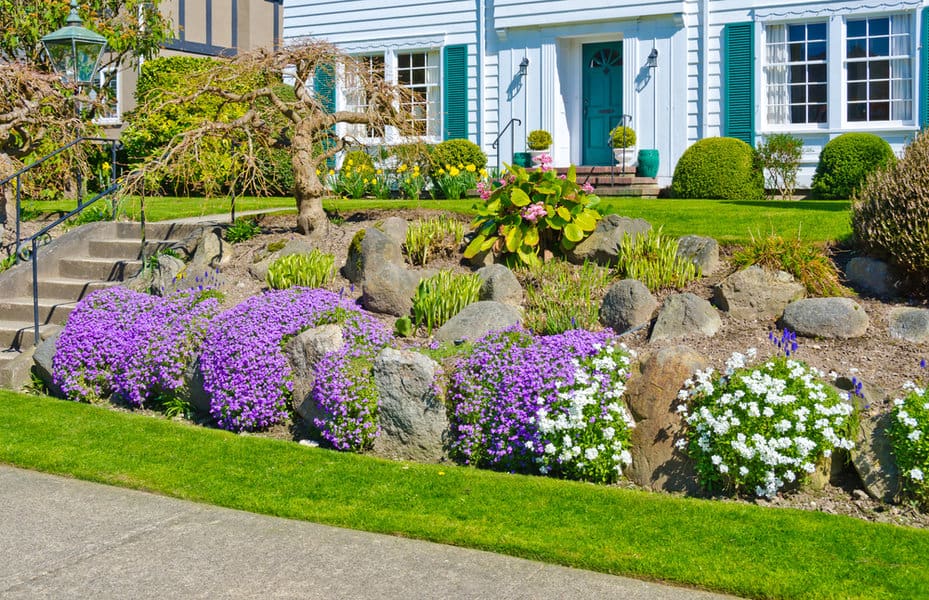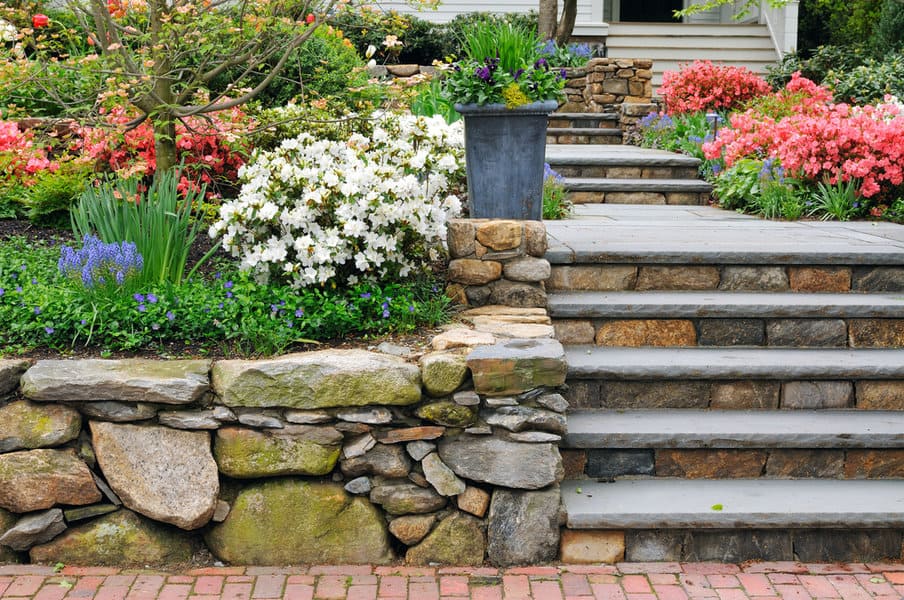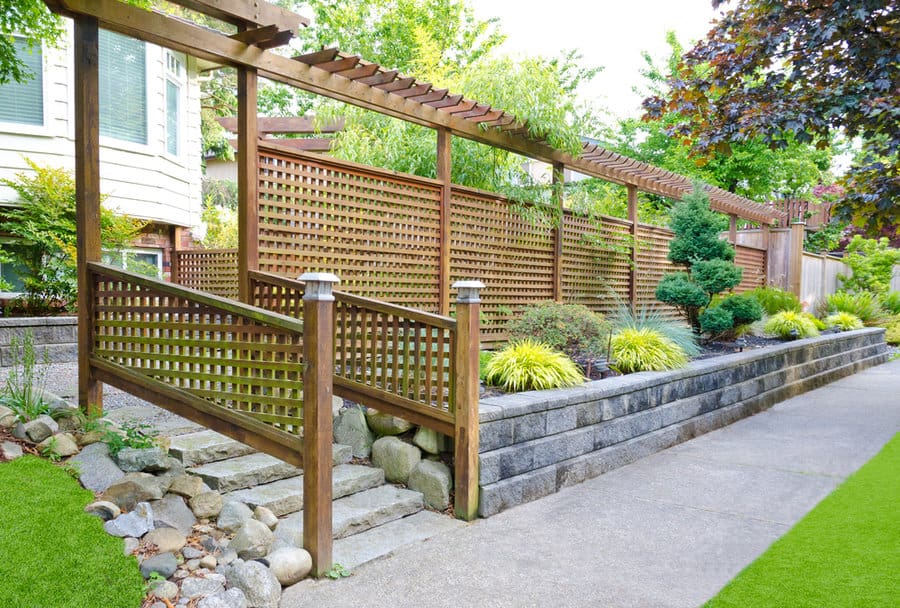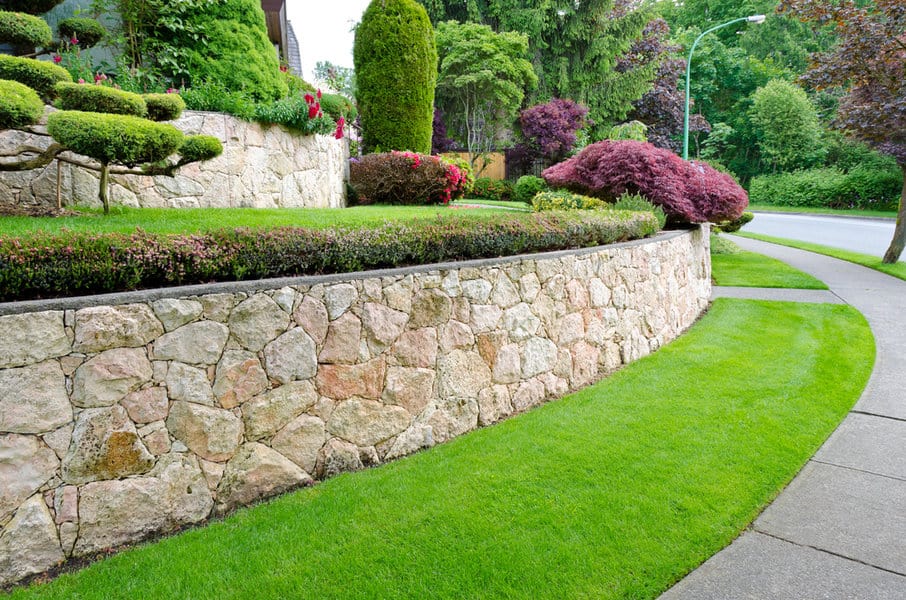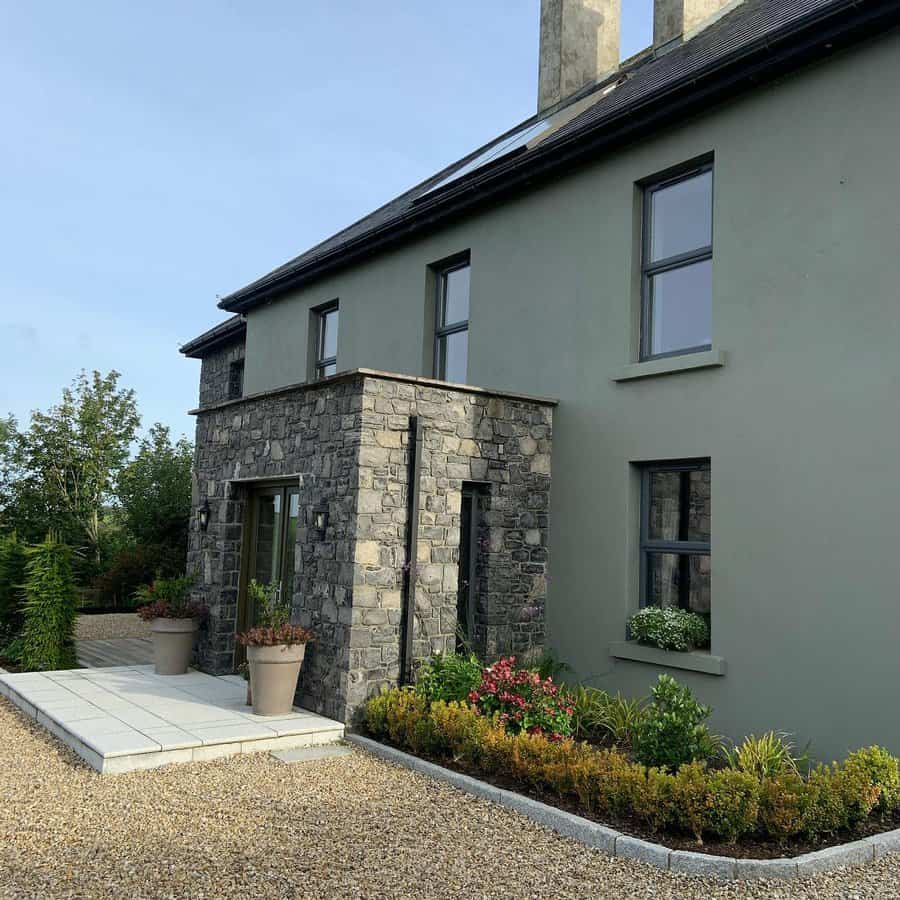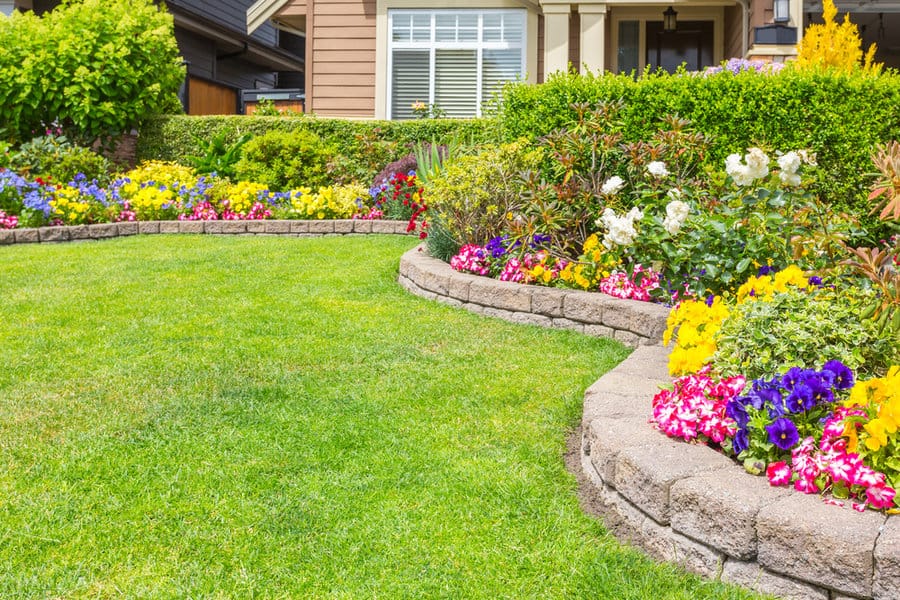 3. Cutting Edge
Give your space a polished and contemporary look by incorporating well-maintained hedges as focal points. But we're not talking about ordinary hedges here—get creative and experiment with unique and imaginative cuts to make a bold statement. Think geometric shapes, intricate patterns, or even sculptural forms that add a touch of artistry to your front yard.
Trimmed hedges can be shaped into anything from clean lines to organic curves, adding visual interest and a sense of elegance to your outdoor space. The beauty of this idea lies in its versatility—you can adapt the cutting-edge concept to complement any architectural style, whether it's a modern masterpiece or a traditional abode. Showcase your impeccable taste and attention to detail with creatively cut hedges that become living works of art in your front yard.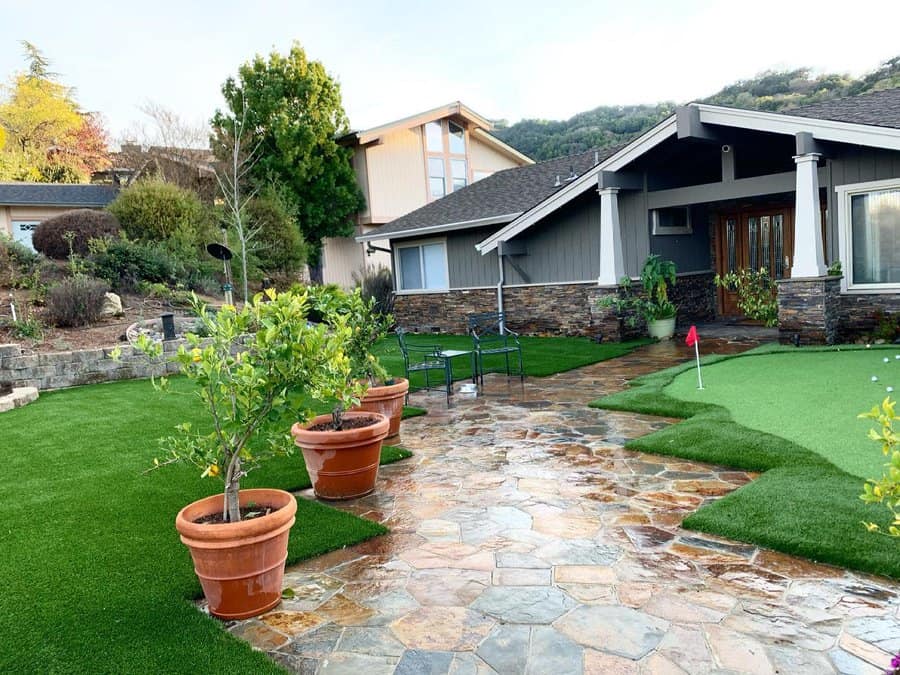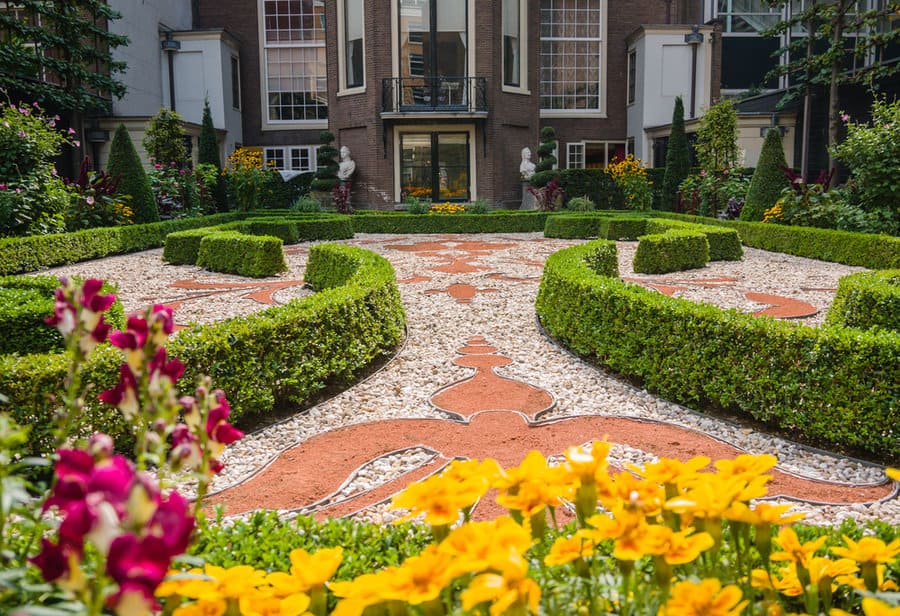 4. Paver Steps
These stylish and functional steps create a welcoming path that guides visitors to your doorstep while adding a touch of elegance to your outdoor space. Whether you choose the natural beauty of flagstone or the sleekness of concrete, paver steps provide a seamless transition between different levels of your front yard. The irregular shapes and textures of flagstone steps create a rustic and organic feel, blending harmoniously with surrounding plants and greenery.
On the other hand, concrete steps offer a contemporary and polished look, perfect for modern and minimalist aesthetics. Whichever material you choose, paver steps not only serve as a practical pathway but also become a stunning design element in their own right. Pair them with carefully selected plants, decorative solar lighting, and thoughtful landscaping features to create a front yard that exudes charm and personality.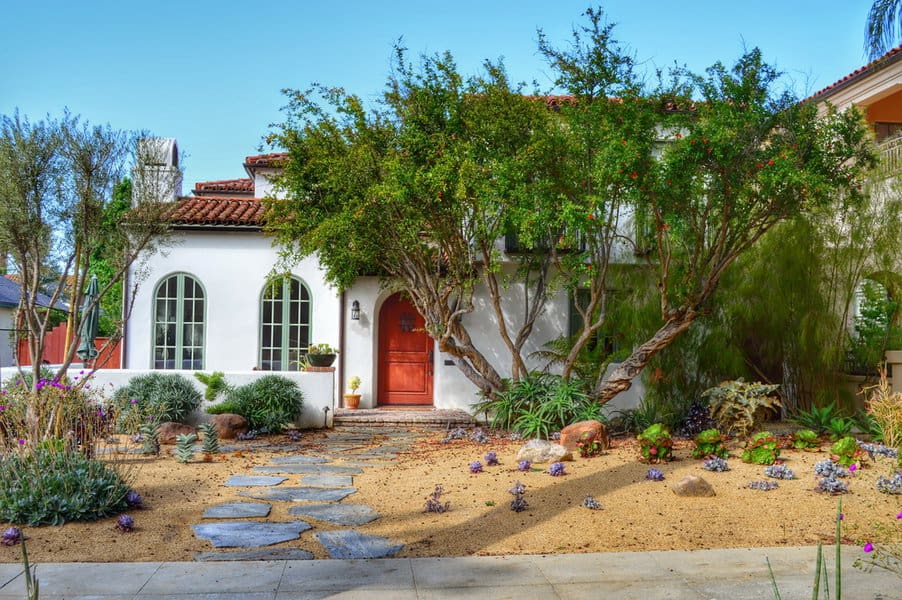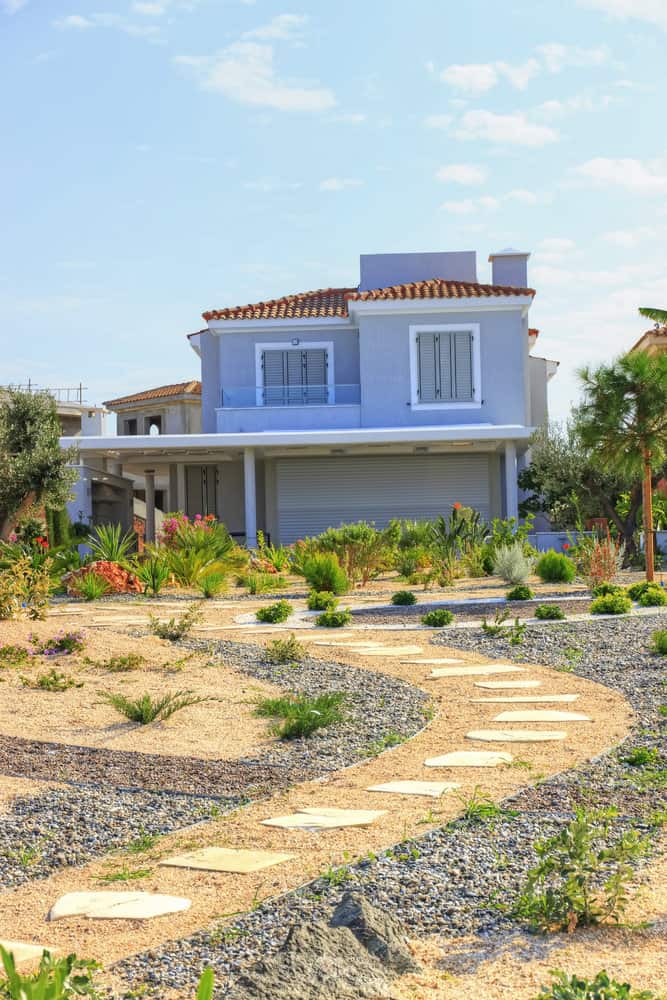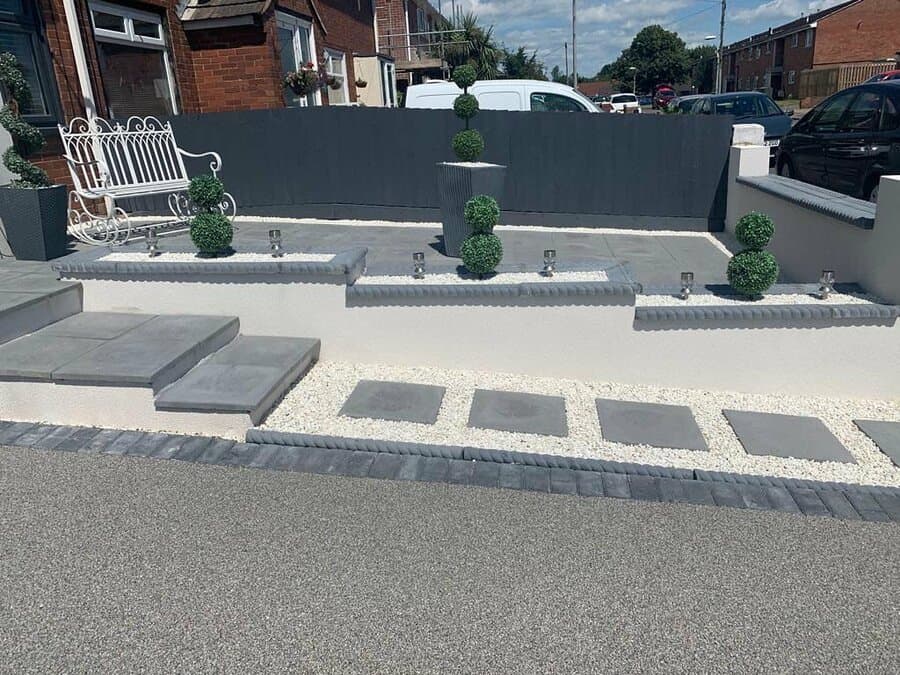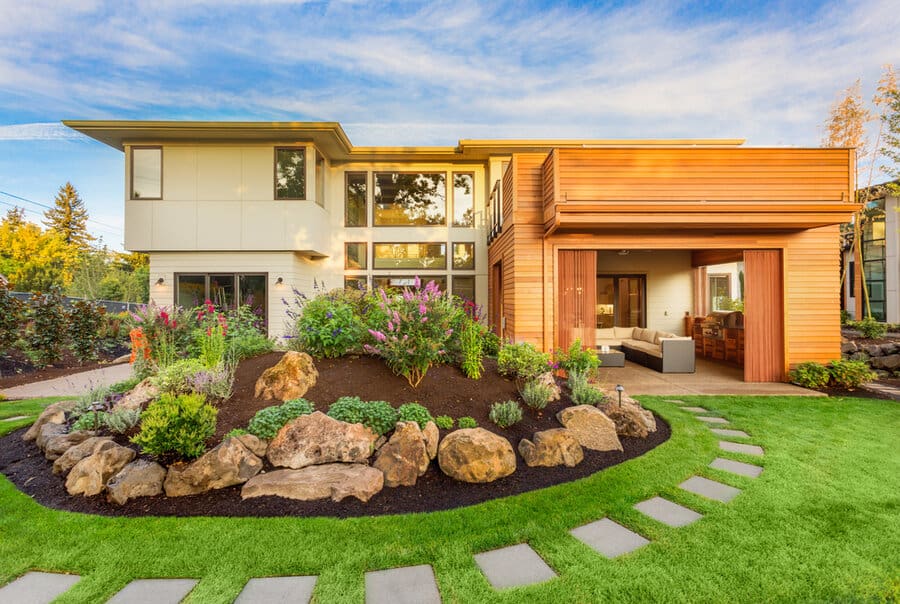 5. Colorful Flower Beds
Planting a variety of flowers can instantly breathe life and beauty into your landscape. Imagine strolling up your path to be greeted by a kaleidoscope of blooms, each petal showcasing its own unique hue. Incorporate a mix of perennial and annual flowers to ensure year-round color and interest. Consider vibrant options like cheerful sunflowers, delicate roses, graceful tulips, and charming daisies.
For added visual appeal, play with different heights, textures, and bloom sizes to create a dynamic and visually captivating display. Pair contrasting colors together or opt for a harmonious color palette to suit your personal style. Whether you prefer a riot of bright and bold hues or a more serene and pastel palette, colorful flower beds are sure to make a lasting impression and uplift the overall aesthetic of your front yard.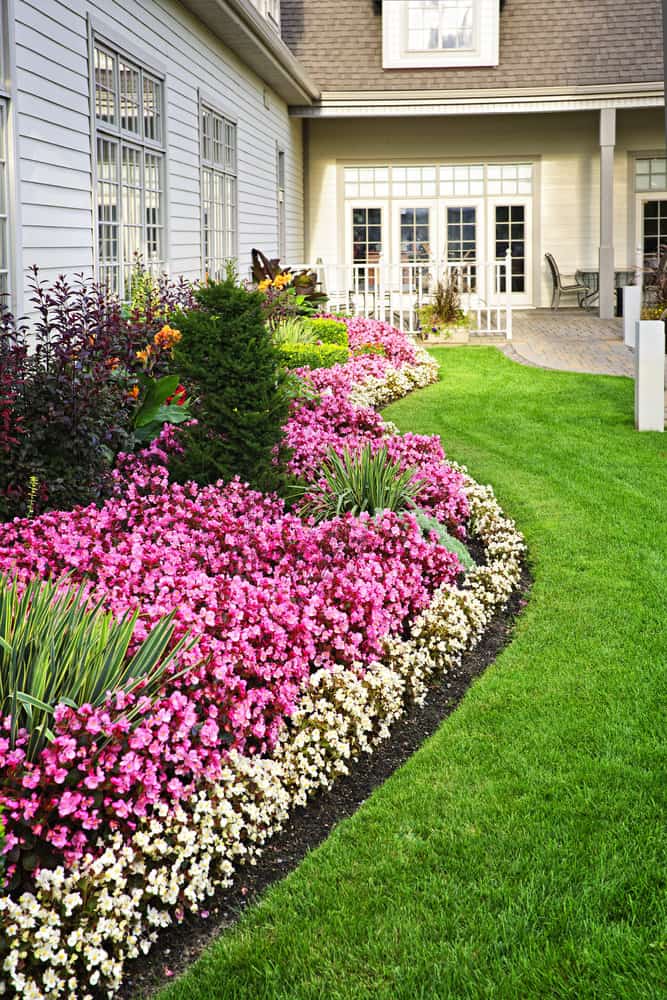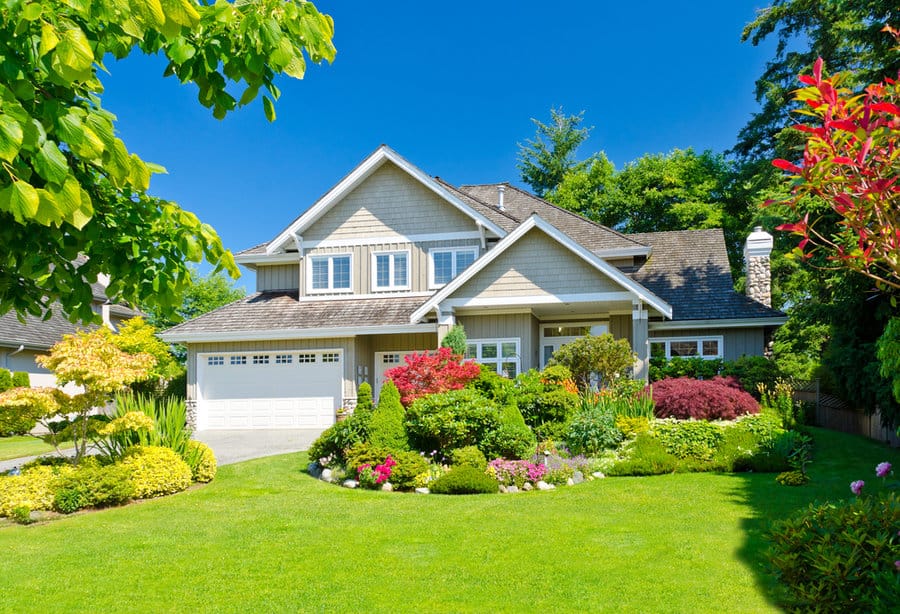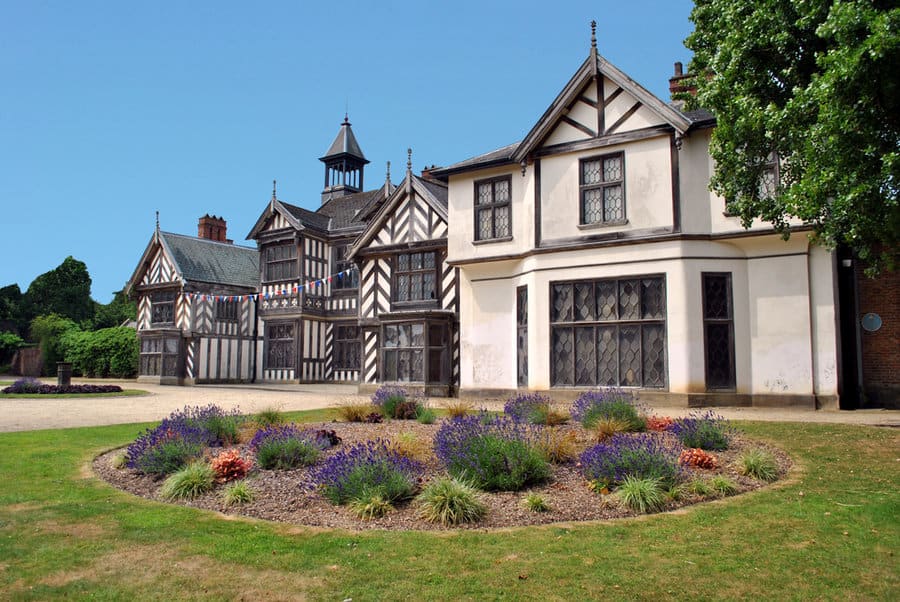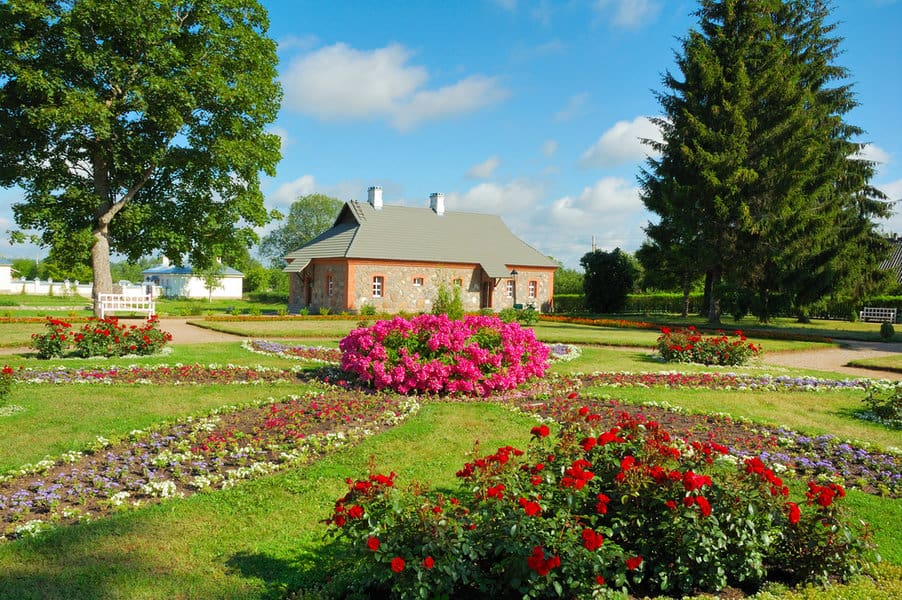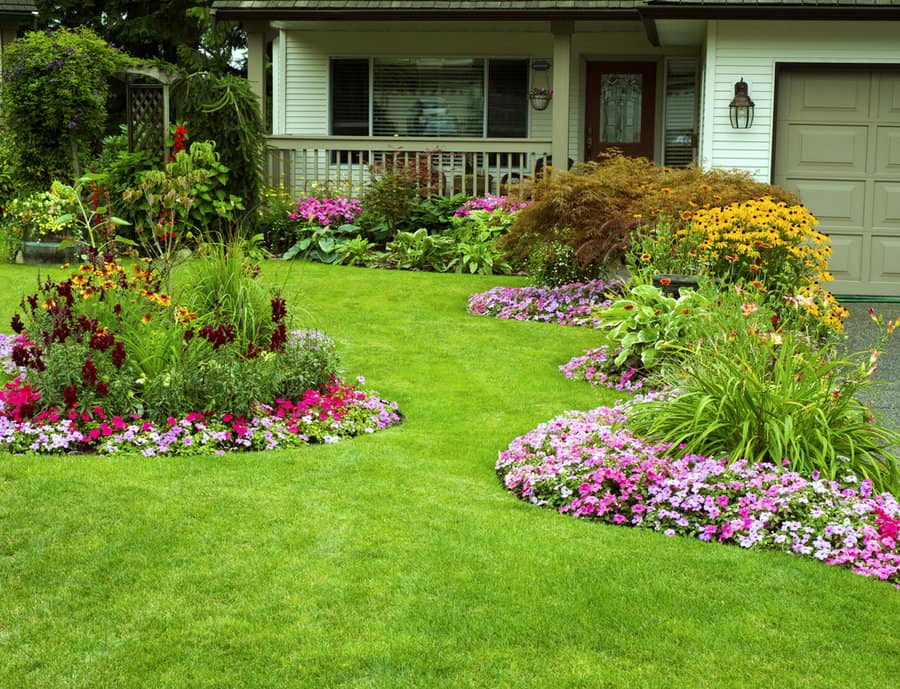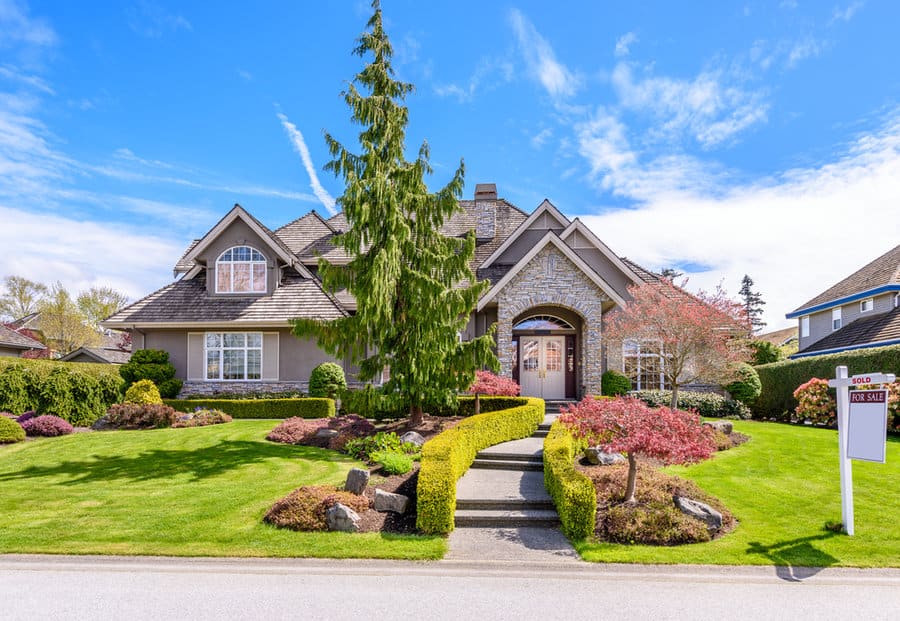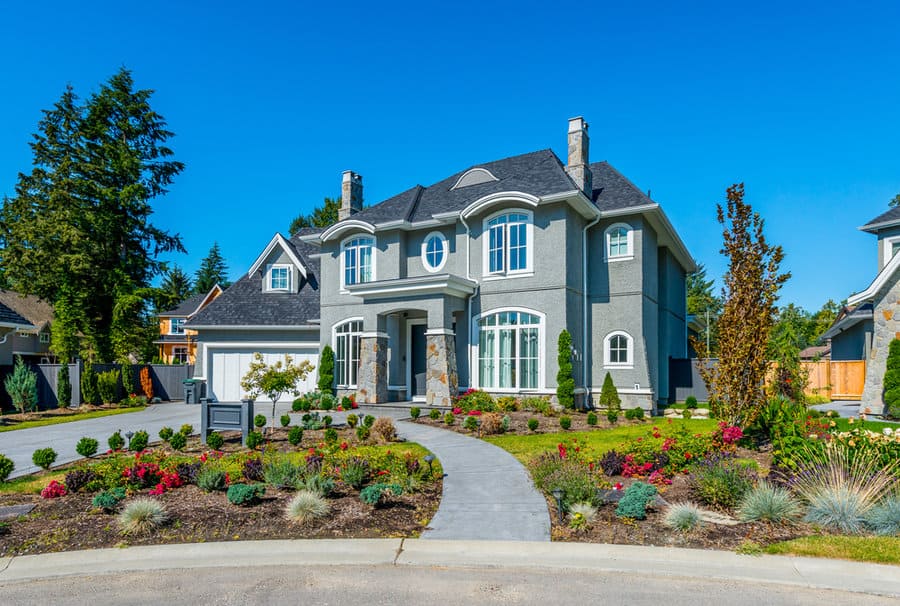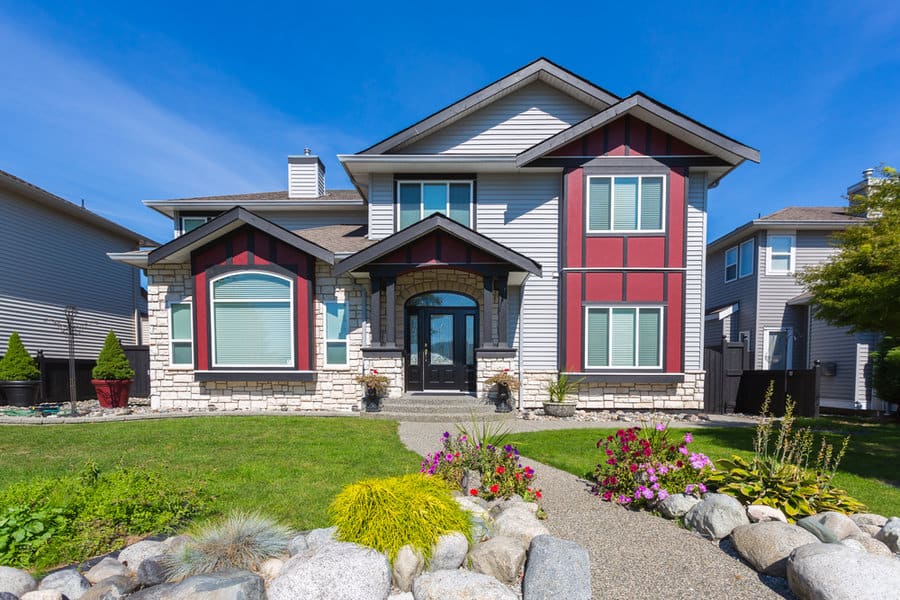 6. Path Landscaping
Elevate the curb appeal of your home with the enchanting touch of path landscaping in your front yard. This brilliant idea not only guides visitors to your doorstep but also creates a captivating journey through your outdoor space. Imagine a charming pathway winding its way through a lush landscape, with vibrant flowers, ornamental grasses, and graceful shrubs adorning its sides.
The path becomes a focal point, inviting exploration and adding a touch of magic to your front yard. You can choose from various materials such as flagstone, brick, or gravel to create a path that complements your home's architectural style.
Consider incorporating stepping stones or pavers for a whimsical touch. Along the sides of the path, plant a mix of flowering plants and foliage to add color and texture. From delicate daisies to vibrant daylilies, the options are endless.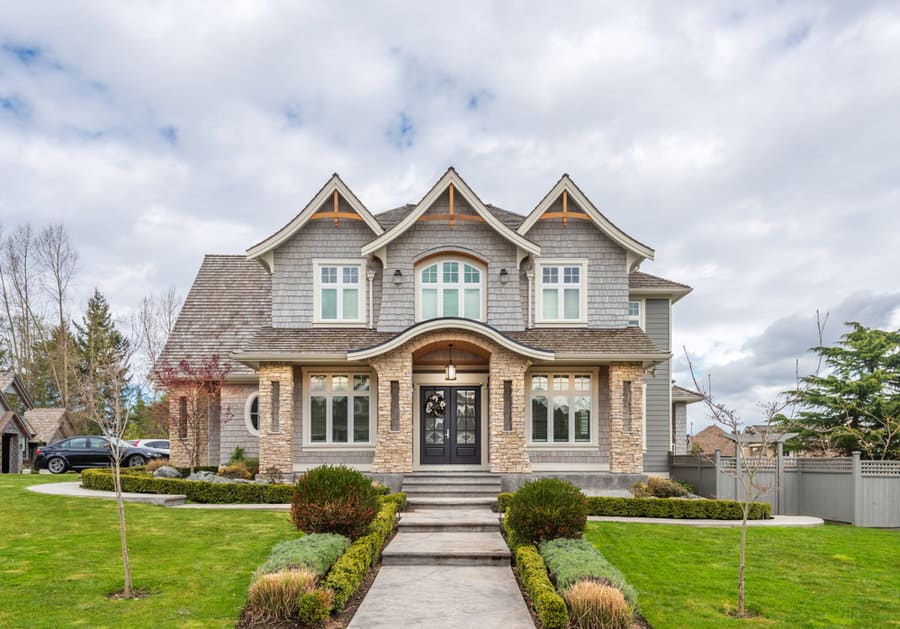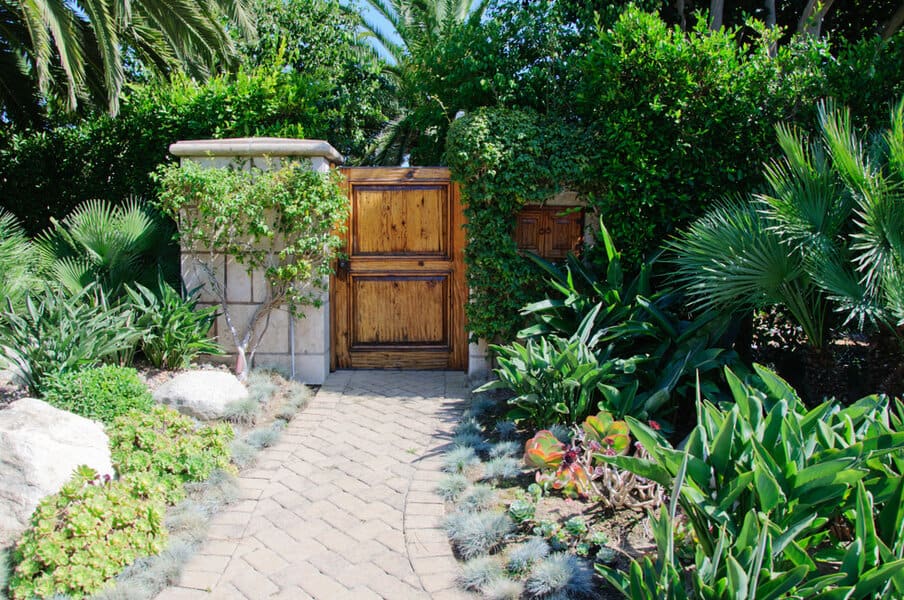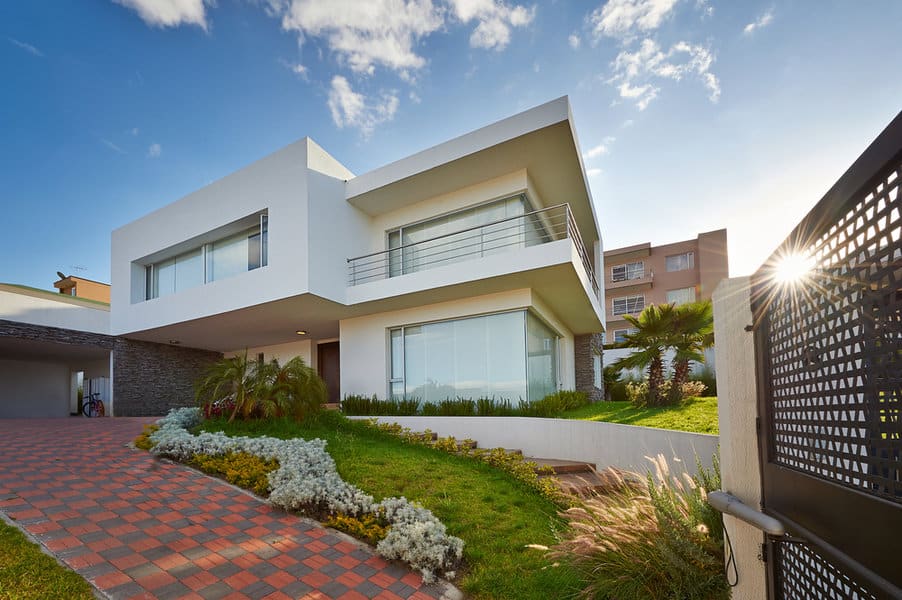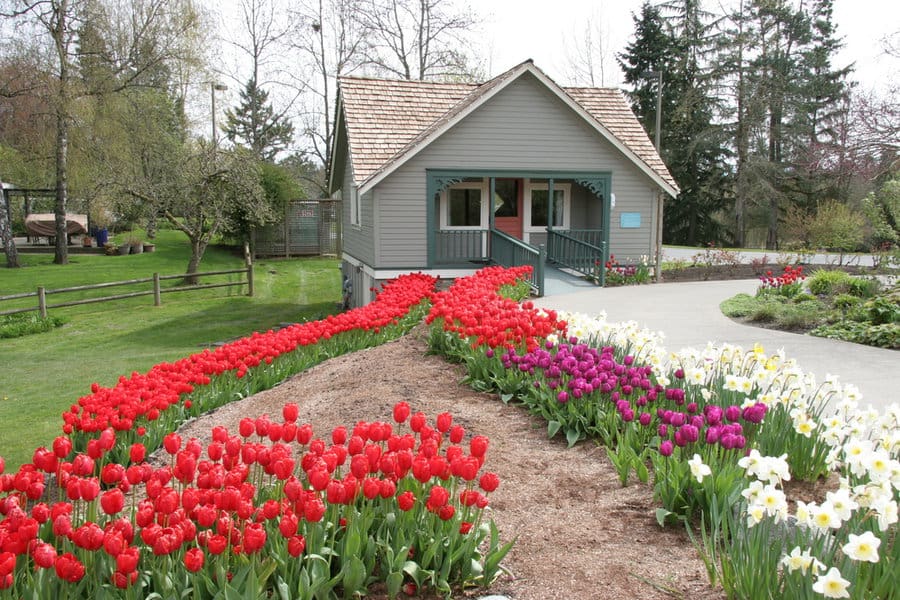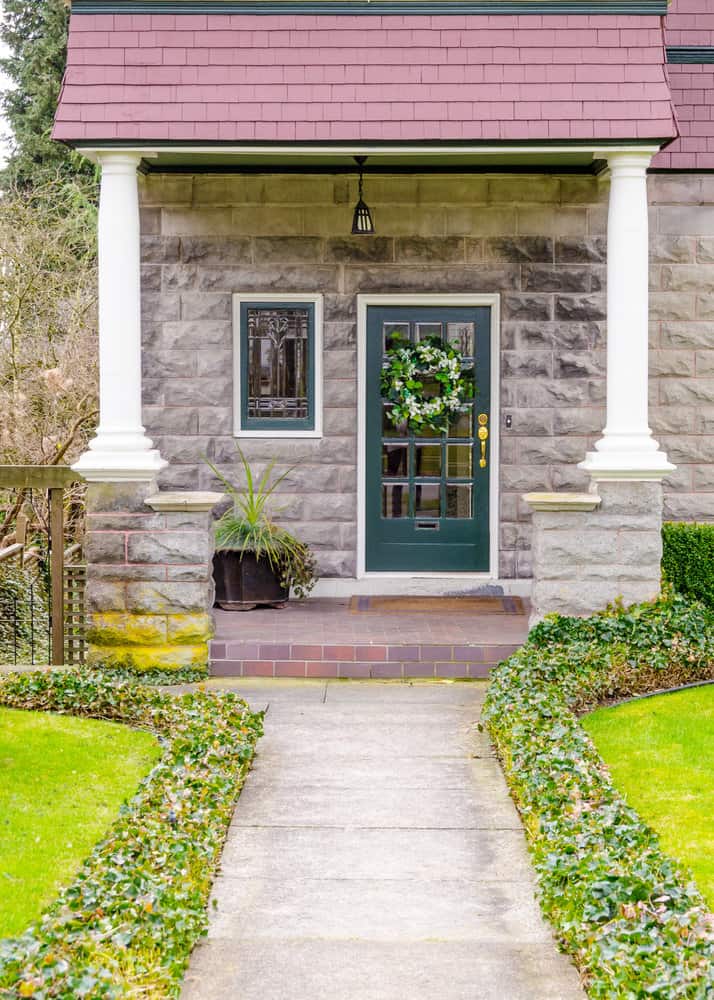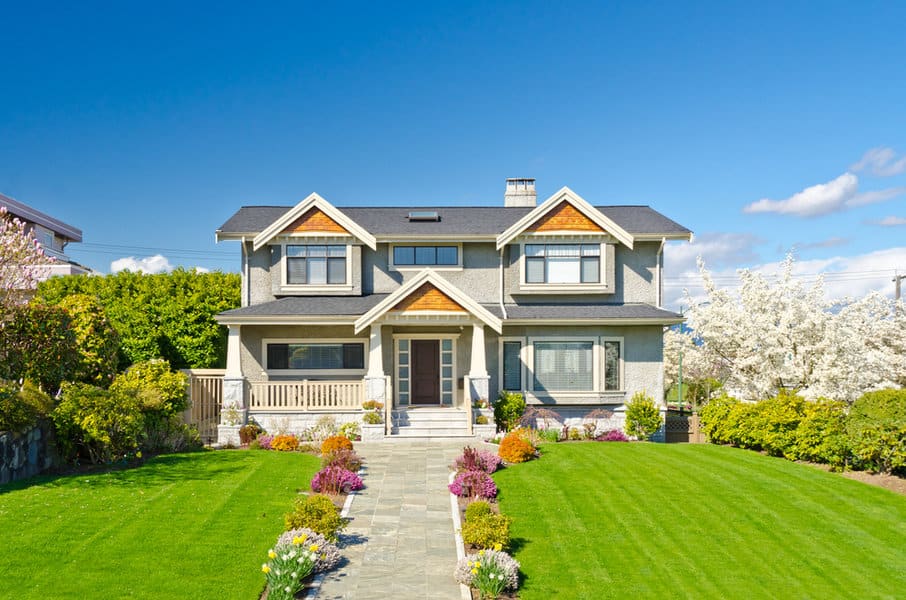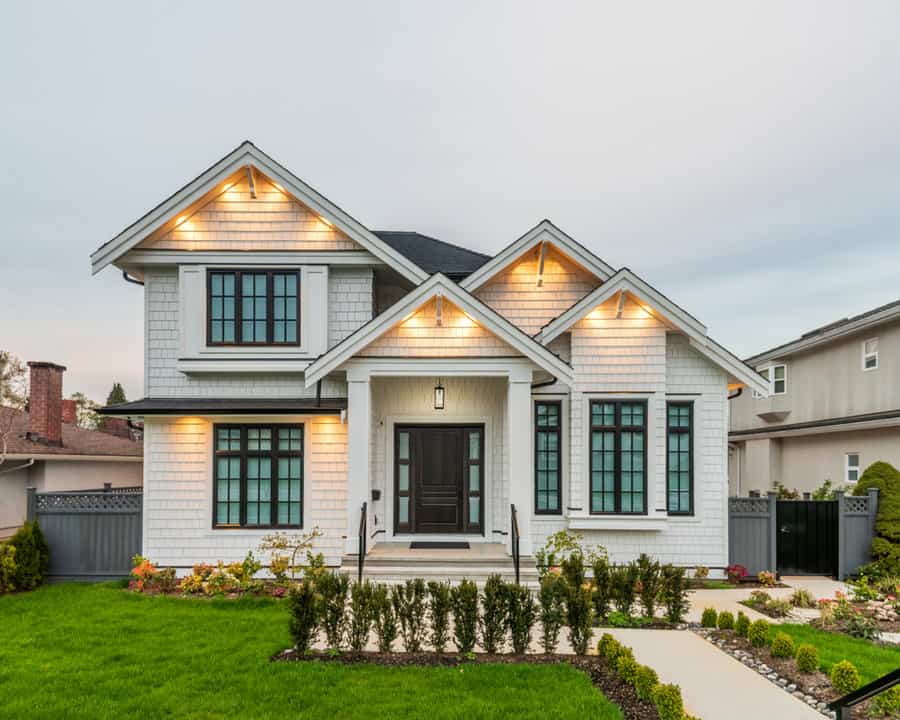 7. Landscape Edging
Whether you opt for classic brick, natural stone, or decorative metal edging, it creates a beautiful border that separates your lawn from flower beds, pathways, or other elements. Front yard edging allows you to showcase your plants and flowers in a sophisticated way while preventing soil erosion and maintaining a tidy appearance.
Experiment with different edging materials and styles to match your desired aesthetic, from sleek and modern to rustic and charming. You can also break the growth of grass in this area to create a seamless look. The versatility of front yard edging allows you to personalize your outdoor space and create a landscape that reflects your unique style.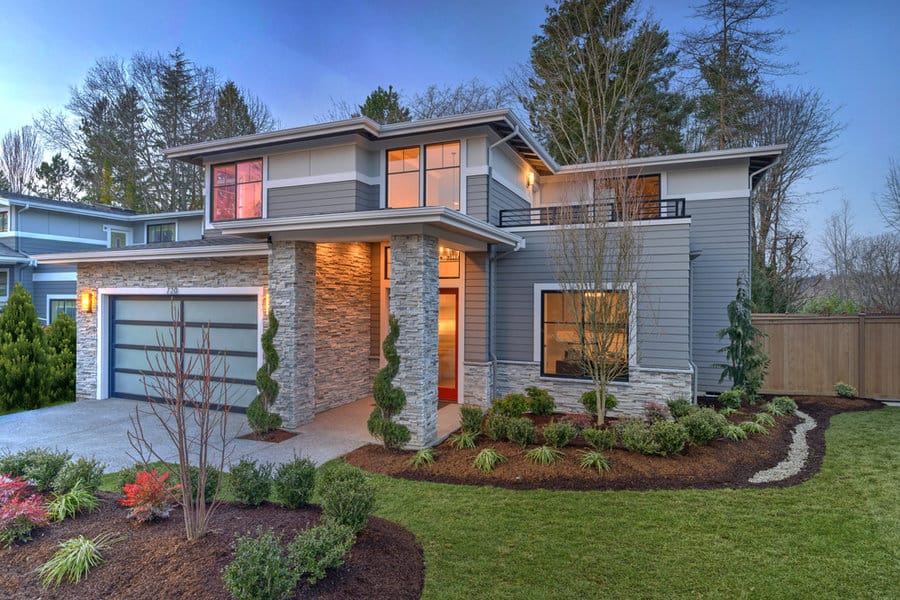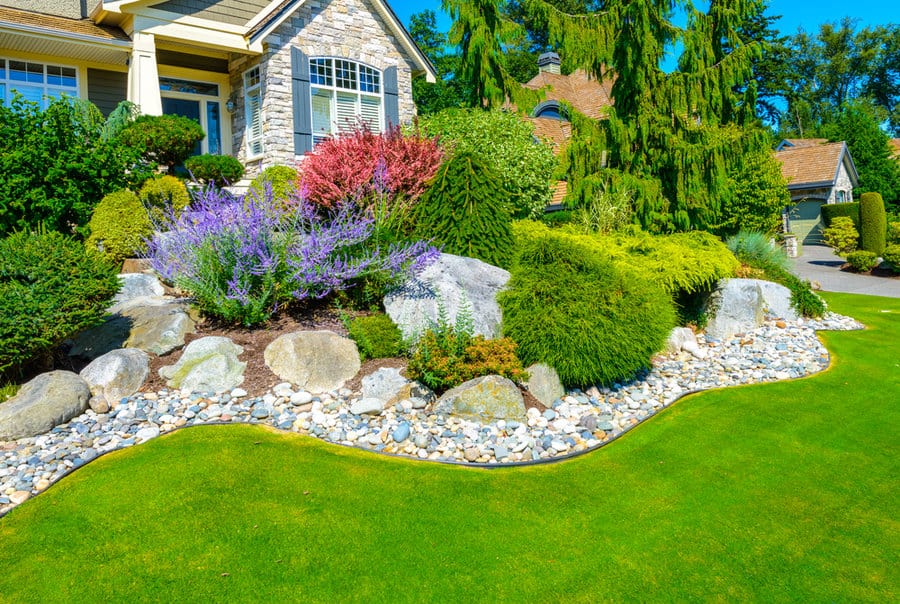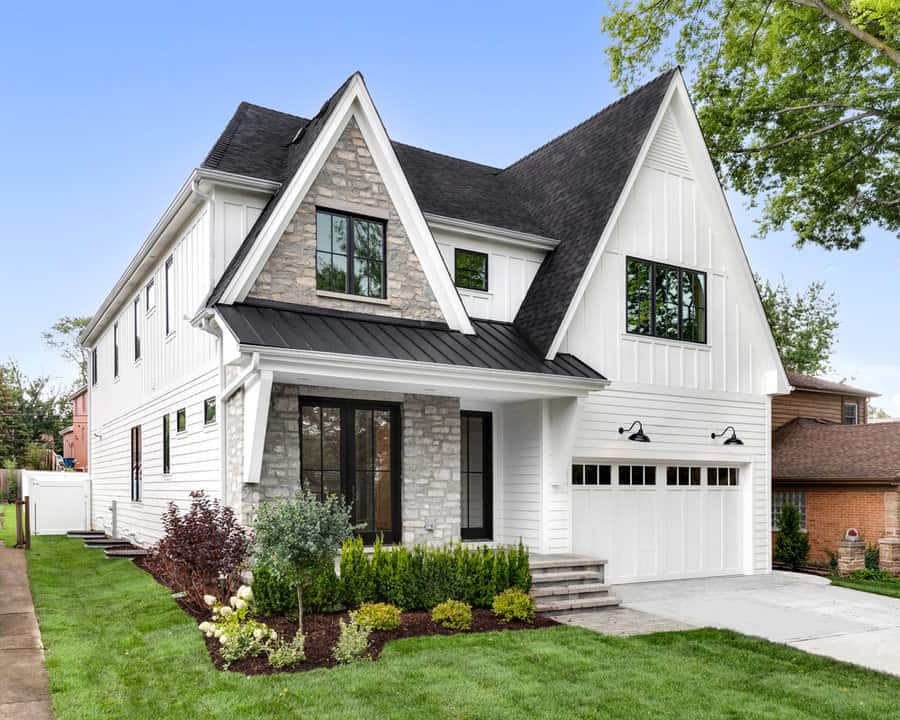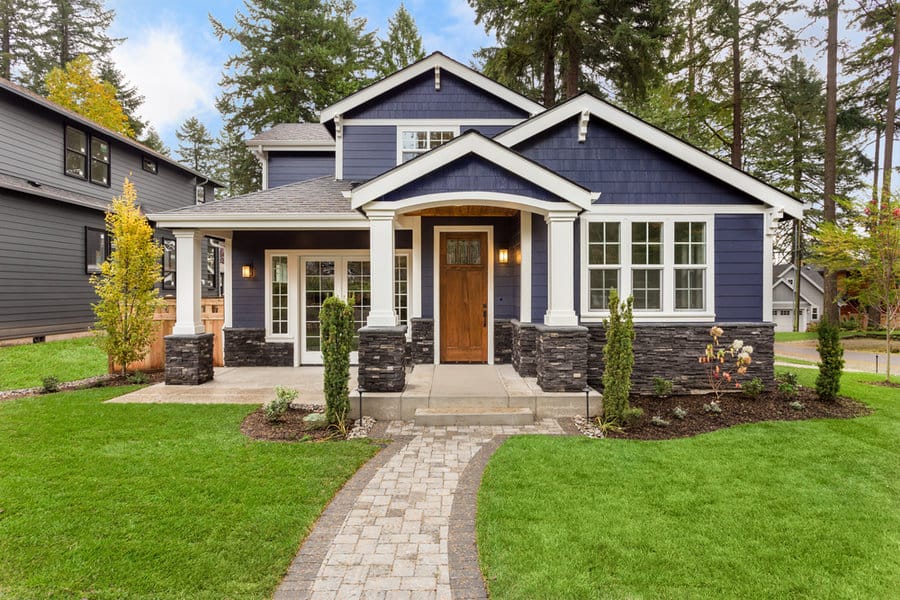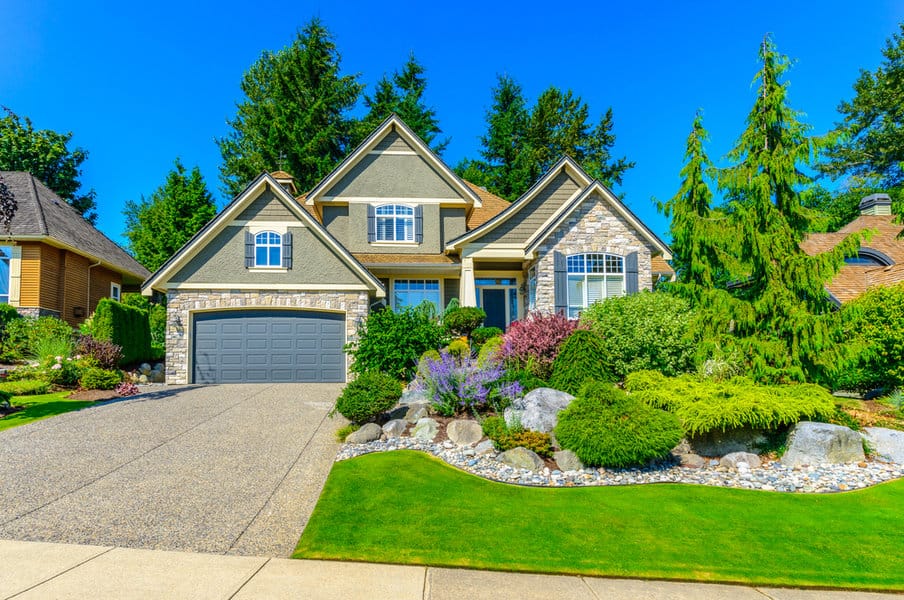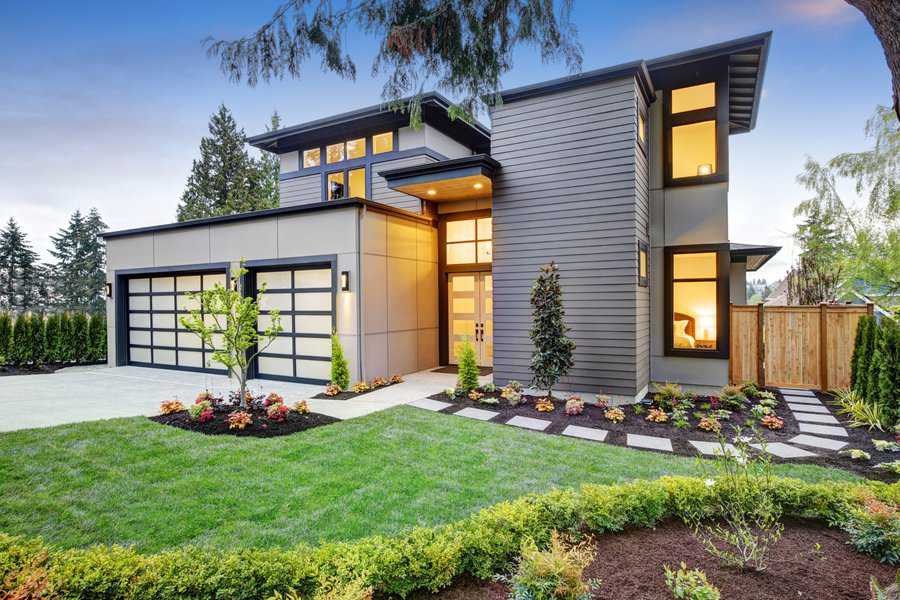 8. Tree-lined Driveway
Picture a grand entrance where a row of beautiful trees gracefully frames the path leading up to your home. This landscaping concept not only adds aesthetic appeal but also provides practical benefits. The tall and stately trees create a sense of privacy and seclusion, shielding your property from prying eyes and noise from the street.
As you drive along the driveway, you'll be greeted by a serene and picturesque view, with the leaves rustling gently in the breeze. The canopy formed by the trees offers shade and relief from the sun's rays, making it a pleasant experience to walk or park your car. You can choose from a variety of tree species to suit your preferences and climate, such as ornamental cherry trees, slender columnar evergreens, or majestic oak trees.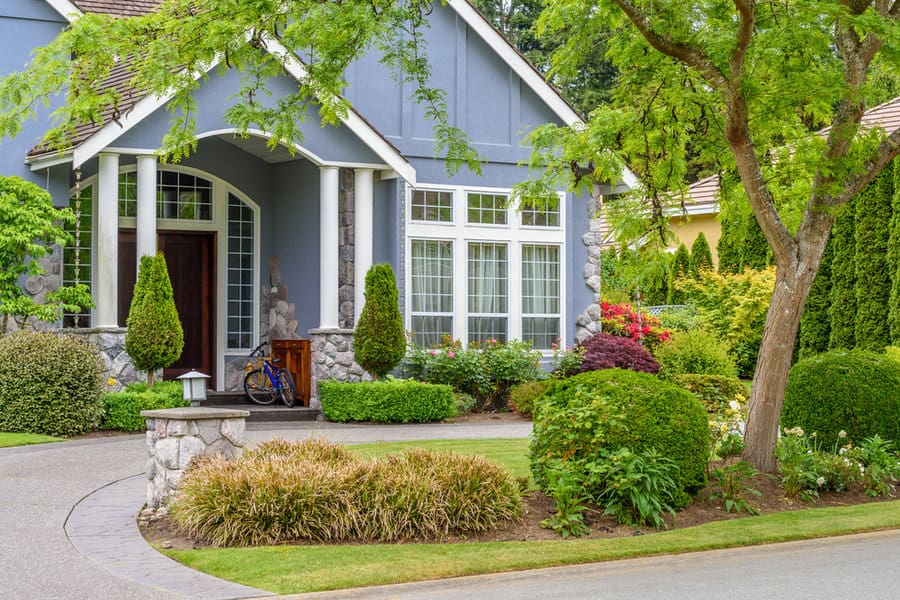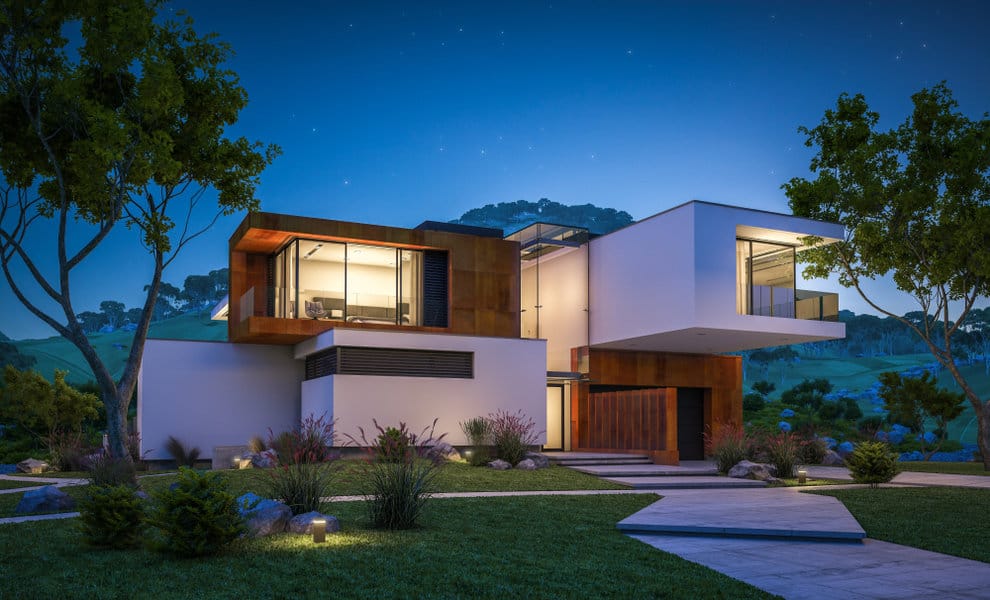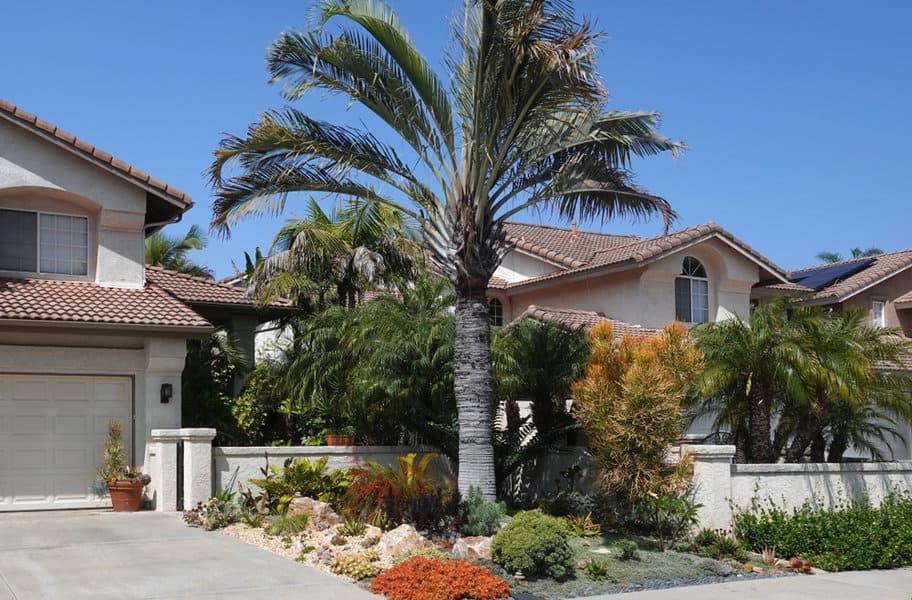 9. Drought-tolerant Plants
Elevate the curb appeal of your home with a stunning front yard landscape that embraces the beauty of drought-tolerant plants. These resilient and water-wise plants not only add visual interest but also require minimal maintenance, making them an excellent choice for busy homeowners.
Create a tapestry of colors and textures by incorporating a variety of drought-tolerant plants such as succulents, ornamental grasses, lavender, and agave. Their unique forms and vibrant hues will bring life and personality to your front yard. Intersperse them with decorative rocks, gravel pathways, and mulch to enhance the overall aesthetic and provide a cohesive look.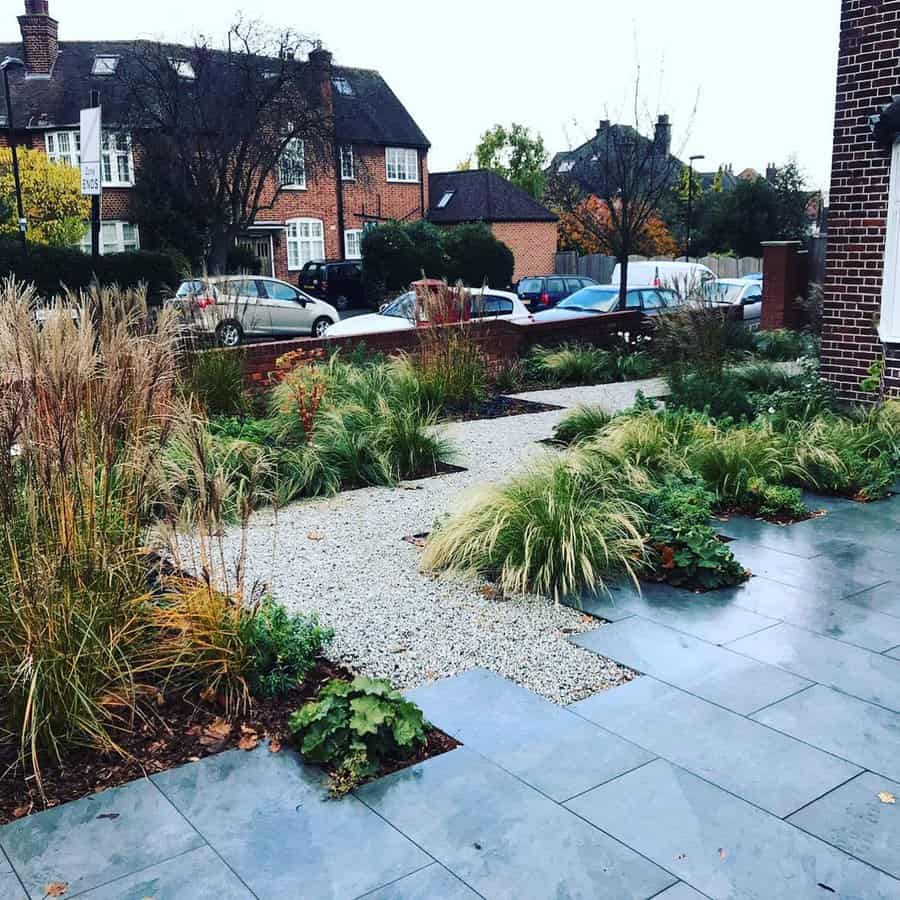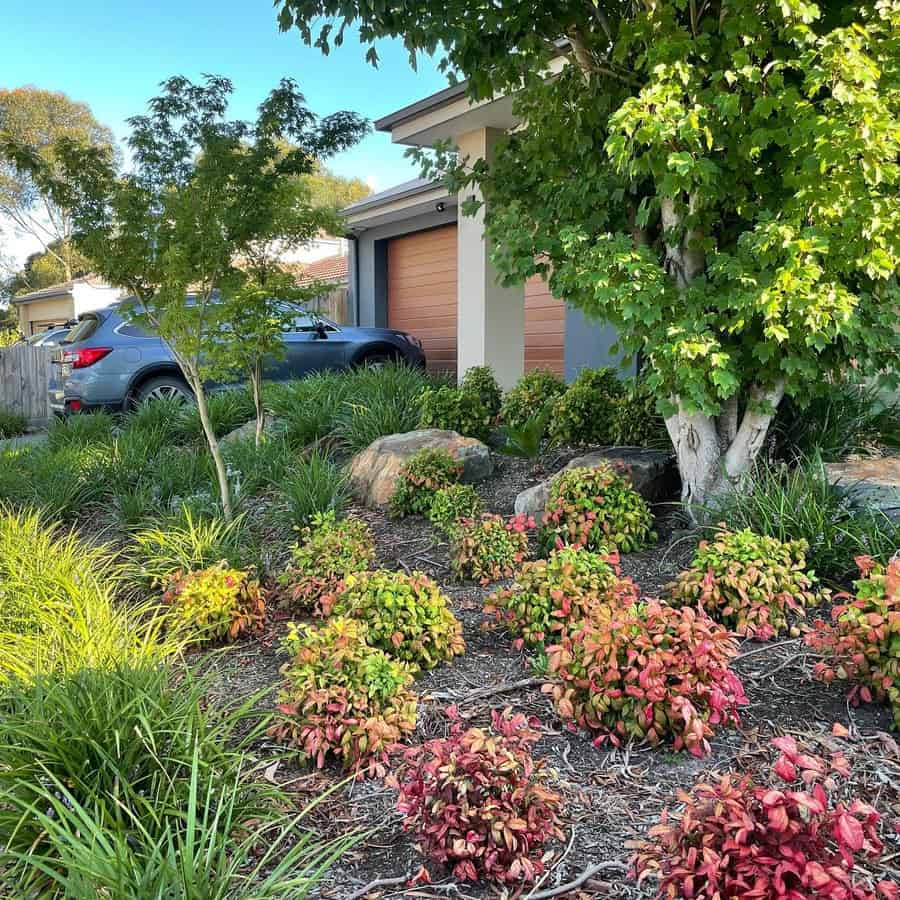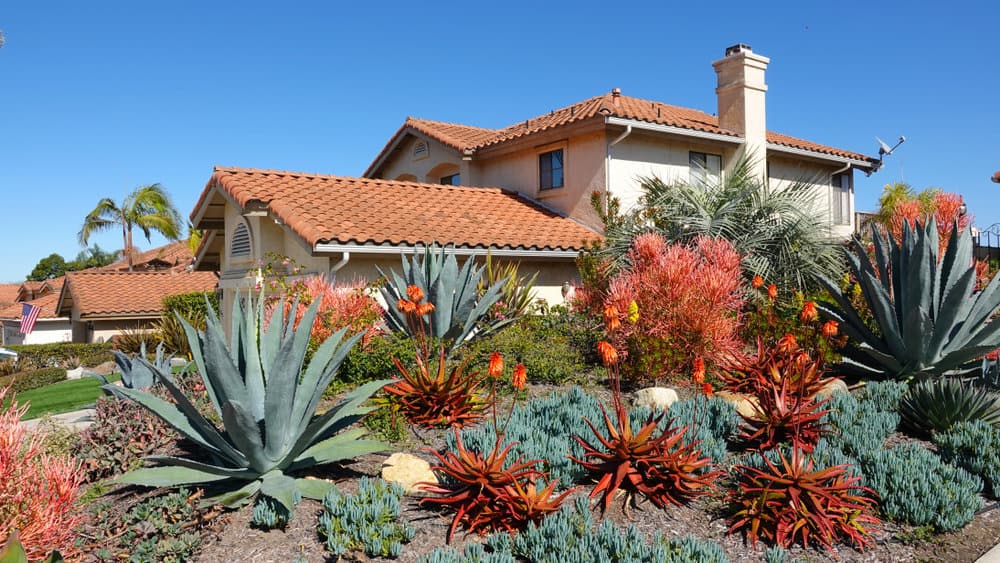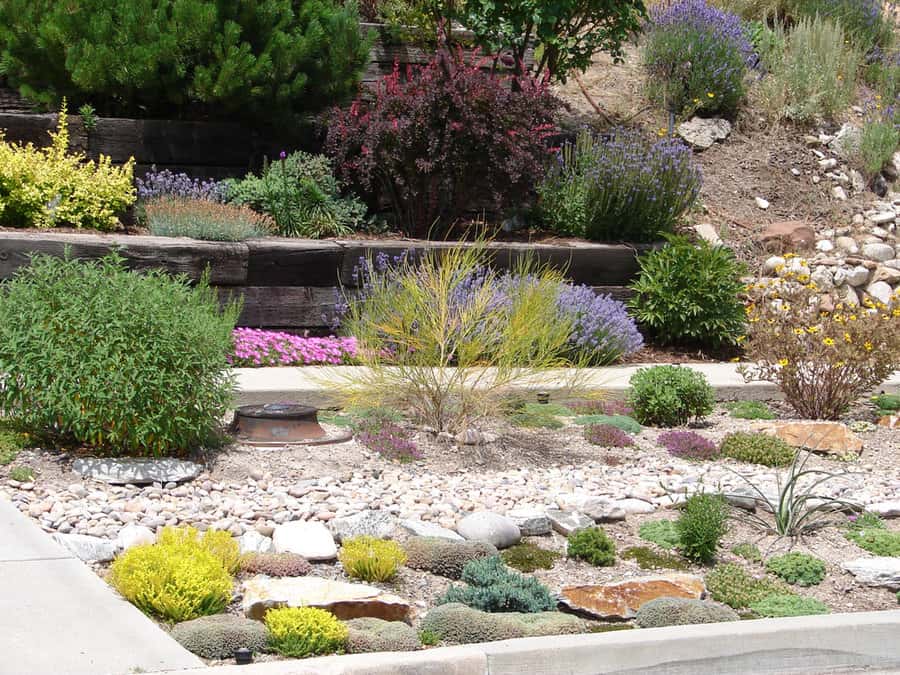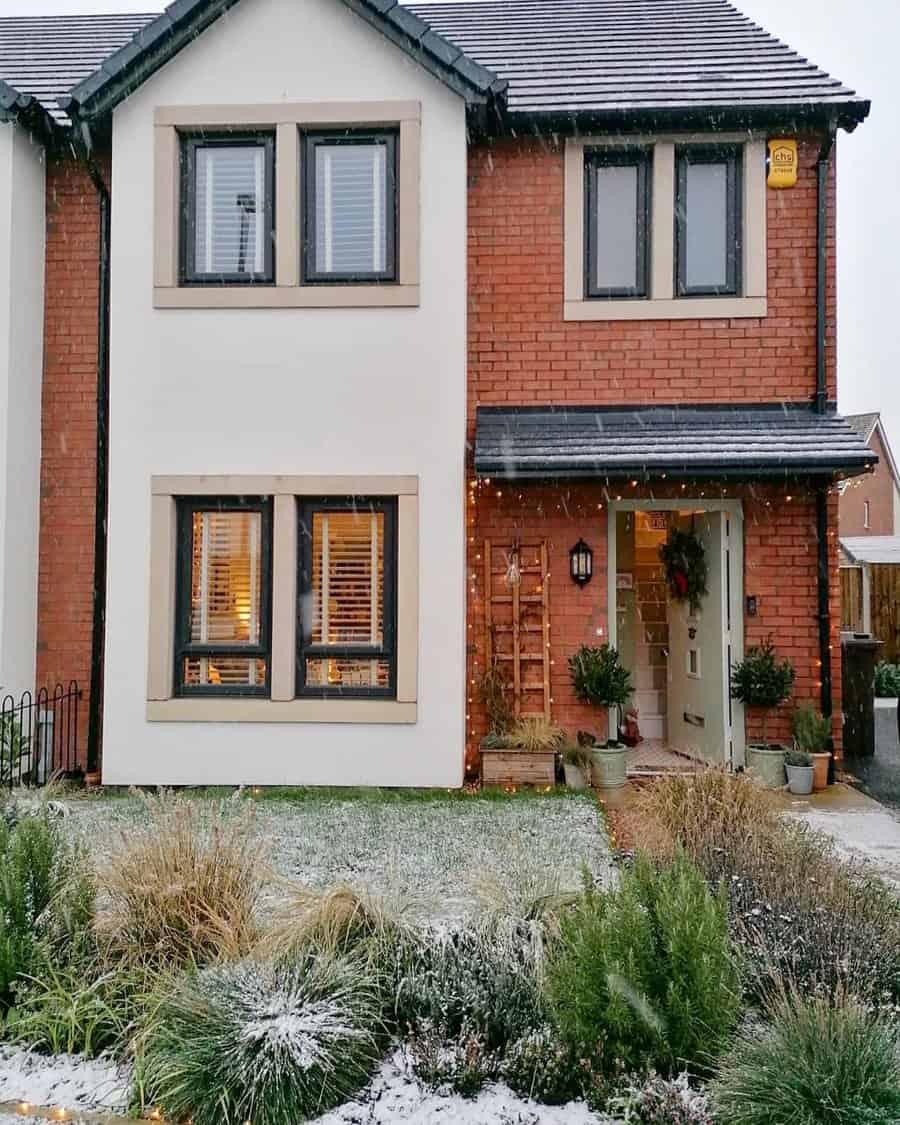 10. Well-Maintained Grass Landscape
This classic choice offers a simple yet impactful design that enhances the overall curb appeal of your home. The lush green carpet of grass serves as a vibrant backdrop for other elements in your landscape, such as trees, shrubs, and flower beds. It provides a sense of openness and freshness, creating a welcoming atmosphere for visitors.
To add visual interest, consider incorporating curving pathways or flower borders within the grassy areas. This creates a harmonious flow and adds a touch of elegance to your front yard. A well-maintained grass landscape also allows for versatility, as you can easily customize it with decorative elements like outdoor seating areas, fountains, or garden sculptures.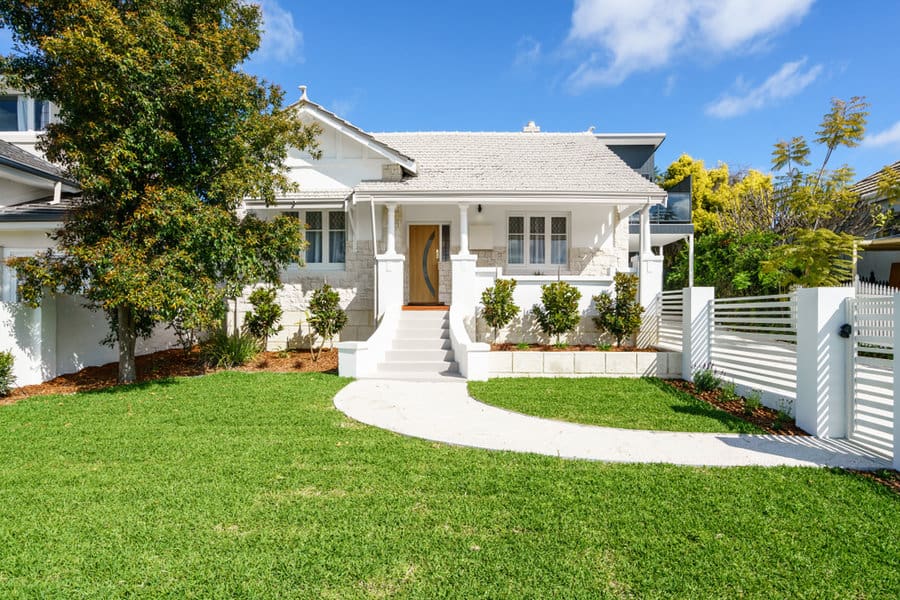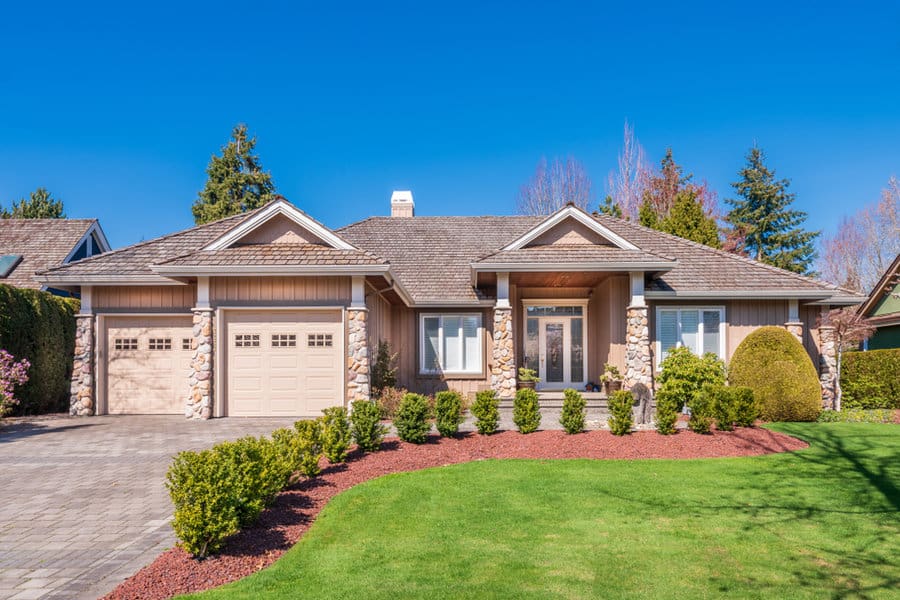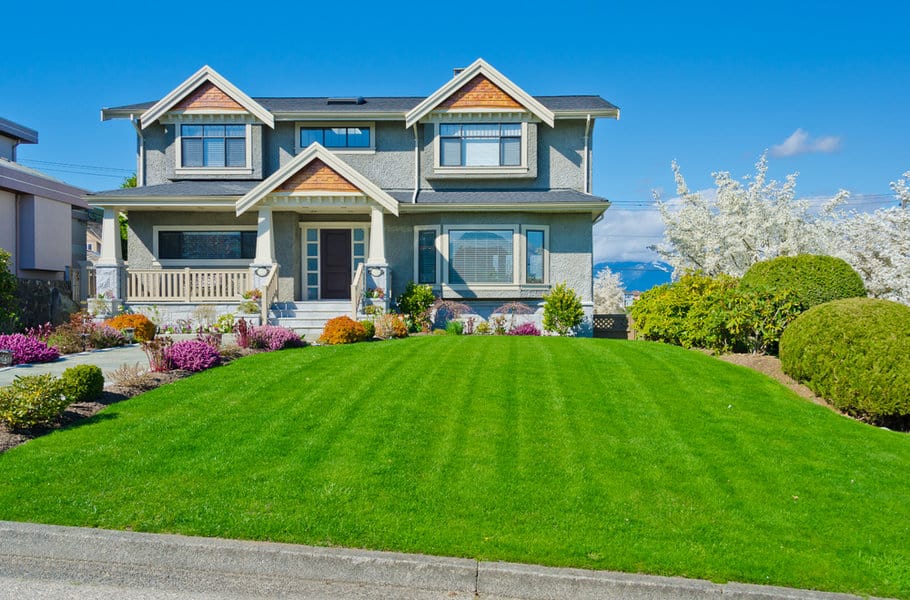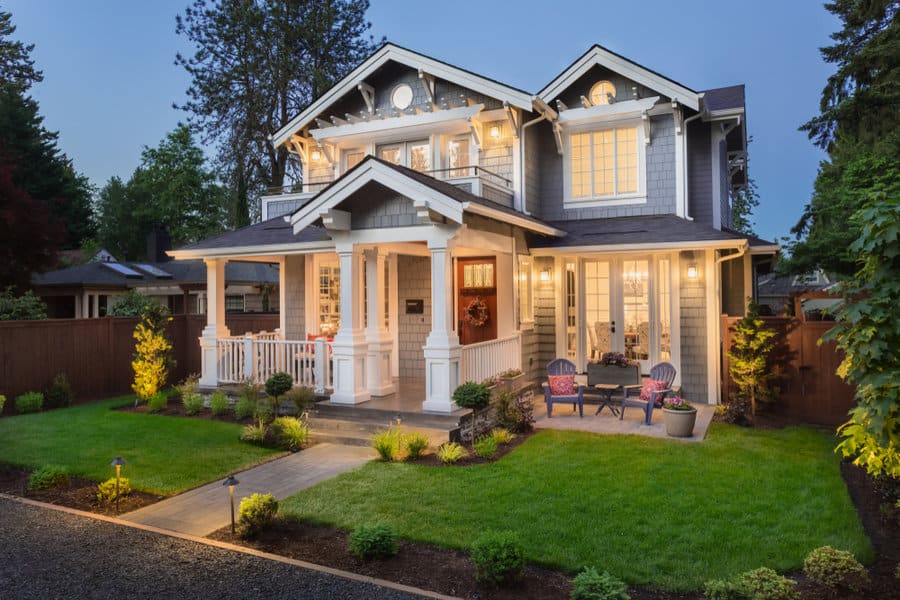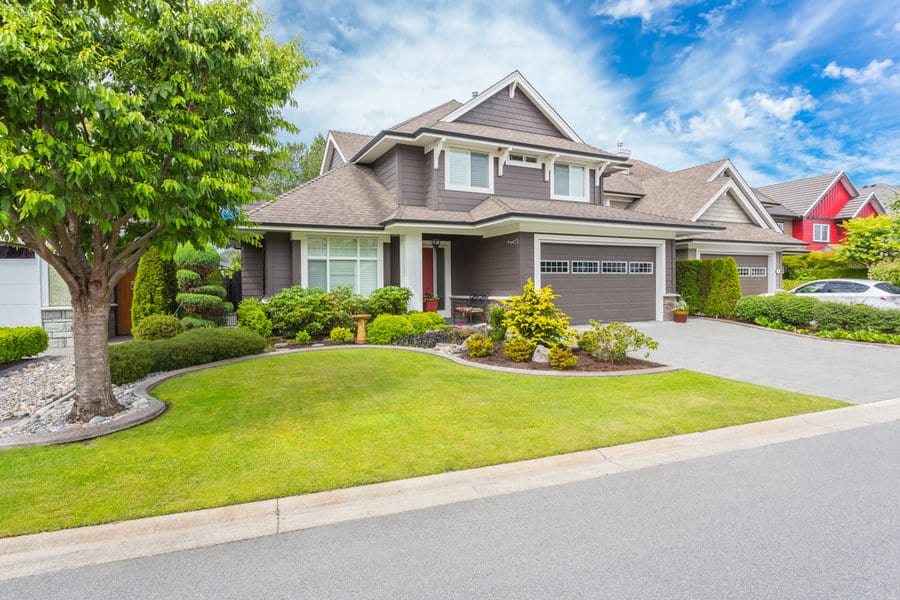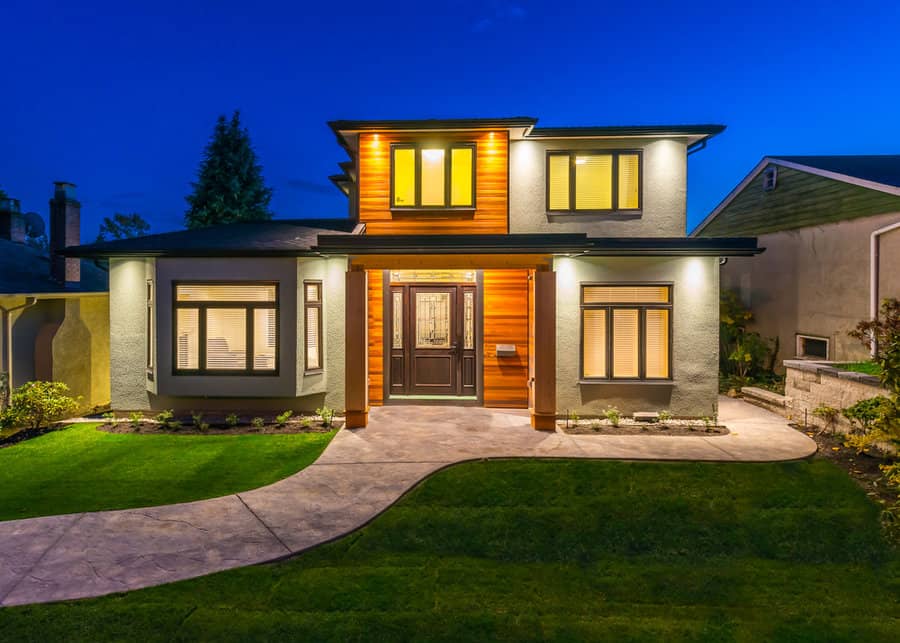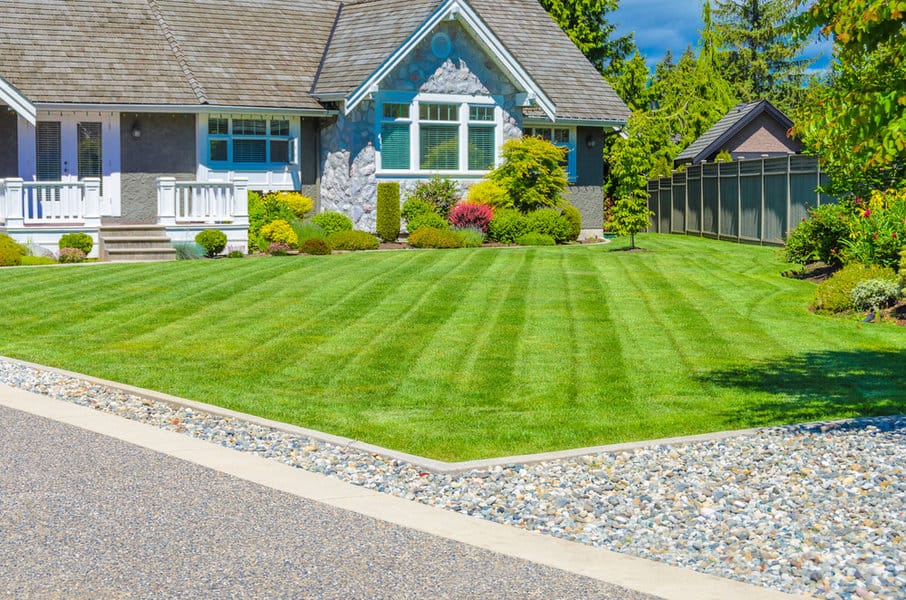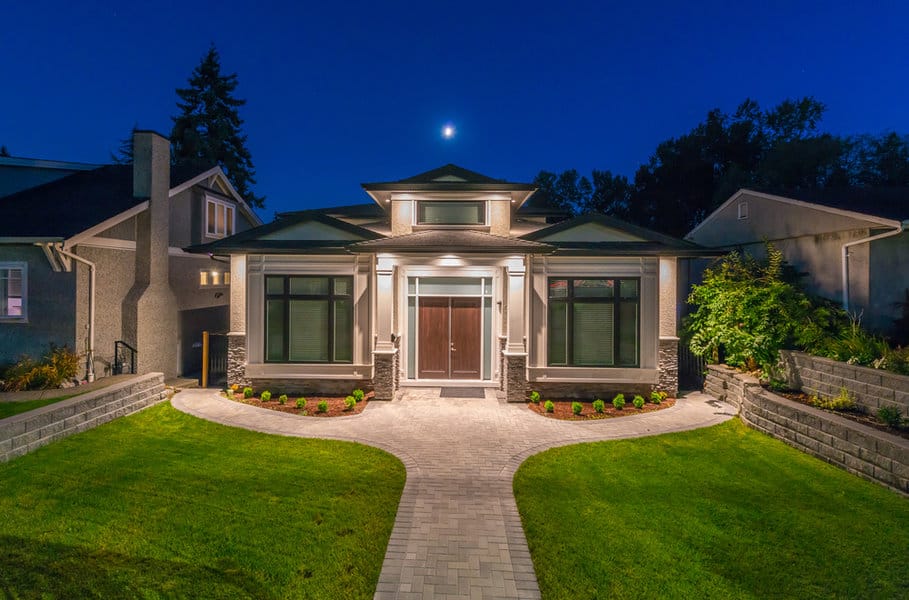 11. Wildflower Meadow
Embrace the natural allure of native wildflowers and create a picturesque scene that invites bees, butterflies, and birds to dance amidst the colorful blooms. Plant an assortment of wildflower seeds, including varieties like Black-eyed Susans, Purple Coneflowers, and California Poppies, to infuse your front yard with bursts of vivid hues. Let these resilient and self-sustaining plants thrive, creating a low-maintenance and eco-friendly landscape.
Alongside the wildflowers, consider incorporating lush invasive plants like Lamb's Ear or Russian Sage, which add texture and height to the meadow. The combination of wildflowers and invasives creates a harmonious balance, resulting in a visually striking front yard that captures the essence of nature's untamed beauty.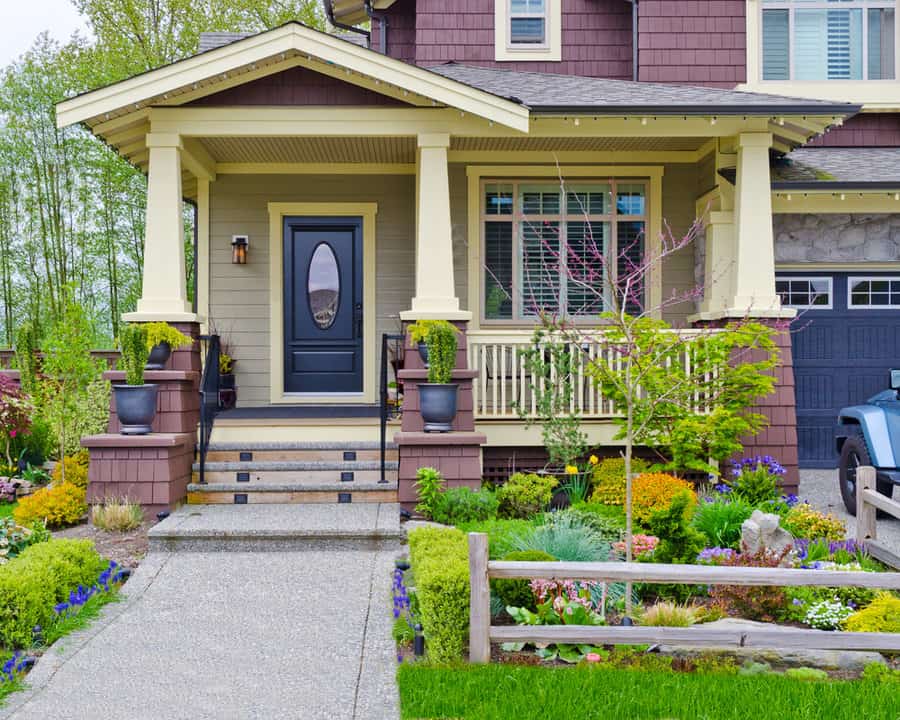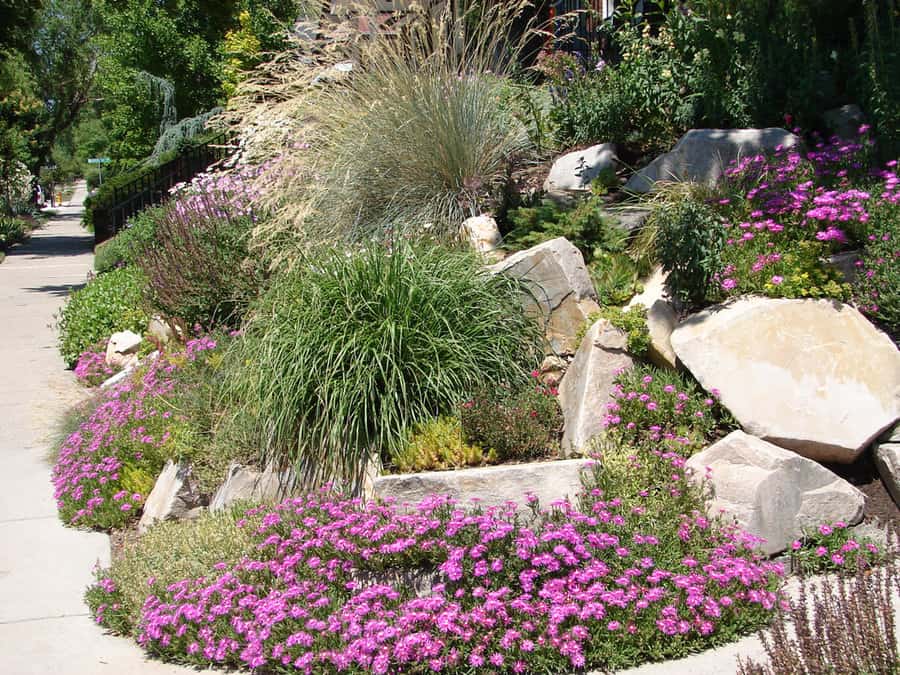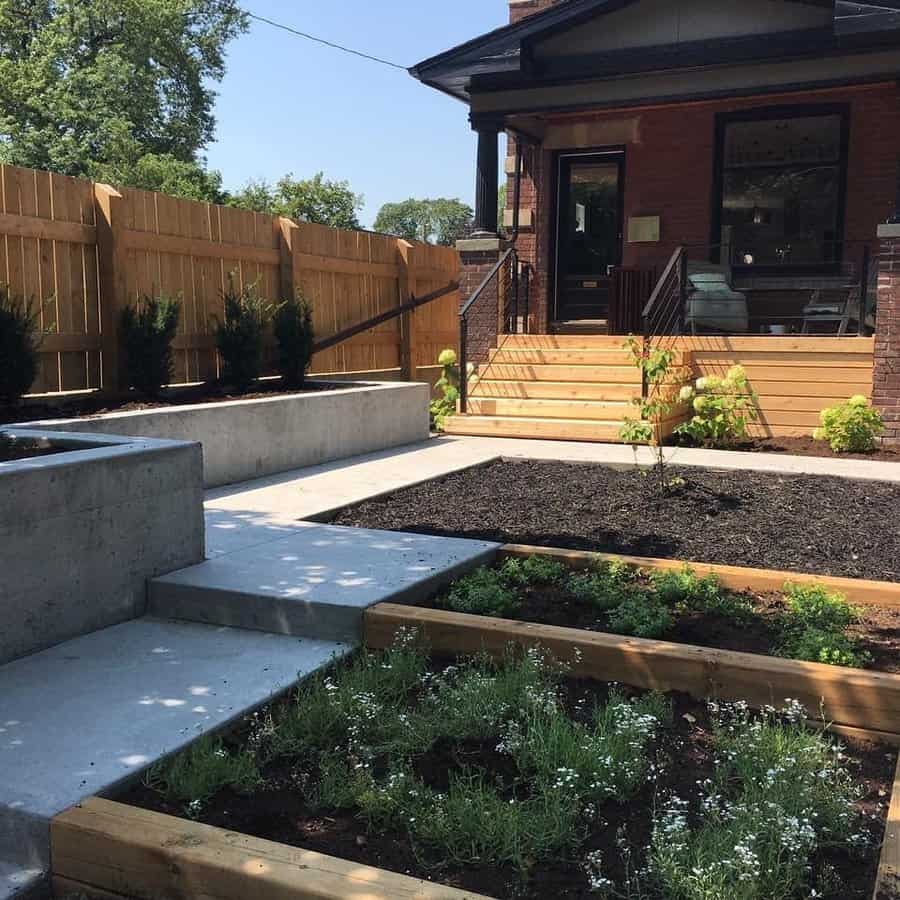 12. Front Courtyard Garden
Transform your front yard into a captivating and inviting space with the enchanting charm of a front courtyard garden. This landscaping idea adds a touch of elegance and beauty to your home's exterior, creating a warm and welcoming atmosphere.
Start by framing the courtyard with neatly trimmed hedges, creating a sense of privacy and enclosure. Within the courtyard, incorporate an array of vibrant and colorful flowers, such as roses, daisies, and lavender, to add a burst of life and fragrance. Play with different heights and textures to create visual interest and dimension. Add a cozy bench or a quaint patio set to create a comfortable seating area where you can relax and admire the beauty of your garden.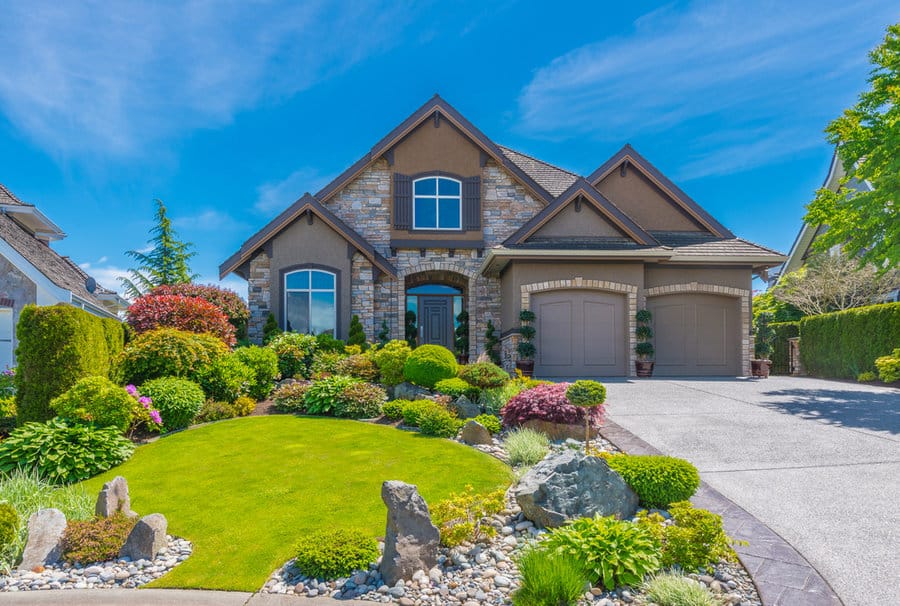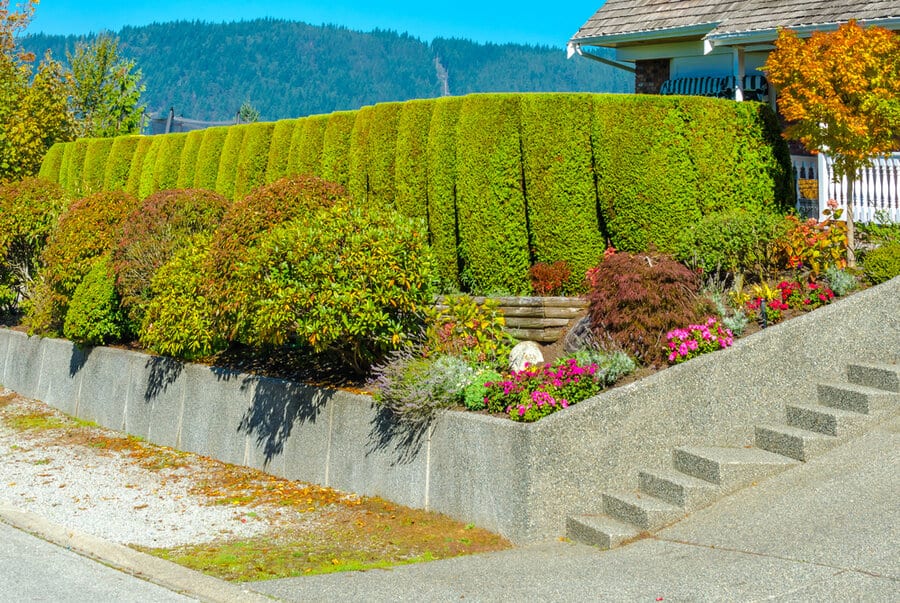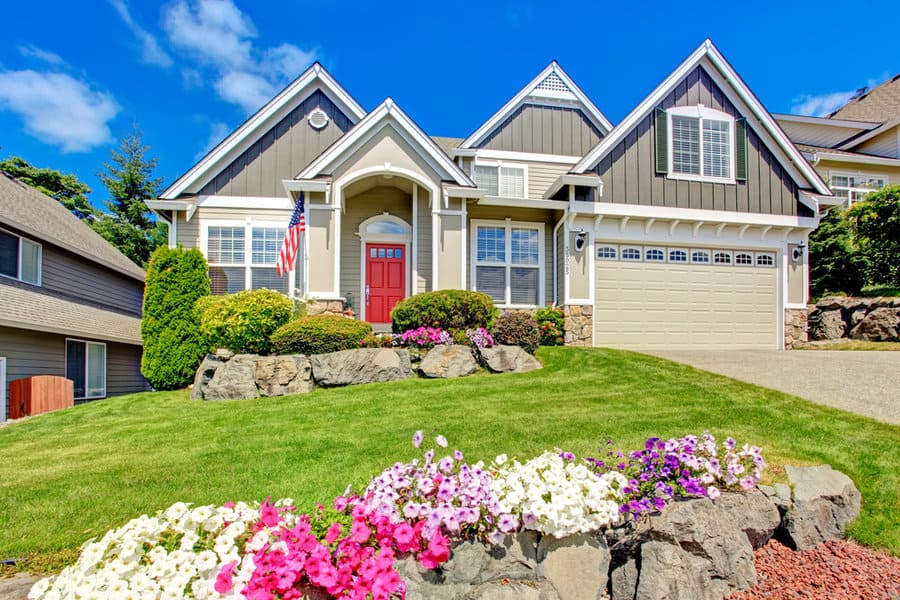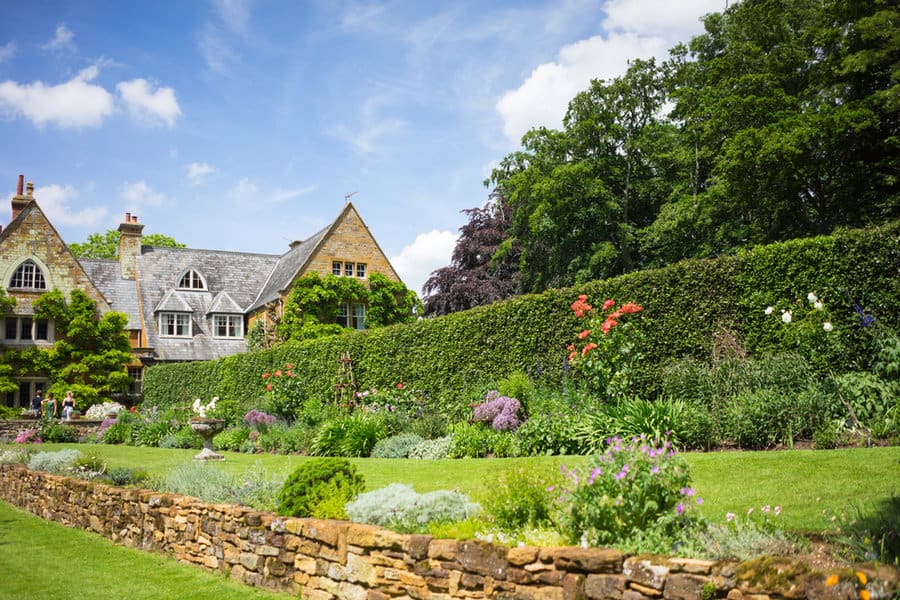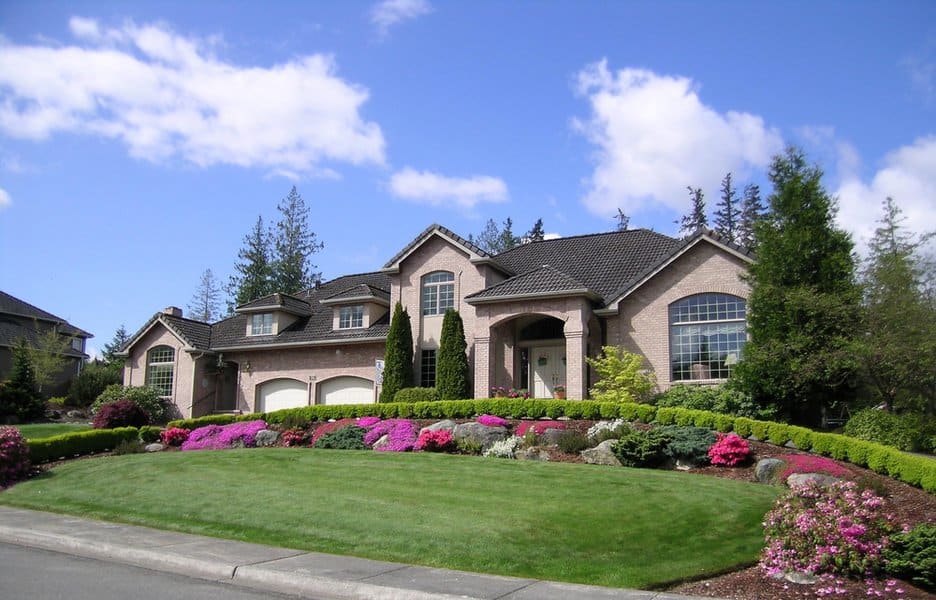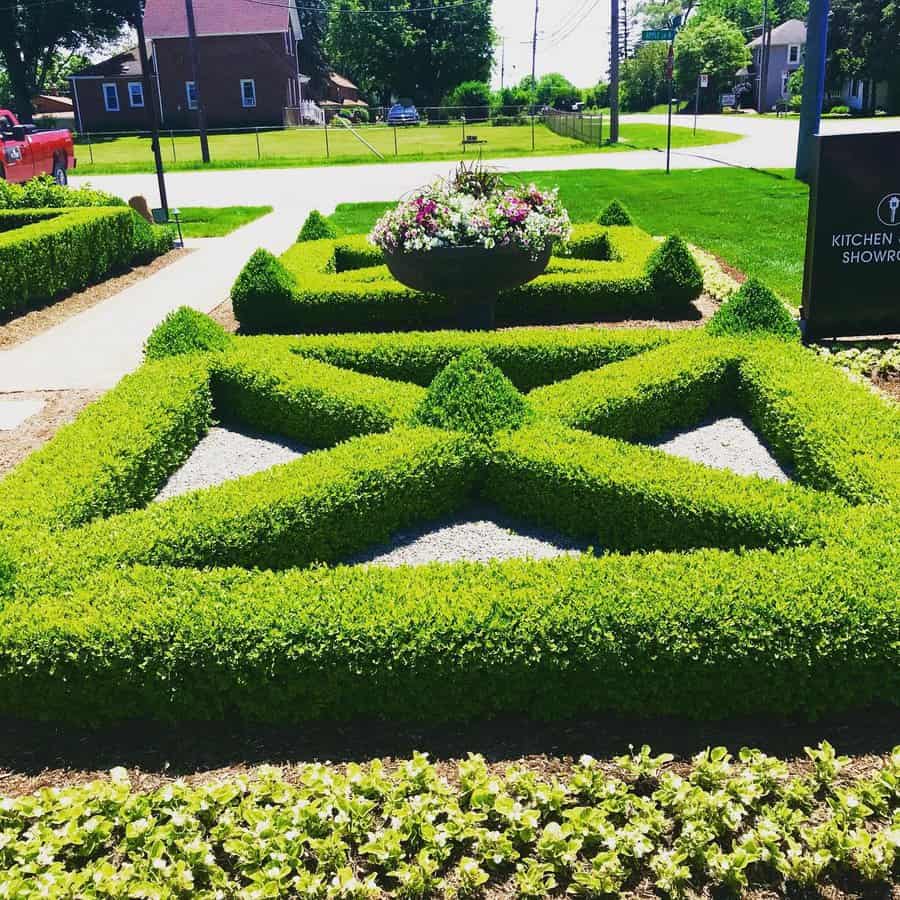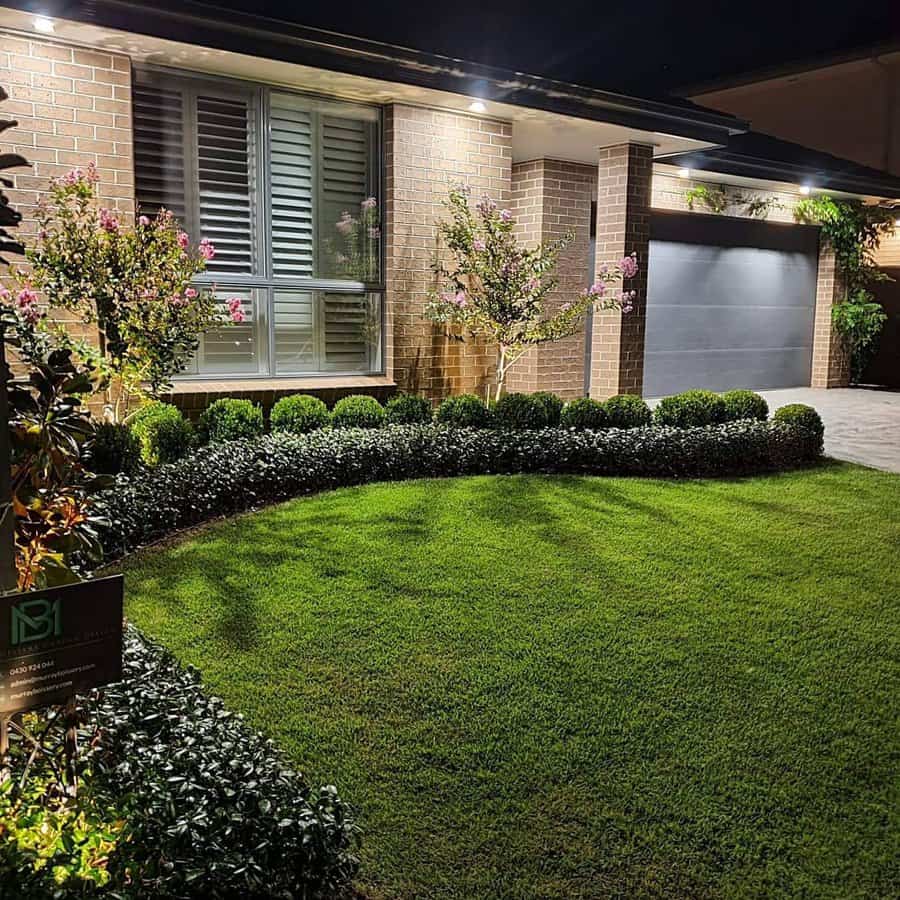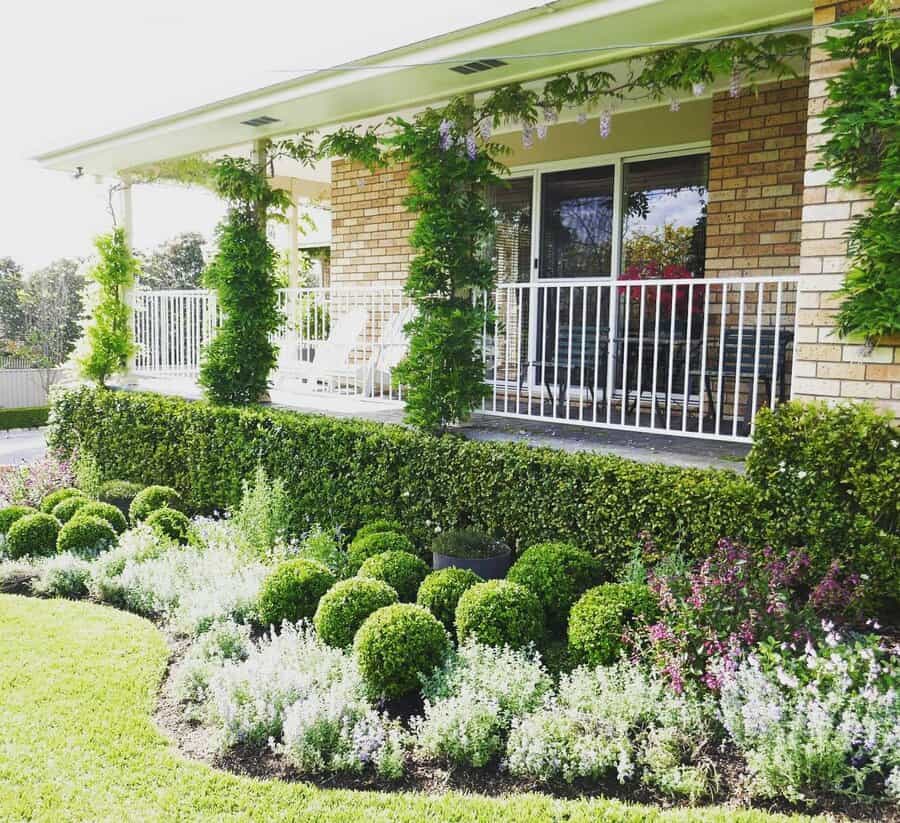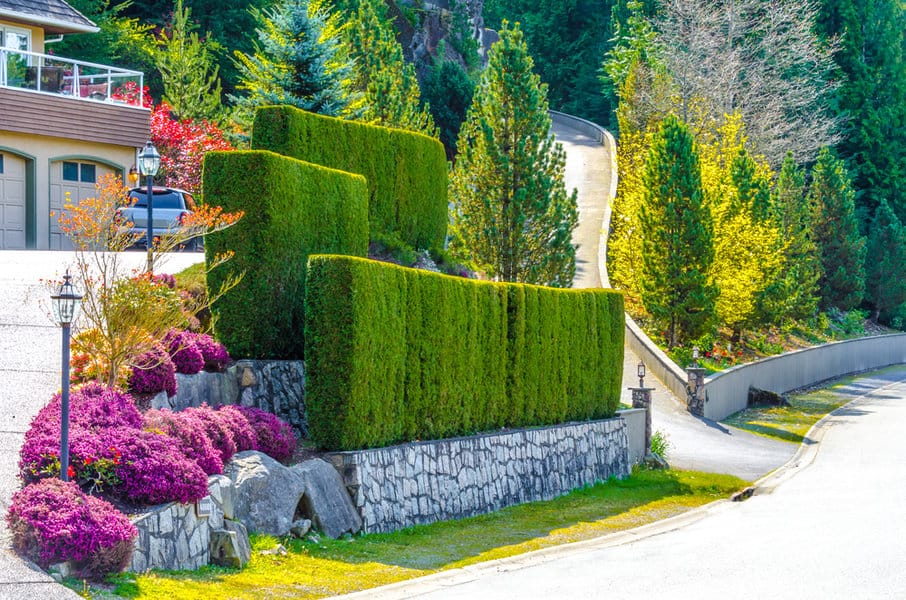 Landscaping for Front of House FAQs
Does curb appeal add value to a home?
Yes! In fact, many real estate professionals recommend investing in updated landscaping before placing a home on the market.
With that said, added value should only be part of your decision-making process. Unless you plan on selling your home extremely soon, what matters most is your own personal enjoyment of the space.
Should front and backyard landscaping match?
Whether or not the landscaping at the front of your house should match that of the backyard has a lot to do with the size and shape of your property!
If your backyard isn't visible from the street — because of the placement of your home, a privacy fence, etc. — then there's little reason to match its appearance to the front yard.
Yet your home's yard should never feel disjointed. Finding a balance between giving each area its own style while still coordinating is a challenge but well worth the effort.