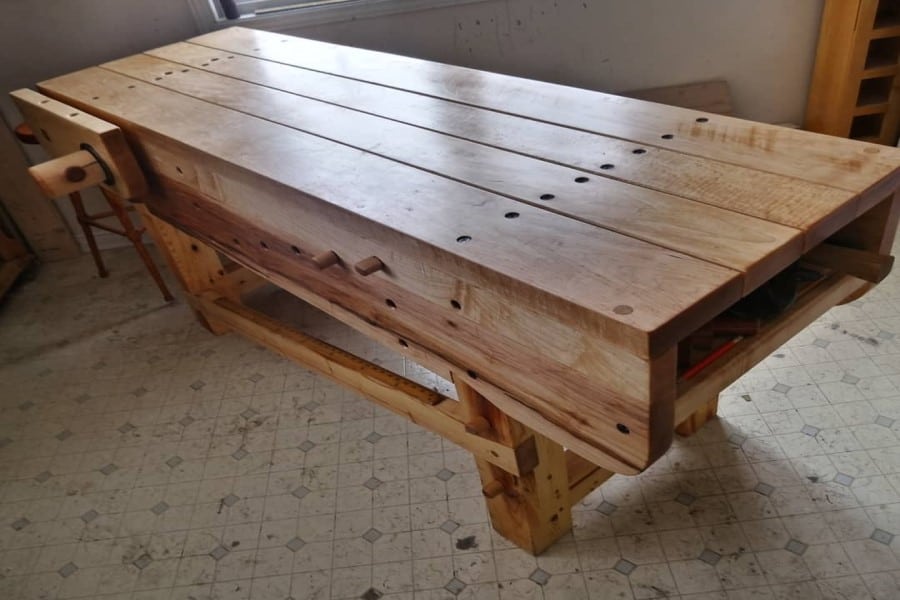 The Top 31 Garage Workbench Ideas
by — Kari Apted

Published on October 5, 2021

Updated on October 3, 2023
"A man's home is his castle, but his garage is his sanctuary." – Unknown
Virtually every garage is improved by the addition of a workbench. Even if you aren't a DIY project fanatic, it's helpful to have a strong surface for the various small projects every homeowner encounters.
A work bench also adds useful storage space to the garage, serving as the hub of your garage organization plan. If you don't have room for a full built-in garage workshop, there are dozens of portable workbench and folding workbench designs to fit your space. Take a look at these and other options in our collection of great garage workbench ideas.
1. Peg Board-Inspired Workbench
Keeping your garage work area organized is essential for efficiency. A pegboard-inspired workbench not only helps you stay organized but also adds a stylish touch to your space. Install a pegboard on your workbench or wall to keep tools and supplies within easy reach. You can easily customize the arrangement of hooks and hangers for your specific needs. This simple addition enhances both functionality and aesthetics in your garage, making it a practical choice for DIY enthusiasts.
Pro Tip: Arrange your tools strategically on the pegboard for quick access and consider adding task lighting above your workbench to improve visibility for detailed projects.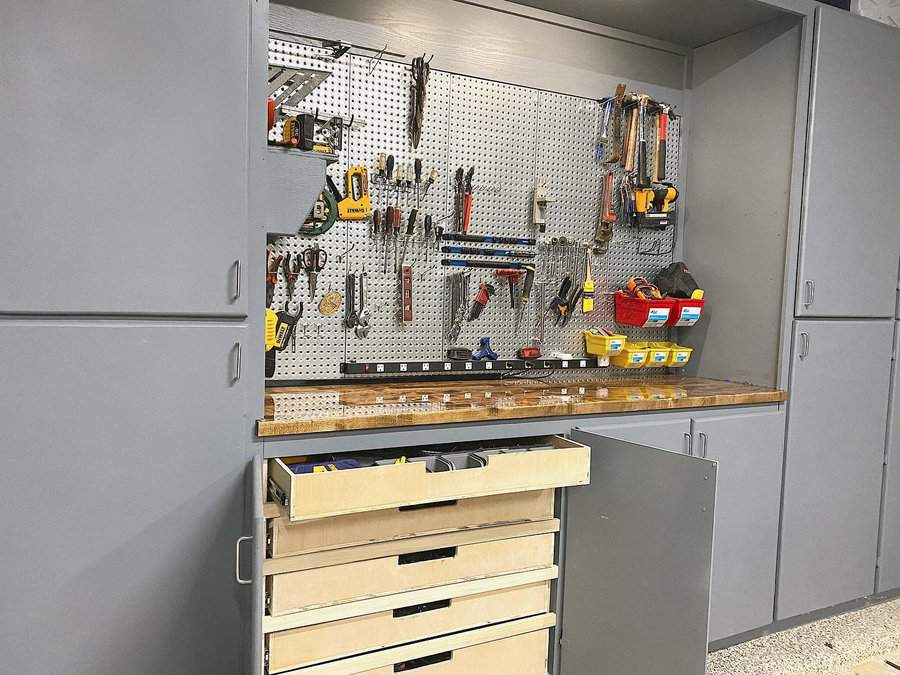 2. Mobile Rolling Workbench Design
Enhance your garage's versatility with a mobile rolling workbench. By adding wheels to your workbench, you gain the flexibility to easily relocate it to different areas of your garage, adapting to your changing project needs. Invest in a sturdy rolling workbench with lockable wheels to ensure stability during tasks.
Pro Tip: To complement this design, optimize your garage layout by creating designated zones for various tasks like woodworking, automotive maintenance, or DIY projects. Install wall-mounted storage solutions near your rolling workbench to keep tools and materials organized, ensuring a well-organized and functional workspace.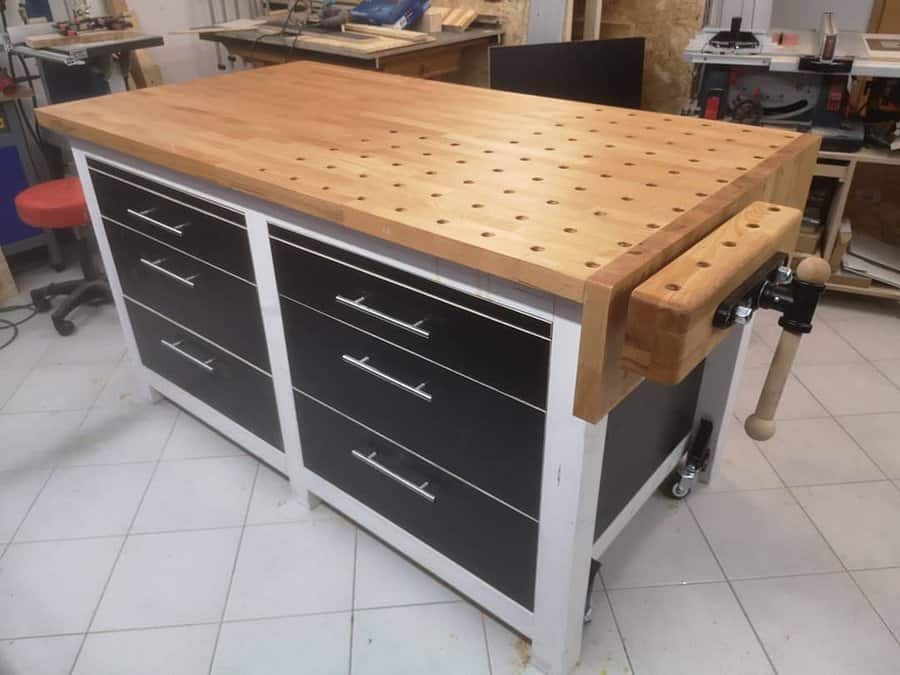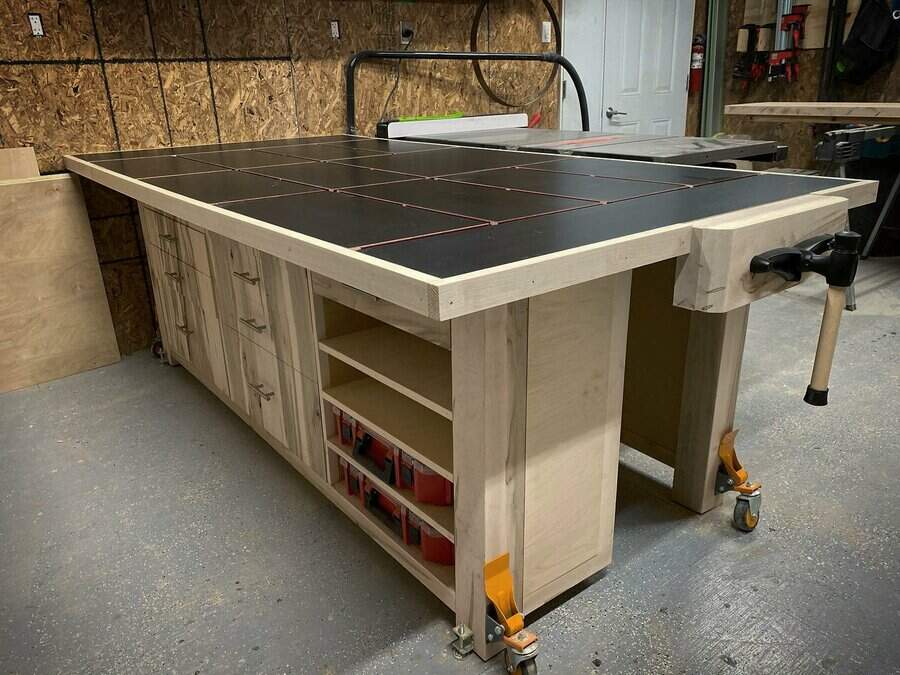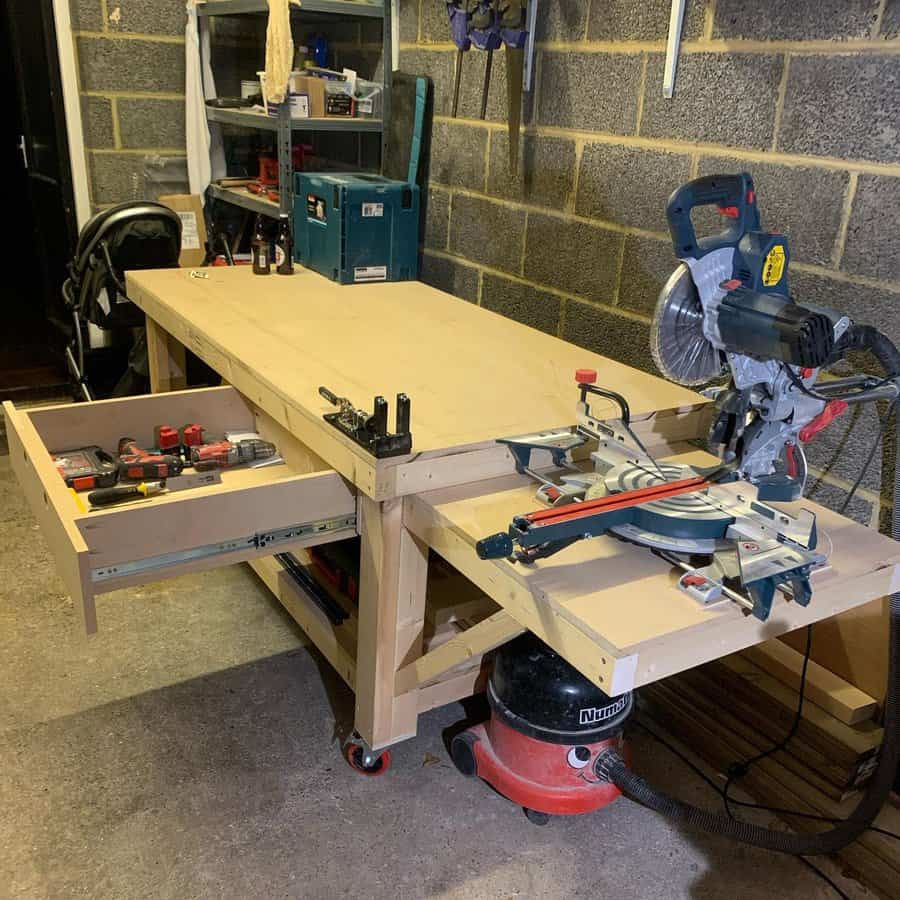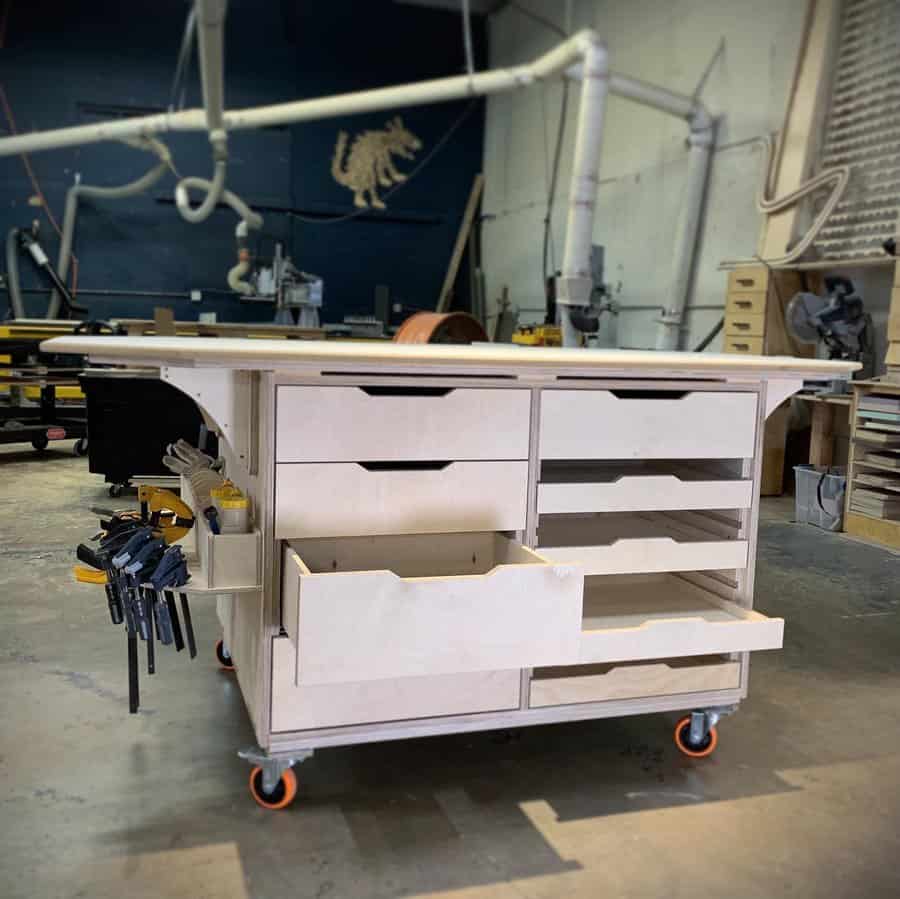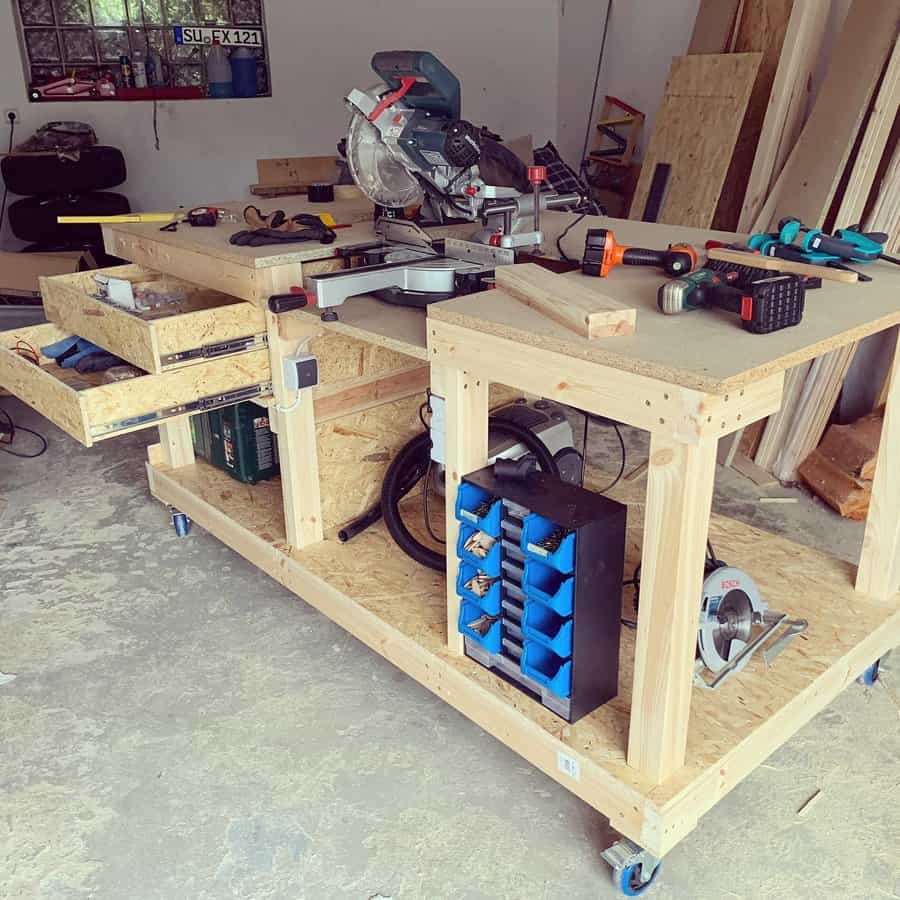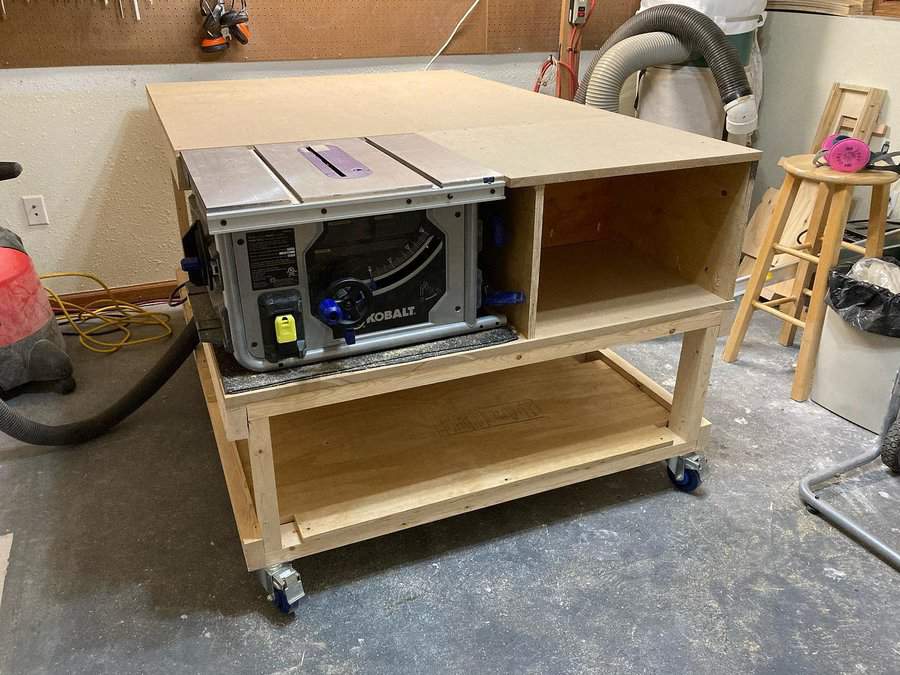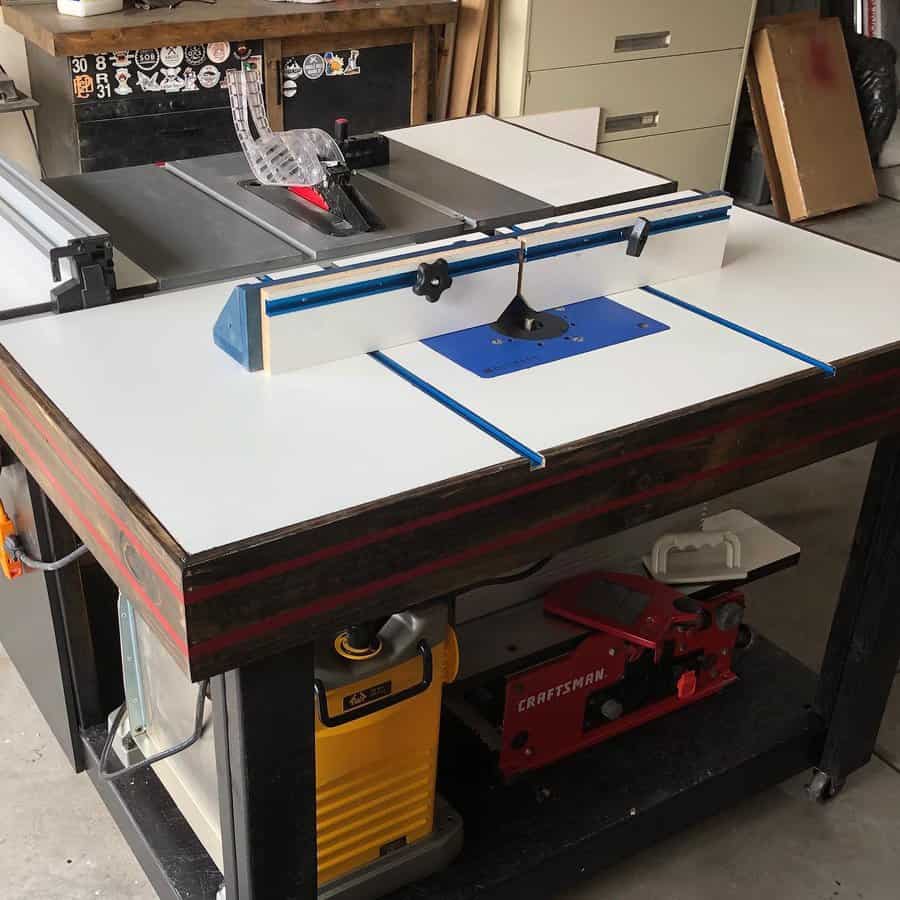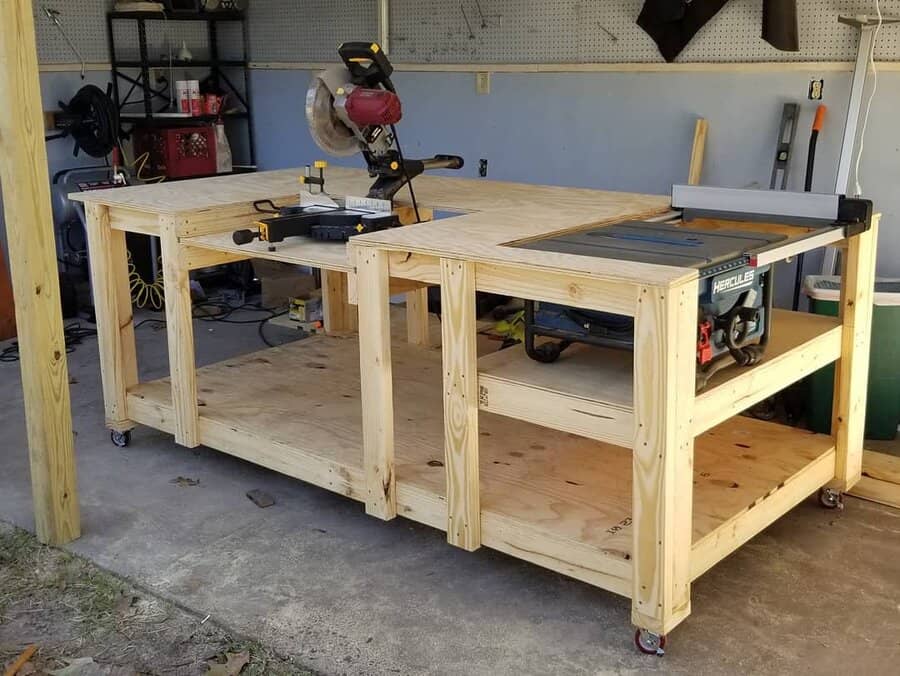 3. Paulk Workbench Modification Ideas
Unlock the full potential of your garage workspace with a modified Paulk workbench. This versatile solution suits garages of various sizes and offers limitless customization options. Incorporate shelves, drawers, clamps, and vises to tailor it to your specific needs.
Pro Tip: To make the most of your Paulk workbench, ensure proper lighting and organization. Install task lighting above the workbench for optimal visibility, and use labeled containers and organizers to keep your tools and supplies neatly arranged. This adaptable workbench is a fantastic choice for DIY enthusiasts of all skill levels, enabling efficient project execution in a well-designed setting.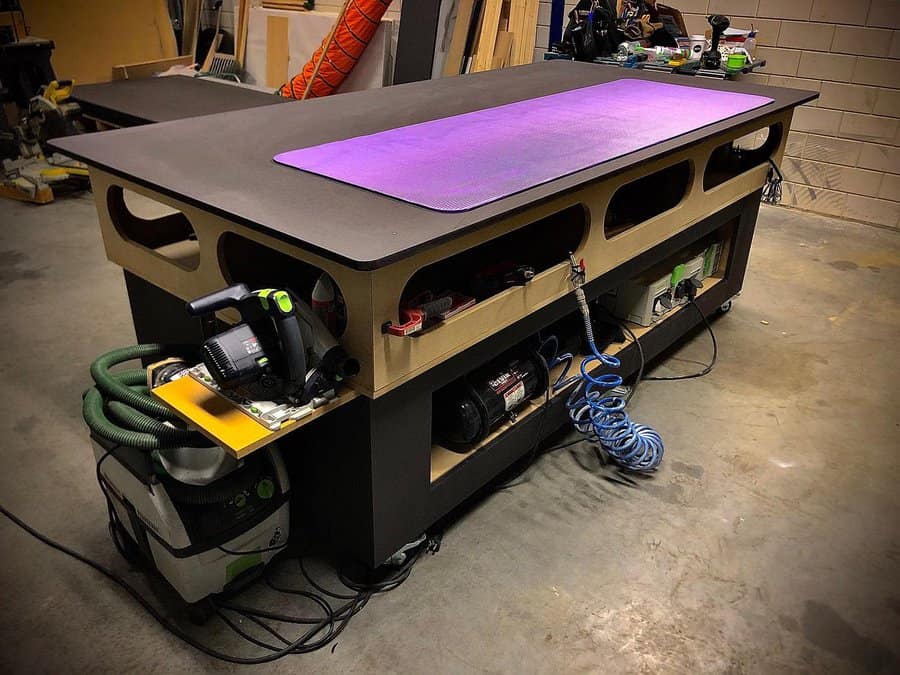 4. Modular Shelving Workbench Solutions
Elevate your garage workbench's functionality by integrating modular shelving. These adjustable shelves provide a convenient way to store tools, toolboxes, screws, and supplies within arm's reach while freeing up the work surface for your projects.
Consider installing modular shelving in tight garage spaces, as their versatile configurations and shapes can adapt to any layout. To maximize their utility, organize items in labeled bins or containers on the shelves. This smart addition enhances both storage and workspace efficiency, making it a must-have for your garage.
Pro Tip: Combine modular shelving with a pegboard or wall-mounted storage to create a comprehensive organization system, ensuring every tool and accessory has its dedicated spot in your garage.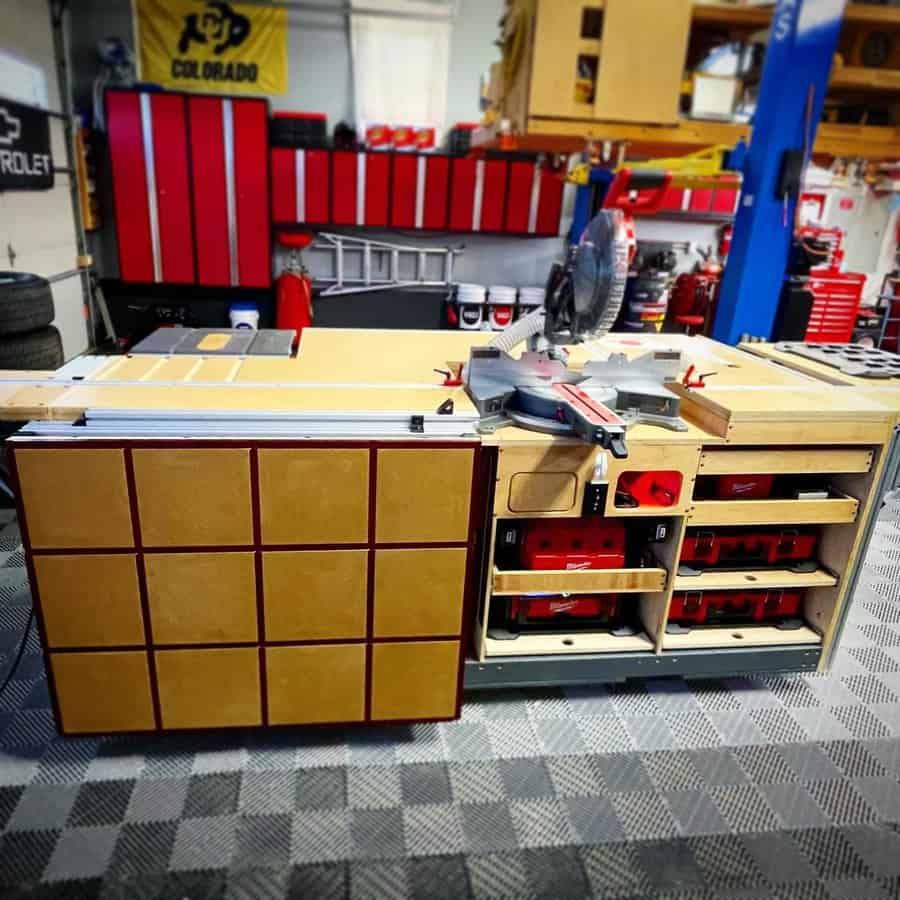 5. Slider-Enhanced Workbench Designs
For innovative garage workbench solutions, explore designs with built-in sliders. This clever feature offers a versatile workspace that adapts to your needs. Simply slide the board up or down on its railing to adjust the height for various projects.
To optimize this design, include cabinets underneath the slider to store materials neatly out of sight, creating a clutter-free workspace that's always ready for action. Invest in high-quality fixtures and joints for durability, ensuring your slider-enhanced workbench remains a long-lasting addition to your garage.
Pro Tip: Pair this workbench with adjustable task lighting to illuminate your workspace precisely, making it easier to tackle intricate projects with precision.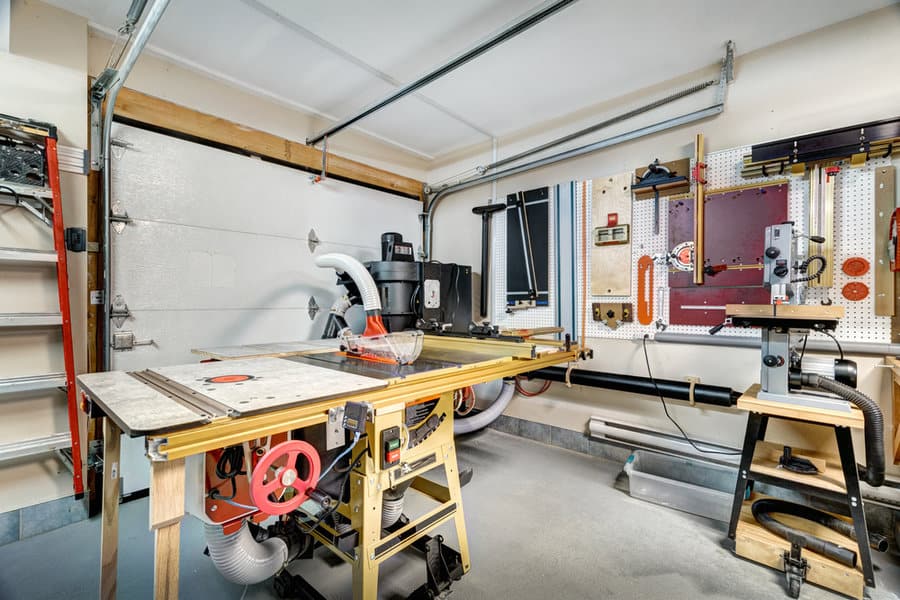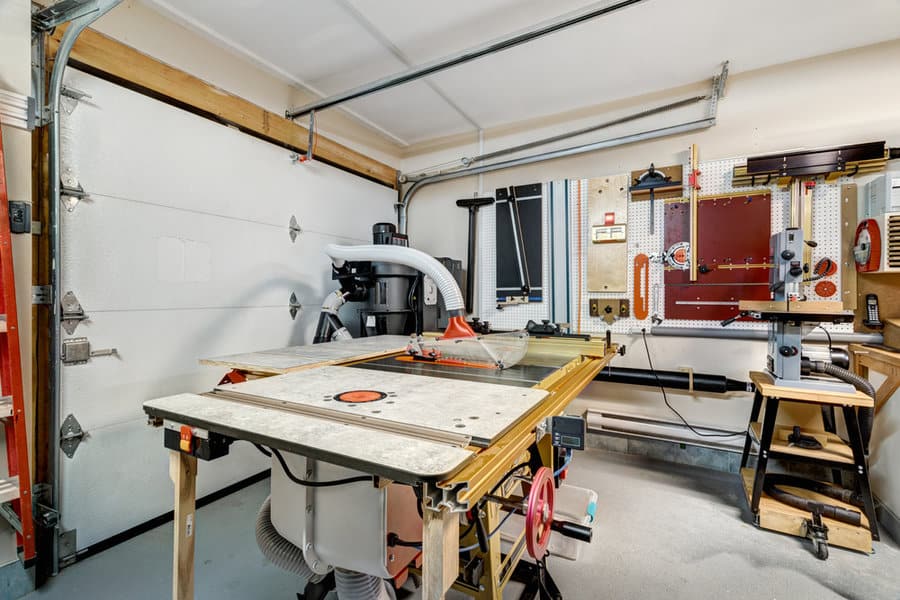 6. Creative Wood Pallet Workbench
Unleash your creativity with a rustic wood pallet workbench that's perfect for craftsmen and woodworkers. This DIY-inspired bench breathes new life into leftover materials, infusing your garage with a charming, eclectic style.
Consider adding a pegboard backing to efficiently organize tools and small parts like bolts, nuts, and screws. Transform the pallet lumber by sanding it down and applying a protective finish for a beautiful, functional workbench that suits various hobbies and projects.
Pro Tip: Customize your wood pallet workbench by adding a clear workspace sealant, which not only enhances its appearance but also provides durability and ease of maintenance. Incorporate wall-mounted storage for a well-organized and visually appealing workspace.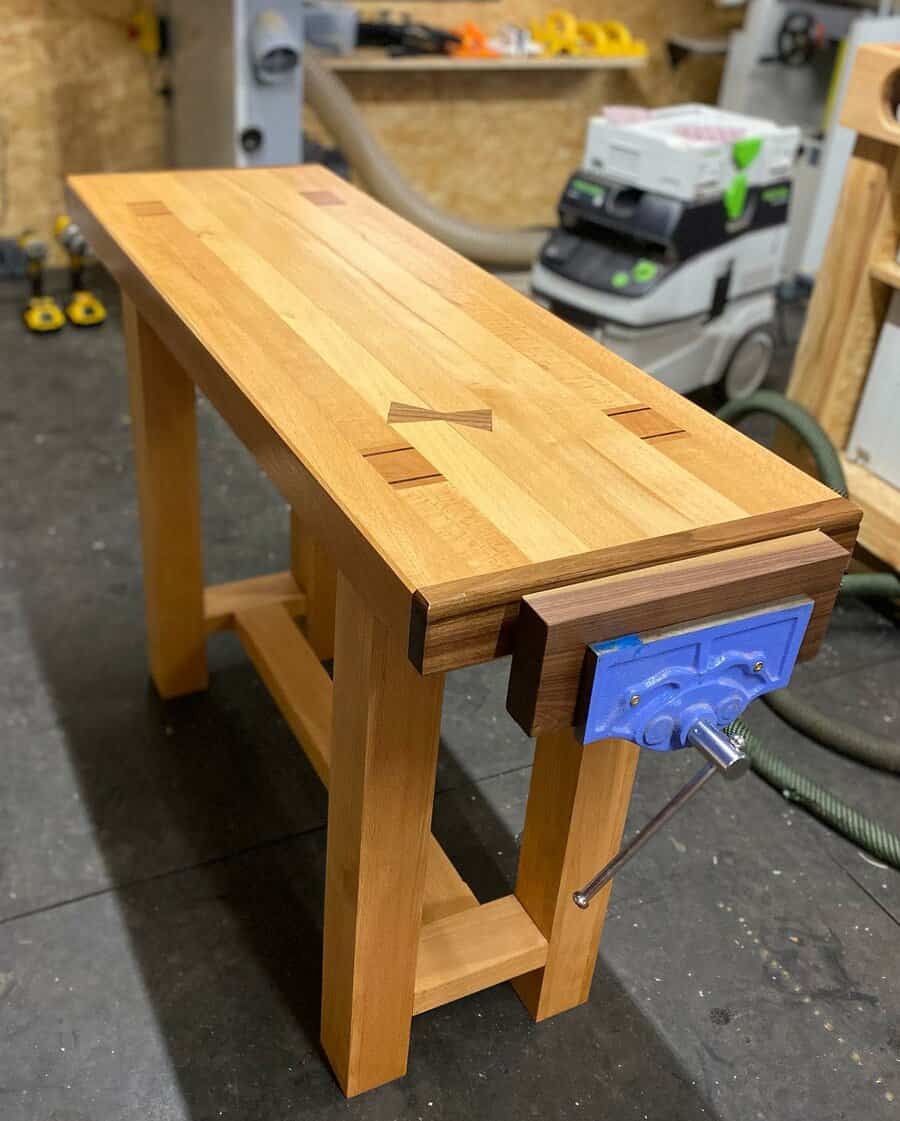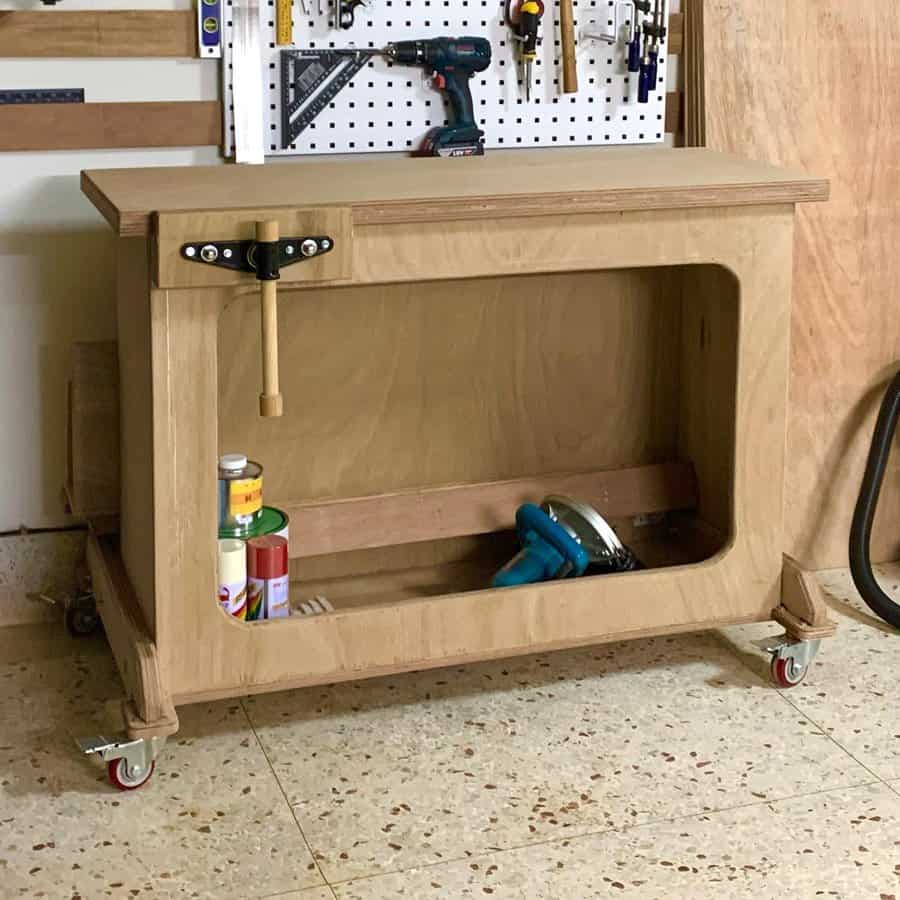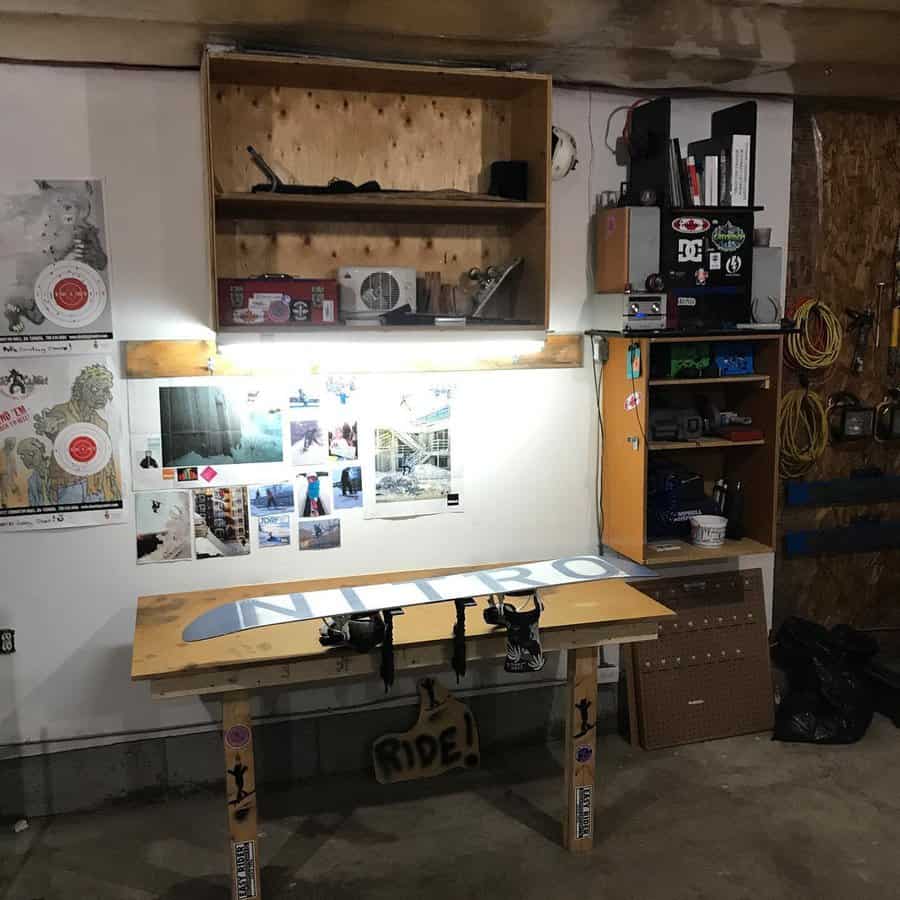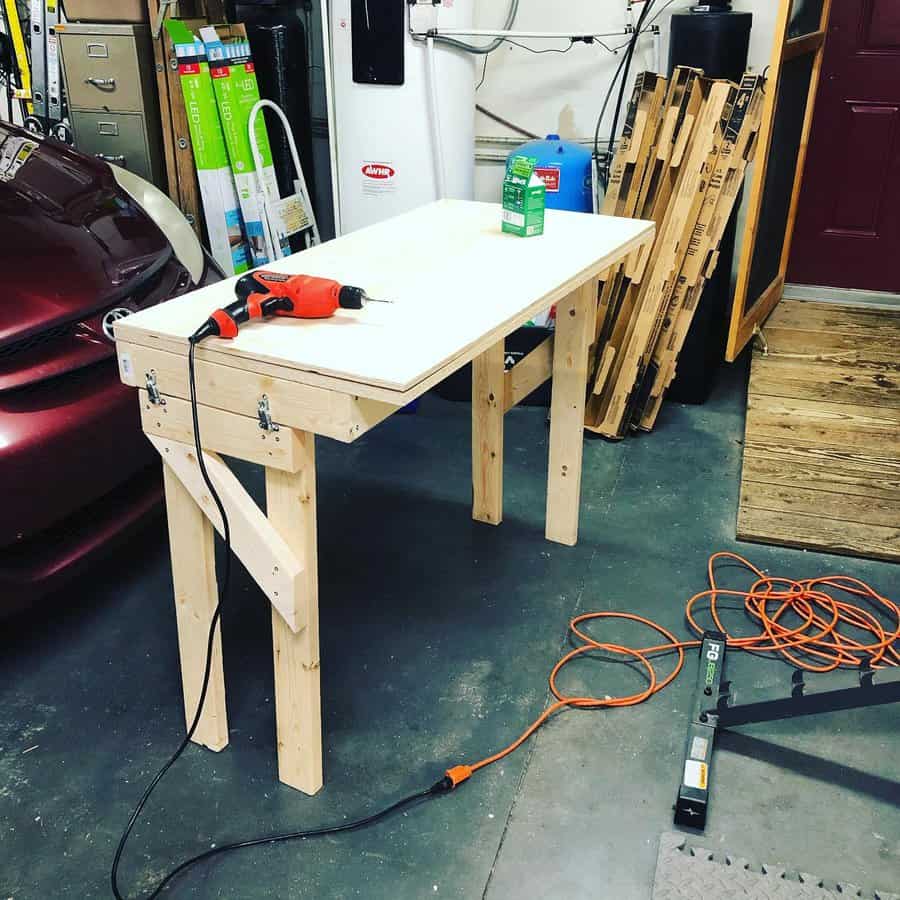 7. Crafting a Roubo Style Bench
Transform your garage workshop with a summer DIY project by crafting a Roubo-style workbench. This style boasts secure bench dogs and strategically placed holes, providing a stable platform for your projects.
Beyond the functional benefits, building a Roubo-style bench offers a rewarding creative outlet and a sense of achievement. It not only enhances your garage's practicality but also adds a touch of craftsmanship to your workspace, elevating your DIY experience.
Pro Tip: Choose high-quality hardwood for durability, ensuring your Roubo-style bench lasts for years. To complete your workshop setup, designate a space for tool storage and organization, streamlining access to essential equipment during your projects.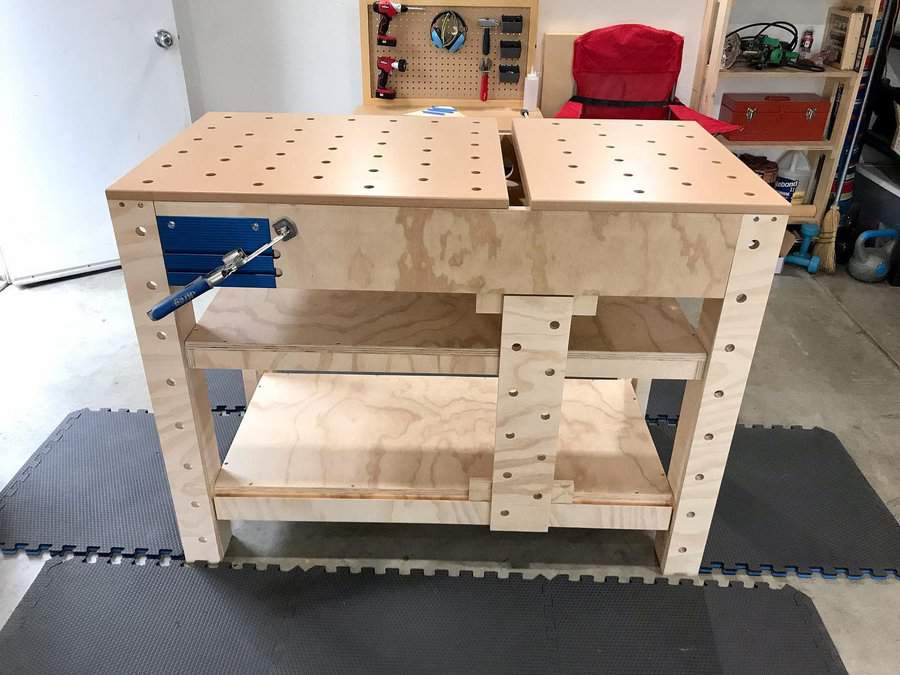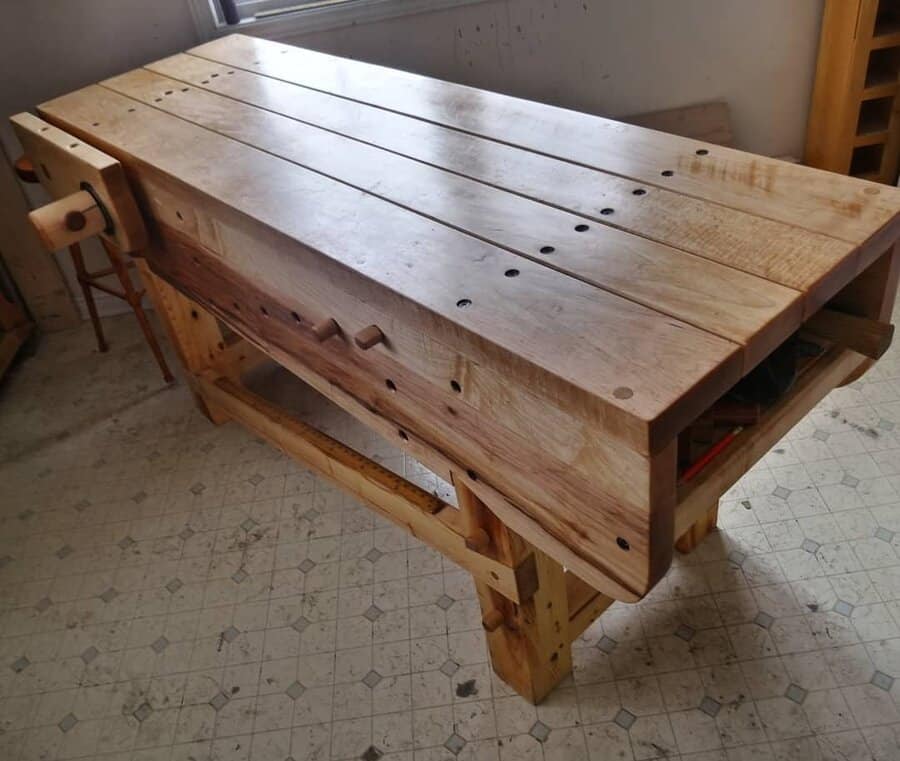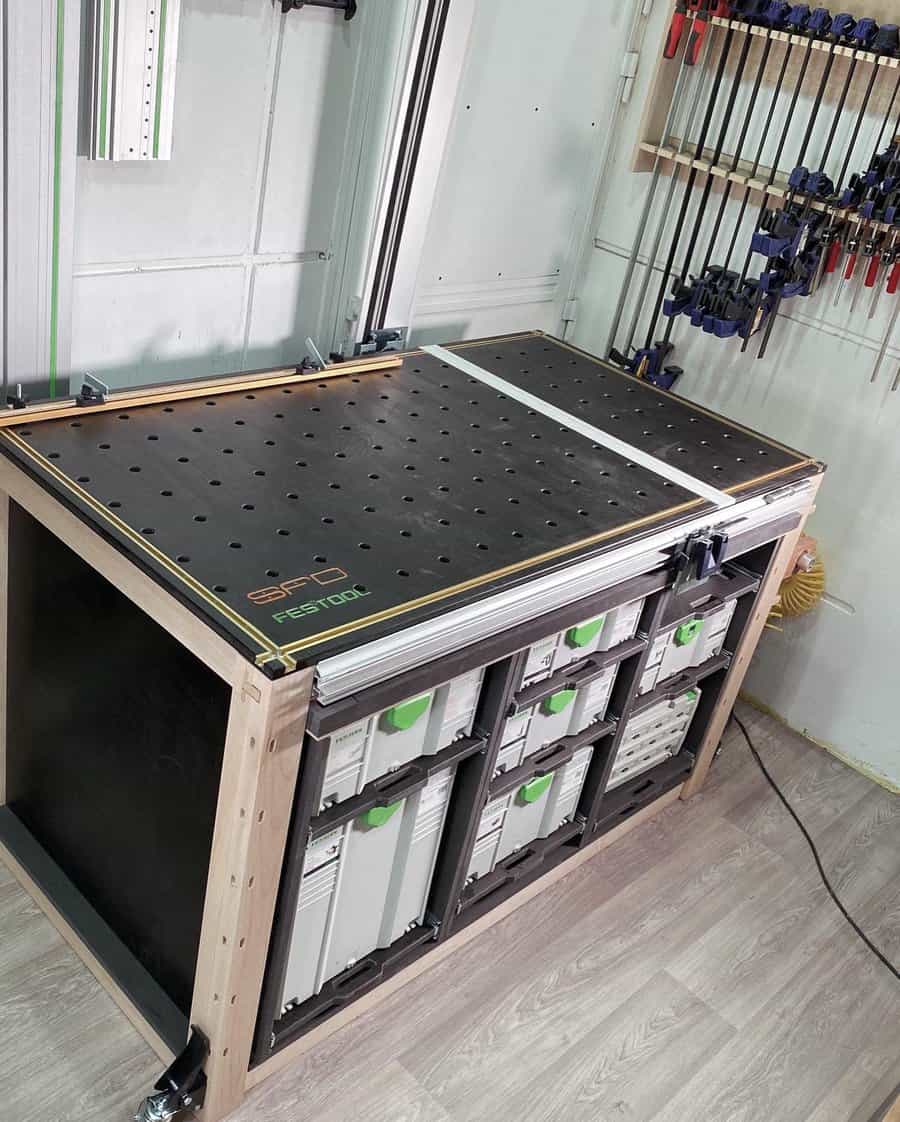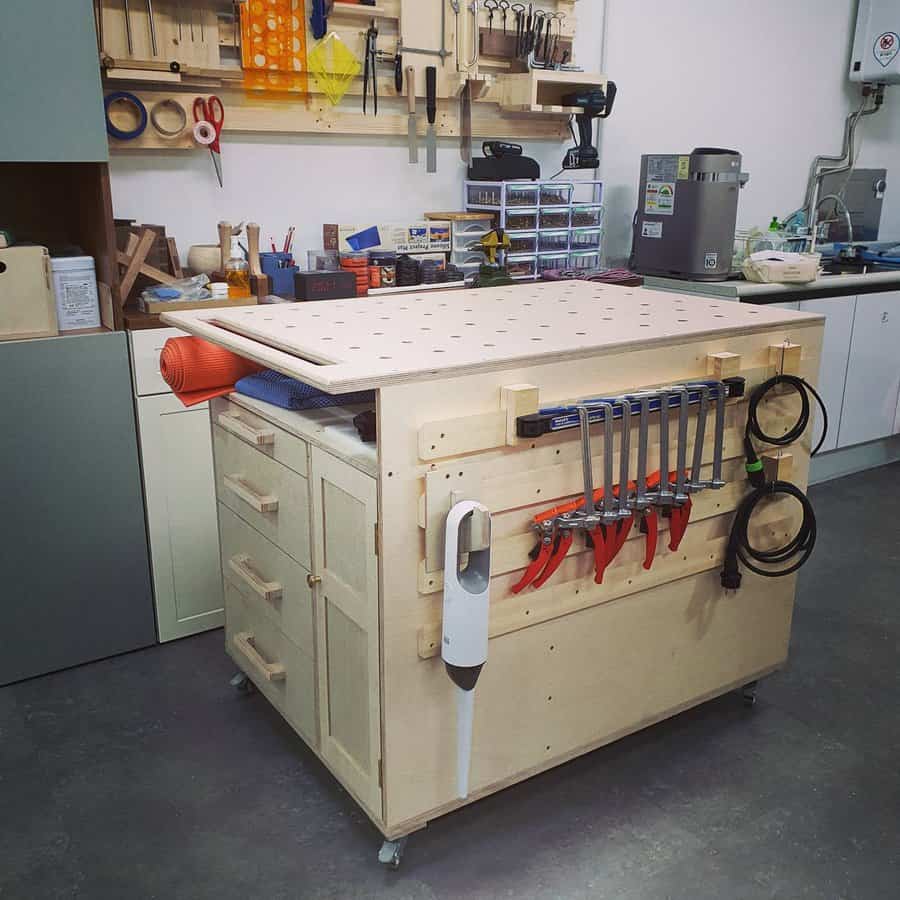 8. Combining Metal and Wood Workbench
Achieve the ultimate garage workbench by crafting a metal-wood hybrid design, a creative and space-efficient solution. Start by acquiring sturdy steel frames and wooden boards, cutting them to your preferred size and shape, and assembling them into a cohesive unit.
For an industrial touch, consider positioning your workbench against a rustic brick wall. This combination ensures durability, making it ideal for furniture building or automotive repairs. This versatile workbench empowers you to tackle a wide range of projects efficiently and effectively right in your garage.
Pro Tip: Add a pegboard or modular shelving nearby to keep tools and materials organized, creating a well-rounded workspace for your DIY ventures. Ensure proper ventilation and safety measures in your garage when working on projects that involve welding or other heavy-duty tasks.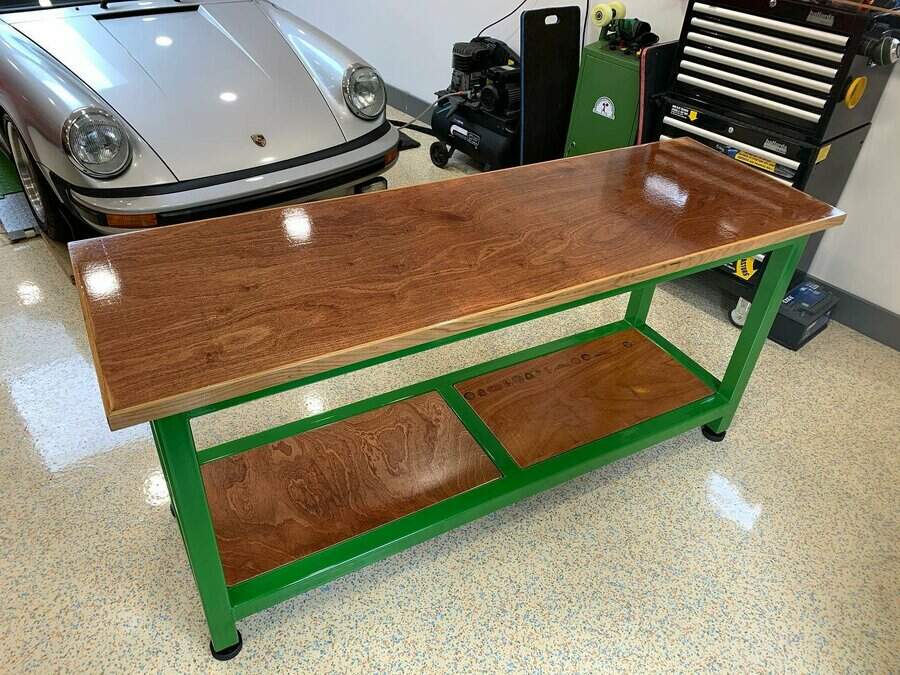 9. Space-Saving Foldable Workbench Ideas
Maximize your garage workspace with a space-saving foldable workbench. This practical solution is perfect for those with limited space. After use, simply fold it up and store it against the wall to reclaim valuable floor space.
For added convenience, consider attaching wheels to the base, allowing you to effortlessly relocate your workbench as needed. To optimize organization, line your garage walls with pegboard and arrange your tools systematically for easy access during painting or repair tasks.
Pro Tip: Implement a wall-mounted tool storage system, such as wall panels or cabinets, to further enhance organization and make the most of your garage's vertical space. This combination of a foldable workbench and smart storage solutions creates a functional and versatile workspace in even the tightest garage spaces.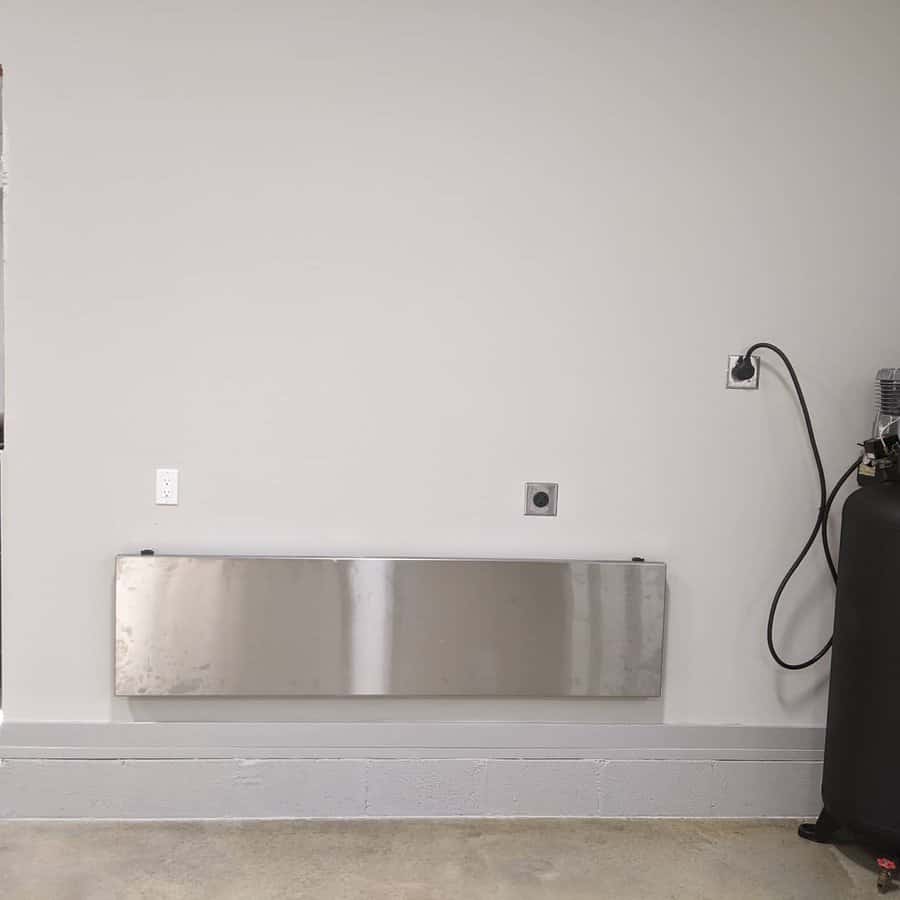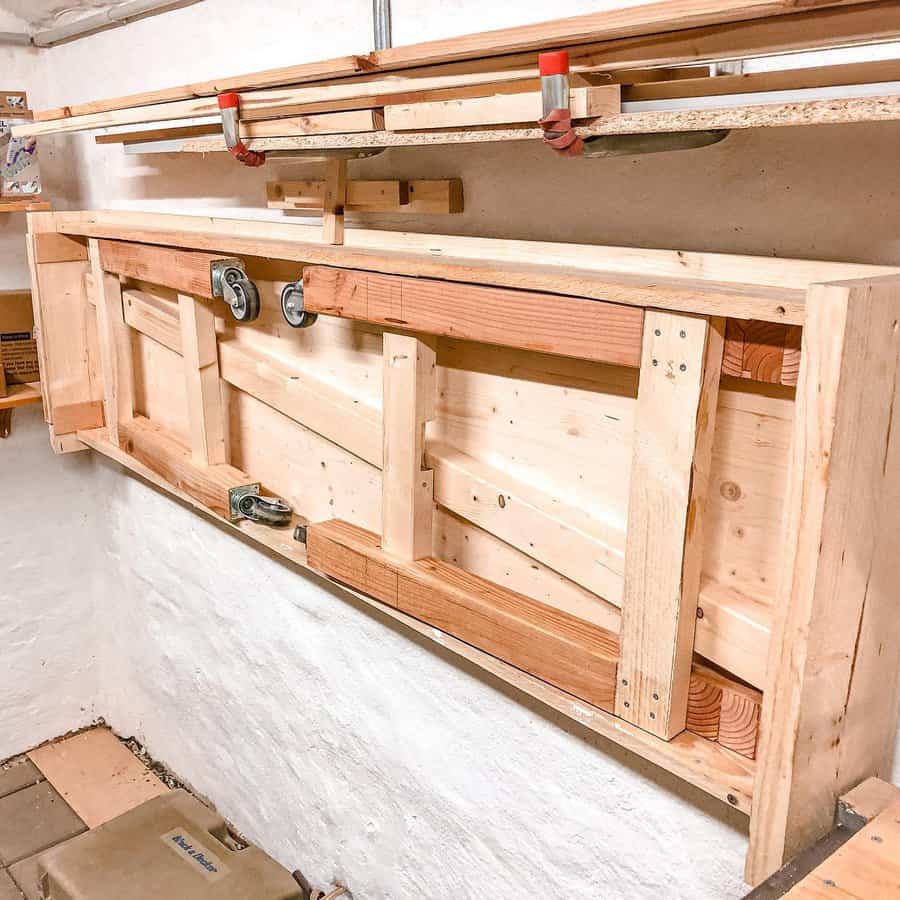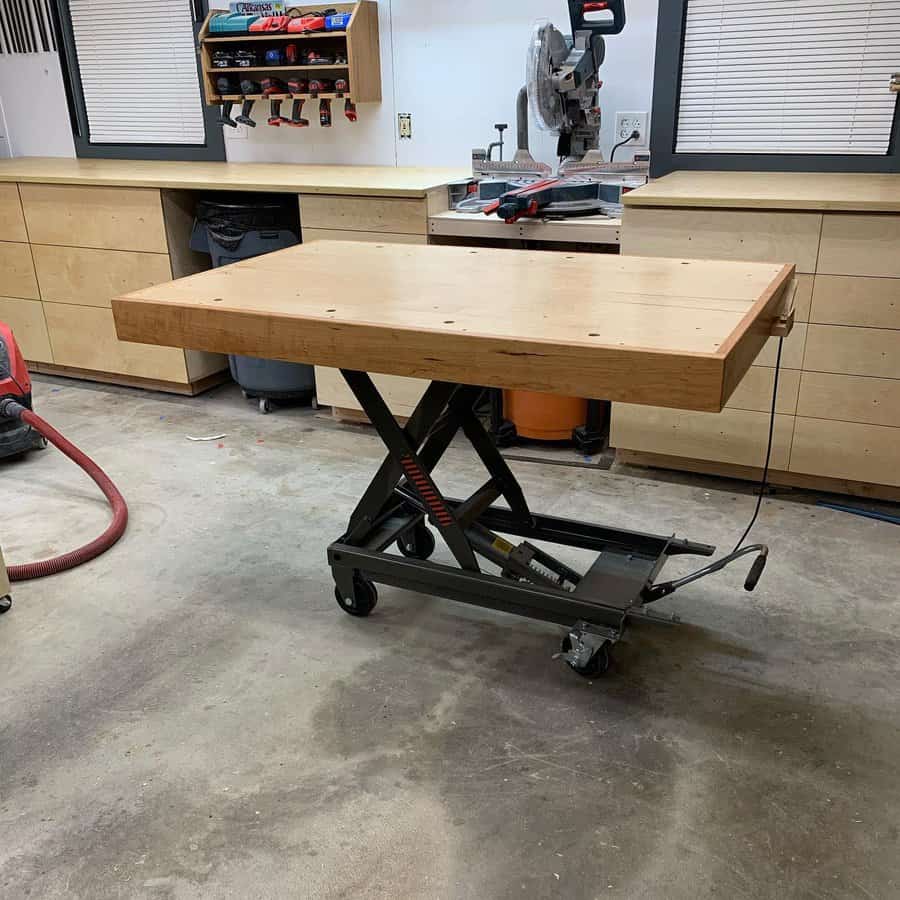 10. Pony Wall-Integrated Workbenches
For efficient garage workspaces, consider pony wall-integrated workbenches. These space-saving solutions provide both a designated work area and ample storage options, making them ideal for DIY enthusiasts.
Mounted directly on the wall, these workbenches feature customizable shelves for organizing tools and materials. Tailor the shelving and benchtop to suit your unique requirements. With thoughtful design and organization, you can transform this space into your dedicated workshop.
Pro Tip: Install pegboards or hooks on the wall above the workbench to maximize vertical storage and keep frequently used tools within easy reach, ensuring a clutter-free and functional workspace.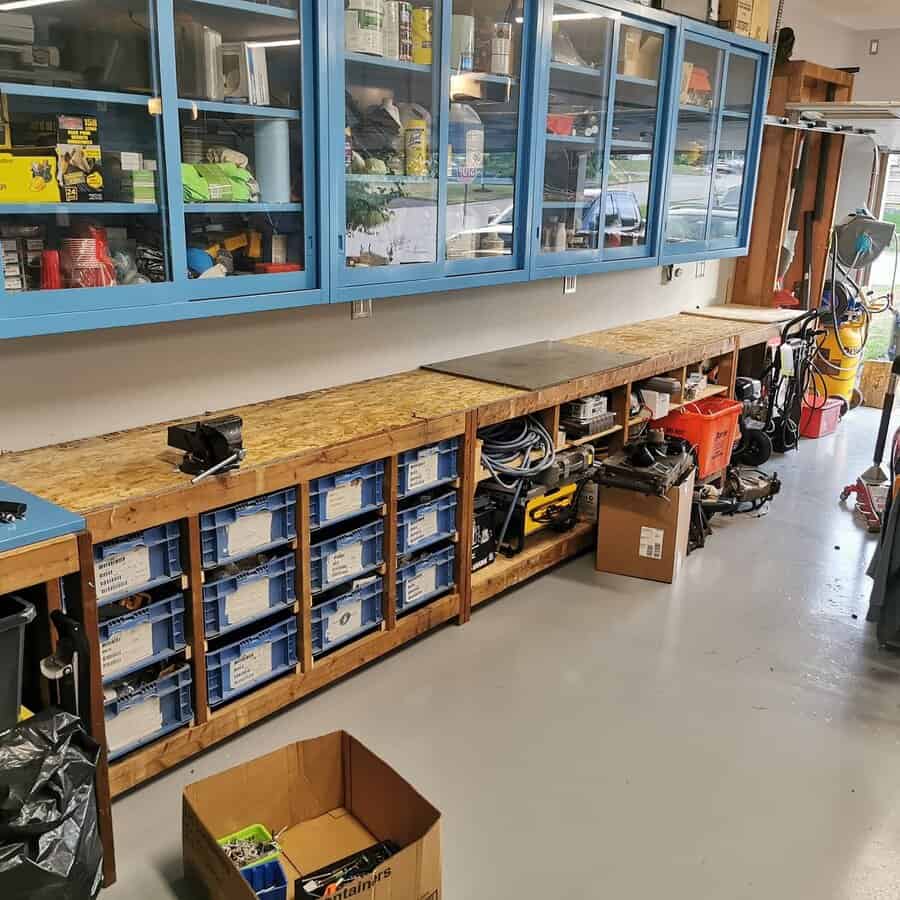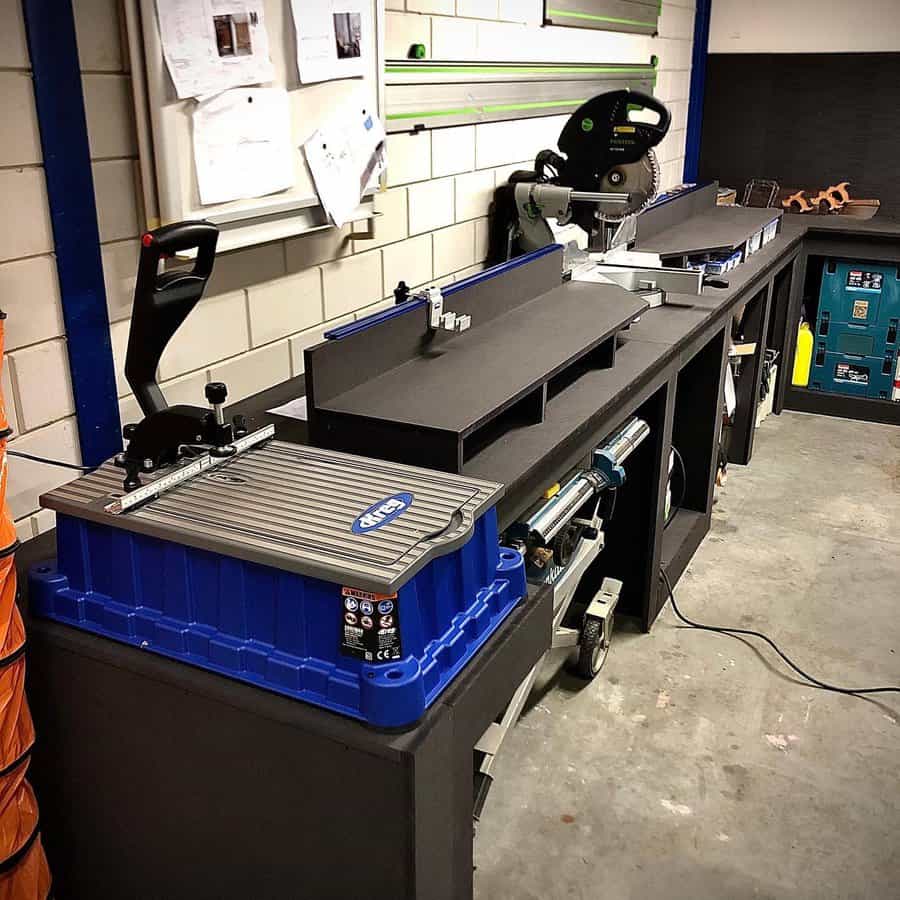 11. Wall-Mounted Workspace Solutions
Maximize your garage space with a wall-mounted workbench. This clever setup frees up valuable floor space for equipment and tools while providing a stable and efficient workspace.
By mounting the workbench on the wall, you eliminate the risk of spills or messes cluttering your work area. This visibility also ensures quick access and easy organization.
Pro Tip: Enhance the functionality of your wall-mounted workbench by incorporating integrated storage, such as cabinets or shelves, for efficient tool and material organization. Consider installing proper task lighting to illuminate your workspace, improving productivity and safety during your projects.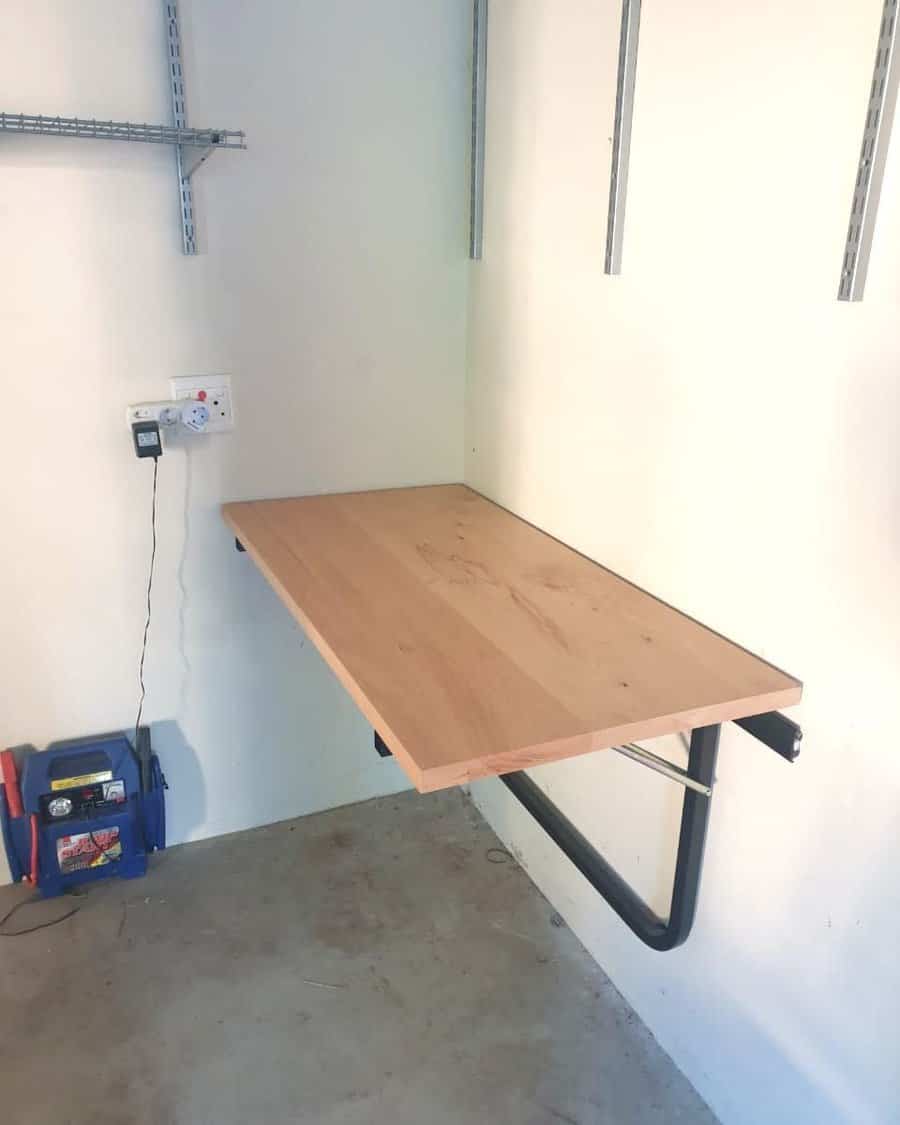 12. Workbench with Integrated Shelves
Achieve the perfect blend of functionality and creativity with a workbench featuring integrated shelves. This garage workbench idea is ideal for aspiring handymen and women, offering convenient storage adjacent to a flat surface for seamless project execution.
Position one end of the bench against the wall, leaving ample open space in front for your work area. Add shelving on the opposite side to accommodate paints, tools, and fasteners. With this setup, you can access your essentials quickly and efficiently, making the most of your precious tinkering time.
Pro Tip: Opt for adjustable shelves to accommodate items of varying sizes and consider installing a pegboard above the workbench for additional tool storage and easy access. This versatile design maximizes your workspace's efficiency and organization.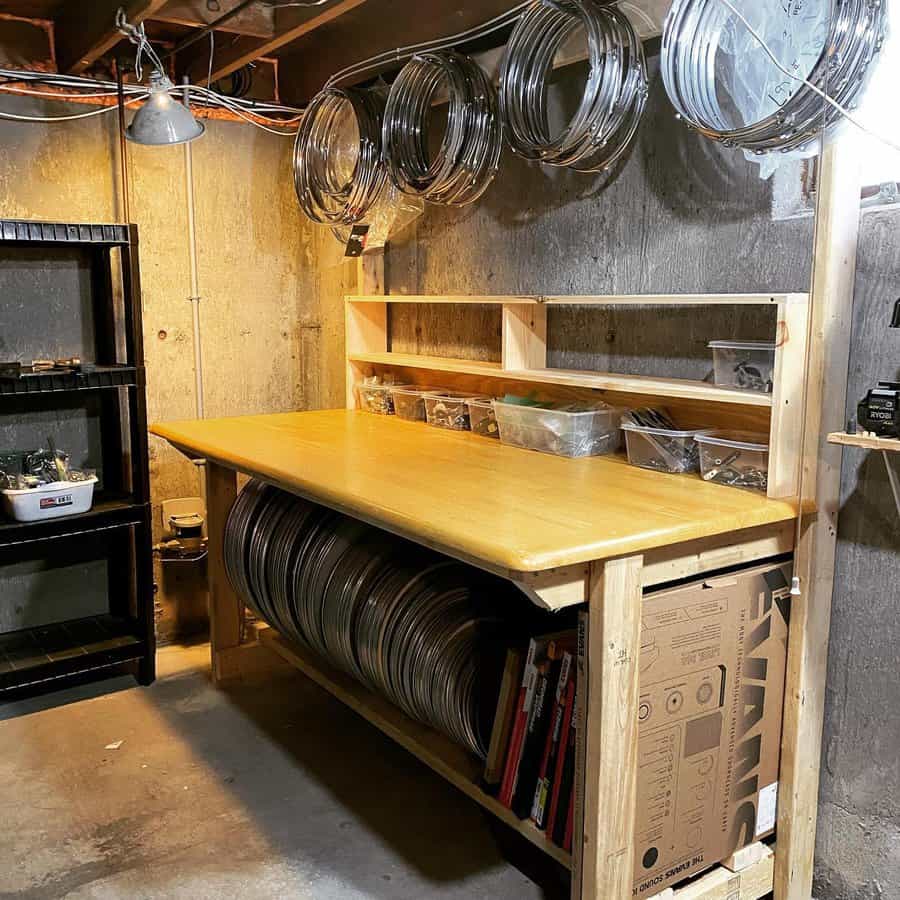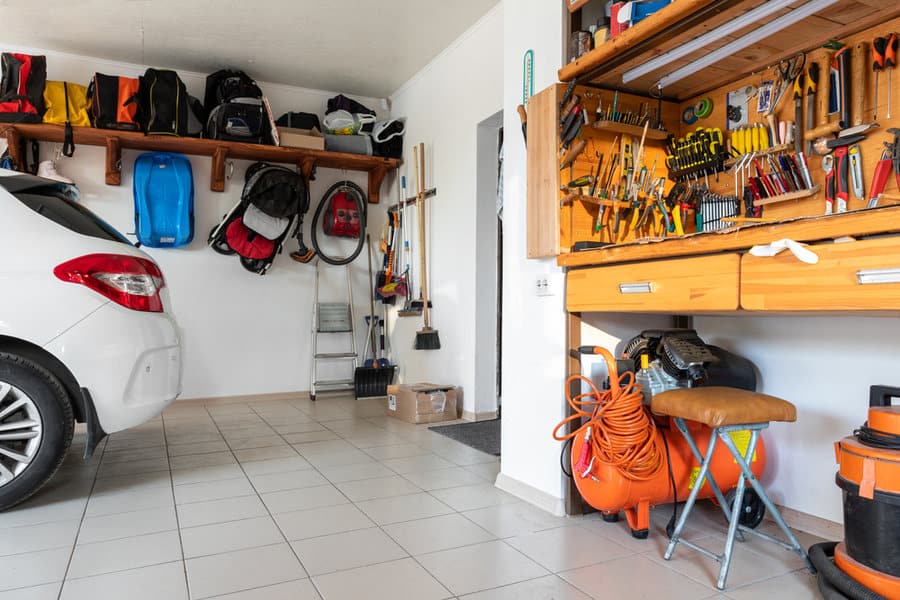 Garage Workbench FAQs
What is the best height for a garage workbench?
A comfortable garage workbench height for most people is between 36 and 38 inches. If you're planning to do a lot of heavy work, a lower working height may be more comfortable (around 31 inches). A pre-made garage workbench with adjustable heights is a good option if multiple people will be using the workbench for different DIY projects.
Should I varnish my workbench top?
Some people prefer to work on a bare wood work surface. However, workbench tops are easier to clean if they're sealed with a thin coat of polyurethane varnish. Also called "poly," this finish provides a smooth surface that makes it easier to wipe up spilled paint, glue, oil, and other fluids.
Can you use MDF for a workbench top?
MDF (medium density fiberboard) can be used for a simple workbench top, but hardboard will be more durable over time. MDF also absorbs water quickly and can easily swell out of shape. Be sure to wax the surface to make it less porous.