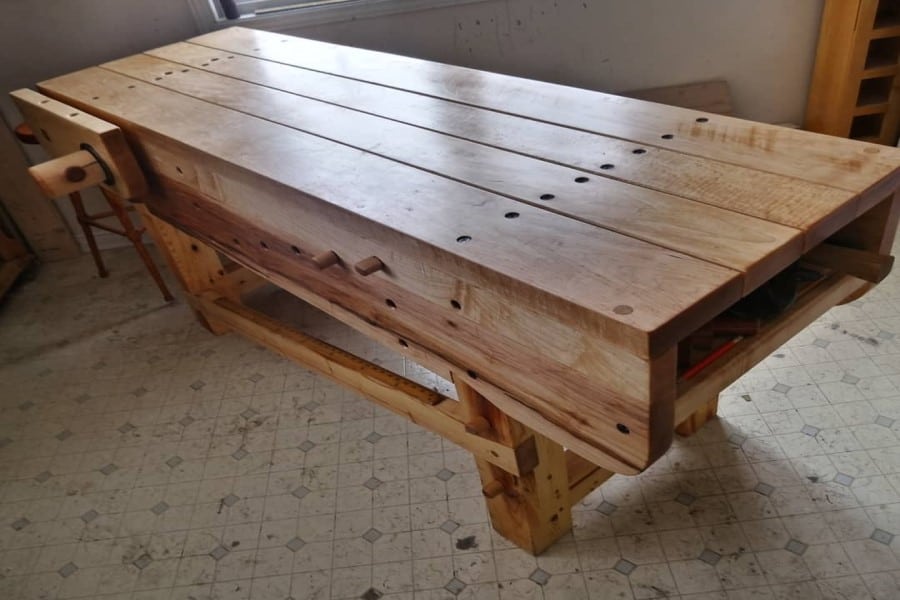 The Top 31 Garage Workbench Ideas
"A man's home is his castle, but his garage is his sanctuary." – Unknown
Virtually every garage is improved by the addition of a workbench. Even if you aren't a DIY project fanatic, it's helpful to have a strong surface for the various small projects every homeowner encounters.
A work bench also adds useful storage space to the garage, serving as the hub of your garage organization plan. If you don't have room for a full built-in garage workshop, there are dozens of portable workbench and folding workbench designs to fit your space. Take a look at these and other options in our collection of great garage workbench ideas.
1. Modern
Today's modern work bench designs are not like your grandfather's. Sleek brushed metal wall units with a bench in the center can be custom built along your garage wall. Visit your local home improvement store and purchase modular cabinets, drawers, and worktops to design your own DIY workbench.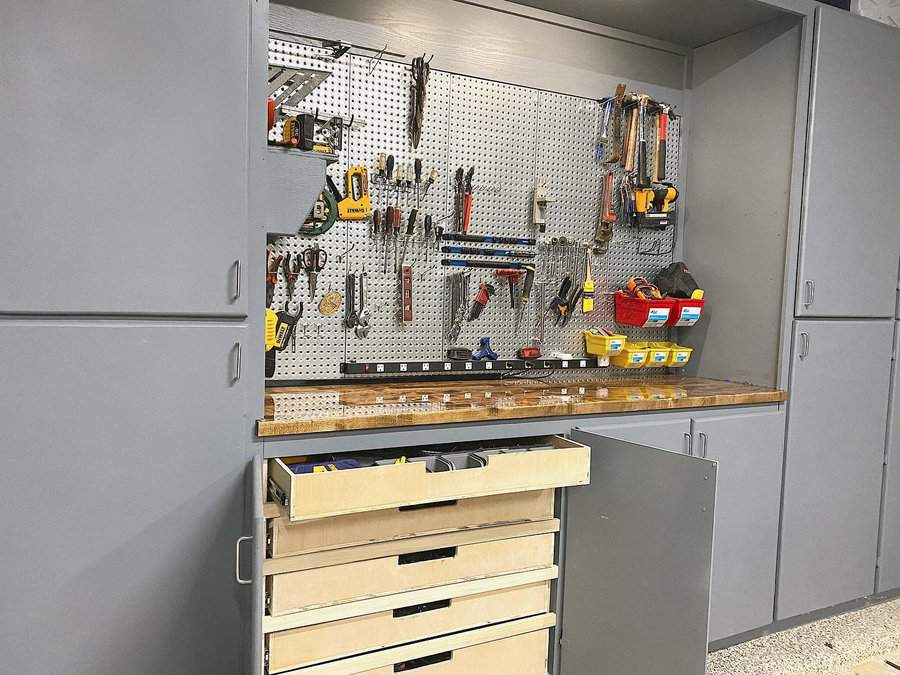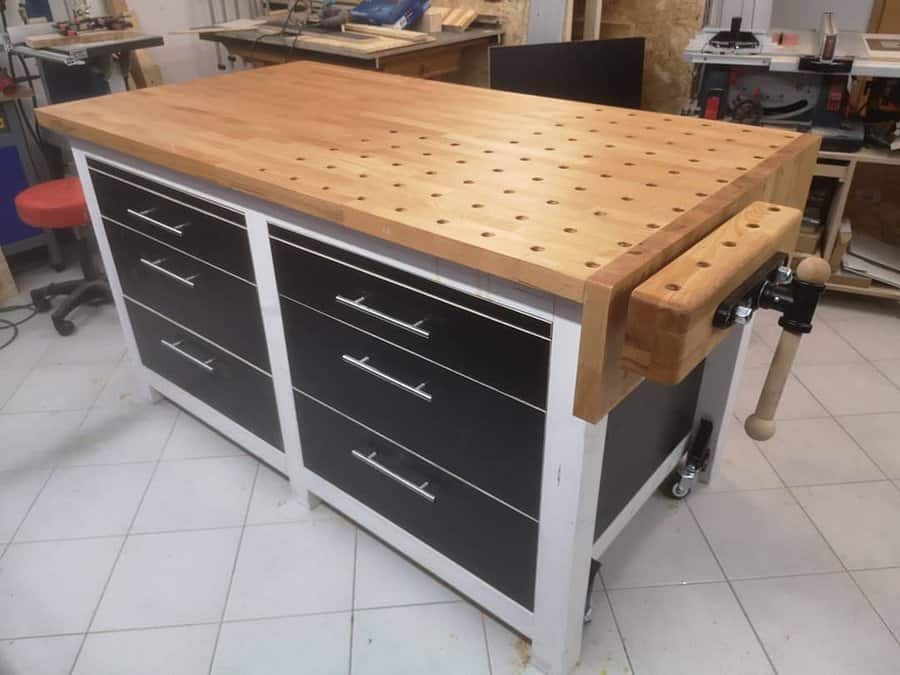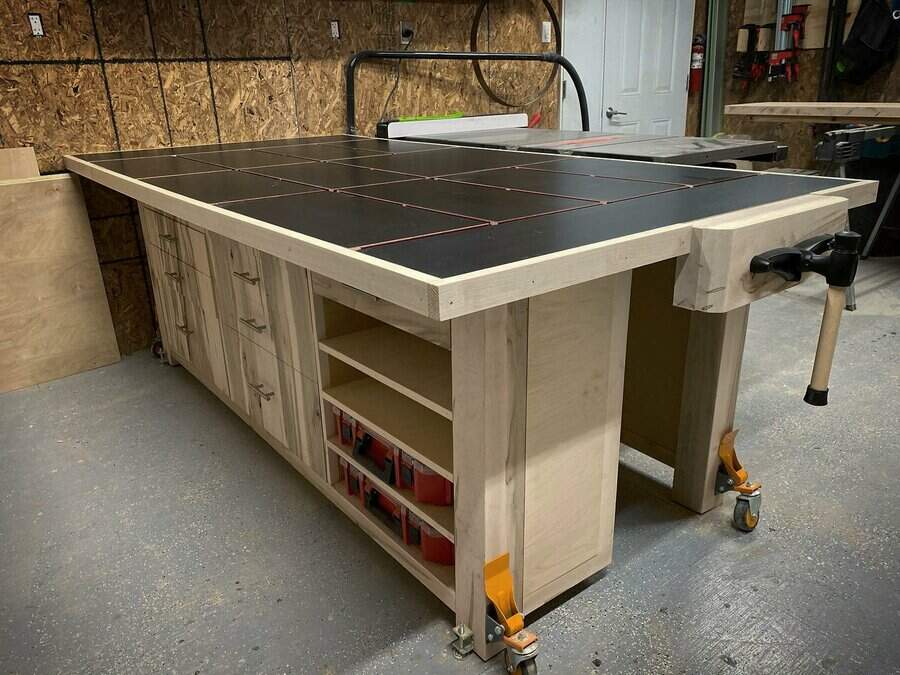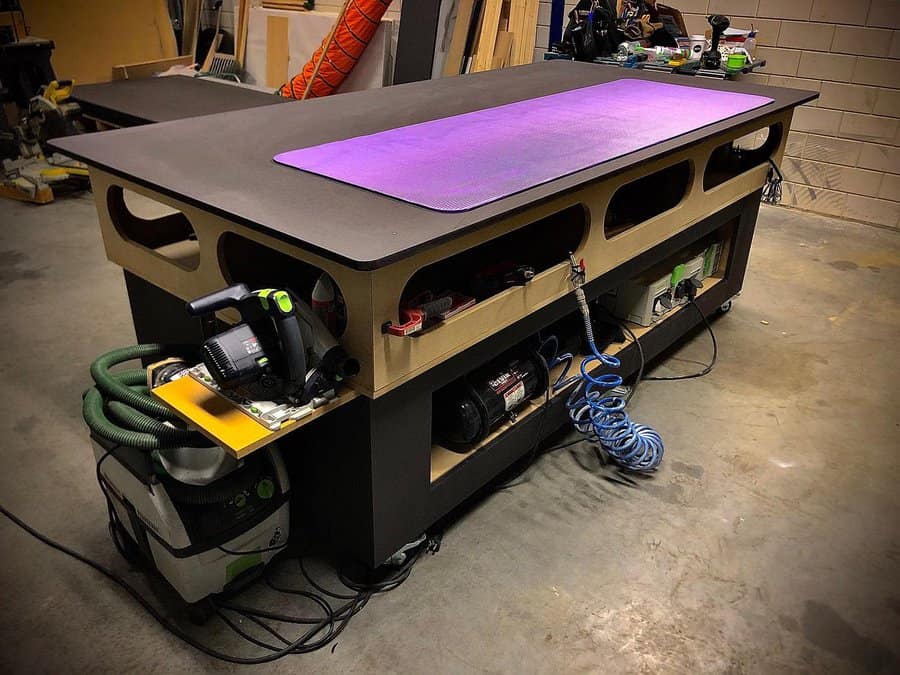 While metal is perhaps the most modern garage workbench design material, wood can also be finished in a modern furniture style. Modern design embraces minimalism and simple lines, and most workbench plans fit this definition.
Make a simple DIY workbench design appear more modern by painting it and any connecting cabinetry in one solid matte color. Black, charcoal, and navy blue are good dark modern hues and coordinate well with any kind of metal workbench frame and wood worktop. Paint pegboard the same color for more clean visual continuity.
2. Power Tool Storage
Power tool storage is another element to incorporate into your workbench plan. Designate specific shelves to hold your miter saw, circular saw, shop vacuum, and other large equipment. Even if you don't own any power tools yet, leave enough room in your garage storage system to build a collection.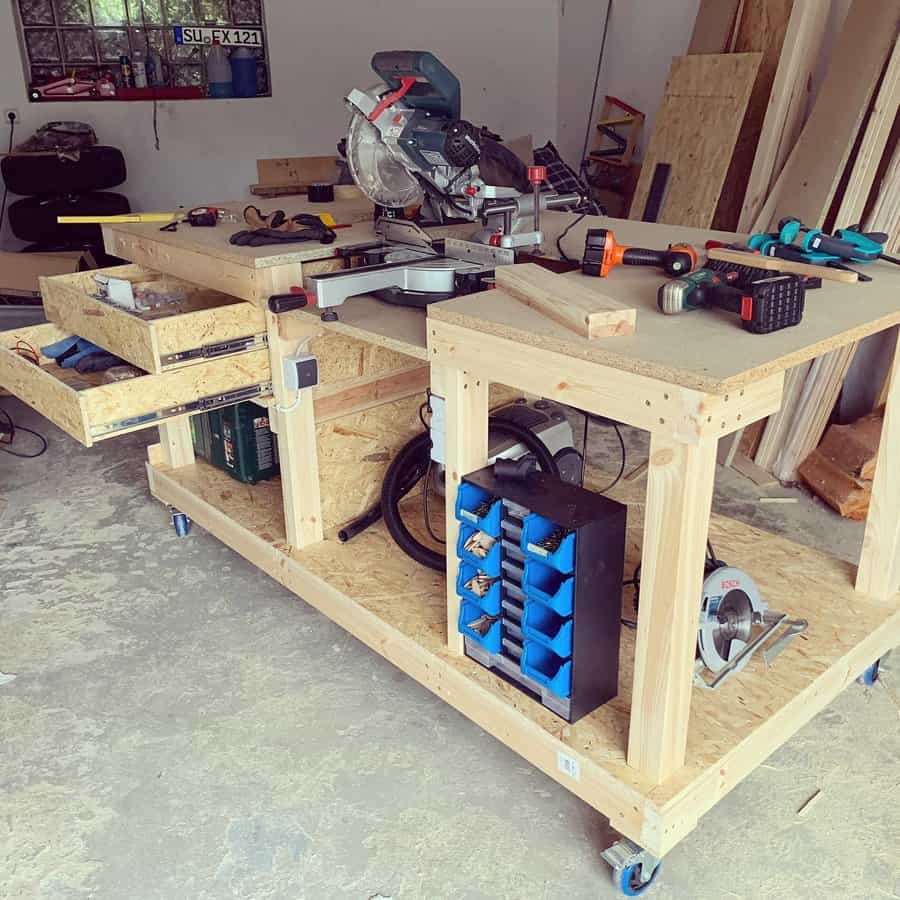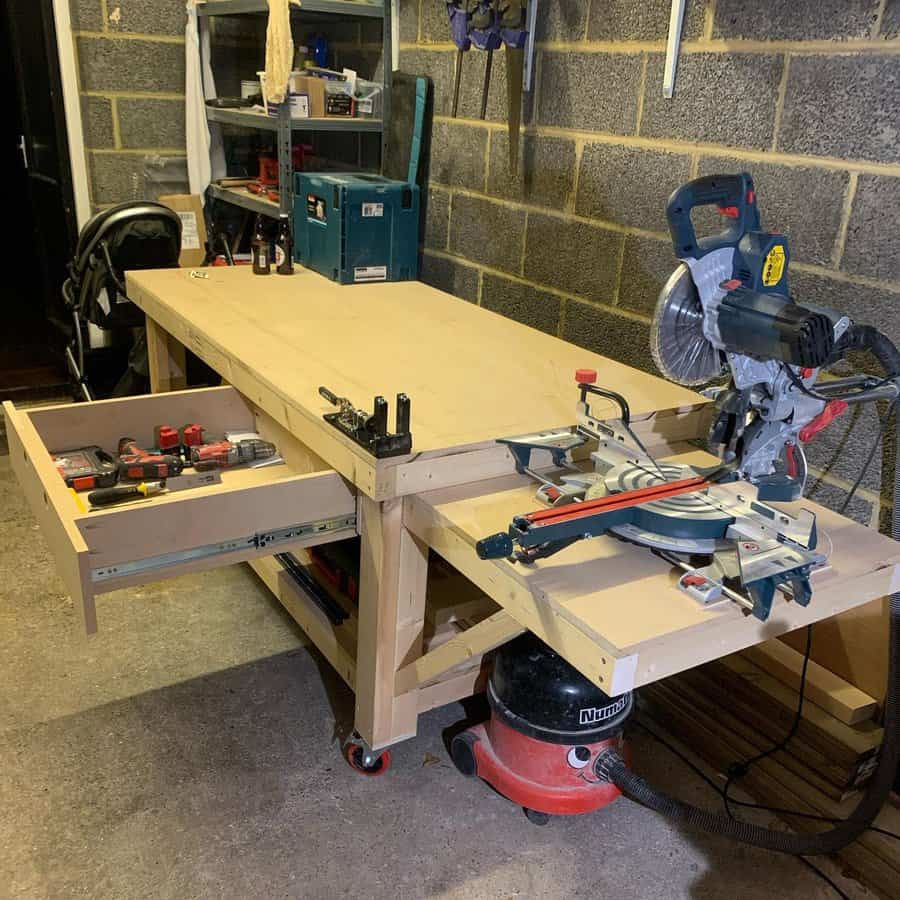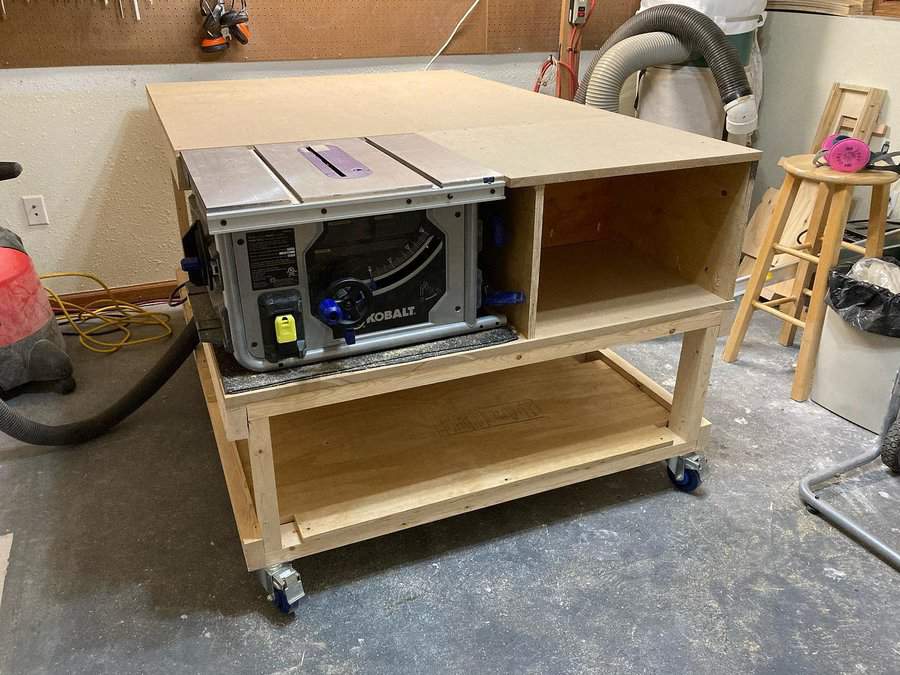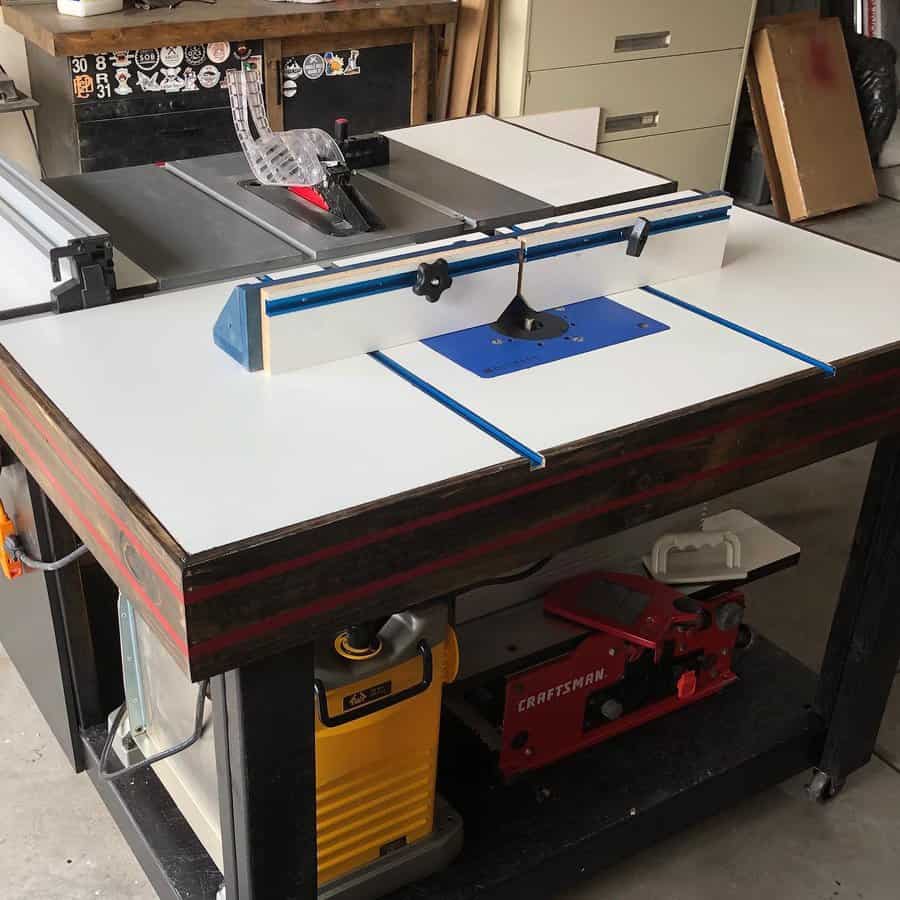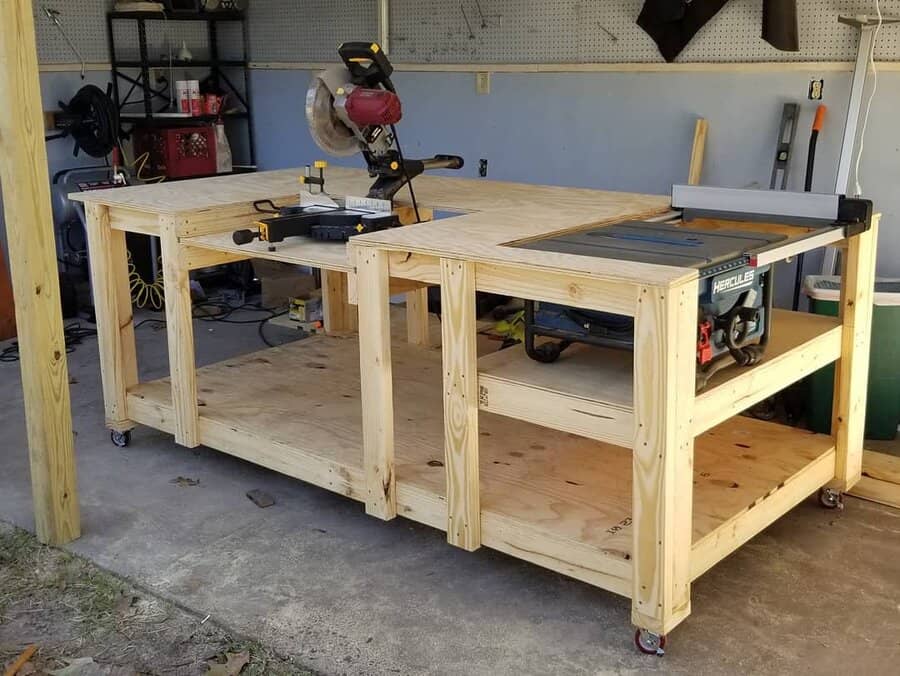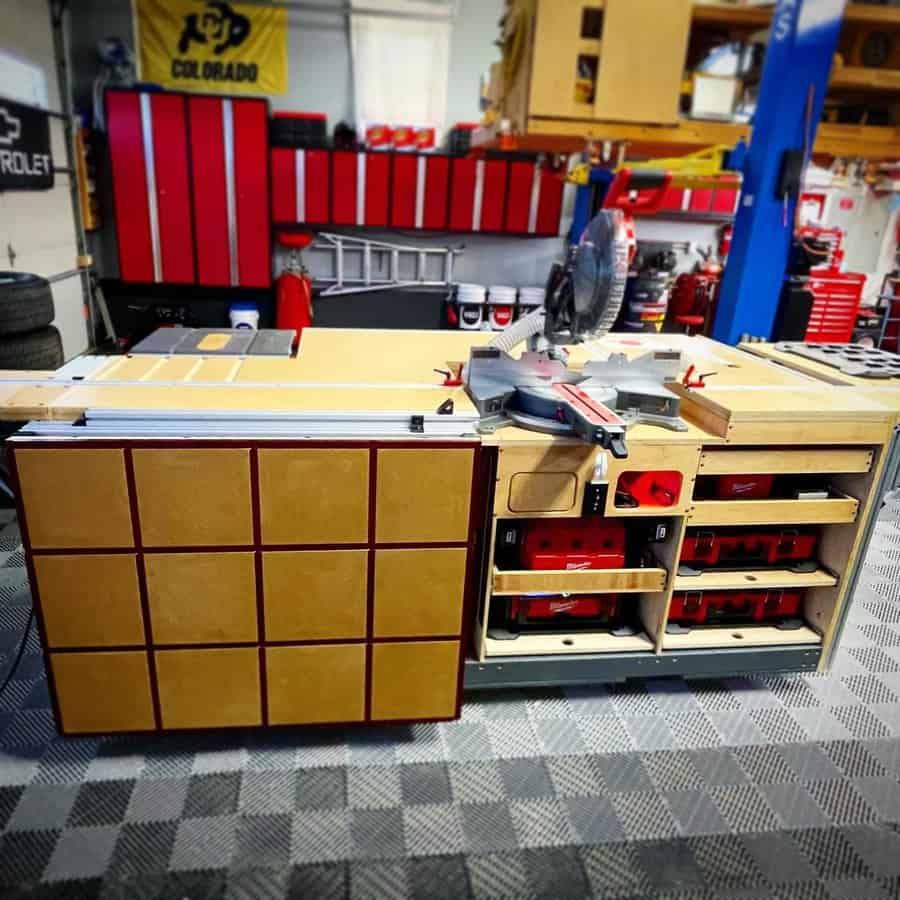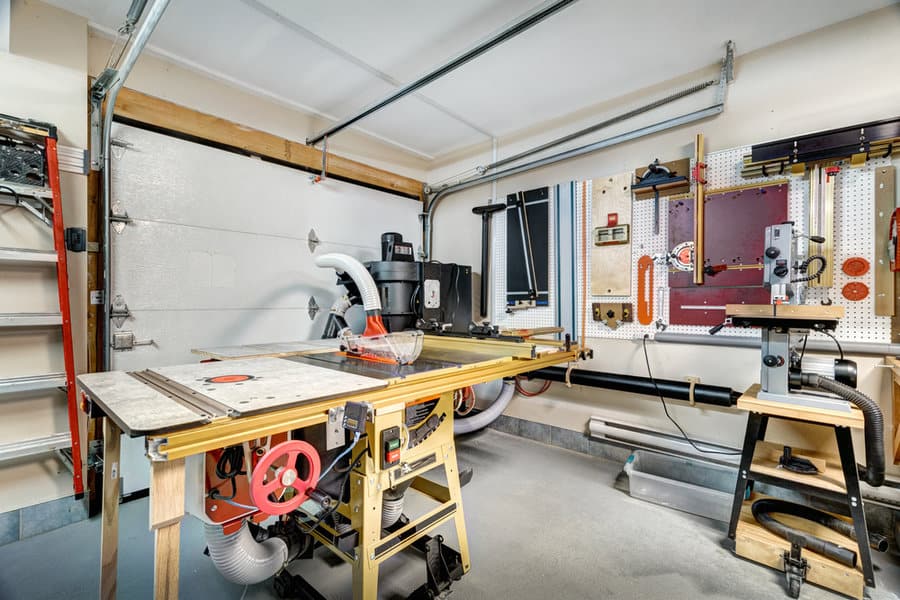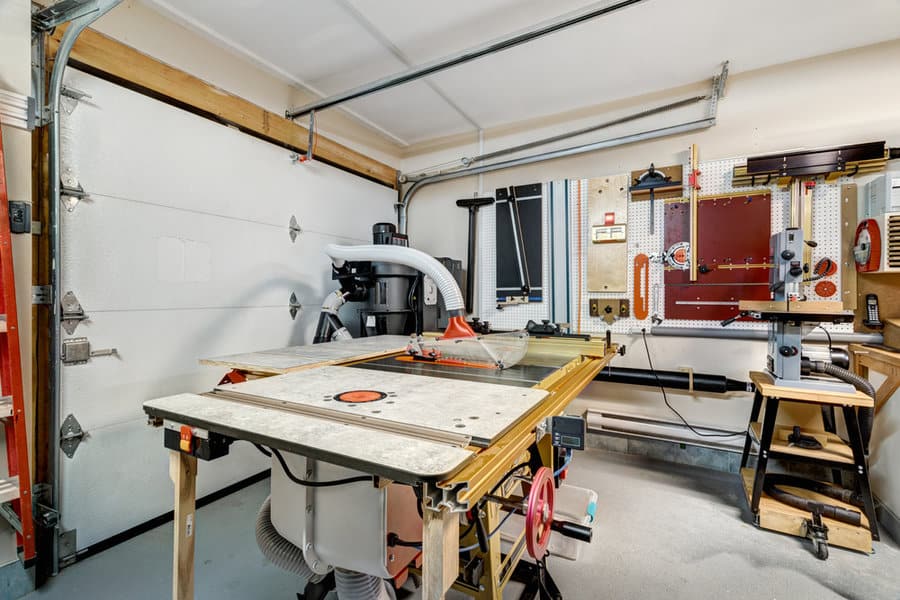 A table saw takes up a lot of room, so designate its own work surface to keep it from taking up too much of your primary work bench. A half-height shelf attached to the side of your garage workbench is also a good place for a large saw, especially if the top of the saw is level with your primary work surface.
Drills and other handheld power tools can be hung on pegboard over your garage workbench to free up other storage options. Drawer storage is great for small power tools, hand tools, screws, and the like. The ultimate garage workbench drawer is deep and wide, with a heavy duty plywood bottom.
3. Small
If you only have room for a small DIY workbench, don't despair—you can do a lot with a simple workbench plan. Watch this video to see how you can use plywood and 2×4 lumber to create a small workshop bench in about one hour:
If you add casters to the legs, you will be able to roll your new mobile workbench outdoors on nice days.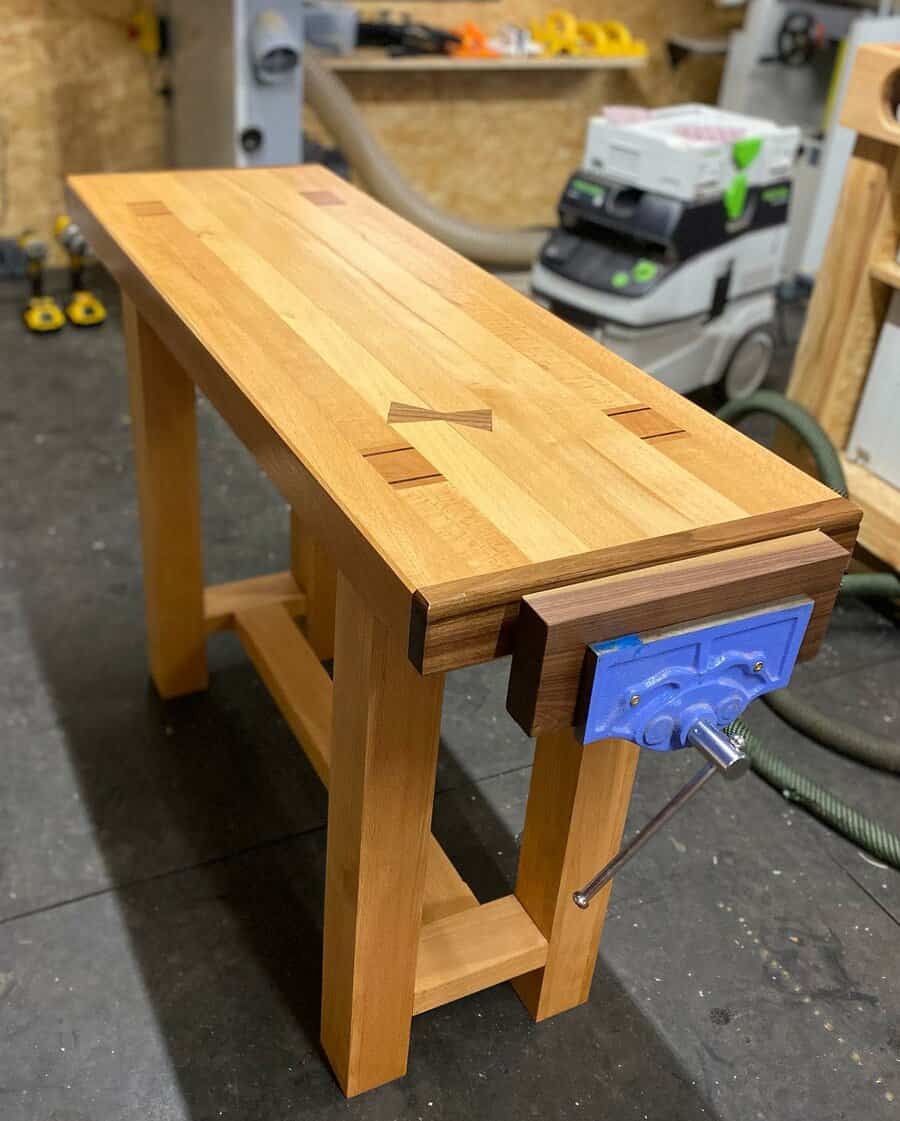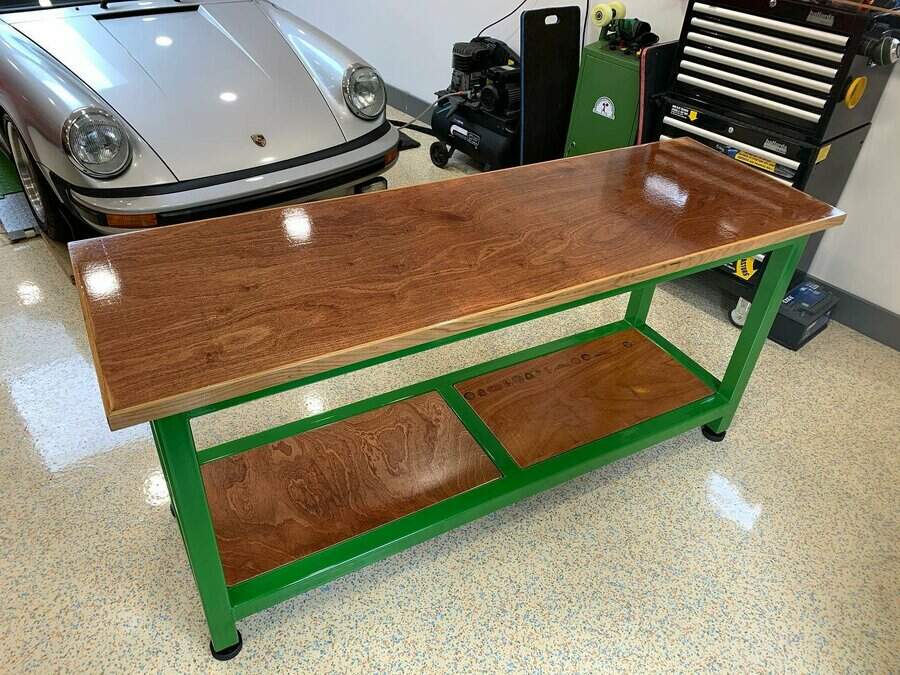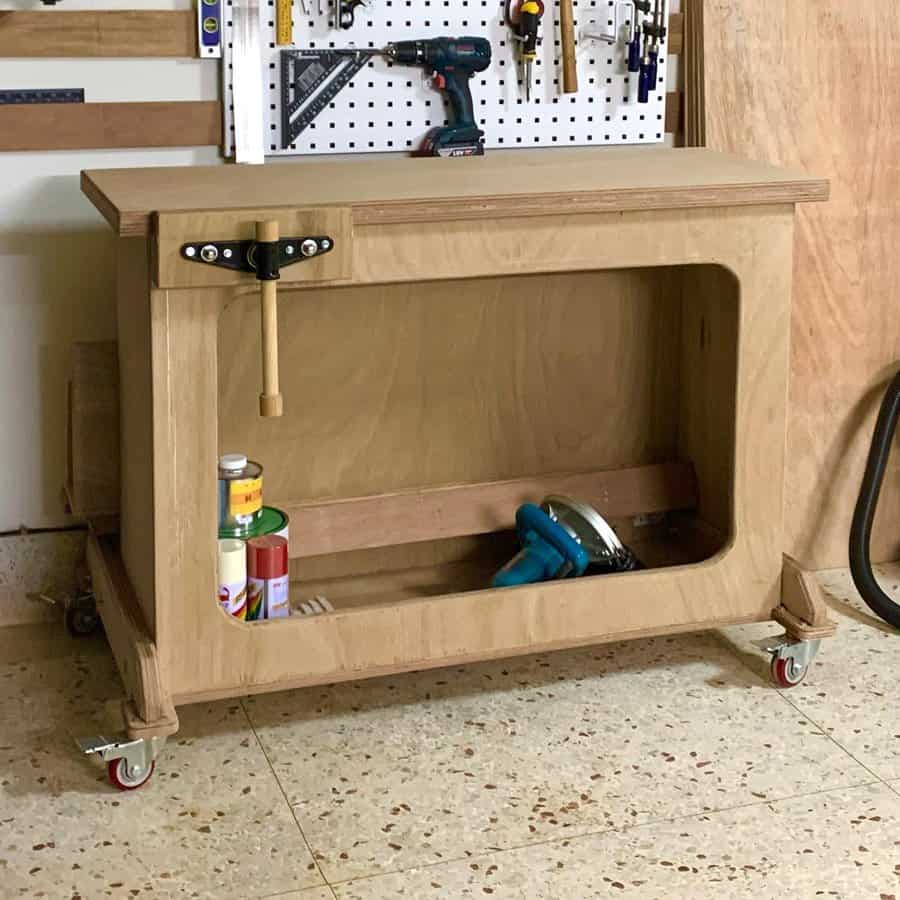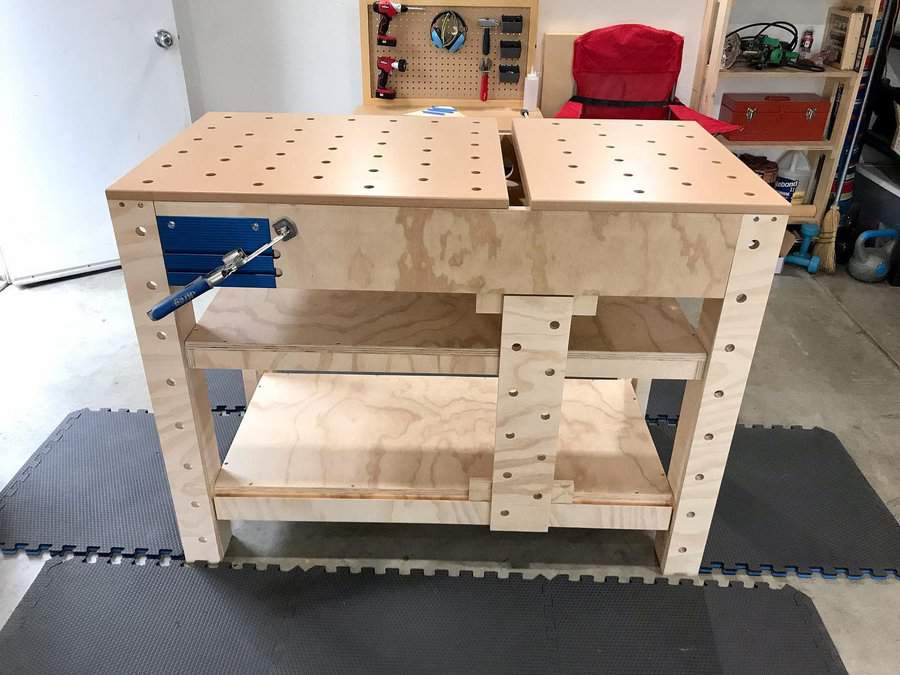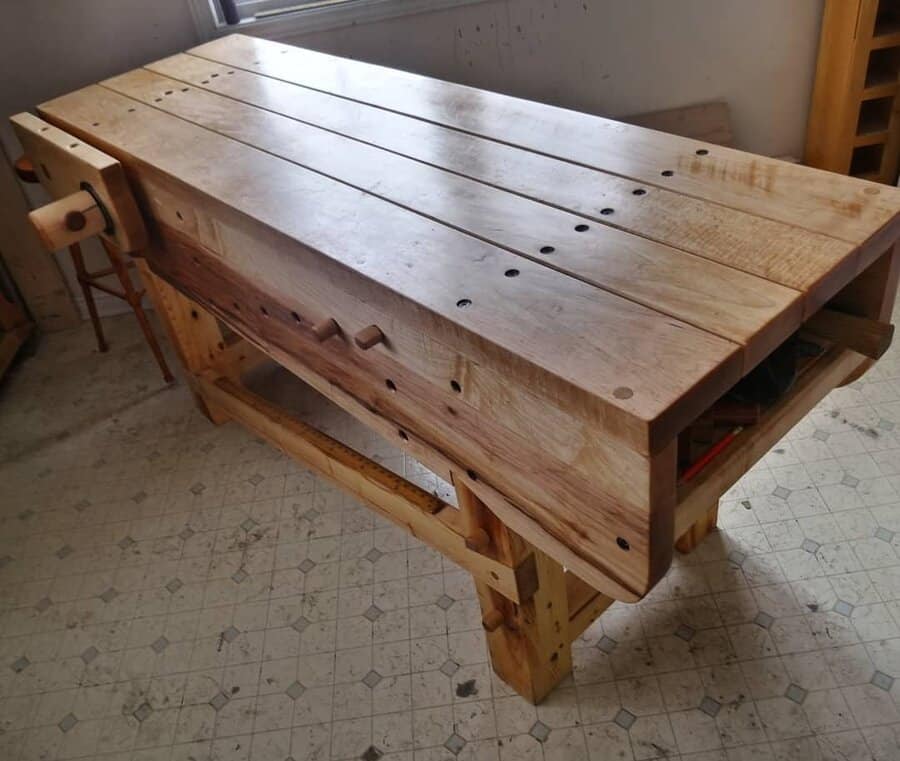 If having a rolling workbench isn't a priority, a corner workbench might be the best use of limited garage floor space. If you add a shelf or two beneath a sturdy workbench worktop, you can double your storage space. Close the ends of your unit with plywood and attach hooks for hanging tools, power cords, and other woodworker necessities. Or fill the ends with pegboard for an adjustable tool storage solution. You can also add extra worktop space by including a collapsible workbench surface that folds out of the way when not in use.
4. Space Saving
When space is limited, you need every space saving solution you can find. Folding workbenches and rollable workbenches on casters are two types that take up little room when not in use. This video shows an easy DIY folding workbench that you can make in just a few hours: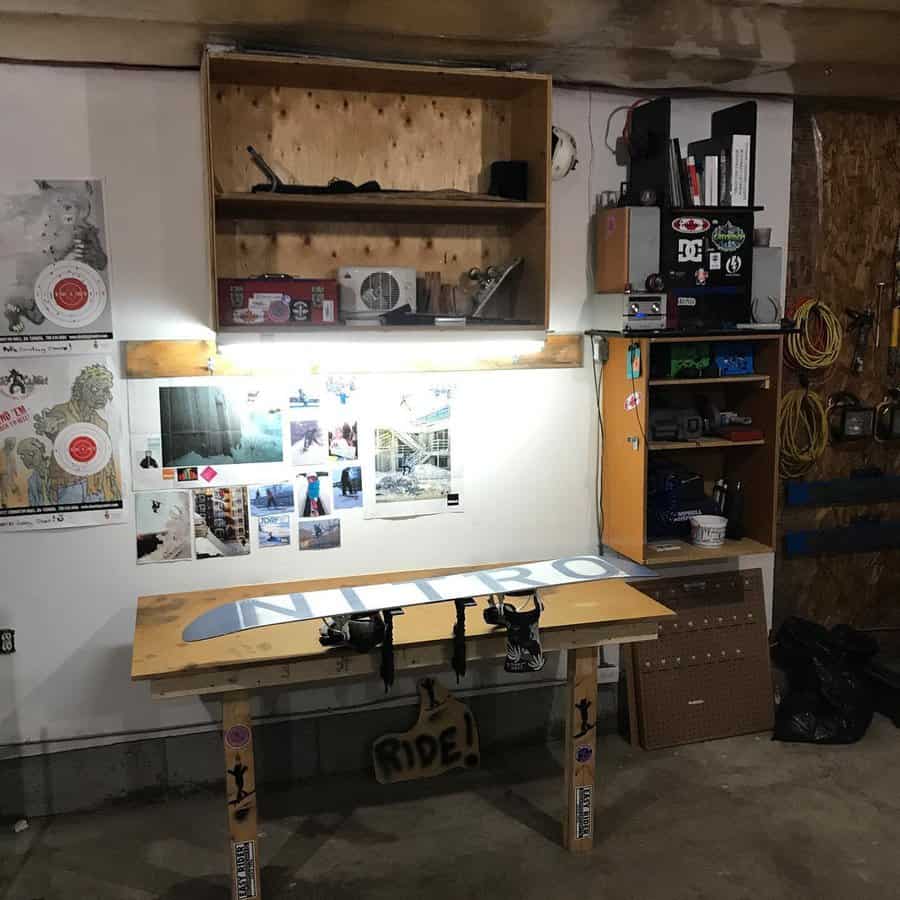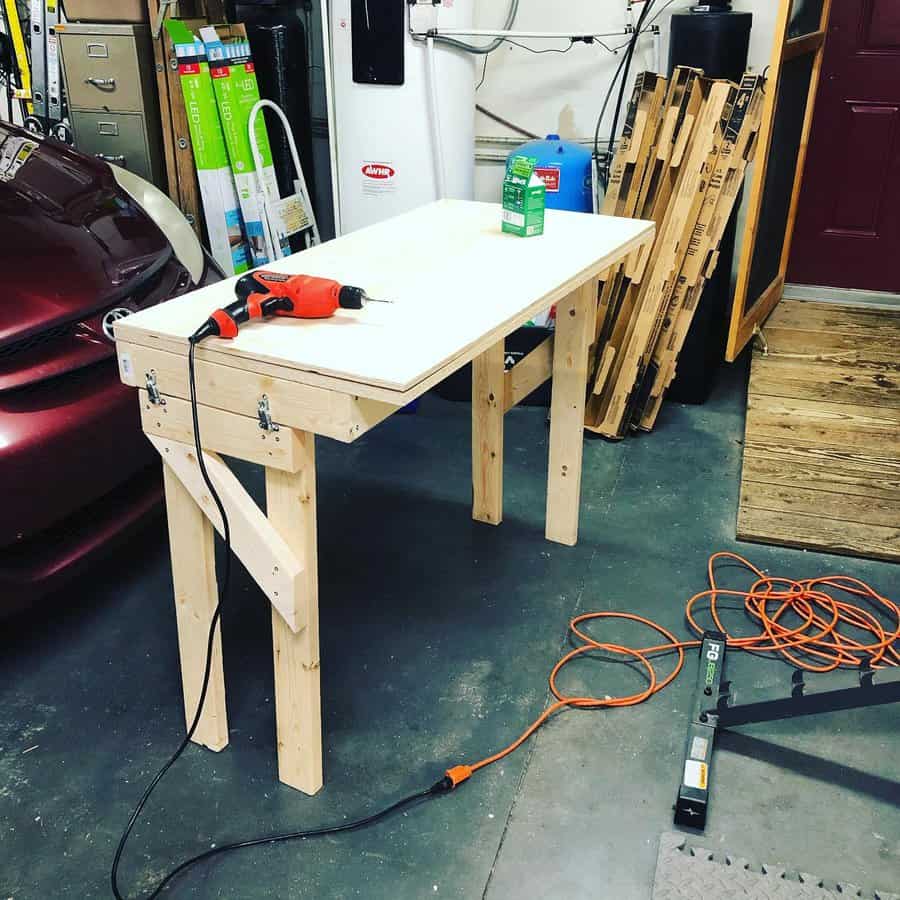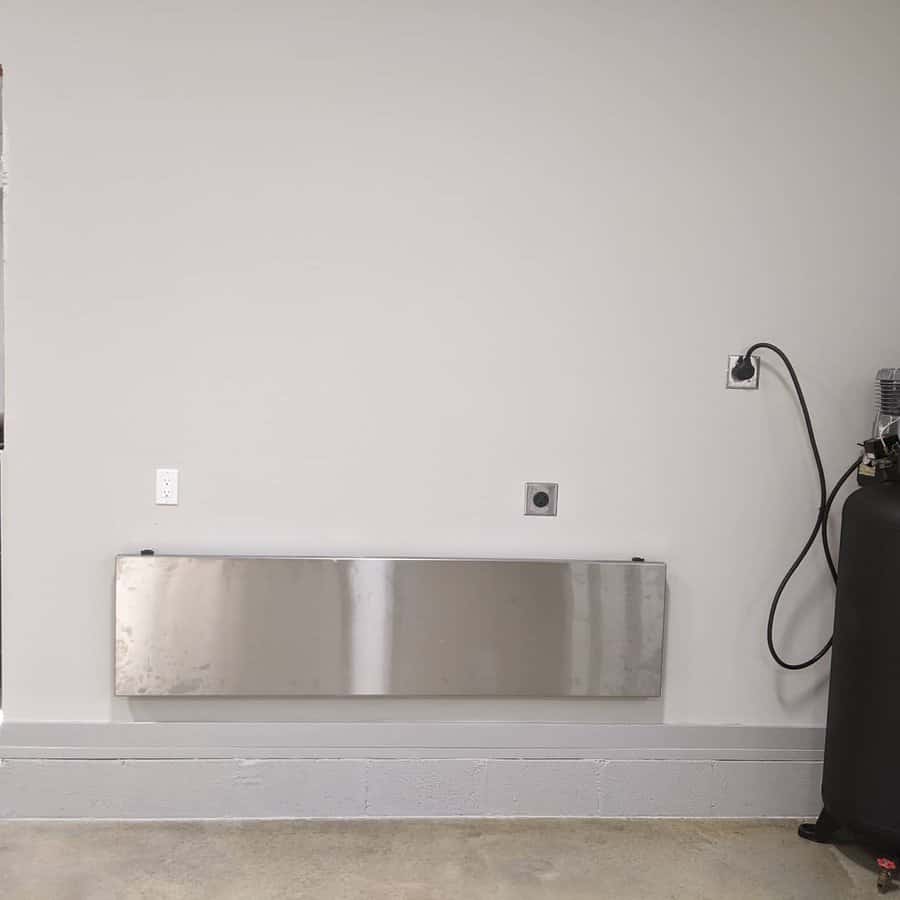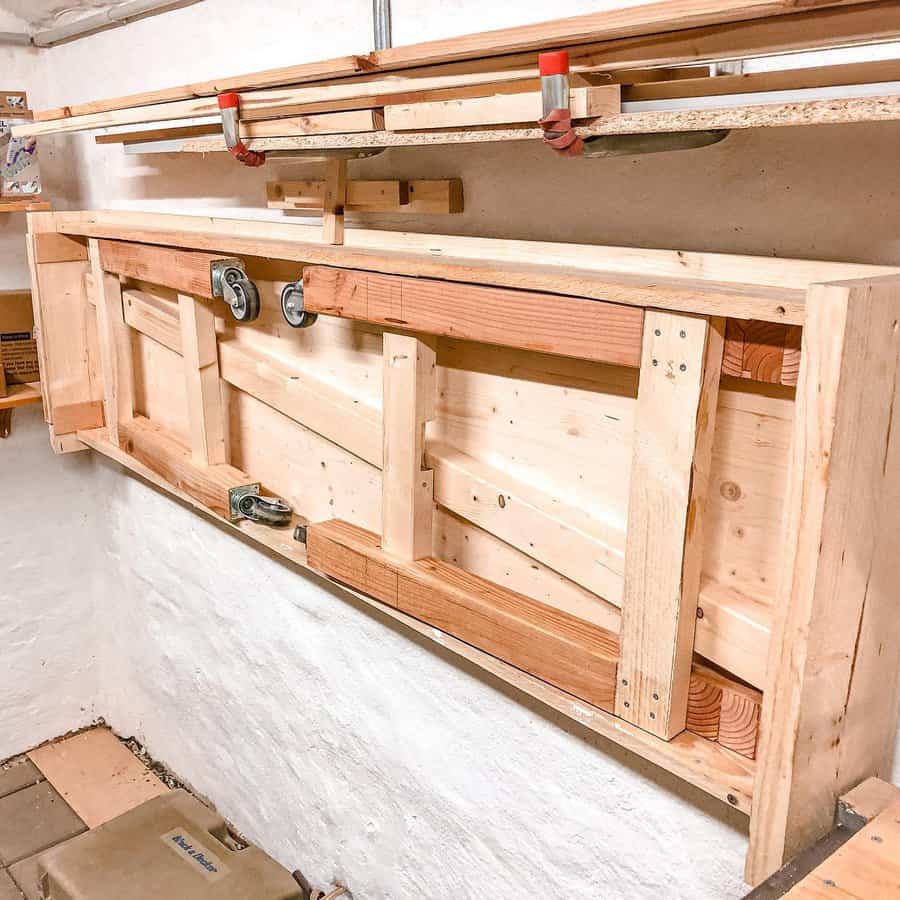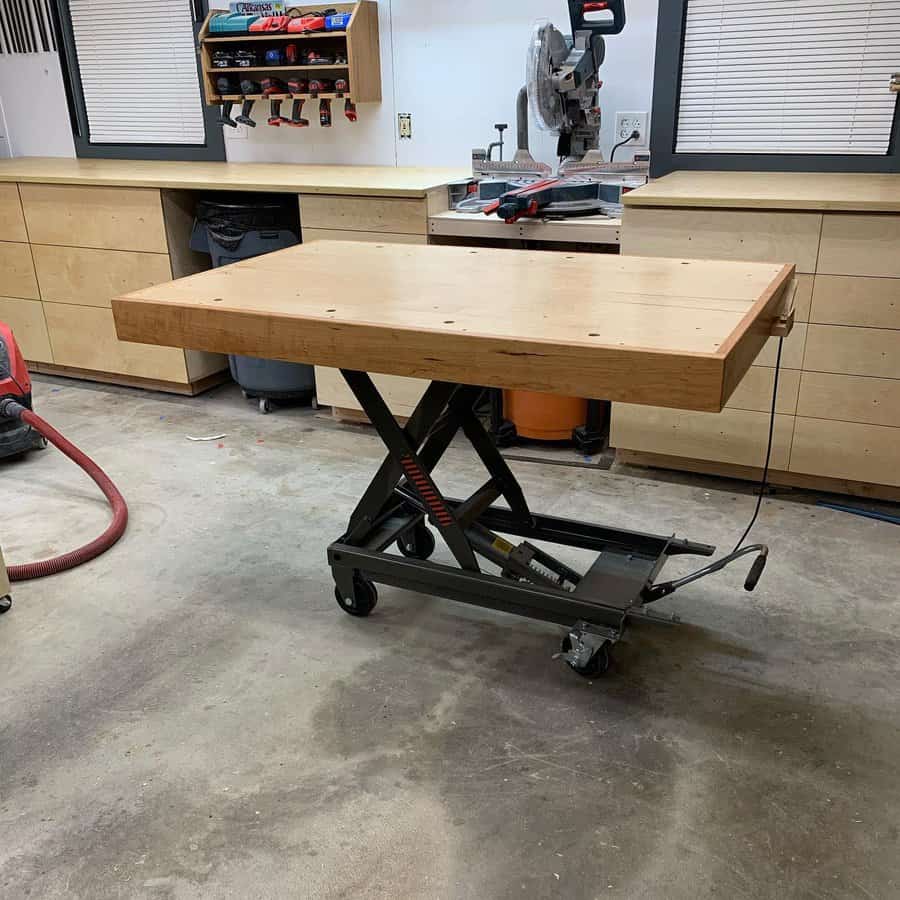 If you're shopping for a pre-built heavy duty workbench, look for models that include pop-out work surfaces. Some styles have worktop extensions on all four sides to essentially quadruple your workspace without extending the amount of floor space you need.
5. Storage
If you frequently use your workbench, you might begin having problems storing all your tools and equipment. Garage storage solution products abound, from pegboard to shelf units, from wall-mounted cabinets to heavy duty rolling toolboxes on casters.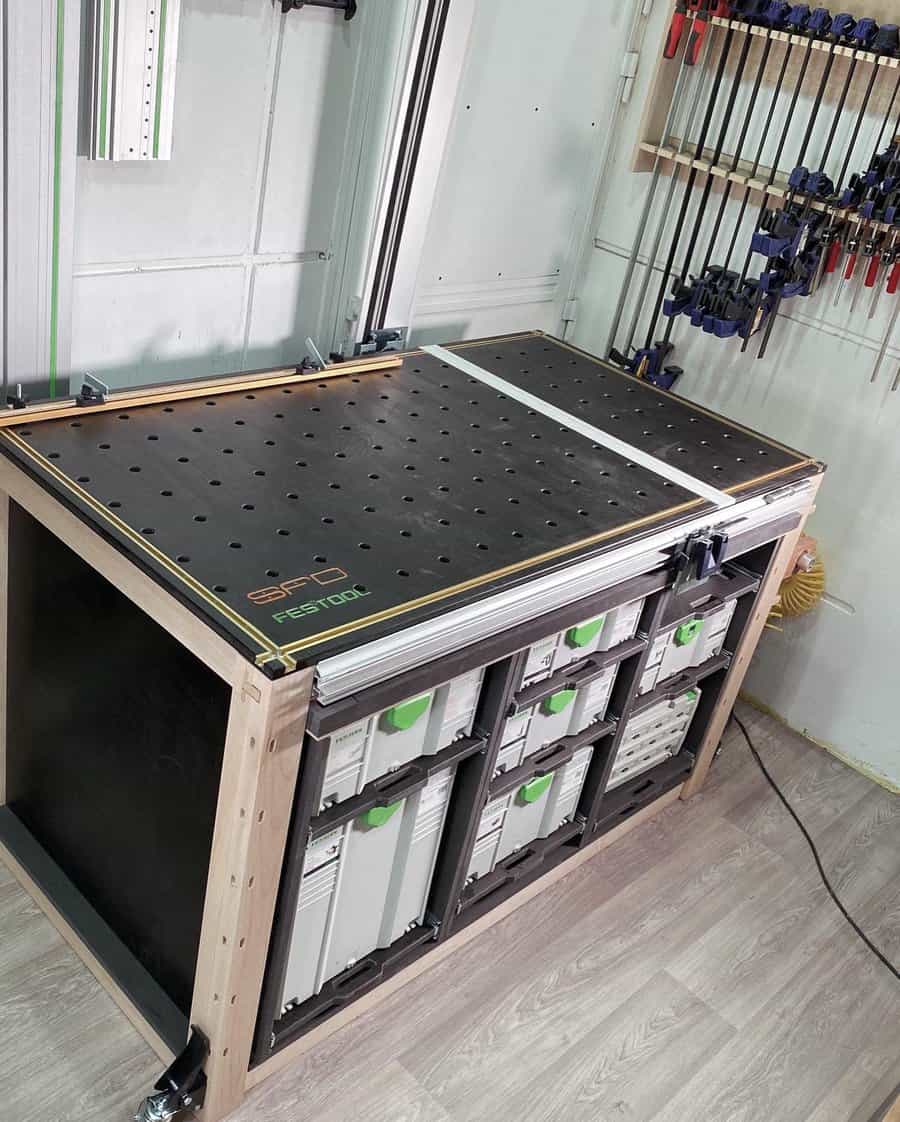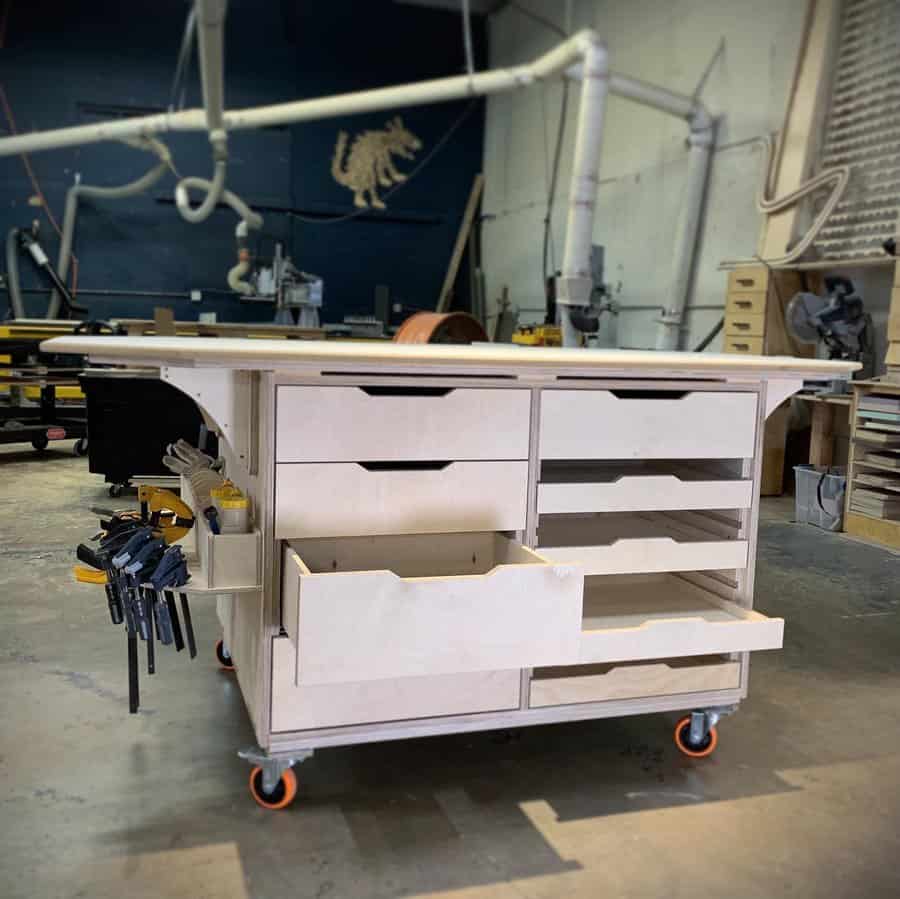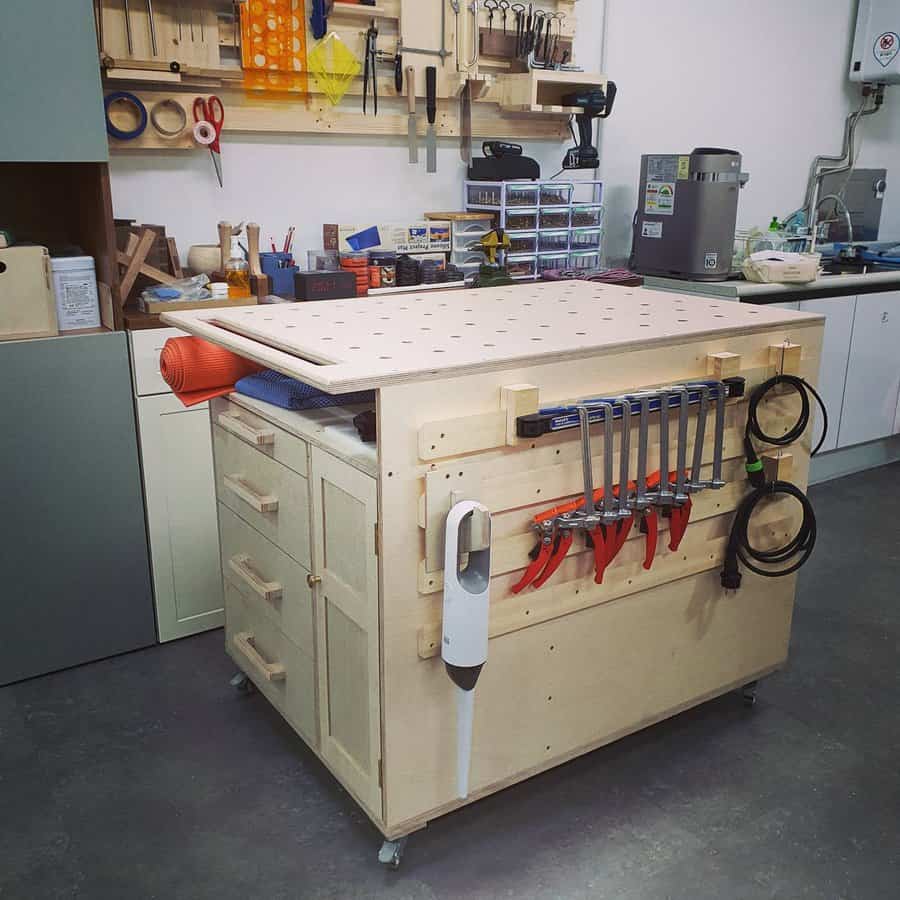 Extend your wall storage space by attaching a layer of three-quarter inch plywood to wall studs. This creates a continuous surface for easily mounting storage shelves and containers. Because it's fastened to the wall studs, you end up with sturdy workbench storage over a wider area.
Look up to greatly expand your garage workbench storage options. Ceiling mounted shelves can hold a surprising amount of gear, perfect for tools or materials that you don't use often. If you already keep a lot of items in heavy duty plastic storage bins with lids, hang a track on the ceiling that allows you to slide the bins in and out.
6. Wall Mount
A wall mounted garage workbench is a great option for really tight garage spaces. Simply purchase—or make—a basic foldable wall-mounted workbench, making sure that each bracket is securely attached to a wall stud. You can look online for a free workbench plan that fits your needs, or check out this $150 foldable wall workbench video: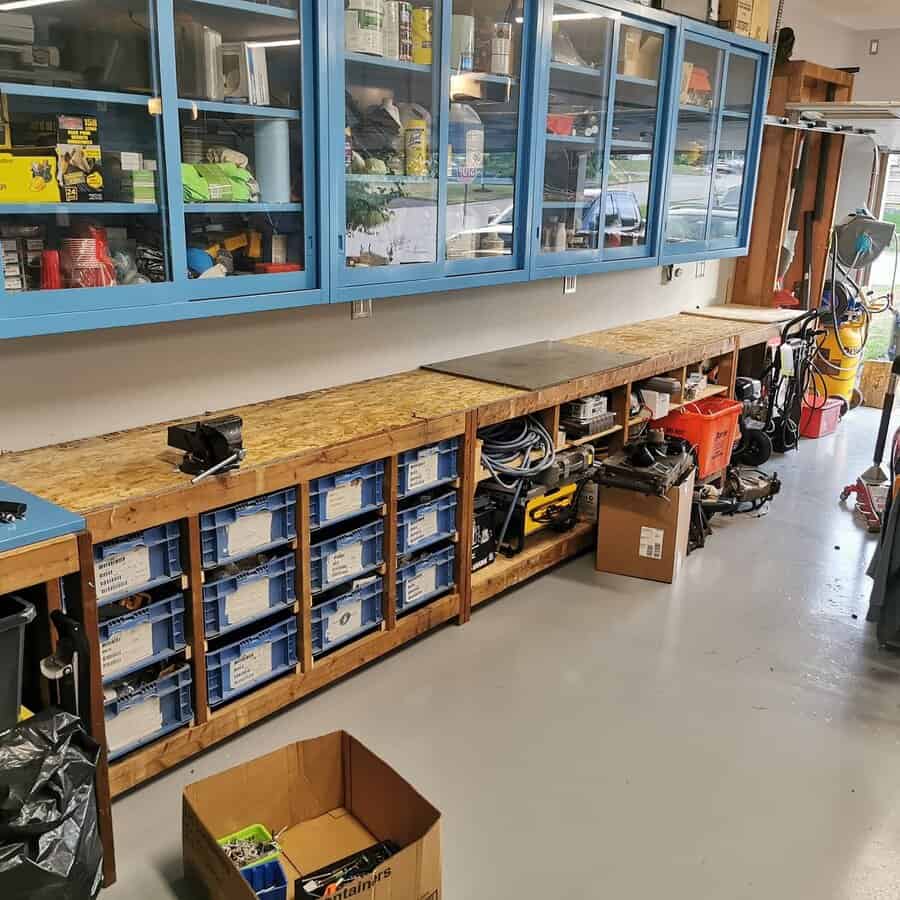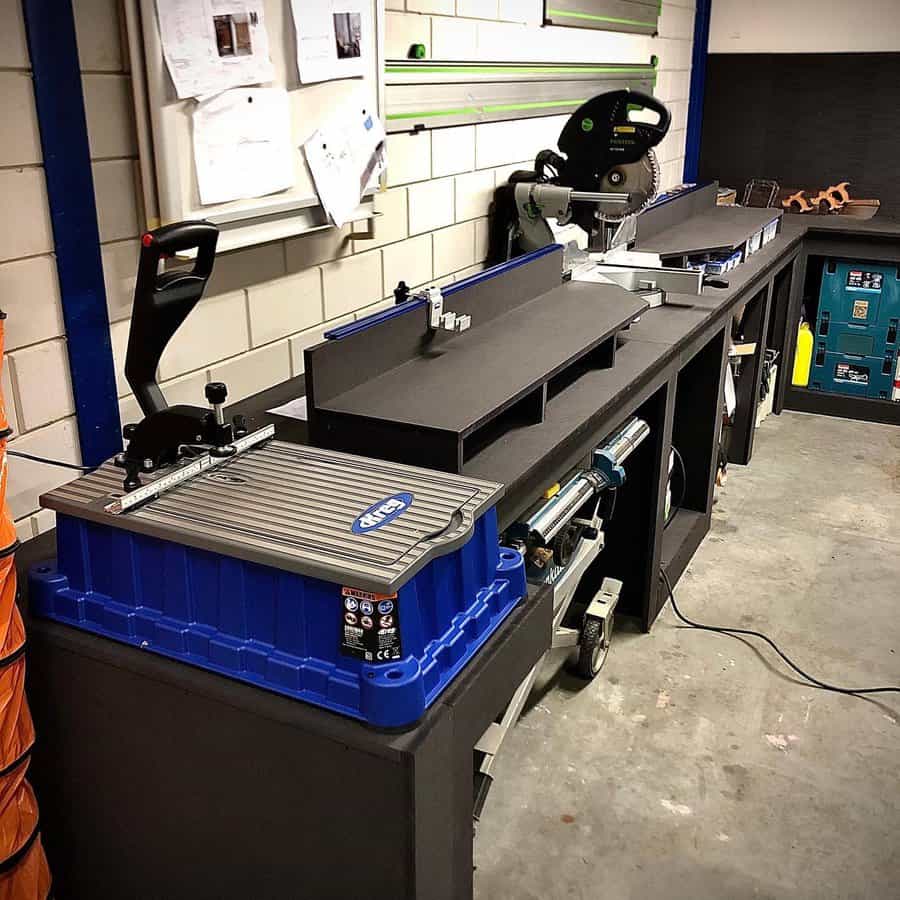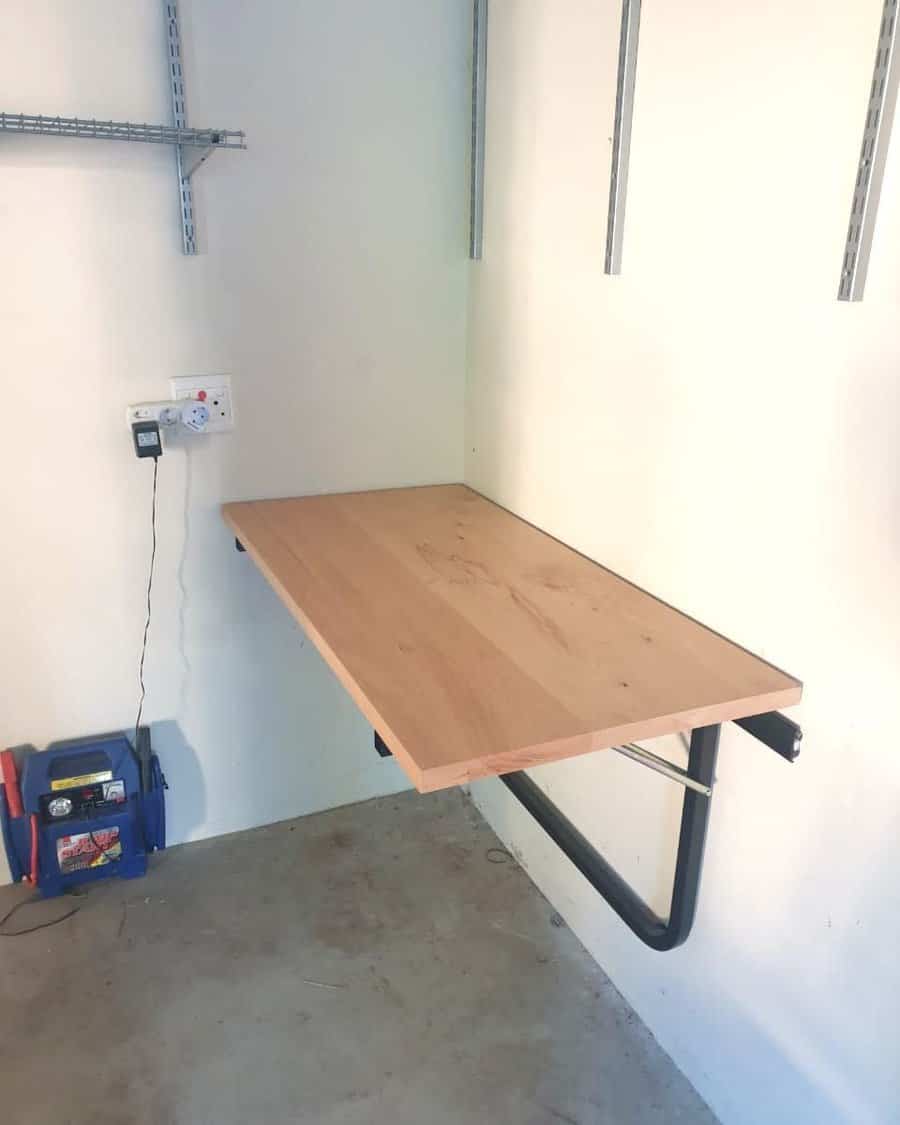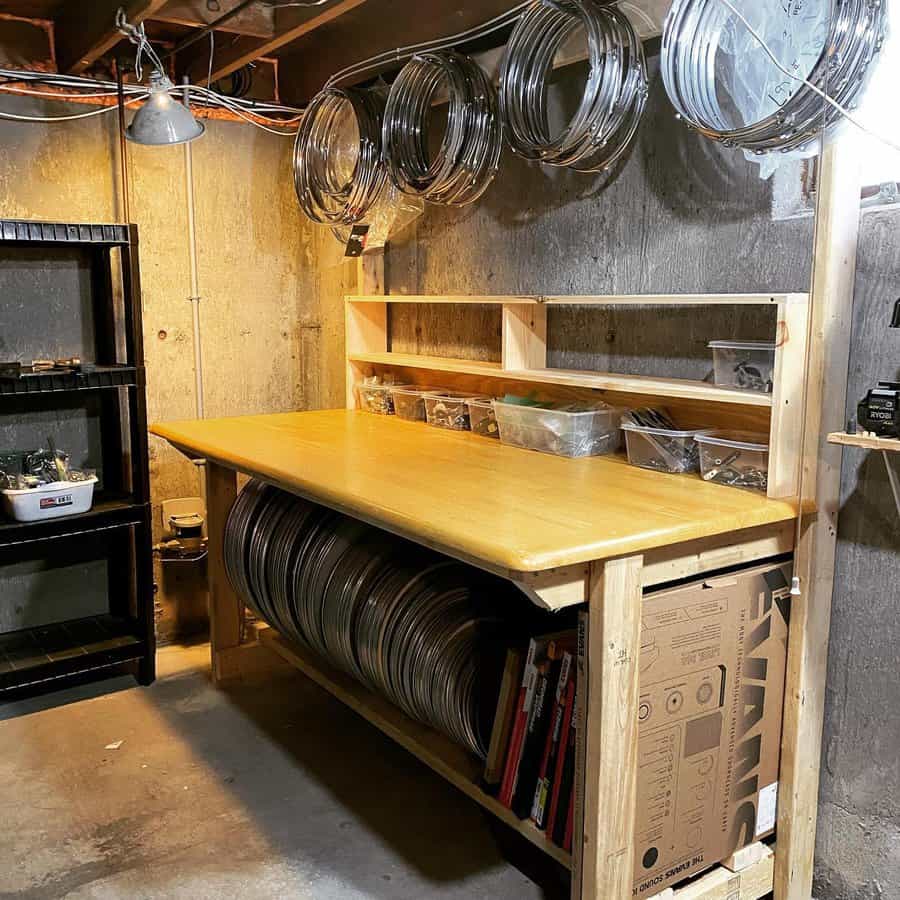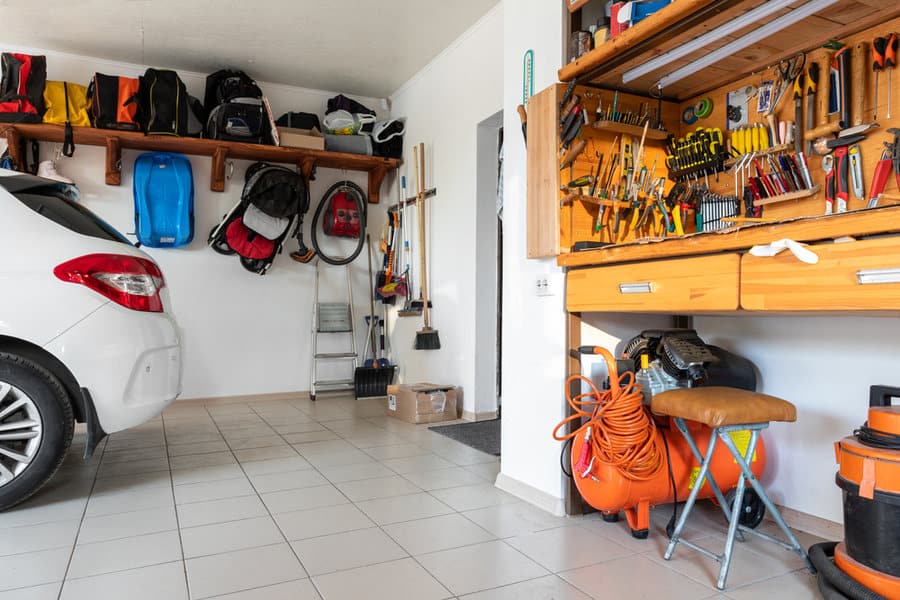 Add storage above and around your wall mounted garage workbench by installing drawer cabinets and shelves. Because most builders only put one electrical outlet in a garage, you may need to hire an electrician to install more outlets above your wall mounted garage workbench.
Garage Workbench FAQs
What is the best height for a garage workbench?
A comfortable garage workbench height for most people is between 36 and 38 inches. If you're planning to do a lot of heavy work, a lower working height may be more comfortable (around 31 inches). A pre-made garage workbench with adjustable heights is a good option if multiple people will be using the workbench for different DIY projects.
Should I varnish my workbench top?
Some people prefer to work on a bare wood work surface. However, workbench tops are easier to clean if they're sealed with a thin coat of polyurethane varnish. Also called "poly," this finish provides a smooth surface that makes it easier to wipe up spilled paint, glue, oil, and other fluids.
Can you use MDF for a workbench top?
MDF (medium density fiberboard) can be used for a simple workbench top, but hardboard will be more durable over time. MDF also absorbs water quickly and can easily swell out of shape. Be sure to wax the surface to make it less porous.