A shed can be an extension to your home. It can be used for much-needed storage, but it's such a versatile space that the whole family can benefit from it!
A shed can be a man cave or a workshop. It can also be a home office or an art studio. For gardening lovers, you can use it for a potting shed, or a garden storage space. It can be an animal shelter or a dog kennel.
It can be a game room for teenagers or a place to store their bikes and sports gear. It can be transformed into a pool house, or you can use it to store patio furniture. But, most of all, a shed can be a perfect little spot for the children to play! A fort or a dollhouse, sheds can be transformed into places they create memories they will cherish forever.
1. Add A Garden Landscape
A small garden shed tucked away in a landscape is a unique way to add beauty and charm to any backyard. Use small pebbles to create a pathway leading up to the entrance, and add small plants, shrubs, and flowers along the sides. Create a little terrace around the shed, surrounded by lush greenery and heavenly fragrant flowers.
Not only does this give your garden charm, but it also provides valuable shelter and storage space whether you're a gardening enthusiast or just looking to bring life to a small outdoor area.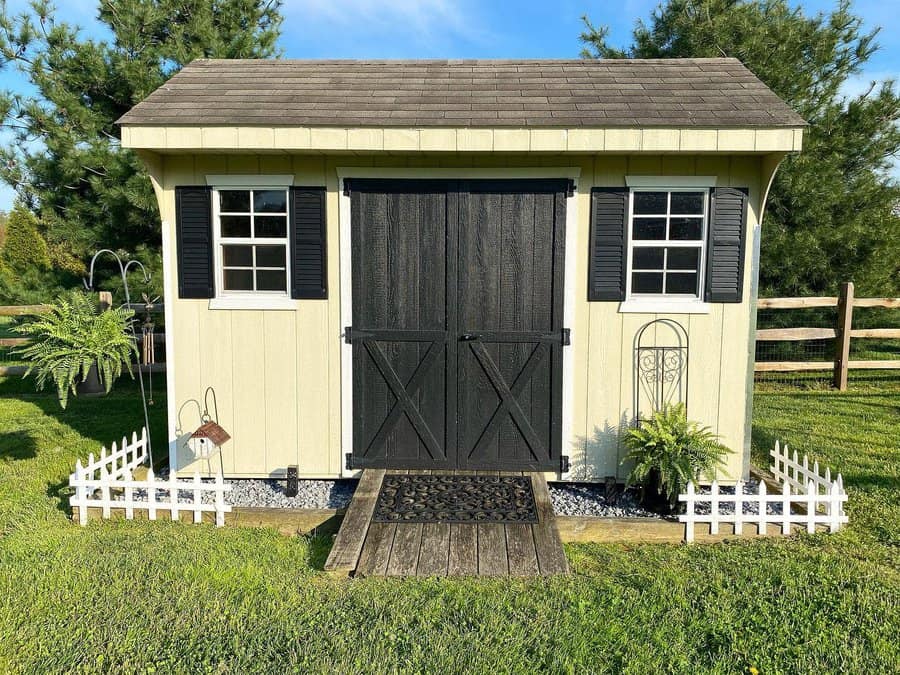 2. Elevate Your Shed
Transform your yard into something extraordinary with an elevated garden shed. Perfect for any outdoor space, this elegant structure shields you from the elements and protects the inside from water or snow. Cozy and stylish on the outside, versatile and functional on the inside, this is a must-have addition for your garden!
Whether you're looking to store tools, store products for your business or just want some extra outdoor space for relaxation – this is the perfect option! With a variety of designs available, find the perfect way to express yourself and spruce up your backyard – all while staying safe and dry.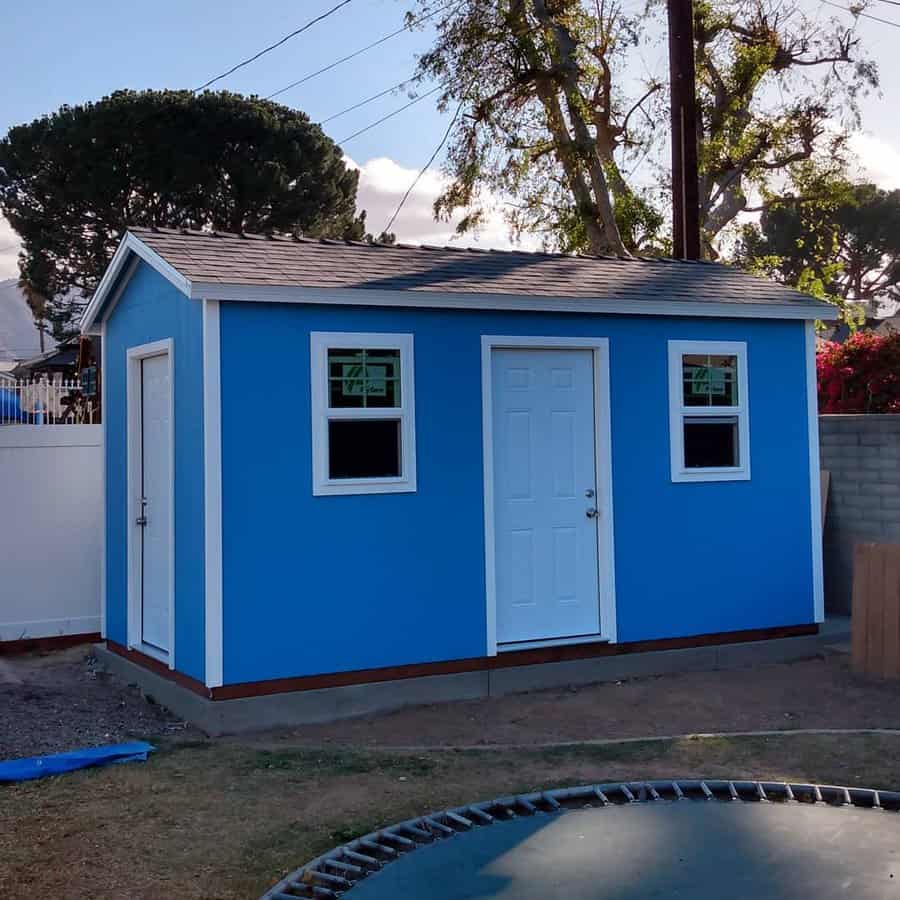 3. Add A Pebble Bridge For Accent
A garden shed complemented with a pebble bridge creates an accent that is both classic and modern, giving your backyard a charming aesthetic. With the stone bridge that arches over the opening, you'll have an interesting entrance way to your storage space – one that looks less utilitarian, and more inviting.
For those who want something different from traditional boxy sheds, this type of bridge creates a less mundane look for added appeal. It's also extremely easy to install so you can enjoy its beauty in no time at all!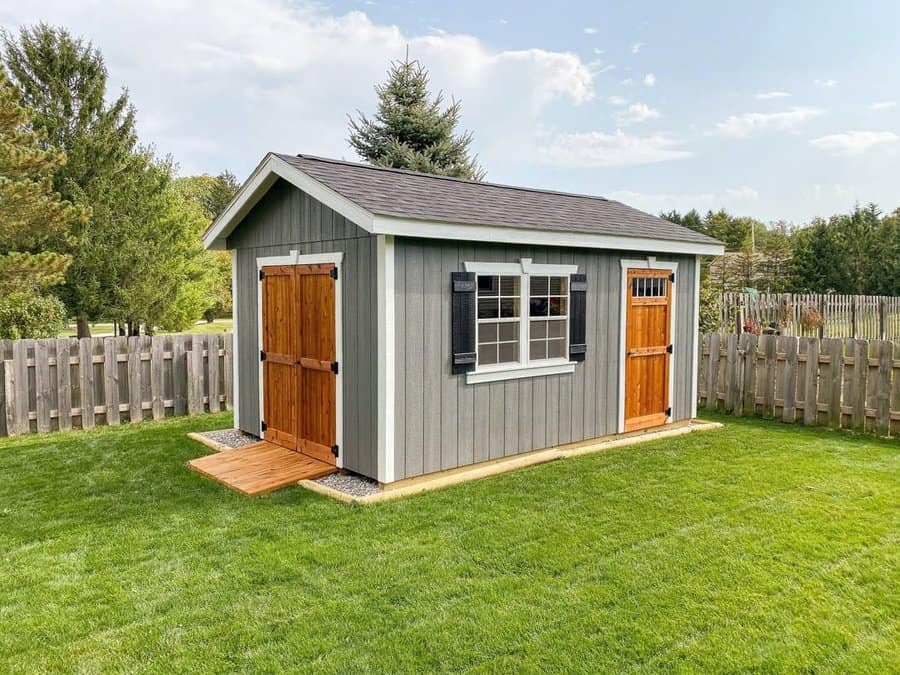 4. Make It Barn Style
Imagine cozy rustic nights spent in your own barn-style garden shed! With its traditional design, you can give your backyard a rustic charm and enjoy the serenity of working on projects surrounded by the beauty of nature. Built from high-quality durable material, your sheds are built to last and make a delightful addition to any outdoor space.
Whether you're preserving traditional rustic style or constructing something entirely new, a barn-style garden shed is the perfect way to bring a rustic feel into any outdoor space!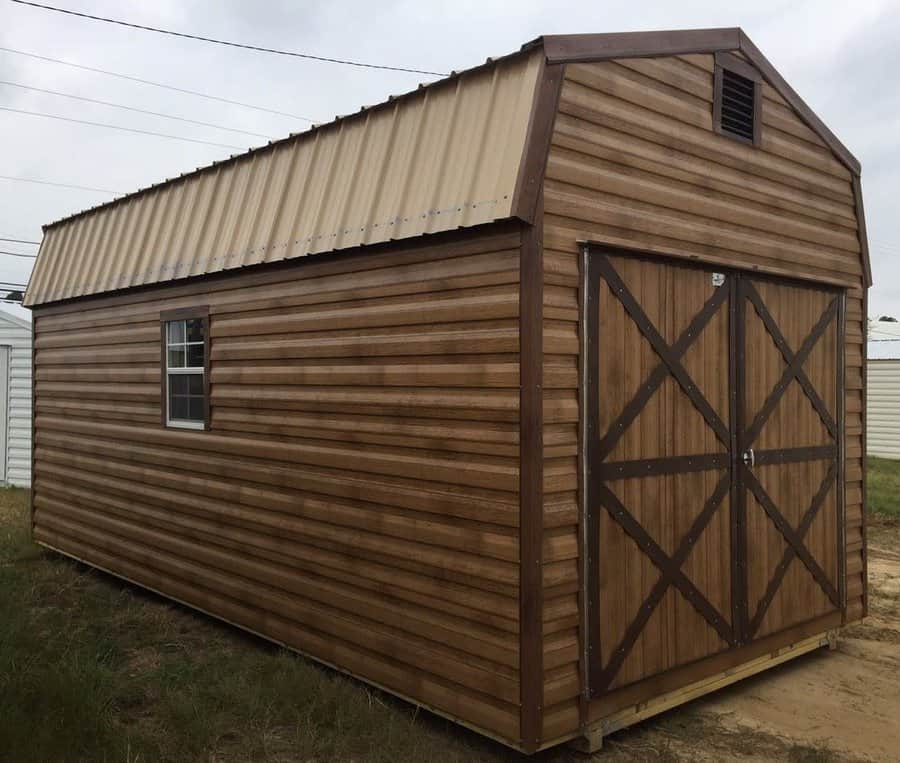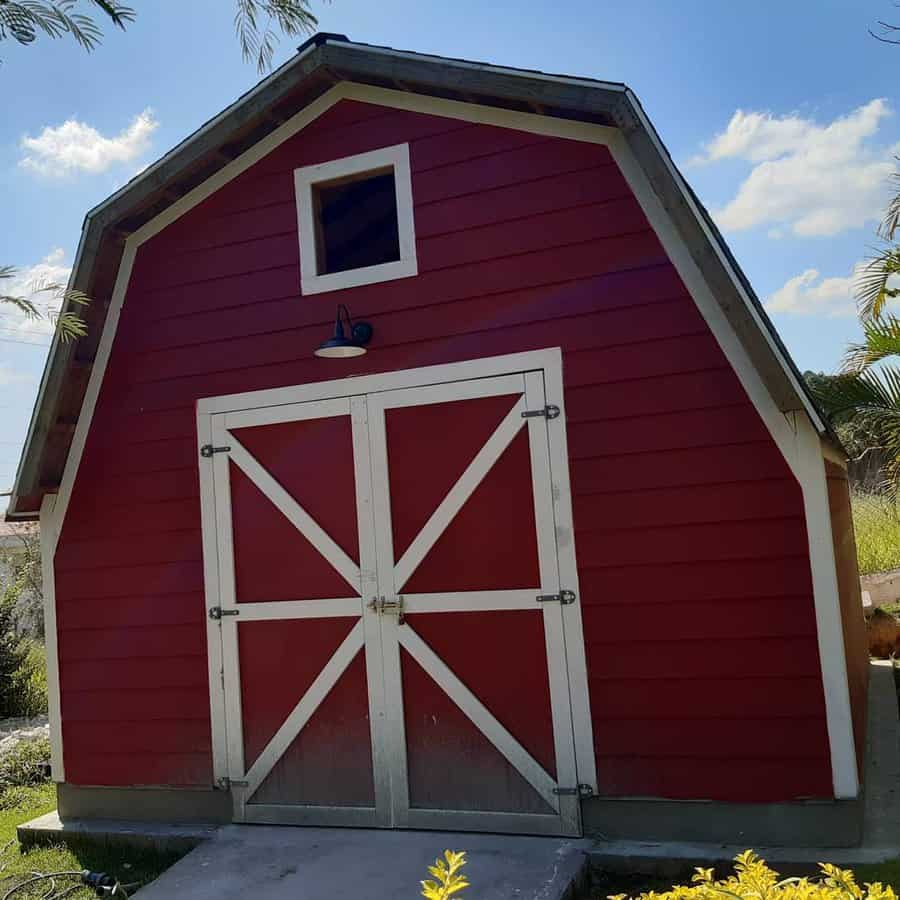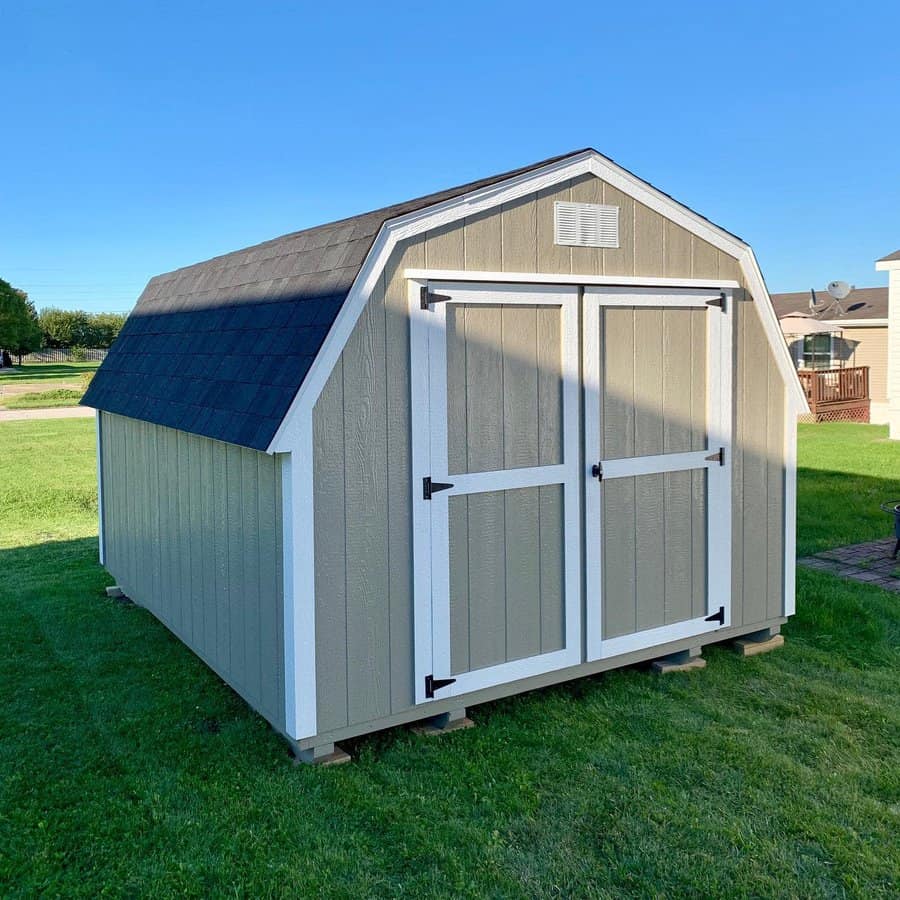 5. Make It Minimal With A Flat Top
A flat-top garden shed can be the perfect minimalist addition to any outdoor area. Its modern, simple design allows it to blend seamlessly into any existing decor and provide necessary storage and organization.
Constructed from sturdy materials so that it stands up to the elements, a flat-top garden shed is an excellent minimalist style choice for anyone looking to maximize their outdoor space while keeping their look modern.
Not only is it fast and easy to assemble, but its minimalist design ensures that it's incredibly eye catching without being overpowering. Create the perfect minimalist oasis with a flat-top garden shed today!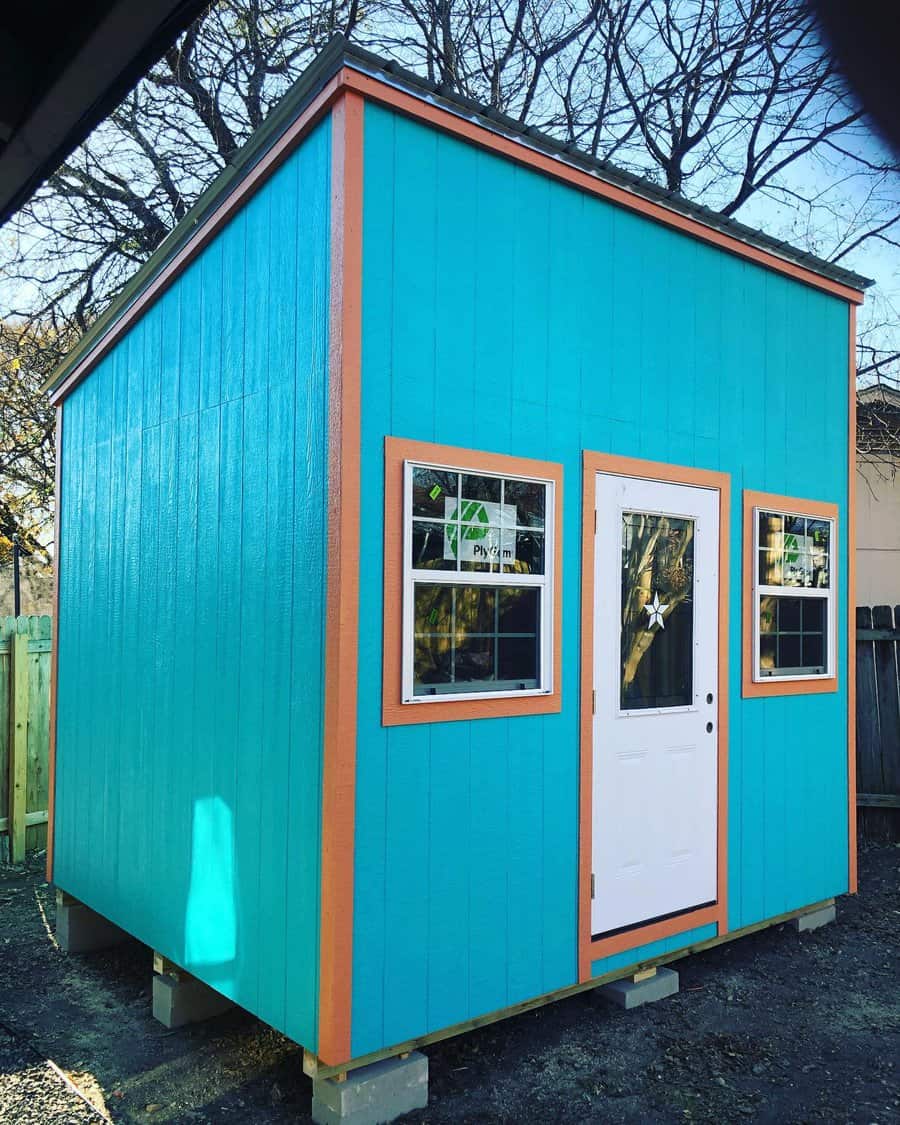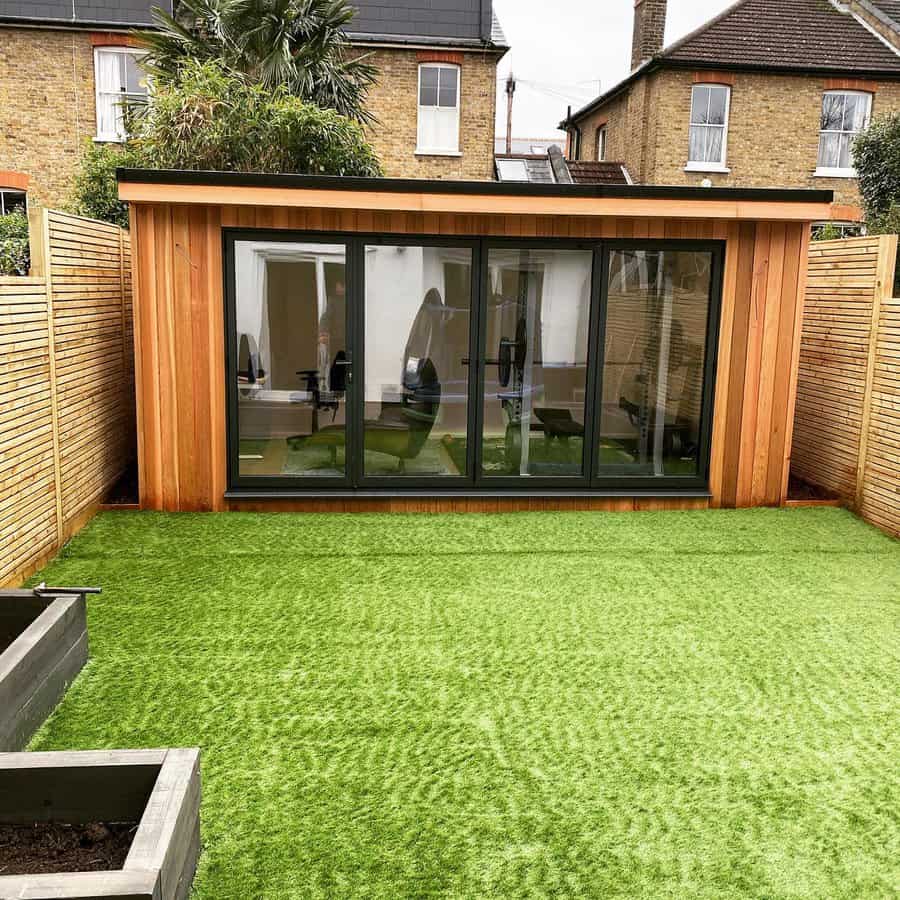 6. Add A Pebble Walkway
A garden shed with a pebble walkway is the perfect easy DIY landscape project – just imagine the possibilities! The beauty of this easy-to-construct feature is its classic charm and versatility to enhance any garden area. From old-world charm to modern appeal, the natural earthly toned pebbles provide a stunning effect from the entrance to the door of your newly built masterpiece. It serves as a great outdoor focal point that can be incorporated into any easy home landscaping for a whimsical cottage feel. Best of all, it requires minimal effort yet creates maximum impact!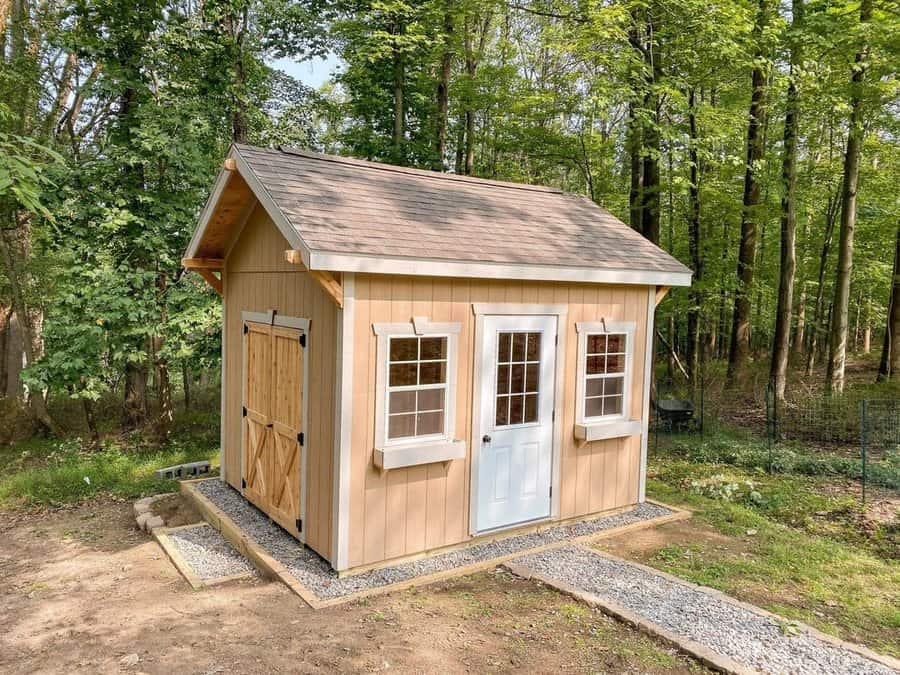 7. Keep It Black And White
A clean and modern look with a contemporary touch, the black and white garden shed is sure to add an interesting sense of style to any outdoor space. It brings together clean lines and minimal components for a minimalist vibe that will easily fit into any theme.
With the dark siding providing a dramatic contrast against the clean white panels, this shed has just the right amount of flair to stand out within its environment while blending in seamlessly with its surroundings.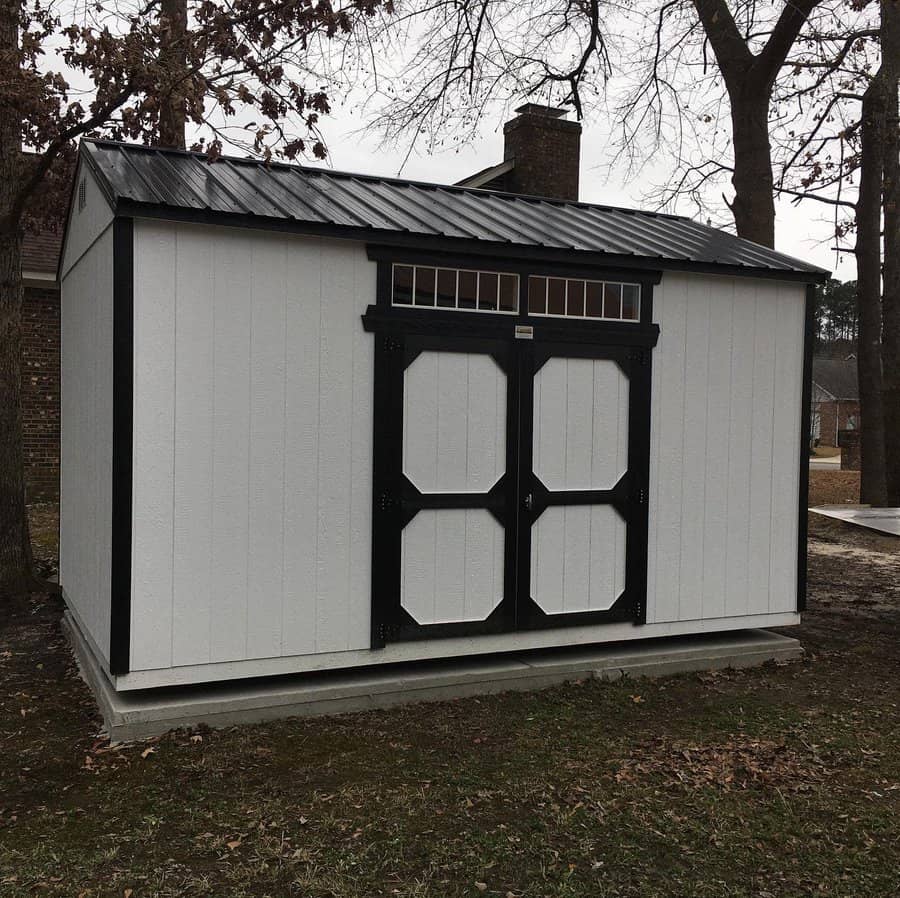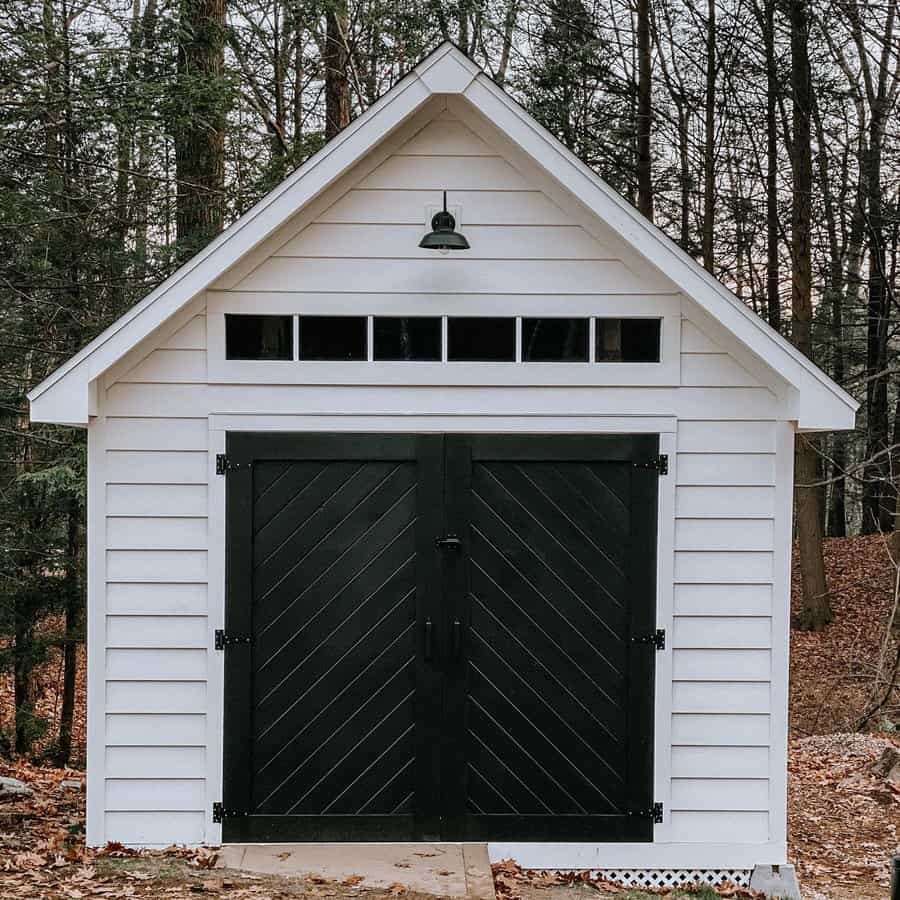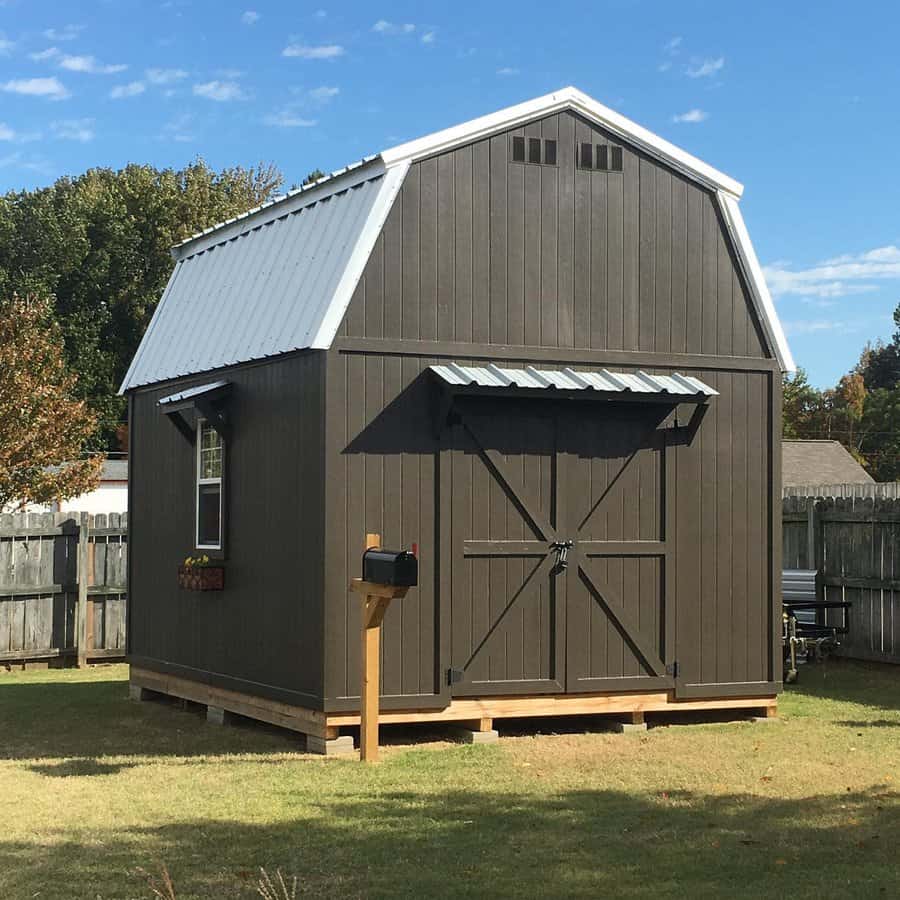 8. Add A Wall Lamp
The stylish and contemporary look of a garden shed with a wall lamp is the perfect touch for anyone who desires to express their creativity in their outdoor space. Not only does this setup create an inviting atmosphere, but it also brings about a sense of artful sophistication.
The beauty of this subtle accessory is that you can use it all year round – there won't be any need to invest time in taking down or putting up decorations depending on the season or occasion.
Its clean lines also mean that it will never distract from the existing beauty of your garden's different elements.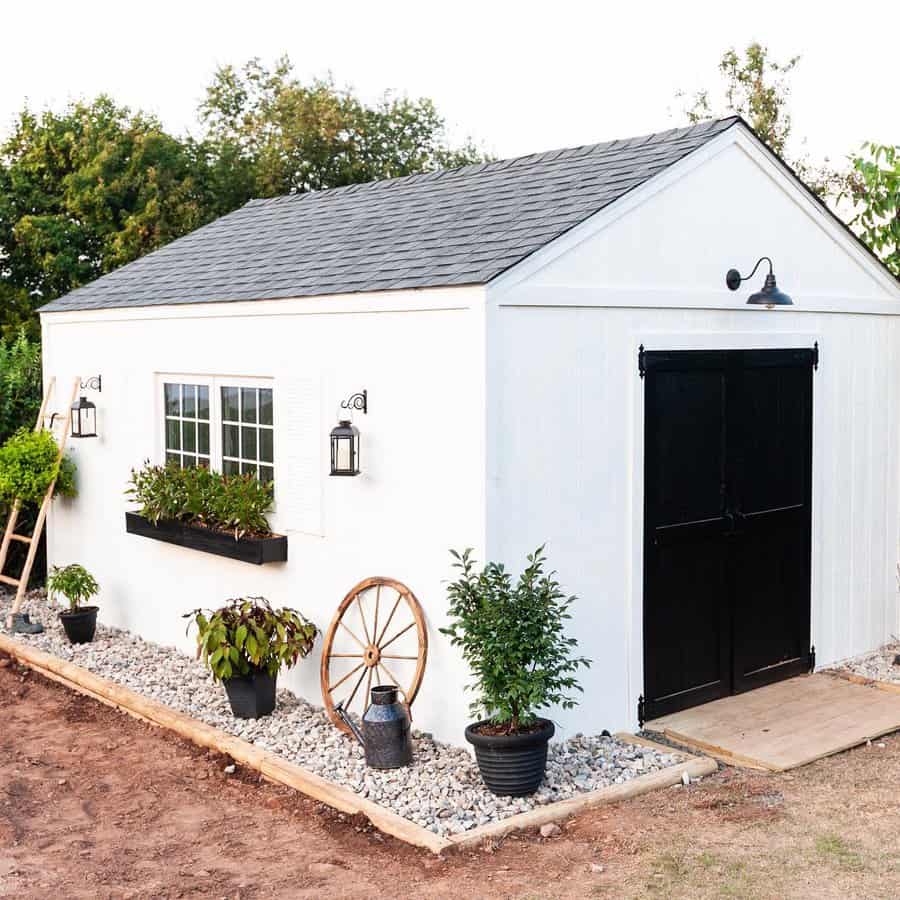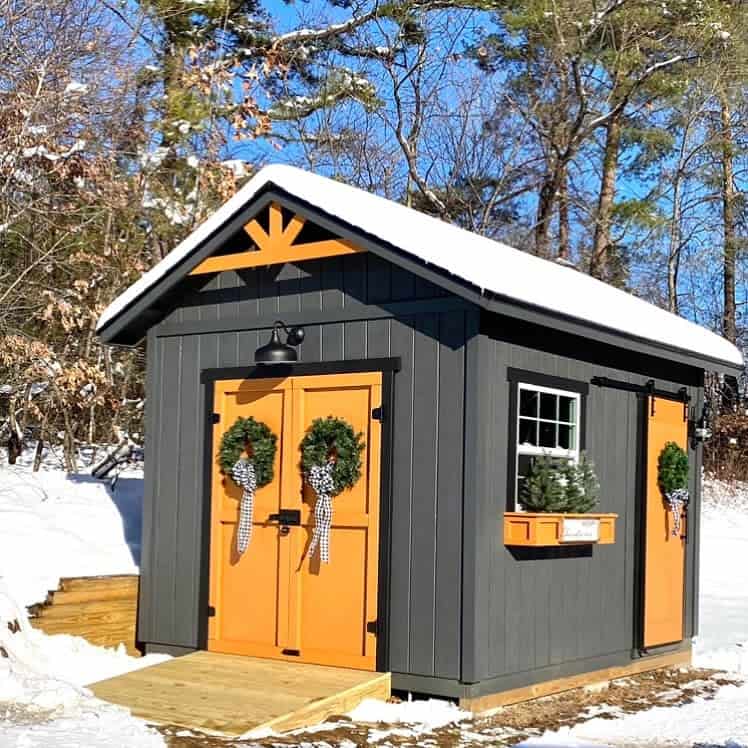 9. Design A Parallel Truss
A garden shed with a parallel truss adds a whole new dimension to the traditional outdoor structure. Not only does it look bigger, but its unique beam architecture adds a high-ceiling look inside that adds height and draws the eye upwards.
Imagine a tall and awe-inspiring workshop or home office crafted in your garden surrounded by lush greenery and beautiful blooms – this is what a parallel truss can create!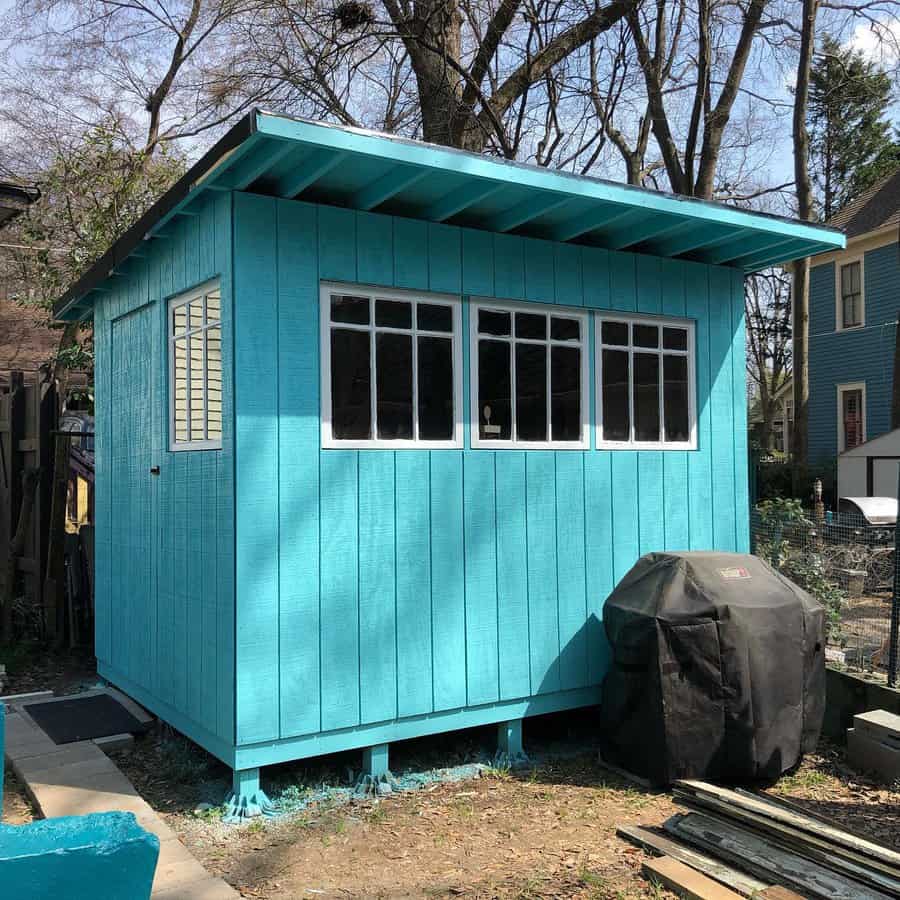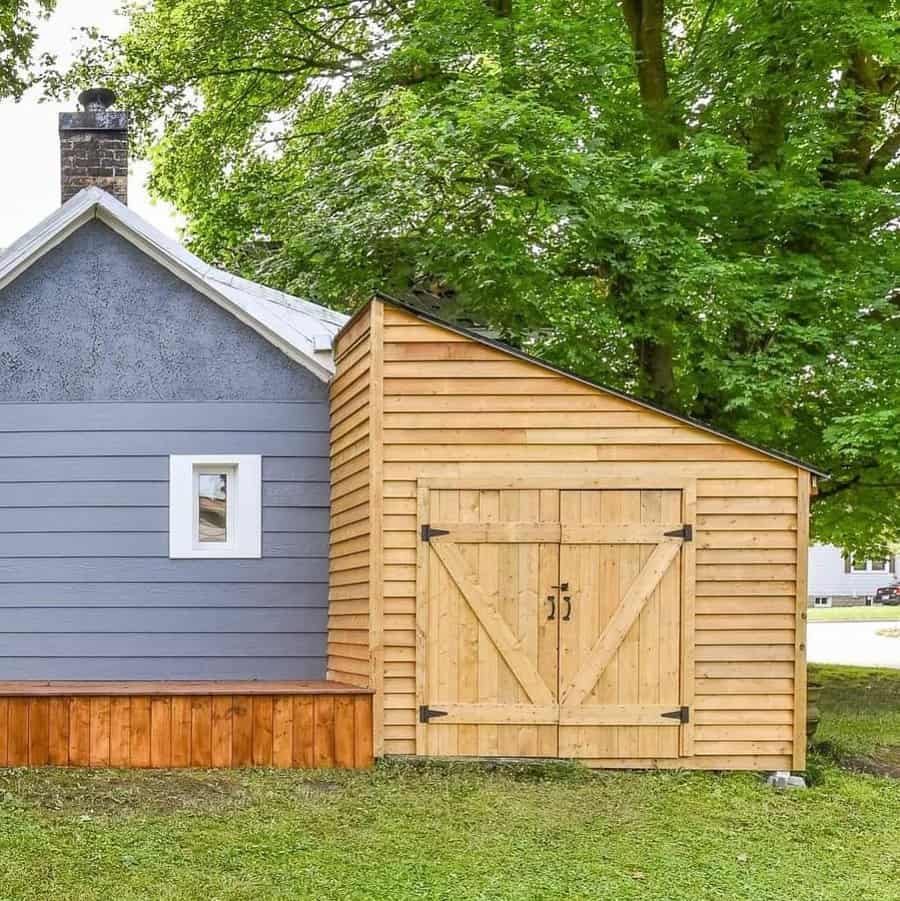 10. Be Creative With Murals
A garden shed with mural art can be a truly unique expression of self. One could go for cartoon style art, full of vivid colors and quirky characters, or opt for something more floral that brings life to the outdoors. Or if you're feeling daring, why not try out a graffiti style mural with bold lines and contemporary designs?
By incorporating mural art on your garden shed, you can bring an extra visual interest to your sanctuary in the great outdoors.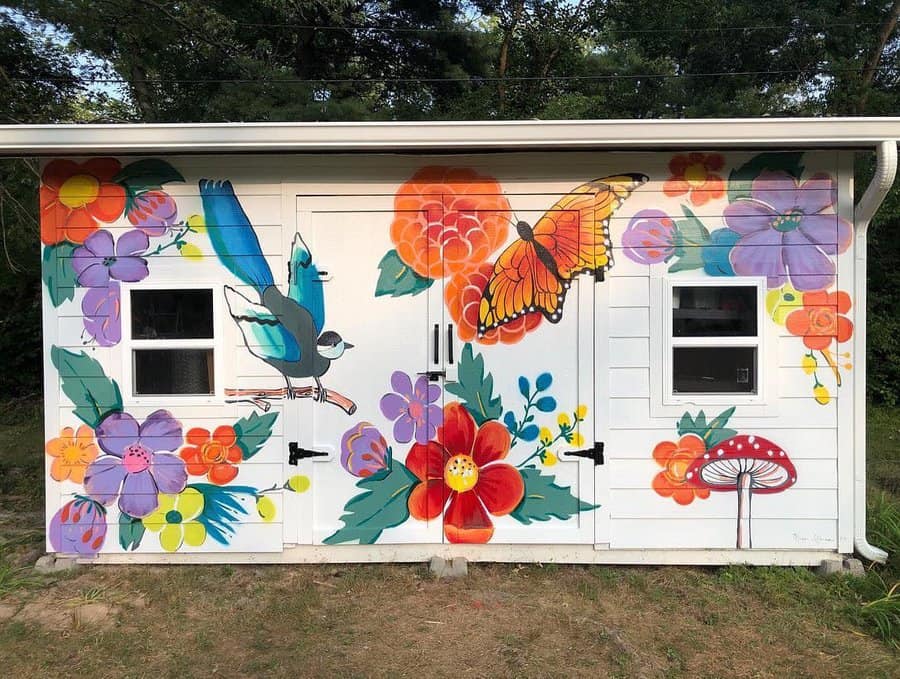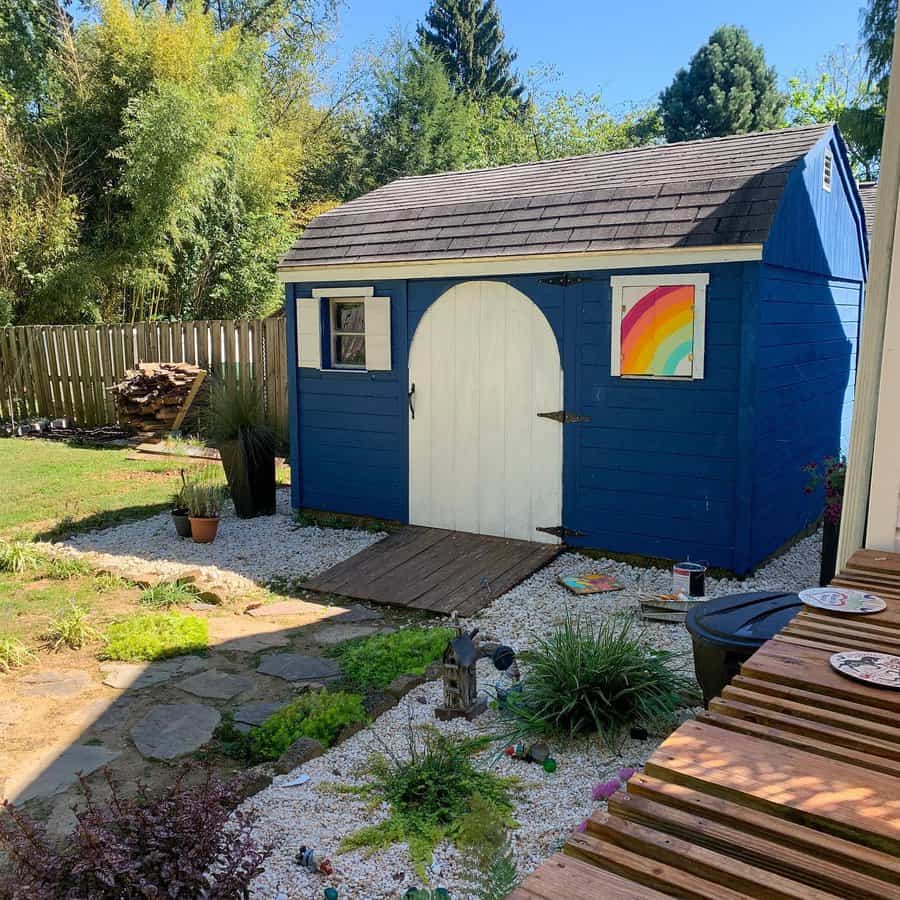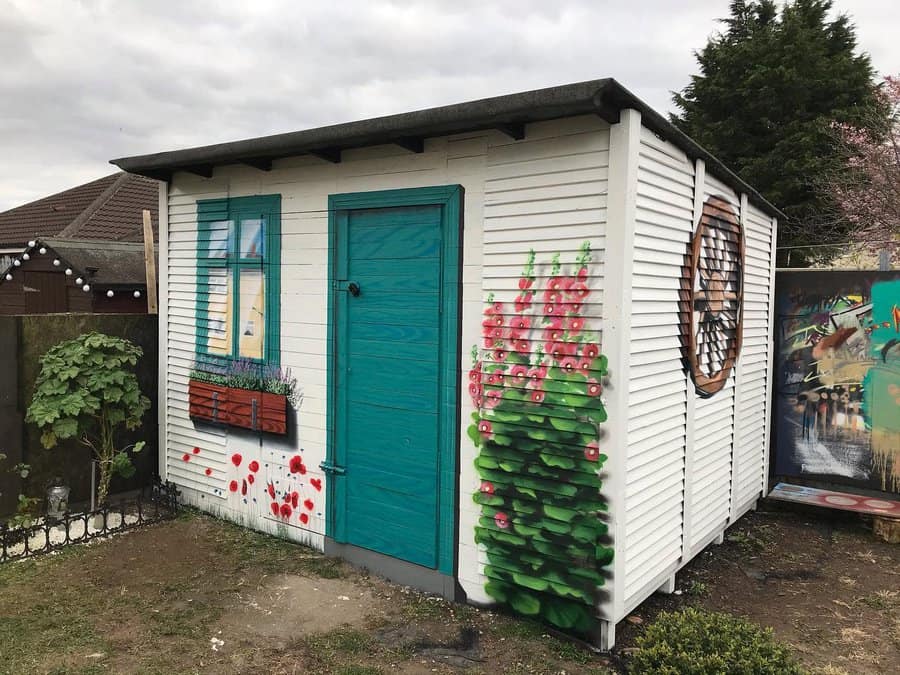 11. Add Stonepaths
A garden shed with a stonepath creates a beautiful landscape that can be enjoyed year-round. Whether it's winding paths that take you on an adventure through your own backyard, or solidly built walkways in rich colors that add beauty to your garden, the options are limitless.
With the right design, a garden shed and stonepath can make all the difference in breathing new life into your outdoor space. Plus, it's low-maintenance.
12. Turn Into A Library
Imagine repurposing an old barn and transforming it into your own study room or library! A garden shed with a built-in library can be the perfect solution to allowing anyone to have a soothing and cozy area to work, read, or relax.
Not only does this space provide a fantastic atmosphere for getting productive but it also isolates the user from distracting surroundings. It's time to accelerate productivity through the comfort of a tranquil repurposed barn with a library!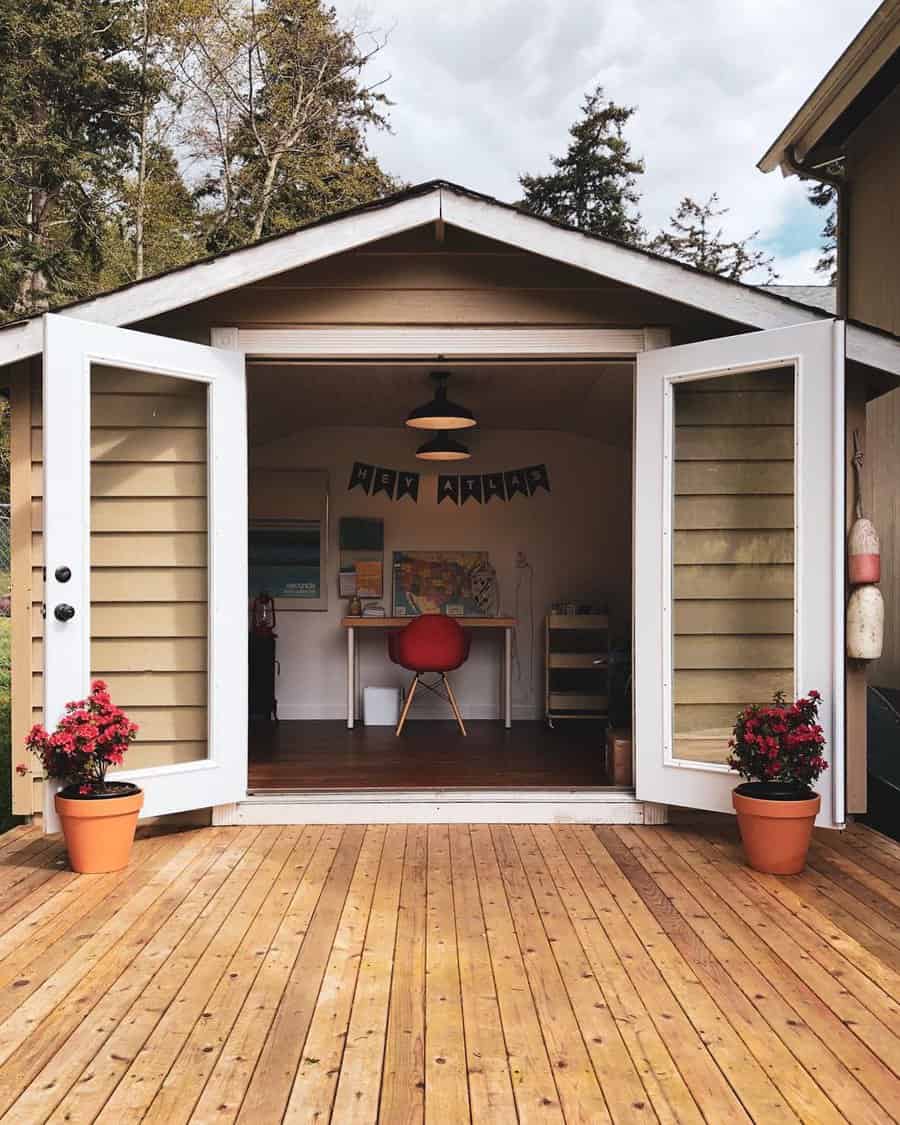 13. Add Outdoor Seating
Imagine an adorable shed, tucked away in your garden, with a relaxing patio standing beside it. Even on the greyest of days, the area radiates beauty, due to its carefully arranged shrubs and plants surrounding you on all sides.
Inside this small shed is cosy seating – perfect for having an intimate chat with a close friend over some tea, or a chilled-out barbecue while watching the sunset. Your gardenshed with outdoor seating offers an atmosphere that's balanced between the wildness of nature and the comfort of home, with enchanting features like small lighting and cheery plants that will cheer up any mood!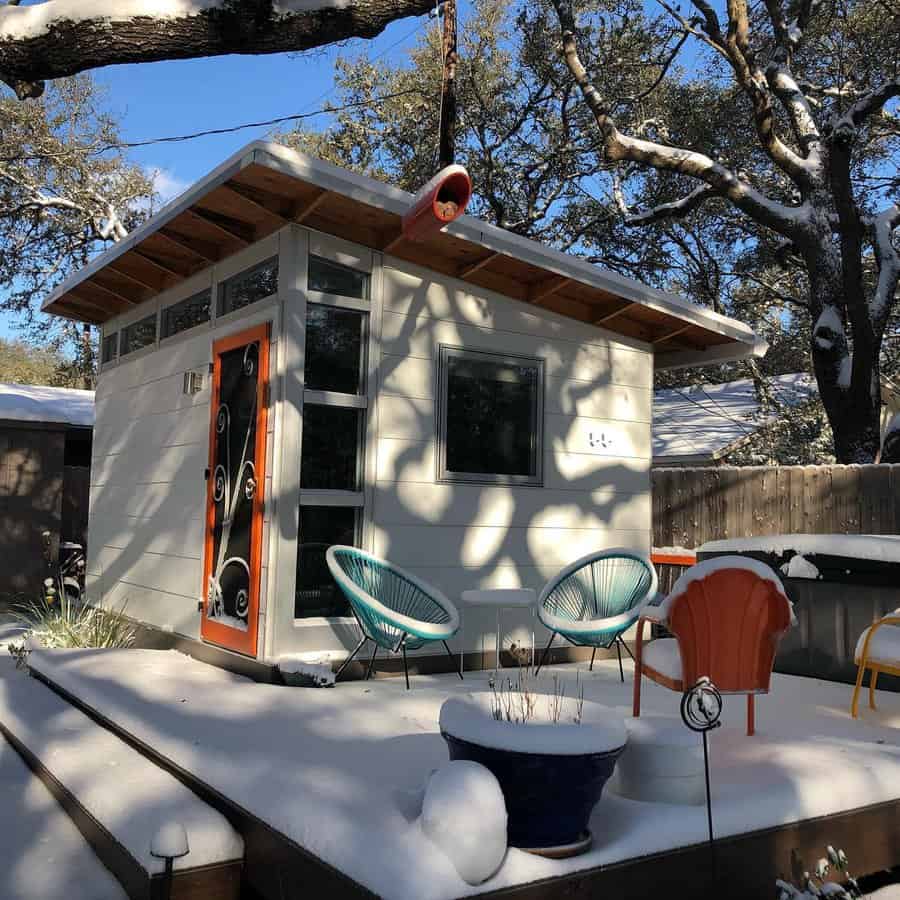 14. Decorate With Potted Flowers
Add some life to your garden shed with a few potted flowers! Not only will it adds bursts of color, it's also a low-maintenance landscape alternative that requires minimal care. Potted flowers are versatile and easy to transport, so you can easily move them around for any occasions.
The possibilities are endless – arrange colorful pots around the perimeter of your shed or arrange them in the shape of a flower bed!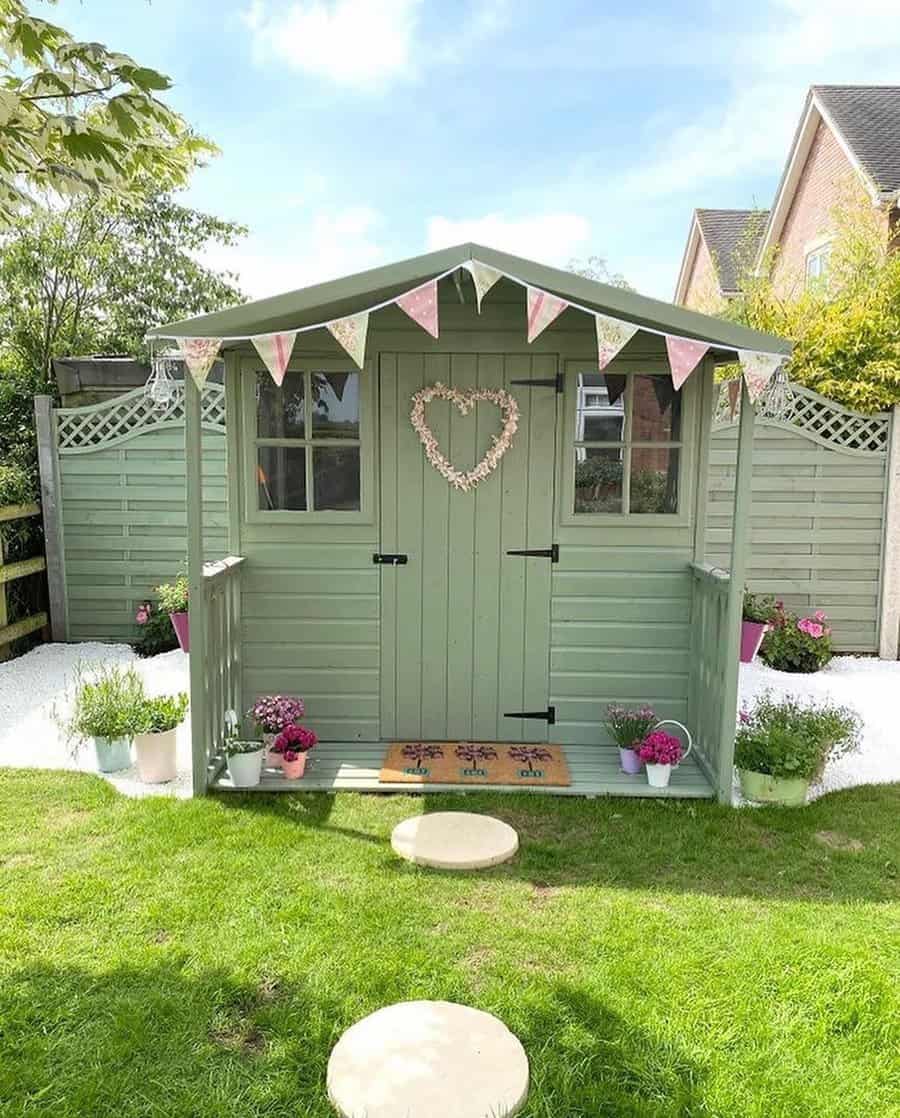 15. Add A Canopy
A garden shed with a canopy creates a dramatic affect in any backyard setting. It creates dimension, provides shelter and looks like a little house. You can use it to lounge in during summer or host an outdoor soiree of your own design.
The possibilities are endless when you have such a majestic piece of architecture in your yard. Make yourself at home outside, no matter the weather – your garden shed with canopy will be waiting for you!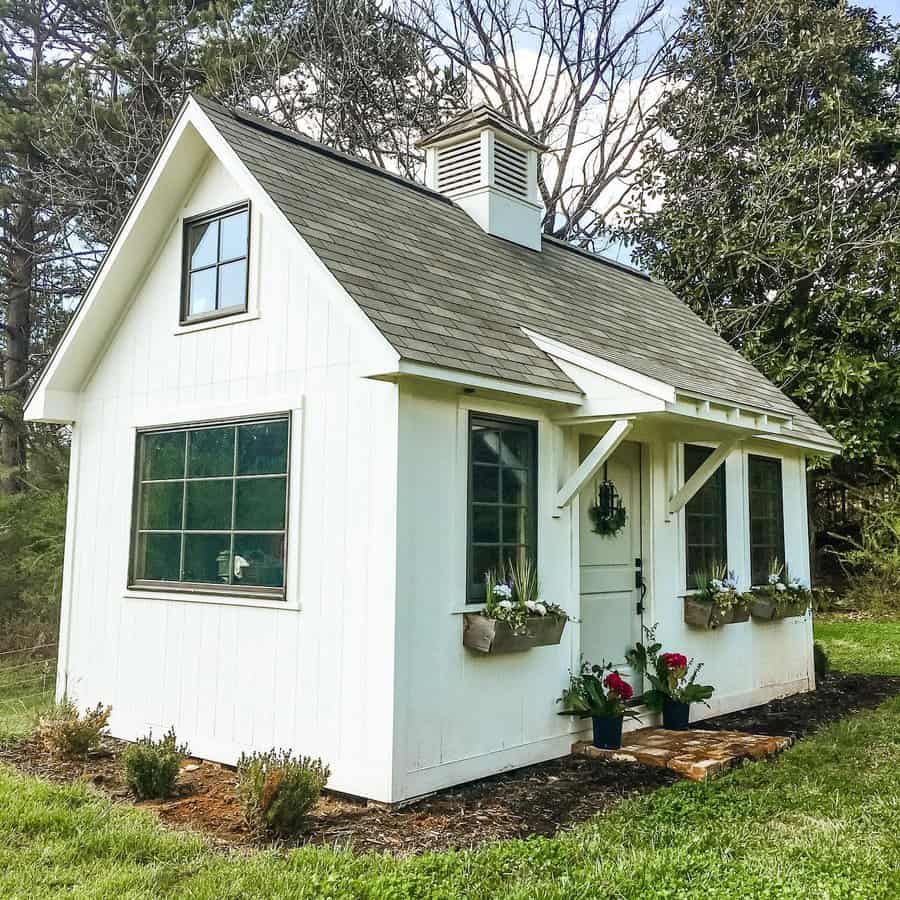 16. Build A Metal Shed
A metal garden shed is the cost-efficient solution to all of your storage needs. Whether you're looking for a place to store garden tools, lawn care equipment, or gardening supplies, a metal garden shed is perfect. Its simple and functional design means minimal maintenance and no mess – just what you need when gardening or working outdoors.
Plus, its cost-efficient construction means it won't cost you an arm and a leg to construct. So go ahead and create the ultimate in cost-efficiency in your backyard – get yourself a metal garden shed today!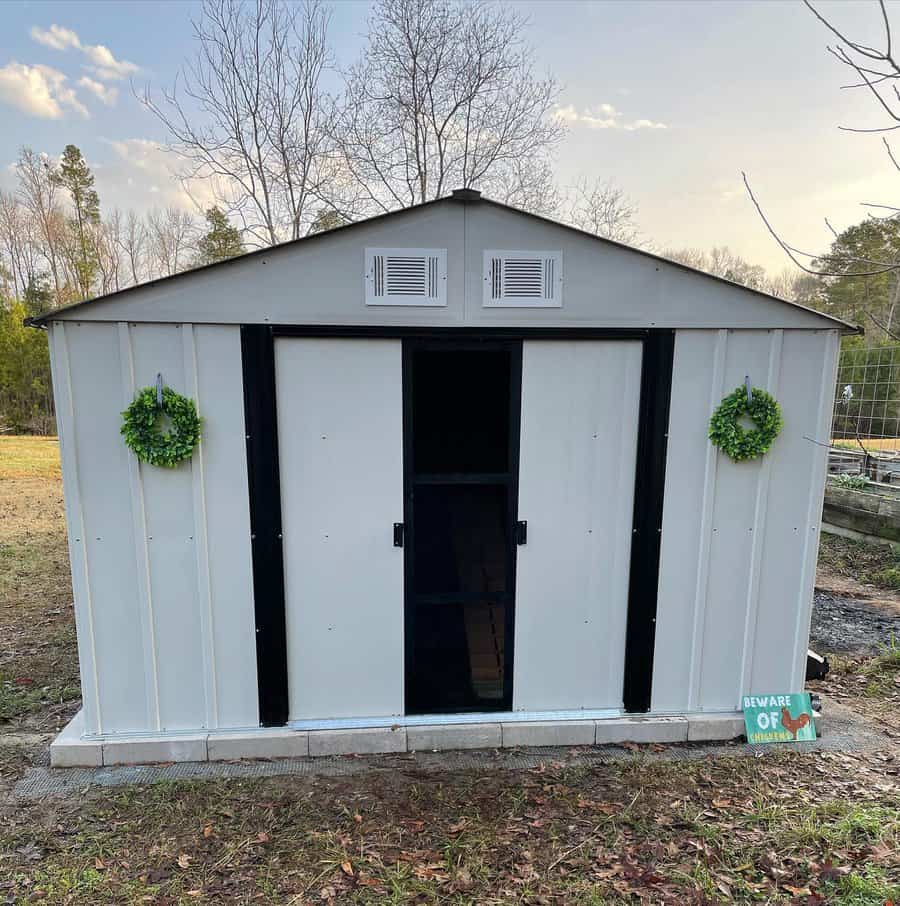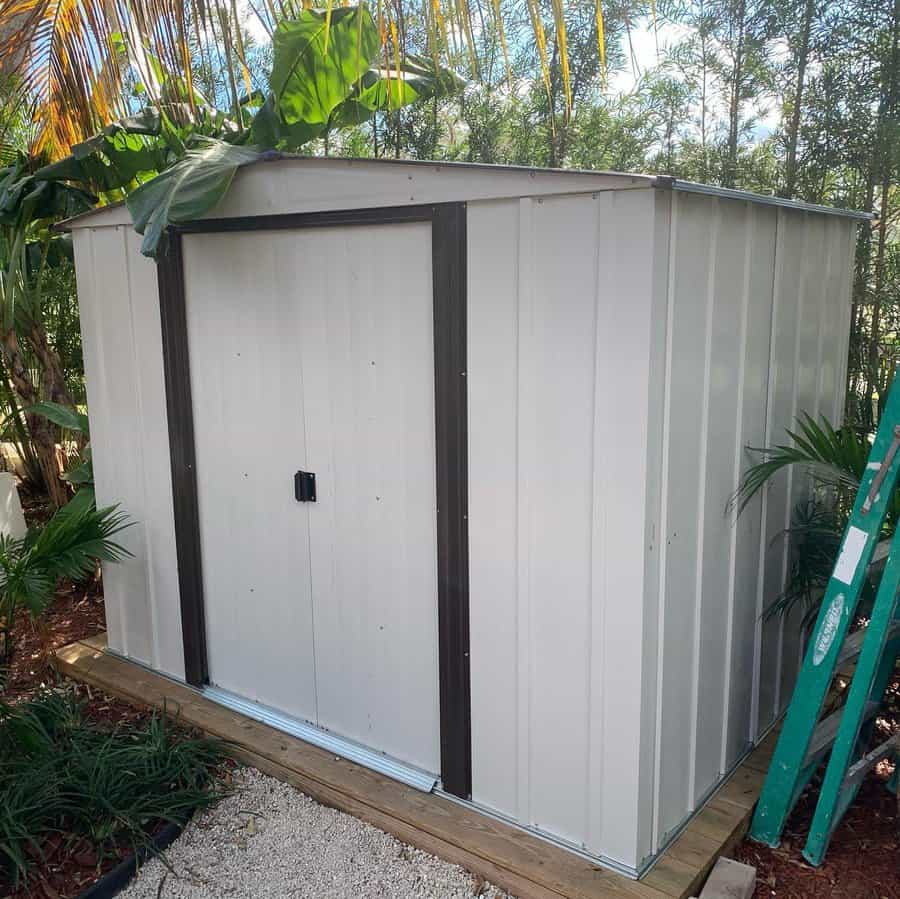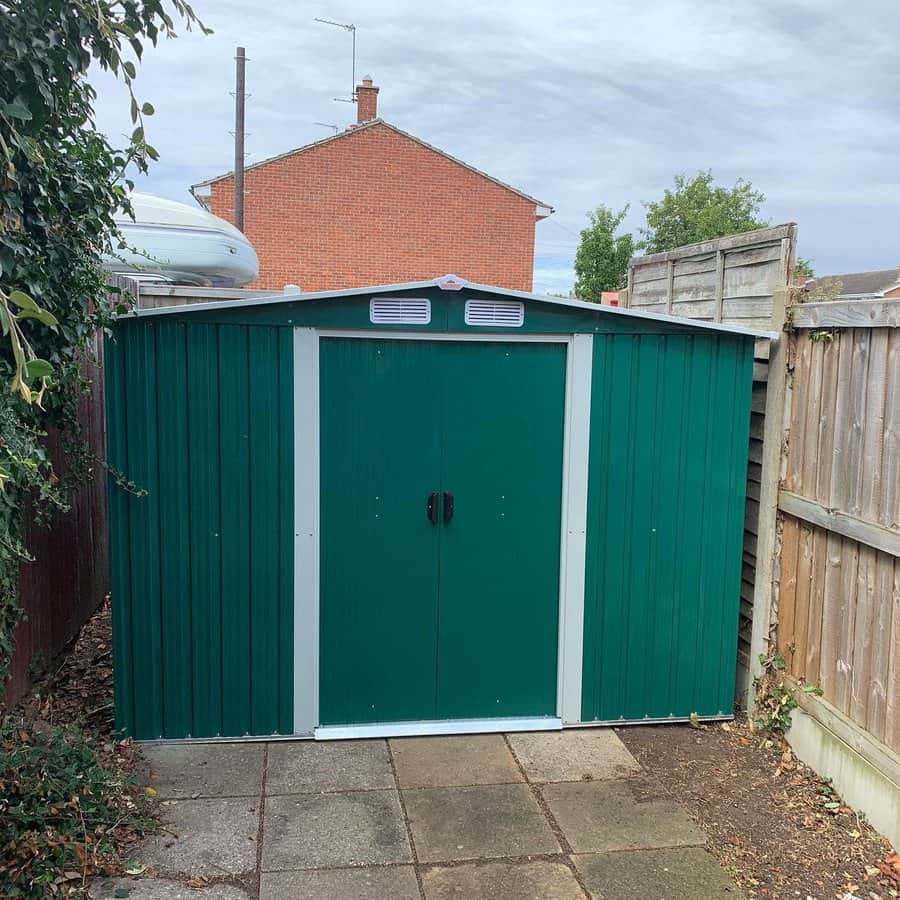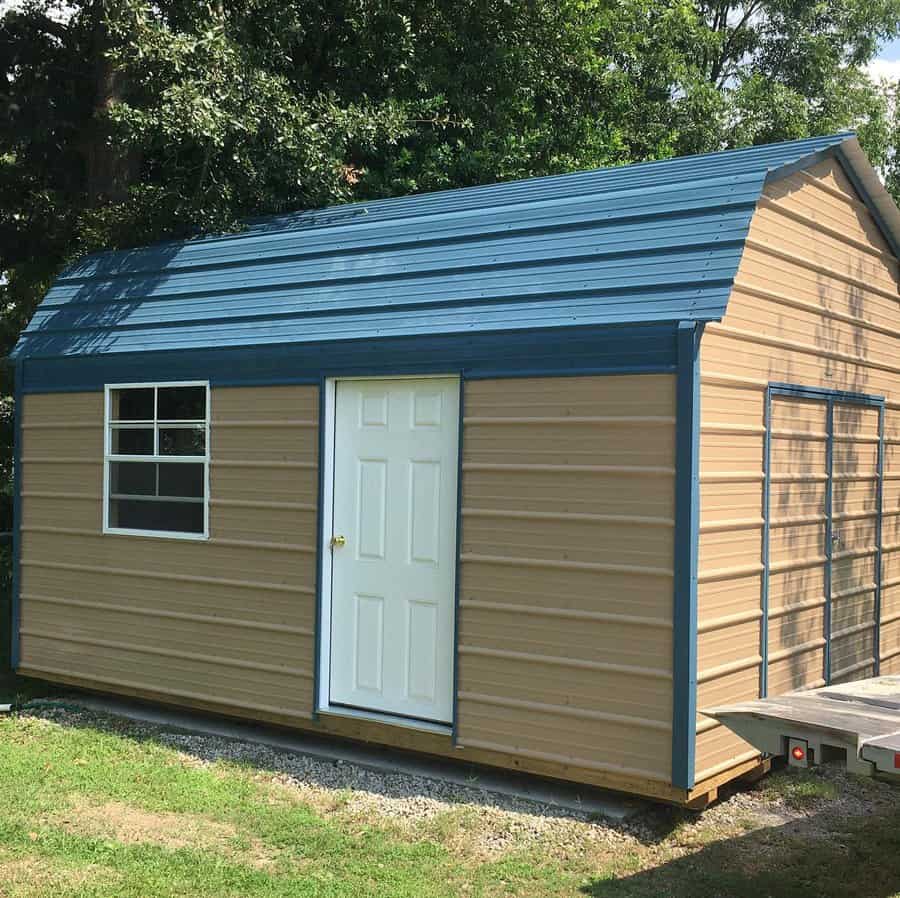 17. Opt For Cladding Walls
A rustic garden shed with cladding walls is an ideal addition to a traditional-style American home. This stylish yet rustic construction is perfect for adding a touch of Americana to any landscape.
Whether you are planning a cozy paradise filled with plants or turning your backyard into a rustic retreat, the cladding walls of your garden shed are sure to add a timeless atmosphere that will add rustic charm to the area.
Plus, it's the perfect place for securely storing all the gardening tools, lawnmowers, and other outdoor equipment needed for the job.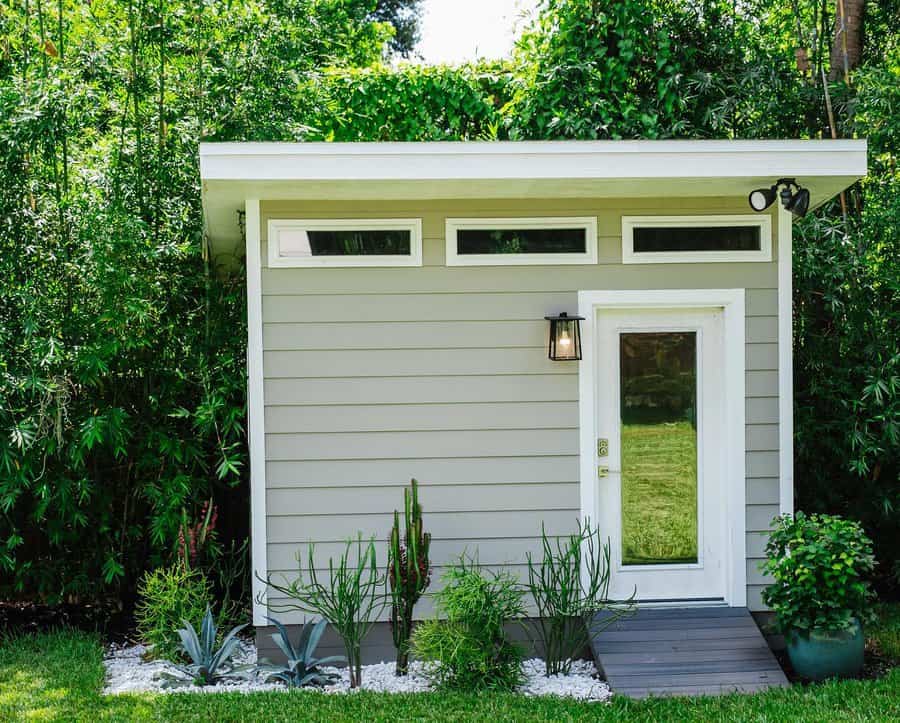 18. Play With Color Combinations
Give yourself a creative challenge and mix up the traditional garden shed look: consider pairing two mix-and-match paint combinations on the door and walls of your shed! It's a fun, out-of-the-box way to make your garden shed stand out among its neighbors.
Experiment with unique styles or pick patterns that reflect your personality to create a design that tells a story. Combining mix-and-match paint combinations for your garden shed is a great way to show off your creativity and make it one of the most eye-catching attractions in your yard.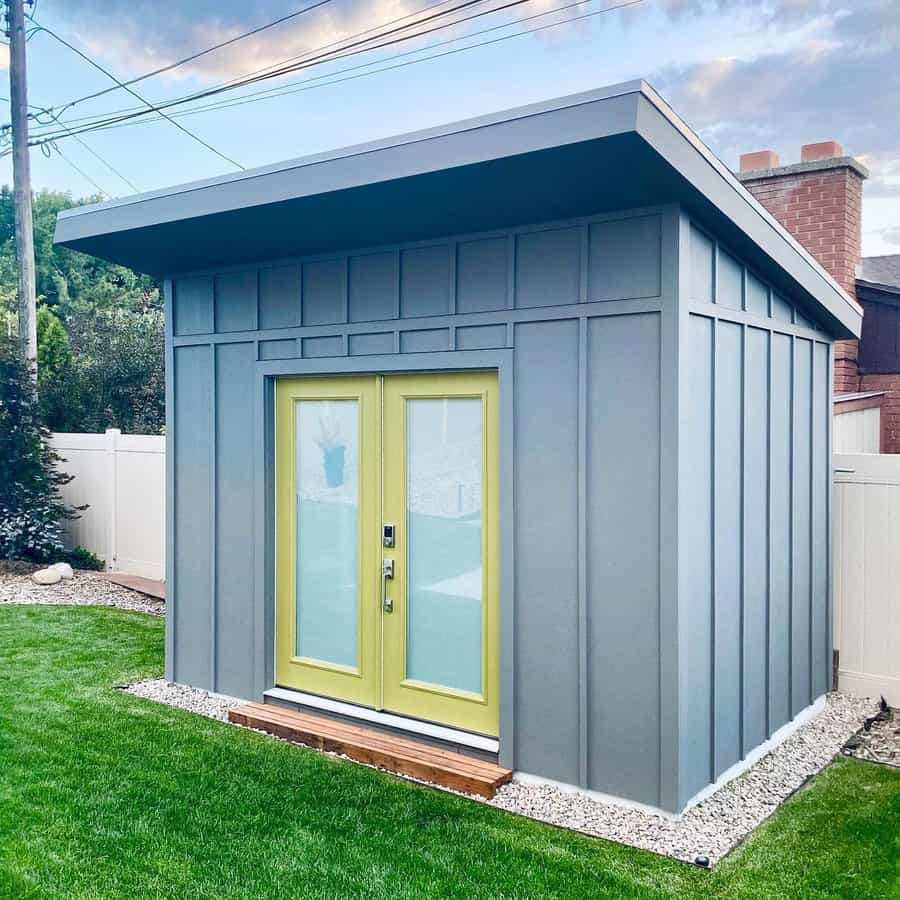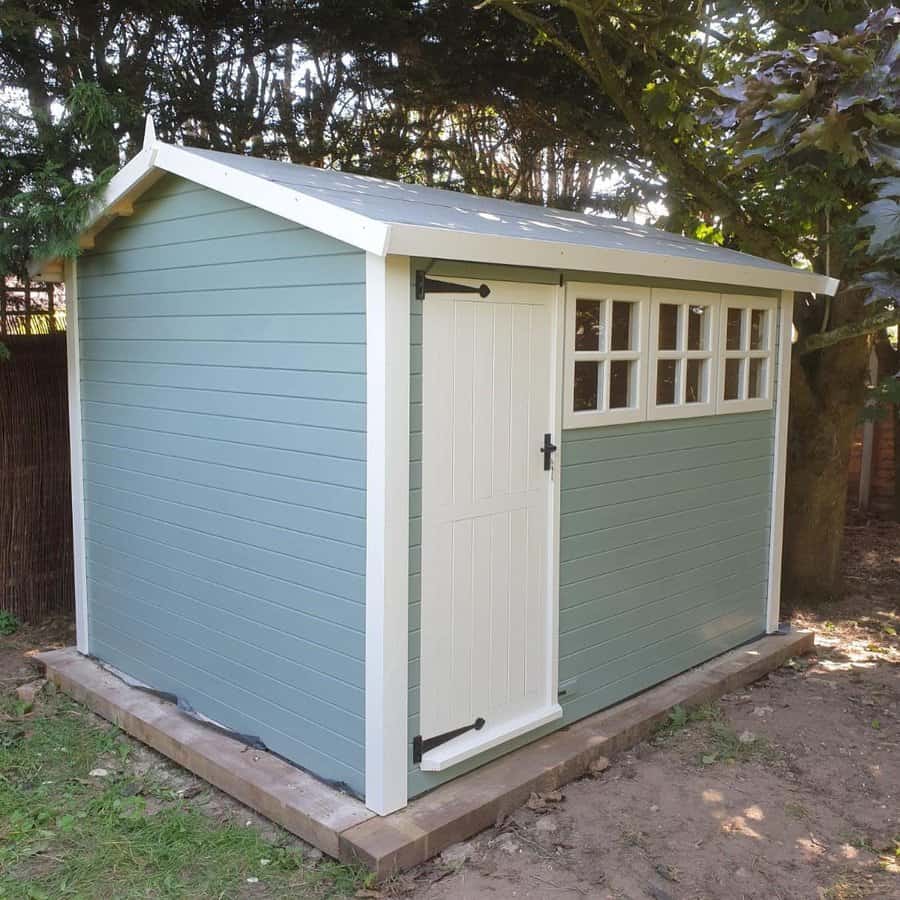 19. Keep It White And Simple
Add a beautiful clean and simple touch to your backyard with an all-white garden shed. Cost-effective and versatile, the clean look of white will allow you to create storage with a classic appeal that gives your garden space an added aesthetic boost.
Whether used as a tool shed, potting room or simply a place to admire the wonders of nature, this clean and classic addition is sure to bring satisfaction for many years to come.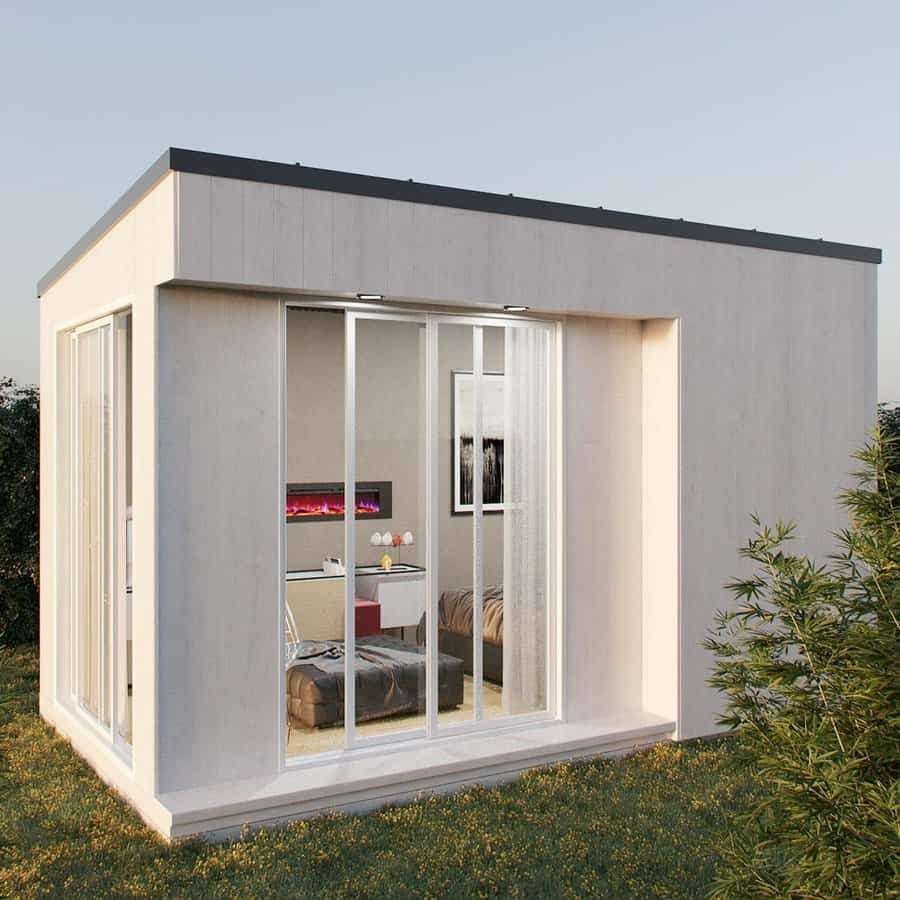 20. Install A Mini Deck
A garden shed with mini deck provides a unique and creative atmosphere to add some outdoor charm to your backyard. What better way to add a touch of character than by adding a small covered area for all sorts of activities? With this new addition, you can add a coffee table or utilize it for working on small projects on colder days.
Plus, the mini deck can also be used as seating for those summer nights when you want to admire the starry sky without worrying about pesky insects.
Enjoy nature in a whole new way with your very own garden shed with mini deck.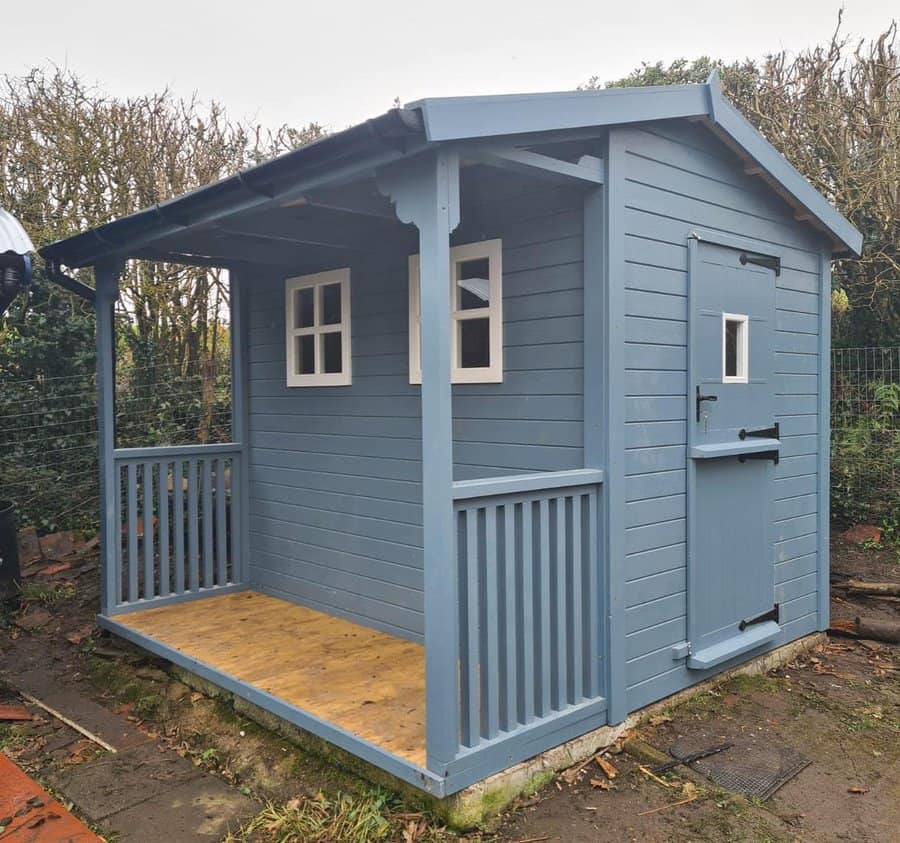 21. Add Metal Wall Art
The beauty of metal wall art is that it can survive all of the elements, no matter how extreme. For example, metal wall art placed in a garden shed brings an element of joy and aesthetic pleasure right outside your back door.
A little rust can also add some charm, invoking images of nostalgia or a vintage look. Whether you choose simple shapes or a metal mural, metal wall art will enhance any garden shed and bring an eye-catching feature to an otherwise mundane space.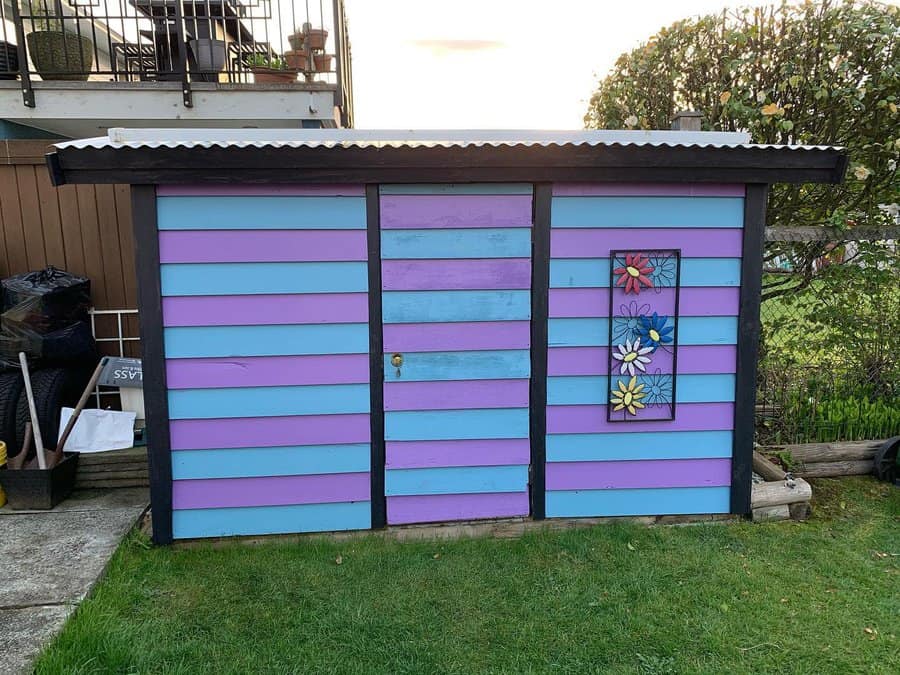 22. Frame With Black Paint
A garden shed painted with a black frame, perhaps in contrast to the green of the lawn, can make a bold statement. The ambiance of the outdoor space can be transformed with a touch of style and this painted shed can make all the difference.
Not only does it add contrast, it contributes an element that is both practical and aesthetically pleasing.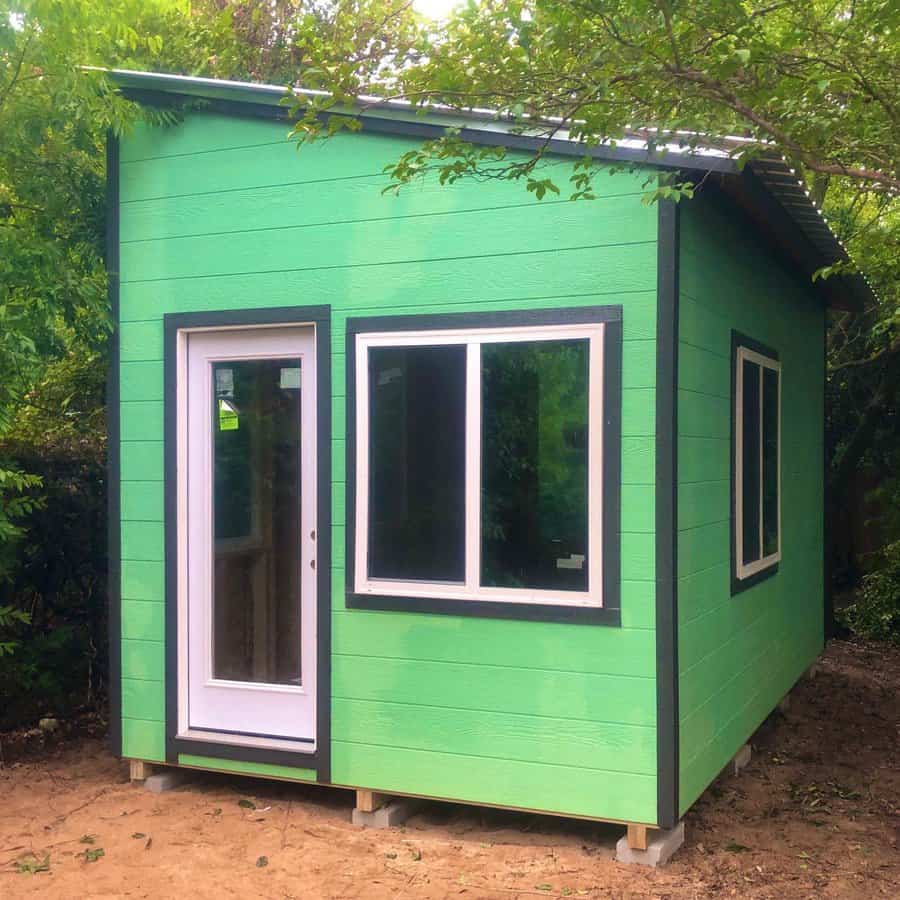 23. Stand Out With Red Paint
The bright red garden shed stands out in the landscape like a sleepy little farm barn, an addition to the property that serves to bring about a sense of homeliness and rural charm. With its rustic look, this compact yet sturdy structure is sure to cause the eye to glimmer and sparkle when it happens upon it; even at night, it stands out as an easy-to-spot beacon among the darkness.
A classic little building that adds something special to your land; an instant hit with children, who love exploring within its walls while adults admire its pleasant visuals from nearby.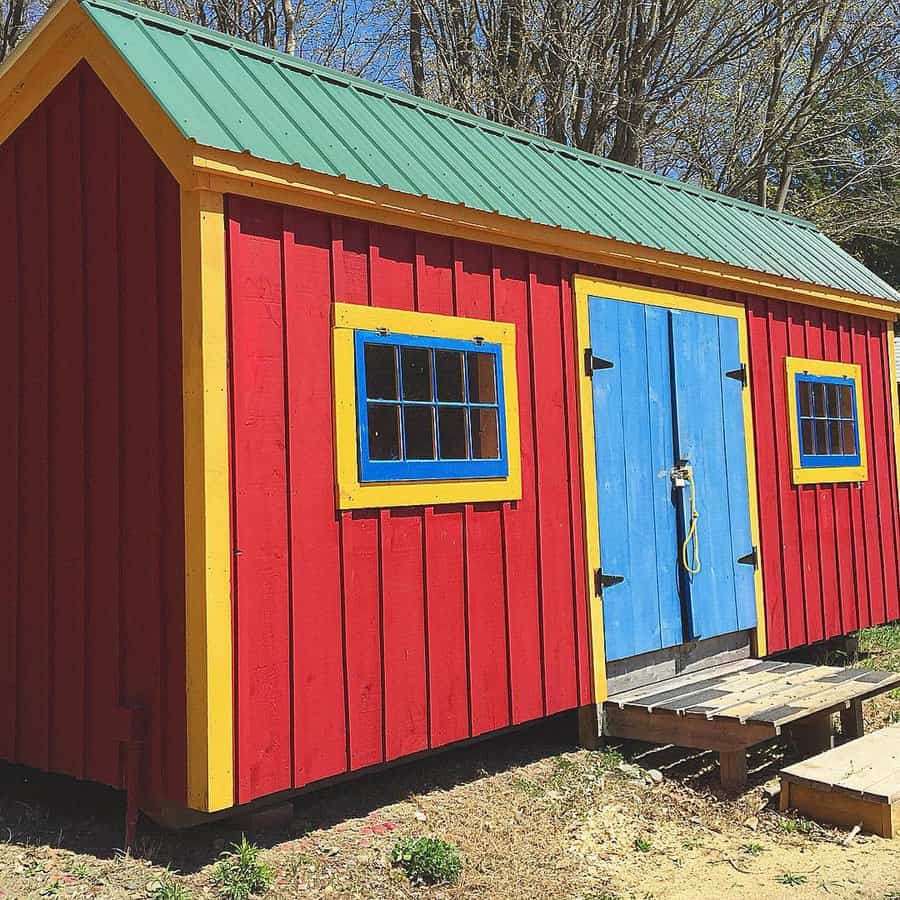 24. Keep It Rustic
Create an industrial or rustic look in your garden with an all-wood garden shed! Its natural construction lends an organic vibe that compliments any exterior while keeping your belongings safe and sound. Use it to store any tools and equipment you may need, from lawnmowers to rakes and gloves.
Not only is this shed a statement piece, but it also provides the perfect space to relax and appreciate your outdoor space. So go the extra mile in sprucing up your yard with an all-wood garden shed today!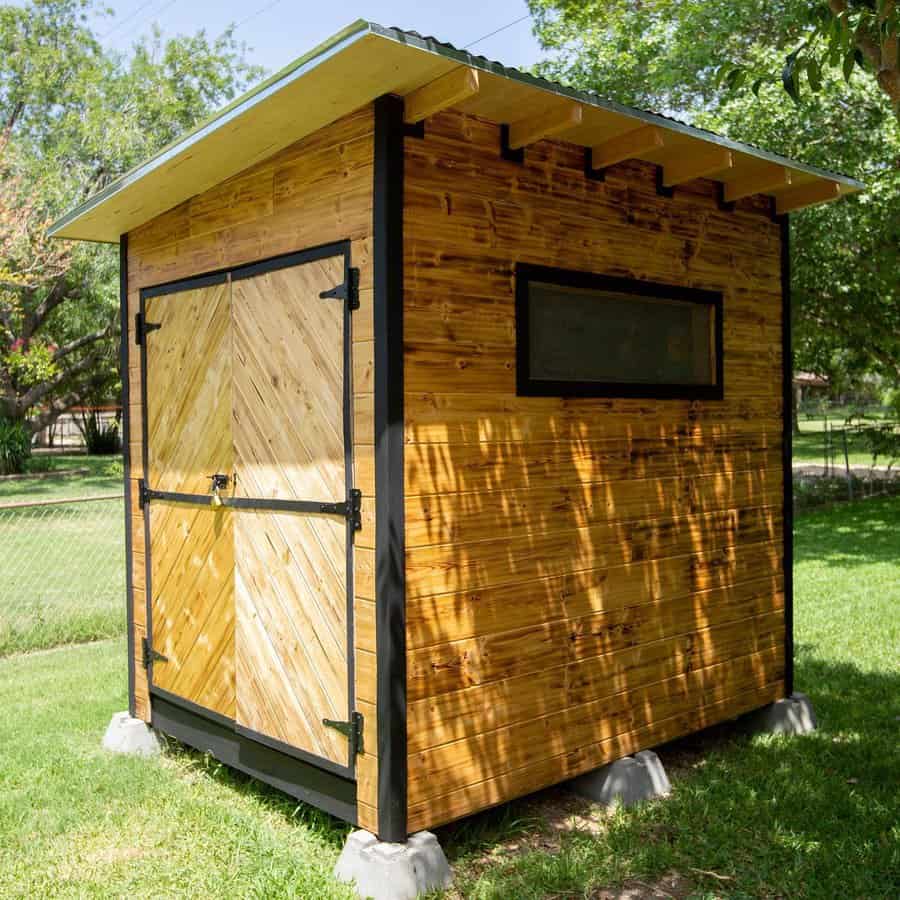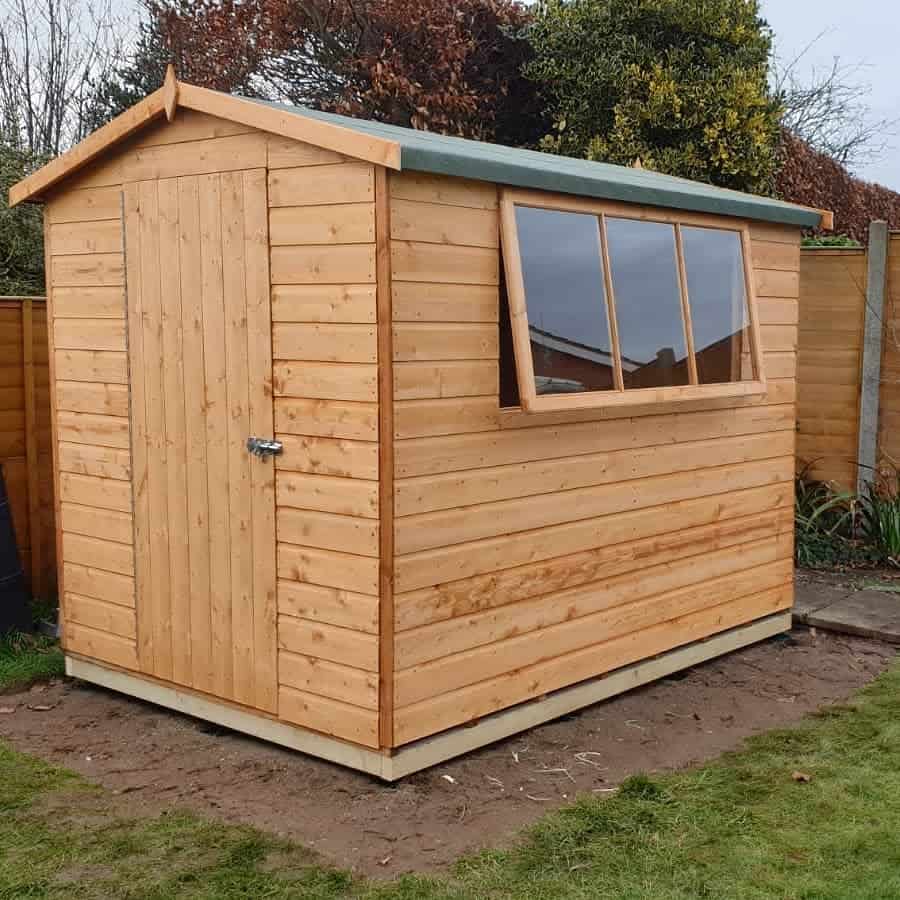 25. Add A Red Door
There's something so magical about a garden shed with a bright red door. The easy to spot color in the night adds some serious visual interest to your landscape.
Whether you're going for a traditional look or something more modern and sleek, the red door adds just the perfect amount of accent to make it stand out from the rest. Set among lush green grass or contrasting planters, it's sure to be an eye-catching piece of your outdoor paradise.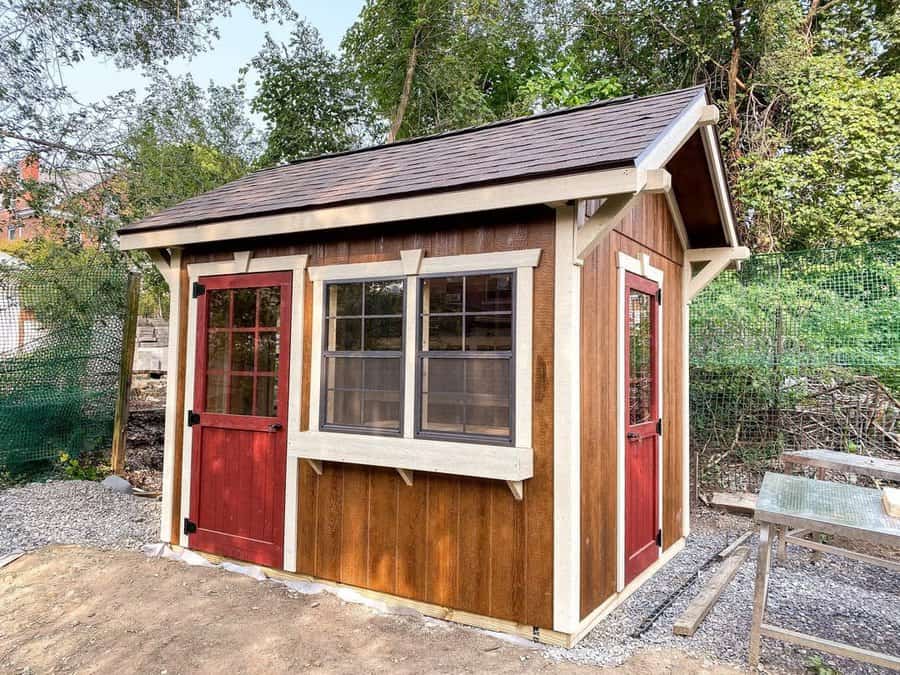 FREQUENTLY ASKED QUESTIONS
What is the best way to protect a wooden shed?
Any exterior wood should be treated with a wood preservative followed by an exterior wood oil. Most wood preservatives contain wax or silicon to offer weather protection, so it's recommendable that you choose a wax and silicon-free preserver if you want to paint over it. Apply painting only after it's fully dry.
How can I waterproof a wooden shelf?
Apply a wood cleaner to remove any mold or mildew, then treat the wood with two coats of an exterior wood preserver, followed by two coats of exterior wood oil suitable for sheds, or a decking oil. This will provide a weather-protective finish that can be maintained by applying a maintenance coat of wood oil every year. 
What kind of maintenance do metal sheds require?
Contrary to wooden sheds, metal sheds do not require sanding or pest control. The only maintenance issues are rust and corrosion, and there are some preventive measures you can take, such as applying a protective layer of paint with anti-corrosion elements followed by a rust-inhibiting finish. Repeat the process every few years.
However, when purchasing a metal shed, make sure it is rust-resistant and comes with a warranty against rust. Metal will not distort or warp under different weather conditions, and it is possible to reinforce it against strong winds.