39 Garden Shed Ideas
by — Liz Bittar

Published on March 24, 2022

Updated on October 3, 2023
A shed can be an extension to your home. It can be used for much-needed storage, but it's such a versatile space that the whole family can benefit from it!
A shed can be a man cave or a workshop. It can also be a home office or an art studio. For gardening lovers, you can use it for a potting shed, or a garden storage space. It can be an animal shelter or a dog kennel.
It can be a game room for teenagers or a place to store their bikes and sports gear. It can be transformed into a pool house, or you can use it to store patio furniture. But, most of all, a shed can be a perfect little spot for the children to play! A fort or a dollhouse, sheds can be transformed into places they create memories they will cherish forever.
1. Transform Your Garden with Landscaping
Integrate your garden shed seamlessly into your backyard by surrounding it with a pathway made of small pebbles. Add a touch of nature by planting shrubs, flowers, and small plants along the sides of the path.
Consider creating a charming terrace around the shed, nestled among vibrant greenery and fragrant blooms. This not only adds aesthetic appeal to your garden but also offers valuable storage and shelter space. Whether you're an avid gardener or simply want to elevate a small outdoor area, this landscaping idea brings both beauty and functionality to your space.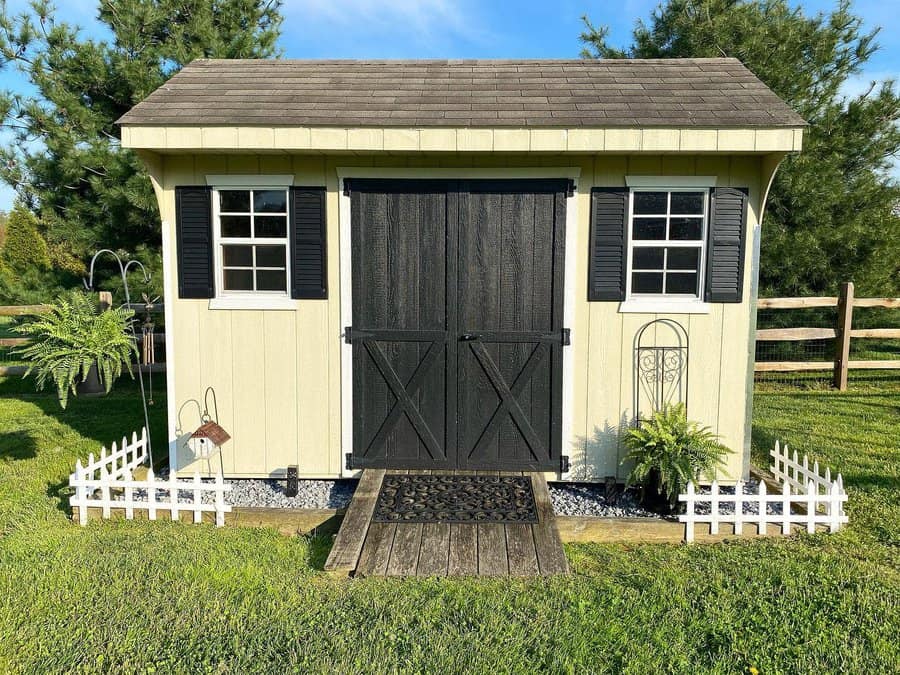 2. Elevate Your Shed's Style
Upgrade your outdoor space with an elevated garden shed, a stylish and functional addition to your garden. These sheds not only add aesthetic charm but also provide protection from the elements, ensuring your belongings stay safe and dry.
Whether you need storage for tools, business inventory, or a cozy relaxation spot, an elevated shed offers versatile options. Choose from various designs to match your personal style and enhance your backyard's appeal, making it a valuable and visually pleasing investment.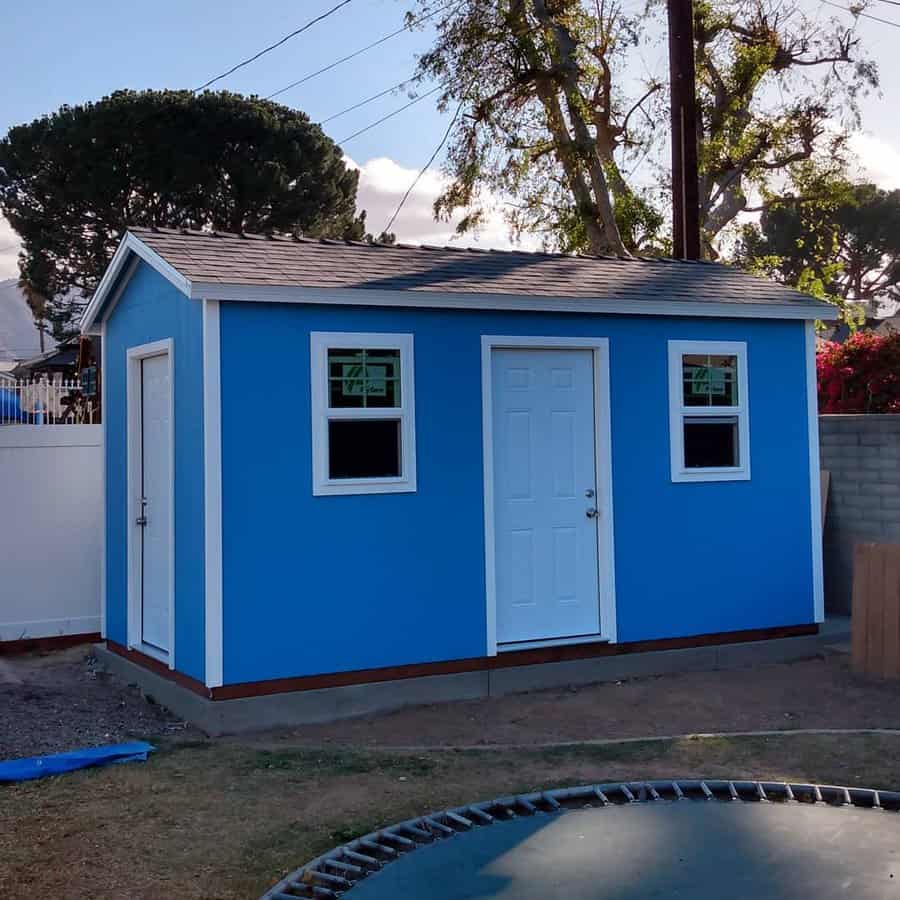 3. Accentuate with a Pebble Bridge
Enhance your garden shed's appeal by adding a pebble bridge, combining classic and modern aesthetics for a charming backyard transformation. The stone bridge arching over the entrance not only offers a unique and inviting approach to your storage space but also adds character to your garden.
This creative design element breaks away from conventional shed styles, making your outdoor area more visually appealing. Installation is a breeze, allowing you to enjoy its beauty quickly. Consider surrounding it with lush greenery or decorative lighting to further elevate the overall ambiance.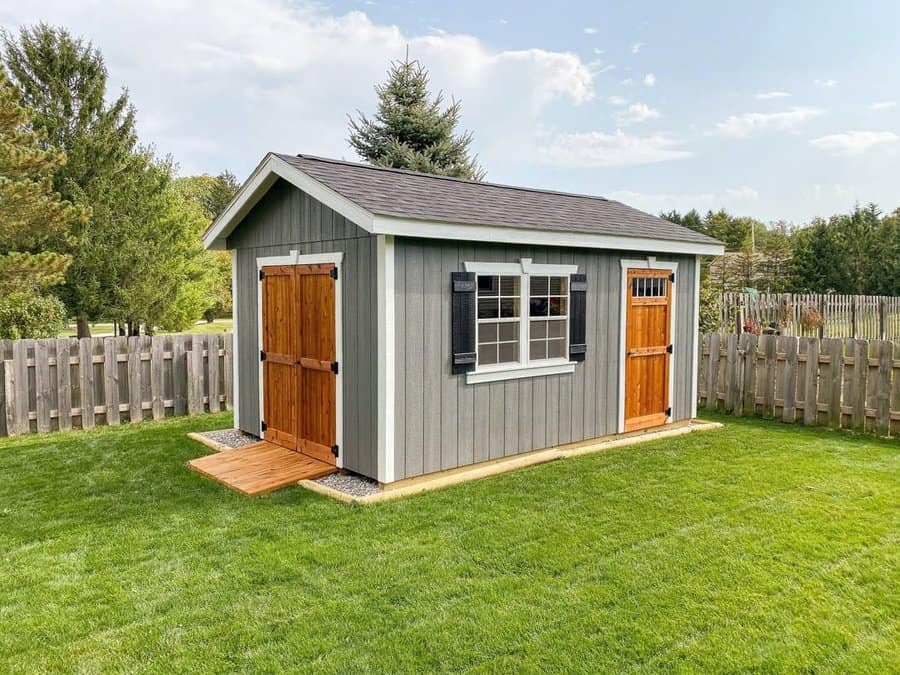 4. Embrace the Charming Barn Aesthetic
Transform your backyard into a rustic retreat with a barn-style garden shed. This traditional design adds charm and a touch of nostalgia to your outdoor space, creating a serene atmosphere for your projects and relaxation.
Crafted from durable, high-quality materials, these sheds are built to withstand the test of time and enhance your outdoor area. Whether you're preserving a traditional rustic style or aiming for something entirely unique, a barn-style garden shed is an ideal way to infuse rustic character into your outdoor space. Consider complementing it with vintage decor and natural landscaping for a complete rustic retreat.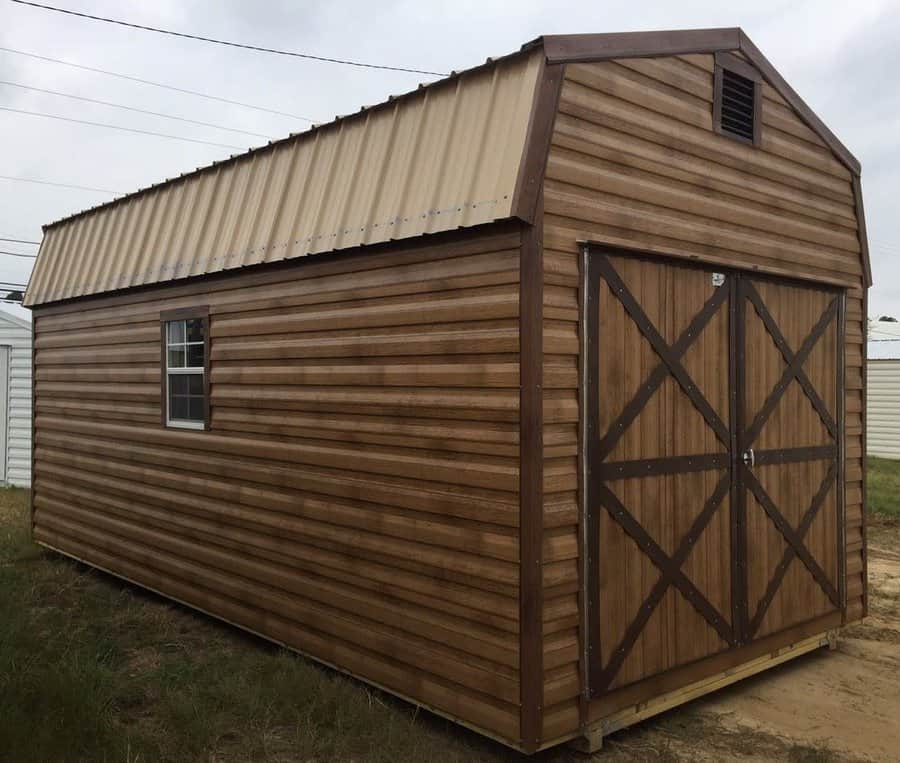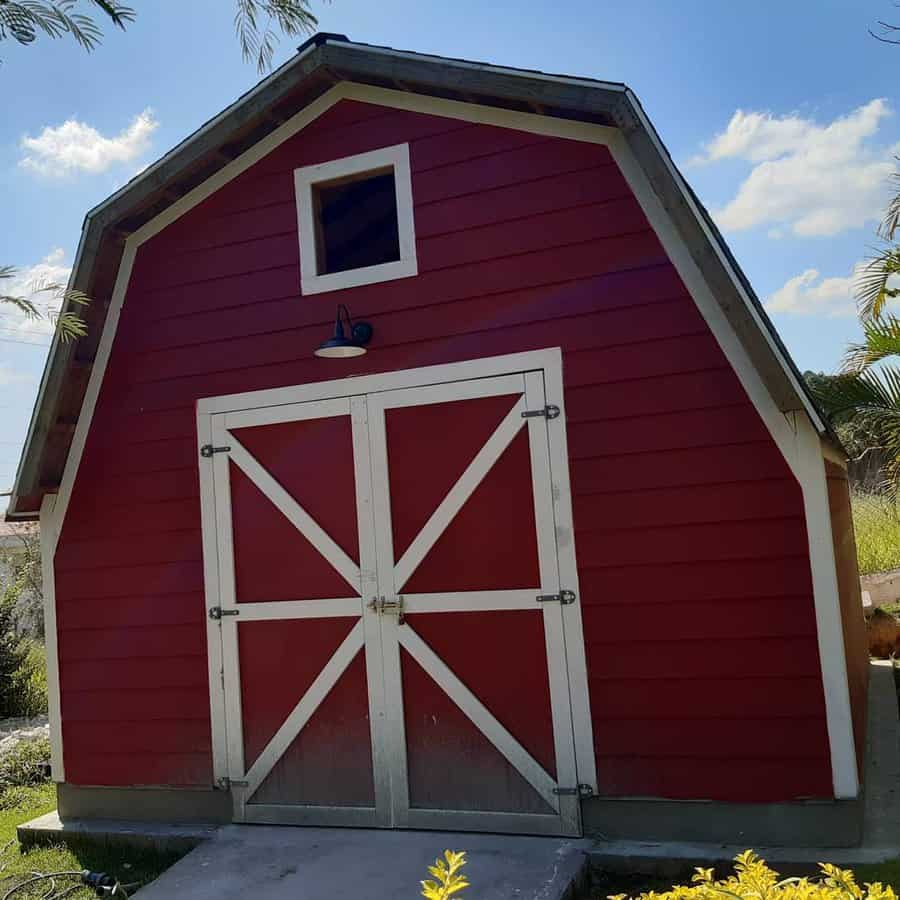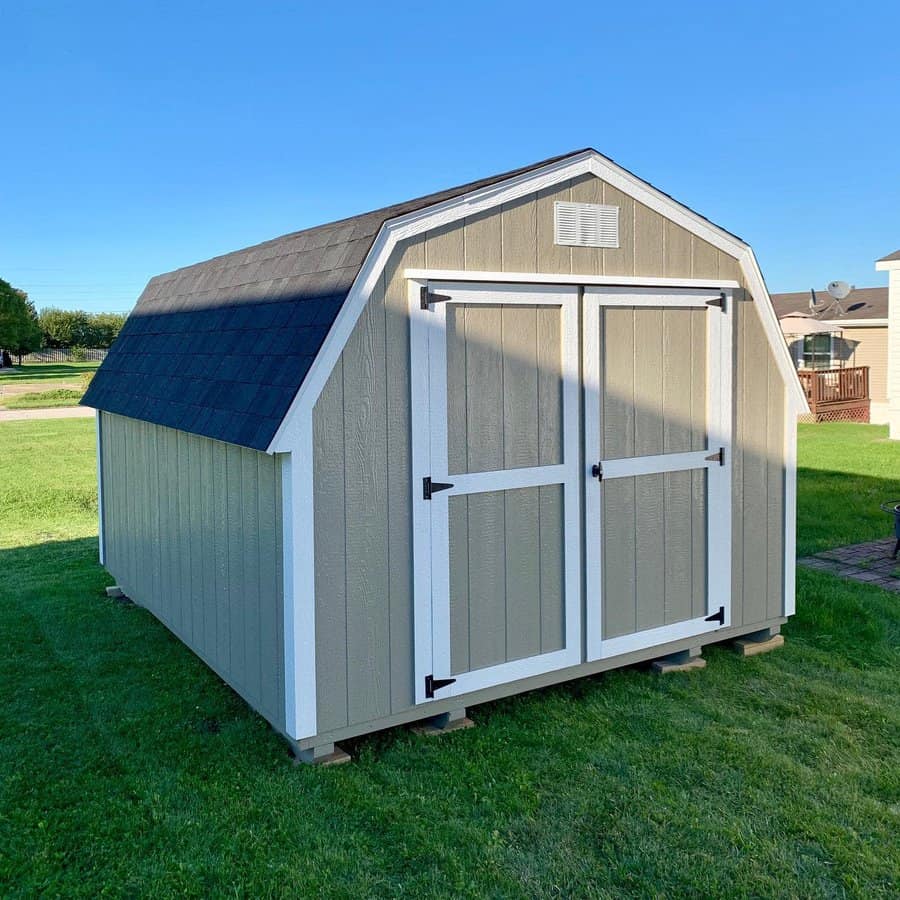 5. Go Minimalist with a Flat Roof
Opt for a sleek and modern flat-top garden shed that seamlessly complements any outdoor setting. Its minimalist design allows it to blend effortlessly with existing decor while providing essential storage and organization. Constructed from durable materials to withstand the elements, a flat-top shed is a practical choice for maximizing outdoor space with a contemporary touch.
Quick and easy to assemble, this design ensures eye-catching simplicity without overwhelming your surroundings. Consider adding neutral color tones and a touch of greenery to create a serene minimalist oasis in your outdoor space using a flat-top garden shed.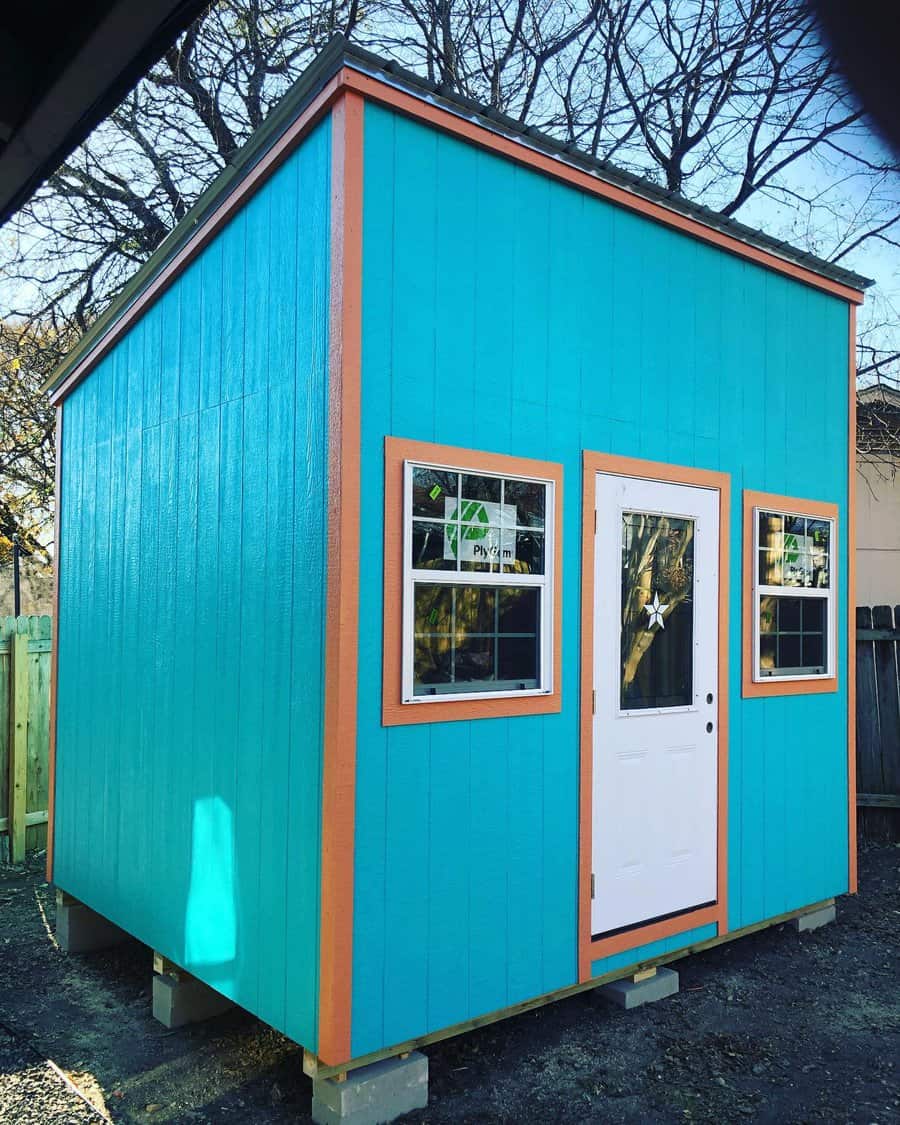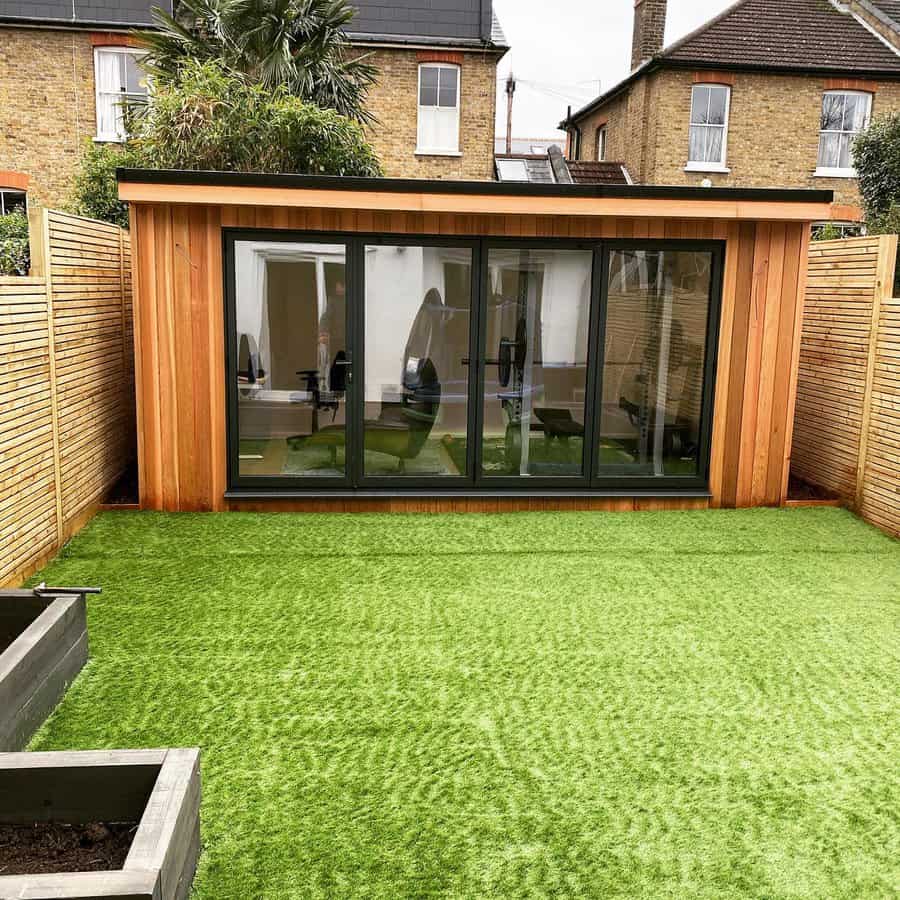 6. Create a Path with Pebble Walkways
Consider adding a charming pebble walkway to your garden shed for an easy and versatile DIY landscaping project. The natural earthy tones of pebbles can provide a classic or modern aesthetic that elevates your garden area.
Whether you're aiming for old-world charm or a contemporary look, this feature adds a stunning path from the entrance to your shed's door. It serves as an attractive outdoor focal point that can be seamlessly integrated into your home landscaping for a whimsical cottage feel. The best part? It's a low-effort addition with a high-impact result, enhancing both the shed's appeal and your garden's overall aesthetics.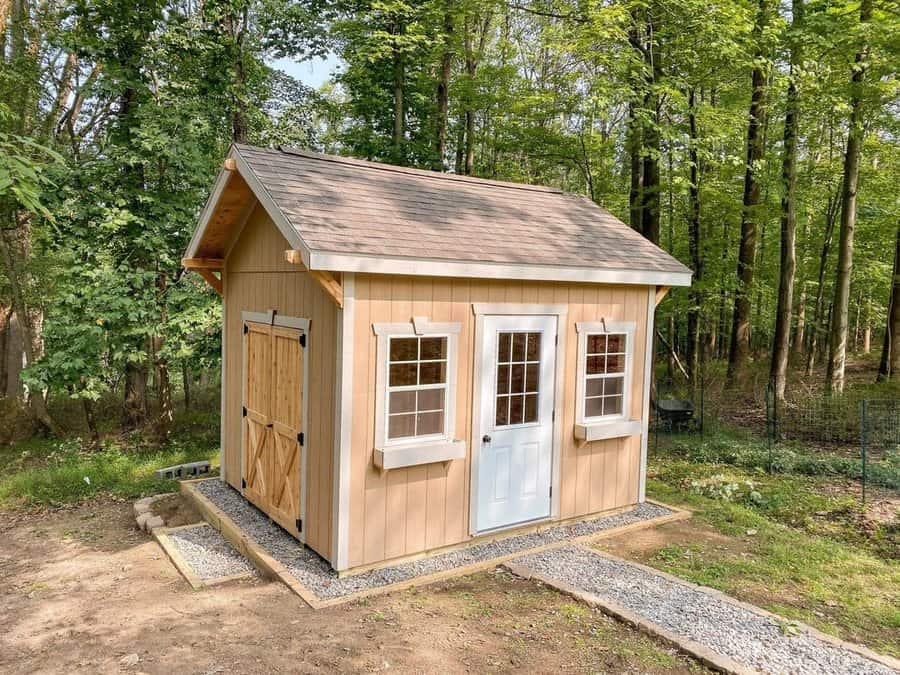 7. Chic Monochrome: Black & White Theme
Achieve a sleek and modern aesthetic with a black and white-themed garden shed, perfect for adding contemporary style to your outdoor space. This design combines clean lines and minimalistic elements, making it versatile enough to complement any theme.
The dark siding creates a striking contrast against the crisp white panels, providing just the right amount of flair to make the shed stand out while harmonizing with its environment. To enhance this theme, consider adding monochrome outdoor furniture, planters, or garden decor to create a cohesive and stylish look in your backyard.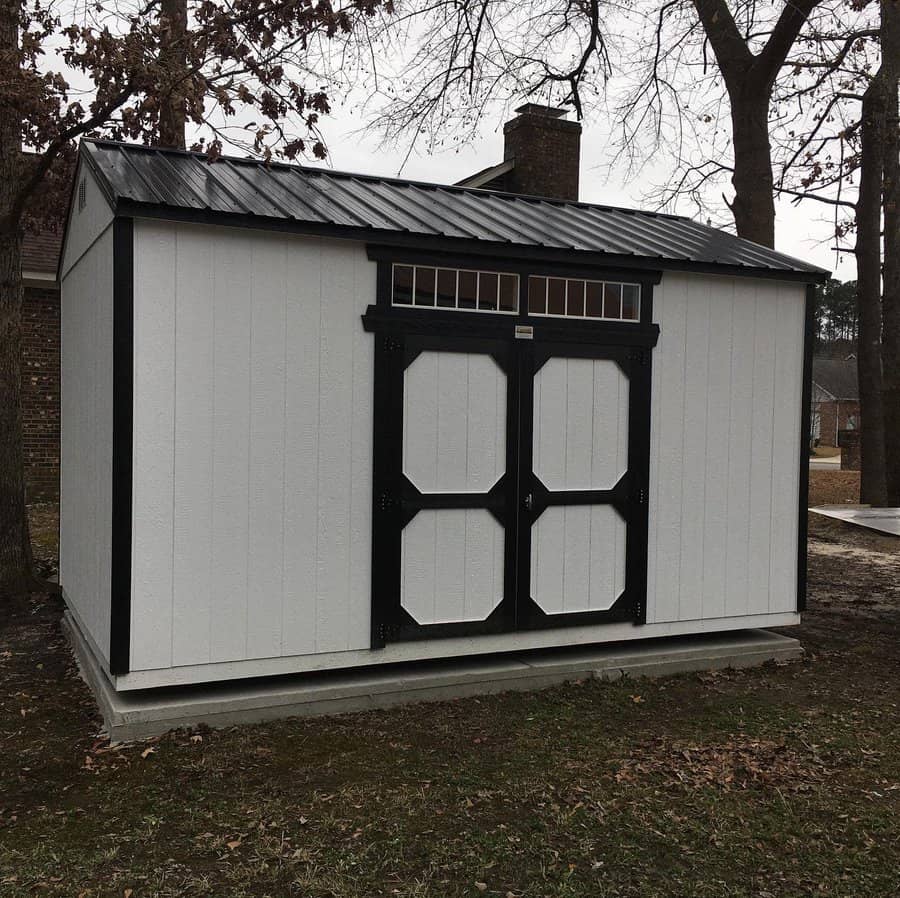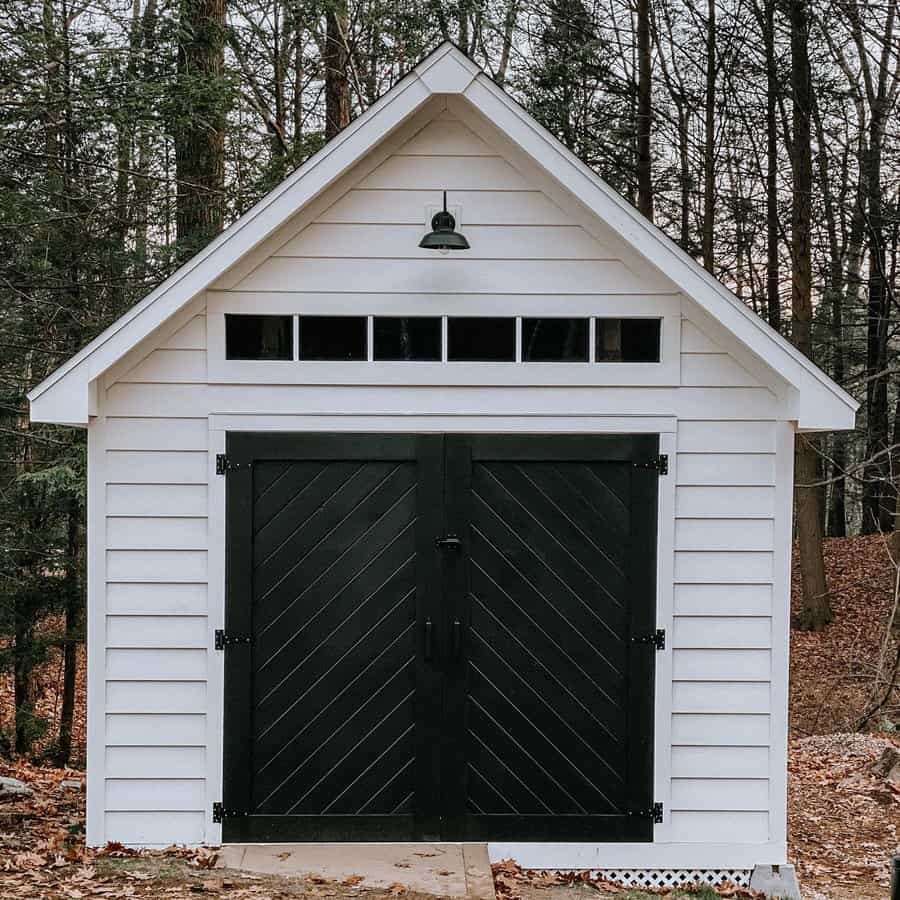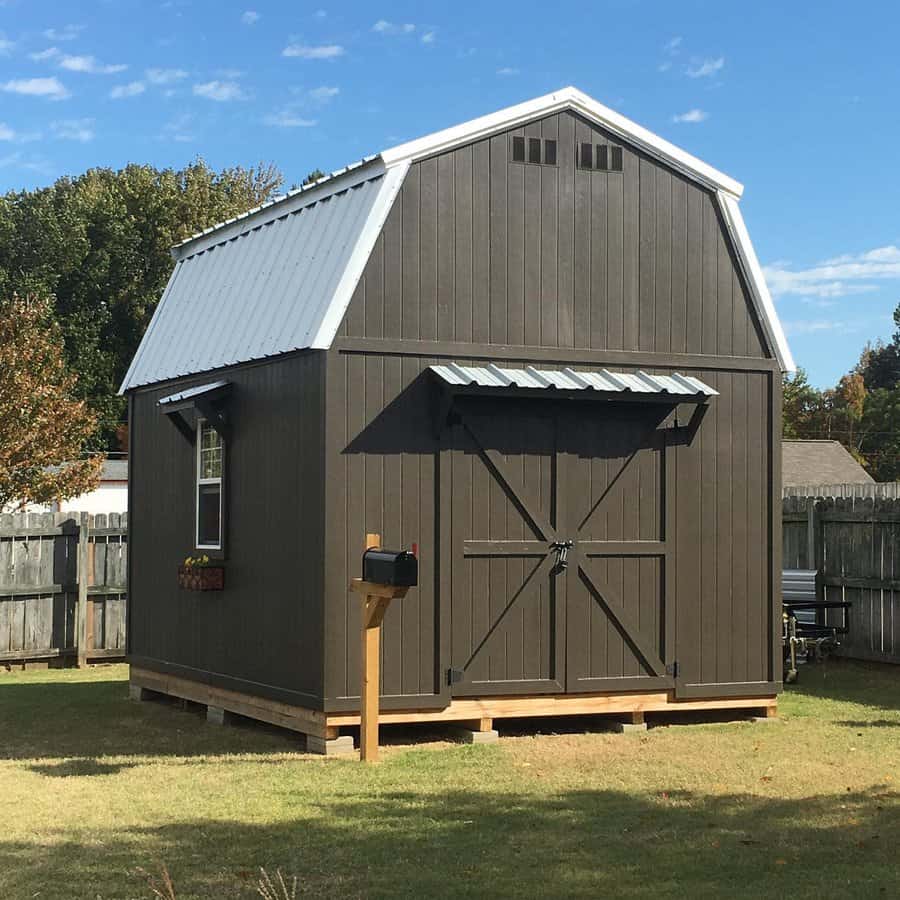 8. Illuminate with Wall-Mounted Lamps
Adding wall-mounted lamps to your garden shed is a fantastic way to elevate its style and create a contemporary vibe. These lamps not only add sophistication but also provide consistent lighting throughout the year. You won't have to worry about seasonal decor changes.
The clean design of wall-mounted lamps ensures they complement your garden's aesthetic seamlessly. To achieve this look, choose fixtures that match your shed's design and position them strategically for balanced illumination.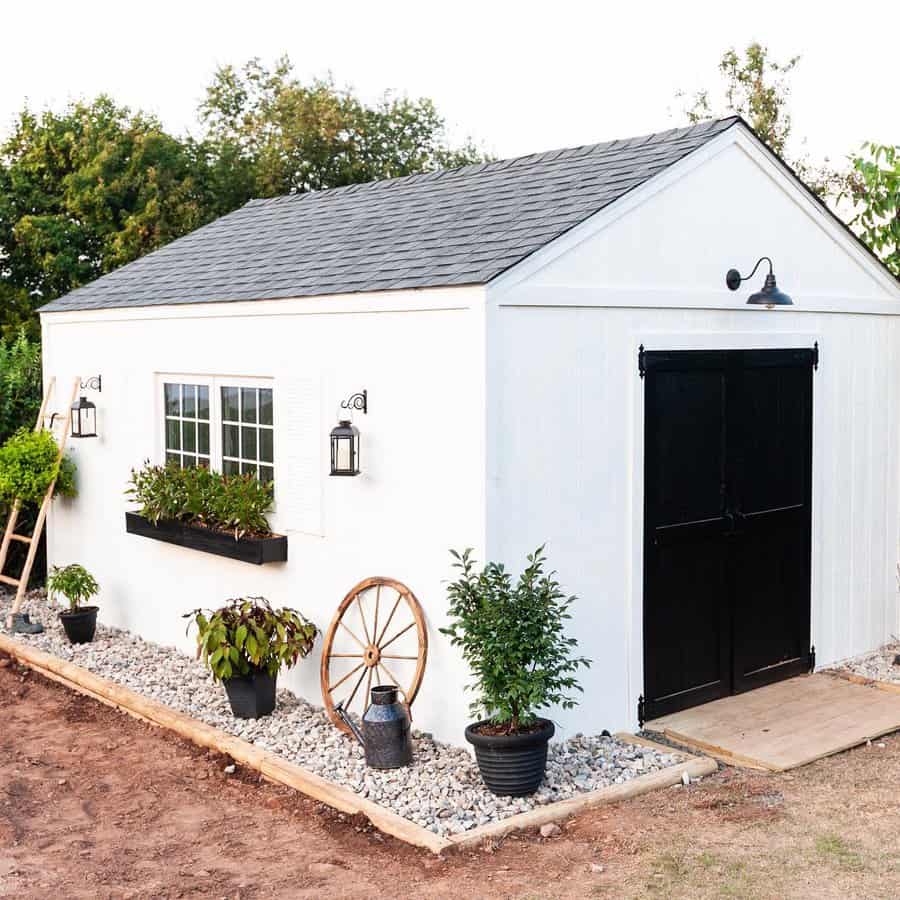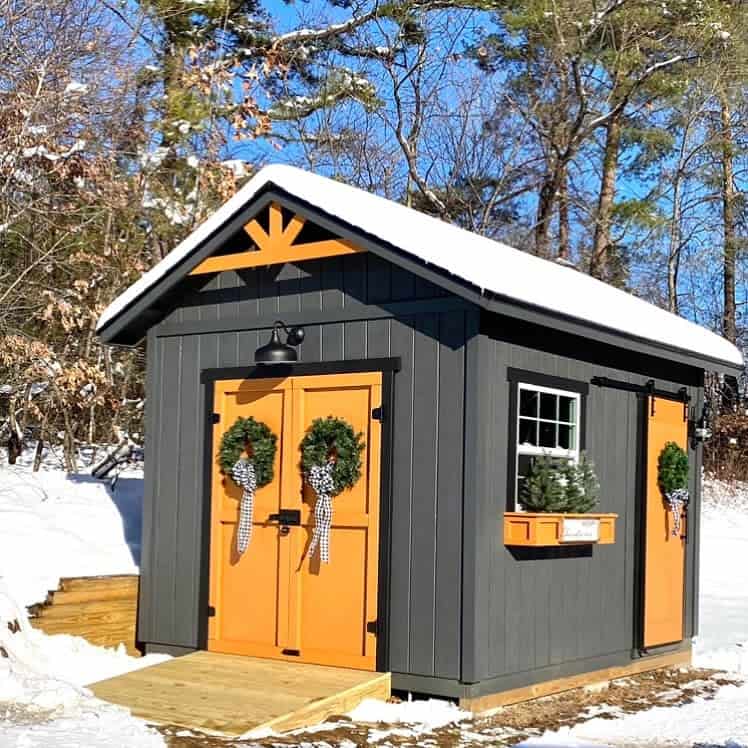 9. Design with Parallel Truss Framework
Consider incorporating a parallel truss framework into your garden shed design to create a unique and spacious interior. This architectural choice not only enhances the shed's visual appeal but also provides a sense of height, making the space feel larger and more open.
Imagine the possibility of having a spacious workshop or home office nestled in your garden, surrounded by natural beauty. To complement this design, opt for large windows or skylights to maximize natural light and create an airy atmosphere, making your shed an inspiring and functional space for various activities.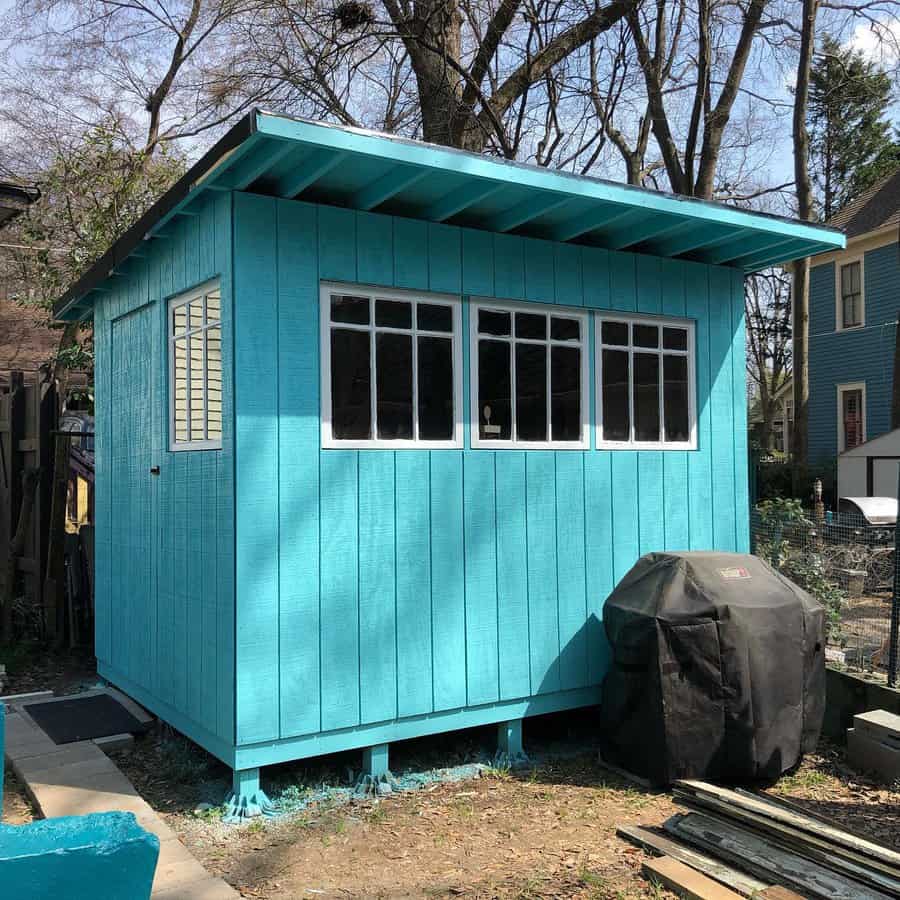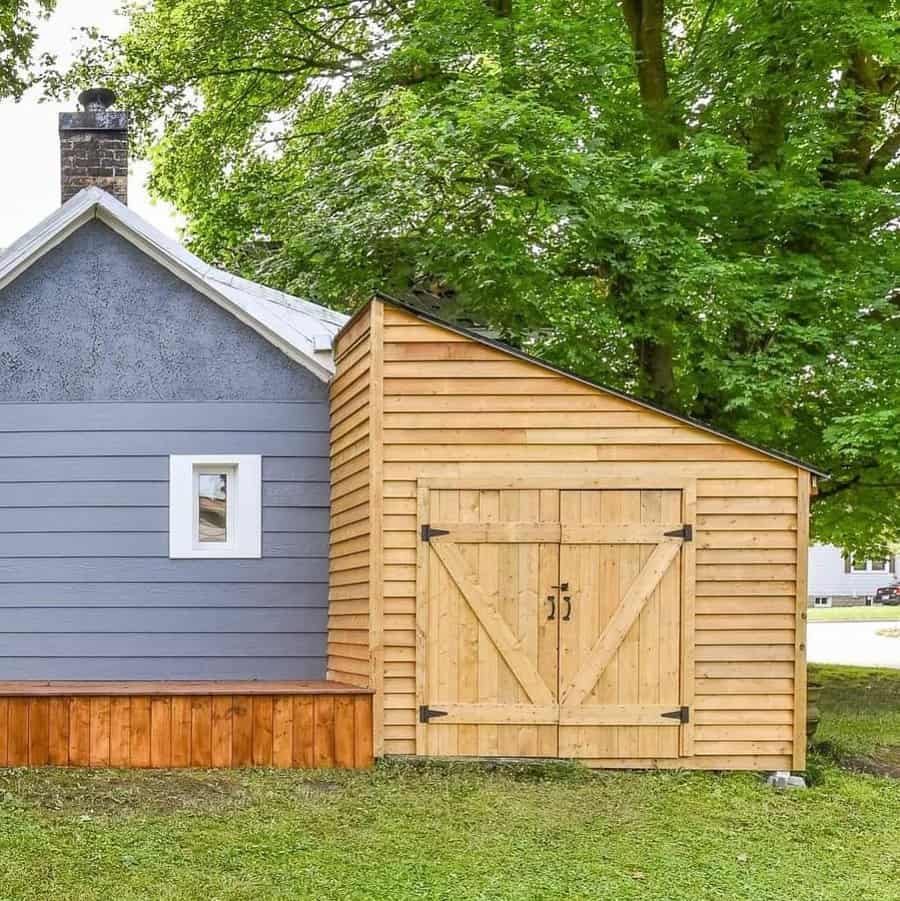 10. Artistic Expression: Shed Murals
Personalize your garden shed with mural art, turning it into a unique expression of your personality and taste. Consider different mural styles, such as cartoon-inspired designs for a playful atmosphere, floral motifs to add a touch of nature, or even graffiti-style art for a contemporary look. To achieve this, you can hire a local artist or explore DIY mural kits for an artistic weekend project.
Make sure the mural complements the overall theme of your garden and coordinates with surrounding elements. This creative addition not only adds visual interest but also makes your outdoor space a true sanctuary for self-expression.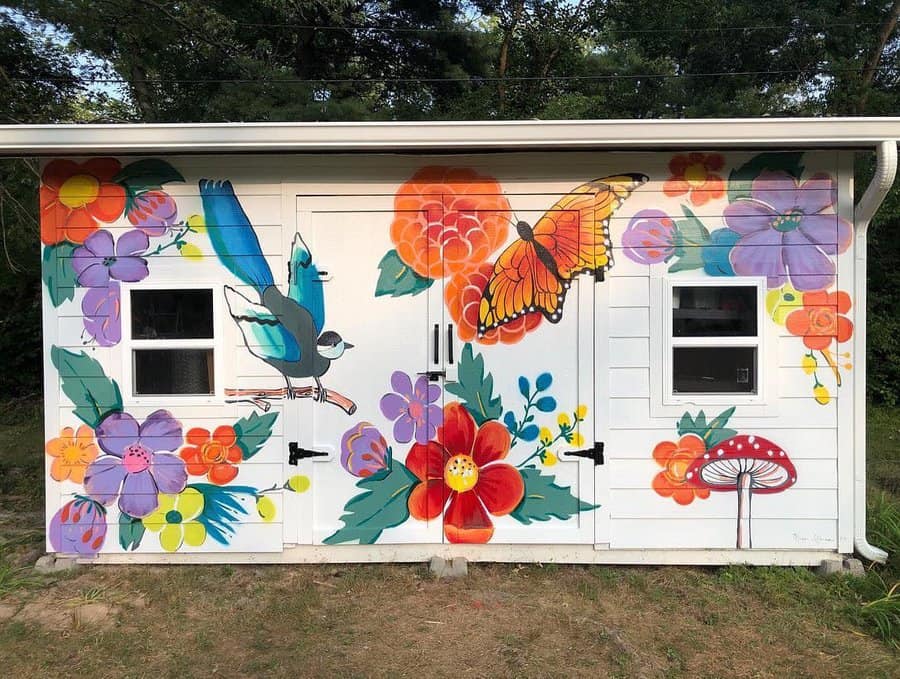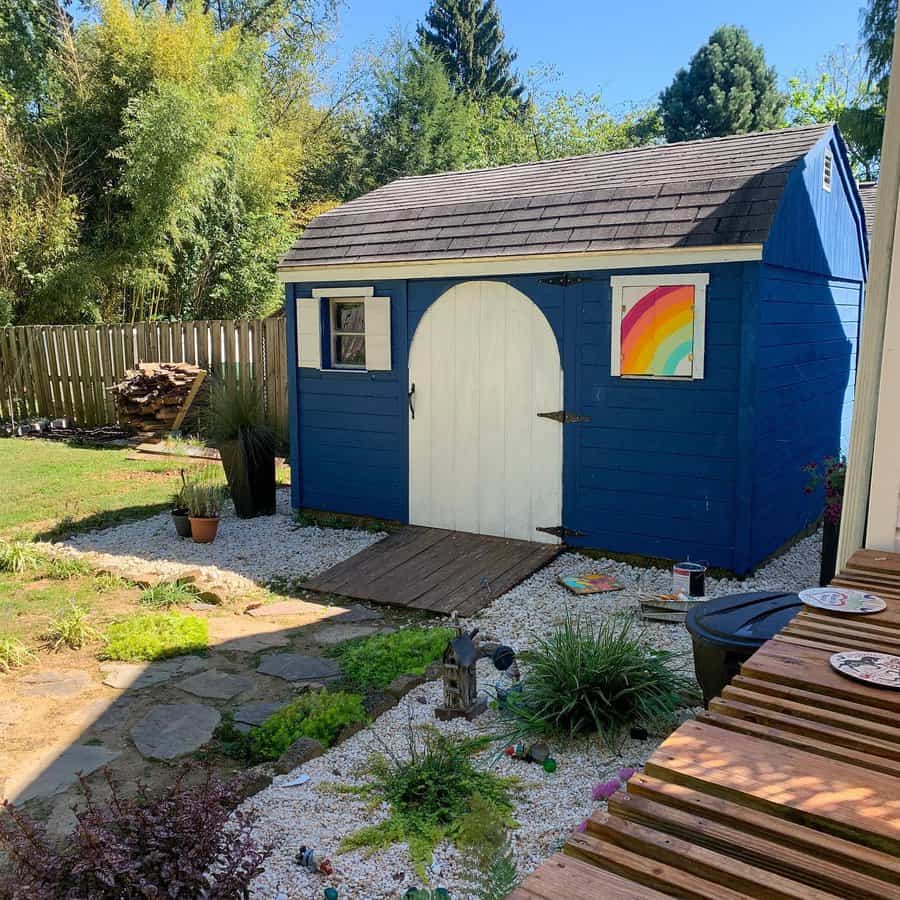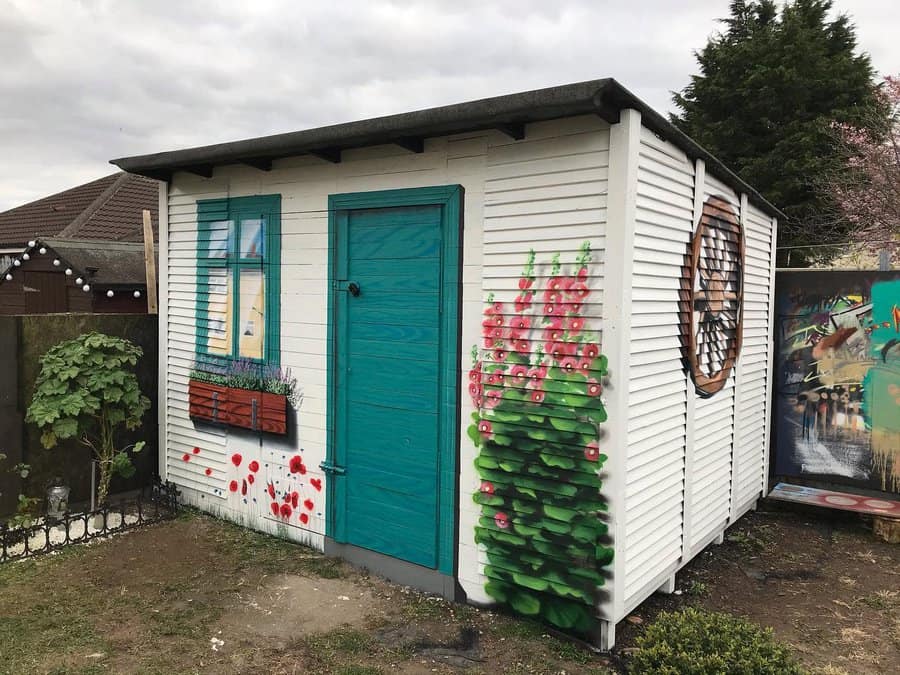 11. Enhance with Stone Pathways
Incorporate stone pathways leading to your garden shed for a year-round, visually appealing landscape. Whether you prefer meandering paths for a sense of adventure or well-structured walkways in rich, earthy colors that enhance your garden's beauty, the possibilities are abundant. To create this design, you can use a variety of natural stone materials, such as flagstone or gravel, and arrange them in patterns that complement your shed's style and surroundings.
Additionally, consider adding landscape lighting along the pathways to enhance safety and ambiance during evenings. Stone pathways not only breathe new life into your outdoor space but also require minimal maintenance for long-lasting beauty.
12. Cozy Retreat: Transform into a Library
Turn your garden shed into a serene and cozy retreat by transforming it into a personal library or study room. This space offers a peaceful atmosphere for work, reading, or relaxation, allowing you to focus without distractions. To achieve this design, install shelves and comfortable seating, ensuring ample natural light for reading.
Decorate with warm, inviting colors, and add rugs and cushions for comfort. This repurposed barn library not only enhances productivity but also provides a tranquil escape within your own backyard.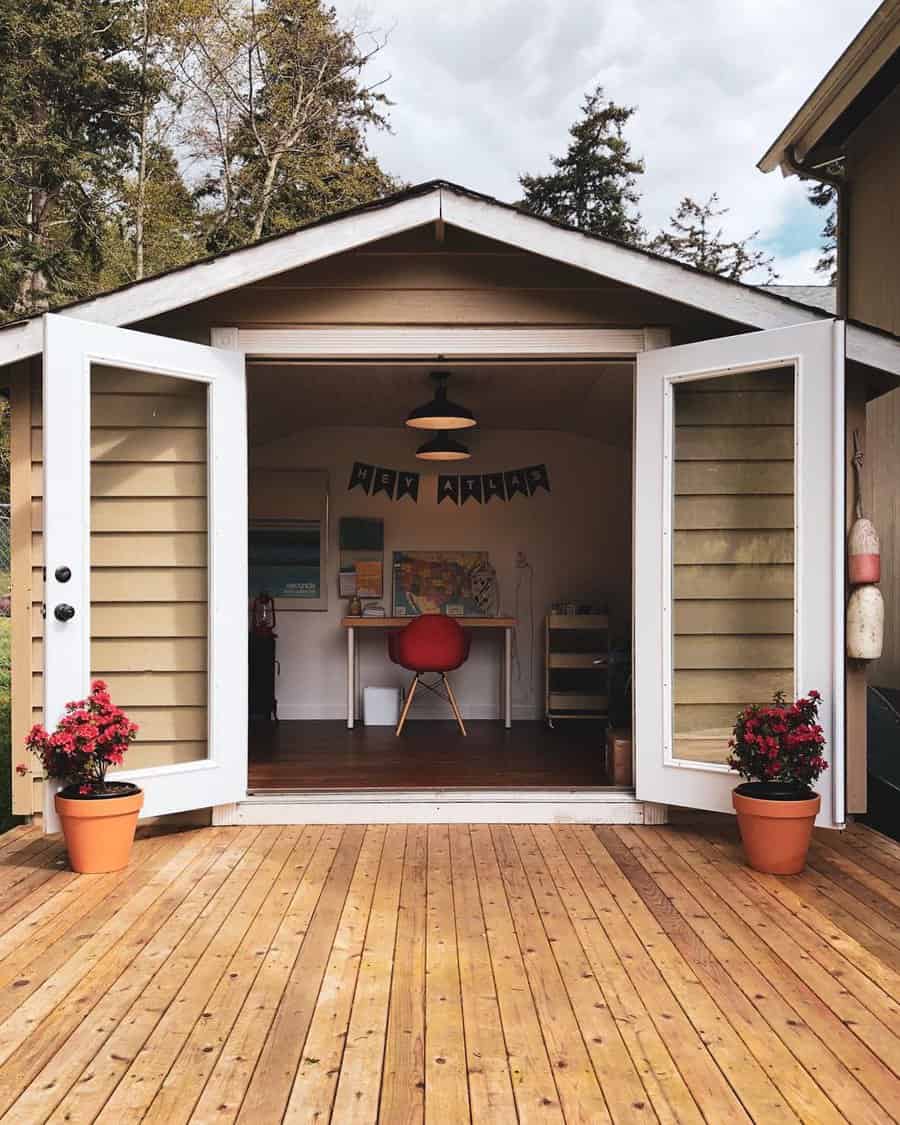 13. Outdoor Oasis: Add Seating
Picture an idyllic garden shed nestled amidst your lush garden, its serene patio beckoning you. Regardless of the weather, this tranquil haven exudes charm, enveloped by thoughtfully arranged foliage. Inside the cozy shed, you'll find inviting seating—a perfect setting for intimate conversations with friends over tea or a relaxed barbecue as the sun sets.
Your garden shed with outdoor seating harmoniously blends the untamed beauty of nature with the comforts of home, complete with delightful touches like subtle lighting and cheerful plants to elevate any ambiance.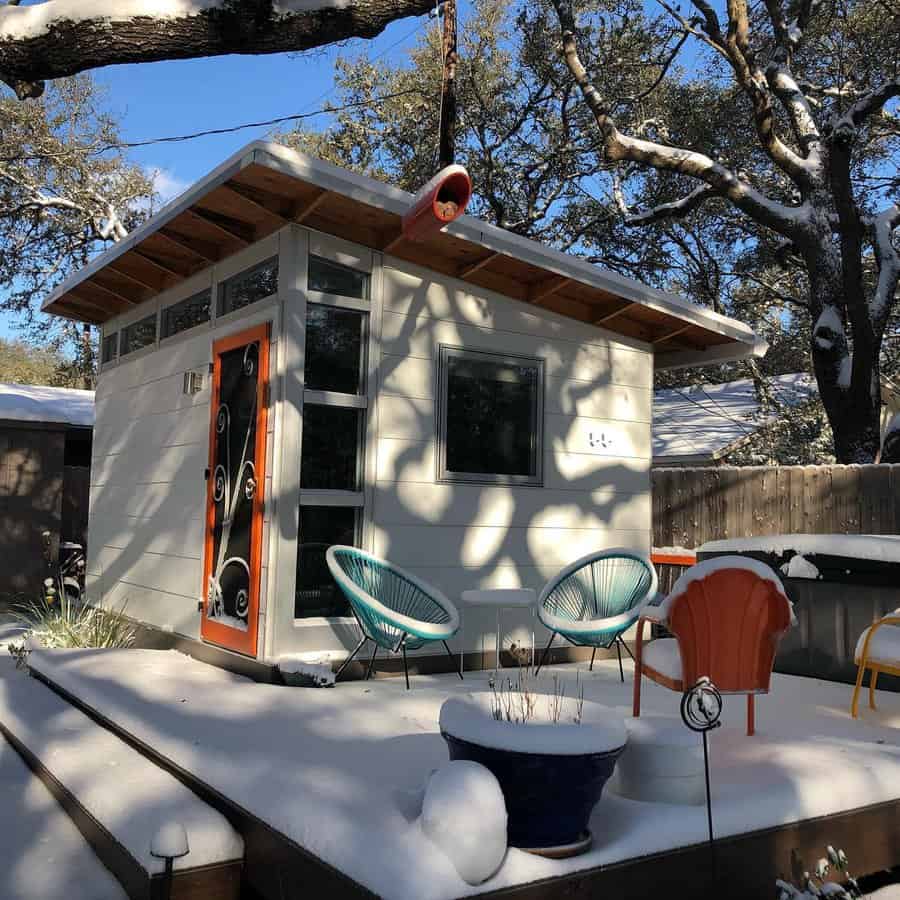 14. Blossom with Potted Flower Decor
Infuse life into your garden shed by adorning it with potted flowers. These bursts of color not only enhance the shed's aesthetics but also offer a low-maintenance landscaping option. Potted flowers are versatile and portable, allowing you to rearrange them effortlessly for various occasions.
Consider placing colorful pots around the shed's perimeter or arranging them in flower bed-like patterns for a delightful garden shed display. To complement this design, choose flowers that thrive in your local climate and ensure they receive adequate sunlight and water for vibrant, long-lasting blooms.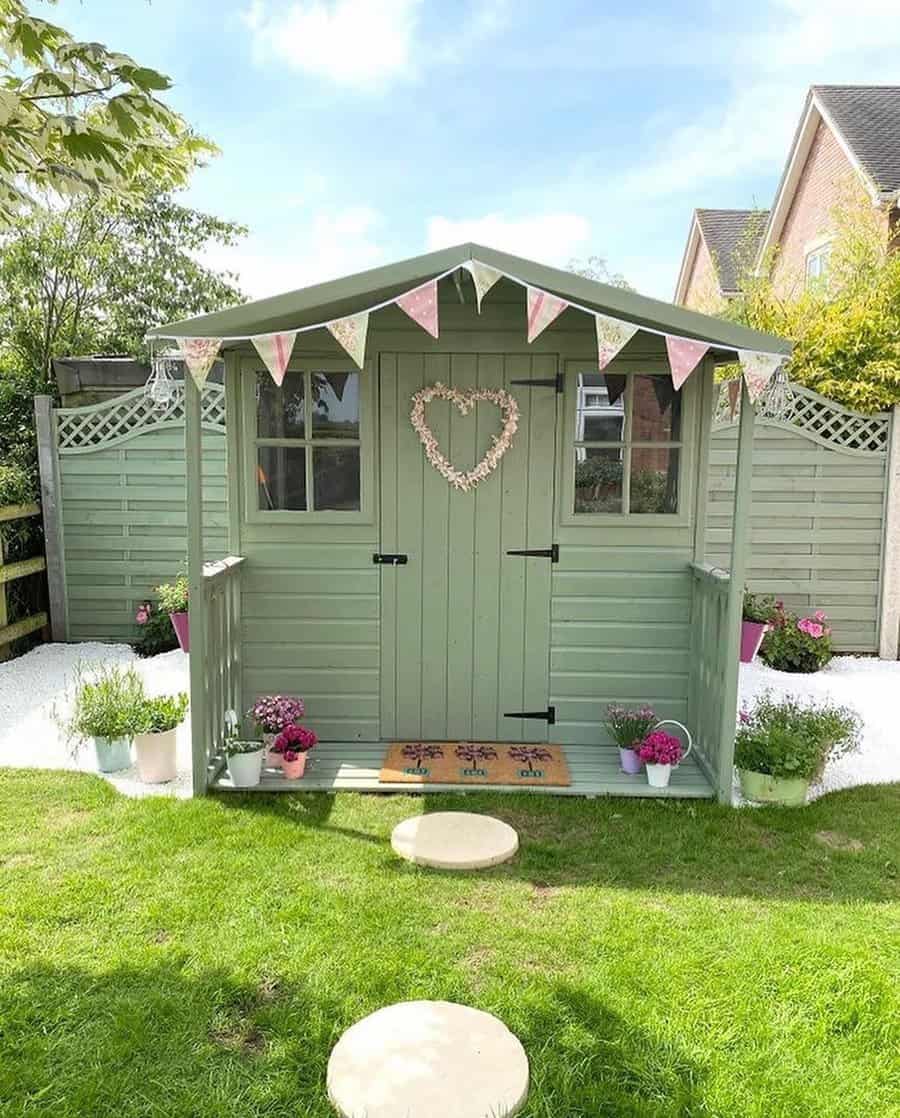 15. Sheltered Delight: Add a Canopy
Transform your garden shed into a captivating architectural masterpiece by adding a canopy. This design not only creates dimension but also provides shelter, resembling a charming little house in your backyard. It serves as an inviting space for summer lounging or hosting outdoor gatherings, allowing you to create your ideal outdoor oasis. To complement this look, choose a canopy that complements your shed's style and coordinates with the surrounding landscaping.
Consider adding outdoor furniture and lighting to create a cozy and welcoming atmosphere for all-weather enjoyment. Your garden shed with a canopy offers endless possibilities for creating a sheltered and delightful outdoor retreat.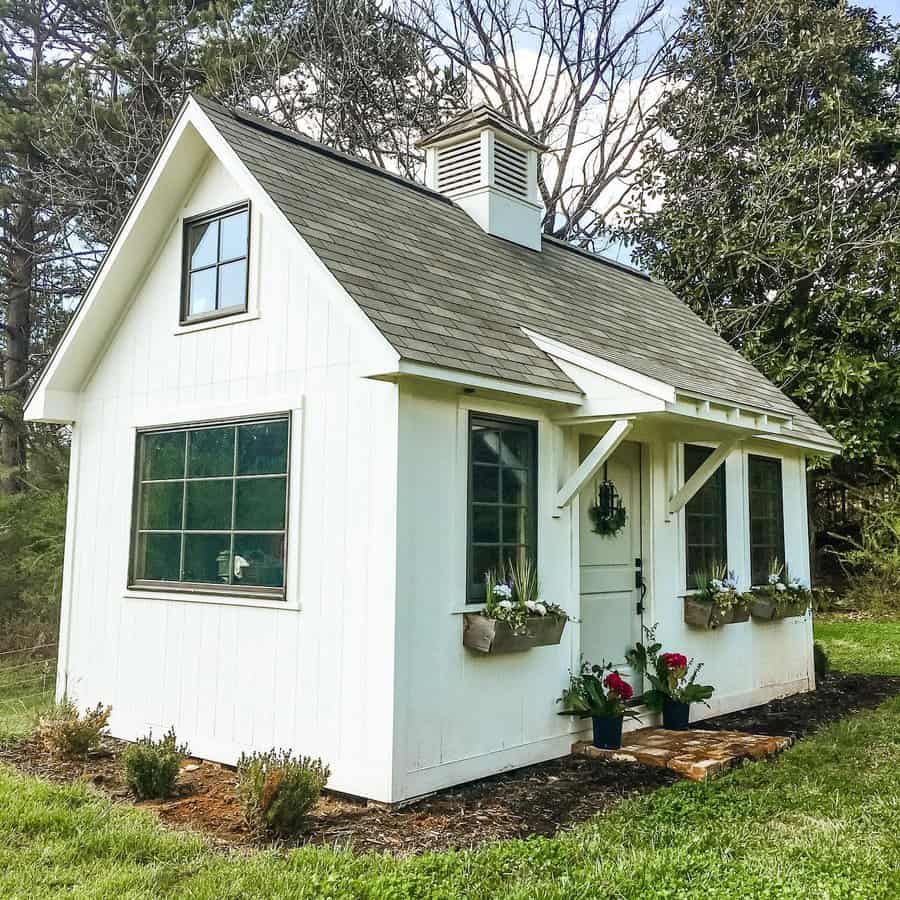 16. Contemporary Appeal: Metal Sheds
Consider a metal garden shed as a cost-efficient solution for your storage needs. Ideal for garden tools, lawn equipment, and gardening supplies, its functional design requires minimal maintenance. This option is not only practical but also budget-friendly, allowing you to organize your outdoor essentials without breaking the bank.
To enhance its appeal, select a metal shed that complements your garden's aesthetics and consider adding shelving or hooks for efficient organization. With a metal garden shed, you can maximize storage while keeping your outdoor space tidy and organized, simplifying your gardening and outdoor activities.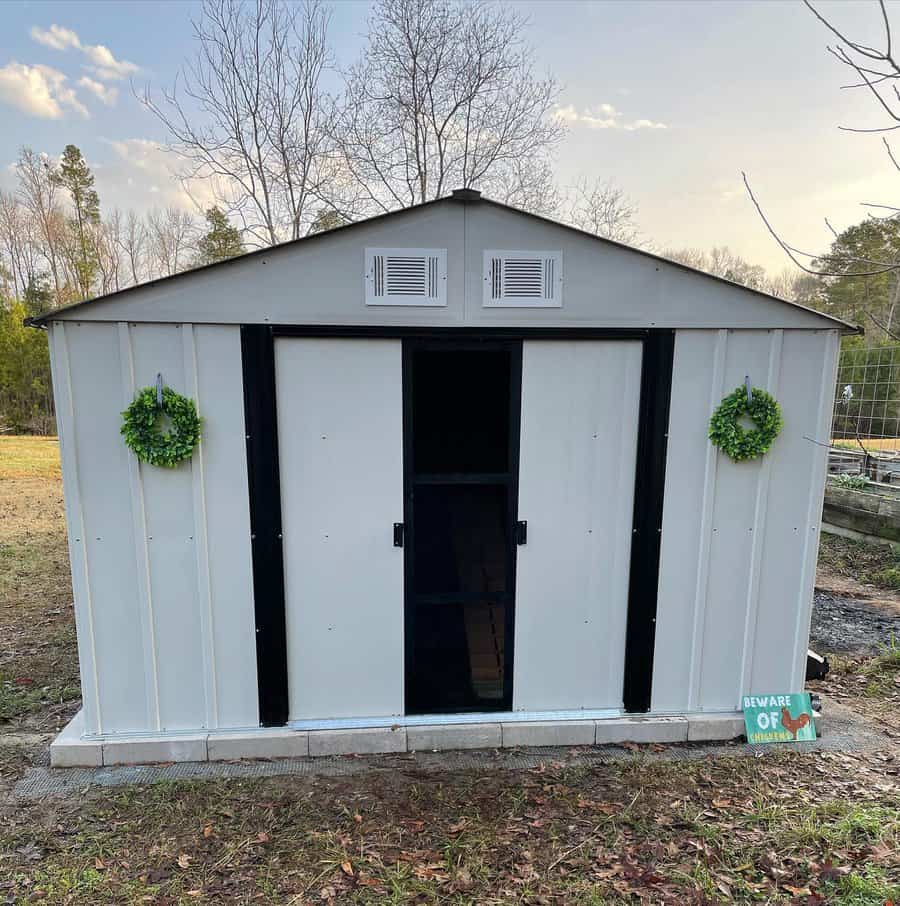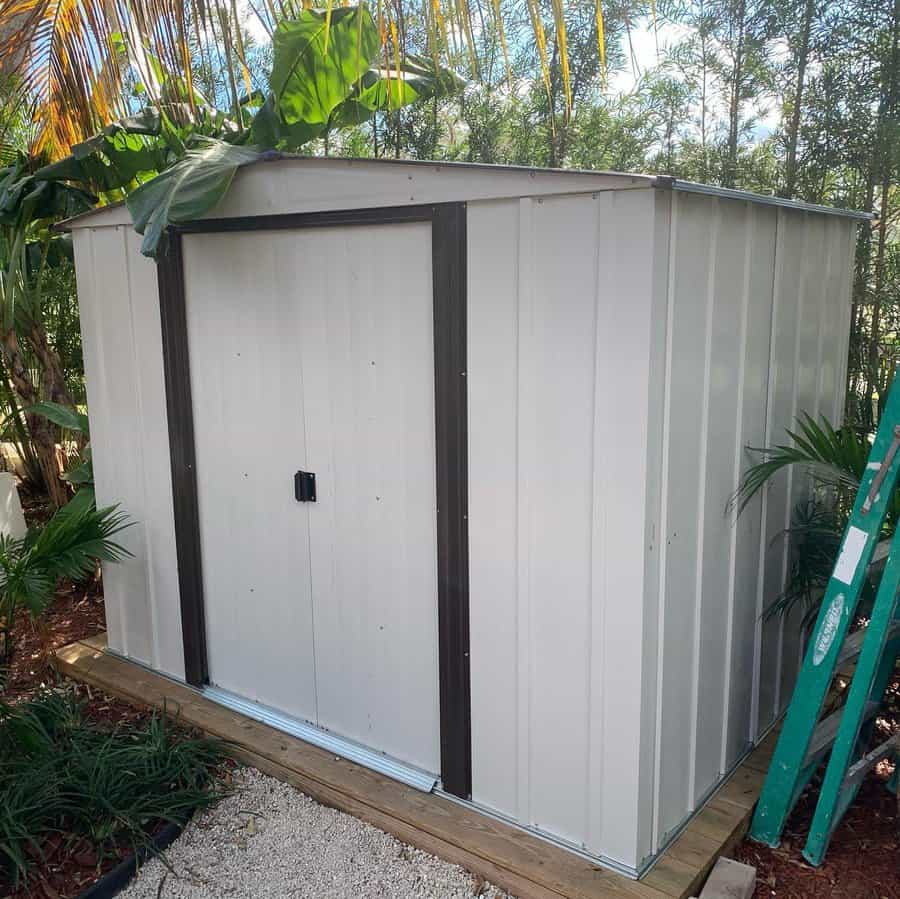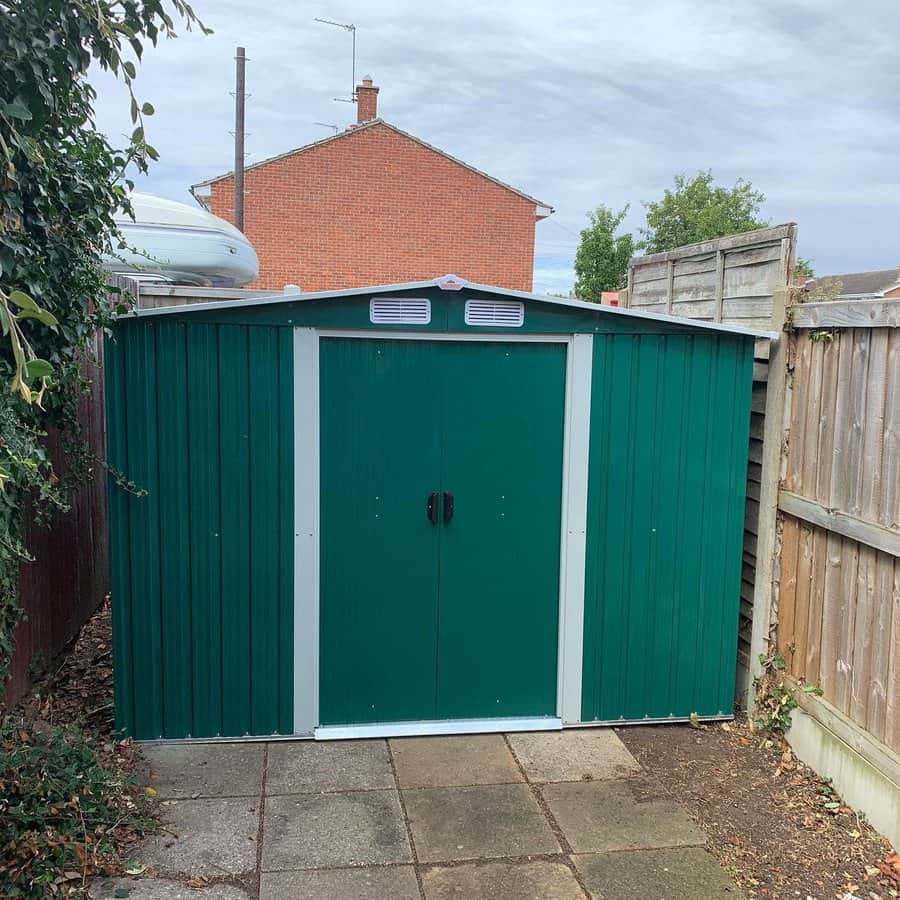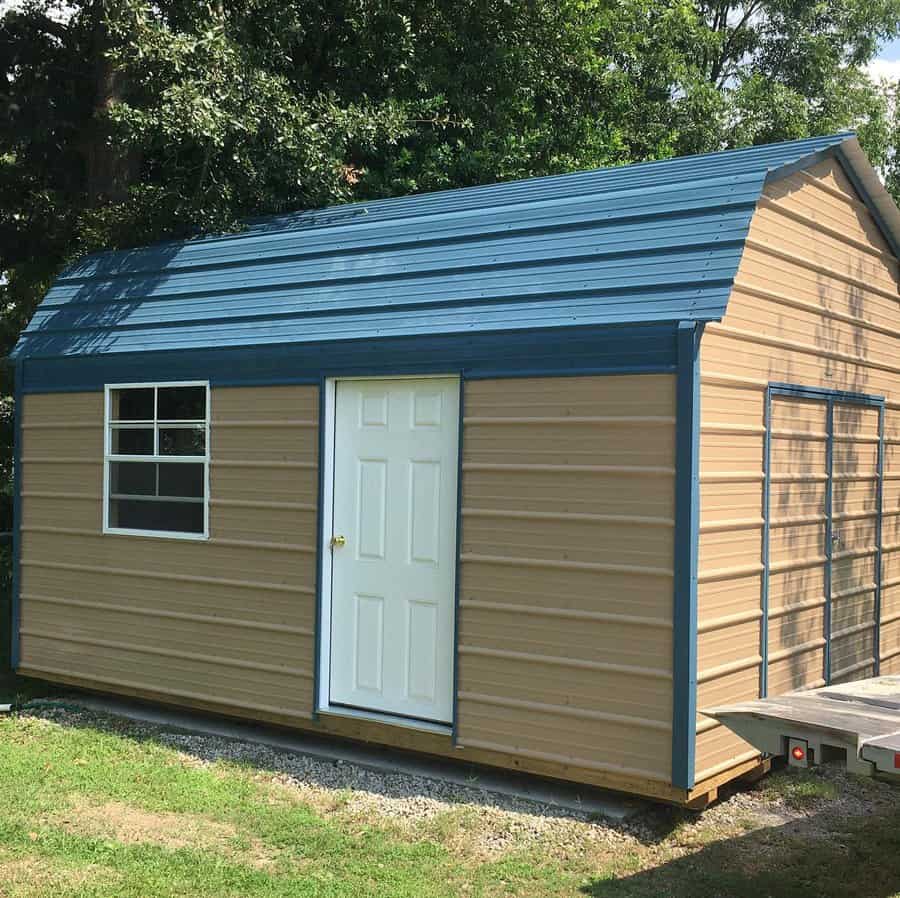 17. Stylish Cladding for Shed Walls
A rustic garden shed featuring cladding walls complements traditional-style American homes and adds timeless charm to any landscape. To achieve this look, opt for wooden or metal cladding materials that resonate with your desired aesthetic. Whether you're creating a cozy paradise filled with plants or a rustic retreat, these cladding walls create an inviting atmosphere.
Ensure your shed is well-ventilated and has adequate storage solutions for gardening tools and outdoor equipment. Consider complementing the rustic design with vintage decor, natural landscaping, and subtle lighting for a complete Americana-inspired outdoor space.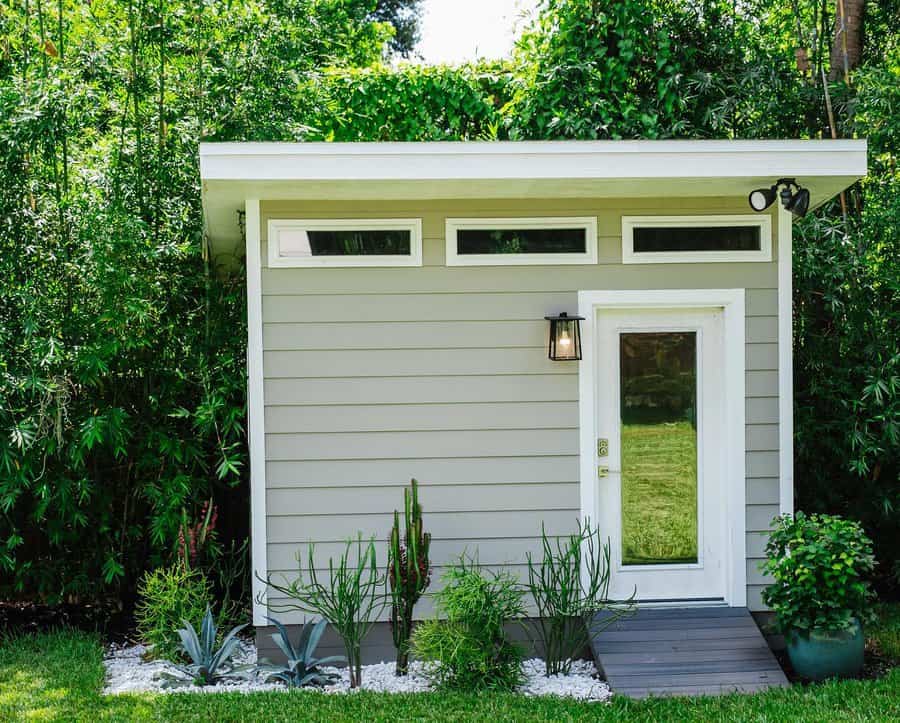 18. Explore Color Harmony Ideas
Challenge your creativity by exploring unique color combinations for your garden shed's door and walls. This out-of-the-box approach allows your shed to stand out in your yard. Experiment with styles or patterns that resonate with your personality to craft a design that tells a story and reflects your individuality. To achieve this look, select colors that complement your garden's overall theme and consider adding coordinating outdoor decor elements like planters, furniture, or garden art.
Mixing and matching paint combinations for your garden shed adds a personal touch that makes it a captivating focal point in your outdoor space.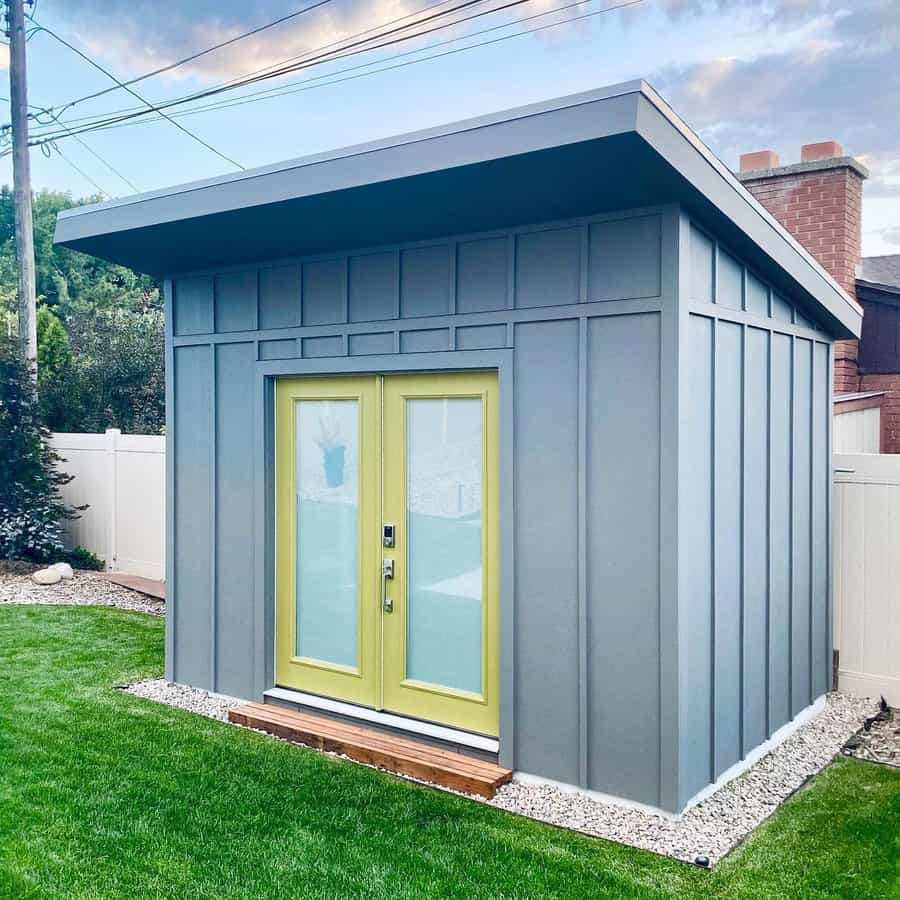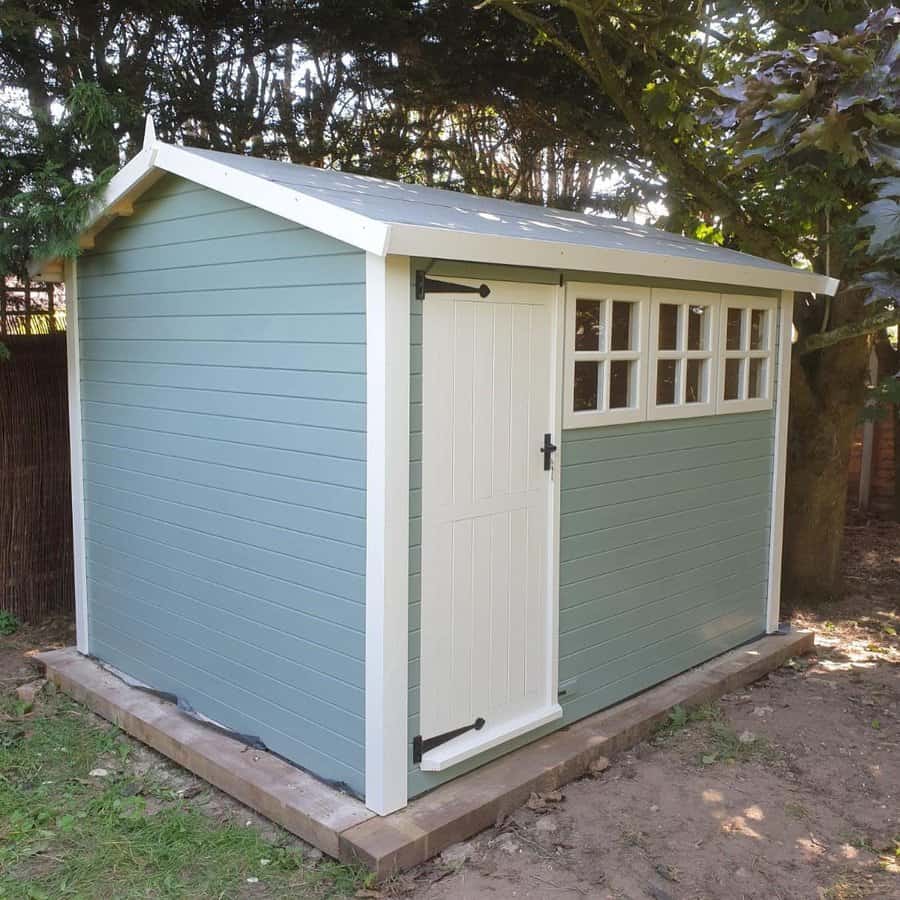 19. Timeless Elegance: White Simplicity
Achieve timeless elegance by choosing an all-white garden shed for your backyard. This clean and simple design not only enhances the aesthetics of your garden but also offers versatility and cost-effectiveness.
Whether you use it for storage, as a potting room, or simply a place to enjoy nature, the classic appeal of an all-white shed adds a lasting aesthetic boost to your outdoor space. To complement this design, consider adding charming details like window boxes, decorative trim, or a contrasting door color for added visual interest. With its clean and classic look, your all-white garden shed is sure to provide satisfaction for many years to come.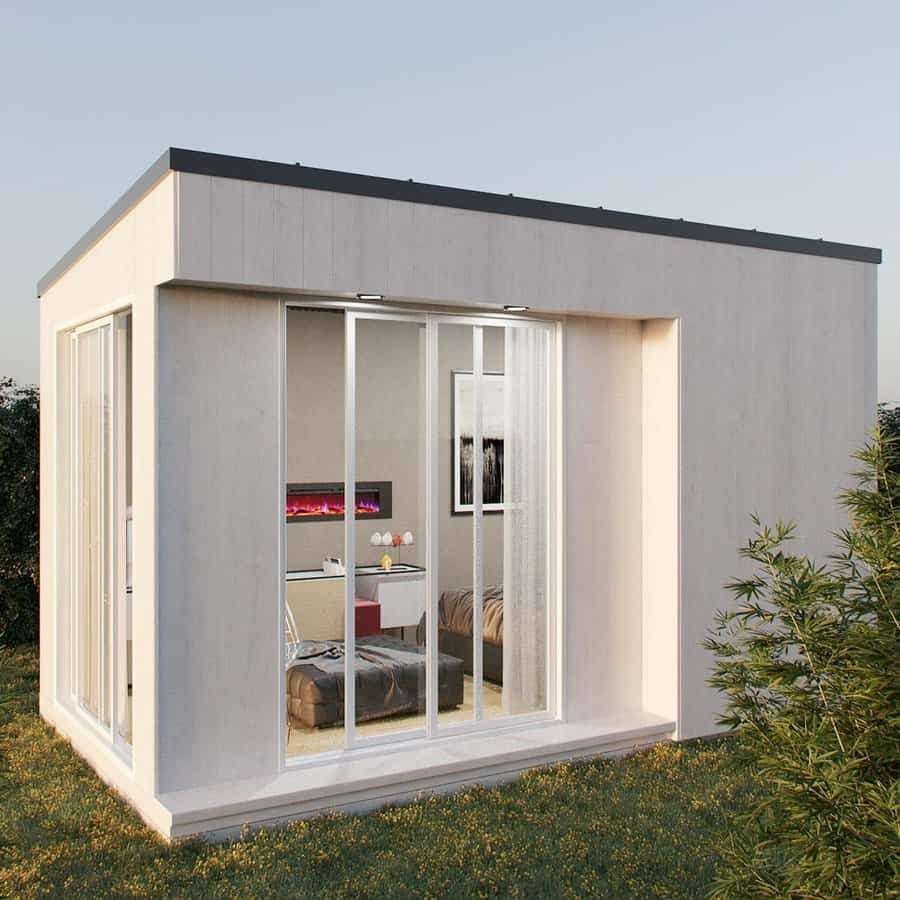 20. Elevated Charm: Mini Deck Installation
Enhance your garden shed's appeal by adding a mini deck, creating a unique and creative outdoor atmosphere. This small covered area serves as a versatile space for various activities, whether you want to relax with a coffee, work on projects during colder days, or enjoy bug-free stargazing on summer nights. To achieve this design, consider the size and placement of the mini deck to ensure it complements your garden shed's aesthetics and allows easy access.
Decorate the deck with comfortable outdoor furniture and lighting to make it a cozy and functional extension of your outdoor space. Your garden shed with a mini deck offers a delightful way to connect with nature and enjoy your backyard to the fullest.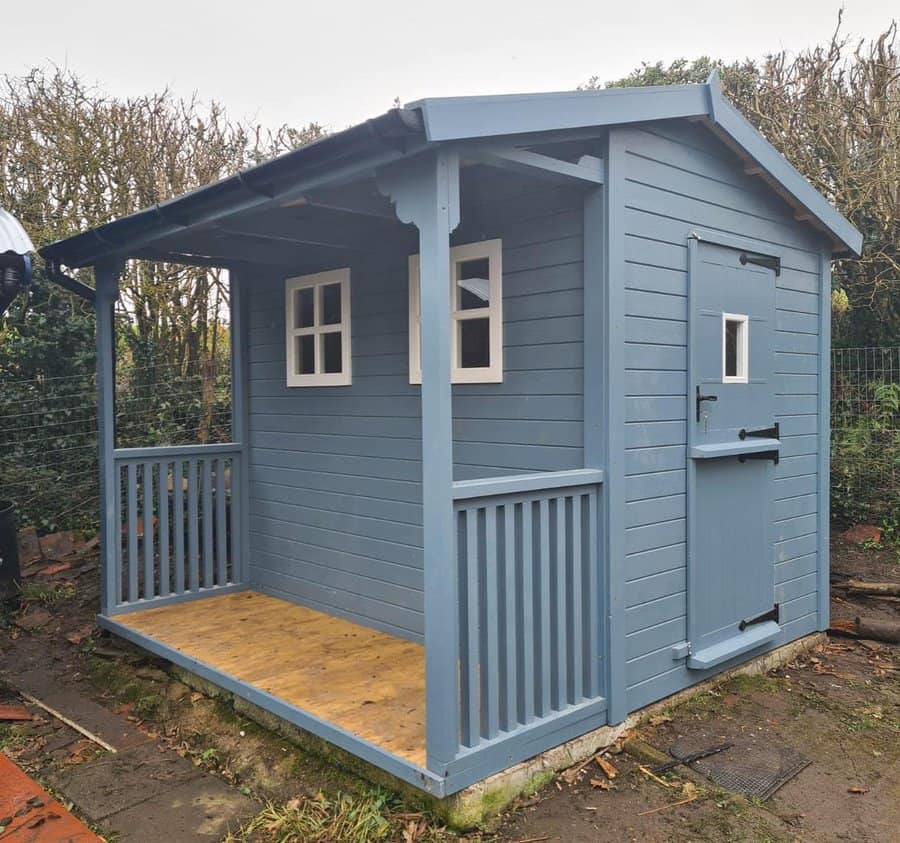 21. Metal Magic: Wall Art Accents
Explore the enduring charm of metal wall art to elevate your garden shed's aesthetics. Metal art pieces are weather-resistant and ideal for outdoor settings, providing an element of joy and visual appeal just outside your back door.
Embrace the unique character that a touch of rust can add, evoking nostalgia or a vintage look. Whether you opt for simple metal shapes or a captivating metal mural, these accents transform your garden shed into a captivating and eye-catching space. To complete the look, ensure the metal wall art complements your shed's style and consider adding outdoor lighting to showcase these artistic pieces, creating a striking focal point in your outdoor retreat.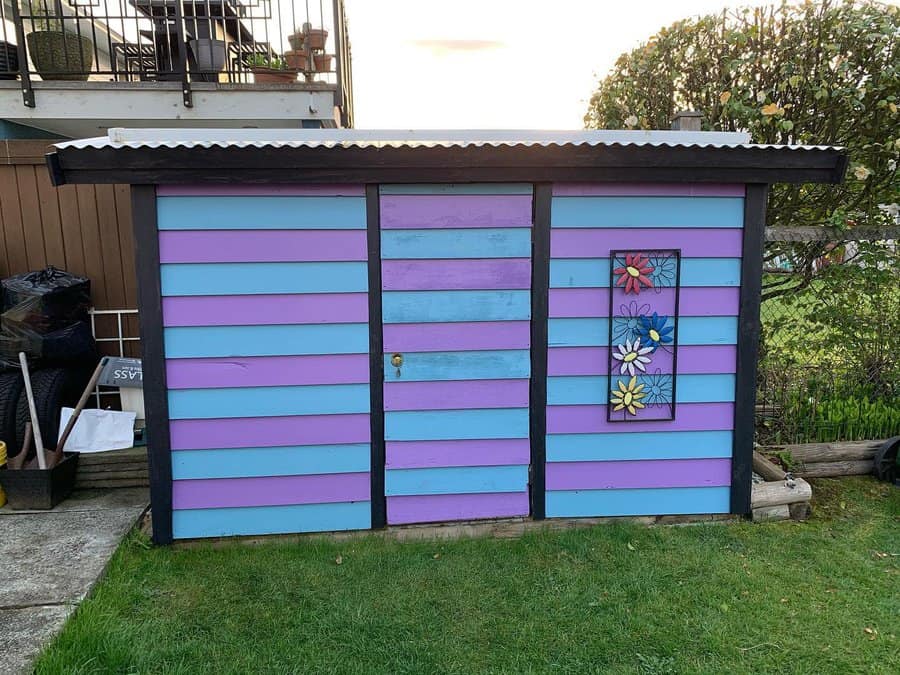 22. Frame It with Black Paint
Elevate your garden shed's aesthetics by framing it with bold black paint, creating a captivating contrast against the lush green backdrop of your lawn. This design choice adds a touch of style and transforms the outdoor space, making your shed a standout feature. To achieve this look, ensure you select the right shade of black that complements your garden's overall theme and coordinates with your shed's style.
Consider adding outdoor decor elements like potted plants, outdoor furniture, or metal accents in black to enhance the visual impact. Framing your garden shed with black paint not only adds contrast but also combines practicality with aesthetic appeal, making it a standout feature in your outdoor retreat.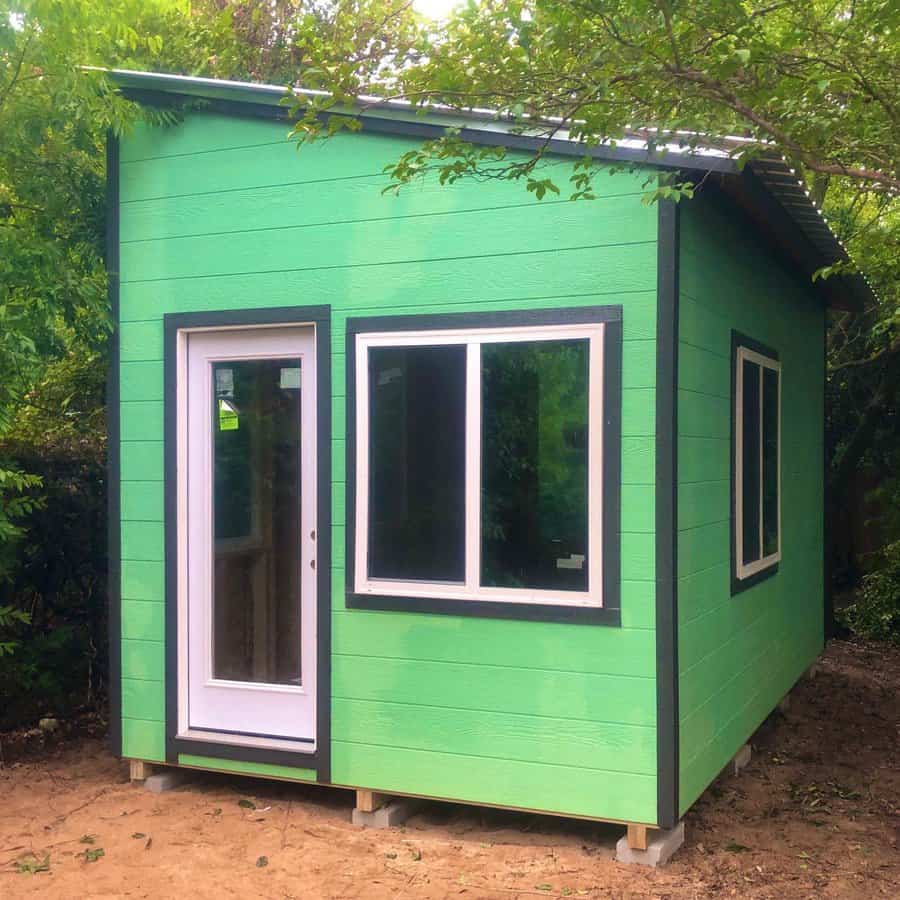 23. Bold Statement: Red Painted Shed
Transform your garden shed into a charming focal point by painting it a bright shade of red. This bold choice adds a touch of rustic charm and evokes the cozy feel of a farm barn, making your property feel more like home. To achieve this look, select a red paint that complements your landscape and consider adding white trim or accents to enhance its visual appeal.
Illuminate the area around the shed with outdoor lighting to make it a standout feature both day and night. Whether you have children who love exploring or simply want to create a captivating visual, a red-painted garden shed adds a special touch to your outdoor space that is sure to delight both young and old alike.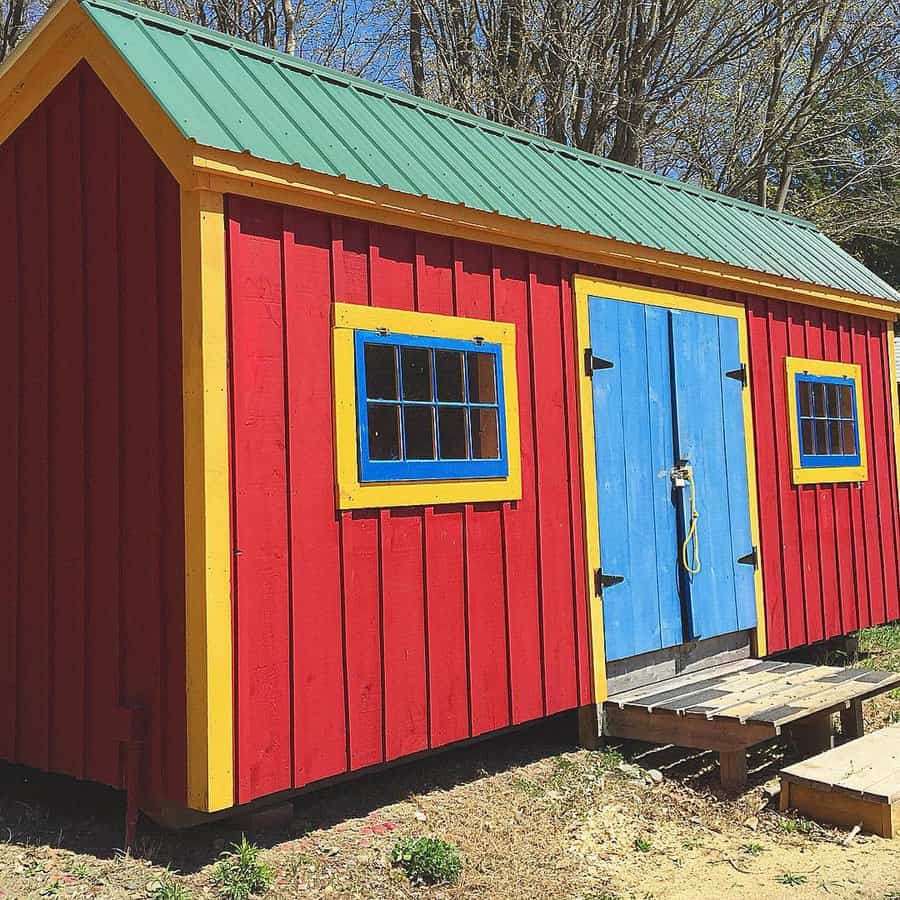 24. Embrace Rustic Charm
Enhance your garden's aesthetic by incorporating an all-wood garden shed that exudes rustic and organic charm. This natural construction complements any outdoor space while offering secure storage for your tools and equipment. To achieve this look, select quality wood materials and consider adding weather-resistant treatments to ensure durability.
Complement the shed with outdoor furniture and decor items that embrace the rustic theme, such as wooden benches or planters. Whether used for storage or relaxation, an all-wood garden shed is a versatile addition that adds character and functionality to your outdoor oasis. Explore different wood finishes and stains to achieve the perfect look for your garden retreat.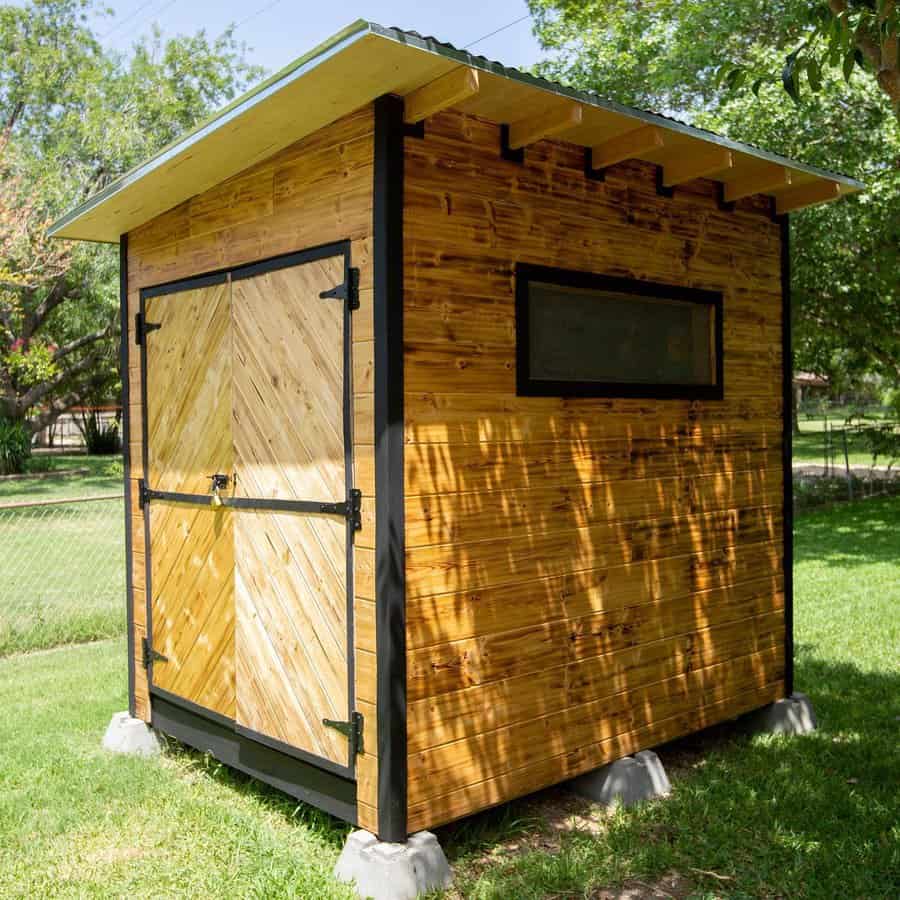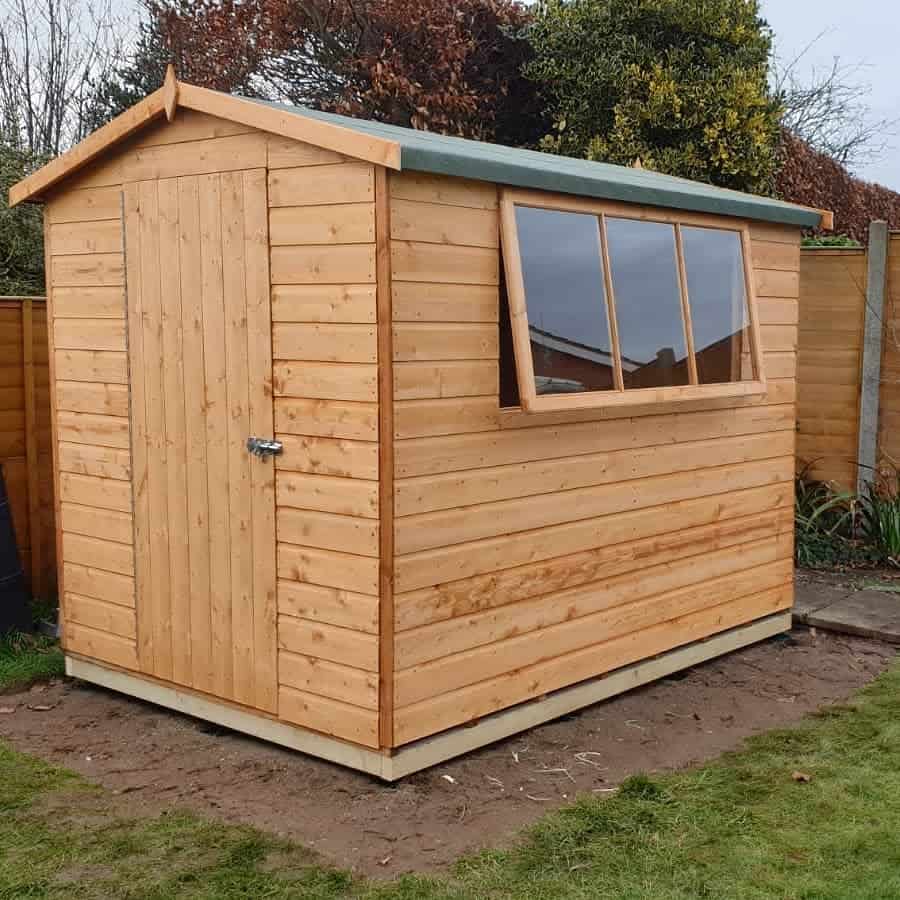 25. Welcome Guests with a Red Door
A garden shed's vibrant red door is a welcoming touch to any outdoor space. This bold color not only adds charm but also makes your shed easily noticeable. Whether your garden style is traditional or contemporary, the red door provides a striking accent that sets your shed apart.
Placed against a backdrop of greenery or contrasting elements, it becomes a focal point of your outdoor haven. For an inviting touch and instant curb appeal, consider adding a vibrant red door to your garden shed.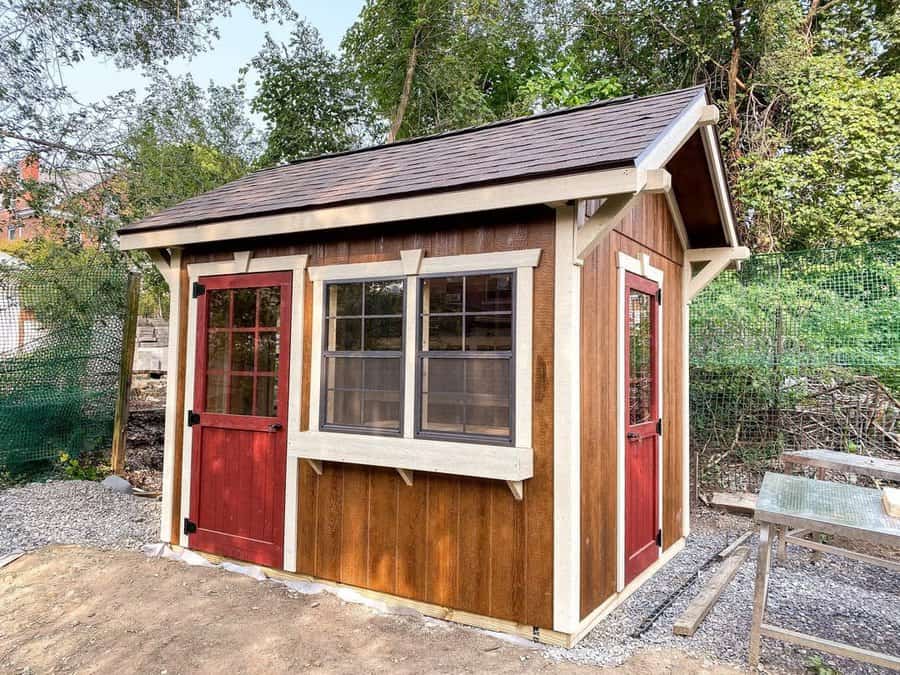 FREQUENTLY ASKED QUESTIONS
What is the best way to protect a wooden shed?
Any exterior wood should be treated with a wood preservative followed by an exterior wood oil. Most wood preservatives contain wax or silicon to offer weather protection, so it's recommendable that you choose a wax and silicon-free preserver if you want to paint over it. Apply painting only after it's fully dry.
How can I waterproof a wooden shelf?
Apply a wood cleaner to remove any mold or mildew, then treat the wood with two coats of an exterior wood preserver, followed by two coats of exterior wood oil suitable for sheds, or a decking oil. This will provide a weather-protective finish that can be maintained by applying a maintenance coat of wood oil every year. 
What kind of maintenance do metal sheds require?
Contrary to wooden sheds, metal sheds do not require sanding or pest control. The only maintenance issues are rust and corrosion, and there are some preventive measures you can take, such as applying a protective layer of paint with anti-corrosion elements followed by a rust-inhibiting finish. Repeat the process every few years.
However, when purchasing a metal shed, make sure it is rust-resistant and comes with a warranty against rust. Metal will not distort or warp under different weather conditions, and it is possible to reinforce it against strong winds.