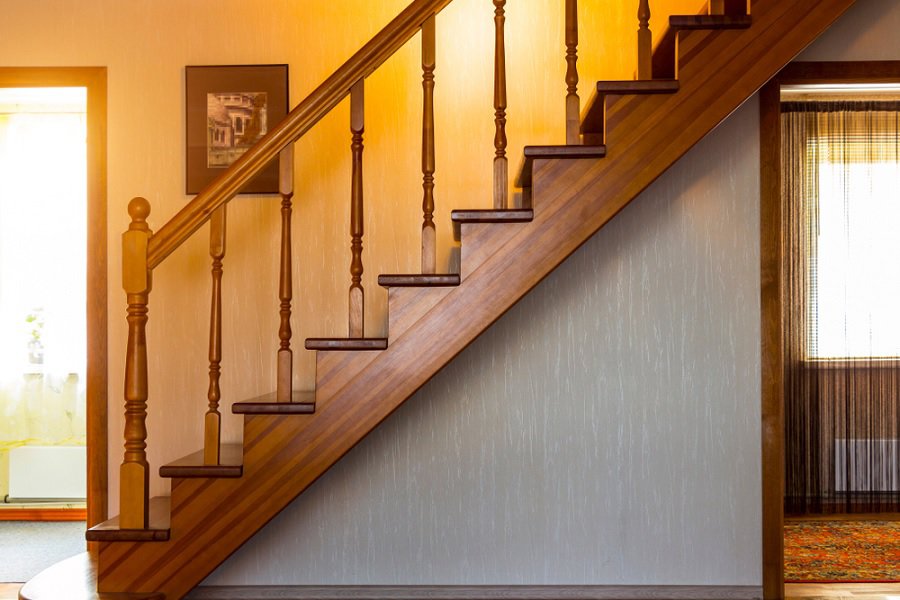 How to Decorate a Staircase Wall – 13 Wall Decor Ideas
by — Andra DelMonico

Published on December 31, 2021

Updated on August 23, 2023
If you have a staircase in your home, you have a prime wall space to add decor to your home. Turn this plain wall into a place to feature your prized art collection, show off your beautiful home, or add some color to your home.
How you decorate this empty space will depend on many factors, including how large the wall and staircase are, the amount of space you have to work with, your budget, and the architectural style of your home. You want to choose decorations that reflect who you are without detracting from the appeal of your home.
Check out these creative ideas and learn how to decorate your staircase wall.
1. Wallpaper
Wallpaper is a traditional wall decoration and a perfect addition to turn your stairway wall into an accent wall.
Cover the complete area of the wall from the base of the stairs to the top and from the floor to the ceiling. Consider the square footage of this space when choosing your wallpaper.
A large or small-scale pattern can create an optical illusion of the wall being bigger or smaller than it really is. A large wall with a small pattern can quickly look overwhelming.
An oversized pattern on a small wall will also look overwhelming and incomplete. You could keep the design basic with stripes or a floral pattern.
There are also more modern designs like this that look like murals or large-scale designs painted on the wall. This can create a bold and pleasantly surprising feature in your home.
2. Paint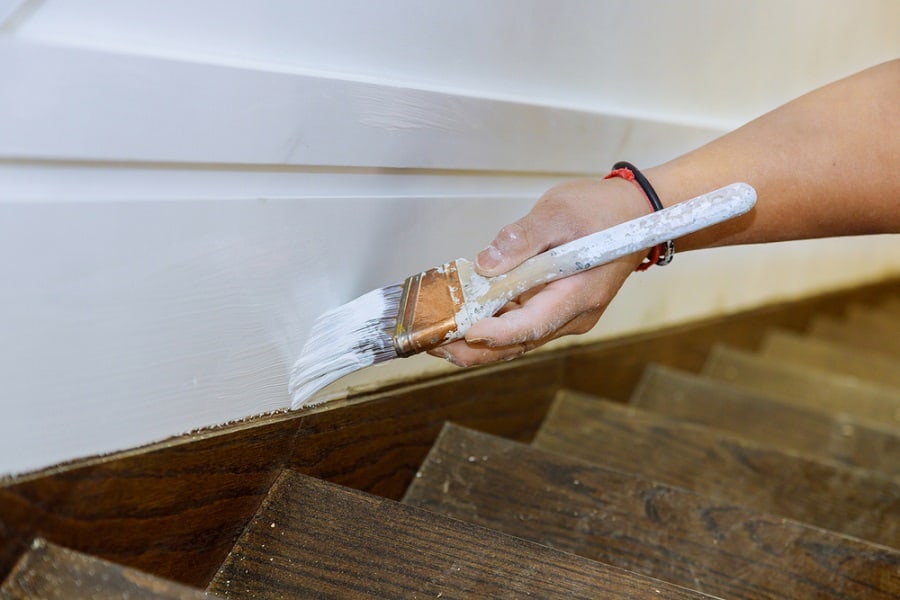 The easiest method for decorating your stair wall is to paint it. This injects color into your home's interior design and defines the staircase as its own area. Choose a paint color that complements the rest of your home's color pallet.
Especially focus on the rooms that are adjoining the staircase. You want your design to flow smoothly from one area to the next, especially if you can see the staircase wall while standing in another room.
If you feel creative, you can paint the wall with more than one color. Mark a diagonal line about halfway up that extends the entire length of the wall. Paint the bottom half one color, and the top half another. Choose a dark color for the button and a lighter color for the top for the most appealing aesthetic. A crisp line looks polished and elegant. Blending the colors for an ombre effect gives it an eclectic or bohemian feel.
3. Family Photo Gallery Wall

Do you have a large family? Turning your staircase wall into a photo gallery is a simple and easy solution. It gathers all of your family pictures together into one area that everyone commonly moves through.
This puts your most treasured people in a high-traffic area where you can enjoy them every time you go up or down the stairs. This makes it one of the more popular decorating ideas for the staircase.
Matching picture frames creates a clean interior design on the wall space. This can be difficult, as family pictures tend to vary in size and shape as they are taken over the years.
Avoid using the large pre-design collage frames. These lack creativity and design. Instead, take a purposeful approach with frames that are not exactly the same but similar. For example, you could have all simple black square frames. Or you could have dark wood frames with scrollwork and detailing.
You could even combine family photos with a wall decal like this family tree wall decal to create a more eye-catching display.
4. Curated Artwork
Do you have a curated collection of high-value art? Or perhaps you are an artist yourself and have several pieces you have created and are proud of. Use this art as your staircase wall decor. This keeps your living room from becoming cluttered and crowded with your many creations.
The first step is deciding how you want to display your wall art. It could be a curated collection of framed pieces and sculptures that you hang on the walls.
If you only have photography or paintings, you will have all framed pieces. Placing them all in frames of the same size, shape, and design will create a uniform and minimalist arrangement. Using frames that vary in size, shape, design, and color will create a more eclectic feel.
To keep it from looking cluttered, try to make every frame have at least something in common. Having at least one feature or quality in common ties them together and makes the arrangement look purposeful.
5. Shelf
If you have a straight, flat wall and wide stairs, you have a prime spot for adding built-in shelves. You can then arrange books, pictures, and other home decor on them.
You can add as many shelves as will fit and look good. This could be one or two floating shelves. Or it could be an entire built-in unit with cabinets down low and open shelves up high. This gives you hidden storage and a display place.
When choosing and mounting your floating shelf, be careful with size and placement. You do not want to create a safety risk unintentionally. If you mount the shelf too low, you could risk someone walking into it and hitting their head.
If the shelf is too deep, it will extend out too far, and people will bump into it when walking up the stairs. The safest approach is to choose a shallow shelf and mount it high up on the wall.
6. Mirror
You can hang a mirror anywhere in your house. They are perfect for reflecting light and brightening up darker spaces. If your enclosed staircase could use more light, try hanging a mirror on the wall.
If you position it just right, you can reflect more light and brighten up the space. The mirror also has the added benefit of making the stairwell feel bigger. Mount it at eye level so that you will easily look into it as you walk up or down the staircase.
For maximum effect in a small space, mount more than one mirror on the wall. The budget version is to buy mirrored squares and place them on the wall with adhesive on the back.
You can make your own arrangement and have the design work its way down the wall for the entire length of the stairs. If you want to create a luxurious or upscale design, hang framed mirrors like these that look like a gallery wall.
7. Mural
If you have a large spiral staircase design with plenty of wall surface to work with, then you have a prime canvas for creating a mural. If you have some artistic ability, you can paint the mural yourself. Or you could hire a local artist to come in and create something one of a kind.
If you want to do something easier, modern wallpapers come in murals. You measure the square footage of the wall and then buy the wallpaper to size. Apply the wallpaper to the wall in vertical strips, carefully lining up the seams for a continuous image that wraps around the staircase.
8. Tiles
If you have a lot of pets or children living in your home, then tile is a durable decorating idea for your stair wall.
The stairs and wall will take a beating, and the tile will be easy to clean and keep the wall looking beautiful. Even if you do not have a large brood, tile can give your home a modern feel with a subtle texture. You could even continue the tile look on the stair risers. This is the front-facing part of the stairs. This will visually break up the look of wooden stairs.
The type of tile you use will depend on your home's style. Using tiles of different shapes will give it a mosaic and bohemian feel. A large-scale tile or one in a geometric shape will create a modern feel. Rectangular white subway tile has a vintage or antique feel.
9. Tapestry
Hanging a tapestry is a traditional wall decor and covering. They are delicately made and full of color. This is a great option if your staircase wall is in a central point in your home. The tapestry turns the wall into a feature wall that will be the focal point in the room.
Traditional tapestries cover the entire wall from ceiling to floor. This is not really possible on a stair wall because the bottom is slanted. You will struggle to find a tapestry with an angled bottom to match your stairs. Instead, stick with a square or rectangle tapestry that can hang like a large piece of art positioned in the center of the wall.
10. Board and Batten
Create a subtle texture to your stairwell by using wood trim to add a board and batten design. This classic wall decoration is found in traditional colonials and is making a comeback.
You can easily build your own by using rectangular-shaped pieces of wood trim. Cut them to size so that they run vertical and horizontal, crossing each other to make square or rectangle shapes.
You can make the voids as small or as large as you like. If your staircase leads to a hallway, you can continue the pattern down the hallway.
If the plain board and battens sound a bit plain, you can dress it up with a bit of custom flair. Try using wood trim that has a twist pattern. Or angle the cross beams so that they are at a 45-degree angle. Create squares that vary in width and height.
11. Purposefully Bare
Sometimes, you can make more of a statement by doing nothing. A minimalist staircase idea is to leave the wall completely blank. This retains the clean and bright design of your home. It also lets the stair tread become the focus.
Stain and seal your stair treads to bring out the color and luster of the wood. If your staircase is small or tight, this staircase wall decorating helps to keep it feeling open and welcoming.
10. Texture
Instead of adding decoration to the wall, turn the wall into decoration. This adds subtle design and visual interest without being overwhelming. You can add texture by choosing a 3D tile. These tiles could be handmade with natural highs and lows. Or it could have a geometric design with angles and corners.
If you're looking for a bolder texture and design, you can mount panels on the wall. This creates more variation in the height and depths. There are also panels with a premade design, making it fast to add a decorative design over the entire wall.
11. Faux Stone
Give your home a rustic or farmhouse feel with faux stone wall panels. These are lightweight panels that are made to look exactly like real stone. A stacked stone design will give your home an elegant cabin or chalet feel. A raw stone design where they look more organic will give your home a rustic or country farmhouse feel.
12. Collections
Do you have a prized collection of items? Your staircase wall could be the perfect place for displaying your collection. This could be a collection of vintage wooden skis, jerseys from your favorite sports players, skateboards, fishing lures, or hand-painted China.
13. Plants
Bring nature into your home by using plants to decorate your stairway wall. This brings nature into your home and natural color. It can also help freshen the air through the plant's natural photosynthesis.
Try mounting small geometric planters on the wall and place small succulents or air plants in them. Instead of mounting planters on the wall, string hanging planters from the ceiling, so the planters hang right in front of the wall. This lets you hang larger pots and can grow plants that vine and flower. This adds natural color to your home.