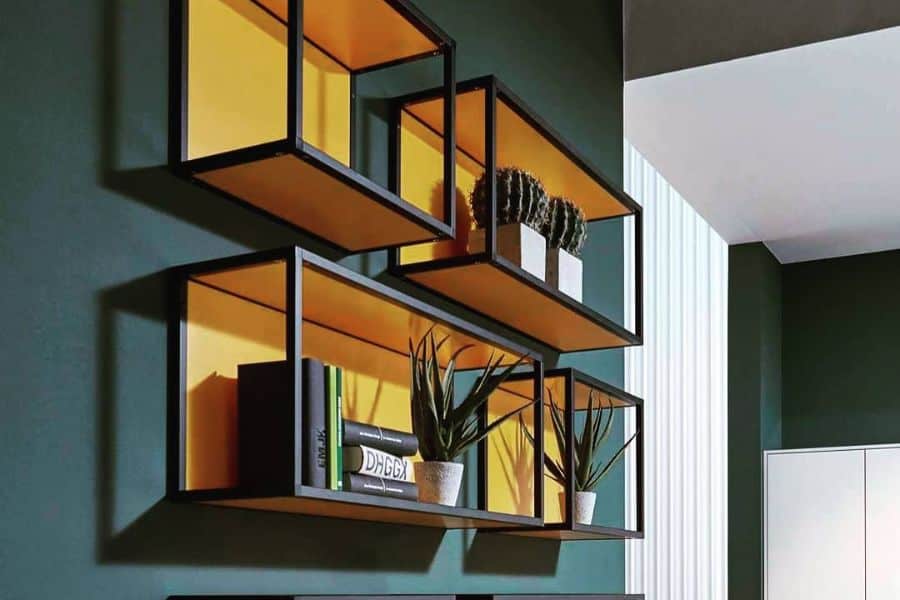 The Top 85 Floating Shelves Ideas
Do you have a blank wall that you wish you could do something with? Large, bare walls that have nothing on them. What you need is a floating shelf.
This gives you the freedom to do anything with it. You could use it as a display space for decor or use it to create additional storage.
What's nice about floating shelves is that you can install them in any room of your home. You can use them in any style of interior decor. You can also use them in any sized room.
These floating shelves ideas will help you choose and install the perfect floating shelf in your home.
1. Floating Bathroom Shelves
Bathroom floating shelves provide a chic and minimalist way to display and organize your toiletries, bath supplies, and towels. Whether you have a small or spacious bathroom, these shelves can be customized to fit your needs and available wall space.
Arrange your favorite lotions, soaps, and candles on the shelves, creating a spa-like ambiance. Utilize the vertical space in your bathroom, keeping everyday essentials within reach while freeing up valuable countertop space. Choose from a variety of materials and finishes, such as sleek glass or rustic wood, to complement your bathroom's style and create a cohesive look.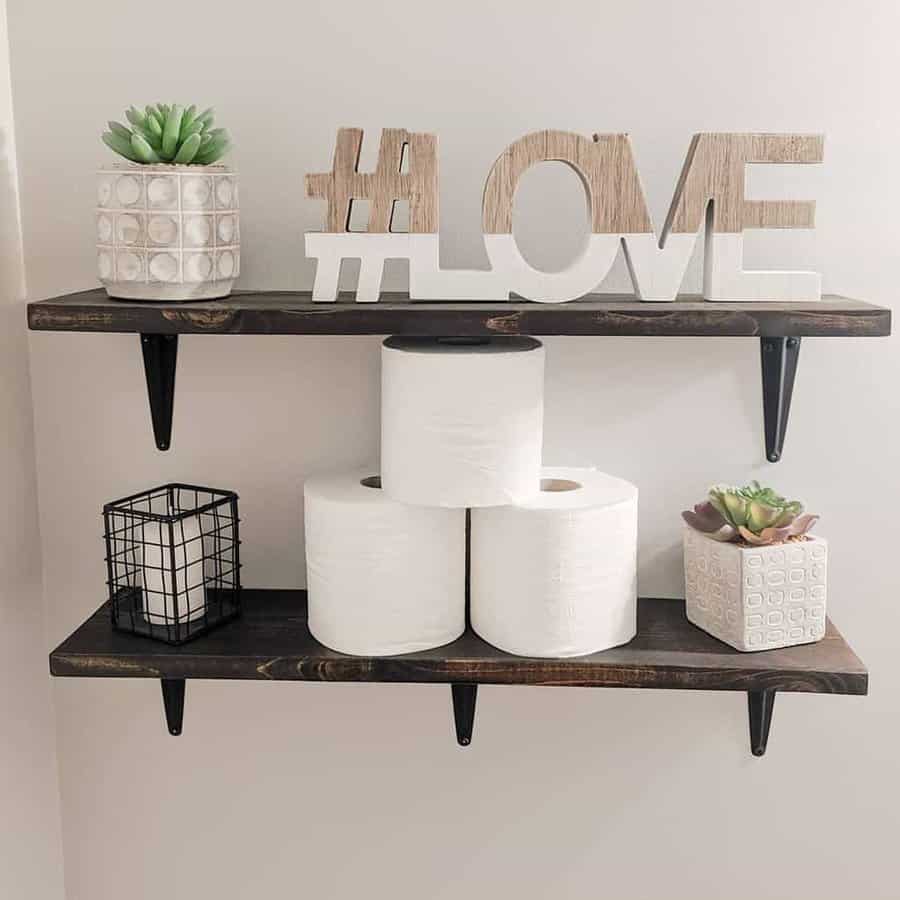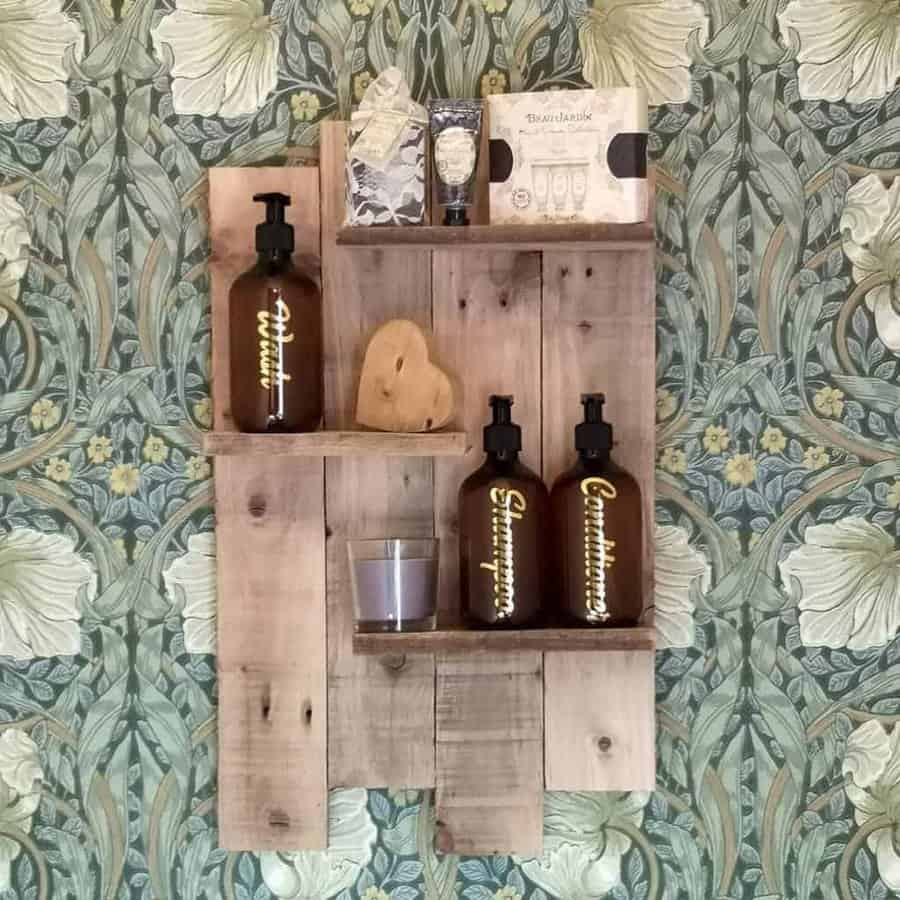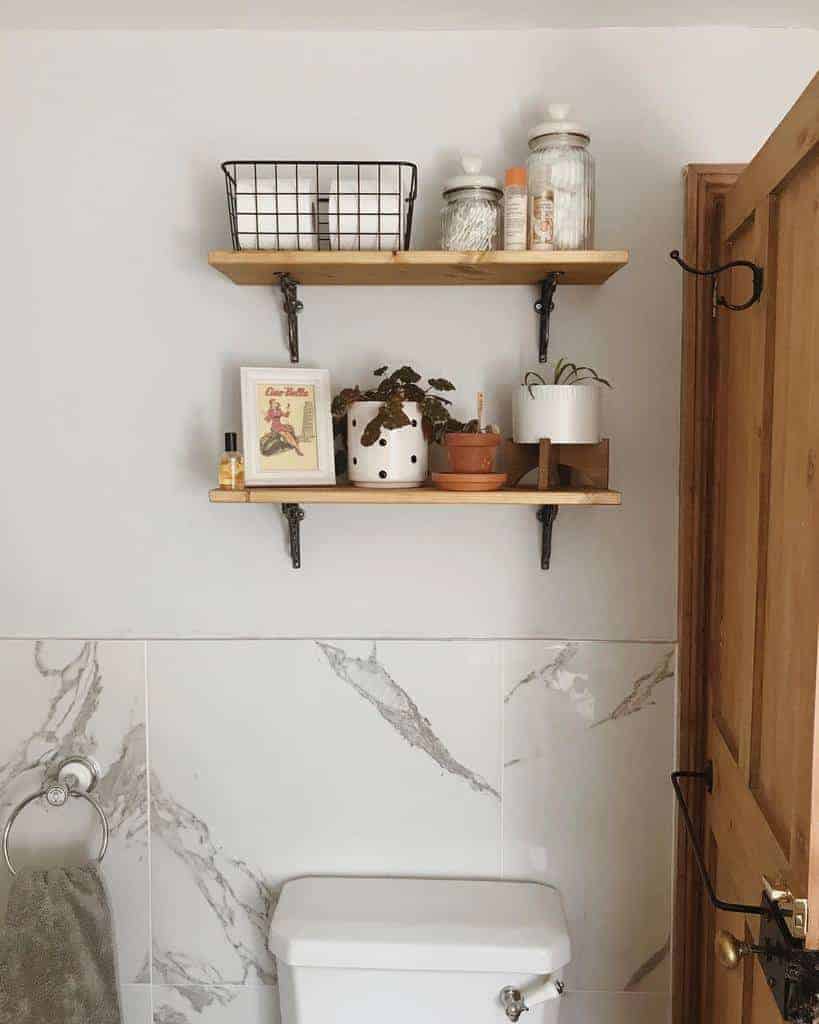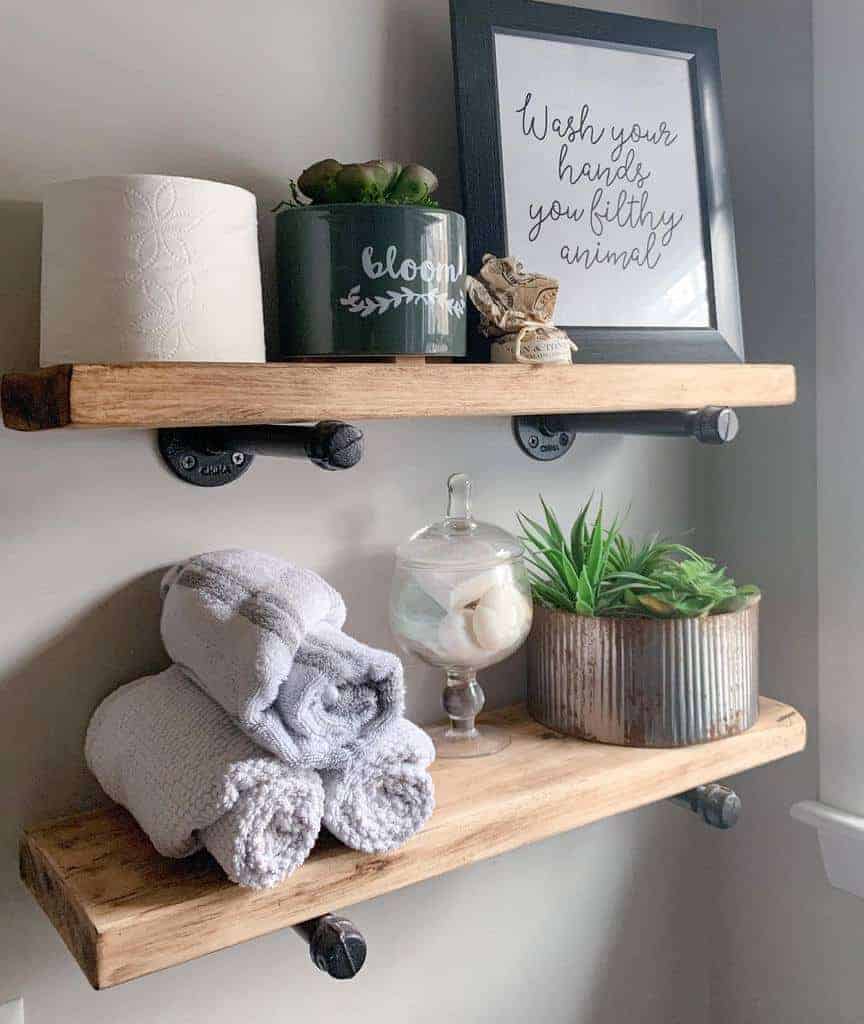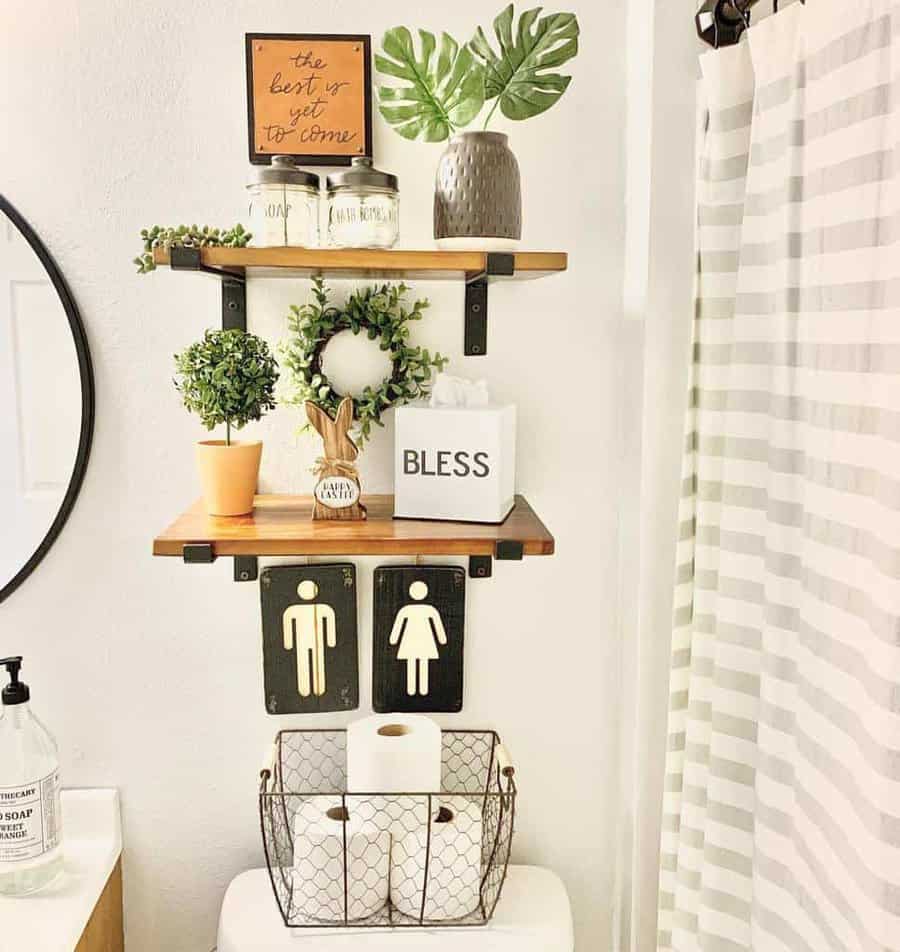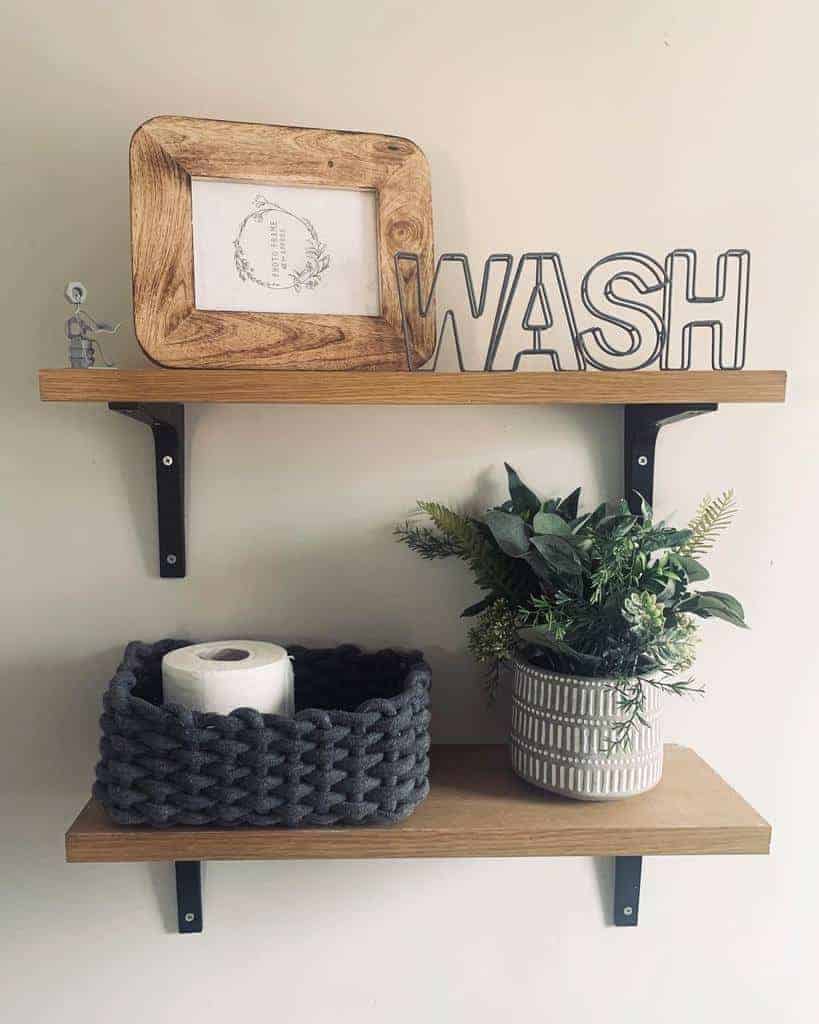 2. Honeycomb Floating Shelves
Add a touch of whimsy and functionality to your space with honeycomb-shaped floating shelves. These unique shelves are a perfect blend of style and practicality, allowing you to showcase your favorite decorative items or keep essential items within reach. The honeycomb design adds a playful and eye-catching element to any room, instantly transforming a plain wall into a focal point.
These small shelves are versatile and can be arranged in various configurations to suit your needs and space constraints. Whether you use them to display succulents, store books, or organize your personal belongings, these honeycomb-shaped floating shelves are sure to make a statement. With their innovative design, they not only provide storage solutions but also add a decorative touch to your home.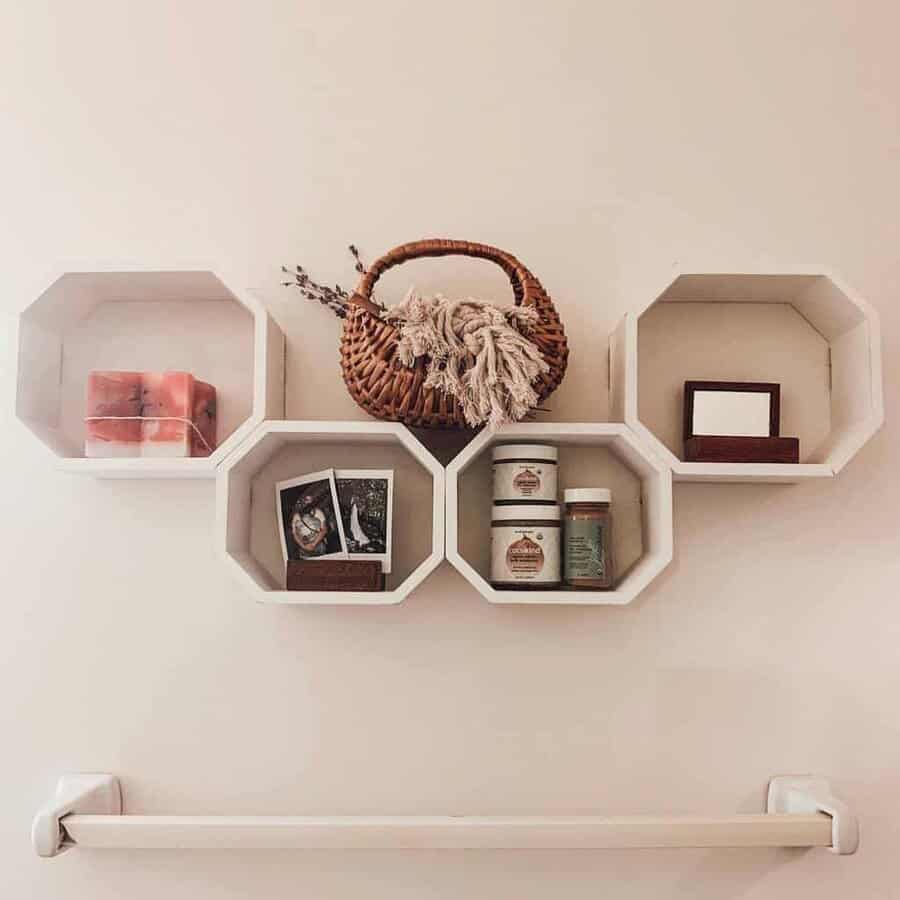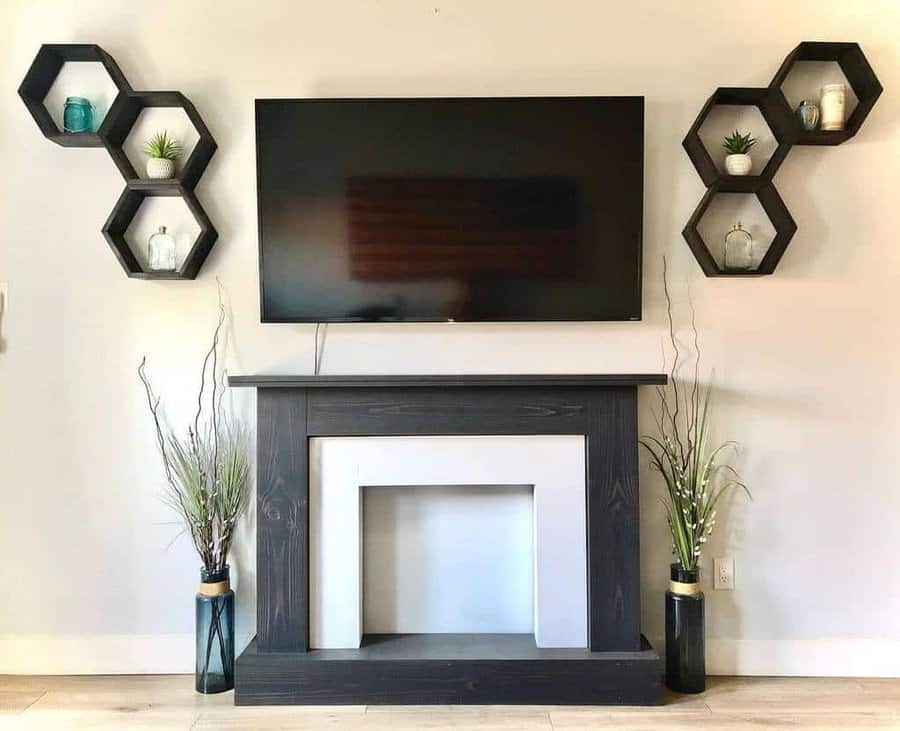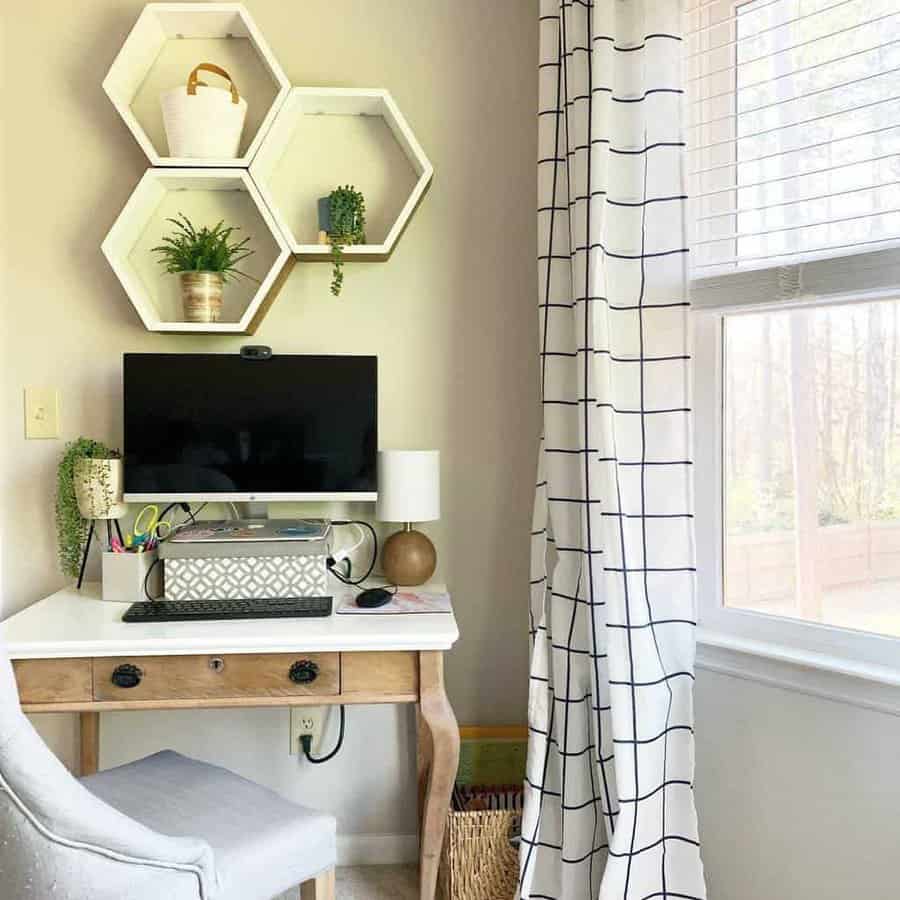 3. Floating Plant Shelves
Elevate your home decor with the perfect blend of functionality and style by incorporating floating shelves with plants. These versatile shelves not only provide additional storage space but also offer a unique opportunity to showcase your favorite green companions. Imagine a stunning display of lush greenery suspended effortlessly on the wall, creating a vibrant and refreshing atmosphere in any room.
By combining the sleek and minimalist design of floating shelves with the natural beauty of plants, you can achieve a harmonious balance between functionality and aesthetics. These shelves can be strategically placed in various areas of your home, such as the living room, kitchen, or even the bathroom, to add a touch of greenery and breathe life into your space. Whether you opt for cascading vines, vibrant succulents, or elegant air plants, the possibilities are endless.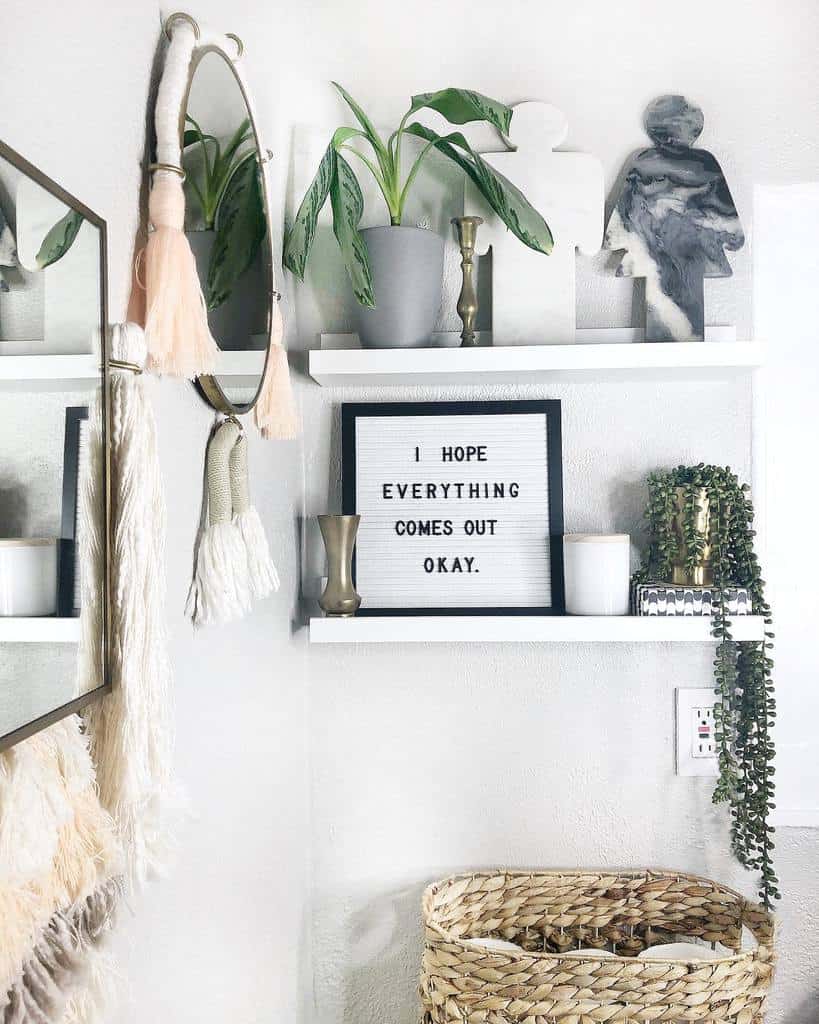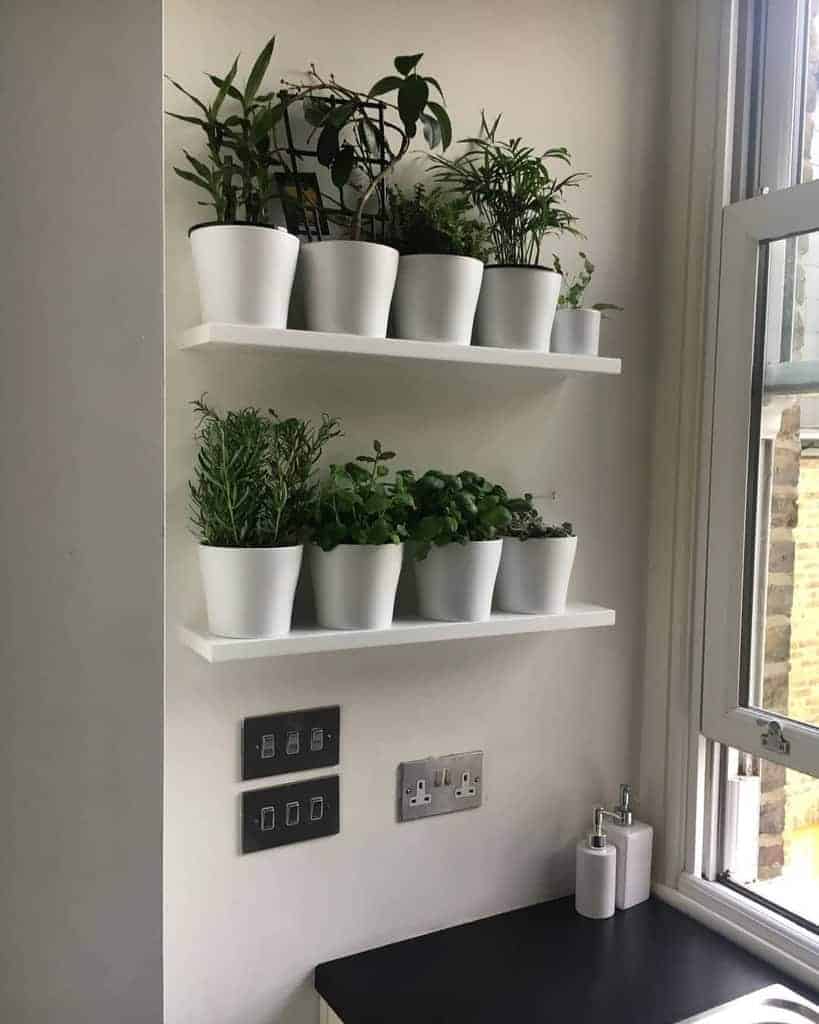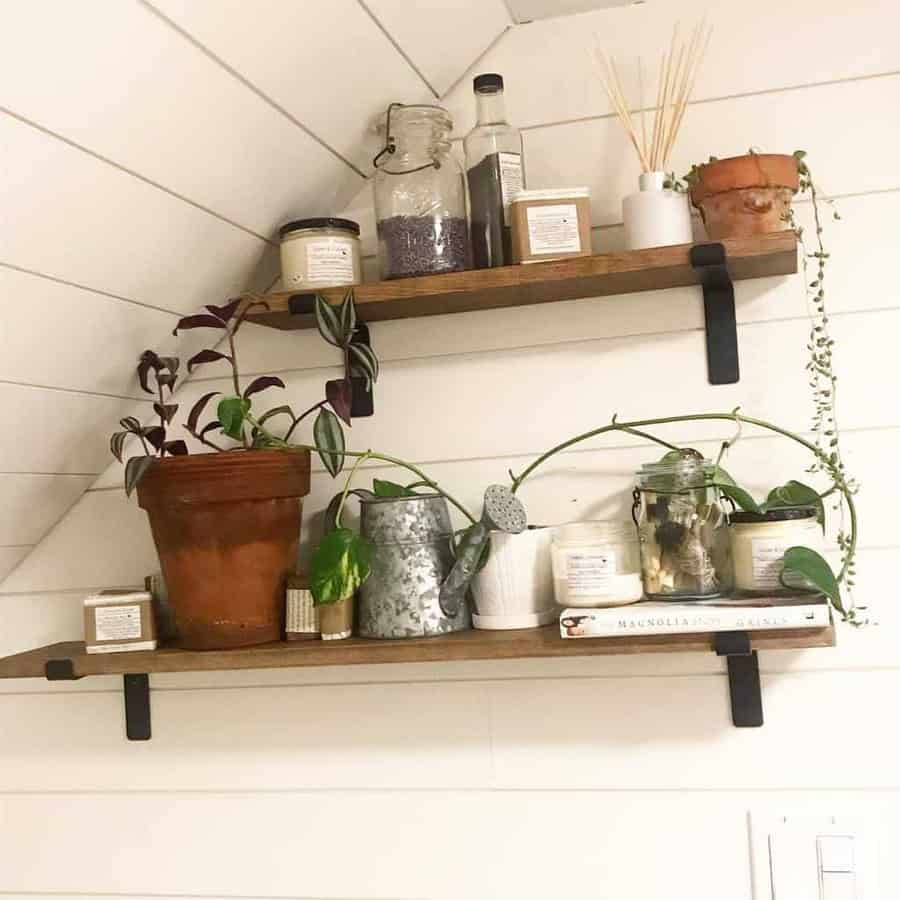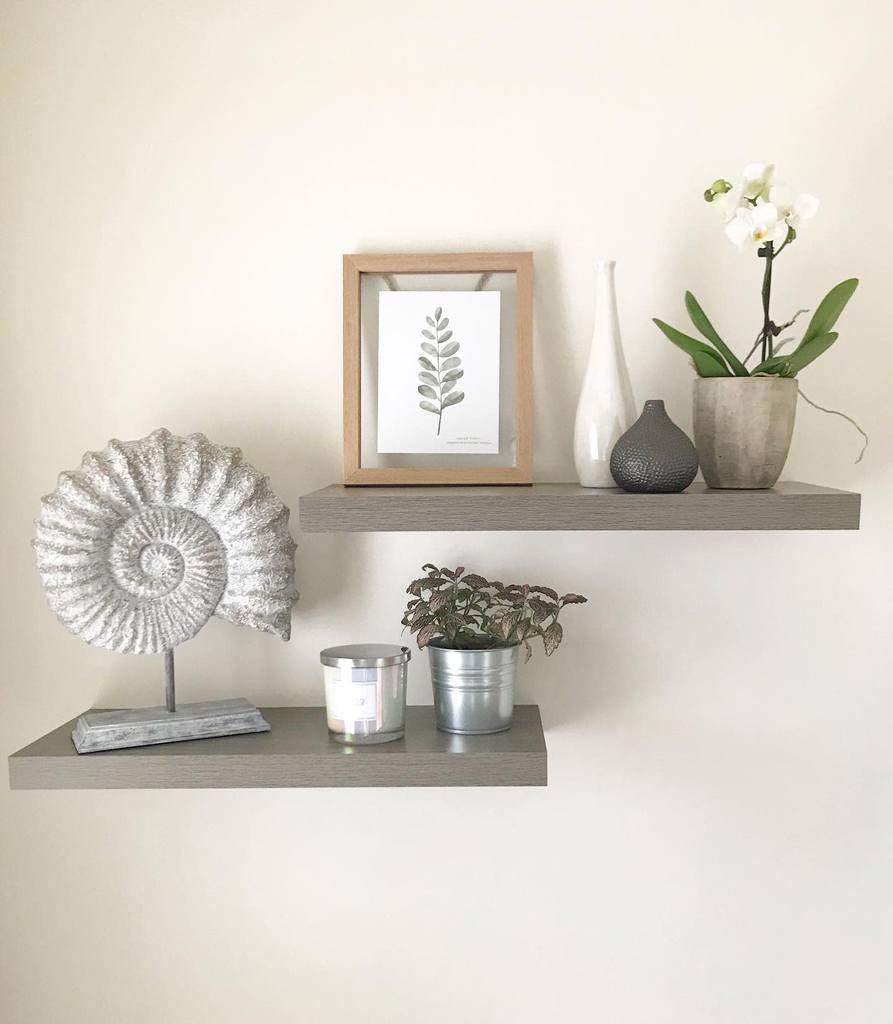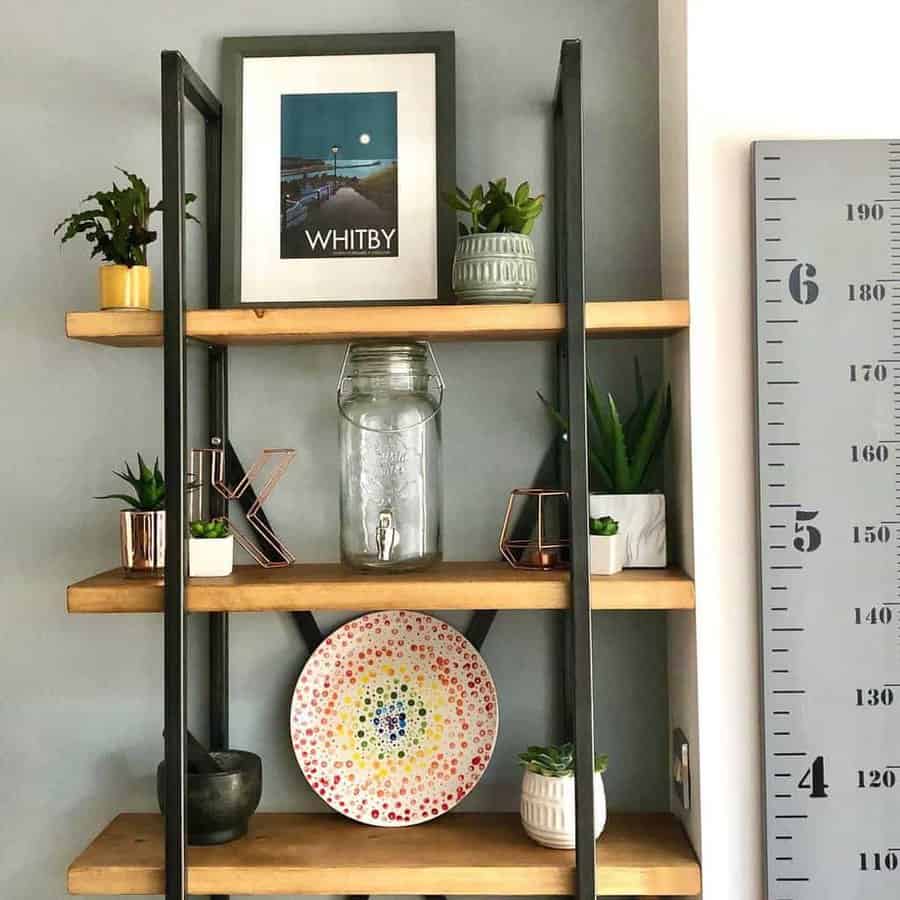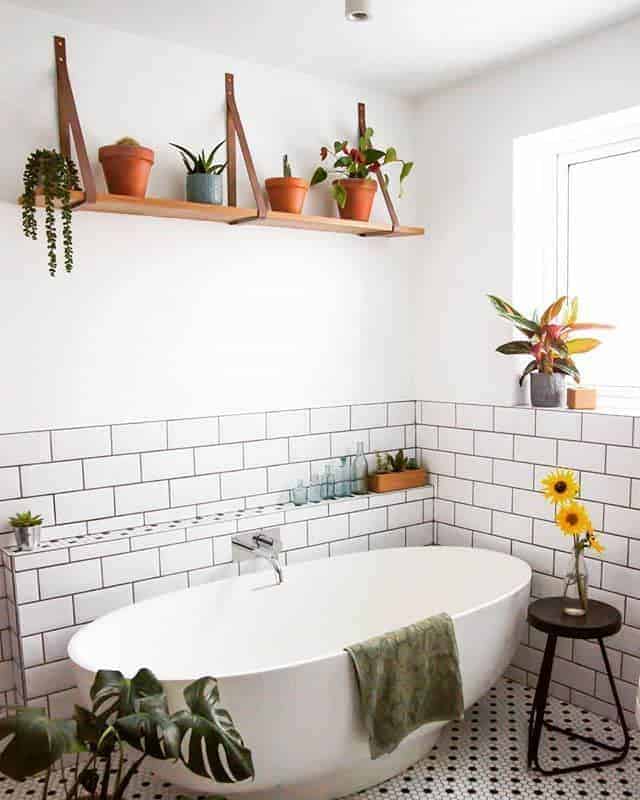 4. Corner Shelves
By installing corner floating shelves, you can effectively utilize those awkward corners that often go unnoticed, turning them into eye-catching focal points. These small shelves offer the perfect platform to showcase your favorite decor items, such as plants, books, or art pieces, adding a personal touch to your space.
The beauty of corner floating shelves lies in their ability to blend seamlessly with any design style, whether it's modern, minimalist, or eclectic. They provide both functionality and aesthetic appeal, allowing you to keep your essentials organized while enhancing the overall visual interest of your room.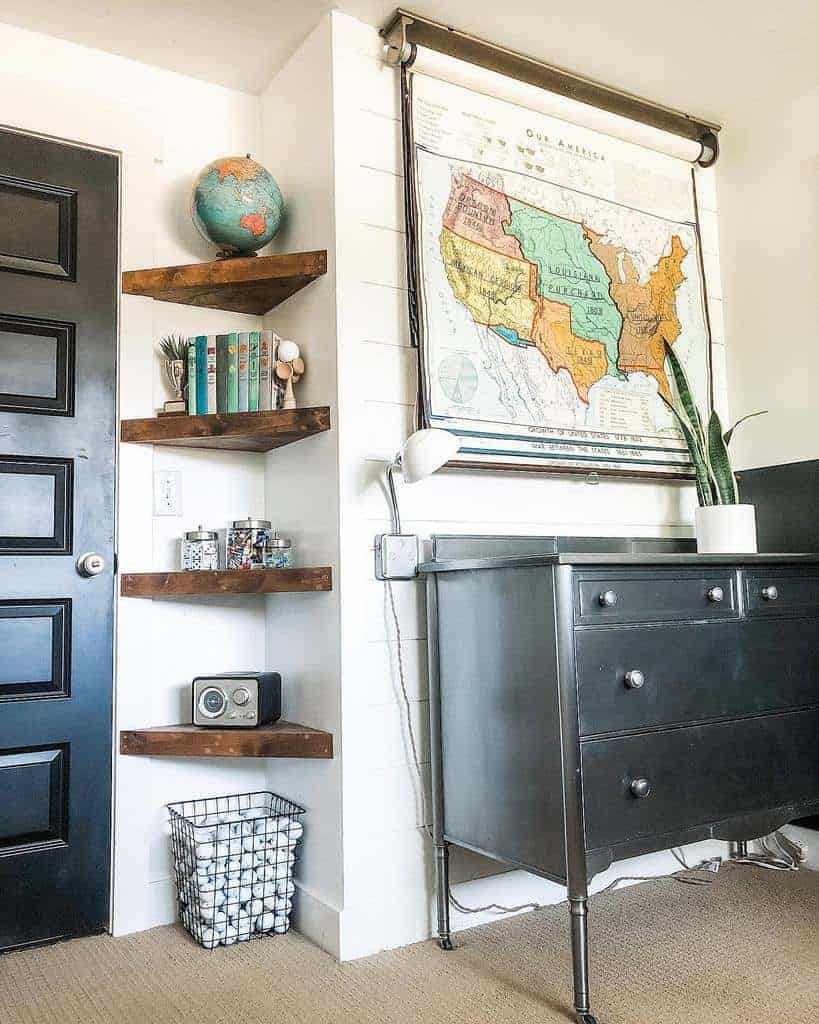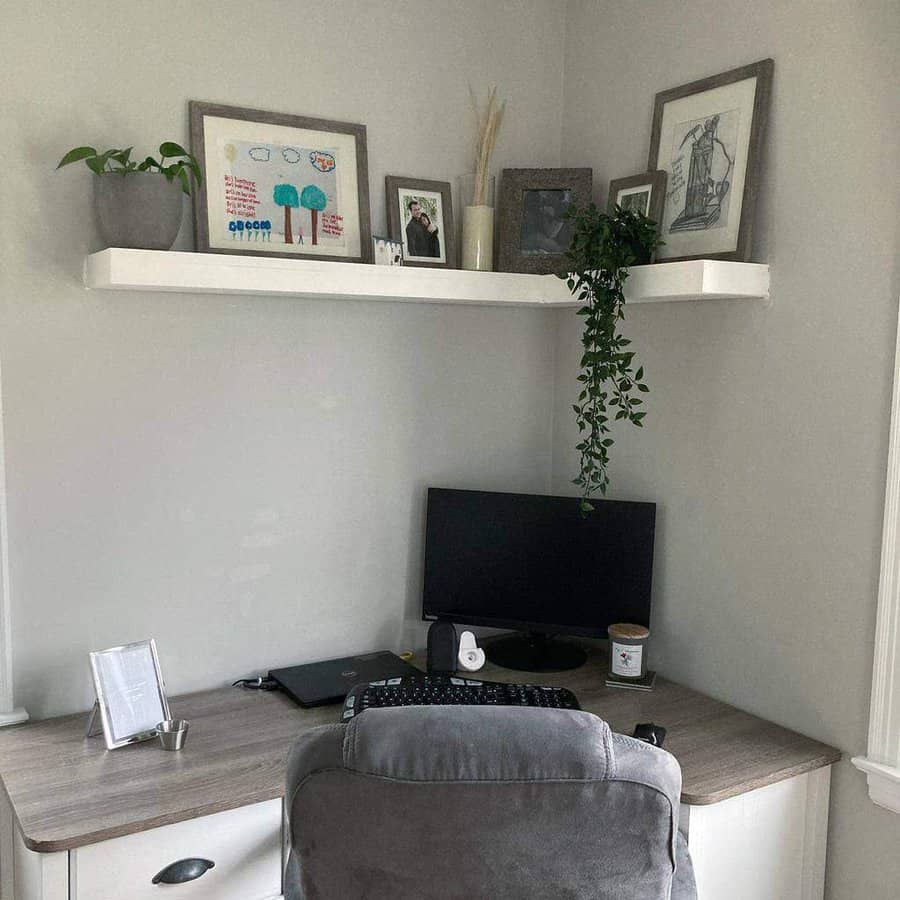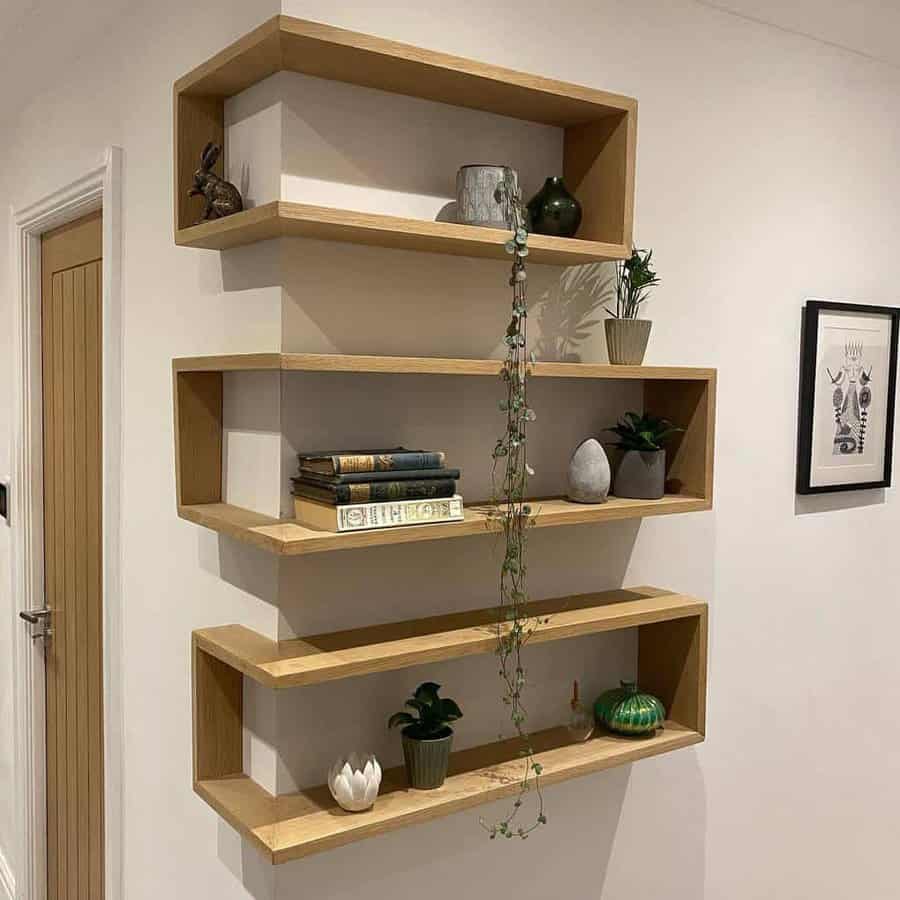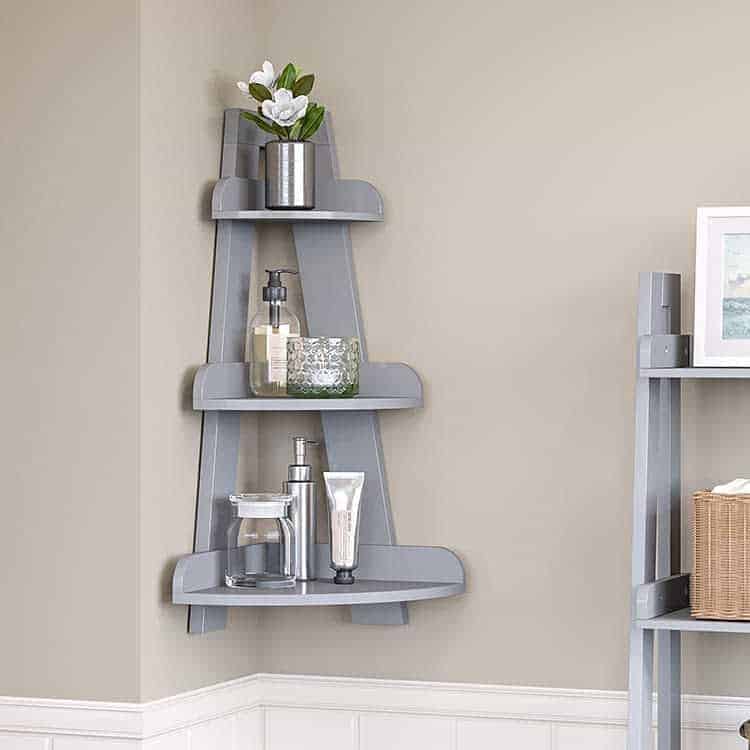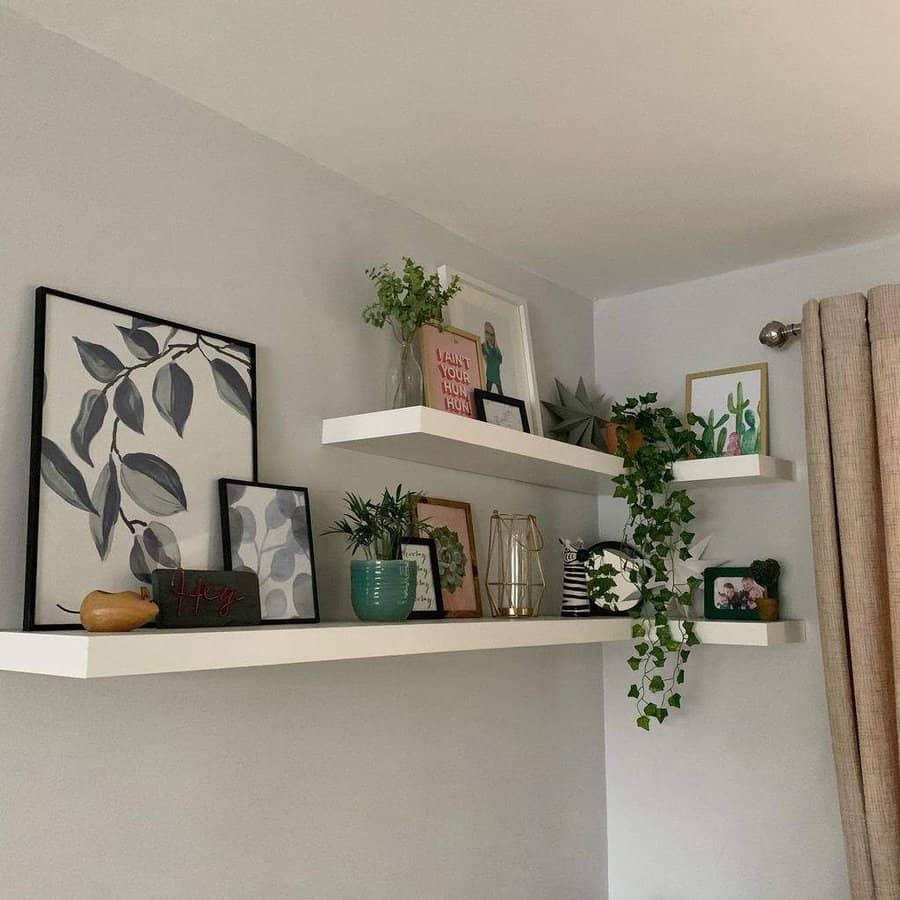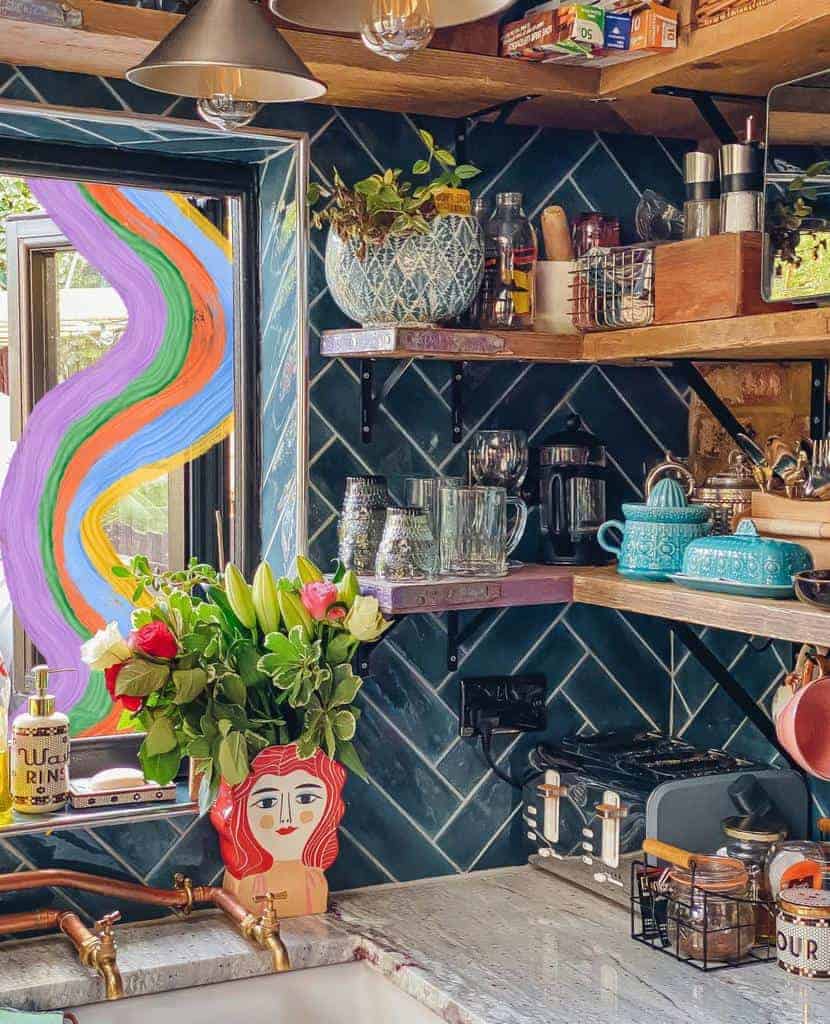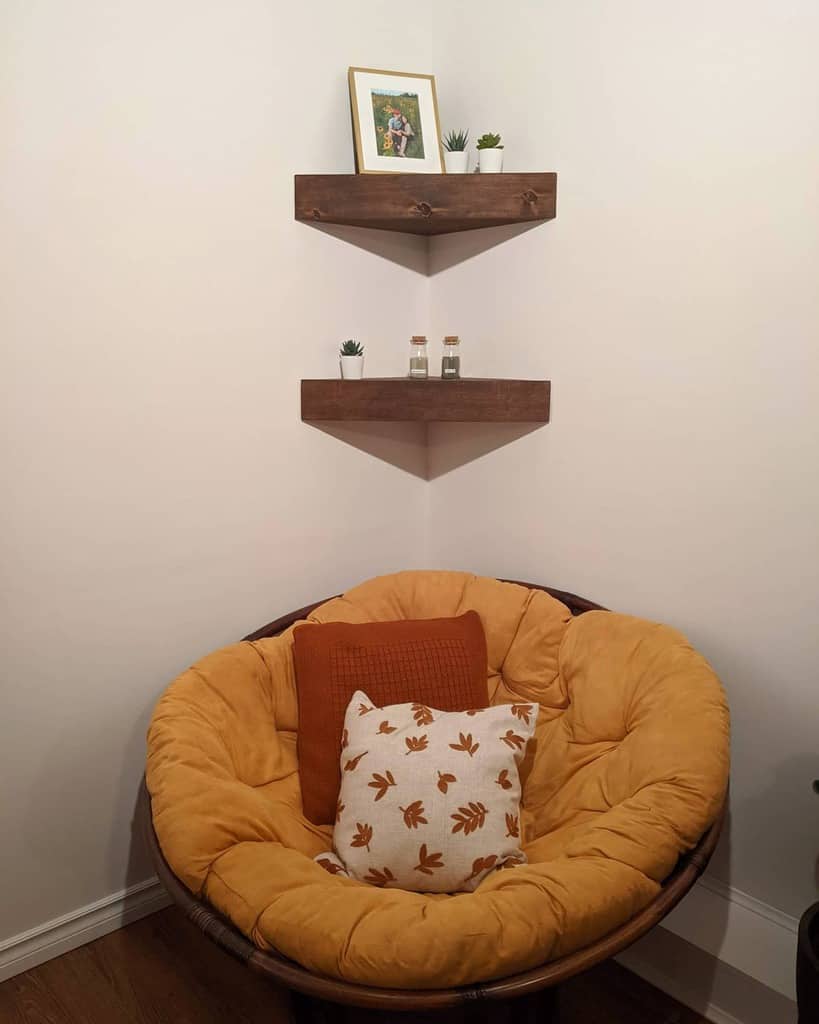 5. Dinnerware Floating Shelves
These sleek and minimalist shelves provide a perfect platform to showcase your beautiful collection of plates, bowls, and glasses while adding a touch of contemporary elegance to your space. With floating shelves, you can create an organized and visually appealing display that not only showcases your dinnerware but also makes it easily accessible.
Whether you have a small kitchen that lacks storage space or you simply want to showcase your favorite pieces, floating shelves offer a practical and stylish solution. Arrange your dinnerware in an artful manner, play with different heights and textures, and even add some decorative accents like potted herbs or framed artwork to infuse personality into your culinary corner.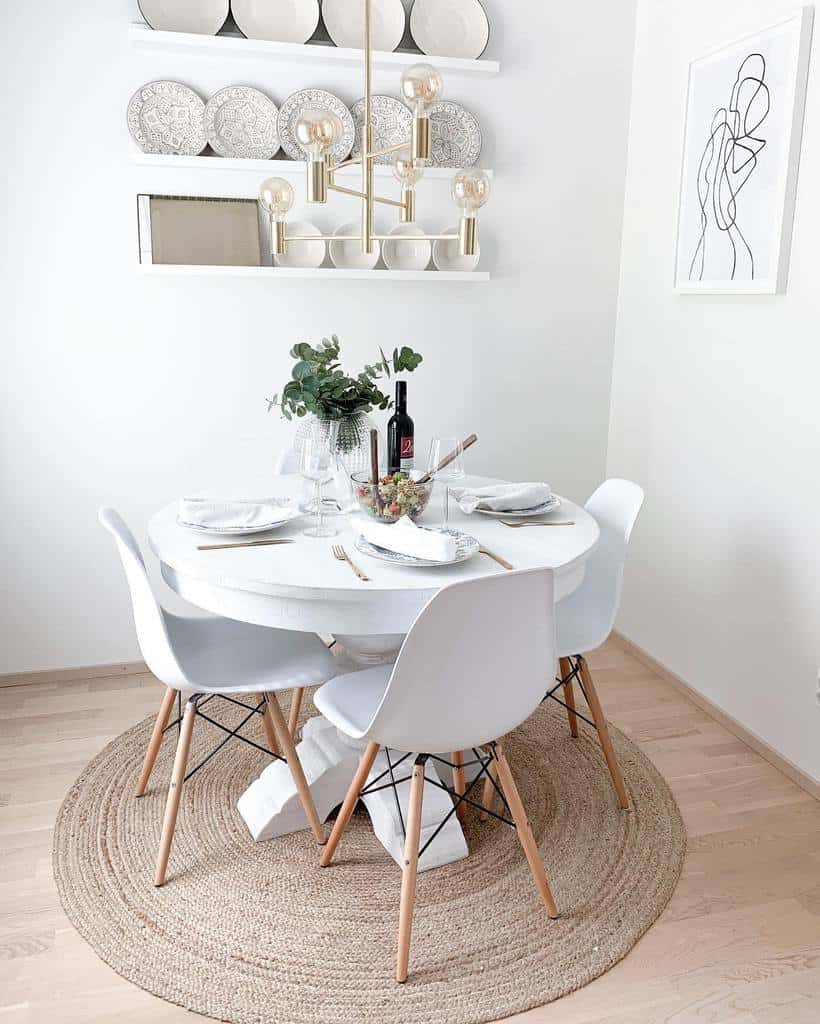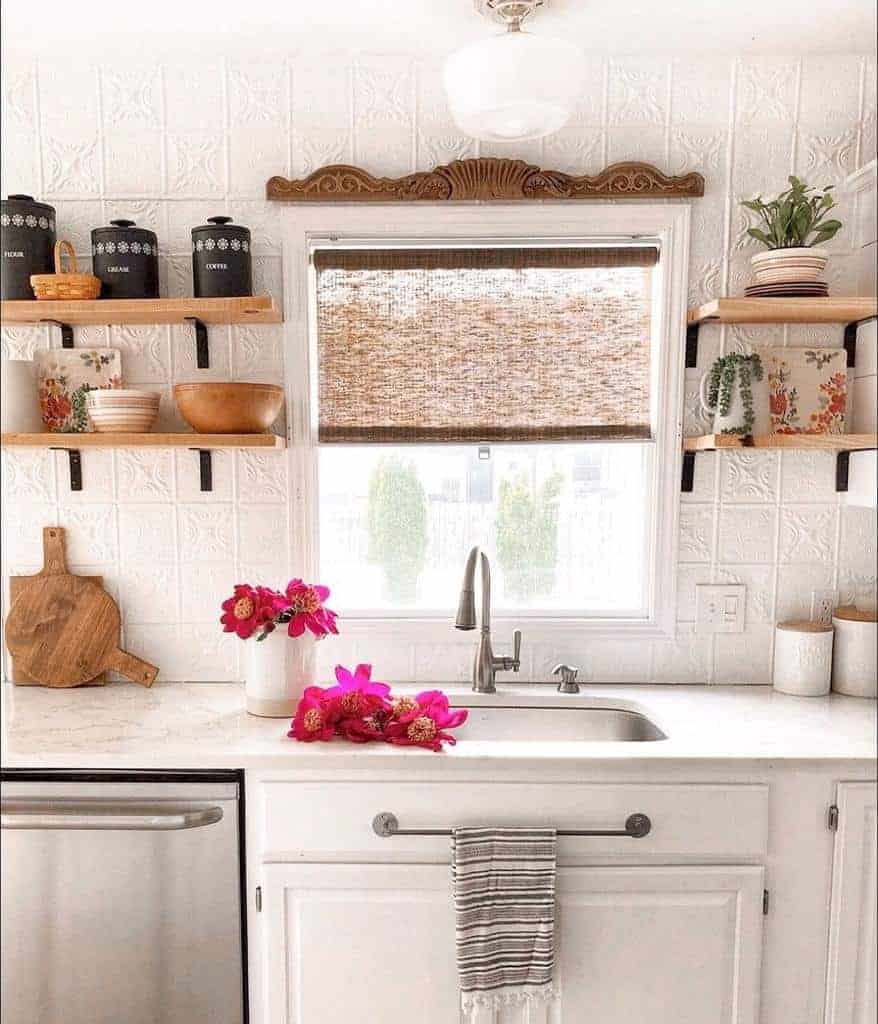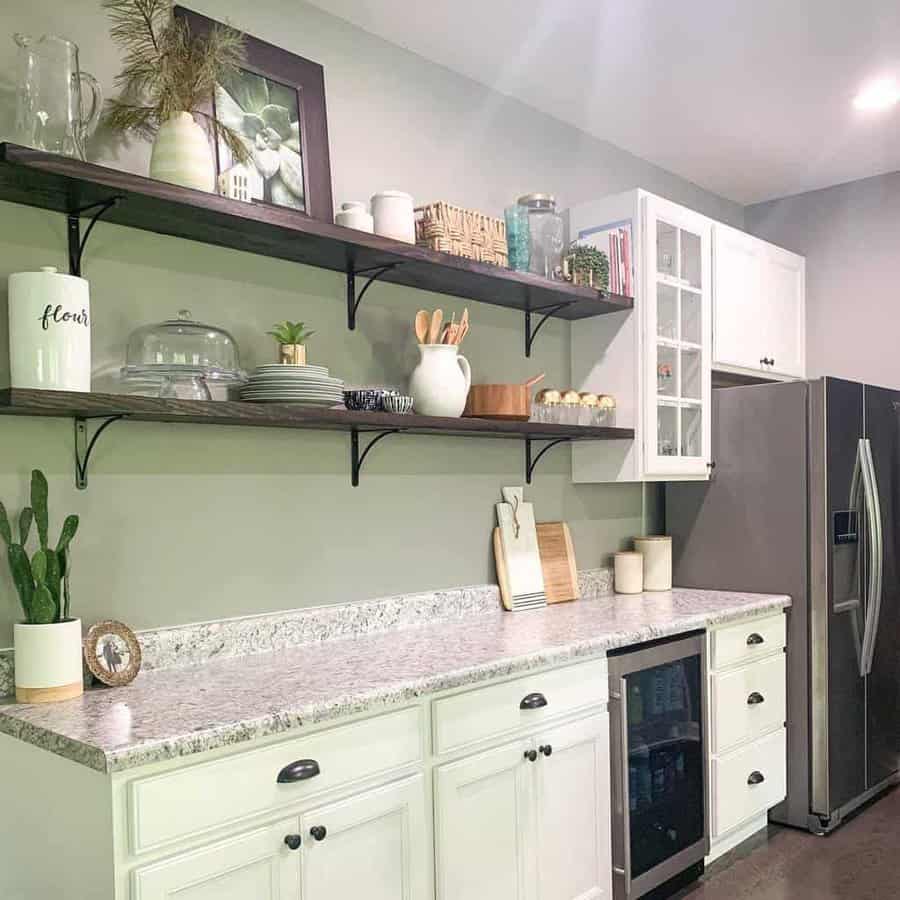 6. Floating Bar Shelves
With their minimalist design and clean lines, bar floating shelves effortlessly blend into any interior decor, adding a touch of sophistication and organization to your space. Install them above your bar area or on a nearby wall to create a dedicated space for all your favorite spirits and accessories.
The open design of the shelves allows you to showcase your bottles and glassware, creating a visually appealing focal point that impresses your guests. Not only do bar floating shelves offer a practical storage solution, but they also add a touch of elegance and refinement to your home bar setup.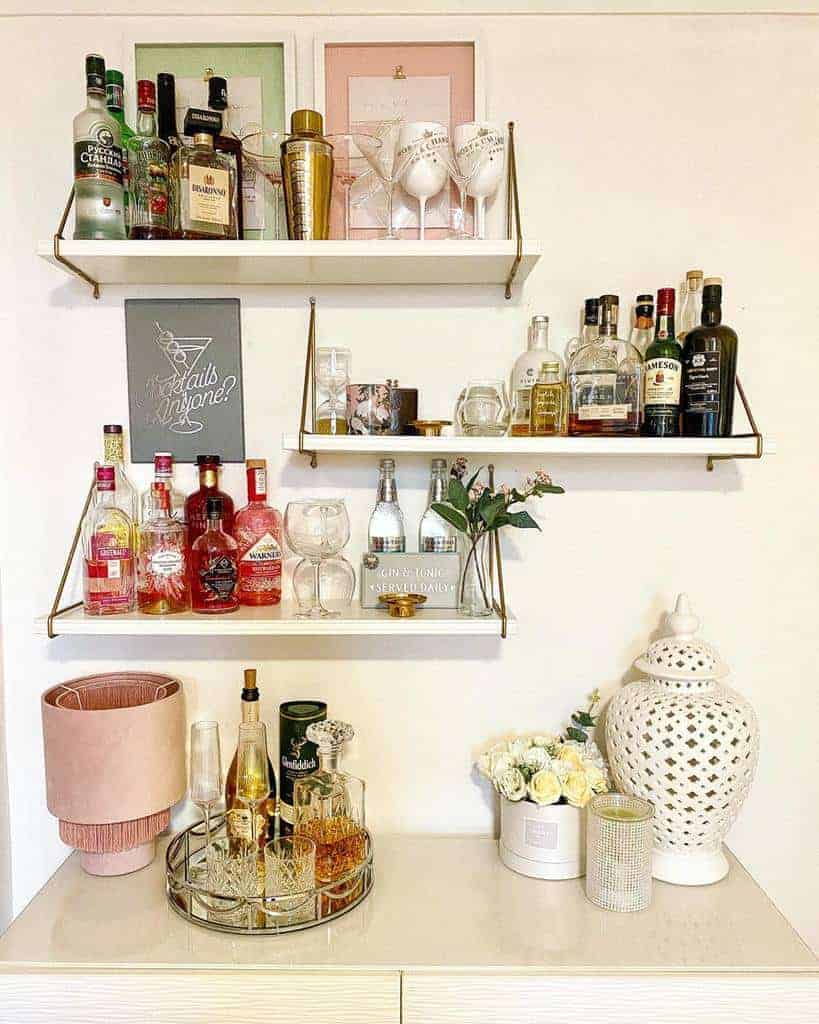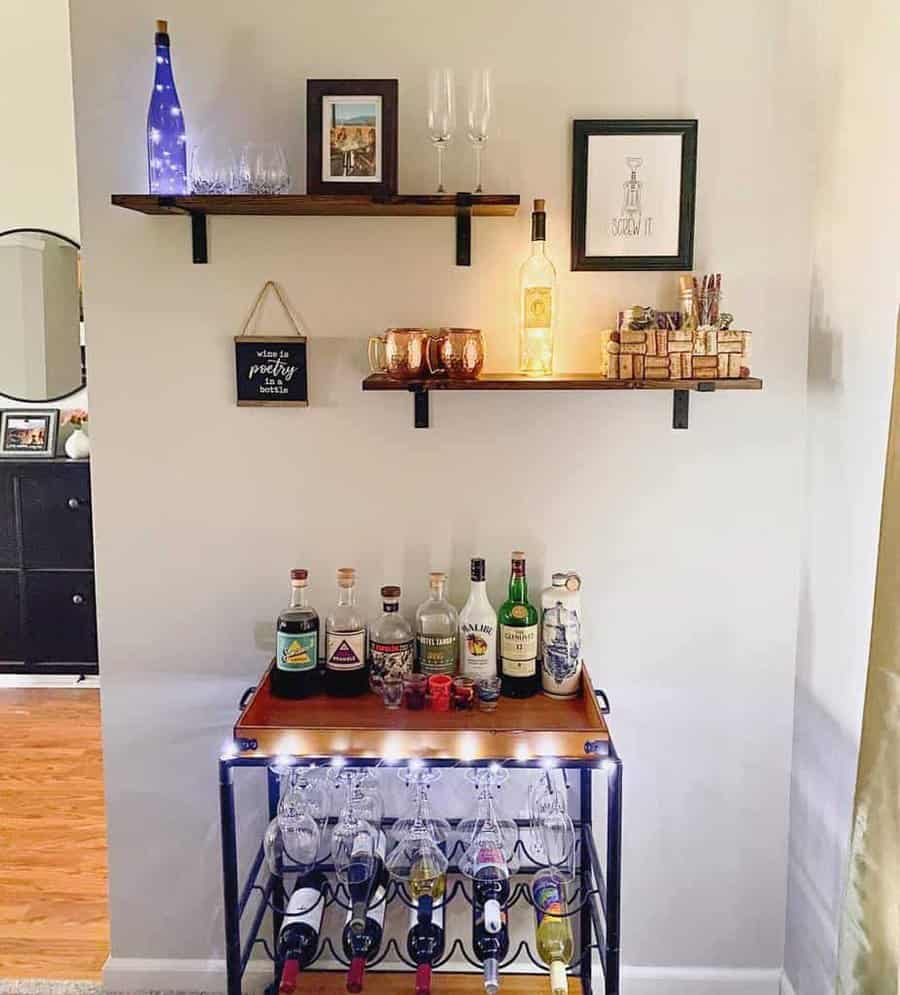 7. Floating Display Shelves
Styling shelves with curated decor items is like curating your own mini gallery, where you can showcase your personality and interests. Mix and match decorative objects such as plants, art prints, framed photographs, unique sculptures, and cherished mementos to create a personalized decor display that truly reflects your style.
Experiment with different heights, textures, and colors to add depth and visual interest to your floating shelves. Play with symmetry or embrace an eclectic mix for an effortlessly chic look. Whether you're looking to add a touch of greenery, display your favorite books, or showcase your most cherished possessions, floating shelves offer the perfect canvas to bring your vision to life.
With floating shelf decor, your walls become an artful statement, making your space both functional and visually captivating.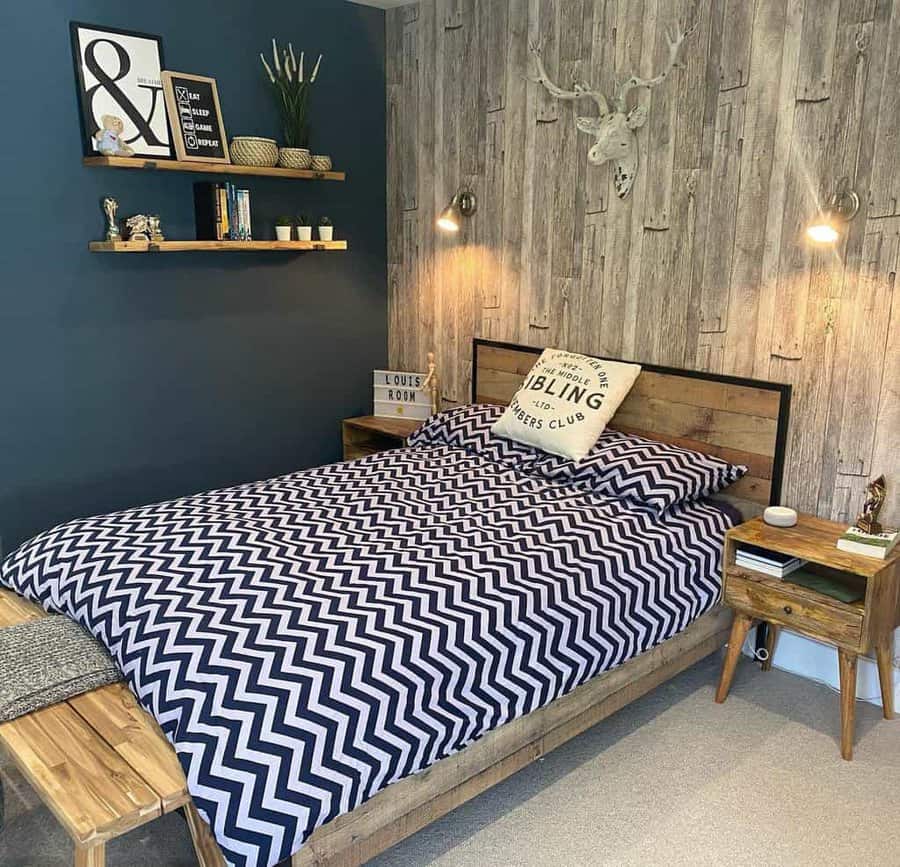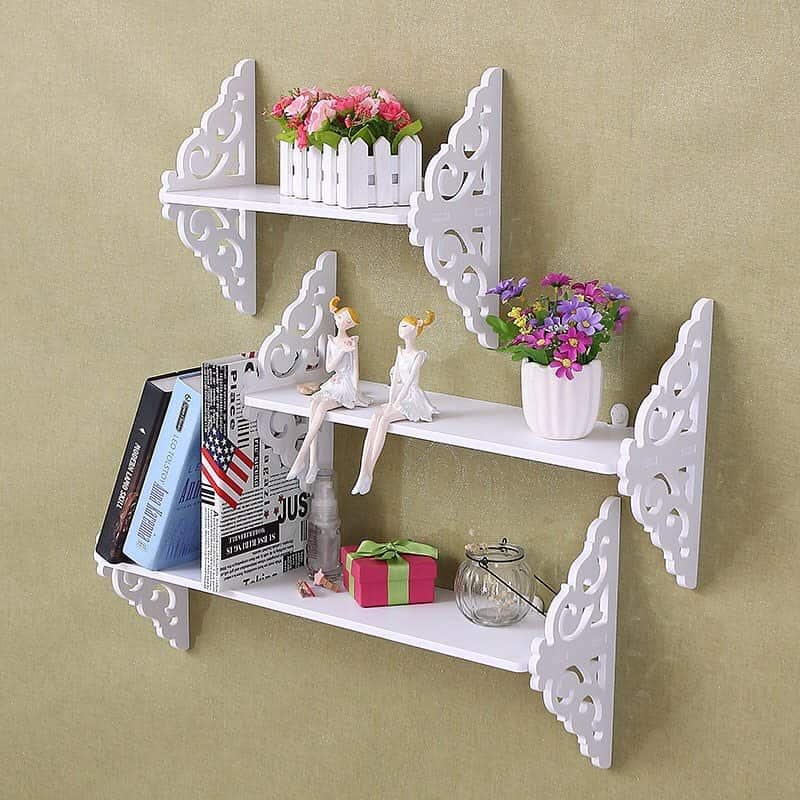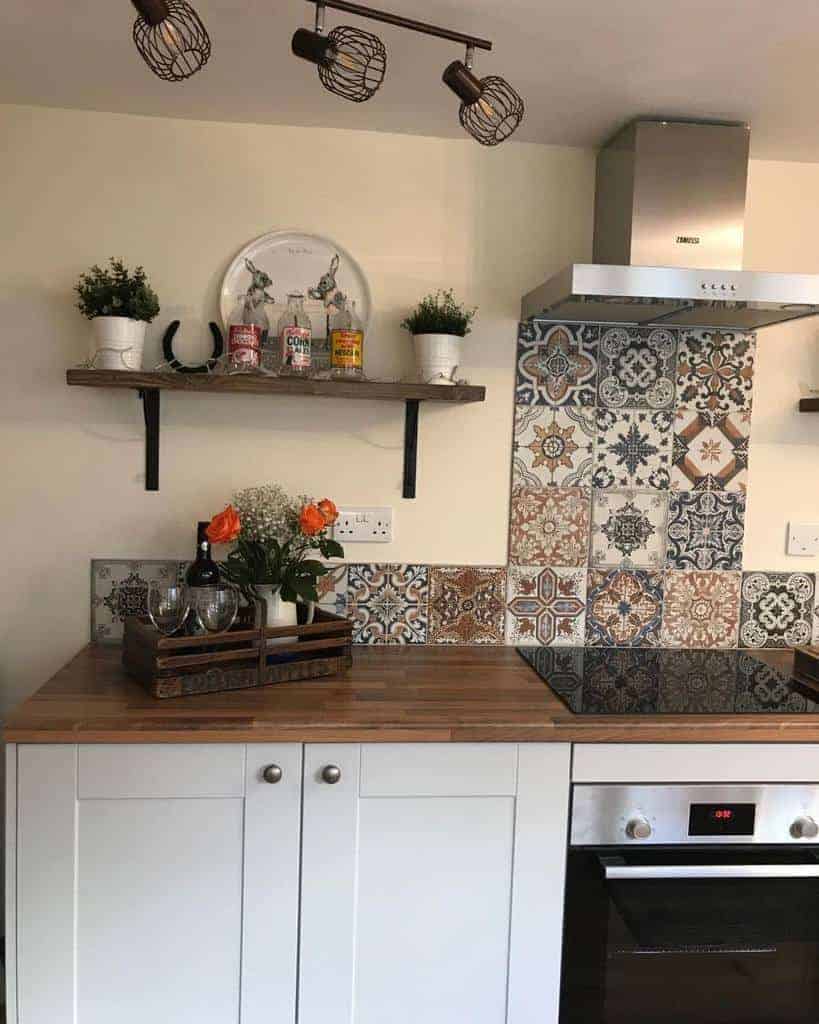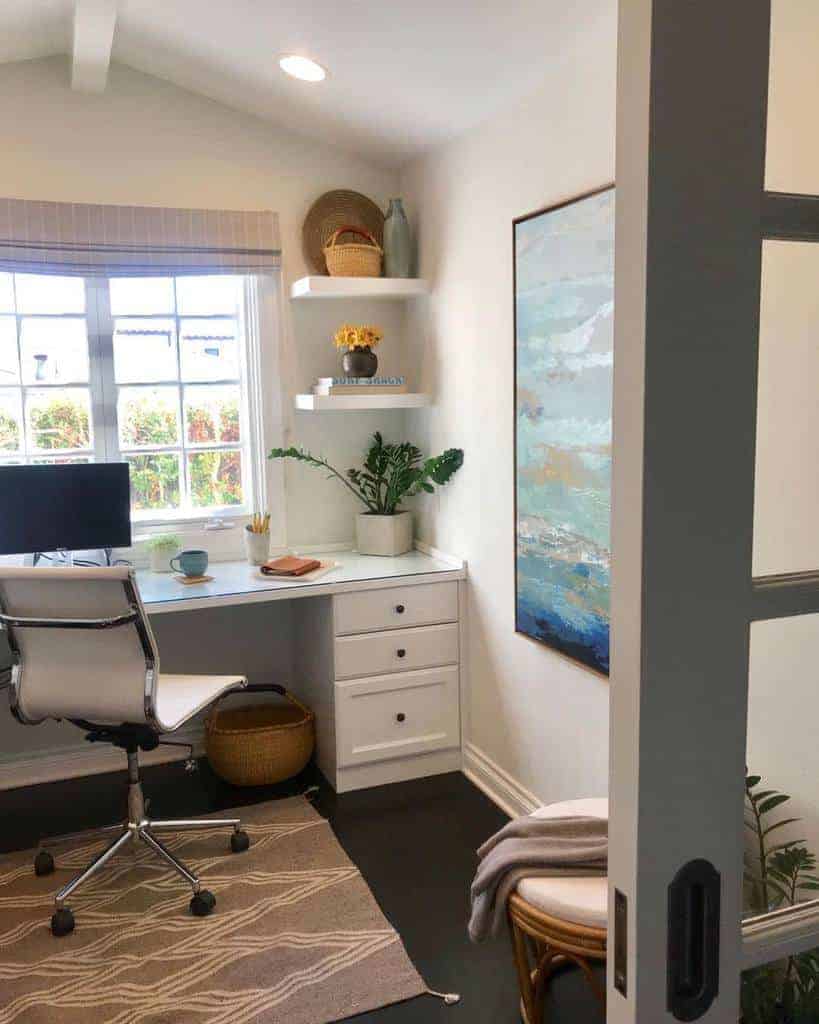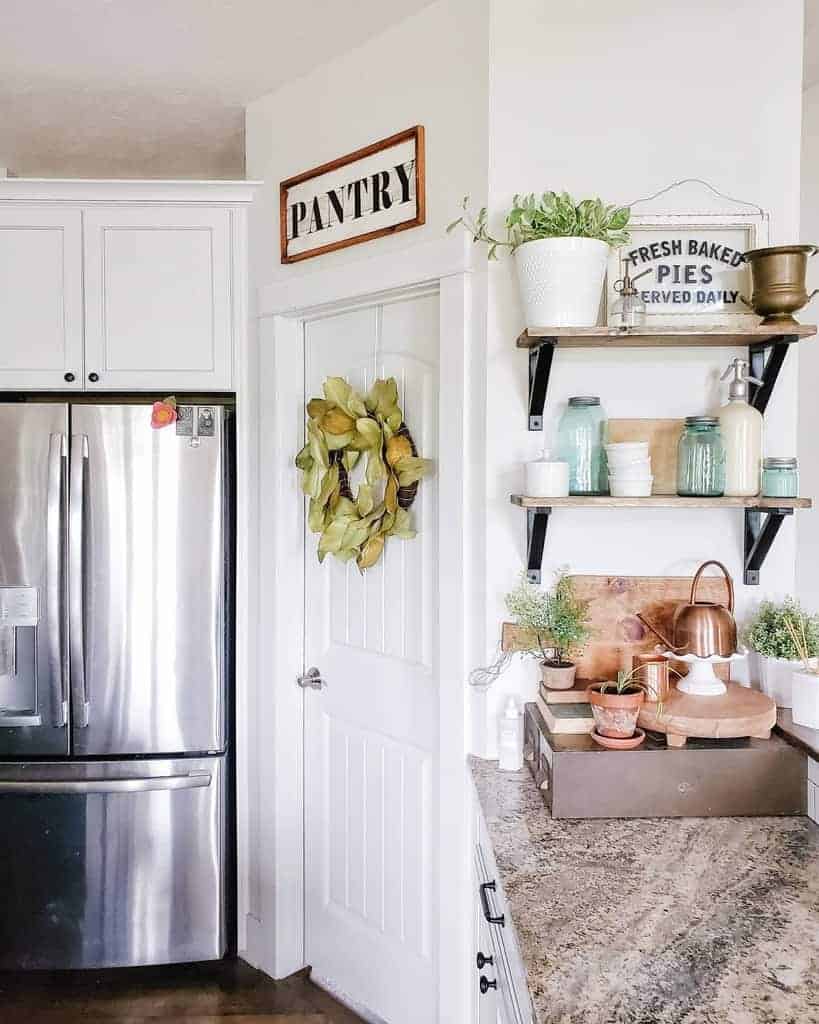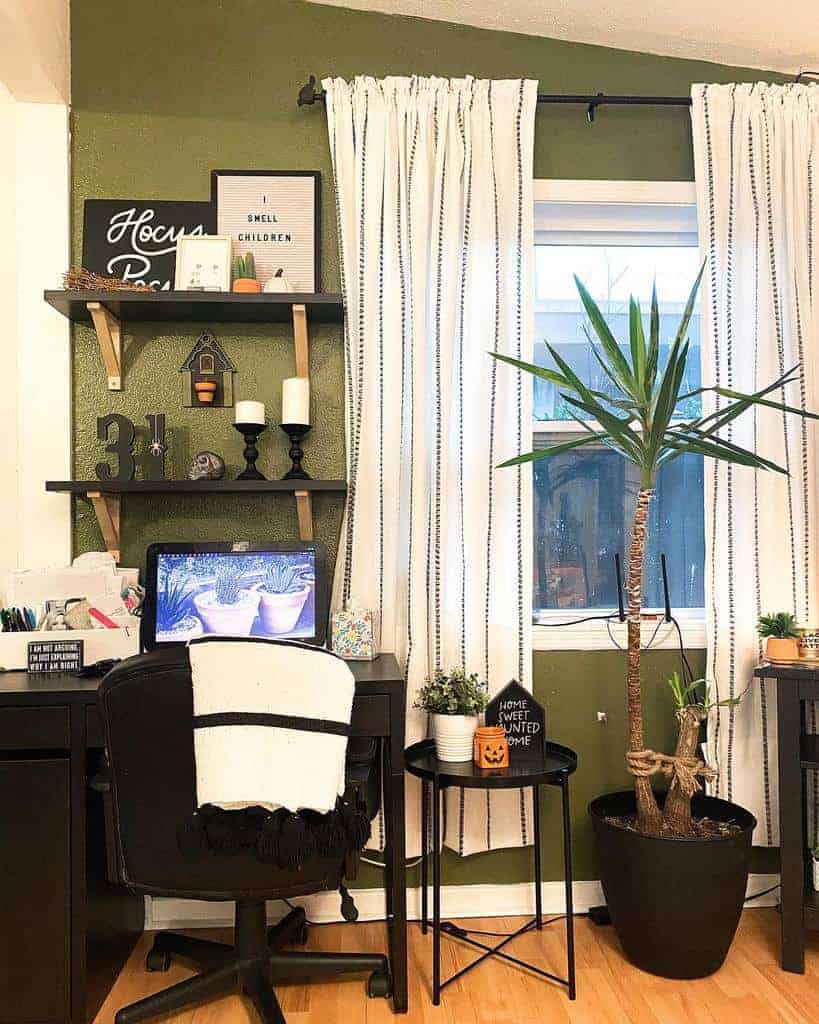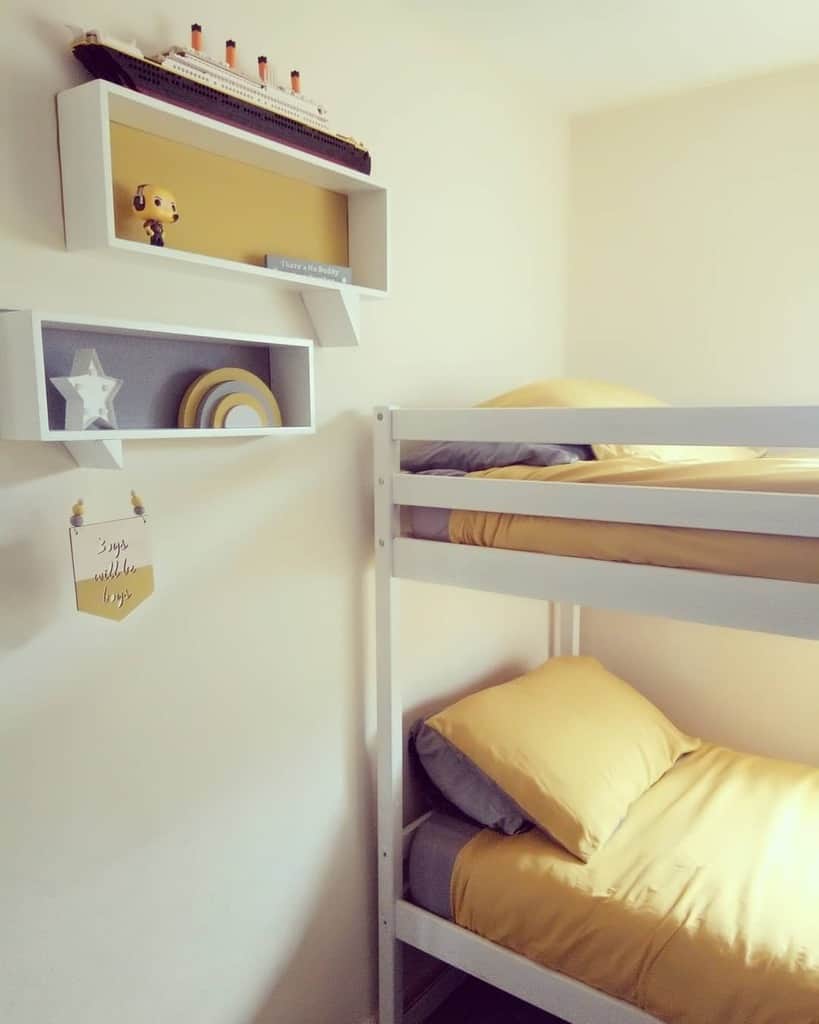 8. Kitchen Pantry Floating Shelves
Arrange your collection of spices in cute labeled jars, showcasing their vibrant colors and enticing aromas. Display your elegant glassware and mugs on the shelves, transforming them into eye-catching décor pieces. The open design of the floating shelves allows for easy accessibility, making it a breeze to grab the ingredients or utensils you need while cooking or preparing your favorite beverages.
Not only do these shelves provide a practical storage solution, but they also serve as a decorative element, adding a sense of elegance and sophistication to your kitchen. With kitchen pantry floating shelves, you can achieve a perfect blend of functionality and style, transforming your pantry into a well-organized and visually pleasing space.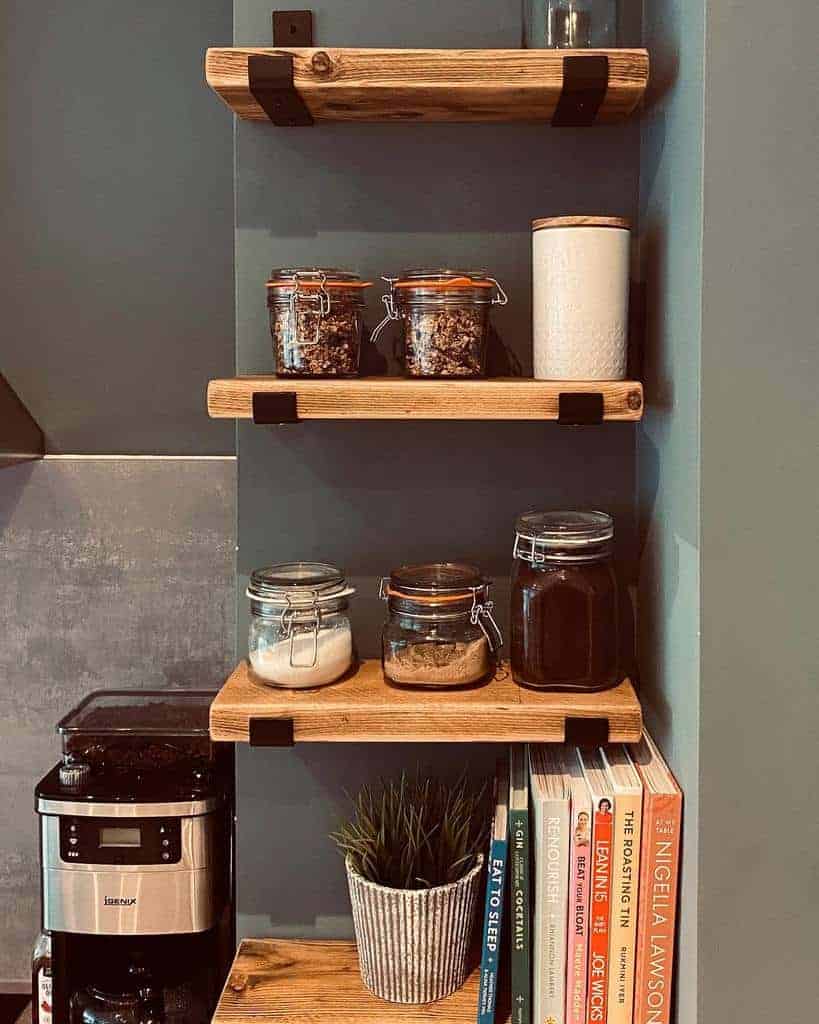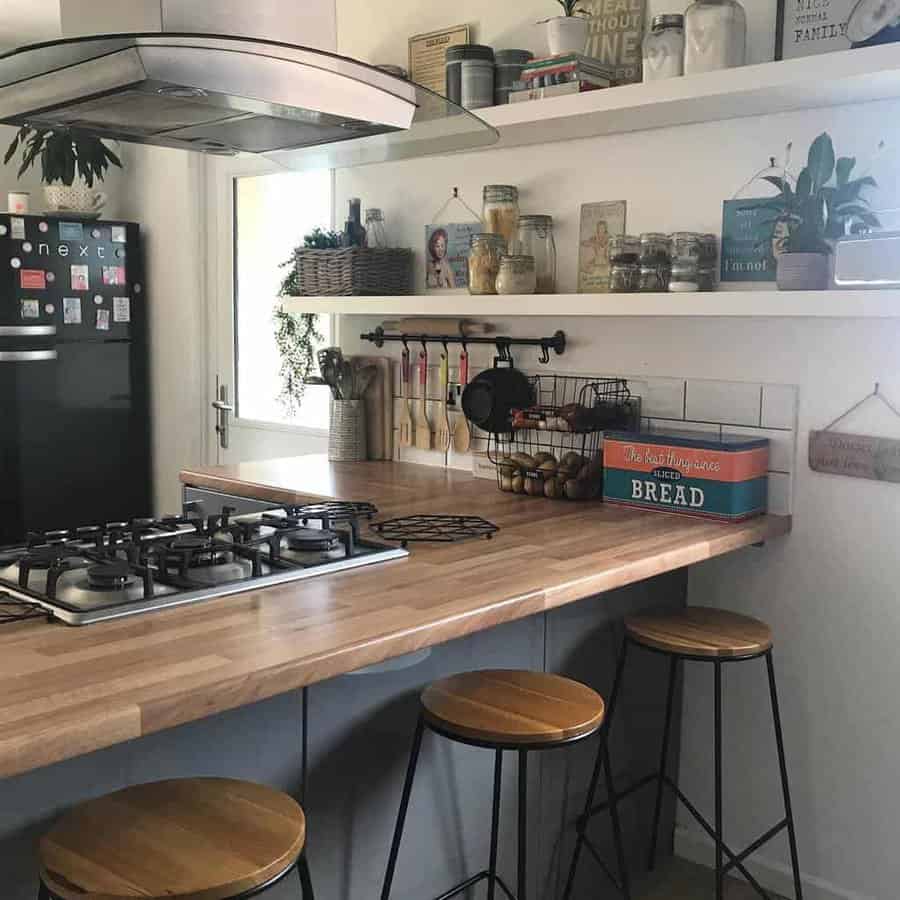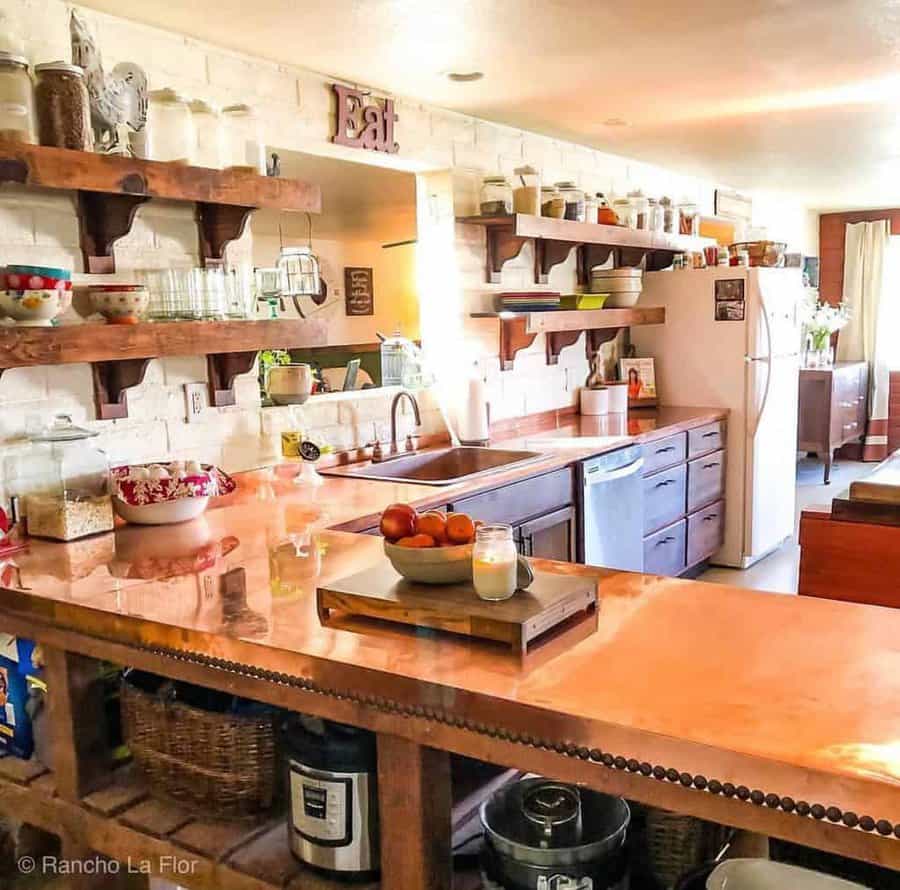 9. Full Wall Floating Shelves
Transform your space with the stylish and practical addition of full-wall floating shelves. These versatile shelves not only provide ample storage but also add a touch of modern sophistication to any room. With full-wall floating shelves, you can maximize your vertical space, turning a plain wall into a large area for your books, decor, and personal treasures.
The beauty of floating shelves lies in their minimalist design, where the shelves appear to be magically suspended on the wall, creating a clean and airy aesthetic. These shelves offer endless possibilities for customization, allowing you to showcase your unique style and personality.
Whether you opt for sleek and streamlined shelves for a contemporary look or rustic wooden shelves for a cozy feel, the choice is yours. Full-wall floating shelves are not only visually appealing but also incredibly functional, providing convenient storage solutions without taking up valuable floor space.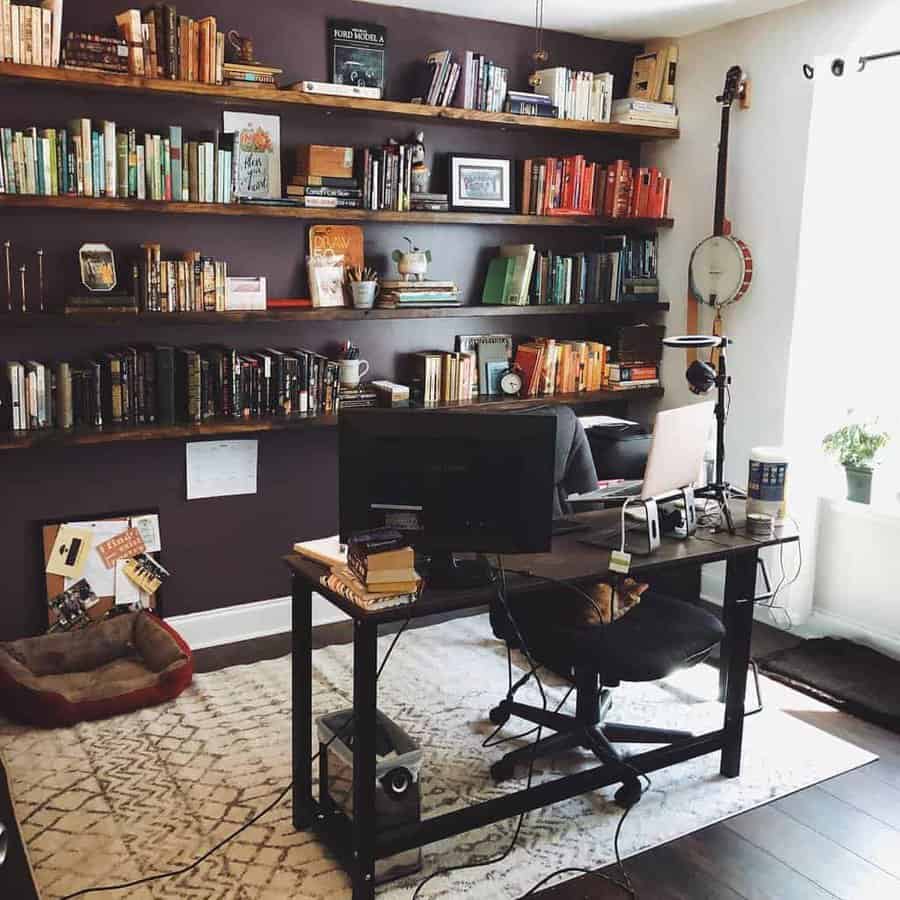 10. Macrame Hanging Shelf
Add a touch of bohemian elegance to your space with the captivating charm of a macrame floating shelf. This unique idea combines functionality with artistic flair, allowing you to display your favorite items in style. The macrame design adds texture and visual interest to any wall, creating a focal point that draws the eye.
Whether you want to showcase plants, books, or decorative accessories, the macrame floating shelf provides a chic and trendy platform for your beloved possessions. The intricate knotwork of the macrame brings a handmade and artisanal touch to your decor, elevating the overall aesthetic of your space.
With its versatile nature, the macrame floating shelf can seamlessly blend into various interior styles, from boho and eclectic to modern and minimalist.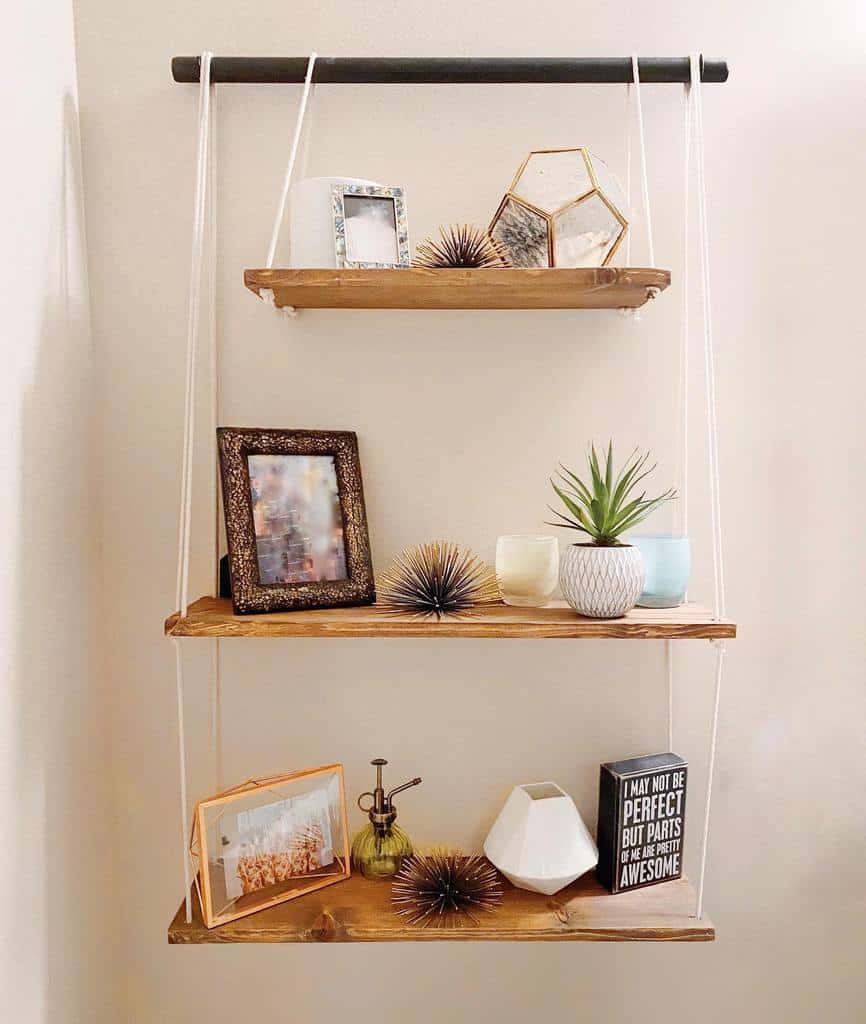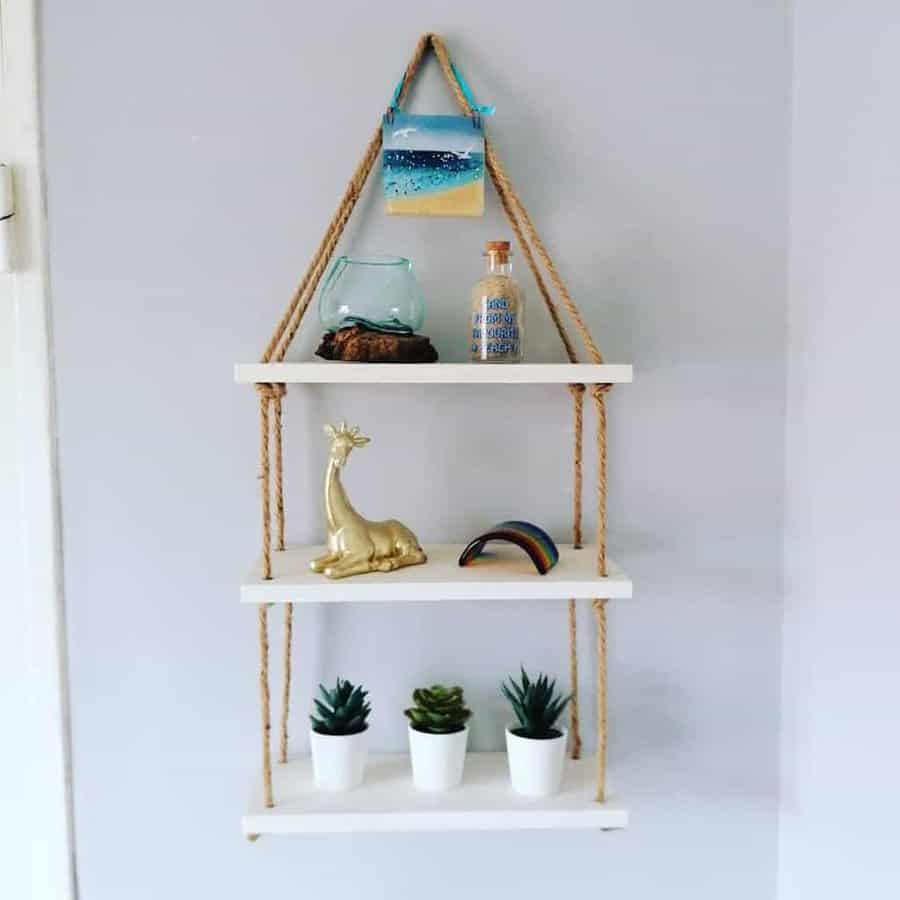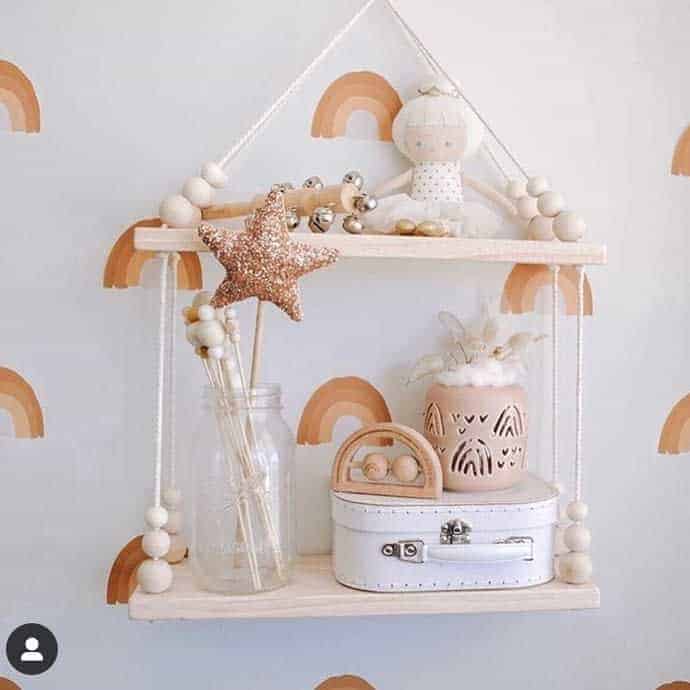 11. Wood Slab Floating Shelves
These unique and stylish shelves are not only functional but also add a touch of natural beauty to any space. Crafted from reclaimed or live-edge wood, each shelf has its own distinct character and showcases the raw beauty of the natural material.
The DIY aspect of these shelves allows you to customize their size, shape, and finish, making them a perfect fit for your specific needs and style. Whether you choose to display books, plants, or decorative items, these wood slab floating shelves create a visually appealing focal point that effortlessly blends rustic charm with modern functionality.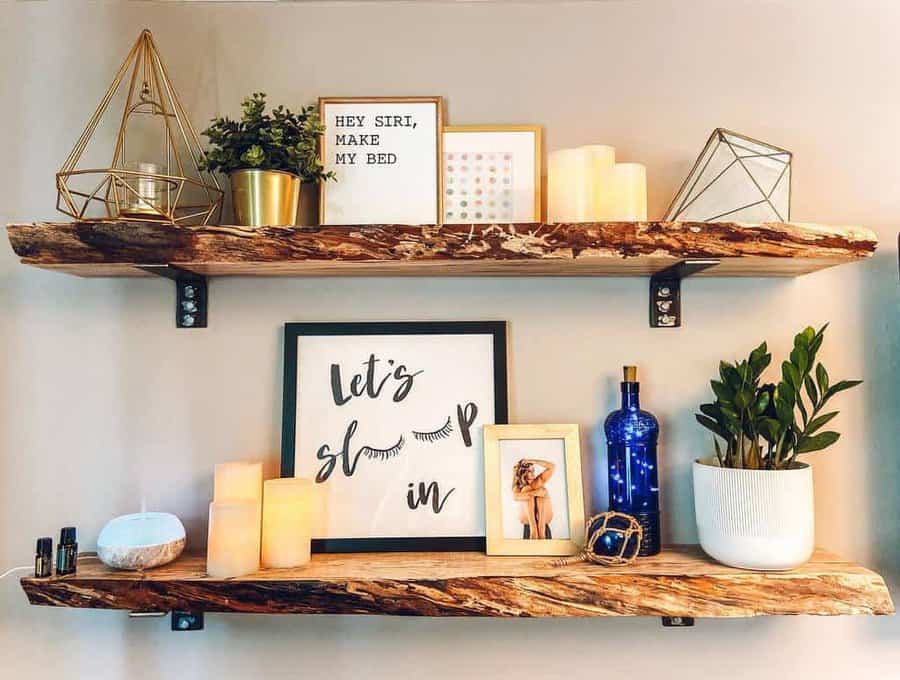 12. Bathroom Vanity Floating Shelf
A bathroom vanity floating shelf is a brilliant solution that combines both form and function. Not only does it create a sleek and modern aesthetic, but it also provides easy access to your daily skincare routine. No more rummaging through cluttered drawers or searching for misplaced items!
With the floating shelf, your skincare products are beautifully displayed and conveniently within reach. This clever design maximizes vertical space, making the most of your bathroom layout, even in tight quarters. It's the perfect spot to showcase your favorite lotions, serums, and face masks, adding a touch of luxury to your daily routine.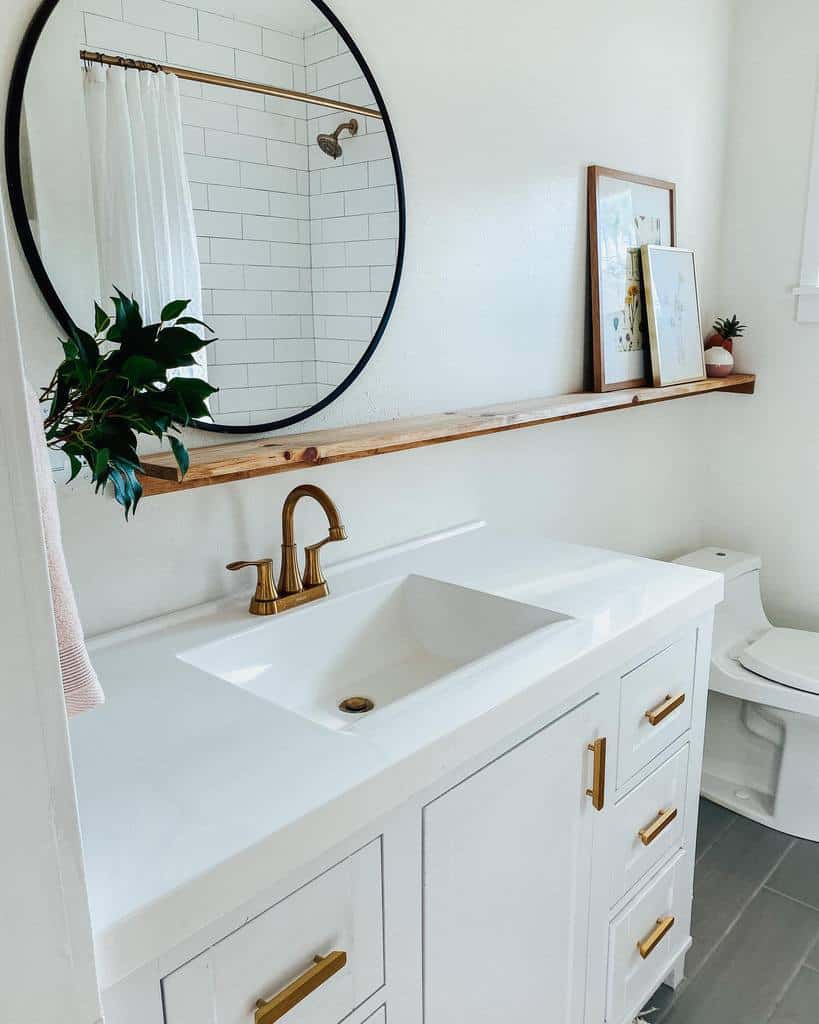 13. Industrial Floating Shelves
These shelves are a perfect blend of functionality and style, adding a touch of modernity to any room. The key to their distinctive look lies in the metal tube hardware, which provides sturdy support while creating an industrial aesthetic. Whether you want to showcase your favorite decor pieces, store books and magazines, or display your collection of plants, these shelves offer a practical solution.
Install them in your living room to create an eye-catching display for your cherished items, or in your kitchen to keep your cookbooks and spices within easy reach. The beauty of industrial floating shelves is their ability to adapt to various spaces and interior design styles. Pair them with exposed brick walls and concrete flooring for an urban loft vibe, or combine them with warm wood accents and neutral colors for a more rustic look.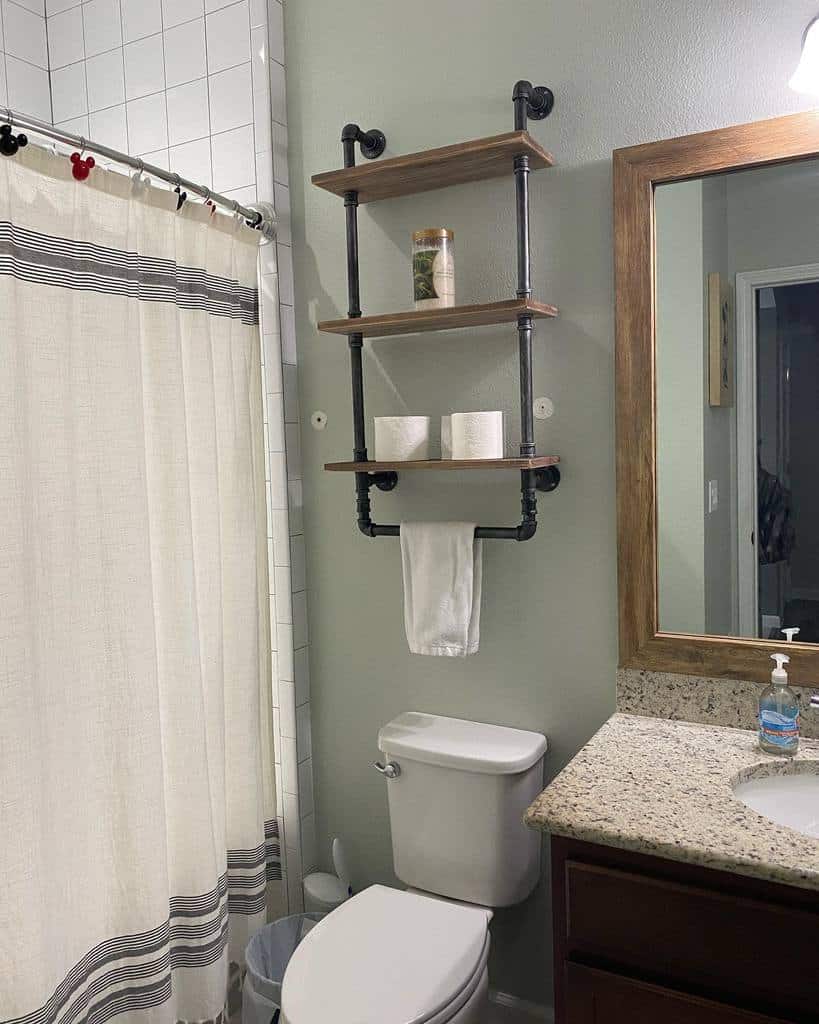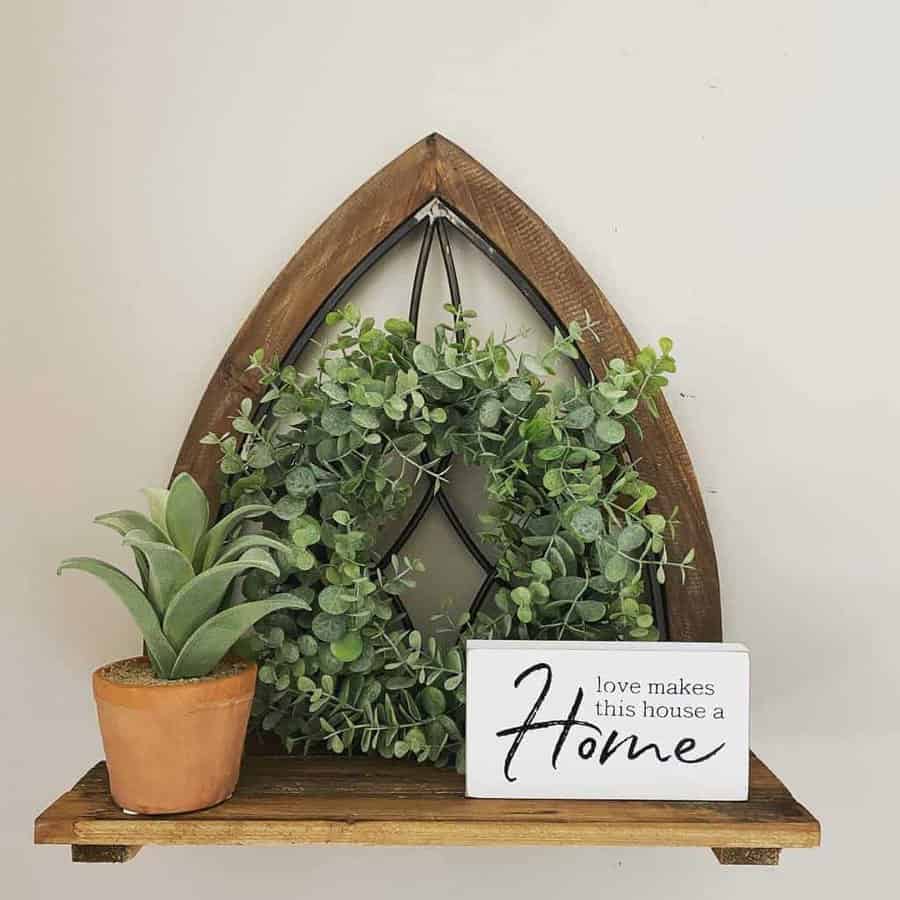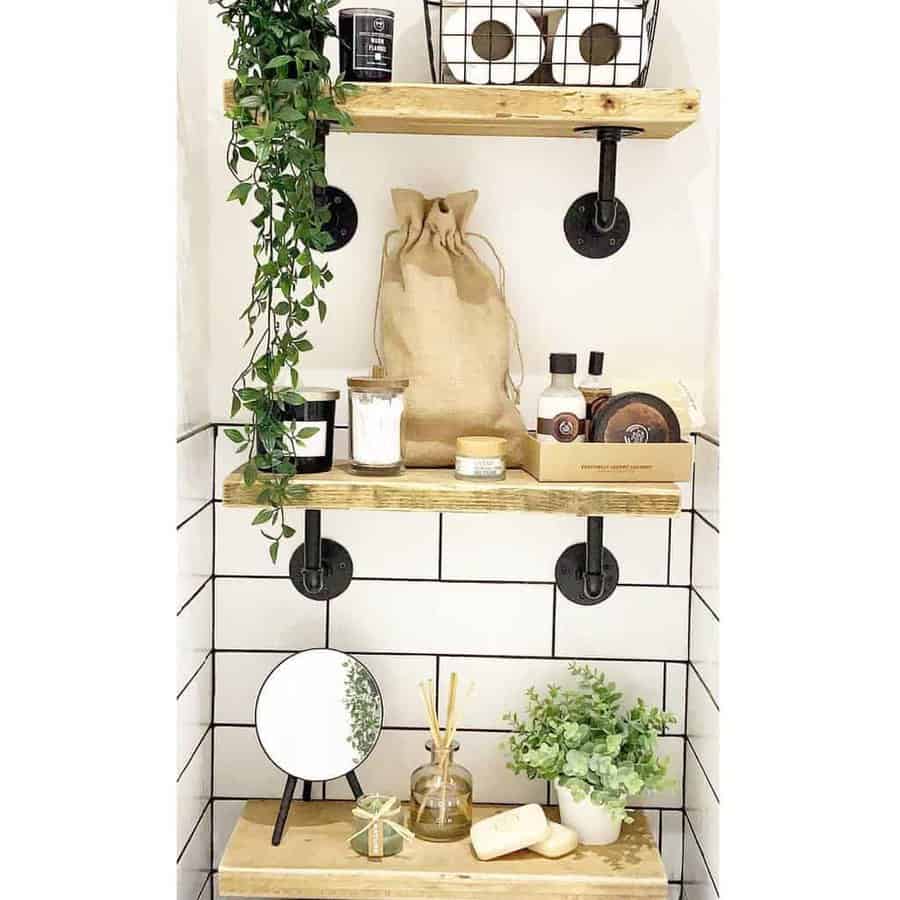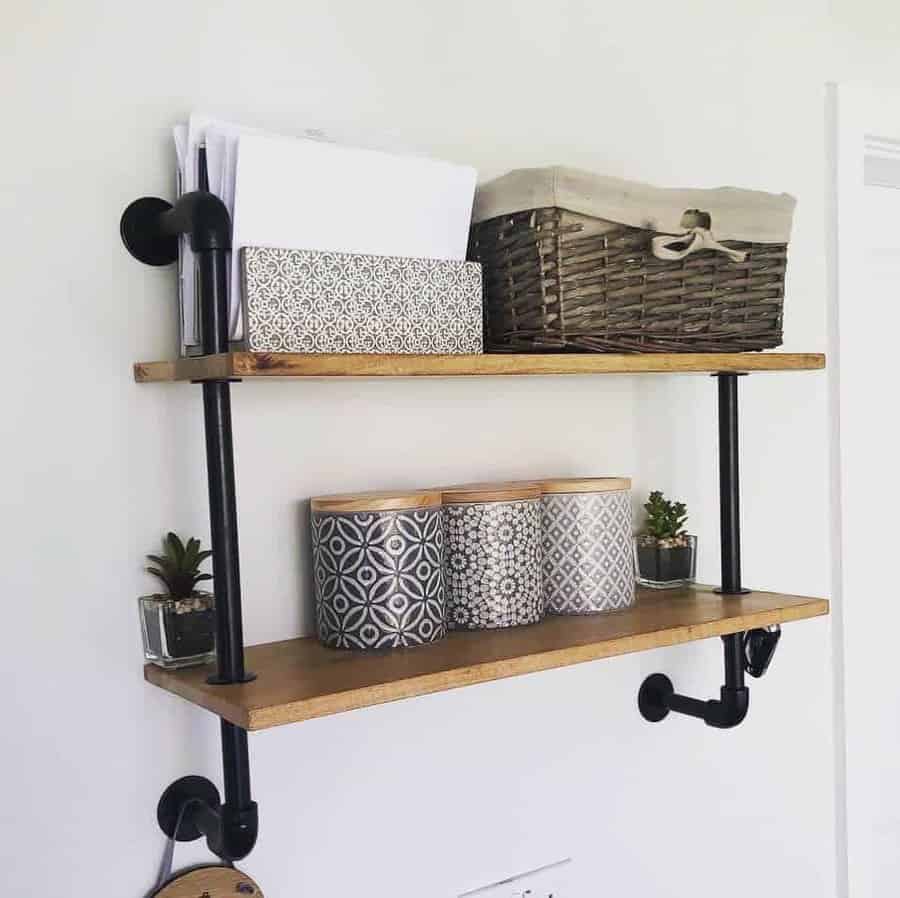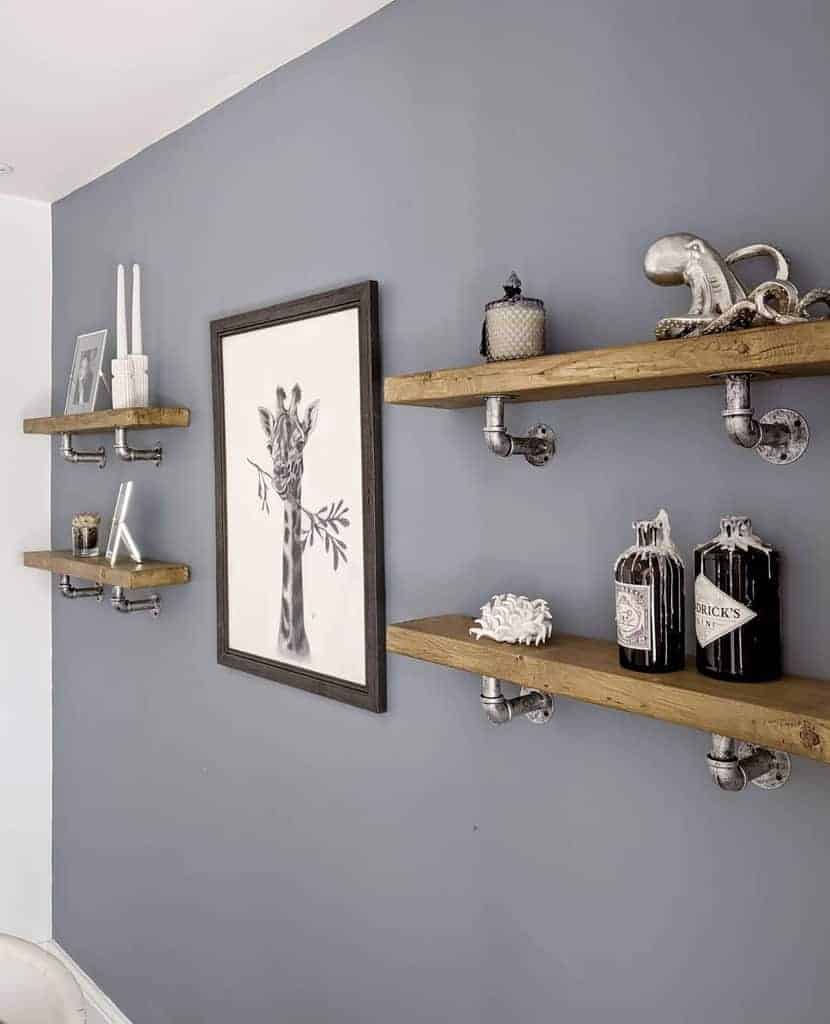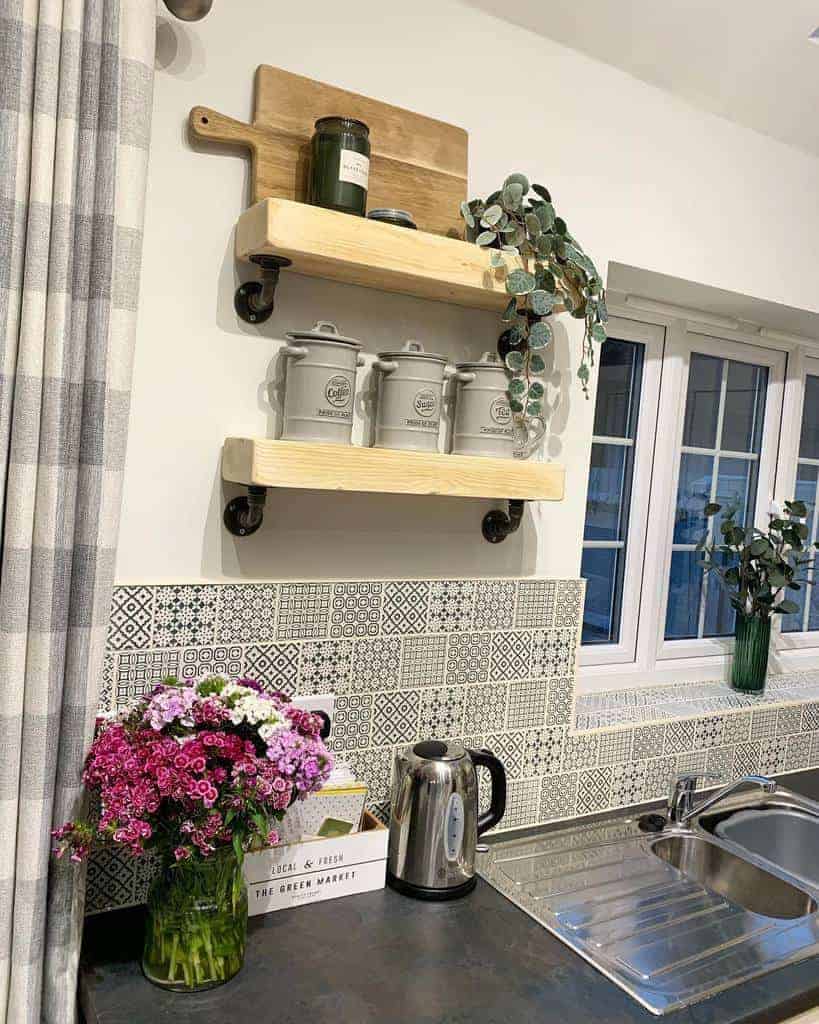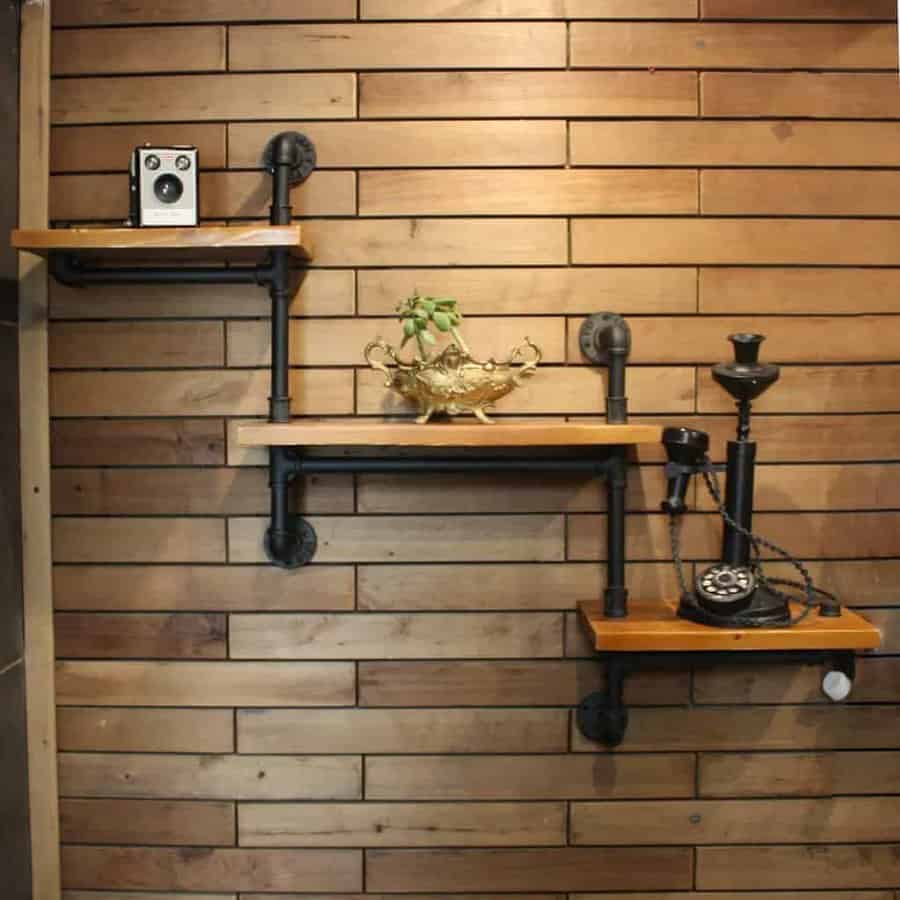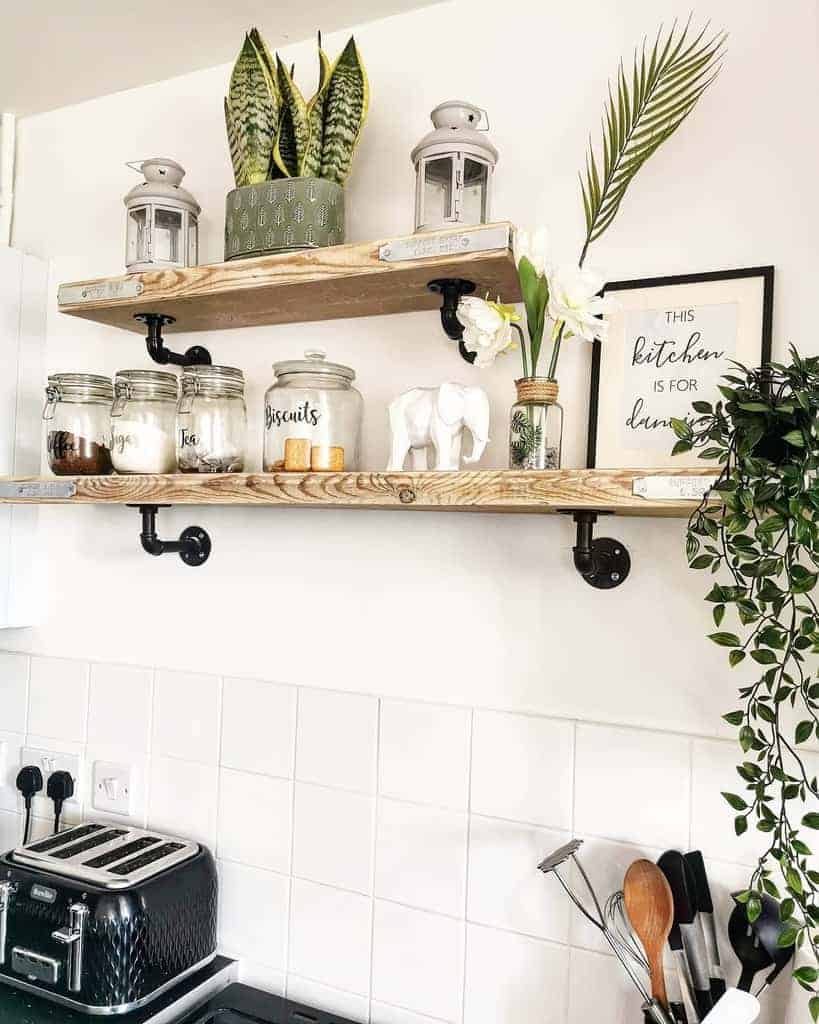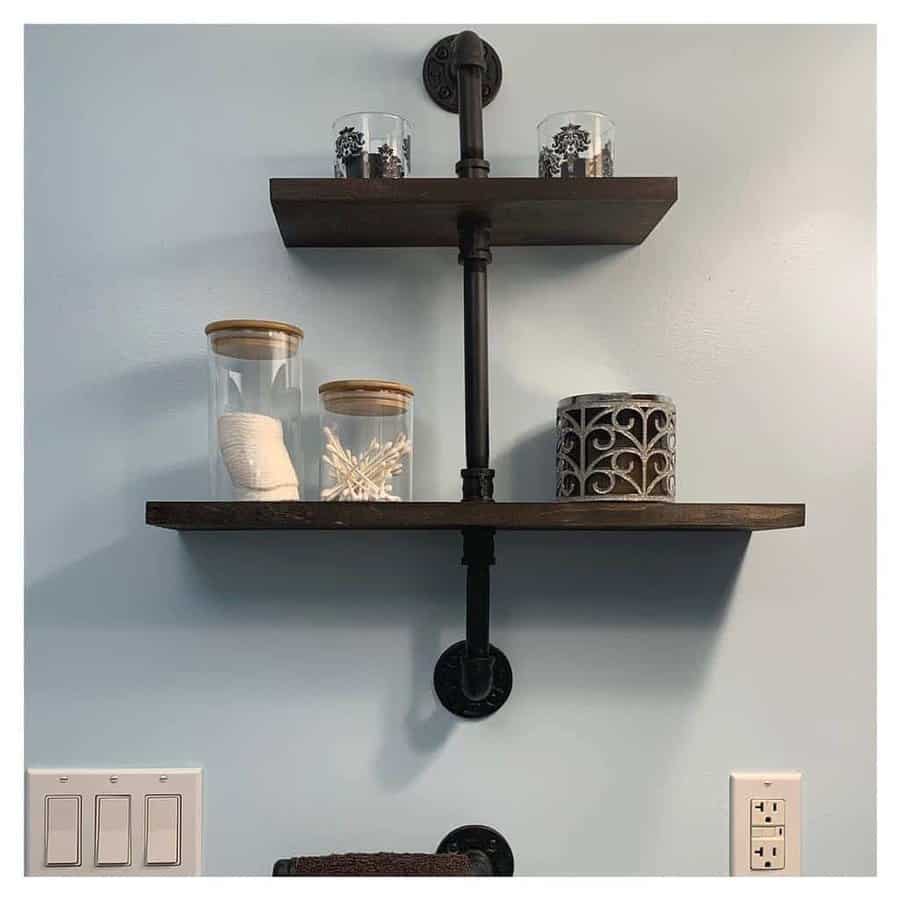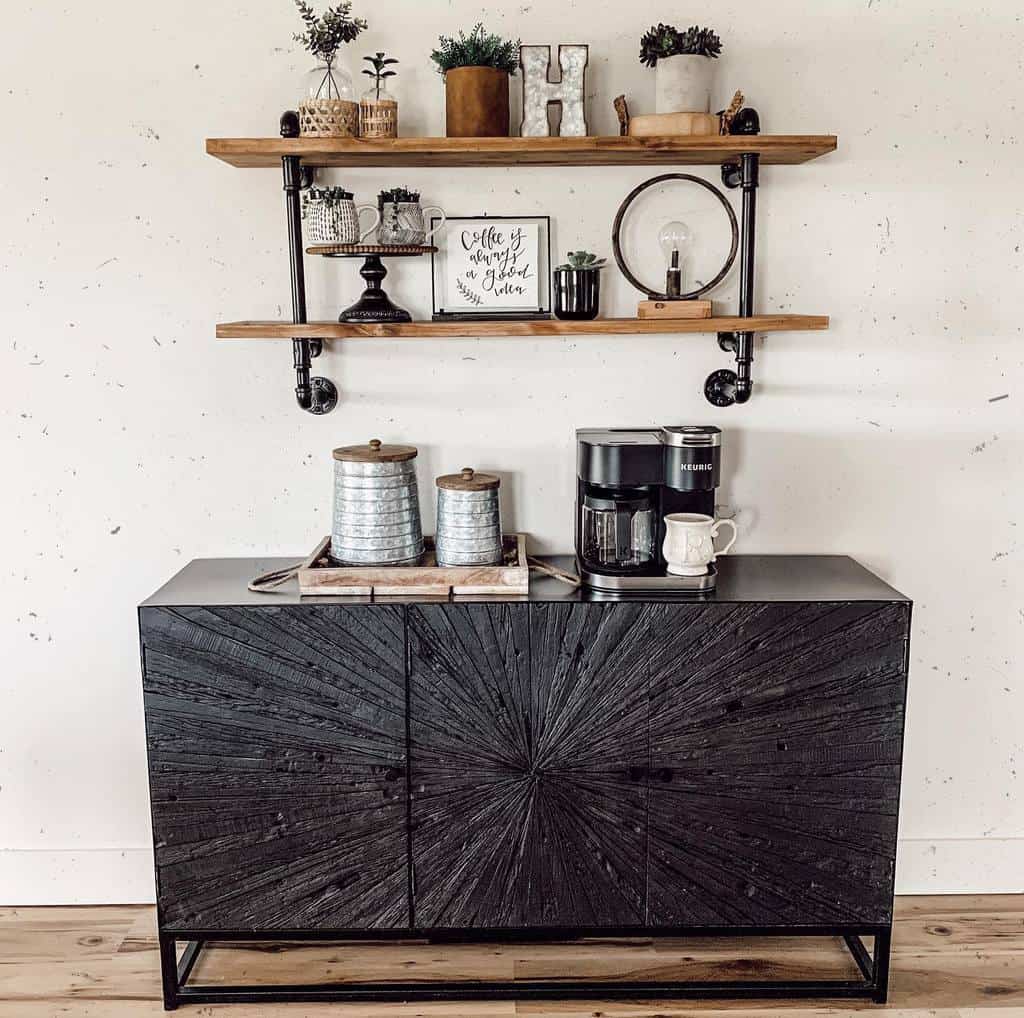 14. Metal Floating Shelf
Elevate your interior design game with the sleek and contemporary appeal of metal floating shelves. These innovative shelves not only provide functional storage solutions but also add a touch of modern elegance to any space. The use of metal tube hardware gives these shelves a unique and industrial vibe, making them a perfect choice for those seeking a trendy and edgy look.
With their pre-fabricated design, installation is a breeze, allowing you to effortlessly create a stylish display in no time. Metal floating shelves are versatile and can be incorporated into various rooms, from the kitchen for showcasing your favorite cookbooks and kitchenware, to the living room for displaying cherished photos and decorative items.
Their minimalist design allows them to seamlessly blend into any aesthetic, whether it's a contemporary, industrial, or even a rustic setting.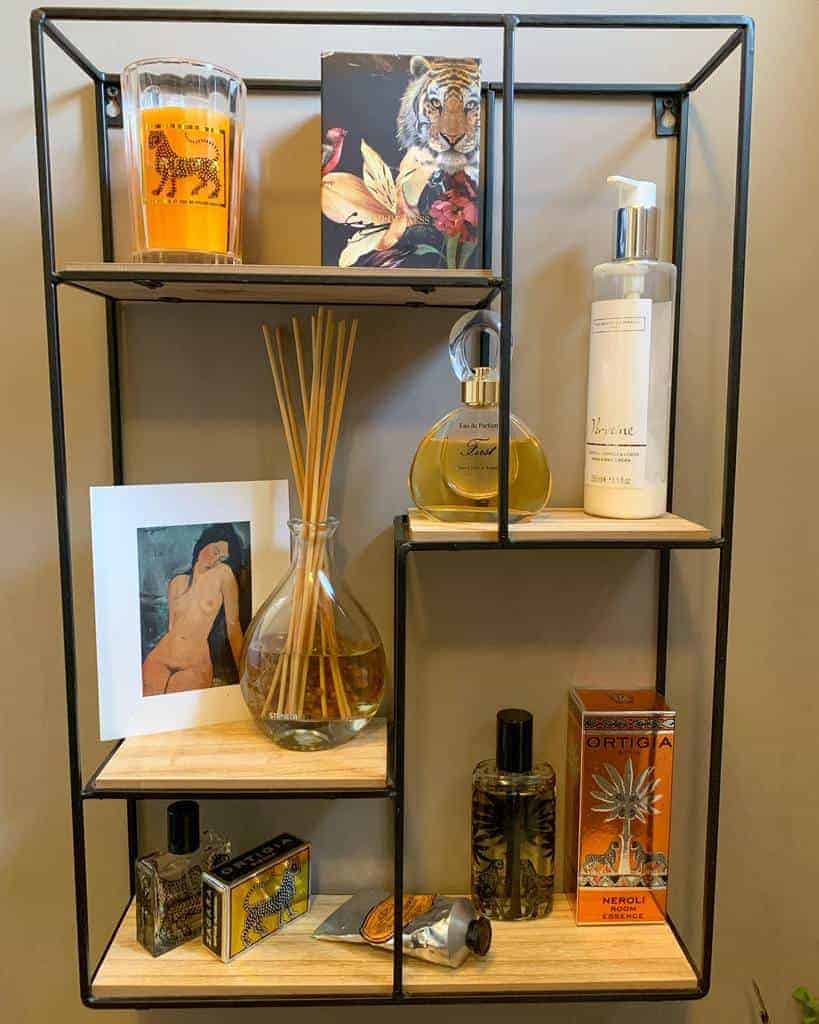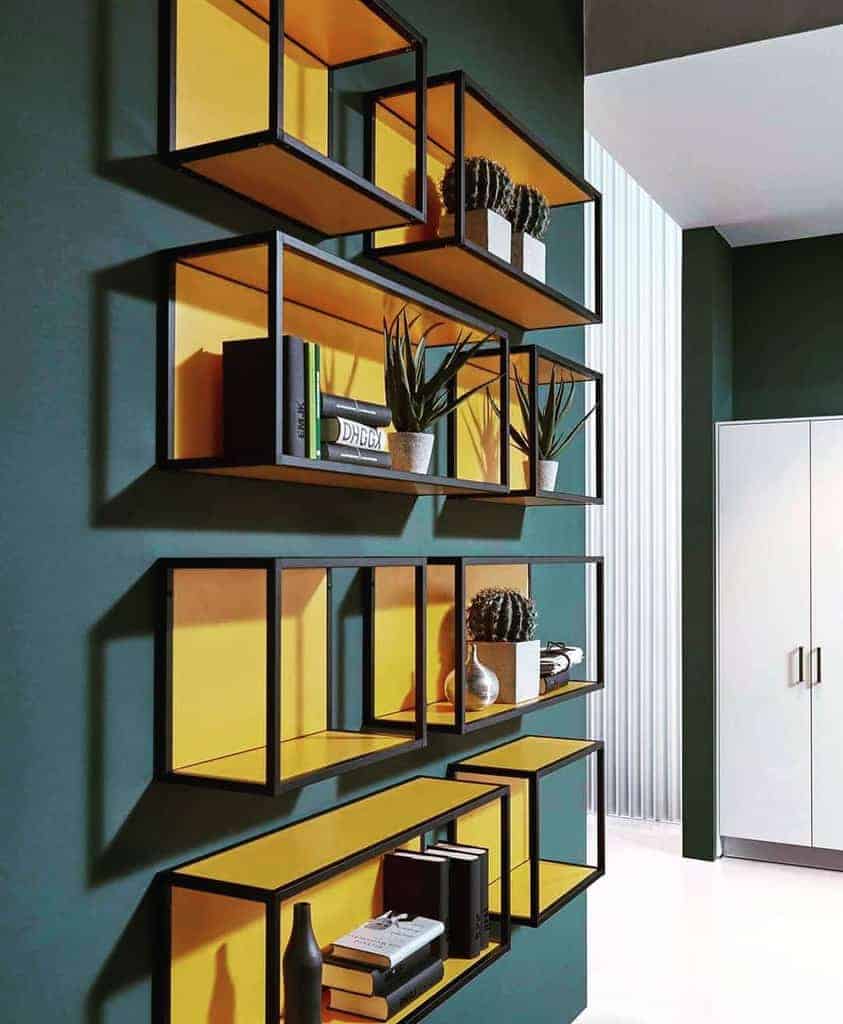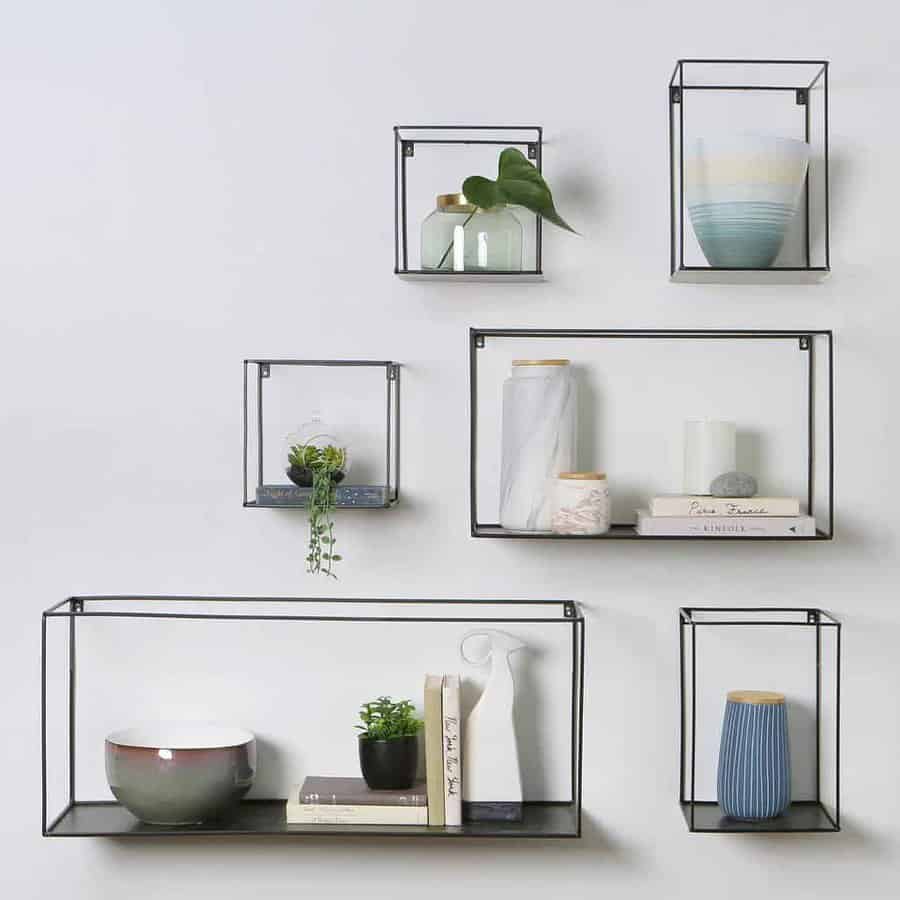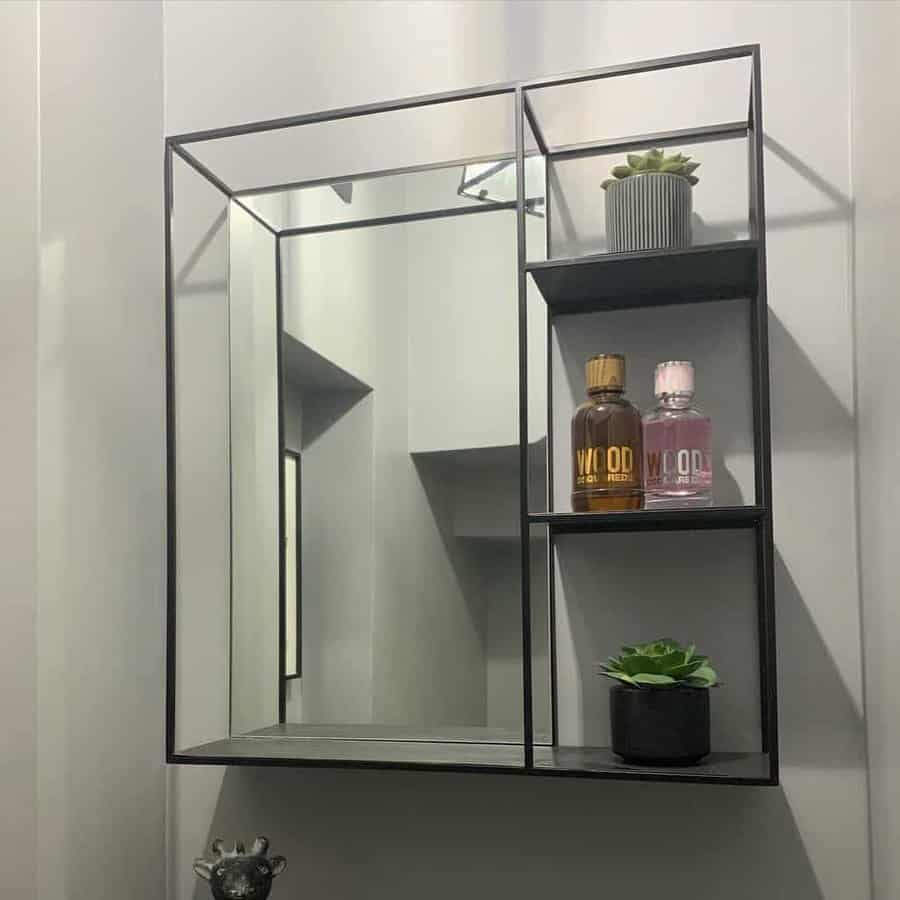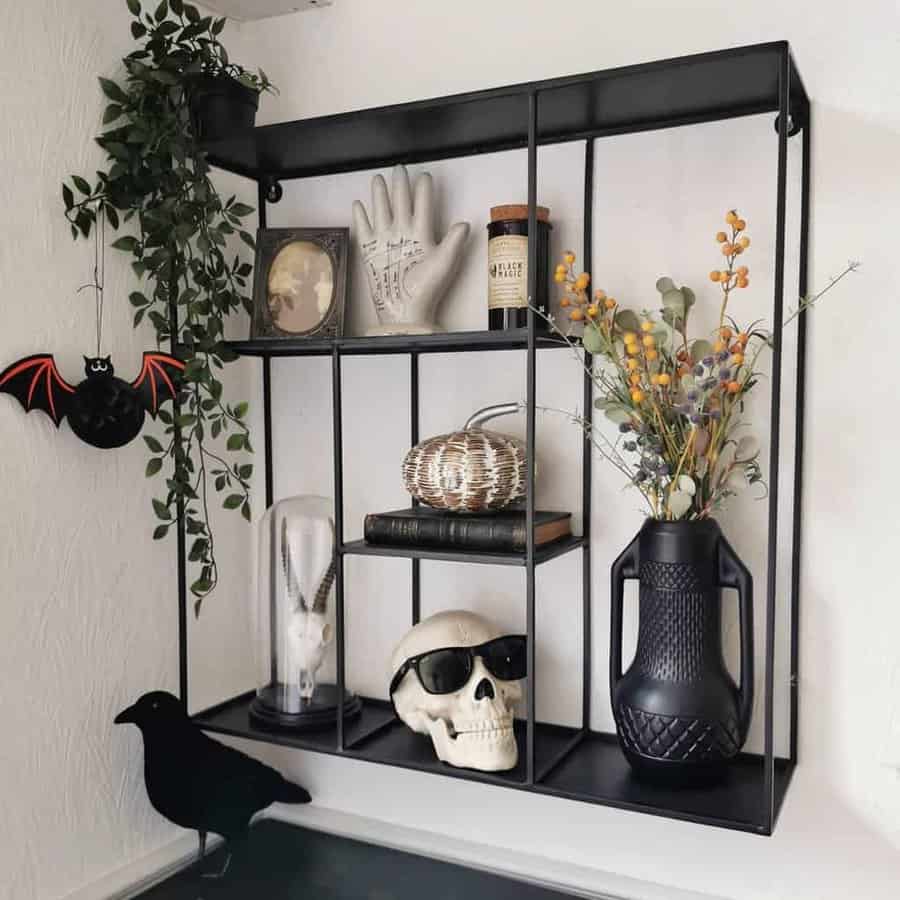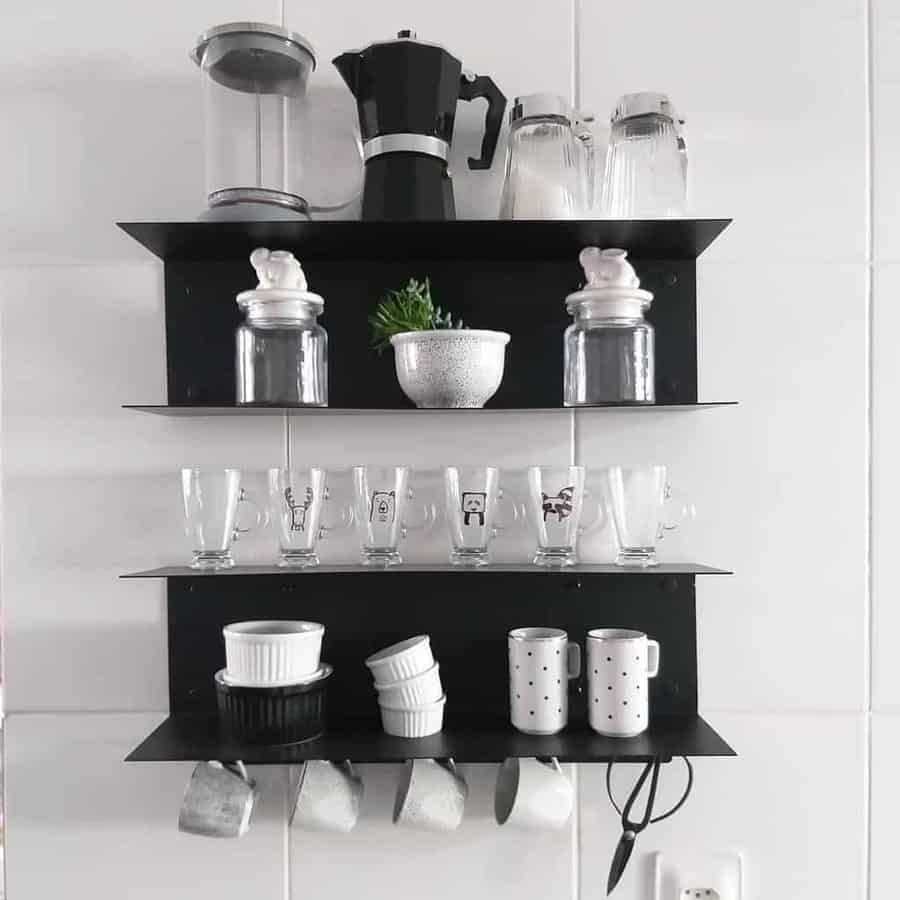 15. Recessed Floating Shelves
By seamlessly integrating the shelves into a recessed area, you achieve a clean and streamlined look that adds depth and dimension to any room. The recessed floating shelves provide a perfect platform to showcase your favorite books, art pieces, or decorative accessories, infusing your space with personality and style.
Whether used in a living room, bedroom, or even a home office, these shelves offer both storage and display options, allowing you to curate a visually appealing arrangement that reflects your unique taste. With recessed floating shelves, you can transform an ordinary wall into a functional and captivating bookcase or gallery-like display.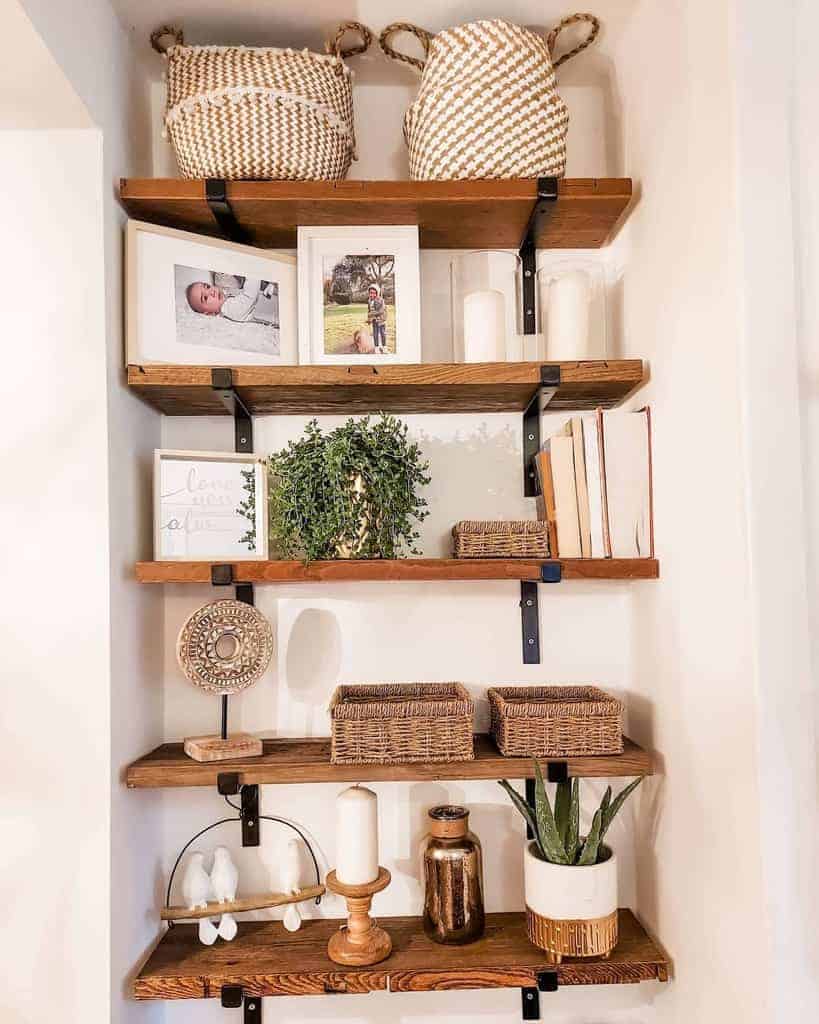 16. Ceiling-Mounted Floating Shelves
Take your kitchen design to new heights with the innovative idea of ceiling-mounted shelves. These floating shelves not only add a touch of modern elegance but also provide a practical storage solution for your dinnerware and glassware. Suspended above the kitchen island, these sleek shelves create a visually striking display while keeping your essentials within easy reach.
Imagine the convenience of having your plates, bowls, and glasses stylishly showcased, showcasing your collection and making them readily available for both everyday use and entertaining guests. The ceiling-mounted shelves not only free up valuable counter space but also add a unique architectural element to your kitchen. They create a sense of openness and airiness, giving the room a spacious and contemporary feel.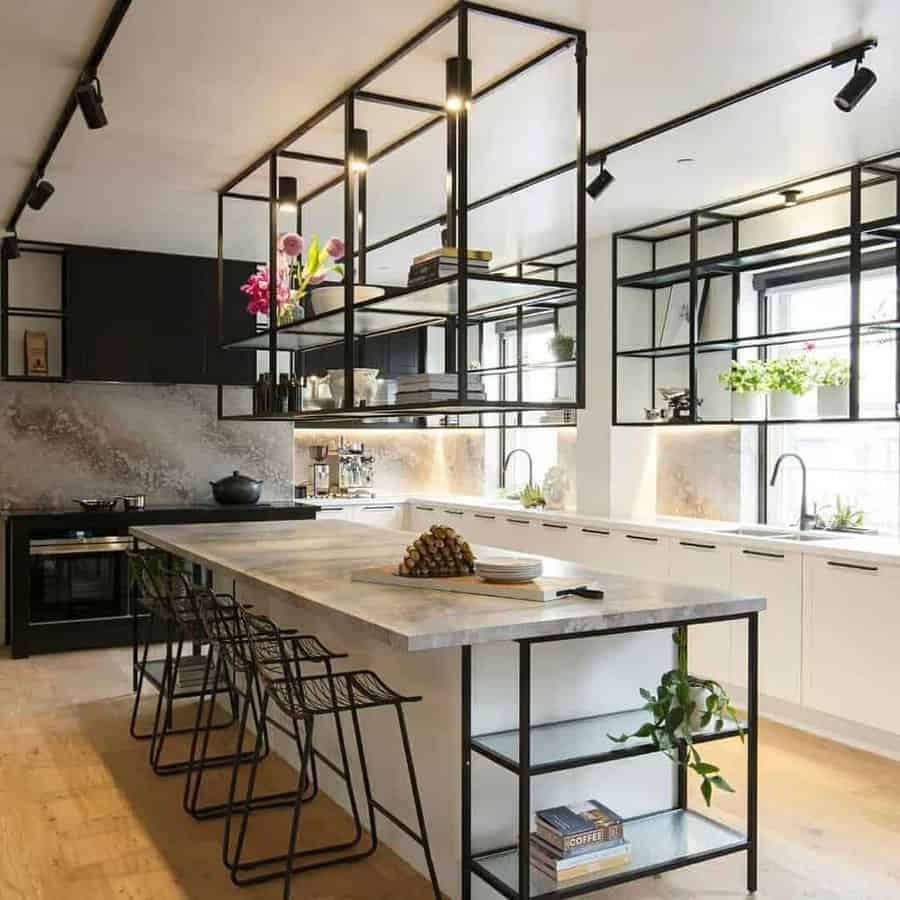 17. Coffee Floating Nook
Install floating coffee bar shelves to showcase your collection of coffee, tea, and sugar containers, allowing easy access to all your favorite supplies. Arrange your coffee mugs, espresso machine, and other brewing essentials on the shelves, creating an organized and visually appealing display.
With a floating coffee nook, you can easily indulge in your morning rituals or enjoy a cozy coffee break throughout the day. Whether you're a coffee connoisseur or a tea enthusiast, these floating shelves add functionality and charm to your space, elevating your overall coffee experience.
So go ahead, create your own coffee haven, and savor the aroma and taste of your favorite brews with style and convenience.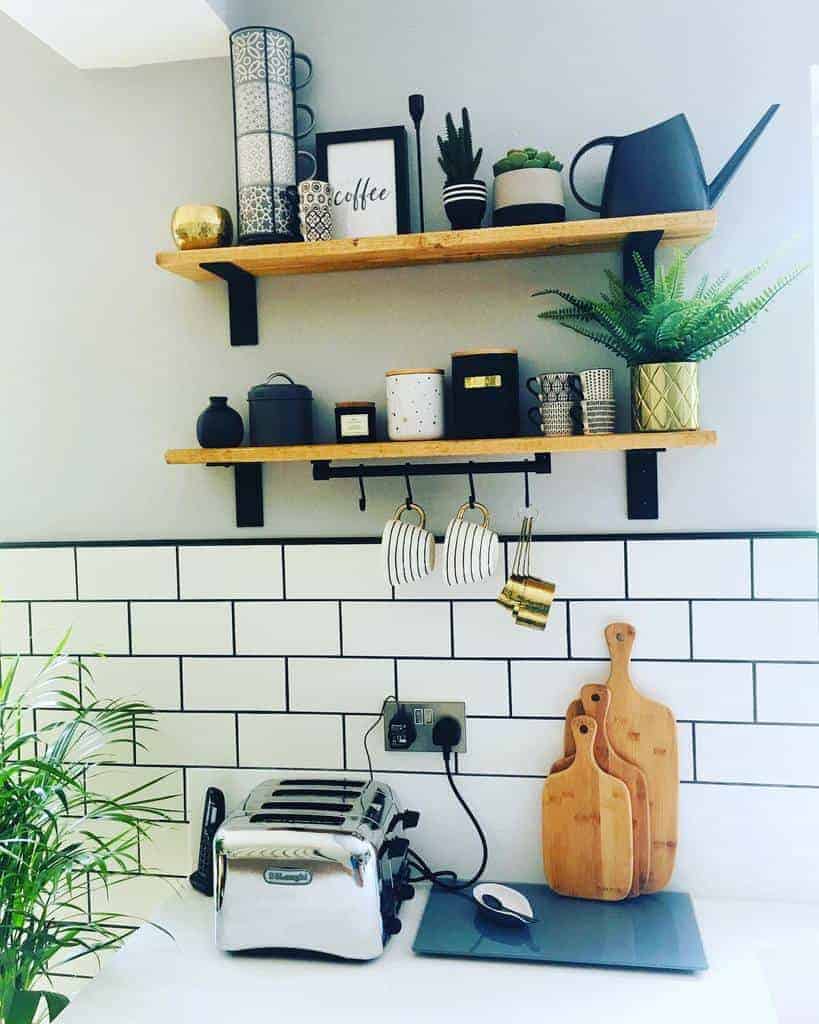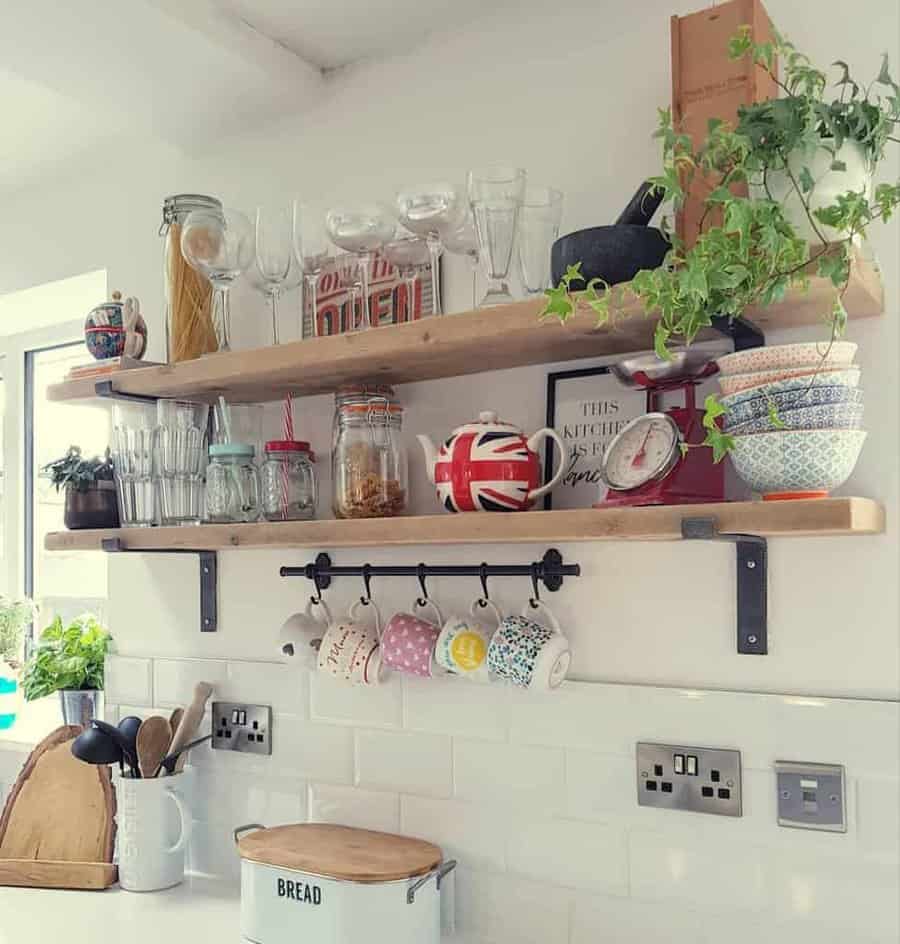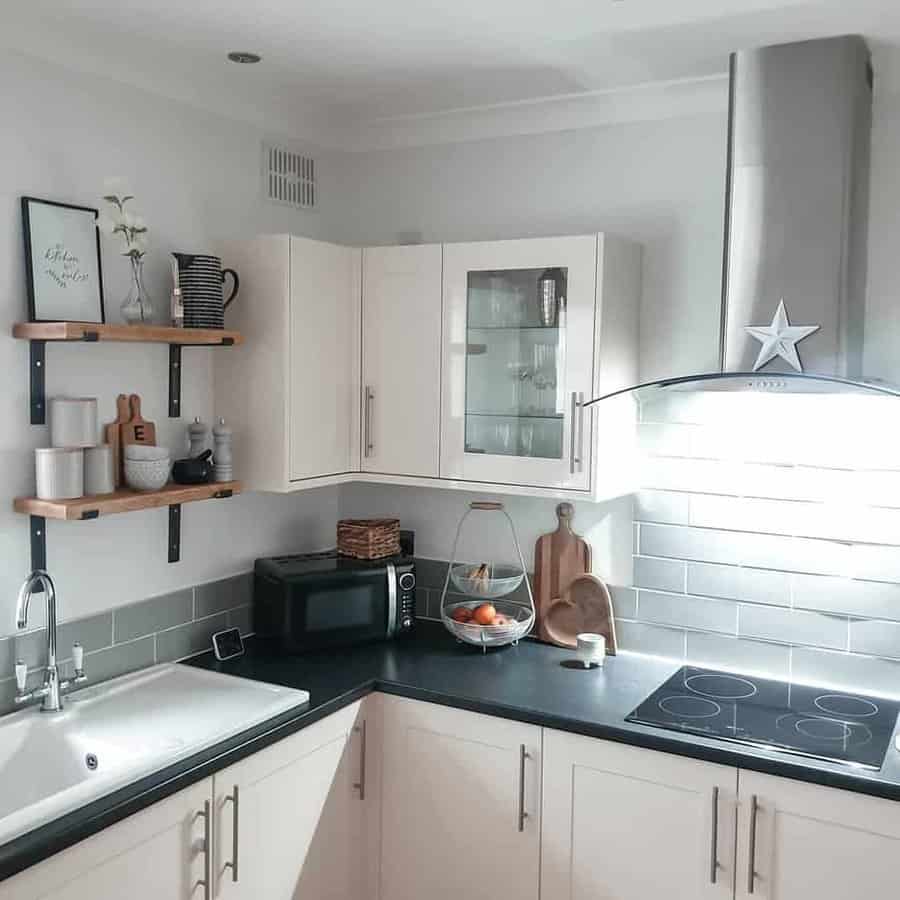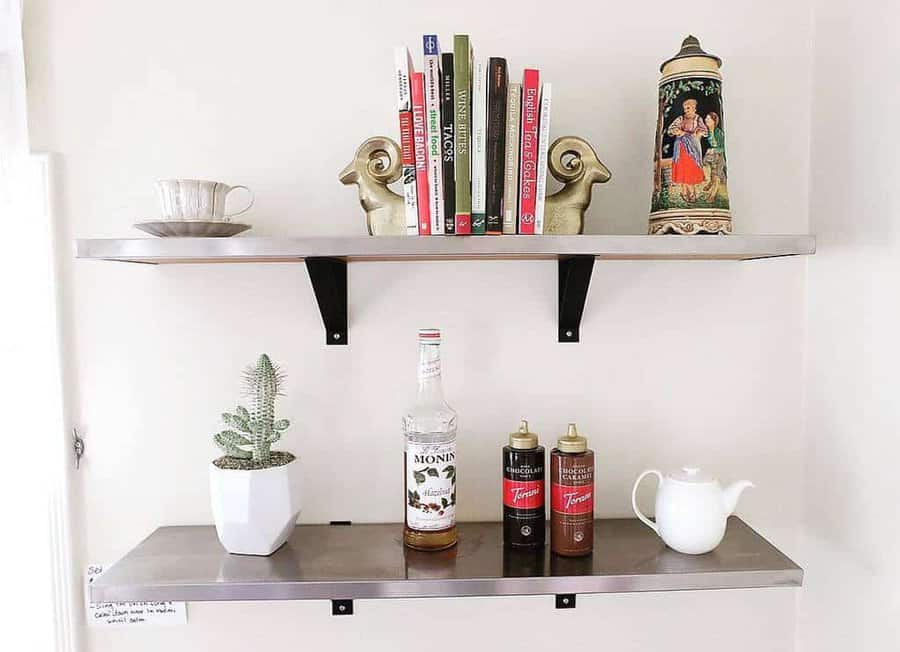 18. TV Floating Shelves
TV wall shelves provide the perfect platform to showcase your favorite decor items, such as framed pictures, unique sculptures, or cherished mementos. They also offer a convenient spot to organize CDs, DVDs, or even game consoles, keeping your entertainment area tidy and clutter-free. The beauty of floating shelves lies in their minimalist design, which creates a clean and sleek aesthetic, instantly elevating the overall look of your room.
By incorporating a floating TV wall into your space, you not only optimize storage and organization but also add a contemporary and chic touch to your interior design. Whether you're looking to display your cherished belongings or streamline your entertainment setup, floating shelves are the perfect solution to achieve both functionality and style in one elegant package.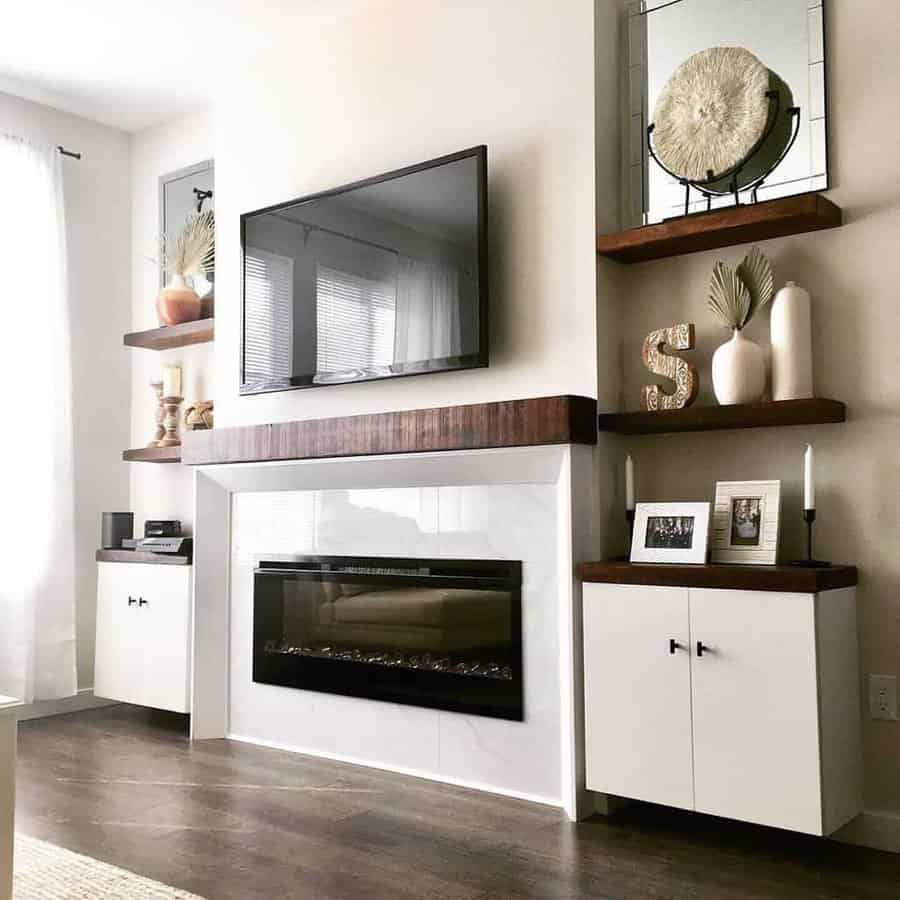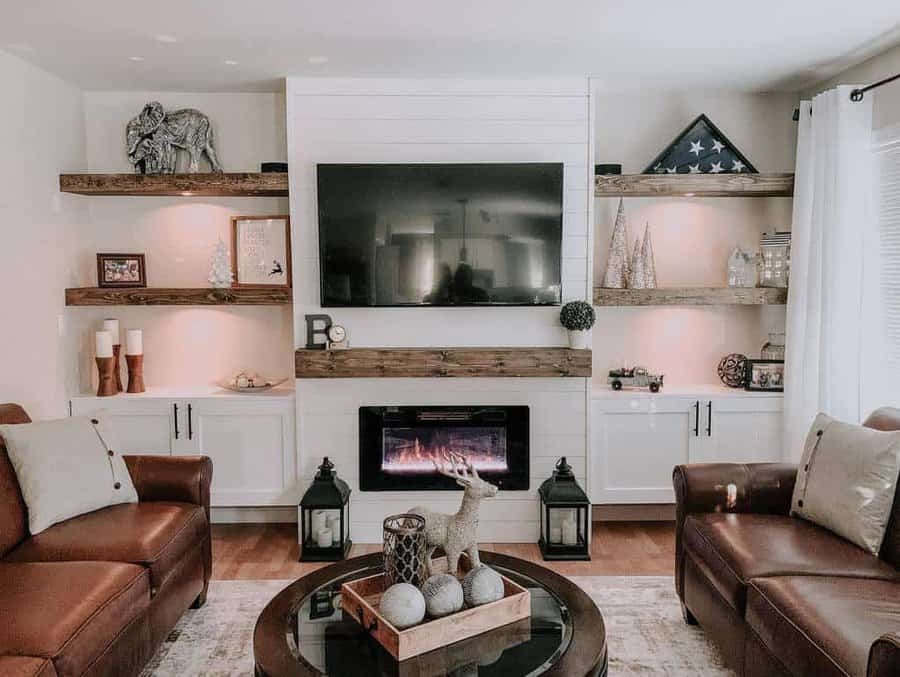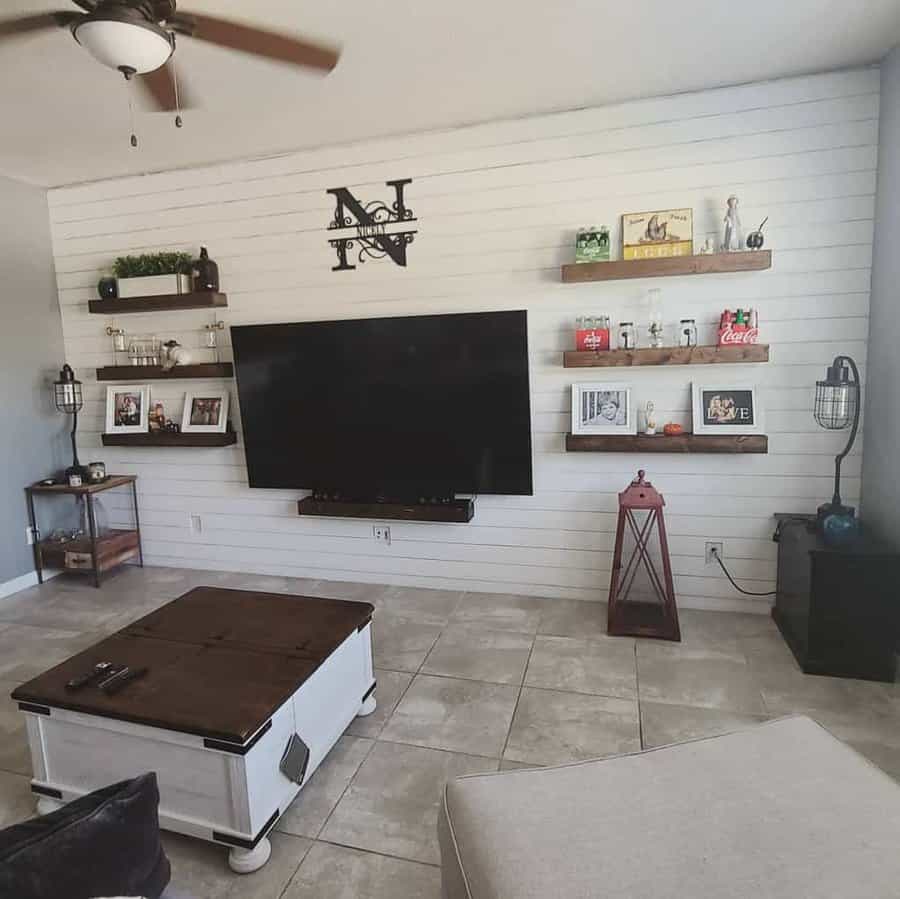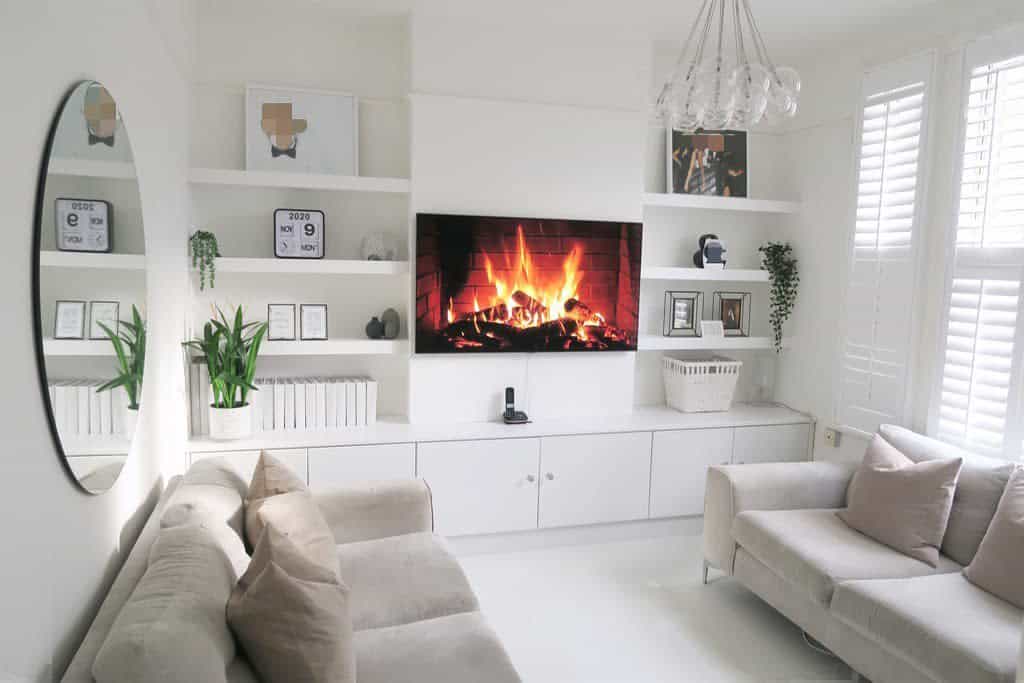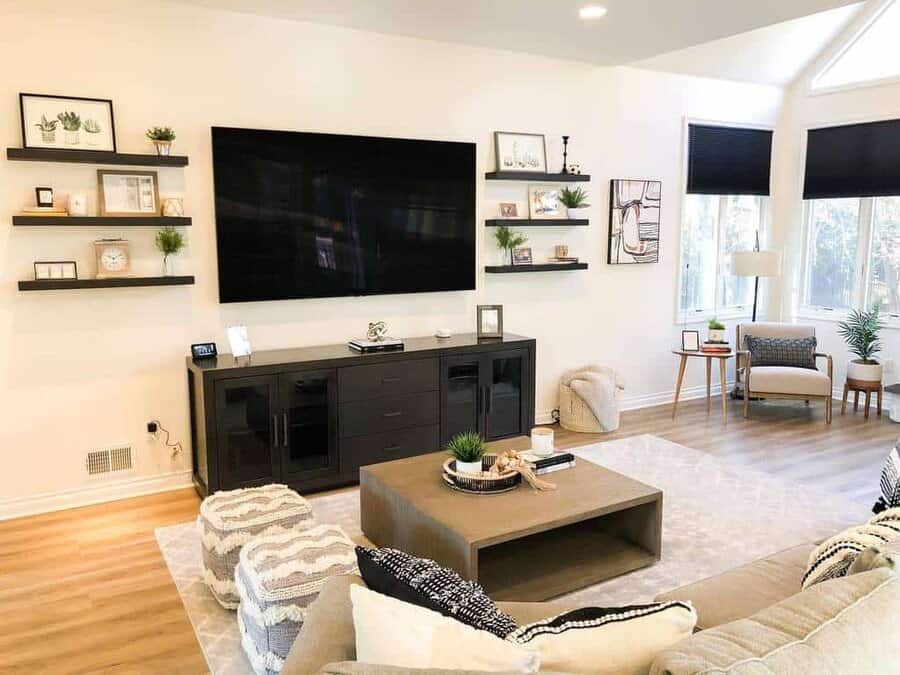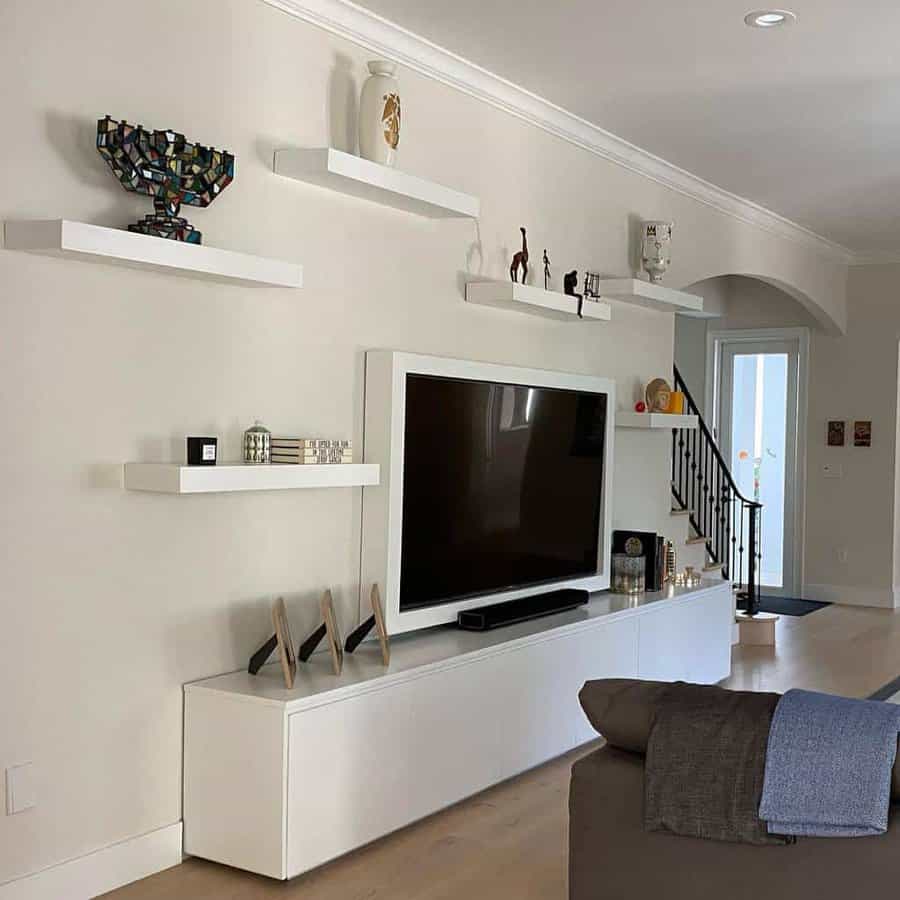 19. Floating Shelves With Seasonal Decor
Picture a sleek and minimalist floating shelf, its clean lines and understated elegance serving as a backdrop for the festive spirit. During Christmas, adorn the shelves with twinkling lights, shimmering ornaments, and lush greenery, instantly transforming your space into a winter wonderland.
Embrace the spooky charm of Halloween by arranging eerie decor, miniature pumpkins, and haunting trinkets on the shelves. The beauty of floating shelves lies in their ability to seamlessly blend with any style or theme, acting as a canvas for your seasonal expression. Whether it's colorful Easter eggs, vibrant autumn leaves, or joyful spring flowers, these shelves provide a captivating stage for your ever-changing seasonal decor.
By incorporating floating shelves with seasonal elements, you infuse your space with an extra dose of charm and whimsy, ensuring that your home reflects the magic of each passing season.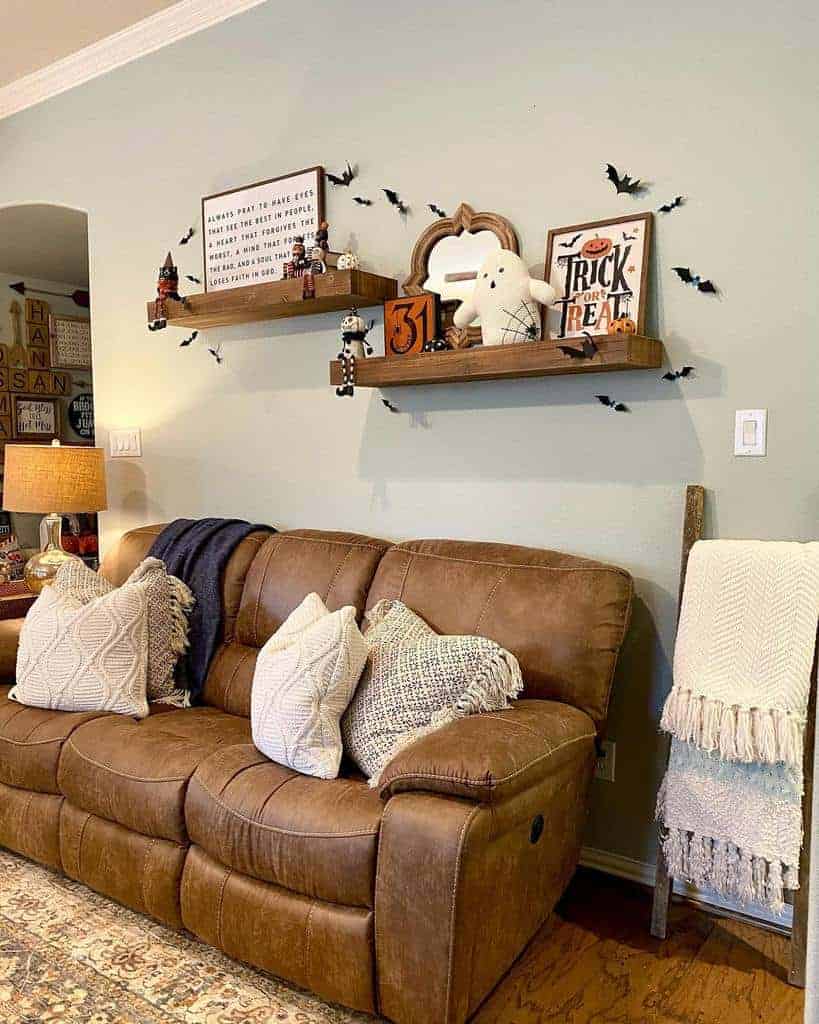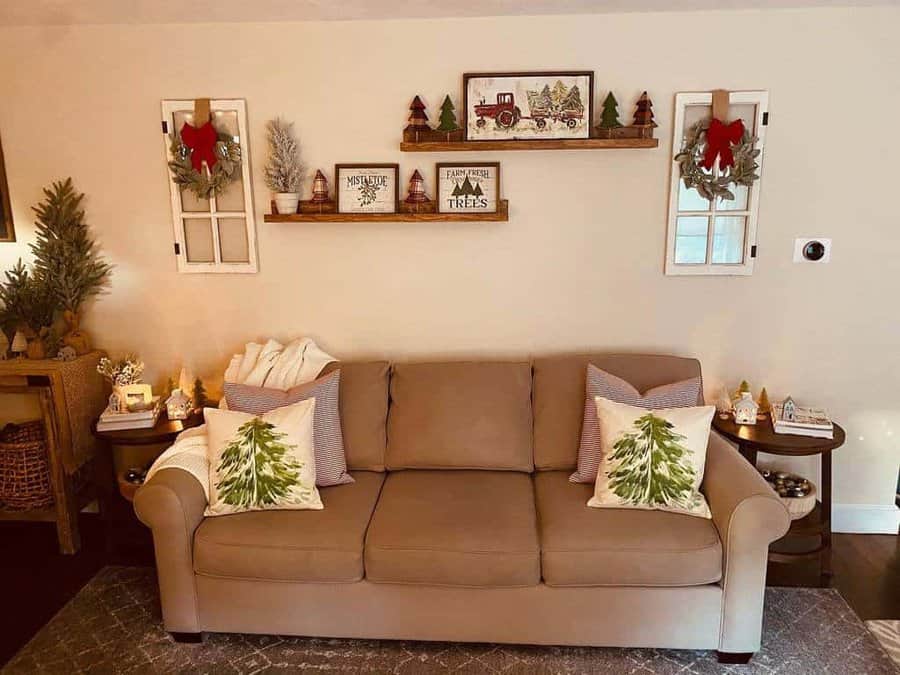 20. Picture Gallery Floating Shelves
Adorn your floating shelves with an array of family pictures, decorative photos, and captivating art pieces that tell a story and reflect your personal style. Arrange the frames in various sizes and orientations, creating an eye-catching composition that draws the attention of guests and sparks conversation.
Experiment with different themes, such as a travel gallery, a cherished memories showcase, or an eclectic mix of artwork. The beauty of this idea lies in its versatility – you can easily update and rearrange the display to suit your evolving tastes and capture new moments.
Not only do the floating shelves provide a stylish platform for showcasing your treasured memories, but they also offer practical storage space for other decorative items or daily essentials.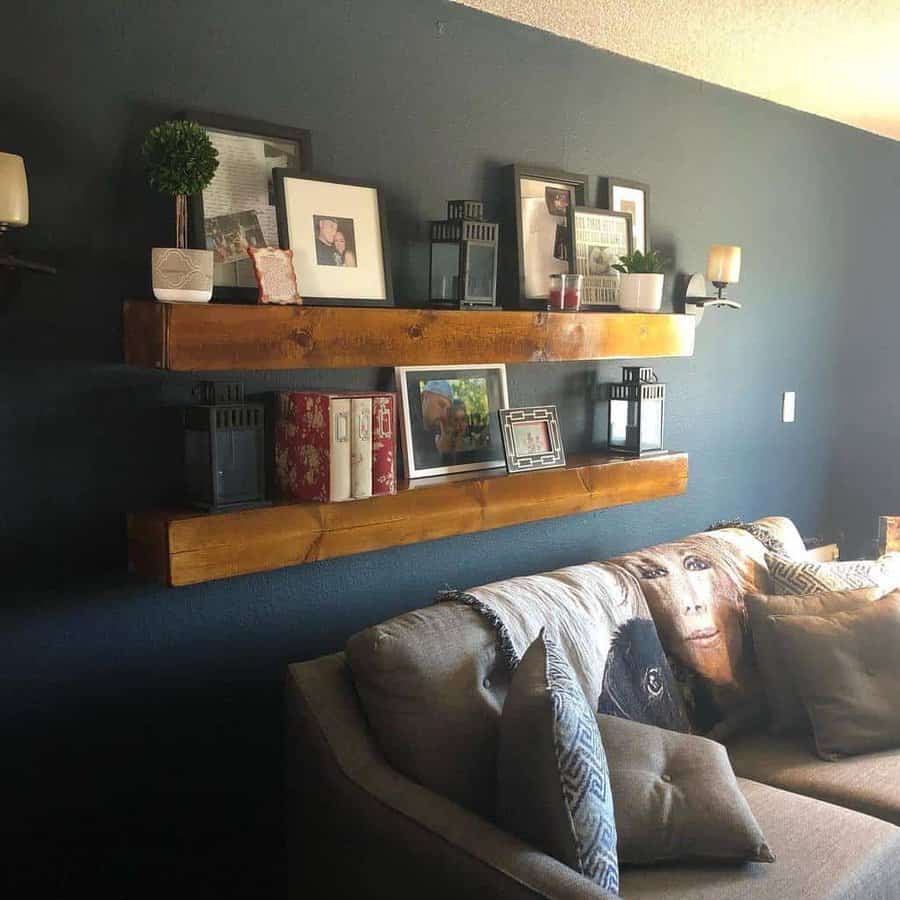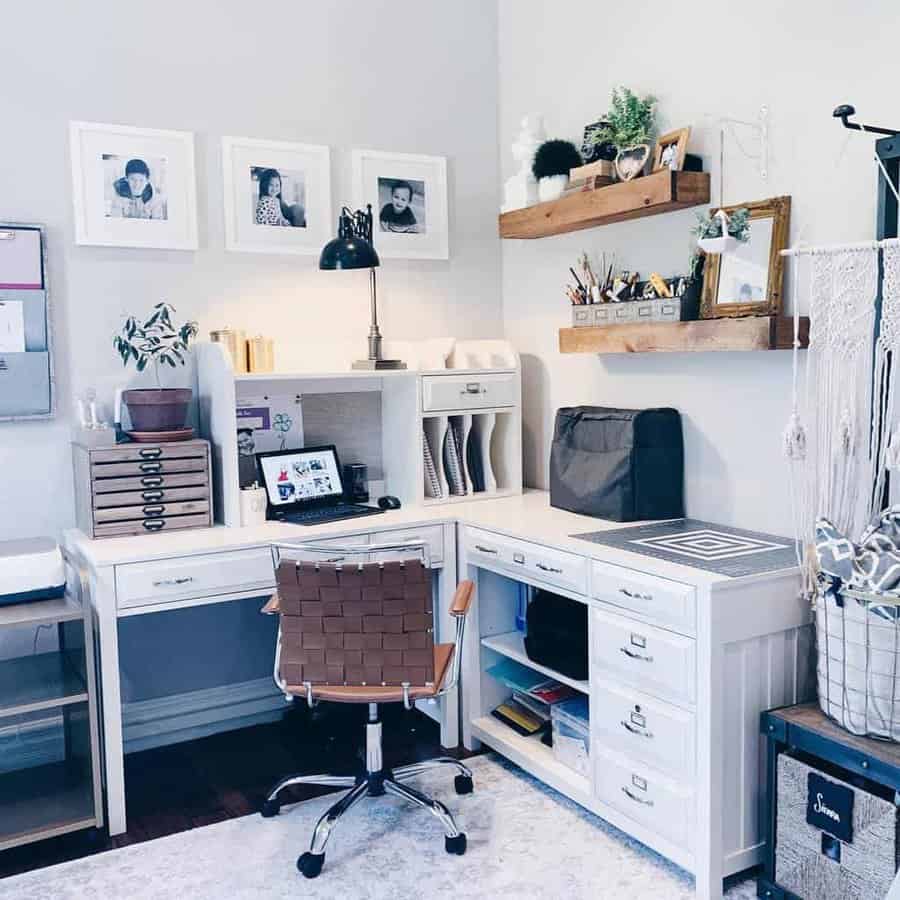 21. Floating Bookcase
These shelves offer a delightful blend of functionality and aesthetics, showcasing your cherished collection of books in a unique and captivating way. The magic lies in their seemingly weightless appearance as if your books are suspended in mid-air. This creative solution not only saves space but also adds a touch of modern sophistication to any room.
Whether you have a cozy reading nook, a home office, or a living room that craves a focal point, the floating bookshelf is a perfect choice. It creates an illusion of a book-filled tapestry adorning your wall, inviting both curious minds and design aficionados to admire and explore. From classics to contemporary novels, from art tomes to treasured cookbooks, your literary treasures deserve to be showcased in a way that captivates both your imagination and your guests' attention.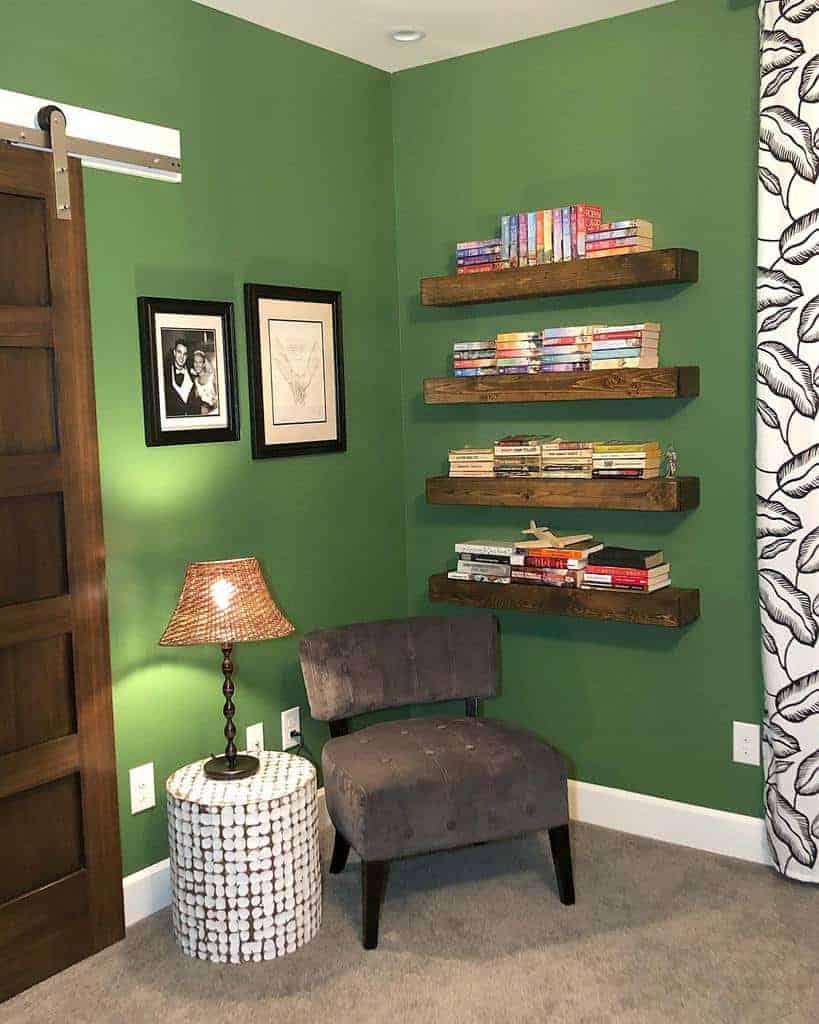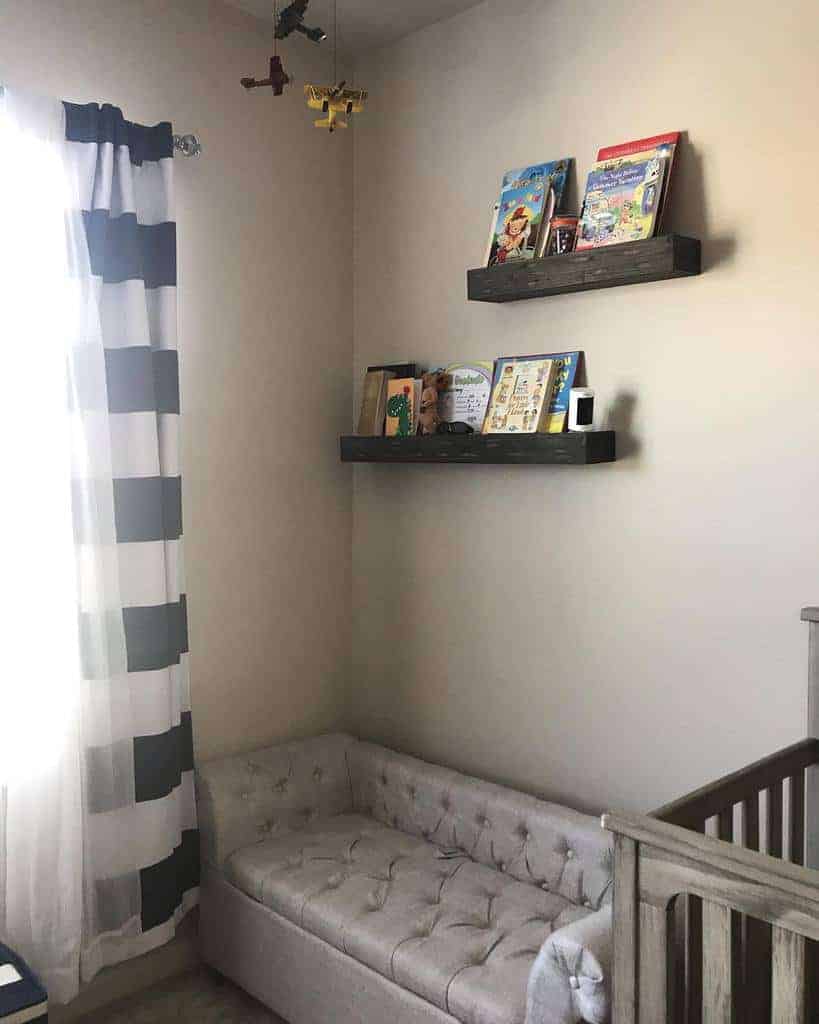 22. Butcher Block Floating Shelves
Add a touch of practicality and style to your living space with the timeless charm of a butcher block floating shelf. This unique idea combines functionality with a dash of rustic elegance, bringing warmth and character to any room.
The thick and bold design of the butcher block shelf not only provides ample storage space but also adds visual interest to your walls. Its sturdy construction ensures that it can hold and display a variety of items, from books and decorative accents to kitchen essentials and potted plants. The natural beauty of the wood grain adds a warm and inviting element to your interior, creating a cozy and welcoming ambiance.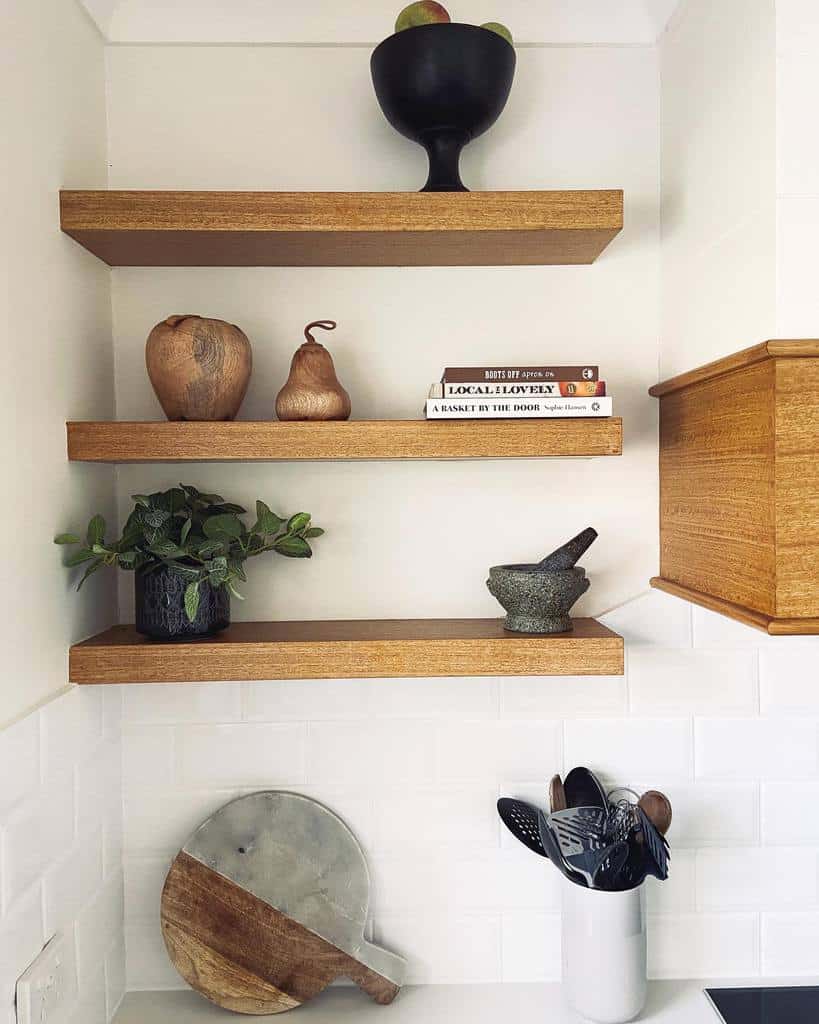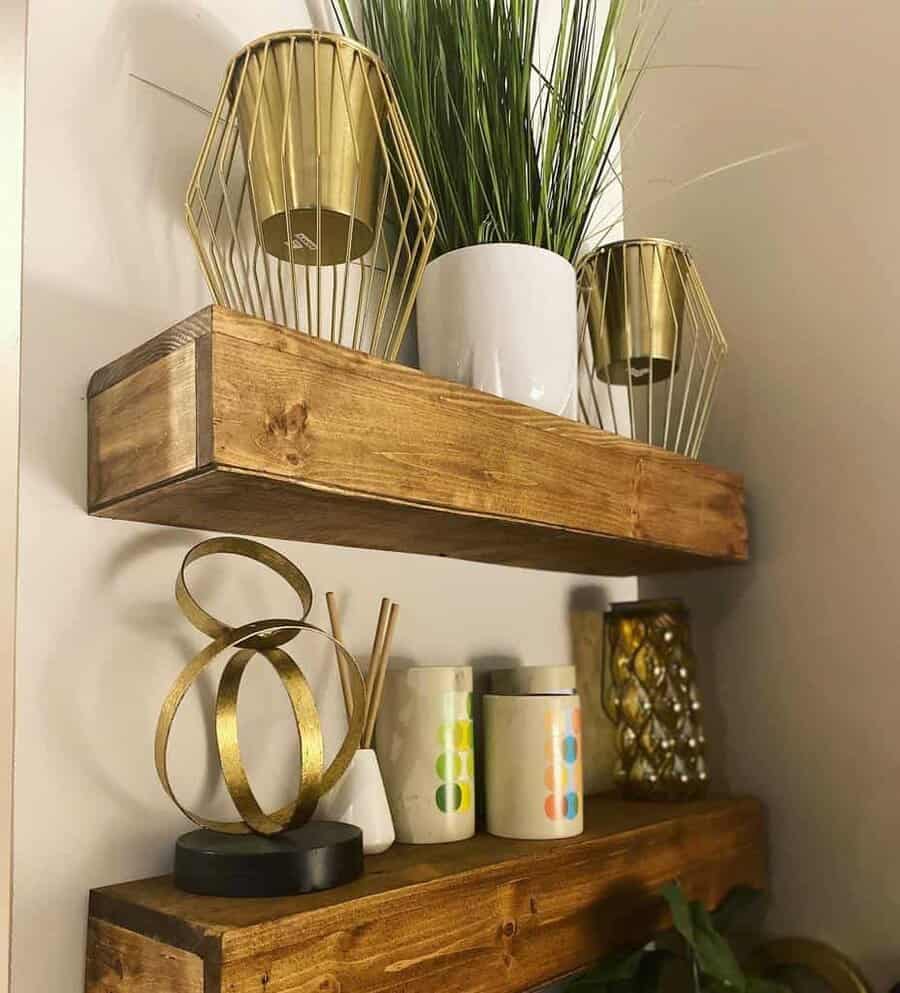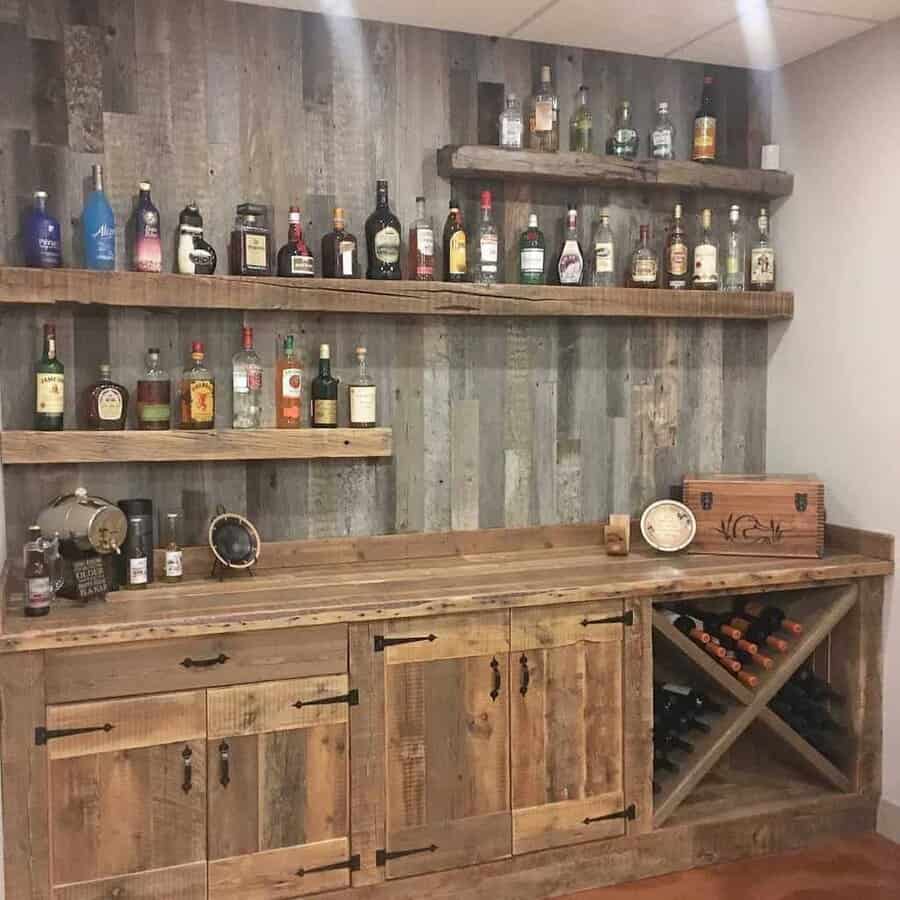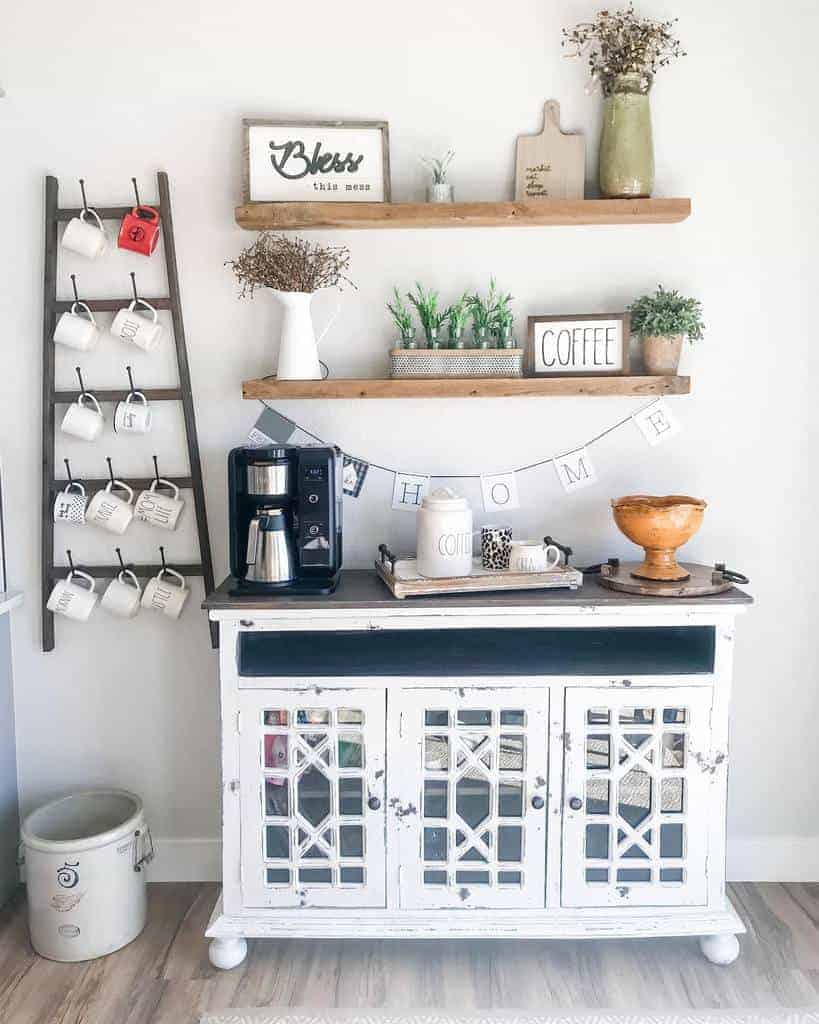 23. Rustic Floating Shelf Display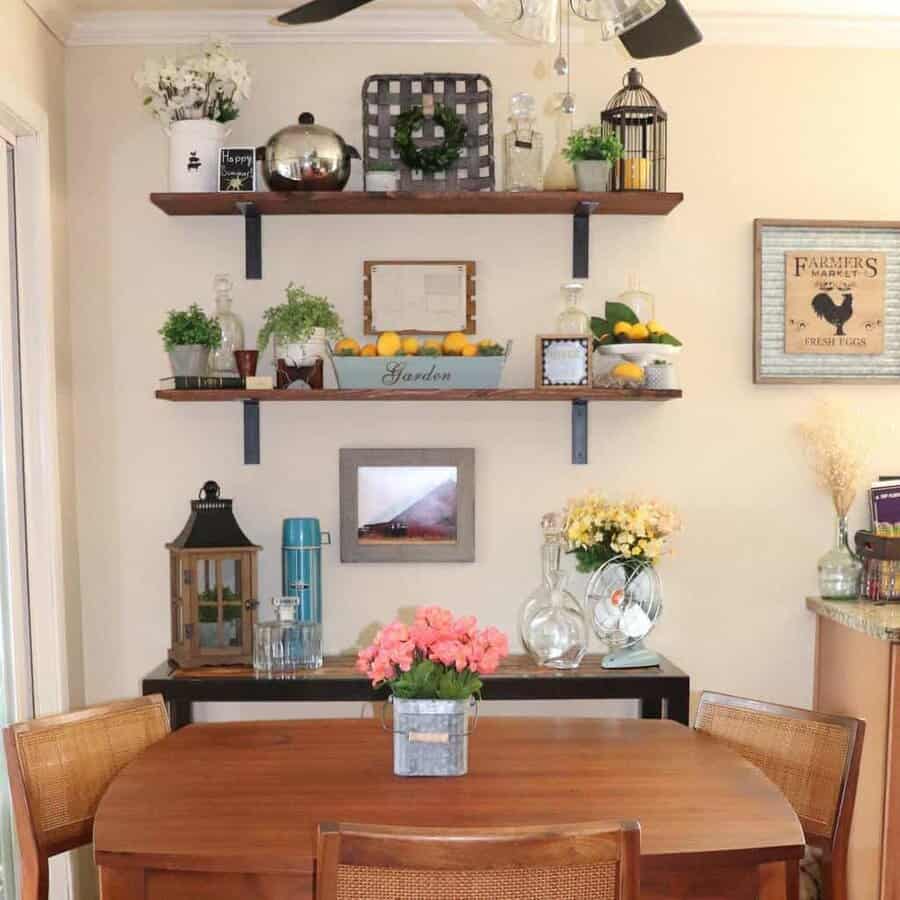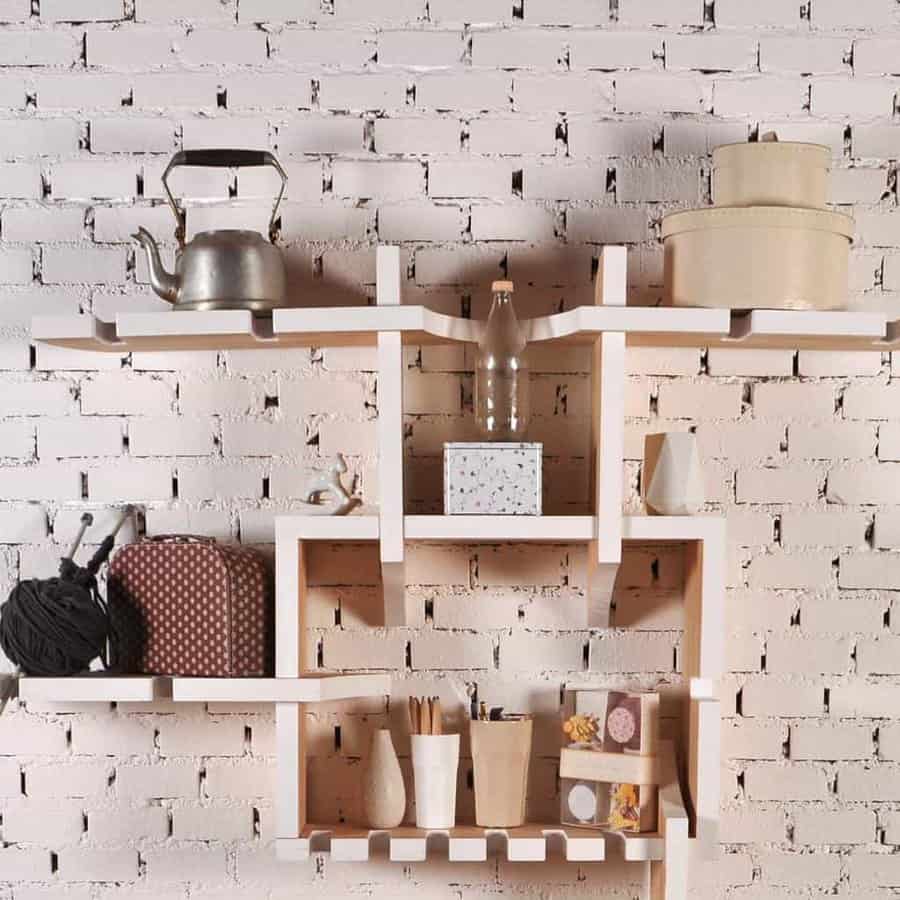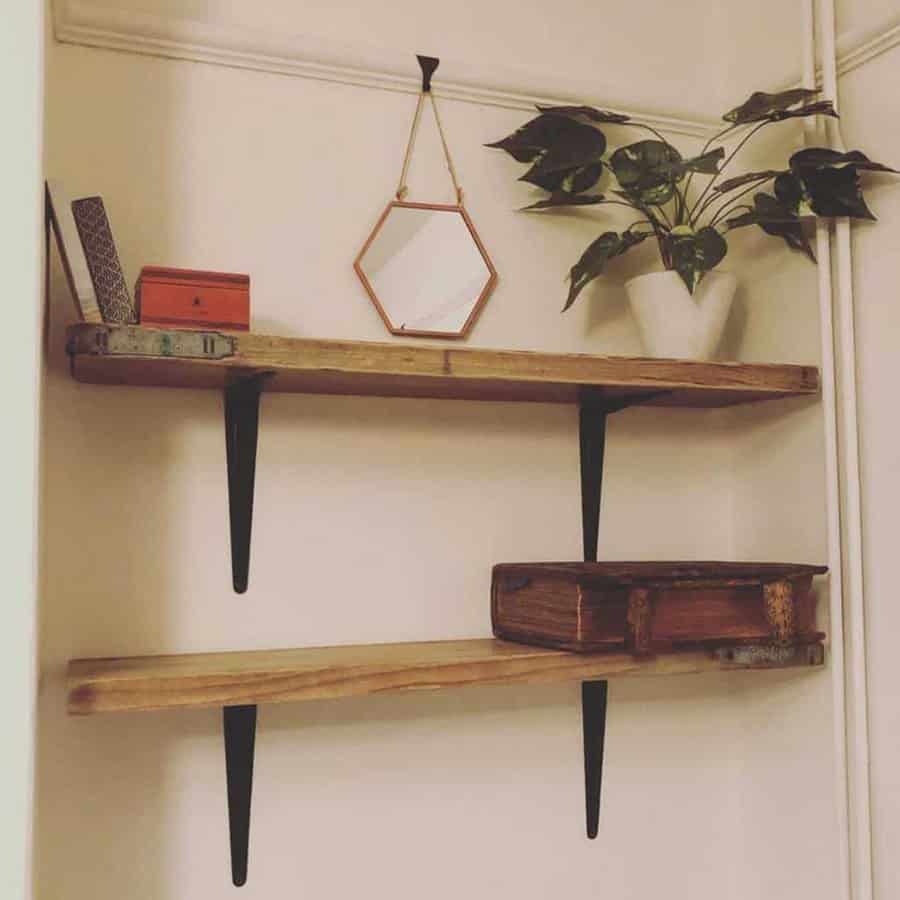 Floating Shelves FAQs
How do you make floating shelves look good?
Start by buying a shelf that is the right length and depth for the room. This will keep it looking balanced on the wall. Your next step is to arrange the decor on the shelf.
Balance the visual heaviness of the items on the shelf. Then consider their height. Finally, consider the color scheme that you're using. Bolder colors will demand more attention.
Where should floating shelves be placed?
If you're hanging a floating shelf over your sofa, it should be at least ten inches higher than the sofa.
Floating shelves in your hallway should be somewhere between five and six feet off of the floor. Your living room and dining room can support floating shelves that are between four and five feet off of the floor.
How much weight can a floating shelf hold?
The weight that your floating shelf can hold will depend on the size of the shelf and how you install it.
Most floating shelves that are mounted directly into the studs can hold somewhere between thirty and seventy-five pounds. However, some floating shelves could hold up to 300 pounds.