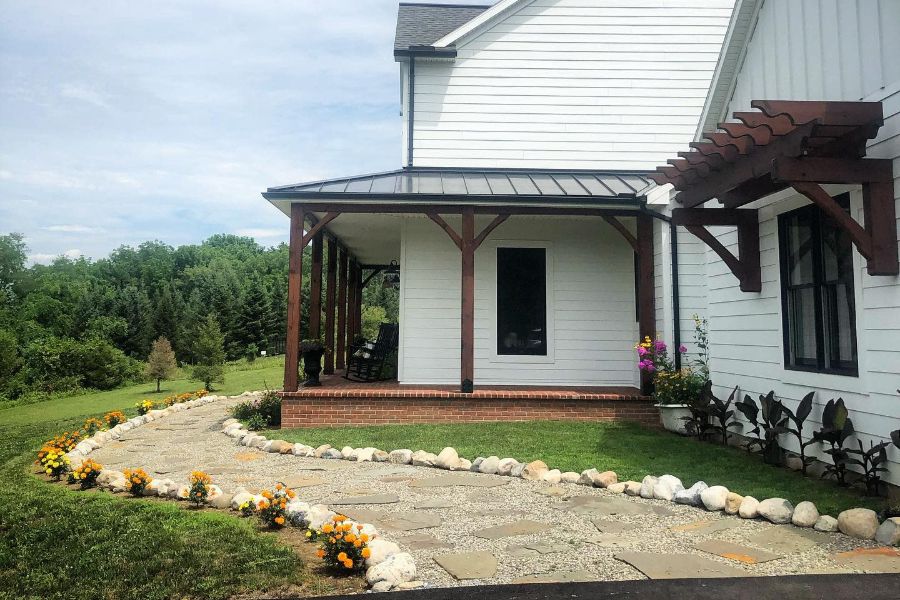 27 Simple Landscaping Ideas
"All gardening is landscape painting." – William Kent
Landscaping transforms your property into a stunning creation that welcomes people in. It's the difference between a dull property you don't notice and one that's abundant with curb appeal.
Adding some landscaping to your property can increase its value by up to 13%, so it makes for a great home improvement project.
So what does your landscaping look like? Perhaps the front of your home could use some flower beds. Or your backyard could benefit from some raised garden beds.
Try these simple landscaping ideas on your property and give it a long-overdue facelift. Start on one side of your home and work your way around until you've created a cohesive landscaping look around your entire home.
1. Backyard Garden With Access Ramps
Landscaping is an art form that encompasses so much more than just backyard barbecues or access ramps. It is the perfect way to bring a little color and design into your everyday life.
From designing a small garden around your backyard patio to ornately decorating pathways for access ramps, landscaping can help you transform and enhance any part of your property. With the endless possibilities of landscape designs, something is sure to fit your budget and imagination.
Whether adding some colorful flowering bushes or creating an elaborate outdoor entertaining area, landscaping will make a unique difference in your backyard.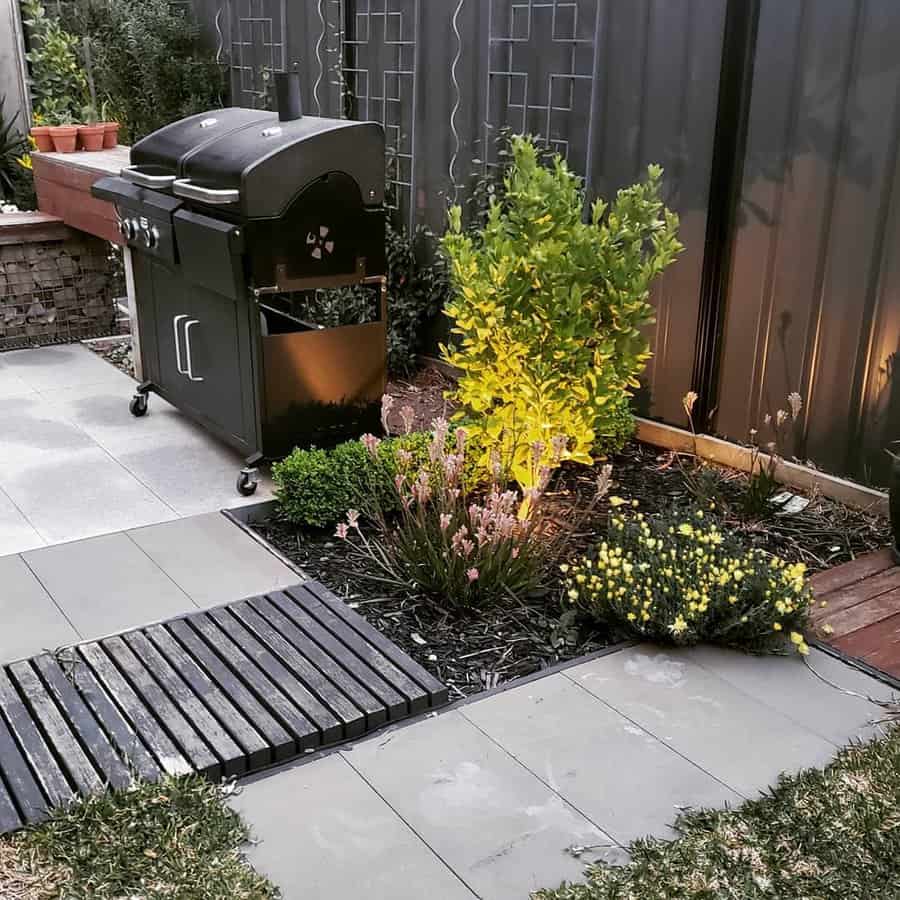 2. Curved Walkway Path With Elevated Garden
Set against the landscape, a curved walkway invites you to explore elevated gardens and untamed backyards.
To traverse this pathway is to view nature from an enchanted perspective – follow winding branches, frolic among wildflowers, and discover hidden nooks of extraordinary beauty.
The simple act of strolling creates a dynamic sensation – the opportunity to observe nature's boundless wonders up close.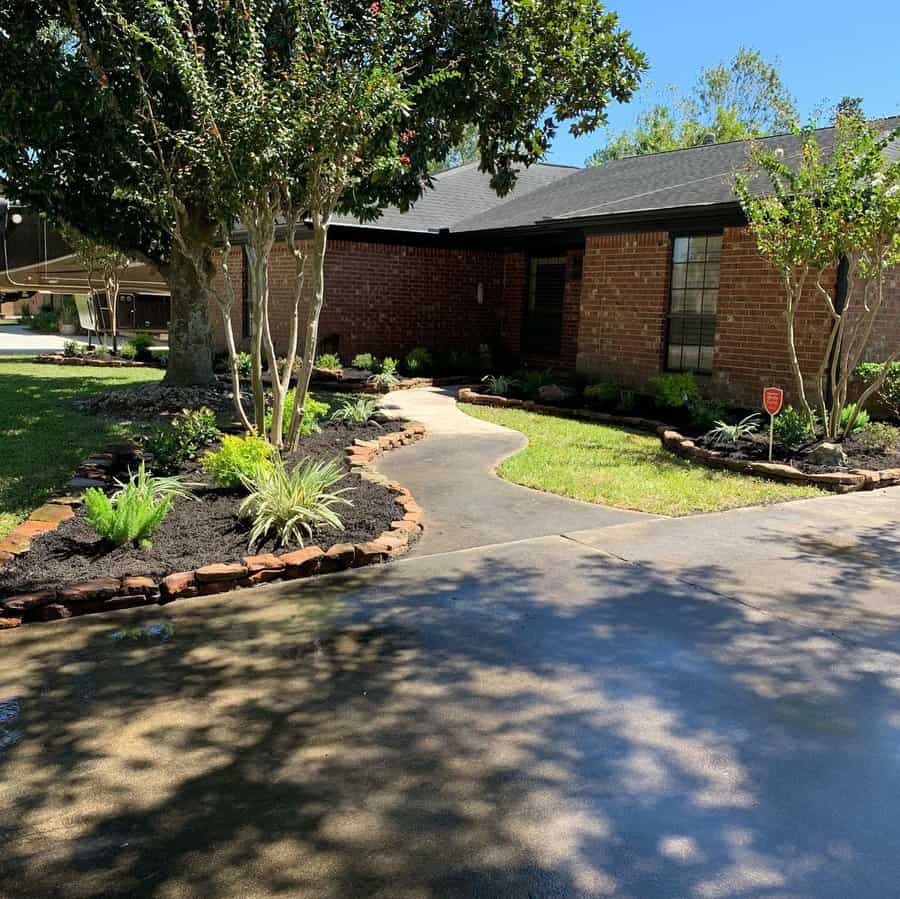 3. White Sand Path With Curb Garden
Taking a stroll through a gorgeous landscape is one of life's greatest pleasures. From pathways with white sand winding in between emerald green grass to perfect curb gardens with an array of captivatingly vibrant flower bushes, each pathway takes you somewhere new, into the arms of nature.
Every detail is perfectly maintained and invites one to explore and appreciate its beauty. As each pathway leads one deeper into the landscape they discover something else – just as alluring, just as mesmerizing, and just as special.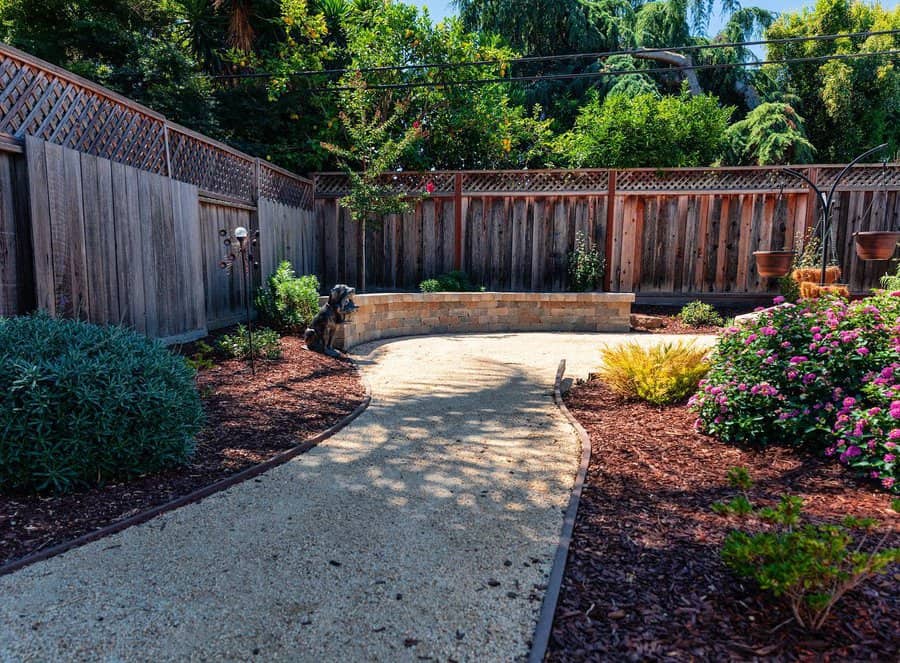 4. Sansevieria Garden
Adding a wooden pathway around the garden makes it look magical like you've stepped onto a different world. Accentuating it with white pebbles and small sansevieria plants will make the wooden path stand out against the backdrop of your yard.
The wooden walkway provides an inviting atmosphere, making it perfect for strolling around and taking in your own custom-created landscape.
Enjoying nature's beauty from your wooden pathway will be an experience you'll never forget.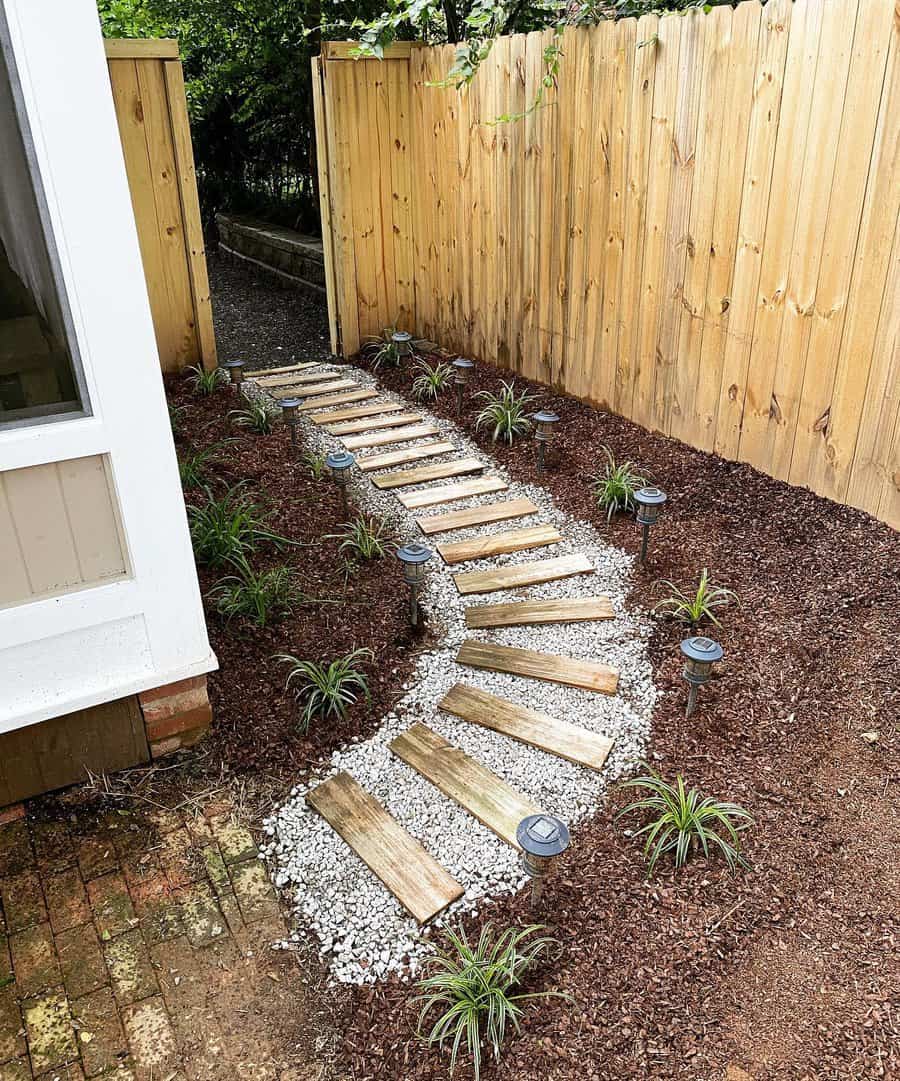 5. Wide Stone Path
When it comes to landscaping, stone paths set the perfect tone for tranquility. A pathway bordered by grass and filled with yellow flowers can make any outdoor area feel like a serene escape from reality. Just think of the possibilities: you can create a stone path through your backyard, garden, or front lawn – whichever space fits your style best!
Winding stone pathways along with lush green slopes and vibrant flower beds will add depth, charm, and wonder to your landscape that can be enjoyed for years to come.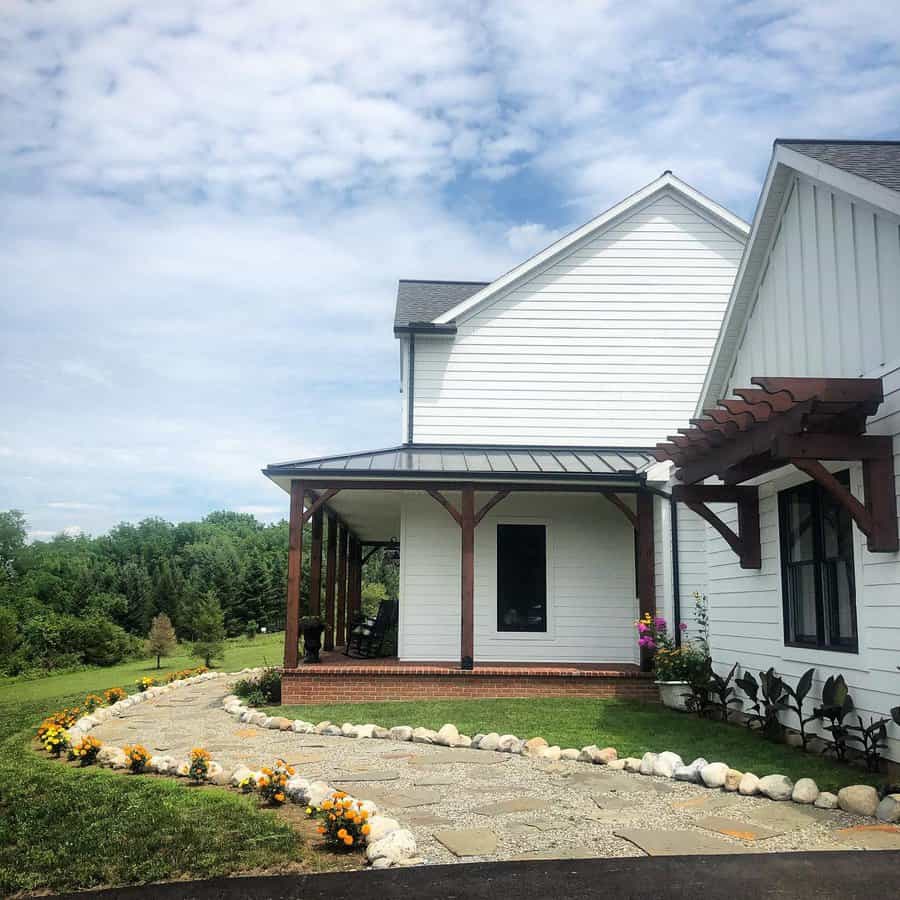 6. Flower Bed Landscape
Imagine coming home from a long day to find your porch dotted with multi-colored flowers around a coffee table. The porch provides a comfortable spot for espresso or a glass of wine after the sun has sunk below the horizon.
With even a small backyard, you can add a touch of nature with landscaping that will draw admiring glances from the neighborhood.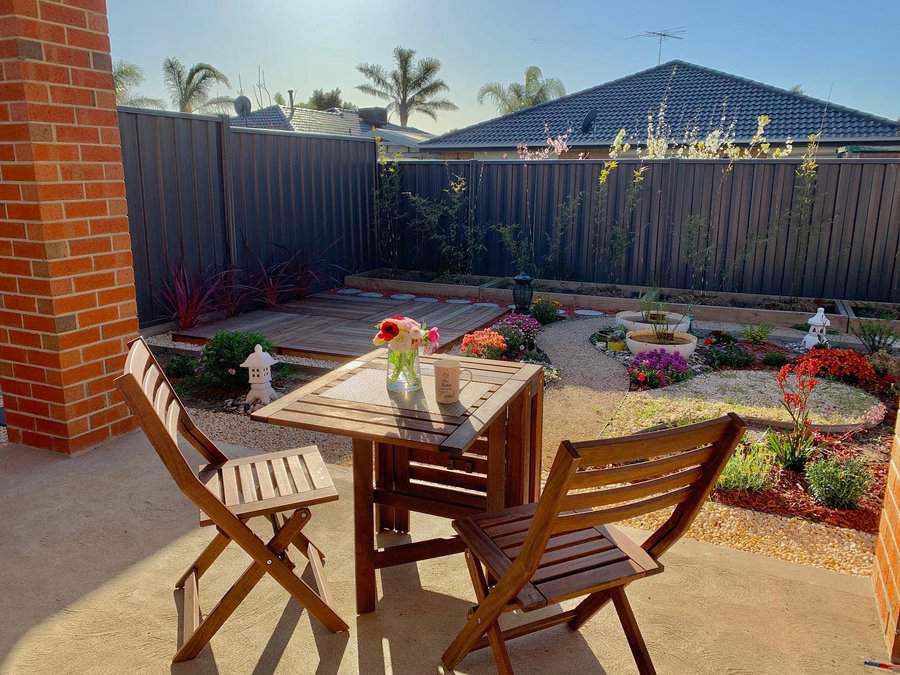 7. White Pebble Patio
Adding a white pebble patio to your backyard landscaping can be a great way to breathe some fresh air into your garden. Not only does the texture of white pebbles add visual interest and new life to your backyard, but it also gives you the perfect place for outdoor entertaining with friends and family.
This can be especially nice if you are looking to contrast it with a grassy landscape full of greenery and colorful bulbs.
With the combination of white pebbles and vibrant green grass, your backyard is sure to become a go-to spot in no time!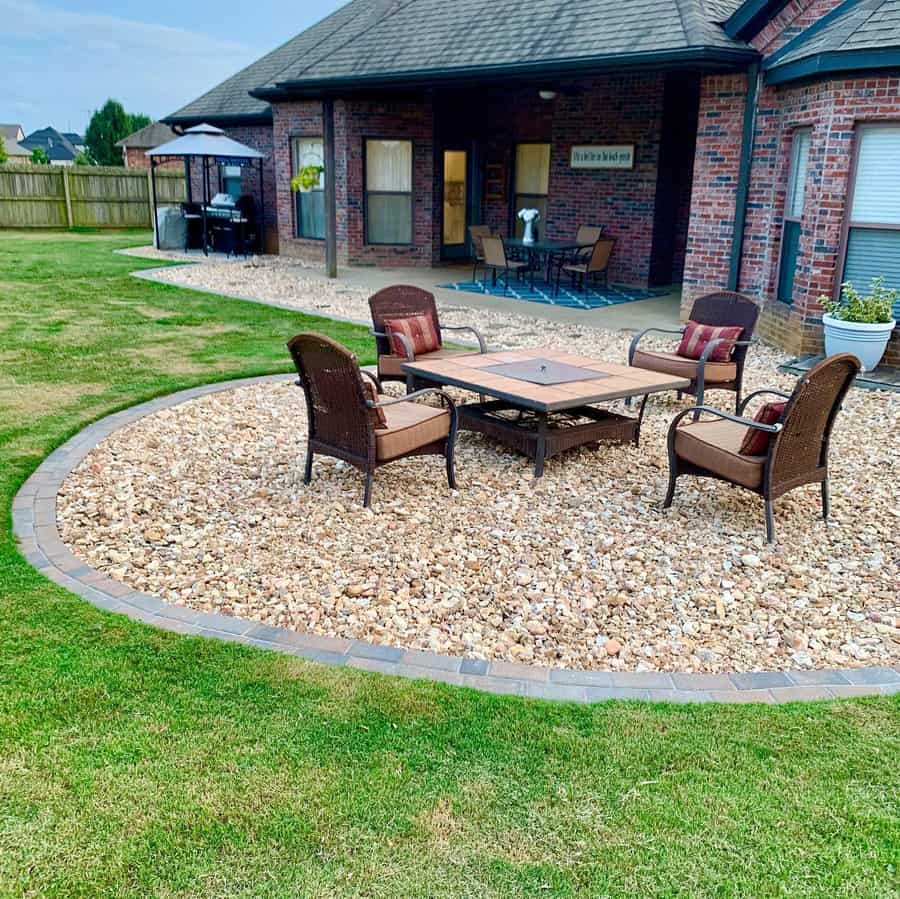 8. Flowers & Potted Aquatic Plants
Landscaping is a creative way to give your outdoor space an enchanting look. Whether it be flowerbeds that draw buzzing bees or majestic potted aquatic plants, gardens are the perfect way to transform your yard into a magical setting.
From trimming hedges to weaving flower paths, create something that'll make you the envy of friends and family alike! You can paint with living plants and flowers to turn any plot of land into a truly remarkable sight – be it an exquisite garden or an elegant flower bed.
9. Hydrangea Garden
Transform your front yard into a hydrangea garden paradise with a beautiful stone access path. The hydrangeas will exude lush foliage, and the intricate design of the stones will become a focal point for your value-added landscape.
If you want to create a backyard oasis that embodies tranquility and beauty, hydrangeas and stone paths are certain to exceed expectations!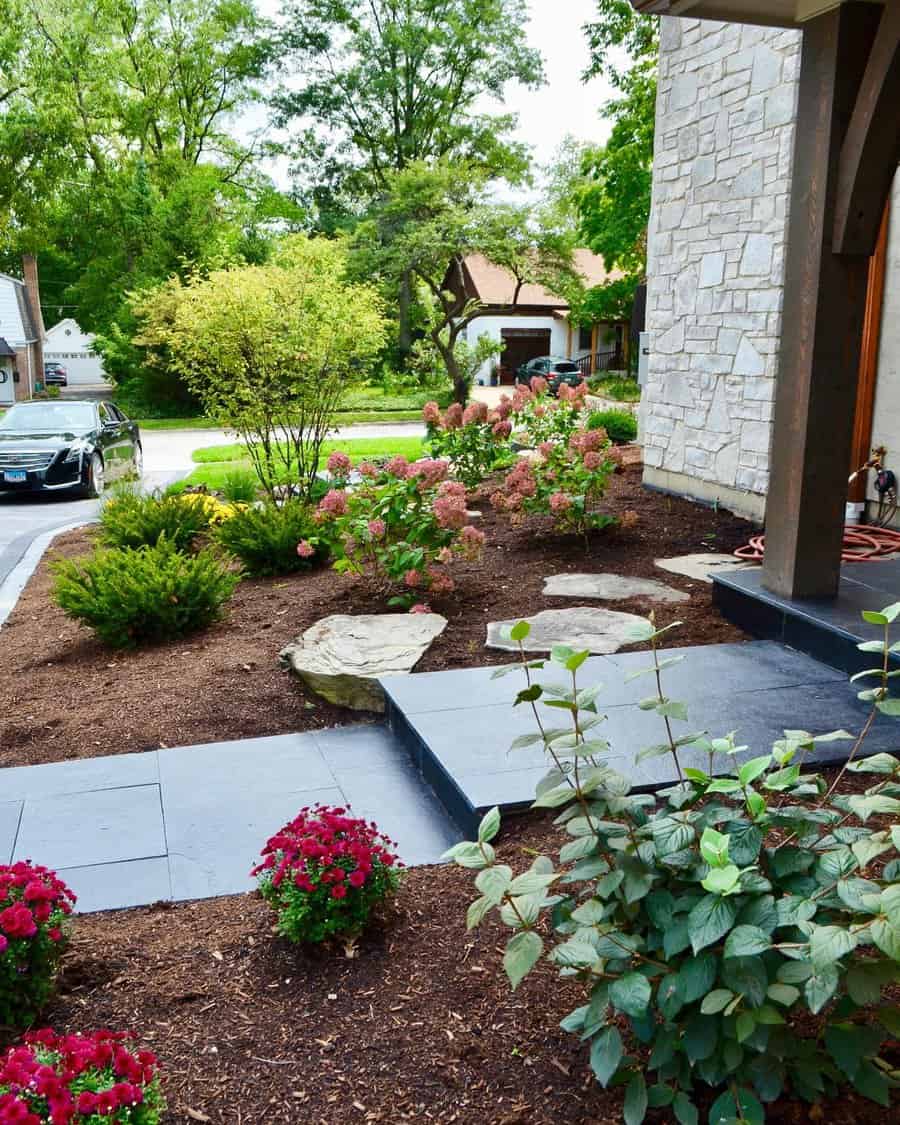 10. Grassy Landscape
Creating a grass landscape for your front yard is an exciting way to transform your home's exterior. Get creative with landscaping, and plant grass seedlings in various shades of green to add depth to the grassy area.
Create small grass mounds scattered throughout the grass to enhance the contours of the landscape. Introduce large trees or smaller tree seedlings that will eventually grow into a big, protective canopy over your grass landscape. Watch them grow along with the grass and enjoy a beautiful ambiance year-round in front of your house!
11. Ascending Concrete Pathway
Making a creative statement with your landscaping shouldn't be difficult – ascending concrete pathways, minimal green scapes, and inviting bollard lights to help to do just that!
Creating an ascending pathway is a great way to draw the eyes and entice visitors towards an entrance of your home or an awe-inspiring feature. Segueing out from those walkways, you can embrace minimal green scapes to keep guests focused on the architecture of your home while ensuring you don't overwhelm them with unneeded foliage.
Lastly, installing subtle bollard lights is a must when making use of all this creativity as it guides visitors with ease and adds a final touch of luxurious appeal!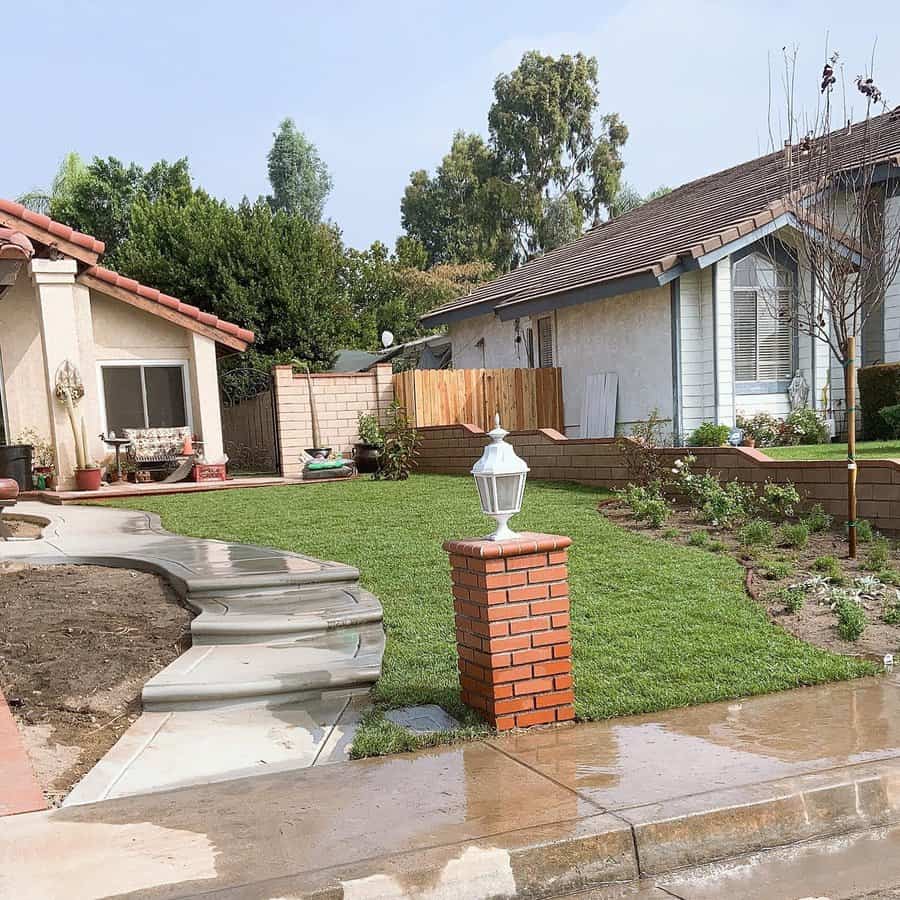 12. Artificial Grass Landscape
Creating the perfect backyard oasis does not have to be a complicated feat. With artificial grass offering the soft aesthetic of a lawn without maintenance, beach chairs for sunset sipping, and solar-powered accessories to bring any mood to life, it is easy to see why landscaping has become such a sought-after endeavor.
Gardens of all kinds are making their way into delightful suburban backyards and giving homeowners an opportunity to stay in touch with nature even when living in the city!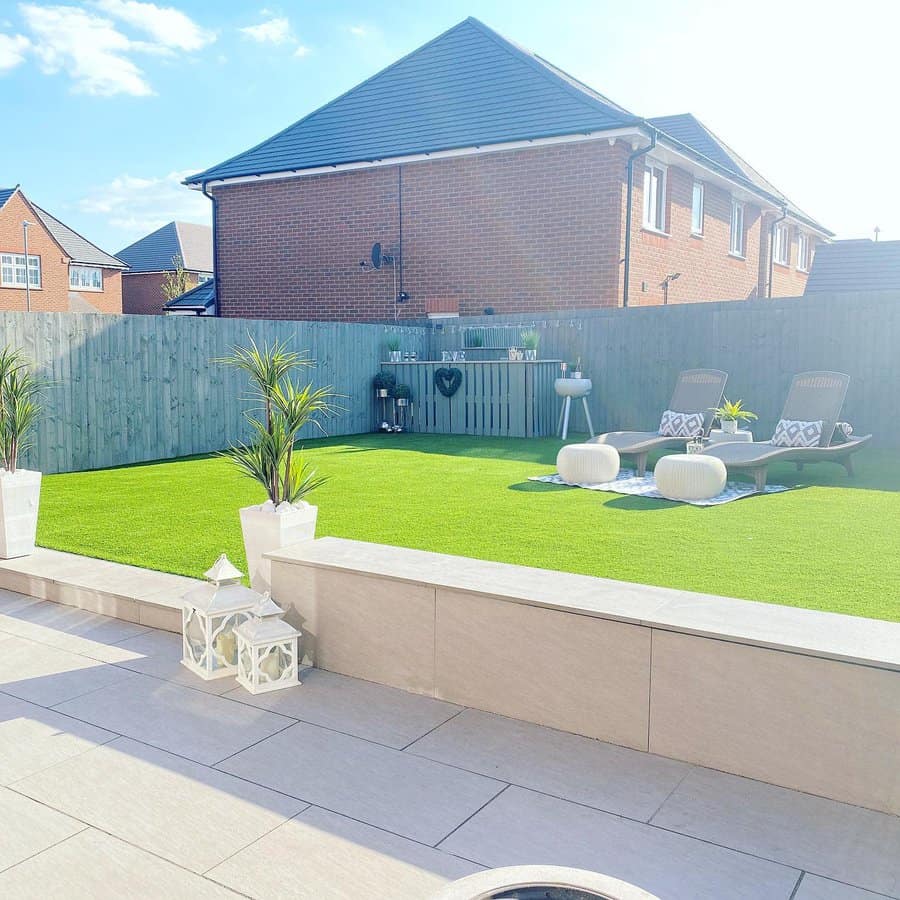 13. Grass Edging
The landscape with grass edging creates a picture-perfect landscape that soothes the soul. The emerald green grass, surrounded by lush green bushes, creates a natural landscape that can be admired in all its glory.
Every blade of grass is like a beautiful painting that has been carefully crafted together to form this landscape masterpiece.
With the sun's gentle rays cascading over it at dusk and dawn, it truly is magical to witness. One cannot help but feel at peace when one take the time to appreciate this landscape artwork.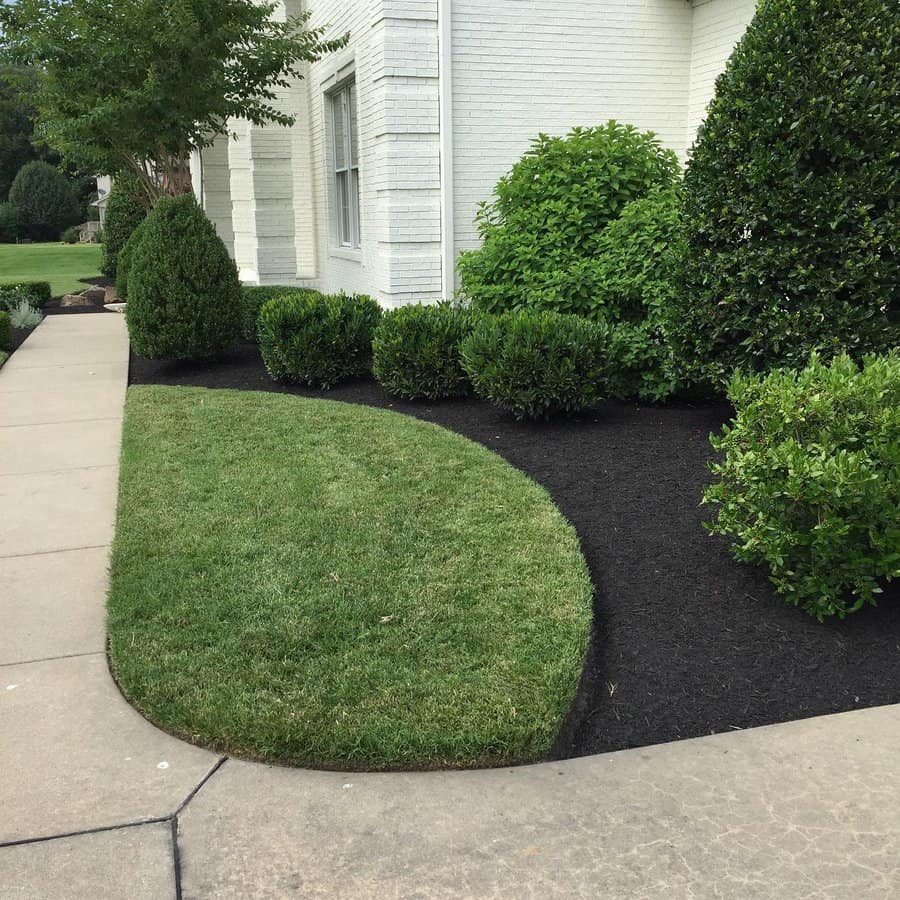 14. Lush Meditation Garden
When it comes to lawn landscaping, there are many ways to get creative and provide an enjoyable, peaceful atmosphere. A bench covered with lush plants can be the perfect spot for meditation or simply enjoying the beauty of nature.
For added definition, you can use potted planters and benches around the perimeter of your lawn while adding small trees and shrubs in-between to create a walkable path.
If you have the extra space, why not add a quirky water feature that takes your garden over-the-top? This would complete your luxurious landscape look!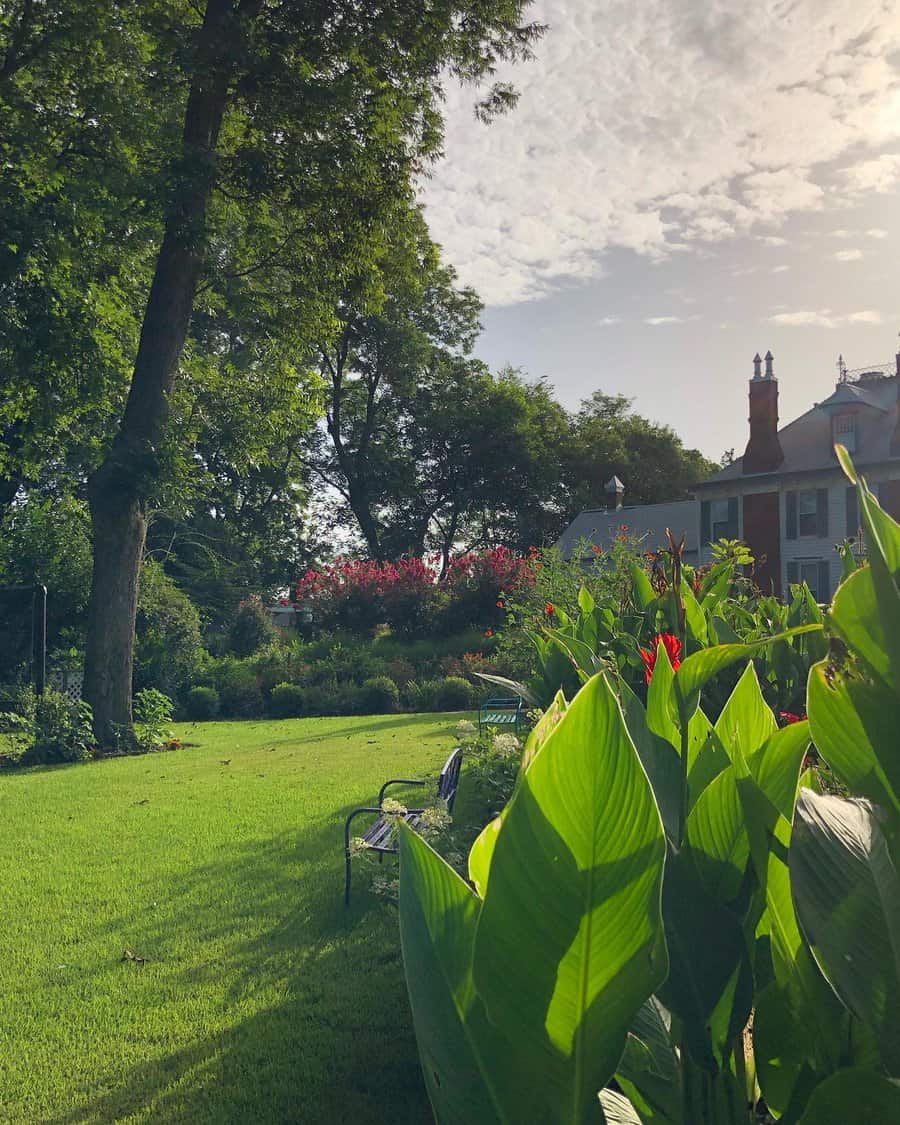 15. Flower Lawn For Privacy
Transform your front yard from mundane to majestic with a big flower bush for privacy and pops of color! Planting a big, fragrant hydrangea, or any other big flower bush like a butterfly bush or lilac creates an enchanting atmosphere that anyone can enjoy.
Not only does it provide a delightful aesthetic, but it also shields your home from blockages and noise, granting some well-deserved serenity. Plus, established bushes can add up to 10% of the home's worth.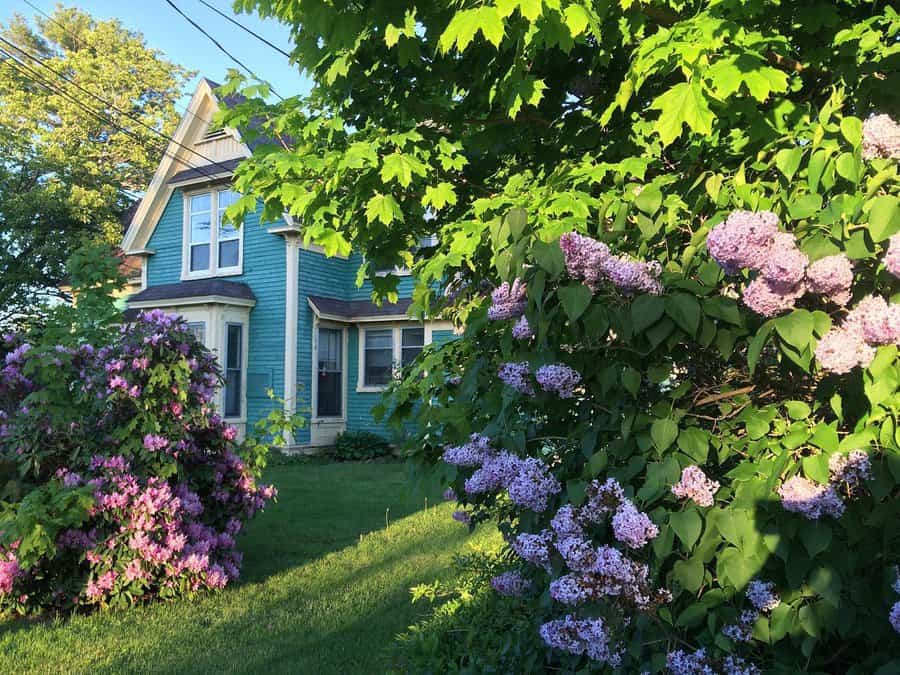 16. Low Maintenance Greenscape
Draw visitors to your yard with an eye-catching plant bed that does not require high maintenance. Low-maintenance landscaping is a great way to get creative with nature and save yourself time in the process.
Frame this plant bed with decorative rock and fill it up with drought-resistant plants or grass, whatever works best to fit your style. You will continue taking pleasure in the beauty of the plant bed but without the extra effort of having to take care of it every day!
17. Gravel Stones
Backyard landscaping is a great way to create a beautiful, calming space to retreat to in the summertime. One creative idea is to plant a bed of gravel stones with low-maintenance foliage running along its edges in the shape of a winding river.
A unique addition would be to place a small garden gnome somewhere among the stones – keep it subtle as if it has been swept off its feet and deposited here by the whims of Nature. The lantern light reflected by the stones at night will make for an unforgettable experience!
18. Curve-edged Greenscape
Transform your garden into a little piece of paradise with curve-edged grass landscaping. Dig deeper and create a rock border for an extra touch of natural beauty, then add rocks and pebbles in creative designs to make the garden come alive. Some bright flowers can also add cheerful color and give the area a unique touch.
Combine that with appropriate lighting and a few chairs or benches to relax on, and you'll have yourself a beautiful retreat to enjoy all year round.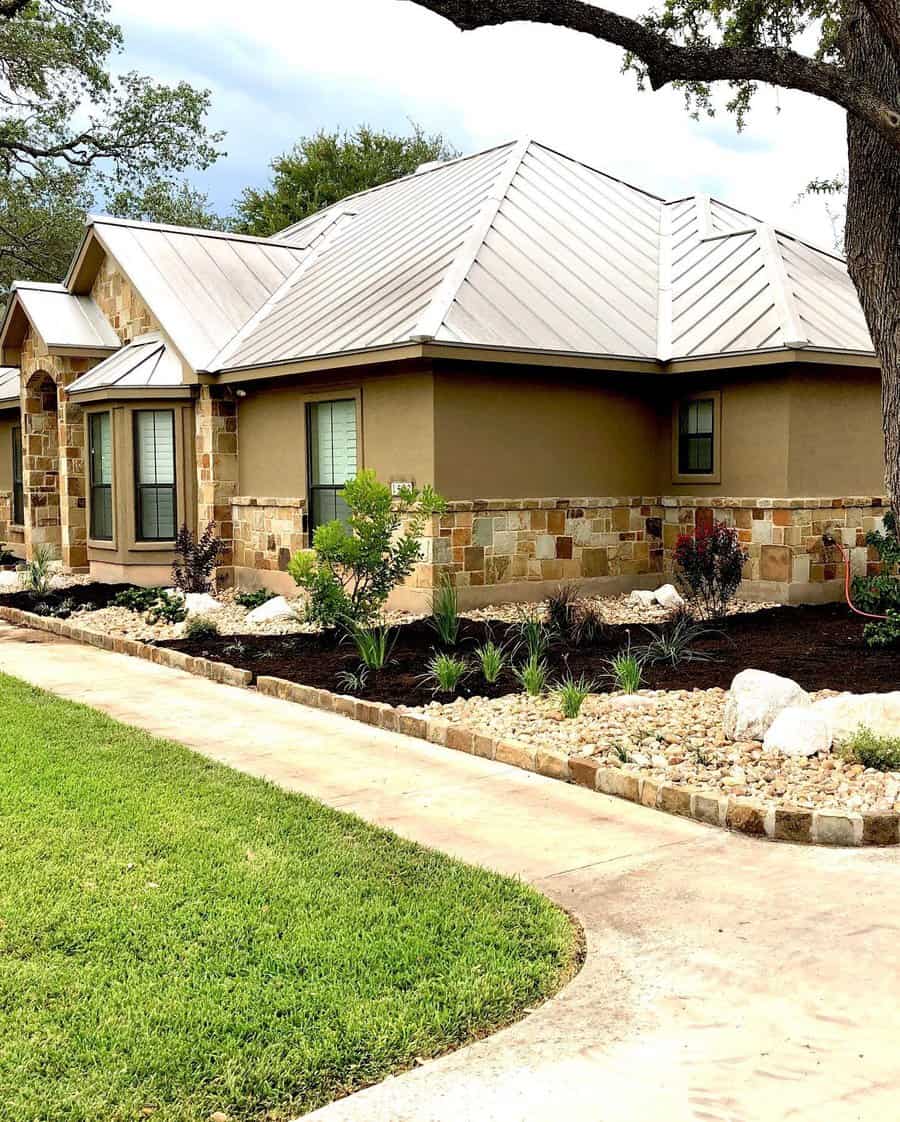 19. Creative Layering
Taking landscape design to a whole new level of creativity, adding a grass patch and white pebbles in your backyard oasis is guaranteed to be a bright spot in anyone's day. Not only do these features bring life to the landscape, but incorporating floor lights between them creates a wonderful ambiance as soon as the sun sets.
From small patios to stunning gardens, this type of landscape will stand out and be remembered for years to come.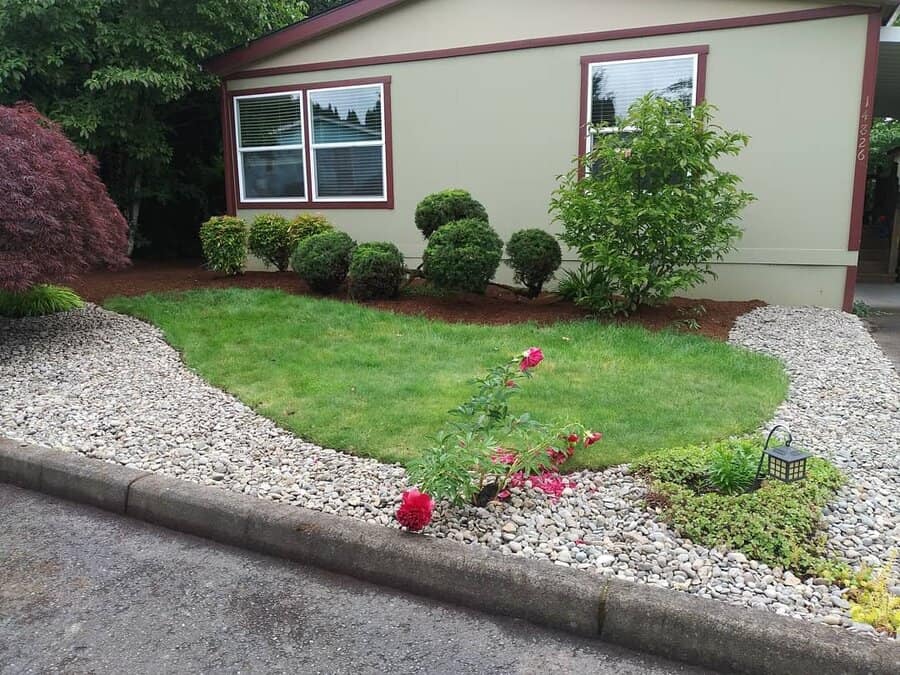 20. Narrow Mulch Landscaping
If you want to keep your landscape low-maintenance yet still have it look bright and inviting, this minimal landscaping idea may be the perfect option for you. With just a few simple steps, you can give your outdoor space an instant upgrade. Consider covering most of your landscape with mulch while sparing some areas to grow a collection of seasonal plants.
Mulch is easy to maintain and can provide the landscape with a polished look without having to replace or landscape large areas. Adding in greenery from plants adds pops of color and texture, giving the landscape a unique feel all year round.
If minimal landscaping is something you're interested in, try out this approach – and get creative about how you add different colors and textures for additional beauty!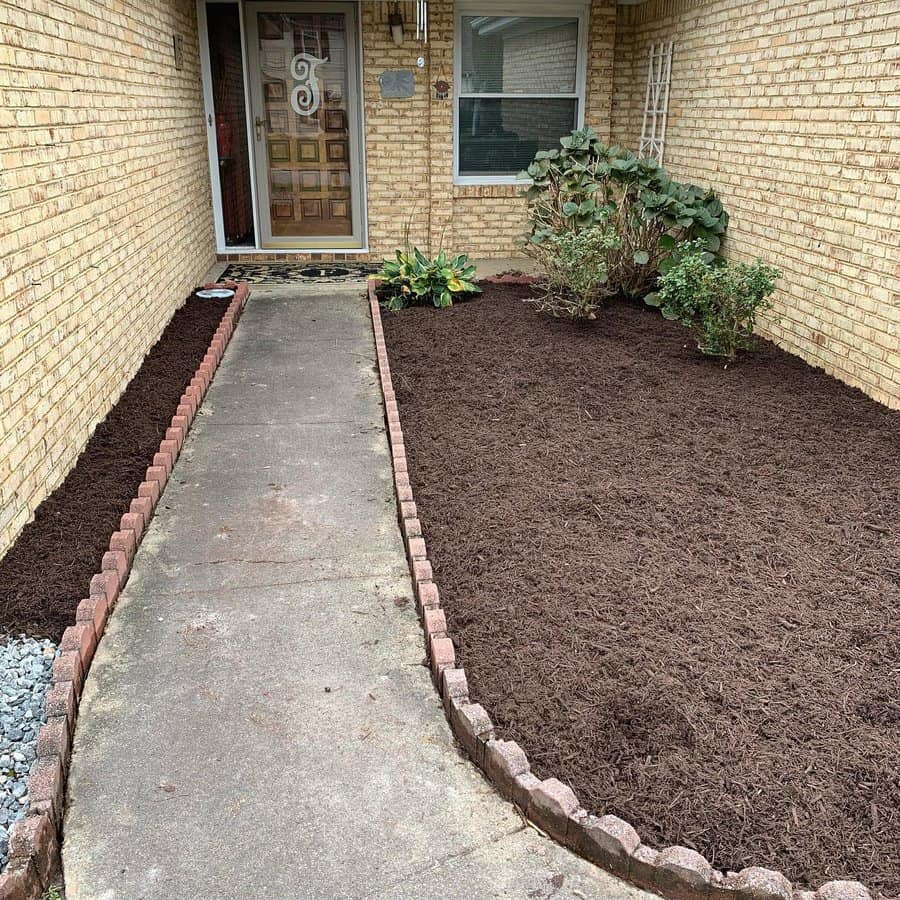 21. Round Landscape Island
Landscaping can be an art form, and round plant beds with bollard lights certainly give off a creative statement. By adding just the right mix of low-maintenance plants, along with a few strategically placed bollards to break up the visual elements, landscaping can become a showpiece on any property.
With contemporary designs and water-wise principles, round plant bed structures add character to the environment while still keeping maintenance costs reasonable.
For those looking to create a lasting effect in their yard or garden space, round bollard-lit plant beds may be just the perfect solution.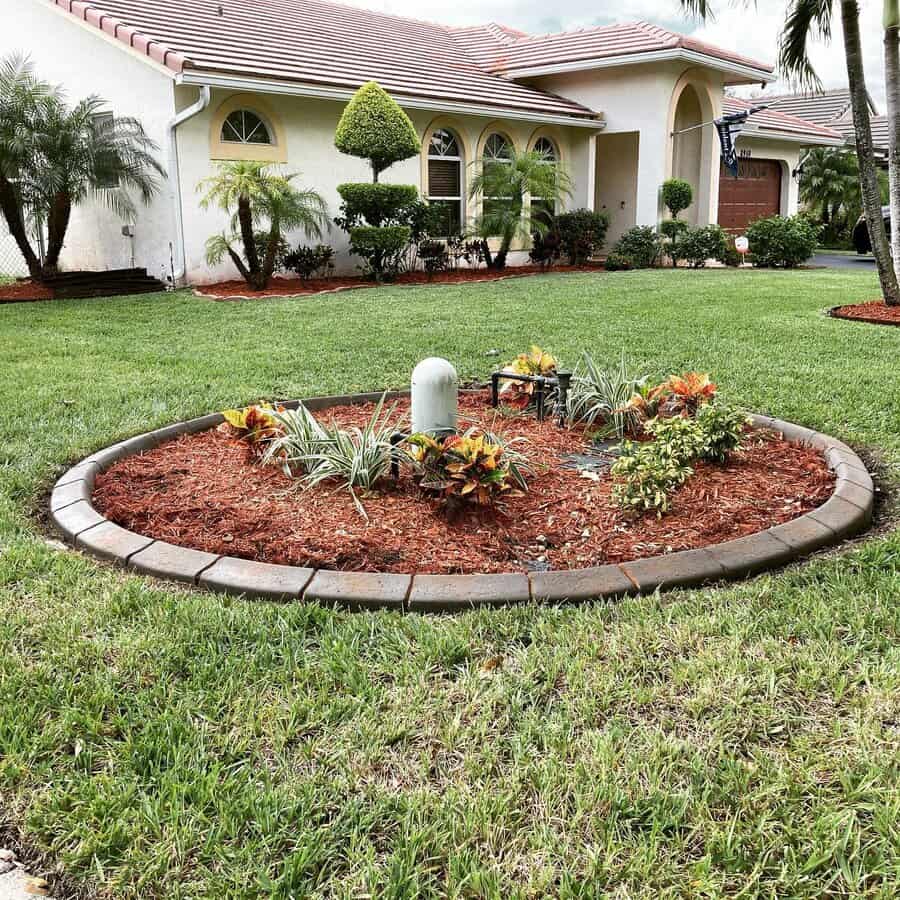 22. Hidden Greenscape Path
Picture the hidden stone path taking you from your veranda with bi-fold doors, winding around a lush green scape from one secret garden to another. Landscaping is not just about functional design – it's also a chance to get creative and make a statement.
Every outdoor area can be customized with native plants, outdoor furniture, water features, and hidden lighting to create something truly special. With the right plan in place, it brings an extra layer of joy that nobody had ever dreamed of.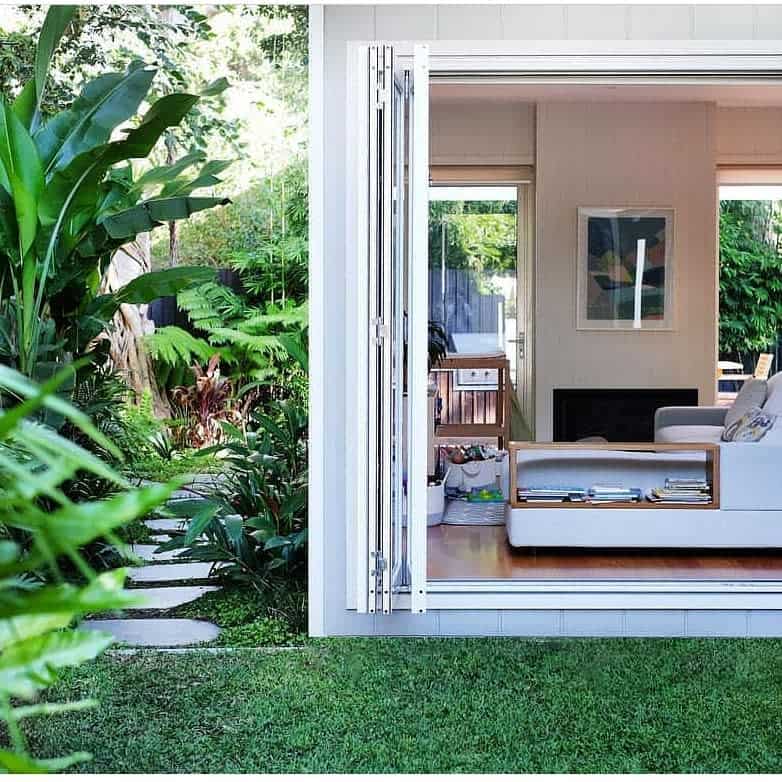 See more garden path ideas here.
23. Sloped Landscaping
If your property slopes, you have two options. You could embrace the slope and allow it to roll downward. However, this isn't very useful. Instead, consider building a series of retaining walls. These will gradually step your property down and create several flat usable areas.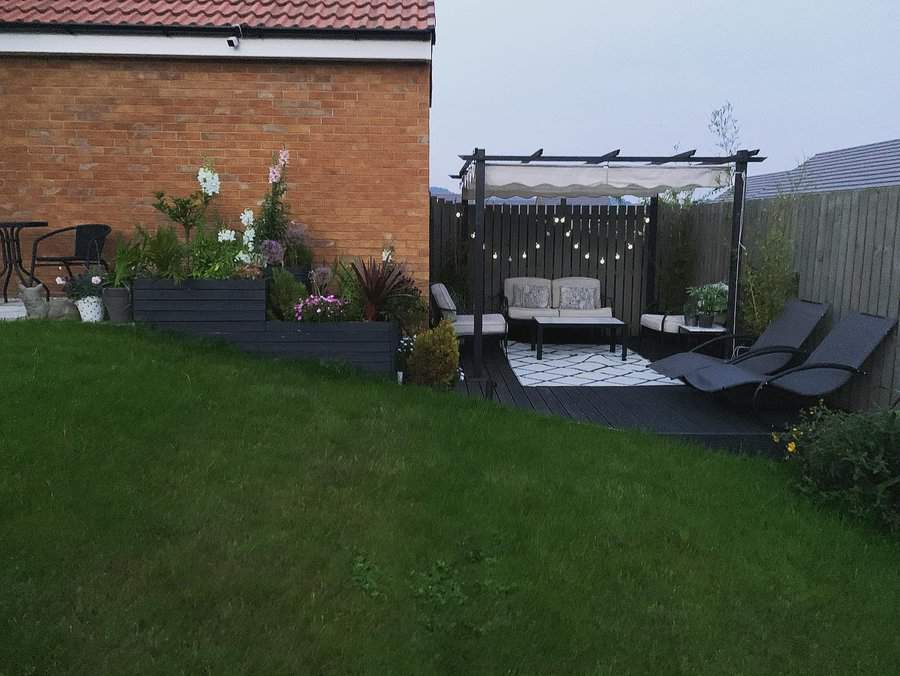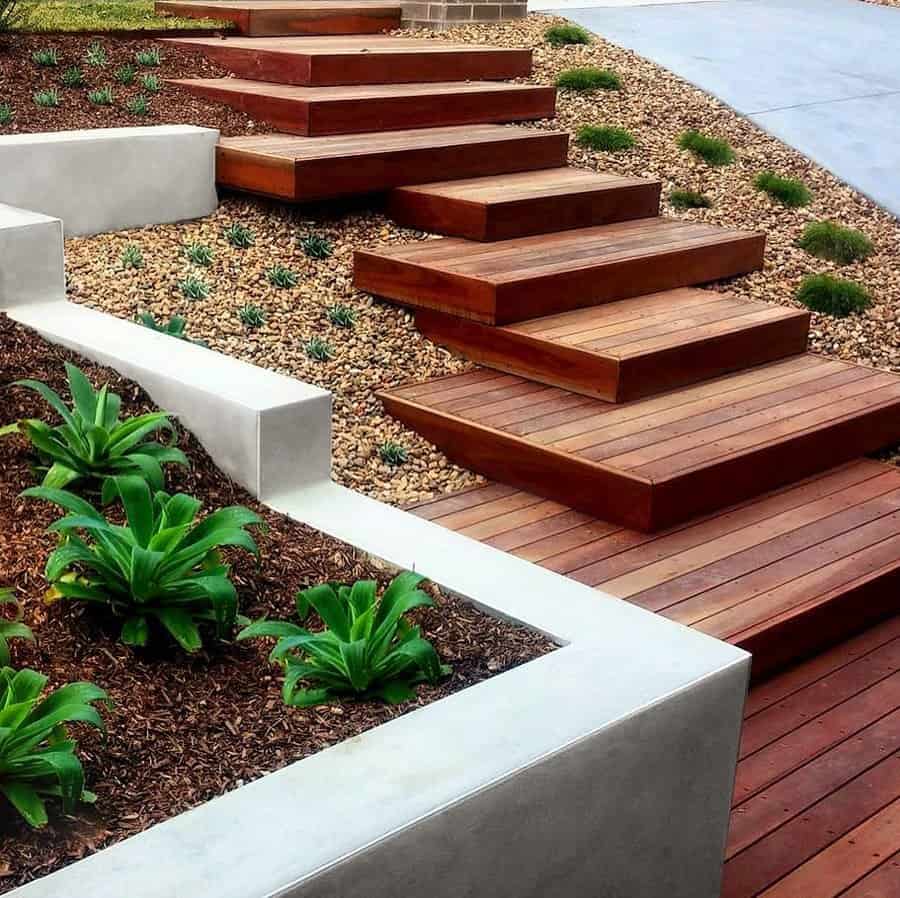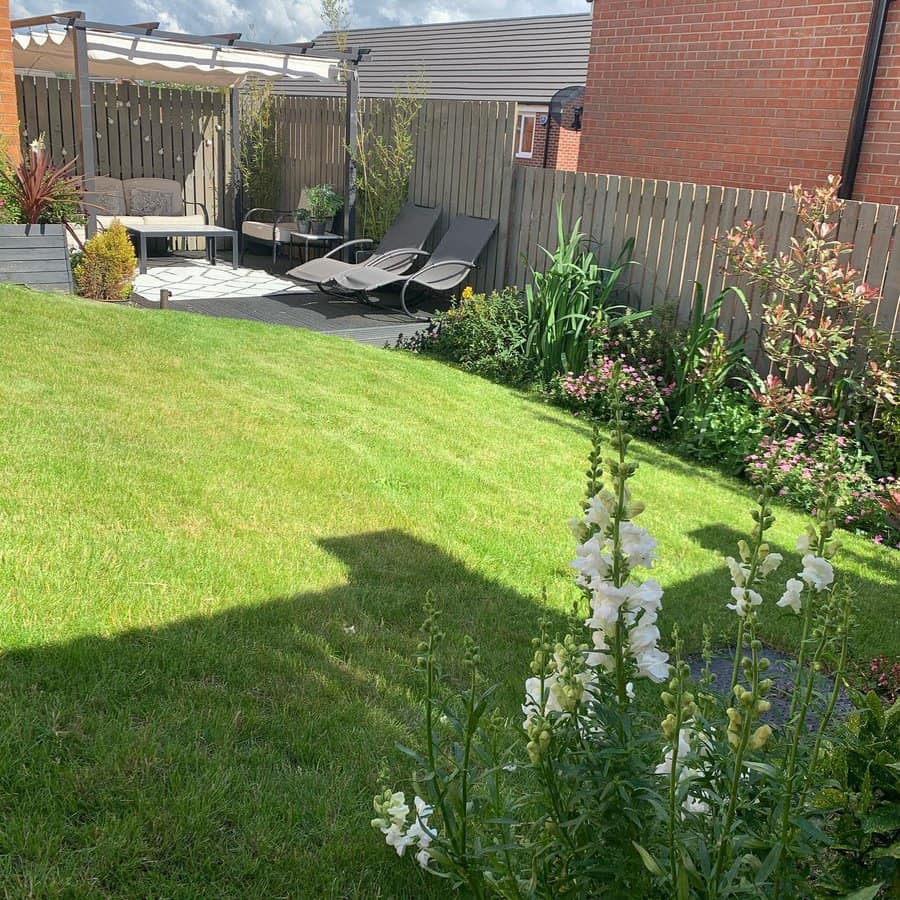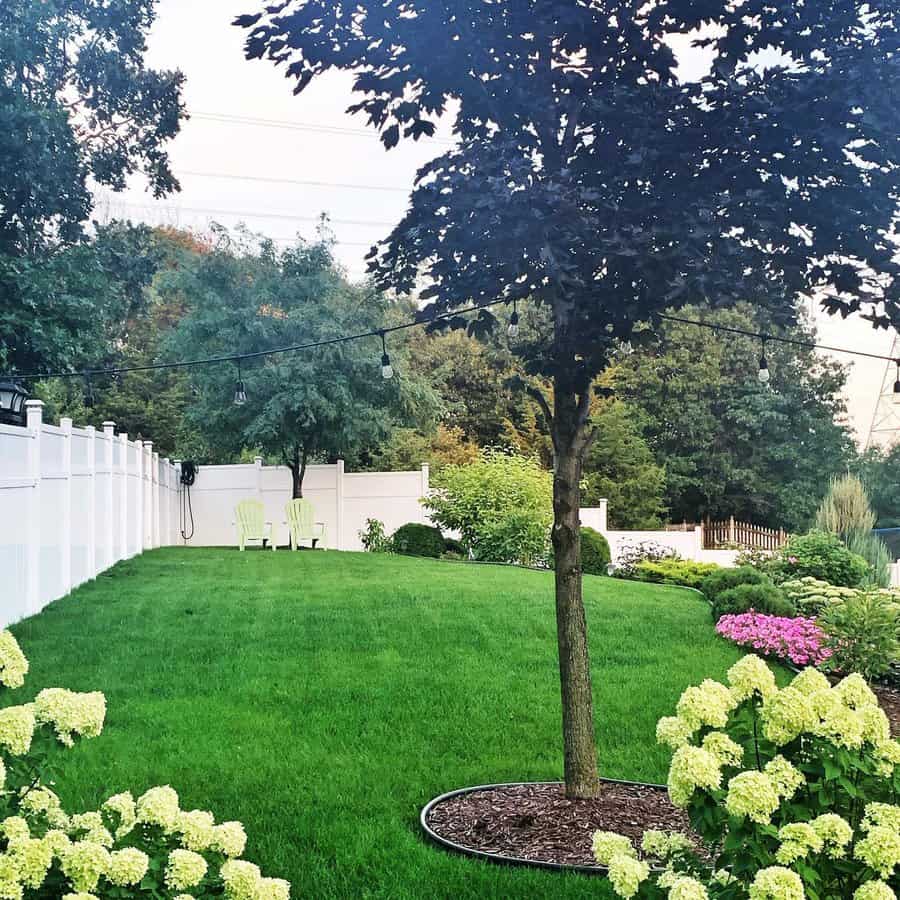 You'll find that this is one of the more popular backyard ideas because it makes previously unusable space functional. Create several outdoor spaces, such as one level for a fire pit, another for dining, and another for a garden.
Simple Landscaping FAQs
What is the best way to research landscaping ideas?
You can look at a variety of sources to get ideas for your backyard landscaping. Pinterest has tons of options, and you can easily scroll through them. Websites like this one offer plenty of pictures for inspiration. You can talk with friends and family to learn about their experiences. Local landscaping experts can also give you some helpful ideas. 
How can I landscape my yard for less?
Plan the space before you start spending money. Use ground covers that are alternatives to lawn. Moss and gravel are great options. Evergreens are useful for creating a lush look and a natural wall. Try reusing or upcycling materials to save money on your decor and furniture.
Are landscaping ideas expensive?
There are landscaping ideas that can fit any budget. There are even affordable alternatives to the more expensive landscaping ideas. Start by determining your budget and then working backward to choose landscaping ideas that fit within that number.