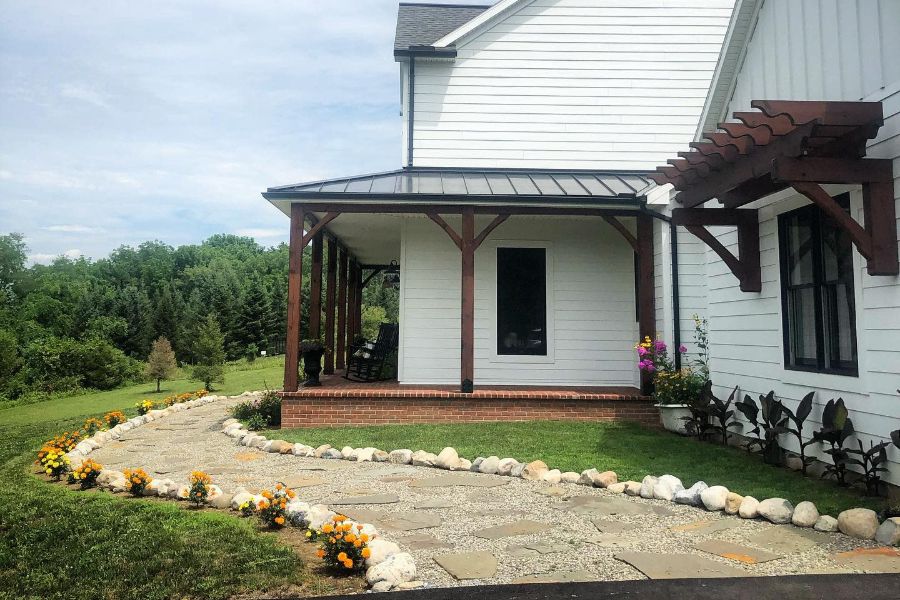 27 Simple Landscaping Ideas
"All gardening is landscape painting." – William Kent
Landscaping transforms your property into a stunning creation that welcomes people in. It's the difference between a dull property you don't notice and one that's abundant with curb appeal.
Adding some landscaping to your property can increase its value by up to 13%, so it makes for a great home improvement project.
So what does your landscaping look like? Perhaps the front of your home could use some flower beds. Or your backyard could benefit from some raised garden beds.
Try these simple landscaping ideas on your property and give it a long-overdue facelift. Start on one side of your home and work your way around until you've created a cohesive landscaping look around your entire home.
1. Backyard
It doesn't matter if you have a large or small backyard, the right landscaping can make or break the space. Create a landscape design that embraces what you already have, such as building off your patio or hardscape.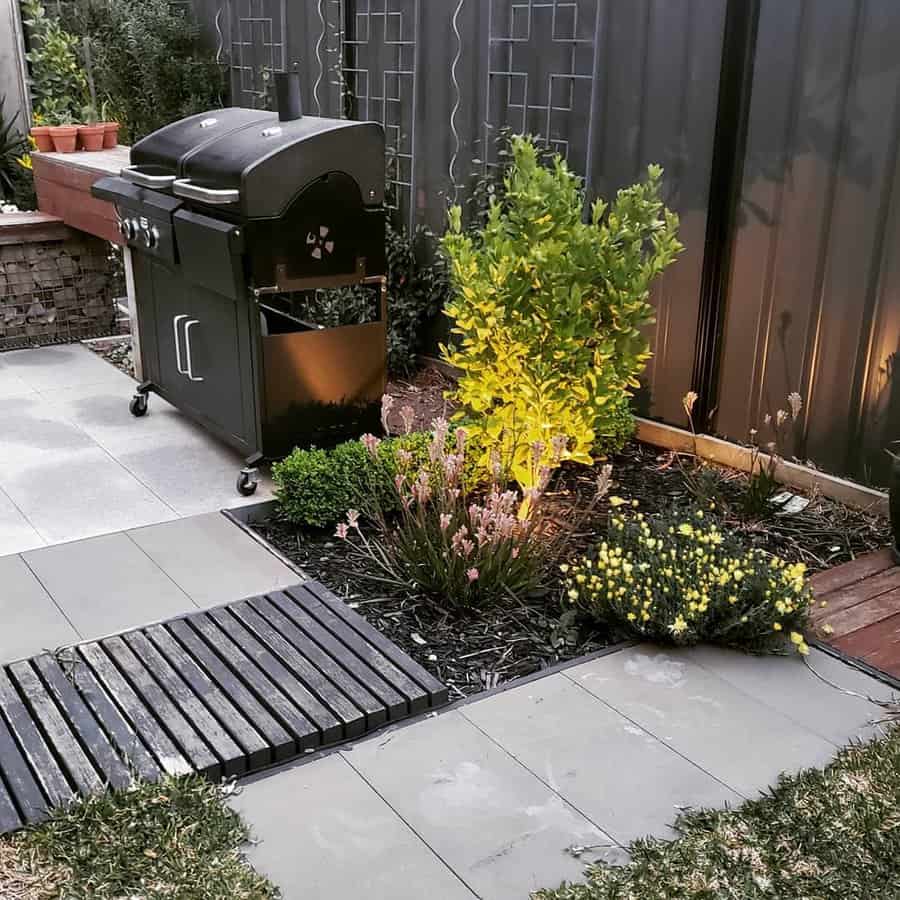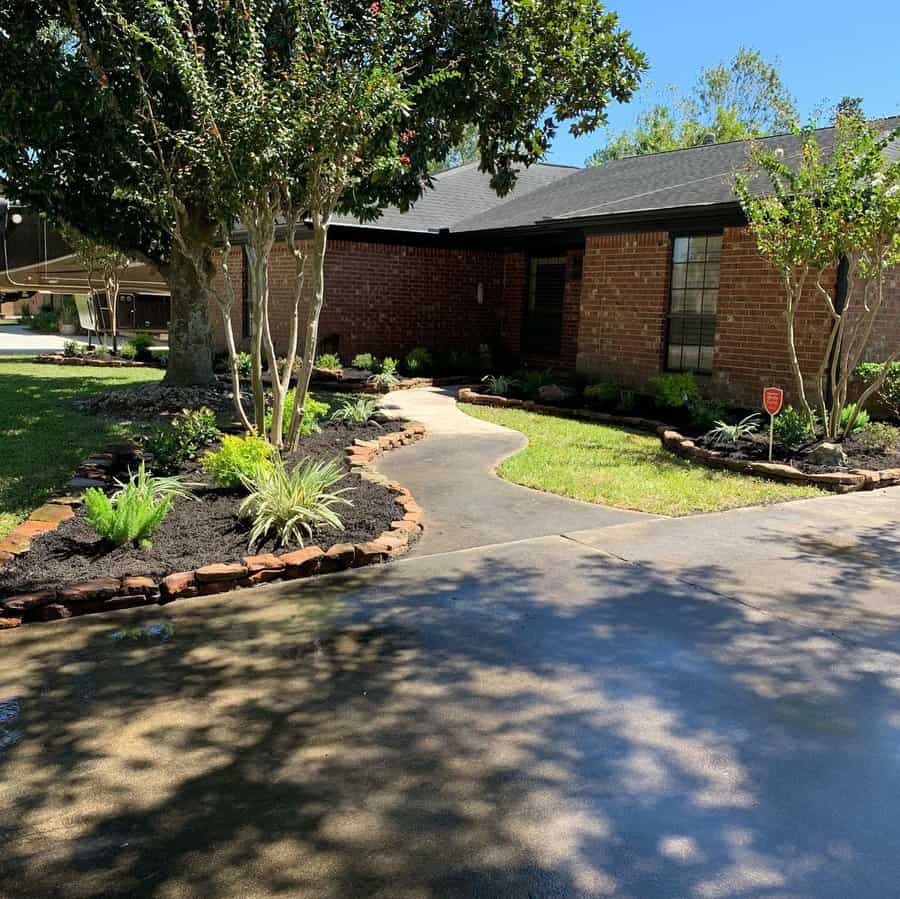 You could turn your small yard into an oasis with flowering bushes along the walkway and large plants around the perimeter. For larger backyards that have a large patio or deck, you can place planters.
You could have a small one that's full of fresh herbs. Or you could have a larger one that runs along one of your fences. Use it to grow fresh vegetables and greens.
2. Curb Appeal
Your home's curb appeal can make or break how others see and value your home. Plant perennials and native plants around your home's exterior. These plants will look beautiful throughout the year and year after year. This makes them lower maintenance.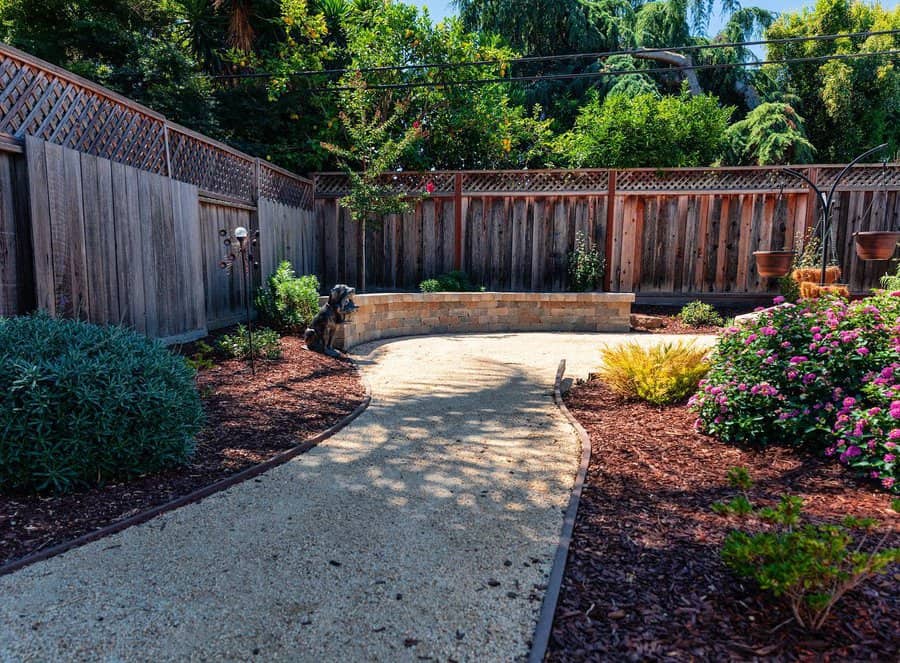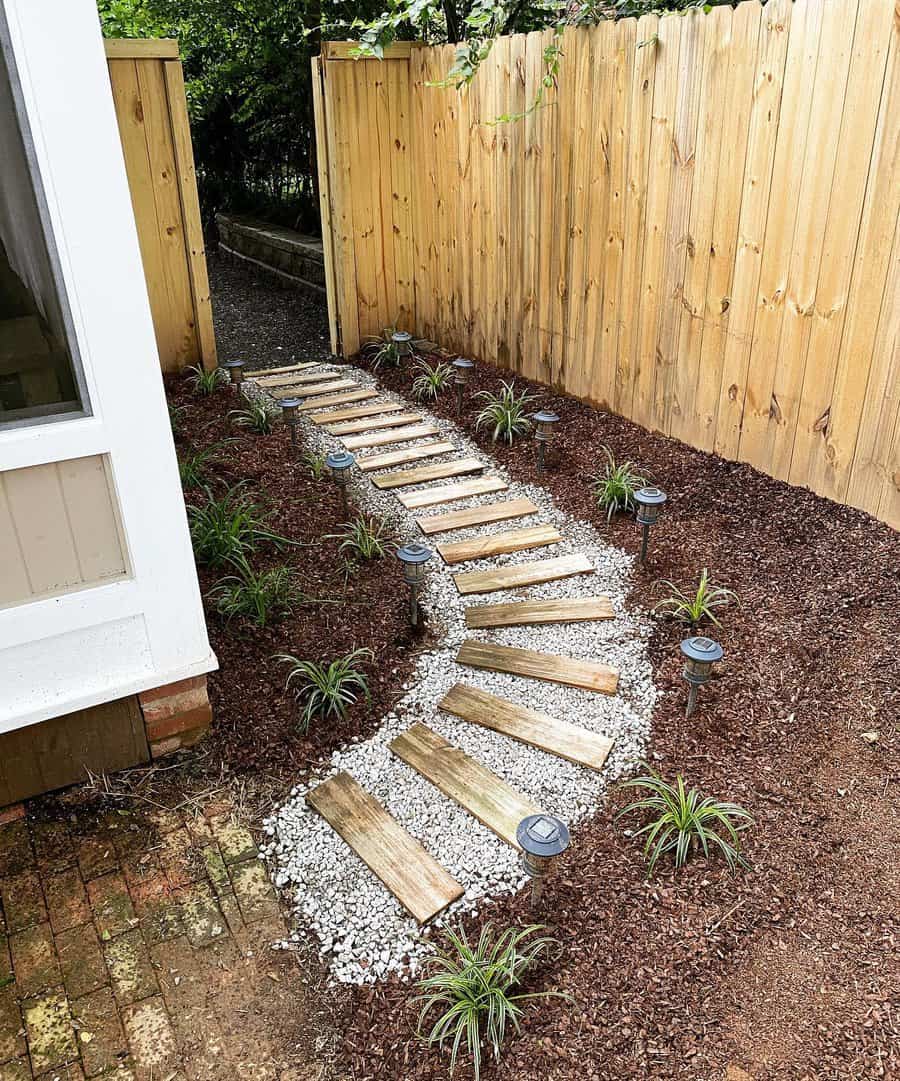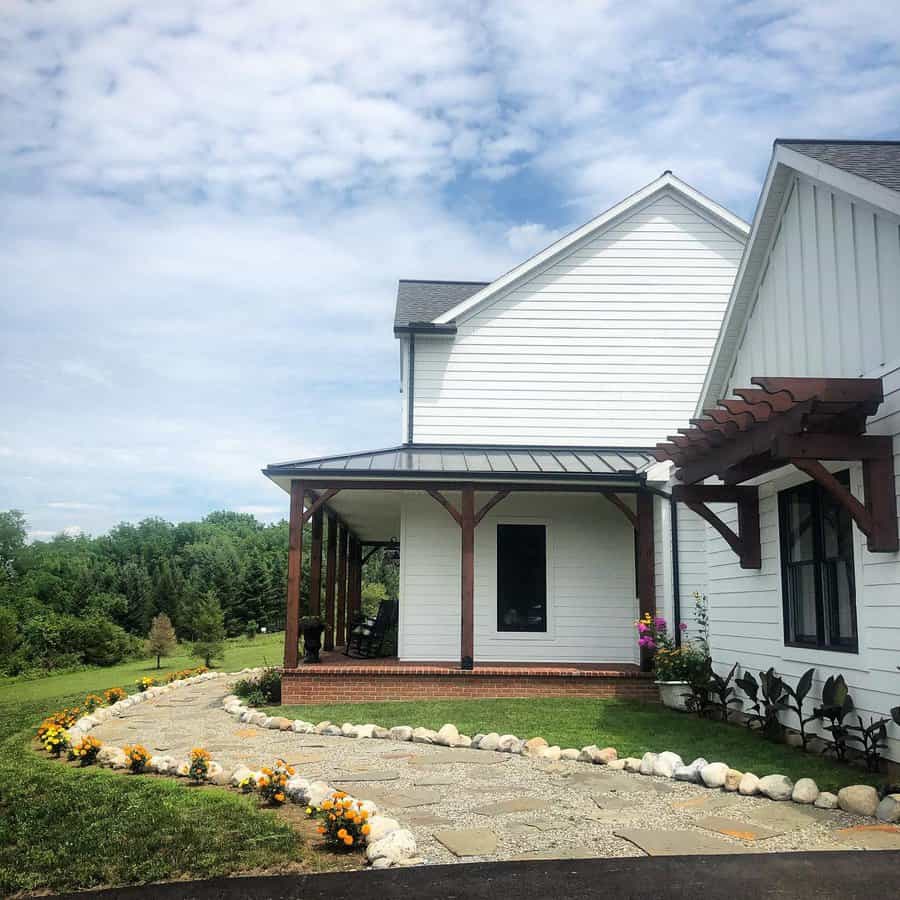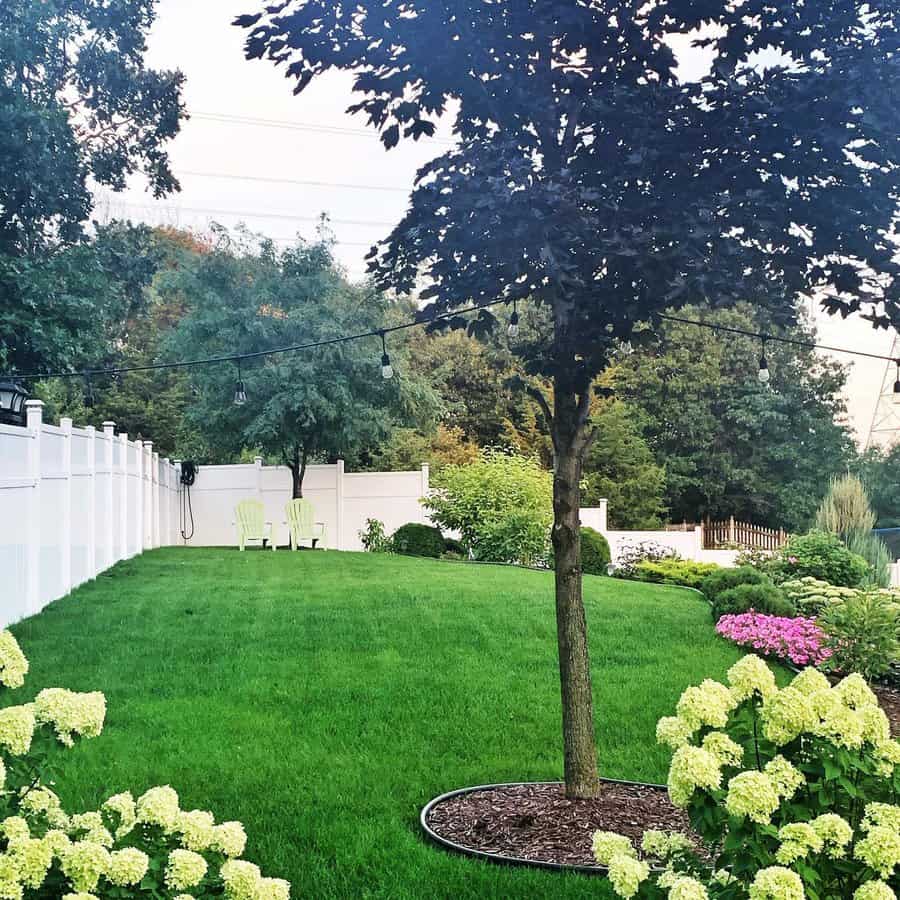 Add flower beds along the front of your home. This helps to frame your house and add color. If you live in an arid climate, you can use grasses instead. These are hardy and will thrive with less water. Frame these beds with a decorative stone edging.
3. DIY
While you could hire professionals to come in and redo your landscaping for you, this isn't necessary. With a bit of labor and know-how, you could build a pergola to cover your patio, a fence around your property for privacy, and a trellis for growing plants that vine.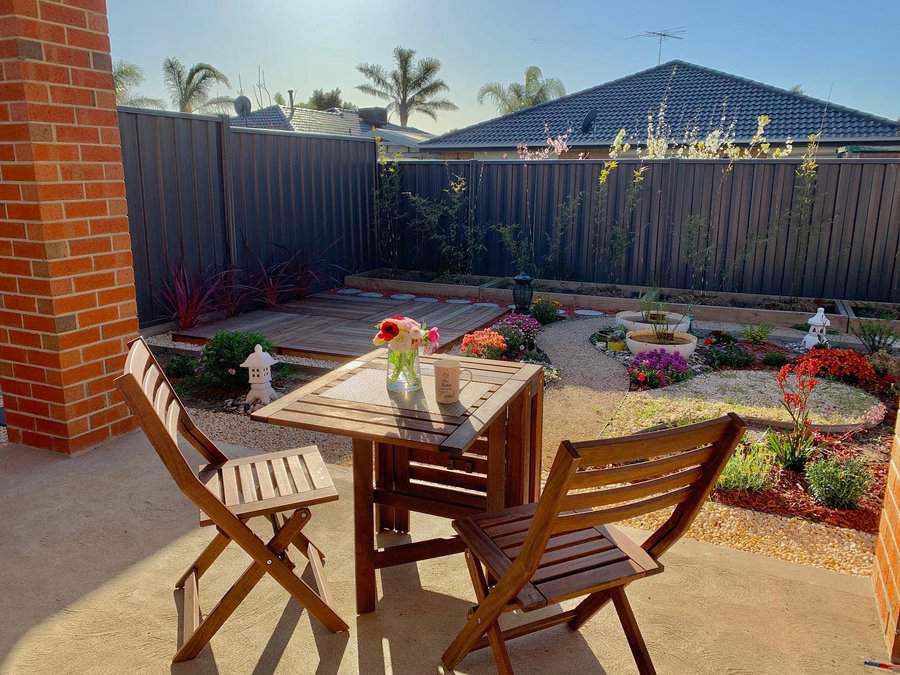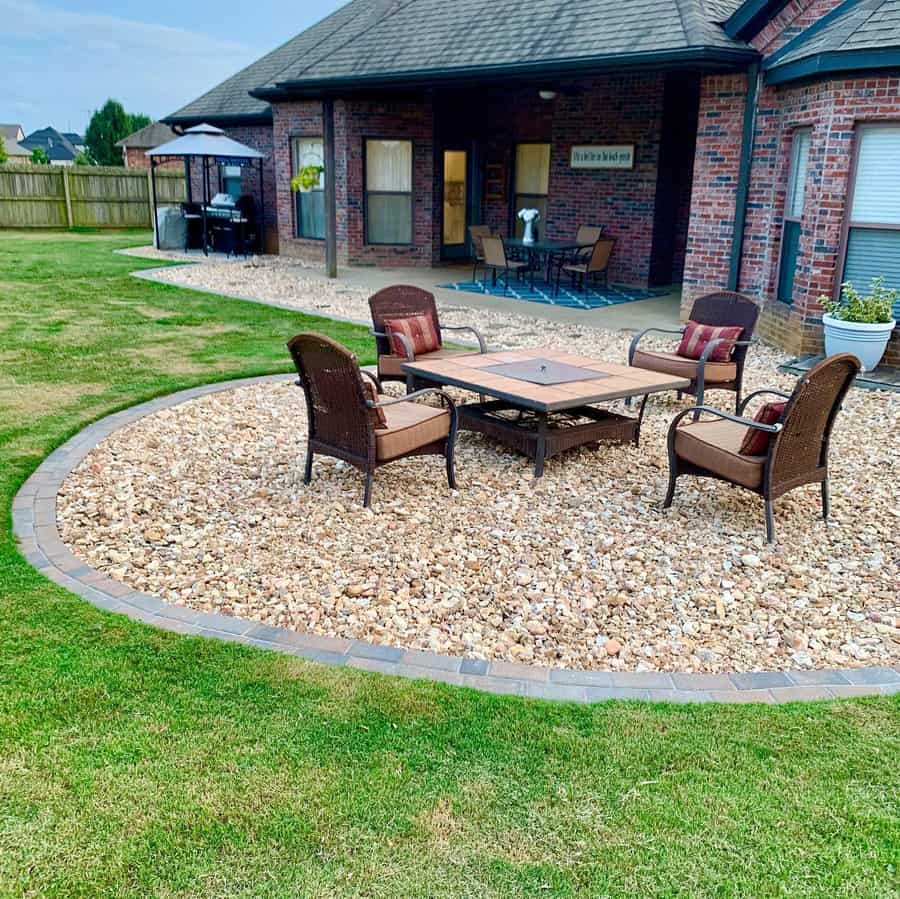 Before you get started, come up with a landscaping design. Plan out your projects and work your way through them one by one. This will take some time but also helps prevent you from becoming overwhelmed or over budget. It helps to create a scale drawing of your backyard and then sketch in your ideas.
4. Front Yard
Boost the curb appeal of your home with plenty of flowering plants. Larger front yards could have an island flower bed in the middle of the yard. Smaller yards can benefit from a small flower bed that lines the front of the house.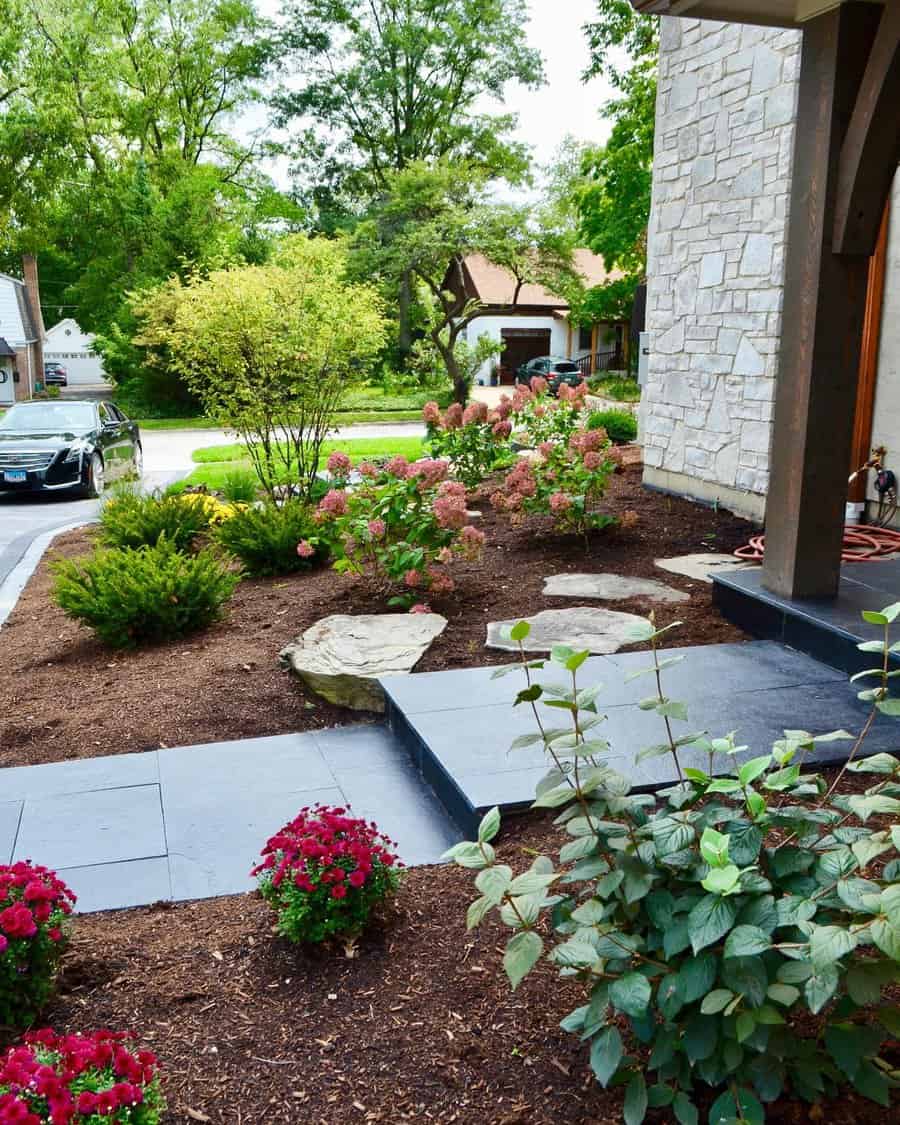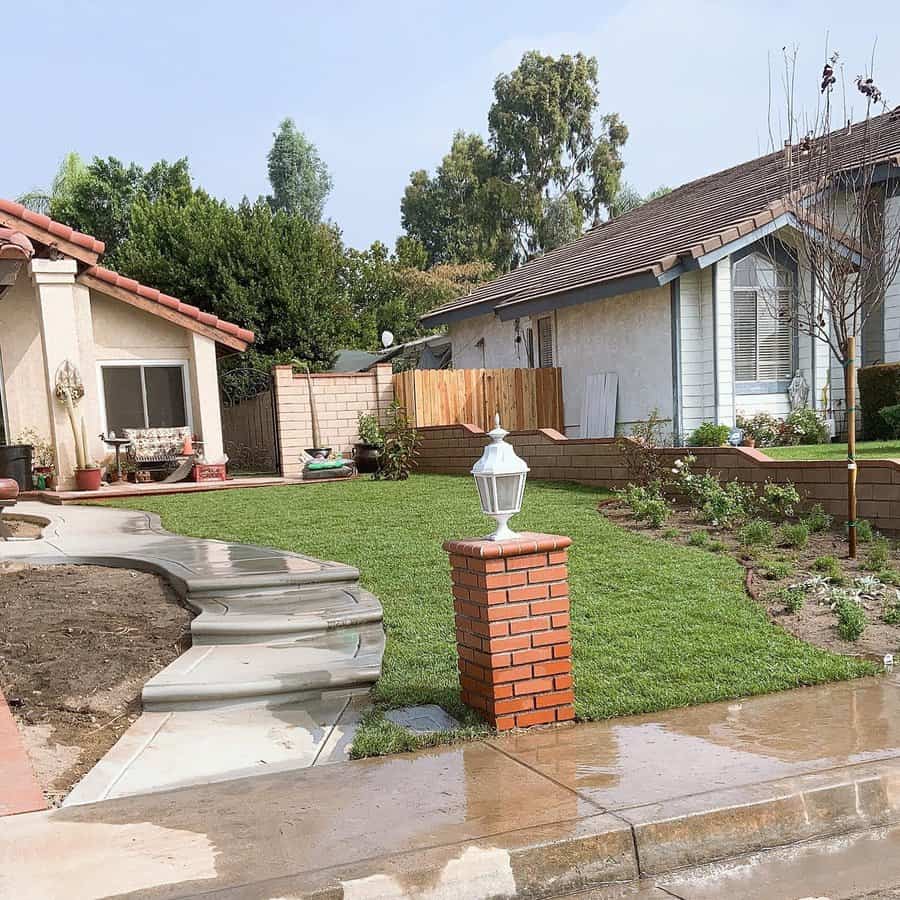 If you have a front porch, place flower pots on it. You could hang flower boxes on the railing. You could also have hanging planters. This creates a more welcoming presence for those that visit you. With these plants, you can use annuals. Then change them out with the seasons.
5. Garden
If you love gardening, then consider expanding your small garden into one that's much larger. You could have a vegetable garden in one area, another for growing greens, and another for fruits. This would give you a variety of fresh produce throughout the year.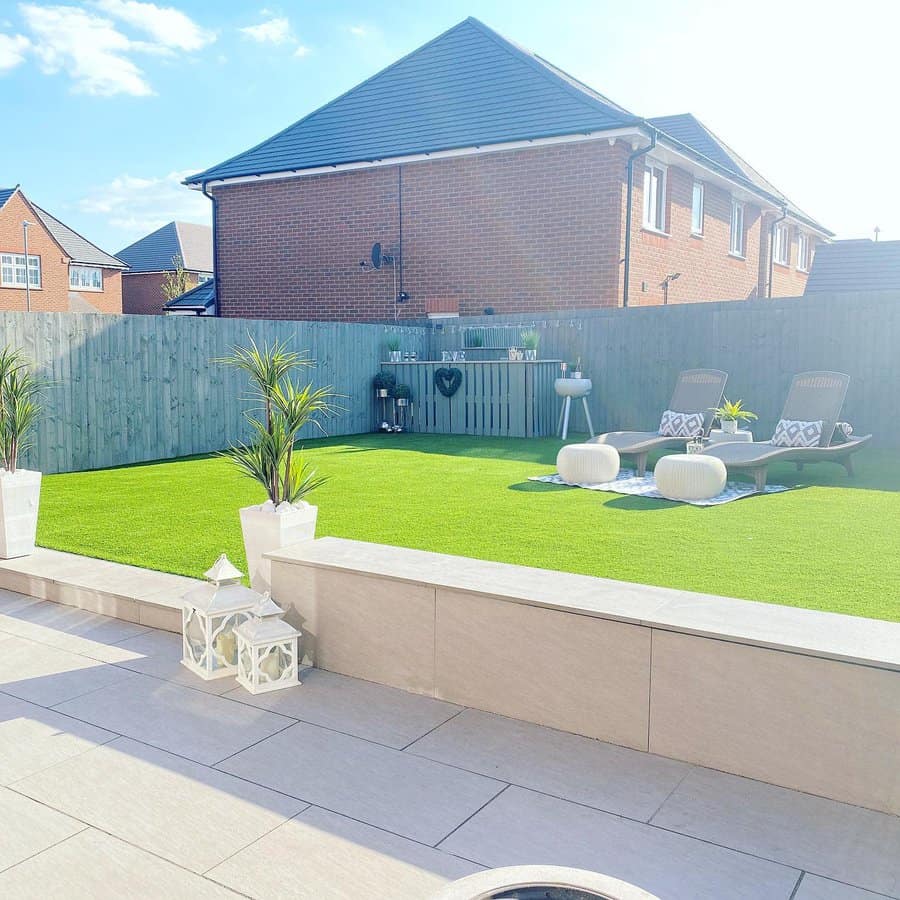 Use raised garden beds to make caring for your plants easier. You won't have to dig around on the ground, and you can better control the soil composition. Build your beds out of stone, wood, metal, or anything else that will create the right look for the garden style you're aiming for.
6. Lawn
Having a lush green lawn is the hallmark of beautiful landscaping for many people. The trick is choosing the right grass for your climate and region. While grass may sound expensive, it's actually one of the most affordable cheap landscaping ideas.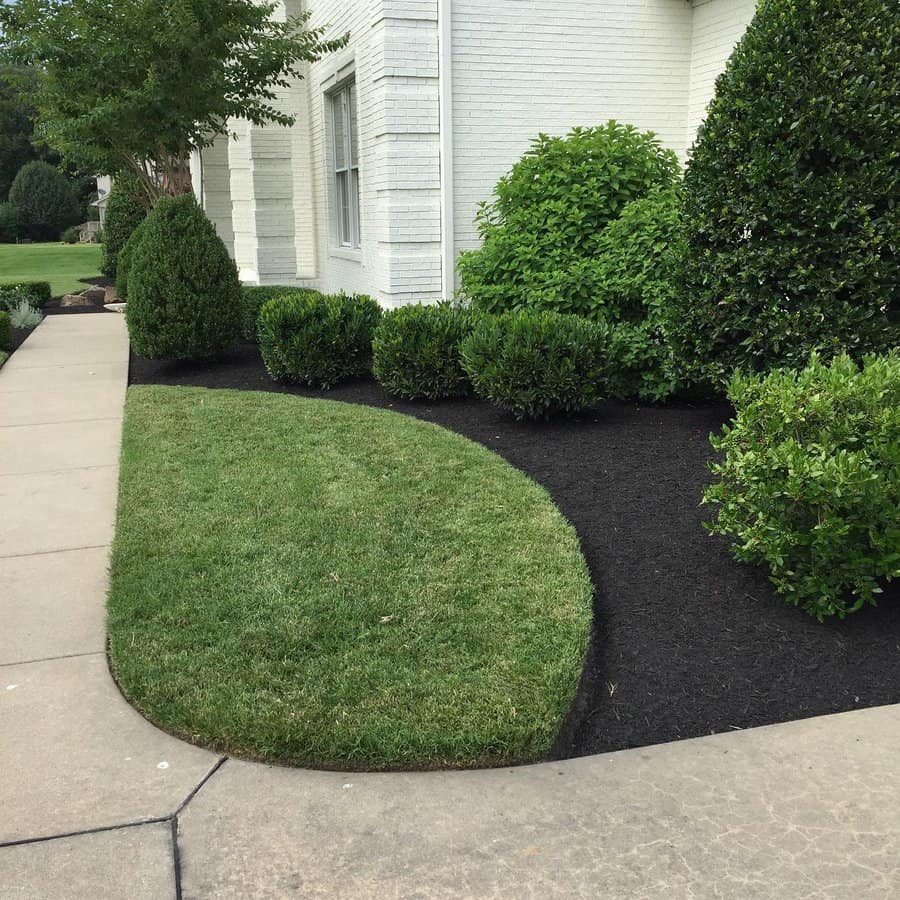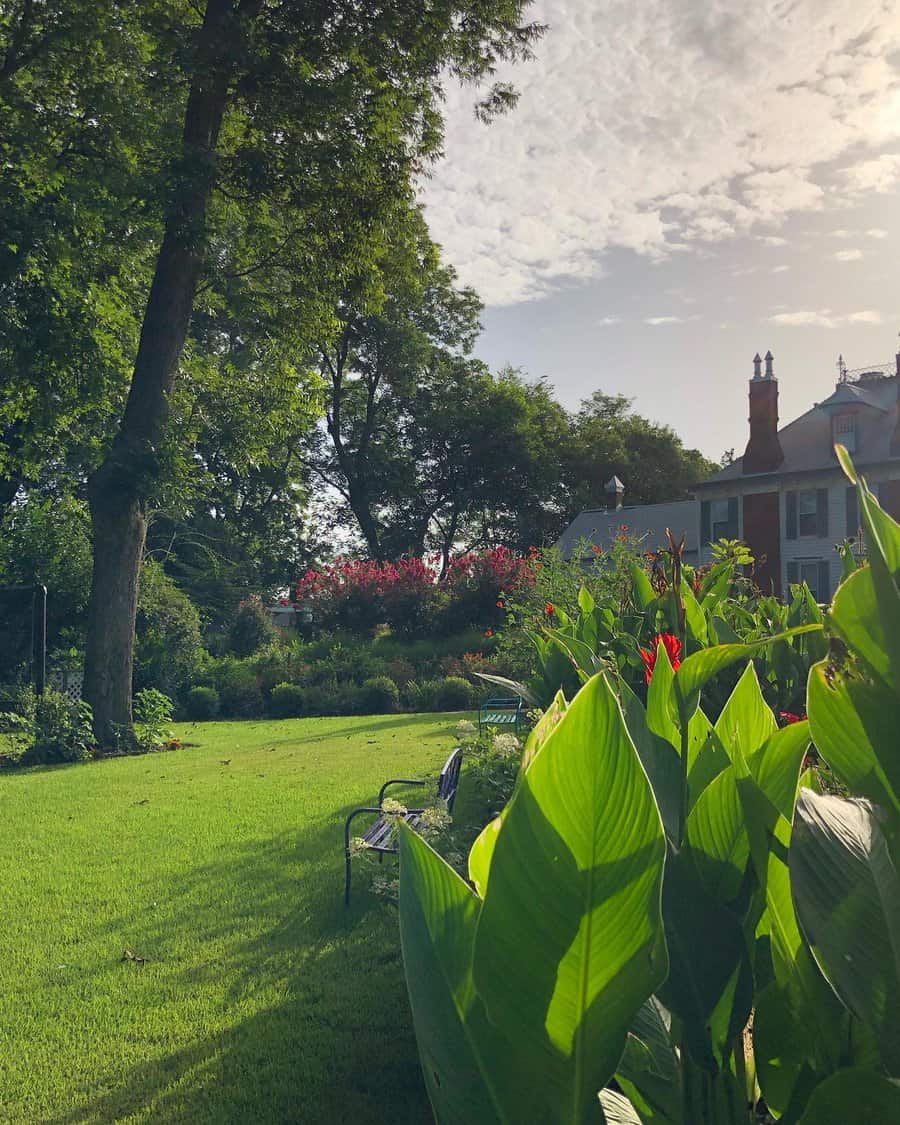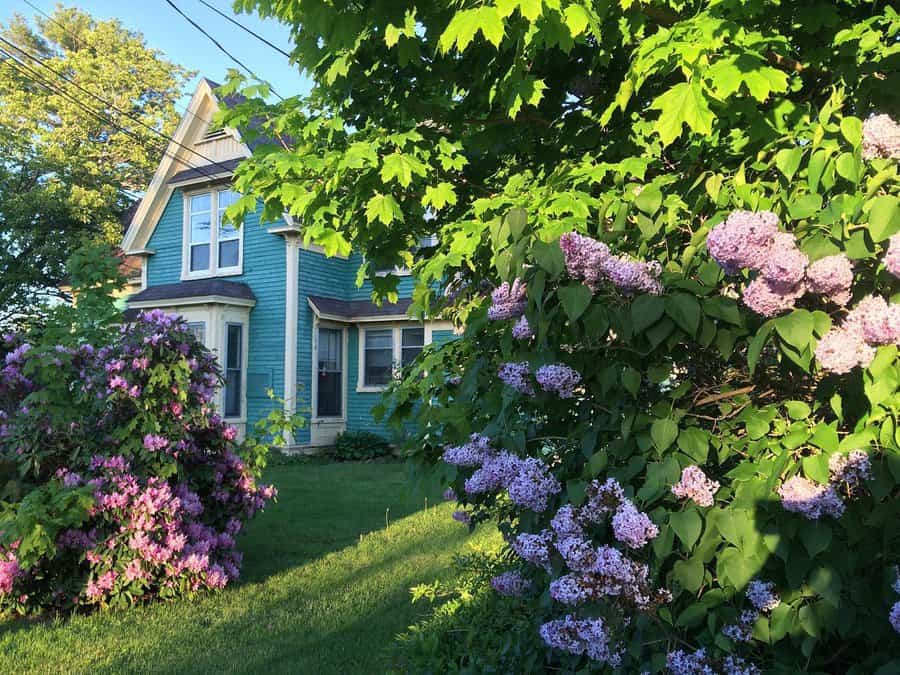 Think about the amount of light and water your yard gets. Then consider the yearly temperatures. You want to choose a grass that can thrive in these conditions. Otherwise, you'll be fighting nature to keep it alive. Nothing is worse than dead grass that's crispy and brown. Care for your lawn with regular mowing, weed killing, and fertilizing.
7. Low Maintenance
If you don't enjoy gardening or are too busy to regularly maintain your landscaping, then you need to strategically choose low maintenance designs. Instead of choosing plants that need regular trimming and pruning, choose a dense ground cover.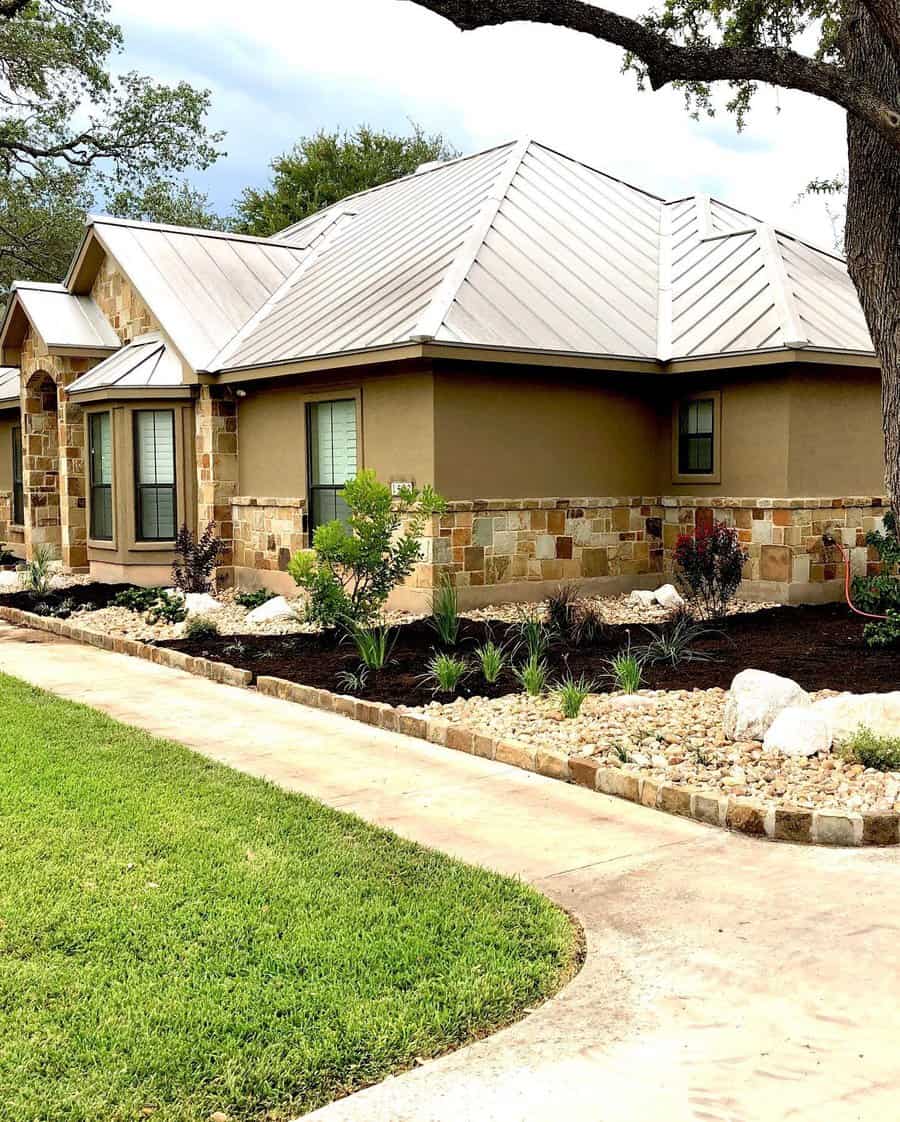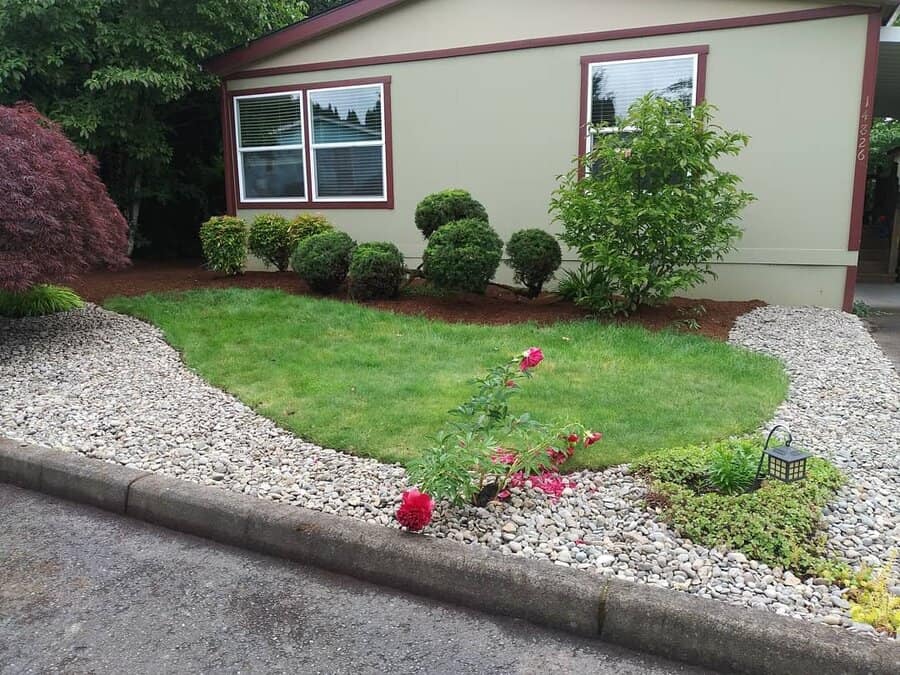 If you have a large deck or patio, place potted plants around the perimeter. Choose ones that flower or are small shrubs. They'll only grow as big as the pot you put them in.
If you don't want to deal with any plants, you can skip them altogether. Build a rock garden instead. Place large boulders around the yard and then surround them with pea gravel or sand. Use large stepping stones to create a walkway.
See more low maintenance landscaping ideas for your home here.
8. Mulch
Mulch is a must-have for insulating and protecting your plant beds. This applies to both raised beds and garden beds. Once you've created your beds, adding plants, and finished the edging, it's time to add mulch. It will help retain moisture and insulate the plant's roots from cold and heat.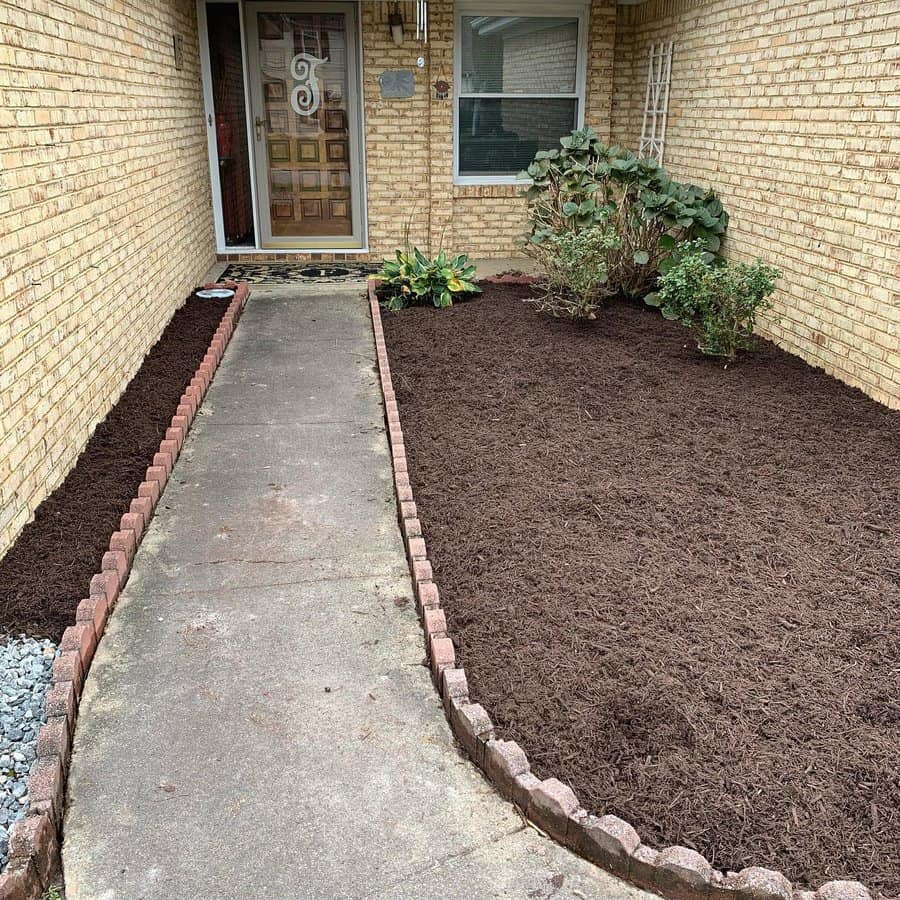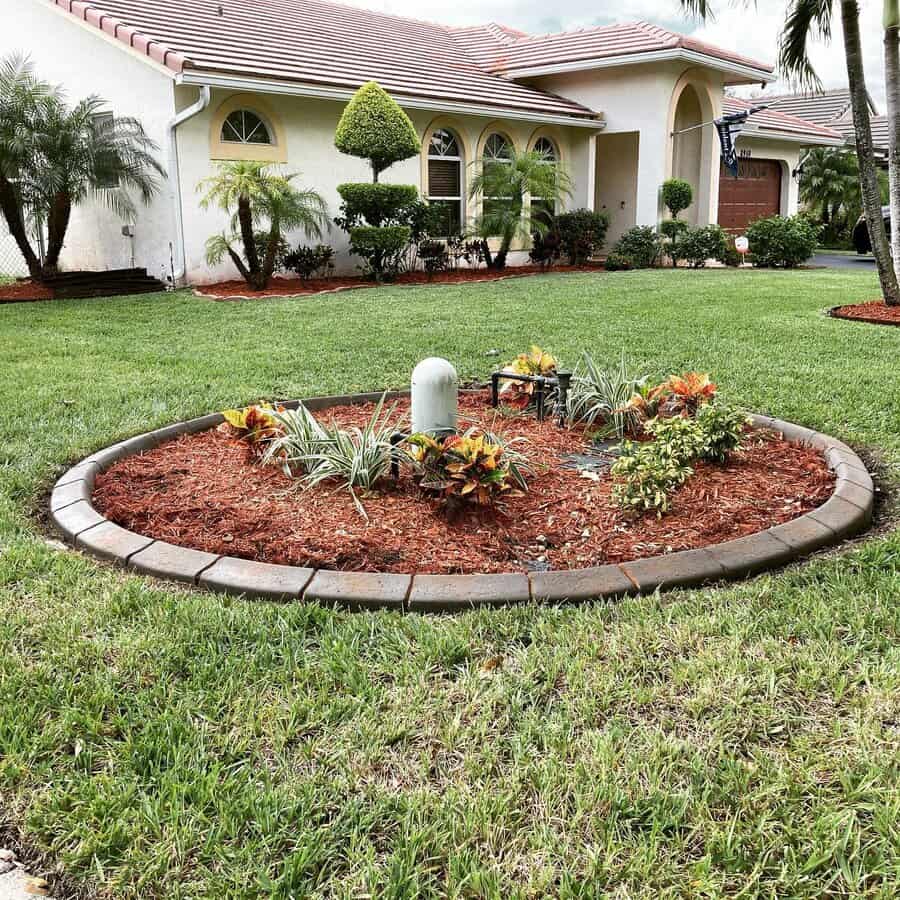 Several varieties are available. There are large chunks, bark, or finely shredded types. Then you can choose a color; they range from natural light wood to dark brown and even red. Be sure to buy enough to create the right depth. Then check it seasonally to ensure you don't need to add more.
9. Pathway
Adding pathways to your backyard gives you and your guests a designated place for walking. This prevents people from trampling over your lawn or gardens.
Mark out your pathways from the exterior door of your home, patio, or deck. Then have the path loop around your backyard or even around to the front of your home.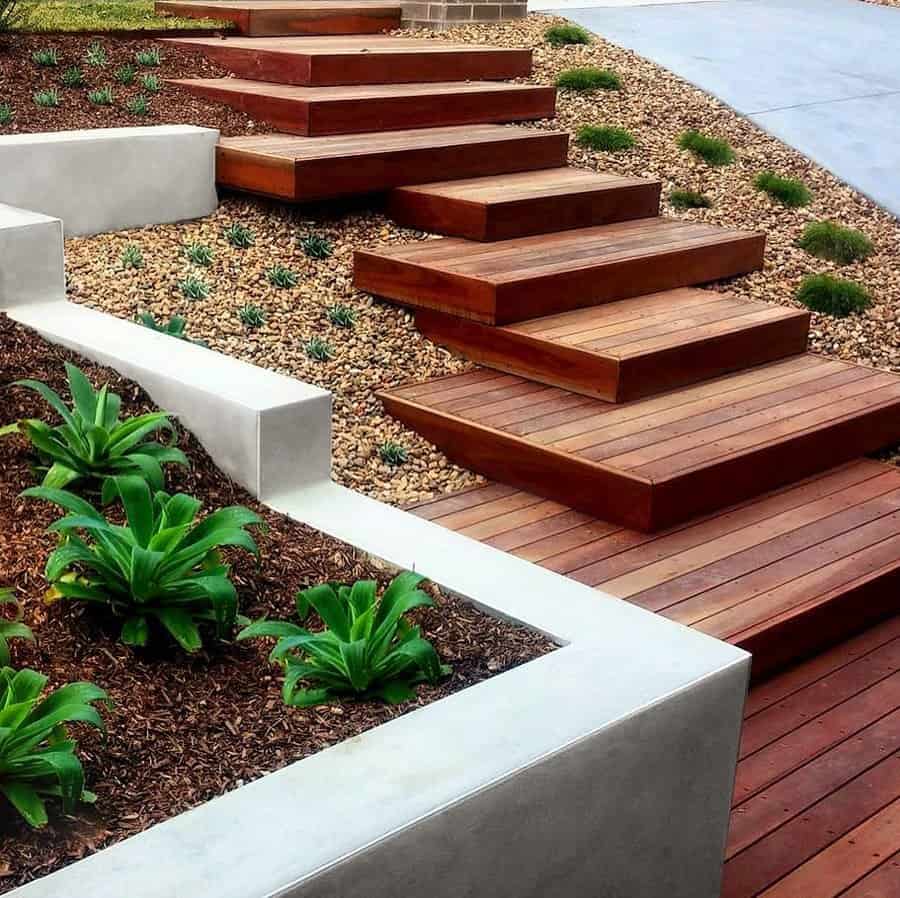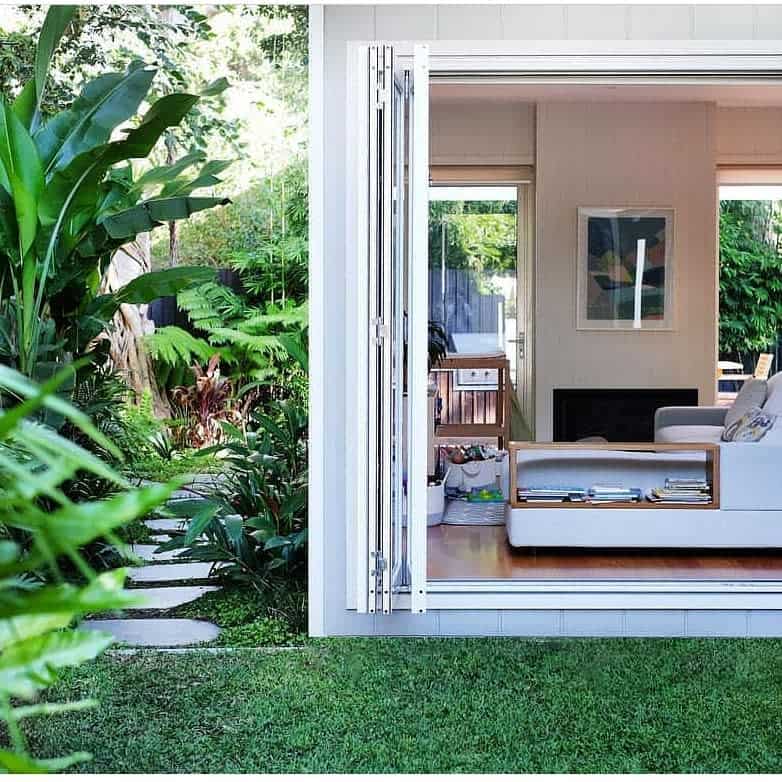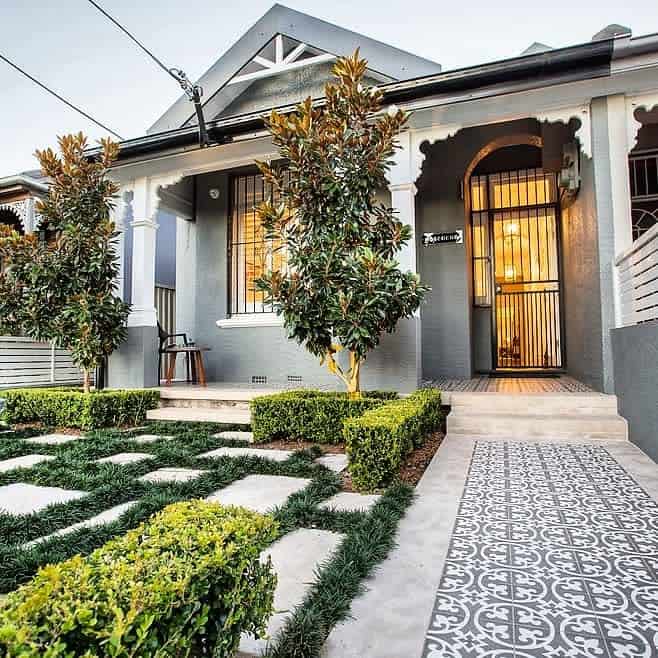 Finish your walkway with outdoor lighting to make it safer to walk at night. You could use stepping stones or pea gravel to pave the walkway. This will give it a more polished look than simply digging out the grass and creating a dirt path.
See more garden path ideas here.
10. Sloped Landscaping
If your property slopes, you have two options. You could embrace the slope and allow it to roll downward. However, this isn't very useful. Instead, consider building a series of retaining walls. These will gradually step your property down and create several flat usable areas.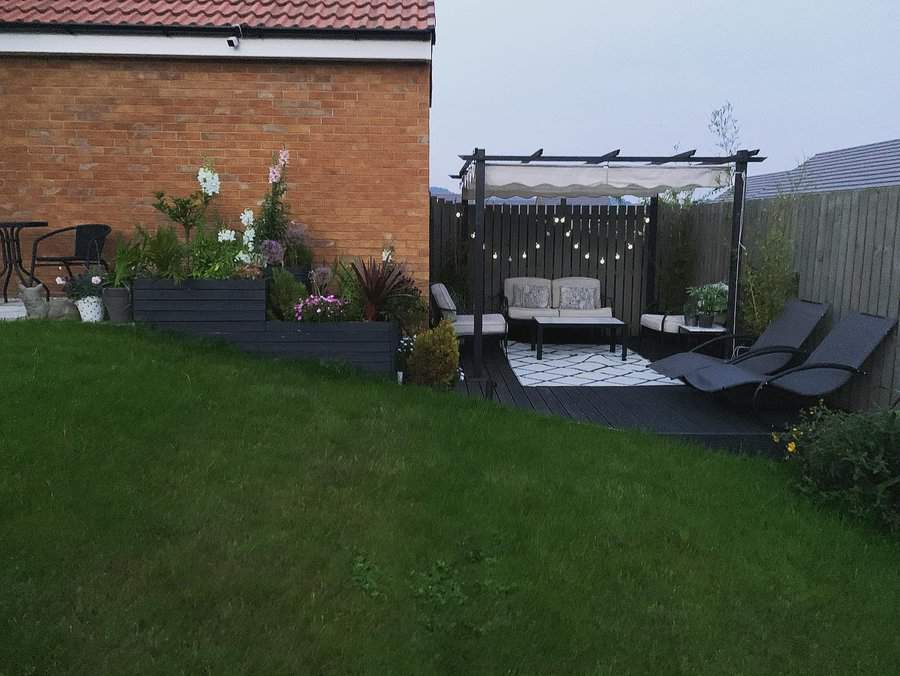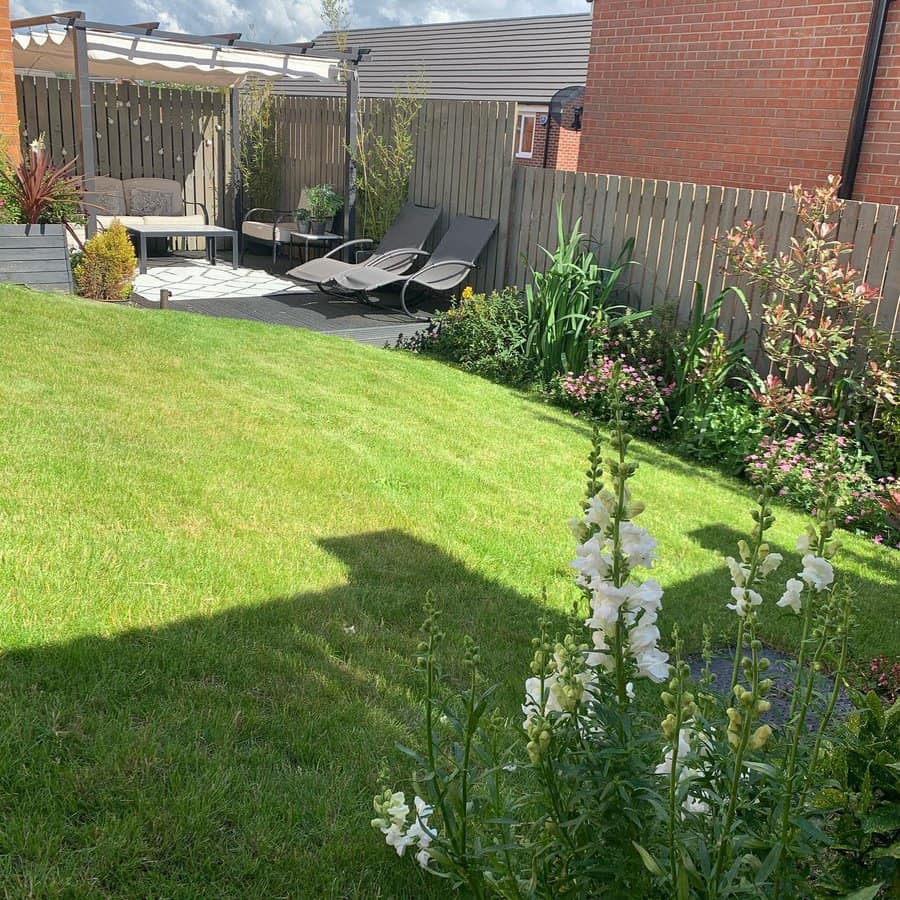 You'll find that this is one of the more popular backyard ideas because it makes previously unusable space functional. Create several outdoor spaces, such as one level for a fire pit, another for dining, and another for a garden.
Simple Landscaping FAQs
What is the best way to research landscaping ideas?
You can look at a variety of sources to get ideas for your backyard landscaping. Pinterest has tons of options, and you can easily scroll through them. Websites like this one offer plenty of pictures for inspiration. You can talk with friends and family to learn about their experiences. Local landscaping experts can also give you some helpful ideas. 
How can I landscape my yard for less?
Plan the space before you start spending money. Use ground covers that are alternatives to lawn. Moss and gravel are great options. Evergreens are useful for creating a lush look and a natural wall. Try reusing or upcycling materials to save money on your decor and furniture.
Are landscaping ideas expensive?
There are landscaping ideas that can fit any budget. There are even affordable alternatives to the more expensive landscaping ideas. Start by determining your budget and then working backward to choose landscaping ideas that fit within that number.