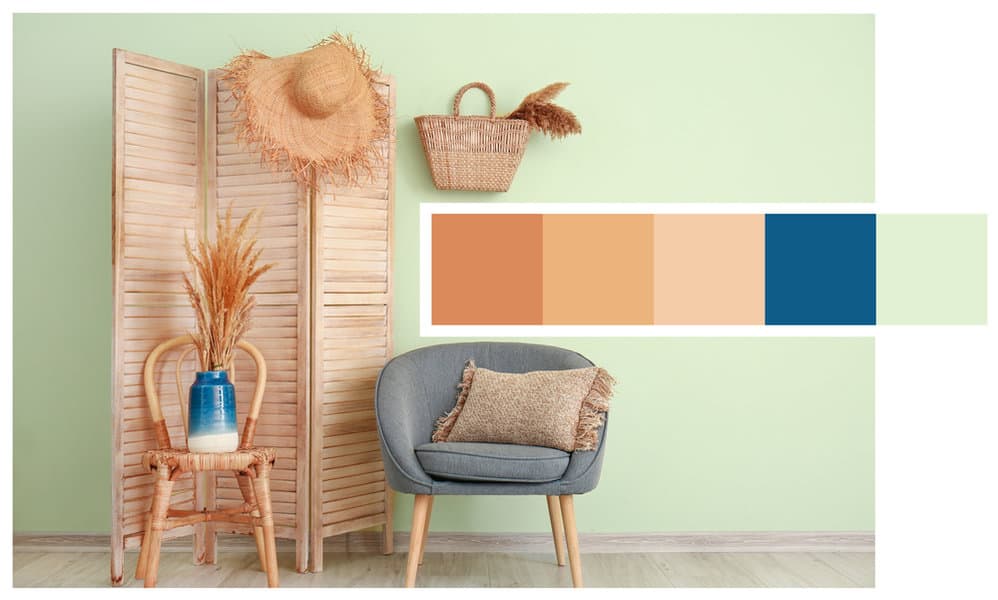 How to Choose the Right Color Palette for Your Living Room
by — Isabella Adler

Published on September 20, 2023

Updated on September 20, 2023
Have you ever walked into a living room and felt an inexplicable sense of calm, warmth, or even energy? Much of that reaction is influenced by the room's color scheme. Believe it or not, 93% of consumers place visual appearance above other factors when making a purchase for their homes.
Choosing the right color palette for your living room isn't just about aesthetics; it's about creating an environment that resonates with your personal energy and comfort.
In this article, we'll guide you through the process of selecting the perfect color scheme, helping to transform your living space into a true reflection of your personality. Dive in to discover expert tips, common mistakes to avoid, and the psychology behind your favorite hues.
1. The Power of Color: How psychology shapes our reactions
Colors have a profound impact on our emotions and behavior. It's not just a visual experience; it's psychological.
Red exudes energy and passion. It can be invigorating, but in a living room setting, consider using it sparingly or in muted tones to avoid overwhelming the space.
Blue is calming and serene, often linked to tranquility and relaxation. It's a top choice for creating a peaceful environment.
Green resonates with nature and renewal. It's balanced, calming, and can rejuvenate a space. Think of soft mossy greens or deep forest tones.
Yellow brings warmth and cheerfulness. A splash of yellow can uplift a room, but a strong shade might be too intense. Pastel or mustard tones can be more soothing.
Remember, while these general associations exist, personal experiences also play a part. Your childhood home's color or a memorable vacation spot might influence your reactions. It's essential to choose colors that resonate with you personally. Before diving in, reflect on what you want your living room to represent emotionally.
2. Room Size & Light: Picking colors based on space and illumination
The size of your living room and the amount of natural light it receives can drastically influence how a color appears and feels.
Small Rooms: Lighter shades can make a living room feel larger and more open. If you're dealing with a smaller space, consider soft neutrals or pastels to create an airy vibe.
Large Rooms: Darker colors can add warmth and make vast spaces feel cozier. Deep blues, greens, or even rich purples can bring a luxurious touch to expansive rooms.
Natural Light: Living rooms with abundant sunlight can handle darker shades without feeling closed in. The natural brightness will soften the hue and prevent it from being too overwhelming.
Limited Light: In spaces with less natural light, avoid overly dark colors, which can make the room feel dim and smaller. Instead, opt for mid-tones or lighter shades that reflect ambient light.
Angles matter too. If you're unsure, paint swatches on different walls to see how the color changes throughout the day. It's also worthwhile considering the type of artificial lighting you use. Warm bulbs can add a yellow tint, while cooler bulbs can lean towards blue, subtly shifting the paint's appearance. Remember, it's all about creating a harmonious balance that complements both the room's dimensions and its lighting conditions.
3. Anchoring with a Base: Selecting your primary shade
Your primary color is the foundation of your living room's aesthetic. It will cover the largest surface areas, so it's vital to make this selection count.
Inspiration Sources: Begin by seeking inspiration. This could be a piece of artwork, a favorite rug, or even nature. Draw your primary color from something that resonates with you.
Neutral Foundations: Neutrals like beige, gray, or off-white are timeless and offer flexibility. They allow for easy changes in accent colors and decor in the future.
Bold Statements: If you lean towards bolder hues, ensure the color isn't too overpowering. Remember, it'll dominate the space. Consider muted versions of your favorite bold color for a balanced approach.
Mood Setting: Reflect on the ambiance you want. Cooler colors like blues or greens often create a calm atmosphere, while warmer tones like reds and oranges exude energy and coziness.
Consistency: If your living room is open to other areas of your home, consider the color flow. The primary shade should harmonize with adjacent spaces for a cohesive feel.
Lastly, take your time. Don't rush the selection process. Once you have a few options in mind, invest in sample pots. Paint patches on your walls, observe them at various times of the day, and under different lighting to ensure you're making a choice you'll love long-term.
4. Accentuating with Flair: Two or three hues to elevate the look
Accent colors are the exclamation points of your living room, adding depth, contrast, and personality.
Rule of Three: A popular approach is the 60-30-10 rule. Your primary color covers 60% of the room, the secondary color 30%, and the accent color 10%. This creates a balanced and harmonious look.
Contrast and Complement: Choose accent colors that contrast with your base shade but are still complementary. If you have a cool primary color, a warm accent can add a touch of vibrancy, and vice versa.
Subtle or Bold: Depending on your preference, accents can be subtle additions or bold statements. Soft pastels can be soothing, while vibrant shades can inject energy.
Natural Inspiration: Nature is a fantastic source of complementary color schemes. Think of sunsets, forests, or seascapes for inspiration.
Functional Accents: Remember, accent colors aren't limited to walls. They can be introduced through furniture, throw pillows, art, and other decor elements.
Always test before fully committing. Small swatches or incorporating temporary items like throw blankets in your chosen accent color can provide a glimpse of the final look. Adjust as needed, ensuring the accents harmonize with your primary color and the overall mood you aim to create.
5. Depth through Texture: Pillows, rugs, curtains, and beyond
While color is crucial, texture plays an equally significant role in defining and elevating a room's ambiance.
Layering: Layer different textures to create depth. For instance, a silky-smooth curtain paired with a textured jute rug introduces a tactile dimension that's visually appealing.
Material Matters: Fabrics like velvet, linen, or faux fur can provide luxurious softness, while materials like wood, metal, or glass can add sleekness and structure.
Pillows: Mix and match pillow textures. A suede pillow beside one with sequins or embroidery can make your sofa an inviting centerpiece.
Rugs: Don't limit yourself to one type. A soft, plush rug can be layered over a flat-weave or a jute rug for a unique touch.
Curtains: Beyond color, consider the fabric's weight and drape. Light, breezy sheers can bring in softness, while heavier drapes like brocade or chenille add gravitas.
Decorative Details: Even small decor elements, like a knitted throw, a beaded table runner, or a metal decorative bowl, can introduce varied textures.
Remember, texture not only enhances visual appeal but also invites interaction. It beckons one to sit down, touch, and truly immerse in the room's environment. Balance is key: aim for a mix that feels cohesive, not cluttered, and always aligned with the mood you're striving for.
6. Shades of Subtlety: Exploring variations within a hue
Utilizing subtle variations of a single hue can add sophistication and depth to a room without overwhelming it with contrasting colors.
Monochromatic Magic: Embrace a monochromatic palette. This doesn't mean one flat color, but rather exploring the gradient: from the palest tint to the deepest shade of a particular hue.
Wall Variations: Consider painting one wall a slightly darker or lighter shade than the others. This can create a focal point and added interest without a stark contrast.
Furniture Hues: Choose furniture pieces in varying shades of your chosen color. A navy sofa, for instance, can pop against a backdrop of soft sky-blue walls.
Accent Details: Incorporate accessories like throw pillows, vases, or lamps in different shades of the base color. These details can tie the room together and add dimension.
Artistic Elements: Artwork can be a subtle way to introduce various shades. An abstract painting with varying tones of green, for example, can be both a centerpiece and a harmonizing element.
Watch the Undertones: Every color has undertones. For example, a gray might lean towards blue, green, or even purple. When playing with shades, ensure the undertones are consistent to maintain cohesiveness.
Subtle variations require a keen eye and a bit of experimentation. The beauty lies in the nuances, allowing you to craft a space that feels harmonious, layered, and uniquely reflective of your taste.
7. Simplicity is Key: Streamlining for a cohesive palette
In design, sometimes less truly is more. A refined and streamlined color palette can evoke elegance, clarity, and calm.
Limit Your Palette: While it's tempting to incorporate many colors, narrowing down to a few that work harmoniously can create a more impactful design.
Neutral Grounding: Using neutrals as a foundation can simplify the palette. Colors like beige, gray, or taupe can provide a quiet backdrop, allowing other colors to shine without competition.
One Bold Statement: If you have a penchant for bold colors, consider using just one as a statement. A single vibrant hue, when set against neutrals, can become a room's standout feature without overwhelming the senses.
Consistent Accents: Consistency in accent colors, whether through throw pillows, rugs, or decorative items, can tie the room together seamlessly.
Declutter: Beyond color, ensure your space isn't overcrowded with decor. A clean, uncluttered space allows the chosen colors to take center stage.
Transition Smoothly: If your living room connects to other rooms, ensure a smooth color transition. A jarring change can disrupt the flow, so aim for complementary or analogous colors in adjacent spaces.
Remember, a simplified palette doesn't mean a lack of character or style. It's about creating a clear vision, reducing visual noise, and letting each chosen color play its part to the fullest. A cohesive and streamlined palette invites relaxation and appreciation for the nuances in your design choices.
8. Mistakes to Avoid: Ensuring your color choices stand the test of time
Color choices can deeply influence the ambiance of a space, but mistakes can lead to a room feeling off-balance or outdated quickly.
Trend Traps: While it's tempting to adopt the latest color trends, remember that trends come and go. Opt for colors you genuinely love and resonate with, rather than what's momentarily popular.
Forgetting Undertones: Colors, especially neutrals, often have undertones that can clash if not carefully coordinated. A beige with pink undertones might not work well with one that leans green.
Neglecting Lighting: As mentioned earlier, lighting can dramatically alter a color's appearance. Testing colors under different lights, both natural and artificial, is essential.
Overwhelming Accents: While accent colors can elevate a space, too many can make a room feel chaotic. Stick to a select few that work well together.
Skimping on Samples: Investing in small paint samples before committing to gallons can save you from costly mistakes. Always swatch and observe for a few days.
Uniform Sheen: Different paint finishes (matte, satin, glossy) affect the final look. A high-gloss finish, for example, might not be suitable for large walls as it can highlight imperfections.
Not Considering the Whole Home: Your living room doesn't exist in isolation. Ensure the colors flow seamlessly from one room to another for a cohesive home aesthetic.
The key takeaway is to be deliberate and thoughtful in your choices. With careful consideration, you can create a timeless space that remains fresh and inviting for years to come.