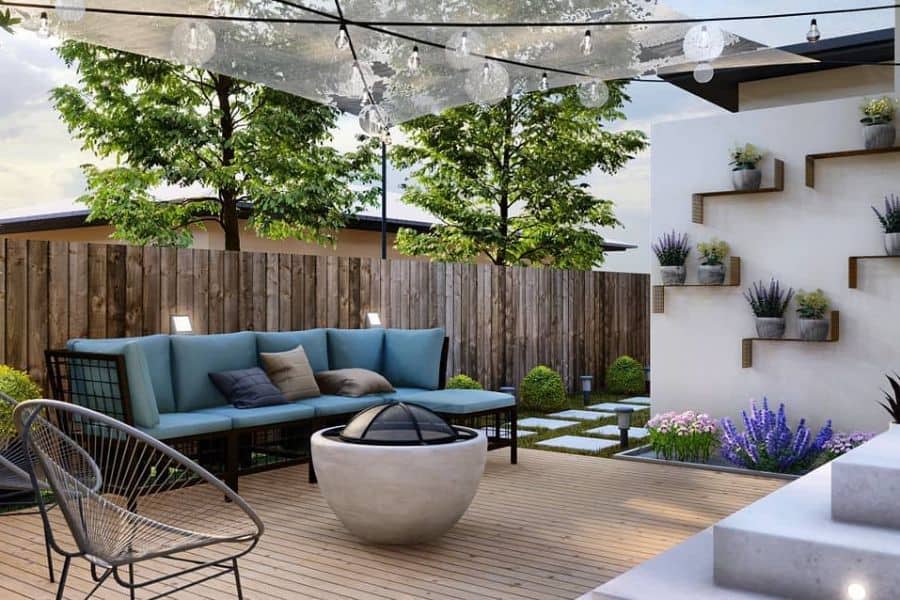 The Top 49 Patio Decor Ideas
by — Kendrick Hulse

Published on November 1, 2021

Updated on October 14, 2023
A set of wicker chairs or an outdoor dining set is only the first step of designing a stylish patio space.
Creating a cohesive patio design is no different than decorating one of the interior rooms of your home. If you really want your outdoor living area to shine, you need to take a look at the big picture.
Outdoor patio decor is the secret to breathing life and personality into your backyard seating area or balcony. Keep reading for our favorite patio decor ideas and how to customize them to meet your needs!
1. Create a Cozy Patio with Coffee Table Set
Selecting the right coffee table is crucial for a cozy patio setting. Opt for a table that complements your patio's overall design, considering durable materials like wood or metal. Enhance its appeal with a decorative tray or a vase of flowers, integrating it seamlessly with the surrounding decor.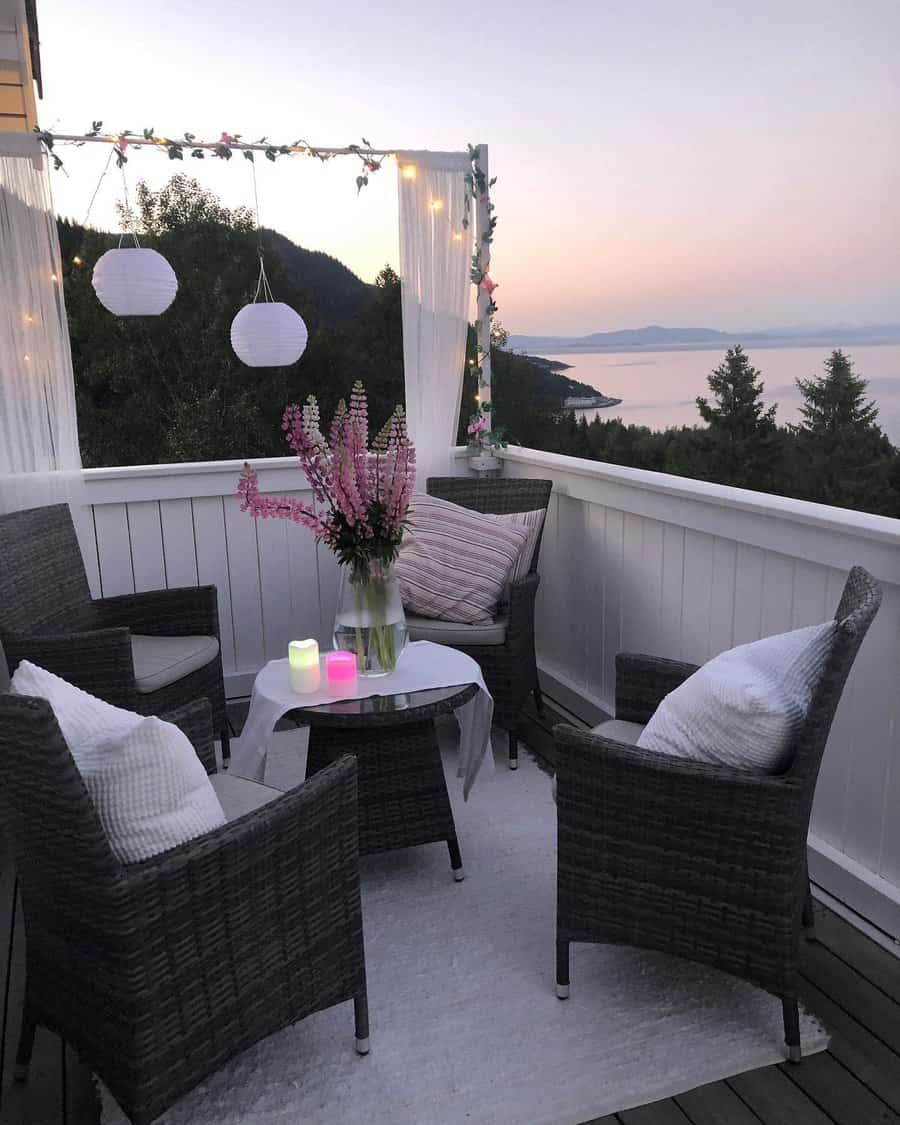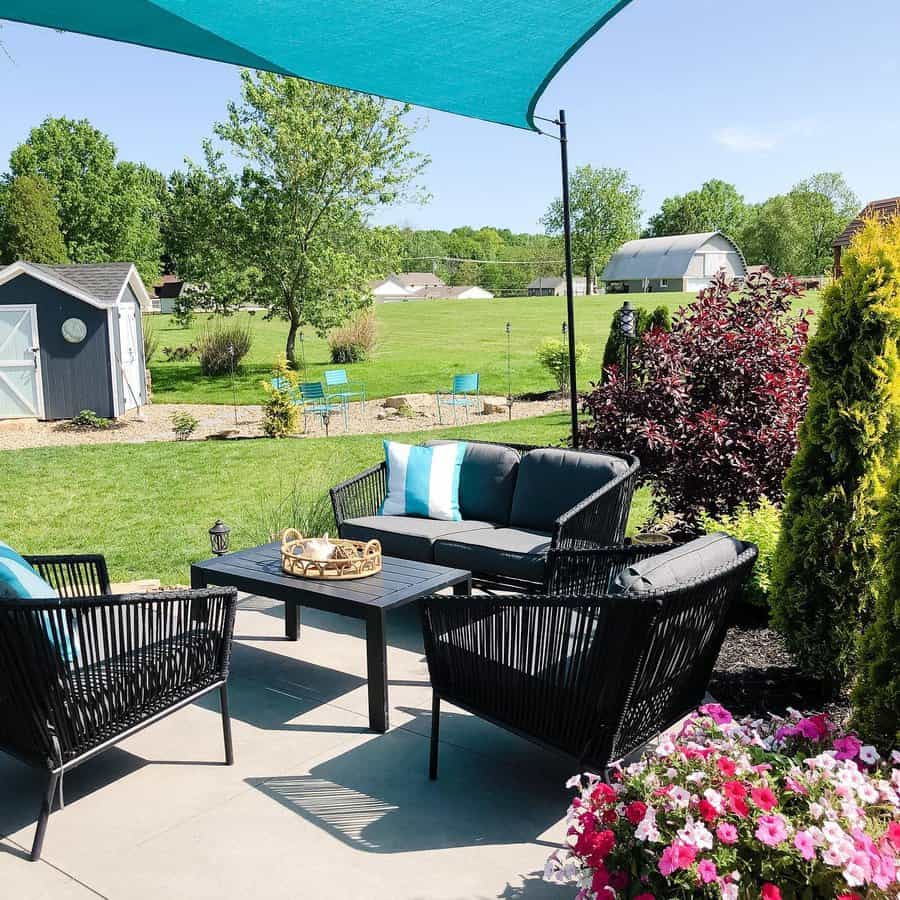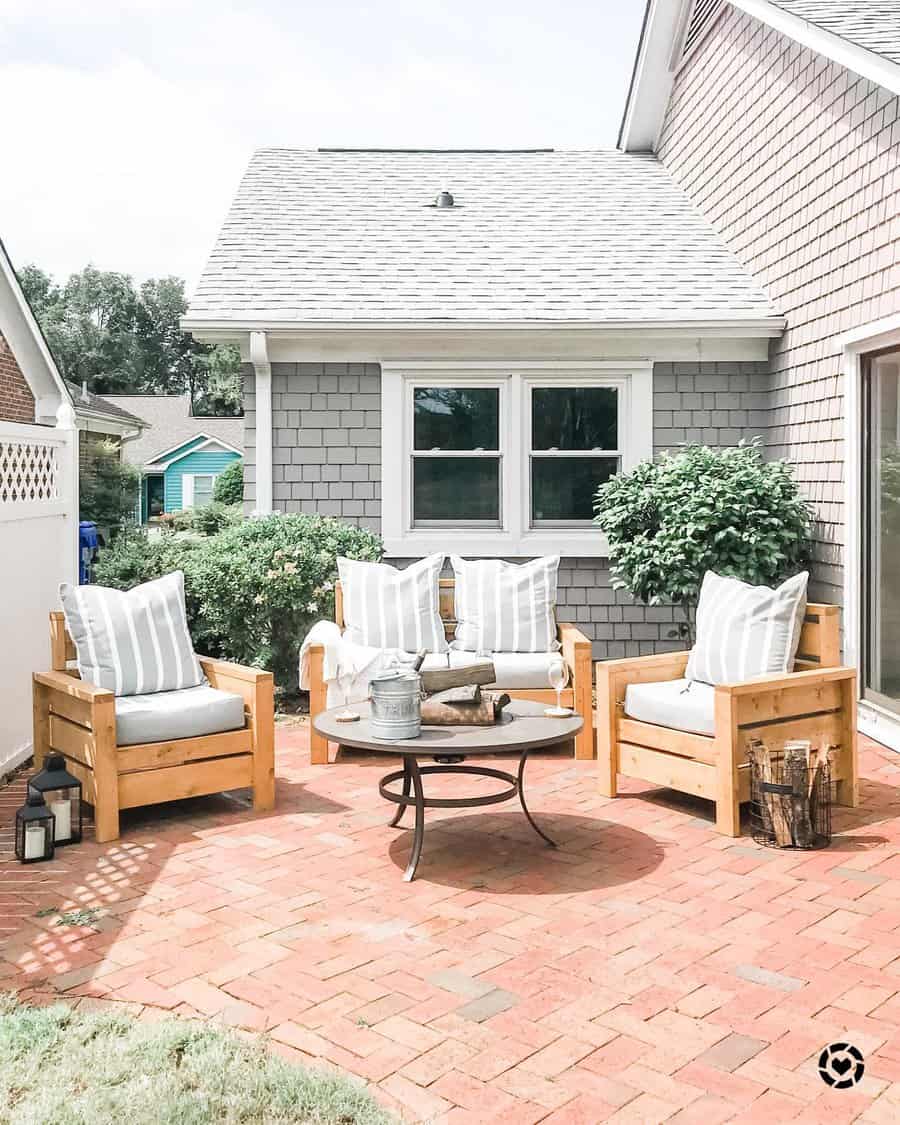 2. Elevate Your Space with Greenery
Incorporate potted plants to infuse life into your patio, making it inviting and lively. Depending on your space, choose between lush greens or vibrant flowers. Beyond aesthetics, these plants purify the air and can be a serene element that reduces stress. Remember to pair them with complementary patio furniture or decorative pieces for a cohesive look.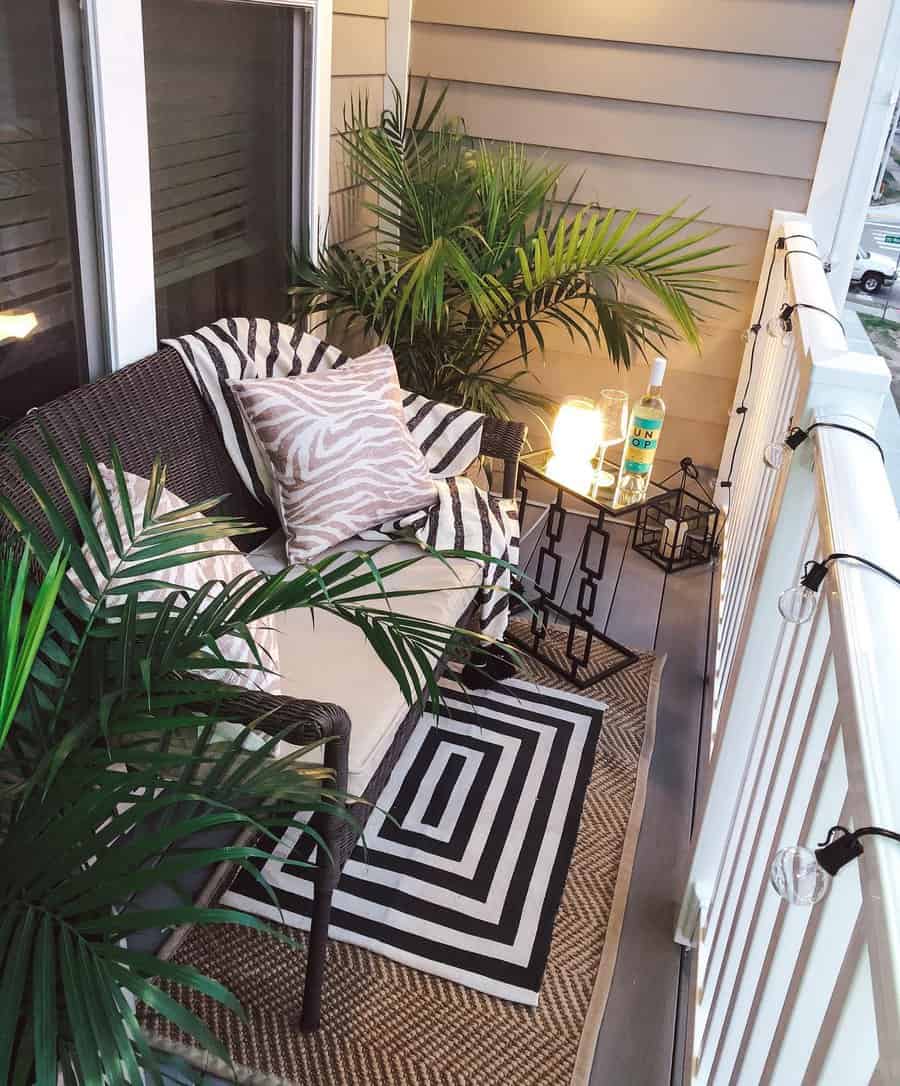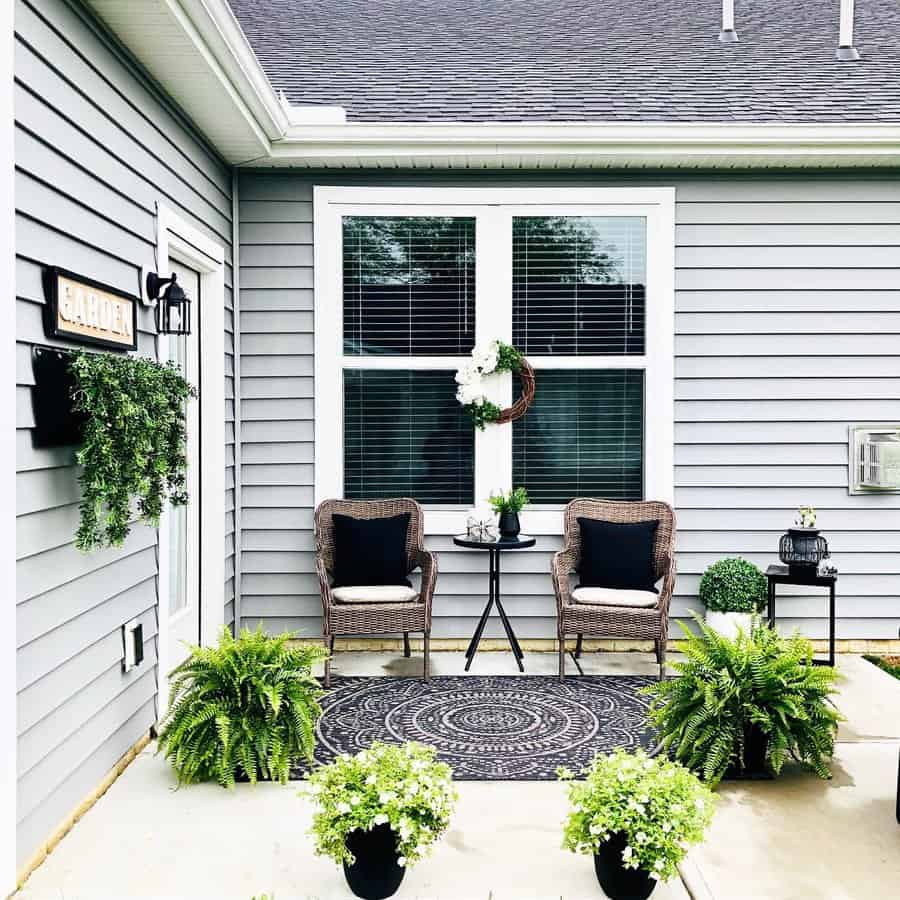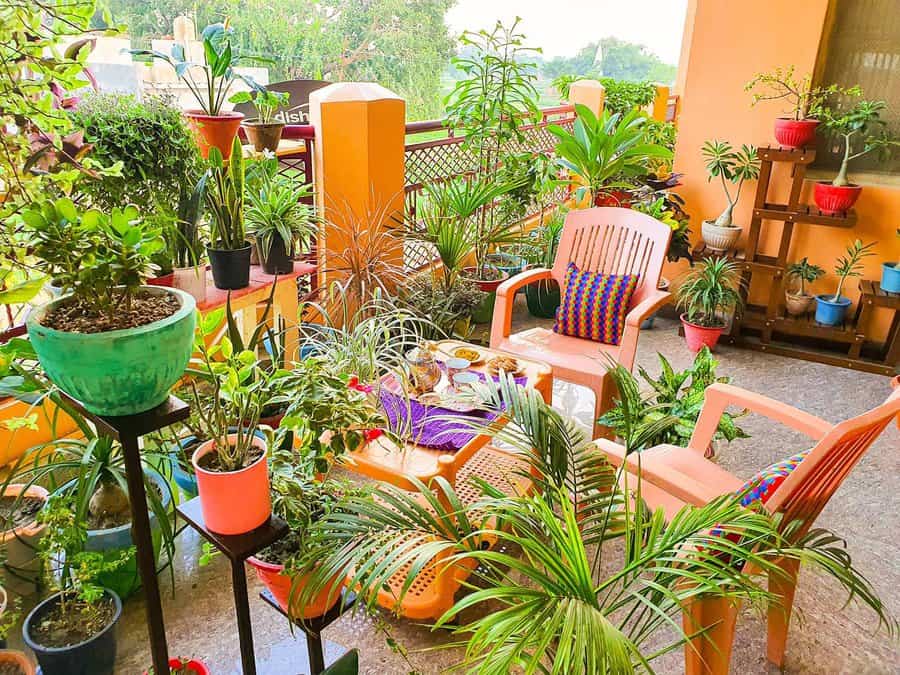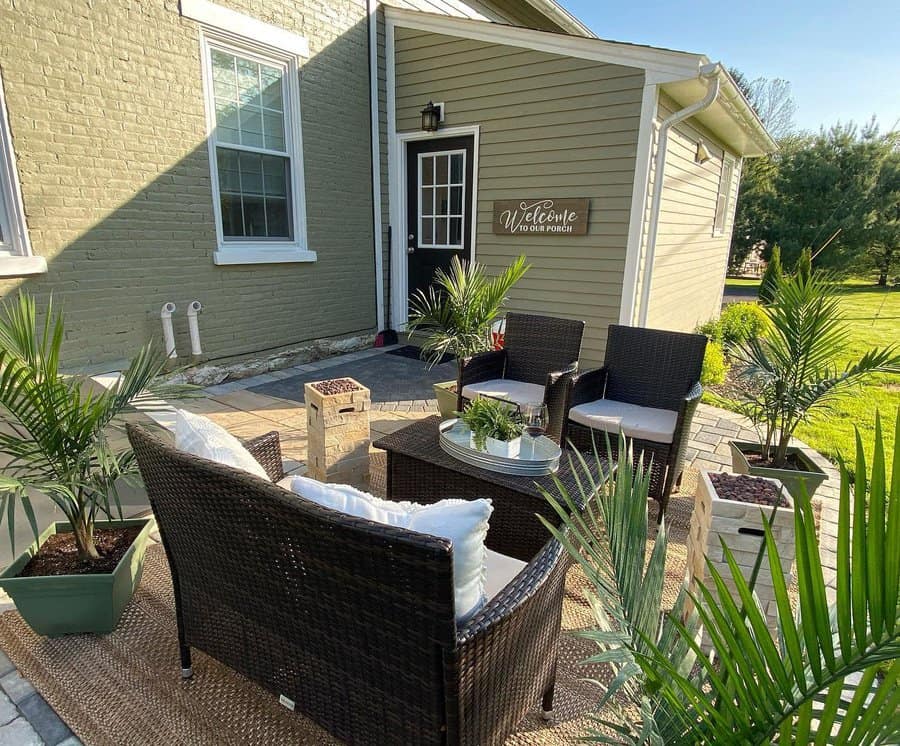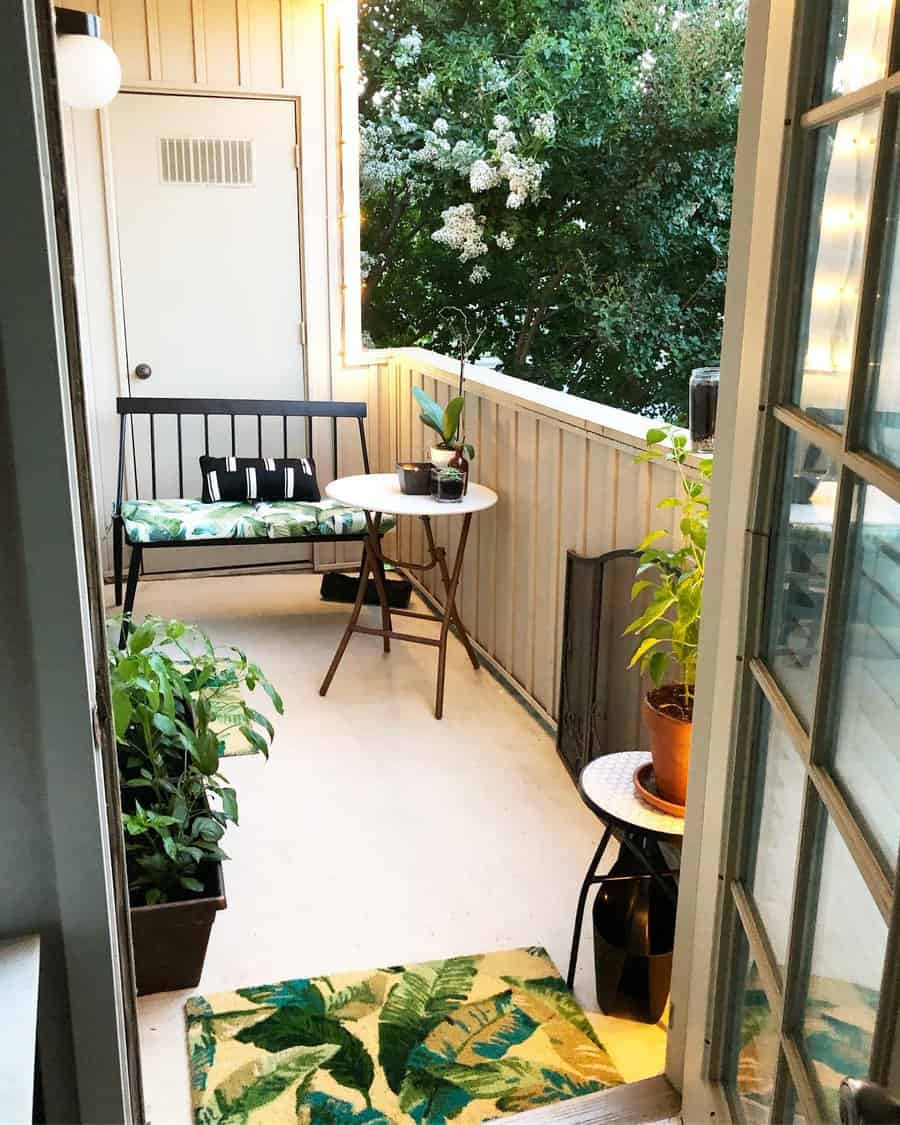 3. Define Your Patio with an Area Rug
An area rug can transform your patio, adding coziness and emphasizing its design. Choose outdoor rugs that align with your furniture and style preferences. These rugs not only introduce color and texture but also provide comfort underfoot, seamlessly bridging the gap between indoors and out. Opt for designs, from bold stripes to intricate patterns, that elevate your patio's overall aesthetic.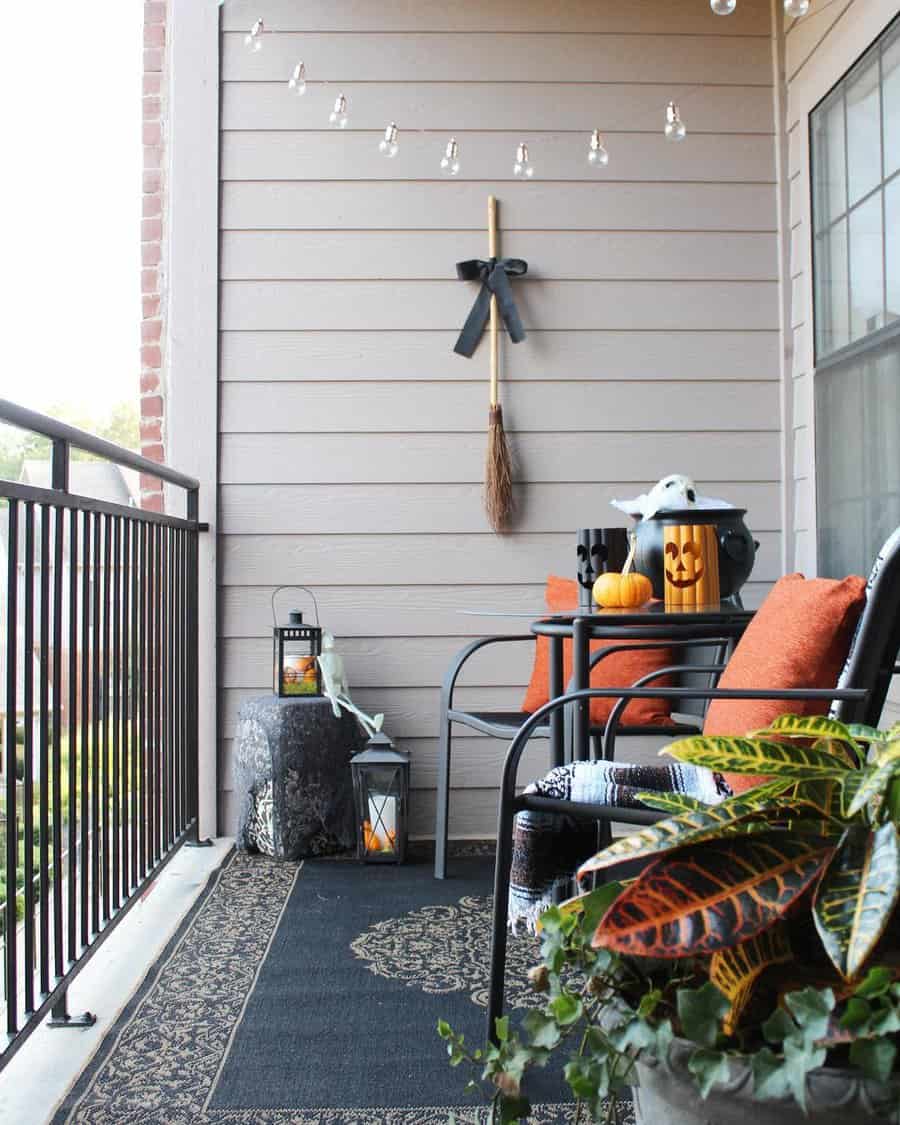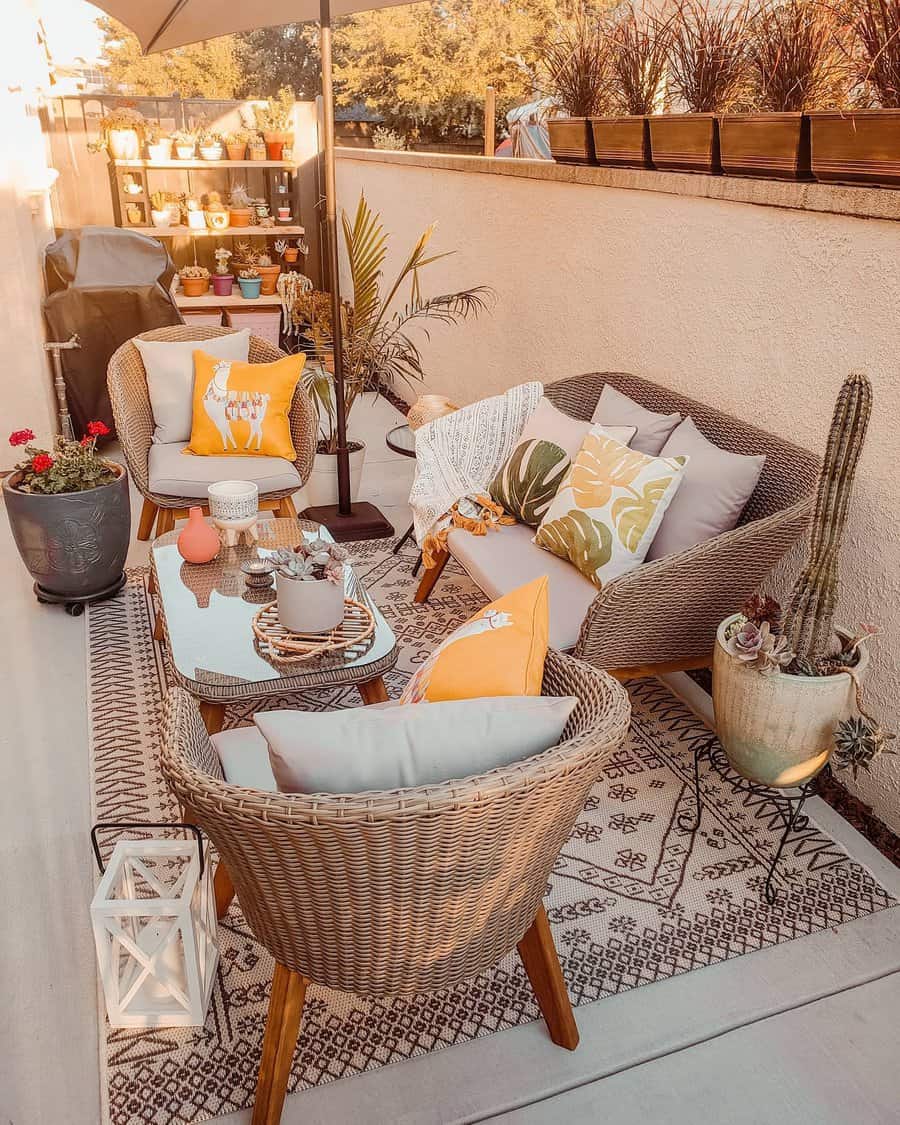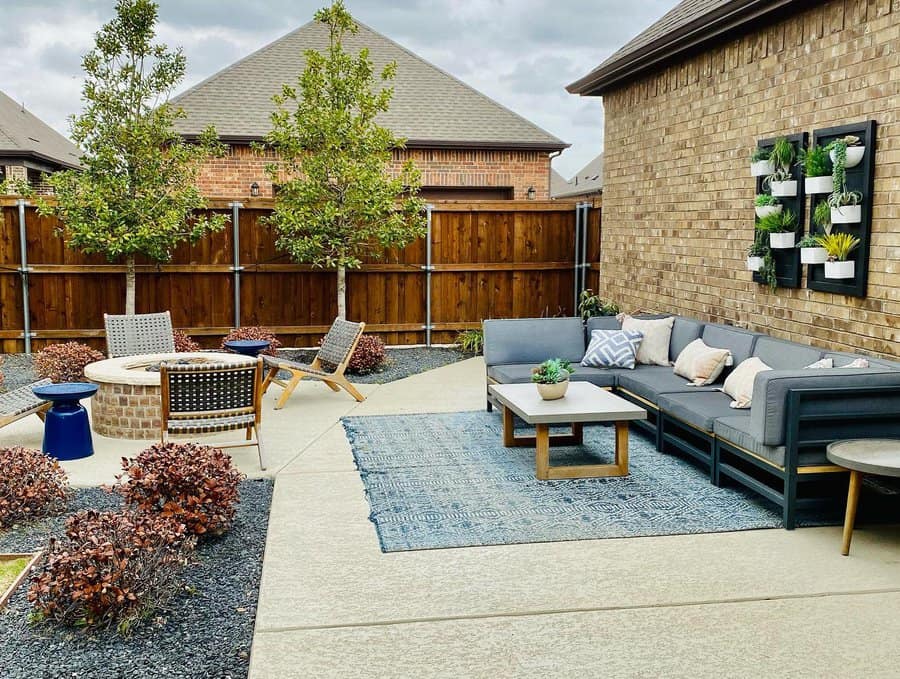 4. Set the Mood with String Lights
String lights effortlessly infuse warmth and ambiance into your patio. They offer both functional illumination and a charming aesthetic touch. Choose from classic white to playful colored bulbs, ensuring they harmonize with your patio decor. For an instant and budget-friendly patio upgrade, string lights are a top choice.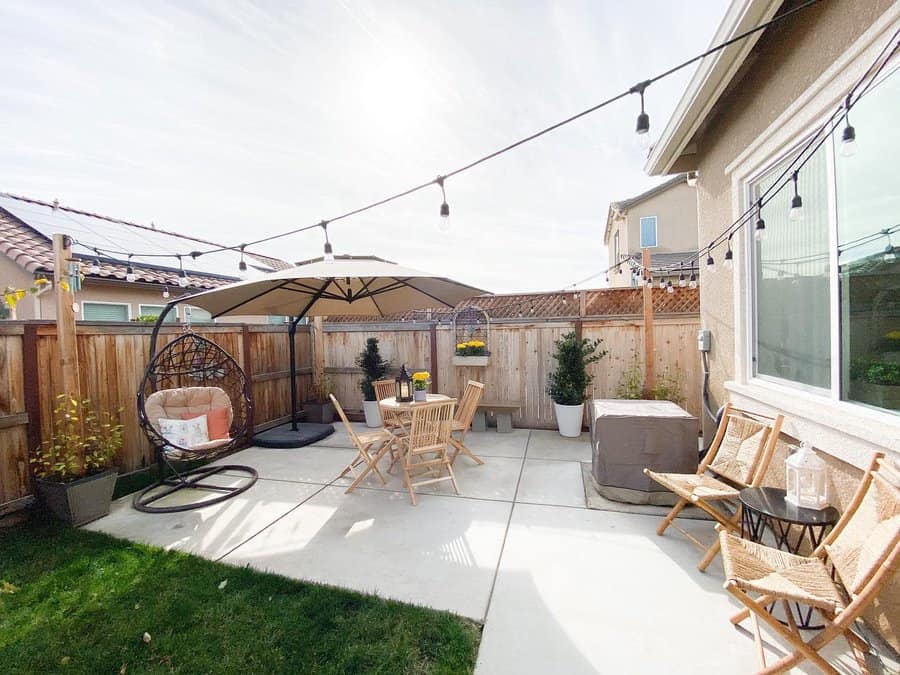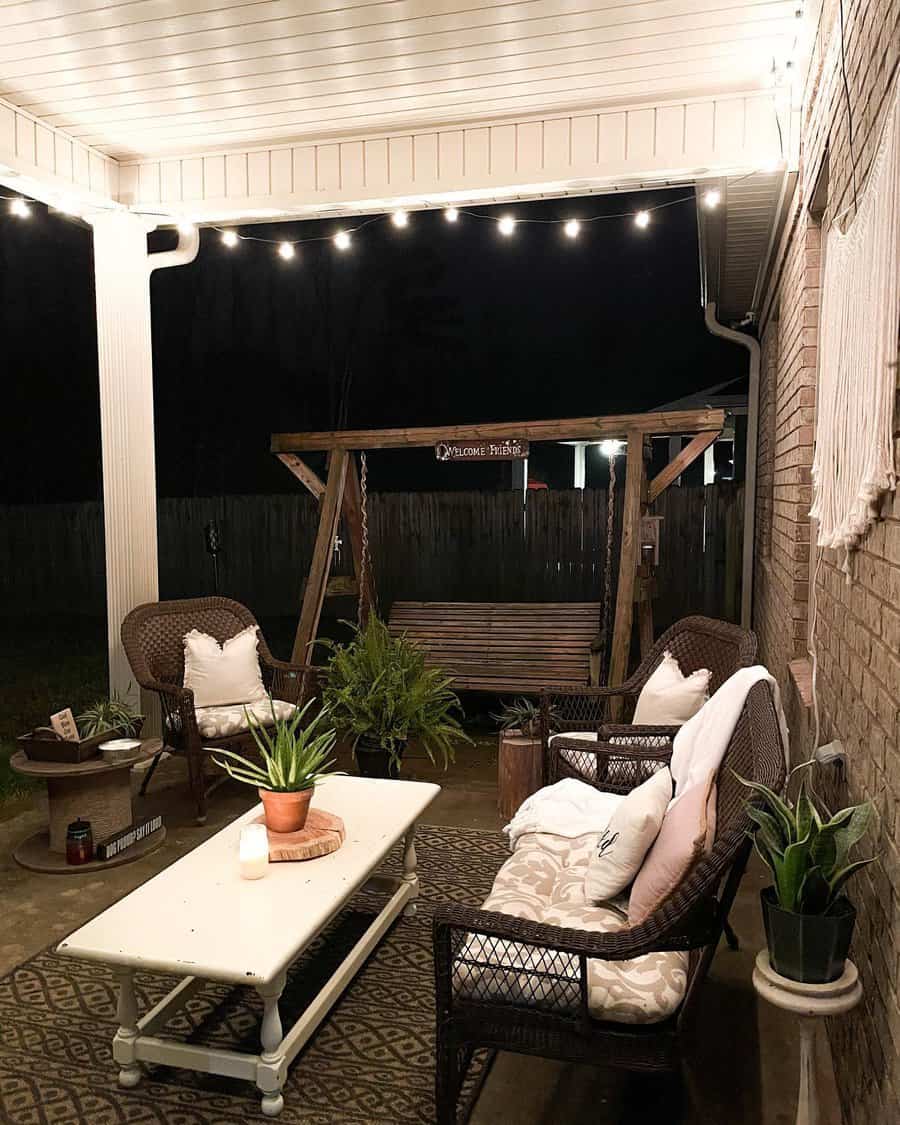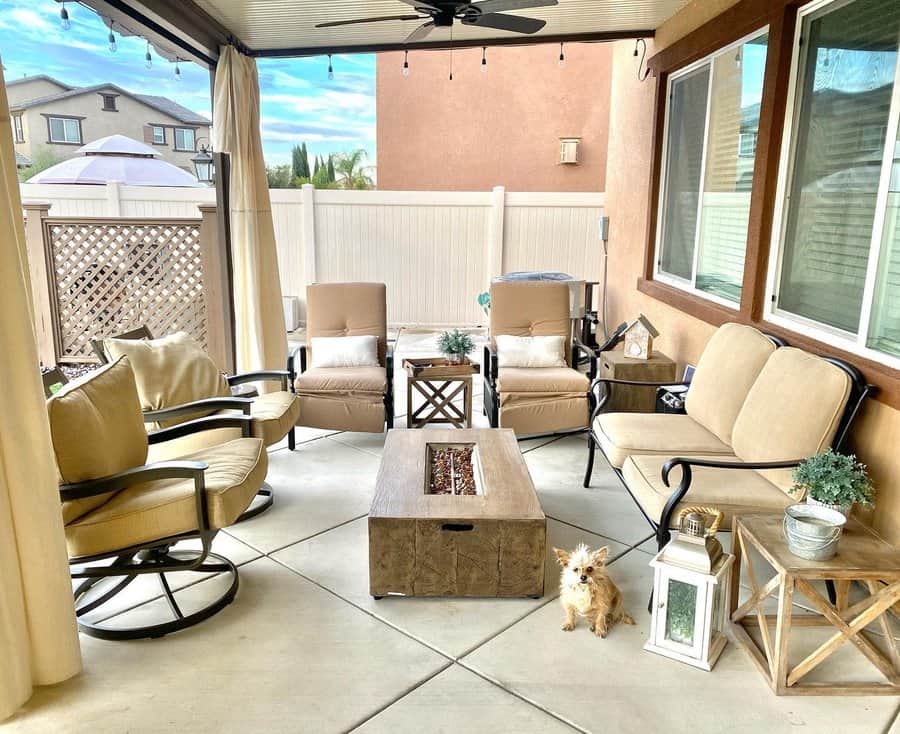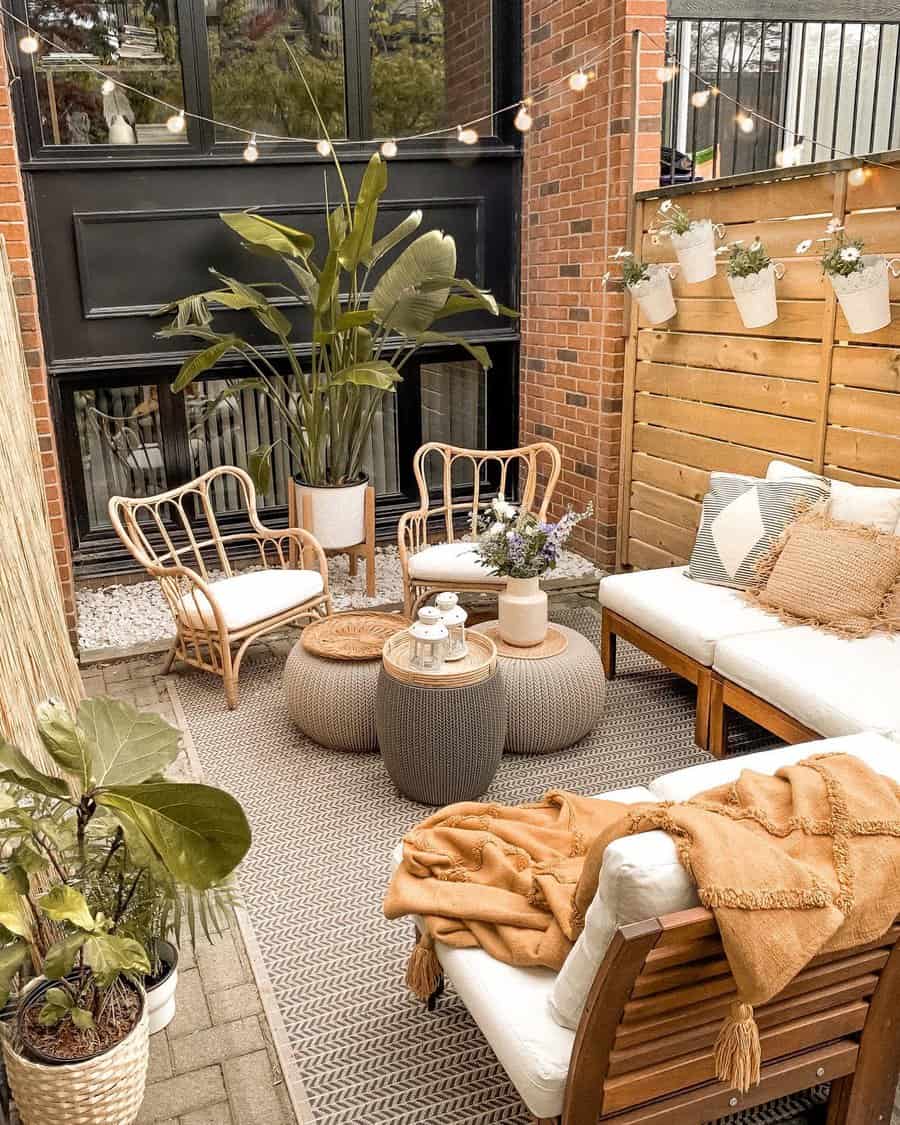 5. Enhance Privacy with a Stylish Wall
A privacy wall offers seclusion and a personalized touch to your patio. Opt for budget-friendly solutions like wood pallet walls, which lend a rustic charm. Enhance this with wall decors like vintage metal signs or hanging plants. With creativity and some DIY efforts, you can craft a functional and chic private retreat on your patio.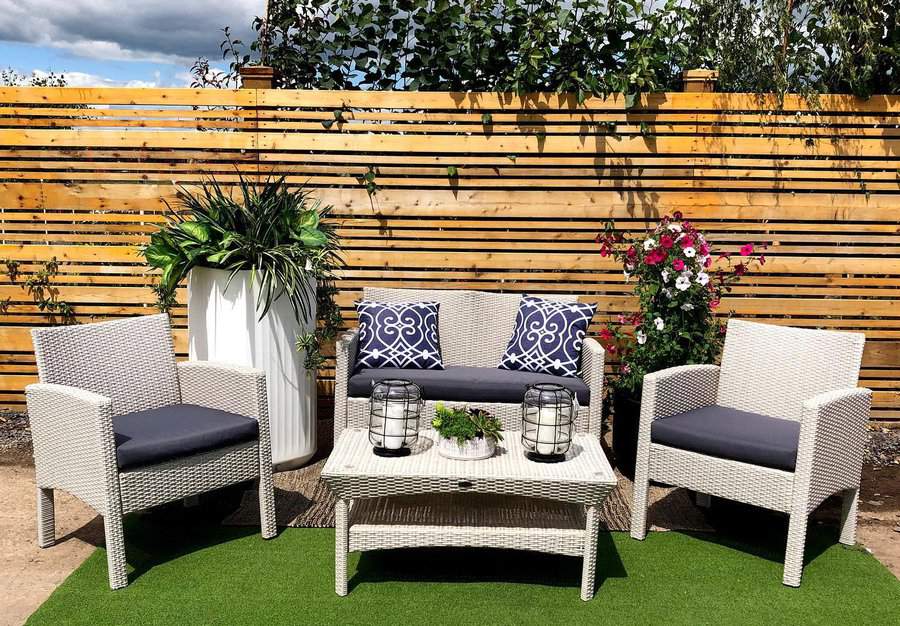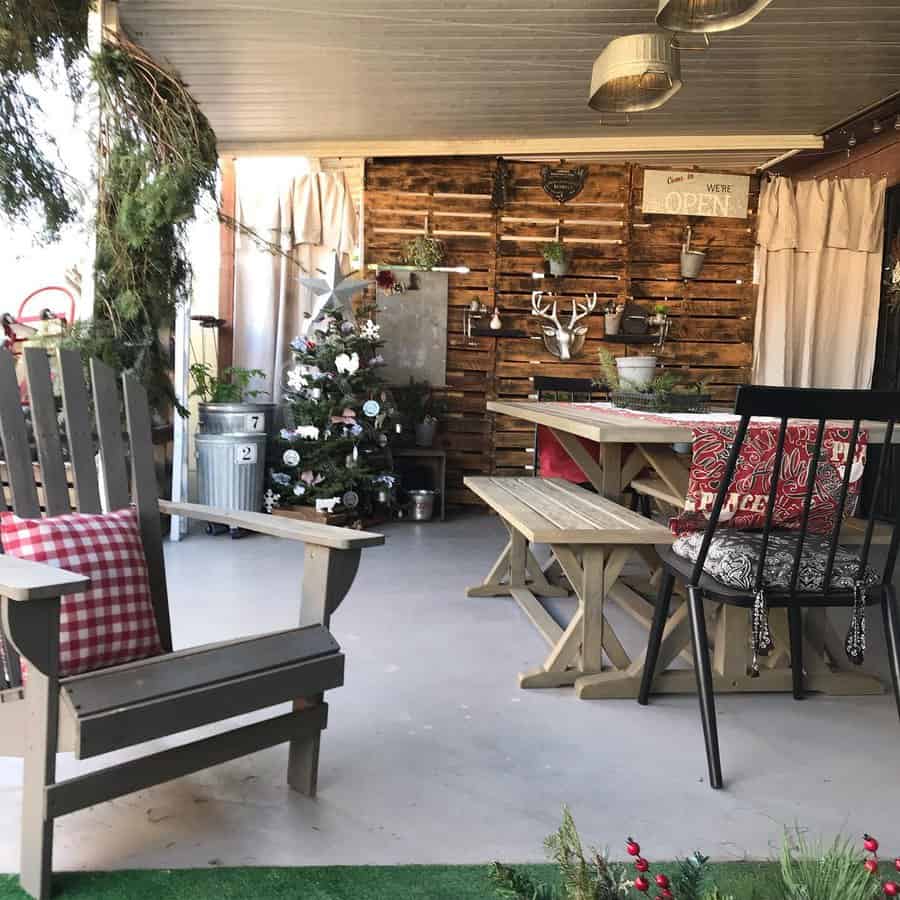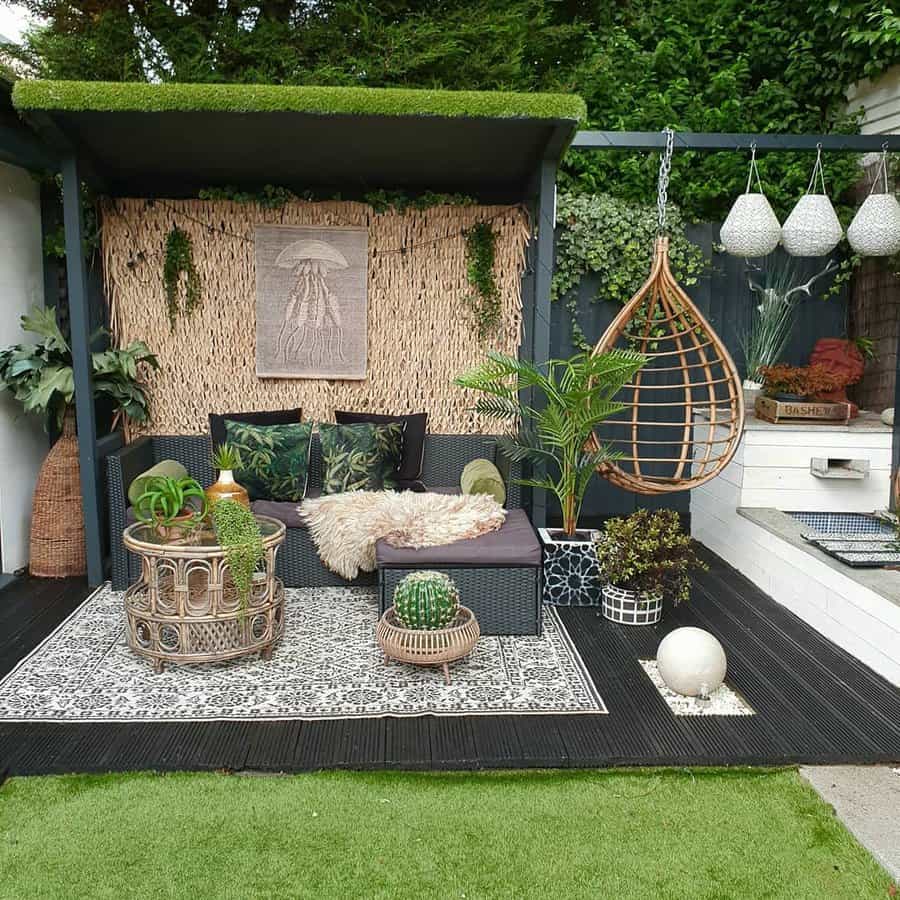 6. Craft a Relaxing Oasis with a Pergola
Introducing a pergola transforms your patio into a shaded retreat with a touch of elegance. Its open-air structure diffuses sunlight, casting beautiful light and shadows. It's an ideal spot for intimate gatherings, morning brews, or evening barbecues. When planning your patio, consider a pergola as a focal point to elevate relaxation and aesthetics.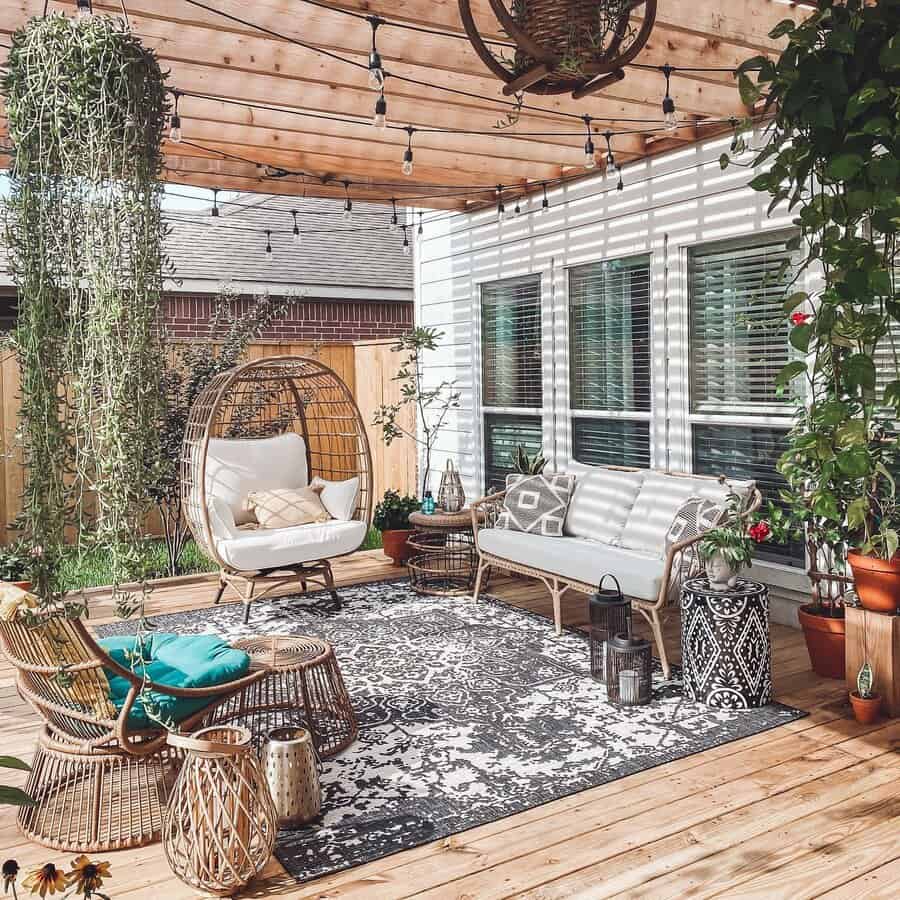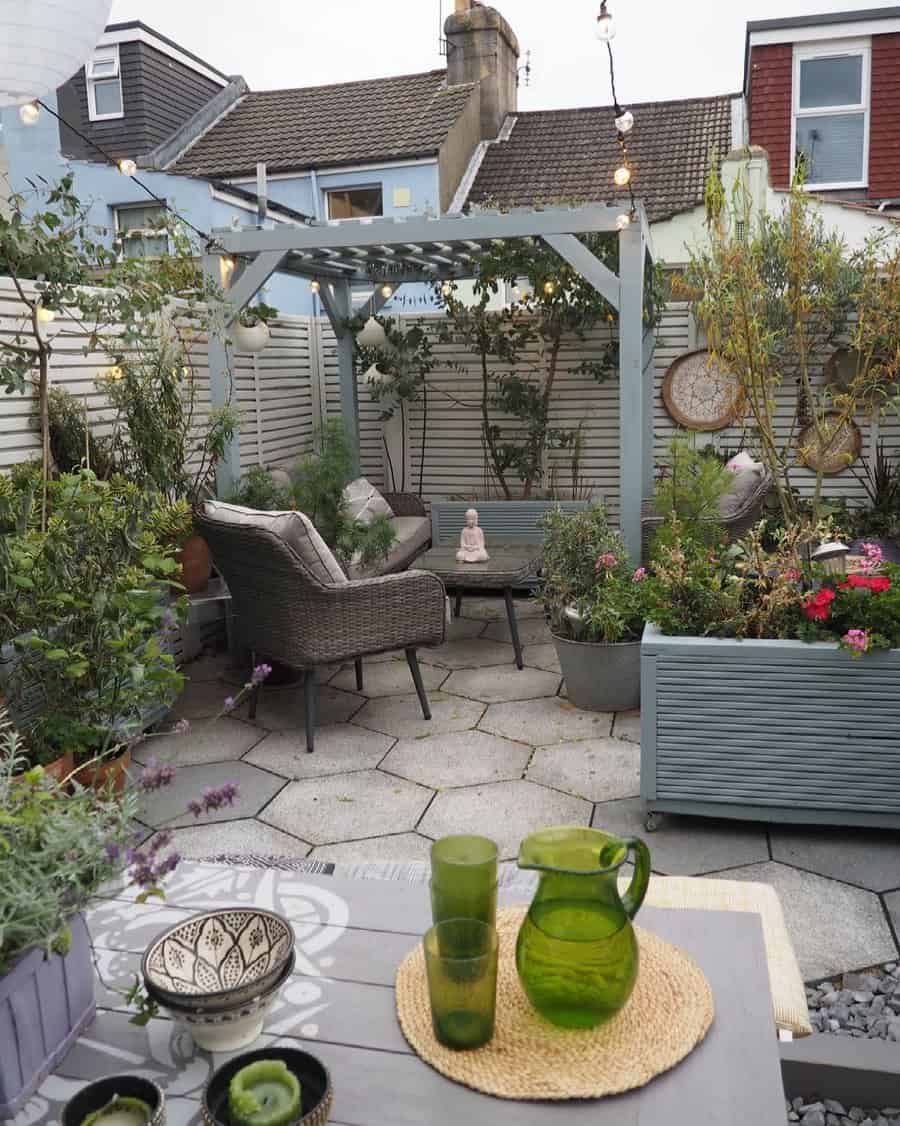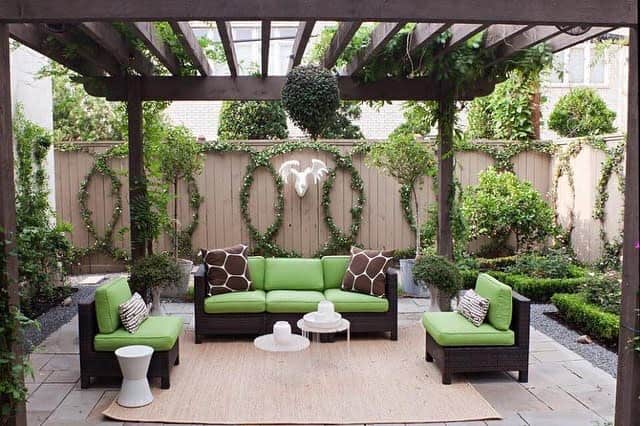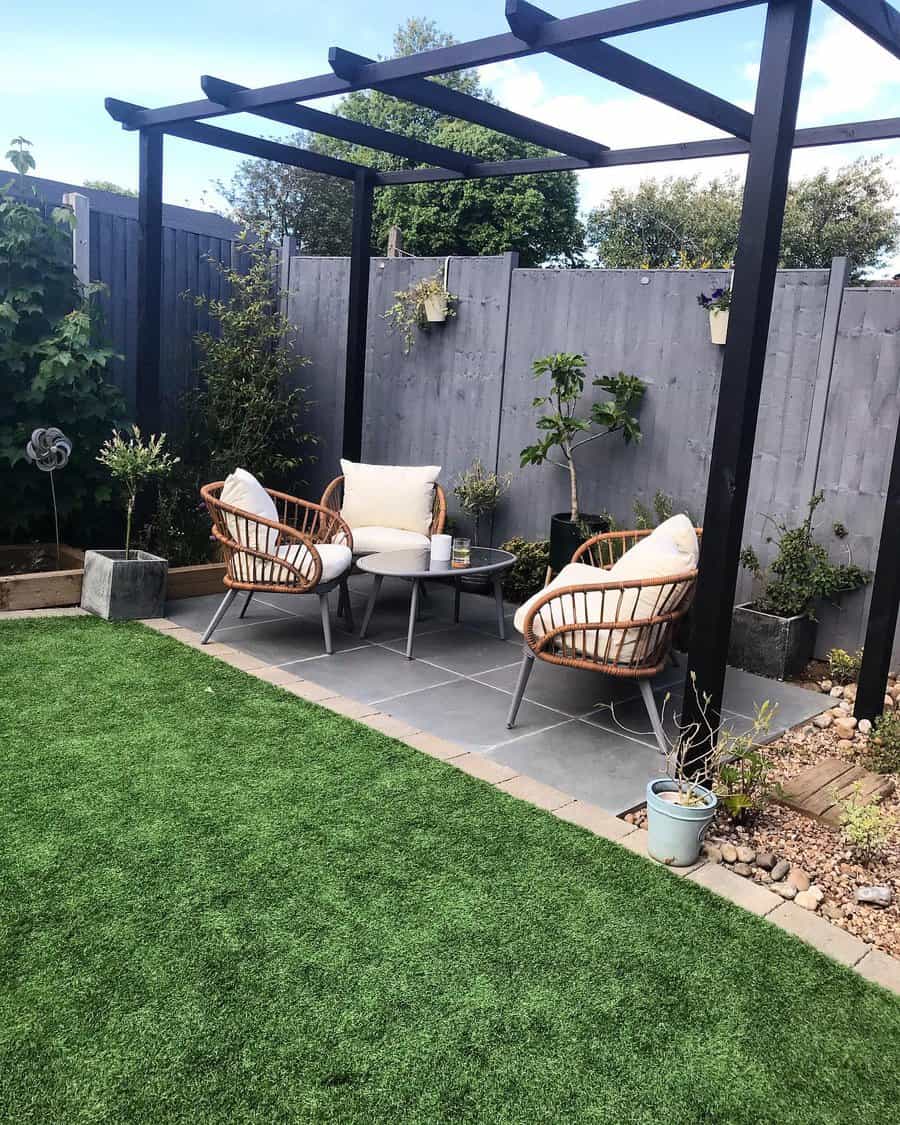 7. Gather Around a Welcoming Fire Pit
A traditional firepit can be a fantastic addition to any patio, creating a cozy and inviting atmosphere for warm summer nights. Adding gather-around seating is a perfect way to maximize the space around the firepit, giving guests plenty of room to relax and enjoy the flames.
The key is to find a design that fits your personal style and complements the look and feel of your outdoor space. Traditional firepits come in a wide range of styles and sizes, from rustic stone to sleek and modern, allowing you to choose the perfect match for your patio.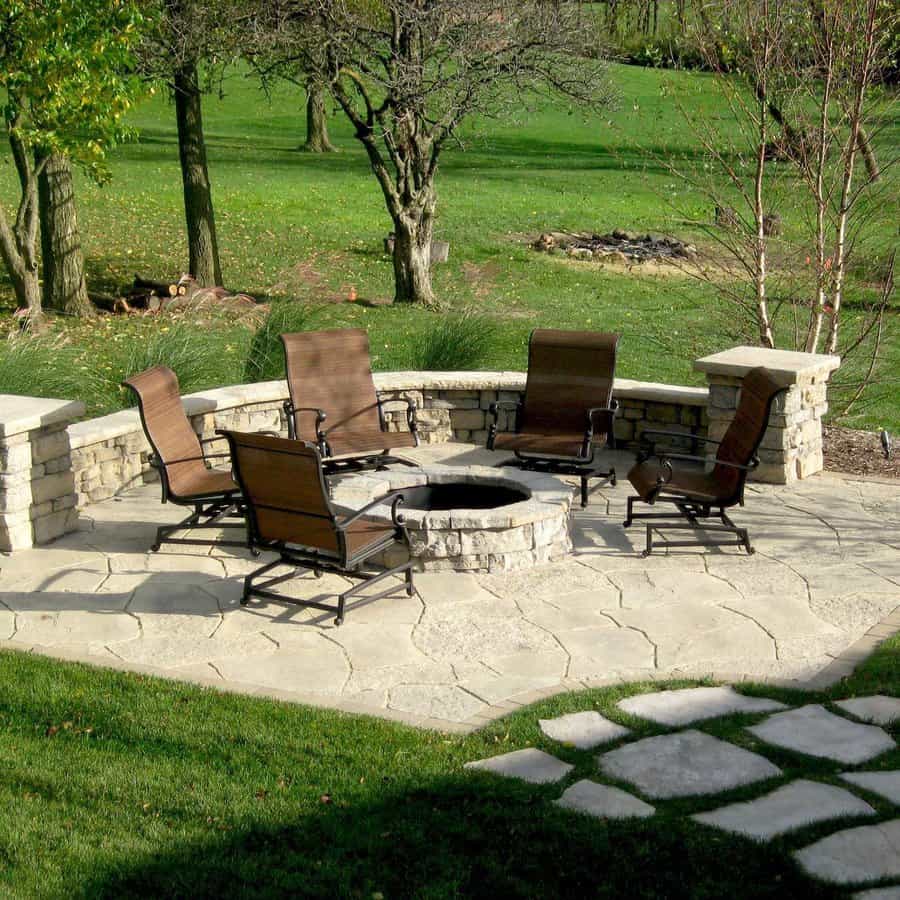 8. Lounge in Comfort with Adirondack Chairs
Adirondack chairs, with their distinctive design, epitomize outdoor relaxation. Evoking a coastal vibe, they're crafted from durable materials like wood or poly-resin, ensuring longevity. The wide armrests are perfect for resting a drink or book. Incorporate these timeless pieces into your patio for both style and functional comfort.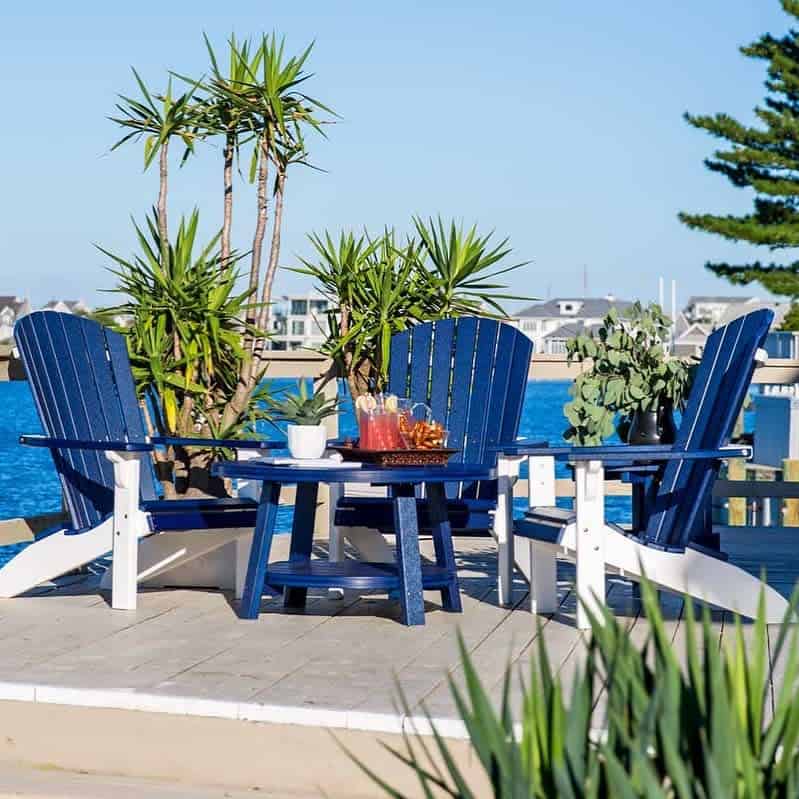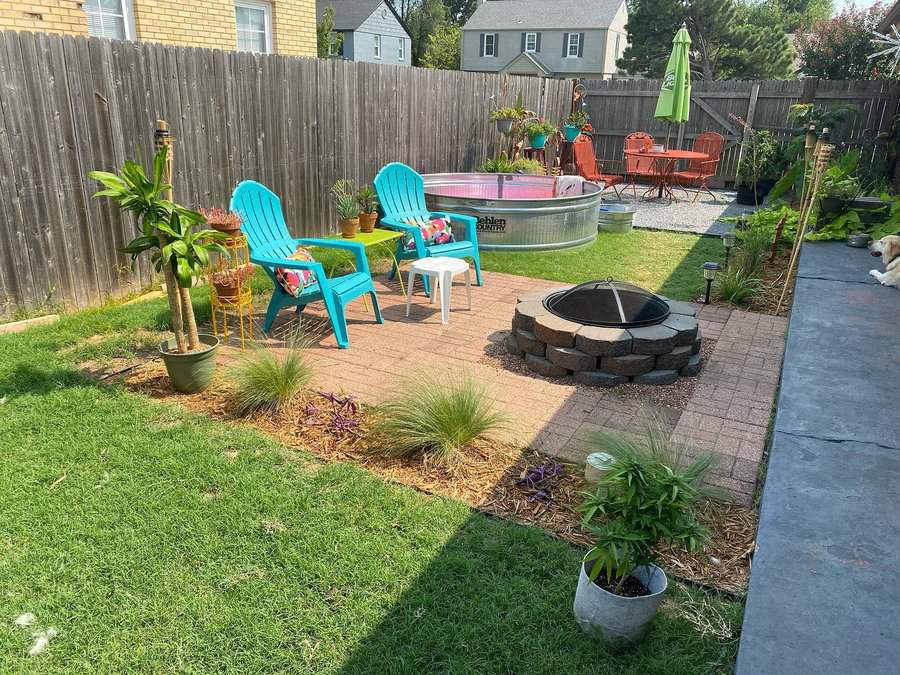 9. Lounge Luxuriously on an L-Shaped Daybed
Looking for a cozy and functional seating option for your patio? Look no further than an L-shaped day bed! This unique piece of furniture is designed to maximize comfort and relaxation while also providing ample space for multiple people to sit or recline.
The addition of cushions and pillows makes the day bed even more inviting, offering a soft and supportive surface for lounging or napping. Whether you're hosting a summer barbeque or simply enjoying a quiet afternoon outside, an L-shaped day bed is the perfect way to transform your patio into a luxurious and comfortable oasis.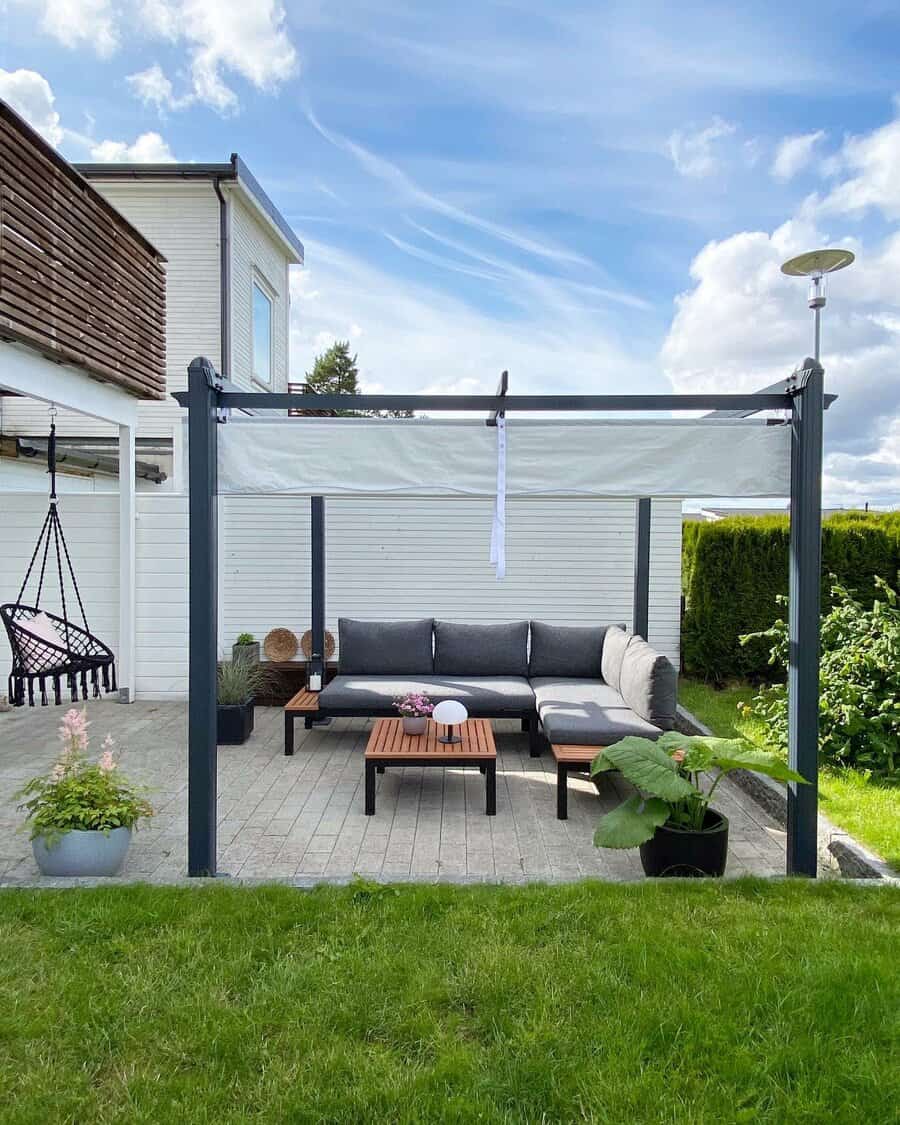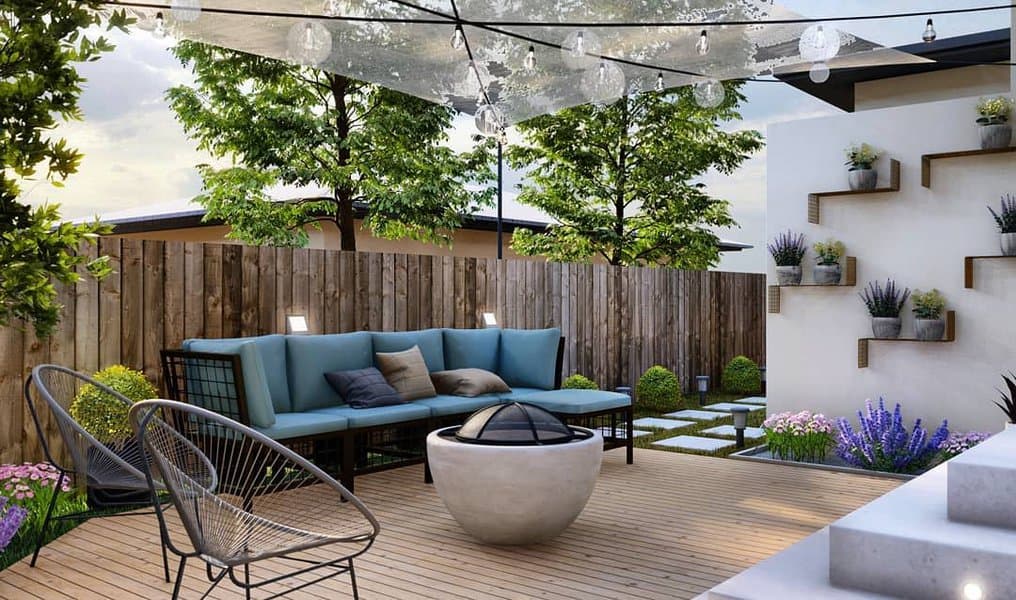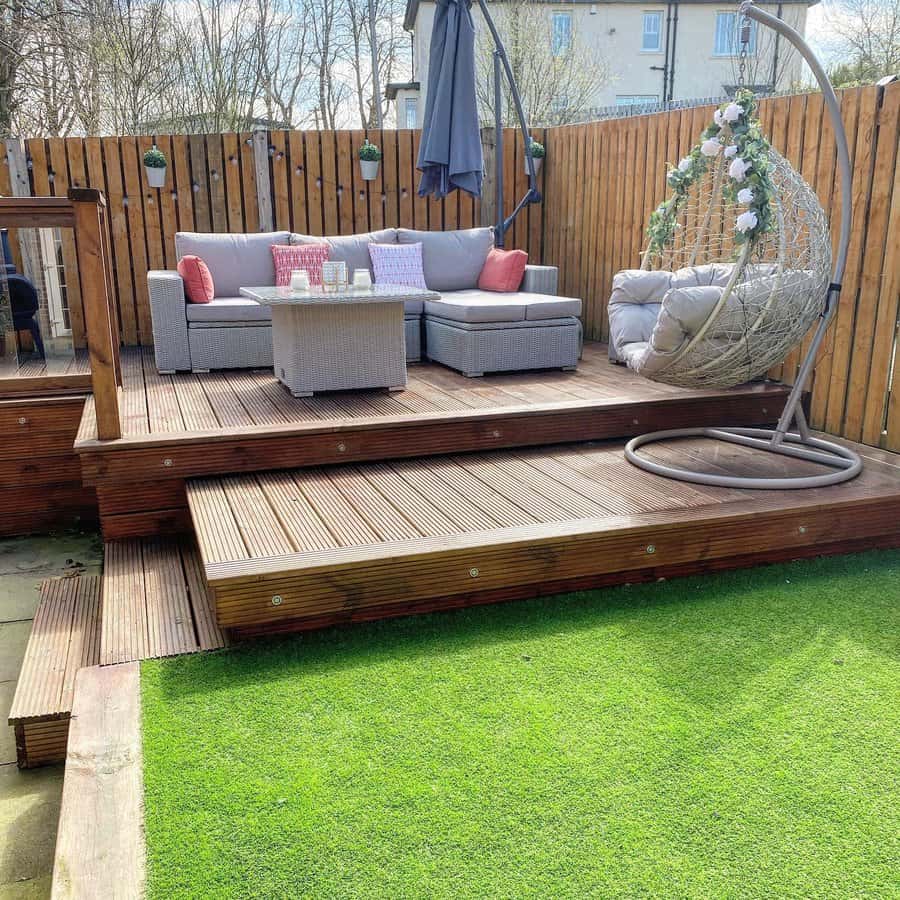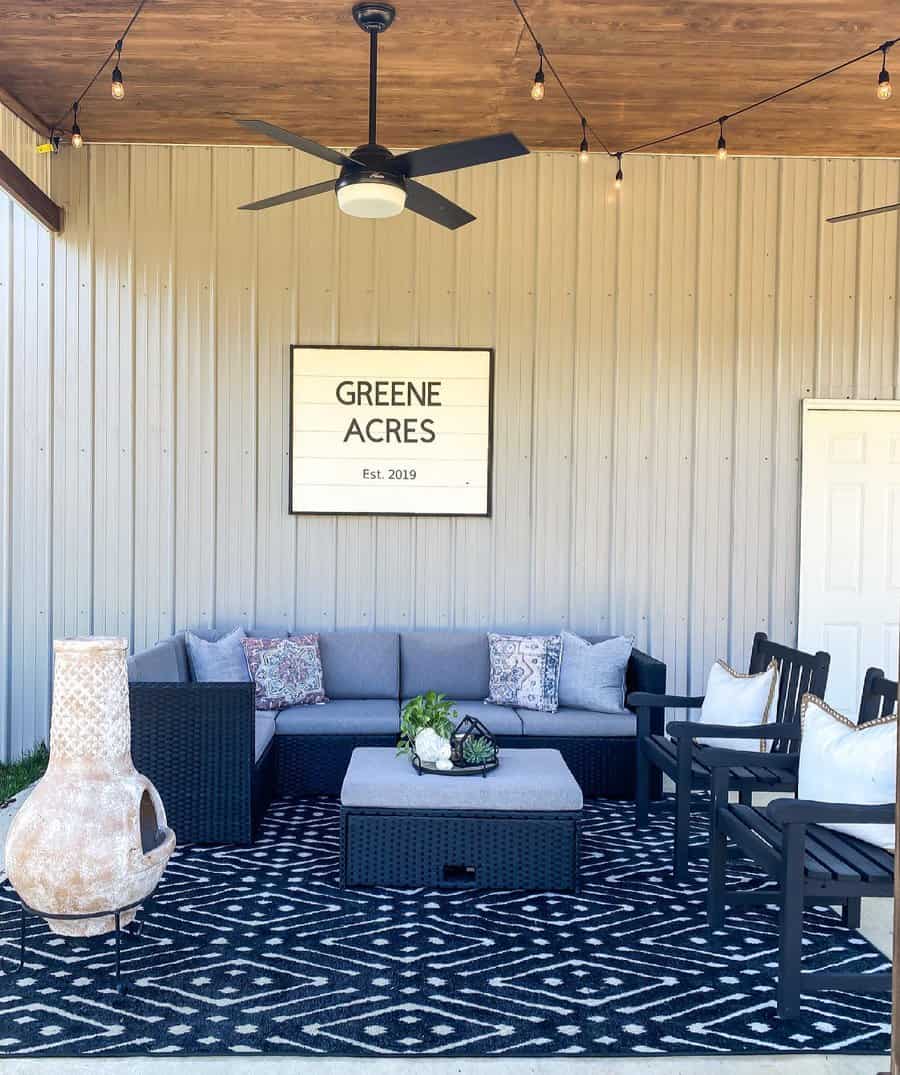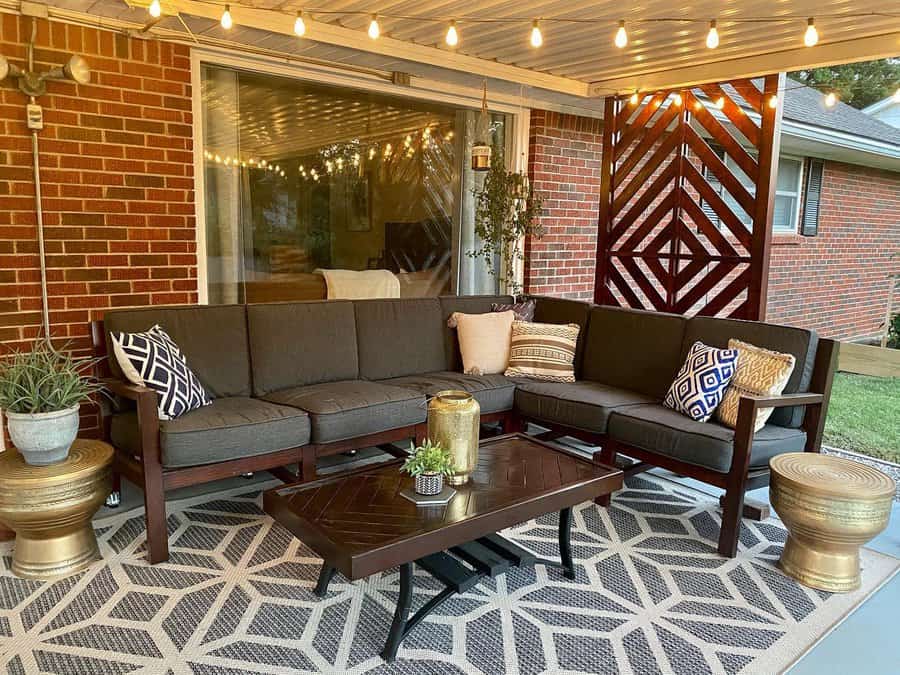 10. Embrace Style with Woven Chairs
Woven chairs infuse your patio with a bohemian flair, elevating both style and comfort. Amplify their charm with colorful cushions and complement with eclectic decor like vibrant rugs or vintage lanterns. For an added touch, select unique planters to showcase your greenery, achieving a cohesive and inviting ambiance.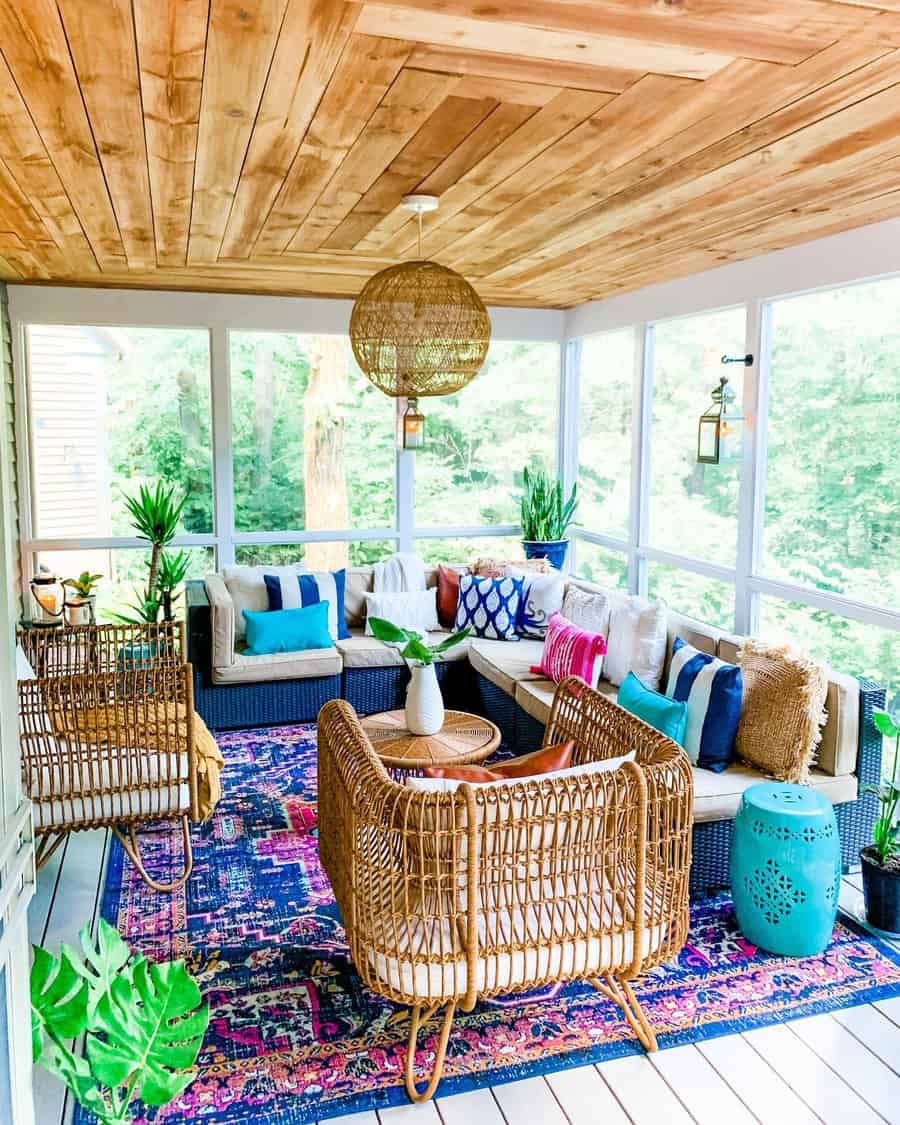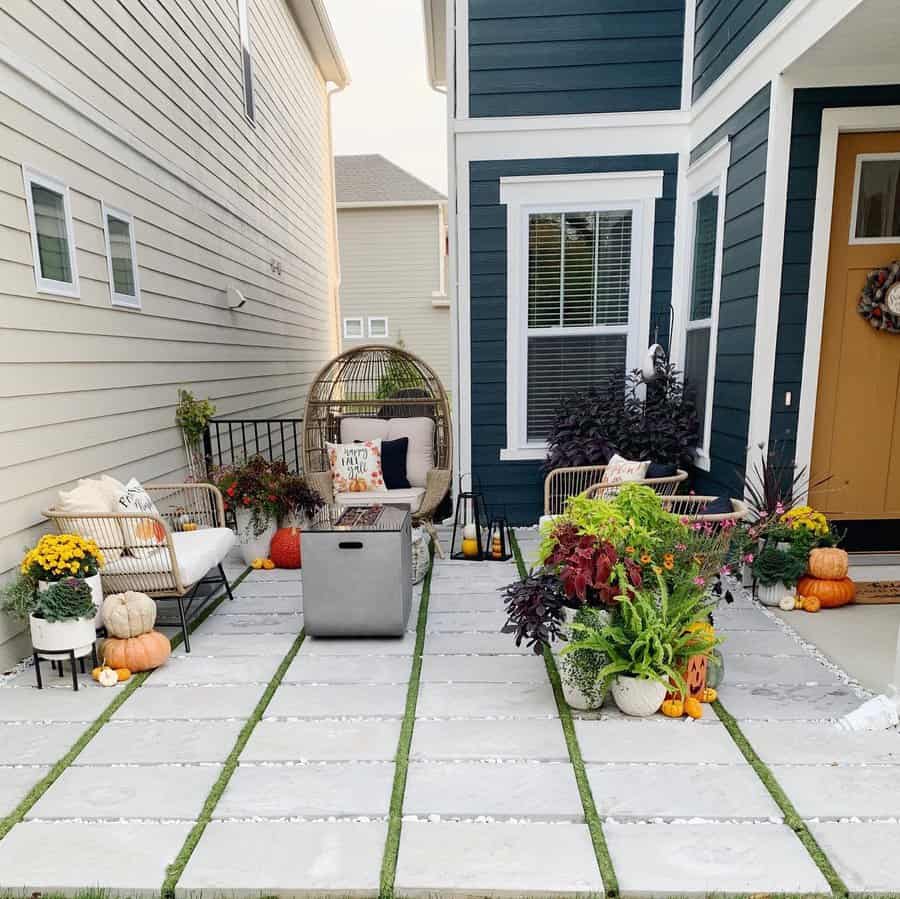 11. Enjoy Al Fresco Dining with a Bistro Set
A bistro dining set is an elegant addition for memorable al fresco meals, be it solo or with friends. Opt for durable materials to ensure longevity and style. Complementing your patio, this set provides a chic spot for barbecues, dinners, or tranquil evening wine sessions.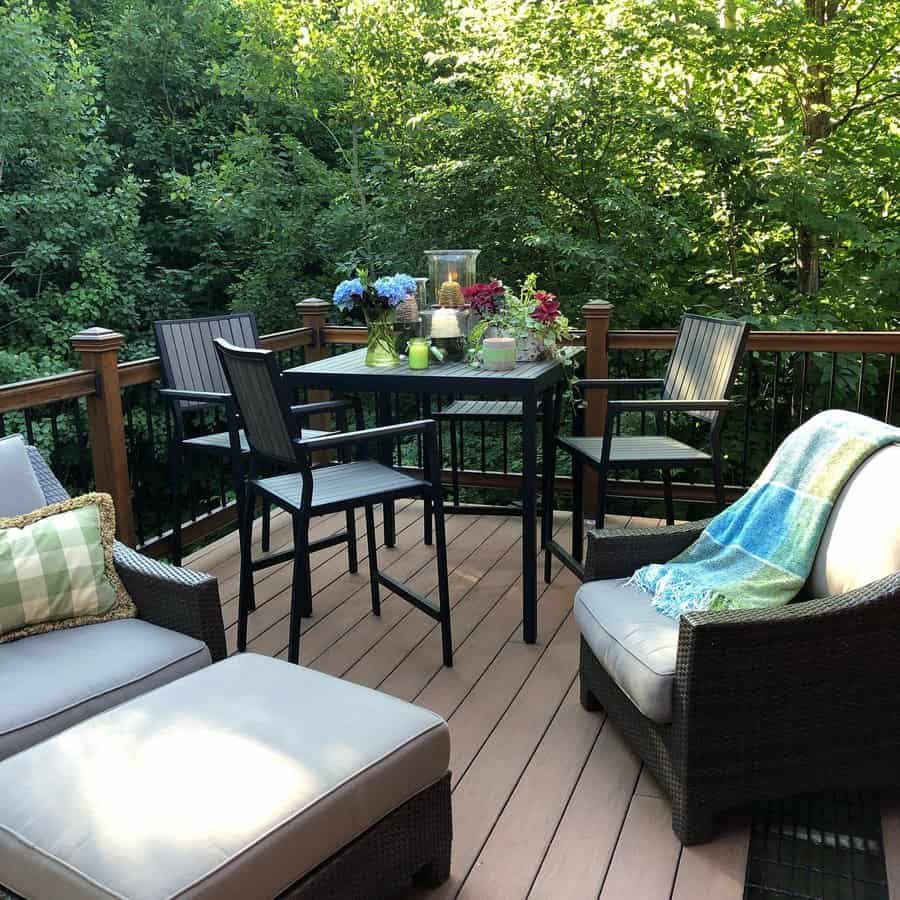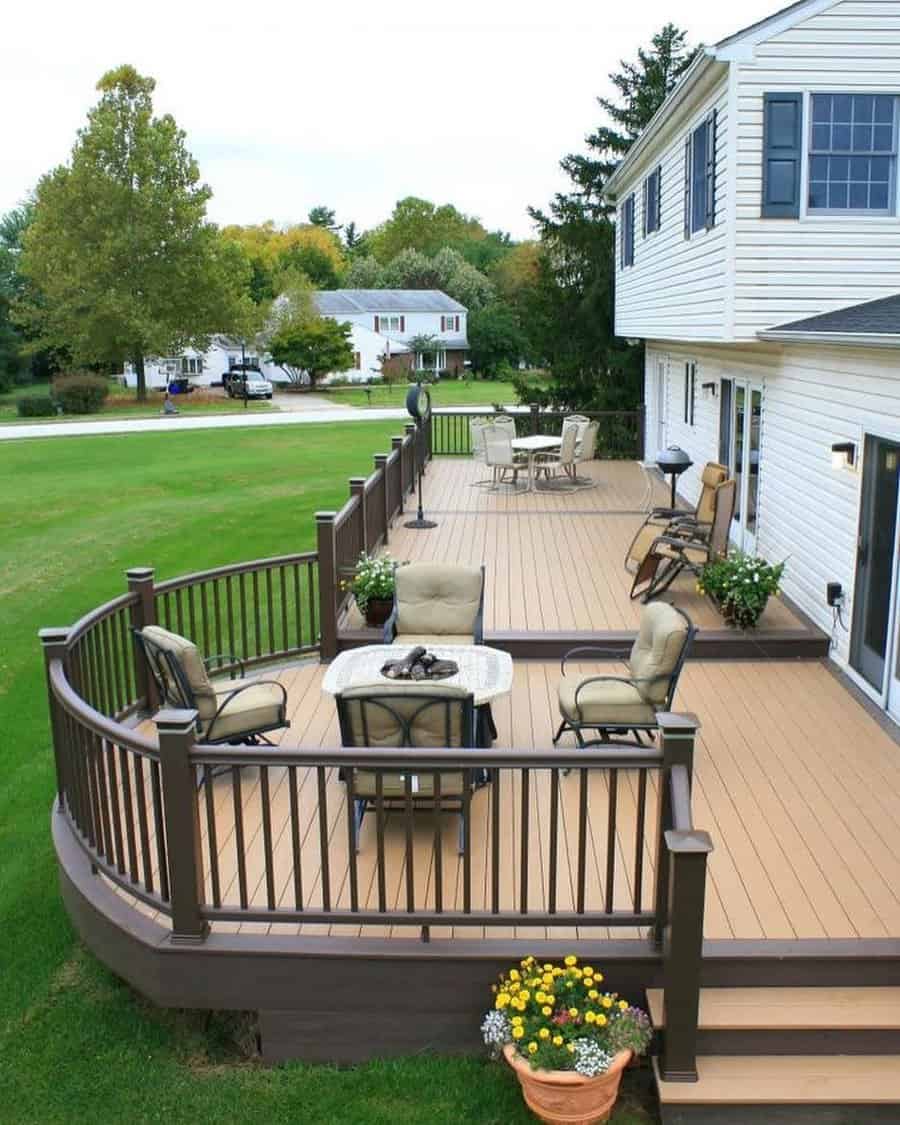 12. Stay Cool and Shaded with a Patio Umbrella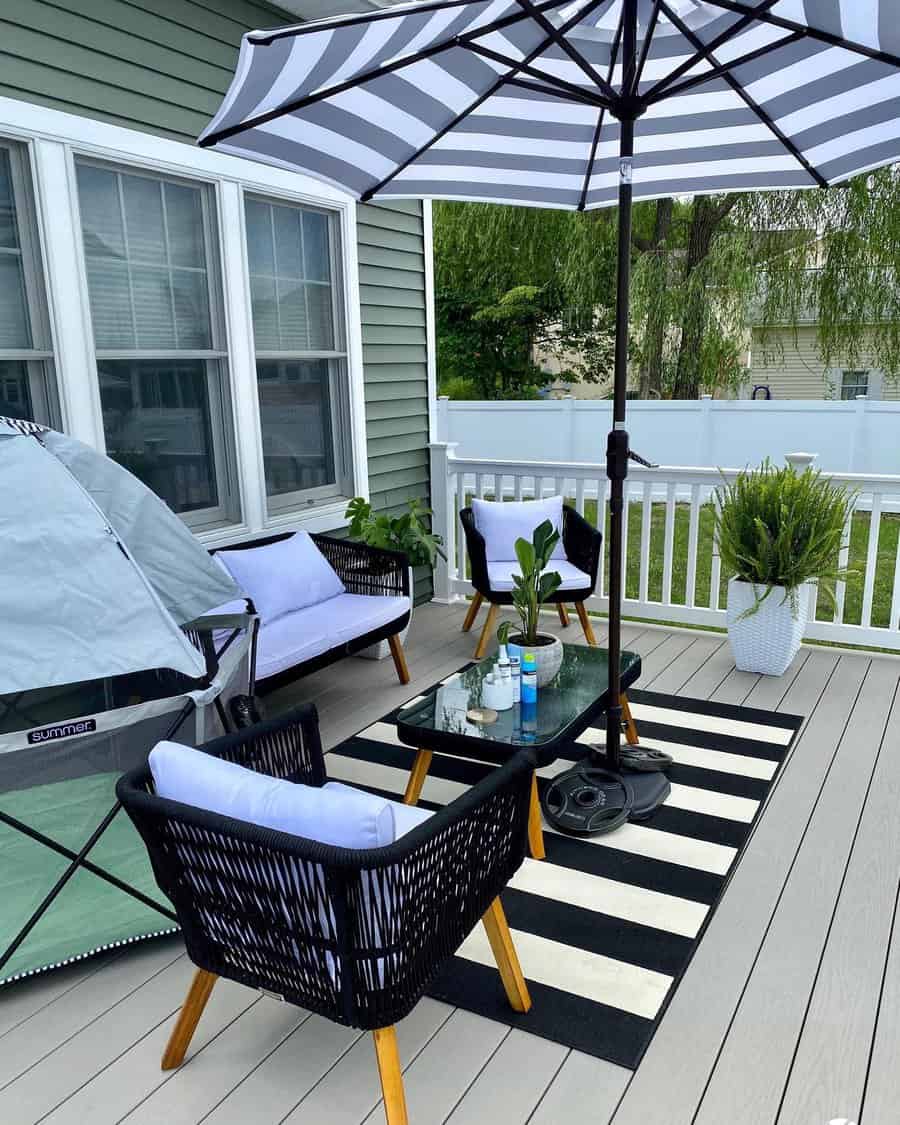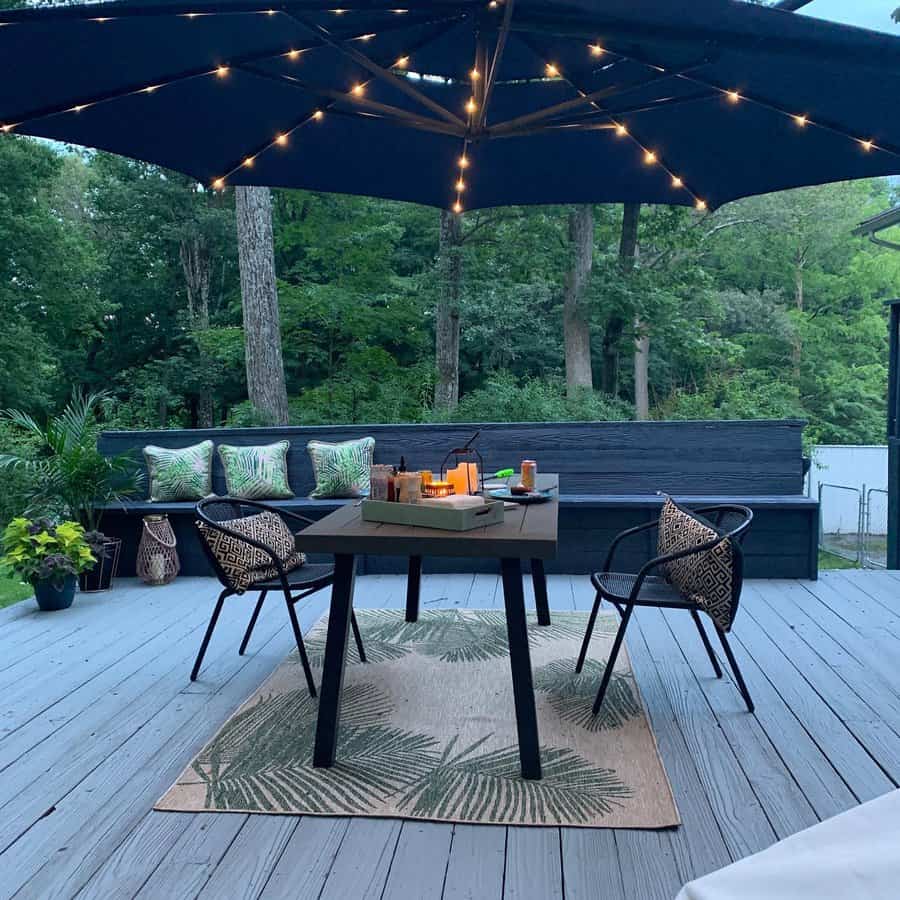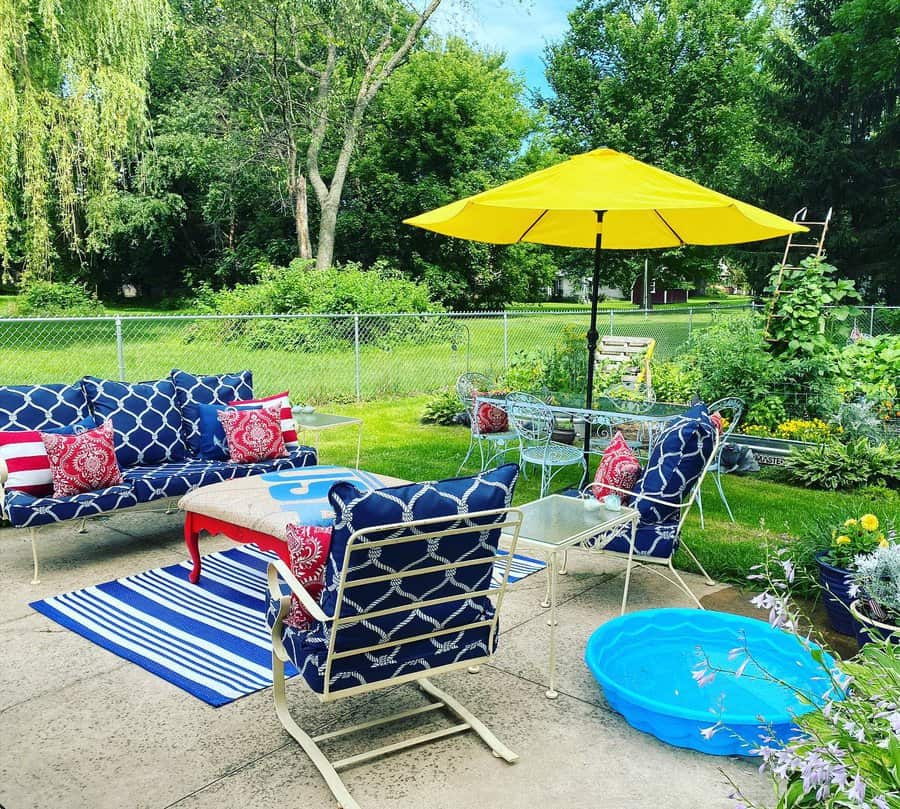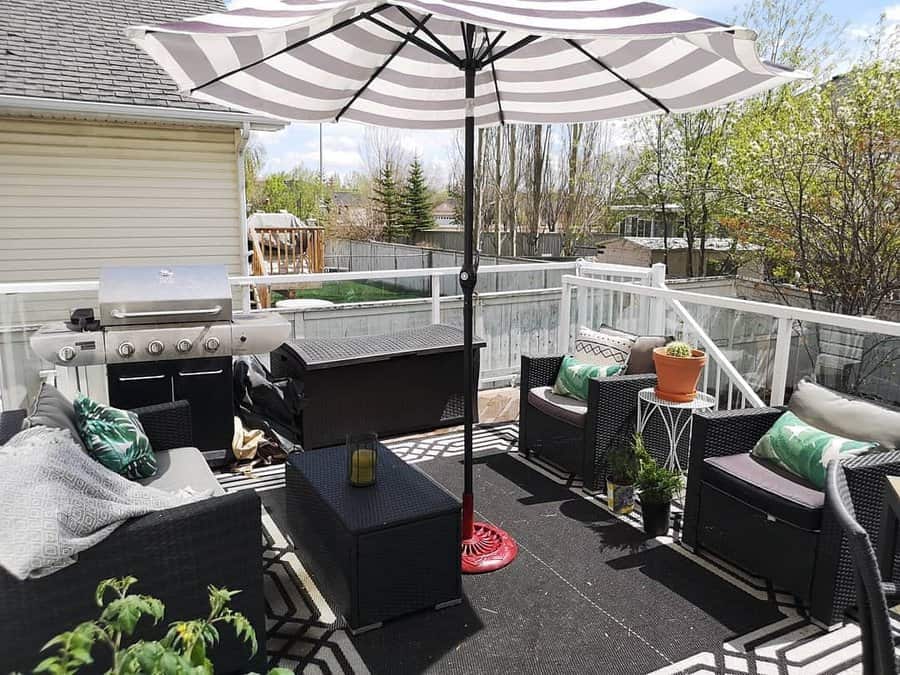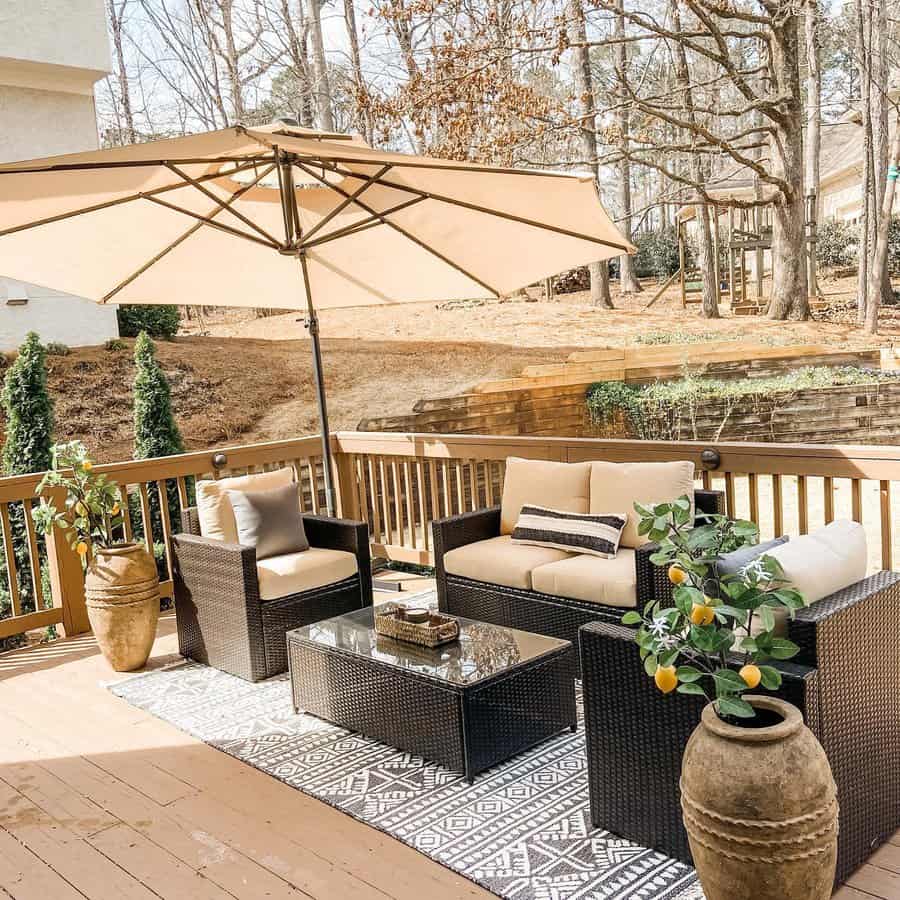 13. Cozy Up in an Egg Chair
Egg chairs on patios blend visual appeal with snug relaxation. Their distinct design acts as a striking focal point, making them a conversation piece. Opt for vibrant hues or subdued shades based on your patio's theme. This chair promises a favored spot for reading or leisurely lounging.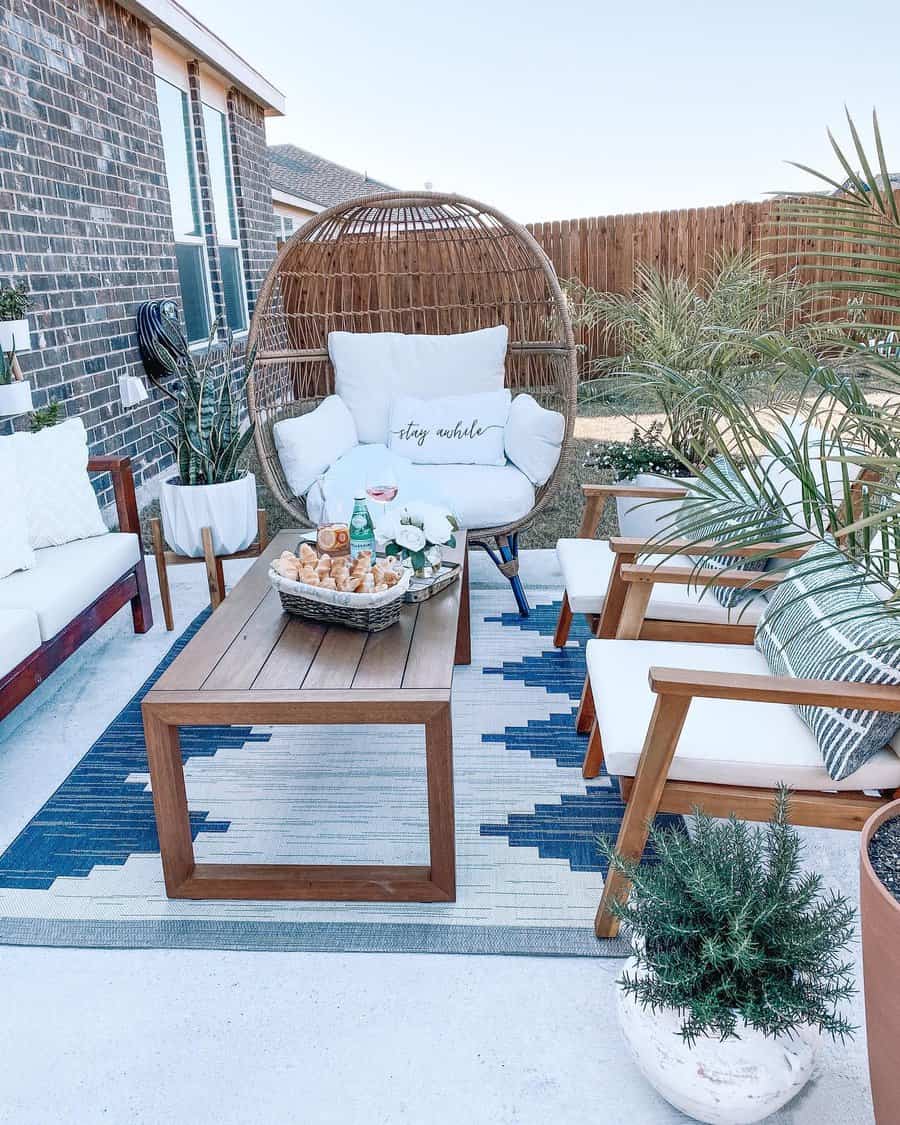 14. Create an Enchanting Ambiance with Patio Curtains
Sheer patio curtains effortlessly elevate a space, offering both privacy and sun protection without blocking breezes. Their ethereal quality introduces an element of romance and sophistication. Choose from vivid or muted tones to match your aesthetic. For a touch of outdoor luxury, these curtains are a splendid choice.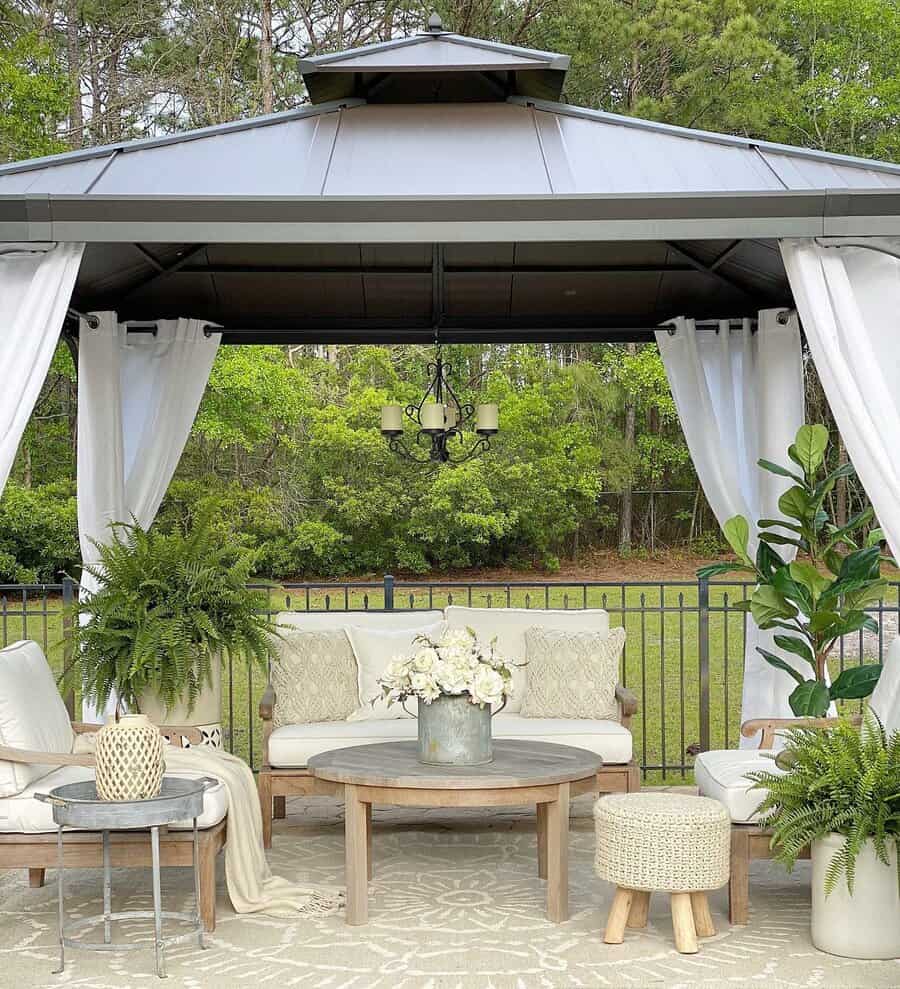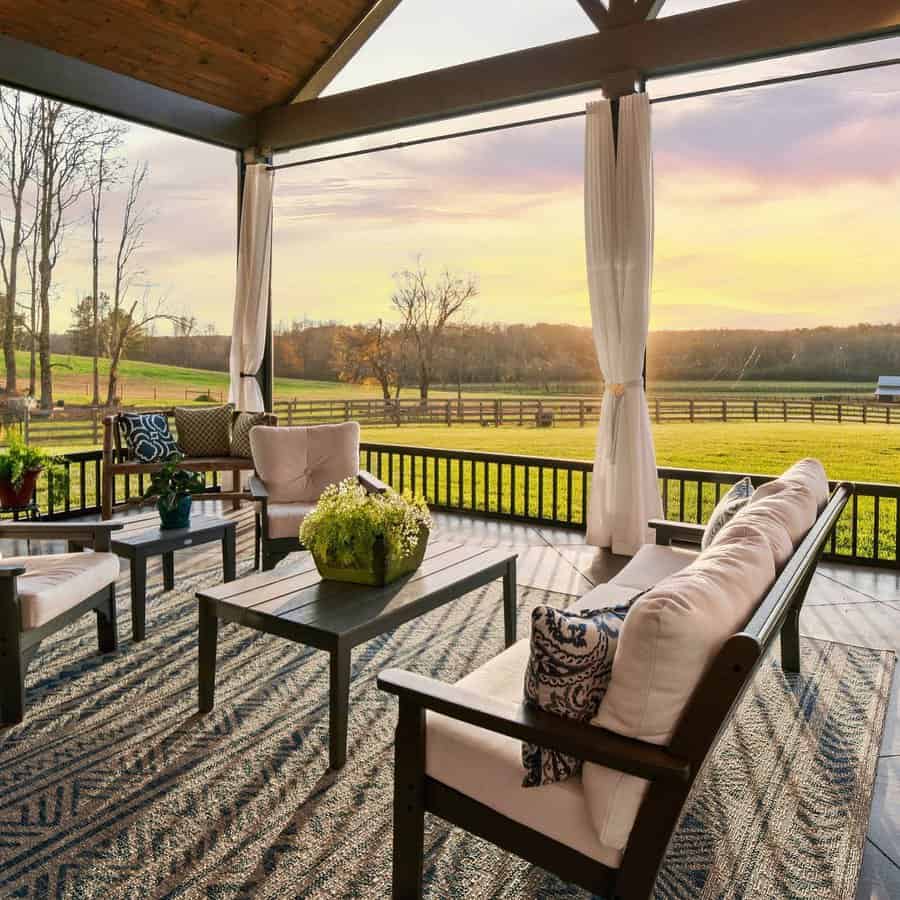 15. Cozy Up Your Space with Throws & Pillows
Enhance your patio's comfort and aesthetic with throw pillows and blankets. They add texture, dimension, and are ideal for roofed patios. From varied colors and patterns, curate a mix that resonates with your style. On cooler evenings, you'll appreciate the warmth they offer. These touches seamlessly extend your indoor coziness outdoors.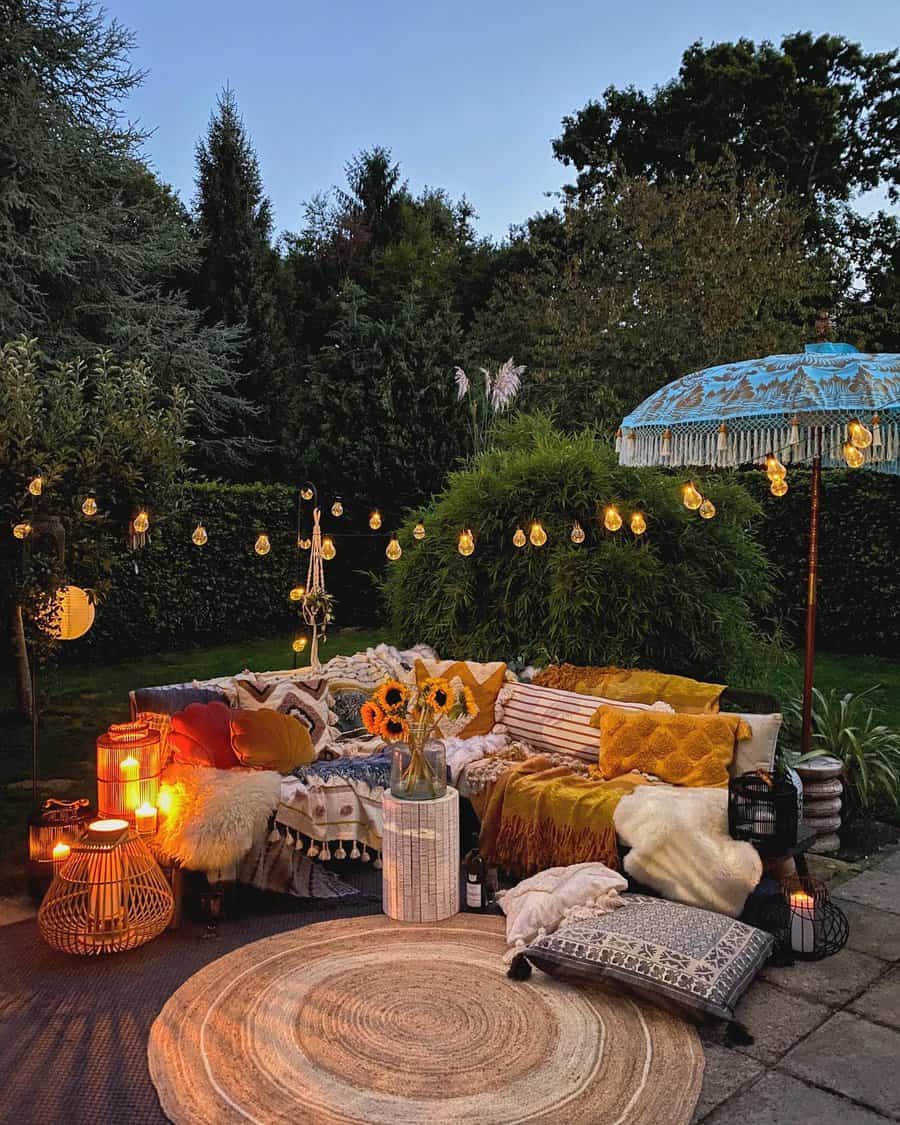 16. Upgrade Your Patio with a Modern Fire Pit
Integrating a modern gas firepit elevates your patio into a chic gathering spot. Its sleek design effortlessly complements various patio aesthetics, infusing luxury. Tailor your firepit, be it a minimalist bowl or a grander setup with seating, to reflect your personal style.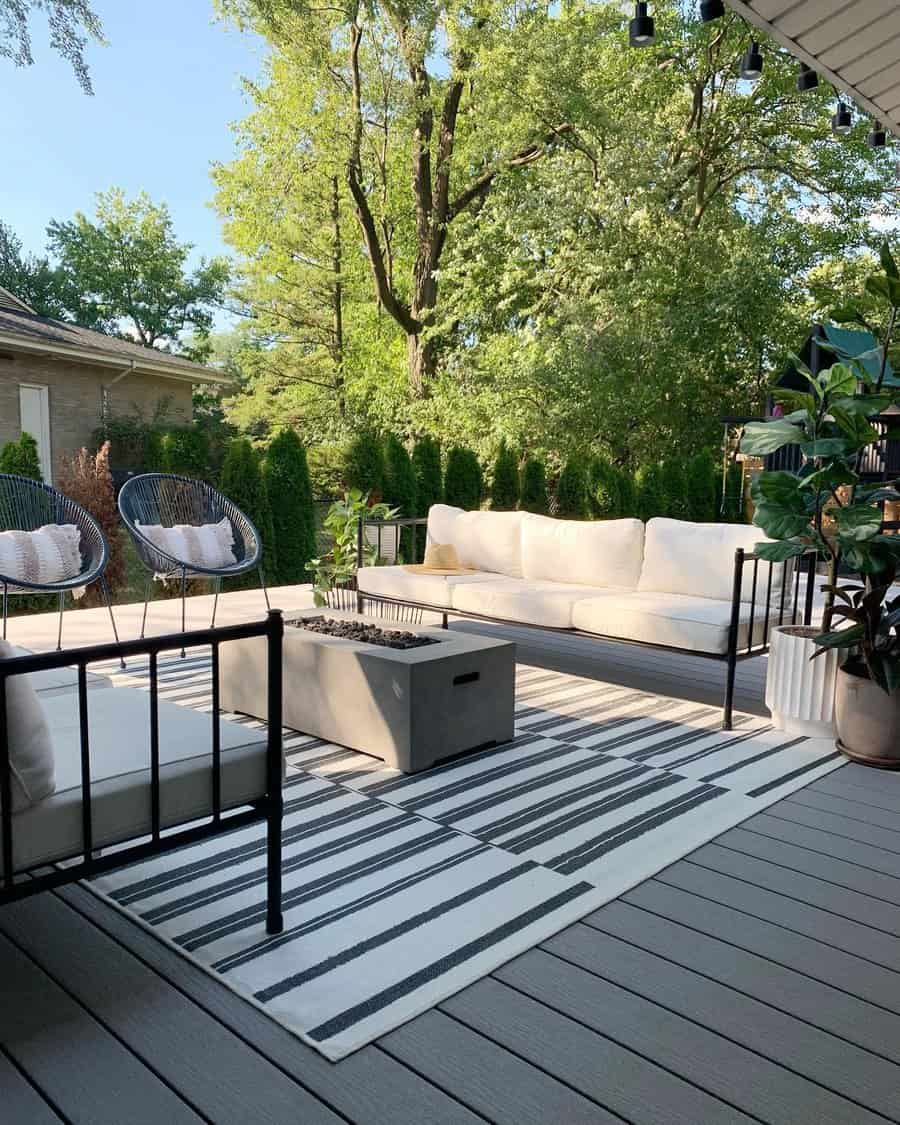 17. Add Greenery Effortlessly with Faux Patio Plants
For a hassle-free touch of green, opt for faux plants on your patio. They offer a realistic appeal without maintenance concerns. Whether you prefer potted succulents, ferns, or hanging flower baskets, these plants remain unaffected by weather or seasonal shifts, ensuring a consistently lush ambiance.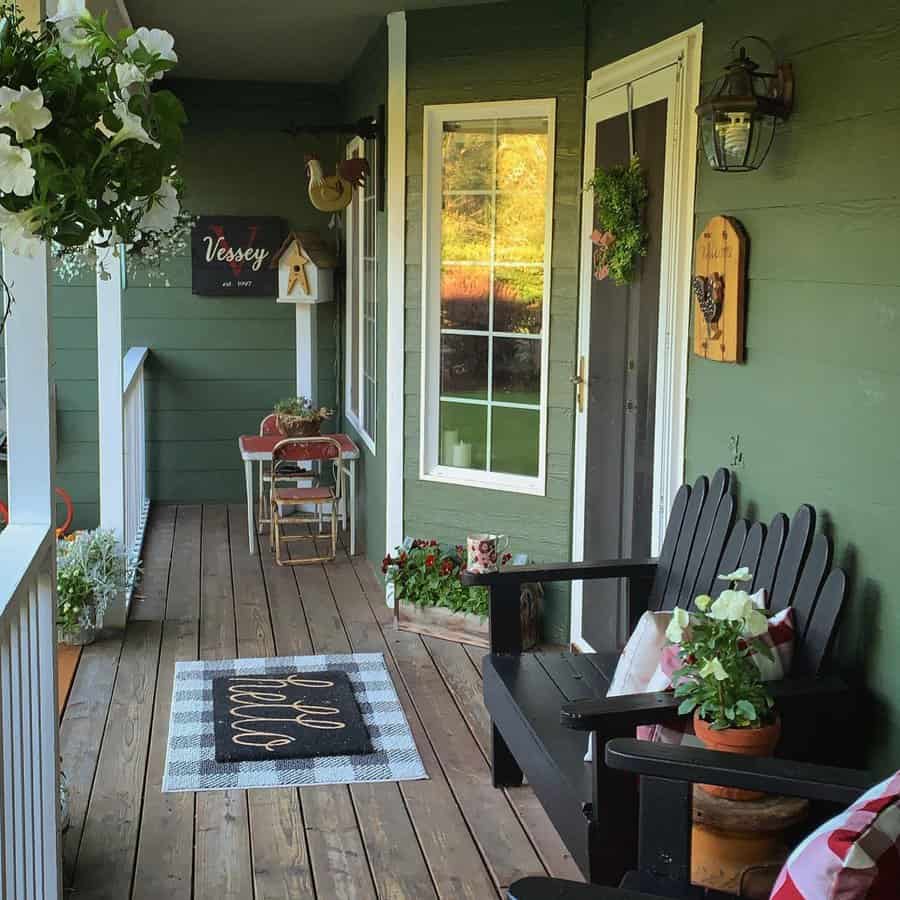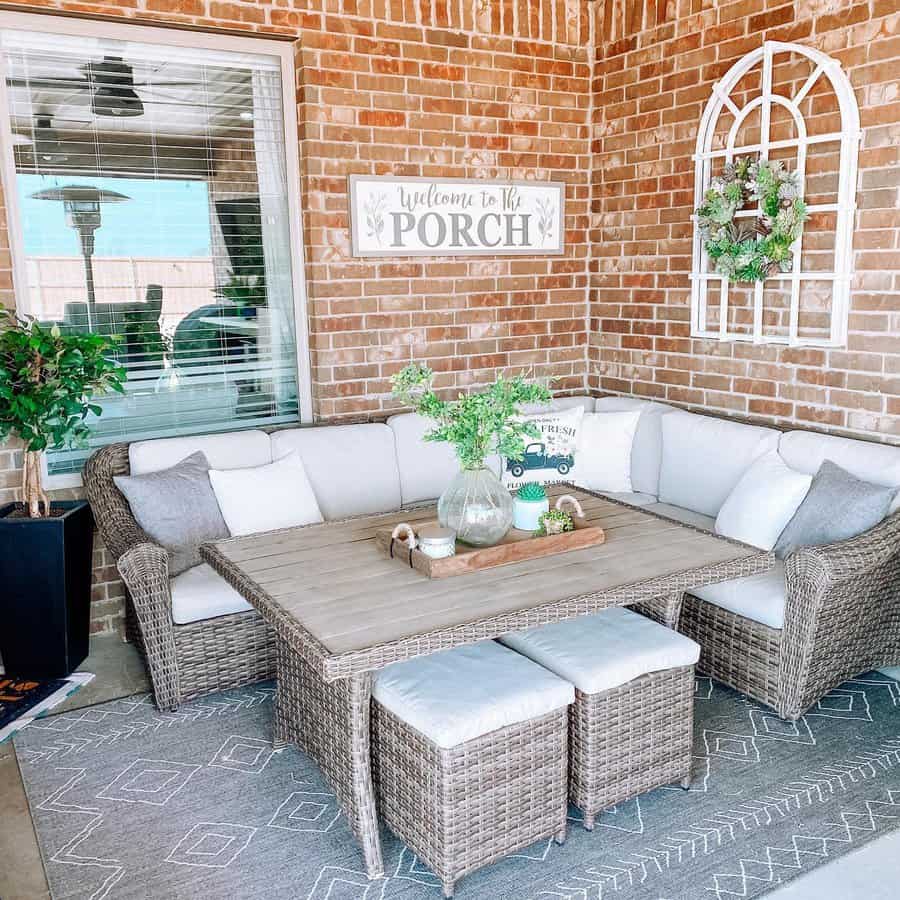 Patio Decor FAQs
What is the difference between a patio and a balcony?
You've probably seen these terms used interchangeably. That's fine! But patios and balconies are not exactly the same things.
A patio is an outdoor space at ground level. Most patios are no more than a few inches taller than the ground around them.
A balcony is an outdoor space above ground level. Almost all balconies are surrounded by a safety railing.
How do you light a patio?
There are many great ways to light an outdoor living space, and you don't need to choose just one for your patio design!
A fire pit serves as a source of both light and heat. You can construct a built-in fire pit or invest in a portable unit for maximum versatility.
Any plug-in light rated for outdoor use can be safely used on a patio. These often include string lights but you can also find lamps that are safe to use outside.
If you don't have an outlet close at hand, consider arranging solar- or battery-powered lights around your patio area!