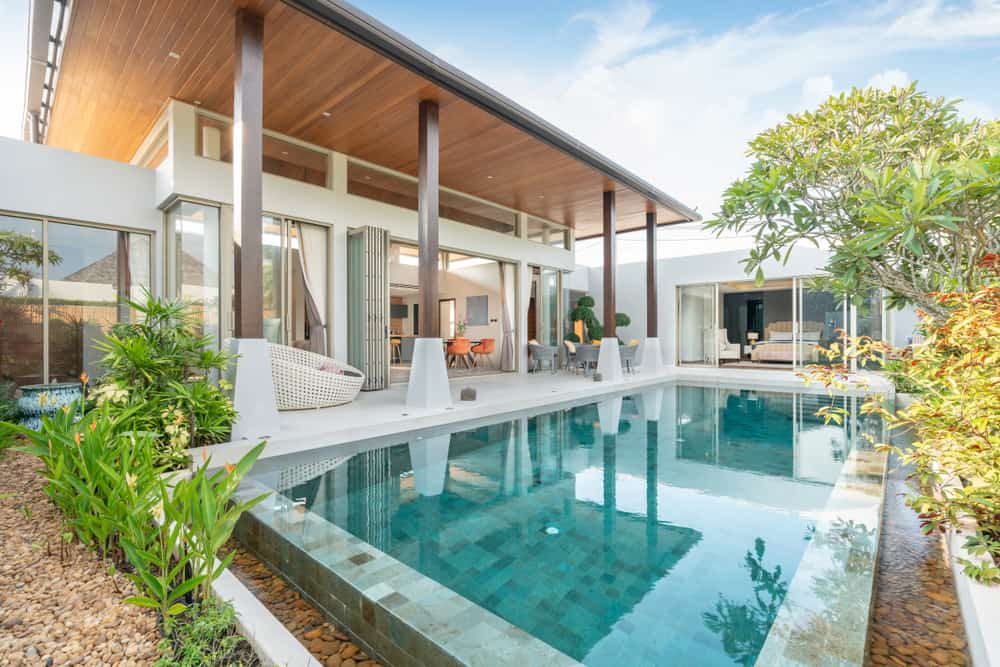 67 Pool House Design Ideas
Take your backyard swimming pool to its next level and complement it with a practical pool house. Customize the space to suit all your entertaining desires. Create an epic poolside gathering spot or a simple place to house equipment.
Pair the deck with long-lasting outdoor furniture. Consider additions that will extend the usability of the space. Covered shelters, outdoor kitchens and bars, and firepits are some features to enhance functionality.
While the design ideas are endless, a key benefit of the space is privacy. This will be more important if you plan to house visitors overnight. Offering a changing area or extra bathroom will also help to keep your main home clean. Large shrubbery and pullback curtains also help for extra privacy.
Don't wait any longer and design your dream backyard space today.
1. Cabana Pool House Ideas
A cabana is an extraordinary feature that takes your backyard pool to the next level. Its multipurpose use will serve as a benefit to your guests. Most traditional shelters showcase three walls and an open face towards the pool. Its rectangular appearance is recognizable, but the design variations are infinite.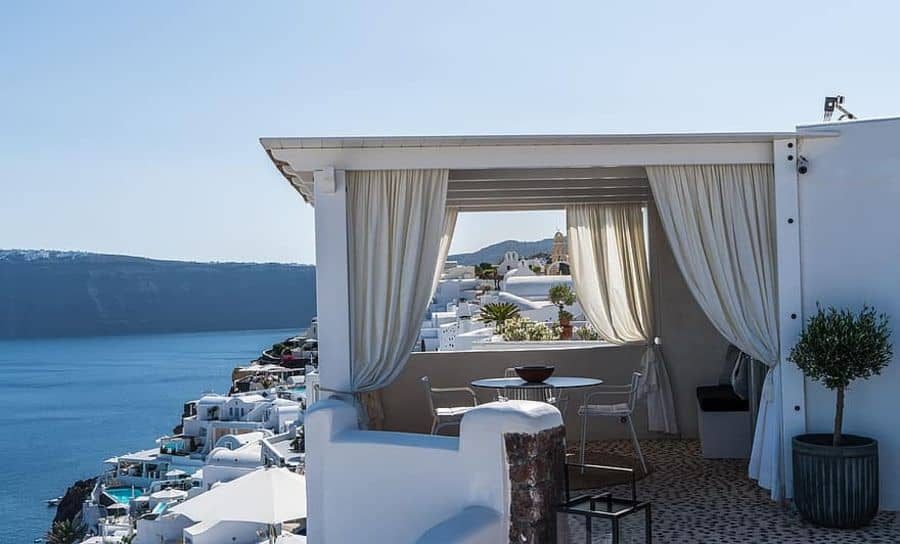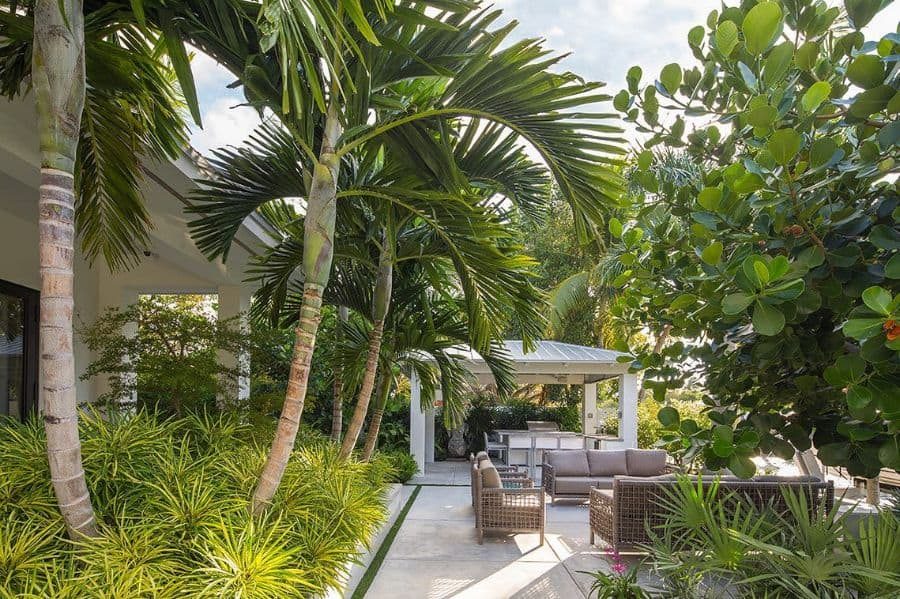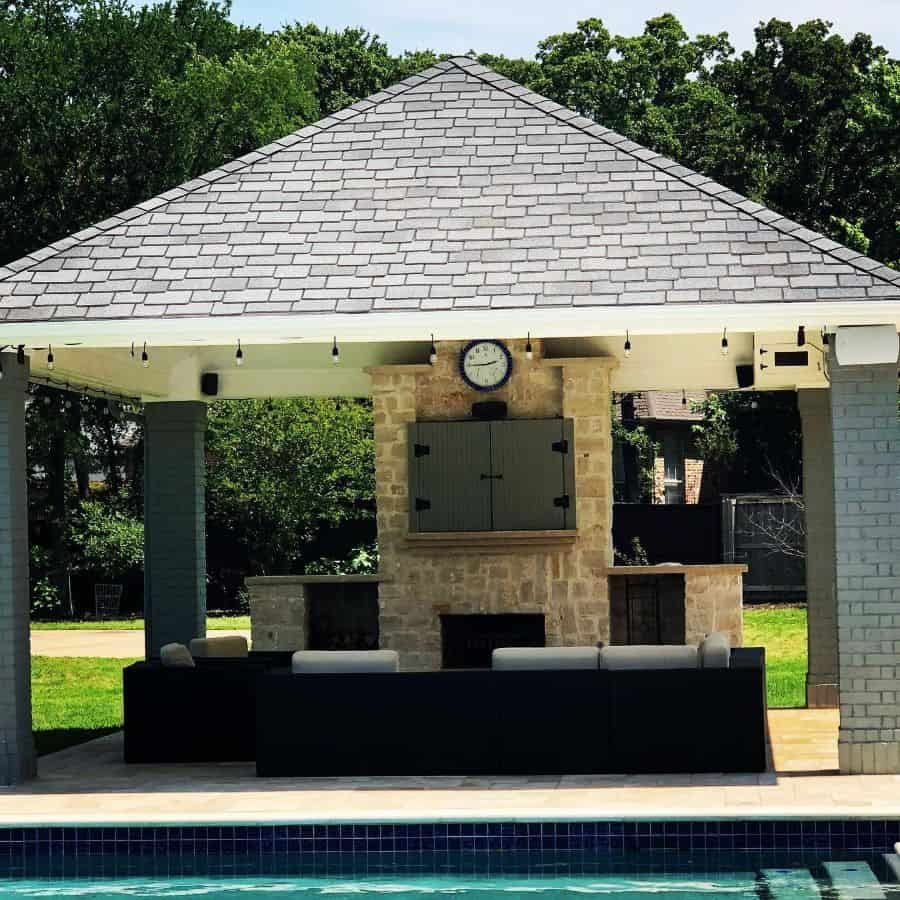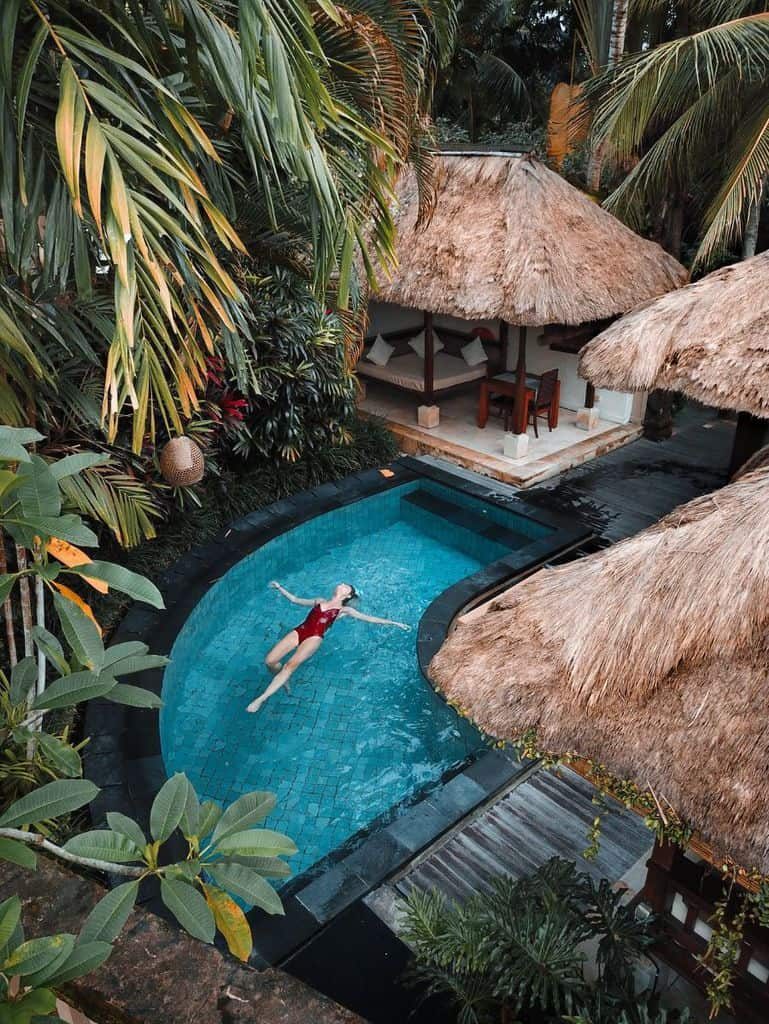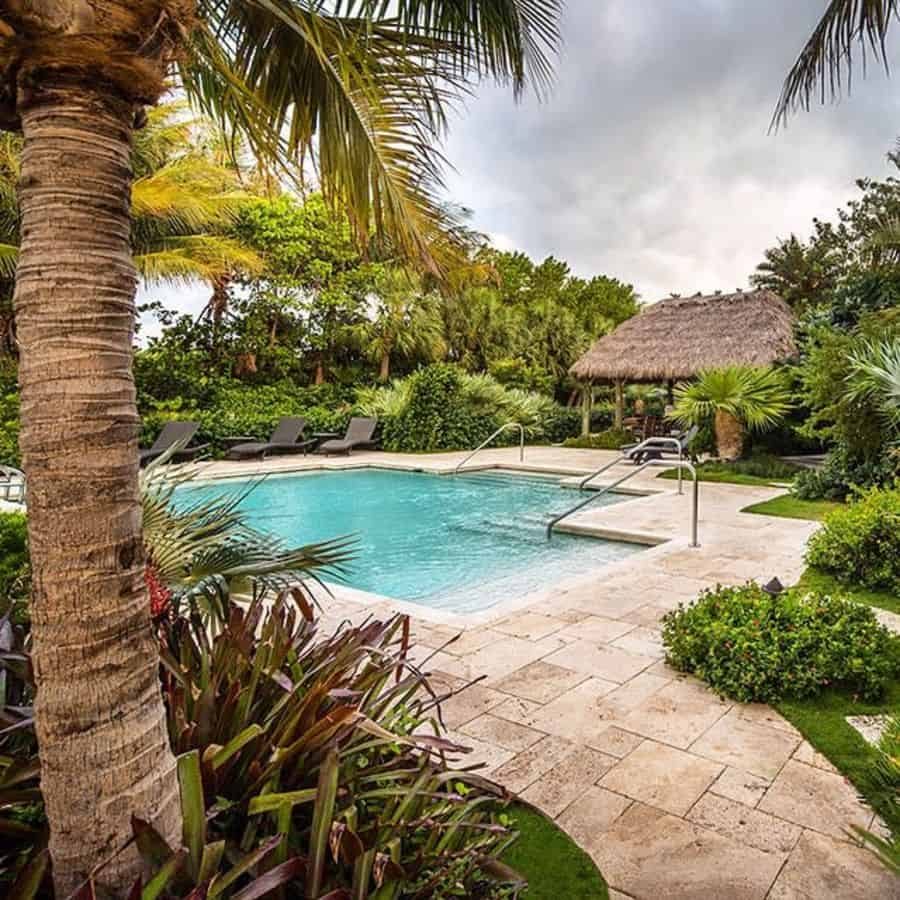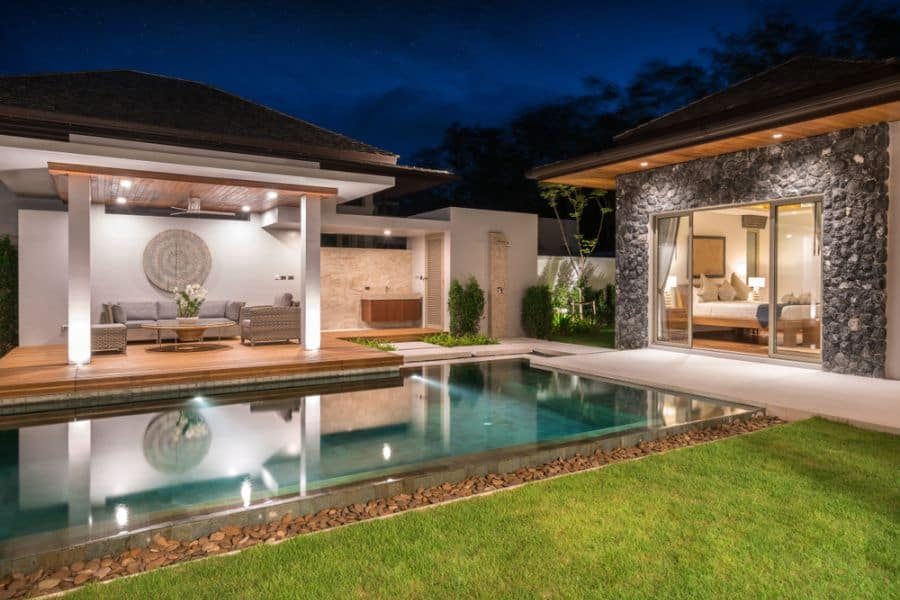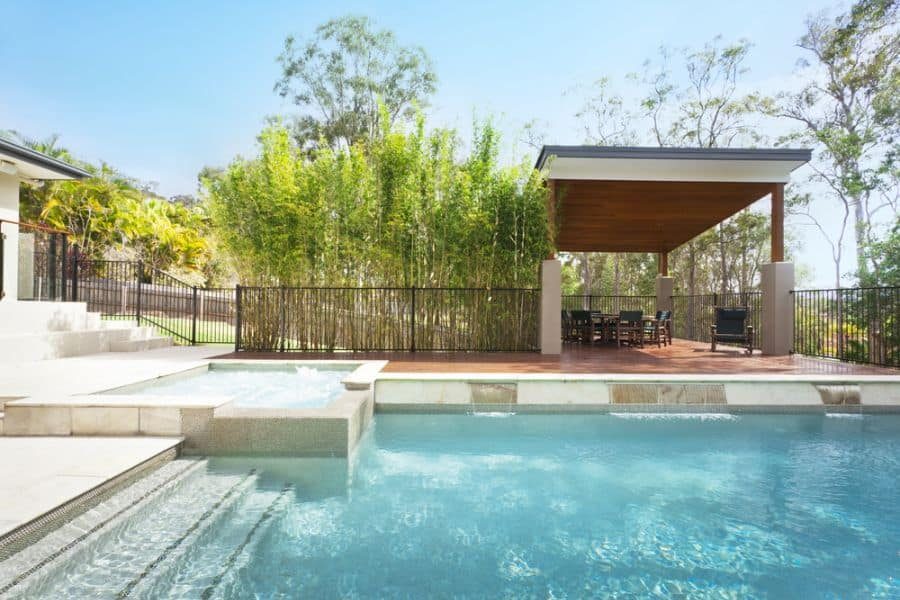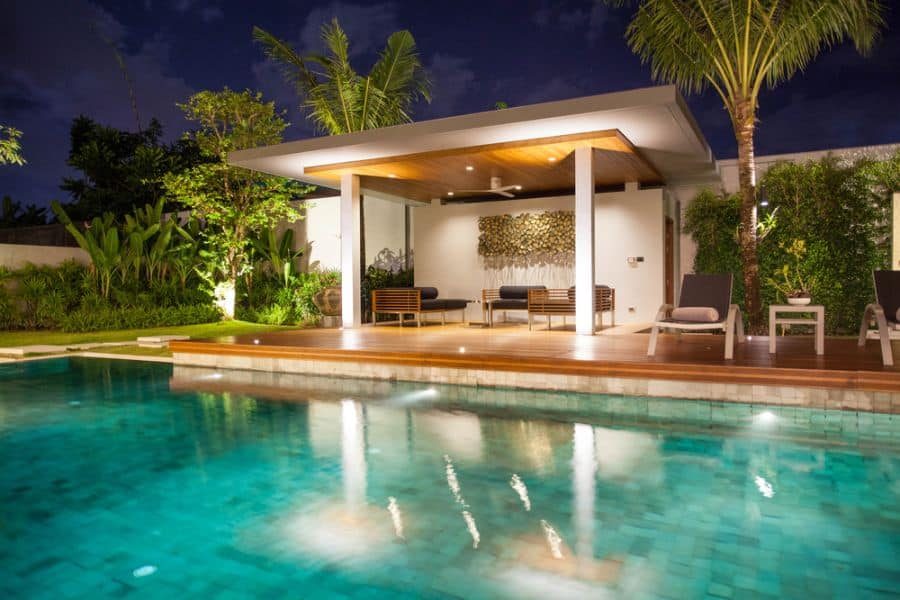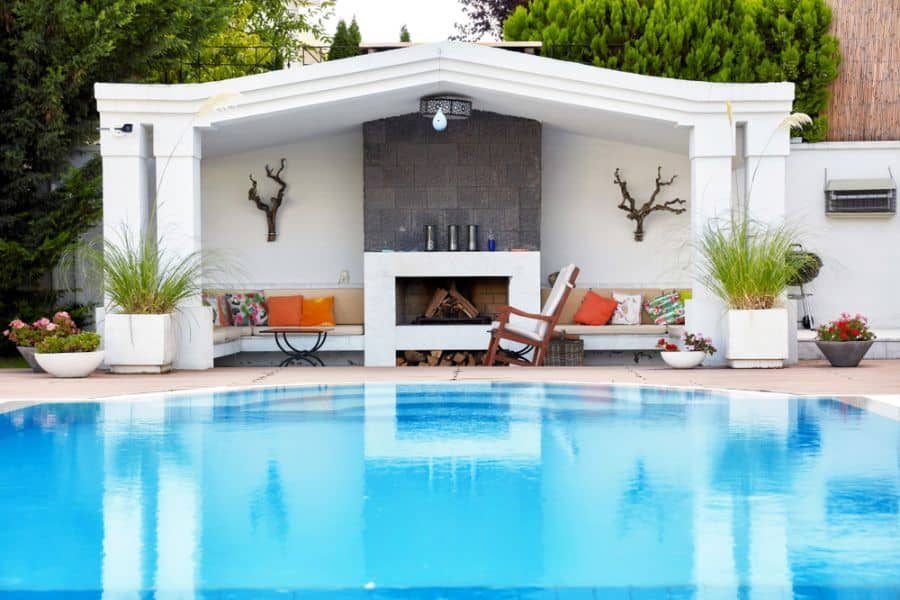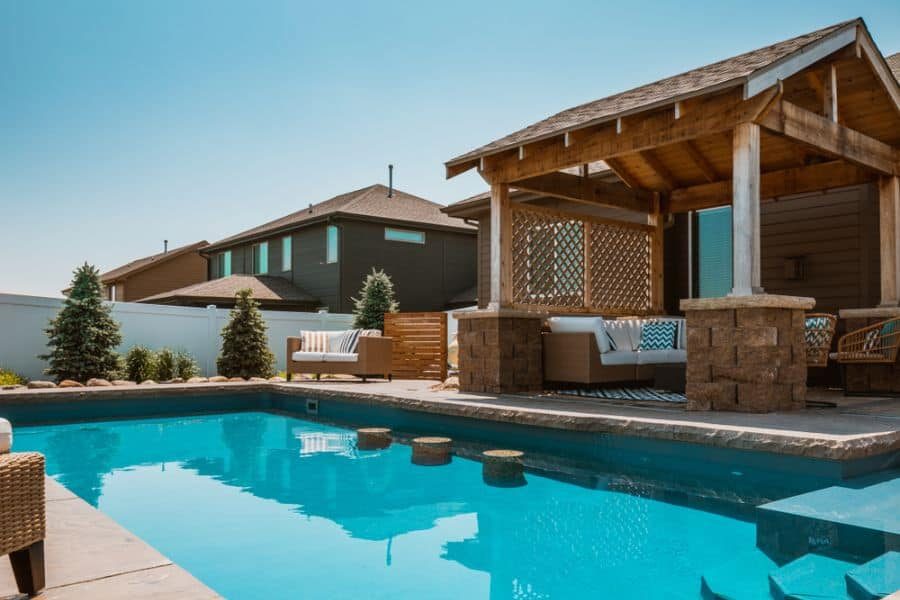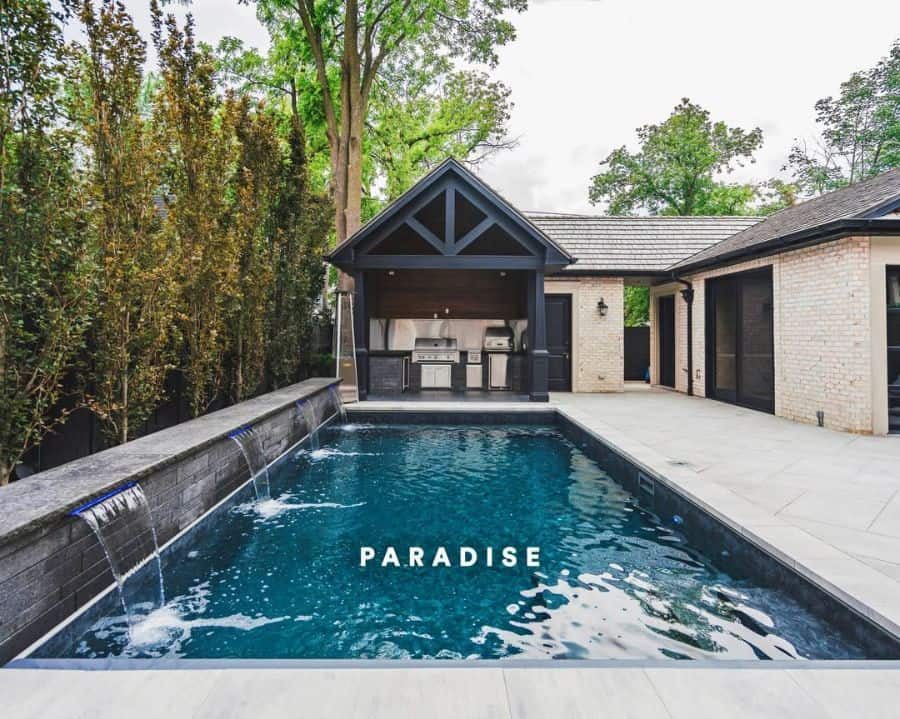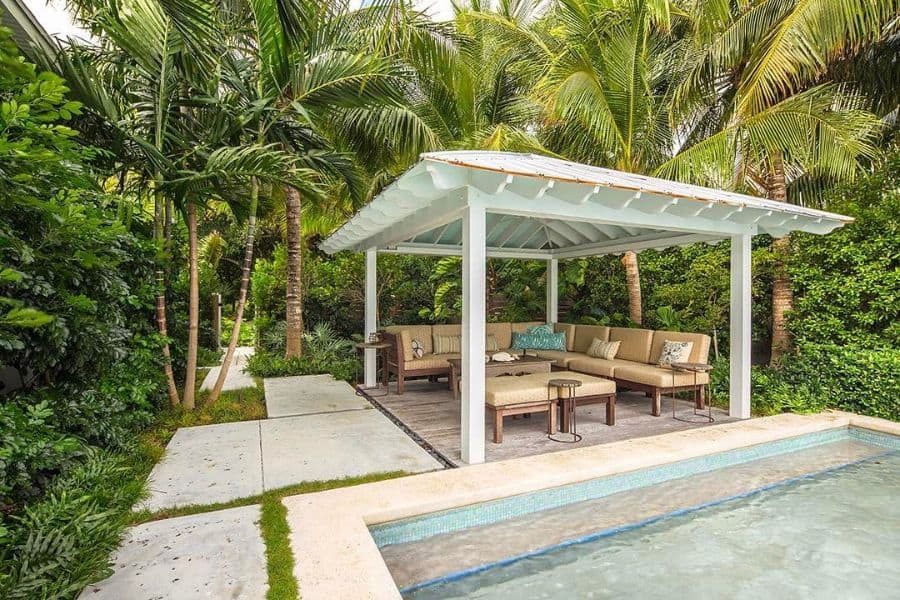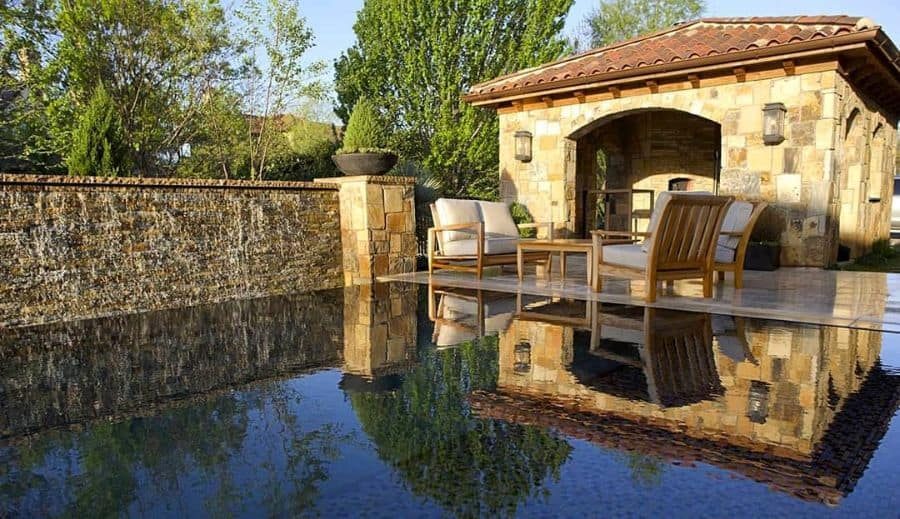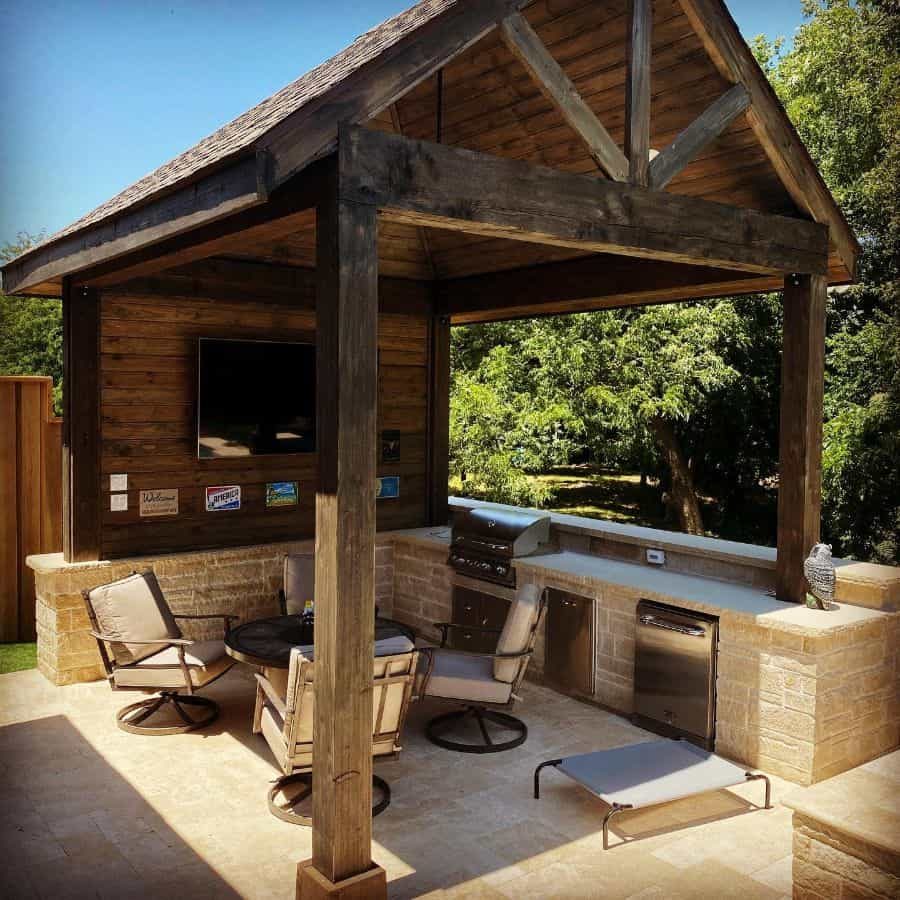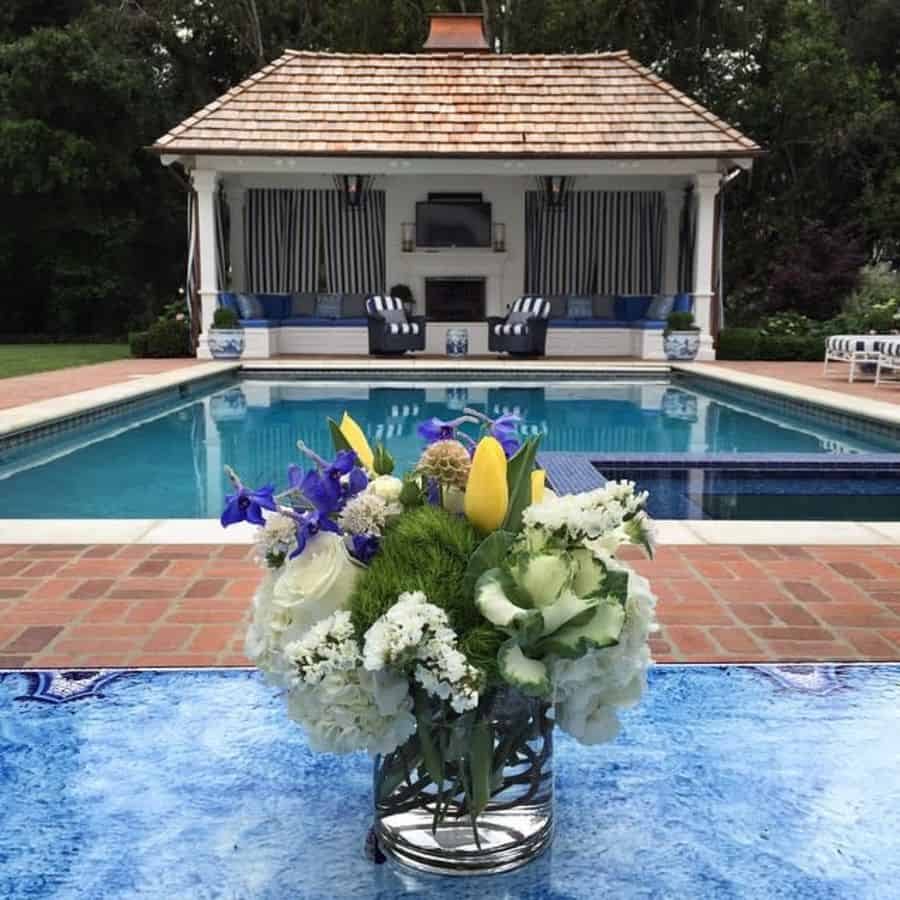 Cabana derives from the Spanish word for "hut." Its cover plays a crucial role in heat protection. You'll extend the use of your pool by offering an area of shade and relief from the harsh sun. There are a wide variety of elements to choose from that make for a sturdy roof. The most common finishings include metal, wood, terra cotta, or thatched straw. You'll want to ensure the chosen material can withstand your climate.
Keep things simple or expand on its elegance to fit within any budget. The style and design elements are buildable.
Be sure to select patio furniture pieces that are best fitted for relaxing. Sturdy outdoor furniture is as important to comfort, as replacing furniture every year or two can become expensive.
2. Classic Pool House Pool House Ideas
Adding a pool house in conjunction with a cabana further elevates your outdoor space. It serves a convenient indoor area that has many uses. The architecture design should match your main home to create a cohesive appearance. The interior design and size will vary depending on the intended purpose.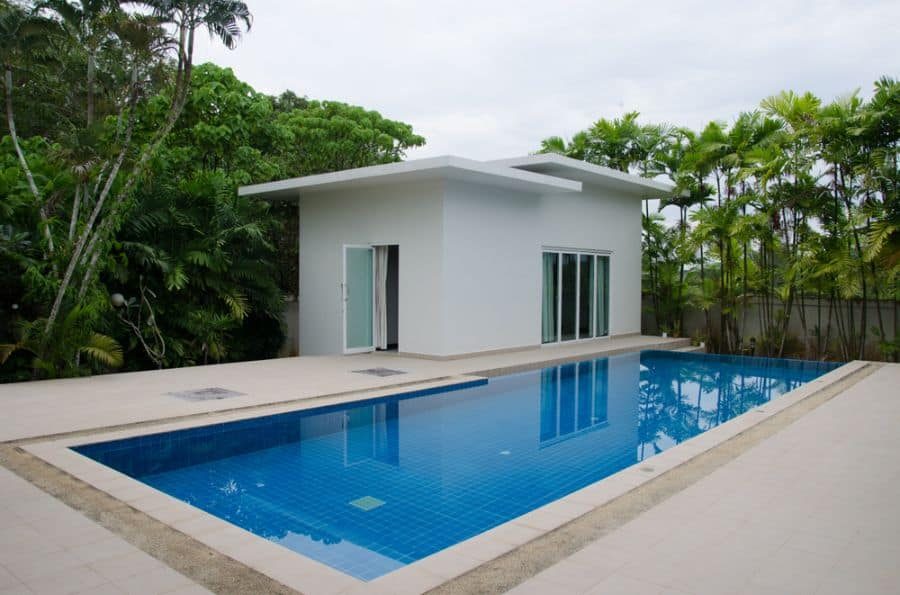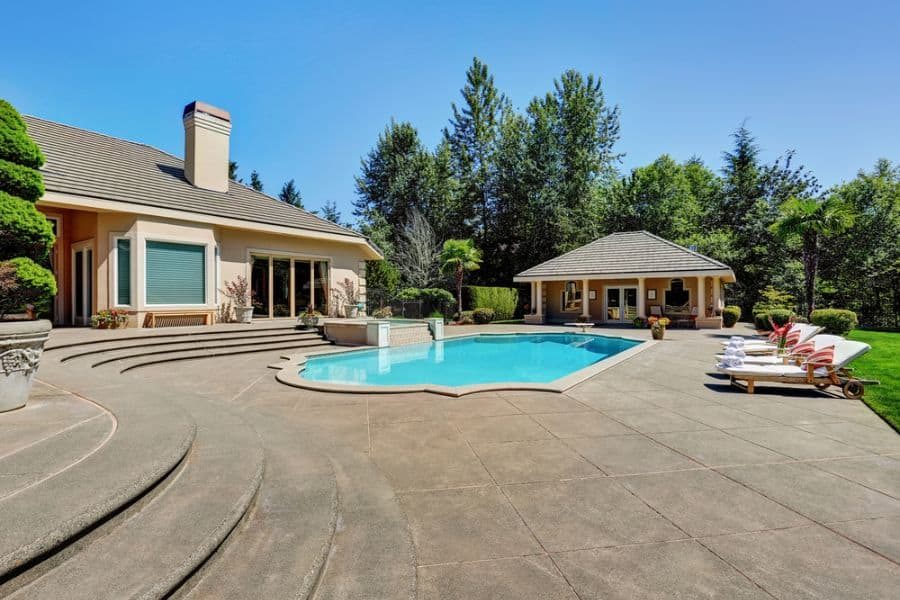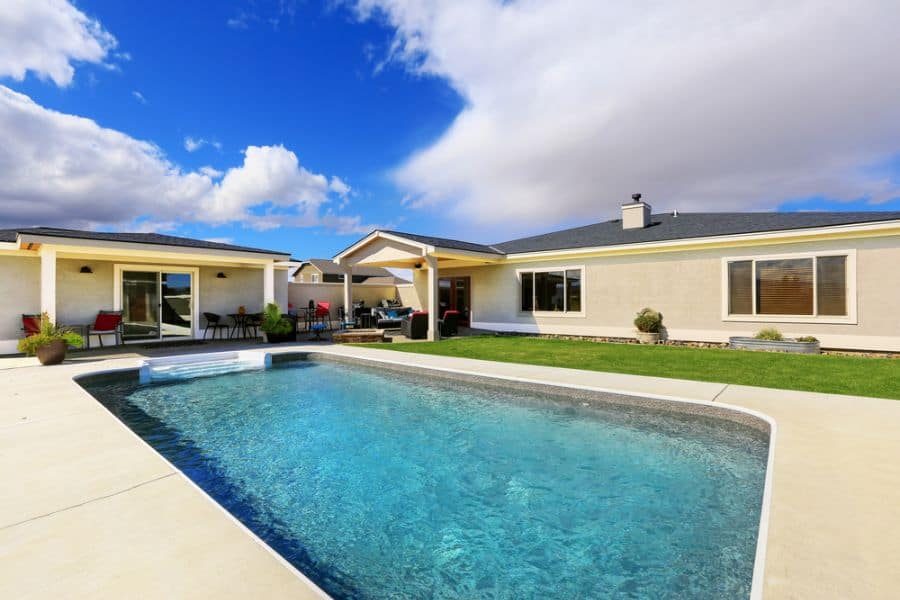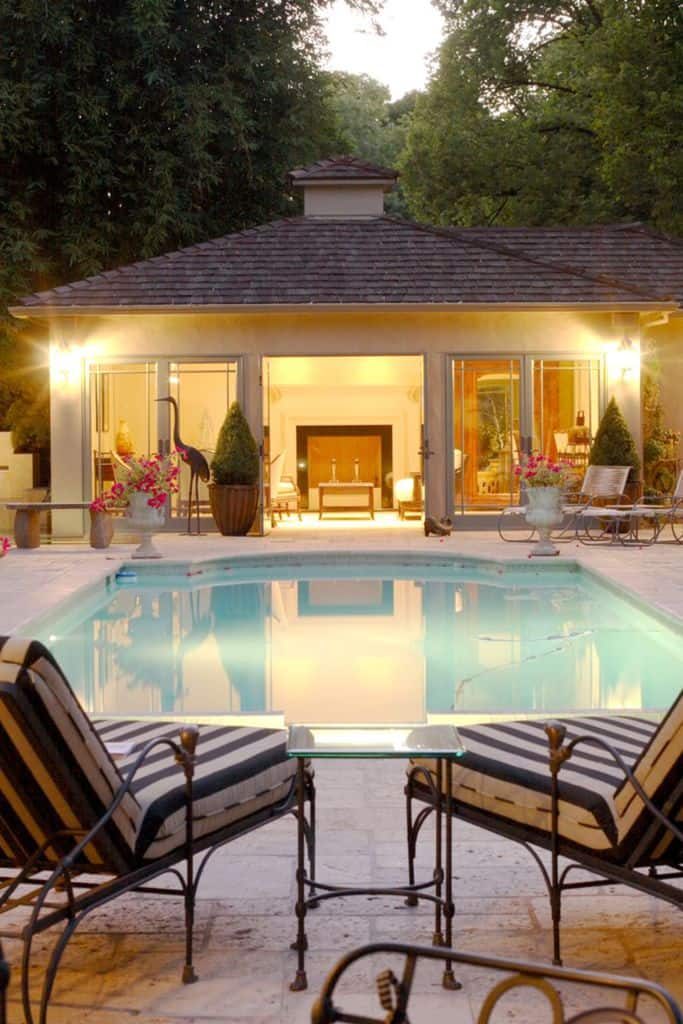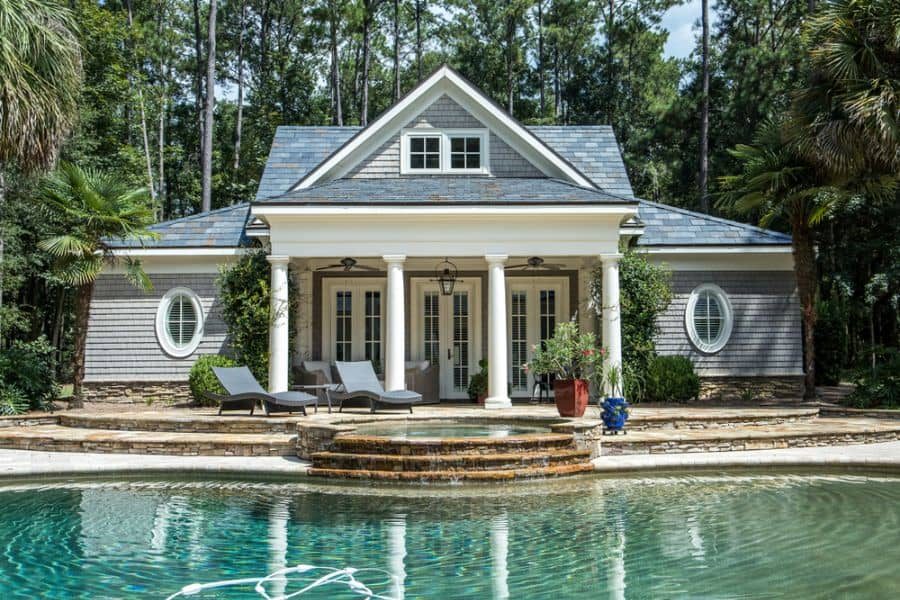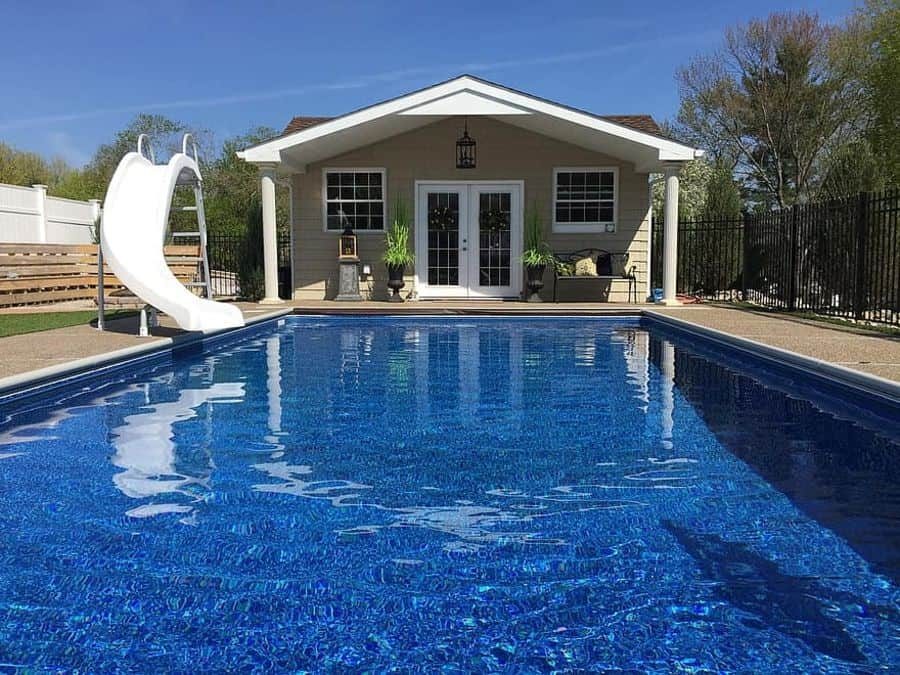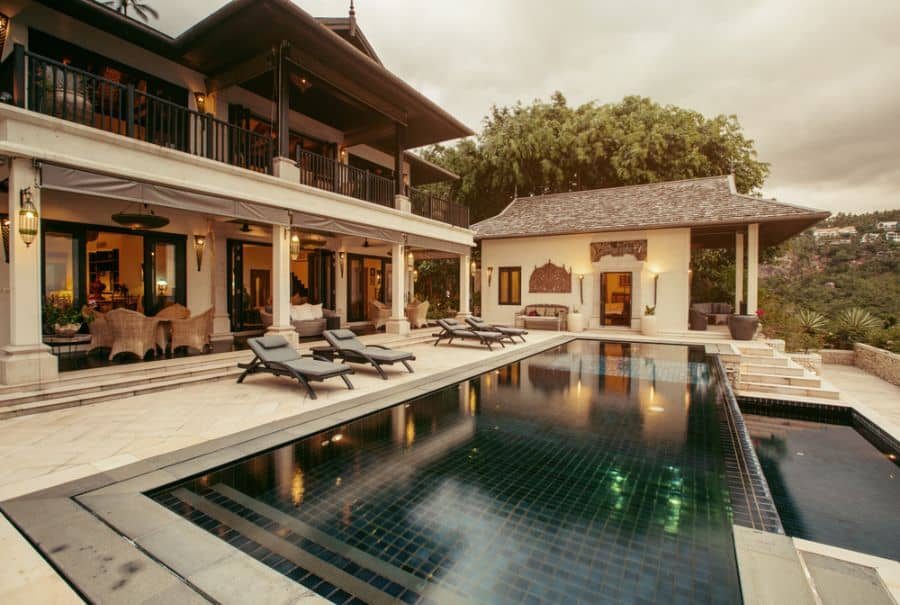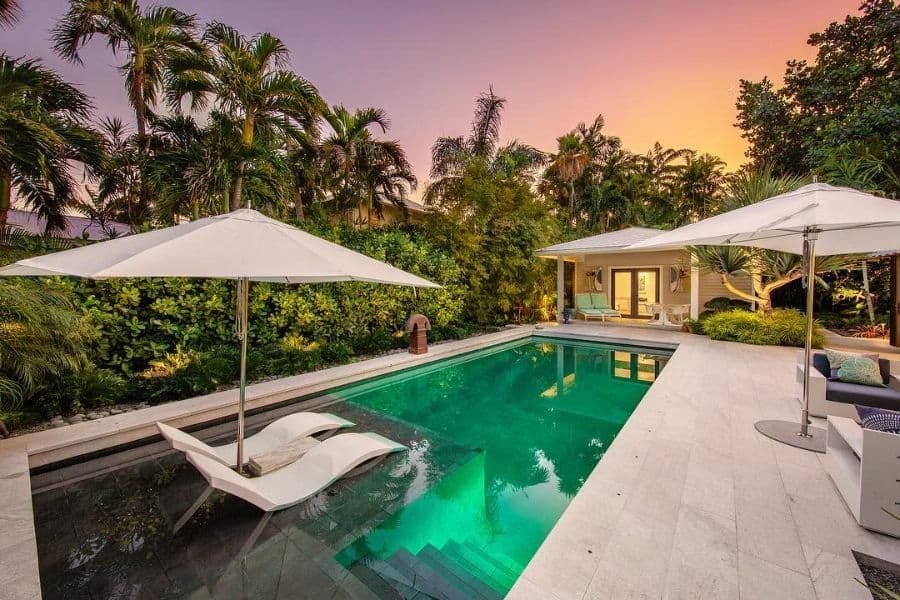 Small pool houses may only serve as an area to hide unsightly objects like pool pumps and supplies. While larger spaces can double as a guest house. Its main purpose will be to provide an area of privacy and sheltered communal gatherings.
Whether that space functions as a bathroom could be very beneficial but it's completely up to you. Limiting the constant trek of wet feet through your main home is key to keeping it clean. Your pool house can also work as a place for wet bathing suits and towels to hang and dry.
3. Glass Pool House Pool House Ideas
Does your home sit amongst a stunning backdrop of mountains? Embrace the beautiful elegance of a freestanding glass pool house. Its stunning appearance will complement the spectacular views of the outdoors.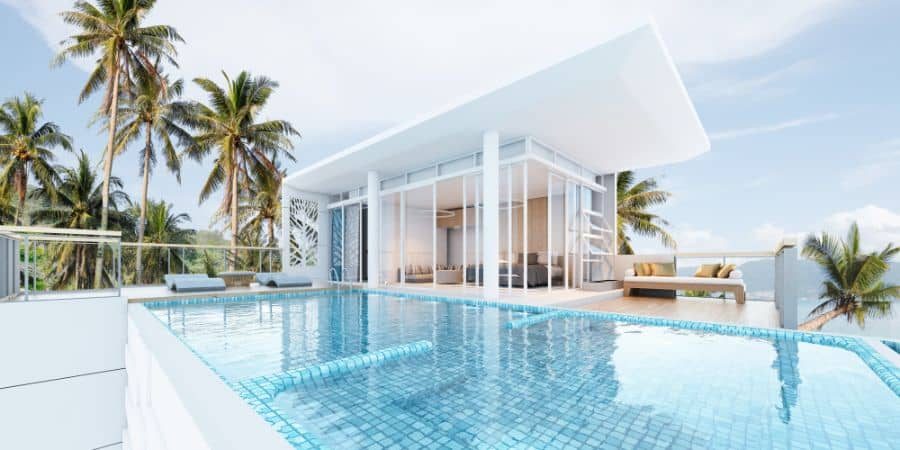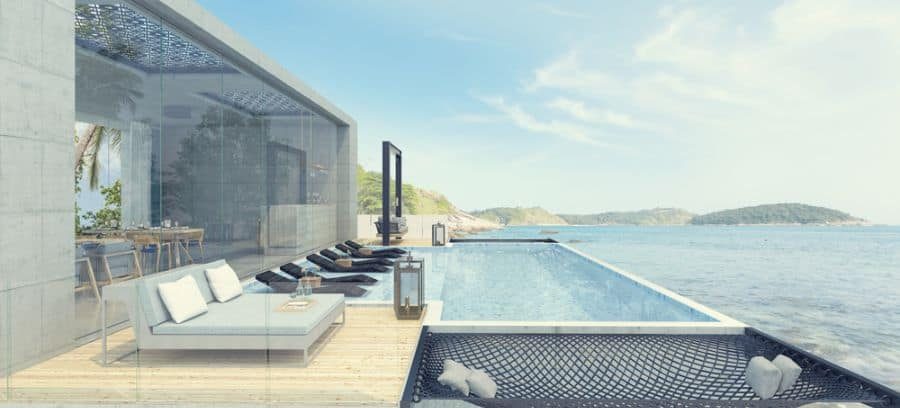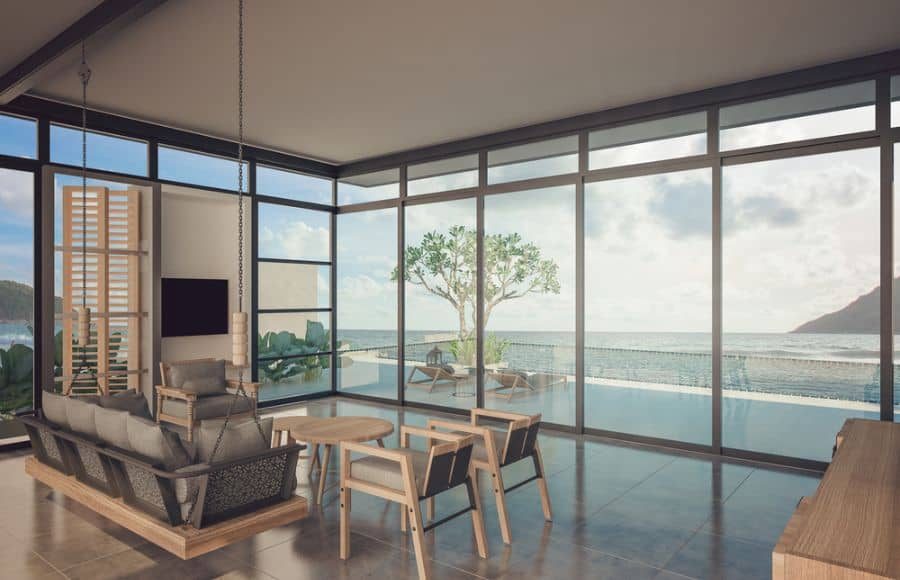 Allow for natural light to illuminate your sleek space. Fill your space with contemporary furnishings to complement its modern exterior. Its greenhouse essence will shine throughout. Along with the notes of nature, it will provide a serene, tropical vibe.
4. Luxury Pool House Pool House Ideas
What better way to beat the summer heat than inside a large, lavish pool house? Design your space to serve much more than an area to dry off from swimming.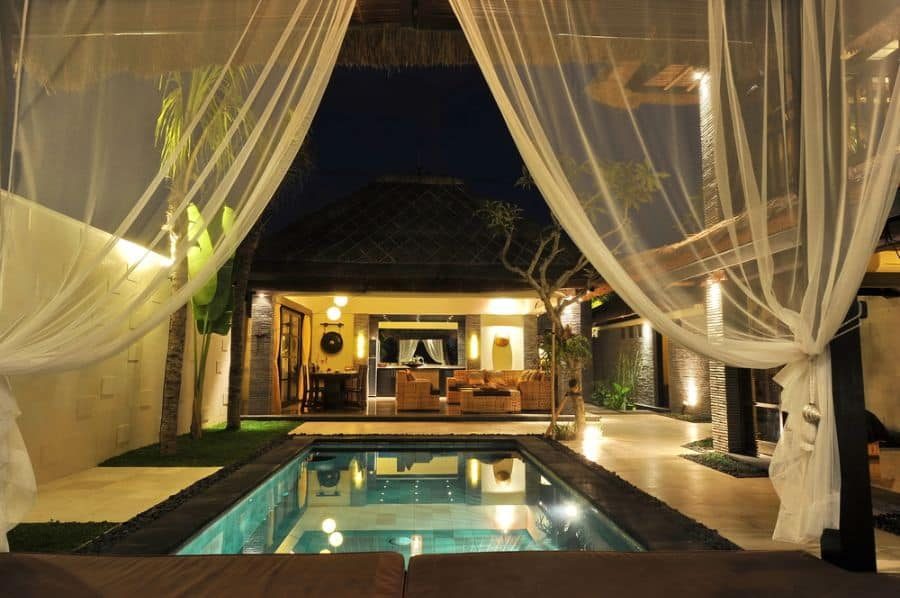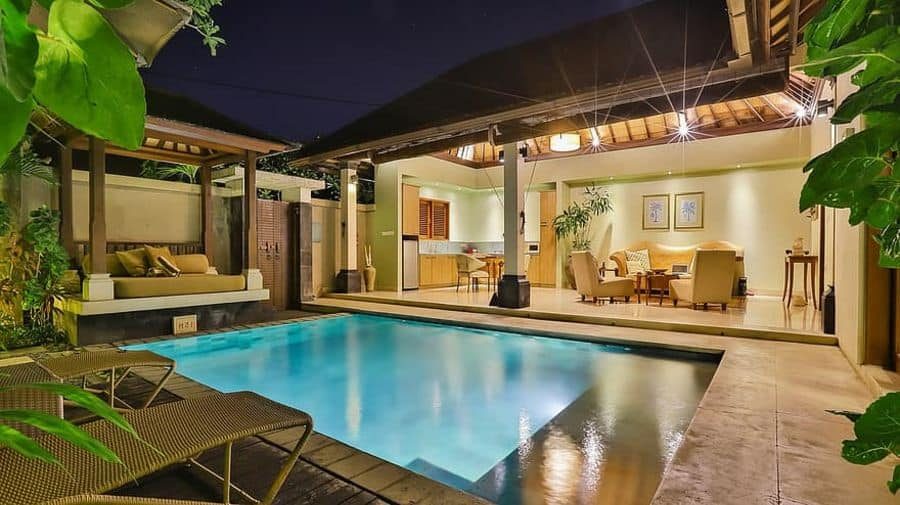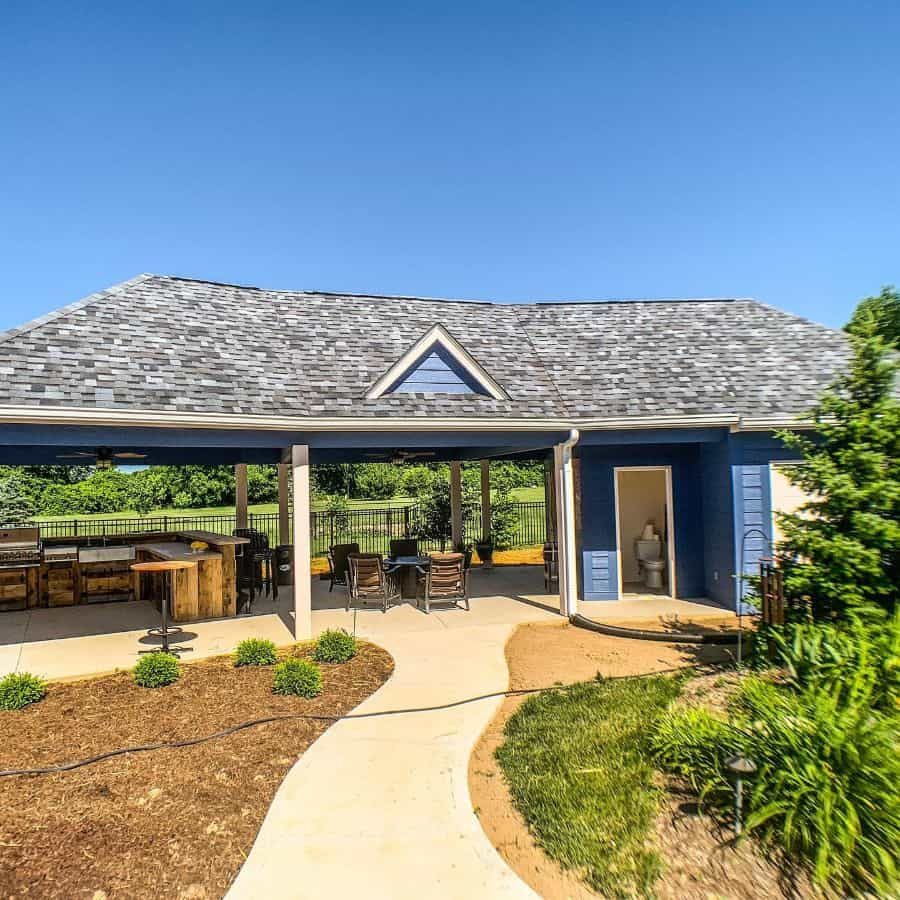 Keep the layout open and inviting. Allow for the fresh flow of the summer air to breeze through your space. Whether it's vinyl siding, stone, or wood, the pool house design should mirror your main home. Consider adding features such as striking columns to create a dramatic entrance.
The entertaining area can function as your second living room. Select couches and chairs that promote comfort and a cozy aesthetic. A fully-functioning kitchen is a must. Incorporate a bar with high top seating as a bonus feature. It gives another central location for your guests to gather around. Side and coffee tables are also valuable furniture pieces to include that add to the homey vibe.
A neutral color scheme and clean lines elevate the elegance. Stick to minimal decor and ensure your space has proper lighting. This feature is essential to extend the use through the evenings. Speaking of evenings, don't forget about an outdoor firepit. You'll love gathering around it with friends and family on chilly nights.
5. Modern Pool House Pool House Ideas
Exemplify sharp, straight lines throughout your backyard space for a modern twist. Finishes such as concrete, brick, and wood further play into the contemporary vibe. Dark contrasting features, such as beams, create a contrasting focal point. Keep your decor accessories and furnishings minimal.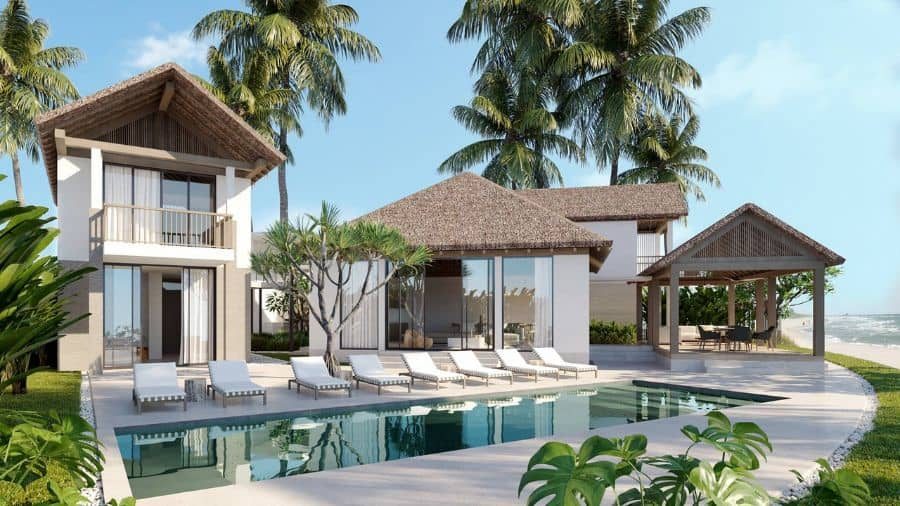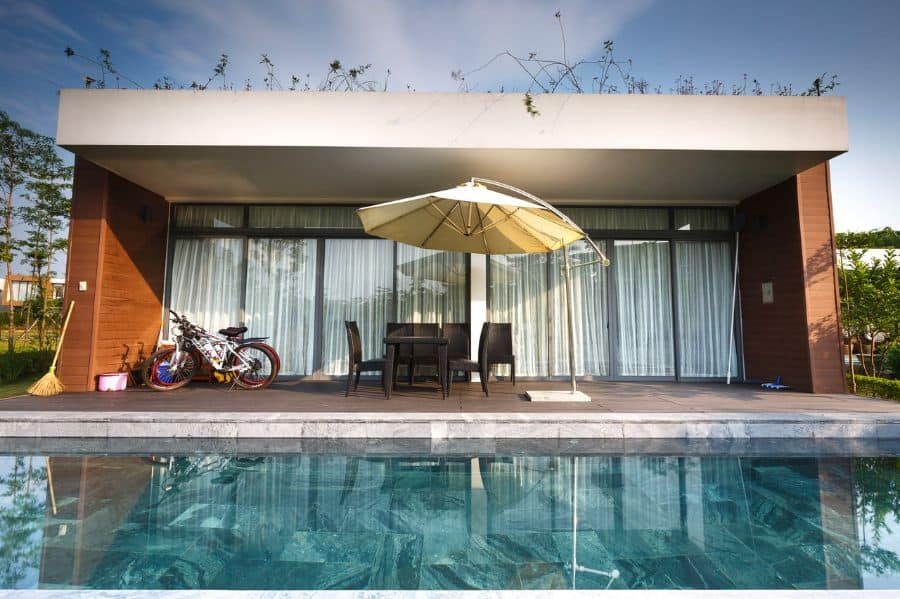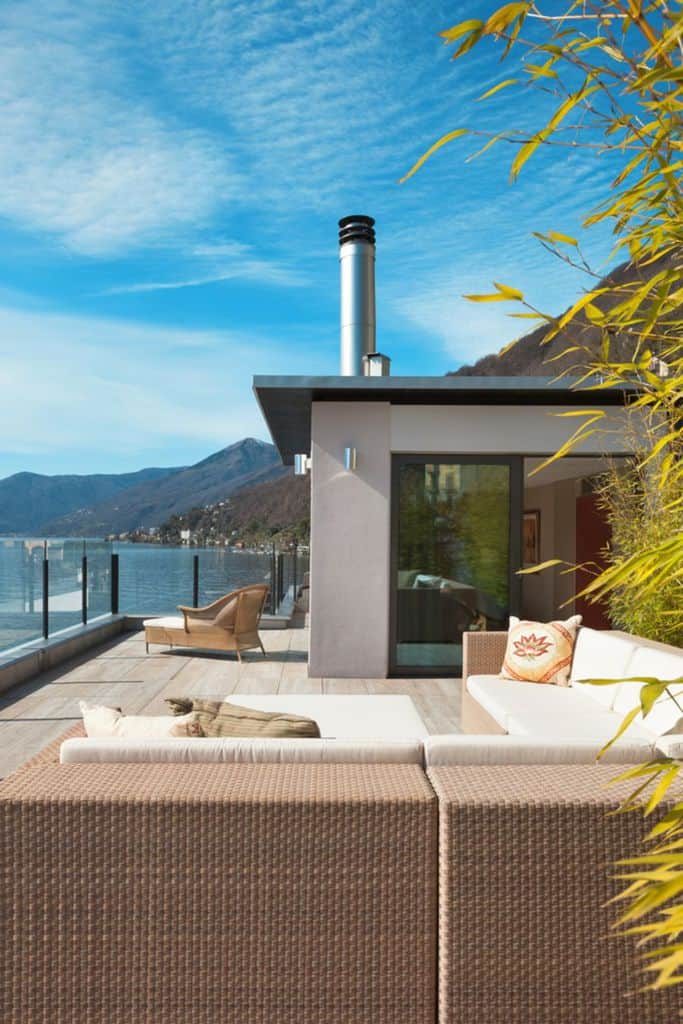 Modern architecture embraces the look of clear glass. Large floor to ceiling windows provide stunning views to the outdoors. Sliding glass doors are another great transition between indoors and out.
Consider the areas where you would like your guests to gather around. A sleek outdoor fireplace will allow for the entertaining to continue year-round. Bring your space together with low seating furniture for a chic modern appearance.
6. Open Pool House Ideas
Design your pool house area with convenience in mind. An open layout allows your guests to move seamlessly throughout its entirety. This is a great way to use the space to its fullest potential.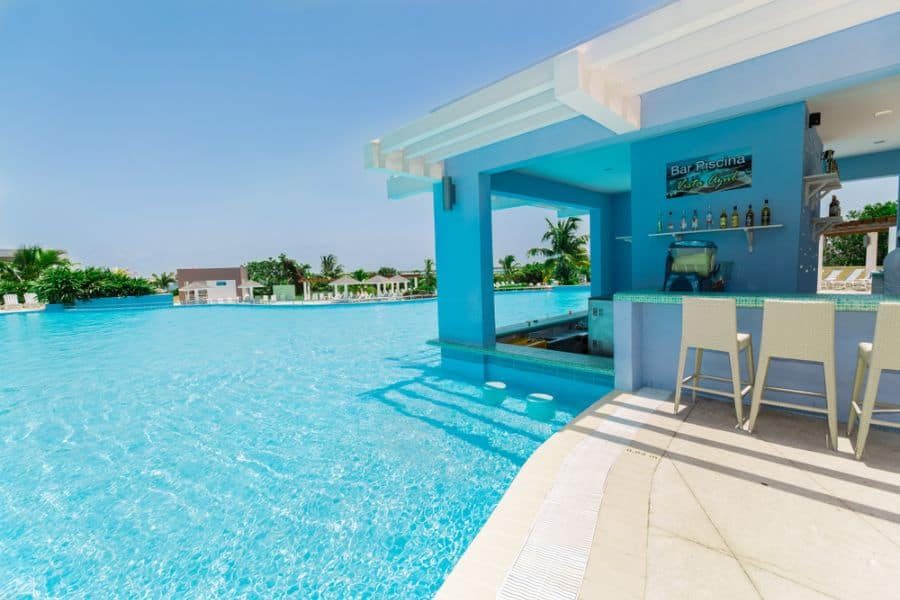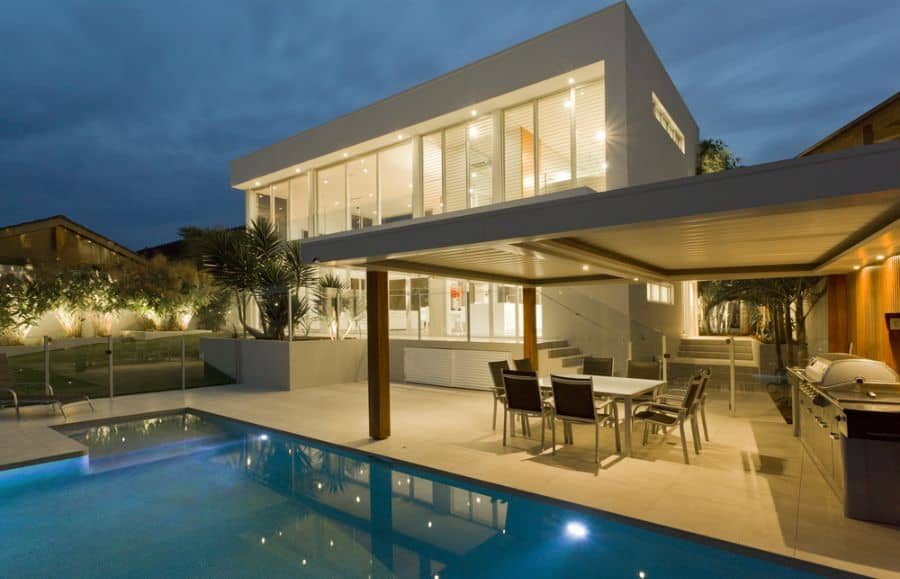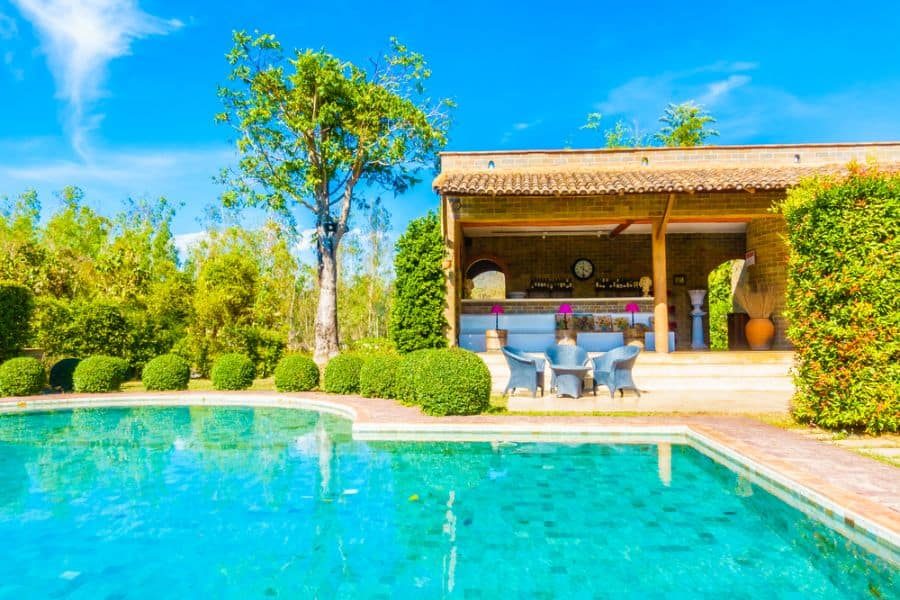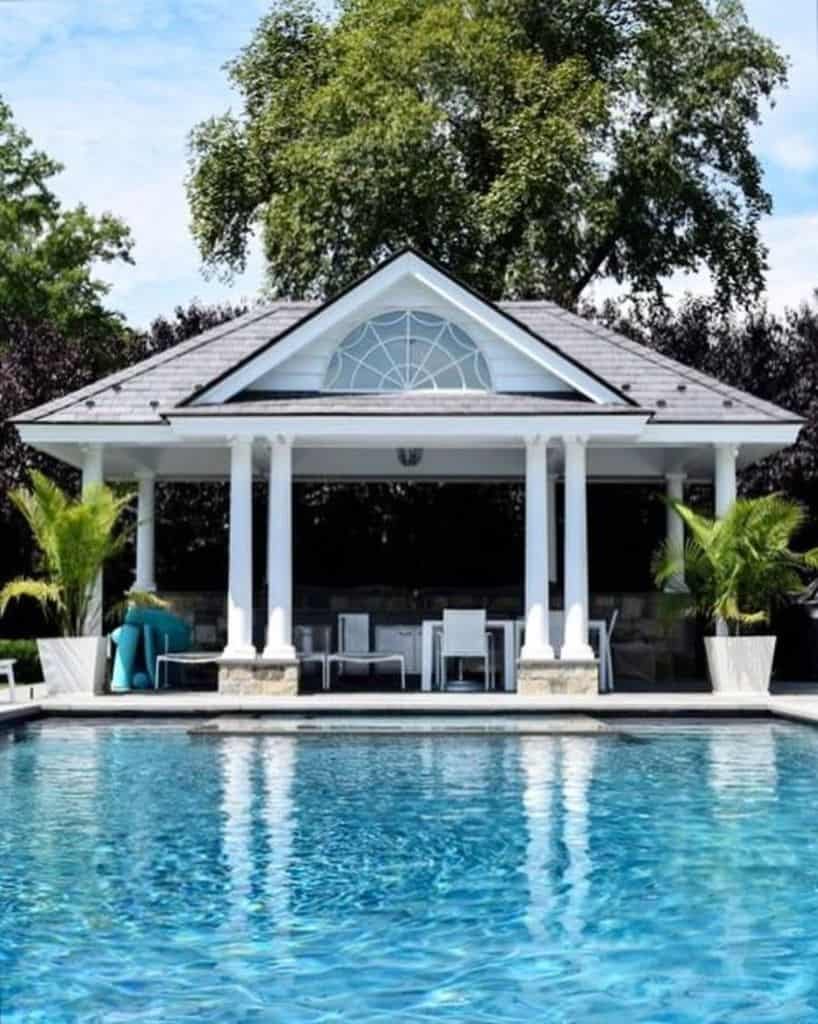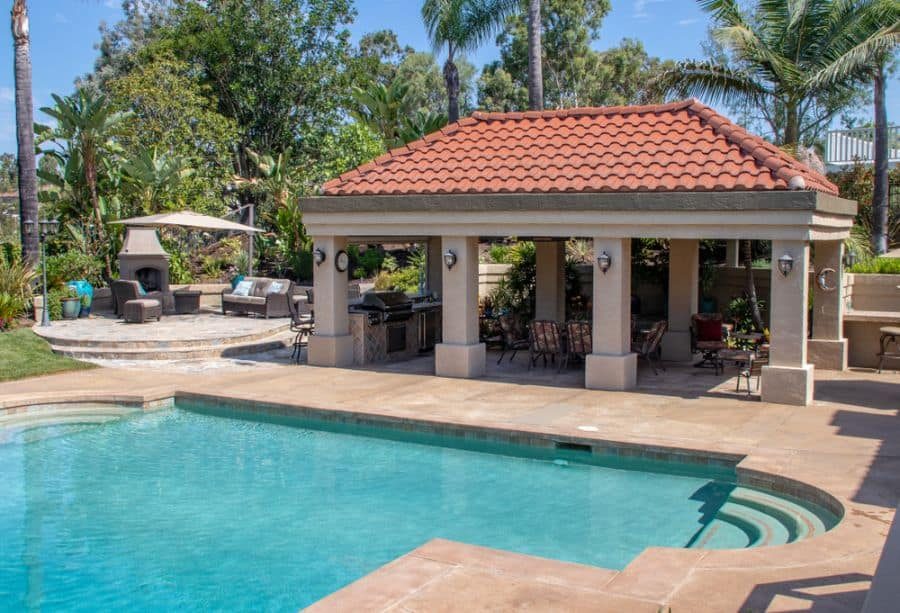 Bright, natural light will flow through your whole space. Removing or reducing the majority of the interior walls is essential for this style. This allows for your structure to connect with the surrounding nature.
This style can also be beneficial for children. The lack of separation acts as a safety feature for kids. You can take on the lifeguard and supervisor role from any location with the open design.
7. Pavilion Pool House Ideas
A pool house may not work within everyone's budget. If so, consider the cost-saving alternative of building a pavilion in its place. A pavilion is a sheltered structure that remains open on all sides. It's covered roof is ideal for providing an area of shade. It's suitable for poolside lunches.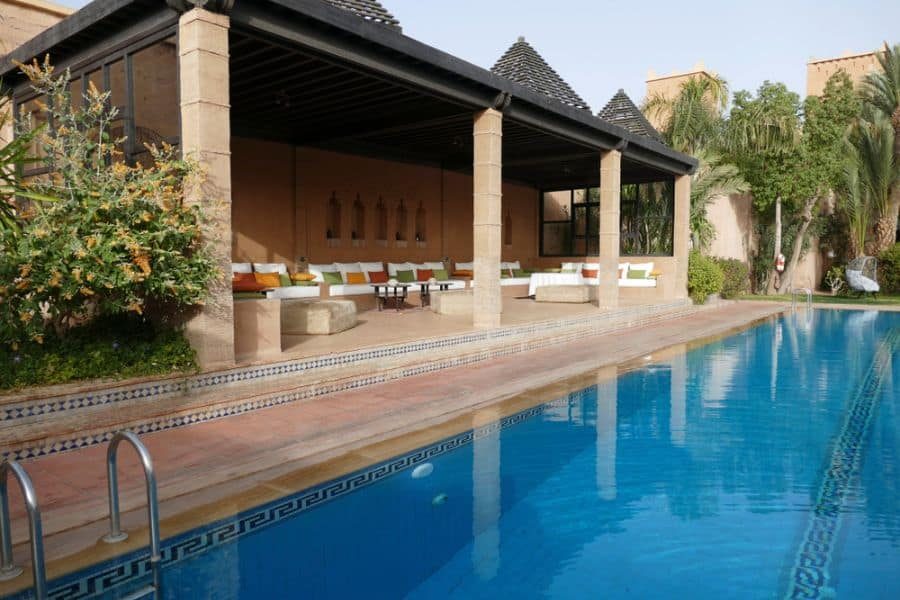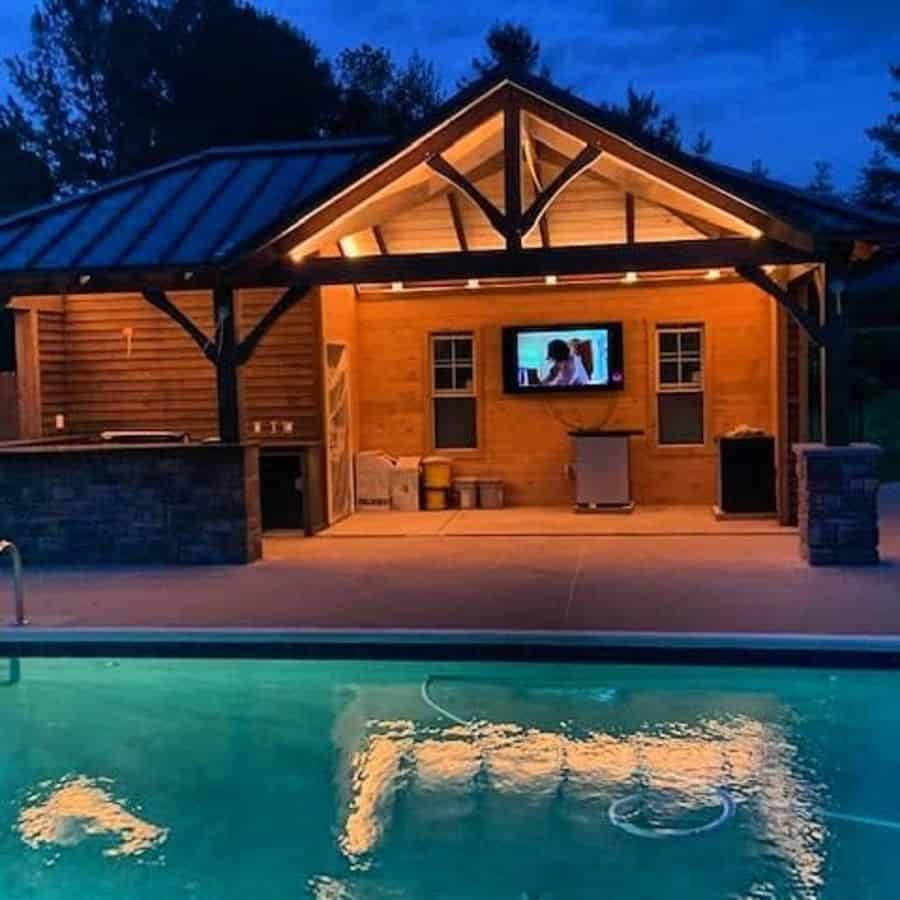 8. Pool House Design Ideas
A pool house complements any style of pool design, big or small. The multipurpose benefits are much greater than only an area of pool storage. Its addition will increase the value of a home and enhance the usability of the backyard space.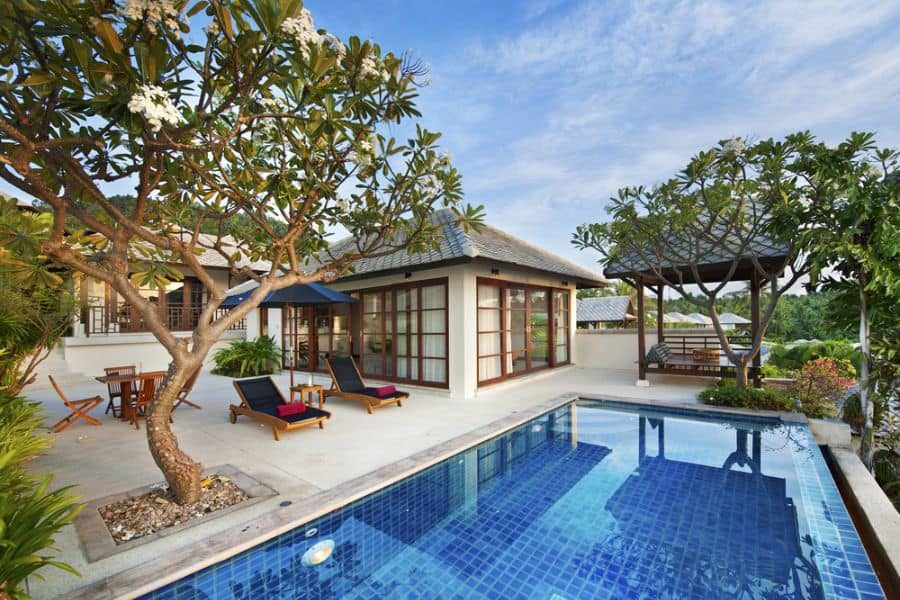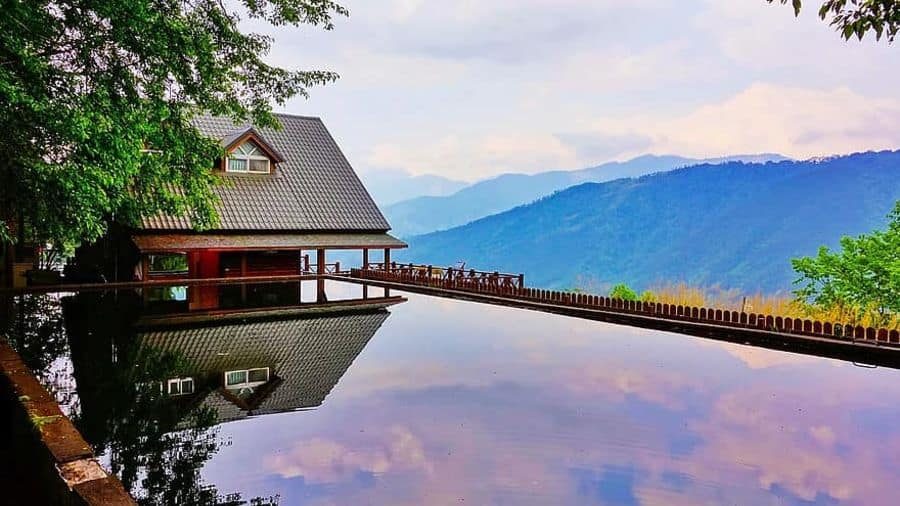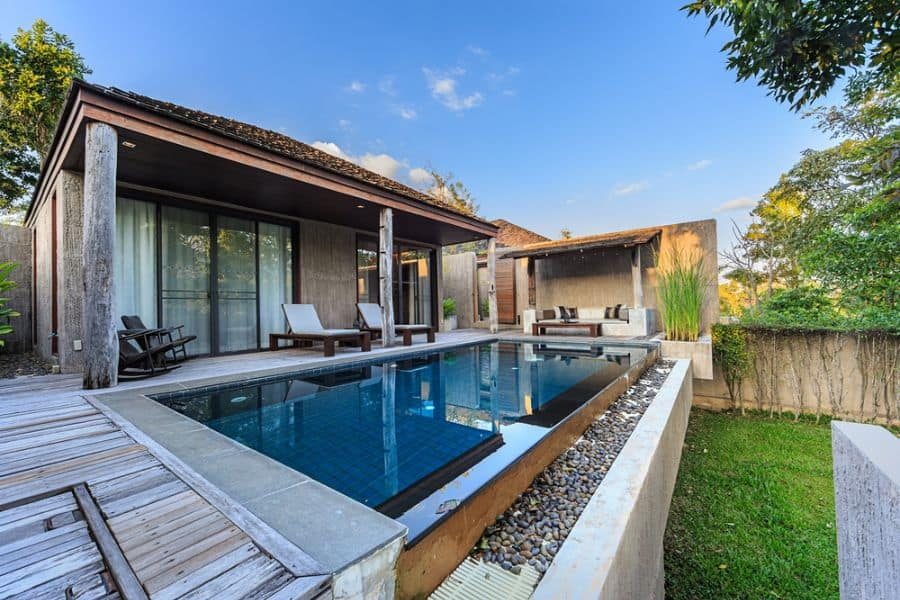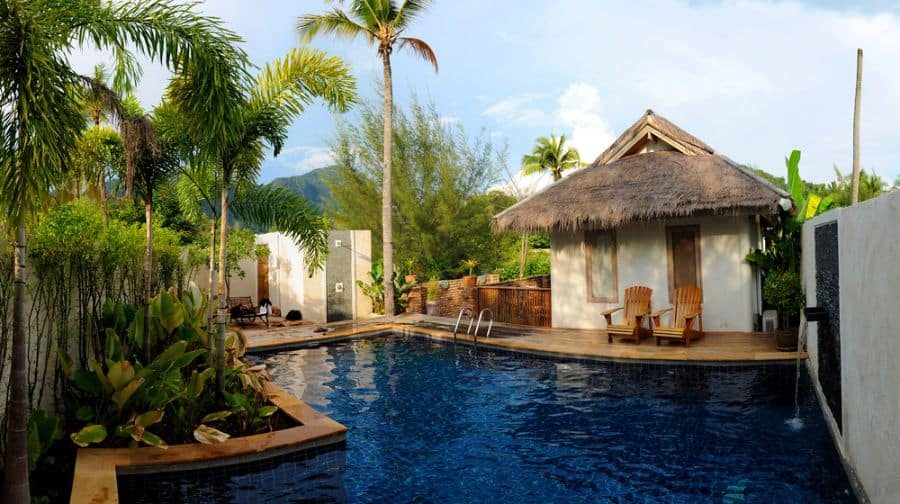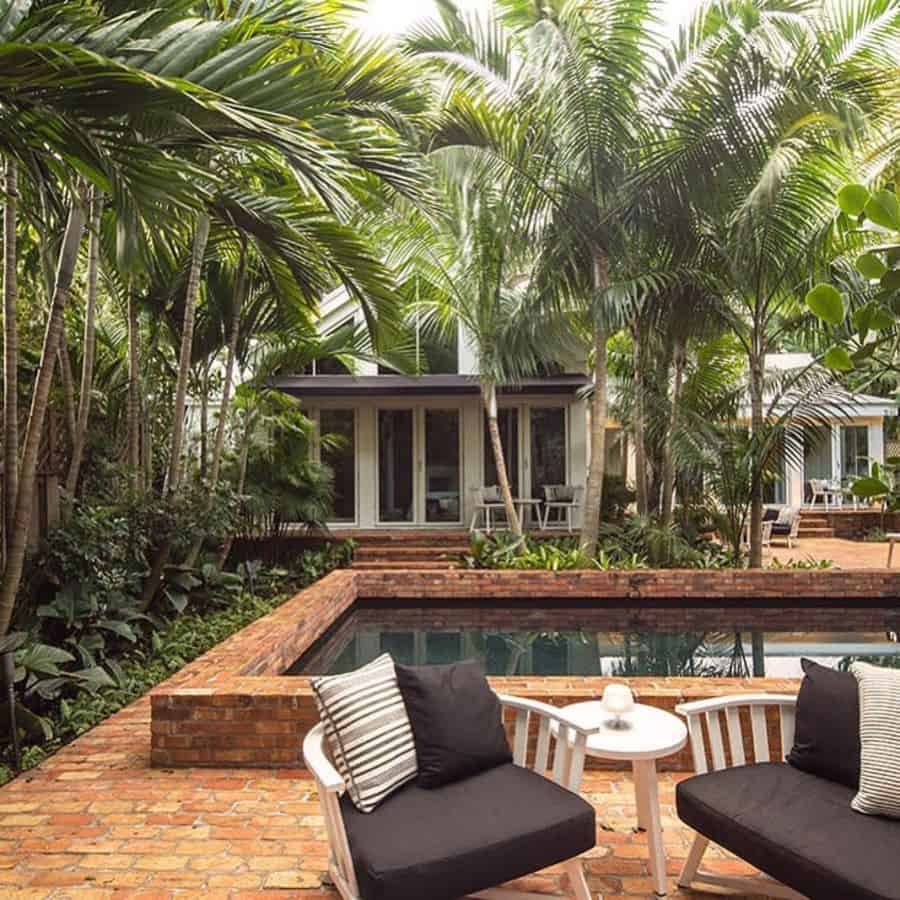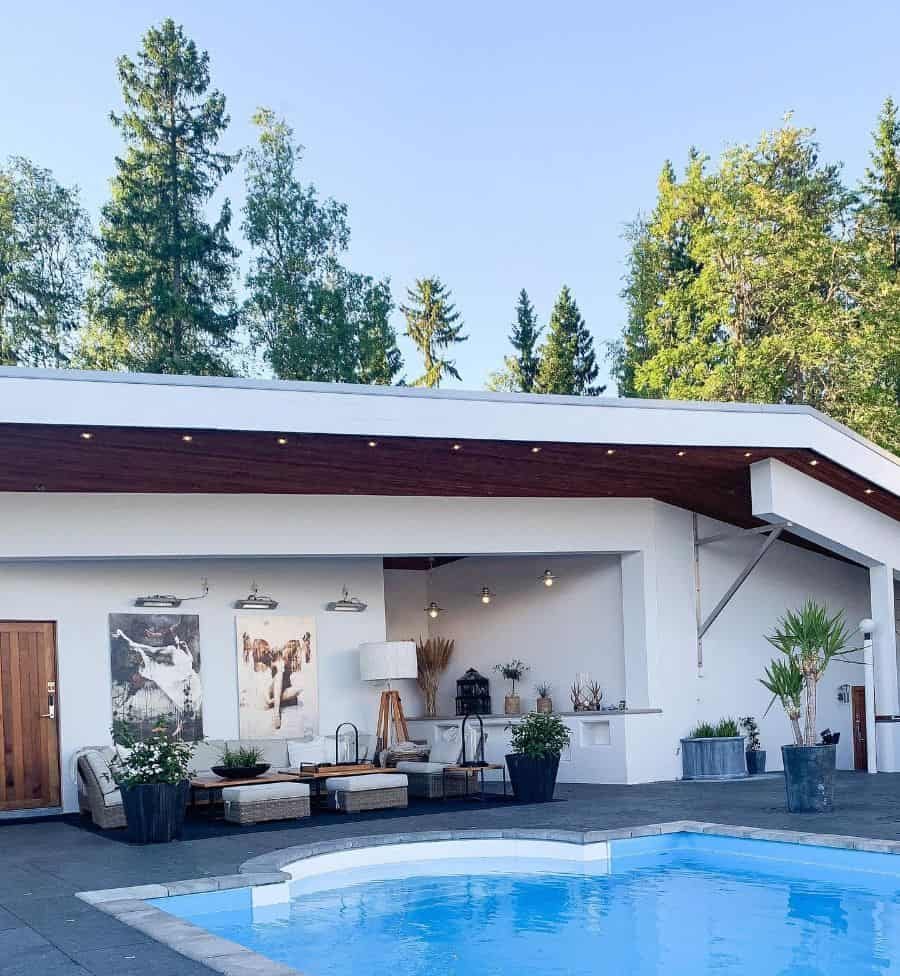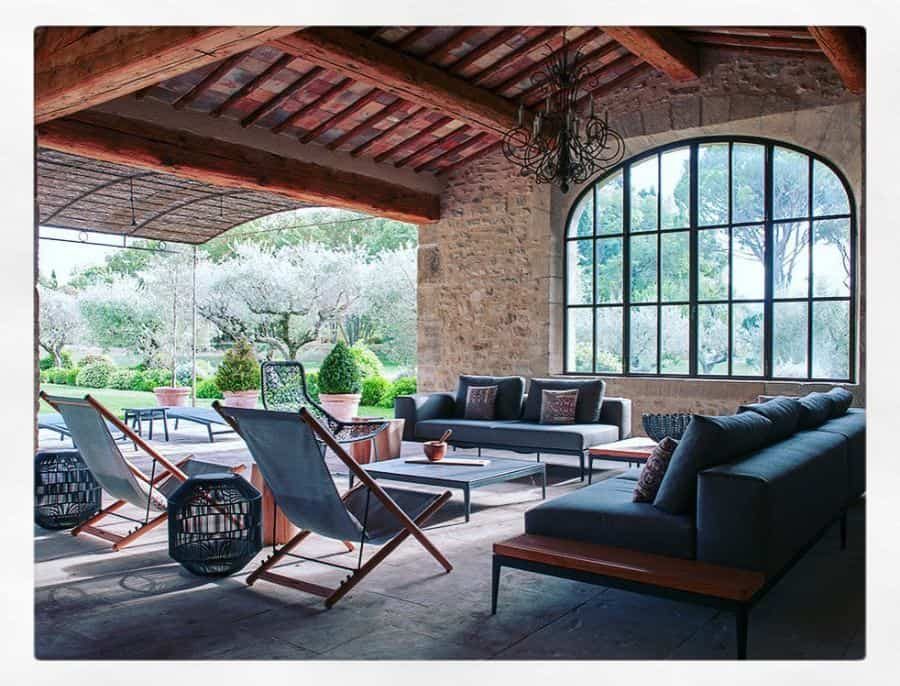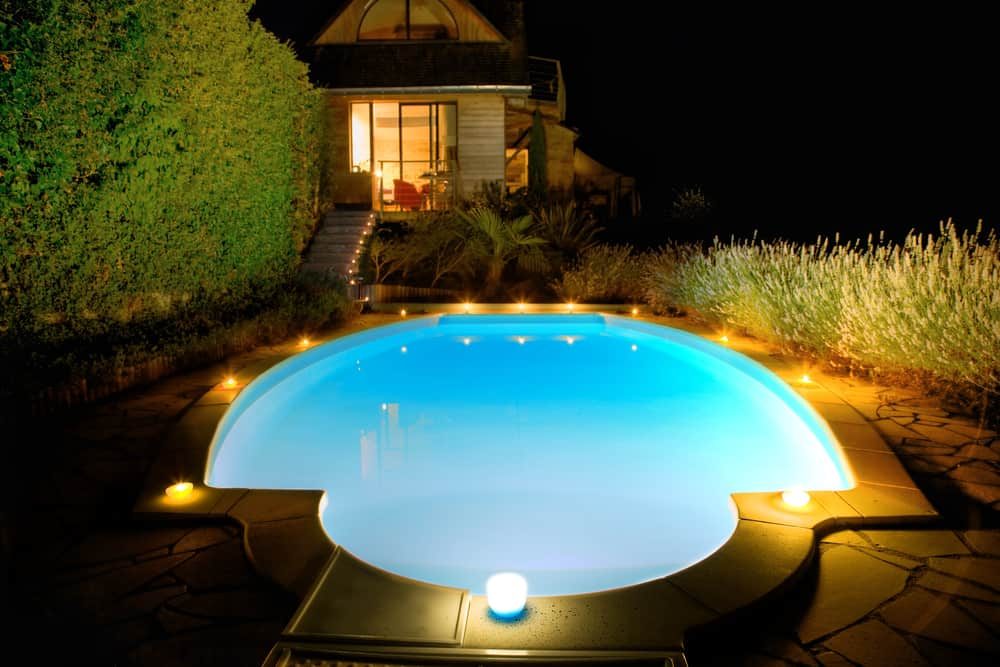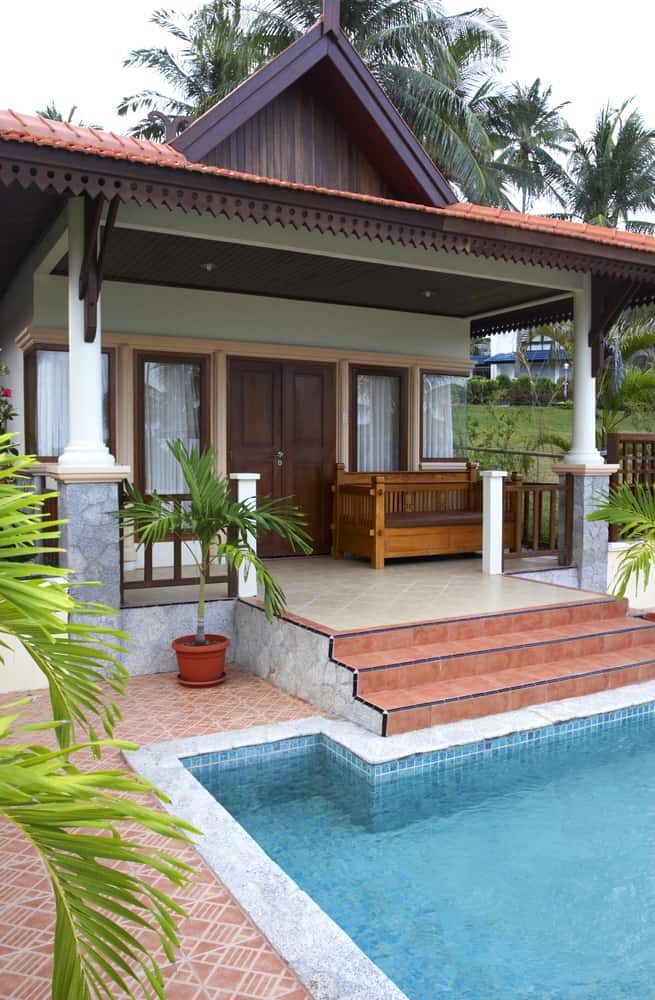 The exterior should represent an extension of your main home. Keeping a similar design allows for cohesion between the two structures. Select durable materials that can support the possibility of harsh weather. A covered porch is an essential feature you won't want to skip. It can save the day if you encounter unexpected rain.
The interior design will flourish with a neutral color palette, creating a cozy, warm vibe. Consider its purpose while accounting for the inside finishes. You'll want to choose something waterproof that can endure the onslaught of wet feet. This will also make for easier maintenance and clean up. Keep the minimalist approach when selecting any decor elements. Opt for a large hanging chandelier to provide a statement.
You need to ensure that your pool house has plenty of storage space. Hanging hooks are a useful space-saving technique. Stock the space with towels and essential toiletries as a convenience to your guests. These minor details will not go unnoticed.
9. Pool Shed Pool House Ideas
Take a simpler approach and store your swimming pool equipment in a shed. The space may not be as large as a pool house, but its functions are just as necessary. Chemicals and other pool maintenance items are eyesores. A pool shed is a perfect place to hide those items out of your guest's sight. It is also practical for housing pool toys and patio furniture when not in use.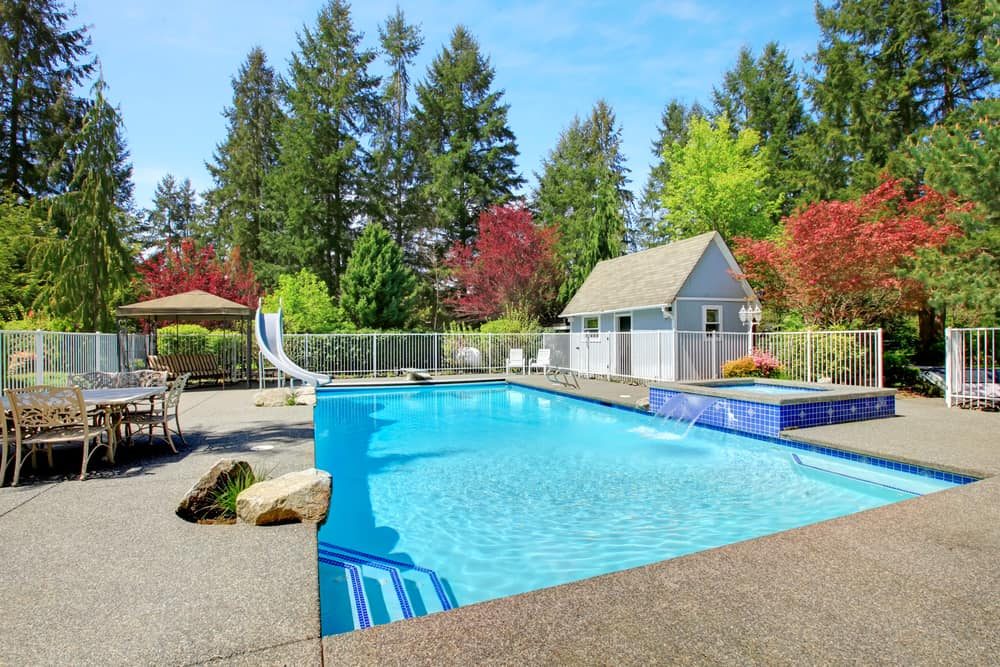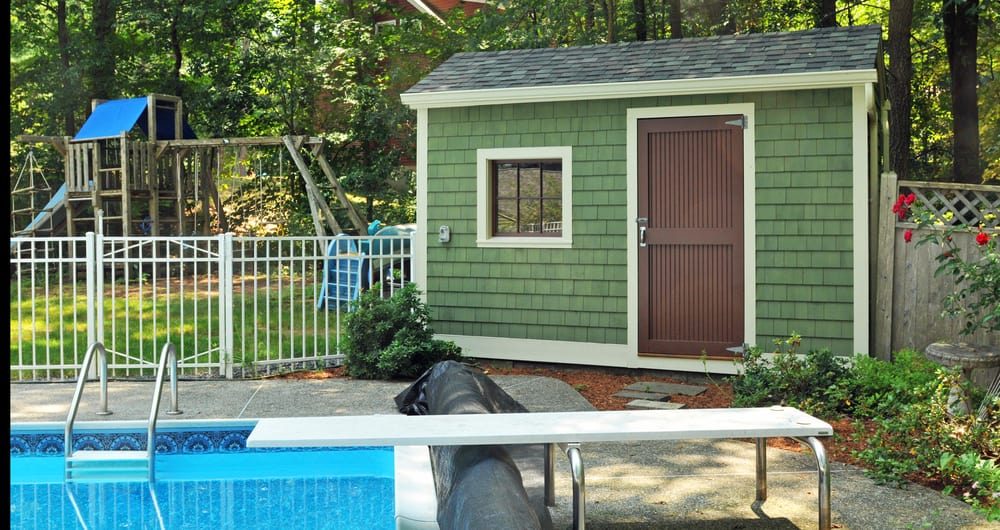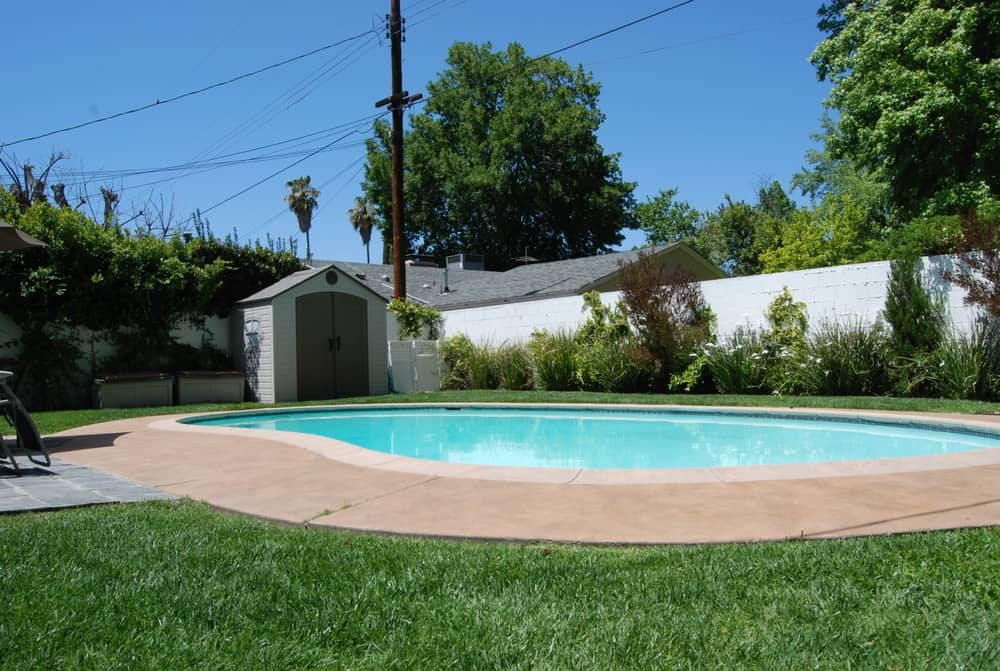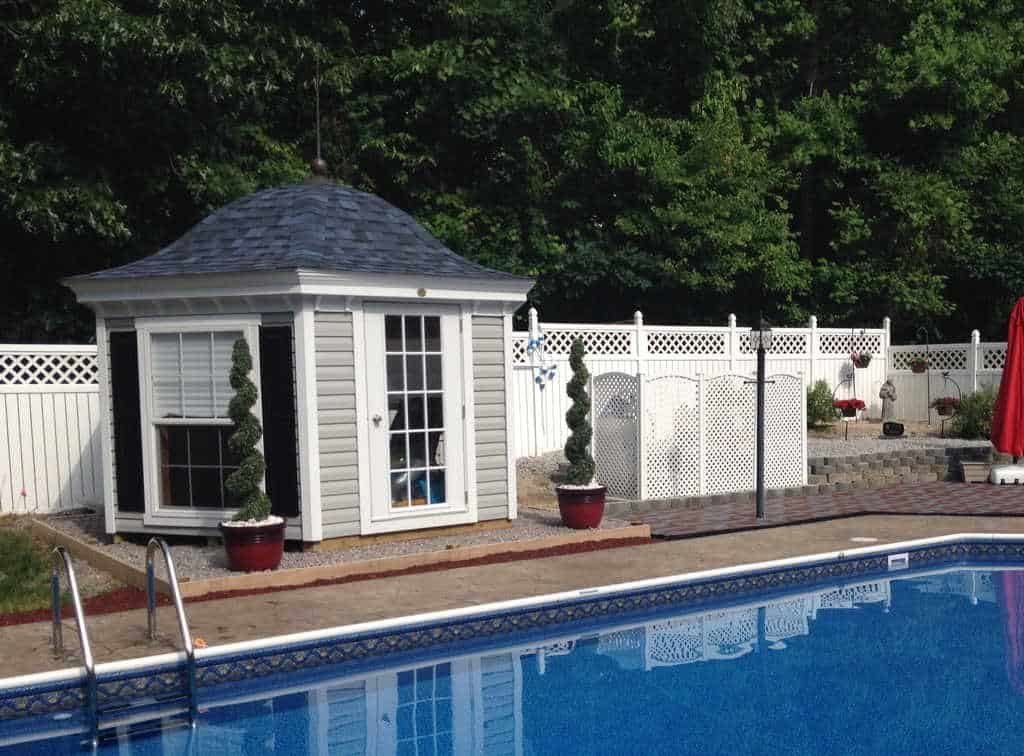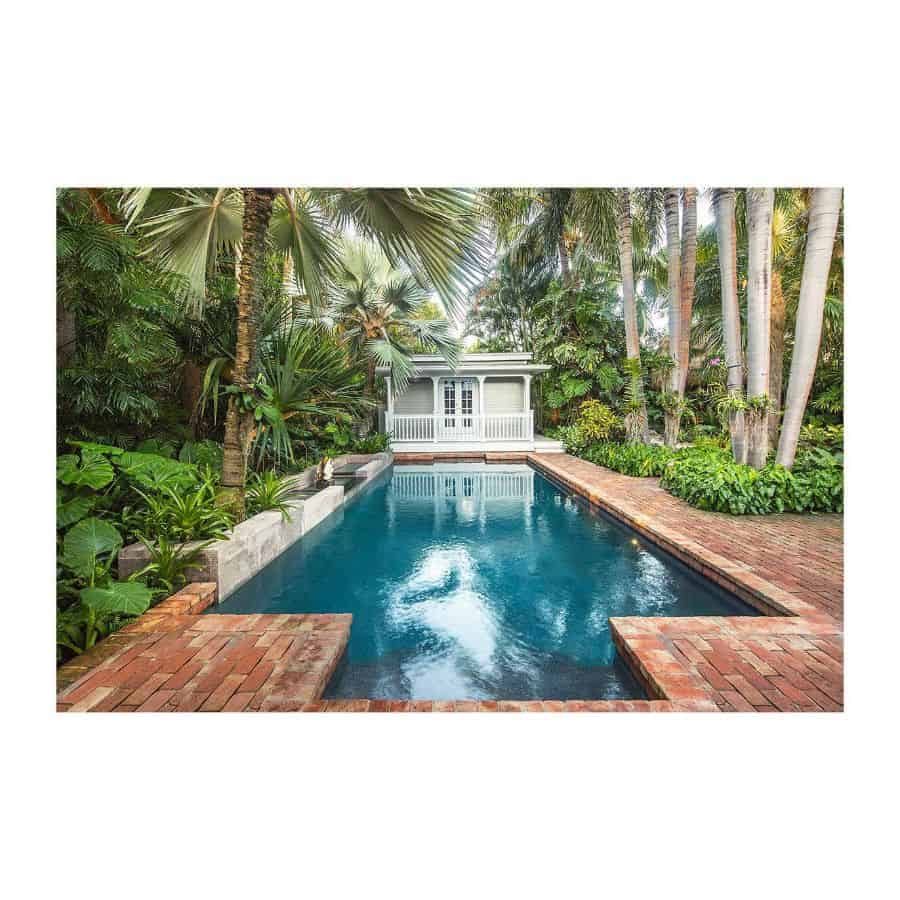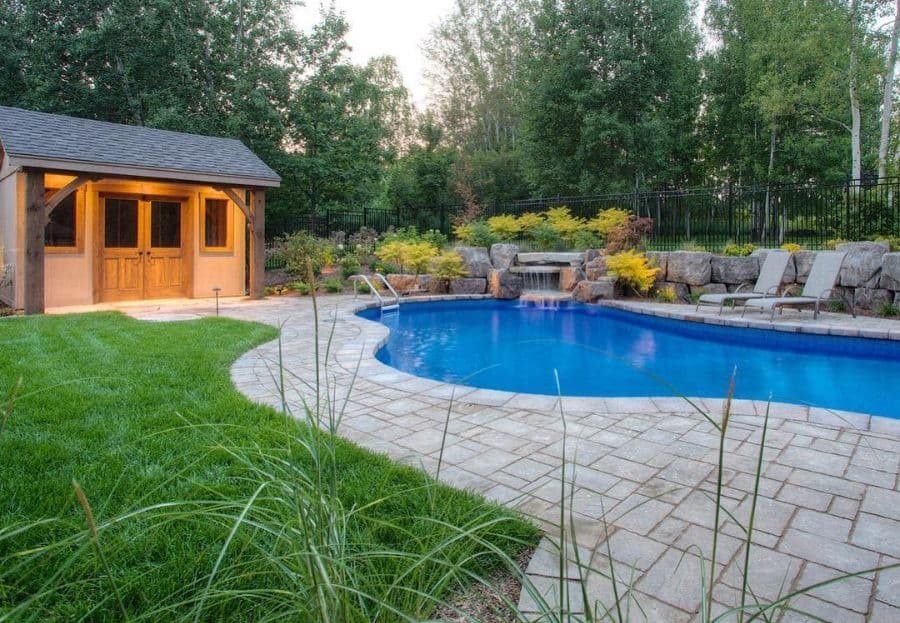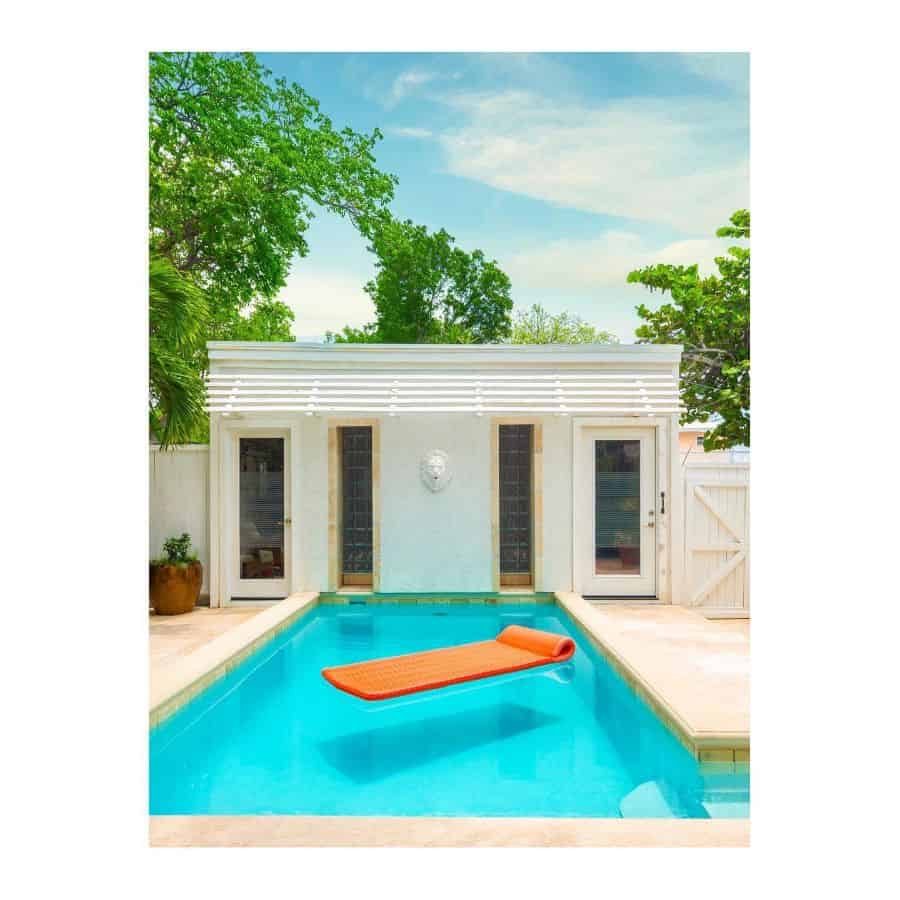 Fix up its interior to include a small seating area within. You'll want to be creative with your furnishings. Consider dual-purpose options such as a bench that offer storage underneath. The privacy of the space will also serve as a convenient changing area.
10. Pool Villa Pool House Ideas
Transform your backyard into a tropical paradise.
Amaze your guest with jaw-dropping, lavish features within a spectacular pool villa. This is not only a place of entertainment, as it can also double as a guest house for your overnight visitors. Consider your available space while designing your custom pool house. Two-story or loft-style structures are useful when housing many guests.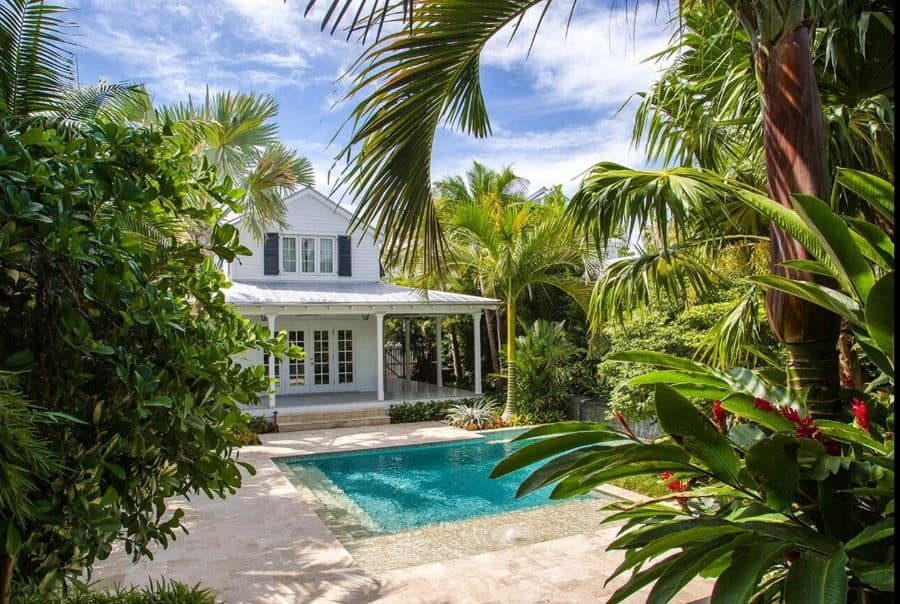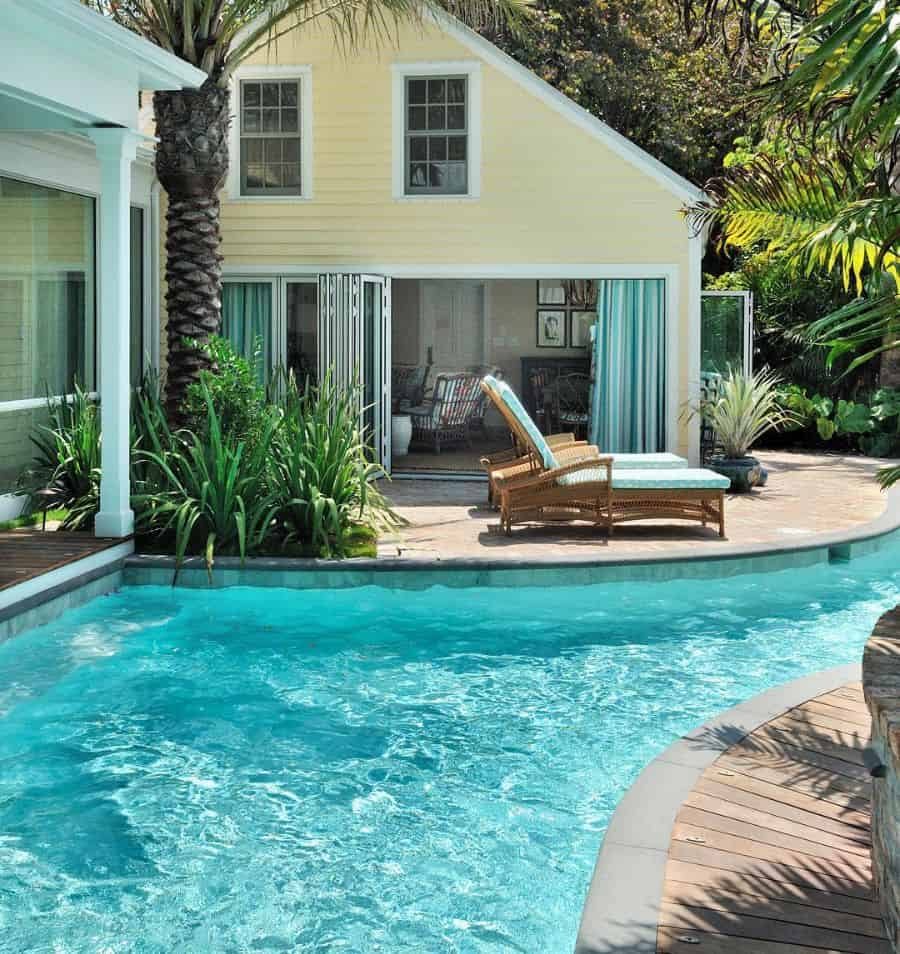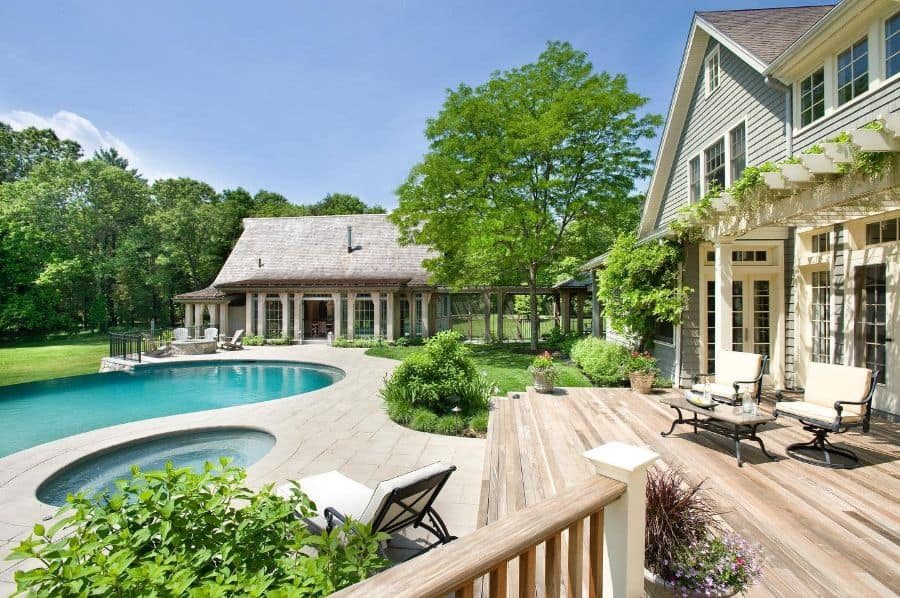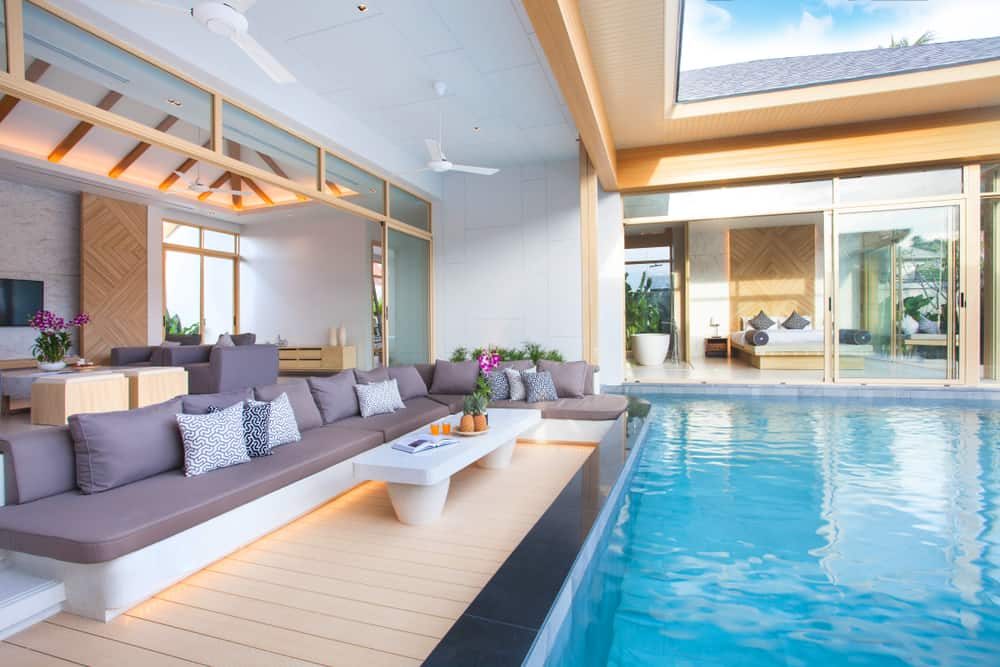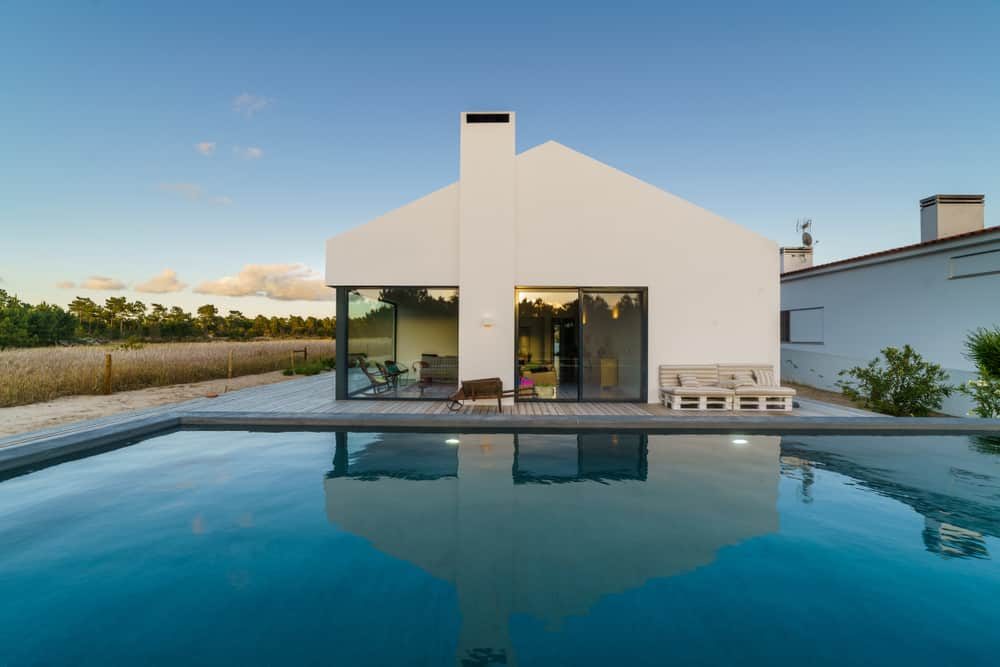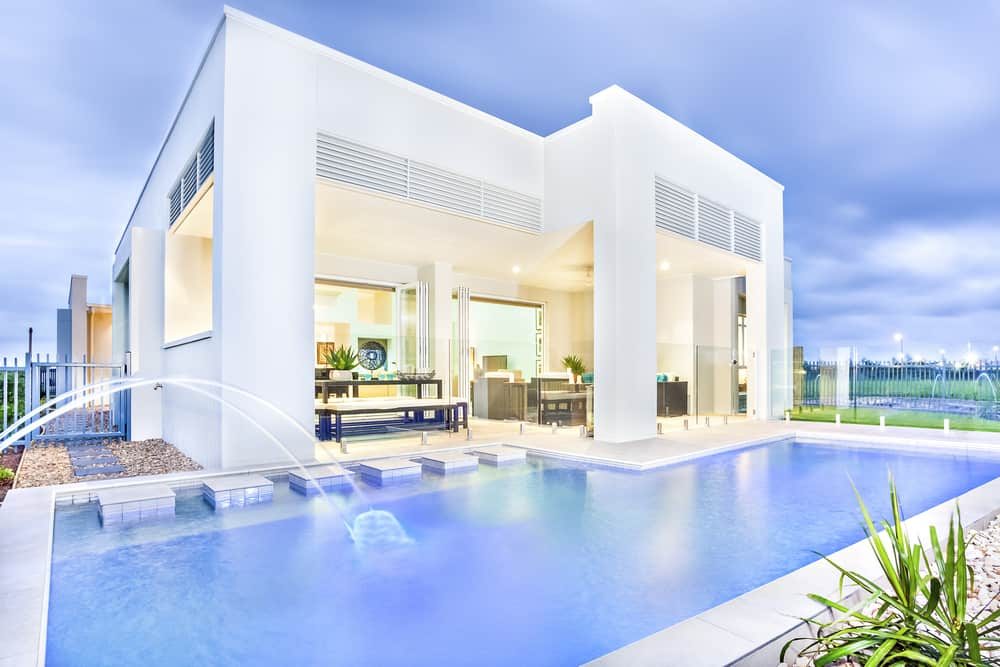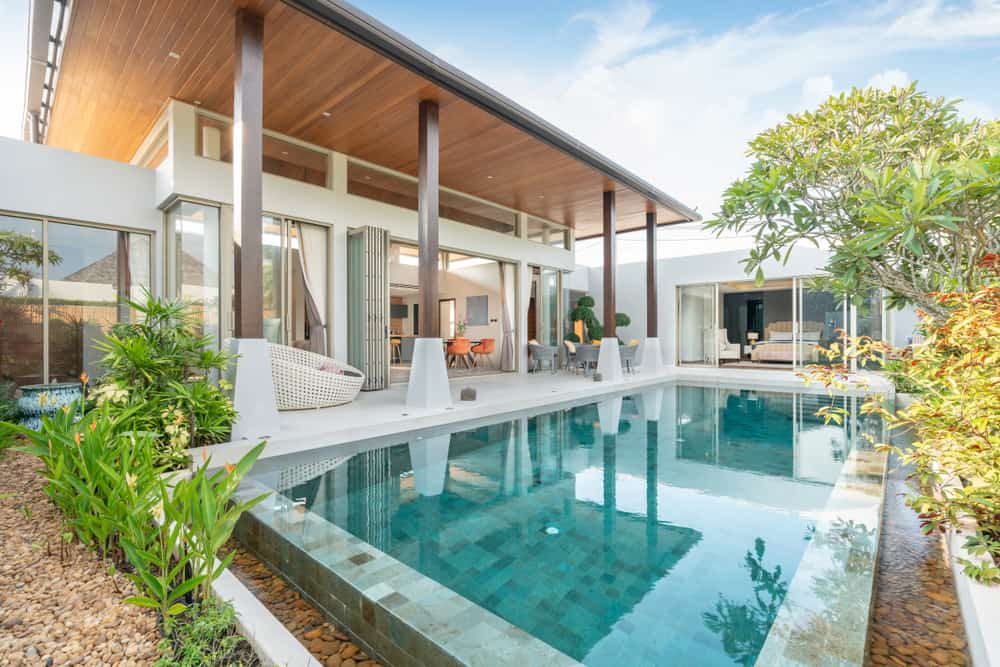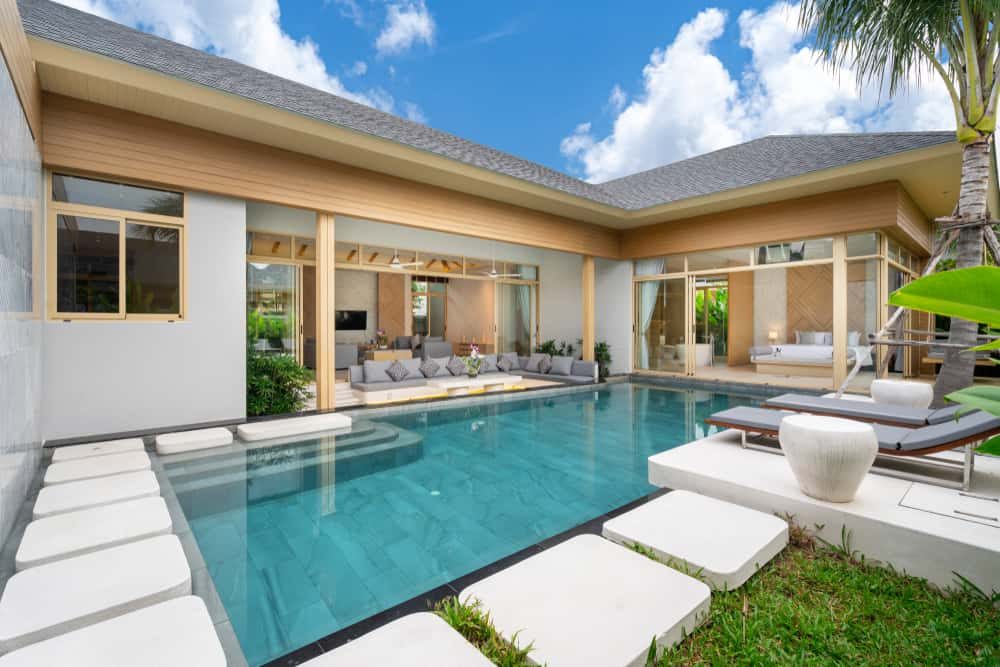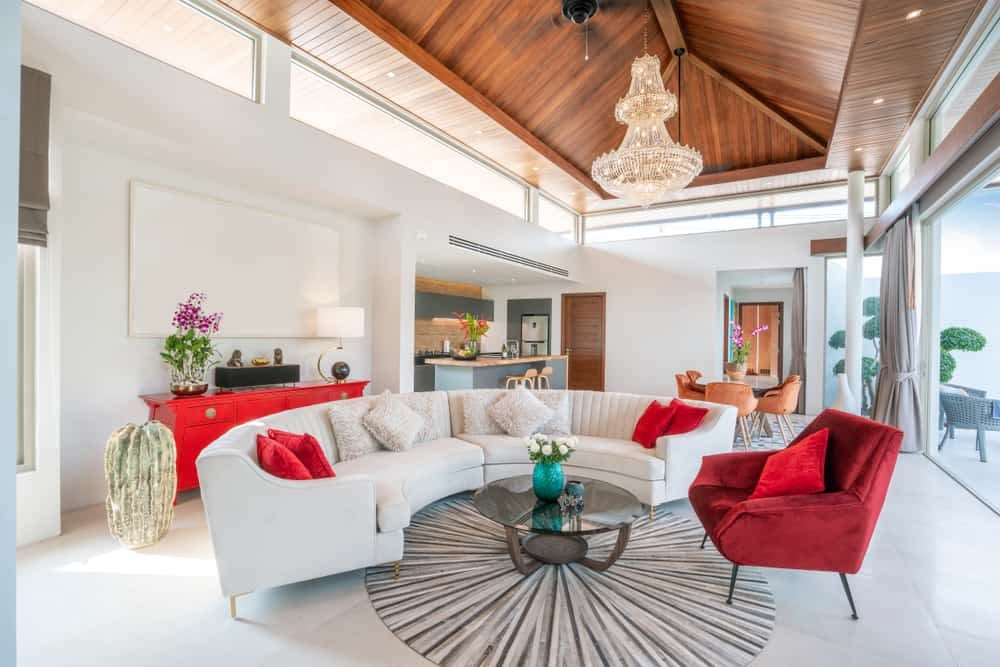 Arrange cozy, plush lounge chairs throughout the deck. Keep symmetry in mind for their placement, as these items work best in pairs. Mix and match the furnishings to create contrast and definition. Daybeds and sectional sofas work well for accomodating large gatherings.
Unique, elegant features are a must throughout the villa. Accordion-style or french doors are great for opening up the layout. With ample space, it can accommodate a fully-equipped kitchen and bar – both inside and out.
11. Pergola Pool House Ideas
A pergola has an open roof, showcasing layered beams. This can be a great modern accessory to your pool area, as it helps to define the area. They are durable and low maintenance. Plants are the perfect decorative addition that will thrive under a pergola.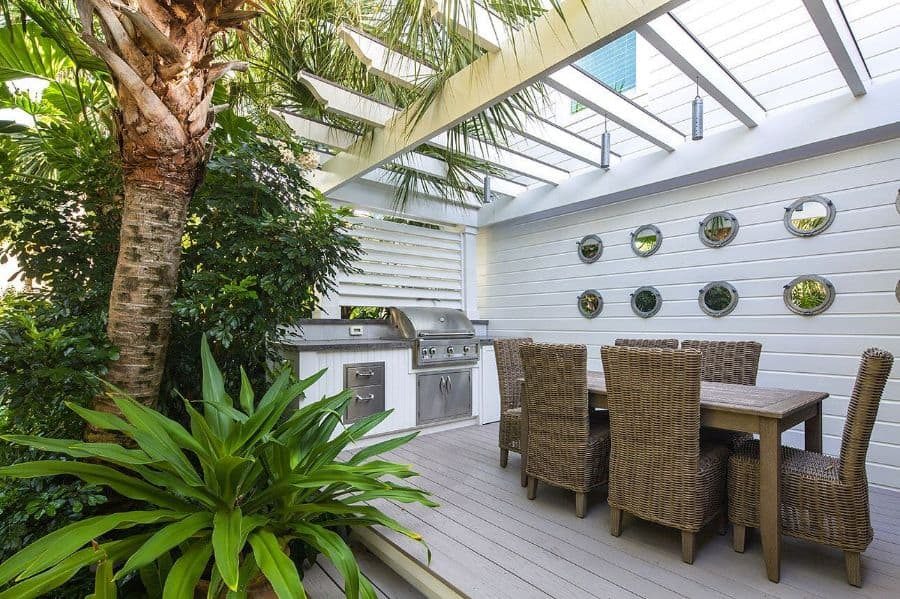 12. Outdoor Kitchen/Bar Ideas
Provide the ultimate experience with the addition of an outdoor kitchen and bar area.
The flexibility to serve food and drinks takes your pool party to the next level. Who doesn't love barbecued food? Having an accessible grill is key. Cook delicious snacks throughout the day and night, and you'll become the best host. Having an outdoor area to cook is also beneficial for keeping the food scents outside of the main home.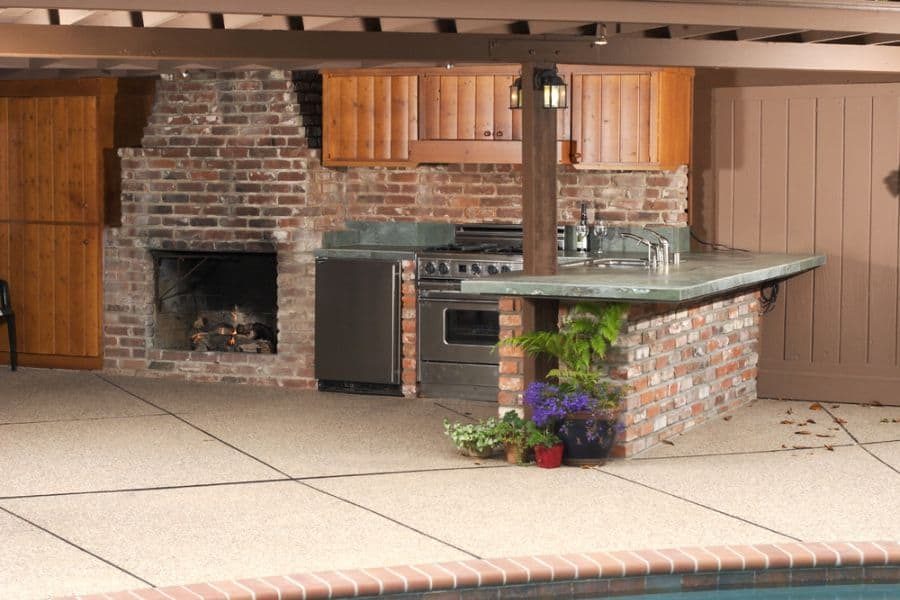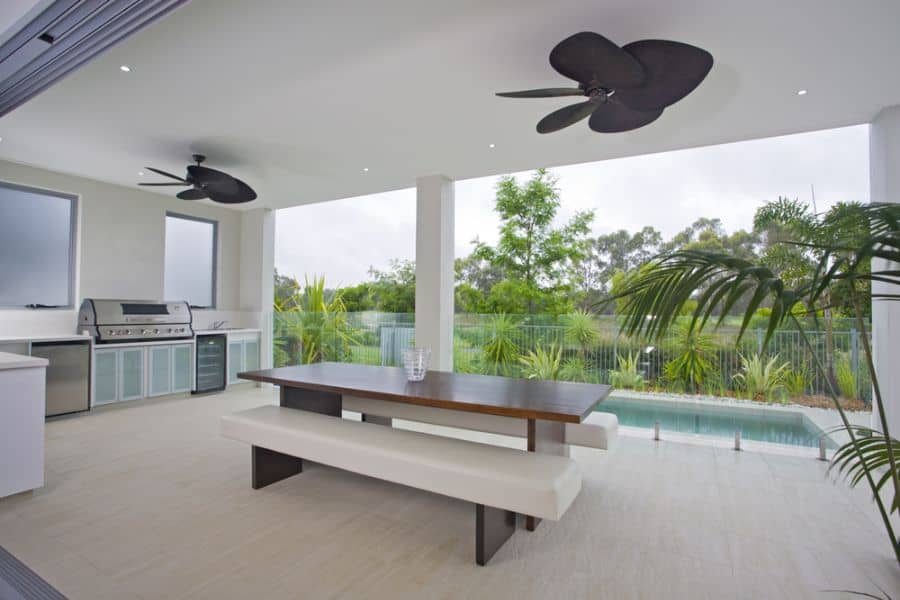 Of course, not all kitchen features are necessary. Appliances are buildable to best suit your allotted space. A sink and refrigerator are impressive additions if you have the plumbing set up. You can even consider an outdoor dishwasher or pizza oven when designing your backyard oasis. Don't forget to include ample storage space. Storing dishes and cookware outdoors is convenient. It will help avoid the constant in and out travel hassle.
Ensure your guests never run dry with a stunning addition of a bar. This feature is great for entertaining. It serves as another focal point for your guests to gather around. If you are looking to provide the resort luxury feel, consider a swim-up bar. This can be excellent if space is a factor.
Pool House FAQs
What are the top benefits of owning a pool house?
There are several reasons why a pool house is a practical addition to your backyard space. Some of the main benefits include shelter, privacy, and entertainment. Its design is customizable and complements any size swimming pool. Play up each one of these perks to best suit your needs.
How can I ensure my guests have enough privacy?
If privacy is your main focus, steer clear from glass walls and large windows. Drawback curtains are also a great accessory. These are especially handy if your space is lacking in permanent walls. It will allow your visitors to customize their privacy to their comfort level. Consider also increasing hedges and trees through your yard's landscaping.
What are the best low-cost options?
Your backyard haven doesn't have to break the bank. Consider cost-saving alternatives such as pool sheds, pavilions, and pergolas. These provide the same practical benefits at a much lower cost. All three options are versatile and buildable. This works well if you are considering completing the building process in stages.