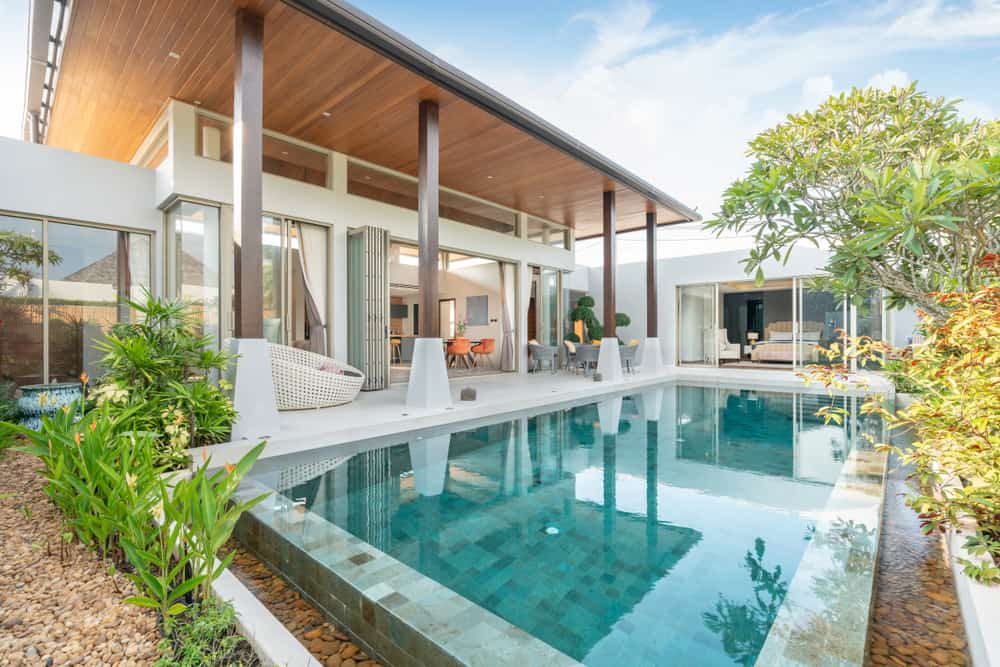 67 Pool House Design Ideas
by — Macy Sears

Published on December 30, 2020

Updated on March 26, 2023
Take your backyard swimming pool to its next level and complement it with a practical pool house. Customize the space to suit all your entertaining desires. Create an epic poolside gathering spot or a simple place to house equipment.
Pair the deck with long-lasting outdoor furniture. Consider additions that will extend the usability of the space. Covered shelters, outdoor kitchens and bars, and firepits are some features to enhance functionality.
While the design ideas are endless, a key benefit of the space is privacy. This will be more important if you plan to house visitors overnight. Offering a changing area or extra bathroom will also help to keep your main home clean. Large shrubbery and pullback curtains also help for extra privacy.
Don't wait any longer and design your dream backyard space today.
1. Open Cabana Pool House
When it comes to pool house design ideas, an open cabana structure is sure to create a luxurious oasis. To get the open-air look but still keep out prying eyes, add curtains or screens of your desired material outfitted to stylish edge posts or even dangled from cleverly placed macramé hoops.
You can incorporate colorful prints for a fun twist—think bold tropicals and leafy greens matched with vibrant corals and blues. Or you can play off the calming whisper of nature with neutral eyelet fabric billowing in a gentle breeze.
No matter what, you'll create a fashionable backdrop that perfectly complements your poolside retreat and offers maximum seclusion!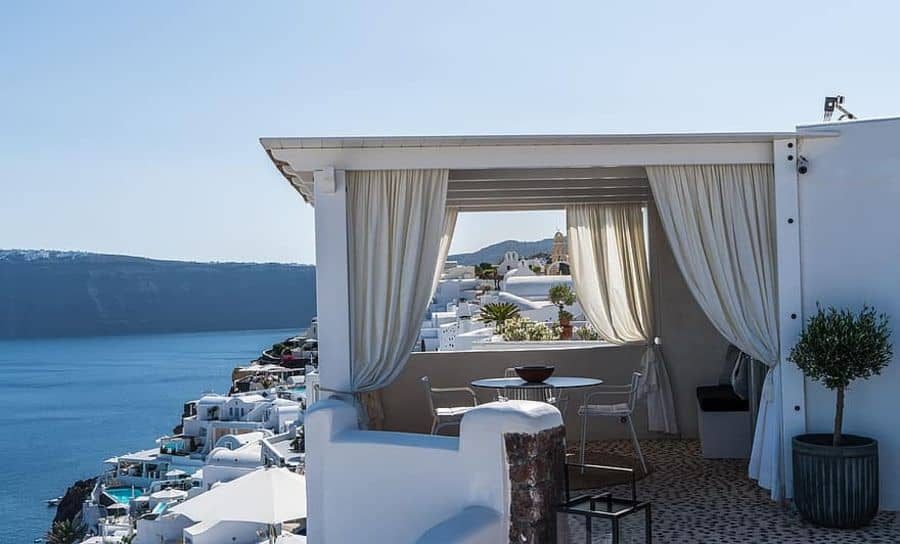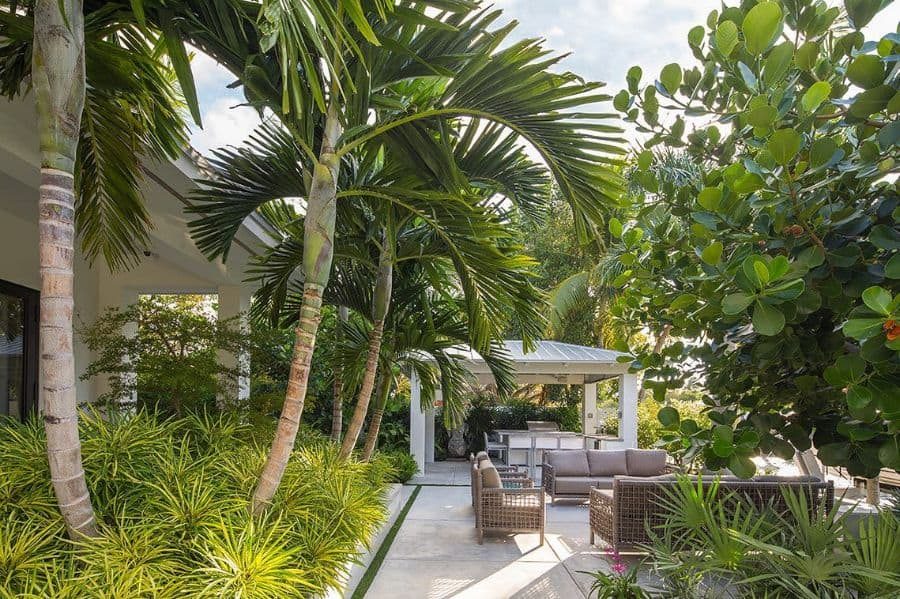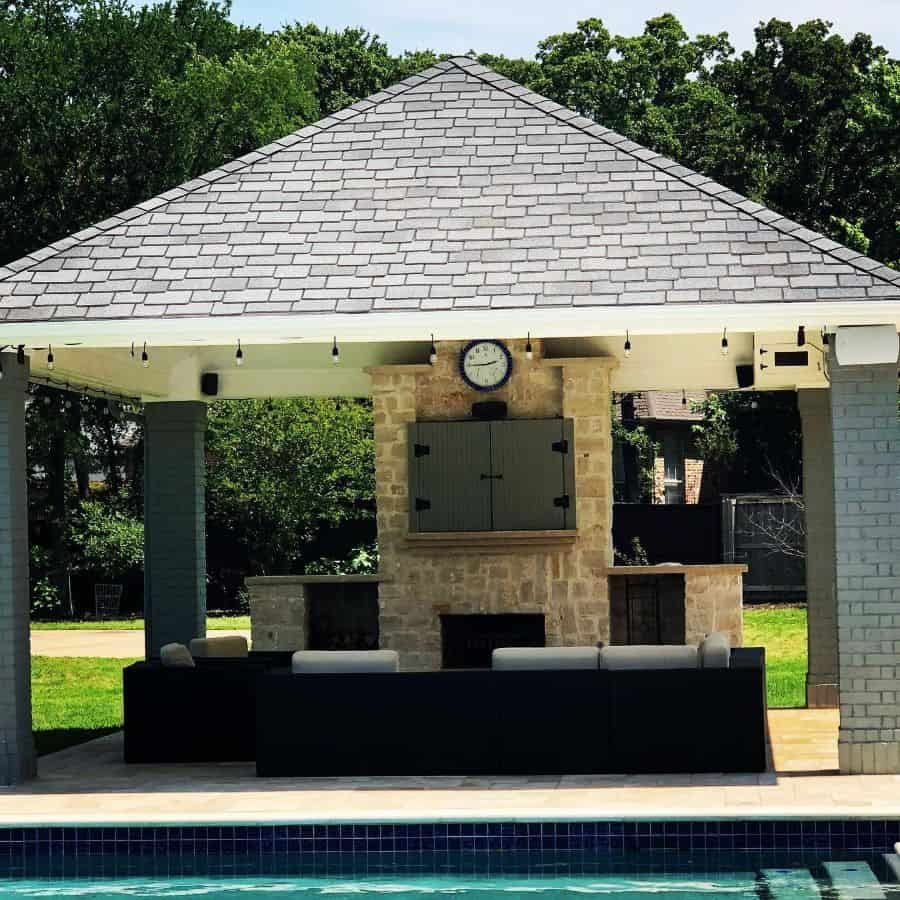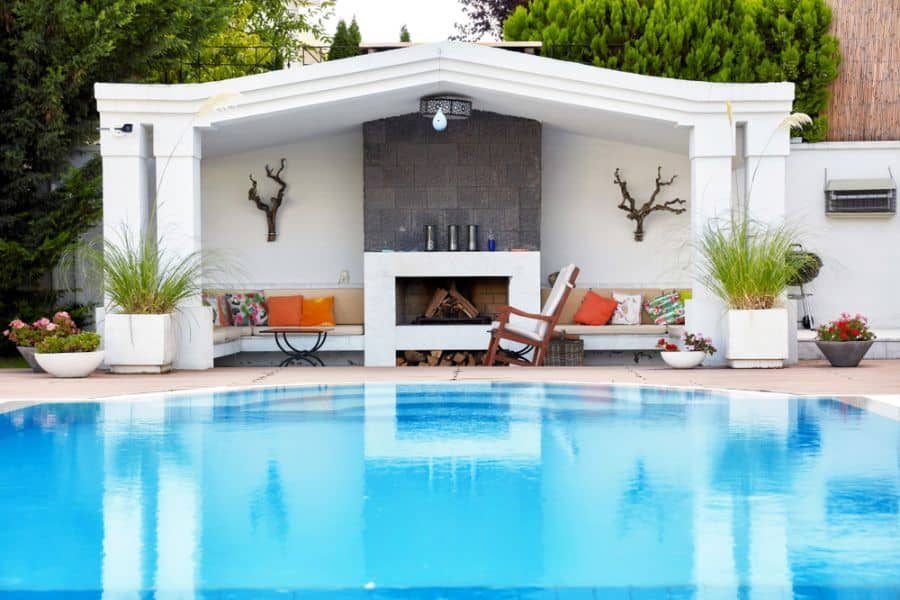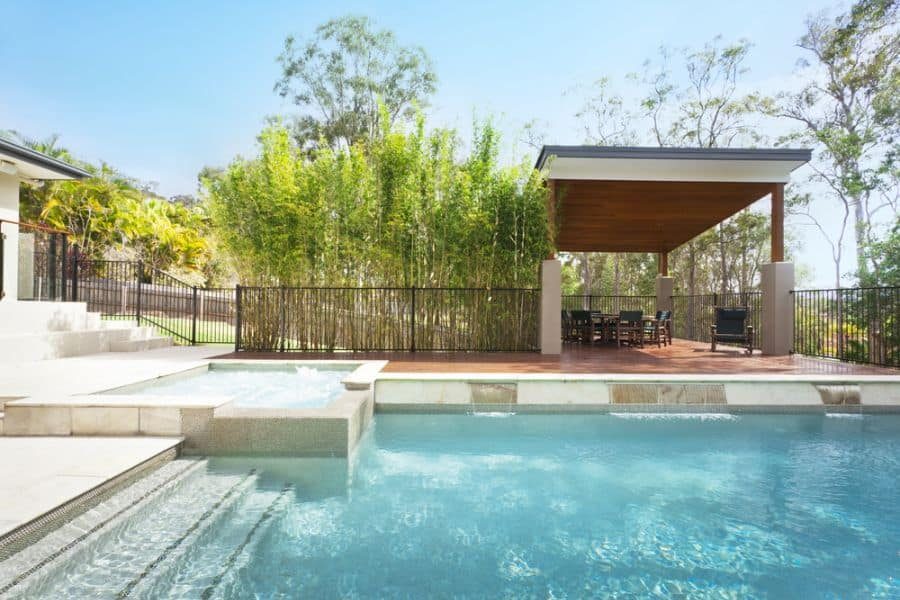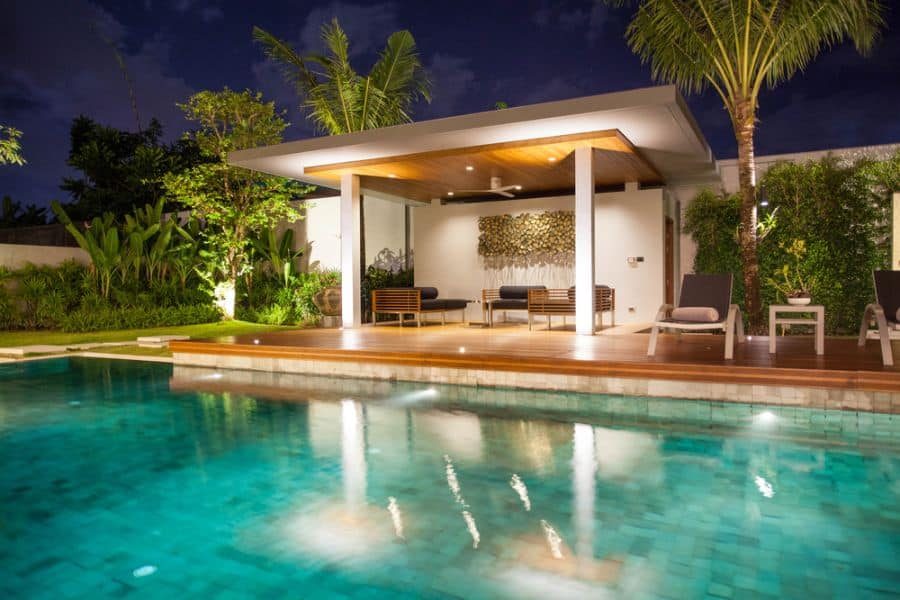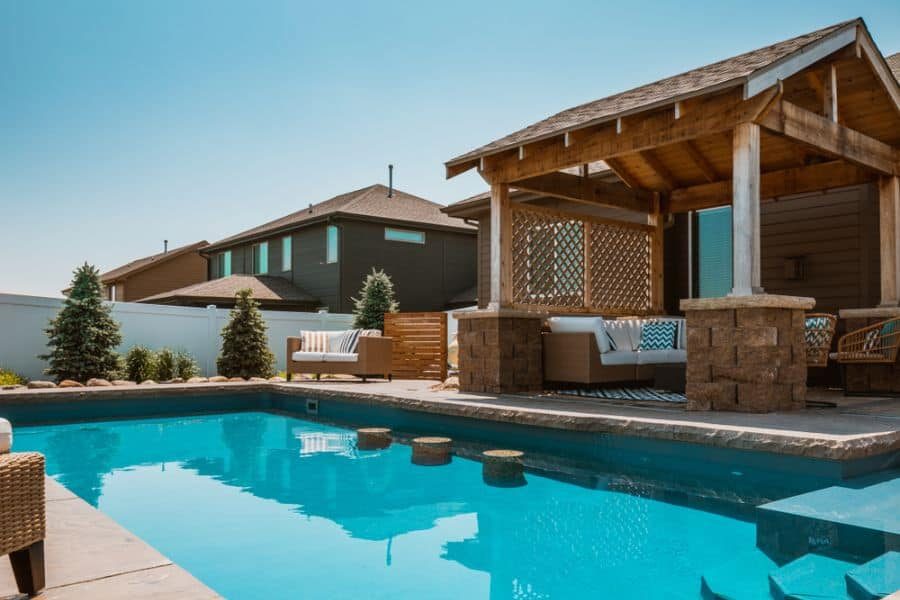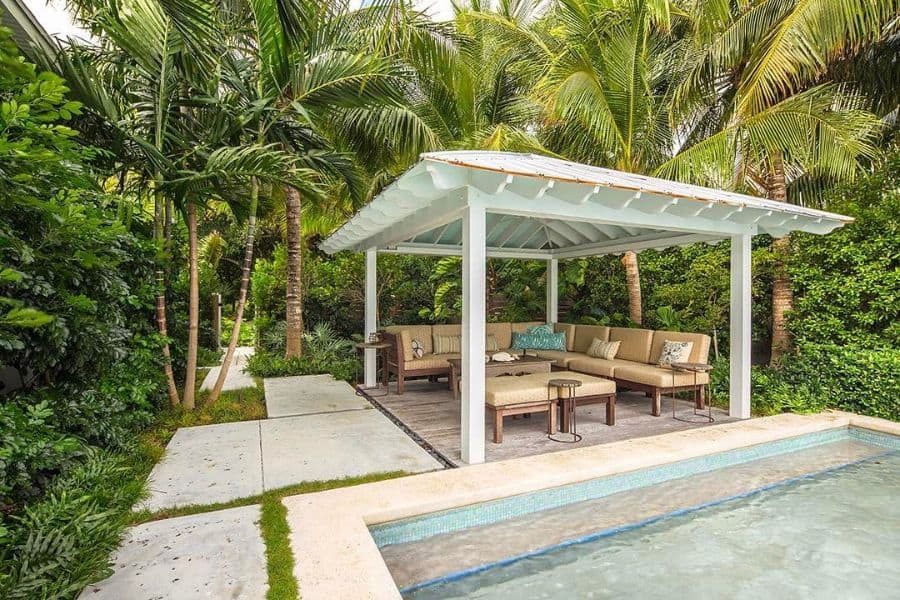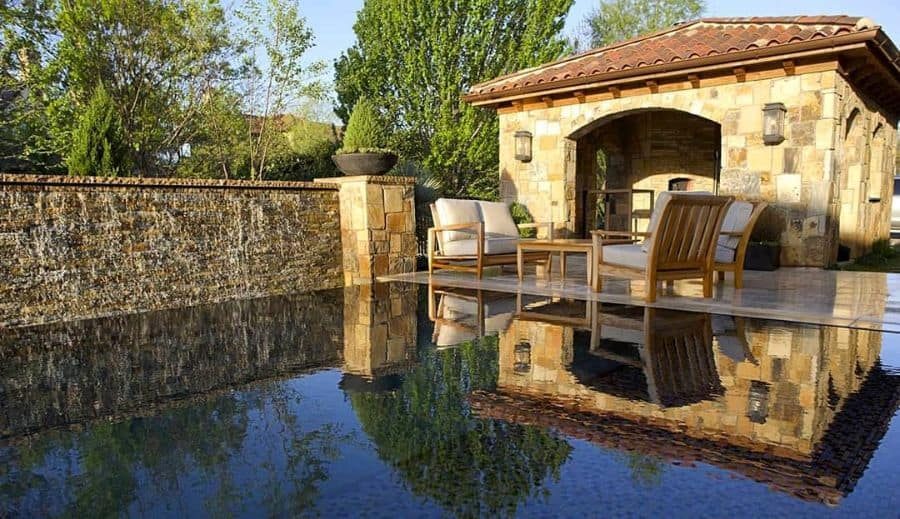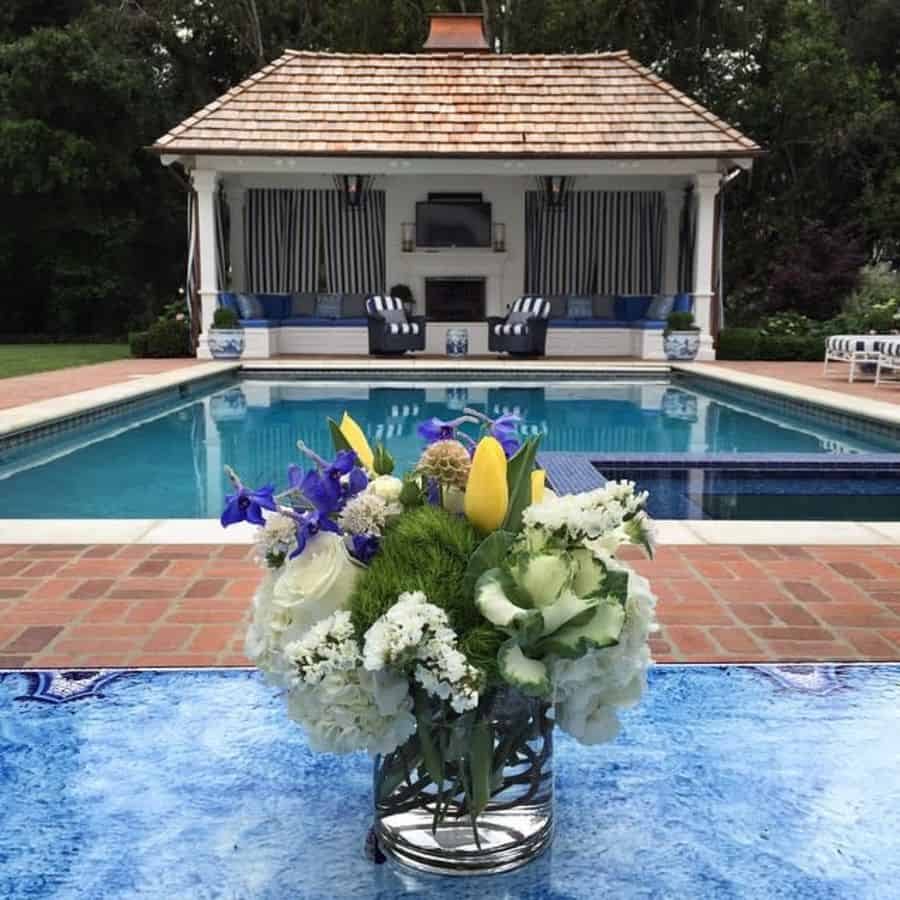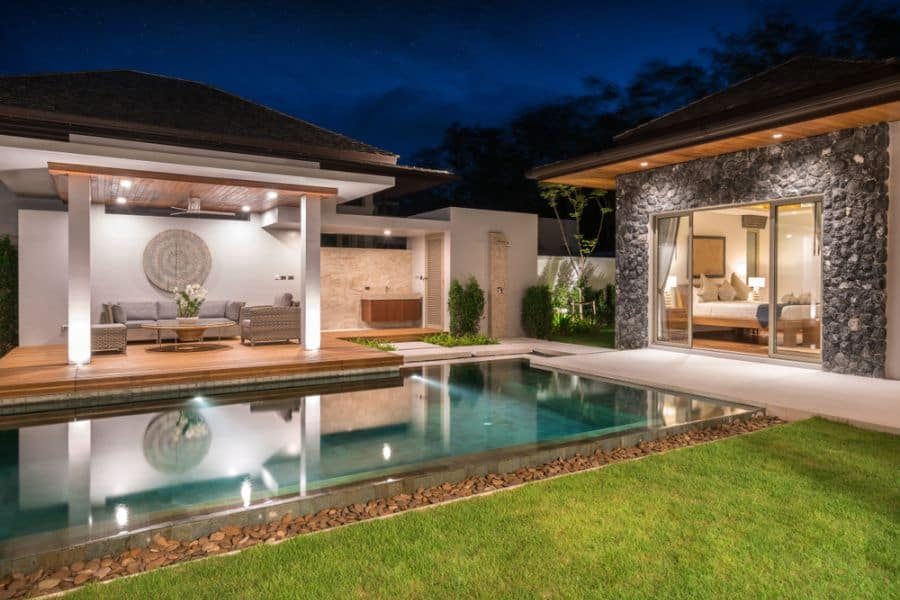 2. Tiki Hut
When designing a pool house, a tiki-hut design is an excellent option for homeowners wanting to add a fun, vacation-like vibe. The tiki-hut style pool house incorporates classic tiki hut design elements — think thatch roof, bamboo accents, and decor pieces inspired by the tropics.
You might also consider incorporating cushions or other furniture pieces in the tiki-hut style that will make lounging near your pool extra enjoyable. When it comes to tiki-hut-style pool houses, have fun with bold ideas and vivid colors — you're sure to create a unique backyard haven!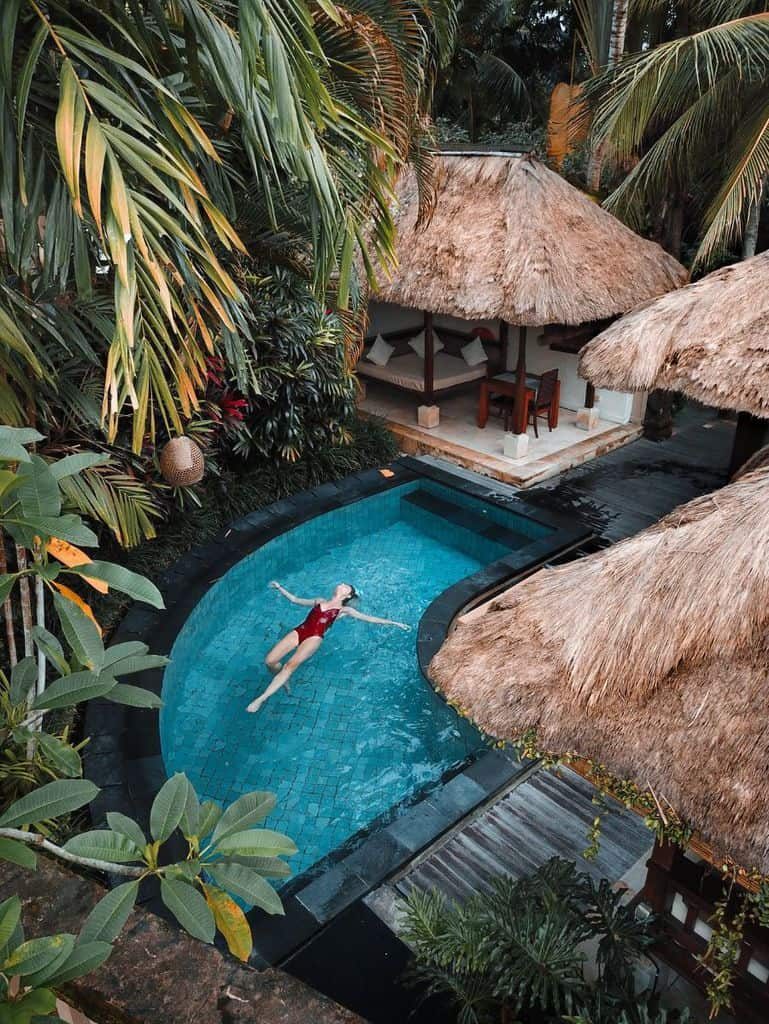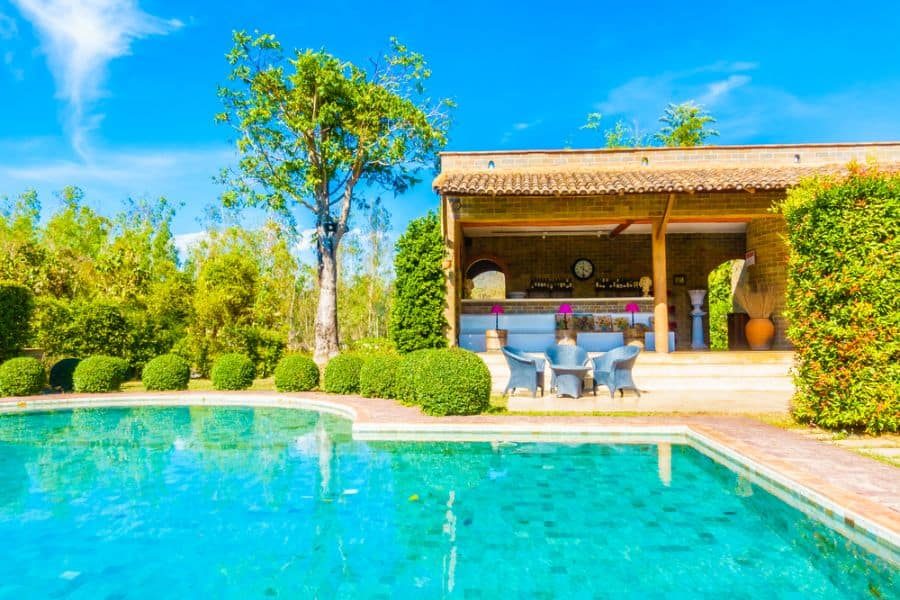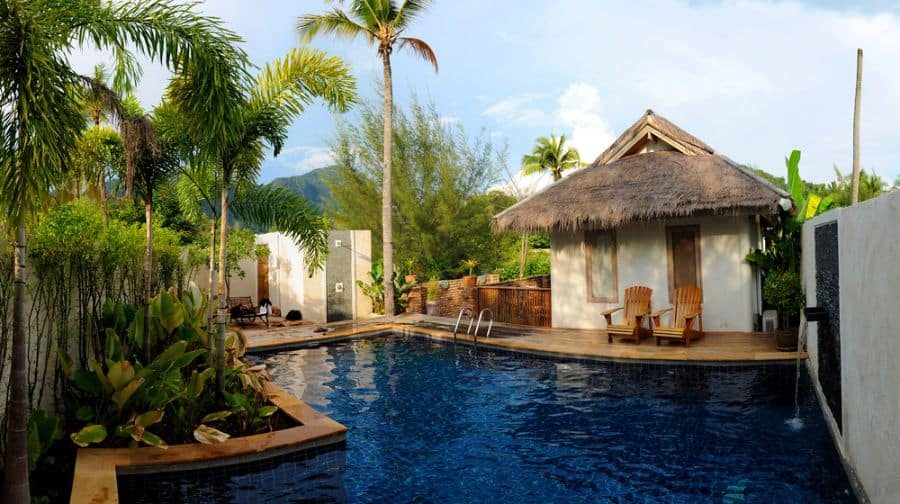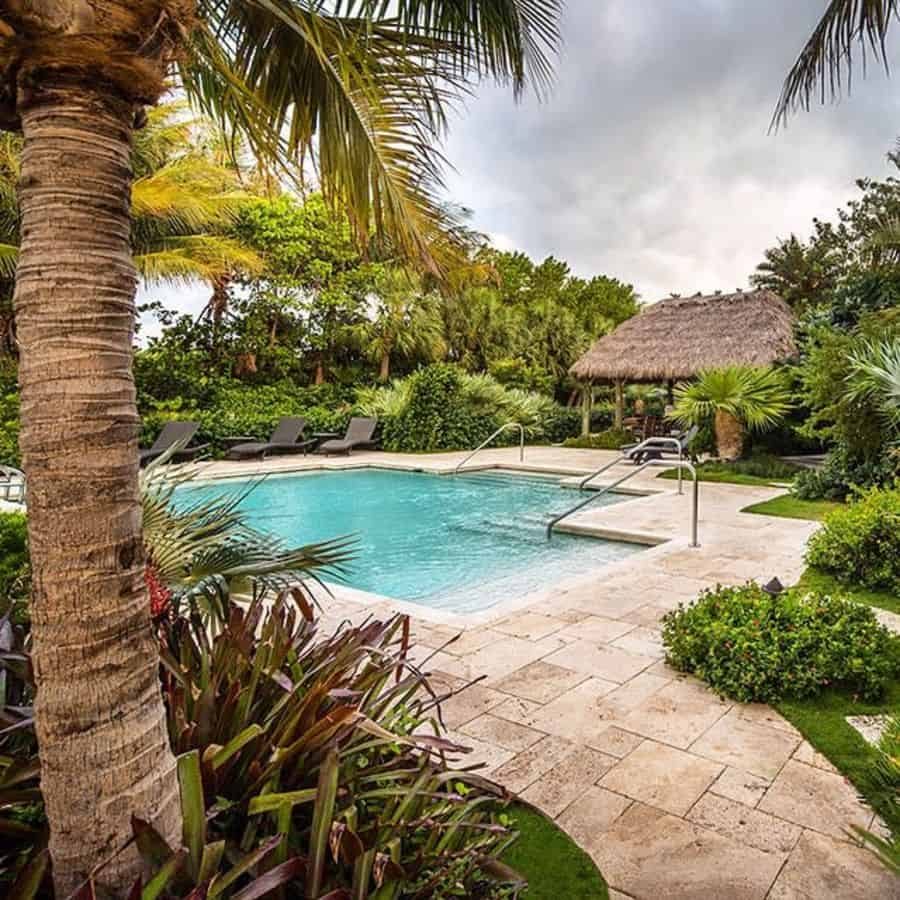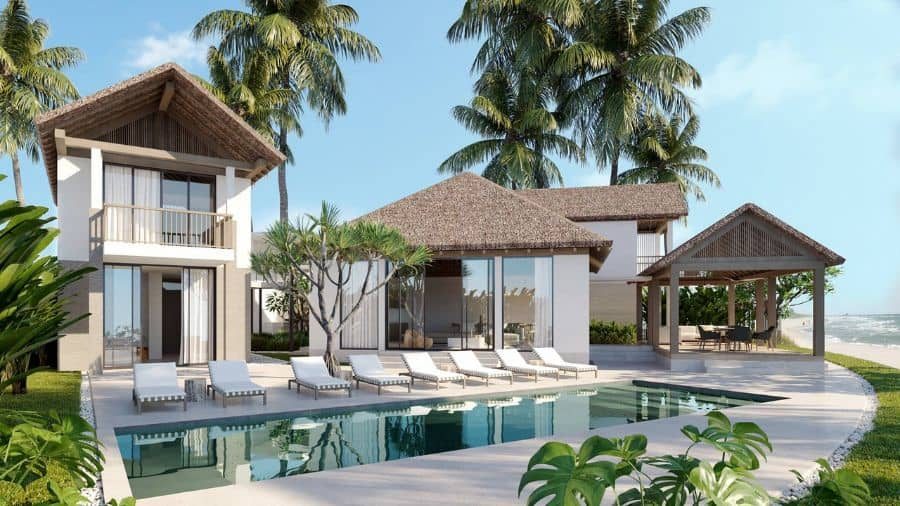 3. Barn-Style Pool House
Putting together a barn-style pool house allows you the chance to create a unique outdoor living space that doubles as an extension of your own home. To make it stand out, try adding rustic elements such as ceiling beams and barn doors.
For an extra touch, fill the space with furniture and colorful decor pieces to create a game room or lounge – perfect for entertaining friends and family. Pool house design gives you the opportunity to express yourself in a tasteful way for everyone to enjoy.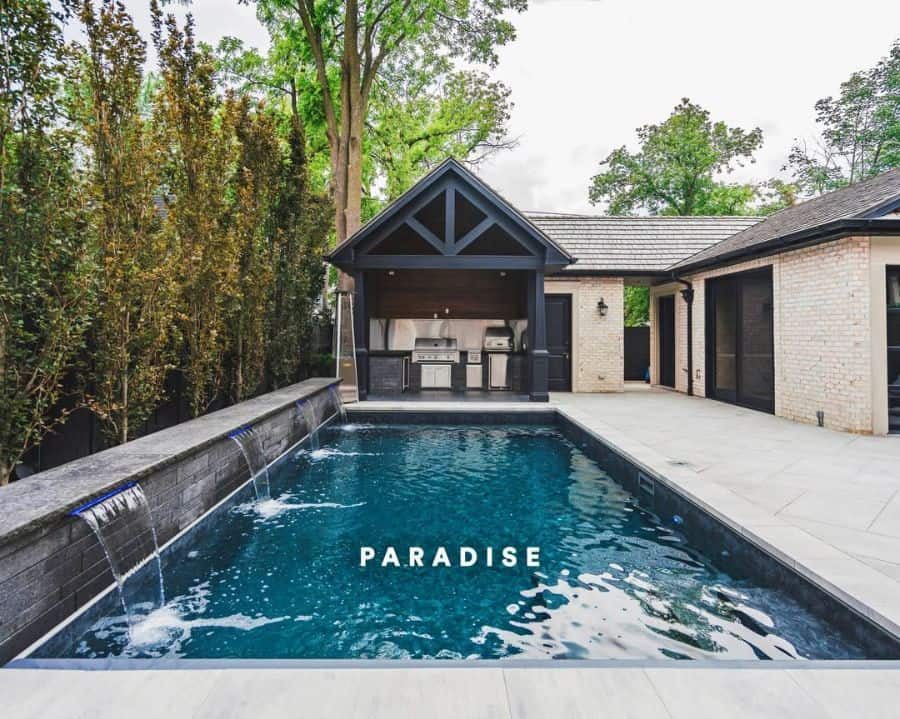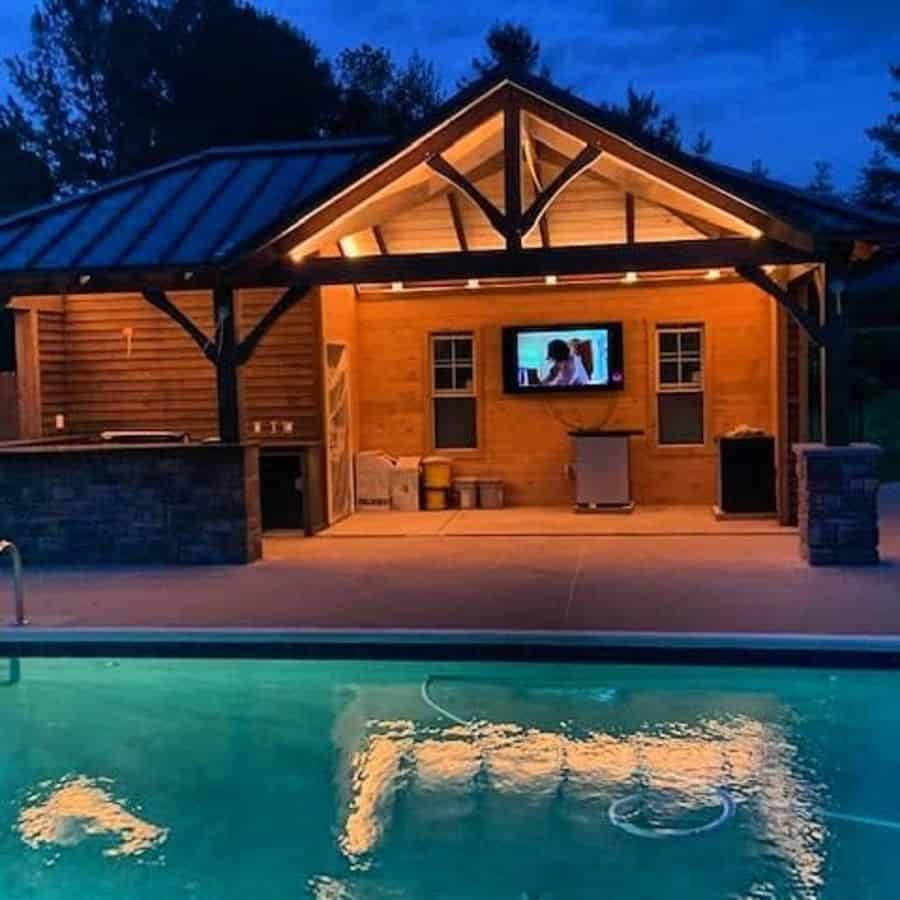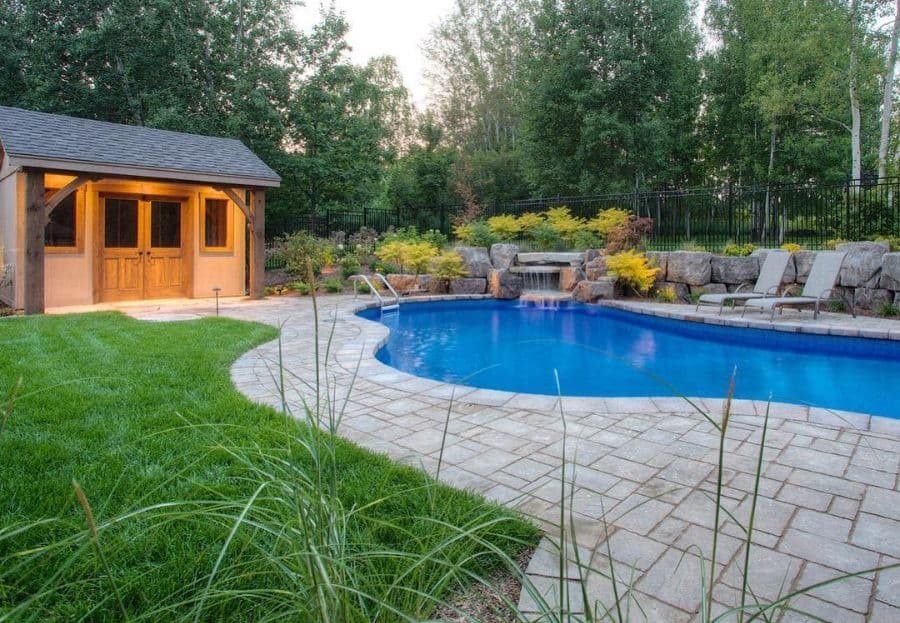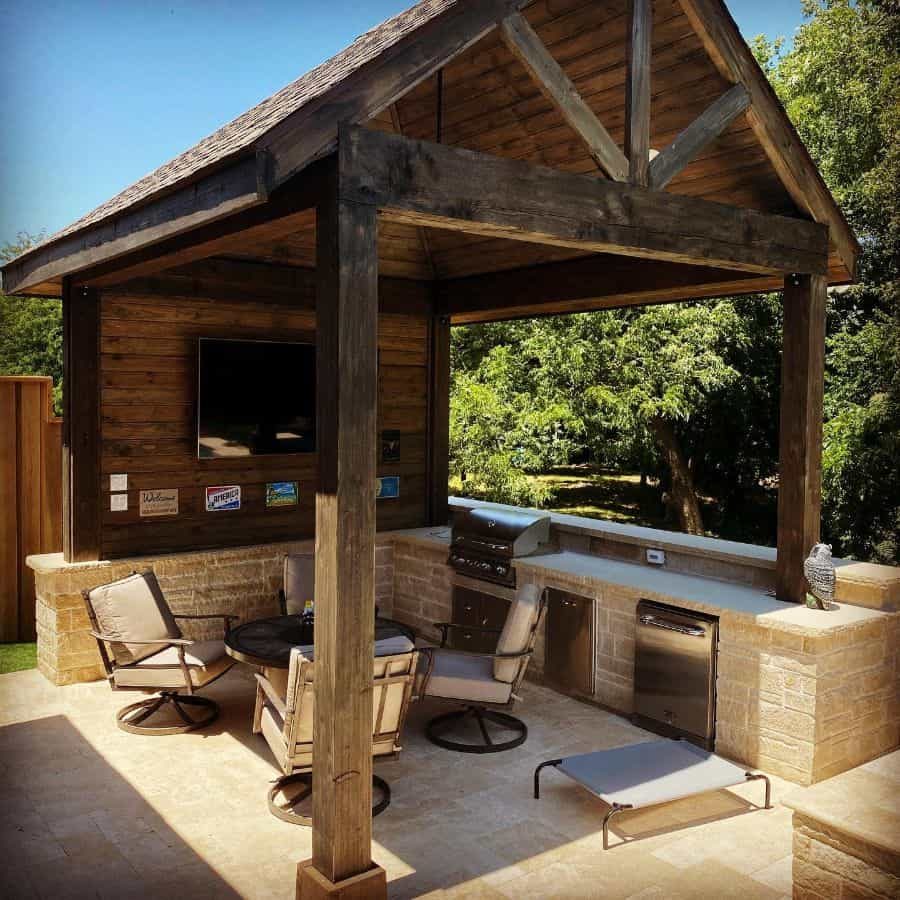 4. Enclosed Pool House
Creating your dream pool house is possible, even with a smaller yard or enclosed setting. By opting for an enclosed pool house, you can design something that still feels like a home and looks great in any atmosphere. Consider pairing it with an enclosed gazebo to create a three-room effect, while keeping it low-maintenance!
Get creative with the furniture and fabrics. Bring in bright colors, comfortable seating, and modern lighting fixtures to turn your pool house into an oasis for you and your family. Whatever your budget may be, coming up with the perfect design for your backyard space has never been easier!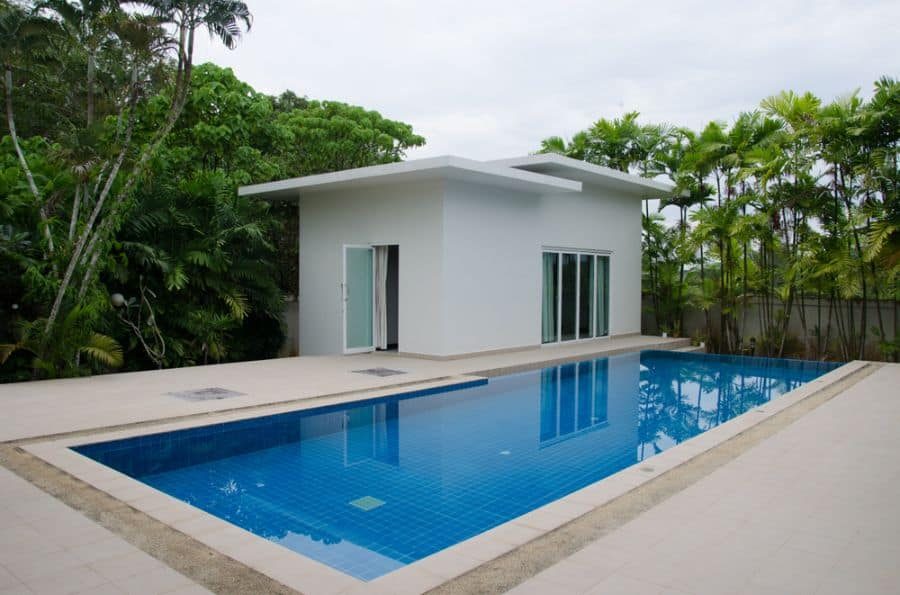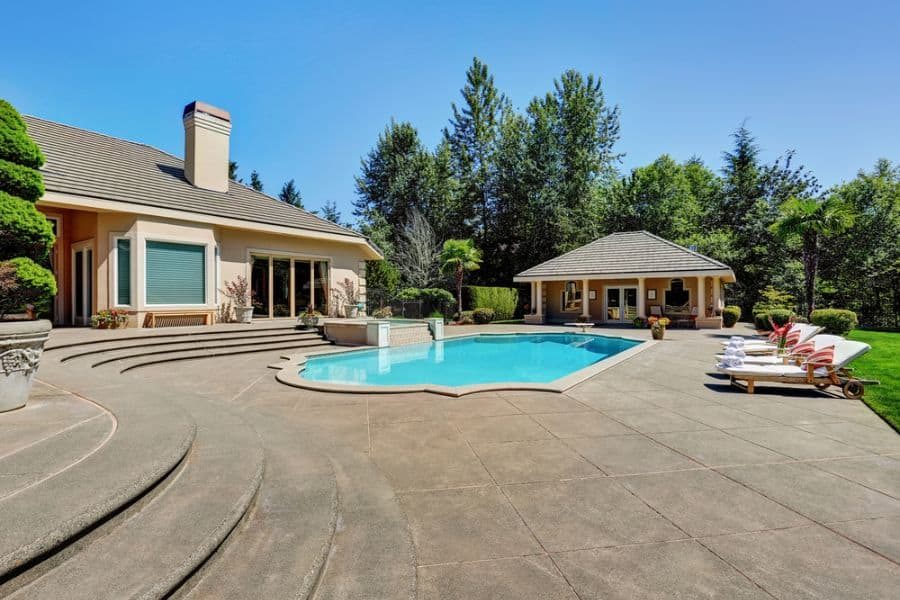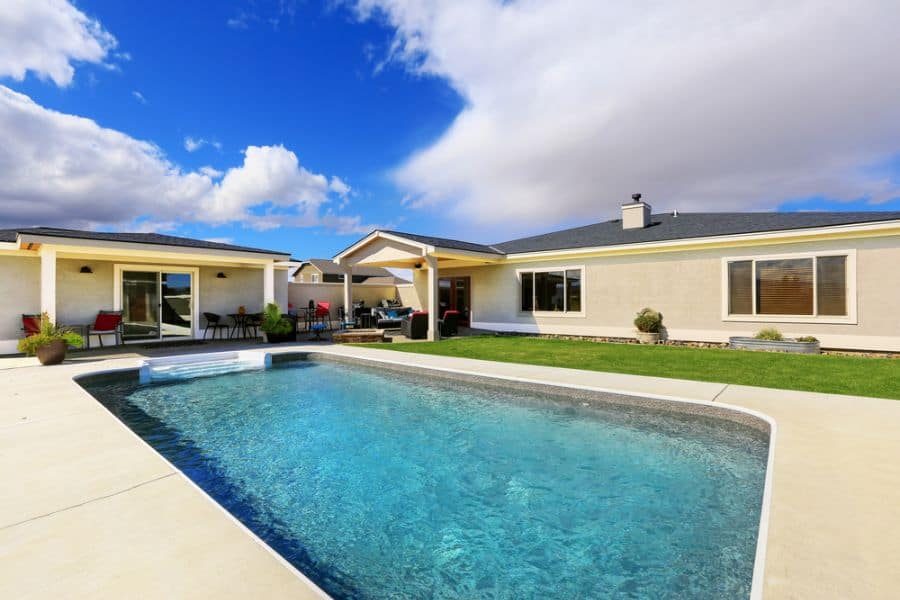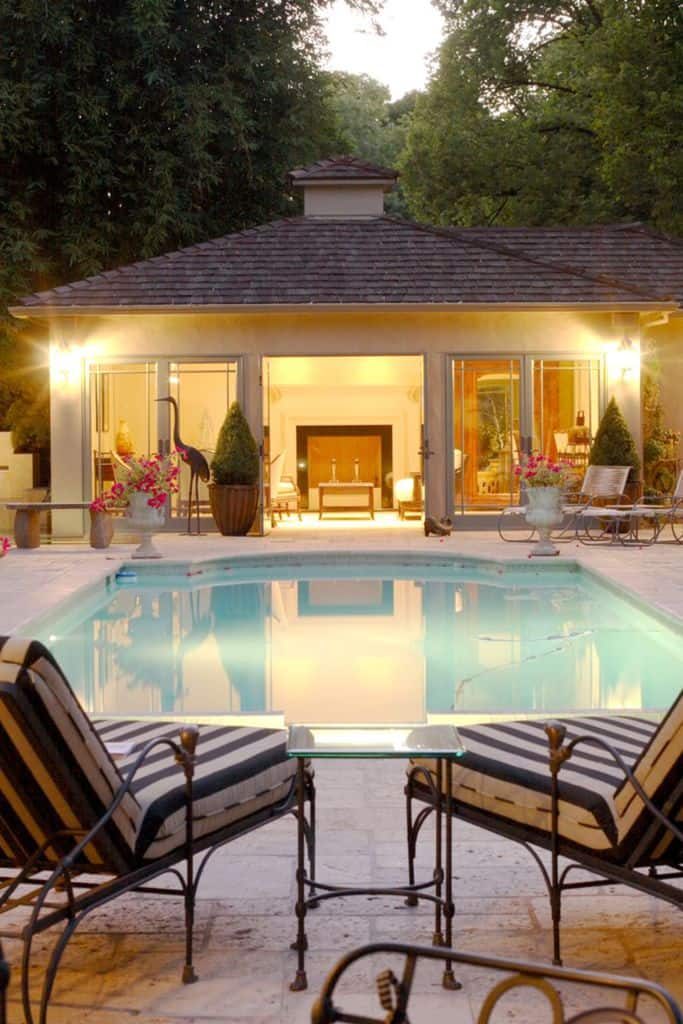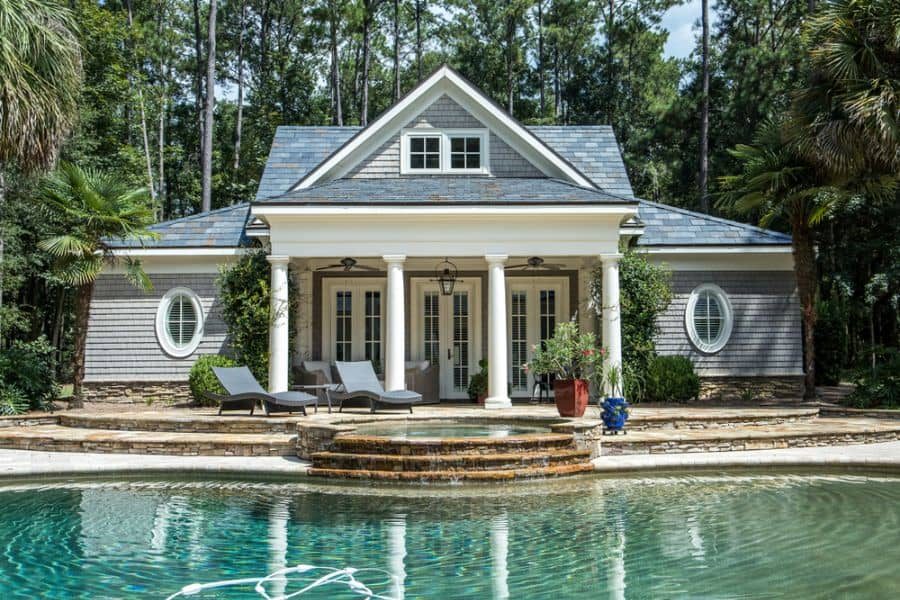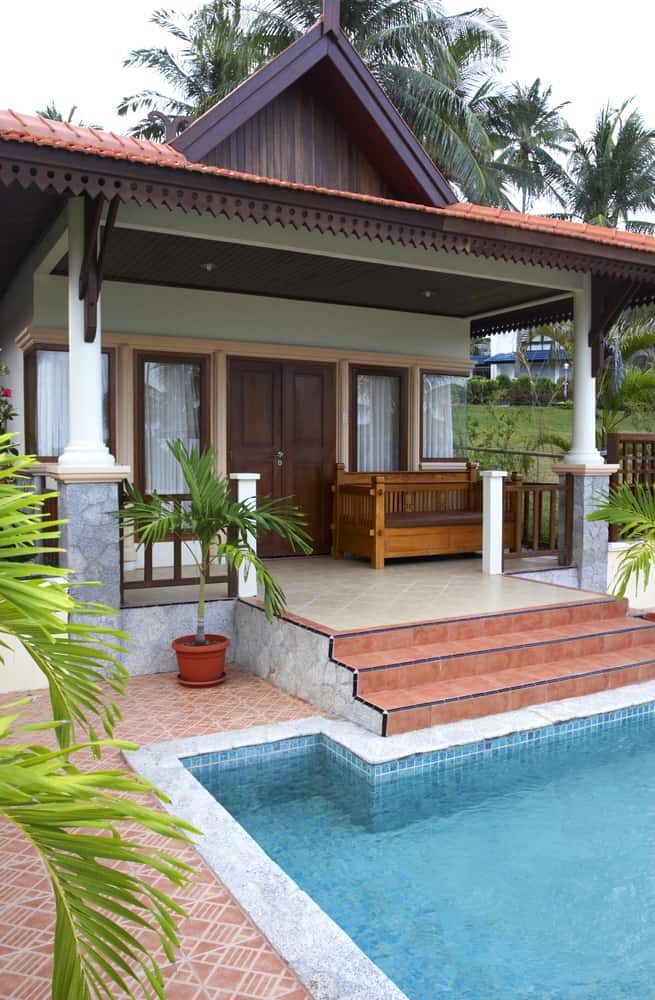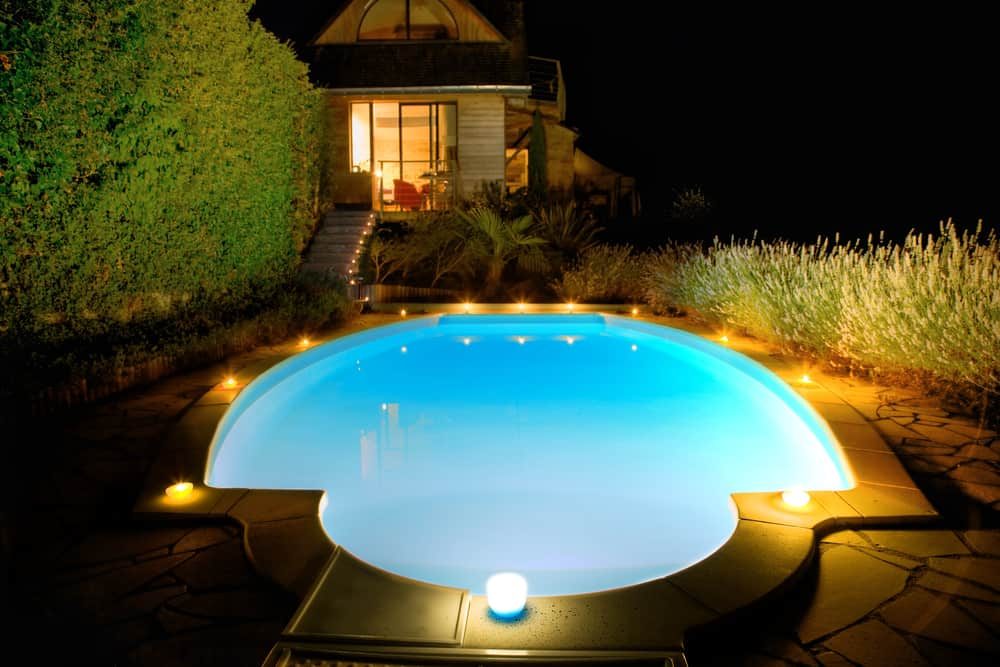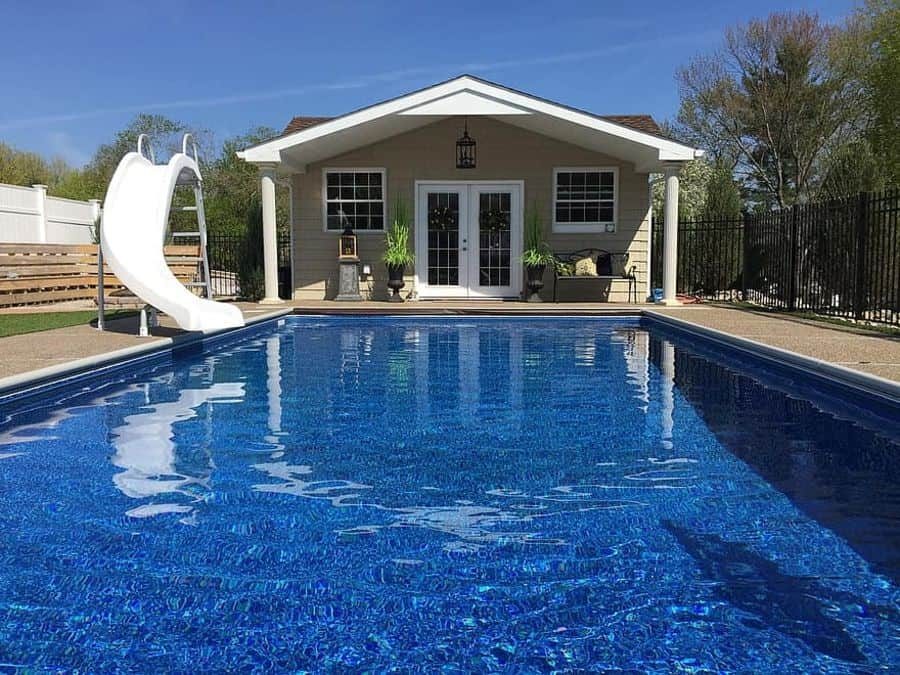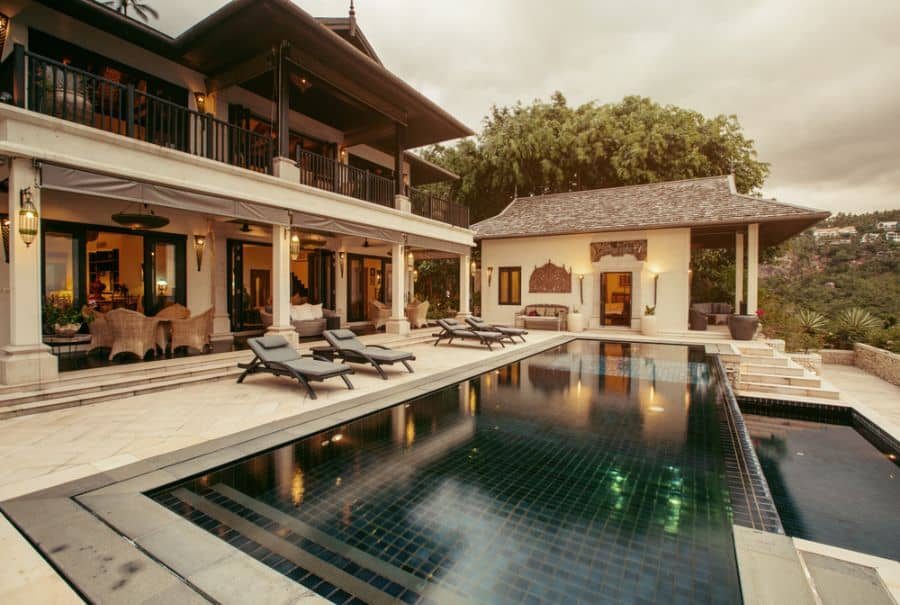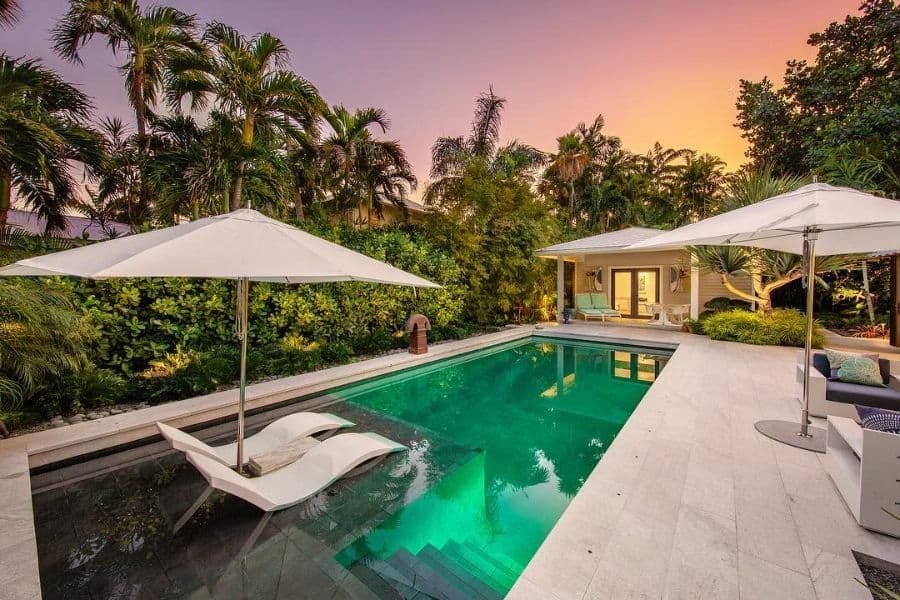 5. Glass Pool House
When it comes to pool house design, glass is definitely in! Consider glass walls and glass doors to allow more light into the space, giving your pool area a sense of airiness. With glass pool houses, you can also enjoy natural ventilation and create a feeling of closeness with nature.
For extra privacy, team glass walls up with semi-transparent curtains. And for extra style points, why not think about adding some swimming pool tiles around the glass walls? All these design elements together will give an original and stunning appearance to your pool house.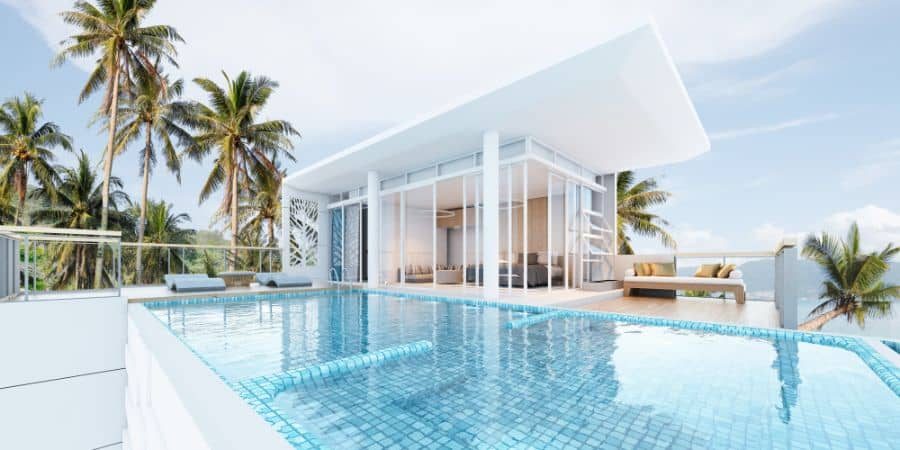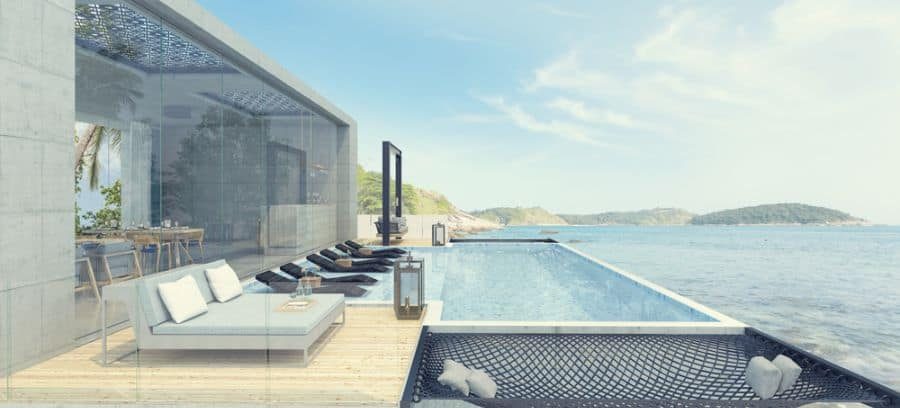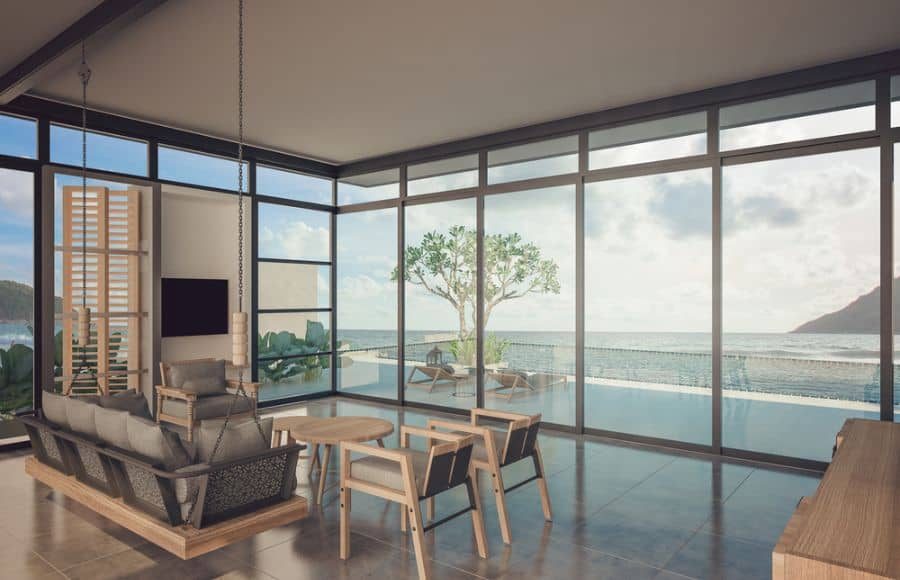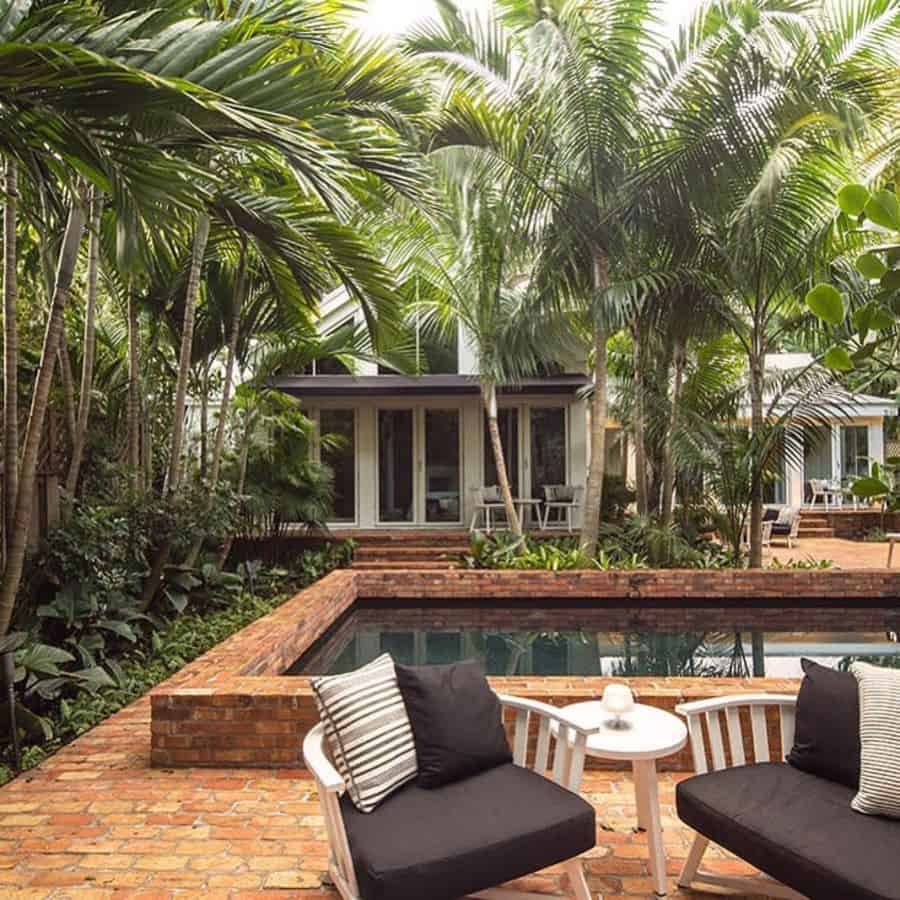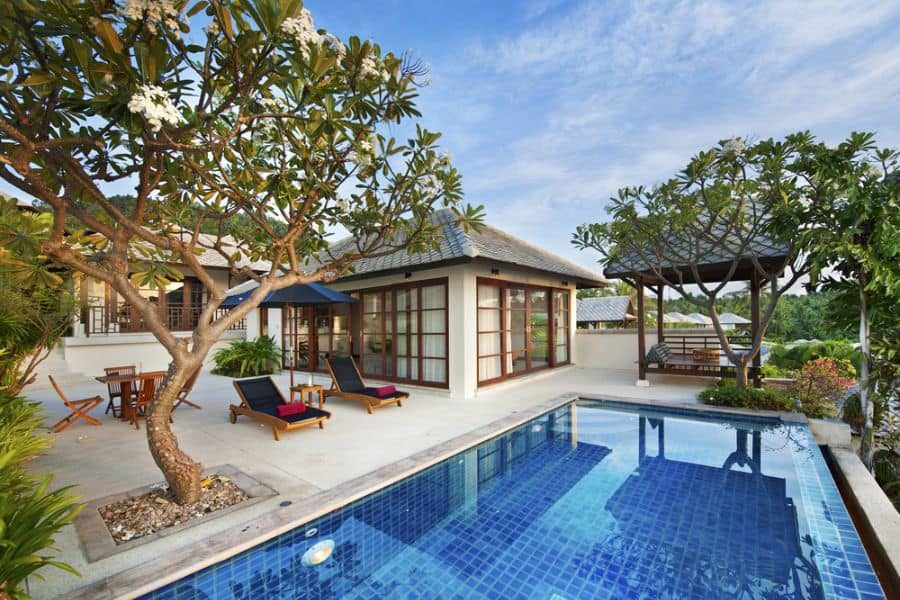 6. Villa-Style Pool House
When designing a villa-style pool house, there are plenty of creative ways to adorn the space. Consider sheer curtains as a divider to separate and provide more privacy throughout the villa. Adding wicker furniture is an effortless way to bring in traditional hotel-like details.
To really make the villa feel like home, be sure to decorate with fresh flowers and fragrant scented candles for relaxation. What's inviting and comfortable today may no longer seem so tomorrow, so think about adding dreamy boho touches or timeless rustic pieces that can easily transition into any style.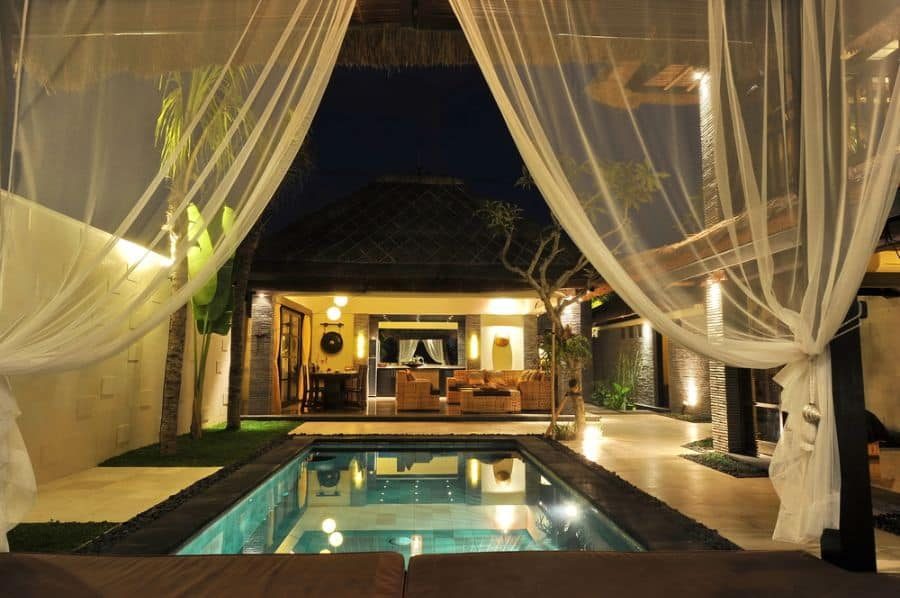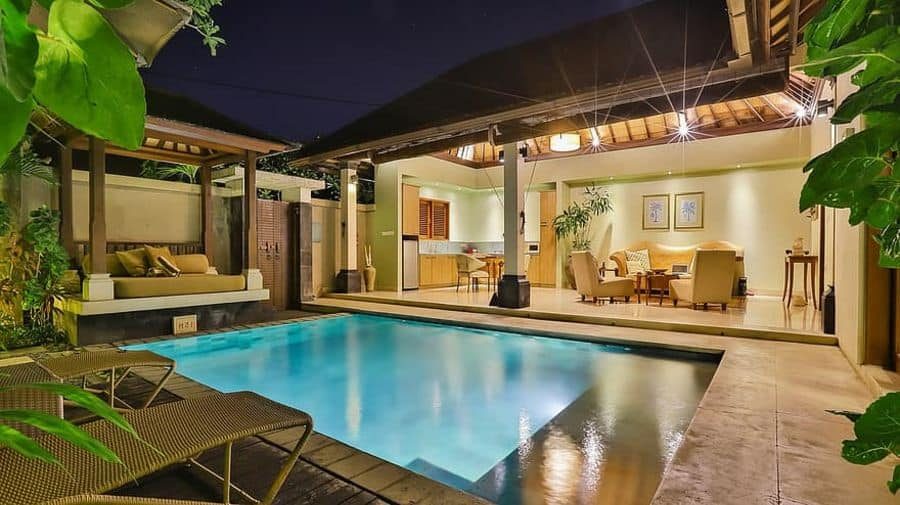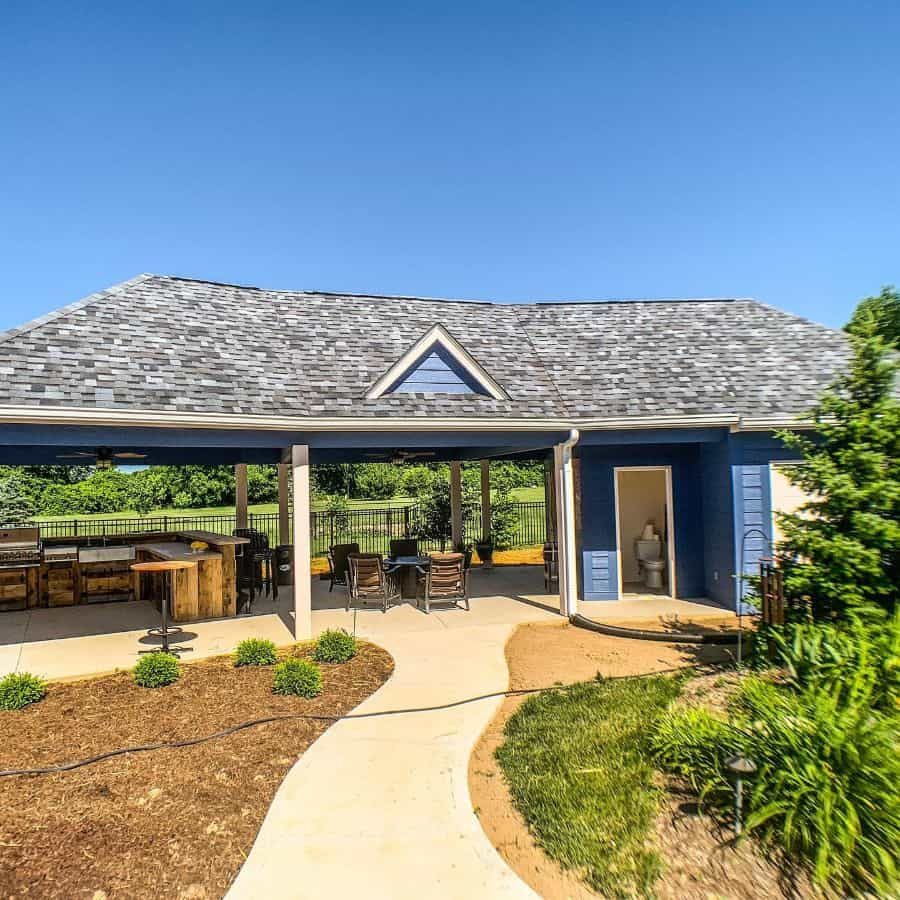 7. Modern-Minimalist Pool House
If a modern minimalist aesthetic is your cup of tea, you should consider a design for your pool house that celebrates clean lines and simple structure. Try choosing neutral colors like white or cream for the walls, furniture, and decor.
Minimalism doesn't mean boring though – incorporate interesting features such as modern lighting fixtures, large windows to bring in plenty of natural light, and low-maintenance plants around the space for life and color. With these elements, you'll be able to achieve a modern minimalist pool house that is both stylish and functional.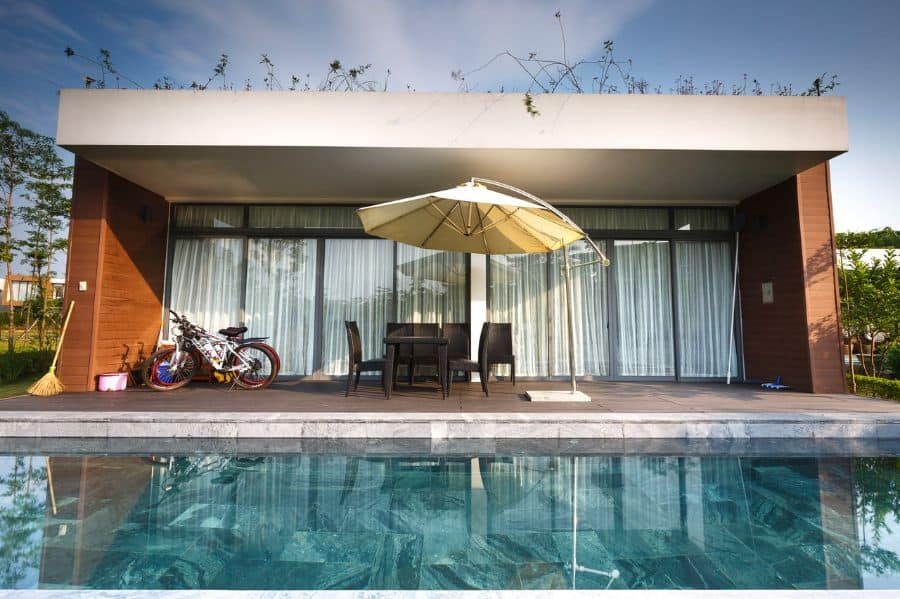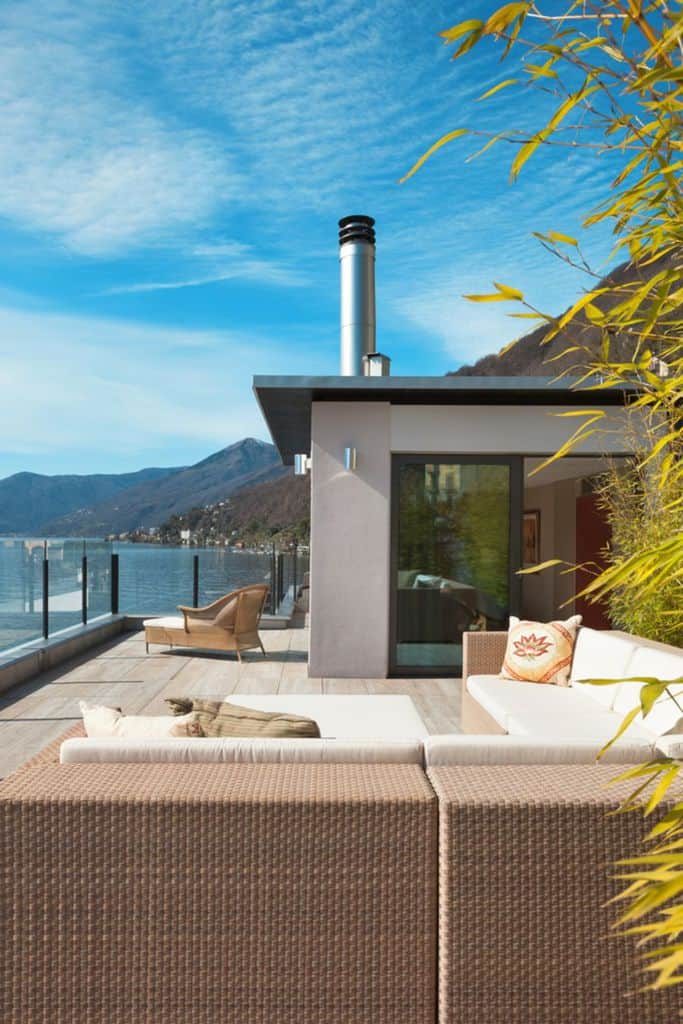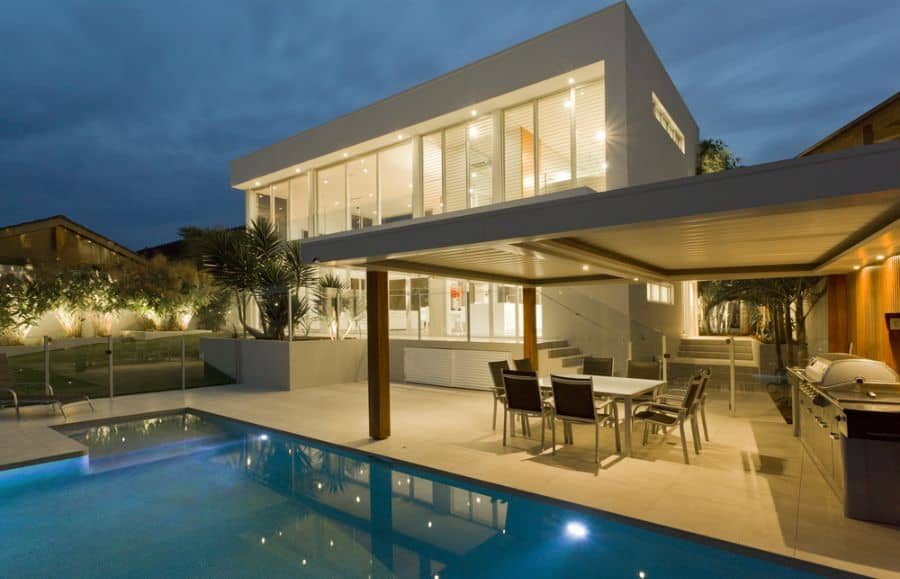 8. Blue Pool House
If you're looking for a fun and creative way to inject personality into your pool house design, why not try using blue as an accent color? By picking out blue paint in a shade that mirrors the color of the pool itself, you can create a seamless transition between the outdoor space and its corresponding building.
This will create a beautiful and inviting atmosphere for those who step inside – giving the entire area a unified aesthetic that makes it hard for visitors to resist spending more time splashing around on a warm summer day.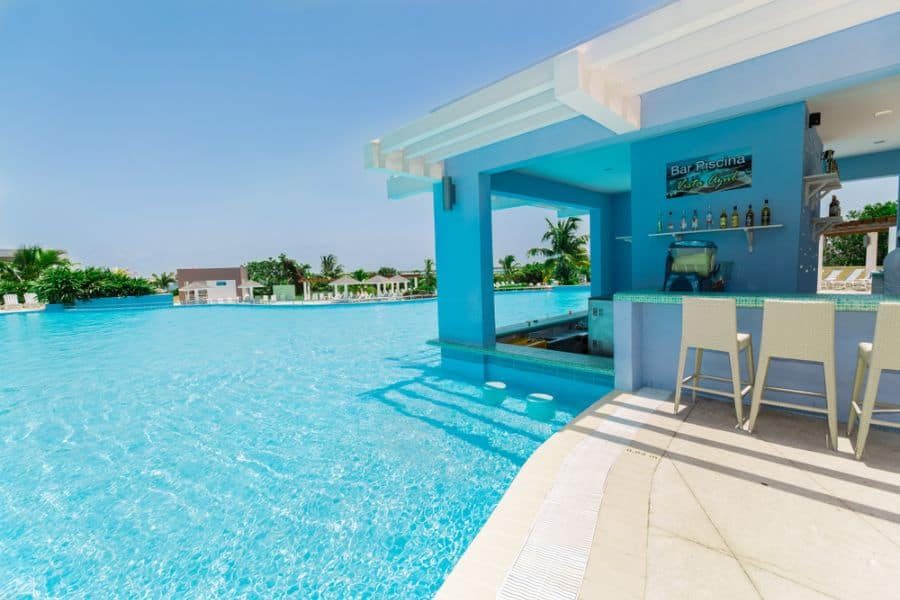 9. Large Pavilion Pool House
Creating a pavilion-style pool house can be an excellent way to keep your outdoor entertaining space airy and spacious. Designing a pavilion pool house with tall ceilings, glass doors and windows, and large open spaces will allow you to bring the outdoors inside, enhancing the ambiance of any gathering.
With the appropriate blending of materials for both structure and decor, this type of pool house design makes it easy to create continuity between indoor and outdoor areas.
Whether hosting a relaxing BBQ by day or a sultry summer party at night, pavilion-style pool houses provide plenty of possibilities to add value when planning your ultimate backyard retreat.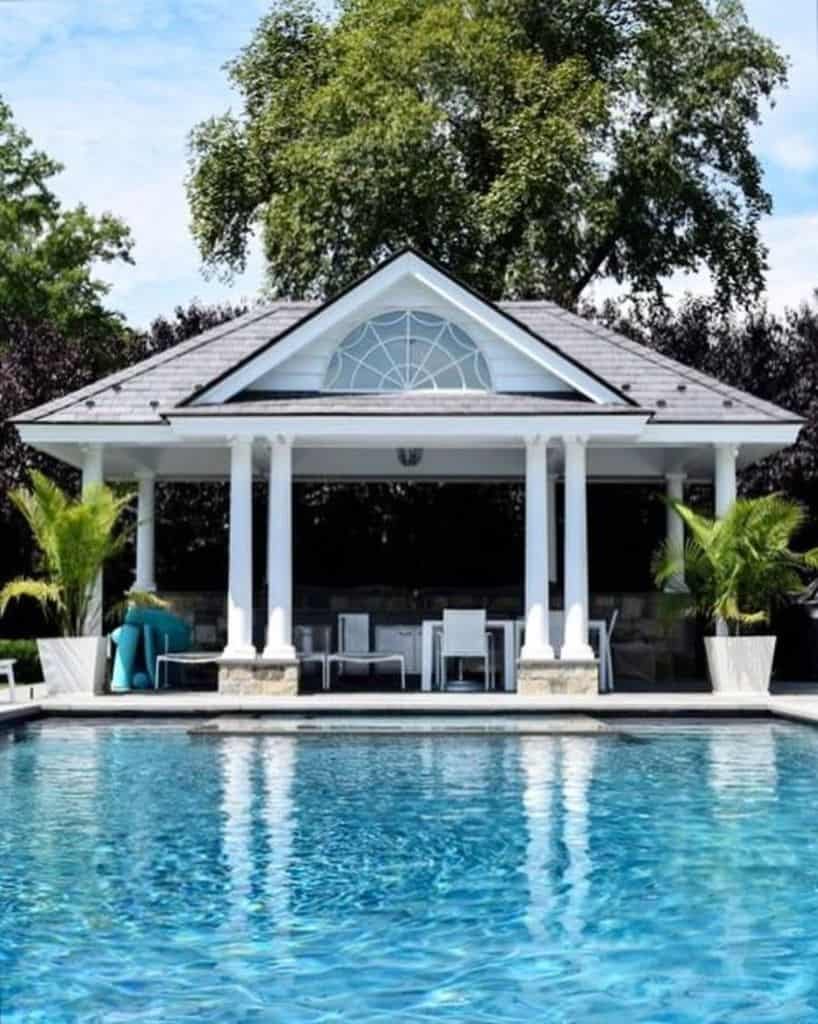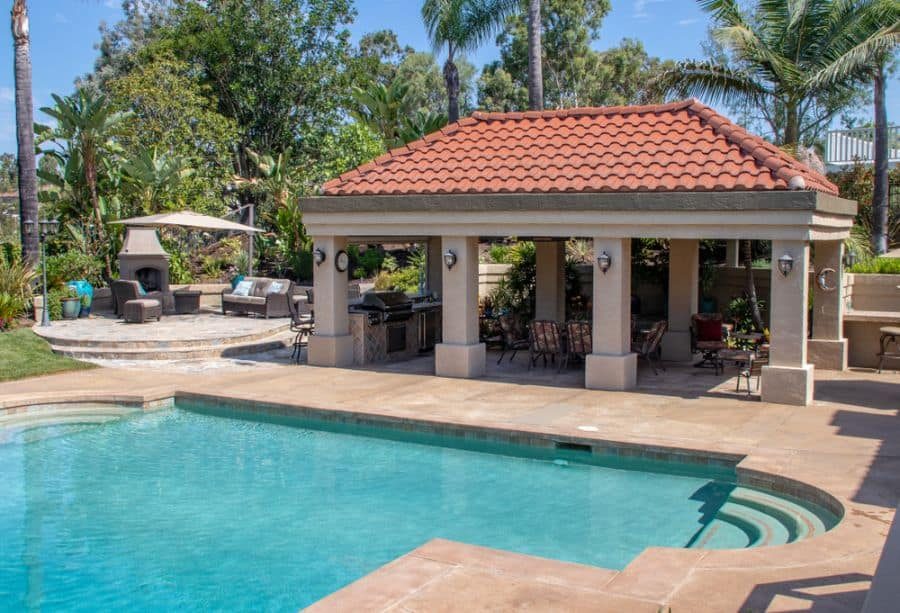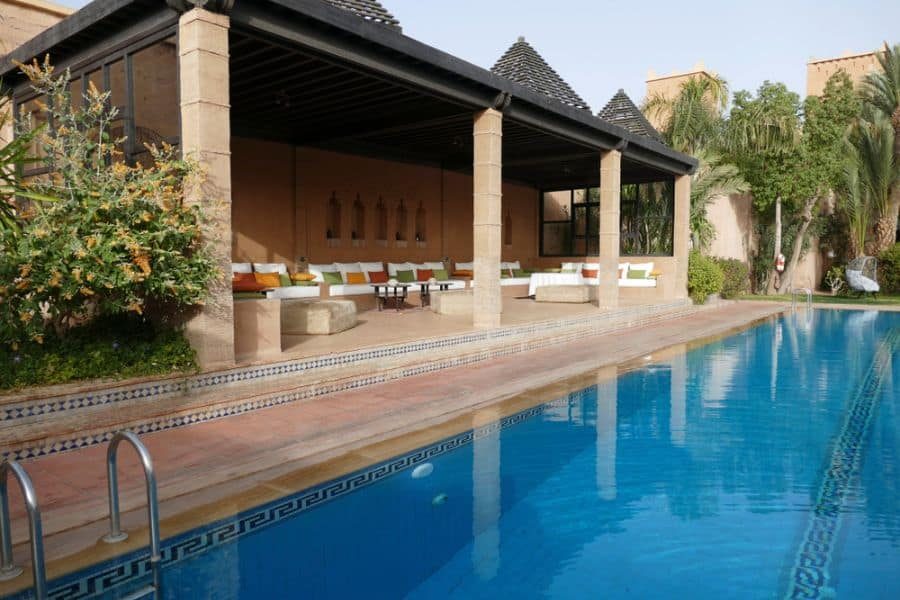 10. Rustic Pool House
Rustic pool houses can be the perfect place to relax and escape the hustle and bustle of everyday life. An archaic charm radiates from rustic, airy pool houses surrounded by tall trees and rustling leaves. When designing your rustic pool house, consider wood panel walls that rustle in the wind, wooden furnishings such as an outdoor table and chairs, lights strung from a pergola, and plenty of lush foliage in natural containers.
These homey details will bring cozy charm to the rustic pool house design; adding warmth and whimsy in equal measure. If you want to make this rustic space come alive for your guests, top off your design with rustic-themed décors such as colorful floral fabrics or wicker chairs!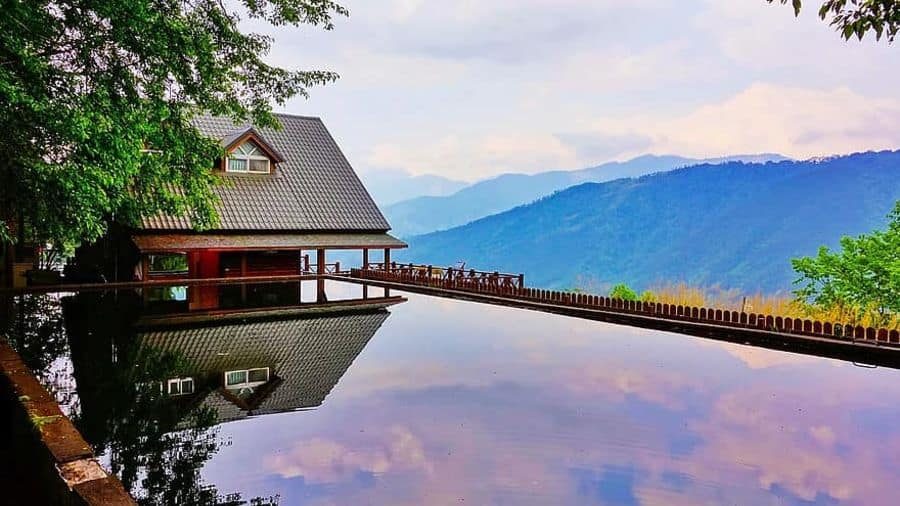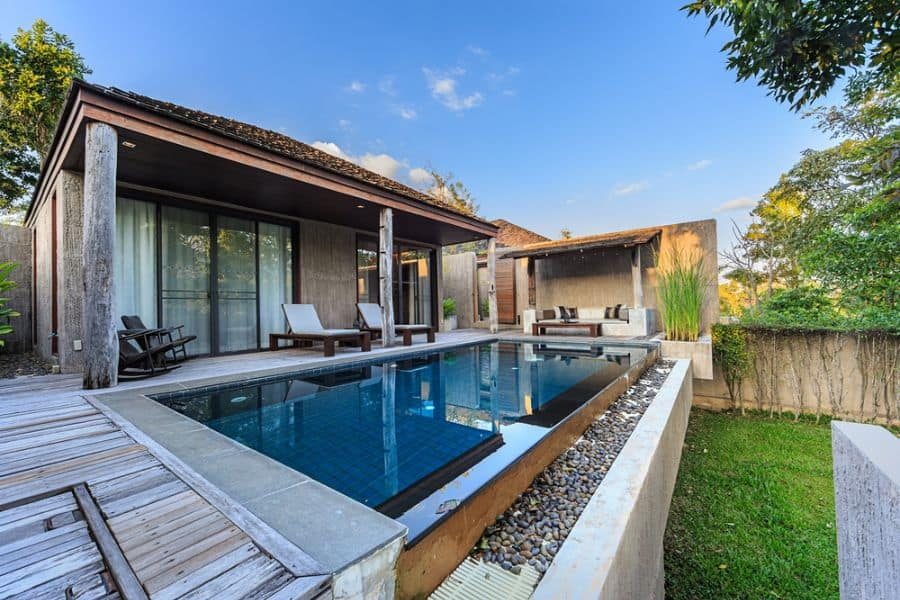 11. Poolside Patio
With pool house design ideas, it is all about creating a fun, relaxing outdoor space that you and your family and friends can enjoy. Start by creating a poolside patio using natural stones or decking material to give your pool area a stylish finish.
Installing comfortable lounge chairs paired with colorful umbrellas to shield from the sun is a great way to provide protection while spending time outside and enjoying your pool.
Bring the feeling of the pool indoors by adorning the pool house walls with beautiful prints and traditional artwork that capture the spirit of summer. Last but not least, don't forget to add garden lights around the periphery of the pool for evenings spent under starry skies together!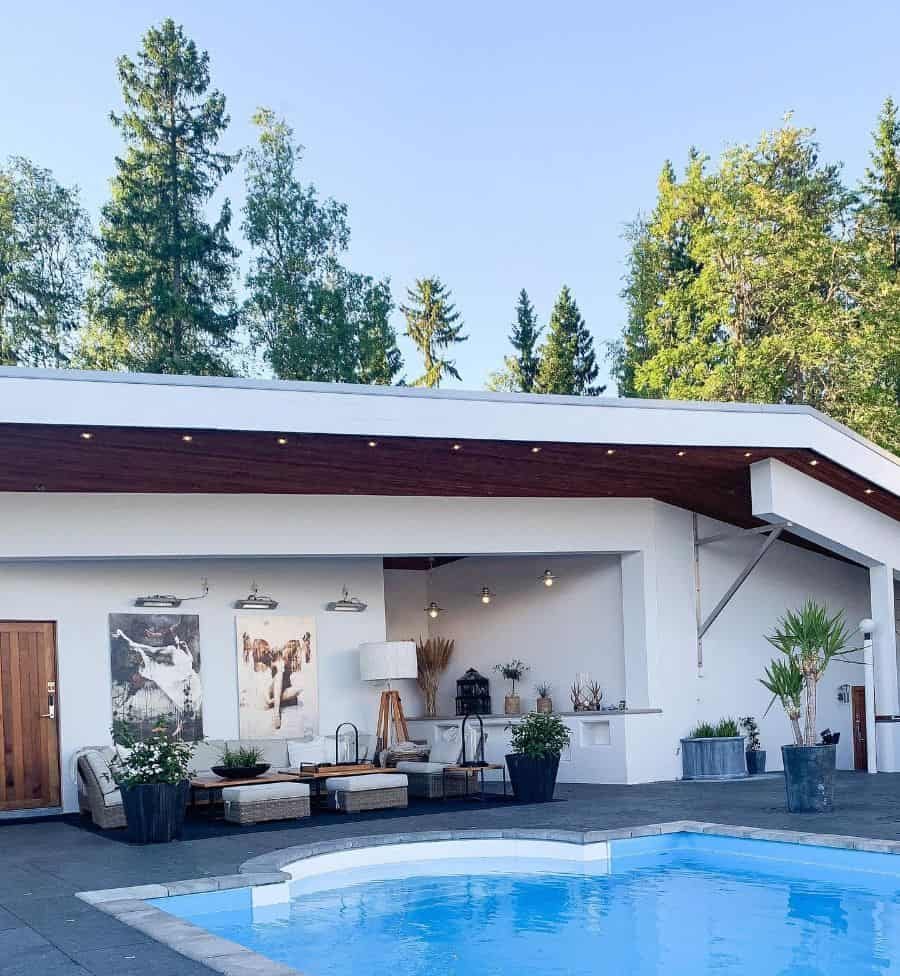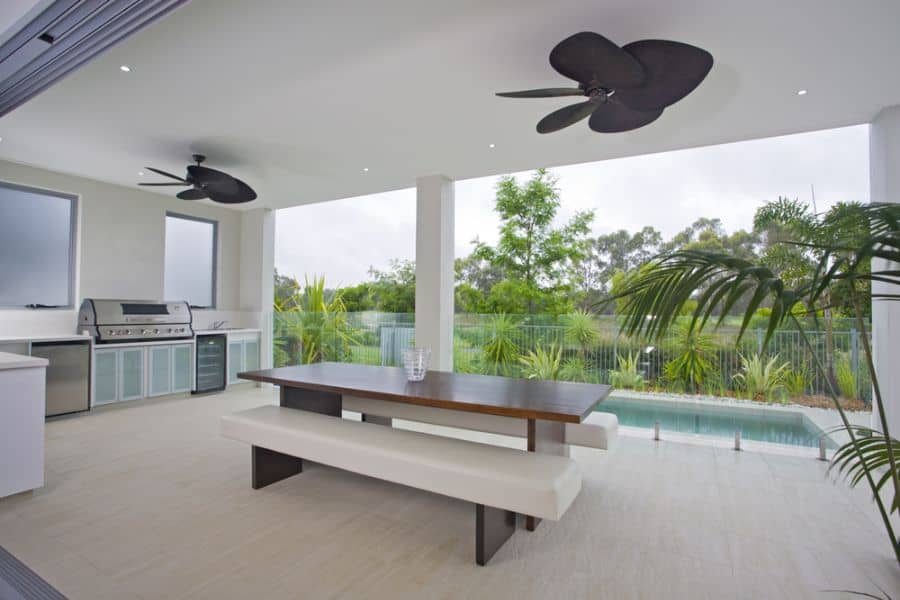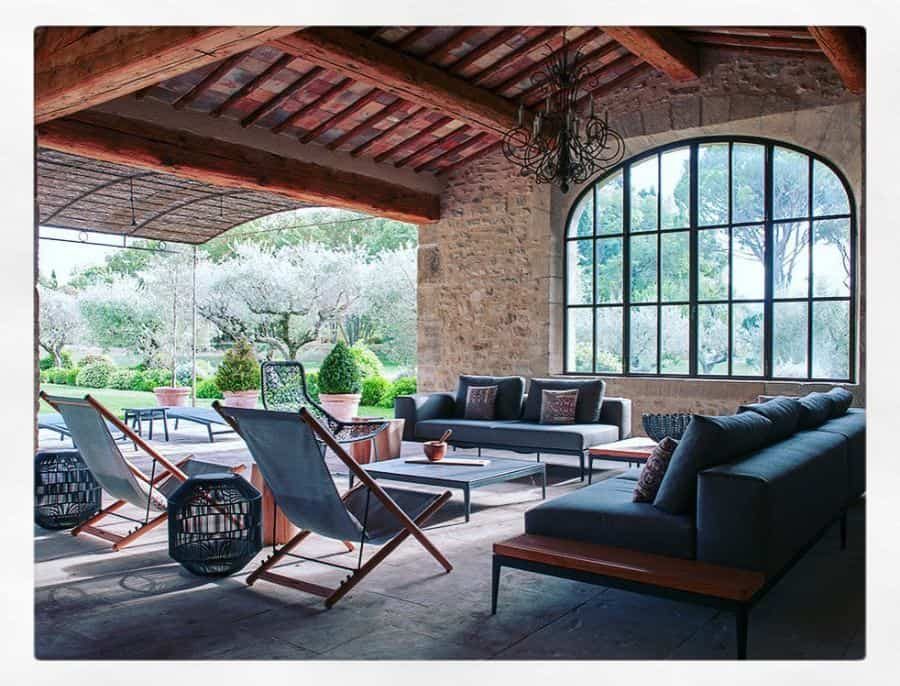 12. Poolside Shed
Creating a poolside shed is one of the best poolhouse design ideas around! Not only does it add to the aesthetics of your poolside area, but it also serves an important function: pool maintenance! Keep all of your brushes, chemicals, and pool toys organized and easily accessible from this special spot.
Make sure you include windows or skylights to make sure there is plenty of light. Consider adding accents like cool blue surfaces, patterned pillows, and other decor items to make it a cozy yet functional space.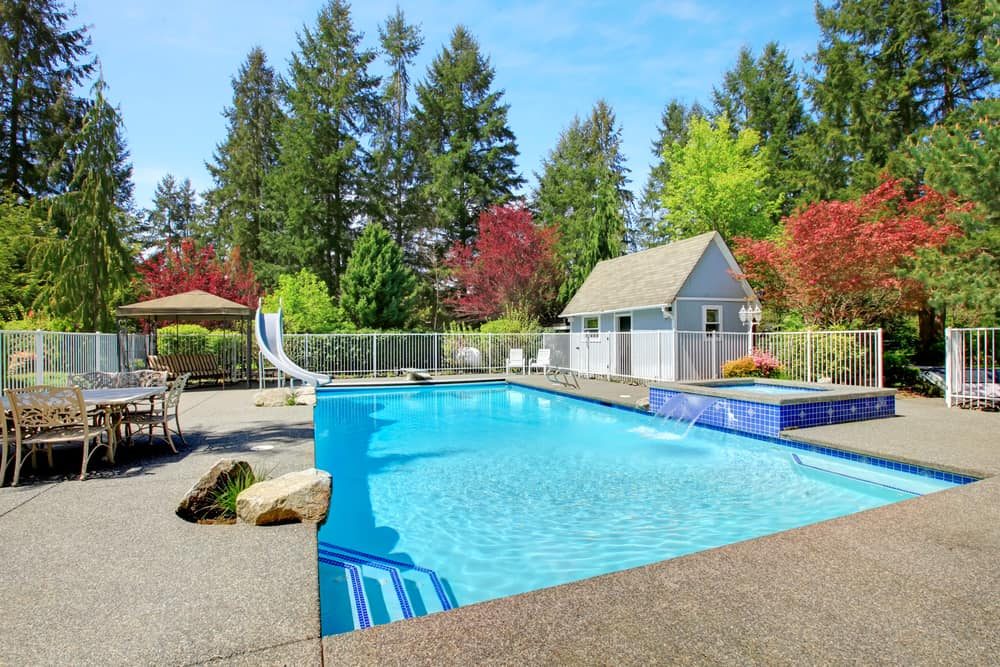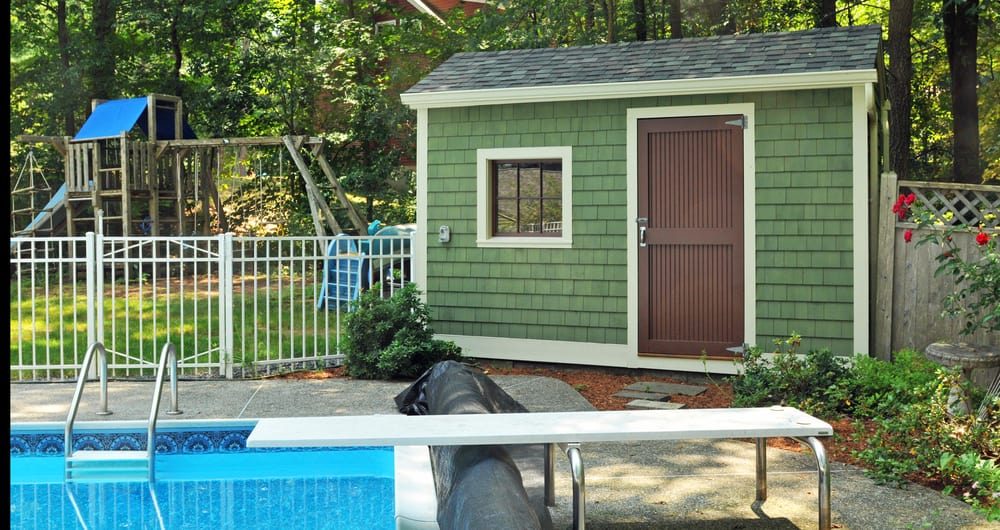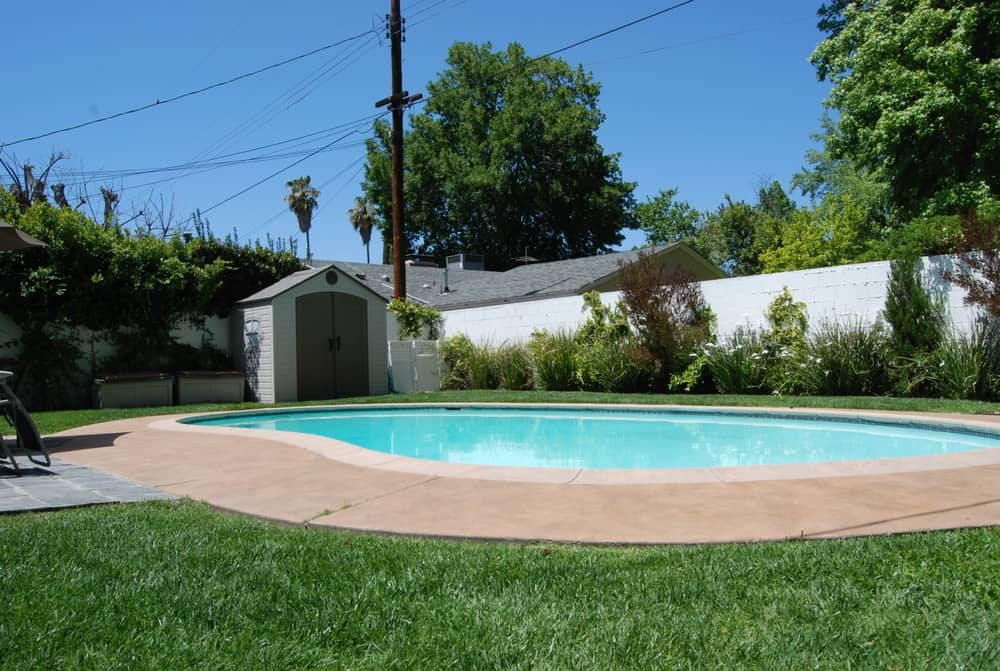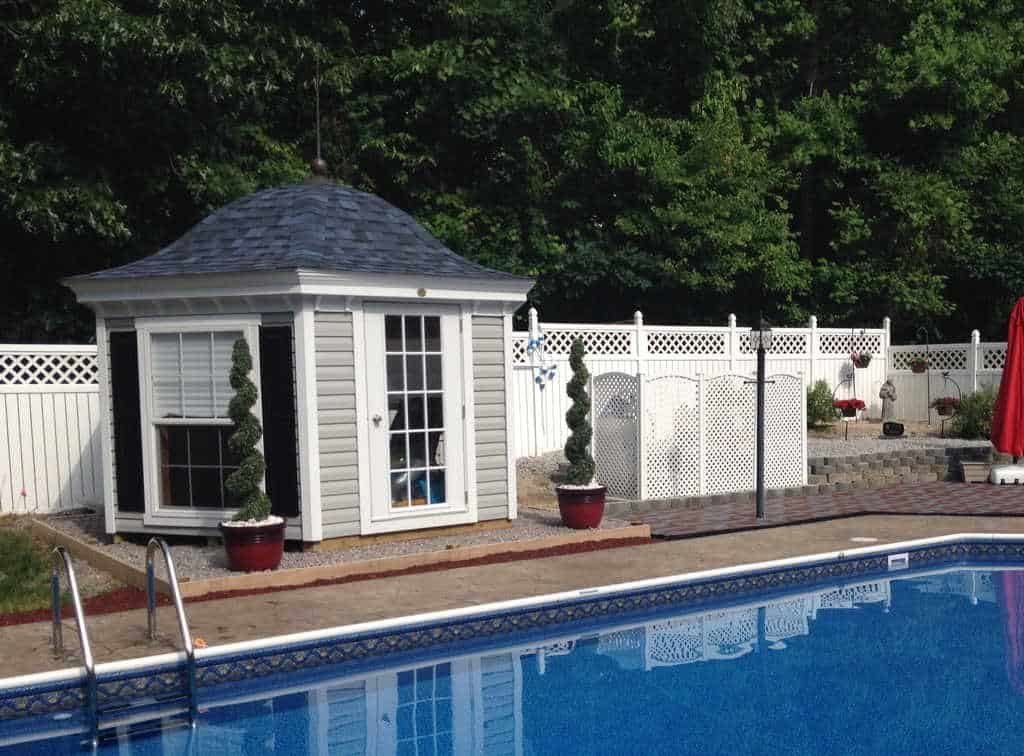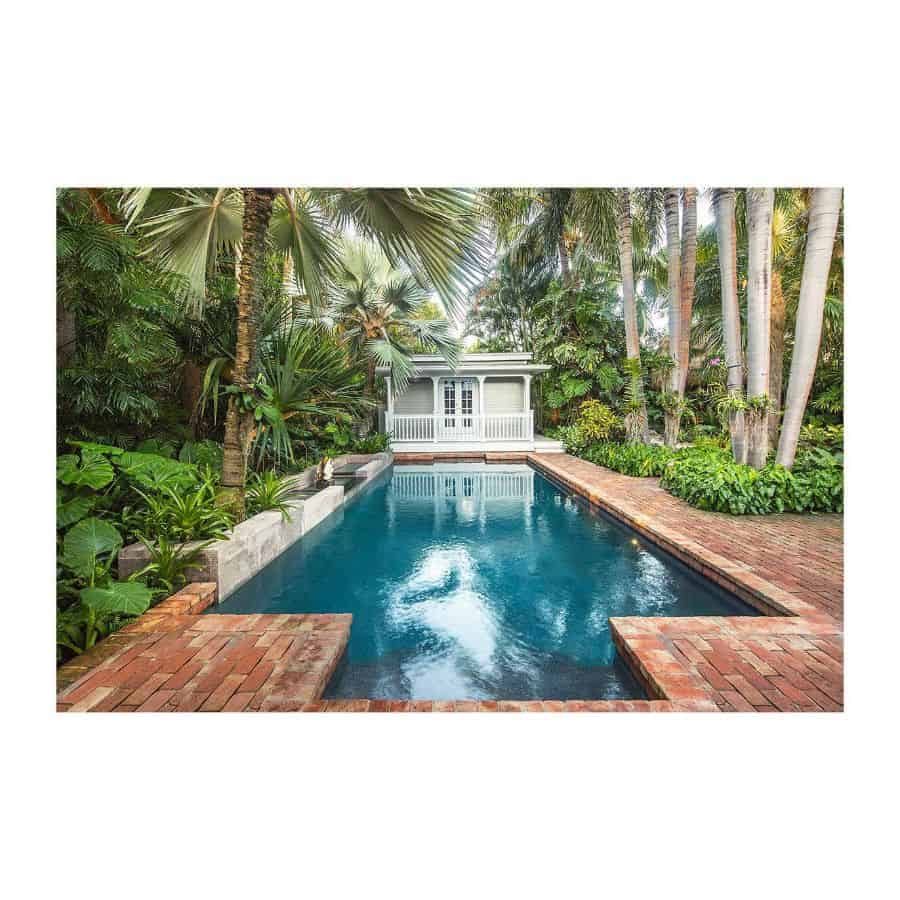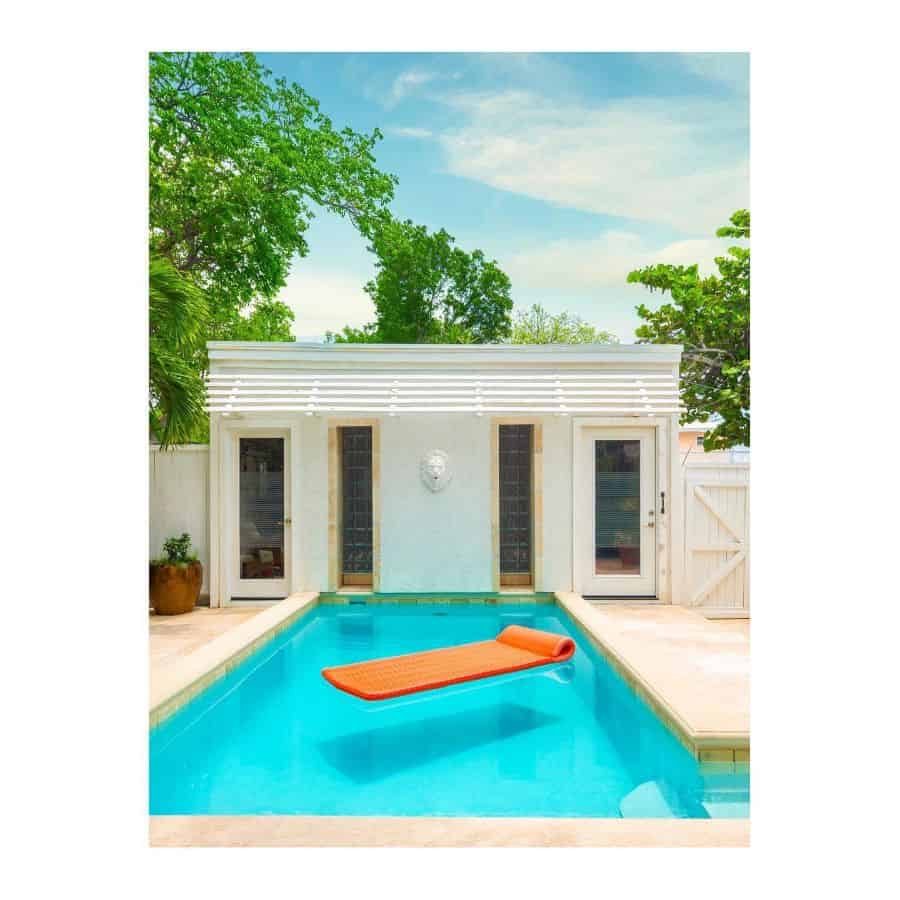 13. Poolside Guest Loft
Pool houses offer some of the most creative design opportunities. Making poolside living a separate experience can add great value to both pool-time relaxation and hosting poolside guests. For a unique pool house design, consider converting a poolside loft into an elegant guest suite; simply add a few luxurious touches, like romantic light fixtures, colorful pillows, and a decadent outdoor seating area.
If you have the room for it, turn the pool house into an entire house by adding facilities such as a kitchen and bathroom. Doing so will create an isolated escape away from the rest of your home that can serve as both an entertainment hub and a comfortable retreat.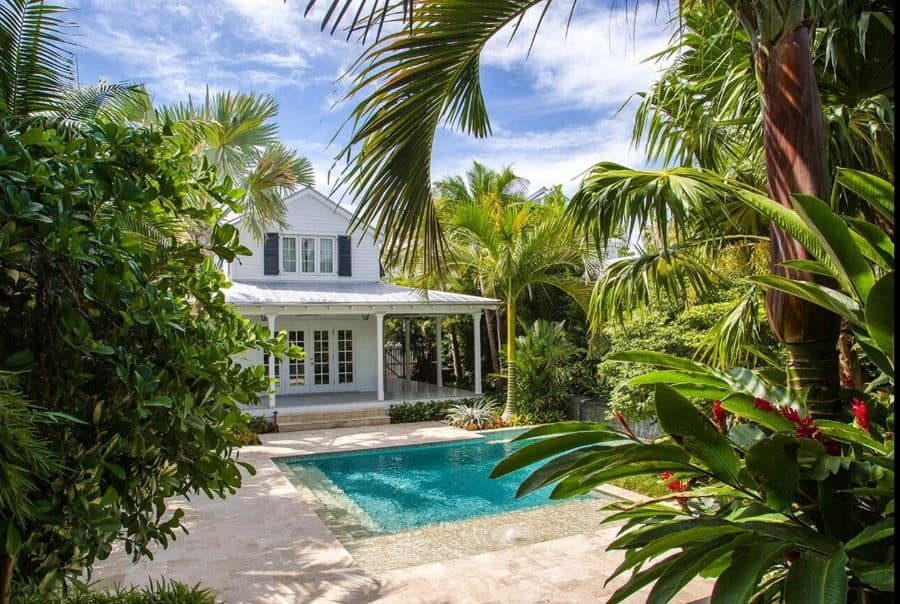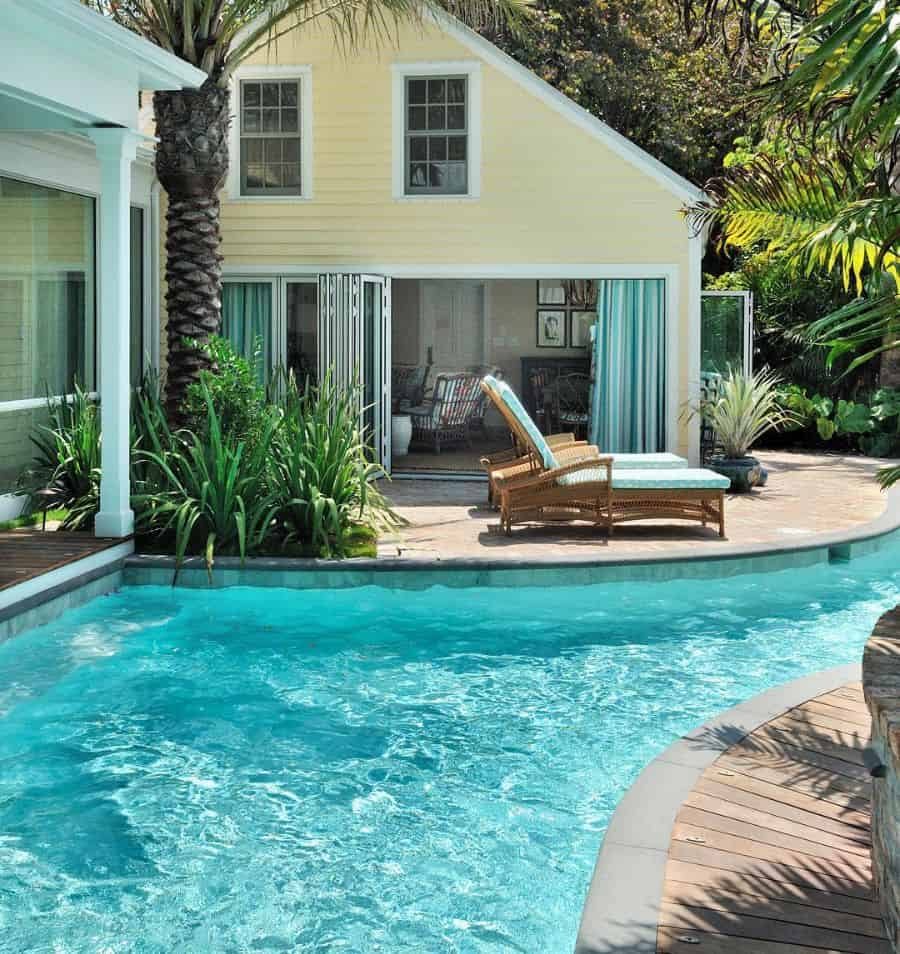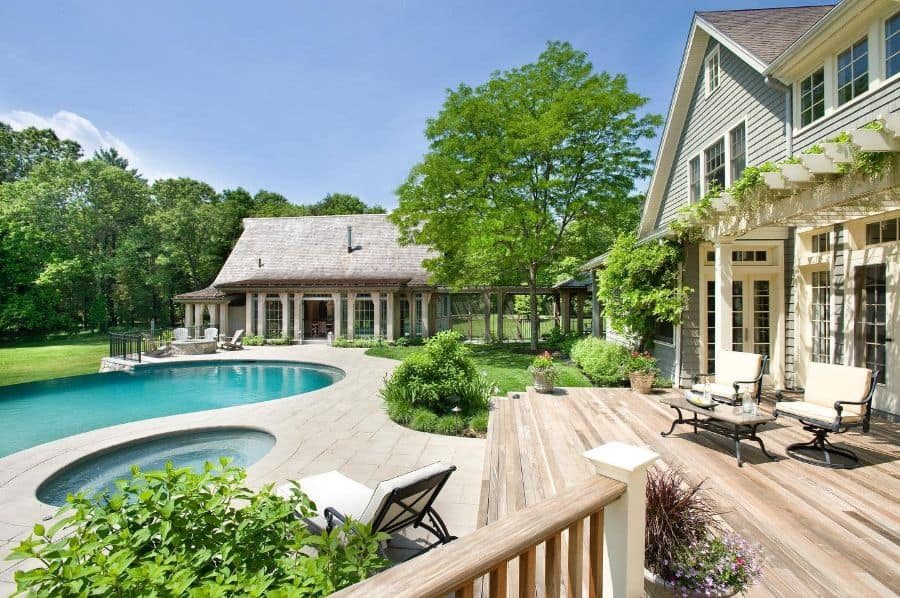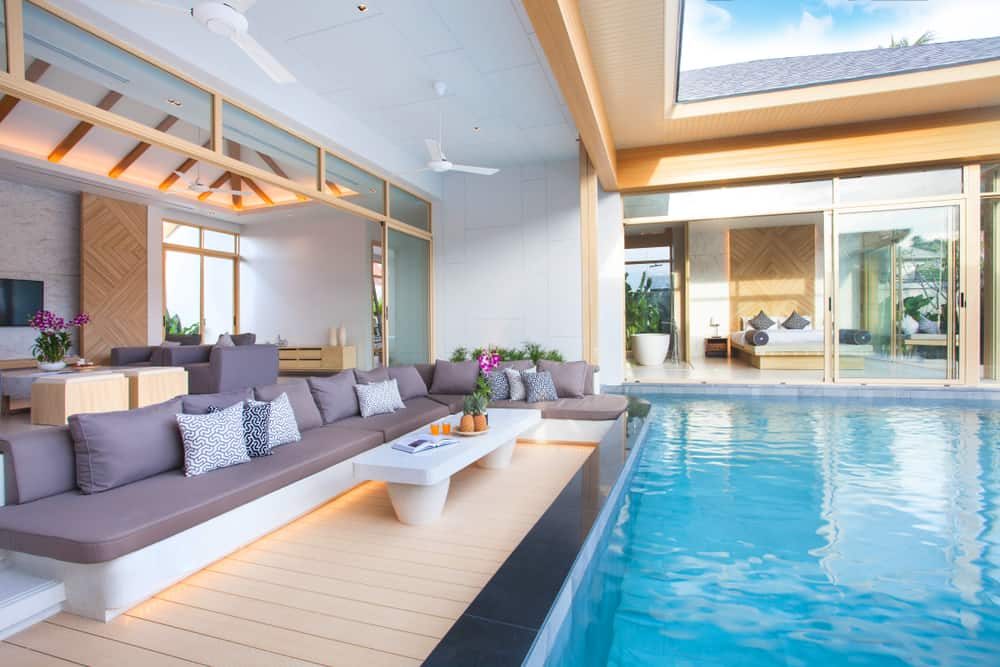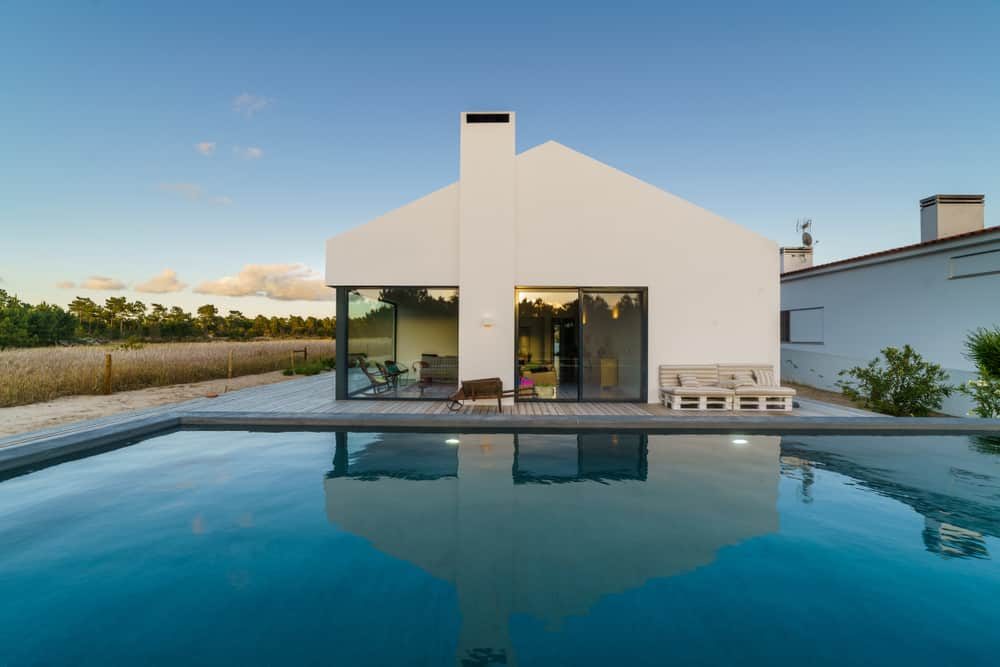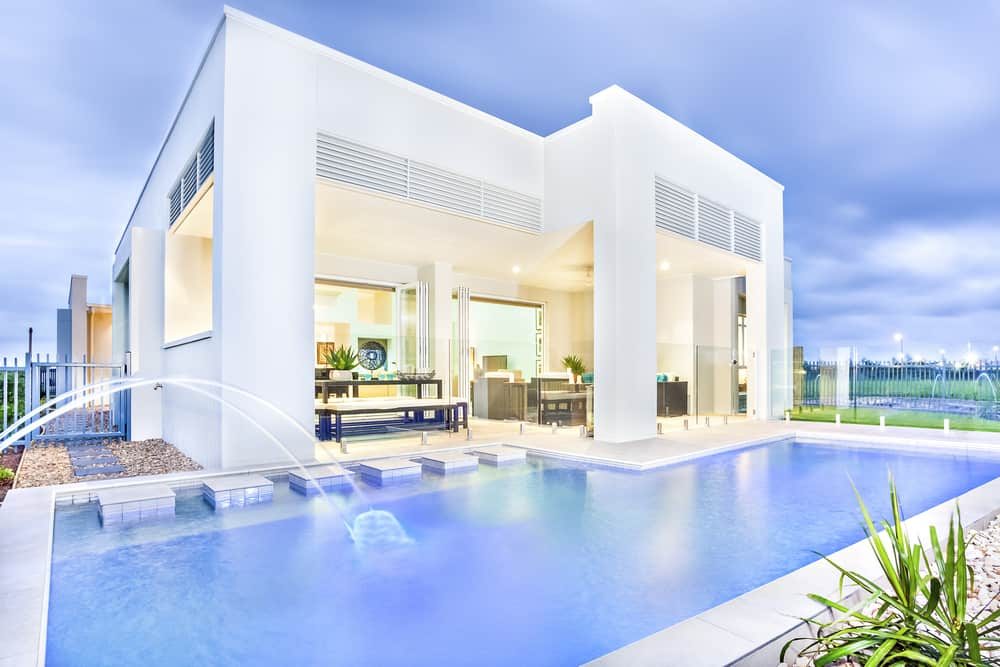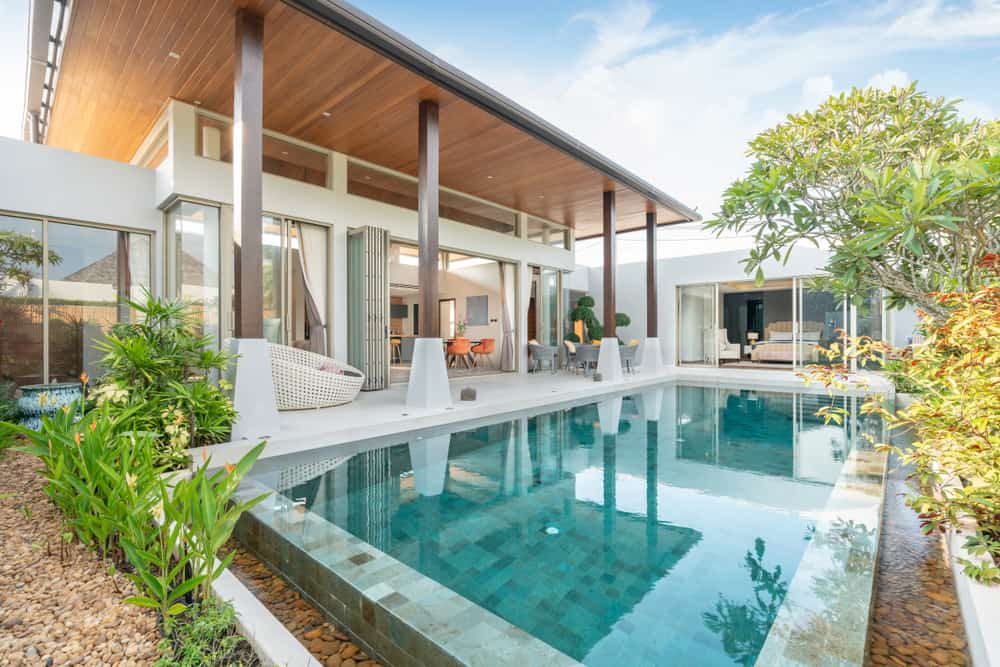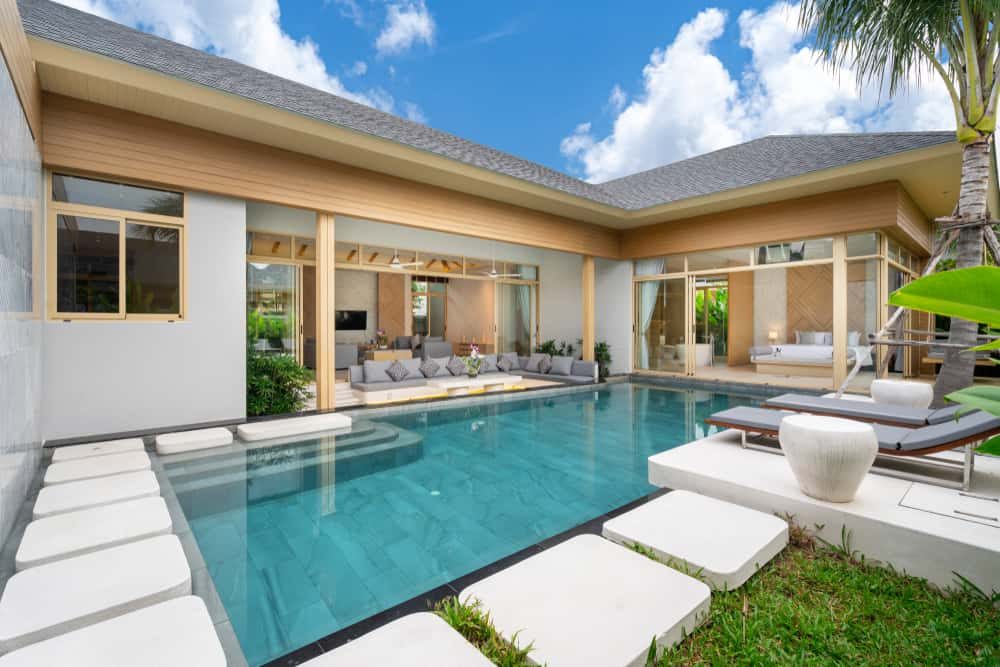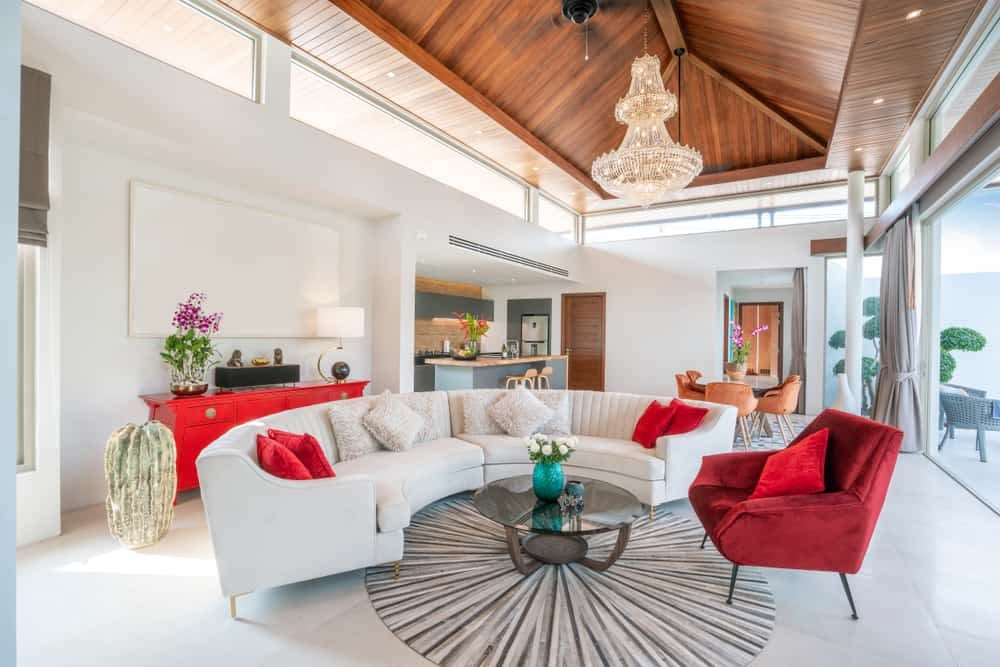 14. Pergola Pool House
If you want to take your pool house to the next level of elegance and functionality, a pergola pool house is an excellent choice! A pergola provides a distinct decorative look with its covered patio, unique vertical slats, and trellised design. Add in luxurious lounge furniture and you've instantly upgraded your poolside area.
The pergola roof will also provide some shade during summer days, adding additional comfort and enjoyment for family and guests. If you want to add even more style, consider installing bright-colored floral vine decorations on the pergola walls. With this attractive design element, your yard will be transformed into an oasis that everyone can enjoy!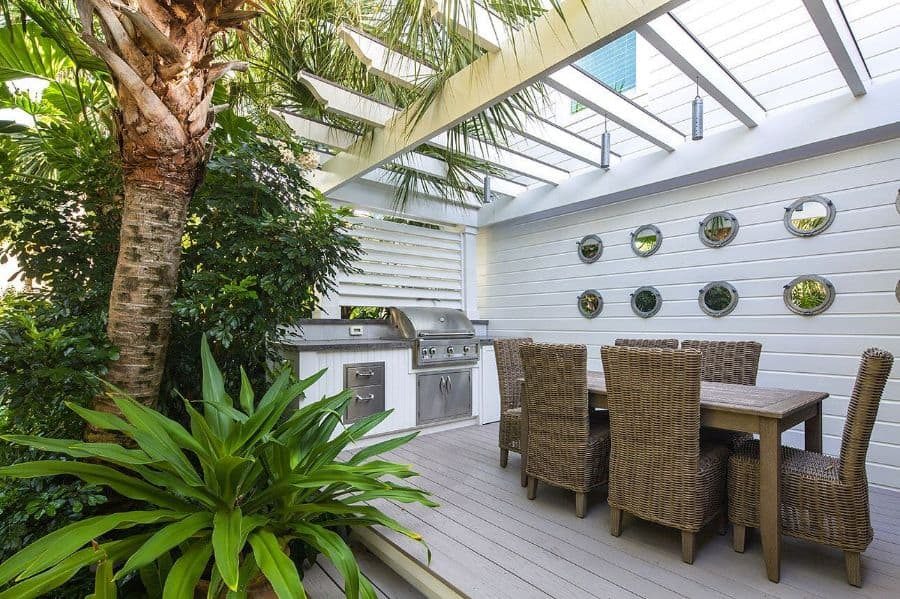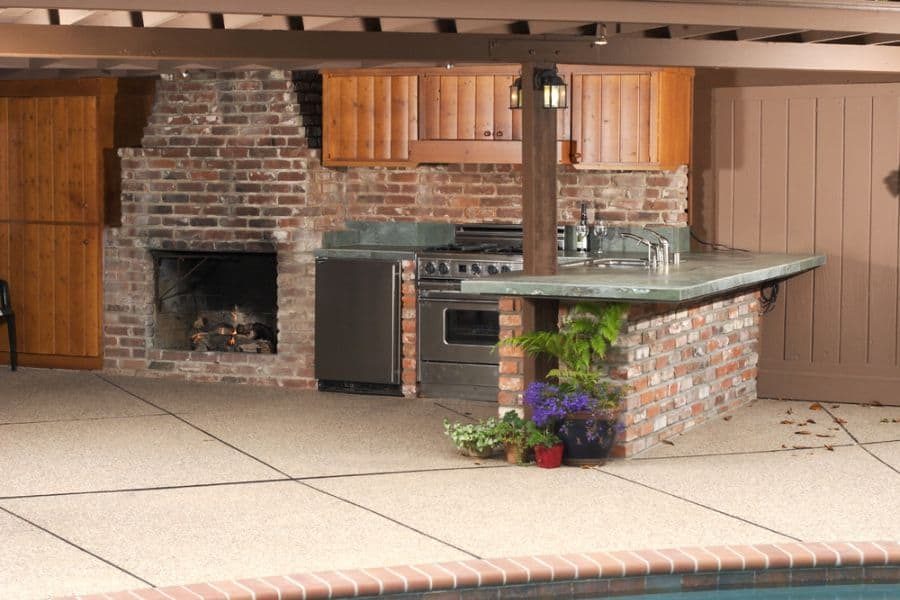 Pool House FAQs
What are the top benefits of owning a pool house?
There are several reasons why a pool house is a practical addition to your backyard space. Some of the main benefits include shelter, privacy, and entertainment. Its design is customizable and complements any size swimming pool. Play up each one of these perks to best suit your needs.
How can I ensure my guests have enough privacy?
If privacy is your main focus, steer clear from glass walls and large windows. Drawback curtains are also a great accessory. These are especially handy if your space is lacking in permanent walls. It will allow your visitors to customize their privacy to their comfort level. Consider also increasing hedges and trees through your yard's landscaping.
What are the best low-cost options?
Your backyard haven doesn't have to break the bank. Consider cost-saving alternatives such as pool sheds, pavilions, and pergolas. These provide the same practical benefits at a much lower cost. All three options are versatile and buildable. This works well if you are considering completing the building process in stages.