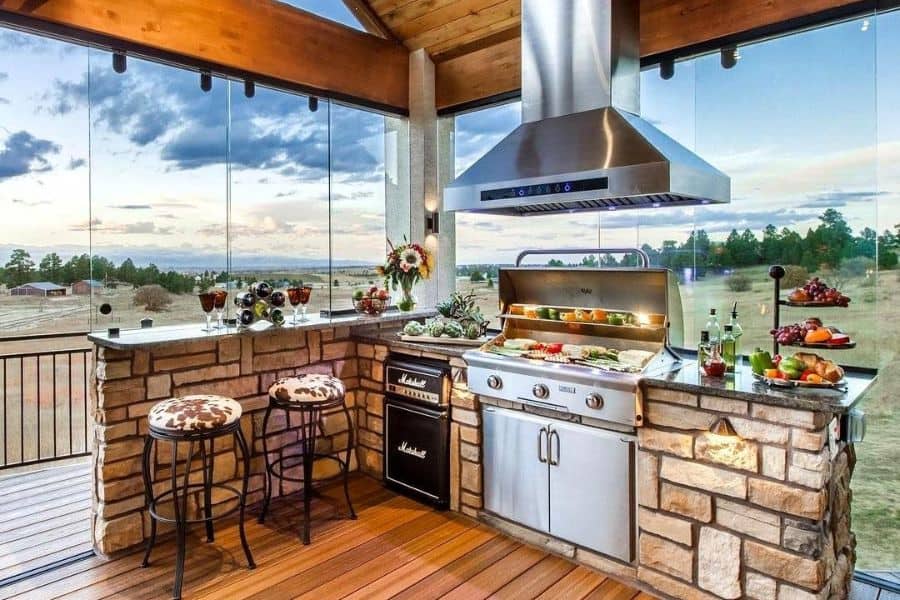 33 Best Outdoor Kitchen Ideas
"Grilling is an easy tradition to start at any age! To get started, one only needs a modest investment in equipment and a little bit of outdoor space." – Barton Seaver
You see your friends and neighbors enjoying their property, and you want to join them. But your outdoor entertaining dream never quite happens. Your guests are outside, and you are stuck preparing food and drink in your indoor kitchen. You need an outdoor kitchen to make your outdoor living dreams come true. Having a kitchen in your backyard is about more than just placing a grill on your patio.
These outdoor kitchen ideas will help you get started with your outdoor kitchen project.
1. Backyard Kitchen
A kitchen is a serious upgrade for your outdoor living space. With a place to prepare drinks and food, you can stay outside longer. There are fewer trips back and forth from your inside kitchen to back outside. You can also continue to enjoy the company of friends and family while preparing meals.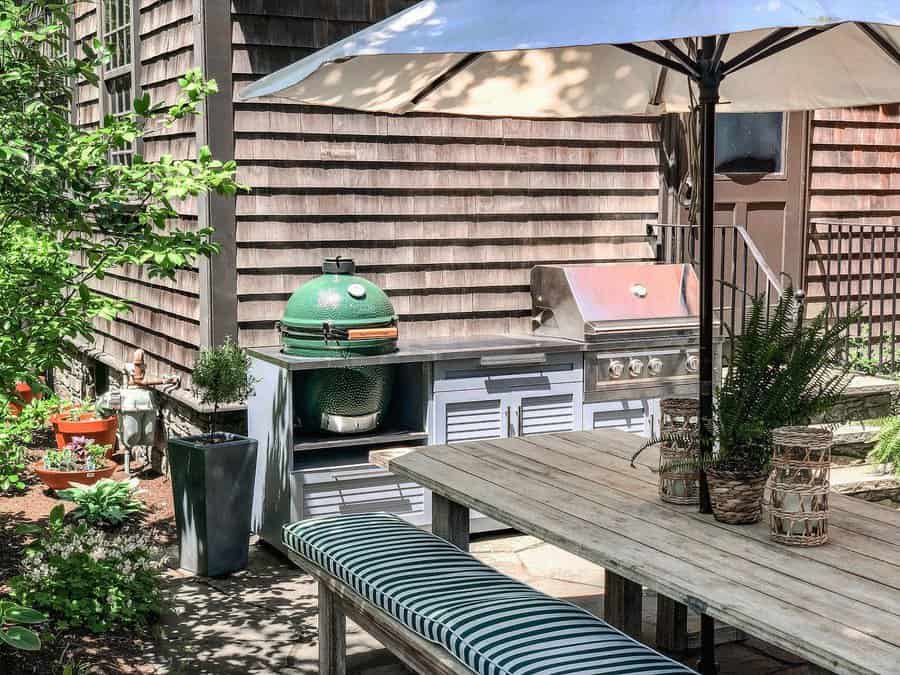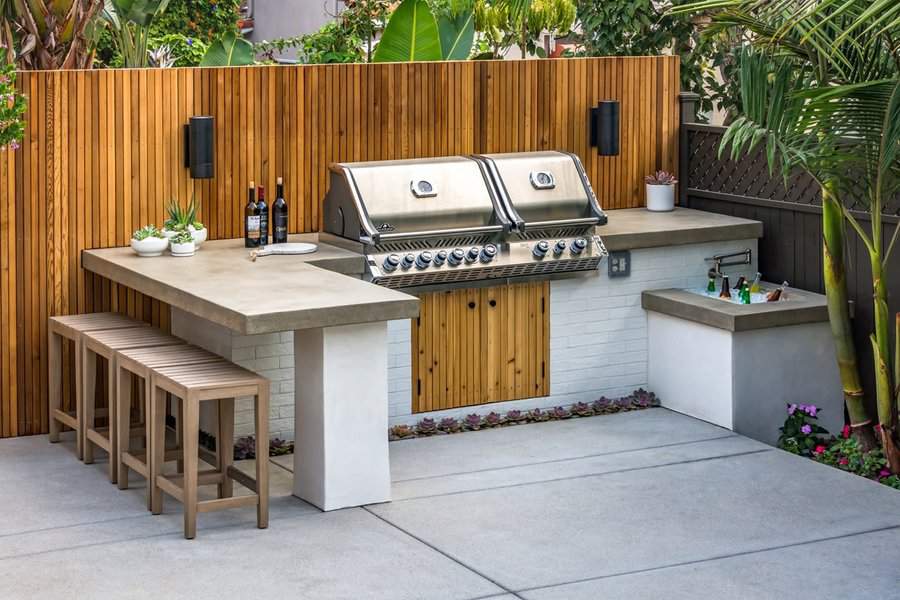 When creating your backyard kitchen, consider the size of your backyard, the architectural design of the house, and the amount of cooking you plan to do in your backyard. If you aren't culinary inclined, then perhaps you would use a grilling station or outdoor bar more. If you love to prepare elaborate meals, then having a full cooktop and stove may be more of what you want.
2. Outdoor Countertop
The countertop that you choose for your outdoor cooking space needs to be durable and easy to sanitize. Since the kitchen is outside and exposed to the elements, you'll want to clean it before each use. Avoid anything that's porous that can harbor bacteria and dirt. A granite countertop will look beautiful and be durable enough to last.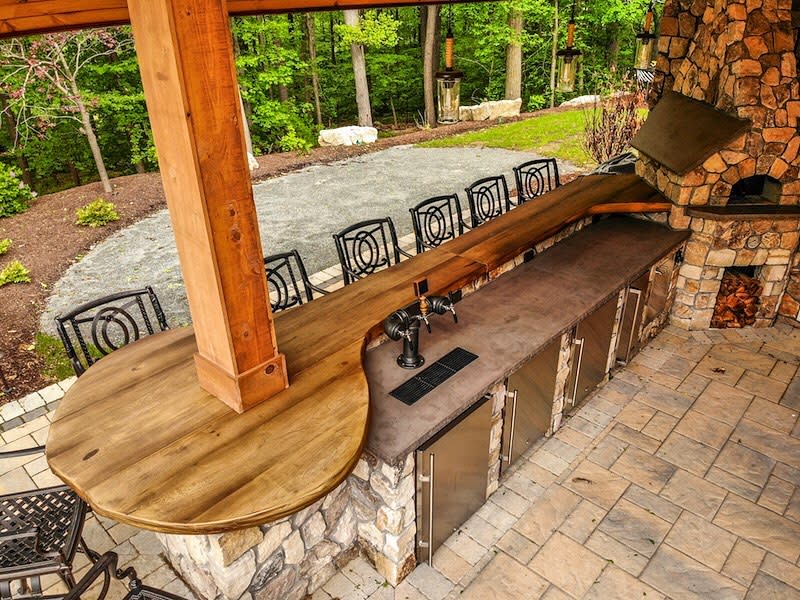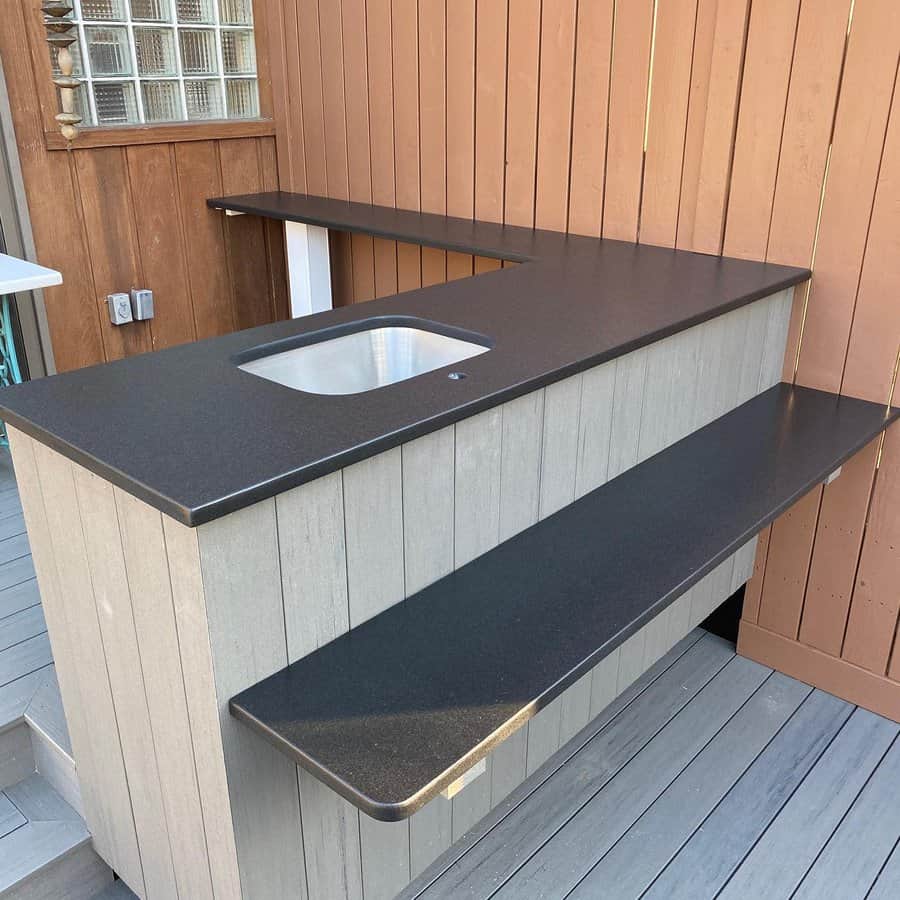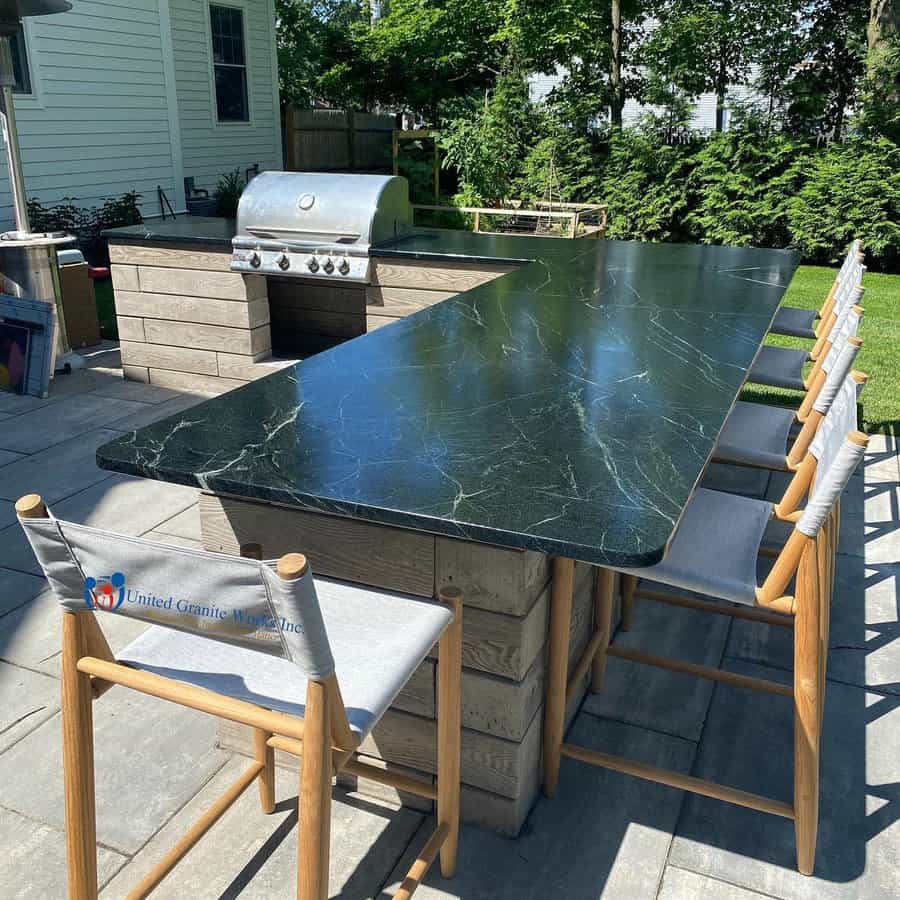 A concrete countertop is also a smart choice. It's more affordable than an exotic stone and just as durable. Be sure to seal it, though. This will give you a smooth surface that's easier to clean.
3. Covered Patio Kitchen
Having a covered outdoor kitchen means you can enjoy your backyard no matter what the weather conditions. Build a covered patio that is large enough to protect both your kitchen and table. Then you can enjoy cooking and outdoor dining in comfort. A solid cover will provide shade from the hot sun and keep you dry in the rain.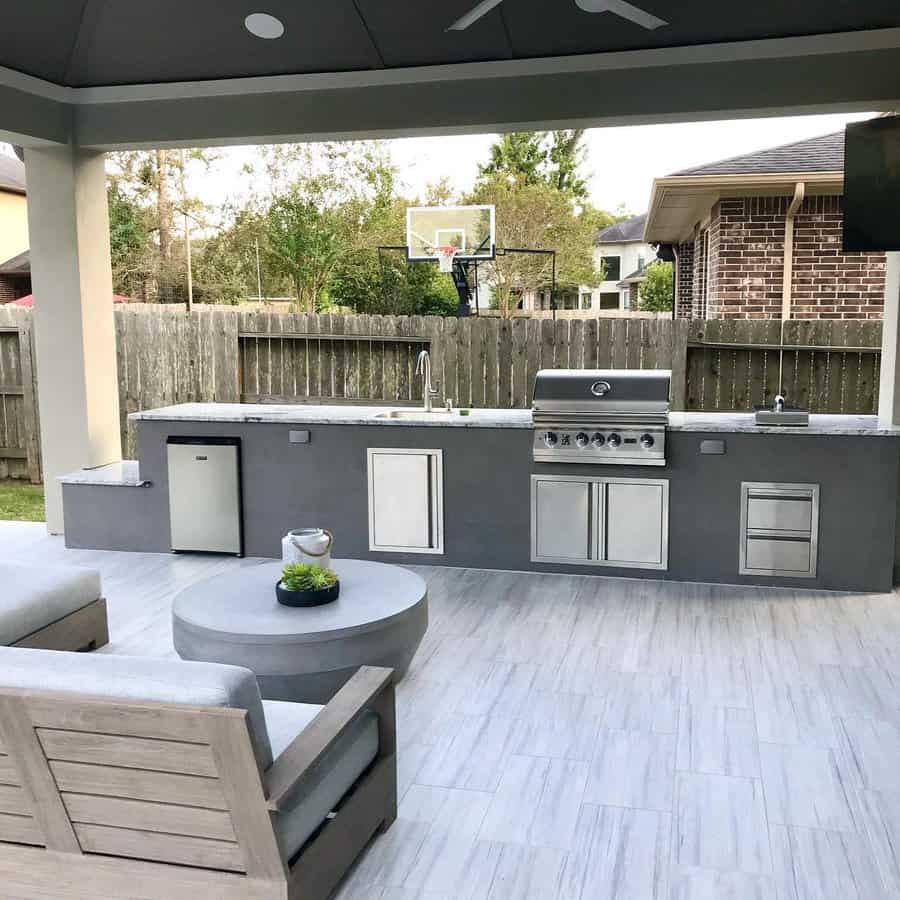 For the ultimate in-covered comfort, consider adding a ceiling fan to your patio. The covering you build needs to be tall enough to accommodate the fan. With a fan, you can create more air circulation, helping to keep you cool.
4. DIY Outdoor Kitchen
You can build your own DIY outdoor kitchen if you have some experience with construction or home improvement. There are outdoor kitchen design ideas that can make the project simpler. Try building the frame out of wood and then adding the sides and finishing with a countertop.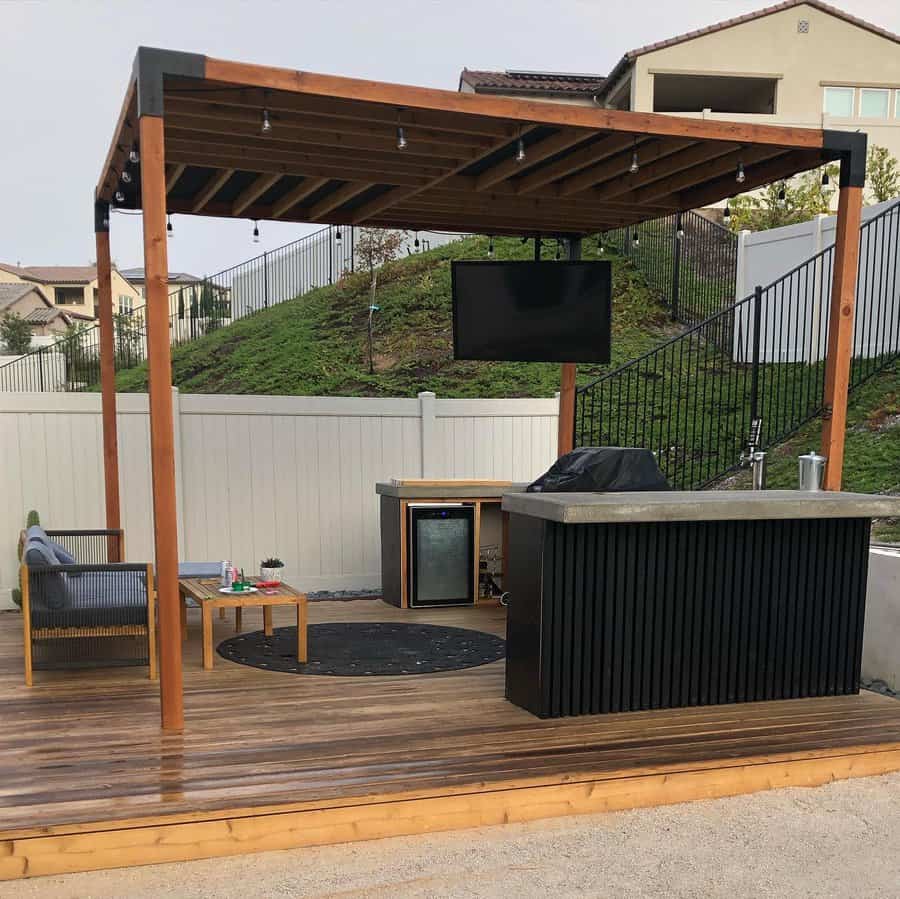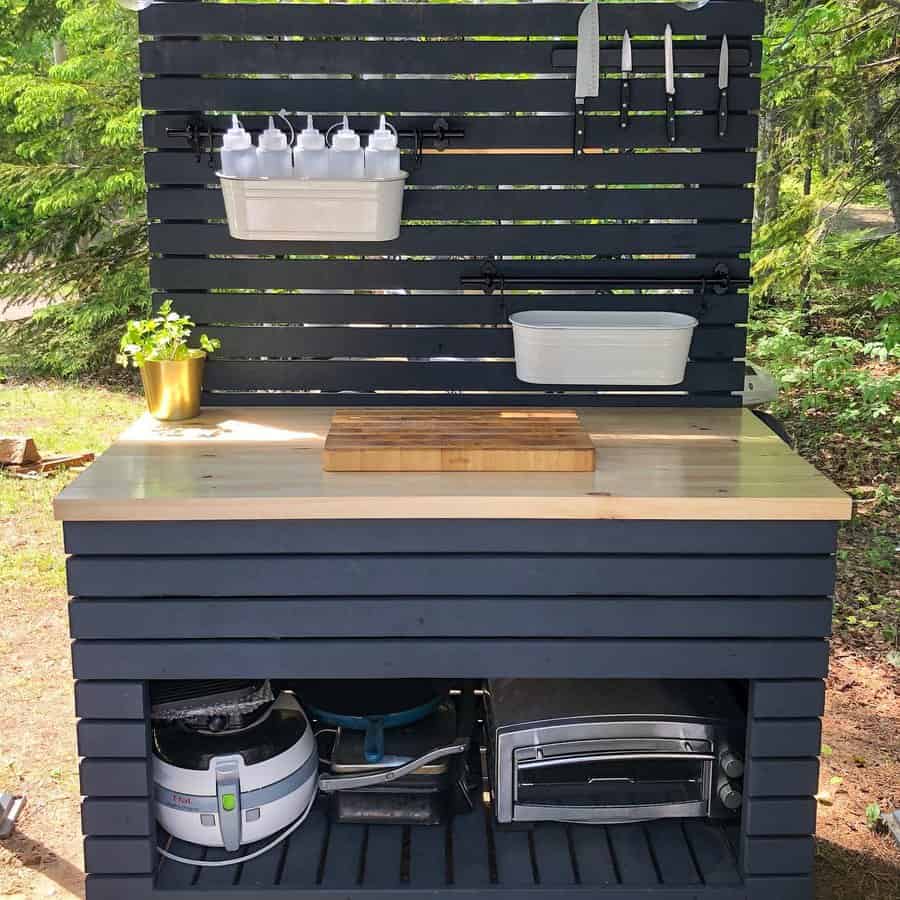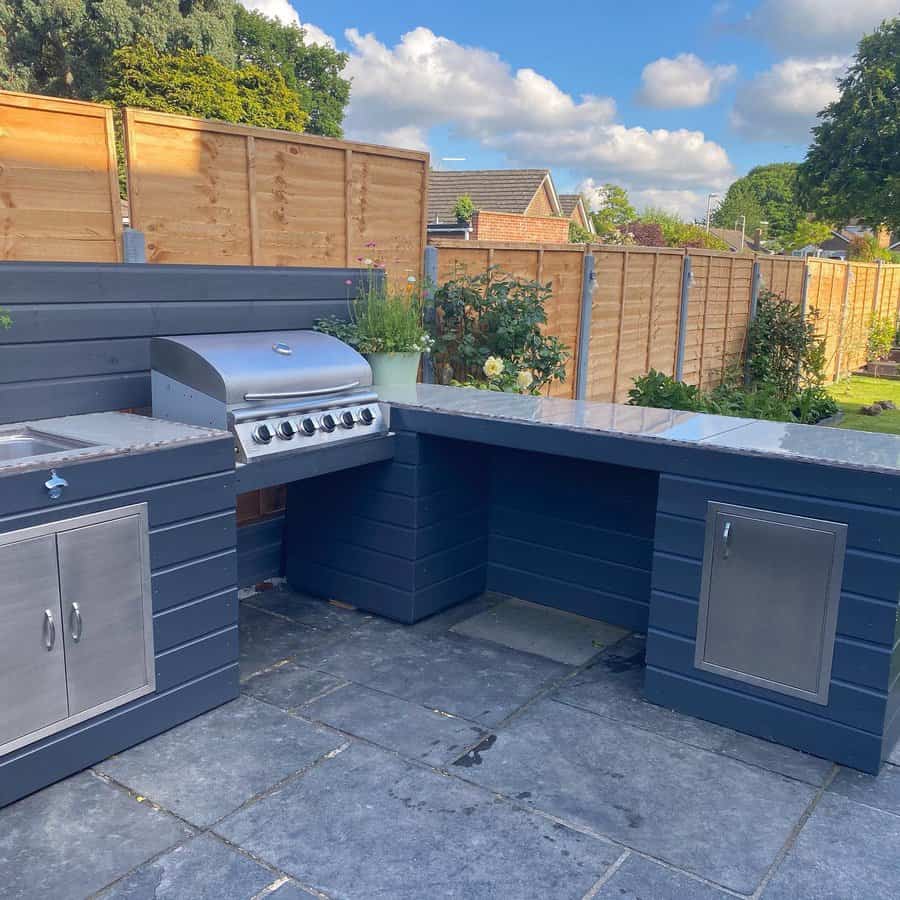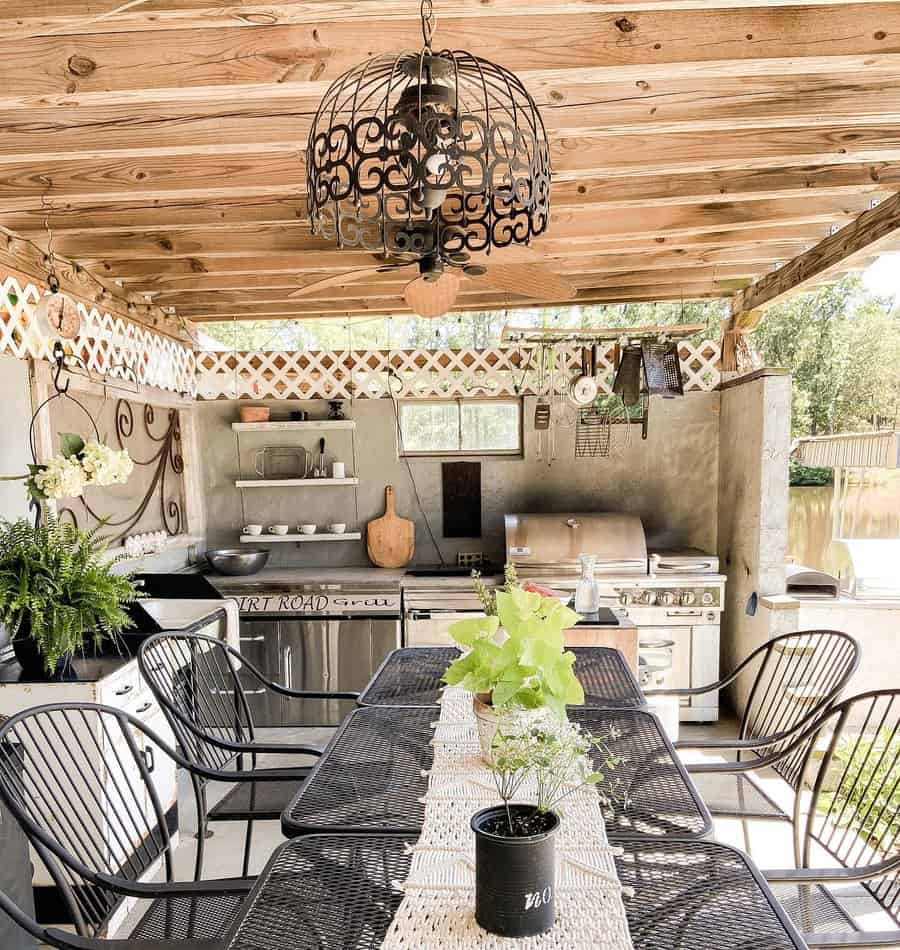 If you have more experience or are looking for something more, consider building a custom outdoor kitchen. Start by sketching a design using the measurements of your available space. Then you can arrange the appliances and other features in a manner that will work best for you.
5. Outdoor Kitchen & Dining With Fireplace
Adding a fireplace to your outdoor kitchen adds a sense of ambiance and coziness. It can mimic the feeling of an indoor living room. An outdoor fireplace can also give you more usability out of your outdoor space. Instead of a fire pit that sits in the middle of your yard, a fireplace can be a part of your kitchen setup. Similar to how your indoor setup is arranged, have a counter space along one edge, then a kitchen island separating the cooking space from the living room space. On the other side of the island would be an outdoor sofa and a fireplace.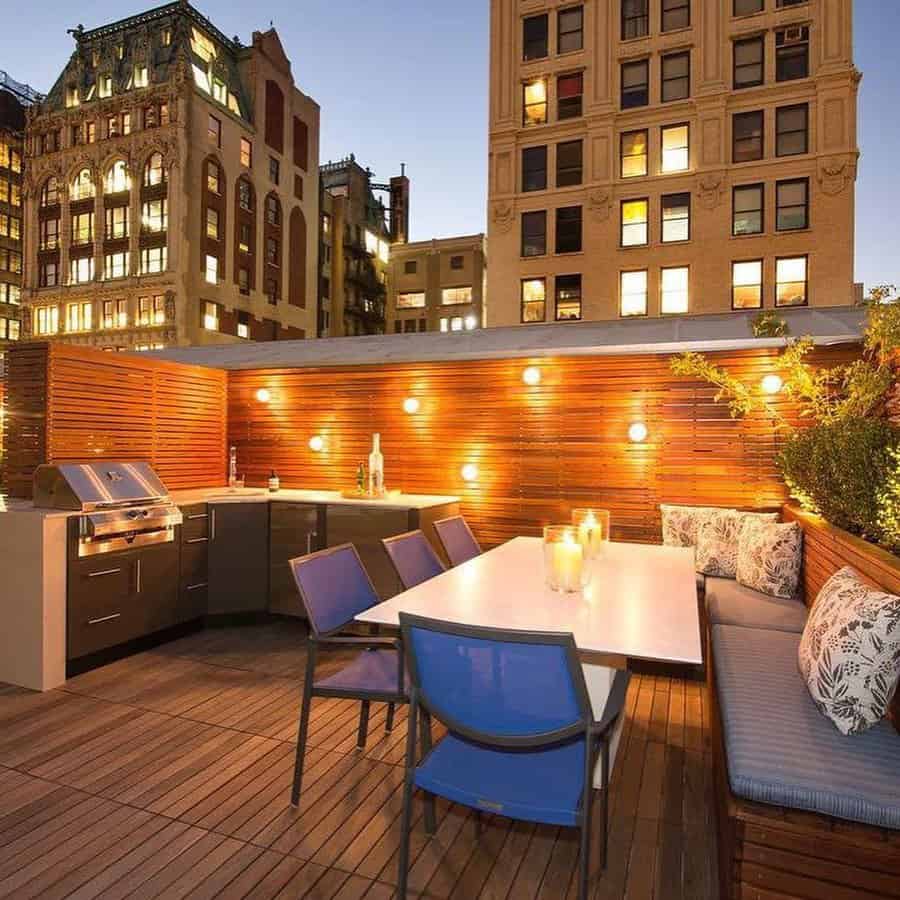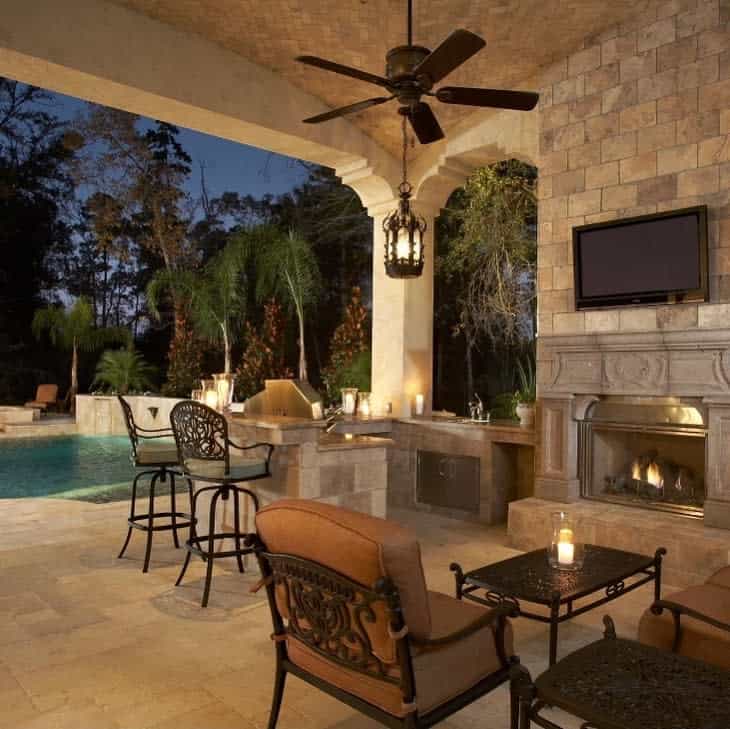 Consider building your fireplace out of natural stone. This gives it a rustic and natural look that would blend into the surrounding nature. For an elegant alternative, consider using stacked stones. Their uniformity gives the fireplace an elegant look.
6. Grilling Area
Grilling is a favorite summertime activity. Building a kitchen gives you more than just a barbecue grill thrown into your backyard. Build a kitchen and include an empty space that you can move your grill into. Or you can build a grill top directly into the counter. Either of these setups gives you more workspace while grilling.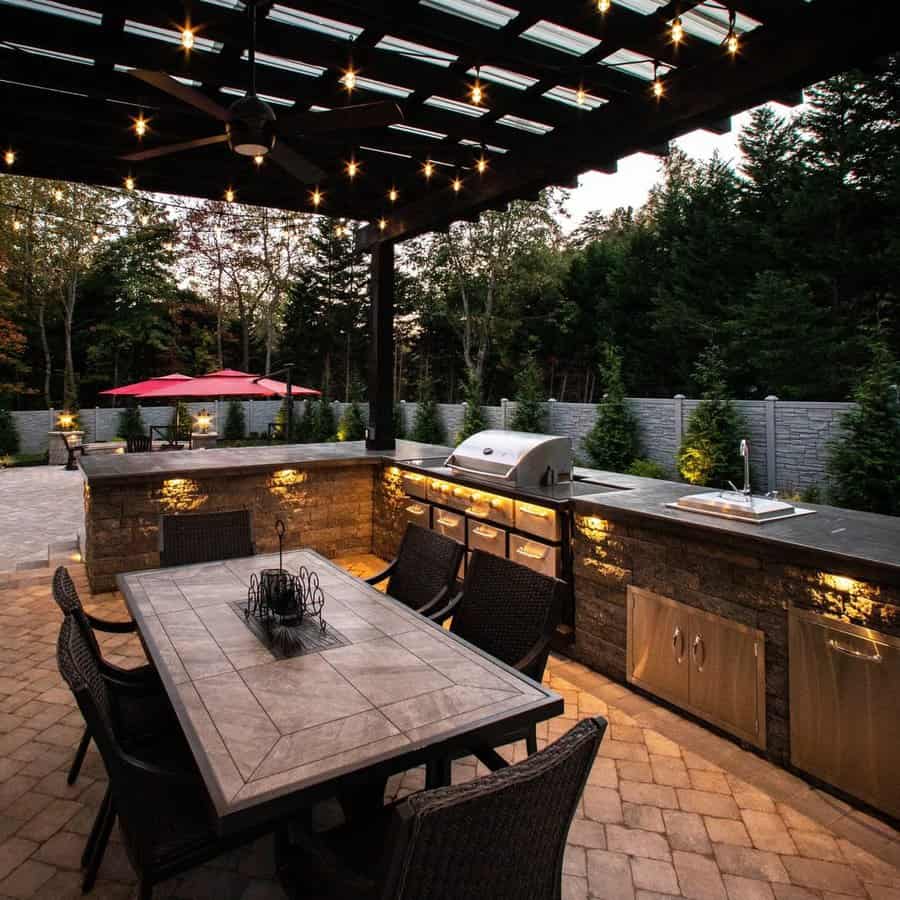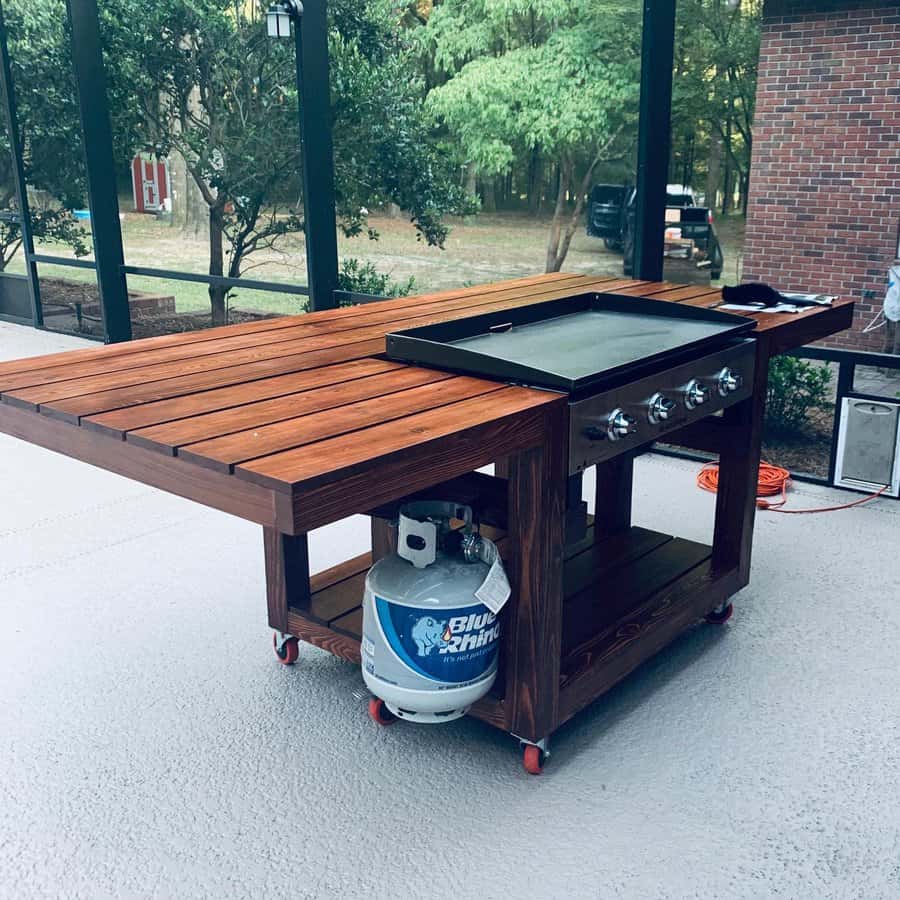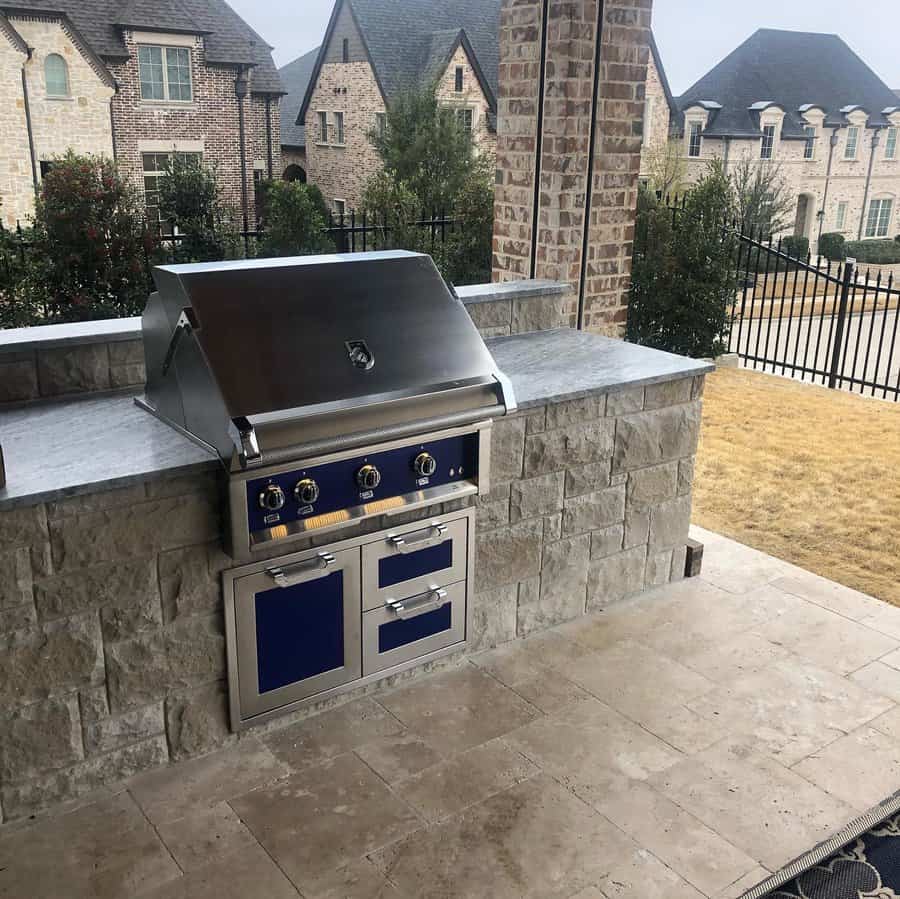 Adding a grill to your kitchen allows you to prepare more elegant meals beyond the standard hot dog and burger. Perhaps you add a griddle top that makes it possible to cook veggies or even pancakes for breakfast.
7. Modern Chic Outdoor Kitchen
Create a stunning modern outdoor kitchen by using stainless steel cabinets. The metal fronts of these cabinets will look uniform and sleek. It will also give your kitchen a professional feel, where stainless steel is predominantly used. You can also outfit your outdoor kitchen with stainless steel appliances. Using the same material for your cabinets and appliances will give you the ultimate in modern kitchen design because everything blends together.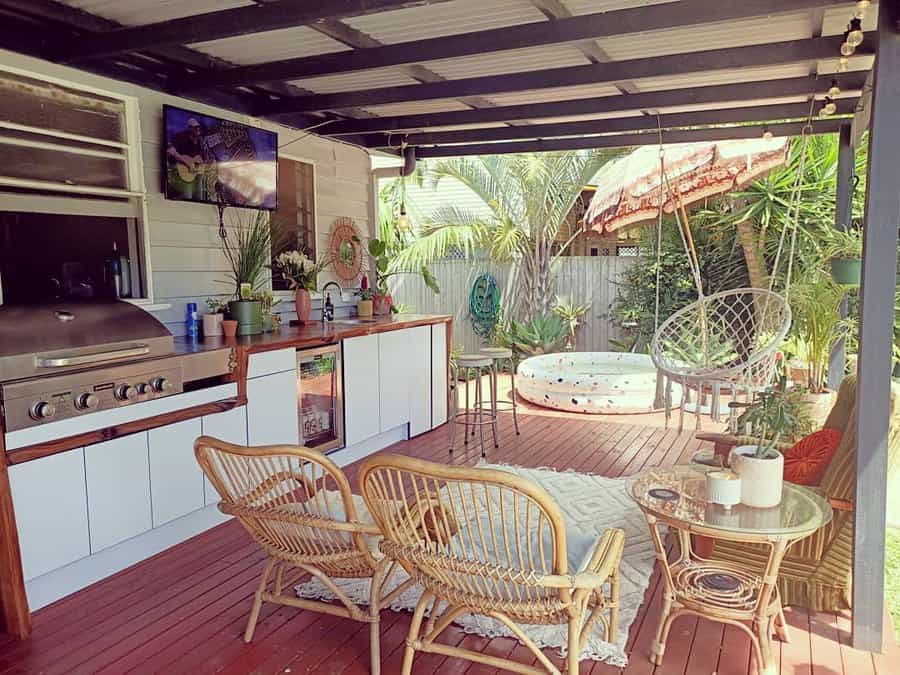 Another way you can make your outdoor kitchen look modern is to add creative lighting. Add the necessary task lighting that you need to make it safe to work at the counters. Then add decorative accent lighting. Use LED strip lights along the counter edge or the kick plate.
8. Outdoor Patio Kitchen
A patio kitchen is a perfect upgrade to the existing patio on the backside of your house. This is a home project worth doing because it increases the value of your home and gives your patio a defined use. You can easily add a kitchen area onto the patio along one side. Build a counter area that includes a cooktop, workspace, sink, and grill.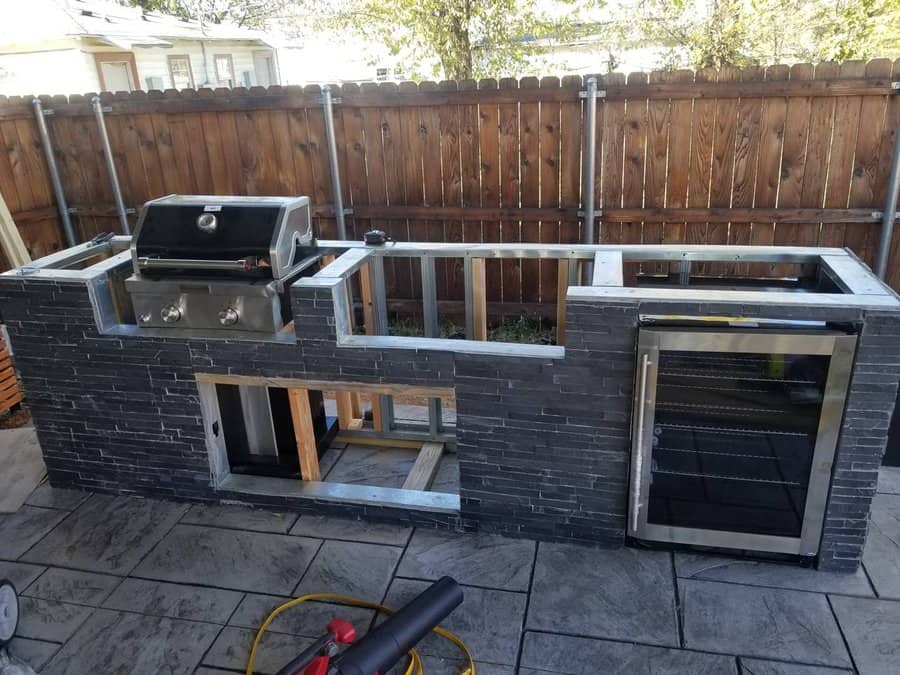 If you have a limited amount of space, build the patio along the wall so that your back would be to the rest of the patio while working. If you have more space, move the counter forward. Then you could stand behind the counter with your back to the edge while facing out towards the rest of your patio. This setup is better for entertaining.
9. Poolside Kitchen
Adding a kitchen to your poolside is the perfect way to enhance the experience of your backyard. Outdoor cooking makes it easy to prepare a snack without having to stop your fun in the pool. A pizza oven or outdoor bar is perfect. If you want to go all out, you could do both.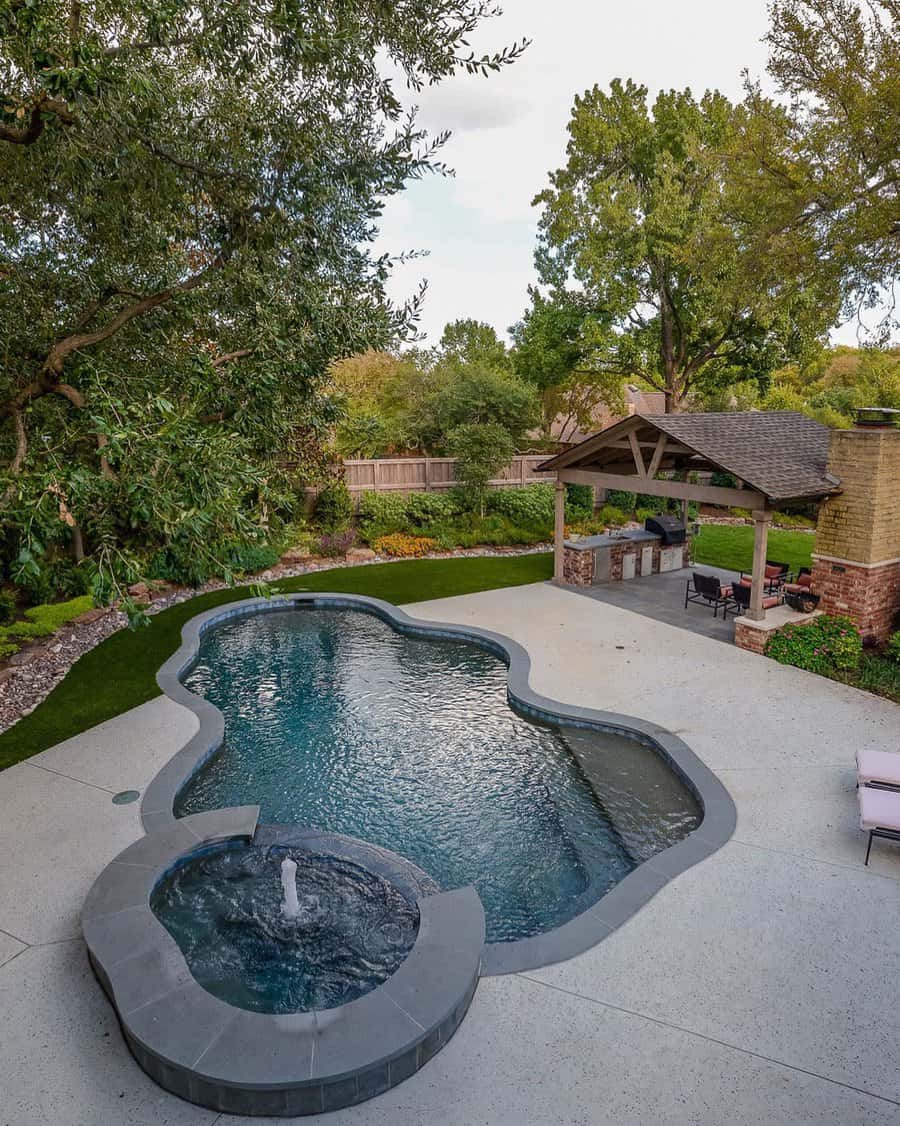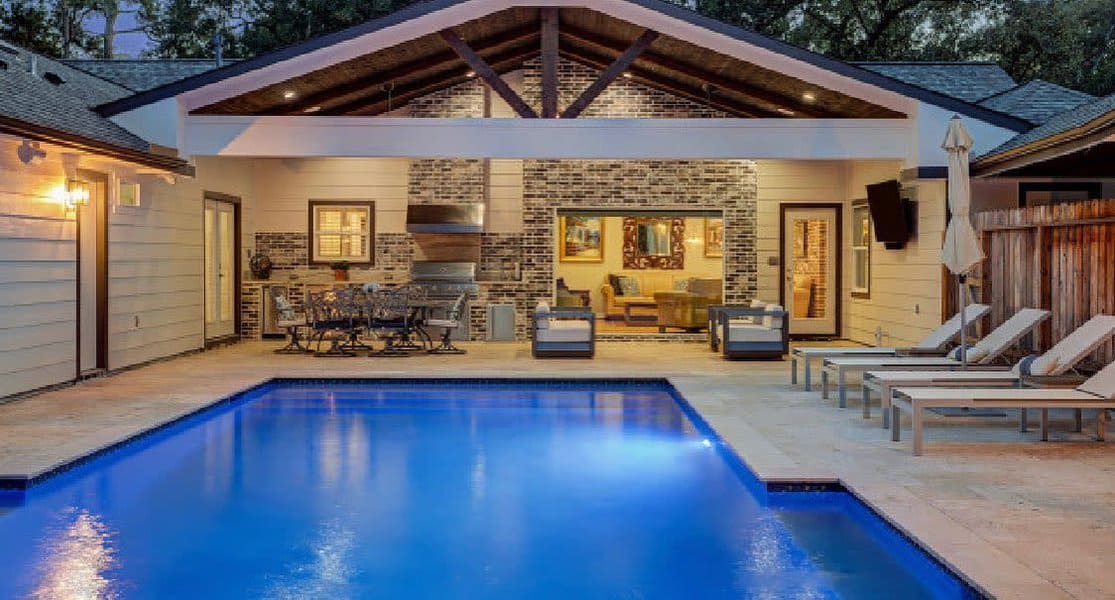 For safety purposes, make sure your outdoor kitchen is far enough away from or protected from the water of the pool. Water and electricity do not mix. However, you could keep the electrical elements on the far side of the bar and then create a swim-up option on the front side.
10. Rustic Outdoor Kitchen
If you live on a large piece of property or somewhere more rural, then consider making your outdoor kitchen rustic. Use natural stones for building the unit and countertop. Create a natural shape for the structure of the kitchen instead of a has straight lines. Use local materials instead of ones that are imported. Doing all of this will help your outdoor kitchen to blend into the surrounding nature.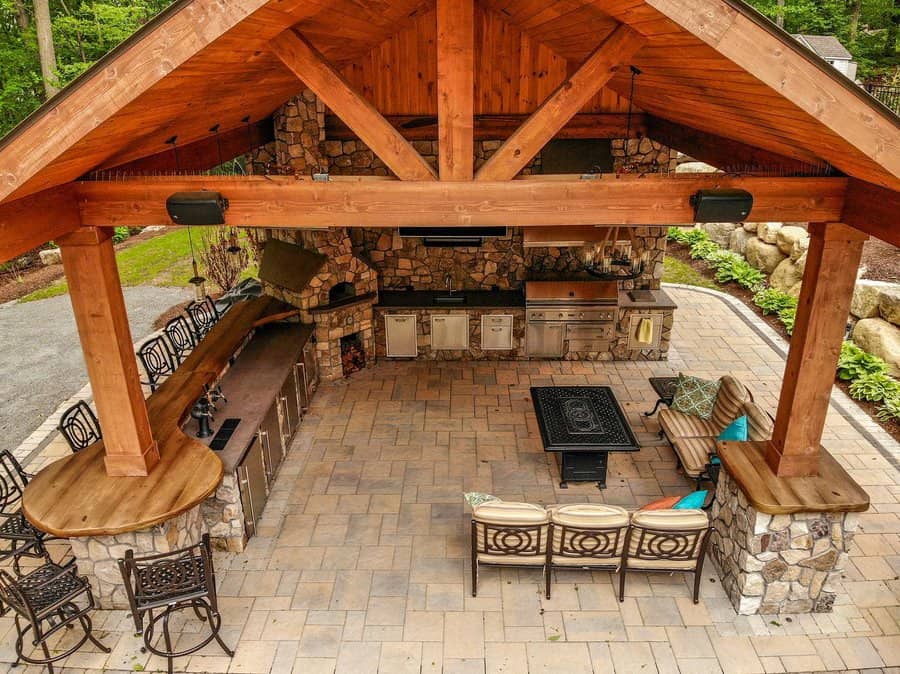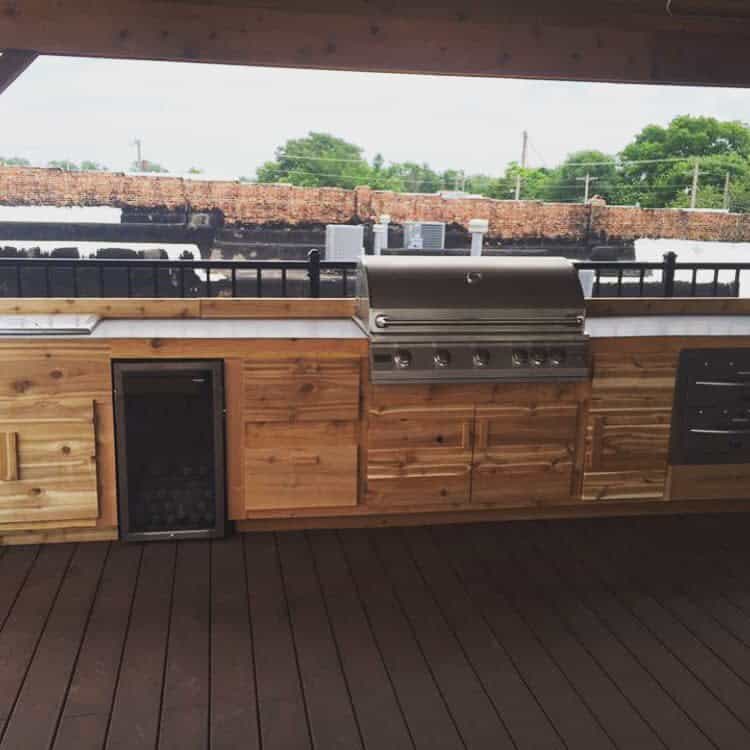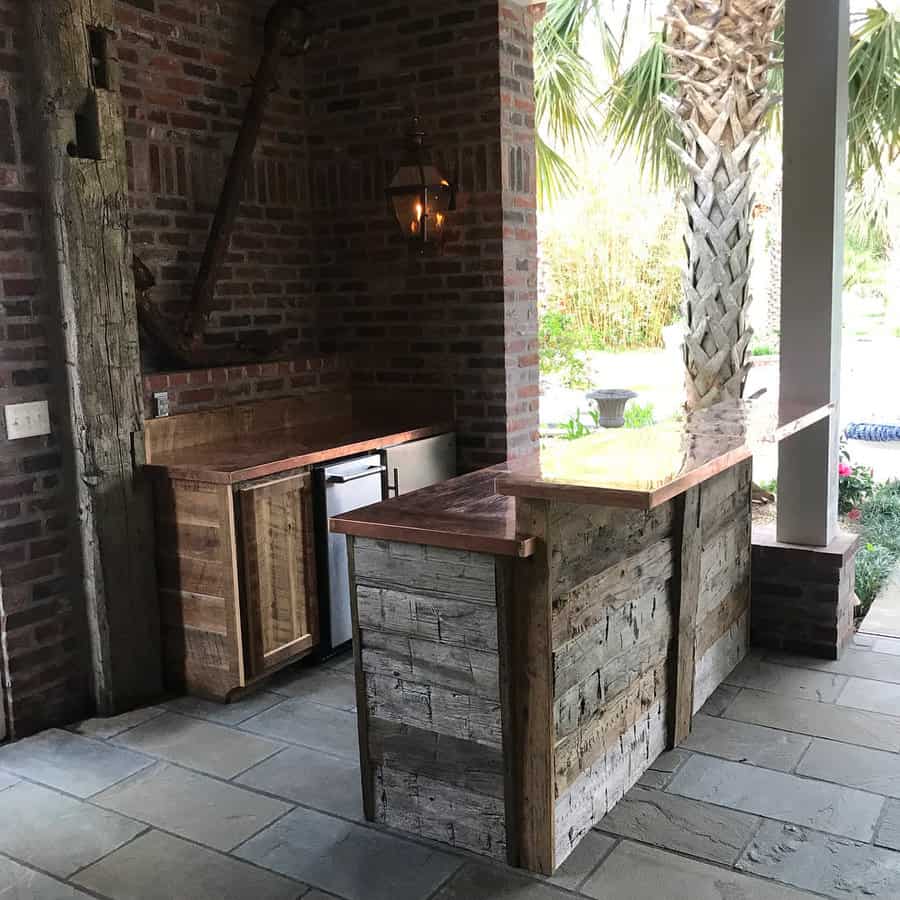 Blending your kitchen in the landscape is an elegant way of creating a rustic kitchen. It communes with nature while also exuding quality. You don't want to choose a rustic design in hopes of having a low construction cost for your kitchen. It needs to look rustic but also be safe and durable.
11. Outdoor Sink
A sink is a must for the perfect outdoor kitchen. You can have all of the outdoor kitchen appliances in the world, but without a sink, you are stuck. You don't need a large sink, but one that's big enough for washing your hands is essential. This gives you a place for quick cleaning.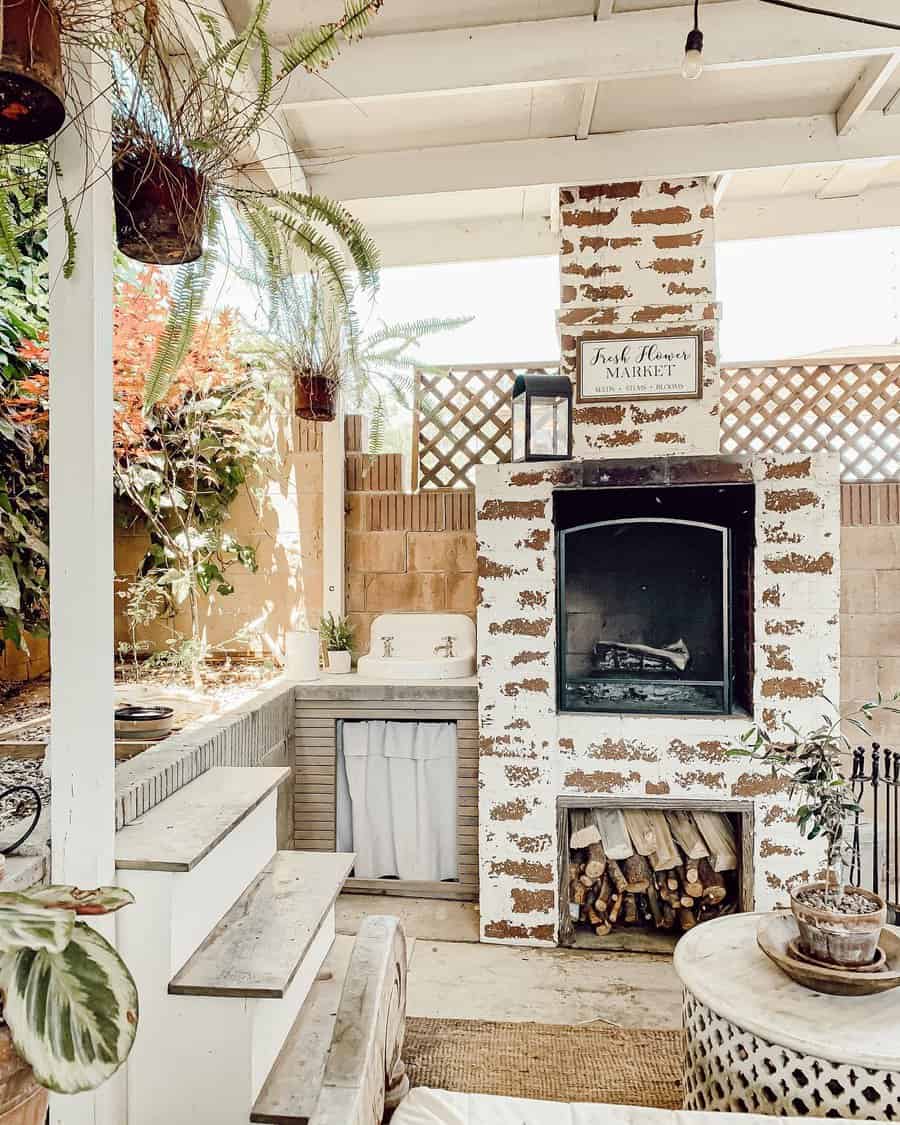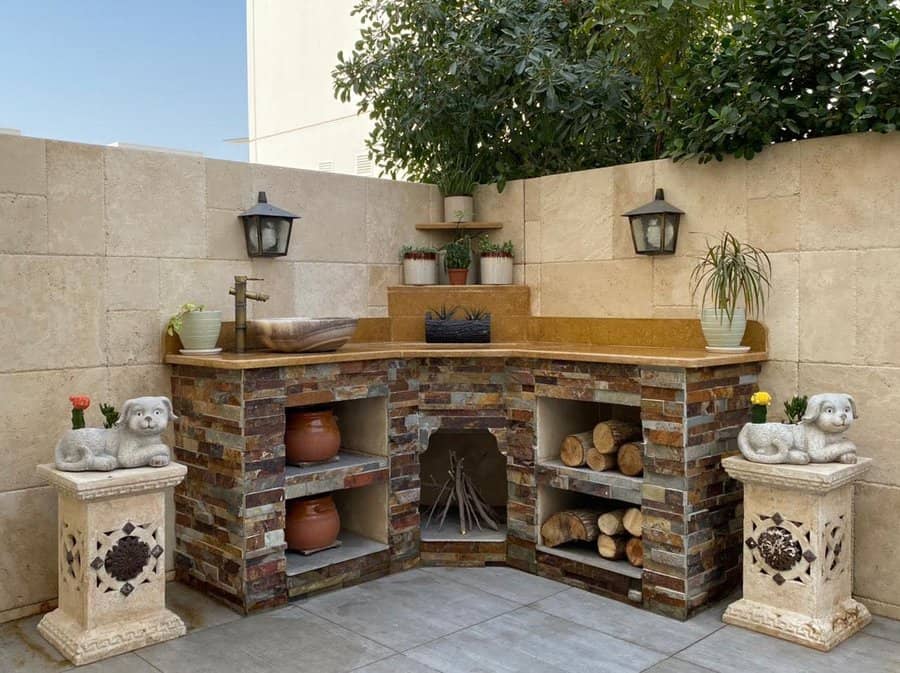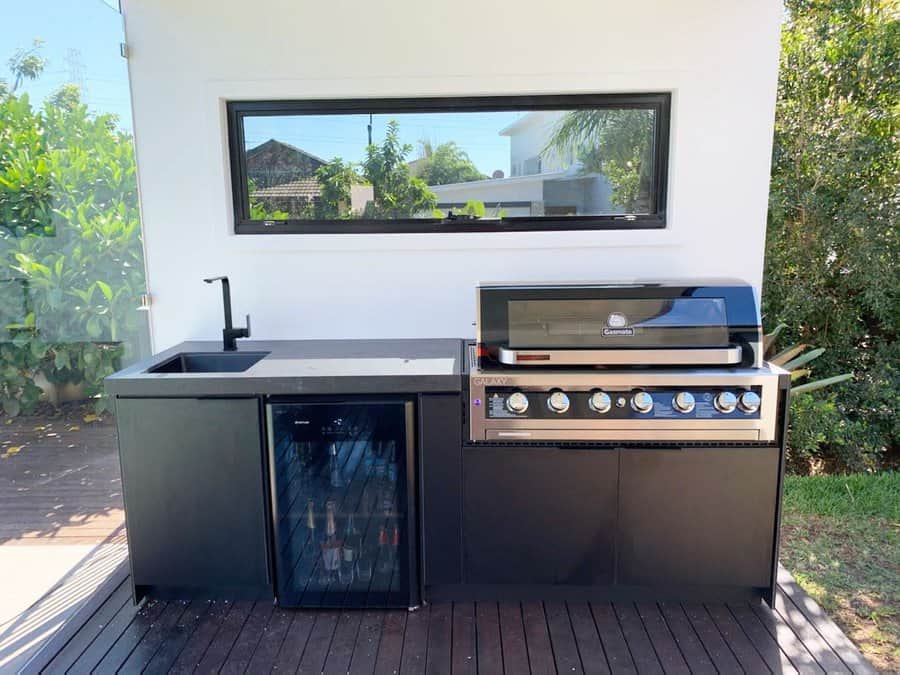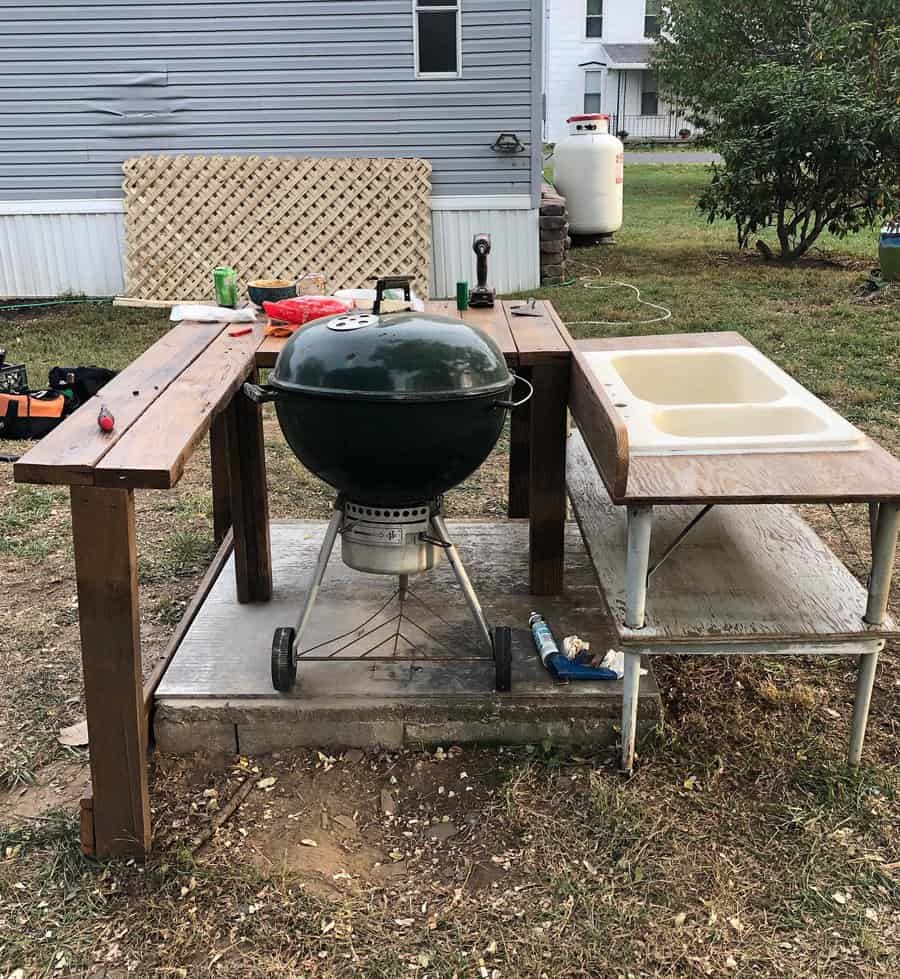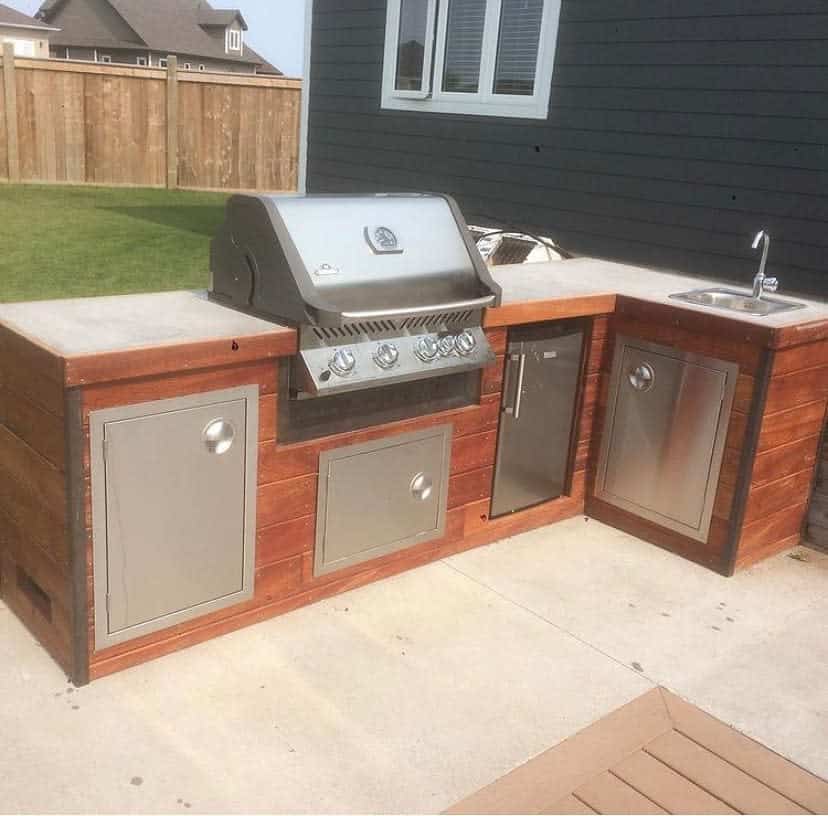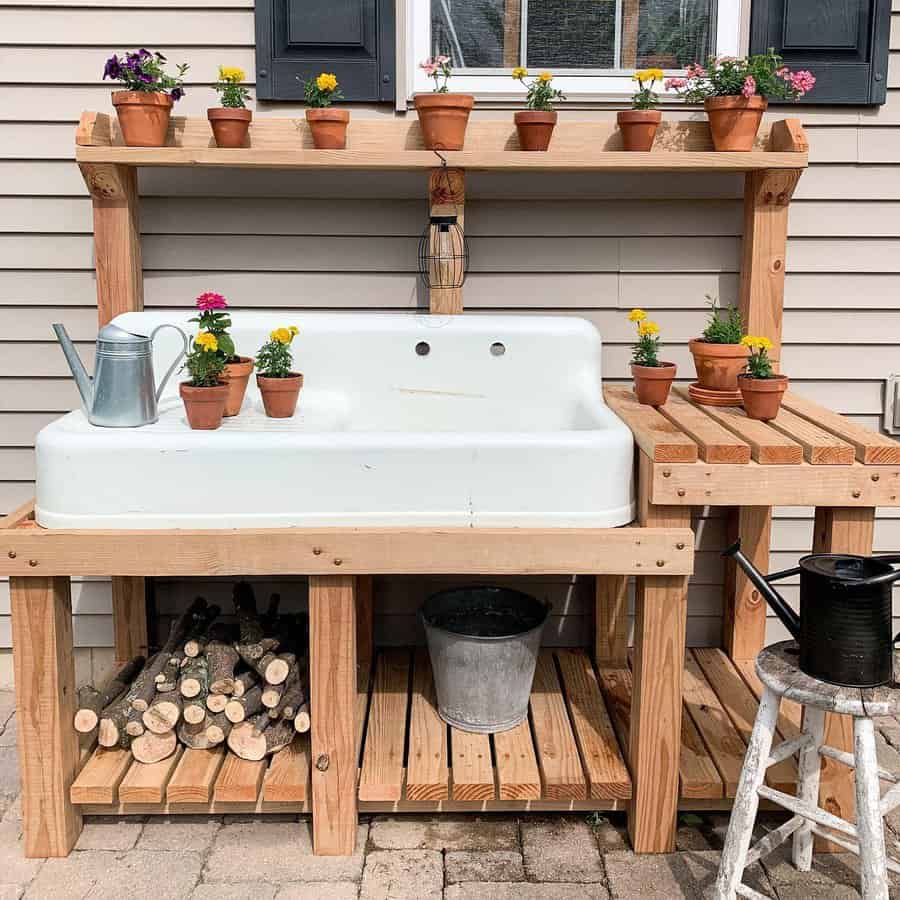 If you plan to host large meals outside of your kitchen, then you may want more than just a small sink. Consider installing a large double sink or even a dishwasher. This will prevent you from having to carry everything indoors to do the washing.
12. Small Outdoor Kitchen
You can still have an outdoor kitchen even if your backyard is small. You just need to scale the size of your kitchen down to fit the available space that you have. Perhaps your small outdoor kitchen is just a grilling station. You could go all out and get a fancy stainless steel grill with multiple burners and a searing spot.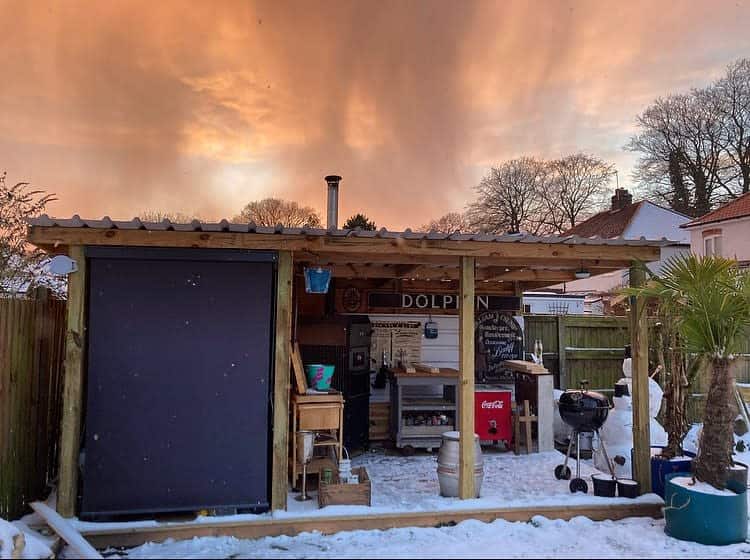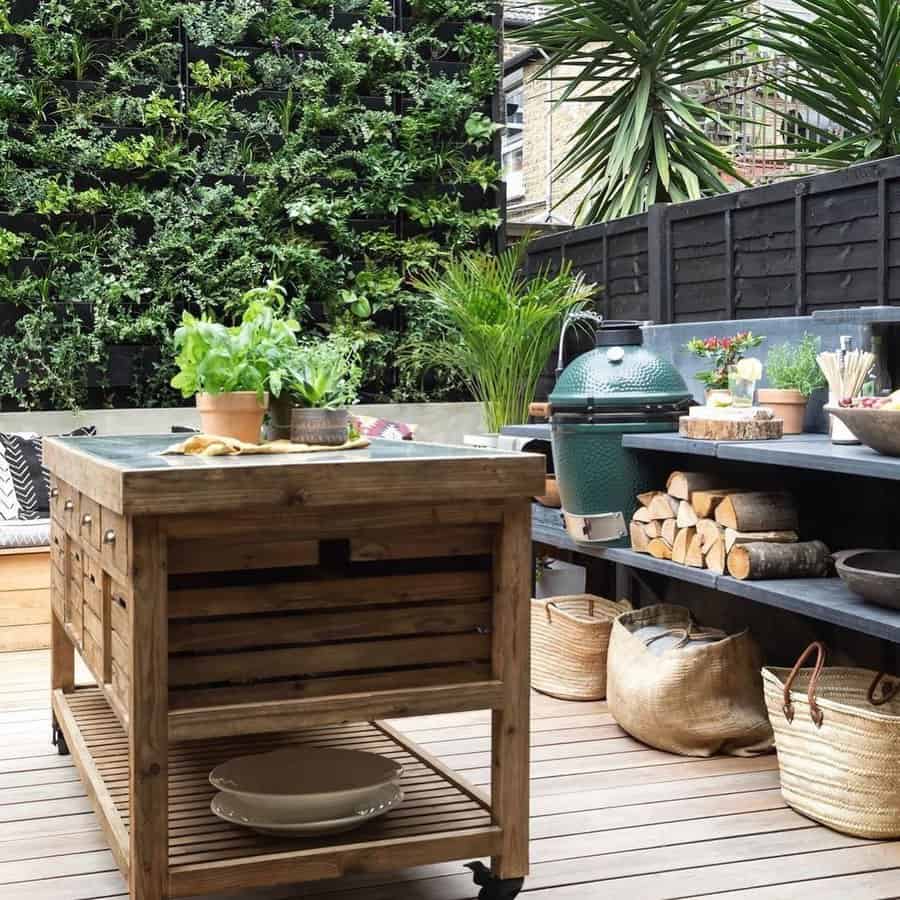 If you want to do something unique, consider having something other than a grill for your small kitchen. You could have a smoker that allows you to prepare perfectly smoked tender meat. Or you could have a deep-fry pot that lets you prepare all kinds of delicious treats cooked in oil. A pizza oven is another cool option. Look for a traditional clay-style oven that gets hotter than 400 degrees for a professional-quality pizza.
13. Wooden Outdoor Kitchen
Wood is a natural choice for your outdoor space. Wood is durable and looks beautiful. You can extend the wood from the kitchen to the dining area. A wood dining table is easy to find in a variety of styles and sizes.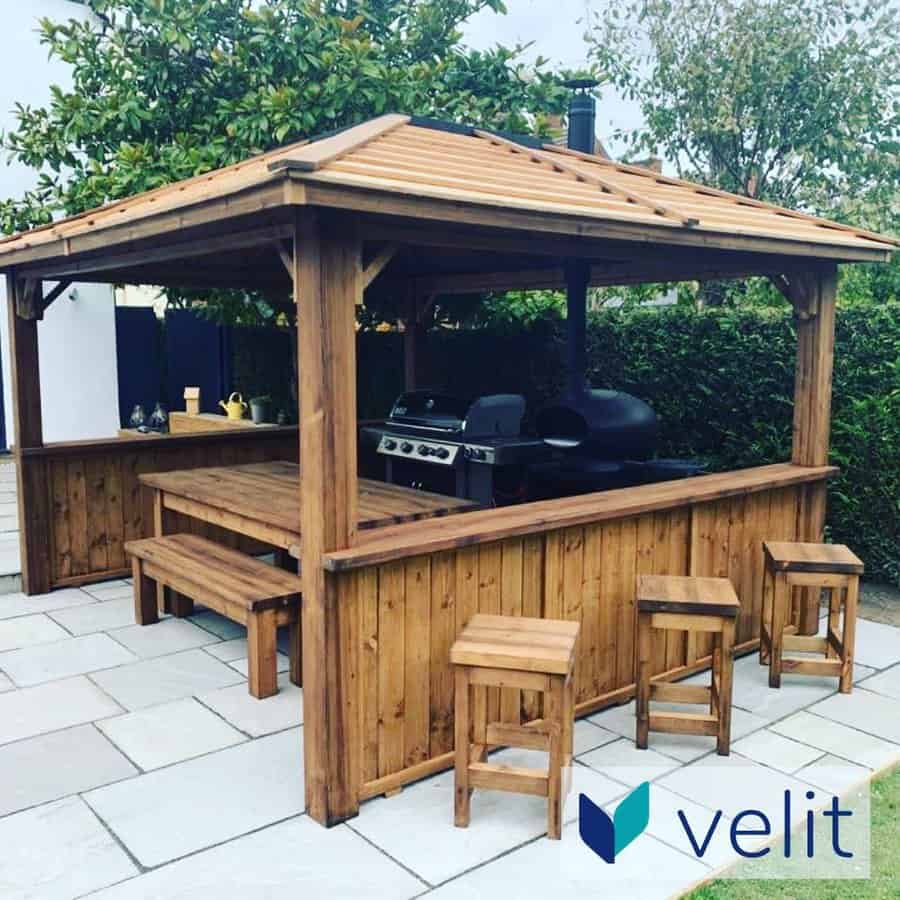 Choose hardwood for any part of your outdoor kitchen or dining area. These woods are more impervious to water, helping them to be more durable and long-lasting. They won't swell, shrink, and split the way softwoods do. Even with the use of hardwood, you should clean it seasonally and perform regular maintenance to ensure it stays looking beautiful.
14. Veranda Kitchen Area
Step into summer evenings with ease, and get the most out of your veranda by transforming it into an outdoor kitchen. Let your friends and family gather around a cozy cooking space to create memories.
With a stovetop, countertop, and all the storage you need, finding those alfresco recipes has never been easier.
No more running through the house, instead take the party downstairs and create culinary masterpieces while sharing laughter with loved ones – after all, what would gatherings be without delicious appetizers or a juicy BBQ? Enjoy your veranda kitchen in a new way this summer!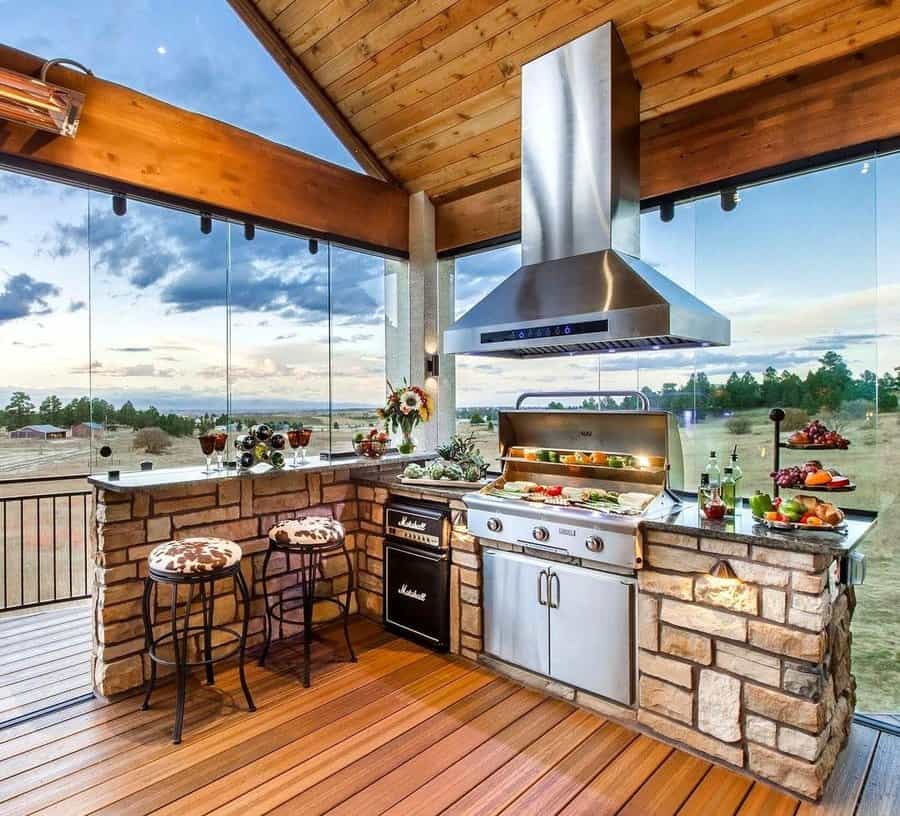 Outdoor Kitchen FAQs
Do outdoor kitchens add value?
An outdoor kitchen can add value to your home. More homeowners are looking to spend more time outside. An outdoor kitchen helps them utilize the available outdoor space on the property.
What does every outdoor kitchen need?
Every outdoor kitchen needs to have the right lighting, ambient and task. It should have a small fridge. If you plan to entertain, then consider having a small food fridge and a drink fridge. If you enjoy beer, then install a tap. There should be plumbing with a sink. Have plenty of counter space to have an area for preparing food. Include the grill by having a space for it or building it into the counter.
What is the best countertop to use for an outdoor kitchen?
You need to choose a durable material for the counters because they will be exposed to the elements throughout the year. Natural stones like granite, quartzite, soapstone, and slate are all great options. Concrete is a smart, affordable alternative. Wood could also be an option, but you'll need to be vigilant about caring for it.