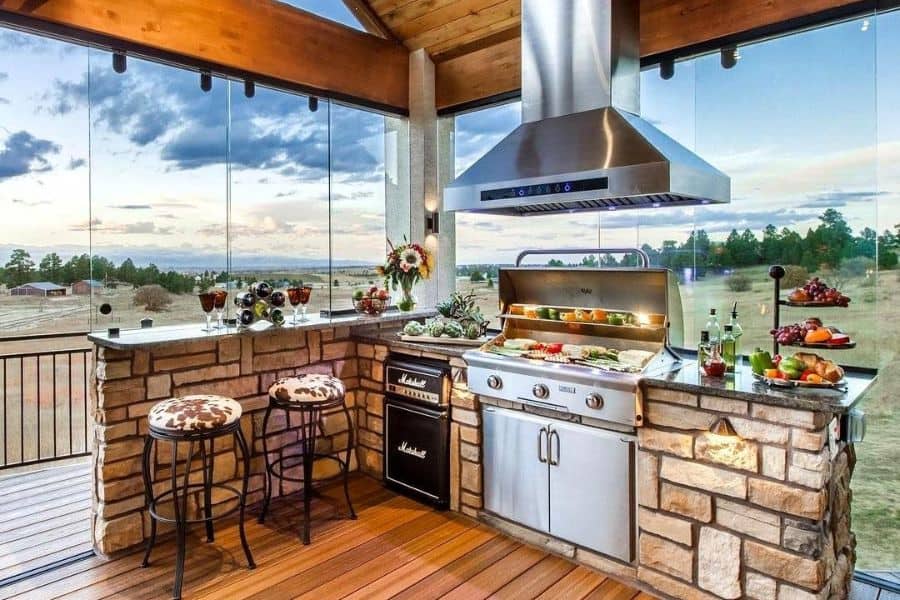 33 Best Outdoor Kitchen Ideas
by — Andra DelMonico

Published on September 27, 2021

Updated on September 29, 2023
"Grilling is an easy tradition to start at any age! To get started, one only needs a modest investment in equipment and a little bit of outdoor space." – Barton Seaver
You see your friends and neighbors enjoying their property, and you want to join them. But your outdoor entertaining dream never quite happens. Your guests are outside, and you are stuck preparing food and drink in your indoor kitchen. You need an outdoor kitchen to make your outdoor living dreams come true. Having a kitchen in your backyard is about more than just placing a grill on your patio.
These outdoor kitchen ideas will help you get started with your outdoor kitchen project.
1. Backyard Kitchen Retreats
Adding an outdoor kitchen to your backyard is a significant enhancement that encourages extended outdoor enjoyment. By having a dedicated space for food and drinks, you can minimize trips between your indoor and outdoor spaces. Furthermore, it allows you to socialize with guests while preparing meals.
To create your ideal backyard kitchen, take into account factors such as the size of your outdoor space, your home's architectural style, and your culinary preferences. If you're not an avid cook, a grilling station or outdoor bar might suffice. For those who enjoy gourmet cooking, consider a fully equipped kitchen with a cooktop and stove. Tailoring your outdoor kitchen to your needs ensures a functional and inviting retreat in your backyard.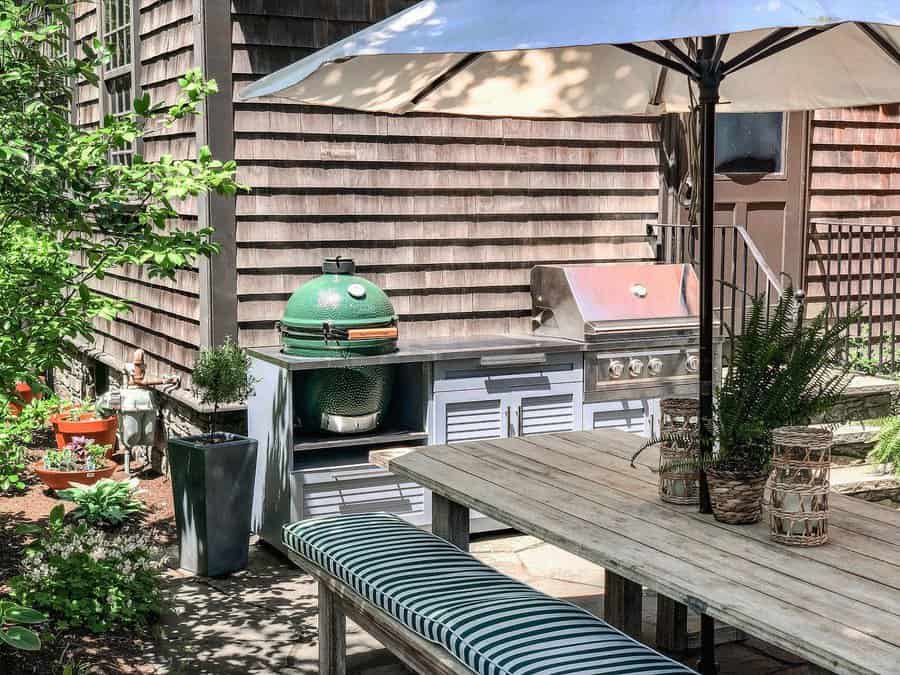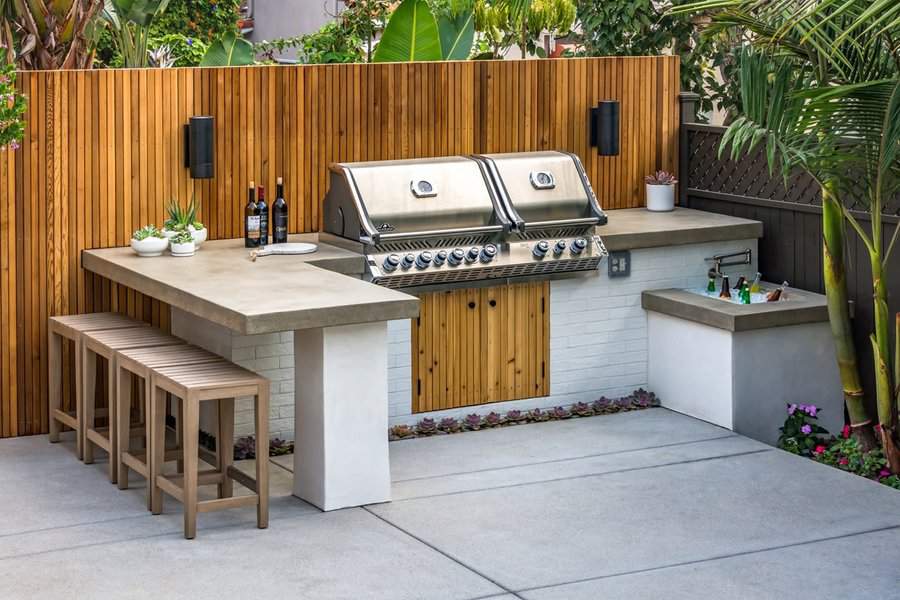 2. Stylish Outdoor Countertop Designs
Selecting the right countertop for your outdoor kitchen is essential for both aesthetics and functionality. Opt for materials like granite or concrete, which are durable and easy to clean. Granite offers a stunning appearance and excellent durability, making it a popular choice.
Alternatively, concrete countertops are cost-effective and equally robust. Ensure that concrete countertops are sealed for a smooth, easy-to-maintain surface that complements the overall design of your outdoor cooking space.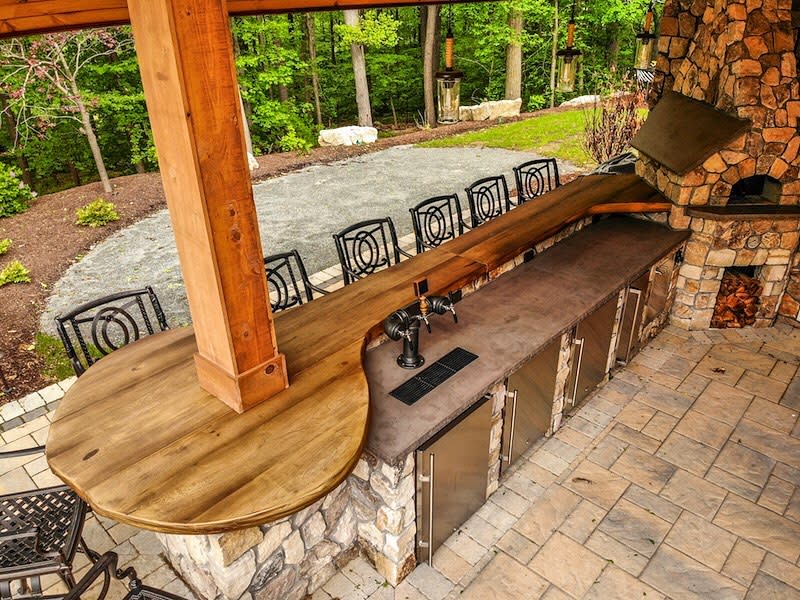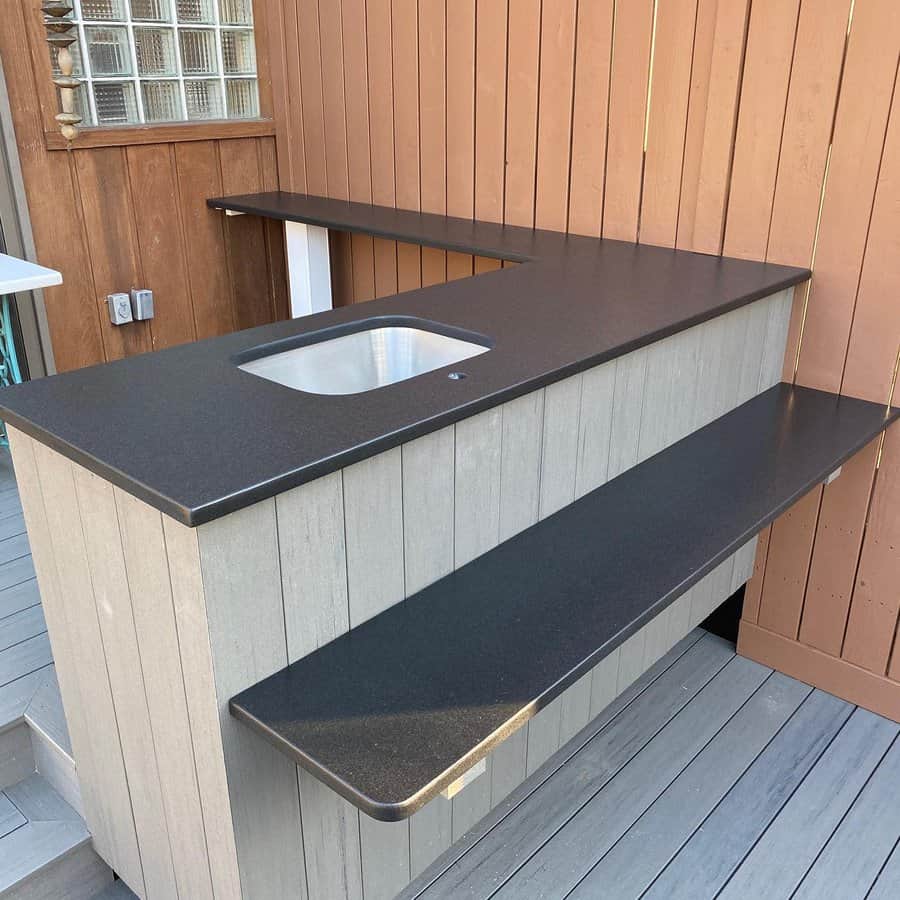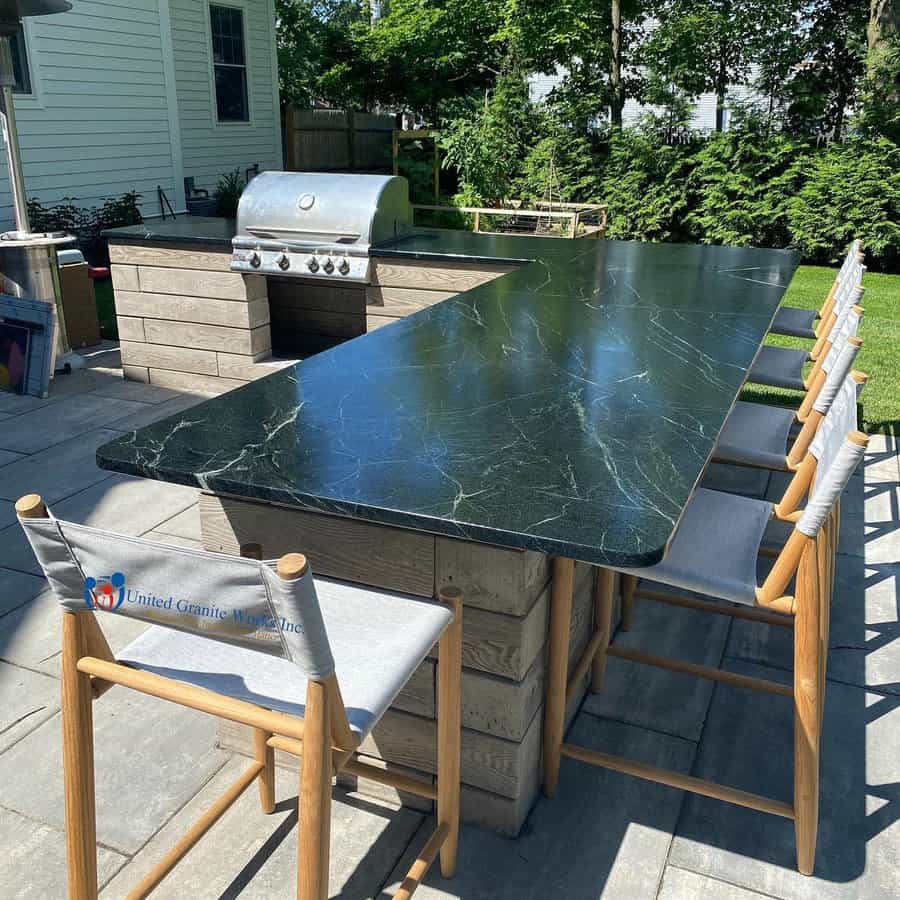 3. Covered Patio Kitchen Ideas
A covered patio kitchen is an excellent choice for all-weather outdoor enjoyment. Ensure your patio is spacious enough to shelter your kitchen setup and dining area. This design allows you to cook and dine comfortably, rain or shine.
Opt for a solid cover to provide shade from the sun and keep you dry during unexpected rain showers. Enhance the comfort by installing a ceiling fan, ensuring your patio's height can accommodate it. A fan promotes better air circulation, keeping you cool while you enjoy your outdoor culinary adventures.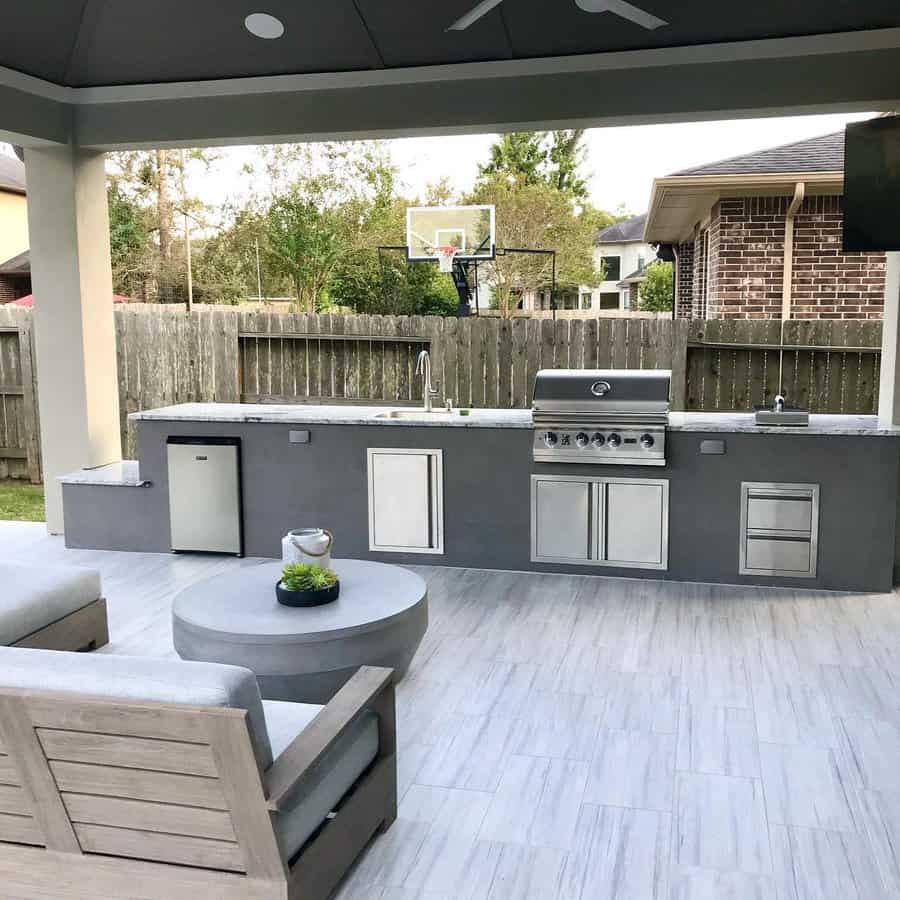 4. DIY Outdoor Kitchen Inspirations
Crafting your DIY outdoor kitchen is achievable with basic construction or home improvement skills. Simplify the process by opting for wooden framing and finishing with a countertop. For those seeking a more customized solution, embark on designing a unique outdoor kitchen. Begin by sketching a layout based on your available space dimensions.
Strategically place appliances and features to optimize functionality. Whether you choose a simpler approach or venture into a custom design, your DIY outdoor kitchen will be a rewarding addition to your outdoor living space.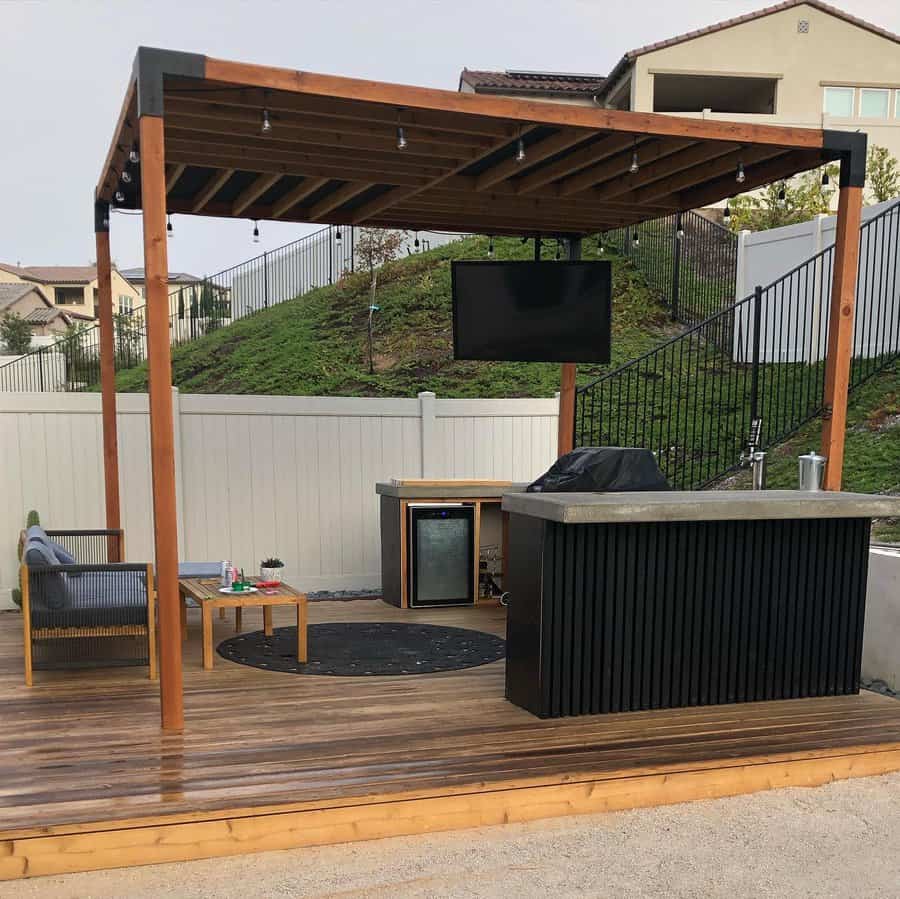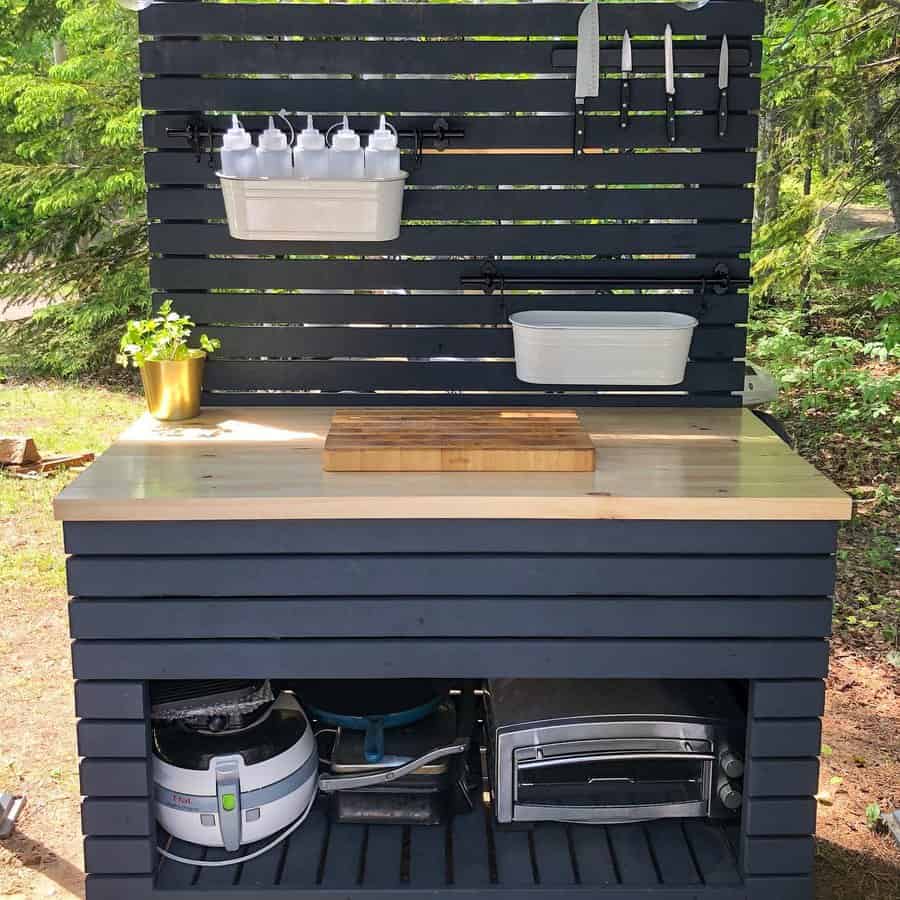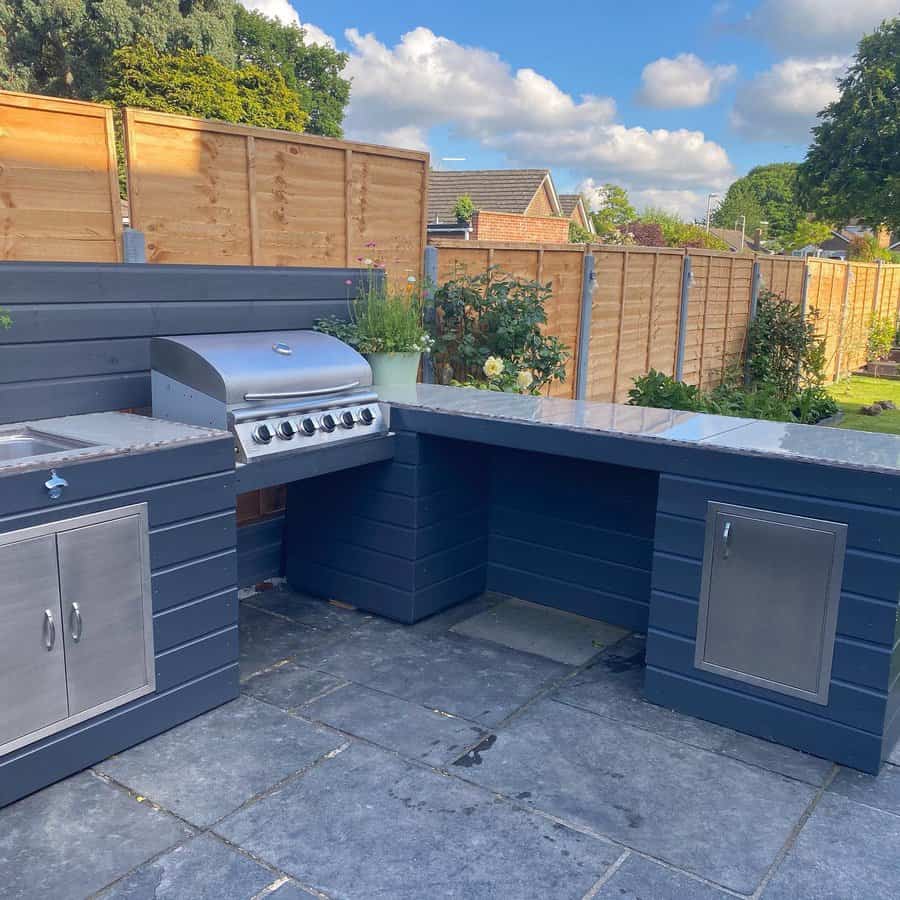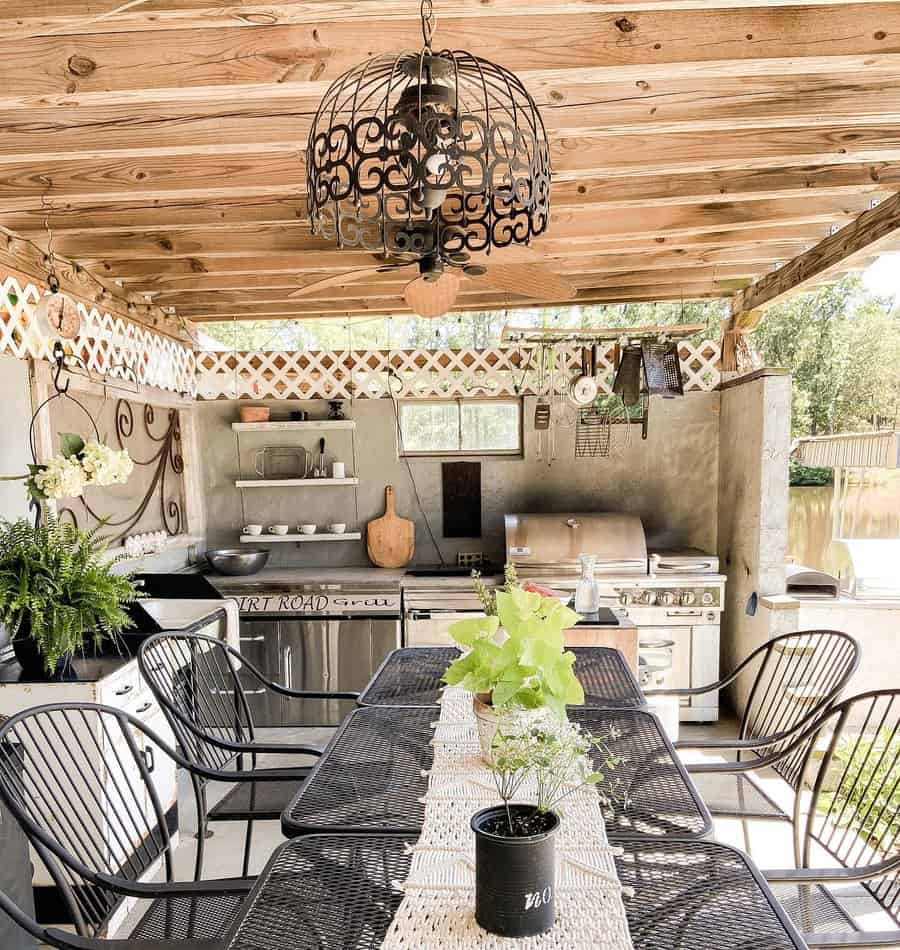 5. Outdoor Kitchen Dining by the Fireplace
Incorporating a fireplace into your outdoor kitchen design elevates the ambiance and comfort of your space. It provides a cozy atmosphere reminiscent of indoor living rooms, extending the usability of your outdoor area. Instead of a standalone fire pit, integrate the fireplace as part of your kitchen setup.
Organize your space similar to your indoor layout, with counter space along one edge and a kitchen island separating the cooking area from the living space. On the other side of the island, create a cozy outdoor seating arrangement with a fireplace. Opt for natural stone for a rustic, nature-blending look or stacked stones for an elegant, uniform appearance.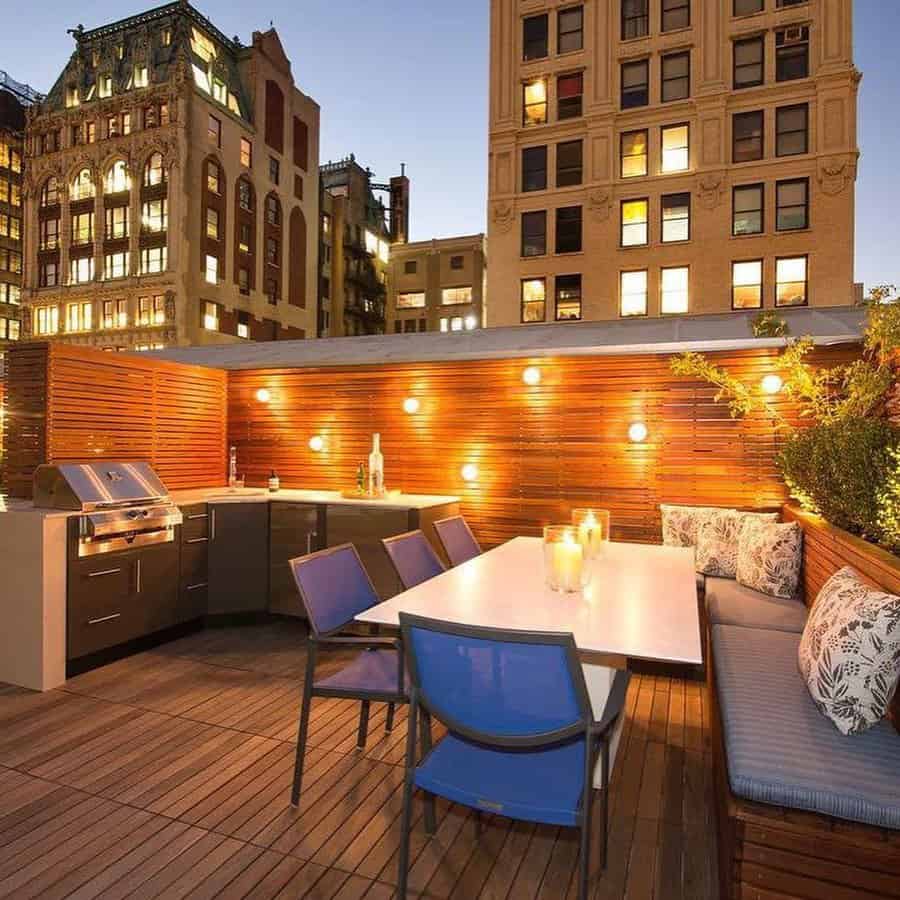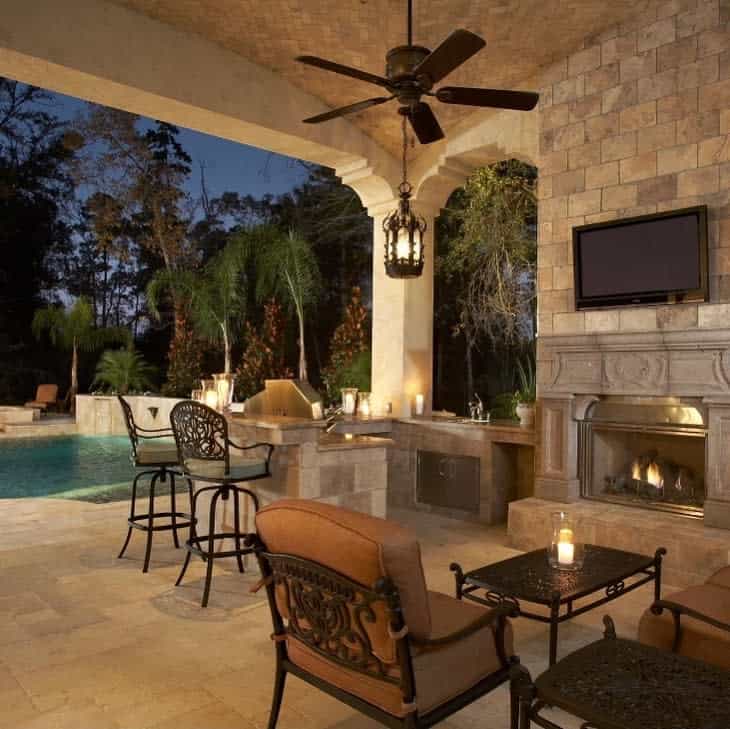 6. Grilling Area Innovations
Grilling is a beloved summer pastime, and integrating it into your outdoor kitchen opens up endless culinary possibilities. Create a dedicated grilling area by incorporating an open space where you can place your grill or installing a grill top directly into the countertop. These setups not only maximize workspace but also allow you to expand your grilling repertoire beyond the typical burgers and hot dogs.
To take your outdoor cooking to the next level, consider adding versatile features like a griddle top. This addition enables you to cook a wide range of foods, from vegetables to breakfast pancakes, adding a touch of gourmet flair to your outdoor meals.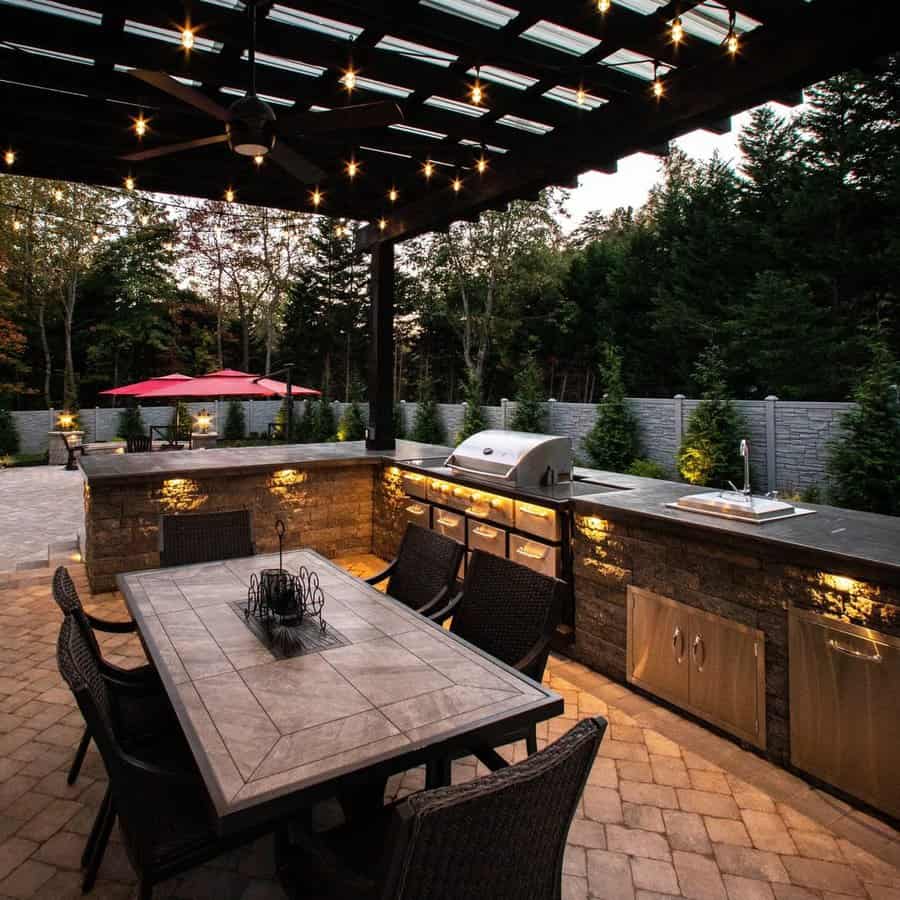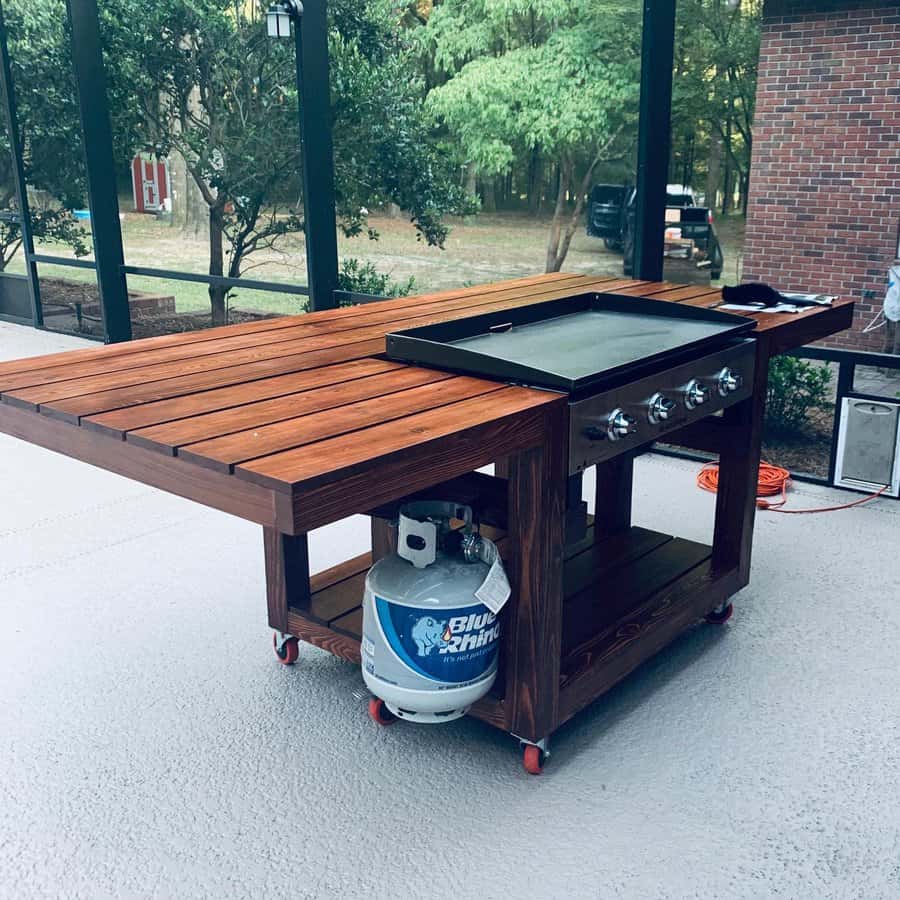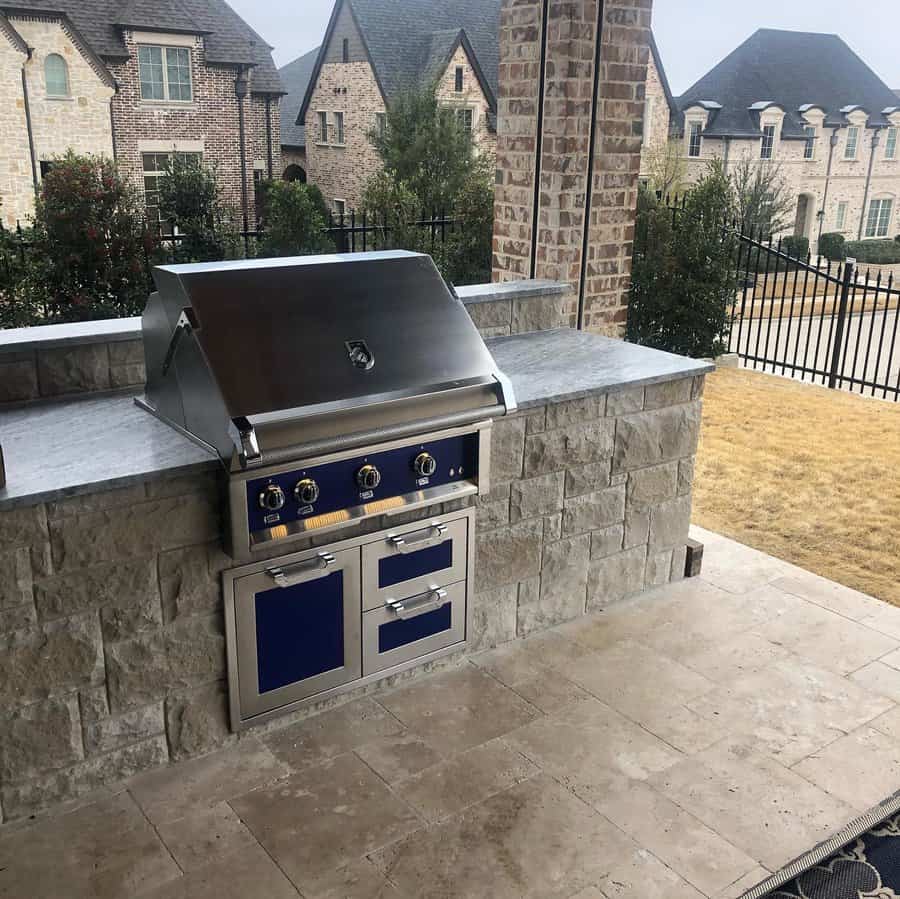 7. Embrace Modern Chic Outdoor Kitchens
Achieve a contemporary outdoor kitchen aesthetic by incorporating stainless steel cabinets. These sleek, uniform metal fronts lend your space a polished, professional appearance, mirroring the use of stainless steel in modern kitchen design.
Extend the modern vibe by complementing your cabinets with stainless steel appliances for a cohesive look. To infuse creative flair, focus on lighting. Ensure task lighting for safety during food preparation, and enhance the ambiance with decorative accents. LED strip lights along the countertop edge or kick plate can provide a stylish, modern touch to your outdoor kitchen.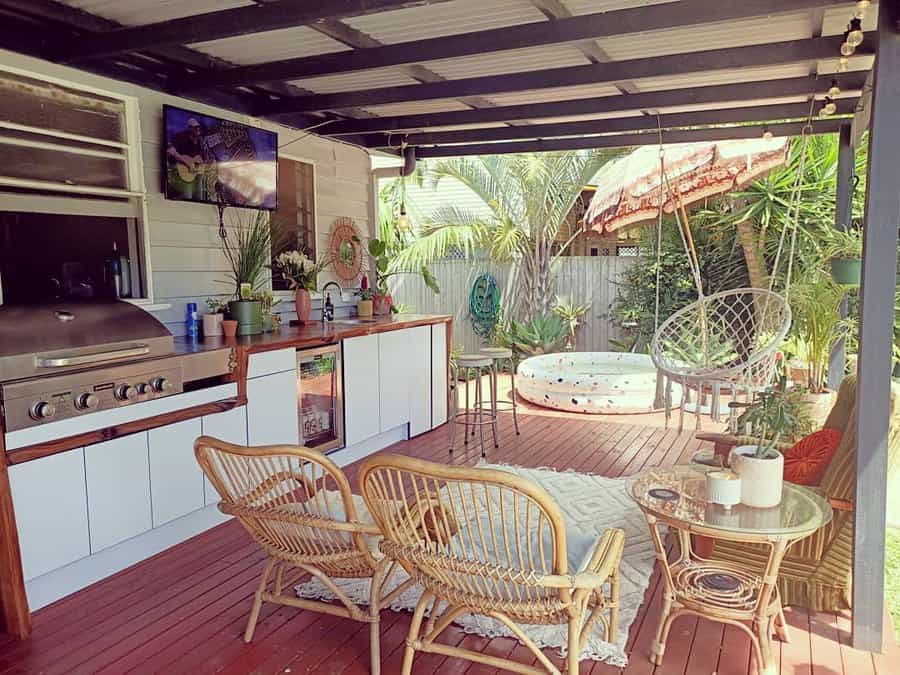 8. Inspiring Outdoor Patio Kitchens
Enhance your patio's value and utility by incorporating an outdoor kitchen. This home improvement project defines your patio's purpose and increases your home's worth. To create an efficient outdoor cooking space, build a counter with a cooktop, sink, workspace, and grill along one side of your patio. For compact spaces, position the kitchen against the wall, allowing you to work with your back to the patio's interior.
In more spacious settings, move the counter forward, promoting better entertaining opportunities as you face outward while working.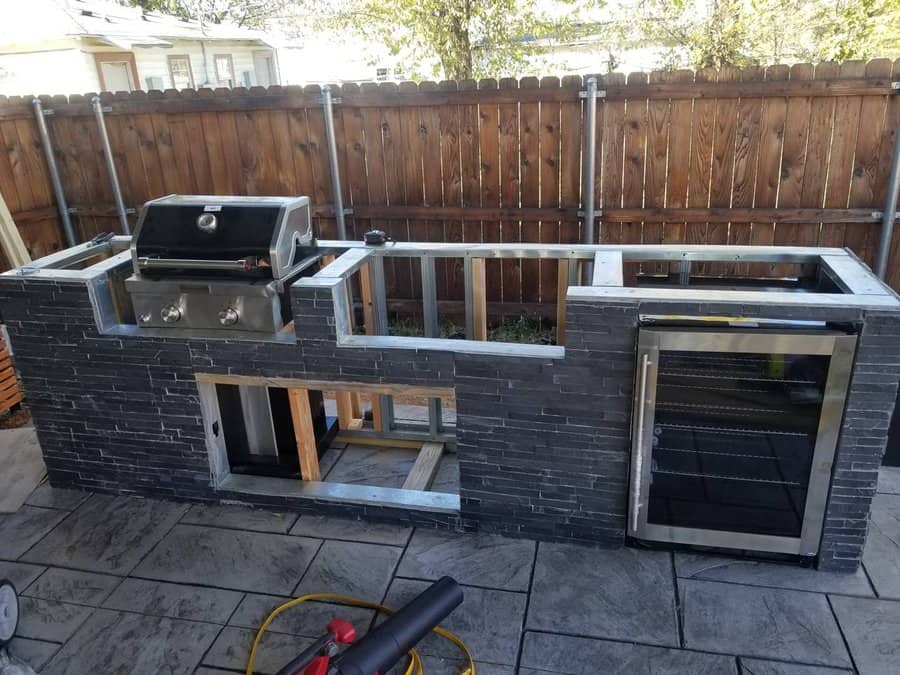 9. Poolside Kitchen Escapes
Enhancing your poolside experience with a well-designed outdoor kitchen is a fantastic idea. Imagine savoring delicious snacks without interrupting your poolside fun. Consider incorporating a pizza oven or an outdoor bar – or why not both? Safety is paramount, so ensure your kitchen setup is positioned away from direct contact with pool water.
Remember, water and electricity don't mix, but you can cleverly place electrical components behind the bar area while offering a convenient swim-up option on the opposite side for a seamless aquatic dining experience.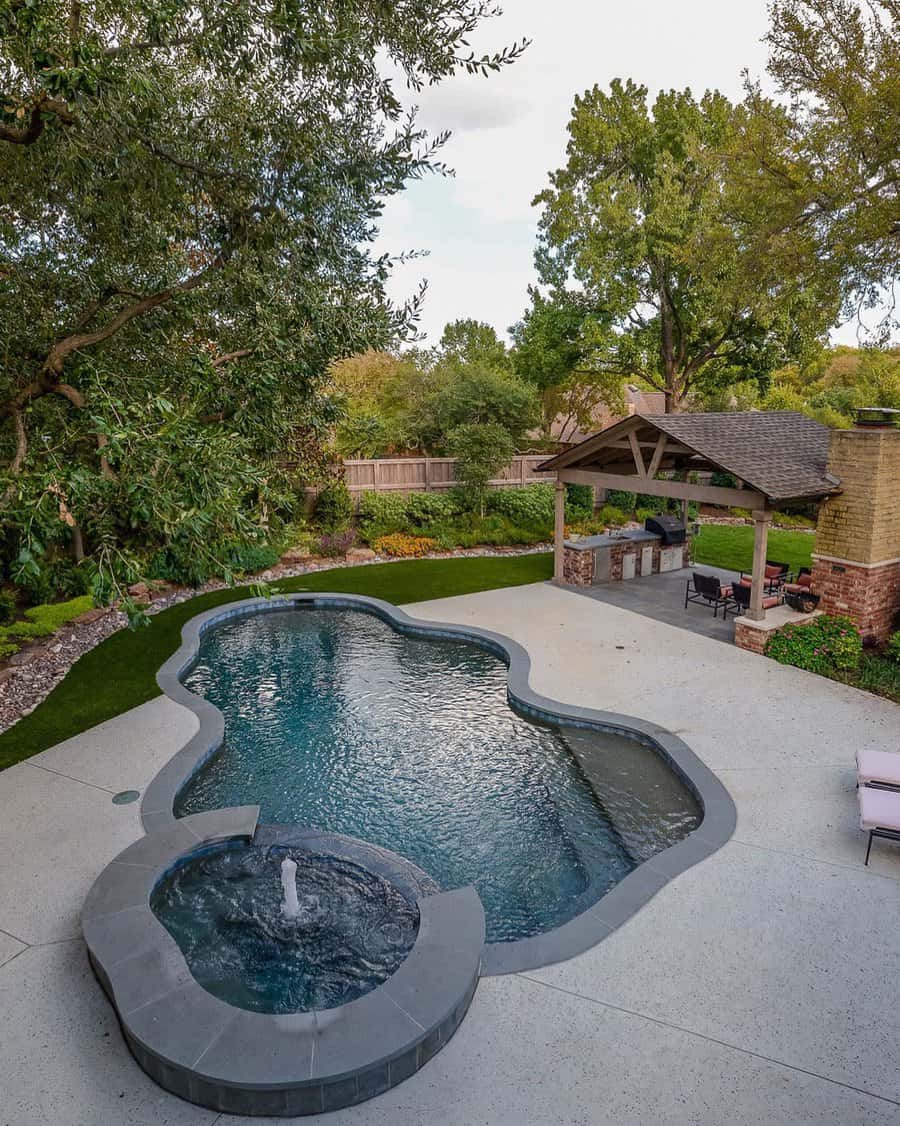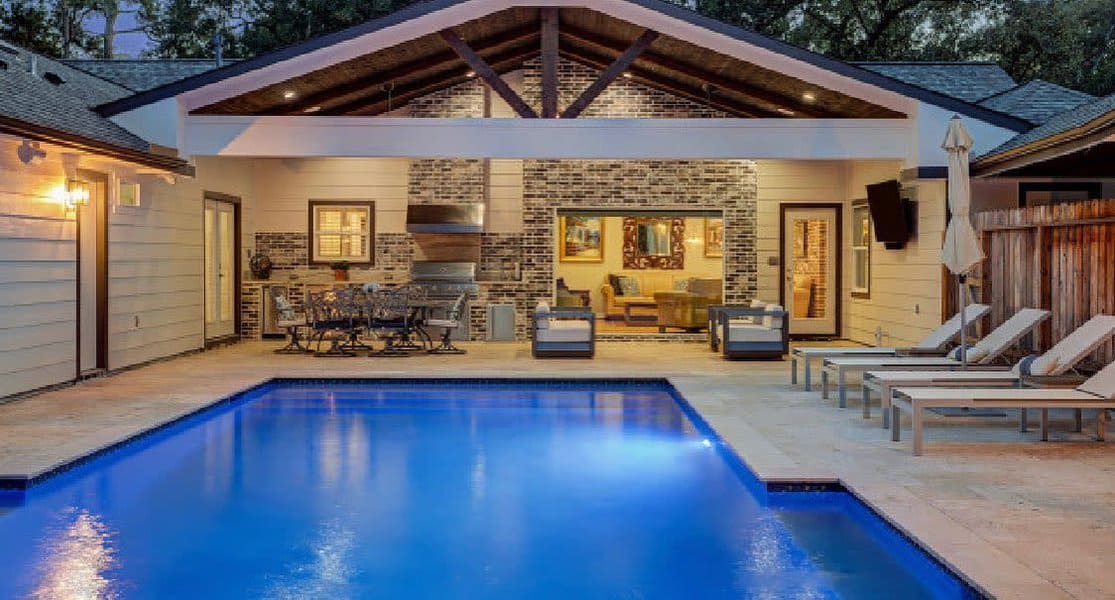 10. Rustic Charm in Outdoor Kitchens
If you're fortunate enough to have ample space or live in a rural area, embracing rustic charm in your outdoor kitchen can be a captivating choice. Start by utilizing natural stones for the construction of your kitchen unit and countertops, opting for irregular shapes that mimic the organic flow of nature.
Consider using locally sourced materials to promote sustainability and to seamlessly integrate your outdoor kitchen into the surrounding landscape. While achieving a rustic look is essential, prioritize safety and durability during construction, ensuring that your outdoor kitchen not only exudes rustic appeal but also stands the test of time.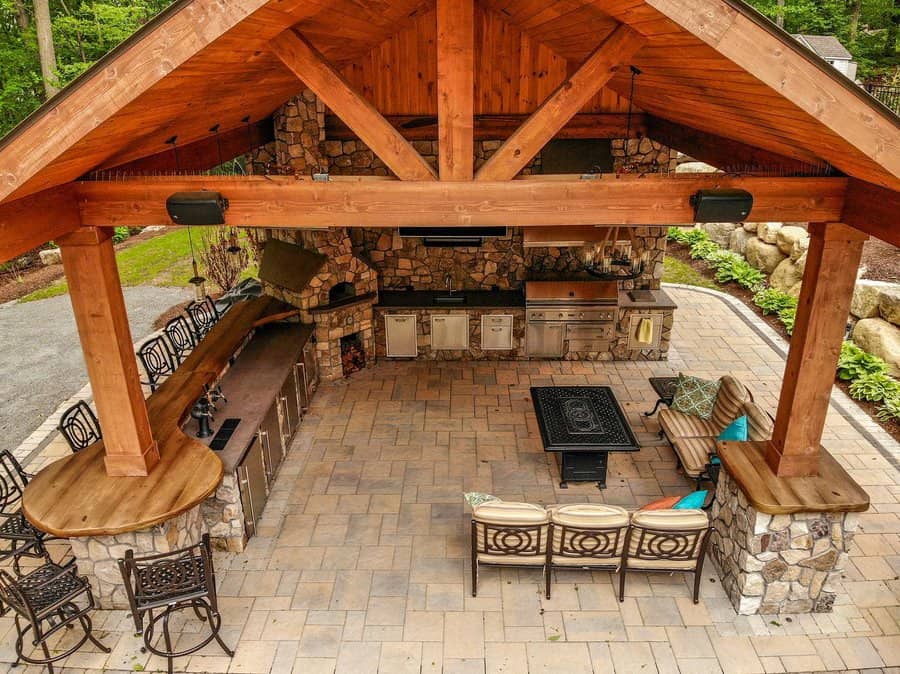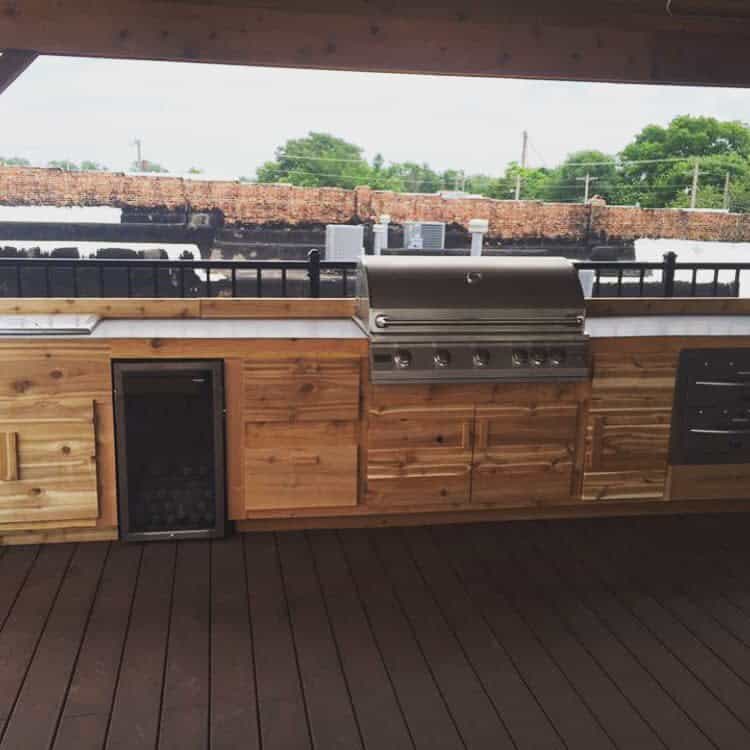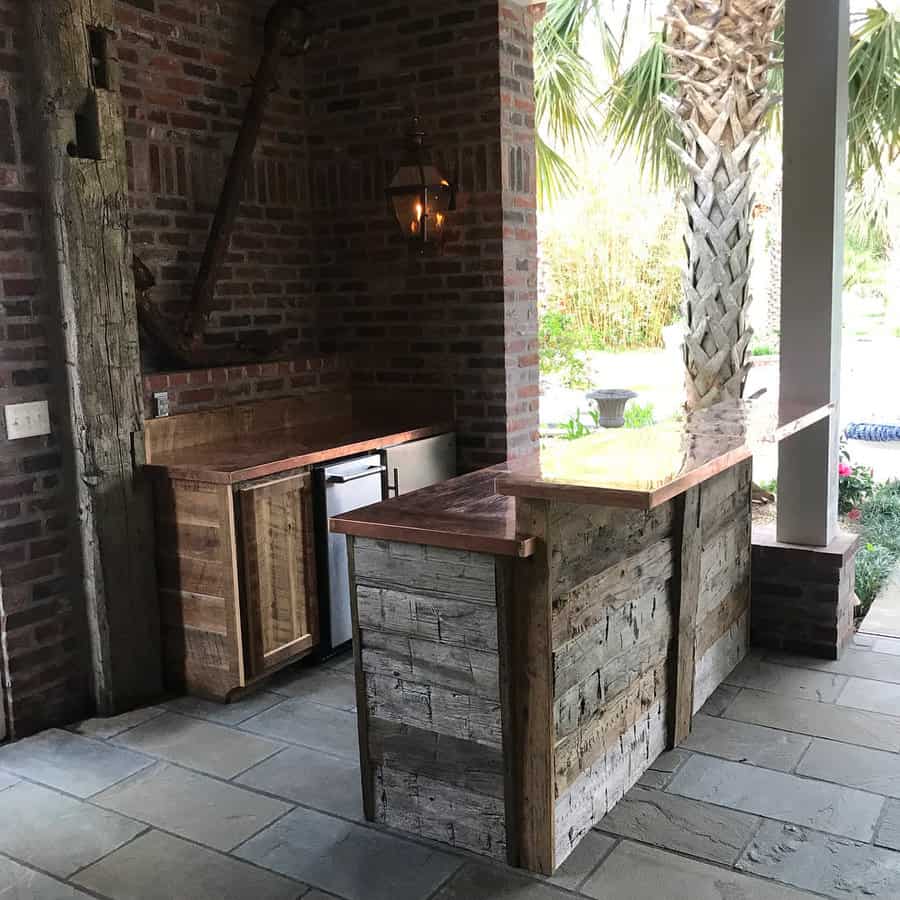 11. Functional Outdoor Sink Solutions
A functional outdoor sink is a cornerstone of any well-equipped outdoor kitchen. While you don't need a massive sink, ensure it's spacious enough for handwashing and quick cleanup. For those who love hosting outdoor feasts, upgrading to a larger double sink or even a dishwasher can be a game-changer, saving you the hassle of ferrying dishes indoors.
When designing your outdoor kitchen, position the sink for convenience, ideally near the food preparation area, and consider adding a faucet with a retractable hose to simplify tasks like filling pots or rinsing vegetables.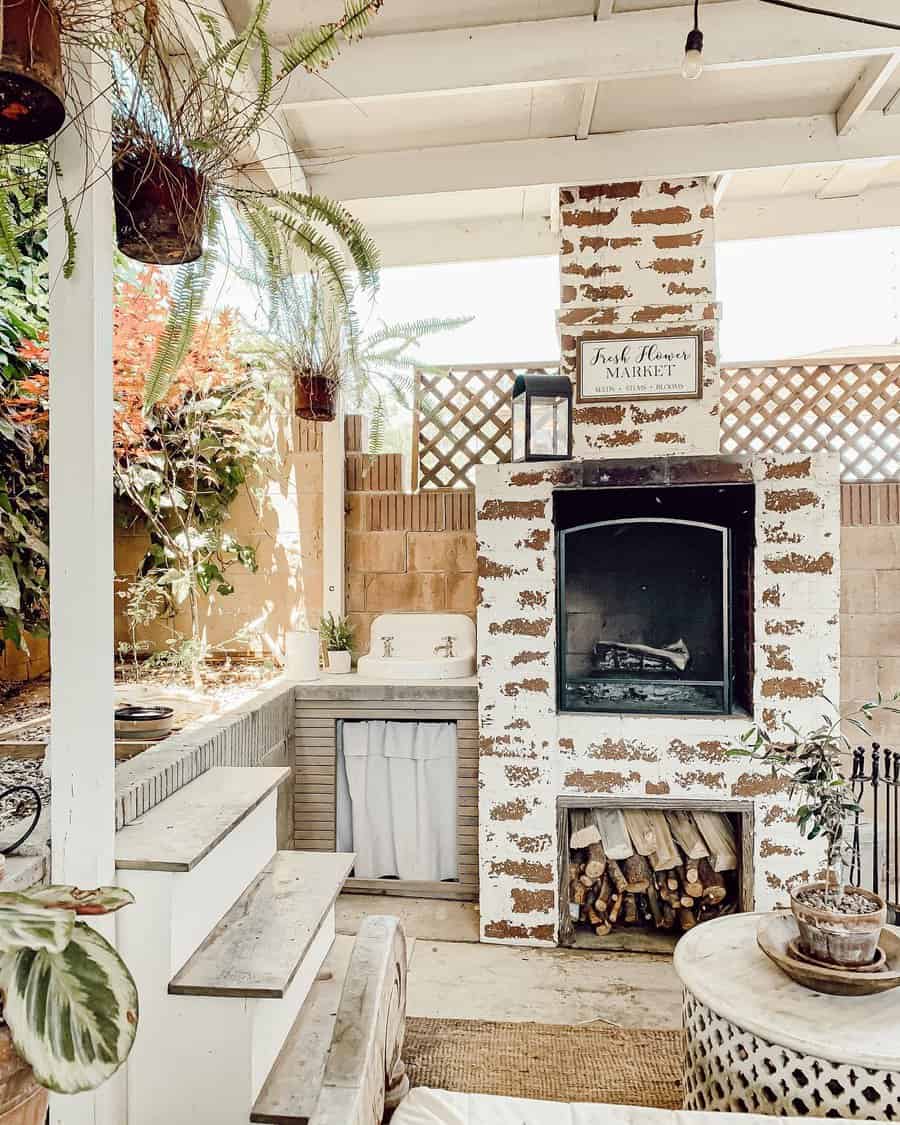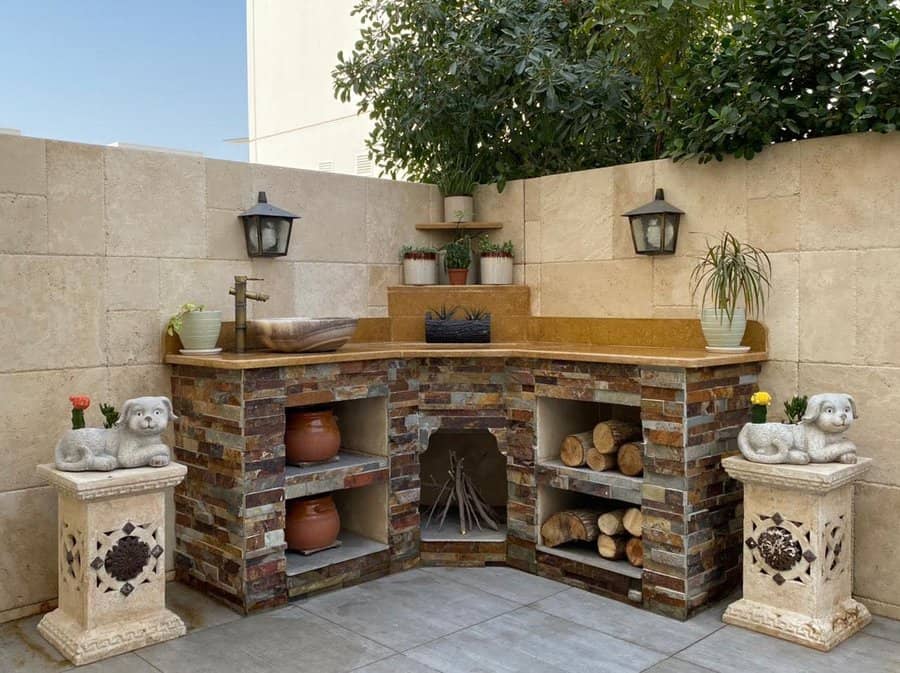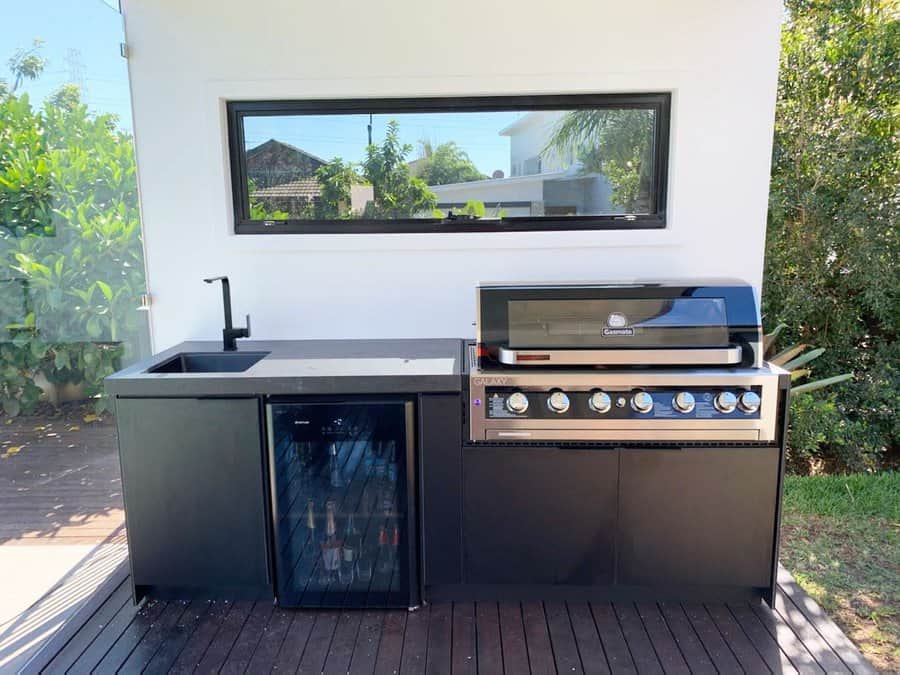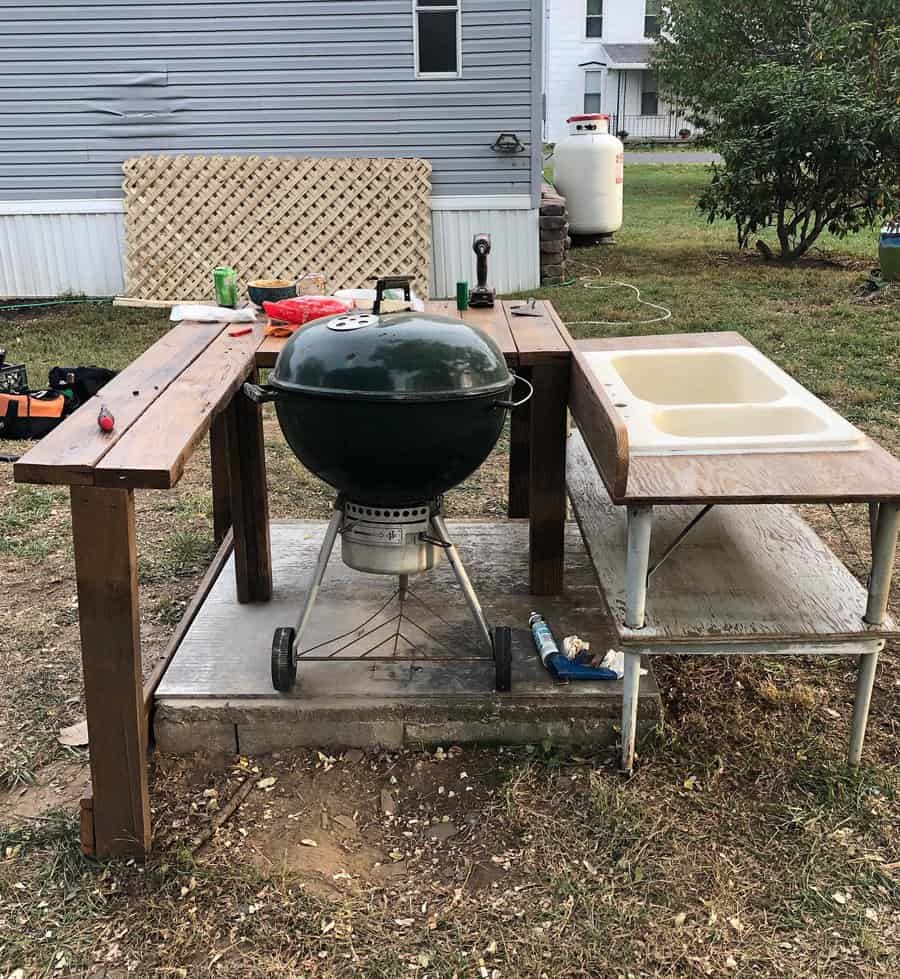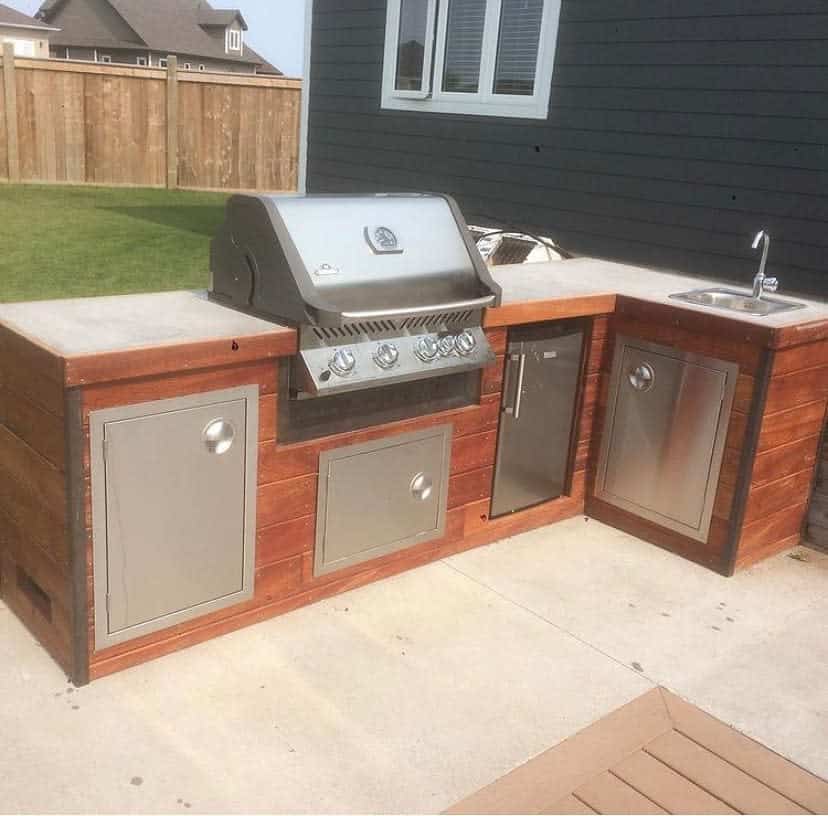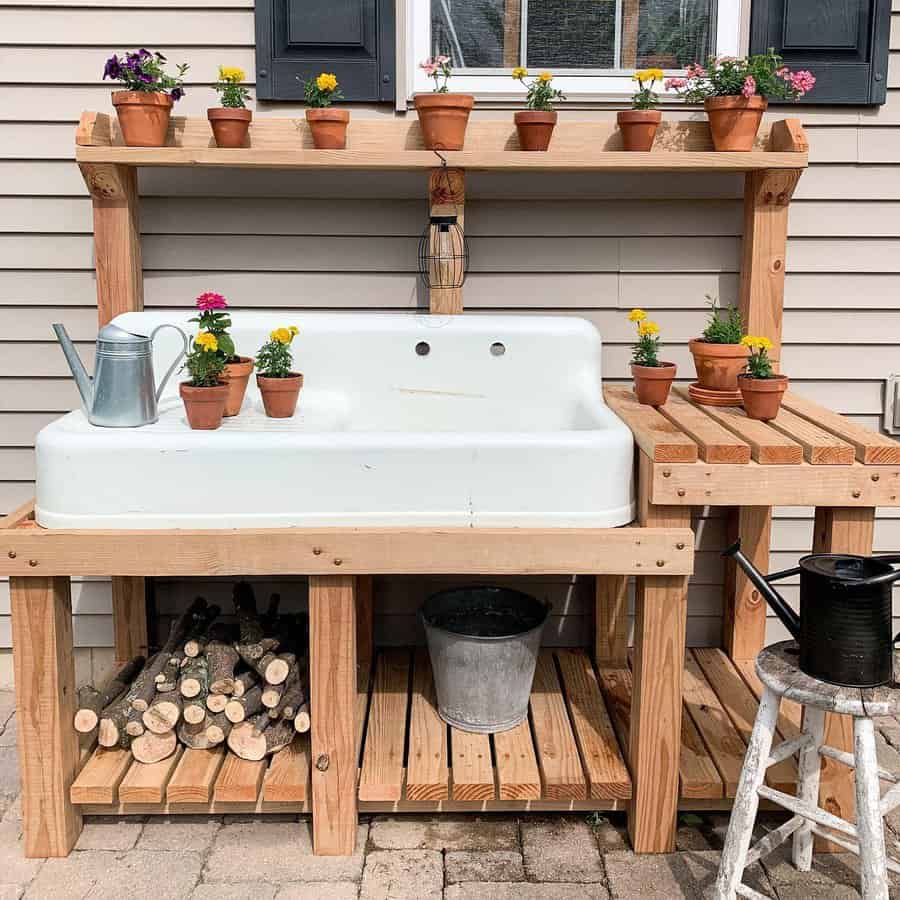 12. Small Space Outdoor Kitchen Designs
Don't let a limited backyard size deter you from creating an outdoor kitchen oasis. Begin by tailoring your kitchen's design to the available space; a compact grilling station can work wonders. Invest in a high-quality stainless steel grill with multiple burners and a searing spot for versatility. For a unique twist, consider alternatives to the standard grill, such as a smoker for delectably smoked meats or a deep-fry pot for crispy delights.
If pizza is your passion, explore traditional clay-style pizza ovens that reach scorching temperatures above 400 degrees, allowing you to craft restaurant-quality pizzas right in your small outdoor kitchen.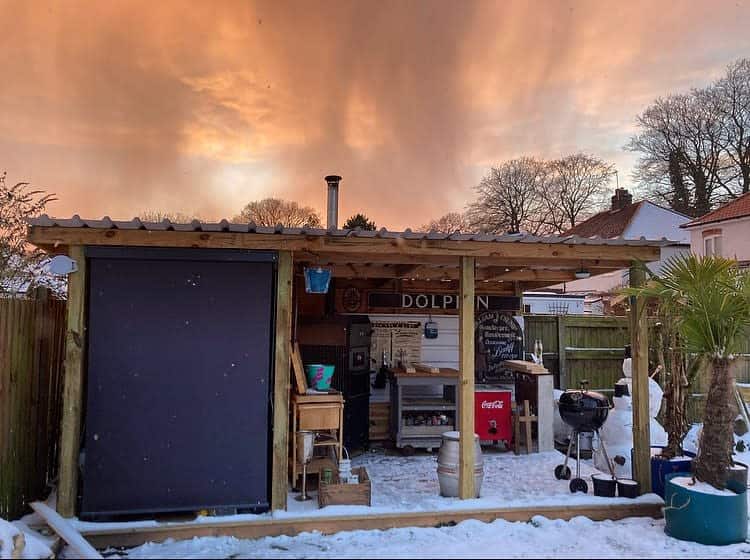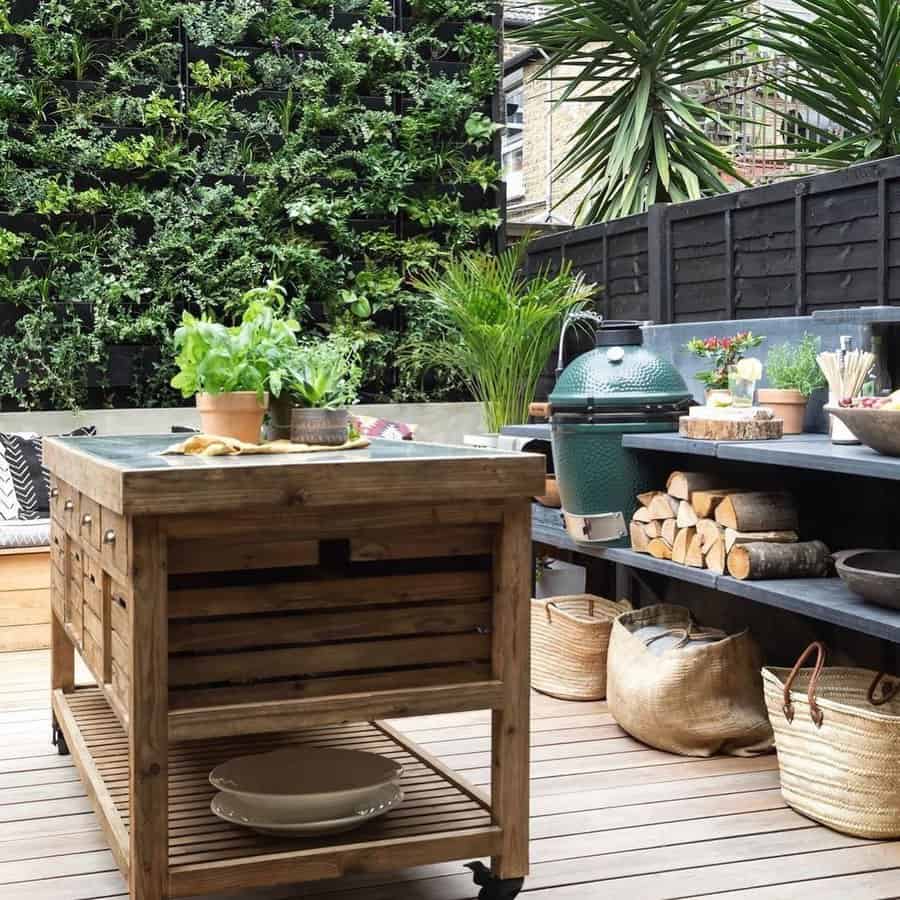 13. Warmth of Wooden Outdoor Kitchens
Wood is a natural and enduring choice for your outdoor kitchen space. Its durability and aesthetic appeal make it a top pick. Extend the warmth of wood from your kitchen to the dining area by opting for a wooden dining table, available in various styles and sizes.
For enhanced longevity, prioritize hardwoods in both your outdoor kitchen and dining zone, as they resist water damage better than softwoods, preventing swelling, shrinking, and splitting. Keep your wooden elements looking pristine with seasonal cleaning and regular maintenance.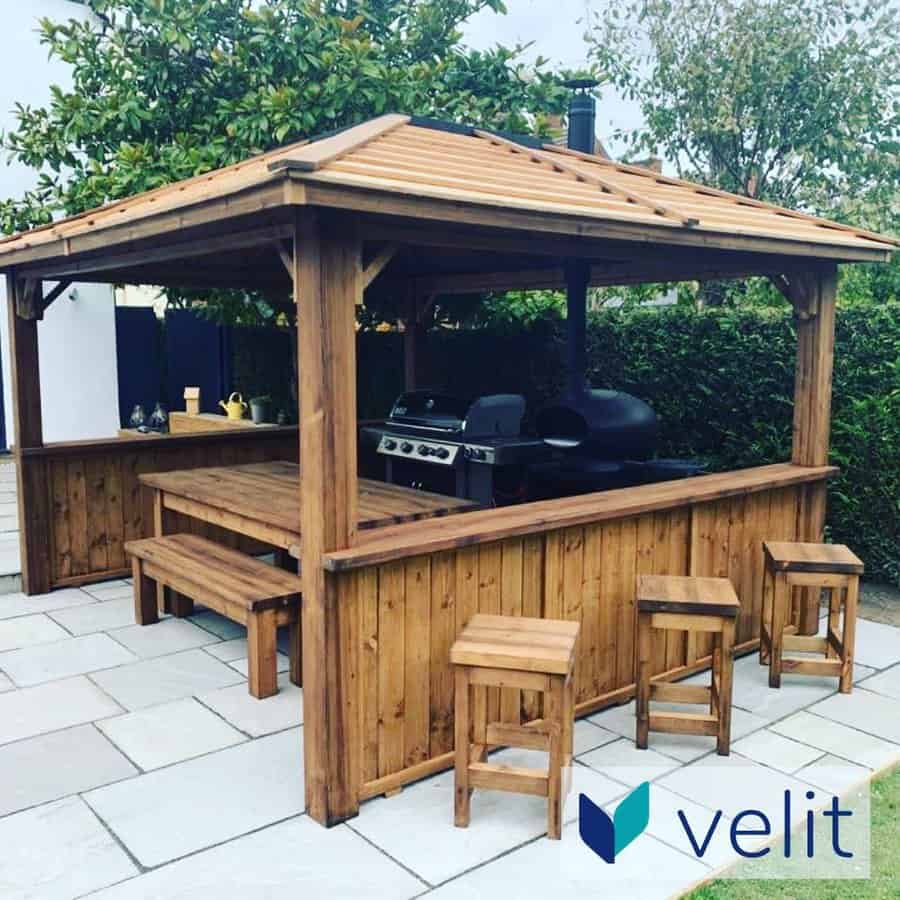 14. Veranda Kitchen Retreats
Make the most of your veranda this summer by transforming it into an inviting outdoor kitchen retreat. Gather your loved ones around a well-equipped cooking space to create lasting memories. With a stovetop, ample countertop space, and storage options, discovering outdoor recipes becomes a breeze.
Ditch the hassle of running between indoor and outdoor spaces; instead, host delightful gatherings on your veranda while whipping up culinary delights and savoring precious moments with friends and family. Explore new ways to enjoy your veranda this summer with a thoughtfully designed outdoor kitchen.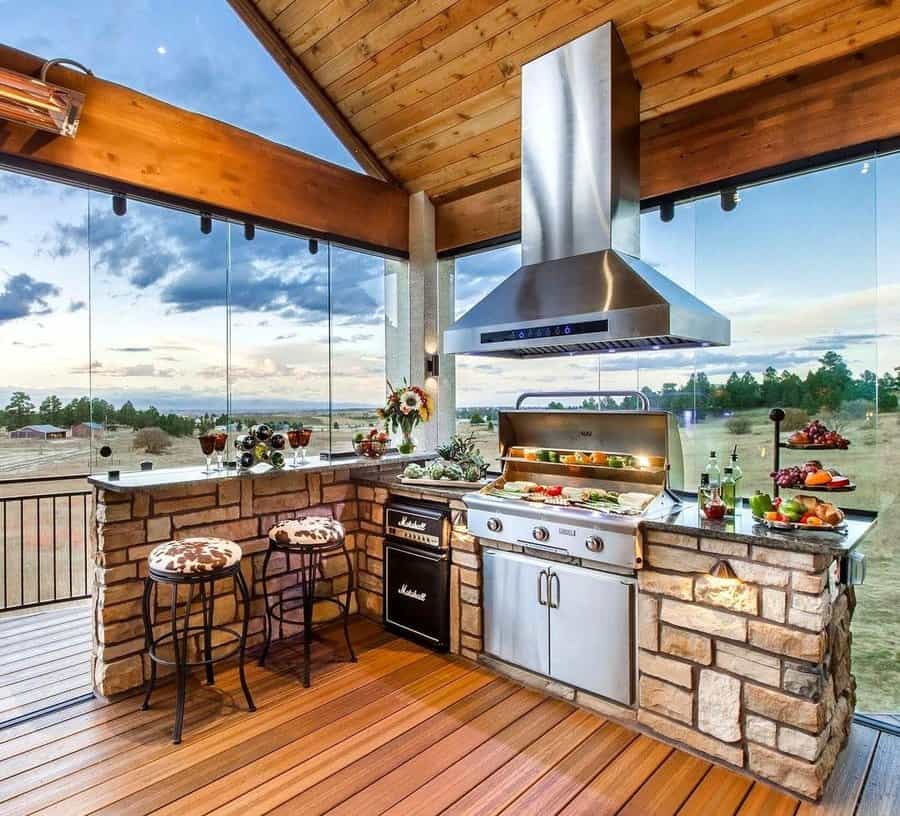 Outdoor Kitchen FAQs
Do outdoor kitchens add value?
An outdoor kitchen can add value to your home. More homeowners are looking to spend more time outside. An outdoor kitchen helps them utilize the available outdoor space on the property.
What does every outdoor kitchen need?
Every outdoor kitchen needs to have the right lighting, ambient and task. It should have a small fridge. If you plan to entertain, then consider having a small food fridge and a drink fridge. If you enjoy beer, then install a tap. There should be plumbing with a sink. Have plenty of counter space to have an area for preparing food. Include the grill by having a space for it or building it into the counter.
What is the best countertop to use for an outdoor kitchen?
You need to choose a durable material for the counters because they will be exposed to the elements throughout the year. Natural stones like granite, quartzite, soapstone, and slate are all great options. Concrete is a smart, affordable alternative. Wood could also be an option, but you'll need to be vigilant about caring for it.