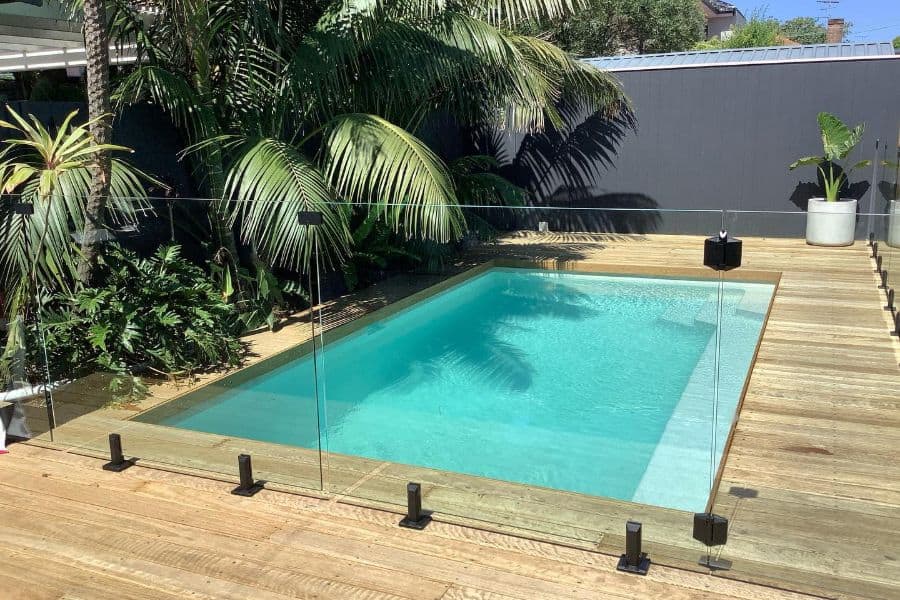 47 Backyard Swimming Pool Design Ideas
"This life is like a swimming pool. You dive into the water, but you can't see how deep it is." – Dennis Rodman
You've always wanted a swimming pool in your backyard. Now that you own your own home, you can finally have one. The first step is to decide what type and size of pool you can build. Consider the aesthetic of your home and budget when deciding on what kind of pool you will build.
These backyard pool ideas will get you inspired and start you down the path of becoming a proud pool owner.
1. Set Up Your Pool Above Ground
Who says above-the-ground swimming pools can't look stylish? Not us! This backyard patio was taken from drab to fab when an above-the-ground tin swimming pool turned up. With a graceful slope and neat, dark metal edges, it adds a touch of understated elegance to this outdoor living space.
Allow yourself to relax by lounging on a poolside chair for a truly luxurious experience. Or splash away your worries in the cool waters with friends and family. Wherever your desires lead you, the above-the-ground tin swimming pool is sure to bring endless entertainment throughout the long summer days.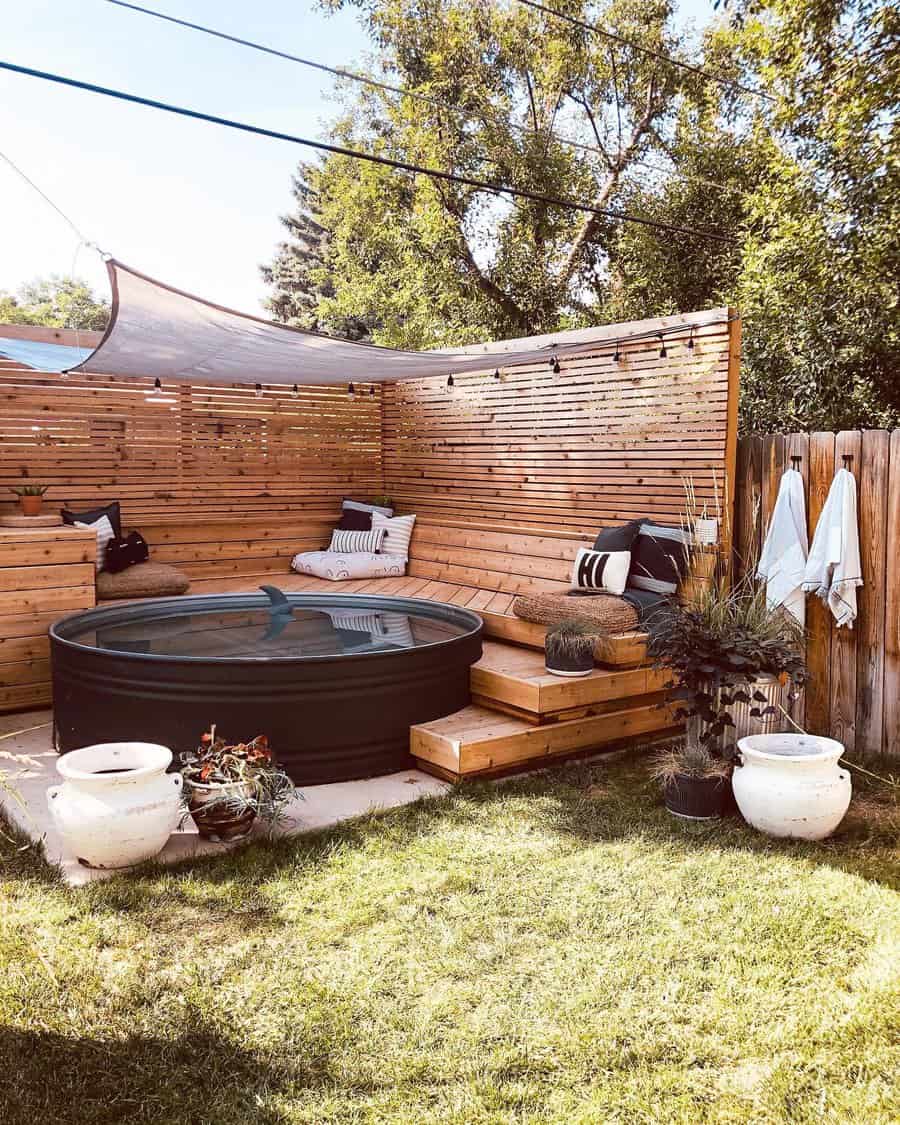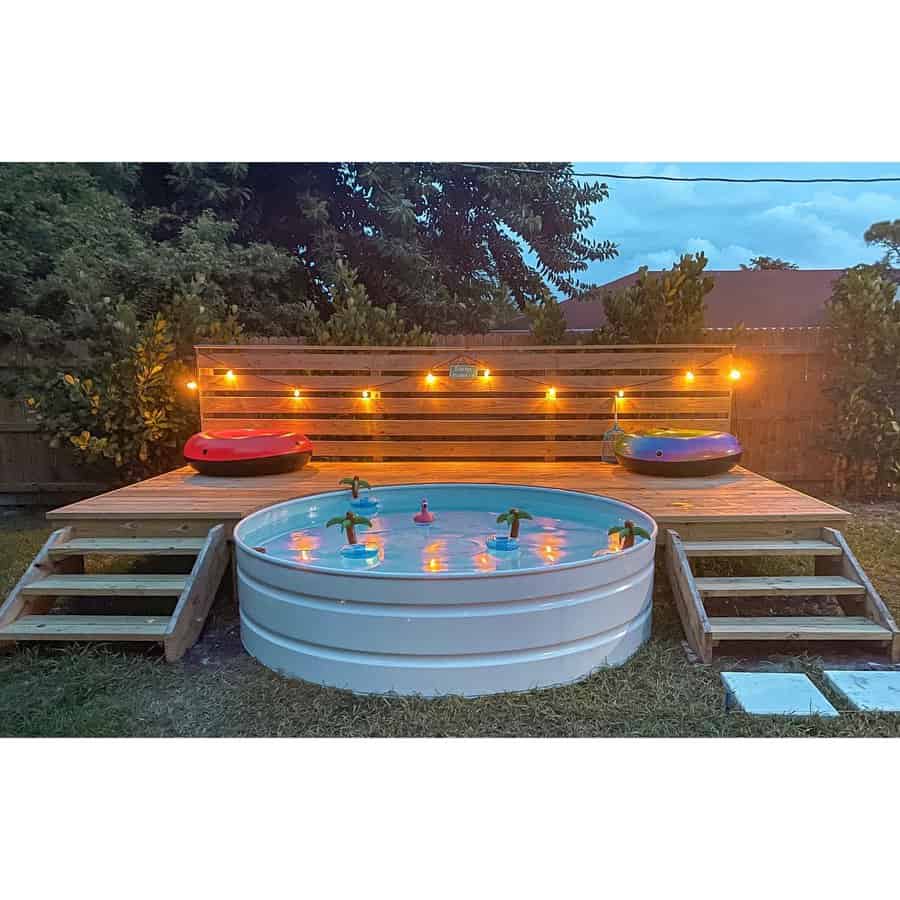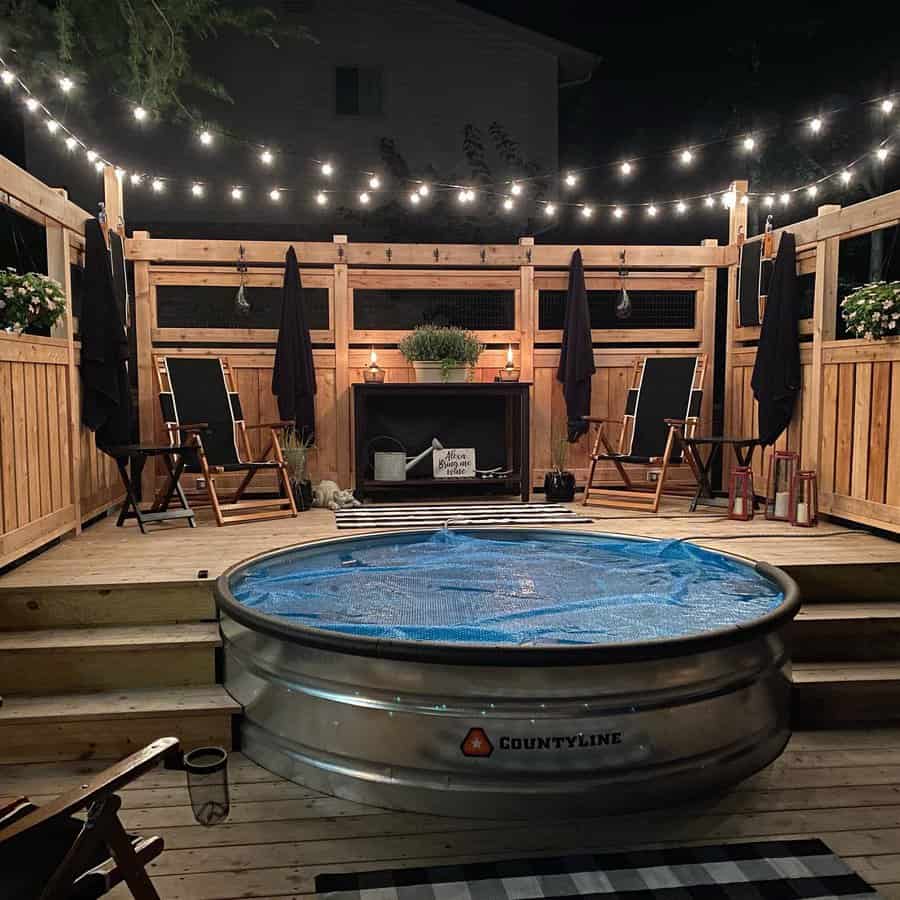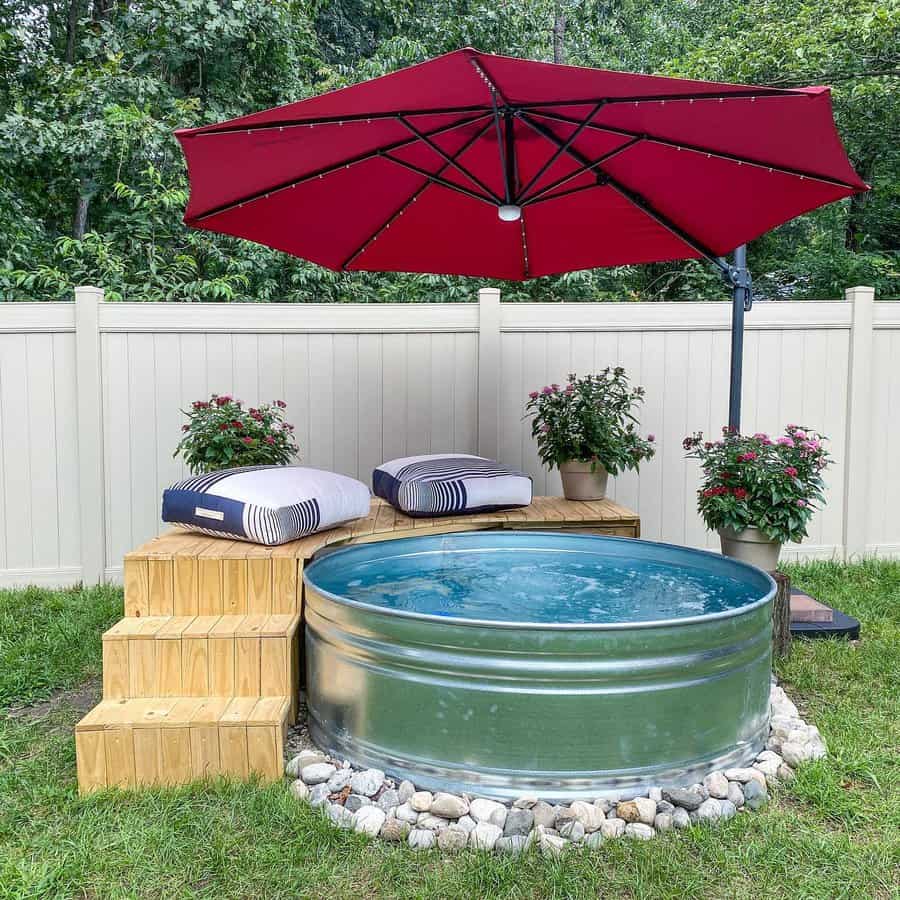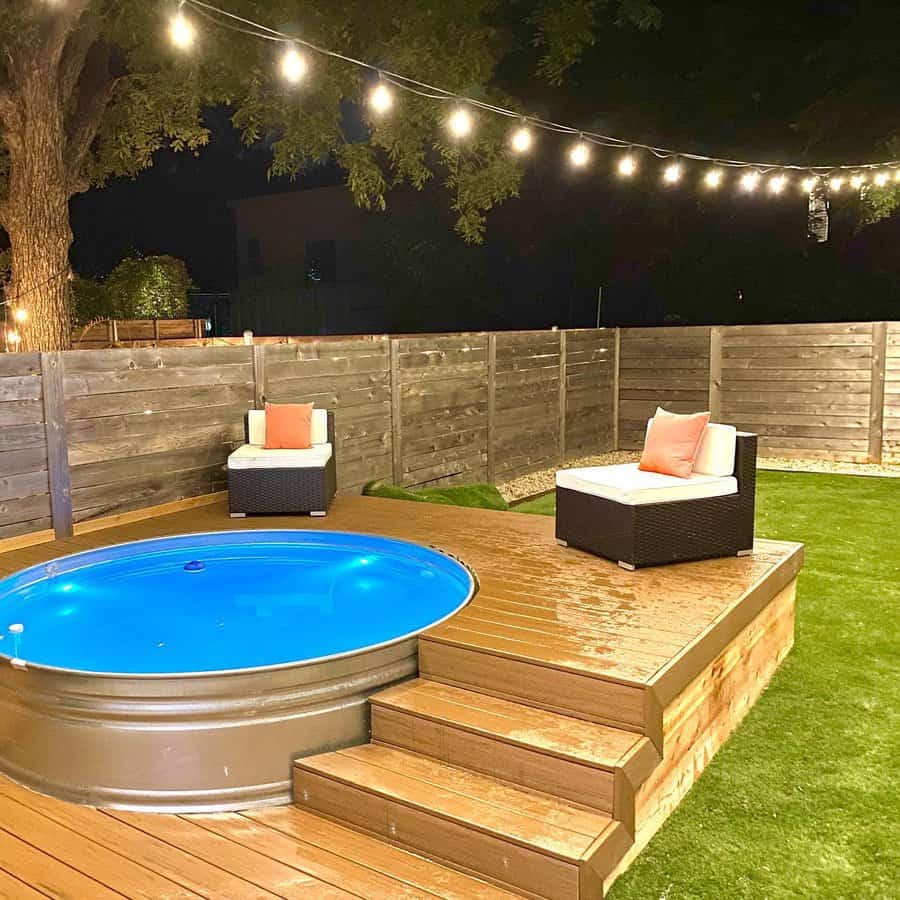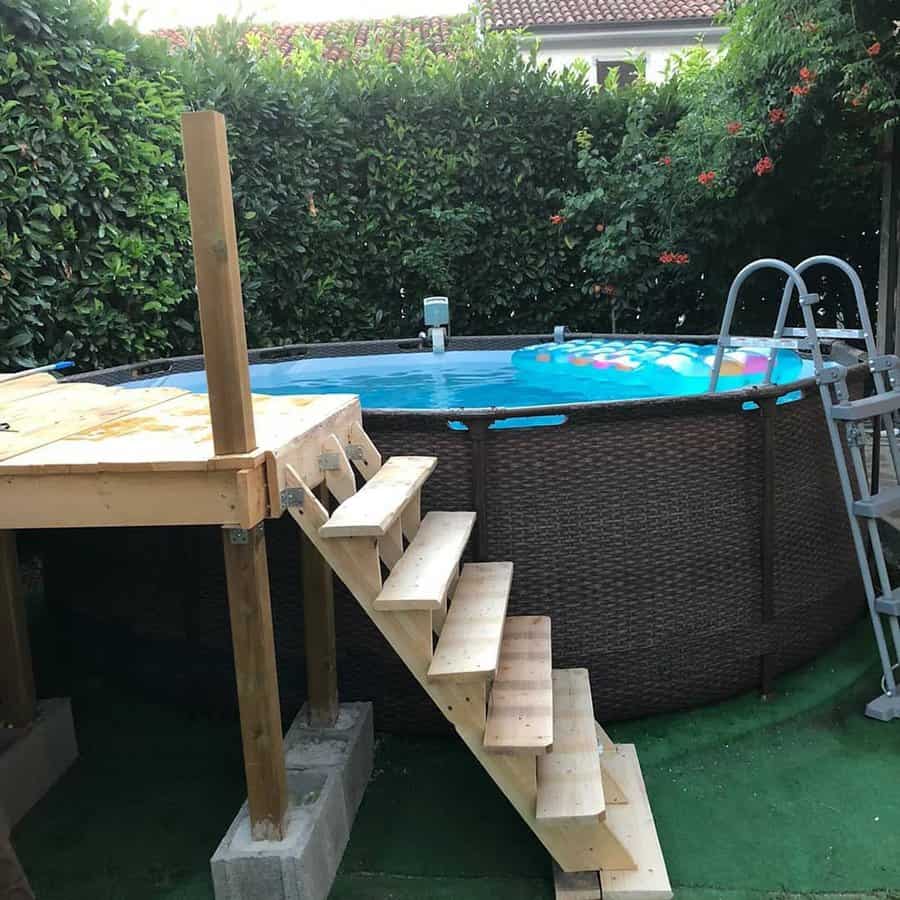 2. Blend It In With A Custom Patio
If you've always wanted a tin swimming pool in your backyard, then it's time to make it a reality. With a custom-trimmed patio designed to perfectly fit the shape of your tin pool, you can truly create the quintessential outdoor oasis.
Whether you plan on hosting social events or just having a special area for family fun and relaxation, this custom-trimmed patio will be the perfect way to enjoy the outdoors while swimming this summer.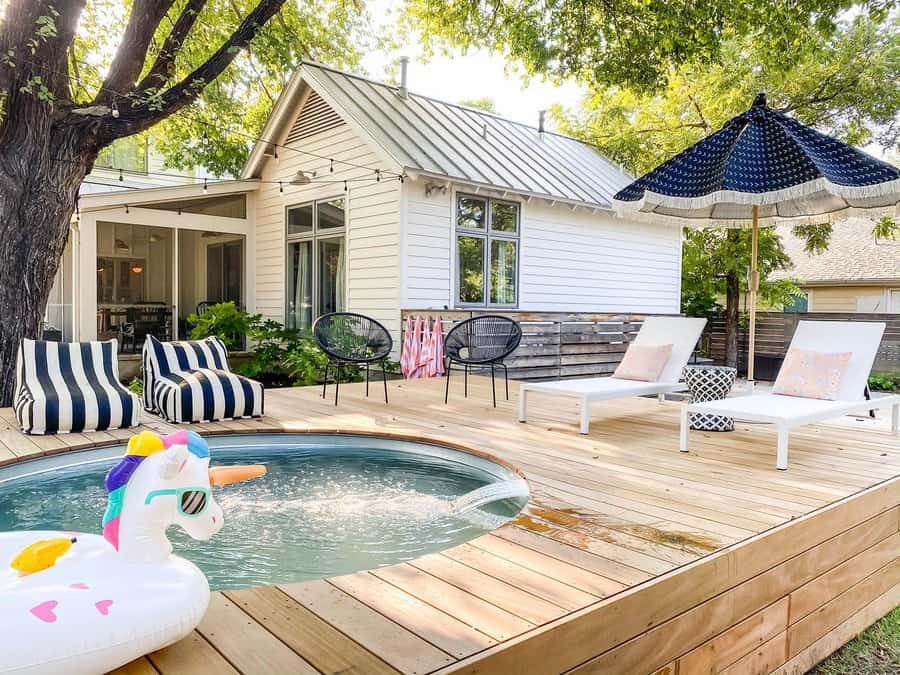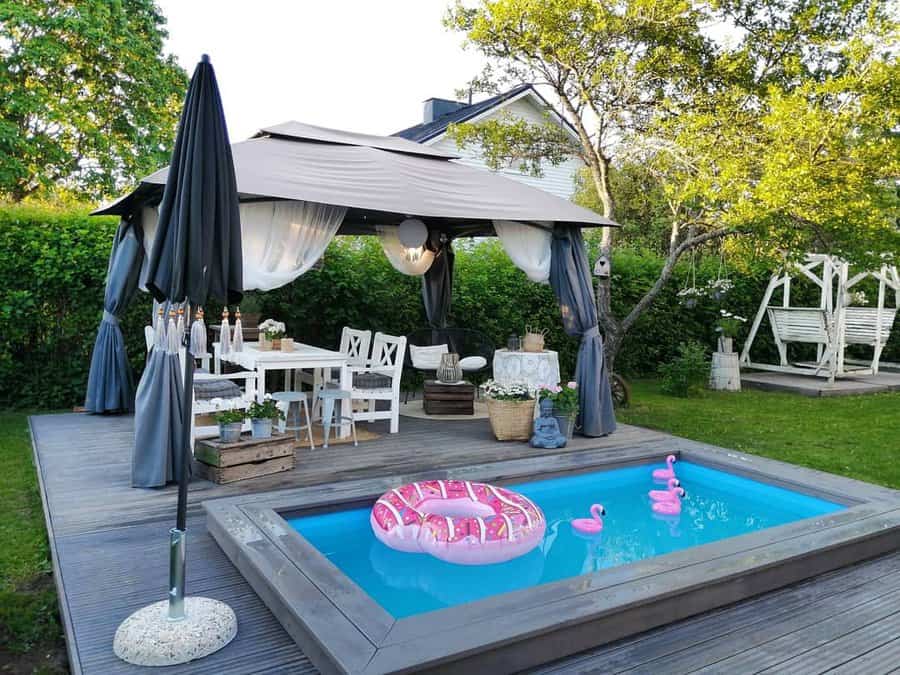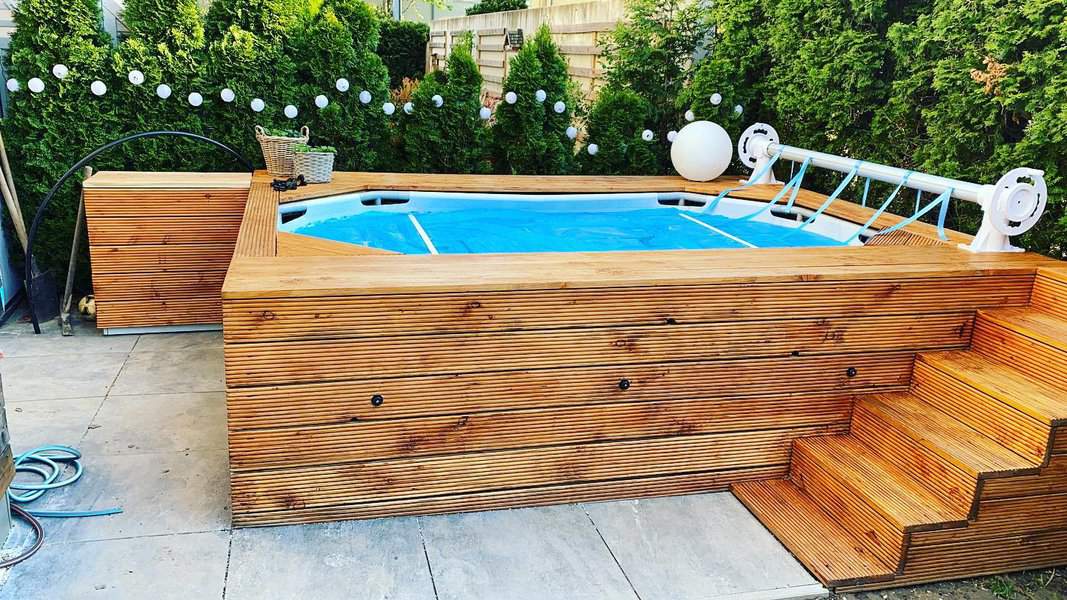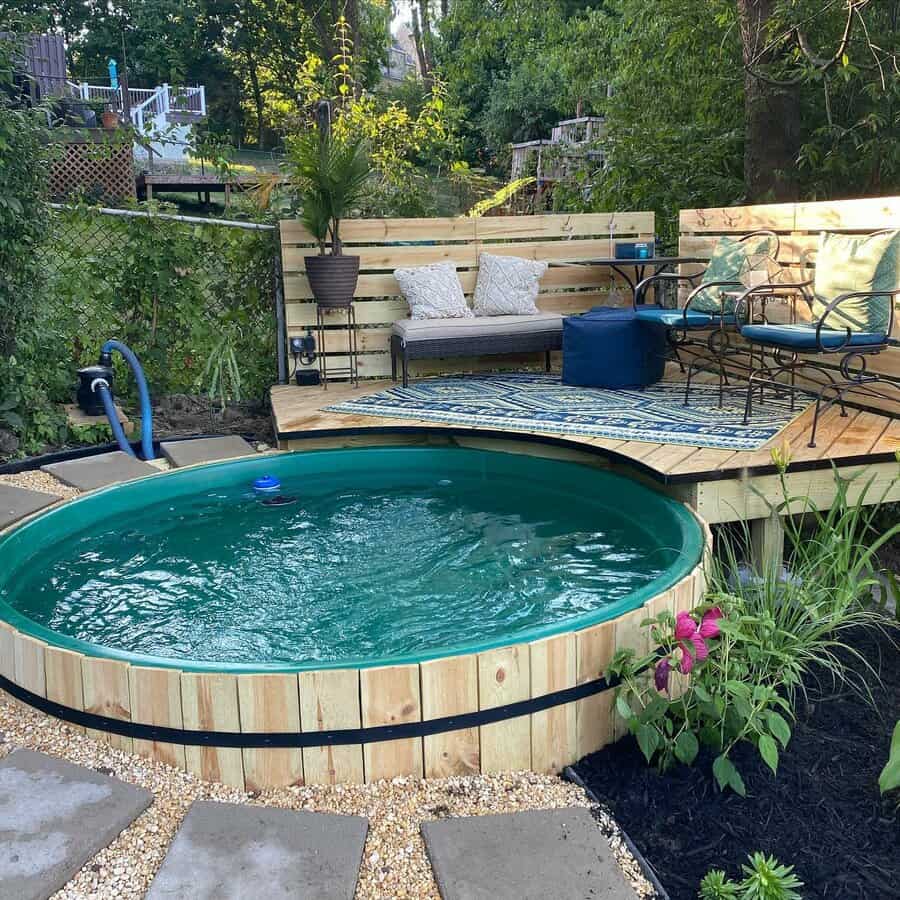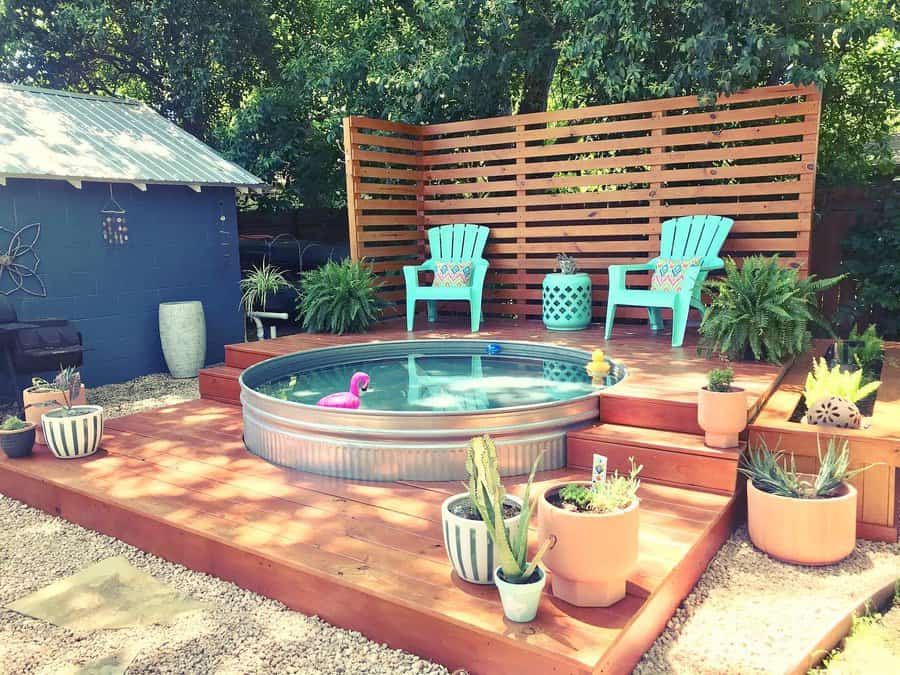 3. Set Up A Foldable Tub
For anyone living in a city, foldable swimming pools are a great way to cool off while not using up too much of your outdoor space. When not in use, the foldable tubs fold completely flat and can be stored away easily – perfect for those who have limited storage options!
Whether you're looking for an inflatable pool or an above-ground plunge pool, foldable swimming pools are an attractive and practical option for the everyday urban dweller. With the help of a foldable swimming pool, even city dwellers can experience the luxury of owning a personal pool without needing to break the bank!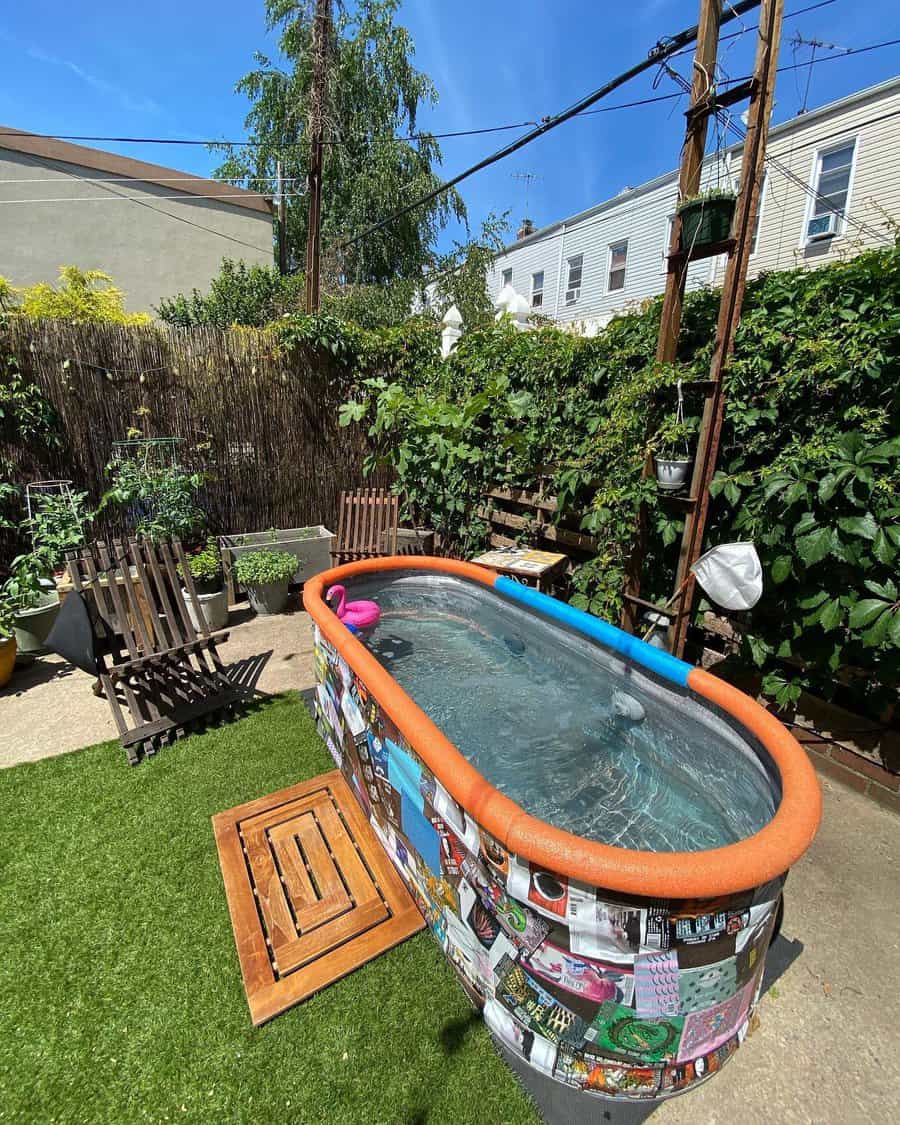 4. Play With Fun Themes
Transform your backyard into a paradise with a themed swimming pool perfect for kids! From faux tropical plants and colorful birds on the wall to the water slide topped with bird-shaped fountains, your kids' pool is sure to feel like an exciting escape.
Whether mermaids and pirate ships bring out their adventurous side or garden gnomes spark conversations about fairytales, kids will be able to let their imaginations run free in this unique and creative space.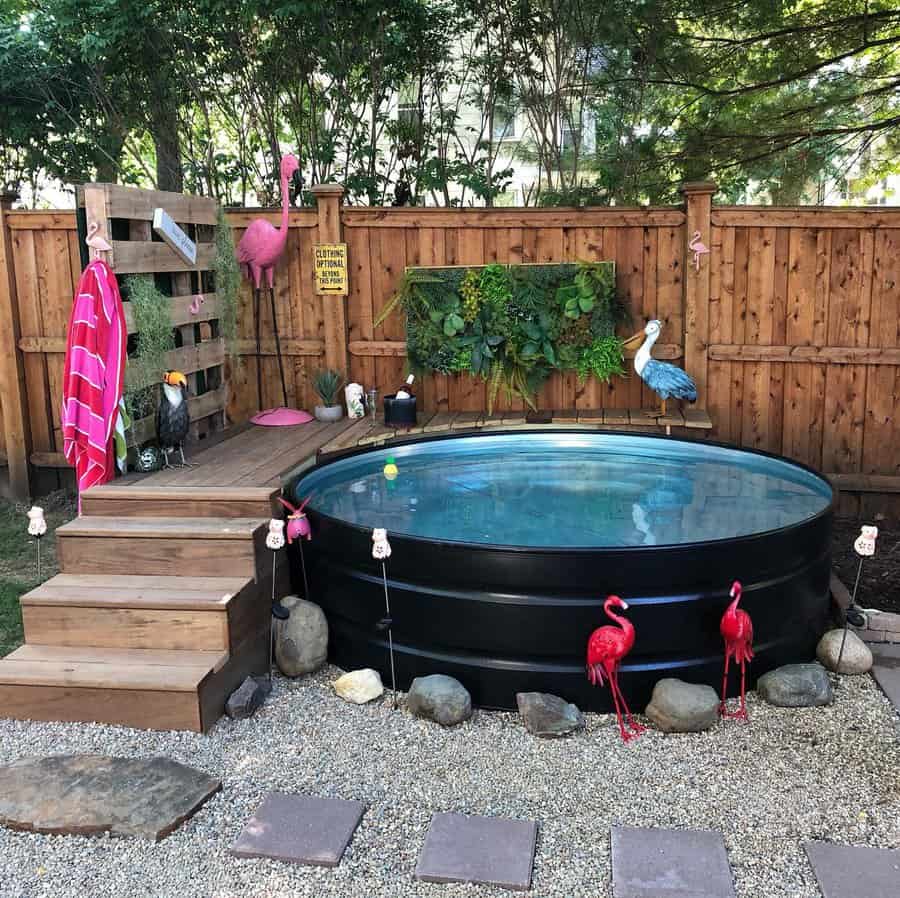 5. Re-imagine A Tropical Beach Retreat
Dive into a tropical paradise right in your own backyard with a tropical-themed tin pool. Whether for leisurely soaks or leisurely laps, this backyard addition provides the perfect atmosphere for relaxation and fun.
With a stylish Macrame umbrella overhead, you can enjoy your tropical retreat from the sun's harsh rays, while relaxing in beach chairs on the side. Let your worries wash away as you dip into crystal clear waters of your tropical-themed tin pool.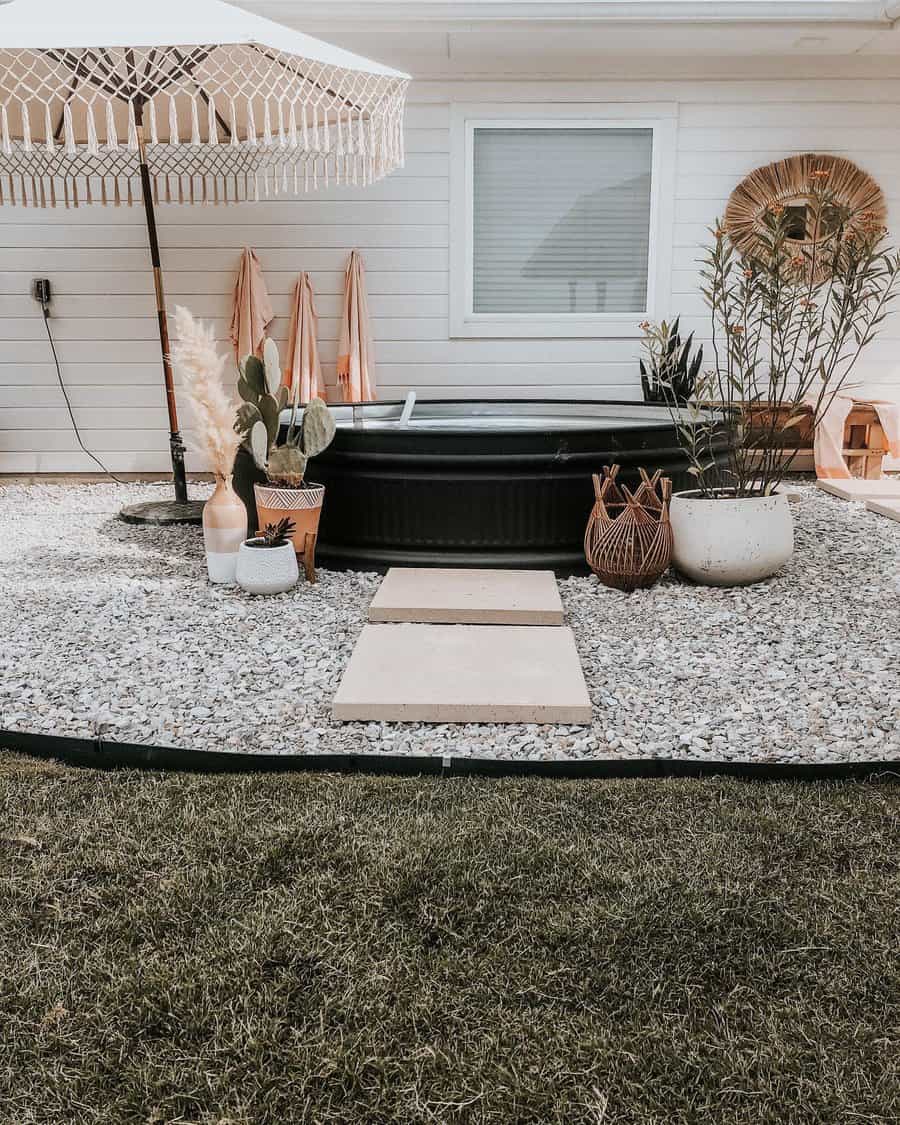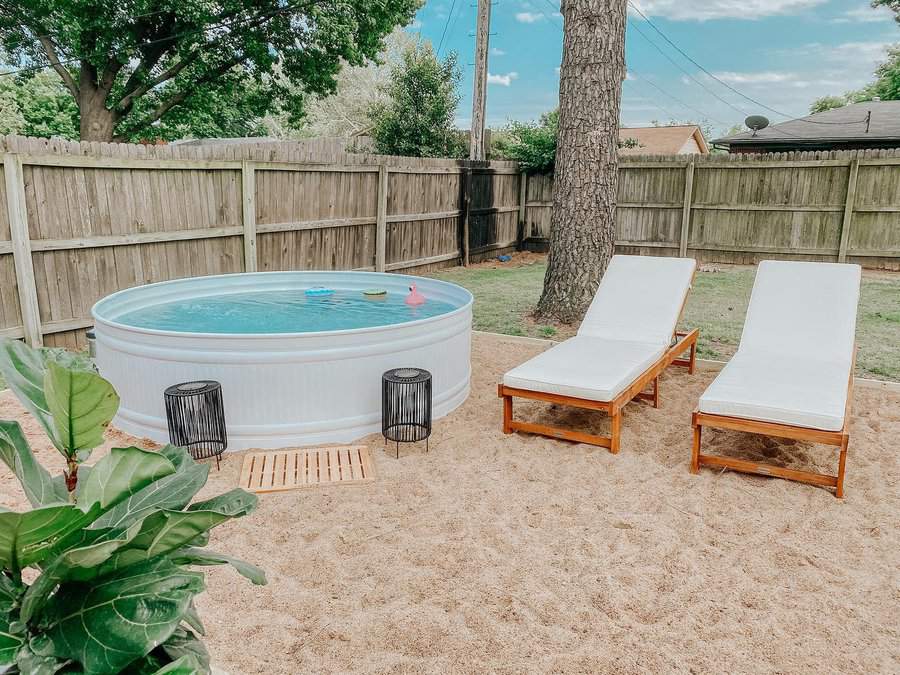 6. Protect From The Sun
A backyard swimming pool is a great way to bring some summer fun and sunshine into your home. Imagine the fun of having your own tin pool, patio umbrella, and lounge chair in your very own backyard. Not only does this give you a place to cool off during those hot days, but also provides immediate protection from the sun's rays.
There's also nothing like taking a dip or lounging around with friends and family right in your own home. With a backyard swimming pool, you'll have access to endless hours of refreshment and relaxation!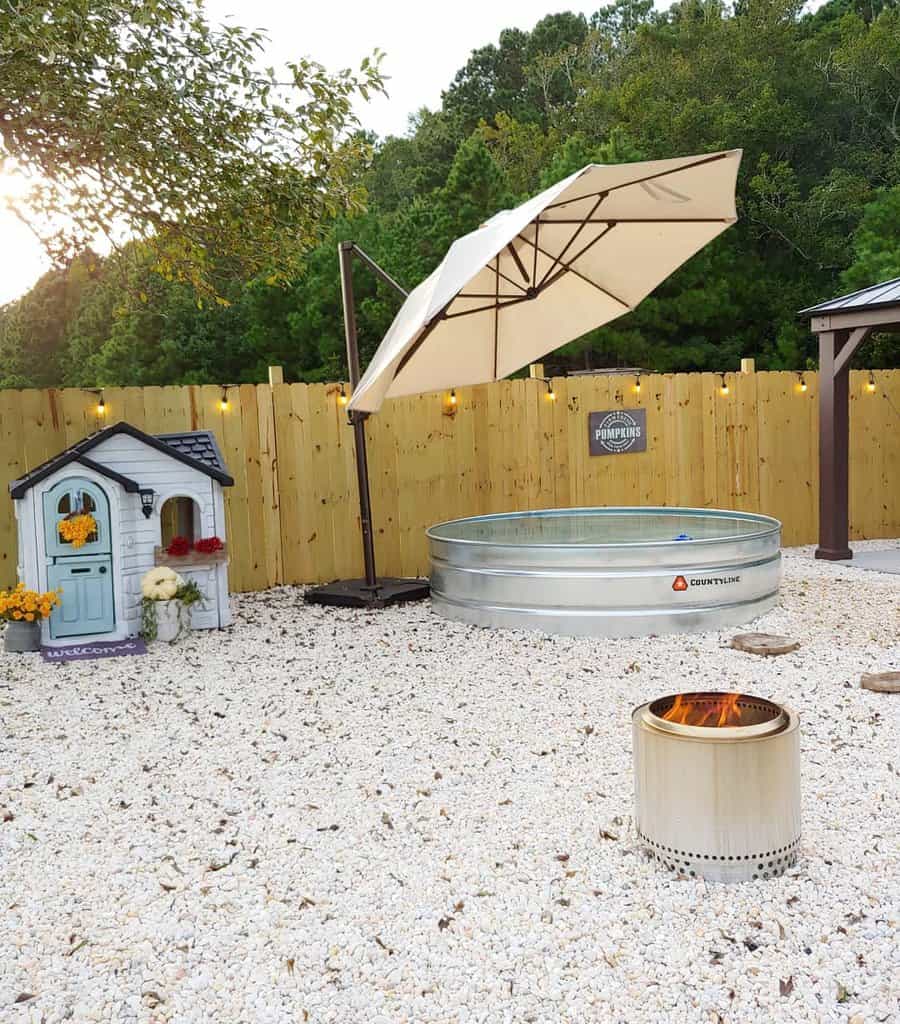 7. Go For A Lap Pool
Nothing says summer fun quite like the shimmering azure water of a backyard lap pool. Not only is it perfect for enjoying a nice afternoon dip, but thanks to its narrow design, lap pools are also great for getting in some fitness swimming.
With lap pools, you can sneak in some laps without having a full-size Olympic lap pool in your backyard! Whether you're just starting out with lap swimming or are an experienced fan, these sleek and stylish lap pools will give you the best way to stay fit all year round.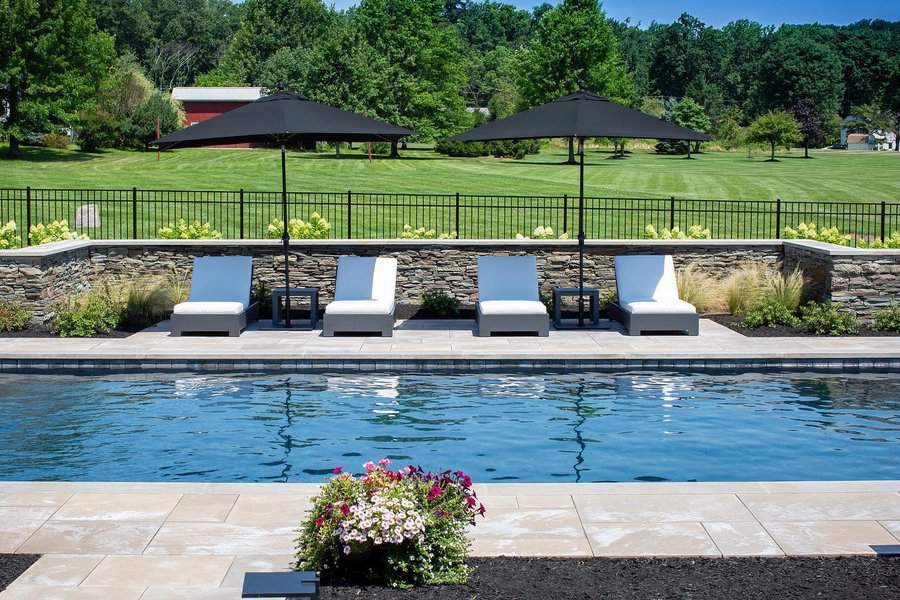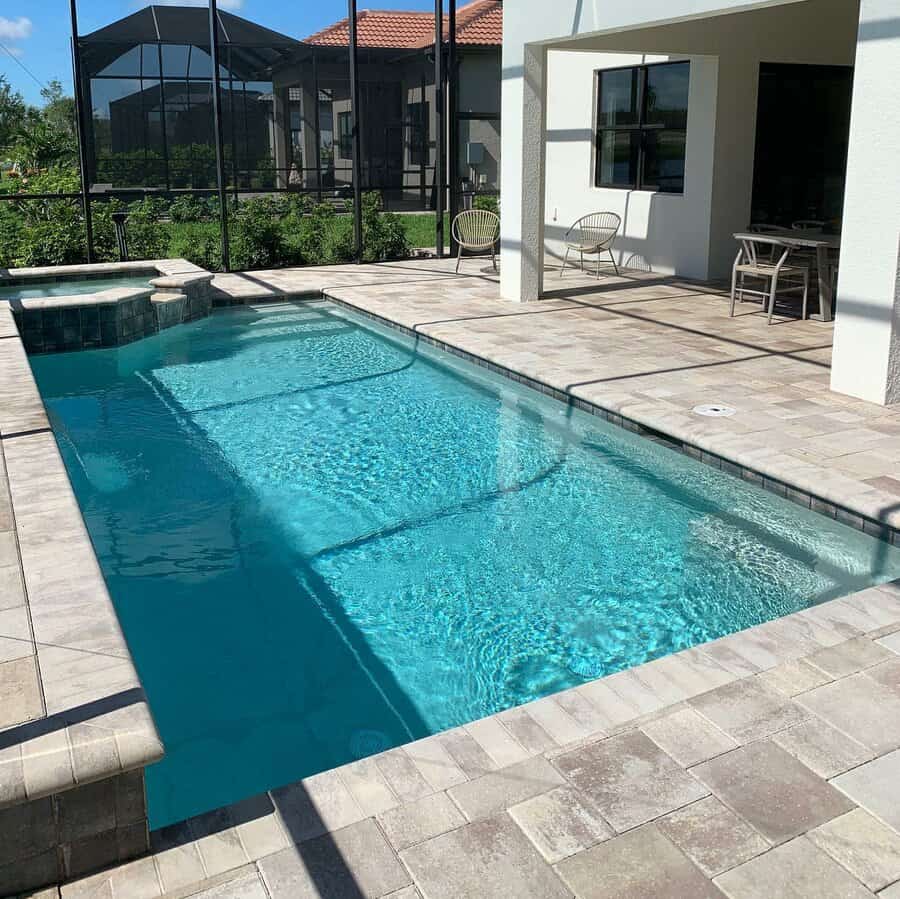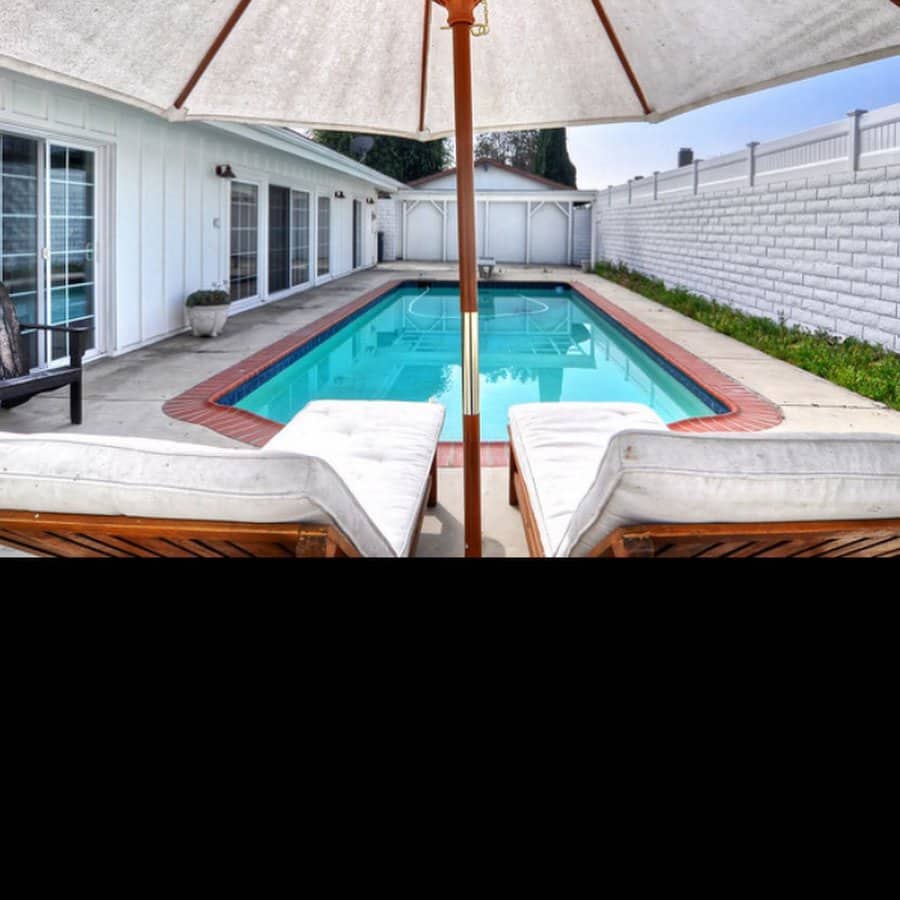 5. Match With A Modern Exterior
If you're looking to dress up your backyard, modern-style swimming pools are the perfect way to finish off a luxury oasis.
Not only do they provide a welcome escape from the sun's rays, but they can also match with the exterior aesthetic of your home. Be modern yet classic by adding sleek lines and mosaic tiles to your modern-style swimming pool to complement any outdoor space.
This modernized version of a traditional backyard oasis will instantly give you a chance to make memories in your own private paradise.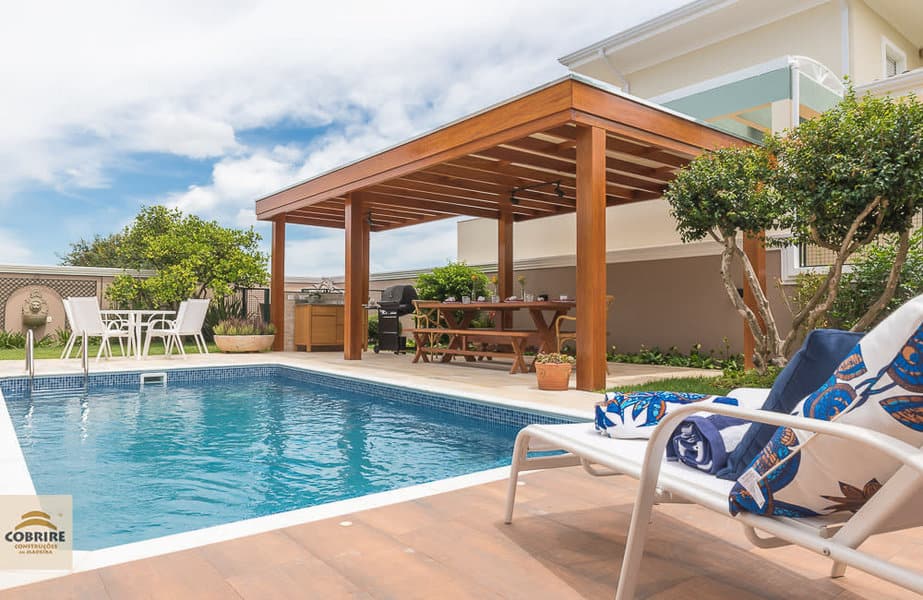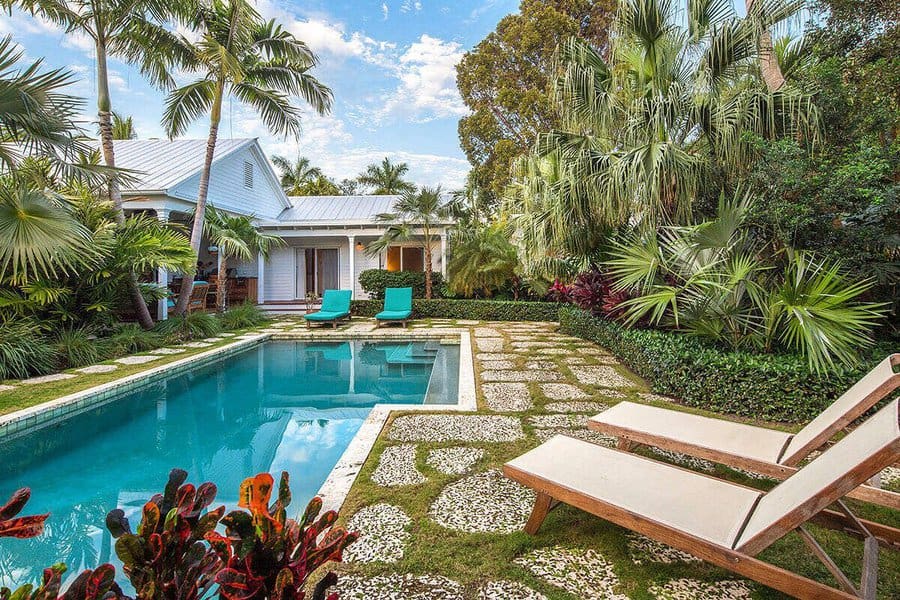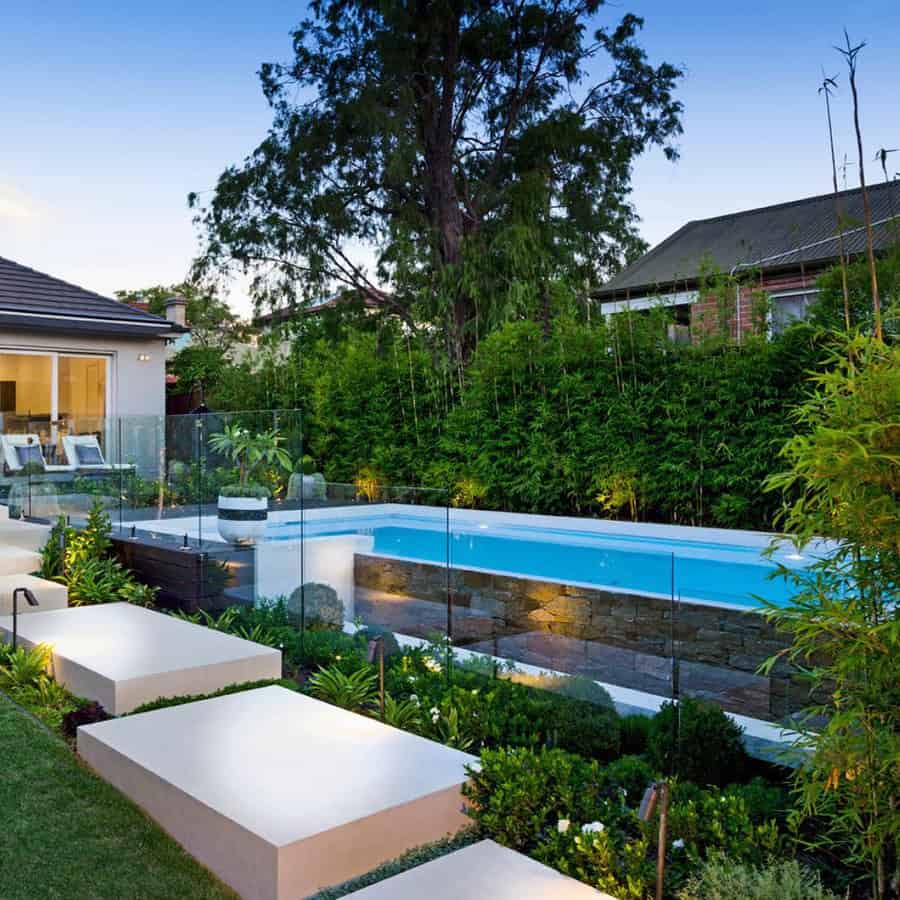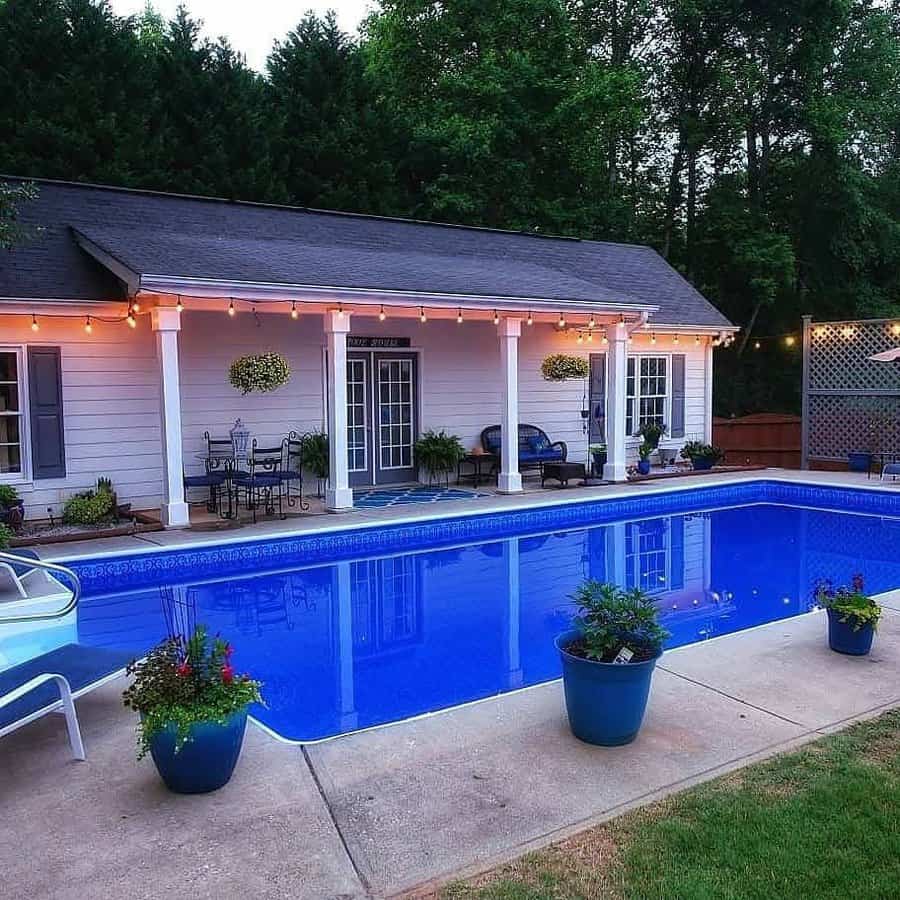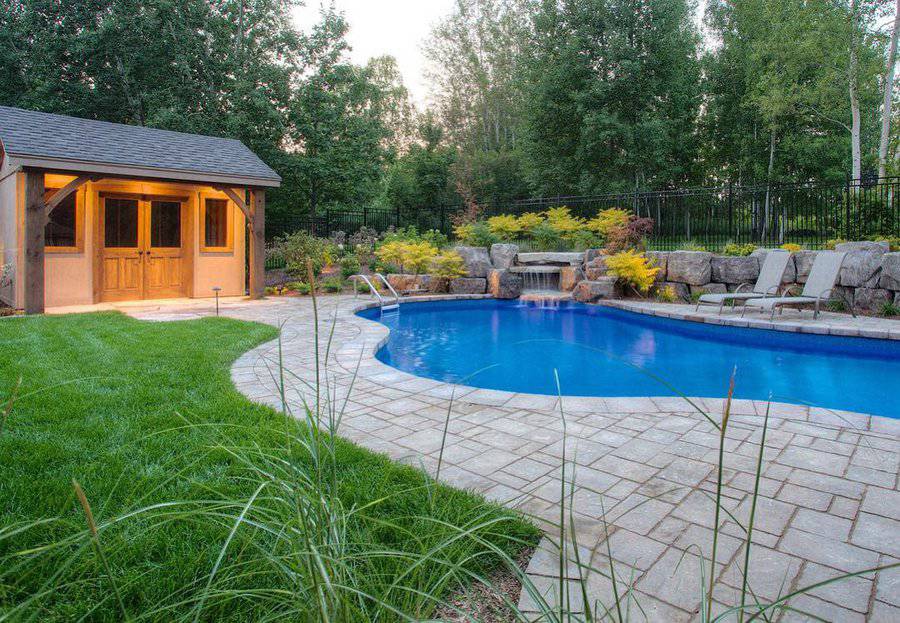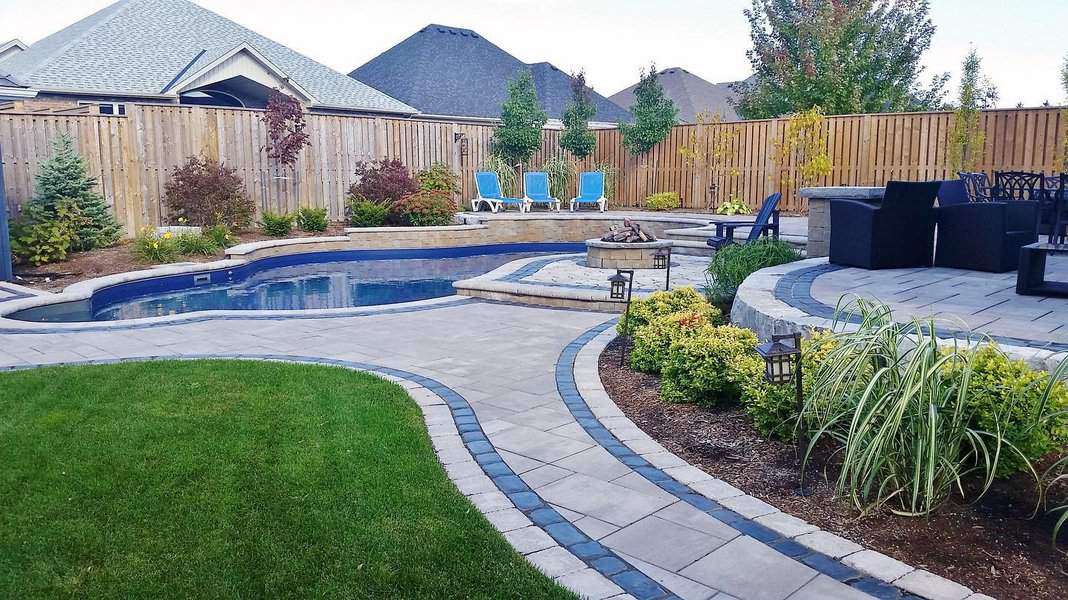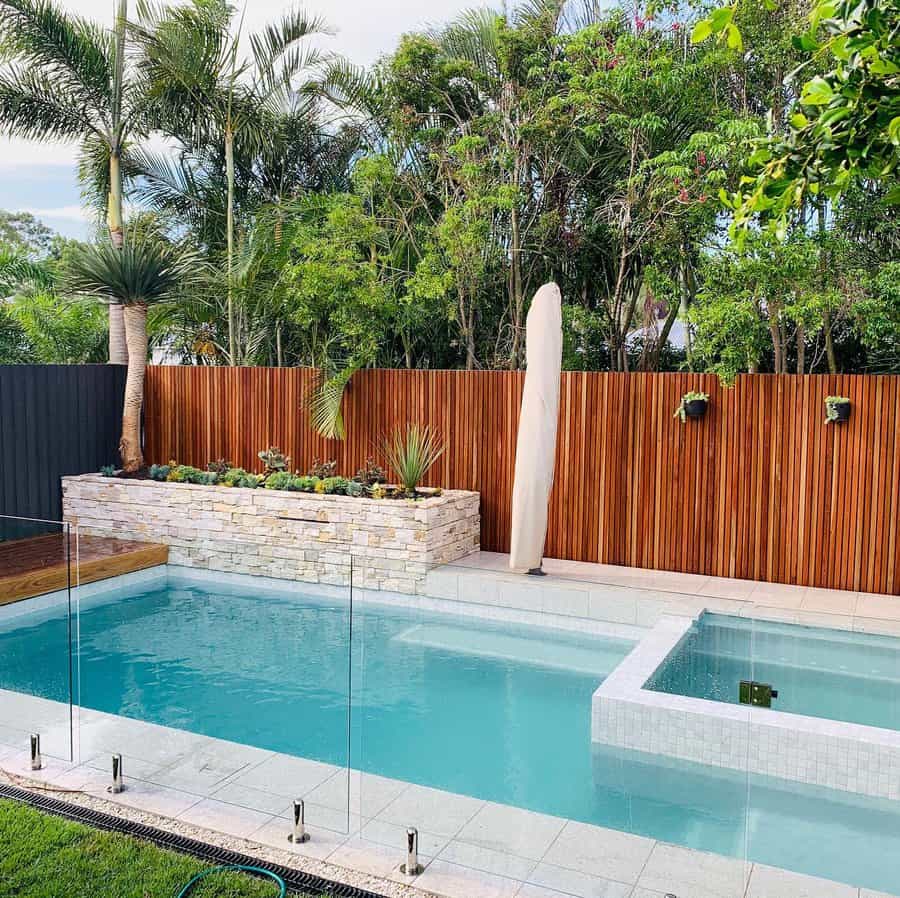 6. Beat The Heat With A Plunge Pool
A plunge pool with blue tiles is the ultimate backyard accessory for anyone looking for a low-cost way to beat the heat! Its small size and minimal maintenance requirements mean that it can go anywhere and add a splash of color to your outdoor area – creating a luxurious oasis in your own backyard.
Whether you want to take a plunge on a hot day or simply lie down in the shallow depths and relax, a plunge pool with blue tiles is the perfect addition to any summer retreat.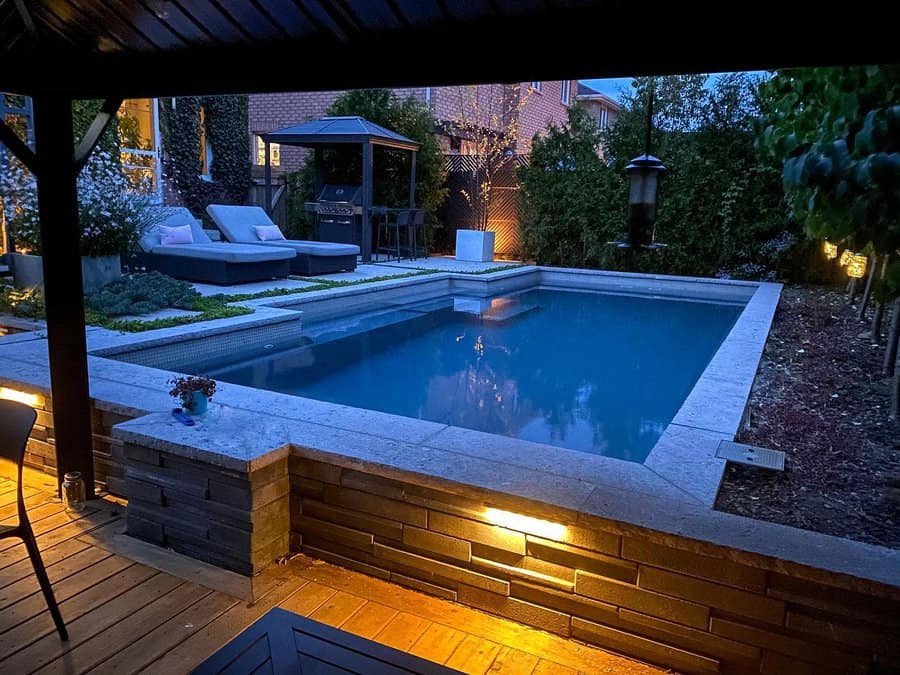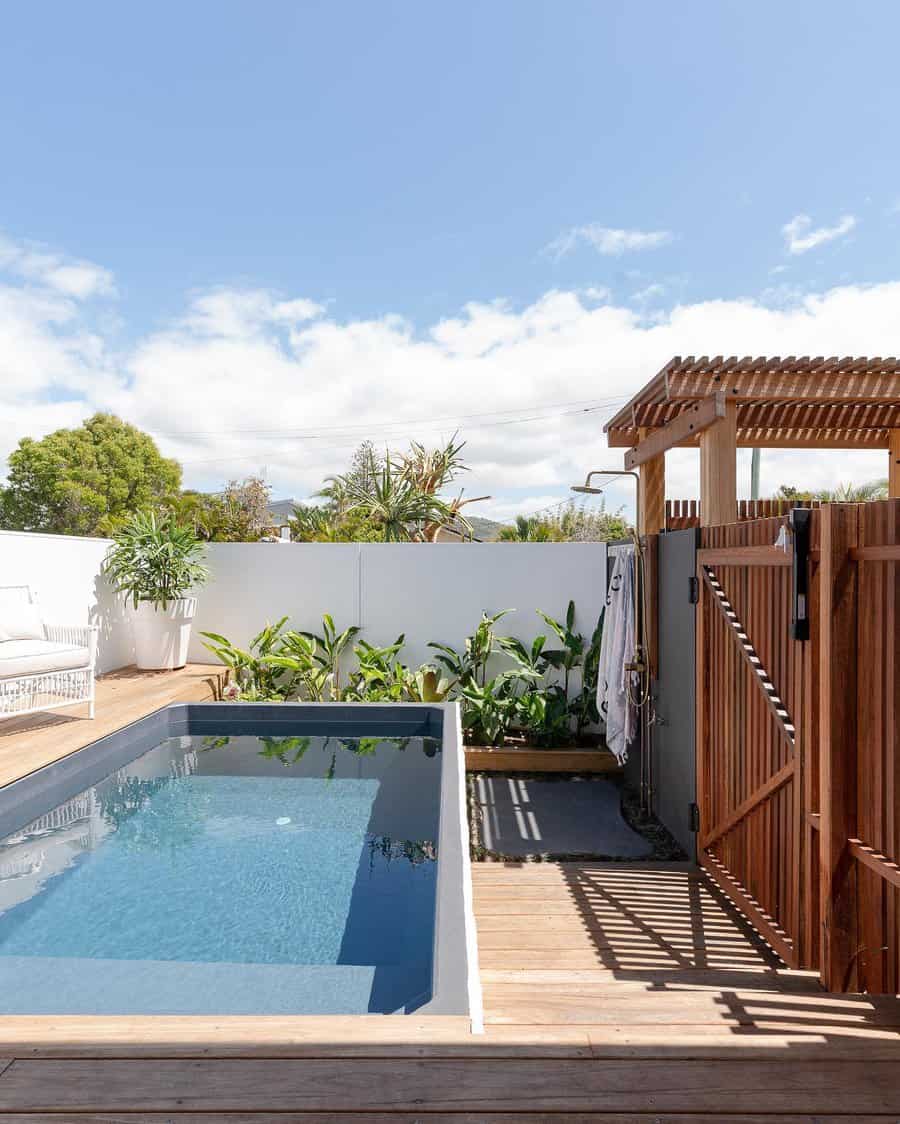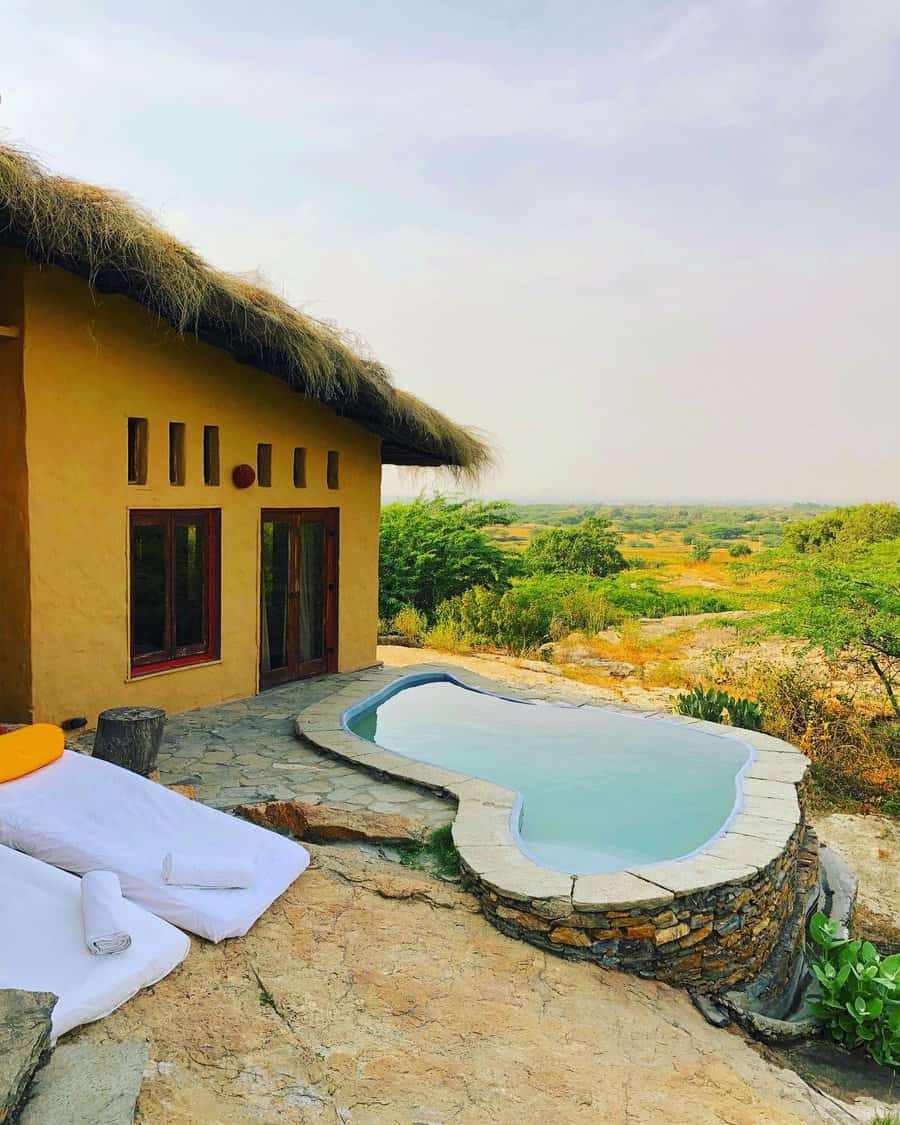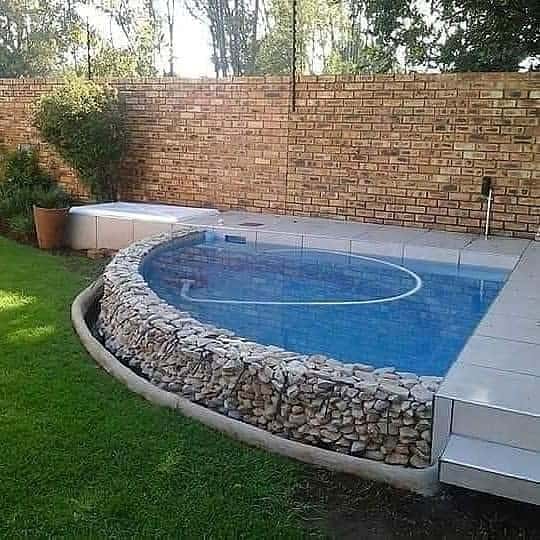 7. Add Blue Accent Tiles
A pool with blue mosaic tiles is the perfect addition to any backyard. Whether you're looking for a classic-style pool or something more modern, these pool tiles add a captivating accent to your swimming pool that's sure to turn heads. The pool will become the centerpiece of your outdoor entertainment area and become a relaxing retreat for the whole family to enjoy during those lazy summer days.
After splashing around in the refreshing pool waters, lounge poolside as you take in the beauty of each and every intricate detail. A backyard swimming pool with blue mosaic tiles is the one-way ticket to a world of endless summer fun and relaxation!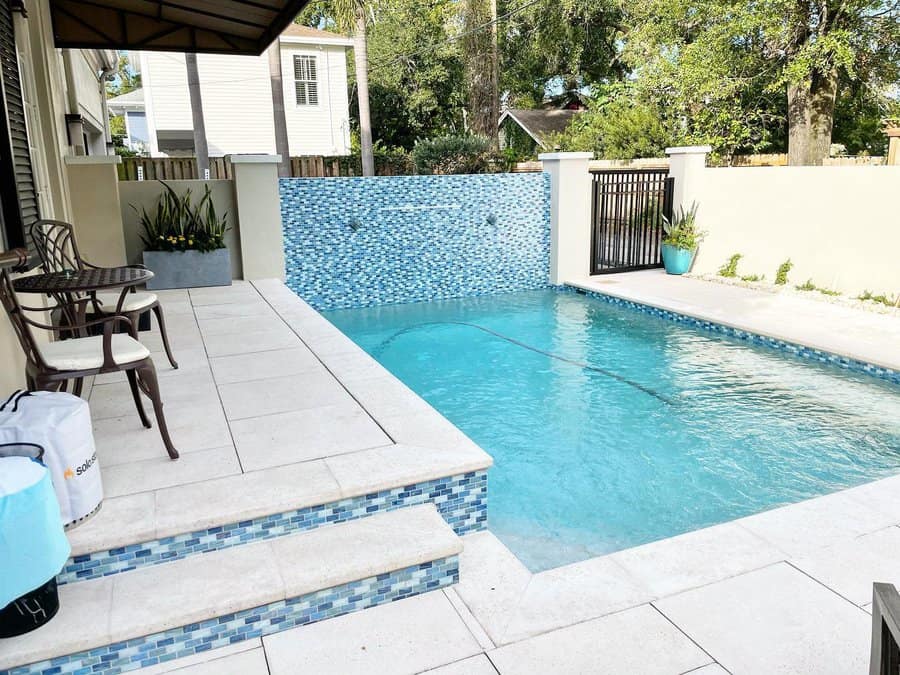 8. Install A Glass Splash Screen
A glass splash screen can be installed to keep debris and dirt from entering the pool, cutting down dramatically on the amount of work necessary for maintenance. If you have kids, consider adding a dedicated children's pool so they can join in the fun without having to compete with adults for space.
With some careful planning and consideration, your backyard can become your own private oasis when the temperature starts rising.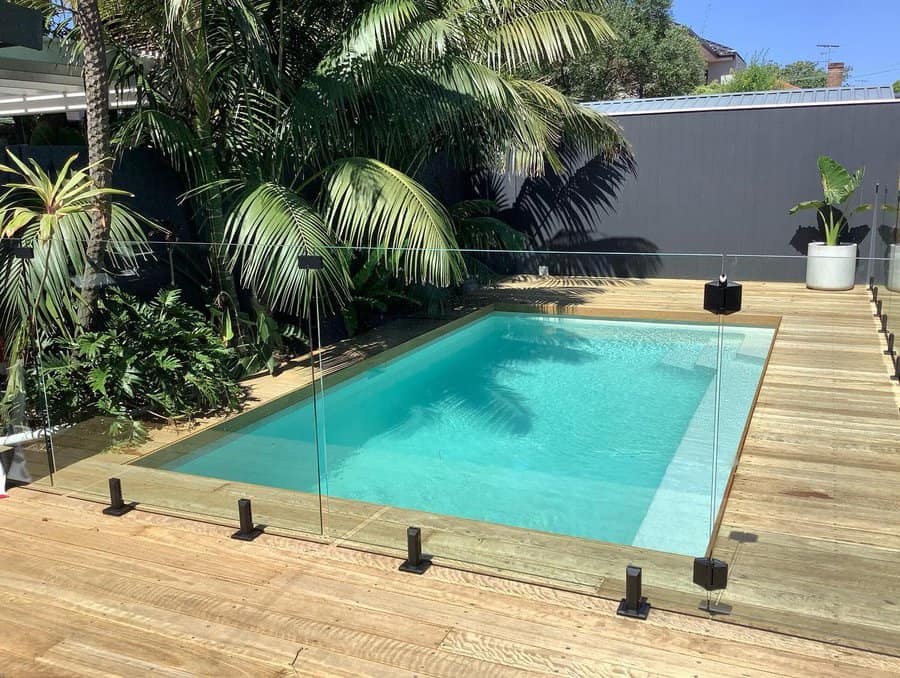 9. Compliment The Pool Area With Pavers
Imagine sitting around your backyard swimming pool, surrounded by a naturally beautiful landscape. An elegant backyard with stone pavers and a walkway leading up to the shimmering oasis, the sound of trickling water reverberating through the air.
White pebbles line the edge of your backyard haven; they glisten in the bright sun rays beaming down from above. This is your backyard swimming pool, an escape that you can always find yourself drawn back to for fun and relaxation.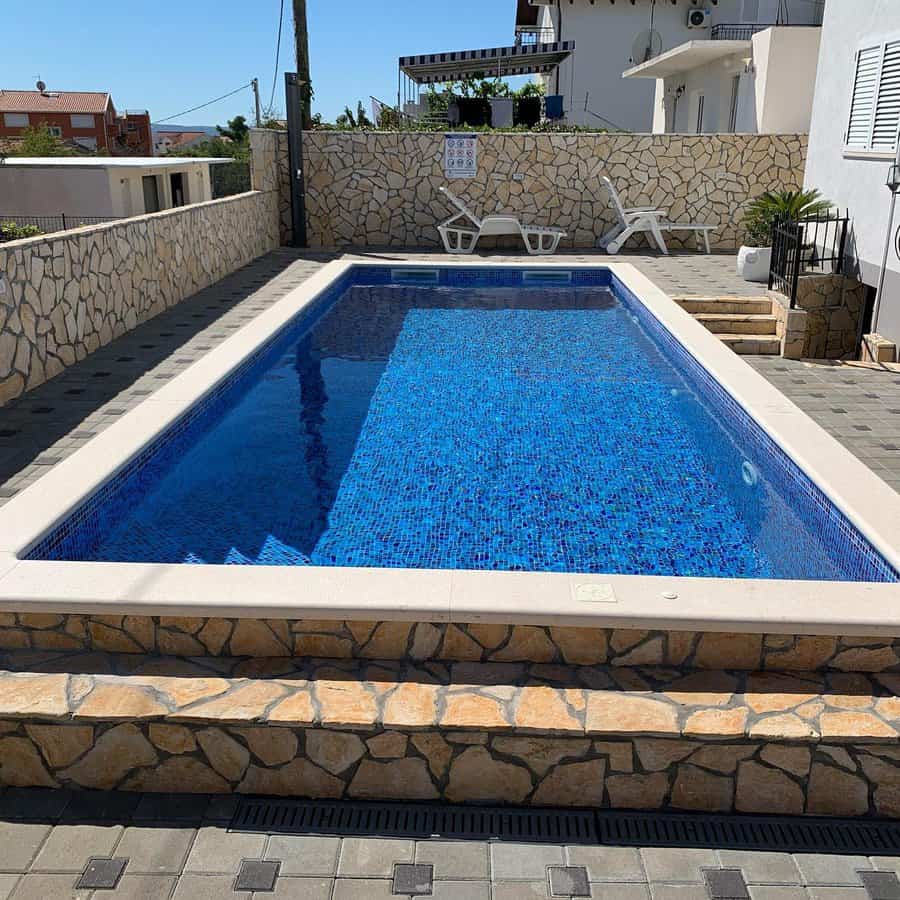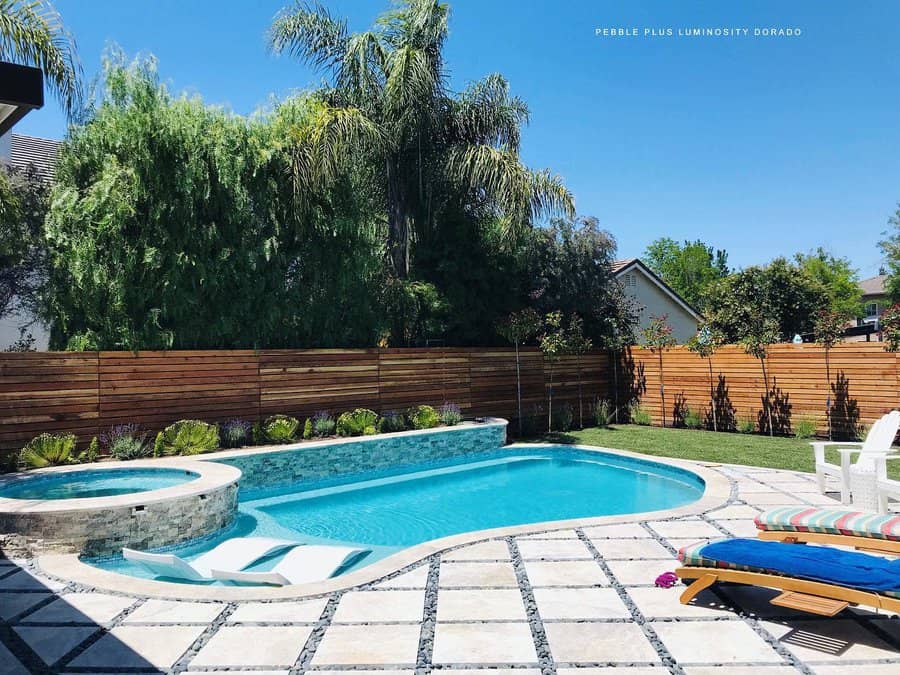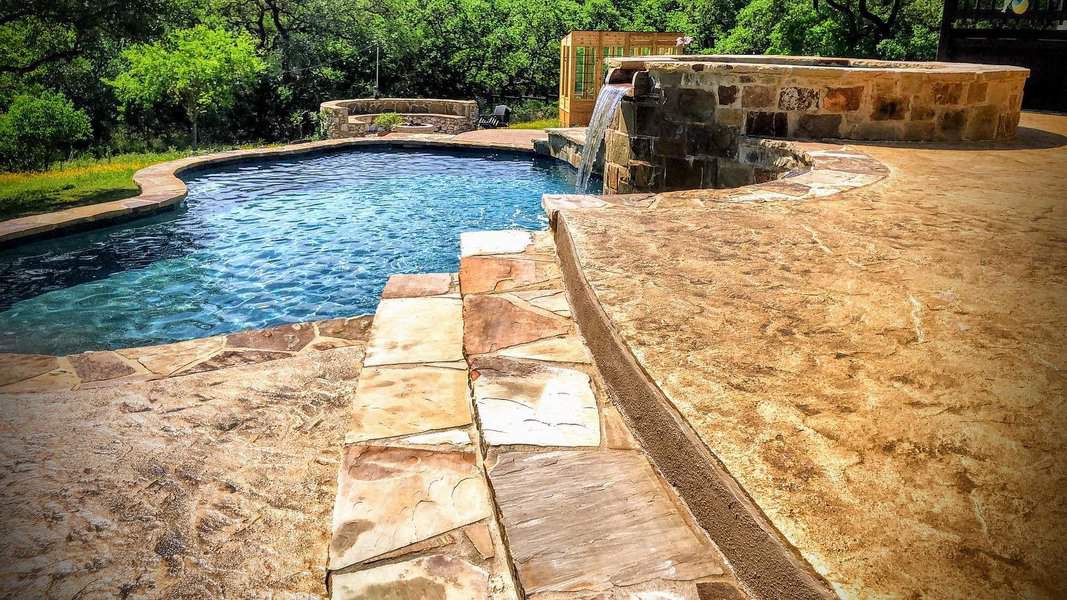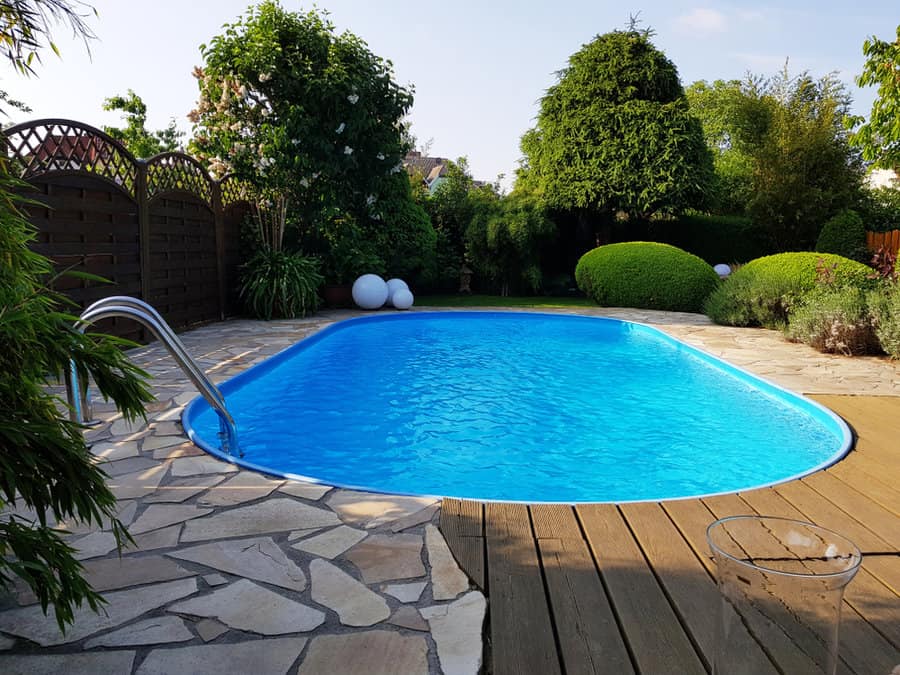 10. Surround With Lush Tropical Greenery
Stepping out into your own backyard swimming pool is like entering an exotic paradise, a lush tropical oasis surrounded by vibrant flora and fauna.
With its inviting turquoise water and swimming pool surrounded by luscious tropical plants, the swimming pool creates a peaceful sanctuary away from the hustle and bustle of the city.
You can spend hours outside with family and friends swimming, lounging in the sun or even taking a nap under one of the tall trees nearby.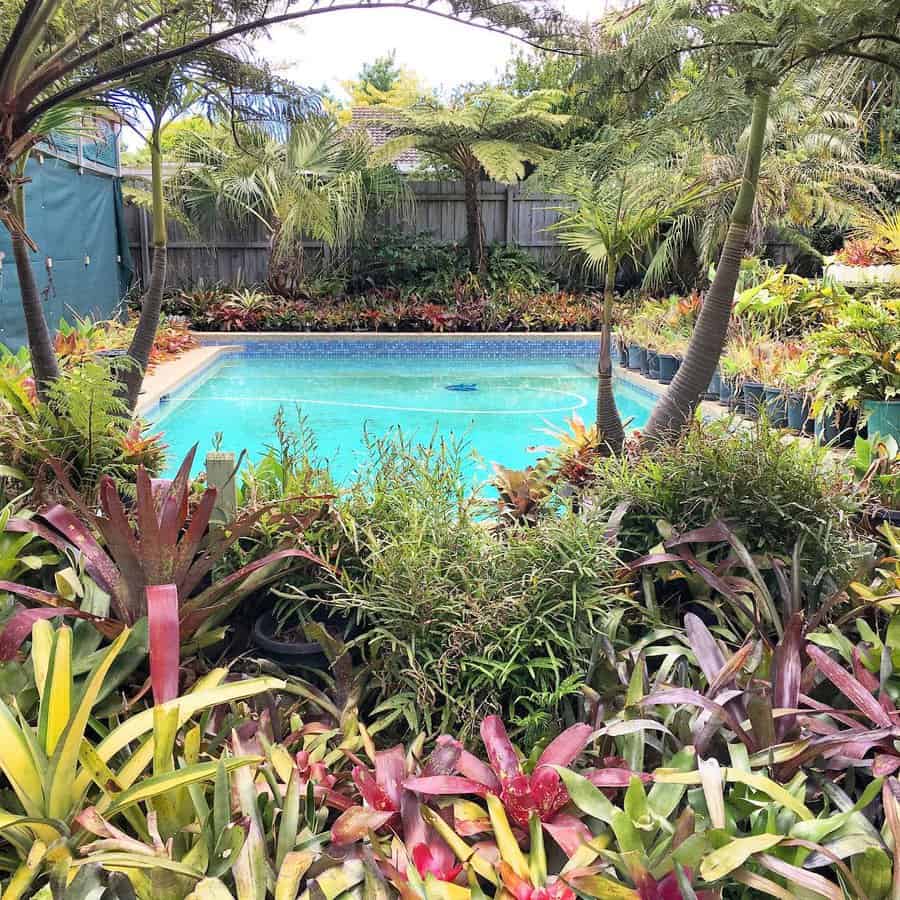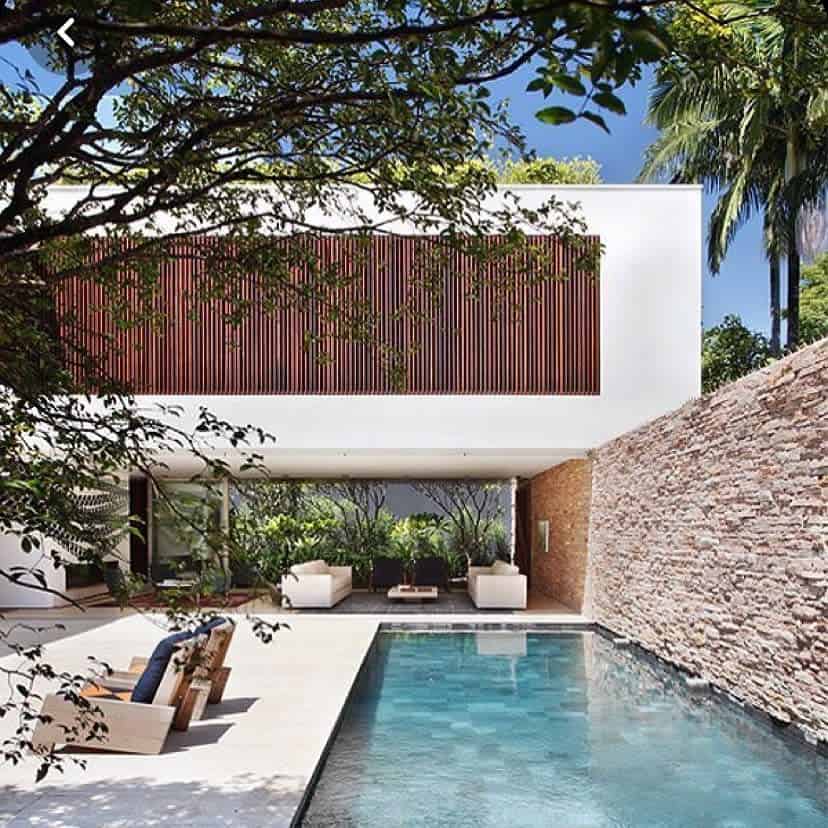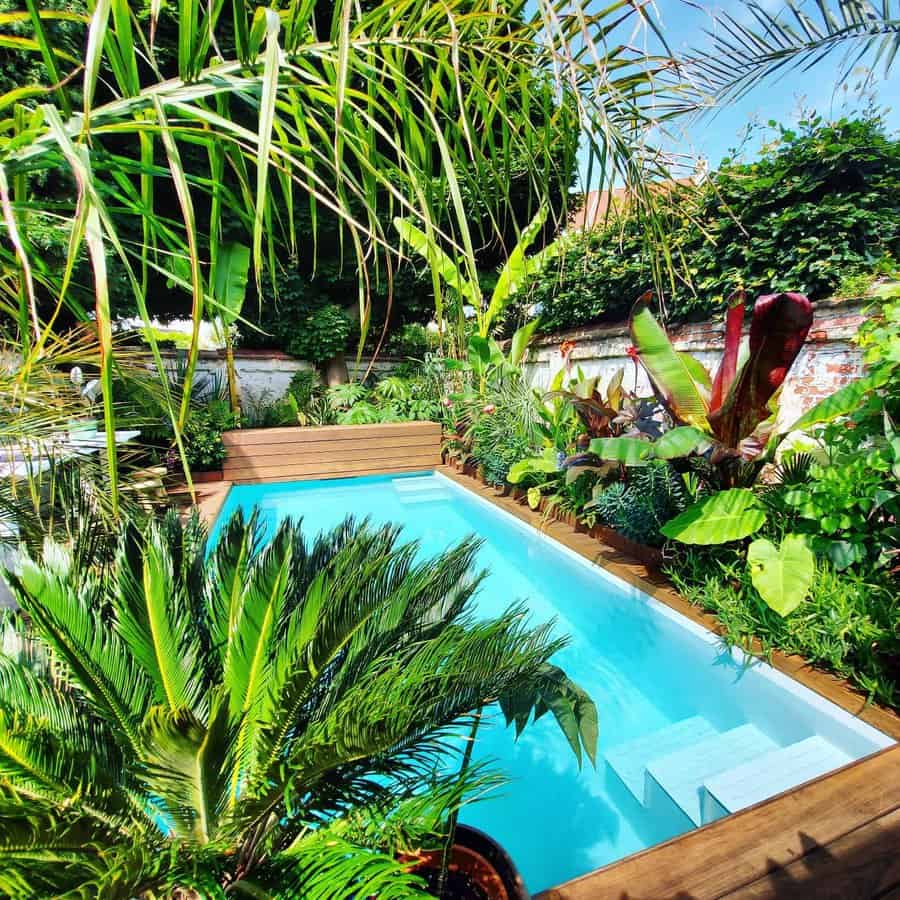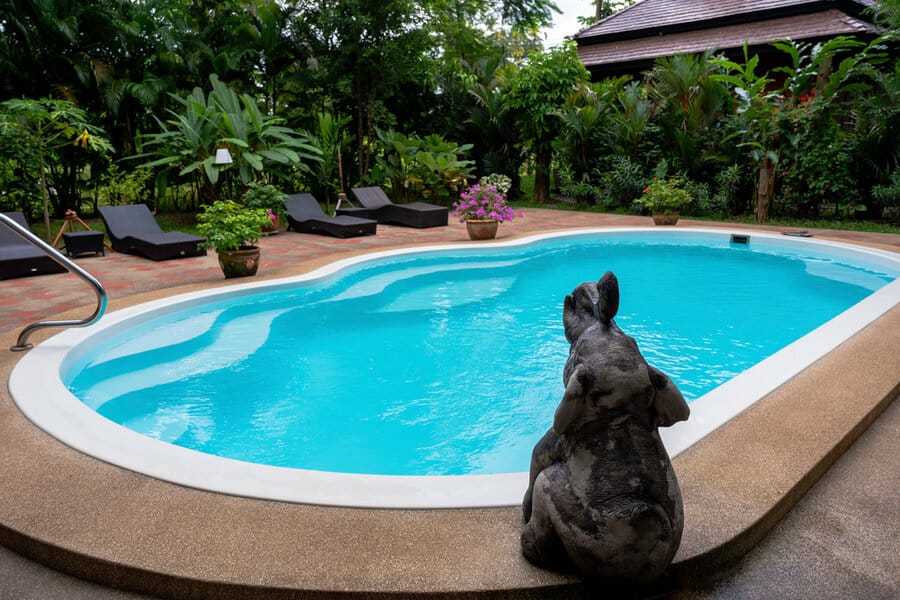 11. Opt For A Freeform Pool
Designed to fit the unique shape of your property, freeform pools have become increasingly popular in recent years due to their exceptional aesthetic qualities as well as their versatility in terms of added features such as bubblers, fountains, and grottos.
Imagine having an oasis just steps away from your patio or deck; the perfect place for relaxing with friends and family on exciting summer days. With a freeform pool in your backyard, you can achieve tranquility that is impossible to come by elsewhere.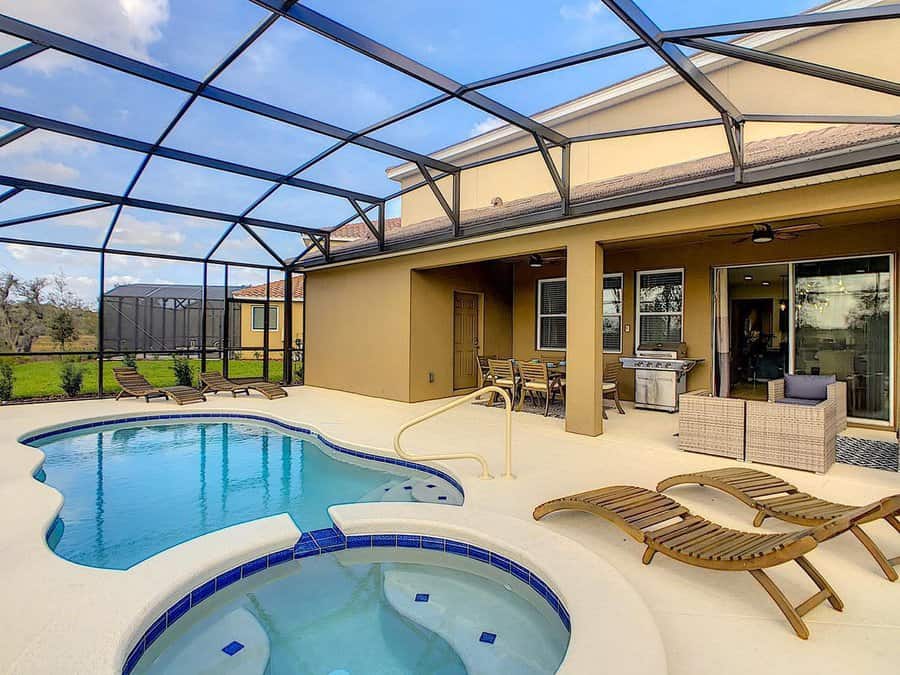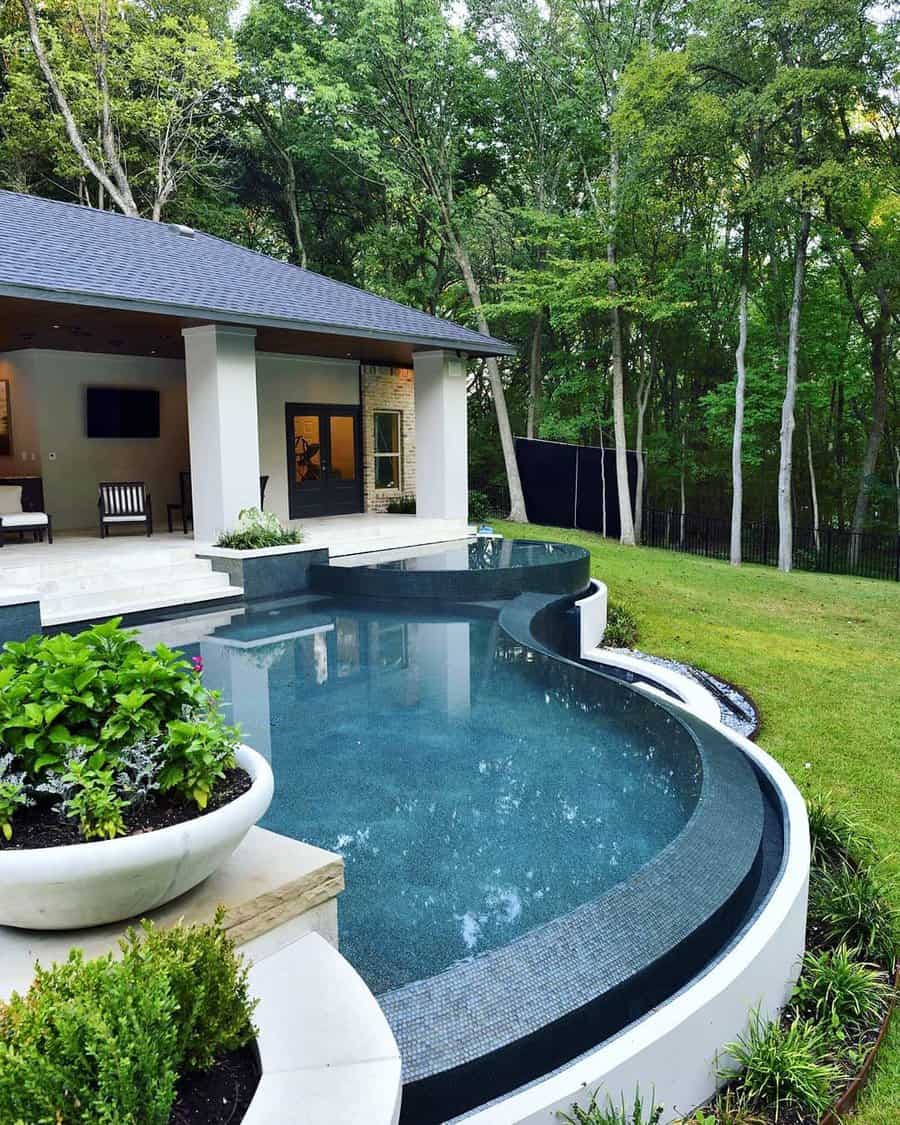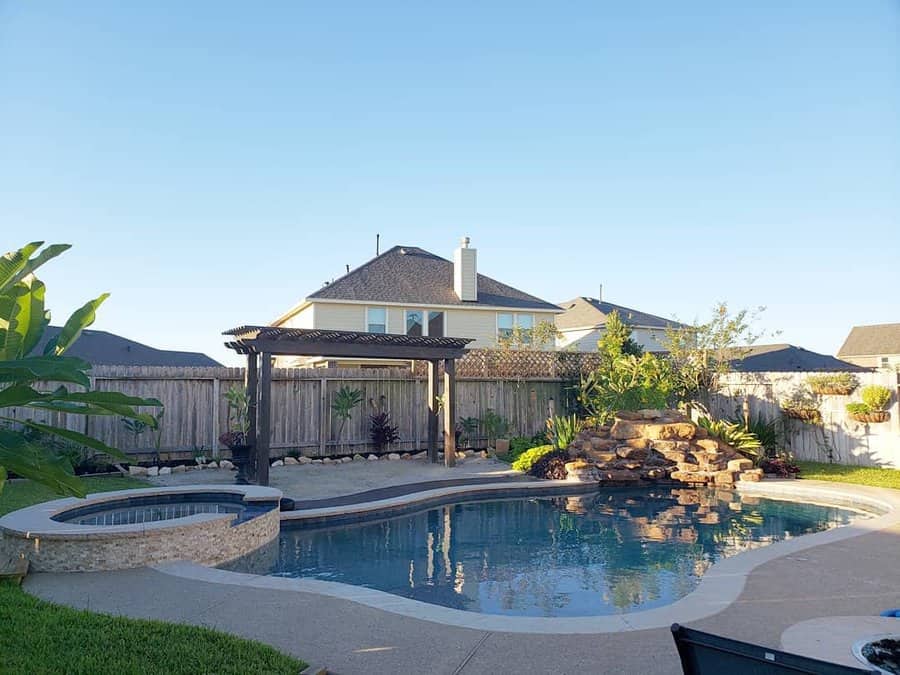 12. Add A Waterfall Fountain
There's nothing more peaceful than lounging around in your backyard pool on a warm, sunny day. Immerse yourself in the sparkling waters of a backyard pool with an integrated waterfall – the gentle sound of circulating water is sure to help you leave the worries of the world behind.
Enjoy a swim through the serene, beautifully-landscaped backyard, feeling the movement of water around you and allowing yourself to sink into tranquil relaxation.
Whether it's for leisure, exercise, or just because it looks beautiful, backyard pools provide an incredible way to enjoy the outdoors from your own backyard.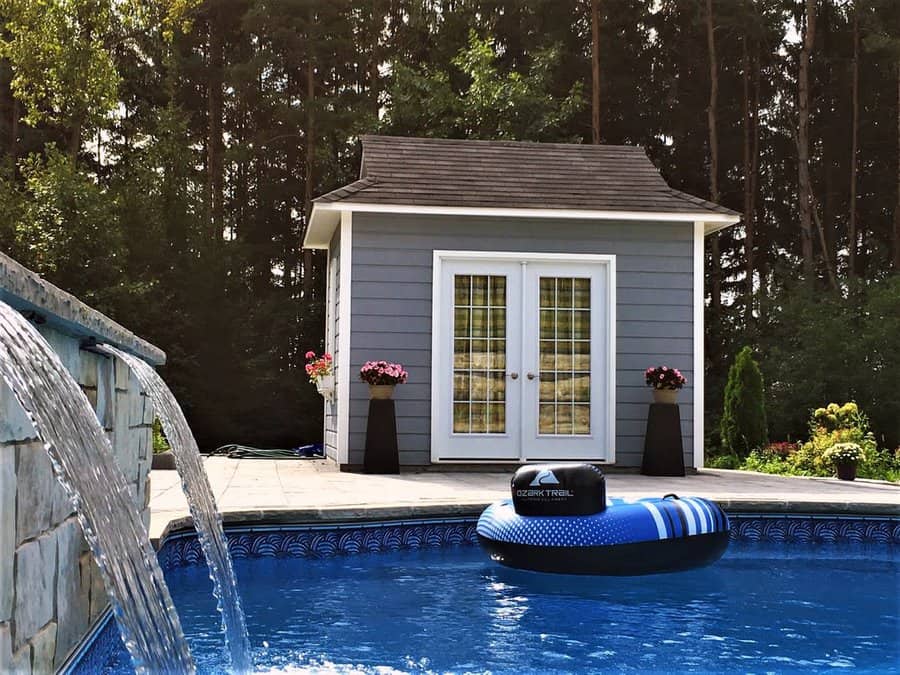 Backyard Pool FAQs
How much does it cost to build a pool in your backyard?
The average cost to build a pool is about $22,000. However, you could spend as little as $10,000 or as much as $50,000. Above ground pools are more affordable than inground pools. The cost of your backyard pool will depend on the type, size, and complexity of the pool you want.
Are backyard pools worth it?
A pool in your backyard can increase the value of your home. It can also increase the enjoyment of your home and your quality of life. While you may not get your total financial investment back, adding a pool to your home can be worth it.
Is it expensive to maintain a pool?
The cost of maintaining your pool can vary between $50 and $200 a month. The cost will depend on where in the country you live, the size of your pool, and what you need done. Maintenance costs include cleaning, repairs, electricity, water, and maintenance.