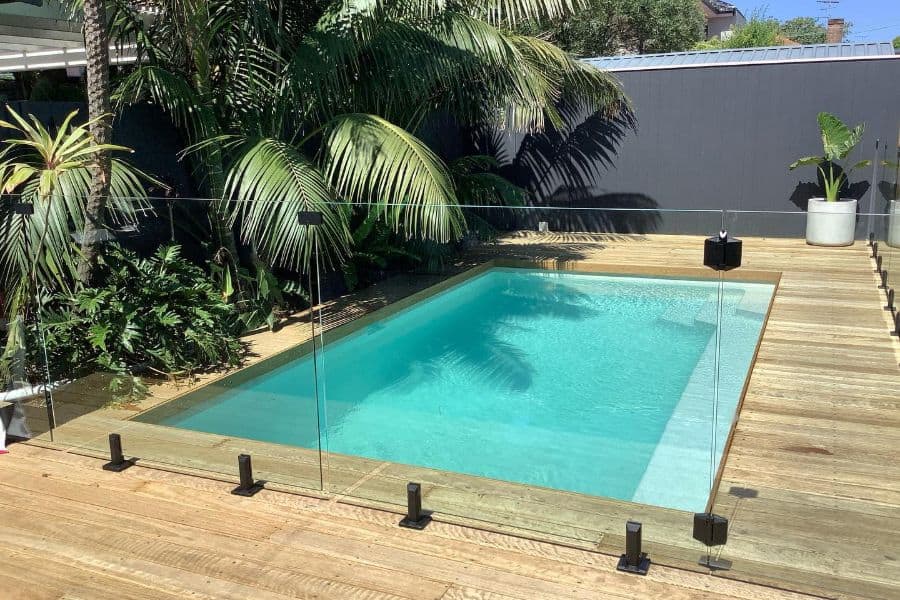 47 Backyard Swimming Pool Design Ideas
"This life is like a swimming pool. You dive into the water, but you can't see how deep it is." – Dennis Rodman
You've always wanted a swimming pool in your backyard. Now that you own your own home, you can finally have one. The first step is to decide what type and size of pool you can build. Consider the aesthetic of your home and budget when deciding on what kind of pool you will build.
These backyard pool ideas will get you inspired and start you down the path of becoming a proud pool owner.
1. Above Ground
Look at above ground pool ideas if you want to add a small but functional backyard swimming pool to your home. They work great in both large and small backyards. You could even build a pool deck around the pool to make it easier to get in and out of it.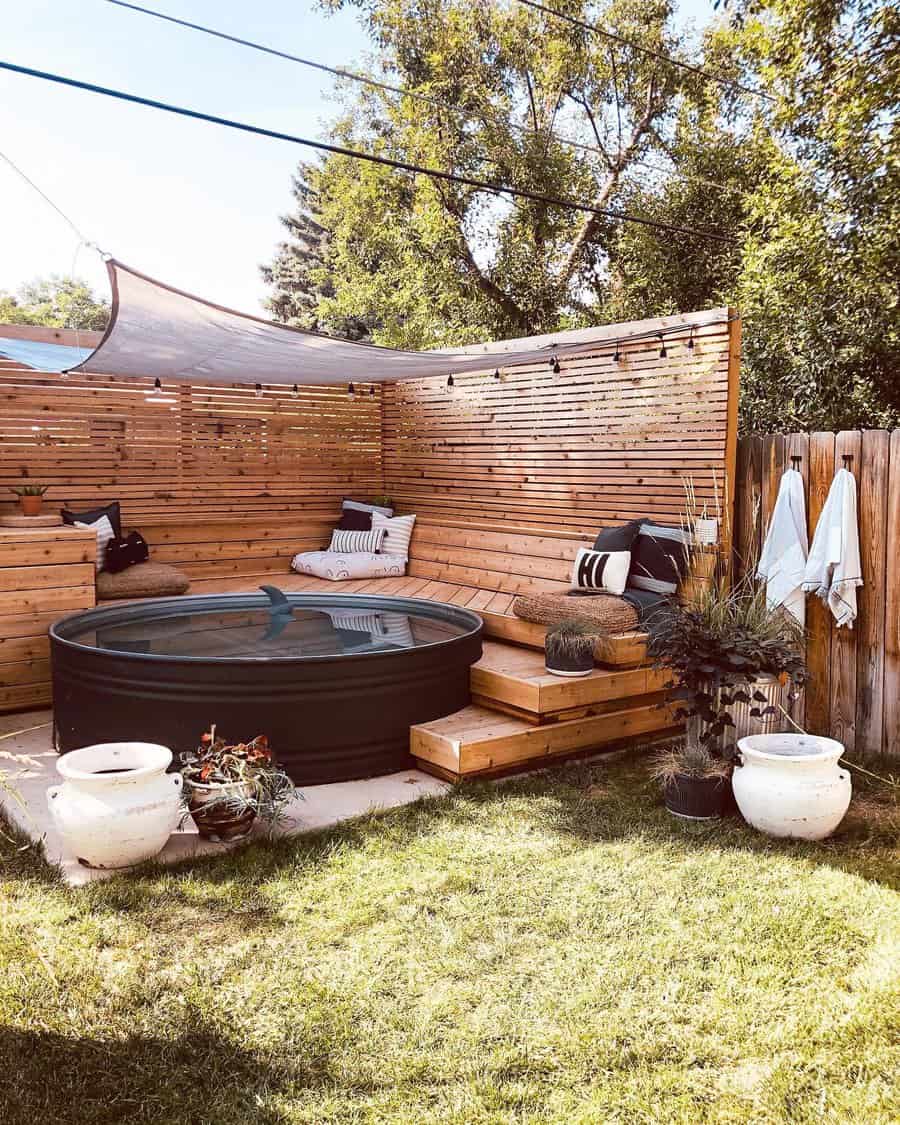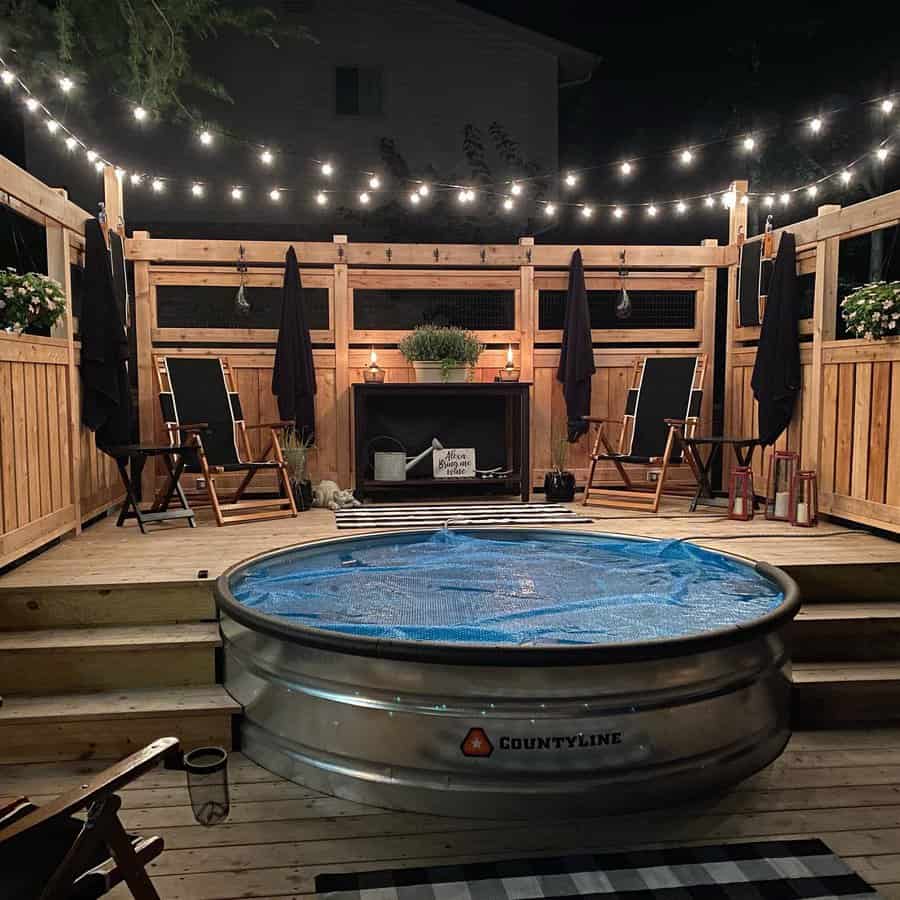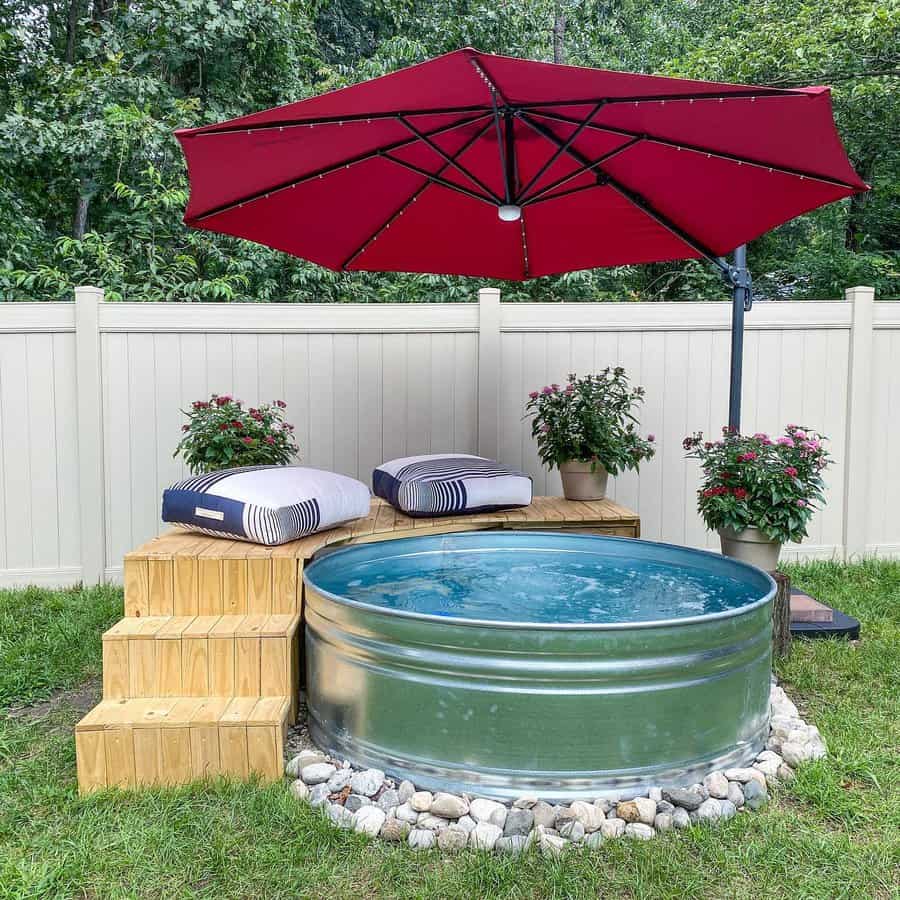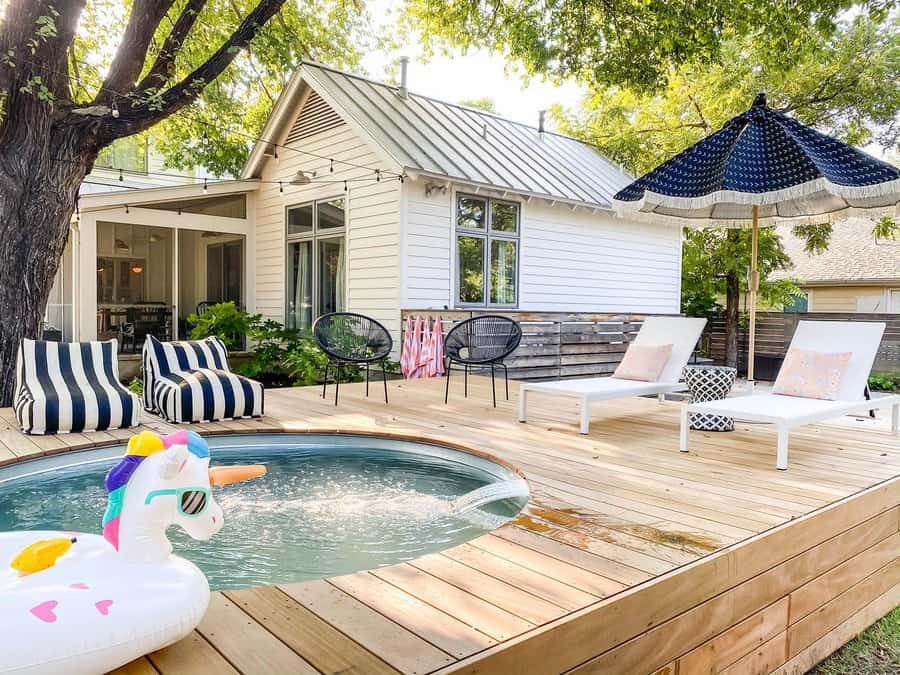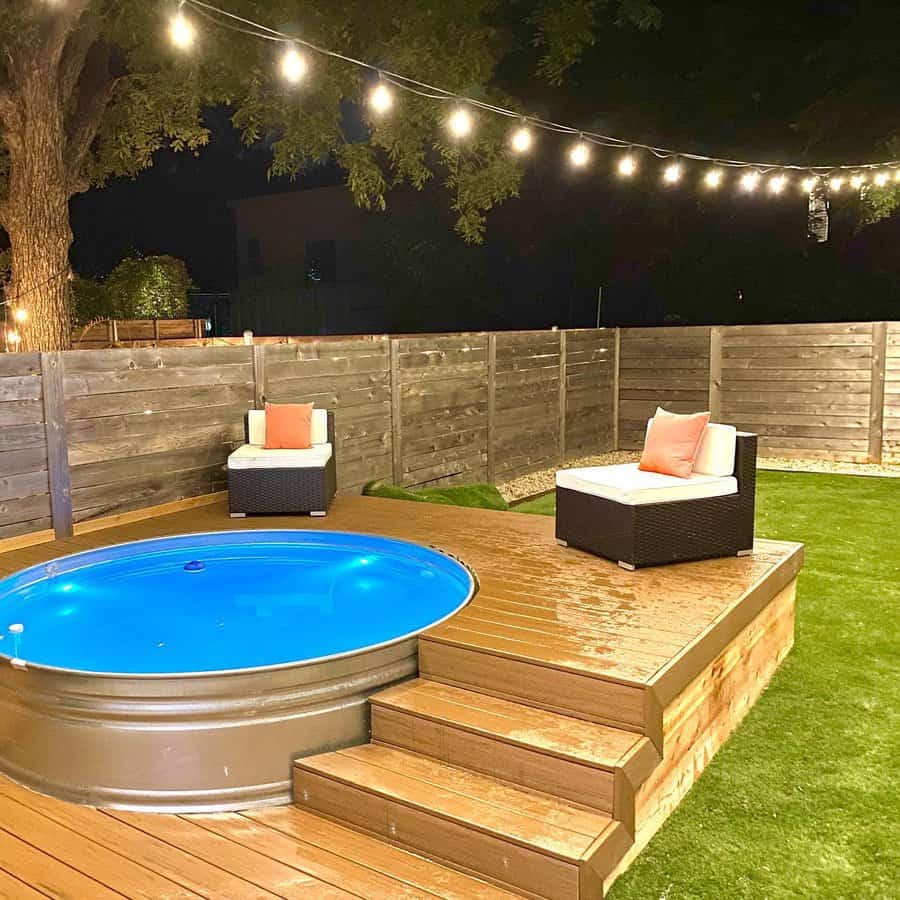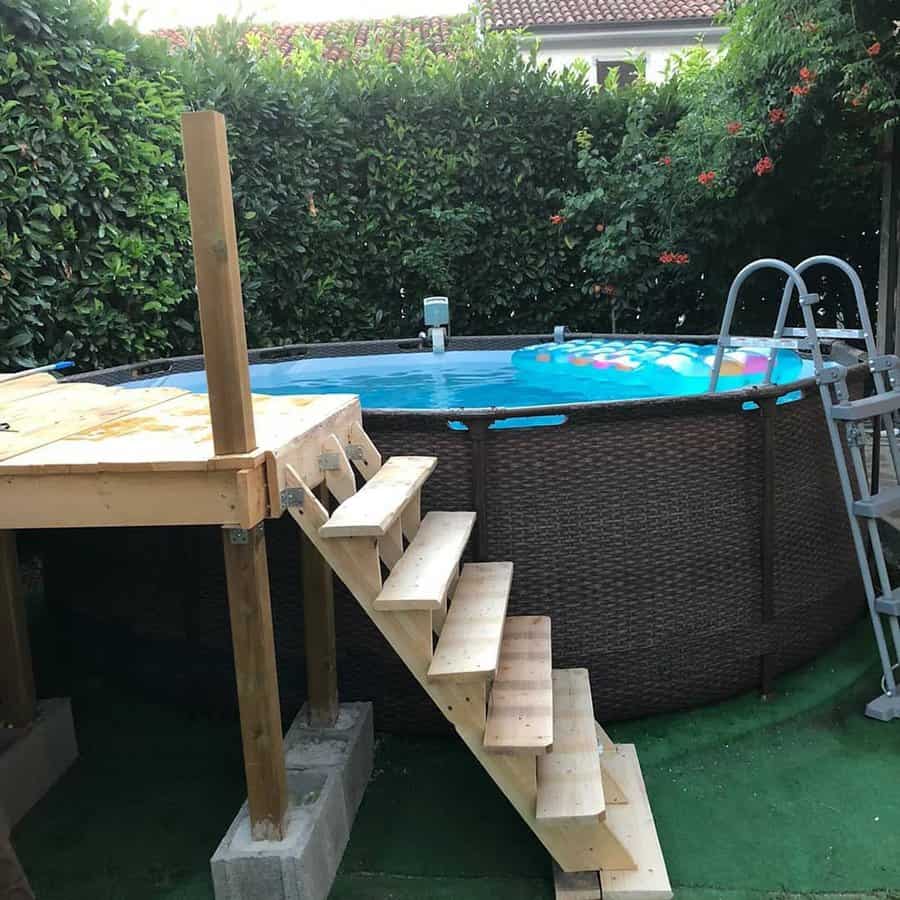 The majority of above ground pools aren't very attractive to look at. This can take away from the look of your backyard. Build a wall around the pool out of stone or wood. This will hide the pool and give your design a custom look.
2. DIY
Building your own pool is not an easy task. You'll likely need permits and a lot of know-how to ensure you build an outdoor space that's safe and long-lasting. The last thing you want is for your pool area to start caving in on itself.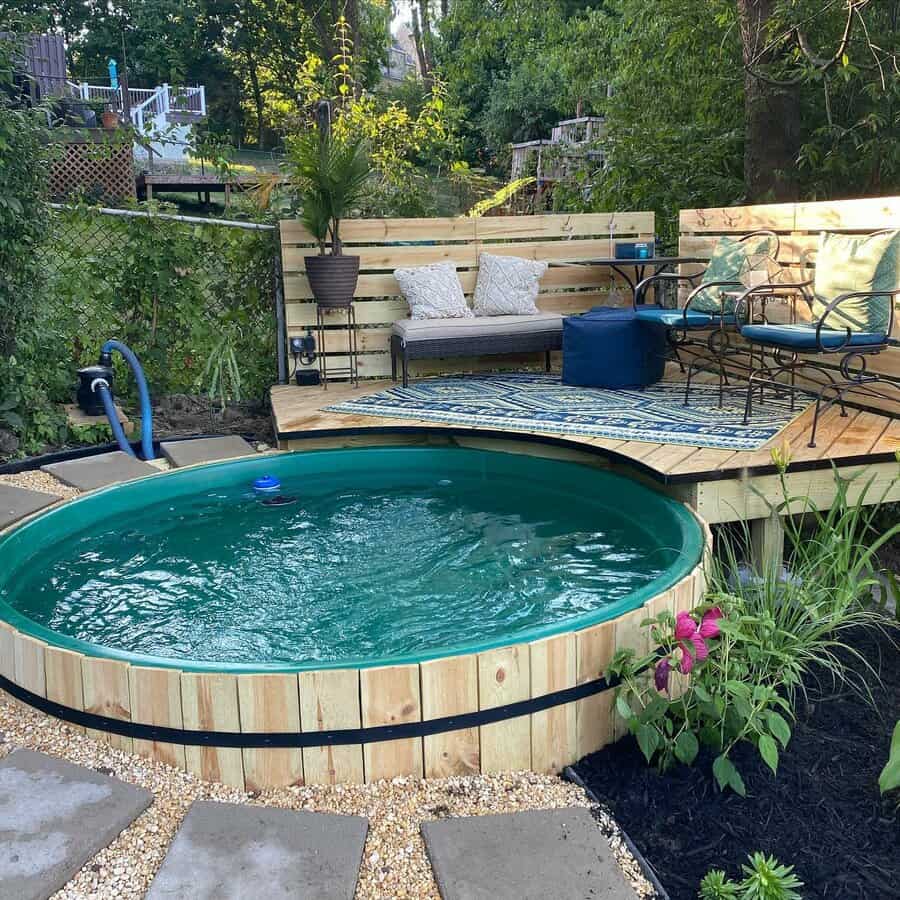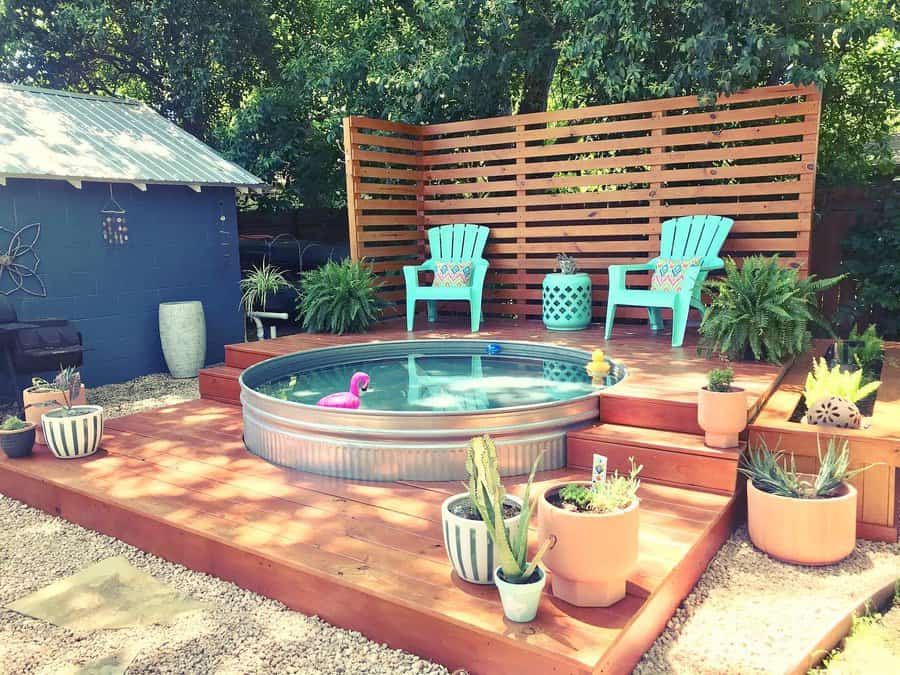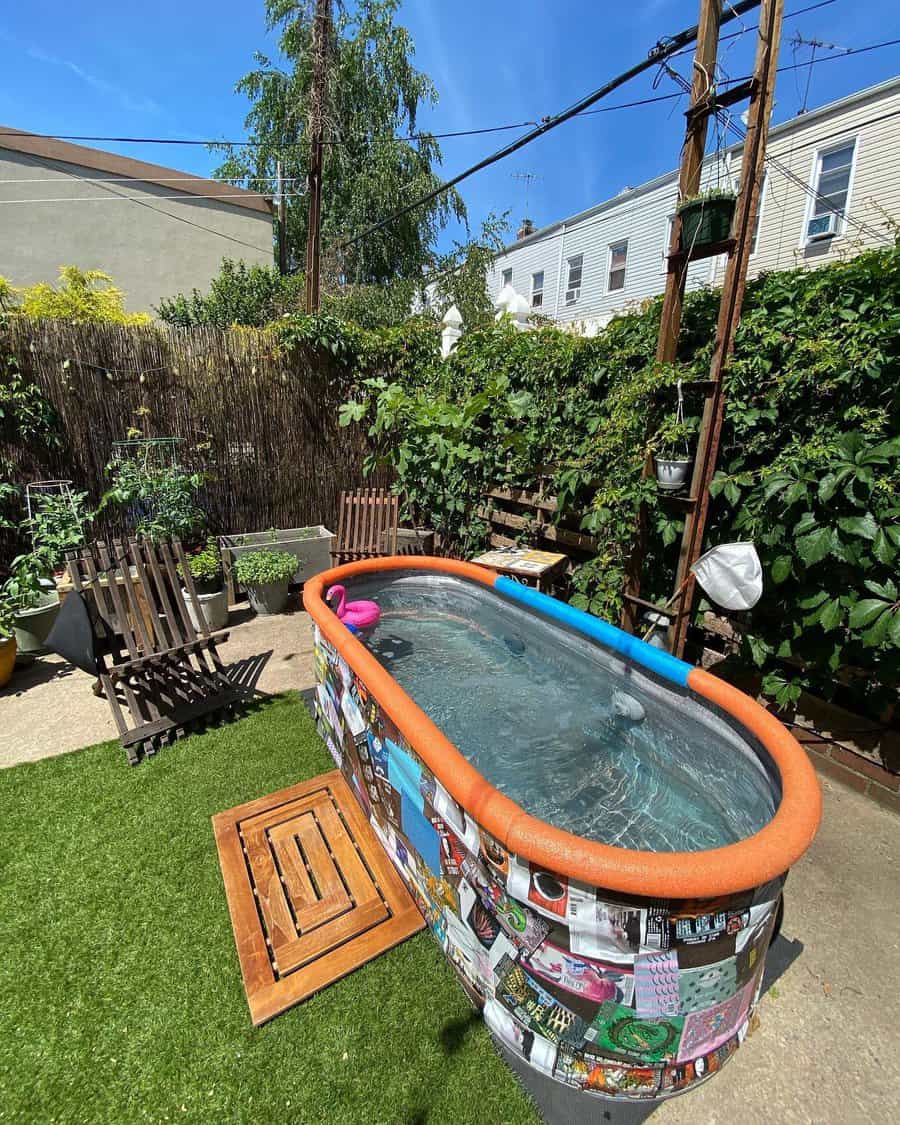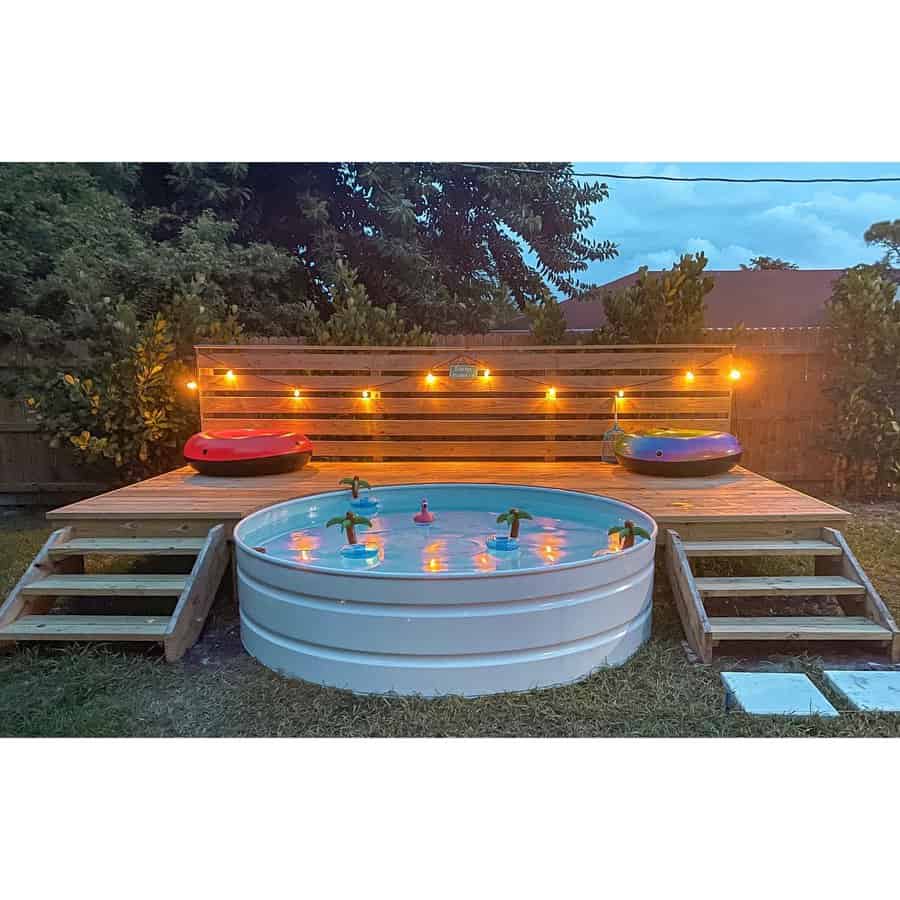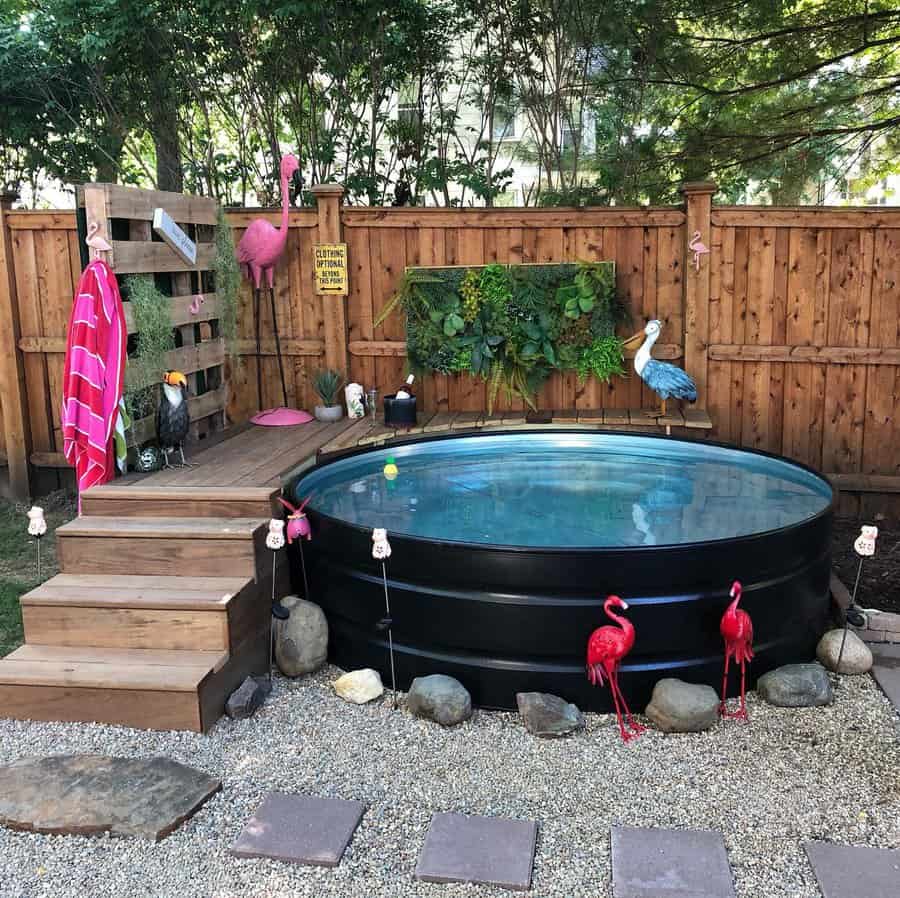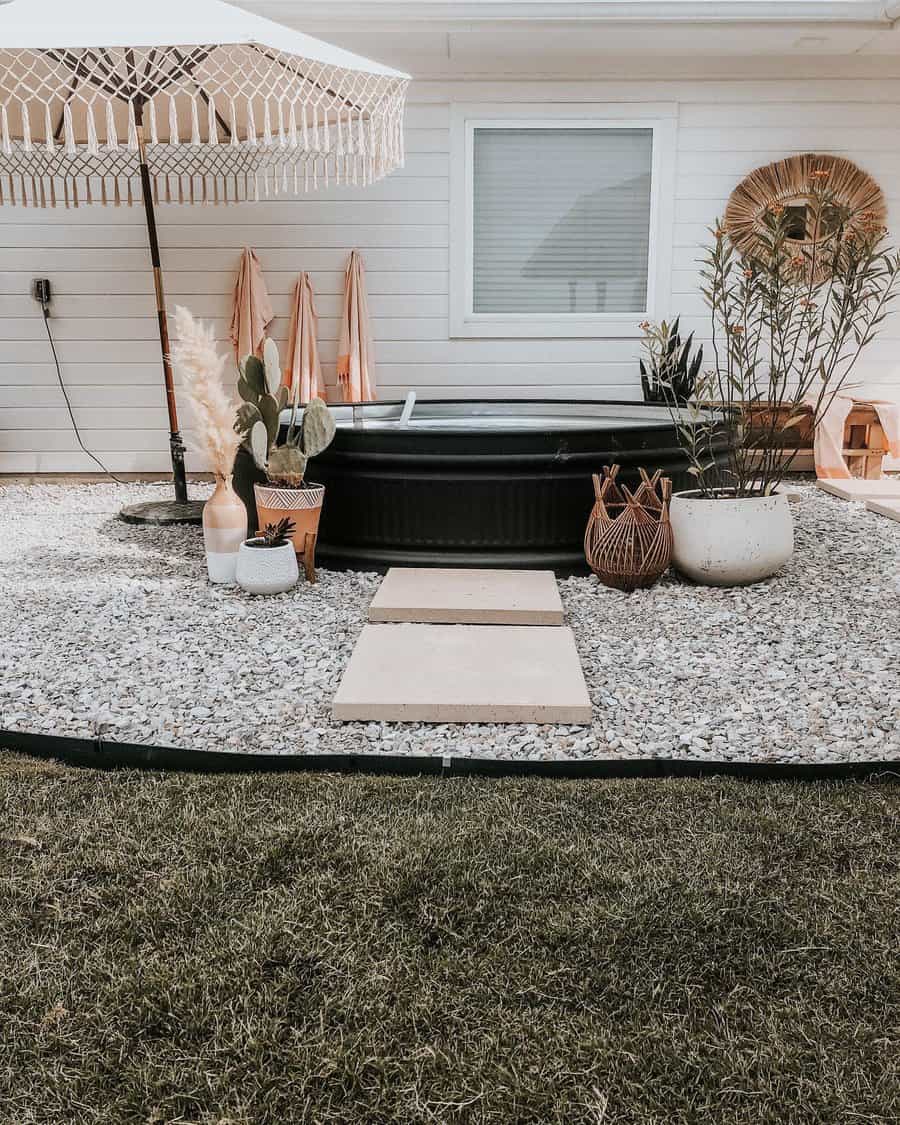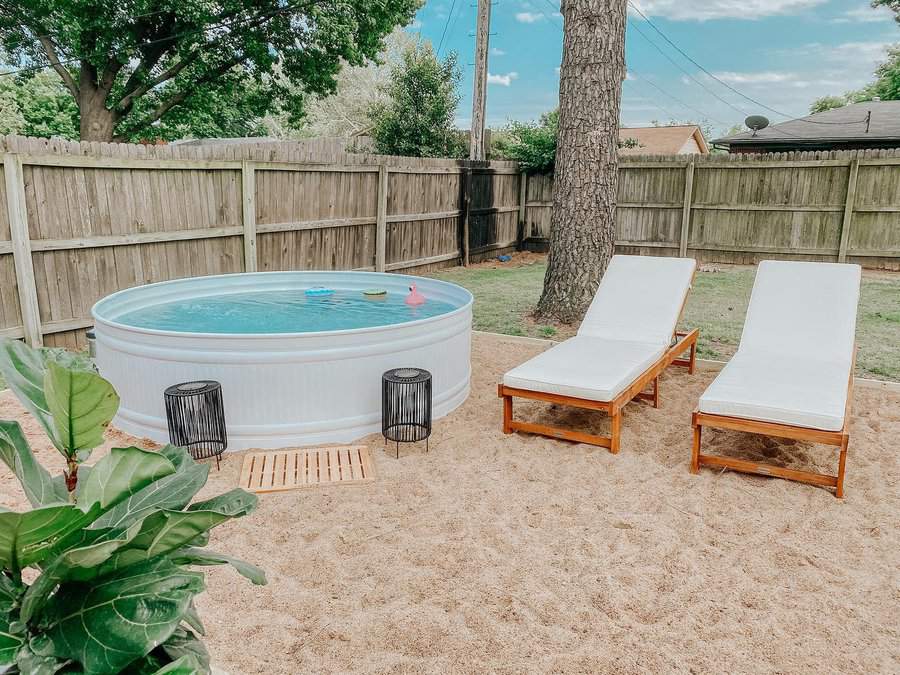 One simple solution is to use a prefab pool. These are shells that you drop into a hole in the ground. You could also buy a shipping container and sink that into a hole in the ground.
If you don't want to or can't dig, then leave it above ground. You could build a deck and pergola for an entire outdoor living space.
3. Inexpensive
Building a swimming pool is not a cheap endeavor. Even a small pool will cost a few thousand dollars. If you have a tight budget, then consider building an above ground swimming pool. These small backyard pools are more affordable to build than in-ground ones.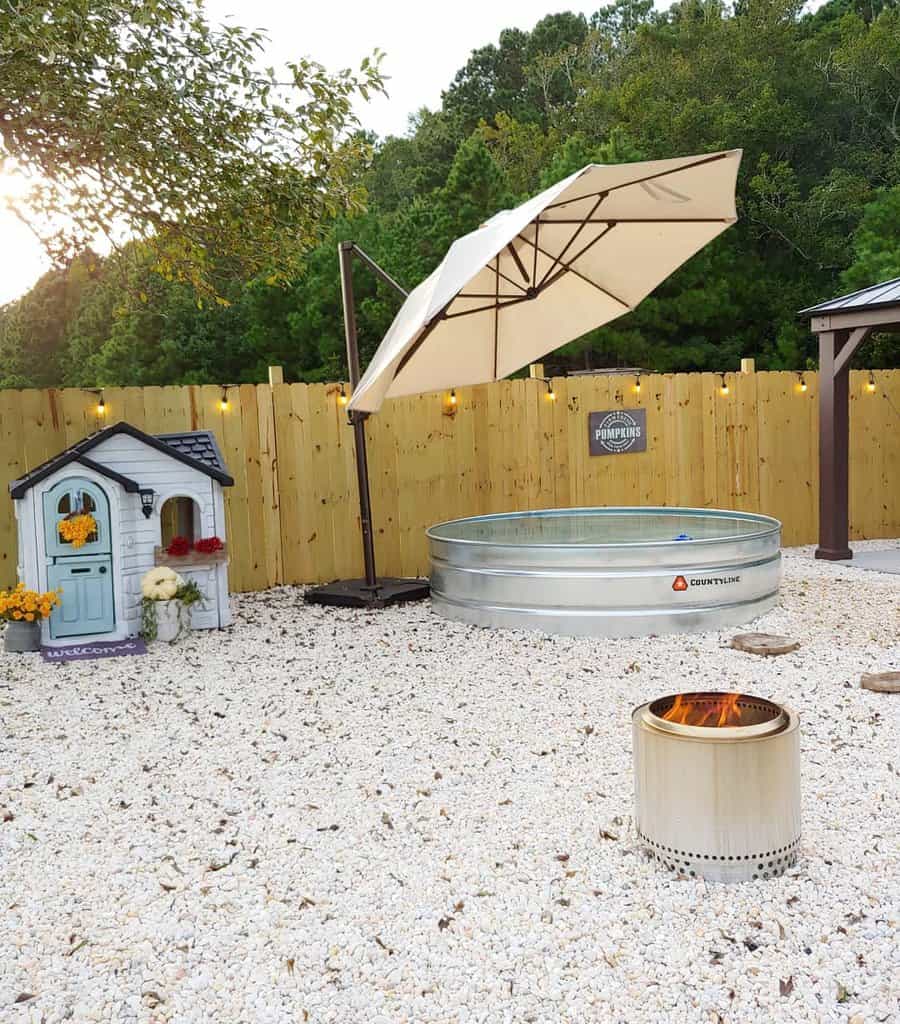 Pools made with a vinyl liner are the most affordable option if you want an in-ground pool. These are premade pool forms that get dropped into a hole in the ground.
There are also kits that you can buy that come with everything you need to build your pool. If you plan to hire a contractor, do it during the fall when demand is low, and you're likely to get a better deal.
4. Luxury
Nothing says luxury like a pool that has a single use. Lap pools are long and skinny pools that are built for the sole purpose of swimming laps. If you want your backyard to say luxury, build your swimming pool, and then build a separate narrow pool.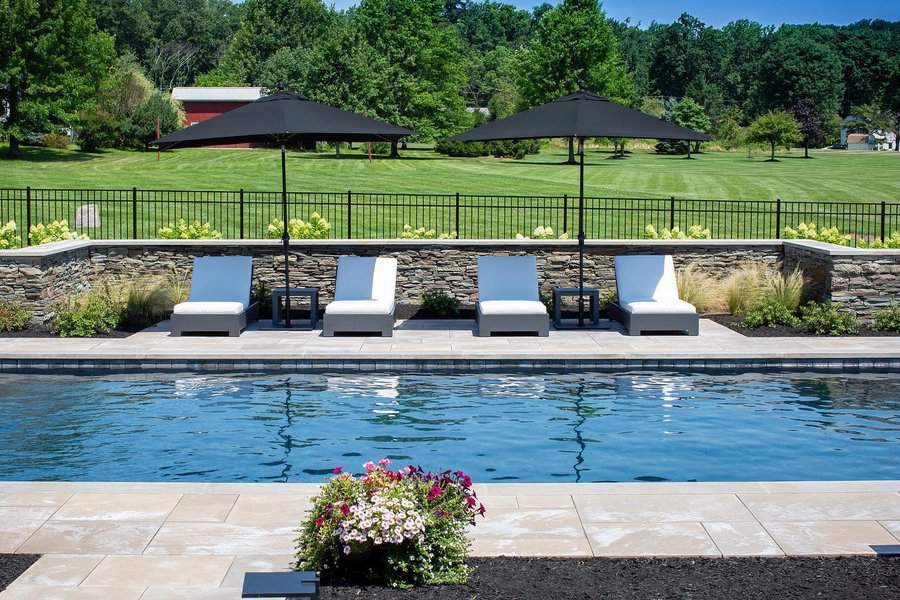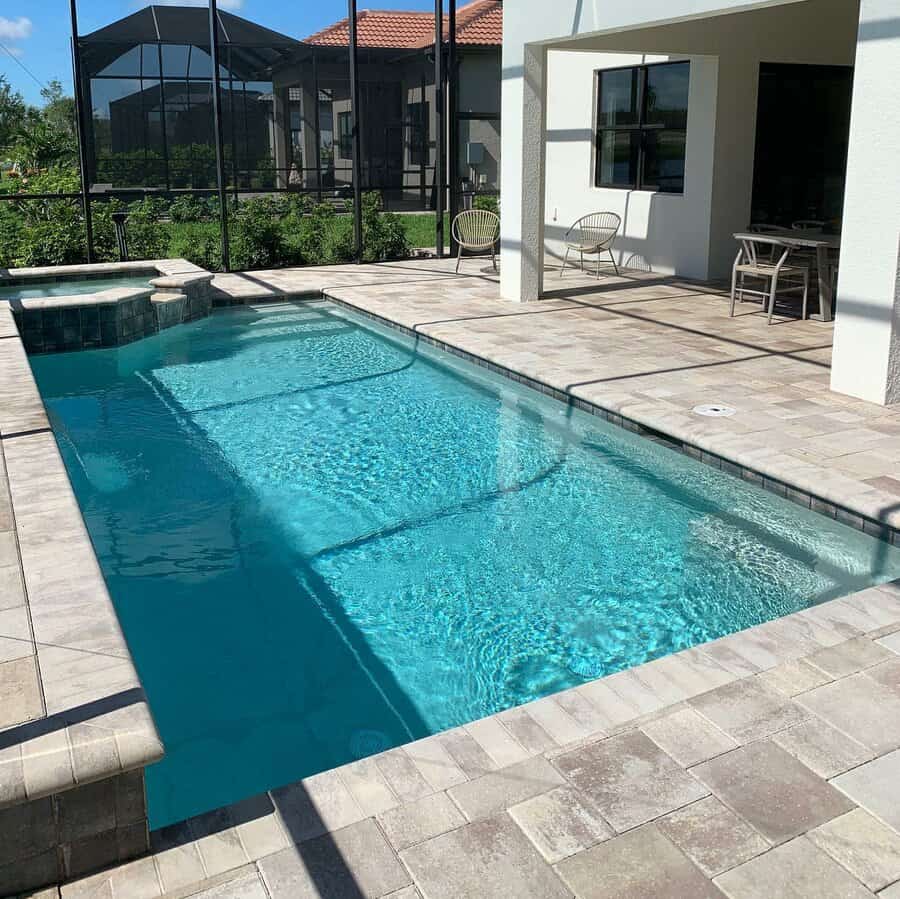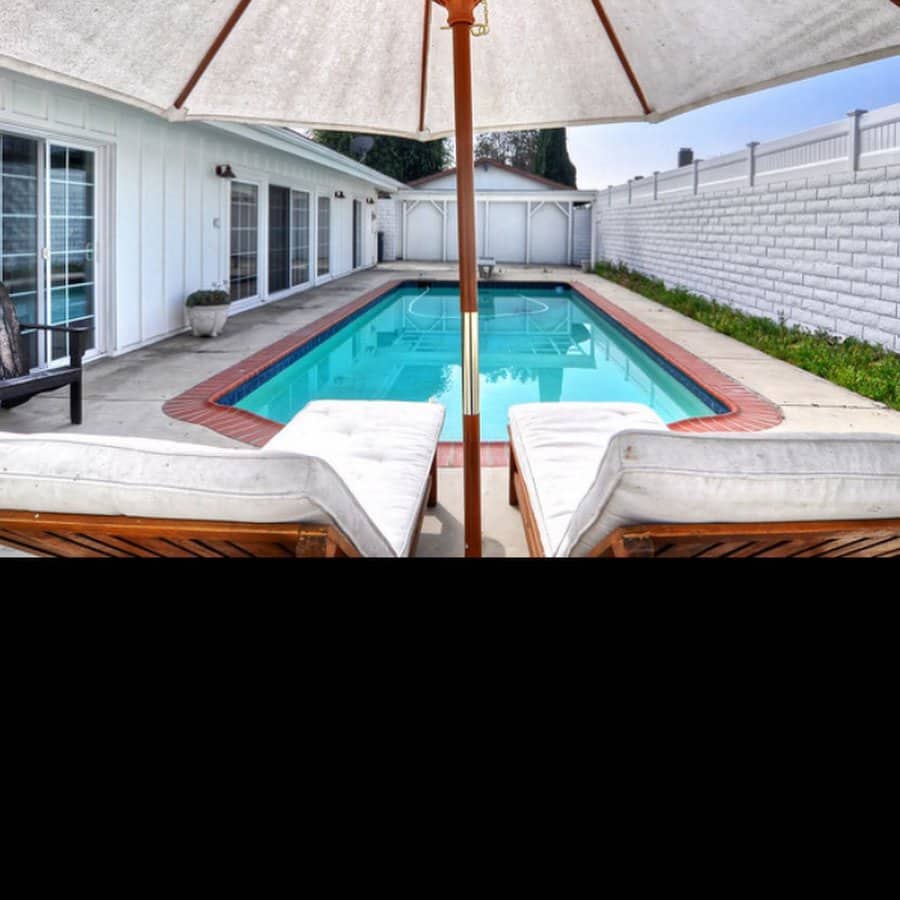 Infinity pools are also a luxury design. These are typically custom-built pools. They will look like they go on forever. For some, it's just one side of the pool that looks like it goes on forever.
For others, it's a simple overflow design that allows the water to pour over the edge. The water is then collected in a hidden drain and circulated back into the pool. Complete your luxury pool area with an outdoor kitchen for an outdoor living space.
5. Modern
Minimalist pools are simple and refined in their styling. They feature crisp 90-degree angles and long lines. Typically, they are rectangular pools.
Your modern pool design could have a raised edge that you step over to get into the pool. Or it could have several entrance points along multiple sides where the steps extend the length of the pool.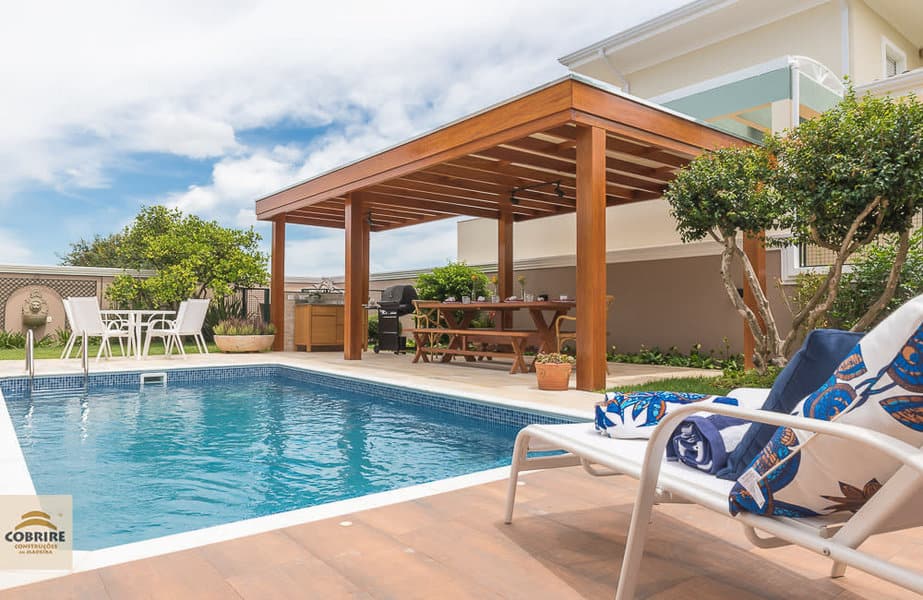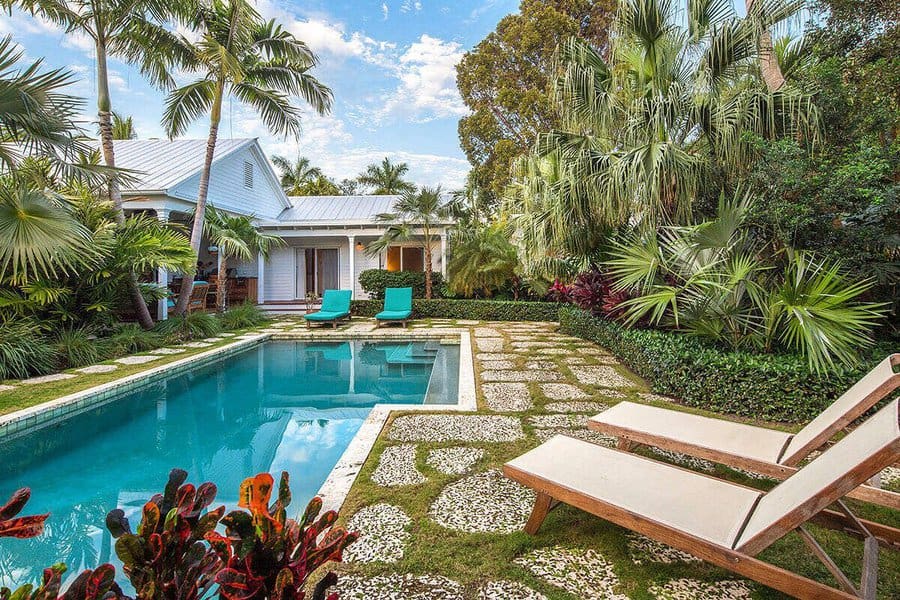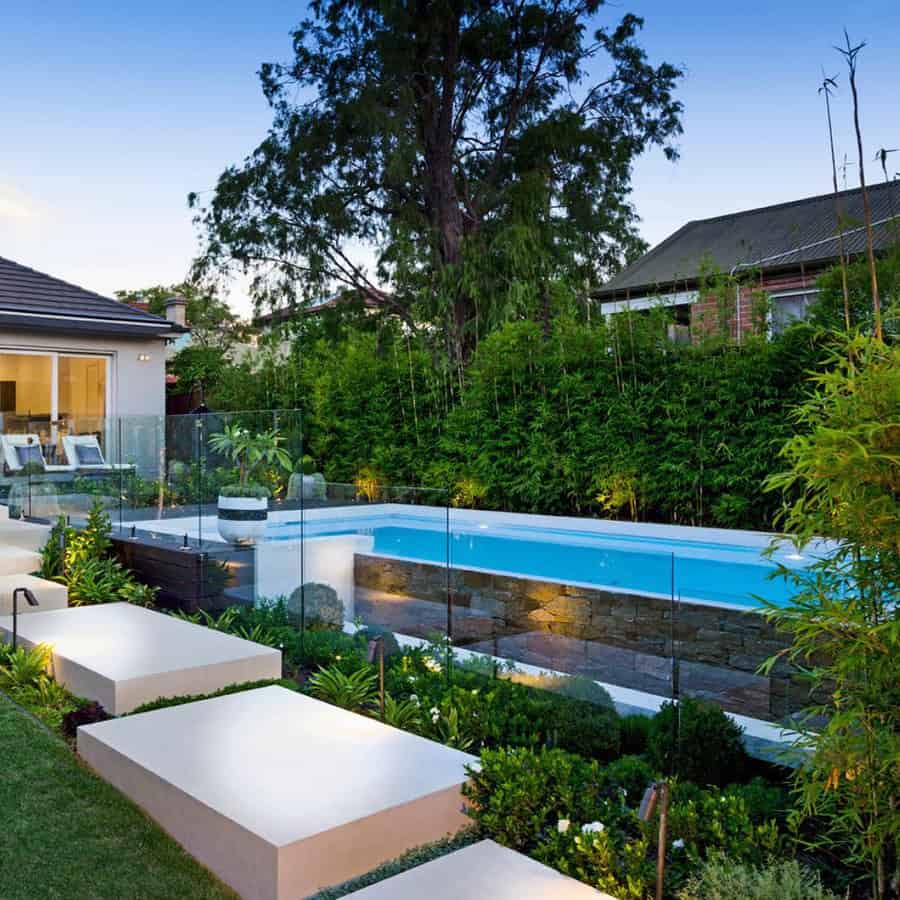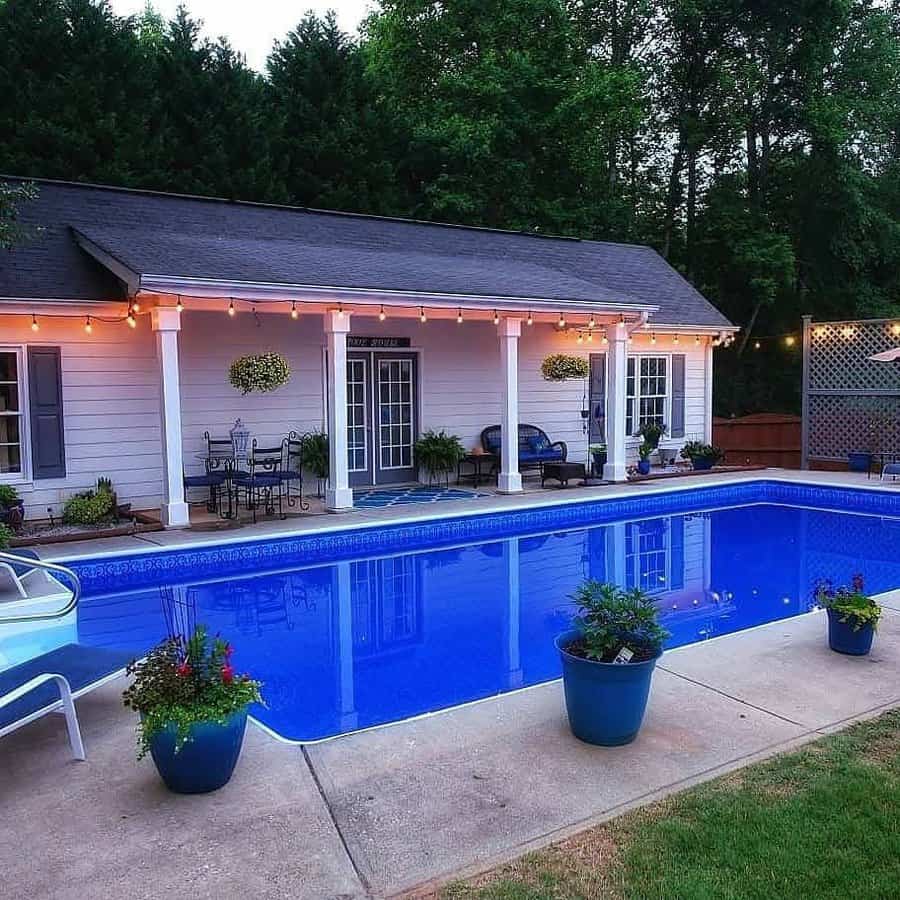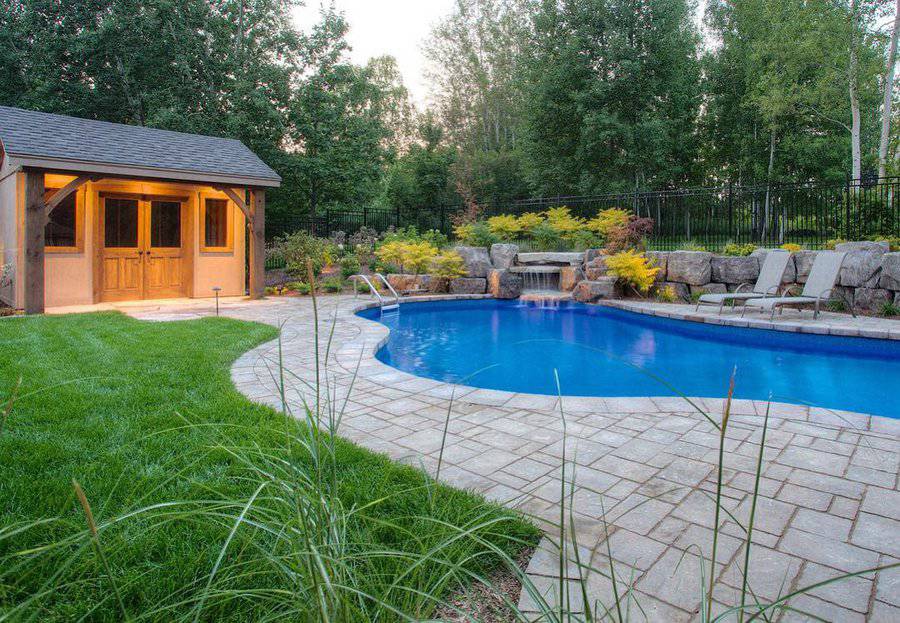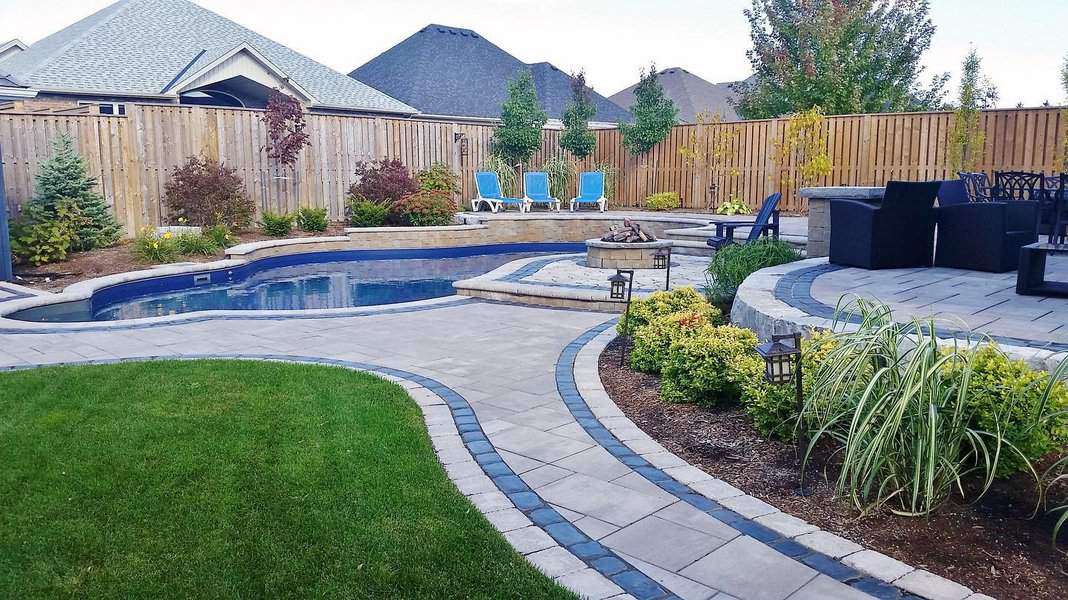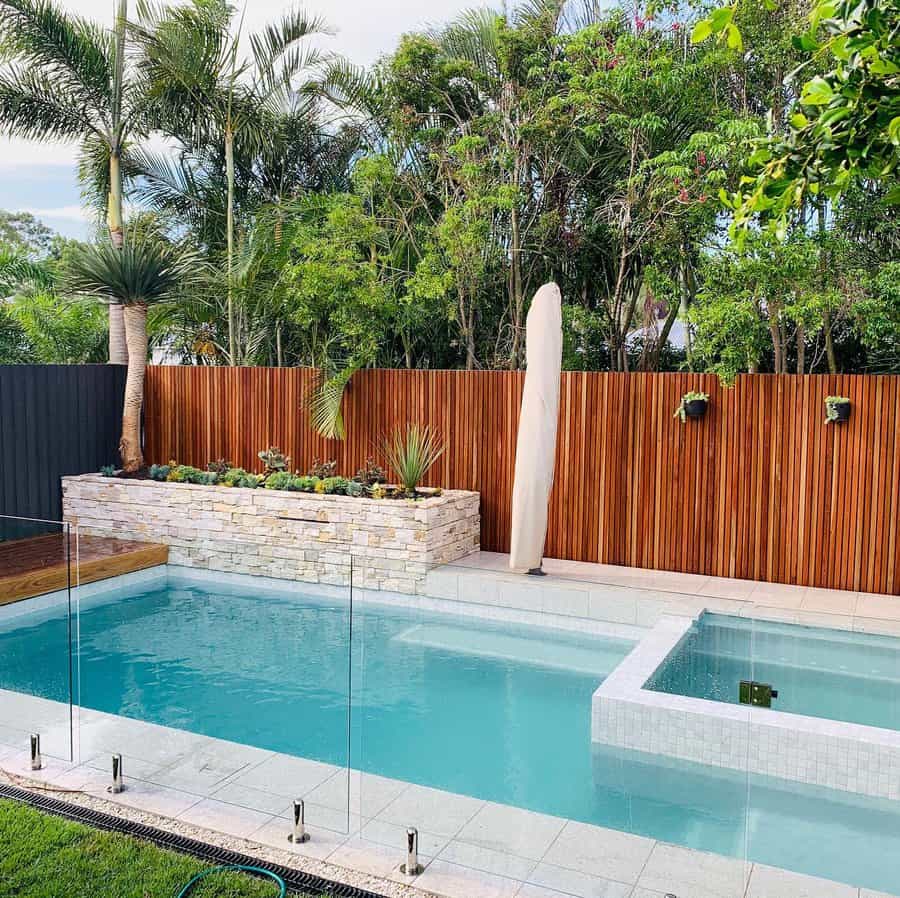 Add innovative features to your modern pool. You could install accent lighting in the pool so that it glows at night. Or your pool could wrap around a sunken sitting area with a fire pit. If you love to sunbathe, build a platform that sits just under the water with ergonomically shaped chaise loungers.
6. Plunge
If you don't have a lot of space, then build a plunge pool. These are round pools that are meant for lounging and wading. You can relax in the water and cool off on a hot day.
They aren't deep or big enough for swimming. If you plan to have several people over to use your pool, you'll want something bigger.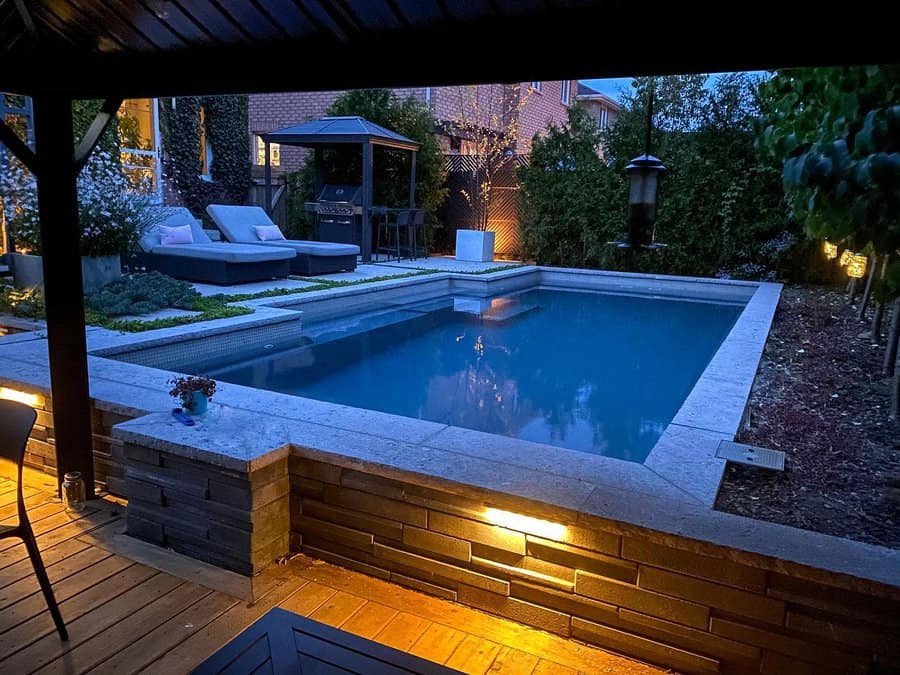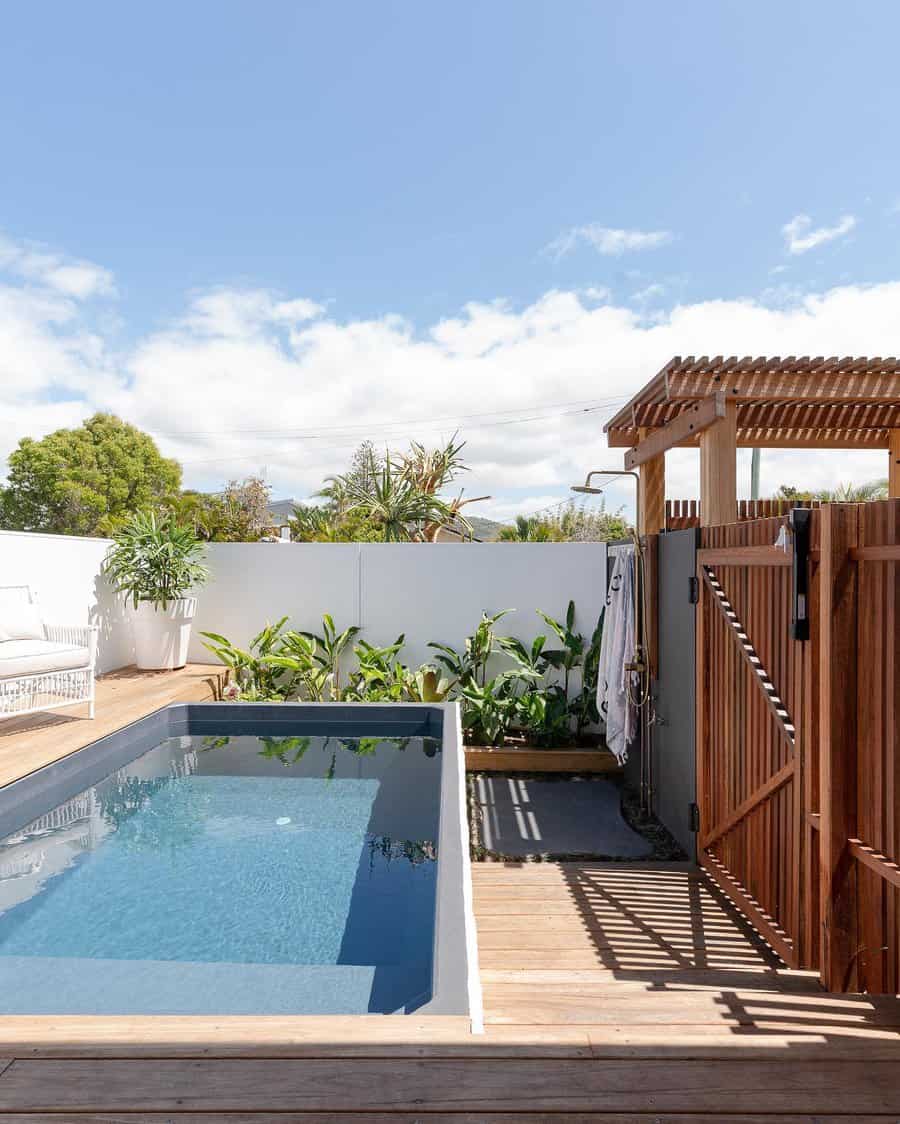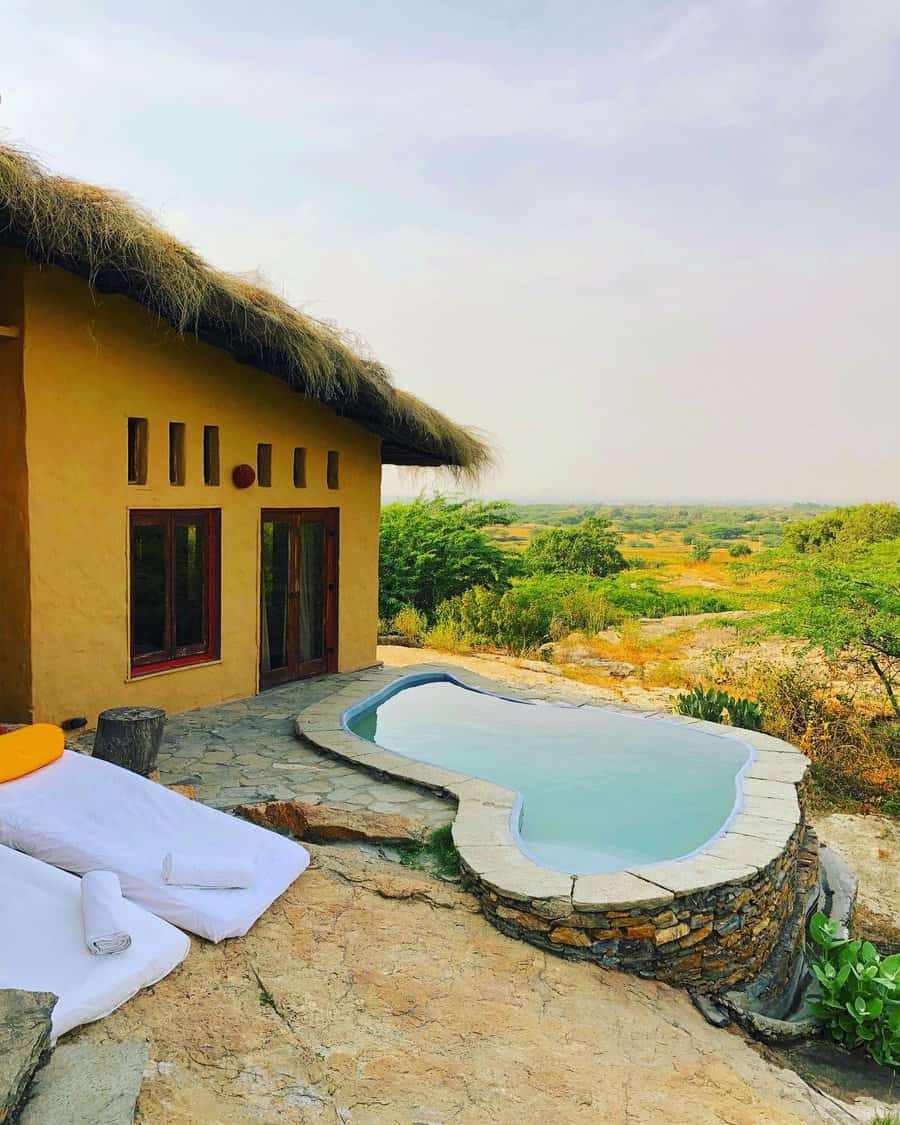 The most significant advantage of plunge pools is that they don't require a lot of water. They are also easier to build and maintain. This is an ideal style of pool to build if you plan on building your pool yourself or have a limited budget.
7. Rustic
Rustic pool design ideas will make your pool look like it's a part of the landscape. Your inground pool design will use large, naturally shaped stones around the perimeter and in the pool.
The shapes and sizes of the rocks should be random. The result is that your pool looks like a small pond or lake nestled into the stones as a natural formation.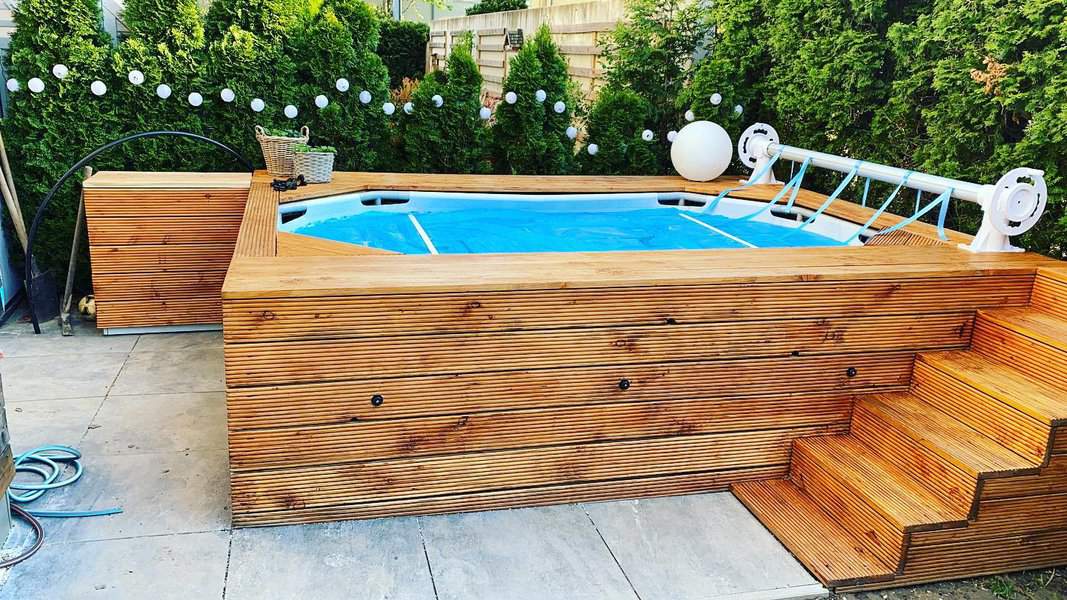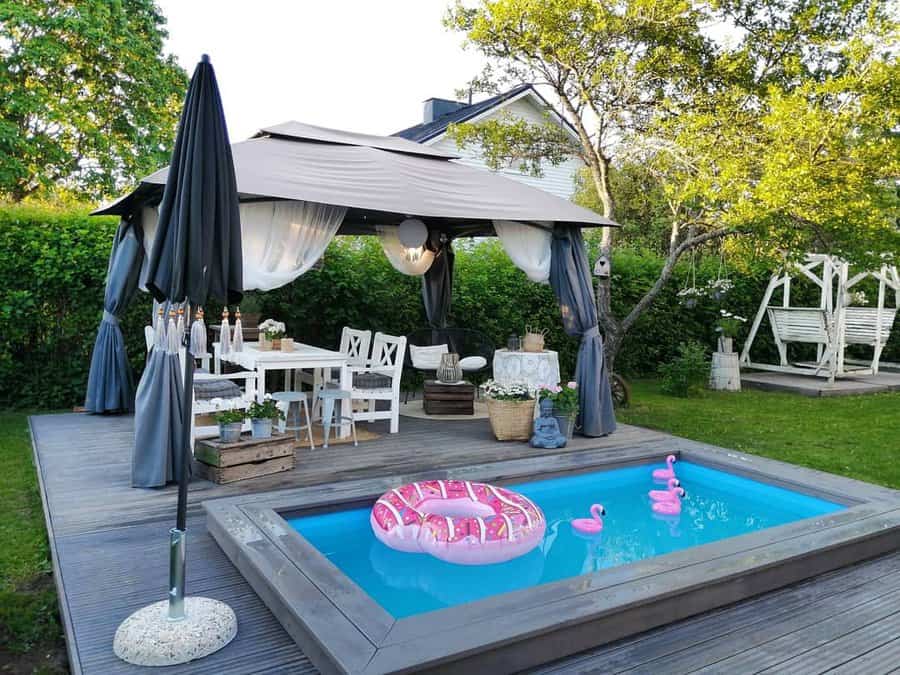 Do not opt for rustic in the literal sense. This is not the time for using reclaimed materials or shortcuts. Instead, you only want your pool to have a rustic or cabin aesthetic. This will ensure its durability and longevity.
8. Small
You don't need a huge sprawling backyard to have a pool. One option is to bring the pool inside. An indoor pool can give you more control over its temperature and enable you to use it throughout the year. A hot tub isn't quite as big as a pool but makes a perfect alternative.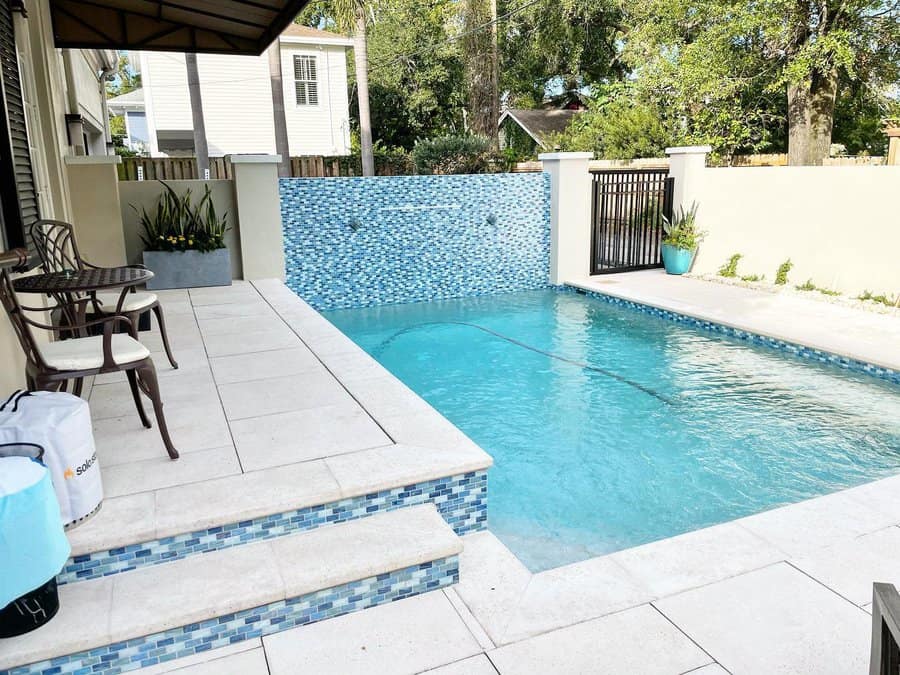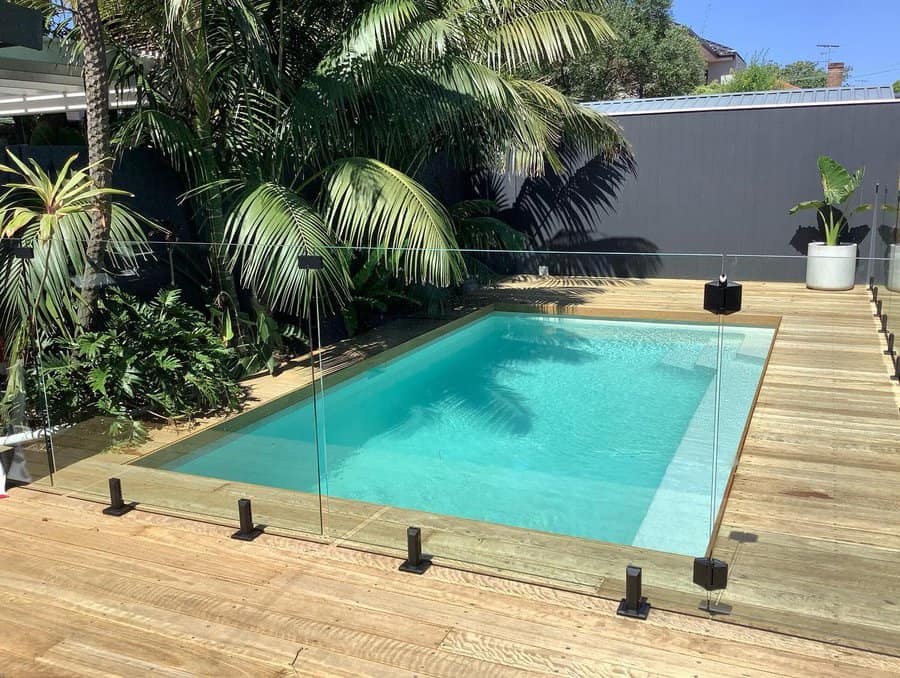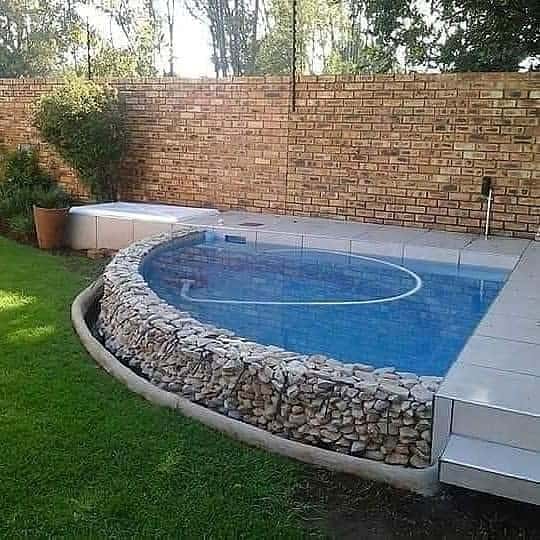 Some small backyard pool ideas turn a small swimming area into a luxurious escape. For example, they could have an infinity edge, waterfalls, a swim-up bar, or a wading area. Then to complete the look, there is meticulously kept landscaping around the small swimming pool.
9. Stone
There are two ways you can use stones in the building of your backyard pool design. The first is to use natural rocks around the outside of the pool.
Pile them up higher in some places for a natural look to your pool landscaping. Your pool will look as though it blends into the surrounding natural terrain.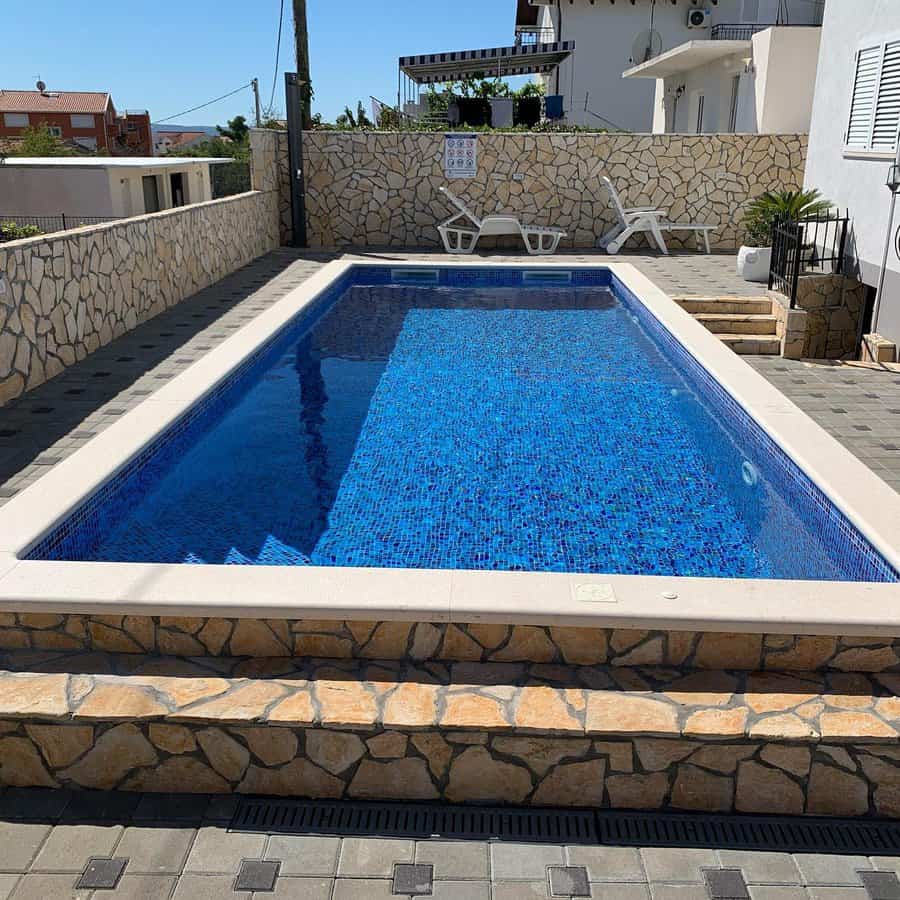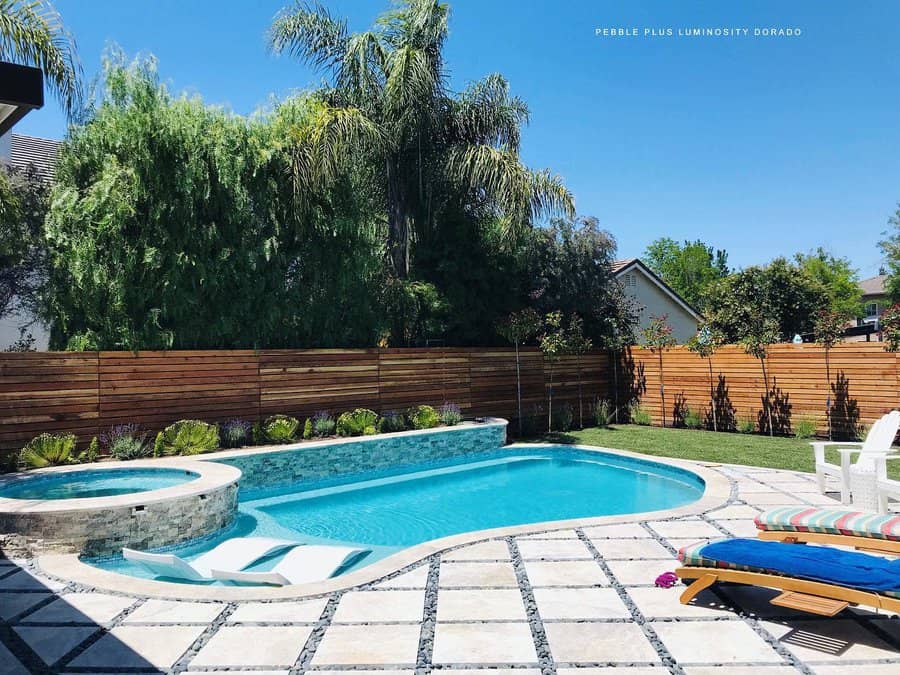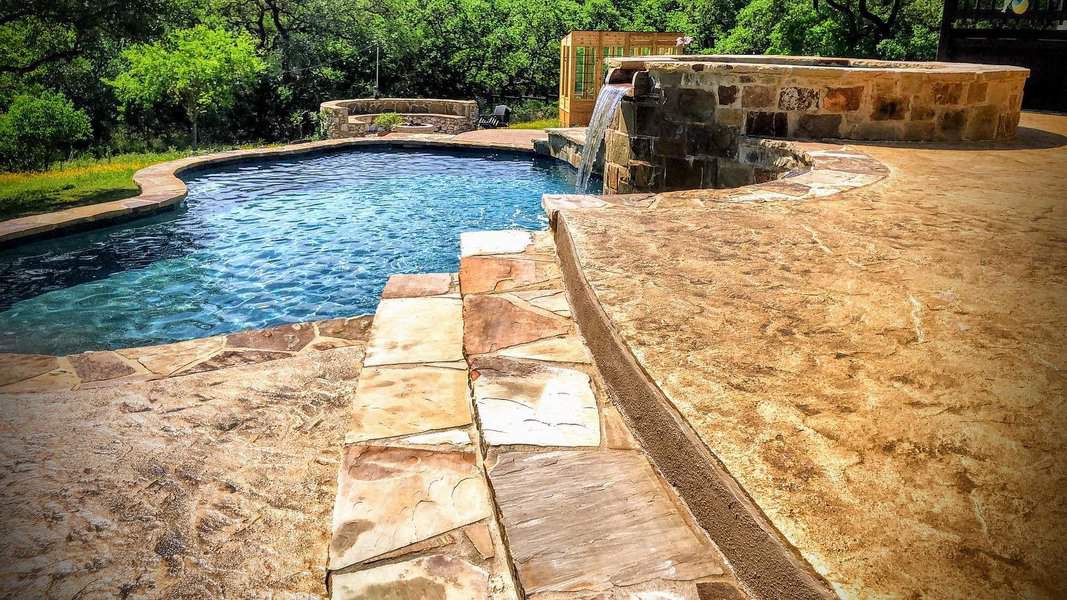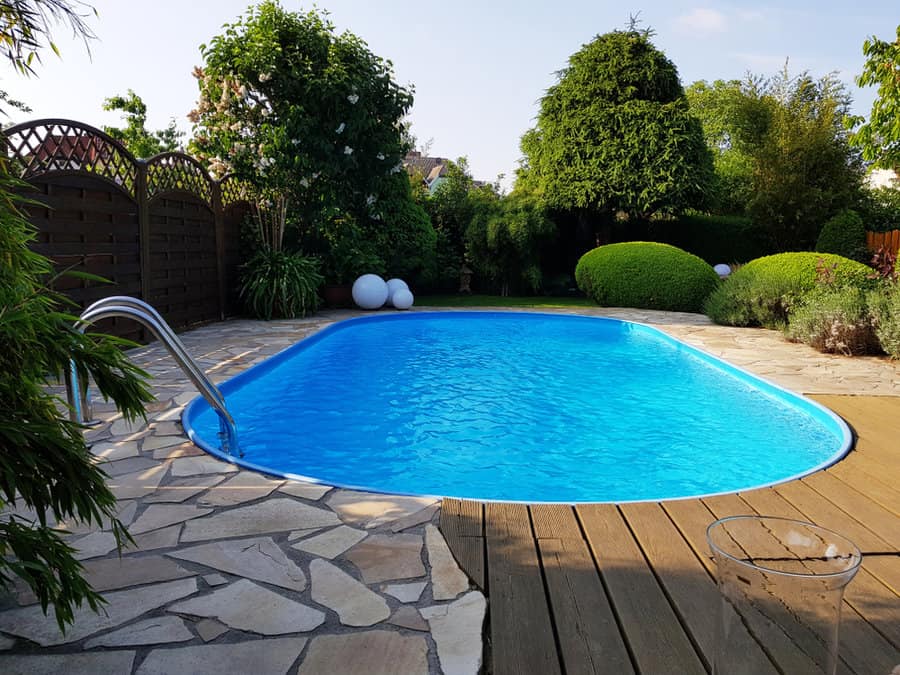 The second option is to use stone as the decking around your inground swimming pool. Choose natural stone tiles that are slightly textured on their face. This creates a natural but refined look. The perfectly carved stones fit together for a polished finish.
10. Tropical
What could be better than relaxing by the pool in your own backyard oasis? The first step is having a freeform-shaped pool that mimics the pools at resorts in tropical destinations.
Then build a wooden deck around the pool. It could be smaller on some sides and larger on others. Arrange chaise lounges around the pool to give people a place to relax and soak up the sun.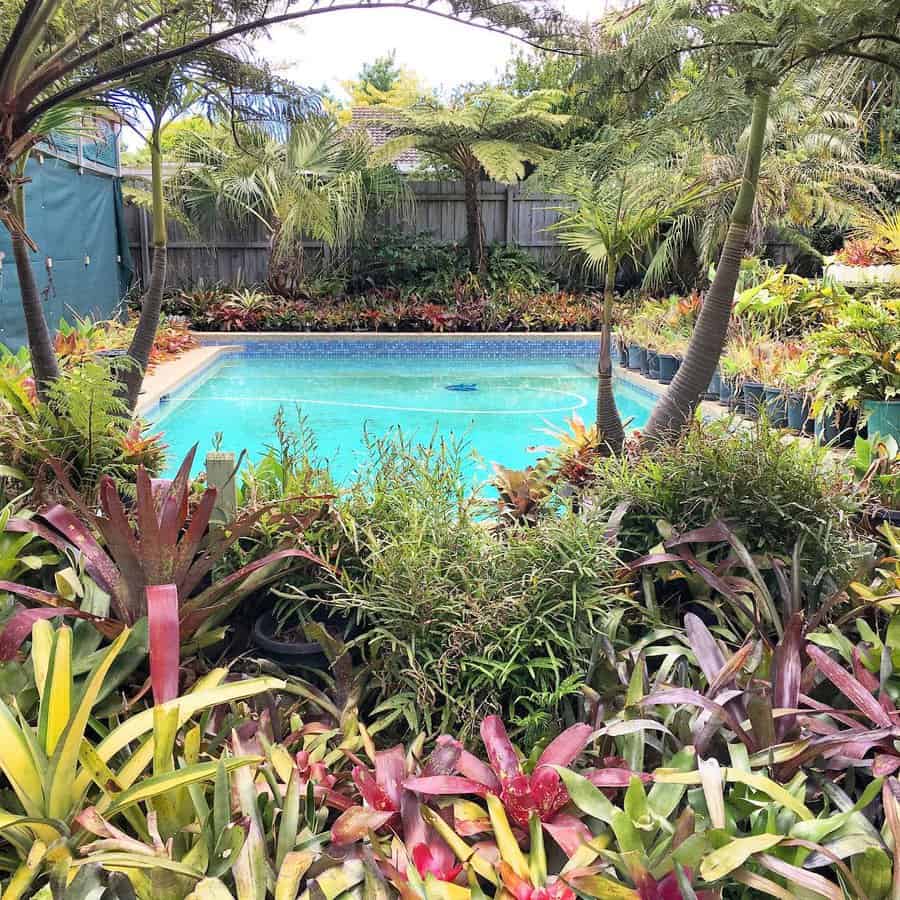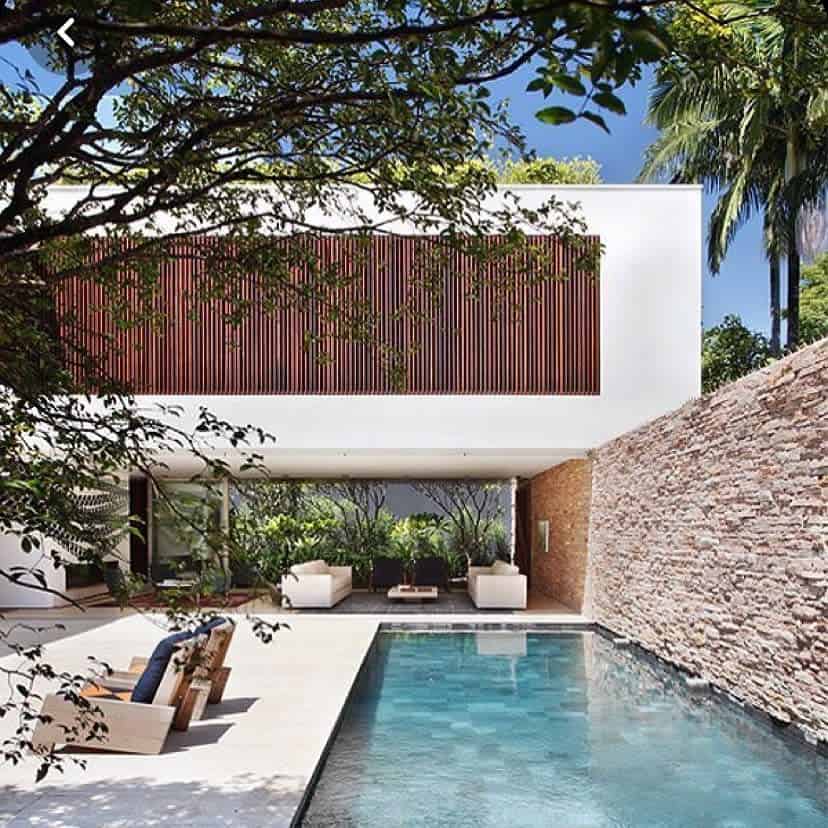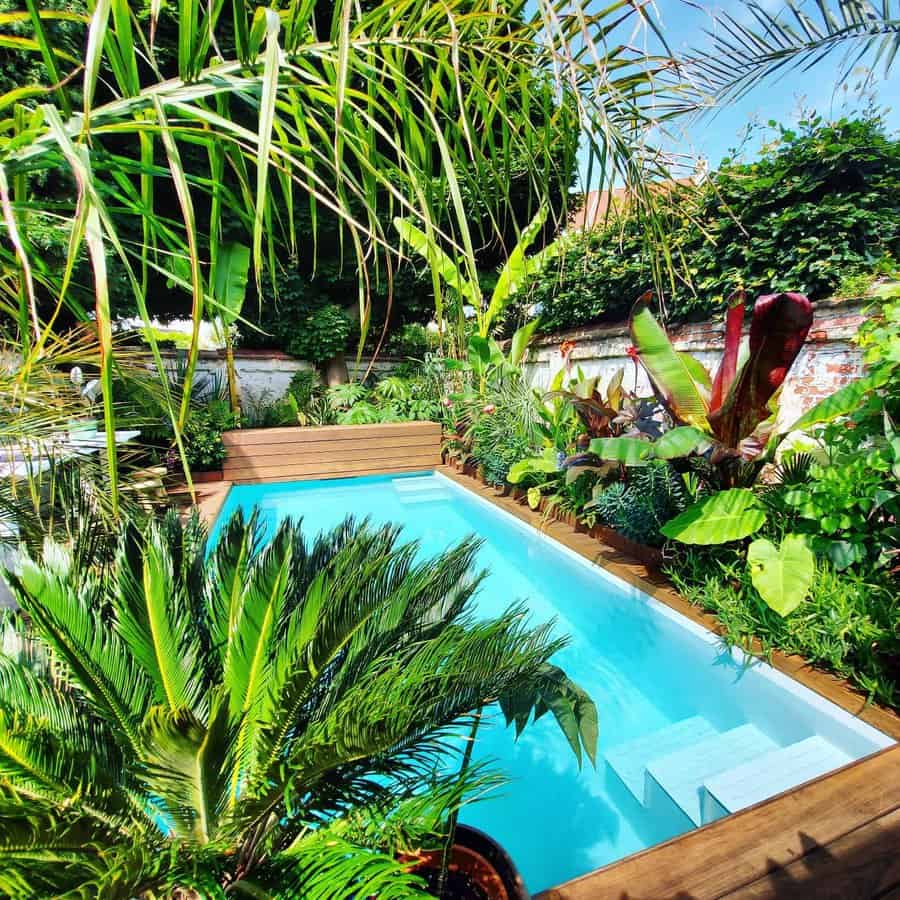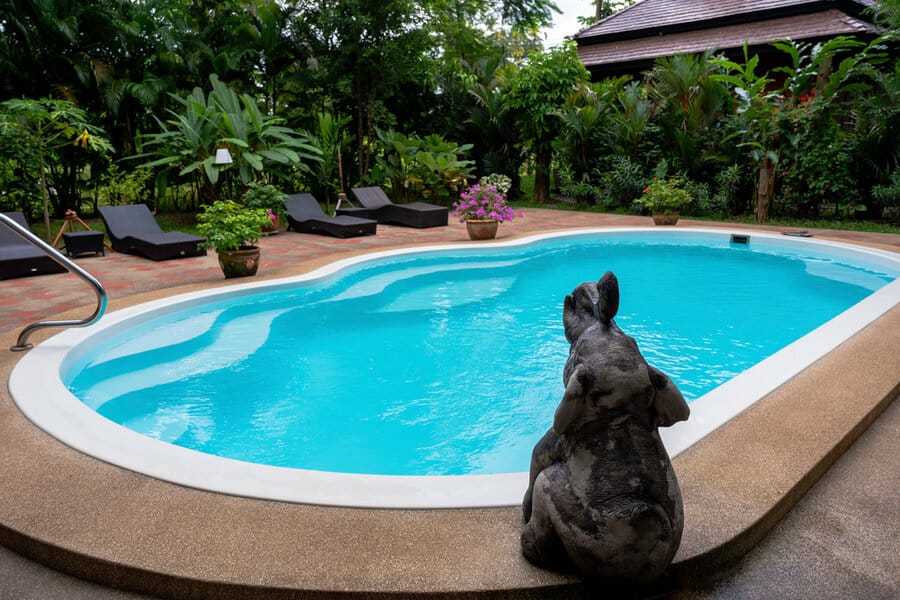 The final piece in the tropical puzzle is landscaping. You need plenty of lush green plants to surround your new pool. The greenery will create natural privacy, be a sound barrier, and make your pool feel more tropical.
11. Unique
Give your backyard pool a custom look and make your home stand out from the rest of the neighborhood.
The first and most obvious option is to have a custom-designed freeform pool. This is a pool that is a randomized shape that fits the shape of your property. This is a smart option if your property has a unique shape, slope, or other topography.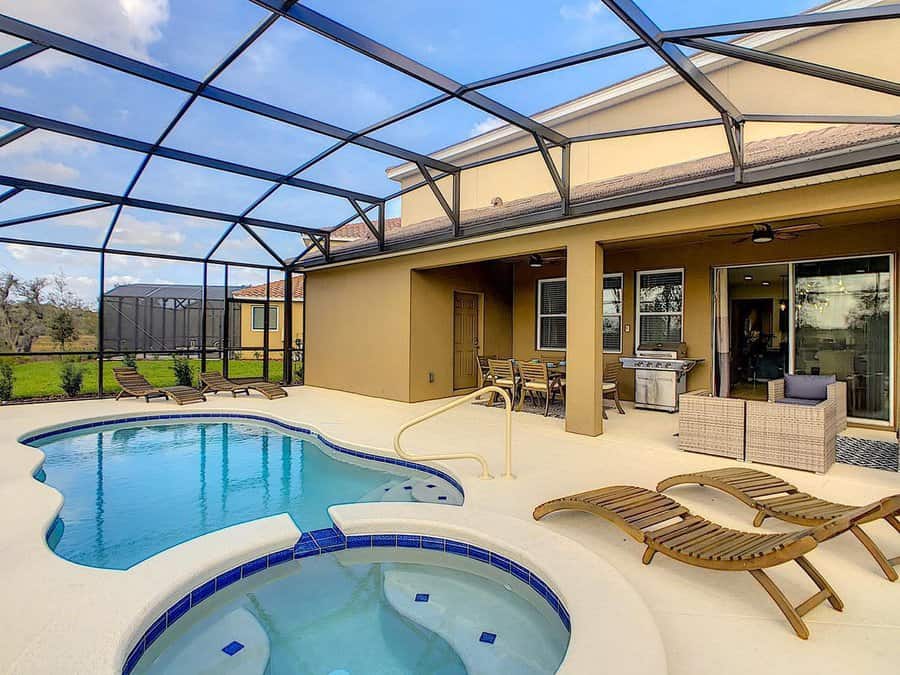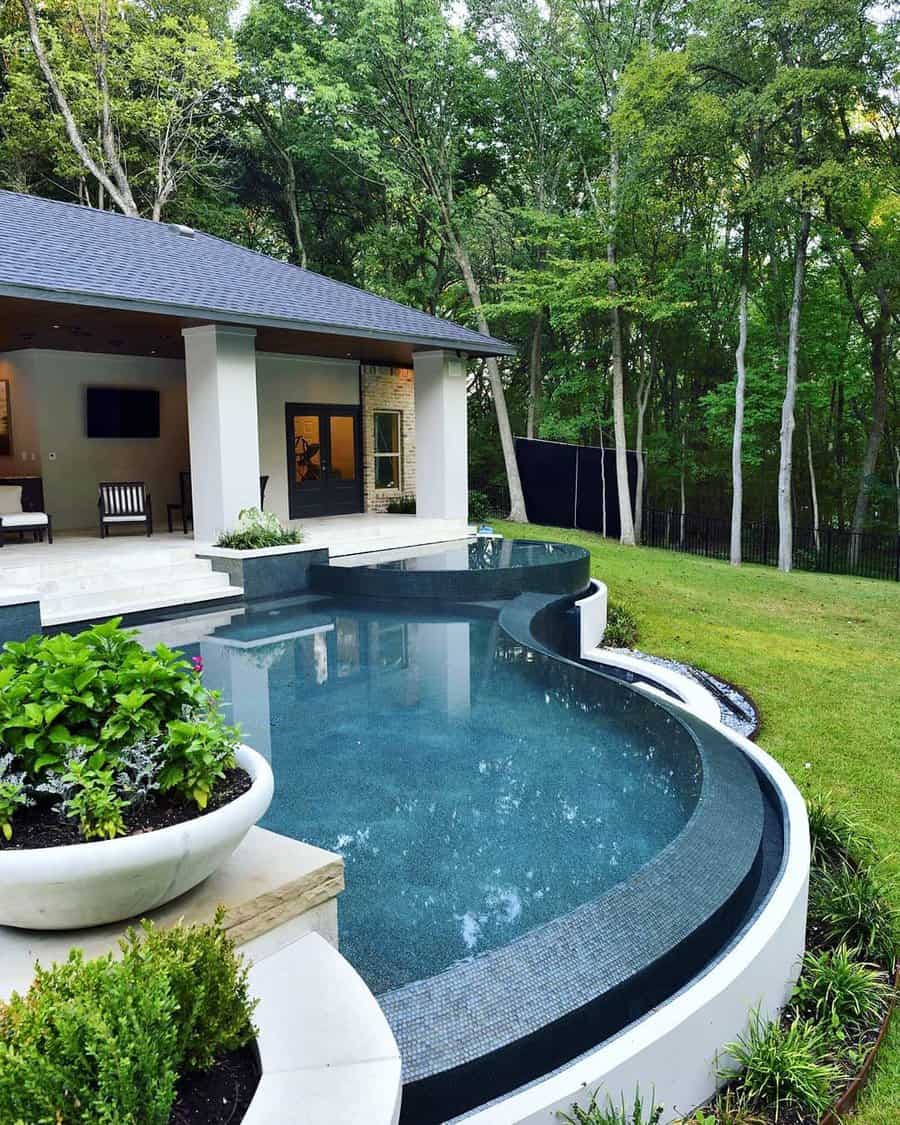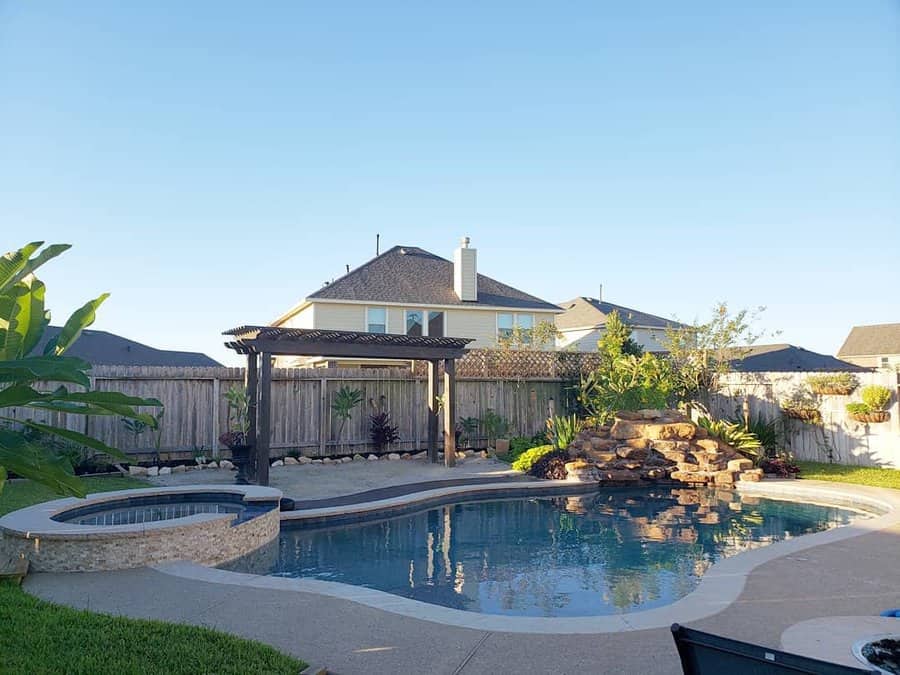 Other unique ideas center around how you intend to use your pool.
For example, a swim spa is a resistance swimming pool that is above ground. It creates a current that pushes against you so that you can swim in place. This gives you a place to swim and get physical exercise without requiring you to build a full-length lap pool.
Another option is a cocktail pool. These are small pools with shallow and flat depths. This makes them perfect for wading and entertaining.
12. Waterfall
Take your swimming pool design up a notch by adding a waterfall to it. This not only adds to the overall aesthetic but can also help keep your pool water cleaner by increasing circulation. This swimming pool idea can turn a plain pool into one that looks upscale and custom.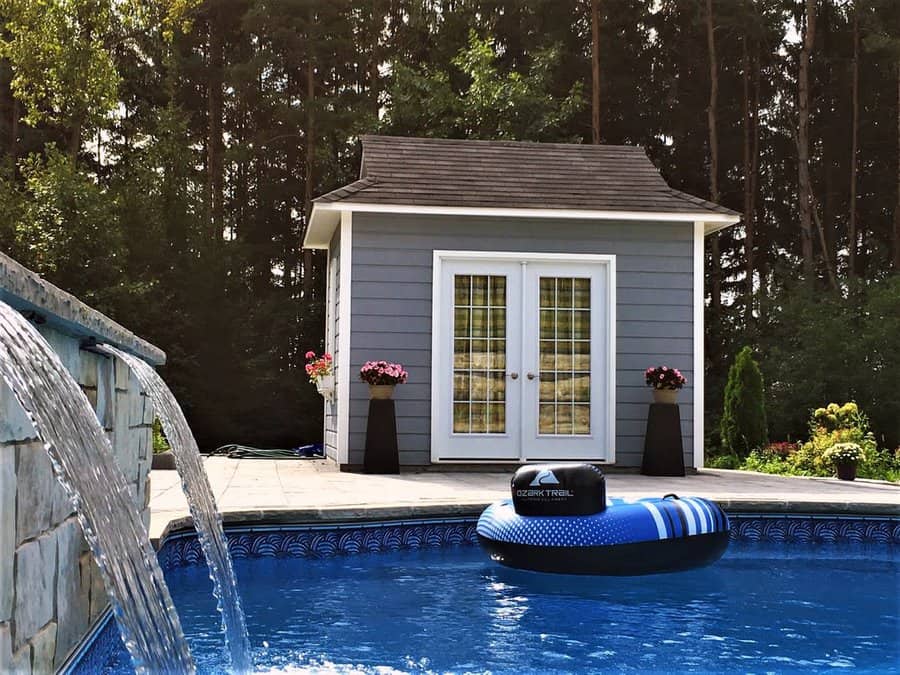 You could have the waterfall built into your new outdoor pool. If you already have a pool, then add onto it with a waterfall. For a natural feel, use natural stones that are stacked into a pile. If your pool looks more modern, then you could build your fountain out of poured concrete.
Read also: Pool House Ideas & Designs with Pictures
Backyard Pool FAQs
How much does it cost to build a pool in your backyard?
The average cost to build a pool is about $22,000. However, you could spend as little as $10,000 or as much as $50,000. Above ground pools are more affordable than inground pools. The cost of your backyard pool will depend on the type, size, and complexity of the pool you want.
Are backyard pools worth it?
A pool in your backyard can increase the value of your home. It can also increase the enjoyment of your home and your quality of life. While you may not get your total financial investment back, adding a pool to your home can be worth it.
Is it expensive to maintain a pool?
The cost of maintaining your pool can vary between $50 and $200 a month. The cost will depend on where in the country you live, the size of your pool, and what you need done. Maintenance costs include cleaning, repairs, electricity, water, and maintenance.