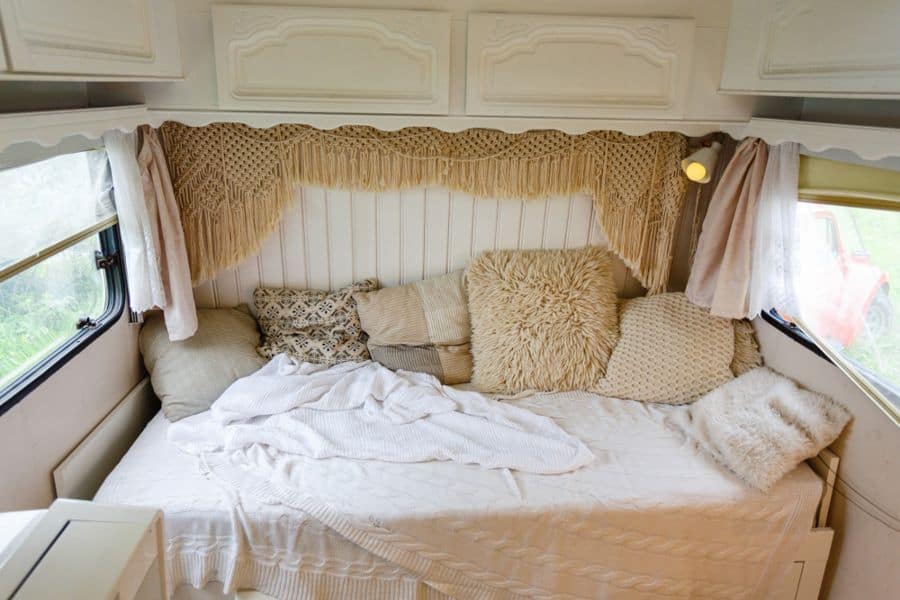 The Top 78 RV Storage Ideas
by — Kari Apted

Published on May 6, 2021

Updated on October 27, 2023
"On the road again, just can't wait to get on the road again!" – Willie Nelson
These lyrics are probably your anthem if you're into the RV lifestyle. Life on the road always brings something new just over the horizon, but certain aspects of RV life are less exciting.
Unless you are a dedicated minimalist, storage is nearly always a challenge in an RV.
A new recreational vehicle is likely to have added innovative small-space storage solutions.
Even so, figuring out a place for everything and keeping everything in its place is challenging. Browse our best RV storage ideas and learn how to maximize the limited space inside your home on wheels.
1. Maximize Space with RV Bathroom Vanity Storage
Optimize the limited space in your RV's bathroom by integrating a compact vanity storage unit. Choose a model that fits snugly next to your toilet and shower, ensuring it doesn't impede movement within the space. This not only offers additional storage for toiletries, towels, and other essentials but also enhances the aesthetic of your RV's interior. Ensure that the vanity complements other design elements in the bathroom to create a cohesive and stylish look. With this practical addition, you can maintain a clutter-free environment while making the most of your space.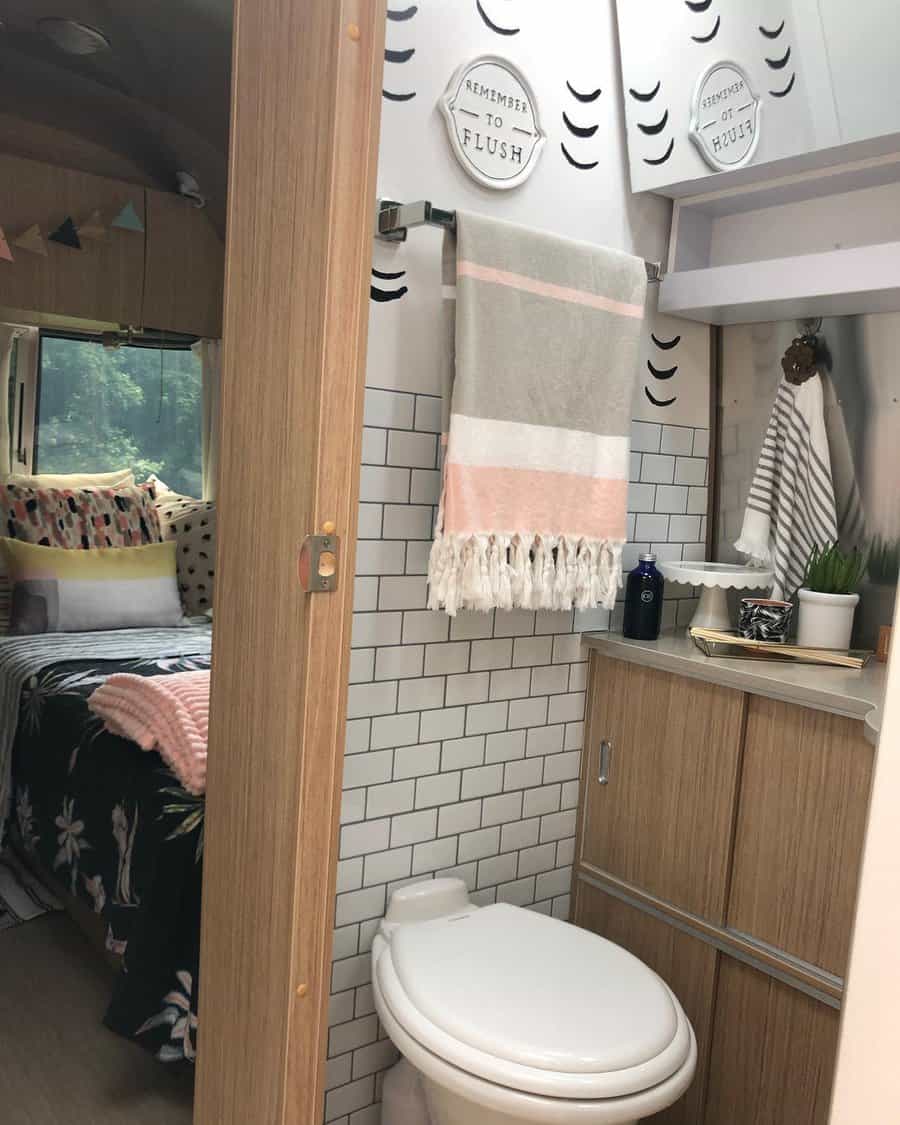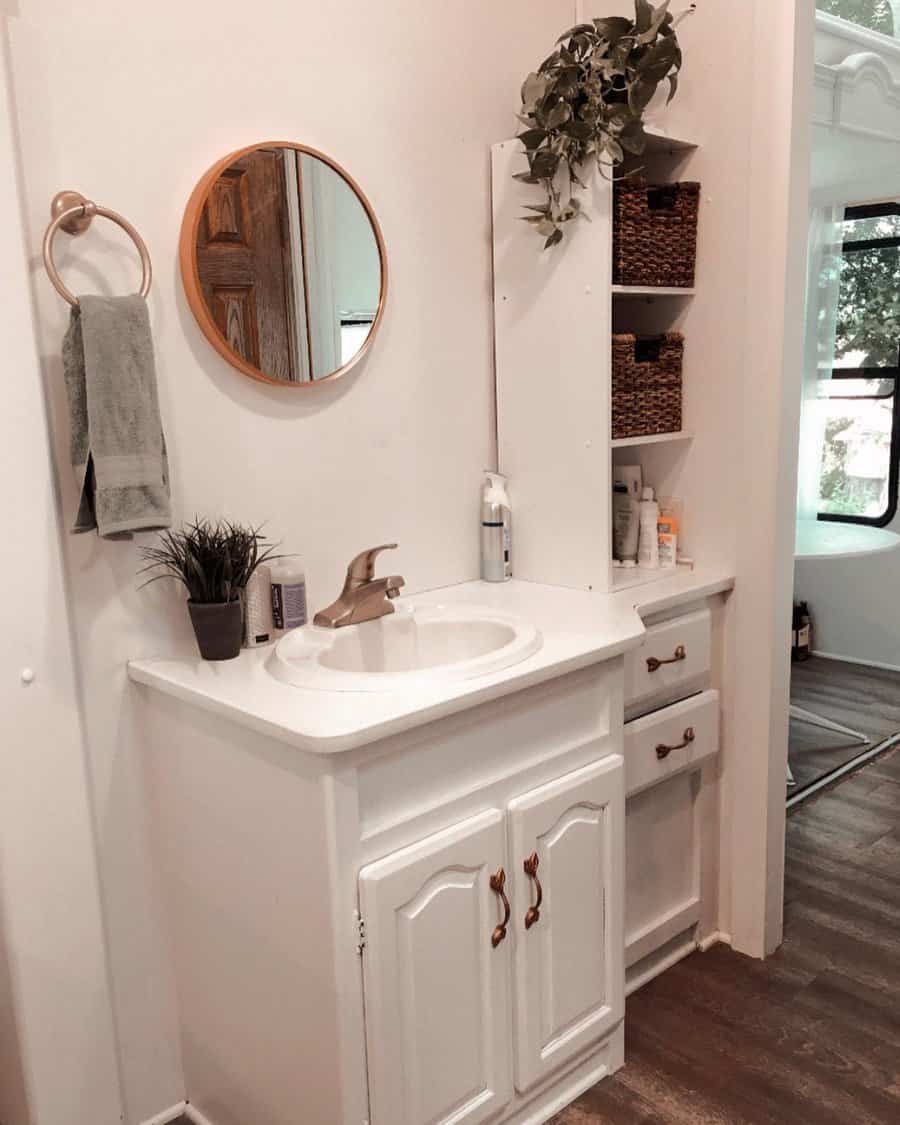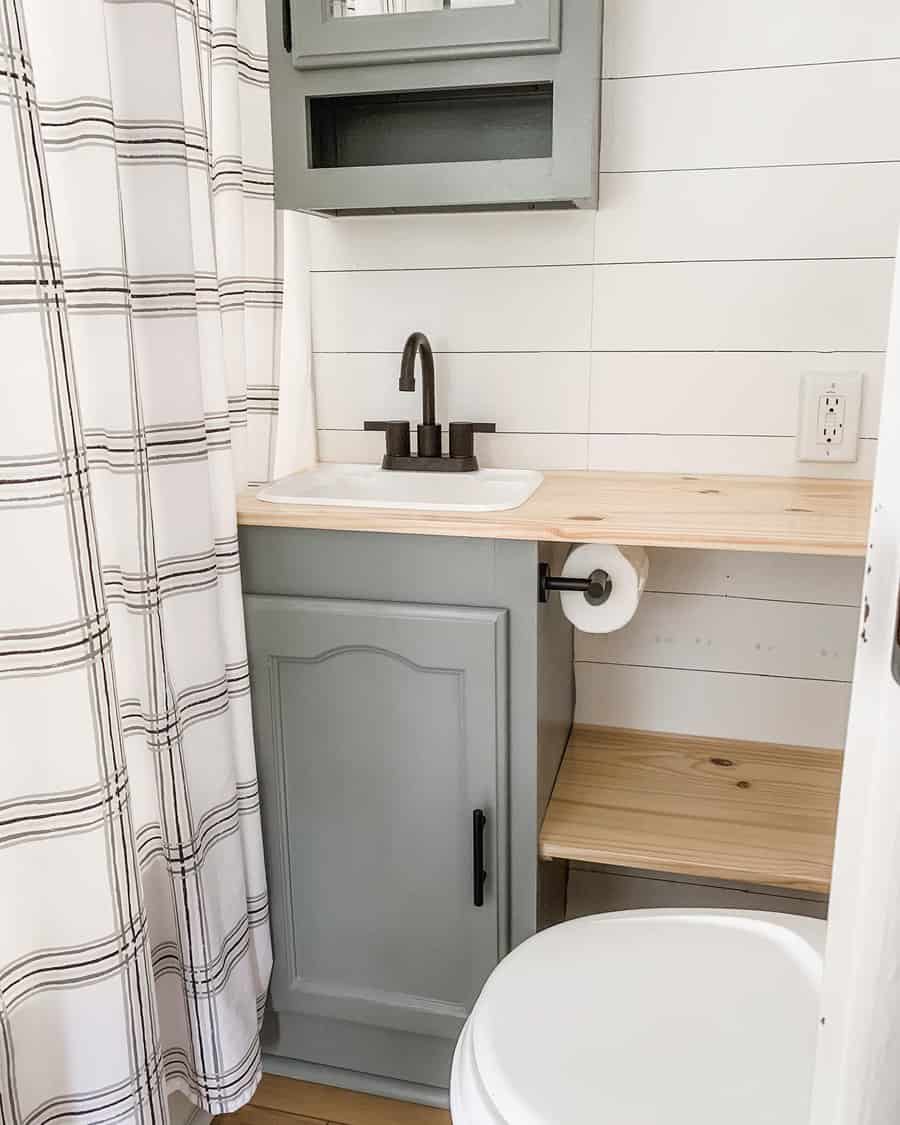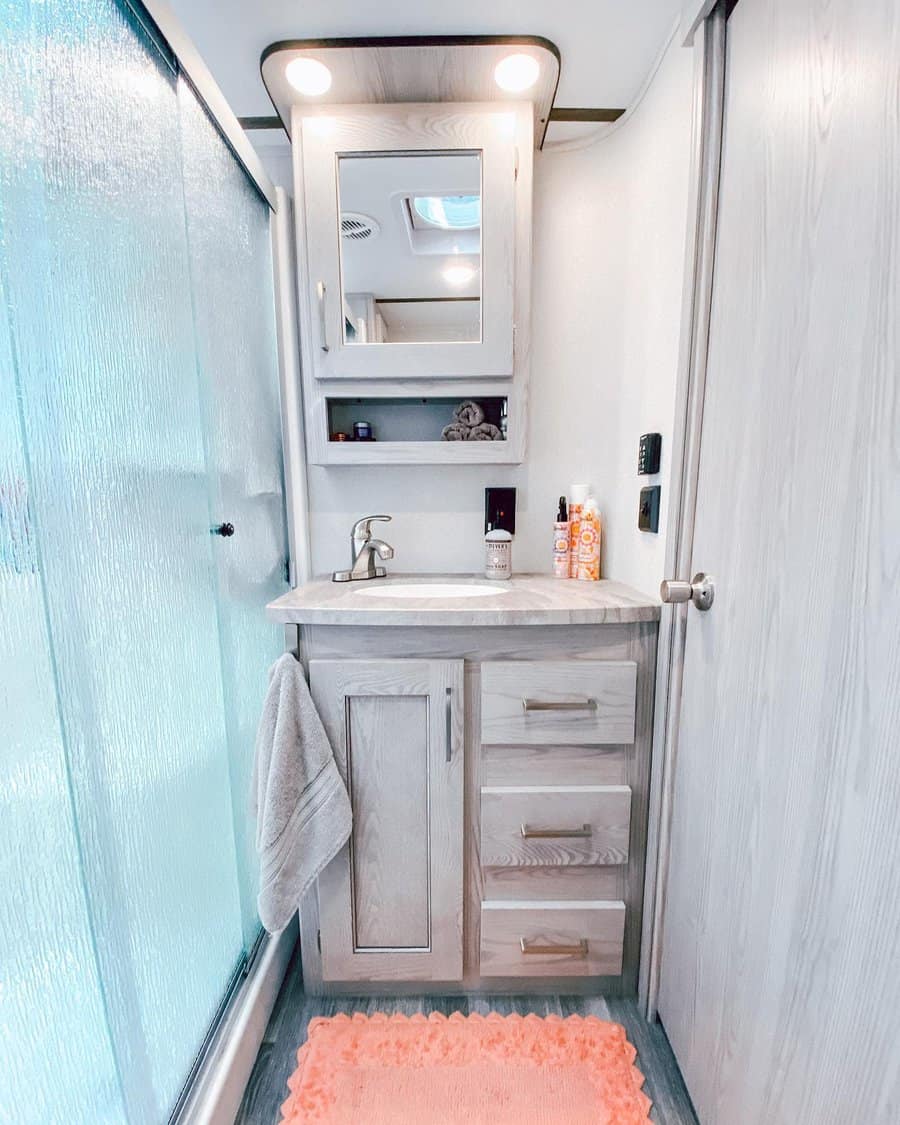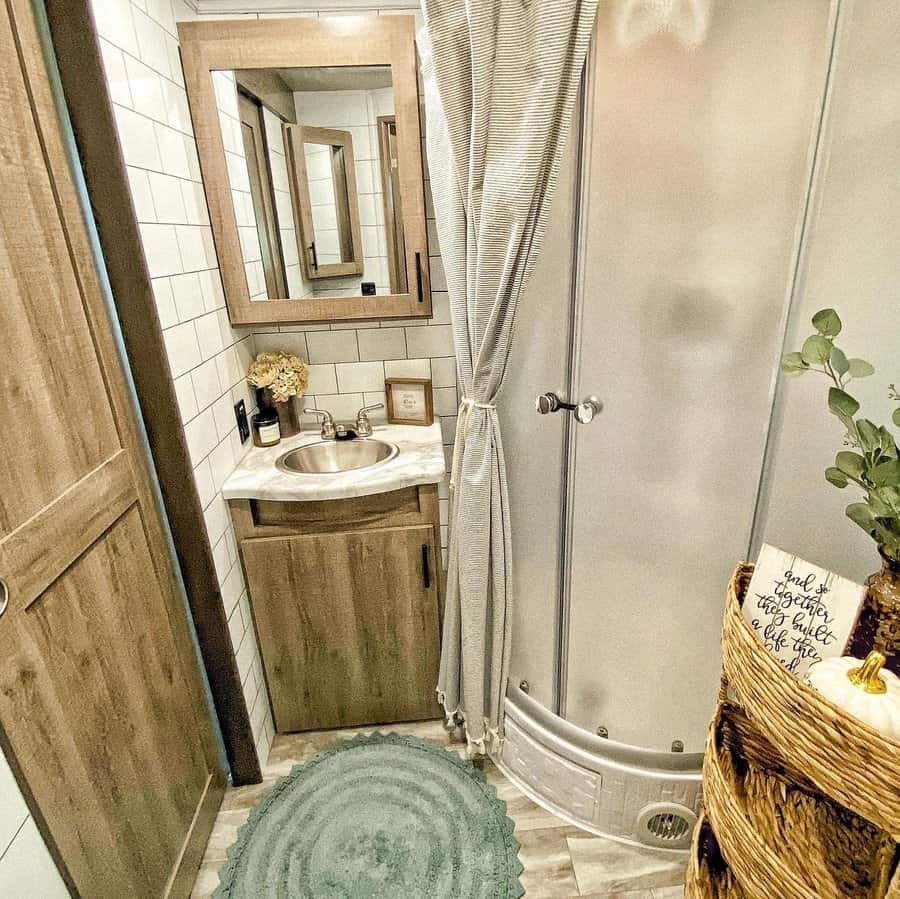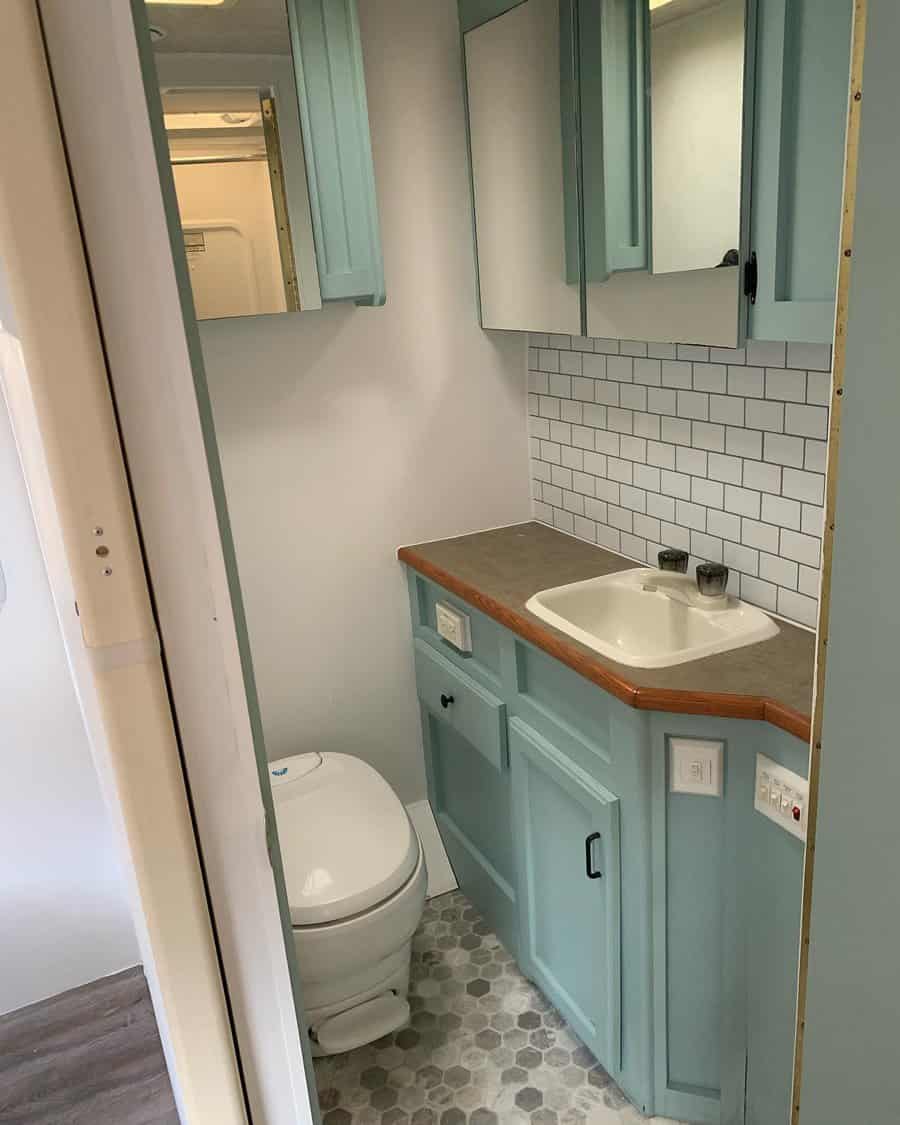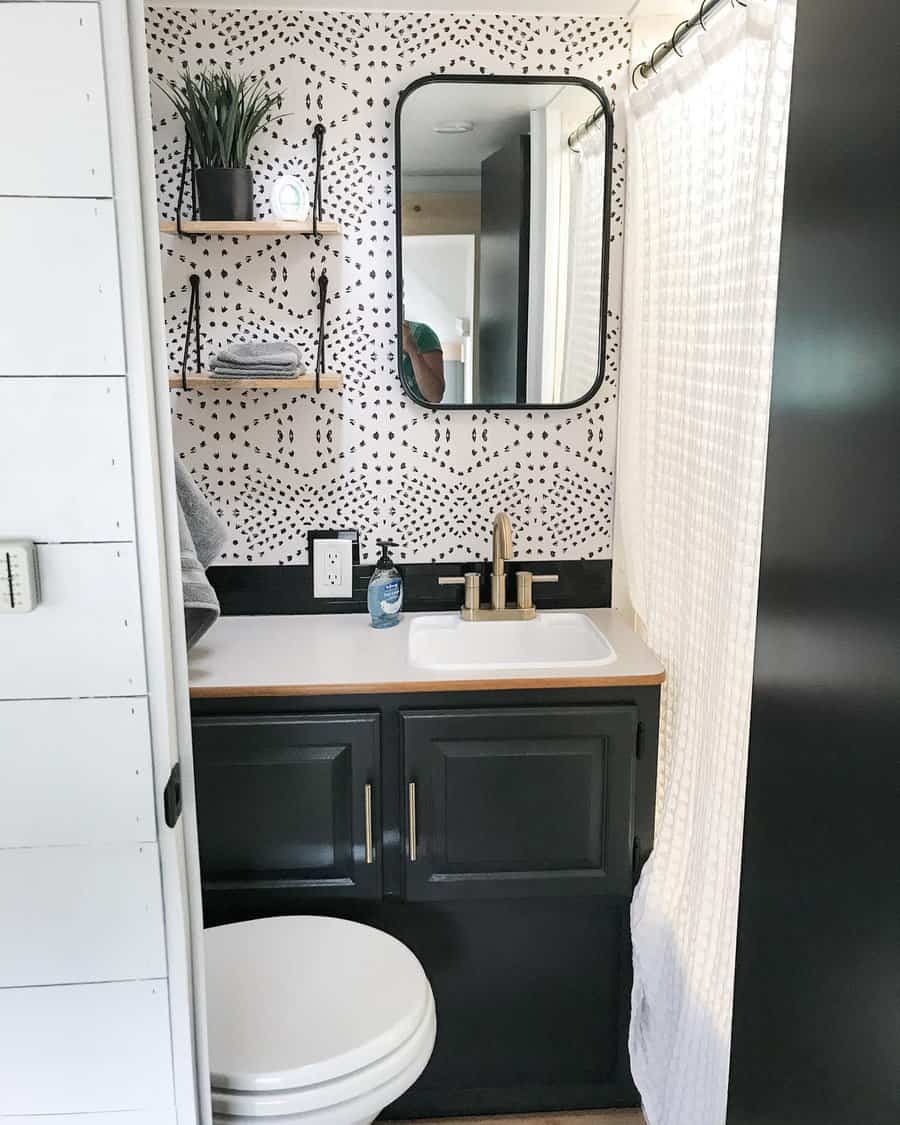 2. Utilize Every Inch with Recessed Shelves
Recessed shelves offer a sleek and space-efficient solution for storage in your RV bathroom. By embedding these shelves into the walls, you can maintain a tidy and uncluttered appearance while ensuring your essentials are easily within reach. Choose materials and finishes that complement other elements in your RV's interior to create a harmonious and stylish look. Recessed shelves not only maximize your space but also add a touch of elegance and practicality to your on-the-road lifestyle.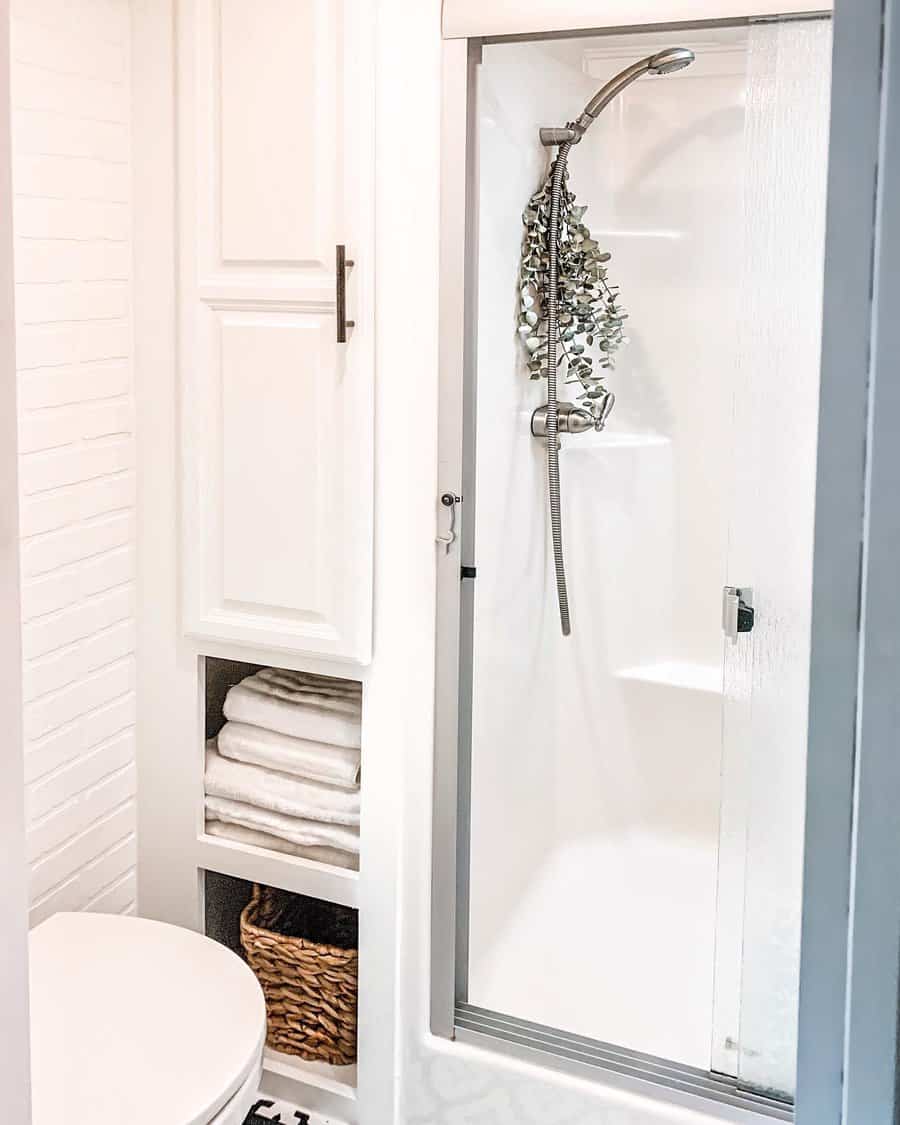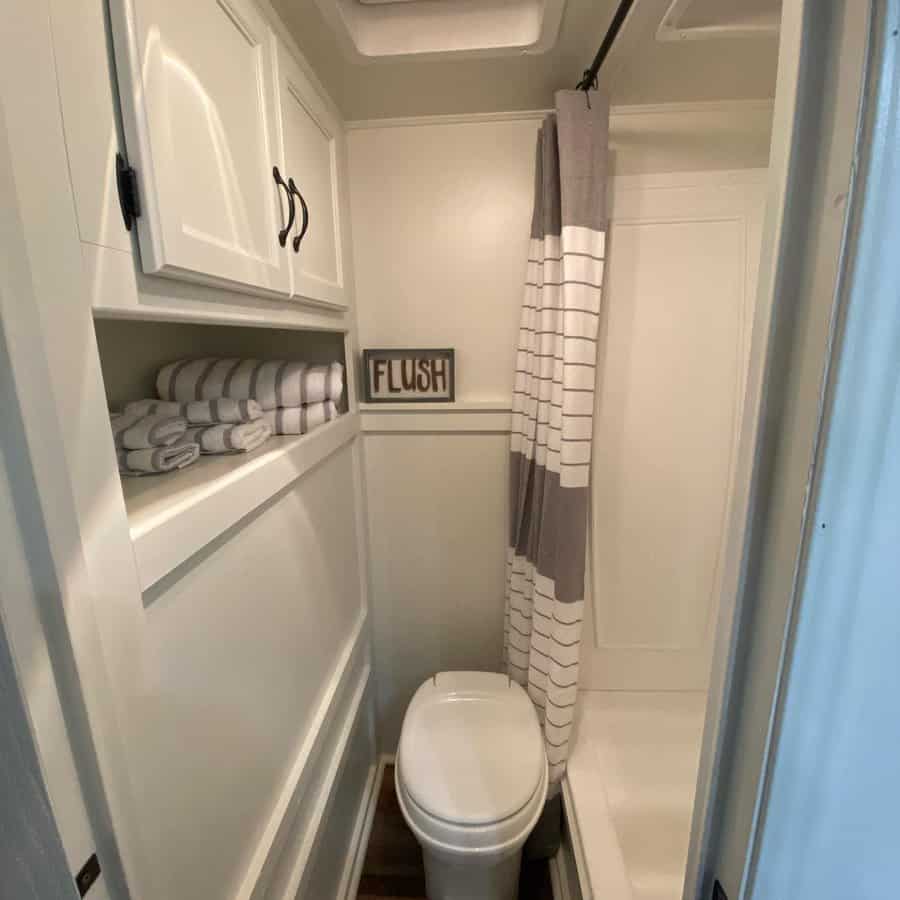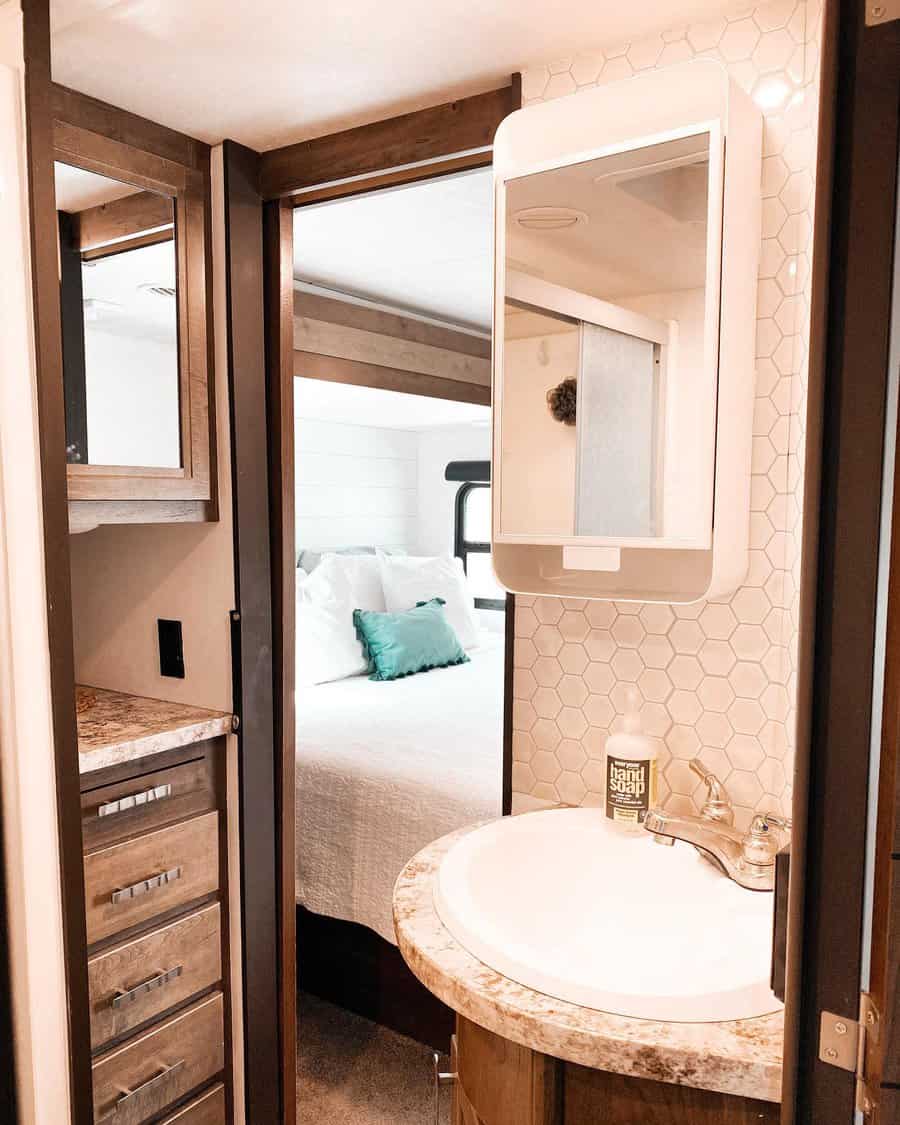 3. Smart Solutions for Overhead Storage in RVs
Transform the unused vertical space in your RV into a functional storage area with overhead compartments. These storage solutions are ideal for stowing away clothing, bedding, and camping gear, keeping them organized and readily accessible. Opt for designs that blend seamlessly with your RV's interior, enhancing both the aesthetics and functionality of your living space. By incorporating overhead storage, you can maintain a tidy and spacious environment, ensuring a comfortable and stylish journey on the road.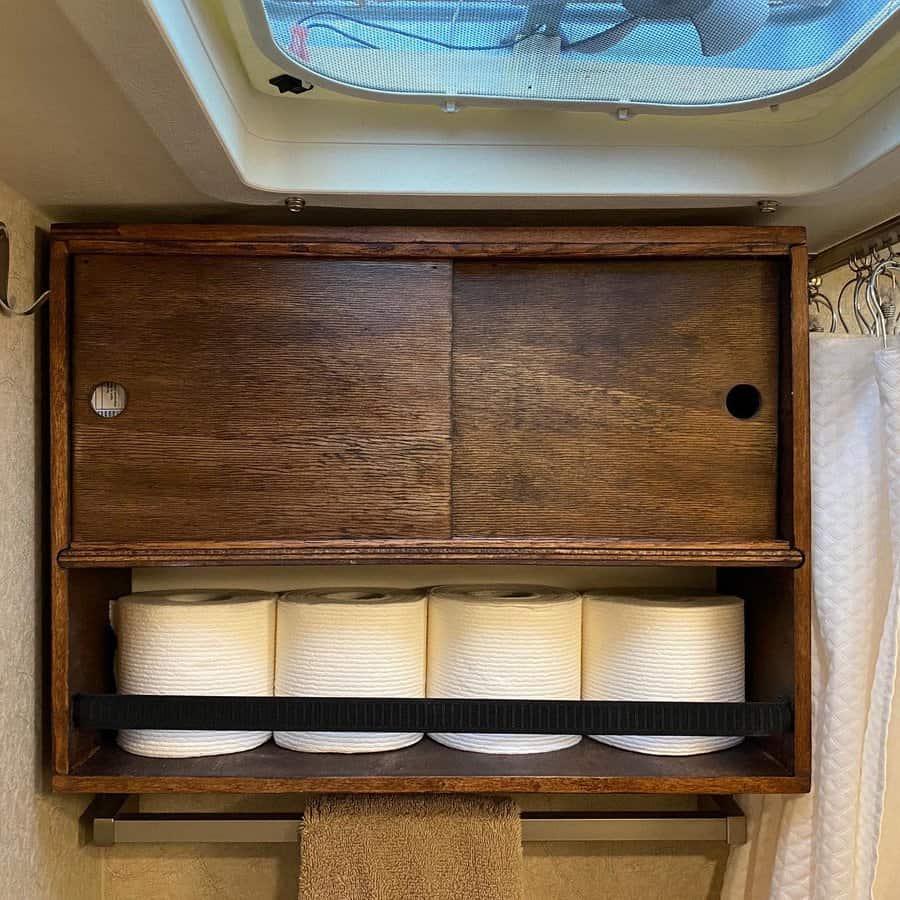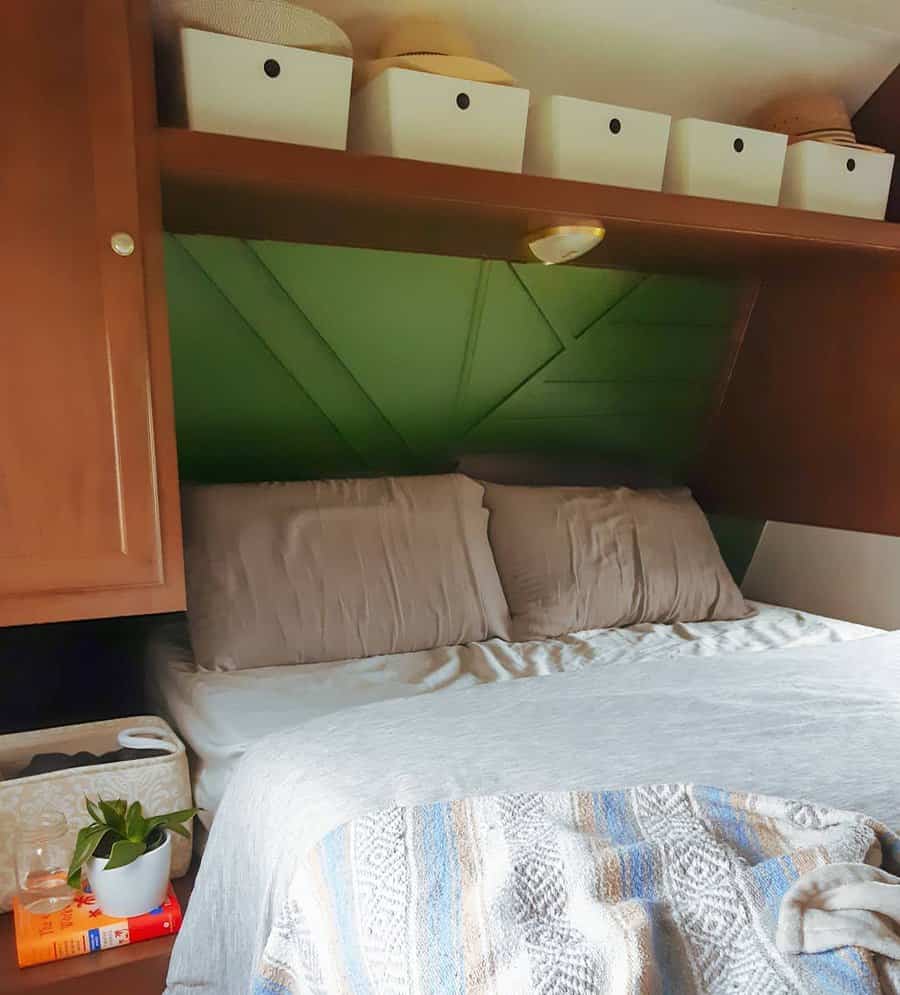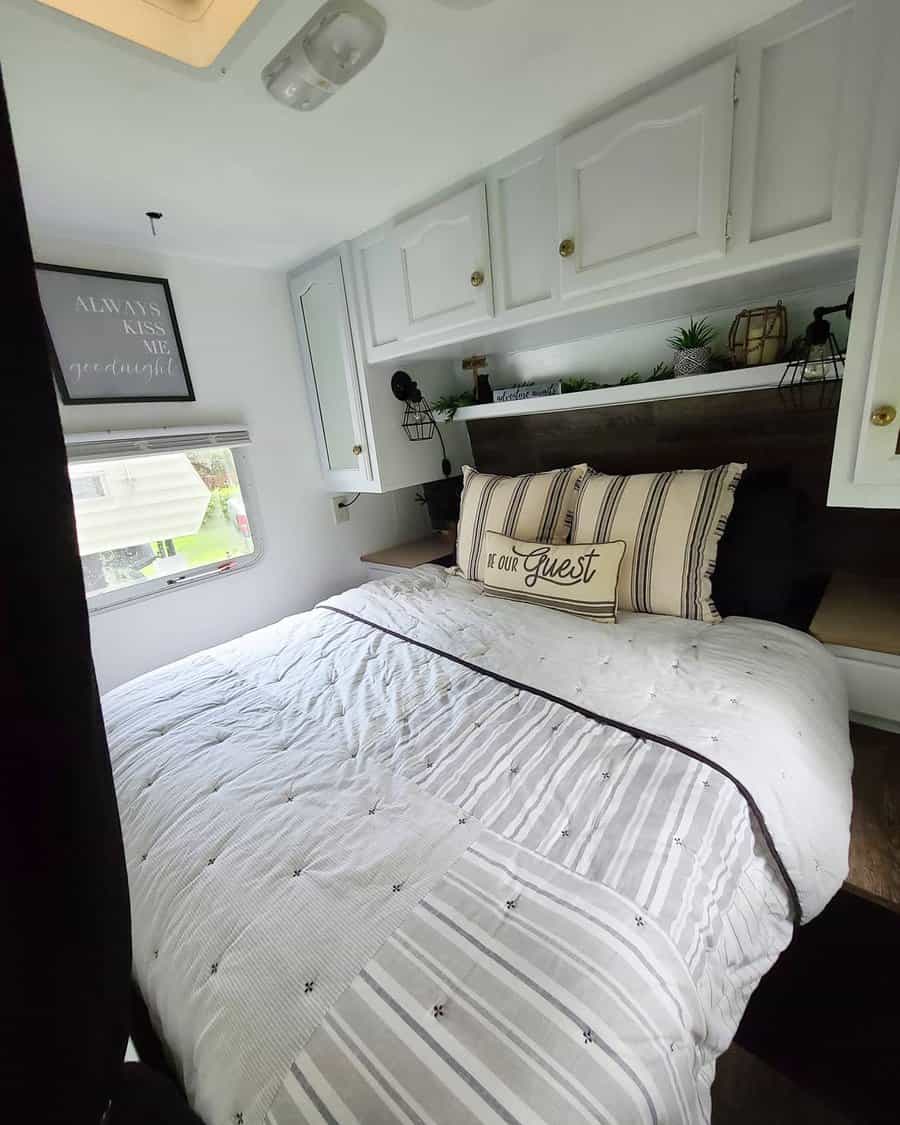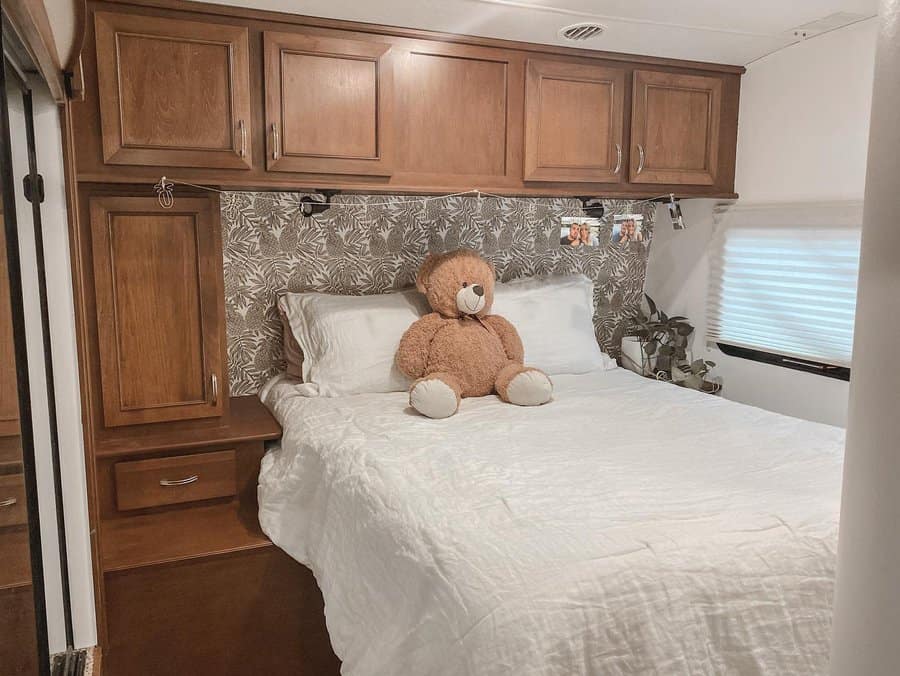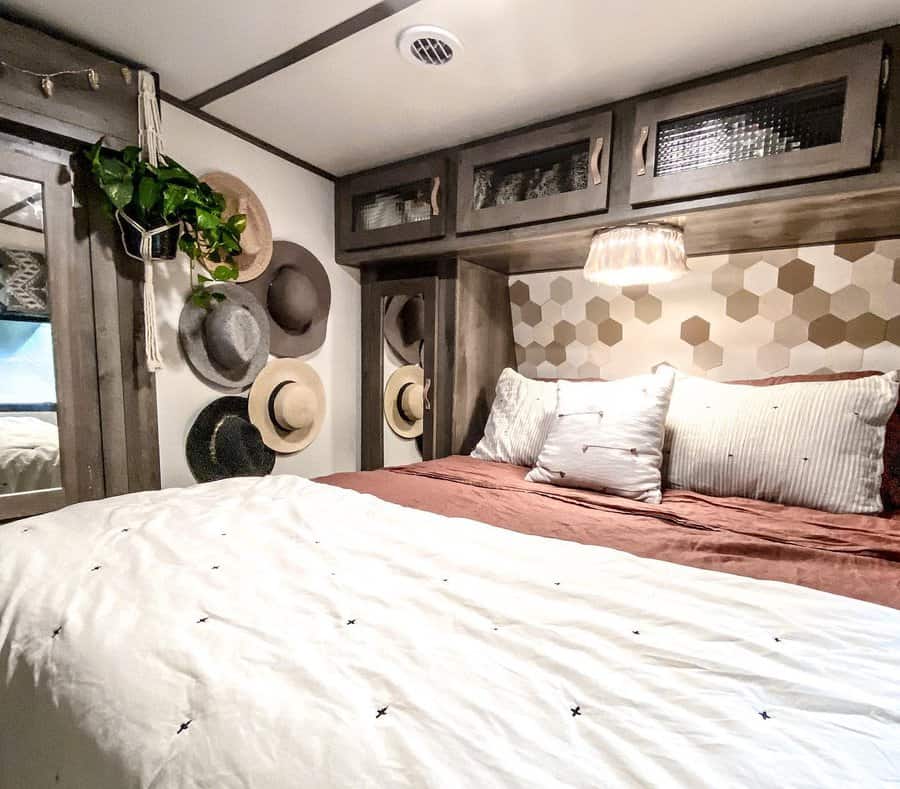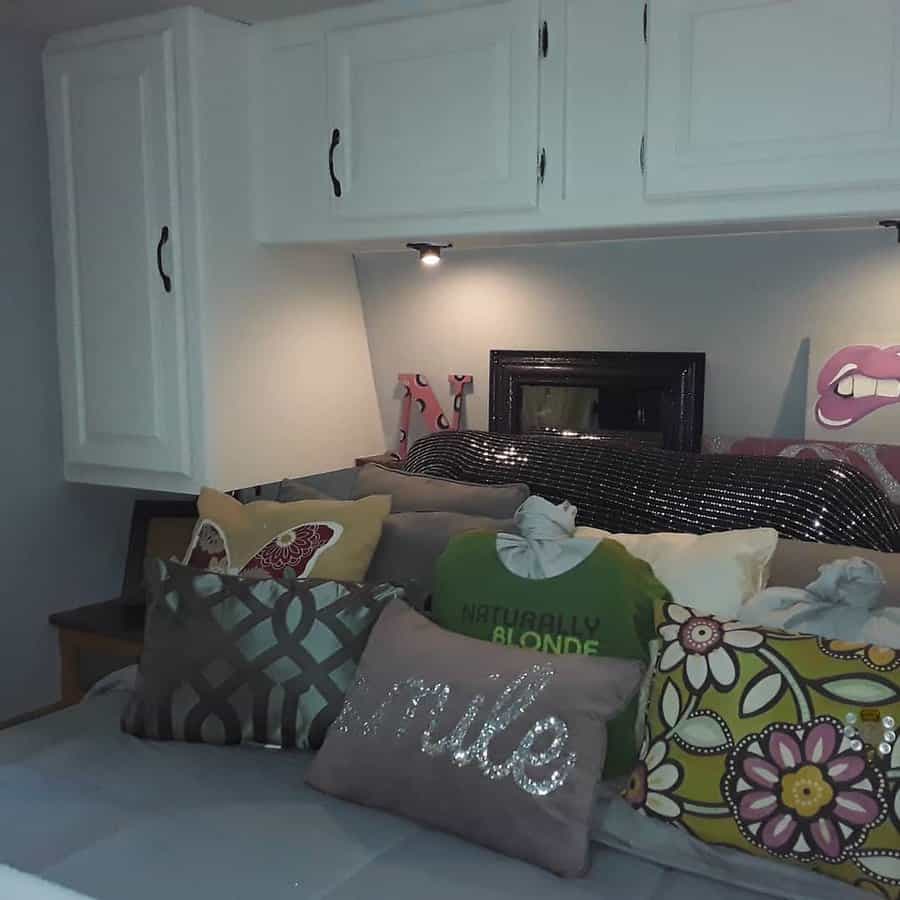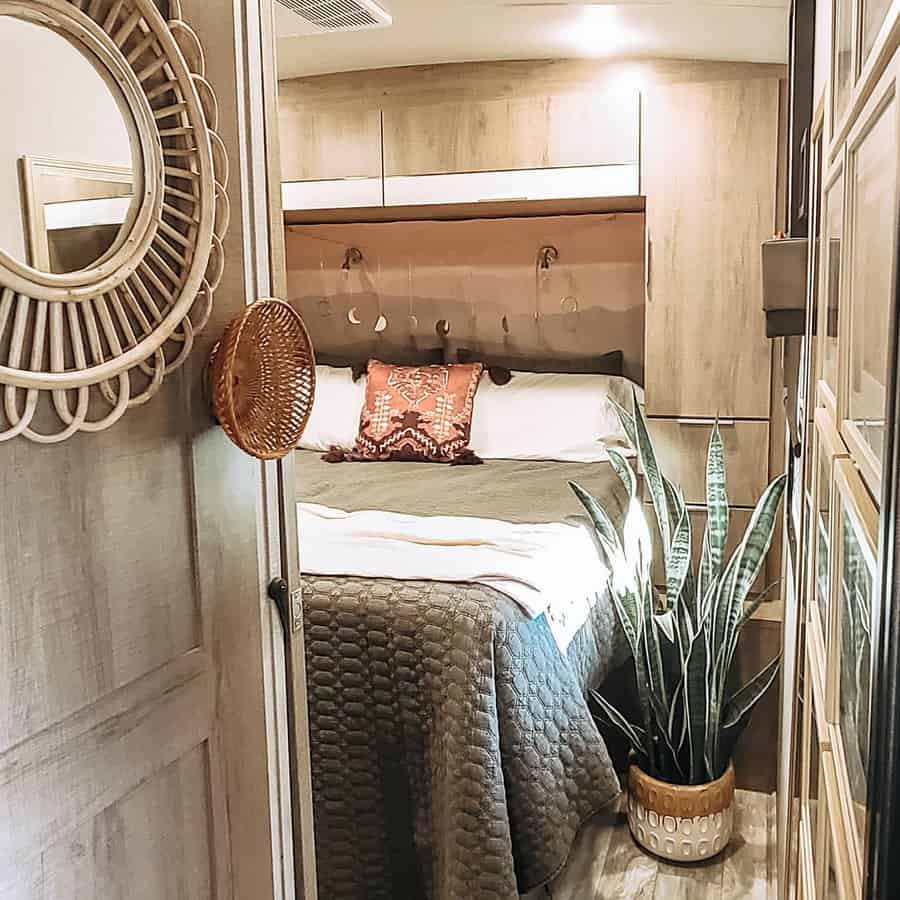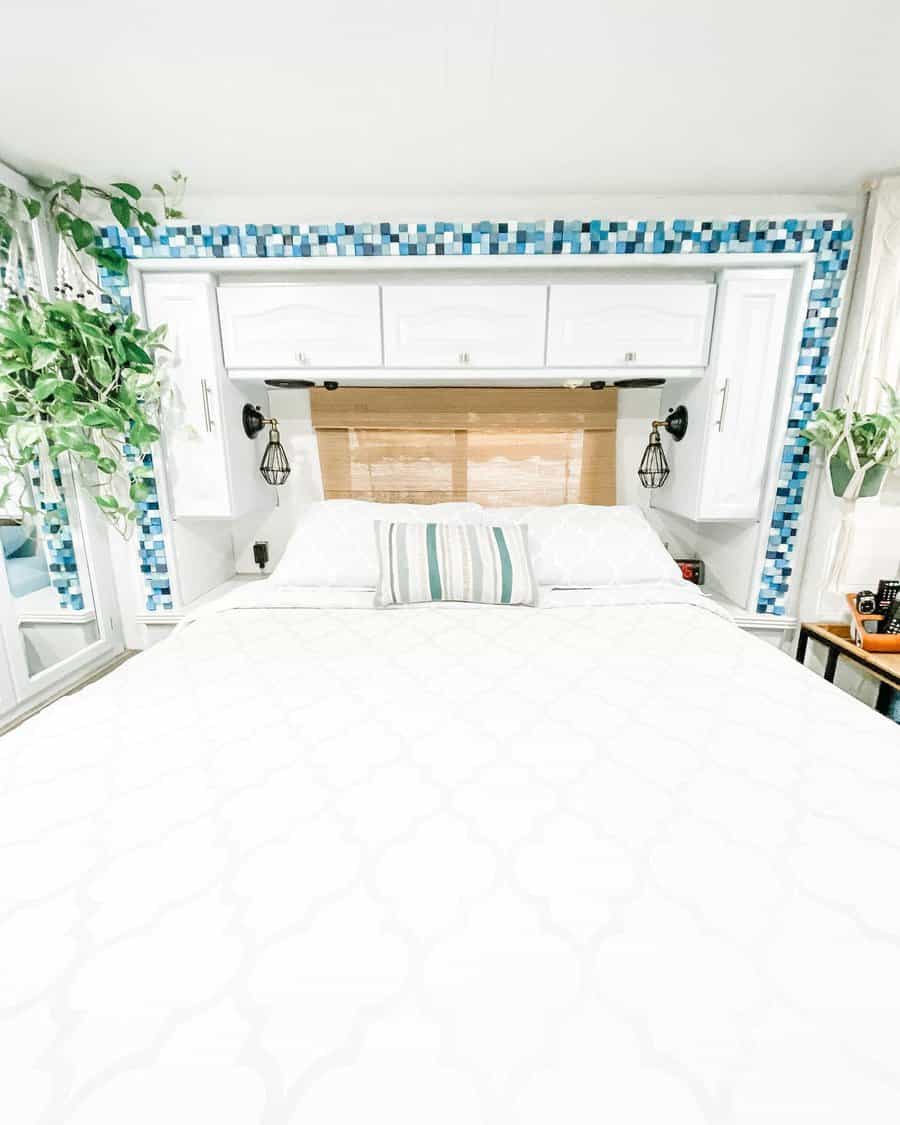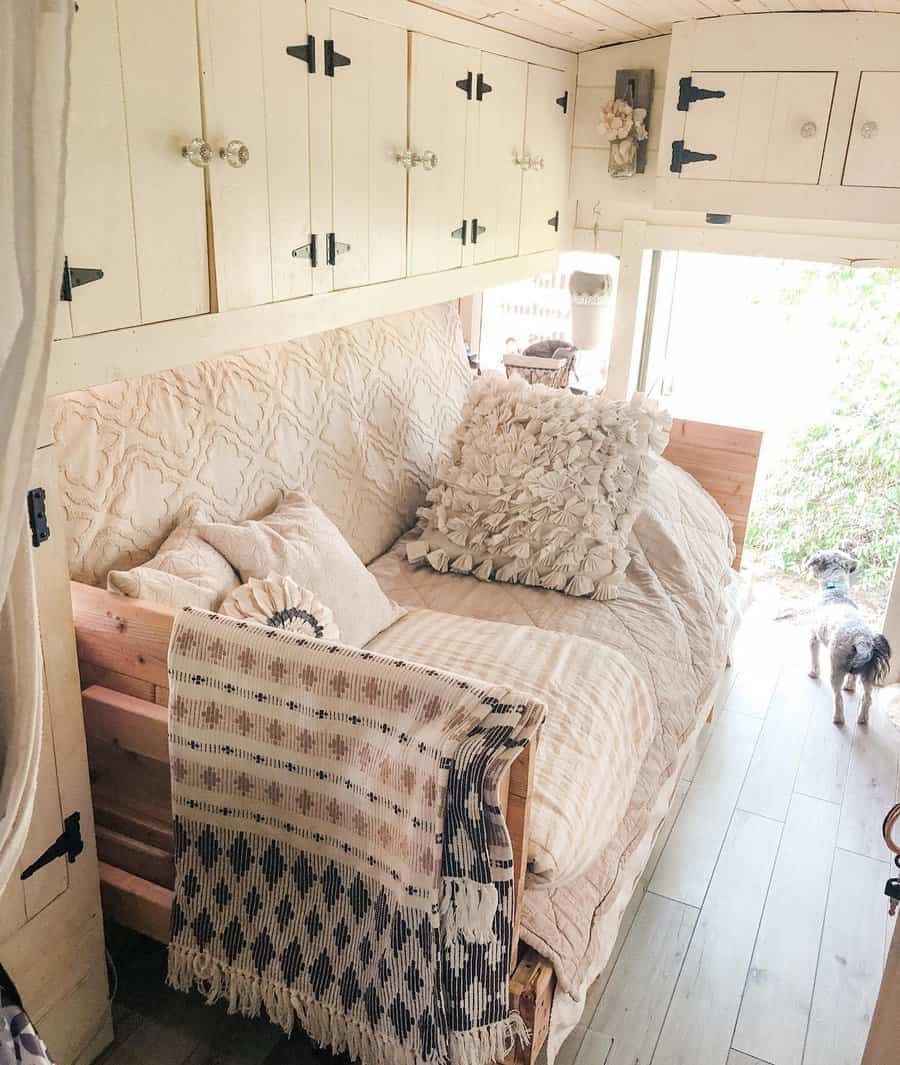 4. Stay Organized with Versatile Crate Systems
Utilize organizer crates to streamline storage in your RV, ensuring your essentials are systematically arranged. These adaptable crates can be stacked, hung, or slid under furniture, offering flexible storage configurations. Choose crates with varied sizes and compartments to cater to distinct needs, from kitchen utensils to outdoor gear. Their lightweight nature makes repositioning effortless, accommodating evolving storage demands while ensuring a tidy and functional RV interior.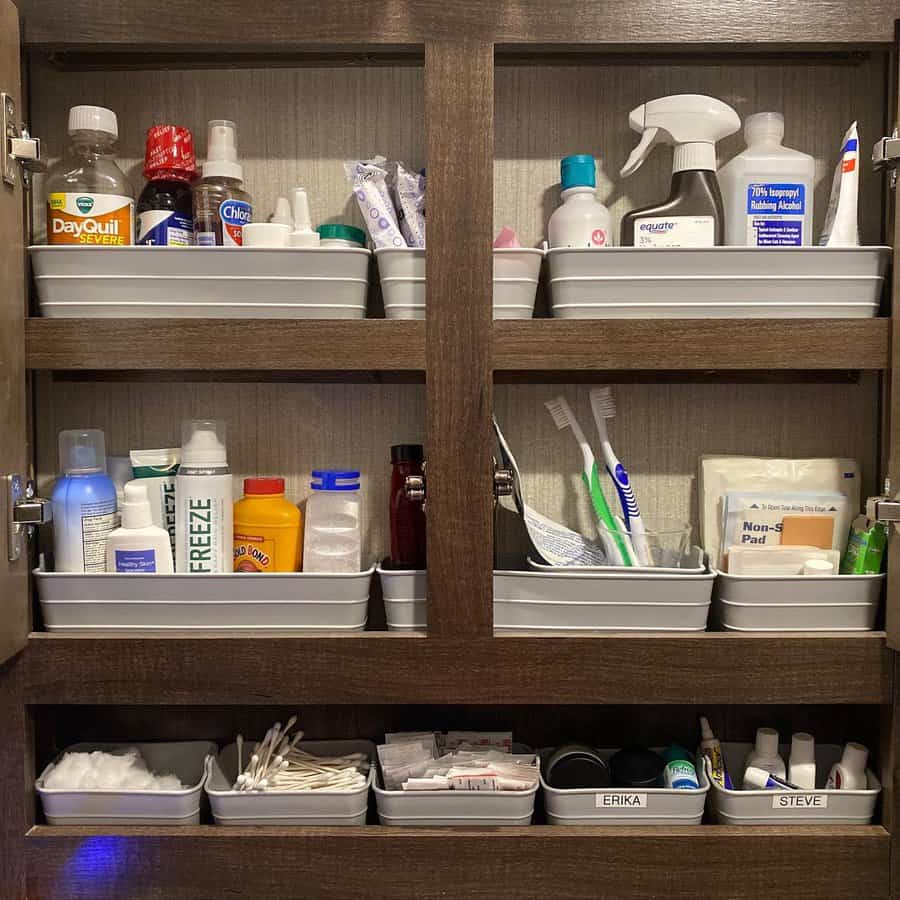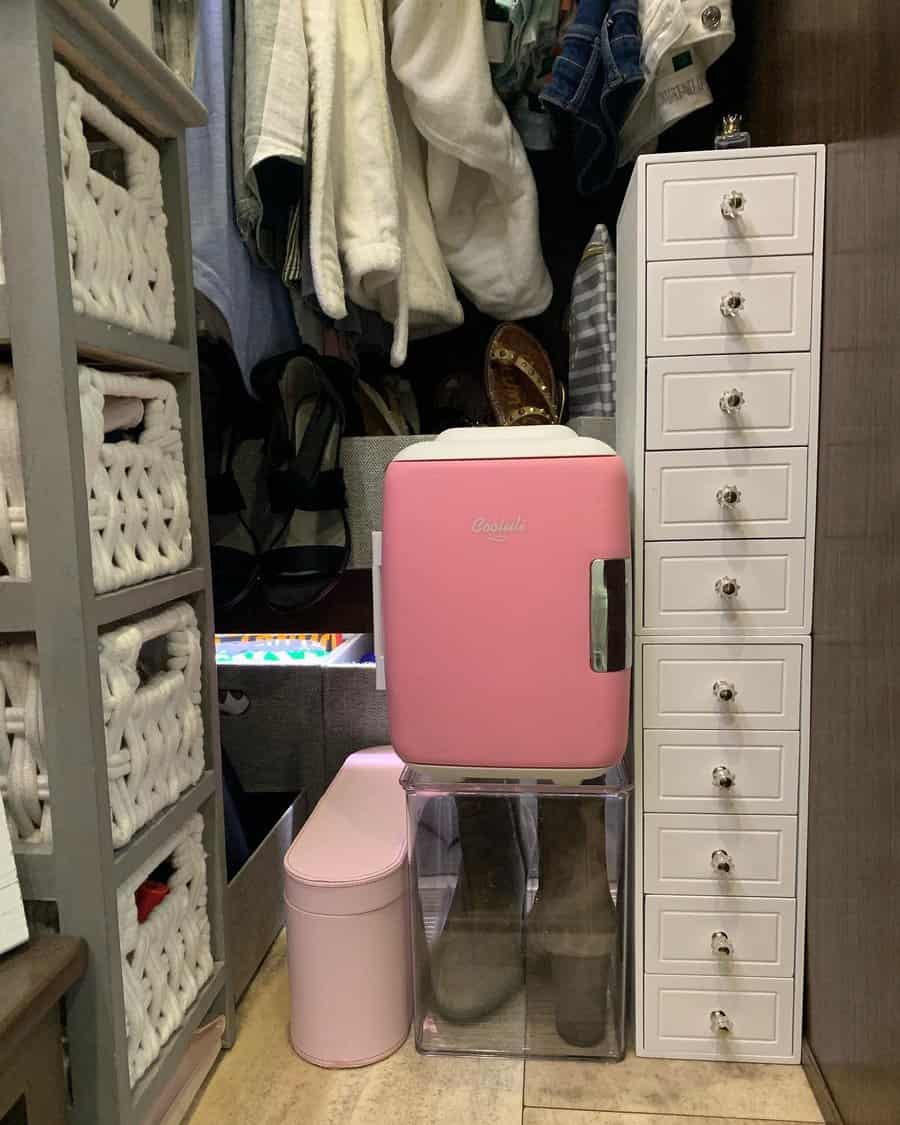 5. Slim Shelving Units for Efficient Use of Space
Enhance your RV's storage capacity with slim shelving units, designed to utilize vertical space without crowding the floor. These narrow units are ideal for categorizing kitchen items, toiletries, and travel necessities, ensuring everything has its place. Their sleek design not only contributes to a clutter-free environment but also elevates your RV's interior style. Embrace a neat, orderly, and stylish living space on the go with these versatile and space-efficient shelving solutions.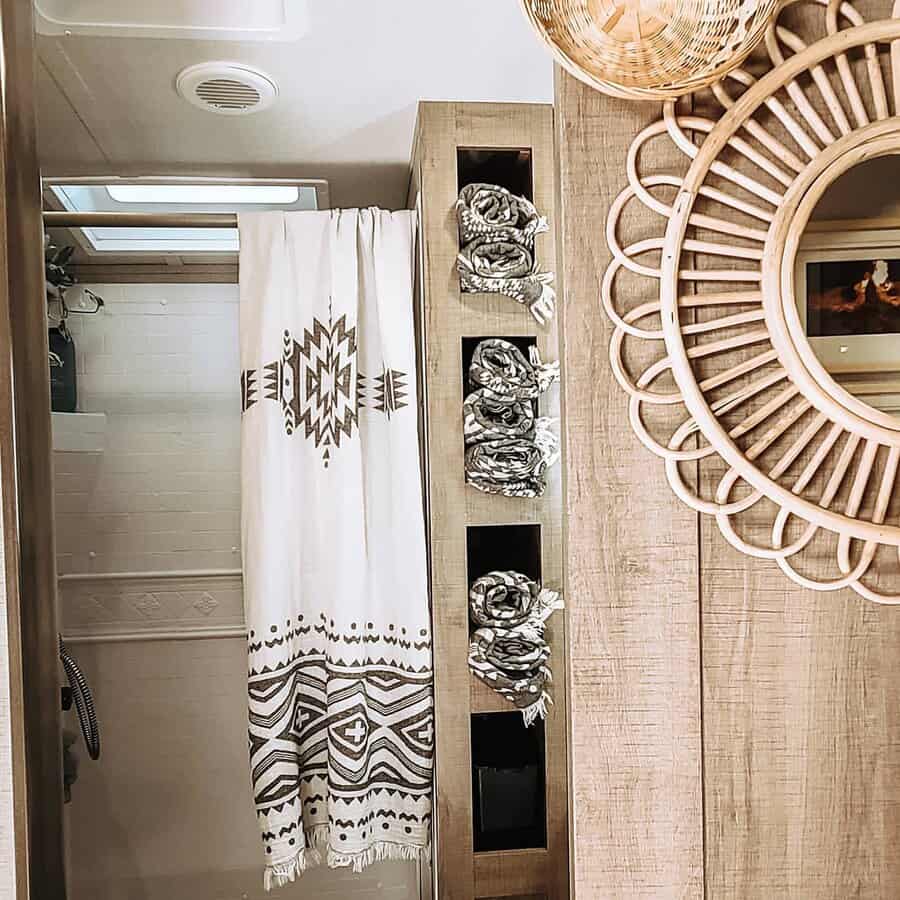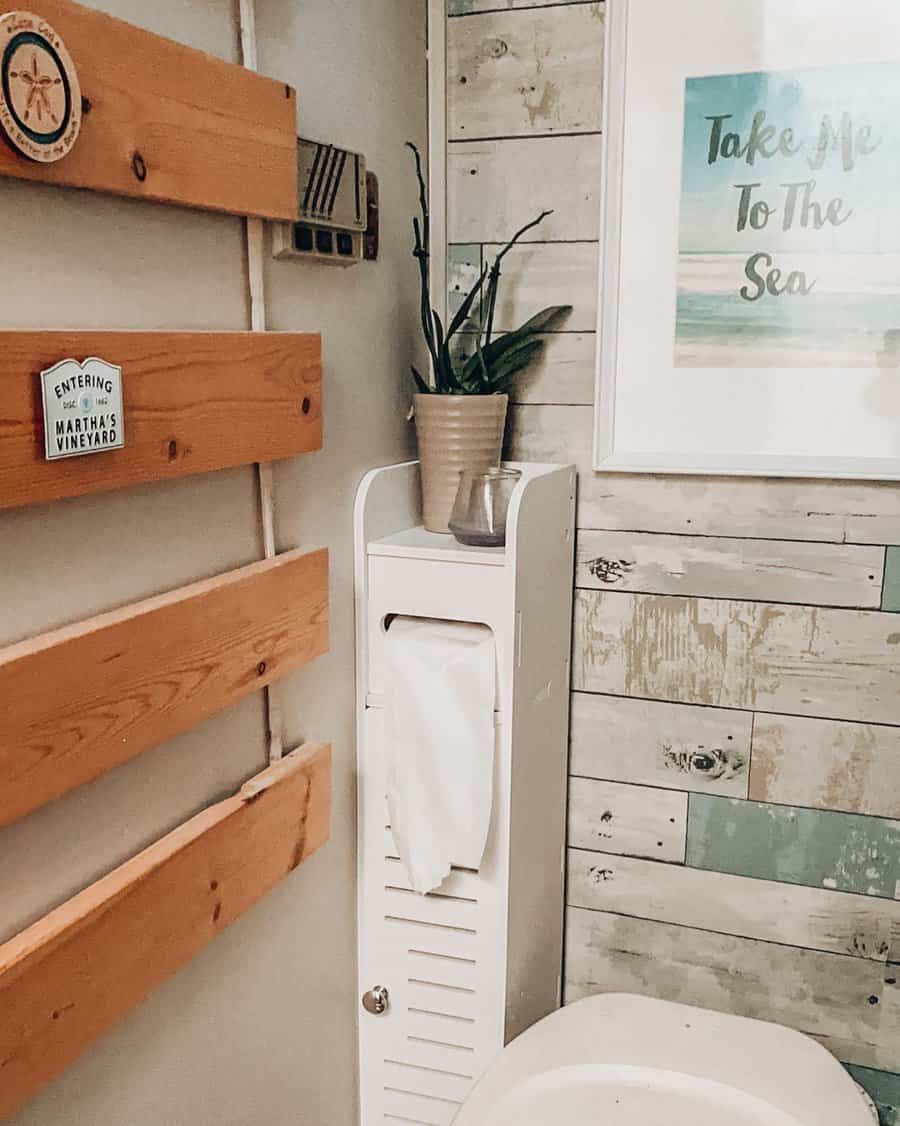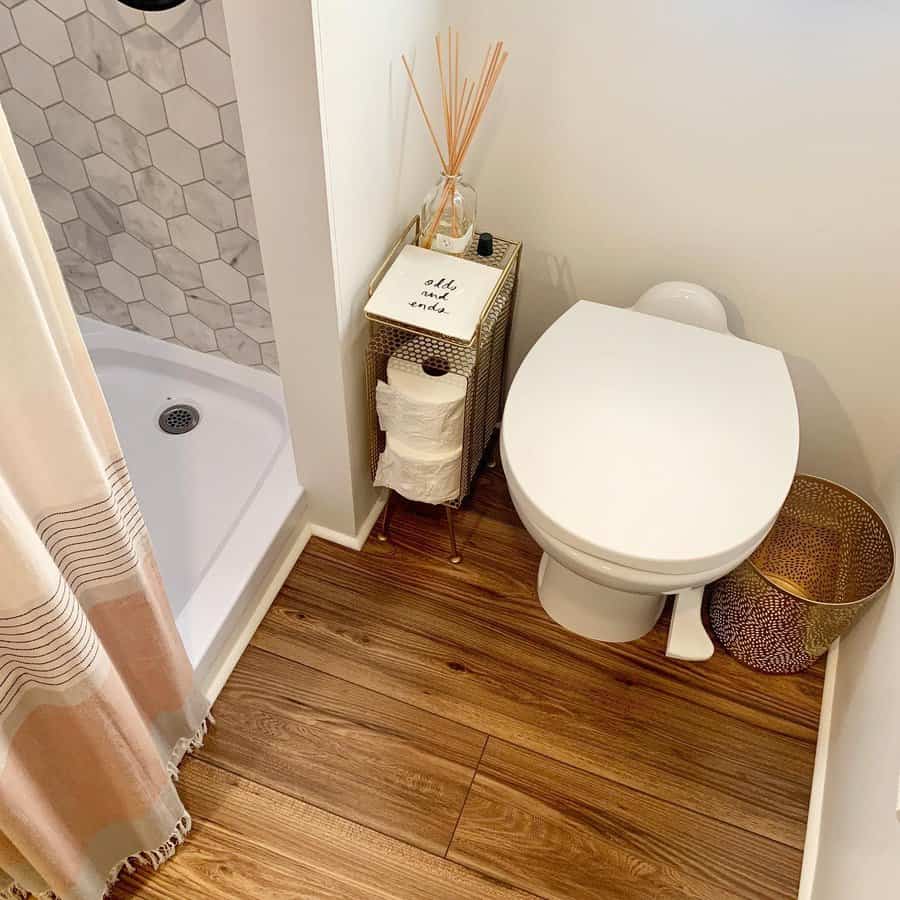 6. Enhance Your RV Bedroom with a Functional Mirror
Elevate the aesthetics and functionality of your RV bedroom with a strategically placed mirror. This addition not only brings a touch of elegance but also visually expands the space, creating a more open and inviting atmosphere. Use the mirror for outfit checks, ensuring you are adventure-ready at all times. Integrating style and practicality, a well-chosen mirror becomes an indispensable part of your RV living experience.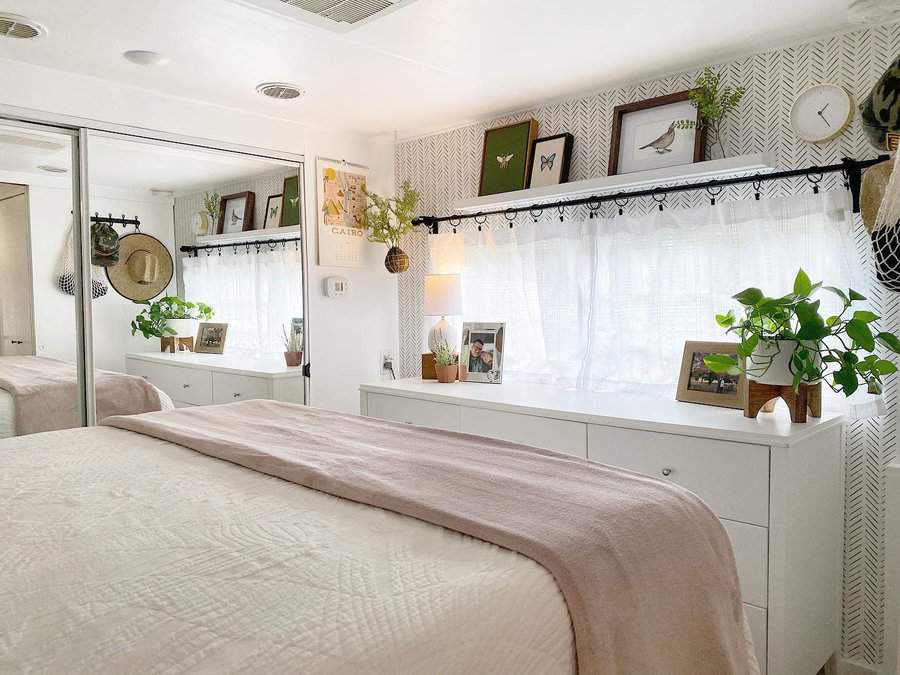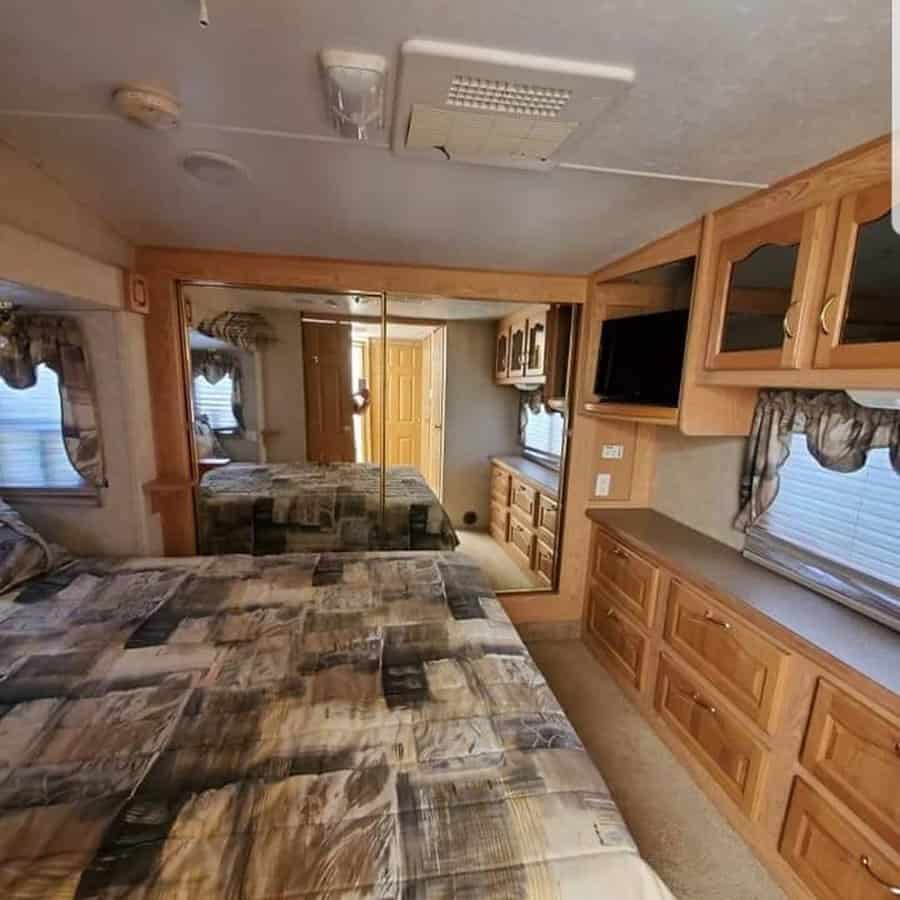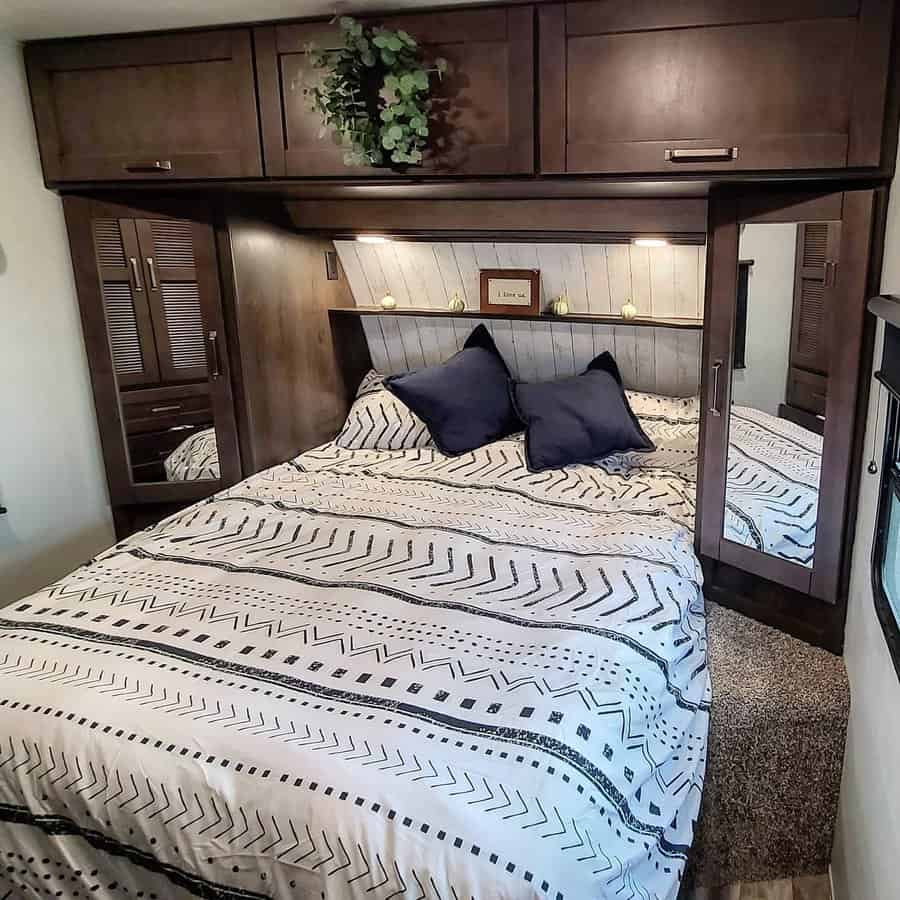 7. Innovative Window Headboard Storage Ideas
Combine aesthetics with functionality using a bed featuring a window headboard. This ingenious design offers built-in shelves or drawers within the headboard, ideal for storing books, electronics, and more. The window aspect introduces natural light, enhancing the ambiance with a bright and airy feel. By integrating storage with light-enhancing design elements, you not only keep your RV organized but also cultivate a luminous and spacious environment.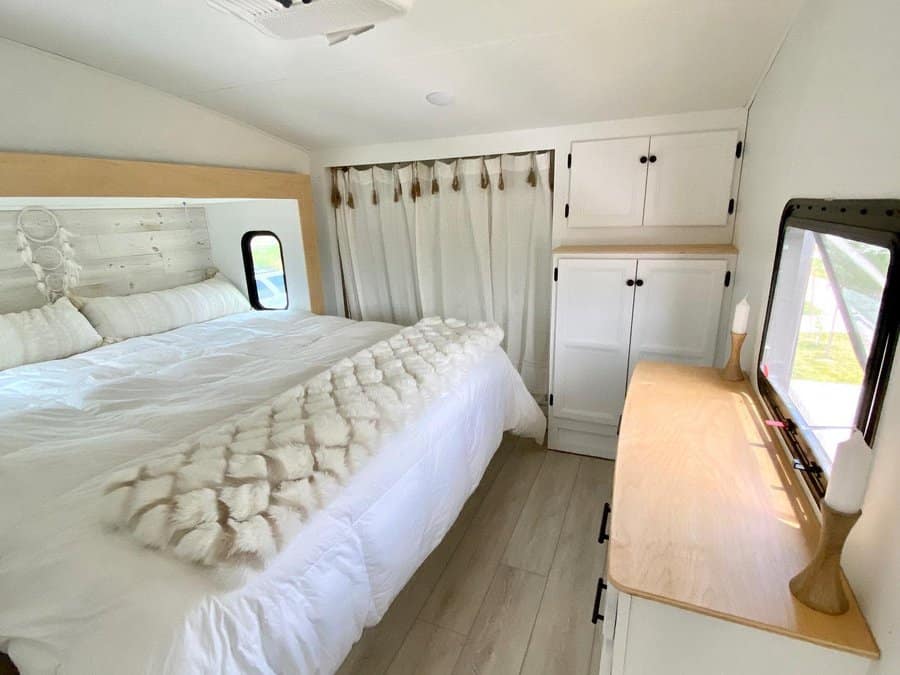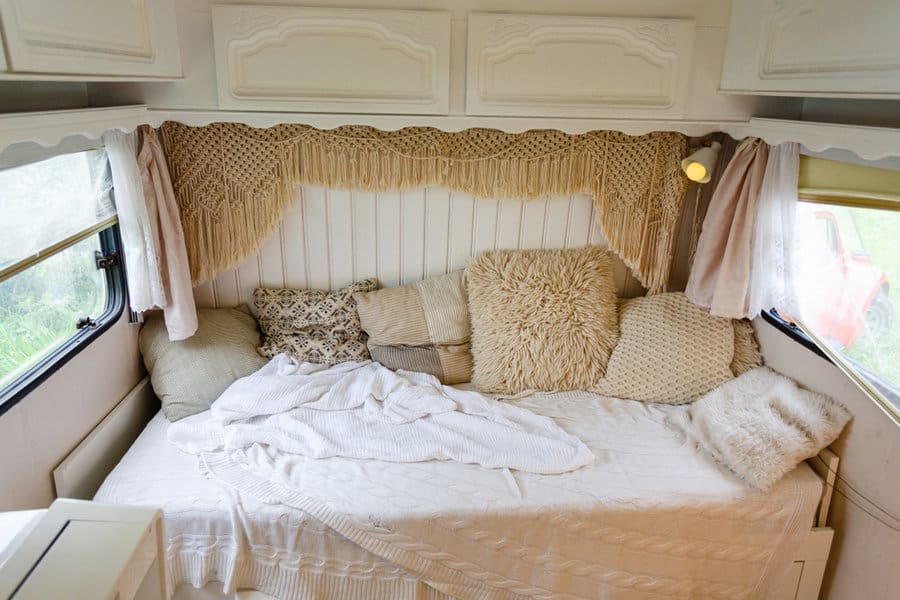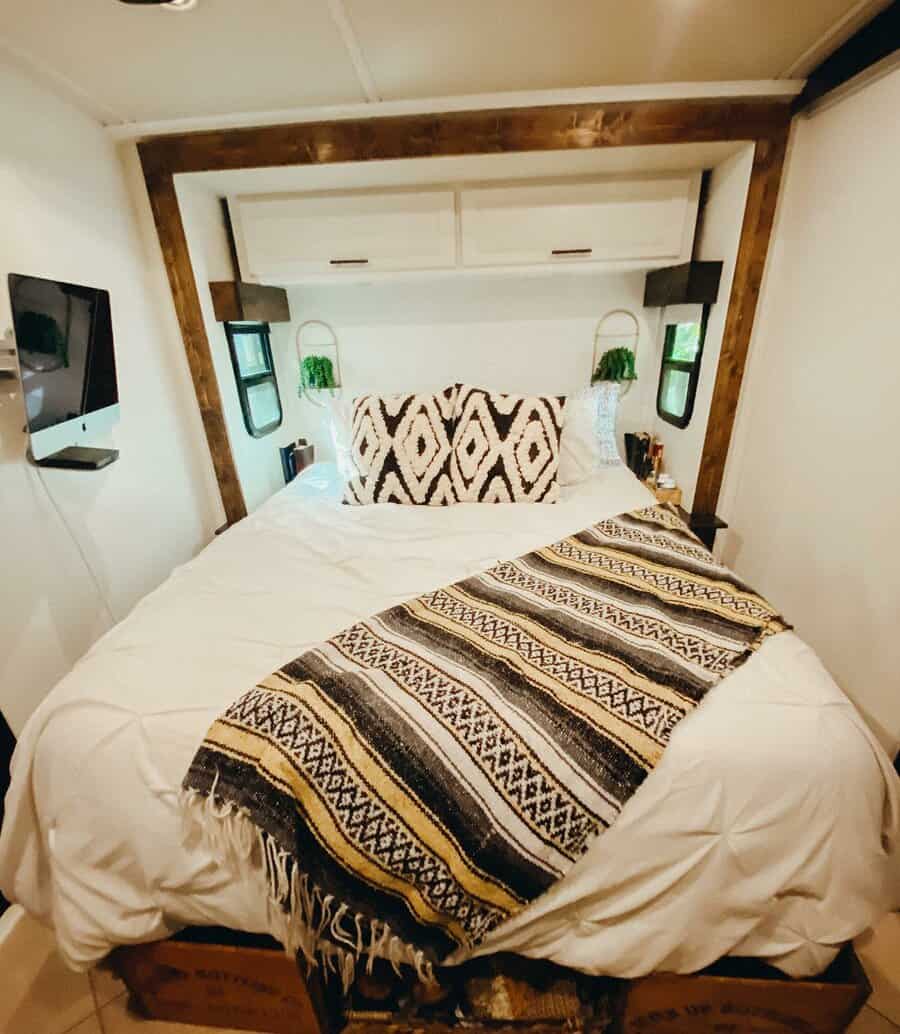 8. Loft Bed: A Perfect Space-Saving Solution
Optimize your RV's living quarters with a loft bed, a stellar space-saving solution that doubles as a cozy sleeping area and a storage haven. Ideal for shared spaces or as an additional bed, this design leaves room underneath for storing luggage, seasonal gear, or setting up a compact workspace. The loft bed is not just a smart storage option; it's also a stylish addition that enhances both the functionality and aesthetics of your RV interior.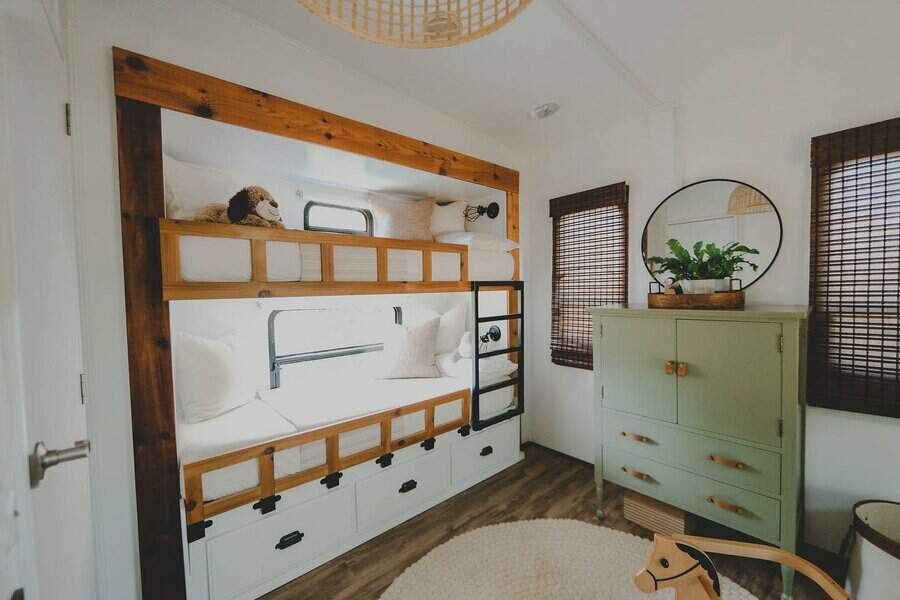 9. Clever Under-the-Bed Storage Options
Maximize your RV's storage capacity with smart under-the-bed solutions, perfect for stashing away seasonal clothing, spare bedding, and camping essentials. Opt for purpose-built storage containers or get creative with repurposed boxes featuring secure lids. Utilizing this hidden space not only helps maintain a neat and orderly RV but also ensures your belongings are readily at hand whenever you hit the road. Harness the potential of under-the-bed storage to enhance your RV's functionality and organization.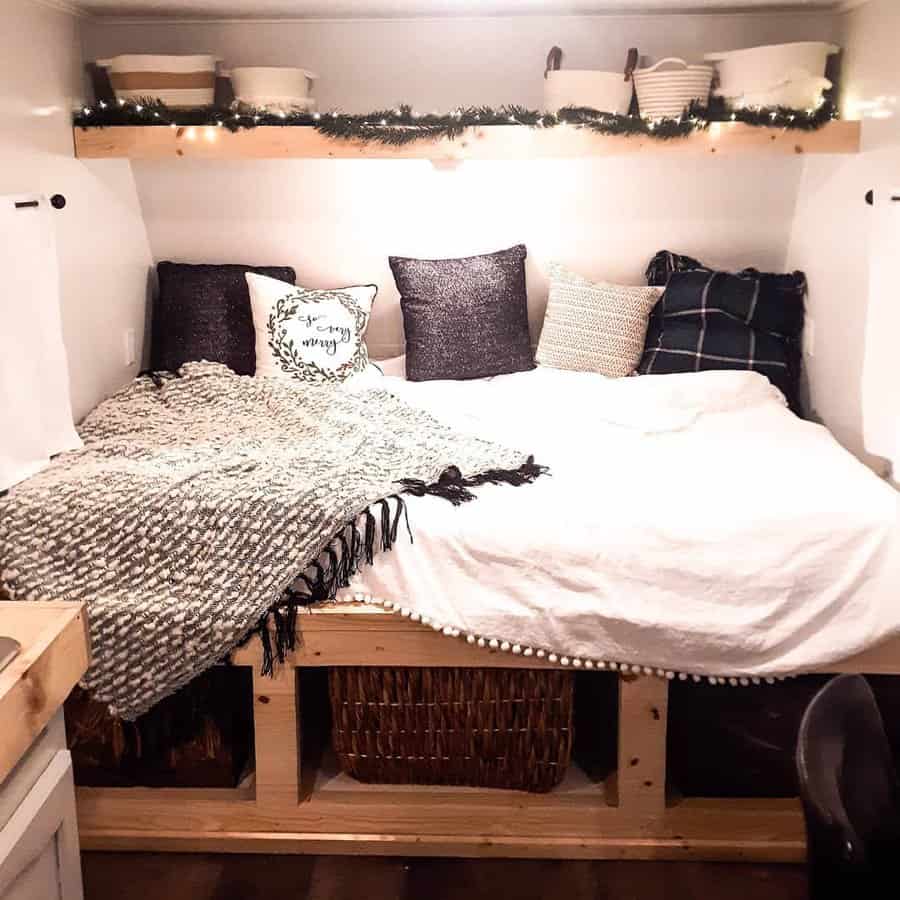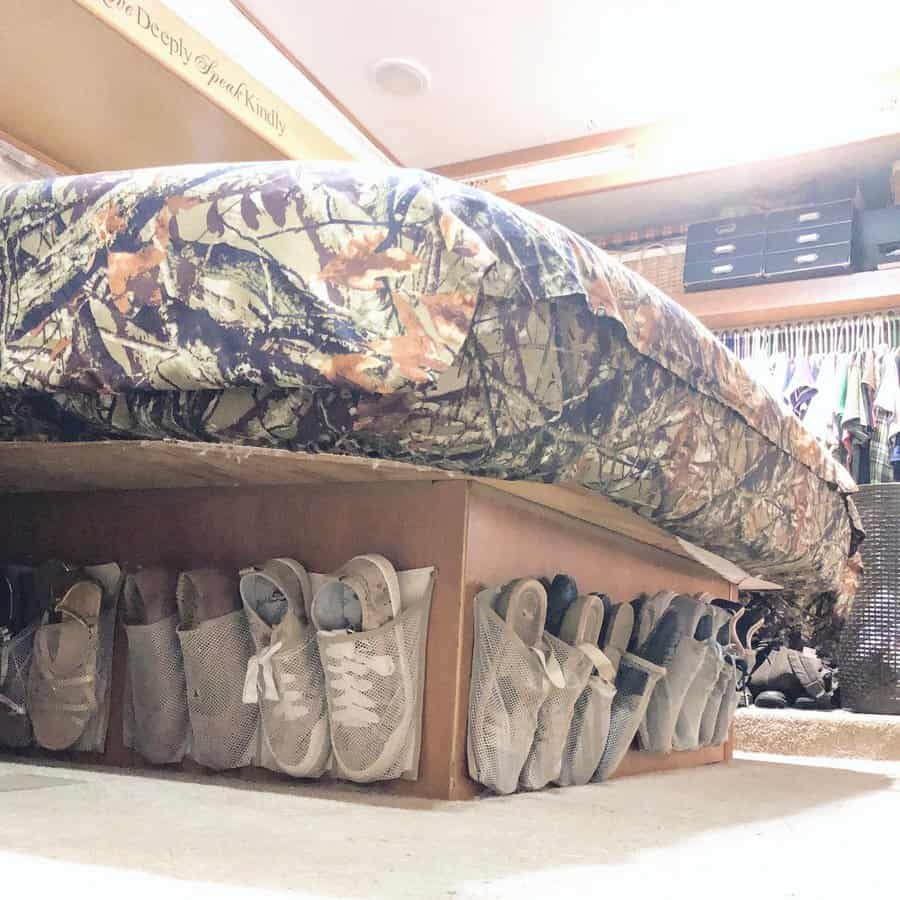 10. Create More Space with Tension Rod Closets
Unlock additional storage in your RV using the versatile open closet concept with tension rods. Install these rods at strategic heights to hang clothes, accessories, and even lightweight storage baskets. The open design not only ensures a systematic arrangement of your items but also infuses a contemporary flair into your RV's décor. By leveraging tension rod closets, you can elevate both the functionality and aesthetics of your mobile living space.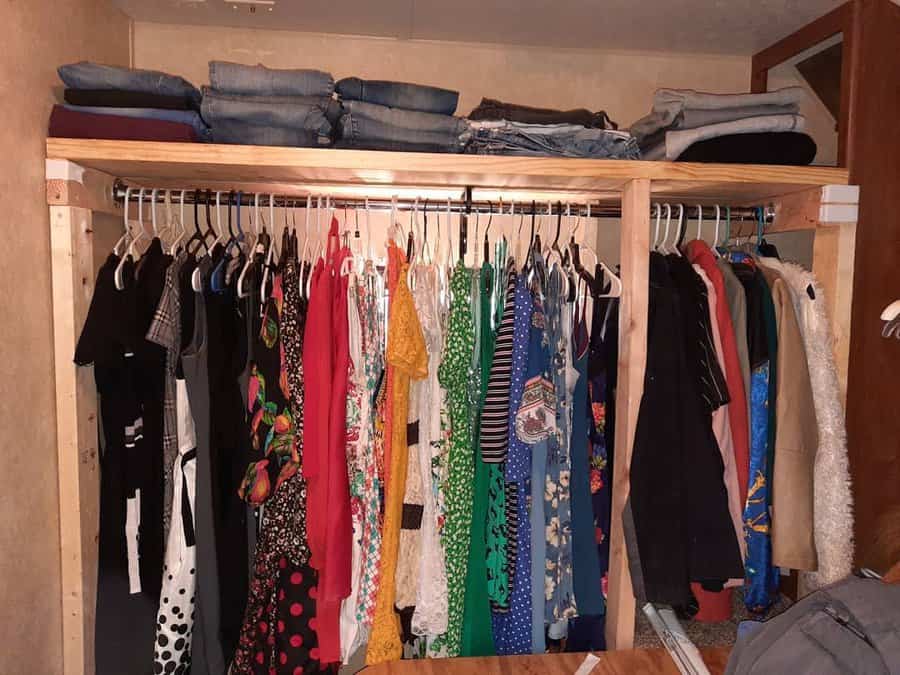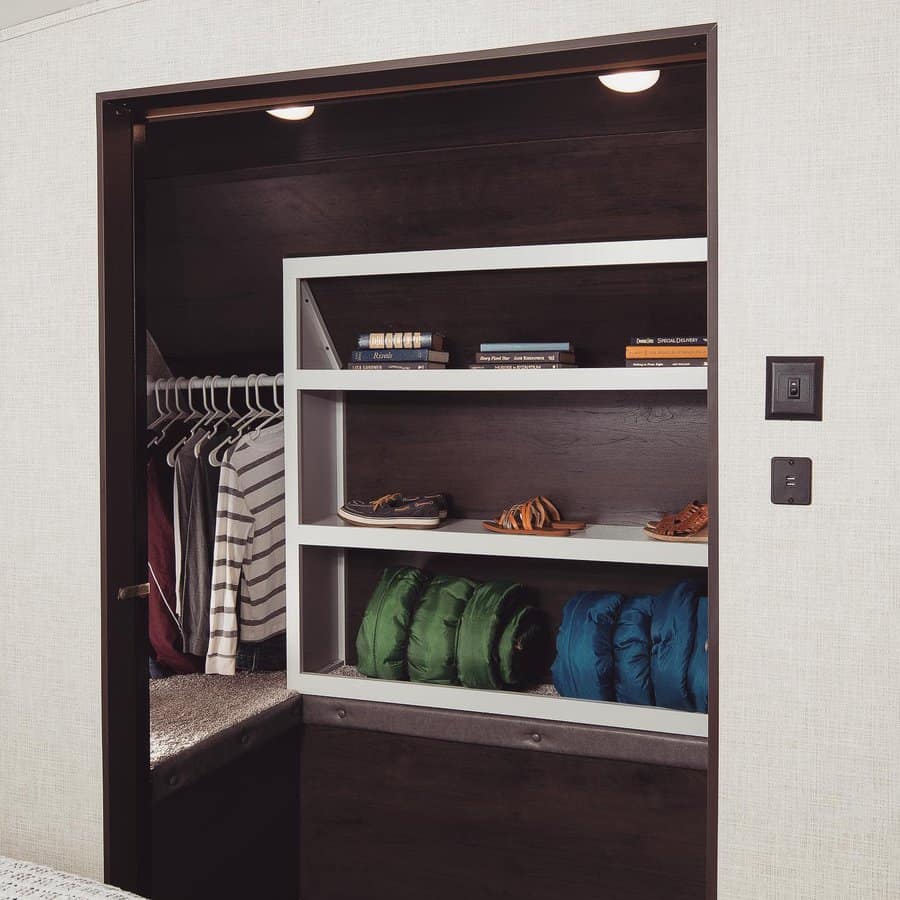 11. Convenient Bedside Closet for Easy Access
Enhance your bedroom's functionality in the RV with a compact bedside closet, strategically placed for optimal accessibility. This slender storage solution offers shelves, drawers, and hanging space, neatly organizing clothes, shoes, and essentials right at your fingertips. Its streamlined design ensures it seamlessly integrates into your sleeping area, contributing elegance without compromising on space. Enjoy a tidy, sophisticated, and highly practical living environment in your RV with this essential addition.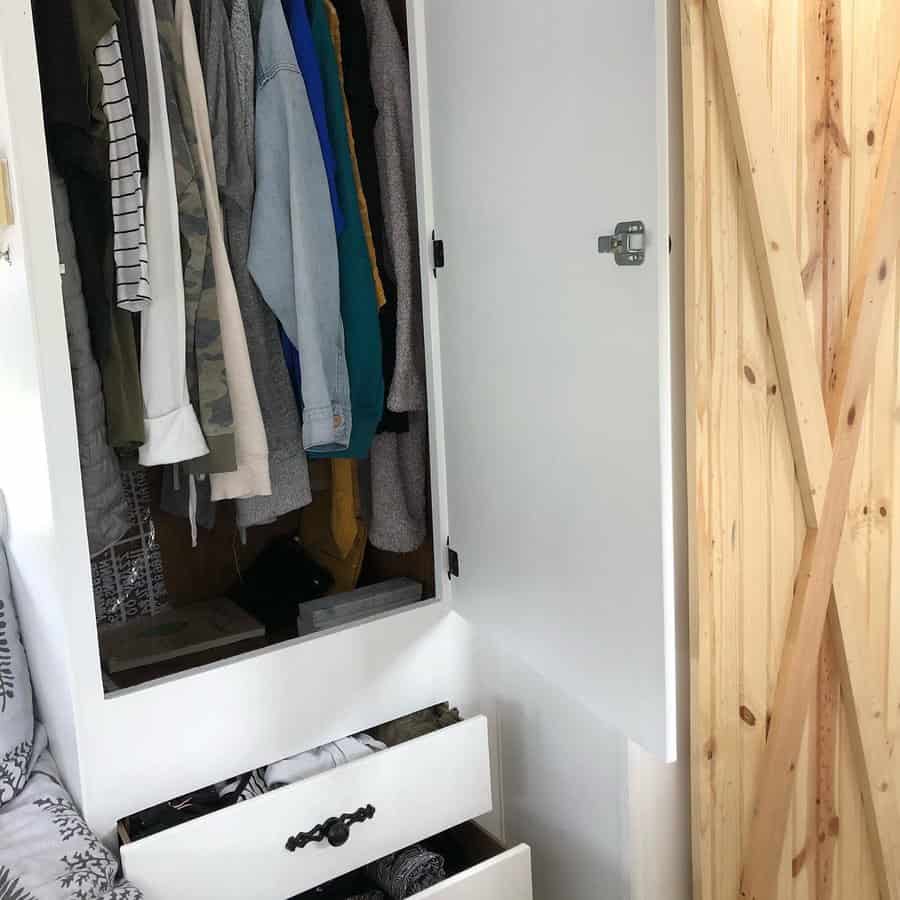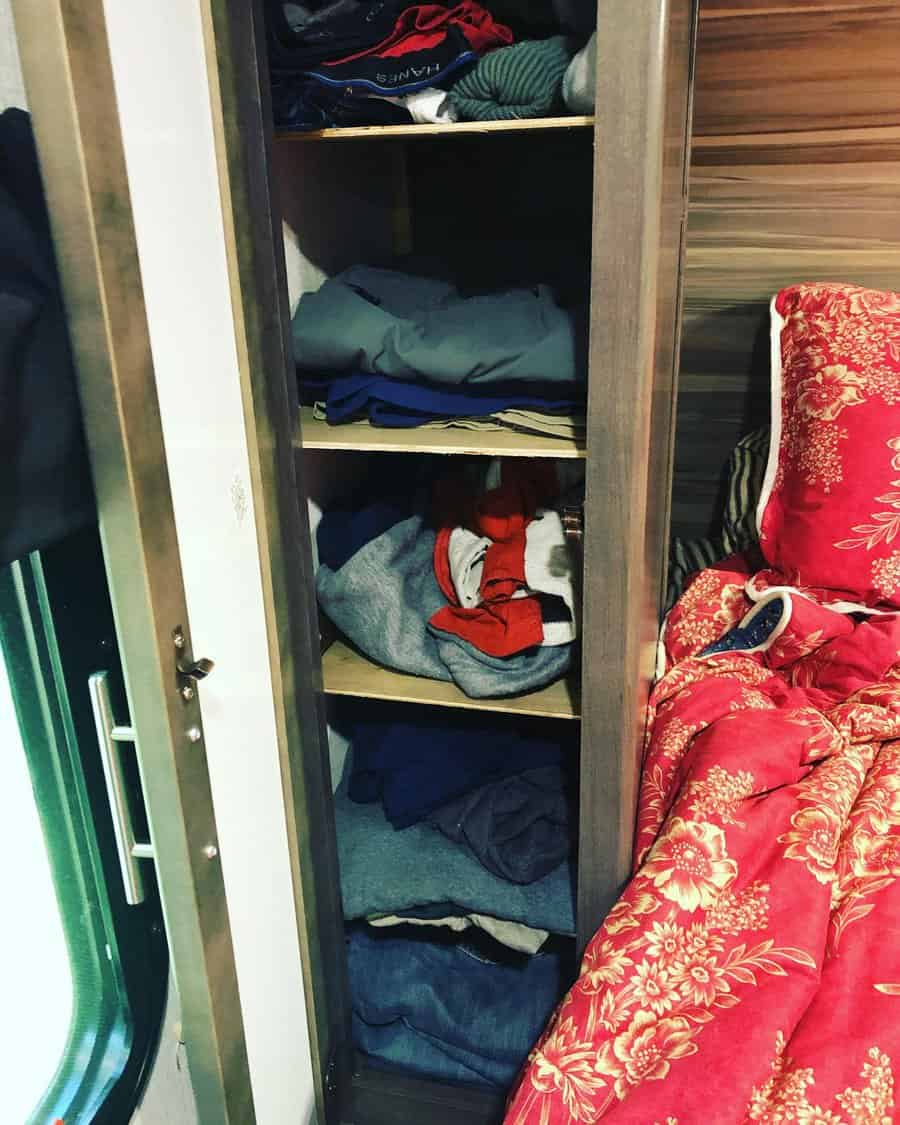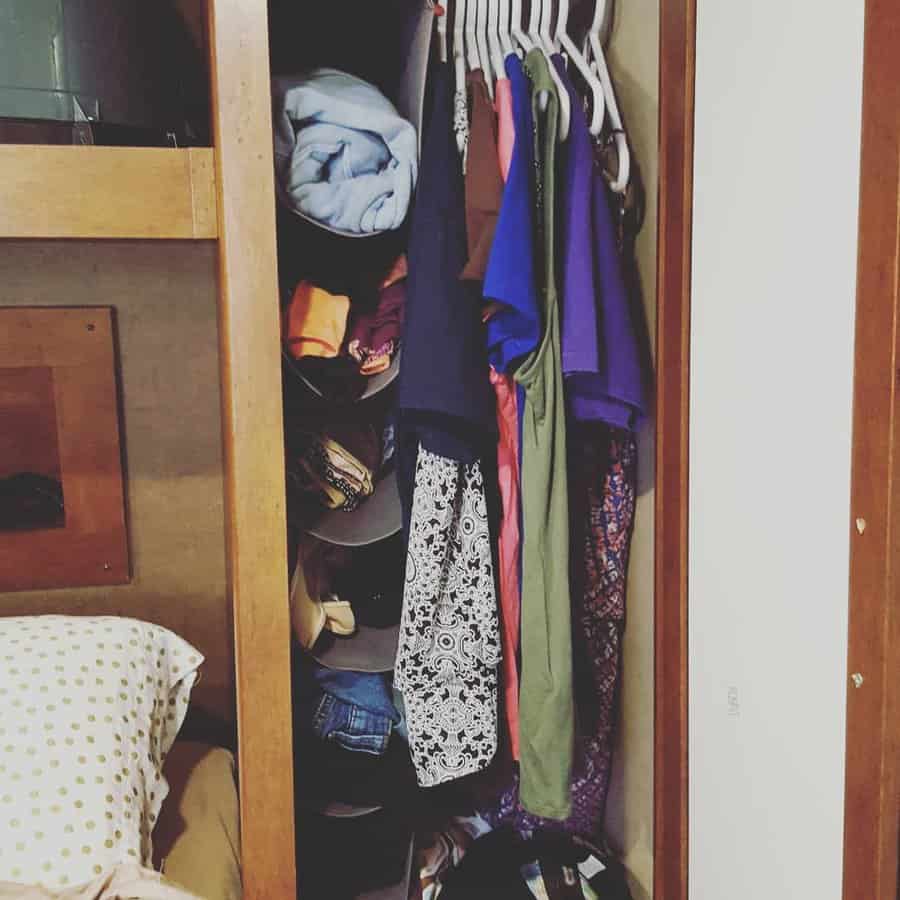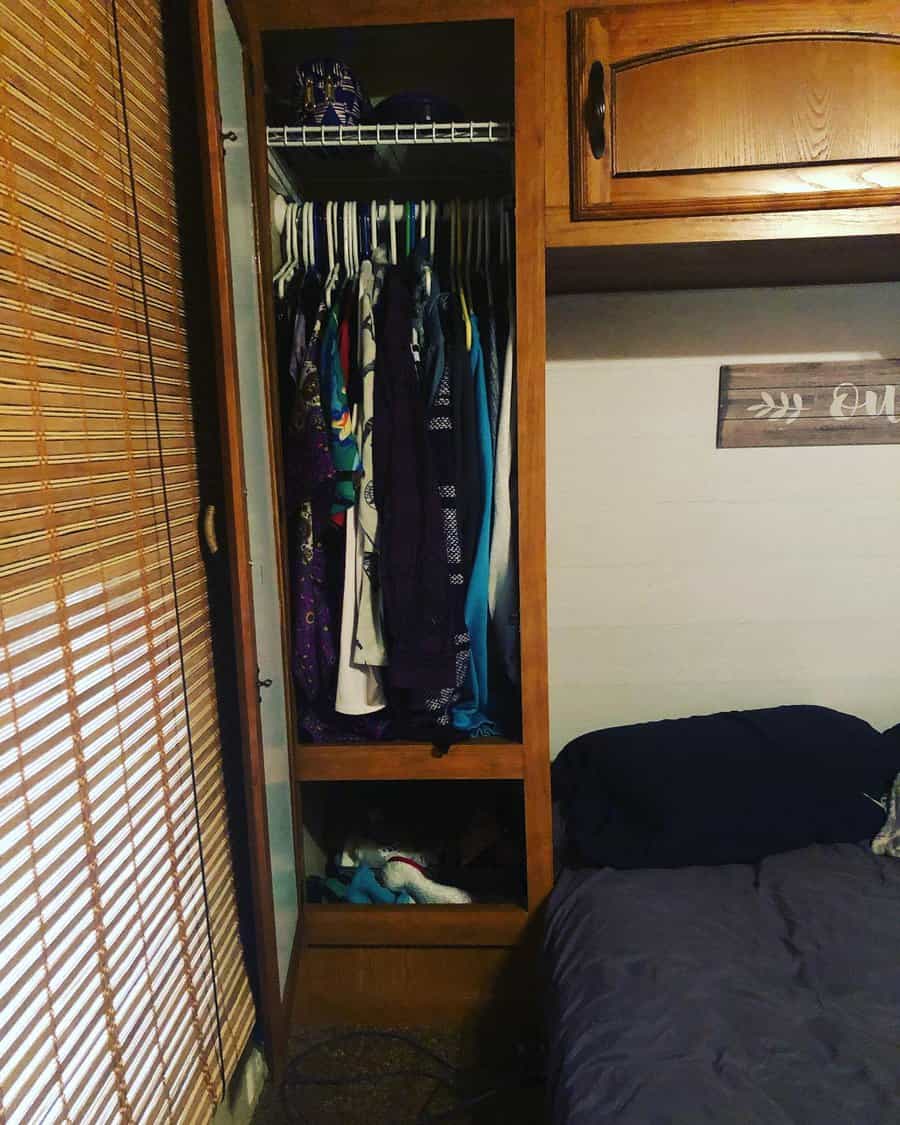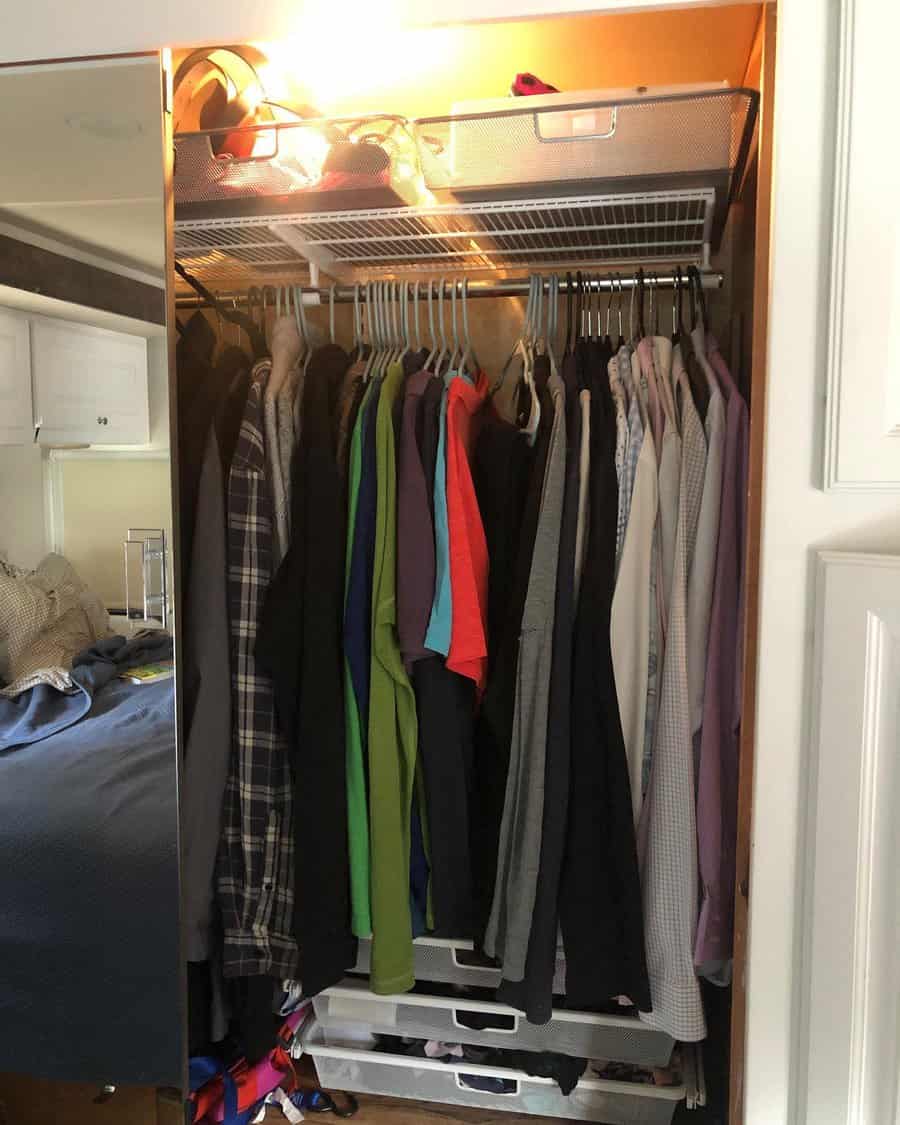 12. RV Kitchen Counter: Storage and Style Combined
Revamp your RV kitchen with a counter that beautifully marries style with storage. Incorporate drawers underneath for easy access to utensils and cookware, and a floor drawer for larger items. For additional storage real estate, consider a kitchen island equipped with built-in compartments. These functional design choices not only ensure a clutter-free cooking environment but also elevate your RV's aesthetic appeal, making your culinary experiences on the road both efficient and elegant.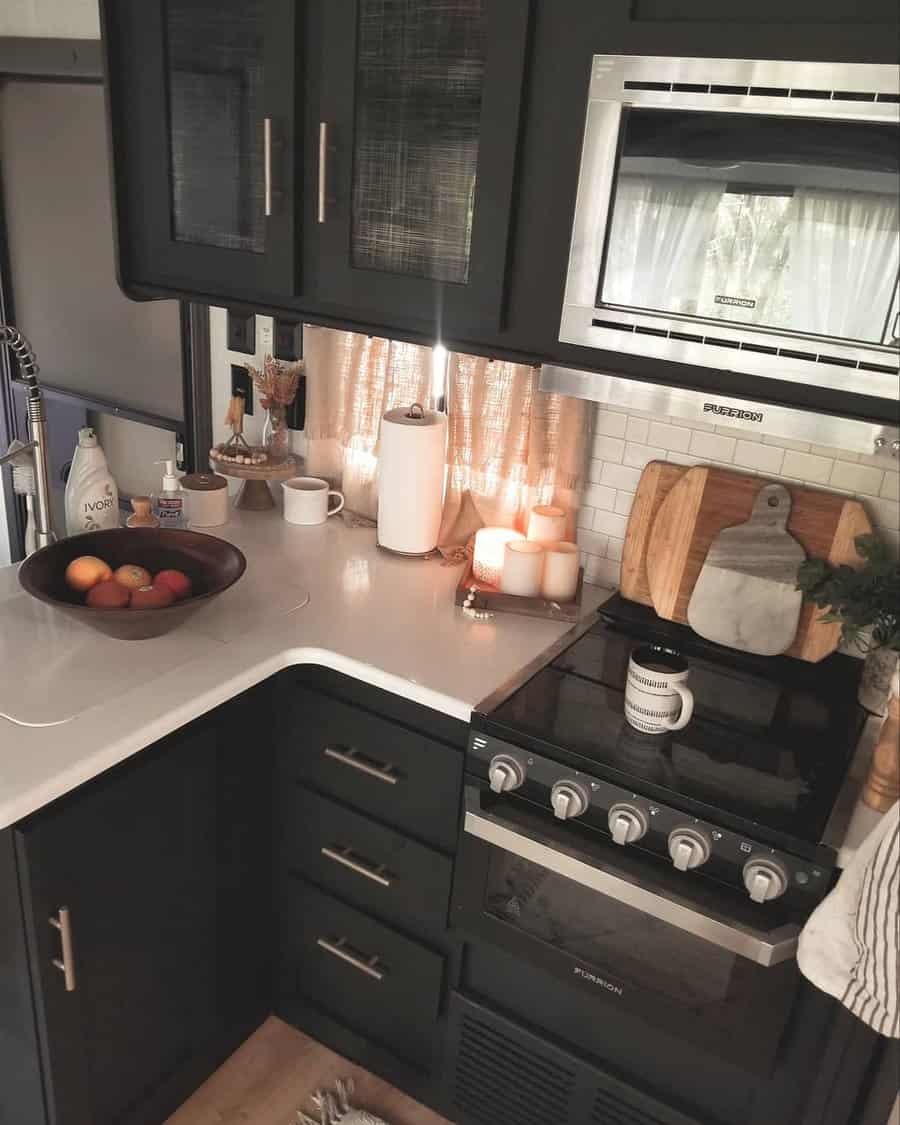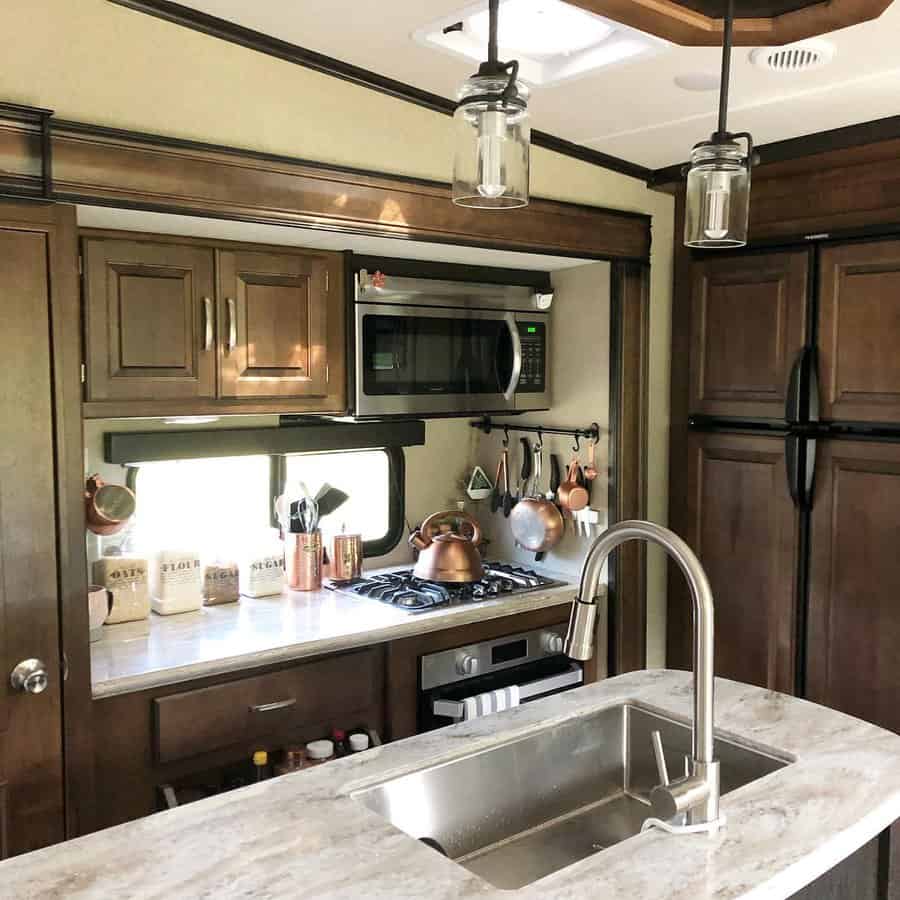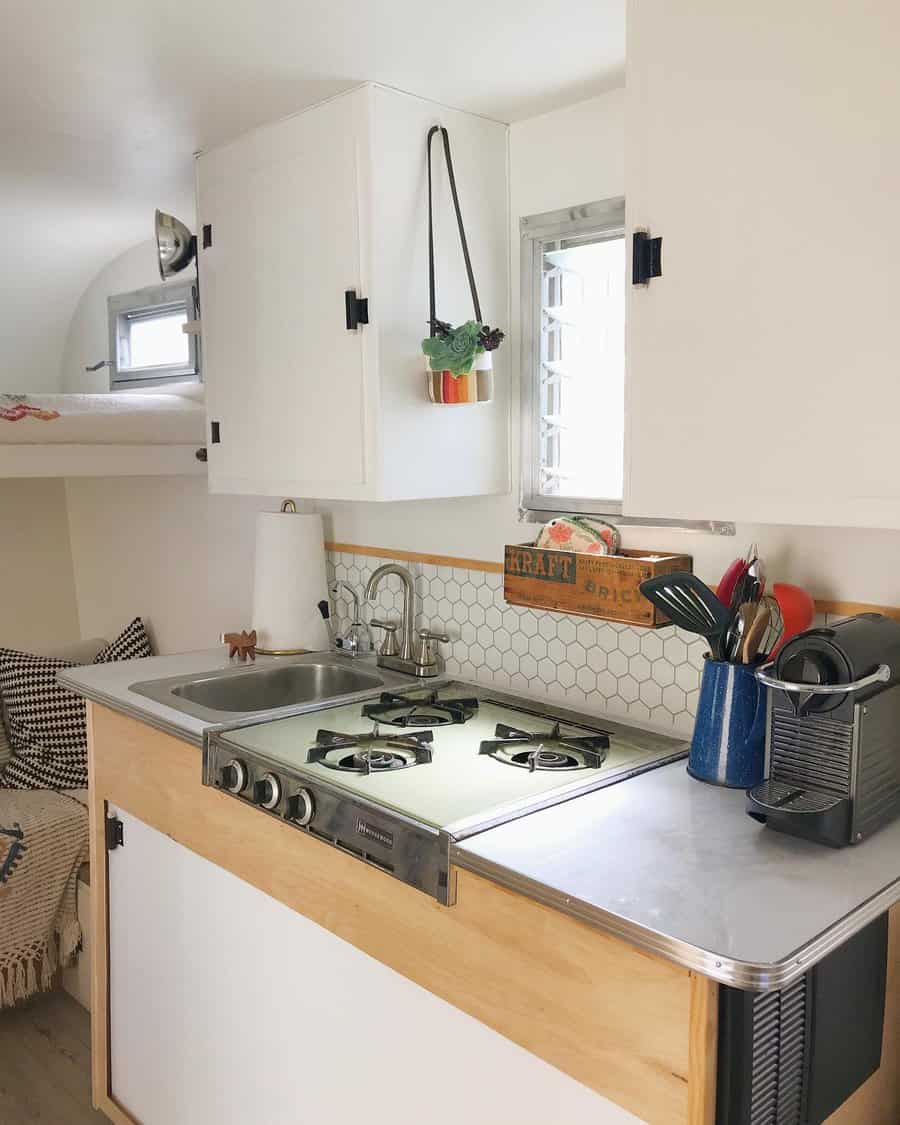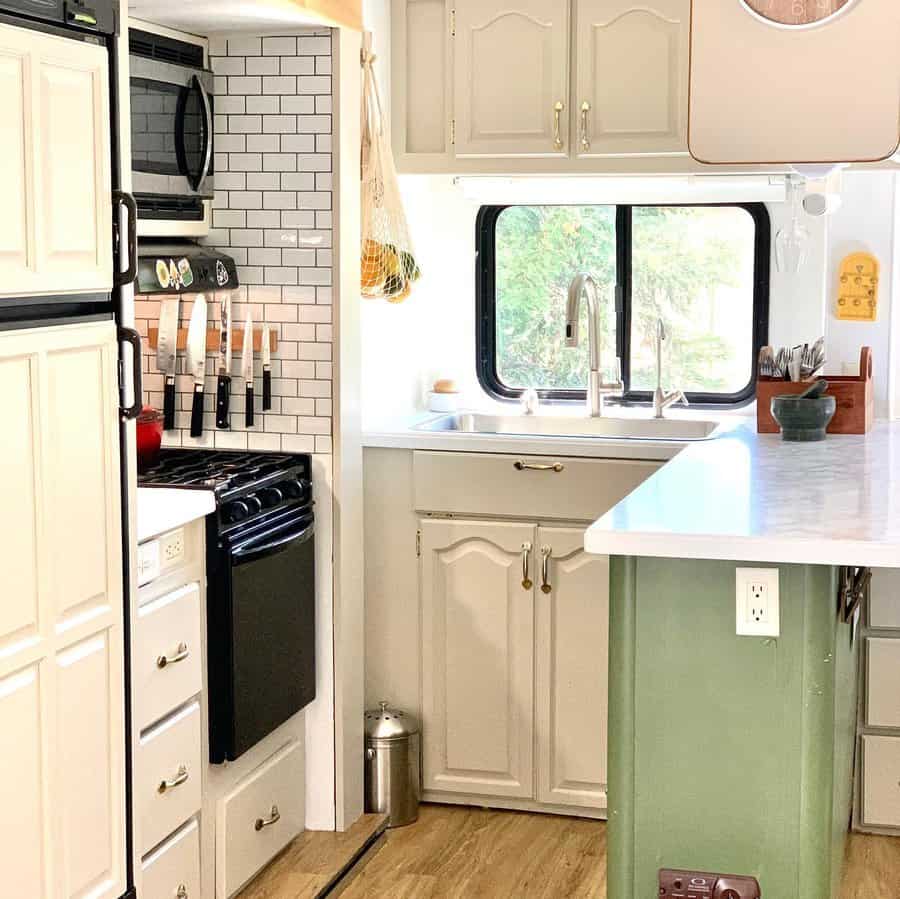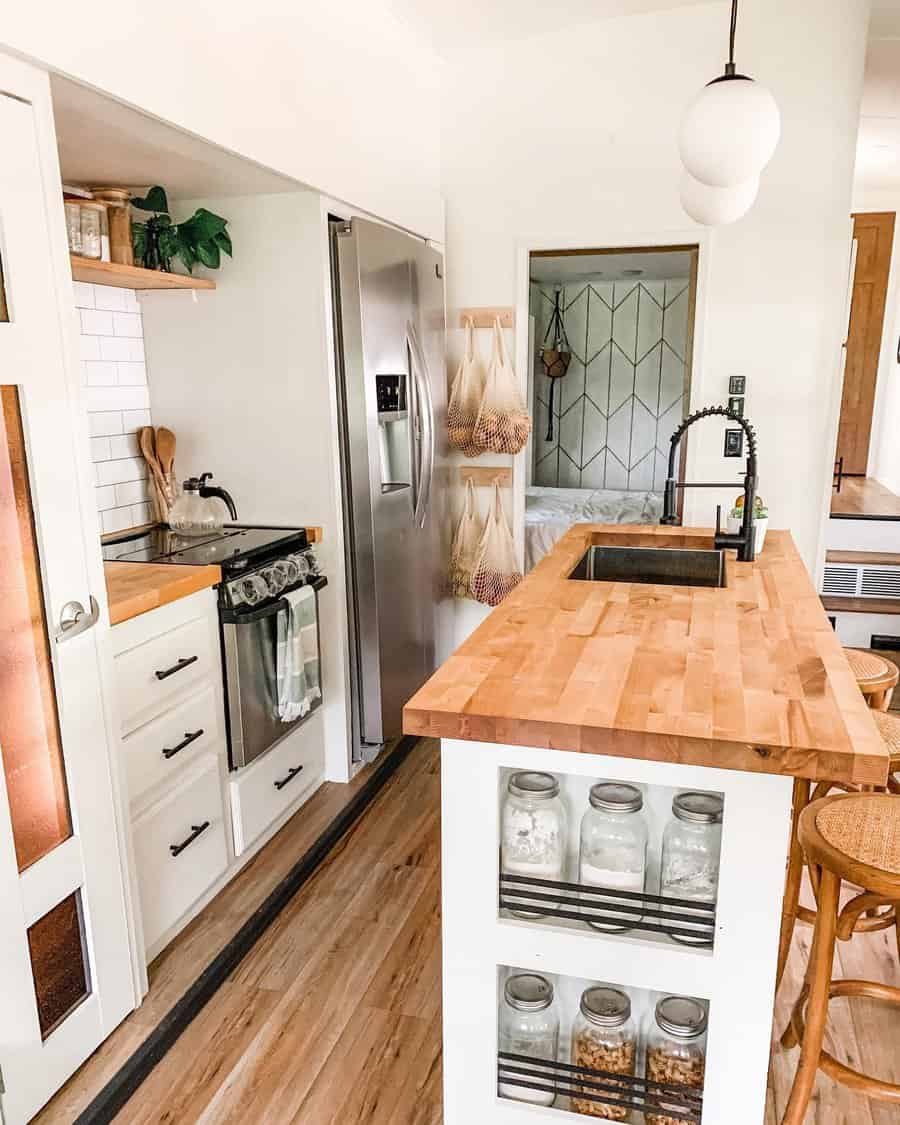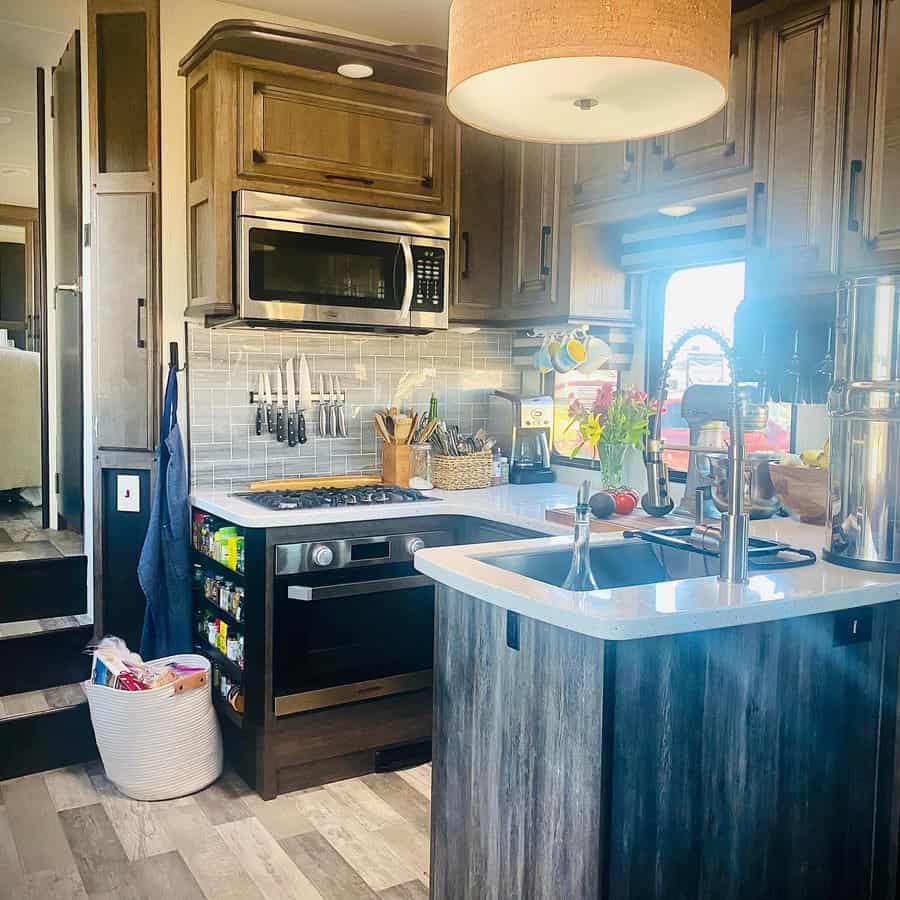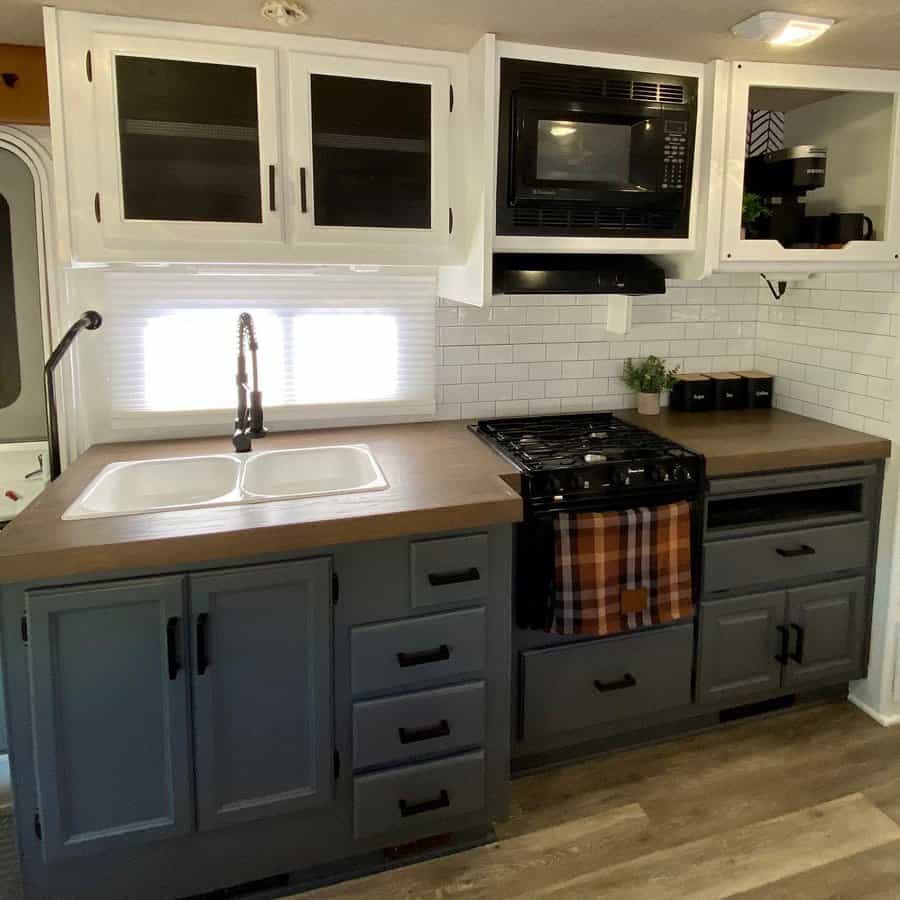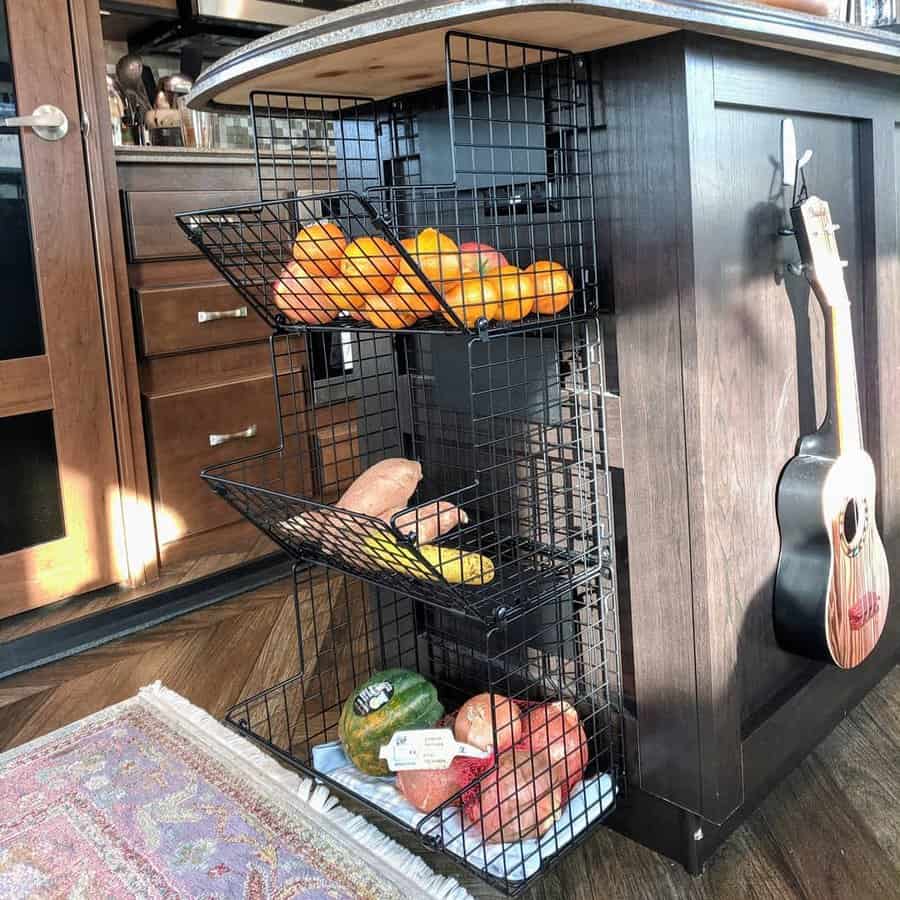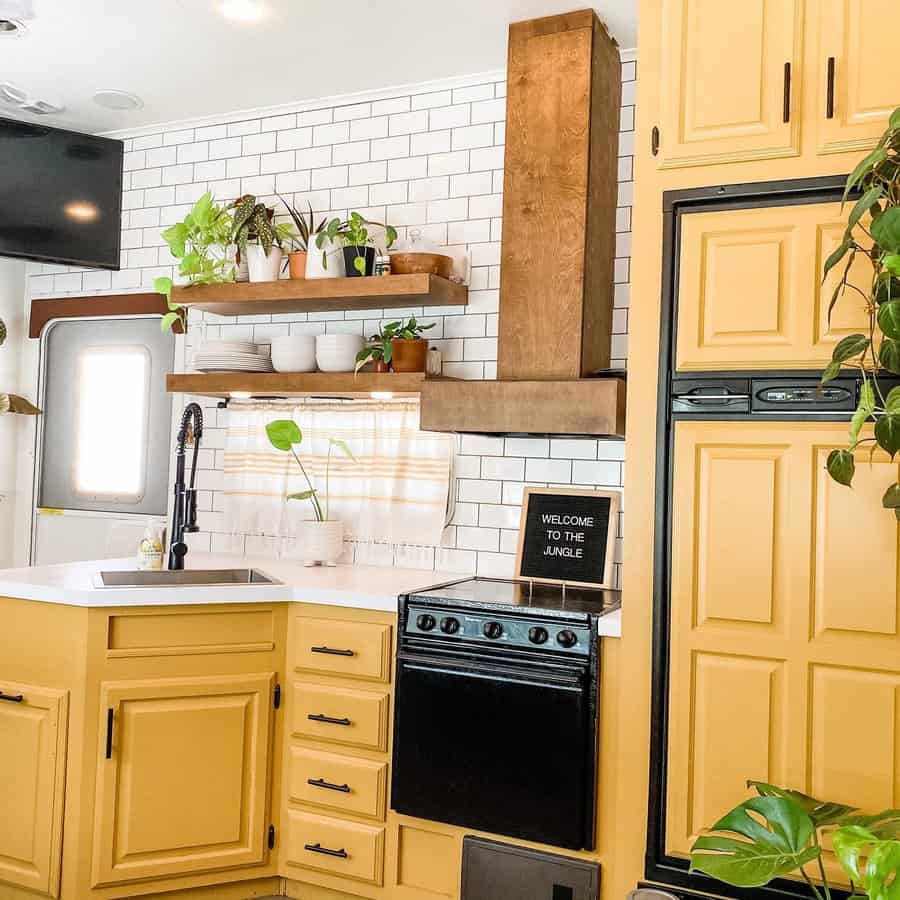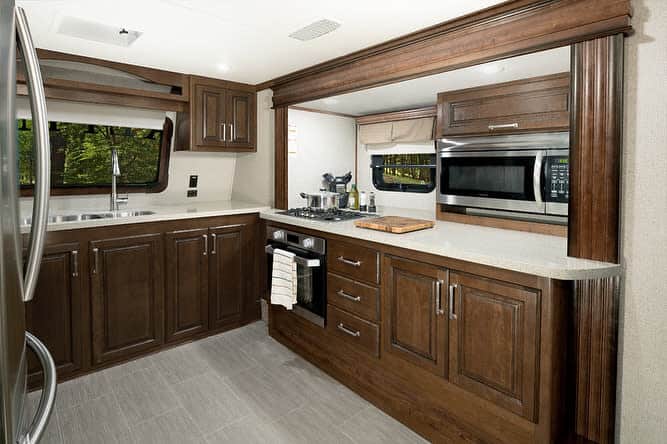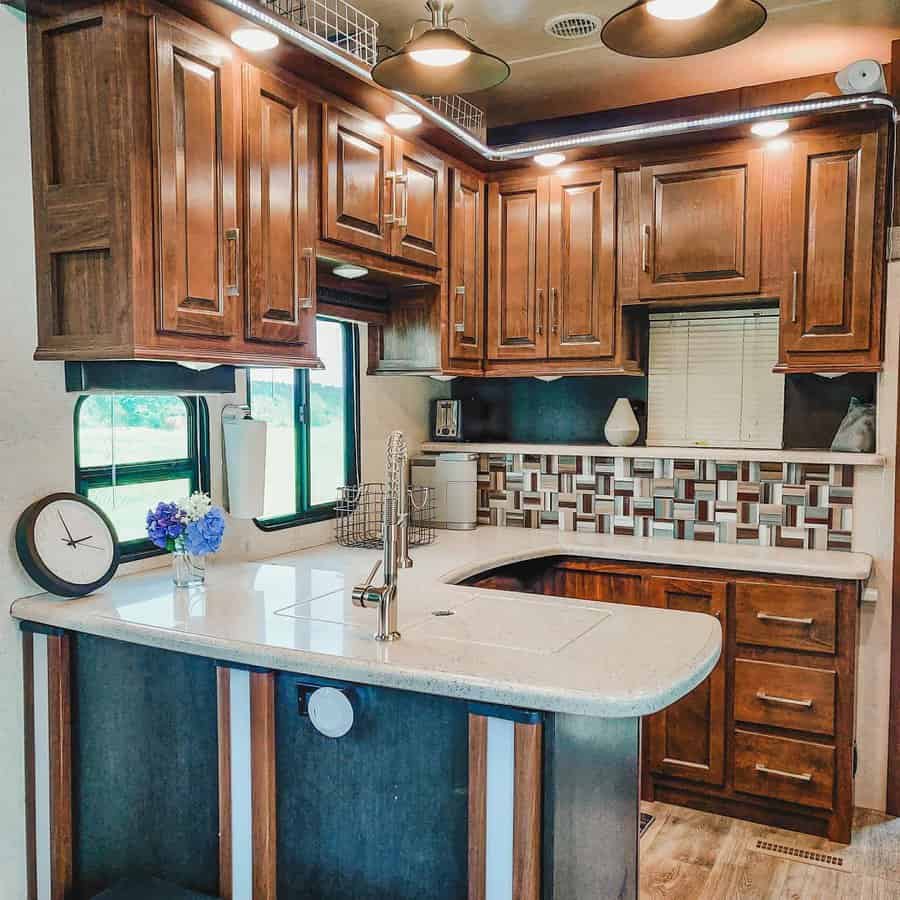 13. Dining Banquette Table with Hidden Storage
Enhance your RV's dining area with a banquette table, a multifunctional piece that combines comfortable seating and clever storage. The space beneath the seating area transforms into hidden compartments, ideal for tucking away bedding, kitchenware, or camping equipment. This ingenious solution optimizes unused space, contributing to a more spacious and orderly interior. Embrace a life of organized travel, enjoying the dual benefits of style and functionality that a dining banquette table brings to your RV.
14. Maximize Pantry Space with Efficient Shelving
Elevate your RV kitchen's organization with a well-designed pantry shelf. Featuring pull-out racks, open shelving, and storage containers, this customizable solution optimizes space usage. Tailor the shelf to your precise requirements to ensure no inch is overlooked. With a dedicated spot for ingredients, utensils, and cookware, you'll maintain a streamlined and efficient kitchen throughout your RV adventures.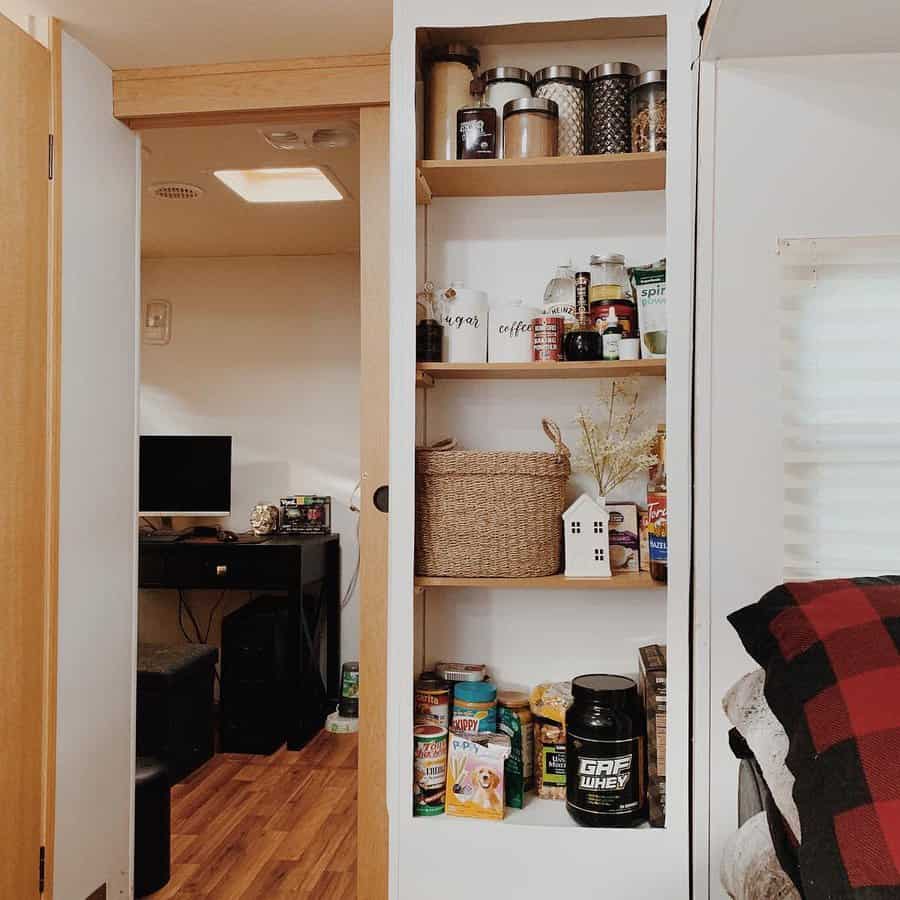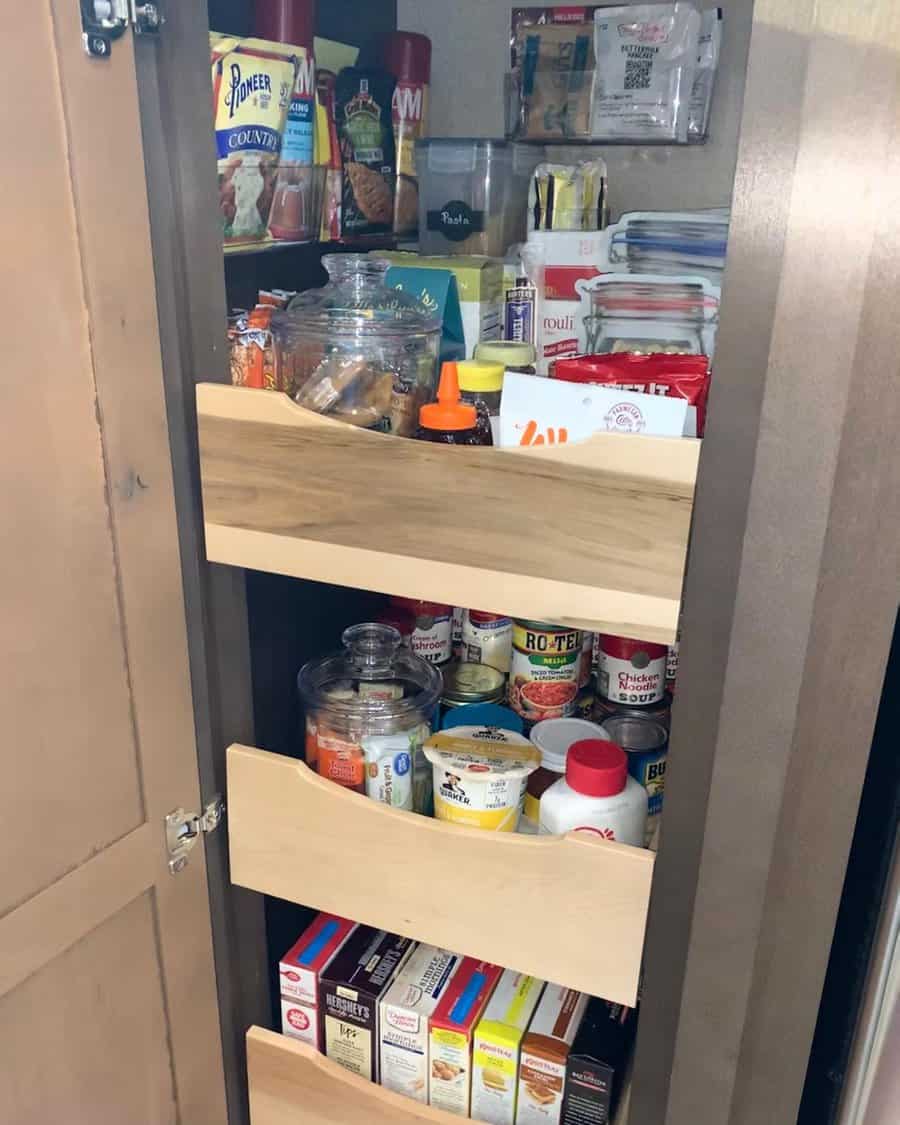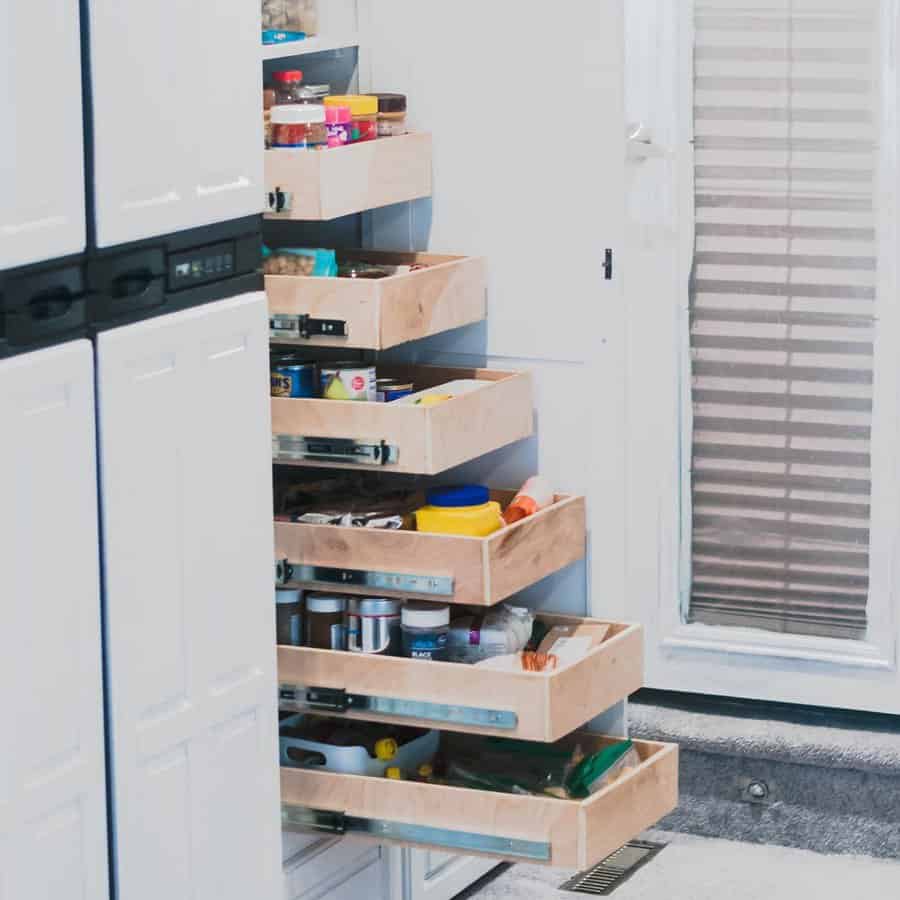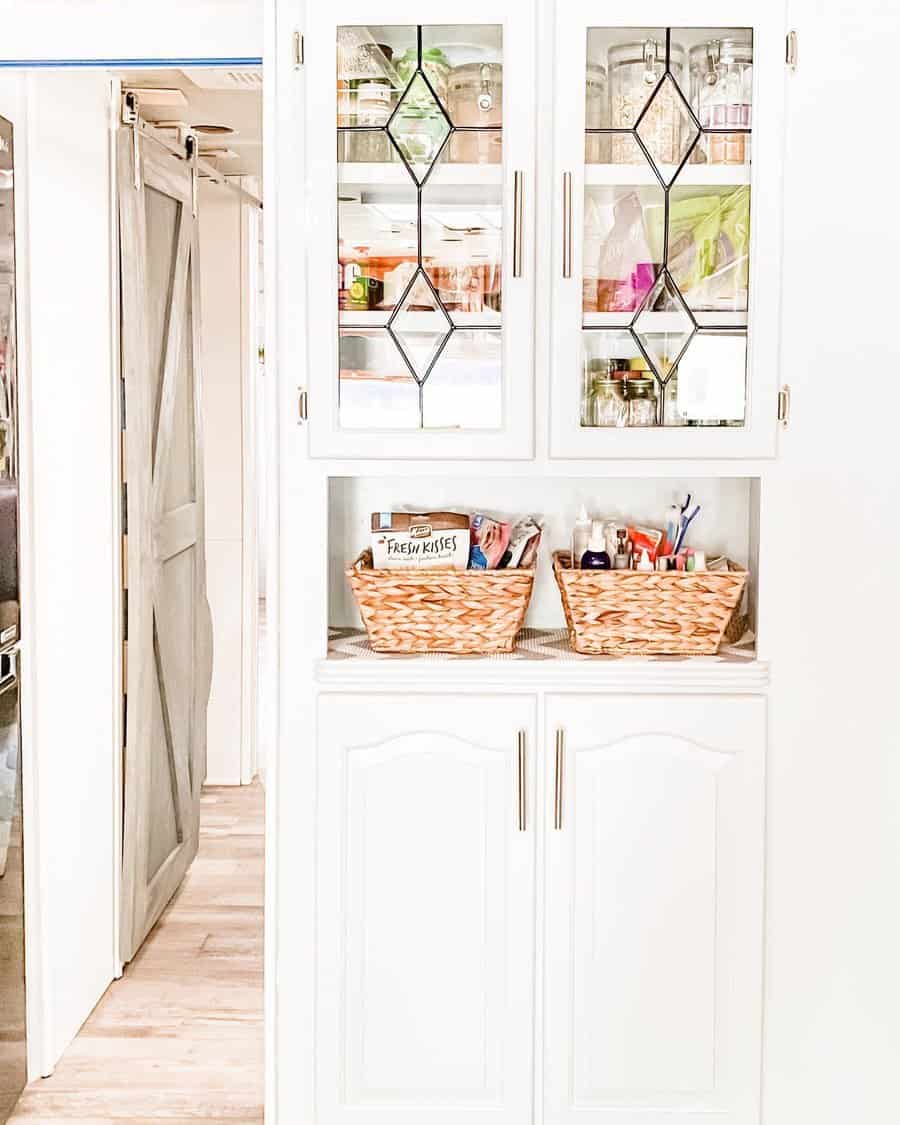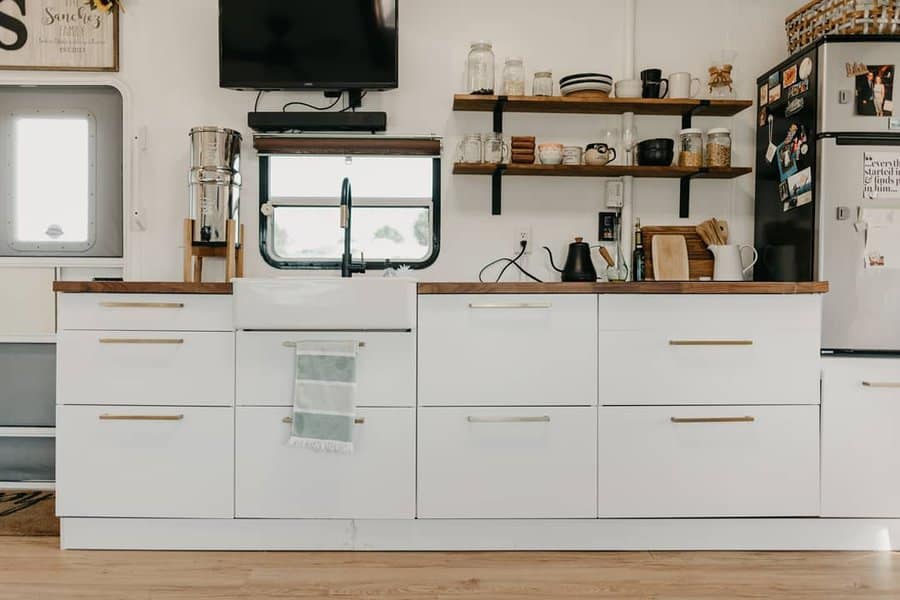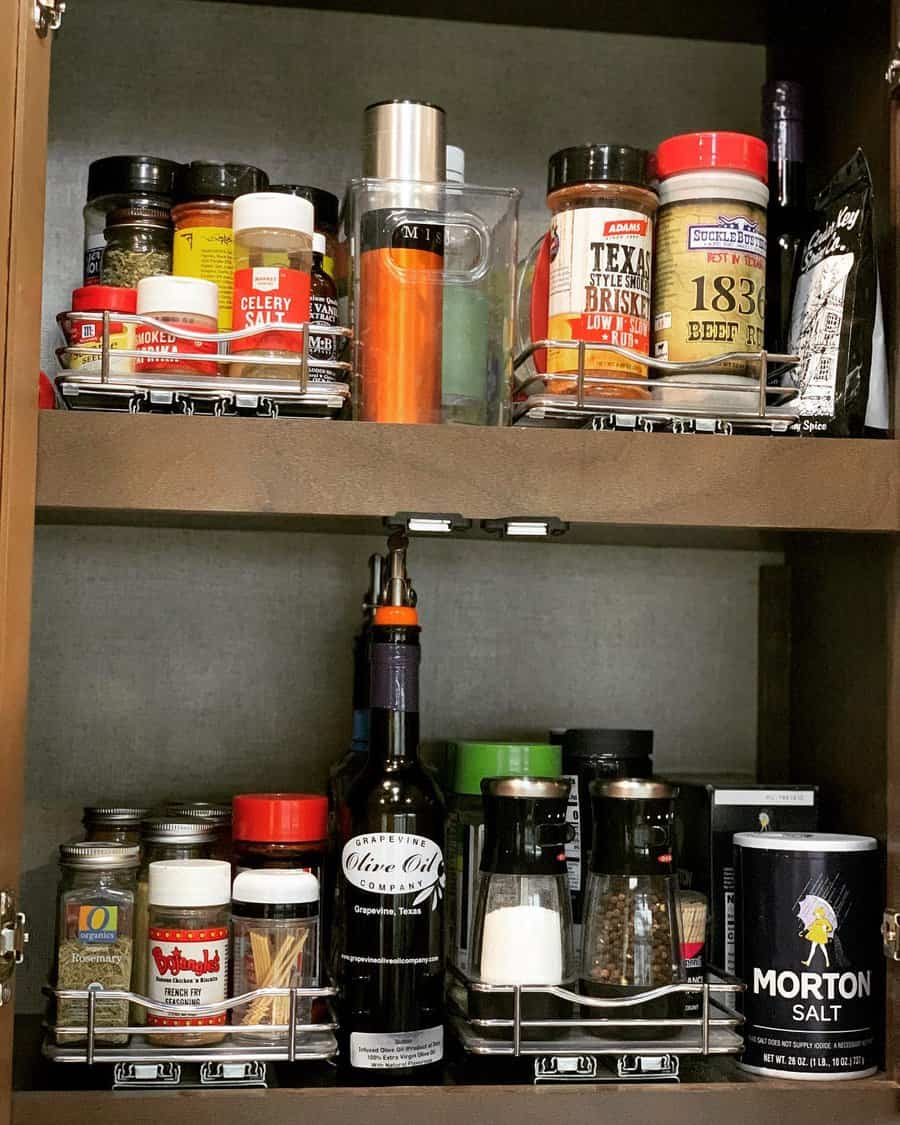 15. Optimize Your Kitchen with an L-Shaped Counter
Transform your RV kitchen with an L-shaped counter that maximizes storage and style. This chic design solution integrates shelves, drawers, and cabinets, offering ample space to organize kitchen essentials. Keep cookware, utensils, and pantry items neatly tucked away, enhancing both functionality and aesthetics. Embrace an efficient and trendy RV kitchen that eliminates clutter and elevates your culinary experience.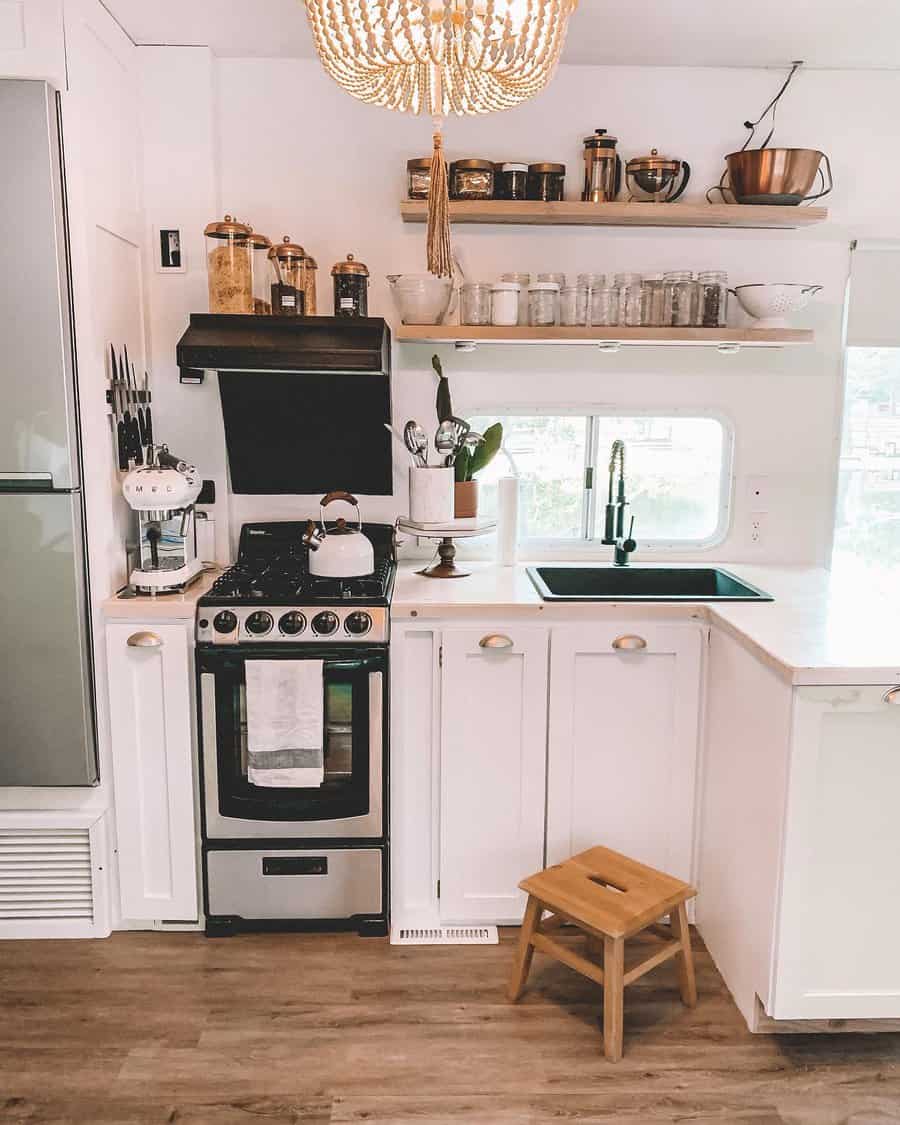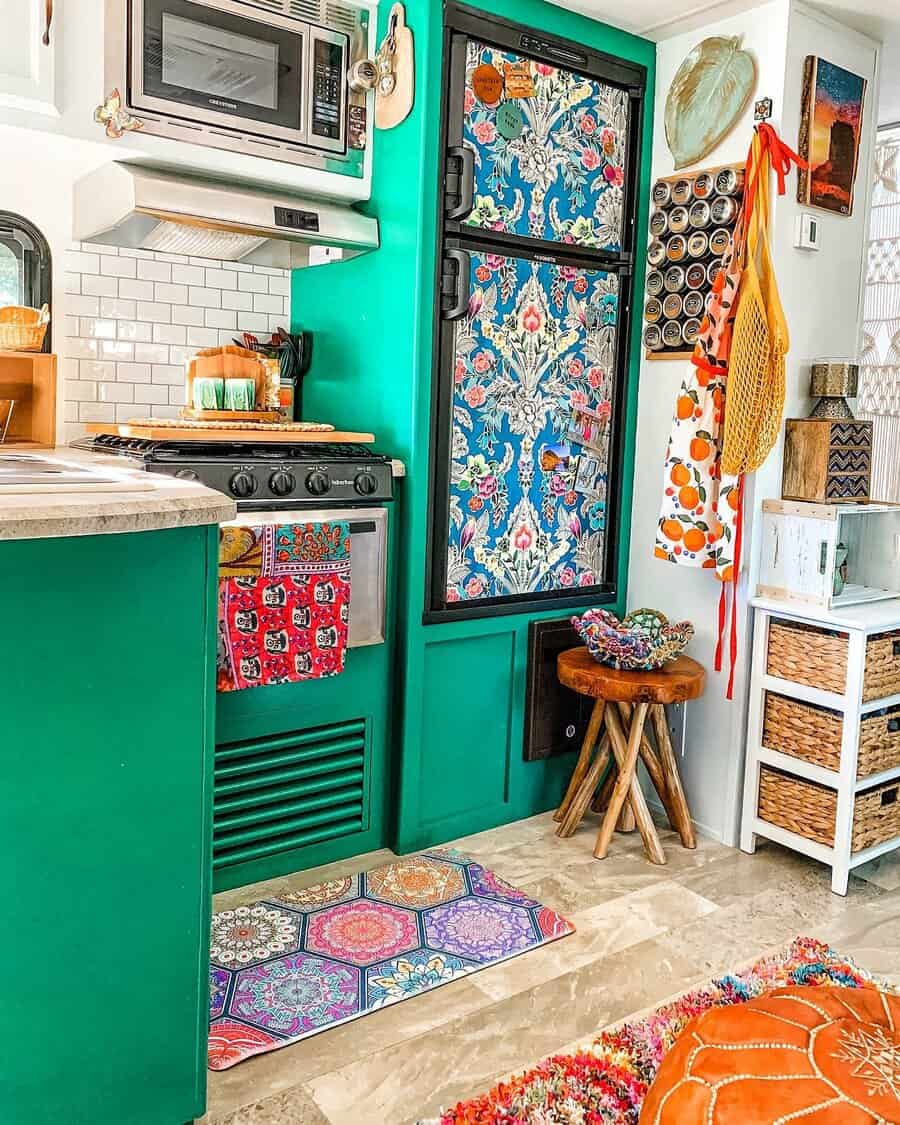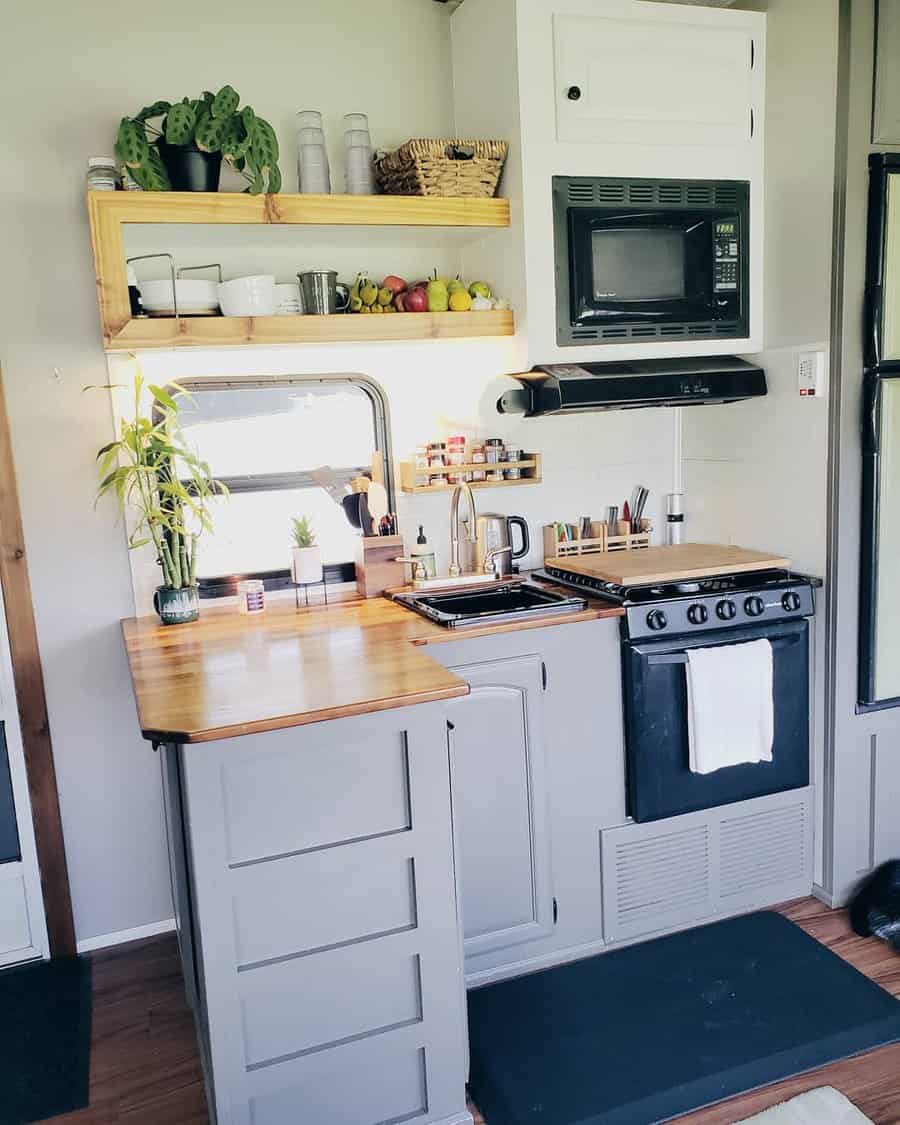 16. Stylish and Practical Floating Shelves Ideas
Elevate your RV's storage game with stylish floating shelves that bring a modern touch to your interior. Utilize empty walls and corners to optimize vertical space, creating storage solutions for decorative items, kitchen essentials, and personal belongings. These versatile shelves seamlessly blend into any RV decor, offering both functionality and aesthetics. Embrace the elegance of minimalism, maintaining a tidy and organized mobile home with these eye-catching floating shelves.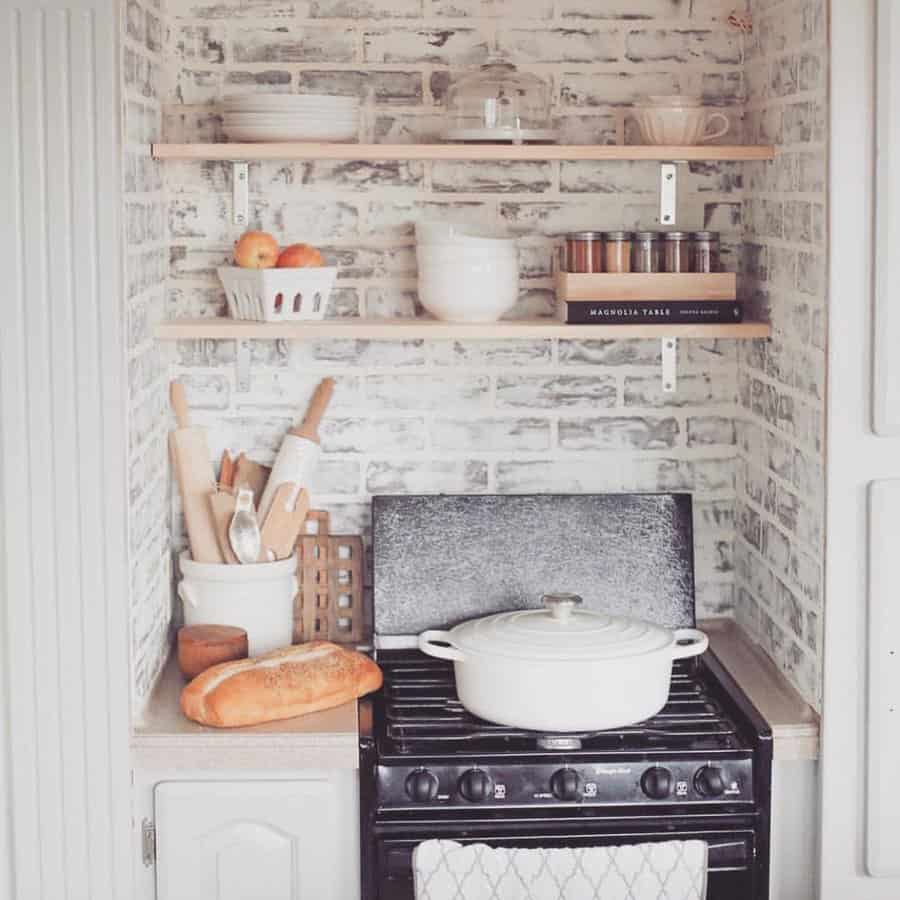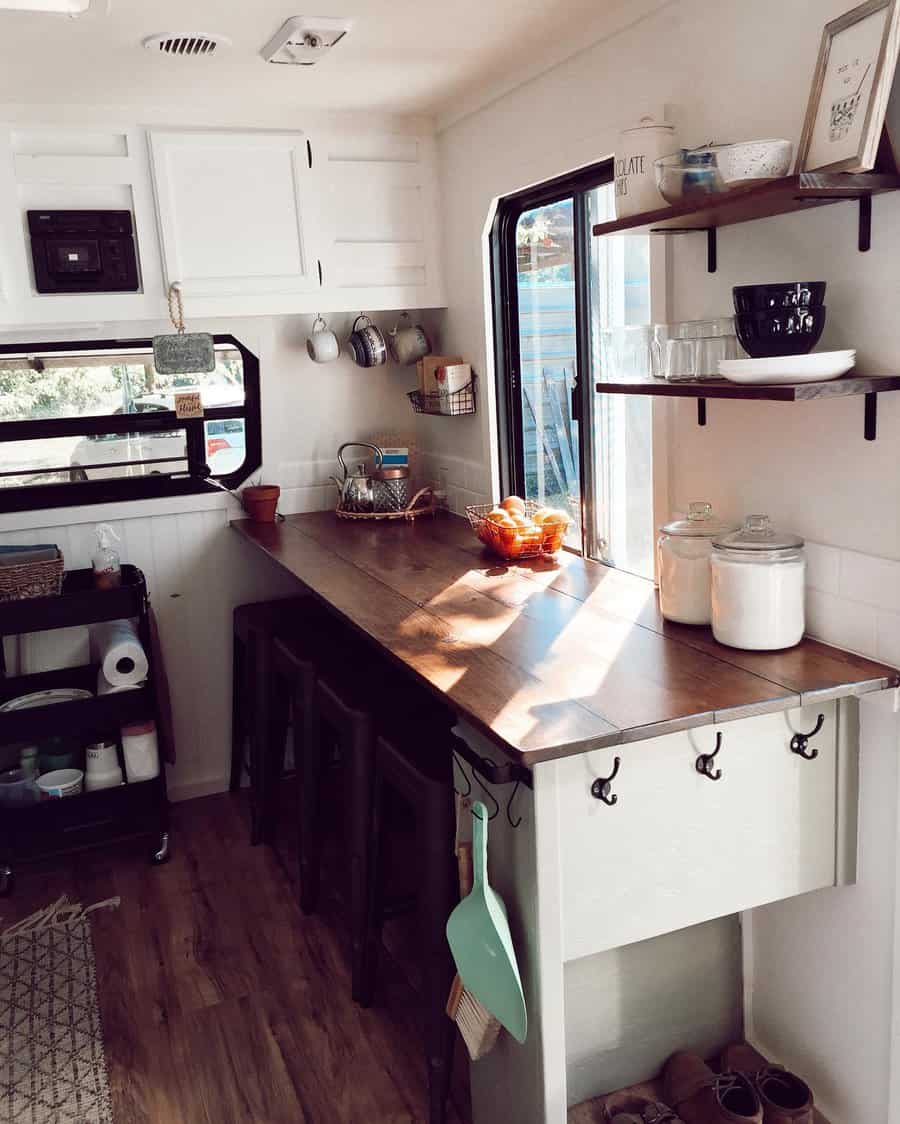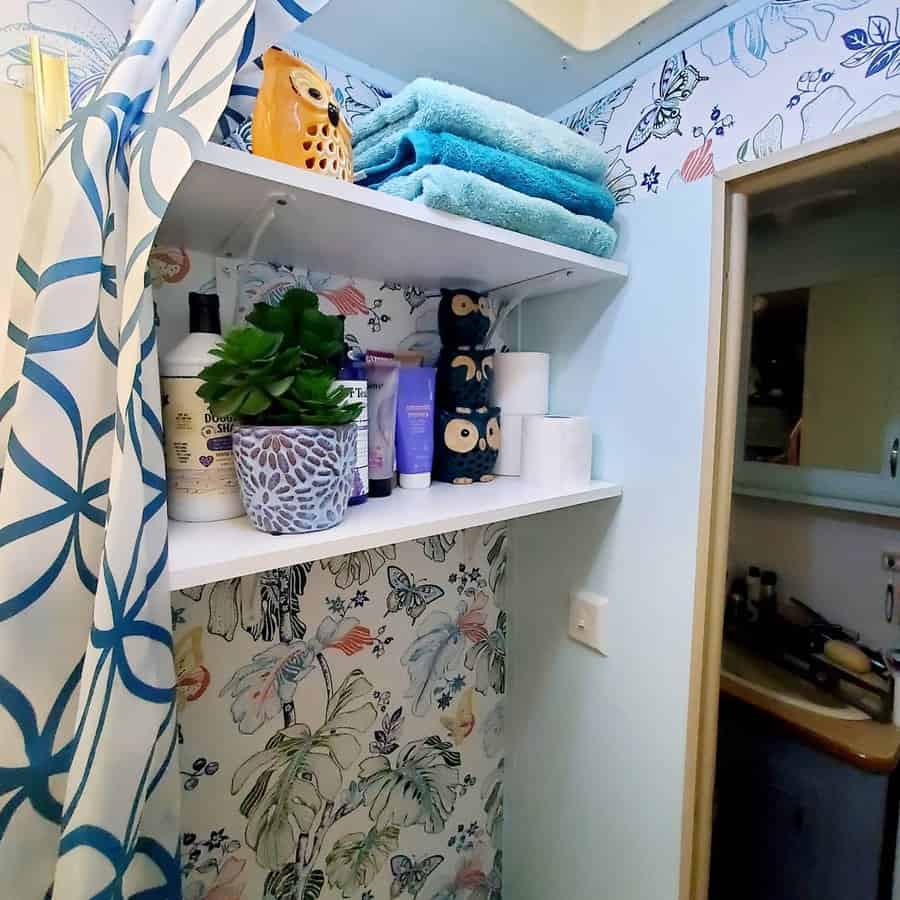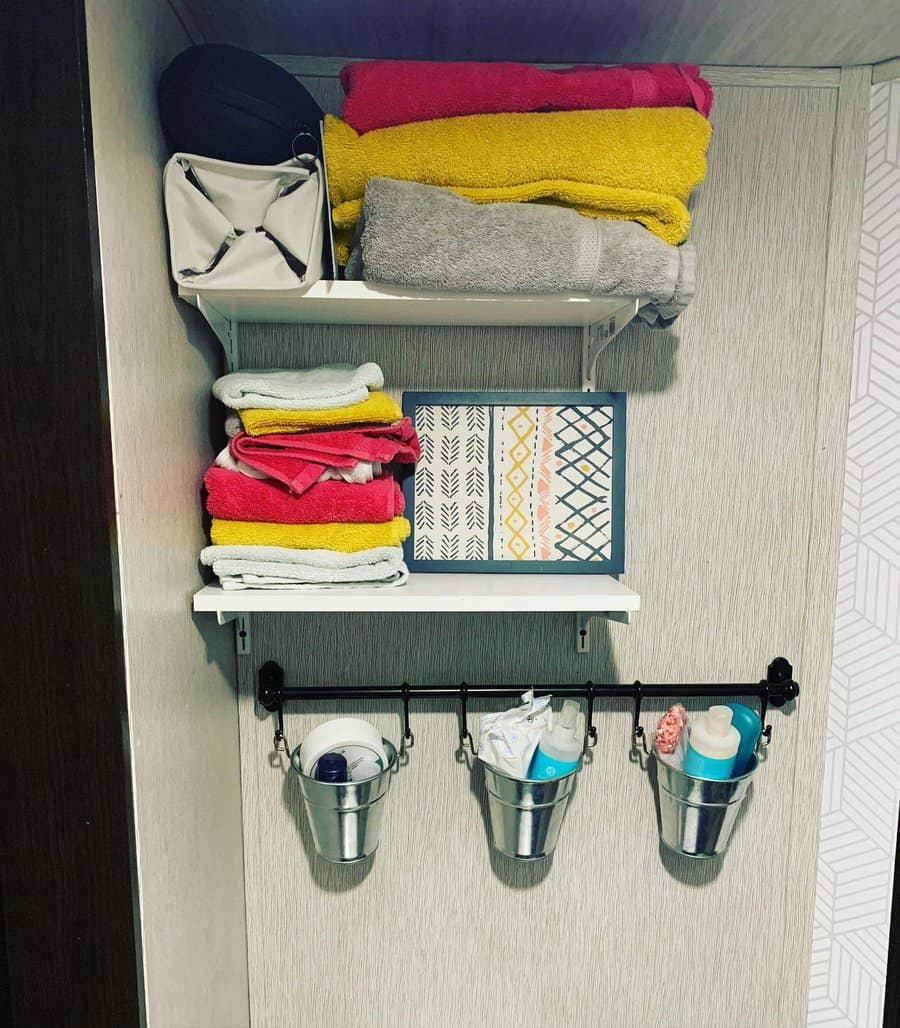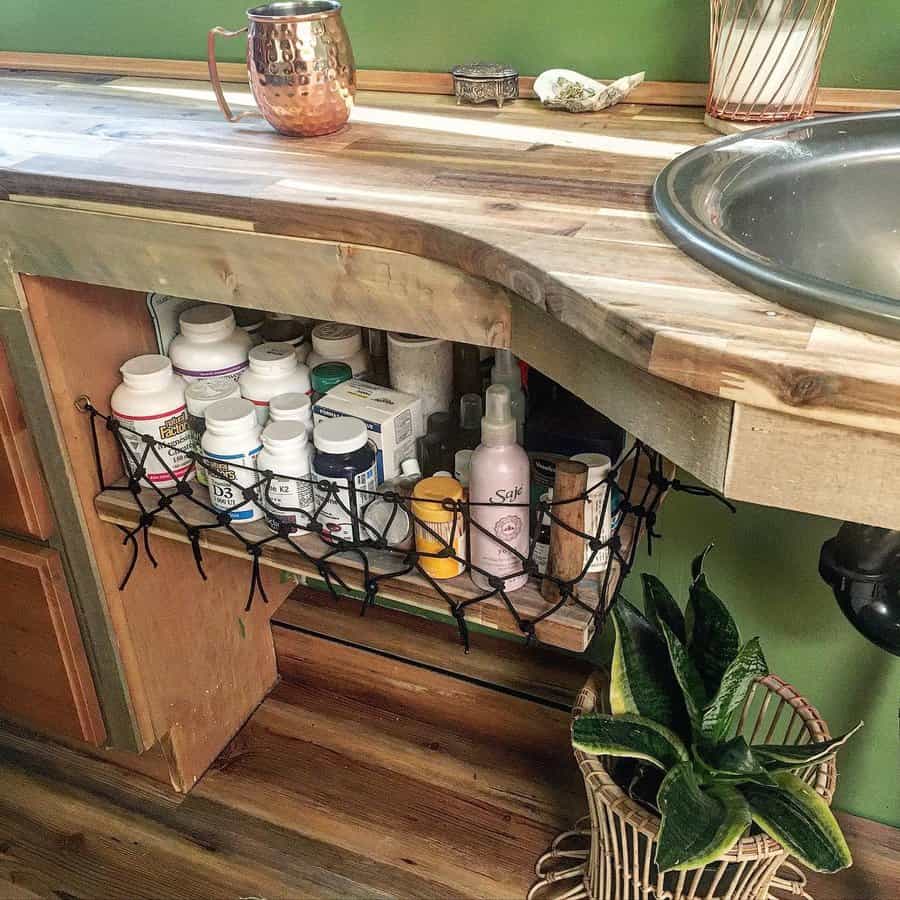 17. Under-the-Stairs Storage: Hidden and Handy
Discover untapped storage potential by utilizing the space beneath your RV's stairs. Custom-built cabinets or drawers can seamlessly integrate into this often-overlooked area, accommodating kitchen supplies, outdoor gear, or extra bedding. This ingenious storage solution ensures your RV remains organized and clutter-free while optimizing every available inch of space.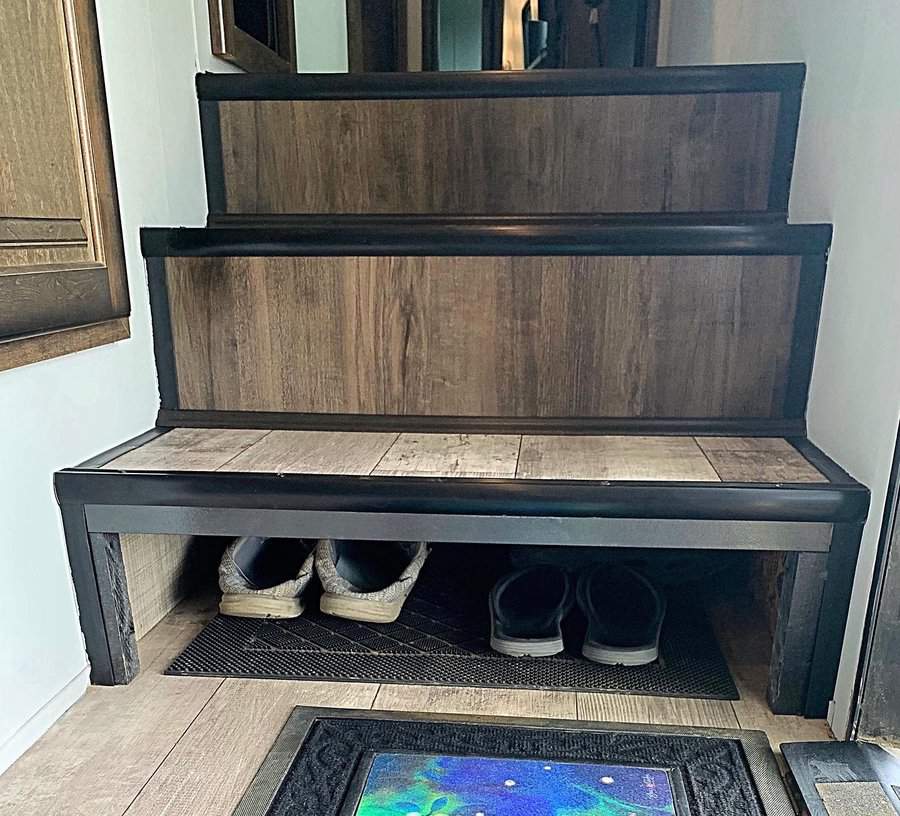 18. Hook-Mounted Storage: Easy and Accessible Solutions
Enhance your RV's organization with hook-mounted storage units that free up valuable floor and counter space. Hang hats, jackets, bags, and even shoes to keep them neatly stowed away. Attach organizers for smaller items like keys and sunglasses to keep essentials easily accessible. A hook storage system ensures that everything you need is conveniently within reach, adding efficiency and style to your RV journey.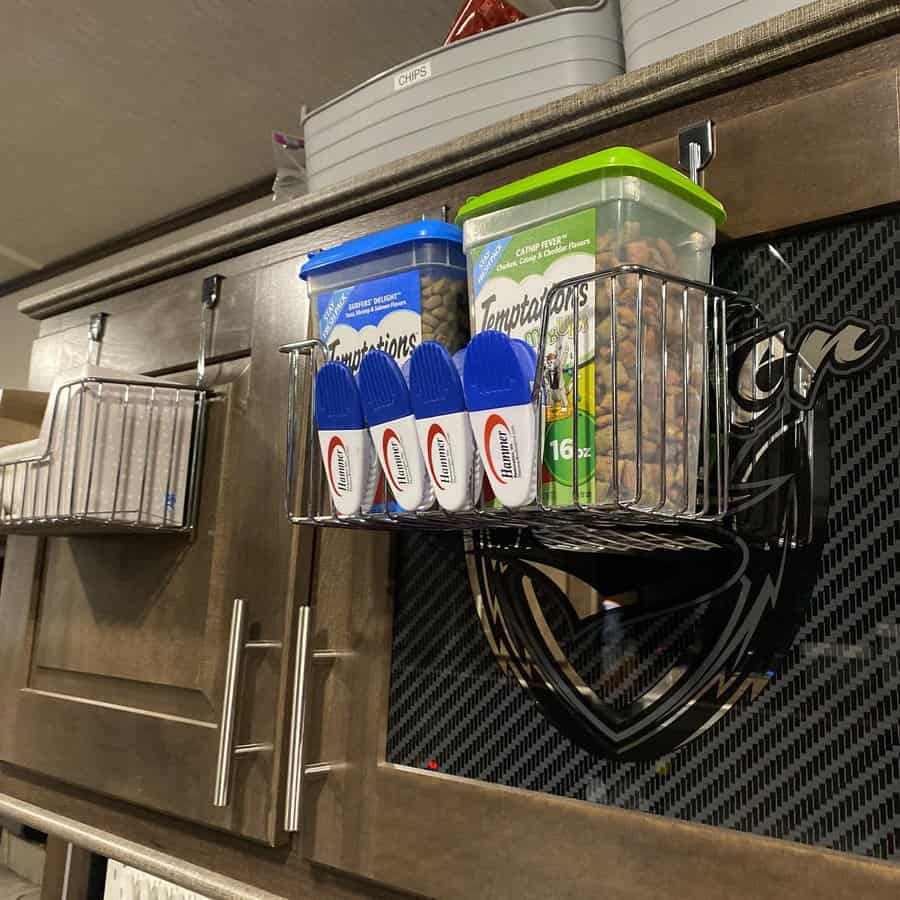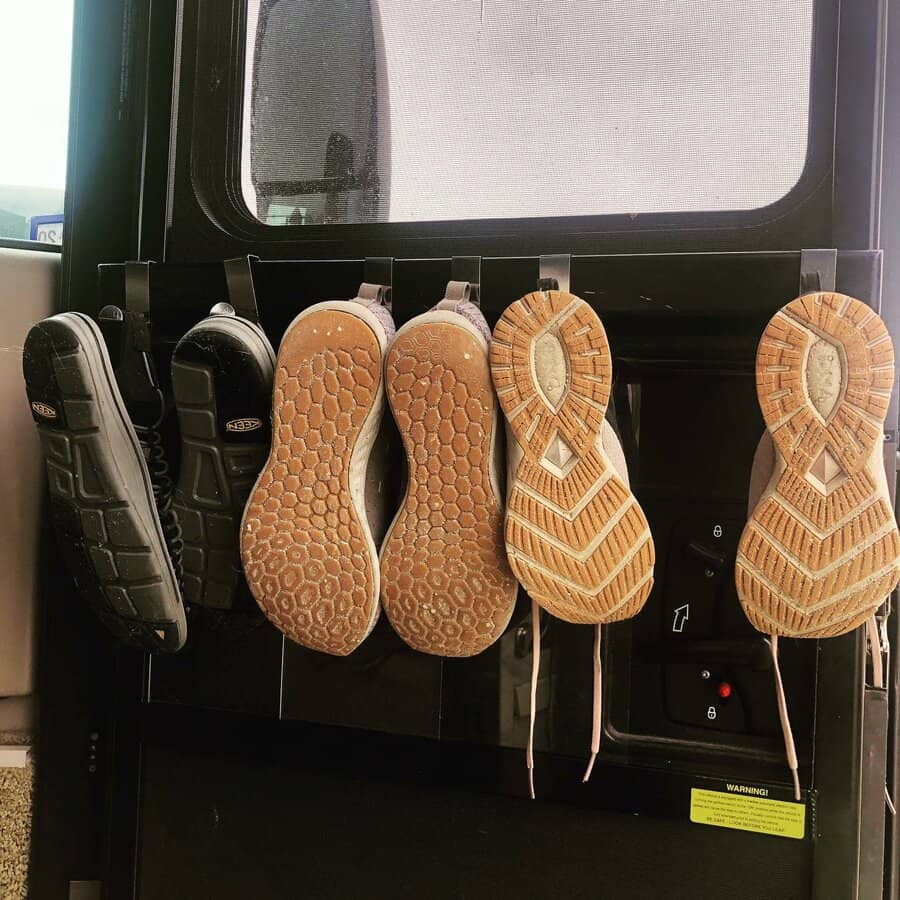 19. Basket Organizers for Clutter-Free Living
Efficiently manage your RV space with the help of versatile and stylish basket organizers. Available in various sizes and materials, these storage solutions cater to a wide range of items, from kitchen supplies to bathroom essentials and clothing. By incorporating basket organizers, you can maintain order while adding a charming touch to your RV interior. Create a serene and spacious atmosphere, reducing visual clutter and enhancing the overall organization and aesthetics of your mobile home.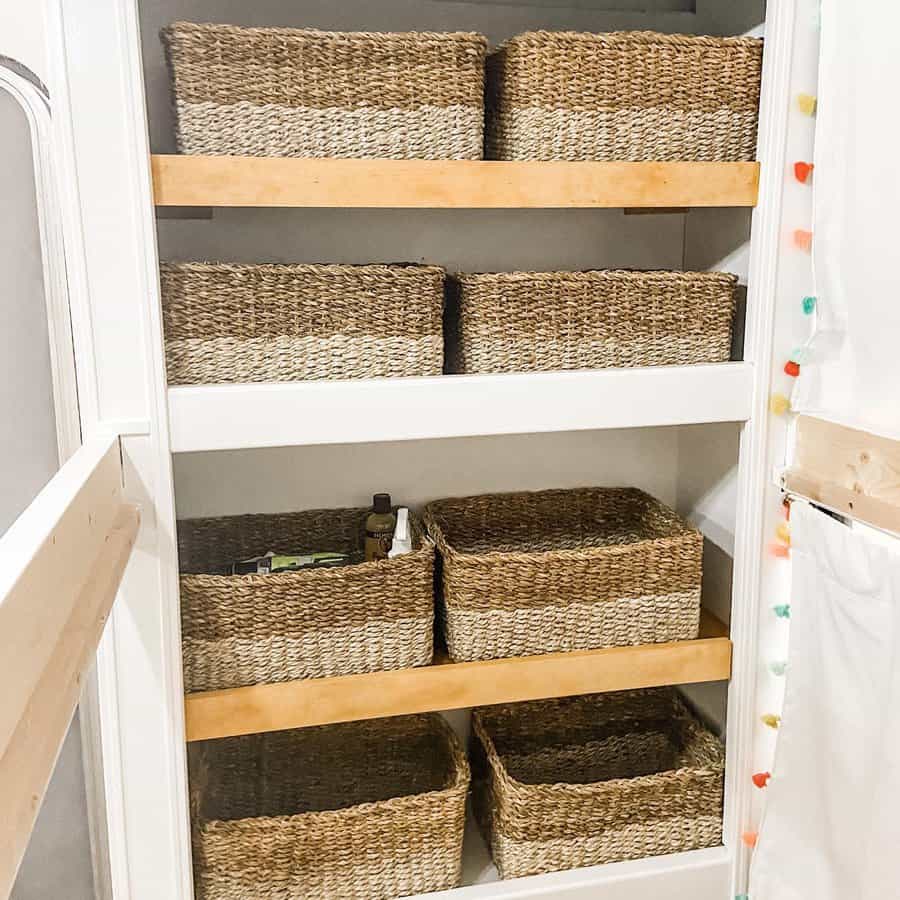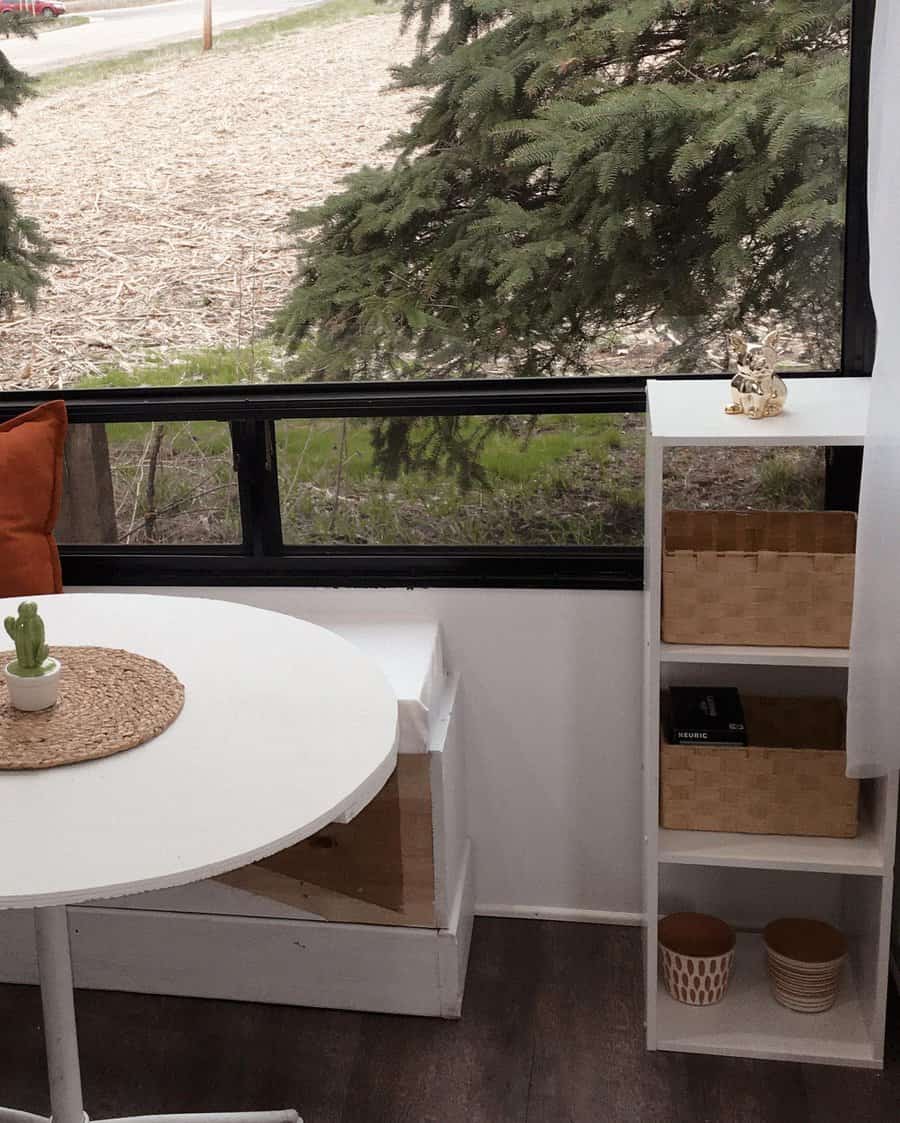 20. Space-Saving Furniture with Pull-Out Features
Optimize your compact RV space with multifunctional and stylish furniture featuring pull-out capabilities. Imagine a sofa that converts into a comfortable bed or a dining table that neatly tucks away when not in use. These versatile pieces not only offer ample storage but also adapt to your changing needs. Embrace a clutter-free and aesthetically pleasing RV interior where every inch counts, enhancing both organization and design.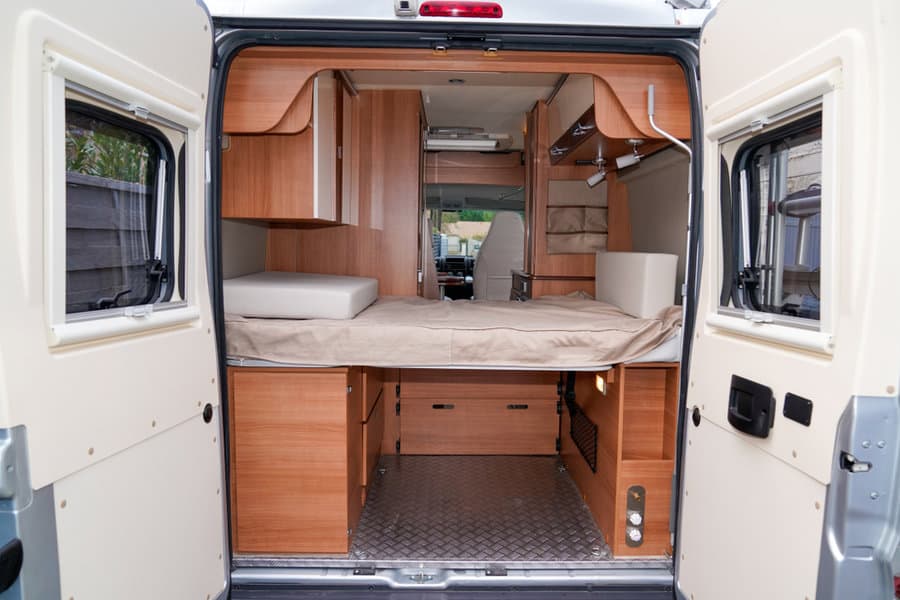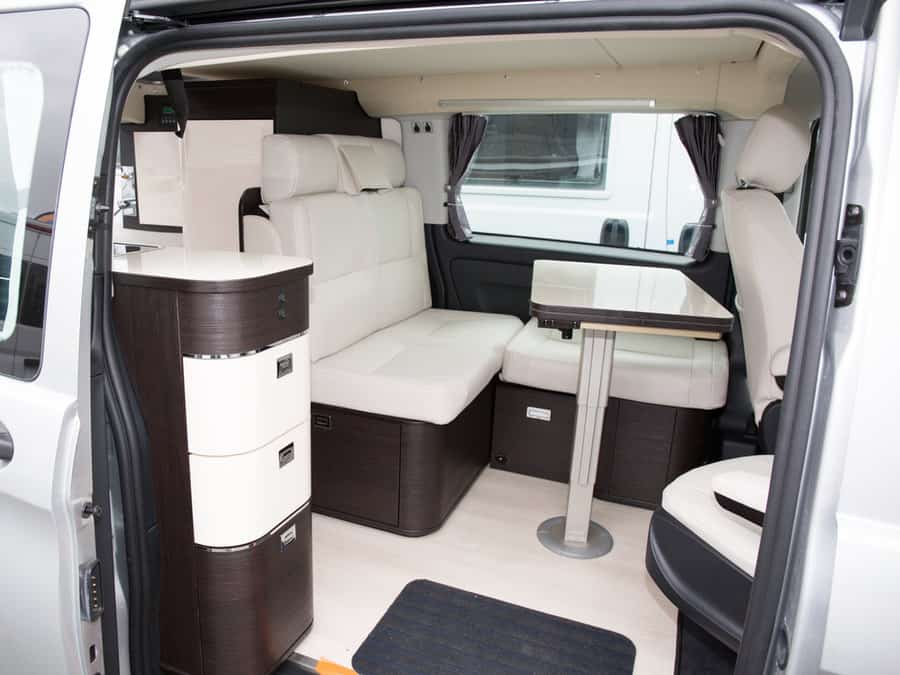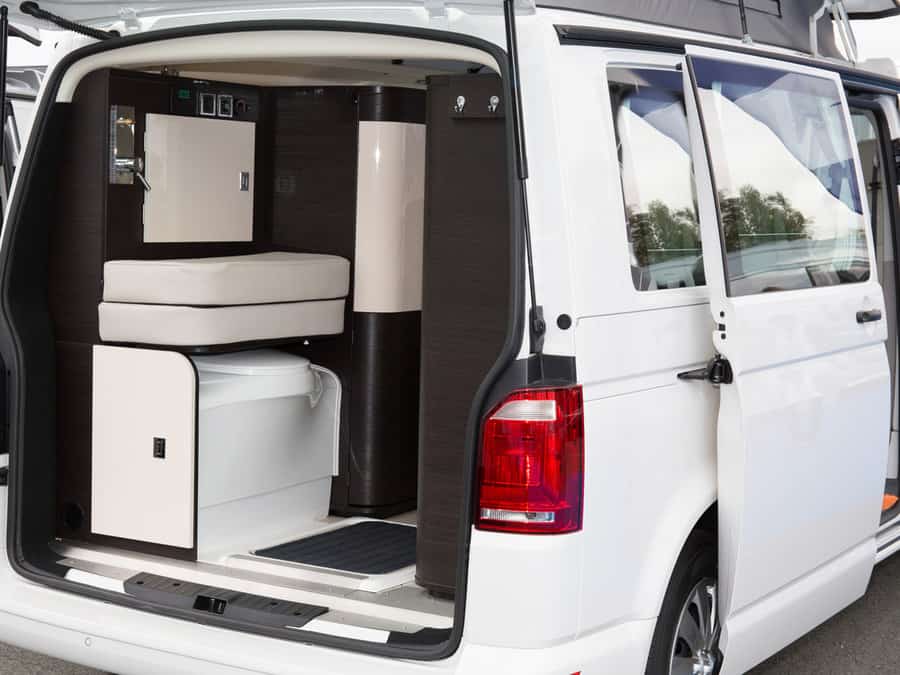 RV Storage FAQs
How do I organize my RV for full time living?
As the old saying goes, you can't organize clutter—you can only get rid of it. So the first step to prepping your RV for camping or full-time living is to get rid of everything you don't need. Plan a place for every item you decide to keep and buy plenty of RV organization accessory products to keep everything tidy.
How do I organize my RV refrigerator?
Adjusting to a considerably smaller refrigerator can be challenging. Purchase condiments in smaller bottles and only buy what you can fit into the fridge at once. Get small plastic storage containers that stack neatly, to organize cut fruits and leftovers. Clear bins can help prevent things from falling out of the RV refrigerator and also allow you to see what's inside.
How do you store food in an RV?
RV kitchen storage space is indeed limited, but you need to reserve some space for food storage. To keep cans from rolling around, put them into plastic bins or cupboard corrals. Use square or rectangular storage containers to make use of every inch inside your kitchen cabinets and drawers. You can also store cans under the bed or in another area of the RV where you may have more space.