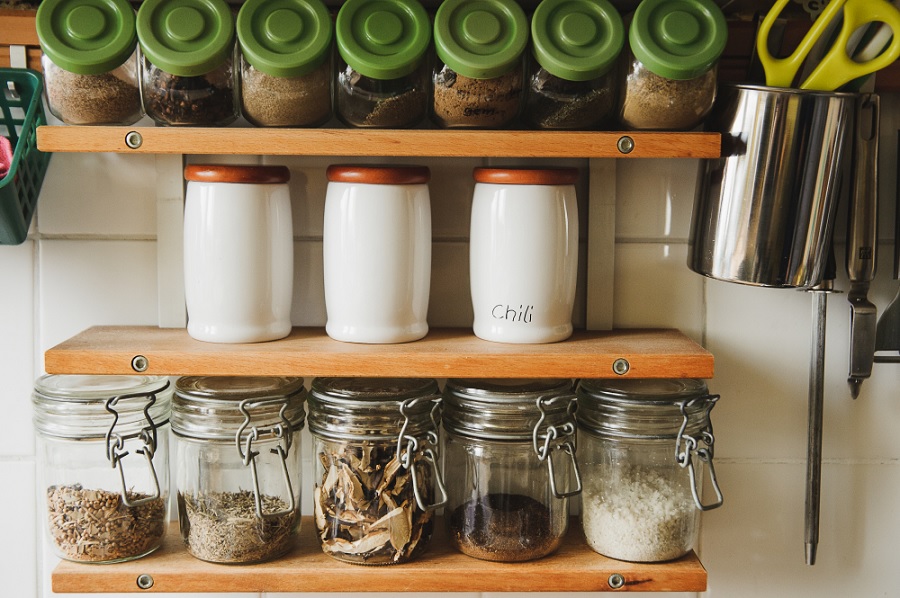 67 Spice Rack Ideas for Better Kitchen Storage
by — Andra DelMonico

Published on January 11, 2021

Updated on April 27, 2023
"All those spices and herbs in your spice rack can do more than provide calorie-free, natural flavorings to enhance and make food delicious. They're also an incredible source of antioxidants and help rev up your metabolism and improve your health at the same time."- Suzanne Somers
Variety is the spice of life, but spices are the life of your food. You could cook food without seasoning, but it would be bland and boring. Whether you're the type to have a few core seasonings that you use all the time or have an extensive collection, you need to have a secure place that's easily within reach to store them all.
You could shove them all on a cabinet shelf, but this will look messy and disorganized and be hard to get to your spices. Instead, make your time in the kitchen easier by organizing them. These spice rack ideas will get you inspired to upgrade your storage solution to something that is both functional and beautiful.
1. Repurposed Milk Bottle Carrier
The perfect spice rack doesn't have to be expensive. To save money and repurpose items, consider using a repurposed milk bottle carrier as the base of your spice rack. Wooden peg racks are always a great option since they provide plenty of space for all your spices.
For easier organization, color-coded jars or a wood and wire mesh system can help keep your shelves tidy and efficient. With creativity and repurposed items, you can create a personalized spice rack that brings lots of pizzazz to the kitchen!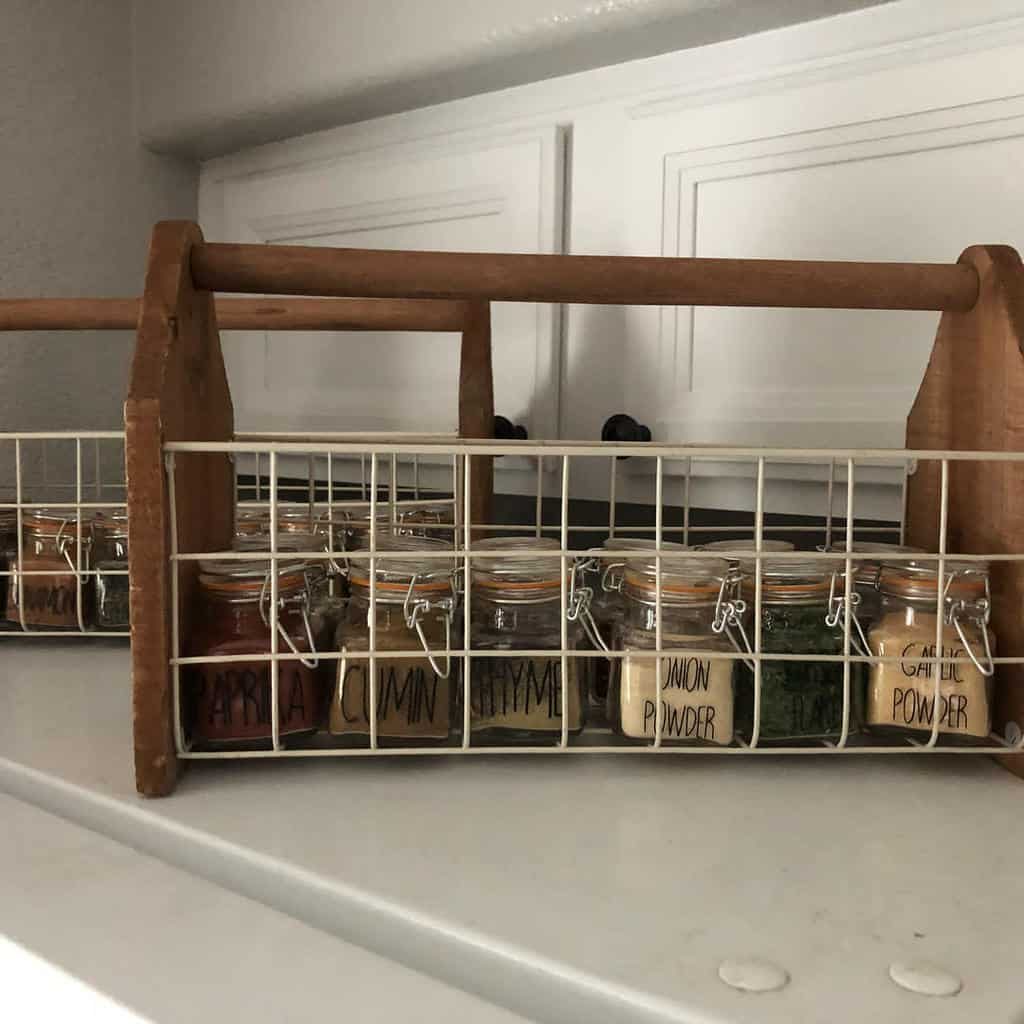 2. Modular Shelves
Keeping your spices organized and accessible can be a tricky task, but modular spice shelves are a great way to maximize the organization of your kitchen.
Not only are they adjustable so you can customize them to fit any size or style of spice containers, but modular shelves also help make it easier to combine different seasonings without taking up precious counter space. Just install them near the stove or pantry for easy access next time you're whipping up dinner!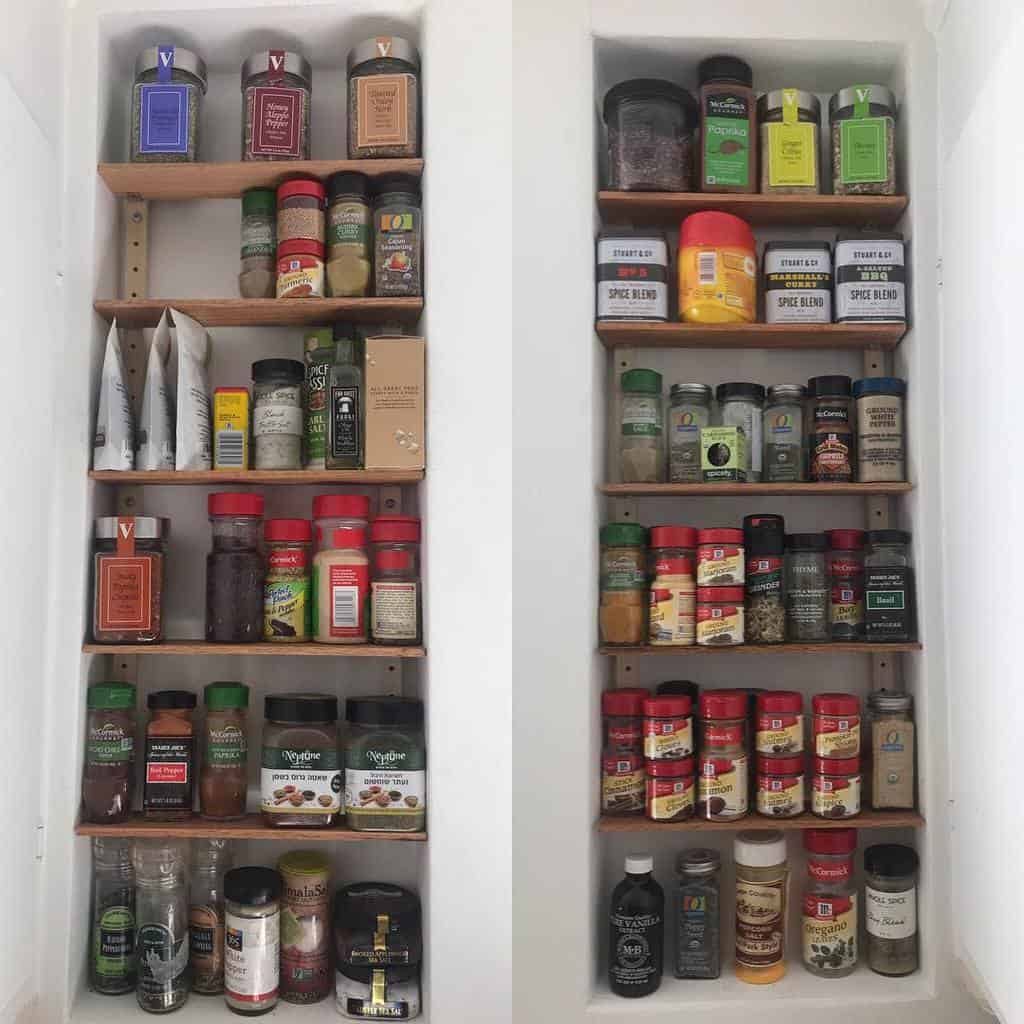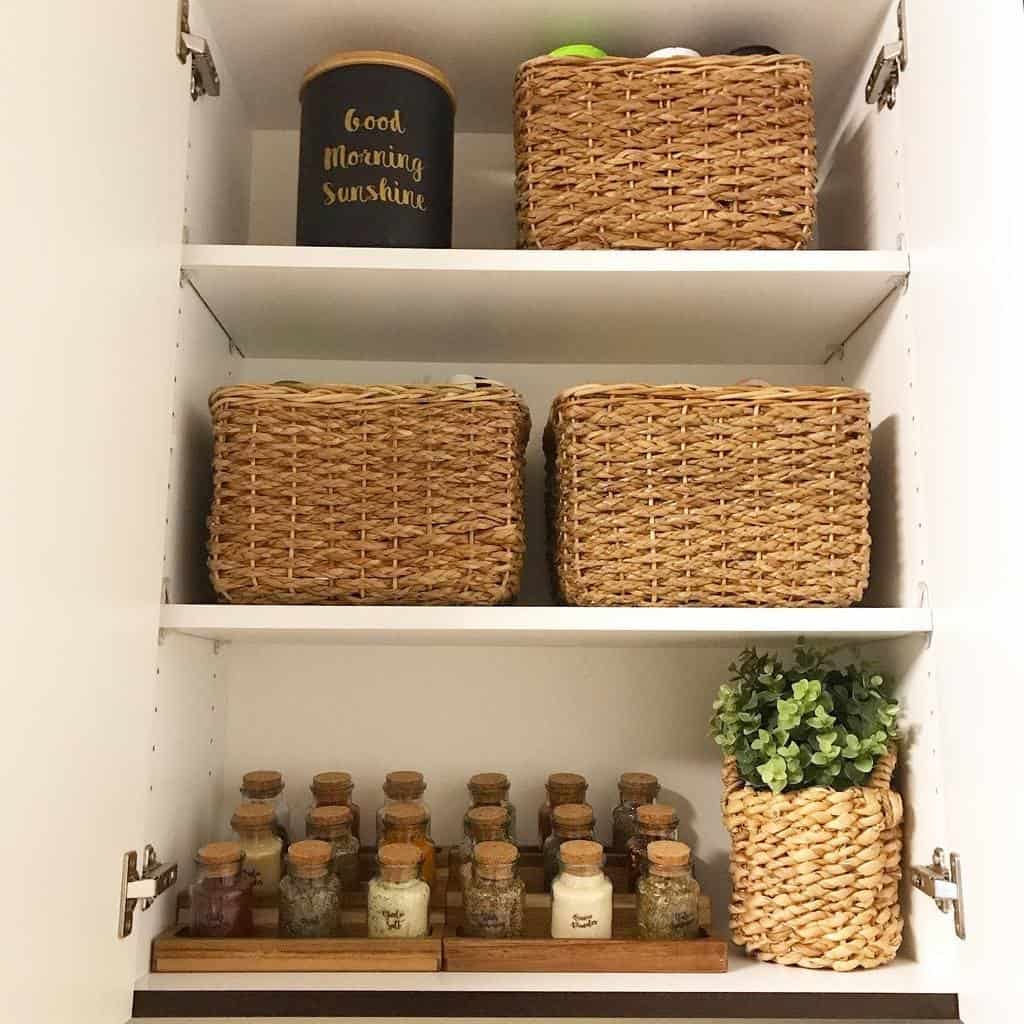 3. Floating Shelf
If you are looking for creative solutions to organizing your kitchen spices, floating shelves and wall-mounted spice racks can provide an attractive and efficient way for you to keep your spice jars in order. Wall-mounted racks come in a variety of finishes and sizes, so you can find one that best fits your kitchen's aesthetic.
Floating shelves offer a modern take on traditional storage, with many floating shelves being repurposable as either open or closed storage spaces. They also make it easy to move the rack around whenever needed. With floating shelves and wall-mounted spice racks, you can declutter while adding some stylish touches to your kitchen at the same time.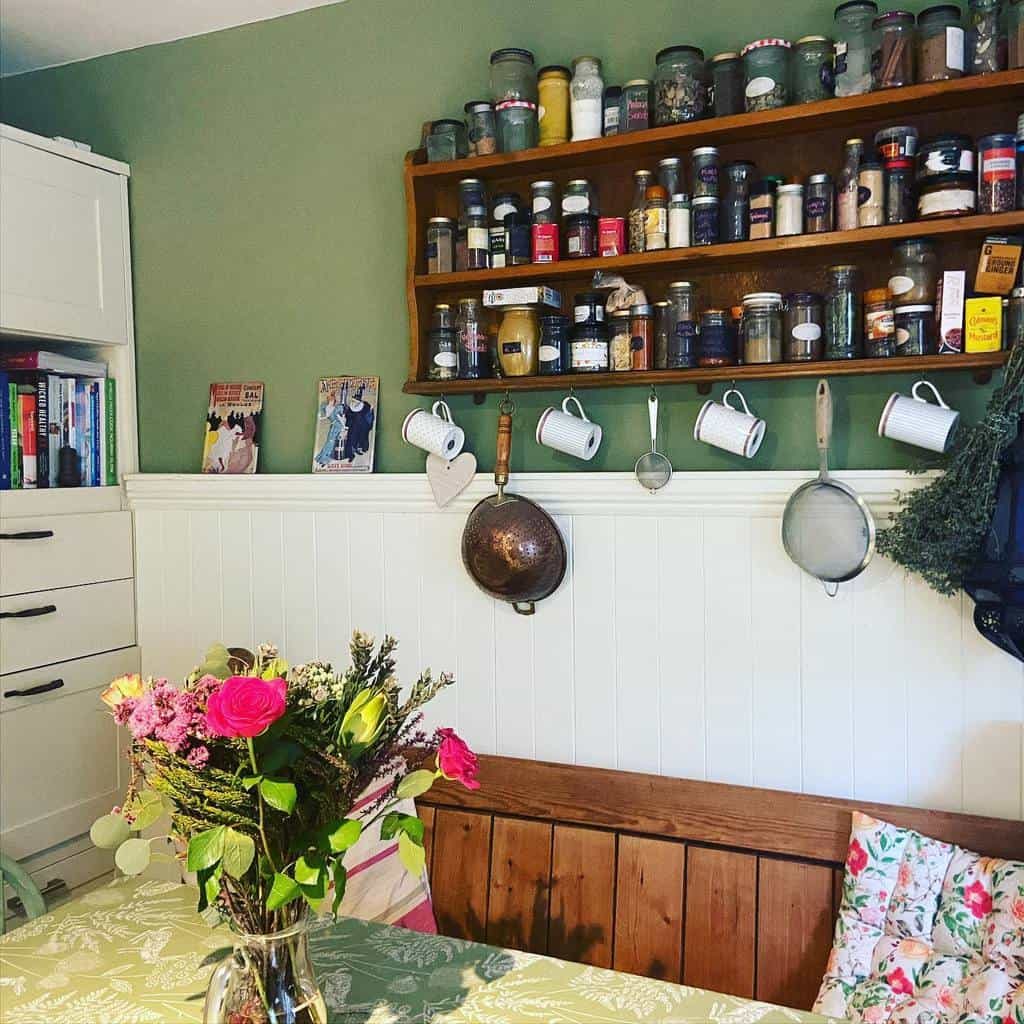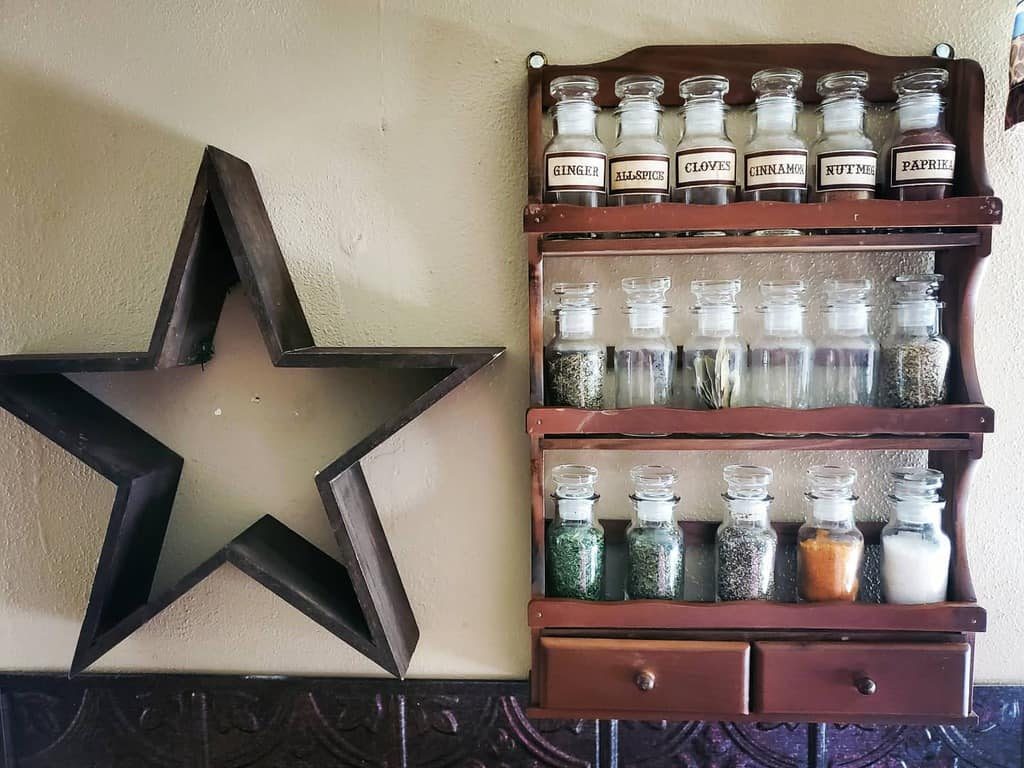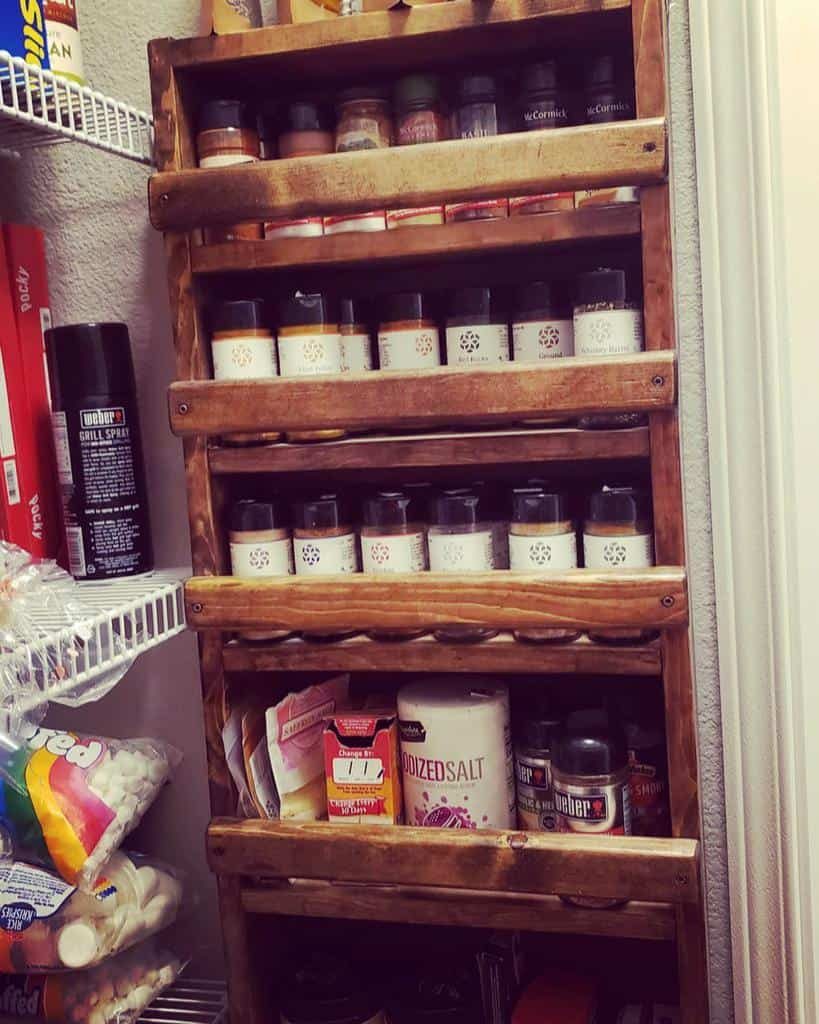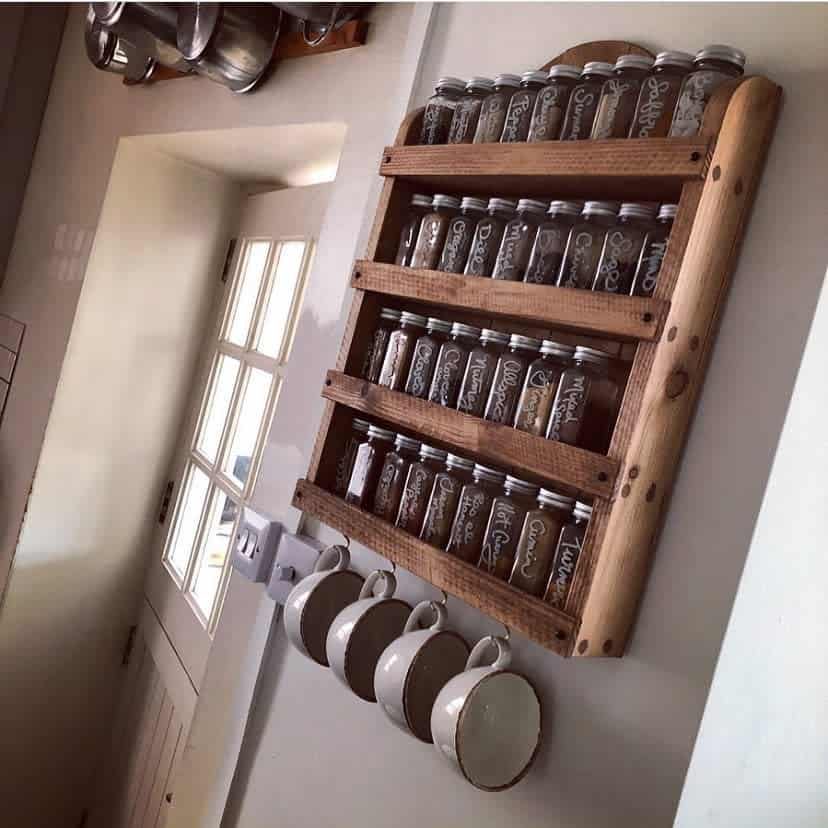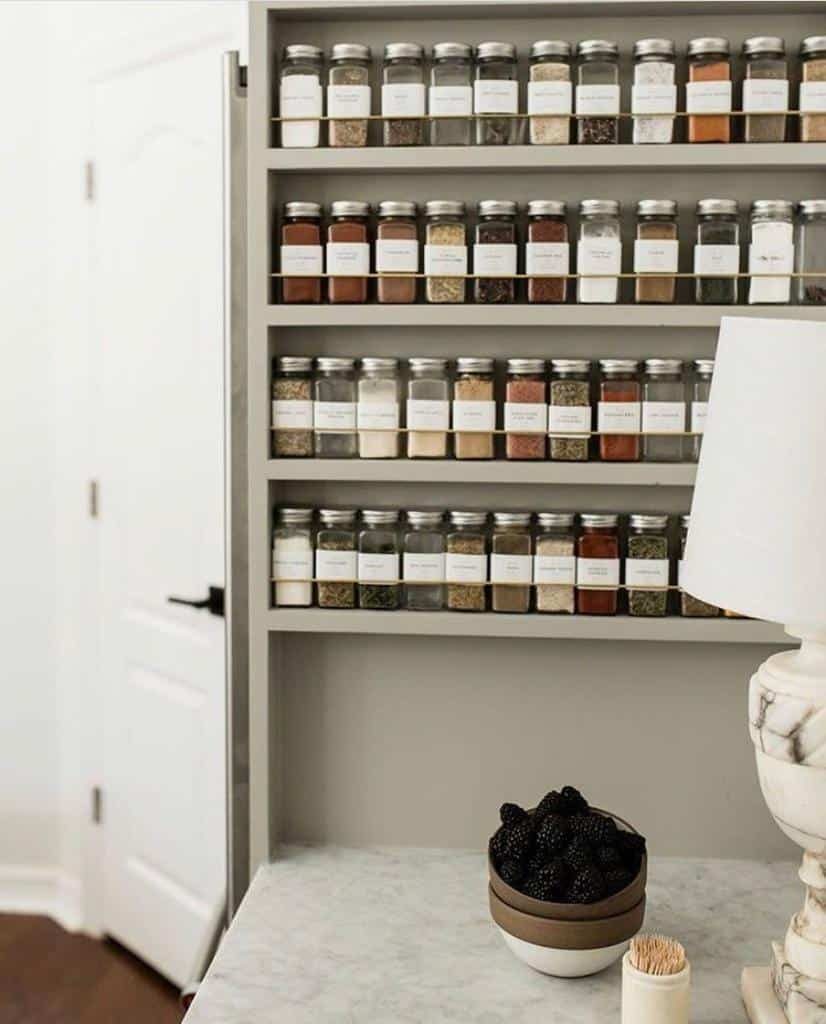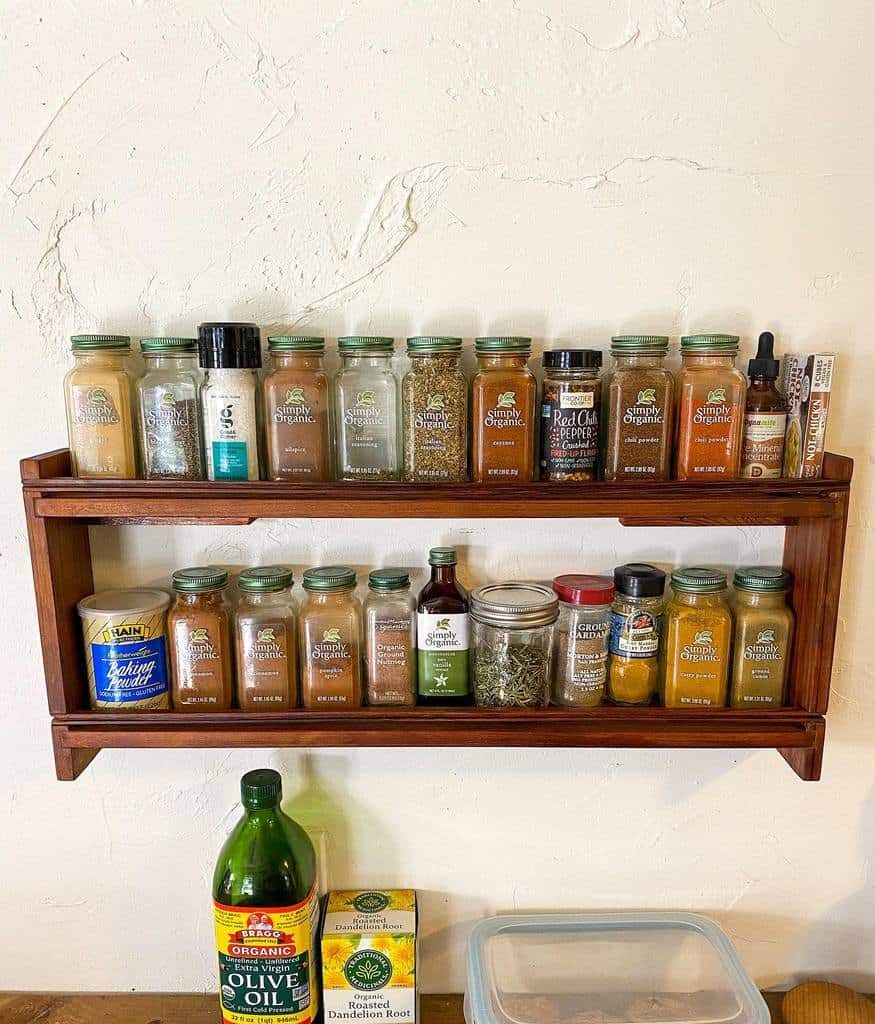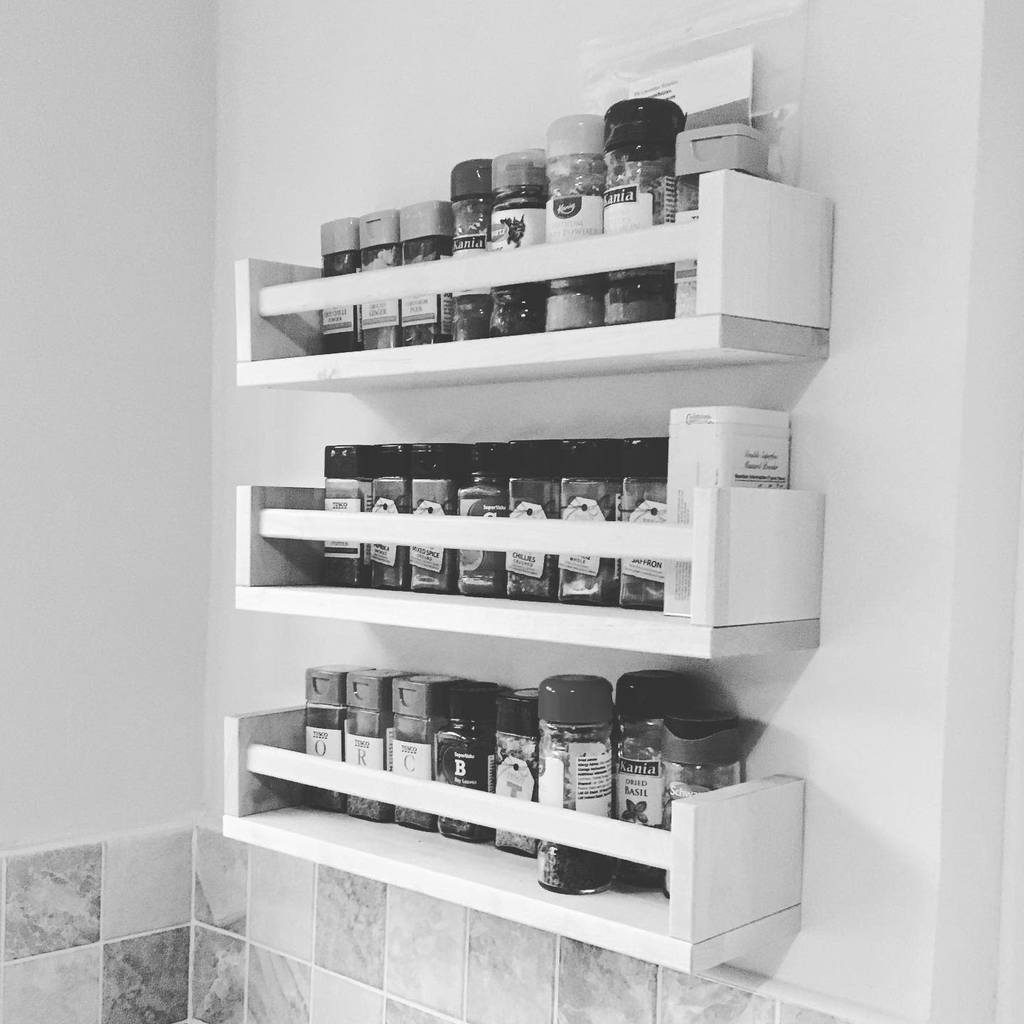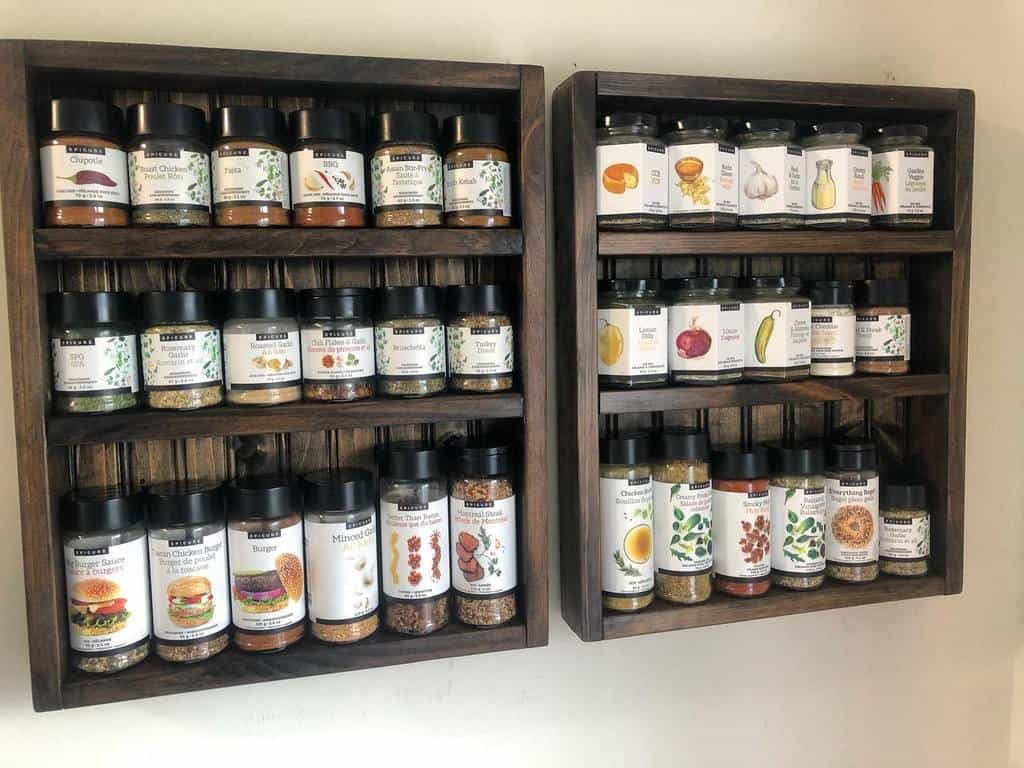 4. Countertop Shelf
A countertop organizer shelf is a great way to make the most of your kitchen space. It allows you to not just store spices, but access them easily in the kitchen, organize and maximize counter space.
Not only do countertop shelves provide a functional use, but they also add a touch of flair and style to the kitchen environment that can enhance any décor. Finding one that coordinates with existing kitchen accessories like cookware or utensils can give even more options for creative storage.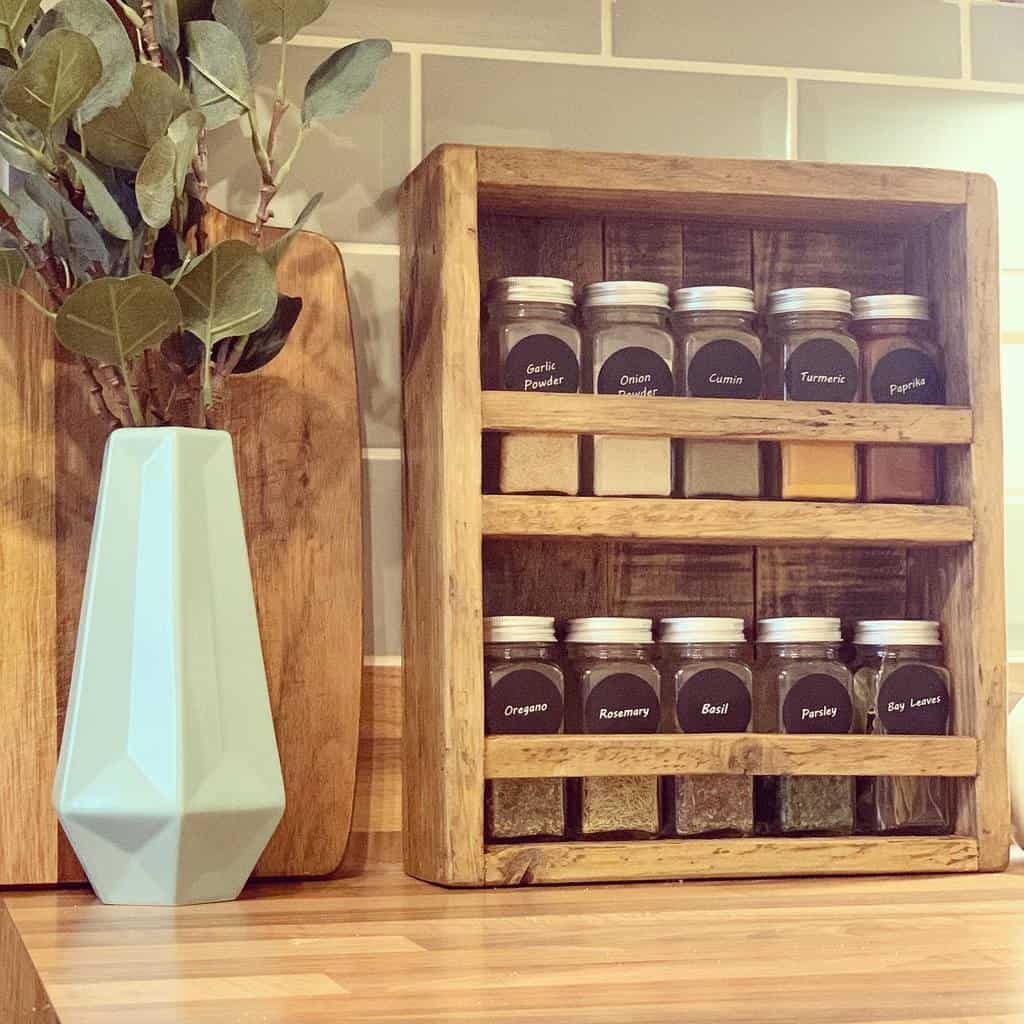 5. Spice Drawer With Dividers
Drawer dividers are a great way to store your collection of seasonings and herbs for easy access during cooking. Dividers are the perfect solution to keep all your spices organized, as it keeps each spice separate and labeled without taking up too much countertop space.
You can also spice up your spice storage solutions by using drawer organizers, allowing you to easily reach every spice you have, while also keeping them out of sight! With these spice rack ideas, you're sure to have an efficient and organized kitchen!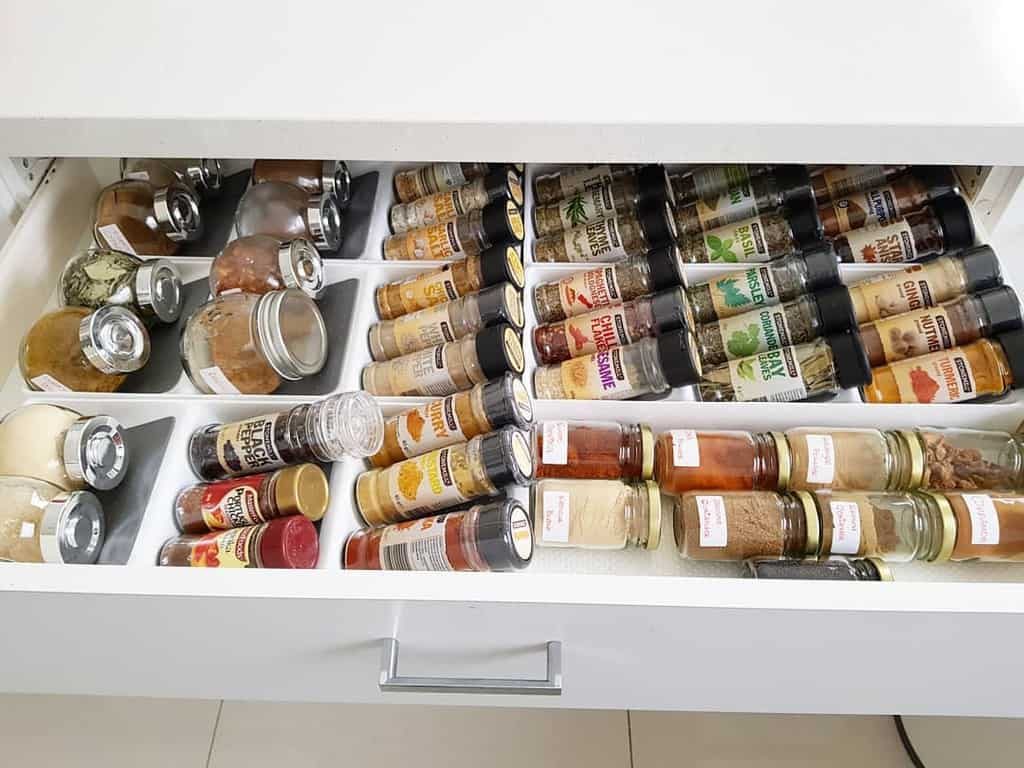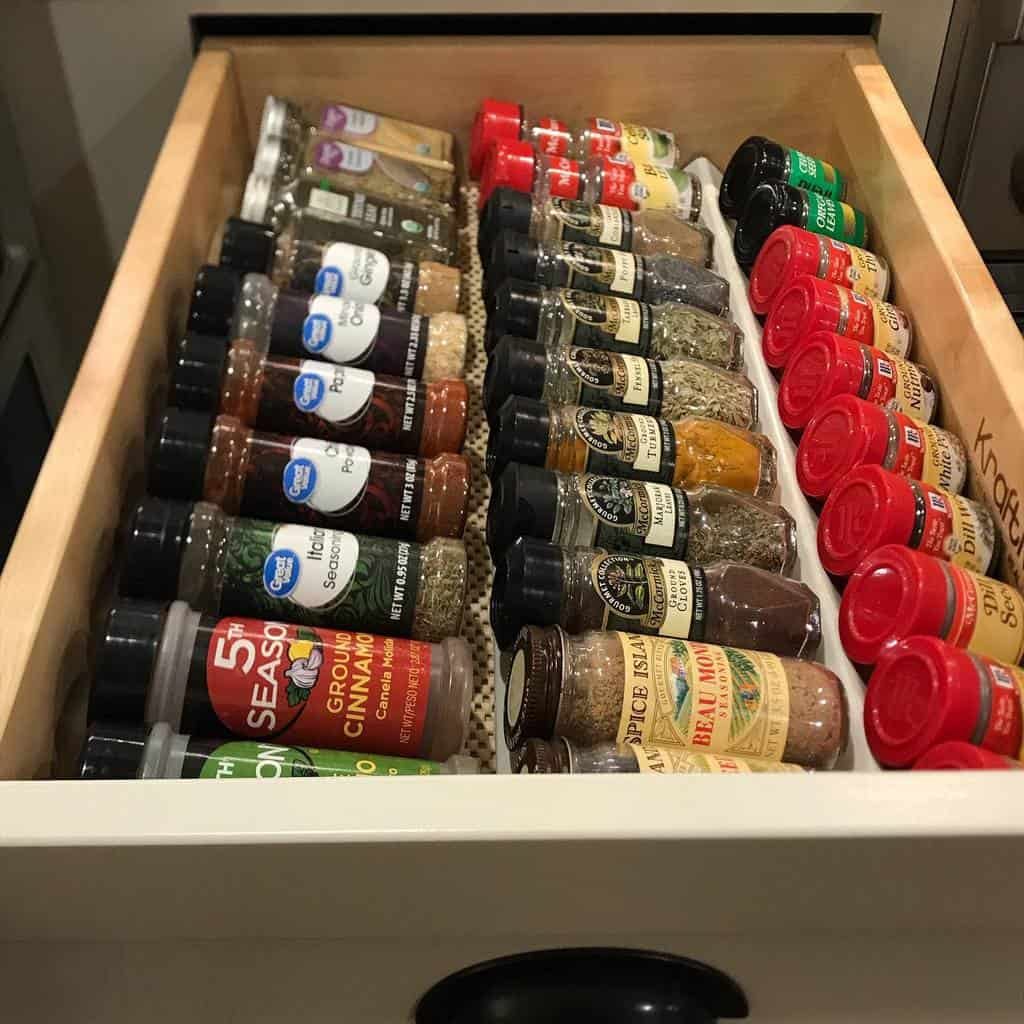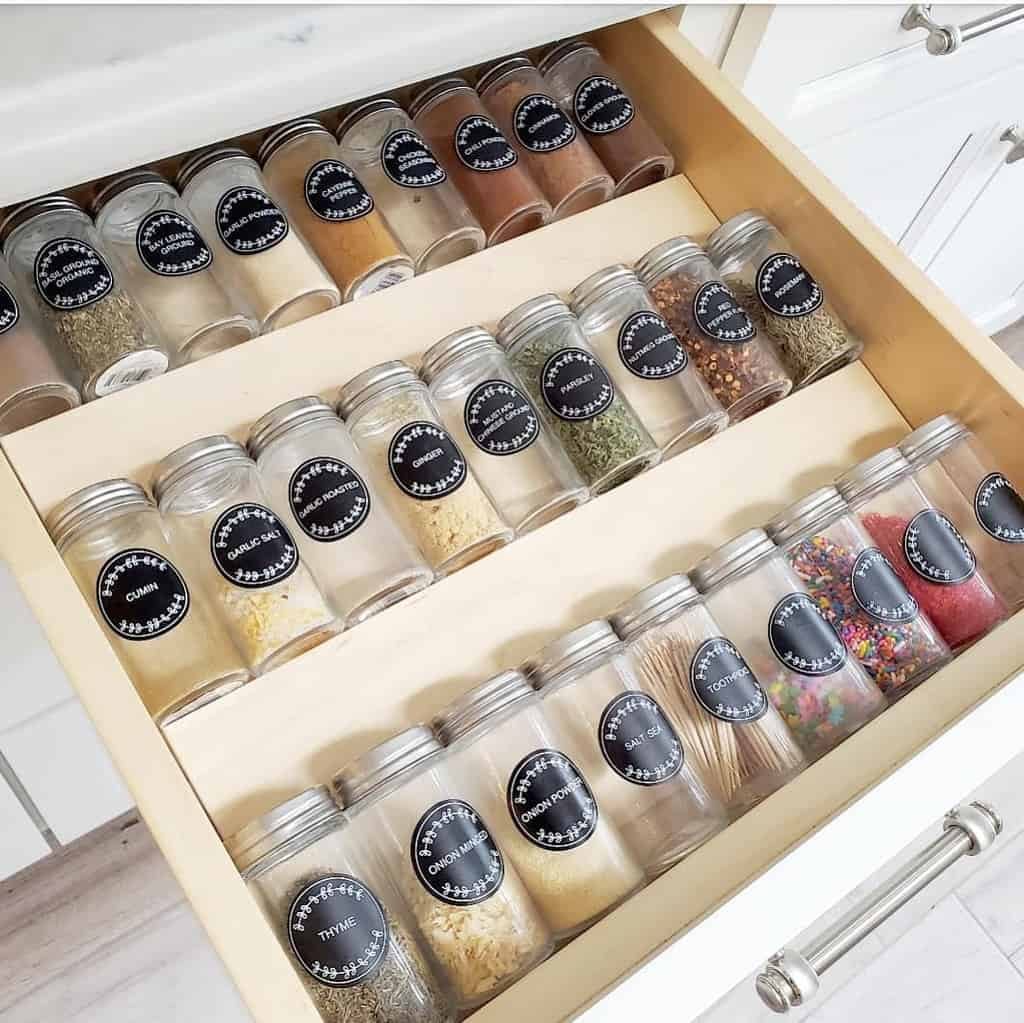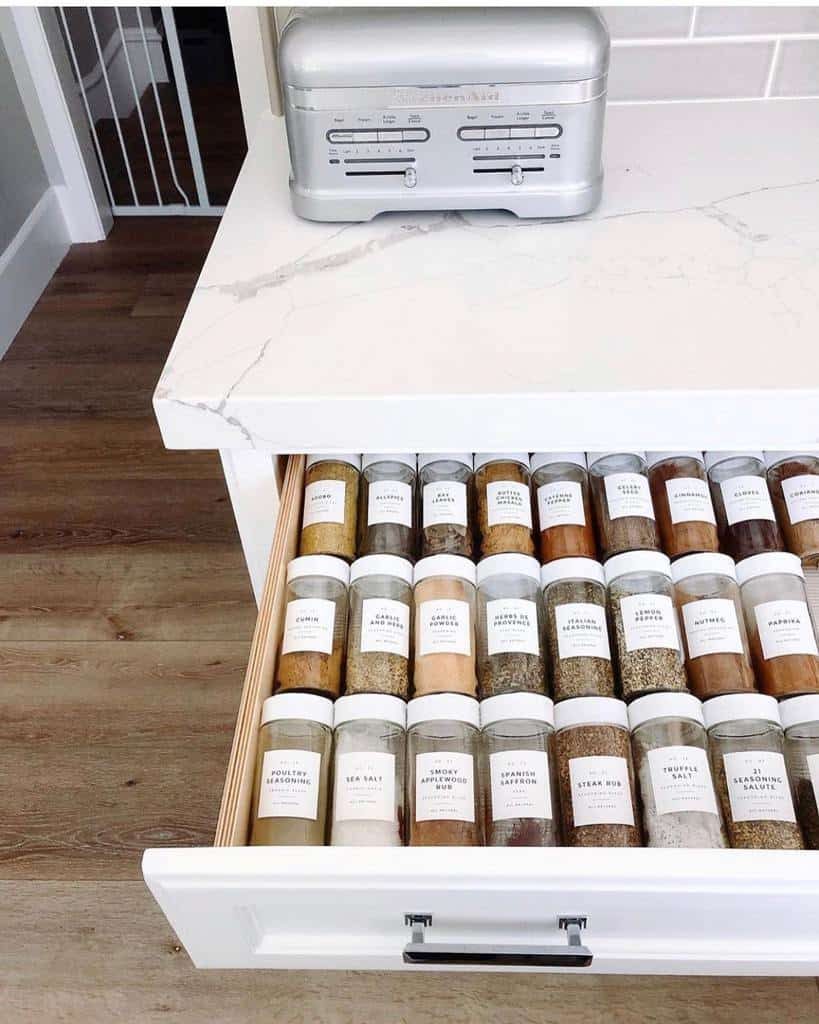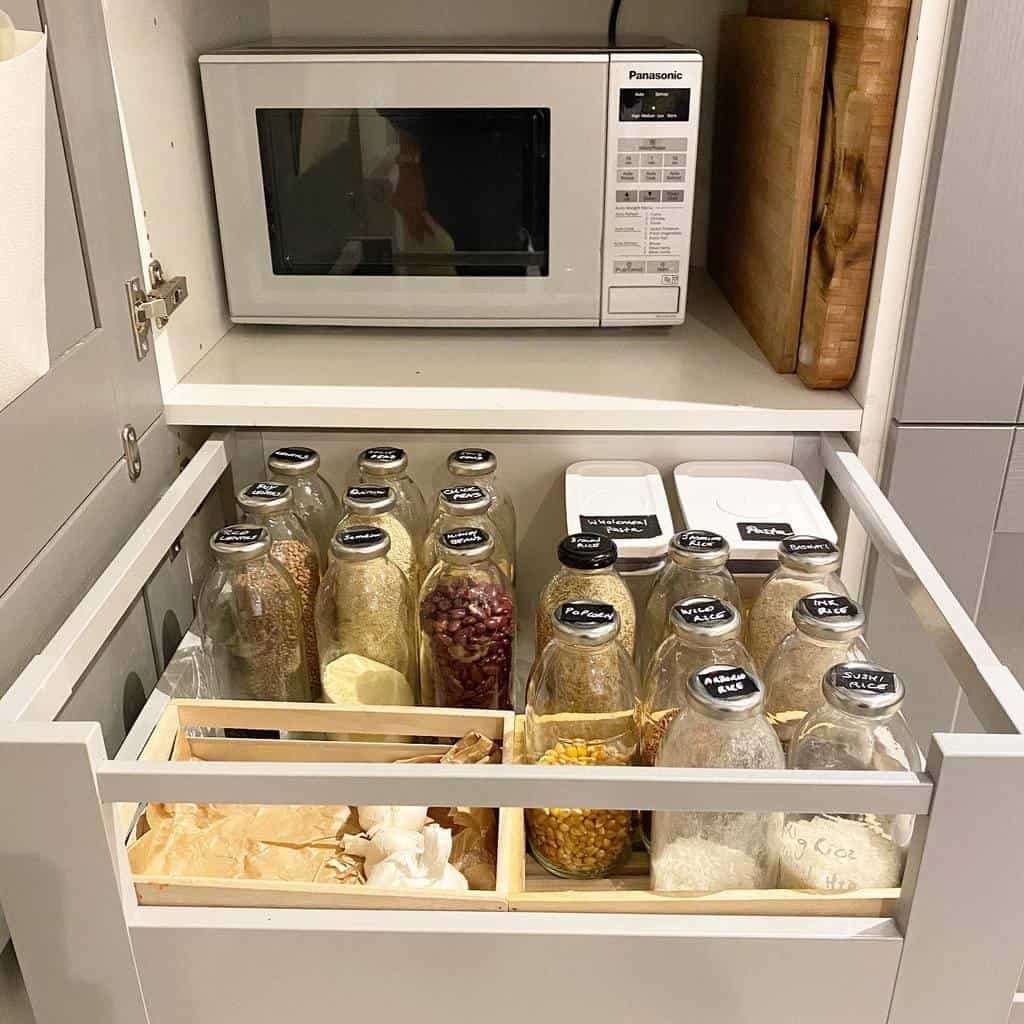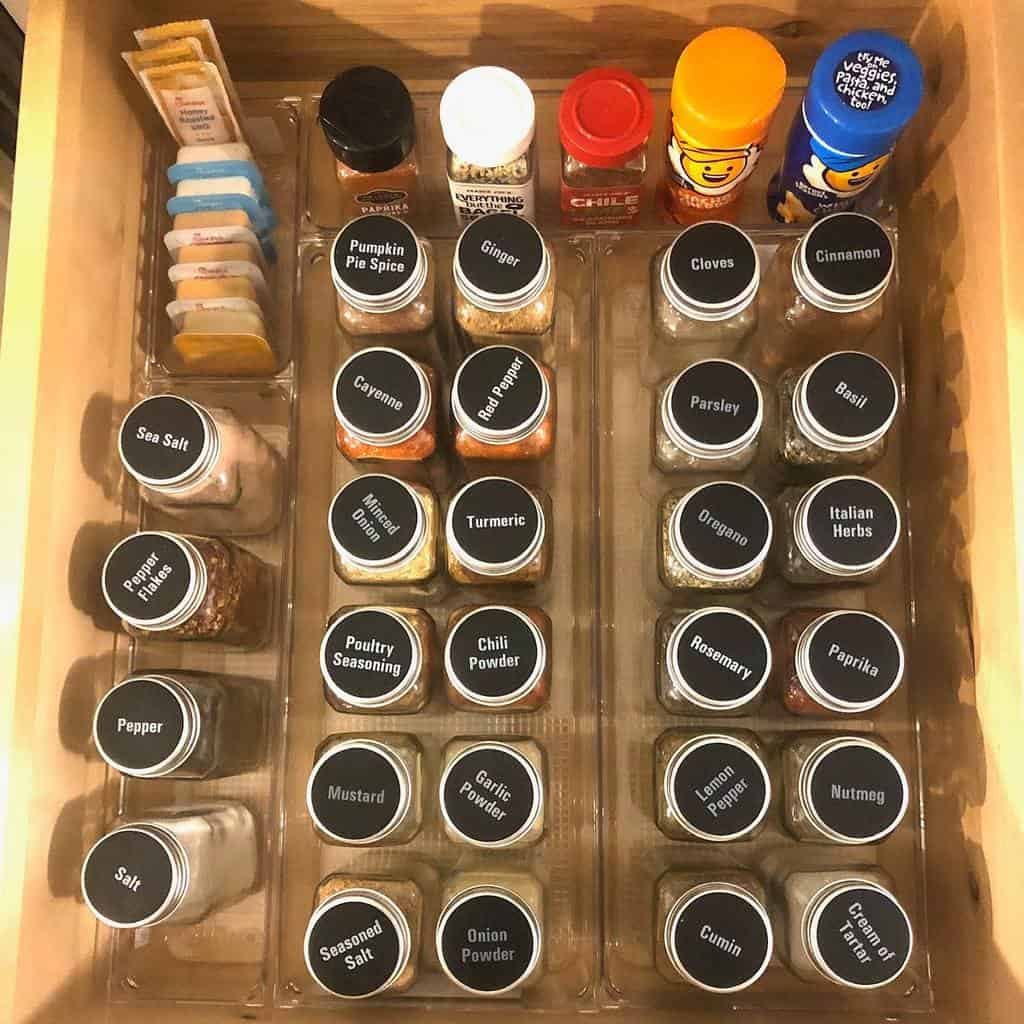 6. Pull-Out Spice Storage
If you're looking for fresh and creative spice rack ideas, one way to gain space in a cramped kitchen is by installing pull-out drawers. Not only will these pull-out drawers help you store your favorite spices, but they'll also make searching through them a cinch.
Or, if you're looking for something more hidden, why not try adding an inconspicuous rolling spice rack? It can fit easily under any counter or cabinet and makes it easy to pull out what you need and put it away each time you're done with it. Spice rack ideas don't have to be limited to the tried-and-true methods; pull-out storage and hidden racks can add new convenience to your home cooking!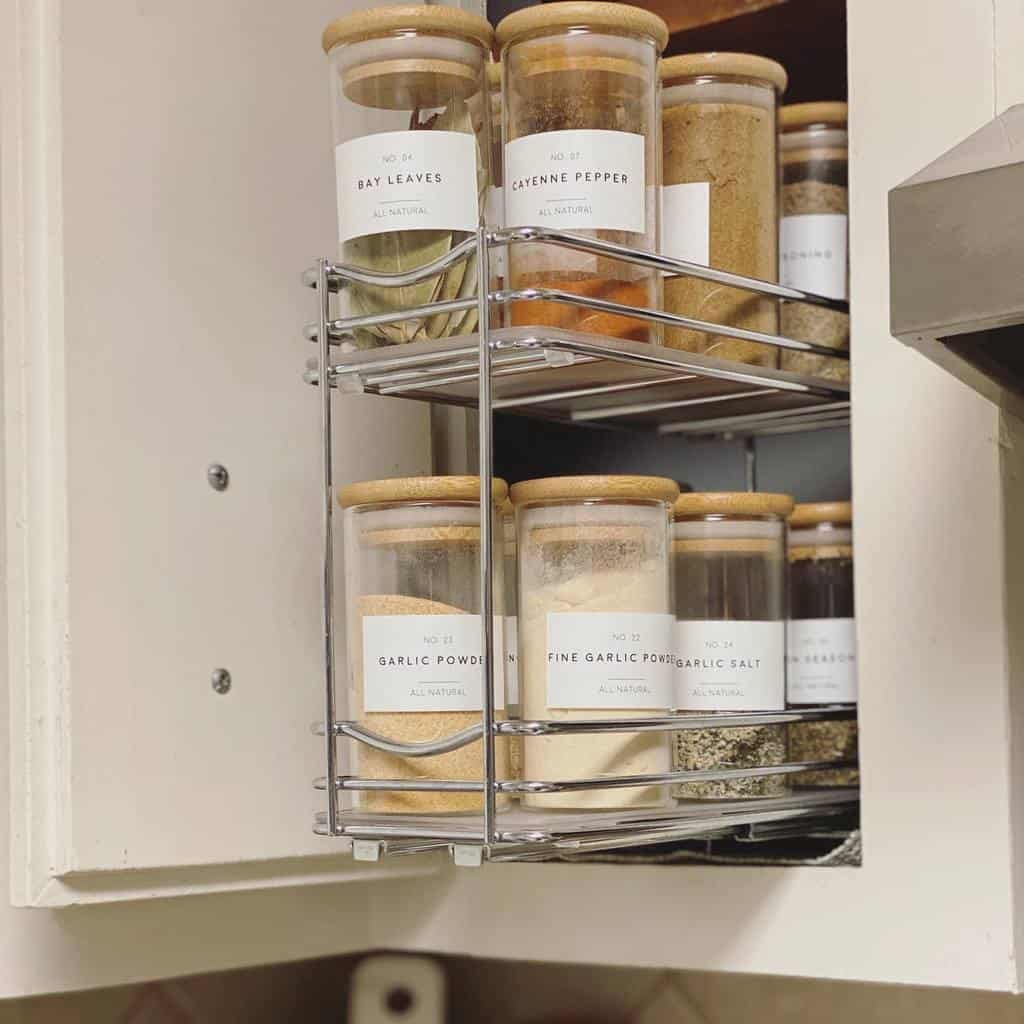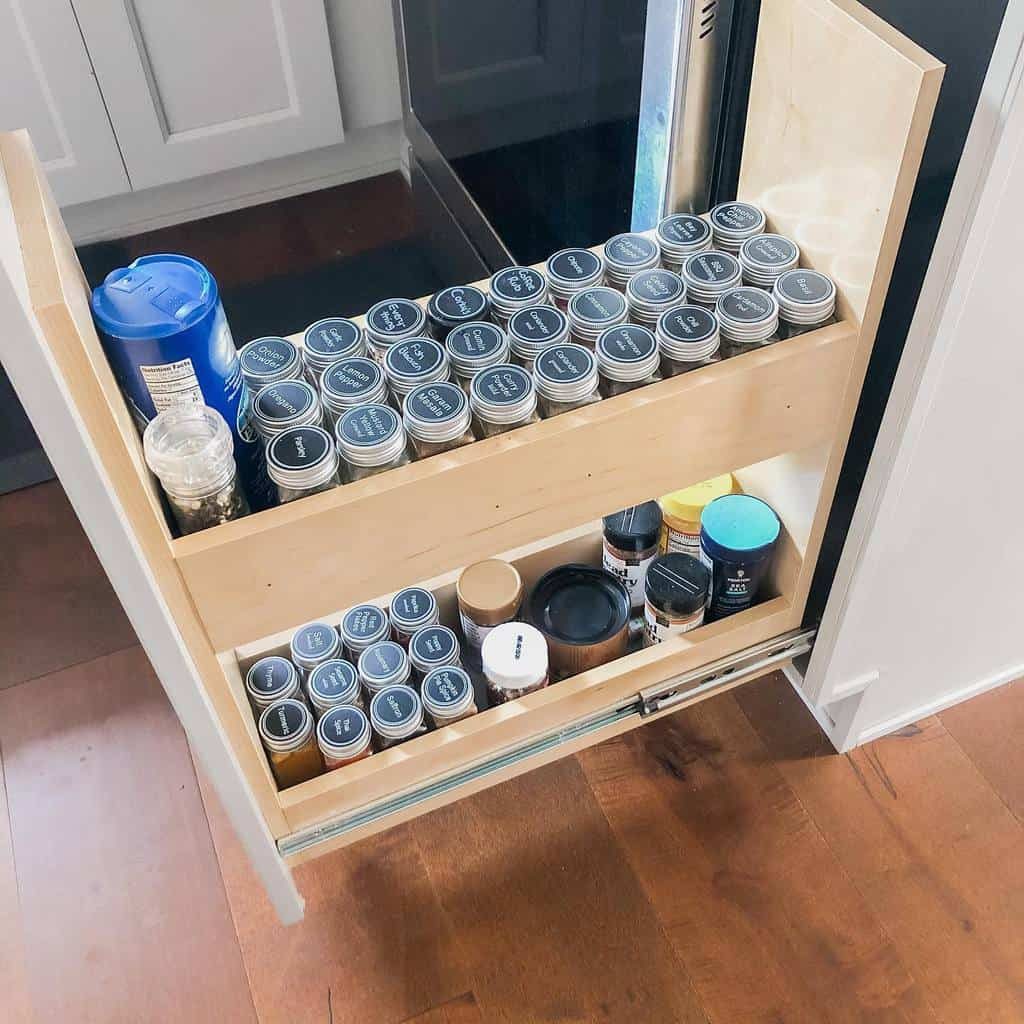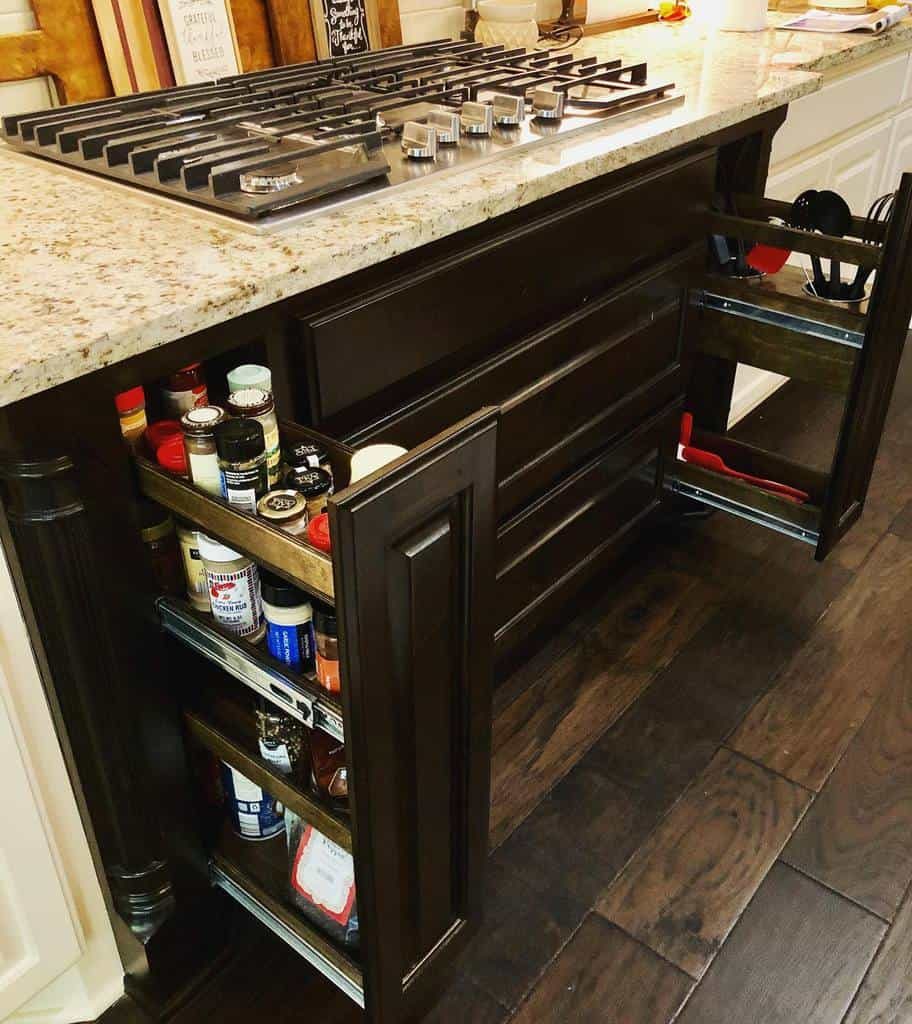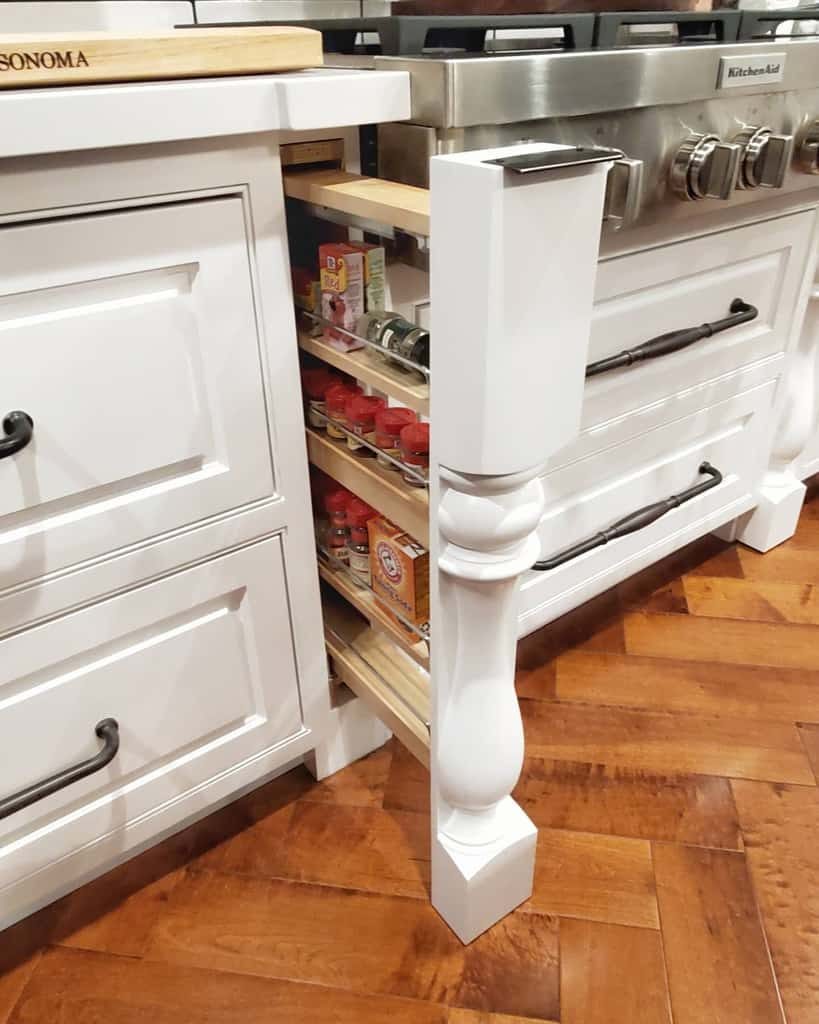 7. Metal Hanging Rack
A hanging metal spice rack is a great option for anyone looking to maximize vertical space in the kitchen. You can easily attach the hanging rack to a cabinet door so you're able to utilize awkward corner spaces and stay clutter-free.
Plus, hanging jars of spices rather than having them take up precious drawer space is visually appealing and makes for easier cooking when all your ingredients are within reach. An added bonus with having your spices hanging in full view is that you can effortlessly identify when its time for a refill!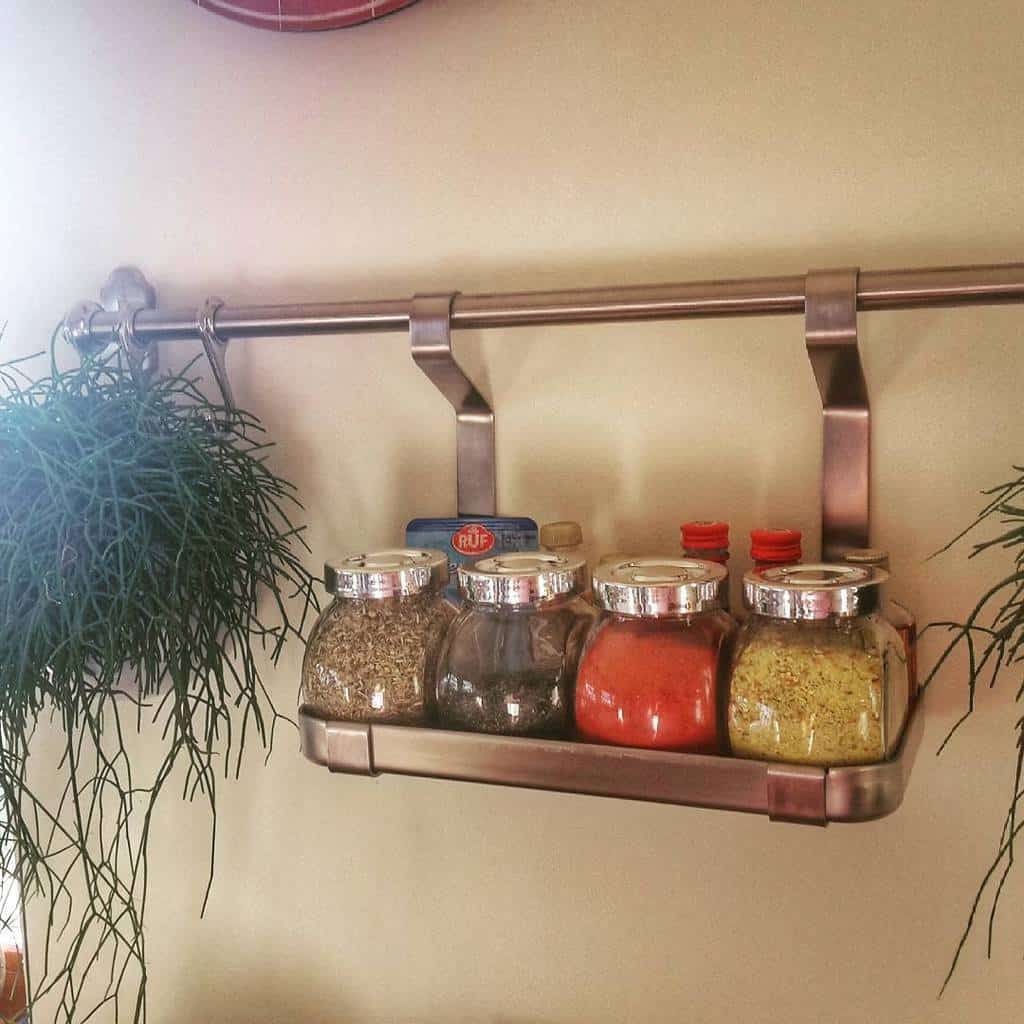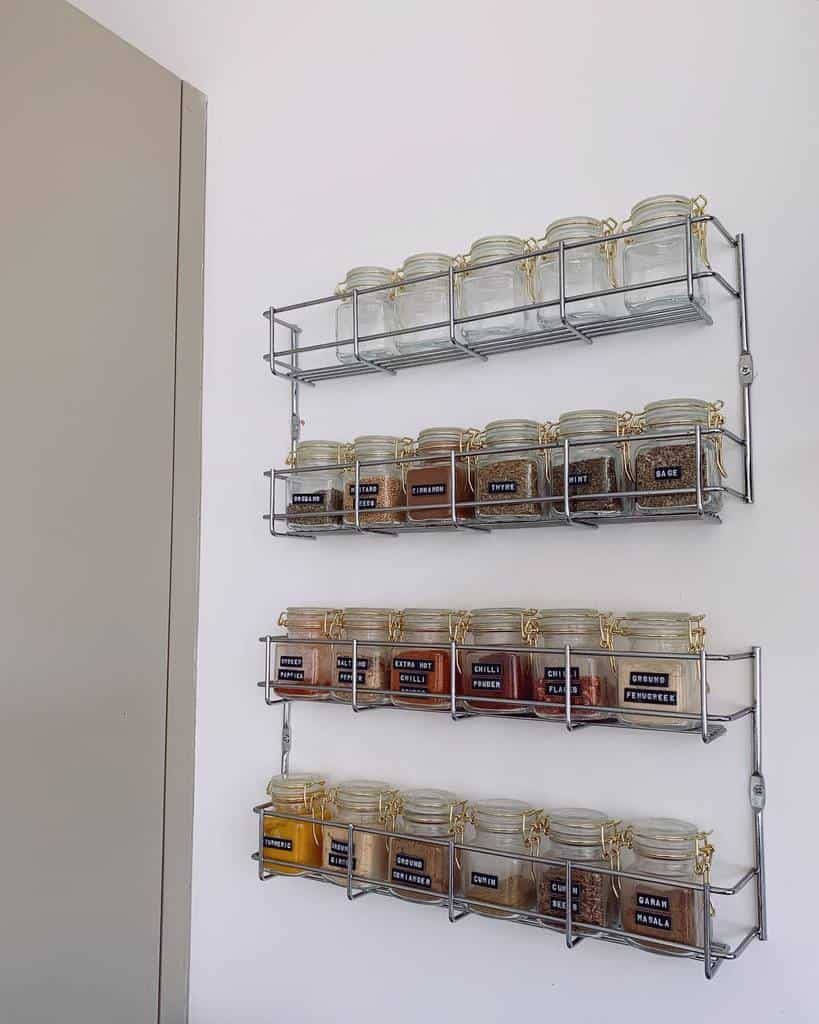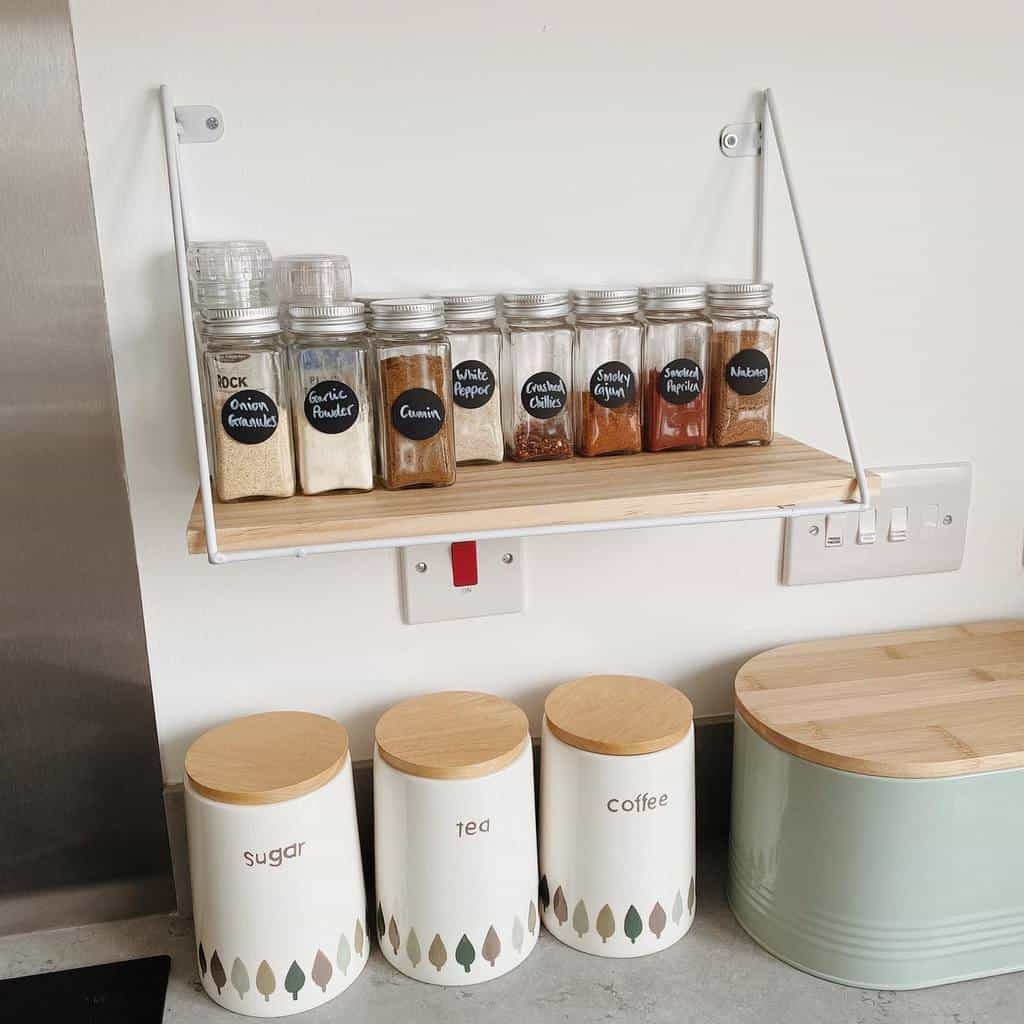 8. Hanging Spice Jars
If you're looking for a creative way to organize your spice rack, DIY hanging spice jars may be the best option for you. Not only are they a beautiful and creative decoration for any interior design enthusiast, but having your spices readily available in a neat, organized space brings ease and convenience to meal preparation. With DIY hanging spice jars, you can easily grab the necessary ingredients whenever you're cooking!
All you need are mason jars and wall-mounted metal racks – it's that simple! In addition to being practical and stylish, DIY hanging spice jars also create an eye-catching display that is sure to stand out in any room. So get creative with your ideas and start making DIY hanging spice jars today!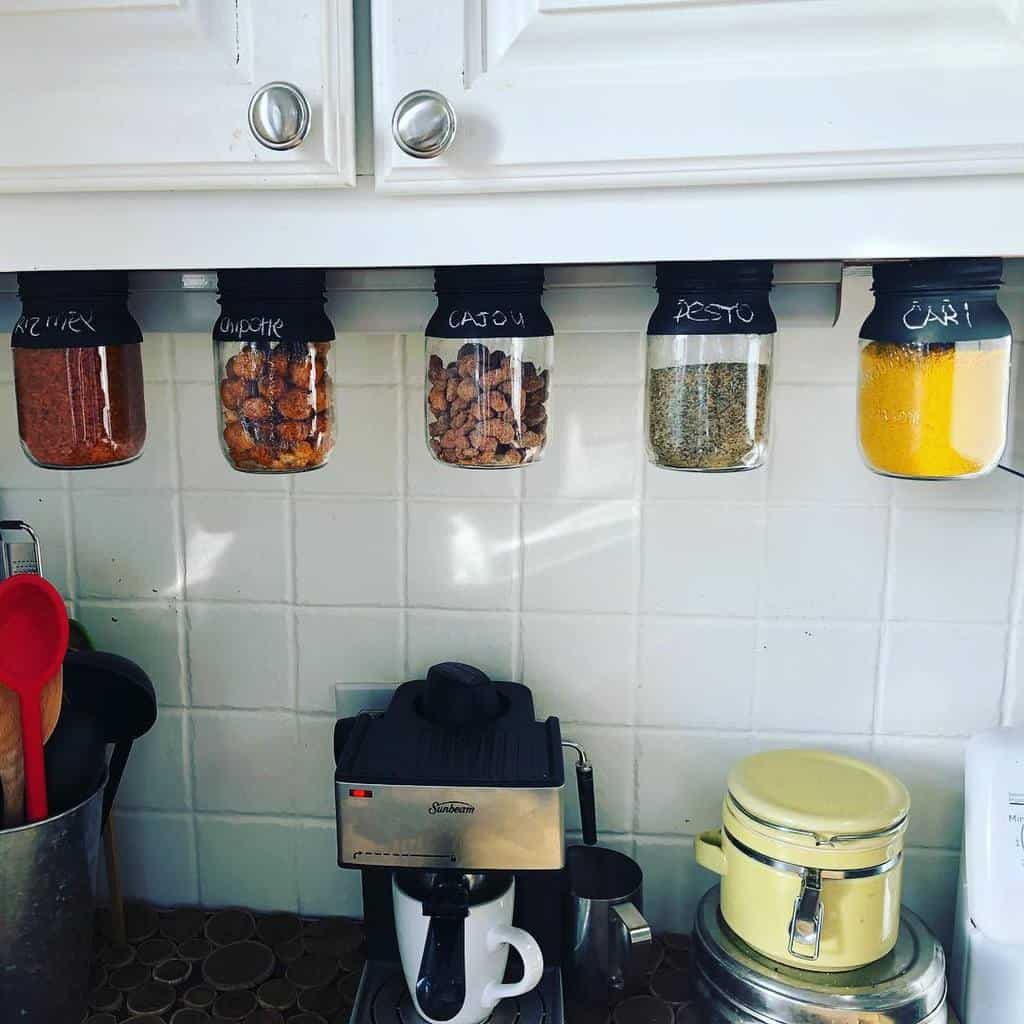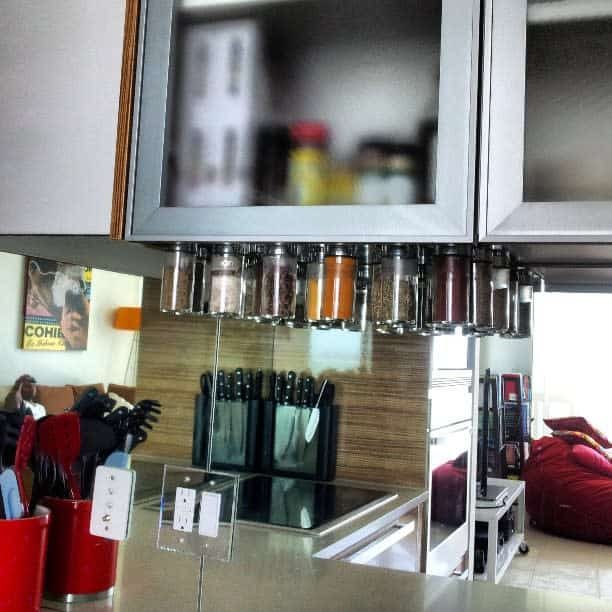 9. Cupboard Spice Rack
Think about installing shelves within the cupboard specifically for your jars and bottles of spices, creating pockets in the cupboard doors to conveniently store smaller containers, or keeping other storage containers like glass jars or cardboard boxes handy. No matter which spice rack idea you choose, cupboard storage compartments can double up as a beautiful feature.
Not only will it make good use of empty cupboard space, but reorganizing your cupboards with this in mind will also provide ease and convenience when trying to find just the right seasoning!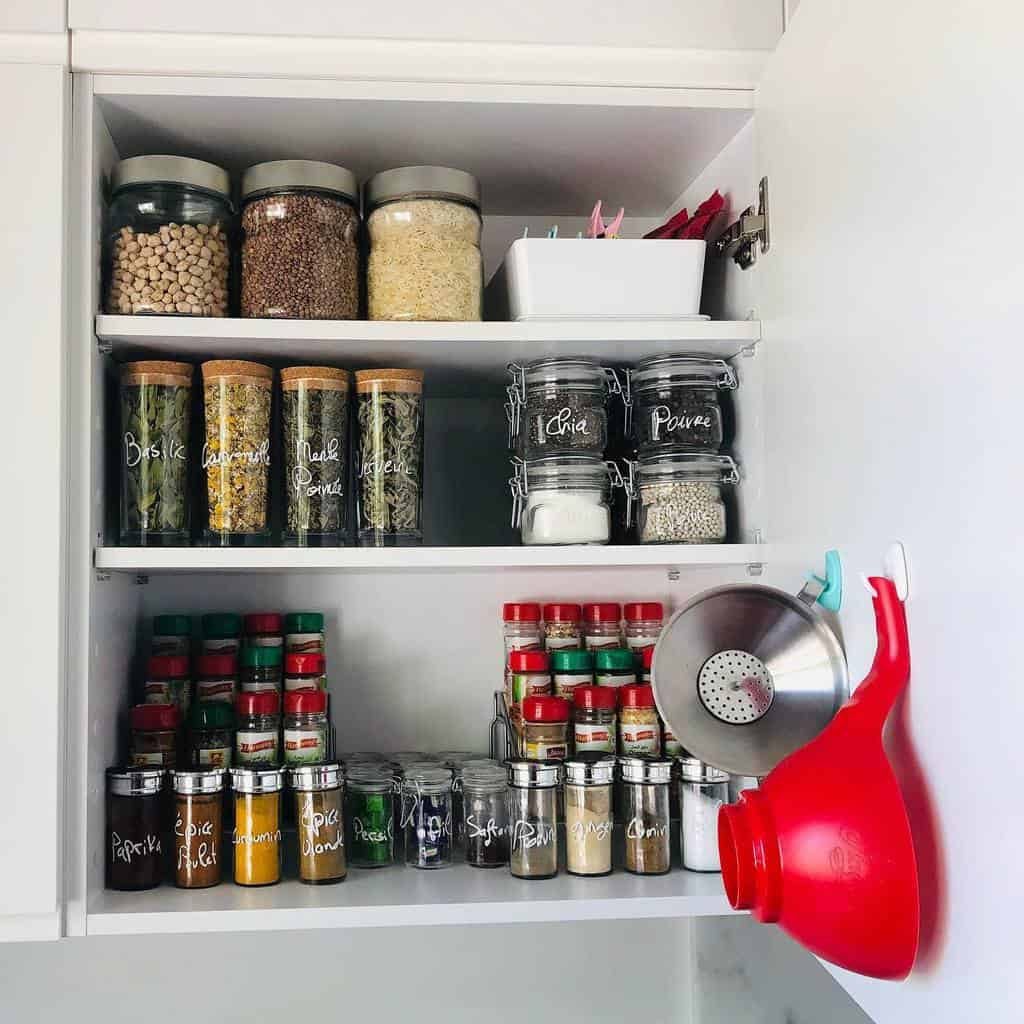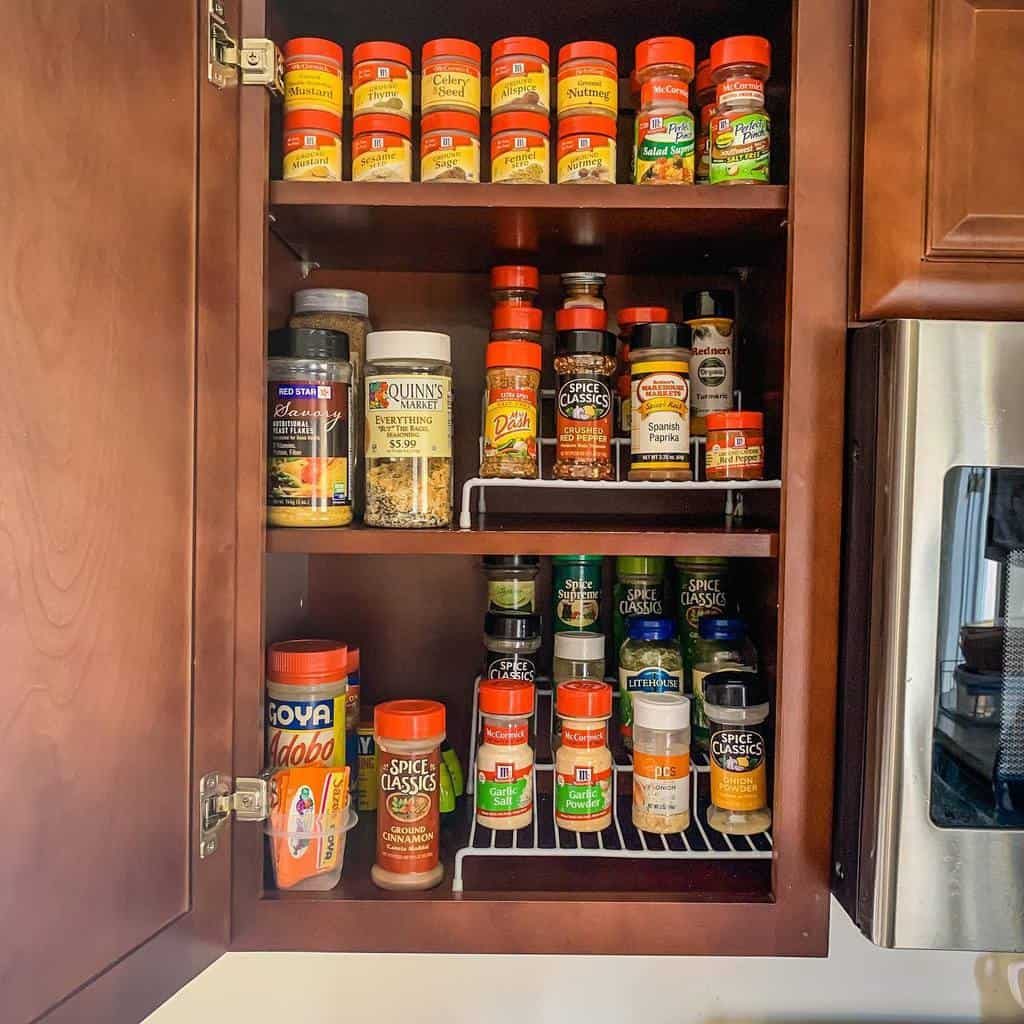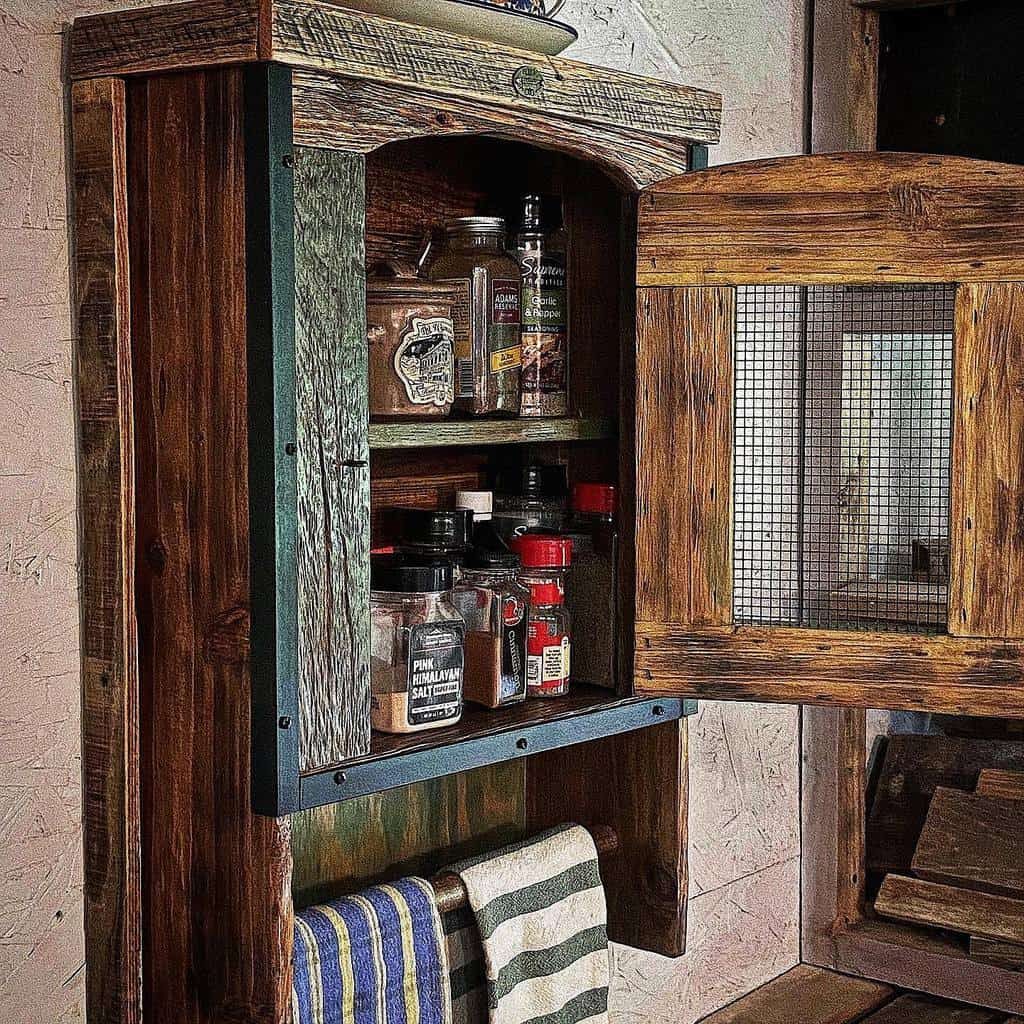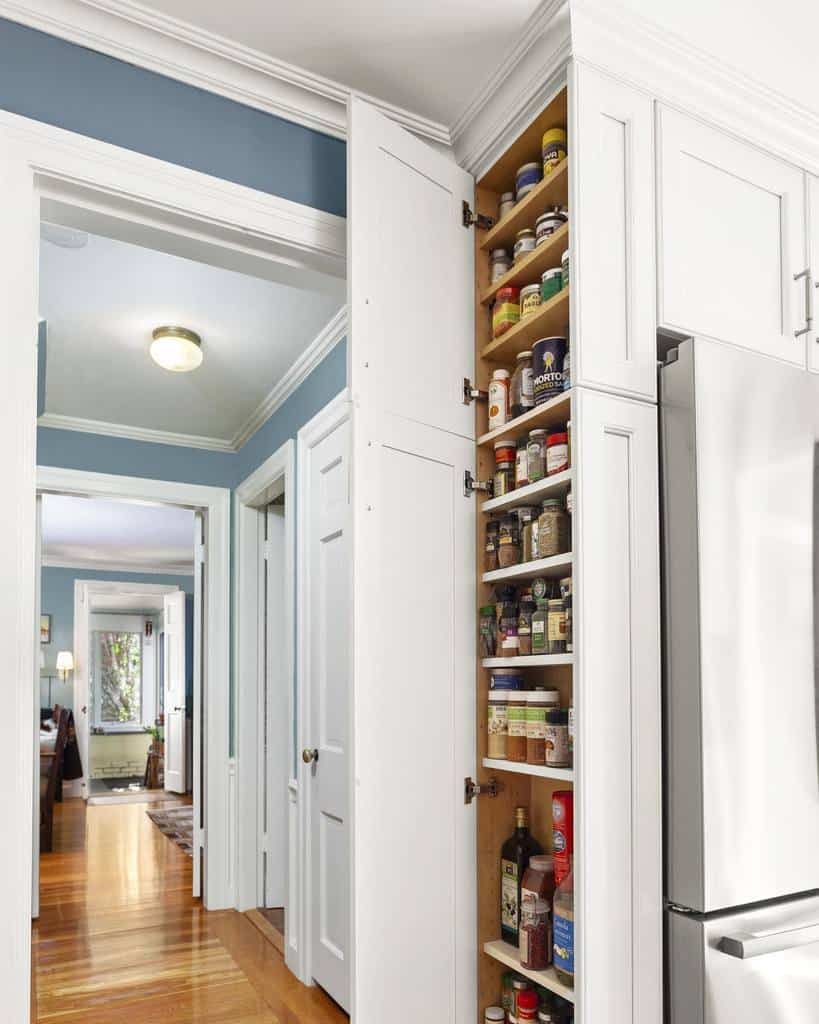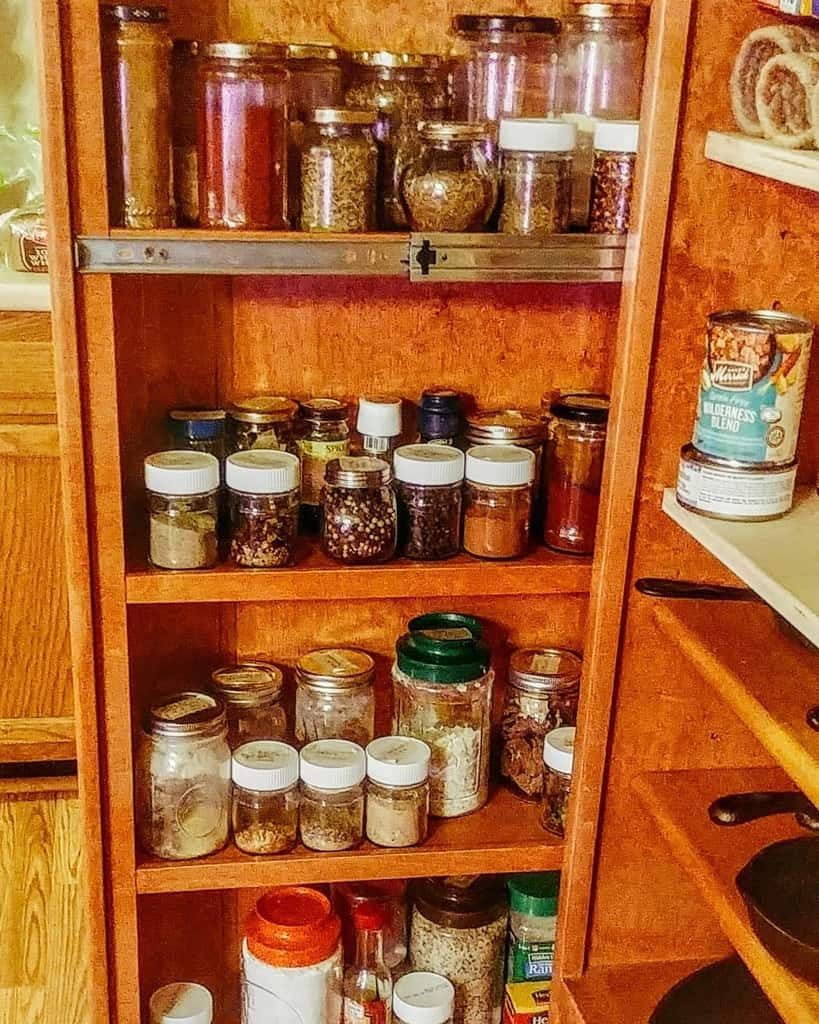 10. Custom Labelled Spice Jars
Spice racks come in all shapes and sizes, making them difficult to organize. To simplify the task, labeled spice jars are key. Labels allow you to quickly and easily find the spices you're looking for when cooking or baking. There are various ways to label your spices; you can use chalk labels, printed stickers, or markers!
Additionally, consider grouping similar spices together – for example, store all of your Italian herbs such as basil and oregano in one group. Take into consideration how the racks will be placed in kitchen drawers or cabinets; this will help with organization and maximizing space.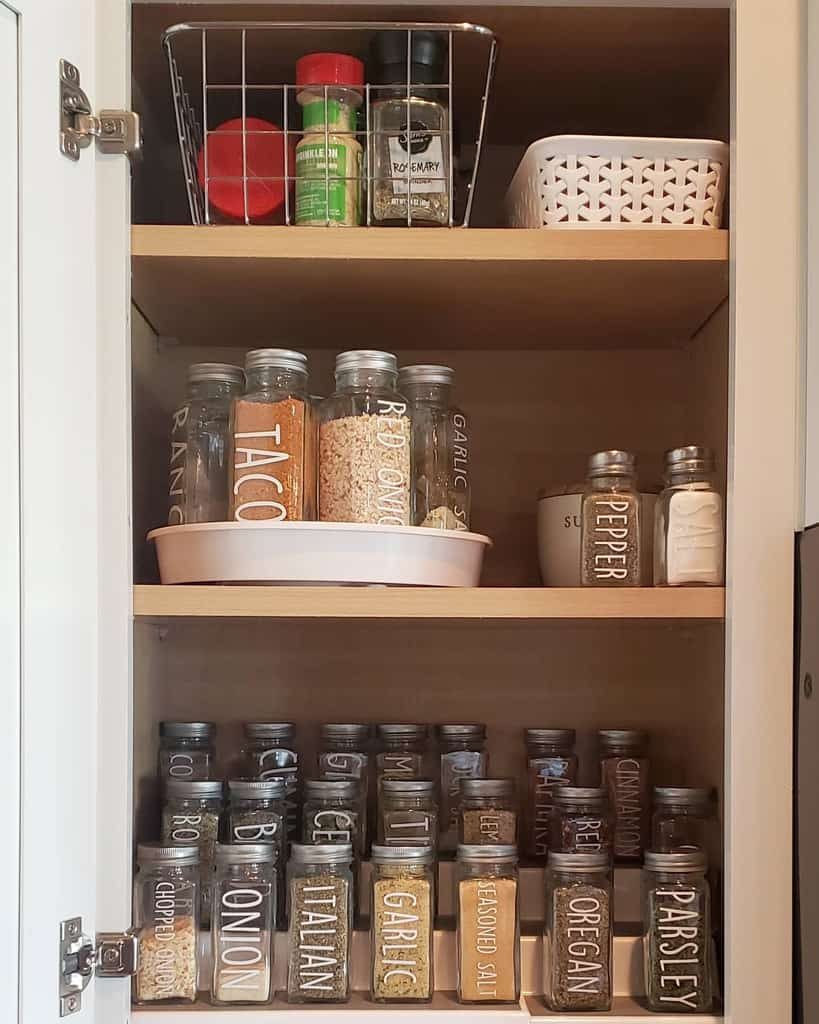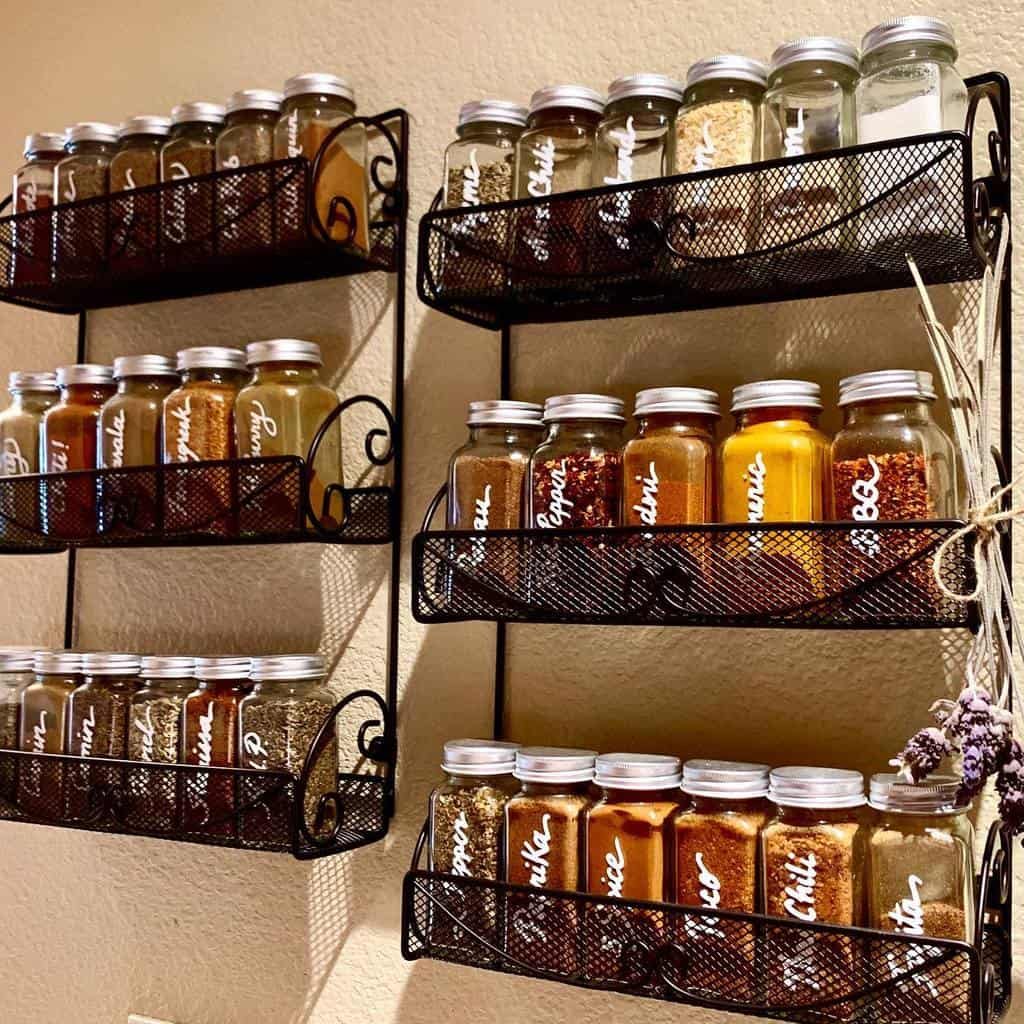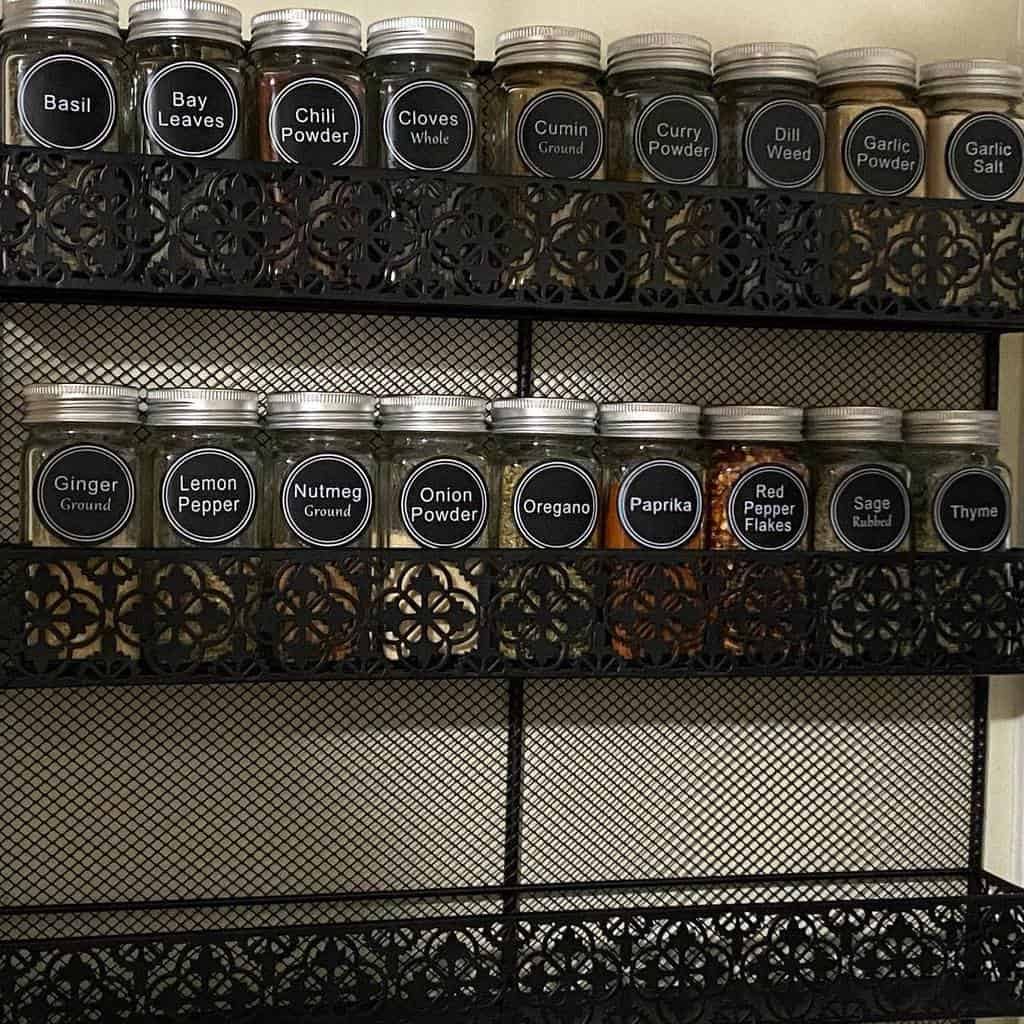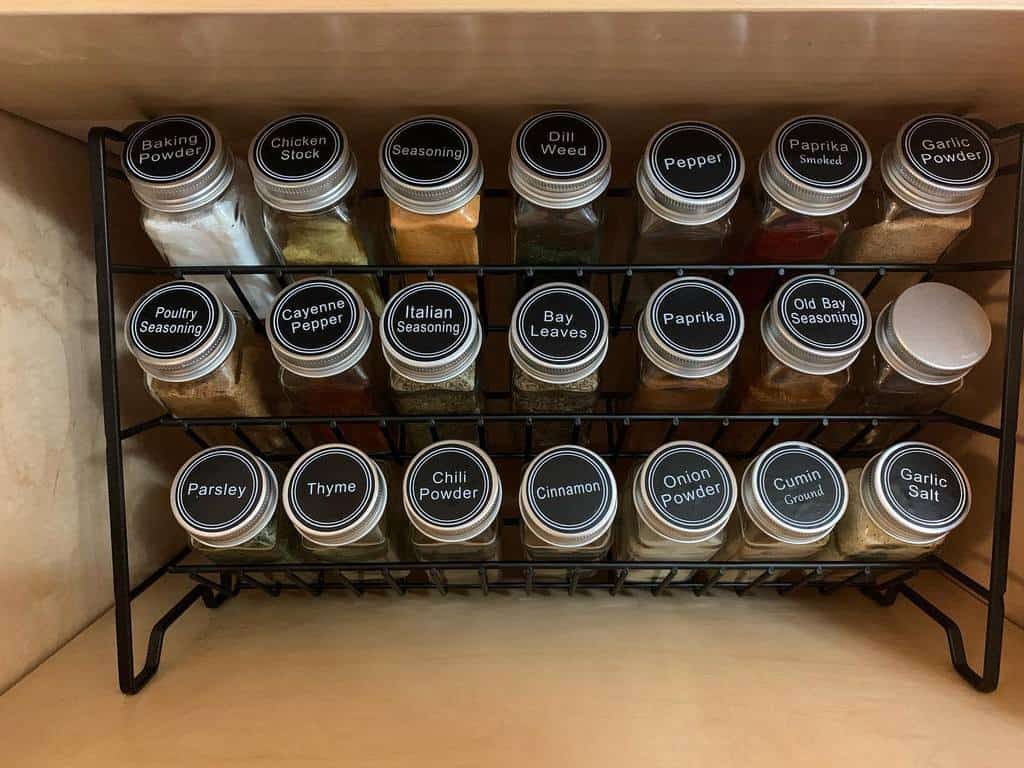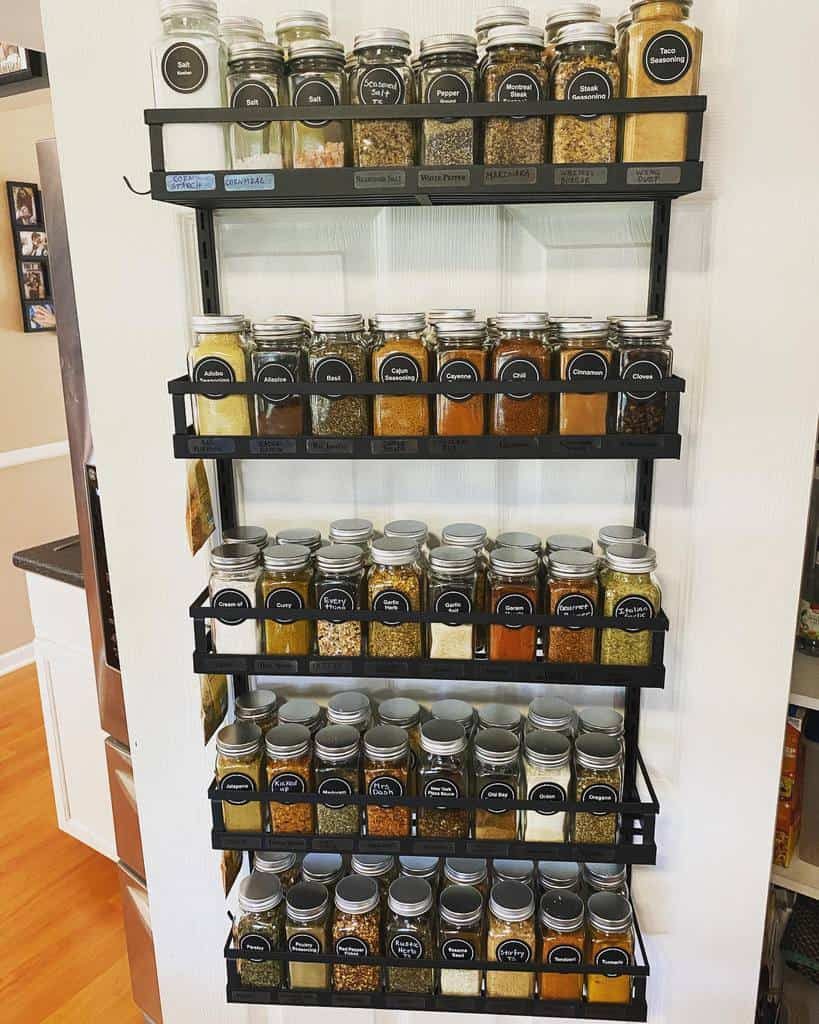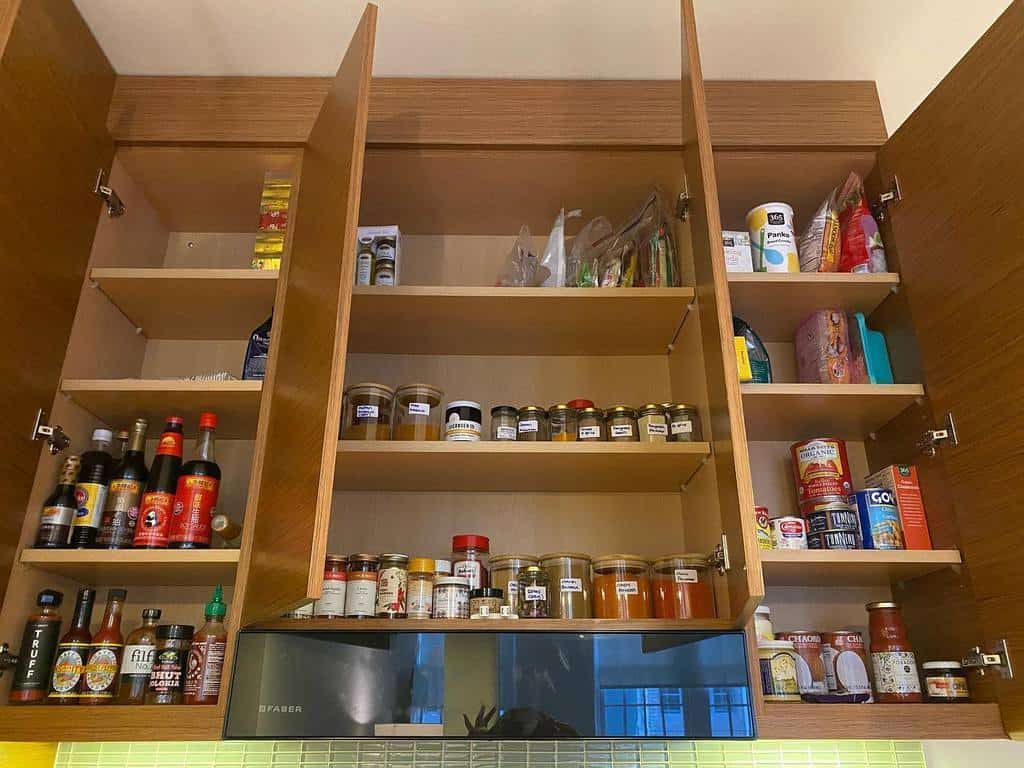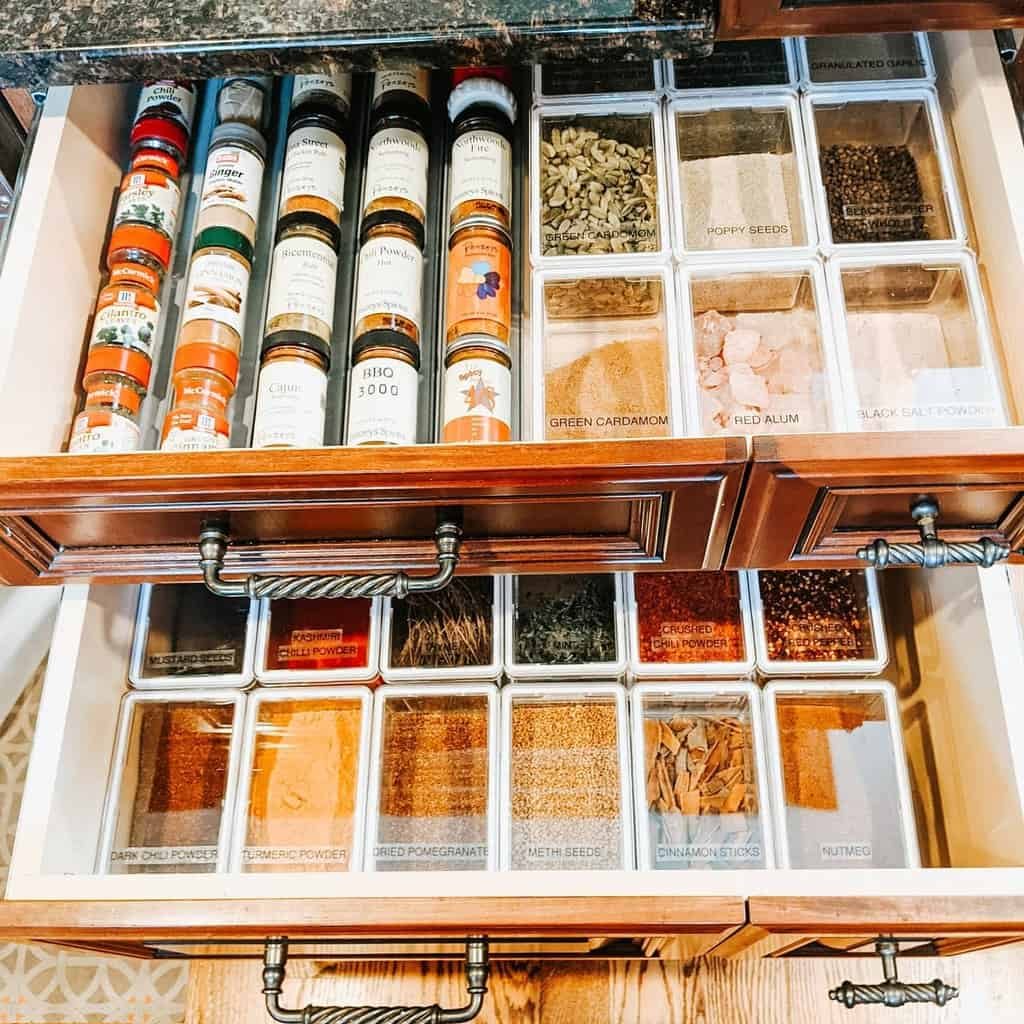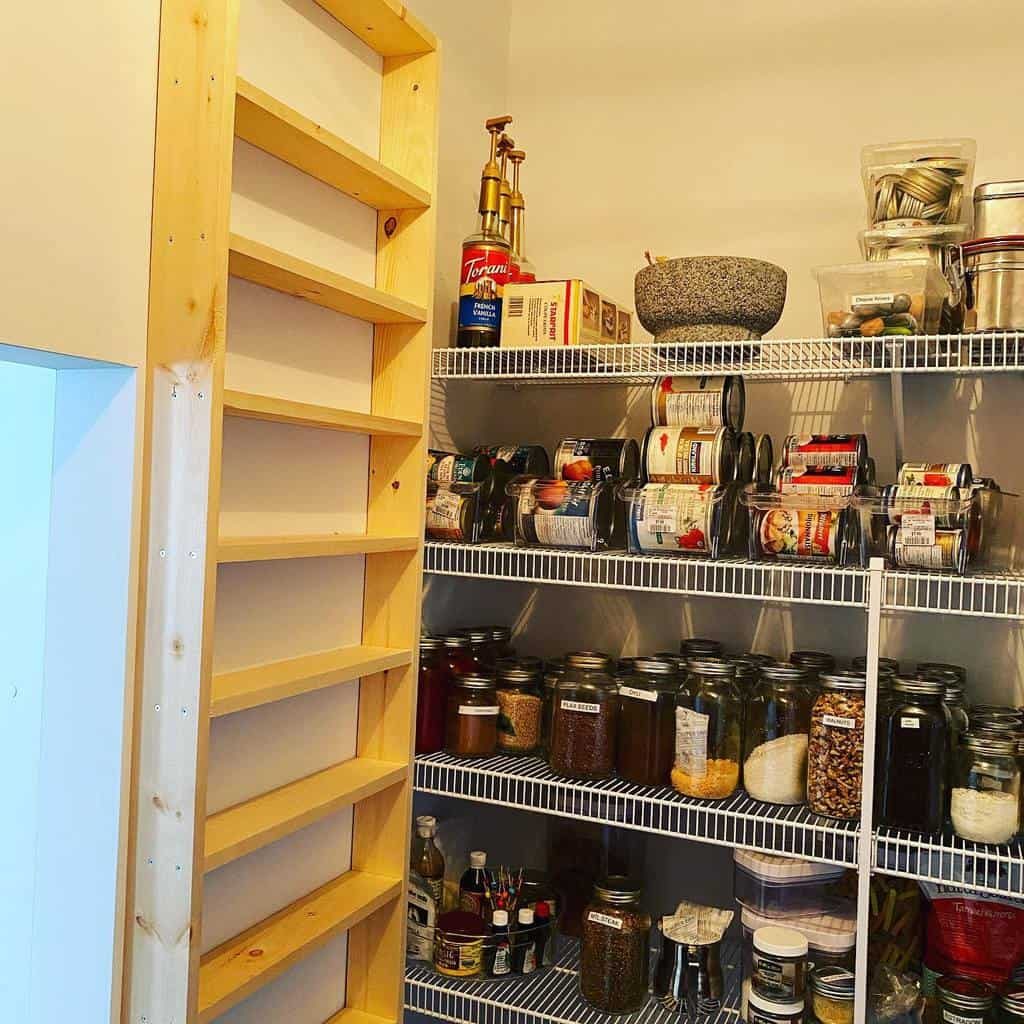 11. Magnetic Spice Jars
Get creative in the kitchen and breathe some new life into your cooking! Consider a magnetic spice rack that will allow you to affix spice tins to magnetic walls or strips. Not only is this an excellent way to save counter and drawer space, but you'll also be able to transform any wall into a clean and organized backdrop featuring your favorite spices.
Magnetic racks come in a variety of sizes and styles, from sleek stainless steel to wooden frames with delicate floral designs. So why not kick up the flavor of your cooking today by finding an eye-catching magnetic spice rack for your home?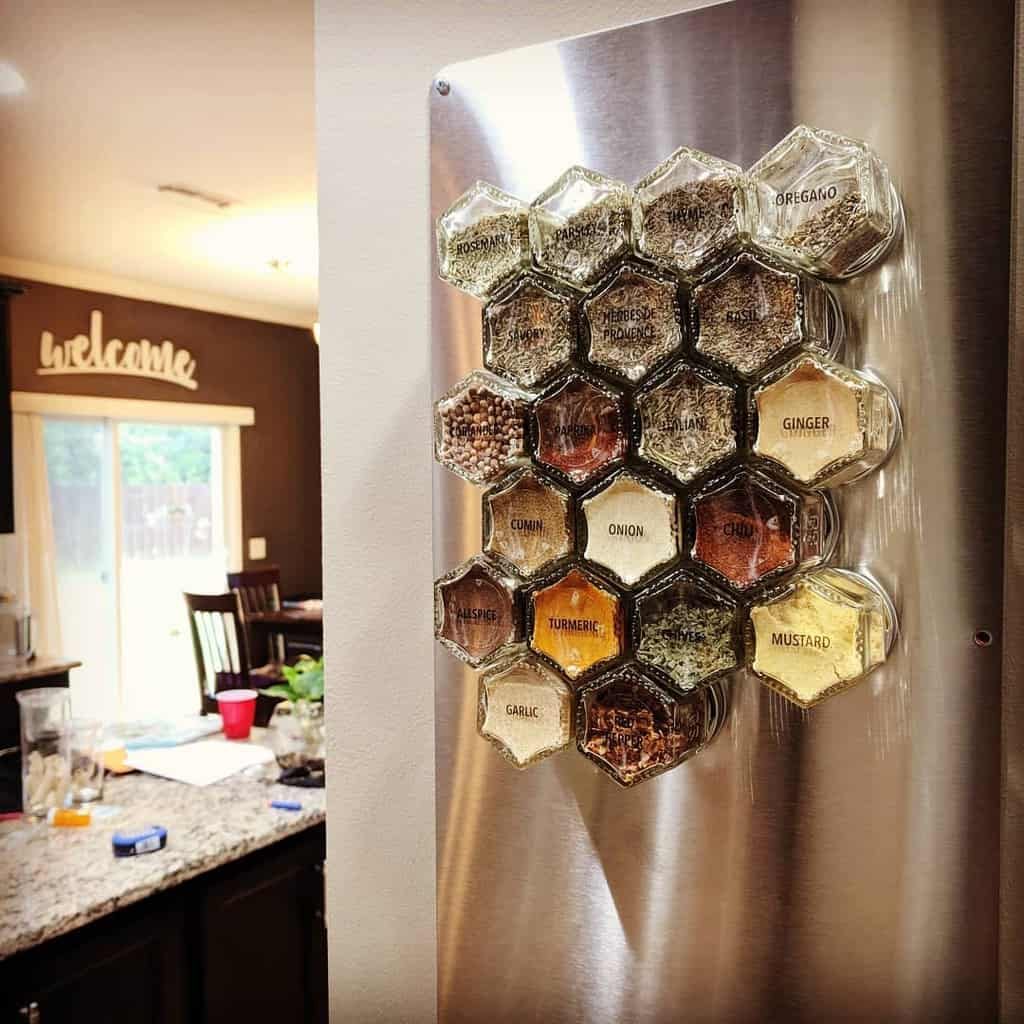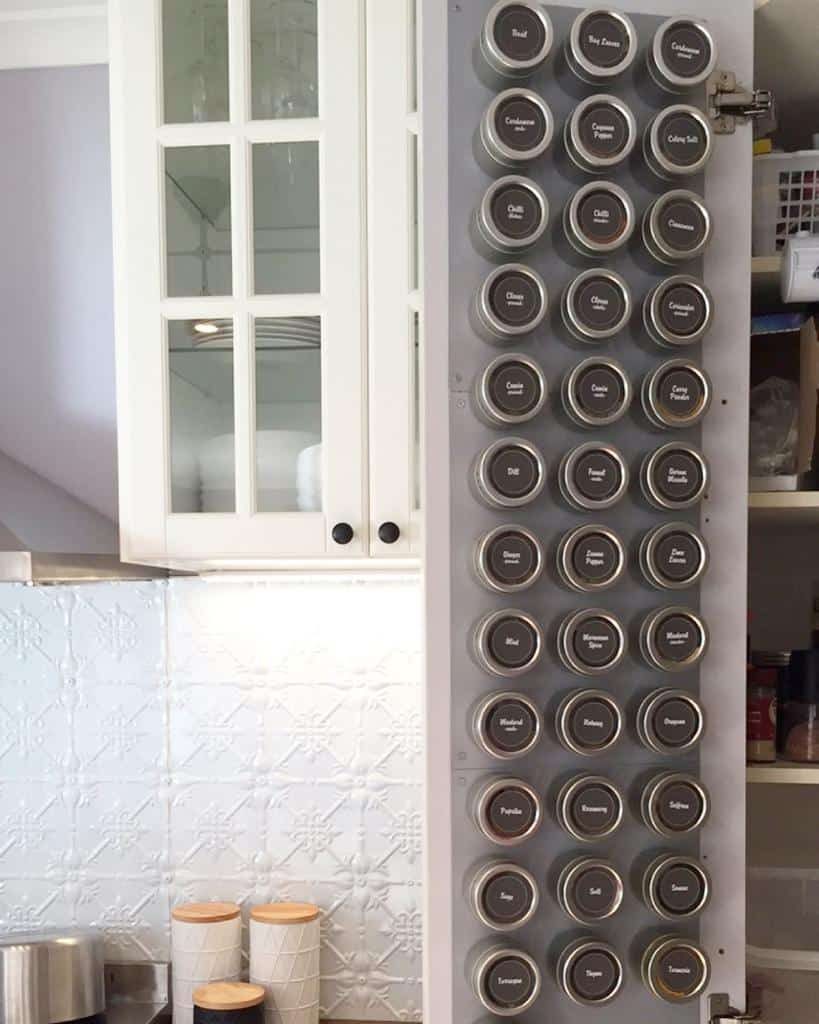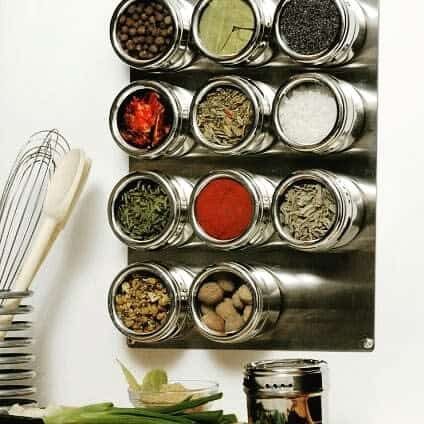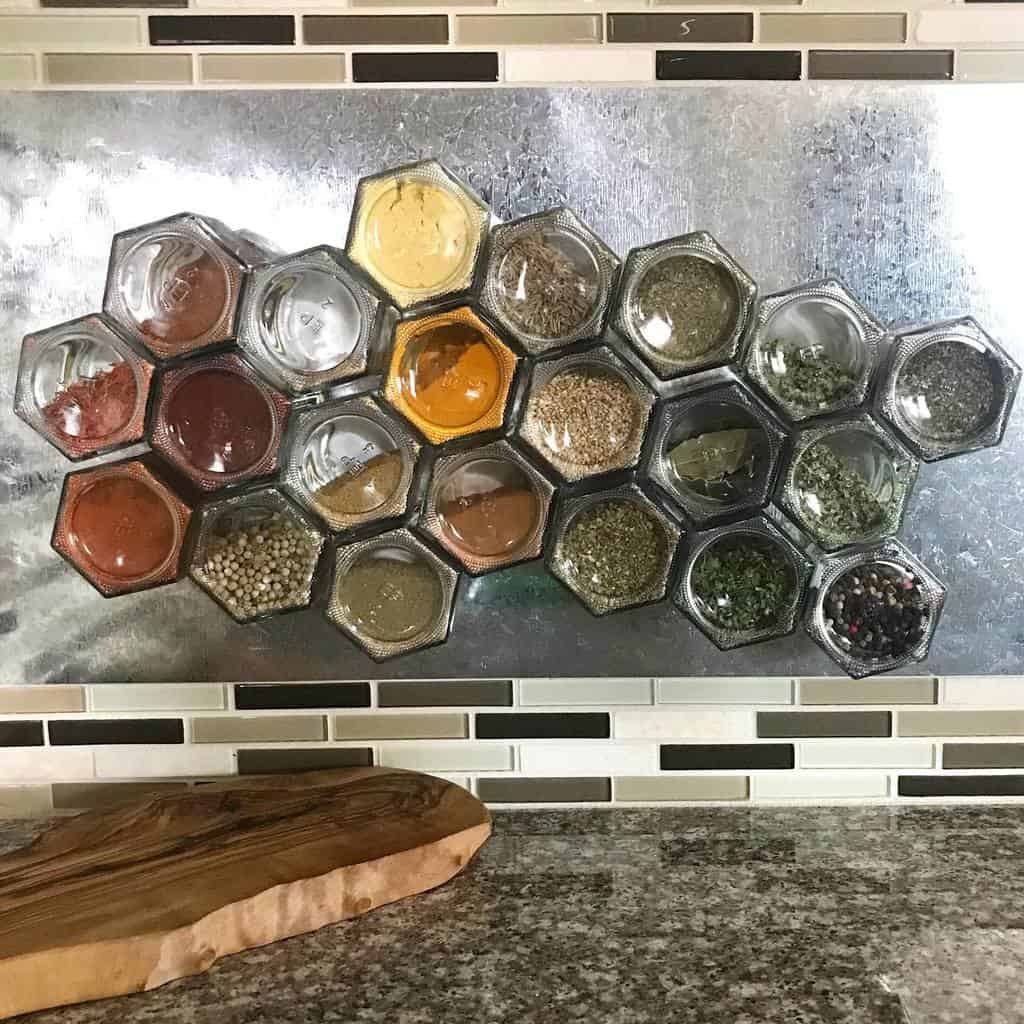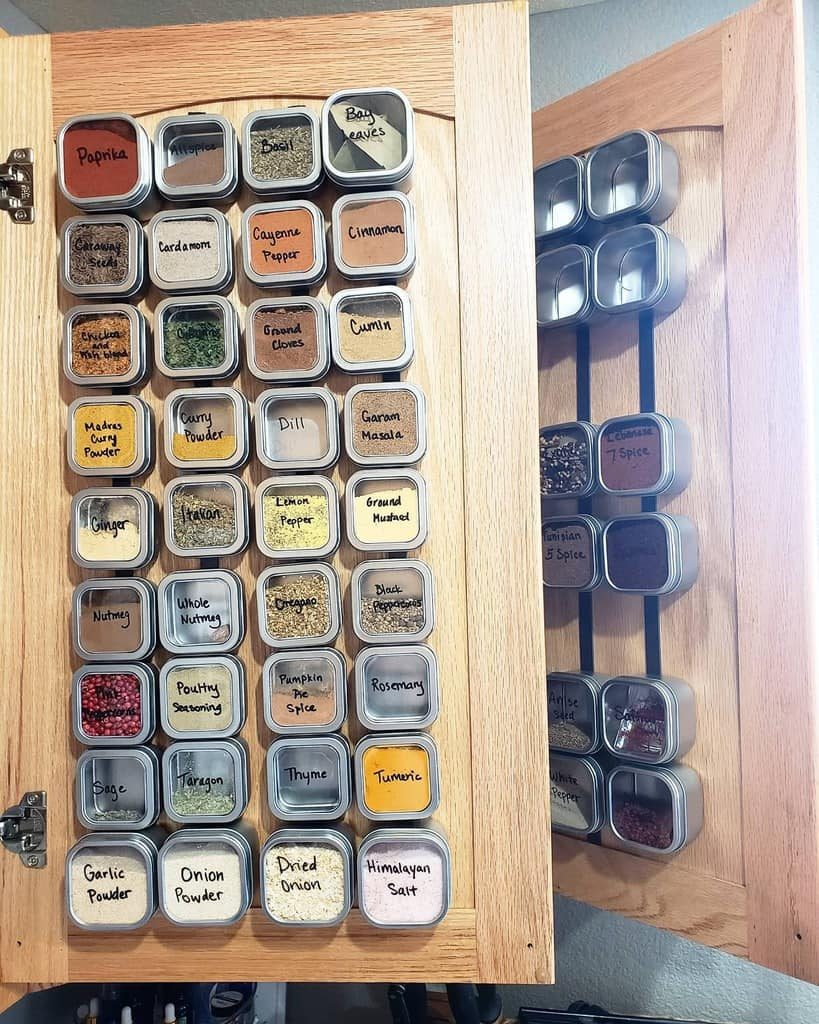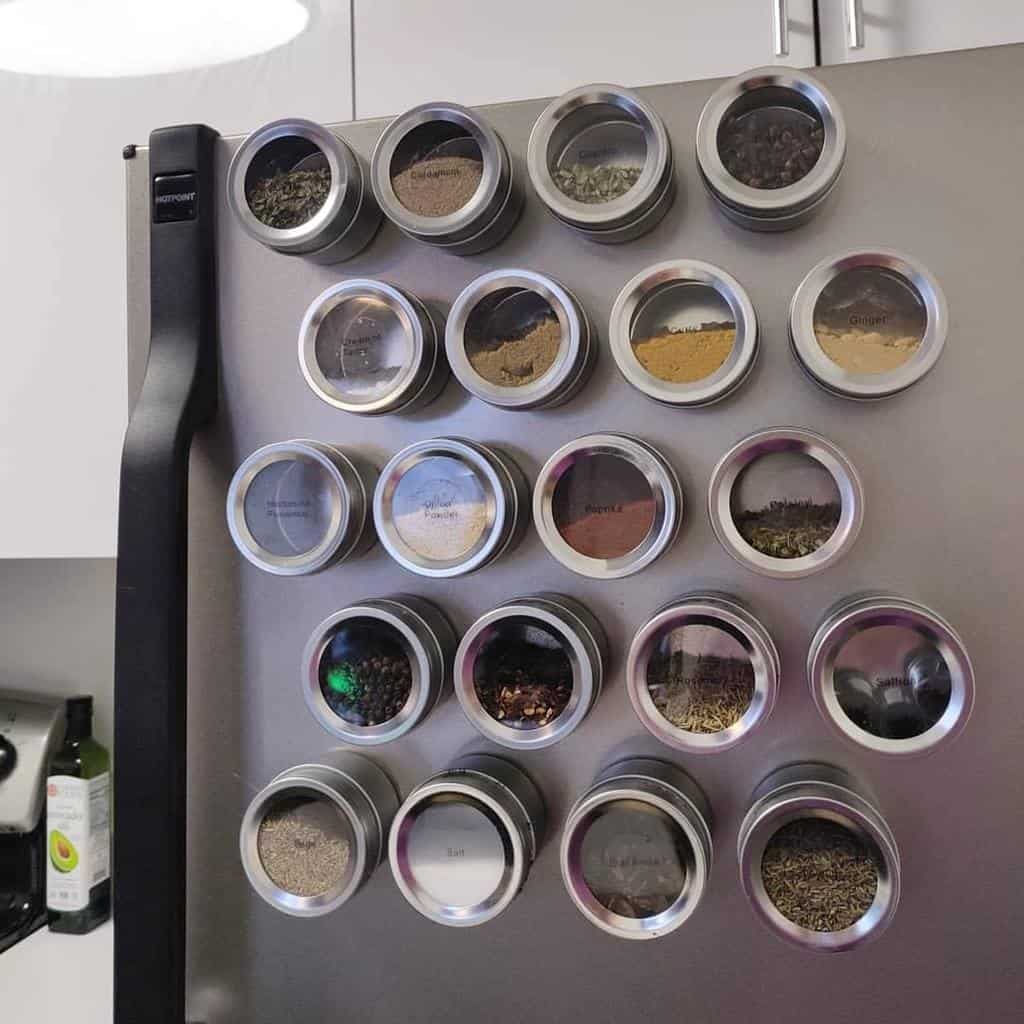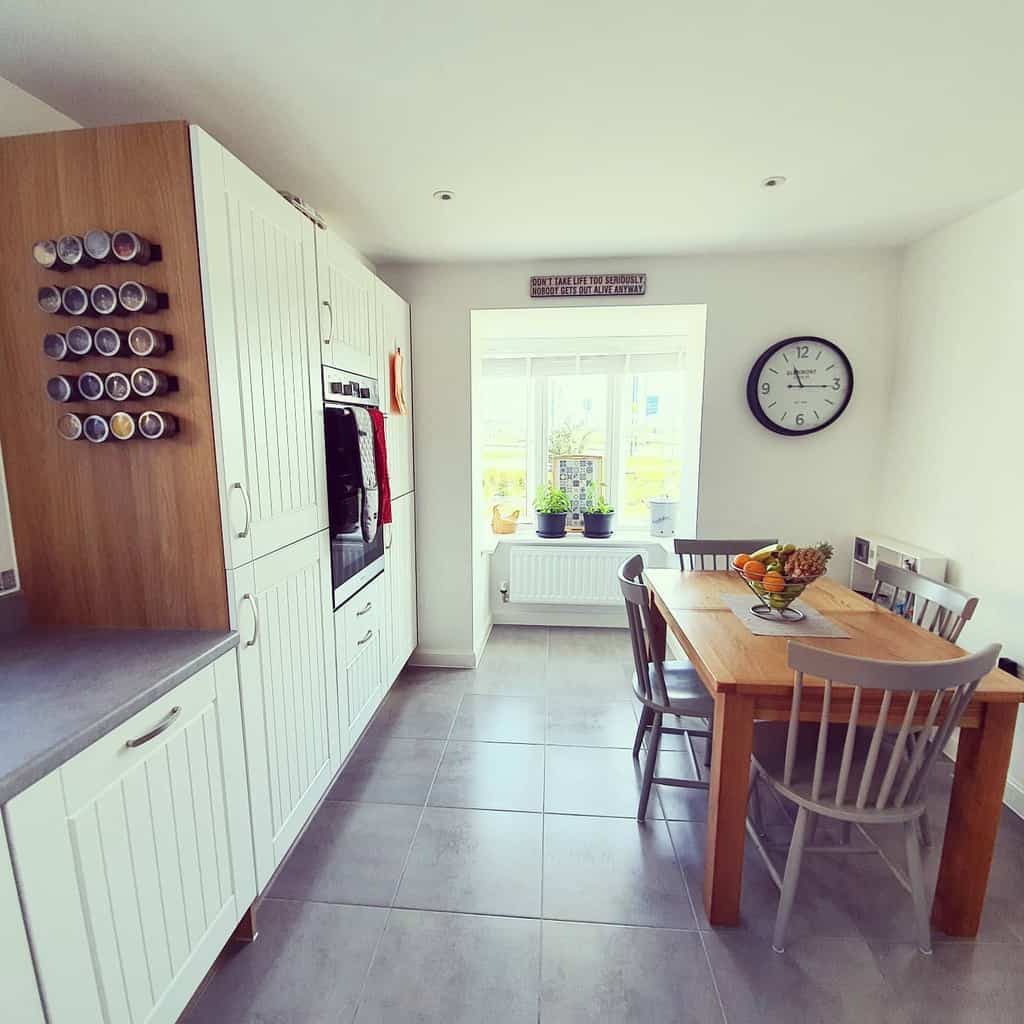 12. Tiered Base Organizer
Spice rack ideas can be as creative or utilitarian as you wish. For example, consider a tiered spice organizer to help with your kitchen layout and organization. You can use tiered systems on countertops, shelves, even mounted on walls if convenient.
This allows you to maximize space while still giving you easy access to all of the spices that you need. While adjustable tiered units may take up a bit more room, they offer unparalleled flexibility and can really help tie the aesthetic of your kitchen together.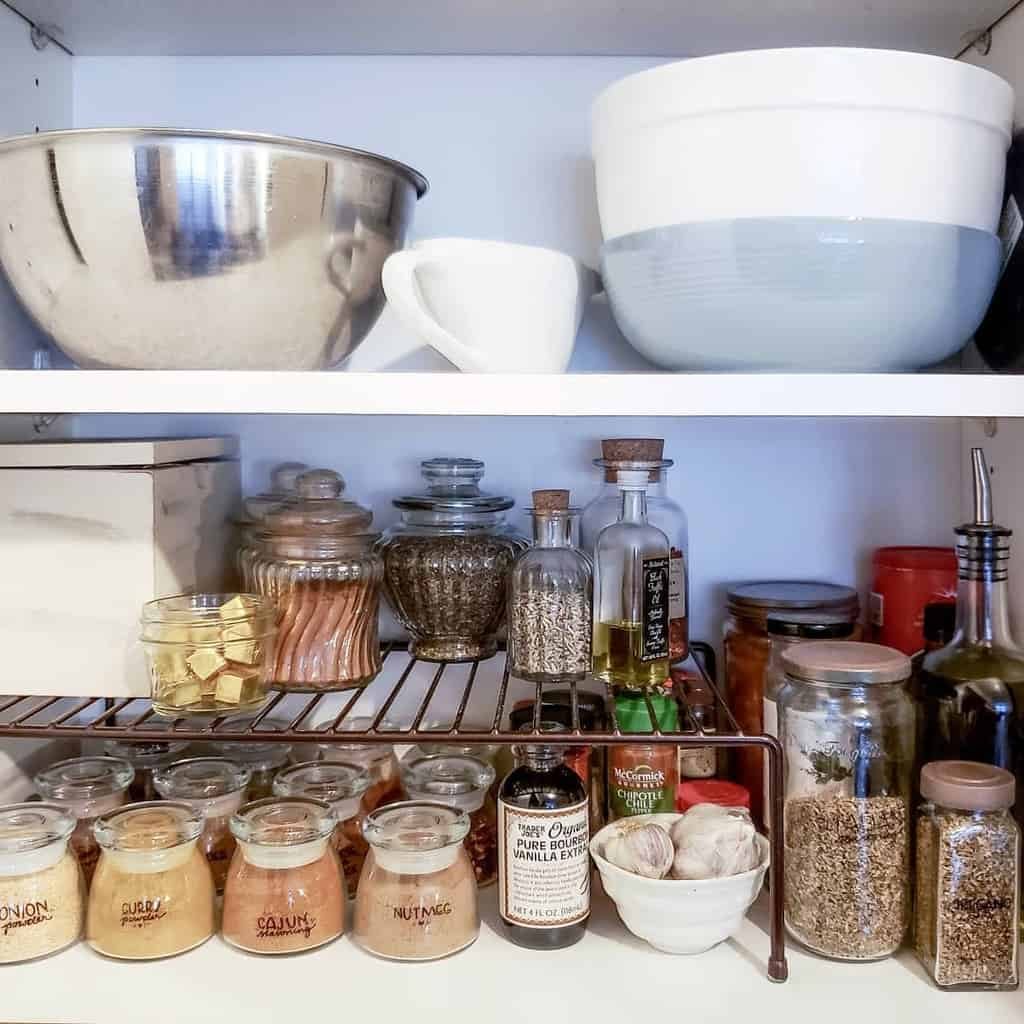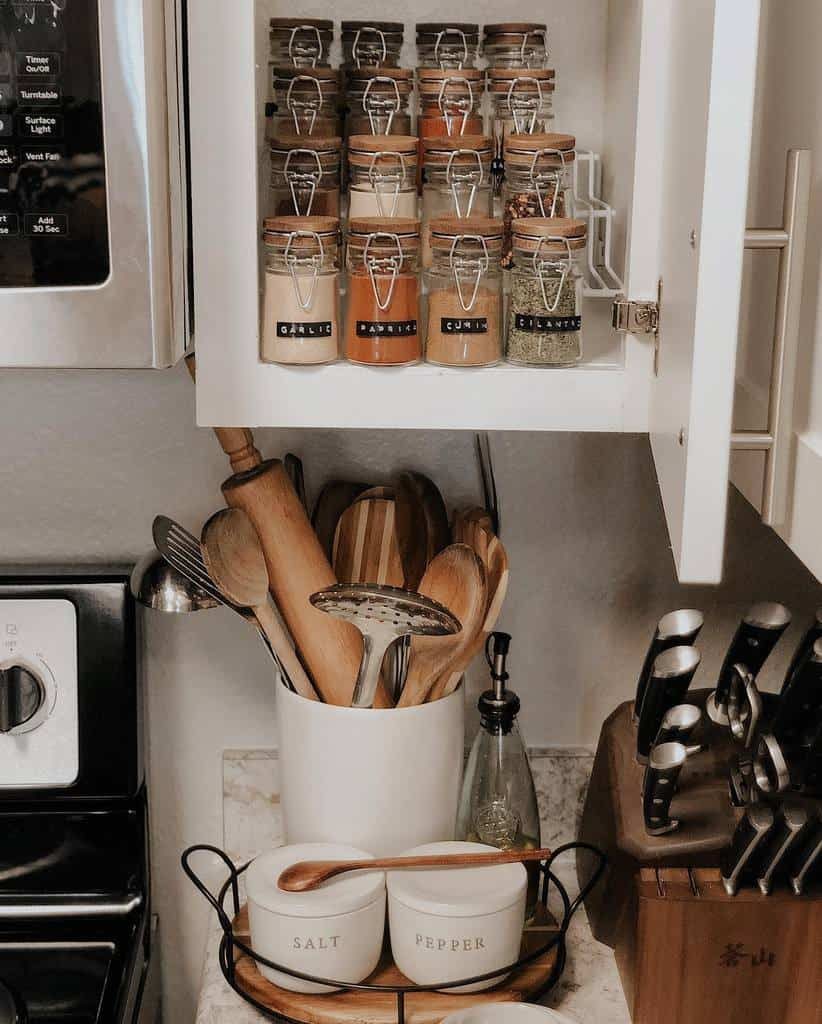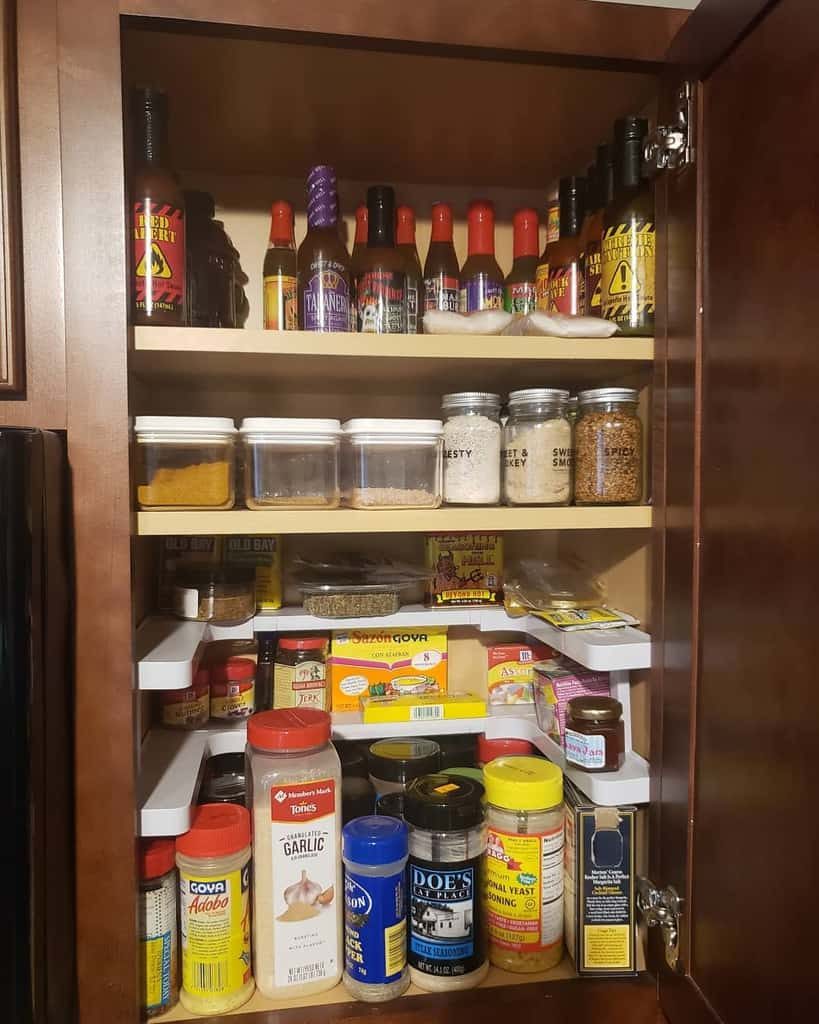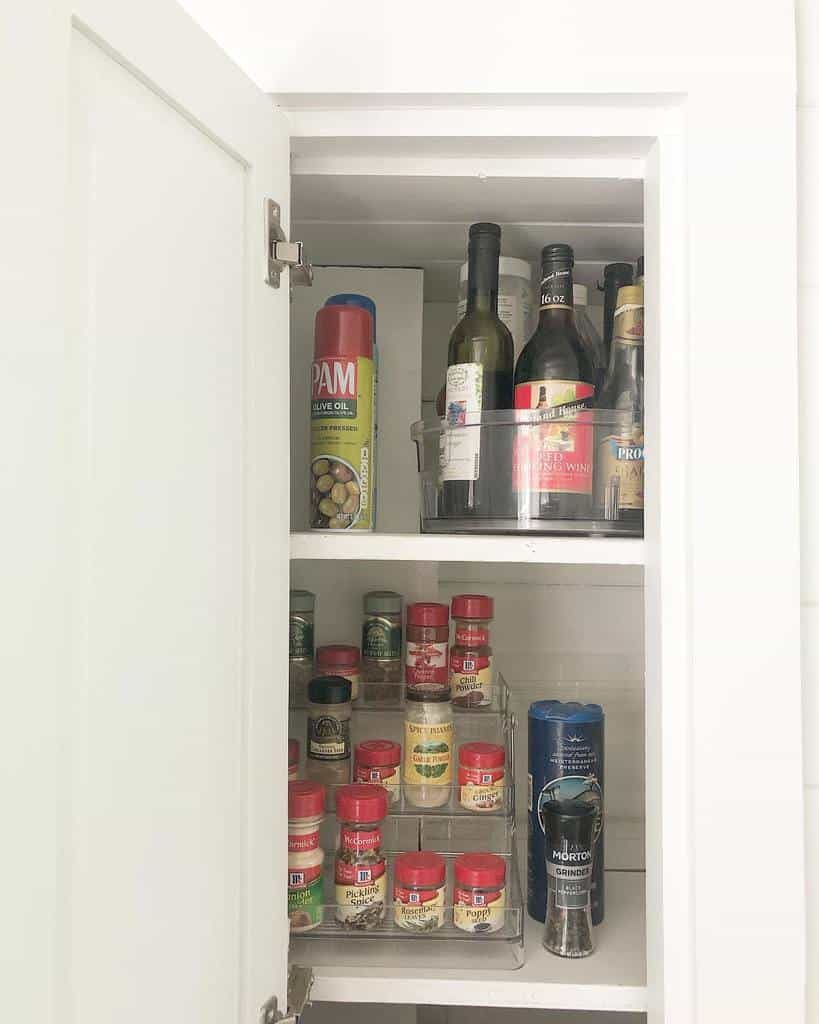 13. Repack In See-Through Glass Containers
A smart idea for repackaging herbs and spices is to repack them in see-through glass containers. This not only looks attractive on a shelf, but it also allows you to more easily compare the size of your remaining spice supply at a glance.
This can make decisions like whether you need to repurchase that onion powder or if you have enough oregano for the week much simpler. Plus, repacking spices in clear containers makes finding the desired ingredient just that much faster when time's tight!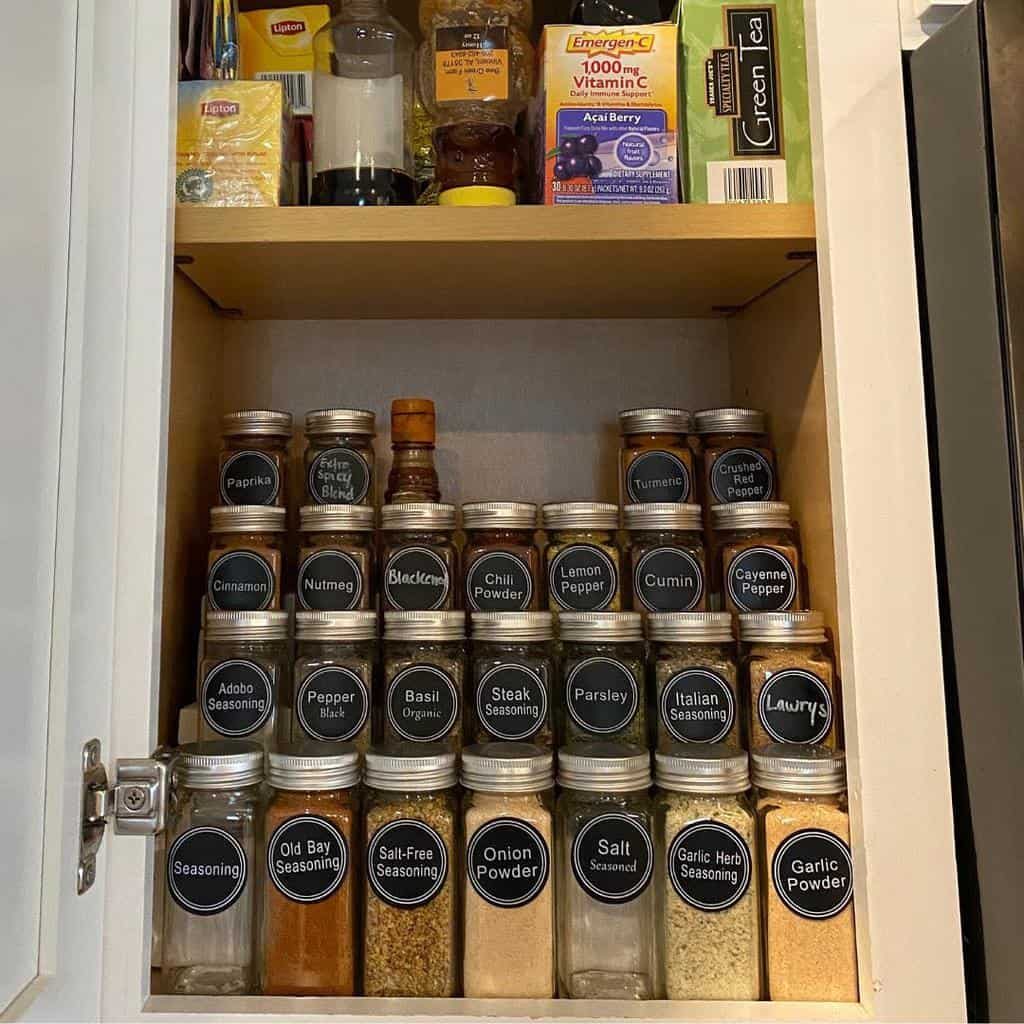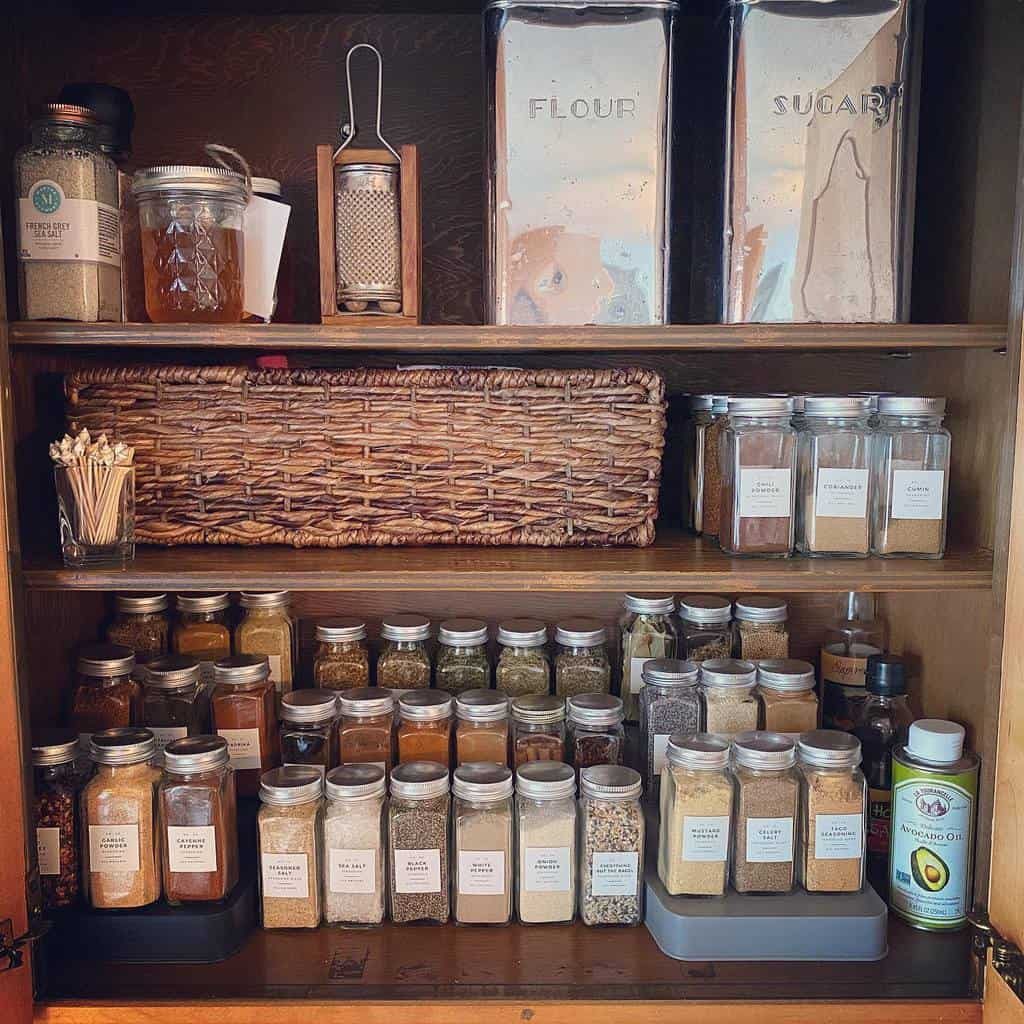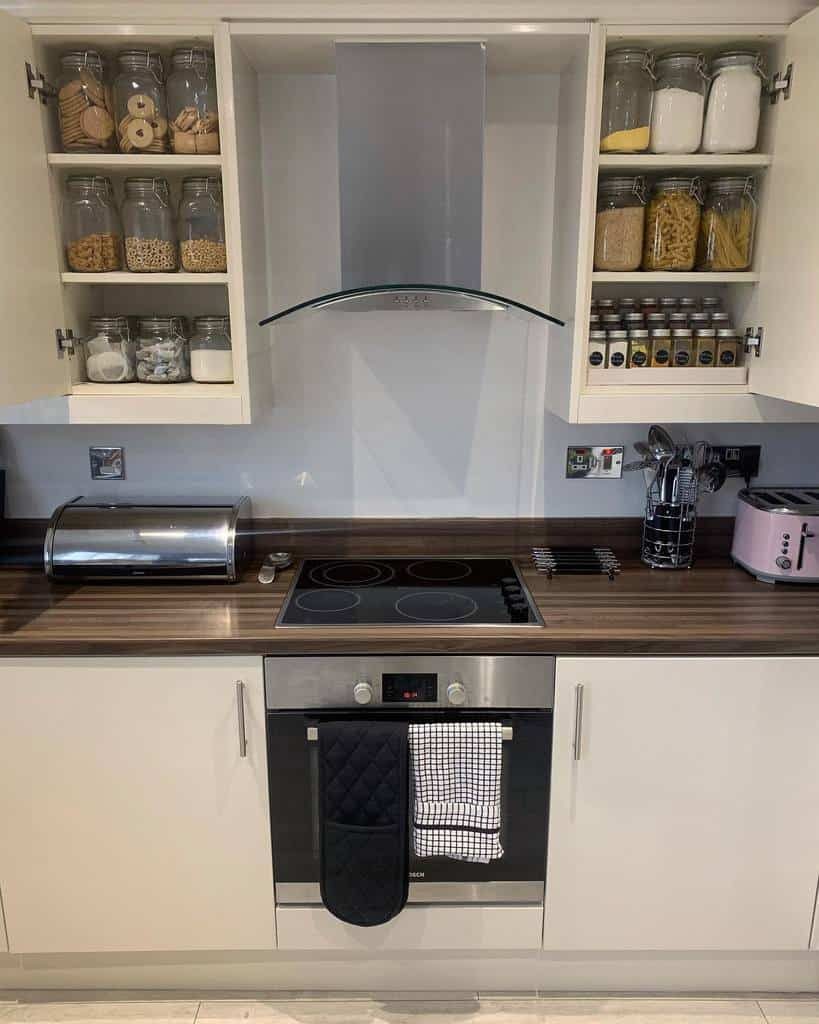 14. Full-Wall Spice Shelf
For those with a love of cooking and a full pantry, getting creative with your spice rack ideas should be top of the list. One of the most popular solutions is to look into full-wall spice shelf options. This offers excellent space-saving storage, as well as allowing you to showcase your bigger spice collection in full view.
Having easy access to all these herbs and spices can take your everyday dishes to the next level; so don't be afraid to bring a little extra pizzazz into your cooking!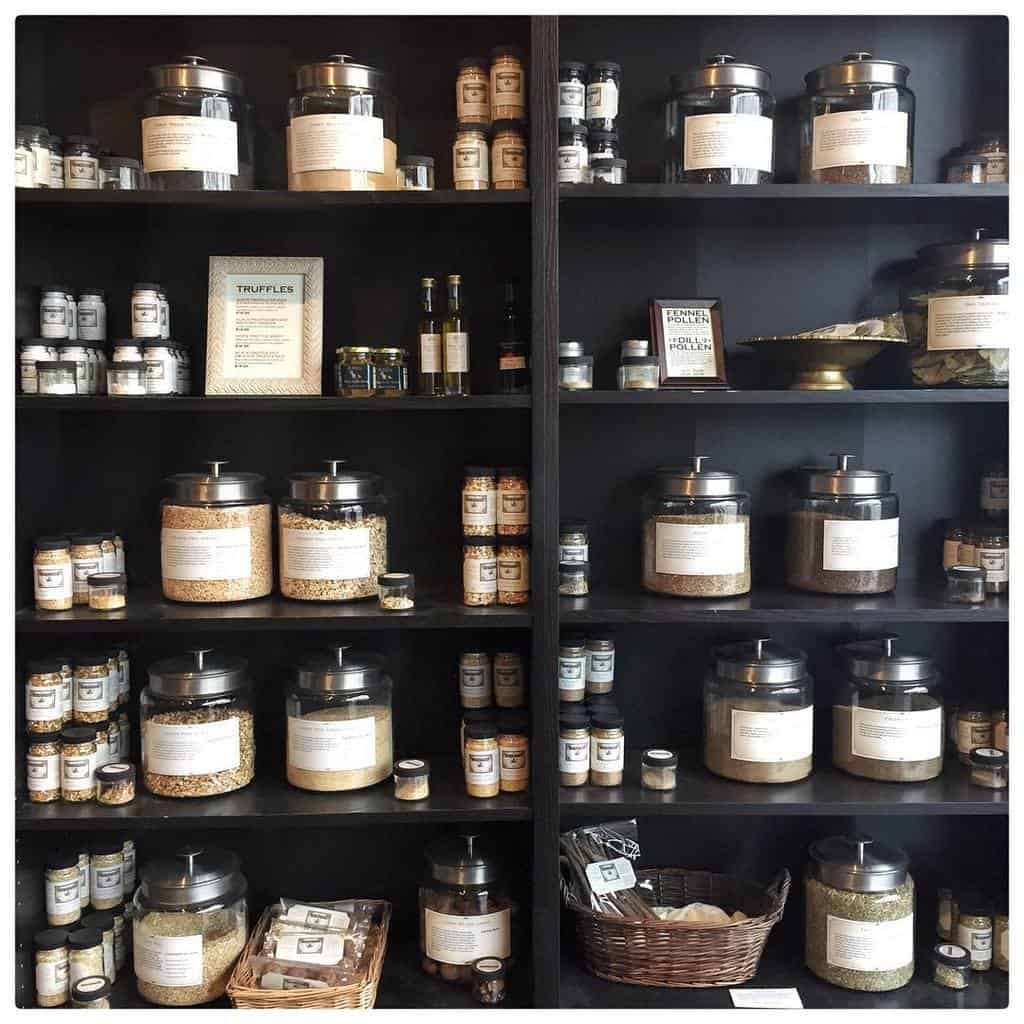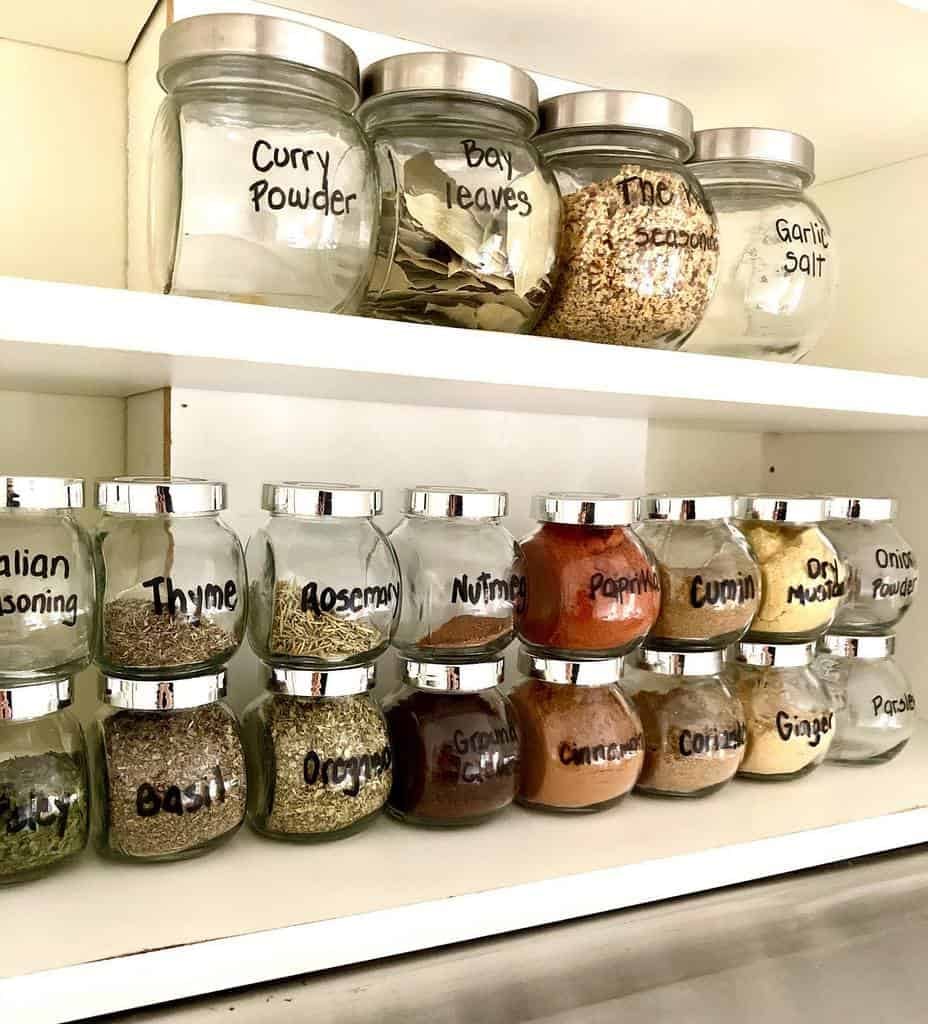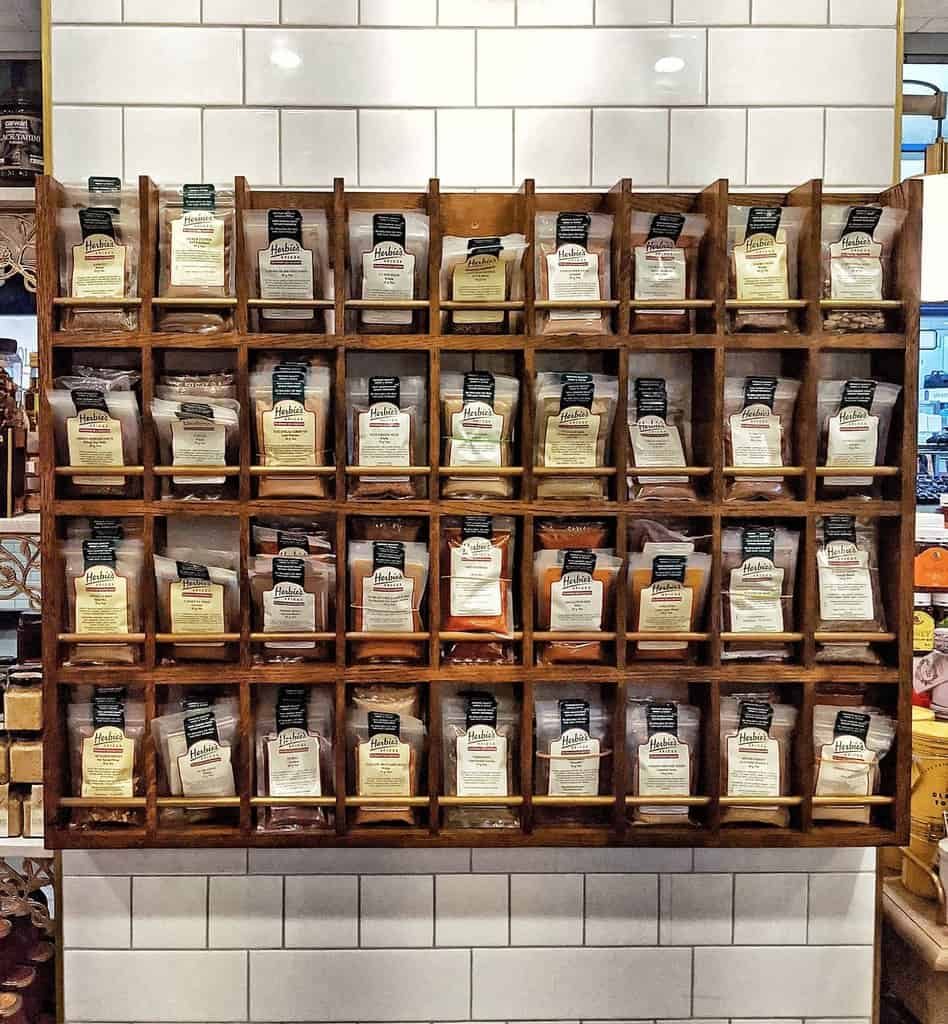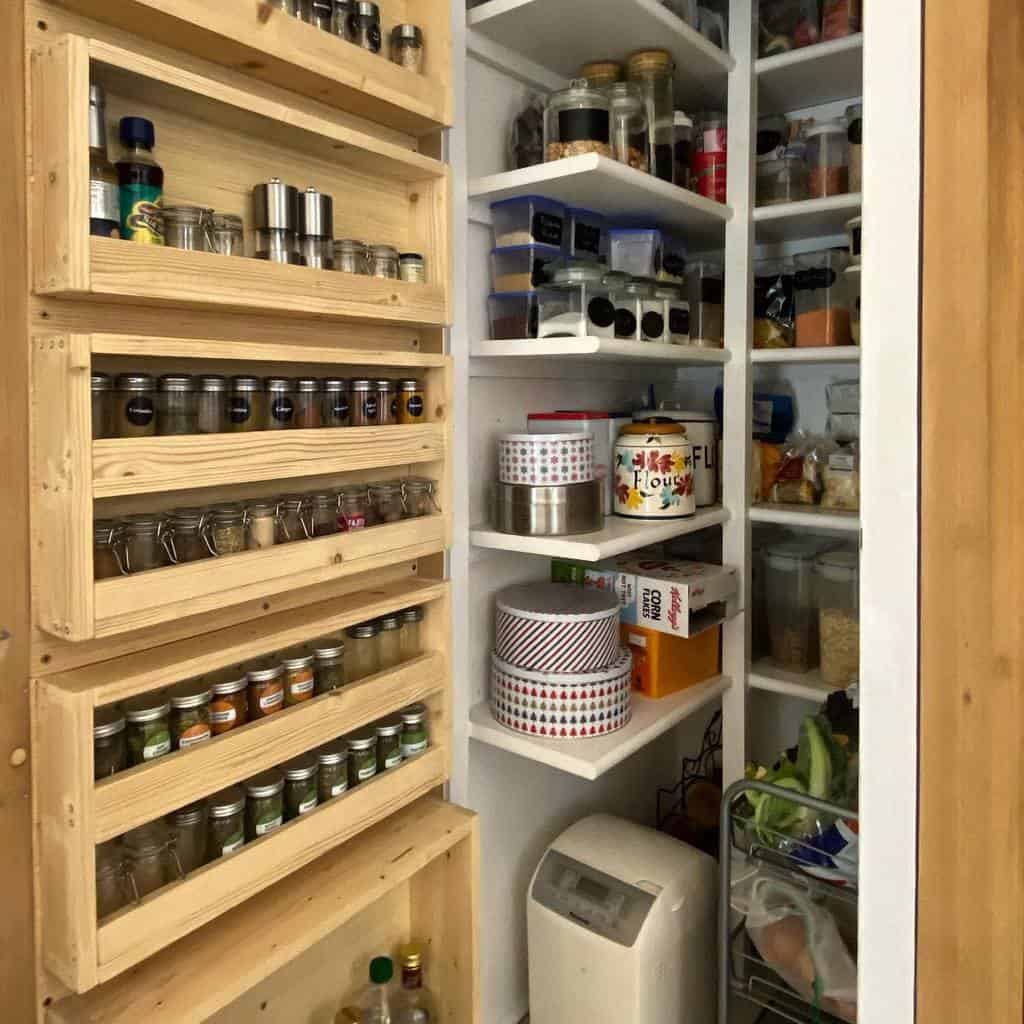 15. Lazy Susan Spice Rack
A revolving Lazy Susan spice rack can be life-changing if you love cooking. It's an easy way to add sophistication to your kitchen while keeping all of your spices organized. Investing in a revolving spice rack ensures that your spices will always be at hand when you need them, and being able to rotate the shelf will help save space and provide quick access to all of your favorite herbs and spices.
Choosing this type of storage solution is a great way to create a stylish, highly functional kitchen – it's a perfect combination of form and function!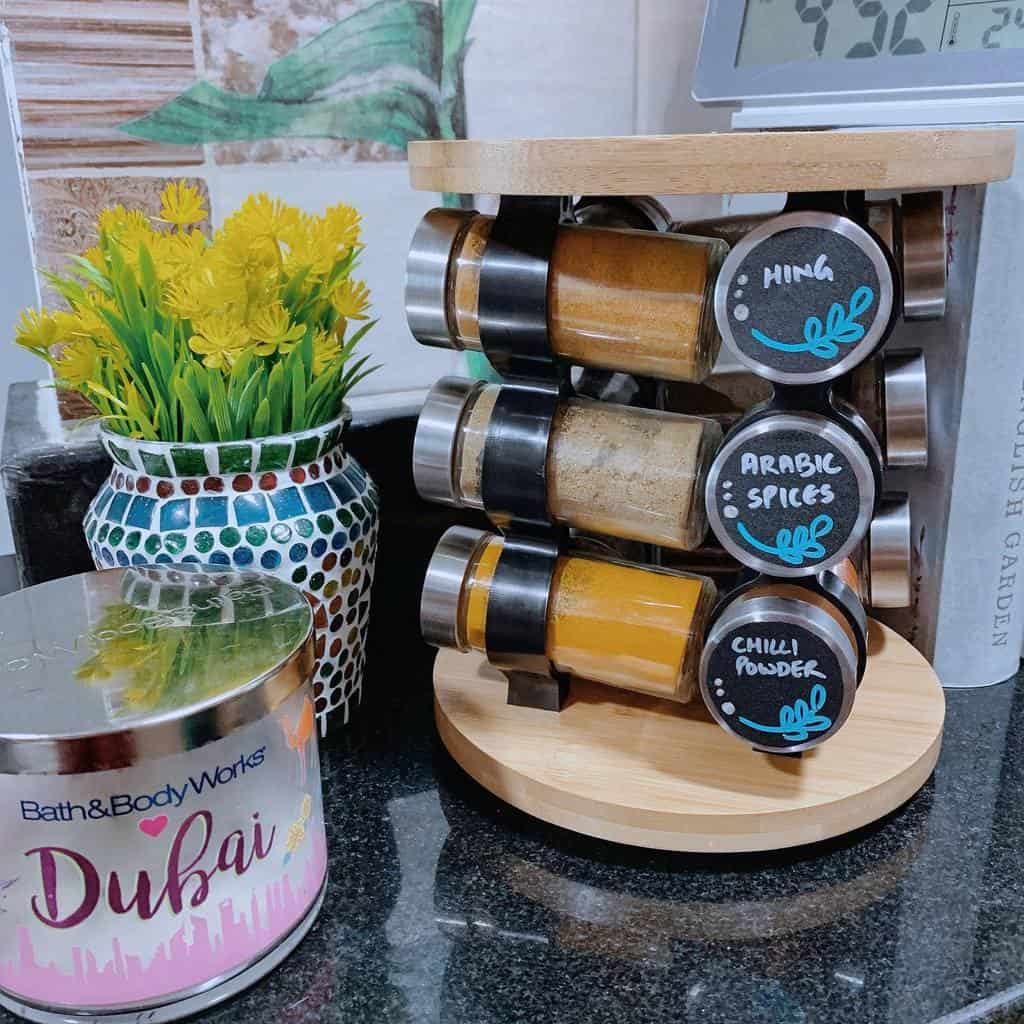 16. Corner Kitchen Shelf
If you're looking for clever ideas to organize your spice rack, consider utilizing corner kitchen shelves. Not only will you make use of all the corner space in your kitchen, but corner shelves provide an ideal spot to store spices and neatly arrange them. Consider repurposing a vintage shelf or searching craft stores for a new corner shelf.
For effective organization, you could also attach small adhesive hooks to the corner shelf to store items such as cooking utensils, measuring cups, and other utensils that aren't quite large enough for their own designated holder. The possibilities are endless!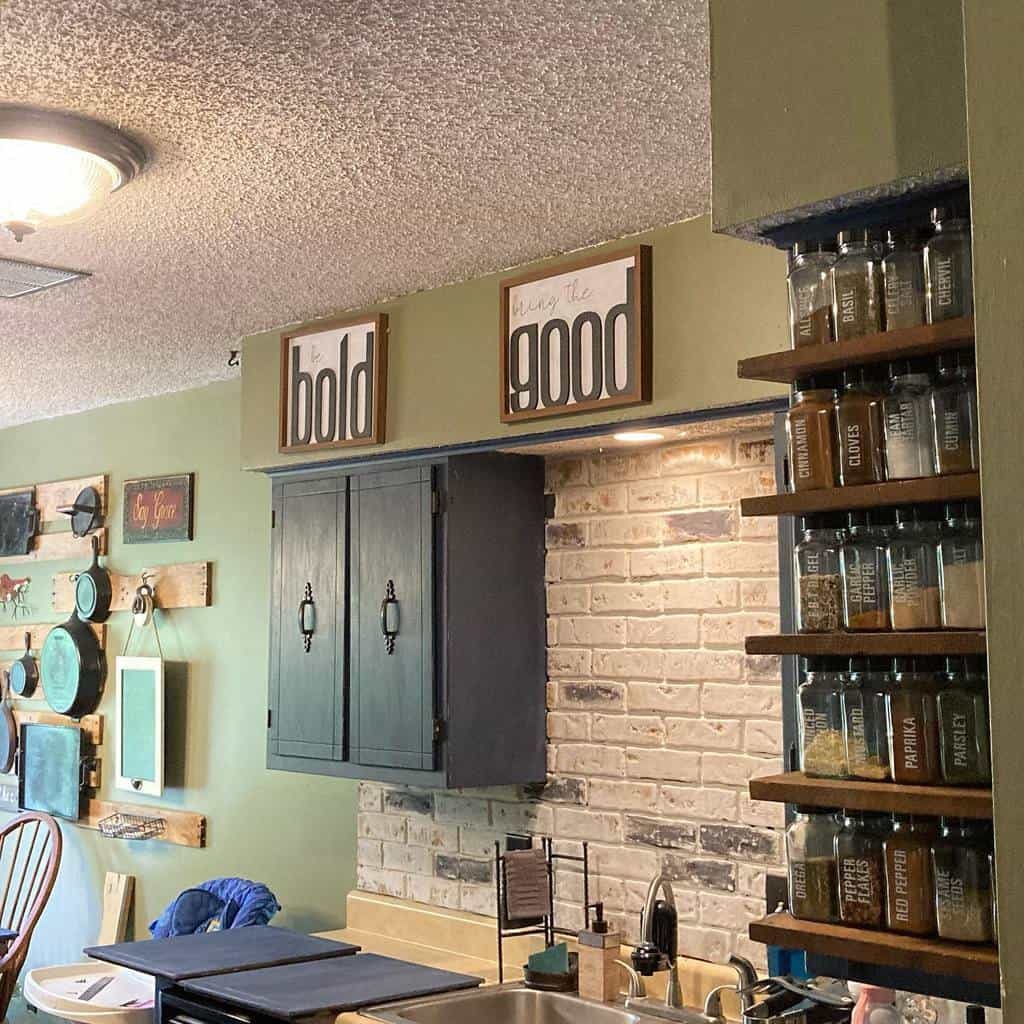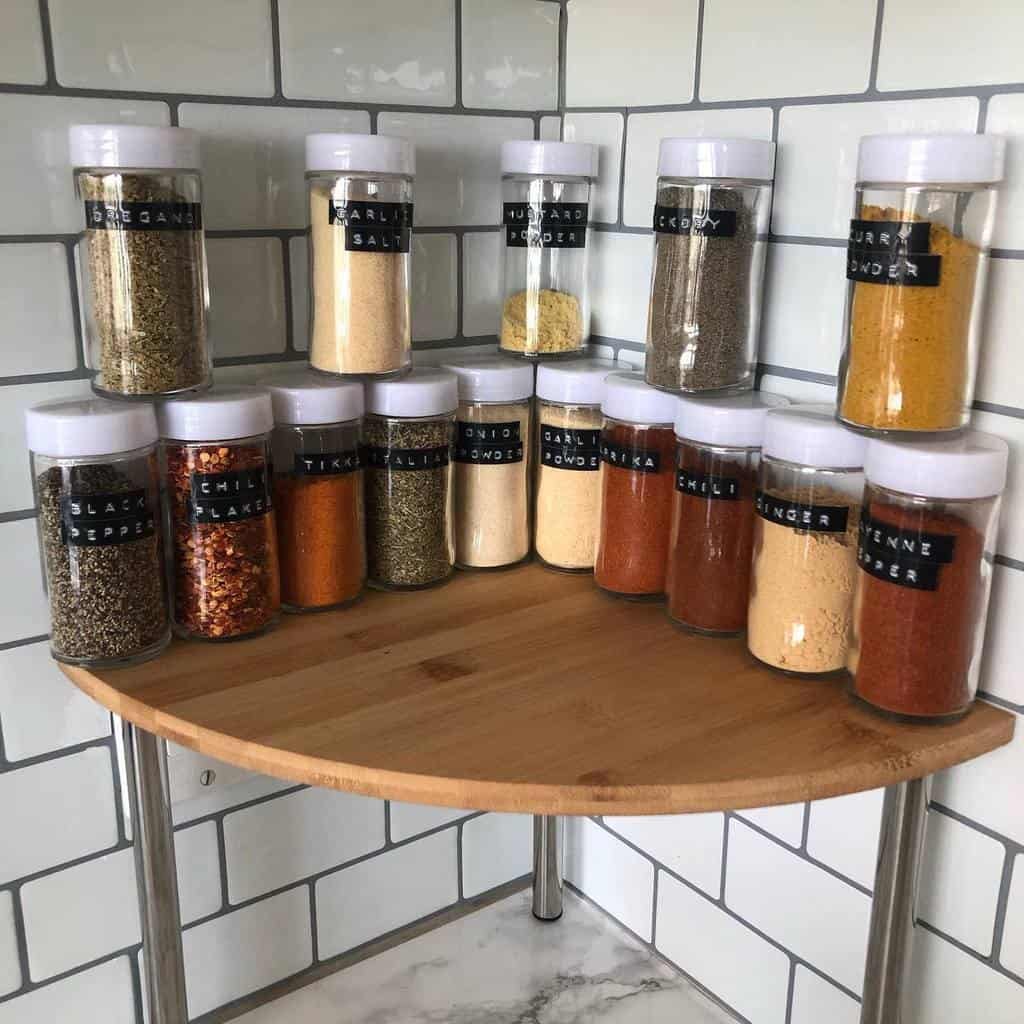 Spice Rack FAQs
How do you organize spices in a small space?
Choose a spice rack that will work with your space. Start by deciding where in your kitchen it makes the most sense to store your spices. Then find a rack that will fit in that space. Choose smaller spice containers.
Is it better to store spices in glass or plastic?
Expensive or high-quality spices are always stored in glass containers. Plastic is a porous material that can allow tiny amounts of air to leak in and degrade the spice. Glass doesn't have this issue and can prolong the spice's lifespan. You can also seal glass containers better.
What is the best way to organize spices?
The best spice organization method is the one that will make sense to you. For some, this means organizing your spices in alphabetical order. Another option is to organize them by cooking style or ethnicity. However you organize them, choose a display method that lets you see everything. That way, you don't have a spice that gets hidden and forgotten about.