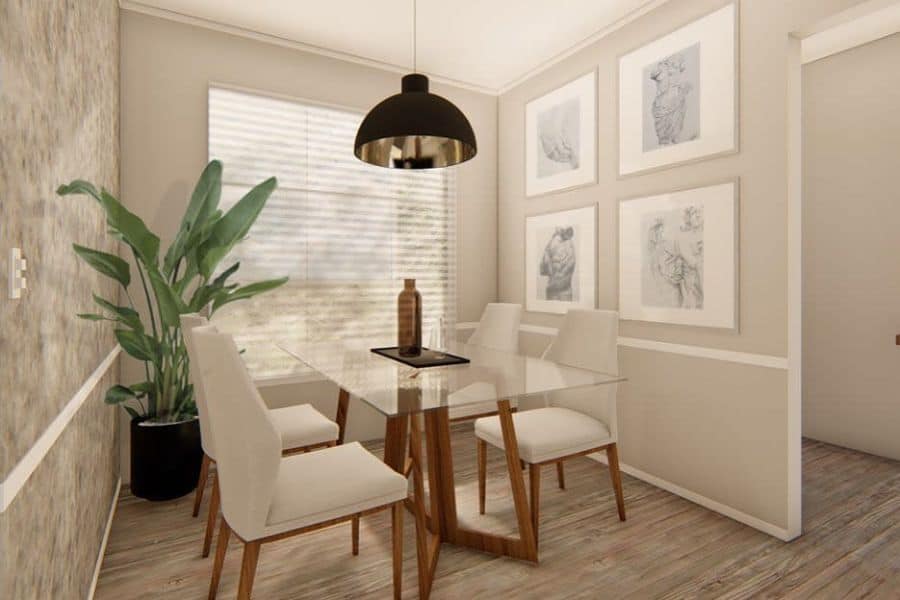 64 Small Dining Room Ideas for a Tiny Dining Area
by — Kendrick Hulse

Published on July 19, 2021

Updated on March 6, 2023
The formal dining room has been fazed out of many contemporary homes. In its place, we often see kitchen nooks, makeshift breakfast bars, and tiny rooms that can barely hold a full-size dining table.
Even if sit-down meals are a rarity in your home, a dedicated dining room is a valuable asset. So making the most out of whatever dining space you have available is becoming more important than ever.
Check out the small dining room ideas below to learn how to transform limited square footage into a stylish gathering space for family and friends alike.
1. Try A Banquet Seating For Breakfast & Tea
Looking for smaller dining room ideas? Banquet seating is a great way to maximize the seating in your dining room! Because banquet-style seating creates an intimate, casual dining experience, it's perfect for snacks, breakfast, and tea. Put some comfy pillows in matching colors on each bench for added comfort.
Finally, don't forget to create a cheerful ambiance by painting the walls with bright hues, adding warm lighting, and decorating the table setting with colorful dishes and patterned napkins. These small dining room ideas will give you the perfect space for cozy meals with family and friends!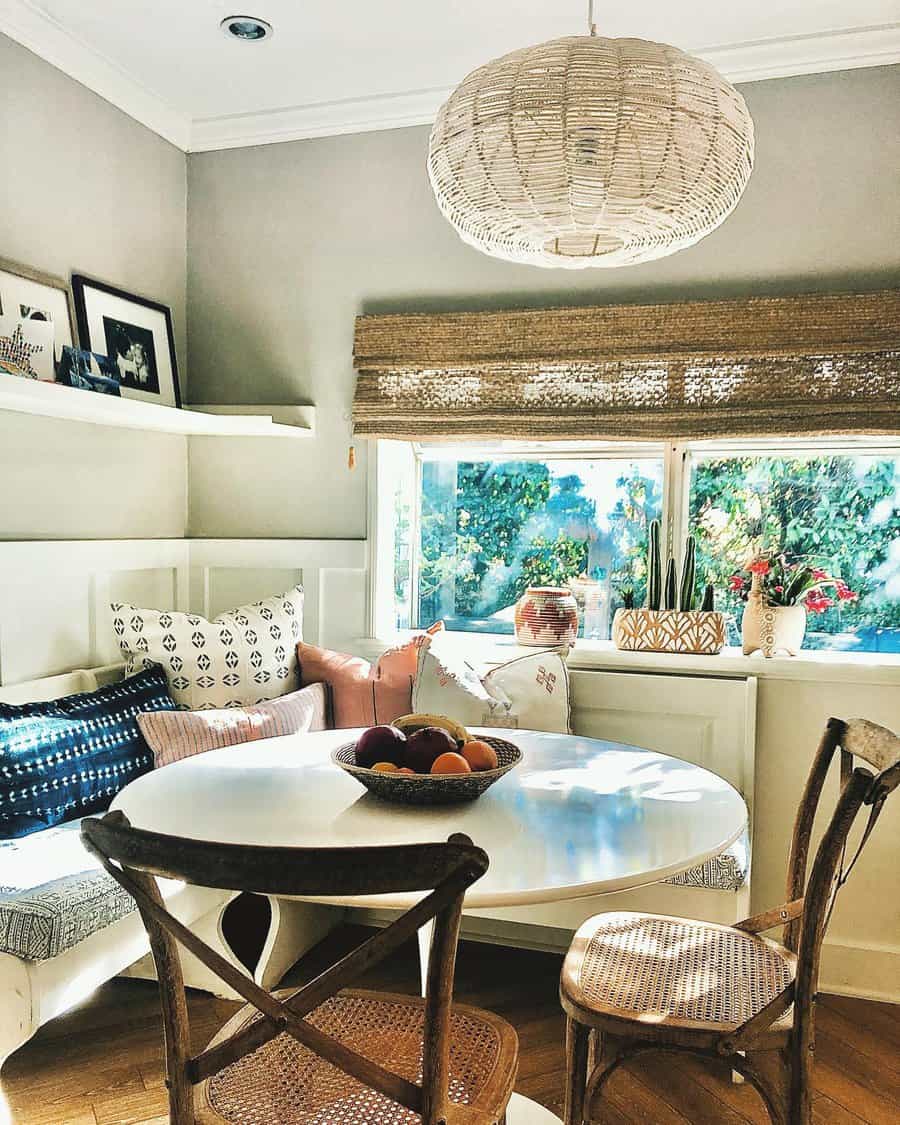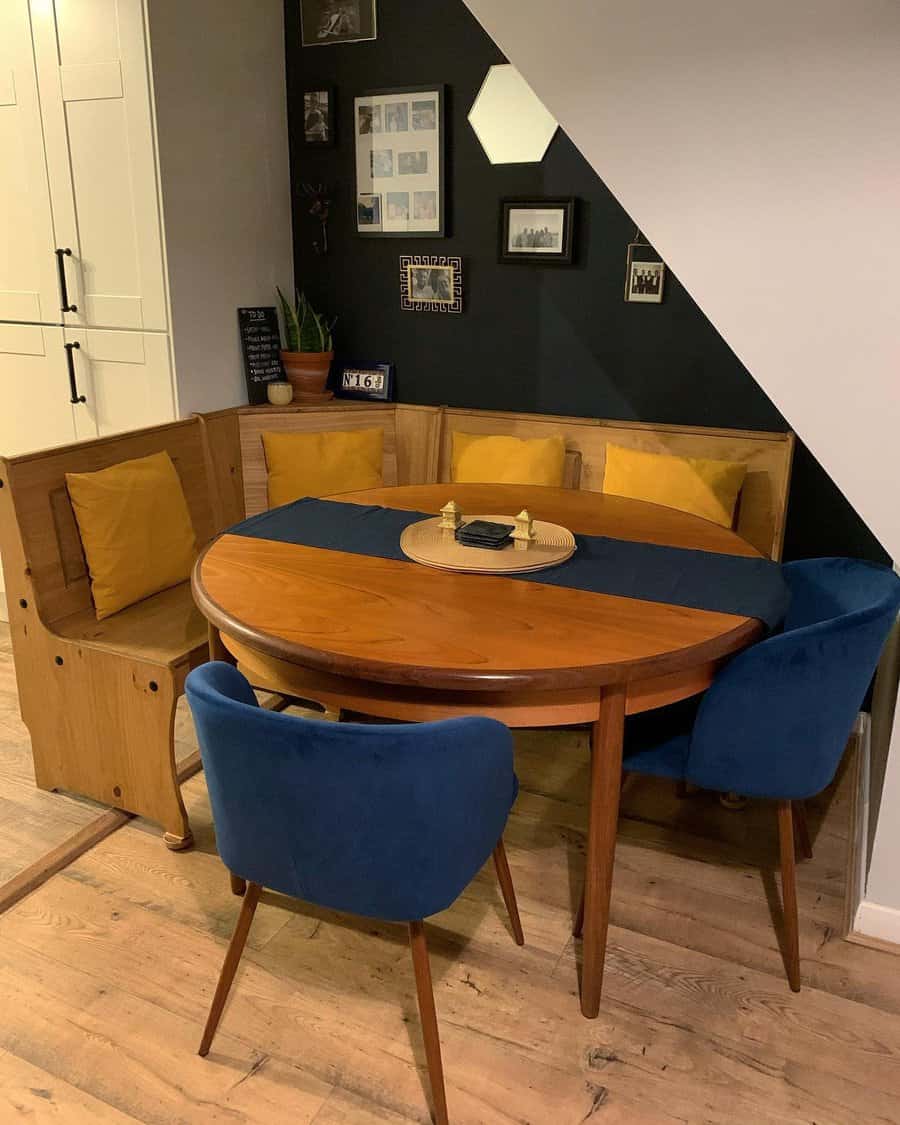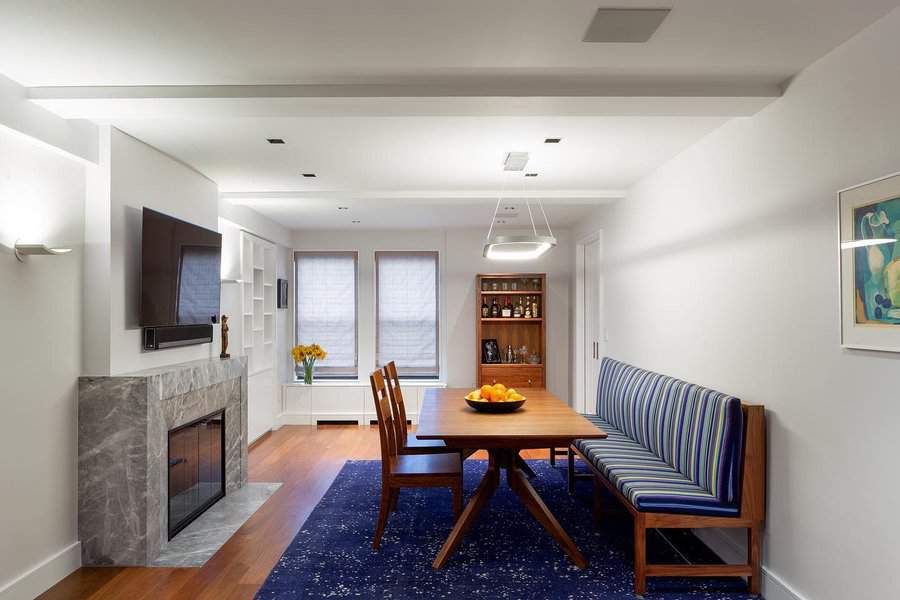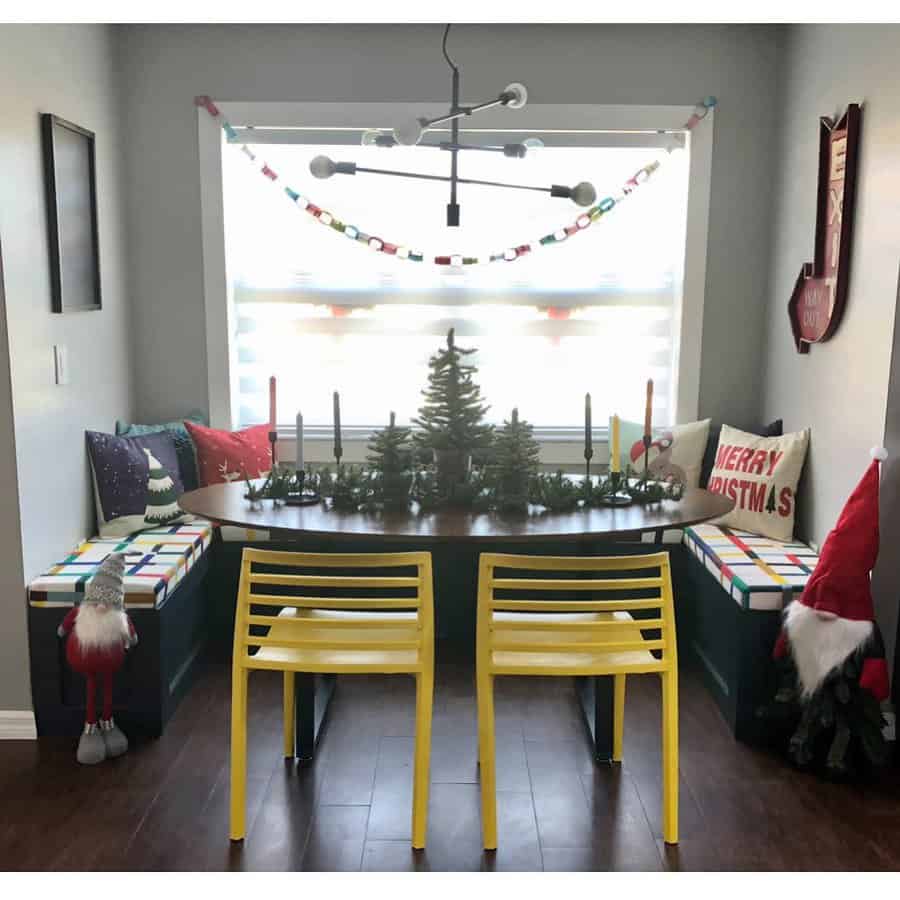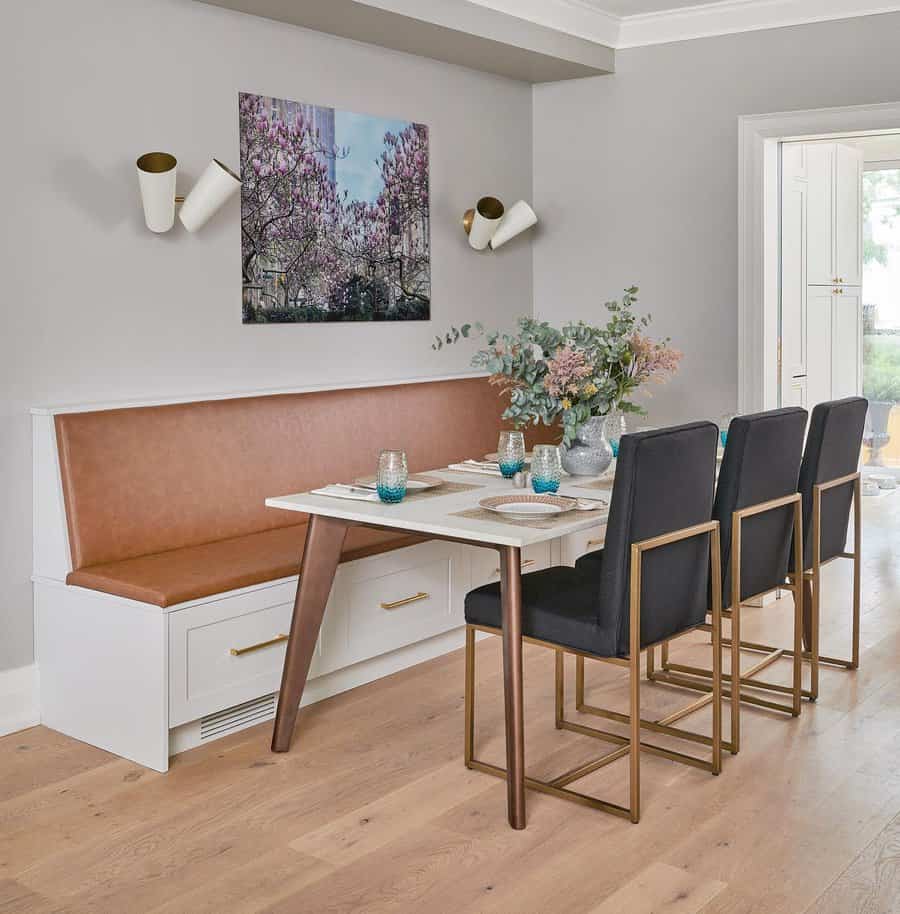 2. Kitchen Island Dining
If you're looking for ways to make the most of your small dining room, there are plenty of creative solutions. Consider incorporating a kitchen dinner table into your kitchen space; this is a great option for small spaces or apartments since it eliminates the need for a formal dining area.
Alternatively, a kitchen island can also be used as an extra dining spot and doubles as a stylish workspace. Whatever solution you decide on, there are always clever ideas to maximize the layout of a small area and turn your kitchen into an inspired place to dine.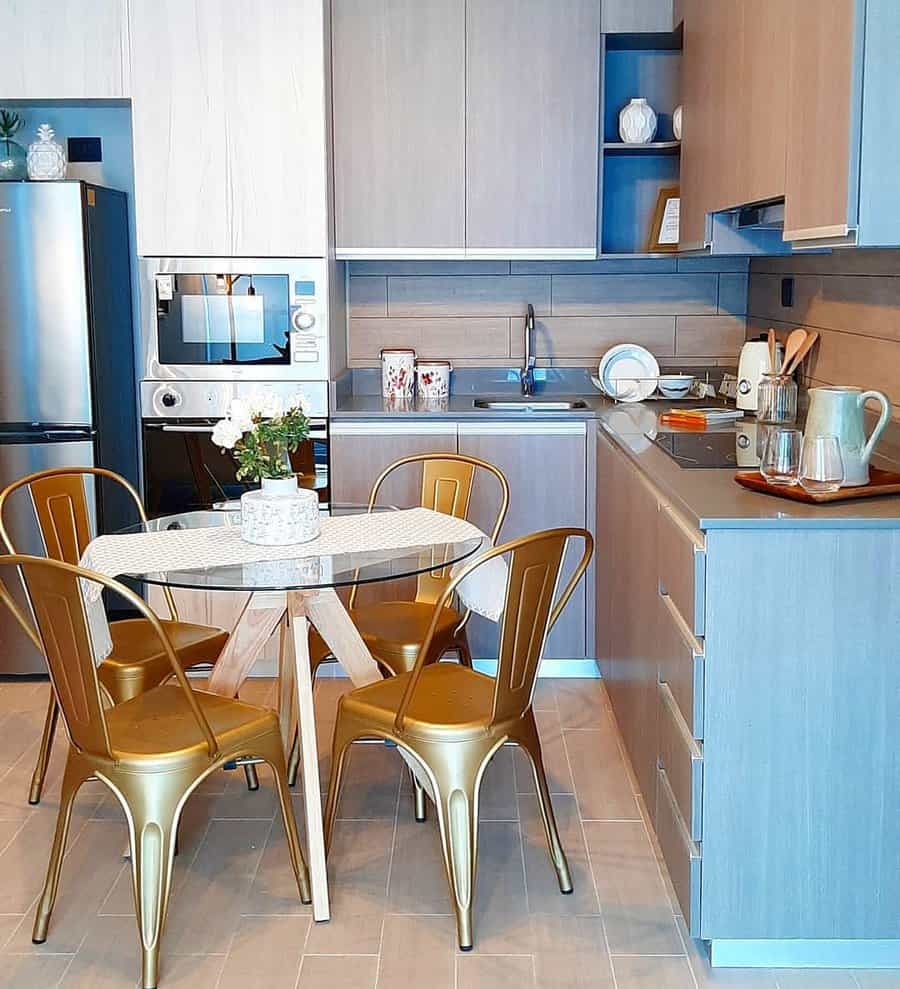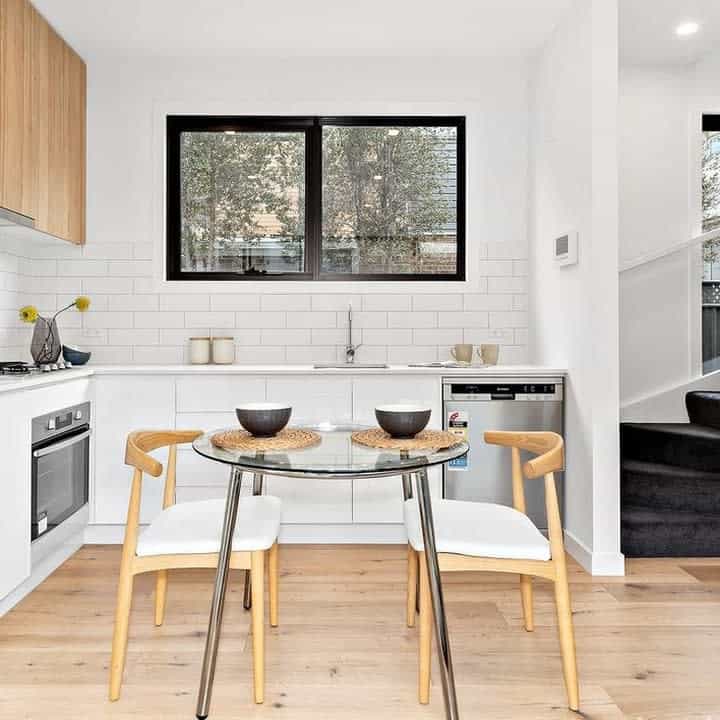 3. Diverse Seating With A Bench
An easy and creative way to spice up your small dining room is with diverse seating options. Don't think that you need just chairs; why not add a bench? Benches look more inviting and fit many people on them so you won't feel so cramped. They are also usually quite affordable due to their diverse styles, materials, and versatility.
Add some cushions or blankets if you'd like to make it even cozier! You can mix up the seating while maintaining a cohesive style too by matching the colors, prints, etc. Lastly, use all the vertical space you have: hang mirrors and art pieces to give an illusion of openness and place decorative storage towards the ceiling for an element of surprise – it's surprising how much impact these seemingly tiny tweaks can make.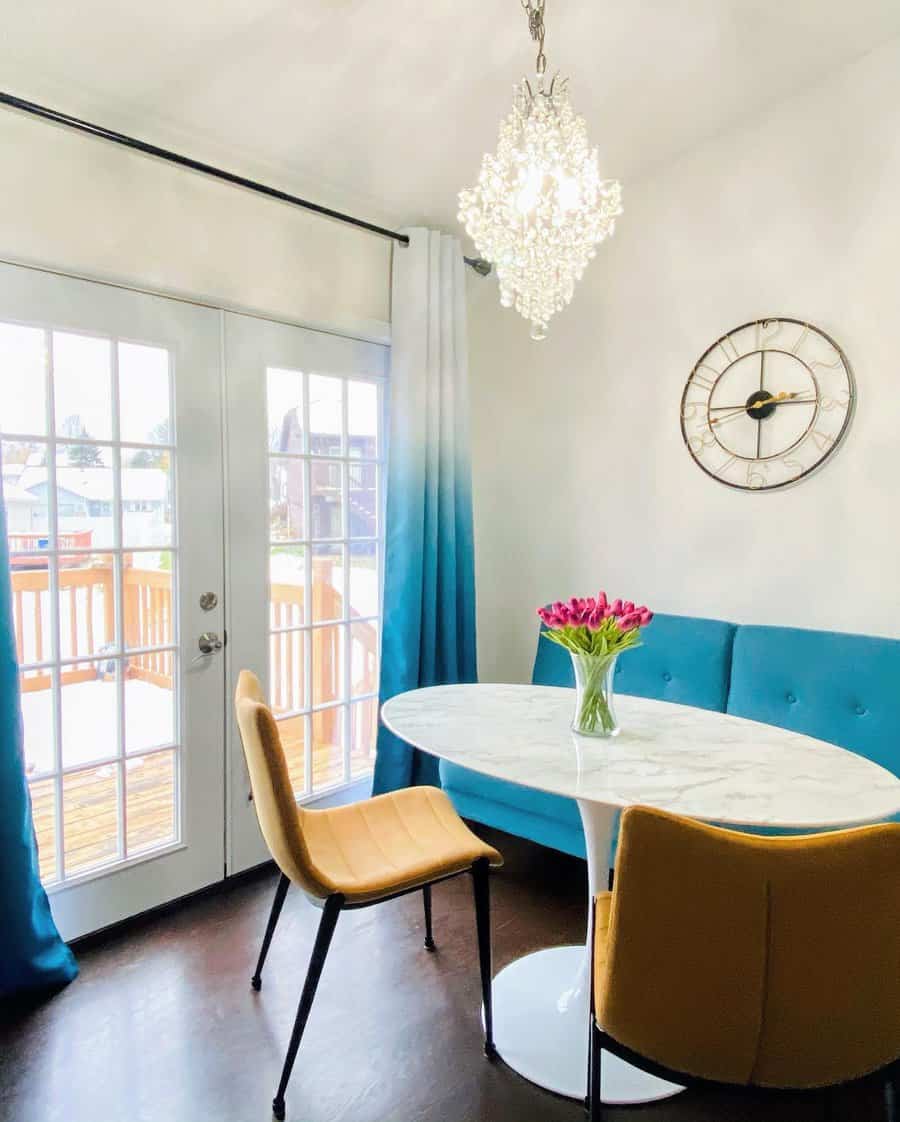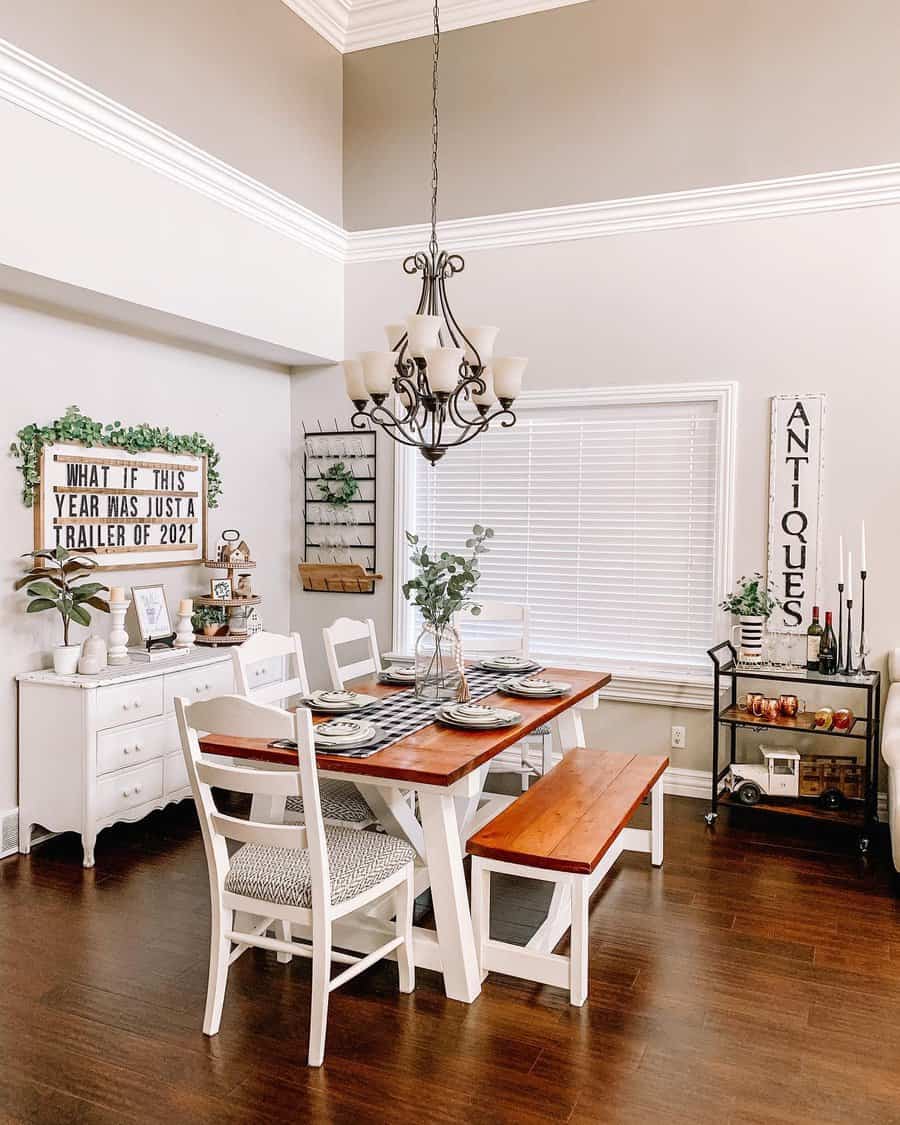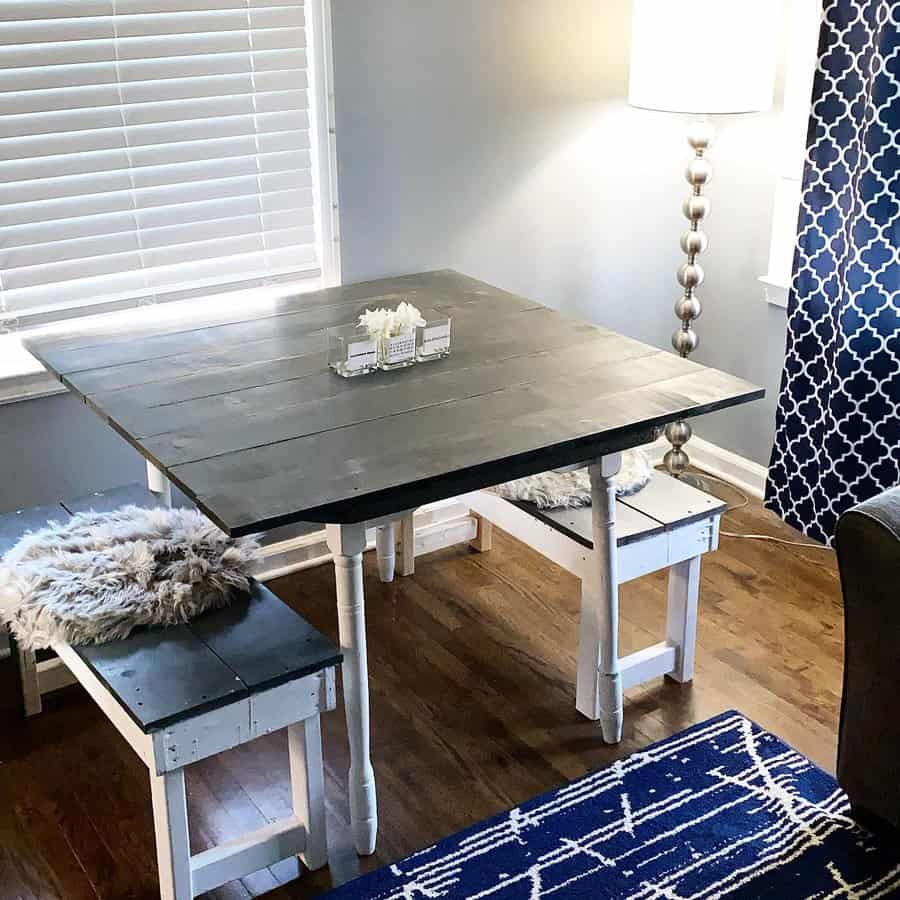 4. Add Elegant Pendant Lighting To Lift Up The Space
If you want to make the best of a small dining room, consider incorporating lighting features that will give it a unique, cozy touch. Installing dining tables with pendant lighting is a particularly elegant way to bring light and style together in your dining room.
This type of lighting adds an unexpected visual element that can truly glam up the entire space. If you're opposed to installing ceiling lights or don't have the space for them, another option could be bringing in natural light through skylights – not only will they enhance the room's brightness, but they'll also give it a dreamy atmosphere that no artificial lighting could ever match. Adding great lighting is an easy way to make your dining room look even more inviting and put together!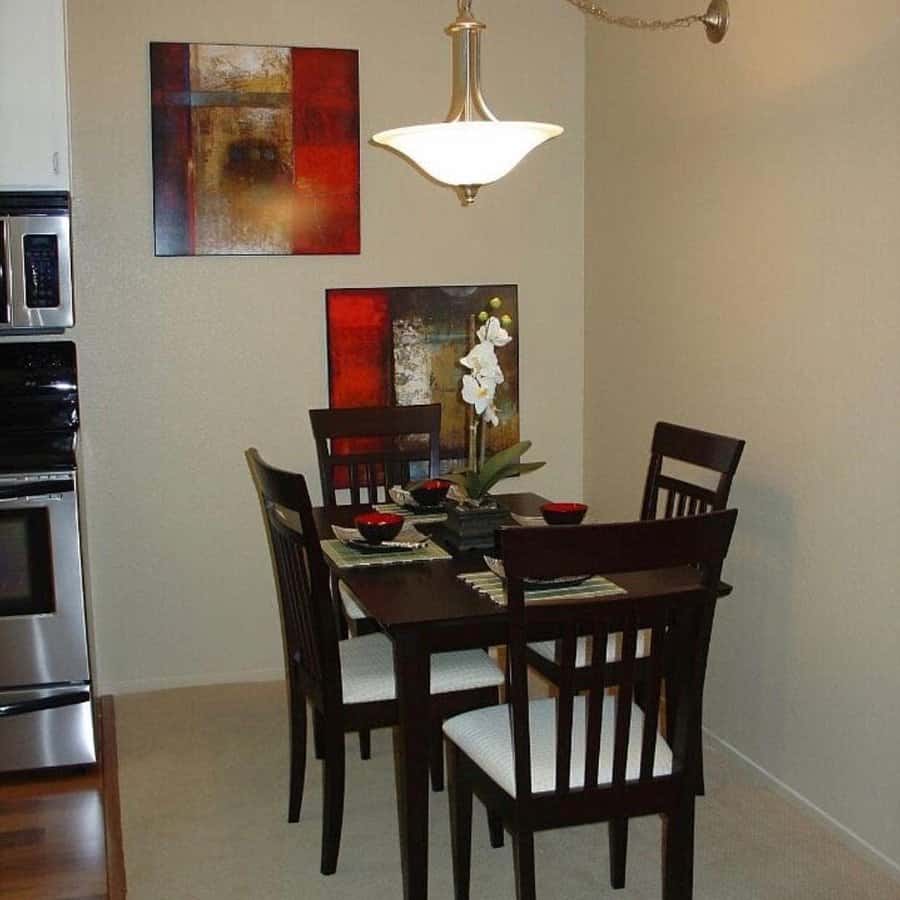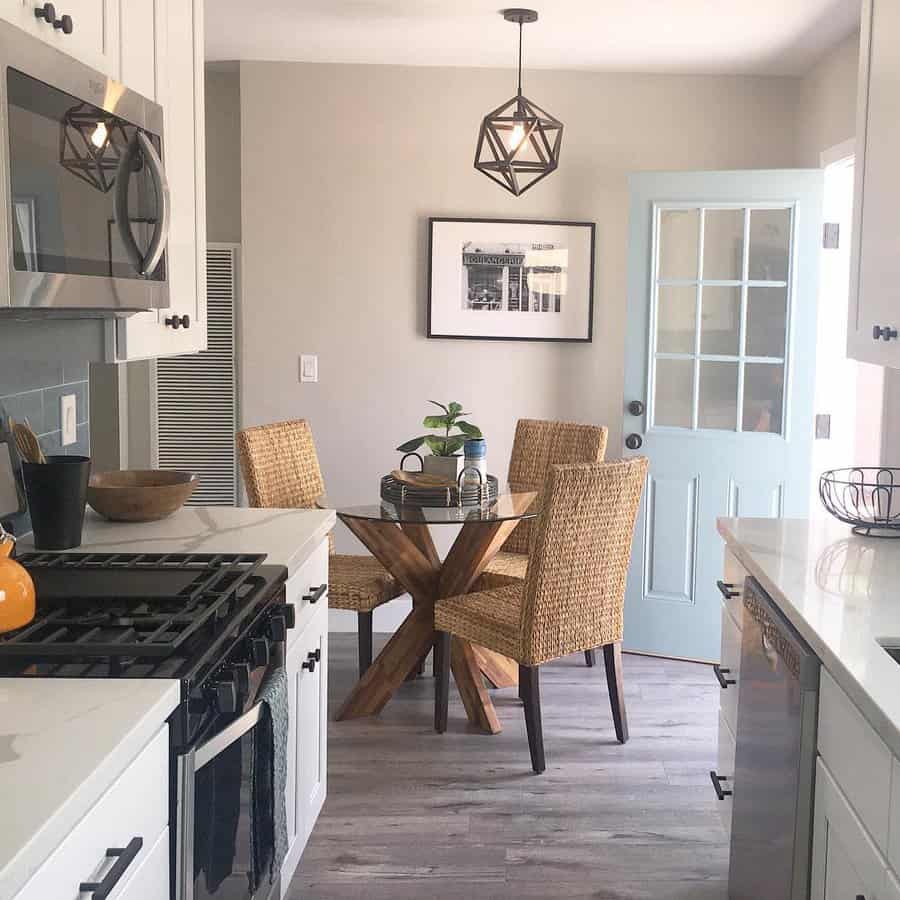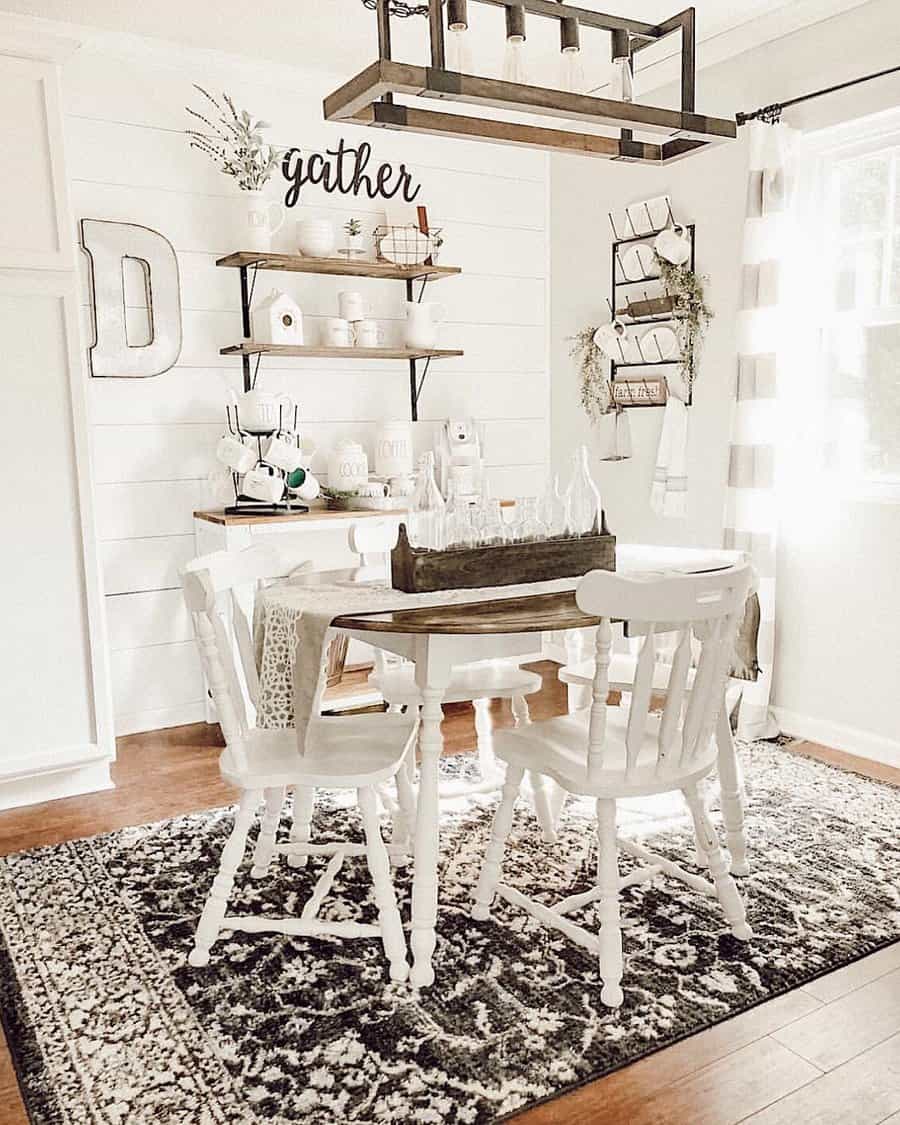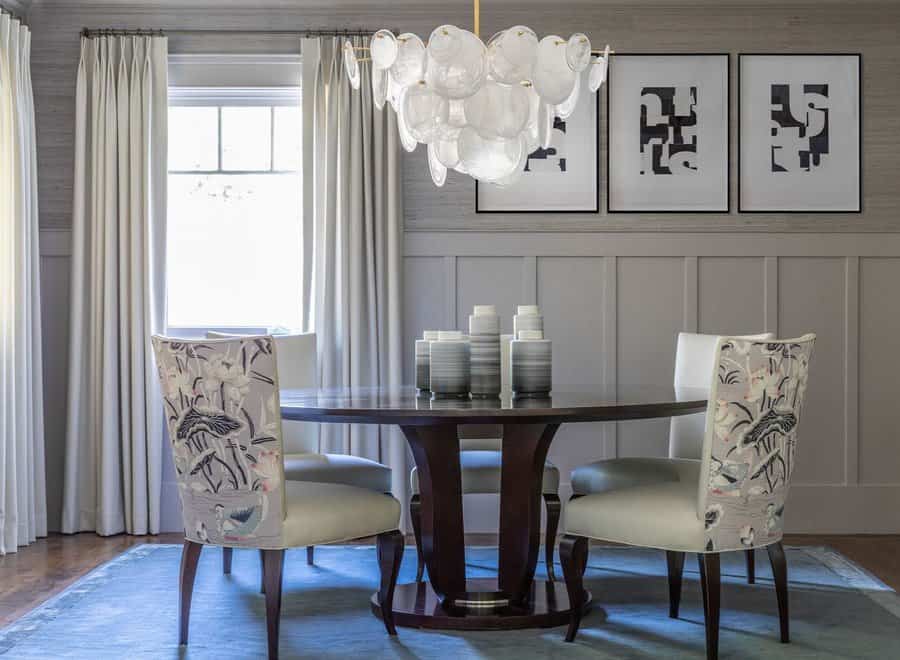 5. Opt For Rustic Furnishings
Creative small dining room ideas can help transform any limited space into a rustic dream. Consider taking weathered chairs and distressing tables with wooden decor to create an inviting rustic dining room that fits into your smaller space.
Furniture pieces featuring rustic shapes, dark woods, or accents of metal or willow can complete the rustic atmosphere while still feeling homely. You could also replace heavy fabrics with lighter materials like burlap and make use of wall-mounted lighting fixtures so as not to take up valuable floor space in your small dining room.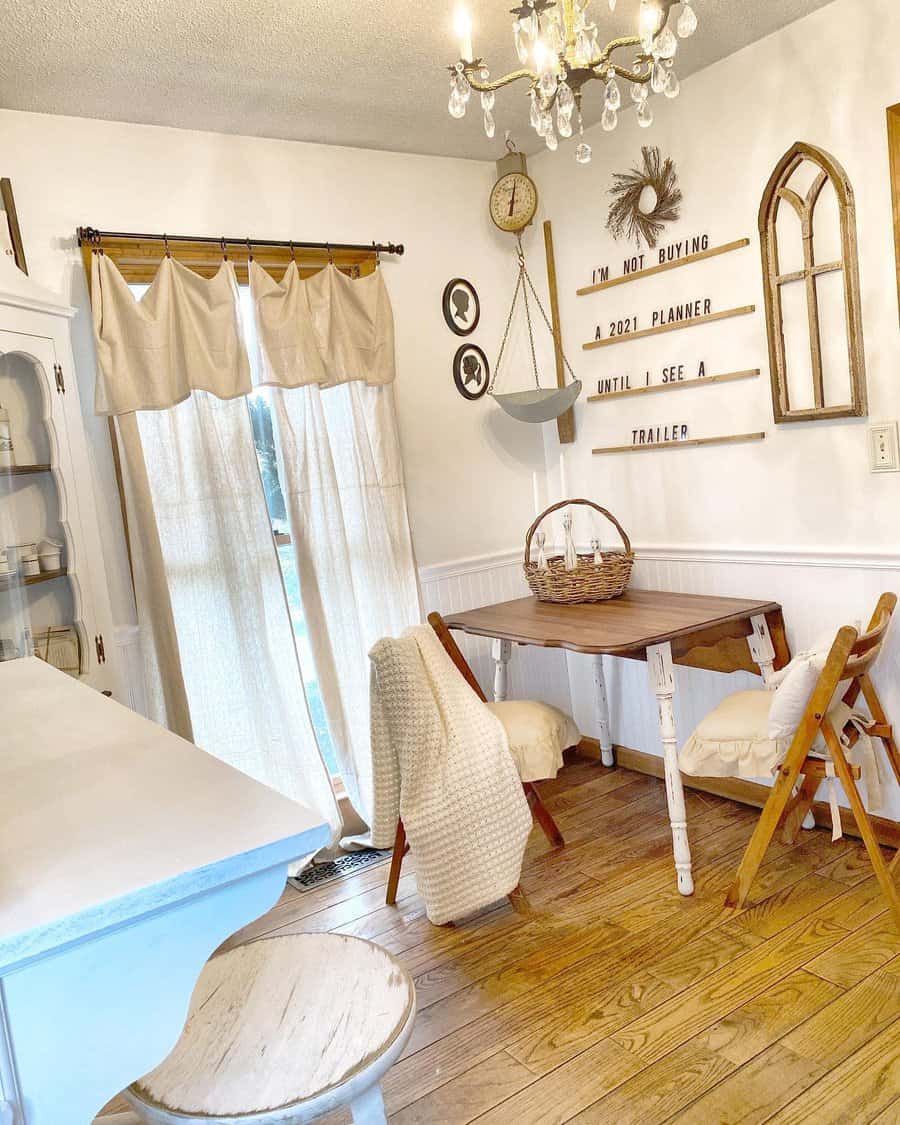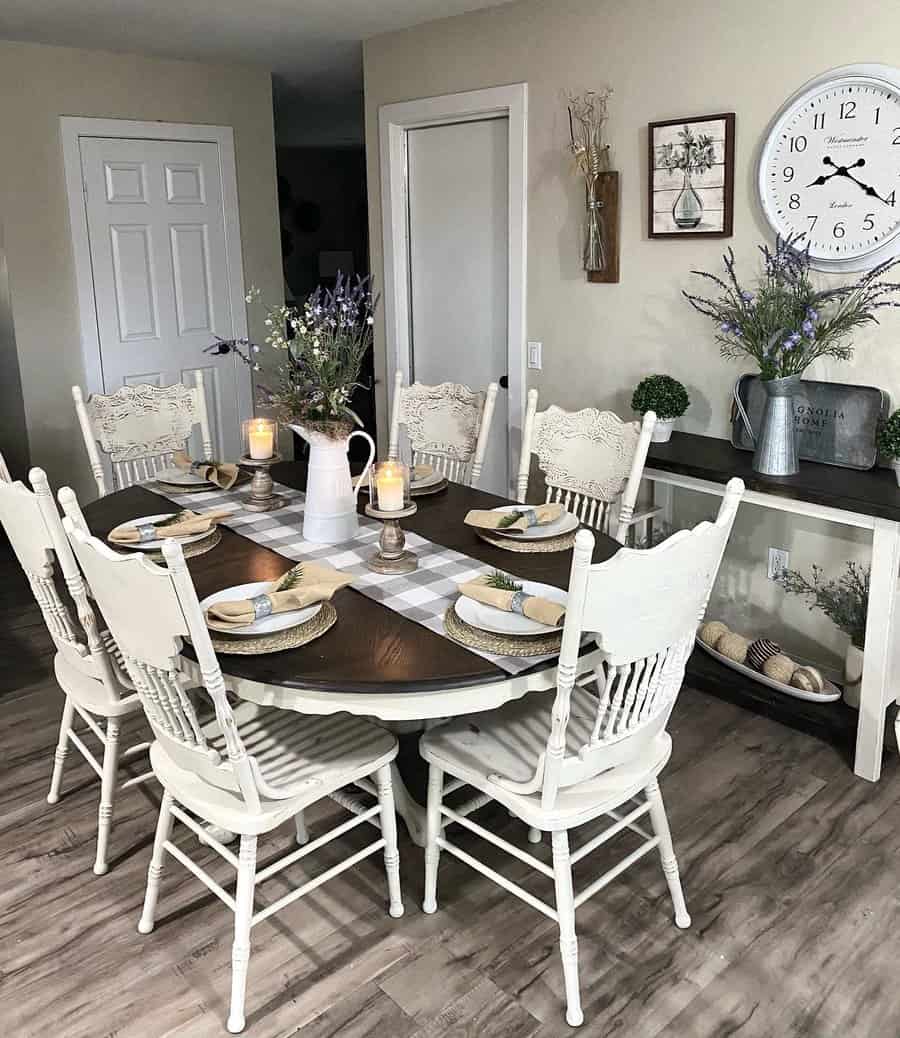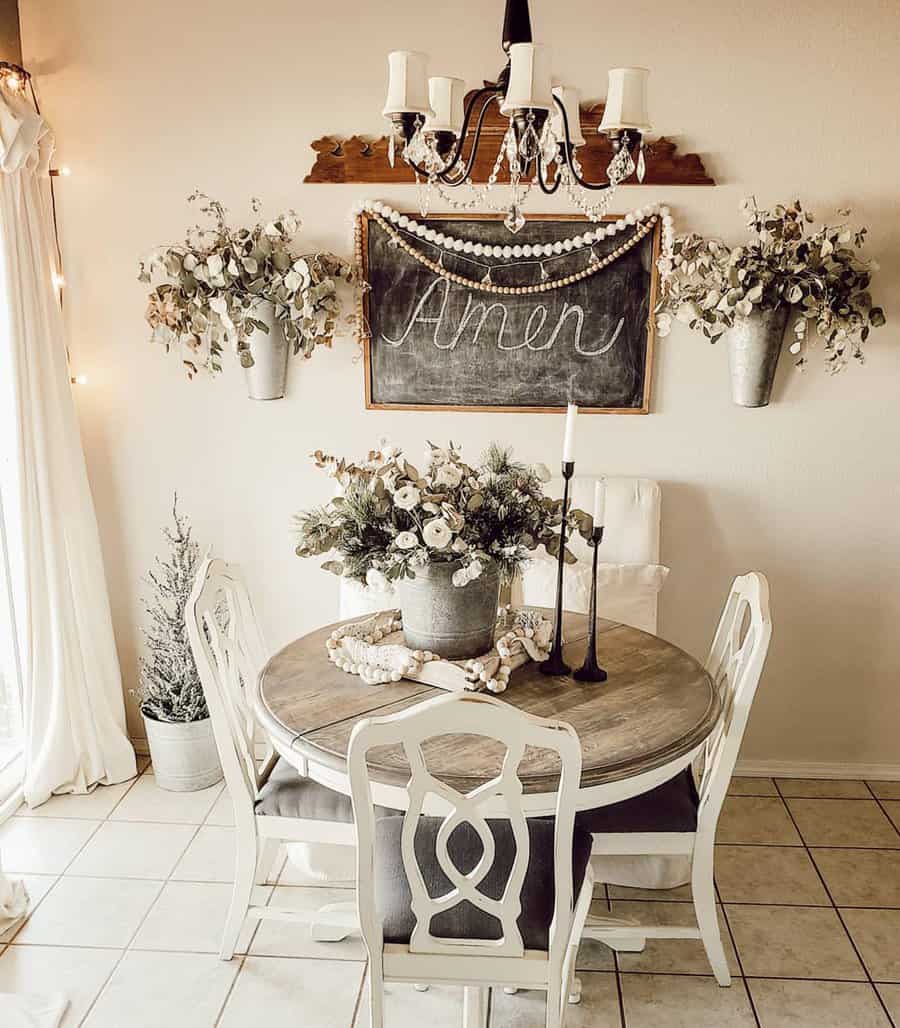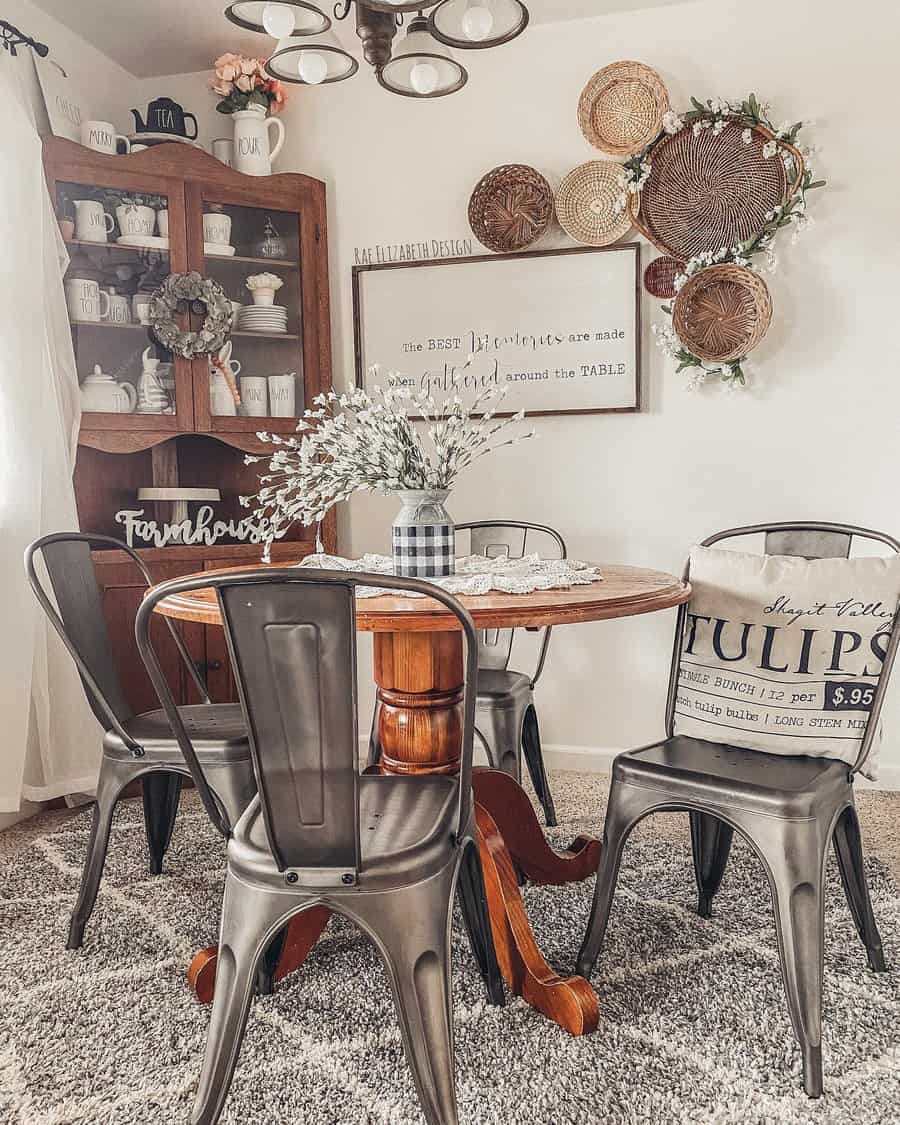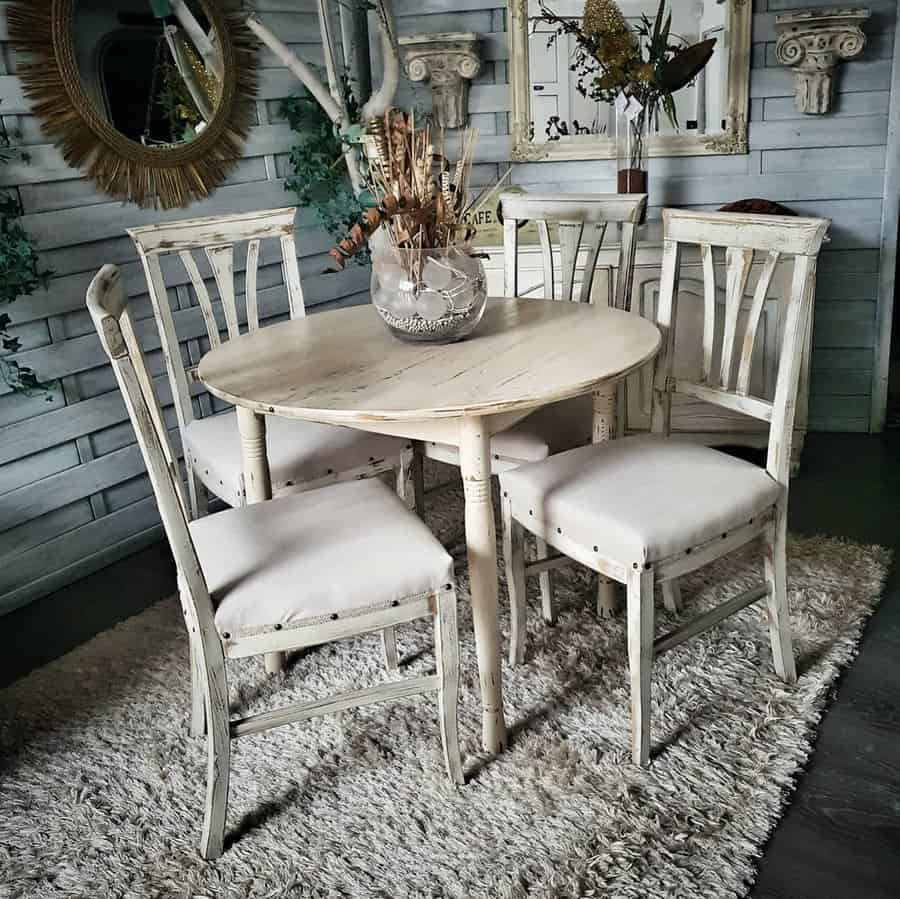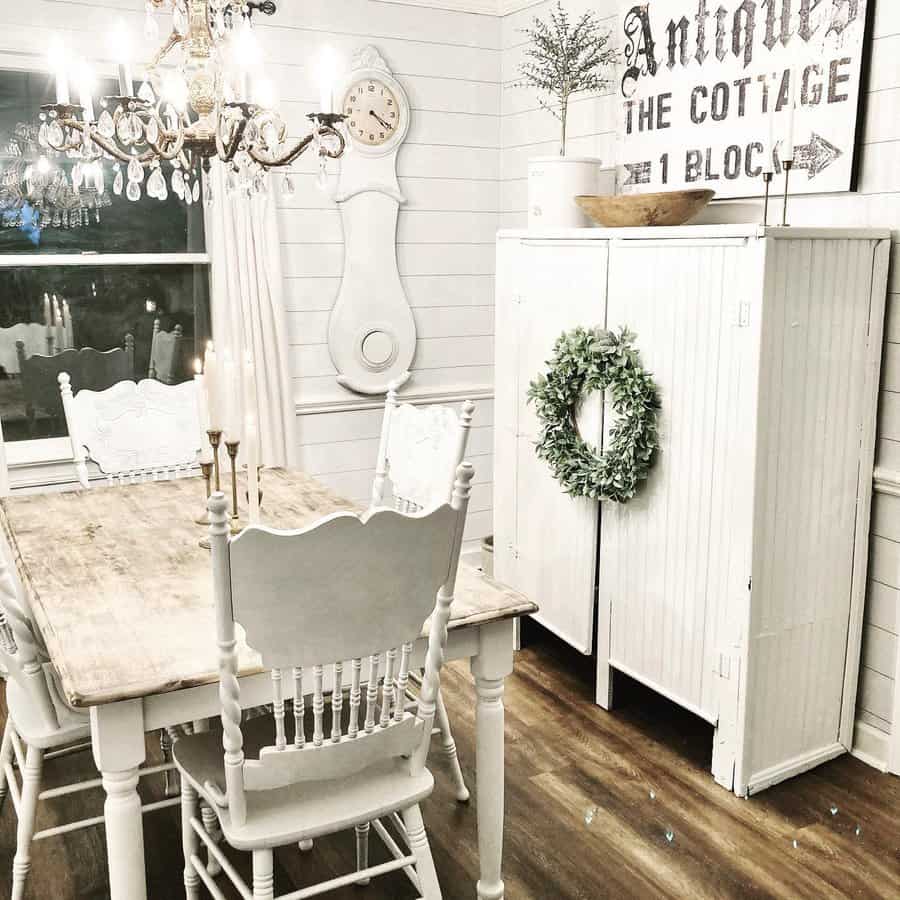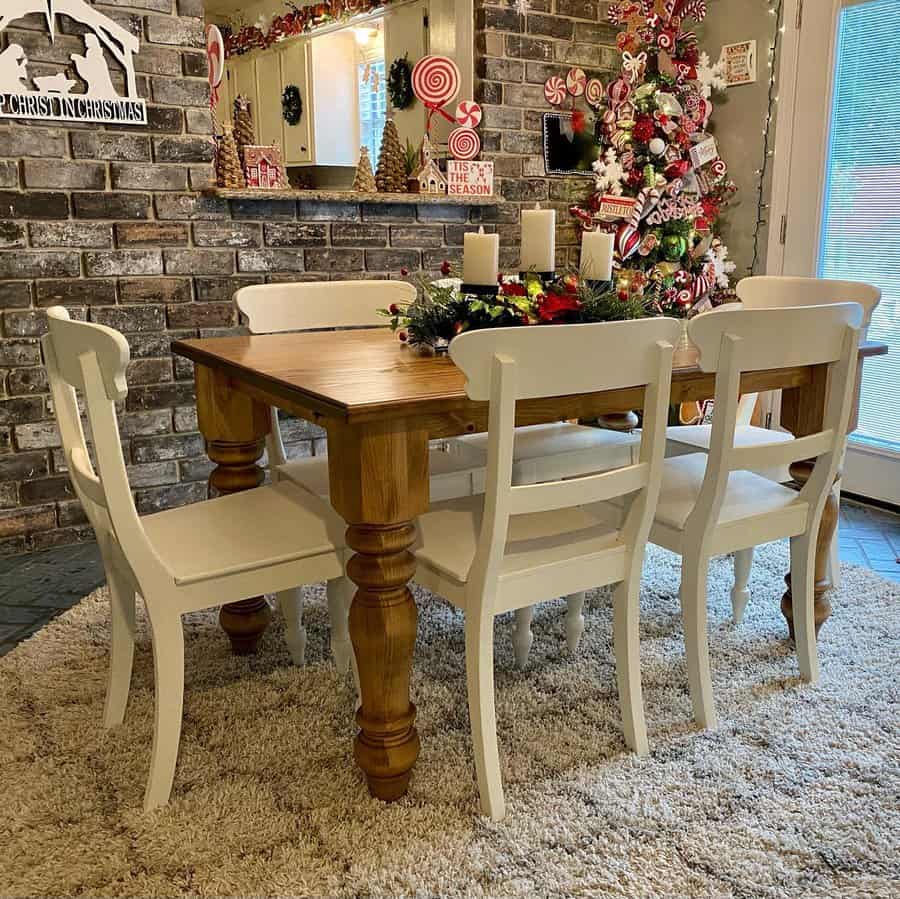 6. Get All-Day Comfy Couch Seating
When it comes to maximizing the look and function of a small dining room, velvet couch seating is an ideal solution. Not only does velvet add a touch of elegance, but the cushions make for comfortable all-day couches that can be used for extra seating when needed.
For even more space-saving potential, try using a collapsible dining table with removable chairs that provide multi-purpose seating options and can be stored away when not in use.
Whether you're entertaining guests or just having an afternoon snack, these creative ideas will help you enjoy your small dining room space to its fullest.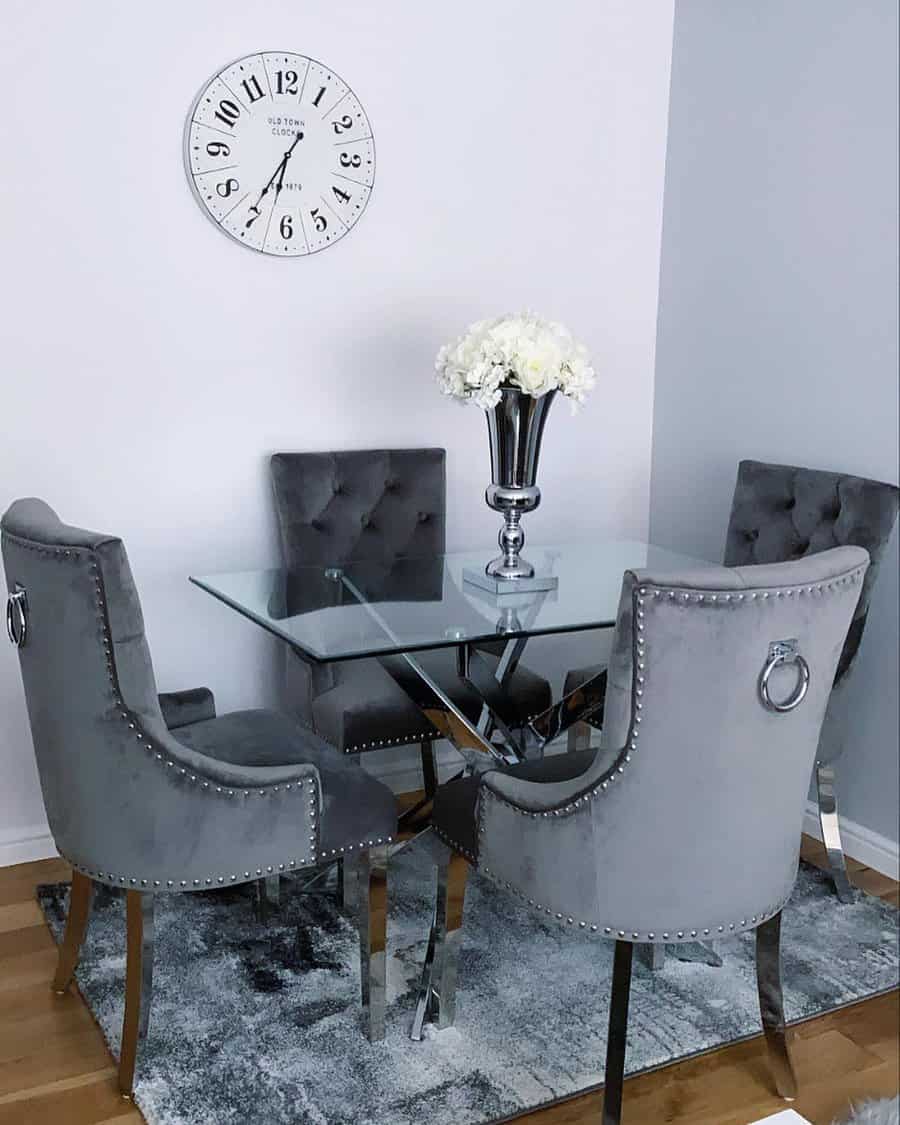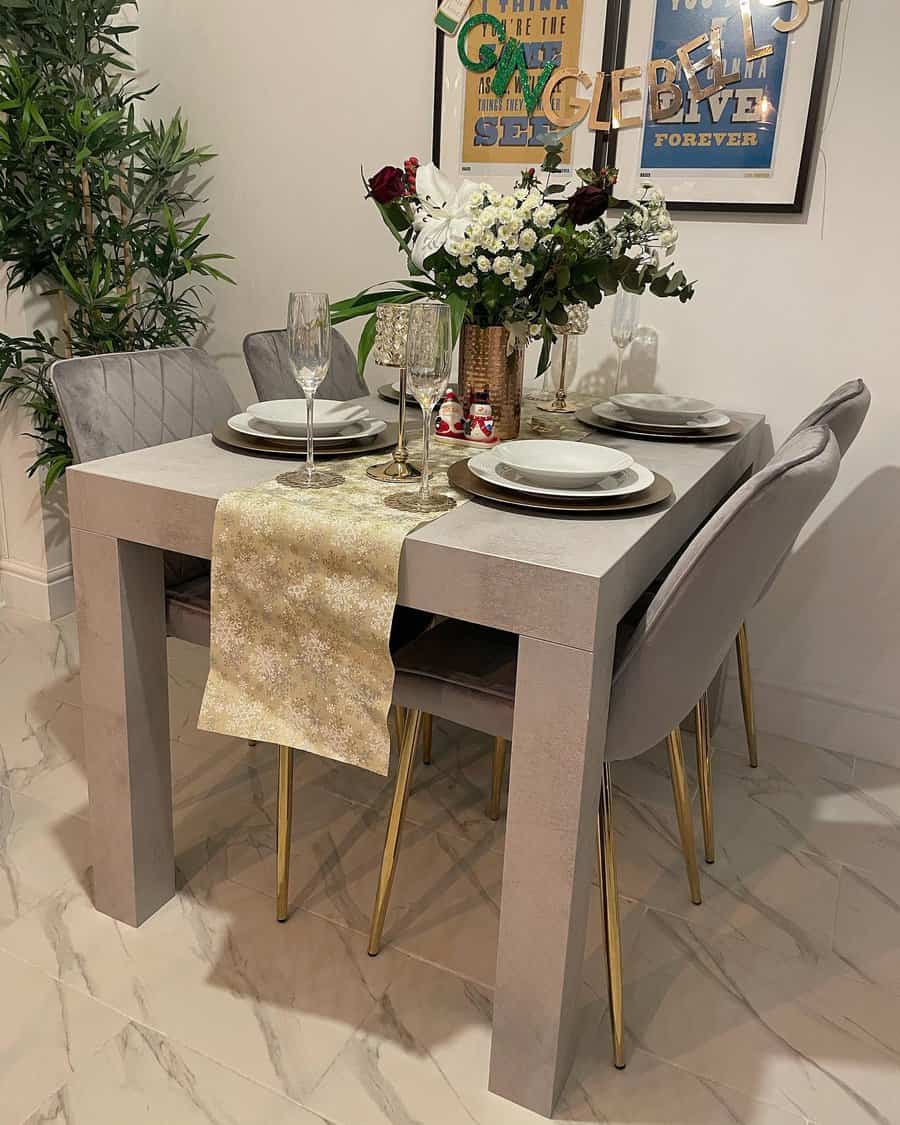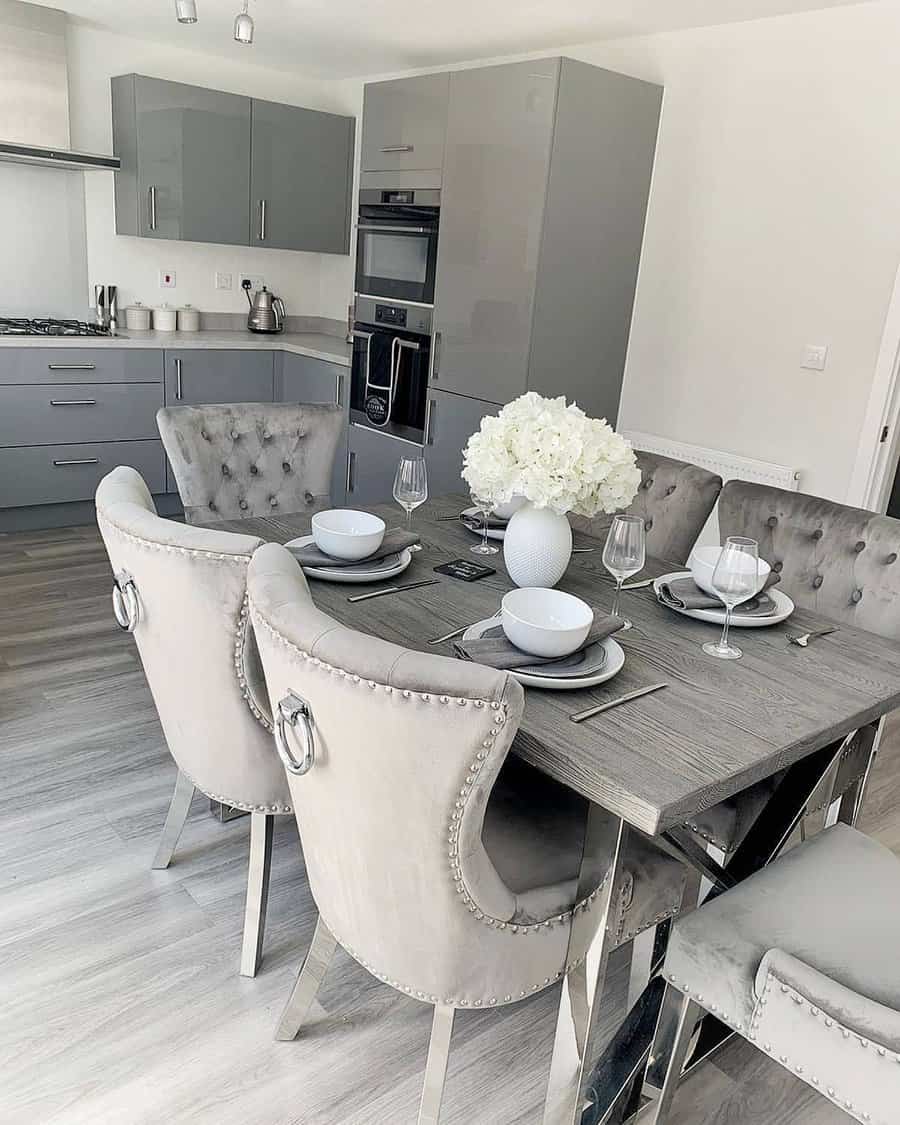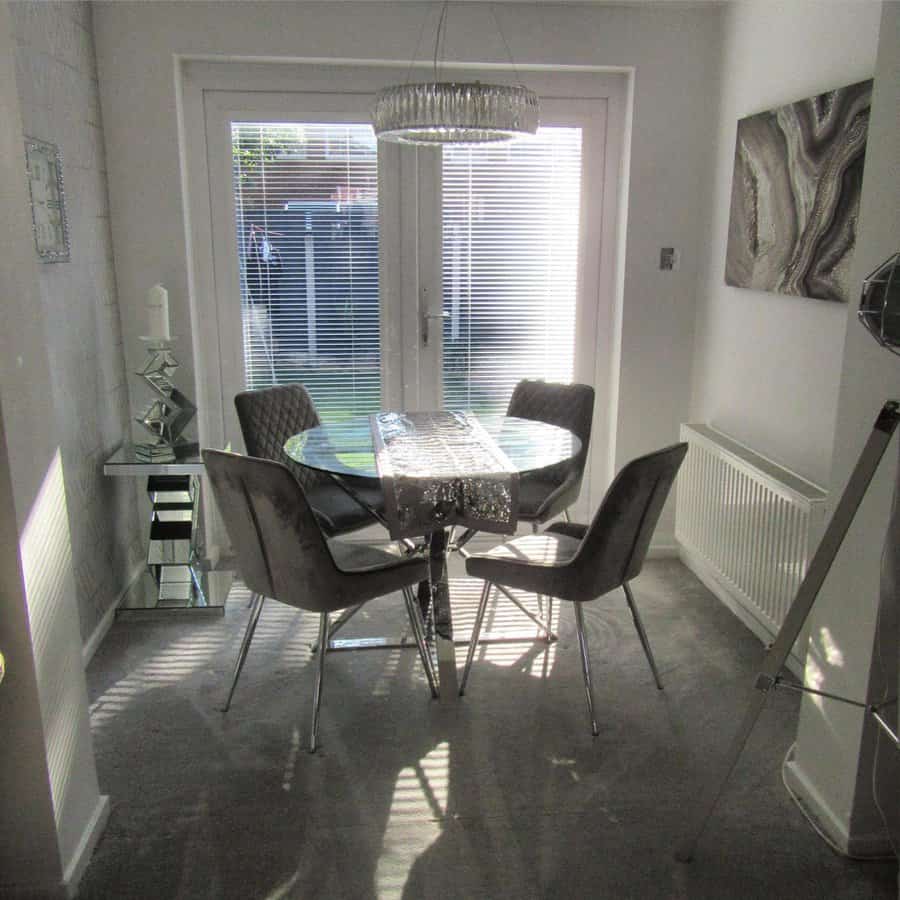 7. Choose Something Neutral
When decorating a small dining room, the key is to make the space look larger than it is. To do this, opt for grey or black seating and choose shades of grey for the walls. Instead of traditional art framed on the wall, why not create your own artwork using textured paint and stencils?
This will draw the eye upwards, accentuating how large your small dining room looks. Mirrors are also a great trick up your sleeve – hang one across from a window to reflect more light into the room, making it appear much bigger.
Finish off with accessories in bold colors – this will give your small dining room just enough playful personality!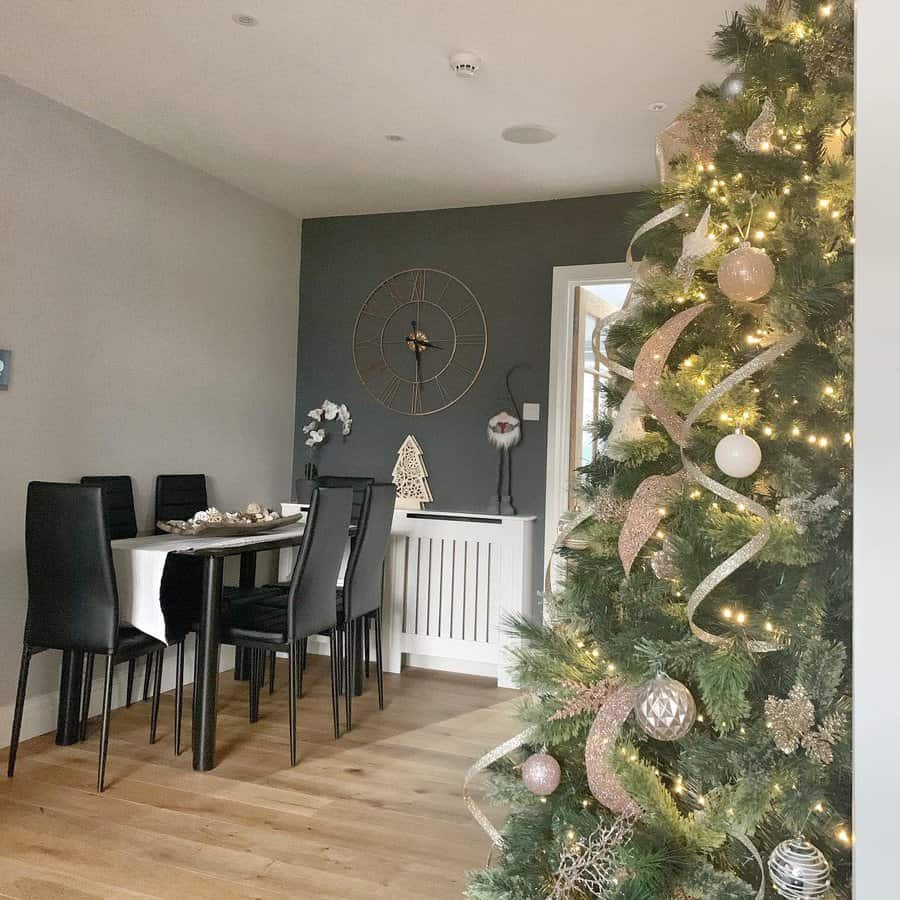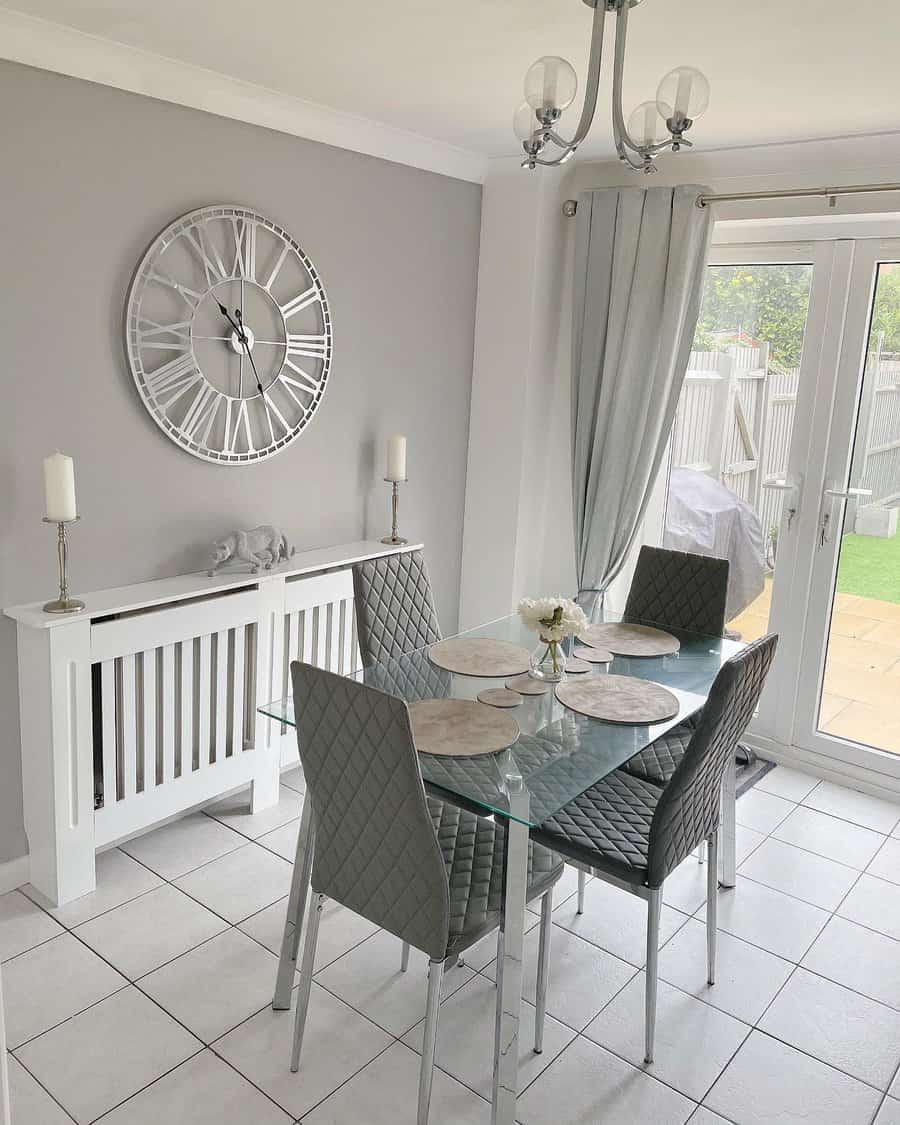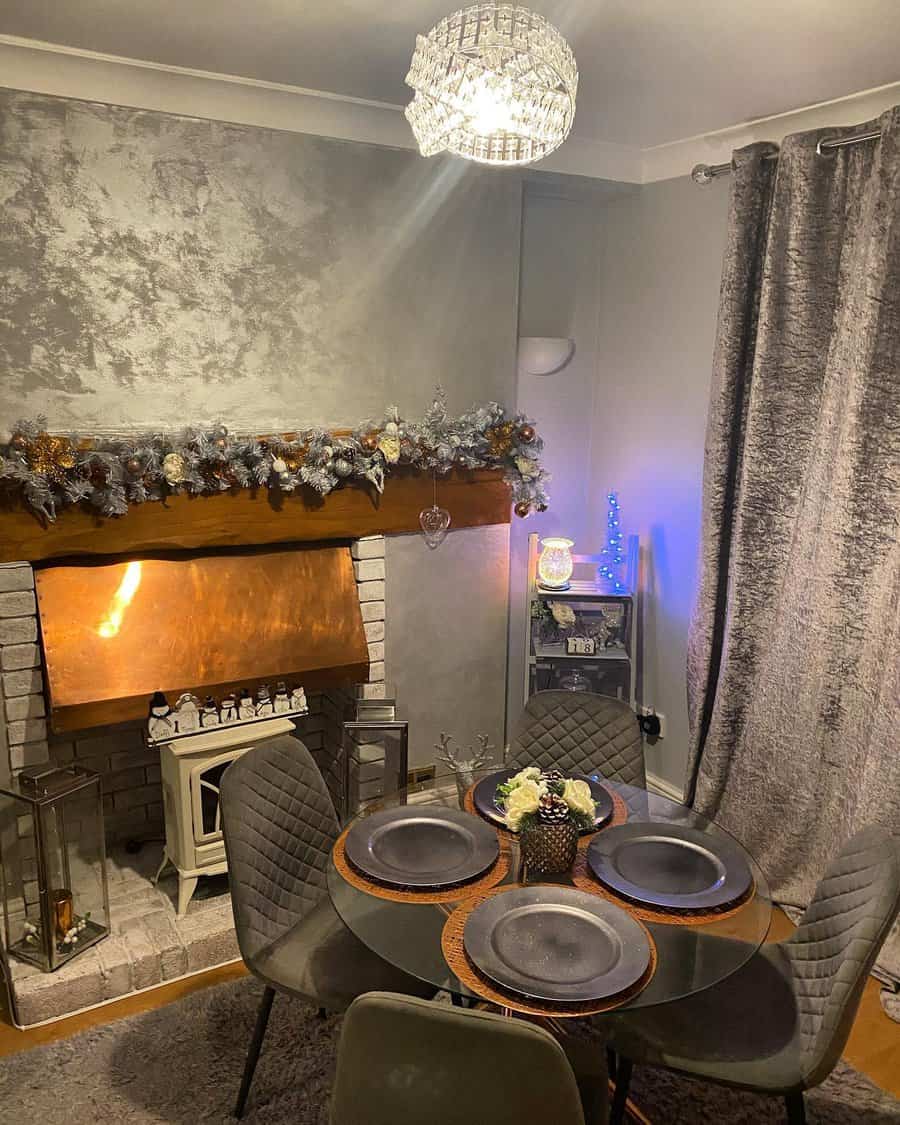 8. Go With A Traditional Look With Beige Seating
Incorporate beige seating and a dark wood table for a traditional interior style with timeless appeal. Use an area rug in the same beige color as your seating to tie the look together and make the space appear larger. Hang mirrors on walls to give you a better feel of open space within the room. Utilize overhead storage and benches that double as seating if possible— both are great ways to create extra room since they can be tucked away when not in use.
Additionally, be sure to maximize natural light by placing furniture strategically near windows and using sheers or sheer shades on them when necessary. With these clever small dining room ideas, you'll be able to have a refined yet inviting space no matter how tight your space is!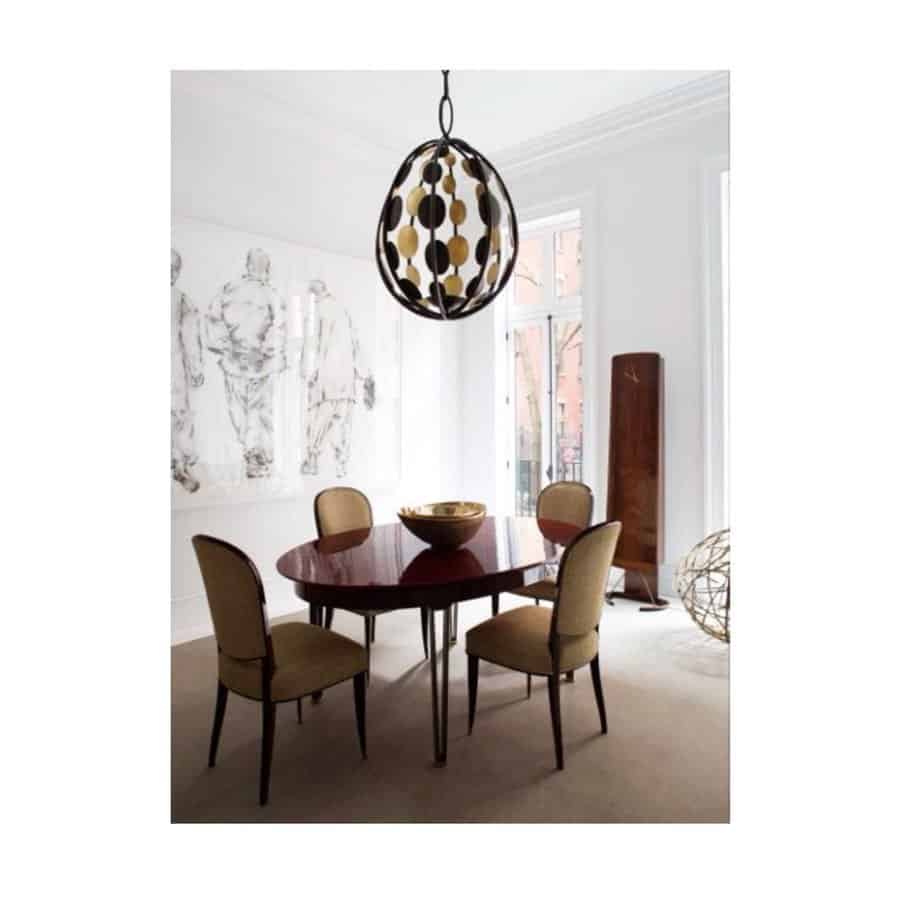 9. Keep The Table In Full Bloom
When it comes to decorating a small dining room, fresh or dried flowers can be a great way to make the space feel alive. Adding simple bud vases and putting fresh or dry stems in them can create the perfect accent for any compact eating area.
Not only do they add life to the room, but they also come in a variety of sizes, Colors and shapes so you can mix and match until you find just the right look. Plus, with fresh cut flowers, you get to enjoy their aroma as well!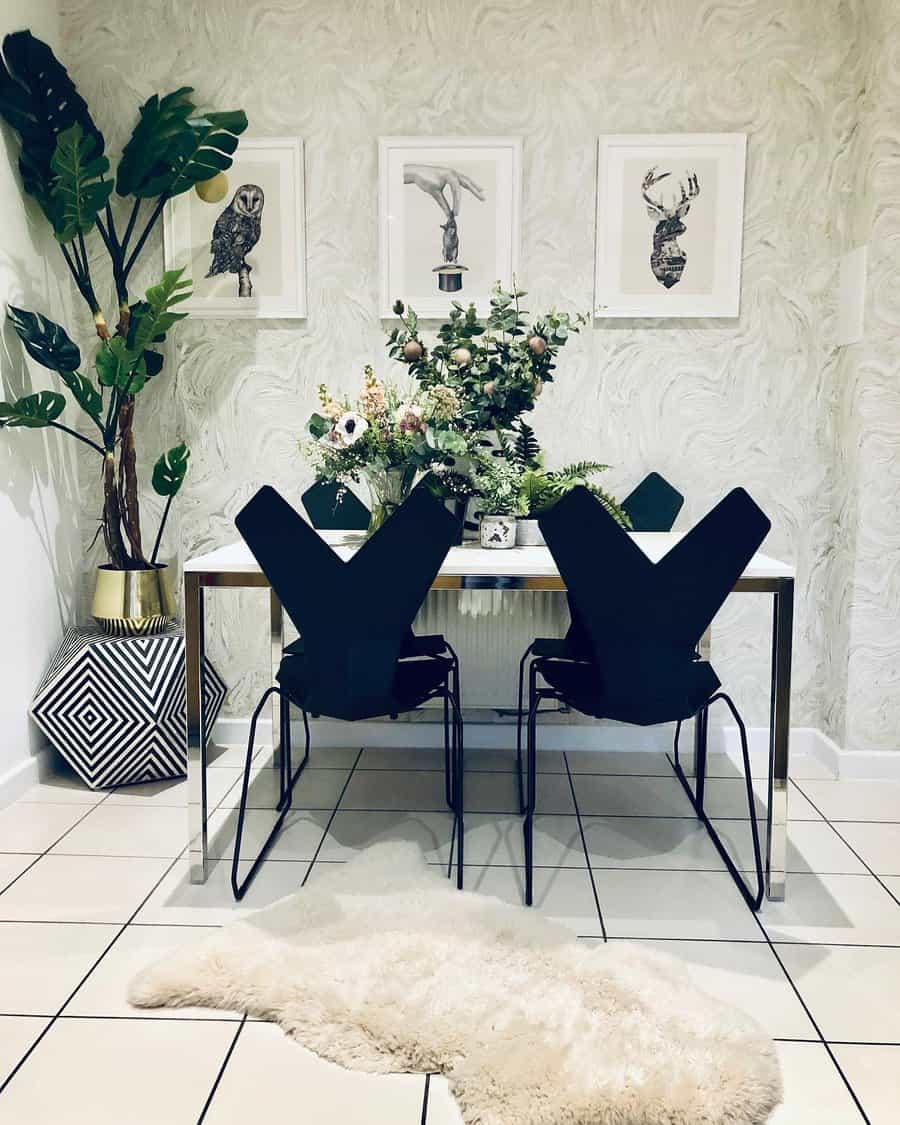 10. Choose A Wooden Dining Table
Creating the perfect small dining room doesn't have to be a challenge. A wooden dining table is an essential centerpiece, and there's no shortage of options that won't take up too much space. Consider hardwood or rosewood tables, as they are durable and will last for many years.
To help create a cozy atmosphere, think about adding playful wall art and greenery in wooden pots to make the room look inviting and cheery. Don't forget comfortable seating; you don't want your guests feeling cramped and uninvited. With these tips, you'll be well on your way to creating a great small dining room for all occasions!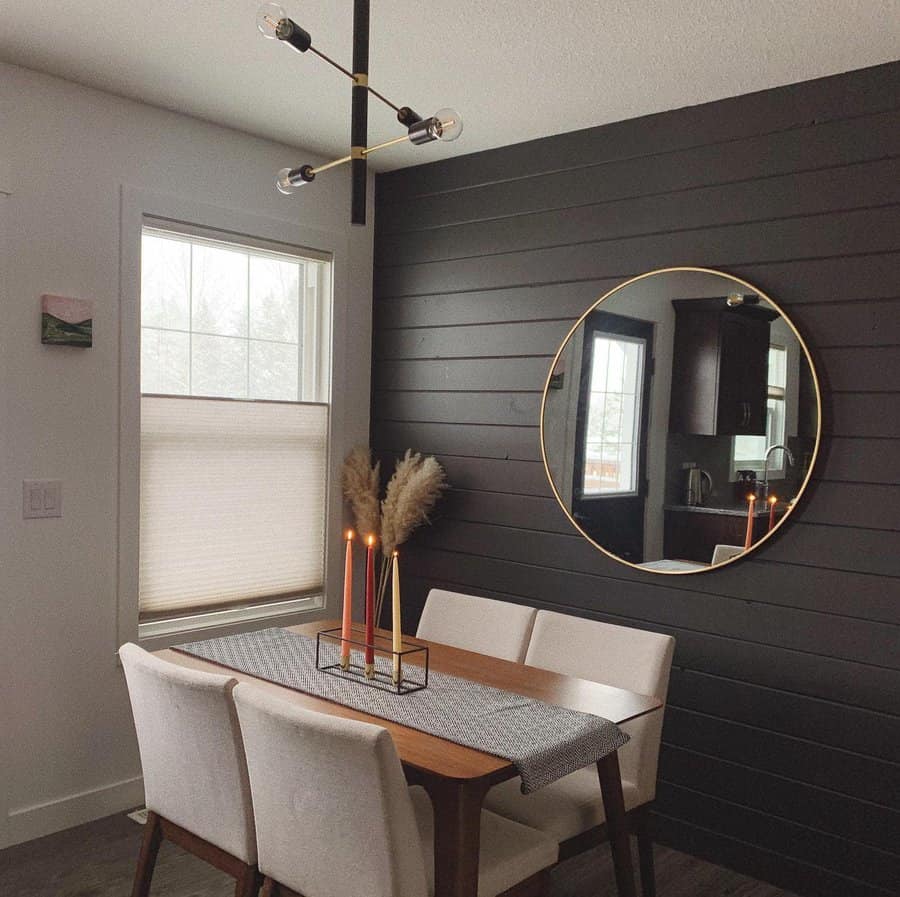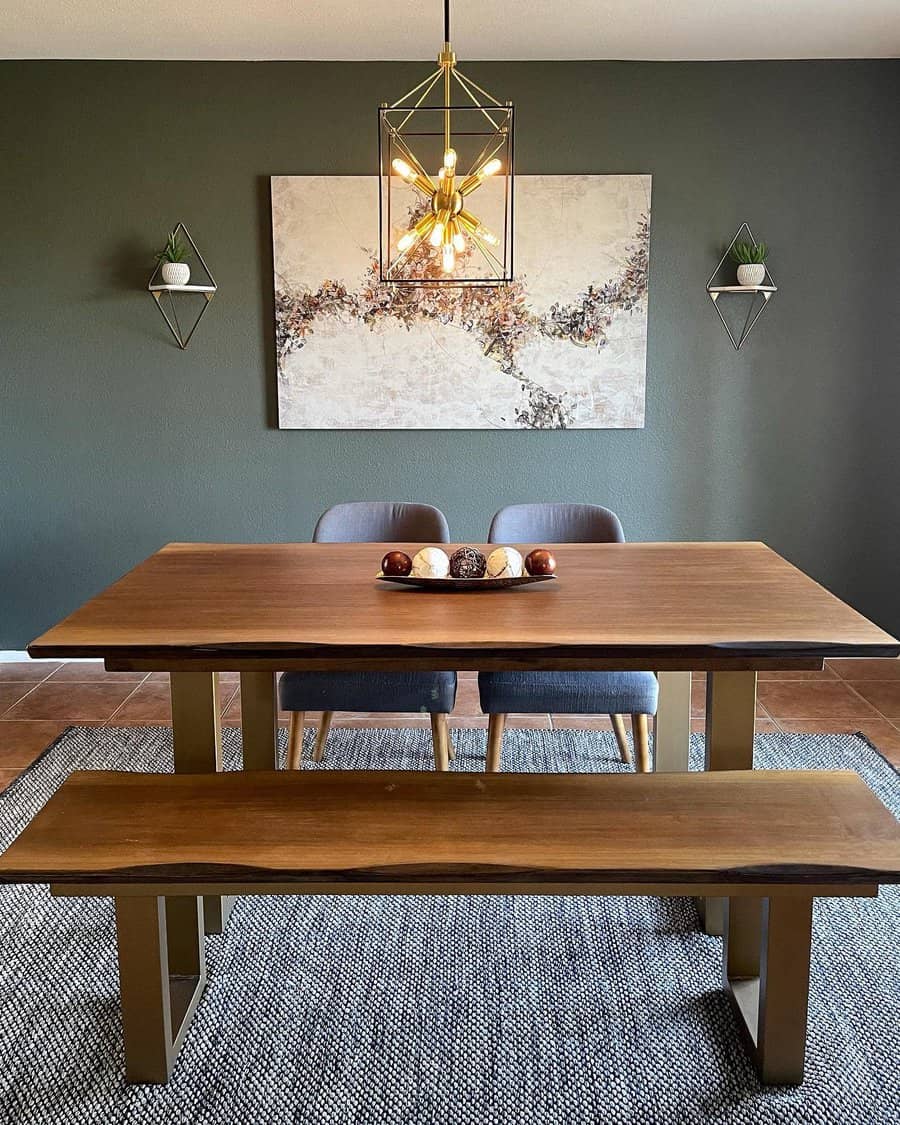 11. Open up The Space With A Clear Glass Table
For small dining rooms, it's important to choose furniture that doesn't overwhelm the space. One great option is to opt for clear glass tables, as these create a sense of openness and airiness that can really open up the space. Adding pieces with light or clear bases can also help make your dining room look bigger.
Additionally, using multifunctional furniture, such as small sideboards with shelves or drop-leaf tables, can provide much-needed storage without taking up too much visible space. With these tips you'll be able to make your small dining room appear larger and more inviting than ever before!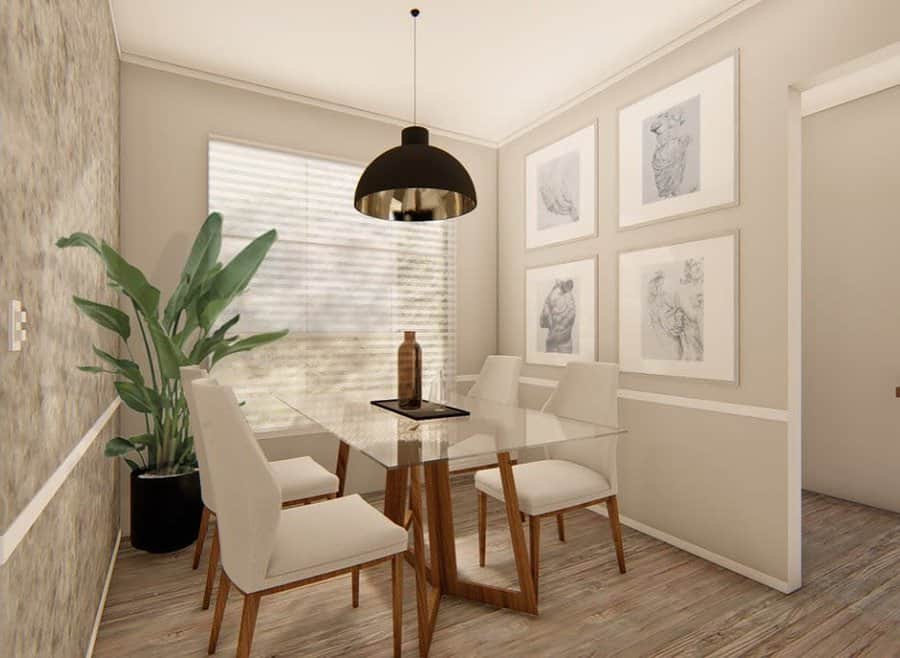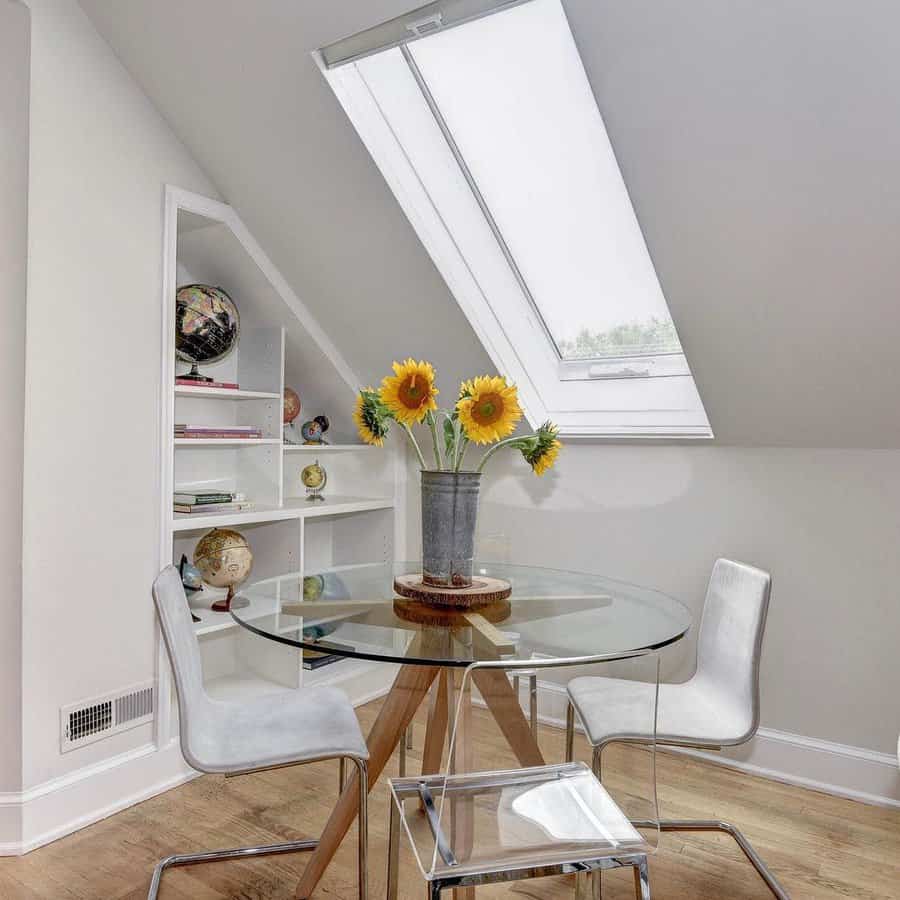 12. Add A Mirror To Enlarge the Dining Space
When it comes to dining rooms, space can often be an issue. If you're struggling to create a cozy feel for your limited space, consider adding mirrors to enlarge the room and add brightness. Mirrors add depth and depth creates drama, so even the smallest of spaces can appear grand with a few well-placed reflective accents.
You might be surprised by how much bigger your dining room looks! Another idea is to place tall furniture like hutch cabinets down one side of the wall, which will add vertical interest without taking up much physical room.
Finally, don't forget colors – consider monochromatic shades like blue or yellow hues to add a subtle but effective look while keeping the eye moving throughout the room.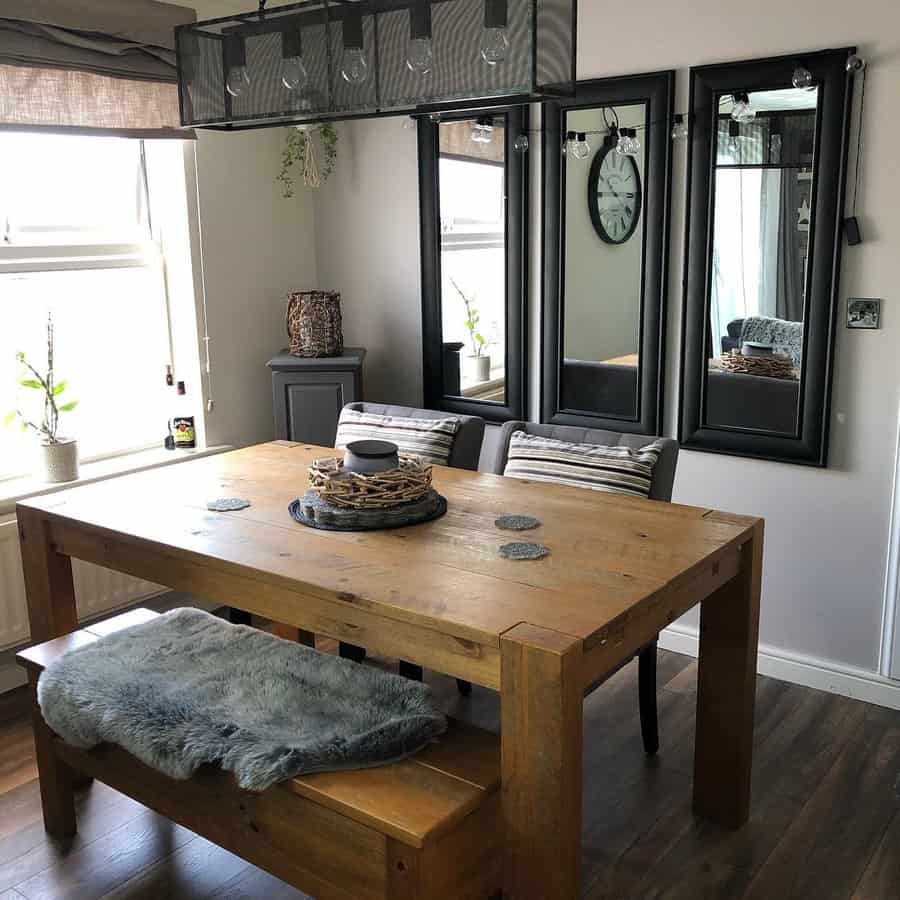 13. Add An Area Rug
Transform your small dining area into an inviting, cozy space with some creative ideas. Take area rugs for example; by arranging area rugs around the seating area in your dining room, you can add color, texture, and a unique look. If the area rug is too small for all the chairs to fit comfortably, you can use two smaller matching area rugs instead to still create that unified style.
For more impactful changes without spending much time or money, simply move furniture around occasionally so your space doesn't feel stagnant. With these tips and tricks, you'll easily be able to maximize the potential of your small dining area.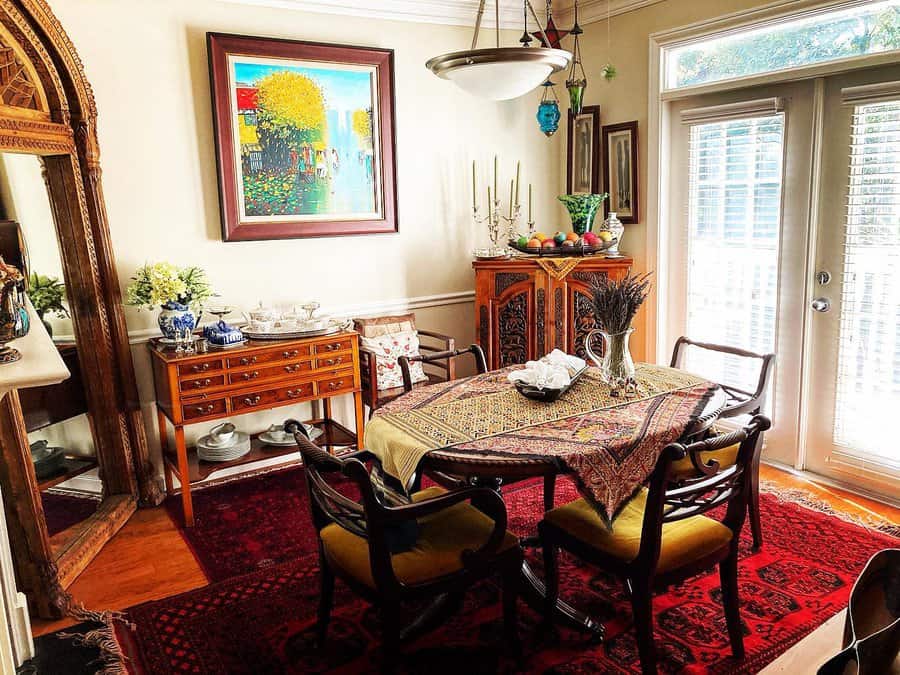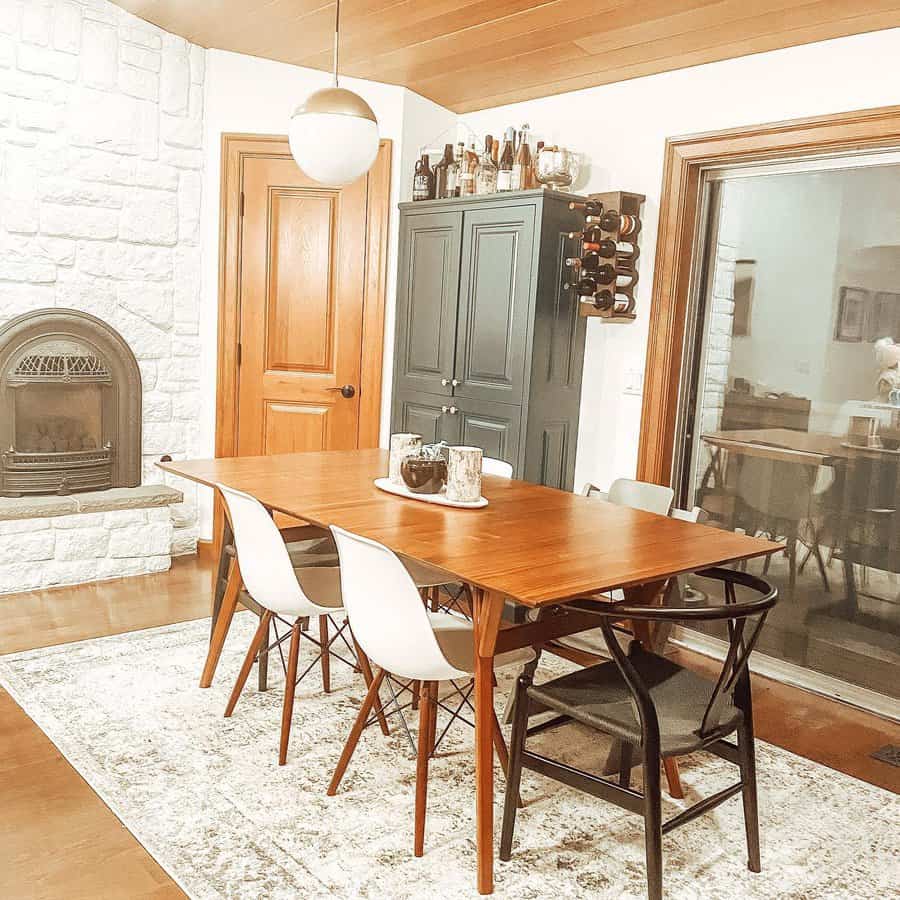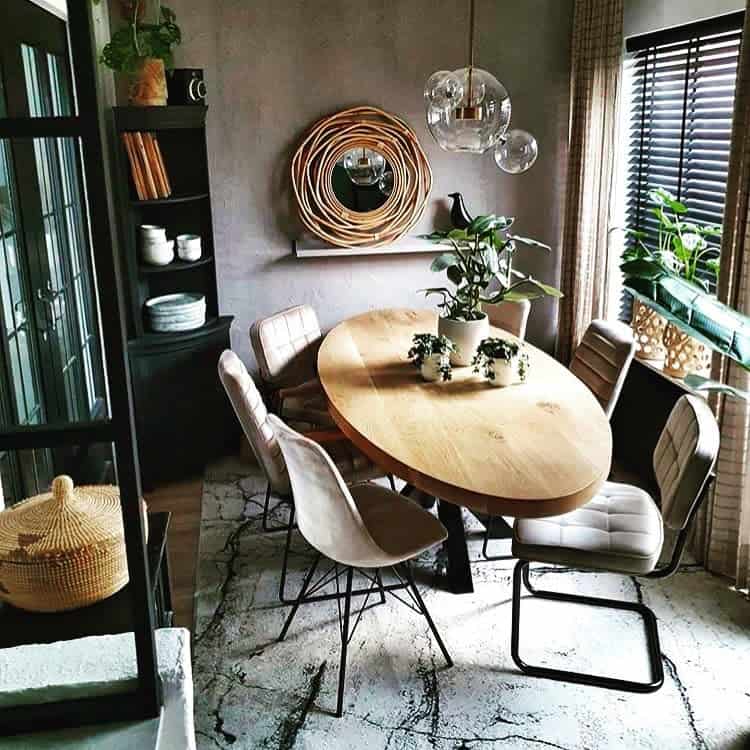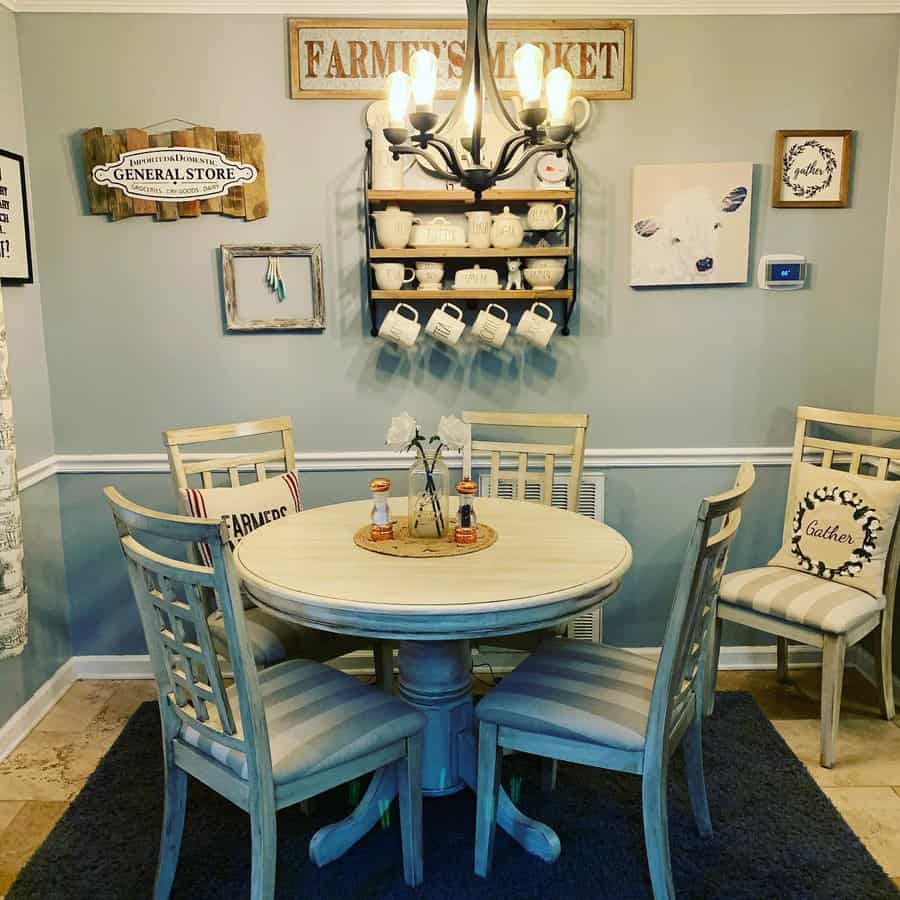 14. Invest In Pull Out Furniture To Save Space
If you have a small dining room, there are plenty of ideas to make it exceptionally stylish while also maximizing space. One of the best investments you can make is pull out furniture: invest in chairs and stools that can be tucked away when not being used. This way, when company drops by, your small dining room is transformed into something much bigger.
You can also invest in smart furniture like seating that doubles up as storage which is perfect for any petite home and adds extra space-saving capabilities. With these ideas, you'll be able to create a charming and elegant atmosphere despite your limited sounds on square footage.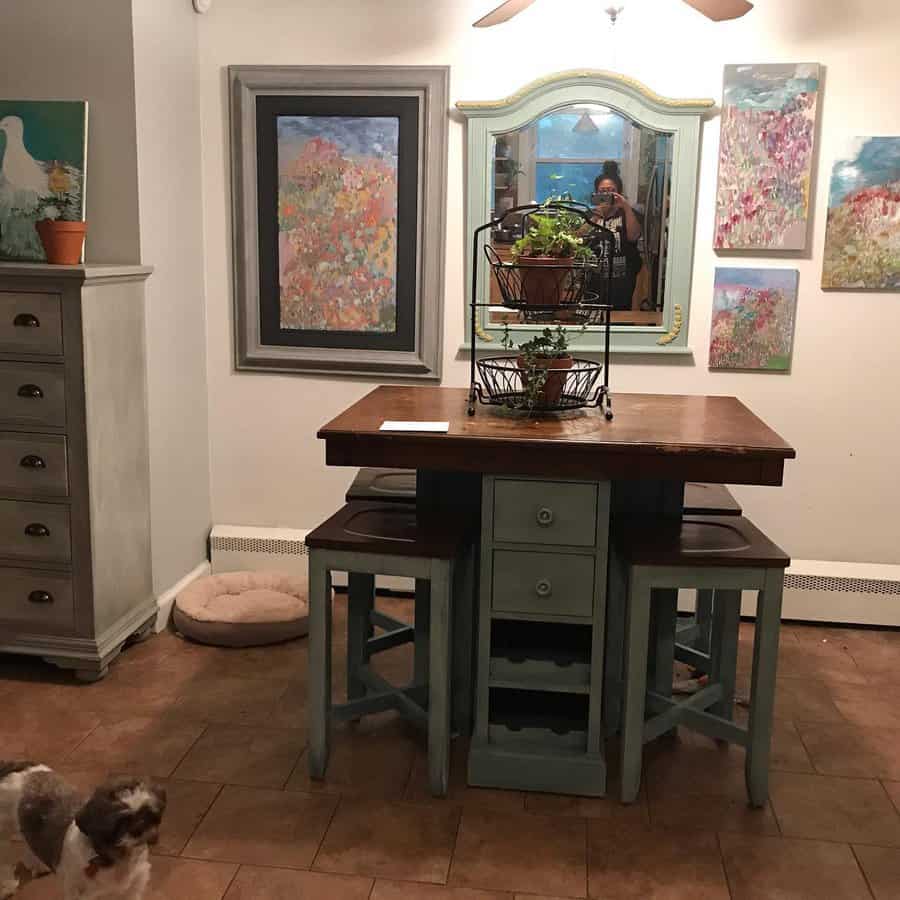 15. Be Creative With Wallpaper
If you're looking for ways to make your small dining room look bigger and even more inviting, decorative wallpaper is a great solution. Whether it's giving the walls texture or a decorative pattern, choosing the right wallpaper can help create an atmosphere that takes advantage of whatever size space you have.
To make your dining room feel airy and expansive try light or pastel colors, while darker tones will lend it a cozier vibe. There are also plenty of modern or vintage prints to choose from.
With some imagination and creative thinking, decorative wallpaper is one of the easiest ways to transform any small dining room into one that looks both unique and inviting.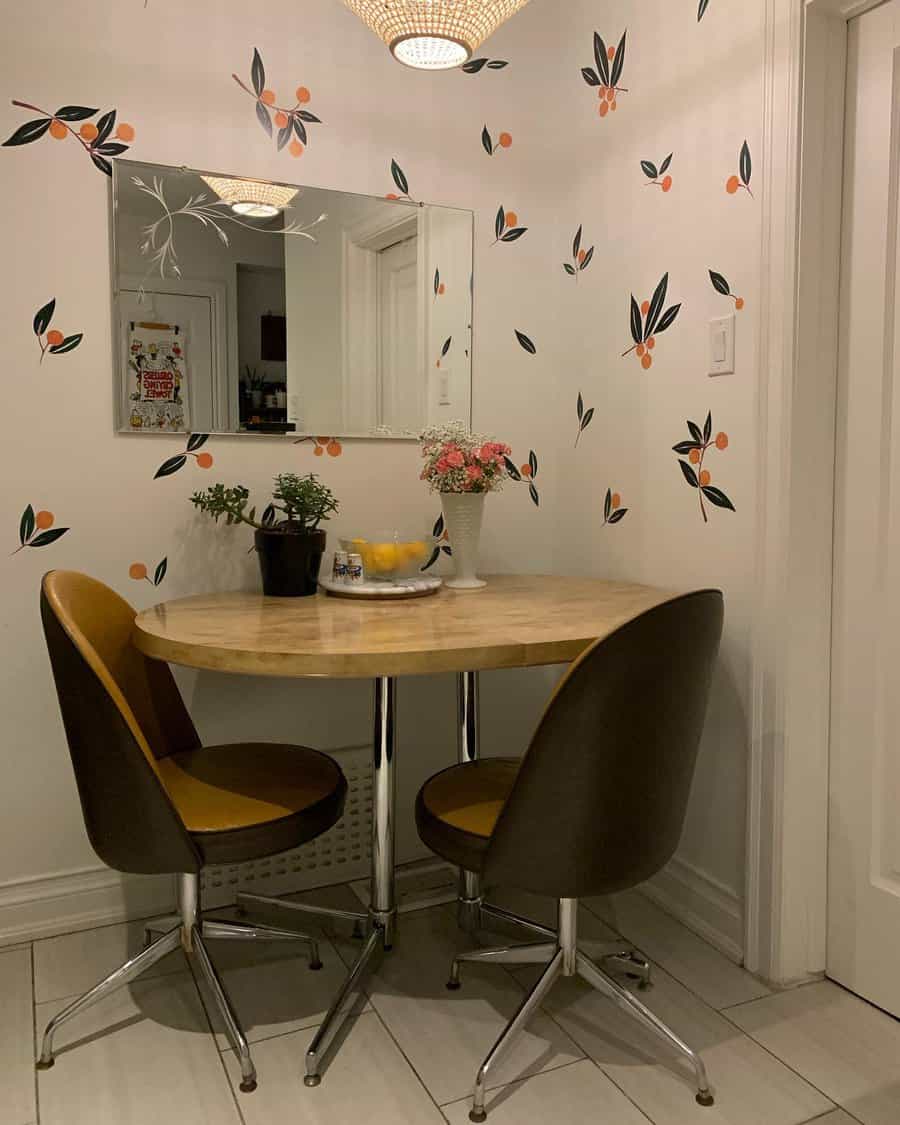 16. Add Cabinetry For Extra Storage
If you're looking for ways to add extra charm to your small dining room, there are many creative ideas that can add a lot of character. One of the most popular options is to add cabinetry along the walls that provide additional storage and stylish display areas.
Another great idea is to add floating shelves, which add a modern touch while providing a place to store items like table linens, decorations, and dinnerware sets. By taking advantage of all available vertical space in the area, you can make even the smallest of dining rooms look larger and more inviting.
Additionally, if you have natural light in your dining room try incorporating reflective surfaces such as mirrors to add depth and create an airy atmosphere.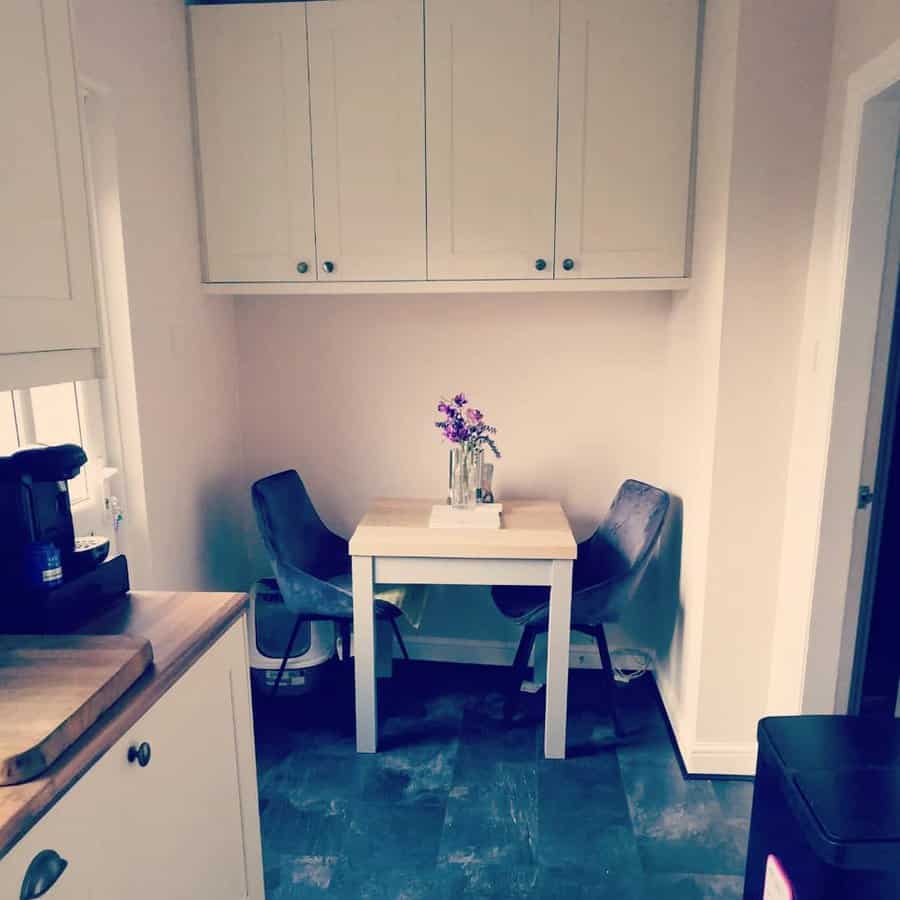 17. Floating Coffee Table For Small Kitchens
If you're looking for creative ideas to make the most of a small dining room, floating coffee tables can be a great choice. Not only do floating coffee tables take up less space than traditional dining sets, they also provide an element of style and sophistication to your kitchen area.
They are especially ideal for small kitchens that can't fit in a full-sized table and chairs. Instead, floating coffee tables offer ample seating while allowing you to easily move around the space with ease. With their modern appeal and versatility, float coffee tables are an excellent option for optimizing your small dining room.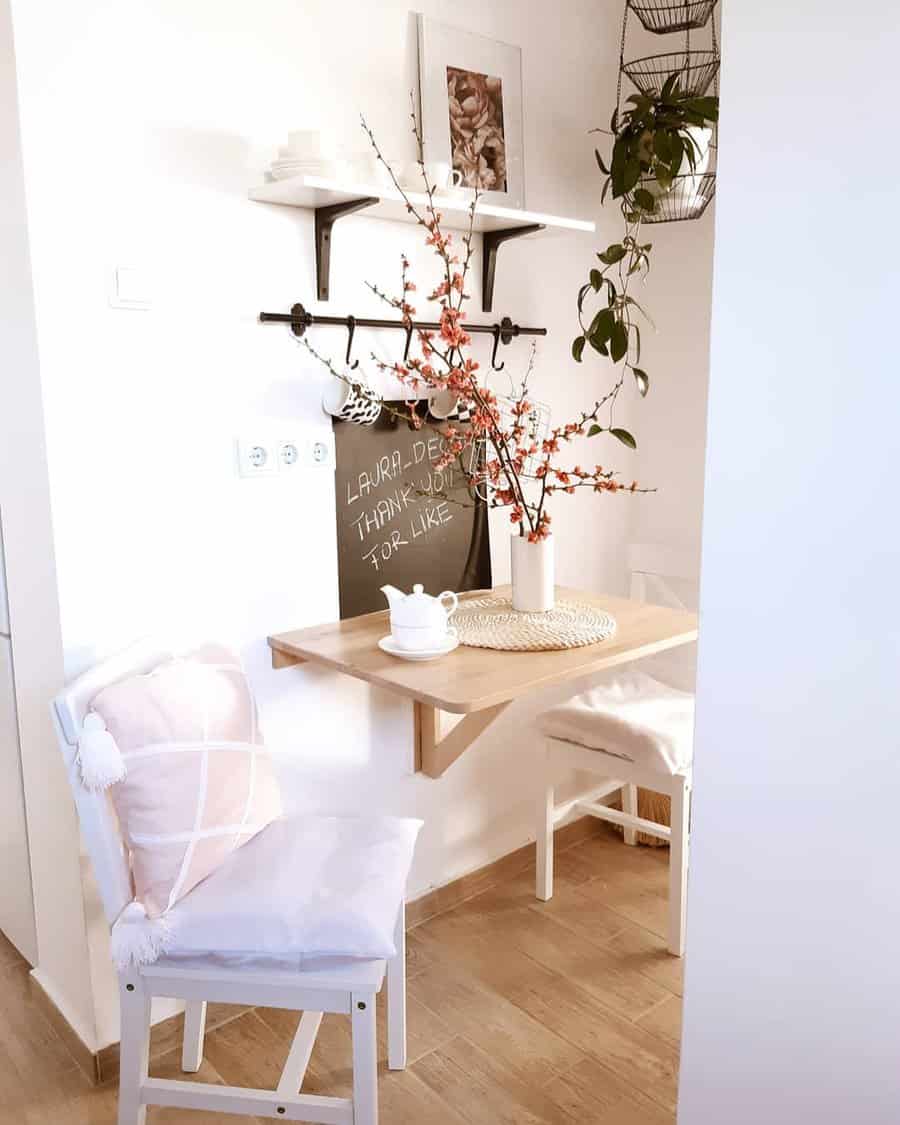 18. Hang Wall Art For Added Visual Interest
Wall art is an excellent way to create visual interest and draw attention away from the size of the room. For a cozy, bohemian feel, consider incorporating woven or macrame wall art. These wall hangings can provide texture, color, and movement that will draw eyes toward them instead of toward the walls themselves.
You can also choose artwork with inspirational words or encouraging quotes to give your dining room a cheerful vibe. With the right wall art, your small dining room will appear bright and inviting for friends and family.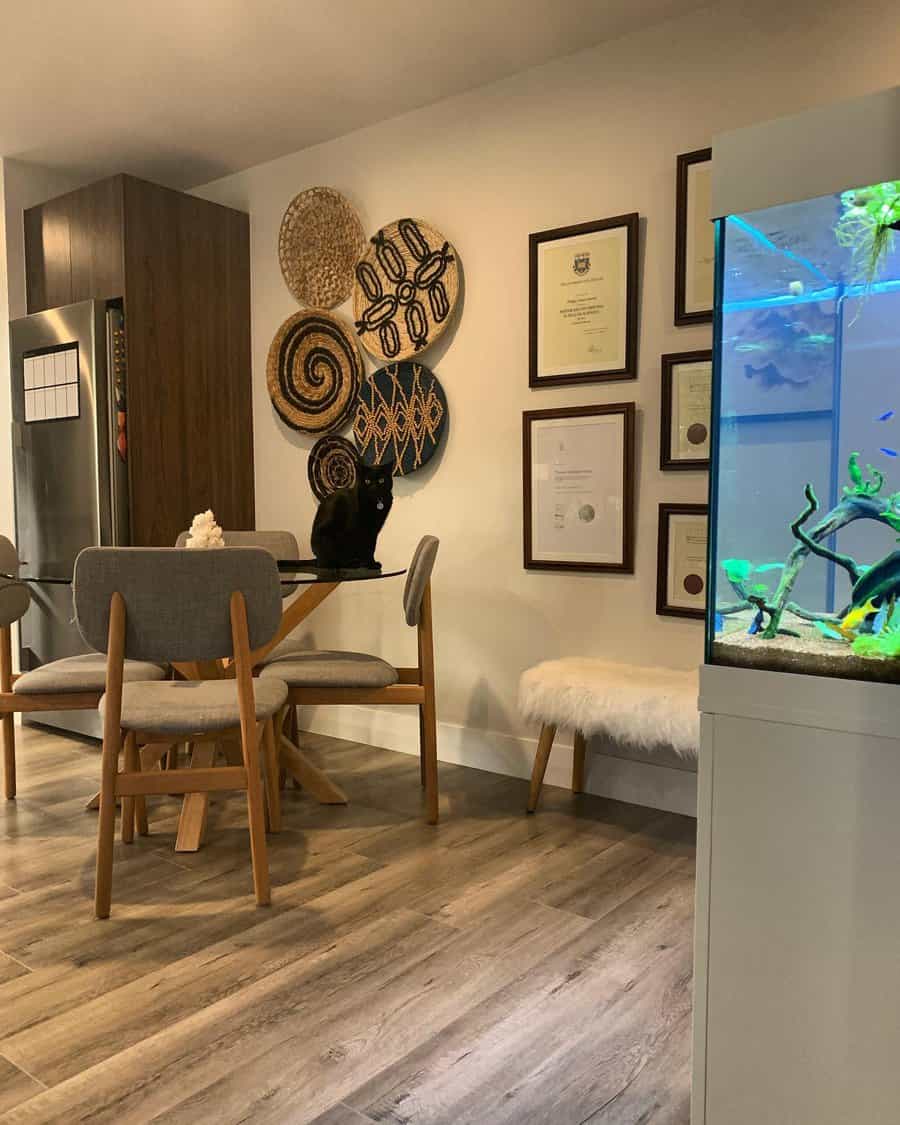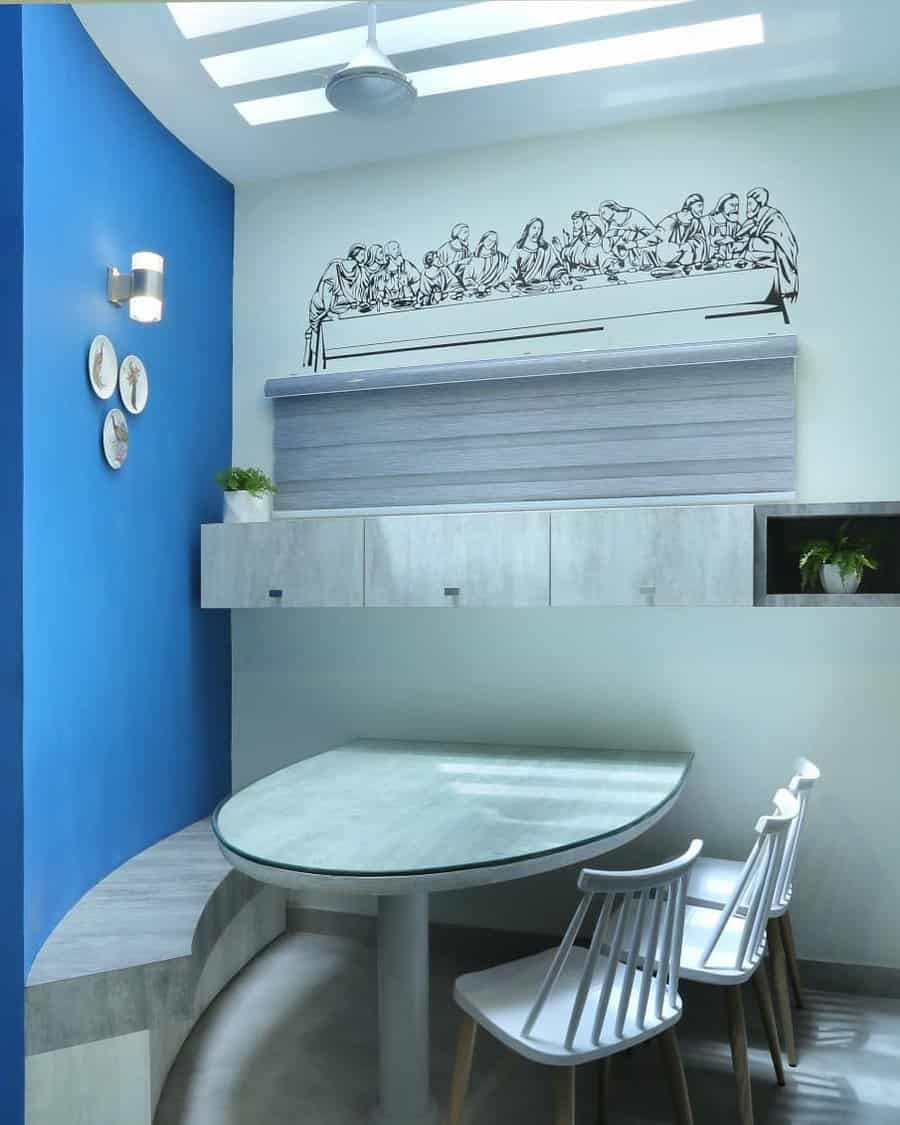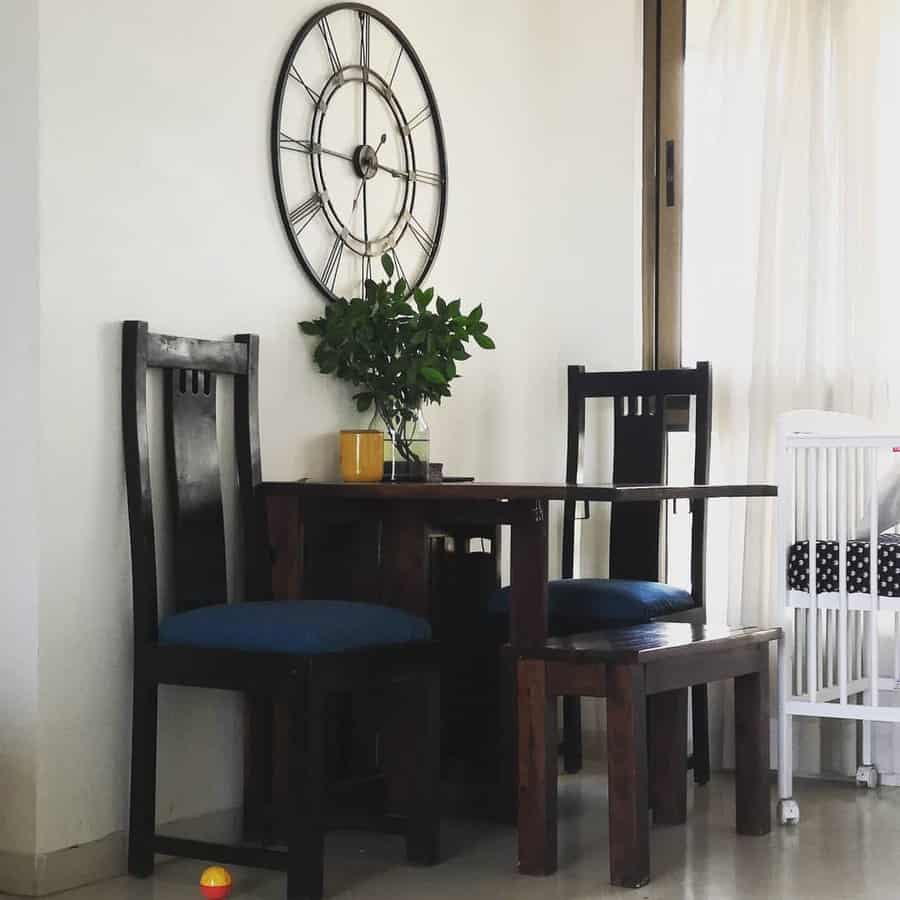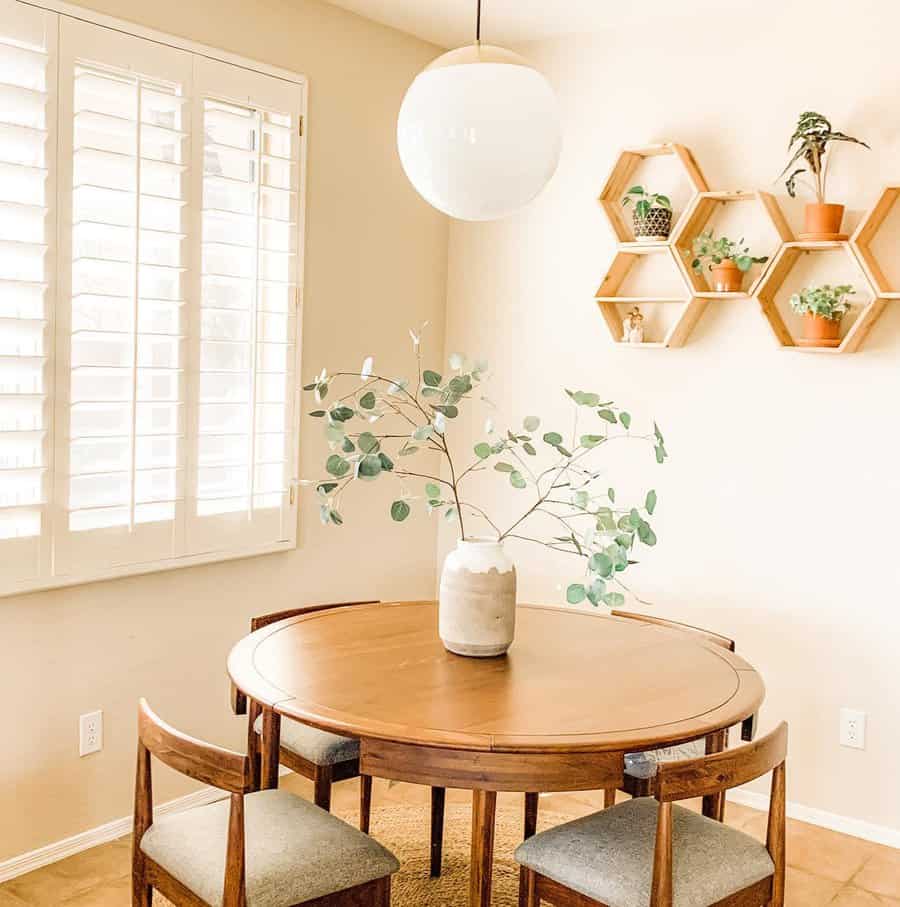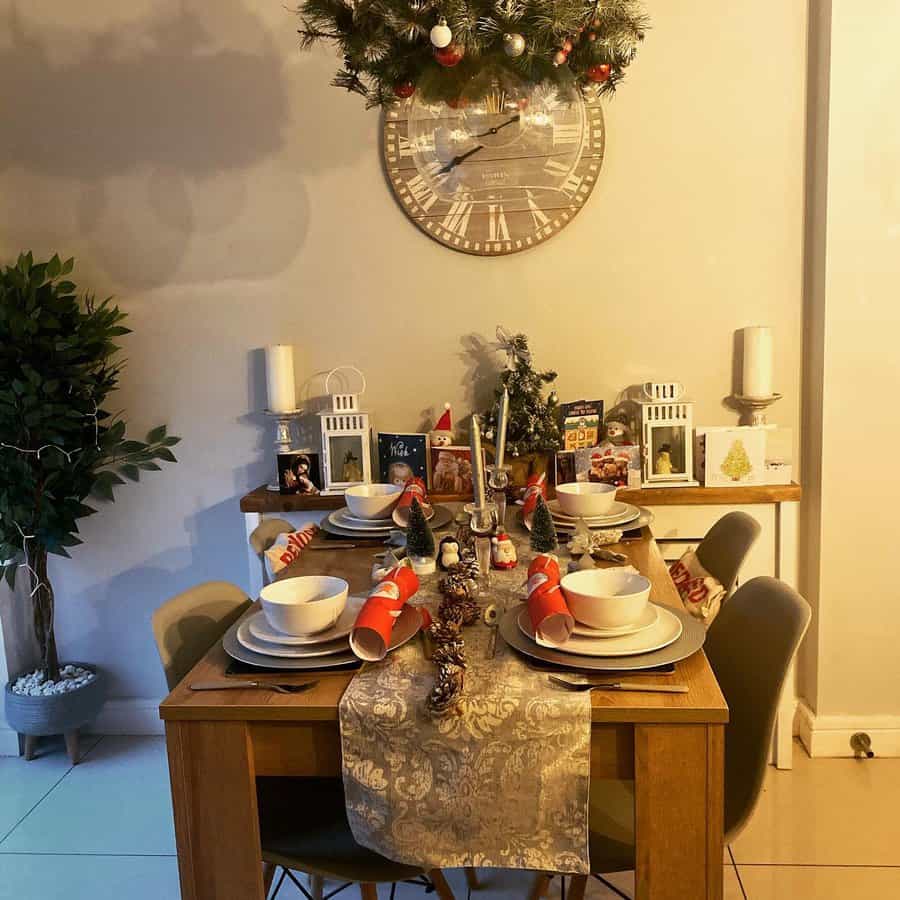 19. Heavy Wooden Material For Durability
Not only is heavy wooden furniture durable and long-lasting, but it also adds an element of elegance and sophistication to the dining area you're trying to create. Perhaps consider purchasing chairs with an upholstered seat witch provides comfort during even long dinners.
Plus, there's something timelessly beautiful about a heavy wooden table that will always make your dining room look stylish without feeling outdated or overbearing in a smaller space.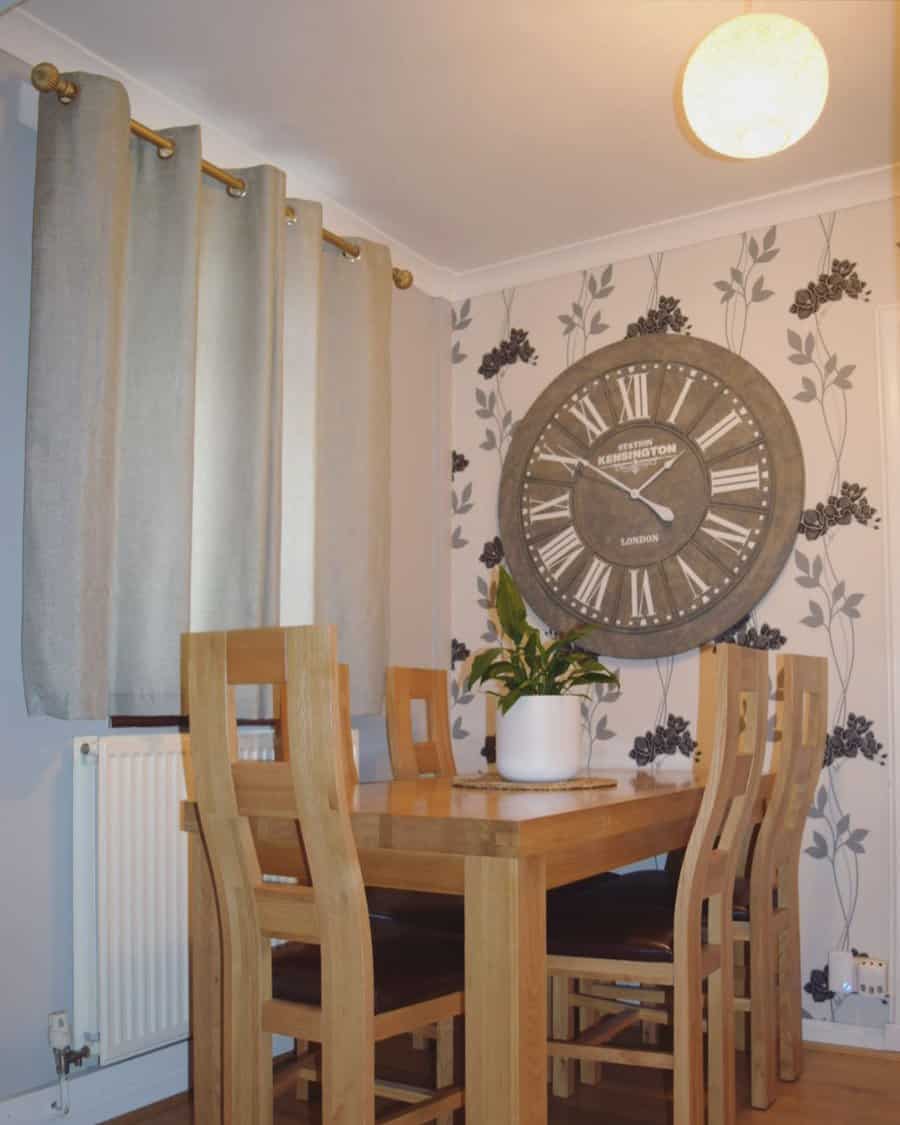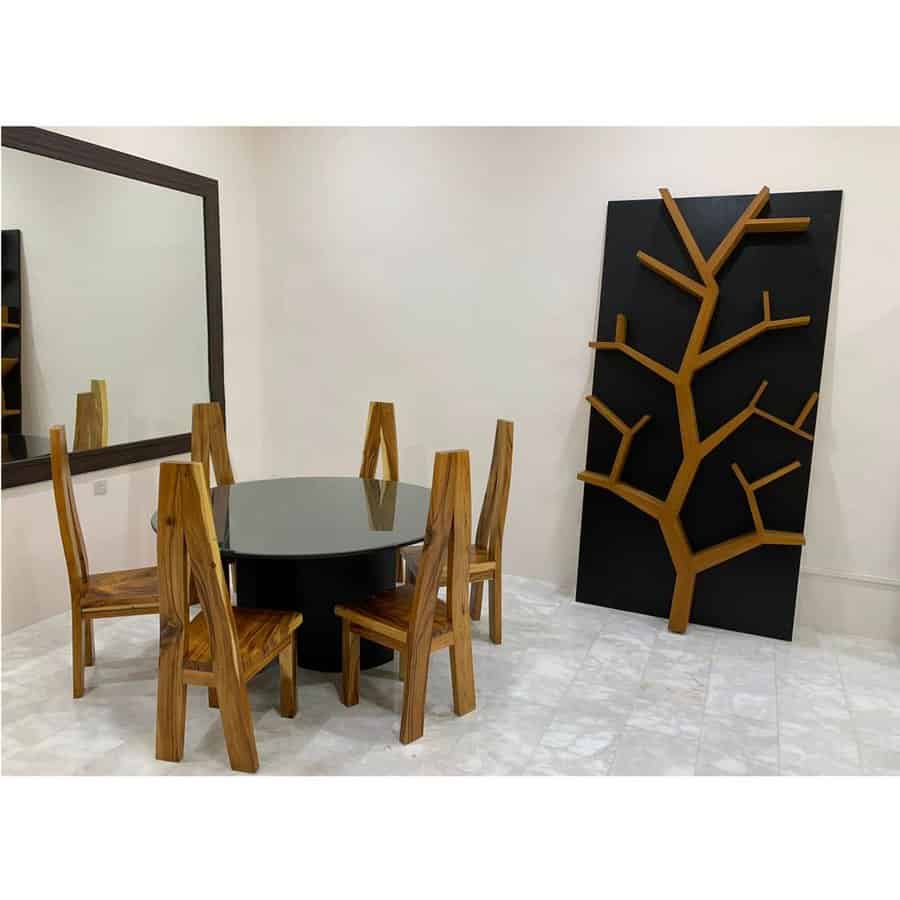 20. Black Fixtures For An Industrial Look
Give your small dining room a modern makeover with black fixtures for an industrial look. Whether it's black chairs, walls, or light fixtures – the black accents can bring an edge to the environment. If black isn't your style, you can also opt for natural wood furniture like a wooden table.
The warmth of the wood will create a cozy and inviting atmosphere while still giving off that modern aesthetic.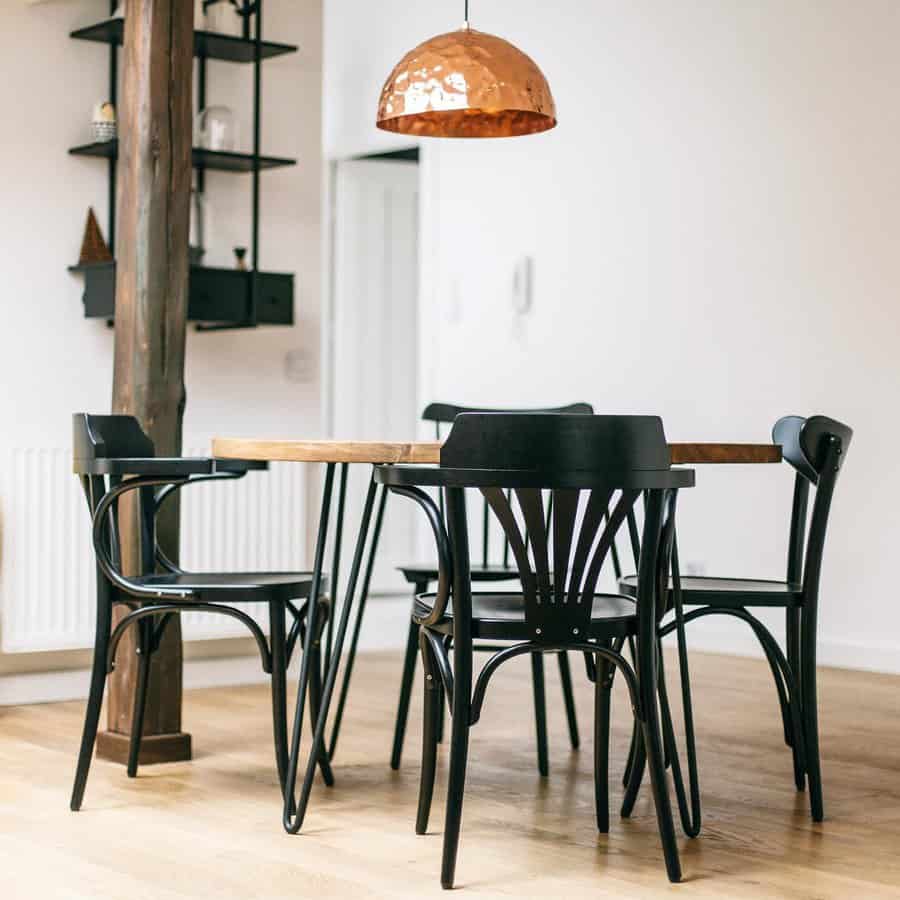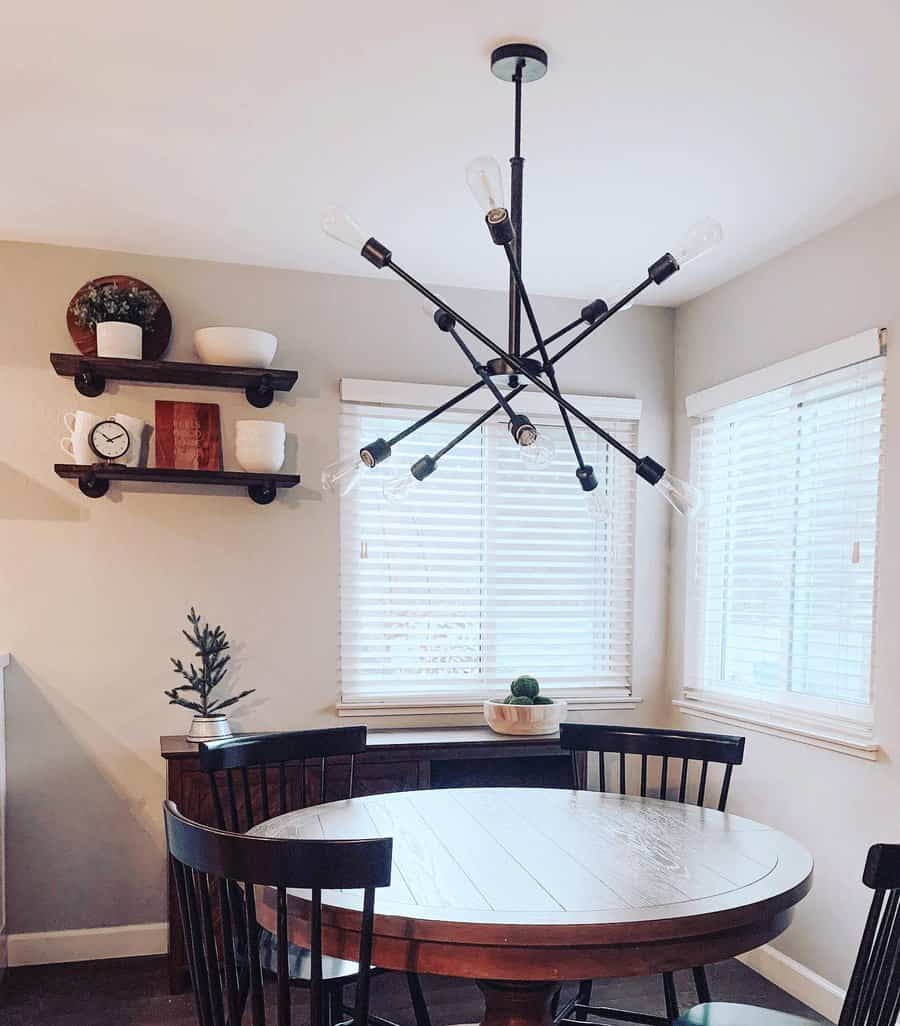 21. Showcase Vintage Decor For A Farmhouse Look
Creating a vintage vibe for your small dining room can be a fun and creative endeavor. To do so, consider adding distressed furniture with vintage-inspired fabric, or even find vintage pieces at thrift stores! Also, to draw the eye upward, hang a chandelier – it will help to make the space look larger than it is.
Finally, don't forget the little details that create an inviting atmosphere; try using a thrifted centerpiece like an antique teapot filled with fresh flowers to finish off your vintage interior.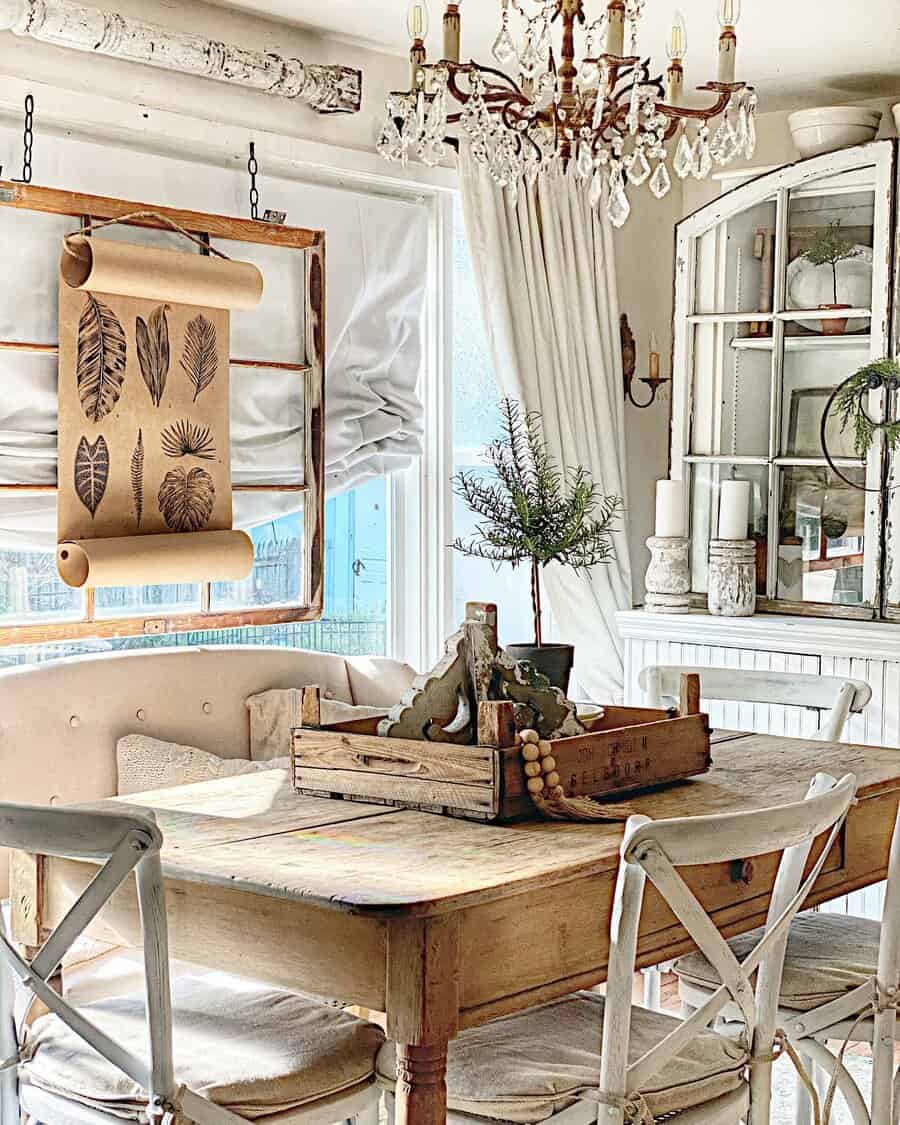 22. Art Deco Style Thrifted Seating
When it comes to furnishing your small dining room, thrift store finds can be a great way to inject character into the room without breaking the bank. Try finding a set of thrifted chairs in an art-deco style and re-stain them in a color like burnt orange for an eye-catching statement piece that'll make dinner guests green with envy!
Dining rooms don't have to take up a lot of space to create a warm and inviting atmosphere; thrifted chairs combined with complementary tones are one way you can add personality and charm to your small dining room.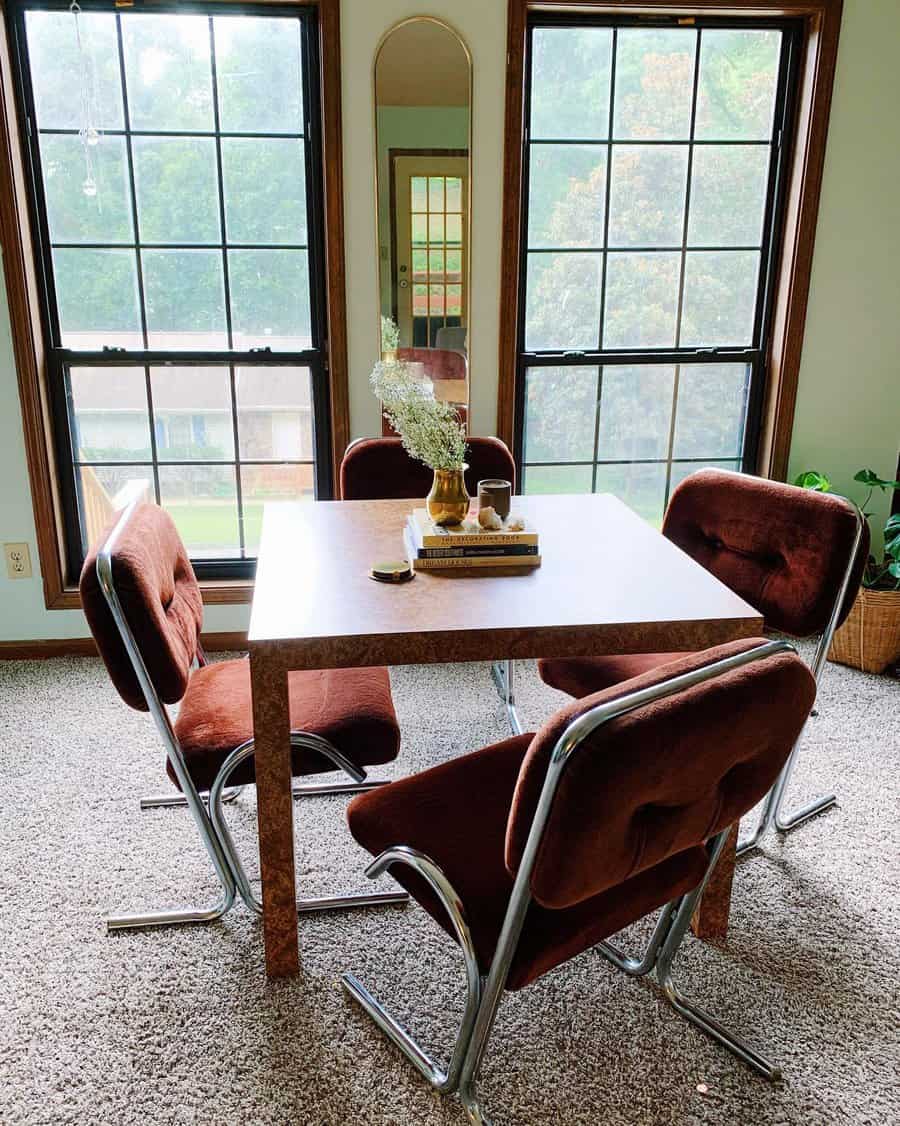 23. Brighten Up The Dining Space With A White Theme
A white seating setup with white countertops and white walls can be a great way to create the illusion of more space in a small dining room. To break up the white and add some contrast, consider incorporating gold elements or using natural wood in your decor.
Once you have this classic white backdrop in place, why not spruce it up with vibrant green plants to give the dining room some life? By adding these simple touches, your small dining room can become an inviting and beautiful space.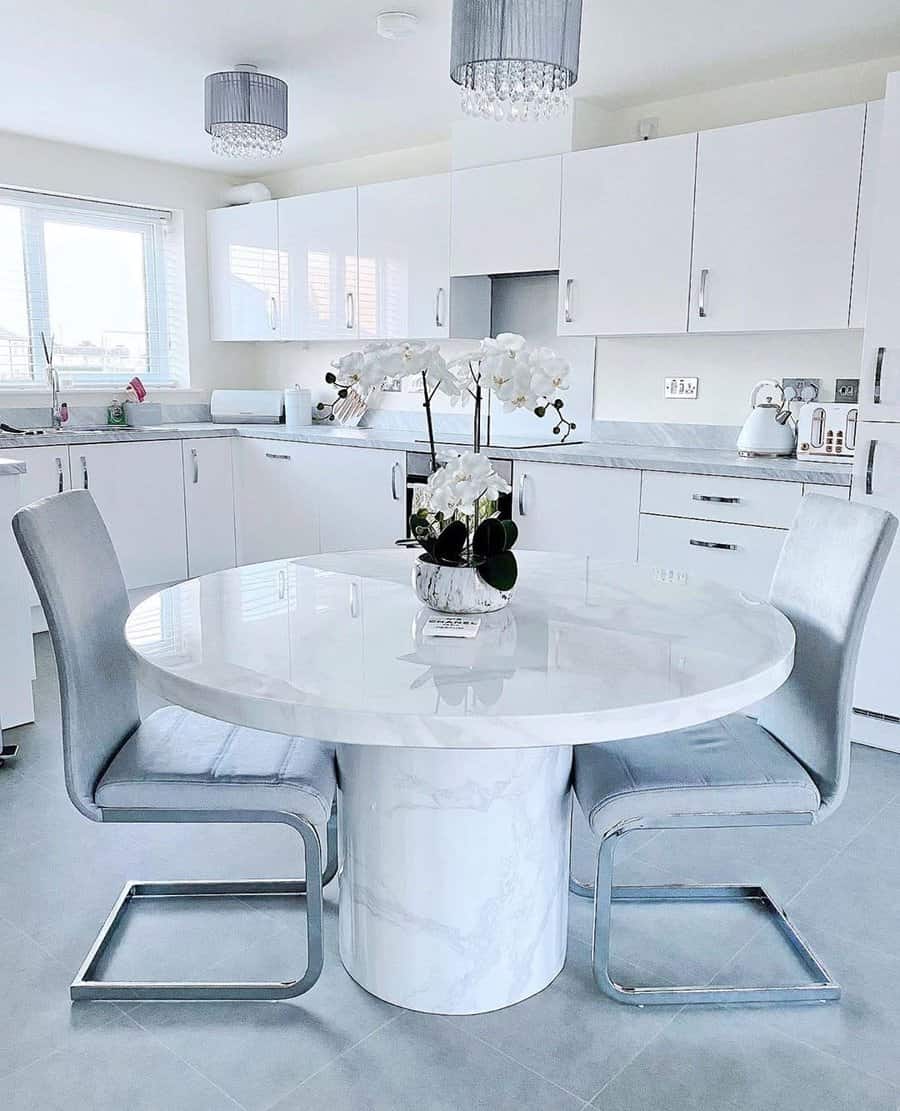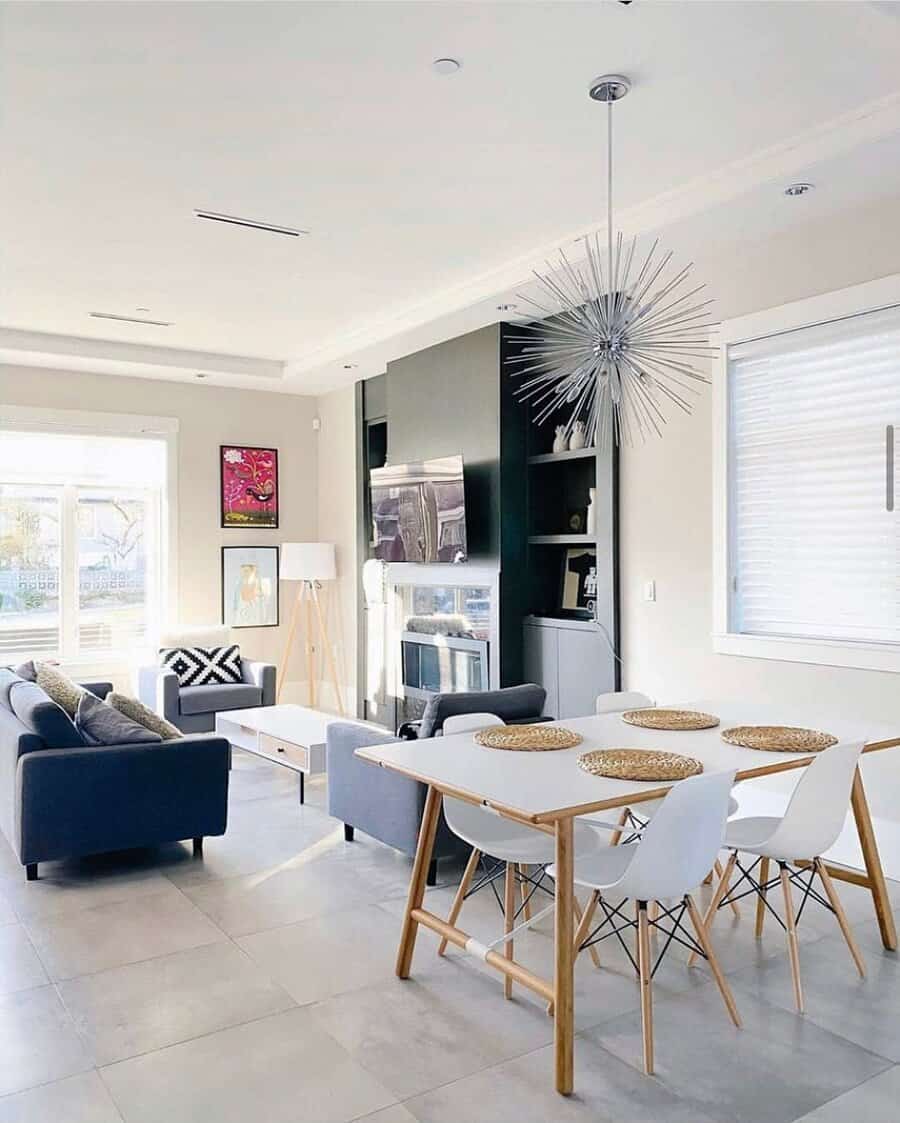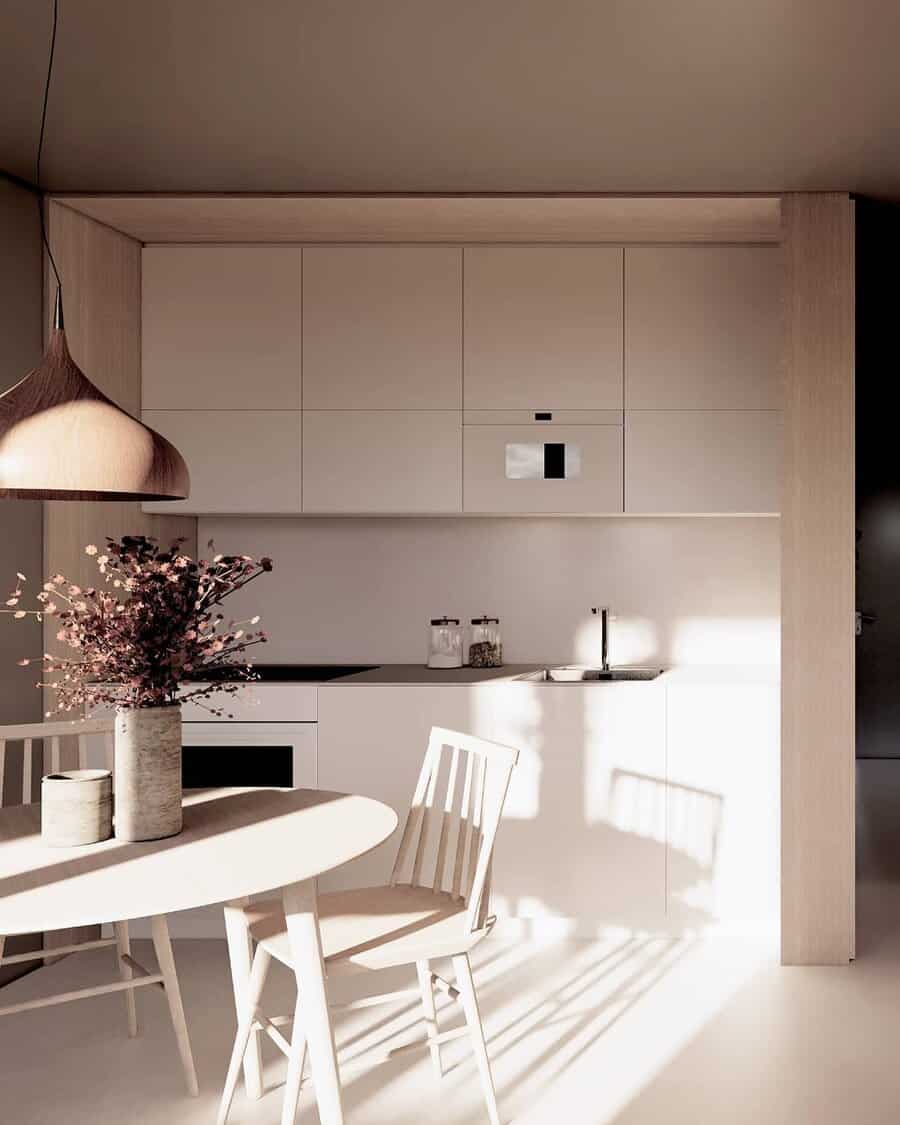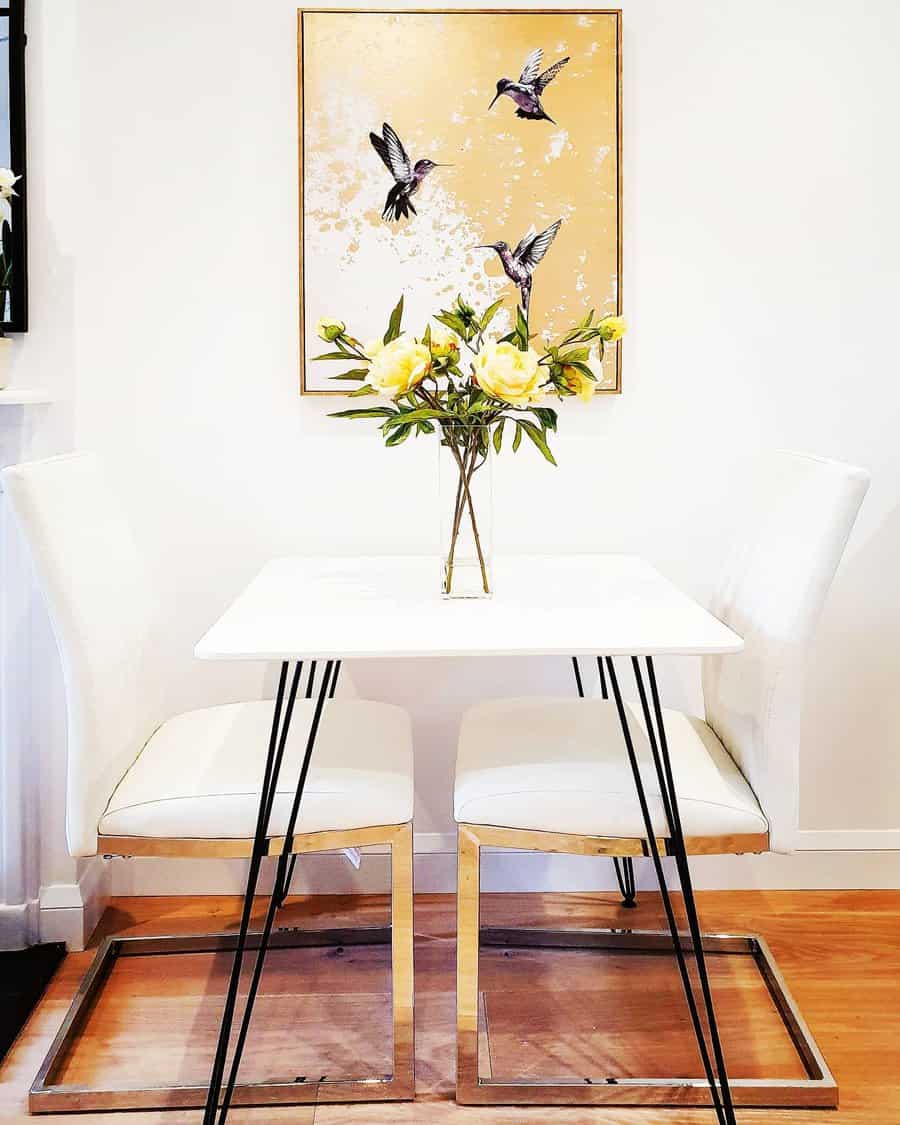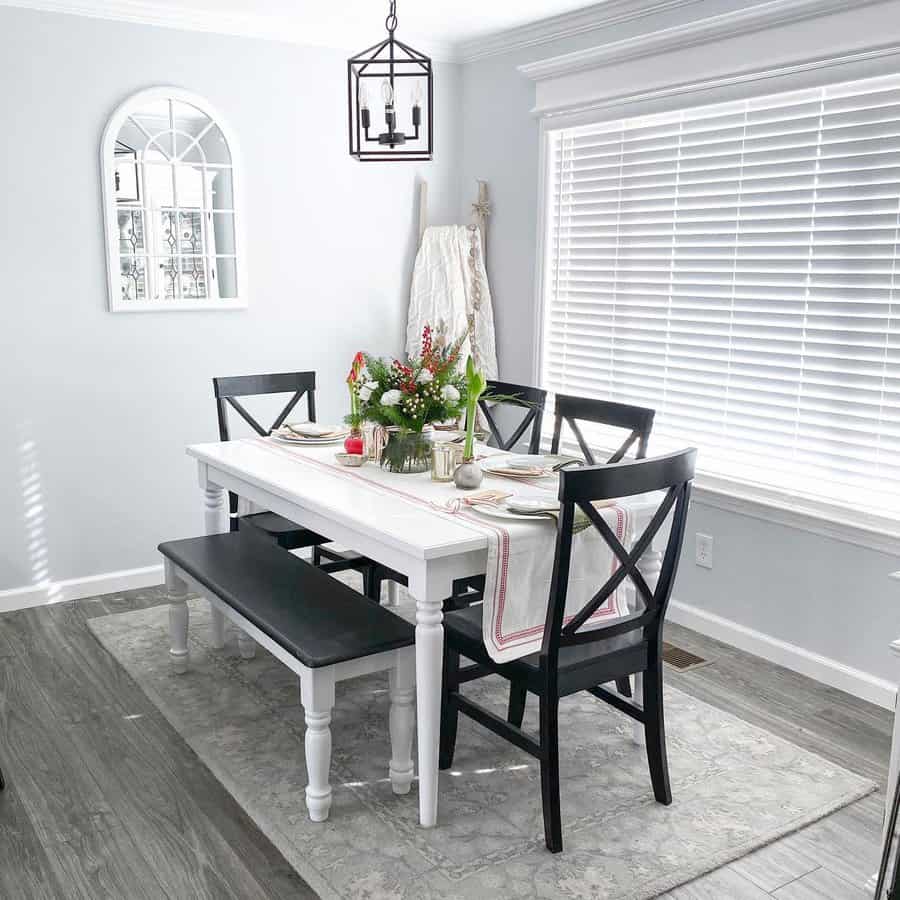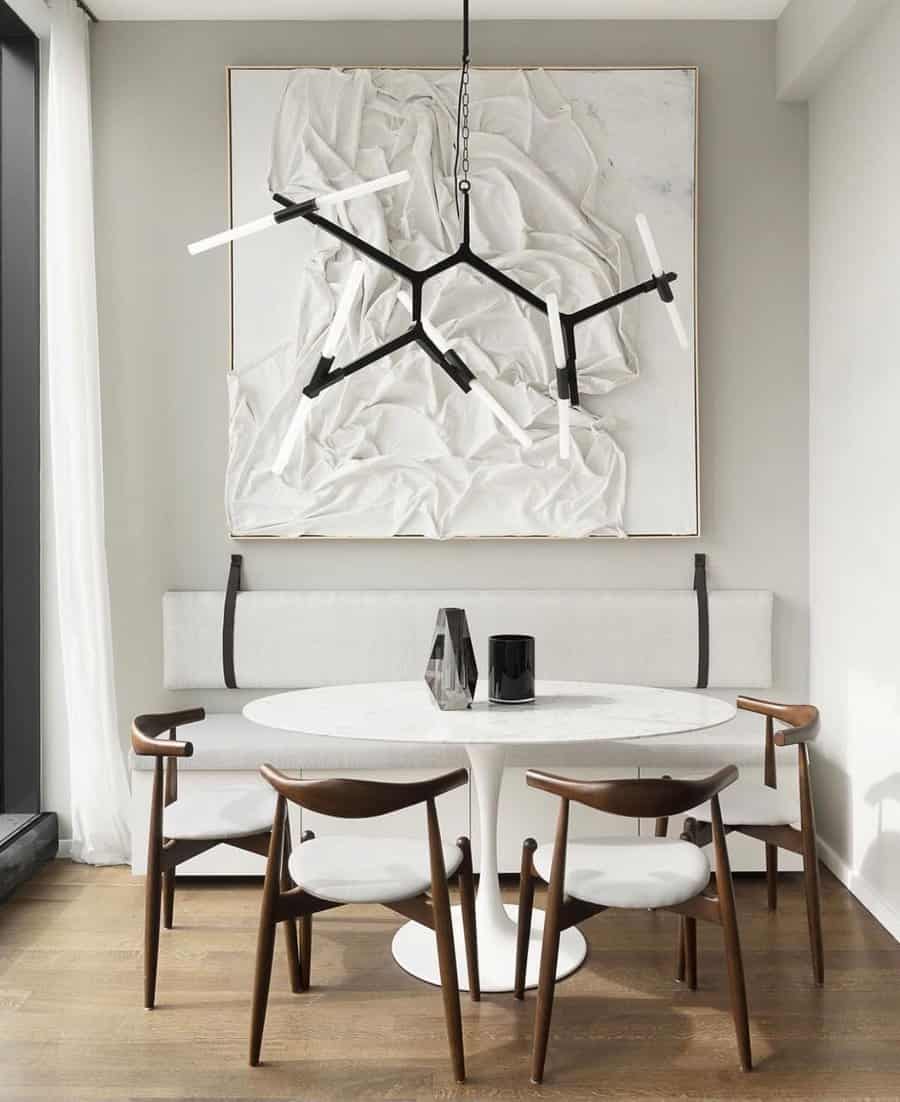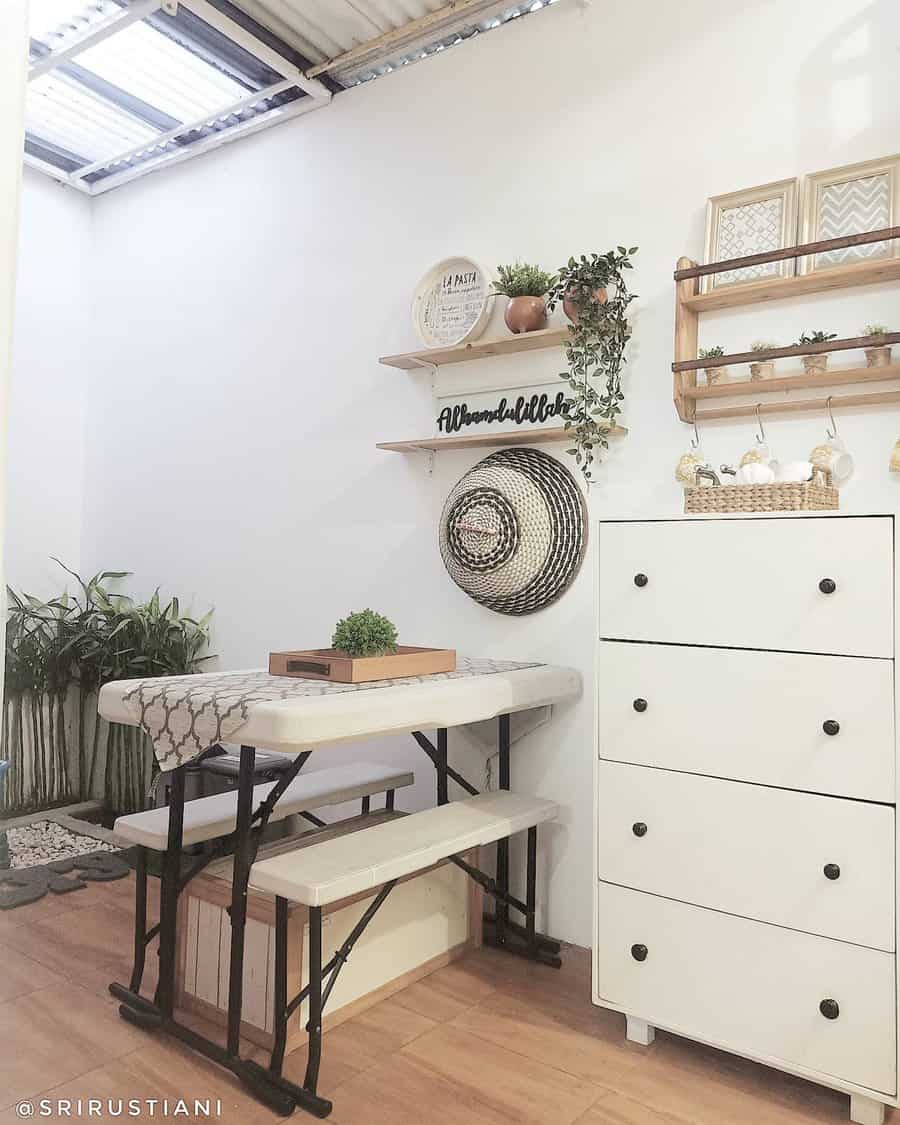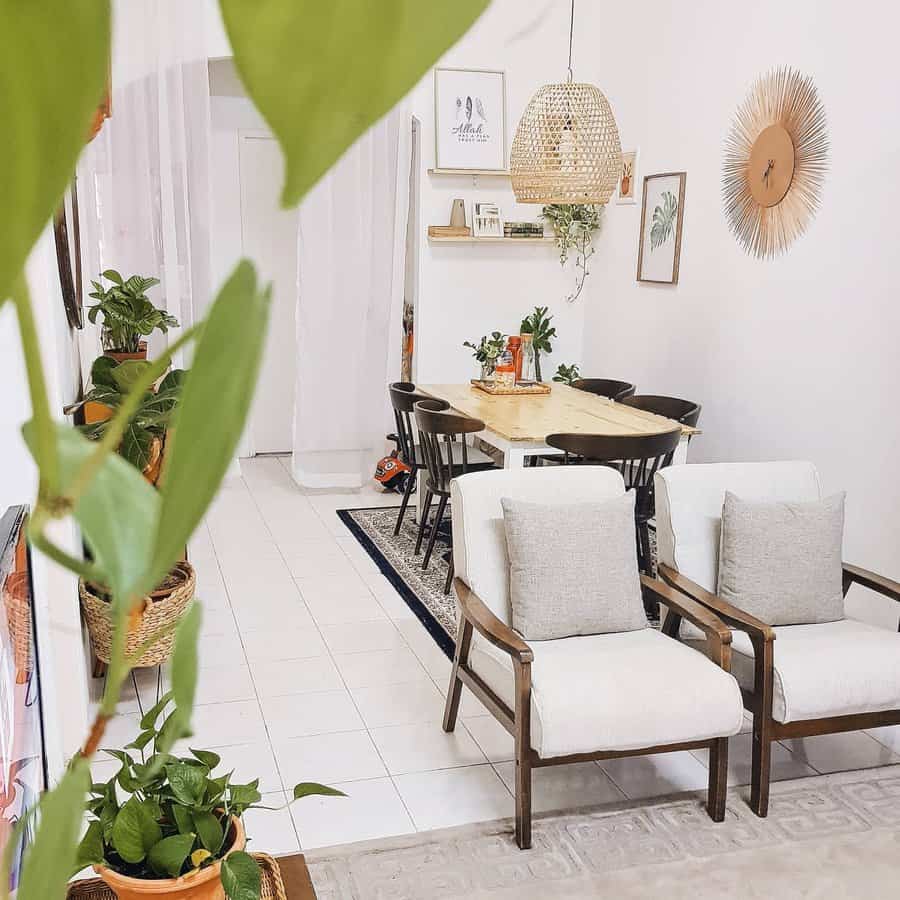 Small Dining Room FAQs
Can you hang a chandelier in a small dining room?
You can hang a chandelier in nearly any room. As long as your chandelier is the right size for your dining area, it doesn't matter if the space is small, average, or large.
One common rule of thumb is to select a chandelier that is about one-half the width of your dining room table. It's better to hang a chandelier that is slightly bigger than this guideline than one that is too small.
Most chandeliers should be hung 30 to 36 inches above the tabletop. However, you may want to adjust the height depending on your dining room ceilings and table style.
Should my dining room and kitchen match?
Unless your dining area is set up at your kitchen island, there's no need for matching decor. Even open-concept homes benefit from giving each living area a slightly different style.
If your dining room is completely separate from your kitchen, you can decorate it however you want. But if the room is adjacent to your kitchen, living room, or another area entirely, the two spaces should coordinate (but do not need to be identical).