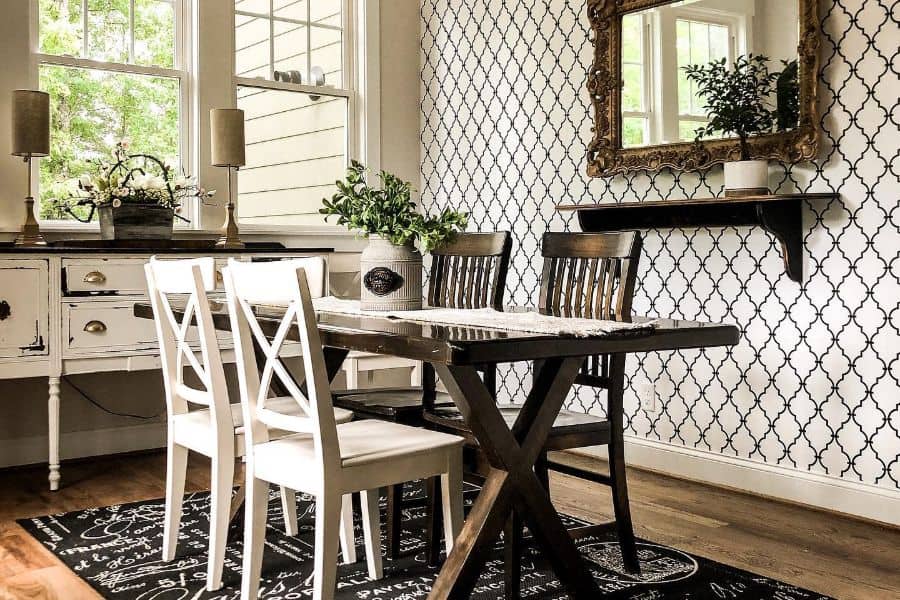 69 Dining Room Wall Decor Ideas
by — Kendrick Hulse

Published on June 28, 2021

Updated on March 14, 2023
The dining room is one of the least used rooms in the modern home. This is partially because of a rising preference for multi-use spaces (today's meals are often eaten in the kitchen or living room instead).
If you're like most homeowners, your dining room may only play a starring role during holidays and parties. Still, putting a little extra care into its decor will ensure it blends into the rest of your home design.
Keep reading for our favorite dining room wall decor ideas that will leave you wondering how you ever enjoyed a meal surrounded by blank walls!
1. Install A 3D Accent Wall
Looking to add a 3D accent wall to your dining room? Consider using stamped tiles or wallpaper. Stamped tiles and wallpaper can create interesting patterns and textures, adding intrigue and personality to your decor.
If stamping isn't your style, 3D wall panels are an exciting alternative that will give your walls an extra dimension without being overwhelming. Take a trip to a local home goods store and explore the array of 3D wall panel designs available—you may be surprised at how easy it is to transform your dining room with 3D accents!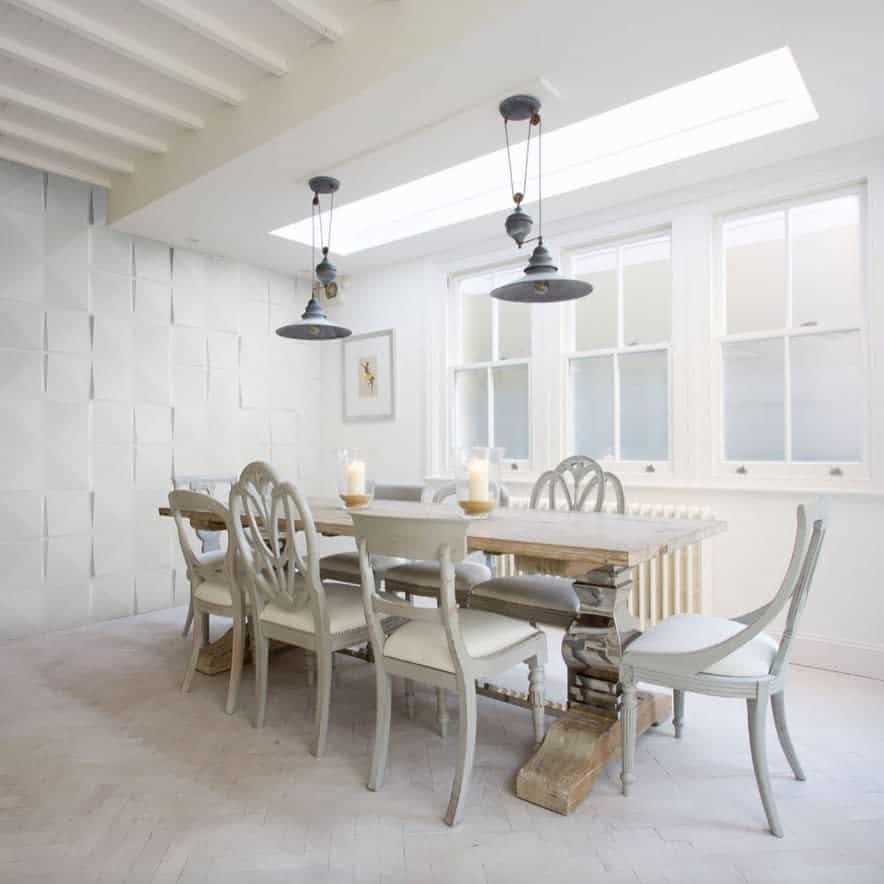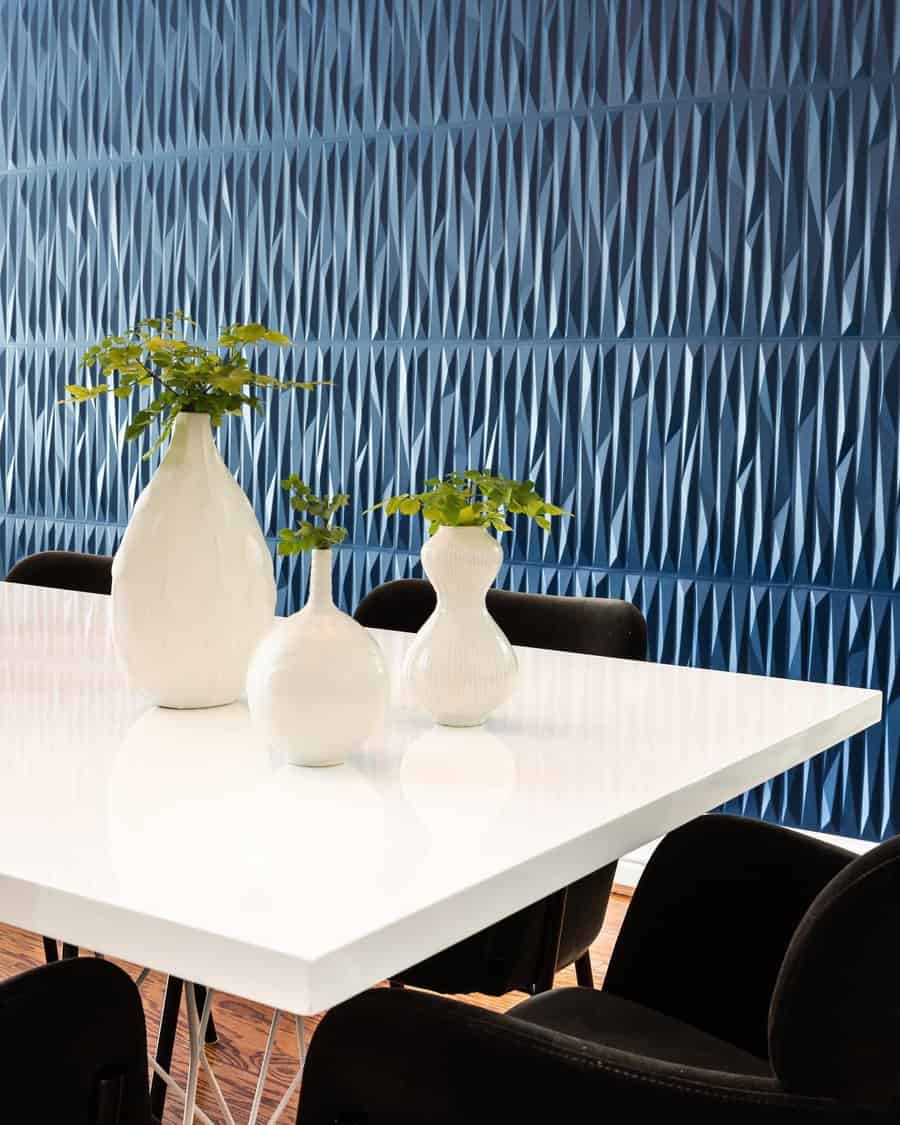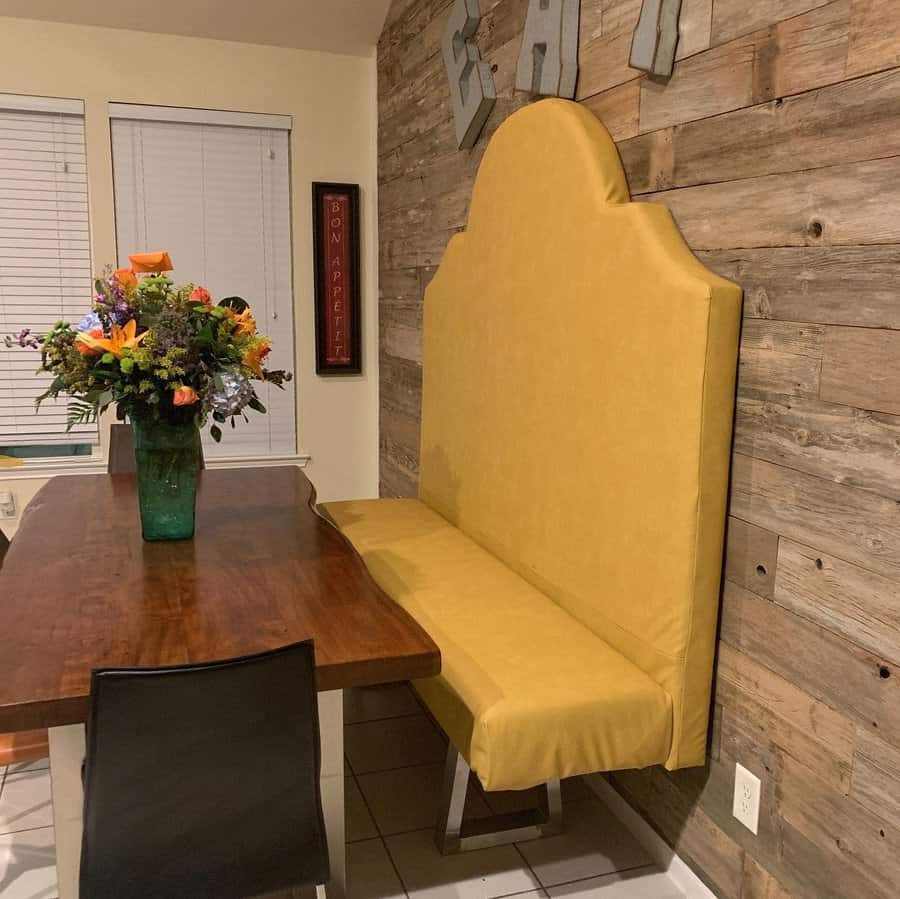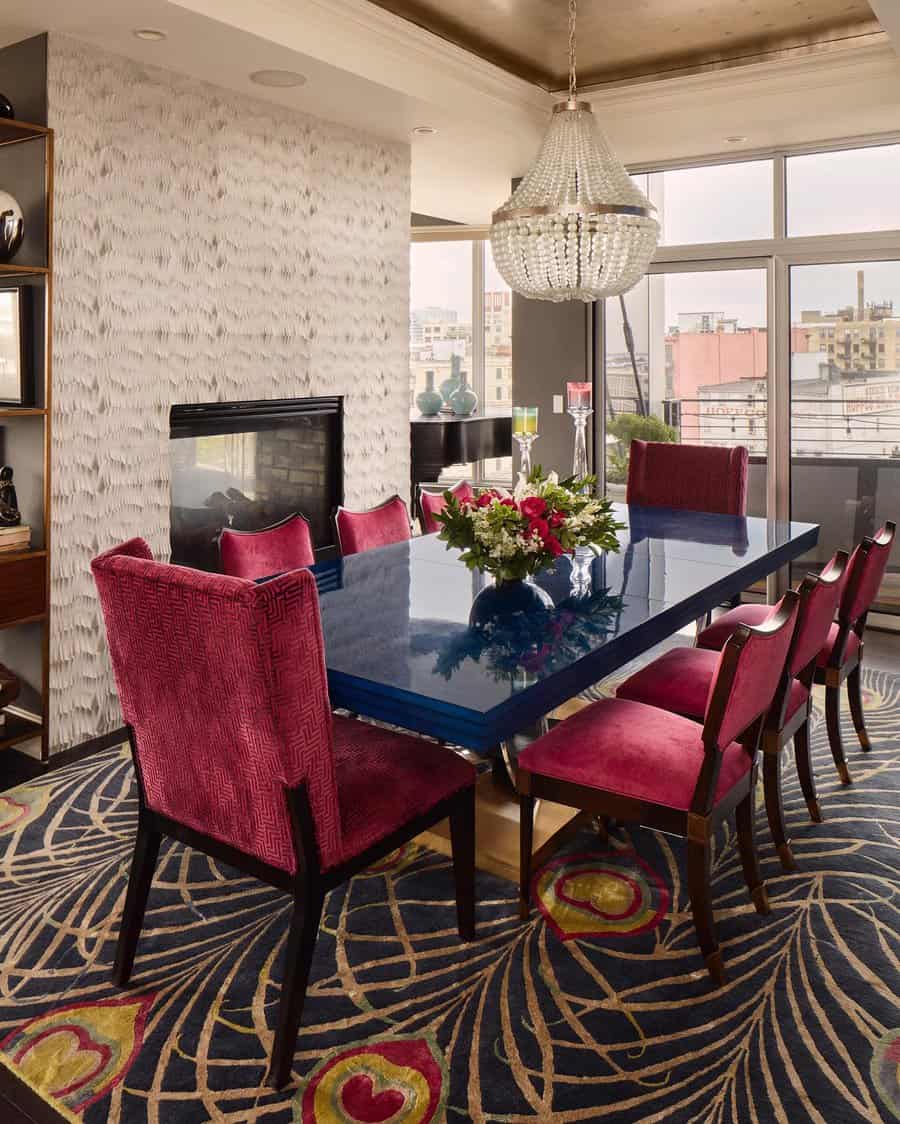 2. Go For A Shabby Chic Wallpaper
Your dining room wall decor should reflect your personal style while creating a polished, inviting feel. If you're looking to give your room a shabby chic transformation, shiplap walls, and shabby chic wallpaper are a perfect choice.
The shiplap will add texture and depth to the space while the wallpaper pattern ties everything together in a bold yet subtle way, creating a cozy atmosphere that will draw eyes and attention no matter who comes to dine.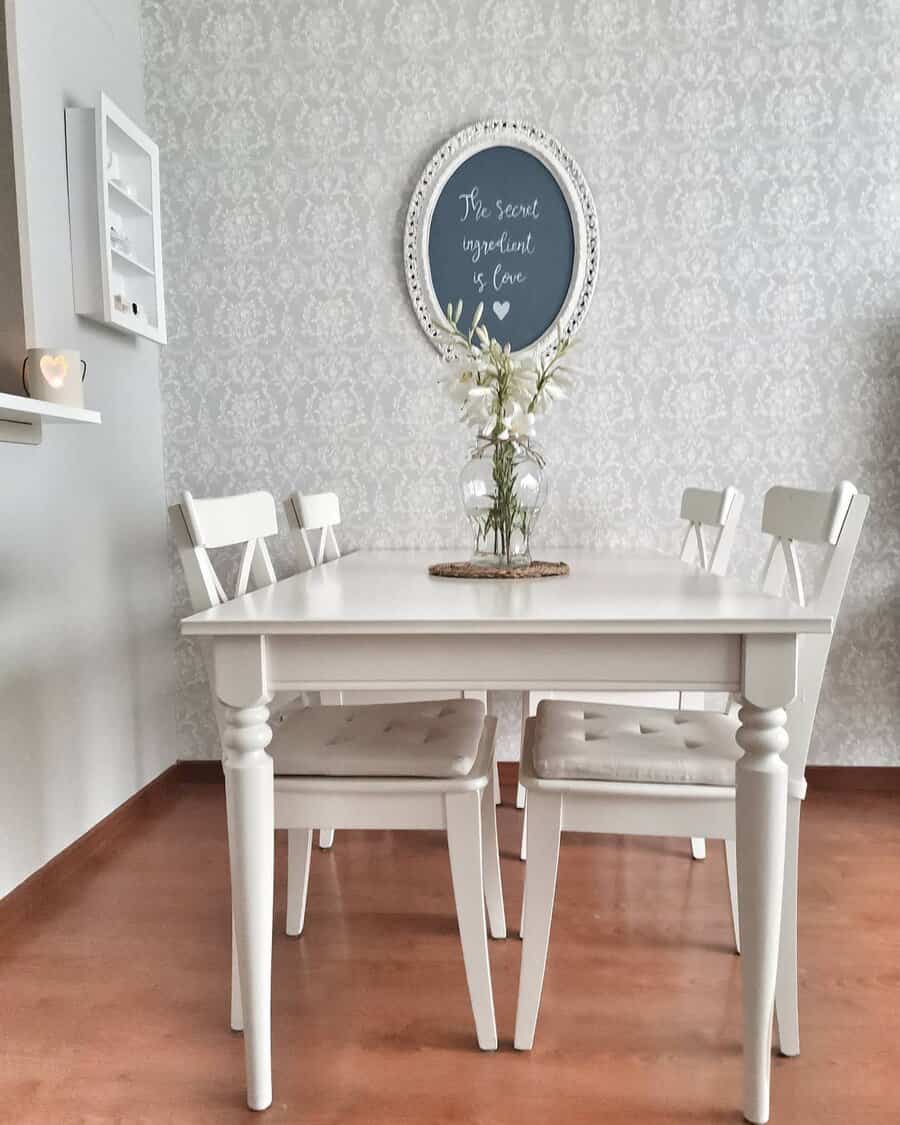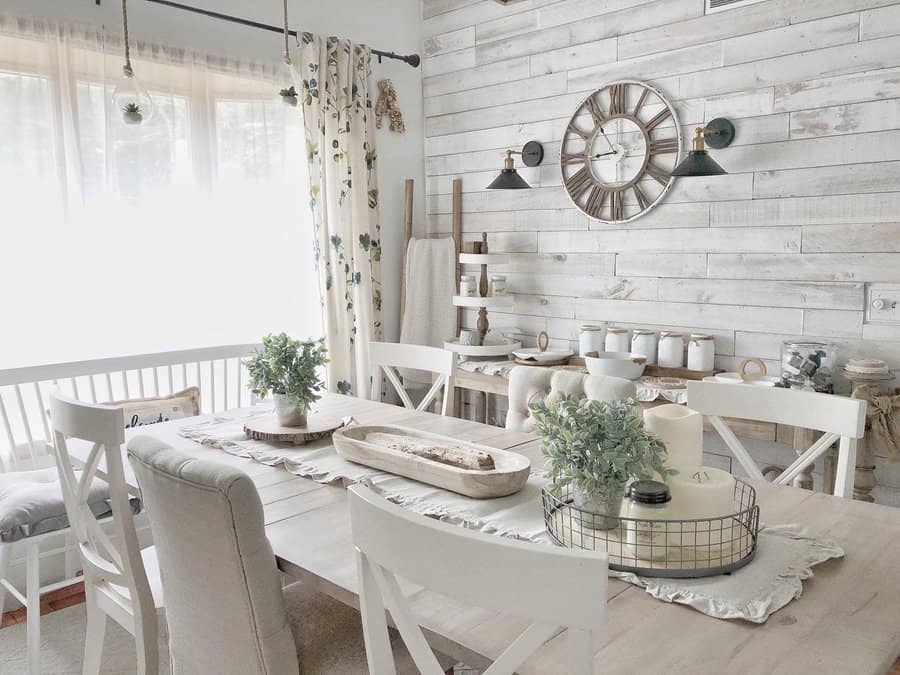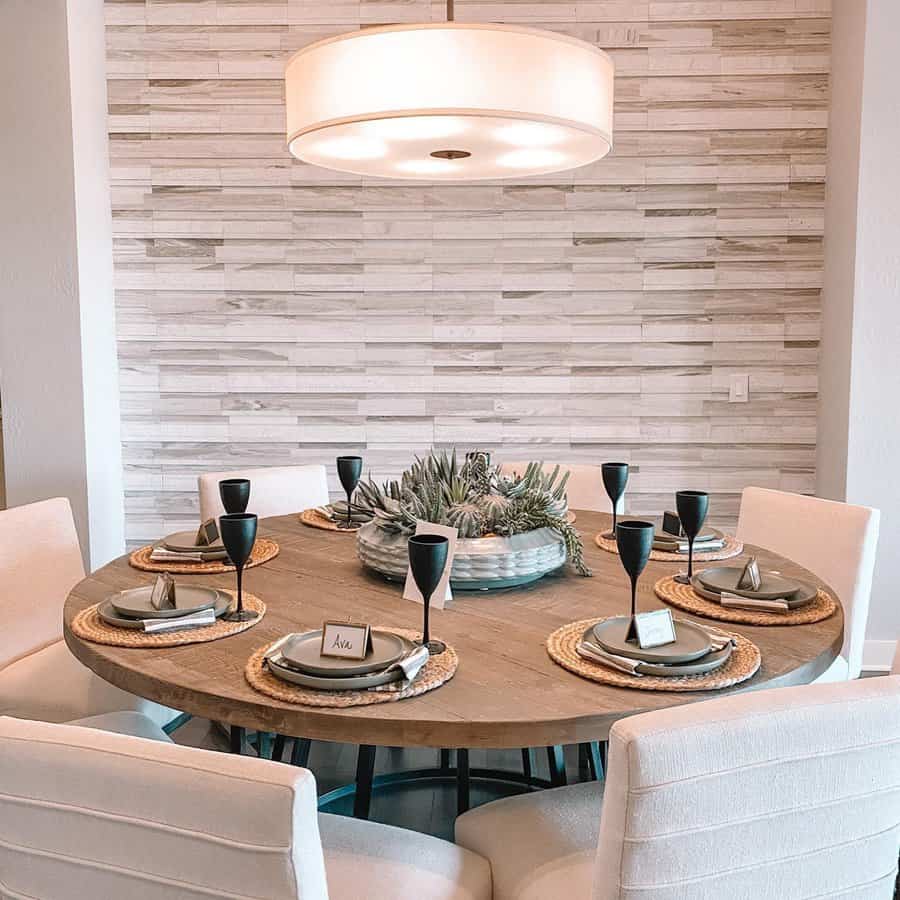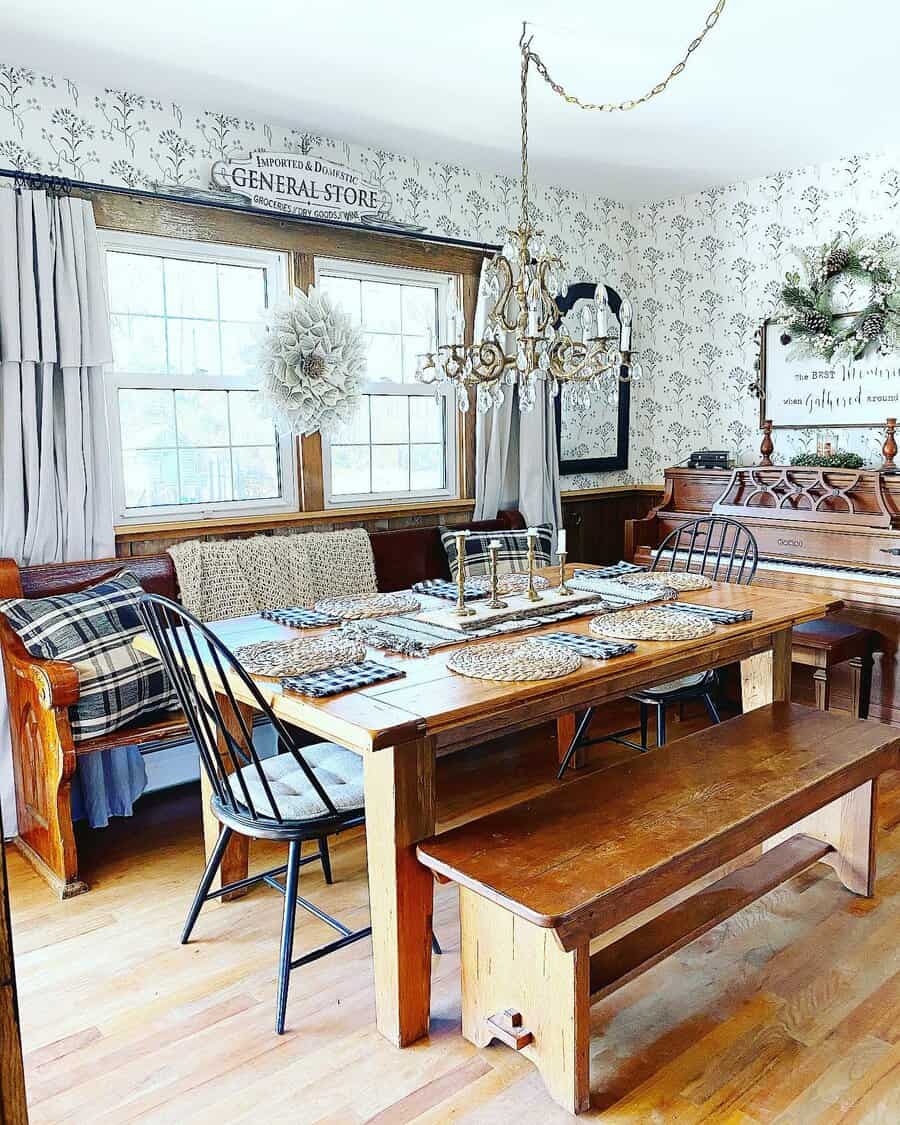 3. Incorporate A Mirror To Open Up The Space
When it comes to sprucing up your dining room, large mirrors can be the perfect wall decor. Placing at least one large mirror on a wall will instantly open up the space and make your dining room appear more airy and cheerful.
Mirrors also reflect light, making outdated dining rooms seem more modern and chic. Try mixing different sizes of large mirrors for a unique touch that will still bring harmony to the space. With large mirrors, you can create stylish wall decor for your dining room that is both fun and functional.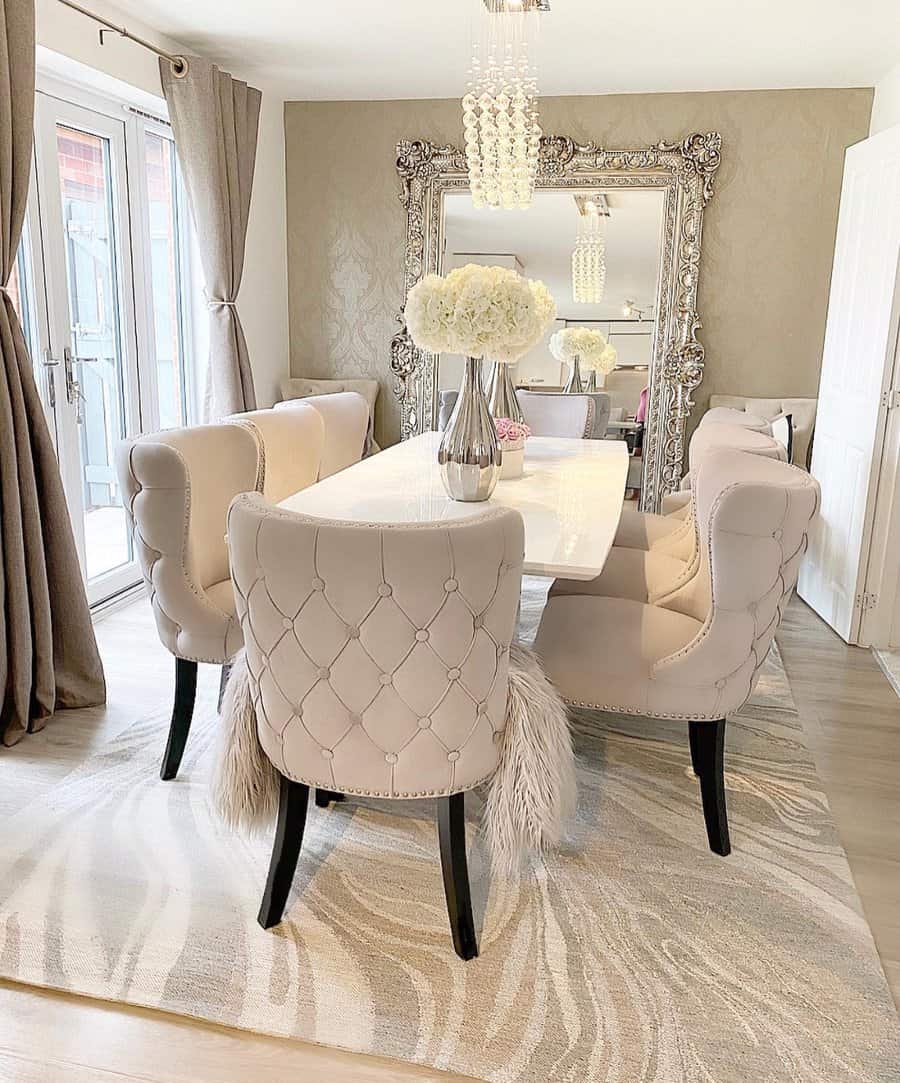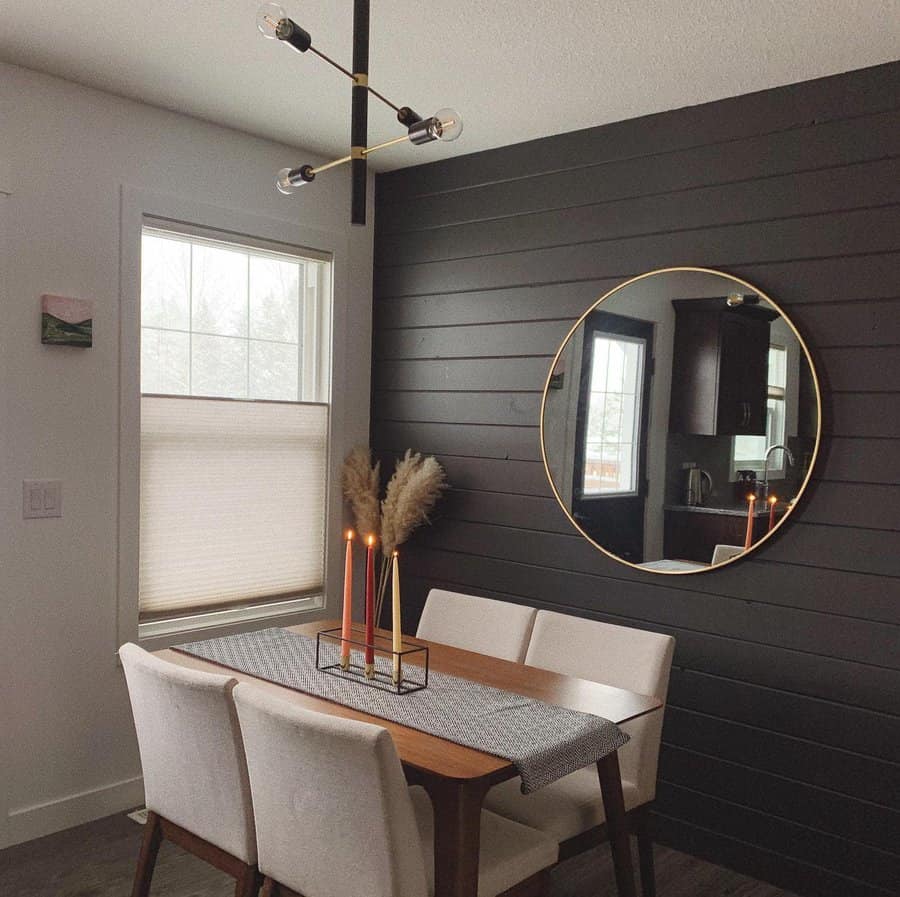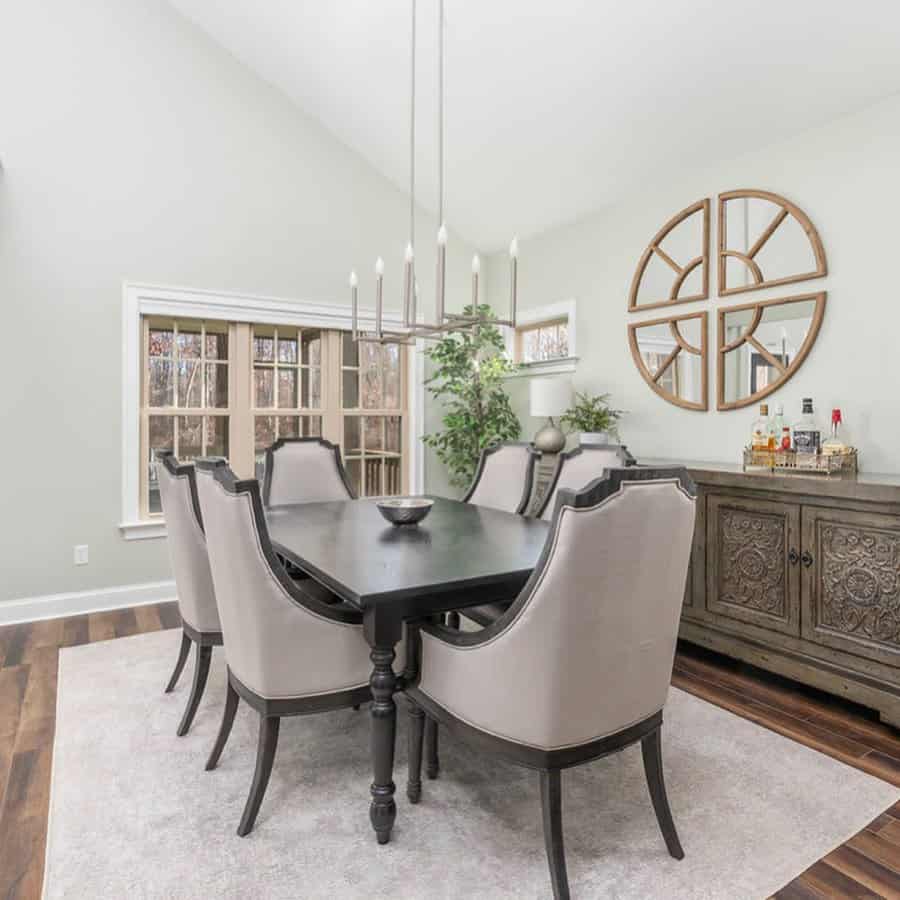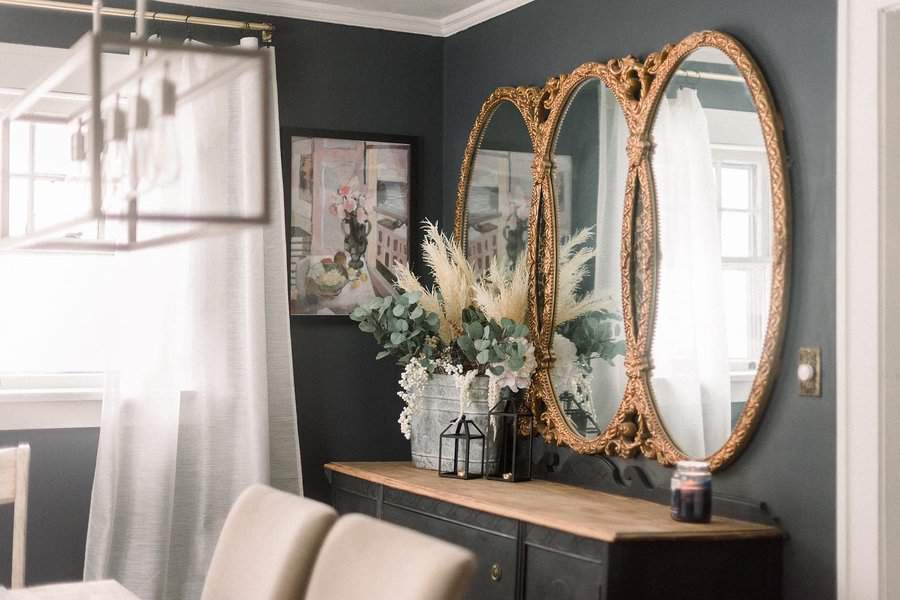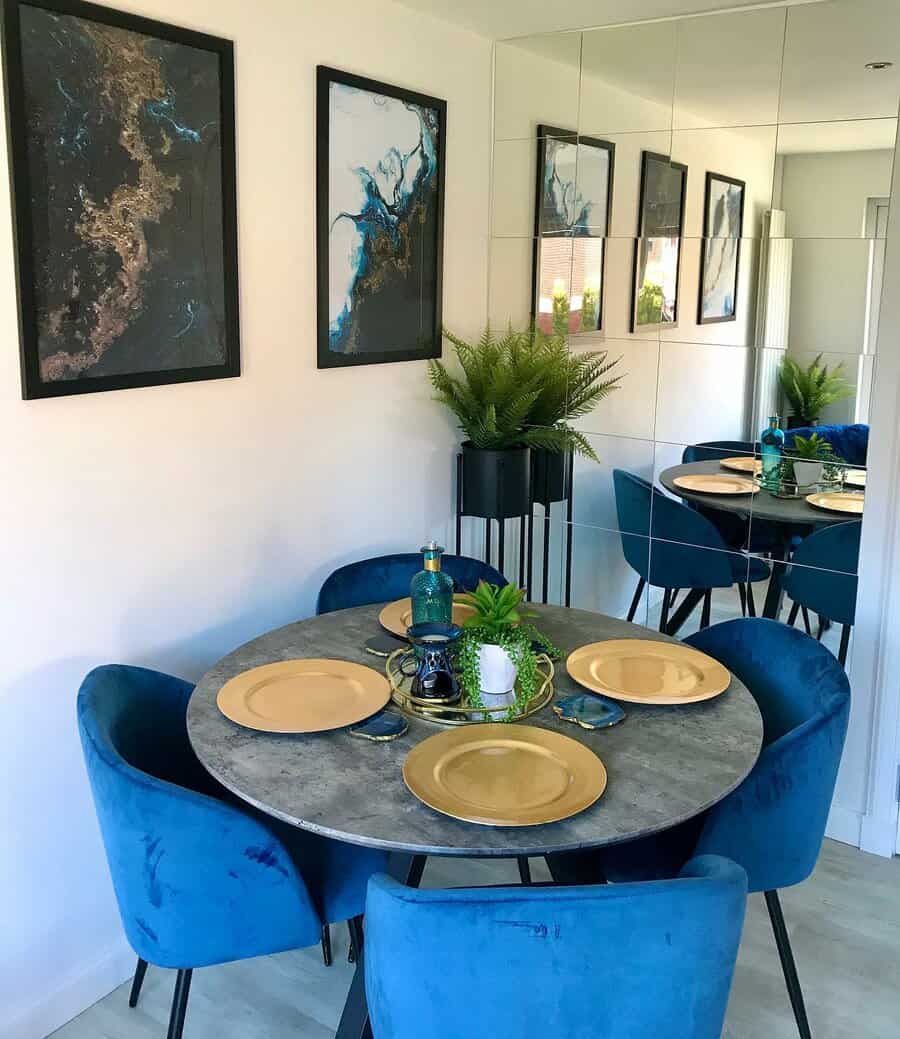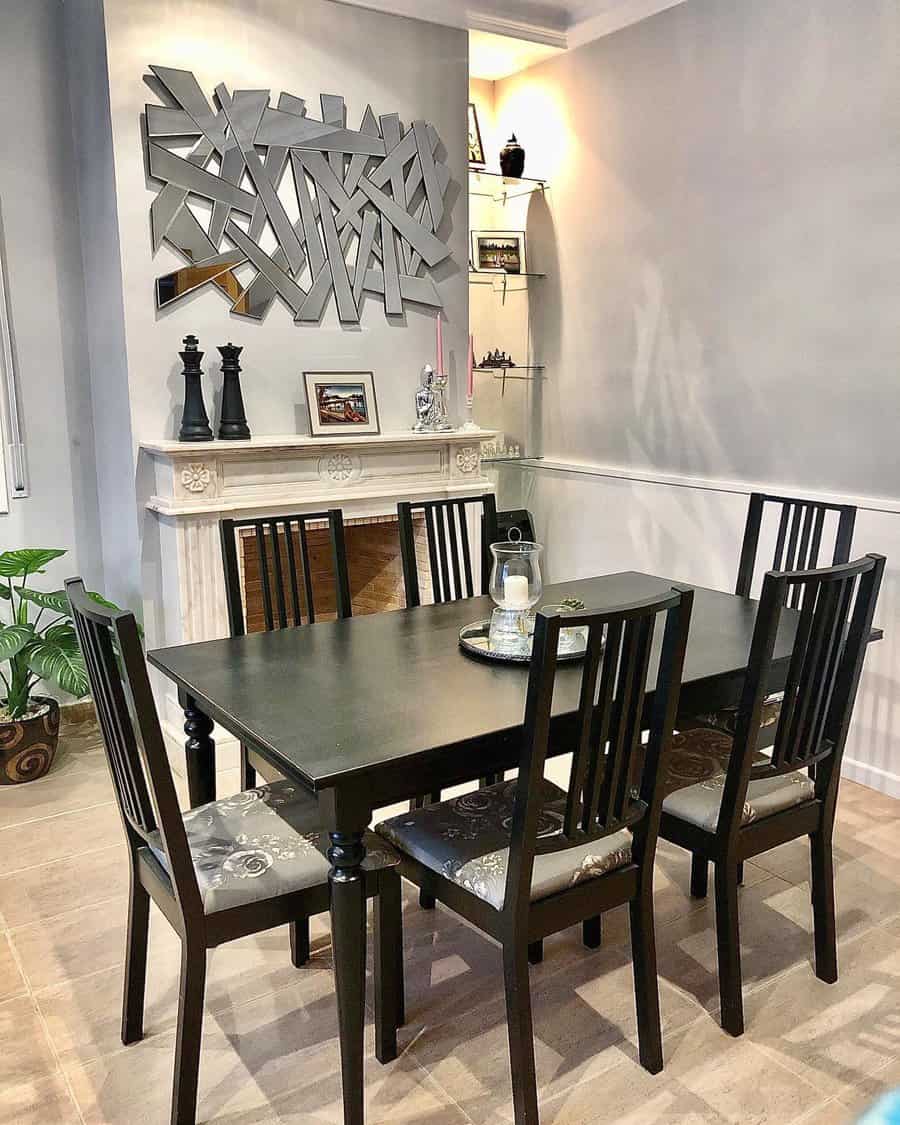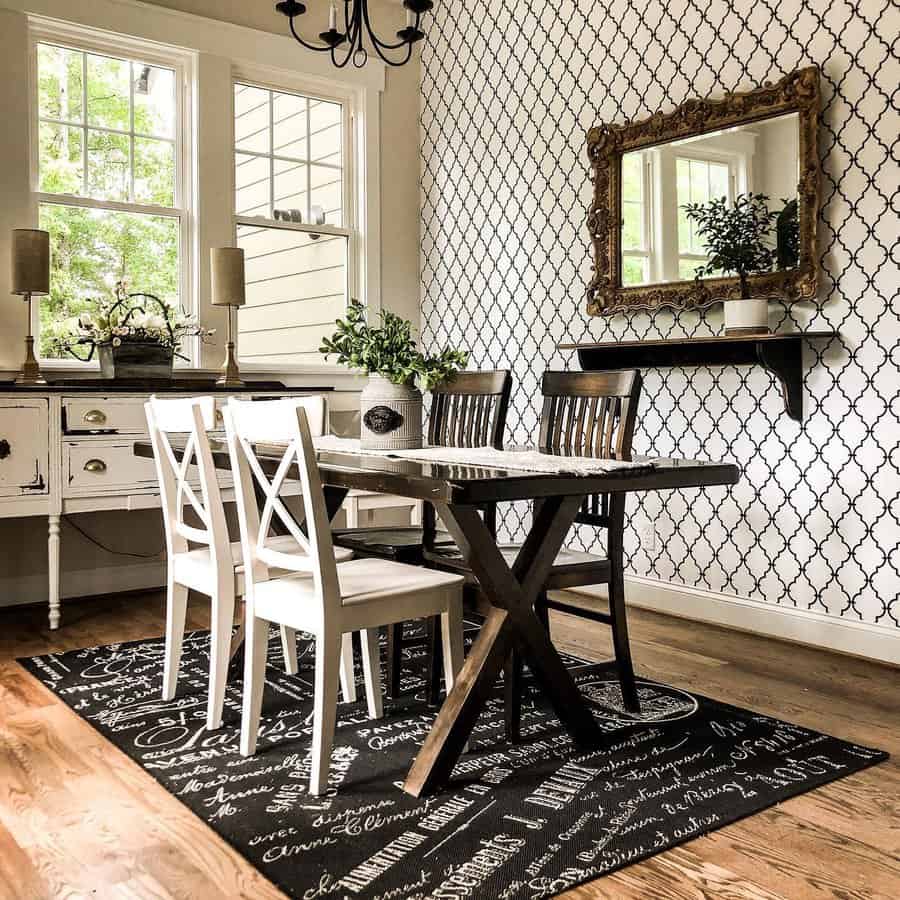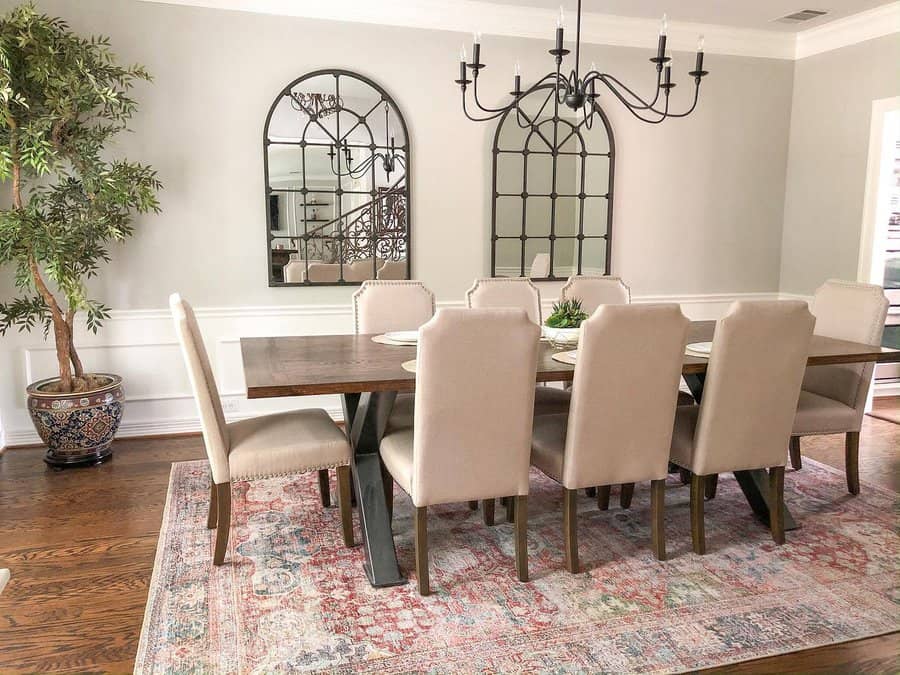 4. Decorate With Ornamental Wallpaper
Decorating your dining room walls is an excellent way to express your personal style and create a more welcoming space. Instead of traditional artwork, why not add decorative wallpaper with ornamental designs?
You could choose an elegant floral pattern or something more vivid and colorful. Adding wallpaper can be a great opportunity to experiment with textures and hues that will truly bring life to the room with its unique decorative elements.
Plus, you can always take it down if you don't love it in the end! No matter what style you're going for, decorative wallpaper is sure to help complete the look of your dining room wall decor.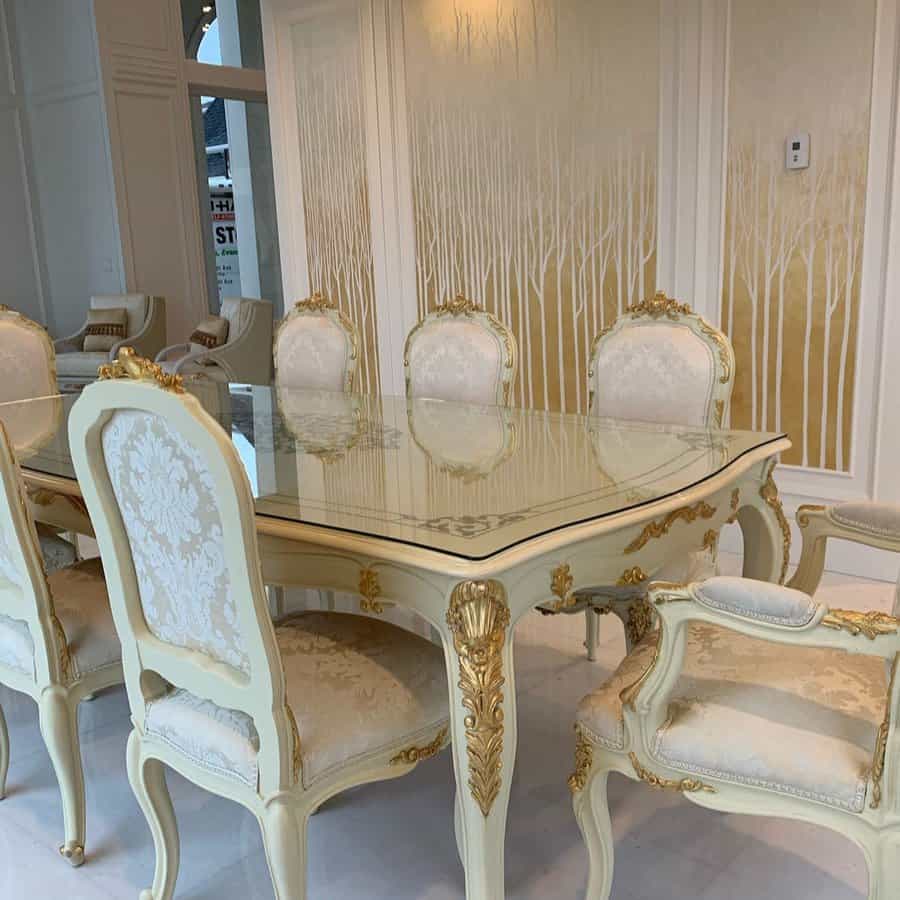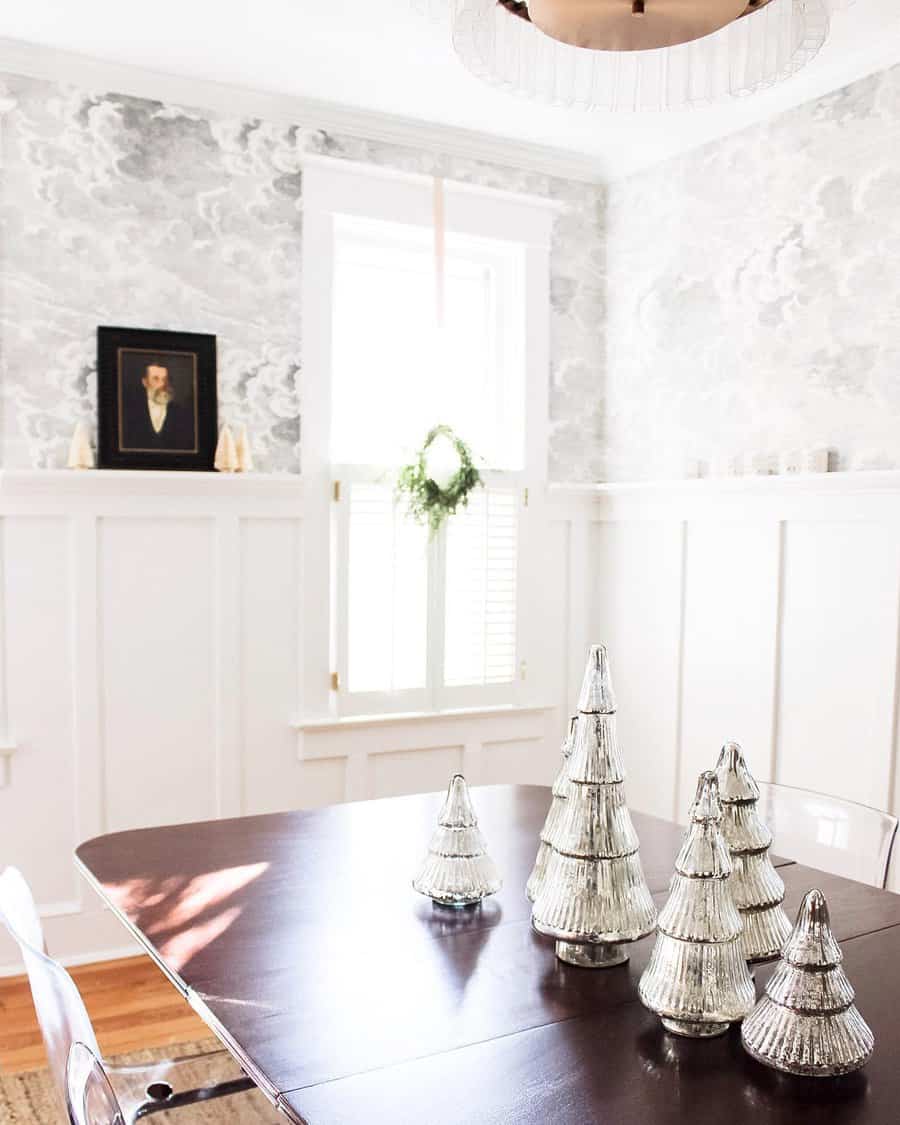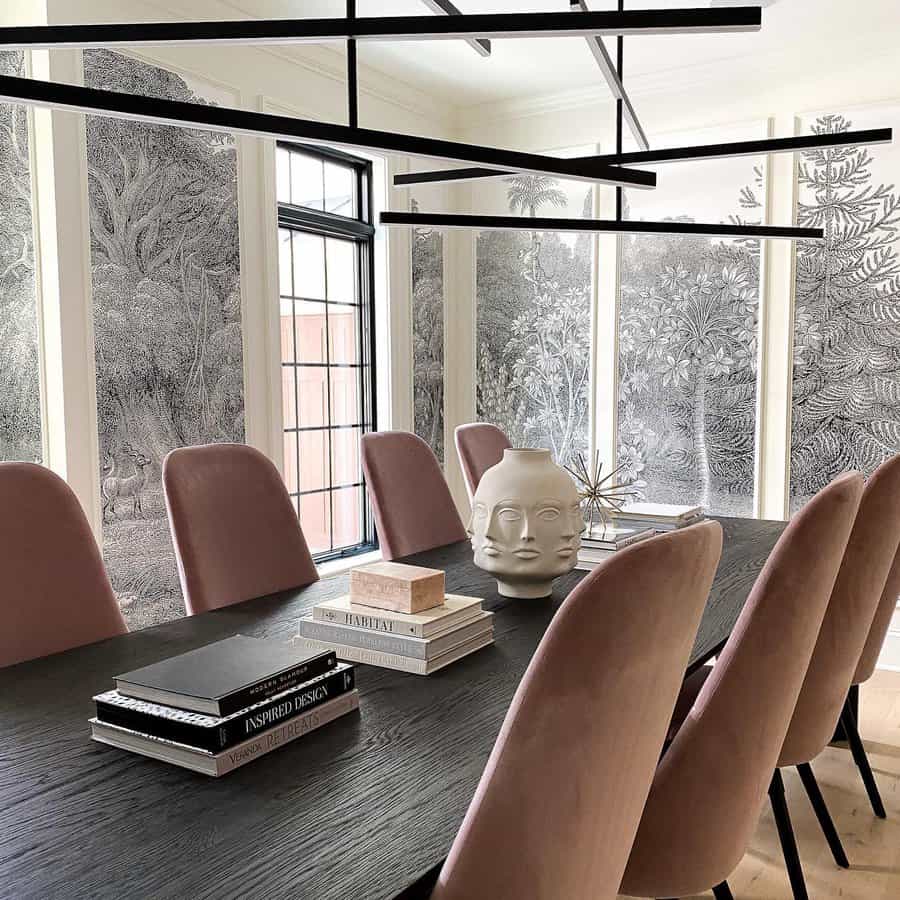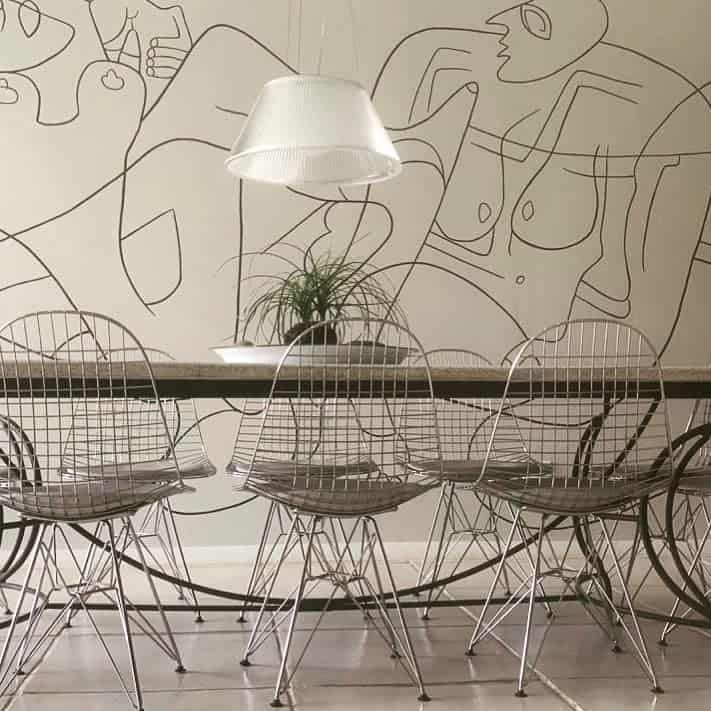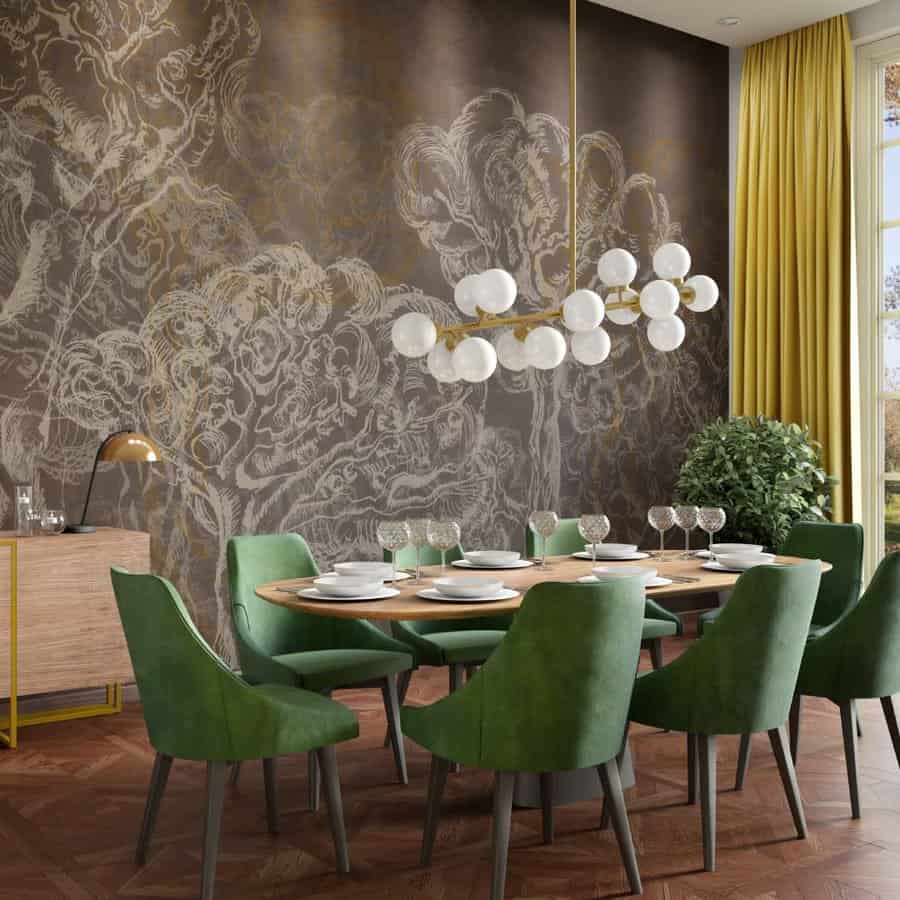 5. Vintage & Rustic Wall Decor
If you're looking to breathe new life into your dining room, vintage and rustic wall decor are a great way to do just that. Whether it's vintage-looking vintage paintings or unique wooden pieces, these can take your walls from drab to fab in no time. But why stop there?
Why not get creative with repurposed baskets? Hang them as wall art and you can use them for storage! Get creative and have fun with the possibilities – you won't regret it!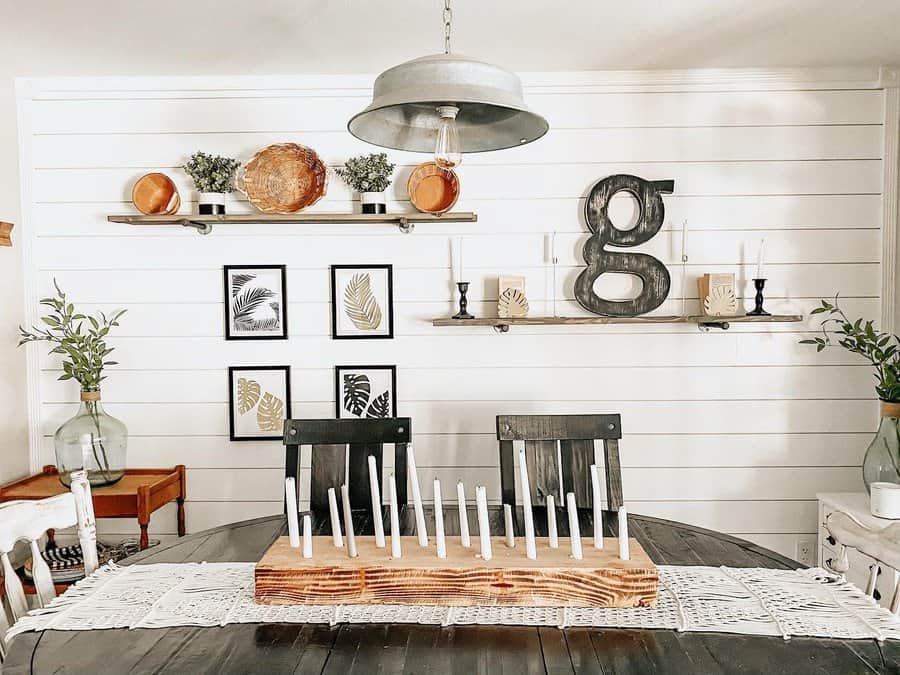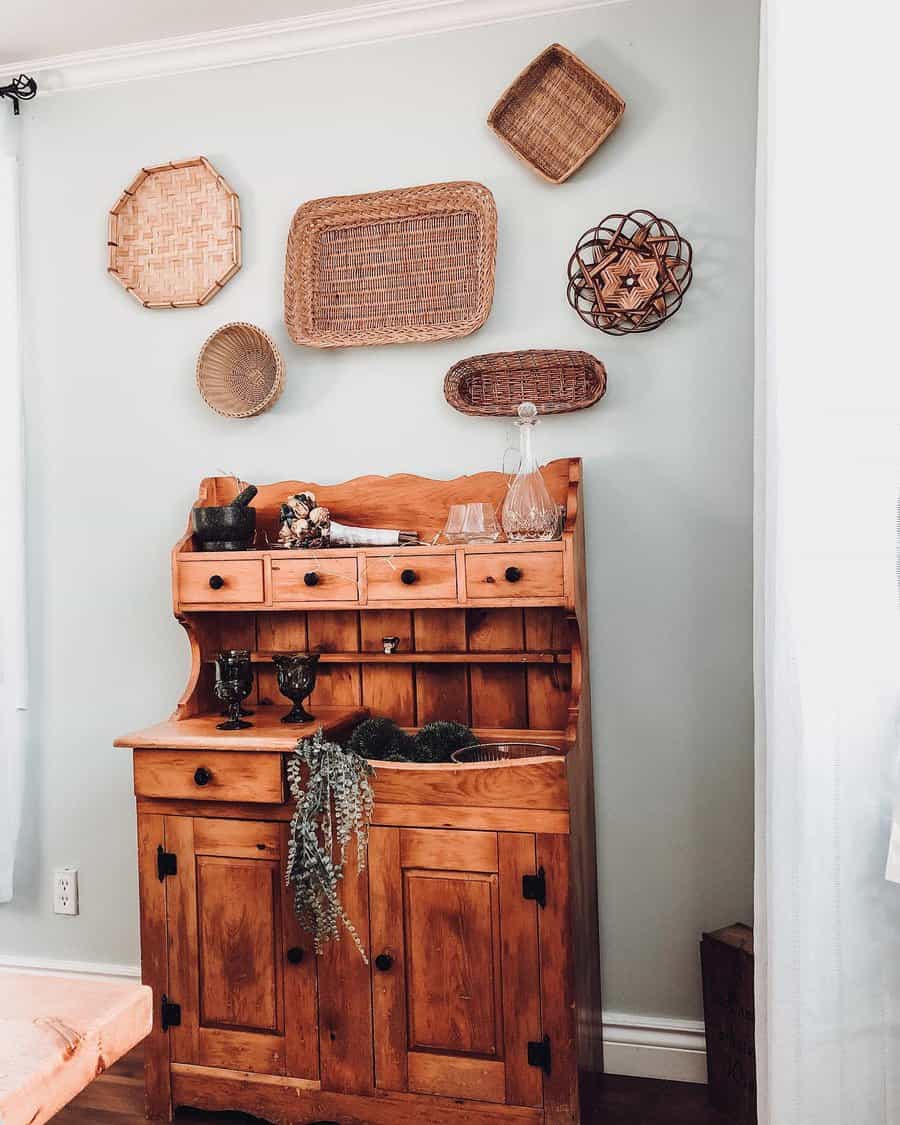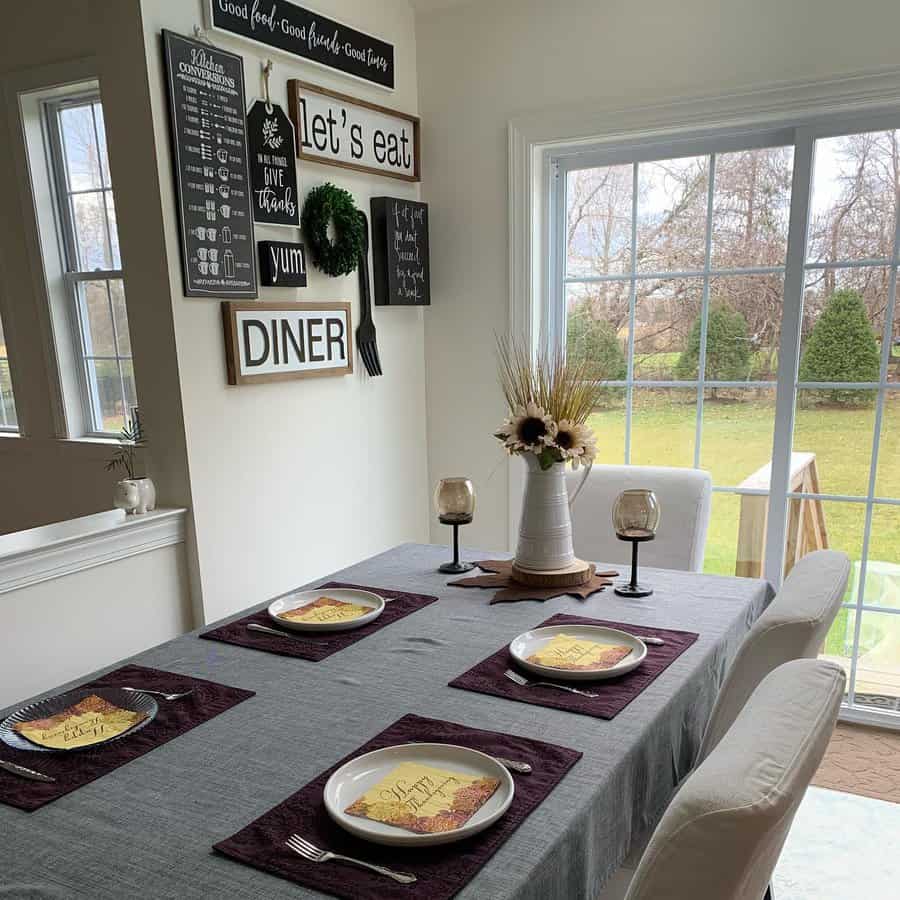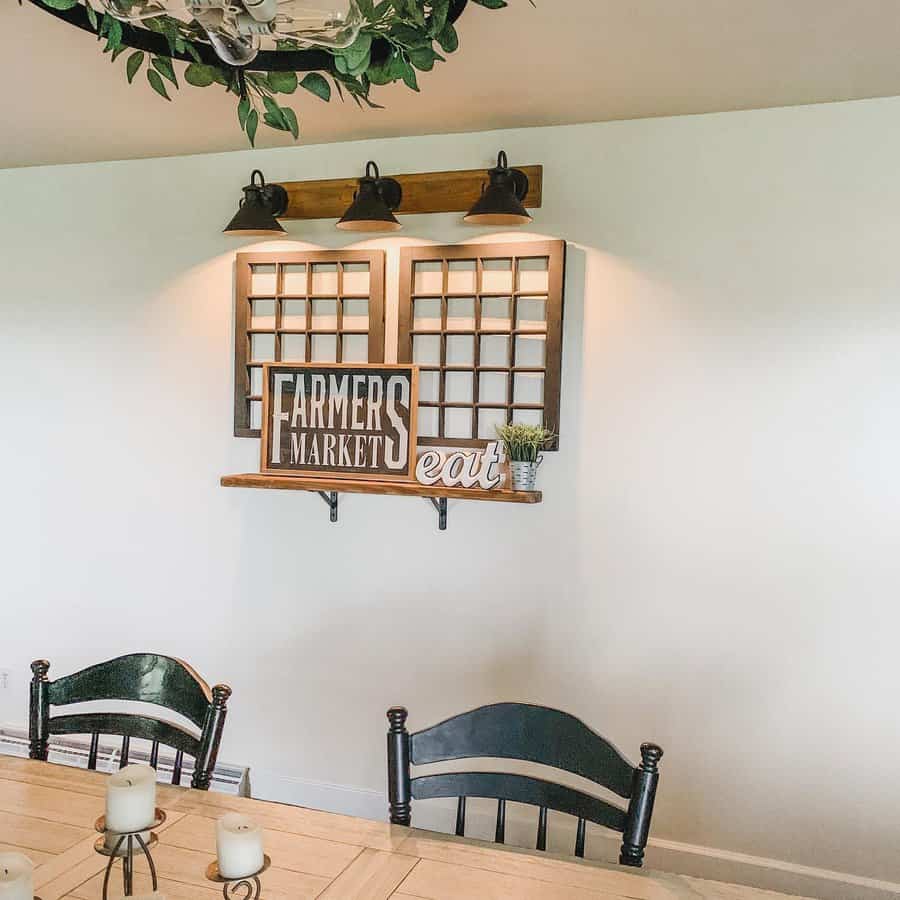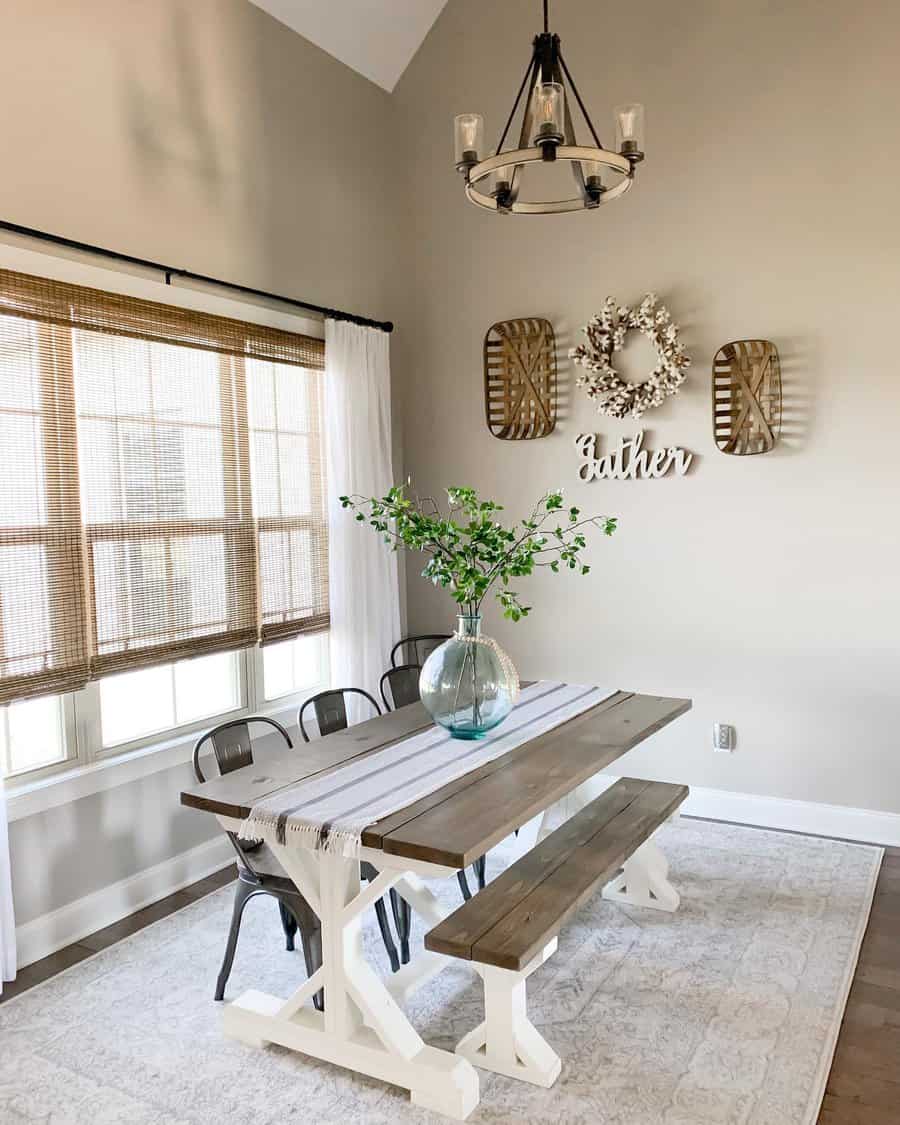 6. Showcase Your Mugware Collection
When decorating your dining room walls, why not showcase your unique personality and showcase your mugware collection? Creative displays of mugs and ceramic vases can add both a beautiful and eclectic touch to any wall space.
The same goes for a dinnerware collection. With the right eye for design, you can create interesting wall art with sets of plates, platters, and bowls, layered in different textures and sizes. If you're feeling extra daring, try making a pattern out of these dishes! This will bring life to the room and showcase your unique style.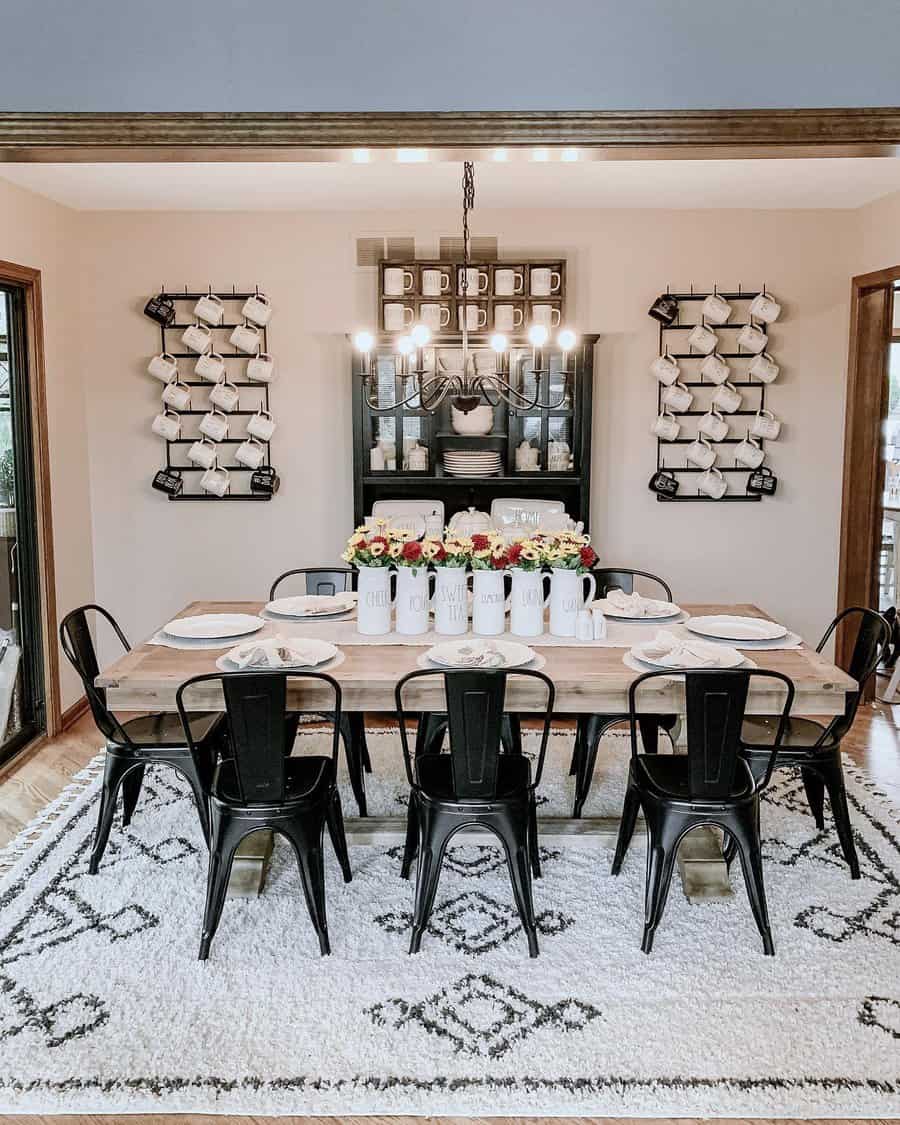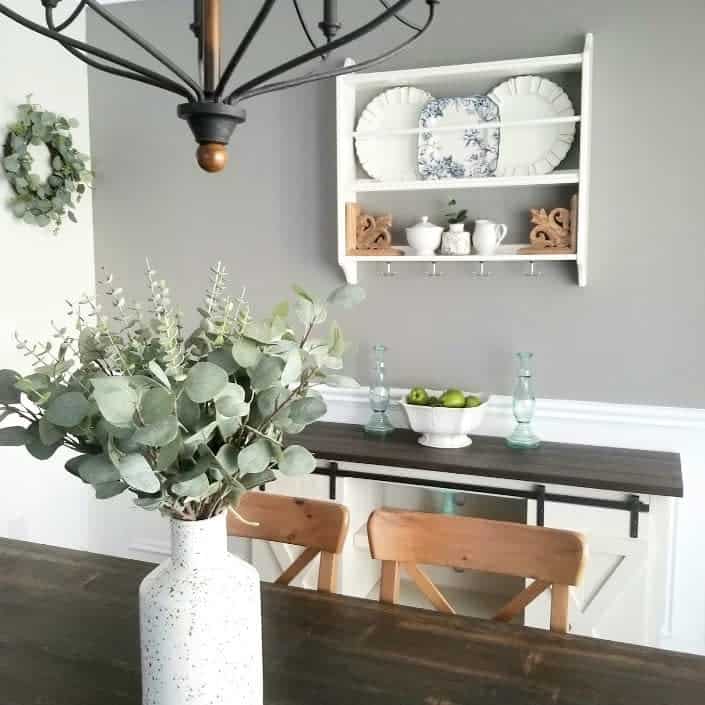 5. Set Up A Curated Gallery Wall
Looking to jazz up and add personality to your dining room walls without breaking the bank? Consider creating a curated gallery wall, featuring photos or artworks that reflect your personal style.
Whether it's brightly colored family photos, subtle watercolor landscapes, or a few of your favorite quotes, there are countless ways to bring a Pinterest board-like aesthetic wrapped in your own special flair.
Having an eclectic mix of both large and small elements creates depth and dimension, and is sure to liven up any dining space!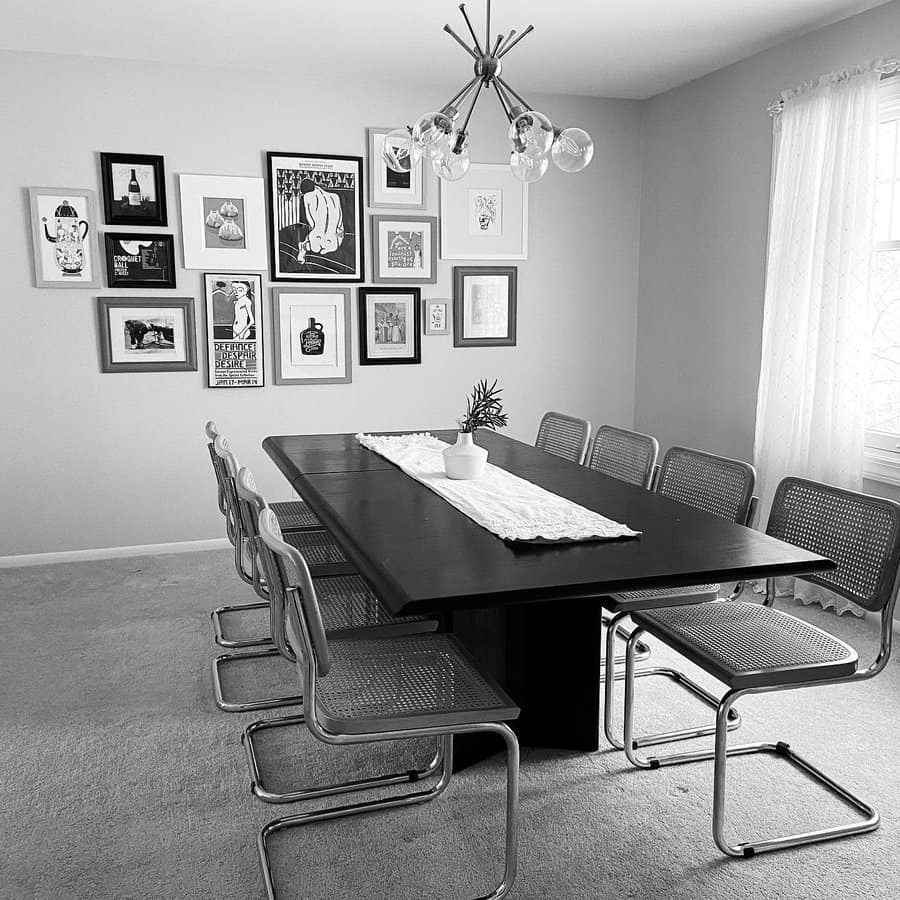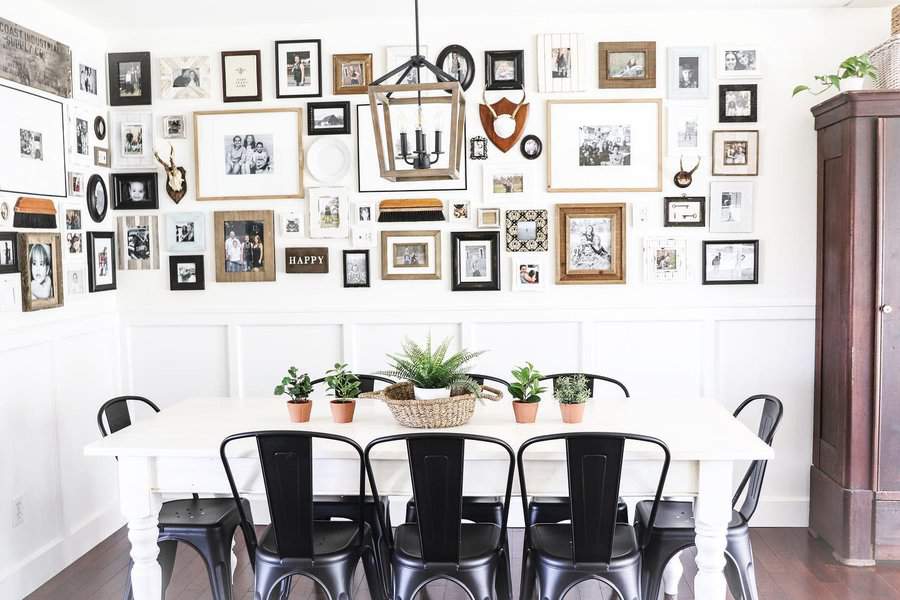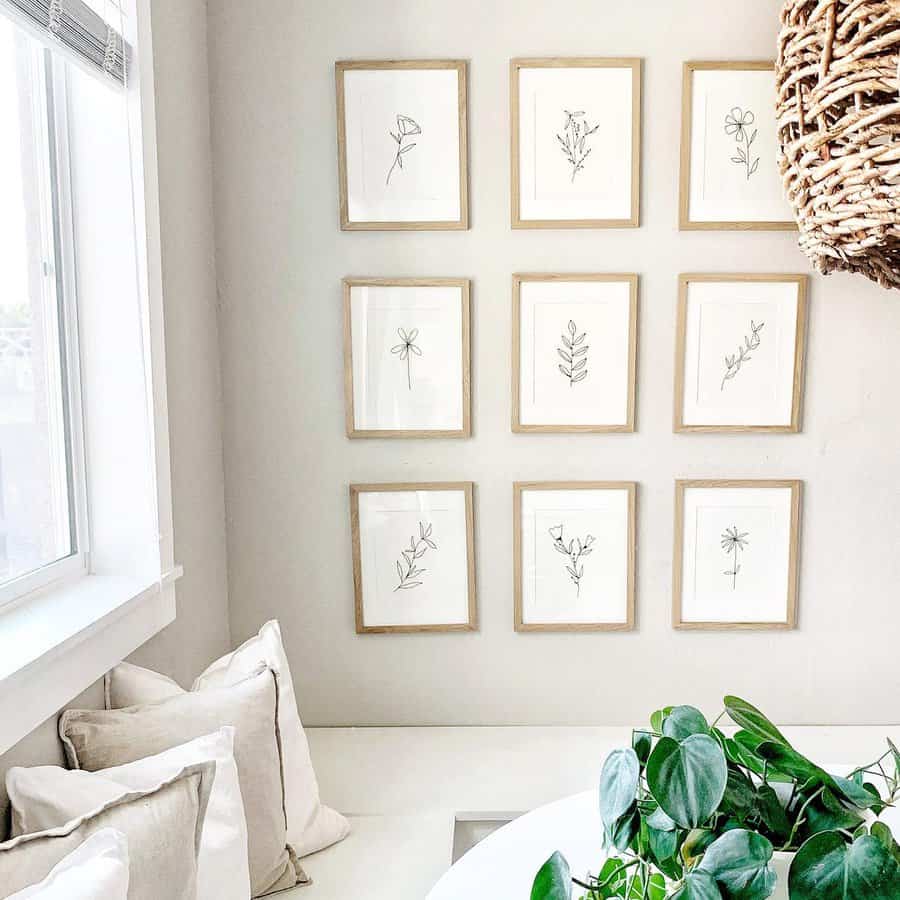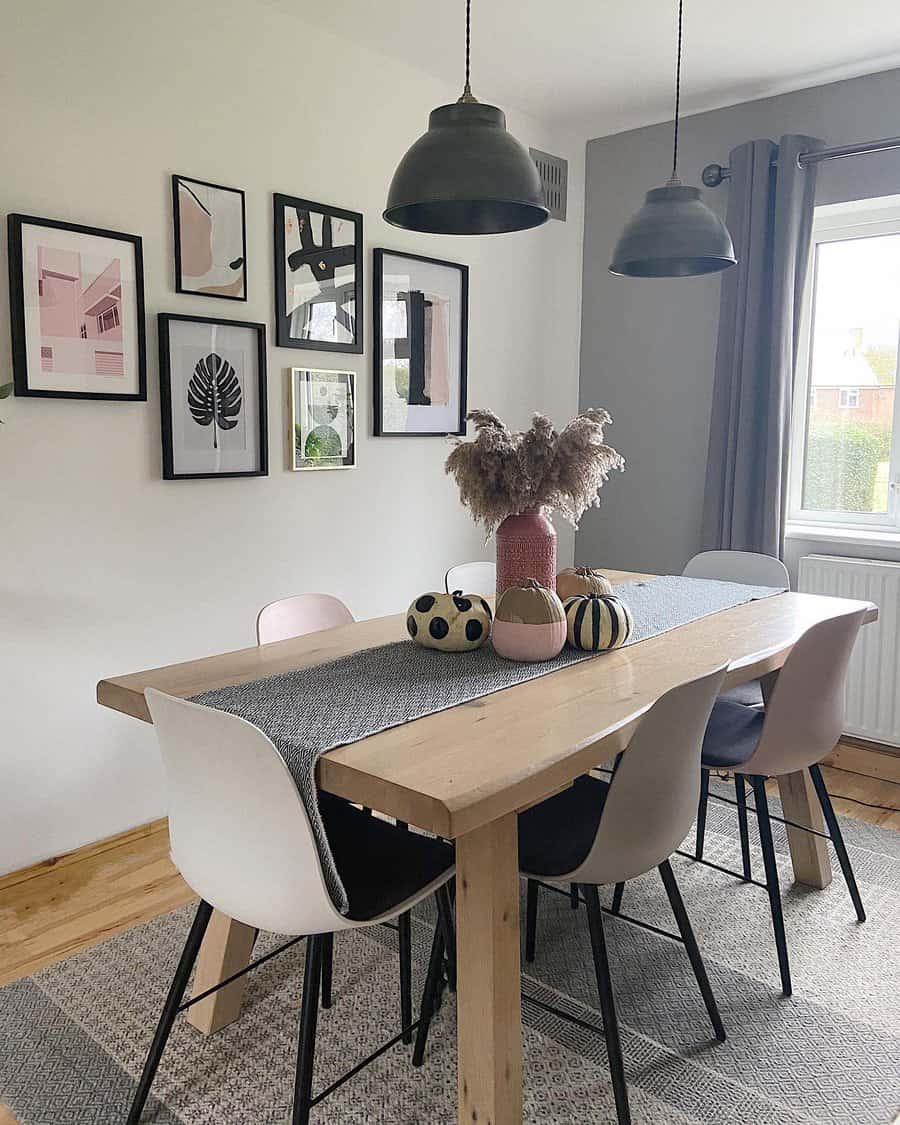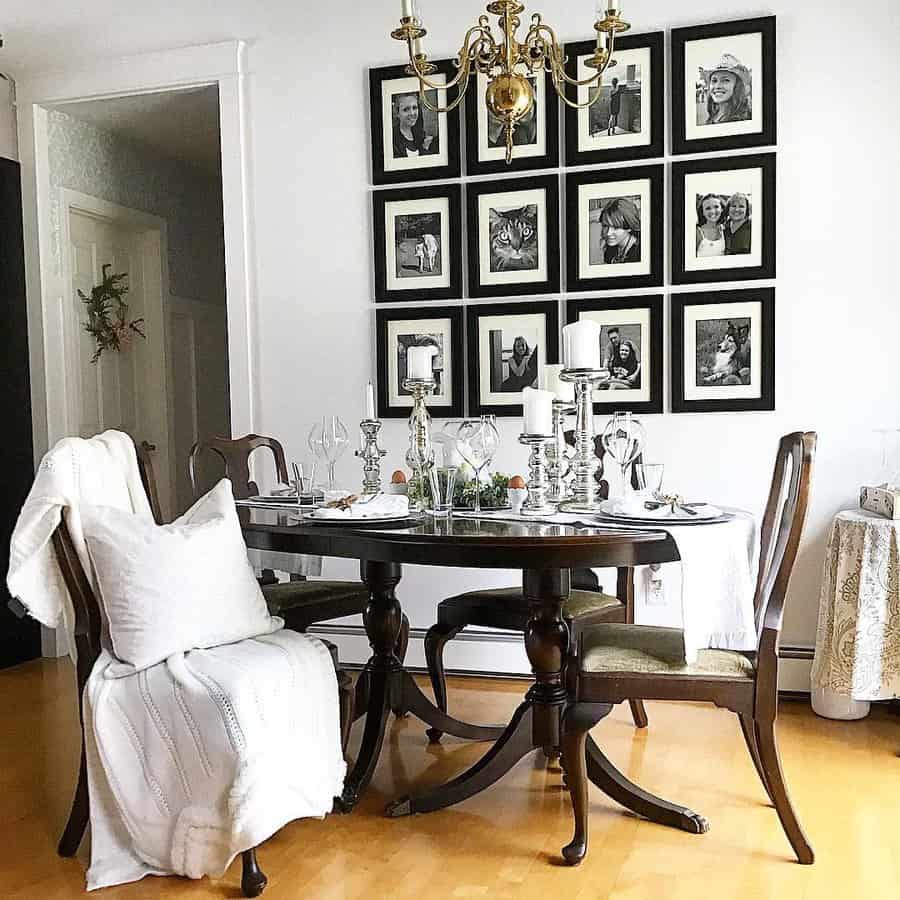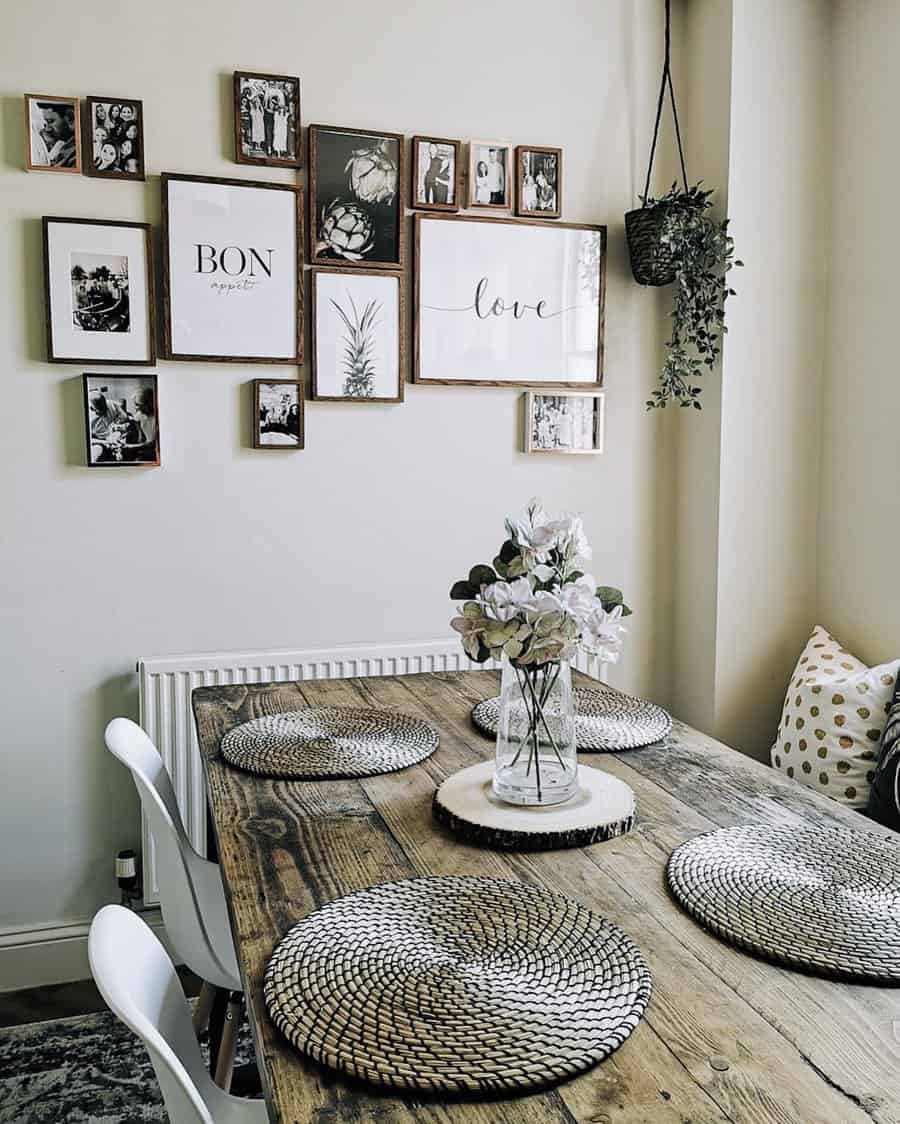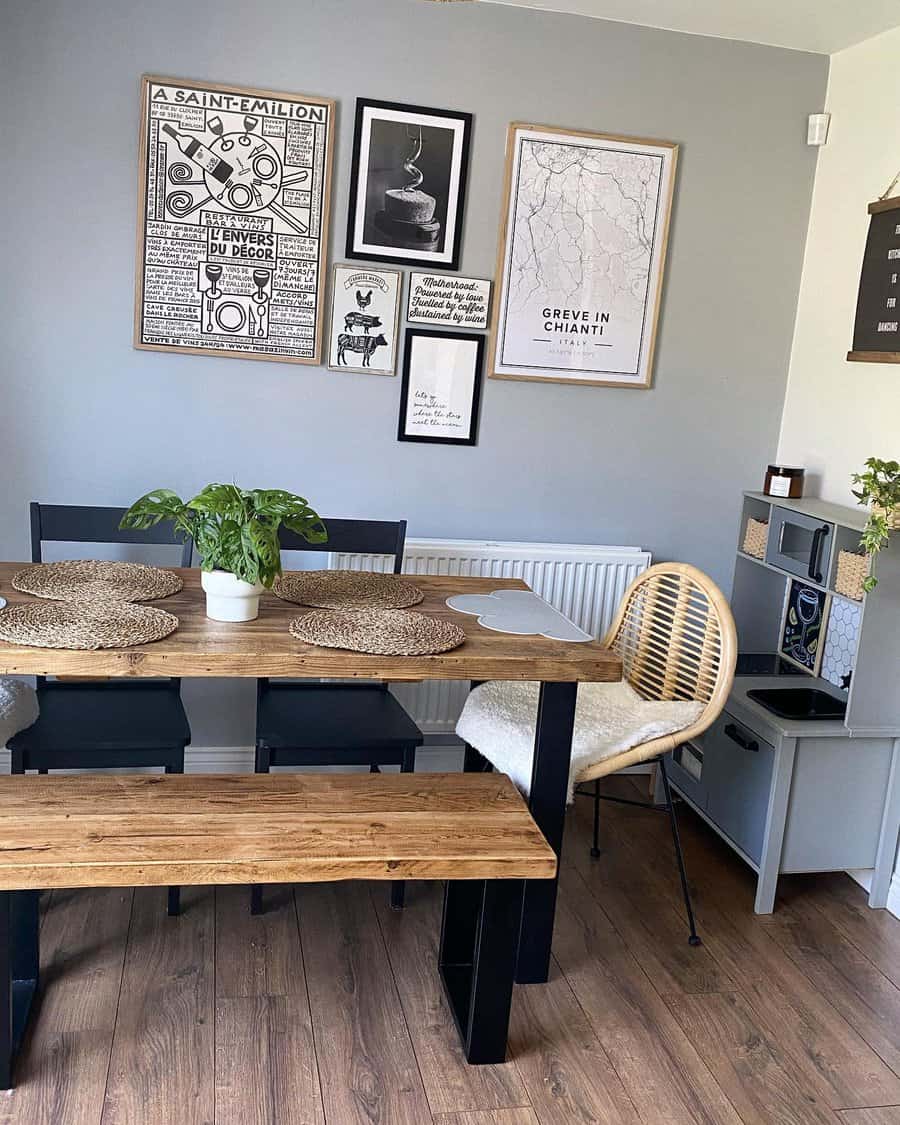 7. Add Charm To The Wall With Hanging Decor
A great way to spruce up any dining room walls is by adding macrame plant hangers and hanging shelves. Not only do these simple decor solutions liven up empty wall space, but they also offer practical storage solutions for dining times!
For a more modern or boho-chic look, why not try adding a few tapestries? This will create a unique and inviting atmosphere that your family and guests are sure to love. With these tips, your dining room walls will soon be significantly transformed!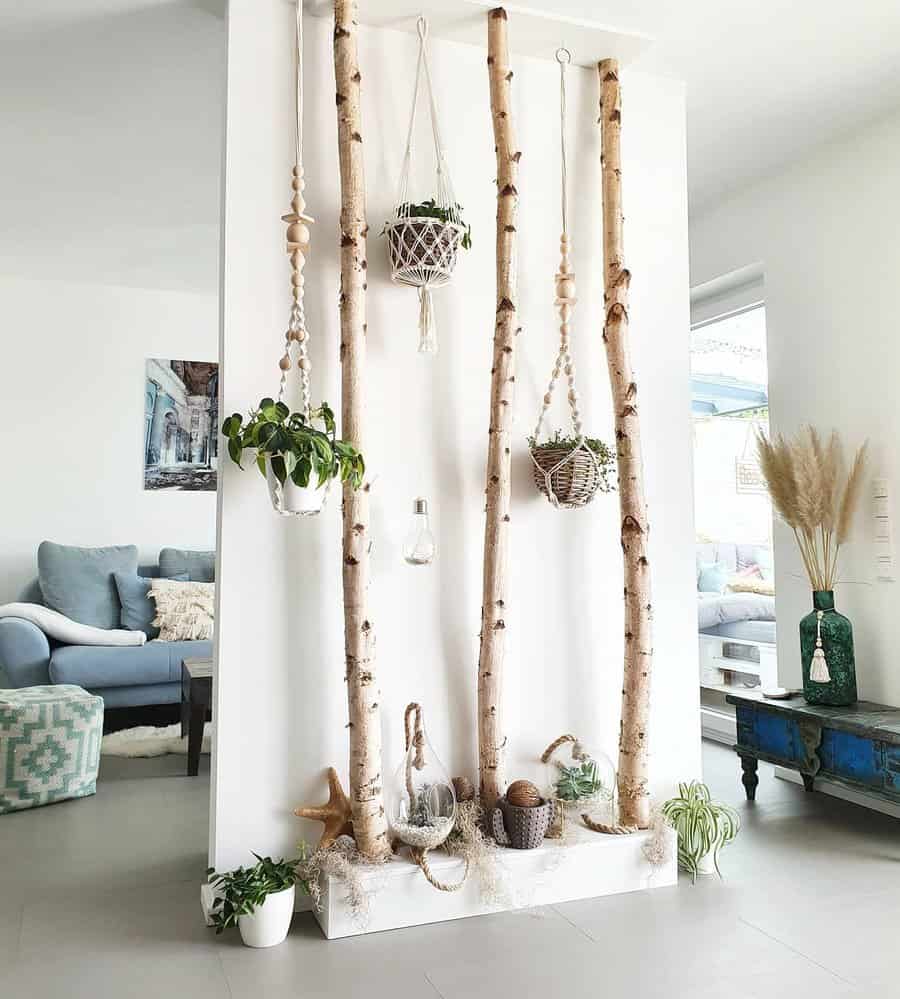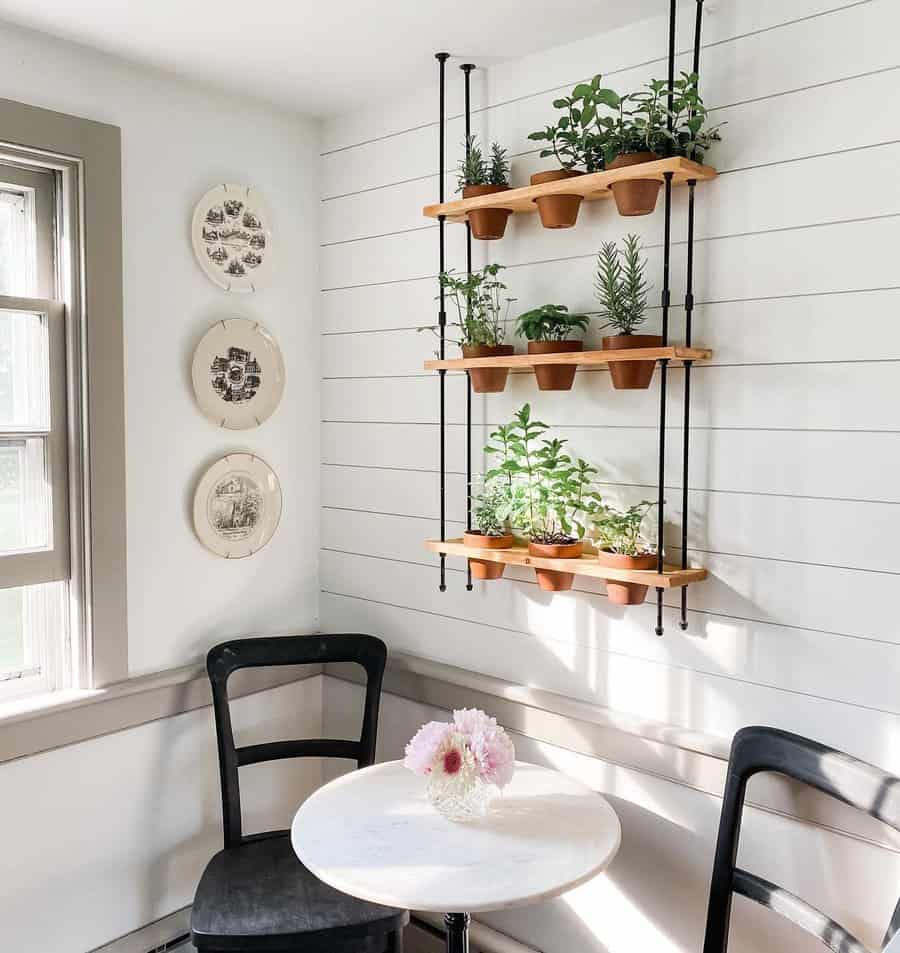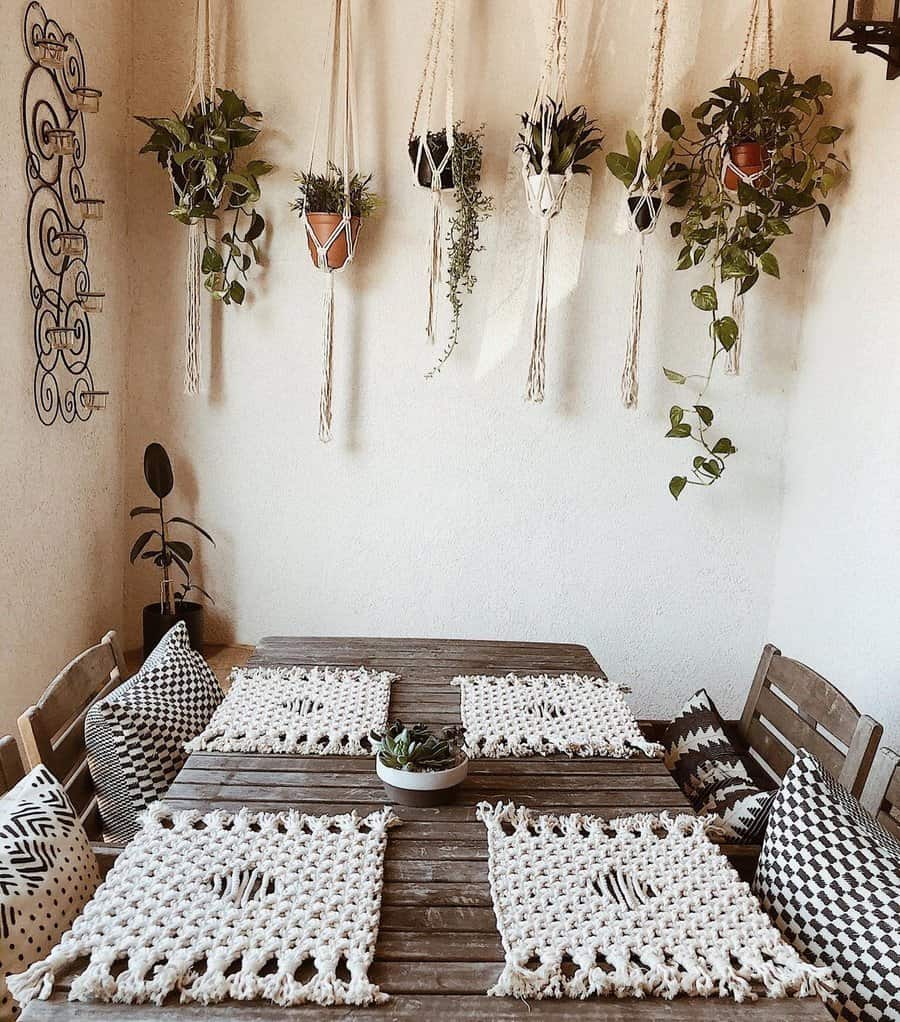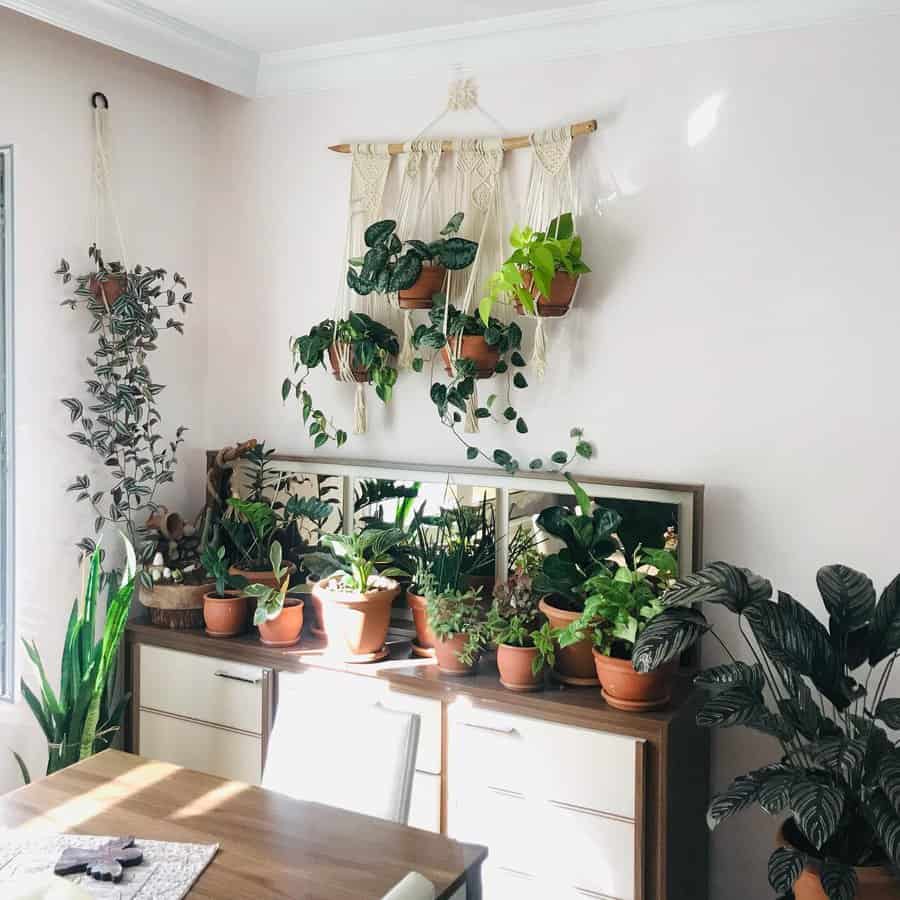 8. Opt For Metal Wall Decor
When decorating your dining room walls, metal wall decor is a great addition that can create a sense of stylish elegance. From metal panels to metal flowers, metal wall accents come in all shapes and sizes to fit any aesthetic. Consider incorporating metal-colored frames around paintings or artwork which will offer an industrial feel when combined with the warmth of their wooden counterparts. Going for a more modern look?
Consider metal wall sculptures to grab attention and add drama to your dining space. Metal wall art comes in both classic pieces as well as abstract styles to provide added visual interest no matter what the theme of your home may be!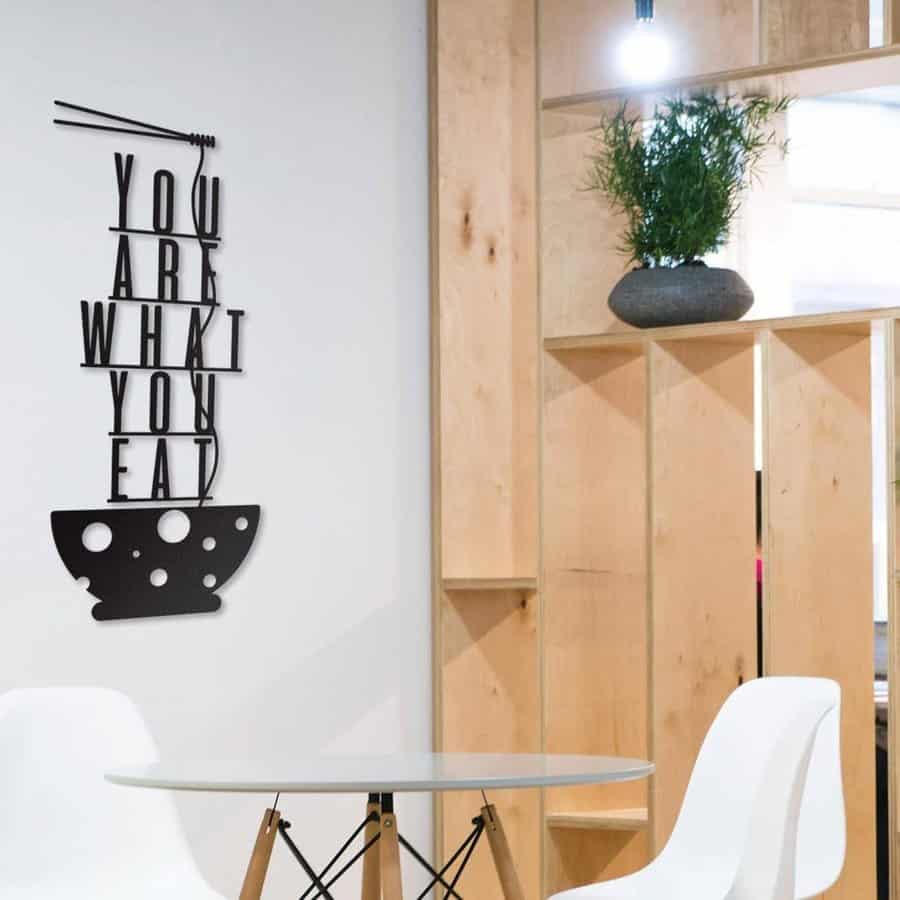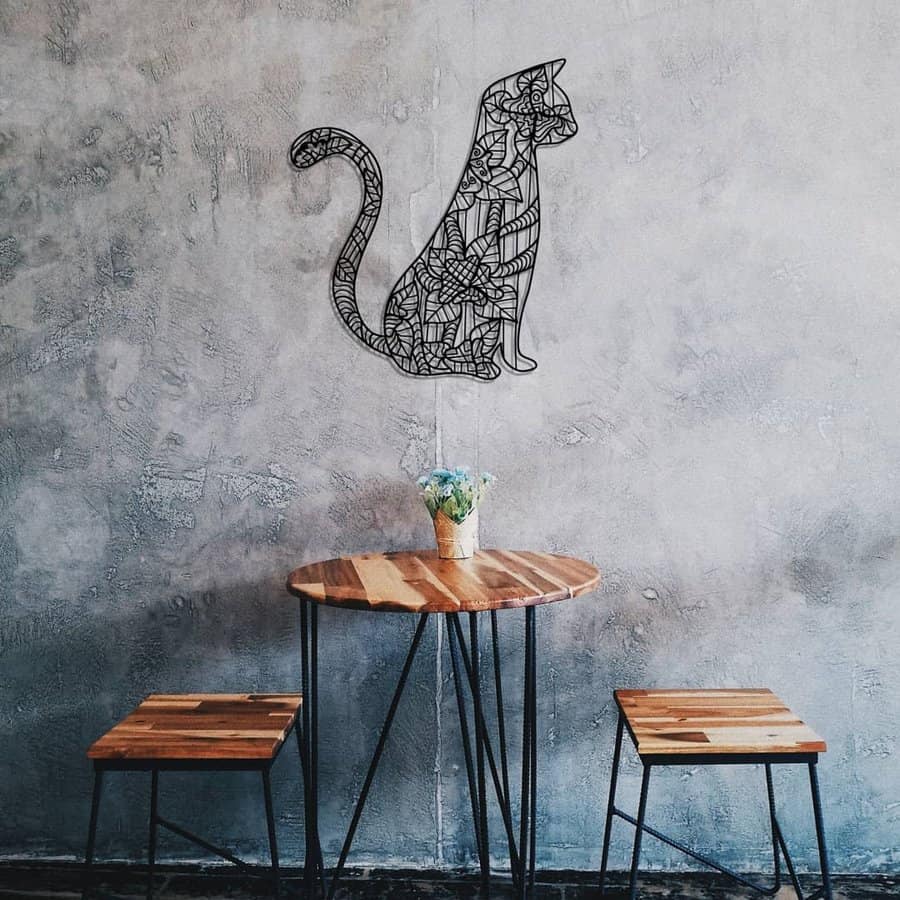 9. Paint Mural Art
When it comes to decorating your dining room walls, think outside the box! Get creative and bring out your inner interior designer. Create a mural wall art with beautiful designs and shapes to give the room a unique touch.
If you love subtlety, consider an ombre wall – pick up similar colors from other accents in the room, and give them depth and dimension on your wall. Another interesting option is to hang simple shapes and minimalist patterns for an abstract yet fun look.
Alternatively, pull off a bold statement with a color block wall using solid acrylic paints or bold wallpaper designs. With these ideas in mind, you have endless possibilities to create the most fashionable dining room walls!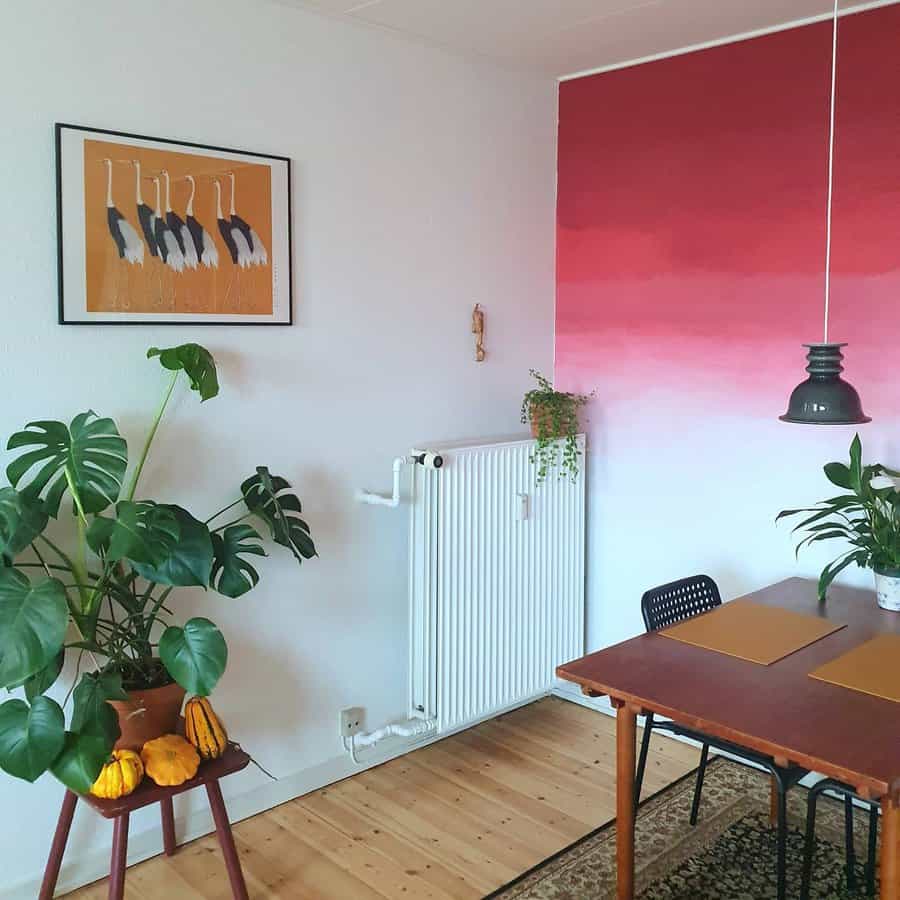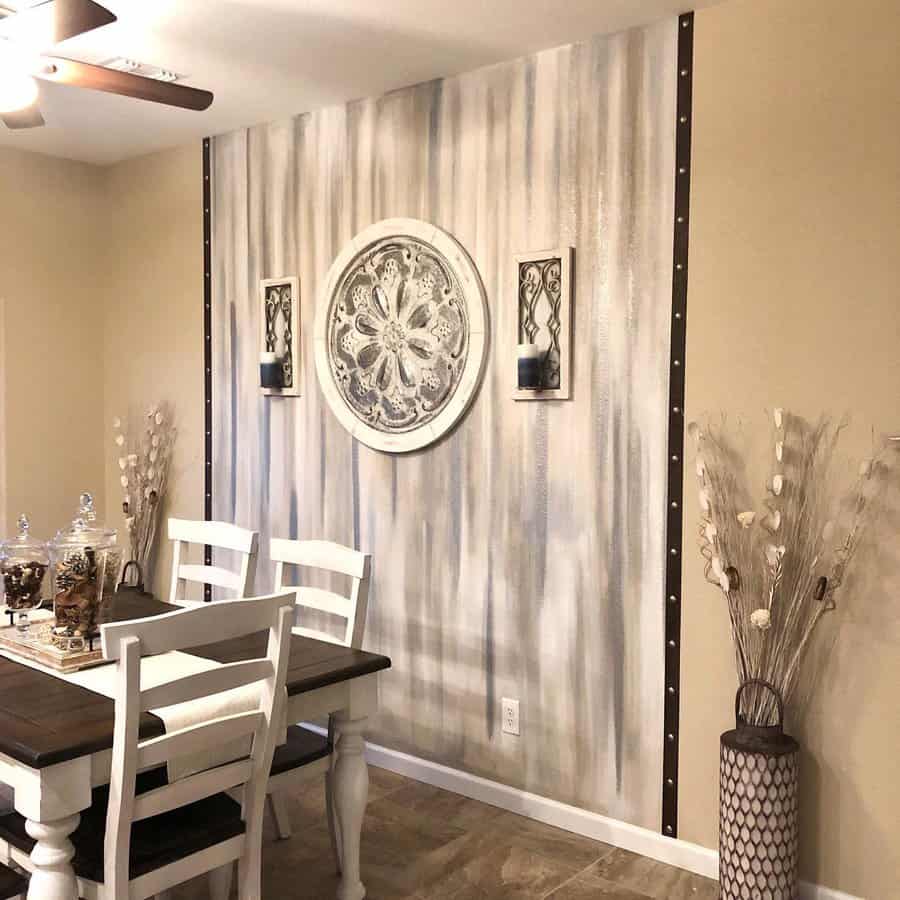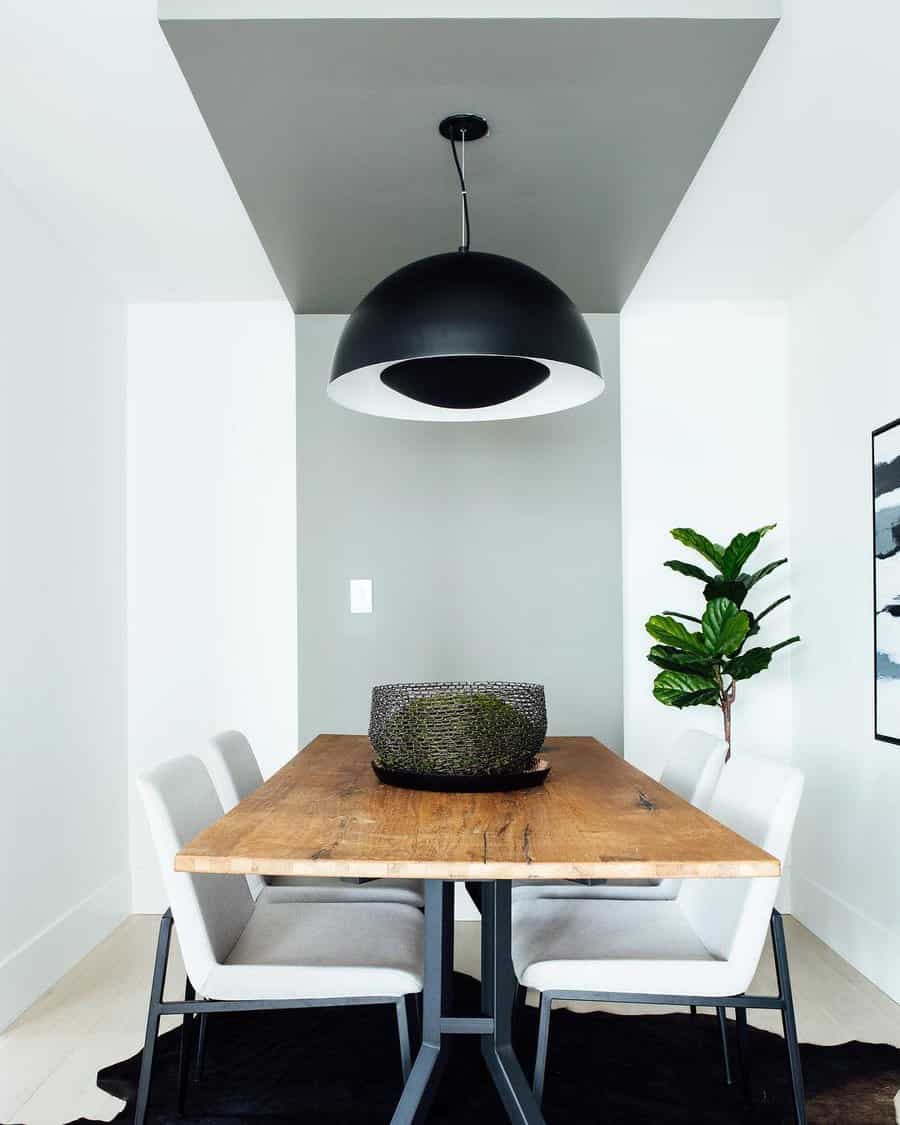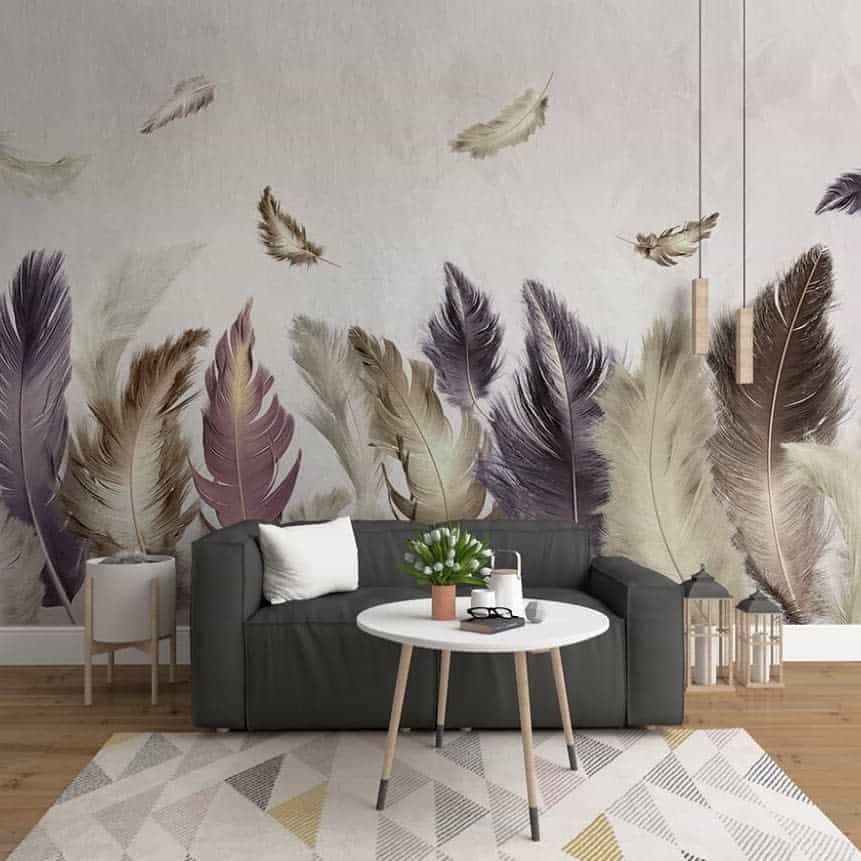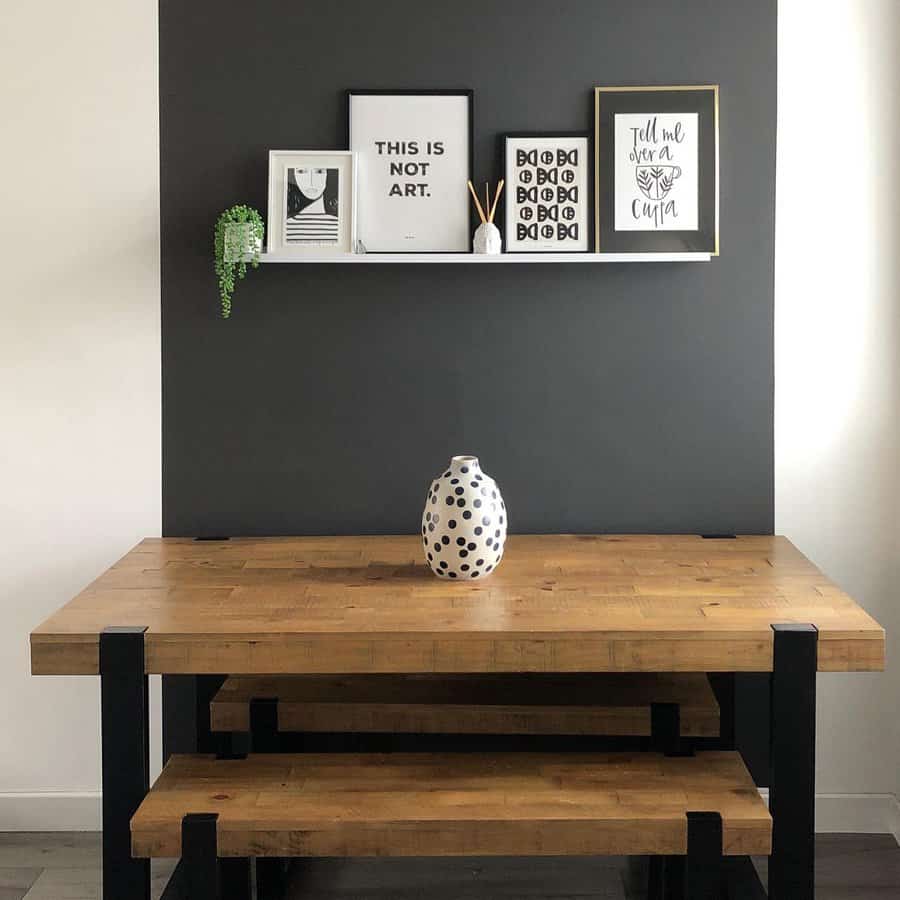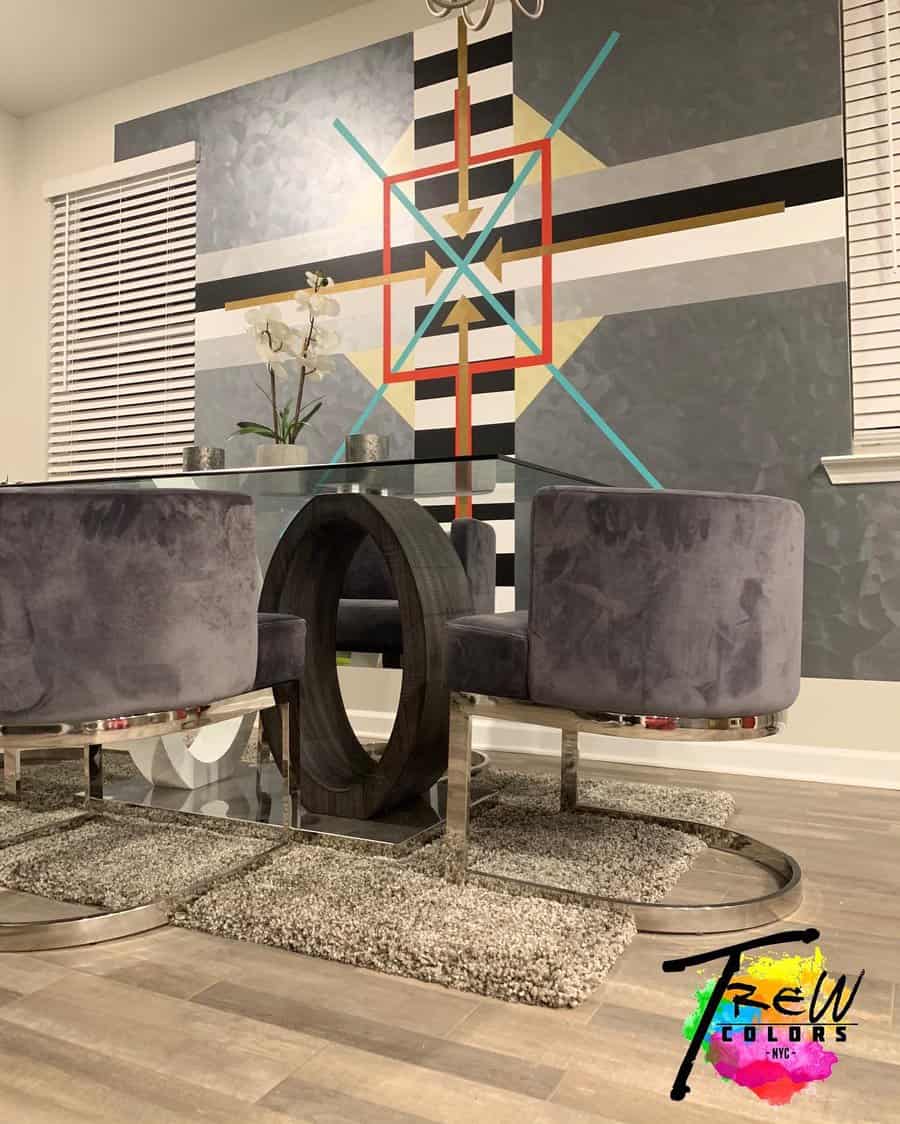 10. Add Wall Trimming To Your Wall
The perfect wall decor for your dining room can bring the entire look of the room together. To track walls with trimming is always a good idea to start with. Then, you can build further and decorate the wall with panels in a variety of designs, shapes, and colors to match the style and ambiance of the space you are looking to create.
With wall peels and wall murals, even large wall areas can be filled up in no time – which makes your dining room look inviting, stylish, and organized. Let your imagination run wild when it comes to fixing wall décor for your dining hall!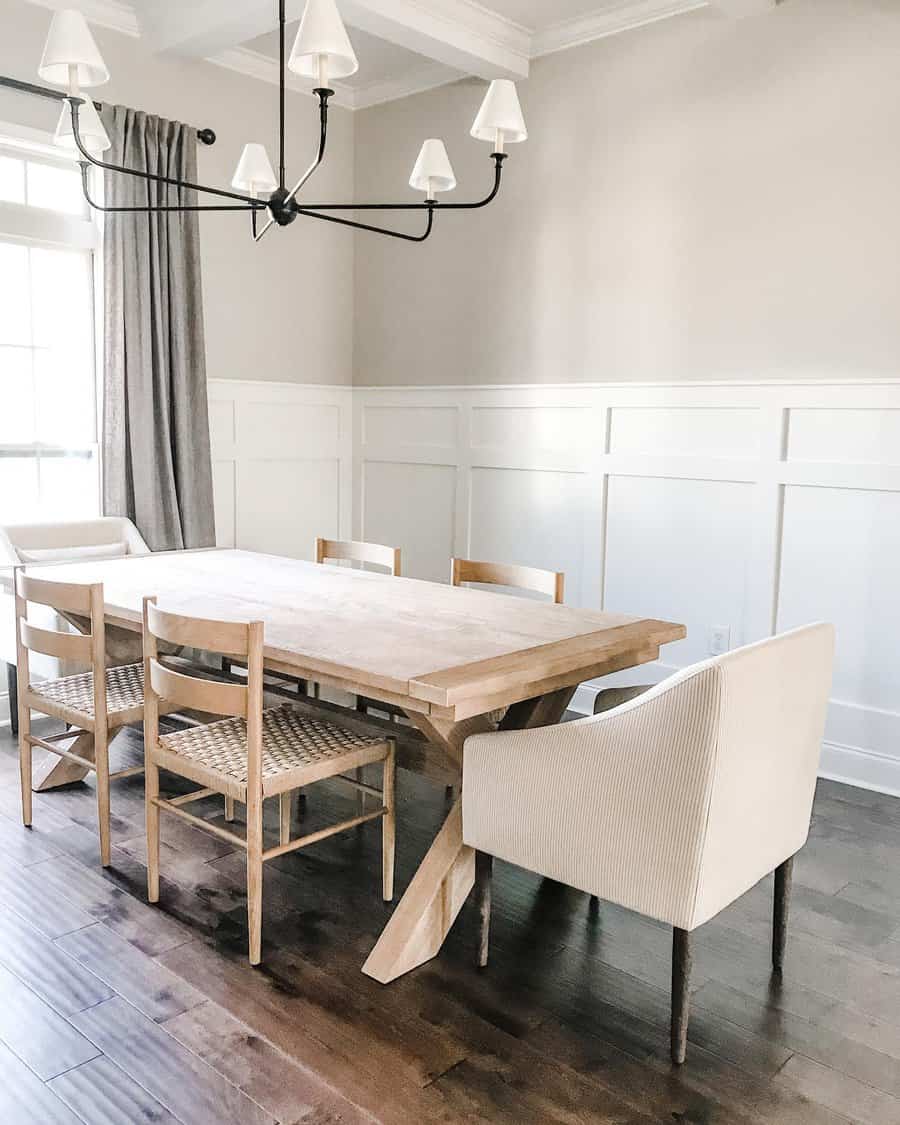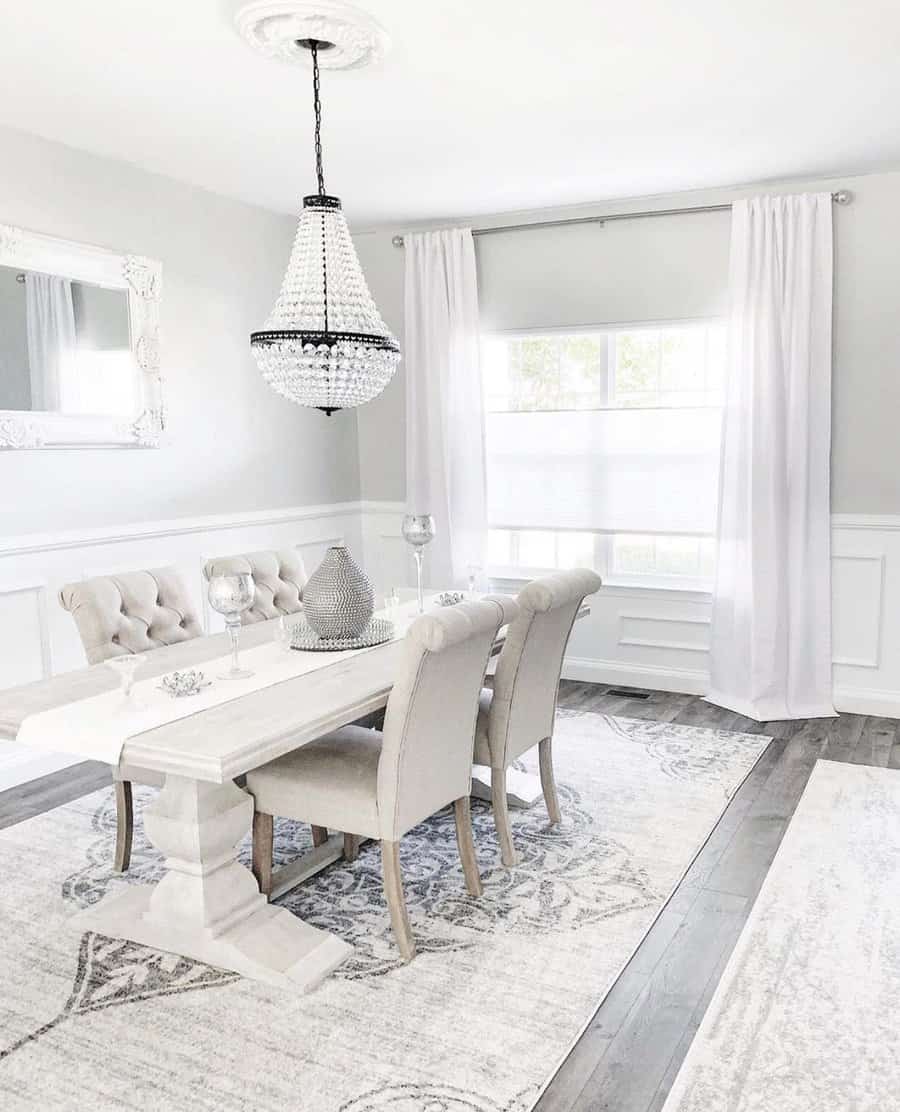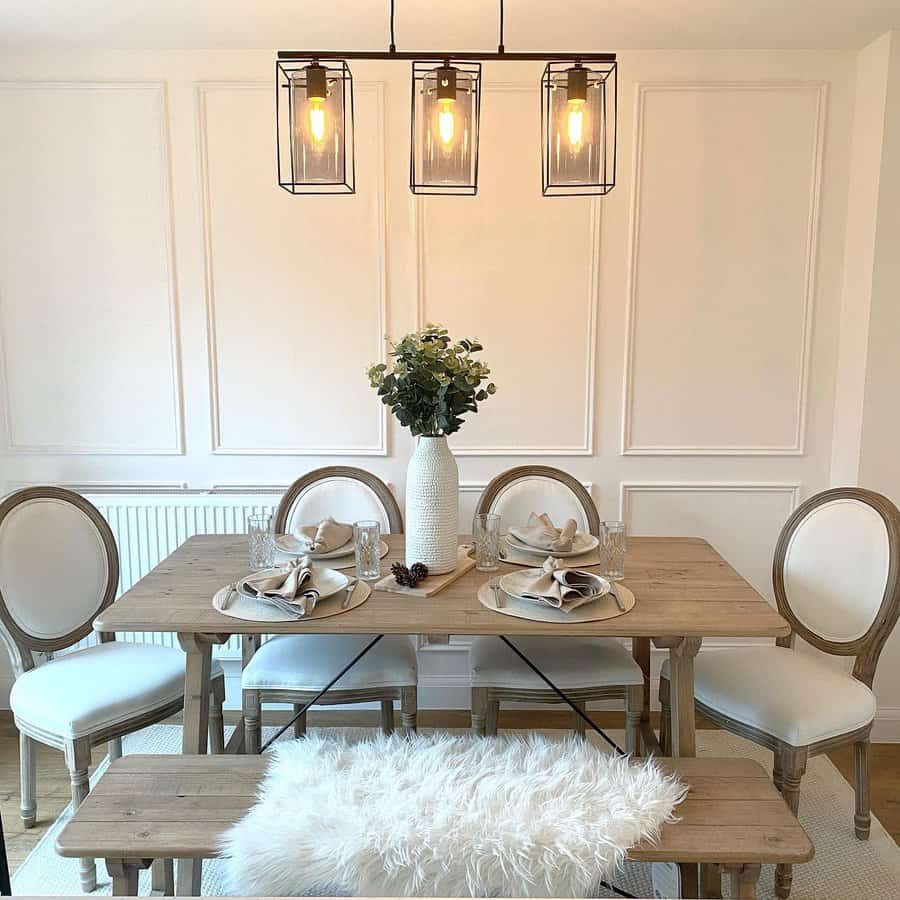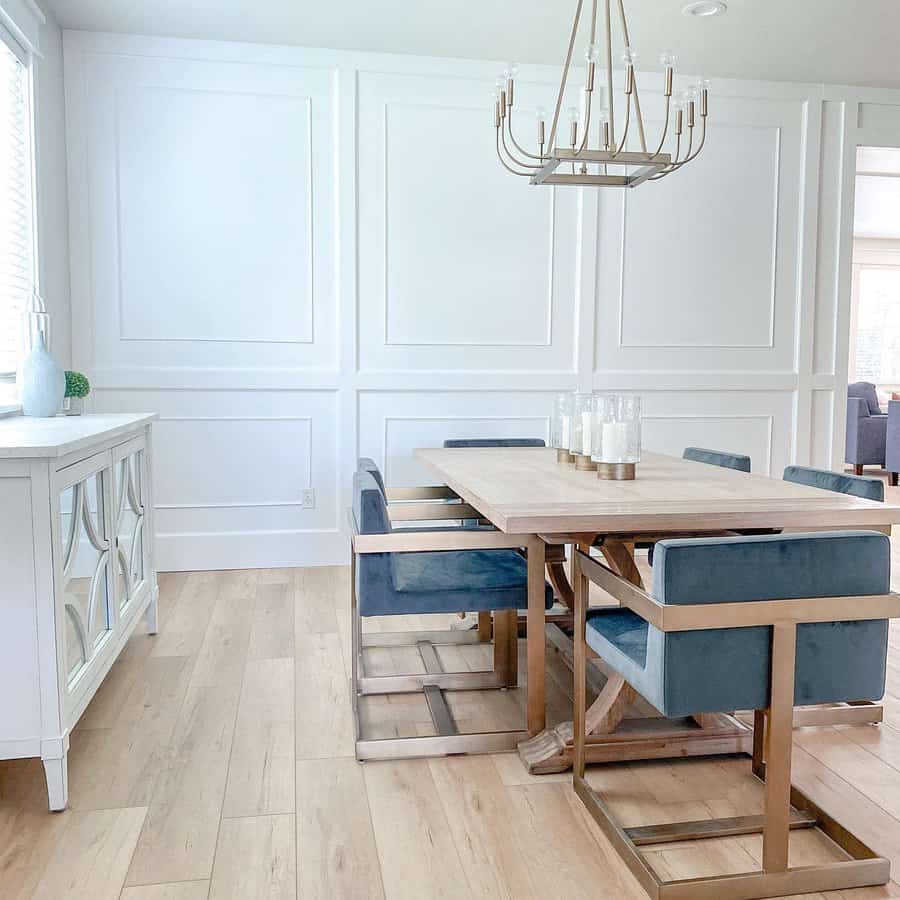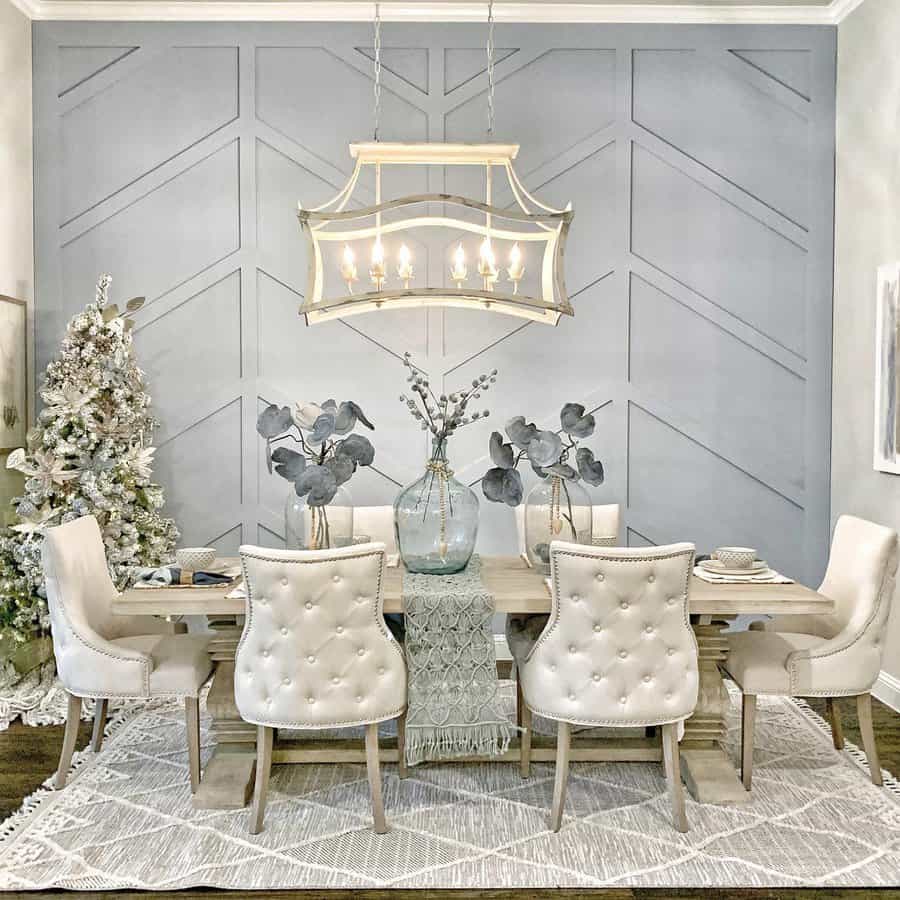 11. Style Shelves With Themed Decor
Sprucing up the dining room wall can be a lot of fun with styled shelves featuring vintage books, trinkets, and photos with themed decor. Finding the right accent pieces to showcase can enhance not just the look but also create a warm atmosphere whether entertaining guests or eating with family. Another creative way to keep the room updated is to switch up décor seasonally.
From cool winter hues to warmer tones in summer, even small details like placemats or centerpieces can make all the difference in bringing your dining room wall to life!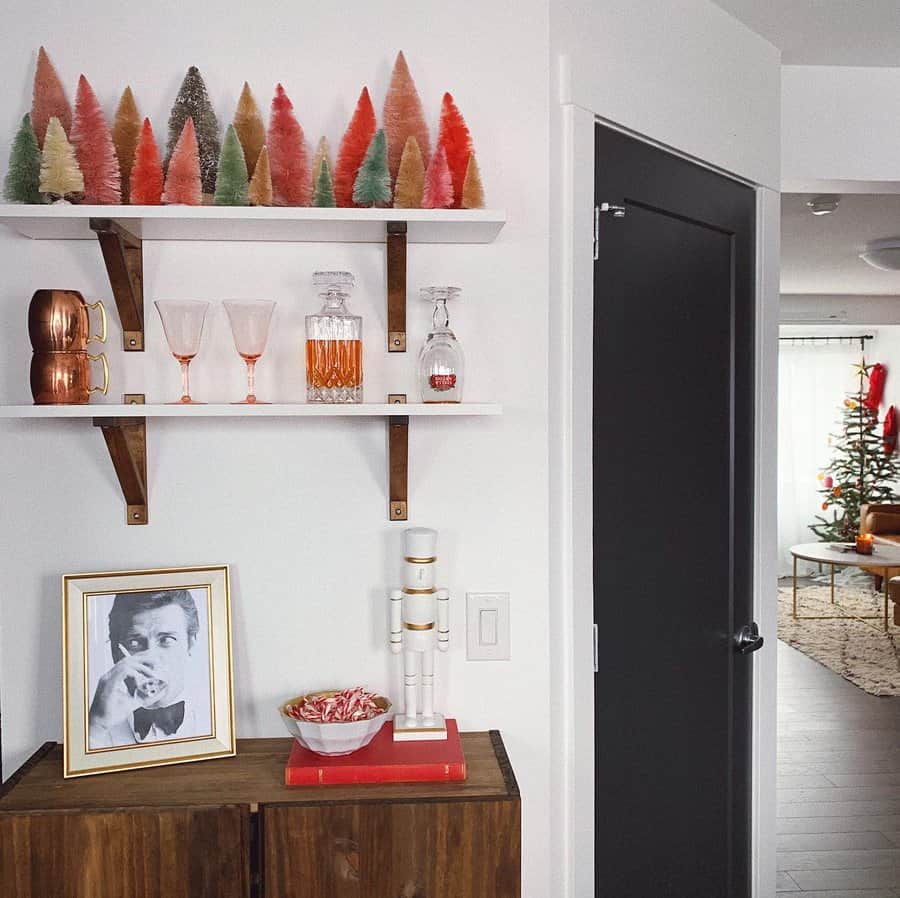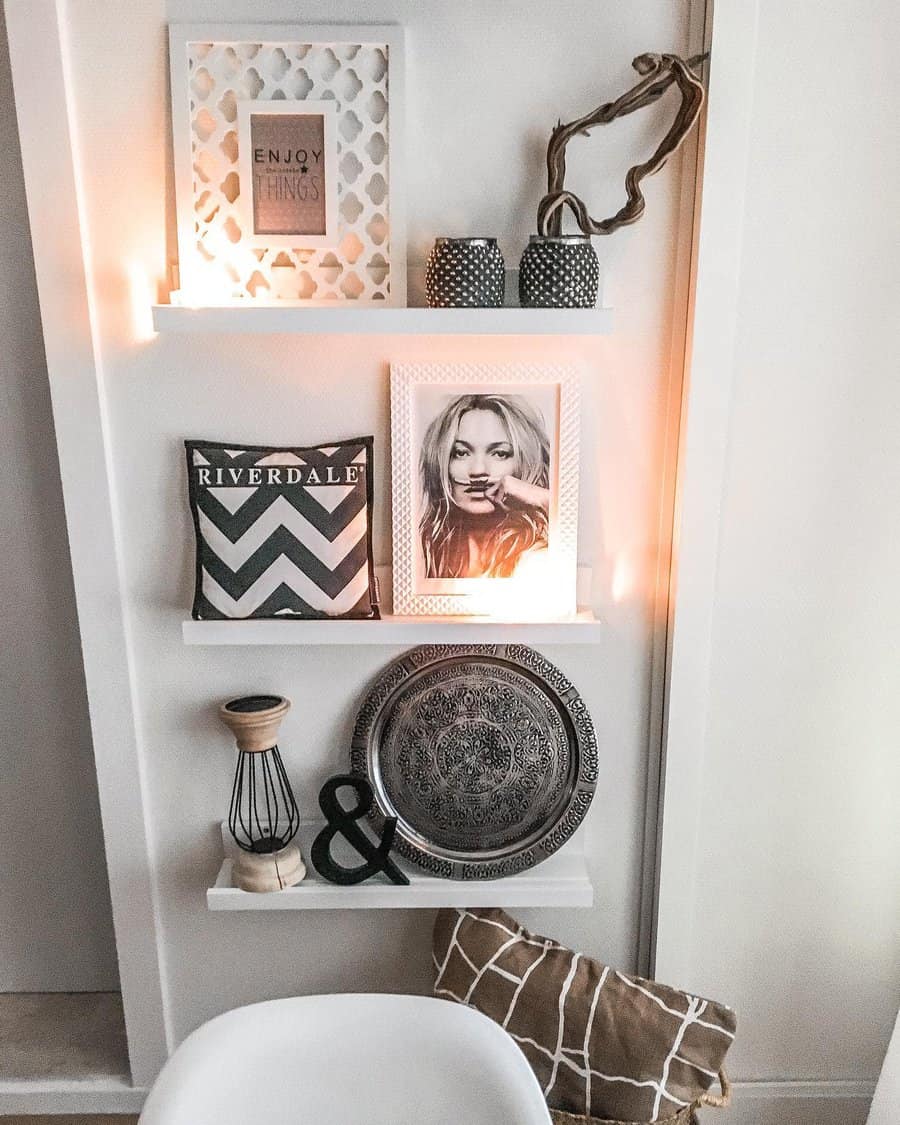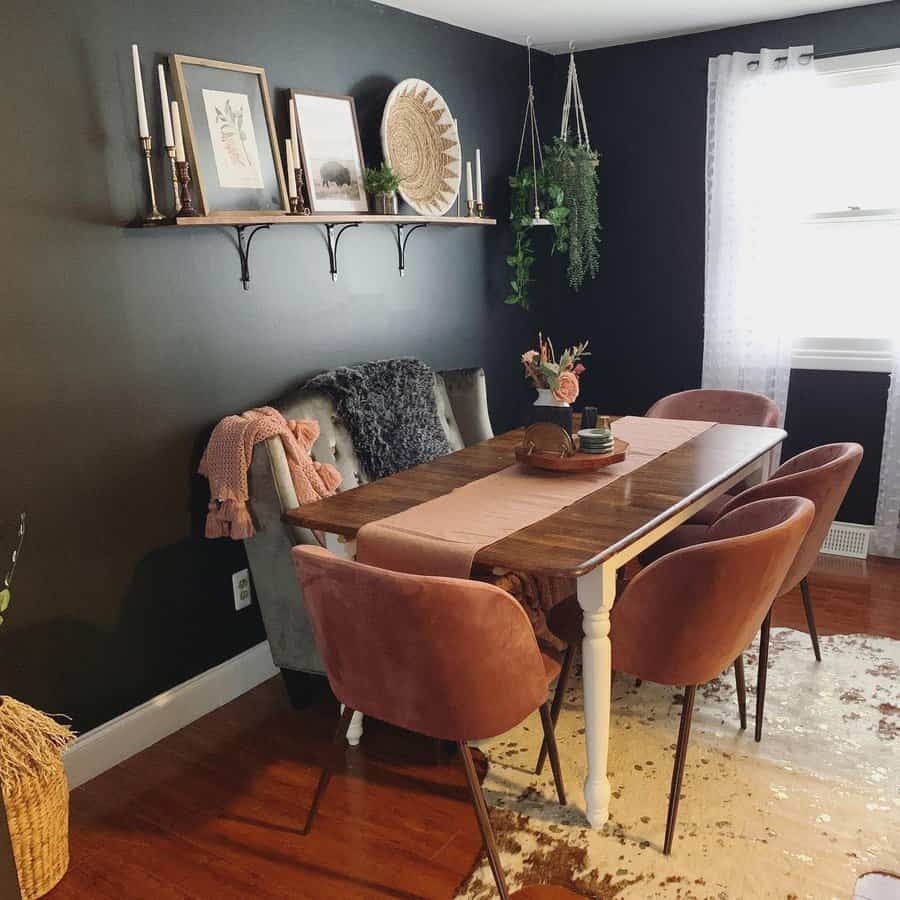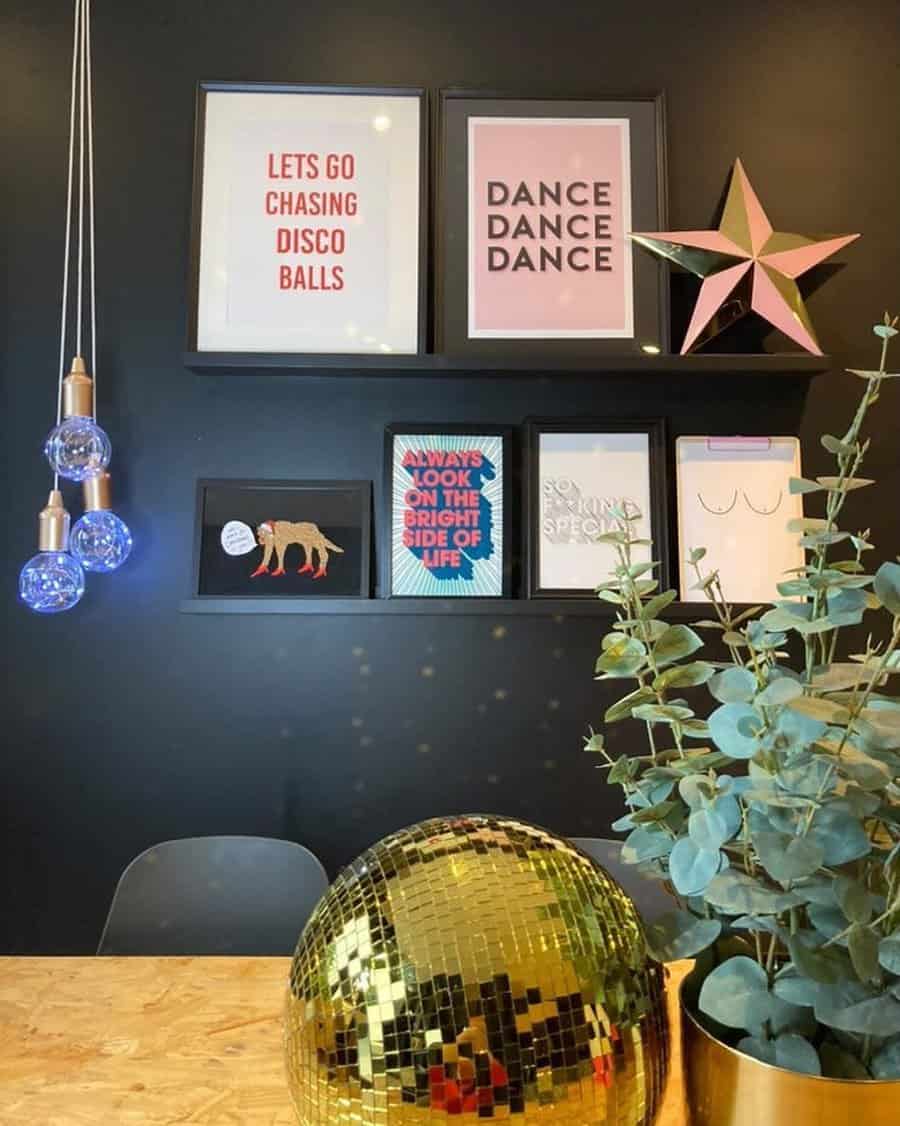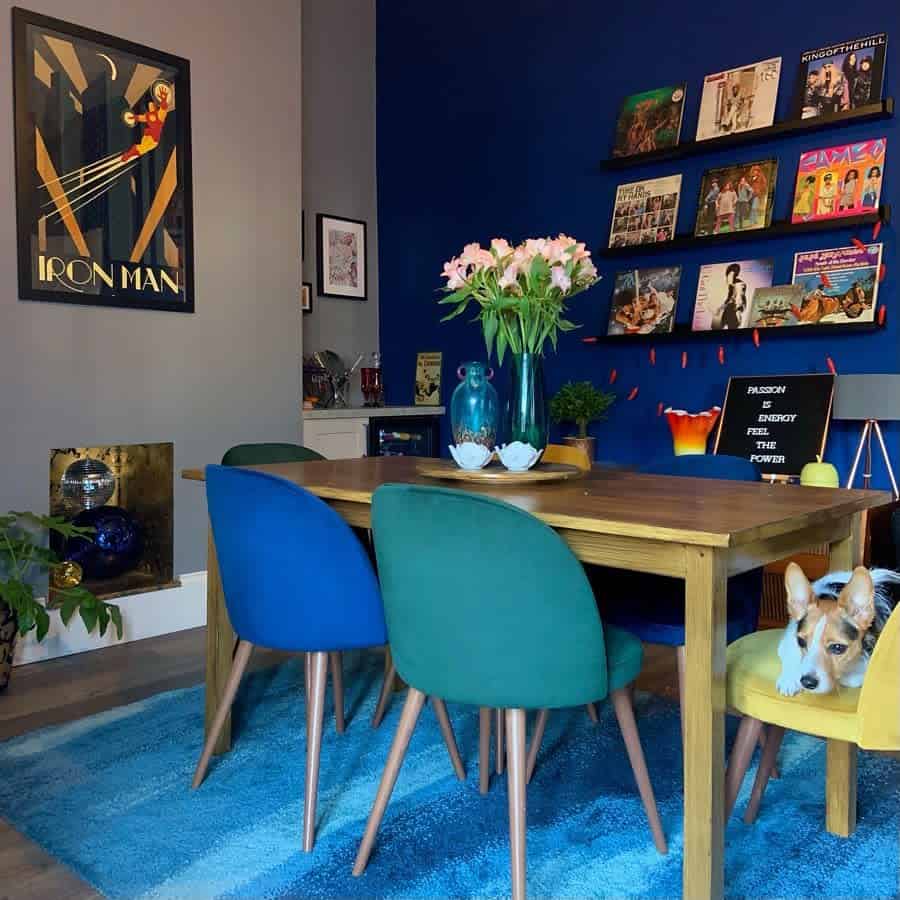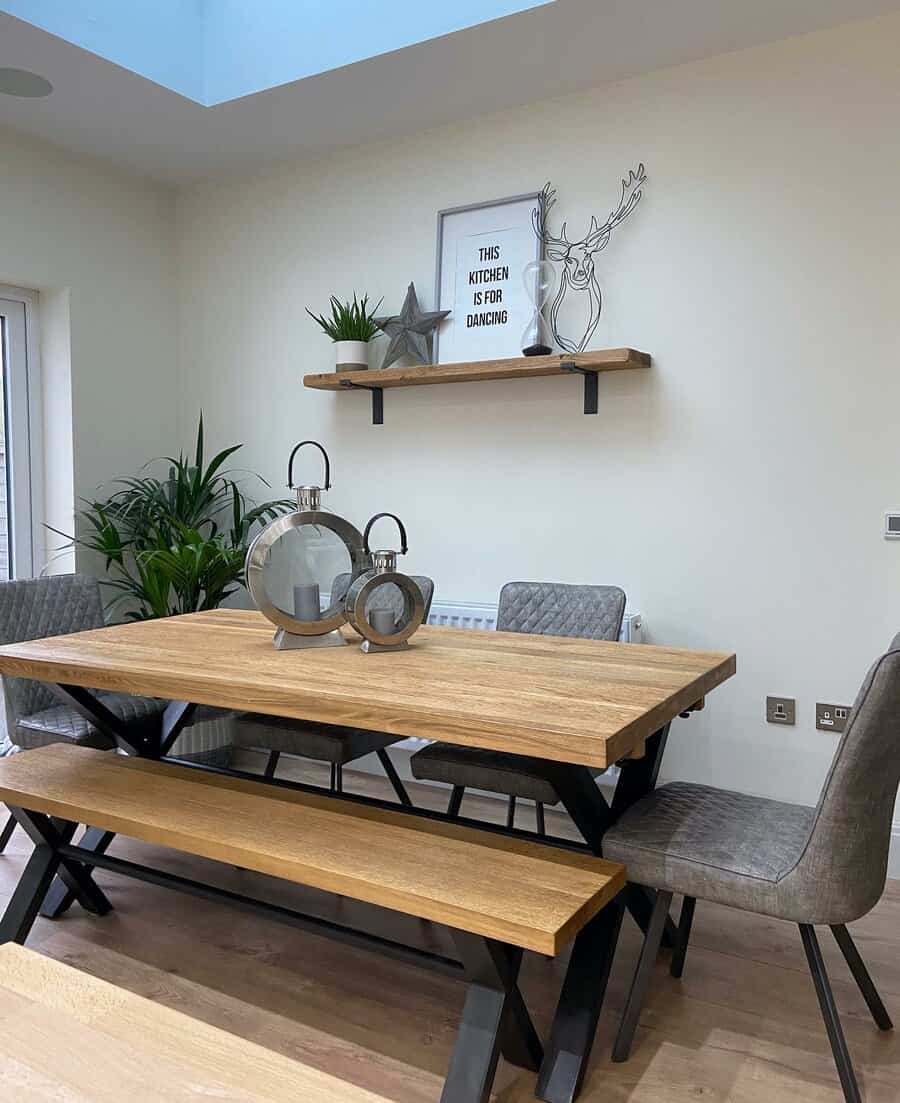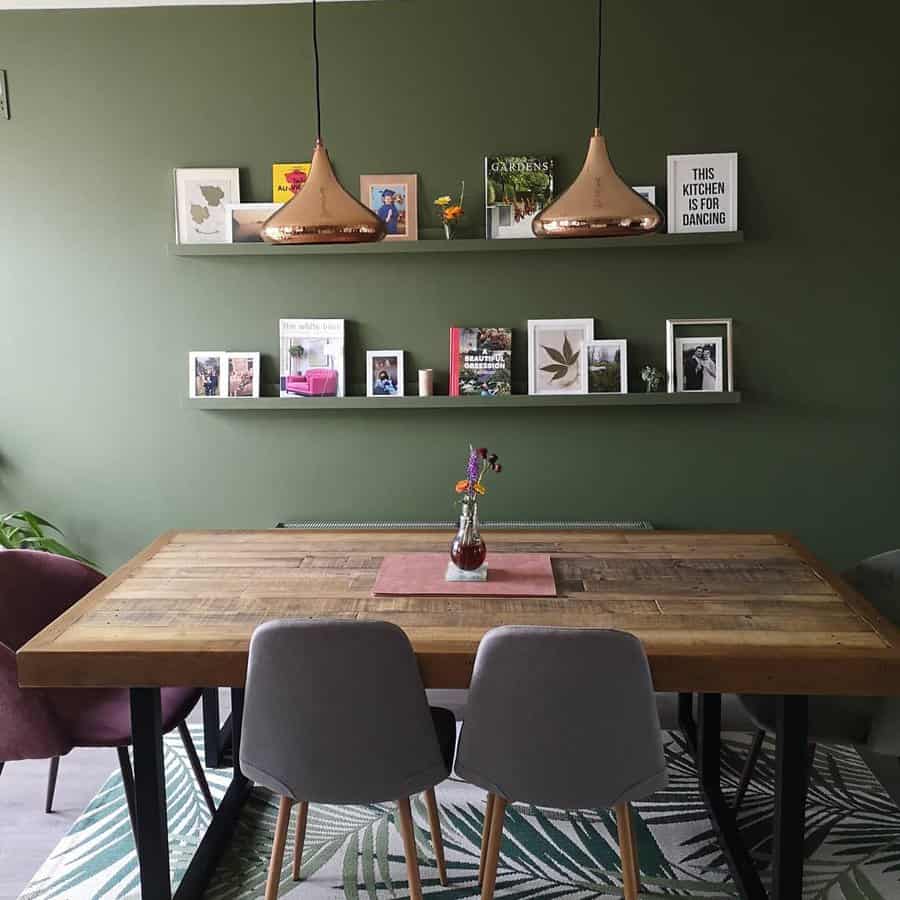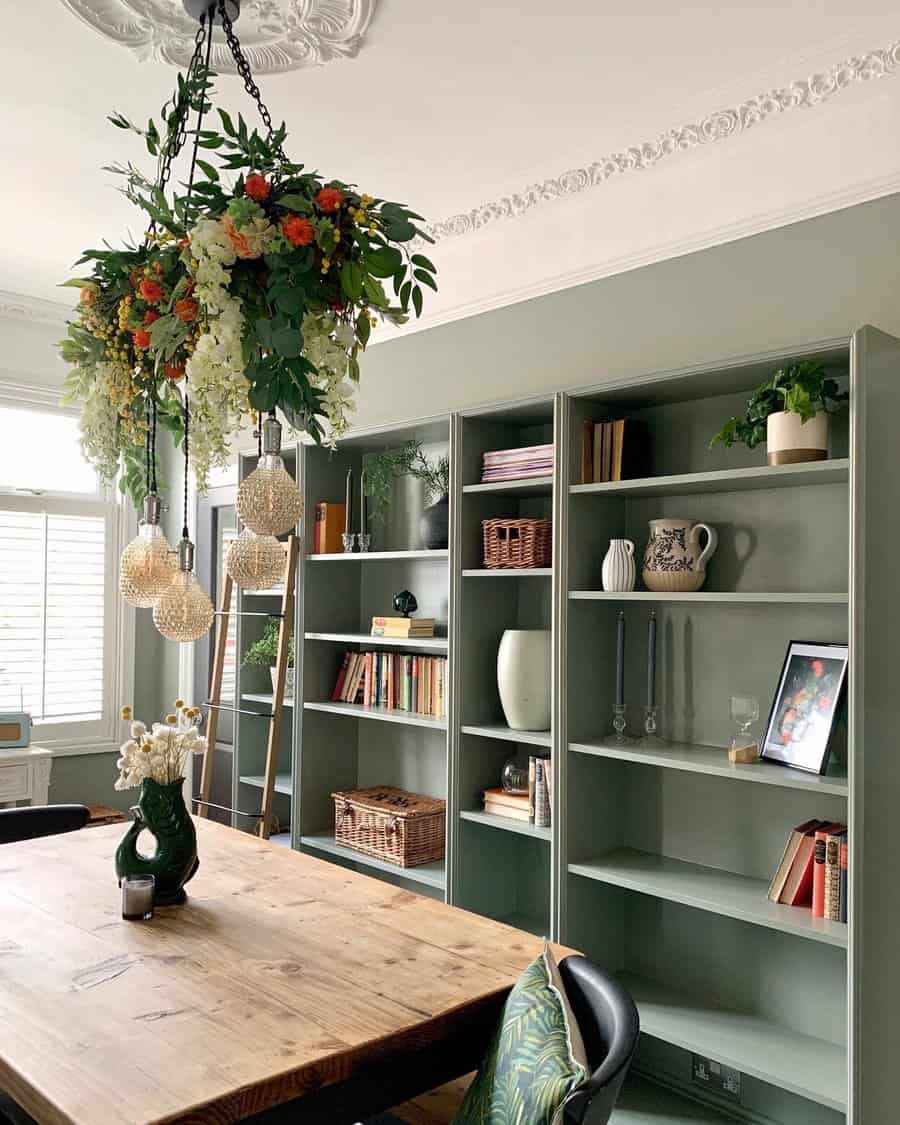 12. Put Artificial Grass For A Cottage-Style Look
Looking for a creative wall decor idea for your dining room? Consider creating an indoor wall with artificial grass! Installing wall grass can give your space an outdoorsy, cottage-style feel and bring a unique energy to the area. And the best part is that the wall does not require any maintenance whatsoever.
With wall grass, you can create a unique backdrop — perfect for memories and photographs. All you need is some artificial grass or turf and something to secure it on your wall. Let your imagination fly high and have fun turning your wall into an eye-catching feature!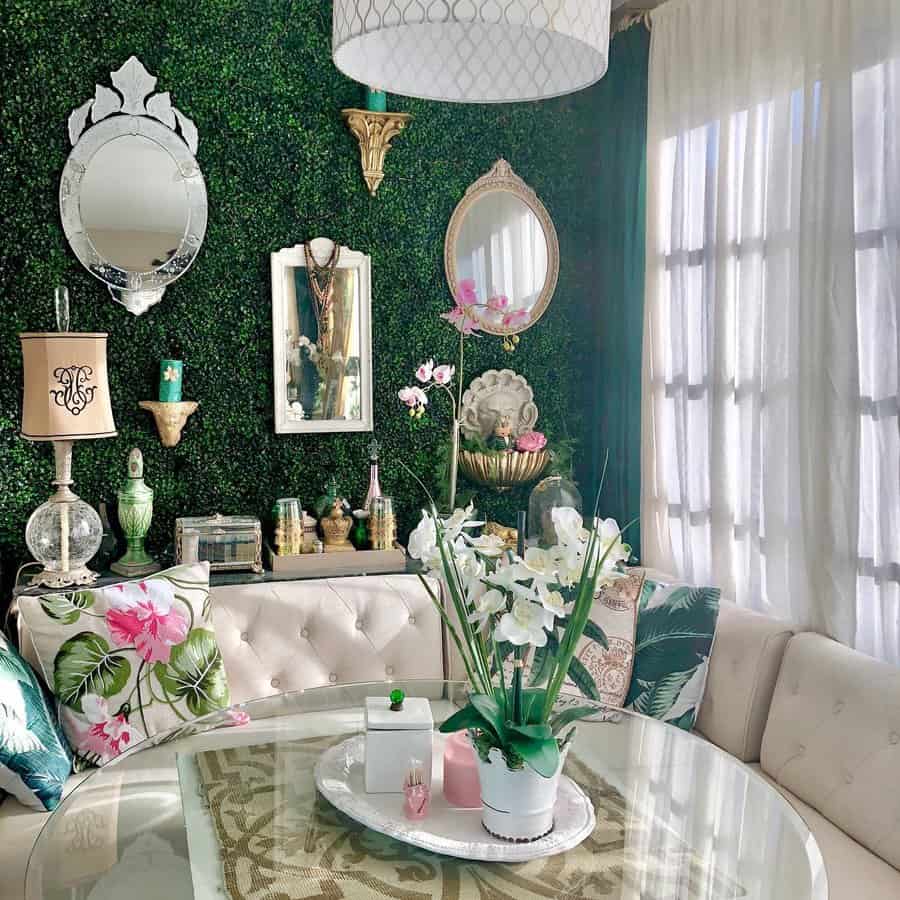 13. Create A Focal Point With Framed Artwork
Incorporating framed artwork into your dining room wall decor can be a great way to add the perfect finishing touch. Whether you go for something abstract and minimalist or an intricate painting that captivates the eye, framed artwork adds an extra hint of personality and atmosphere to the room.
Experiment with different sizes, styles, and colors in order to find the piece that best reflects your taste and accentuates your dining room's overall aesthetic. When hung correctly at eye level, framed artwork can bring out the best in any dining space.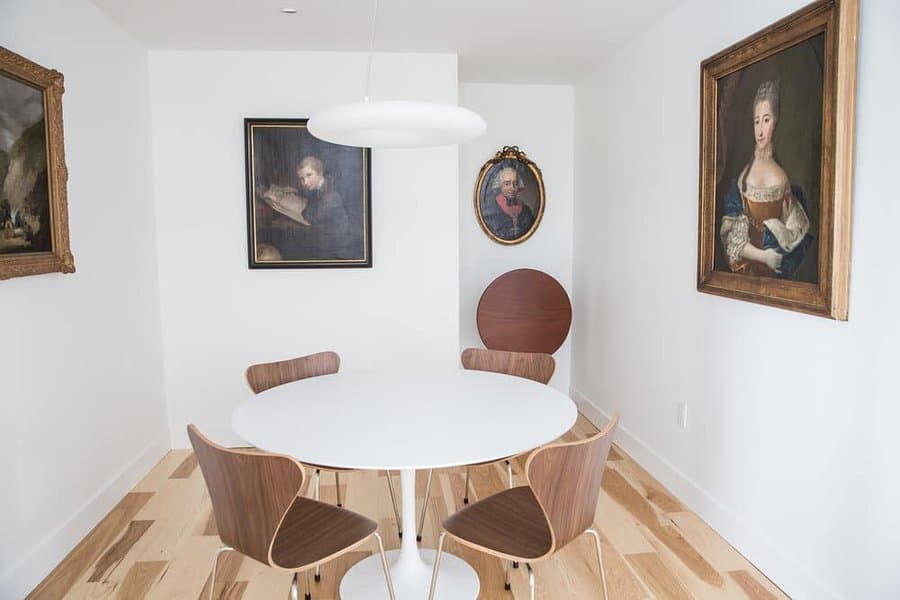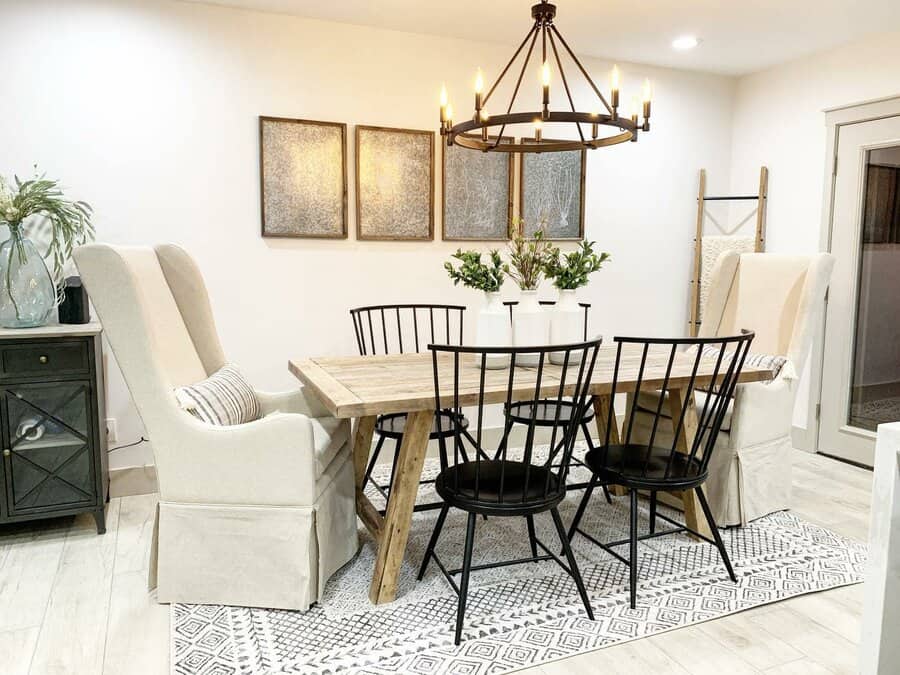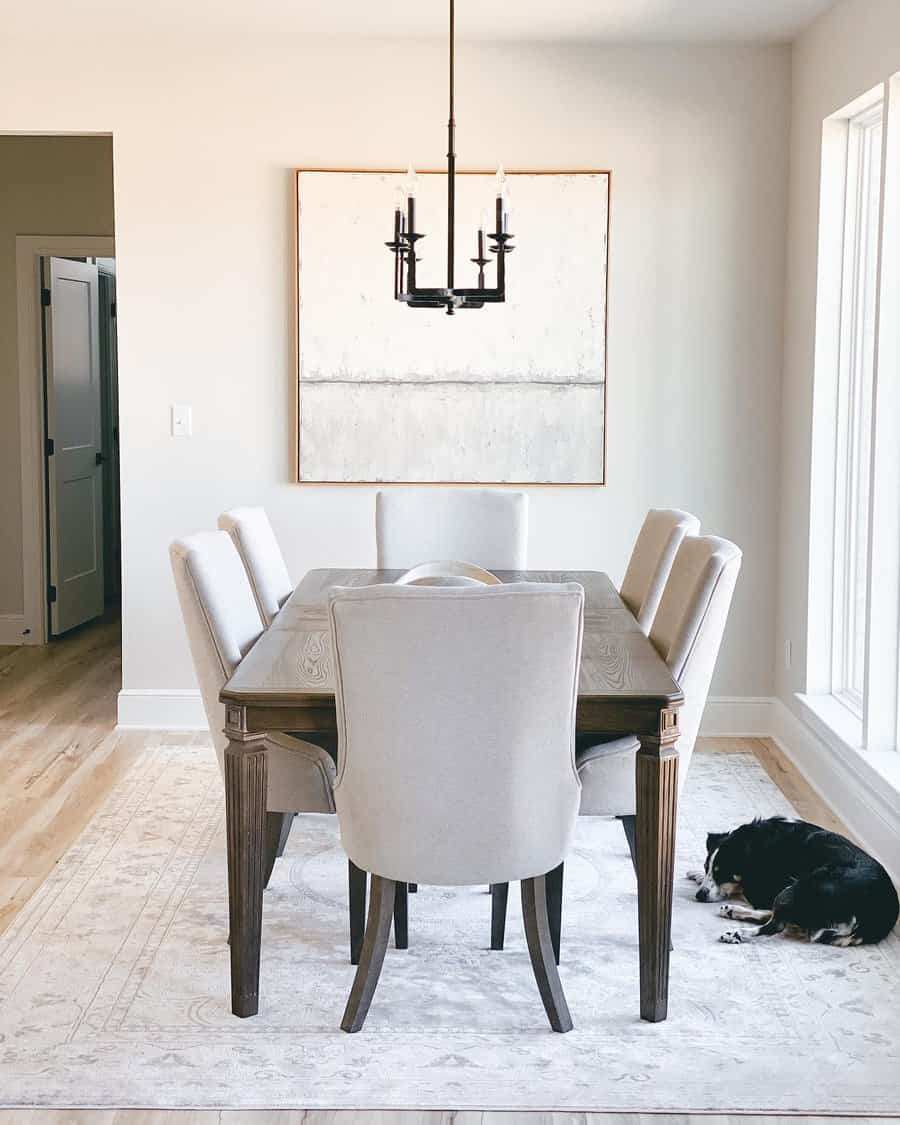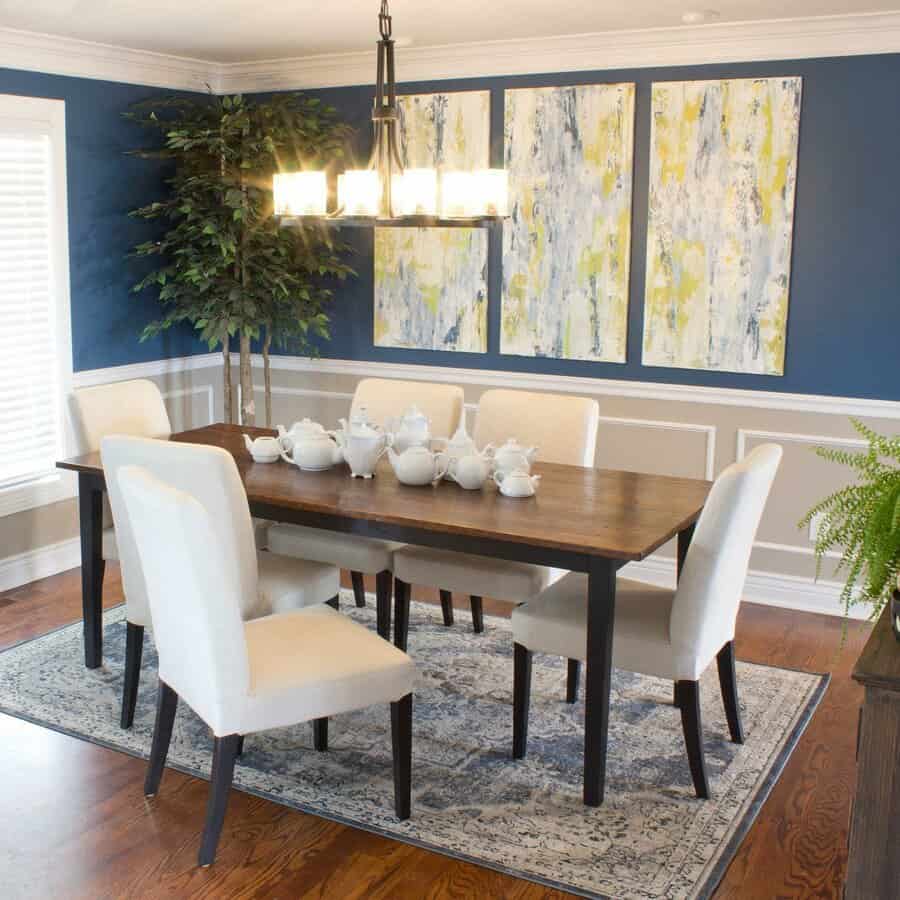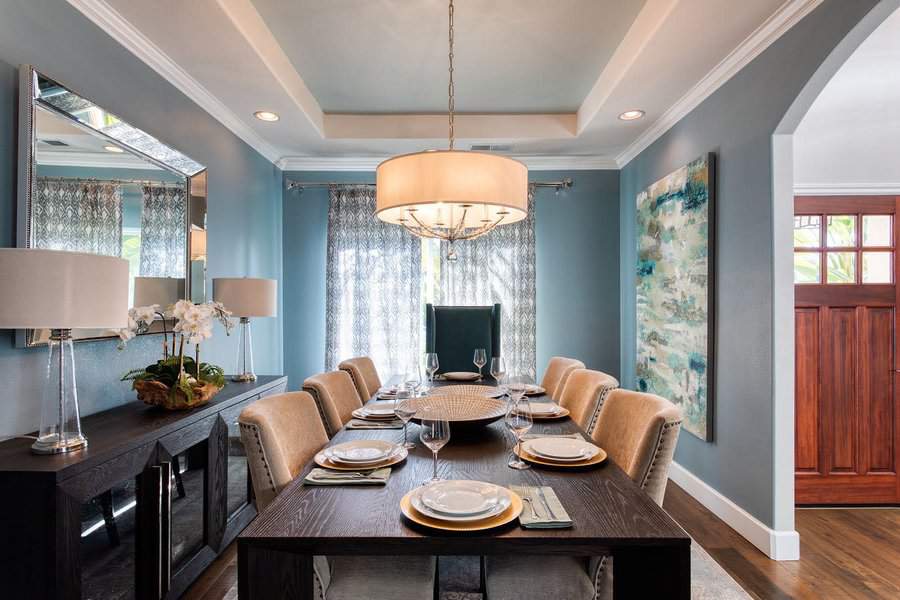 Dining Room Wall Decor FAQs
Is it okay to have a blank wall in your dining room?
Leaving parts of your home bare is often just as important as covering others with your favorite decor.
Don't feel pressured to add decor to every wall in your dining room. If your dining space includes a gallery wall or a large statement mirror on one wall, it may be better to leave the adjoining walls blank.
How do you add storage to a dining room?
While floating shelves are perfect for displaying fine china or other dining room decor, they're not ideal for storing items you'd rather leave out of sight. If the available space allows, adding a buffet or sideboard to your dining area can be a great way to store extra utensils, centerpieces, and mixology supplies without cluttering up your wall space.
Should your kitchen and dining room match?
Sometimes. If your home features an open floor plan, then you'll want to ensure your kitchen and dining spaces coordinate — if not outright match. But if your kitchen and dining room are separated by a doorway, you have much more freedom in each area's decor and color palette.