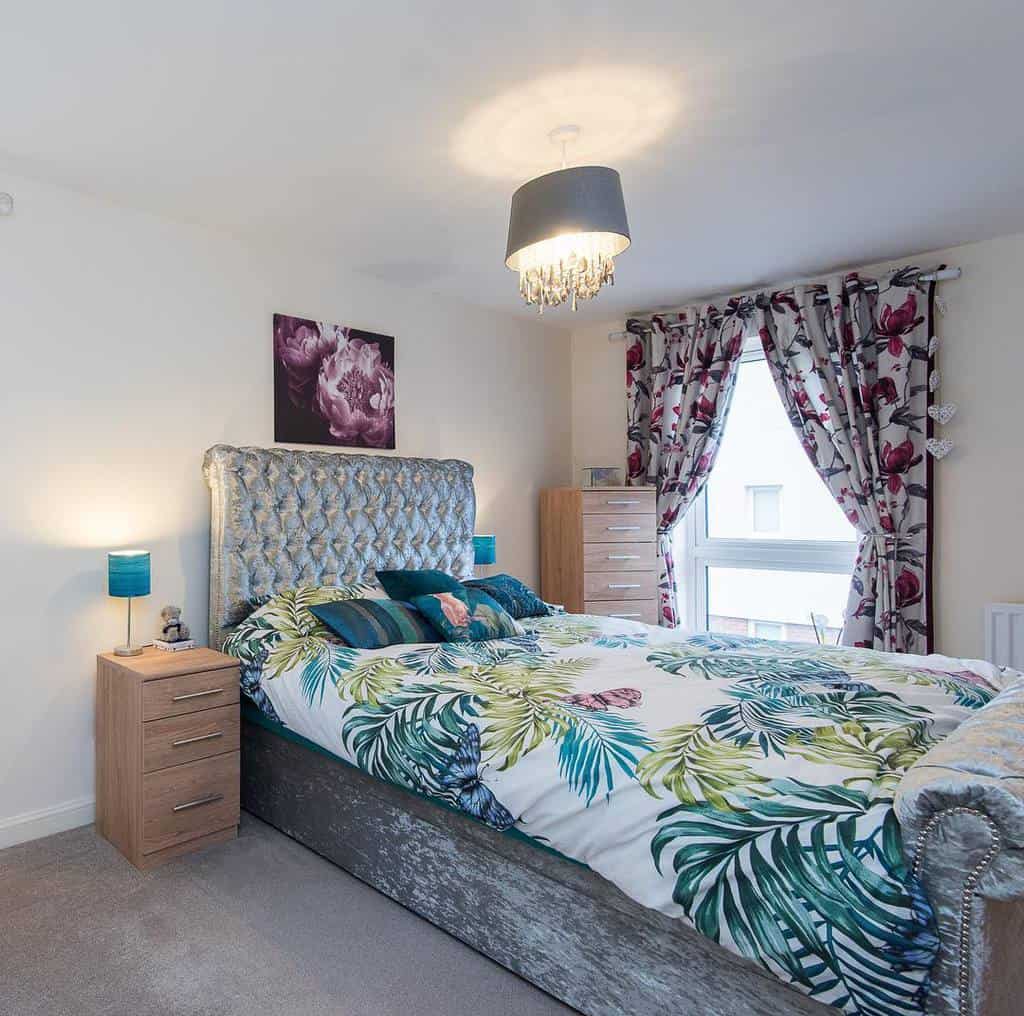 20 Tropical Bedroom Ideas and Designs
Whether you have a summer house on the beach or a loft in the city, a tropical décor will make you feel like every day is a sunny day!
Tropical décor is joyful, colorful, and yet cozy and very trendy. You can use your creativity to play with patterns and textures, and explore natural fibers and organic materials.
In this post, we will give you some ideas for tropical bedroom design and decoration, so that you feel inspired to make a total makeover in your bedroom, to transform it into a 5-star hotel suite.
1. Tropical Beach Style Bedrooms
If you want that relaxing beachy look in your bedroom, explore pastel colors for that sandy beach vibe, and play with accent colors and textures, from the serene blue of the sea to the colorful tones of green of the tropical gardens.
Natural fabrics like cotton, linen, and bamboo will give a tropical feel to the room. Use natural or reclaimed wood and bamboo, and explore natural fabrics like cotton and linen.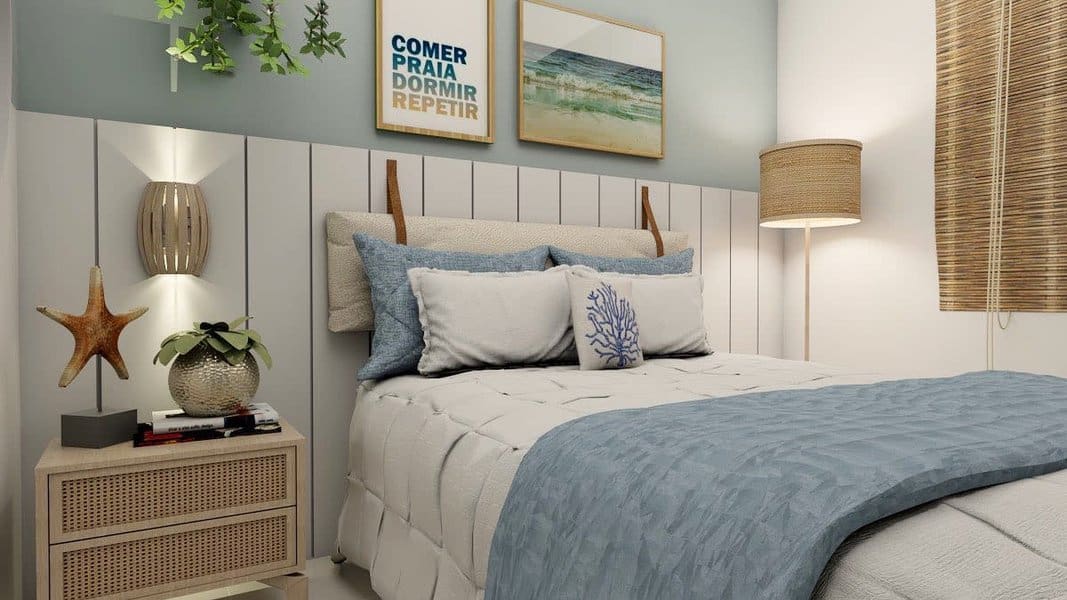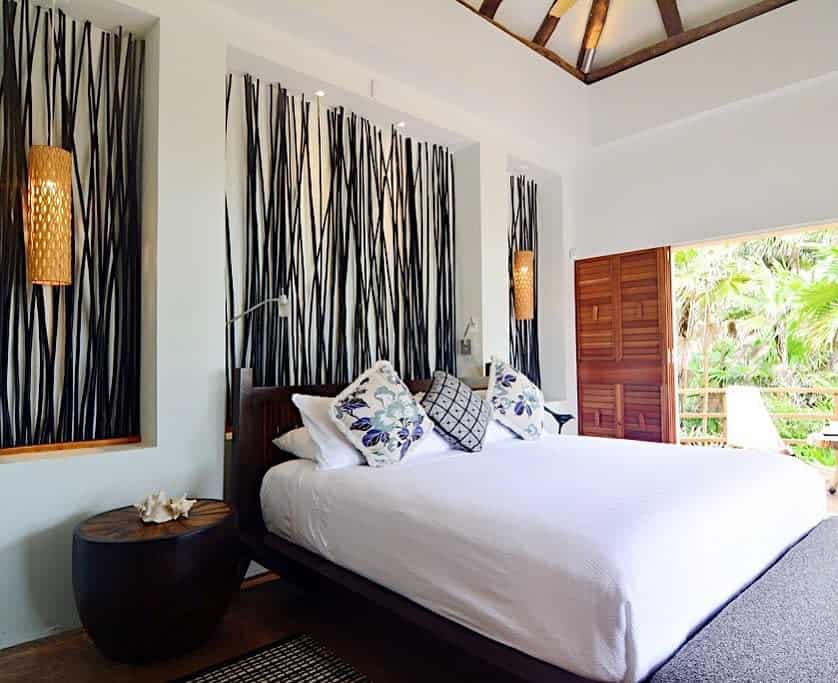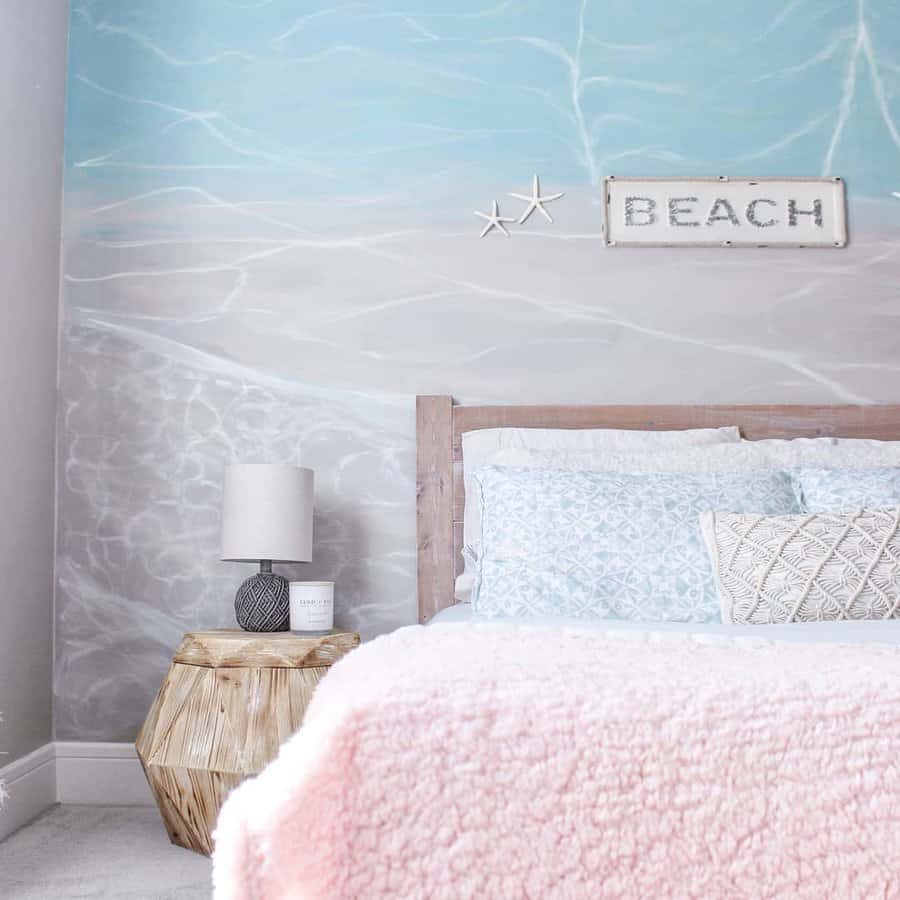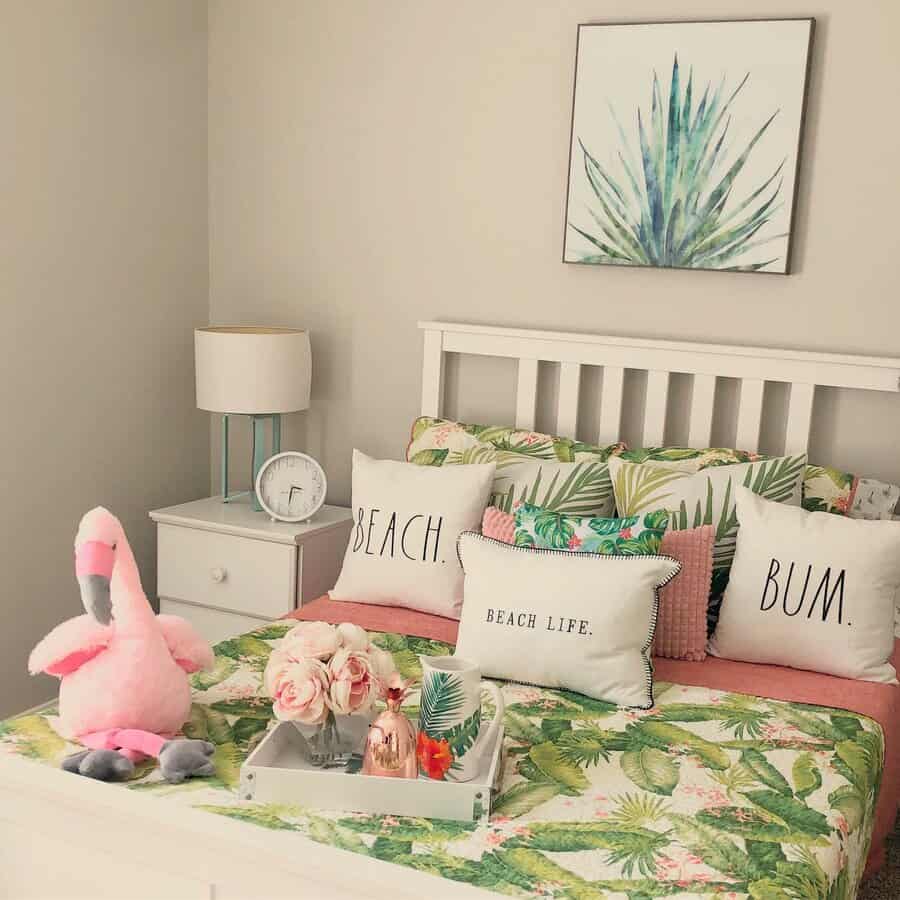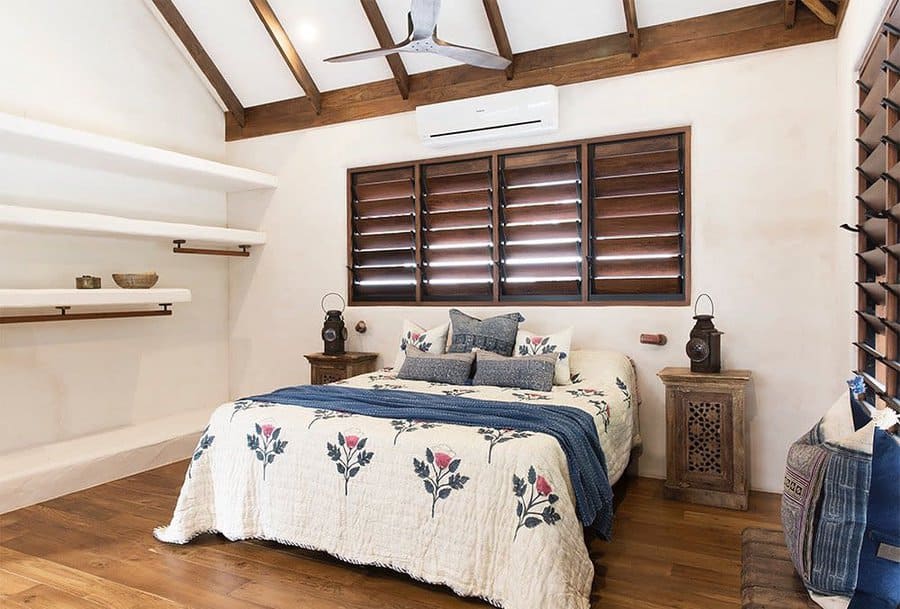 These natural materials can be mixed up with silk for a soft touch. Silk is a great décor piece in cushions or sofa scarves. A silk bedspread with a tropical motif over an organic cotton duvet cover is also a good call.
For a stylish and unique space, think of a wall mural with foliage motifs. They are simply astonishing! Or you can have an accent wall with a palm leaf motif instead, or framed botanical prints. A canopy bed with pure linen and silk curtain will make you feel like in a paradisiac tropical island.
2. Kid's Room Ideas with a Jungle Vibe
What kid doesn't love animals? You can choose a jungle-themed bedroom, so your little ones will feel they're in a tropical rainforest!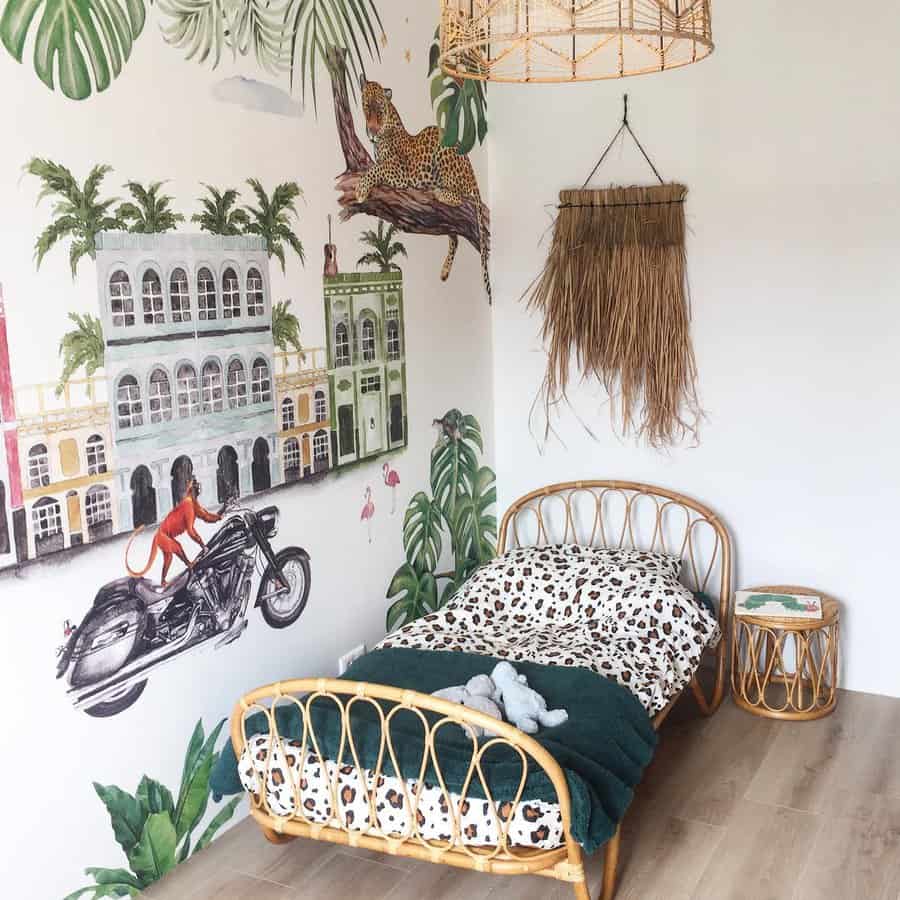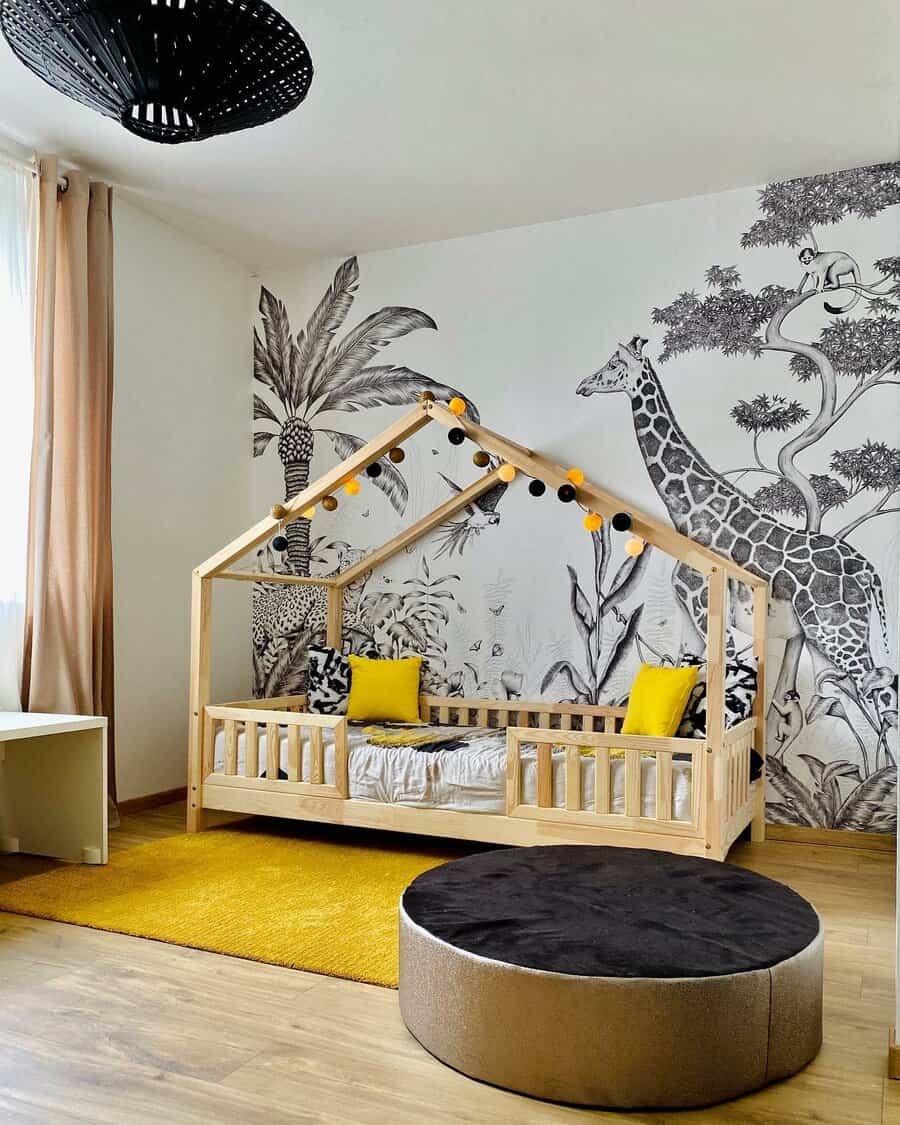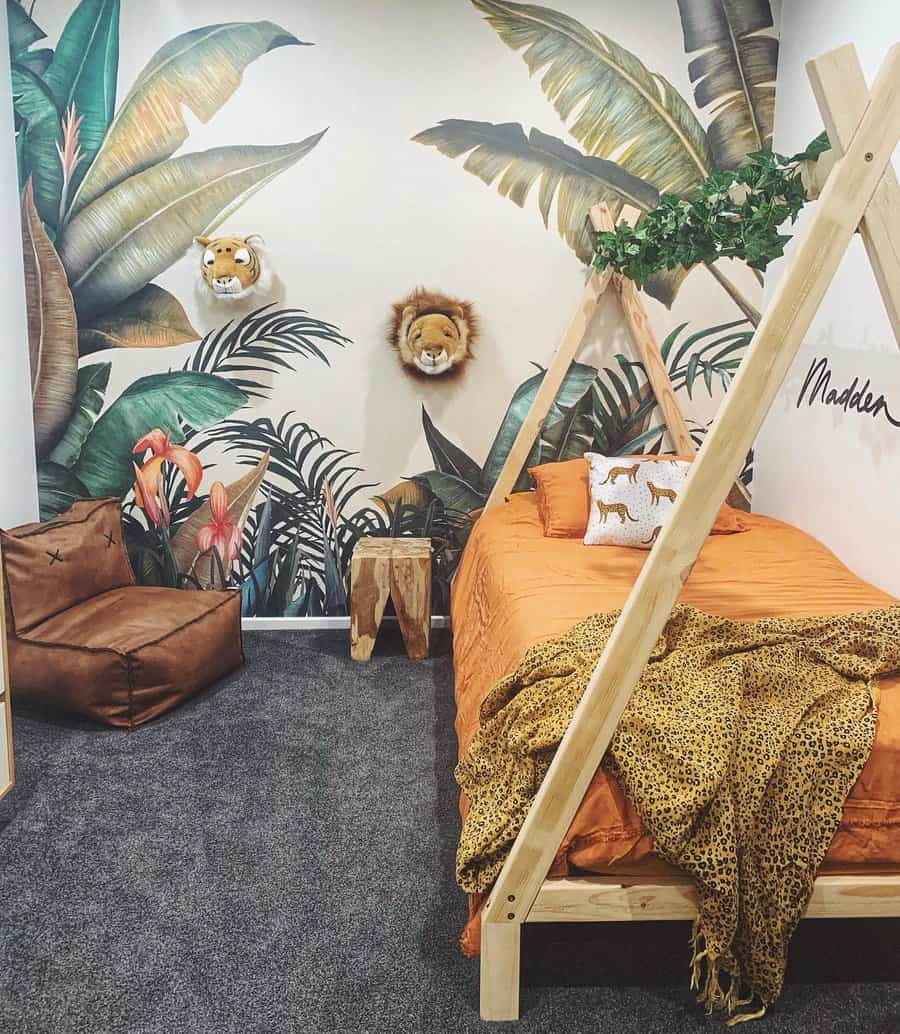 If you want urban jungle décor, avoid synthetic materials, and choose natural, organic materials like wicker and bamboo. Make sure you have at least one feature wall, with jungle motifs (either a mural, wallpaper, or framed jungle prints).
Use wood tones, yellows, and greens to bring color to the bedroom, and fill the room with their stuffed animals to make the space feel joyful and cozy. Let your kids' creativity run free with a chalkboard or drawing table, so their art will become part of the décor!
Don't forget to add a fake fur bedspread, and some real or fake potted plants and foliage. Sisal rugs are another great idea for that tropical atmosphere you look for in a jungle-themed bedroom.
See more kids bedroom ideas here.
3. Elegant Decor With Tropical Accents
Adding tropical accents to elegant decor can be like a breath of fresh air. Look for pieces that use tropical materials in the construction of elegant pieces. This could be the use of drift or mango wood to make the furniture or chandelier. Or perhaps linen is used to upholster the headboard or bench.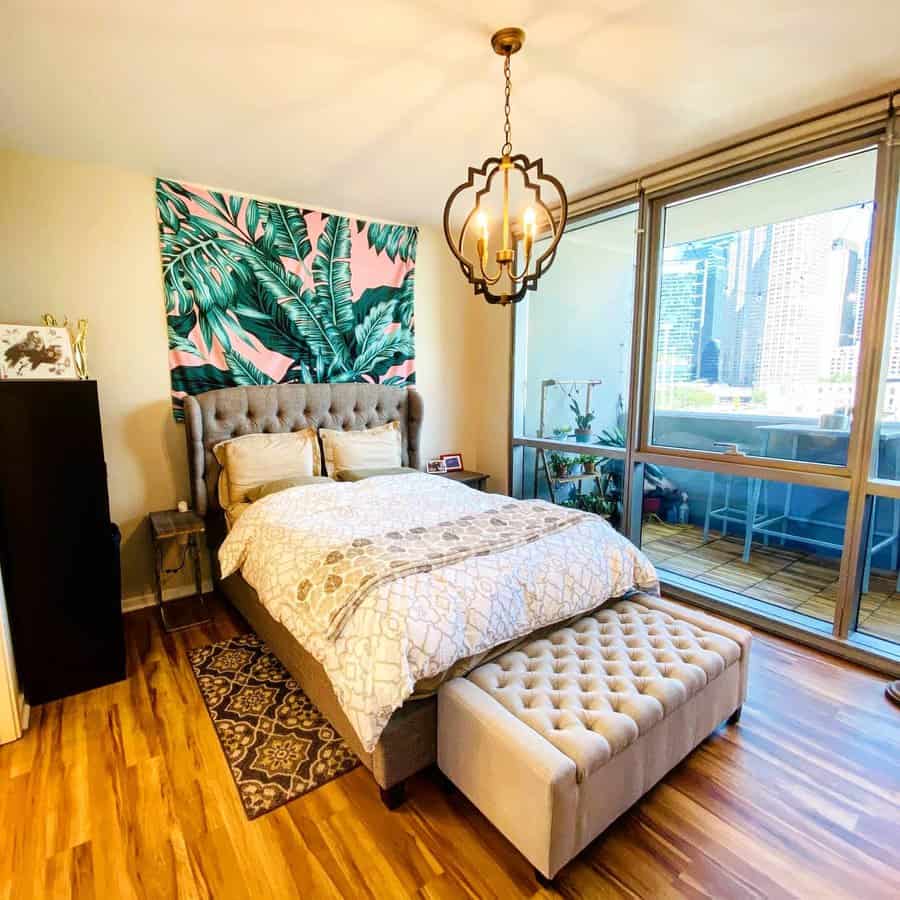 4. Bohemian Tropical
Using bohemian and tropical pieces together creates a beautiful blended design aesthetic. Focus on handmade pieces that add a worldly touch to your space. A hand-woven light shade made from beach grasses can add texture to the room. Other good options are a hand-woven rug, a one-of-a-kind painting of tropical leaves, or pillows using ocean blues.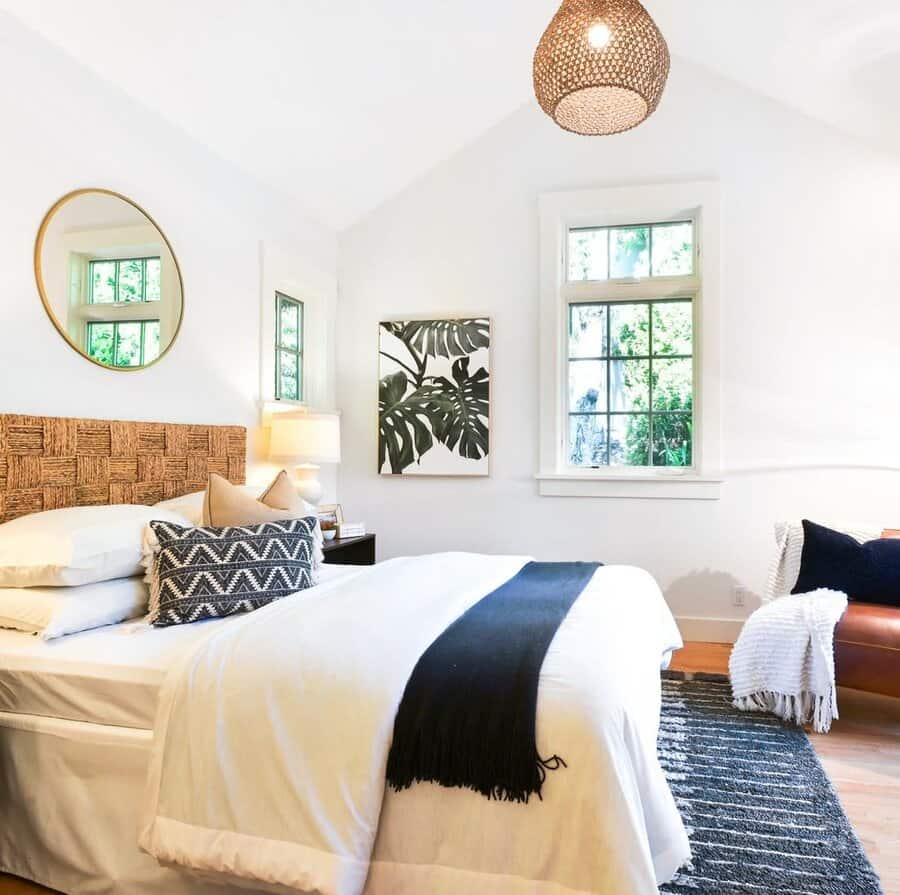 5. Wall Decor
In tropical-inspired design, the walls make all the difference. Do not underestimate the impact of a feature wall. Murals with greenery motifs set the tone for a true tropical décor.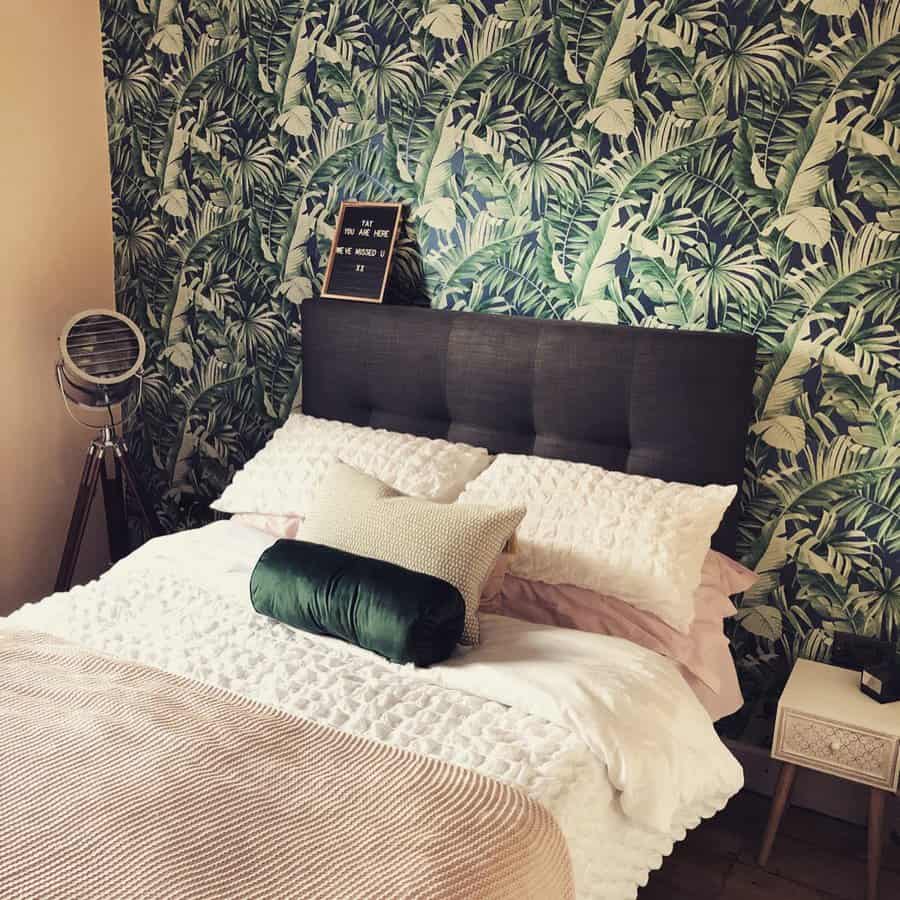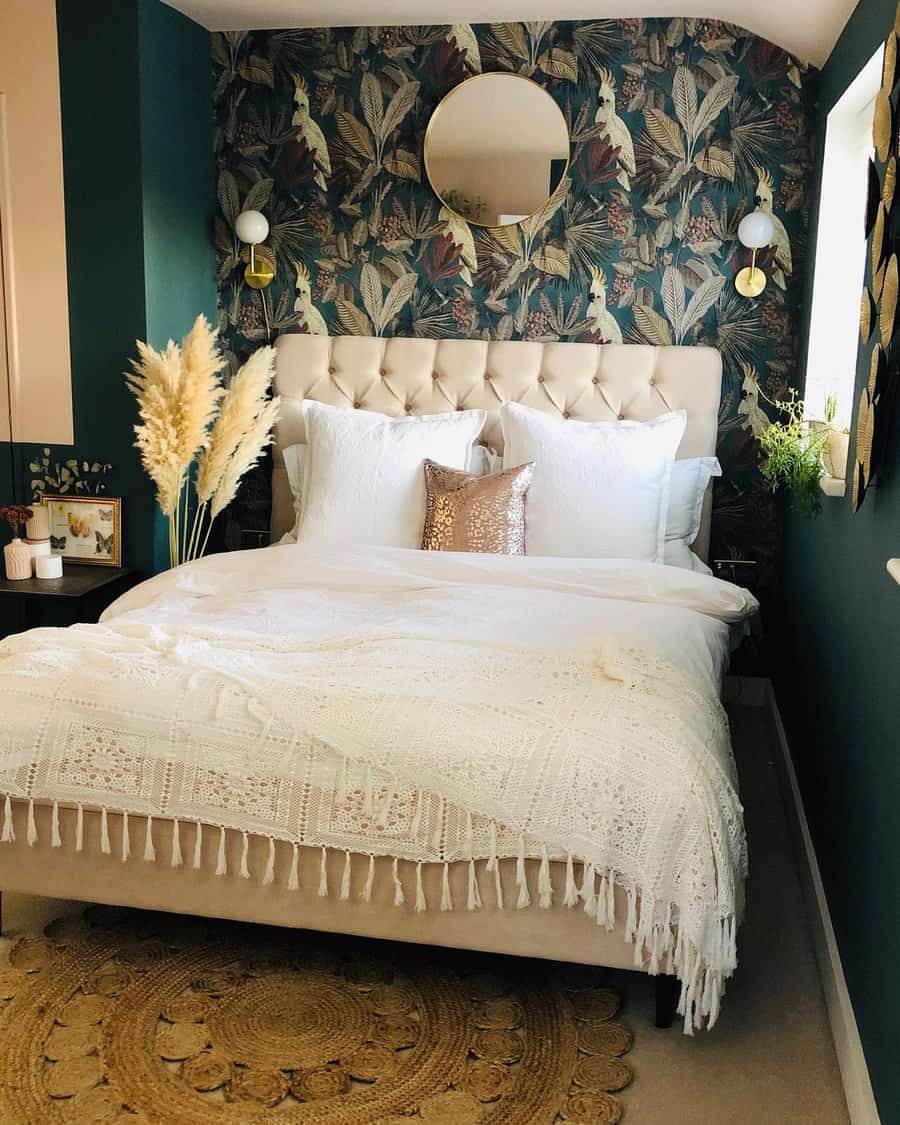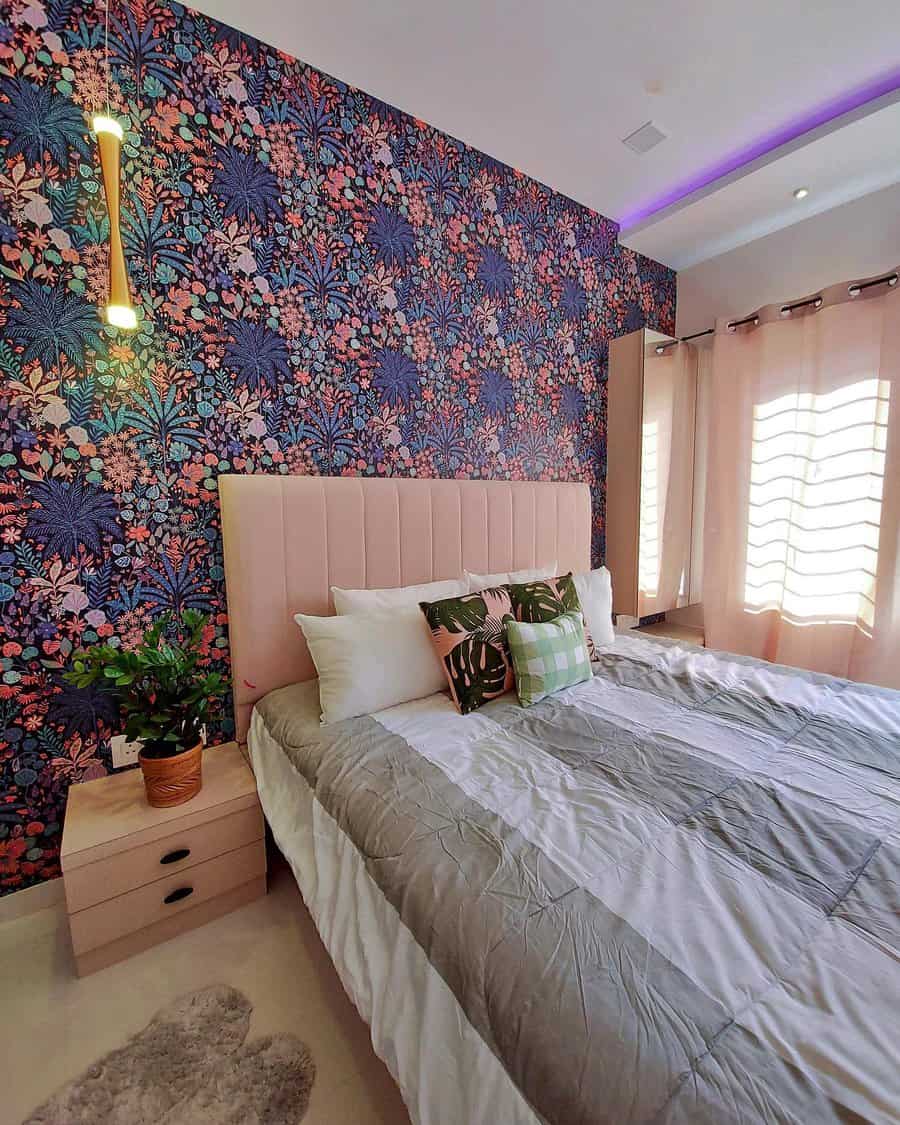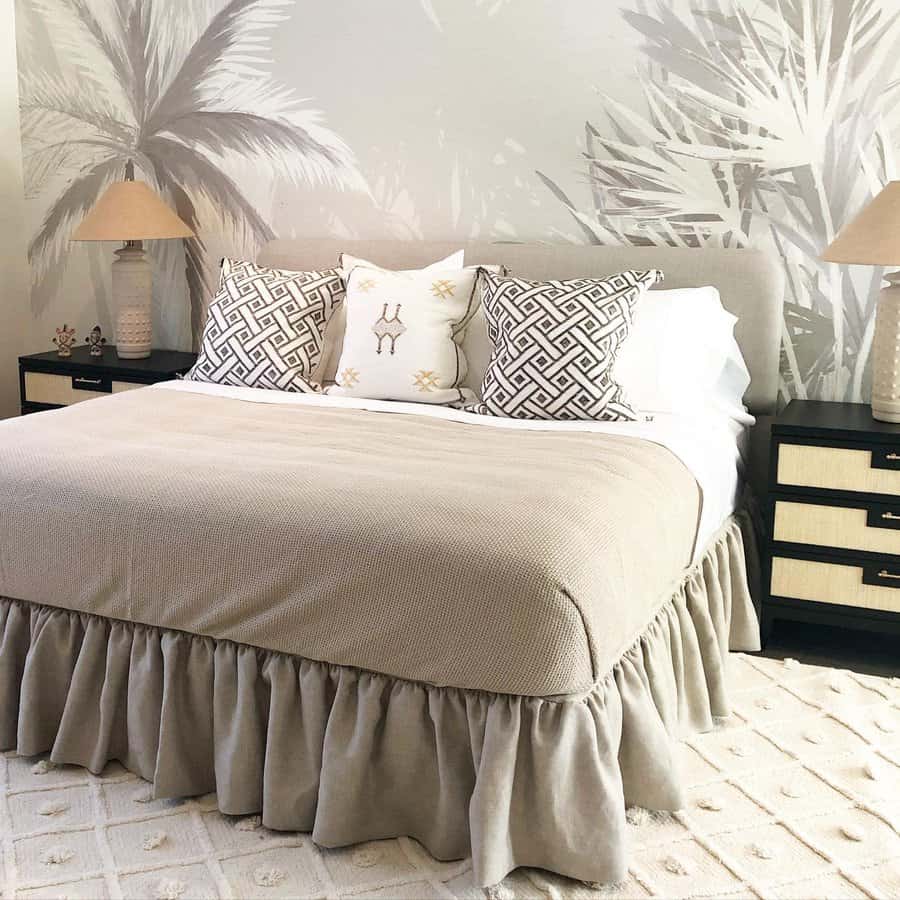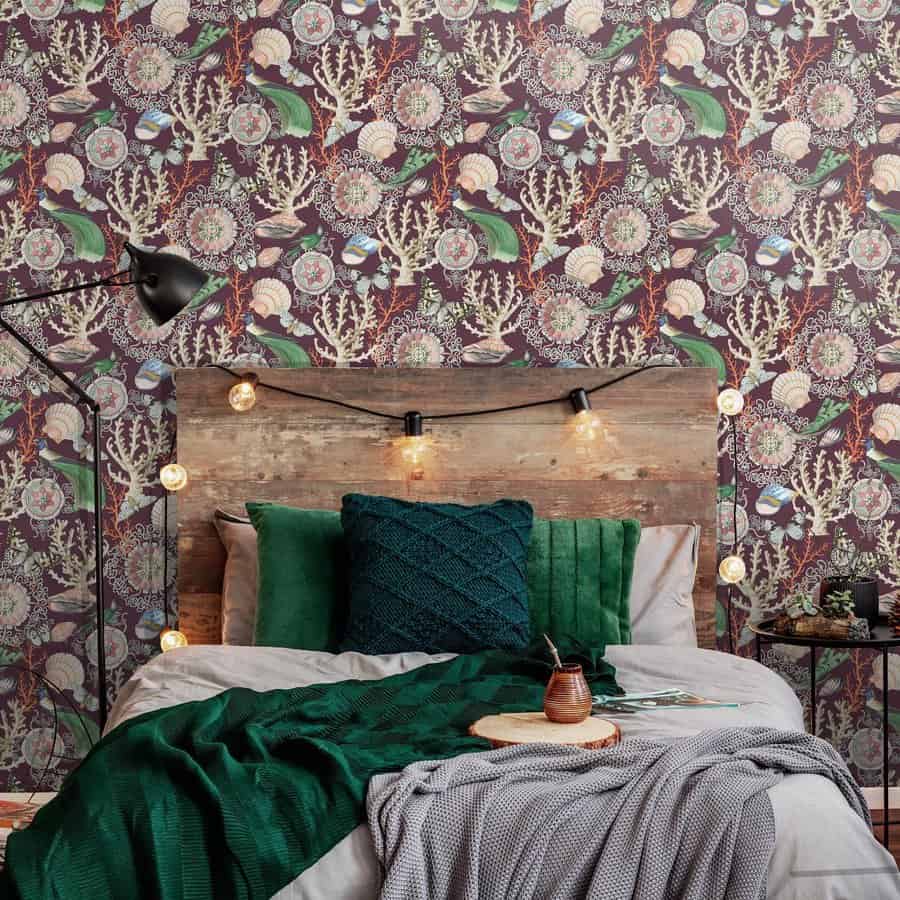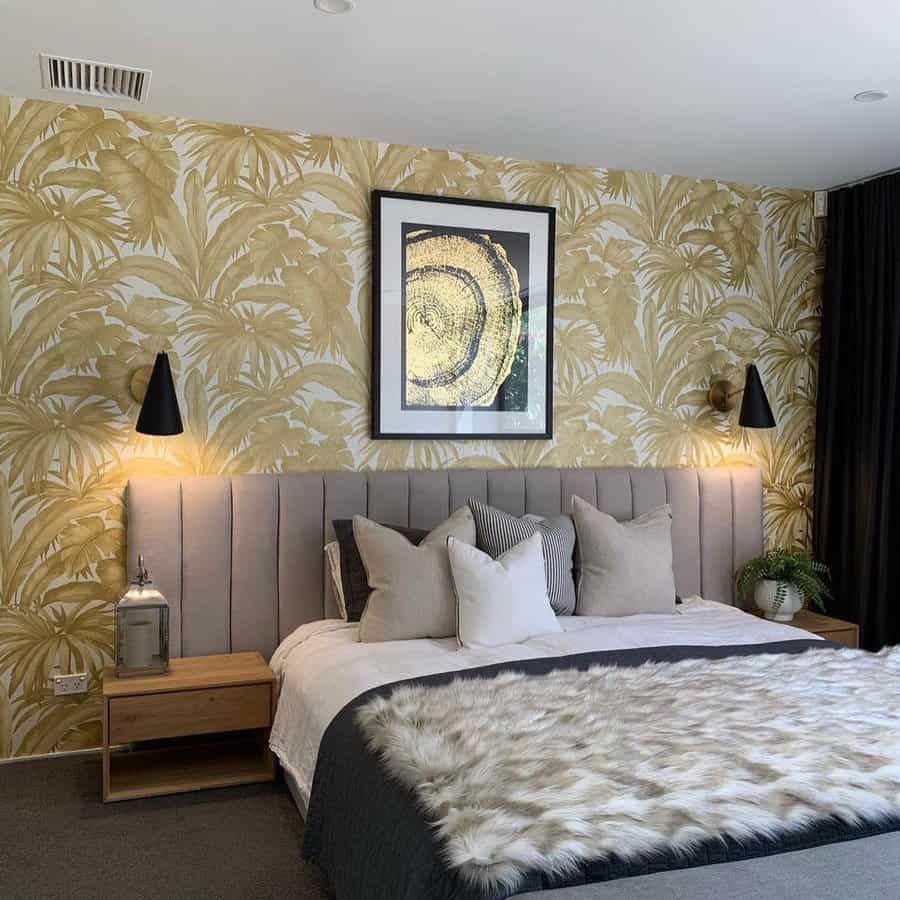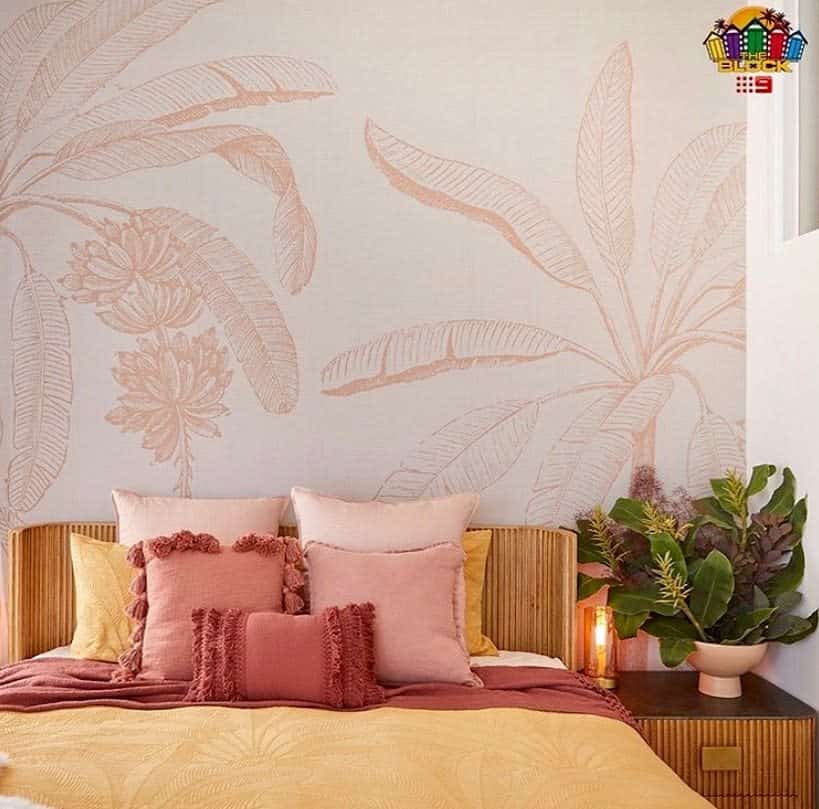 You can choose removable wallpaper instead, or fill up a wall with framed art and make it the focal point of the décor.
Remember that green is not the only color to use in a tropical-style bedroom wall. You can choose a soft tone for the walls, with foliage, beach, or sea motifs, as shown in some of the pictures in this post.
FREQUENTLY ASKED QUESTIONS
How can I bring the outdoors inside?
Have a vase with foliage in each bedstand. Foliage lasts much longer than flowers, you just need to remember to change the water on a daily basis or every two days, minimum. Also, you can create a green wall with a vertical garden, they are a beautiful accent piece in any home.
Make sure you have window planters, in case you do not have a garden view from your windows. Remember that greenery also comes in colors and patterns you choose for your décor.
Which colors should I use for tropical style decoration in my bedroom?
Earthy tones can be the base of your décor, but you can explore a variety of colors in accessories and accent pieces. Turquoise is so sophisticated when mixed with a neutral color pallet!
Also embrace orange and bright yellow tones, coral, and fuchsia, apart from different shades of blue, green, and brown.
What kind of bed should I buy for a jungle-theme bedroom for my son?
There are several options. You can choose a loft bed and use the space below to create an adventure spot for your kid!
You can apply sisal or bamboo wall coverings and hang their stuffed animals to make it look like camping inside a jungle! Or you can have a house-bed, painted and decorated with animal print and jungle motifs.