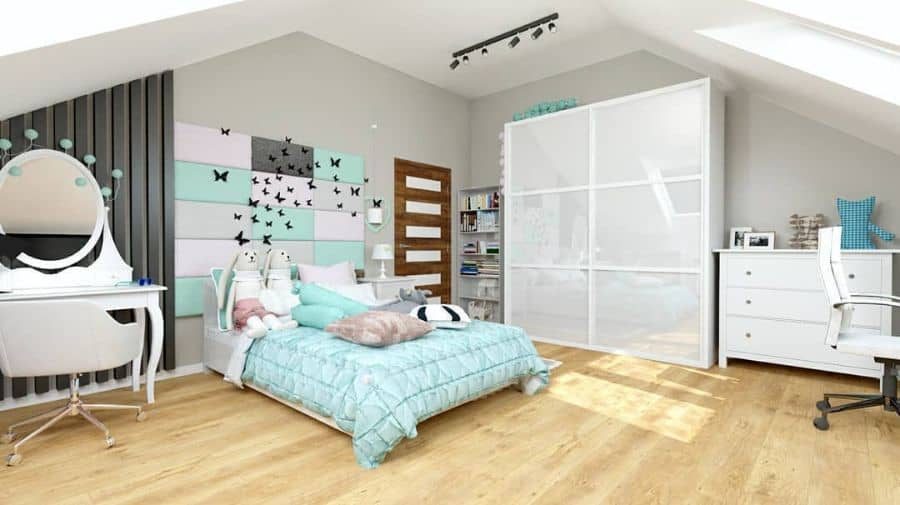 50 Inspiring Kids' Room Decor Ideas
Your child's room is a wonderland for them. It's a place to play with their friends and family or a place for them to hang out and play video games. It can also be a place where you can bond with your child.
Considering all of the time your kids will spend in their room, you should create a space that is exciting to be in. Find different kids room decor ideas for your little ones. Test your creativity by building an atmosphere that inspires them.
The more exciting your child's room is, the more time you can spend being productive around the house or finishing your DIY project.
1. Girls' Rooms
Your little girl is one of the most important people in your life and you'll always have her back. You'll also fall victim to her genuine, and sometimes expensive requests. If your daughter has an affinity for unicorns, princesses, or butterflies, you have enough of a theme to choose from when designing your kid's room. You can find a butterfly chandelier and have wall decals around the room with a field of butterflies. You can also find a butterfly-shaped bed for your daughter. She'll be surrounded by butterflies and feel like The Butterfly Queen.
If your daughter is a unicorn or princess fanatic, chances are she has costumes to match. For the unicorn-inspired bedroom, you can use the rainbow color scheme to your advantage. Choose one of the lightest colors in a rainbow-pastel color palette and paint your walls with that one color. You can designate a wall for your daughter to draw and paint on if she constantly has the urge to write on the walls and furniture around the house. You can accent the room decor with unicorn and rainbow figurines and stuffed animals.
If your daughter dreams of becoming a princess she sees in movies, she may want to sleep in princess-themed nightgowns and may even try to wear her full princess costume to school. A great compromise would be to turn her bedroom into a castle. Choose a comfortable bedspread for your little girl and match the patterns of the bedding with a crowned canopy.
2. Boys' Rooms
Your son may love animals, super heroes, or space themes for his room. There is a wide range of options for your little one. To incorporate an animal theme in the room, you can give him a bed with either an iron or wooden bed frame. You can use a rug to match the curtains in the room or you can match the bedding. If you are trying to match the bedding, choose solid colors for the comforter and have the base color of the rug the same. The pattern of the rug can be whichever pattern or print, as long as it's a neutral color. Try hanging up stuffed animal heads for your little animal-lover and top off the room with a painted, wooden dresser.
If your son is infatuated with space, you can choose between animated characters and real-life interpretations. Choose to use Buzz Lightyear, from Toy Story, as the inspiration for a more animated space room. Hire an illustrator to create a mural wall of the story you come up with.
Your son will be overwhelmed with the effort you put into his room and you'll enjoy seeing your child's imagination come alive. If you have an older son who still likes space themes, you can turn up the sophistication.
You can use a metal chandelier that imitates the planets in our galaxy and put wallpaper around the room with stars and realistic images of the planets. Try to get the sun as close to the headboard of the bed as possible. It'll draw attention to the bed and it'll become the focal point of the room.
Superhero-themed rooms are fun to create. You can line your son's favorite action figures around the window pain or the sprinkled throughout the room. In order for you not to decorate the room with overwhelming prints of action figures, you can paint the walls one color and have the rest of the furniture in the room color blocked. To add more decor to the bedroom wall, you can find posters, fatheads, or other wall ornaments that reflect your son's favorite superhero.
3. Kids Room Wallpaper Ideas
There are so many wallpaper kids' room ideas. Depending on the type of environment you want to create, you can put up wallpaper on every wall, one wall, or just the ceiling. If your child has a small room, you can use a monochrome color scheme throughout the room while using one of the walls as an accent wall. Put up wallpaper on the accent wall that has the same color in its background and have the print or pattern be the same color, but of a different shade. For instance, if your walls are light yellow, the wallpaper can have a light yellow background while the bunny print is illustrated in a golden yellow shade. The monochrome look with an accent wall can make this small space seem like it stretches longer than in reality.
Another way to make a small bedroom seem spacious for your child is to have wallpaper installed on the ceiling instead of the bedroom wall. Installing wallpaper on the ceiling can make the walls seem more elongated. You can choose one color for the rest of the walls in order to further accentuate the wallpaper prints on the ceiling. Have your child be a part of the fun when you design his or her room. They can choose cloud, galaxy, or rainbow prints so they can enjoy their view at bedtime.
4. White Kids Room Ideas
A kids room with a white color scheme is a brave choice to make. This kids room idea is best reserved for your kid younger than toddler age. The child's room will have a better chance of staying clean and you can enjoy a bright and airy room when you change your child. You can include subtle patterns or illustrations on the walls or the curtains. Have fun with your kids by installing a hanging bookshelf. The book shelf will turn into a focal point and contrast against the white tones in the room.
If you have a rustic design throughout your house, you can include the same elements in the kid's room to have continuity. You can include a wooden table for playing with toys while you hold them and use a wicker basket for the laundry basket or as toy storage. You can also choose a wooden frame for the bed. Your kids room will maintain your rustic aesthetic and reflect the natural light coming into the bedroom window.
5. Kids Room Cabinet Ideas
Get creative with the cabinet in your child's room. This piece of furniture can have many purposes. You can use the cabinet to hang your child's clothes or to store clothes in a drawer. If you have an artsy child, you can add a chalkboard wall using chalkboard paint on the outside door panels. Try adding an easel in the corner of the room and hanging their creation on a gallery wall.
If you like the more open room design, ditch the doors on your cabinet and use a bookcase or open cabinet. You can add a fabric drawer, or use bins made of wicker or plastic to increase the amount of storage space available in the room. Try having a retractable table installed on one of the lower shelves. This will make it easier to double the usage of the cabinet as both a place to store items and create a place to play or create.
Get creative by mounting cabinets to the wall. You can line them up in a row to create more cubbies in your child's room. This will add more space to store stuffed animals, books, or clothes. You can also add shelves inside of the cabinets to put your child's shoes away. You can ensure a more minimalist look to the room and decrease the clutter that's bound to happen during playtime.
6. Modern Kids Room Ideas
If your child is toddler age, he or she might not have much of a preference, so simple is the best decorating idea. This way, you don't have to spend money on things your kid won't notice. If your kids have a shared bedroom, try using a loft bed to create more floor space for them to do fun activities in the room. You can install a floating shelf to hold books and other trinkets.
If you need your children's room to have a twin bed, you can still accomplish the modern aesthetic. Try using geometric patterns to inspire the decor of the room. You can install asymmetrical overhead bins for a desk for your children if they're a little older and need a place to do their homework and complete projects. Use bright colors to raise the vibrations in the kids' bedroom. You can mount a wall lamp if one of your children loves to read and mount a flat screen television on the wall for the one who prefers to stream their favorite movies. String lights over the window or along a wall for a fun and bright living space for them.
You can also hire a muralist to paint geometric shapes in bright colors. This will make the room more vibrant and create a fun space for your children to hangout in. Inform your muralist of the color scheme you, or your child, prefer. You can make the mural wall a beautiful addition to the bedroom. Another great idea is to hang up a white board so your kids can create stories to tell you about later. This is also a good way to minimize your paper trail. You also won't have the issue of finding a place to display the hundreds of drawings your children love to show off.
7. More Kids Room Ideas