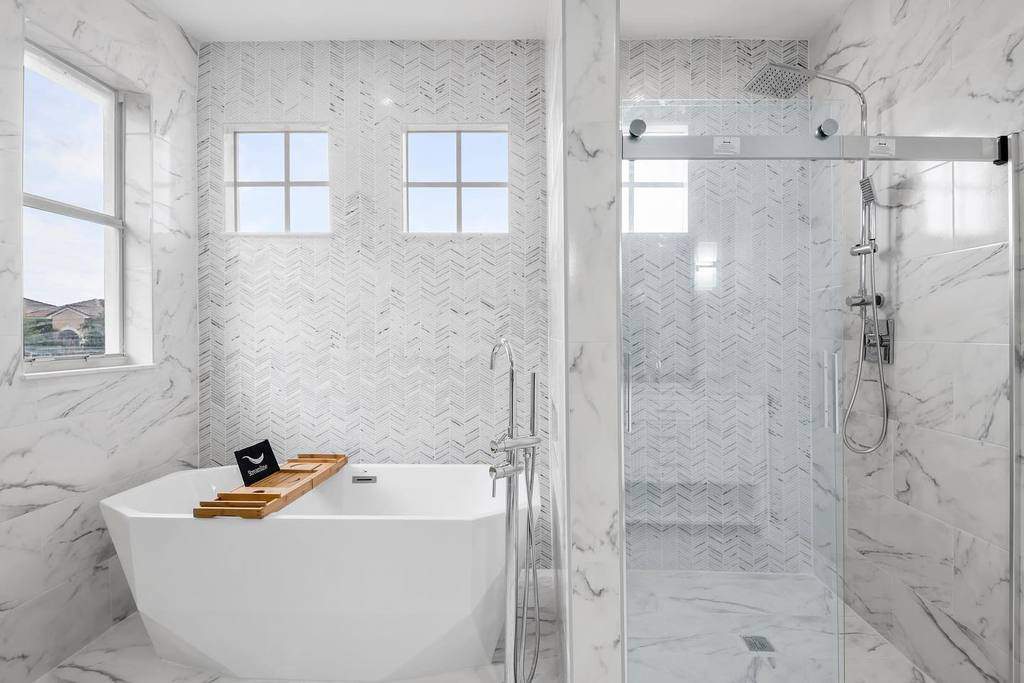 The walls are part of the decor. They can be used for storage, with shelving units that can also be part of the decoration. But walls can be more than that: they can be the accent piece in the room. Feature walls with wall murals or decorative panels, wall art, or photo galleries add a lot of character and make a difference in any space.
There is so many wall covering options in the market, that makes it is a difficult task to choose from. So, take a look at the design ideas and options we have selected for you. They will surely inspire you to give your walls an awesome facelift!
1. Basement
Stone veneers are a great finish for basement bar walls. They go very well with both rustic and contemporary styles and add an informal and natural feel to the space.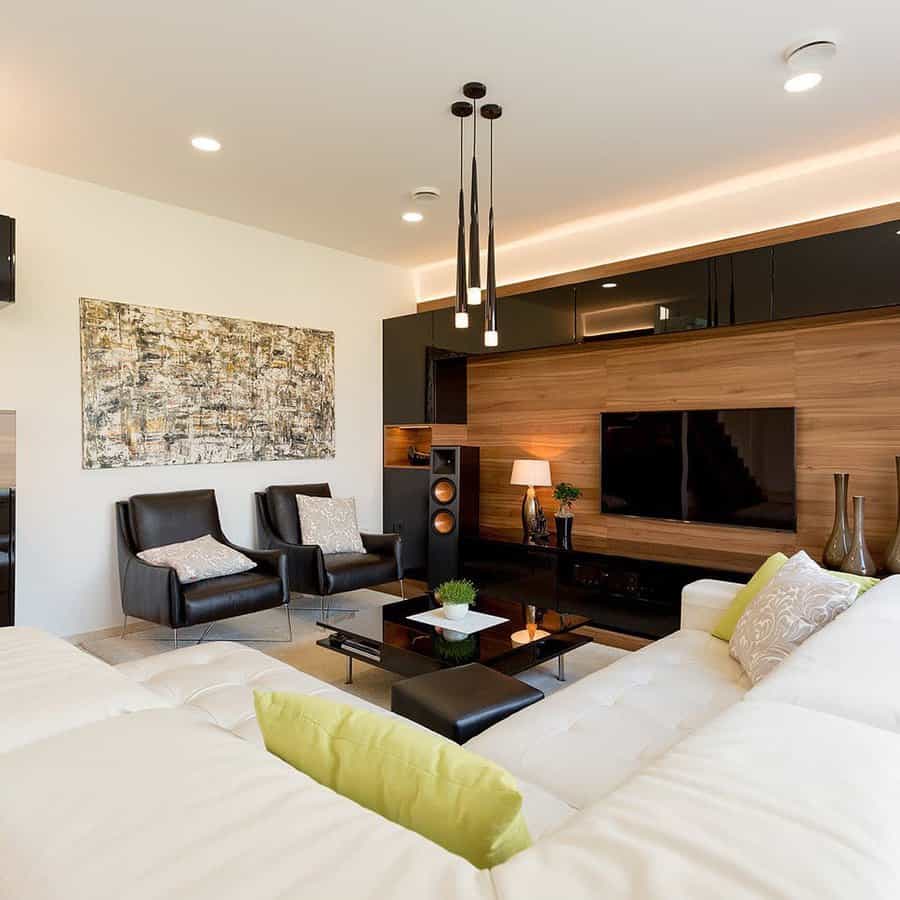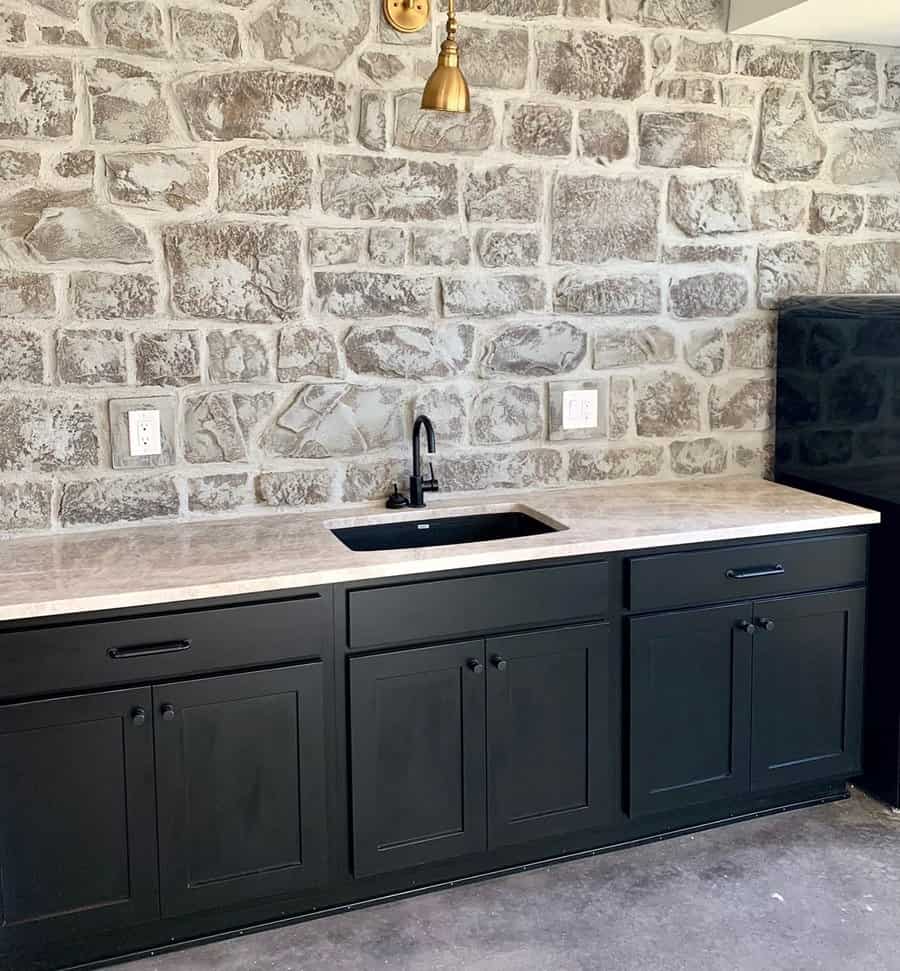 Brick veneers are also a great option, with a wide variety of colors and finishes to choose from. They come in white, whitewashed, red, red and black, terracotta, fossil clay, and grey, among other tones. If brick veneers are your choice, you will have no trouble finding a color that best matches your décor.
If you have plain white drywalls and no desire for wall coverings, then wall art can be the accent piece in the room.
2. Bathroom
Wallpaper may not be the best option to cover all bathroom walls, since it will get wet if you apply it near the sink, and the shower steam doesn't help either. But wallpaper does make a great accent wall in any bathroom, as shown in these pictures.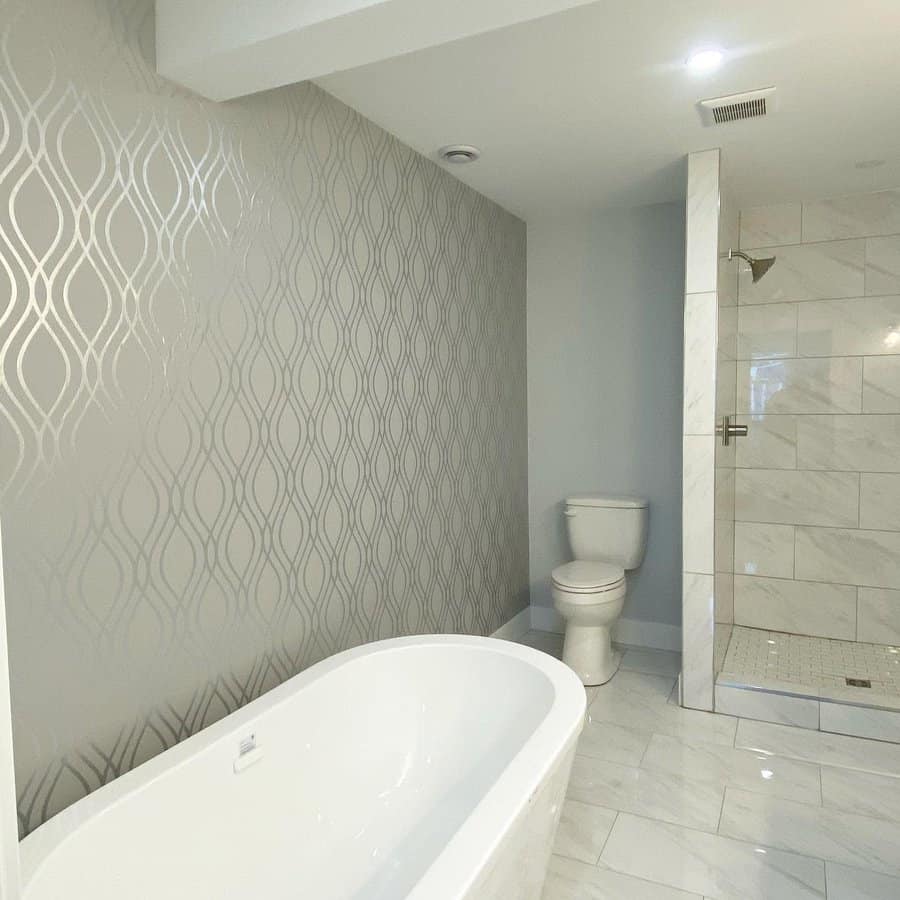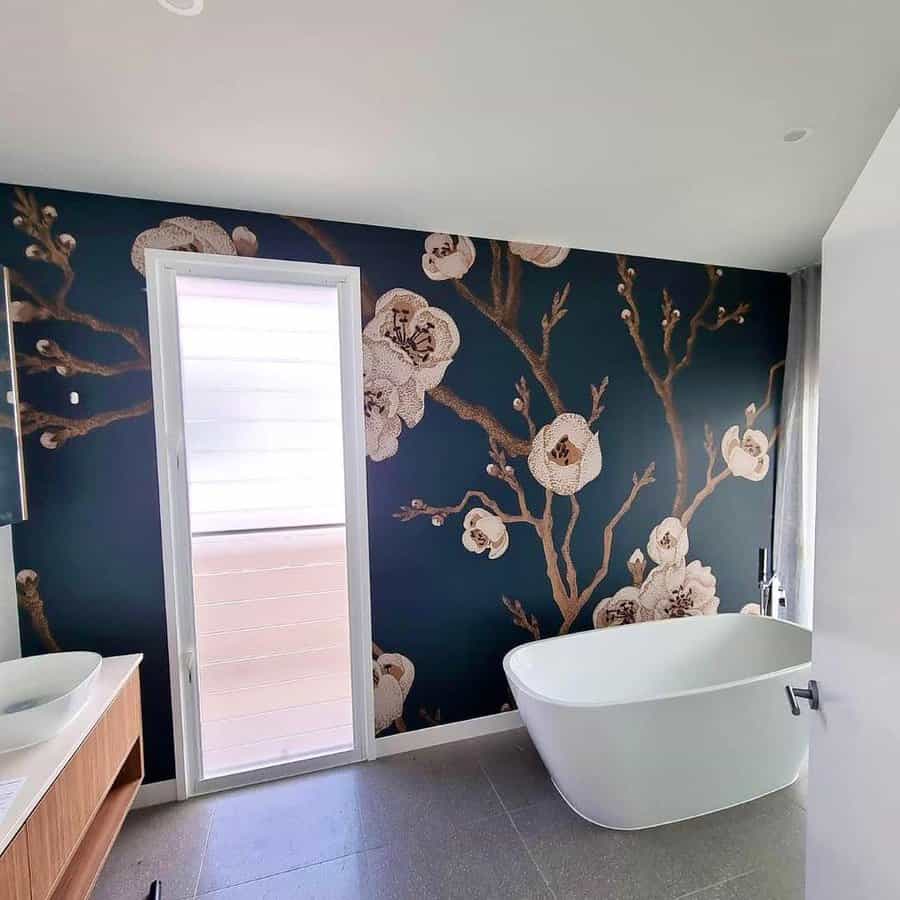 Texture paint techniques can be an alternative for wallpaper in bathrooms. They mimic marble, Venetian plaster, and clay walls, and are an inexpensive solution for those who want a stylish and unique wall coverings in the bathroom.
3. Bedroom
A very modern feature for bedrooms is wood panels with LED lighting. Wood panels bring warmth to the space, but they need to be accessorized.
In the example below, we see a wall-to-wall wooden panel with another wooden panel with LED light in a contrasting color in front of it. The space is complemented by the headboard, also made of wood in a different color, and an ultra-modern pendant light, which brings a touch of refinement to any decor.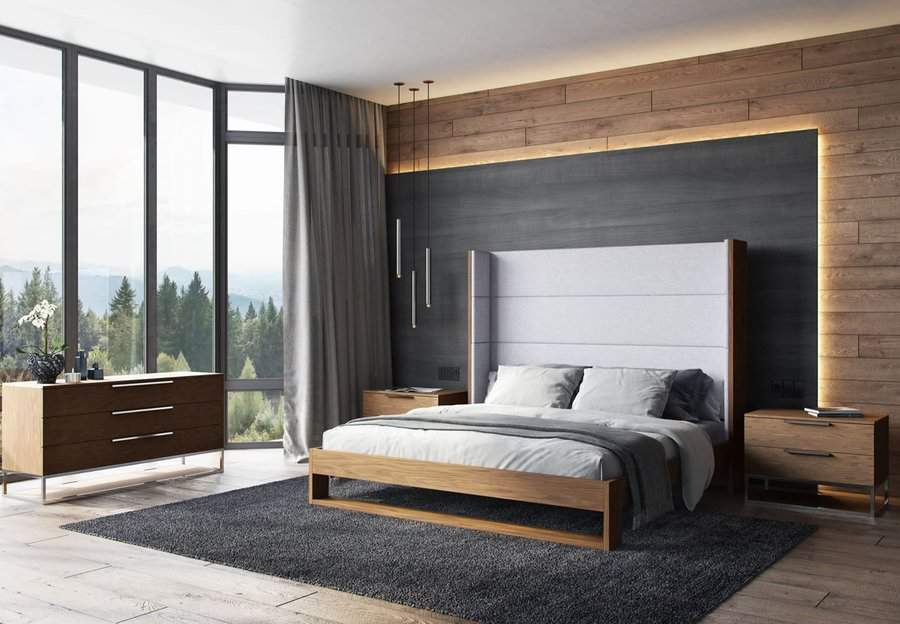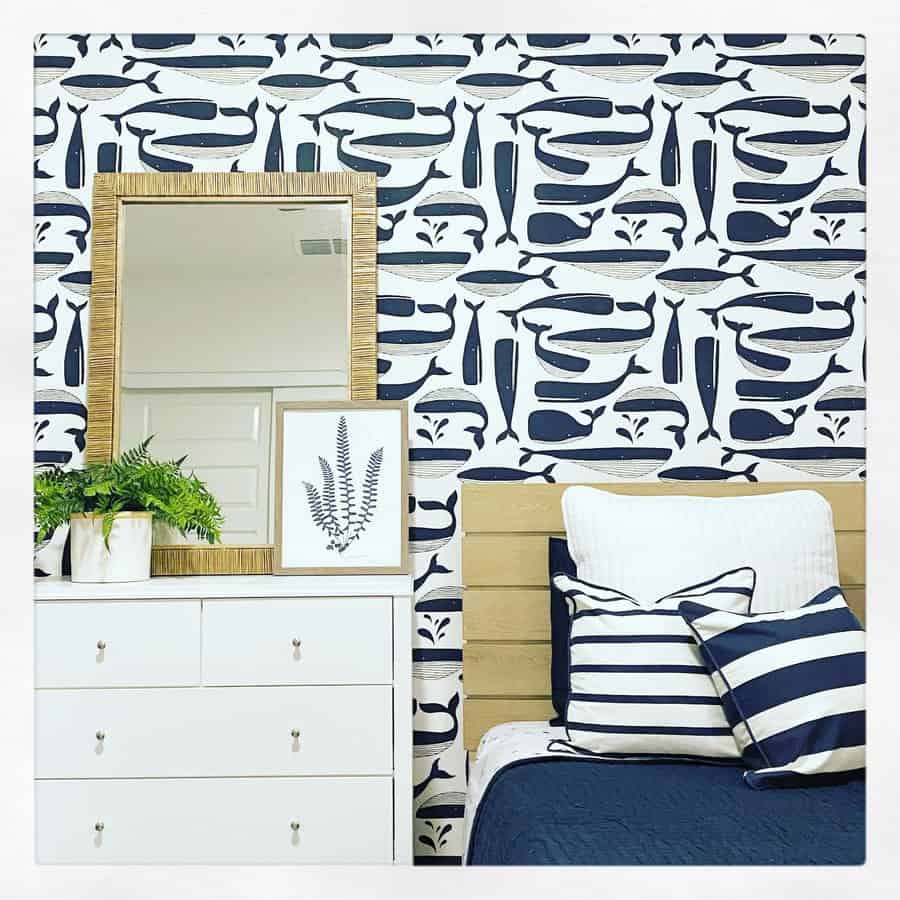 The grey tone seen in the LED panel and on the rug contrasts perfectly with the natural wood tones of the floor and the wall-to-wall panel, bringing balance to the whole space.
Wallpaper in bedrooms never seems to go out of style. They can complement the décor, highlighting the room's color palette. Choose upholstered wall panels instead, if you want your bedroom to be luxurious and elegant.
4. Kitchen
A bold wallpaper choice can be the highlight of your kitchen. In neutral color rooms, colorful wallpaper brings life and joy to the space. Tiles are also an excellent choice because of their durability and the huge variety of patterns and colors.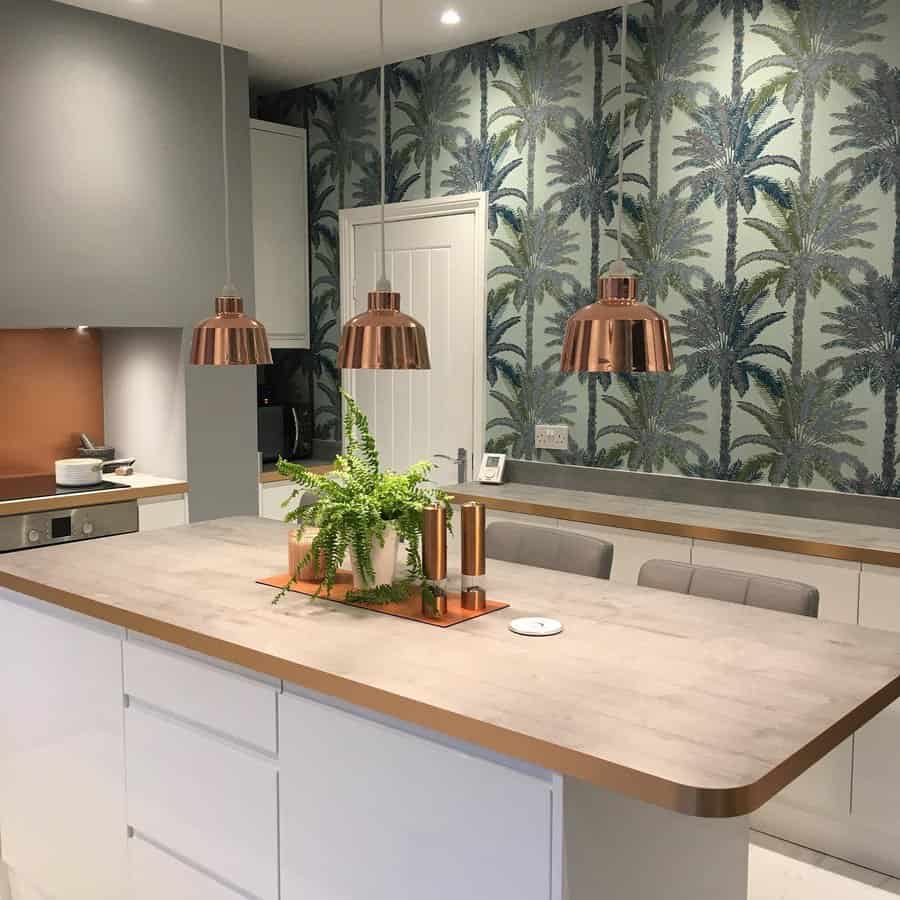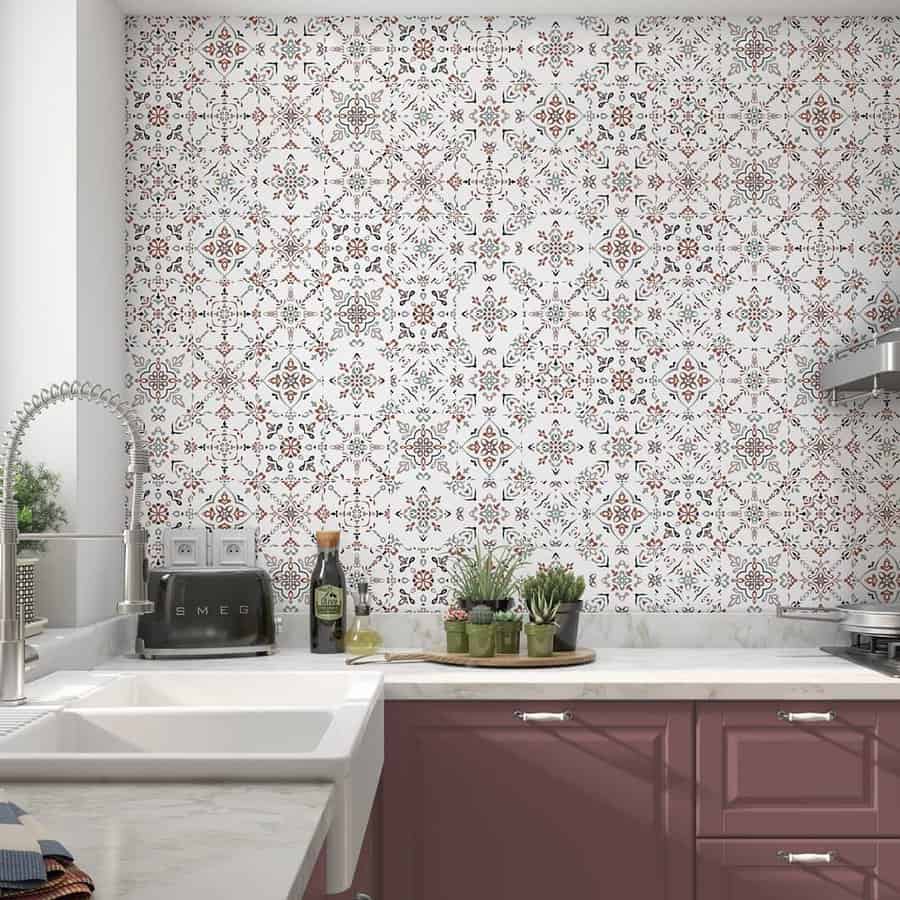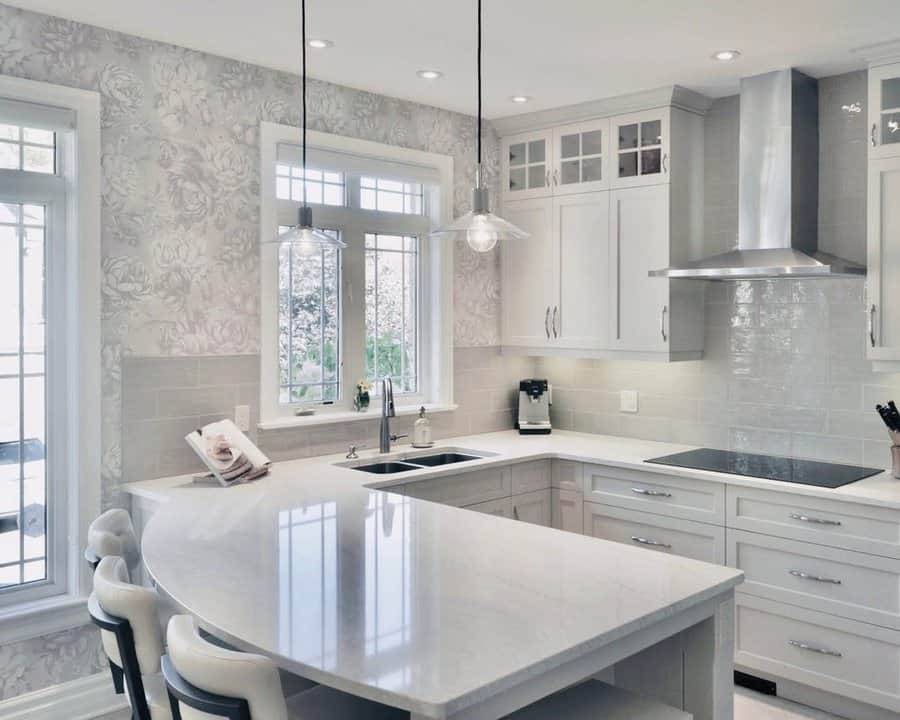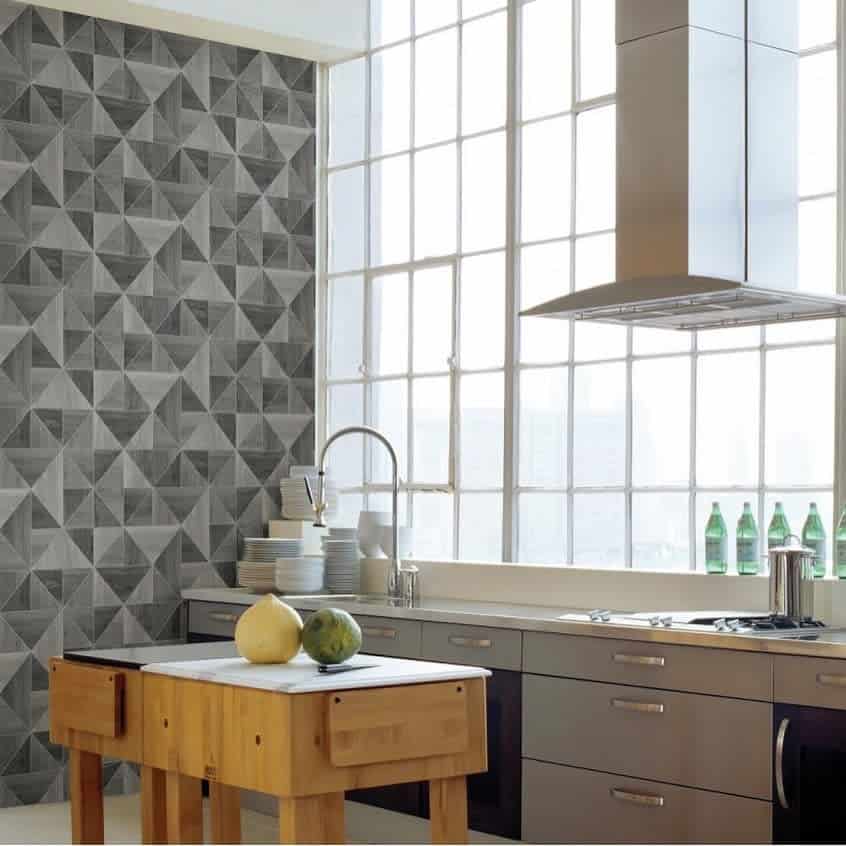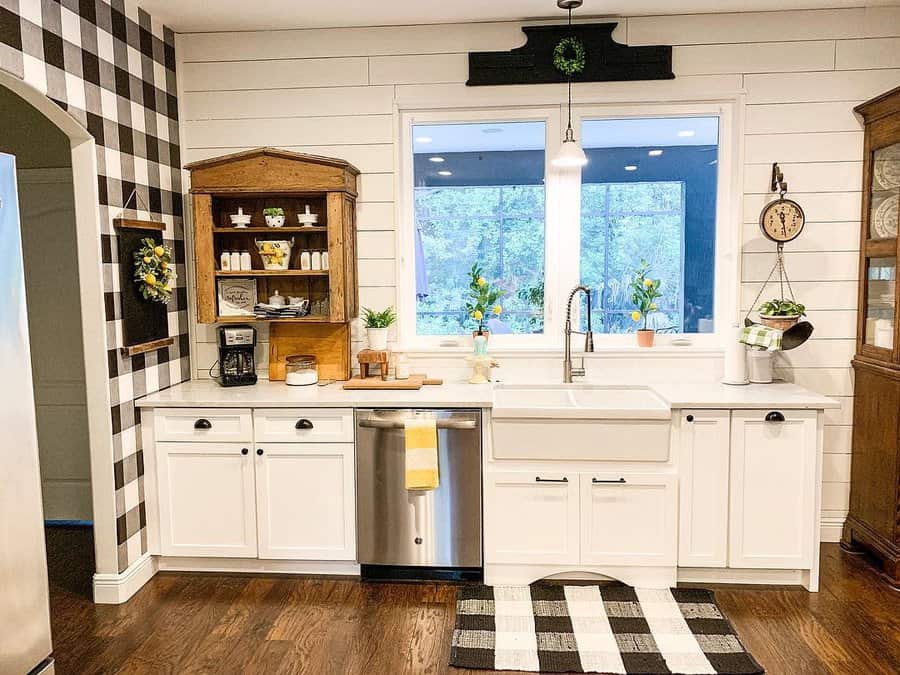 But why not have both? Make half a wall of tiles and half a wall of wallpaper, one complements the other. You can also have a fabric covering as an accent wall, away from the heat of the stove and the splashes of the faucet. It is a great option for farmhouse-style kitchens.
One very practical covering for kitchens and pantries is chalkboard paint. There is chalkboard peel and stick wallpaper that comes in all sizes if you do not want to cover the entire wall.
5. Living Room
One gets tired of plain white walls everywhere. Choose a wall in your living room to create a special and unique spot, and dare to be bold. Apply a colorful and vibrant wallpaper, paired with monochromatic décor. Don't be afraid to embrace style and originality in your home!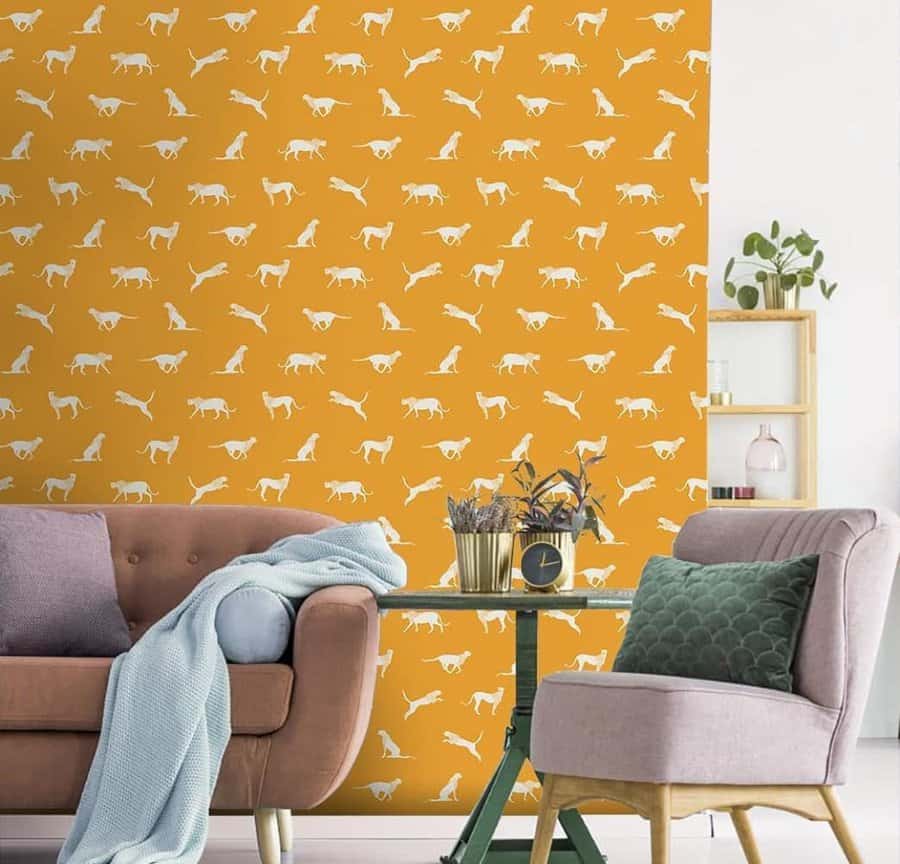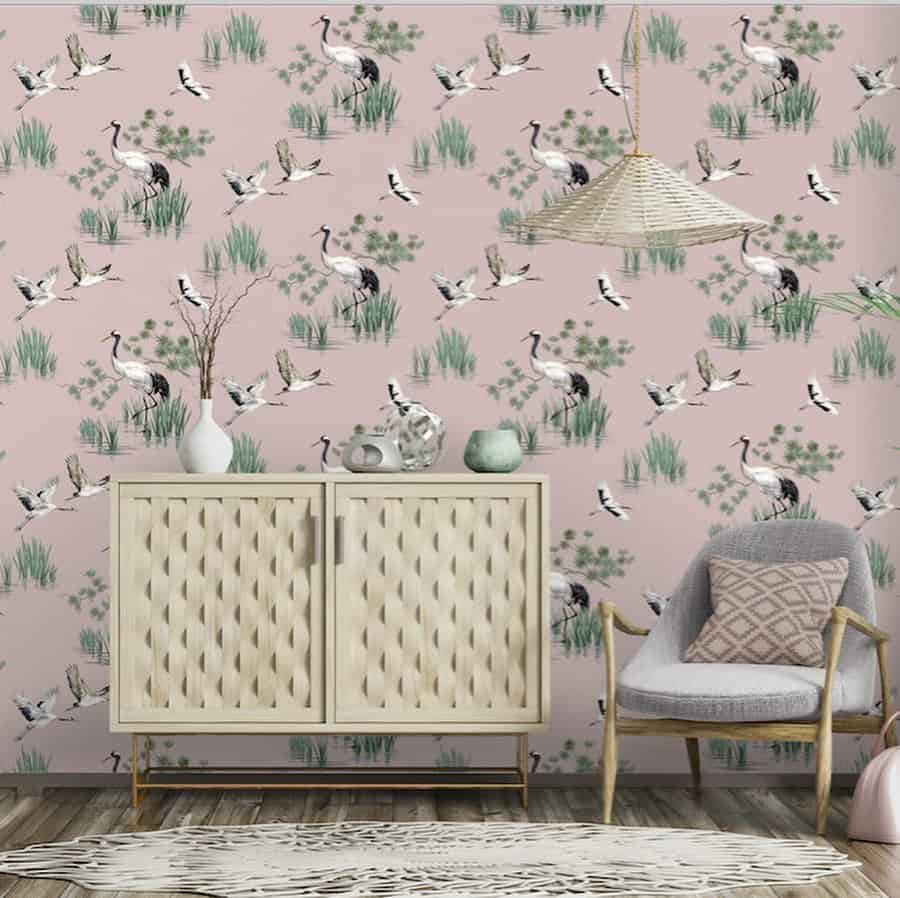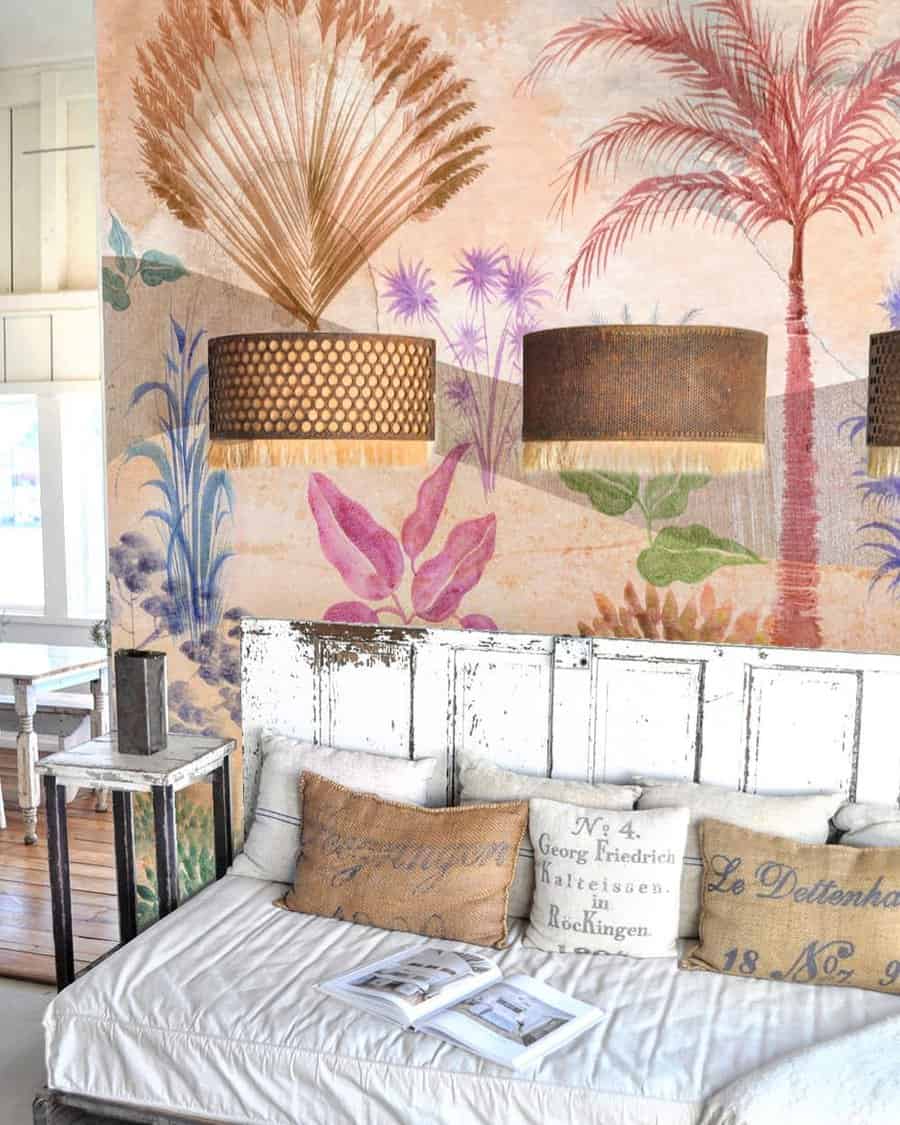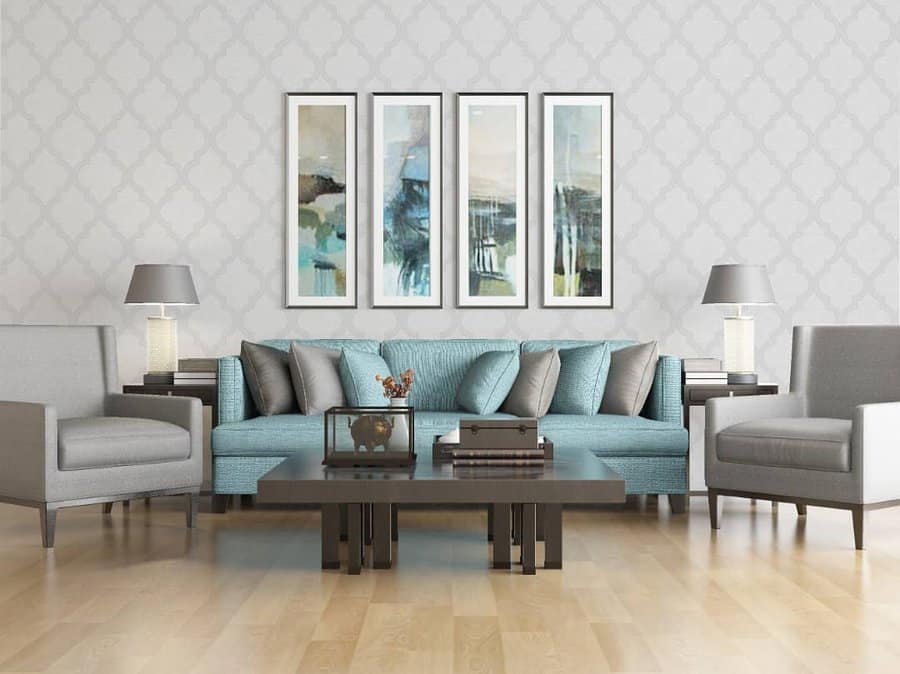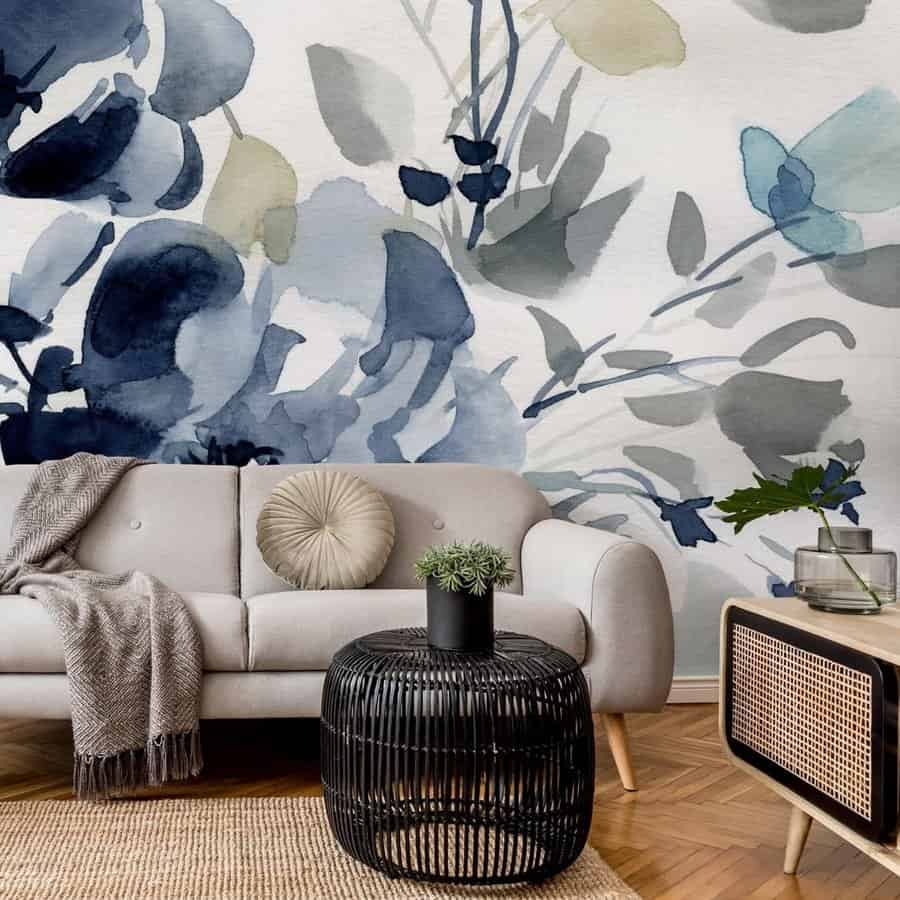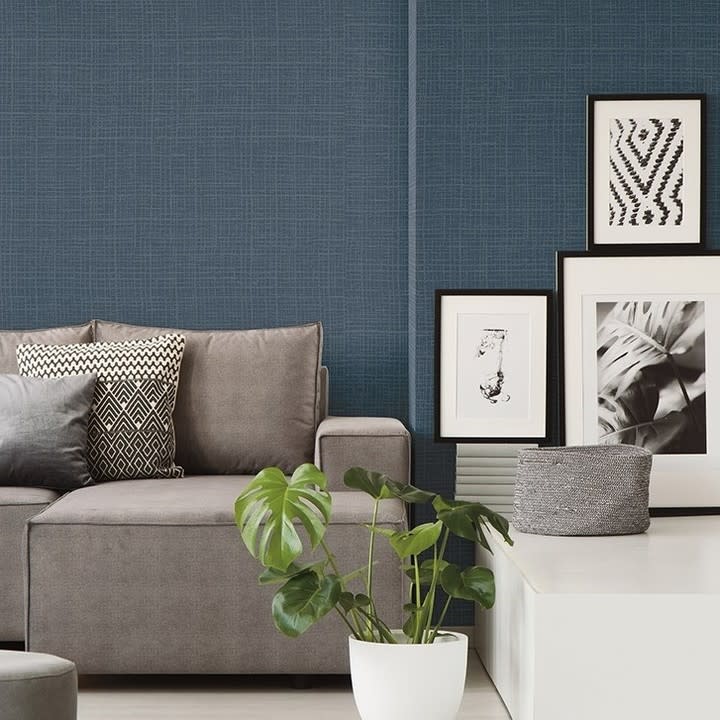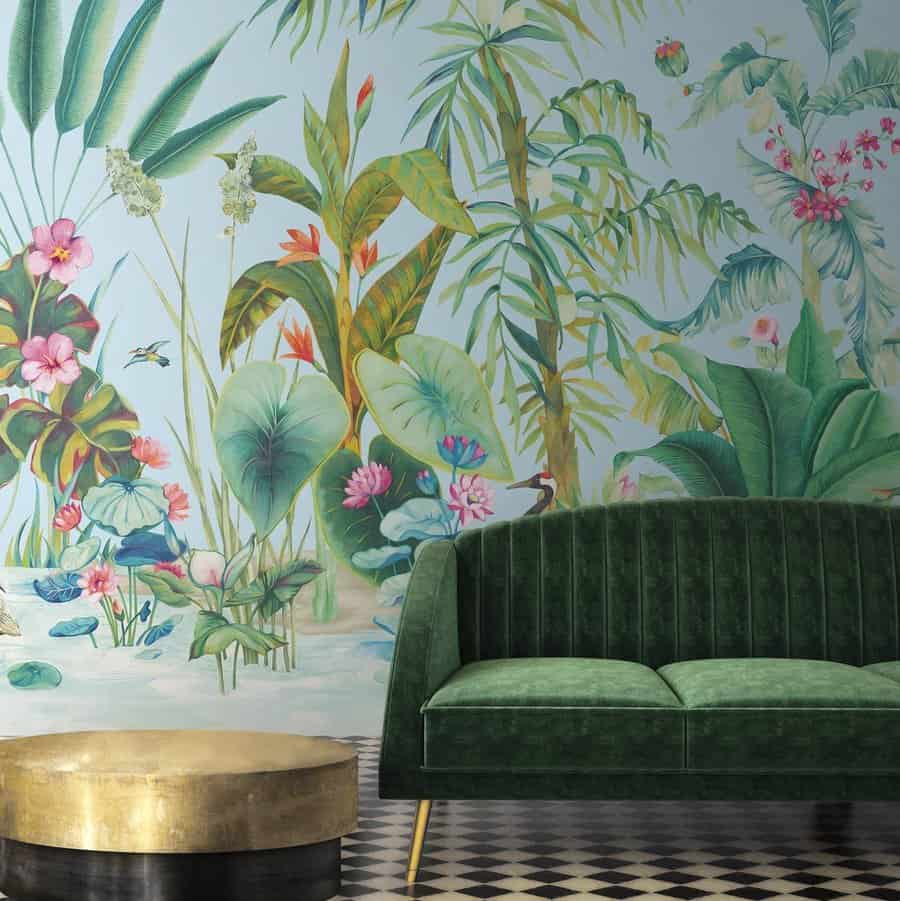 Another type of unique wall covering option is Venetian plaster. It is a finish made up of plaster mixed with marble dust. Thin layers are then applied to the walls and burnished, which gives the finish a unique effect, with a lot of character.
Read also: 52 Accent Wall Ideas for the Living Room
6. Mirror
Mirrors are great accessories to any décor style. They make the room feel bigger and enhance the lighting. You can choose elegant framing, that will transform a single mirror into a statement piece.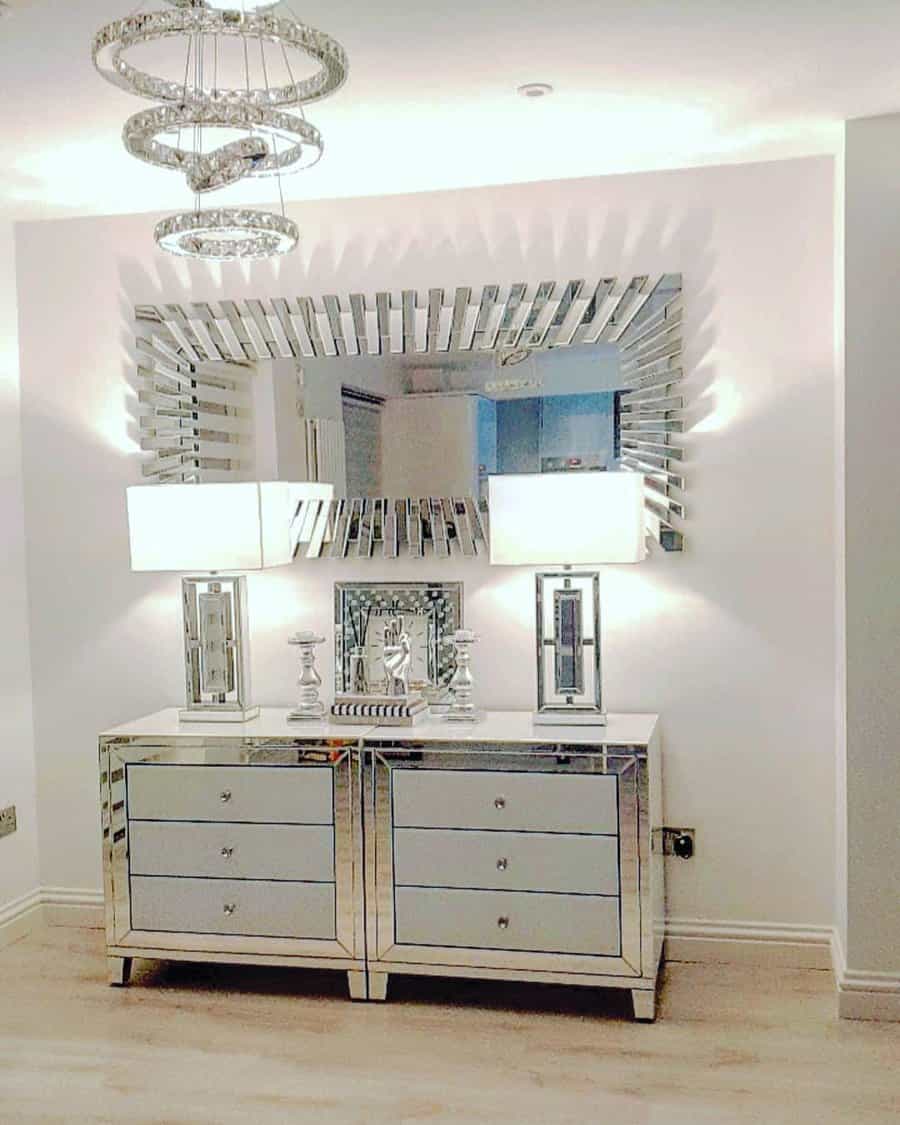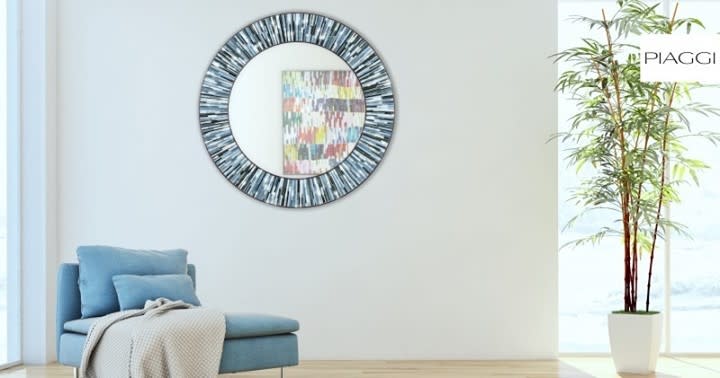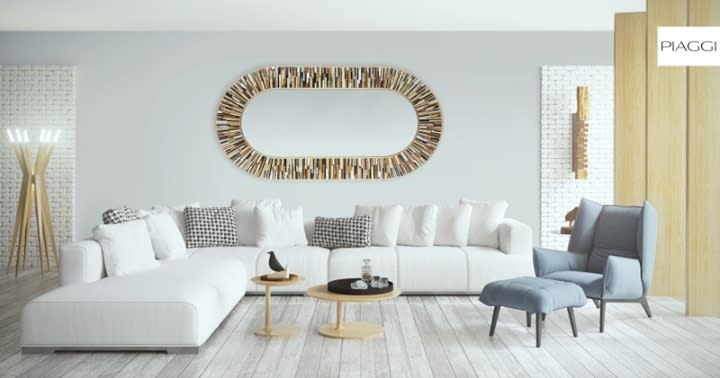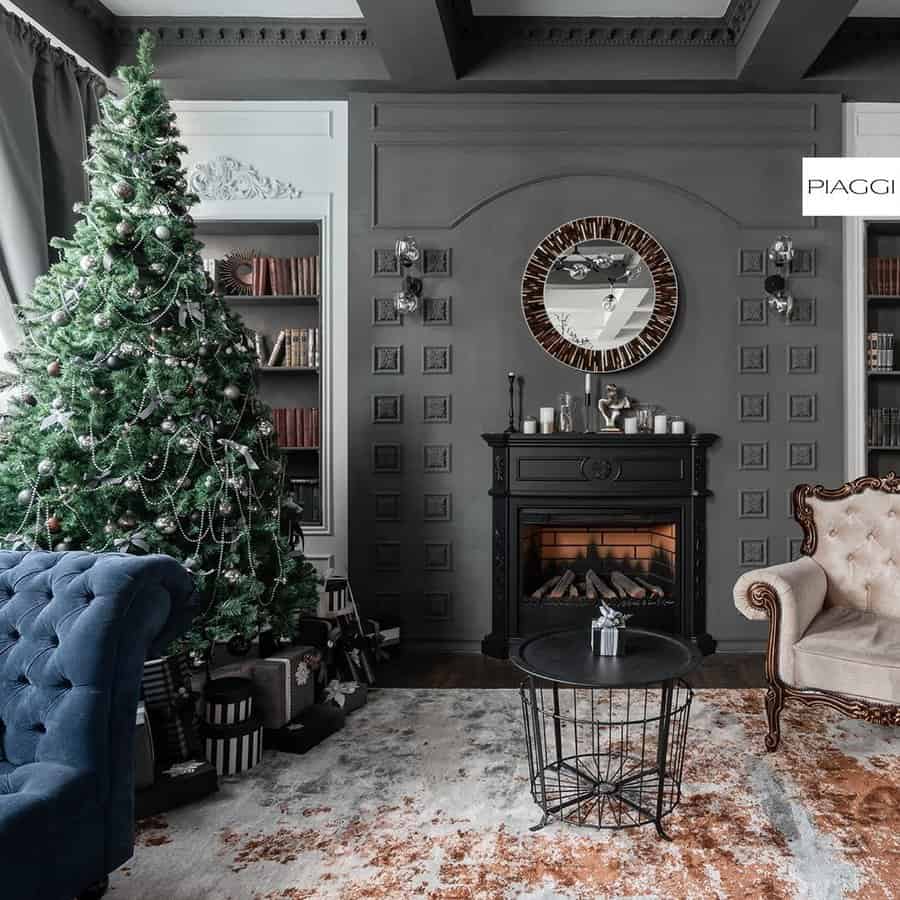 Try a mirror gallery! A combination of various mirrors in one accent wall is also an interesting option.
Read also: 14 Cheap Ways to Cover Walls
7. Modern
A painting has the power to take us to other places. Our minds get transported by the soothing images of the mountains, the beauty of the snow, the joy of rose gardens.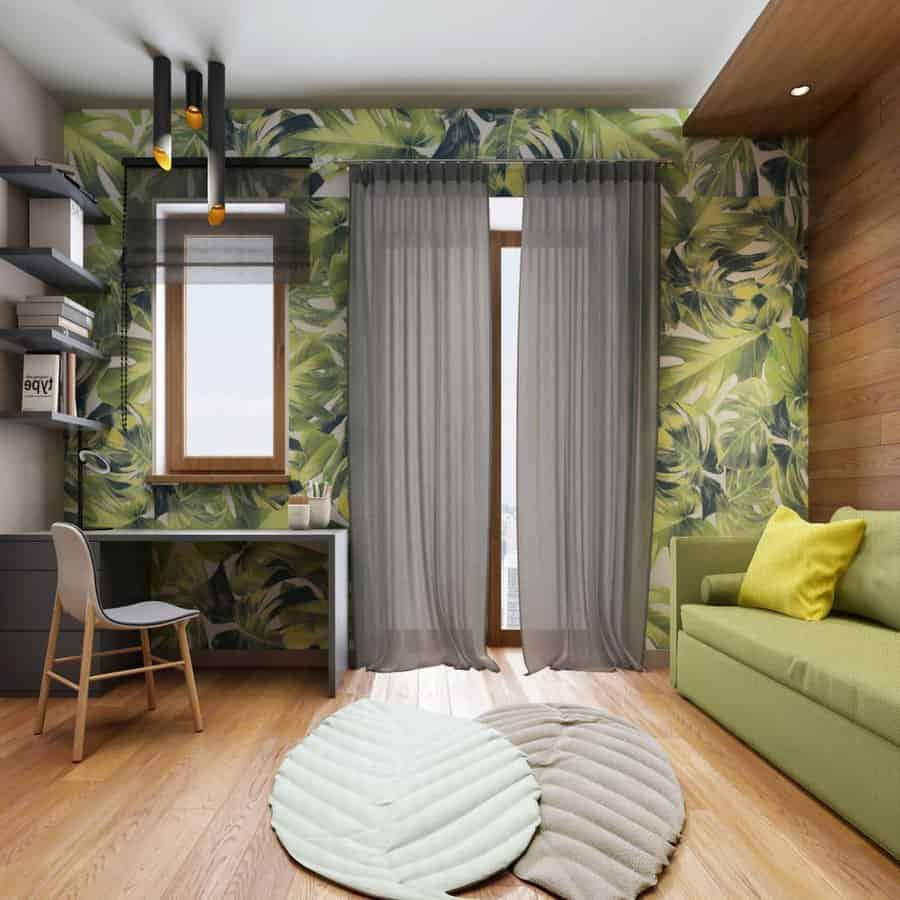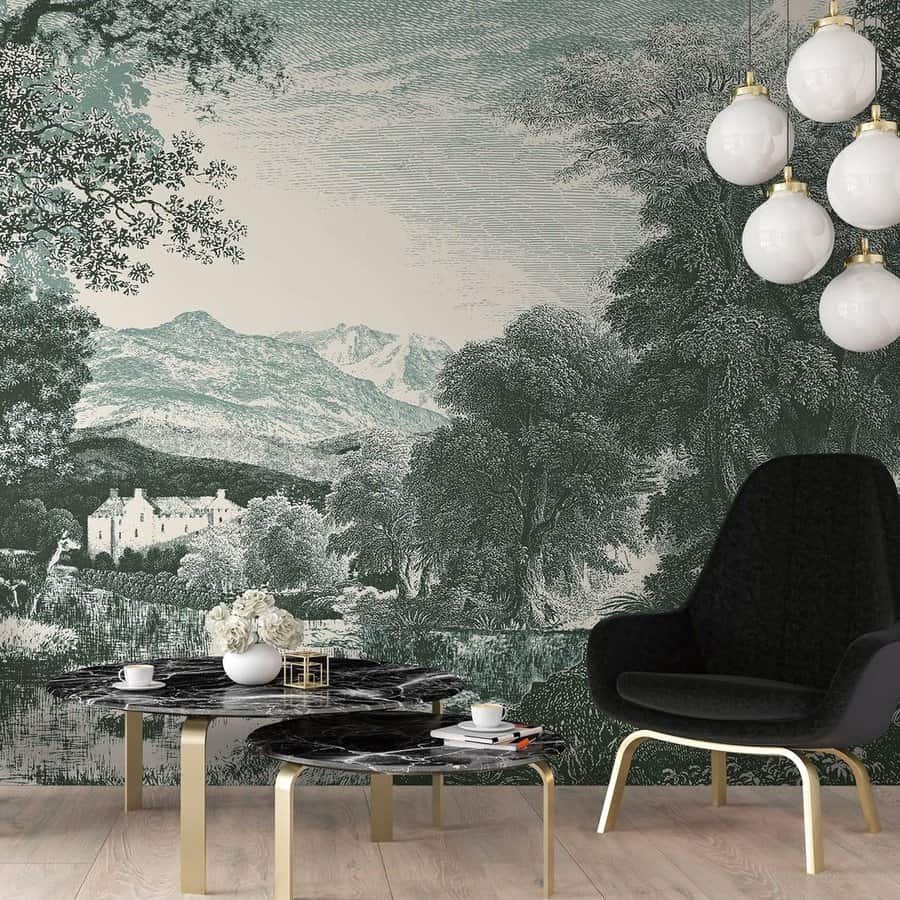 Wallpapers have the same effect. You can choose a theme that will bring you back fond memories of the sea or of a beautiful pond. But whenever you choose a pattern that draws the eye, make sure it does not compete against the rest of the decoration. Contrast it with simple line furniture and monochromatic décor, so the space does not look overwhelming.
Textured clay walls are another great option for a modern room. It adds texture and is perfect for industrial and modern spaces. If you want a dramatic alternative to traditional wall coverings, try 3D wall panels for an awesome futuristic look.
8. Rustic
Wood paneling with string lights can be an option to bring a rustic touch to your decor. They are a perfect match for hardwood or laminate floors.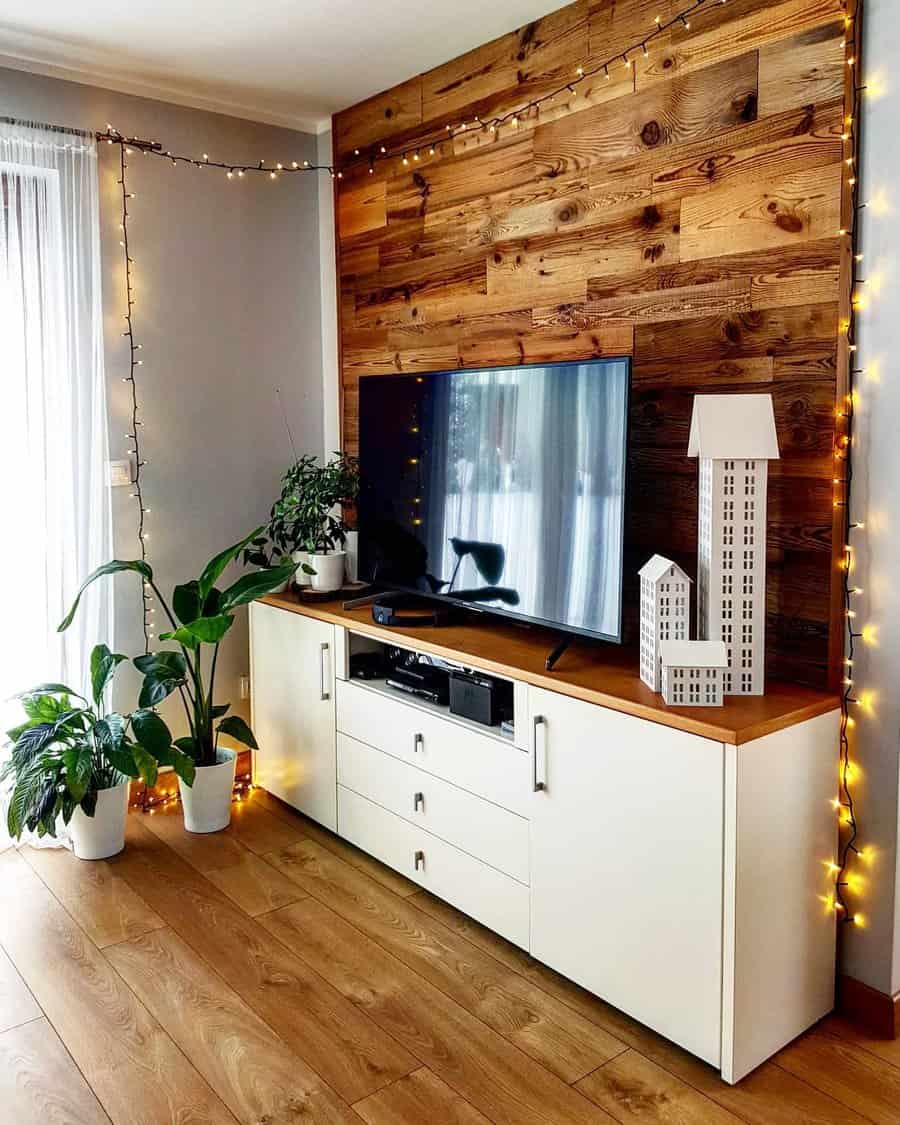 Brick walls will bring that industrial-chic vibe to your space, as well as barn wood and reclaimed wood wall paneling.
9. Stairs
Plywood walls are used in place of plasterboards, and they are an affordable option for stairs, playrooms, and any room that calls for fresh and contemporary décor.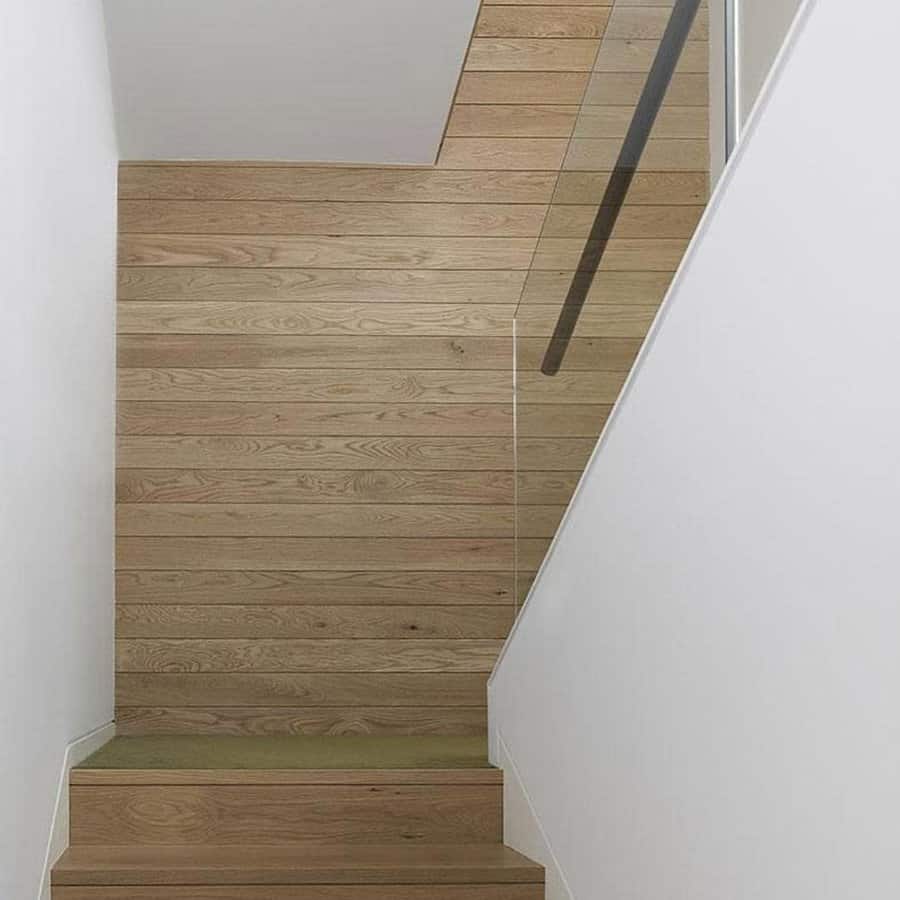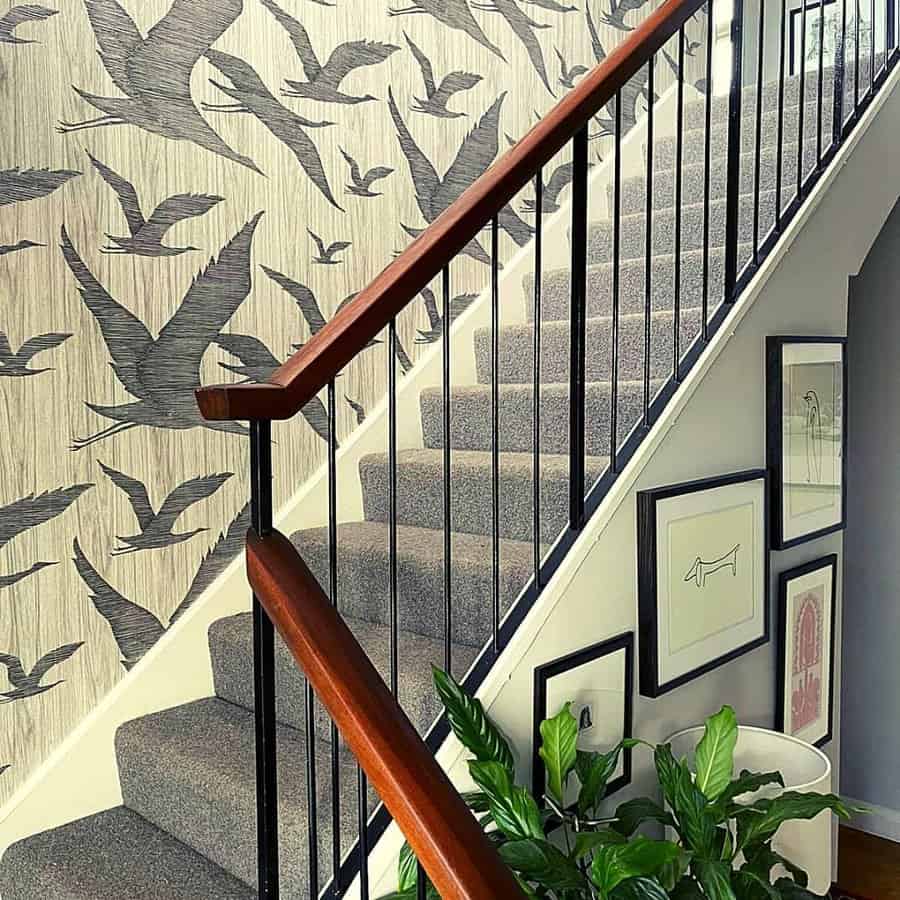 You can accessorize plywood panels with beautiful wall decal stickers, that come in a variety of colors and patterns.
Read also: How to Decorate a Staircase Wall
10. Wood
A beautiful wainscoting work makes a difference in any space.
Timber effect tiles are another option. They look like real wood but need less maintenance and are perfect for bathrooms and kitchens, where there is a high level of humidity.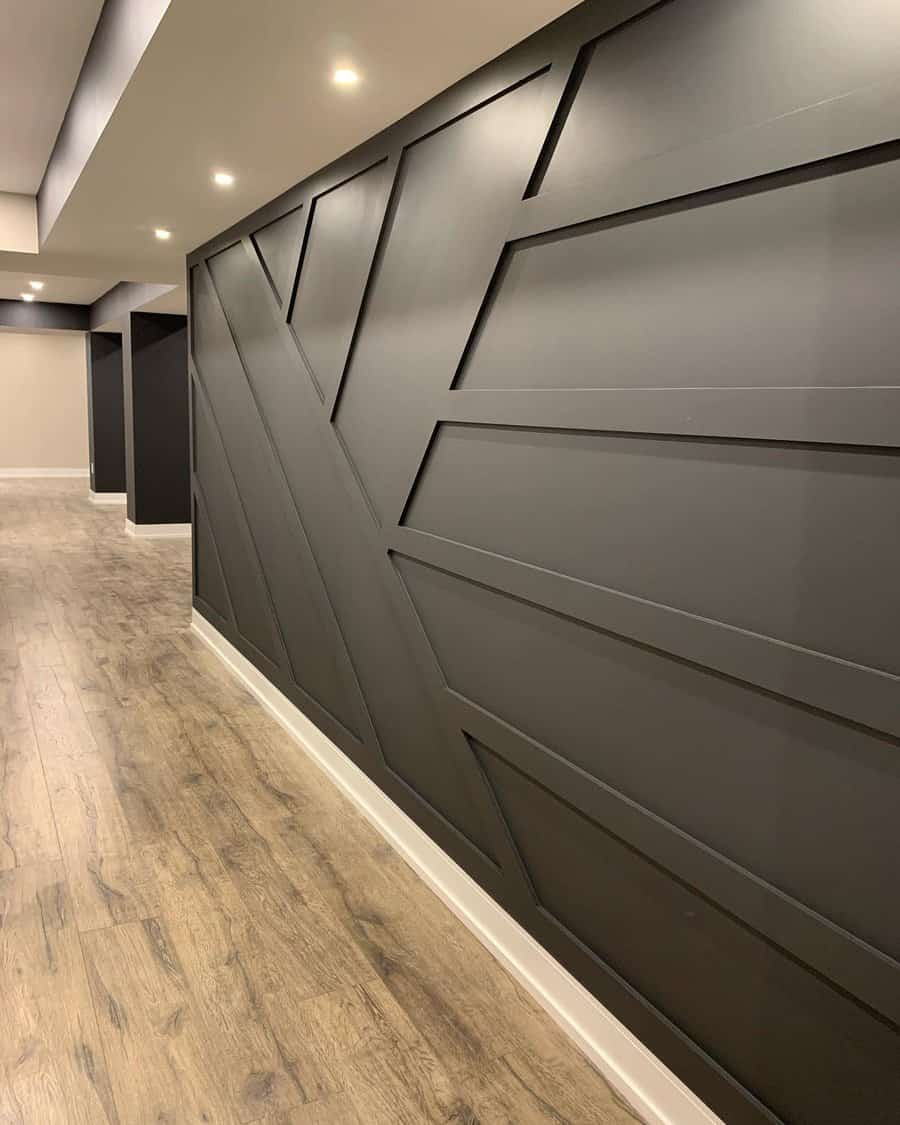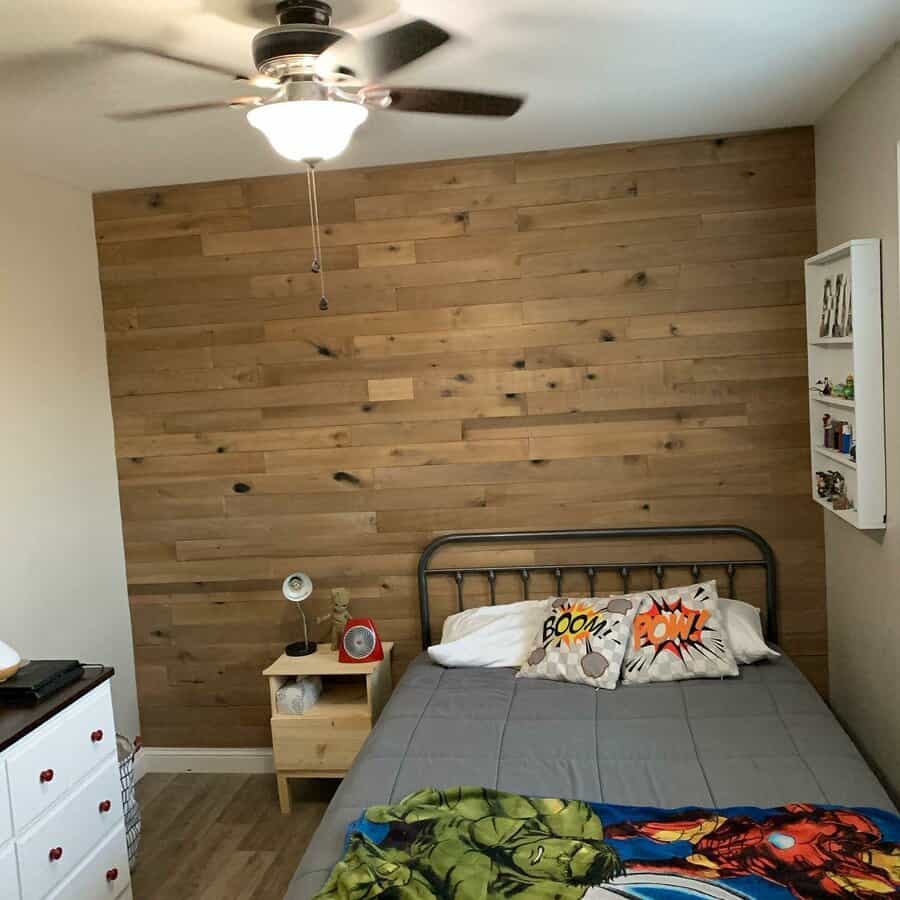 Beadboard or tongue and groove wood paneling are other affordable solutions, especially if you are considering a DIY project.
FREQUENTLY ASKED QUESTIONS
Are 3D panels affordable?
It depends on the material you choose. There are many options on the market, at different price ranges. Some affordable options include PVC 3D panels, which are light, inexpensive, and can be painted. MCF is another affordable option, which can also be painted. There's also a variety from wood and gypsum 3D panels.
Some other options which are a bit more expensive include fabric 3D panels, which require special care. Glass and metal are other great options for 3D panels but can be quite costly. Leather 3D panels,  as well as bamboo, are quite expensive compared to others.
How can I maintain a decorative wall panel?
You should dust it regularly, and clean off any stains and splatters immediately. Keep them dry, and away from sunlight. But, most of all, know what your panel is made of, in order to choose the best cleaning products for each material and finish.
I would like some cheap wall covering options for a basement remodeling?
Besides paint and wallpaper, you can apply wall decals and stickers, which are cheap and removable. Beadboard paneling or shiplap boards can be applied to half walls, and have a great visual effect. Peel and stick wood planks may also be an option for one feature wall in your basement.