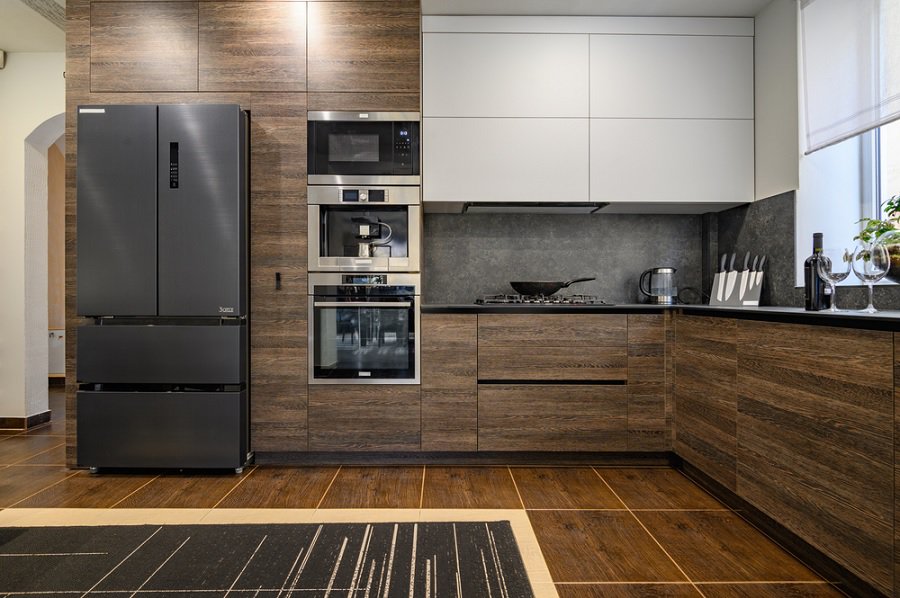 What Color Cabinets Go With Black Stainless Steel Appliances?
Remember when white appliances were popular?  Times were simpler then because everything looked good with white. If all else failed, you could simply leave your kitchen cabinets white and have a kitchen design that would look beautiful for decades. White cabinets never seem to go out of style, though the white appliances did.
Then there was the regular stainless-steel trend. This was nice until people realized that stainless steel showed every fingerprint and was a nightmare to keep clean.
This led to the most recent trend in kitchen appliances, black stainless steel. It's sleek and modern with a more matte finish that is easier to maintain. Which leads us to the next dilemma; what color cabinets go with black stainless-steel appliances?
1. Natural Light Wood
Natural wood cabinets look fresh and beautiful because they feature the natural beauty of the wood's grain while helping to keep your kitchen looking bright.
While wood isn't technically a color, it's one of the most popular choices, making it necessary to include it on a list of kitchen cabinet colors. The light hue of the wood balances beautifully with the ultra-dark coloring of the slate appliances.
The light ash or honey hues of the wood brightens up the GE appliances. This helps the black kitchen appliances from looking too dark and closing in your kitchen.
Try to space out your black appliances so that isn't a wall of black from the dishwasher to the stove and the refrigerator. Spreading them out in your kitchen makes it easier to move about and balances the light and dark in the room.
2. Dark Oak
Dark oak cabinets have a rich brown color with deep chocolate hues. They look stunning with bright white or light grey granite countertops. Because these cabinets can be quite dark, the black appliances tend to bland right in, creating a uniform look to the appliances and cabinets. It's a perfect example of when black and brown pair beautifully. However, because the counters and appliances can look quite dark, you'll need to balance them out with lighter colors.
You can do this with the walls, floor, and countertop. It's also helpful to have plenty of natural light coming in or artificial light to supplement with artificial light.
Many people think of traditional cabinet designs when you start talking about dark oak cabinets. They have raised panels with artful details. However, you can also have a modern kitchen with dark oak. Transform your cabinets with slab fronts where the dark oak wood grain continues from one cabinet door to the next. This creates a smooth and continuous front that extends the entire length of the cabinets.
3. Cherry
Elegant and high-end homes often have cherry wood cabinets. The wood has a rich color with a deep red undertone. They bring plenty of warmth and light into your kitchen. The rich luster of this wood can be hearty enough to stand up to black stainless steel appliances.
Balance this deep color combination with lighter colors for the floor, walls, and countertops. This creates a nice contrast that keeps the space feeling welcoming and not overly heavy. If you decide to have cherry cabinets, choose a more traditional design for your cabinets. Skip the slab front and shaker door and opt for more elegant doors with a raised panel design.
4. Red
Using the color red in the kitchen is common because it's the color of life and energy. It also influences the way we feel because it makes people hungry. Using red for your kitchen cabinets incorporates this bold color in a unique way. Red is also a versatile color that you can use with various interior design themes. Use beadboard cabinet fronts and distress them a bit, and you have the perfect red rustic farmhouse cabinets. Use perfectly smooth and shiny red cabinets for a sleek and modern look.
Use simple red shaker cabinets for a contemporary take on your red cabinets. When pairing your red cabinets with black appliances, keep the decor simple to prevent your kitchen from getting overwhelming.
5. Pink
If red is too harsh and bold for your taste, consider something softer, like pink. A soft pink can look feminine and delicate. To keep the design more mature, limit the amount of pastel pink by taking a two-tone approach to the cabinets. Paint half of them pink and the other half either white or black. Then, accent it with black tiles for the backsplash.
Swap out the pastel pink for a deep magenta for an ultra-glamorous look. This bright and vibrant pink pairs beautifully with black and creates a feminine and glam design. You can use as little or as much pink as you want to suit your tastes.
6. White

White cabinets are clean and classic, explaining why they never go out of style. So it's only natural that your white kitchen cabinets would look beautiful with your matte black appliances. It's a simple color scheme that will make your kitchen look fresh and clean.
The black appliances help your kitchen from looking too blinding and bright with all white. The black breaks up the white and helps to define the space. To tie the look together, use black accents throughout the kitchen. This brings the appliances into a cohesive kitchen design. Use a crisp white like this paint from Nuvo with this approach. If it's off-white or cream, the slight yellow tints will make your kitchen look aged and dull.
7. Yellow
Yellow can add a bright and cheery contrast to your kitchen. Be careful, though; the wrong yellow can make your kitchen look a bit like a bumblebee. A strong sunny yellow looks best in a farmhouse or modern kitchen.
For a more appealing kitchen design, choose a softer yellow. It will complement the appliance finish better and create a less bold contrast. Add touches of soft grey to the color palette, and you have a bright and friendly but not juvenile kitchen color palette that is perfect for a kitchen. You can then add more black elements to tie the black appliances in with the rest of the design.
8. Blue

The right shade of blue can look stunning with your black appliances. The key is choosing a shade of blue that contrasts with the black enough for there to be a clear definition between the black appliance color and the blue cabinet shade. This means not choosing a shade of blue that is too dark.
A soft pale blue, a deep royal blue or a dark navy blue like this are all good options. Finish out your kitchen's color palette by adding white, cream, or grey. These colors will create a clean interior design and help prevent your kitchen from looking too depressing or dark.
For a bit of extra glamour, choose gold or silver hardware for the cabinets. Depending on your final goal, this can add to the warm or cool effect. If you decide on a soft or pale shade of blue, be careful with the strong contrast the black appliances will create. Add natural wood elements like this countertop to soften this look.
9. Black
It may seem counterintuitive, but black cabinets pair beautifully with black stainless steel appliances. The result is a monochromatic look that has built-in texture and variation. The dark cabinets have a different finish from the metal finish on the appliances to create subtle changes in texture and light. This uniform approach to interior design can make a space feel larger.
You could paint your traditional wood cabinets, but this won't give you a modern look that this design really needs. The best cabinets for this look are smooth slab with low-profile hardware. This creates the smooth and uniform look necessary to make the appliances stand out. This means that the finish of your cabinets becomes more important.
Consider the finish on your appliances and choose one that is different for your cabinets. If your appliances have a satin finish, then perhaps use a flat finish on your cabinets. These two surfaces will reflect the light differently and create variations that will catch the eye. You can then complete the look with black slate flooring and sleek metal light fixtures.
10. Grey
Grey is the modern neutral, and it is a popular color choice for kitchens. You can change the energy by the shade of grey that you choose. A pale, barely-there grey is delicate and soft. It's bright enough to reflect light. This makes it a perfect choice for your grey cabinets. You can then accent it with other varying shades of grey. Perhaps one with a slightly green undertone to turn it into a greige. Or a slightly blue undertone for a bluish-grey feel.
Try adding a more dramatic dark grey on the wall behind the light cabinets. It will give the illusion that your kitchen is bigger than it really is. Then the dark appliances add a nice contrast to the light cabinets, creating visual interest and preventing the space from becoming a bland wall of grey. This is a big advantage over traditional stainless steel that has a silver-grey look, which is too similar to the color grey.
11. Two-Tone
Modern kitchen design trends embrace color. You no longer have to choose just one. You could paint your kitchen island one color and your wall cabinets another. Or you can paint your lower cabinets a dark color and your upper cabinets a lighter color. This two-tone approach works well for your black stainless appliances because you can commit to a color that will make them stand out without having to paint your entire kitchen that color.
Perhaps you paint your kitchen island black to match your appliances, but then you keep your kitchen feeling light by painting the wall cabinets white. Or you paint the lower cabinets a bold blue and the upper cabinets white.
Colors to Avoid
While we have listed several colors that are quite beautiful, there are some colors that you should avoid. While black stainless steel seems like a neutral, and neutrals should go with anything, that isn't the case. Avoid choosing muted and earthy colors. These don't bring out the beauty of the black stainless steel, and tend to make everything look muddy and bland.
Mid-range colors are also not a great choice. They lack the necessary depth and vibrancy to bring out the luster and beauty of the appliances. It's better to choose colors that are closer to the end of the spectrum, so either pale and pastel shades or deeply saturated and vibrant shades.