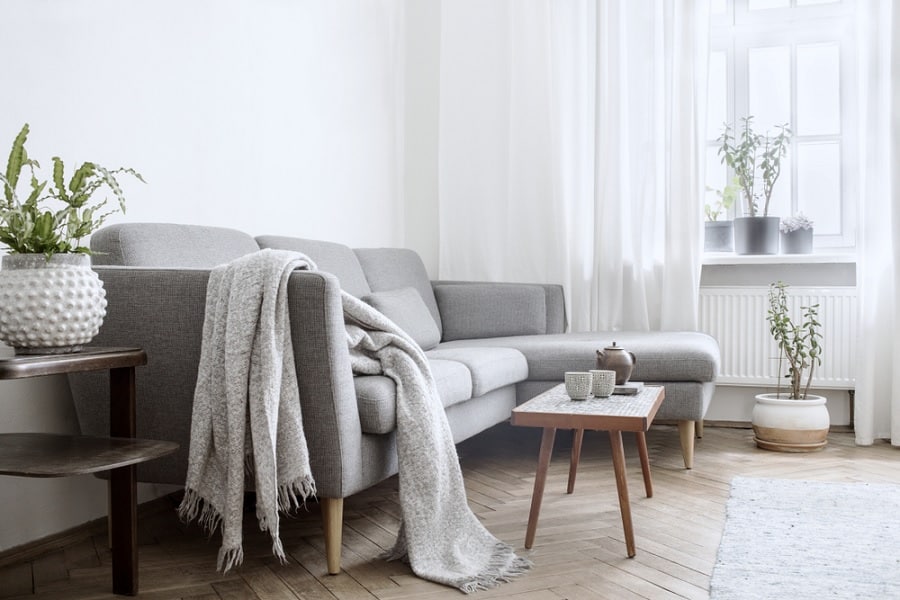 What Colors Go With a Gray Sofa?
by — Andra DelMonico

Published on December 30, 2021

Updated on August 23, 2023
What colors go with a gray sofa? Well, the short answer is that almost any color can coordinate beautifully with your gray sofa. This gives you complete freedom to decorate your living room with your chosen color palette.
Unlike other colors, like blue or brown sofas, your creativity is not limited. When selecting your colors, think about more than just the colors. Consider the shades for a balance of light and dark and the interior design style you're going for.
This guide will help you choose the perfect color palette for your room with a gray sofa.
1. White
White is bright, clean, and fresh feeling. It reflects the maximum amount of light, making it perfect for rooms that lack natural light. It's also a top choice for those who like simple and modern designs. It doesn't clutter up the space with unnecessary color.
However, the all-white aesthetic isn't for everyone. This is where gray becomes an important addition. Adding gray upholstery to your white room softens the white and makes the room feel more comfortable and welcoming.
White works well with both light and dark shades of gray, so you can make your design work no matter what shade of gray your couch is. To really soften your white and gray room, add wood elements. Doing this gives you room a Scandinavian feel.
Try adding a light wood floor and furniture. This adds more warmth to the space and softens the white color's brightness.
2. Black

On the opposite end of the color spectrum, there is black. It creates a moody and sophisticated feel. It also works well for a sleek and modern design.
You could commit to the black look and use it as the wall color on all four walls. However, this can be too much black for some people. Instead, try painting one wall black as an accent wall using a black wall paint like this one from Microblend, and leave the others white or a pale gray.
You could coordinate the light gray walls with a matching light gray sofa. The dark colors offset the light gray furniture. Be careful that the room doesn't become too dark. Don't block the windows with heavy curtains. Add light fixtures that can increase the amount of light.
3. Gray

Of course, gray decorative elements will coordinate with your gray sofa. Gray living room ideas are popular right now because gray is considered the trending neutral. It comes in a wide range of shades for versatile interior design options.
Don't choose elements that match too closely. When you have gray walls, flooring, and furniture, everything blends to become one large bland blob of gray. It can look boring and dull. Instead, vary the gray tones to balance light and dark.
If you have a dark gray sofa, then choose light gray paint like this one from Prestige Paints for the wall, or vice versa. This creates depth in the room by making it clear that the sofa is separate from the wall and other furniture.
Choose textiles that have other colors in addition to gray. The pattern on the fabric and the weave of the material add texture to the room. This helps it to feel more cozy and welcoming.
4. Neutrals
Neutral may seem counterintuitive, but they can complement your gray sofa nicely. Choose neutral colors that are in the same shade family as your gray. For example, if you have a light gray sofa, then choose neutral shades that are also light.
If your gray sofa is darker, then choose shades that are also darker. This keeps the colors in the same family. It's also good to choose either the gray or the neutrals to be the dominant feature in the room, and then the other color is a pop of color accent.
5. Earth Tones
Using earth tones with gray can bring some subtle and gentle warmth into the room. gray tends to be a cool color, so earth tones can make the gray feel less cold.
Colors that qualify as earth tones are ones that you would find in nature. For example, mustard, marigold, terra cotta, rust, burnt sienna, deep navy, and turmeric are all earth tones. These warm colors are a step up from the traditional neutrals.
Try using these colors with your gray sofa in the decor. This could be wall art, decorative pieces on a coffee table, pots for plants, or small items on a shelf.
6. Red
Red and gray don't seem like they would go together, but this bold color can create a unique aesthetic in your home. The design choice tends to be hit or miss with people, so you'll either love it or hate it.
Most people use a combination of bold, bright red with black and light gray. Balance the three colors in the room to create a balance of light, dark, and bright. Gray sofas are good for this because it provides a neutral furniture piece. Then you can add red accents.
If you decide you're tired of this design, you can easily switch out the red decor for another color.
7. Pink

Pink and gray are a classic color combination that creates a design that's the perfect balance between masculine and feminine design. Both colors work well together in light and dark shades, so you have a lot of freedom in choosing any color of pink that appeals to you most.
Darker shades of pink have a more sophisticated feel, while pastels work best in a rustic, farmhouse, or contemporary design. Mauve is a muted version of pink that works well for vintage-inspired designs like grand millennial decor.
To elevate your interior design, use more than one shade of pink. Choose one dominant shade for the room but then accent it with lighter and darker shades in the textiles with a multi-dimensional pattern. Florals like these decorative cushion covers work well for this because they naturally use varying shades of a single color.
8. Yellow
Using yellow in your interior design can help brighten your living space. It's the color associated with the sun, so even if your room lacks light, this bright color gives the impression of more light. It's a naturally bright and light color, so it will help reflect the light that is present in the room.
Pairing it with your gray sofa is a smart choice because the gray balances the yellow and gives it some softness. Pale yellow is perfect for farmhouse and contemporary designs. The light color adds some life to what would otherwise be a bland, neutral color palette.
If you like bold colors, choose a vibrant yellow that can balance nicely with a darker shade of gray. The contrast between light and dark makes for a bold interior design. Try to use equal amounts of each color so that your design is balanced.
9. Green
Bring a lush touch of nature into your living room by pairing your light gray sofa with rich green shades. Try adding a tropical leaf wallpaper to one wall and an accent. This will have multiple shades of green that will add depth to the room. You can then pick up those green colors throughout the rest of the room.
Add solid green curtains to frame the window. Dress the sofa with pillows and a blanket. Add an area rug that has a bold pattern that features green.
Finally, commit to the green nature aesthetic by adding actual live plants. Mount them on the wall opposite the feature wall or place one in a large plant in a dead corner.
10. Blue
Using blue with your gray couch is a smart choice if you want to create a calm and soothing aesthetic. Pale blue can brighten up a dark couch with a light throw pillow or a blanket.
Using light blue for the rug color is also good because it adds some lightness to the bottom half of the room, which keeps a dark gray sofa from absorbing too much light.
A charcoal gray color can also look beautiful with a deep blue paint color. The two dark shades will have a sophisticated and understated glamorous feel, especially if you accent it with gold fixtures and hardware.
Using blue, white, and gray can be a perfect color palette for a nautical interior design. It can also work well for a simple contemporary or Scandinavian design.
11. Jewel Tones
Choosing a jewel tone for your wall paint and color scheme will give your room richness and regality. These colors are highly saturated, and complement gray beautifully. Think deep peacock sapphire blue with hints of teal, deep ruby red that isn't too bright but not dark burgundy either, and earthy emerald green that mimics the lush color of healthy tropical plants.
Inspired by the deep colors of gemstones, these jewel tones add life and vibrancy to your gray sofa. They work with both light and dark gray. Add metallic accents, and your plain gray sofa gets elevated into something that looks elegant or even luxurious.
Try pairing more than one jewel tone together for a coordinated look. For example, blue, green, and gray would look beautiful together and be a soothing design. Or red, orange, and gray can have an energizing but not overwhelming design.
12. Wood
Wood isn't necessarily a color, but it's an important element to discuss when styling your gray sofa. Adding natural elements to your living room helps bring warmth into your living space.
A common method for doing this is with wood flooring. However, having wood flooring typically means you'll want to lay an area rug down. You'll then need to consider the color carpet combination and how it coordinates with your gray sofa.
You can add more warmth to the room with wood end tables, a coffee table, or shelving. Choose woods that have cool undertones. This means avoiding woods like cherry with red undertones or oak.
Woods like ash, maple, pine, and popular all have cool undertones. These will pair better with the cool nature of gray. You could even further bring out these undertones by giving it a whitewash or graying treatment.