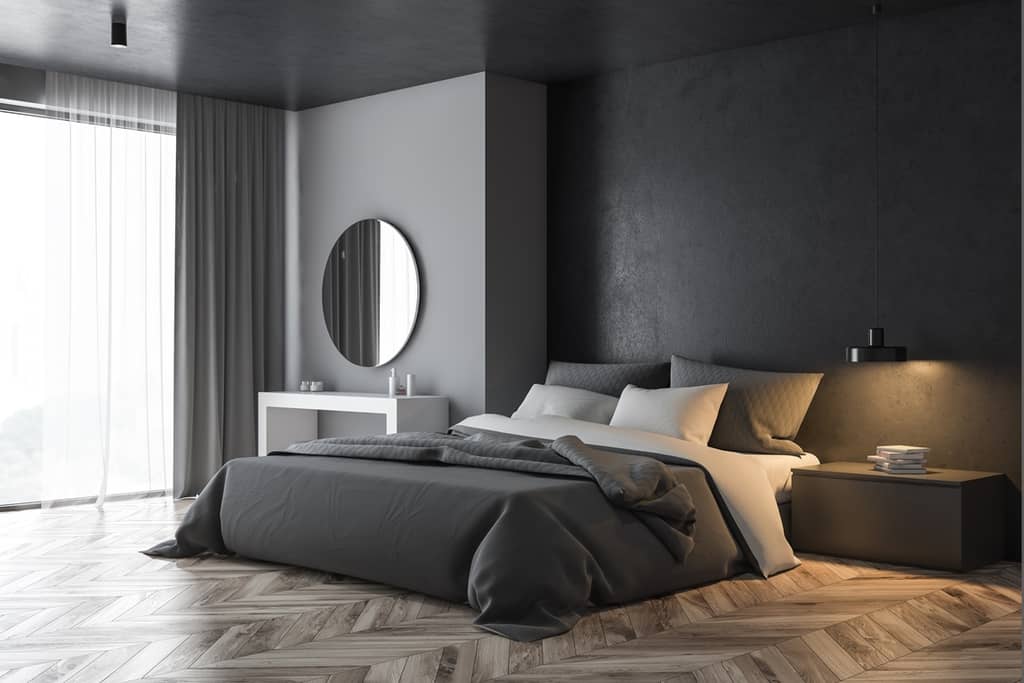 Where to Put Mirror in a Bedroom?
by — Andra DelMonico

Published on March 23, 2022

Updated on August 23, 2023
There is a right and wrong way to add a mirror to your bedroom. Is yours in the right place? If it is, your mirror should increase the amount of natural light in your bedroom. It should help to make your bedroom feel larger and more spacious. It should also add the overall design style of the room.
If your bedroom design doesn't do all of these things, then it's time to learn where to put a mirror in your bedroom.
Do I Have to Hang a Mirror in My Bedroom?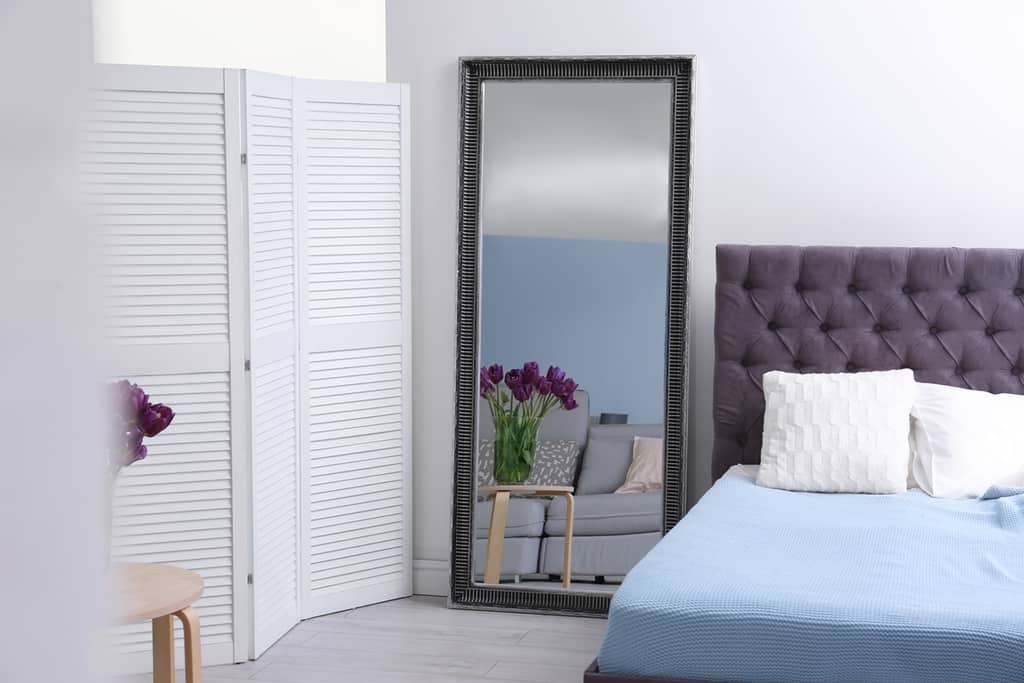 While interior design rules state that you should use a mirror to increase natural light and make your bedroom feel larger, that doesn't mean you have to use one. Remember, it is your house and your bedroom. If a mirror in the bedroom makes you feel uncomfortable, awkward, or stressed, then it's best to keep the mirror in your bathroom, closet, or en-suite area.
Maximizing Natural Light with a Mirror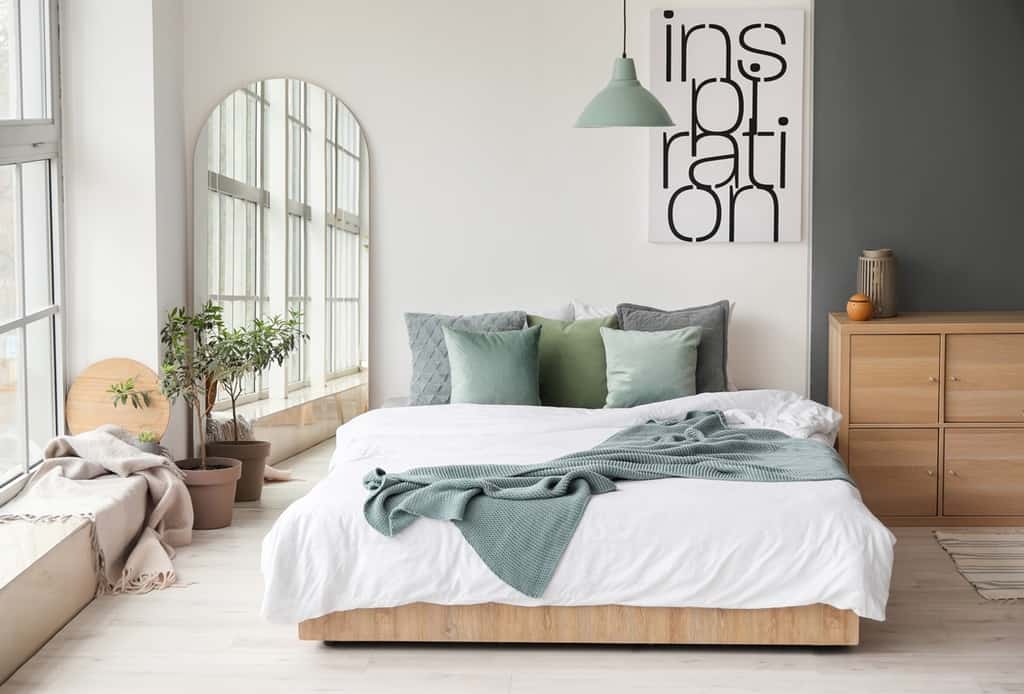 Beyond its purpose of helping you get dressed, mirrors are perfect for creating more natural light in your bedroom. To do this, you'll need to place it near the windows in your bedroom. However, it's a bit more complicated than that. Pay attention to the walls in your bedroom where the sun comes in. If you want to maximize the amount of light, the mirror should be hung where the light comes in. You can also place the mirror in the darkest corner to brighten it up. Both of these approaches will make the most of the available natural light in your bedroom.
Mirror Placement Based on Size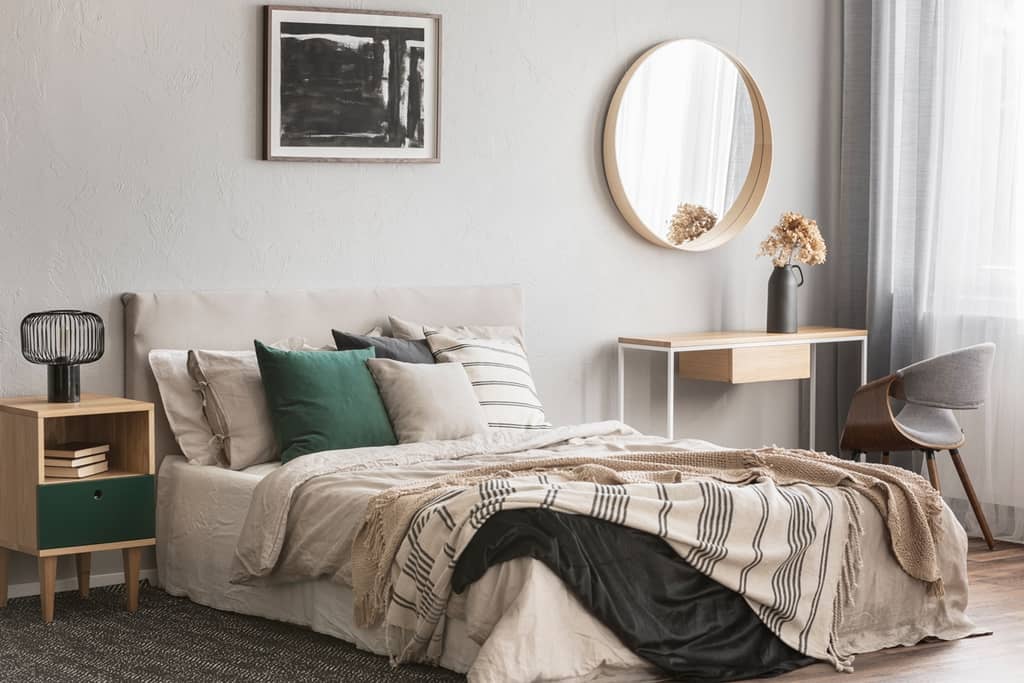 Where you hang, your bedroom can be largely dependent on the size and shape of the mirror. You need to have the space available for the mirror to look purposeful and not crammed into a space.
Small Mirrors
If you have a small mirror that is only large enough to see your face, it's best to use it as decor or an accent. Arrange multiple small mirrors in decorative frames on a wall.  Place them higher on the wall or above the headboard. 
Large Square and Rectangle Mirrors
A large square-shaped mirror is perfect for use above your dresser or on the wall over your headboard. These walls tend to be large areas that can support a larger mirror. If you have a vanity table or desk, it will also work in these spaces.
Whatever wall you decide to hang your mirror on, make sure it's not facing a blank wall. While it can face a wall, it shouldn't be plain. This will just add more plain walls to your bedroom as it gets reflected in the mirror. Instead, add some decor to the opposite wall. For example, add a painting, floating shelf, framed pictures, macrame wall hanging, or other decor.
Oversized Mirrors
Extra-large mirrors make a strong statement and act as a focal point in your bedroom. These mirrors are placed on the floor and are either freestanding or lean against the wall. This makes them perfect for seeing your entire outfit from head to toe. Try placing this large mirror against a wall with plenty of space in front of it to have room to stand back. You could also use it as part of an arrangement. For example, position it against the wall in a dead corner and then place a floor lamp and armchair with it.
Tall and Skinny Mirrors
Frame your bed with two tall and skinny mirrors. This creates symmetry and balance in your bedroom design. You can place them behind or just outside of your nightstands. Choose mirrors that are tall enough to balance the height of your headboard. You don't want them too tall, making your headboard look squat. However, tall and narrow mirrors are good for creating the illusion that your ceiling is taller. If you try this approach and the mirrors are too short, you can actually bring down the visual height of your room.
You can also place a tall and skinny mirror in a dead corner. It will fit neatly into the corner and help open up the space. To have it point out from the center of the corner, choose a mirror that's on a stand.
Mirrored Doors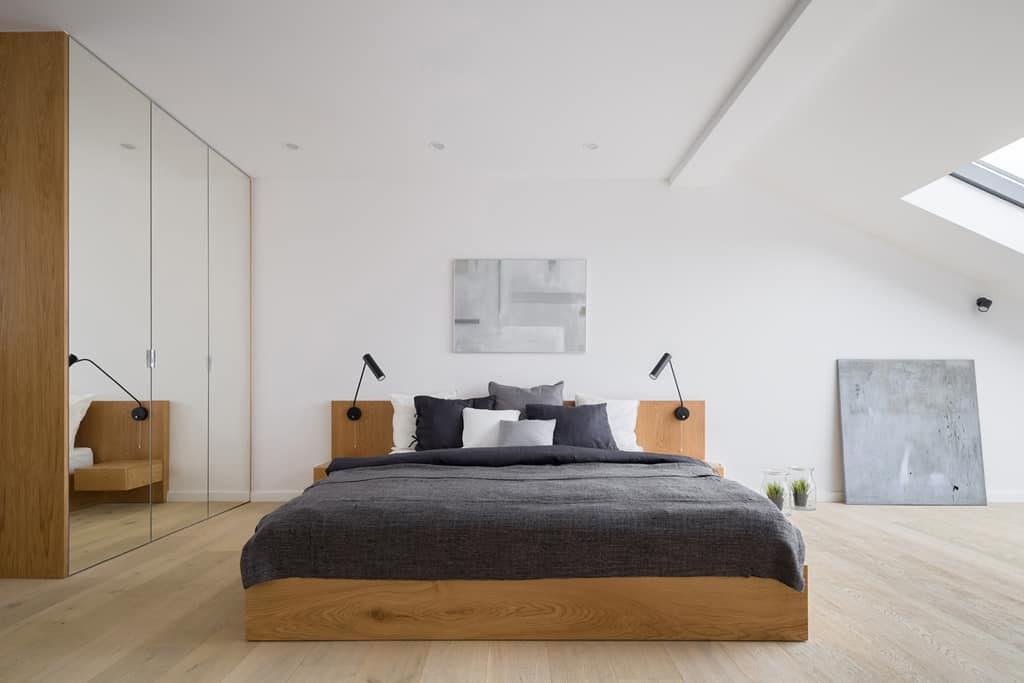 Instead of hanging a mirror on the wall, you can cover one of the doors in your bedroom with a mirror. For example, you could hang a mirror on the backside of your bedroom or closet door. If you have a large closet opening with double bifold doors, you could replace these doors with mirror-covered sliding doors. This creates one oversized mirror that takes up the majority of the wall. If you have a small bedroom, this can create the illusion that your bedroom is significantly larger. 
Feng Shui Mirror Rules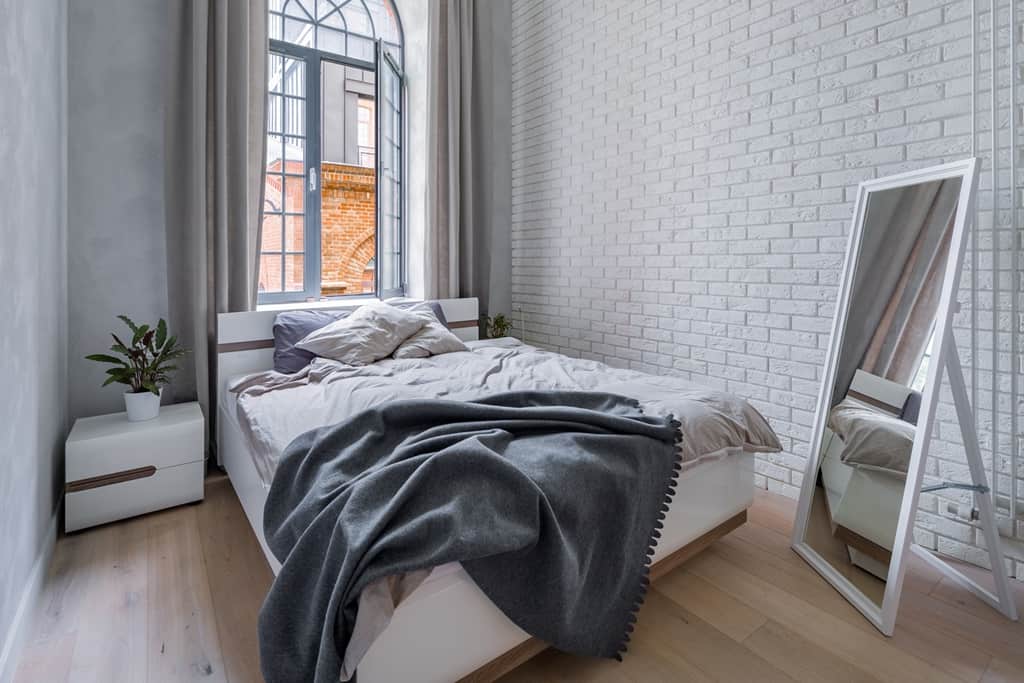 Following Feng Shui rules can be tricky because there are several schools of Feng Shui, and sometimes they directly contradict each other. Start with the placement of your bed, and then you'll know where to place your mirror. Your bed is the physical representation of you in the room, so it should be in the command position. When lying in bed, you should be able to see the door. If you can't have this placement in your bedroom, you can place the mirror on the wall facing the bed. That way, you can see the doorway from the bed by looking at its reflection in the mirror.
Some Feng Shui schools state that you shouldn't use a mirror in the bedroom at all. They are thought to energize a room, which is the exact opposite of what you want when trying to get restful sleep. Additionally, they double what they project, so if your mirror is reflecting the clutter in your bedroom, you are doubling the chaos.
Where Not to Place a Mirror in the Bedroom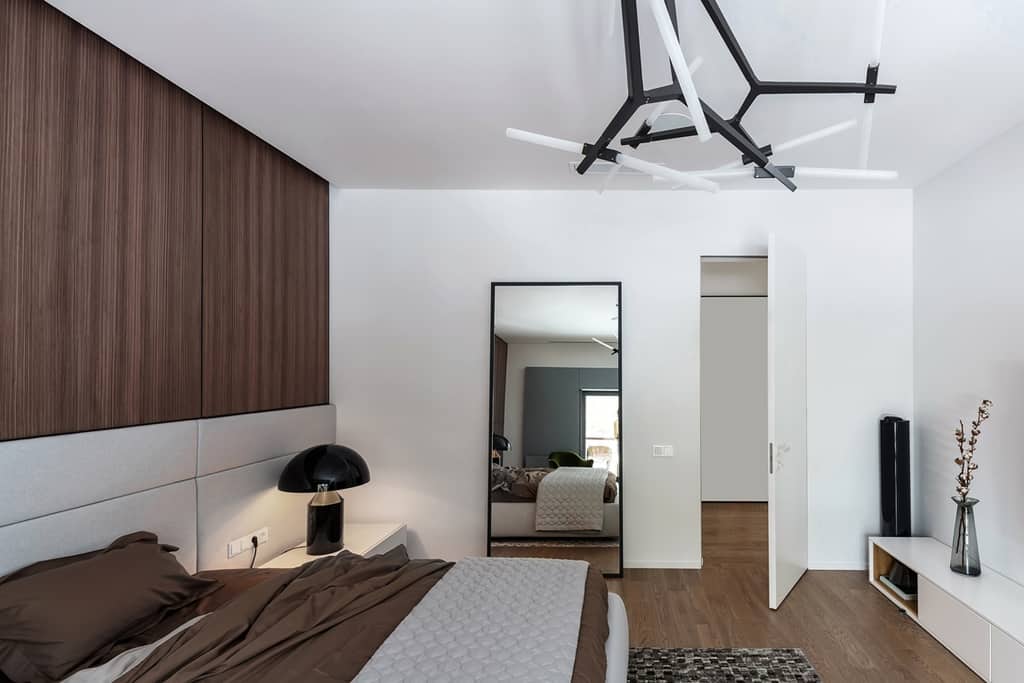 Unless you have a particular purpose in mind, do not place your mirror on the ceiling above the bed, as the headboard, or directly in front of the foot of the bed. These are all places that point directly at you while lying in bed. While this may be ideal for some people, it creates an awkward reflection for most. This can make it hard to fall asleep and reduce the level of comfort and relaxation you feel while laying in bed. These locations are also not ideal for reflecting the natural light or being convenient for getting dressed.
You also shouldn't hang two mirrors that face each other. They will create an endless reflection that eliminates the illusion of a larger room that one mirror creates. Some people find the endless reflections a bit unnerving.