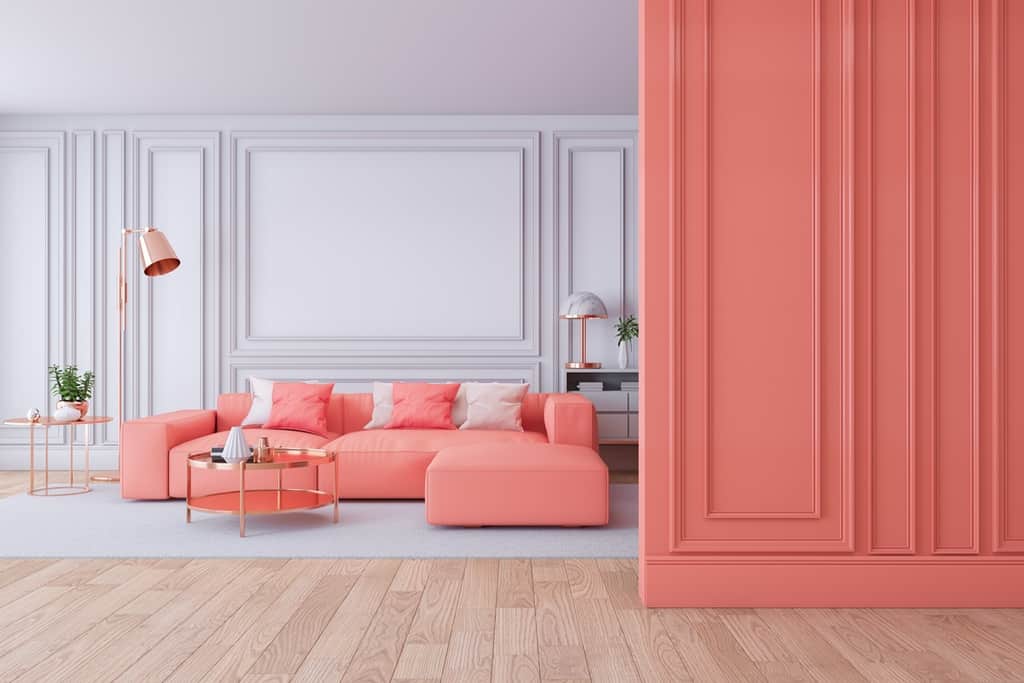 10 Best Accent Wall Colors
Adding an accent wall to a room in your home is a perfect option for adding a bit of color to your room. But if you're going to paint one wall a different color, it needs to be the right color. The color should enhance the room by adding to the aesthetic and helping it to feel bigger. Using color to your advantage can improve a room that would otherwise fall flat. 
Try one of these stunning accent colors for your accent wall.
Olive Green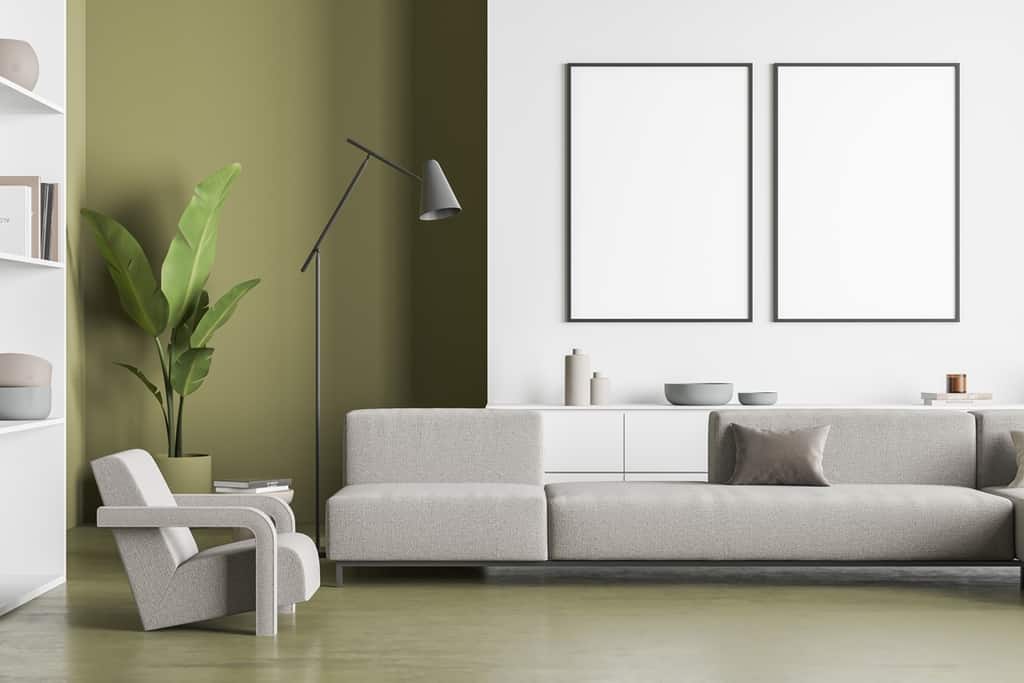 This earthy shade of green is popular because it brings a touch of nature without looking overly styled. It also blends well with a wide range of other neutrals. Its more muted tone helps it to keep your room's design soft and welcoming without becoming too intense or overbearing. When paired with other soft neutrals, you can easily create a warm and welcoming aesthetic. This color works well in rustic, farmhouse, country, and contemporary styles. It can also look beautiful in a neutral bohemian room.
Greige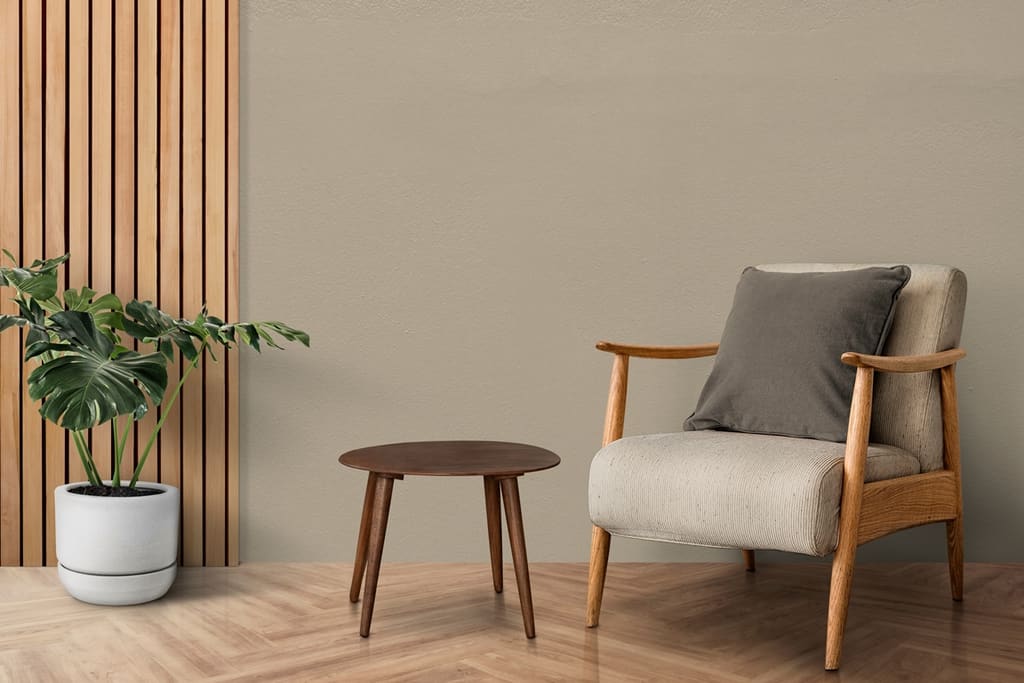 Depending on how you style this color, it can look more gray or beige. It's the unique color flexibility of this color that makes it perfect for your accent wall. Depending on the color scheme in the rest of the room and the amount of natural light, the color will change and transform. This adds visual interest, but it can also make it easier to change up your decor without having to repaint. Greige is considered the modern neutral that feels more serious and mature than plain light gray or beige. This makes it perfect for contemporary interior design styles.
Jewel Tones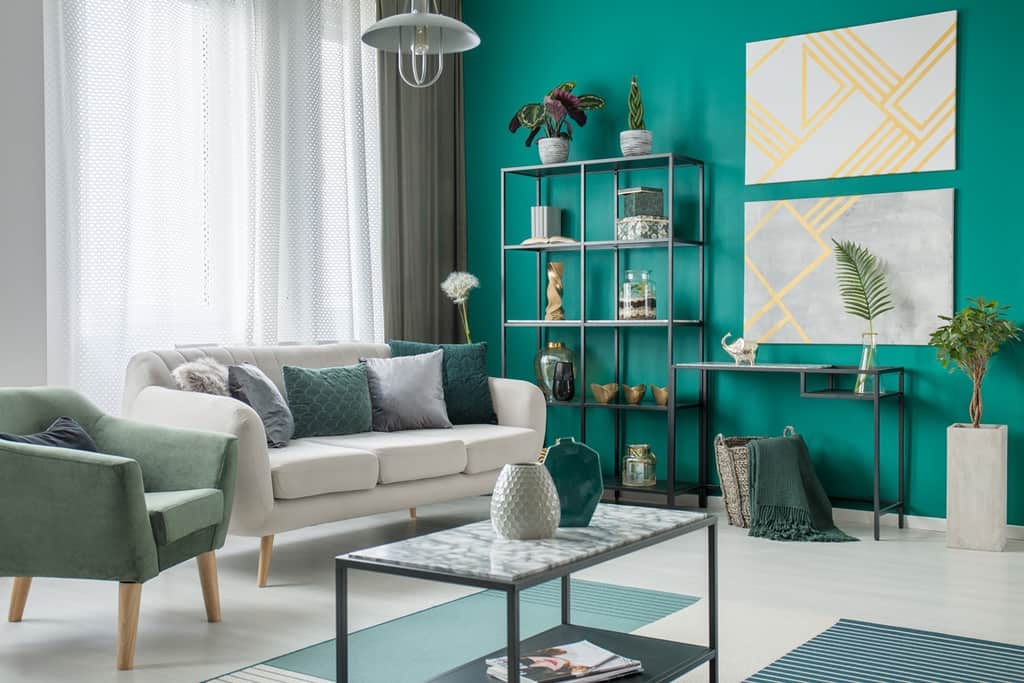 Instead of choosing just one color for this category, we are going to talk about all jewel tones. These highly saturated colors add a touch of luxury and sophistication to your room. This is because they are taken from the original colors of expensive jewels. Colors in this category are ruby red, emerald green, sapphire blue, amethyst purple, and citrine yellow. You can use them together or pair them with neutrals for a wall that commands attention. Glam and traditional design styles are the most popular aesthetics for using jewel tones, but they aren't your only options. You could also successfully use jewel tones in vintage, bohemian, art deco, or even mid-century modern design styles. Highlight the use of jewel tones by using polished metal accents to highlight the luxurious feel. 
Coral Pink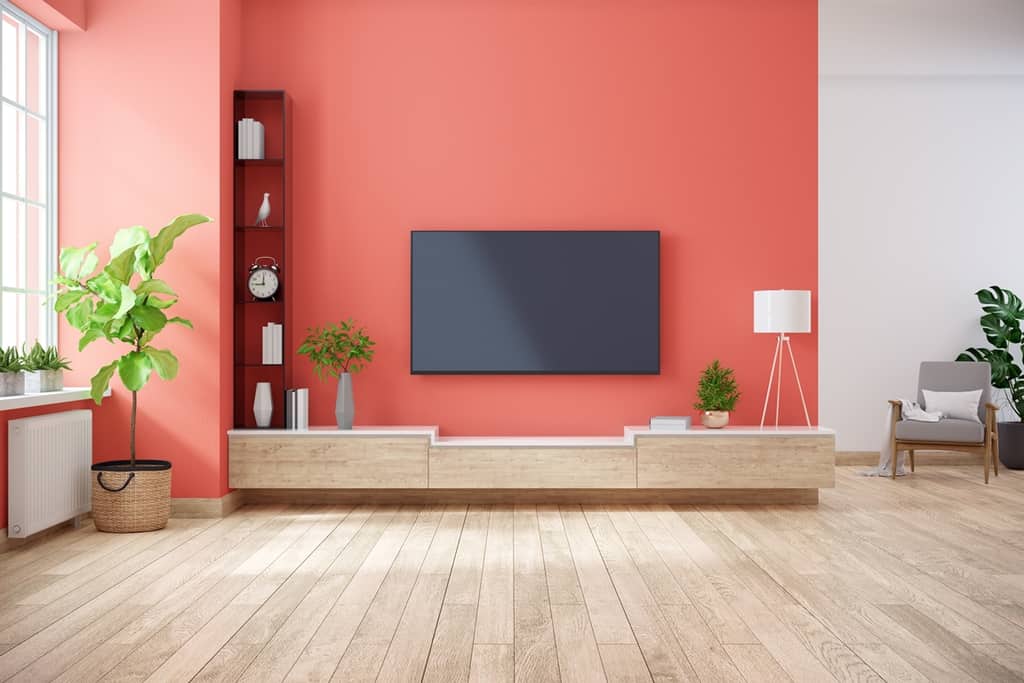 Soft pink can look too feminine and juvenile. Mauve can look too dark or dowdy. Coral pink is a perfect alternative. It's a predominantly pink color but has hints of orange and coral undertones. This gives your accent wall a bright and fresh feeling. In addition, the orange hues bring warmth into the room, creating a more comfortable atmosphere. What's nice about this flexible color is that you can pair it with other warm colors, including cream, red, pink, orange, and yellow. It's also perfect for bringing contrast to a turquoise or blue room. This cheery shade works well in a coastal, shabby chic, or bohemian-designed room.
Coastal Blue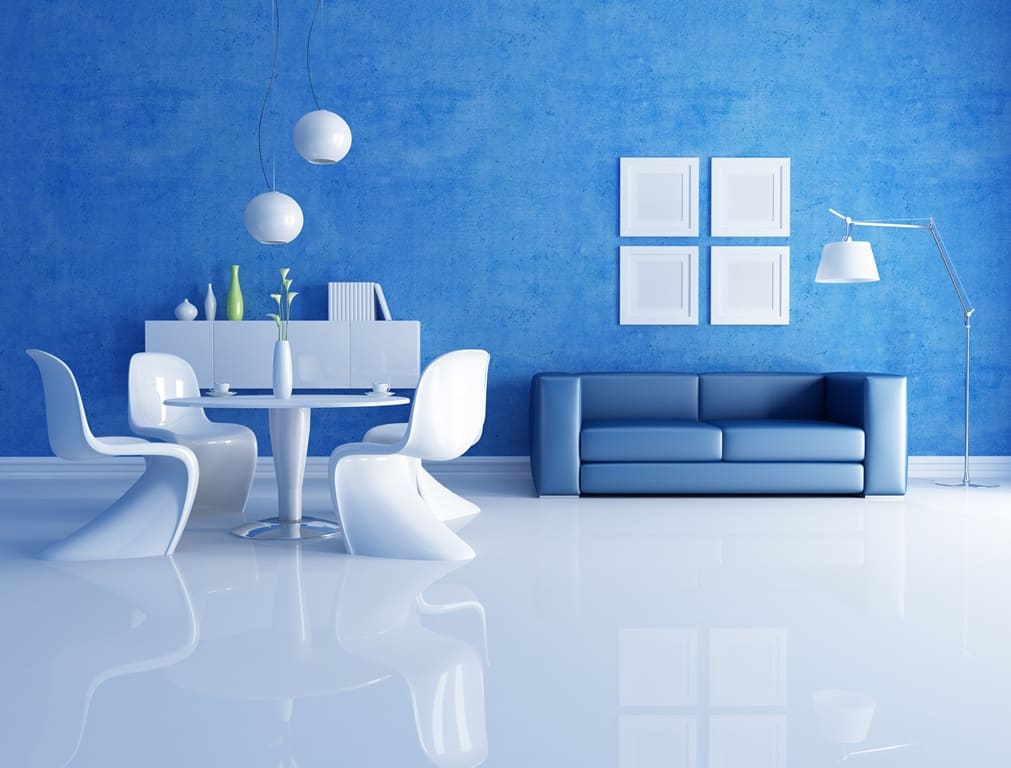 Embrace the colors of the ocean by painting your accent wall a bright and breezy blue. It adds a soothing feel to your room that can create a calming atmosphere that fosters a relaxing and welcoming vibe. Consider slight variations of the color to keep the color from looking too beachy. It could be a slightly muted version or have green undertones. Be careful not to choose a color that's not too light. You don't want to use a pale blue. Coastal blue is perfect in a shabby chic decor design style, rustic, and coastal styles.
Butter Yellow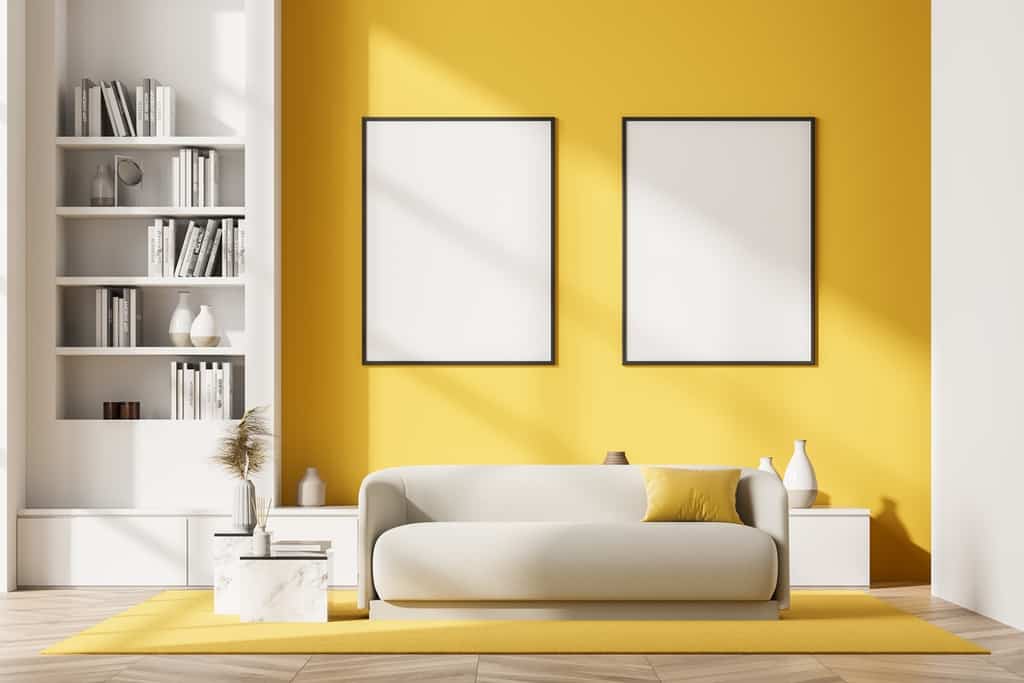 A soft butter yellow can add a sunny accent to your room. The gentle brightness of this color makes it perfect for helping a room feel brighter without it becoming overwhelming. The white undertones of this yellow help to reflect more light, increasing the light and helping the room feel bigger. Unlike lighter yellow shades, this yellow is more intense than a pale yellow, adding color and avoiding the aged yellow-white look that can look dingy. This delicate yellow is versatile, looking right at home in a shabby chic, French country, farmhouse, contemporary, rustic, or transitional styled room.
Blackest Black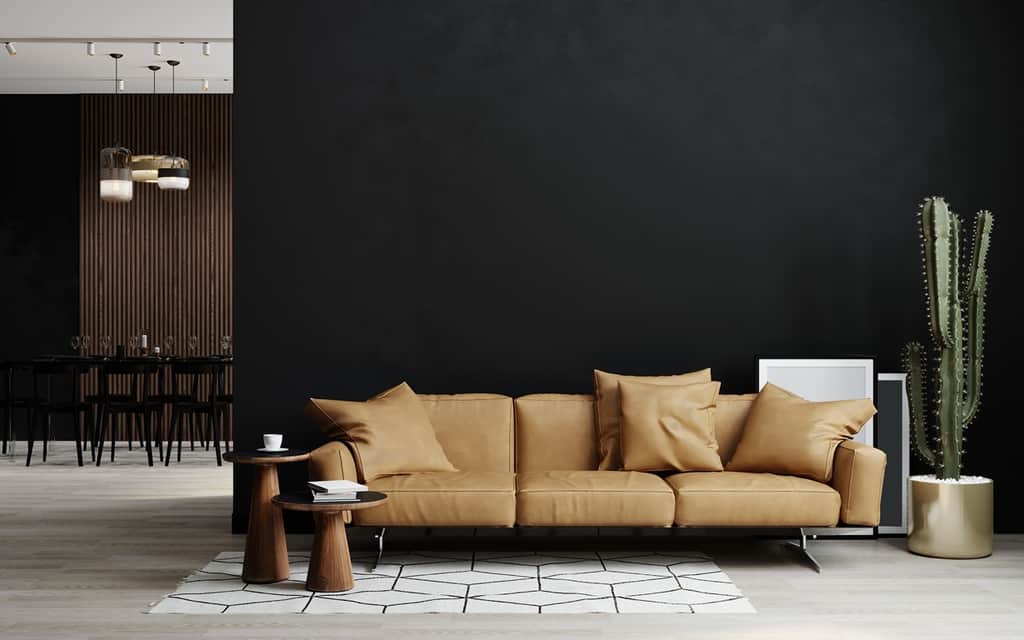 Painting all of the walls in a room black can look overwhelming and turn the room into a dark cave. Instead, paint only one of the walls black. Then you get the benefit of the black wall without the drawbacks. A black accent wall works best in a larger room that has plenty of natural light. It can also help to use paint that has a slight sheen to it. Using a black feature wall can look elegant and sleek in an industrial, minimalist, urban modern, or art deco style.
Persimmon Orange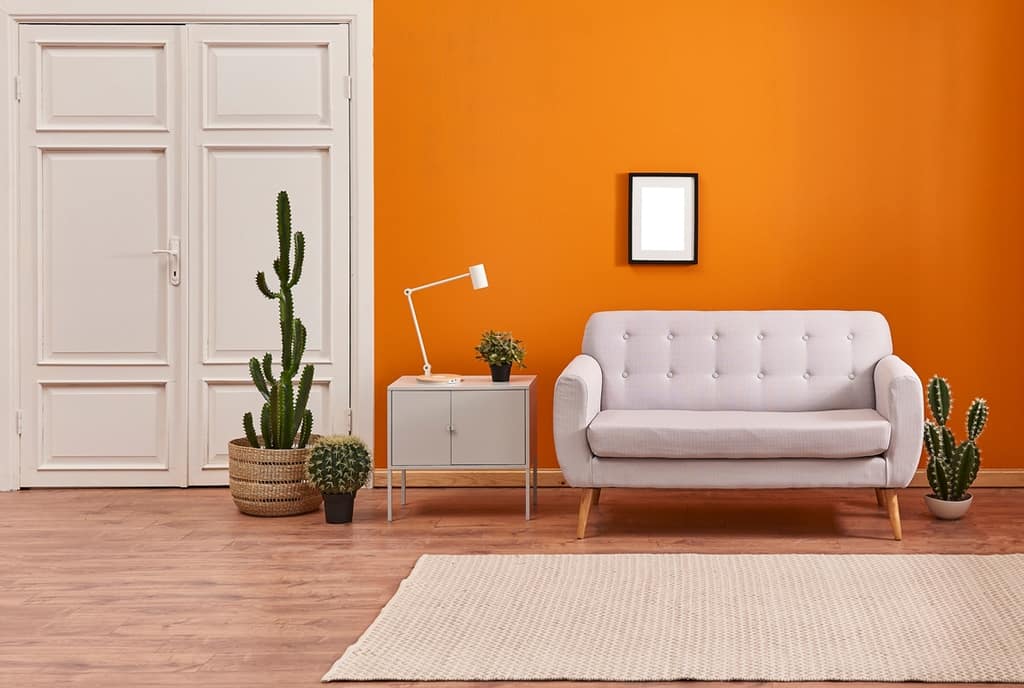 This richly colored orange is bright but not too bright. It's close to true orange but has a more mature feel that elevates it from the primary version of the color. Painting an accent wall this color can give you the perfect backdrop for your white and neutral decor. You can easily add it to an all-white room that you are looking to update and bring color into. Because an actual fruit inspires it, you can use it in an earthy neutral decor design to make the room feel brighter. This warm and welcoming color can look beautiful in a room that's styled in Asian zen, mid-century modern, or coastal design style.
Deep Blue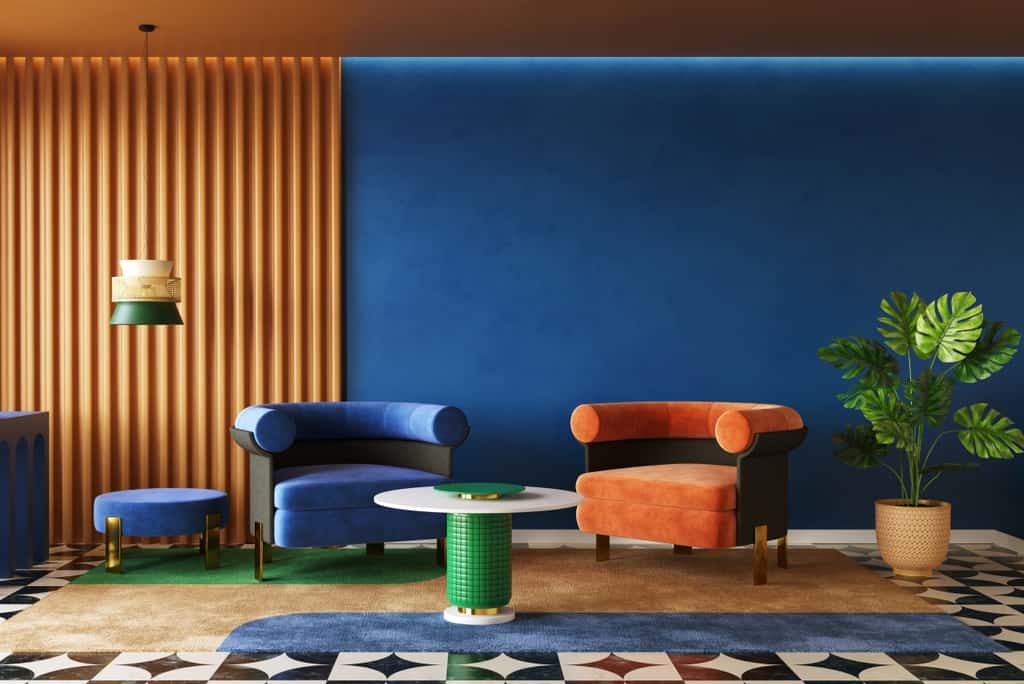 A deep navy or indigo blue adds depth and sophistication to a room. It's like adding drama without going over the top. Navy is closer to black, making it better for more traditional design styles like Victorian and art deco design. Indigo, while similar to navy in that it's dark, is slightly more eclectic. Indigo has purple undertones that make it perfect for creative design styles like bohemian, worldly, and maximalism. Both colors can be quite dark, so to keep your room from feeling too much like a cave, make sure that is plenty of natural light.
Blackberry Wine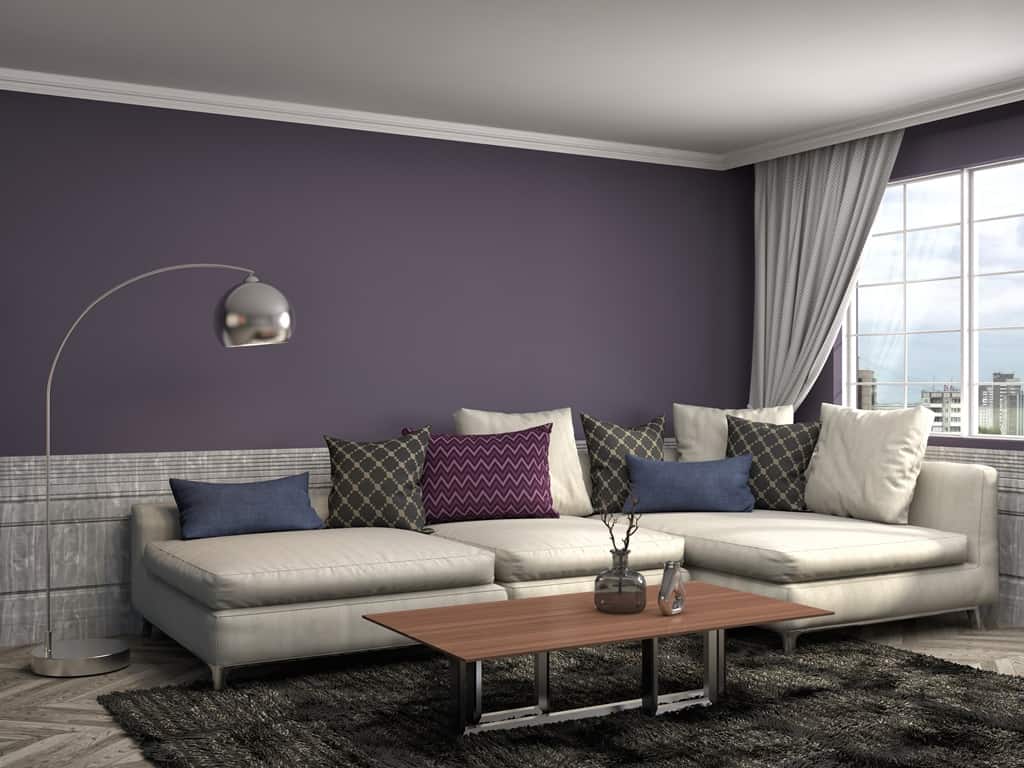 This rich and dark purple color is more complex than just standard purple. It has dark hints and raspberry undertones to create a color with more depth and complexity. It's perfect for when you want to use purple and avoid a juvenile color similar to a certain large dinosaur. Embrace the moodiness of this color by using it in an industrial interior style. It's also perfect when giving your room a glam design. Gold metal will contrast elegantly against the purple wall to create a look of luxury.