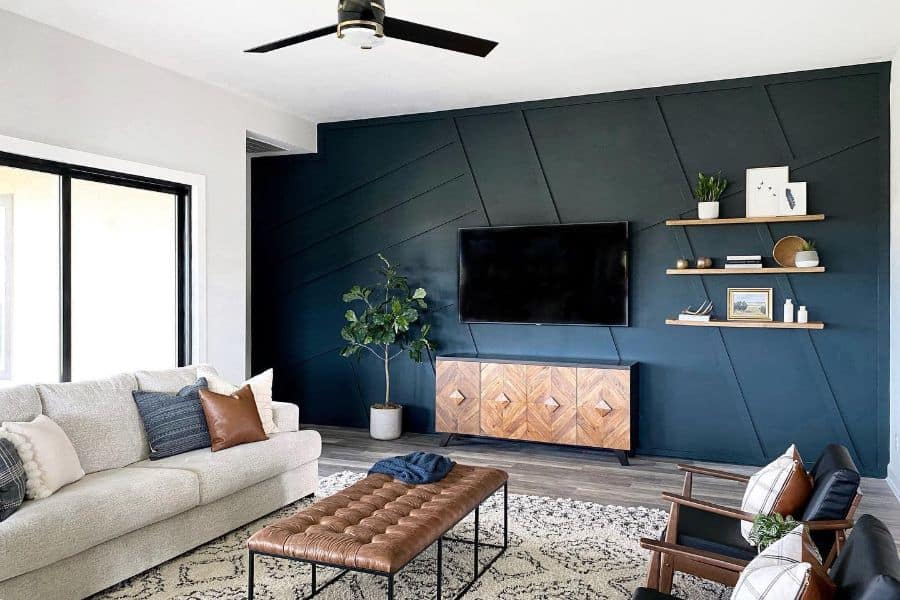 52 Accent Wall Ideas for the Living Room
Tired of looking at the same four walls day in and day out? Well, adding a feature wall to your living room will at least give you something new and interesting to look at!
Some homeowners view accent walls as tacky or outdated. If you share that opinion, there's a good chance you just haven't come across a well-executed accent wall yet. Check out the accent wall ideas below to learn how to bring some much-needed variety into your own living space.
1. Bricks and Stones
Forget about creating a feature wall with little more than a bucket of paint! Some of the most unique and interesting accent wall ideas are made with materials like stone or brick.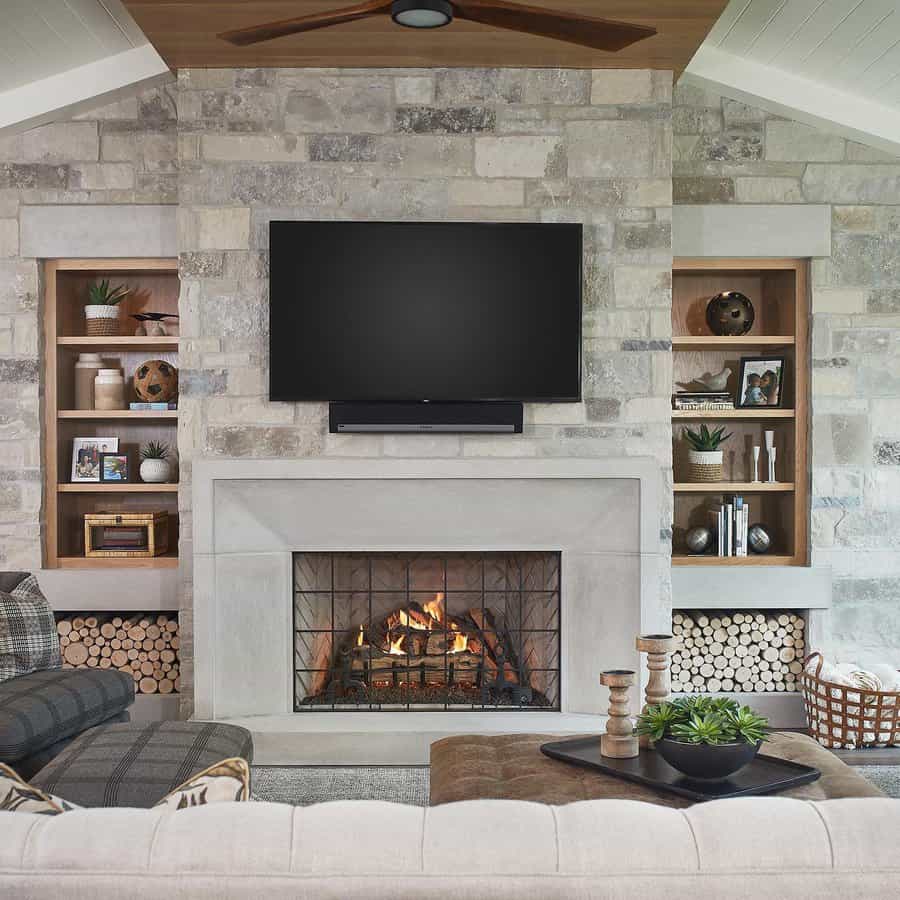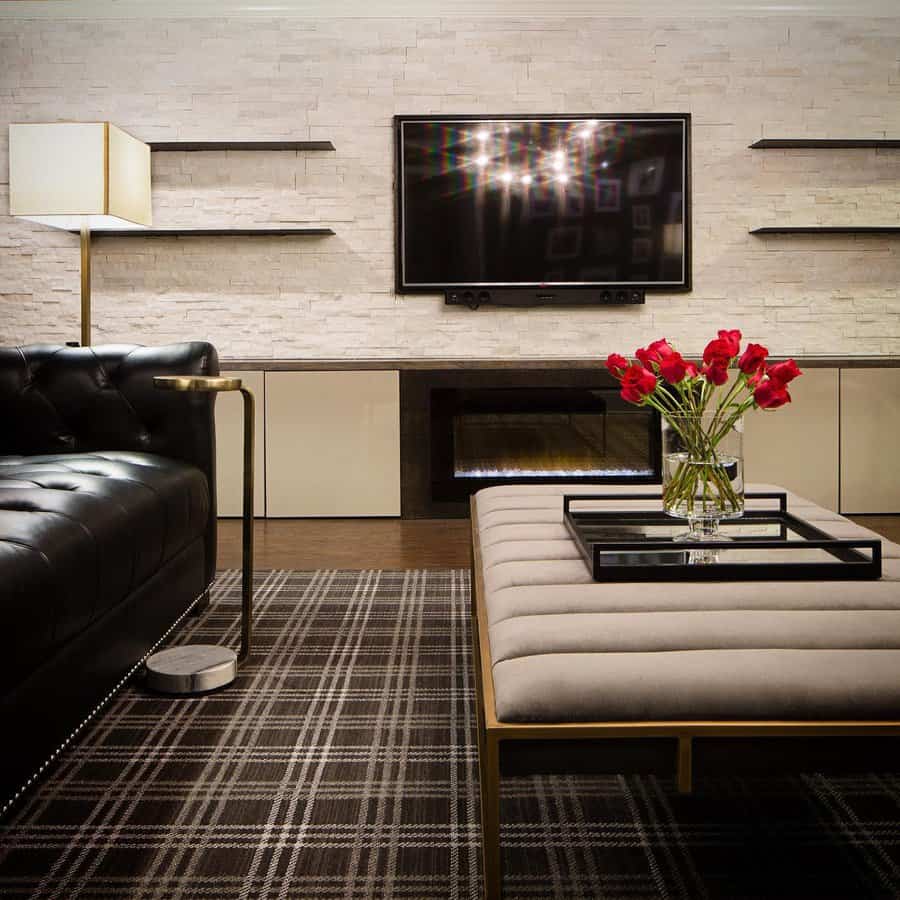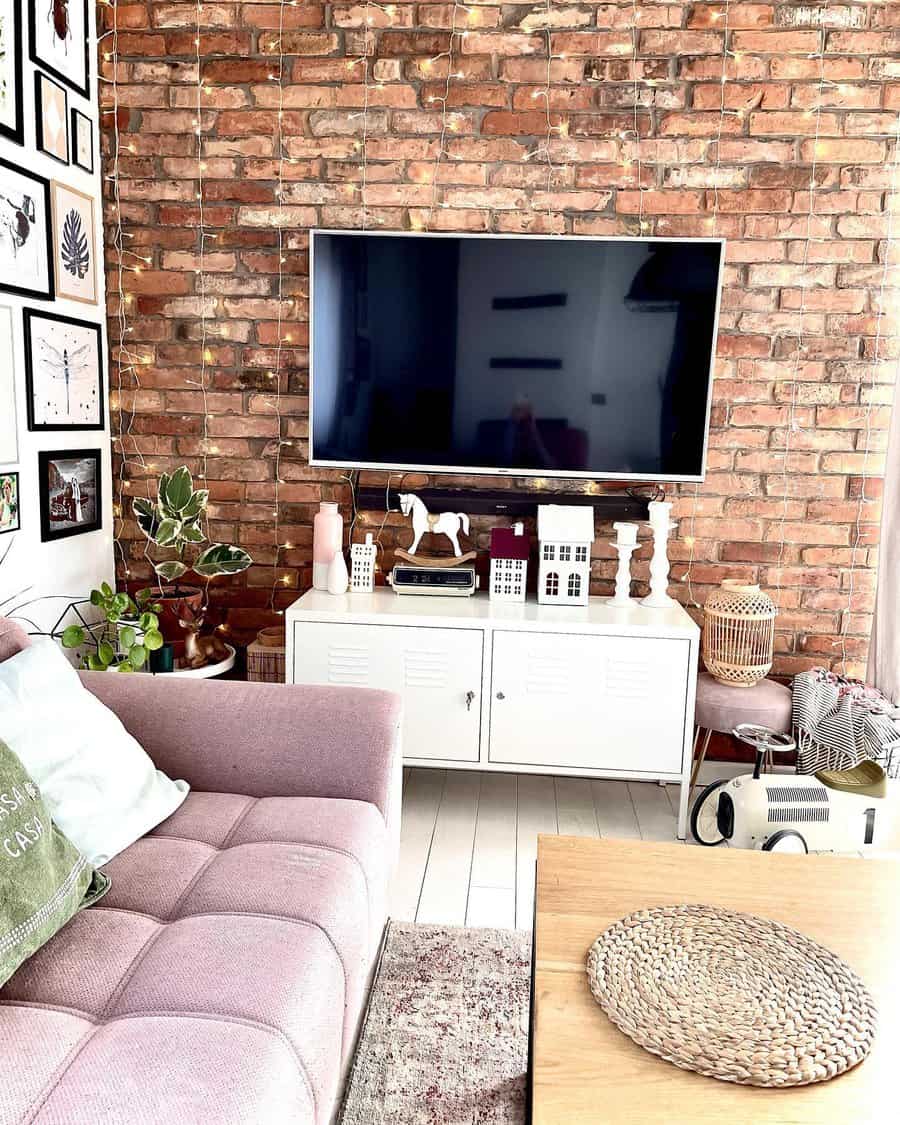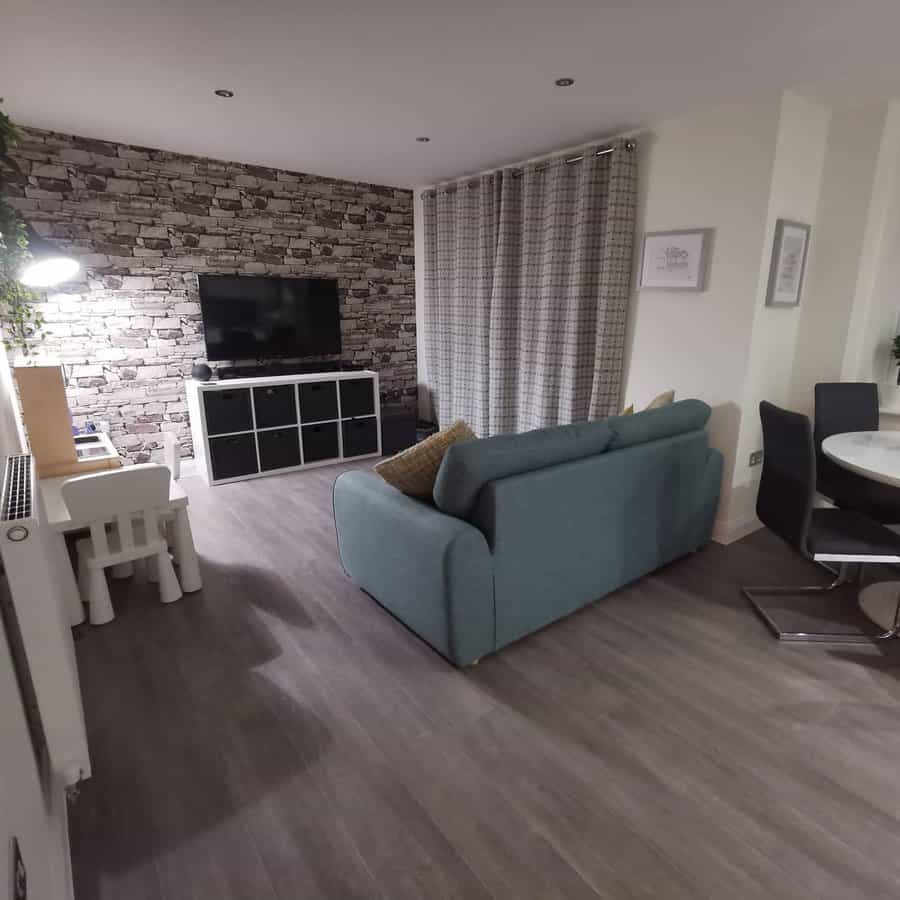 A brick or stone accent wall can be a natural extension of an existing fireplace surround. Use rough-cut brick for a rustic aesthetic or sleek tile for a more contemporary look.
Exposed brick is the perfect complement to industrial architecture and decor. If you're lucky, your home or condo may already have brick walls. If not, you can easily create a brick accent wall using a thin overlay.
2. Dark
Homeowners are often afraid to use dark colors in their home decor. If that sounds like you, try testing the prismatic water with a dark accent wall.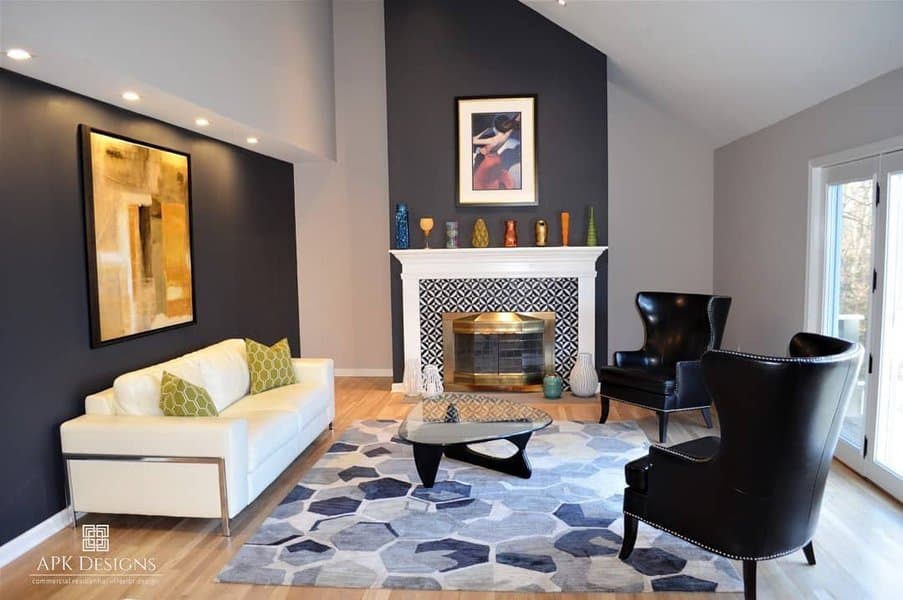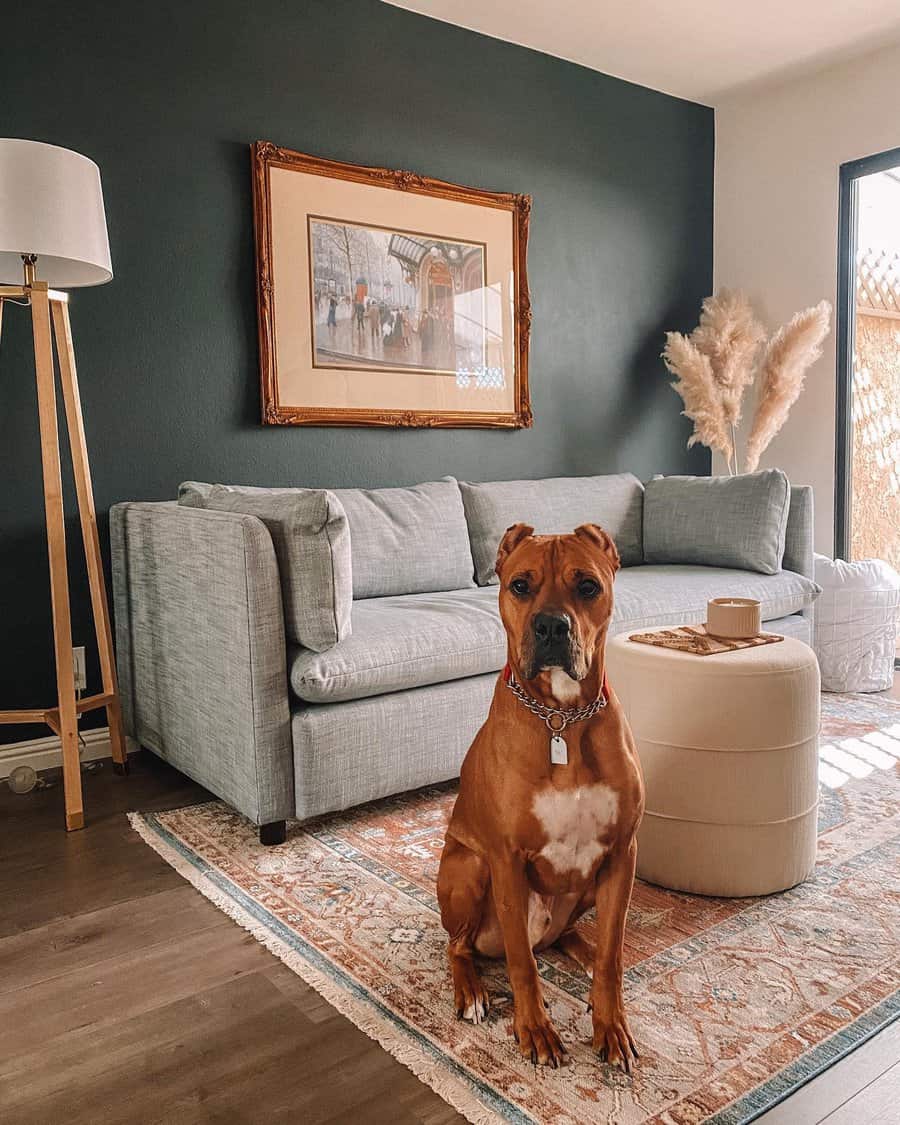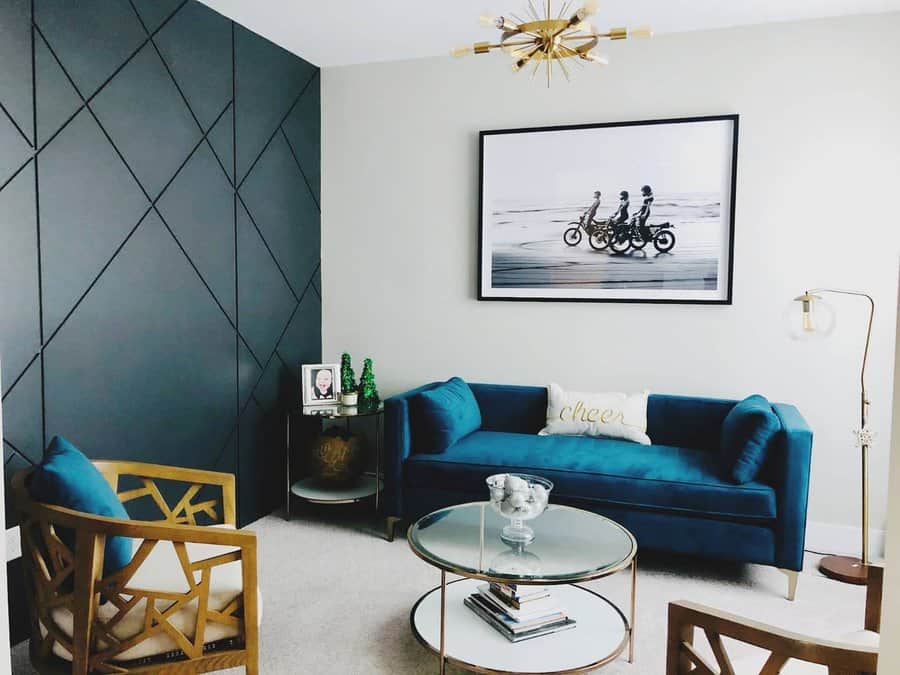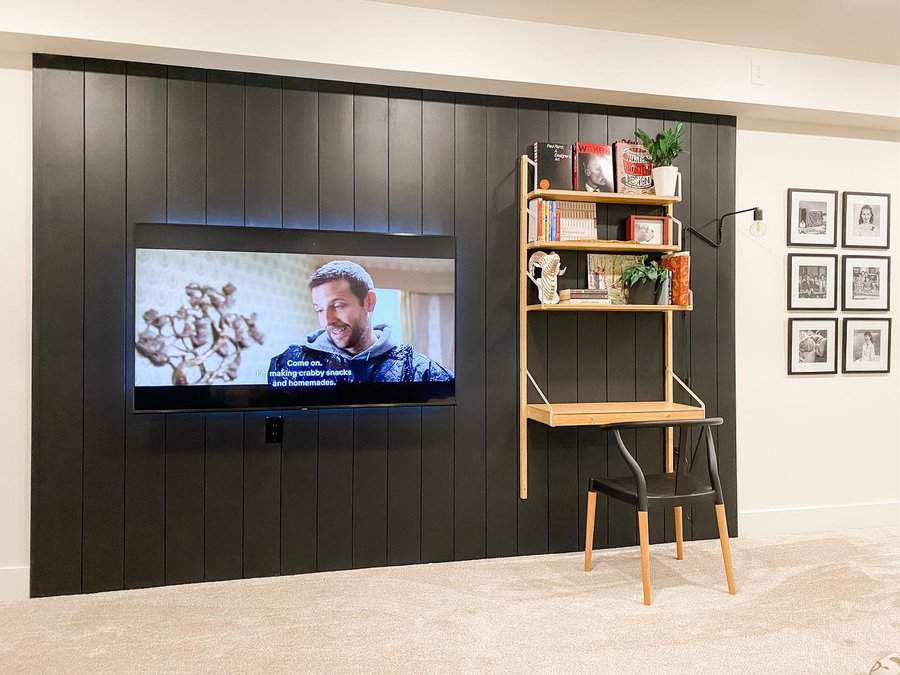 Deep colors contrast beautifully against white and similarly white hues. Opt for a matte paint color to give your new accent wall a high-end finish. This combination can also prevent your room from feeling too dark or claustrophobic.
There's a big difference between painting a dark wall and a black wall. Although black can be a gorgeous color choice, don't paint yourself into a corner! Dark shades of red, blue, grey, and green are all worthwhile options.
3. Fireplace
When decorating a room with a fireplace, there's no question of which wall should be accented. Turning your fireplace surround into a full-scale feature wall will ensure the hearth is always the focal point of the space.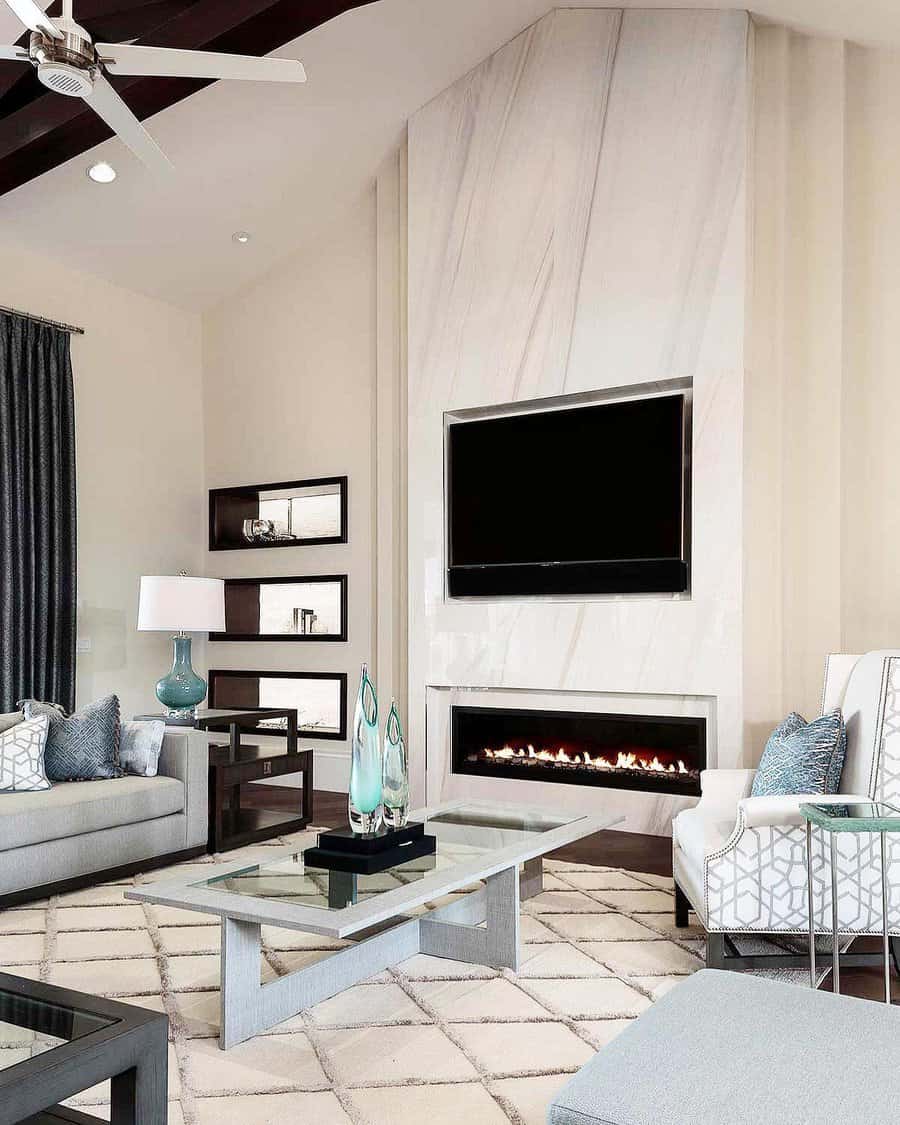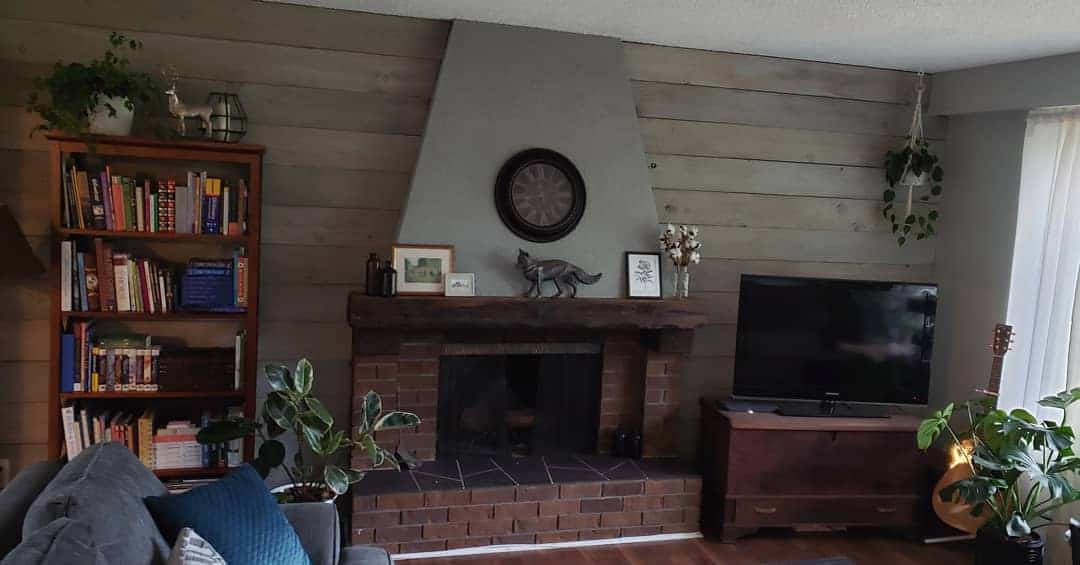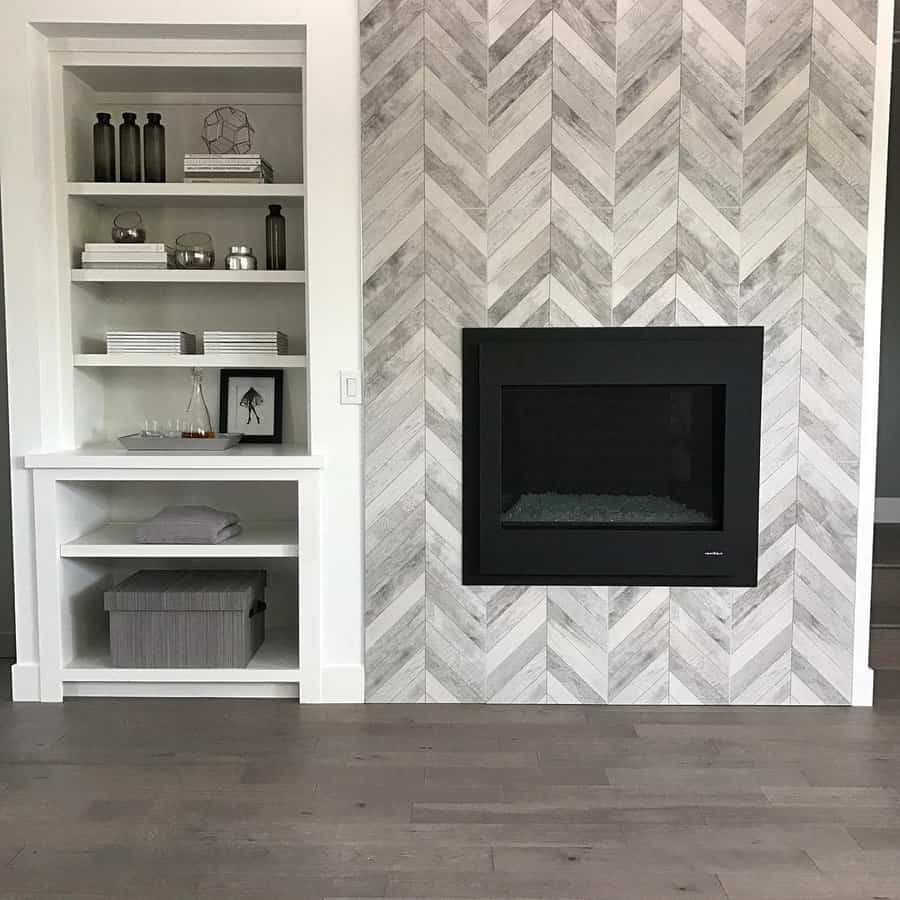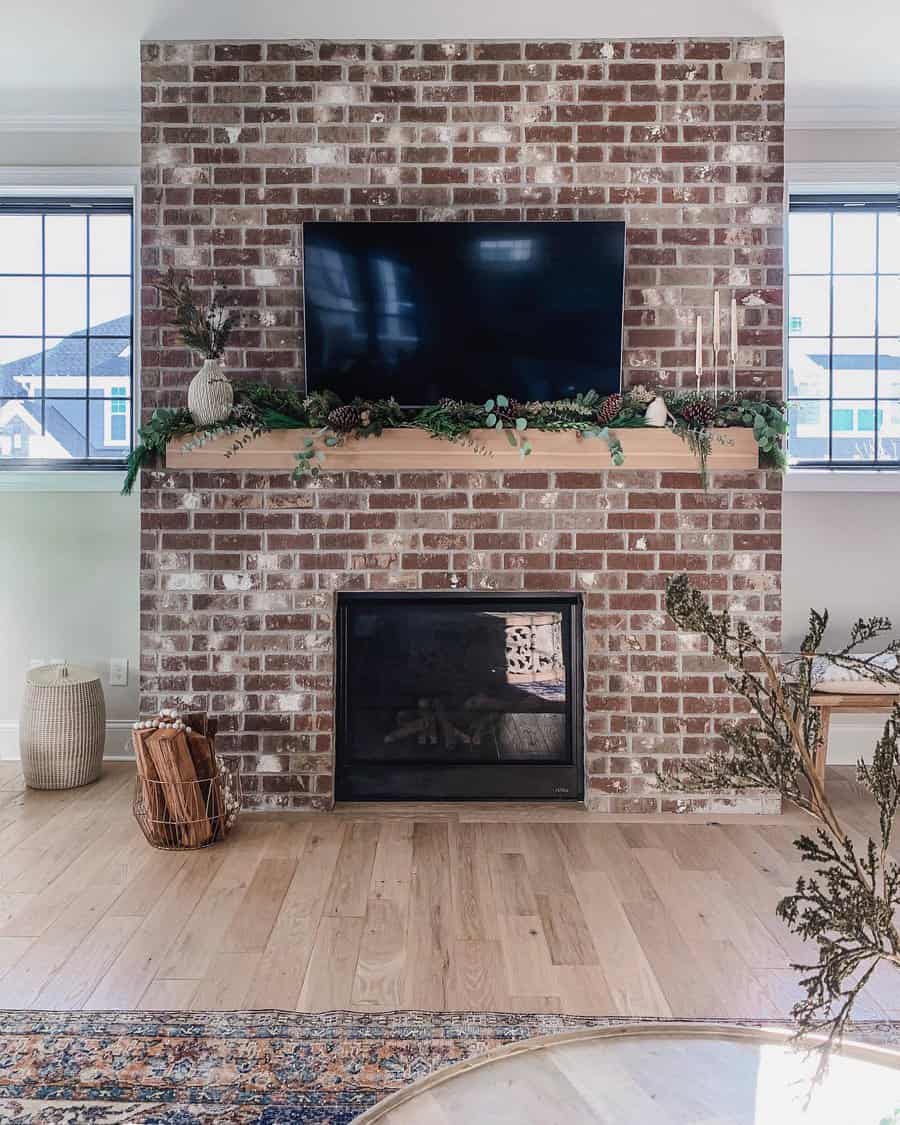 There's no rule that your accent wall must cover the entire surface. Focusing your accent paint or wall overlay directly above the fireplace will create the illusion of taller ceilings.
Related read: 60 Fireplace Wall Ideas
One thing you do need to keep in mind when decorating a fireplace feature wall is that your materials must be heat-resistant. (This doesn't apply to electric inserts that produce little or no heat!)
4. Modern
Modern architecture is largely about lines and contrast. Adopt this same philosophy when designing your accent wall.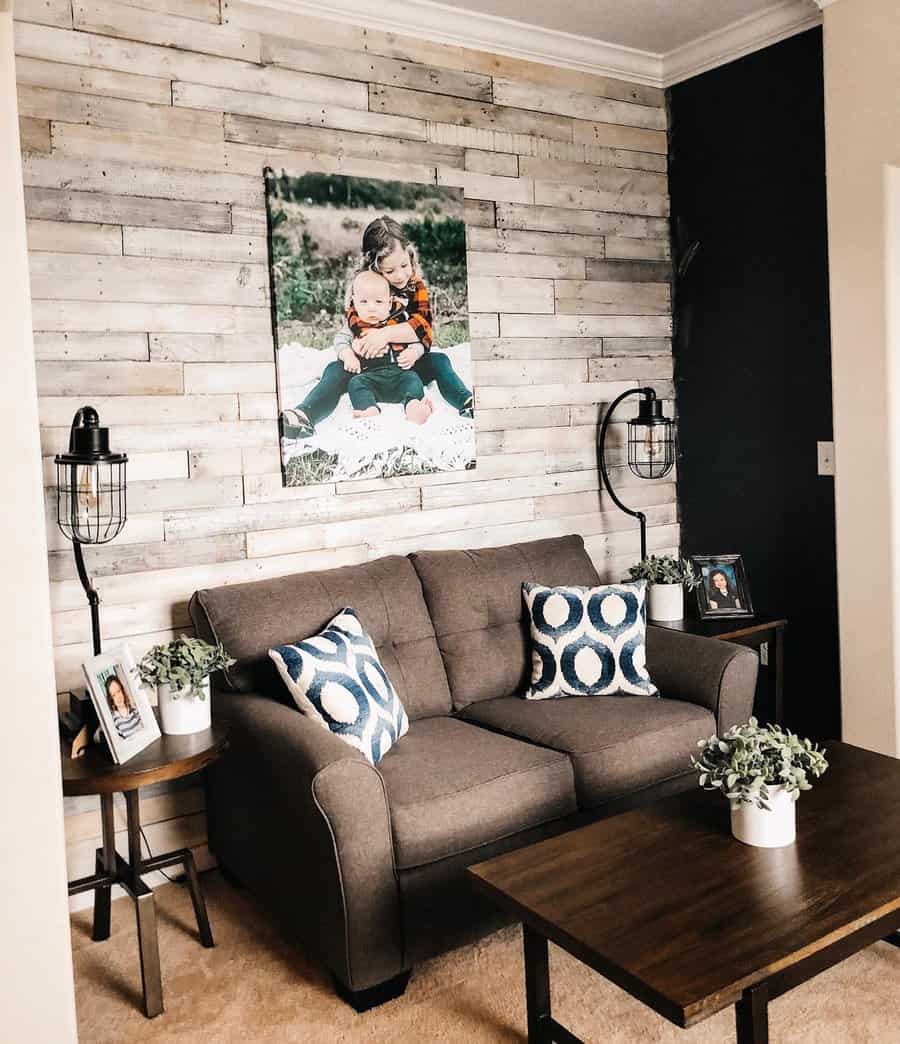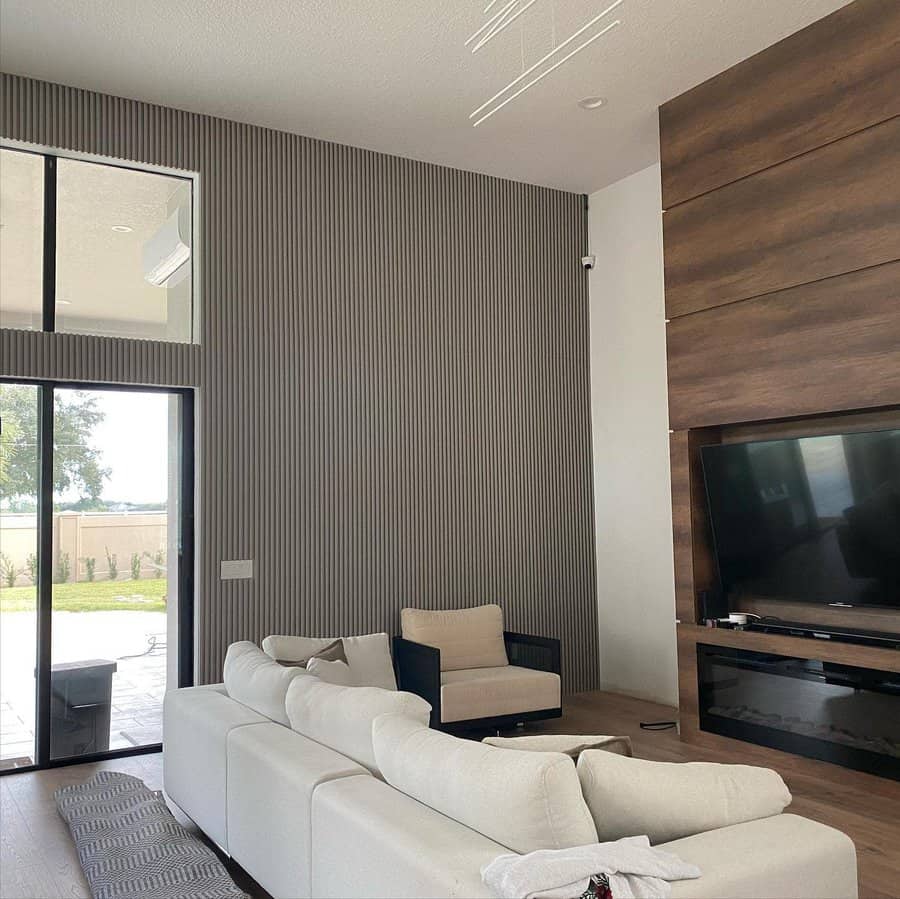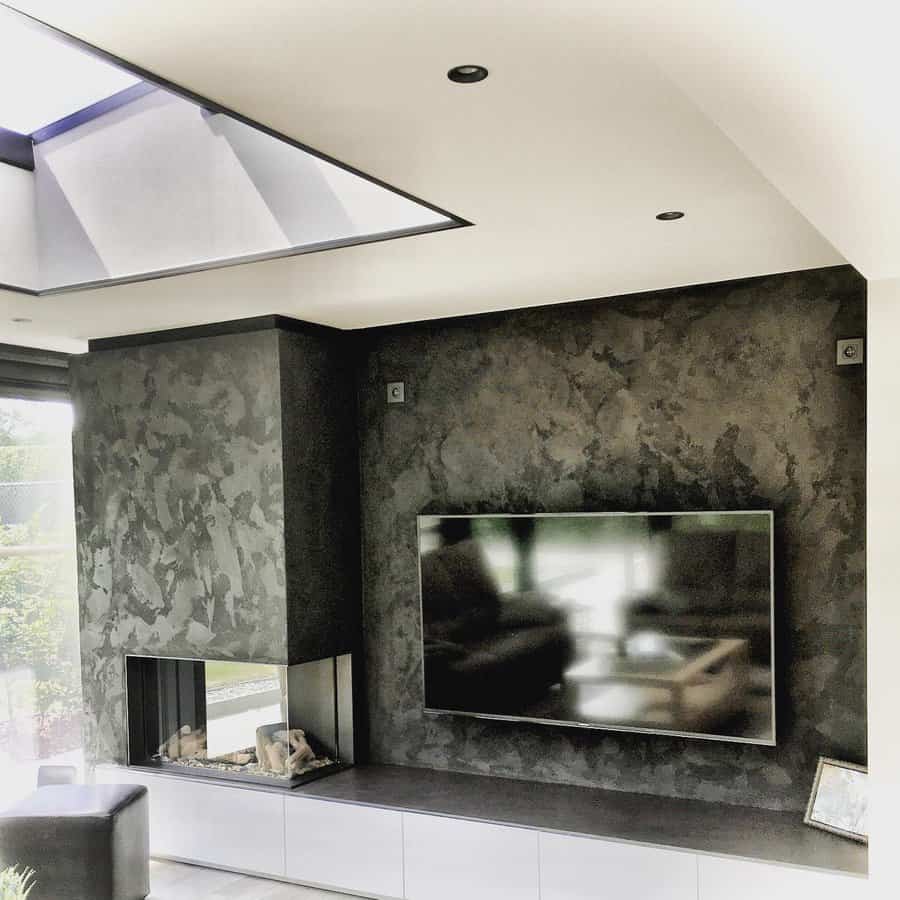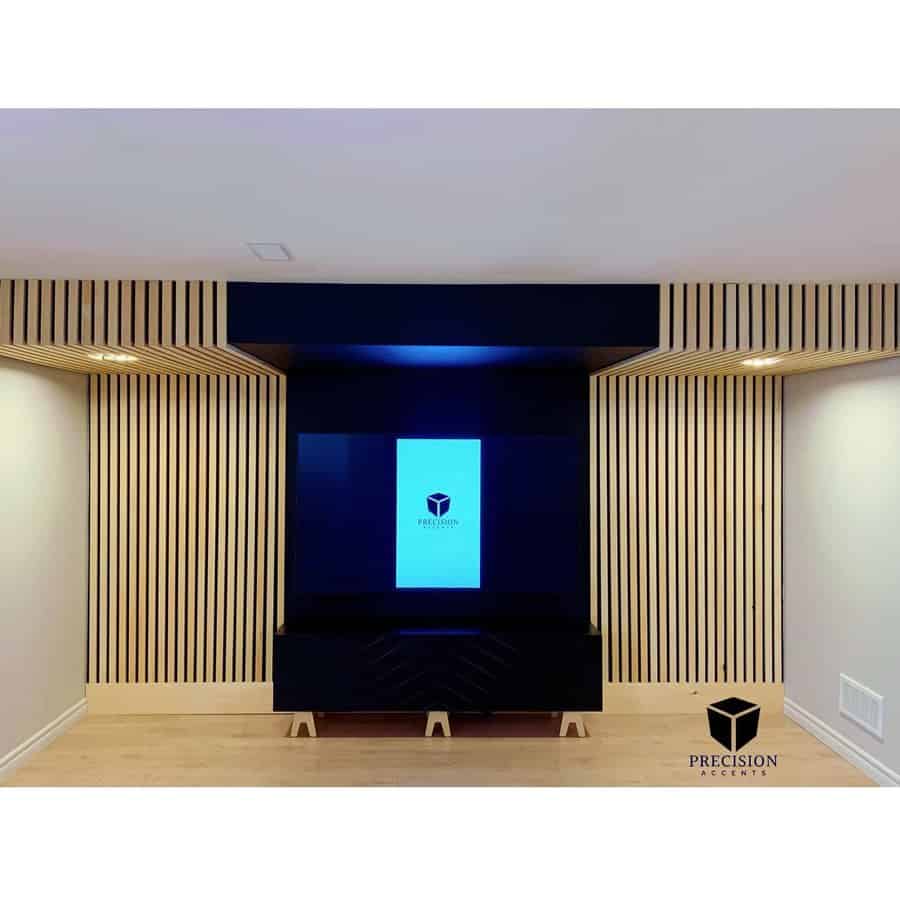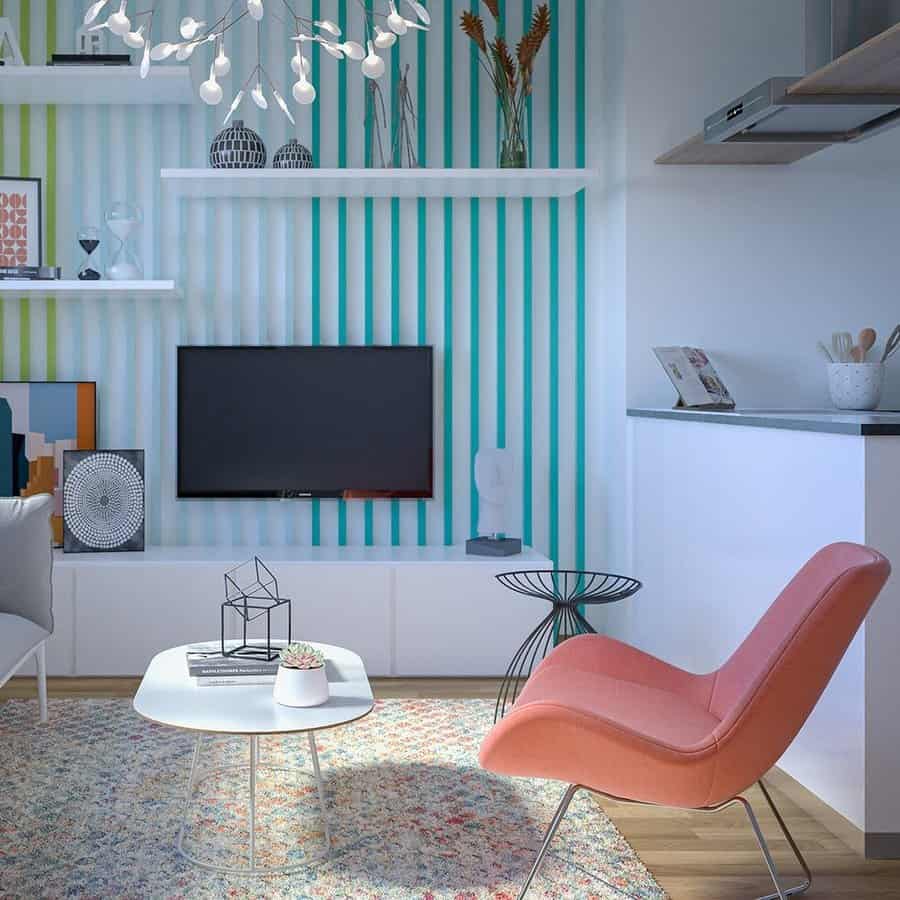 An accent wall is an excellent way to add color and texture to a modern living space without overwhelming the rest of your design. Stick to a neutral color scheme and incorporate organic materials like wood, stone, or concrete.
If you want to give your accent wall a modern aesthetic, look for ways to include contrast in the wall itself. Multi-dimensional panels, integrated lighting, and built-in shelving are all great options.
5. Paneling
As in fashion, home decor trends consistently come and go. One such trend that's made a recent resurgence is decorative wall paneling.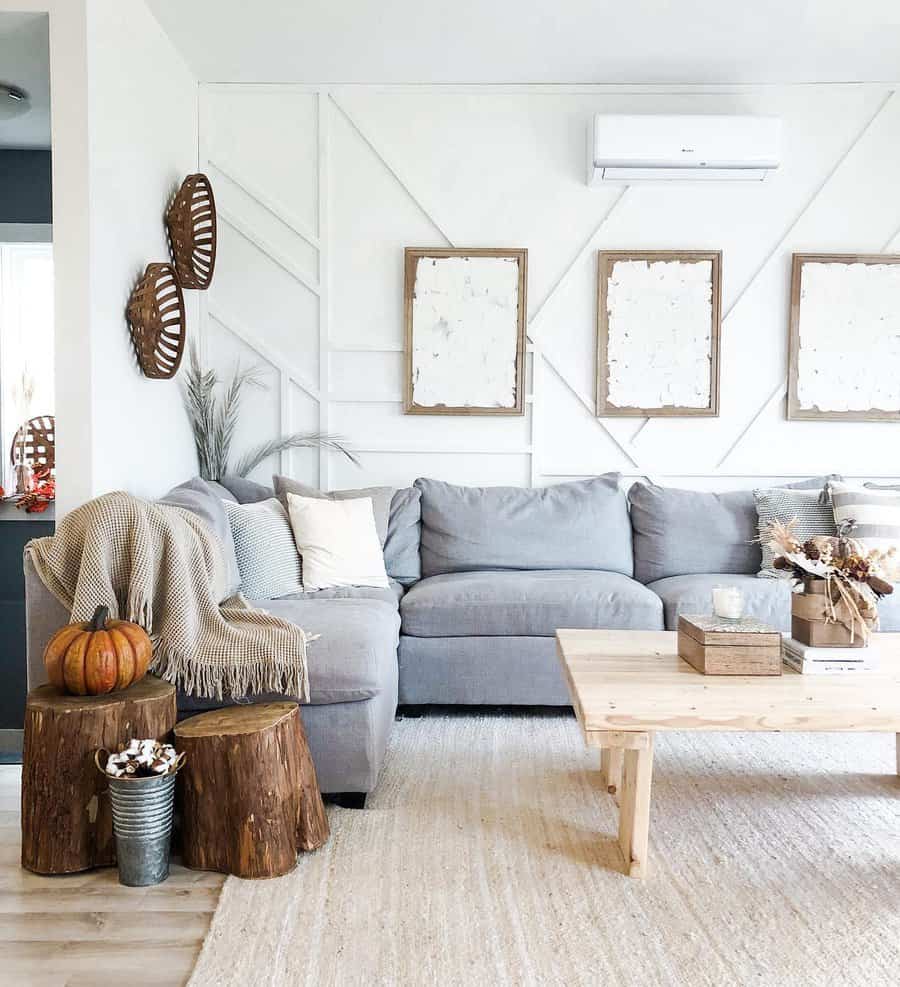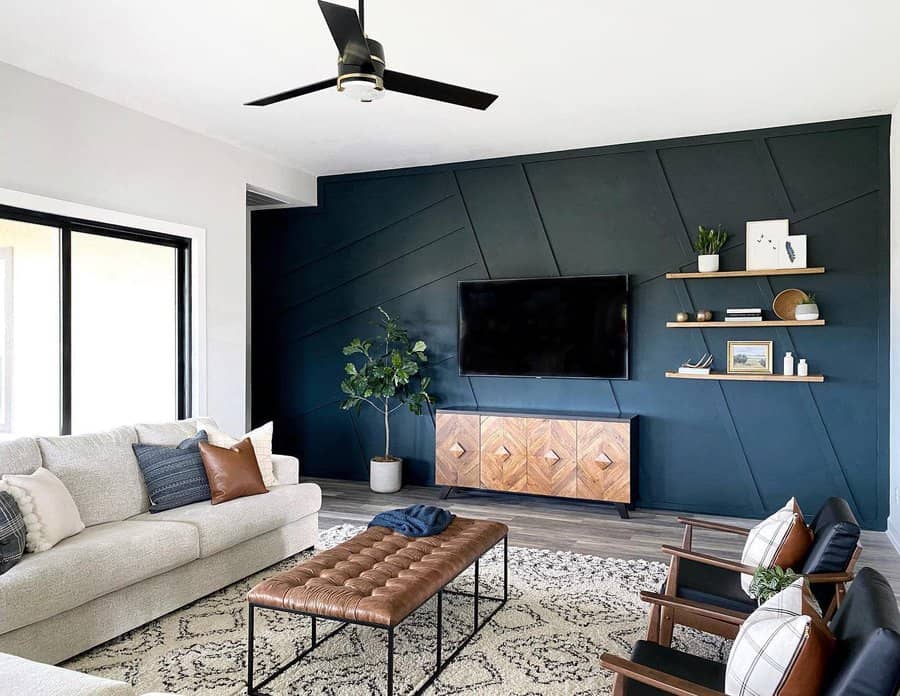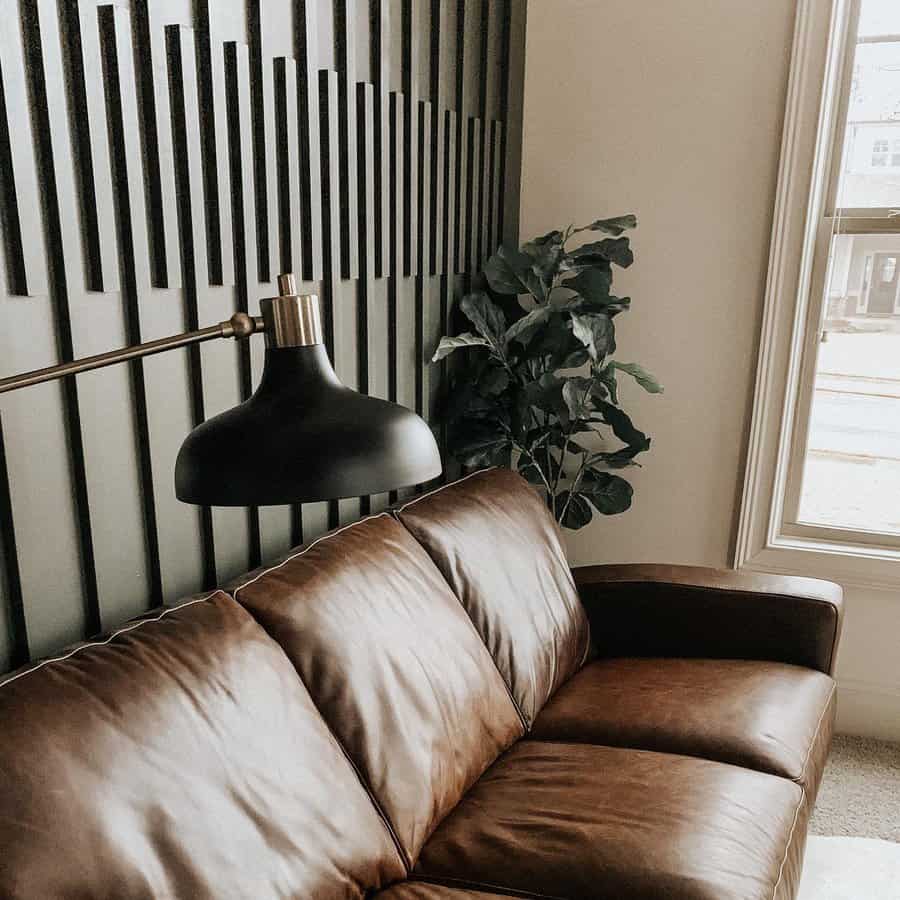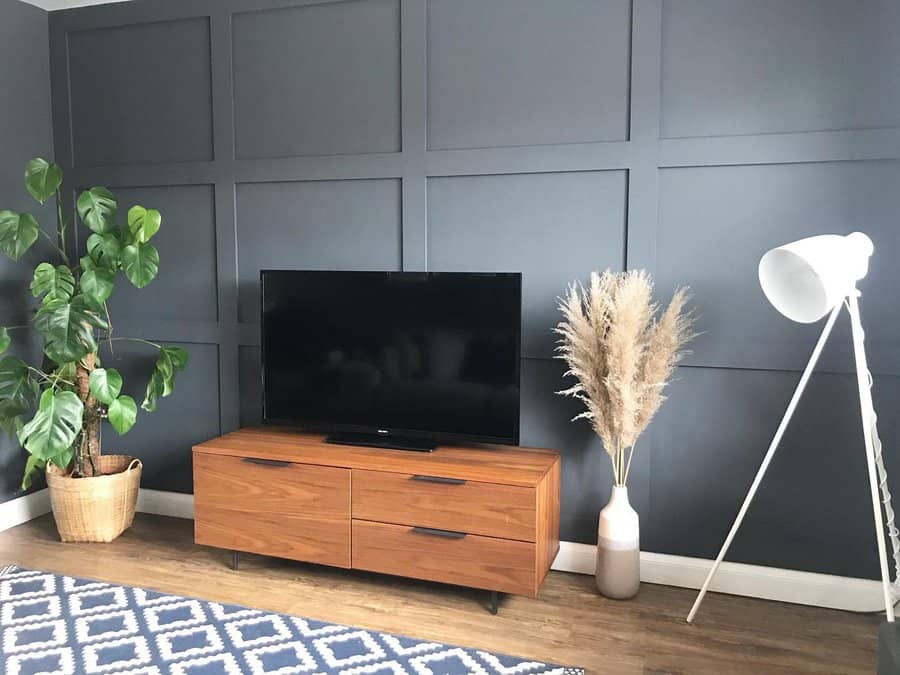 Wainscoting or chair railing can be applied to an entire room without becoming overbearing. But if you want to experiment with a floor-to-ceiling geometric pattern or asymmetrical design, a paneled accent wall will give you the most bang for your buck.
You don't need to choose between paneling or a painted accent wall. Combining these two DIY accent wall ideas is a simple way to give your living or dining room some one-of-a-kind charm.
6. Stencil or Mural
How do you make guests' jaws drop when they step foot into your home? With a dramatic wall mural, of course.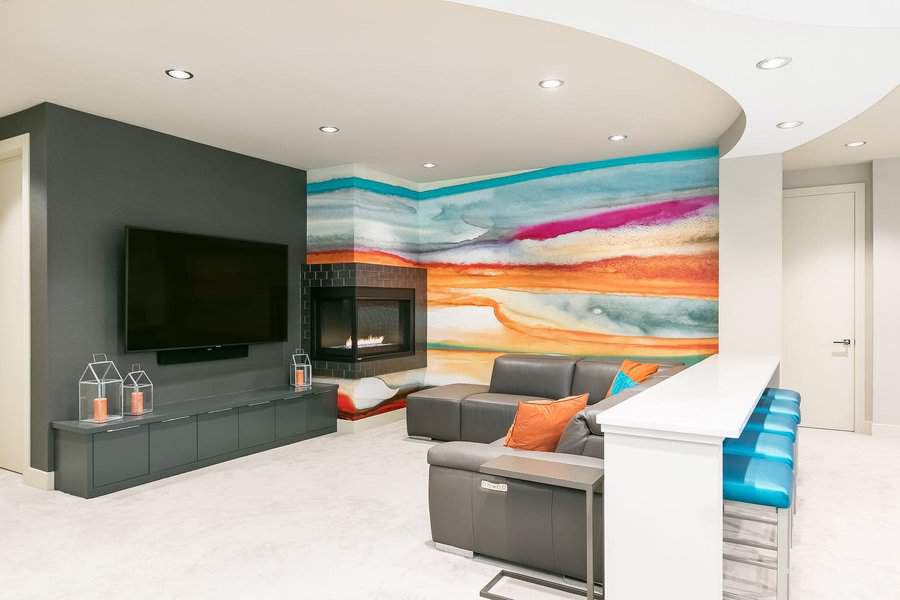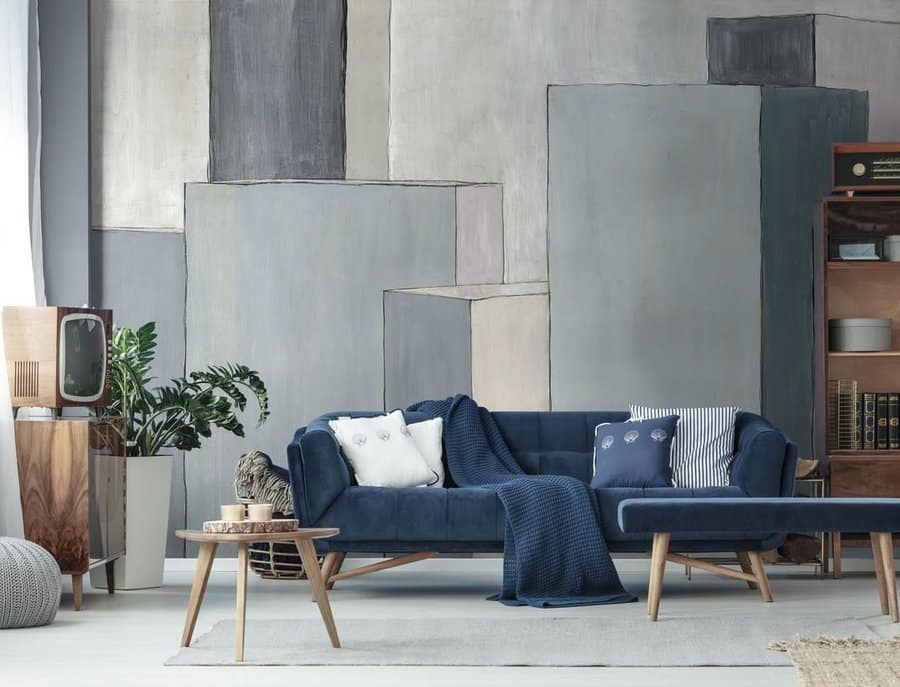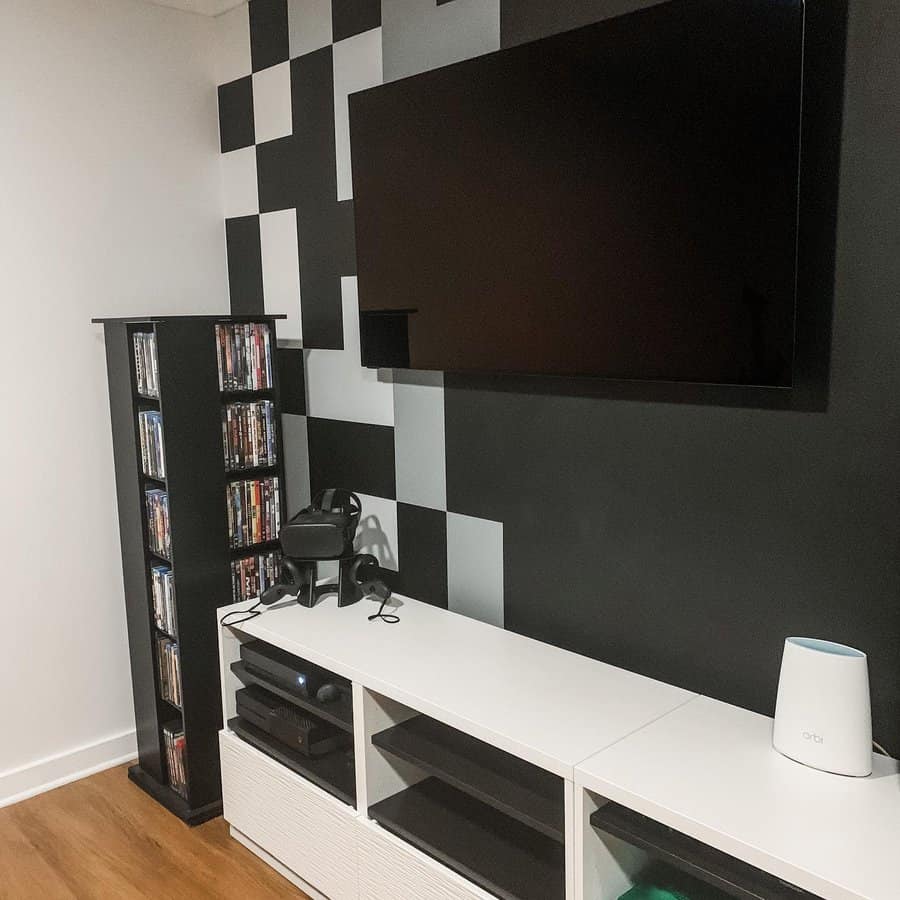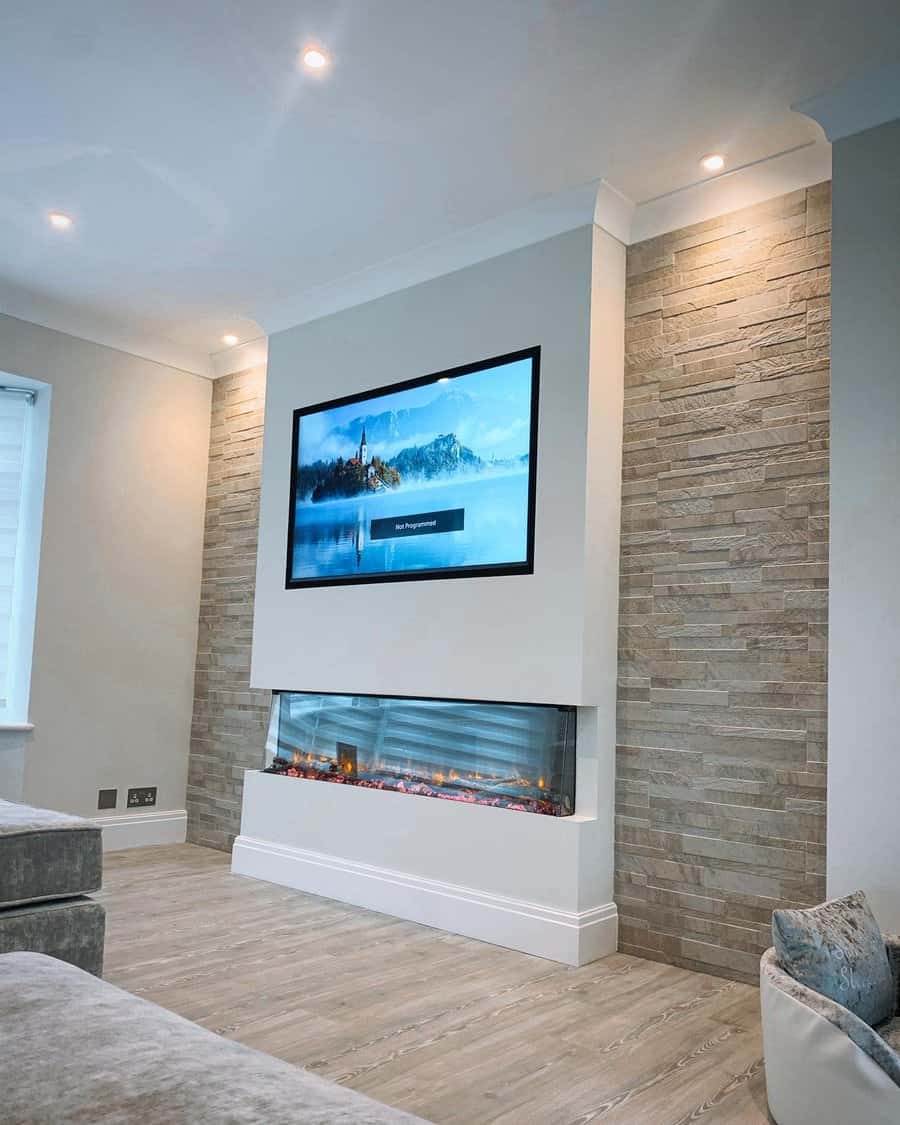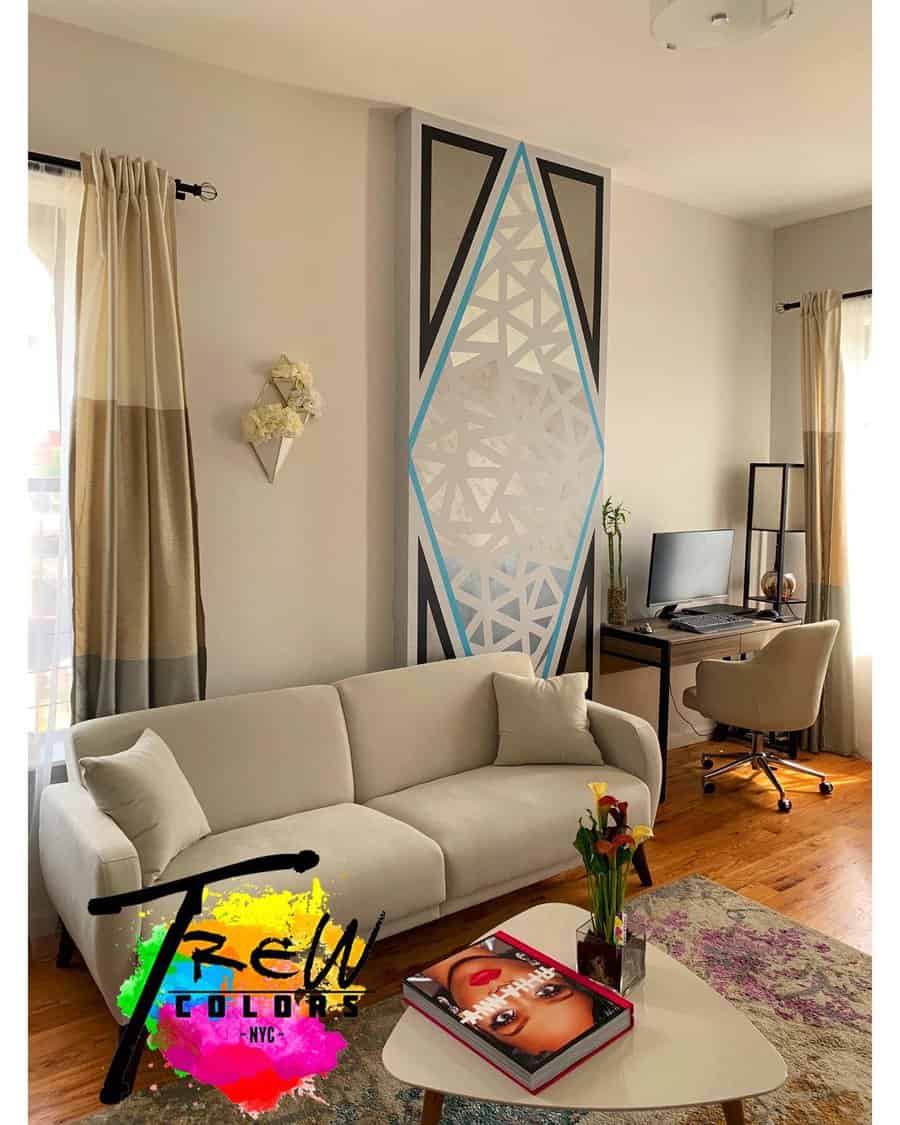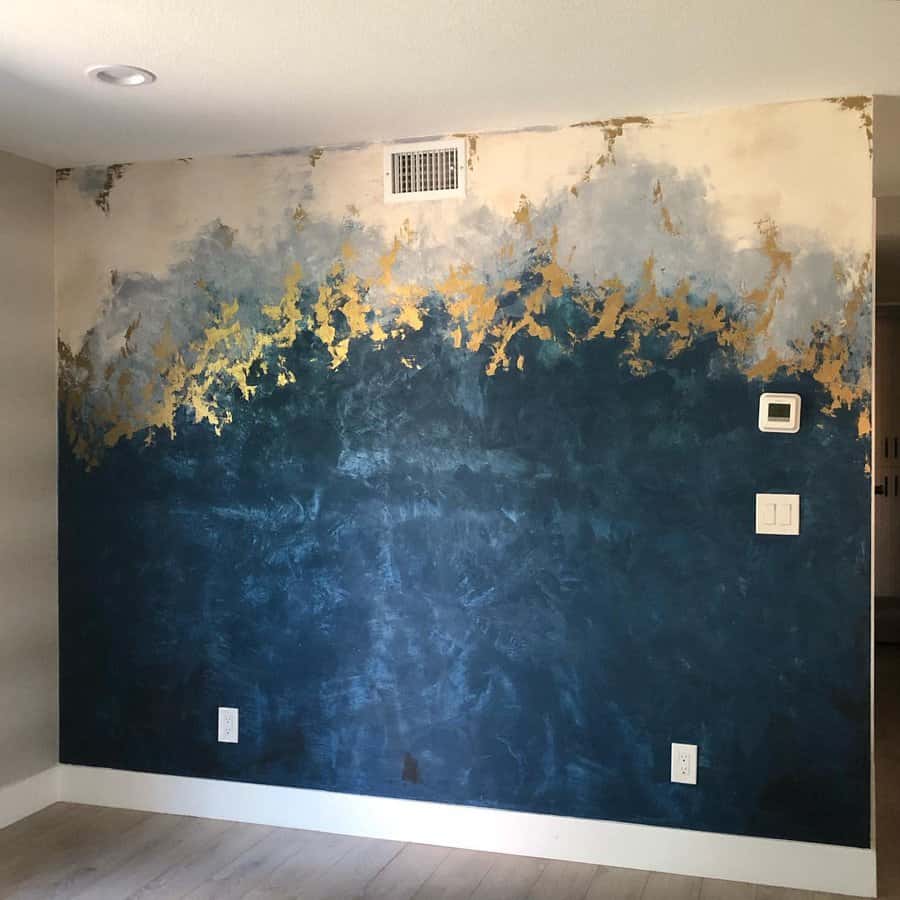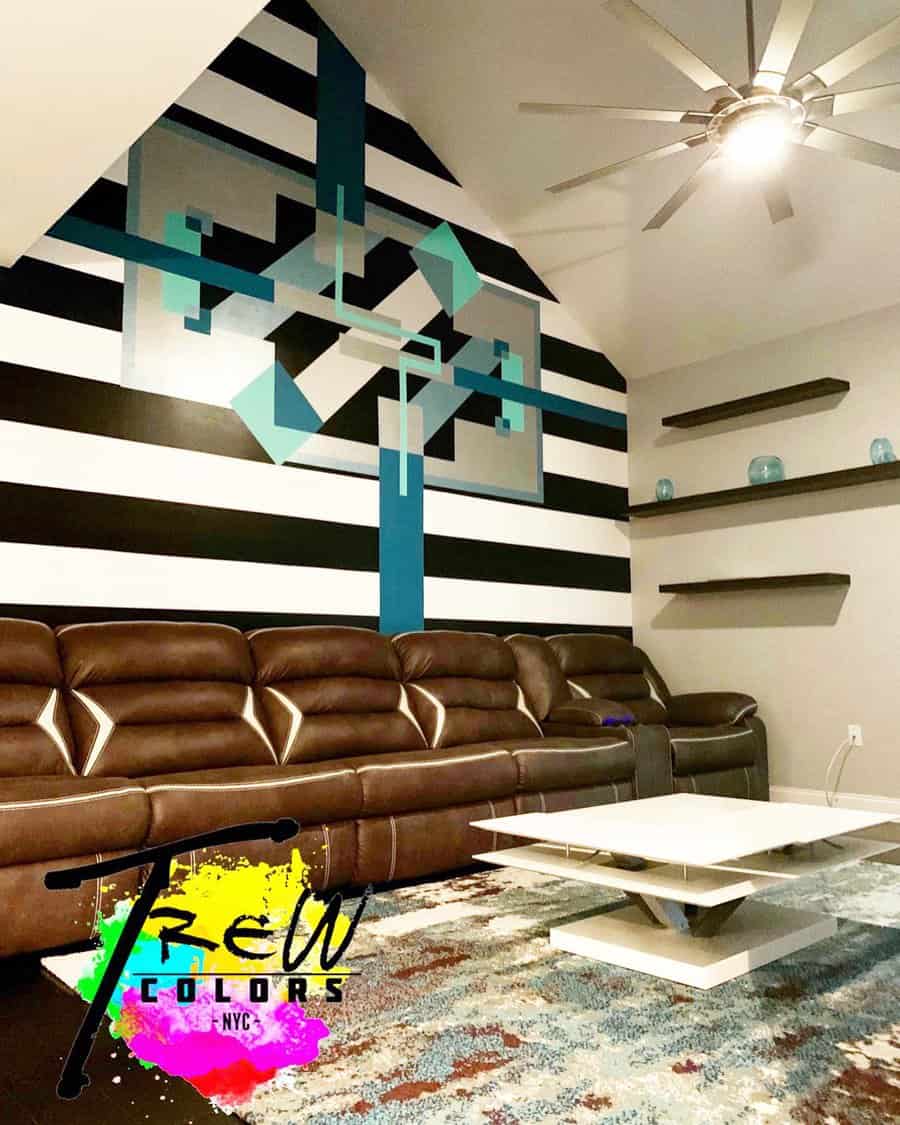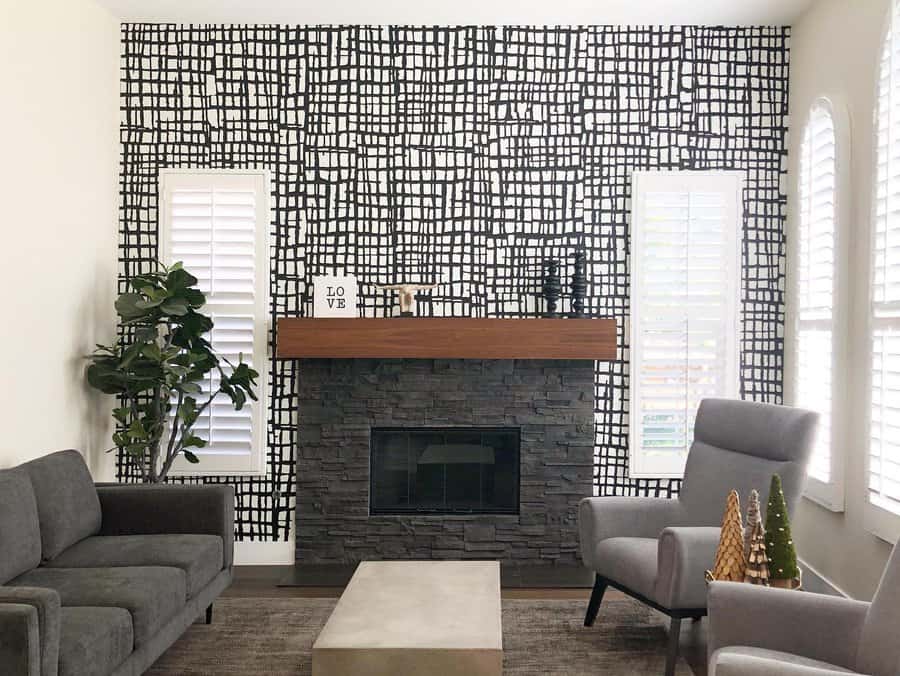 Not every room will be an ideal candidate for a large mural. Select a space in your home with minimal clutter and an open wall, such as a dining room, living room, or guest bedroom.
You don't need an artist's touch to create a head-turning statement wall. Stencils can be used to recreate geometric patterns or simple motifs. You can also use printed wallpaper for a professional-quality mural without any of the work.
7. TV Wall
Today's living rooms often double as family media rooms. So it makes perfect sense to hang your household TV on your living room accent wall.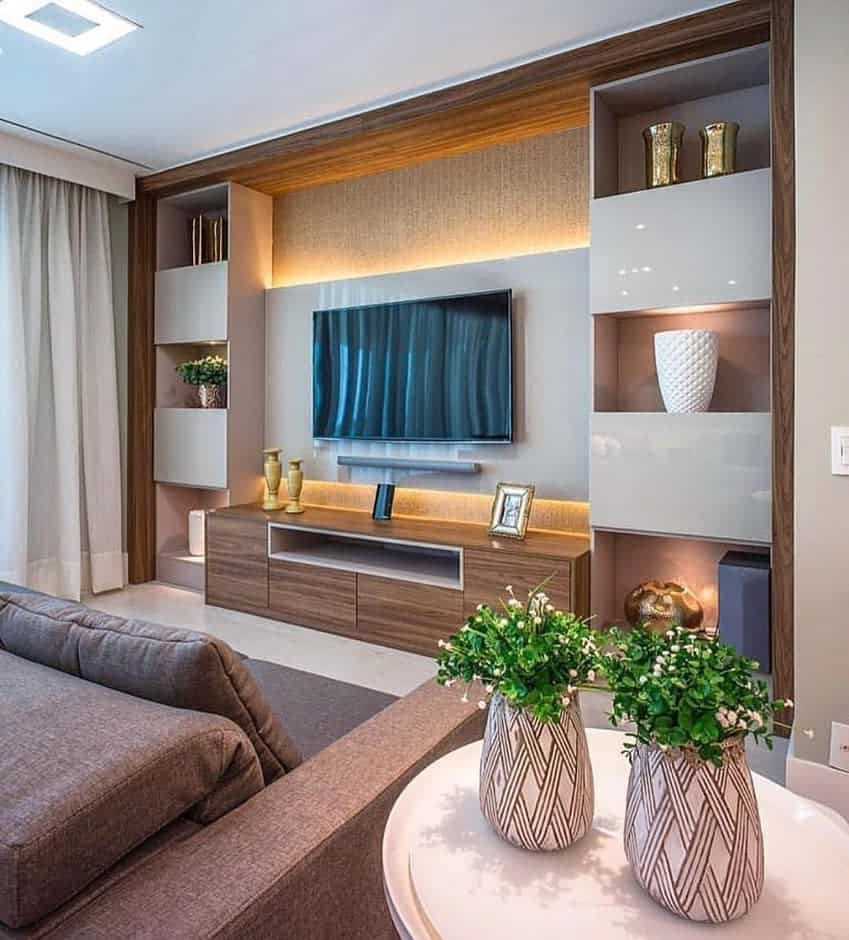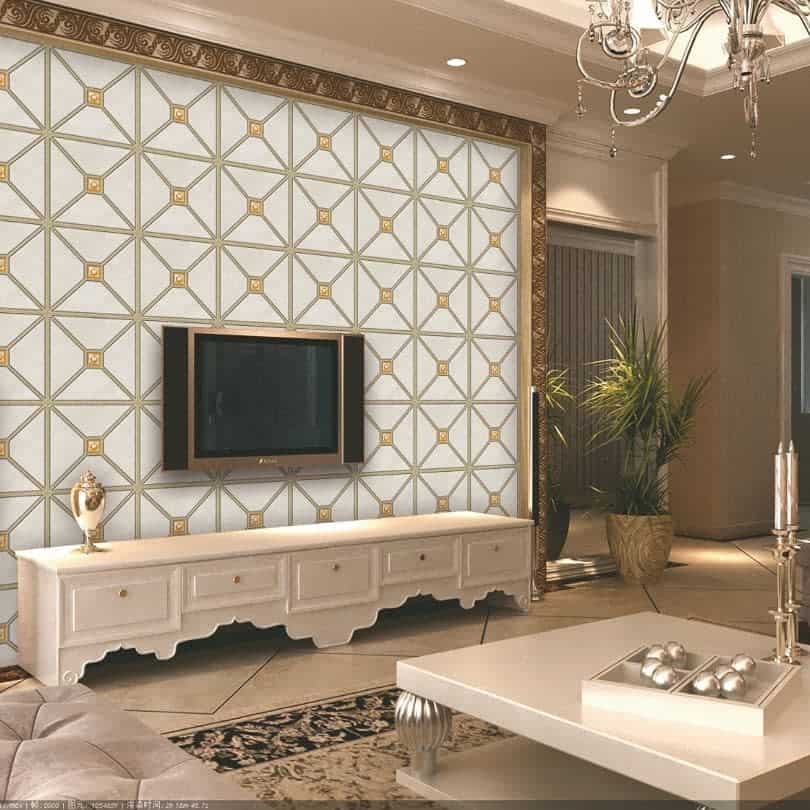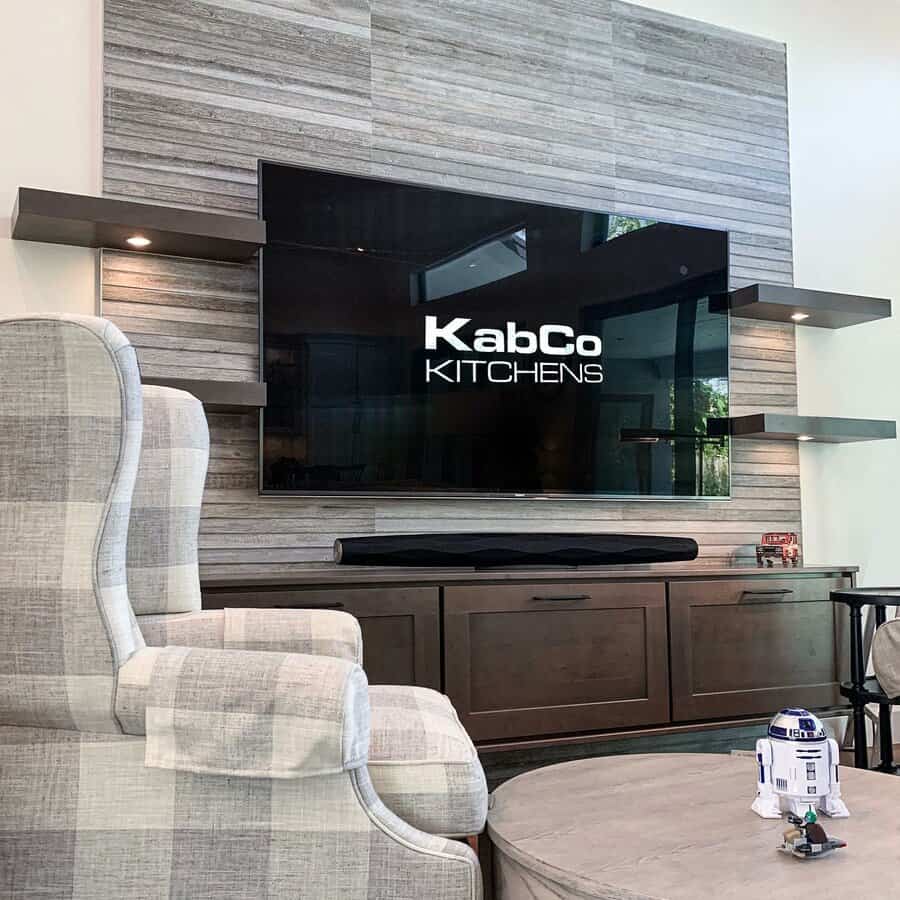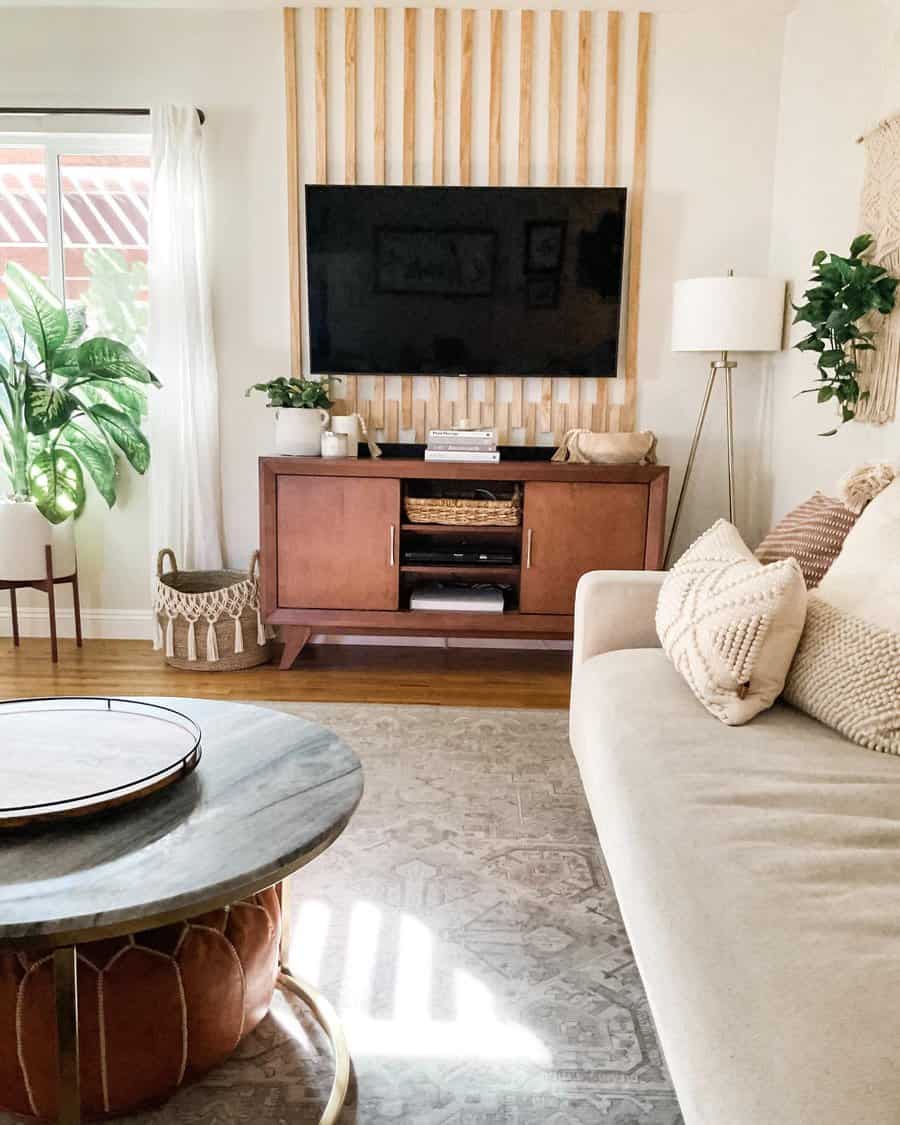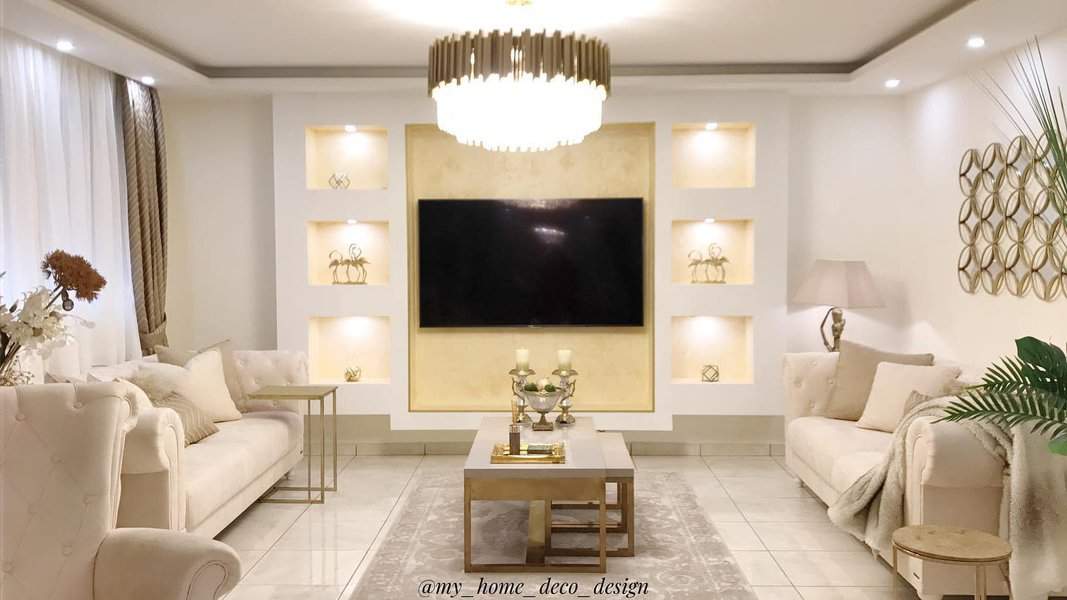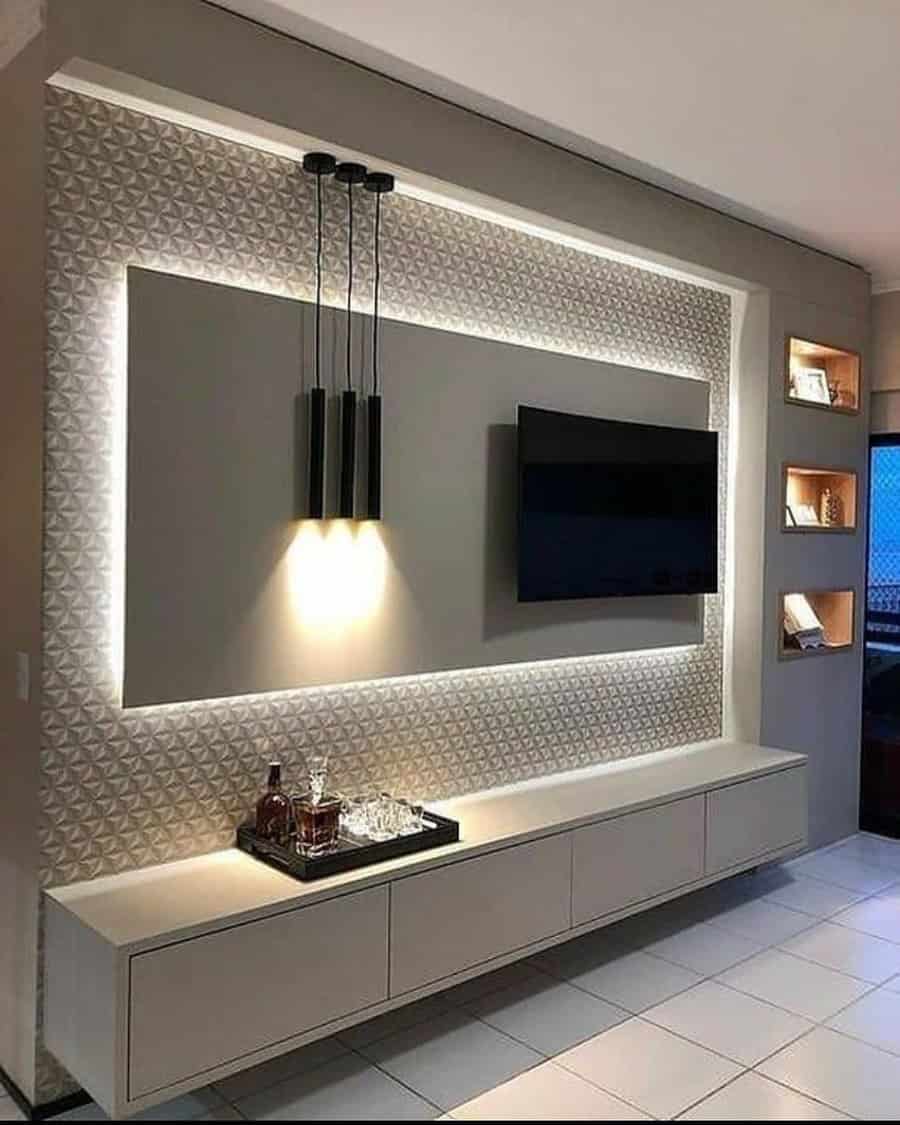 Even if watching TV isn't a part of your daily routine, you don't want to overwhelm the space with an over-the-top accent wall. Be sure to use neutral colors that allow your TV to remain the star of the room (no pun intended!).
The right decor choices will ensure your TV feels like a part of your living room design rather than a necessary eyesore. This is also a great opportunity to install a built-in entertainment center or floating shelves around your TV to hold your must-have consoles and streaming gadgets.
8. Textured Wall
Yes, some textured walls are full-on art installations. But it's probably easier to adapt this interesting accent wall design to your own living spaces than you think.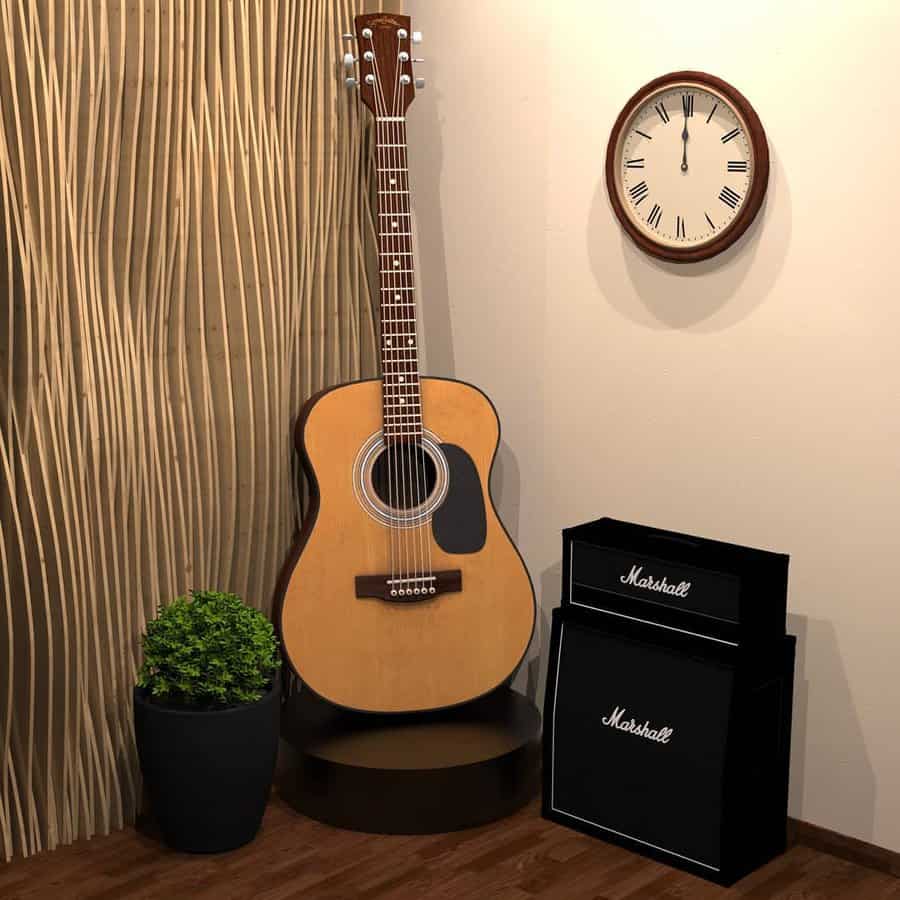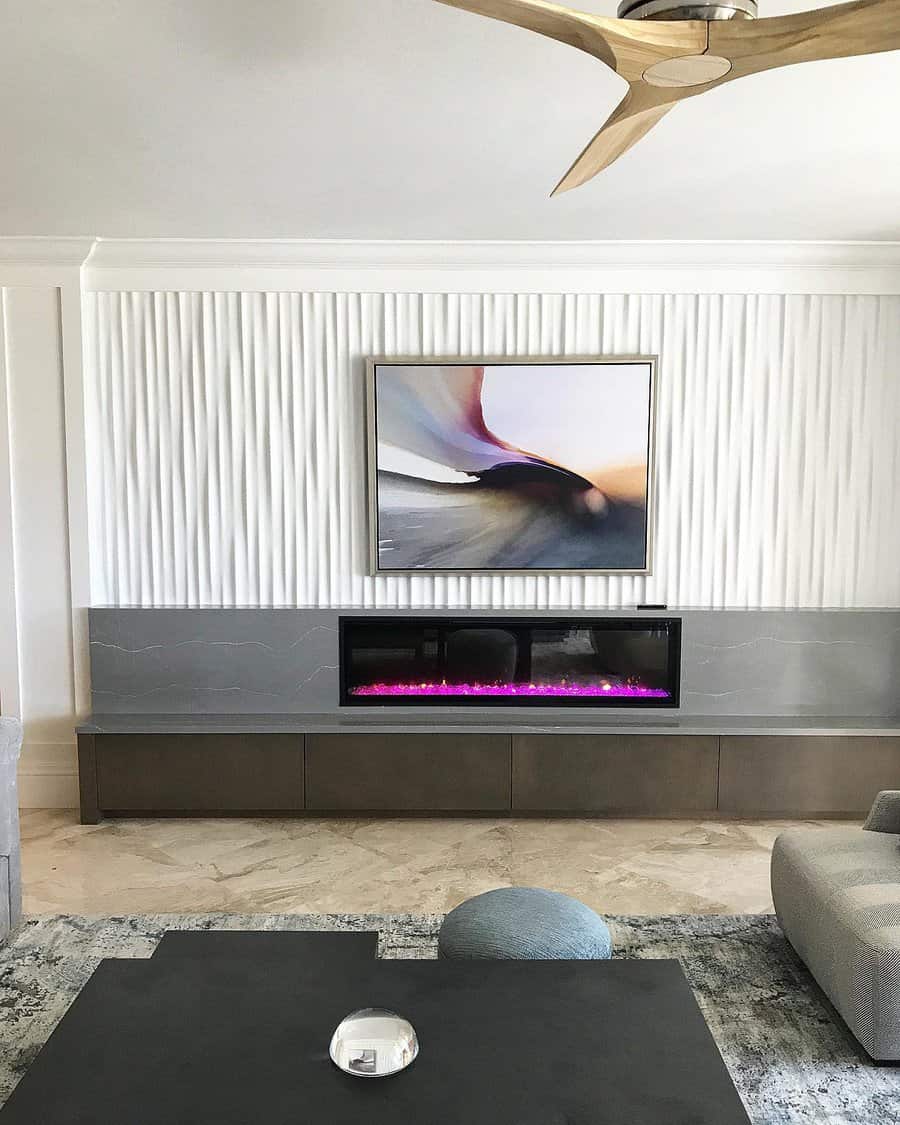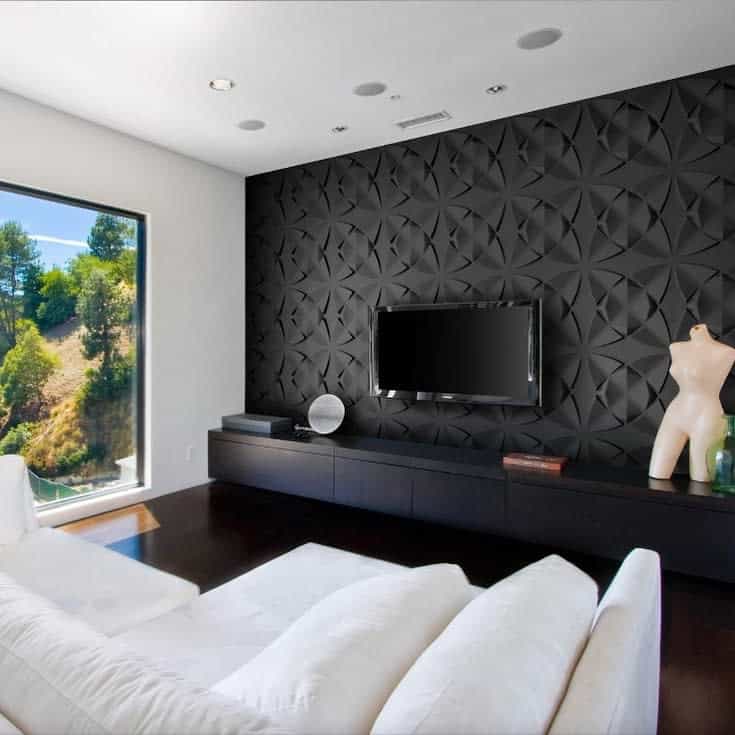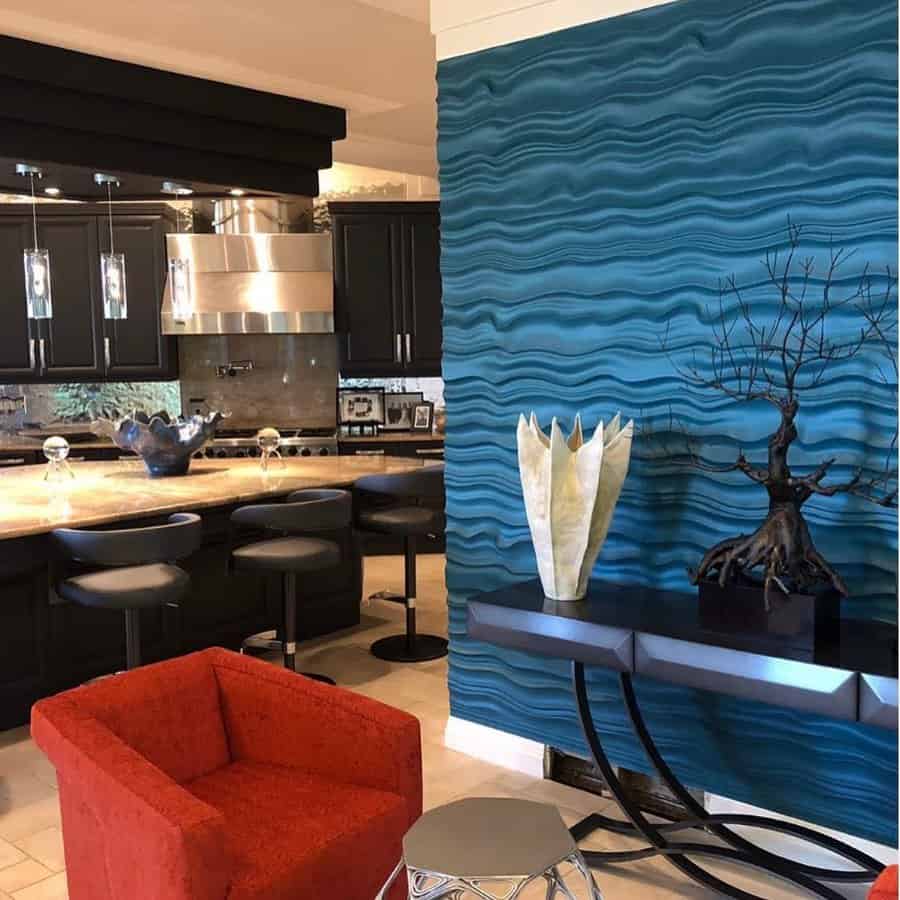 Textured wallpaper makes recreating this look quick and easy. These textured finishes can range from subtle differences in sheen to three-dimensional shapes and patterns.
You can also give your accent wall texture with tiles or paneling. Using the same paint color for the entire surface will make the whole thing nice and subtle. Meanwhile, incorporating color variations will make the texture stand out even further.
9. Unique
After years of minimalism dominating the decor world, maximalist designs are finally getting a chance to shine! If you're a believer that less is NOT more, then an accent wall is the ideal way to let your eccentric personality show in your home's interior.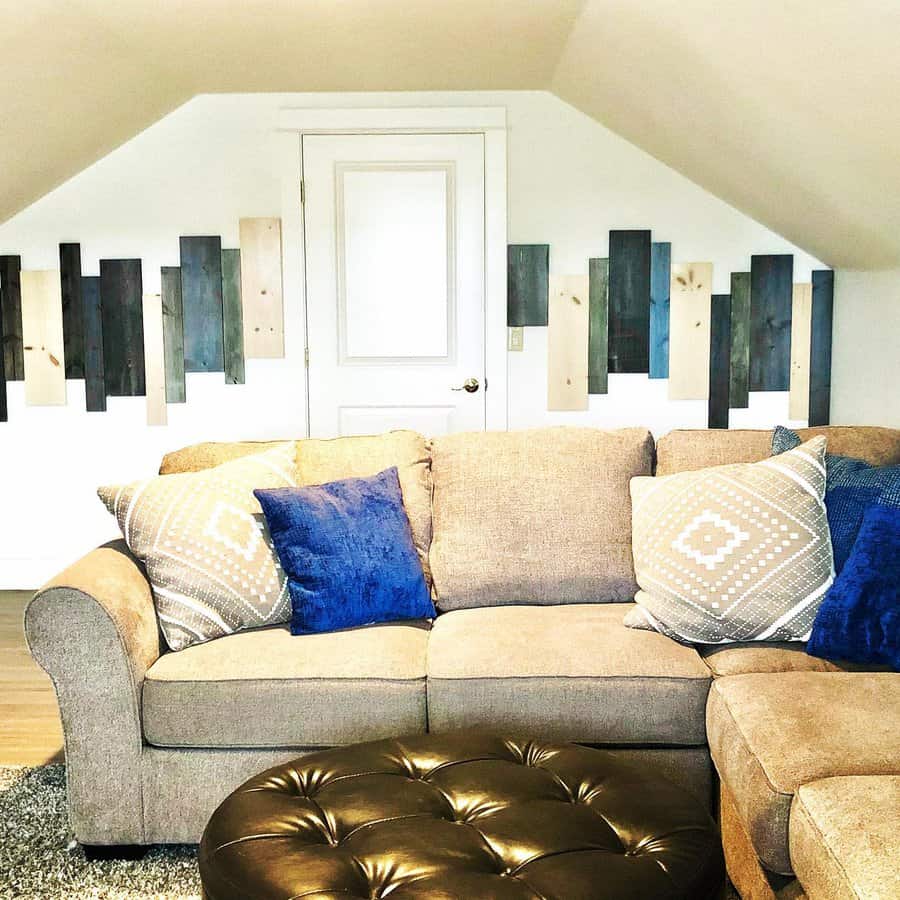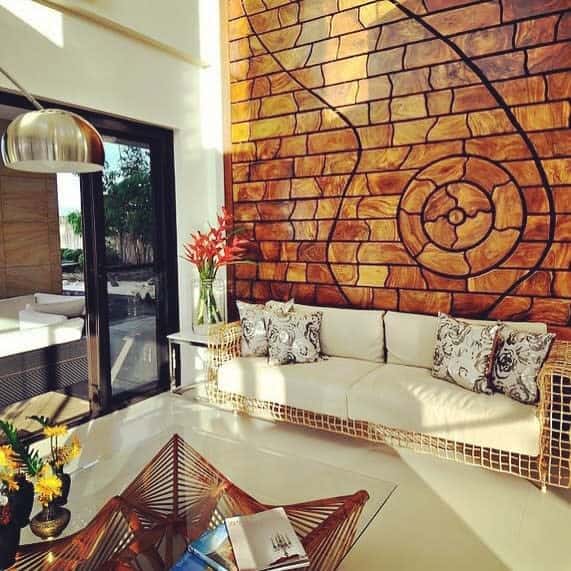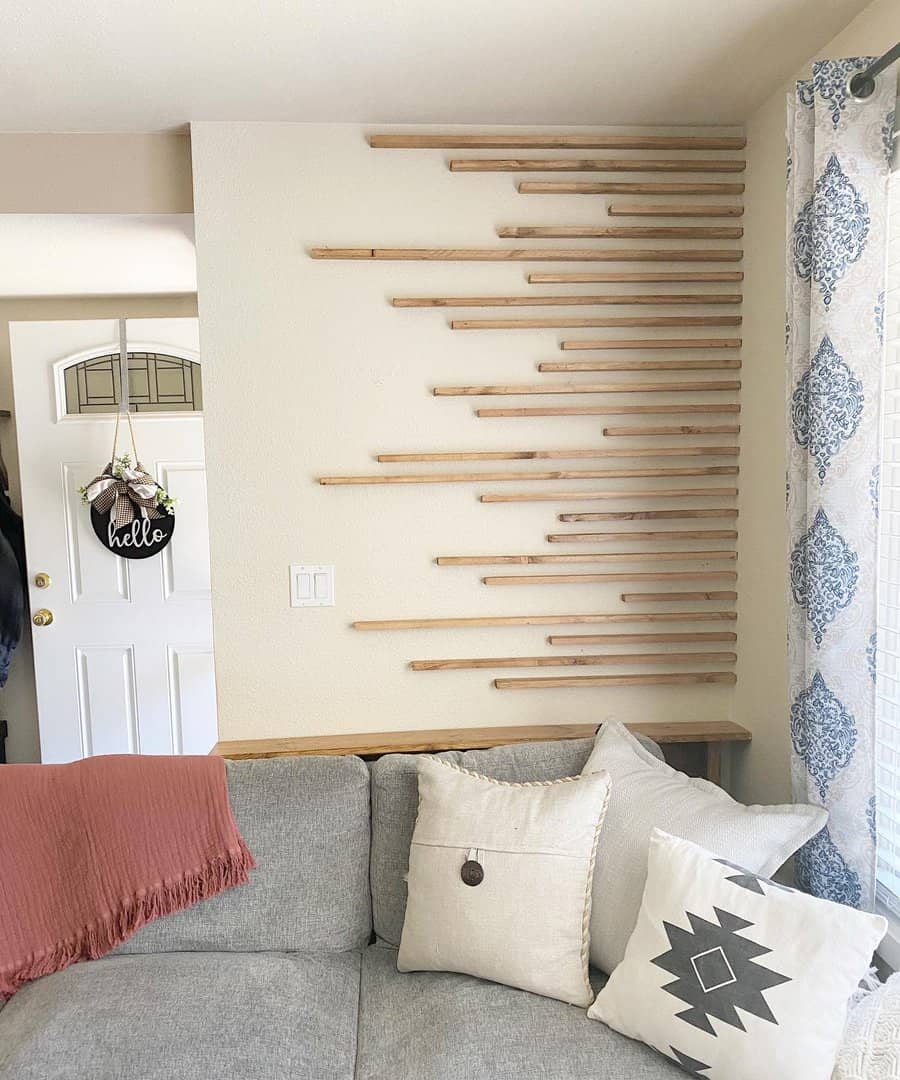 Tile is not just for the kitchen and bathroom. Installing a floor-to-ceiling mosaic in your dining room, living room, or another living space is sure to wow future guests. Experiment with unique materials like wood, natural stone, and even glass for your accent wall idea.
Sometimes, an accent wall is just a backdrop to bigger and better things. Feel free to use the space to display your most prized artwork or statement mirror.
10. Wallpaper
Wallpaper is yet another cyclical design trend re-entering the popular consciousness. (Don't worry… the styles available today are much different than the floral wallpaper covering your grandparents' home.)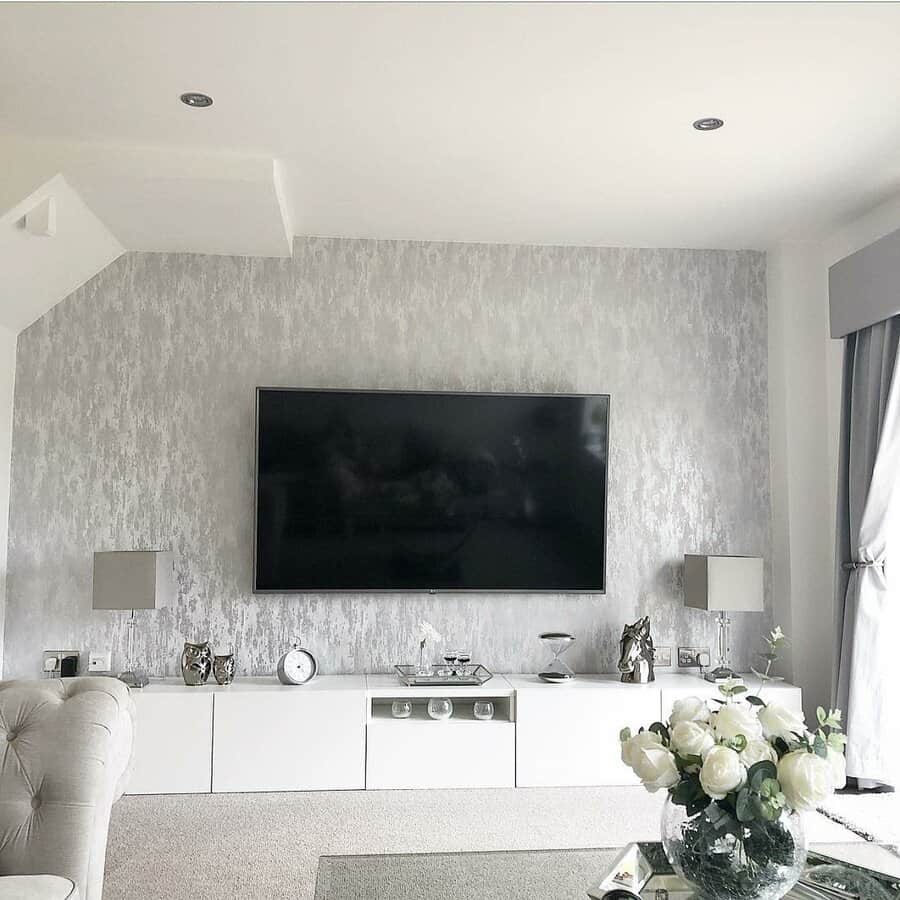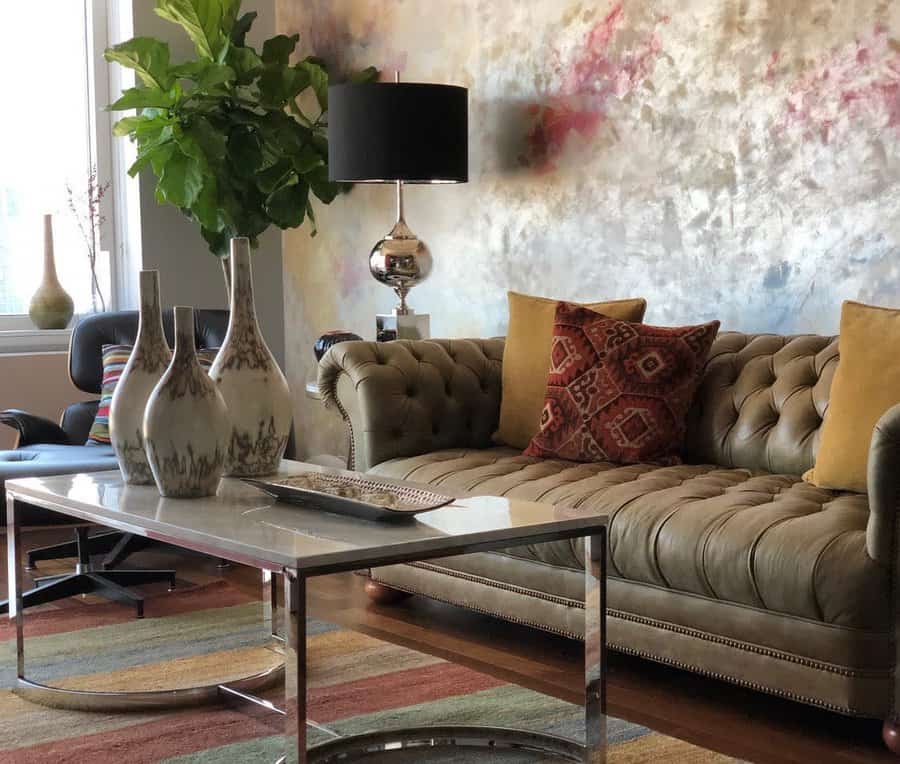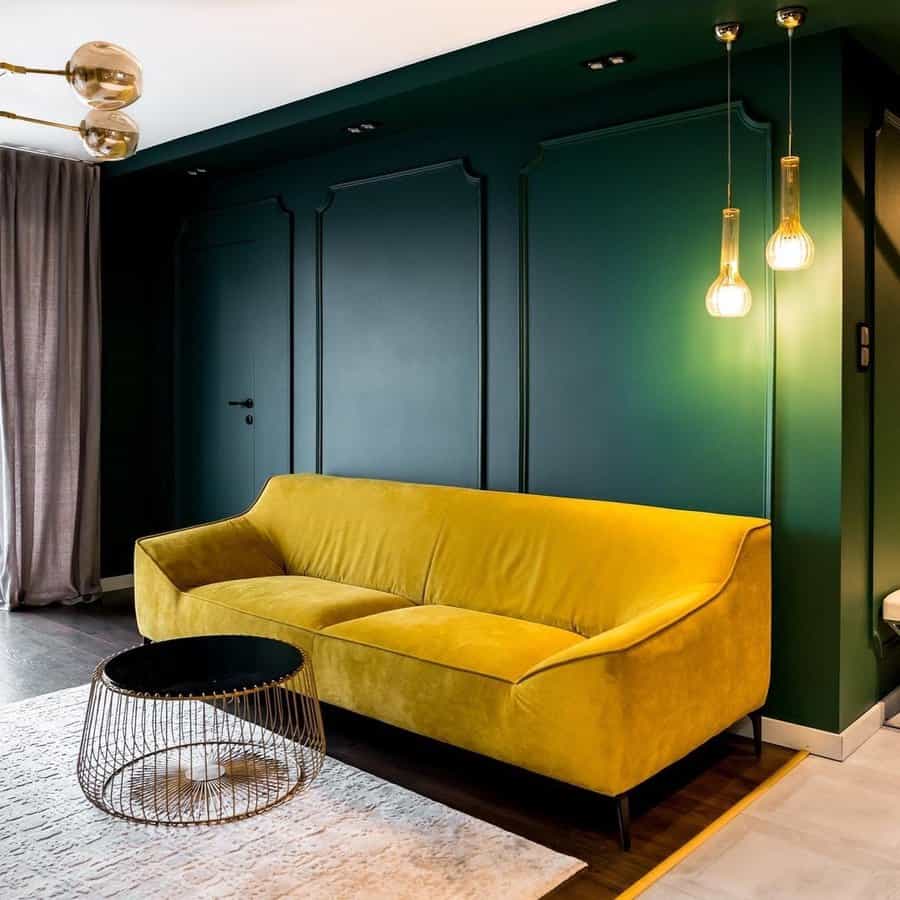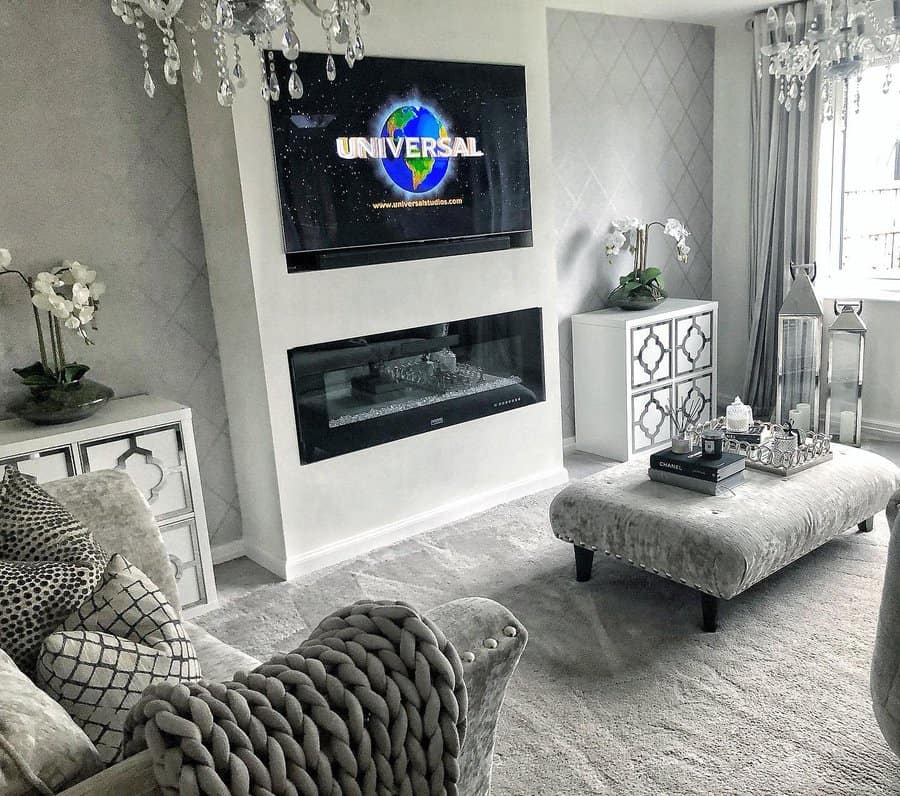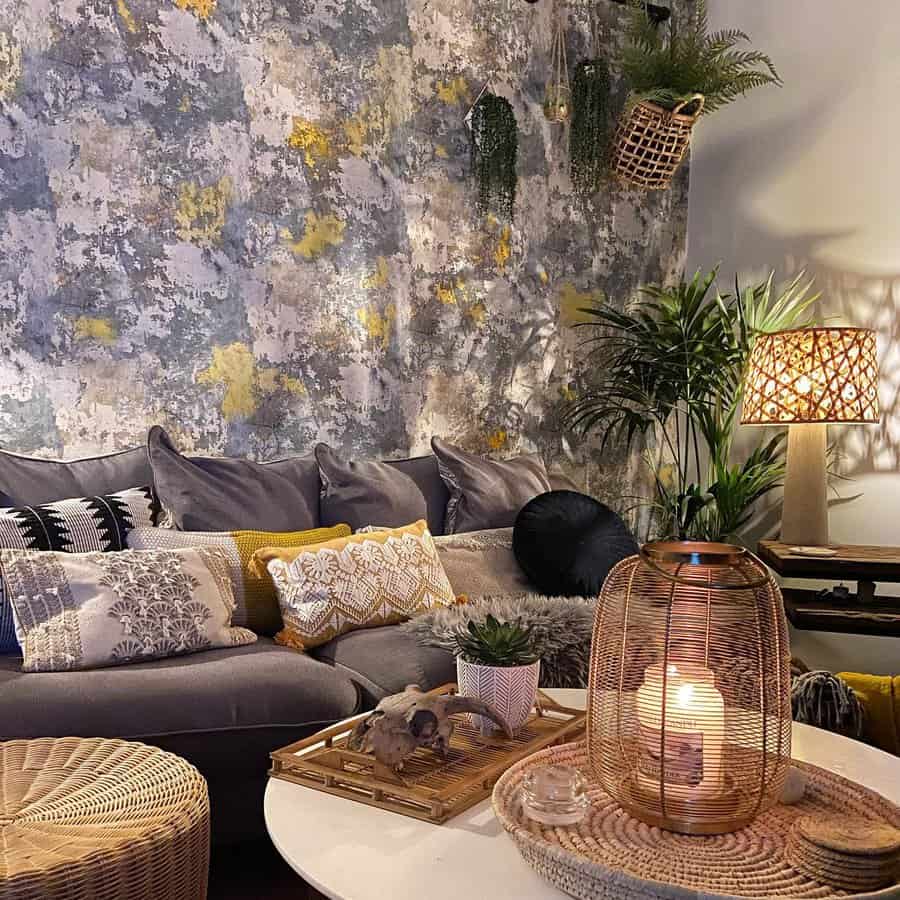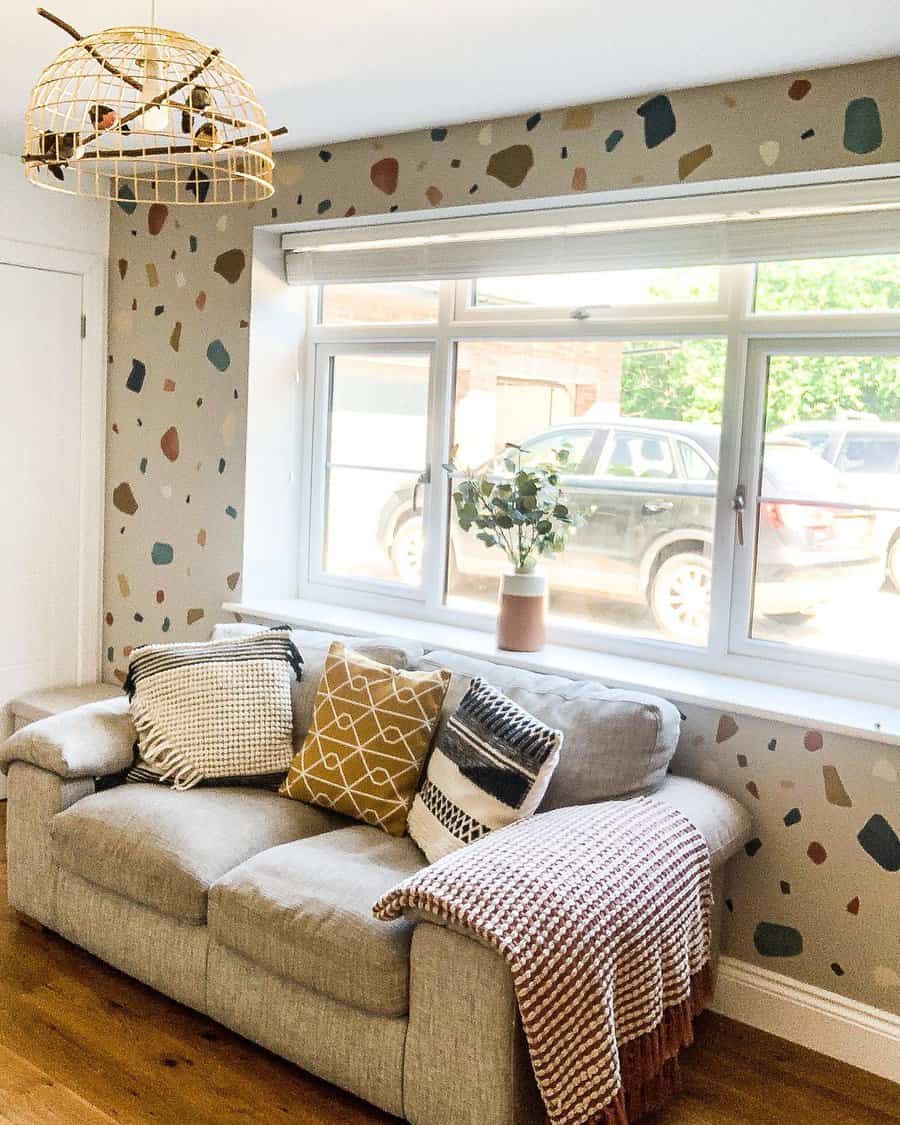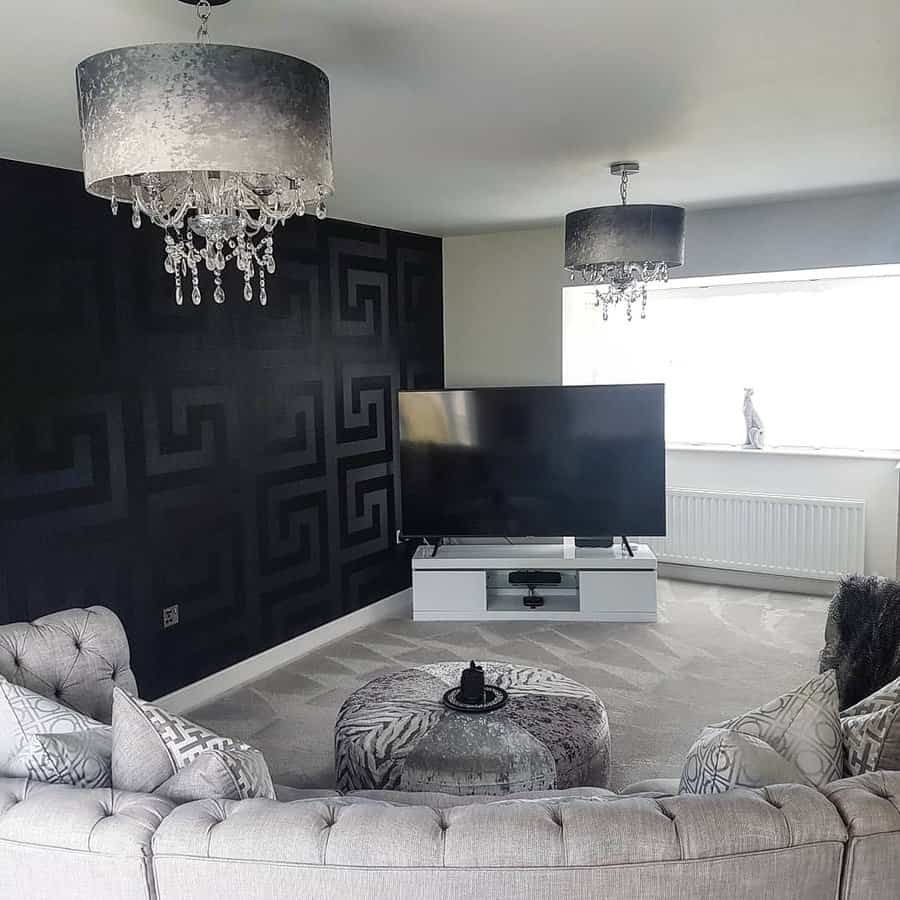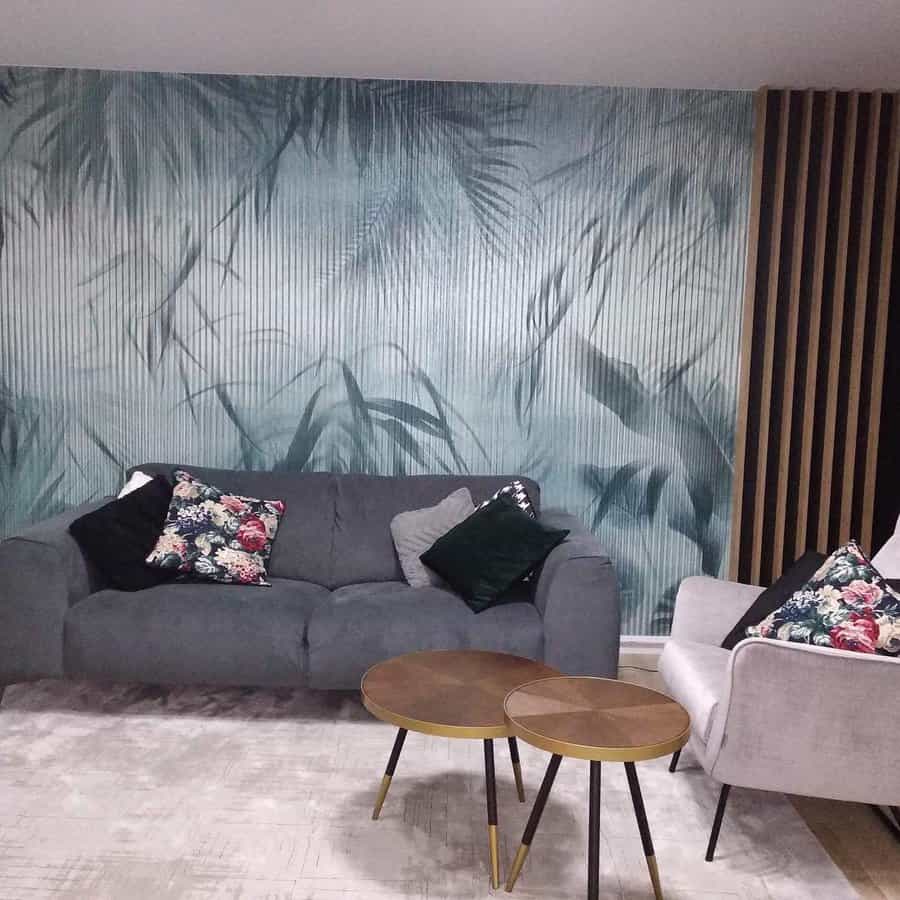 Wallpaper can be used to give your accent wall a finish not possible with regular paint. It can also make recreating intricate imagery without the help of a professional muralist.
You're no longer limited to premade motifs and patterns for your wallpaper accent wall. Custom-printed designs are readily available as both permanent and temporary wallpaper.
11. Wood
Very few materials can be incorporated into literally any style of decor. But if there's even one exception to this rule, natural wood is the best candidate.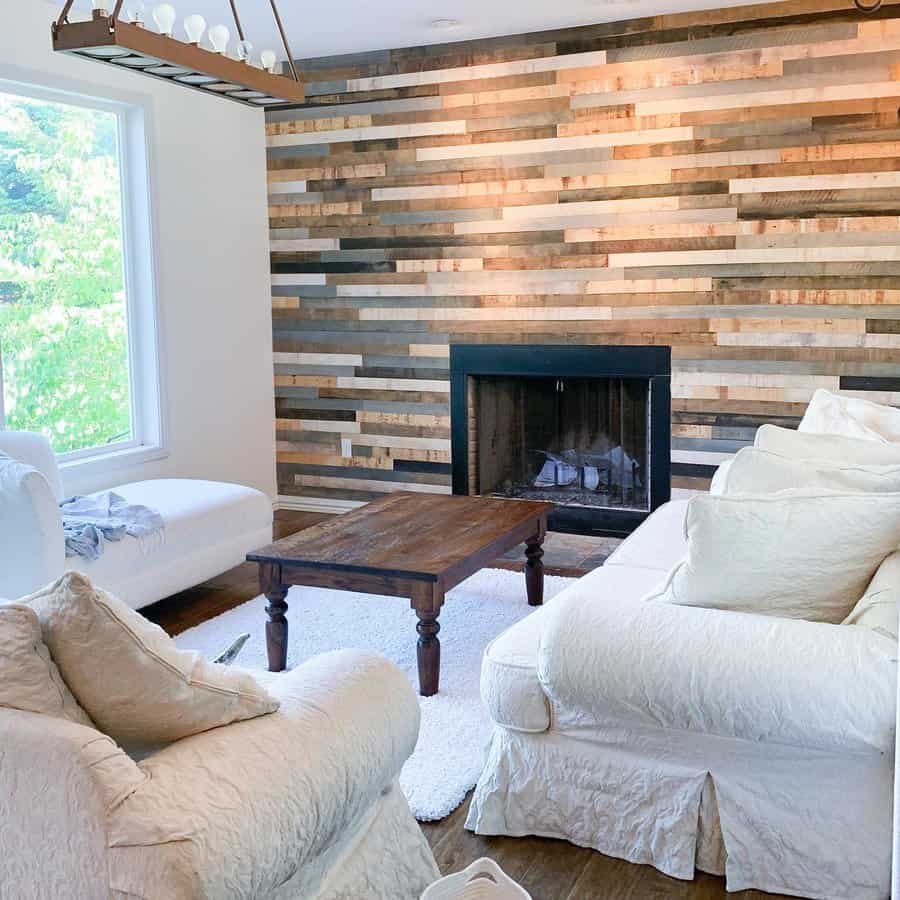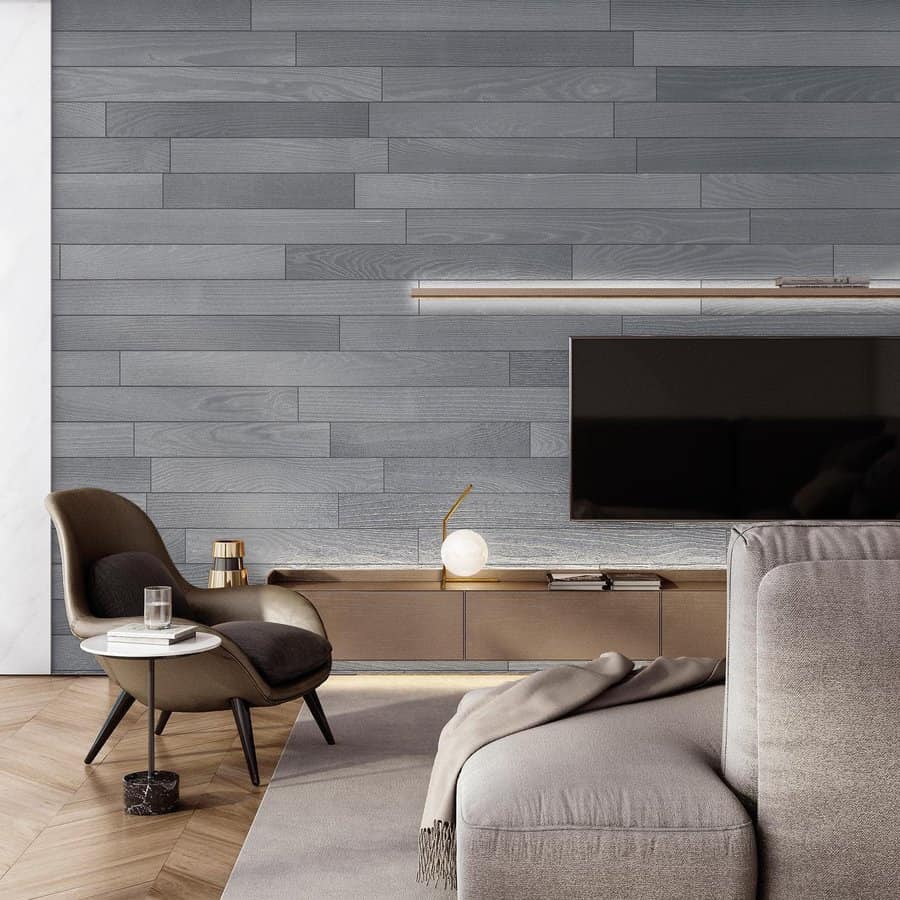 Reclaimed wood is perfect for creating a rustic atmosphere. Natural wood grain of any kind will make a room feel warmer and more inviting.
A wood accent wall provides the dimension and variety many homeowners crave without the necessity for loud patterns or bold color schemes. With that said, you can always paint your wooden wall overlay to match your living room's existing color palette.
Living Room Accent Wall FAQs
Are accent walls going out of style?
It's true that accent walls have been a big trend for several years now. But while some types of accent walls have started to fall out of favor, the trend is still going strong.
You can prevent your new accent wall from looking instantly outdated by steering clear of flat, solid colors that contrast harshly with the rest of the space. The most contemporary accent wall ideas feature multi-colored patterns, unique textures, and incorporate furniture and decor into the design as a whole.
How do you decide which wall to accent?
The main purpose of an accent wall is to draw the eye. So it's important to select a wall that's already the focal point of the room.
Pay attention to where your eyes naturally go when entering the room. Often, the best accent wall location will be where your line of sight falls.
If the room features an architectural element like a fireplace or built-in furniture, picking a different wall to paint an accent color or cover in wallpaper will cause the two to fight for attention. Instead, the wall containing these standout elements should be the accent wall.