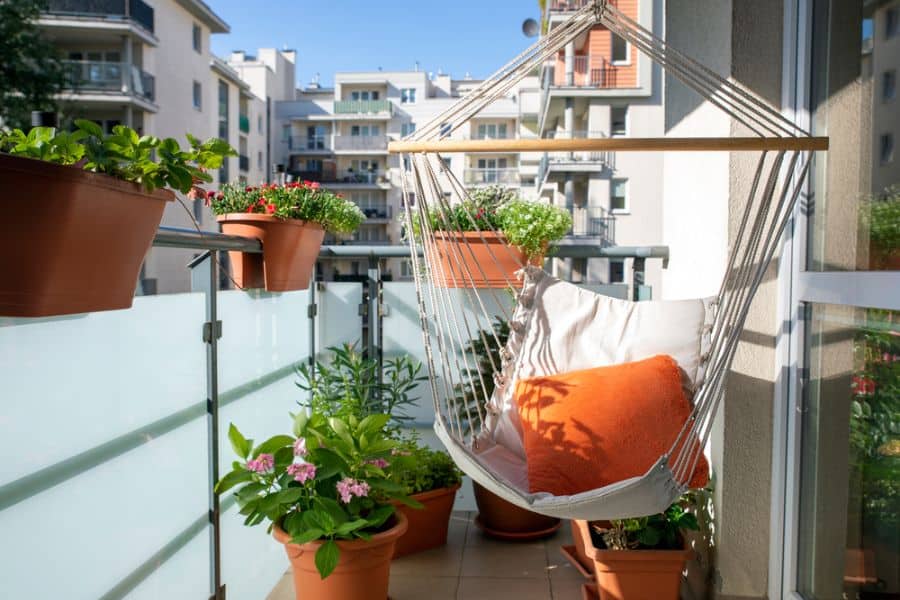 The Top 55 Apartment Balcony Ideas
by — Andra DelMonico

Published on October 1, 2021

Updated on October 15, 2023
"On weekends, I sit in a lounge chair on my balcony. I love to be outside when the weather's right. I can stay there pretty much all day." – Sue Monk Kidd
Living in an apartment makes it difficult to make your space your own. You have a smaller space to work with, and many design elements are already chosen for you. Depending on your lease, you may be unable to make any major changes. This makes it tough to turn your small balcony into a pleasant place where you want to spend time.
Decorate your balcony with the right furniture, decor, plants, and lighting, and you will have your own outdoor living paradise. Consider adding privacy elements to block your neighbor's ability to see and hear what goes on on your balcony. These apartment balcony ideas will help you turn your balcony into a space that reflects who you are.
1. Zen Balcony Oasis
Transform your apartment balcony into a serene oasis for relaxation and self-care. Start by designating a space for yoga or meditation, using a yoga mat. Create a peaceful focal point with an altar or a small table, adorned with candles, incense, or plants. This tranquil retreat offers a perfect space for unwinding, reading, and rejuvenation, enhancing your apartment living experience.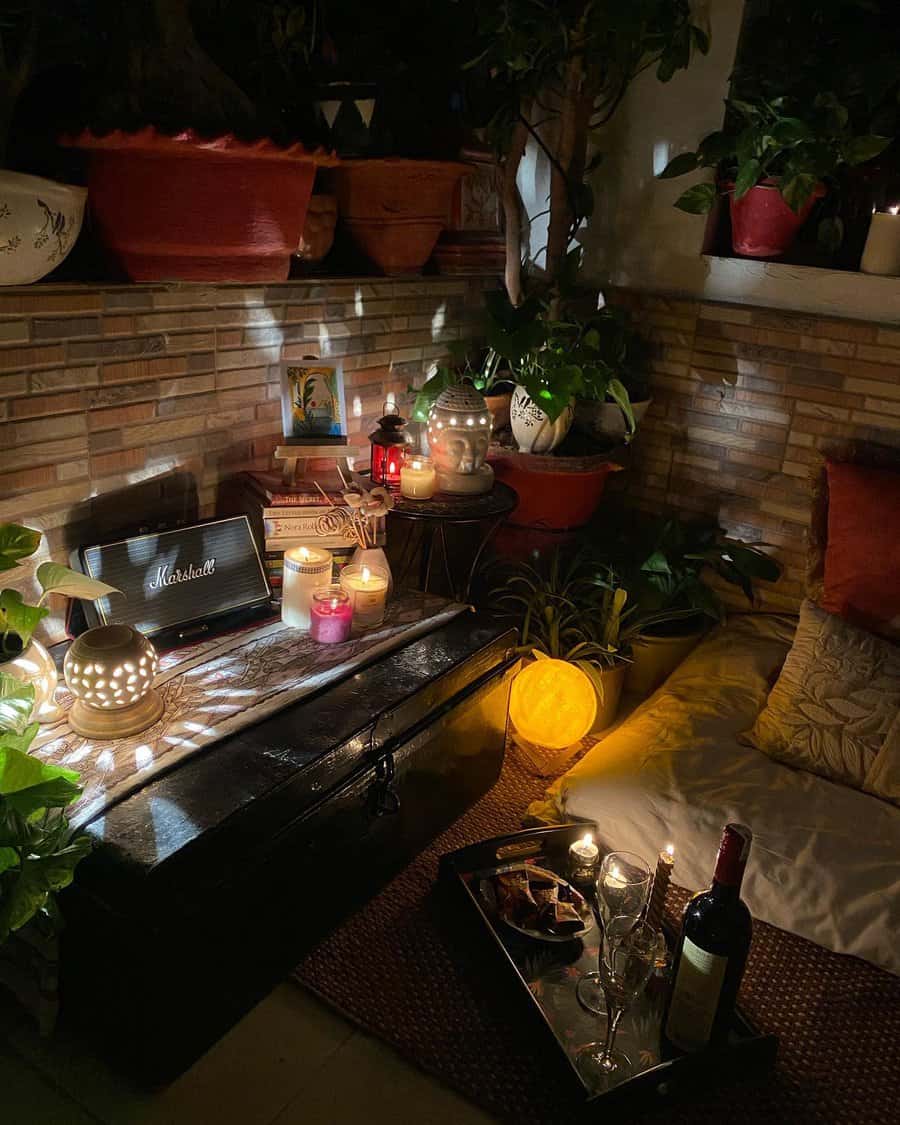 2. Cozy Balcony Seating Nook
Transforming your apartment balcony into an inviting outdoor haven is a breeze. To craft a cozy seating area, begin by choosing comfortable seating like a couch, day bed, or chairs. Elevate the ambiance with colorful pillows or cushions for a warm welcome. Integrate a coffee table or side tables for added convenience, perfect for drinks and snacks. Maximize space with multifunctional pieces like storage ottomans that also serve as extra seating, ensuring both comfort and practicality in your balcony retreat.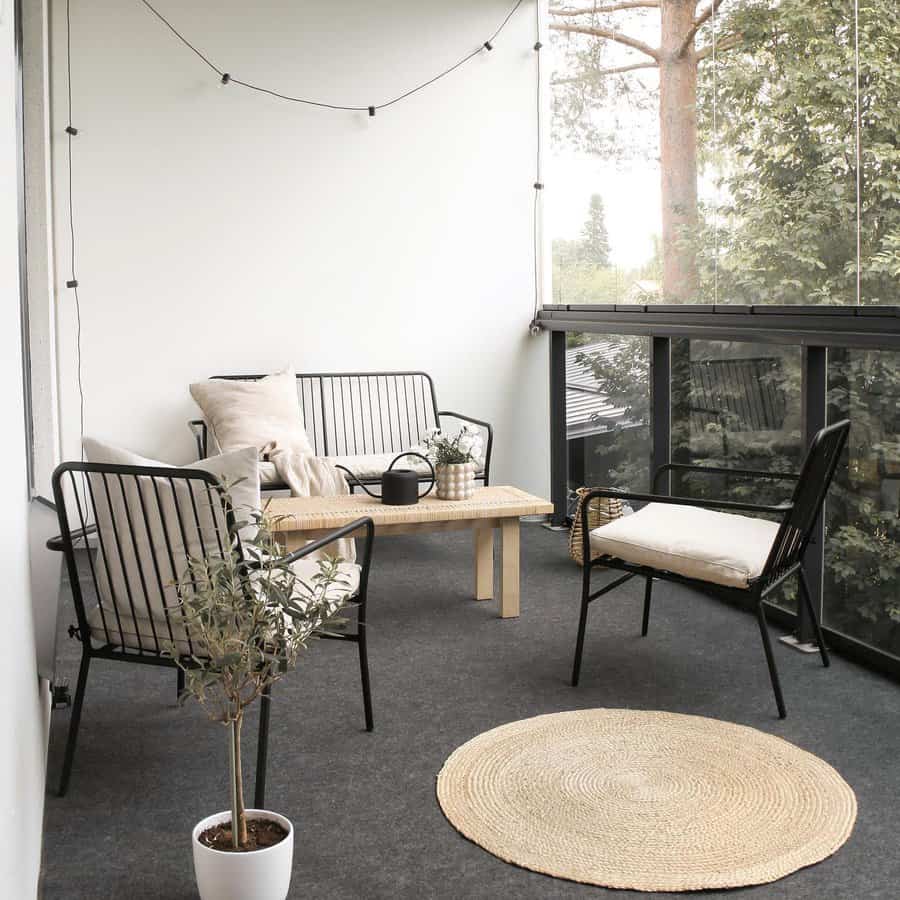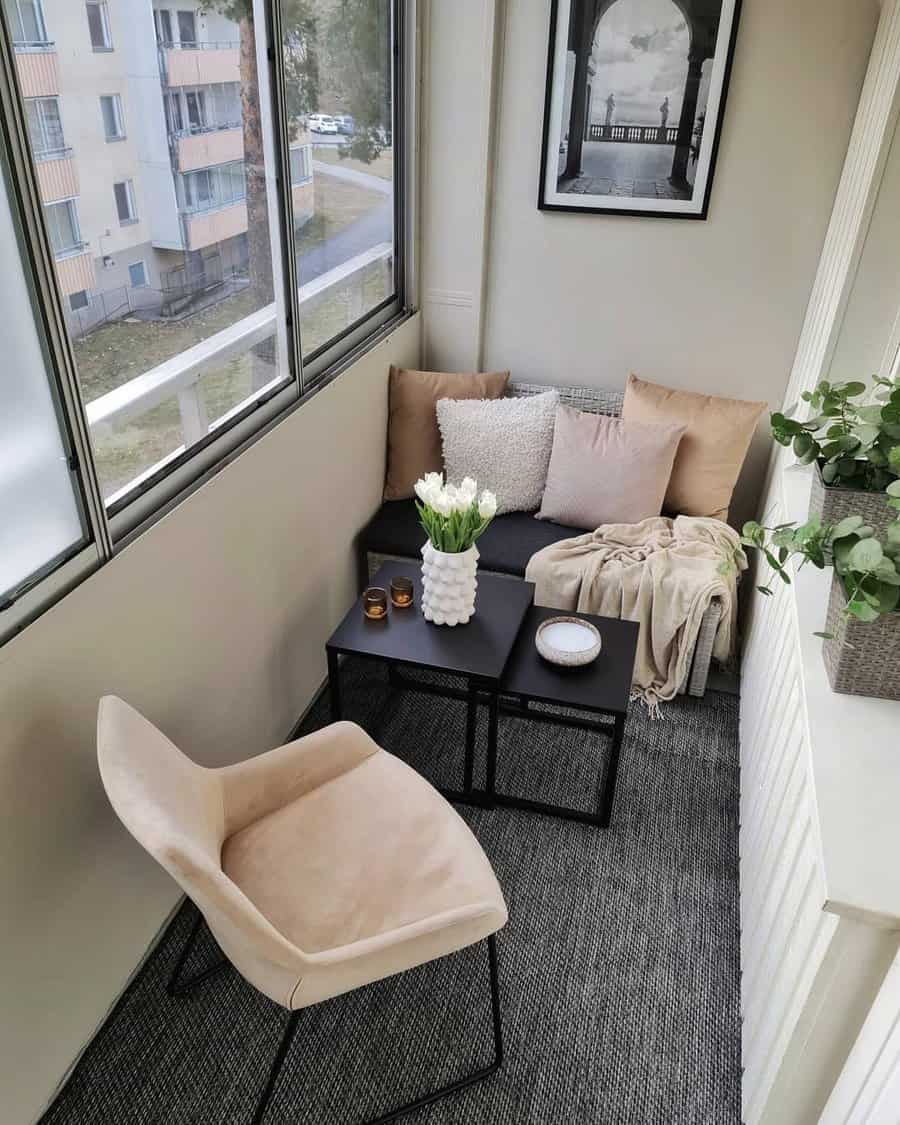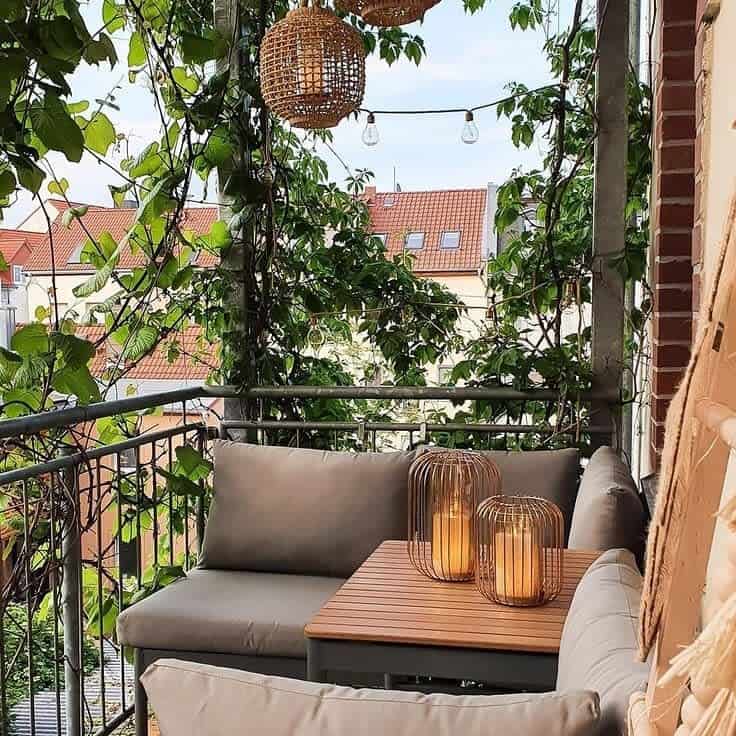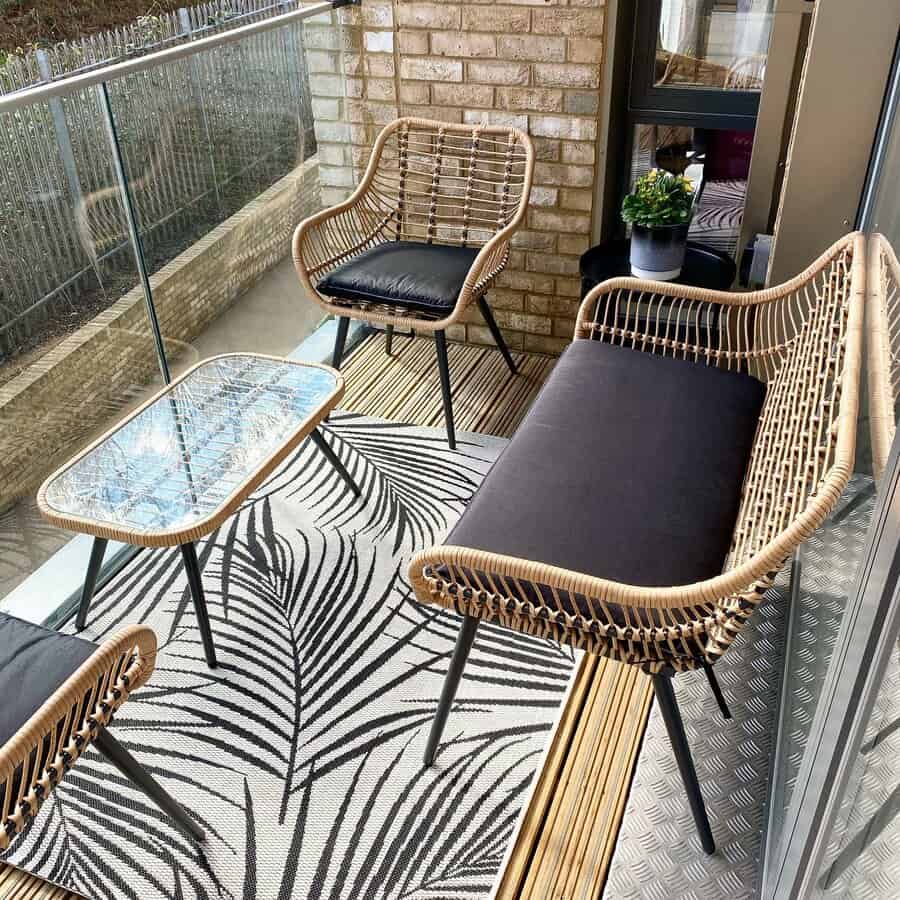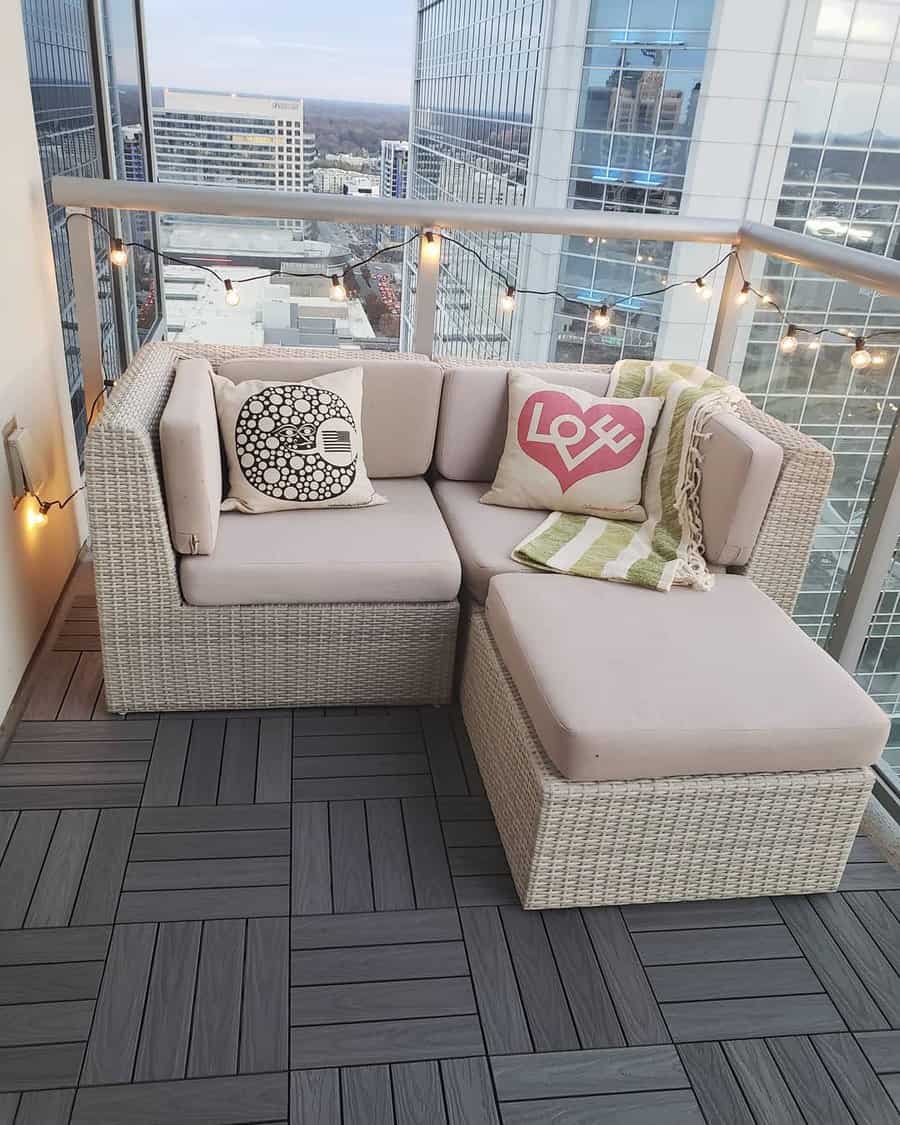 3. Lush Balcony Rail Planters
Maximize your apartment balcony's charm by embracing the potential of your railing space with vibrant greenery. Elevate your balcony's aesthetic by adorning the railing with hanging planters, small pots, or a window box planter. To ensure thriving plants, select varieties that match your balcony's conditions—opt for sun-loving succulents or herbs for sunny spots, and go for ferns or spider plants in shaded areas. For added allure, enhance your balcony with cozy touches like string lights and an outdoor rug, turning it into a lush and inviting oasis.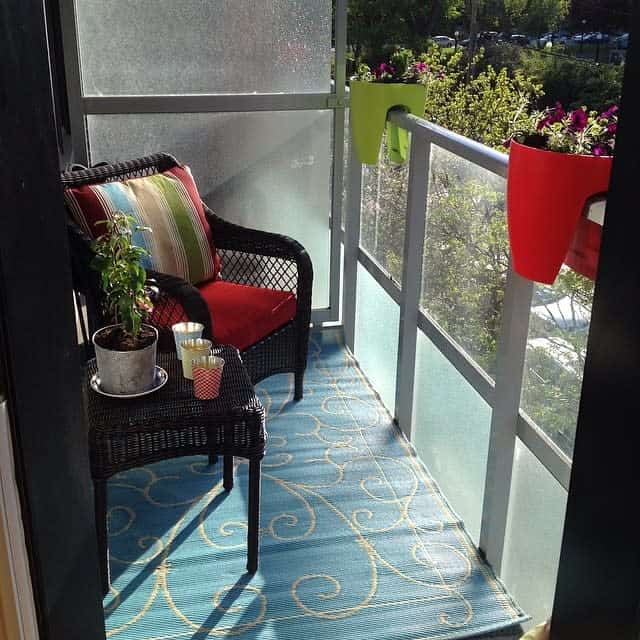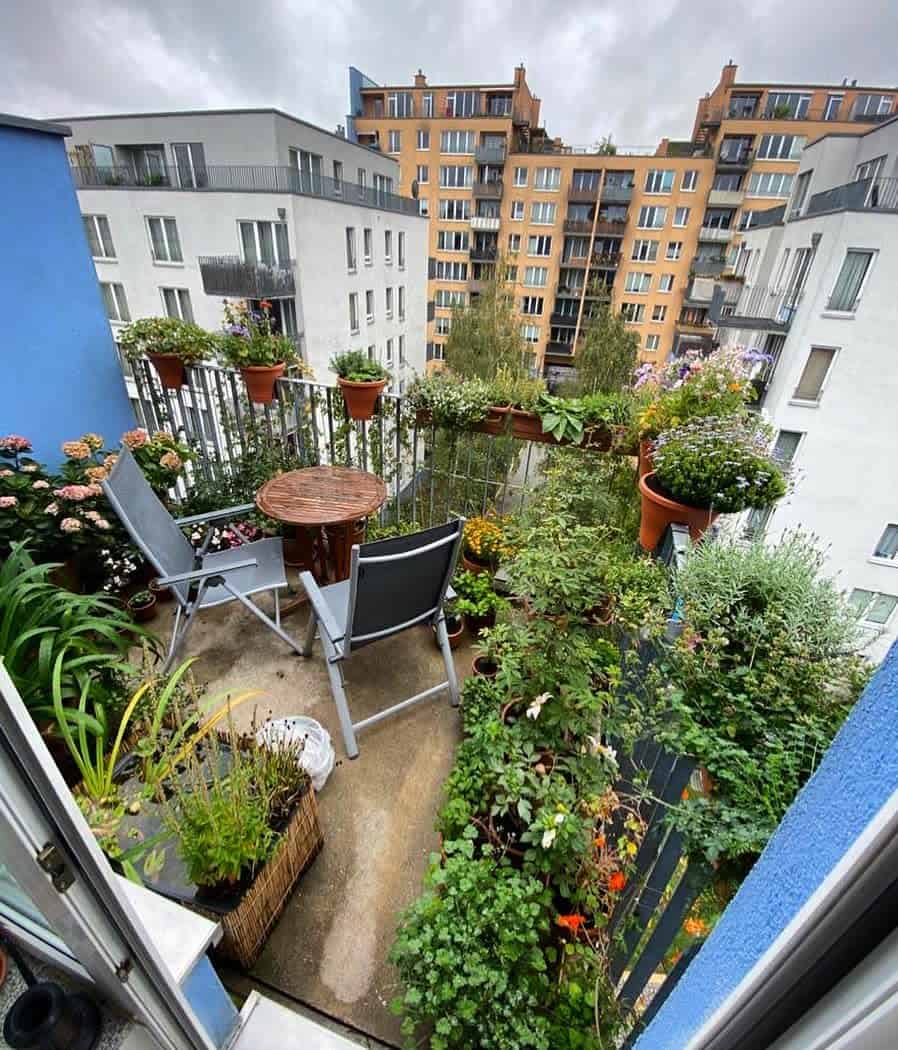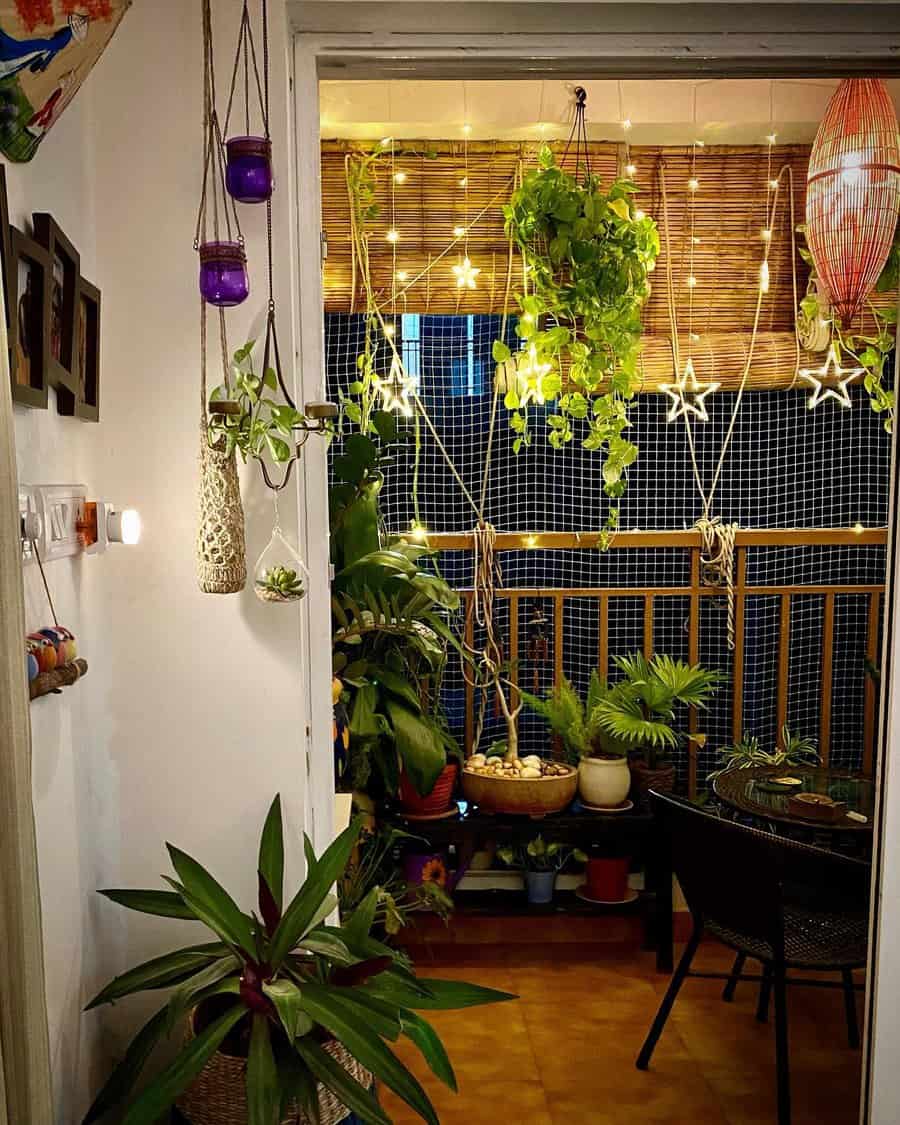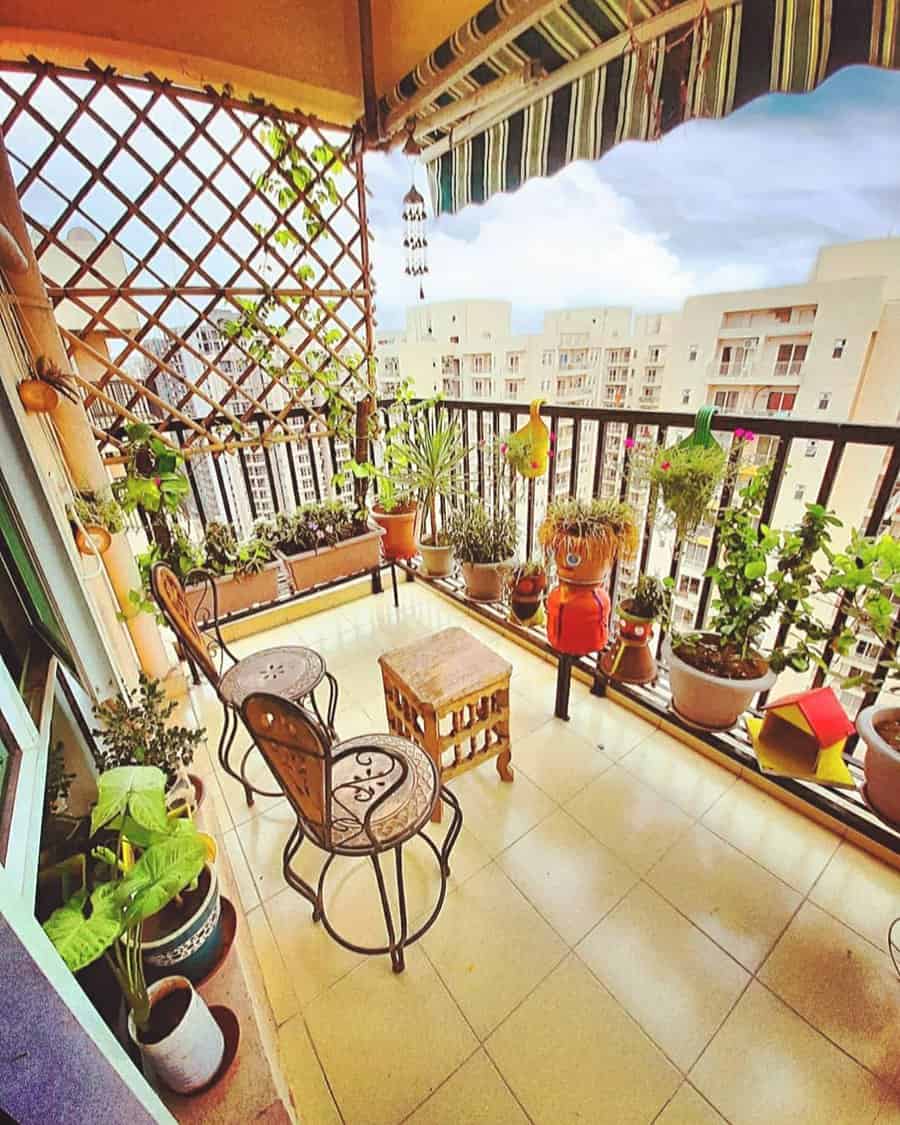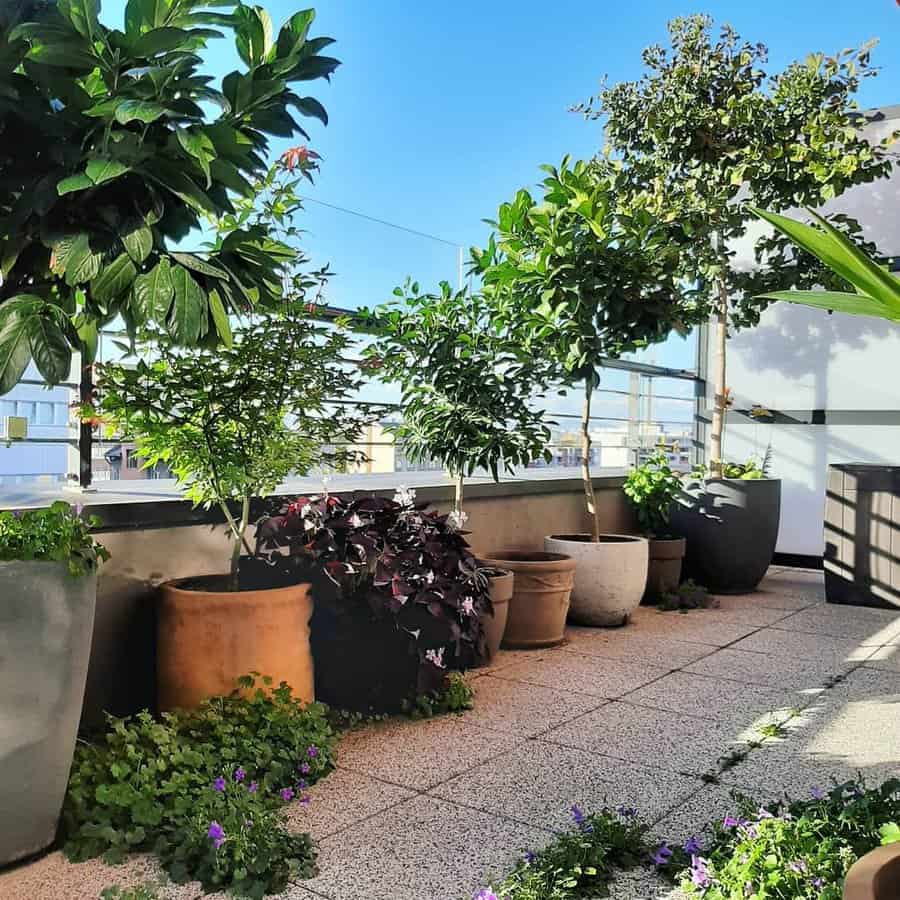 4. Artificial Grass Balcony Retreat
Transform your apartment balcony into a nature-inspired haven by introducing artificial grass. This cost-effective, low-maintenance option brings lushness to your space, even if you're not a gardening enthusiast. Whether you envision a serene oasis or a functional outdoor entertainment area, artificial grass offers versatile possibilities.
Enhance the ambiance by combining it with comfortable seating and vibrant cushions, crafting a cozy and inviting retreat that brings the outdoors to your doorstep without the hassle of traditional gardening.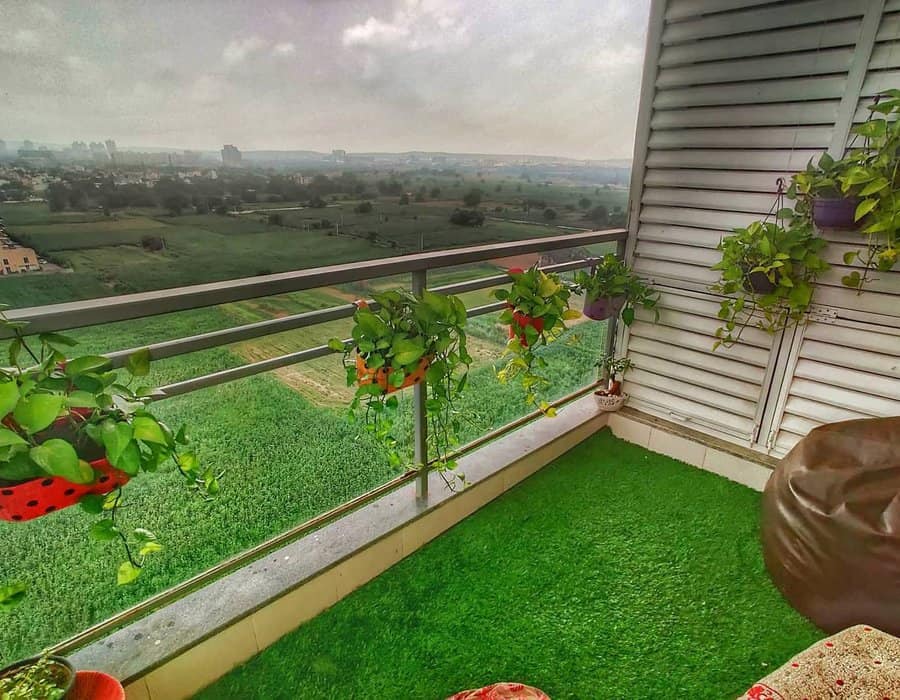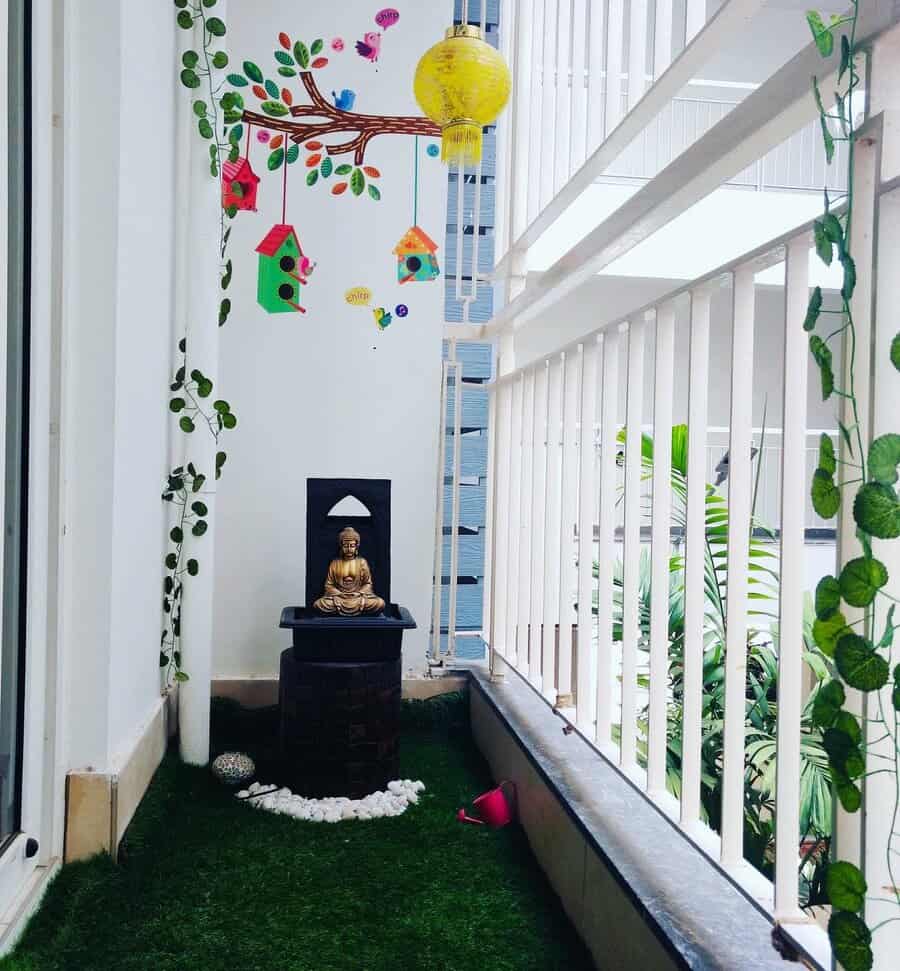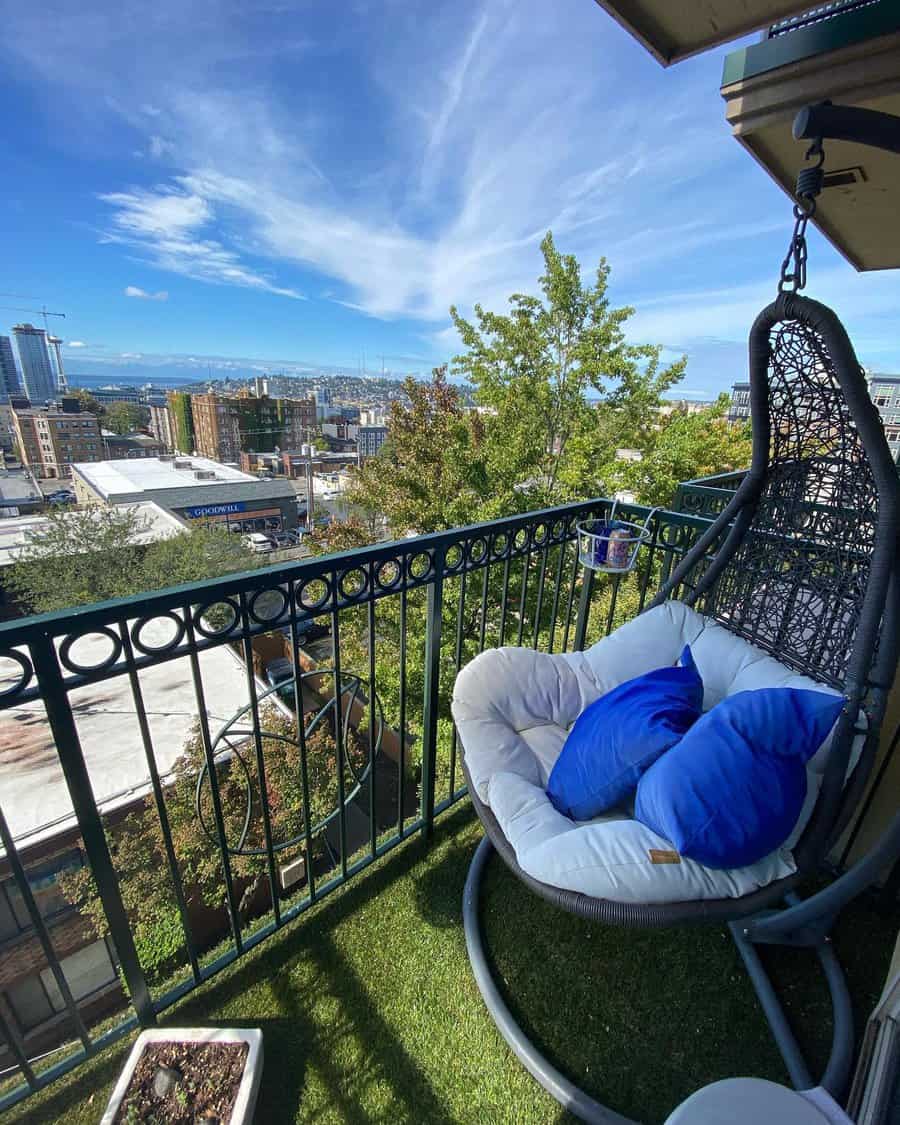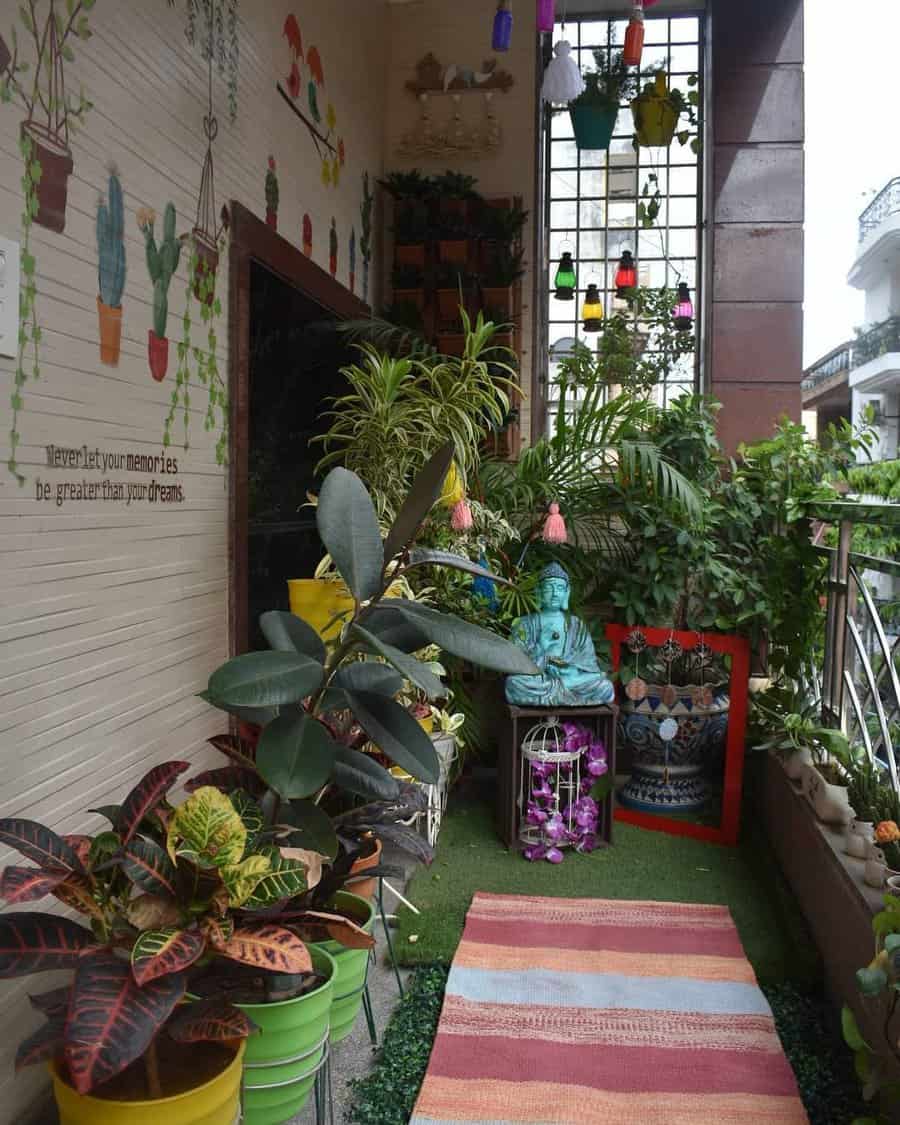 5. Garden & Seating Combo
Even in an apartment, a mini garden with seating can bring the beauty of the outdoors to your doorstep. Begin by choosing balcony-friendly plants like herbs, succulents, and small shrubs. Add dimension to your garden with hanging baskets or wall planters for a vertical touch.
Complete the picture by incorporating comfortable seating, whether it's a small bistro set or a cozy lounge chair. To infuse warmth and charm, adorn your space with outdoor cushions, a splash of colorful rug, or enchanting string lights. This harmonious blend of greenery and seating allows you to savor nature's tranquility right at home, creating a serene oasis in your apartment.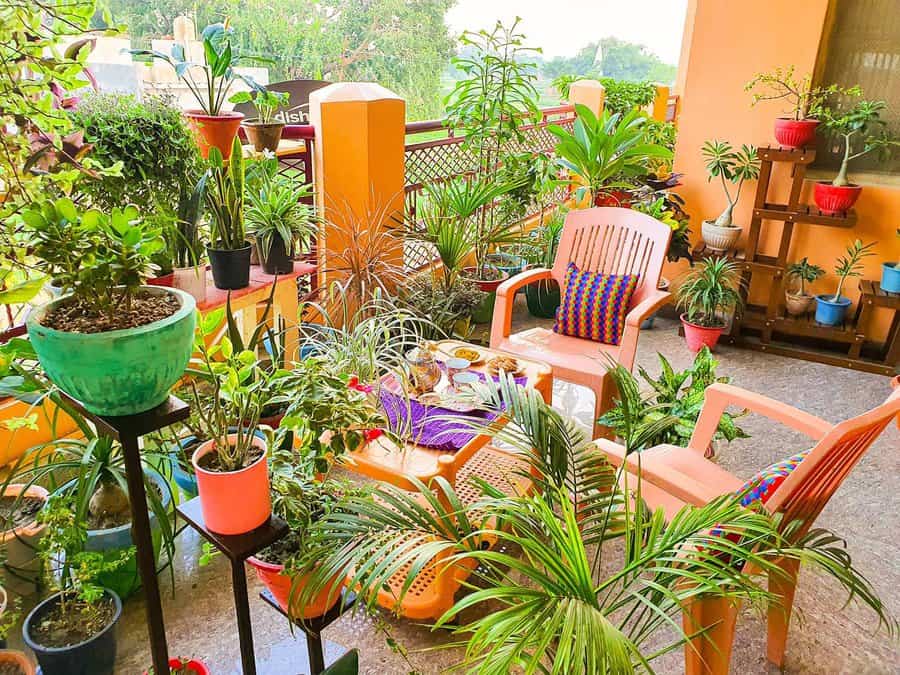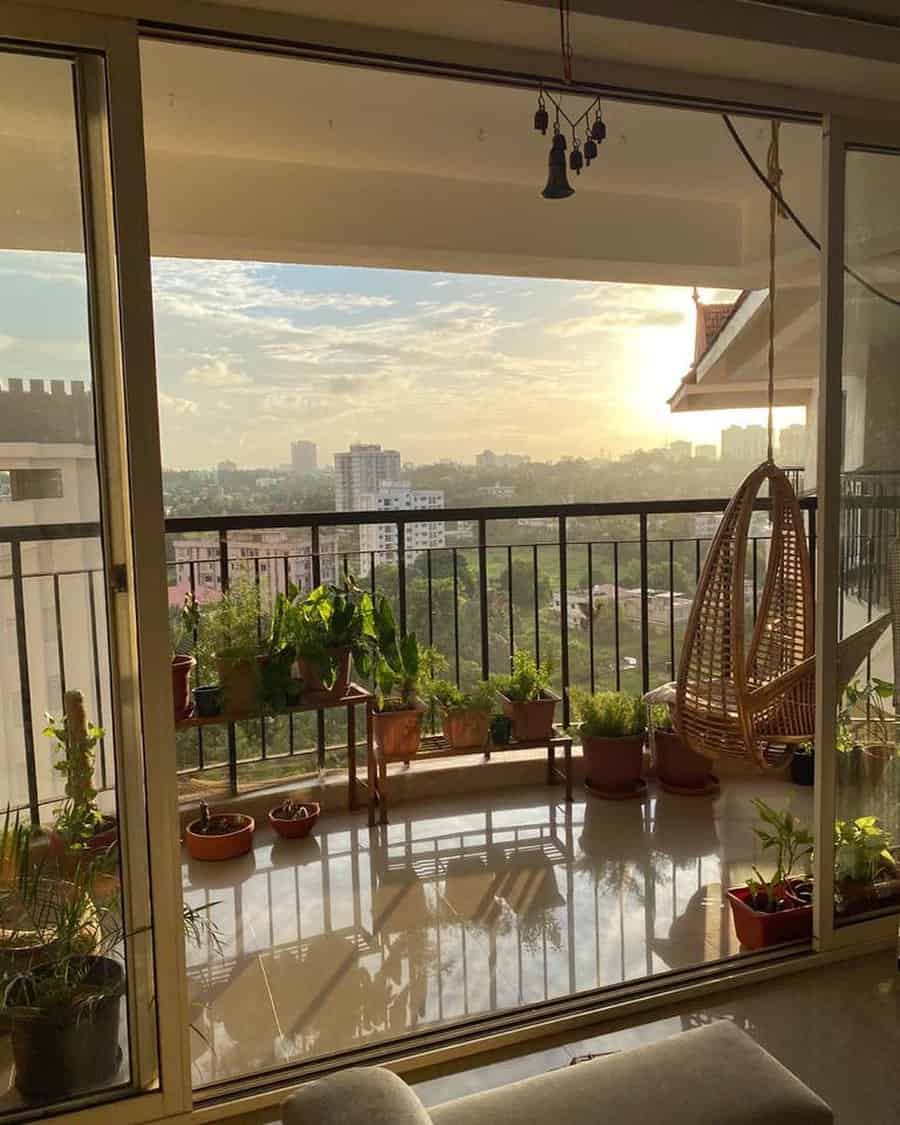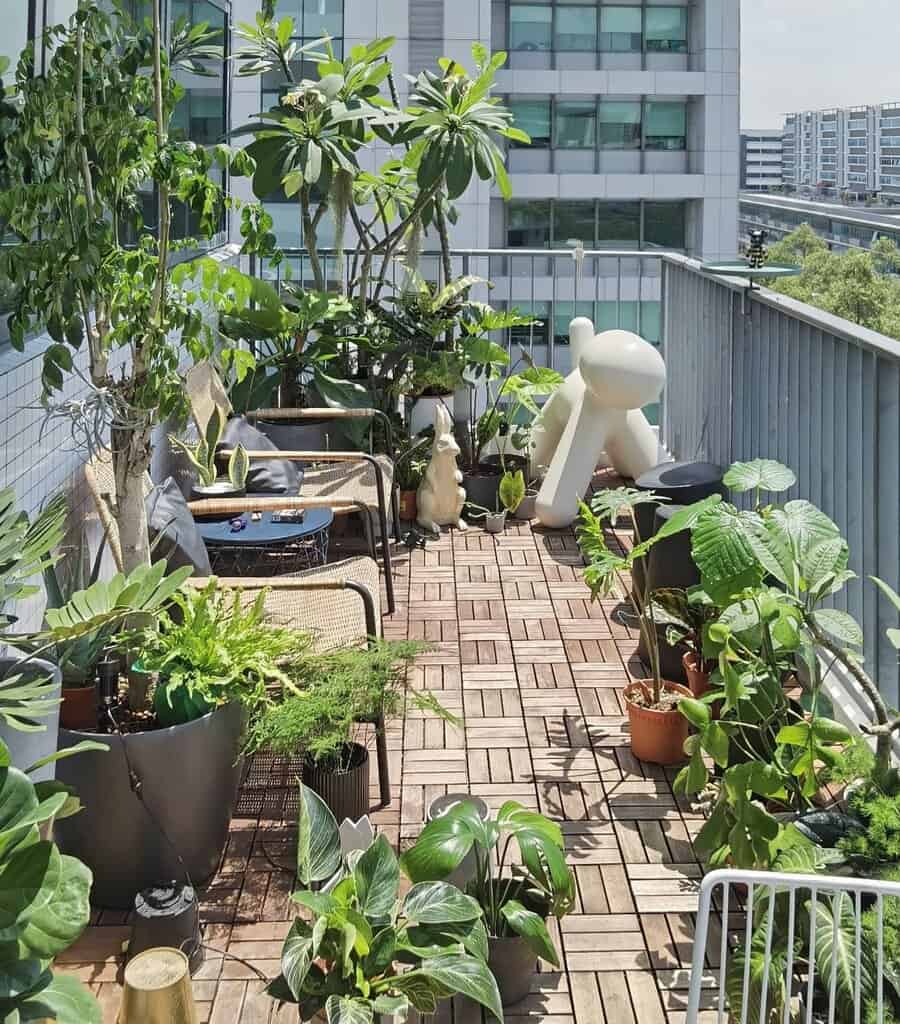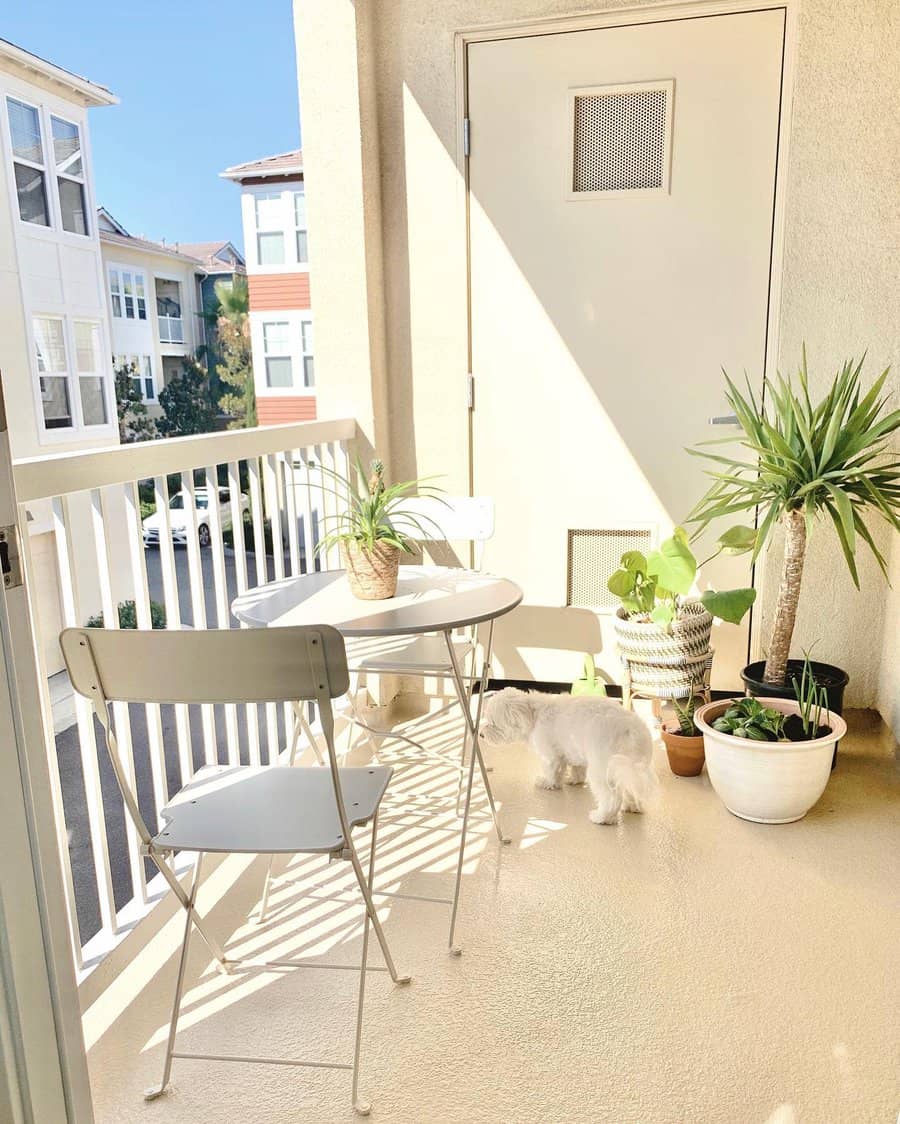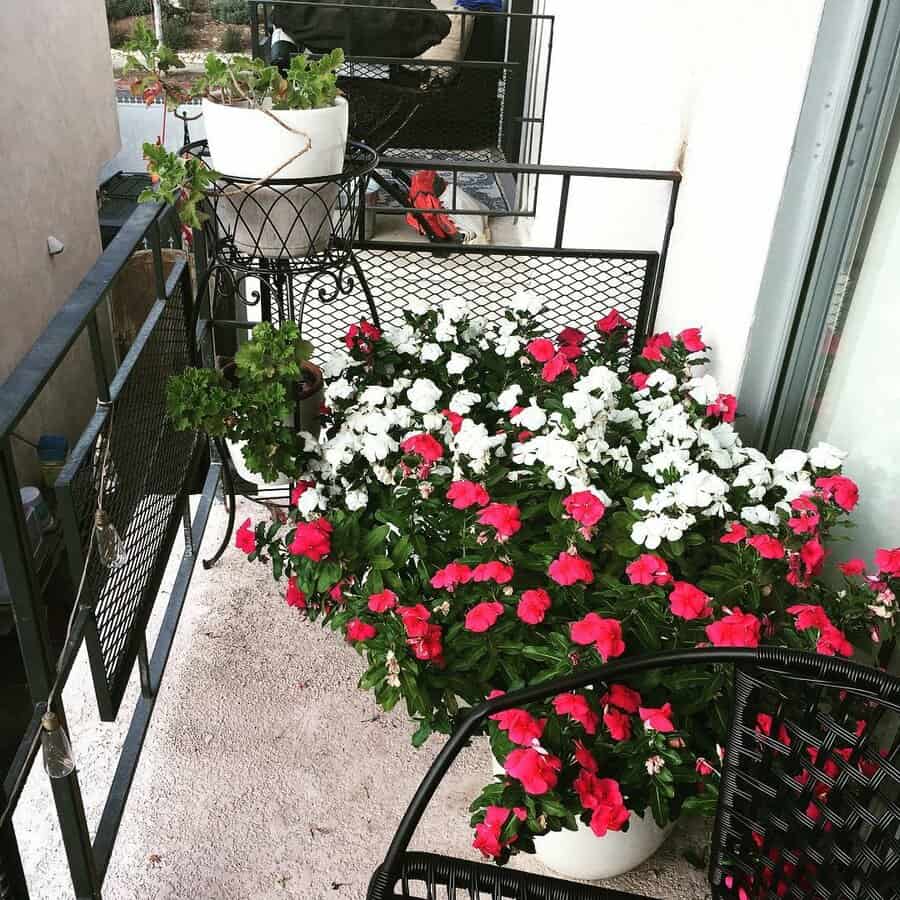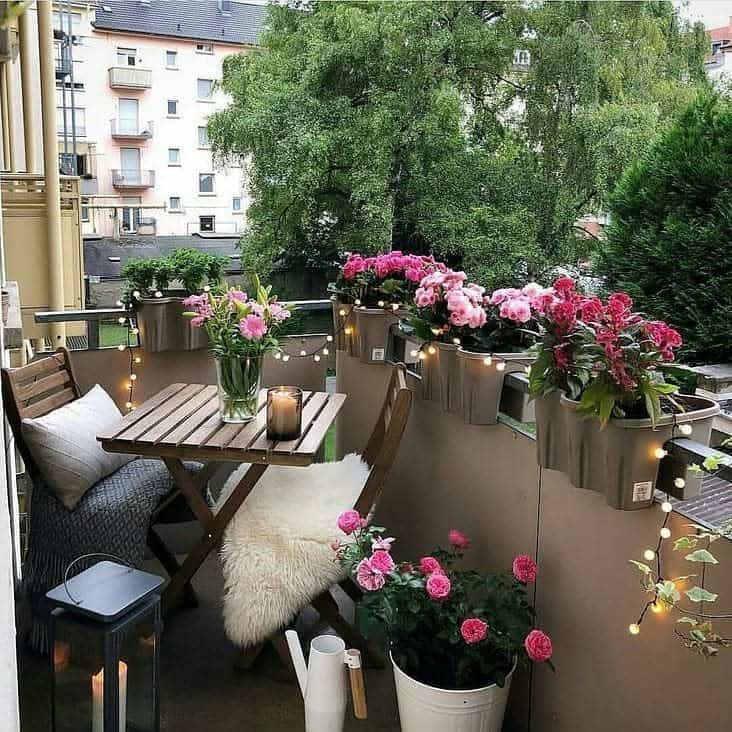 6. Reed Privacy Screen Solution
Elevate your apartment balcony's aesthetics and privacy with a reed privacy screen. This textured addition not only adds visual interest but also offers a welcomed sense of seclusion. You can choose to cover the entire balcony length or create smaller sections to add depth to your space.
To enhance the privacy experience, incorporate cozy seating options such as a comfortable chair or even a relaxing hammock. With creative flair and careful arrangement, your apartment balcony can become a snug and private retreat where you'll relish spending your leisure moments.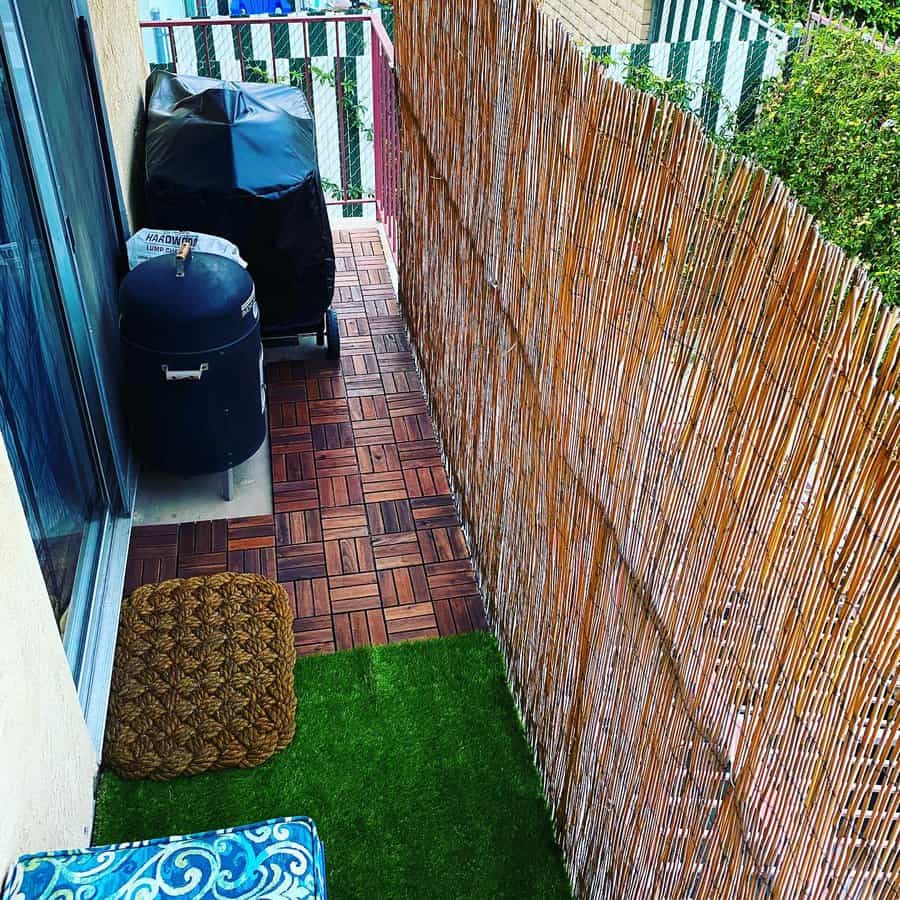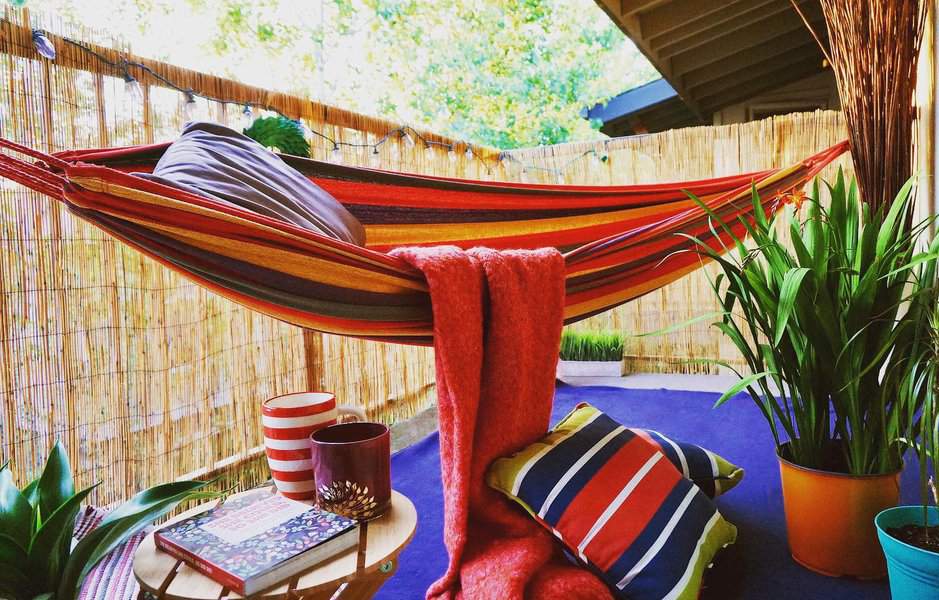 7. Hammock Chair Hangout
Infuse fun and creativity into your balcony by incorporating a hammock or hanging chair. These seating options offer both comfort and a playful vibe to your space, making it an ideal spot for lounging and soaking up the sun.
Hang a hammock securely between sturdy posts or walls, or suspend a hanging chair or egg chair from a robust ceiling hook. To create an inviting atmosphere, include outdoor cushions, a cozy throw blanket, and a small side table for snacks and drinks. With these simple additions, your apartment balcony transforms into a stylish, relaxing haven, perfect for reading, napping, or enjoying a coffee with a view.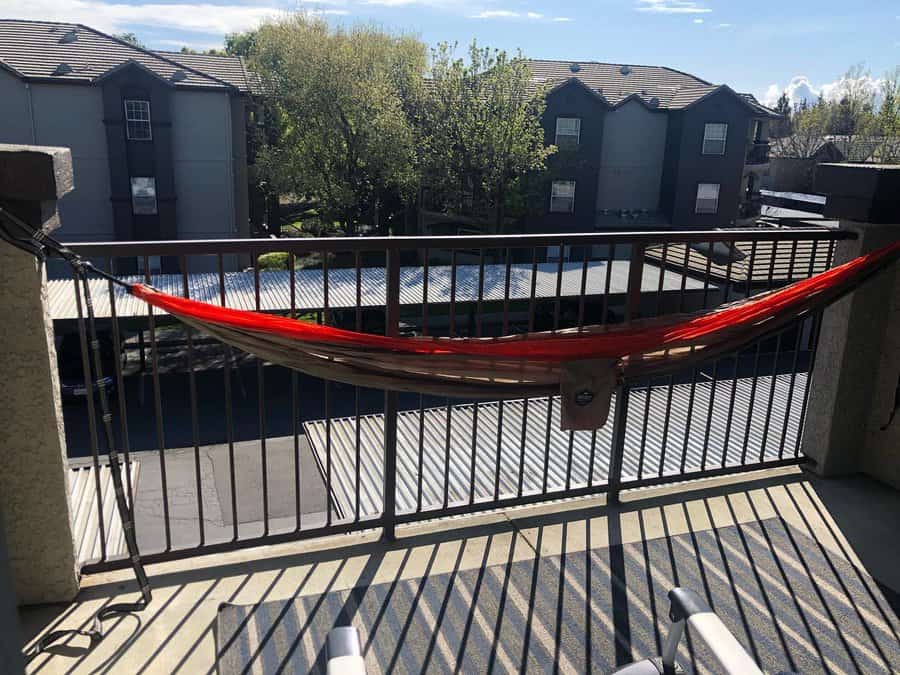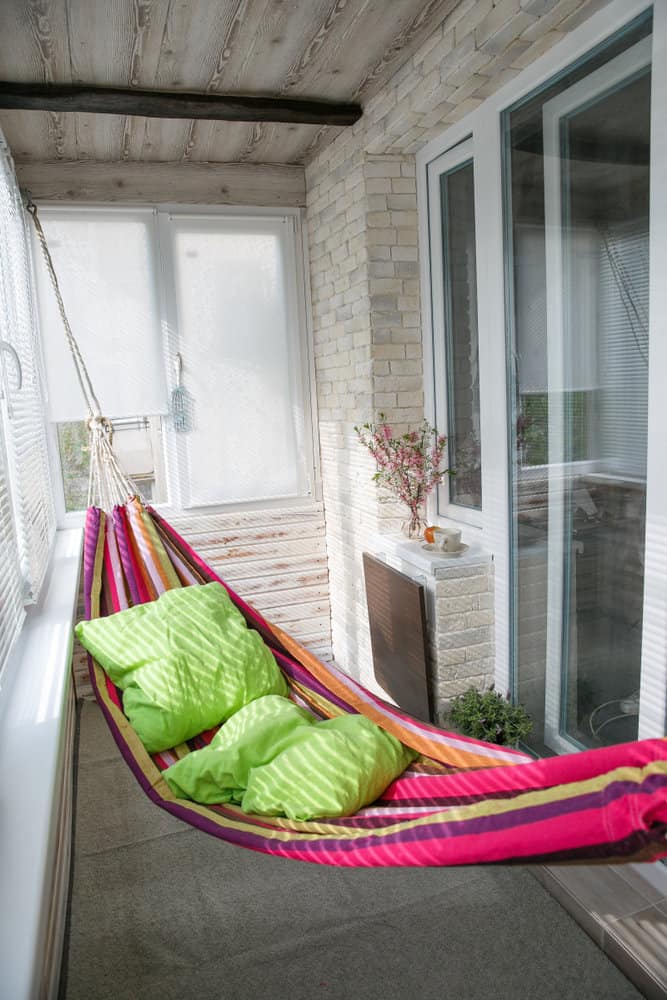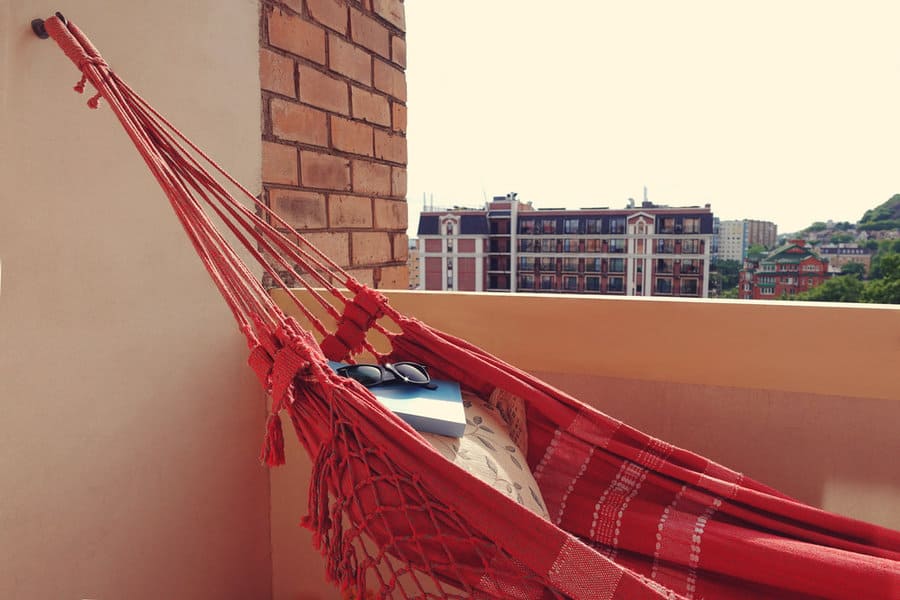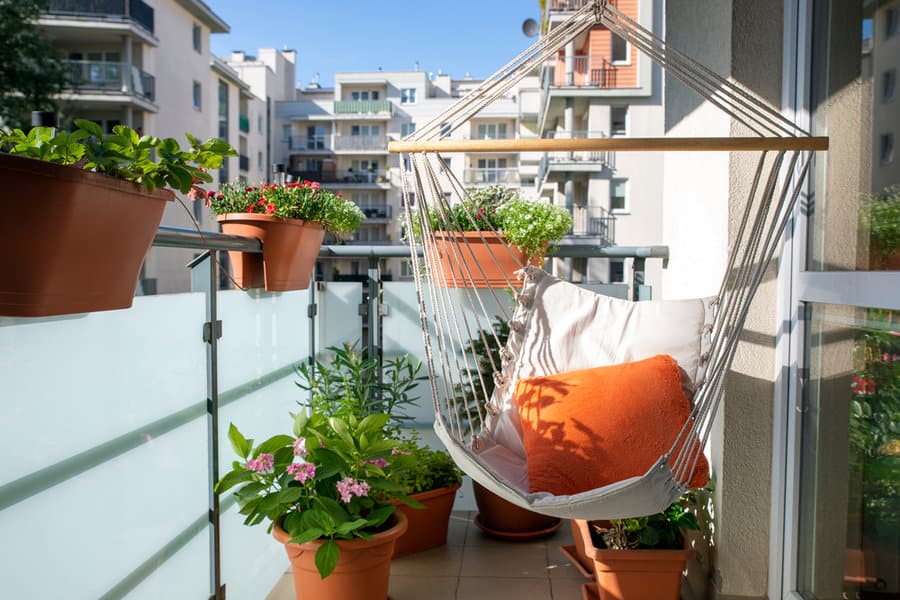 8. Decorative Balcony Area Rug
Enhance the comfort and style of your balcony with the addition of a decorative rug. Rugs provide instant warmth, color, and texture while defining specific seating or relaxation zones. With a wide array of options, you can select a rug that aligns with your personal style and apartment's overall aesthetic.
For added allure, layer your rug with outdoor cushions and throw pillows, creating an inviting space that's perfect for both lounging and entertaining. This simple yet effective design element elevates the ambiance of your apartment balcony, making it a cozy and stylish extension of your living space.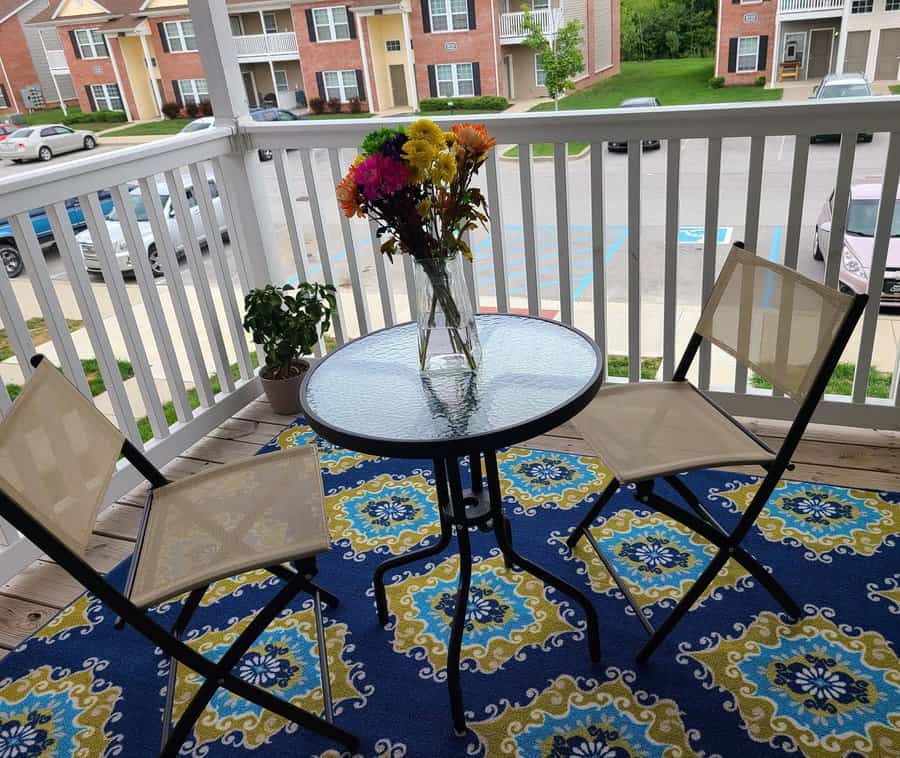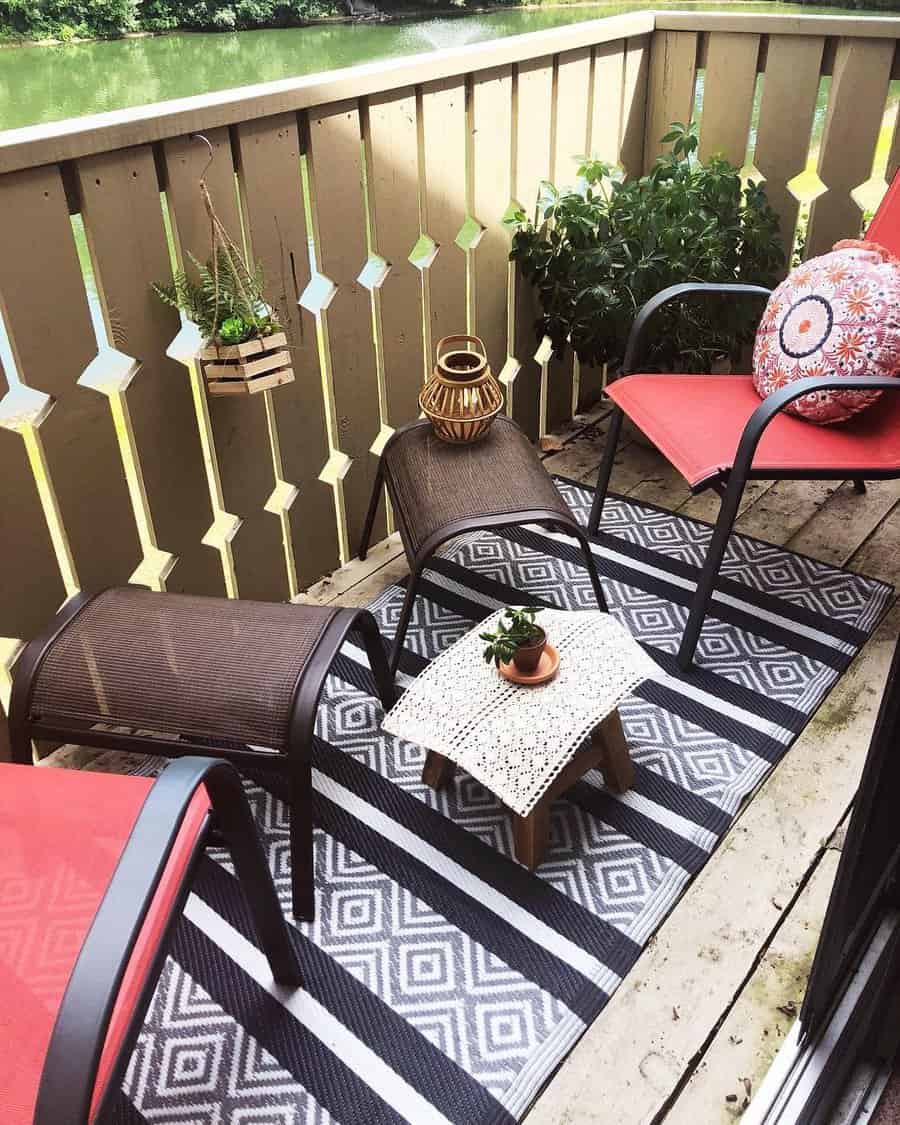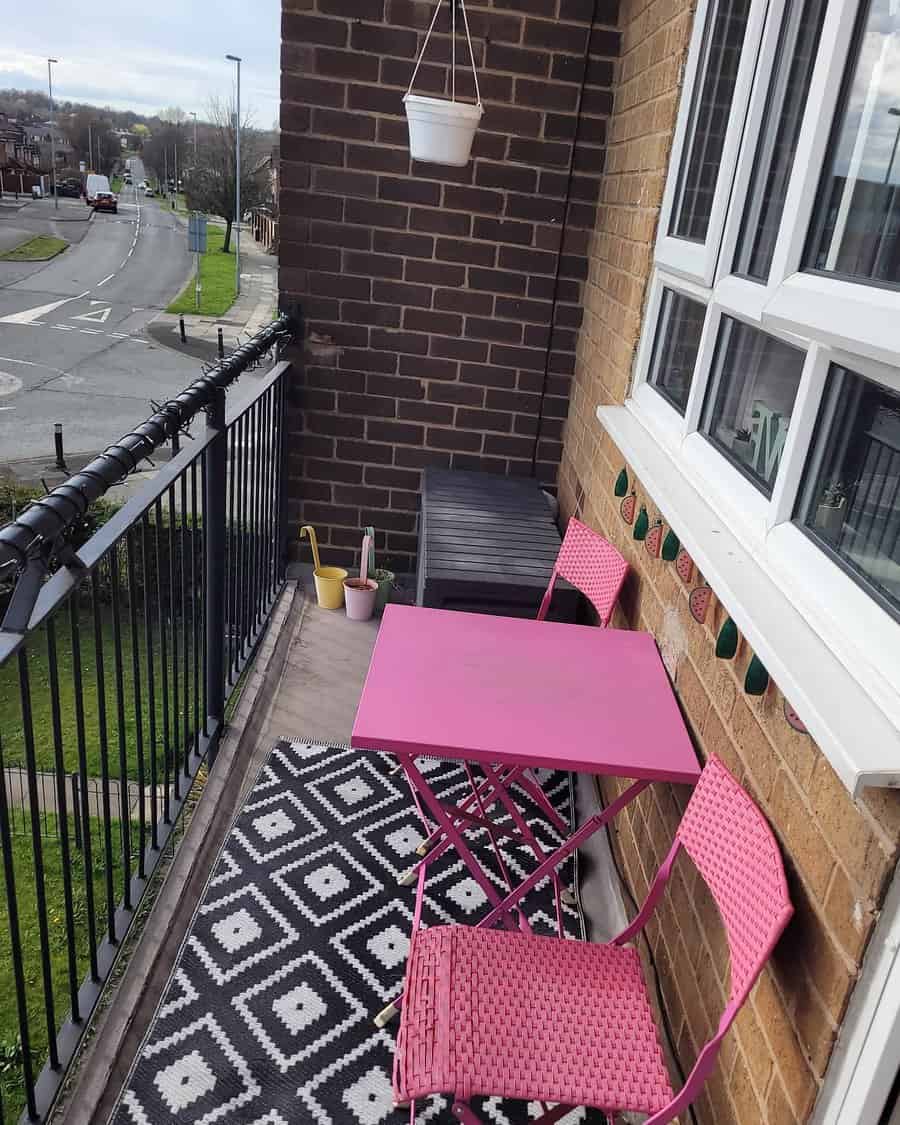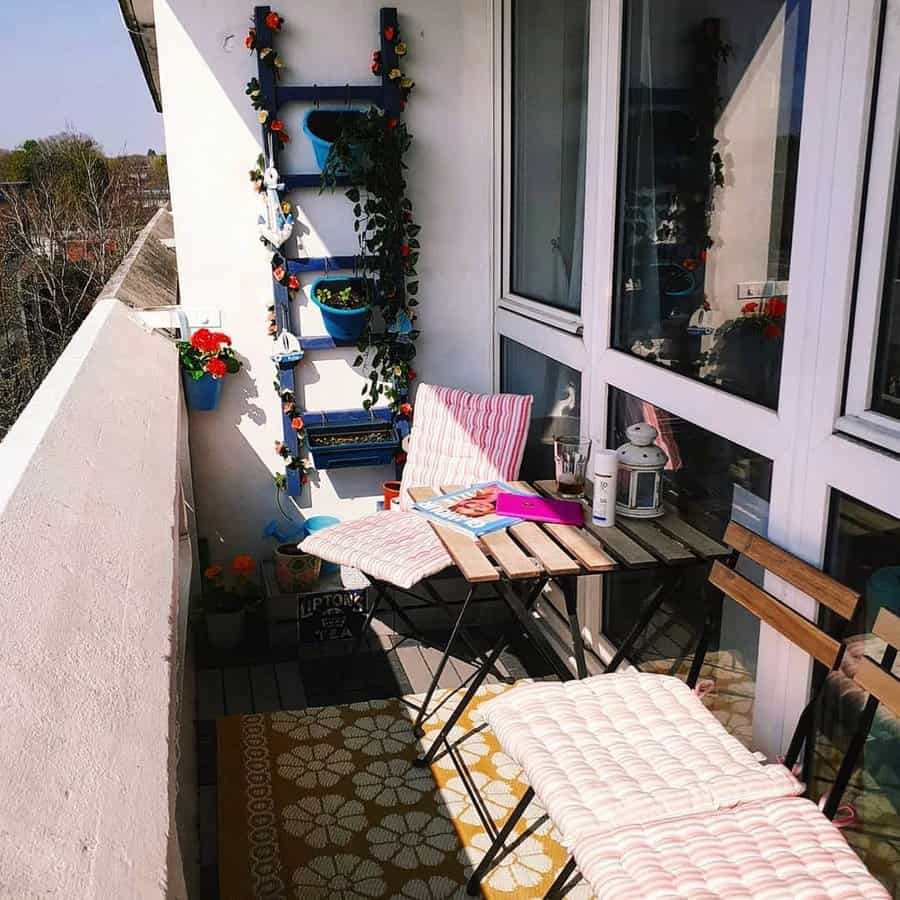 9. Bistro Set Balcony Dining
Escape the city hustle on your apartment balcony by embracing outdoor dining with a bistro set. A small table and chairs effortlessly create an intimate space for sharing meals or sipping wine with loved ones.
From sunny morning breakfasts to starlit dinners, a bistro set elevates your apartment balcony into a charming and functional outdoor oasis. Embrace the fresh air and relish moments of togetherness while making the most of your outdoor space.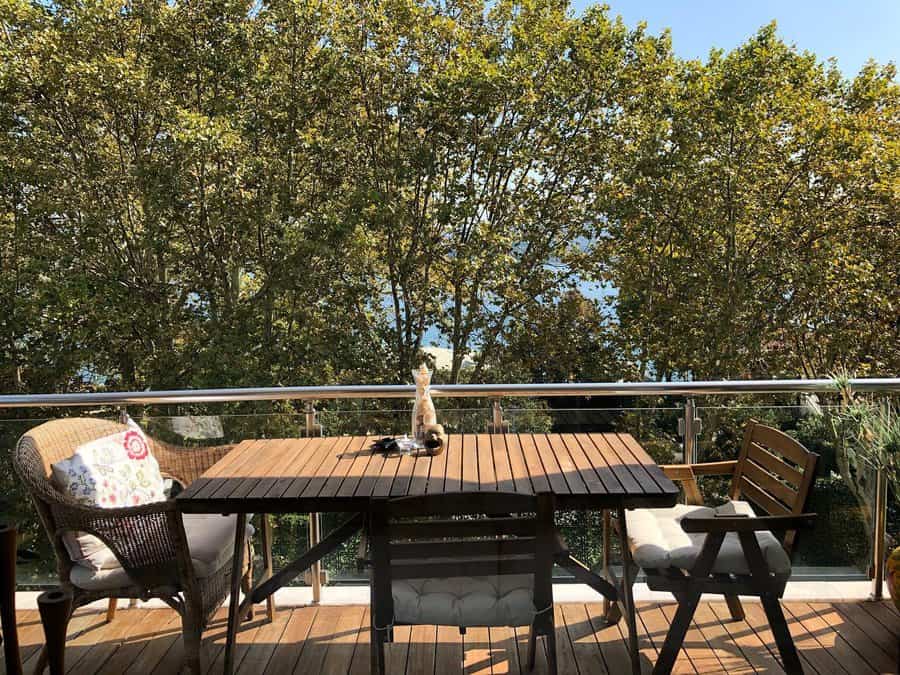 10. Daybed Lounging Spot
Transform your apartment balcony into an ultimate relaxation spot with a daybed. Whether for reading, taking in the view, or simply unwinding, daybeds offer a versatile seating option to suit your style, be it rattan or wooden frames.
Enhance comfort with cozy throw pillows and blankets, creating an inviting atmosphere. Don't forget to introduce greenery for a touch of nature. Whether you seek a peaceful retreat or a spot to entertain guests, adding a daybed to your balcony effortlessly crafts a comfortable and stylish space that you'll relish spending time in.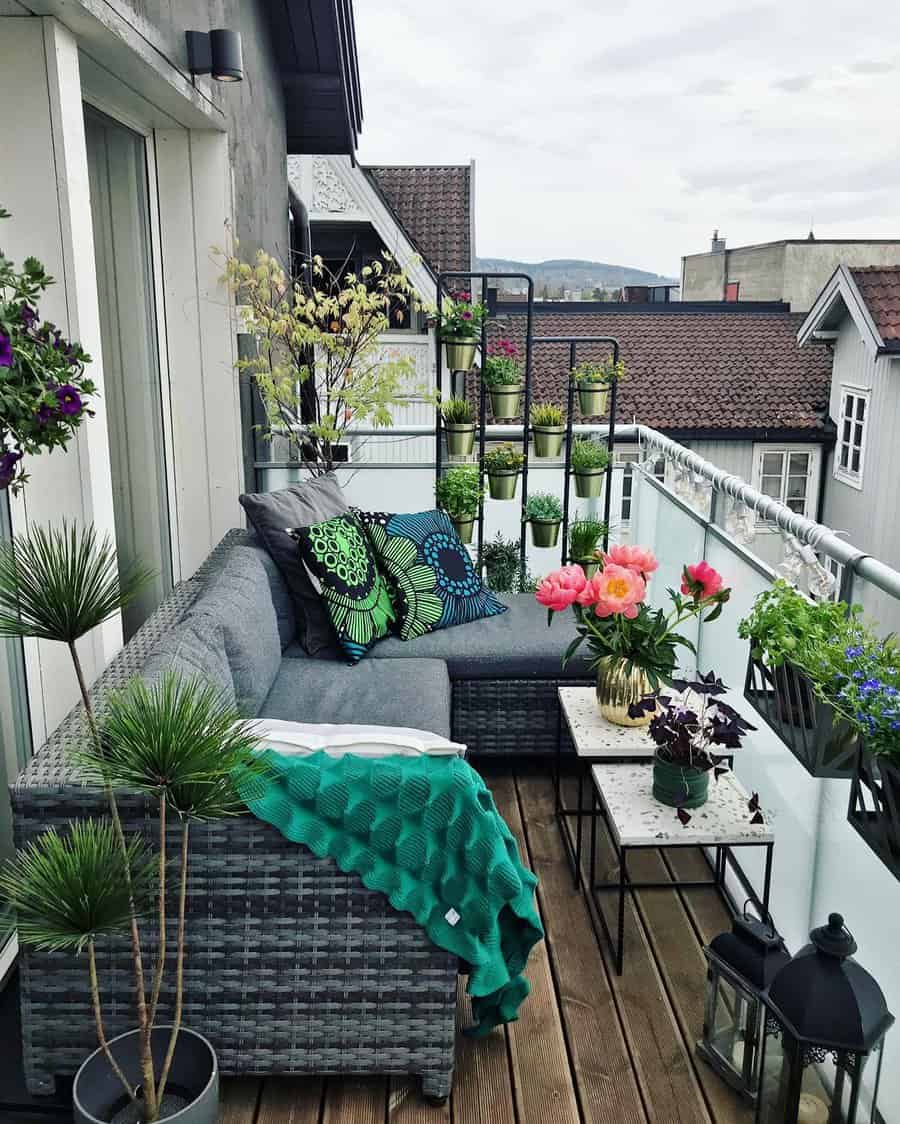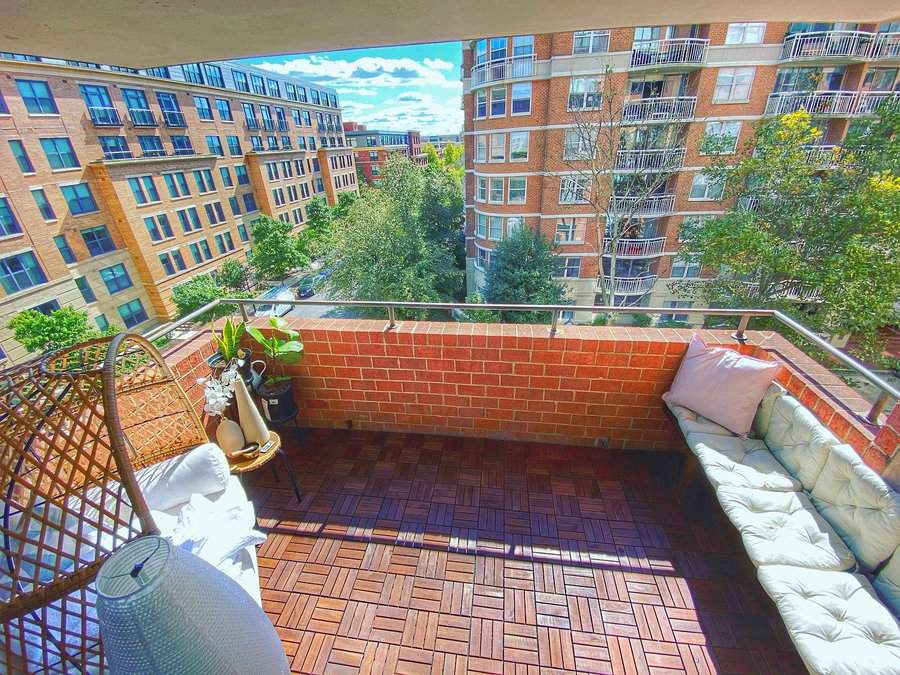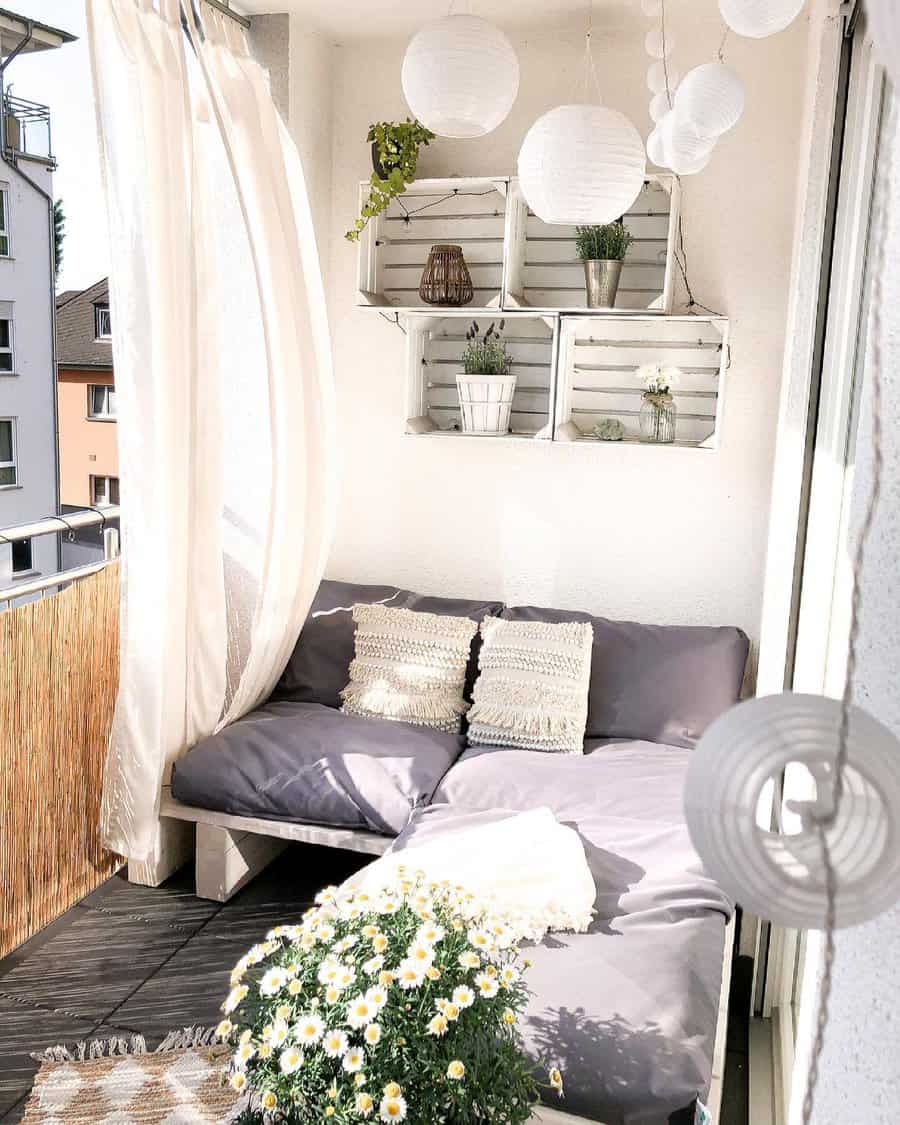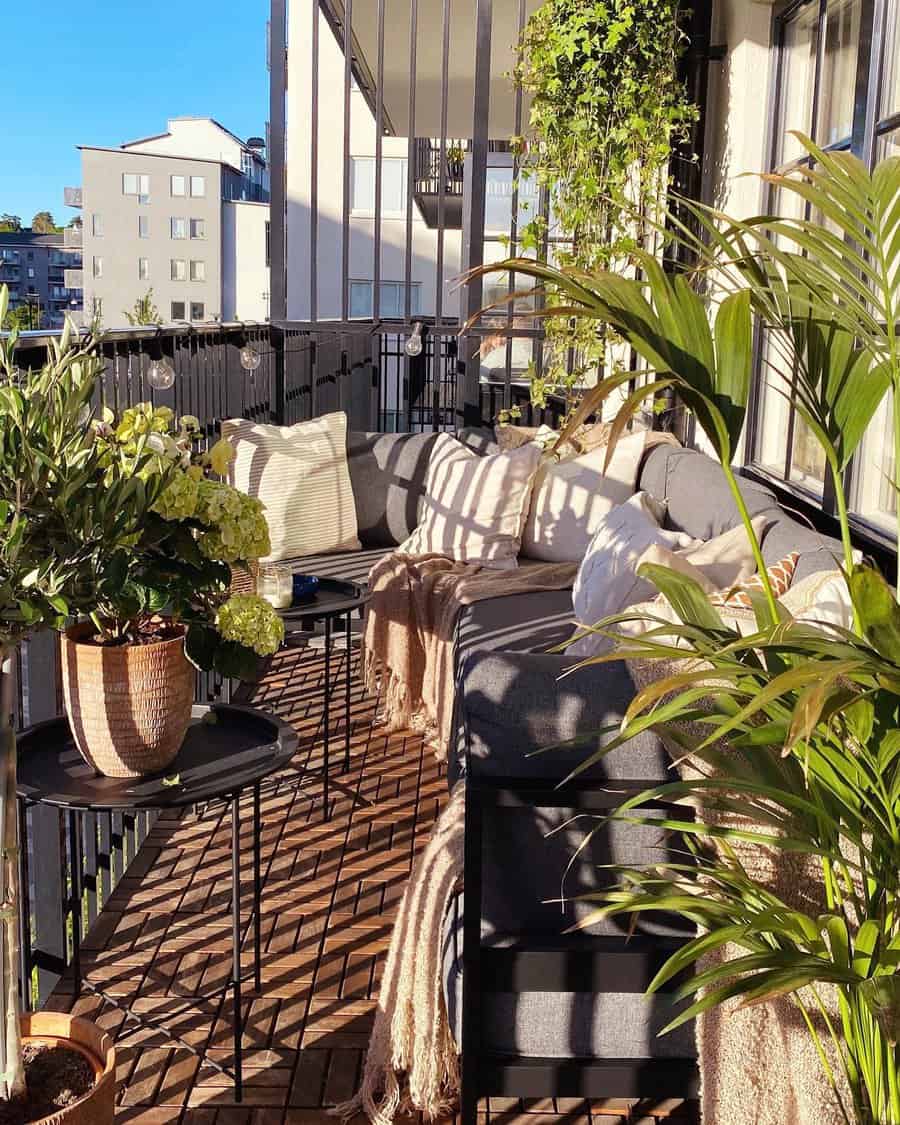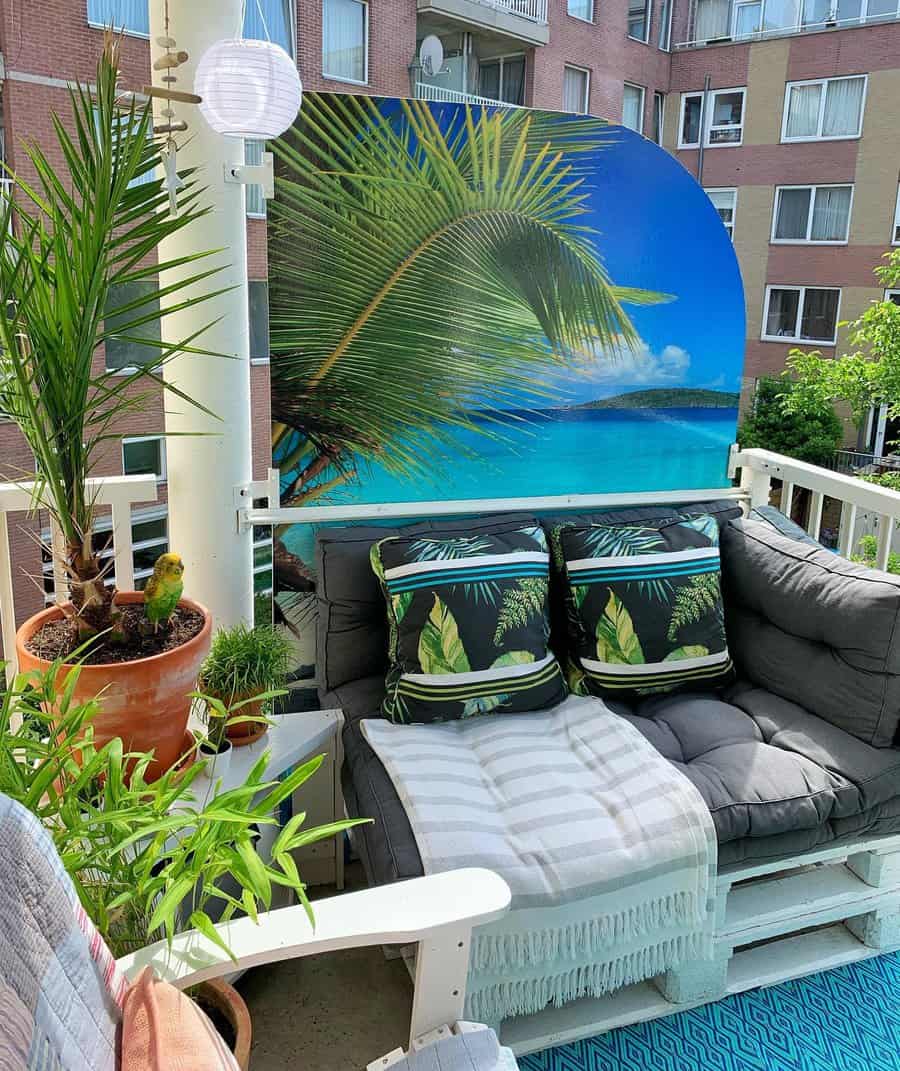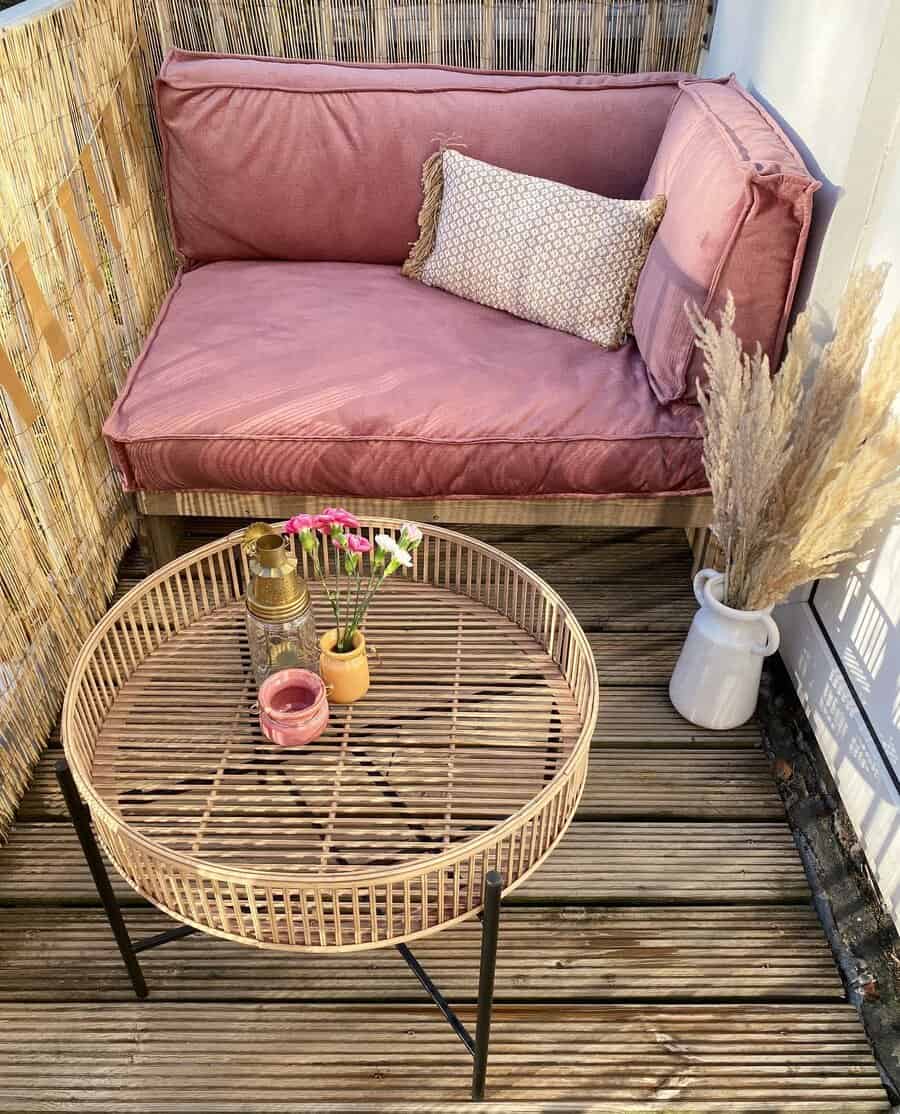 11. Rustic Balcony Charm
Infuse warmth and charm into your apartment's outdoor space by embracing a rustic theme. Start by incorporating woven furniture like rattan chairs or wicker sofas, providing both comfort and a natural, rustic touch.
Integrate bamboo into your design with bamboo shades, screens, or rugs to create a serene atmosphere for coffee breaks or leisurely reading. To add vibrancy, place potted plants around your rustic balcony, bringing life and color to your cozy and inviting outdoor haven.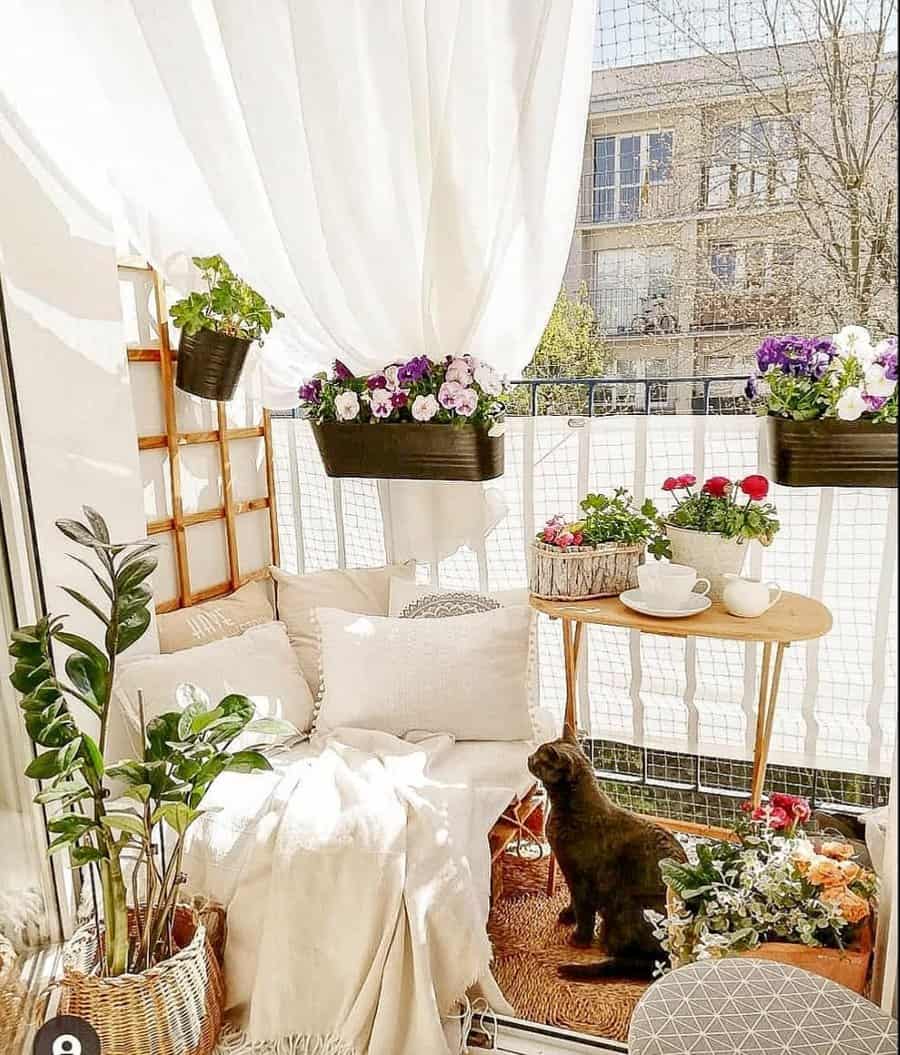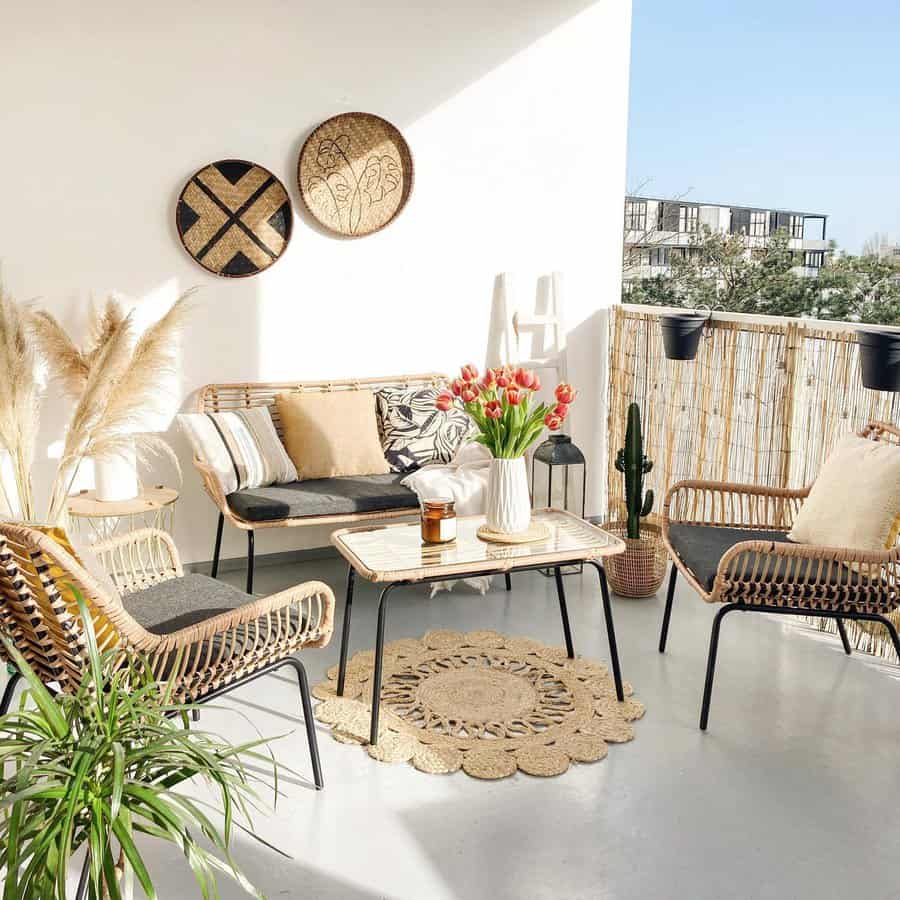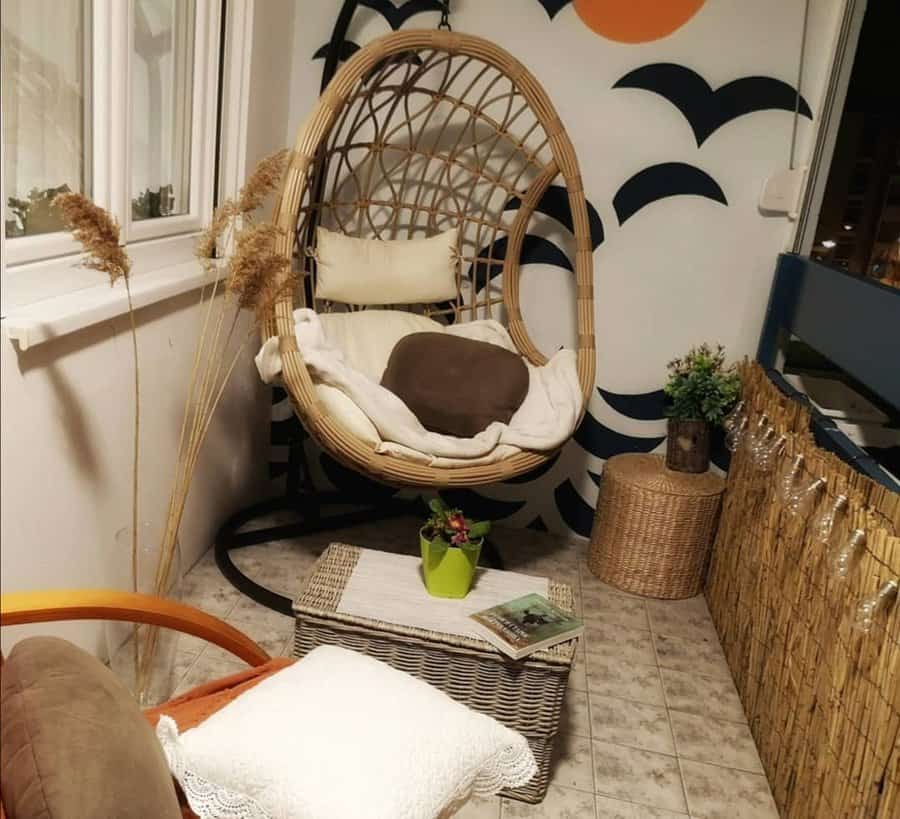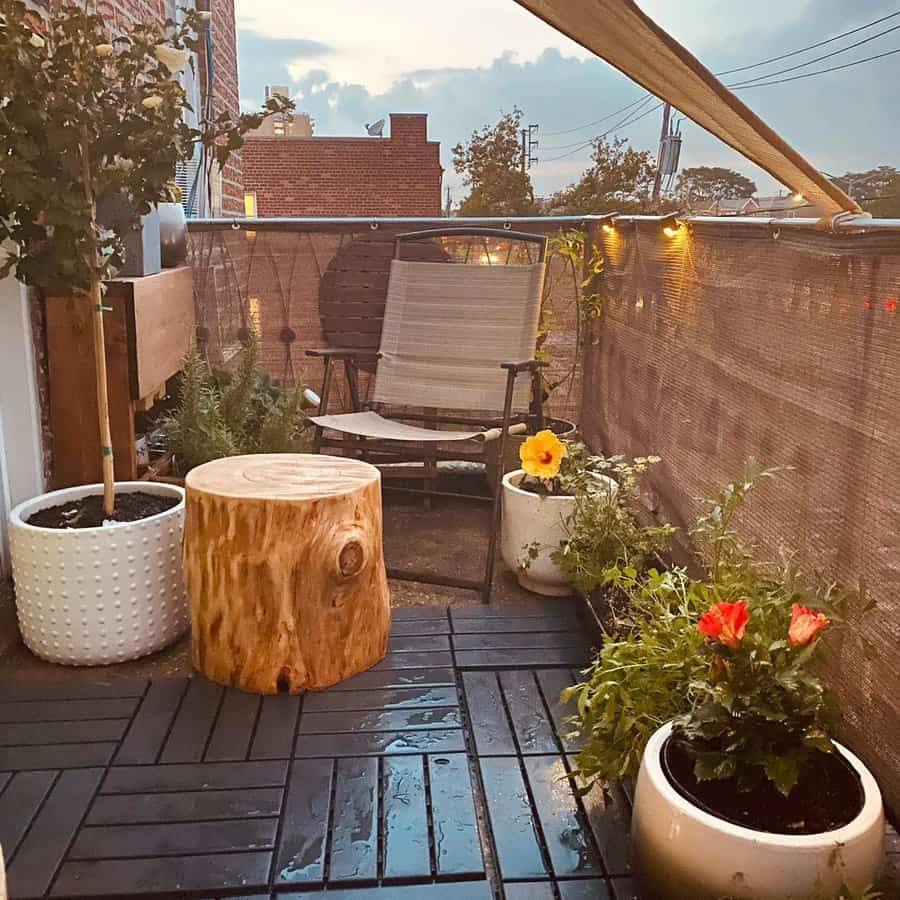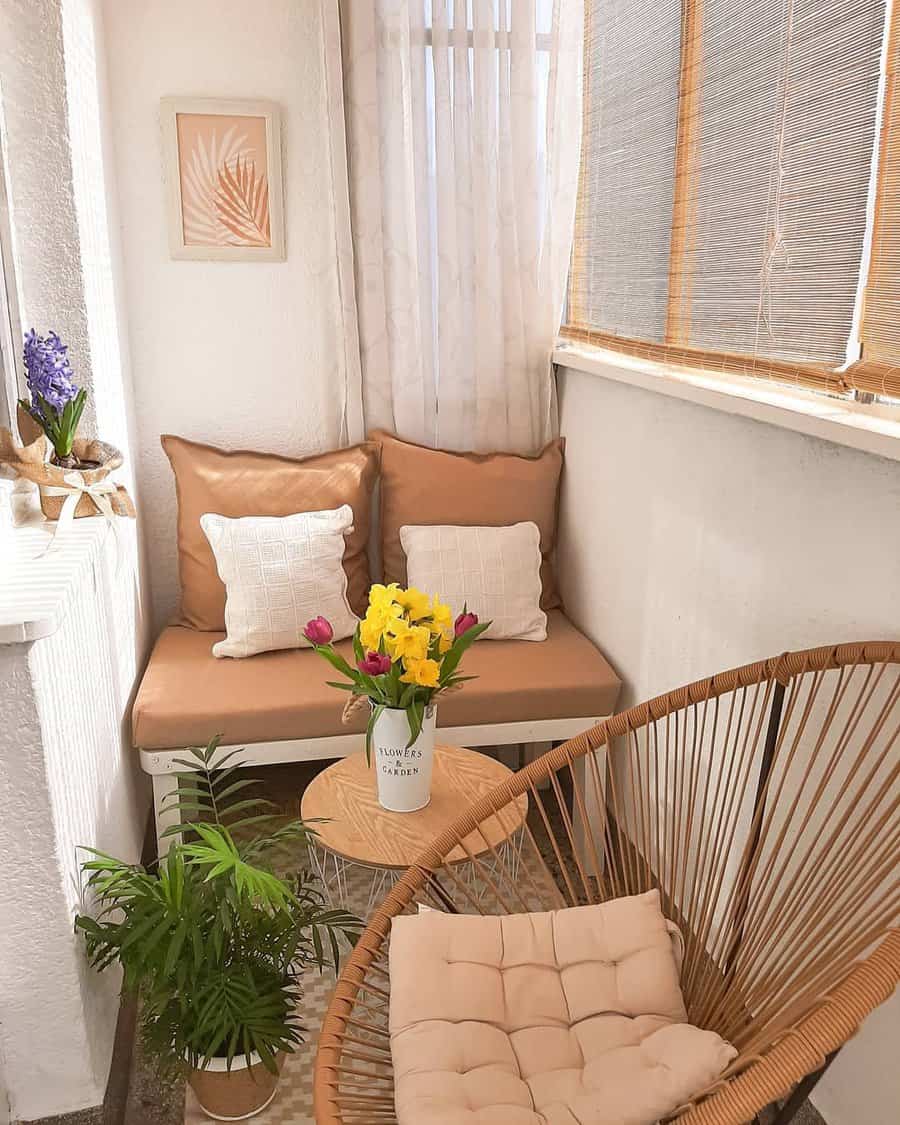 12. Vertical Garden Wonder
Maximize your balcony space with a captivating vertical garden. Explore various planters and hanging solutions to craft a lush, space-efficient display. Customize your greenery with herbs, succulents, or flowers to match your personal style.
Alternatively, consider a vertical wooden pallet planter, mounted on your balcony wall. This multi-functional choice not only adds greenery but also serves as a privacy screen and visual backdrop, enhancing the aesthetics and functionality of your balcony.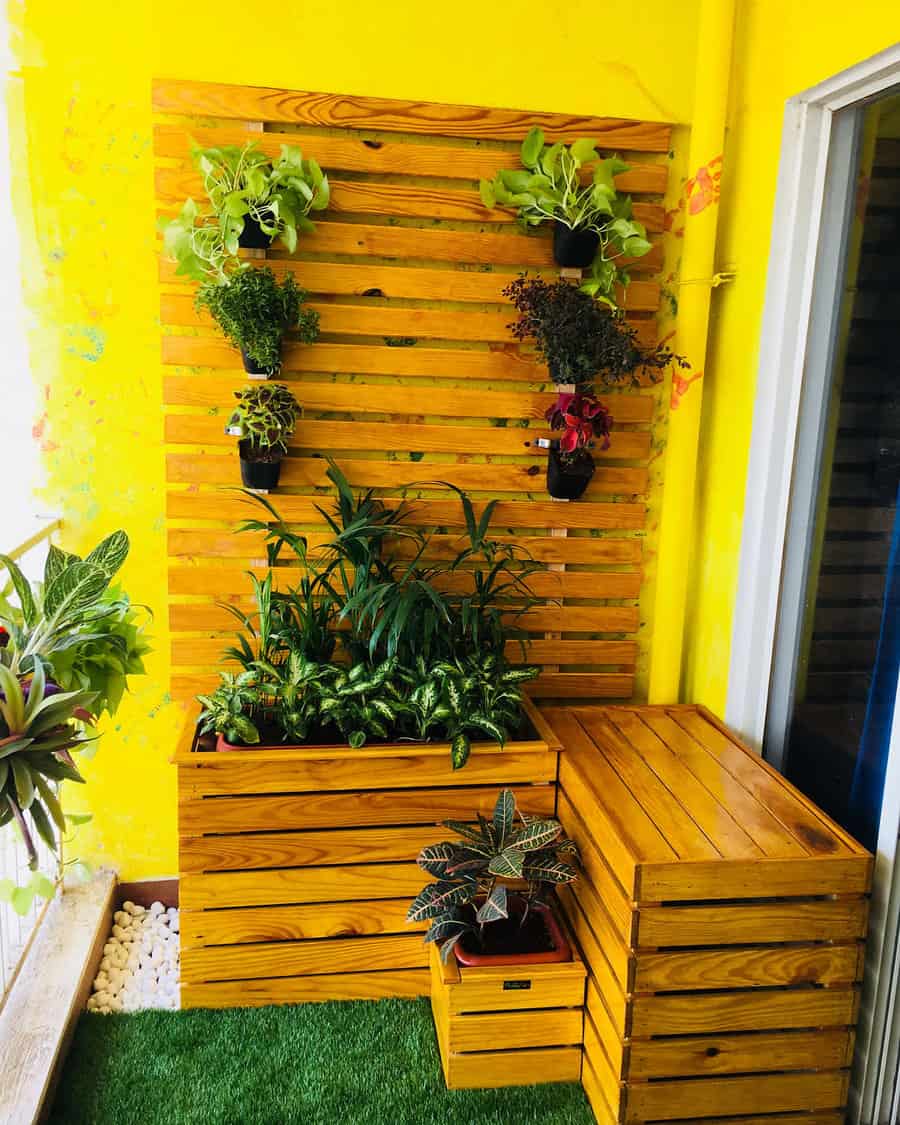 13. Enchanting String Lights
Elevate your apartment balcony into a tranquil haven with the magic of string lights. These unassuming yet transformative fixtures bring cozy and inviting outdoor charm. Whether hung from the ceiling or wrapped around railings, they create a warm and ambient atmosphere ideal for savoring a glass of wine or diving into a captivating book.
To complete the picture, introduce comfortable seating such as a small outdoor sofa or chairs, complemented by colorful cushions or throw pillows. This simple combination fosters a comfortable and stylish lounge area where you can unwind and relish the serenity of your balcony retreat.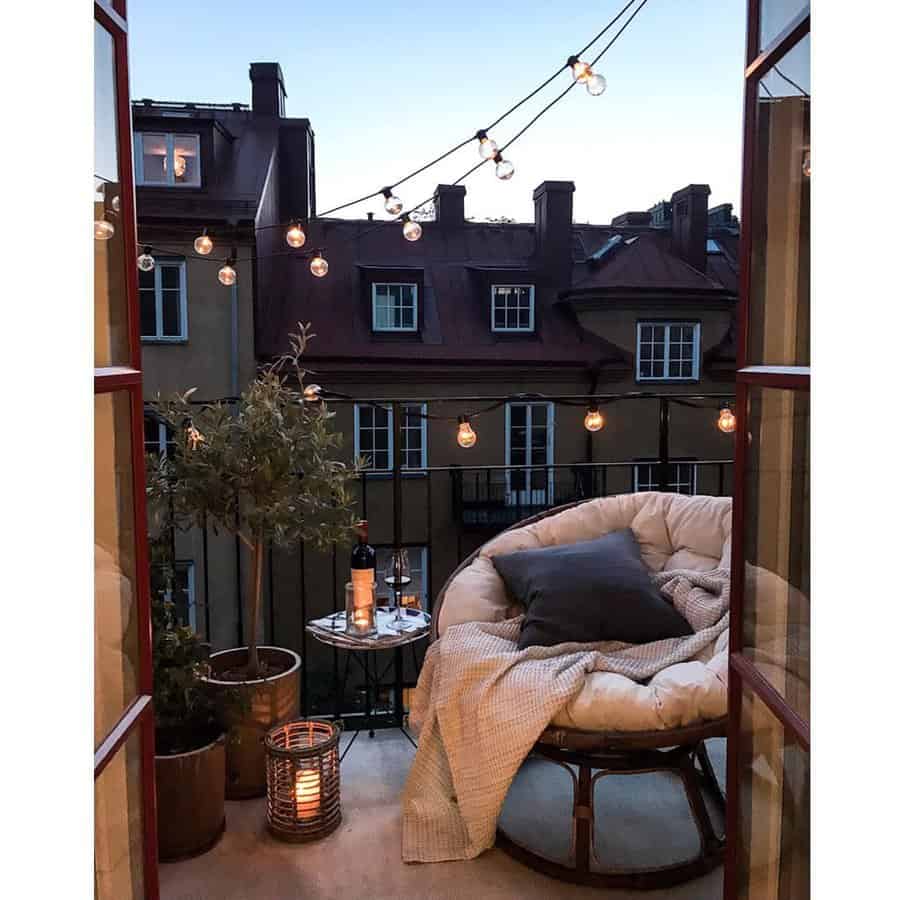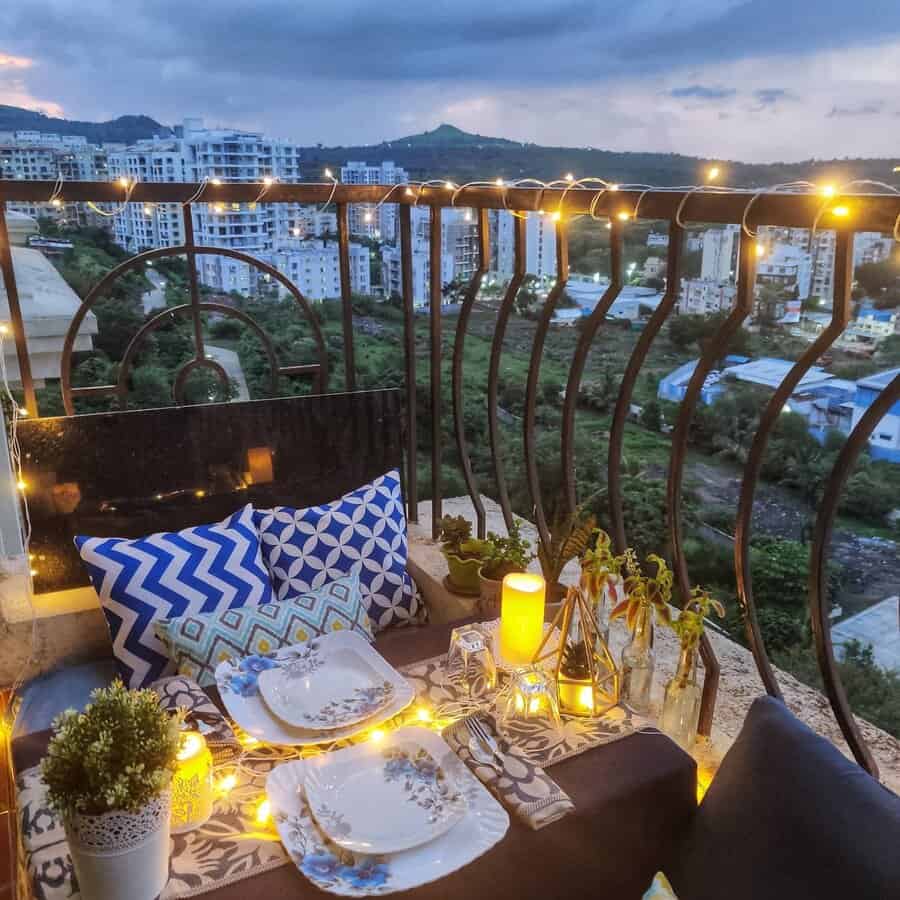 14. Transparent Glass Railing View
Enhance your apartment balcony with a sleek and modern touch by opting for a glass railing. This design choice offers unobstructed views of the outdoors, allowing you to bask in the beauty of the scenery and skyline without hindrance. The result is a sophisticated and stylish balcony that feels open and inviting.
To amplify the appeal, experiment with lighting options like string lights or lanterns, crafting a warm and welcoming atmosphere. With a touch of creativity and meticulous attention to detail, your apartment balcony transforms into a charming oasis, offering a serene space to unwind and connect with the great outdoors from the comfort of your home.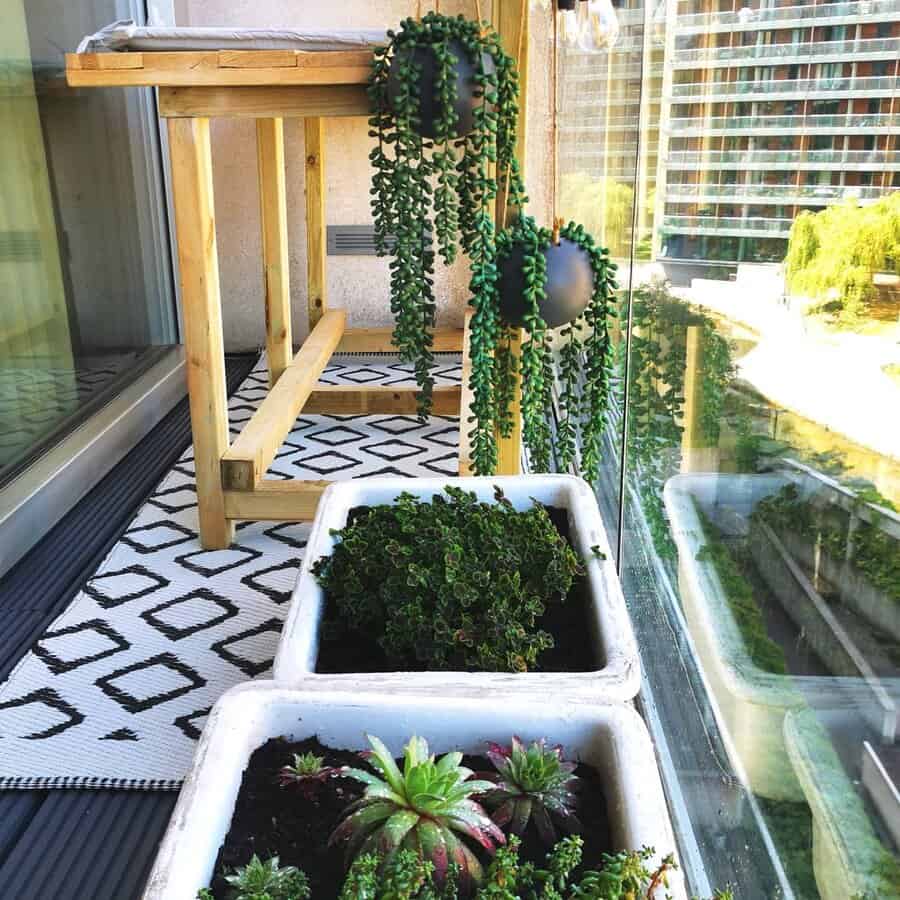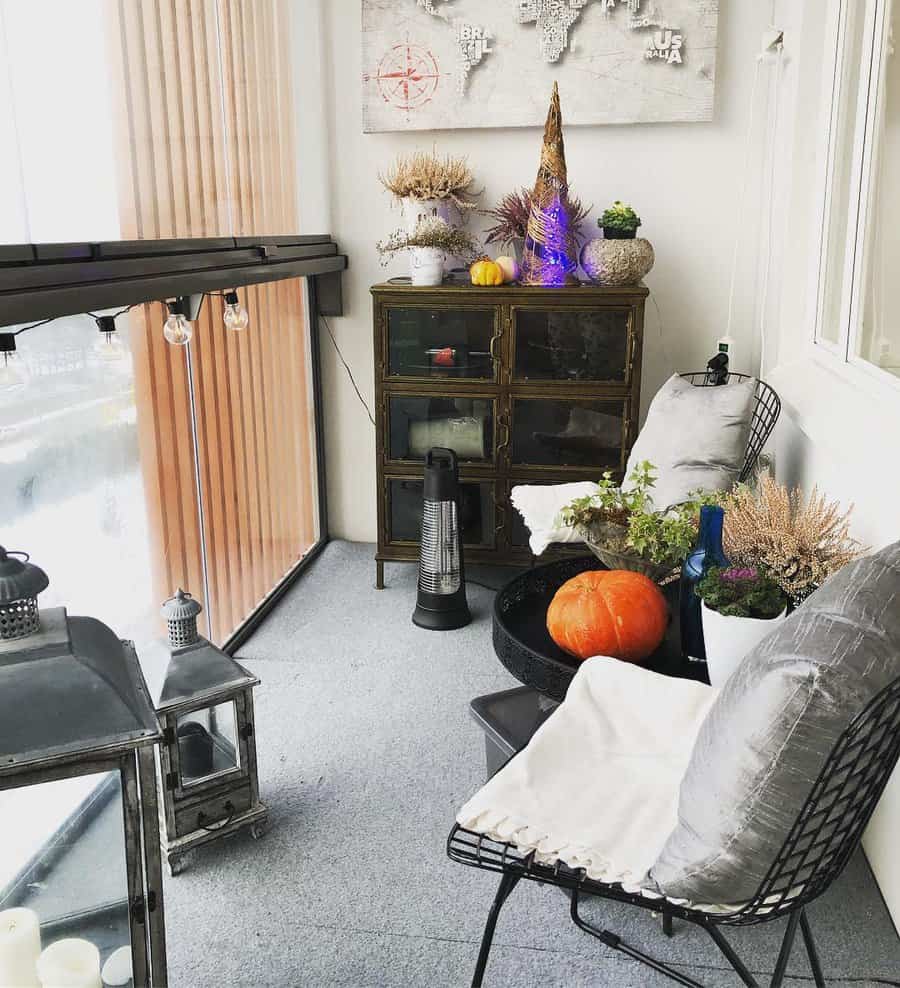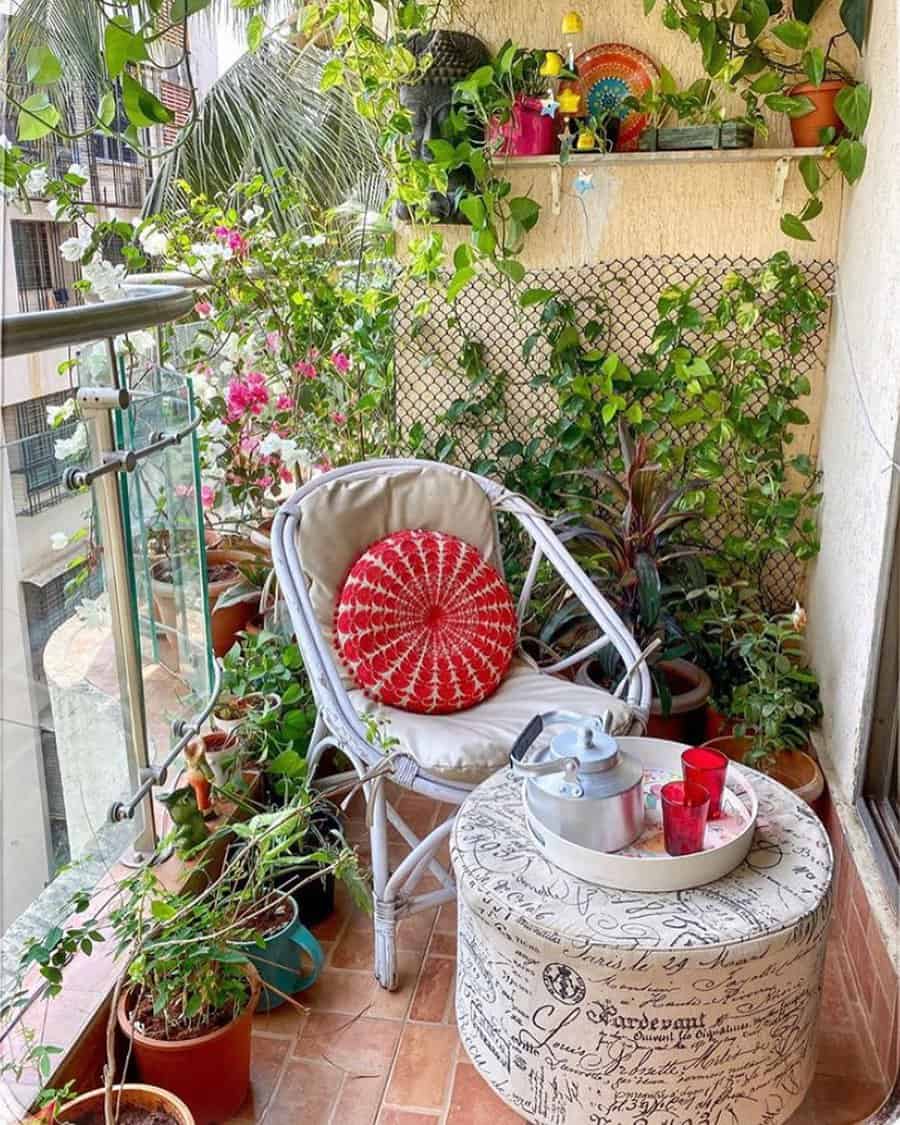 15. Stylish Lattice Trellis Design
Revamp your balcony with a lattice trellis, a versatile feature that marries beauty and function. By letting climbing plants like jasmine or ivy flourish, you infuse natural beauty and charm into your space while also achieving a sense of privacy from neighboring balconies or windows.
To further maximize space, consider vertical plant displays like hanging gardens or wall-mounted planters. These additions offer lush greenery without sacrificing room. Alternatively, explore privacy options such as bamboo or faux ivy screens or sleek, modern designs, allowing you to craft a cozy and secluded balcony retreat that suits your personal style.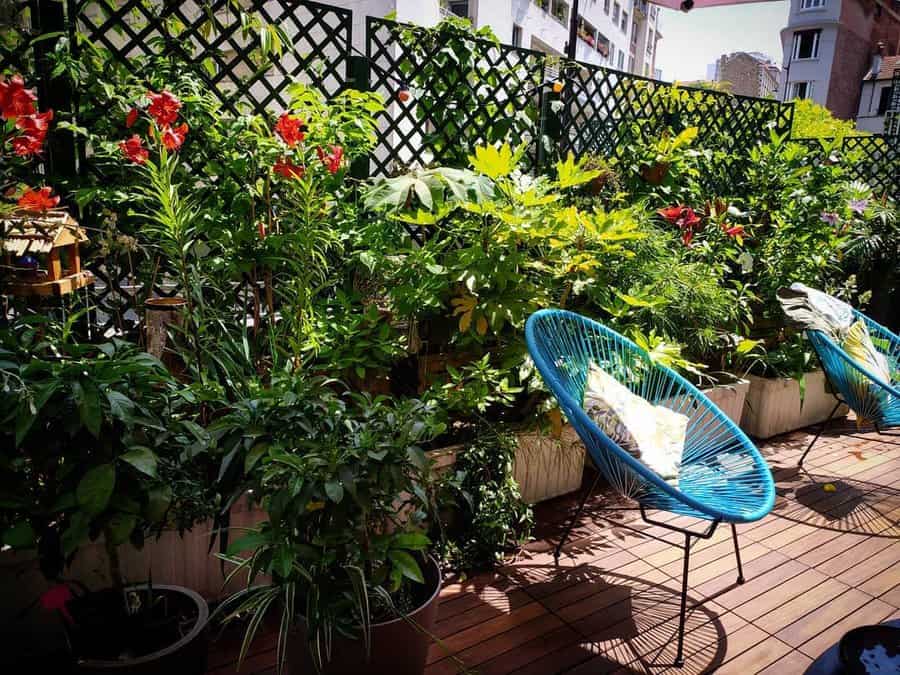 16. Comfort with Pillows & Blankets
Maximize the potential of your apartment balcony by infusing it with comfort and charm. Elevate your balcony's coziness by adding throw pillows and blankets. These simple additions work wonders, instantly transforming your outdoor space into an inviting oasis for relaxation and unwinding.
Select pillows and blankets that harmonize with your balcony's aesthetic, playing with colors, patterns, textures, and materials for a visually appealing blend. Experiment with various seating options like chairs, benches, or even a hammock to curate a cozy and serene atmosphere that suits your preferences.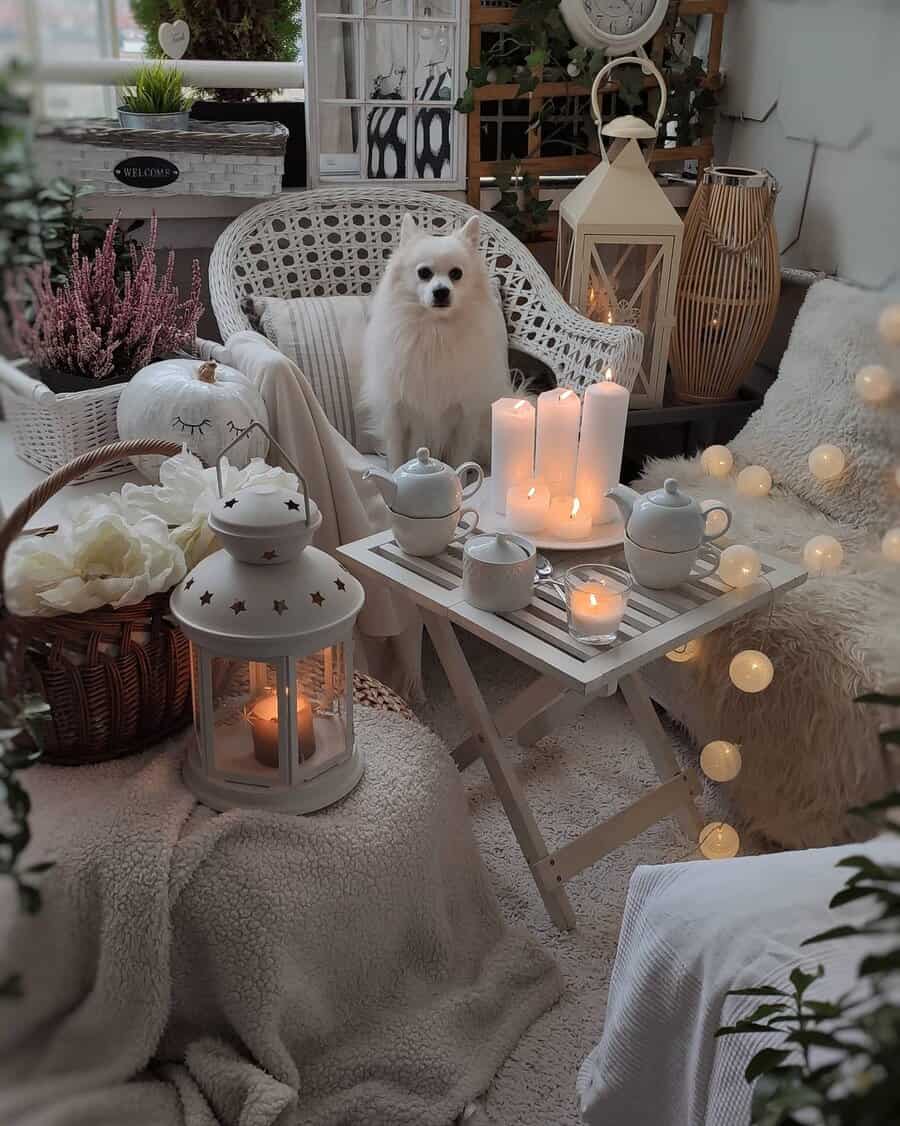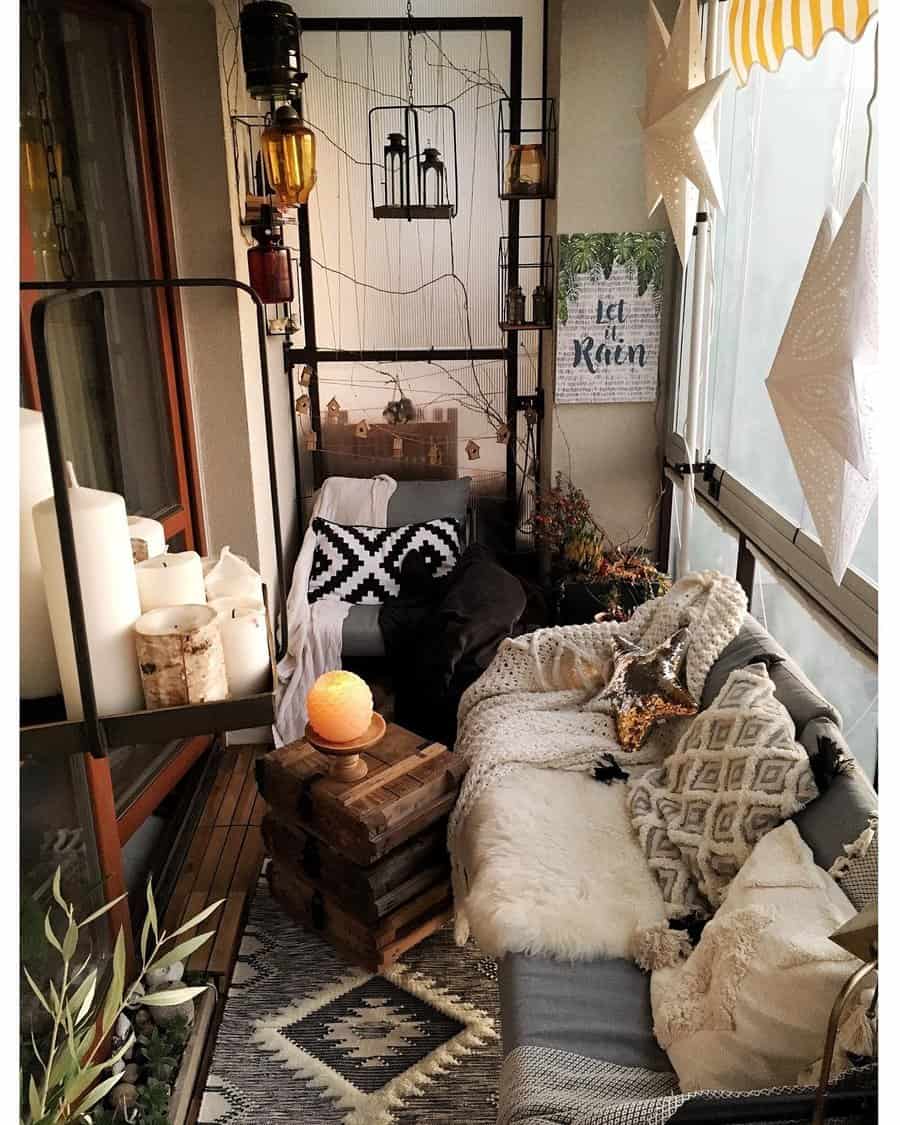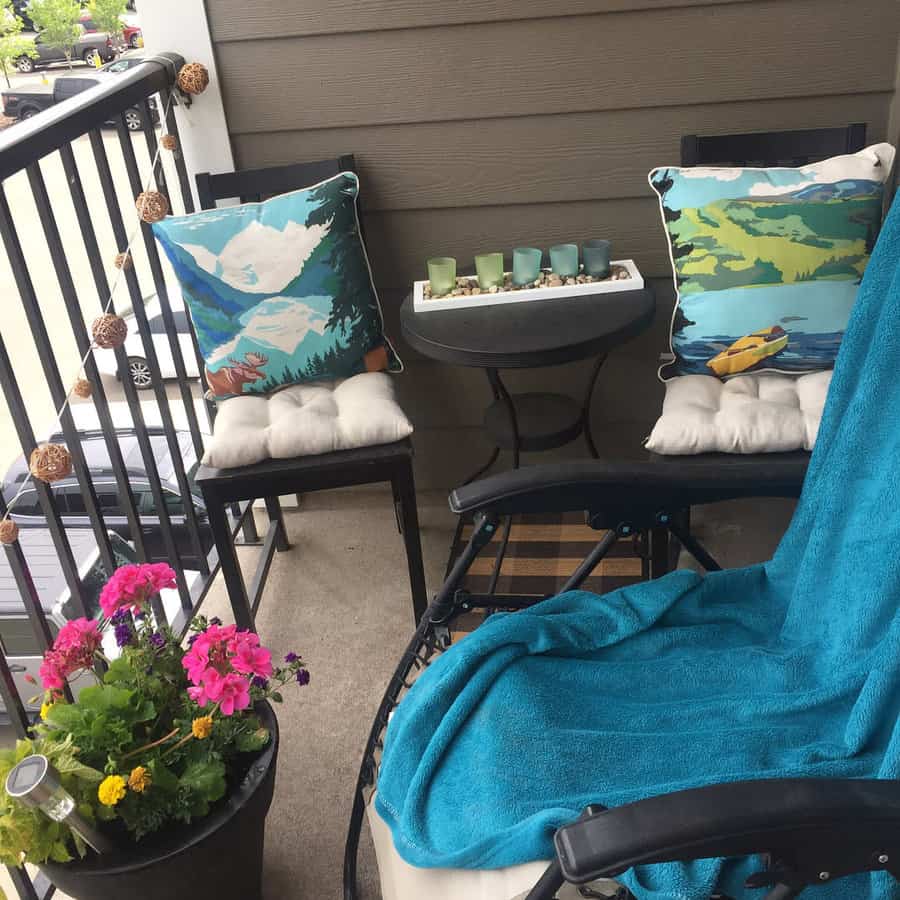 17. Wicker Furniture Elegance
Elevate your balcony's style and comfort with the timeless charm of wicker furniture. This visually appealing, weather-resistant choice is a fantastic addition to your outdoor space.
Consider a wicker bistro set for a cozy morning coffee spot or a spacious wicker sectional for entertaining guests. Enhance comfort and allure by adding soft cushions or throw pillows, transforming your wicker furniture into an even more inviting and stylish seating option.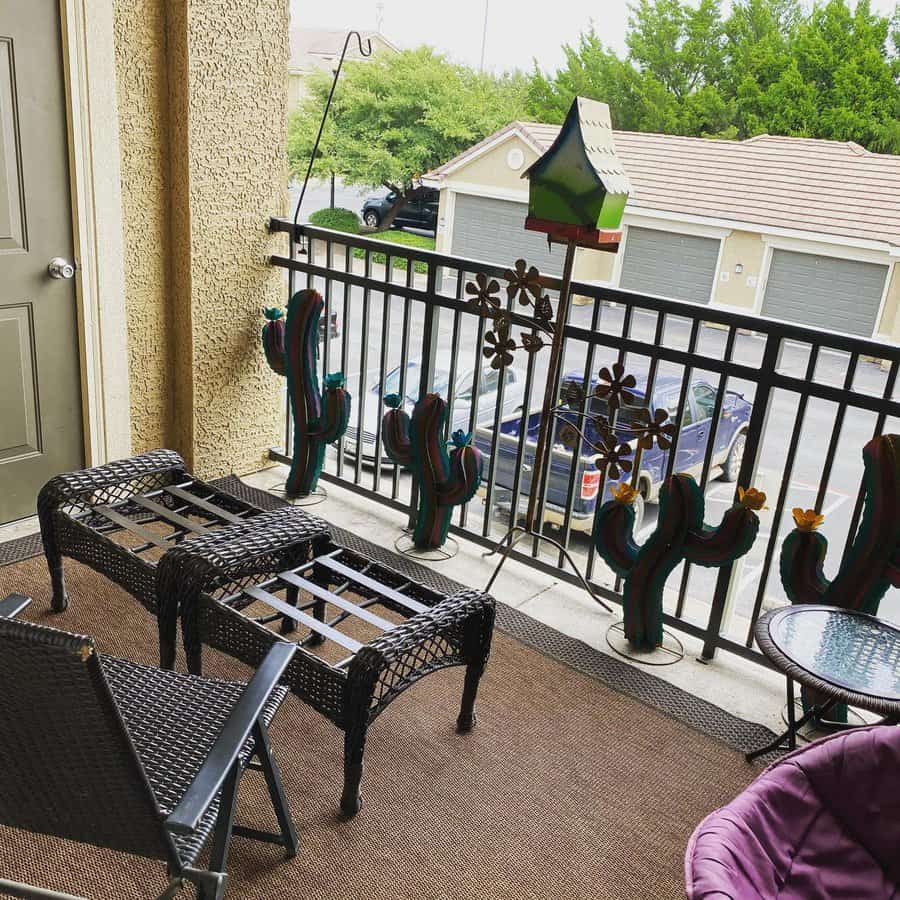 Apartment Balcony FAQs
How do you style a small apartment balcony?
Start with furniture that is scaled down to fit the size of the balcony. Consider adding built-in furniture that will take up less floor space. You could skip the structured furniture completely and opt for pillows and bean bags on the floor. Add lighting that will create your desired mood. Spread a rug on the floor to make the balcony feel cozy. Add plants that fit the space. This could be something small like air plants or succulents or a tall potted plant.
How can I make my balcony look bigger?
Use open furniture that you can easily see through and beyond. This keeps the space feeling more open. A large area rug with a long-running pattern can create the illusion that the space is longer than it really is. Keep everything low so that there are minimal items blocking your view.
How do you make a small balcony private?
To make a balcony more private, you need to add elements that will block the view of other people. Cover an open railing with an outdoor fabric or allow a plant to grow and cover the space. A lattice can provide support for higher growth. A folding screen lets you move it around for portable privacy where you need it. A small waterfall or fountain feature will create a natural sound that will help drown out your voice.