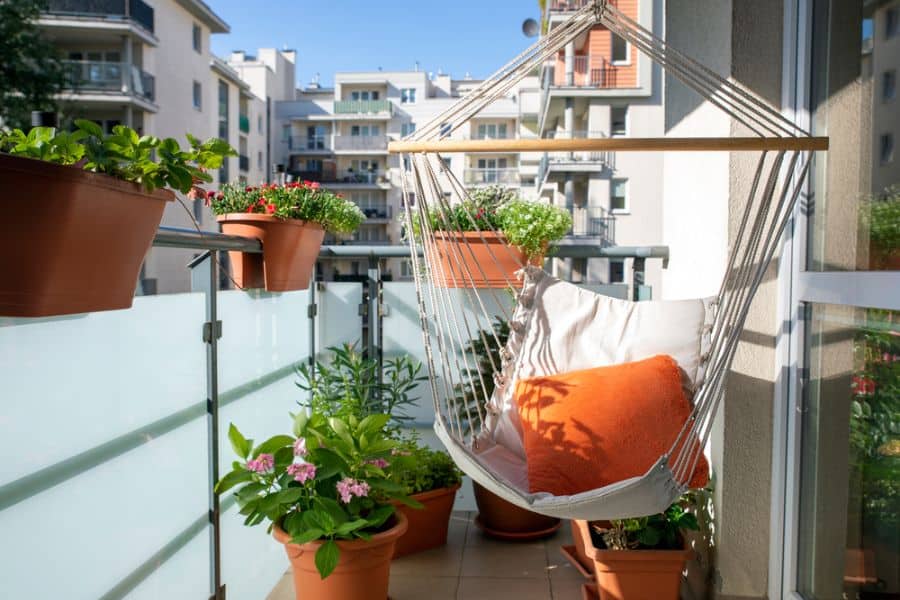 The Top 55 Apartment Balcony Ideas
"On weekends, I sit in a lounge chair on my balcony. I love to be outside when the weather's right. I can stay there pretty much all day." – Sue Monk Kidd
Living in an apartment makes it difficult to make your space your own. You have a smaller space to work with, and many design elements are already chosen for you. Depending on your lease, you may not be able to make any major changes. This makes it tough to turn your small balcony into a pleasant place where you want to spend time.
Decorate your balcony with the right furniture, decor, plants, and lighting, and you will have your own piece of outdoor living paradise. Consider adding privacy elements to block your neighbor's ability to see and hear what goes on in your balcony. These apartment balcony ideas will help you turn your balcony into a space that reflects who you are.
1. Design
Give your balcony the professional treatment using the same small balcony ideas that an interior designer would. Cover the standard balcony floor with a more attractive floor covering. This could be an outdoor rug or a teak tile that you snap together and lay into place.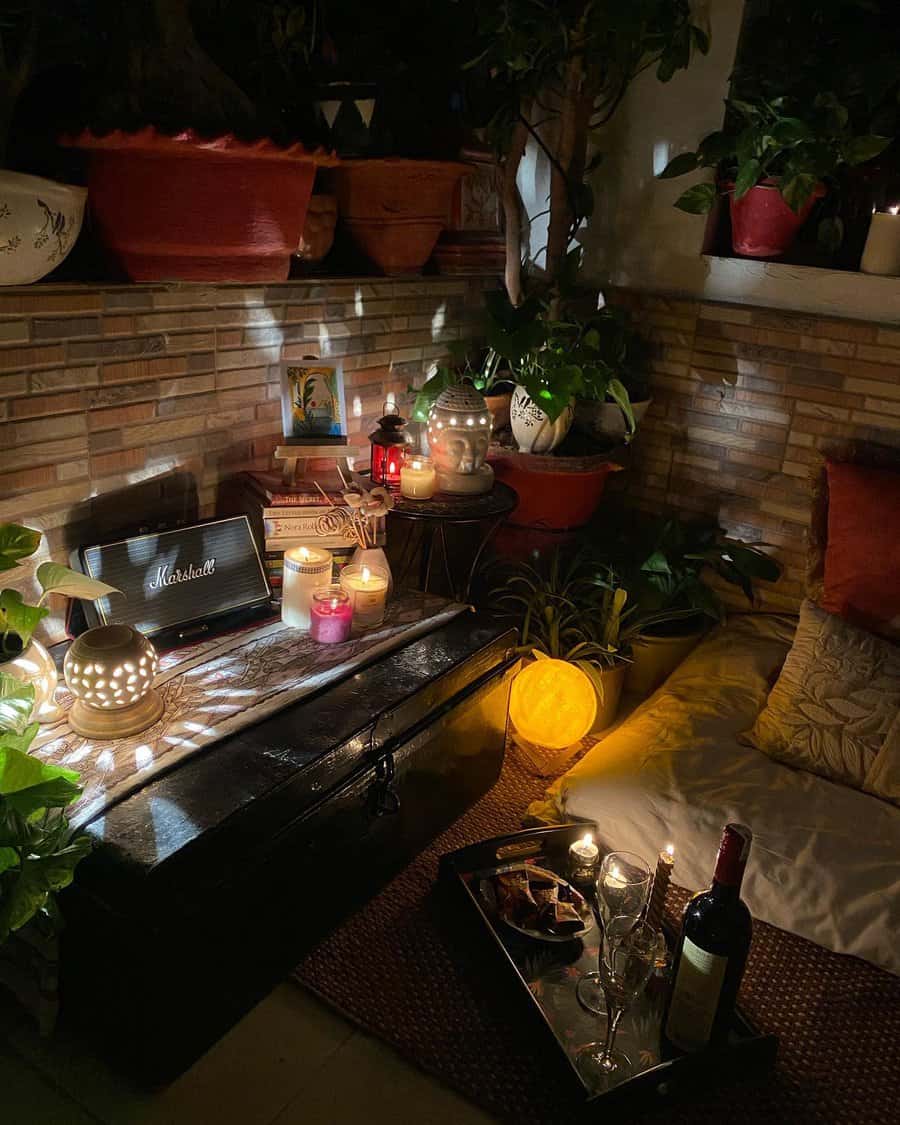 Arrange furniture in a similar setup that you would in your living room. Position the furniture to easily admire the view from the balcony. It should also be positioned to make it easy to talk with your guests.
2. Enclosed
Having an enclosed balcony gives you the most freedom because you can use interior furniture. The enclosure protects your balcony and anything on it from the elements. It feels like an outdoor living space but isn't. Cover the ugly concrete flooring with a wooden floor. This gives your balcony a classier feel.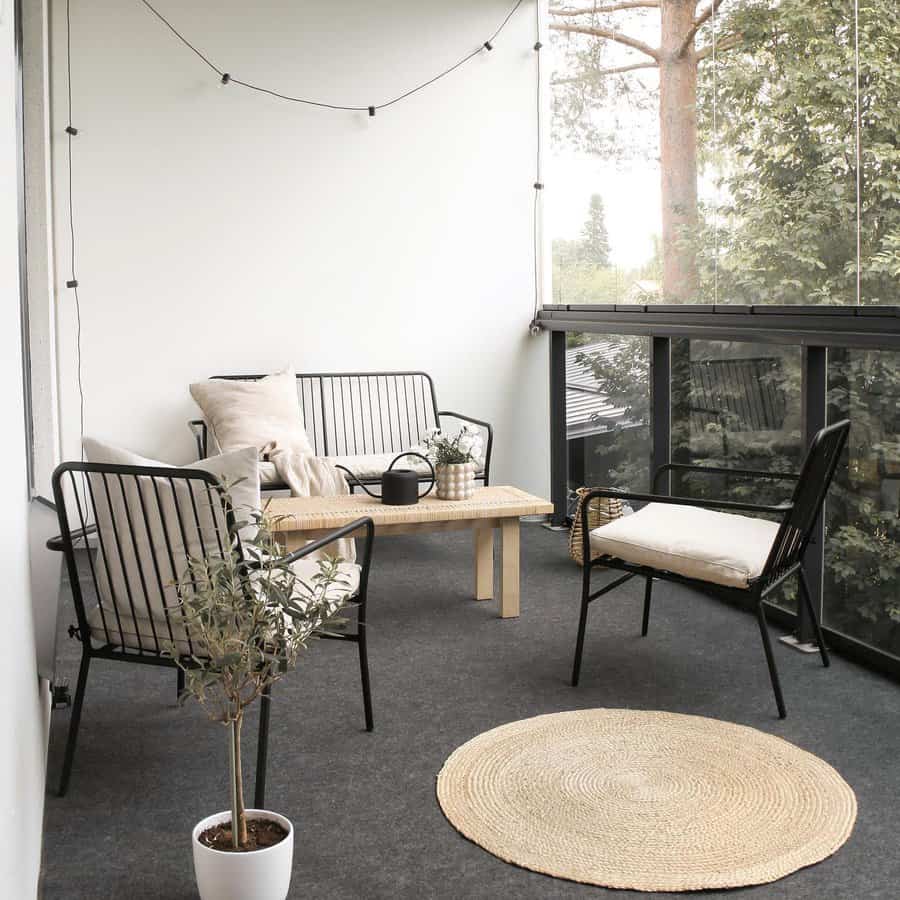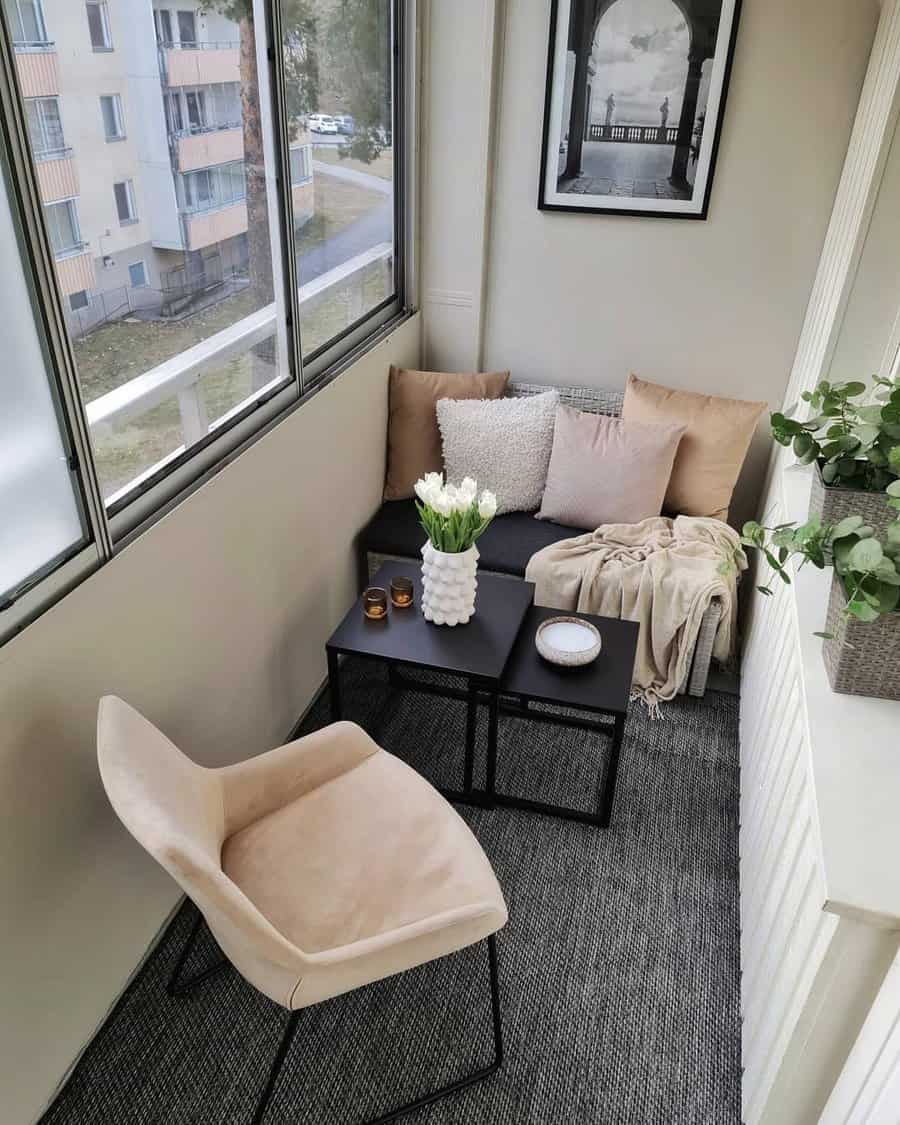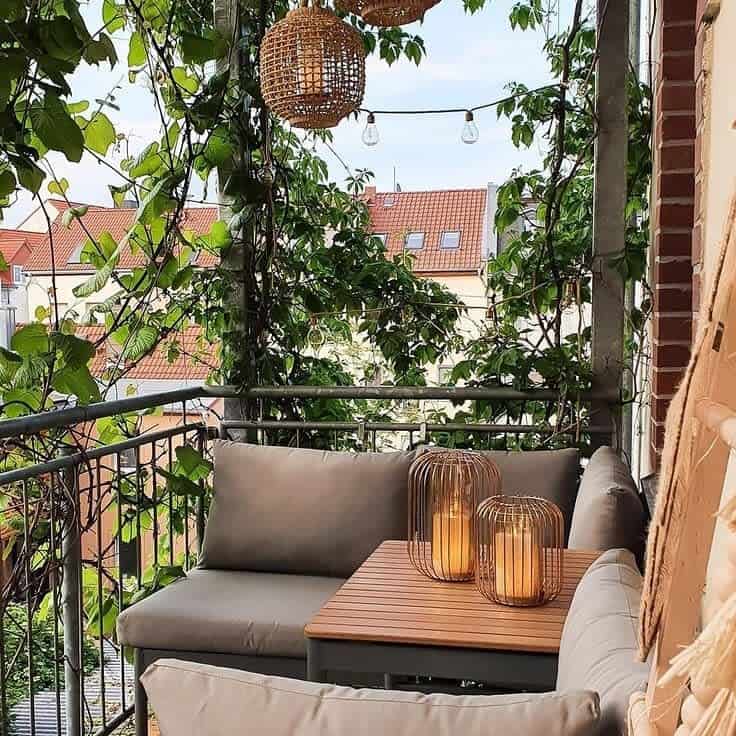 Try out other cool balcony ideas like stringing fairy lights from the ceiling. Add hanging lanterns for a soft ambient glow. Give your balcony an outdoor bar feel by adding a bar height skinny table with bar stools lined up facing out. Add vine plants in hanging planters that will drape down and give your enclosed balcony a touch of nature.
3. Furniture
Apartment balconies tend to be smaller than a standard home deck or patio. Because of this, you need to buy balcony furniture and not generic outdoor furniture. These are pieces that are smaller and lighter. It's also smart to look for decorative elements that can hang on the railing.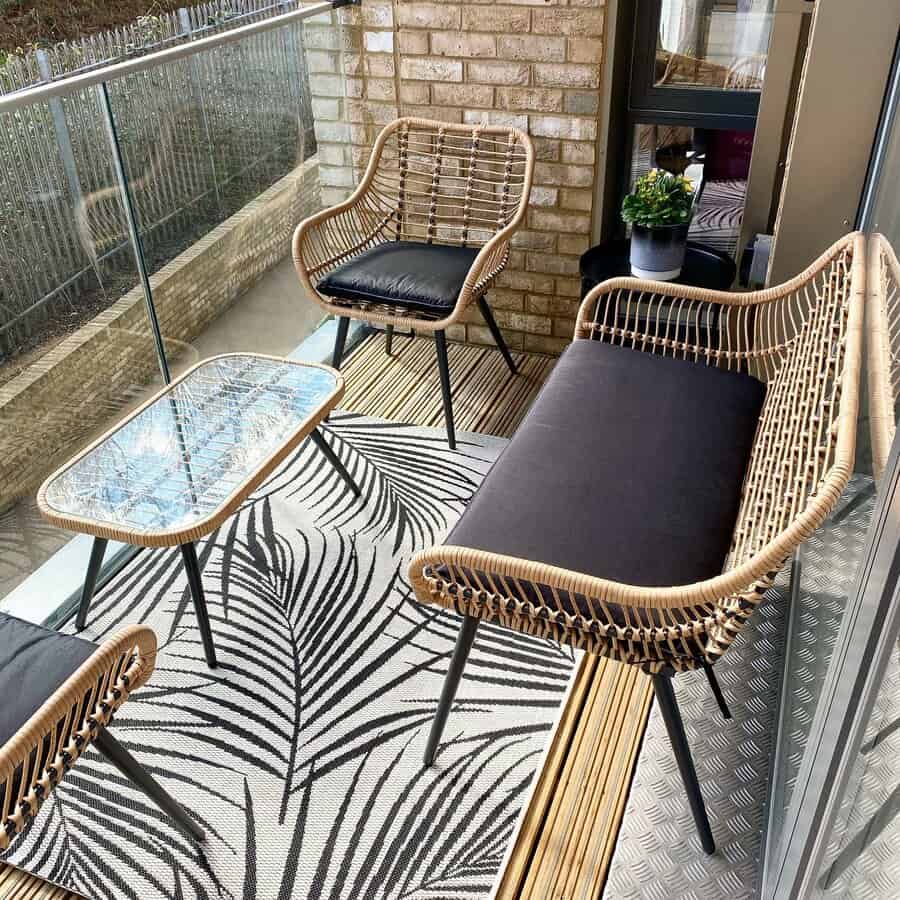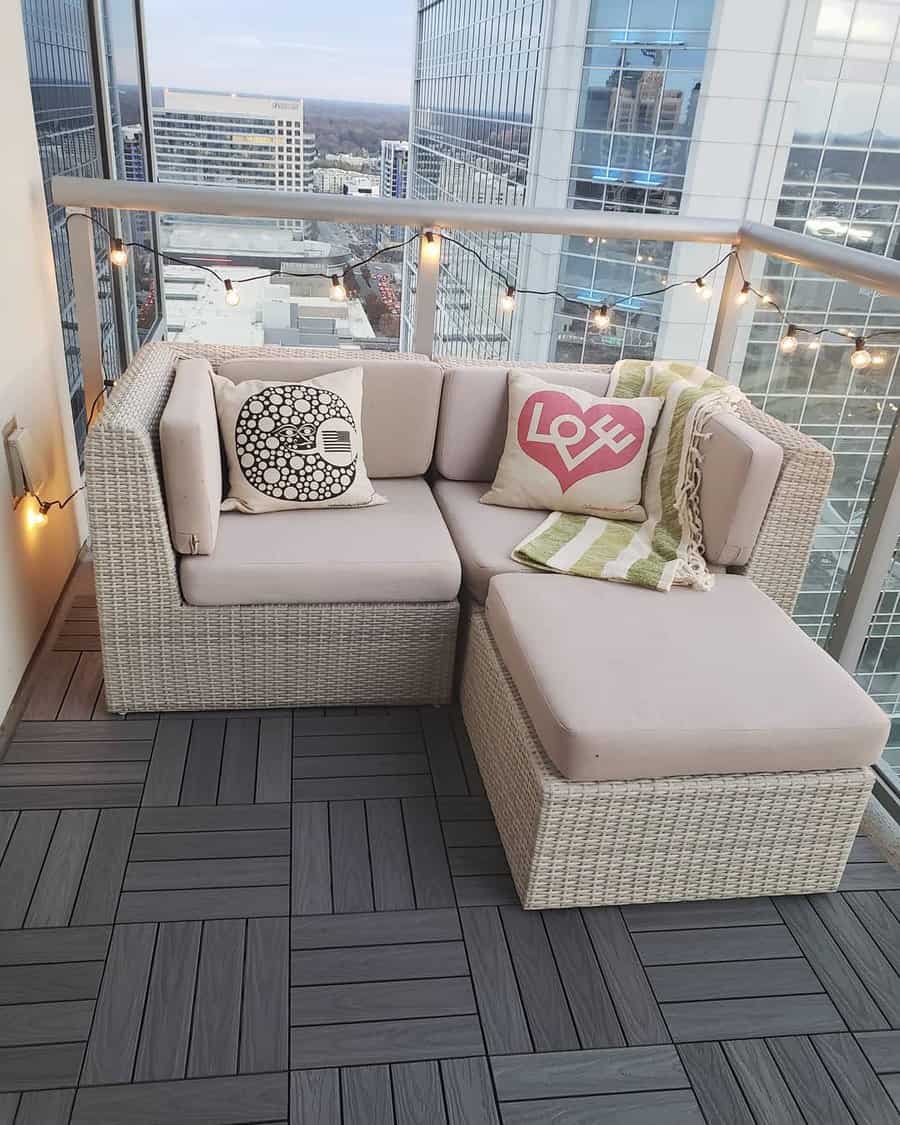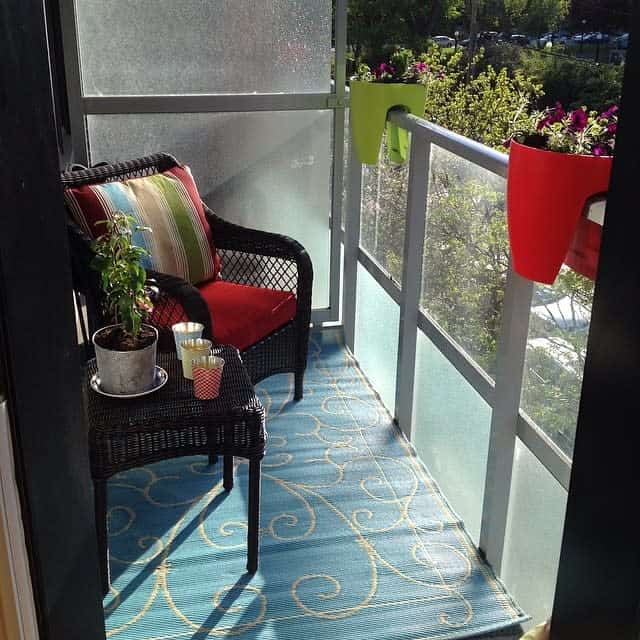 Most people are familiar with railing planters that look like boxes or pots. However, there are other options available to you. Hang lights along your railing for extra illumination. Hang a tabletop or long bar platform. This gives you a place to set down plates and drinks.
4. Garden
Turn your outdoor space into a balcony garden. Arrange potted plants on the floor and then mount a trellis behind them. The plants can then grow upward to create a vertical garden. This is perfect for growing tomatoes, green beans, cucumbers, squash, or melons. Another great idea is to cultivate an herb garden. Then you can easily pop out on the balcony while cooking and use fresh herbs in your dishes.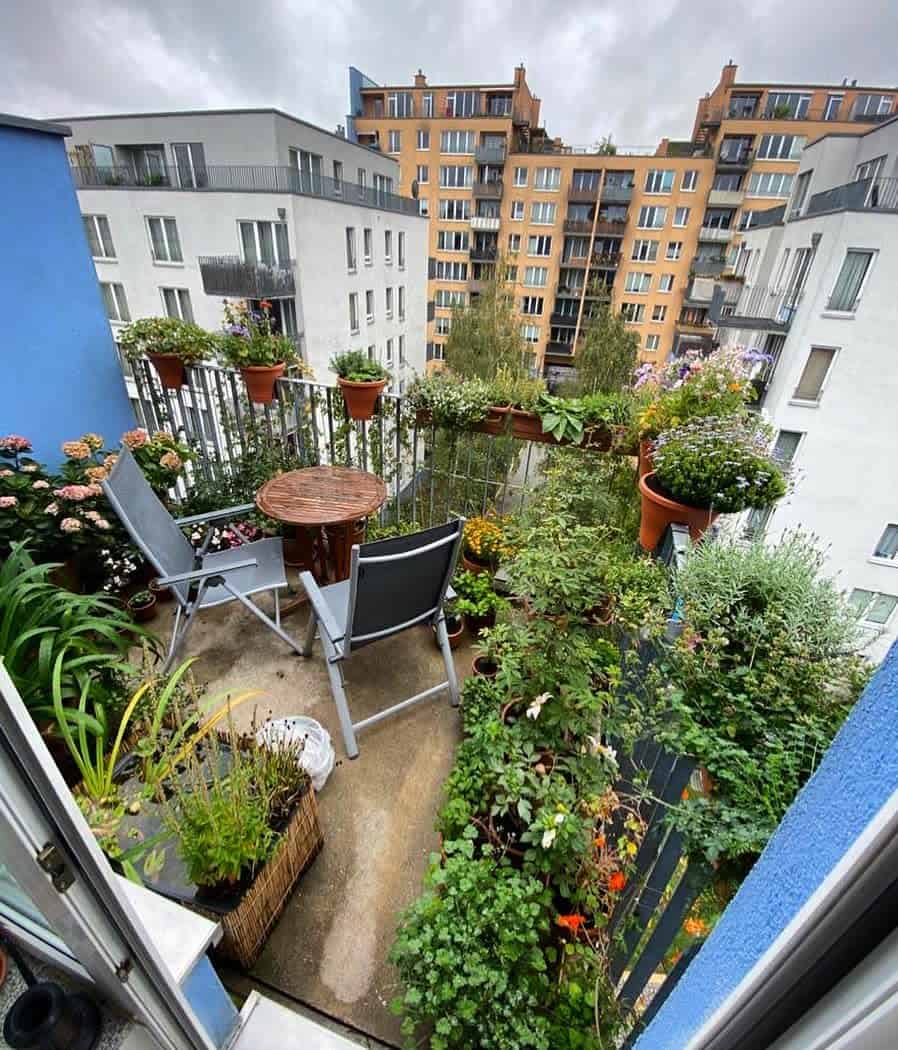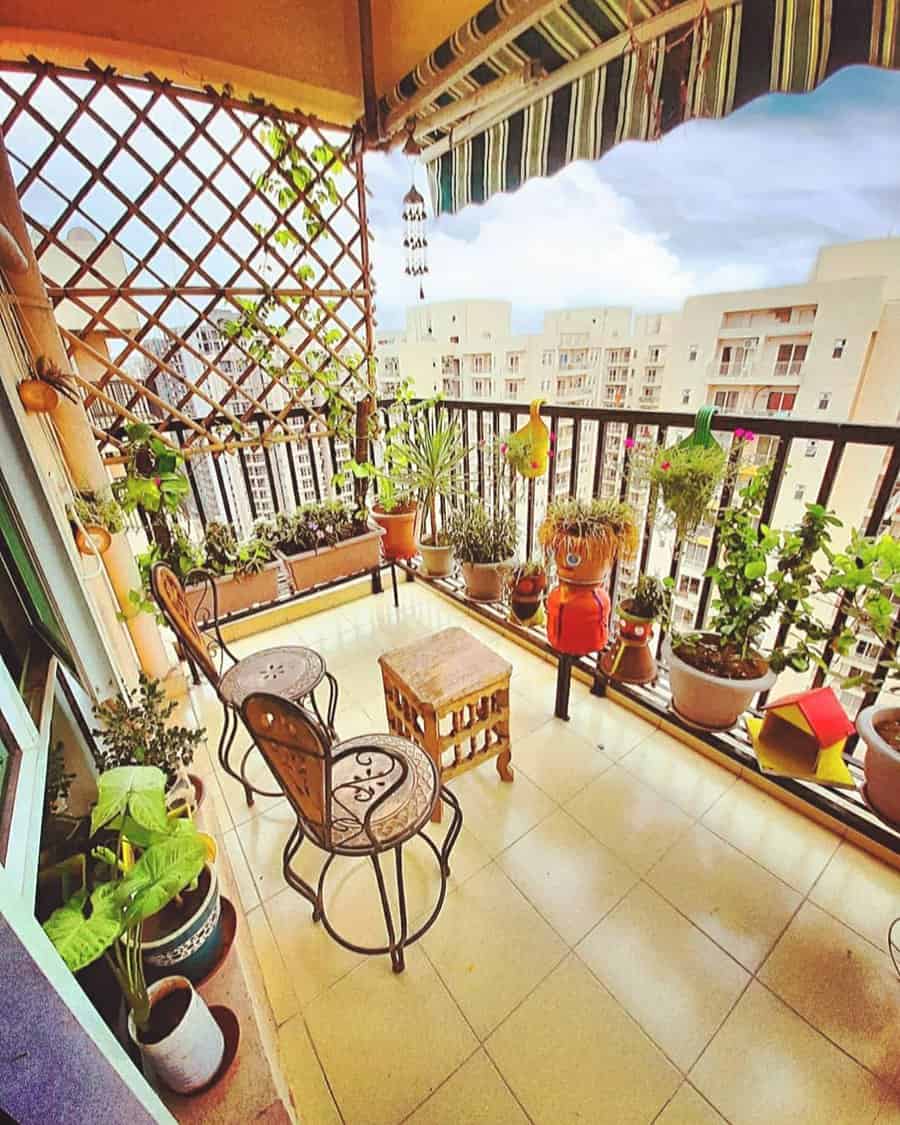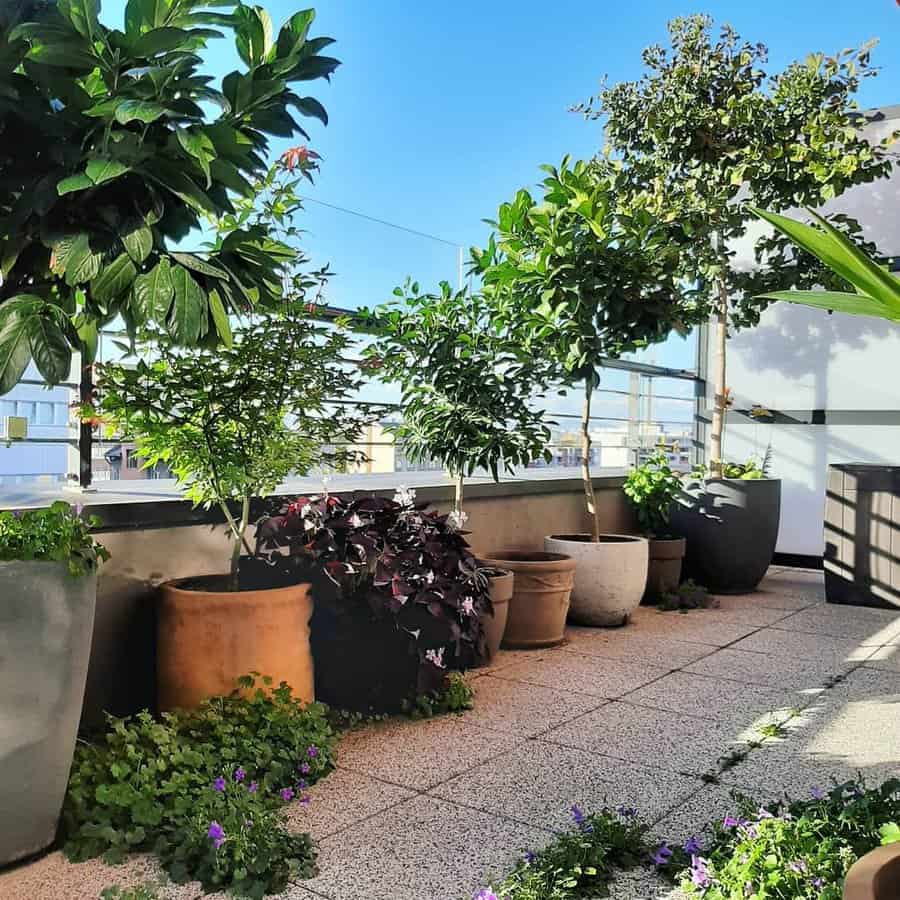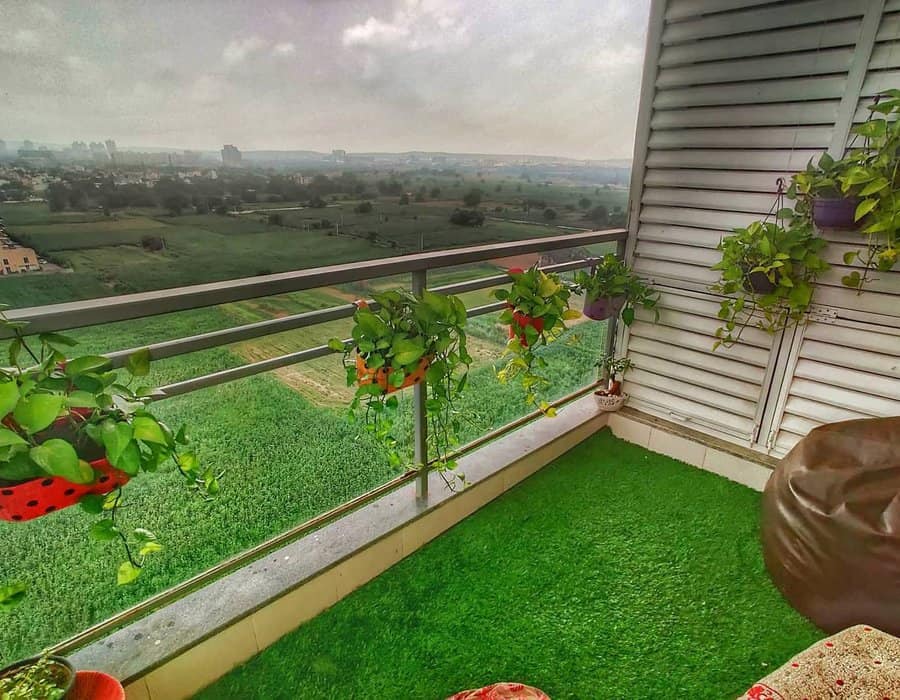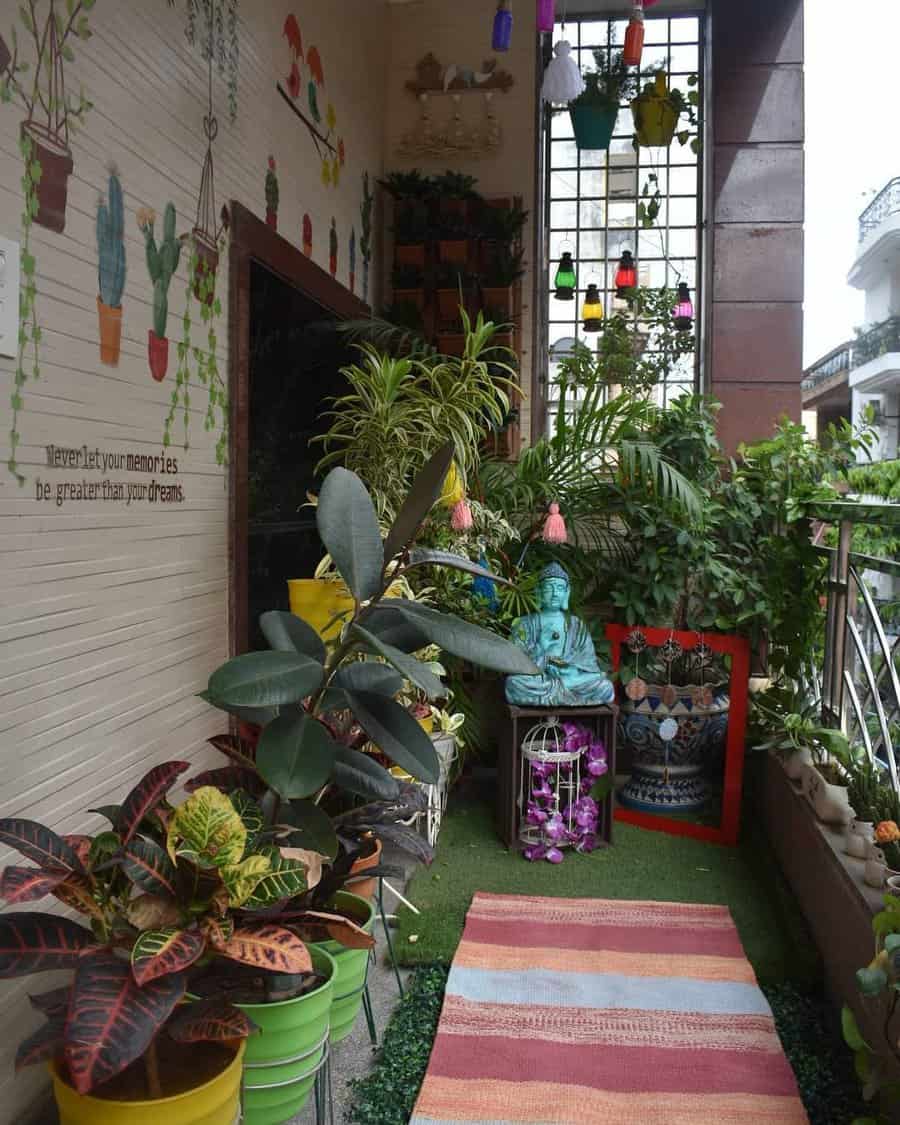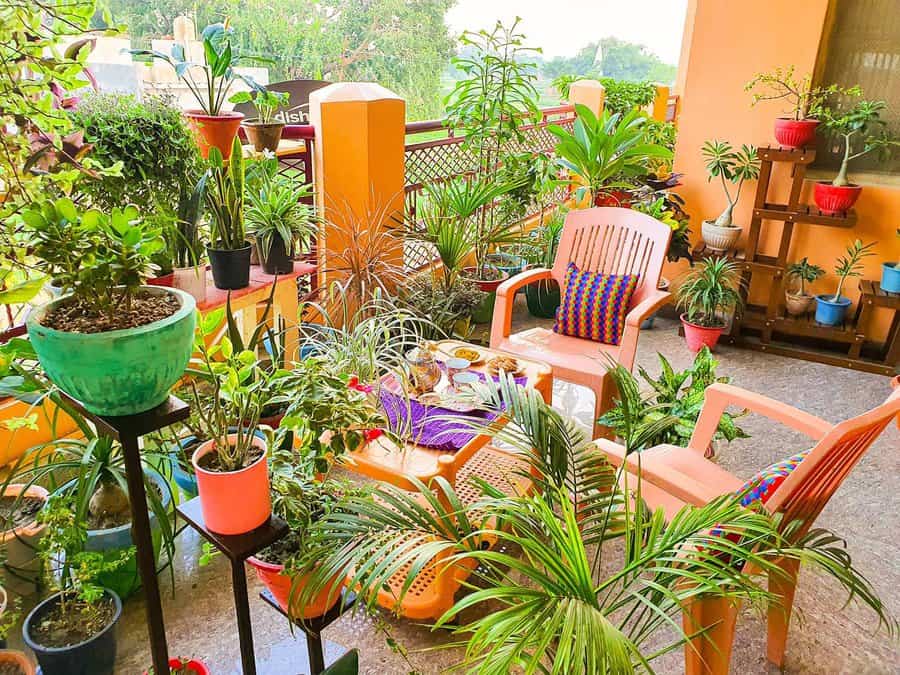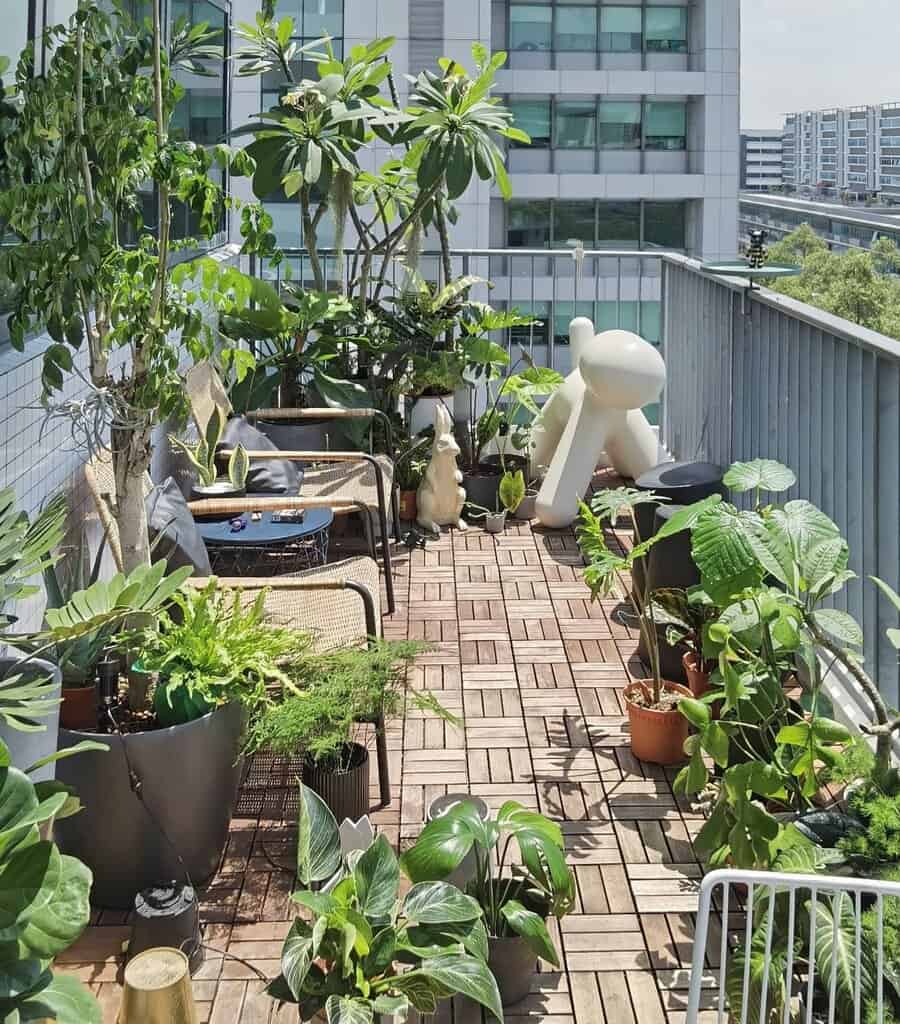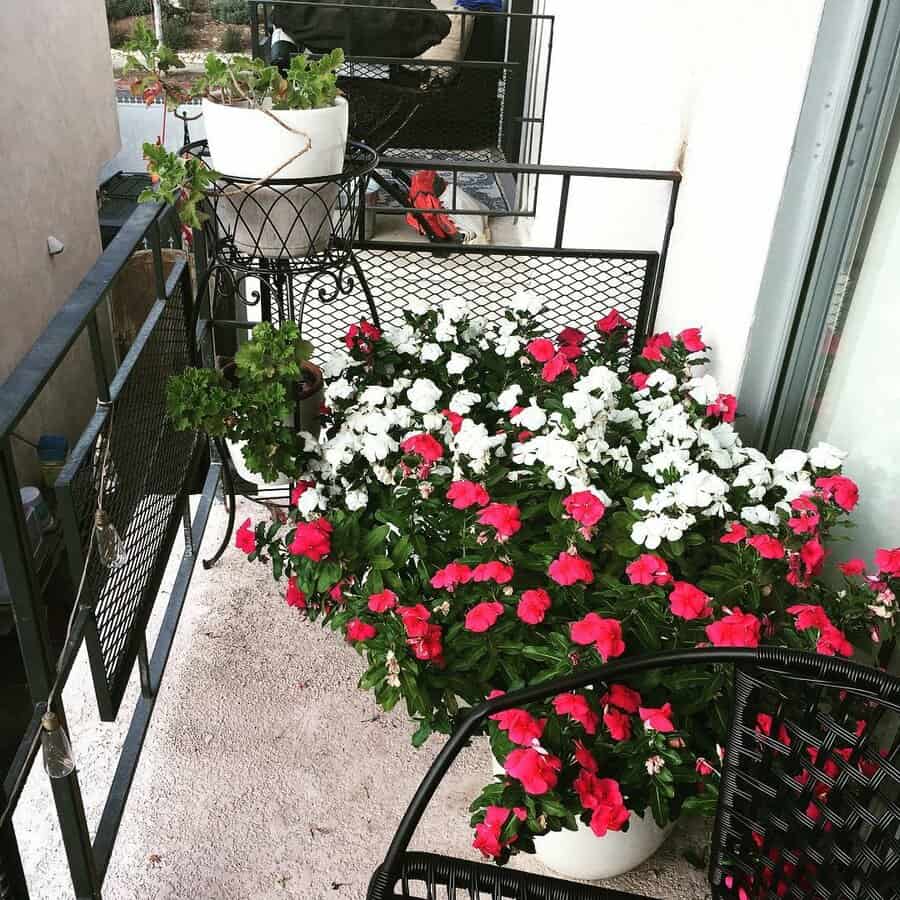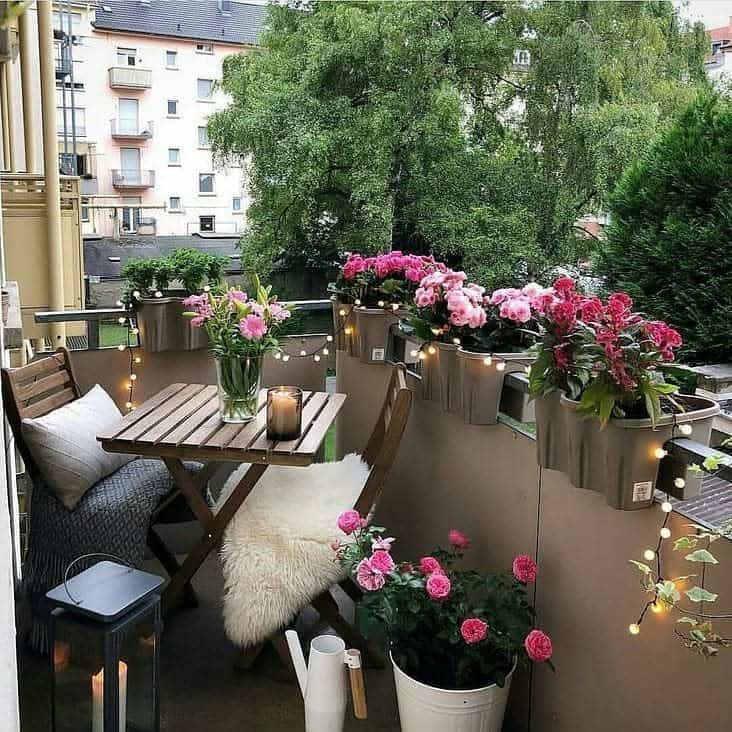 If you aren't interested in growing vegetables or herbs, another option is to turn your balcony into a flower garden. Place a flower pot on your table and others that hang on your railing. There are also vertical towers that let you grow several plants in one large planter. Place more arid plants at the top and tropical plants that require more water at the bottom.
5. Hammock
Hanging a hammock on your balcony gives you the perfect place to stretch out and relax. You could take a nap, read a book, or just gaze at the stars. A hammock creates a bohemian feel to your balcony.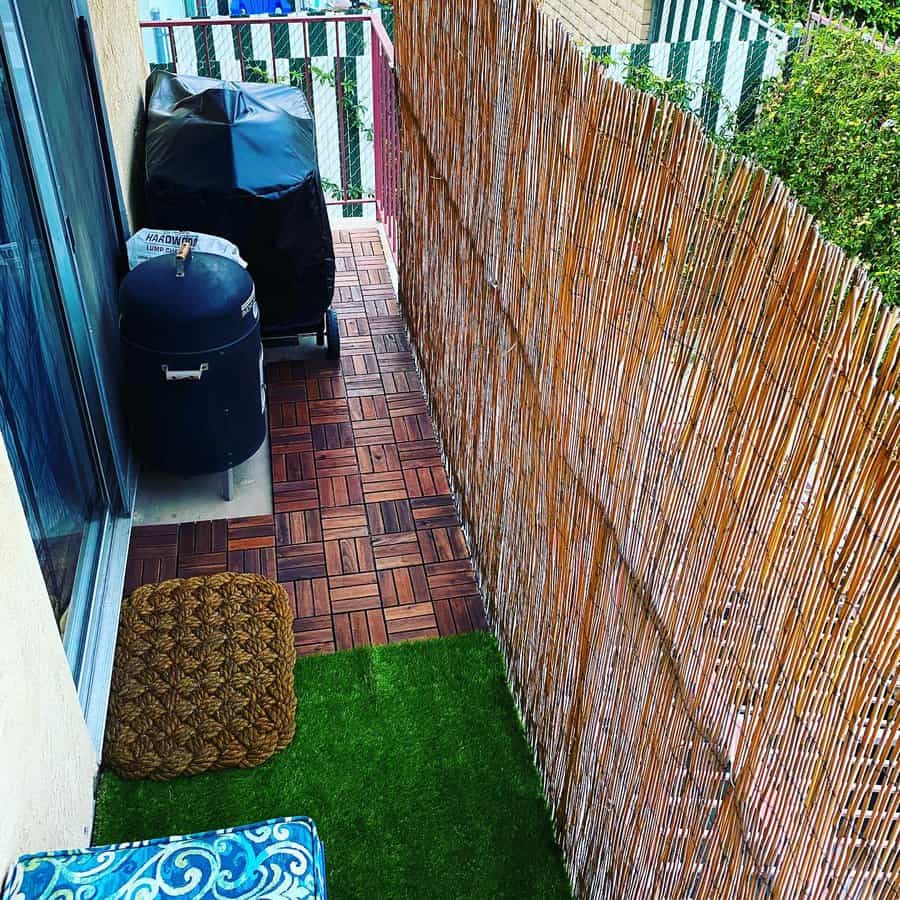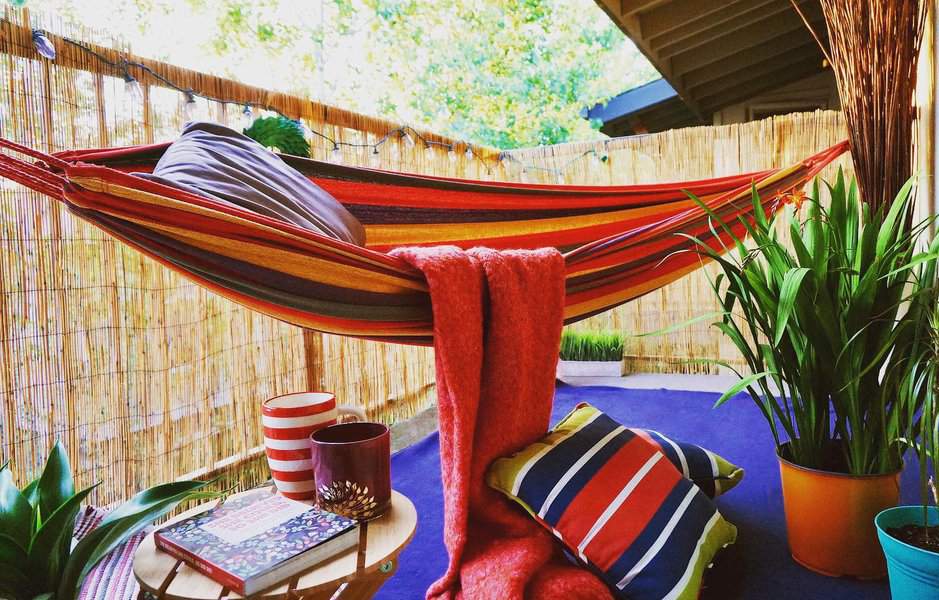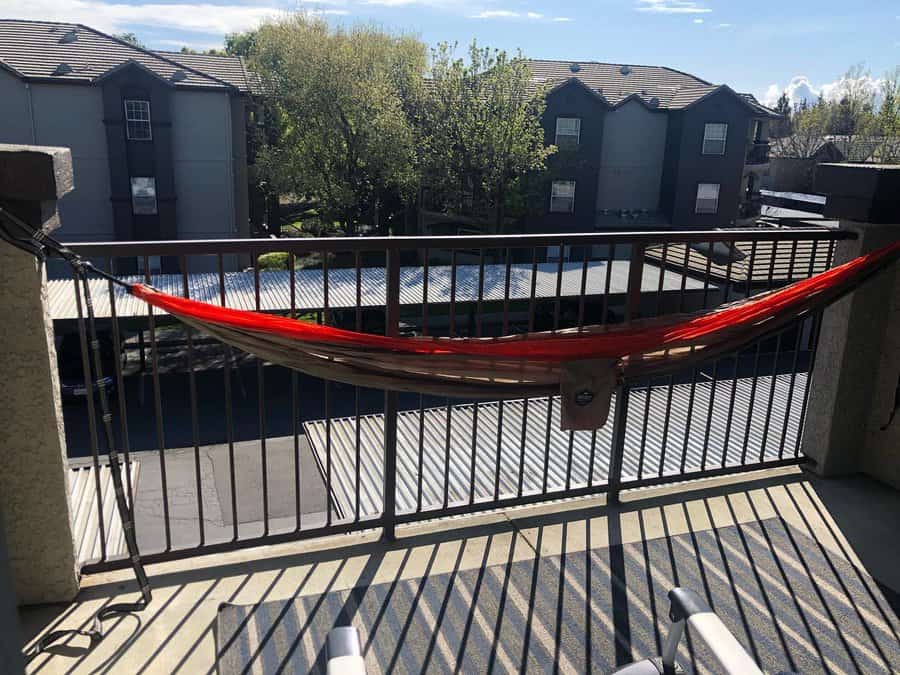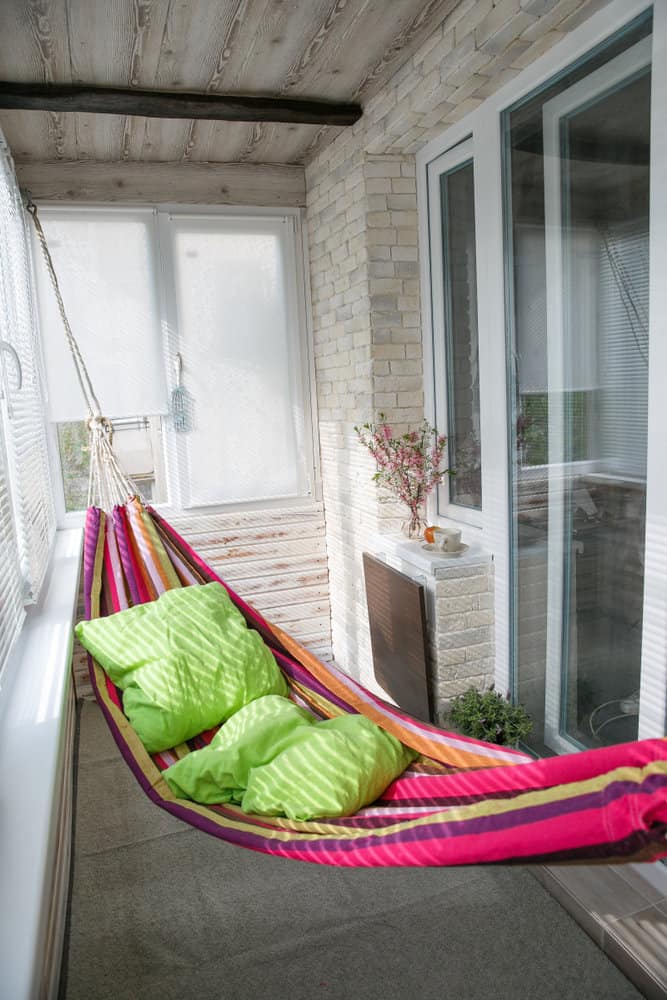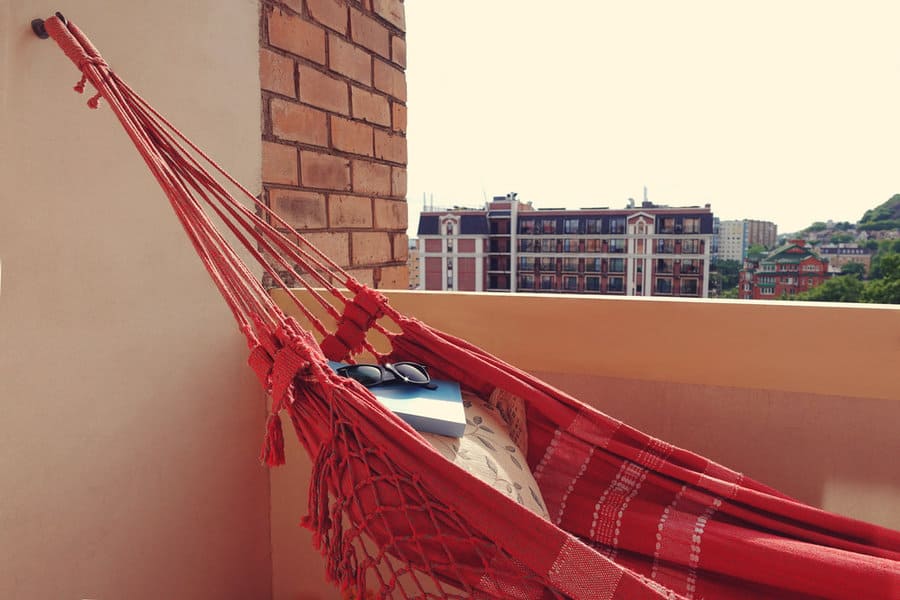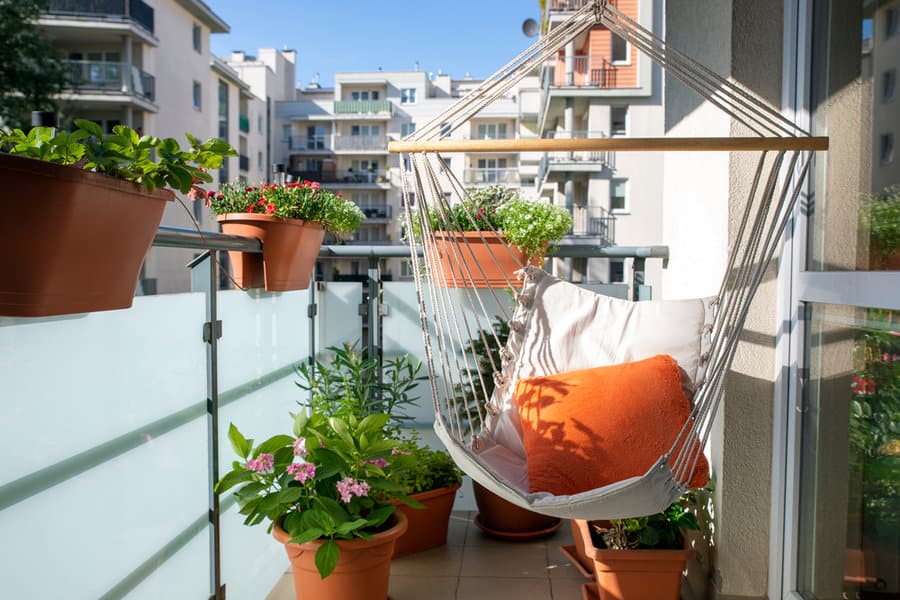 While you may not be able to have a complete hammock stand if you have a small patio. You may not need one. You could hook one end to your balcony railing and another hook installed on the exterior of the building. A cocoon-style hammock will work best if you have limited space.
6. Minimalist
Using a minimalist design for your small apartment balcony is smart because it means you'll have minimum furniture for a maximum amount of room for your small outdoor space. Choose metal furniture that has thin rails and minimal ornamentation. Lay down an area rug that doesn't have an intricate design. Choose pots for your plants that are plain in design and white, black, or grey in color.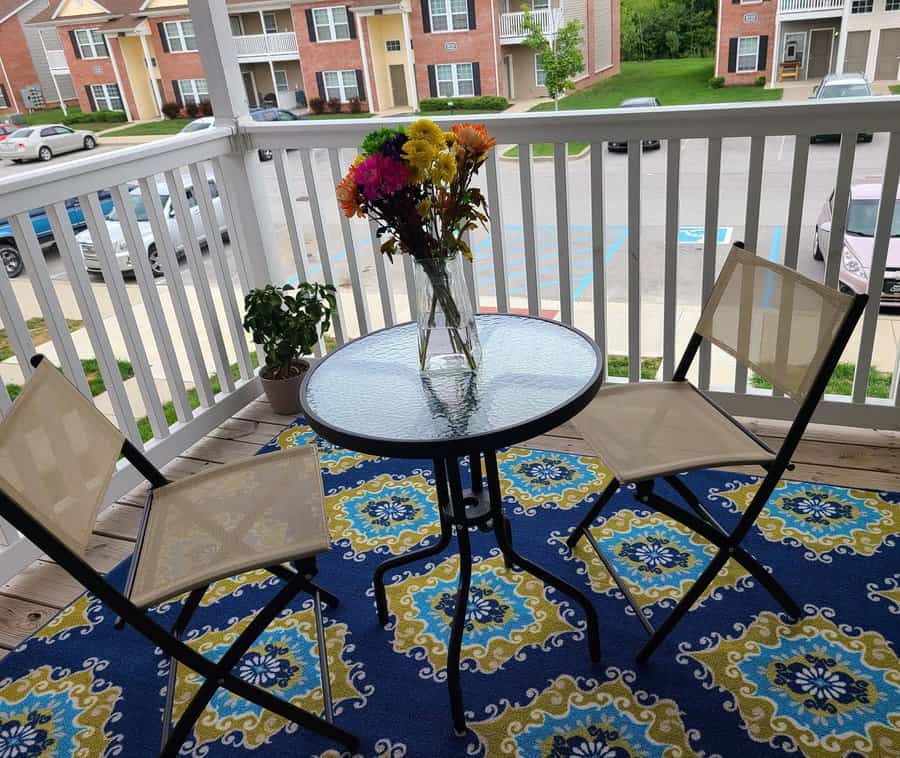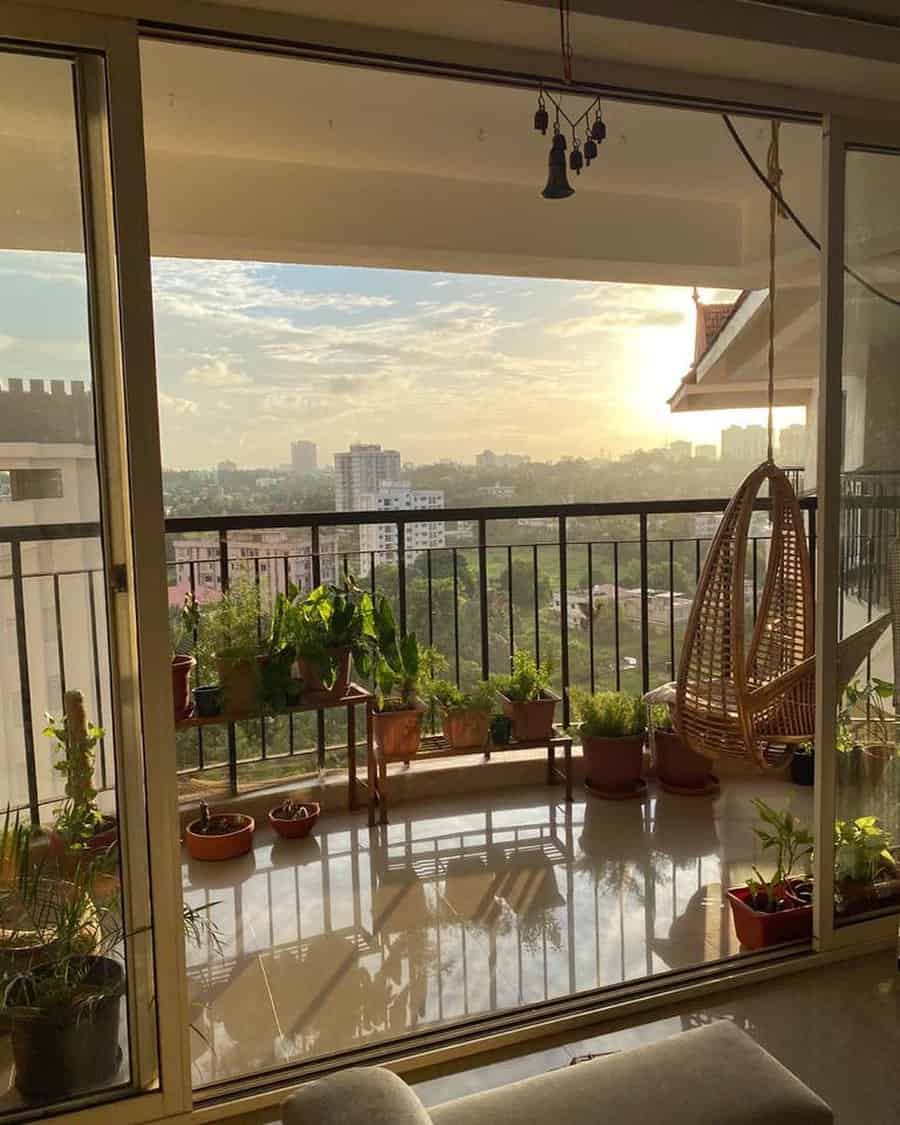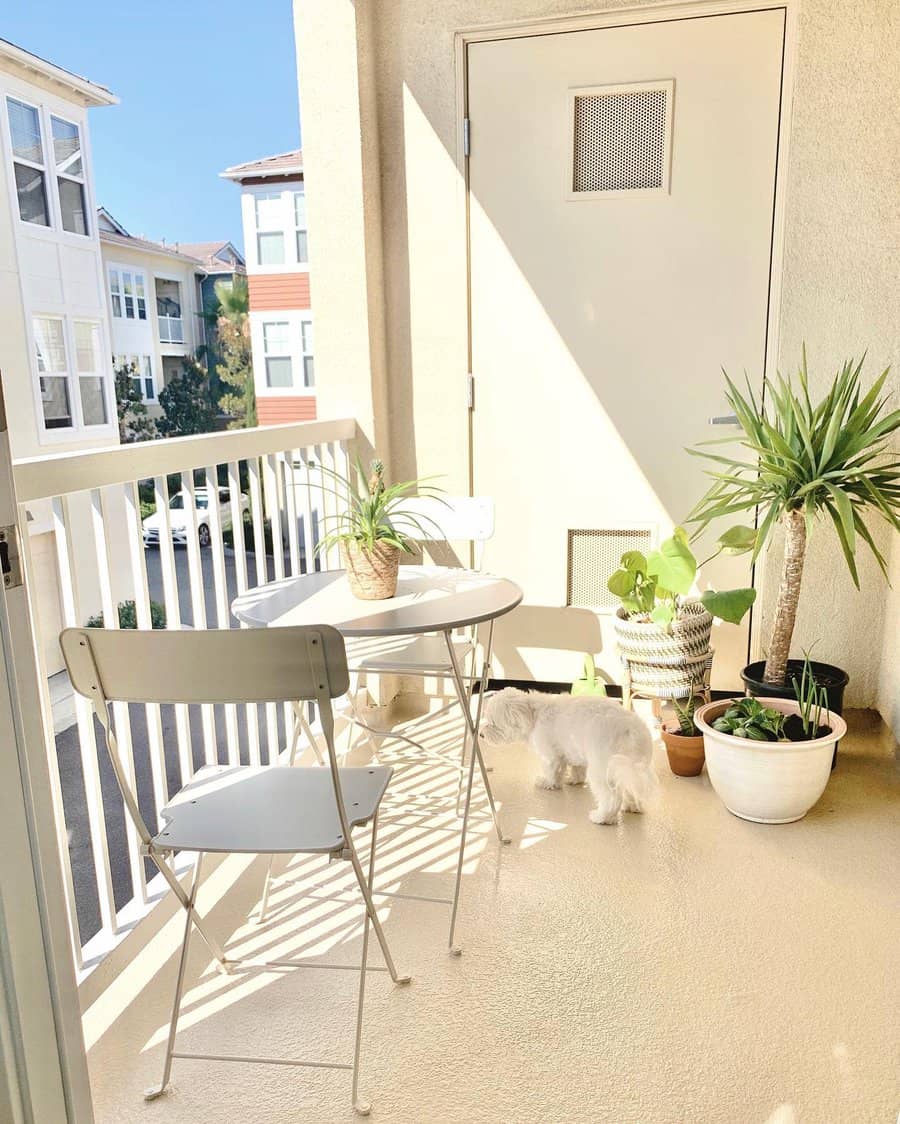 Don't have too many plants. One or two is plenty for this type of design. Don't have too much furniture either. One or two chairs are all you need. Try to leave the balcony as open as possible. Don't be afraid to use dark colors like black as the main color for your design.
7. Modern
Modern balcony decoration has a sleek and cool image. Look for ways you can add unexpected elements to your balcony space. Mount floating shelves and add LED strip lights underneath. This creates a series of glowing lights that can create a unique lighting feature.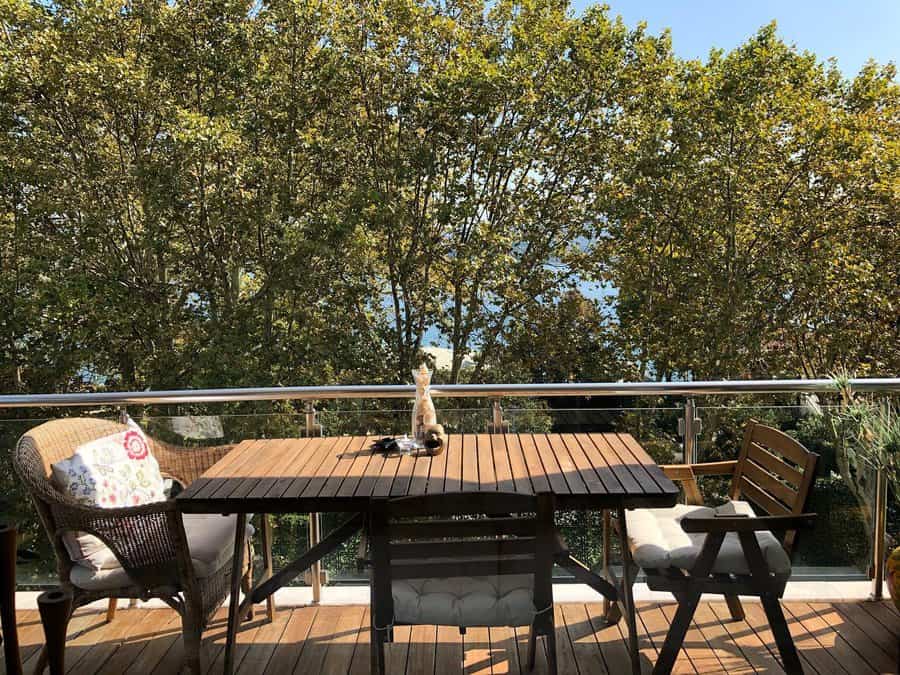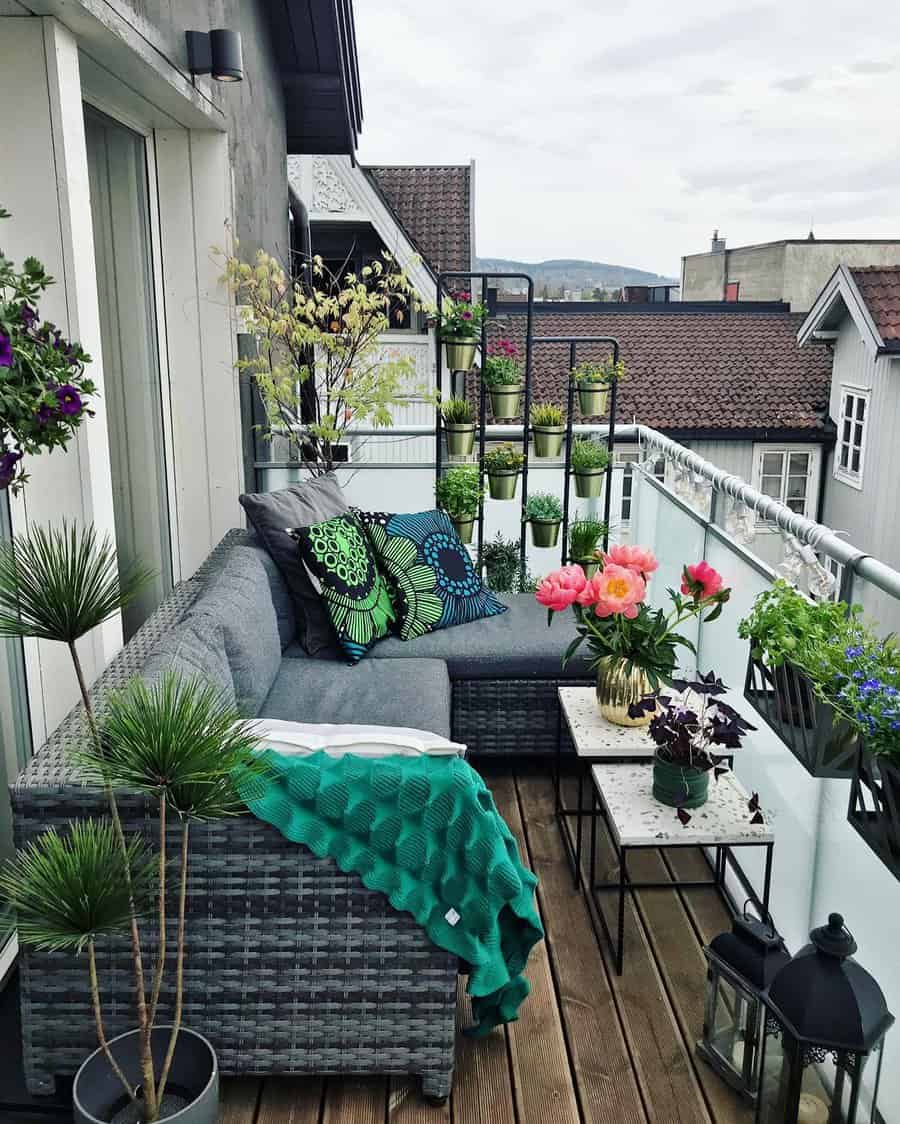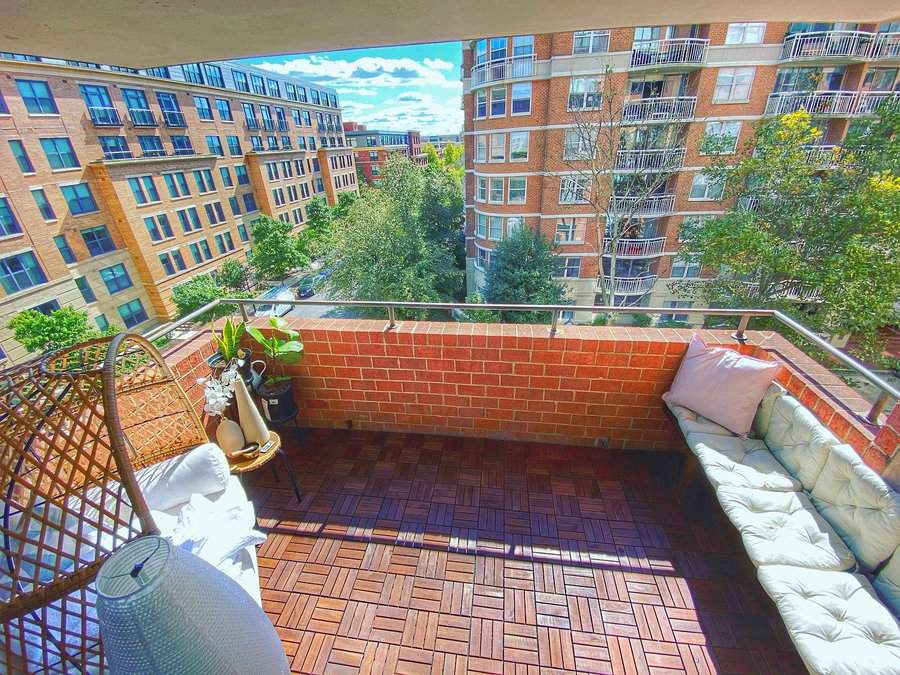 Use a mixture of materials to add multiple textures and colors to your balcony. Use teak tiles in one area where you want to place a table and chair. Then use synthetic turf in another area where you arrange a few potted plants. Add metal planters with a sleek and smooth finish for a visual balance to the textures of the wood and grass.
8. Privacy
One of the biggest deterrents to using your balcony is the lack of privacy. Living in an apartment building, complex, or urban area means there are several other people within close proximity. You could be observed by a number of people when sitting on your apartment patio. Enjoy your balcony more by adding elements that create privacy.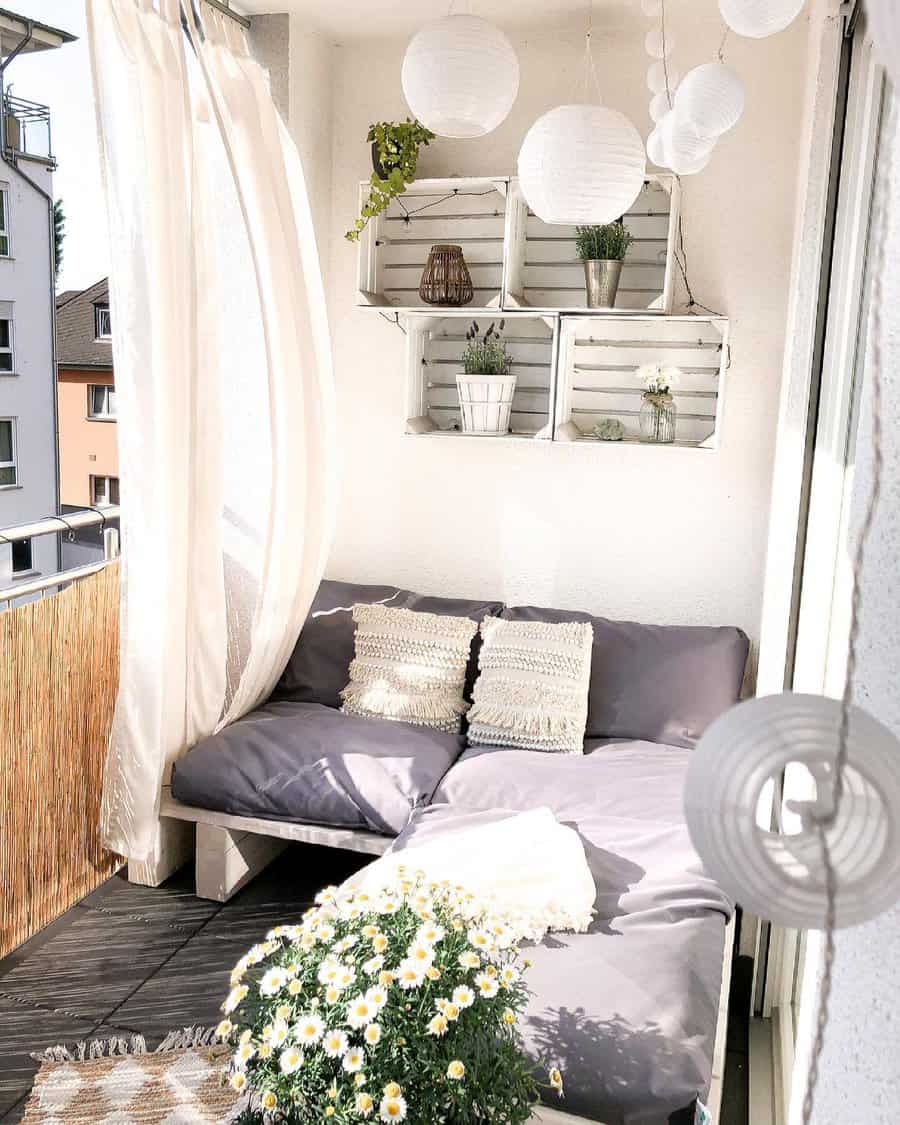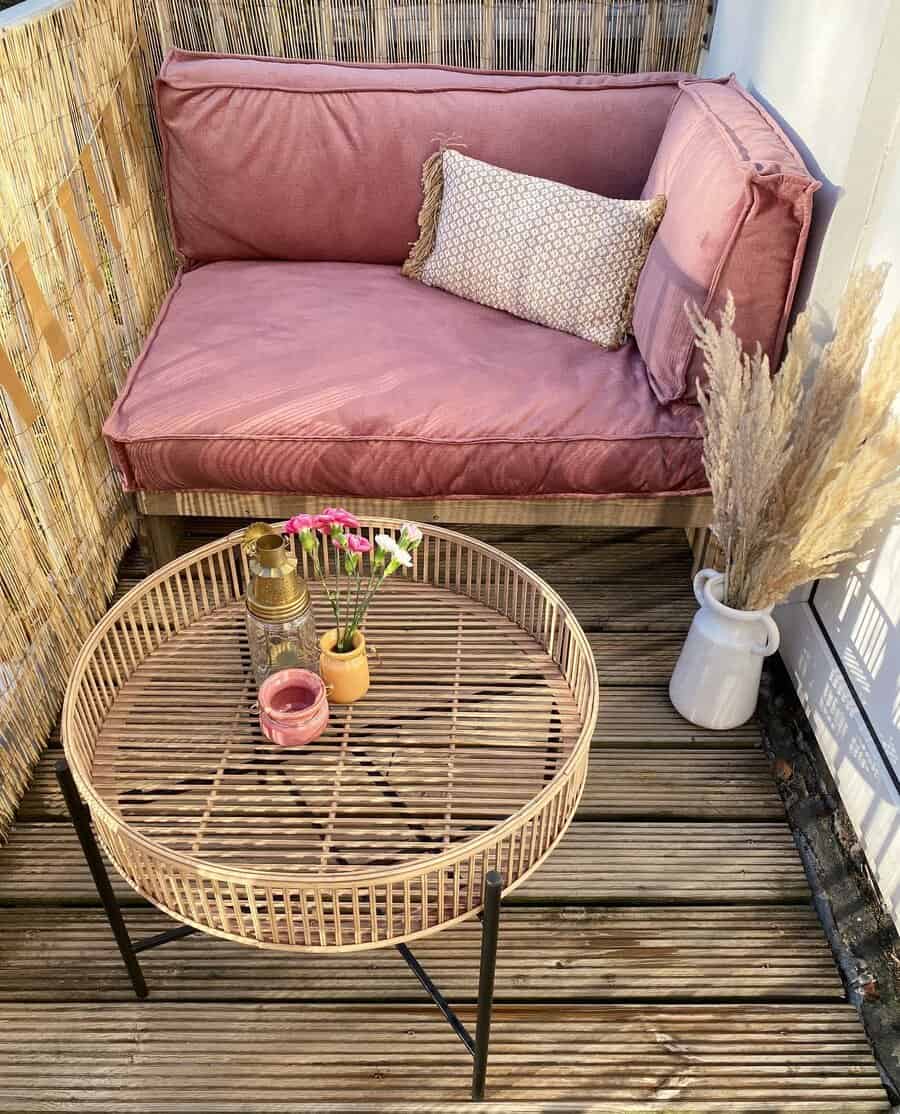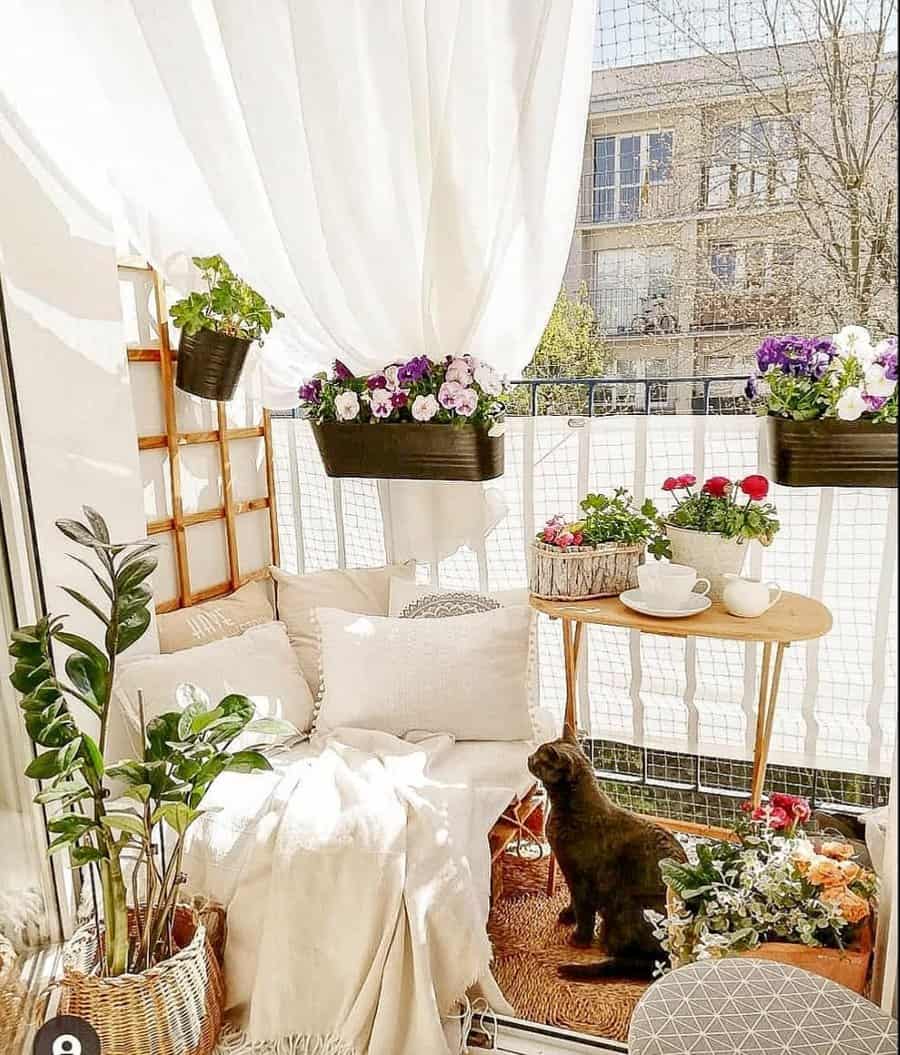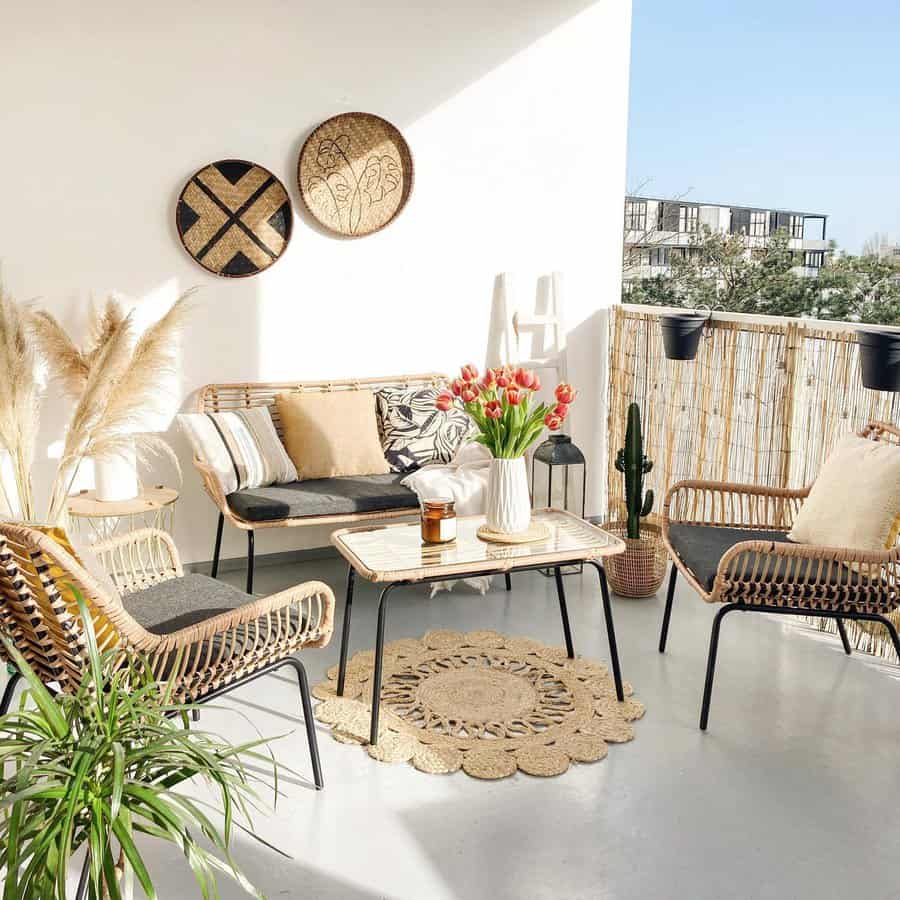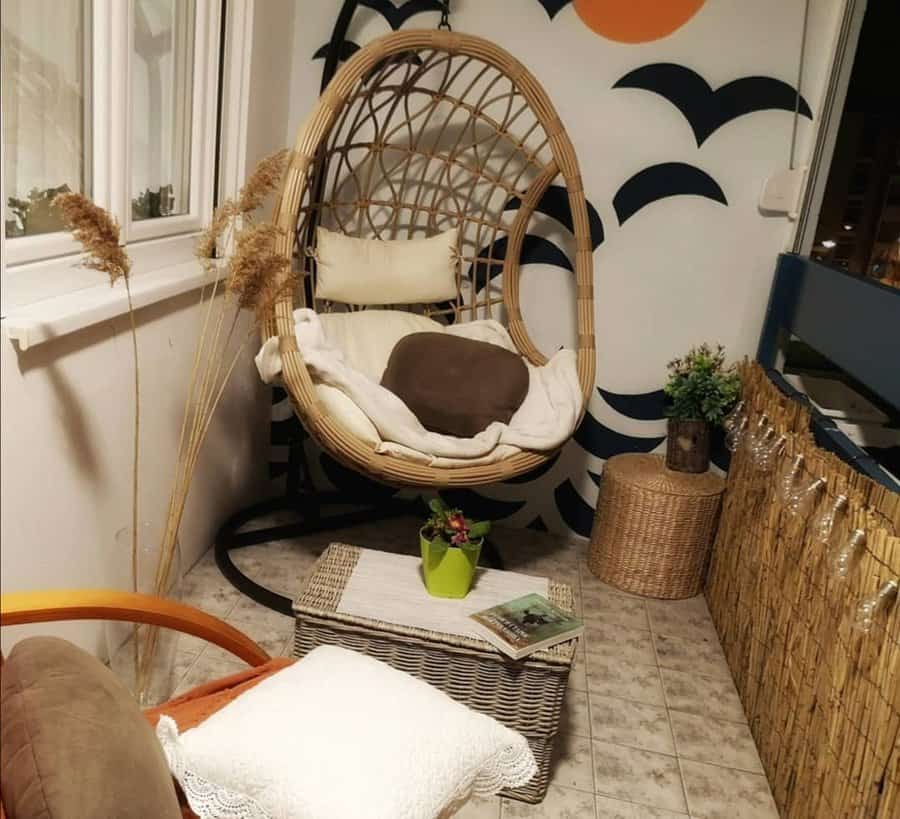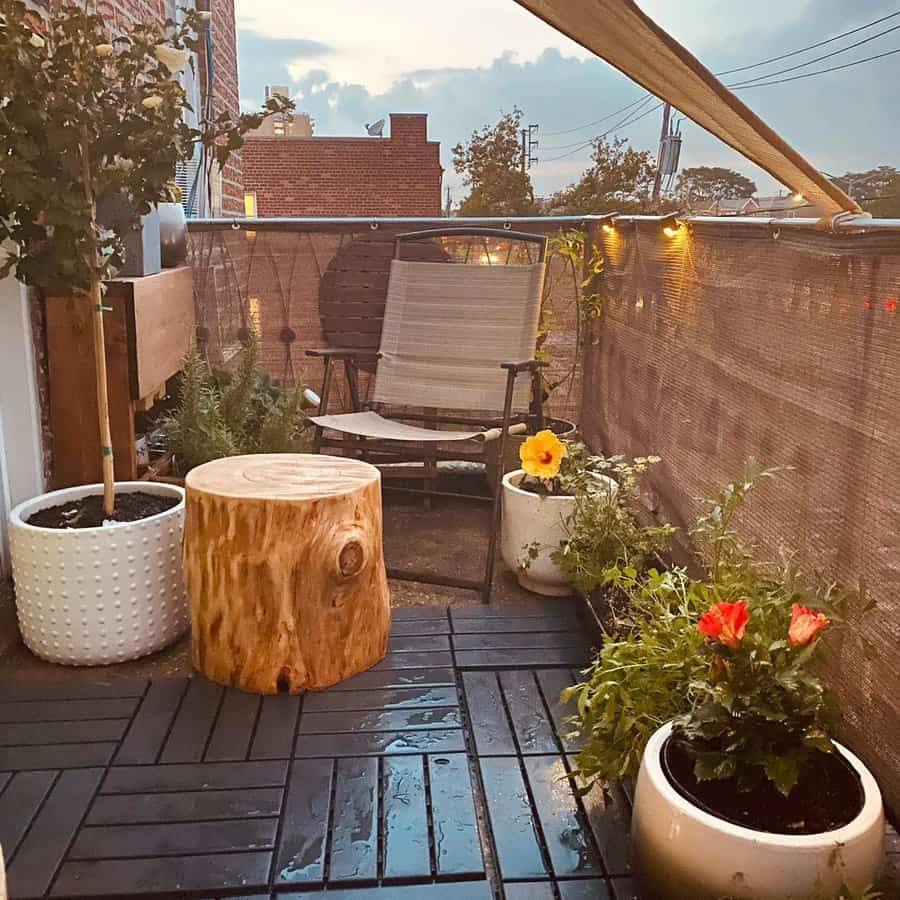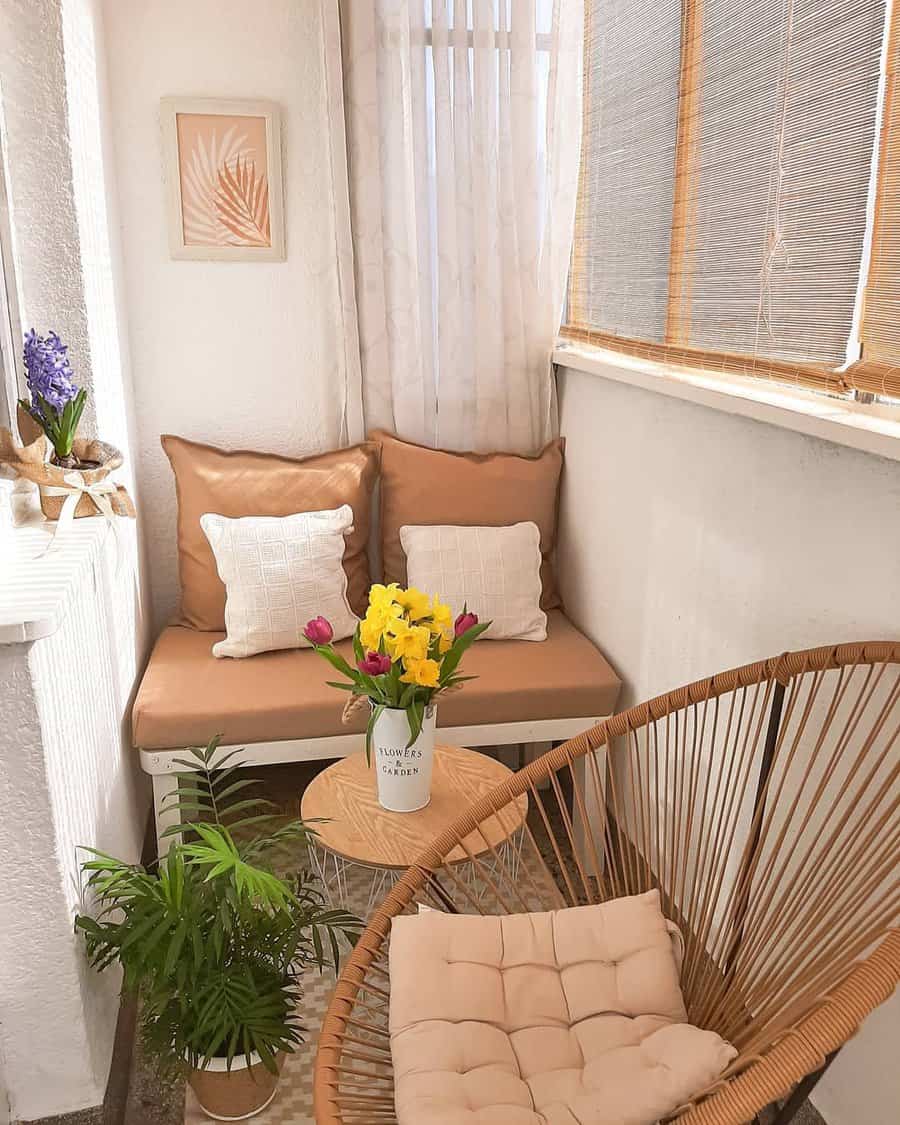 Hang an outdoor curtain that you can open and close as needed. Sheer fabric allows filtered light through while also blocking sightlines. A trellis with a vine plant can have the same effect. Hanging plants that vine down won't block your balcony completely but can obscure someone's view. Don't forget about sound privacy. Soft fabrics and textiles absorb sound and prevent your voice from echoing outward. A water fountain feature adds white noise to drown out your voice.
9. Small
A small balcony can be limiting because you don't have enough space to do a whole lot. The best thing to do with a tiny balcony is to place a small table and chair. Cafe style is best because they feature a minimalist design that won't feel too heavy in the space.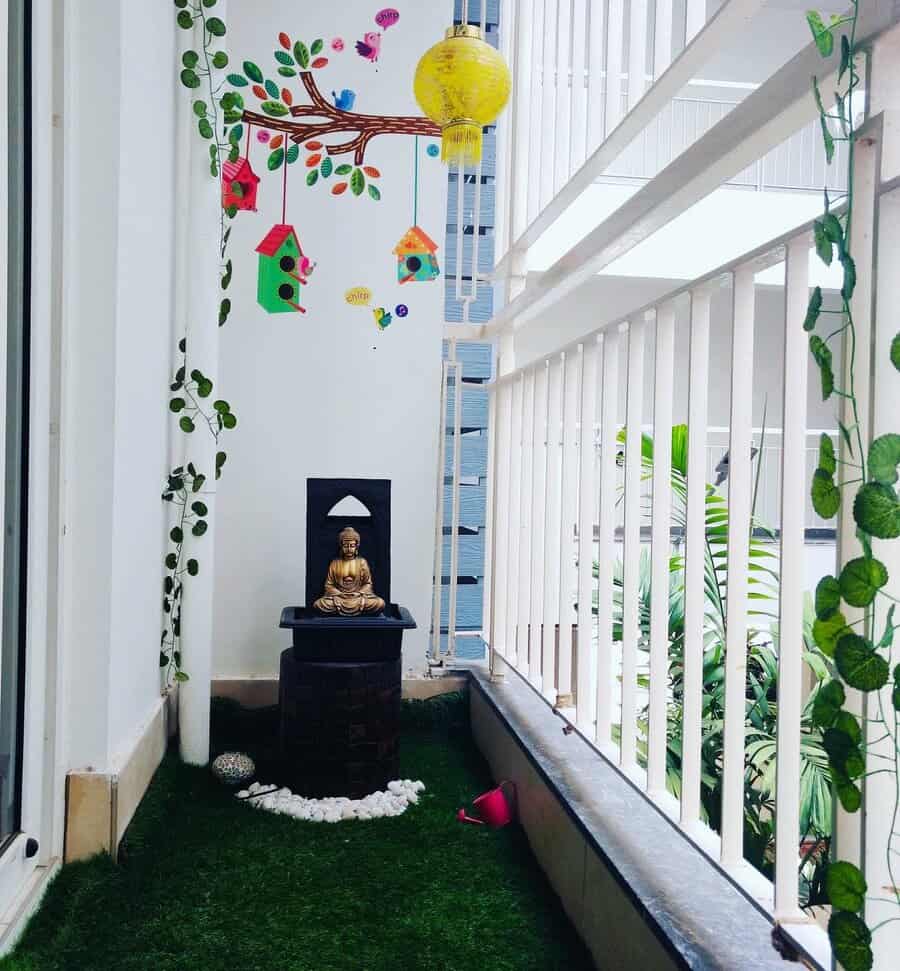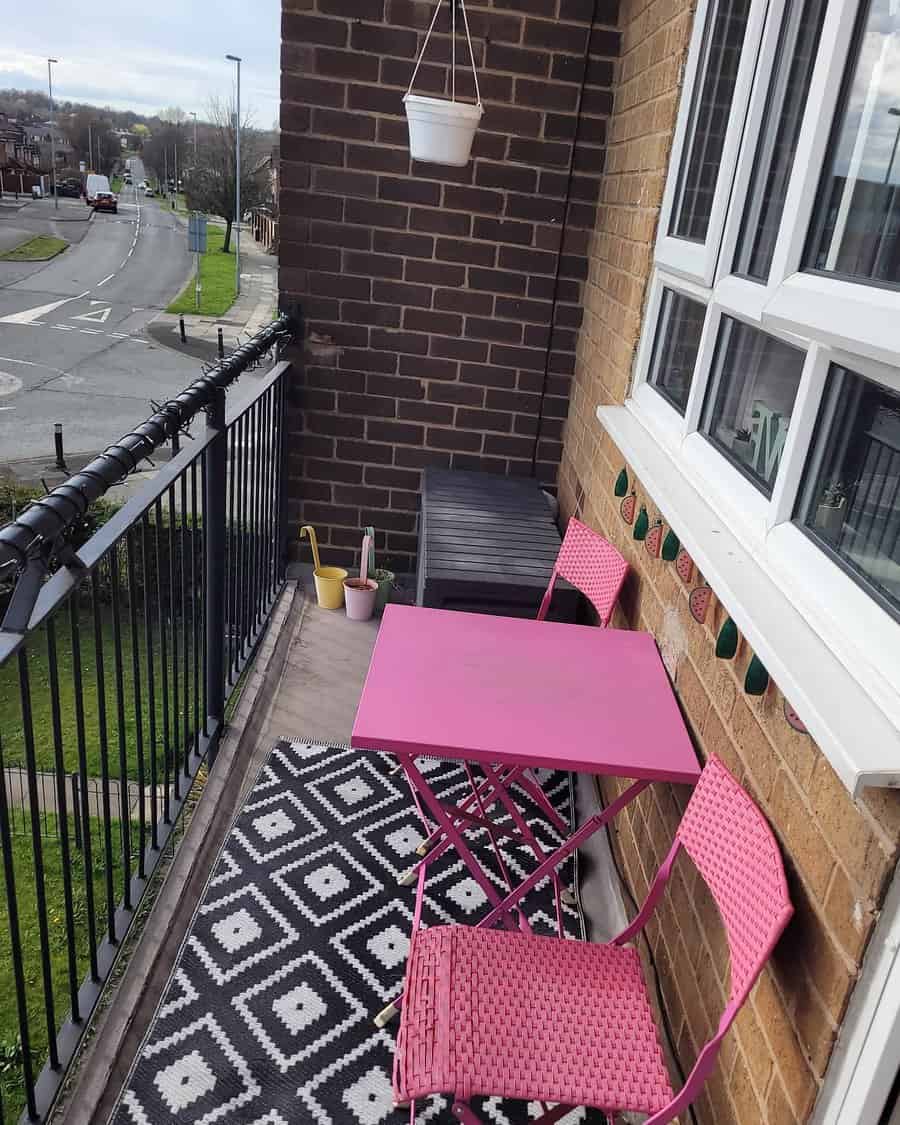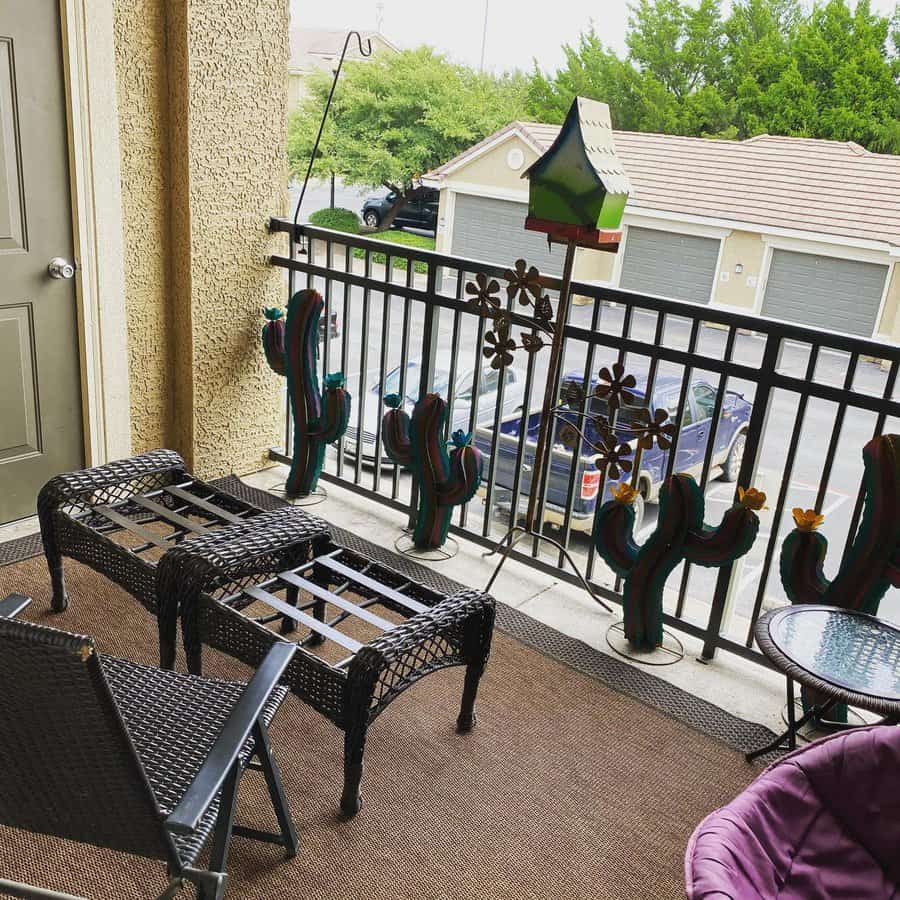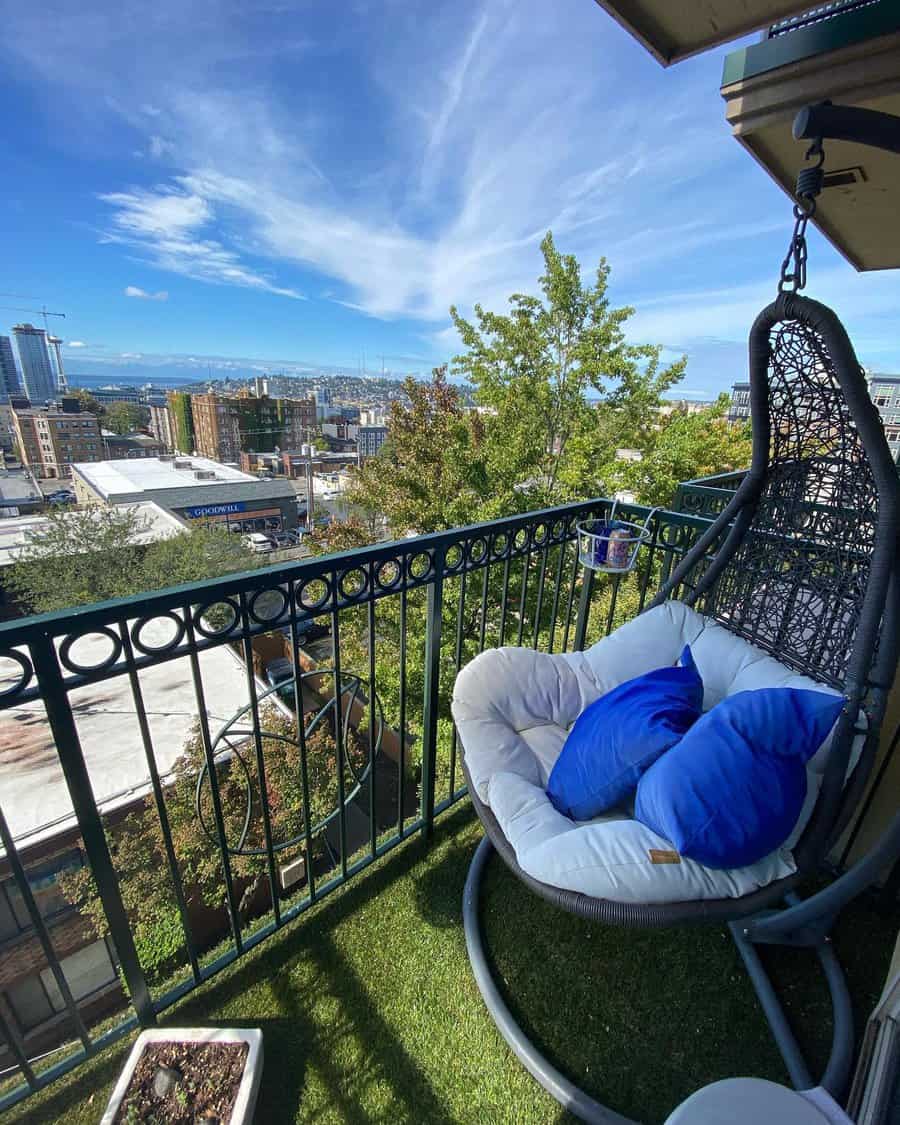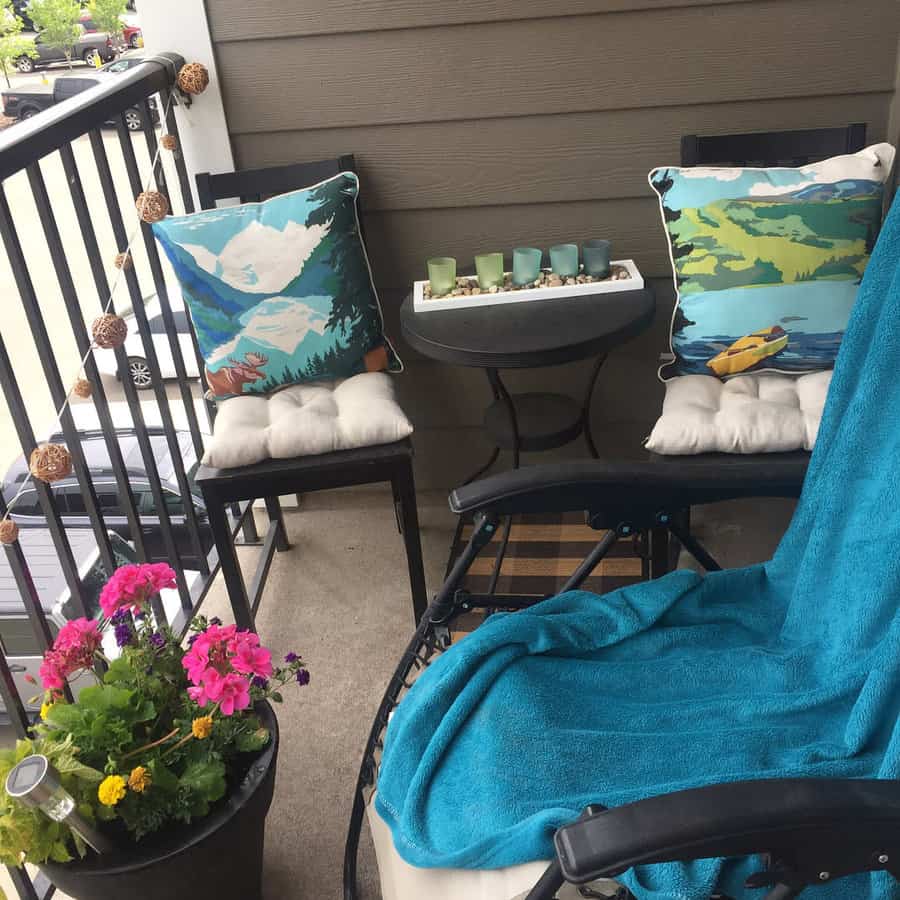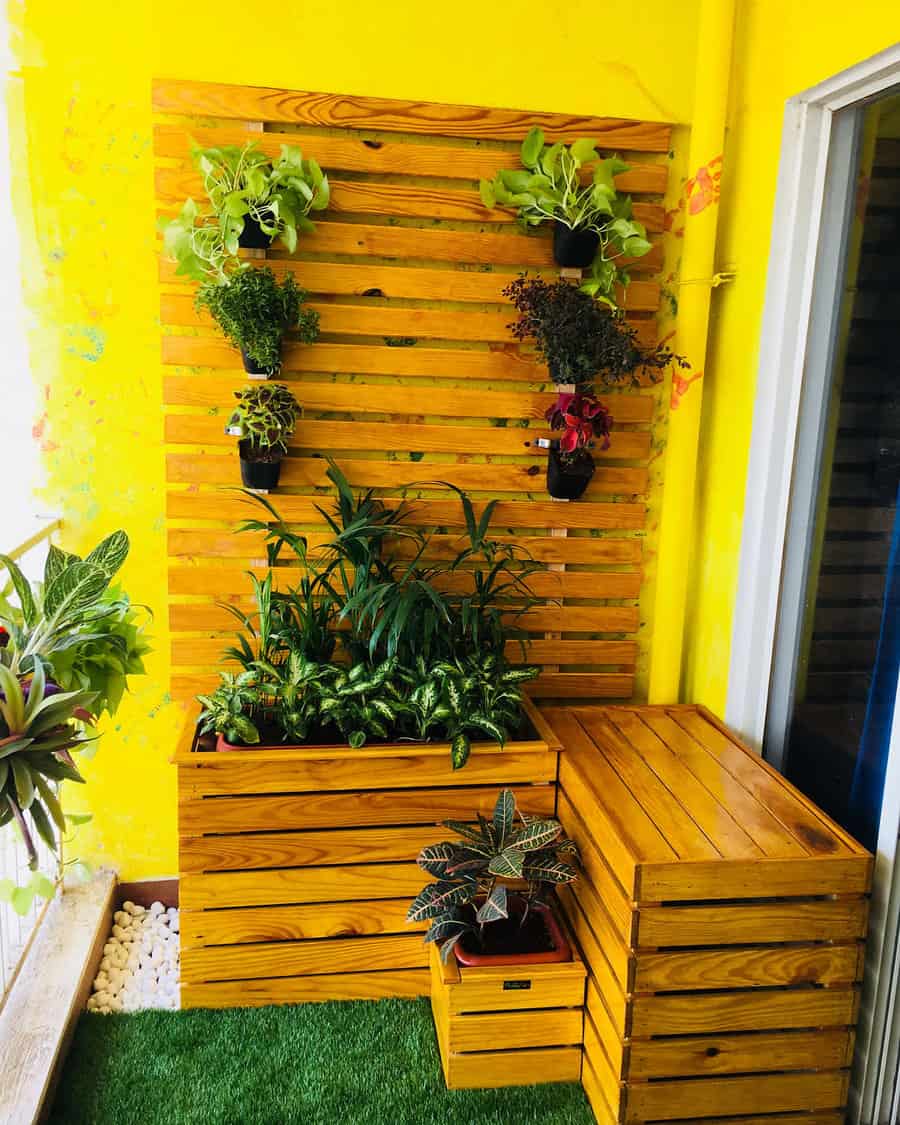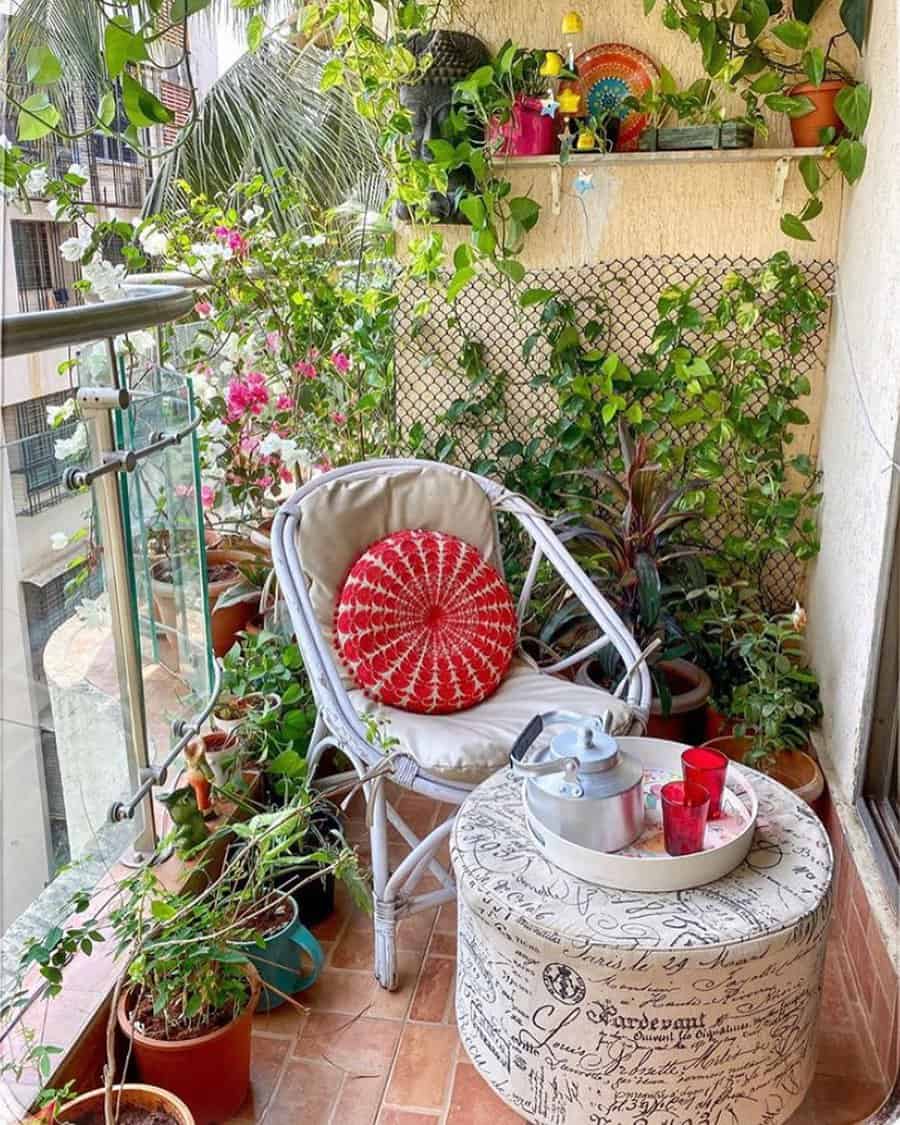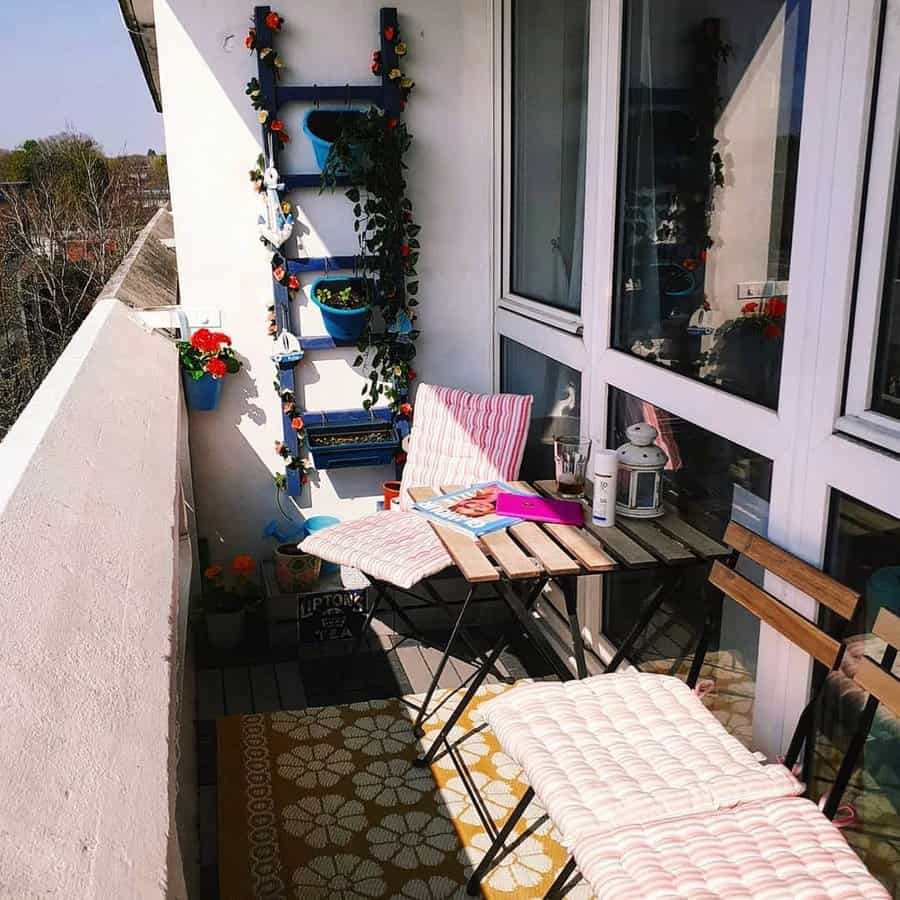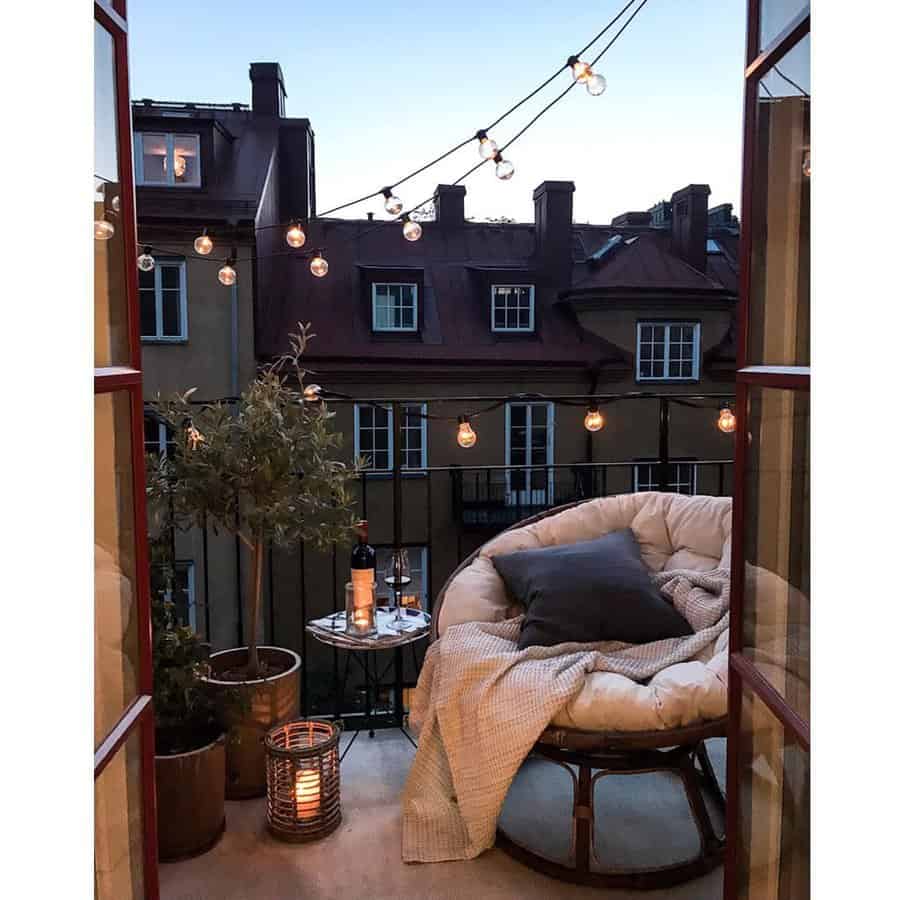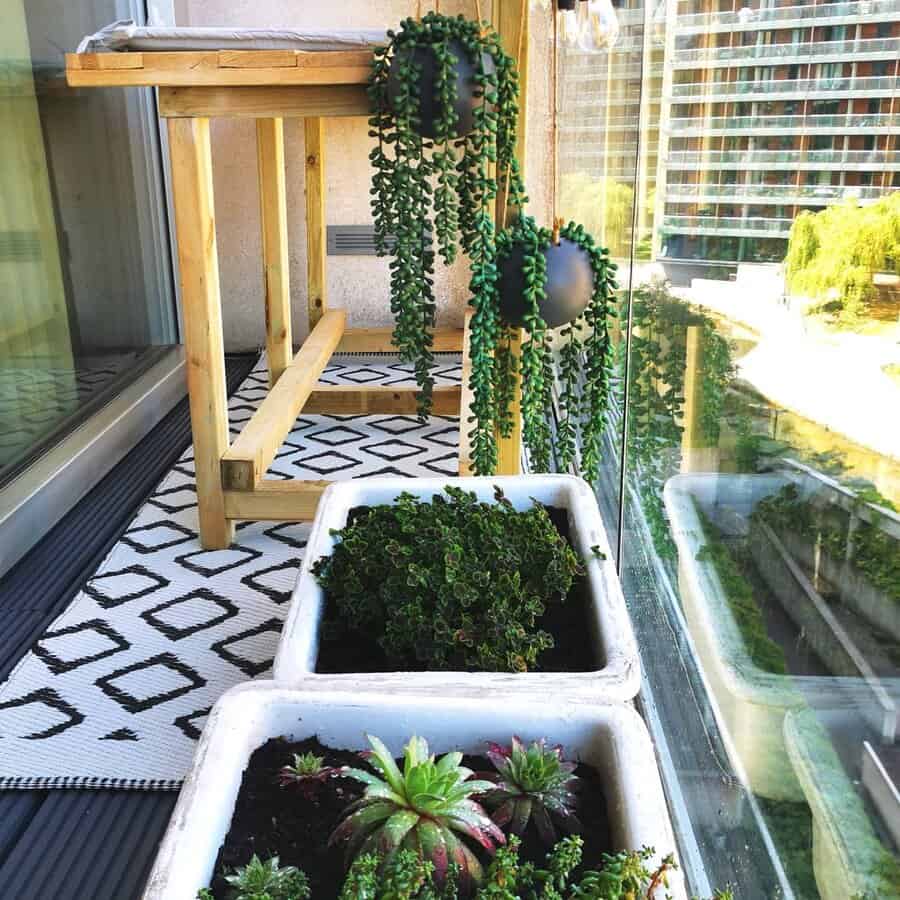 Another smart idea for a small space is to build the furniture into the side of the balcony. This reduces the amount of floor space required for the maximum amount of seating. Hanging as much as you can on the exterior walls is also helpful for reducing the amount of furniture and decor taking up floor space.
10. Stylish
You don't have to have a lot of decor to have a stylish balcony design. Look for a simple yet chic design that appeals to your personal style tastes. You could take a simple approach to balcony decor and hang a single piece of art on the wall. Or you could get elaborate and have decorative lighting, furniture, tabletop arrangements, and railing planters.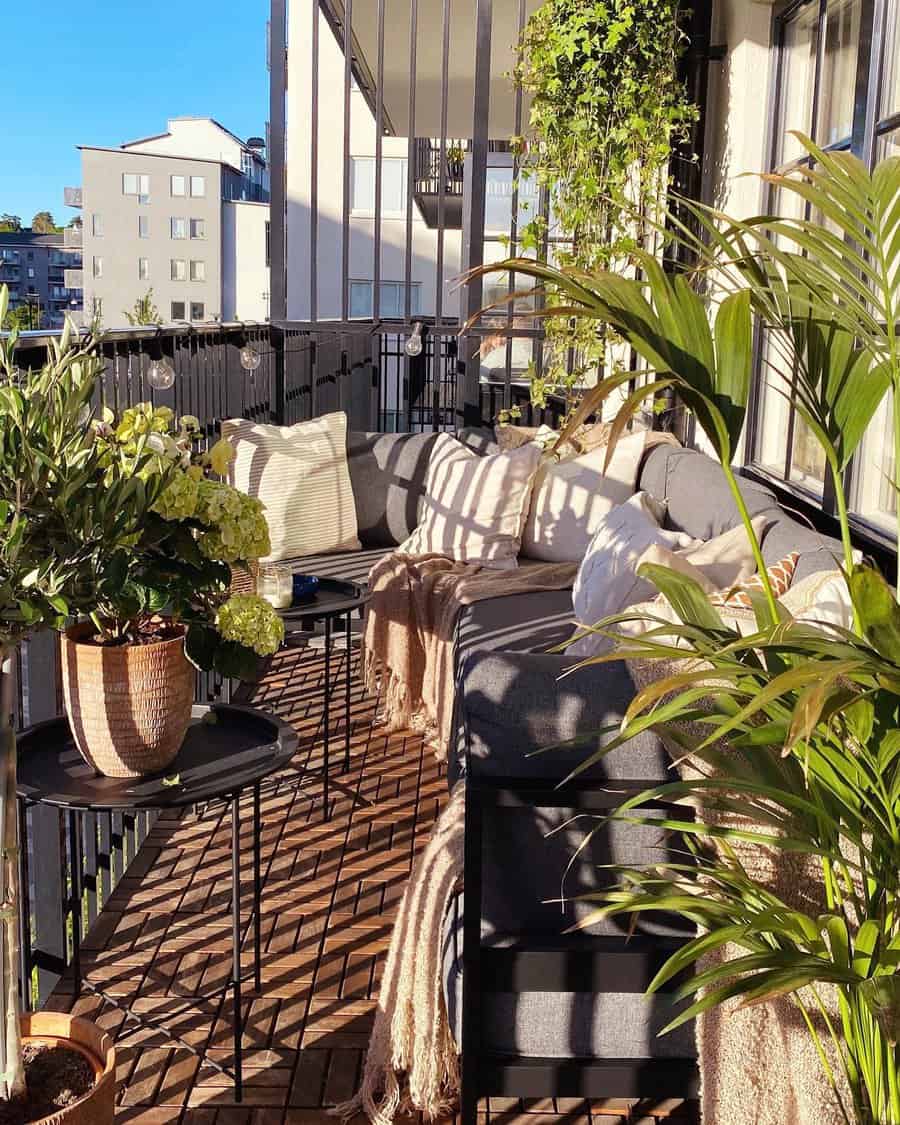 The best way to create a stylish design is to pay attention to the details and create balance. Add a natural green element with plants. Arrange furniture to have it facing the view. Additional lighting is nice if you only have a simple overhead light.
11. Terrace
When you have a terrace, you have plenty of outdoor space. You can buy furniture that you would typically use on a patio. Having more floor space lets you scale up the size of the furniture. Try adding a long sofa that runs the entire length of the terrace. Or you could arrange multiple sets of armchairs and cafe tables. This gives you plenty of seating for large groups or the ability to have multiple smaller intimate gatherings.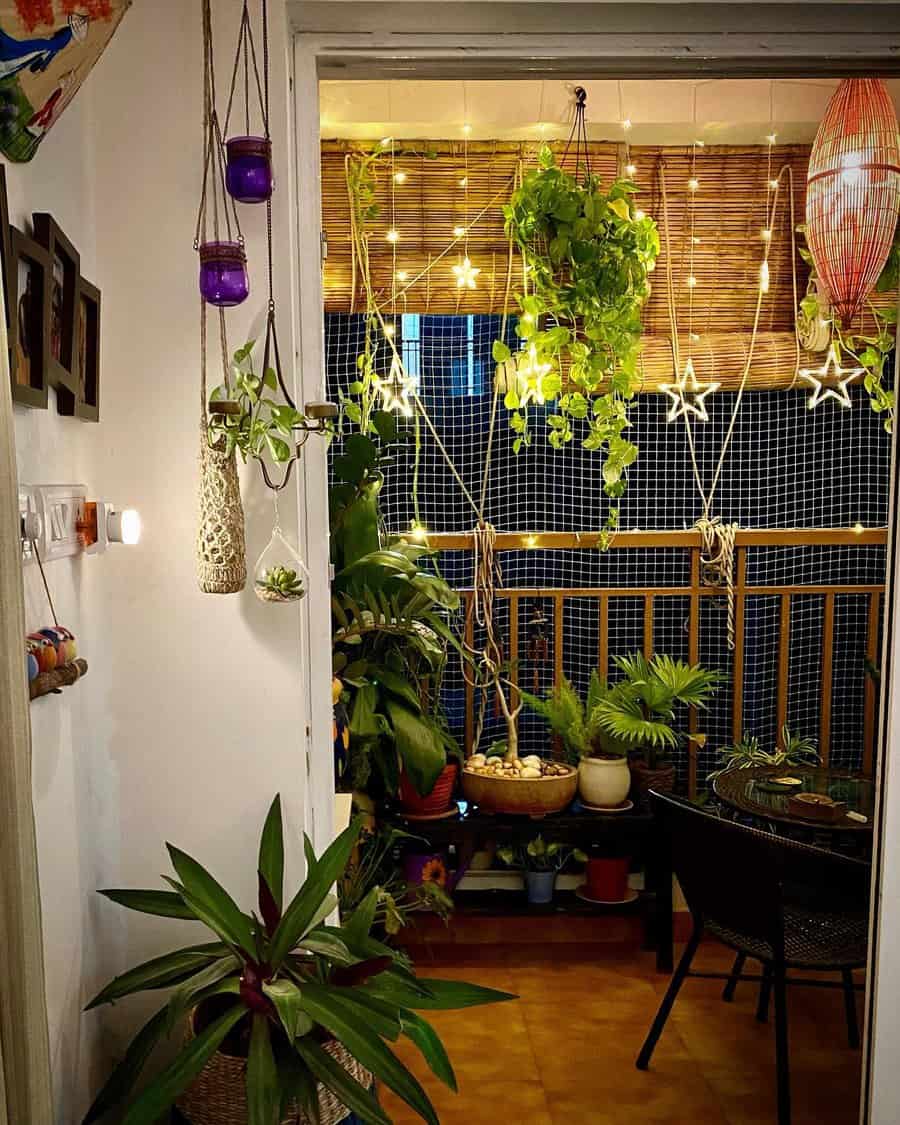 Add unique seating furniture with a hammock or hanging chair. Or large loungers that you can lay back on and stretch out. Pillows and poufs are also great for creating comfortable places to relax.
12. Tropical
Just because you live in an apartment doesn't mean you can't have your own little slice of tropical paradise. Add plenty of greenery and flowering plants. Choose plants that have large leaves to create a lush feeling. Install hanging planters that can create a natural plant life wall and surround your balcony. Add a small water feature that will create a natural soundtrack, drowning out the sounds of life beyond.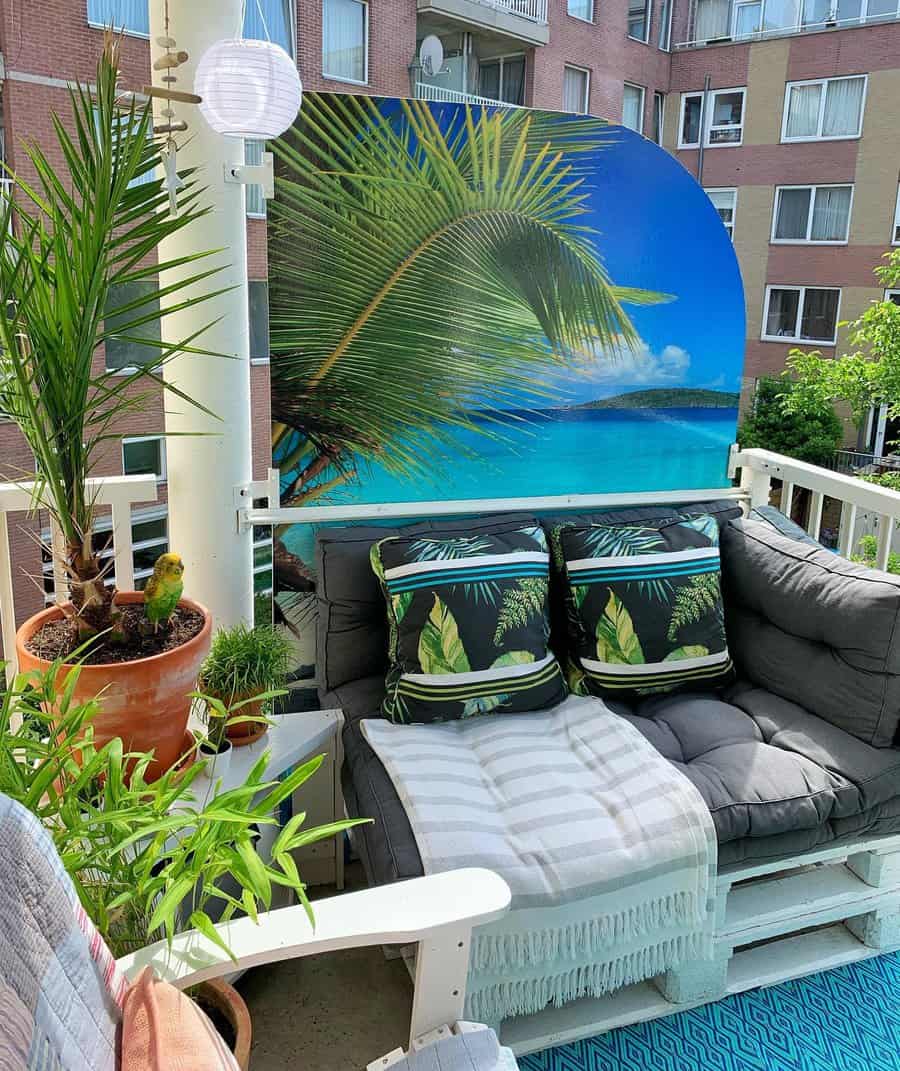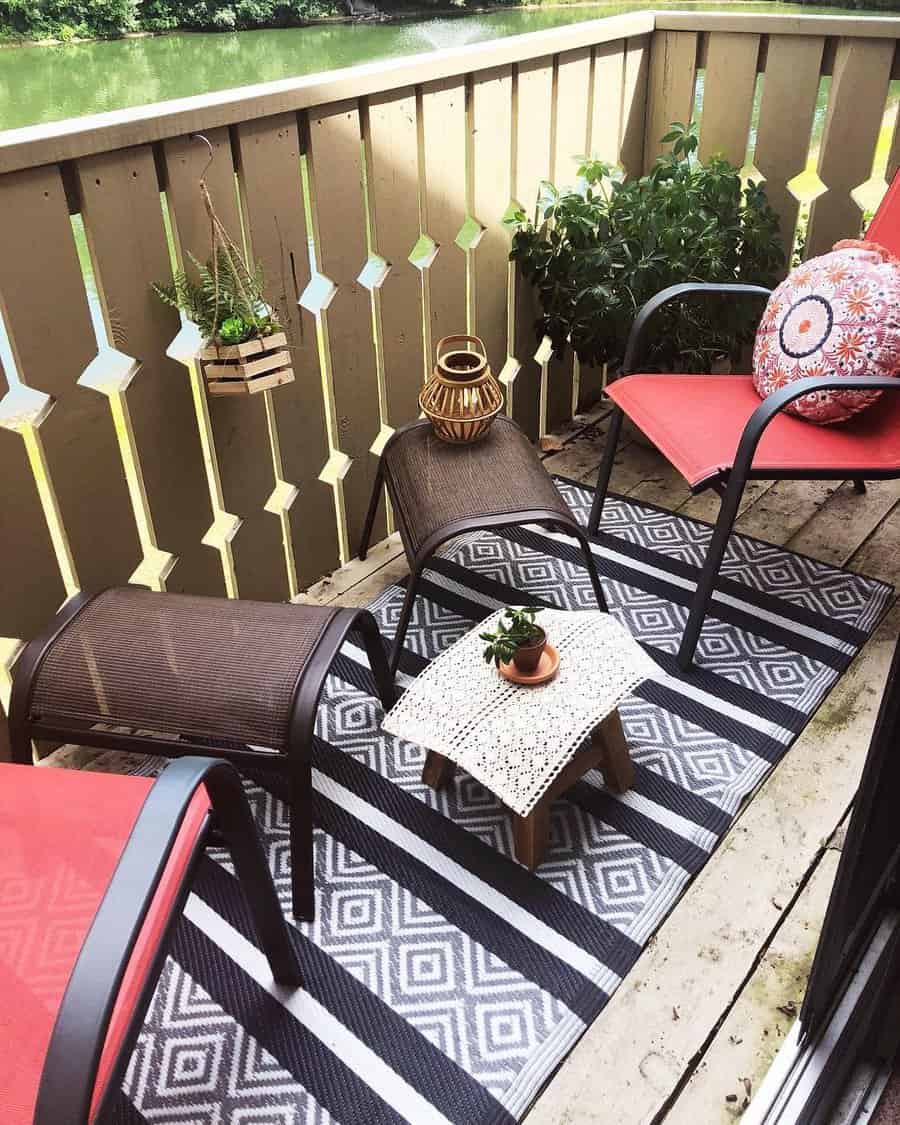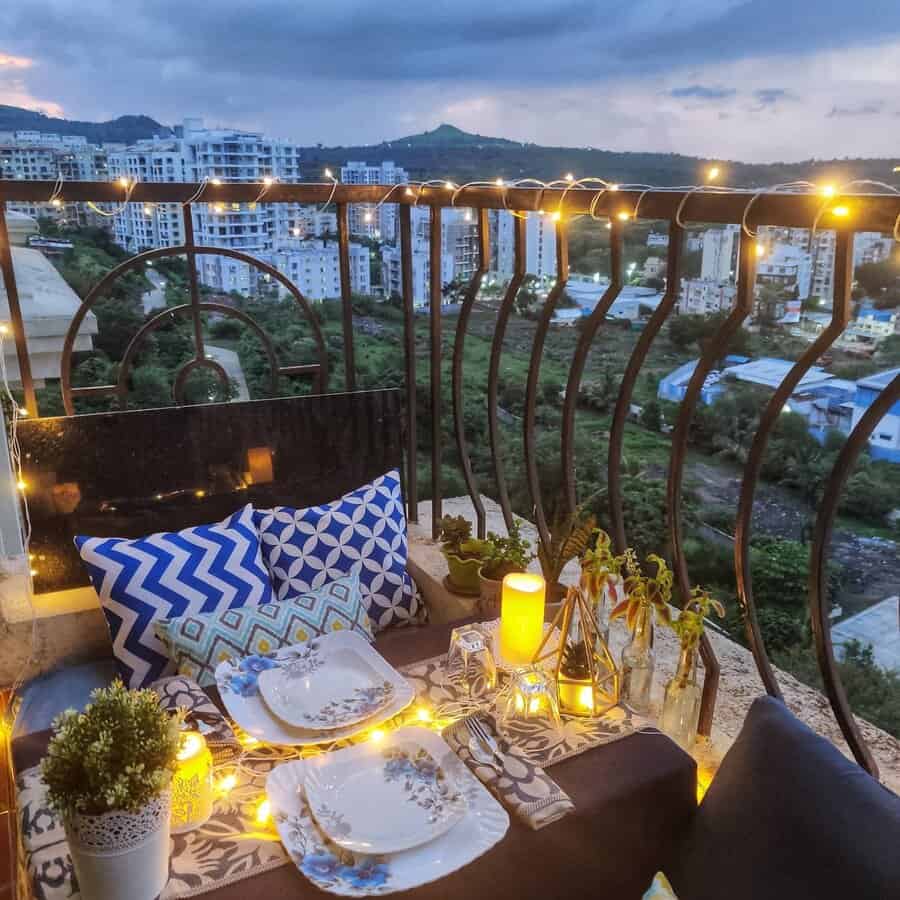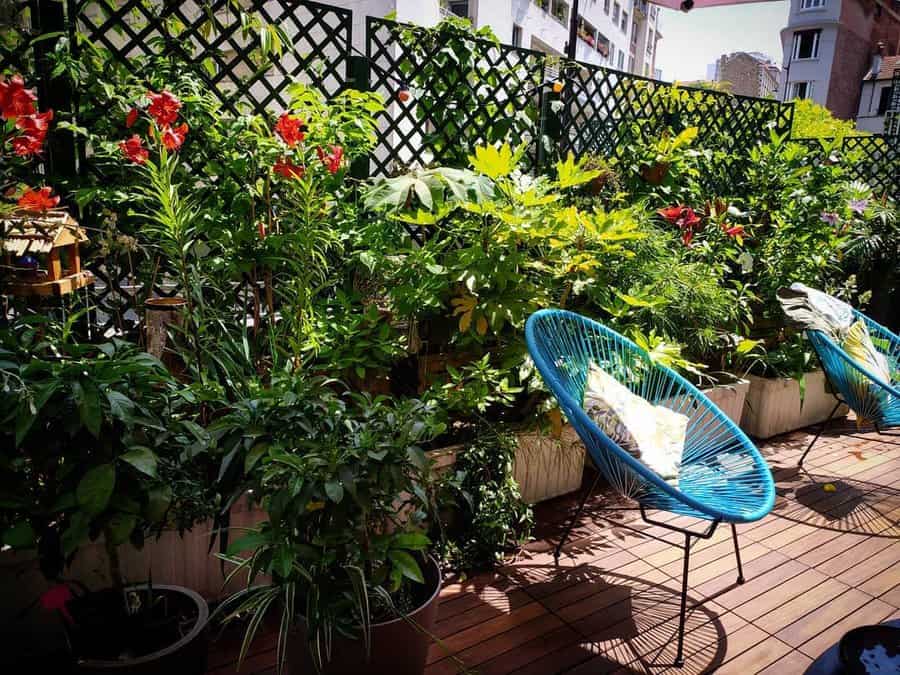 Cover the exterior walls of your apartment or condo with bamboo sheeting. This will hide the plain old boring building exterior and transform it into a tropical backdrop. Add decorative string lights for a festive feel. Choose a colorful fabric for your furniture cushions.
13. Winter
A small apartment balcony is a perfect spot for creating a cozy nook. Layer rugs, add multiple throw pillows and hang heavy weight curtains. While you may be tempted to use throw pillows that feature cozy materials, make sure your outdoor pillows are durable enough to stay outside. If this isn't the case, you will need to bring them in when you are not using them. Cozy fabrics tend to be the perfect place for moisture to gather, which leads to mold, mildew, and bugs.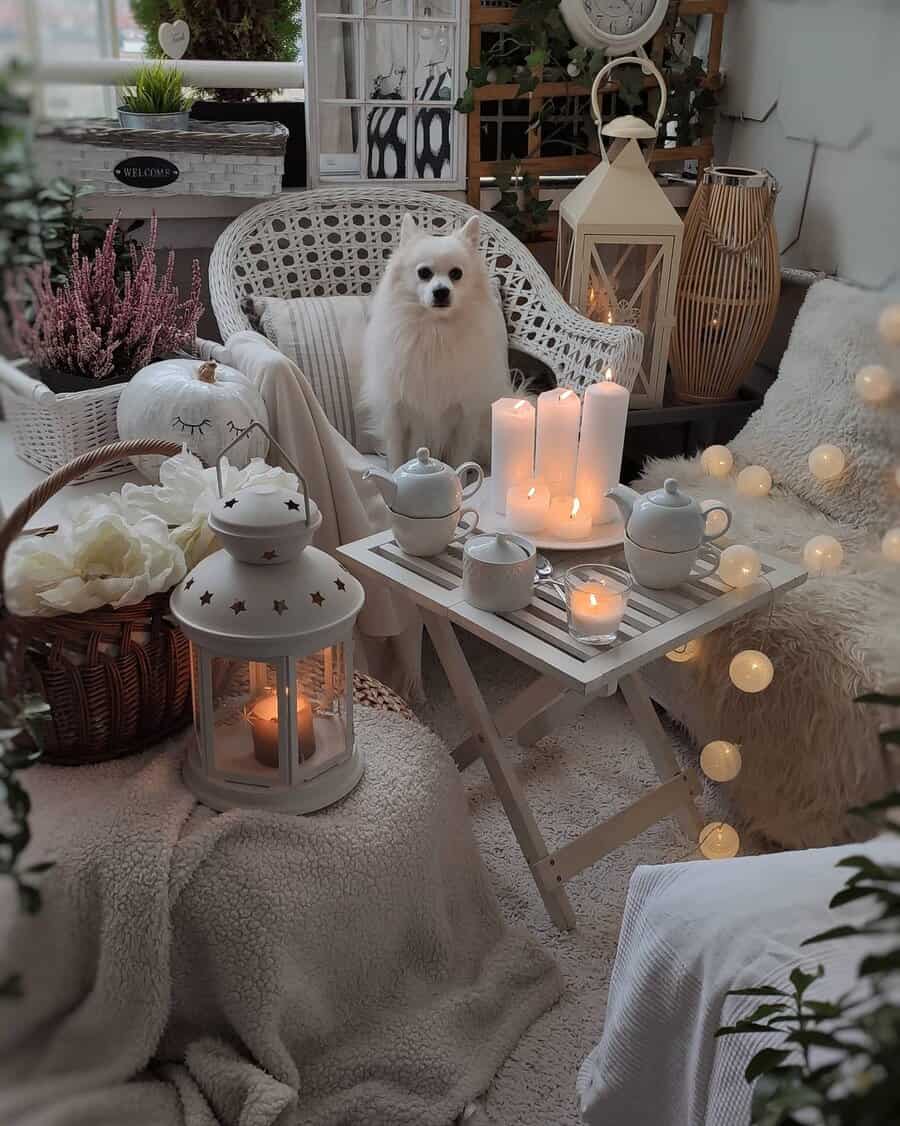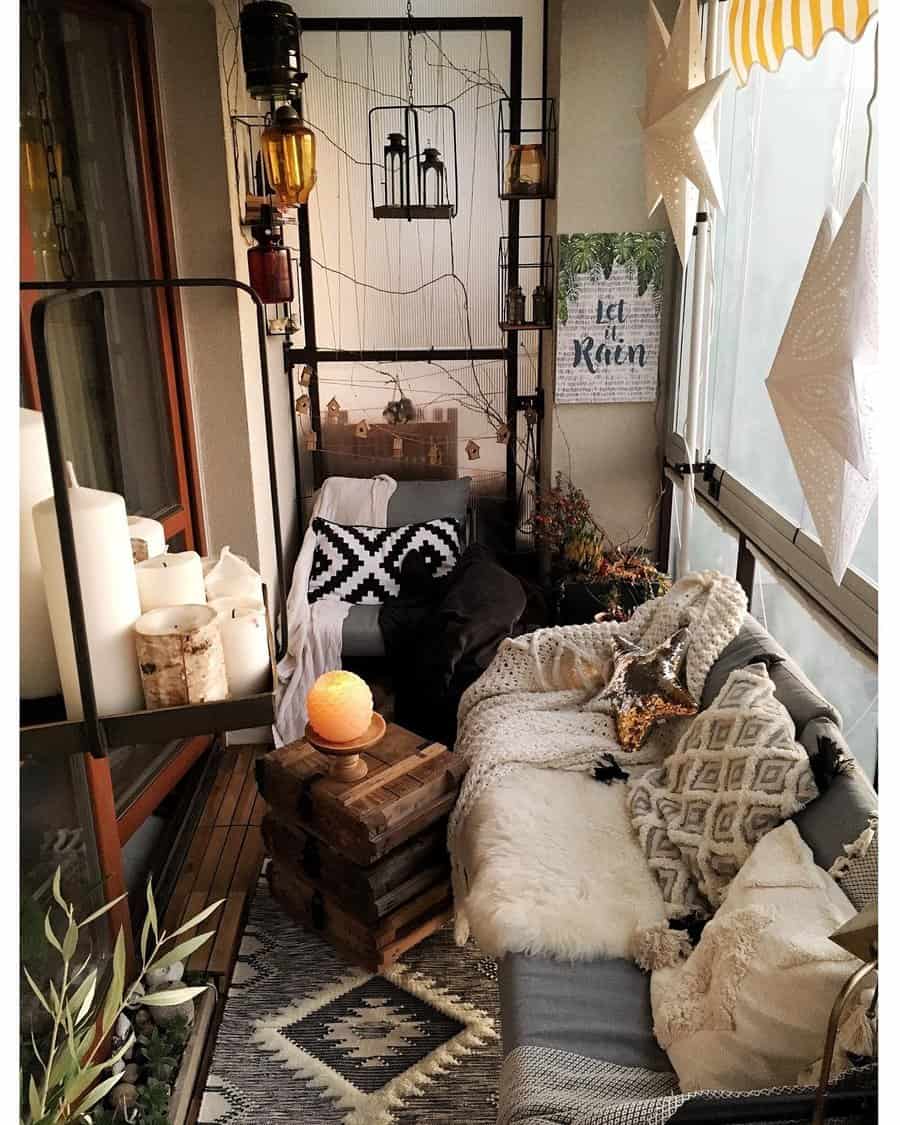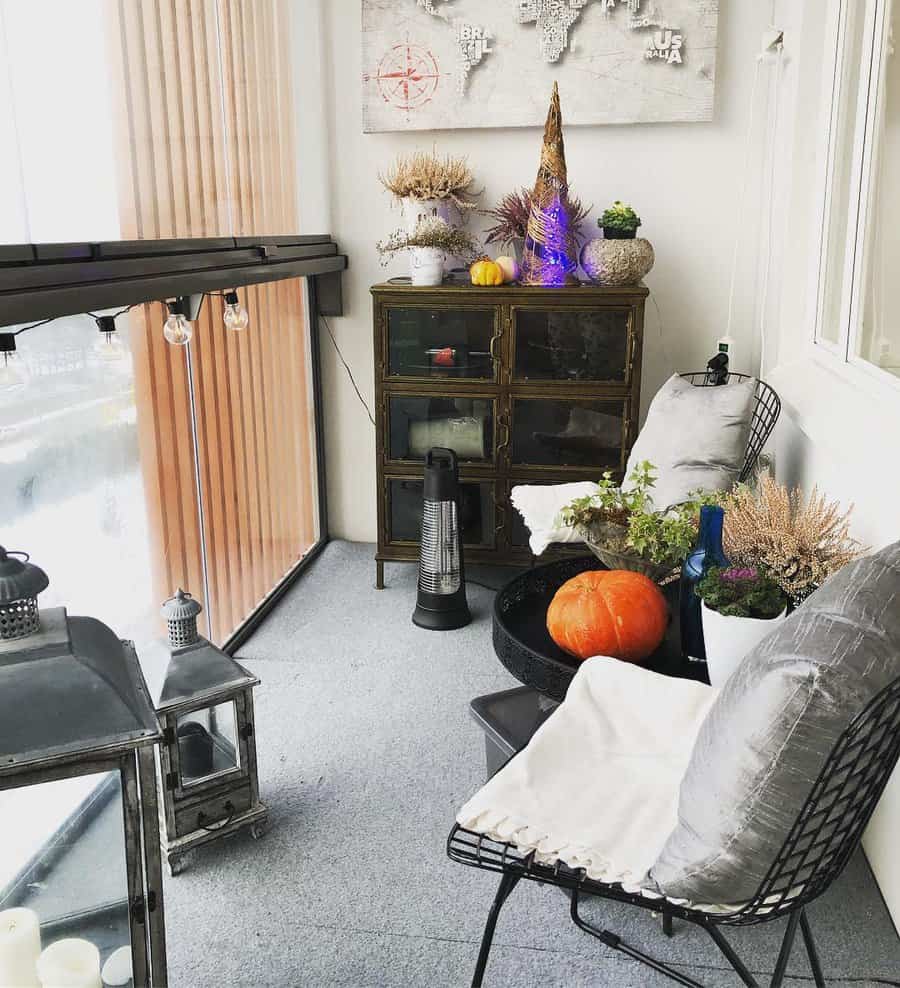 Cold temperatures can prevent you from hanging outside on your balcony. With a small balcony, it's easy to add warmth. You could have a small fire feature, but your landlord or building manager may not like that. A small space heater may be a better and safer option.
Apartment Balcony FAQs
How do you style a small apartment balcony?
Start with furniture that is scaled down to fit the size of the balcony. Consider adding built-in furniture that will take up less floor space. You could skip the structured furniture completely and opt for pillows and bean bags on the floor. Add lighting that will create your desired mood. Spread a rug on the floor to make the balcony feel cozy. Add plants that fit the space. This could be something small like air plants or succulents or a tall potted plant.
How can I make my balcony look bigger?
Use open furniture that you can easily see through and beyond. This keeps the space feeling more open. A large area rug with a long-running pattern can create the illusion that the space is longer than it really is. Keep everything low so that there are minimal items blocking your view.
How do you make a small balcony private?
To make a balcony more private, you need to add elements that will block the view of other people. Cover an open railing with an outdoor fabric or allow a plant to grow and cover the space. A lattice can provide support for higher growth. A folding screen lets you move it around for portable privacy where you need it. A small waterfall or fountain feature will create a natural sound that will help drown out your voice.