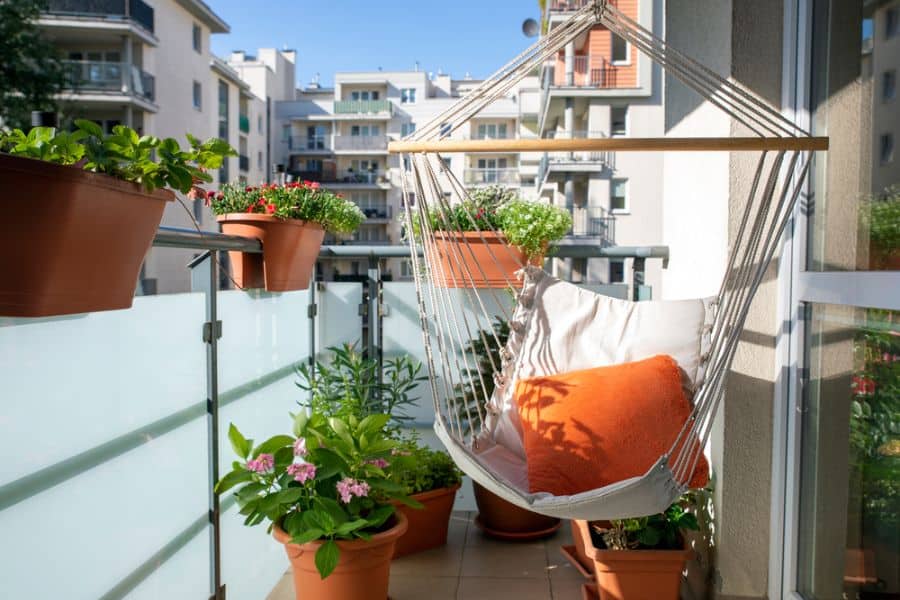 The Top 55 Apartment Balcony Ideas
"On weekends, I sit in a lounge chair on my balcony. I love to be outside when the weather's right. I can stay there pretty much all day." – Sue Monk Kidd
Living in an apartment makes it difficult to make your space your own. You have a smaller space to work with, and many design elements are already chosen for you. Depending on your lease, you may be unable to make any major changes. This makes it tough to turn your small balcony into a pleasant place where you want to spend time.
Decorate your balcony with the right furniture, decor, plants, and lighting, and you will have your own outdoor living paradise. Consider adding privacy elements to block your neighbor's ability to see and hear what goes on on your balcony. These apartment balcony ideas will help you turn your balcony into a space that reflects who you are.
1. Create a Zen Space
An apartment balcony can be transformed into a peaceful oasis that's perfect for relaxation and self-care. Creating a zen space on your balcony is easy and affordable, and it can help you unwind after a long day.
One idea is to start by laying out a yoga mat to create a designated space for meditation and exercise. You can also add an altar or a small table to create a peaceful focal point for your space. Decorate your altar with candles, incense, or small plants to create a calming and serene atmosphere.
Whether you use it for yoga, meditation, or just a quiet place to read and relax, a peaceful and inviting balcony is the perfect addition to any apartment.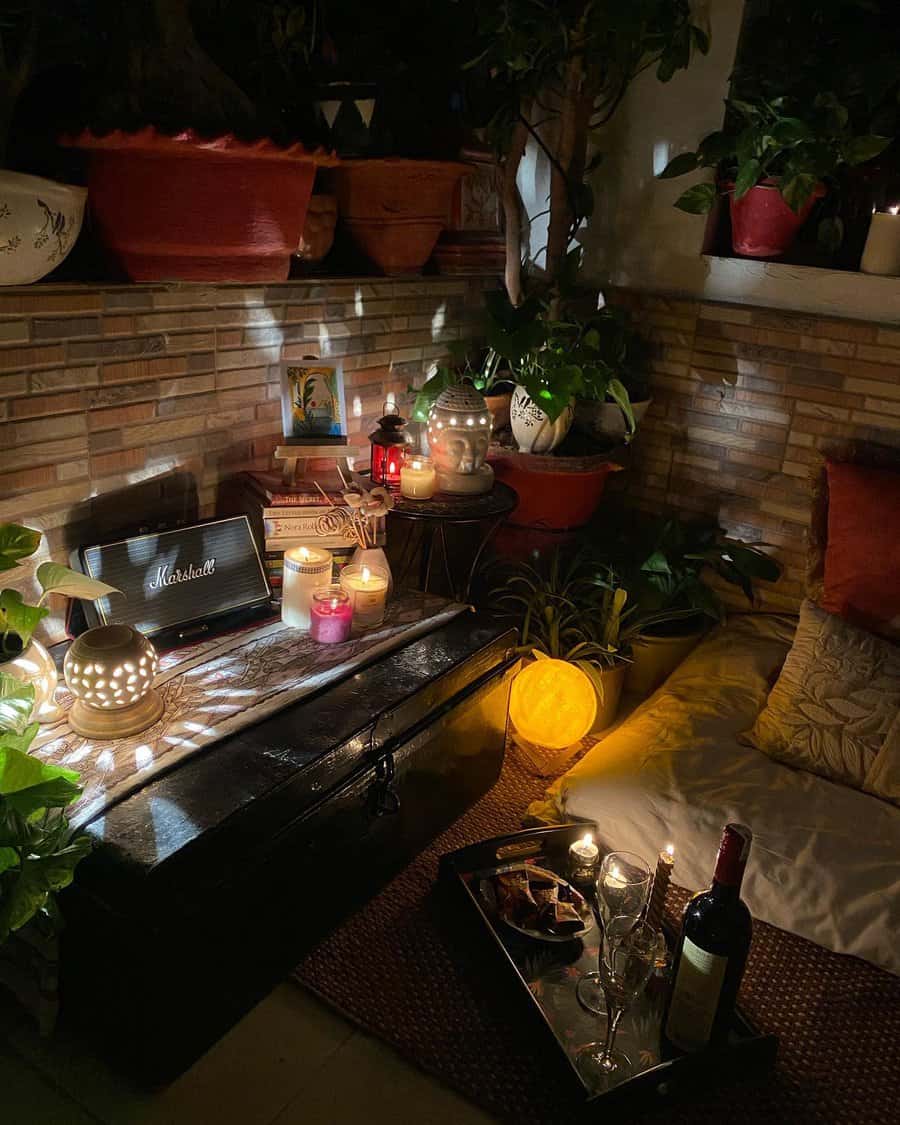 2. Create a Cozy Seating Area
Transforming your apartment balcony into a cozy and inviting outdoor space is easier than you might think. With some thoughtful planning and creative ideas, you can create a cozy seating area that's perfect for relaxing, entertaining, or enjoying some fresh air.
Start by selecting a comfortable and stylish seating option such as a couch, day bed, or set of chairs. Add some colorful pillows or cushions to create a welcoming and inviting feel. You can also incorporate a coffee table or side tables to hold drinks or snacks. If you're short on space, consider utilizing multifunctional pieces like storage ottomans that can double as extra seating.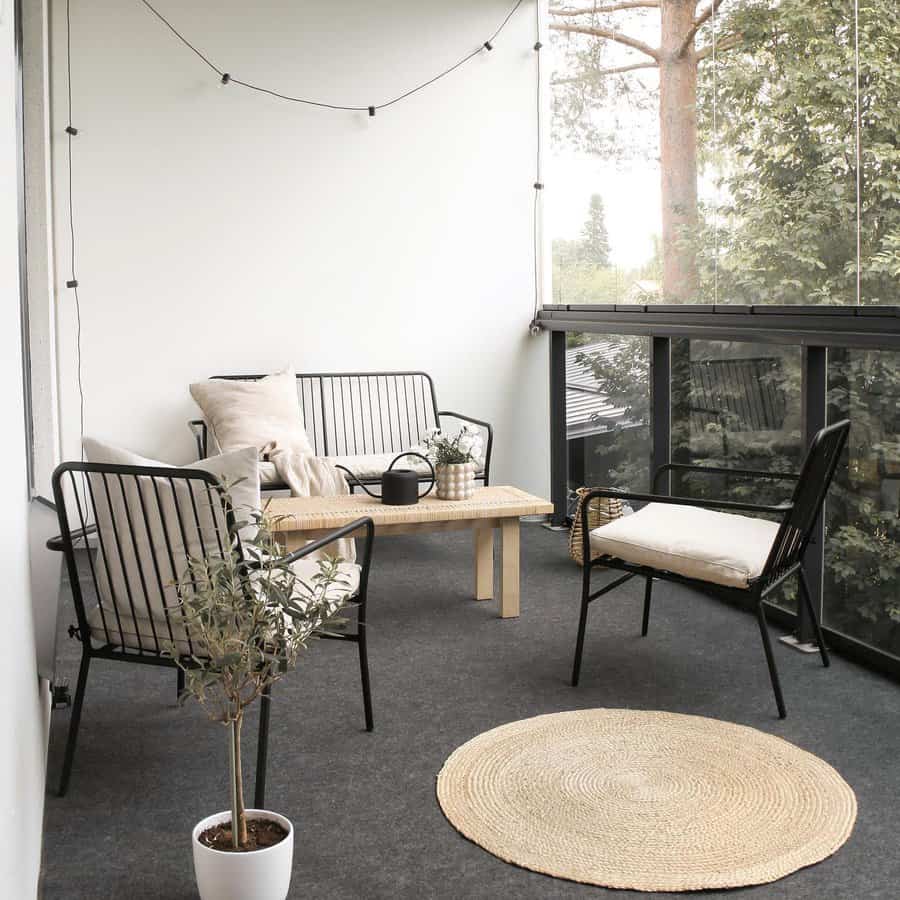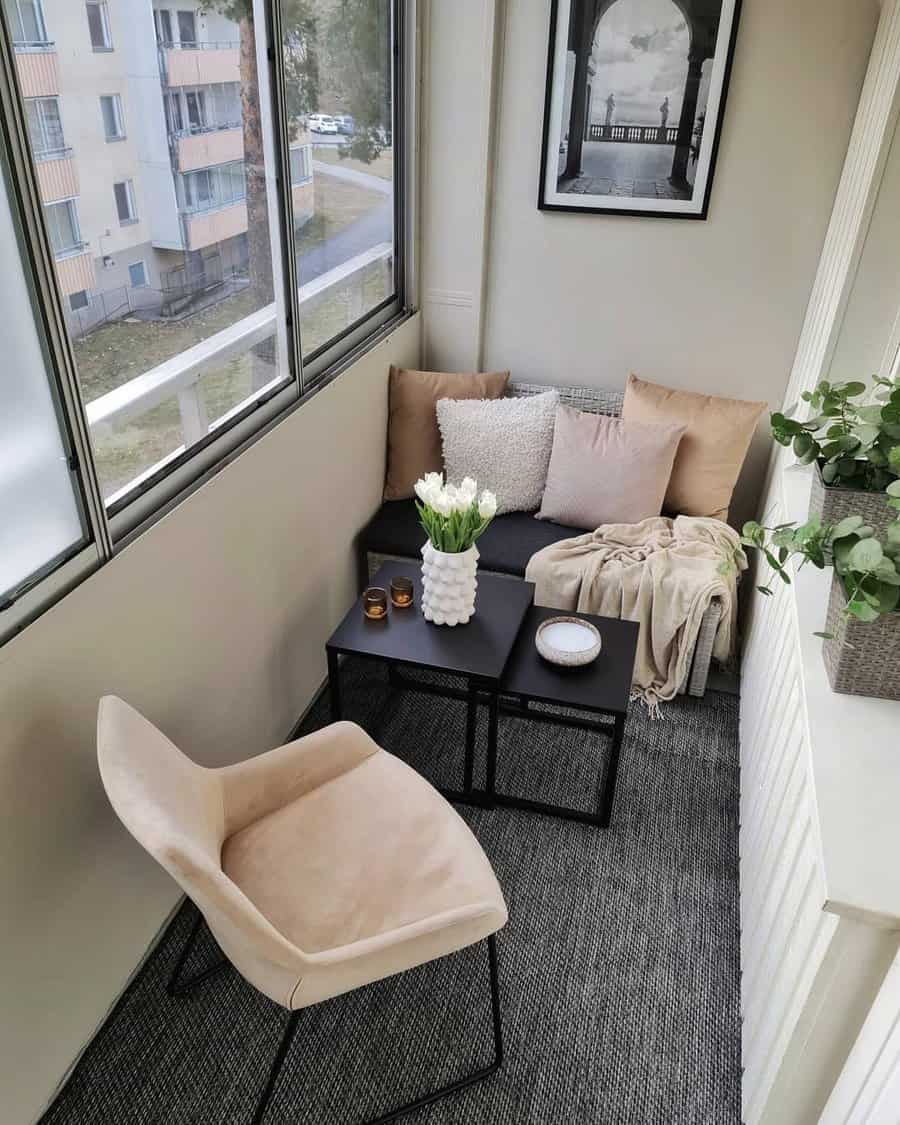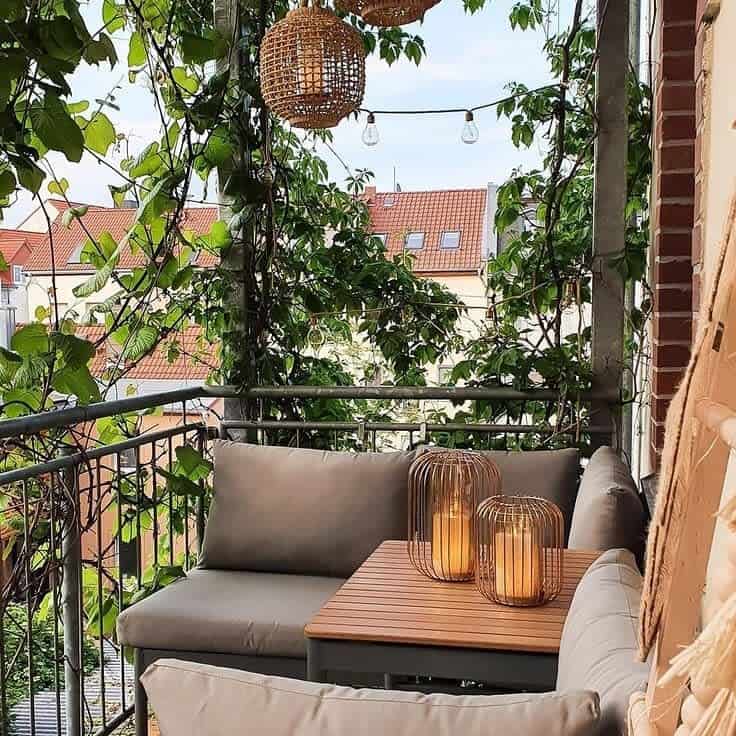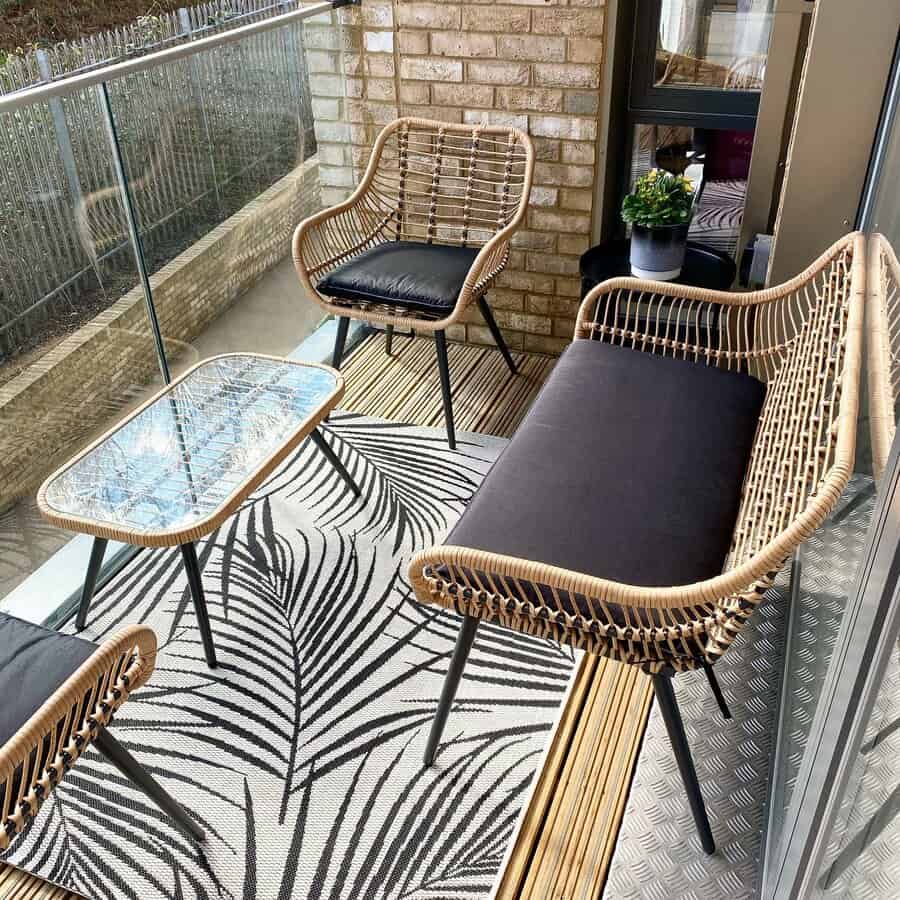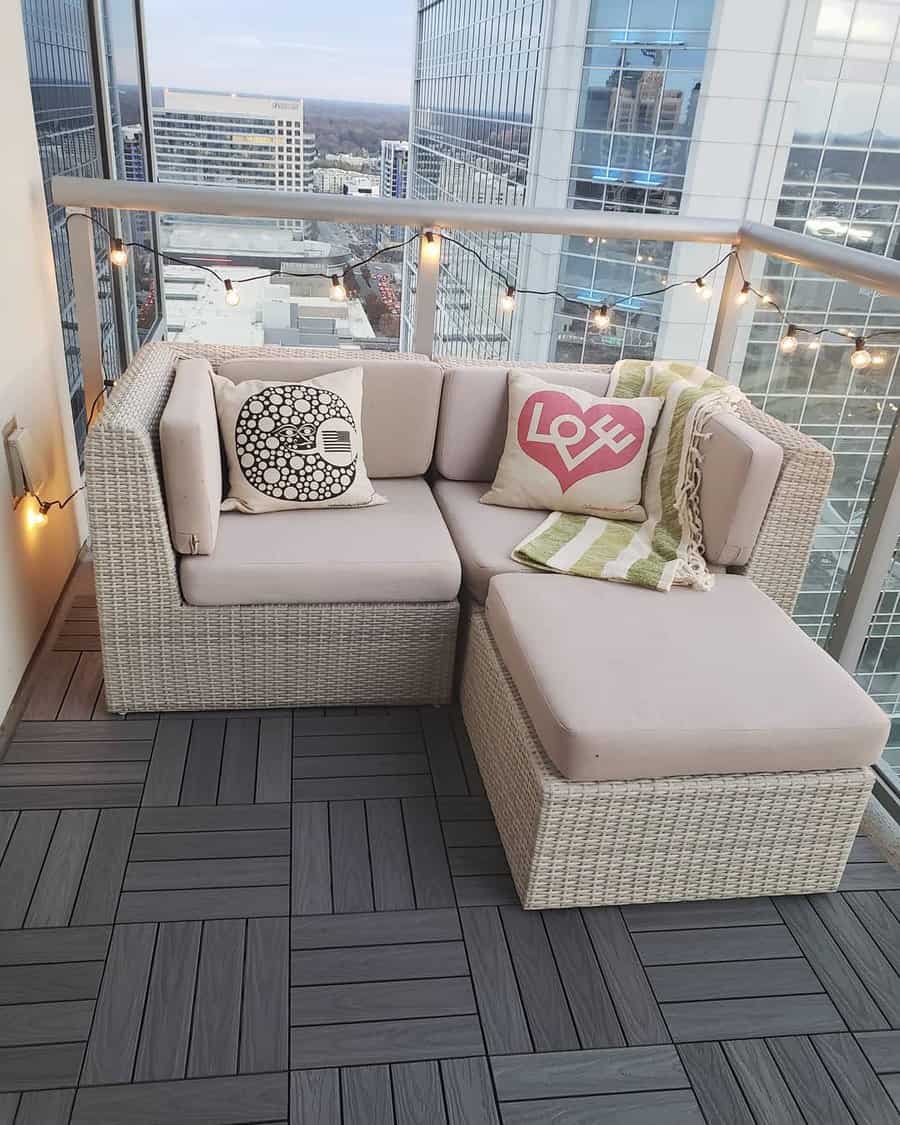 3. Decorate The Railings With Plants
One creative way to make the most of your apartment balcony is by utilizing the balcony railing with plants. You can decorate the railing with plants in a variety of ways to add some color and life to your balcony. Hanging planters, small pots, or even a window box planter can all be used to create a lush and inviting display.
Opt for plants that are well-suited for your balcony's conditions, such as succulents or herbs if your balcony receives a lot of sun, or ferns and spider plants if your balcony is shaded. Additionally, consider adding some string lights or a small outdoor rug to create a cozy and inviting atmosphere.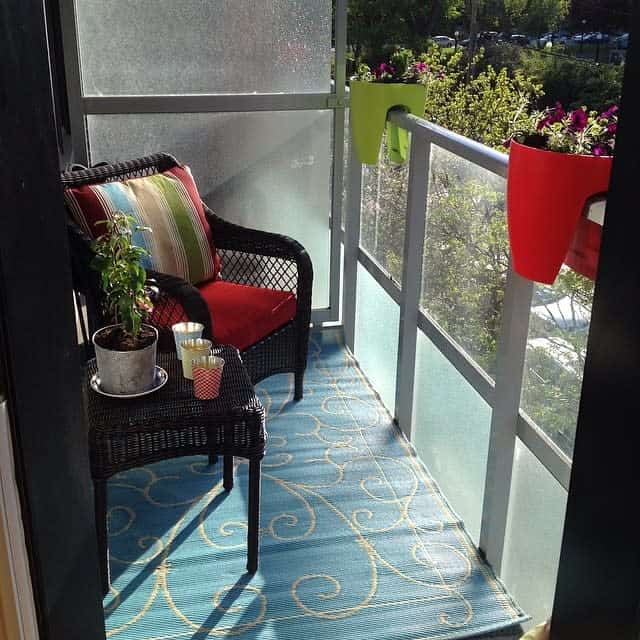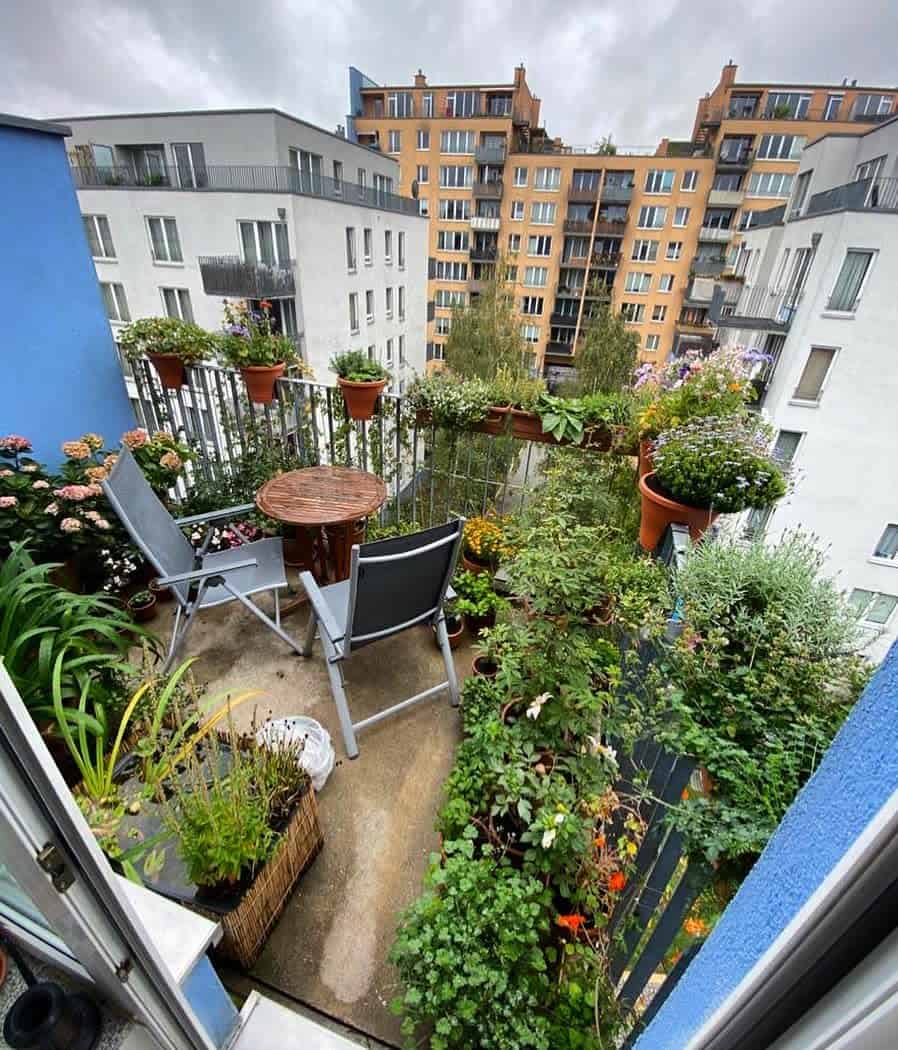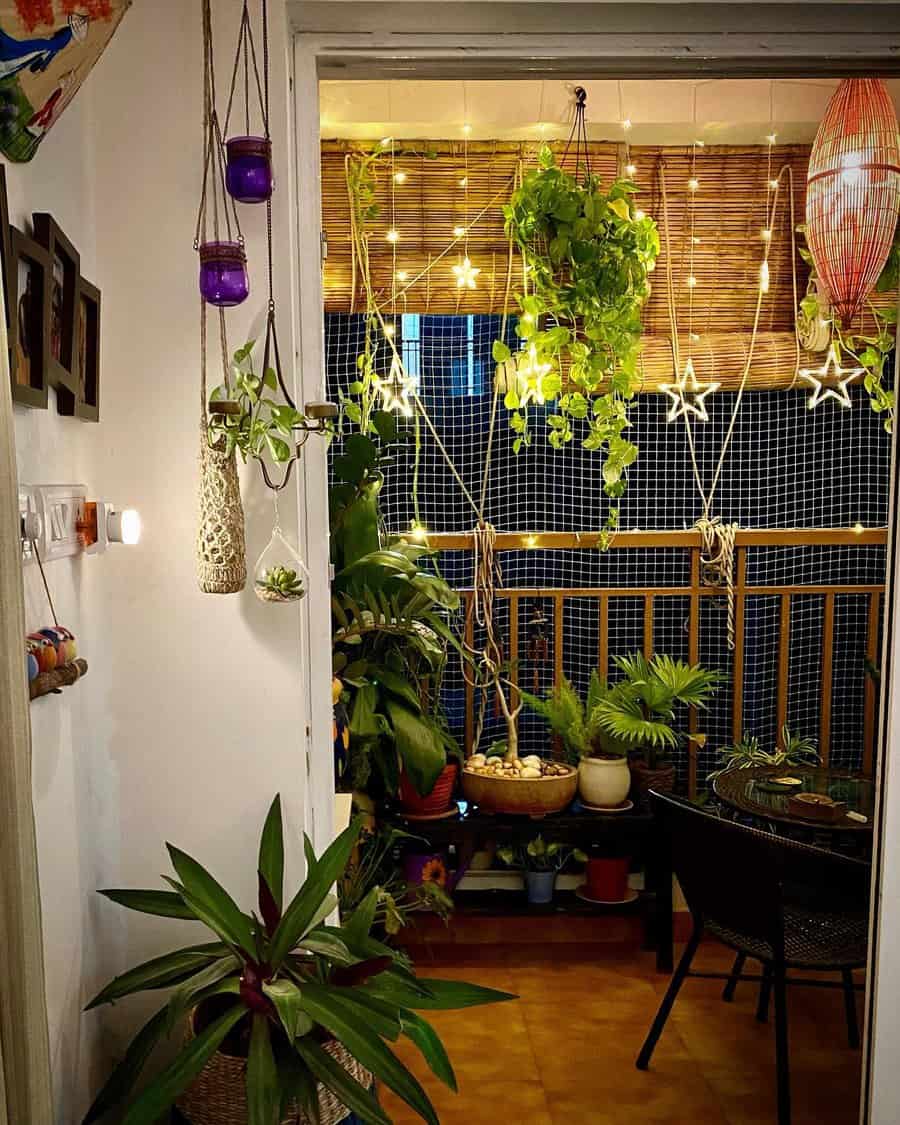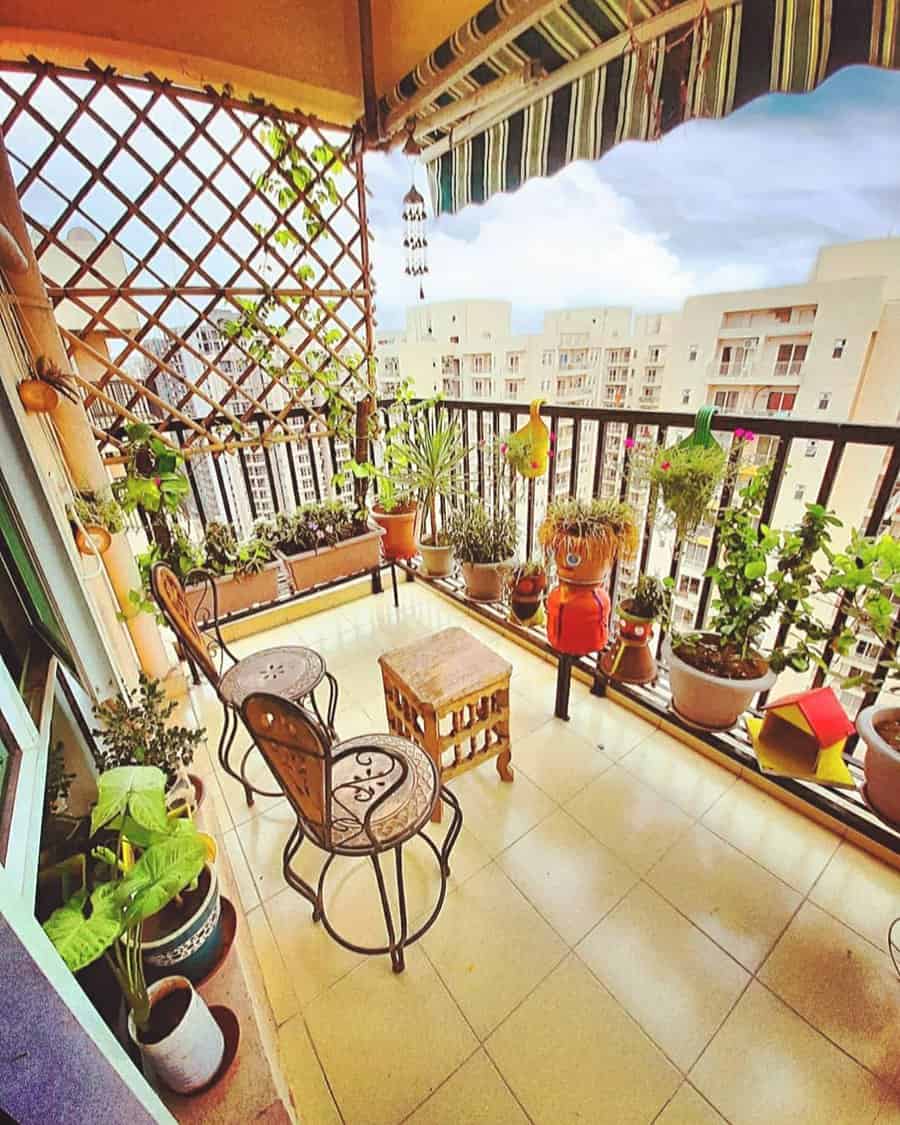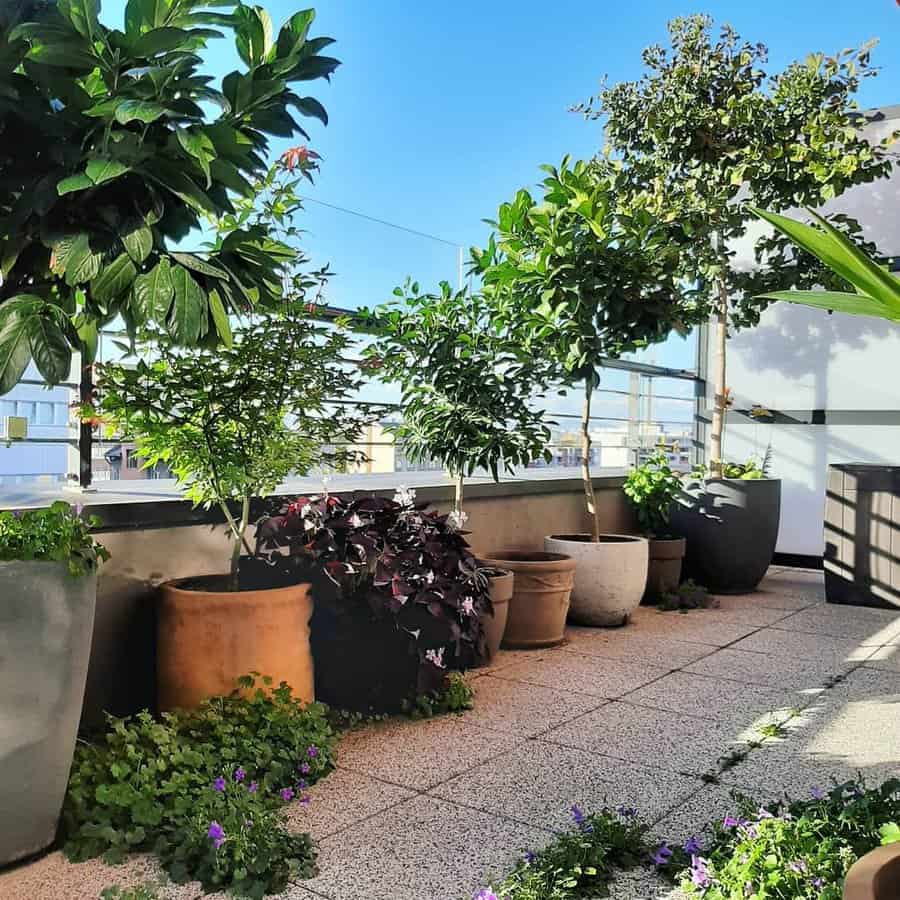 4. Install Artificial Grass
An apartment balcony is a wonderful space to enjoy the great outdoors, and one creative way to add some natural elements to your space is by incorporating artificial grass. Not only is it a cost-effective way to create a lush and inviting environment, but it's also low-maintenance and perfect for those who don't have a green thumb.
Whether you're looking to create a relaxing oasis or a functional space for outdoor entertaining, artificial grass can help you achieve your desired look. You can pair your grass with comfortable seating and colorful cushions to create a cozy and inviting atmosphere.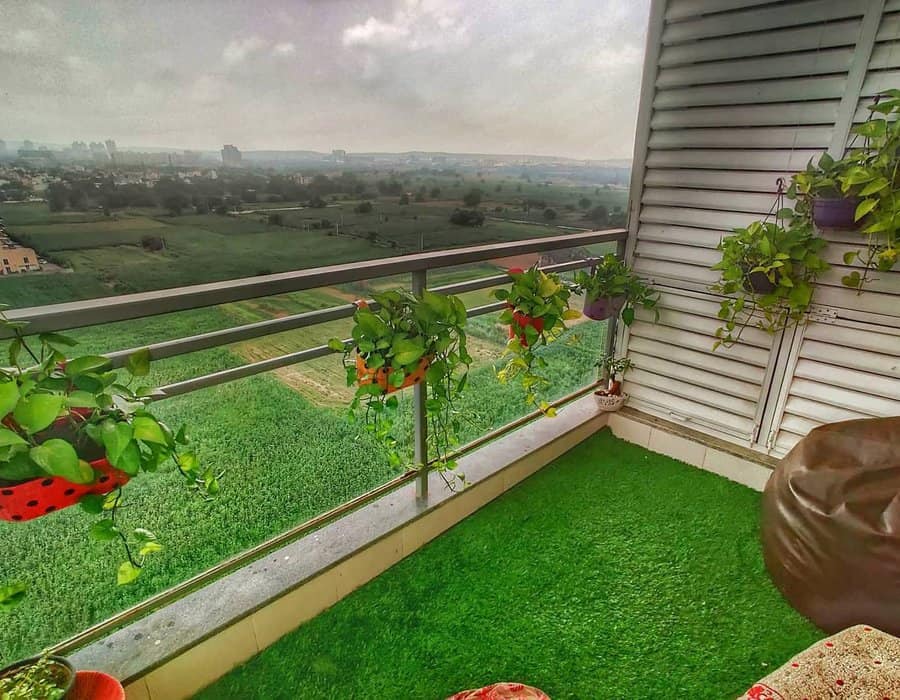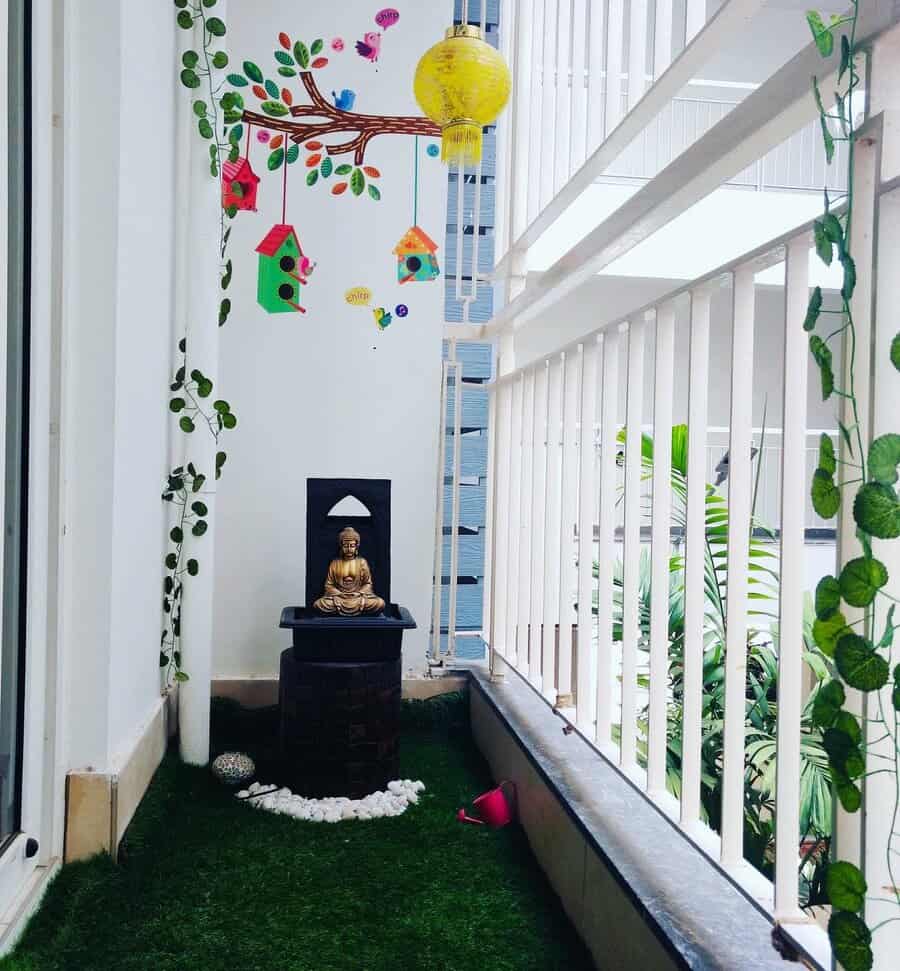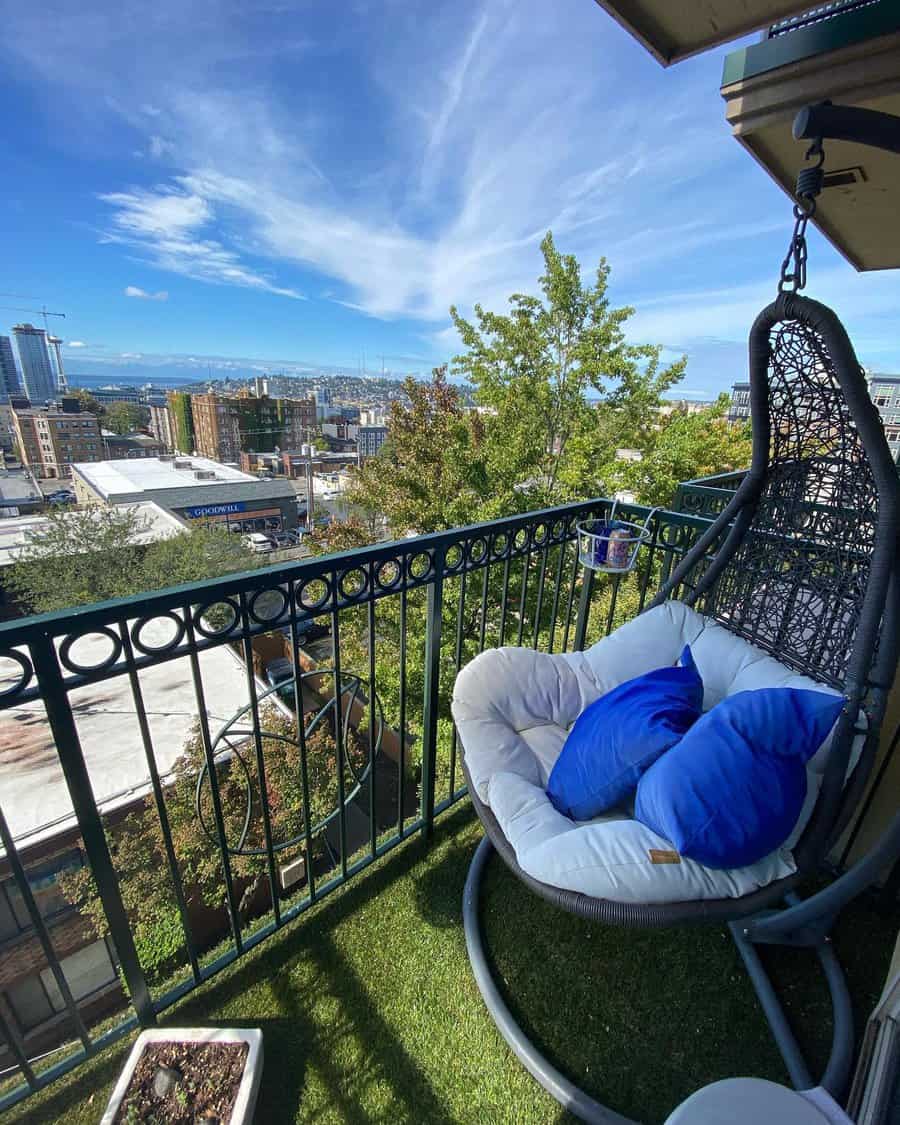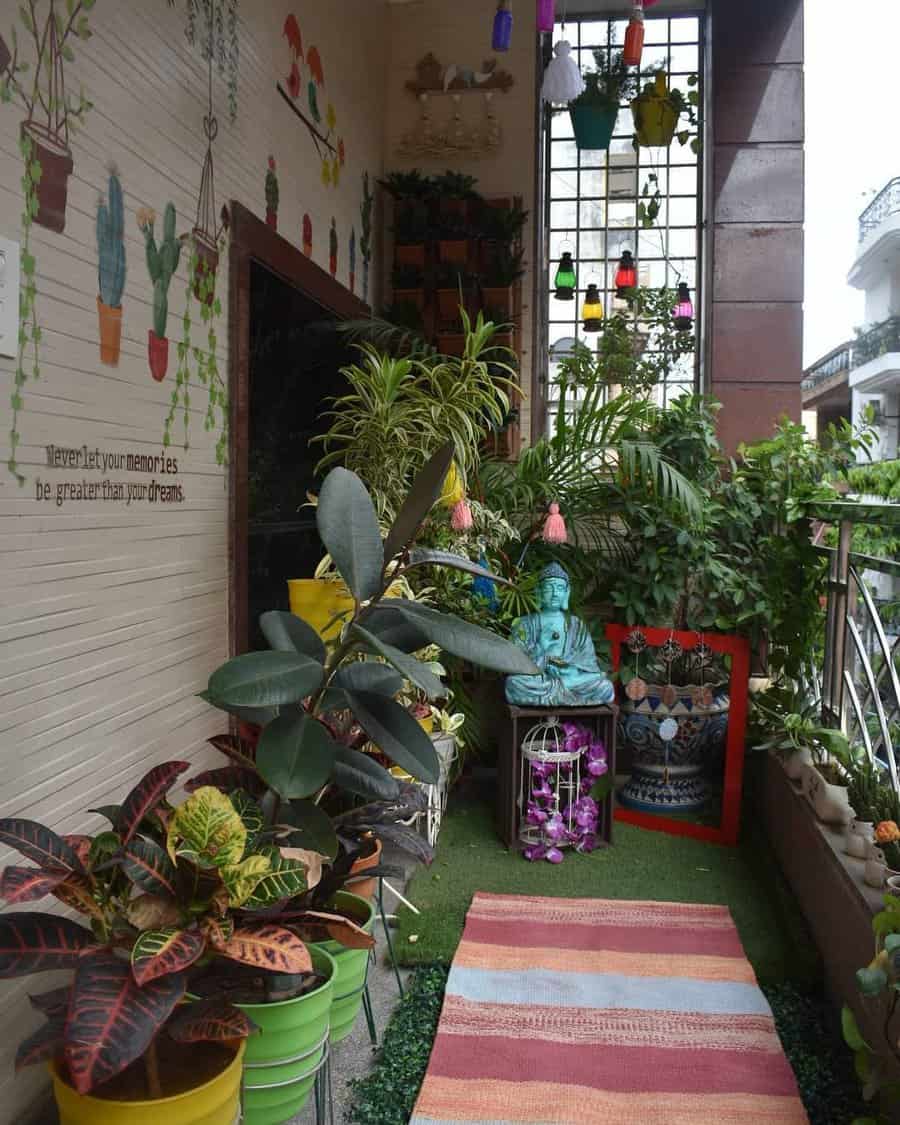 5. Create a Mini Garden With Seating
Even if you live in an apartment, you can still enjoy the beauty and tranquility of a garden. Start by selecting plants that are suitable for balcony living, such as herbs, succulents, and small shrubs.
You can also incorporate hanging baskets or wall planters to add vertical interest to your garden. Next, add comfortable seating such as a small bistro set or a cozy lounge chair to create a cozy and inviting atmosphere. You can add decorative touches such as outdoor cushions, a colorful rug, or string lights to create a warm and inviting ambiance.
With a mini balcony garden with seating, you'll be able to enjoy the beauty and serenity of the outdoors without ever having to leave your home.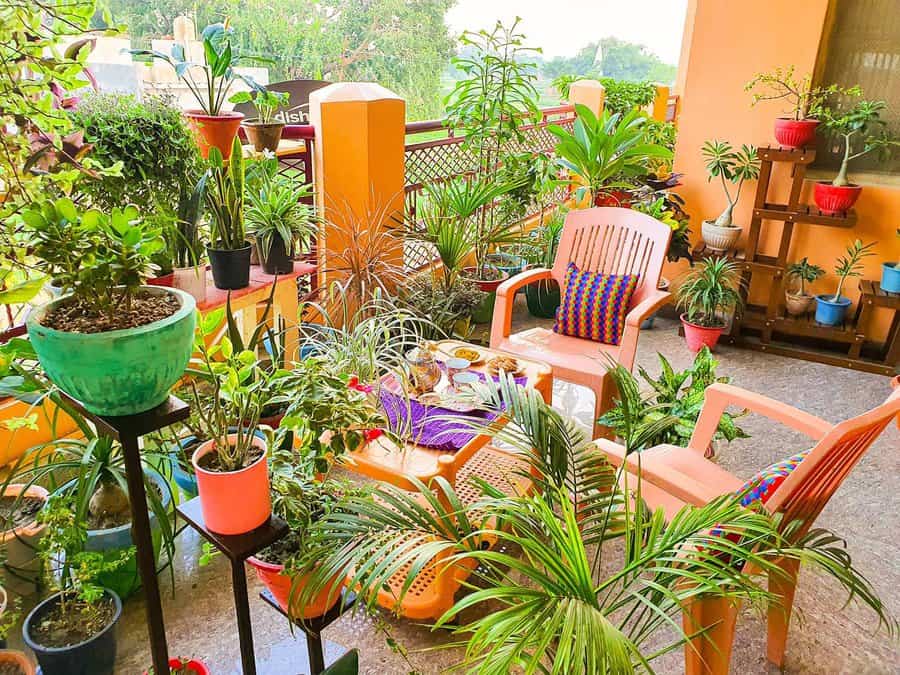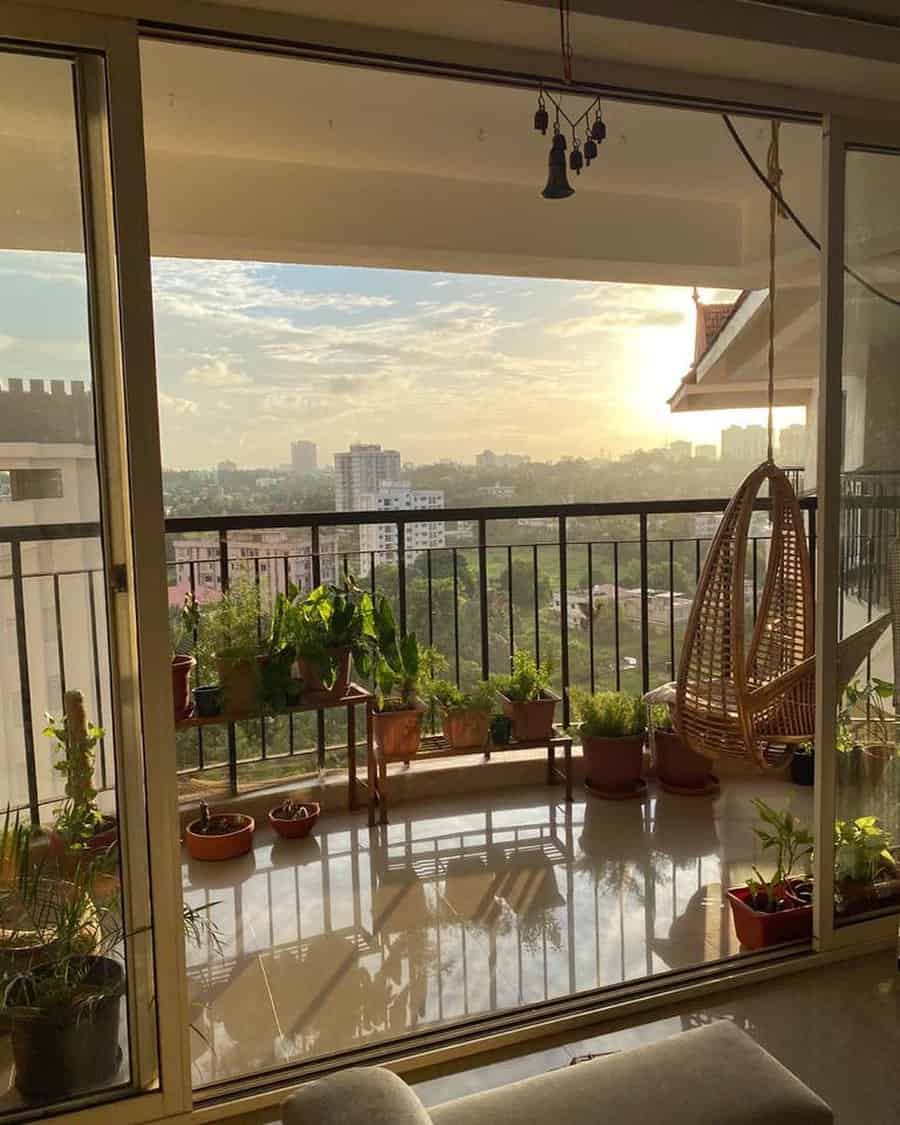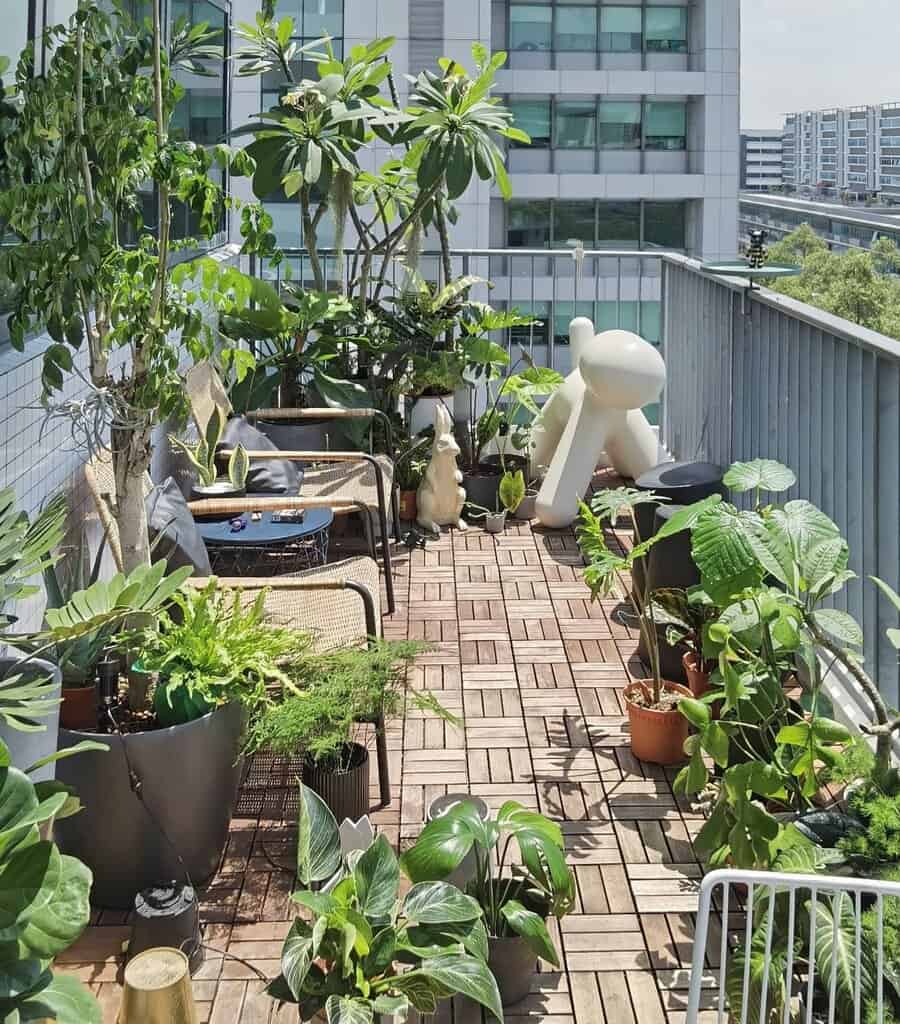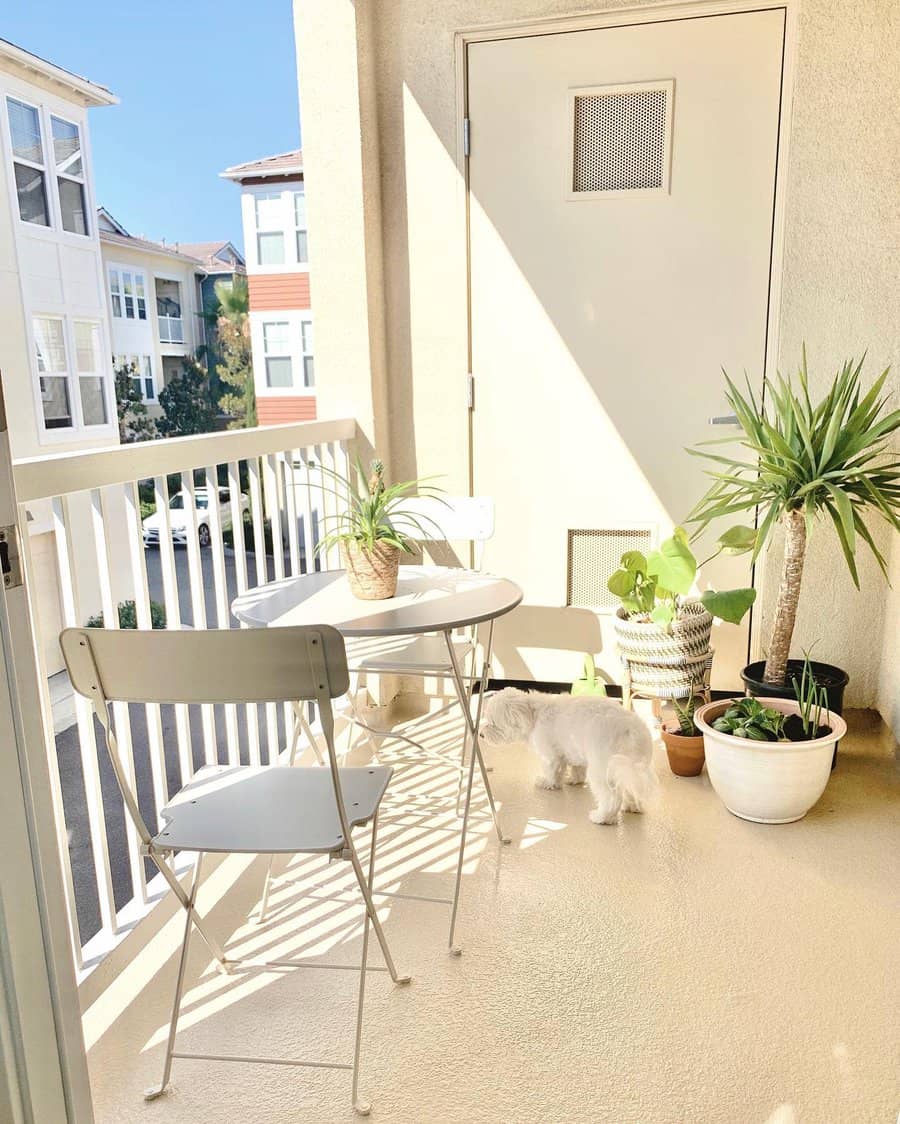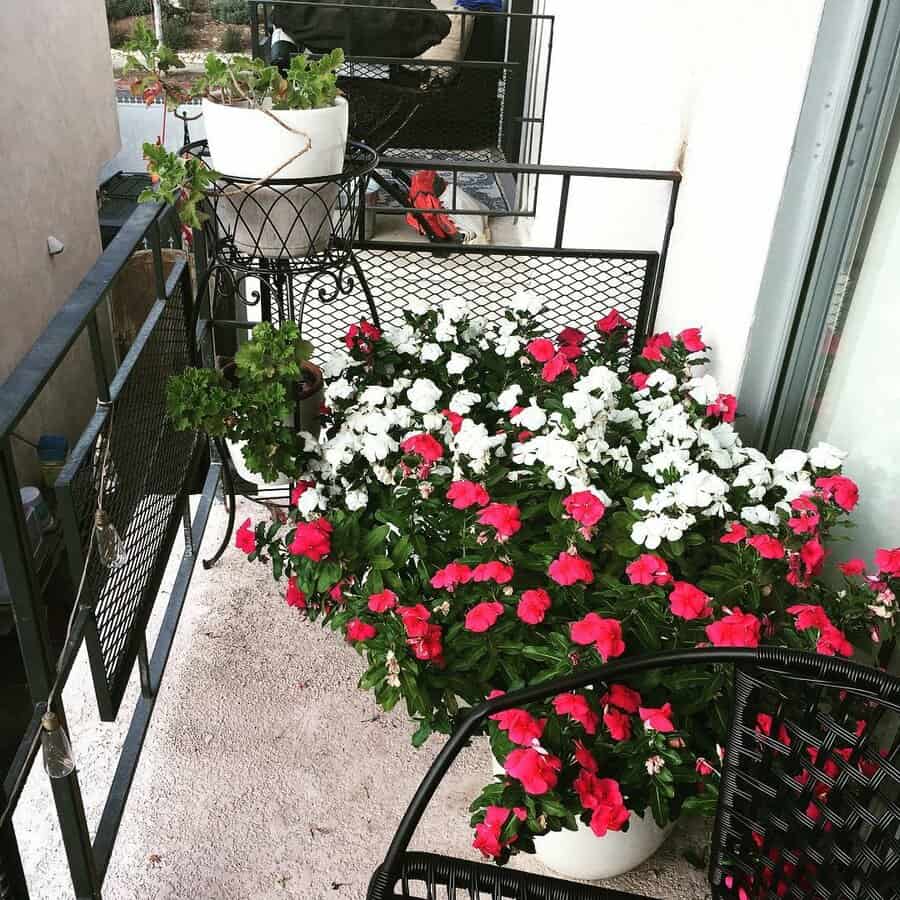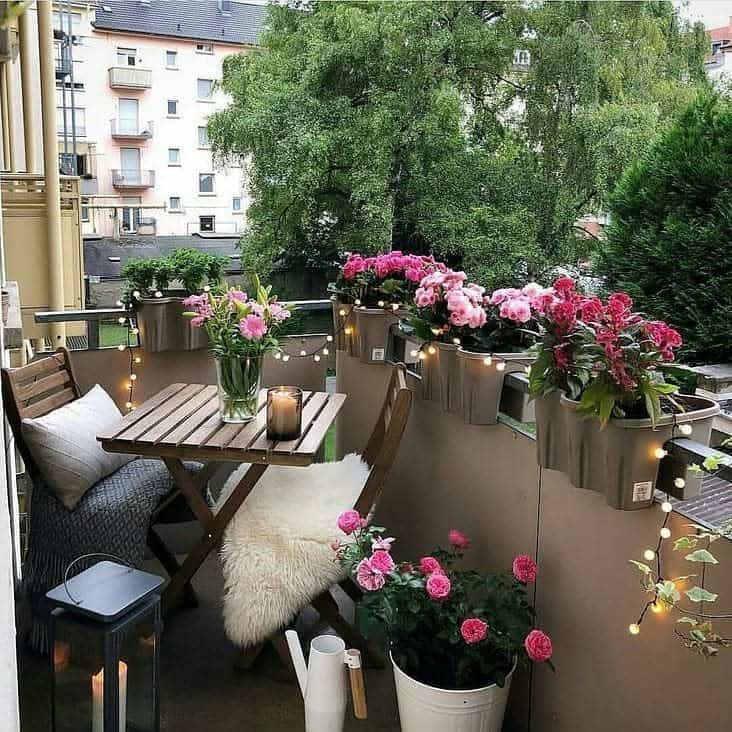 6. Install a Reed Privacy Screen
A reed privacy screen is an excellent way to add a touch of texture and visual interest to your balcony while also providing some much-needed privacy. You can use a screen that covers the entire length of your balcony or create smaller sections to add some dimension to your space.
Additionally, consider incorporating some comfortable seating options like a cozy chair or a hammock to maximize the quality of privacy you get with a privacy screen. With a little bit of creativity and some thoughtful planning, you can transform your apartment balcony into a cozy and private oasis that you'll feel comfortable spending time in.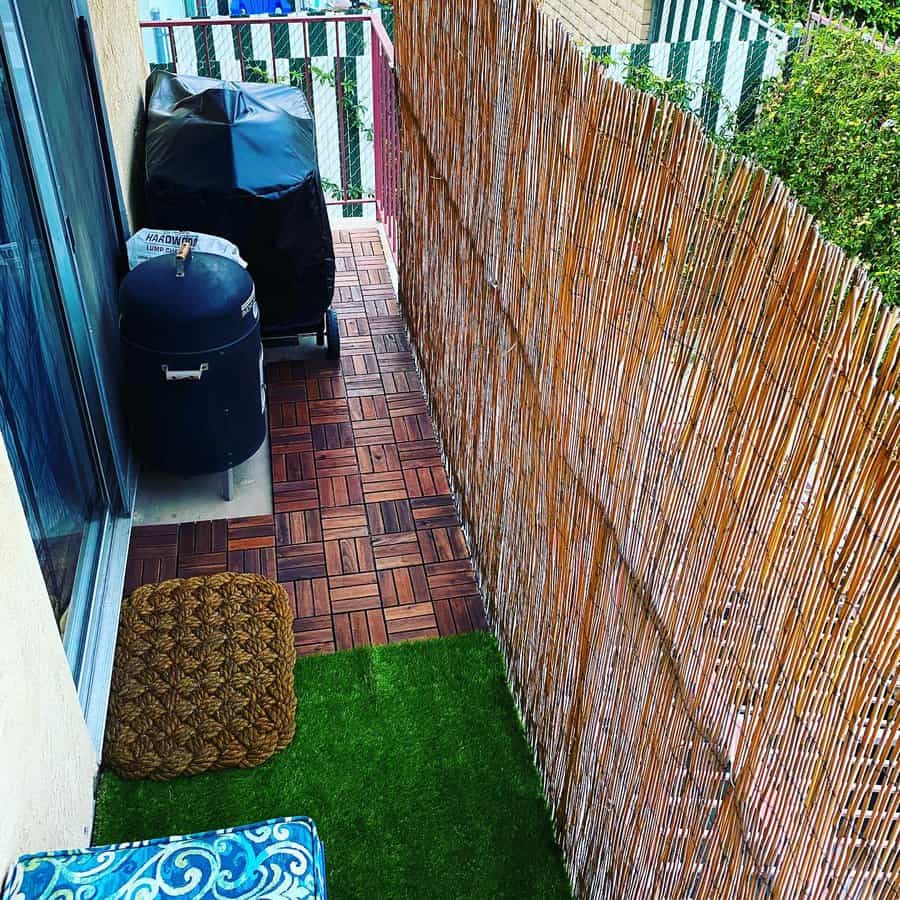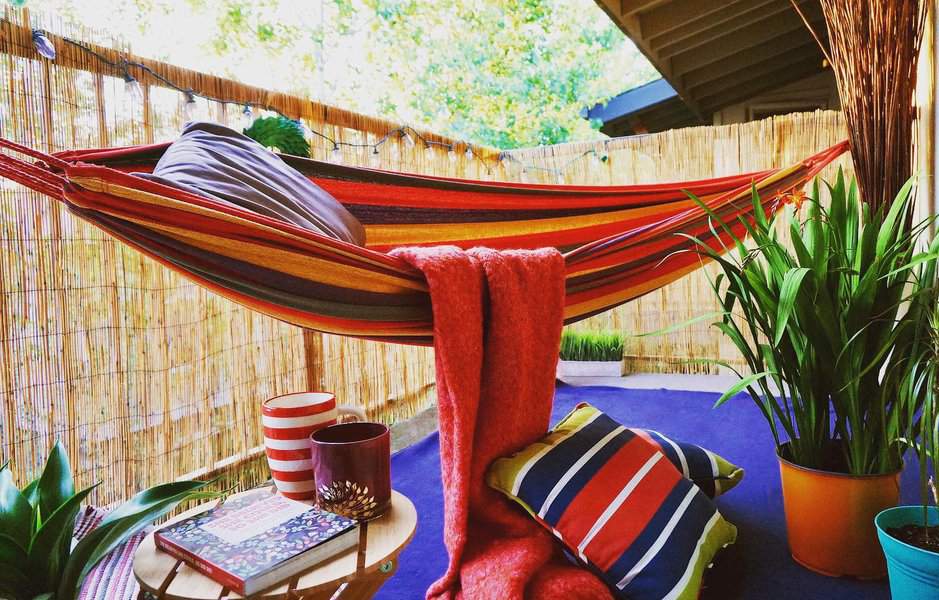 7. Use a Hanging Hammock Chair
One fun and creative idea is to incorporate a hammock or hanging chair into your balcony design. Not only do these seating options provide a comfortable place to lounge and soak up the sun, but they also add a fun and playful vibe to your space.
A hammock can be hung between two sturdy posts or walls, while a hanging chair or egg chair can be suspended from a sturdy ceiling hook. You can add some additional touches to create a cozy and inviting atmosphere, such as outdoor cushions, a throw blanket, and a small side table for snacks and drinks.
With a few simple additions, you can transform your apartment balcony into a relaxing and stylish haven that's perfect for reading, napping, or enjoying a cup of coffee with a view.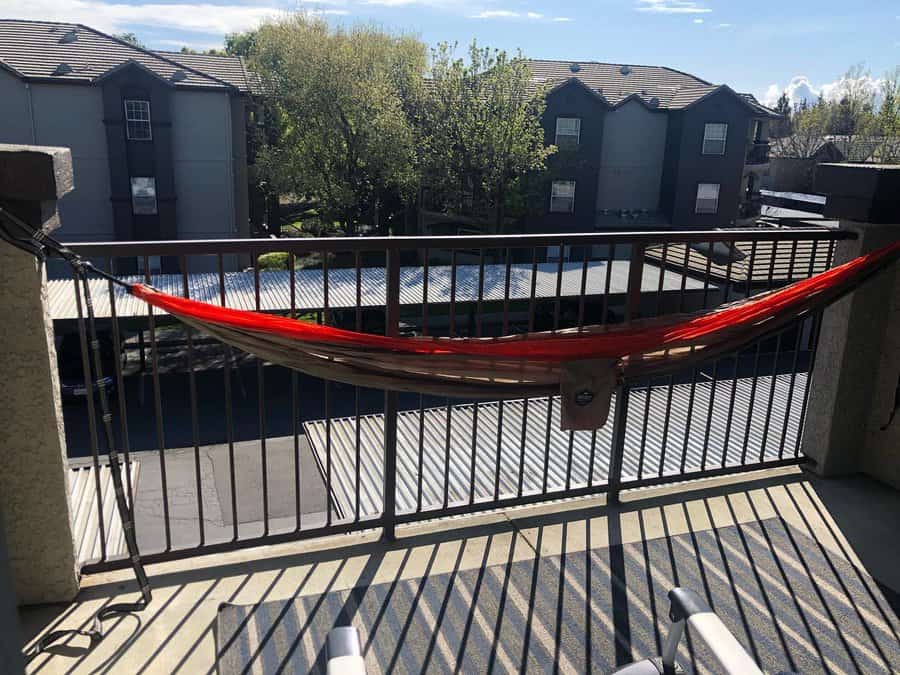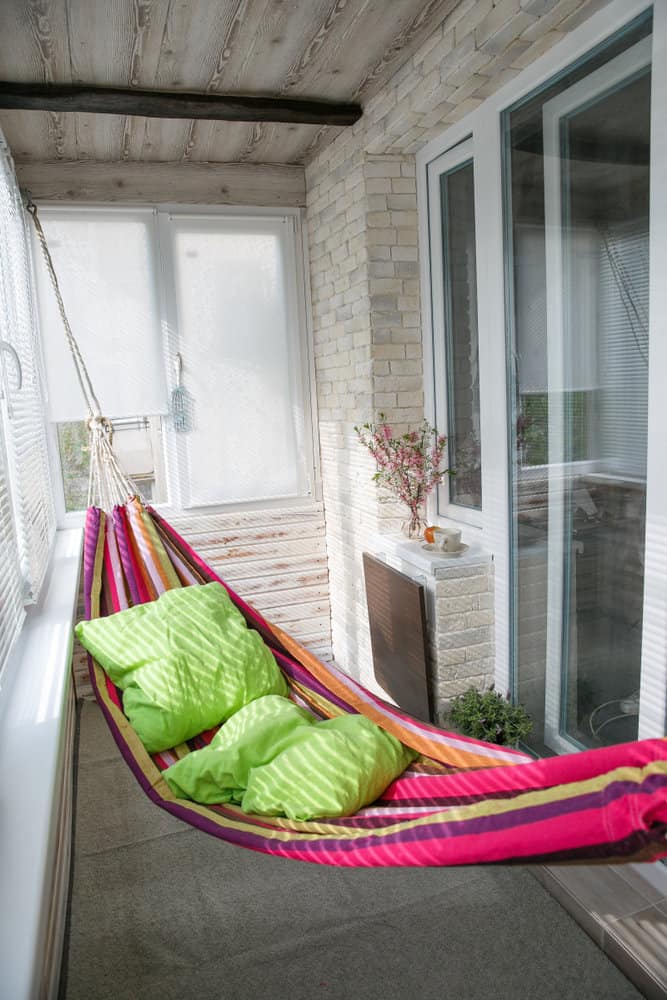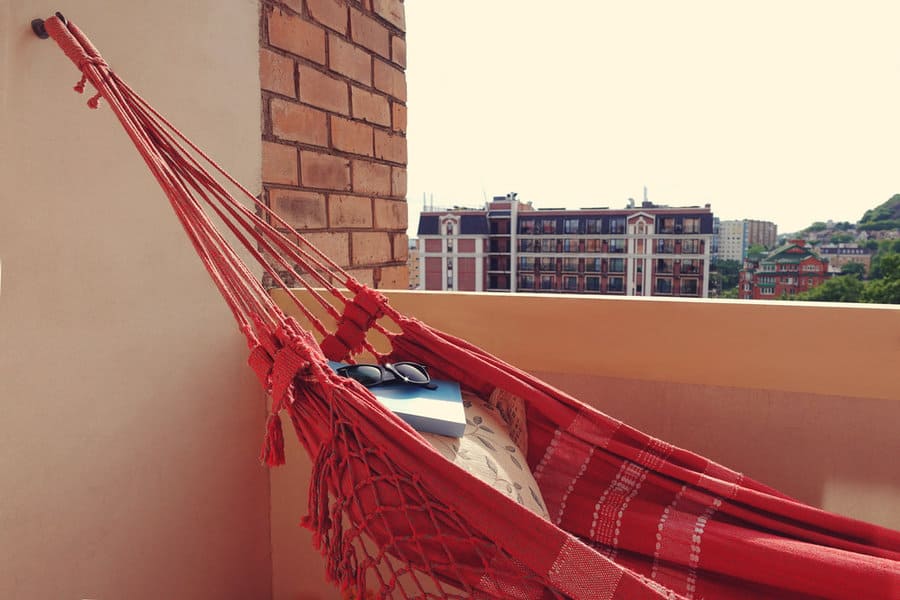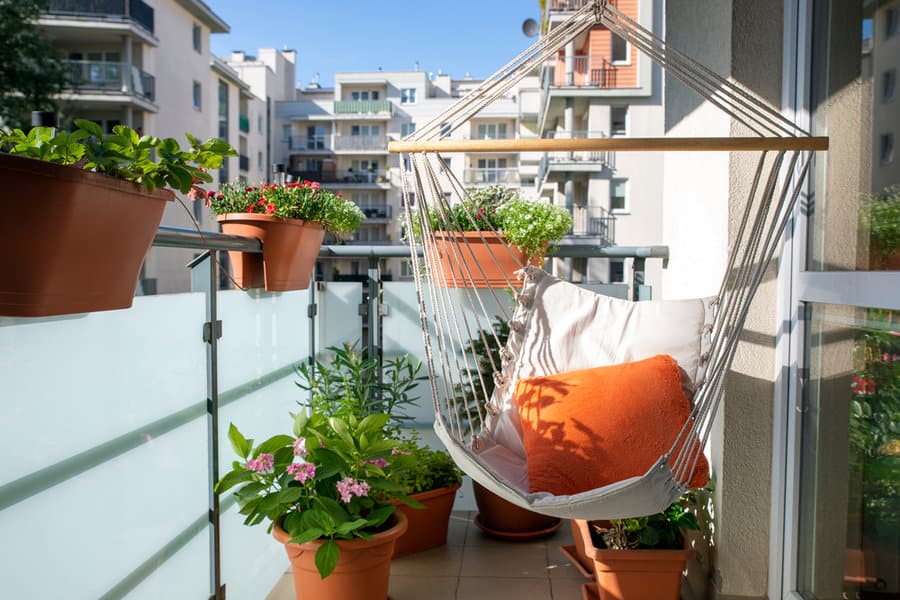 8. Use a Decorative Area Rug
To create a cozy and stylish balcony, consider adding a decorative rug. A rug can instantly add warmth, color, and texture to your balcony, while also defining a specific area for seating or relaxation. There are countless options for decorative rugs, from bright and bold patterns to soft and neutral tones.
Choose a rug that complements your personal style and the overall aesthetic of your apartment. You can also layer your rug with outdoor cushions and throw pillows to create a comfortable and inviting space for lounging or entertaining.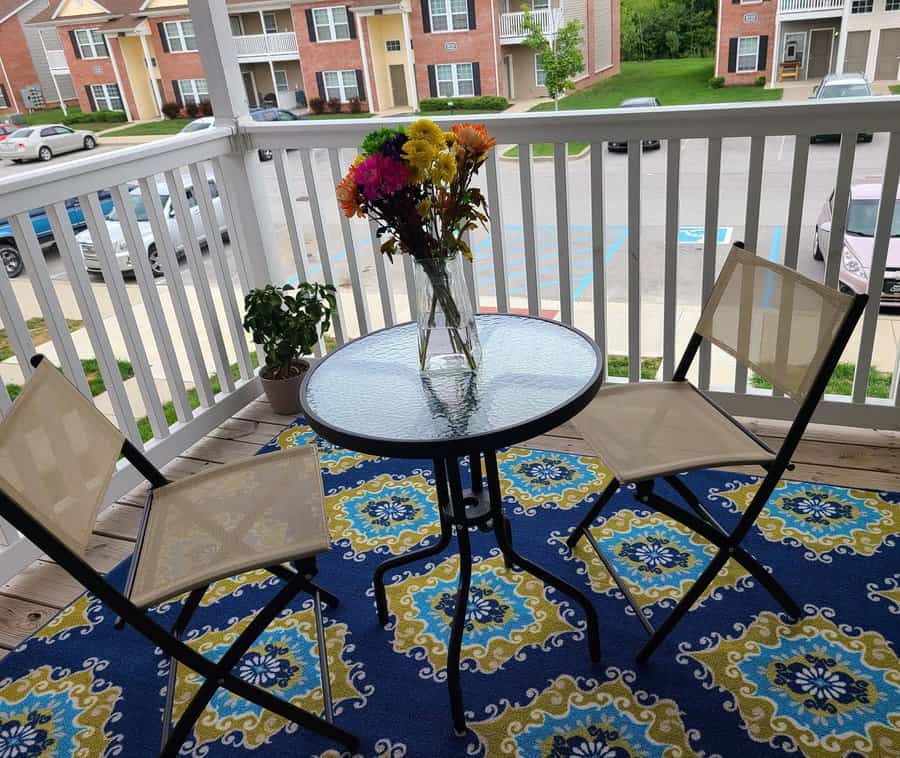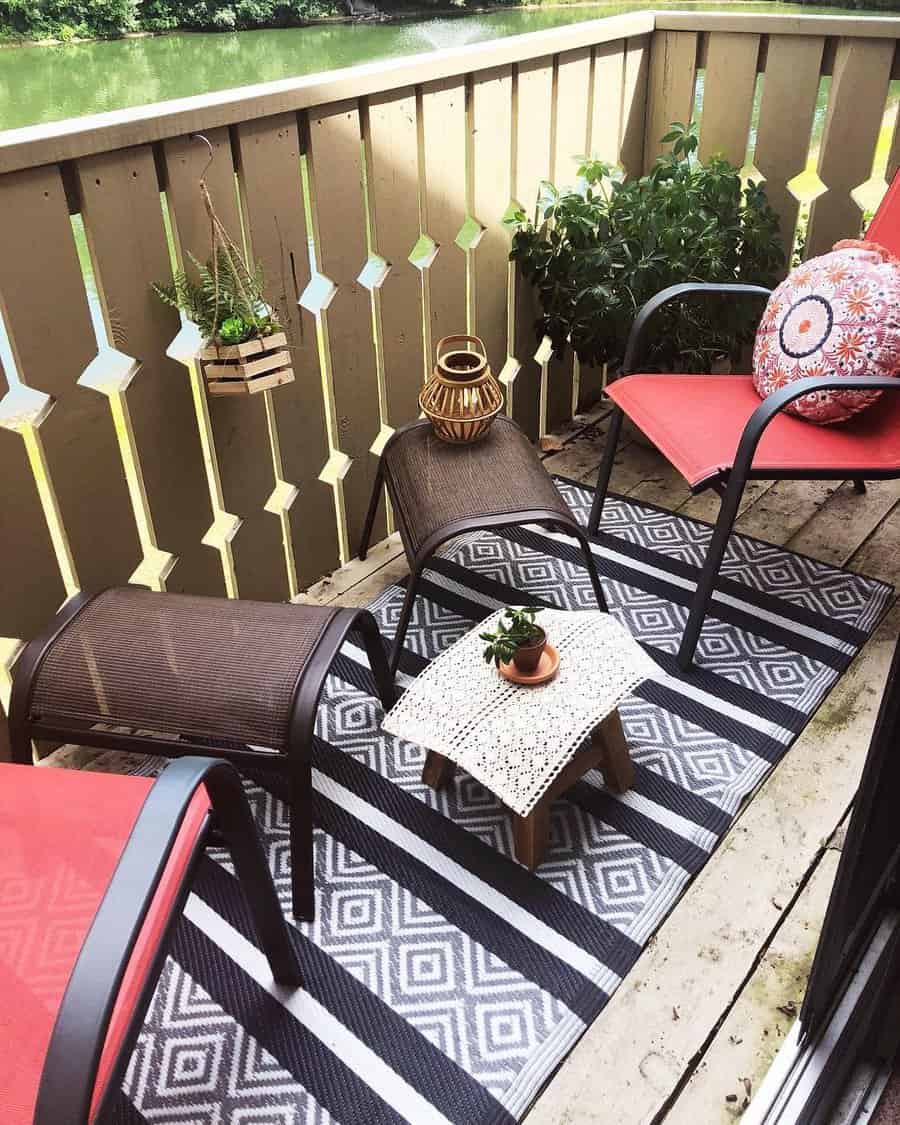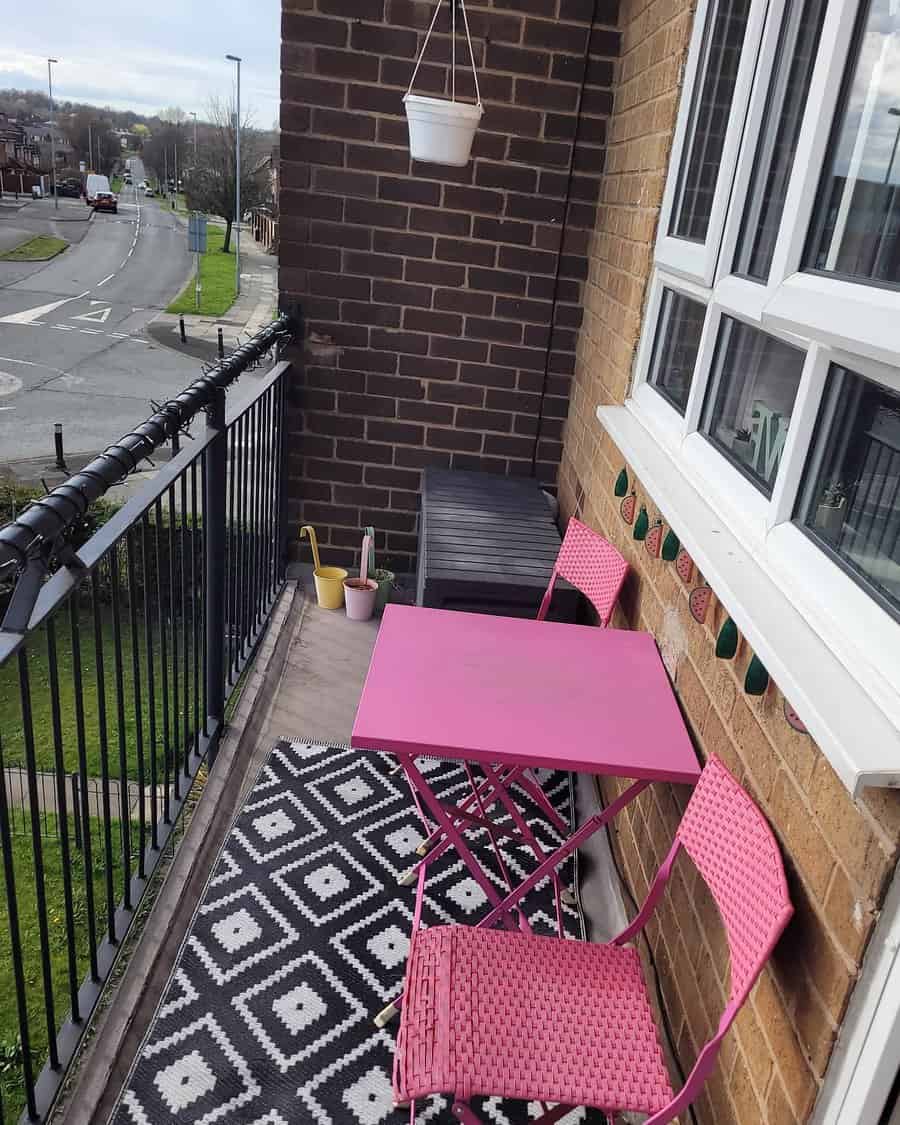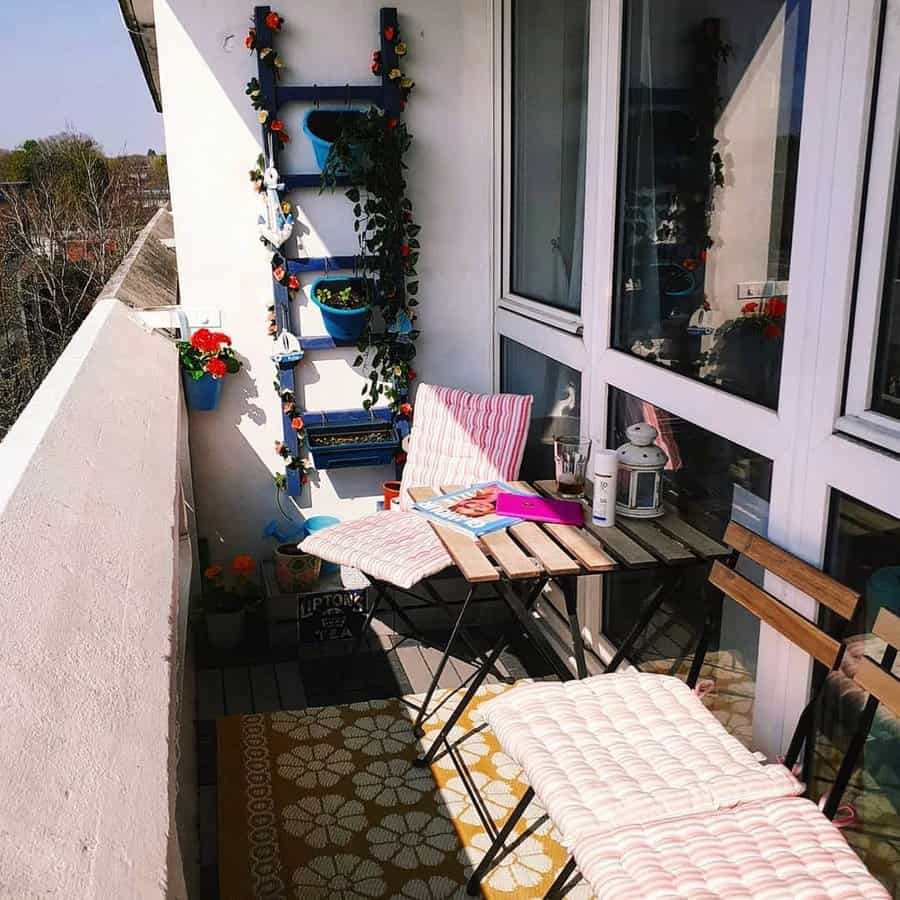 9. Add a Bistro Set
An apartment balcony can be the perfect place to escape the hustle and bustle of city life and enjoy some fresh air. To make the most of your outdoor space, consider adding a bistro set for dining al fresco.
A small table and chairs can create a cozy and intimate space for enjoying a meal or a glass of wine with a loved one or a friend. Whether you're enjoying breakfast on a sunny morning or a romantic dinner under the stars, a bistro set can transform your apartment balcony into a charming and functional outdoor oasis.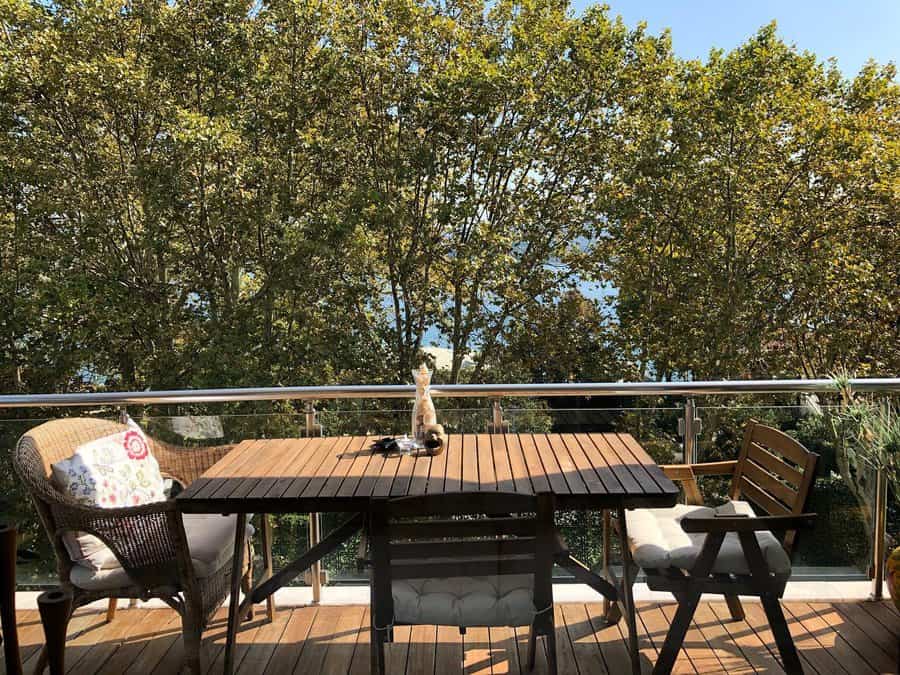 10. Add a Daybed
A daybed can be a perfect spot to lounge, read a book, or simply take in the views from your balcony. With a variety of options available, from rattan to wooden frames, you can choose a daybed that complements your personal style and the decor of your balcony. Additionally, you can add cozy throw pillows and blankets to create a cozy and inviting atmosphere.
Don't forget to incorporate some plants to add a touch of greenery to your space. Whether you're looking for a place to relax or entertain guests, adding a daybed to your apartment balcony is a great way to create a comfortable and stylish space that you'll love spending time in.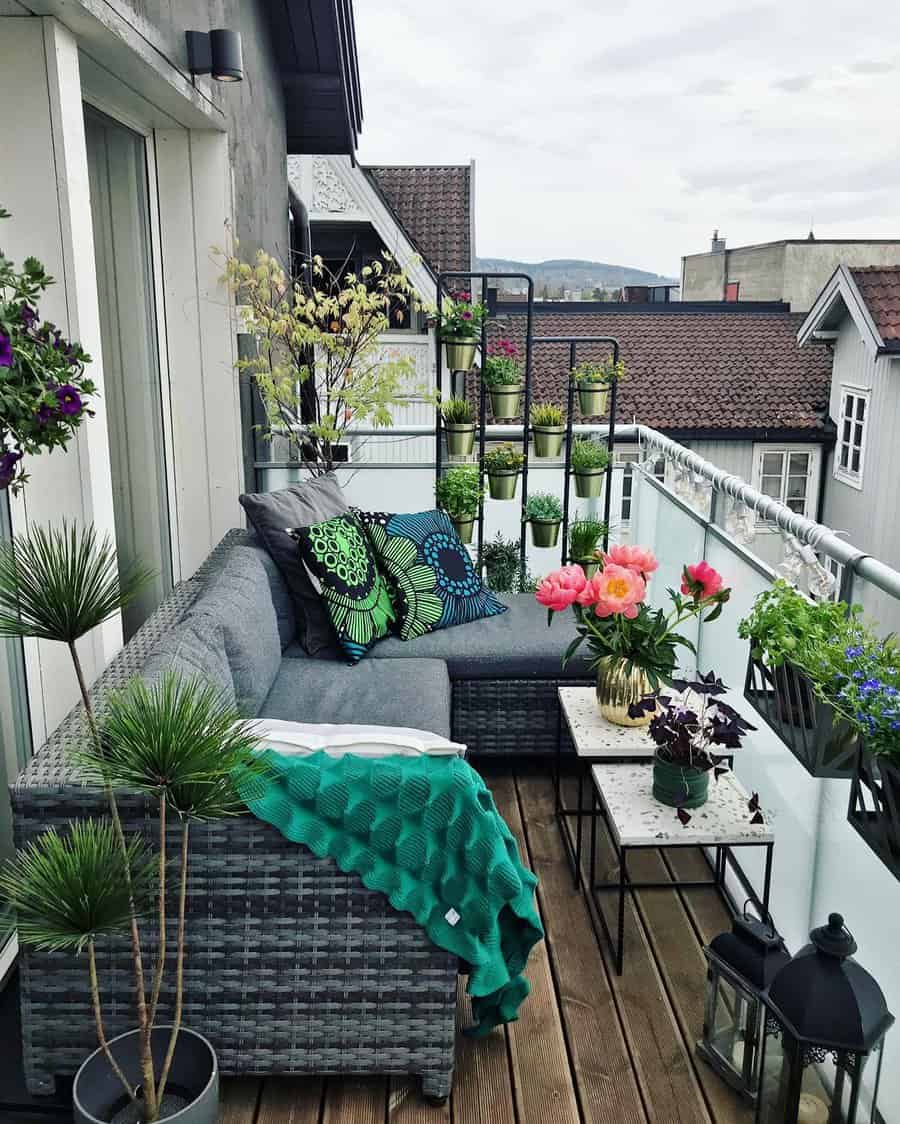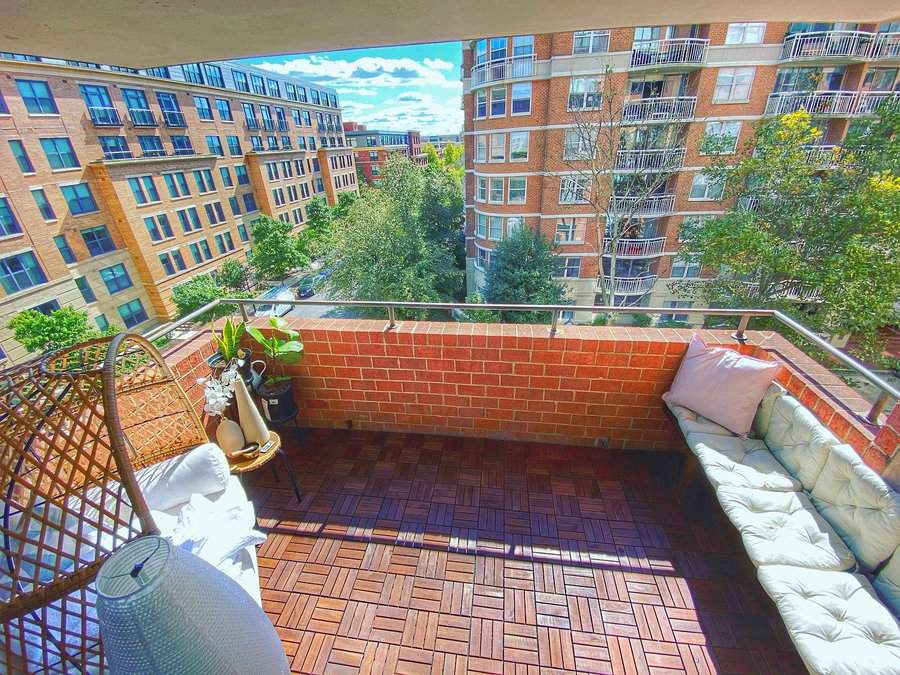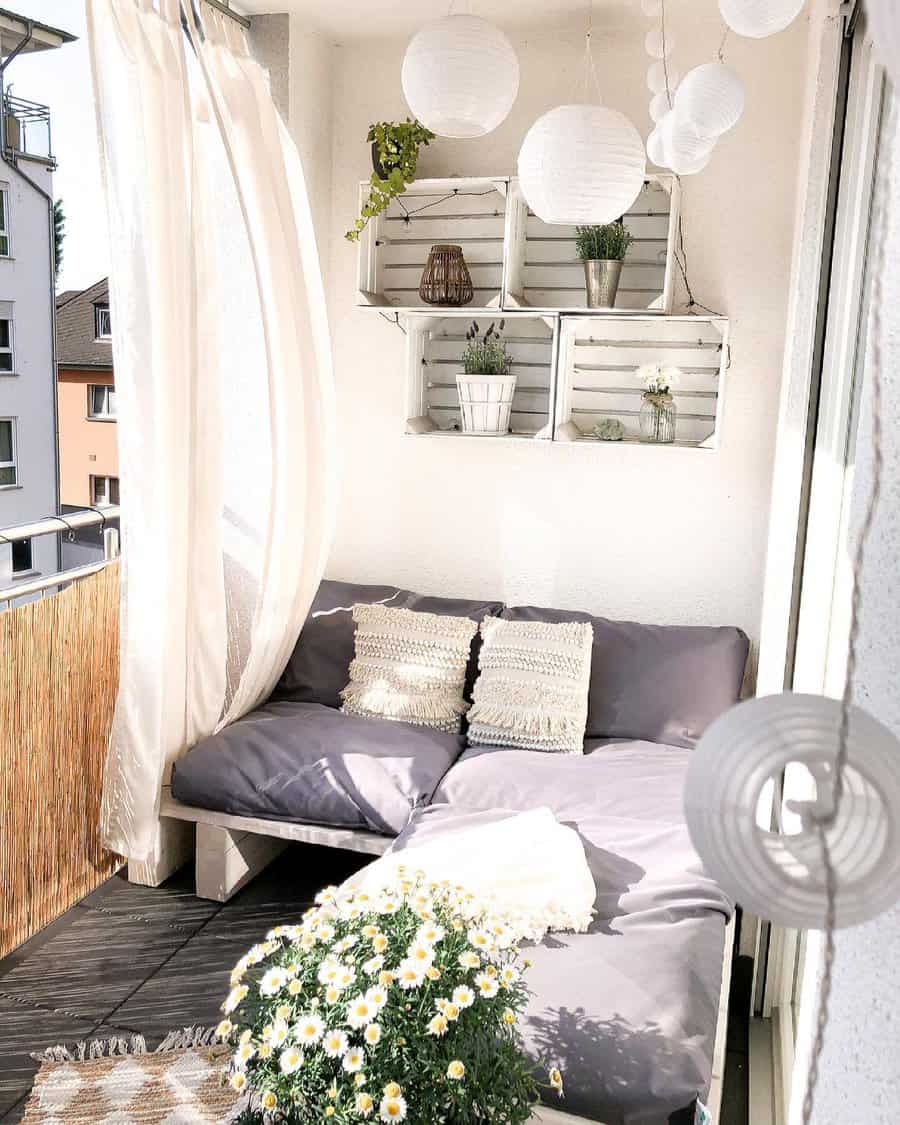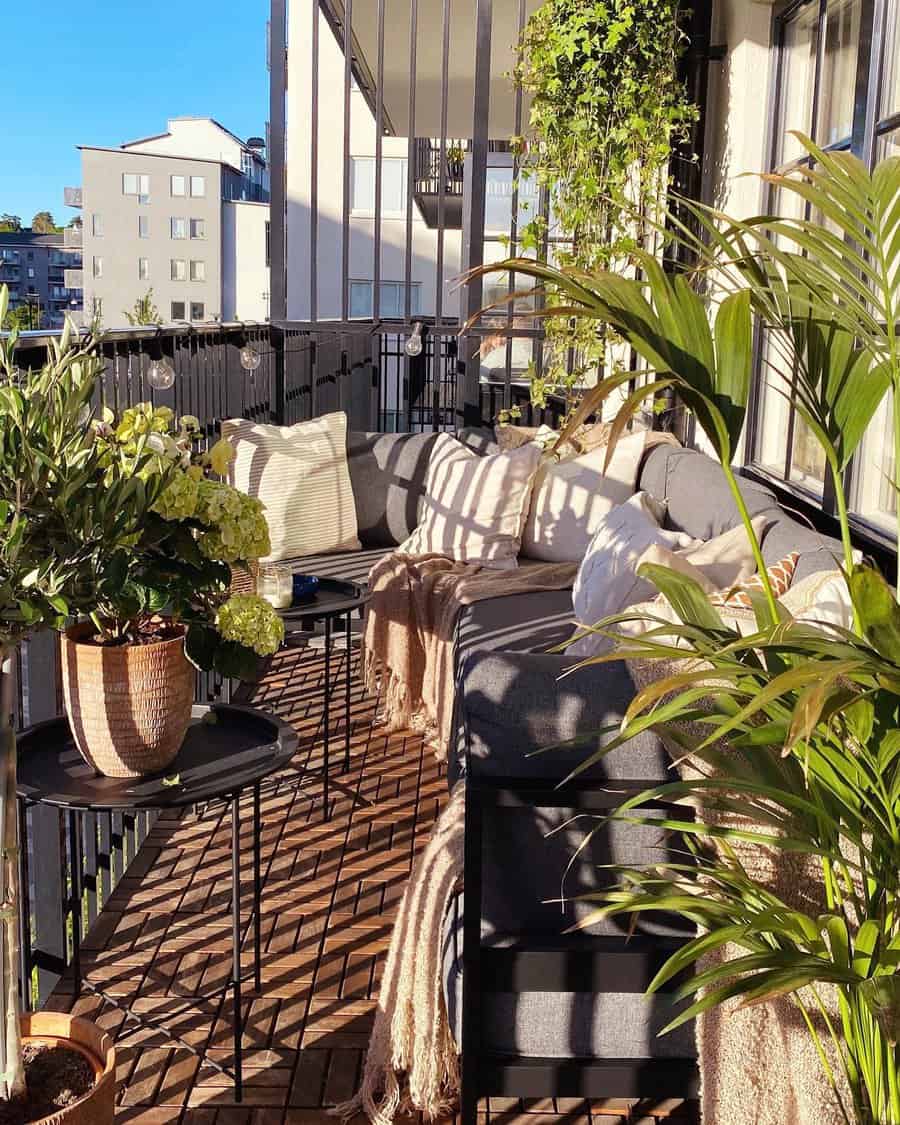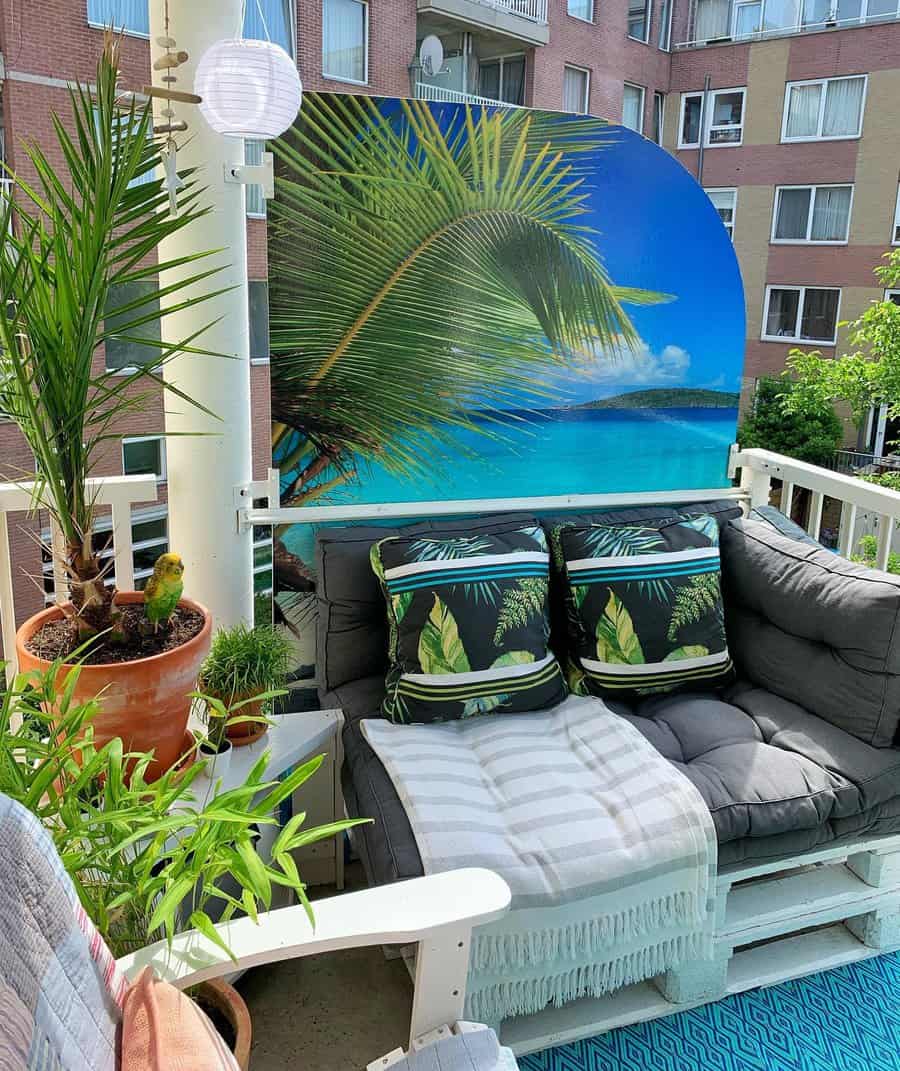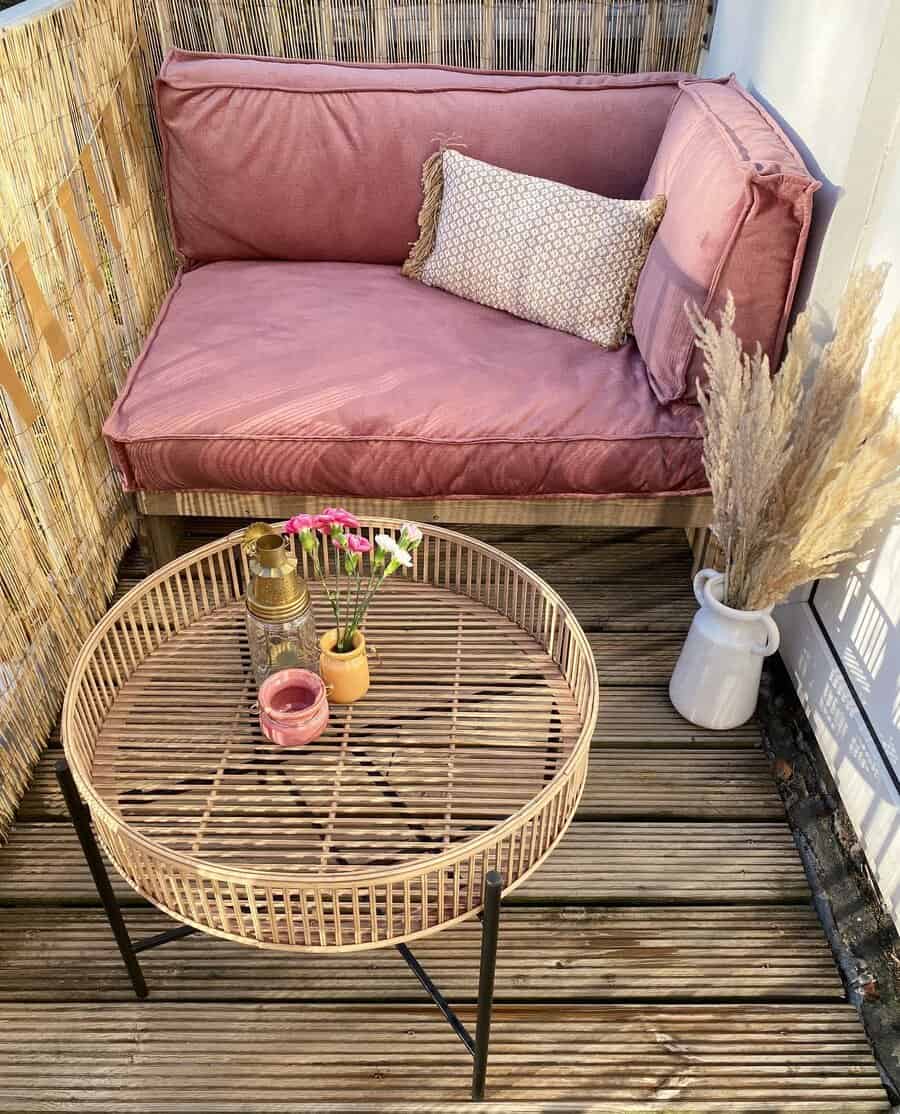 11. Go For A Rustic-themed Balcony
Creating a rustic-themed balcony is a fantastic way to add a cozy and inviting touch to your apartment's outdoor space. To achieve this look, consider using woven furniture such as a rattan chair or a wicker sofa. These pieces not only provide comfortable seating but also add a natural and rustic element to your balcony.
Bamboo is another great material to incorporate into your balcony design, whether it's through bamboo shades, a bamboo screen, or even a bamboo rug. These elements can provide a natural and calming atmosphere that's perfect for enjoying a cup of coffee or reading a book on a lazy afternoon. You can also add some potted plants to bring some life and color to your rustic balcony.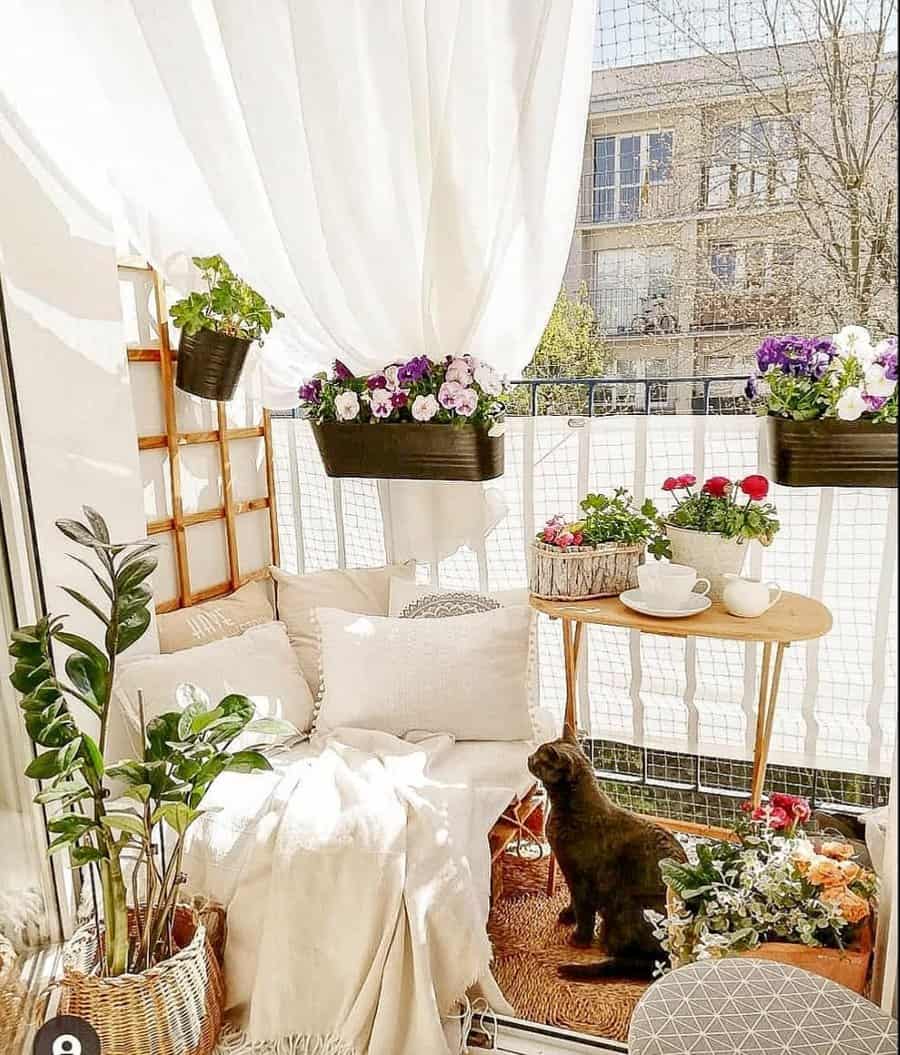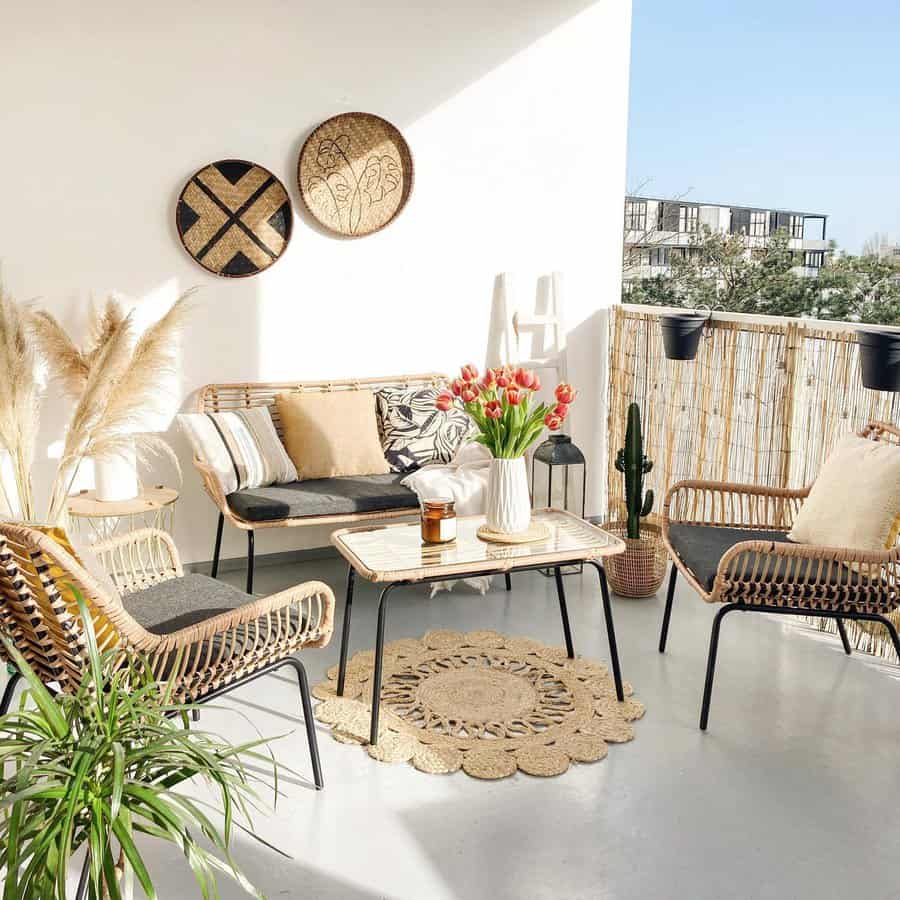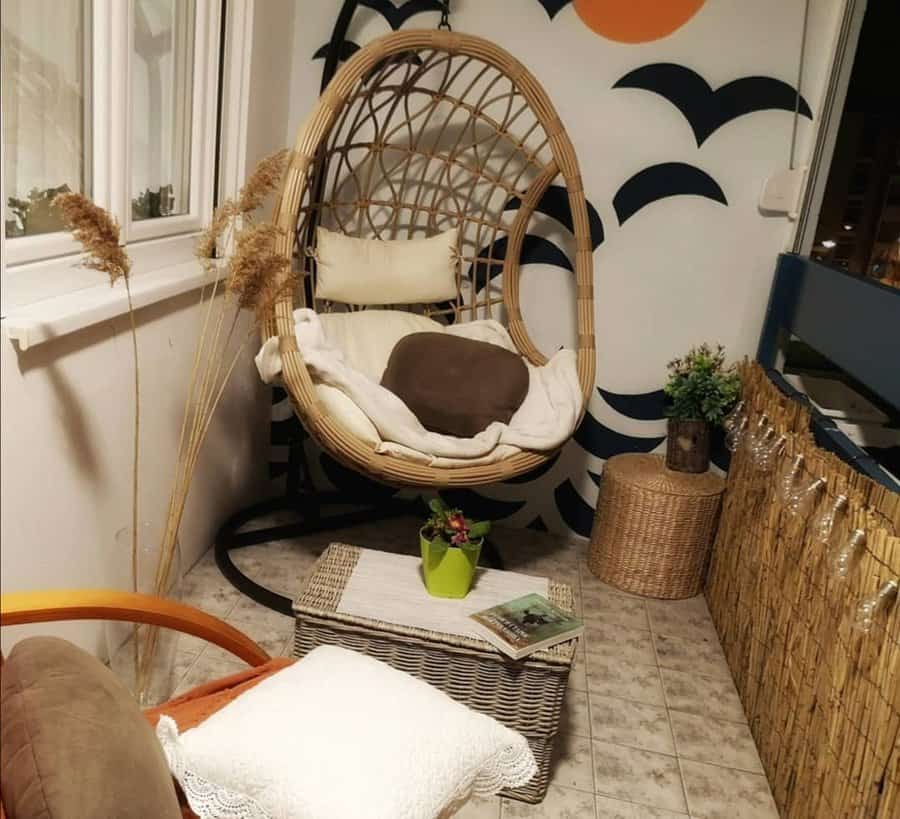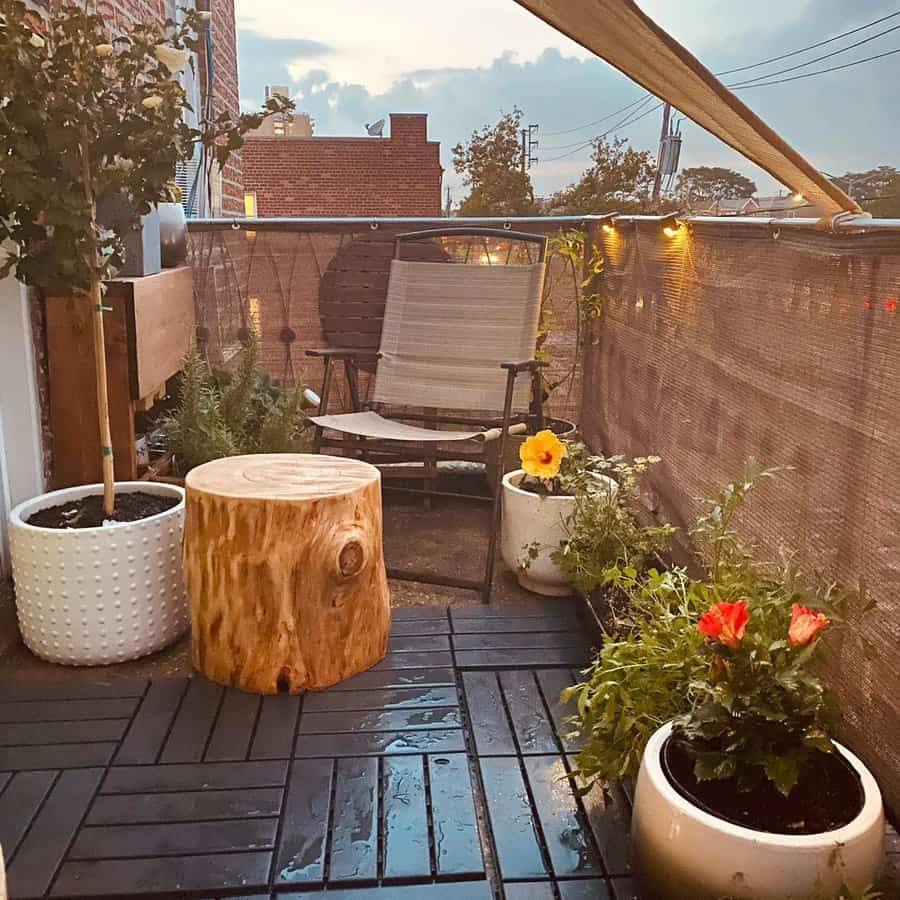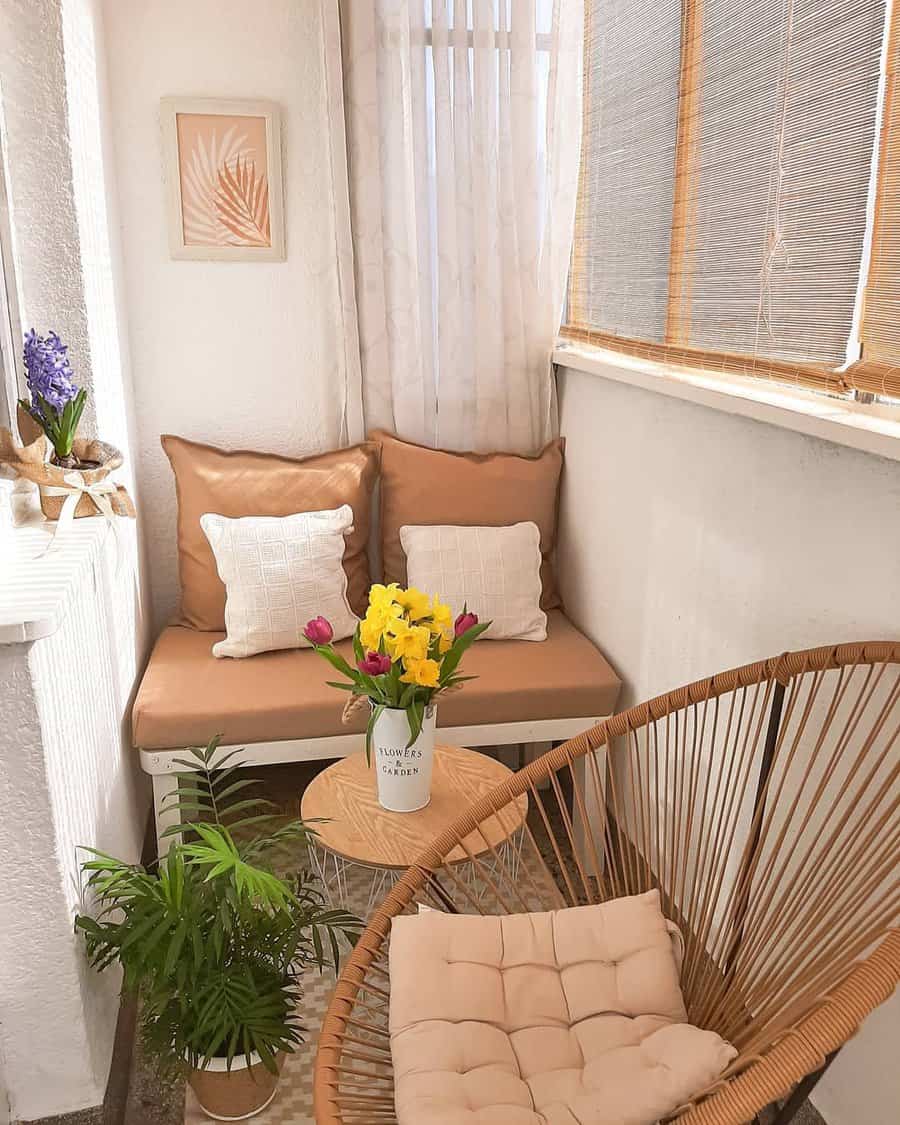 12. Set Up A Vertical Garden
One great idea to maximize space is to add a vertical garden to your balcony. With a variety of planters and hanging options available, you can create a beautiful and vibrant display that takes up minimal space. Choose from herbs, succulents, or flowers to create a customized look that suits your personal style.
Another option is to create a vertical wooden pallet planter that can be mounted on your balcony wall. Not only does this option add greenery, but it also doubles as a privacy screen or a visual backdrop for your balcony.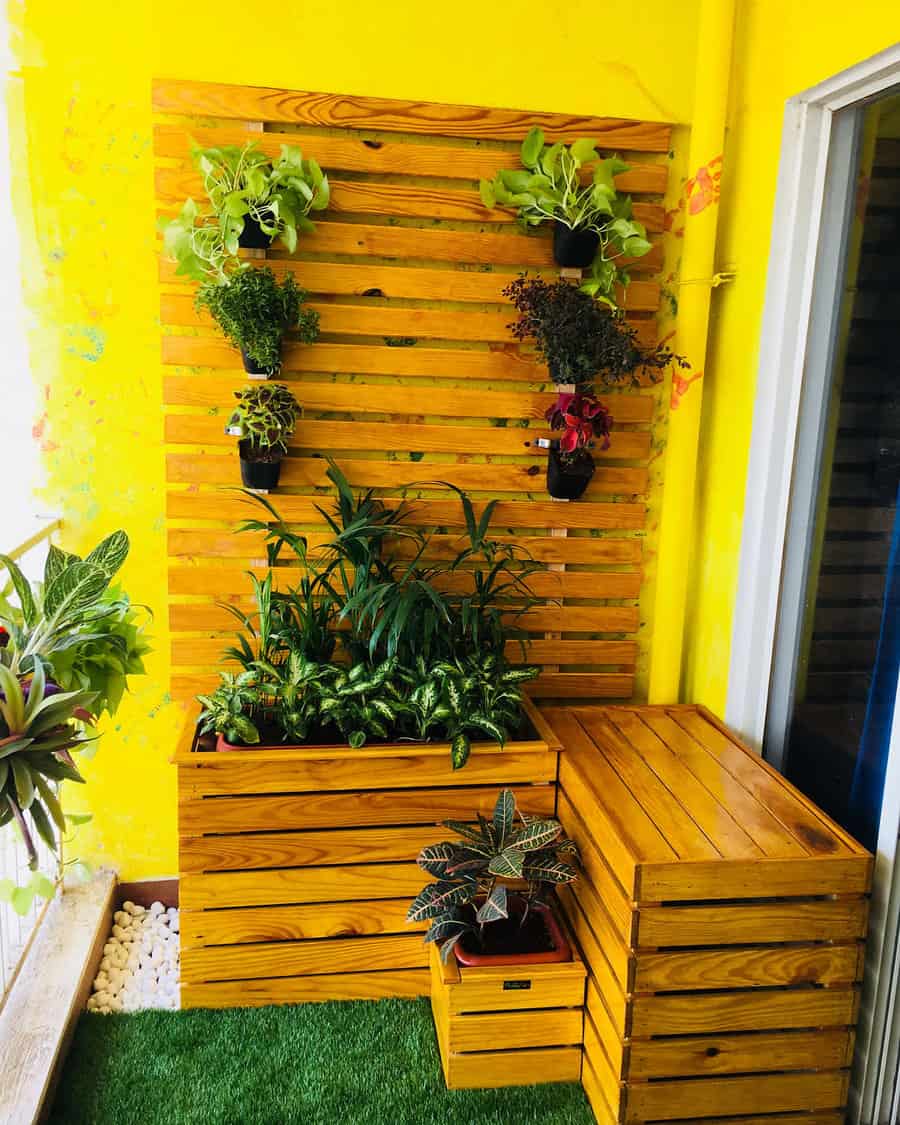 13. Hang String Lights
An apartment balcony can be a fantastic space to relax and unwind, especially with the addition of string lights. These simple but effective lighting fixtures can transform your balcony into a cozy and inviting outdoor oasis. Hang them from the ceiling or wrap them around railings to create a warm and ambient atmosphere that's perfect for enjoying a glass of wine or reading a good book.
In addition to string lights, you can add some comfortable seating like a small outdoor sofa or a couple of chairs, and add some colorful cushions or throw pillows to create a comfortable and stylish lounge area.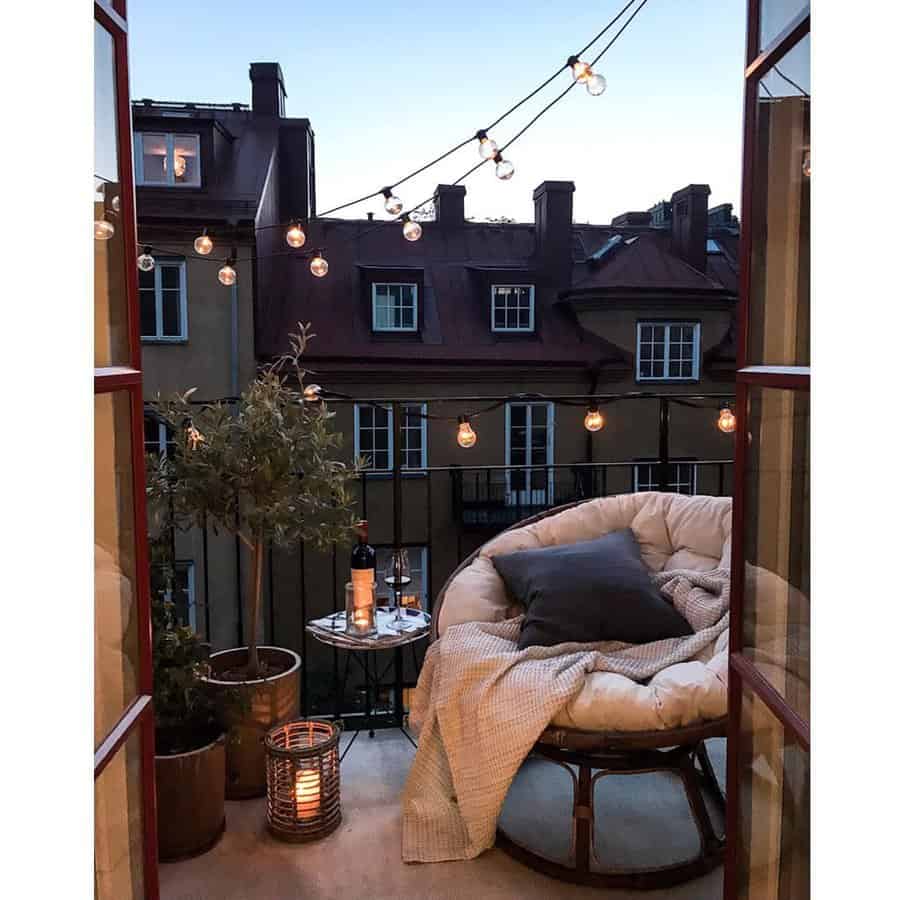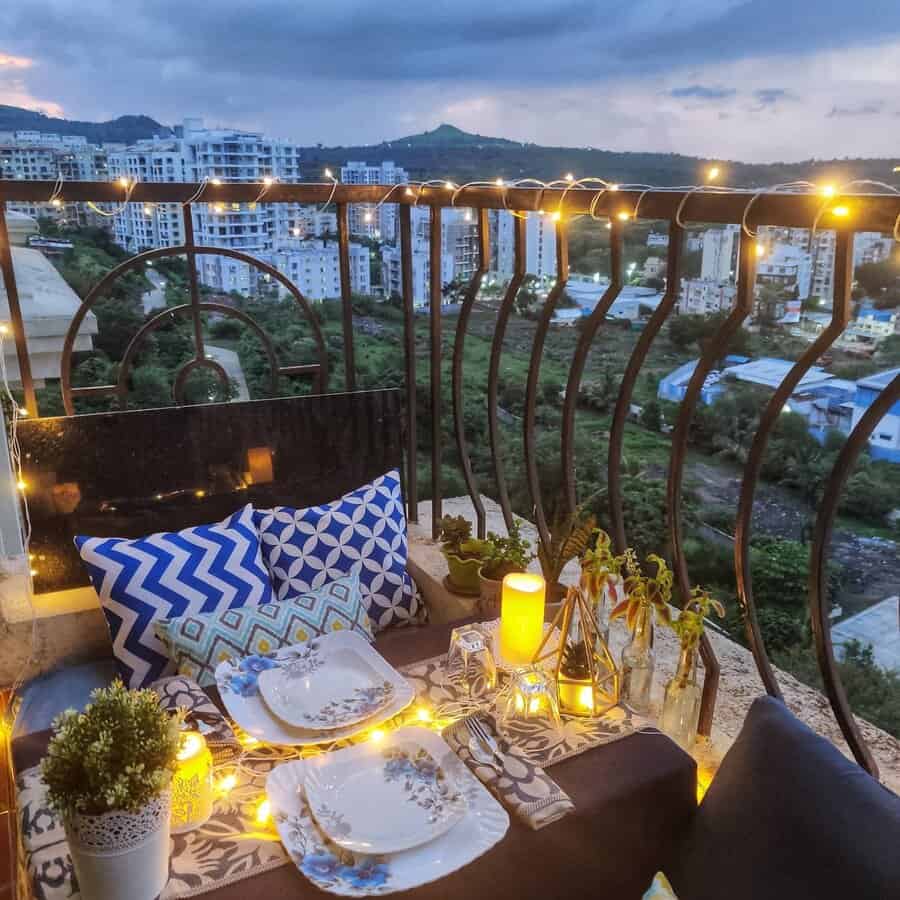 14. Install A Transparent Glass Railing
An apartment balcony with a glass railing is the perfect way to create an unobstructed view of the outdoors and elevate your outdoor space. With a glass railing, you can enjoy the beautiful scenery and skyline without having to worry about any obstructions. Additionally, a glass railing gives your balcony a modern and sleek look that's both sophisticated and stylish.
You can also experiment with different lighting options such as string lights or lanterns to create a warm and inviting ambiance. With a little bit of creativity and some attention to detail, your apartment balcony can become a charming and inviting oasis where you can unwind and enjoy the great outdoors right from your own home.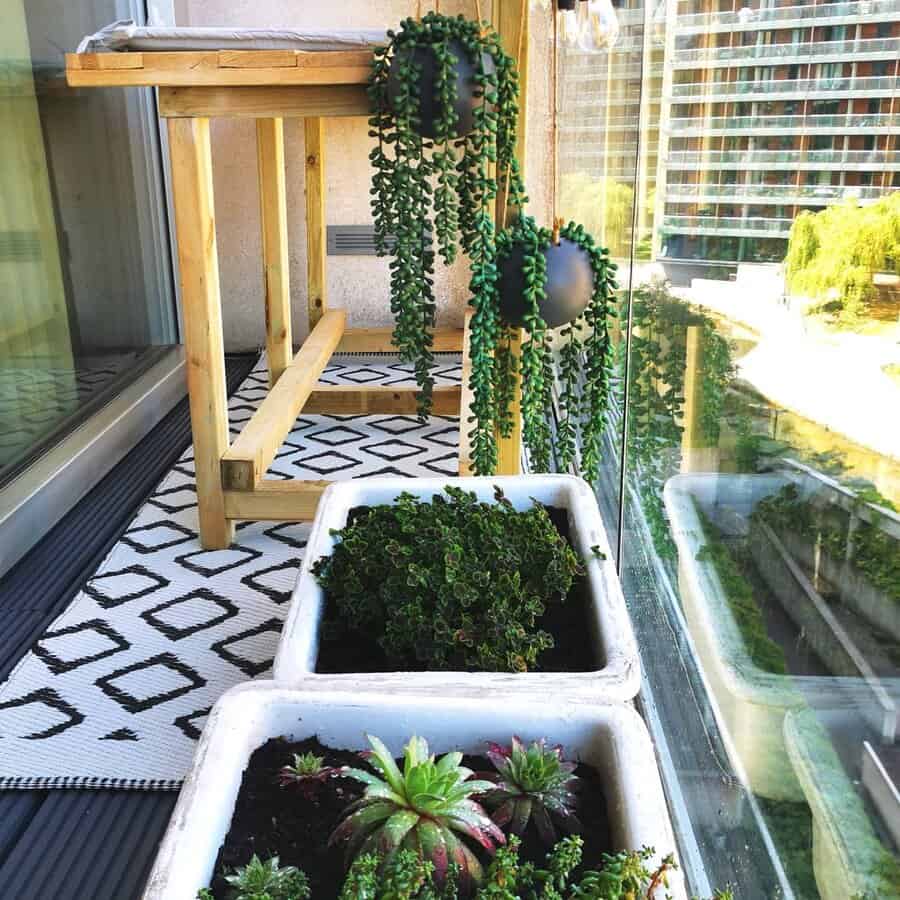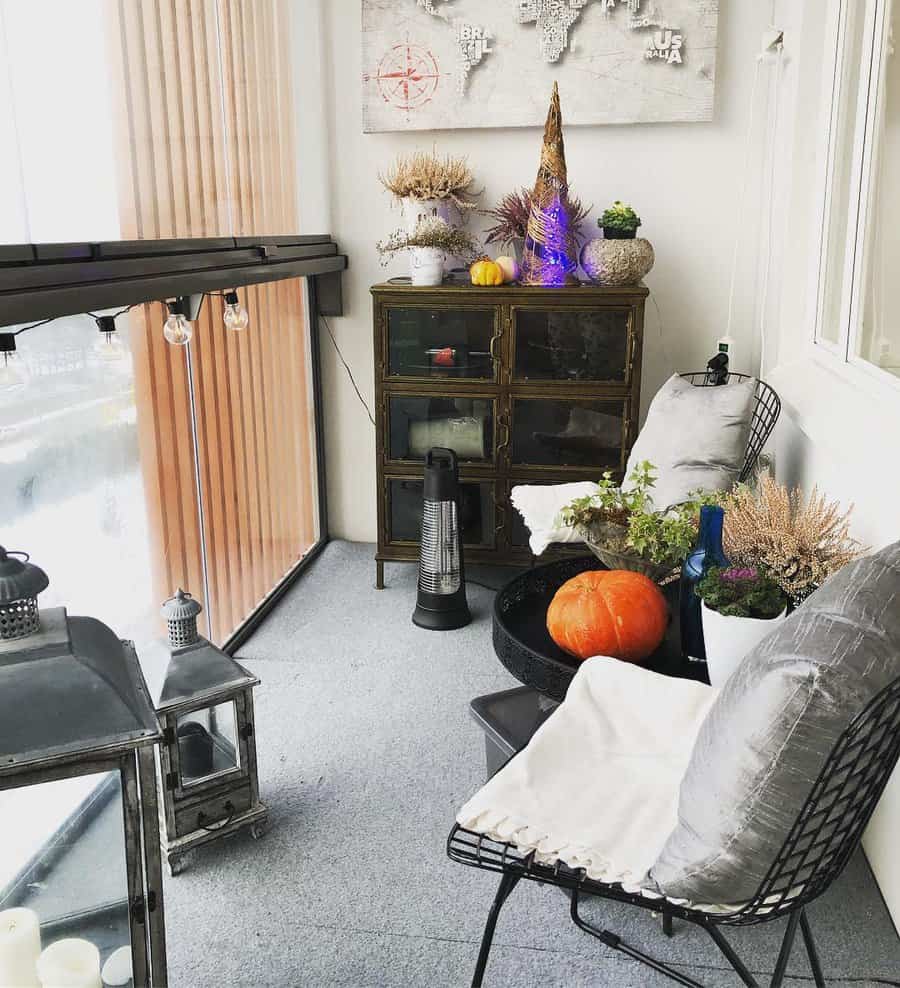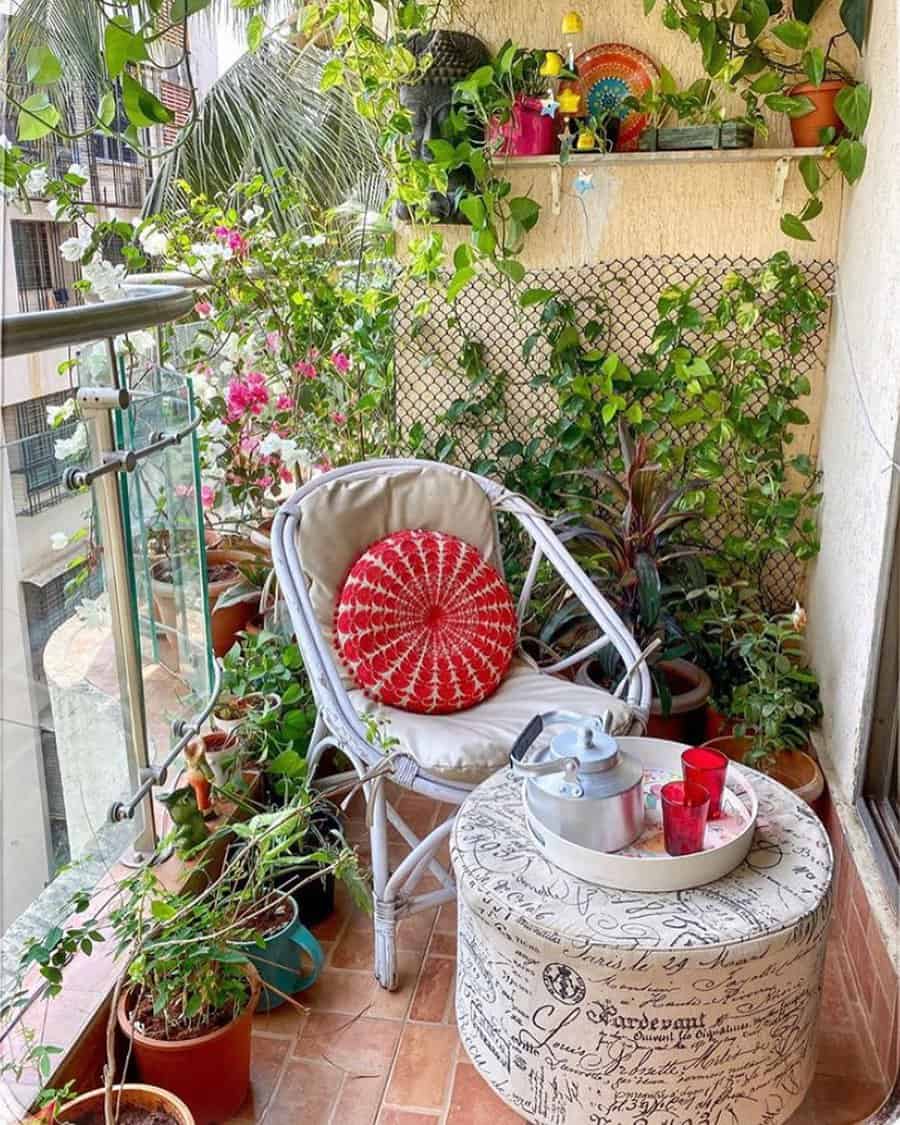 15. Install A Lattice Trellis
If you're looking for ideas to spruce up your balcony, consider starting with a lattice trellis. A lattice trellis can provide a beautiful and functional structure for climbing plants such as jasmine or ivy. This not only adds natural beauty and visual interest to your balcony, but it also creates a sense of privacy from neighboring balconies or windows. You can also utilize vertical displays of plants, such as a hanging garden or a wall-mounted planter, to maximize space while still enjoying the beauty of lush greenery.
Another option is to install a privacy fence or screen to create a cozy and secluded space on your balcony. You can choose from a variety of materials such as bamboo or faux ivy for a natural look, or opt for a sleek and modern design to complement your style.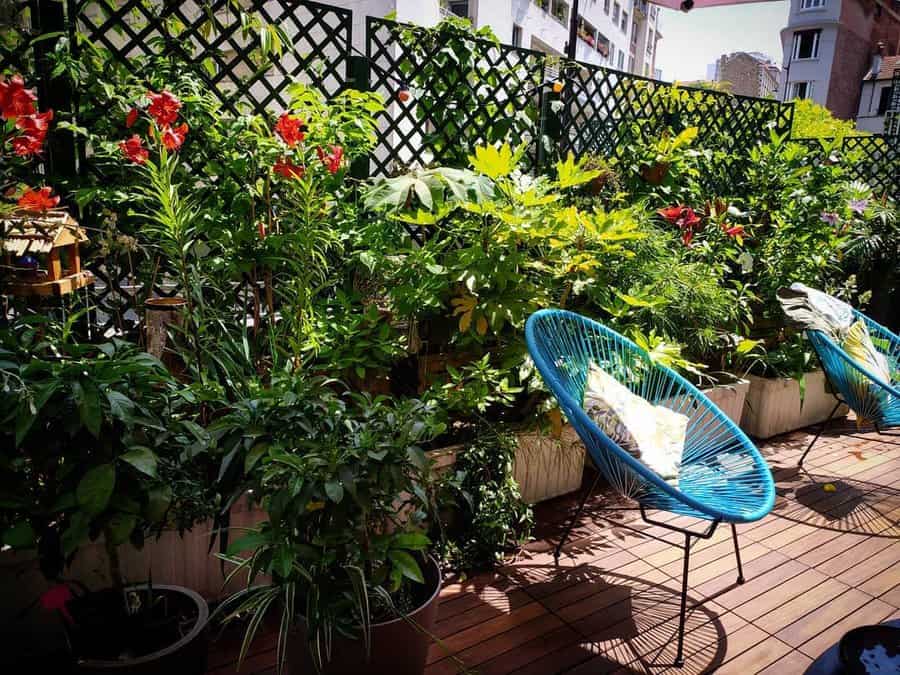 16. Add Throw Pillows & Blankets
An apartment balcony is a precious outdoor space that deserves to be decorated and utilized to its fullest potential. One way to make your balcony feel cozy and inviting is by adding some throw pillows and blankets. These small touches can instantly transform your balcony into a comfortable and welcoming oasis where you can relax and unwind.
Choose pillows and blankets in colors and patterns that complement your balcony's aesthetic, and don't be afraid to mix and match different textures and materials for added visual interest. You can also experiment with different seating options such as chairs, benches, or even a hammock to create a cozy and relaxing space.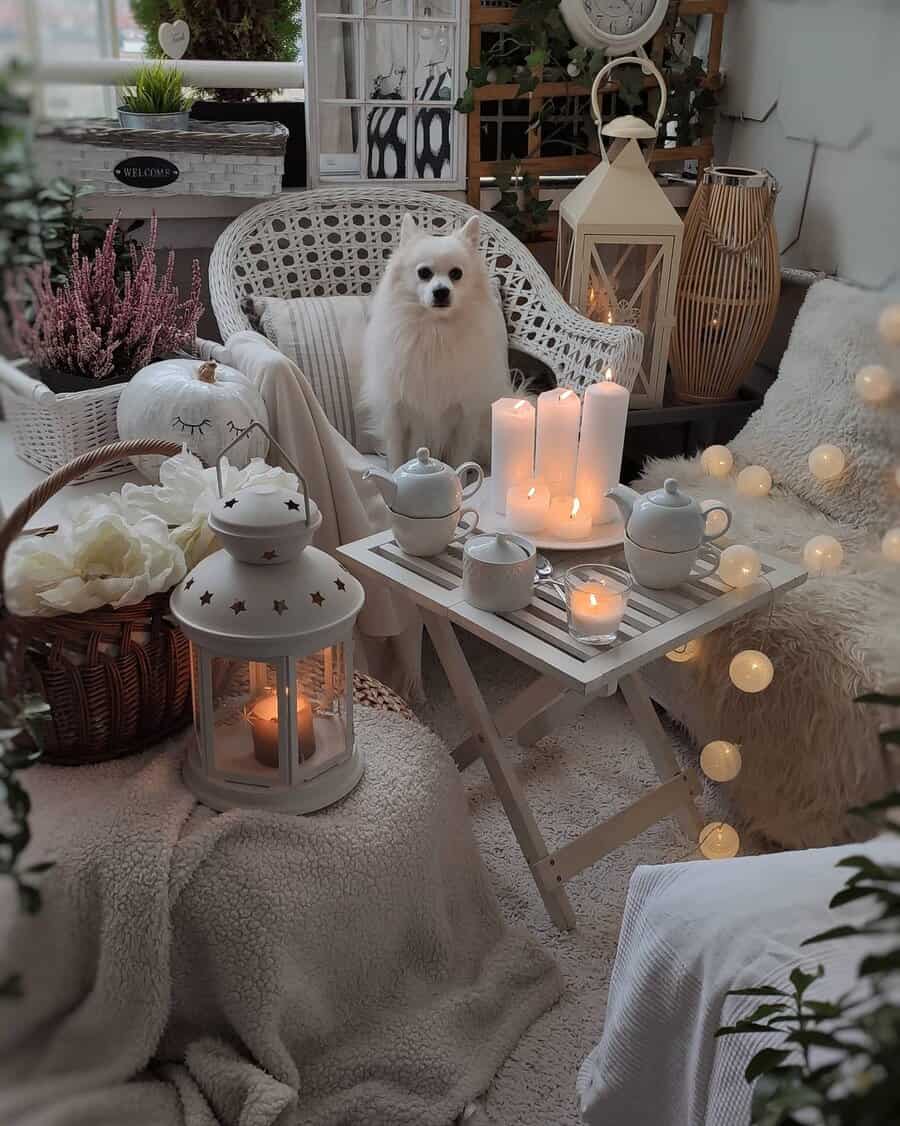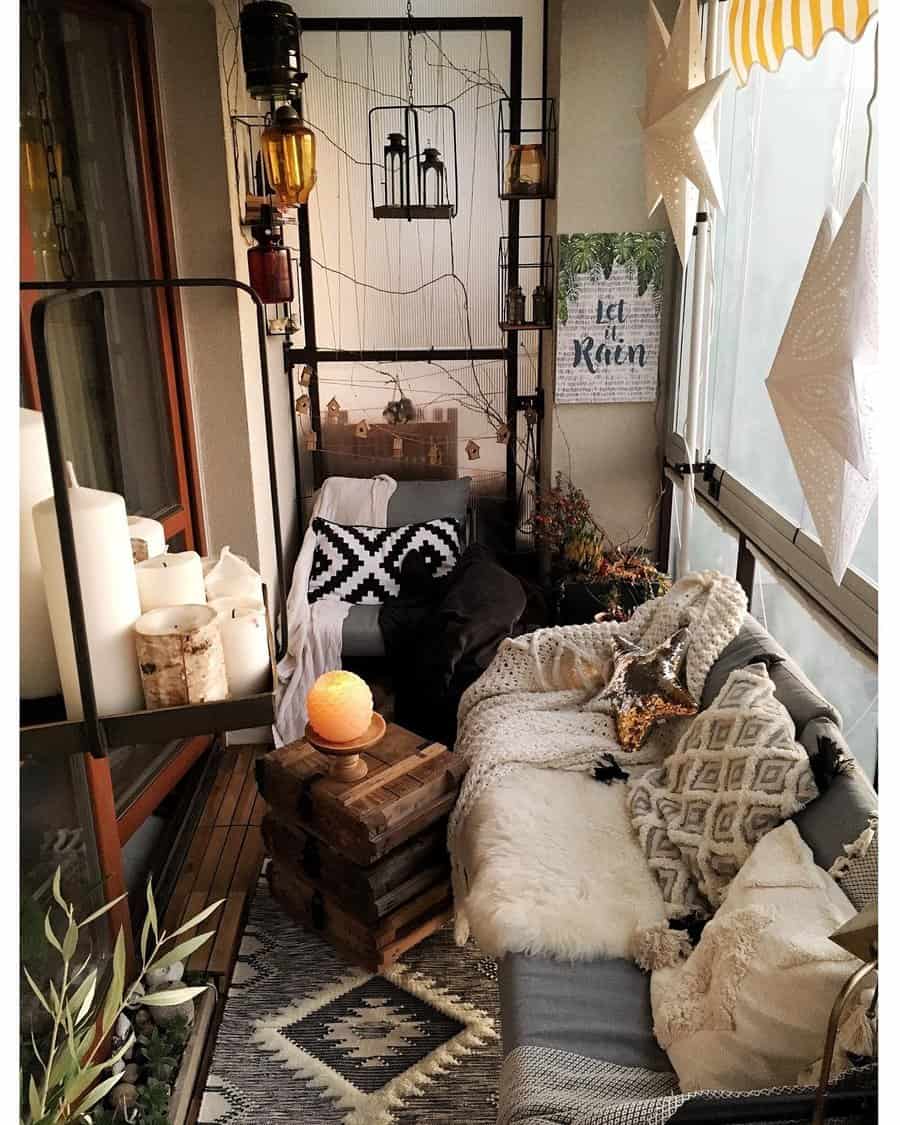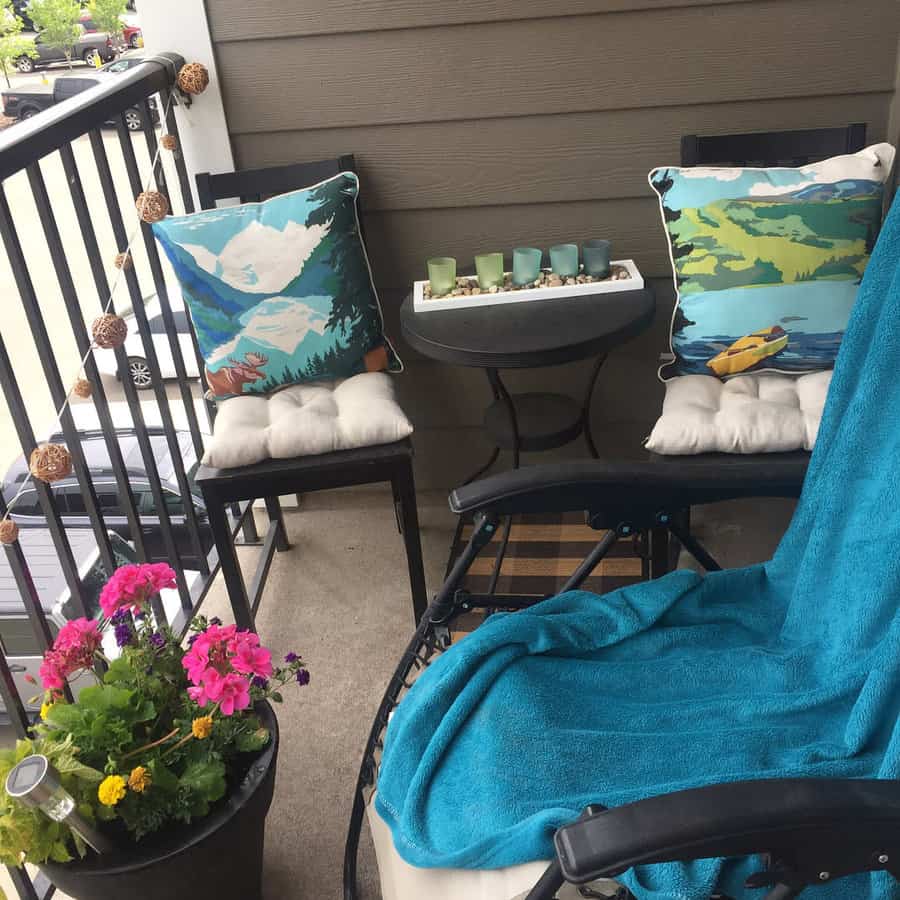 17. Add Wicker Furniture
One way to add some style and comfort to your balcony is by incorporating wicker furniture. Wicker furniture is not only visually appealing but also durable and weather-resistant, making it an excellent option for outdoor use.
You can opt for a wicker bistro set to create a cozy spot for morning coffee or a larger wicker sectional for entertaining guests. Adding soft cushions or throw pillows can make your wicker furniture even more comfortable and inviting.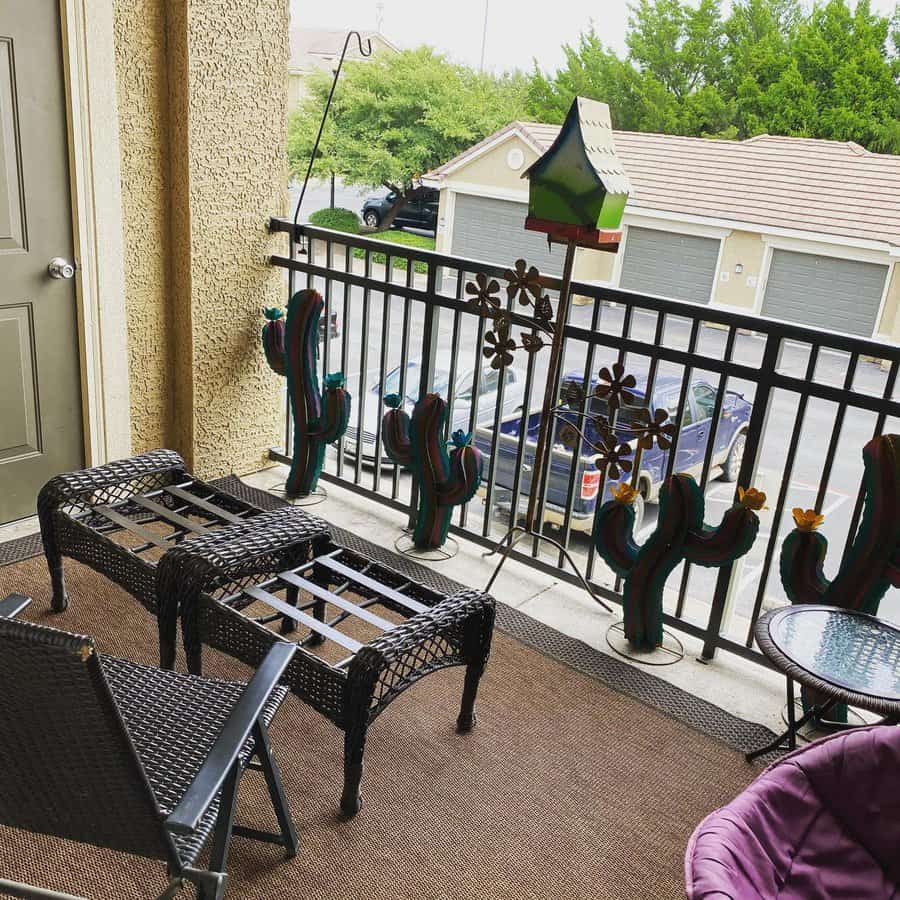 Apartment Balcony FAQs
How do you style a small apartment balcony?
Start with furniture that is scaled down to fit the size of the balcony. Consider adding built-in furniture that will take up less floor space. You could skip the structured furniture completely and opt for pillows and bean bags on the floor. Add lighting that will create your desired mood. Spread a rug on the floor to make the balcony feel cozy. Add plants that fit the space. This could be something small like air plants or succulents or a tall potted plant.
How can I make my balcony look bigger?
Use open furniture that you can easily see through and beyond. This keeps the space feeling more open. A large area rug with a long-running pattern can create the illusion that the space is longer than it really is. Keep everything low so that there are minimal items blocking your view.
How do you make a small balcony private?
To make a balcony more private, you need to add elements that will block the view of other people. Cover an open railing with an outdoor fabric or allow a plant to grow and cover the space. A lattice can provide support for higher growth. A folding screen lets you move it around for portable privacy where you need it. A small waterfall or fountain feature will create a natural sound that will help drown out your voice.