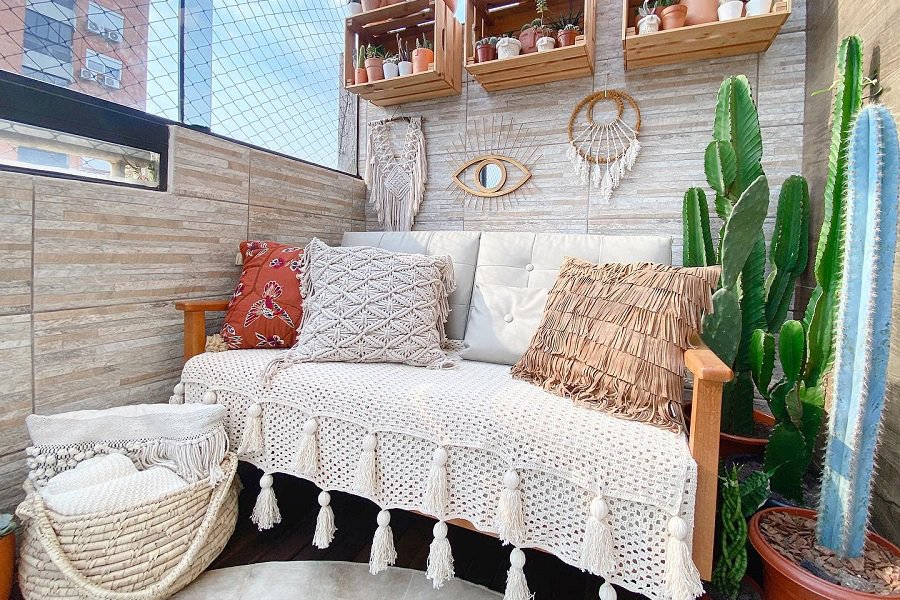 Small or large, a balcony provides a welcome private space to enjoy the great outdoors.
A patio or balcony ranks high when it comes to desired features on an apartment or condo. Even if the condo or apartment balcony is small, having a place to step outside for a breath of fresh air is beneficial.
A tiny balcony may not leave room for much more than a pair of small chairs, but there are still ways to make it a beautiful, functional outdoor space.
Some houses also include a balcony or two—welcome spaces to try out creative balcony décor. Scroll through our best small balcony ideas for inspiration on making your balcony your favorite room of all.
1. Apartment
An apartment balcony can be shockingly small, but it's still possible to make the most of even a tiny balcony. Before spending anything on apartment balcony ideas, always check with your landlord or super to see what's allowed on the balcony.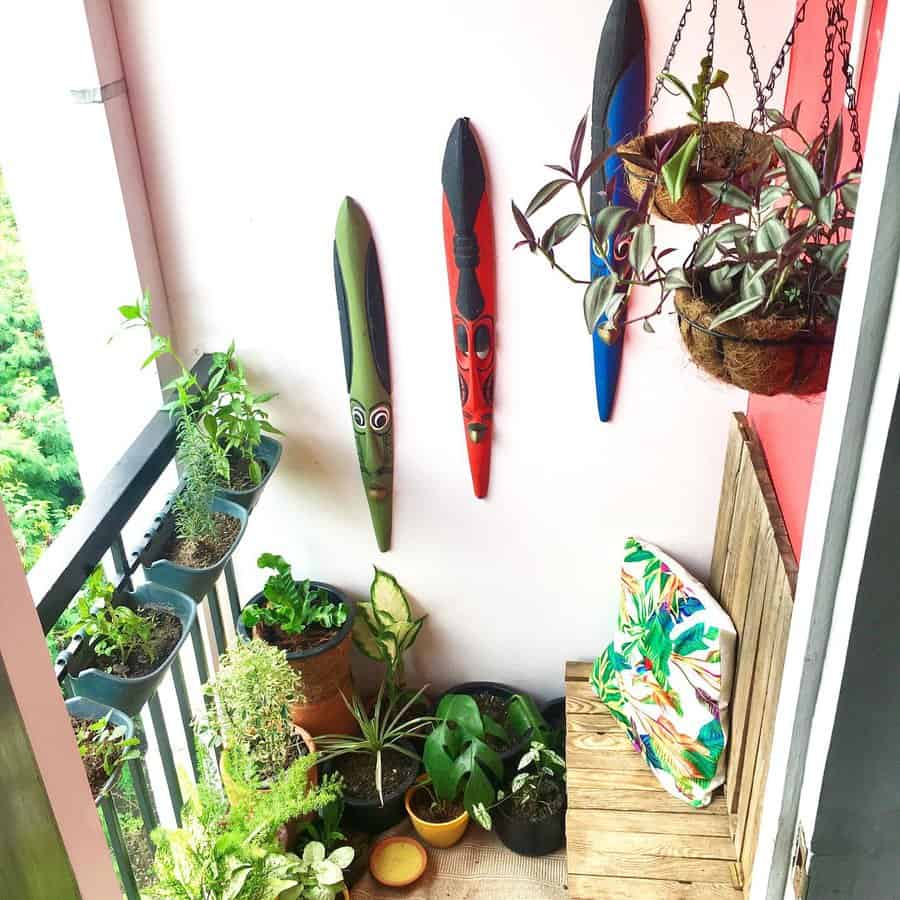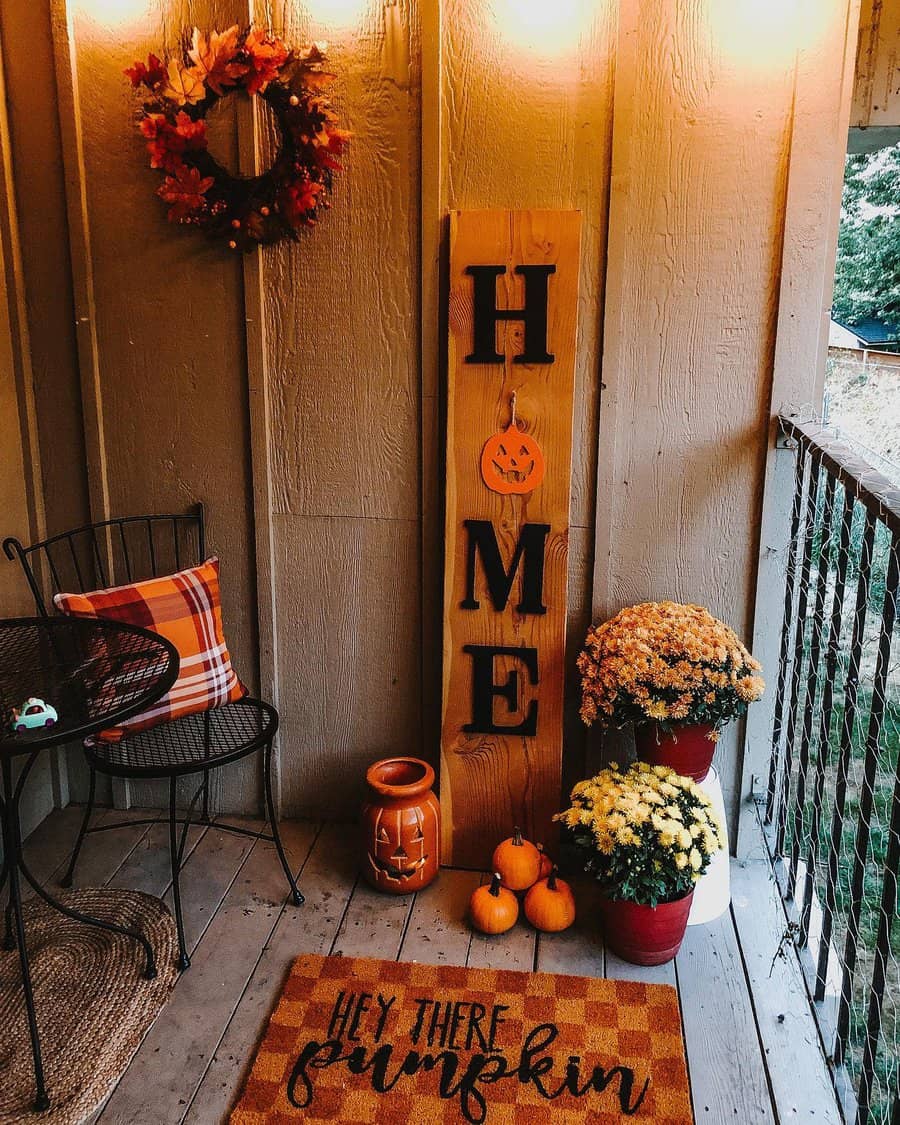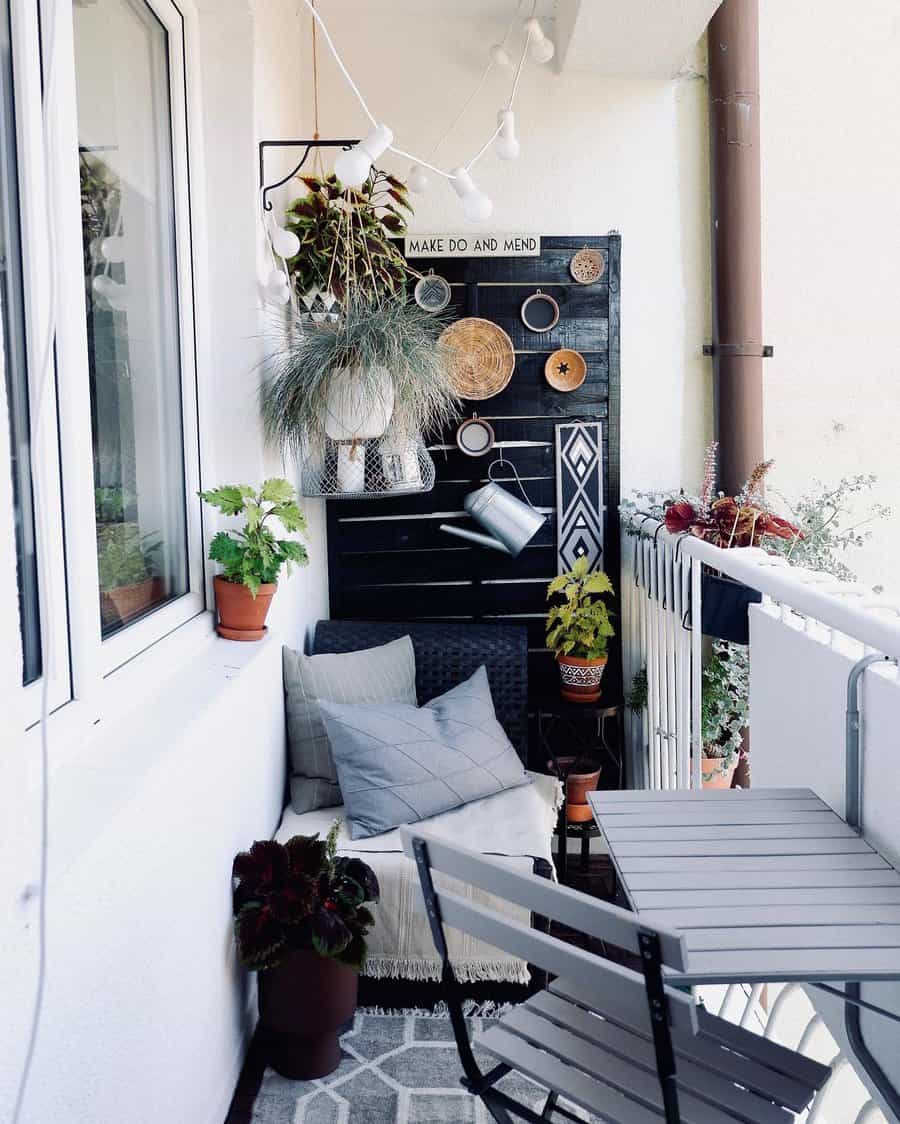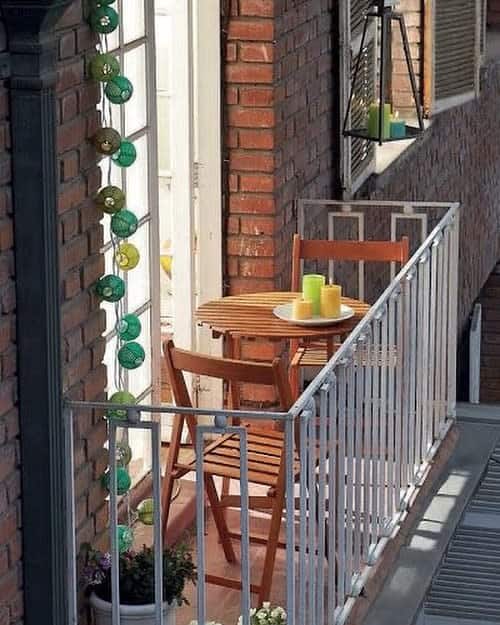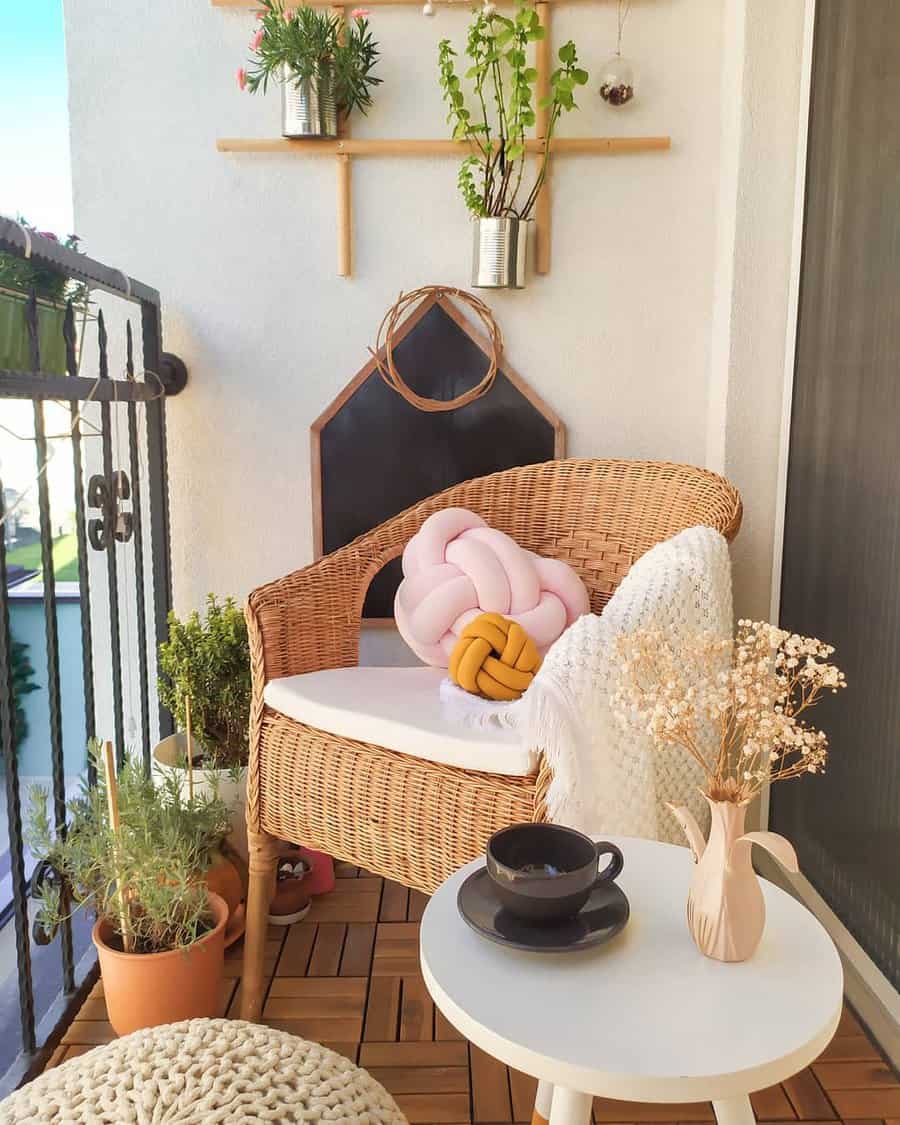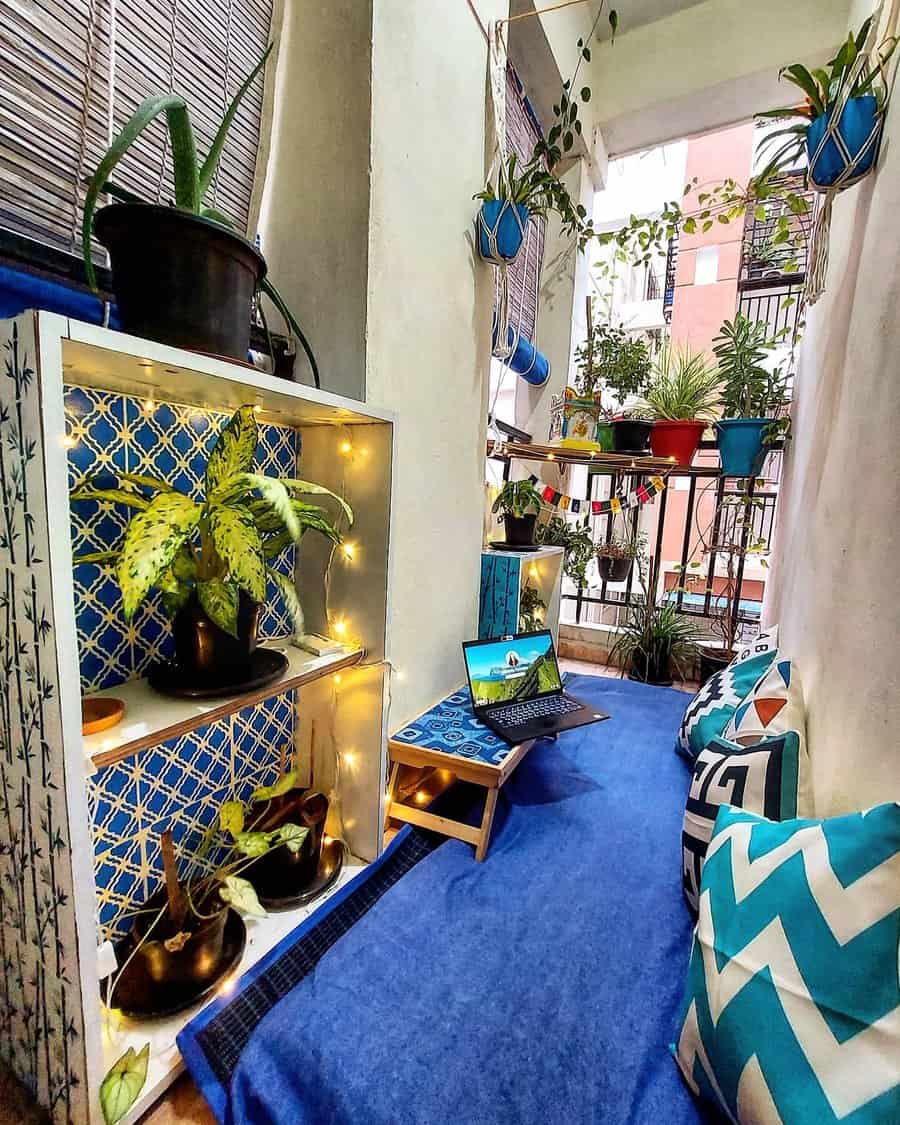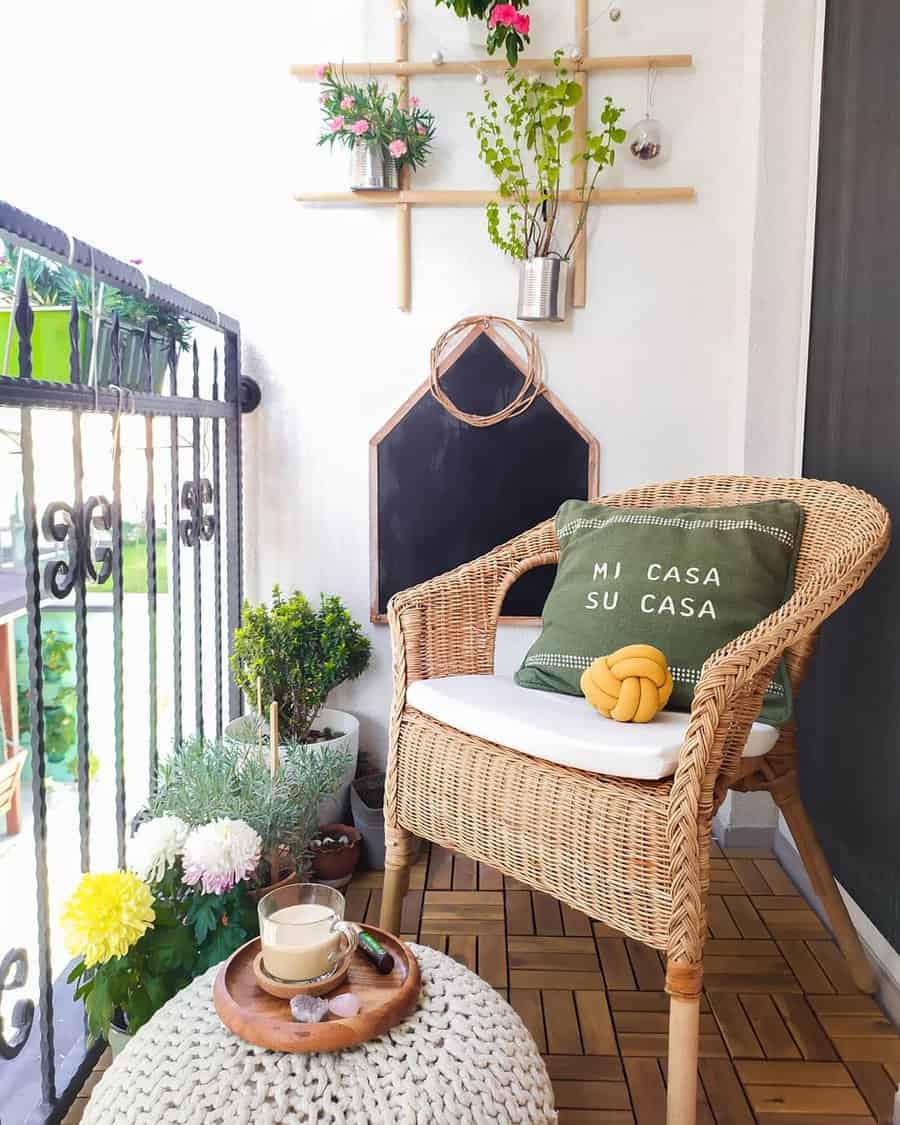 Even a small fire escape can be used as outdoor space with a little ingenuity. Just pop up a lounge chair and roll out a bamboo mat so you don't drop anything through the grate.
Add a potted plant and some string lights then kick back with a book. Although it's illegal to put anything permanent on a fire escape, viewing it as a temporary outdoor space can be freeing when you just need to be outside. Once you've enjoyed your mini-escape, bring everything back inside.
2. Artificial Grass
Artificial grass is one of the best balcony or patio ideas for city dwellers who miss the suburban lawns they grew up with. Its lush, bright verdant color will make you feel like you're at the park—even if that green space is actually 20 stories below you.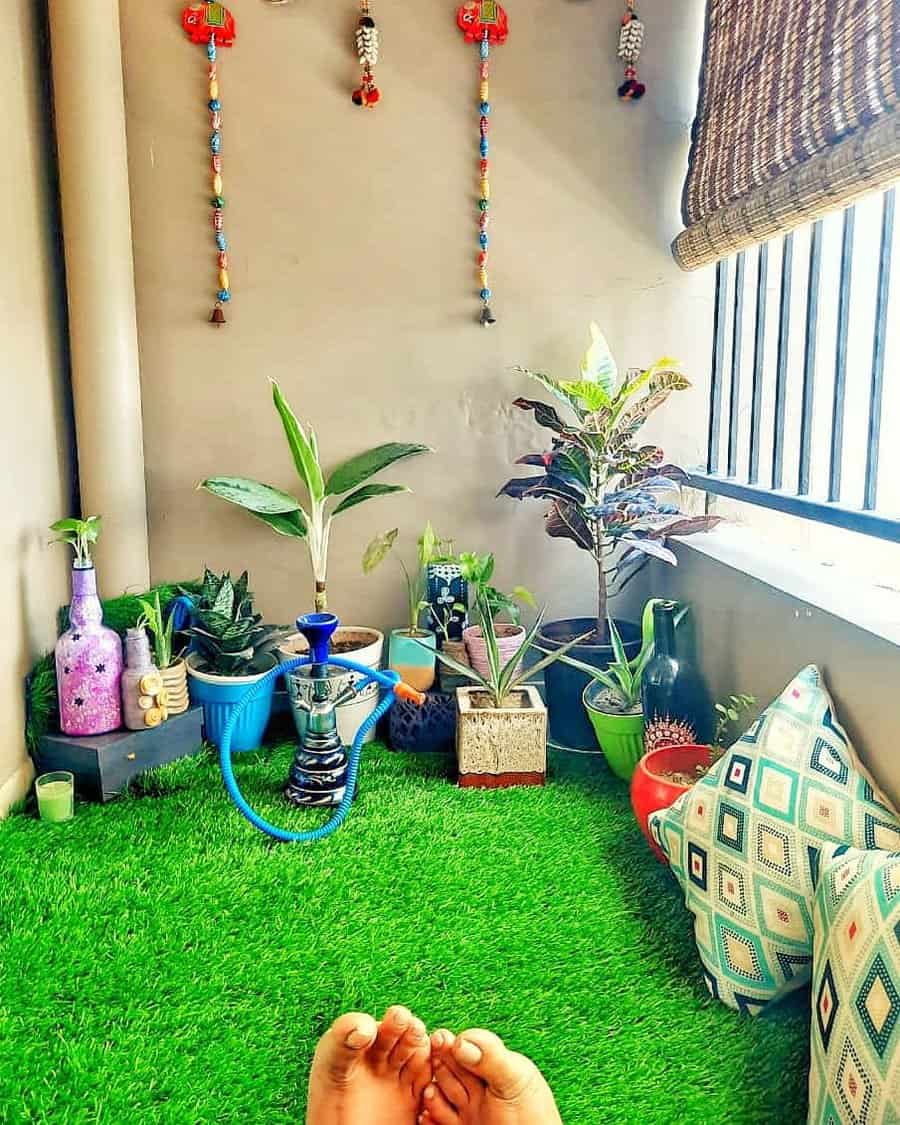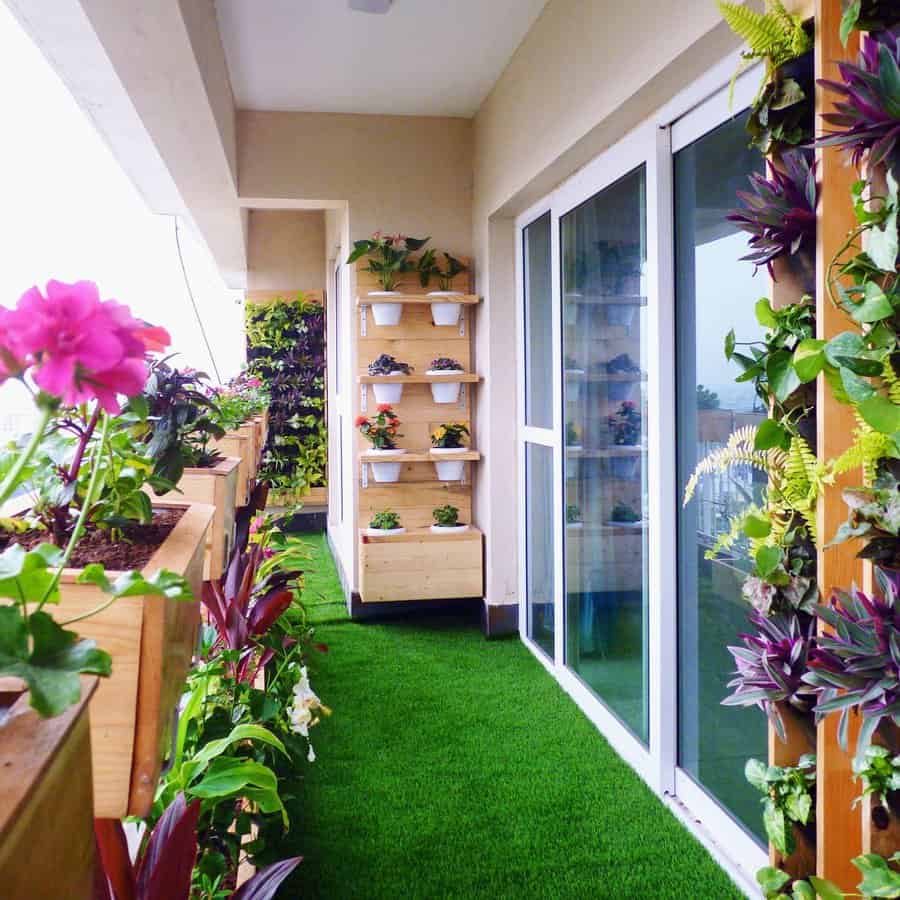 Cover a portion of your balcony's concrete or wooden floor with an artificial grass panel. Or go all-out and fully carpet the entire small patio floor with fake grass. Choose a soft brand of artificial grass if it's something you plan to walk on barefoot.
3. Lights
Replacing a boring overhead light with a designer fixture is a great balcony decorating idea that won't break the bank. If it's just a different type of light cover, you may be able to install it yourself.
String lights and lanterns add a sense of magic to a small outdoor balcony. Wind light strands around your railing and tack them along the wall—with removable adhesive hooks if you're renting.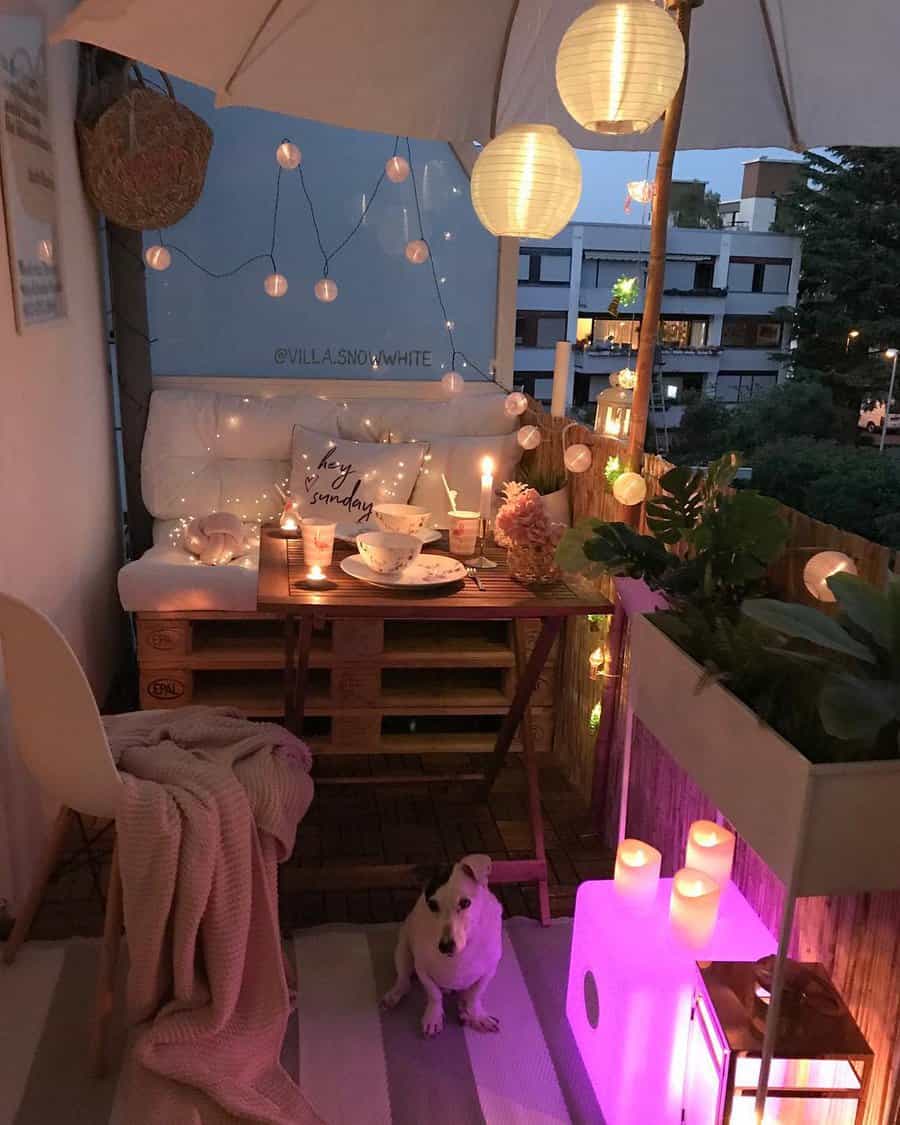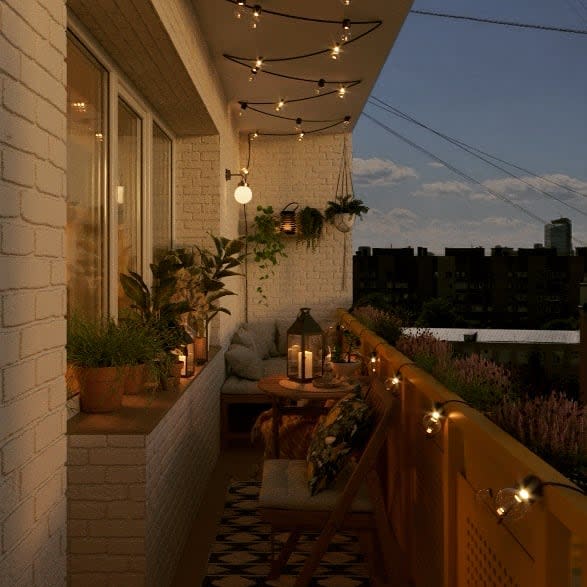 If too much light is a problem, bamboo can help you out. Hang a bamboo awning or rolling shade to block hot afternoon sunlight. Plant bamboo in terrace planters for a quick-growing natural greenery barrier that provides shade and privacy.
4. Boho
Boho or bohemian décor is perfect for a small apartment balcony. Its "anything goes" style conveys a comfortable vibe that's neither fussy nor pretentious. Boho décor includes plenty of greenery, wood and other natural elements.
String lights are a must for nighttime small patio gatherings, and plenty of throw pillows invite your guests to settle into their favorite chair. Unless you plan to bring them in each night, be sure to choose outdoor pillows that can withstand higher levels of humidity.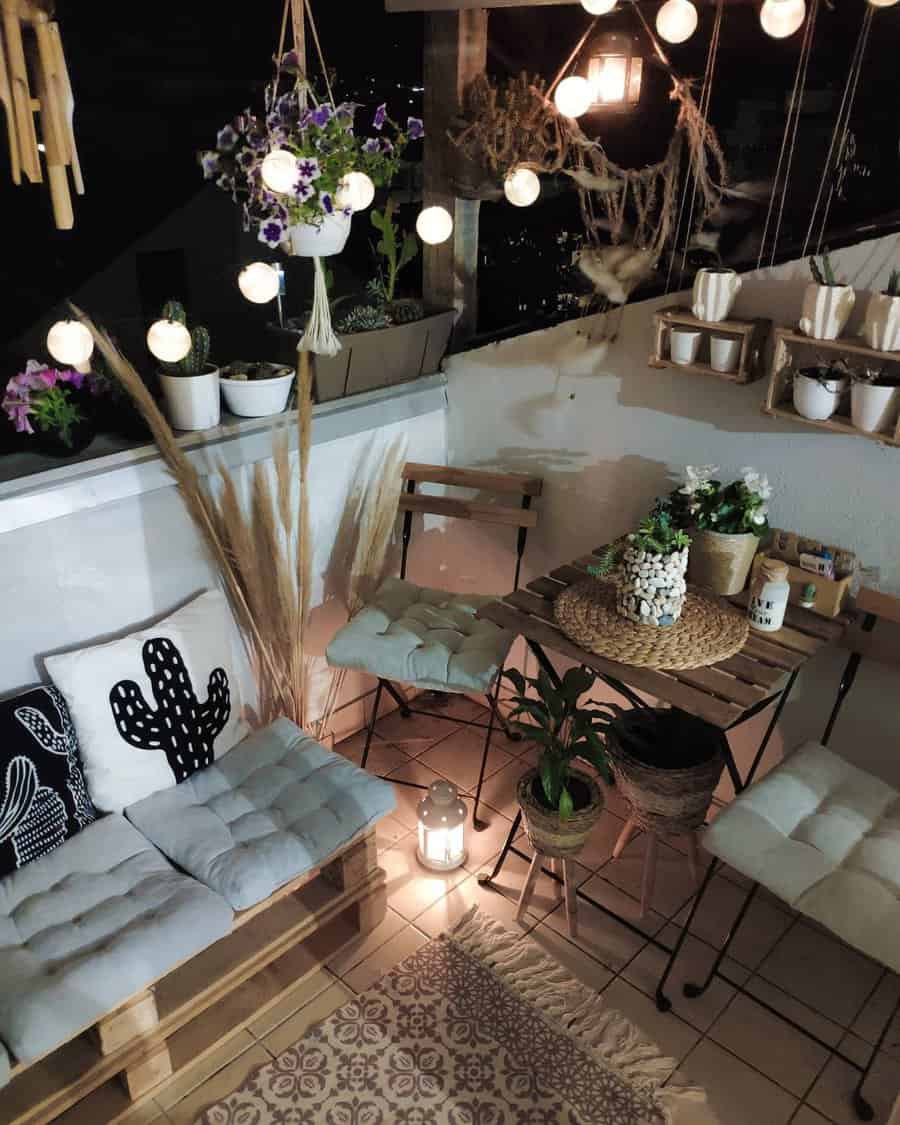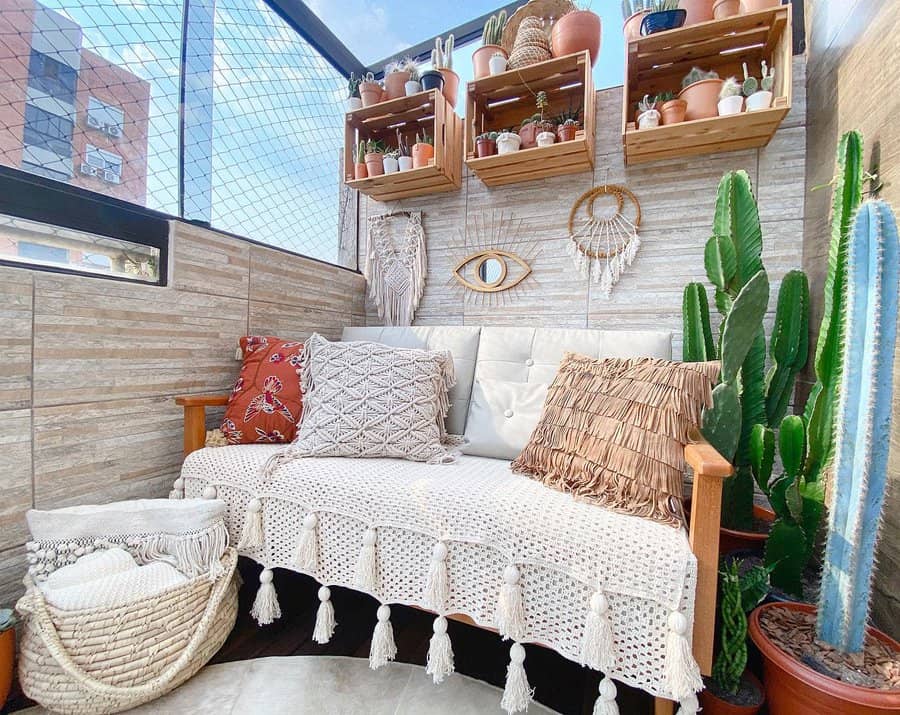 Hanging chairs and hammocks fit well into bohemian décor and their soft, swaying motions are soothing at the end of a long day. Hang wind chimes and macrame plant holders above your small patio railing to complete the boho ambience.
5. Creative
Creative design elements that work well inside a small apartment also work well when decorating an outdoor space. Since you probably won't be allowed to paint the walls or railing, add splashes of color wherever you can.
Flowering greenery, bright outdoor pillows, a colorful small table—these are all excellent creative embellishments in any outdoor space.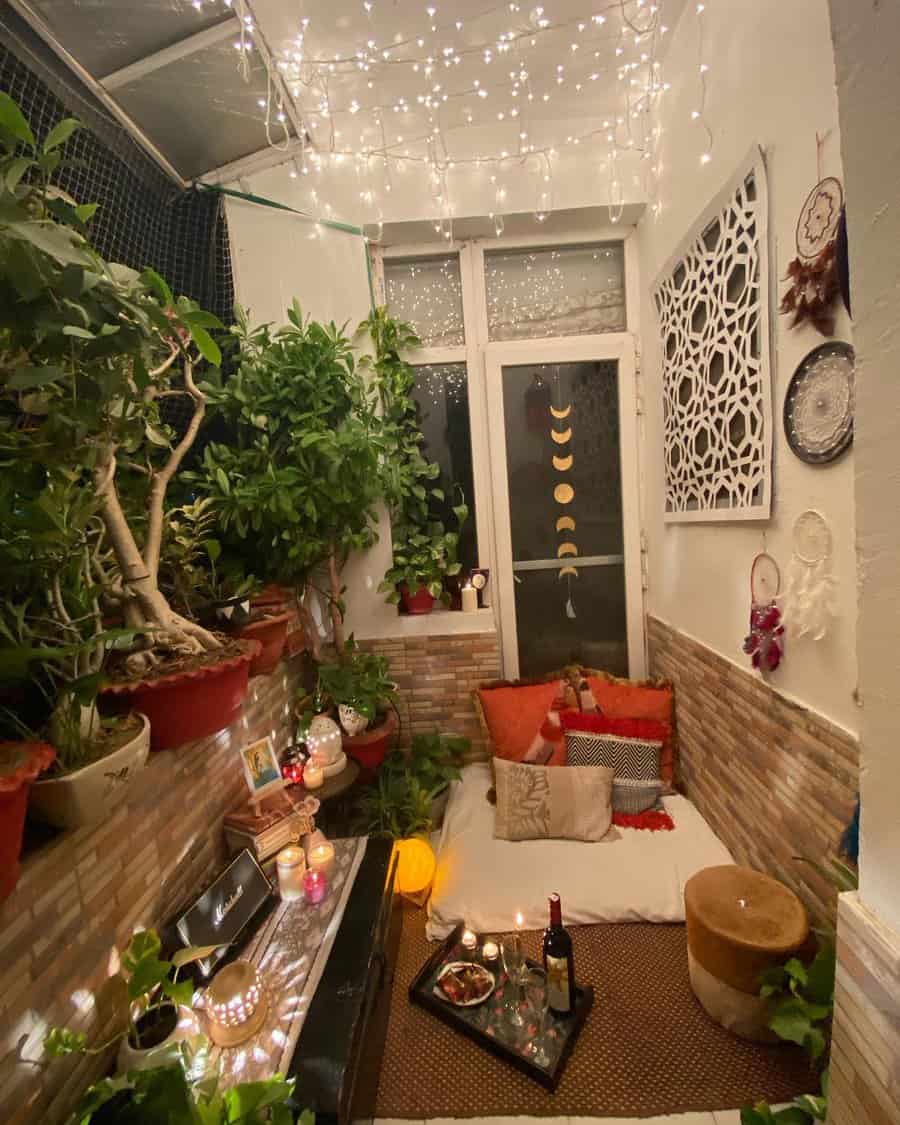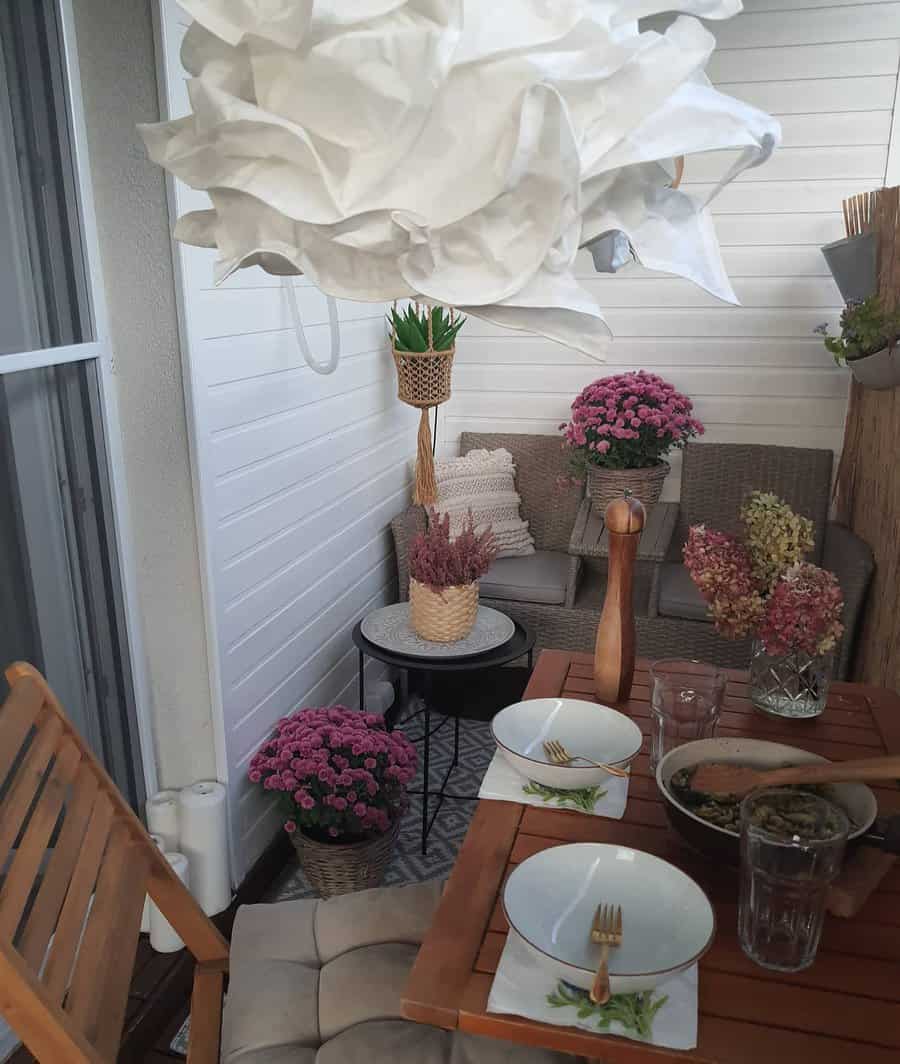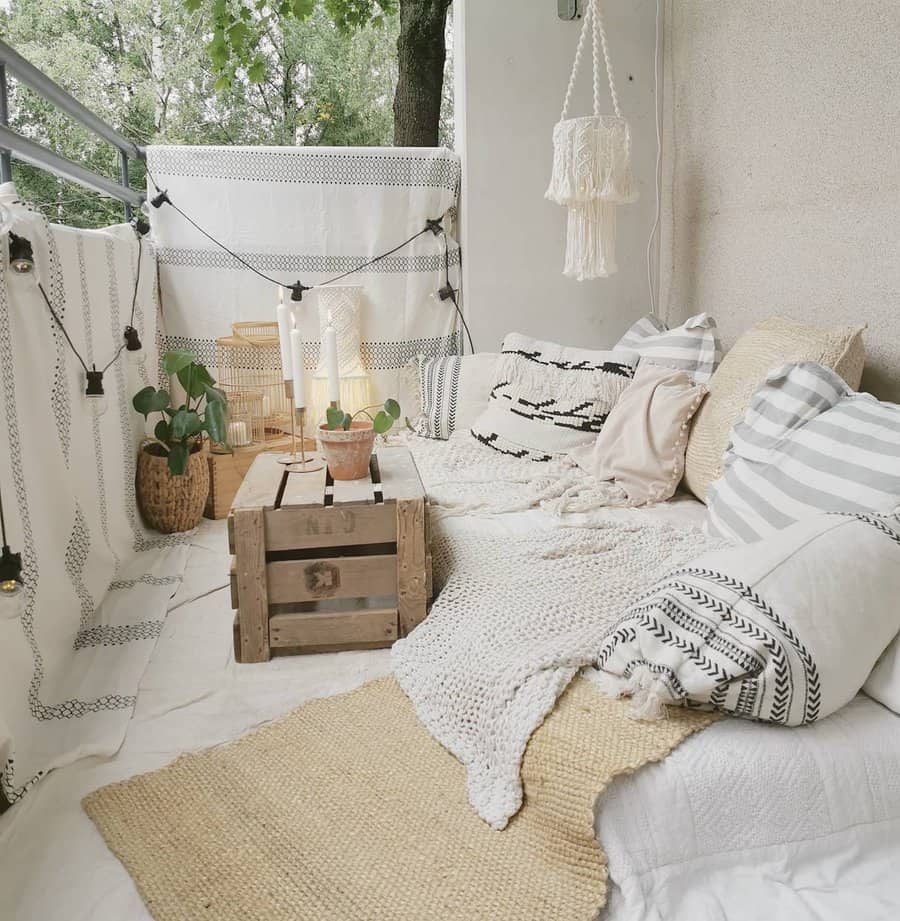 Folding furniture is almost always a good idea on a small balcony. These pieces can be stored away when not in use and popped up when company is over. In addition, if your building has rules for how much furniture is allowed in your small outdoor space, folding pieces are a must. You can keep your patio décor minimalist and pull out the folding furniture on special occasions.
6. Decoration
You should treat your balcony as an extension of your living room or bedroom. Viewing the space as an outdoor room will help you choose small balcony design ideas that reflect your style. Display weather-resistant artwork and a hanging planter arrangement to decorate your outdoor living space. Don't forget the power of light fixtures to change a boring small space into a stunning outdoor room.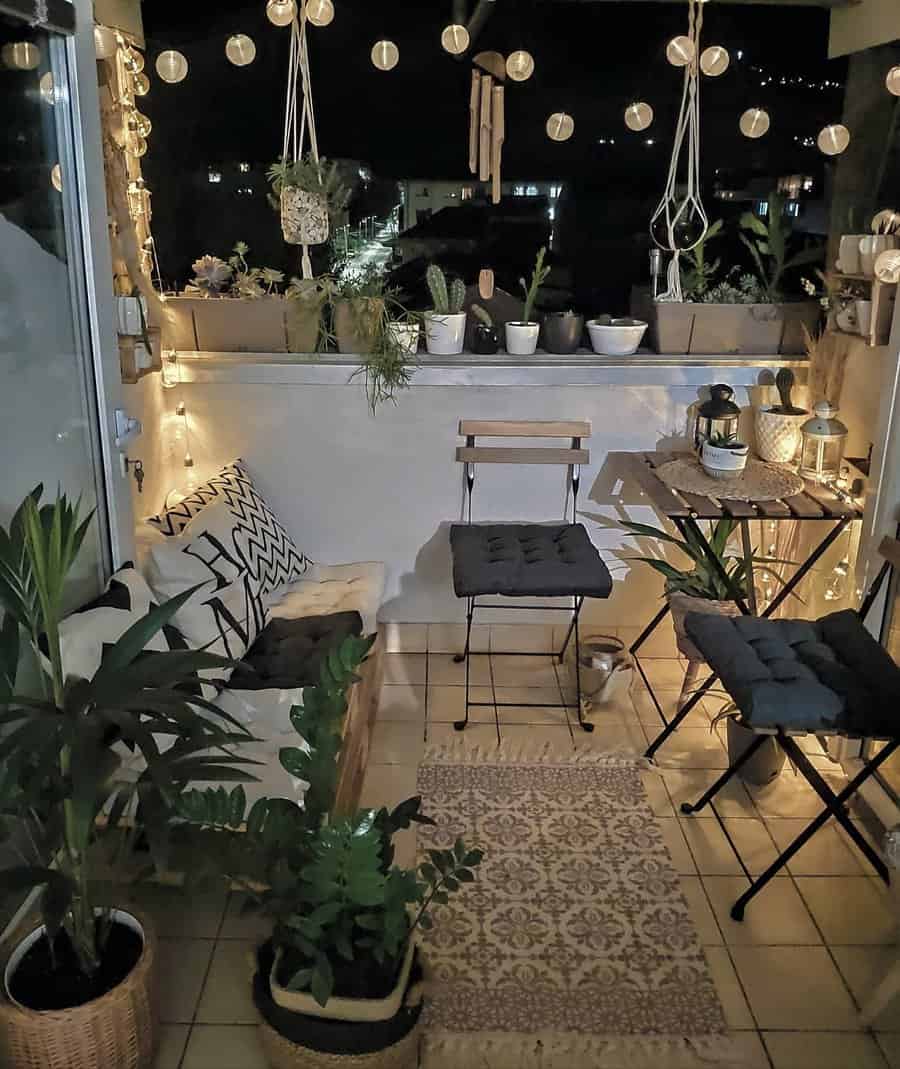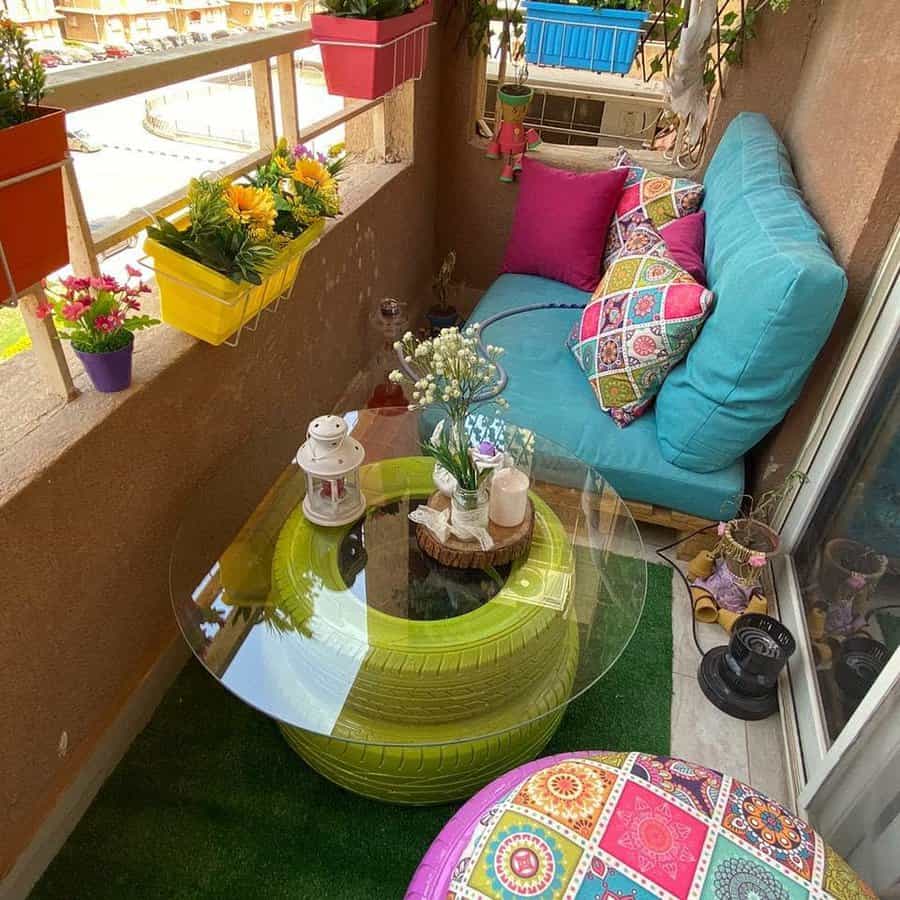 An outdoor rug goes a long way in amplifying the beauty of your outdoor space. Choose a patterned rug that includes your favorite colors and fits the space well. Spread the rug beneath your porch furniture. Be sure to check the rug's cleaning instructions before purchasing.
7. Enclosed
Some apartment and condominium buildings allow homeowners to completely enclose a small balcony or patio. If your building allows it, this can be a great way to add an office, studio, or cozy dining area to a small apartment. Unless you have extensive DIY experience, it's best to hire a contractor to turn a balcony into indoor living space.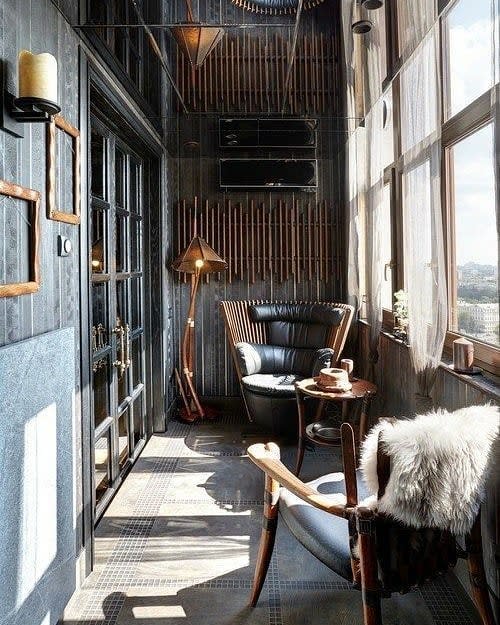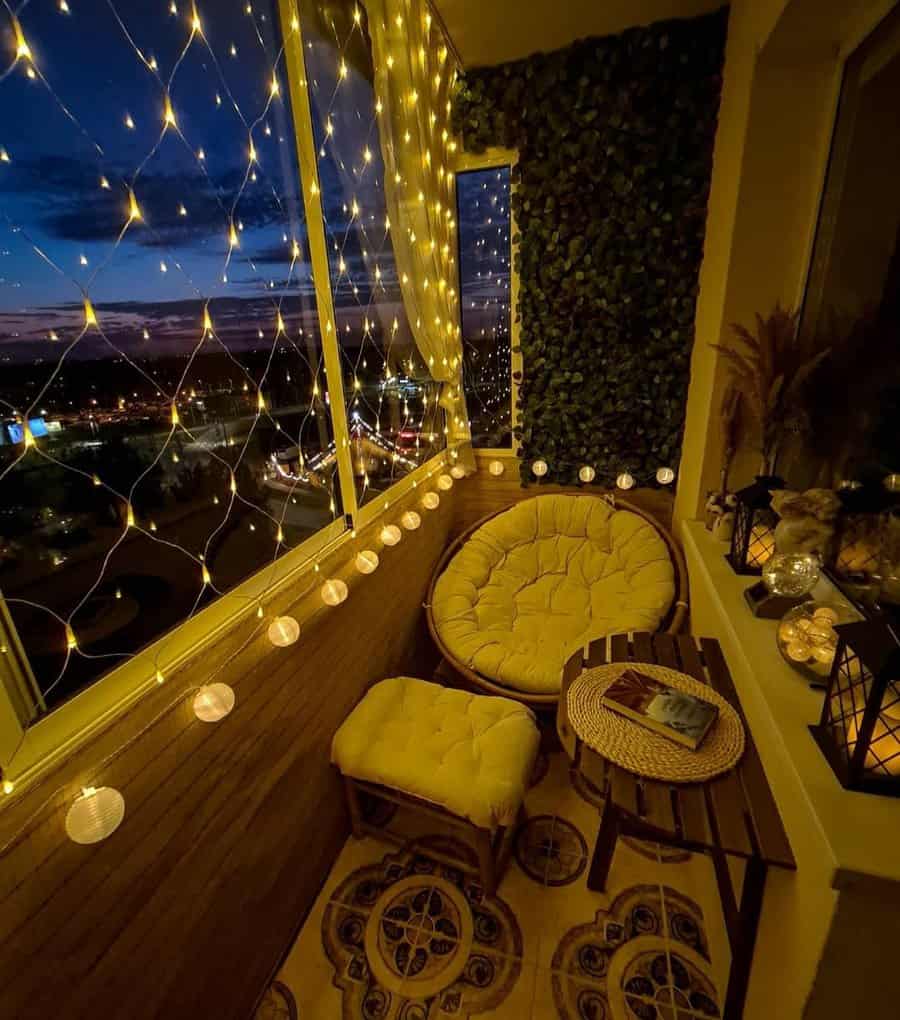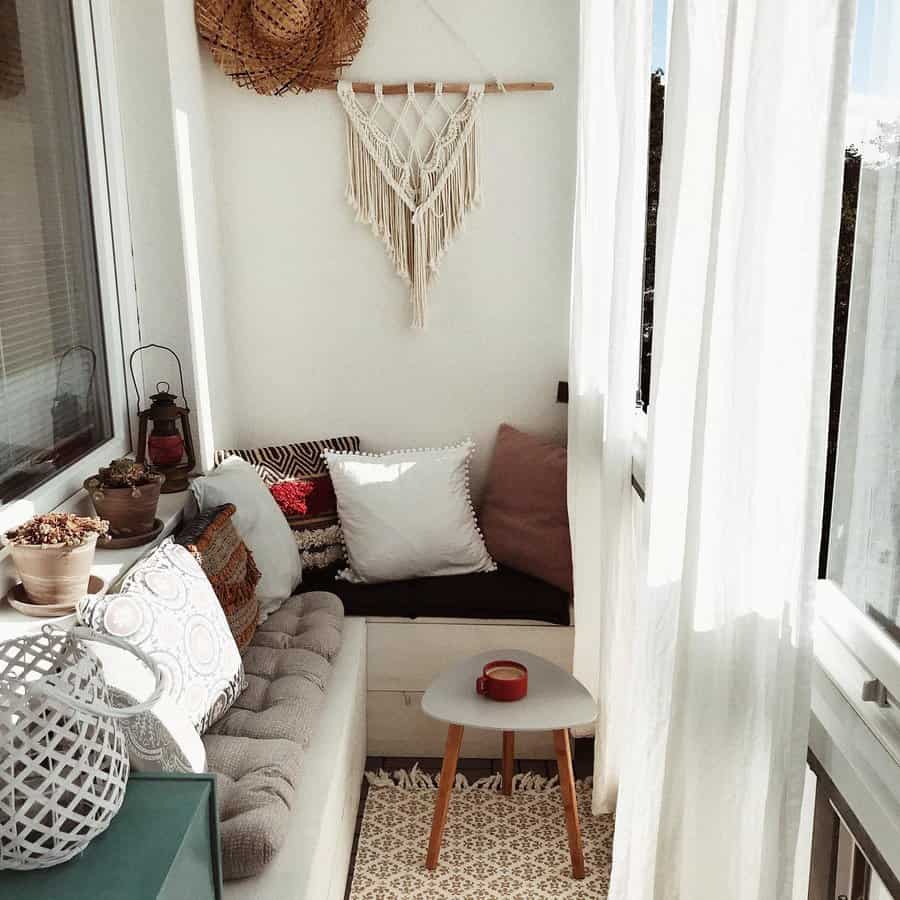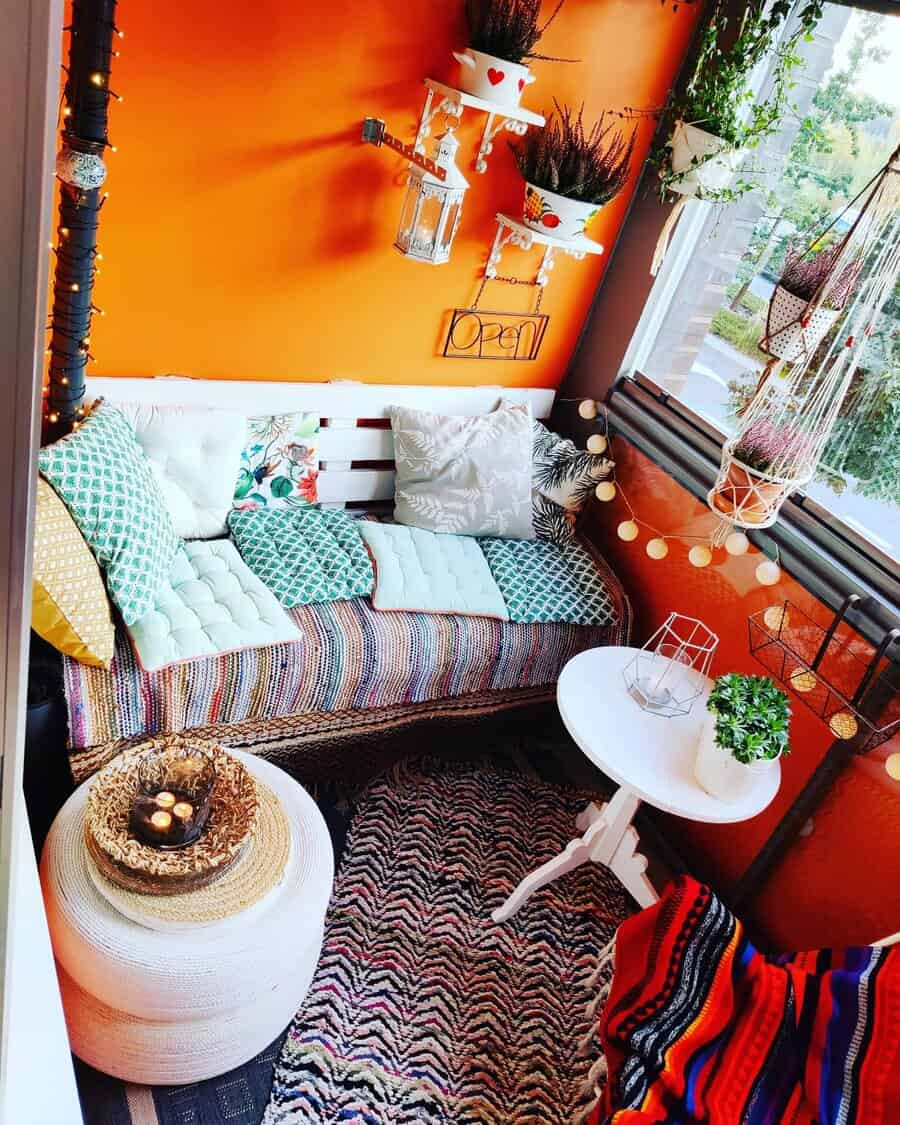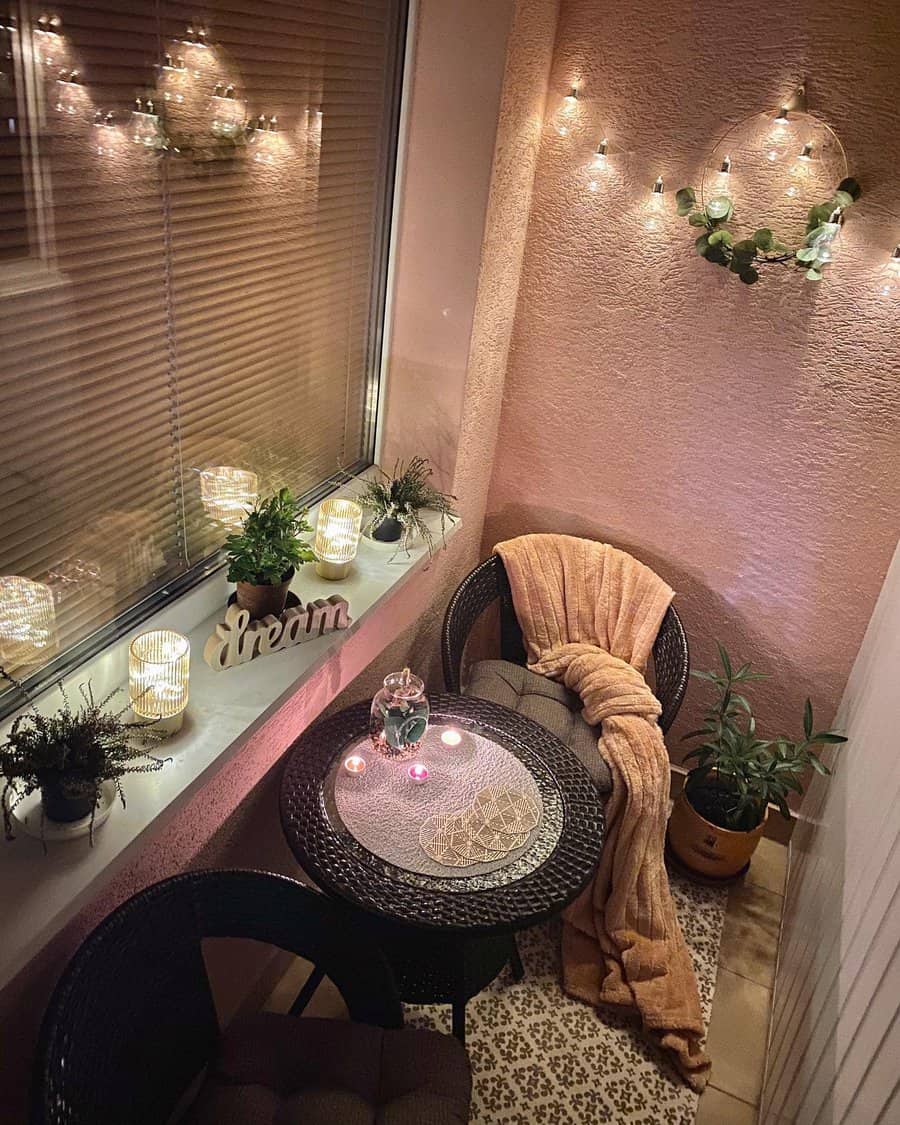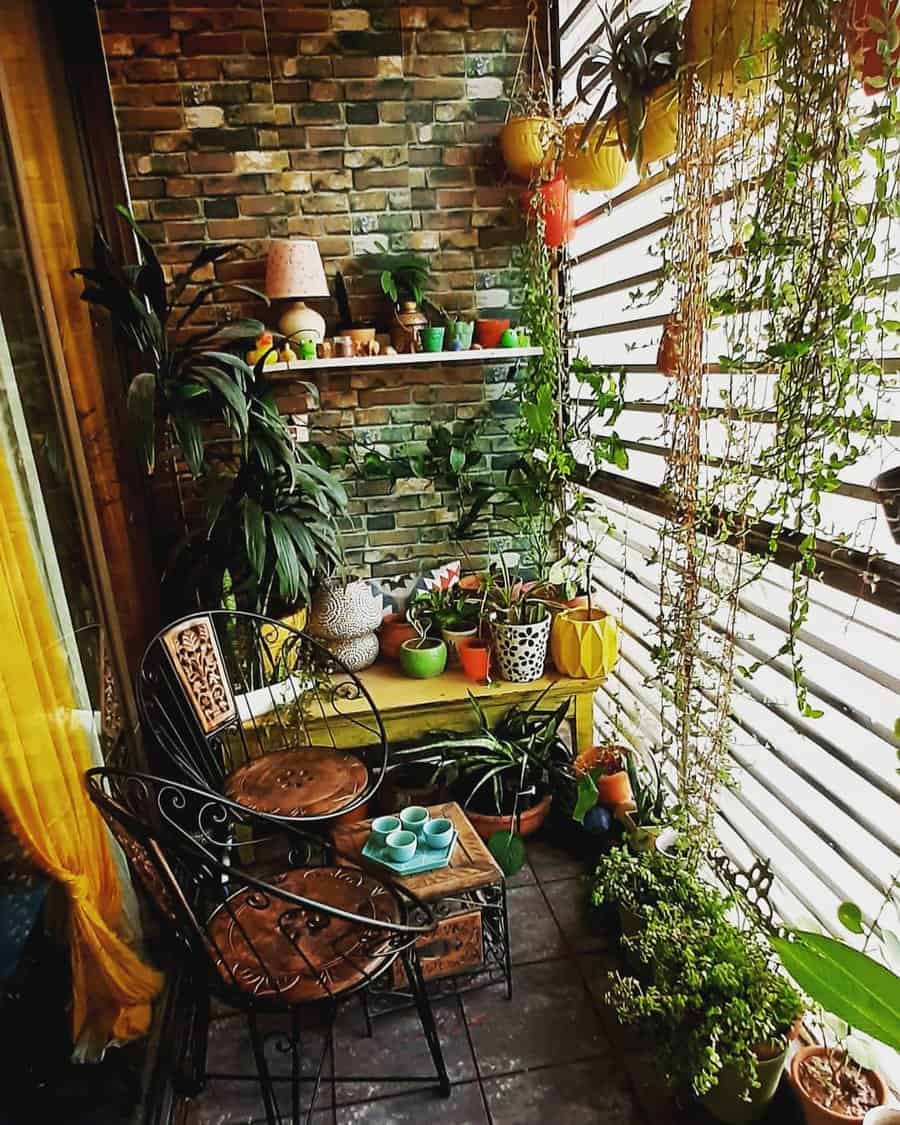 If you want an enclosed balcony, but your building doesn't permit renovations, you can create the feeling of an enclosed balcony with folding screen panels. You may be permitted to add mesh screening to an open balcony, which is ideal to keep pets safe from falling or escaping.
8. Garden
Having a small balcony doesn't prohibit you from enjoying the fruits of gardening. Hang vertical garden planters on balcony walls, or buy narrow standing planters to line up along your railing. Hanging planters are another great balcony idea to honor your green thumb.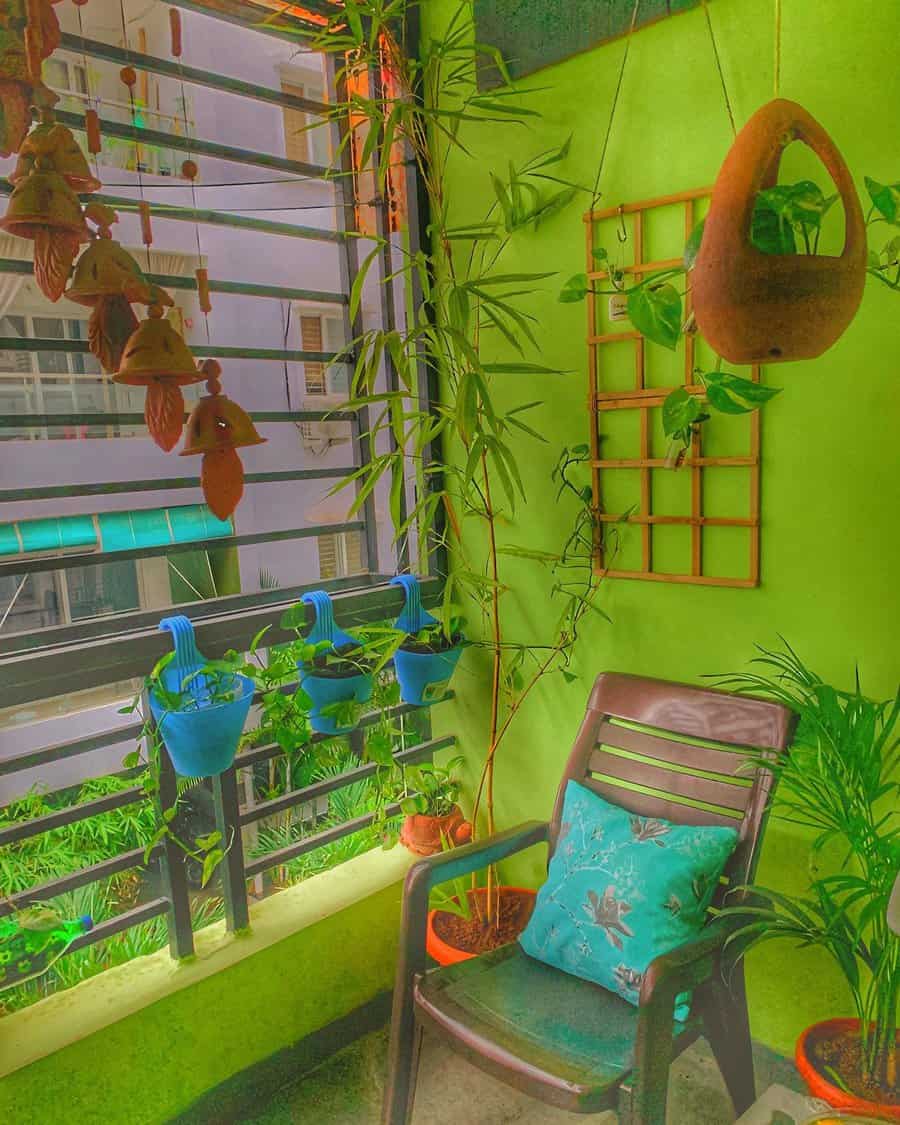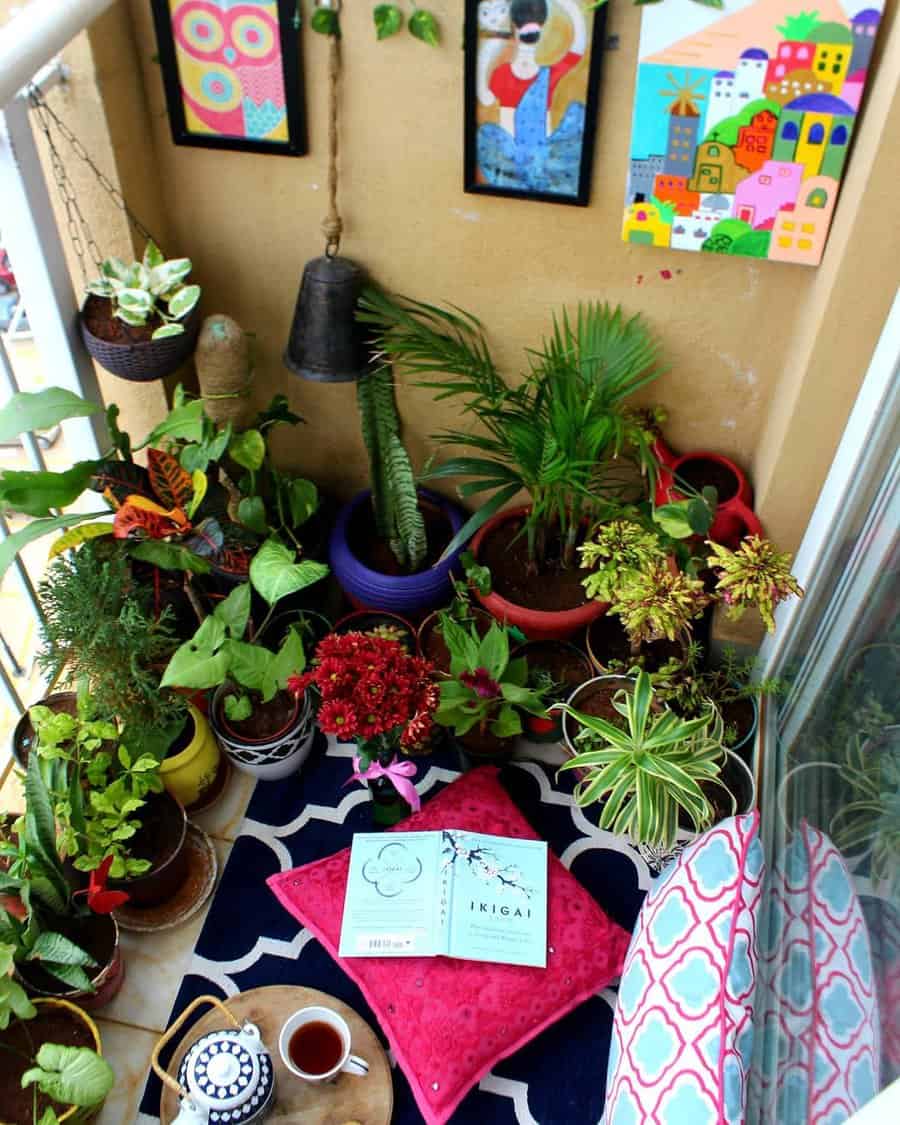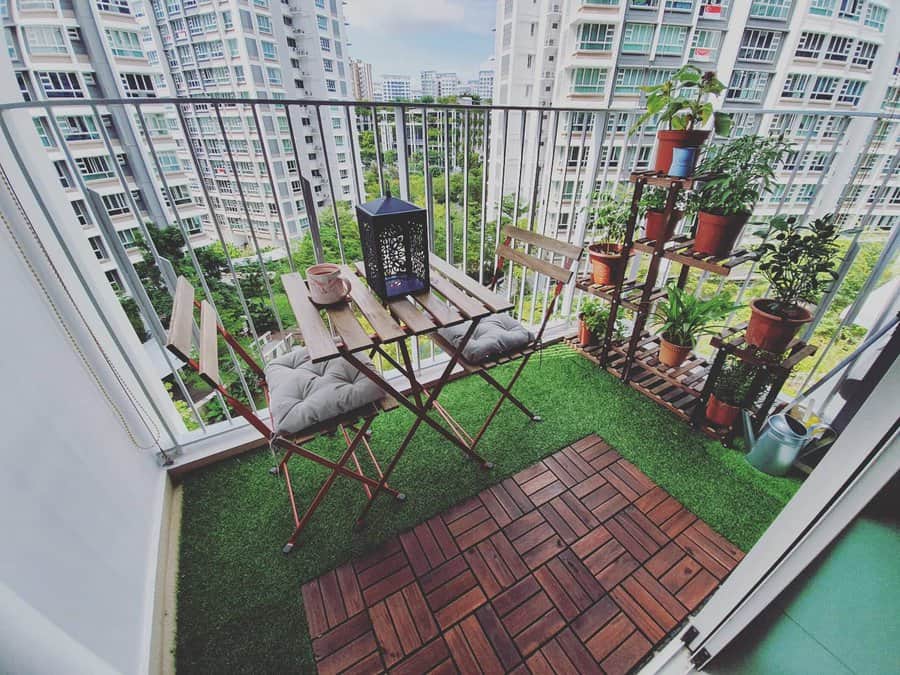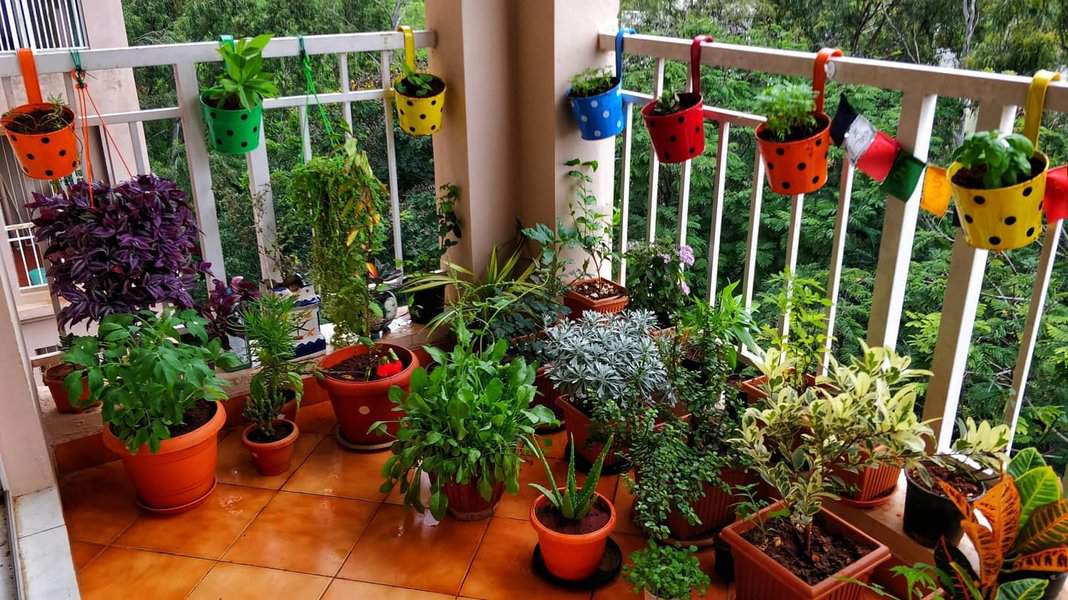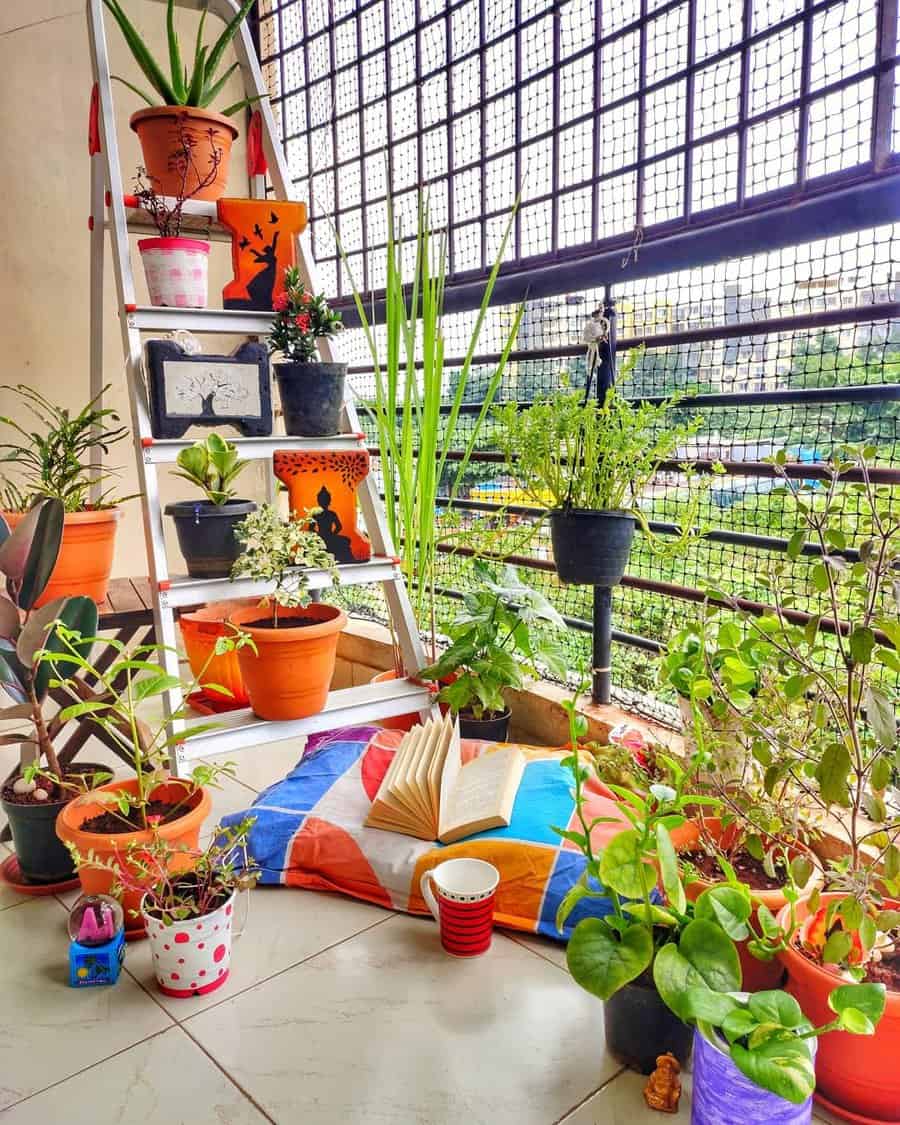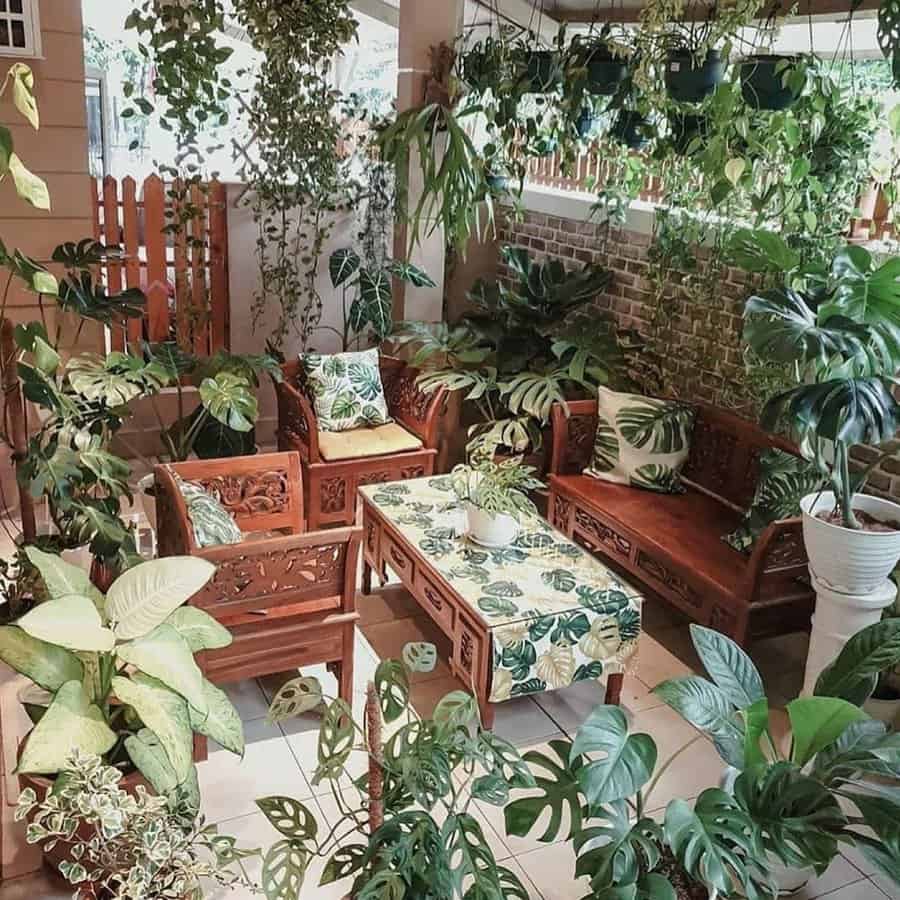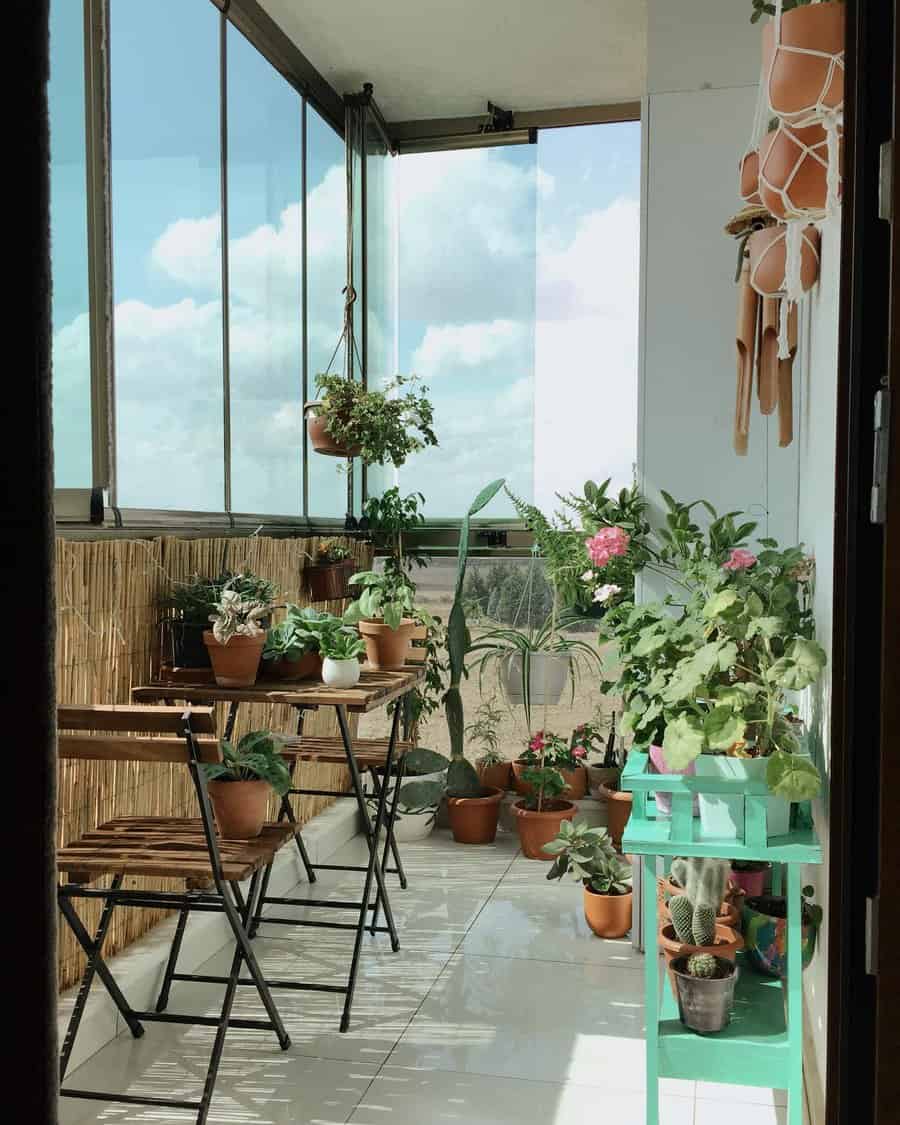 Many plants do well in containers, so research container gardening before heading to the gardening center. Strawberries, peppers, carrots, lettuce, and most herbs are just some of the types of plants you can grow and harvest from your small apartment balcony.
If your balcony receives a lot of direct sunlight, look into a succulent wall planter. These living works of art add a great deal of life to a small outdoor space.
9. Hammocks
Few things are more relaxing than stretching out on a hammock on a warm summer day. Swaying under the sun is an experience that is possible on all but the smallest apartment balcony. Even a tiny balcony can often support a hammock chair or two if a full-length hammock isn't possible.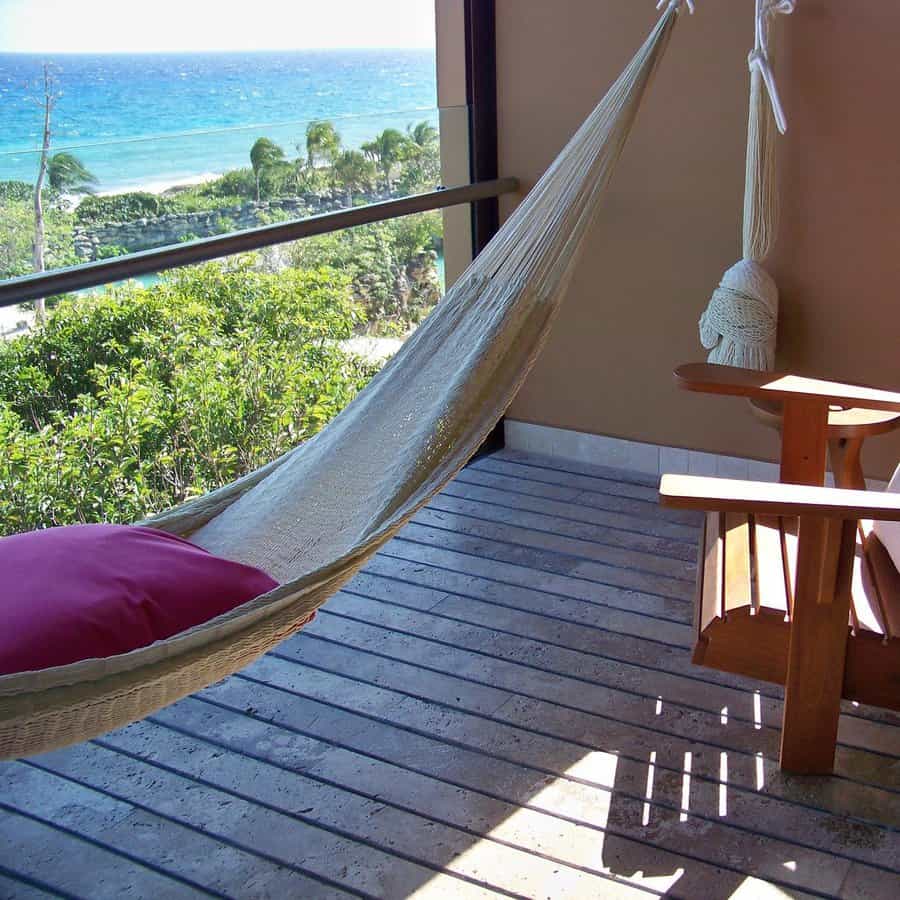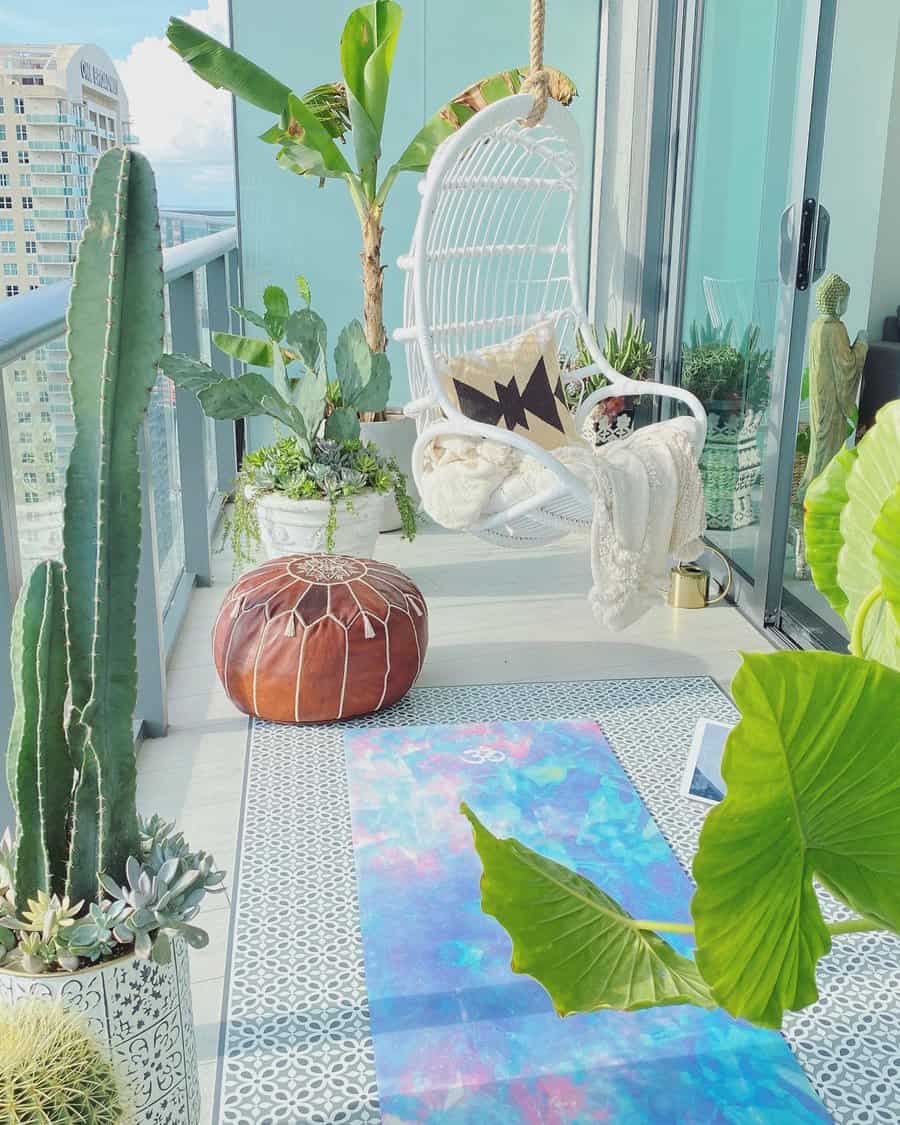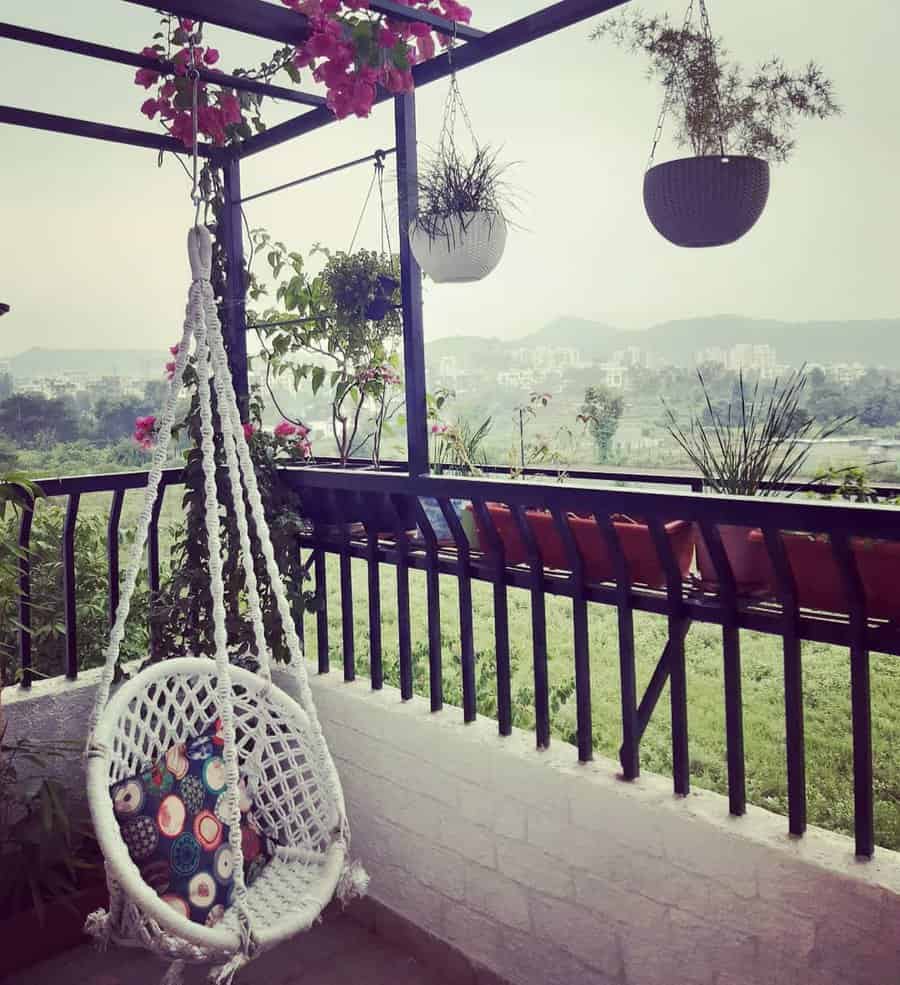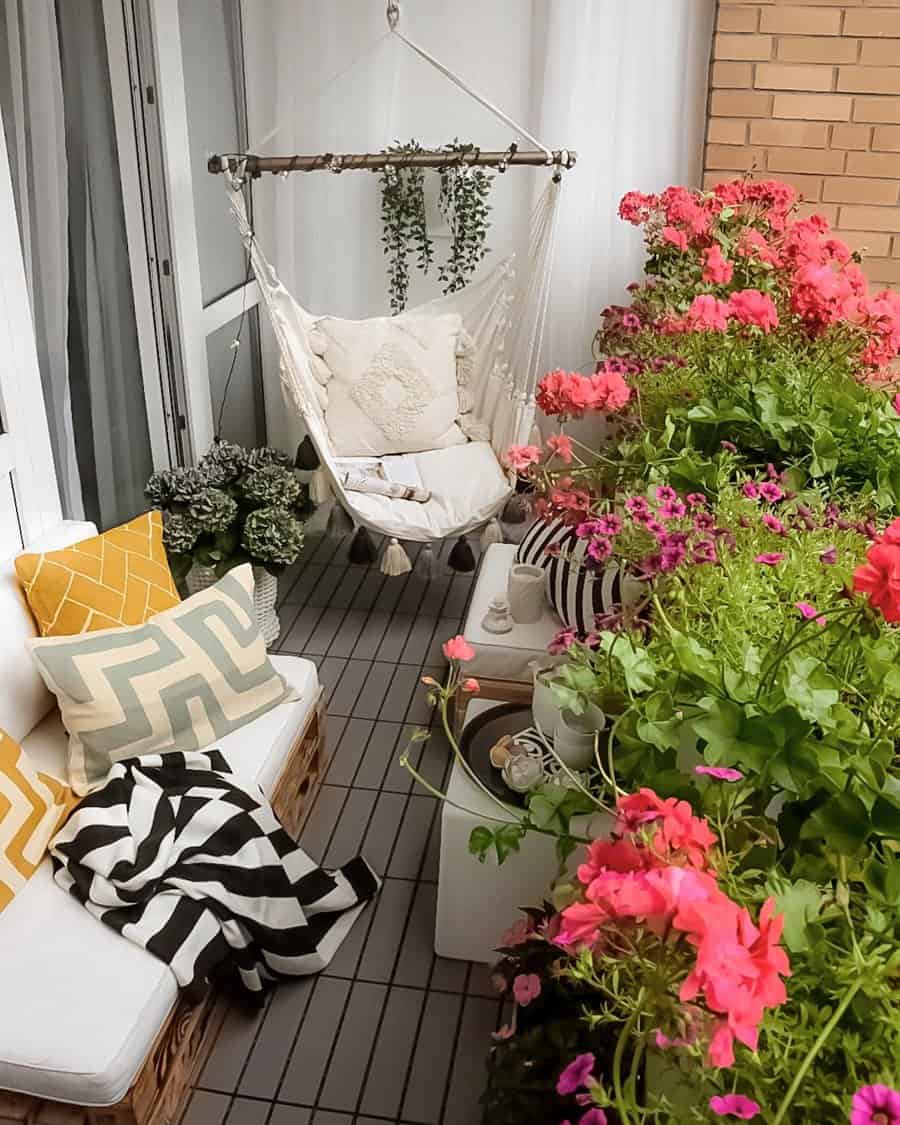 Make sure your balcony ceiling or railing is strong enough to support your weight in a hammock. You may also need permission to hang a hammock or swinging chair unless it is supported on its own freestanding frame. Add a soft blanket for chilly nights and a plush pillow to rest your head upon.
10. Low Cost
Every good balcony idea doesn't have to break the bank. In fact, look around your apartment for elements that can be moved outside, such as a small table and flower vase. Maybe you have a set of decorative plates that can add a splash of color when hung on the balcony wall. You may already have a coffee table or rocking chair that can be refinished and used as small balcony décor.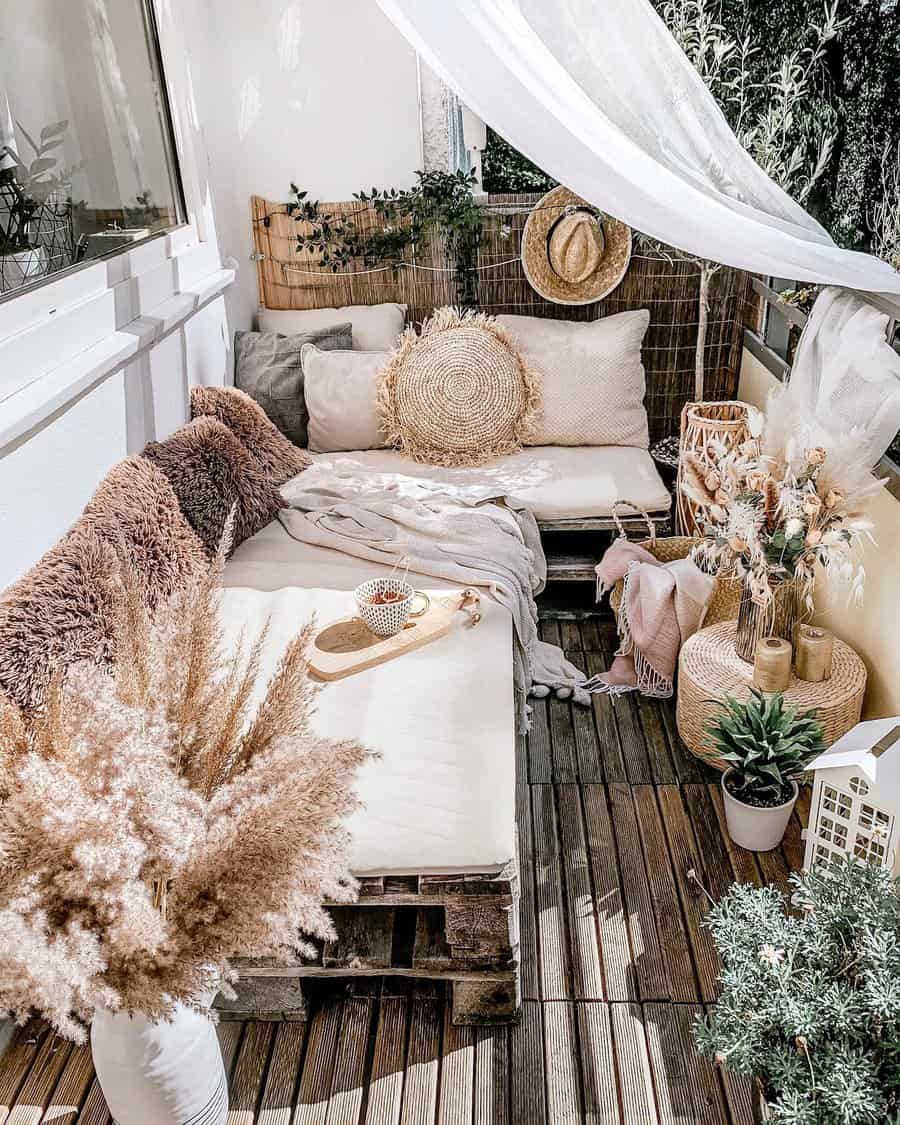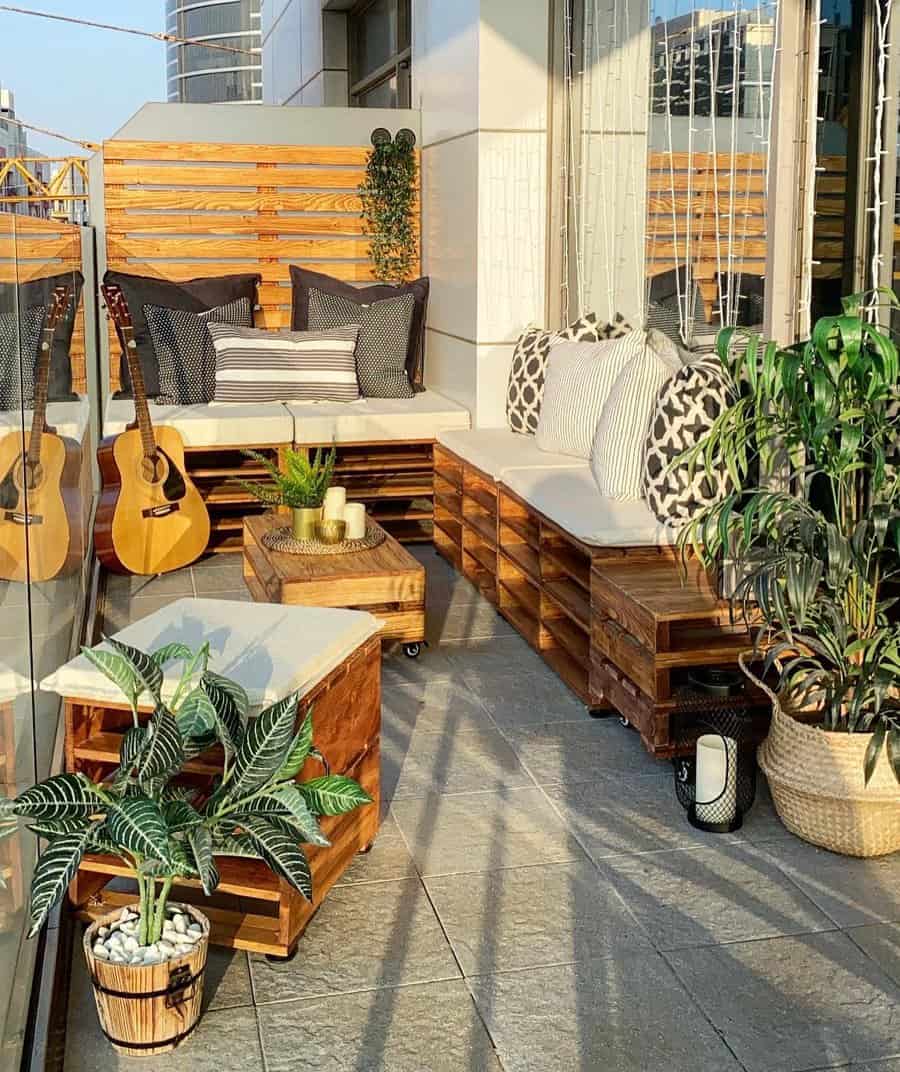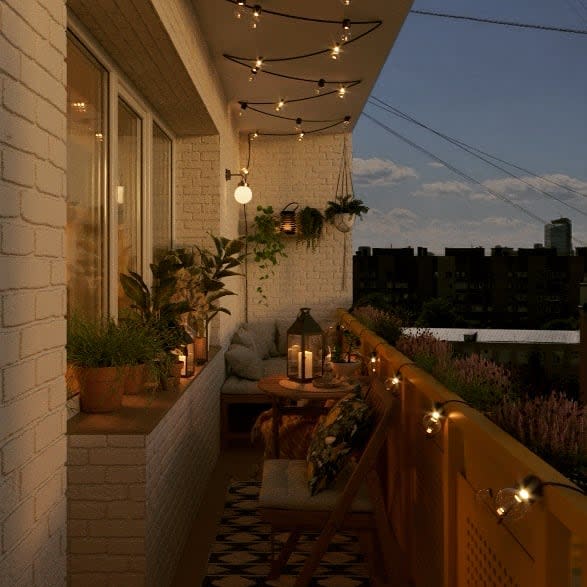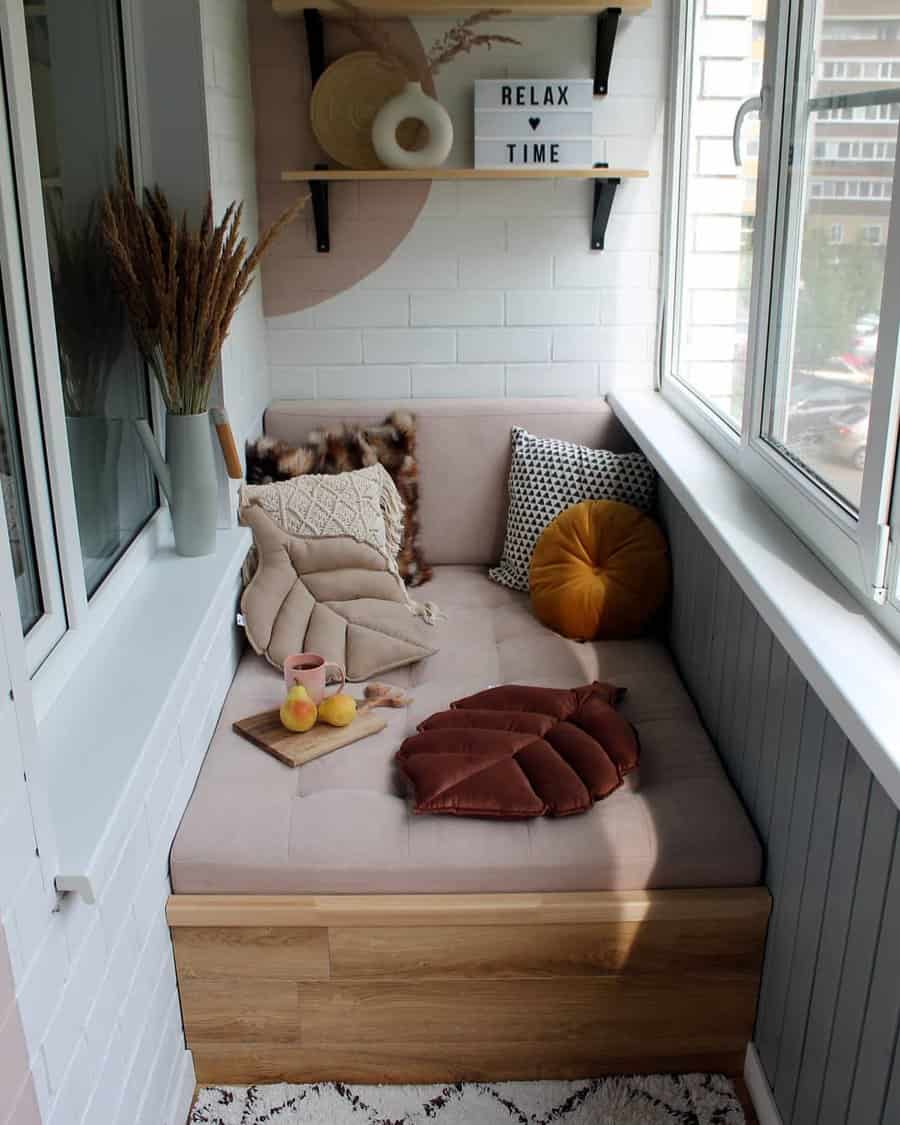 Outdoor furniture always takes a lot of wear and tear, so browse thrift stores and yard sales for secondhand pieces at affordable prices. Look for pieces with strong wood or metal construction. You can always buy a can of spray paint and make an old chair or bistro set look brand new.
11. Modern
Stick to modern design principles to create a minimalist, Zen-like outdoor space. A neutral or monochromatic color palette is best, highlighted with a few green plants or a bright pillow or throw blanket. Keep accessories to a minimum to avoid anything that remotely resembles clutter, as it is the antithesis to modern décor.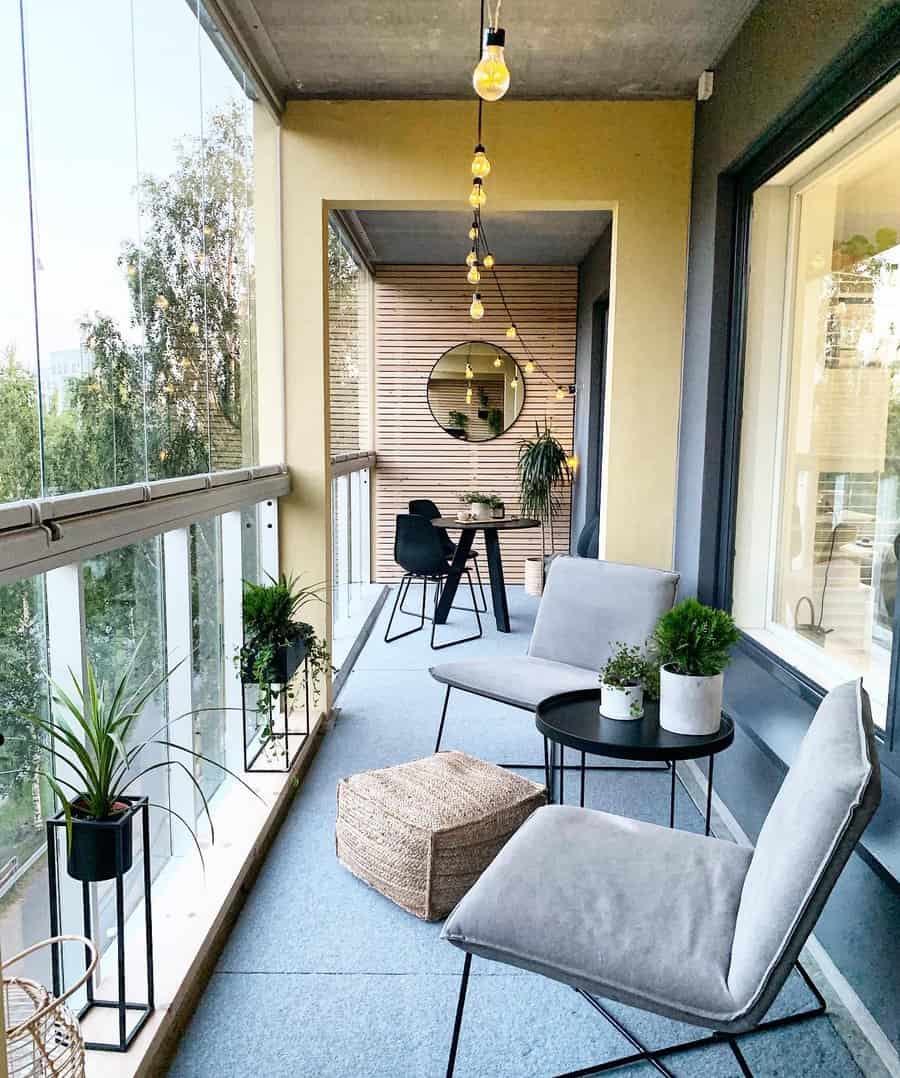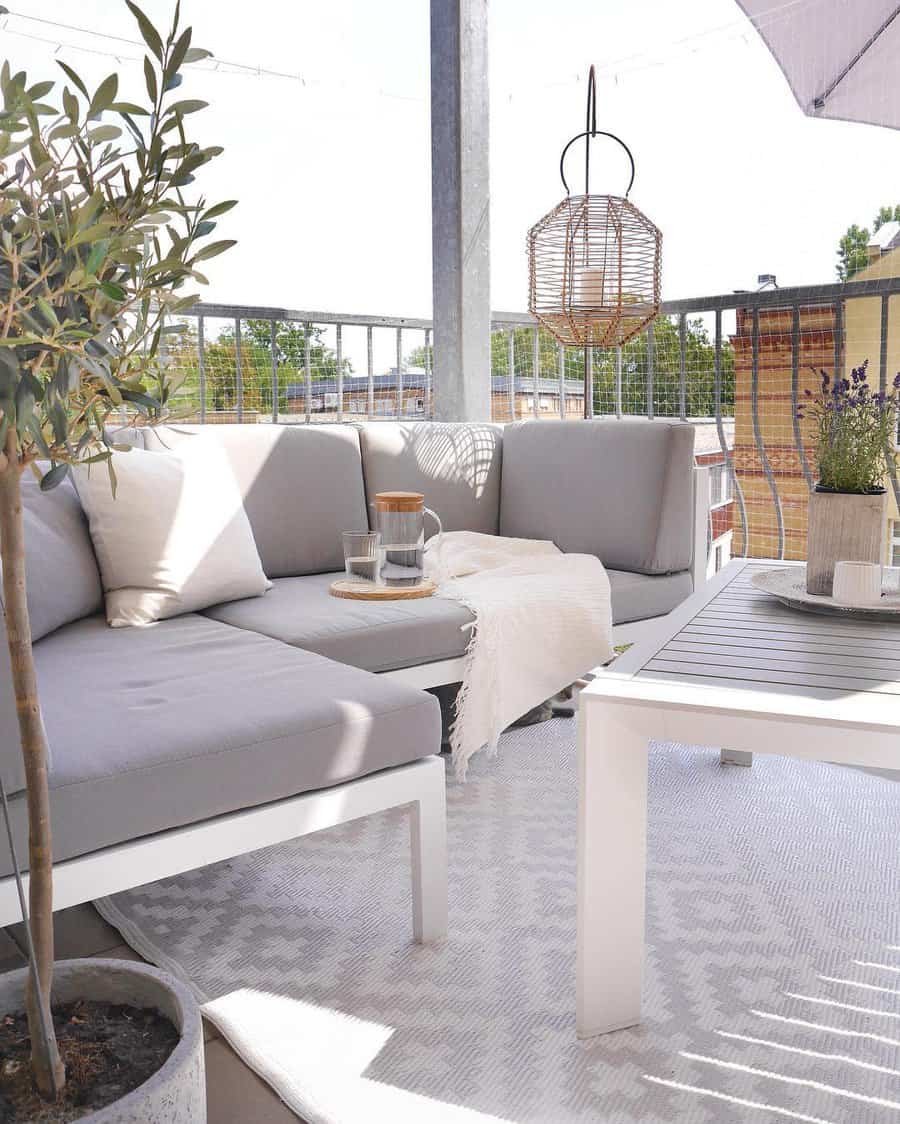 Choose uncomplicated outdoor furniture, with clean lines and few details. Look for furniture made from metal or wood—or both—as long as it is simply designed. Modular plastic furniture also carries a modernistic vibe, especially pieces inspired by midcentury design elements.
12. Romantic
Greenery, outdoor balcony shades, a soft outdoor rug, and plush decorative pillows add a soft sense of romance to your balcony space. Instead of hard chairs, set out a floor pillow for each of you, or hang up a hammock for cuddling.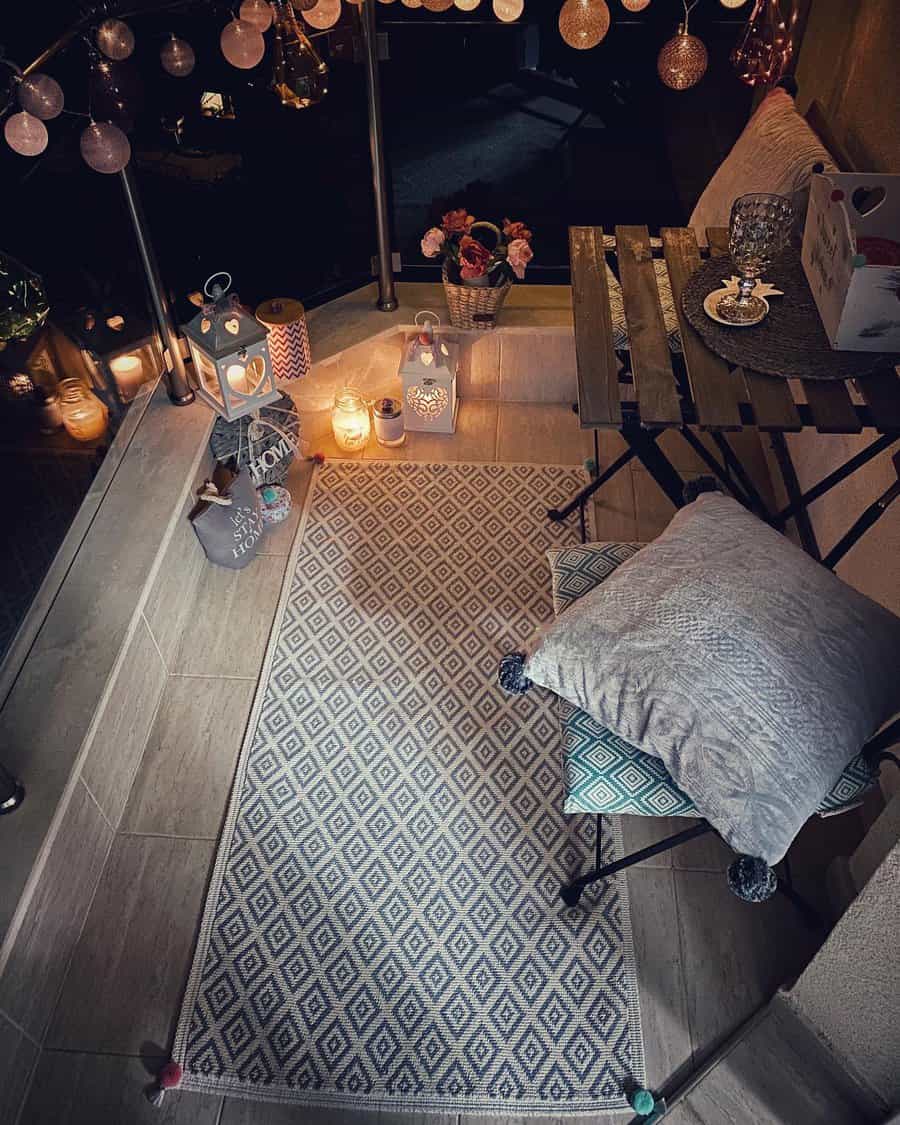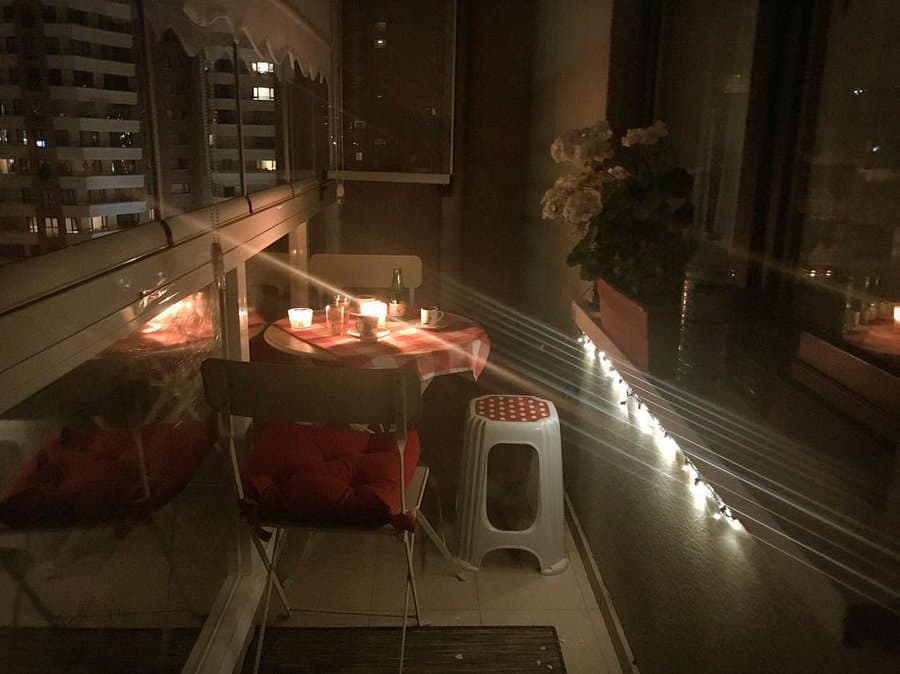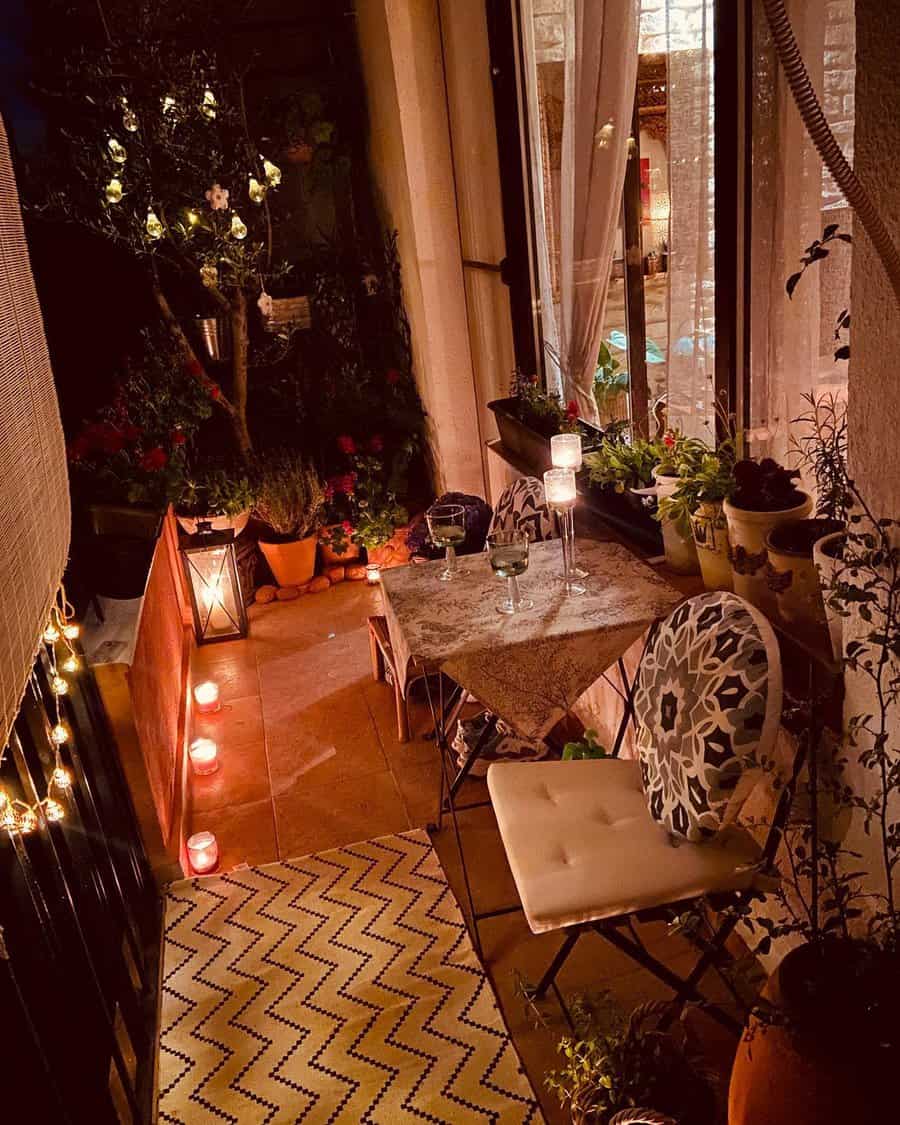 Nighttime is when a small balcony has the greatest potential for romantic ambience. Light plenty of candles and hang warm-toned string lights overhead. Use a Bluetooth speaker to play your favorite romantic songs, keeping mindful of your neighbors when adjusting the volume.
Small Balcony FAQs
How can I make my apartment balcony private?
A lush balcony garden can help screen you from nosy neighbors. Block off your balcony space with rolling shutters or folding privacy screens that can be stashed out of sight. A beaded curtain is a fun bohemian balcony design idea that also provides privacy.
How do you decorate a long, narrow balcony?
Make use of all available vertical space to keep your floor space clear for furniture. Instead of a bistro set, install a narrow bar with minimalist bar stools you can park underneath. Look for other space saving furniture and vertical plant trellises.
What is a Juliet balcony?
Named after the famous Shakespeare character, a Juliet balcony is a narrow railed balcony adjacent to a window or glass door on an upper floor of a building. You may not have room to sit on a Juliet balcony, but there probably is enough room for some potted plants and flower pots.