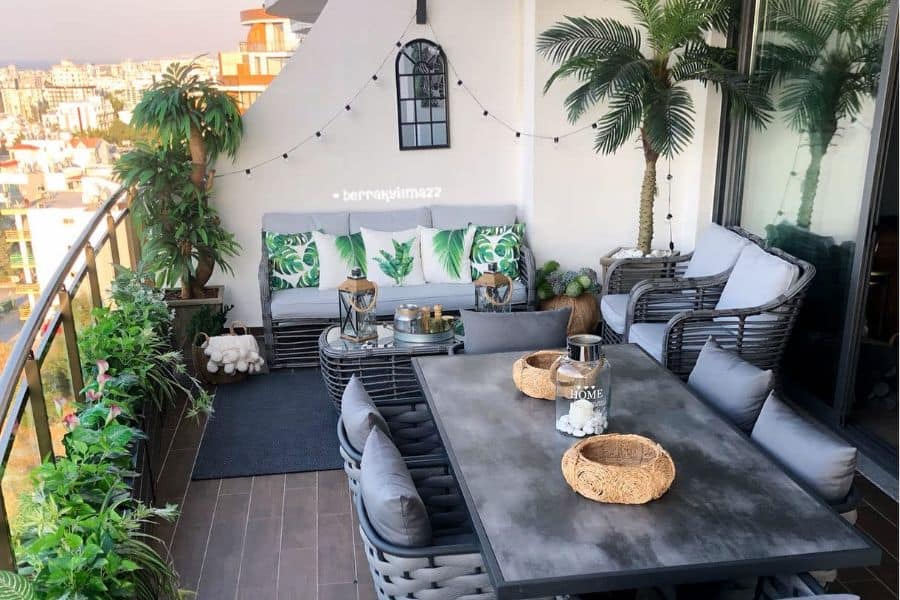 The Top 47 Balcony Garden Ideas
City life comes with a long list of benefits. You're always surrounded by interesting places and people. And — if you live in an apartment or condo — you never have to deal with the hassle of lawn care.
For green-thumbed individuals, though, living in the city can be a major sacrifice. Without a backyard, cultivating a green space to call your own can feel impossible.
Despite what you might assume, gardening does not require access to physical land. Take balcony gardening for example, which relies exclusively on containers to grow flowers, herbs, vegetables, and more.
Keep reading for the top balcony garden ideas that will inspire how you utilize your outdoor living space this summer.
1. Mix & Match Pots
If you're looking for balcony garden ideas, one fun, and creative approach is to mix and match pots. Mixing and matching pots of different sizes, shapes, and materials can add visual interest and depth to your balcony garden.
You can play with different textures and colors to create a unique and eclectic look, or you can stick to a specific theme or color scheme for a more cohesive feel. When mixing and matching pots, it's important to keep in mind the needs of your plants. Make sure each pot has adequate drainage and is the appropriate size for the plant you're placing in it. You can also use different heights to create a layered effect, adding visual depth to your balcony garden.
With a little experimentation, you can create a stunning and unique outdoor space that reflects your personal style and love of gardening.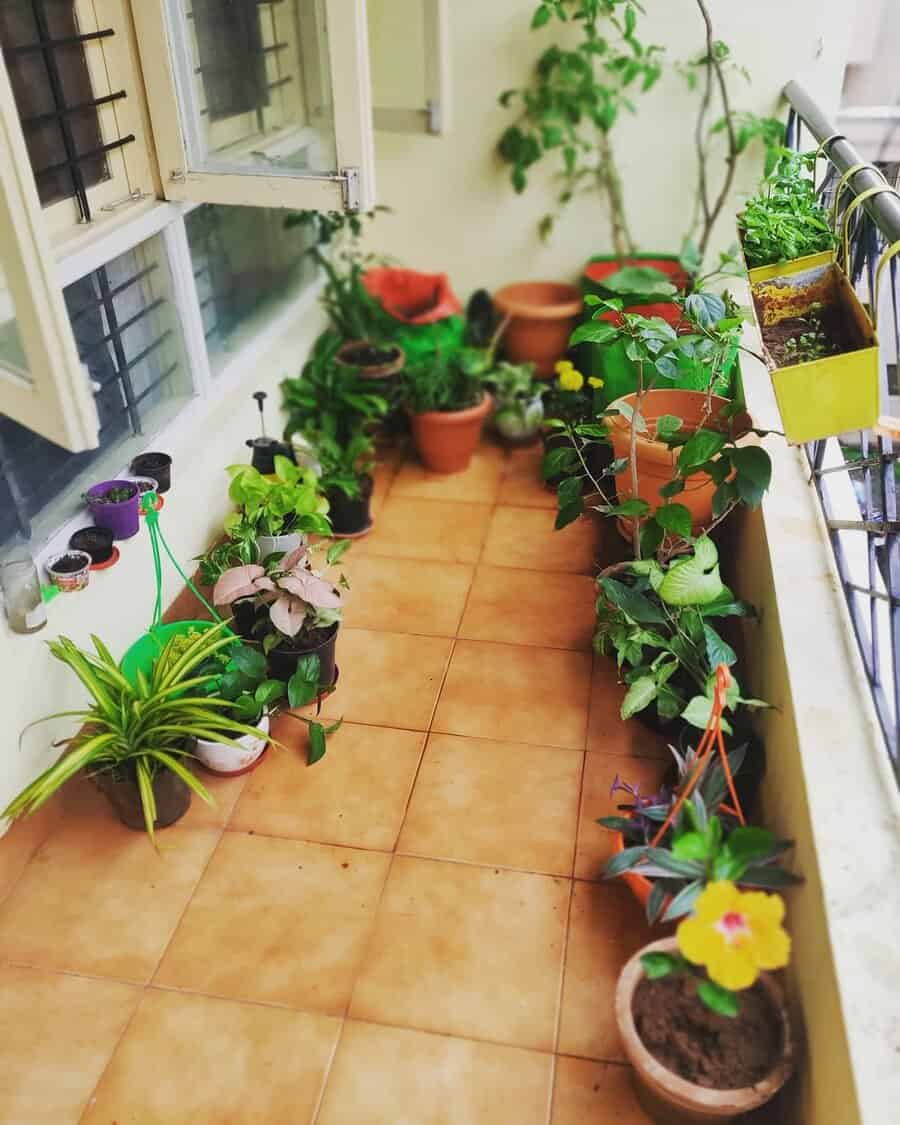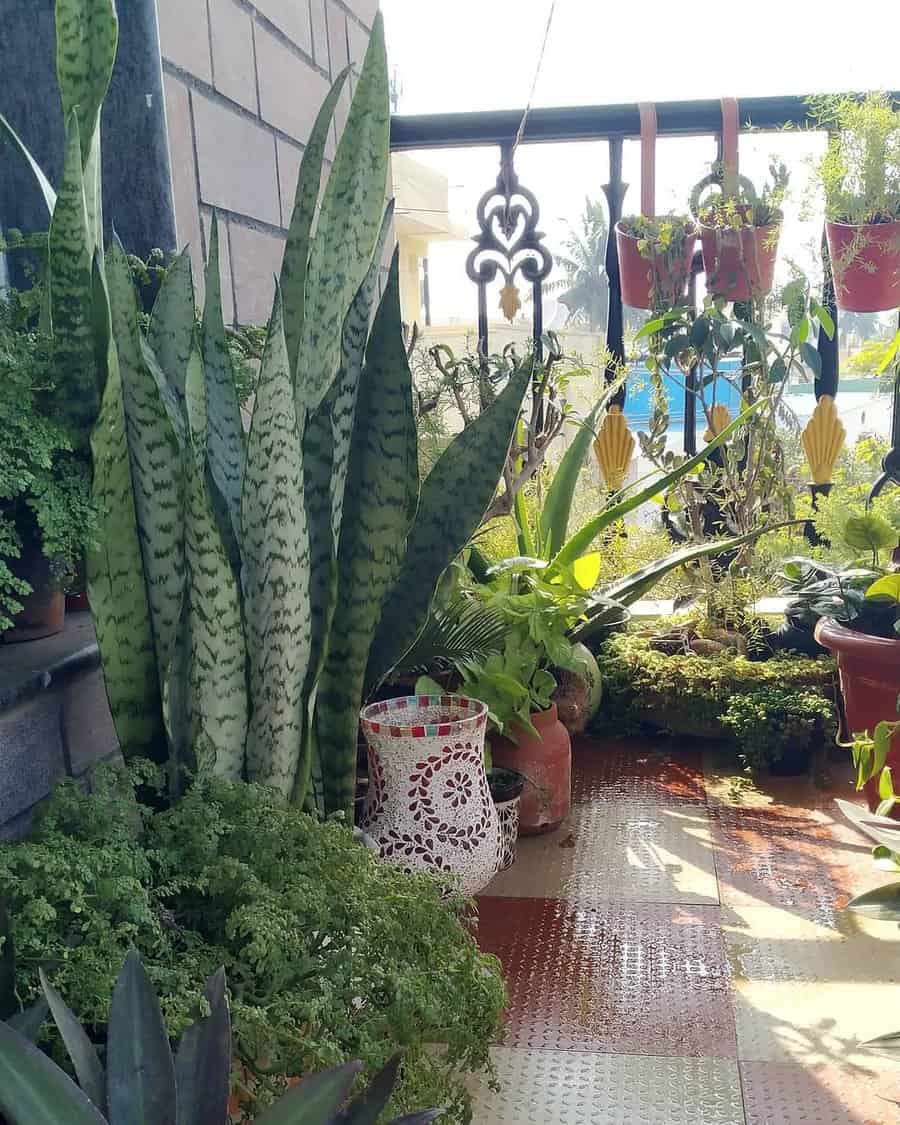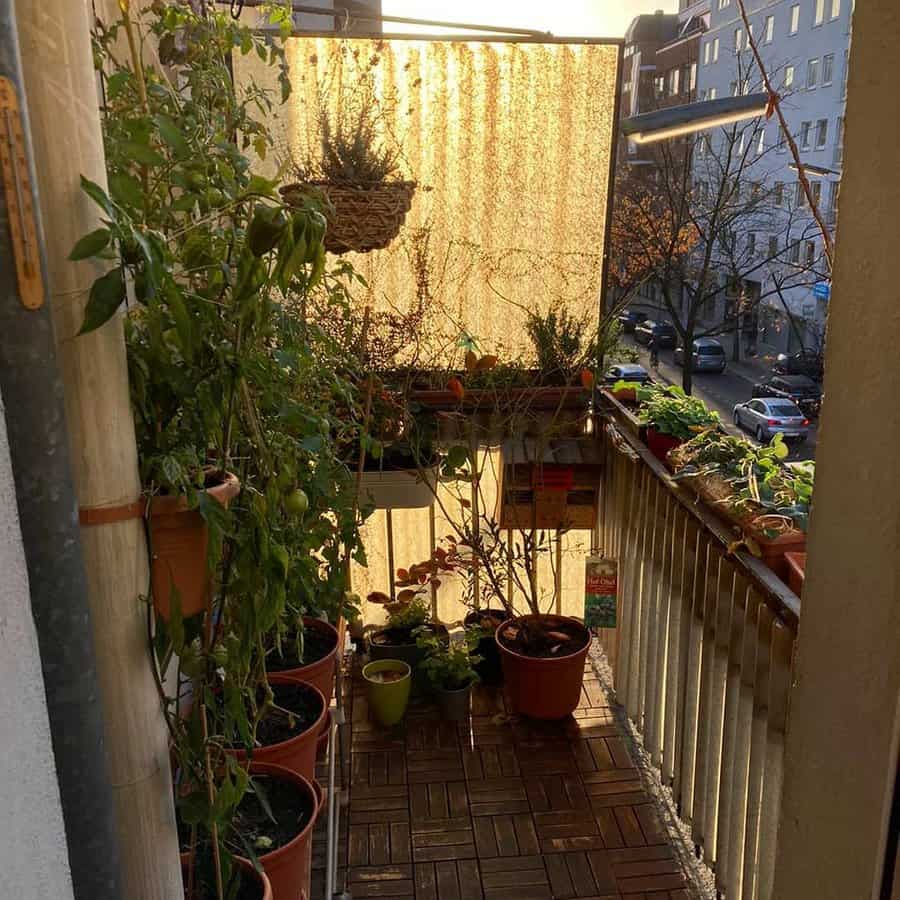 2. Add Seating
Adding seating is a great way to enhance both the functionality and style of your outdoor space. Consider incorporating a small bistro table and chairs or a comfortable bench where you can relax and enjoy the beauty of your garden.
Choose seating options that are weather-resistant and easy to move around, allowing you to take advantage of the sun or shade as needed. Consider adding some colorful cushions or throw pillows to your seating area to add a pop of color and personality.
Additionally, you can hang potted plants or install vertical planters to make the most of your limited space. With a little creativity and some strategic planning, you can transform your balcony into a cozy and inviting oasis that you'll love spending time in.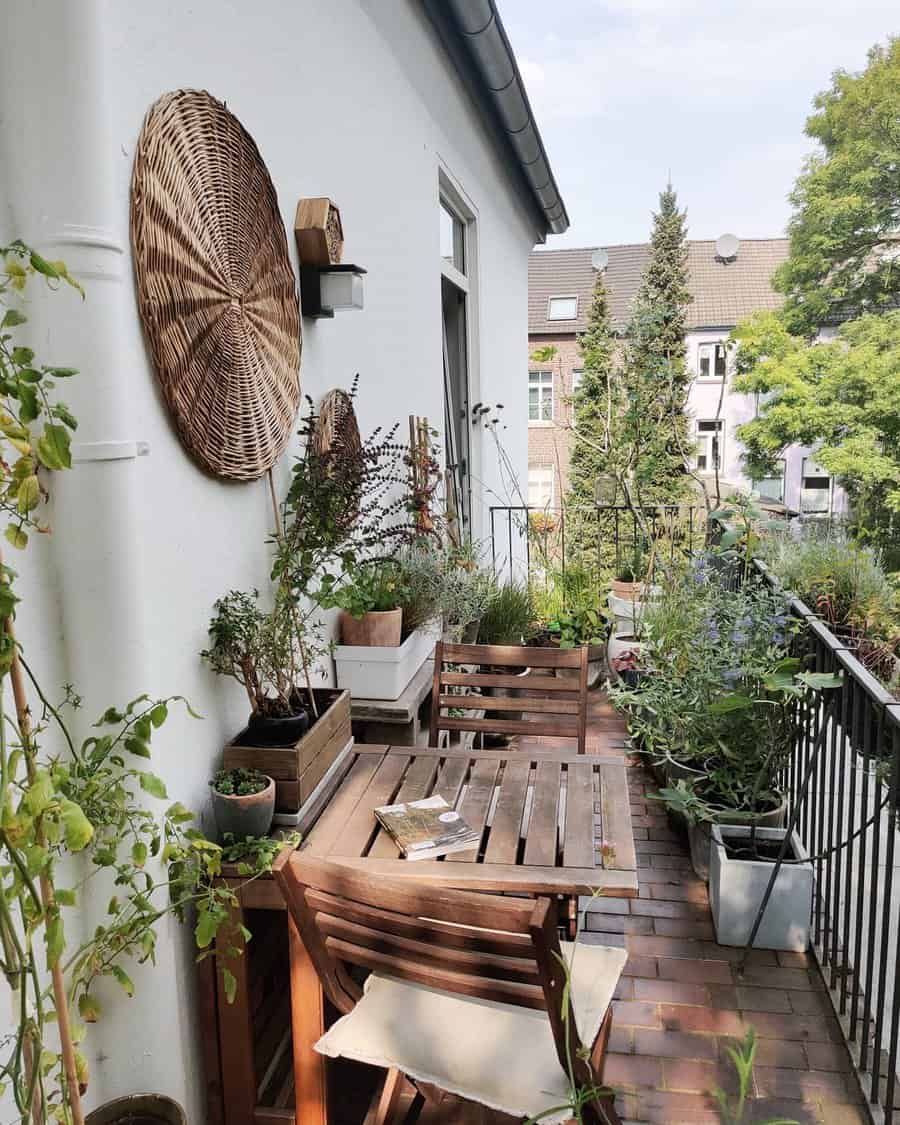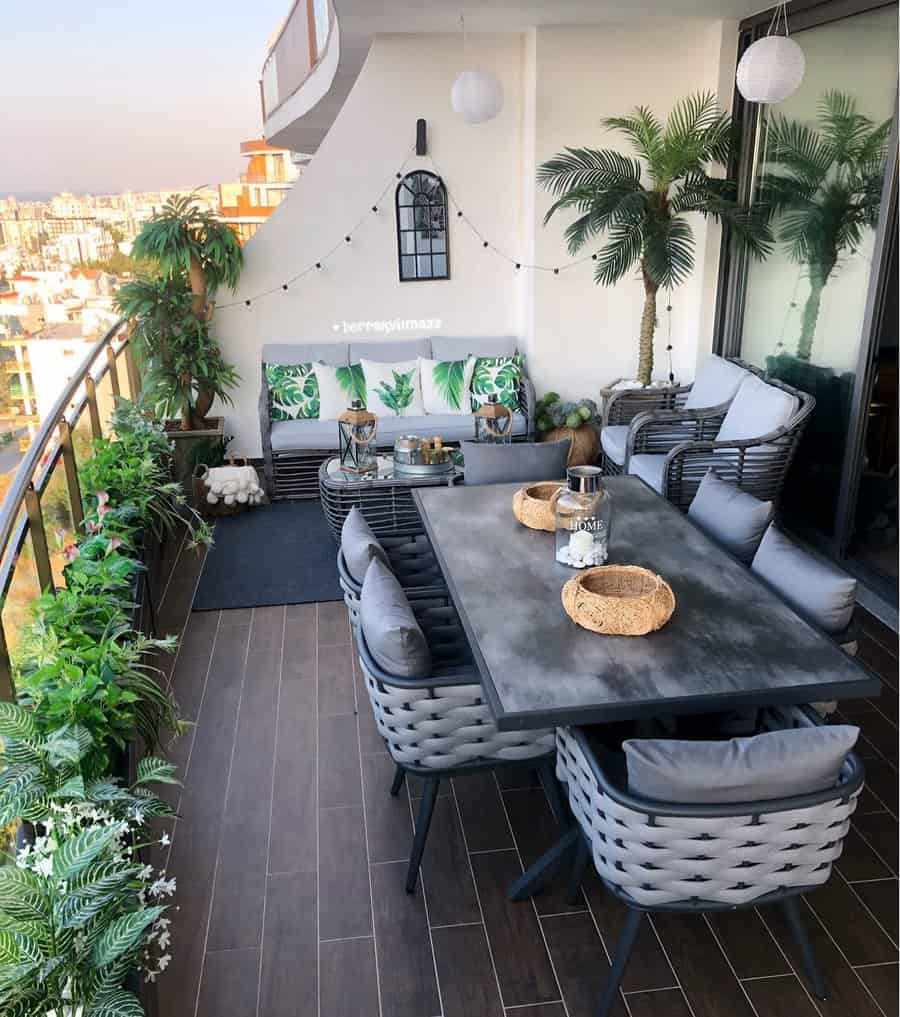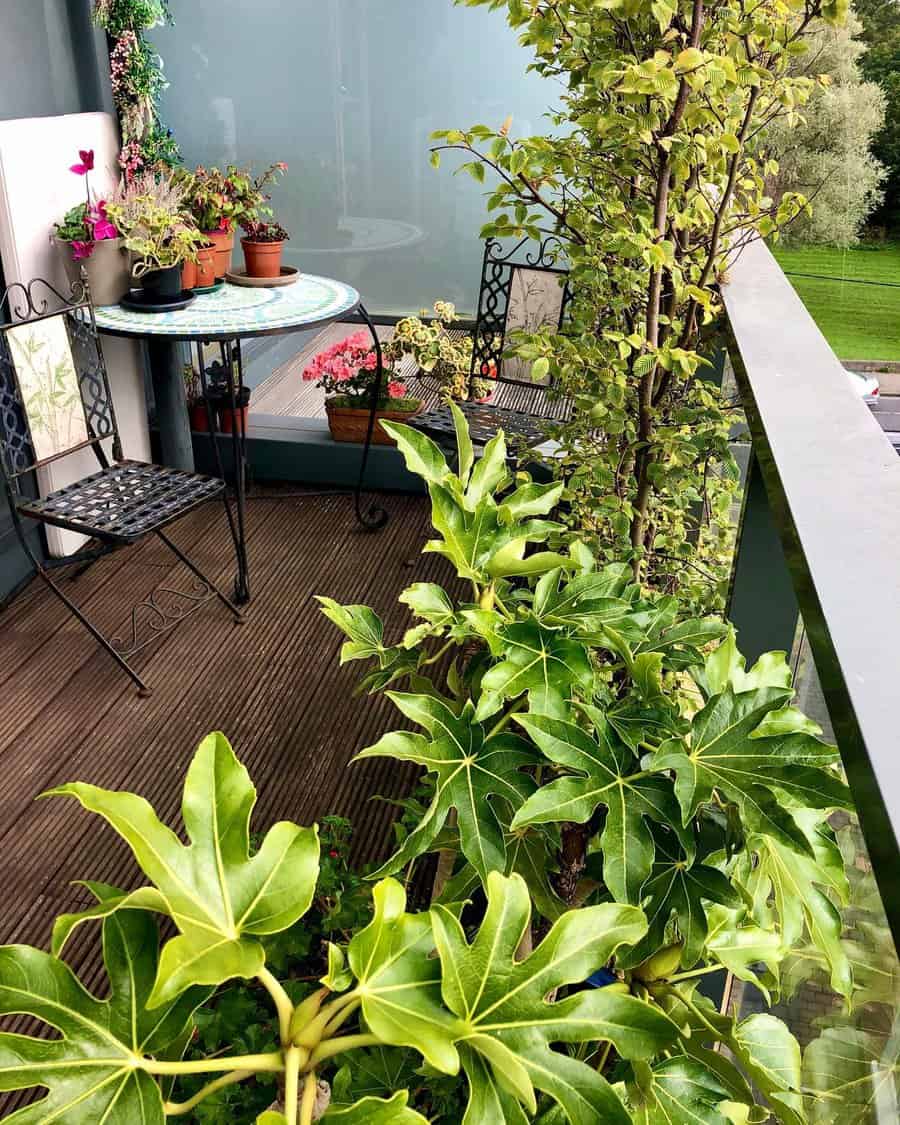 3. Install a Vertical Garden
If you have a small balcony, a vertical garden with shelves can be a fantastic way to bring greenery into your outdoor space. Installing a vertical garden with shelves allows you to create a living wall that not only adds a pop of color to your balcony but also maximizes the use of limited space.
You can choose a variety of plants to suit your needs and preferences, including succulents, herbs, and flowering plants. A vertical garden with shelves can also help you create privacy and shade, making your balcony a more comfortable place to relax and unwind. Additionally, it can act as a natural air purifier, improving the air quality of your outdoor space.
With some creativity and careful planning, a balcony garden with a vertical garden and shelves can transform your balcony into a lush and inviting oasis, where you can enjoy the beauty of nature right outside your doorstep.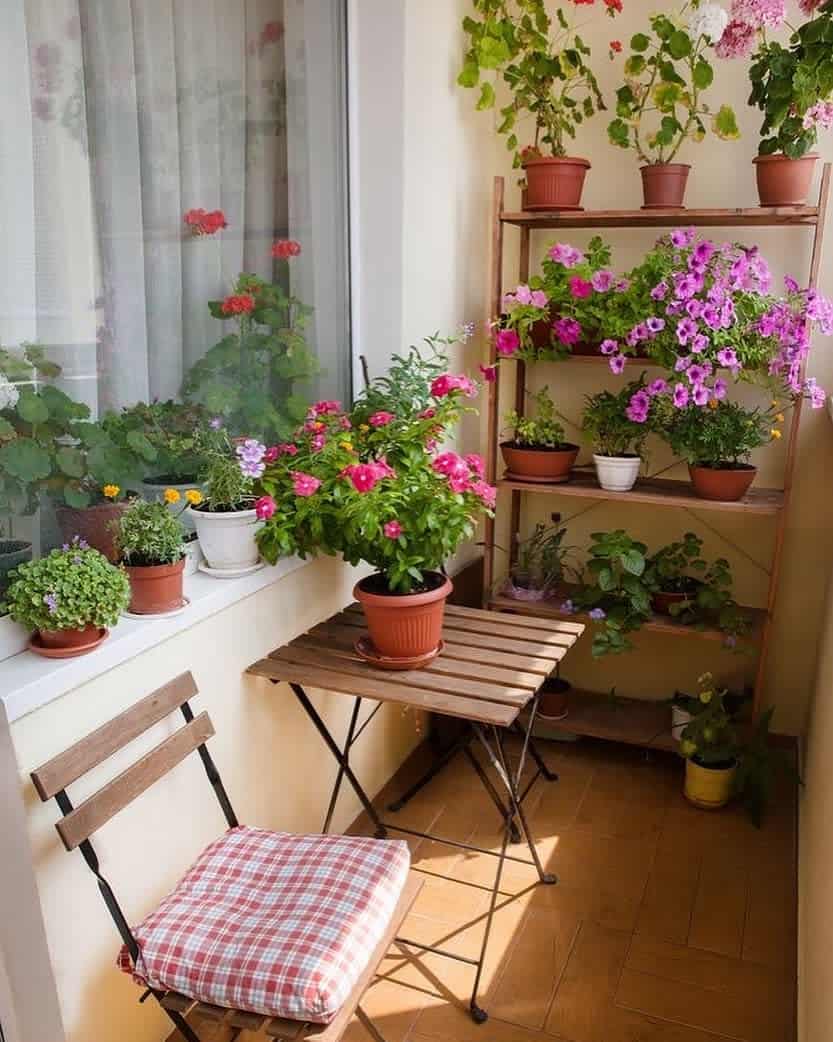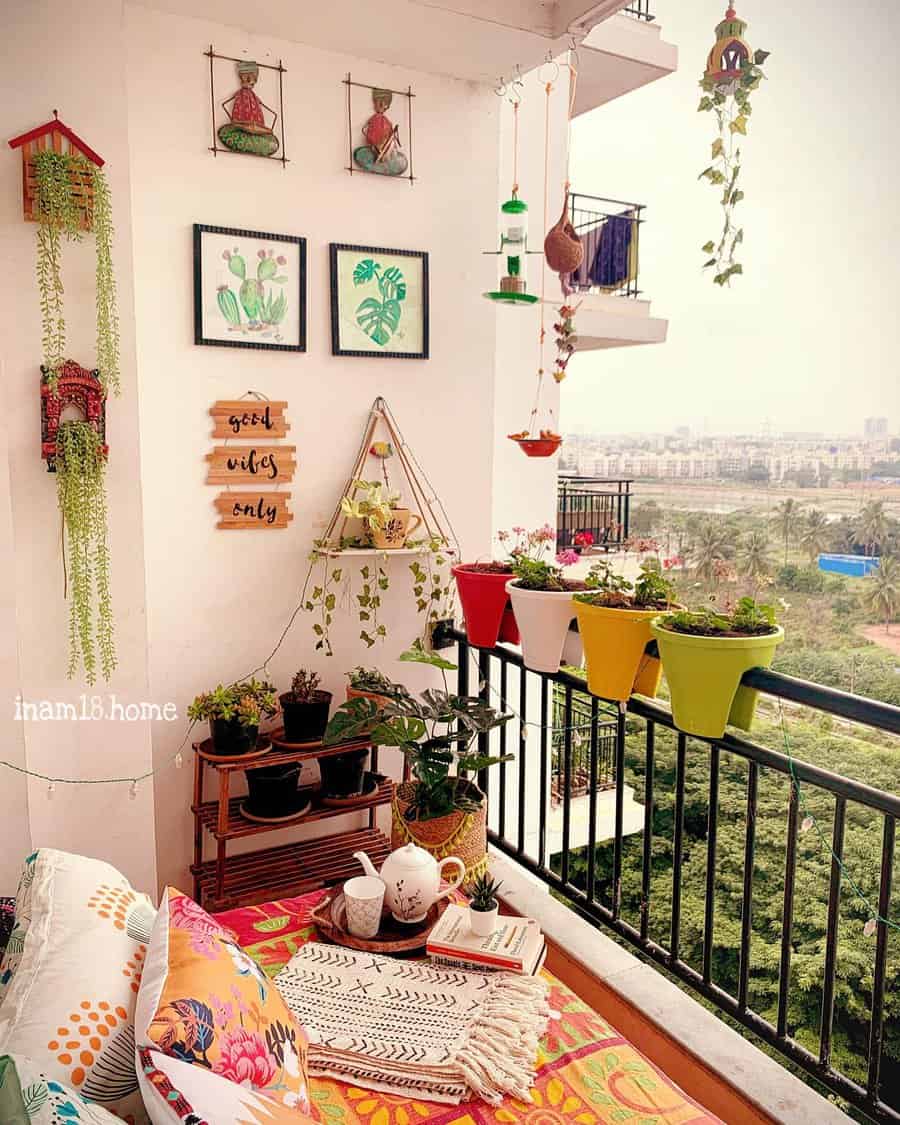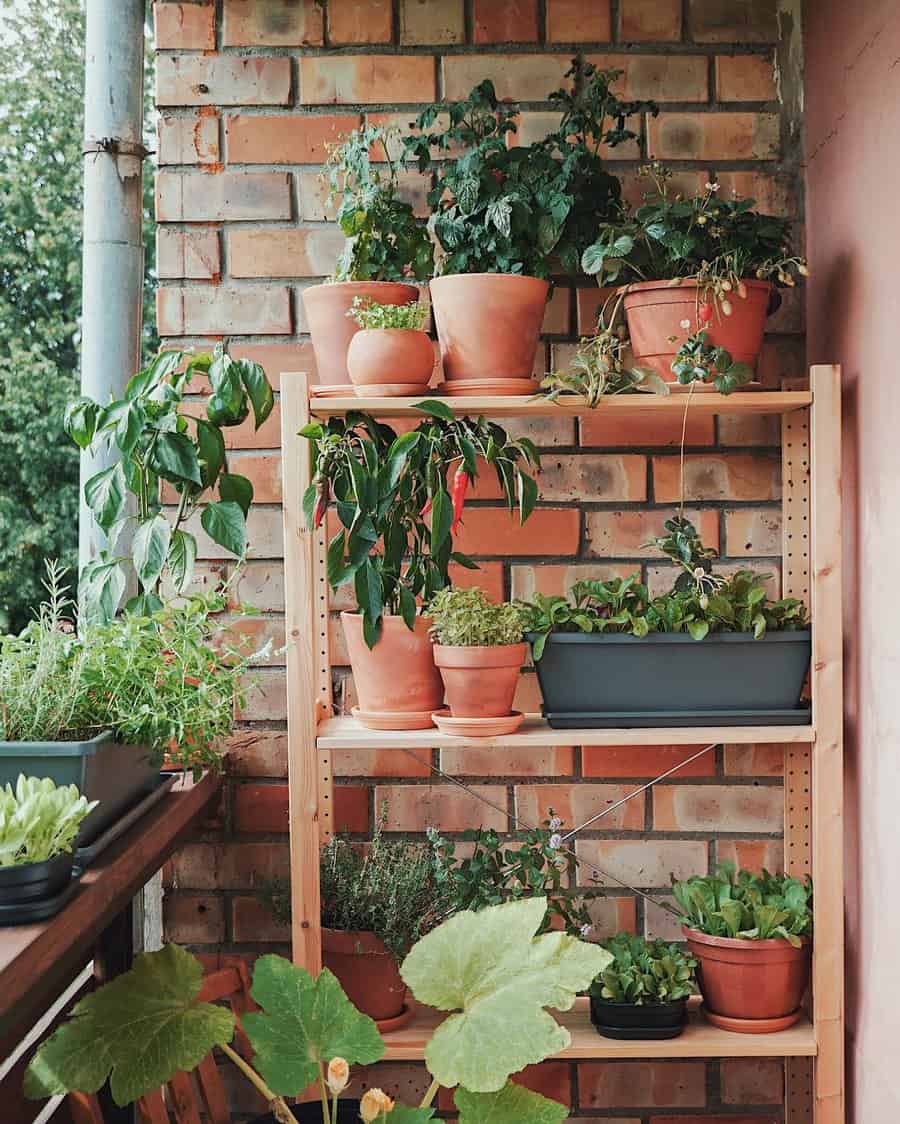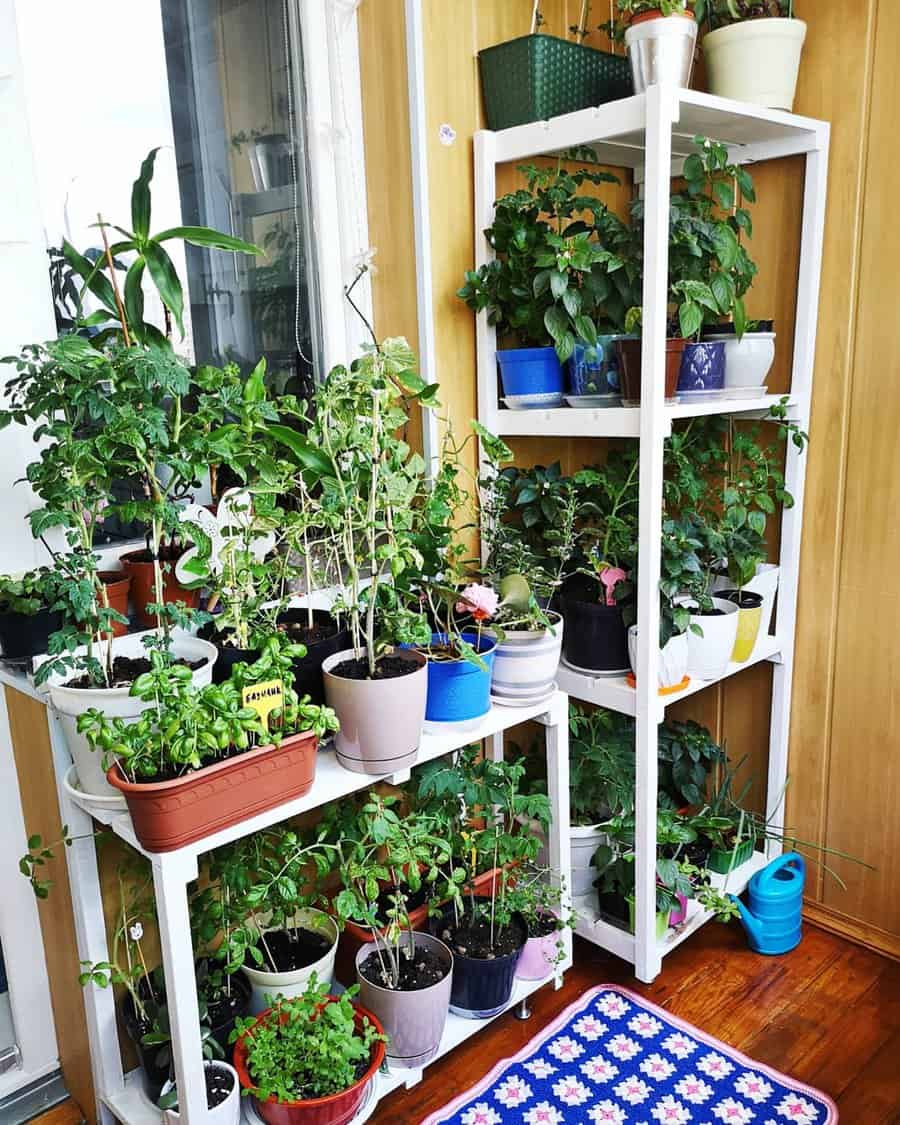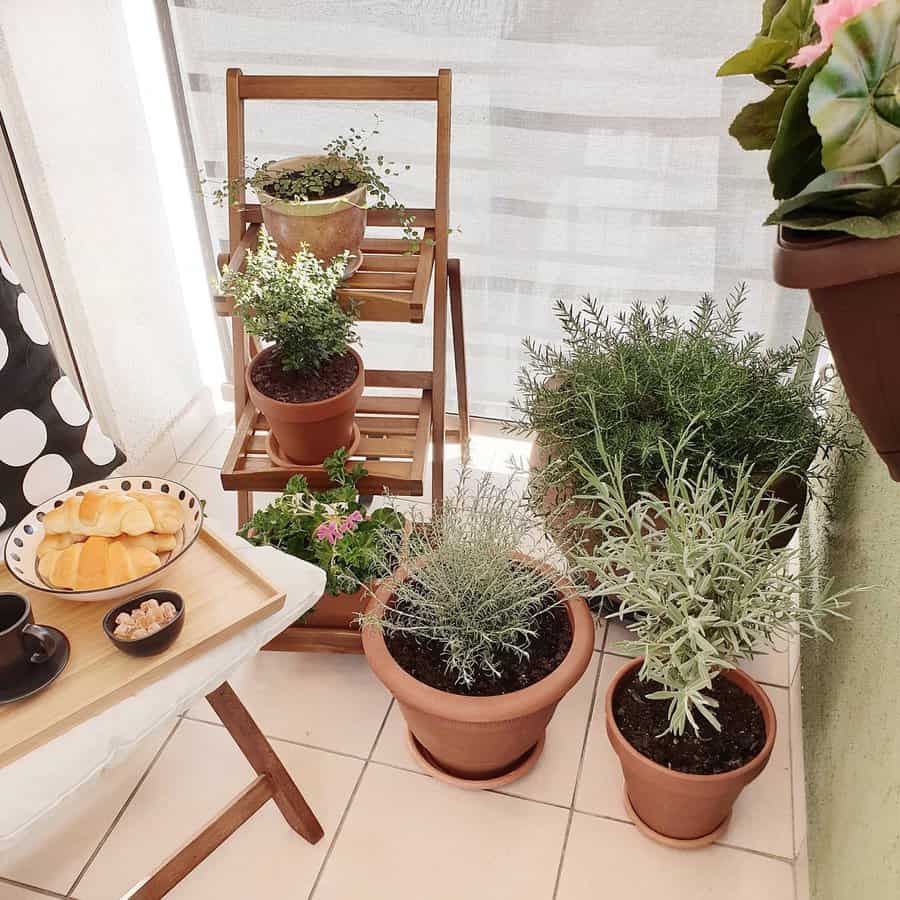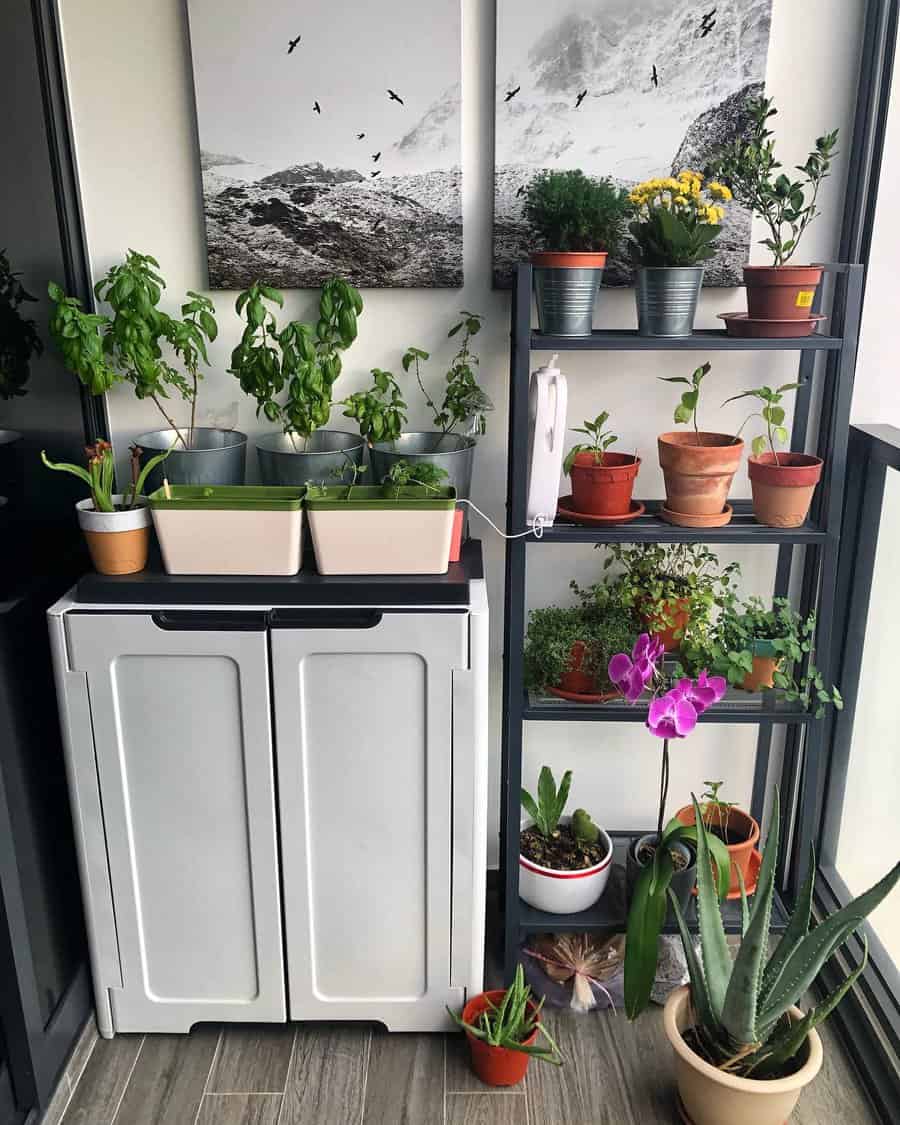 4. Macrame Hanging Planters
If you're looking for ways to add some greenery to your balcony, macrame hanging planters are a great option. These planters allow you to bring your favorite plants up off the ground and hang them on the ceiling or the railing of your balcony, freeing up valuable floor space while adding a touch of style and charm to your outdoor space.
Macrame hanging planters come in a variety of sizes and styles, from simple and understated to intricate and ornate. They are also versatile enough to hold a wide range of plants, from small succulents and herbs to larger plants such as ferns and spider plants.
By incorporating macrame hanging planters into your balcony garden design, you can create a beautiful and functional space that is perfect for relaxing and enjoying the outdoors.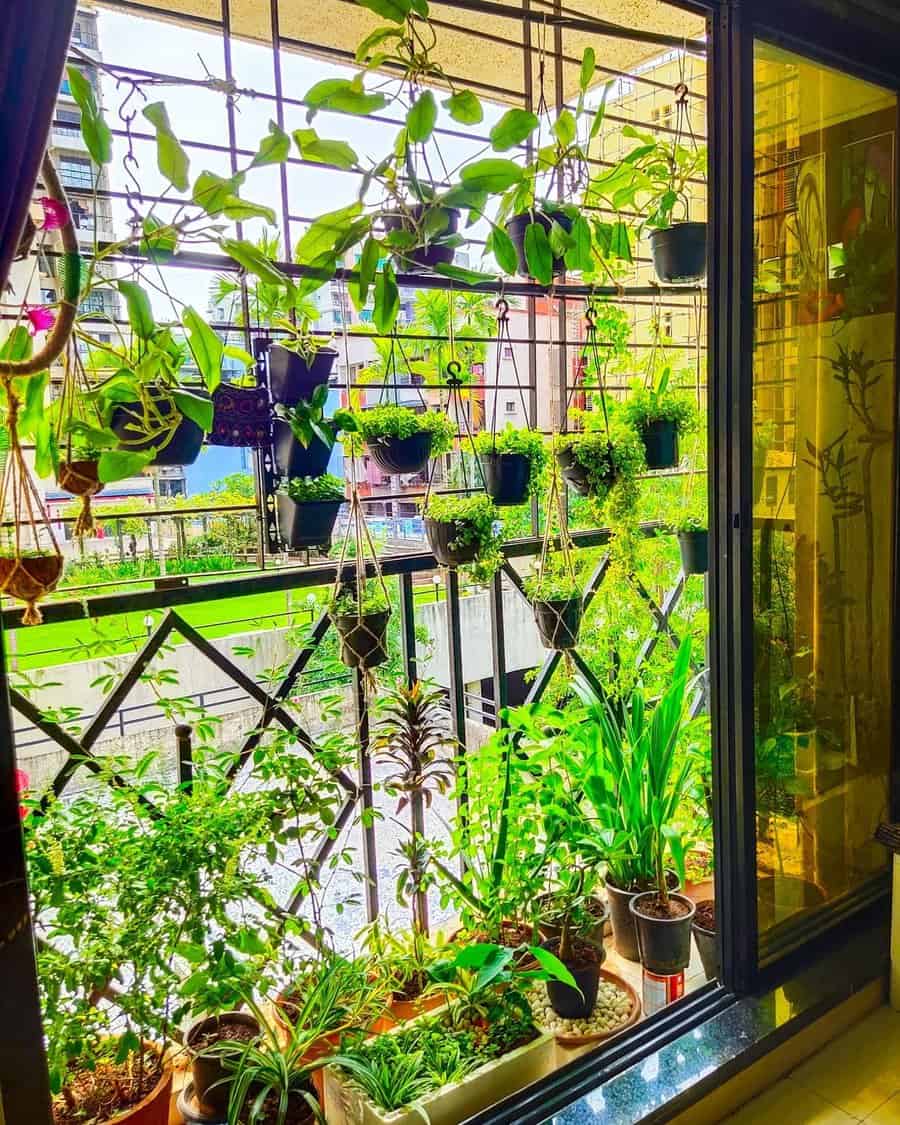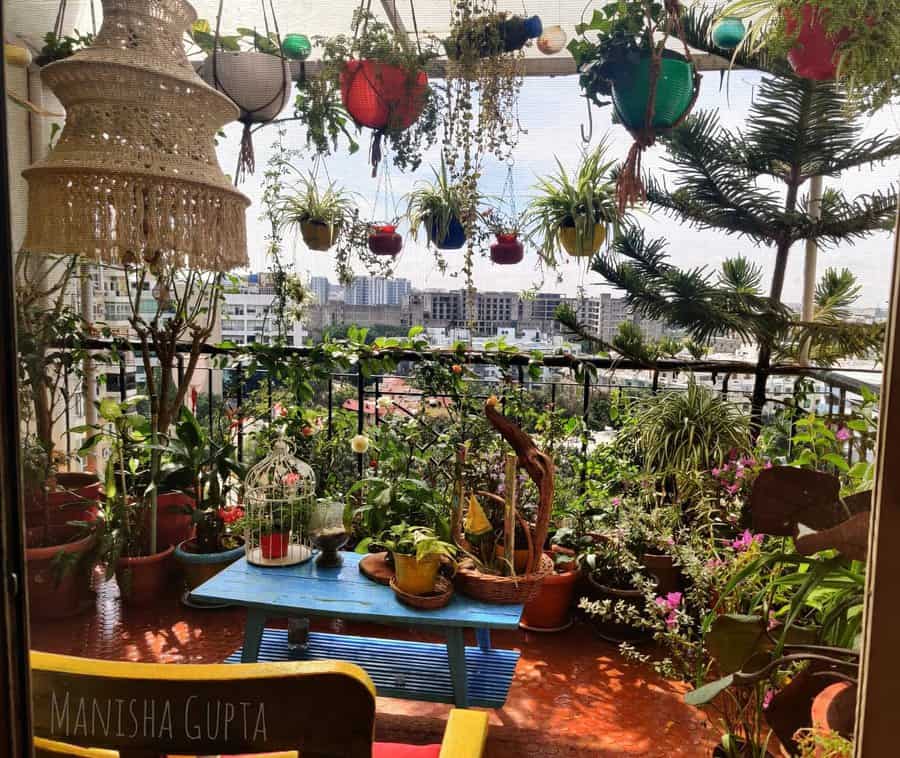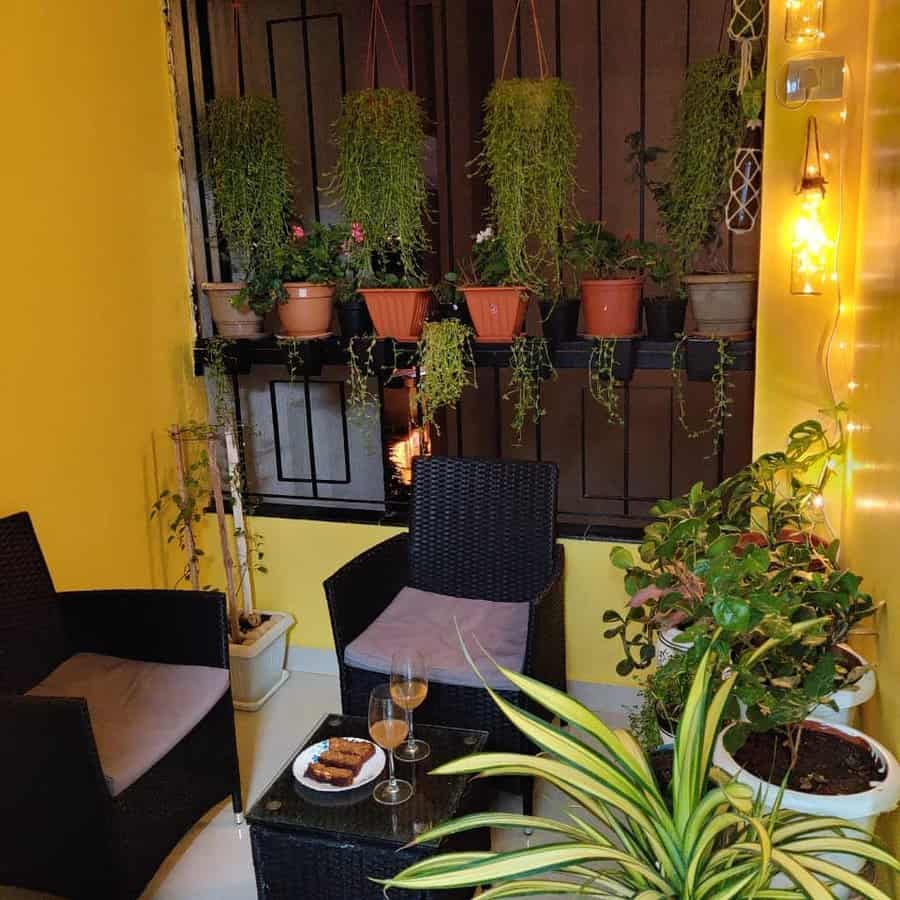 5. DIY Climbing Poles
Consider creating a balcony garden with DIY climbing poles made from sticks, bamboo ropes, or driftwood. Climbing plants such as ivy, morning glories, and jasmine can add beauty and fragrance to your outdoor space, and DIY climbing poles can be a creative and cost-effective way to support these plants as they grow.
By using natural materials such as sticks or driftwood, you can add a touch of rustic charm to your balcony garden. And by using bamboo ropes to secure the poles, you can create a sturdy and durable support structure that will last for years to come.
With a little bit of imagination and some natural materials, you can create a beautiful and sustainable outdoor space that you can enjoy all year round.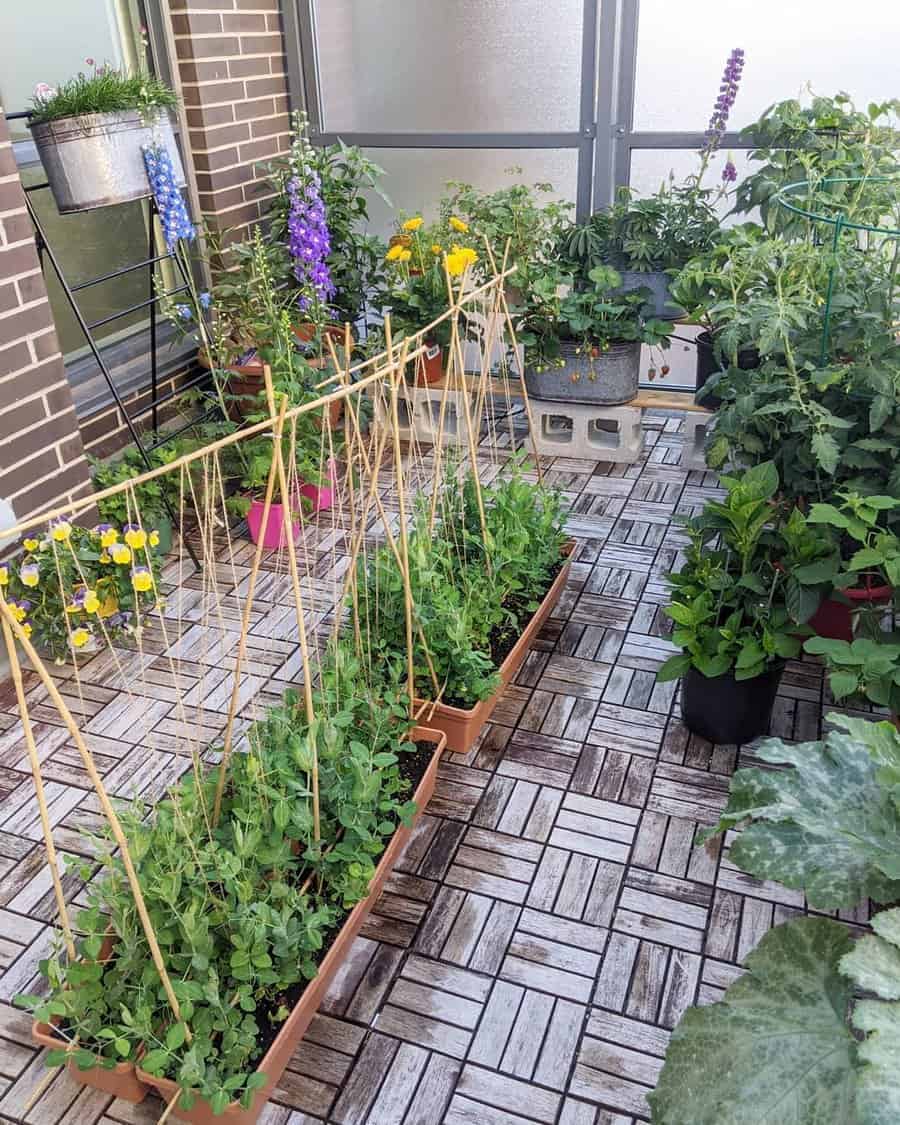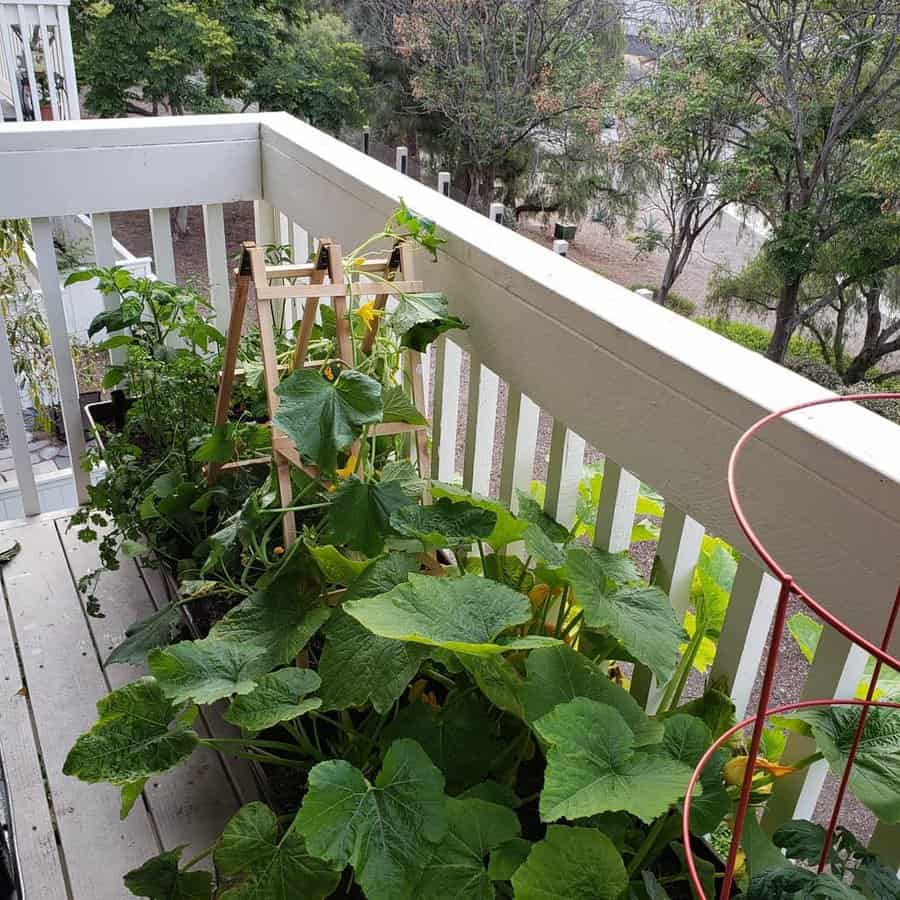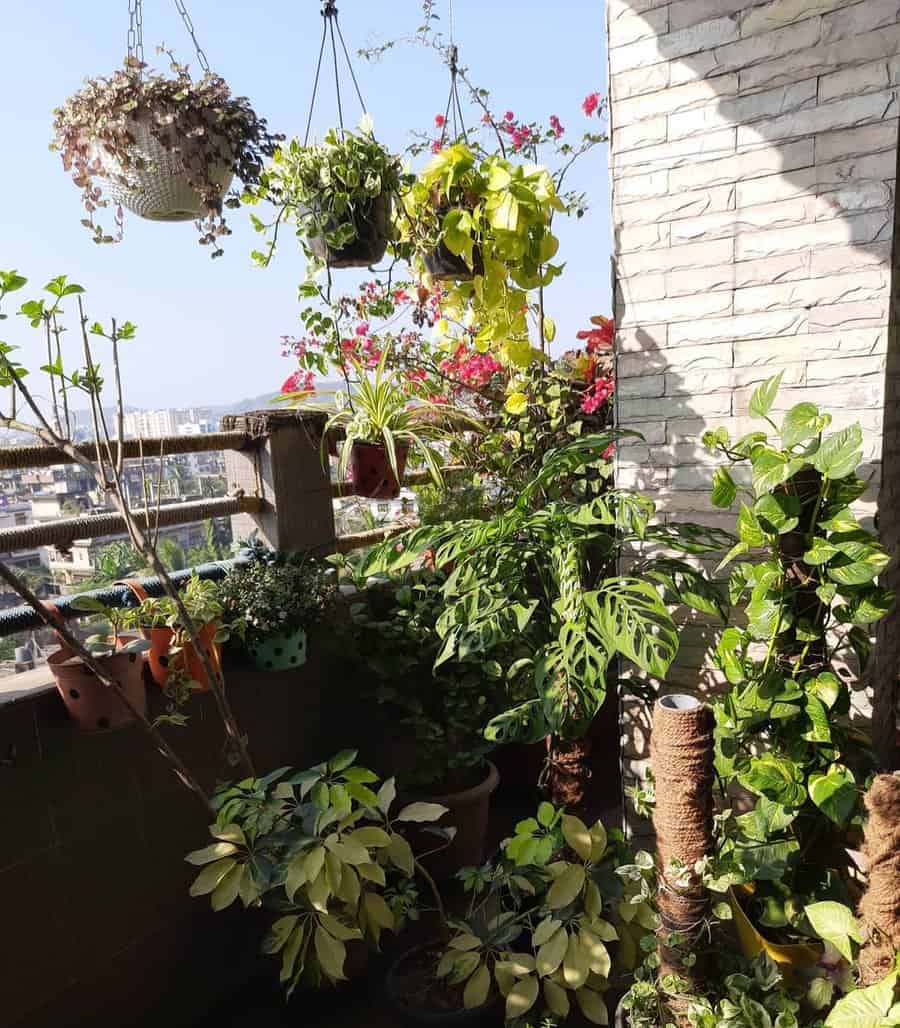 6. Labeled Herb Pots
Creating a balcony garden is a wonderful way to bring some greenery and freshness to your outdoor space, and labeling your herb pots can make them both functional and visually appealing. Using chalk markers or waterproof labels, you can easily label your pots with the names of the herbs you're growing. This not only makes it easy to identify each plant but also adds a charming touch to your garden.
For a more creative approach, you can also use paint to create a unique design on each pot before labeling them. Whether you prefer a simple and elegant design or a more playful and colorful one, labeling your herb pots with chalk markers, waterproof labels, or paint is an easy and effective way to make your balcony garden both beautiful and practical.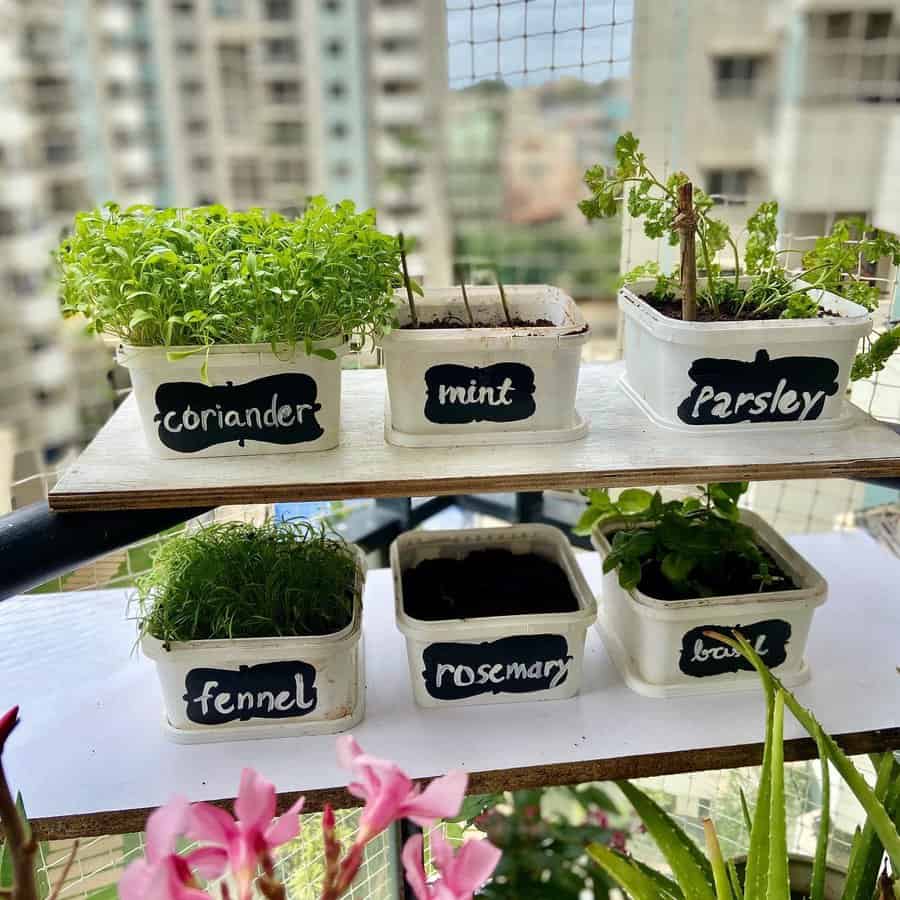 7. Set Up A Privacy Wall
Creating a balcony garden can be a great way to enjoy the outdoors while living in a city. However, privacy can often be a concern when setting up your balcony garden. One solution is to install a privacy fence or divider.
A bamboo reed privacy fence can be a great option as it is affordable and easy to install. Not only does it offer privacy, but it also adds a touch of natural beauty to your balcony. Alternatively, a divider can be installed using wooden panels, lattice, or metal screens.
These options can provide the necessary privacy while also adding to the aesthetic of your balcony garden. By setting up a privacy wall, you can create a comfortable and intimate outdoor space that allows you to relax and enjoy your balcony garden without being disturbed by passersby.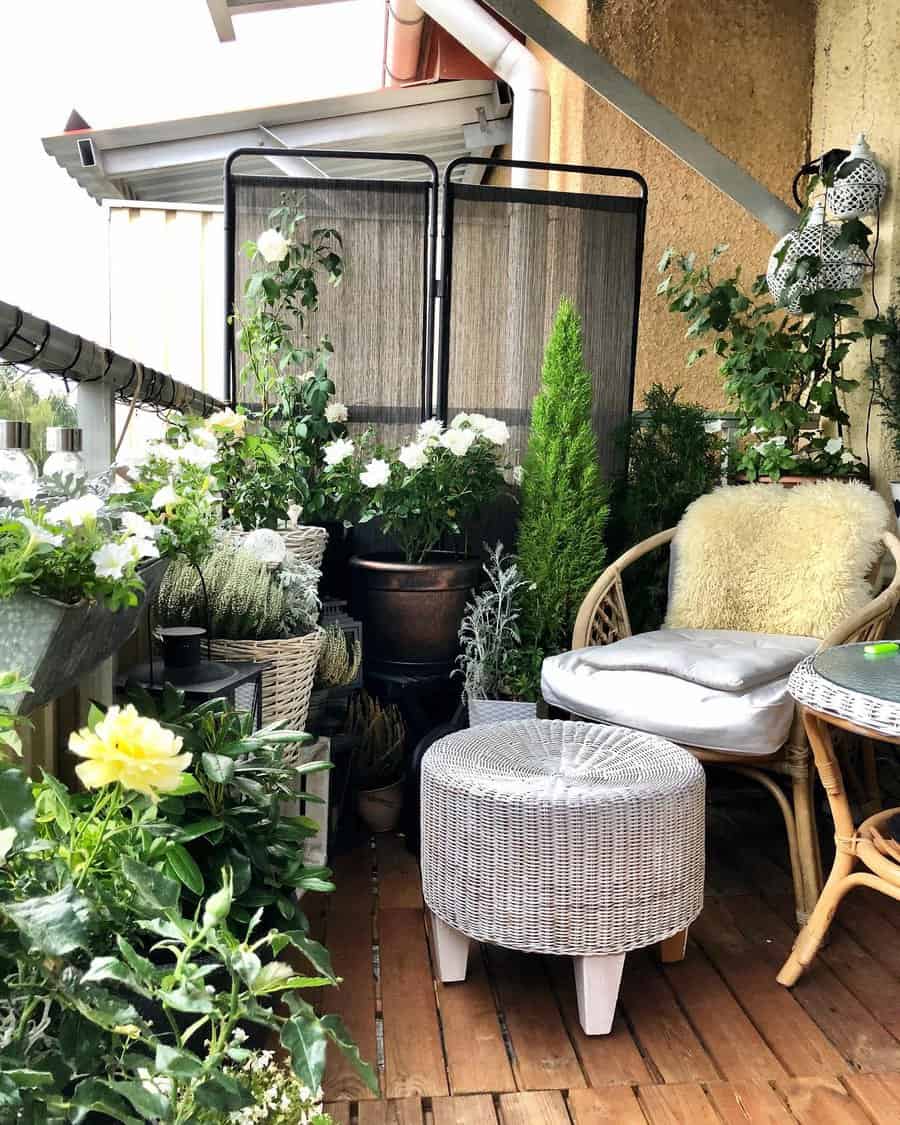 8. Repurposed Glass Aquariums
Looking for a unique and creative way to bring some greenery into your balcony garden? Why not repurpose old glass aquariums into a small glasshouse dupe or terrariums? These versatile containers make for a perfect base for a variety of balcony garden ideas.
You can use them to create a miniature garden filled with succulents, ferns, and other low-maintenance plants, or you can turn them into a small greenhouse to grow herbs and other edibles. With their clear glass walls, aquariums are also ideal for showcasing your favorite plants and creating a stunning visual display in your balcony garden.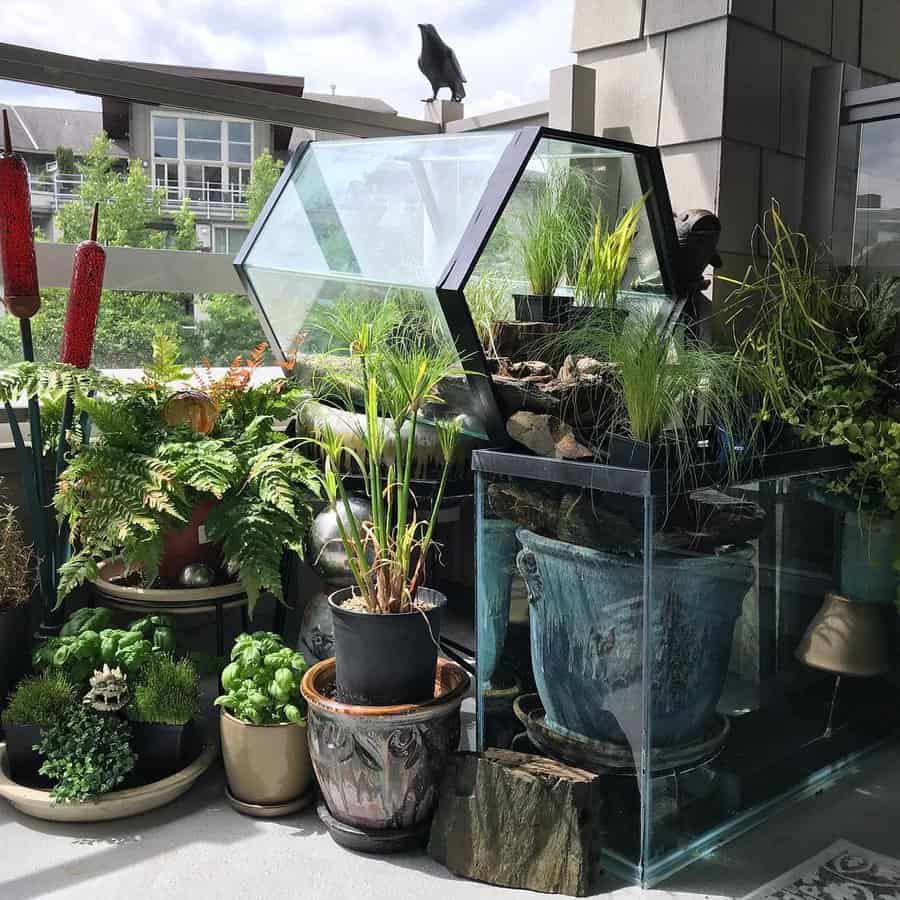 9. Garden Lighting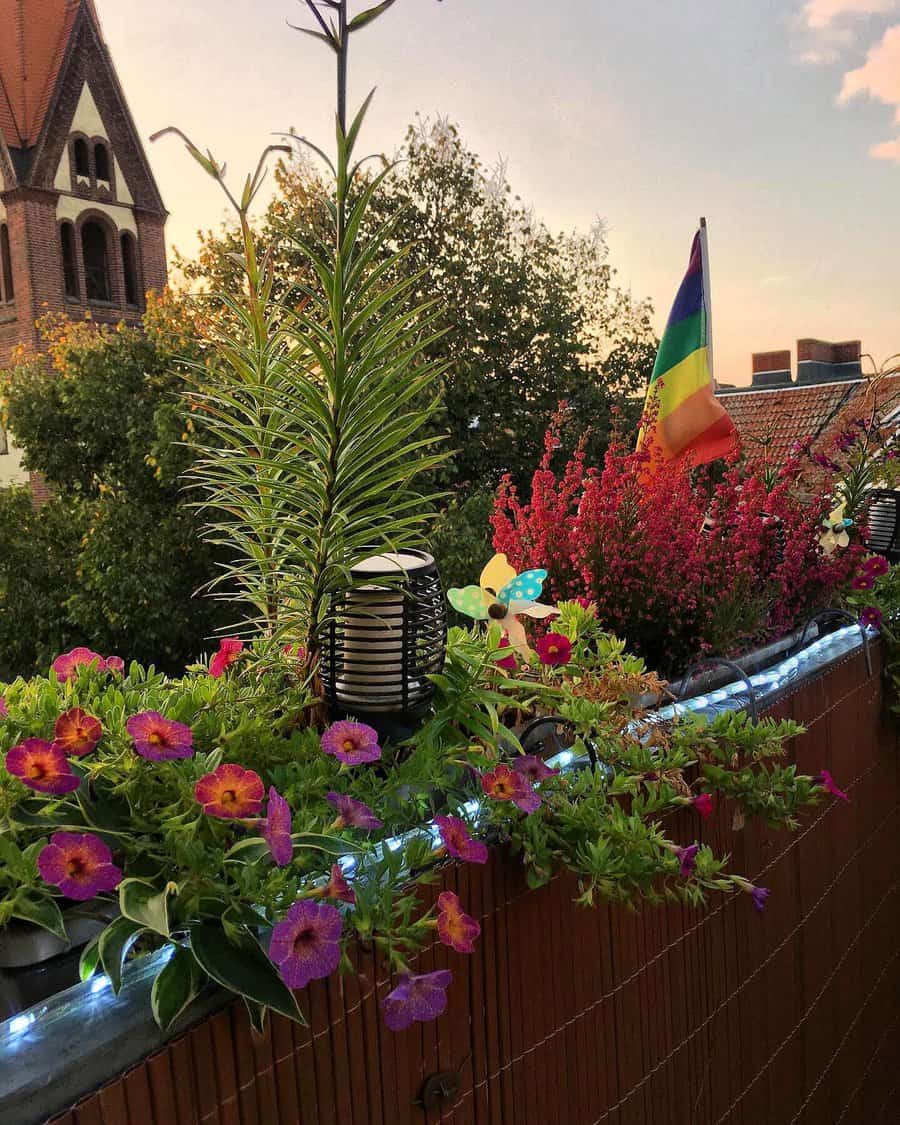 10. Hang Planters On The Railing
This technique is perfect for small spaces, as they don't take up any floor space, and they allow you to enjoy plants and flowers at eye level. Hanging planters also add a touch of charm and personality to your balcony, creating a cozy and inviting ambiance.
You can choose from a variety of plants that thrive in hanging planters, such as ivy, ferns, and petunias, and experiment with different colors, textures, and sizes to create a unique and personalized look. With the right care and attention, your hanging planters can add a touch of nature and beauty to your balcony all year round.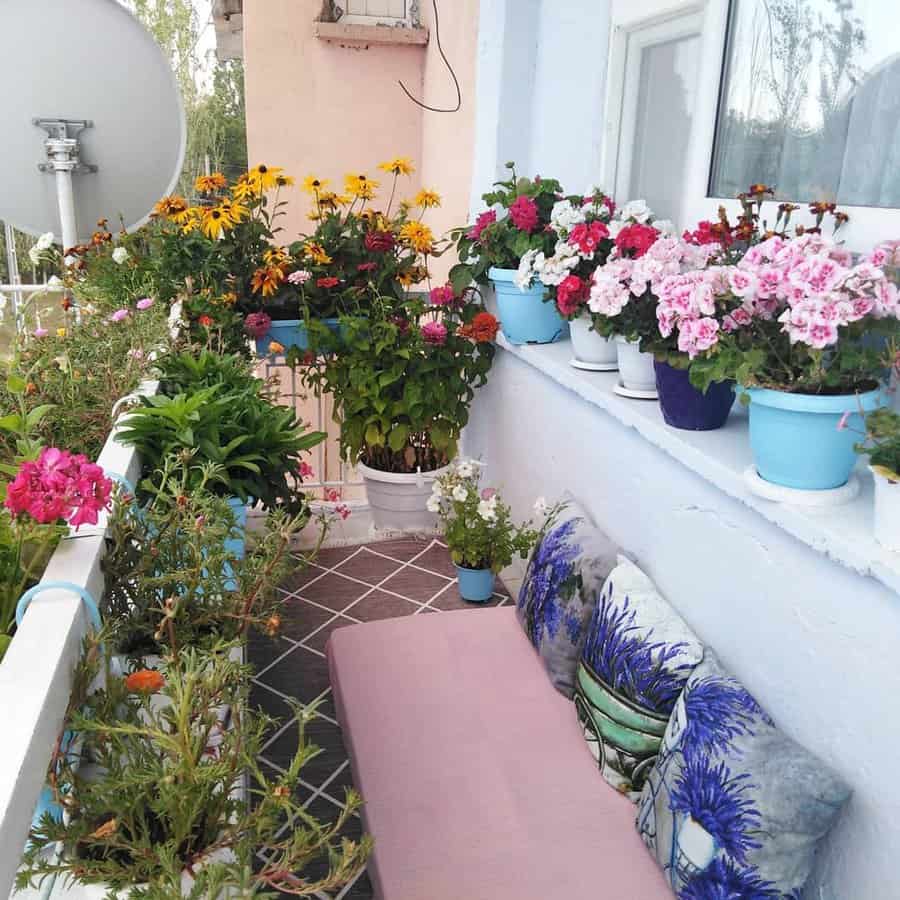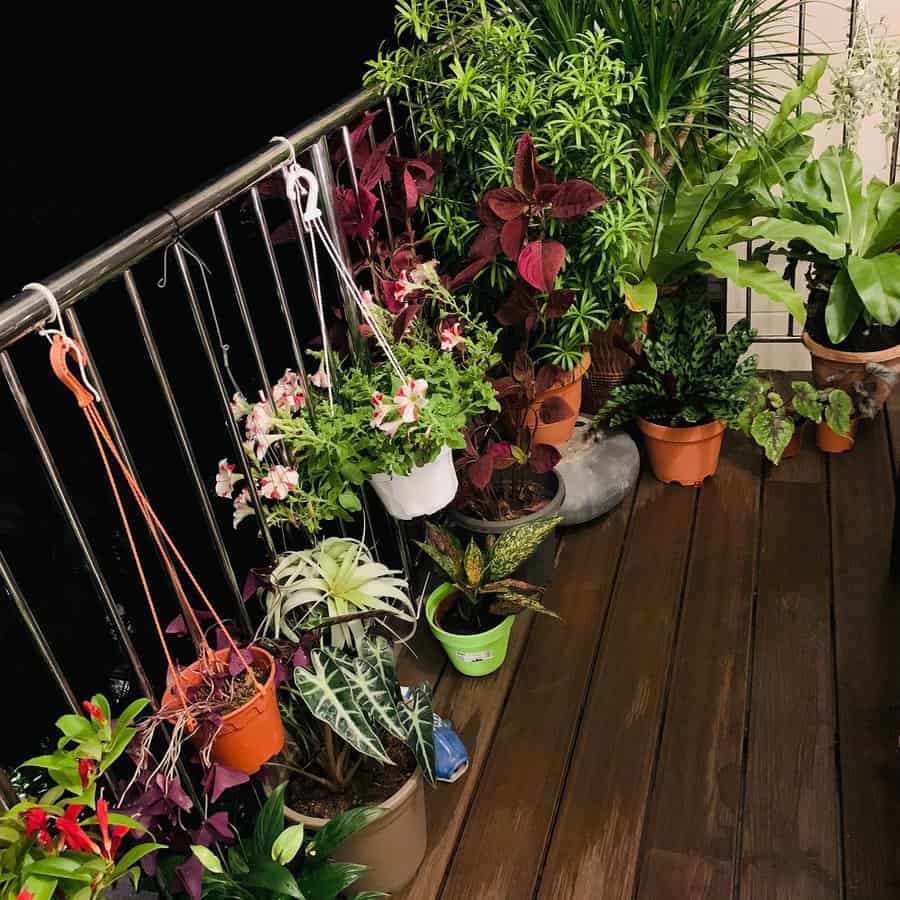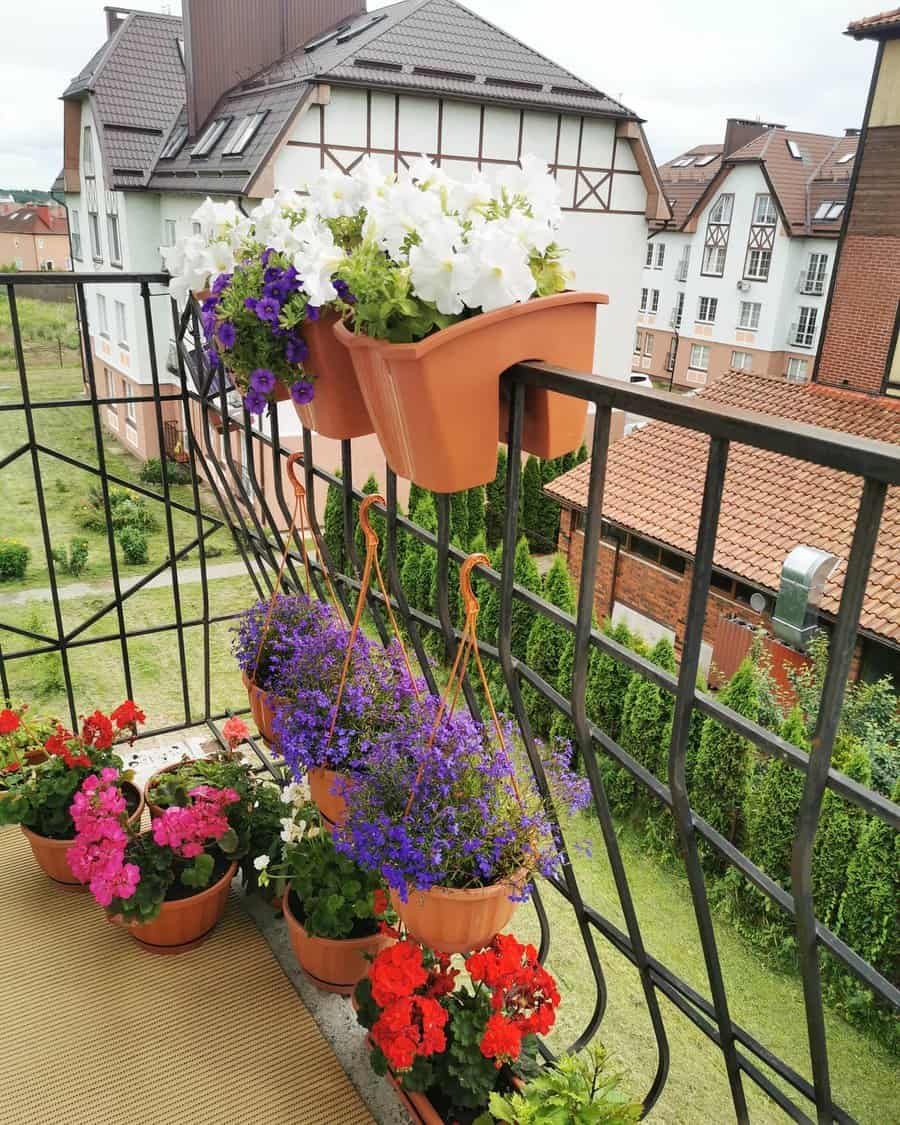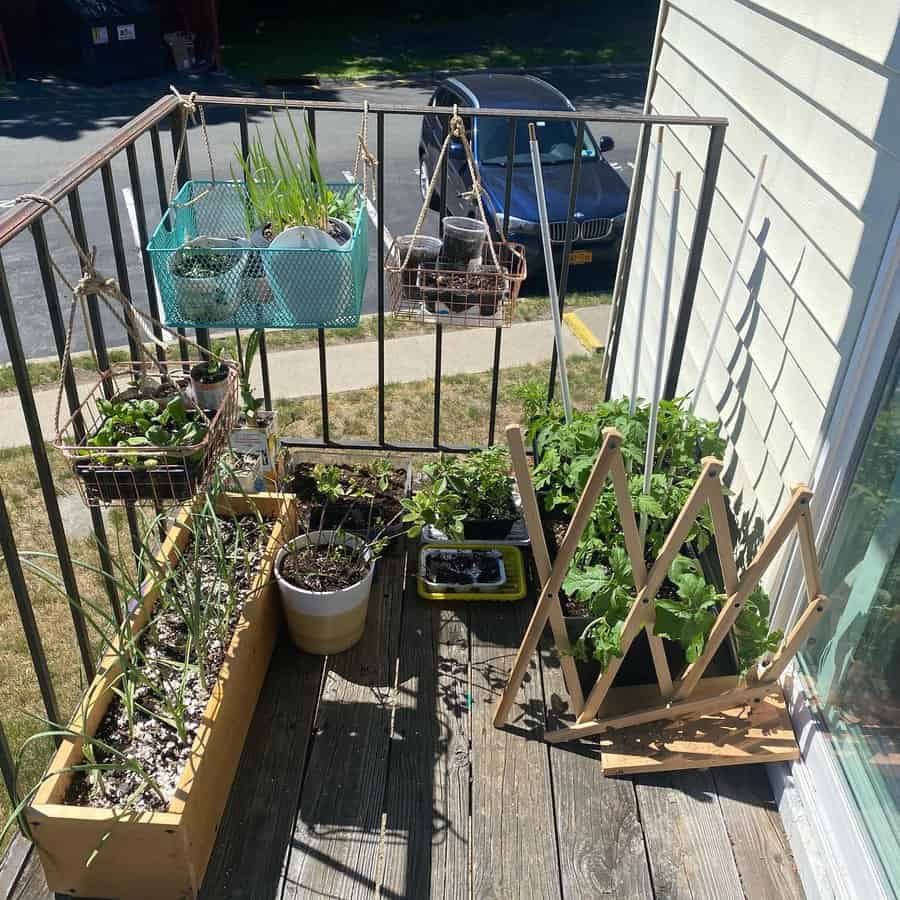 11. Wooden Pallet Planter
One balcony garden idea that is both easy to execute and affordable is using wooden pallets as planters. By repurposing old wooden pallets, you can create a unique and charming planter that can hold a variety of plants, herbs, and flowers.
Wooden pallet planters are not only eco-friendly, but they also add a rustic touch to your balcony garden. Additionally, they can be customized to fit your space and personal style. You can paint them, add some decorative elements, or even stack them to create a vertical garden.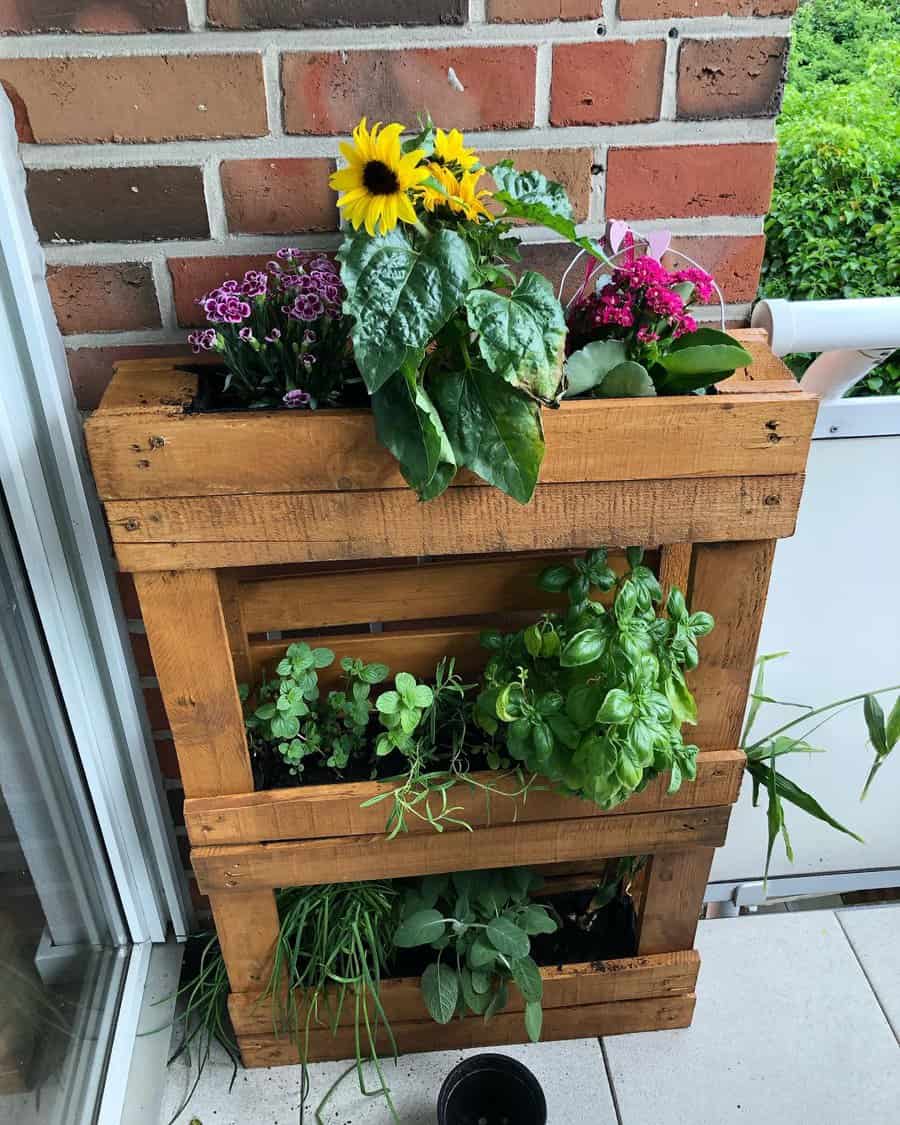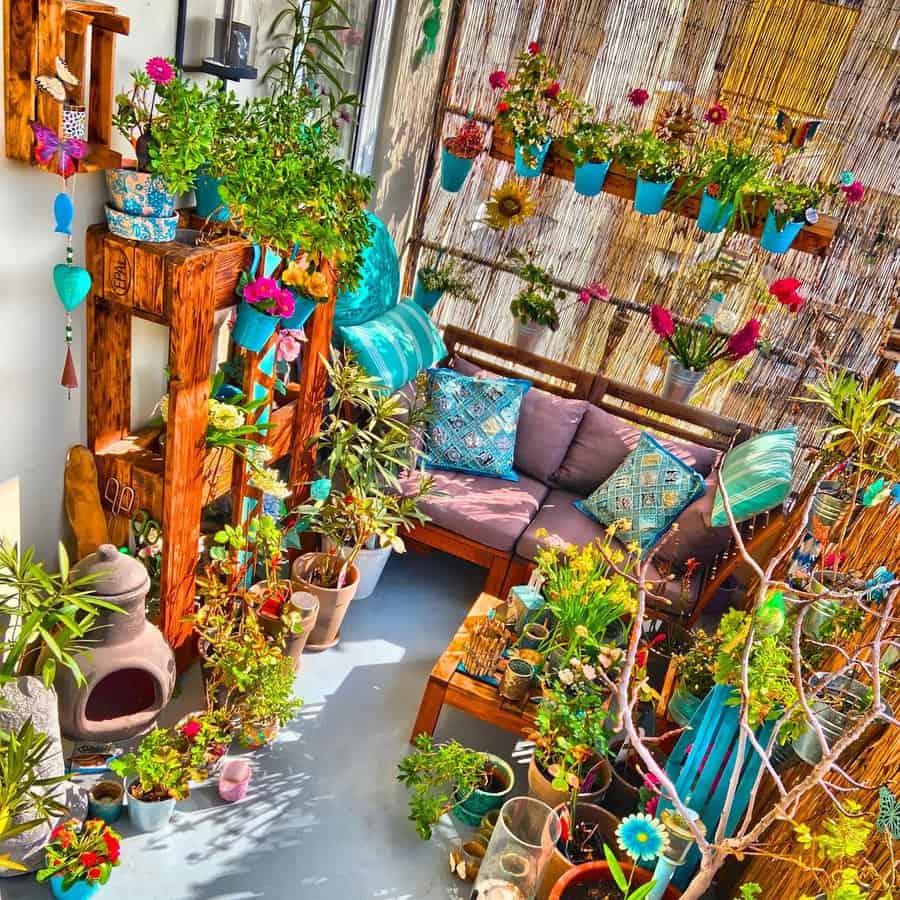 12. Layer Potted Plants With Wood Panels
By placing tall plants such as ferns or small trees in the back and shorter plants such as herbs or succulents in front, you can create the illusion of depth and texture.
Using panels of different heights, such as hanging baskets or shelving units, can help you create more vertical space for your plants, allowing you to add even more greenery to your balcony without sacrificing valuable floor space. In addition, you can incorporate a variety of colors and textures to create a vibrant and lively atmosphere.
13. Plastic Pots
Plastic pots are lightweight, durable, and easy to move around, making them perfect for small balconies where space is limited. With a variety of sizes and styles available, you can easily find plastic pots that suit your design aesthetic and complement your balcony's overall look.
Consider planting herbs, succulents, or small flowers in your plastic pots to create a vibrant and fragrant balcony garden that's both practical and visually appealing. And with plastic pots, you don't have to worry about rust or decay, which means you can enjoy your balcony garden for years to come.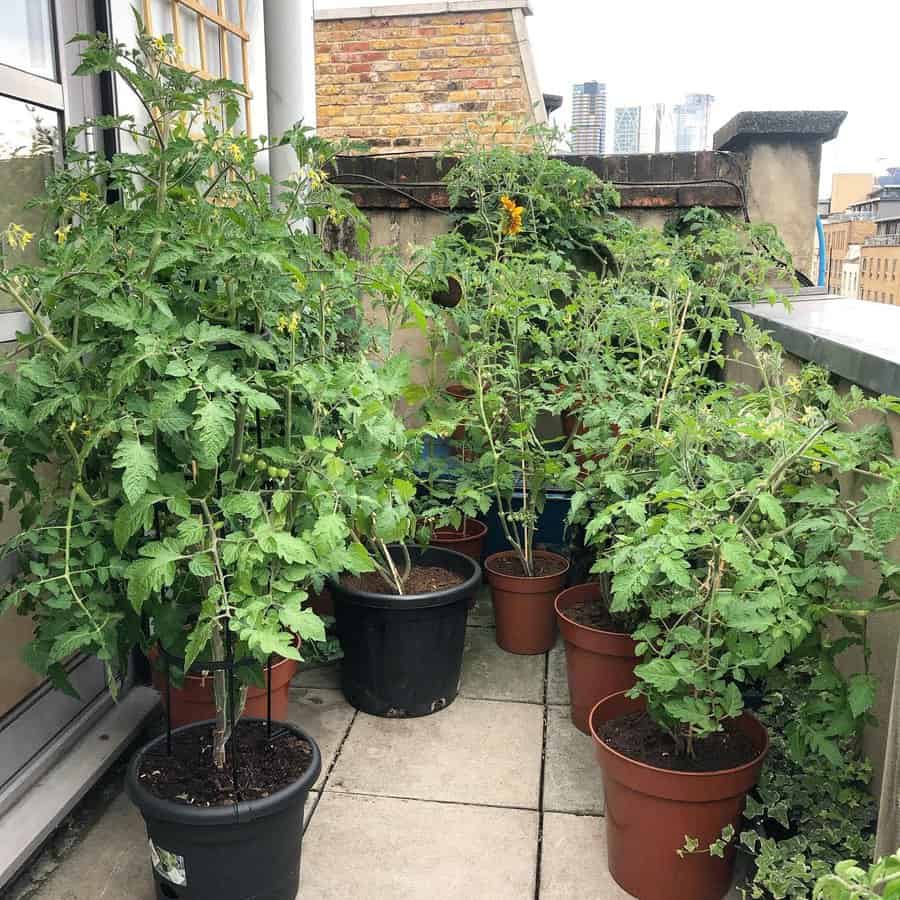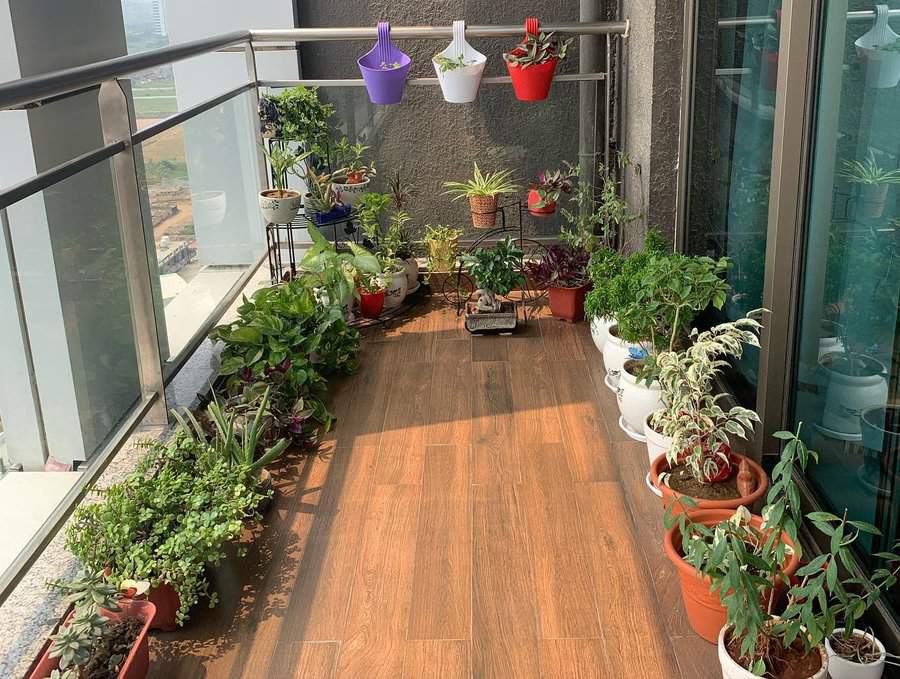 14. Diversify Plant Placement
Another way to make the most of your balcony garden is by diversifying plant placement. Instead of placing all of your plants in one spot, consider spreading them out across your balcony. For example, you can place hanging plants on the railing, potted plants on the floor, and a vertical garden on the wall.
This not only adds visual interest to your space but also creates more opportunities for plants to thrive. By diversifying plant placement, you can take advantage of varying levels of sunlight, shade, and wind that different areas of your balcony receive. This can help ensure that all of your plants have the ideal growing conditions they need to thrive.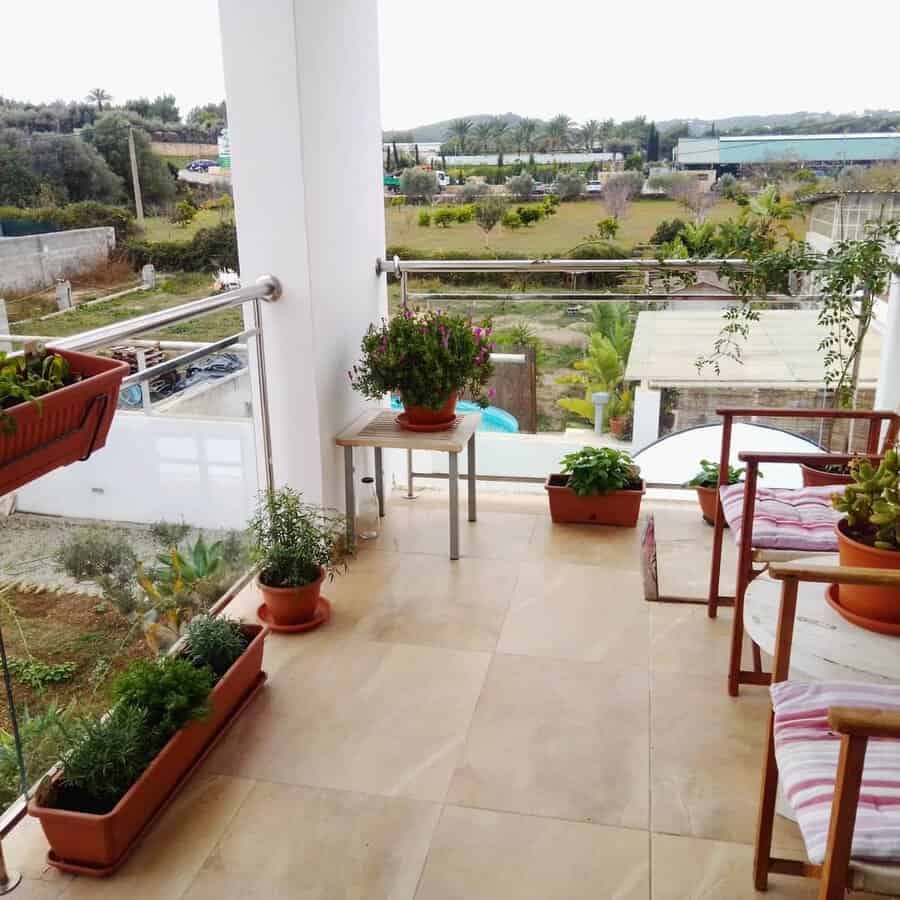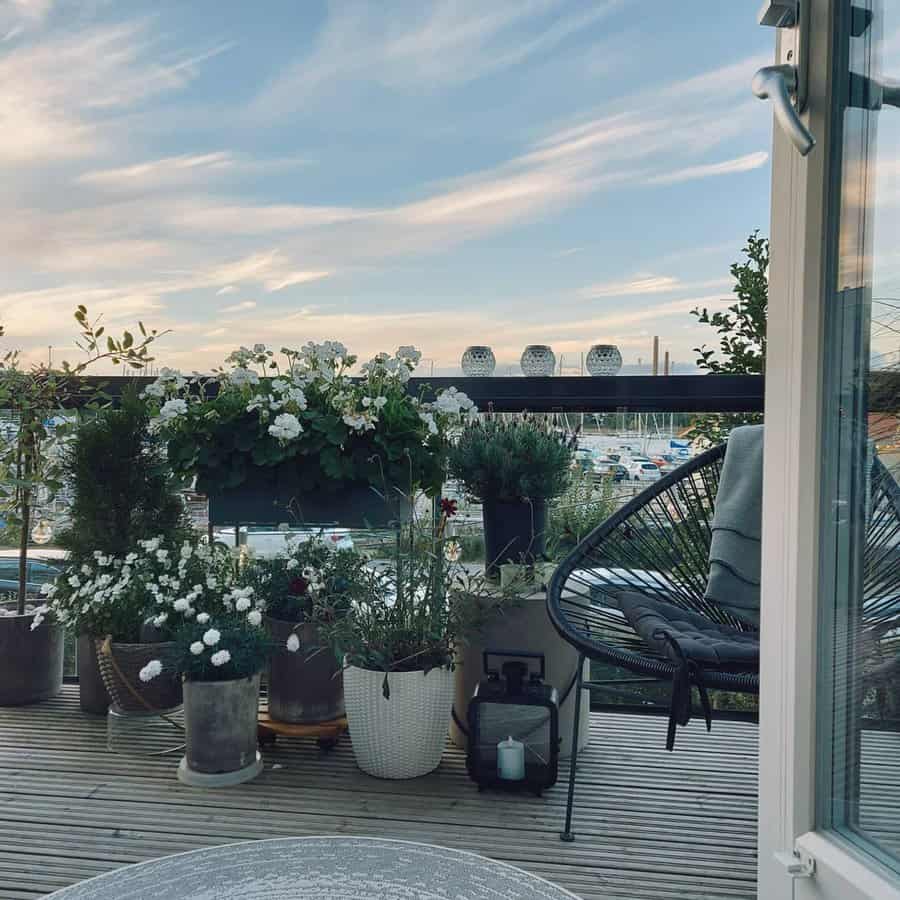 15. DIY Painted Pots
This simple and fun project allows you to add a personal touch to your balcony garden while also being practical. To get started, you'll need some terracotta pots, acrylic paint, paintbrushes, and a sealer. Once you have your supplies, you can let your imagination run wild and create a variety of designs and patterns to match your personal style and décor.
Whether you opt for bold colors, intricate designs, or simple patterns, DIY-painted pots are a great way to add a pop of color and personality to your balcony garden. Plus, painting your own pots is a budget-friendly alternative to buying pre-decorated planters, allowing you to save money while still achieving a stylish look.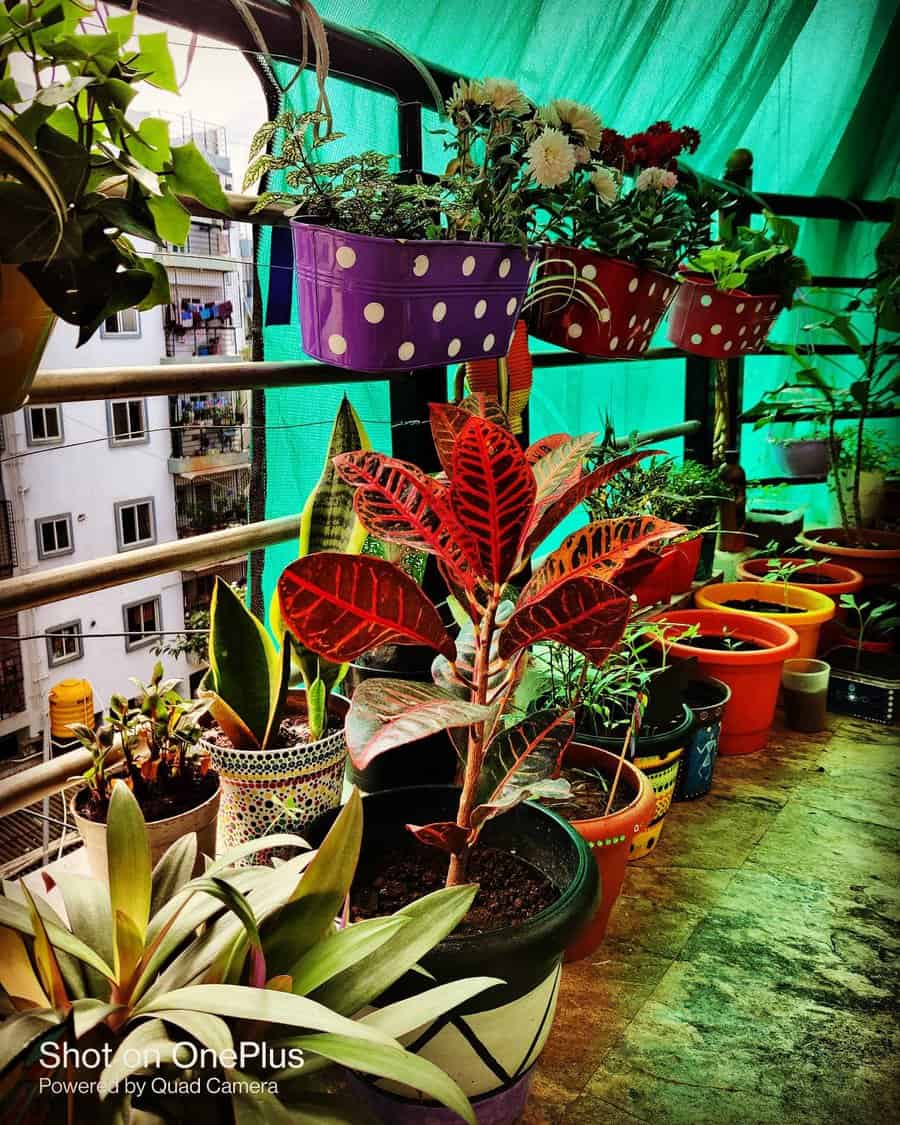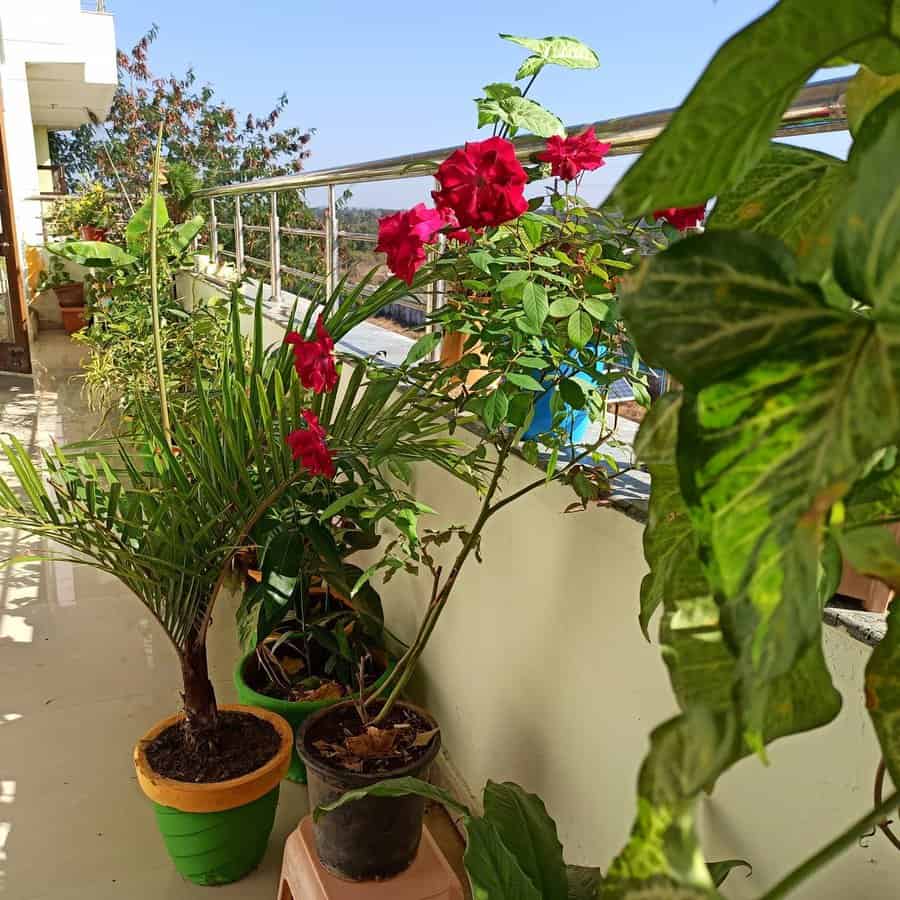 16. Floating Shelf Garden
One creative way to maximize your balcony garden is by incorporating a floating shelf garden. This unique concept involves attaching a series of shelves to your balcony railing, allowing you to create a vertical garden that takes up minimal floor space.
You can choose a variety of small plants or herbs and arrange them on each shelf, creating a beautiful and functional garden display. Not only does this make for a visually appealing space, but it also provides easy access to fresh herbs for cooking. With a little creativity and planning, a floating shelf garden can transform your balcony into a stunning and productive garden oasis that you can enjoy year-round.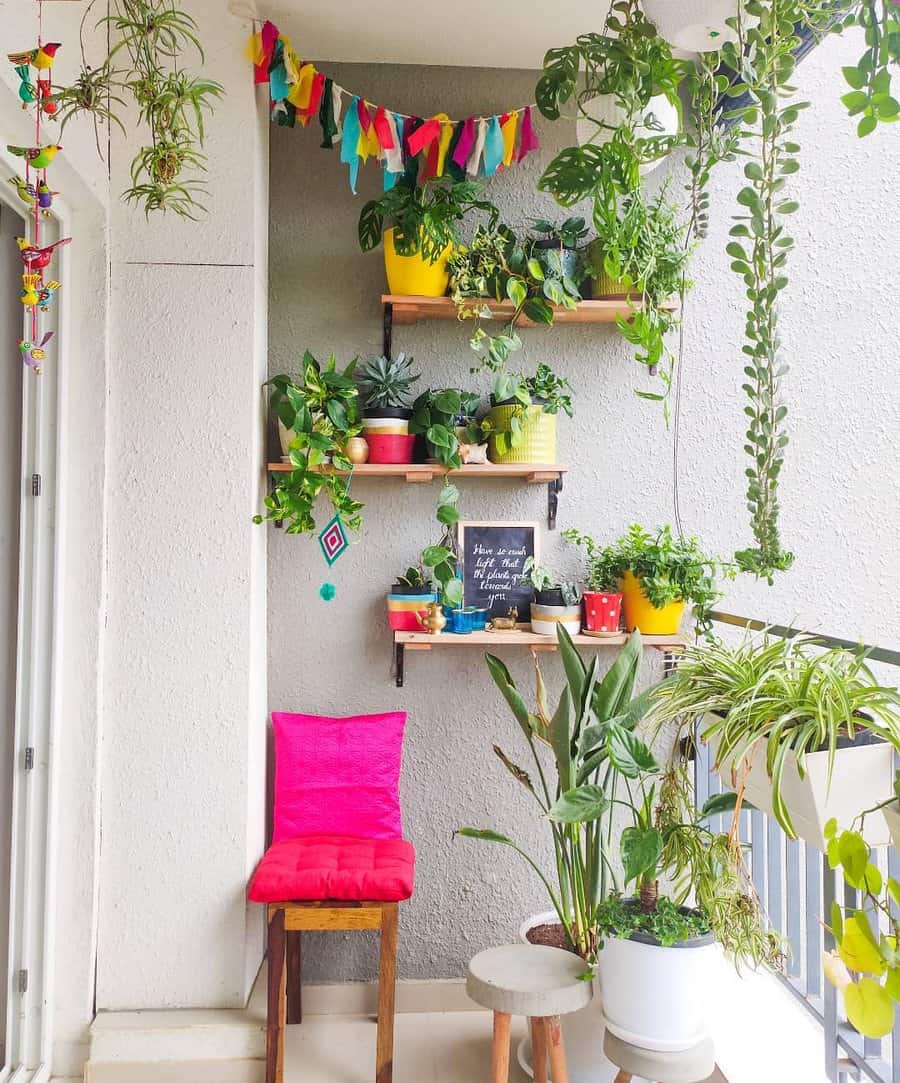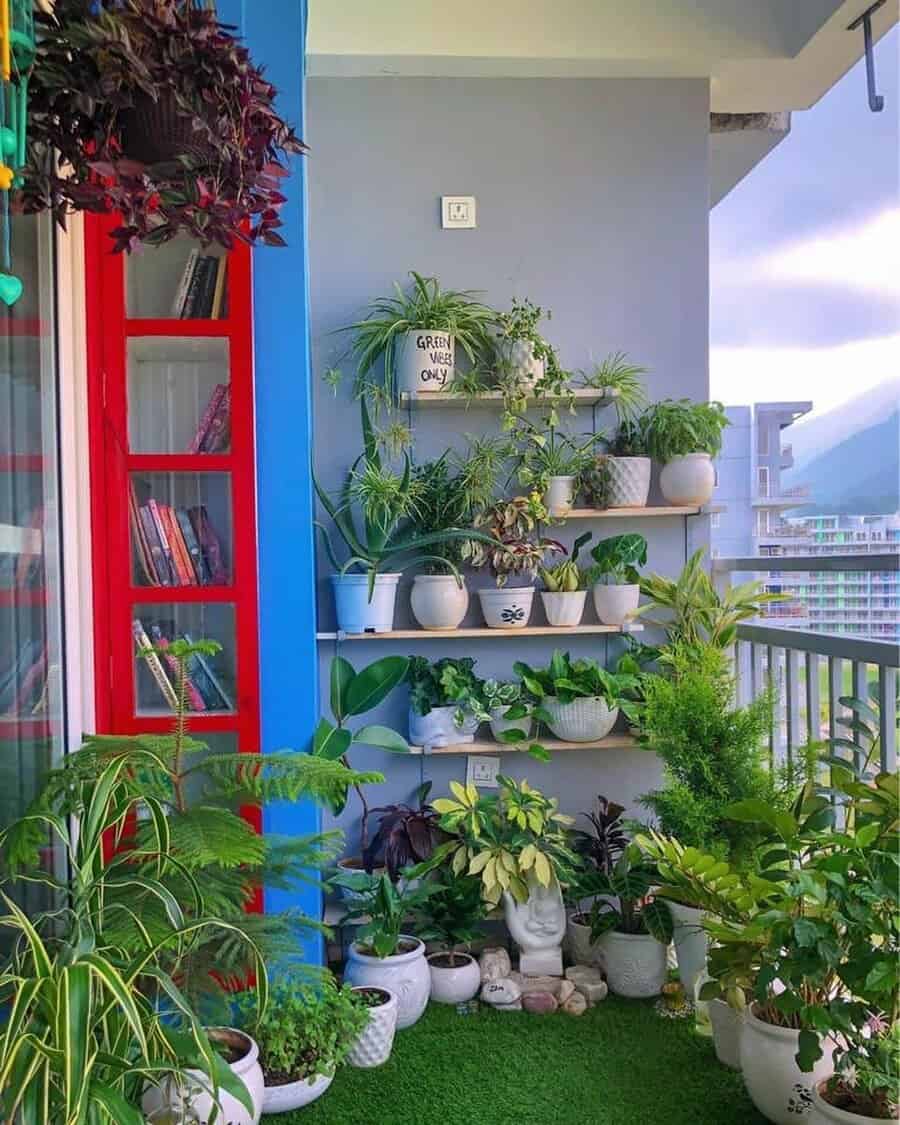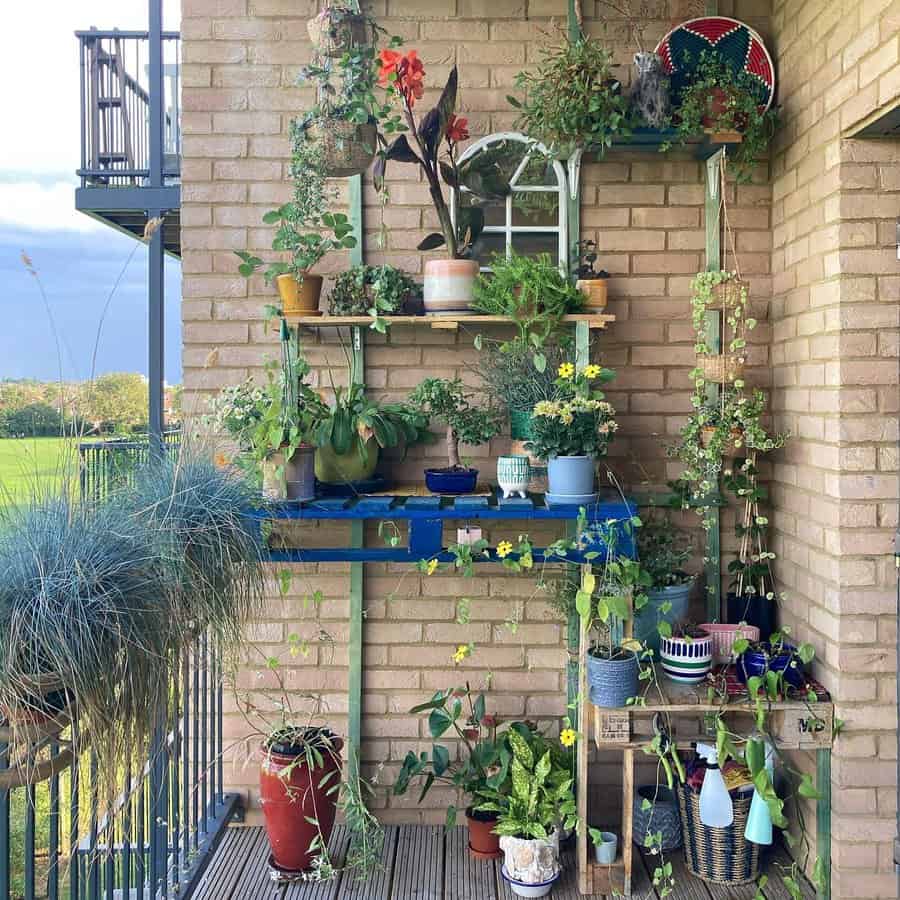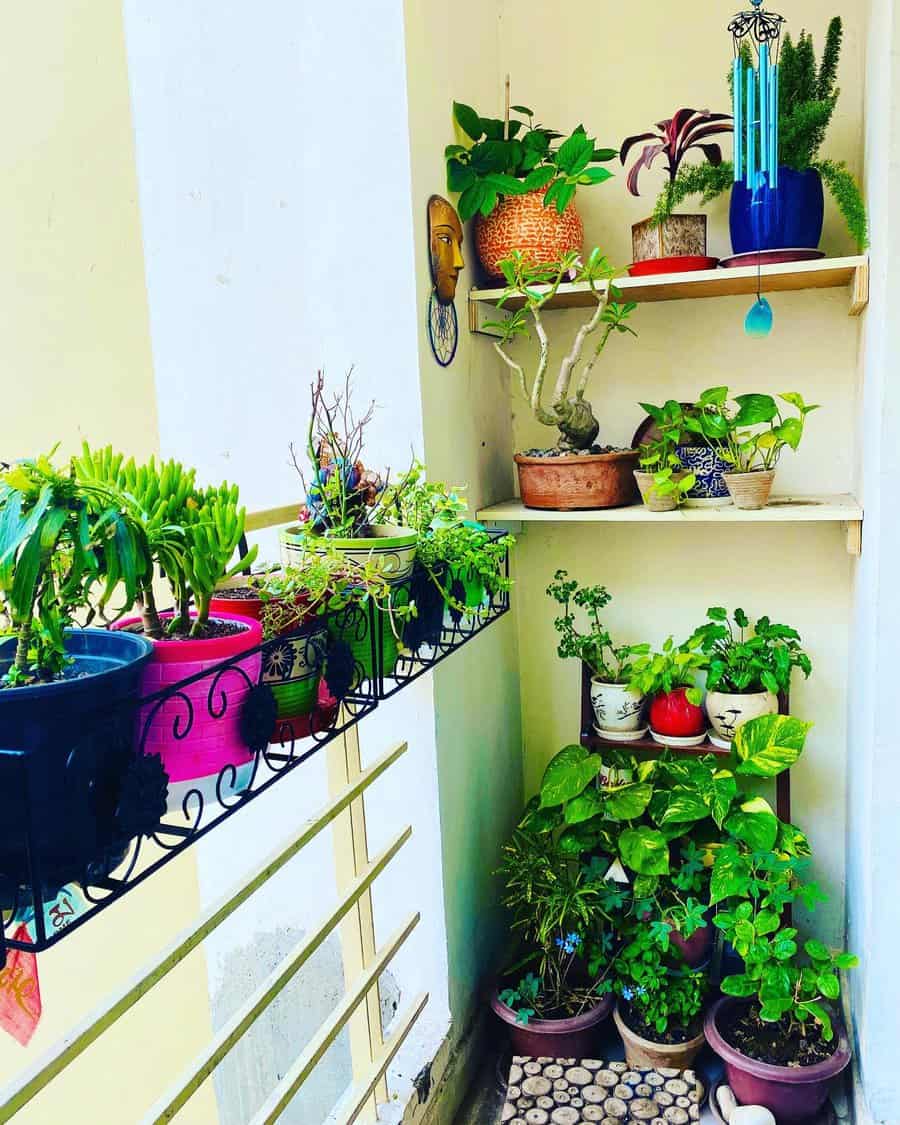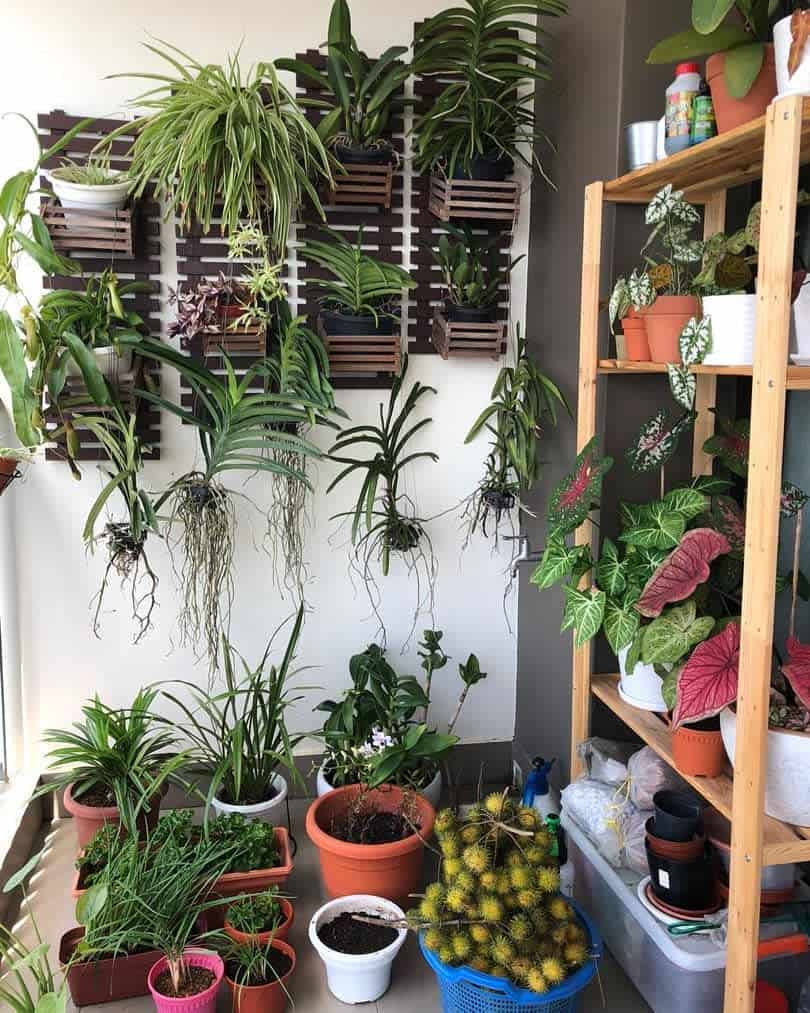 17. Garden Daybed
A balcony garden is a wonderful way to bring a touch of nature into your home, and a garden daybed is a perfect addition to create a cozy and relaxing outdoor oasis. Whether you have a small or large balcony, a daybed is a practical and stylish choice for those who want to enjoy the outdoors from the comfort of their own home.
You can create a lush and vibrant garden with hanging planters, potted plants, and small trees that complement the natural beauty of your daybed. Adding a few throw pillows and blankets to your daybed can also make it a comfortable place to relax and enjoy the view. With the right combination of plants, furniture, and accessories, you can create a beautiful balcony garden that is both functional and visually stunning.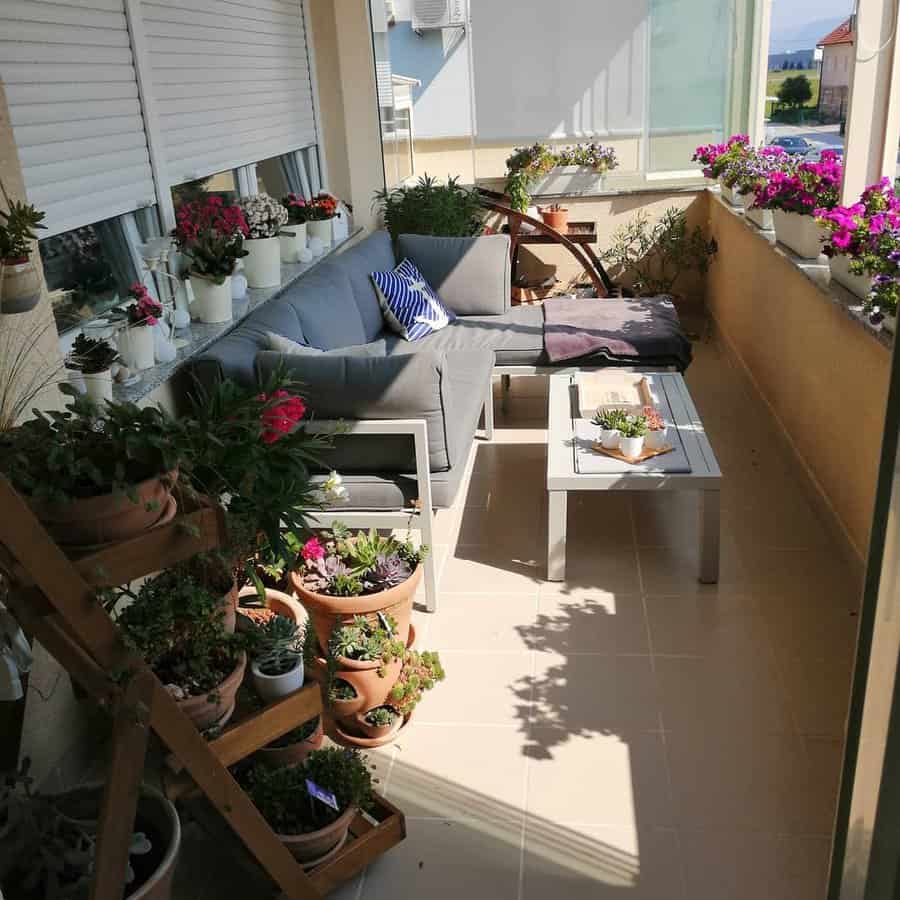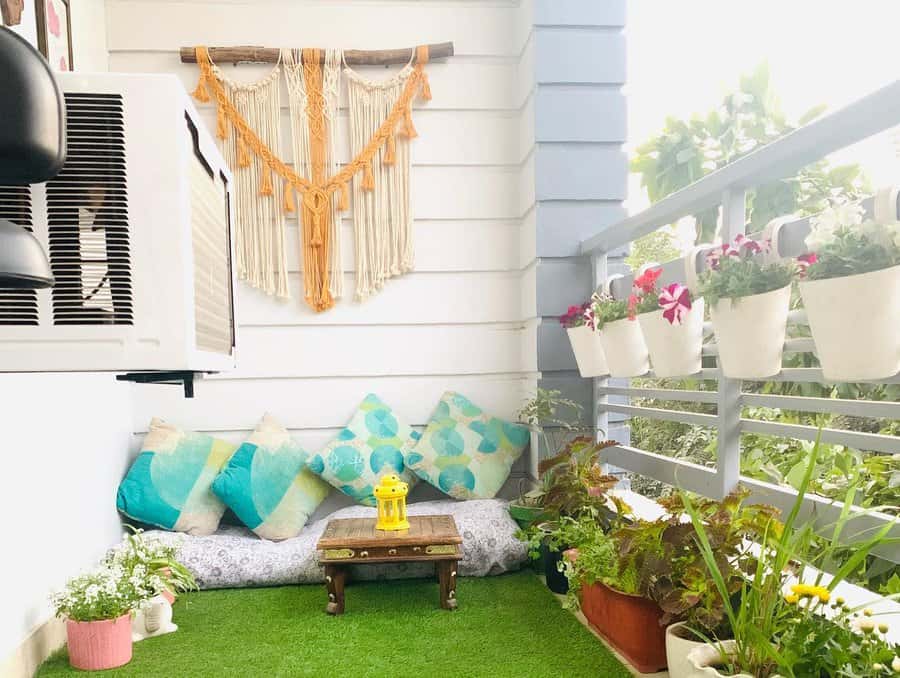 18. Garden Statues
Garden statues can range from classic and traditional to modern and abstract, making it easy to find a style that suits your taste and complements your existing decor. Whether you choose a whimsical gnome or a sleek and modern sculpture, garden statues can serve as a focal point in your balcony garden and add a touch of artistry to your outdoor space.
Additionally, garden statues can help you create a theme for your balcony garden, such as a Zen garden or a fairy garden, and can help you express your personal style and creativity.