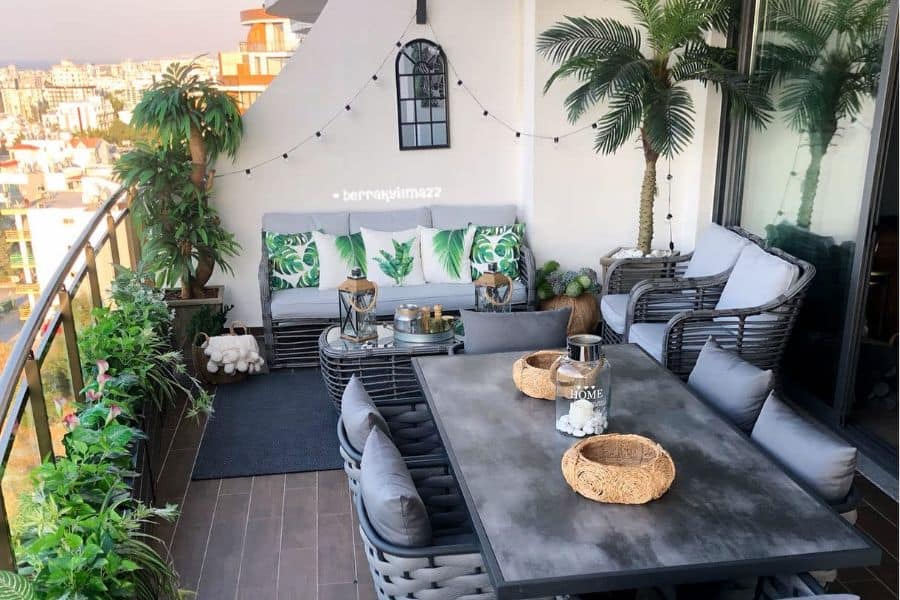 The Top 47 Balcony Garden Ideas
City life comes with a long list of benefits. You're always surrounded by interesting places and people. And — if you live in an apartment or condo — you never have to deal with the hassle of lawn care.
For green-thumbed individuals, though, living in the city can be a major sacrifice. Without a backyard, cultivating a green space to call your own can feel impossible.
Despite what you might assume, gardening does not require access to physical land. Take balcony gardening for example, which relies exclusively on containers to grow flowers, herbs, vegetables, and more.
Keep reading for the top balcony garden ideas that will inspire how you utilize your outdoor living space this summer.
1. Apartment
For many, gardening is one of the greatest benefits of owning a home rather than renting an apartment. But you shouldn't need to wait for this milestone to start growing plants of your own.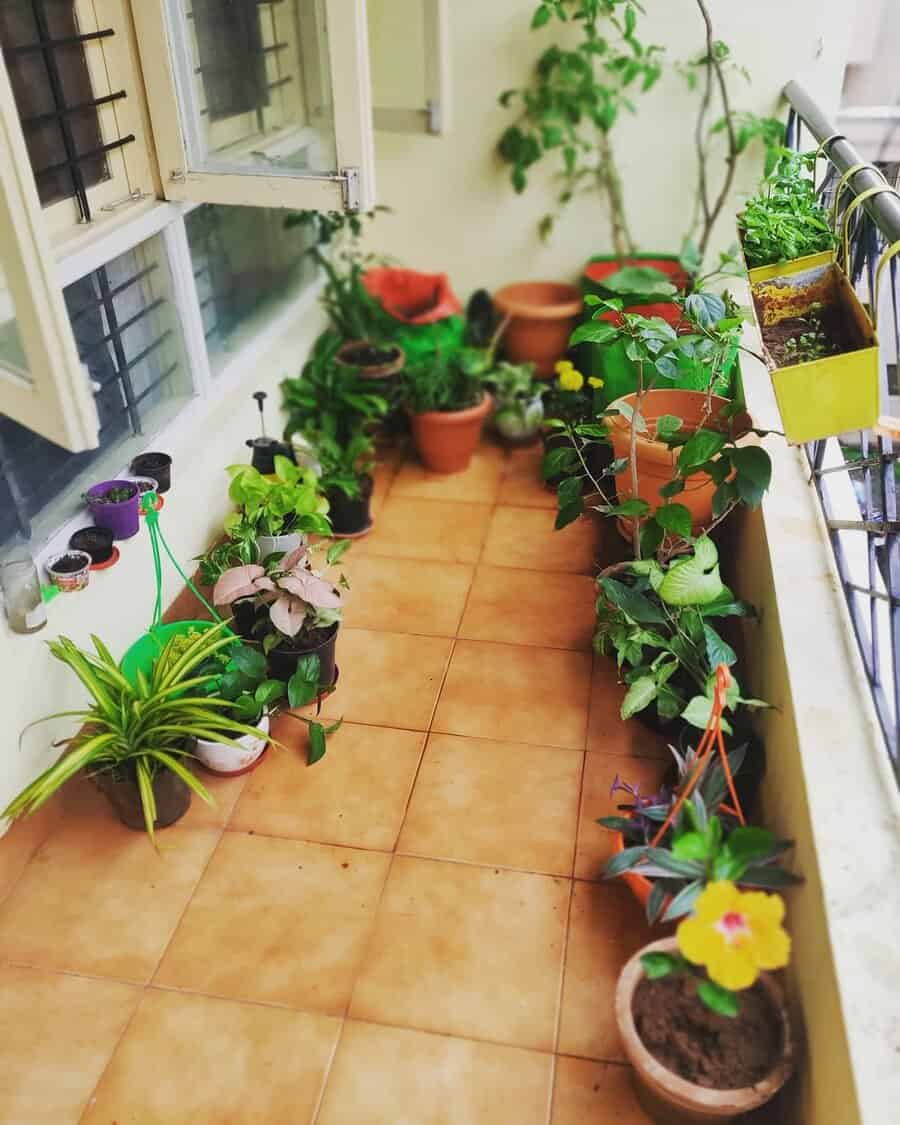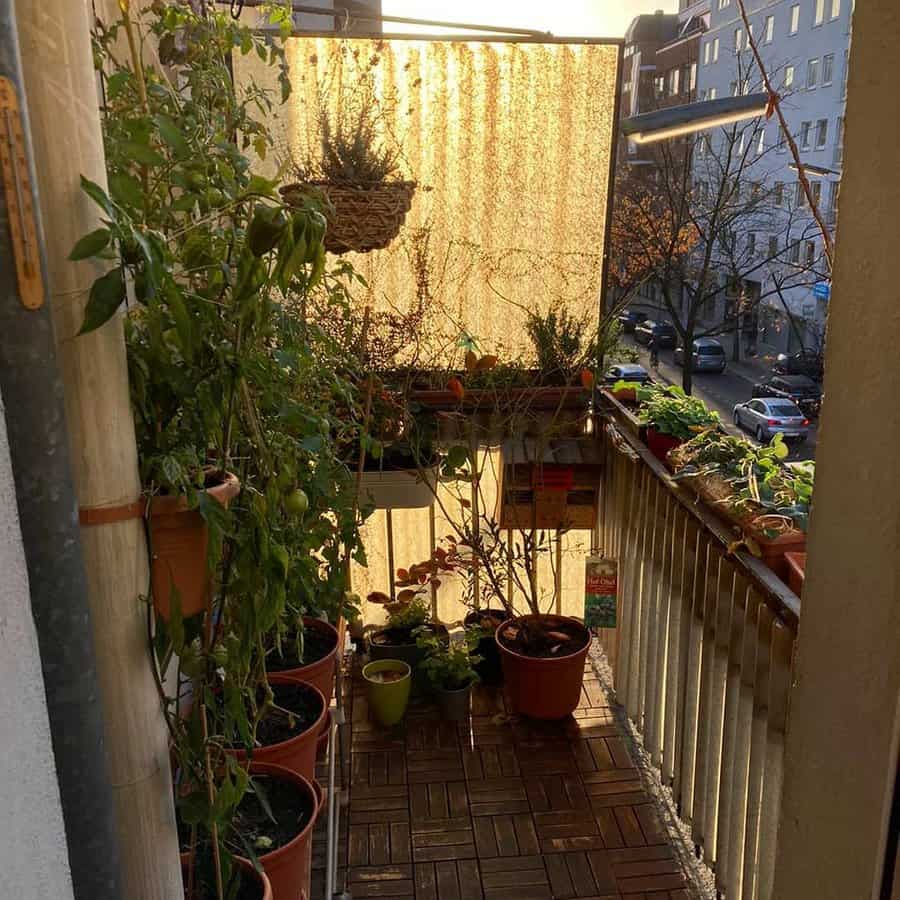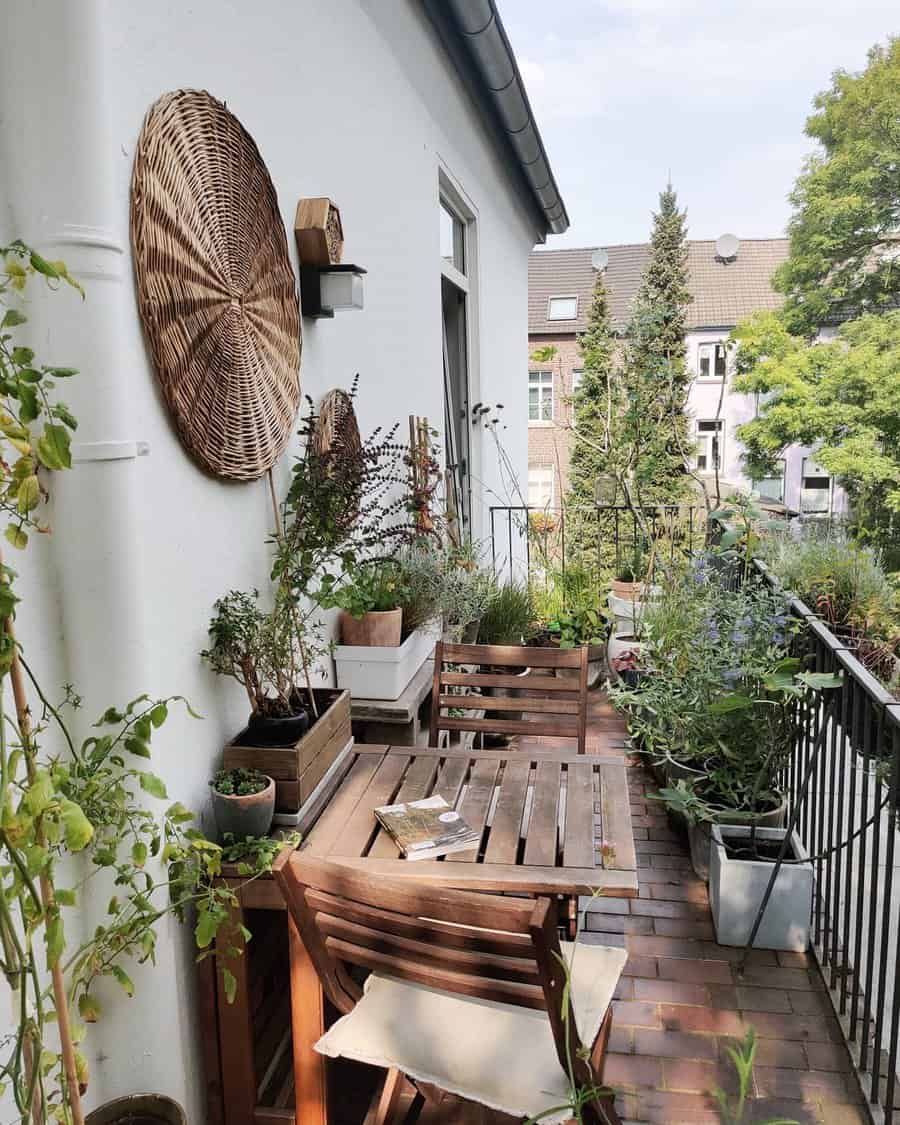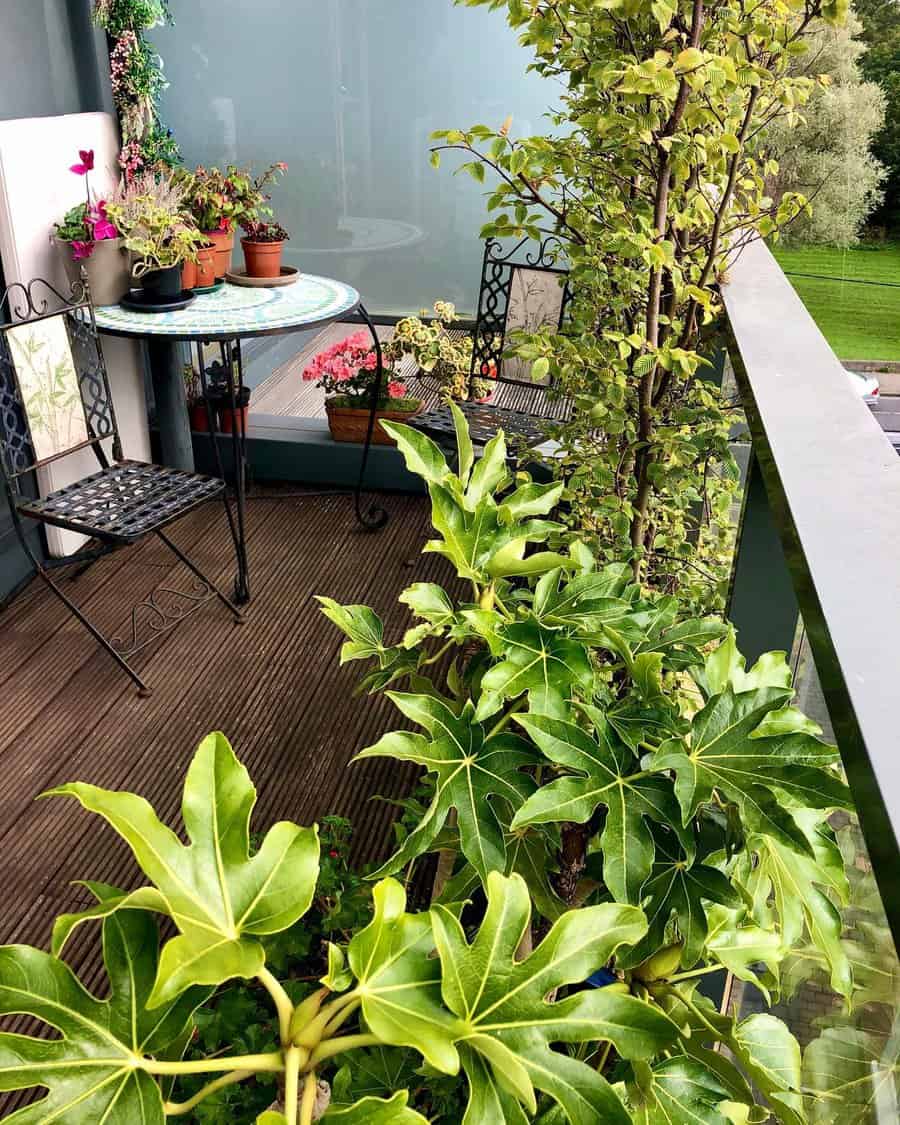 Most landlords have no problem with tenants keeping houseplants or growing vegetables on their balconies. As long as you avoid messy compost and bulky containers, there's no reason to leave your balcony, patio, or terrace bare.
Avoid hanging planter styles that must be permanently mounted to your balcony ceiling or walls. Instead, arrange plants on your balcony floor or hang them (securely!) from the railing. Be sure to protect the floor from water damage with saucers or absorbent pads.
See more apartment balcony ideas here.
2. Decor
When your balcony is the only garden space available, it's easy to forget that your beloved plants are also a form of decor. Paying attention to how your garden plants fit into your balcony design can prevent the space from being purely utilitarian.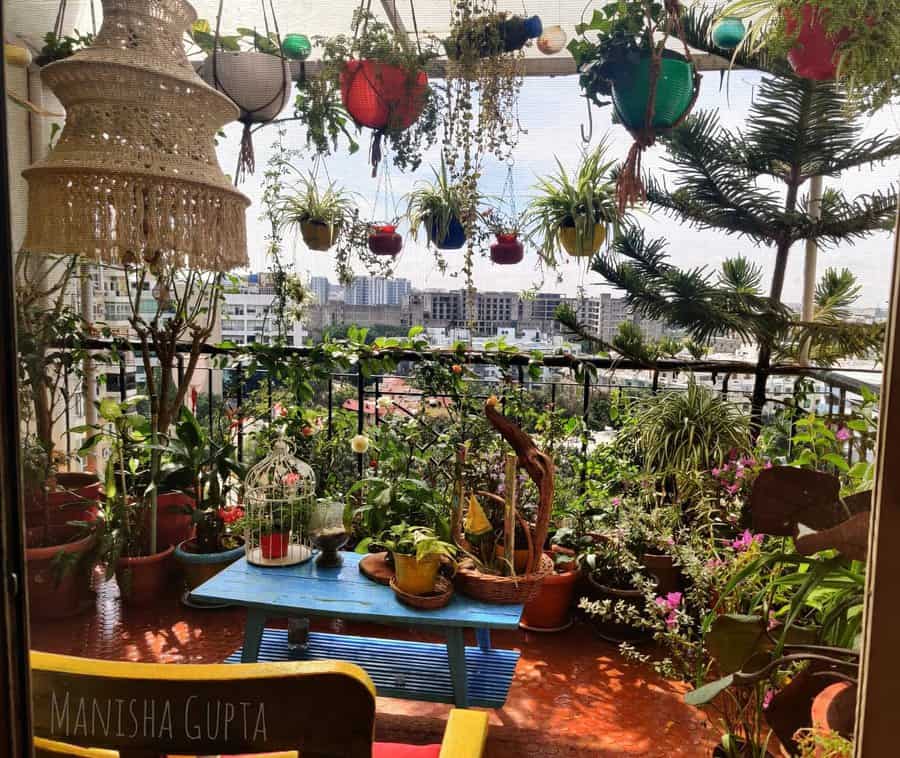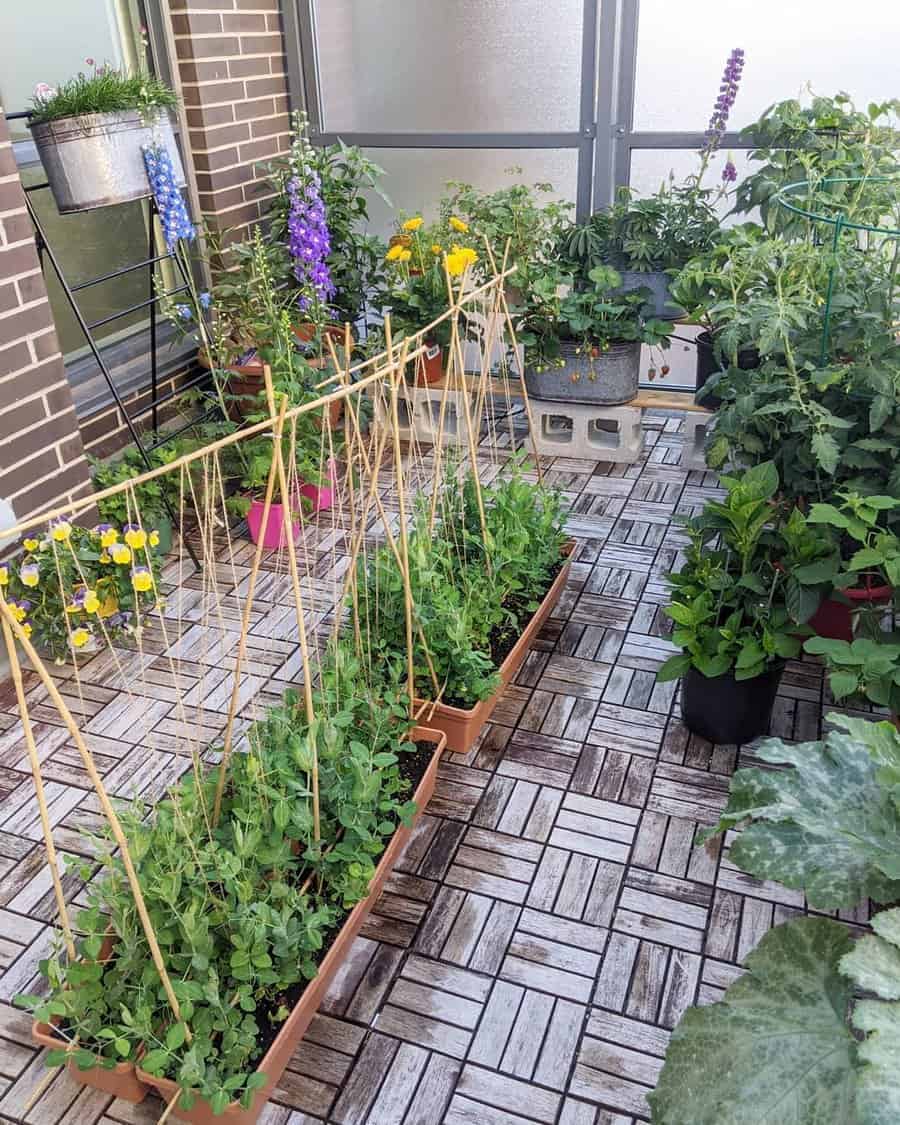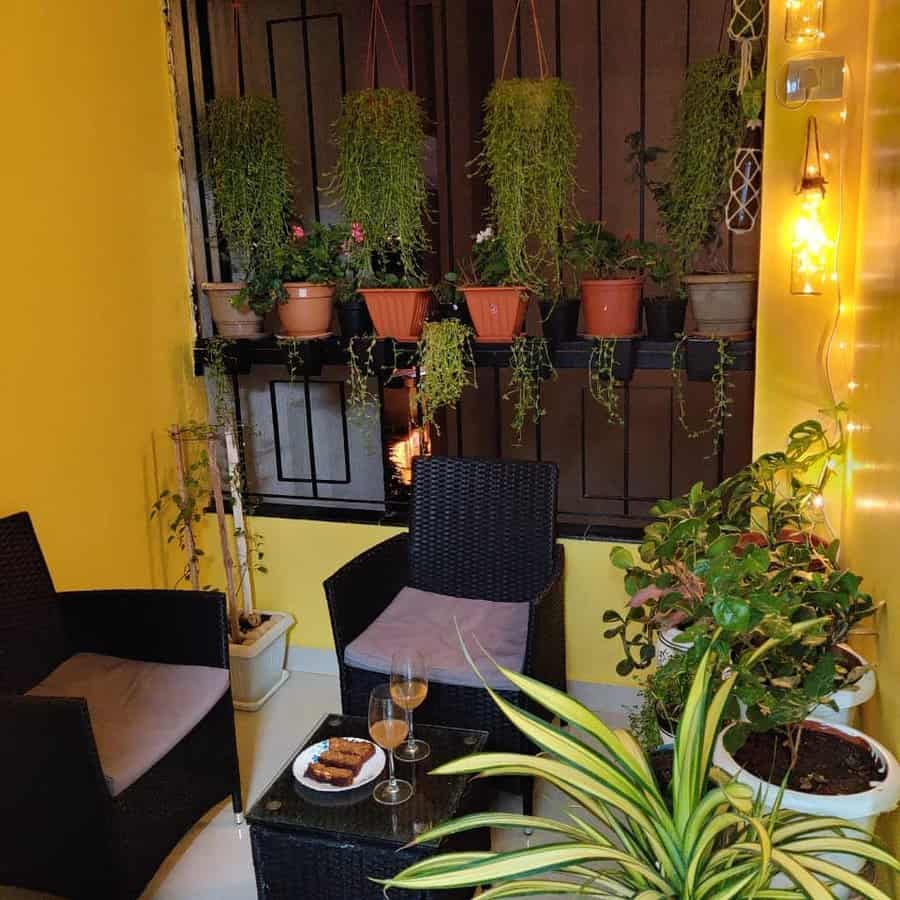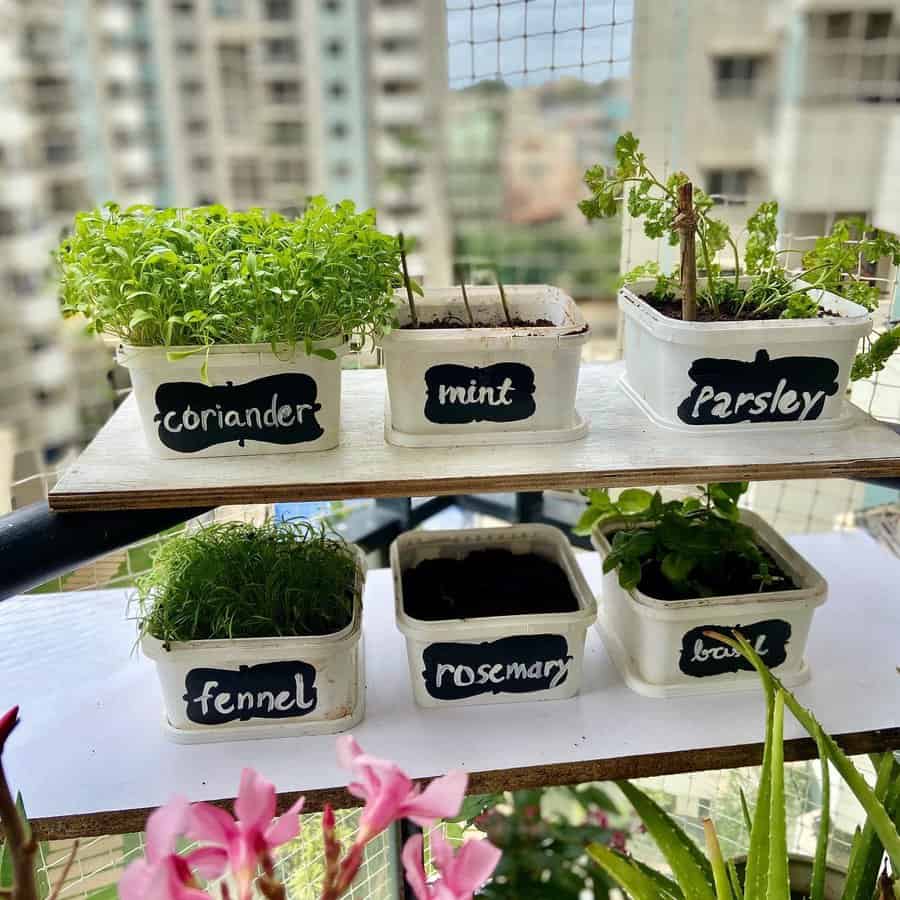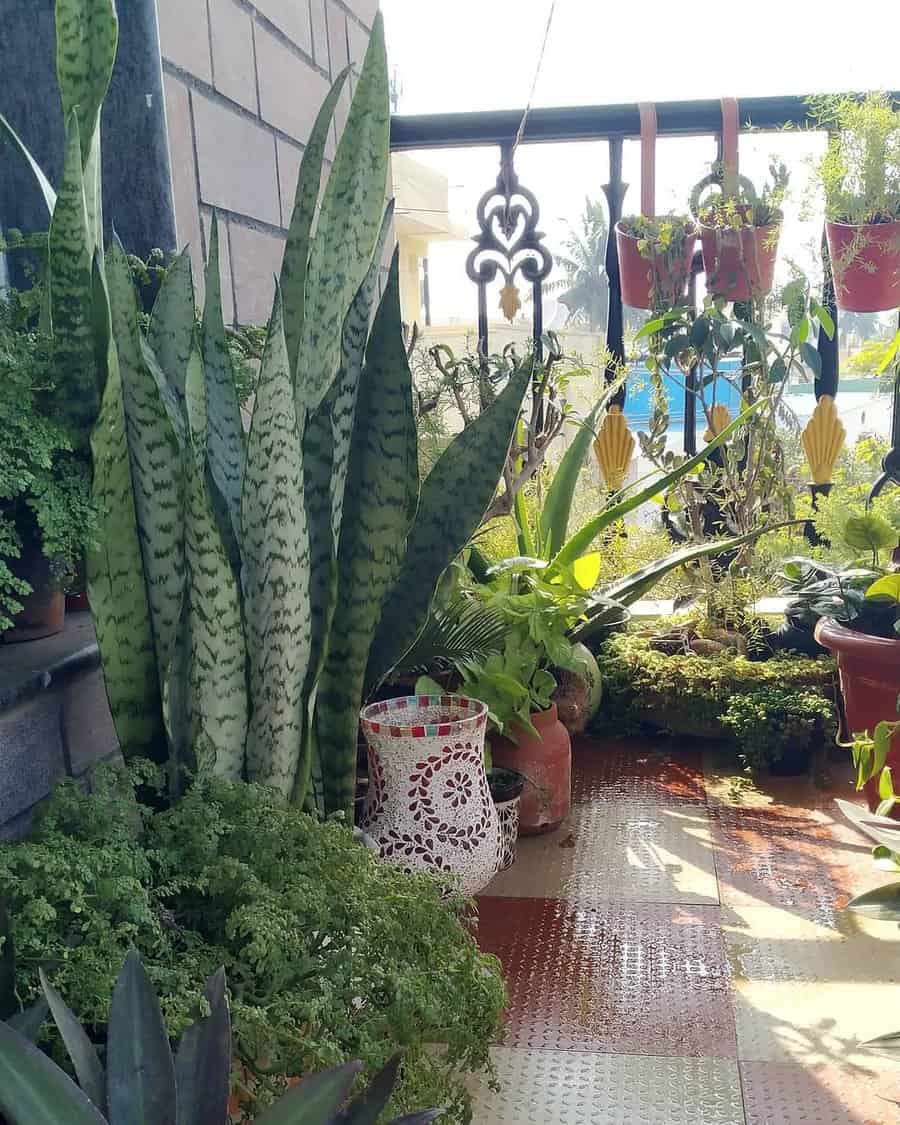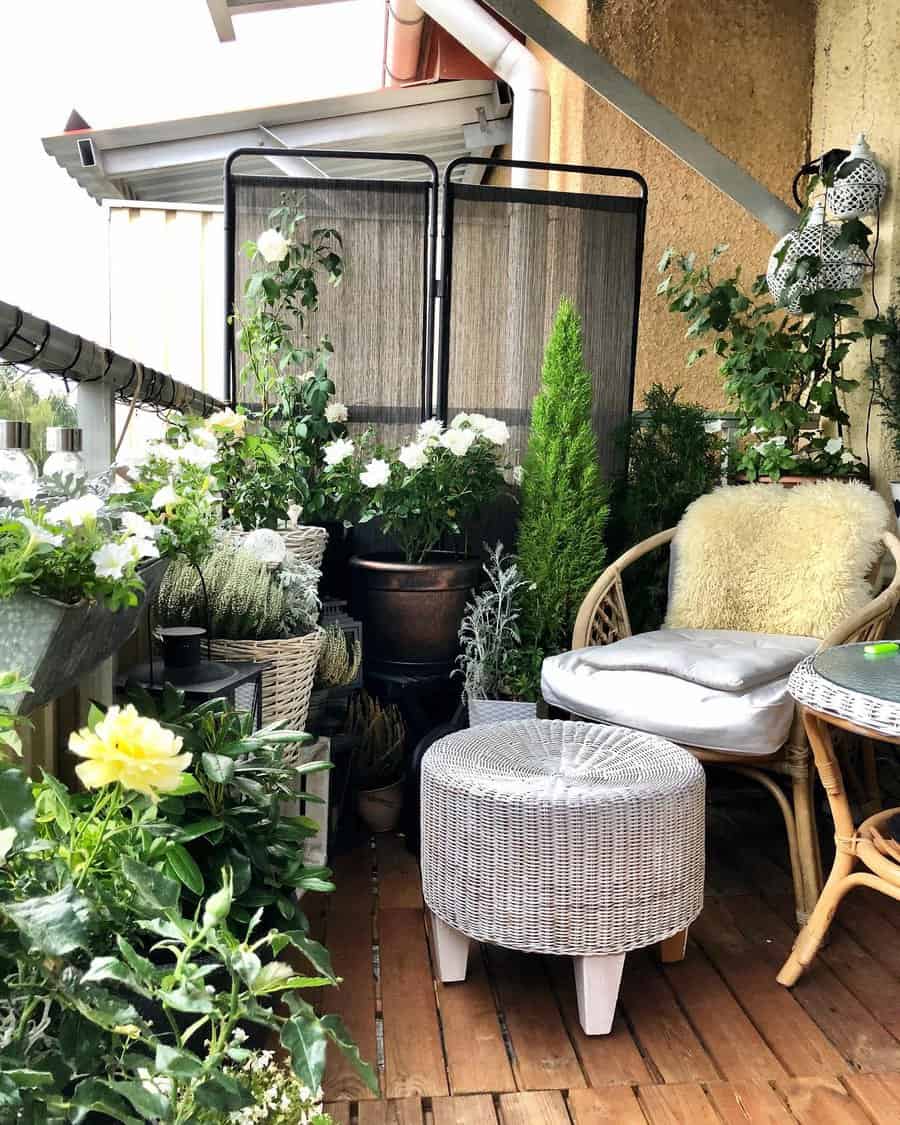 There's no question that plants are aesthetically pleasing. But don't overlook the role of your garden containers in creating a stylish space. While your garden containers don't need to match, they should share a cohesive appearance.
Arrange your plants throughout the space with hanging baskets, shelves, and railing planters. Stack pots along the exterior walls of your balcony or use a trellis for a makeshift living privacy screen.
3. Condo
Condo life is ideal for city-dwellers or anyone interested in calling a small space their own. Unfortunately, at least compared to homeownership, it often means giving up the prospect of a private lawn.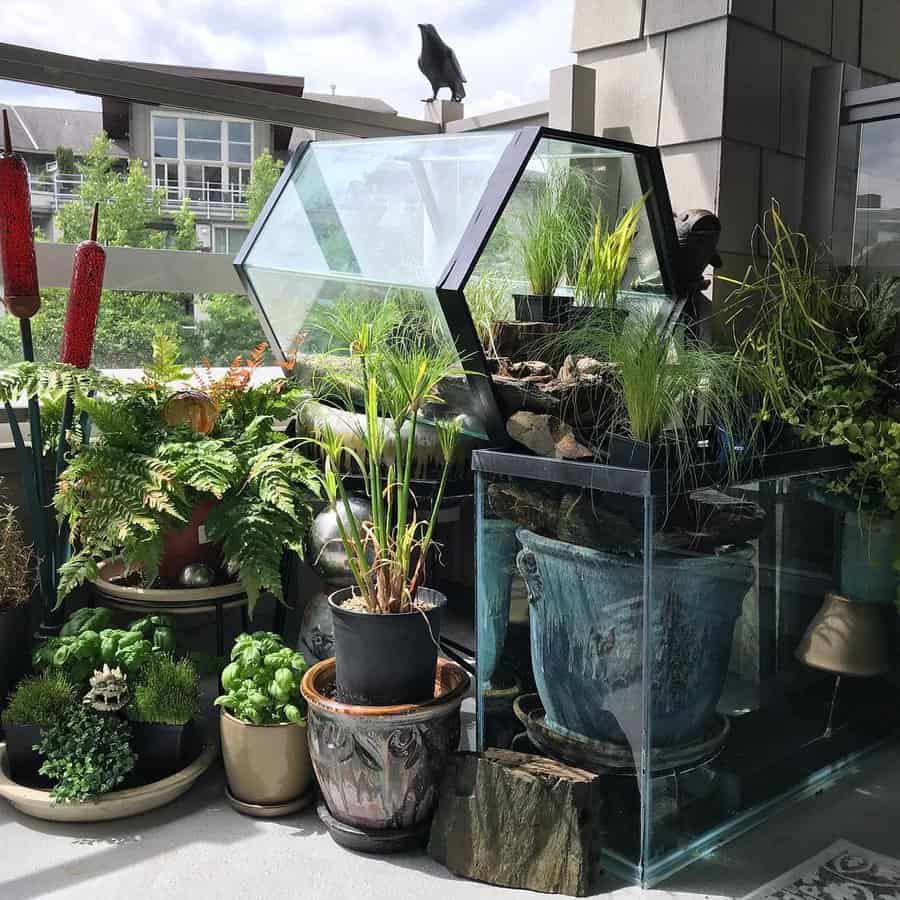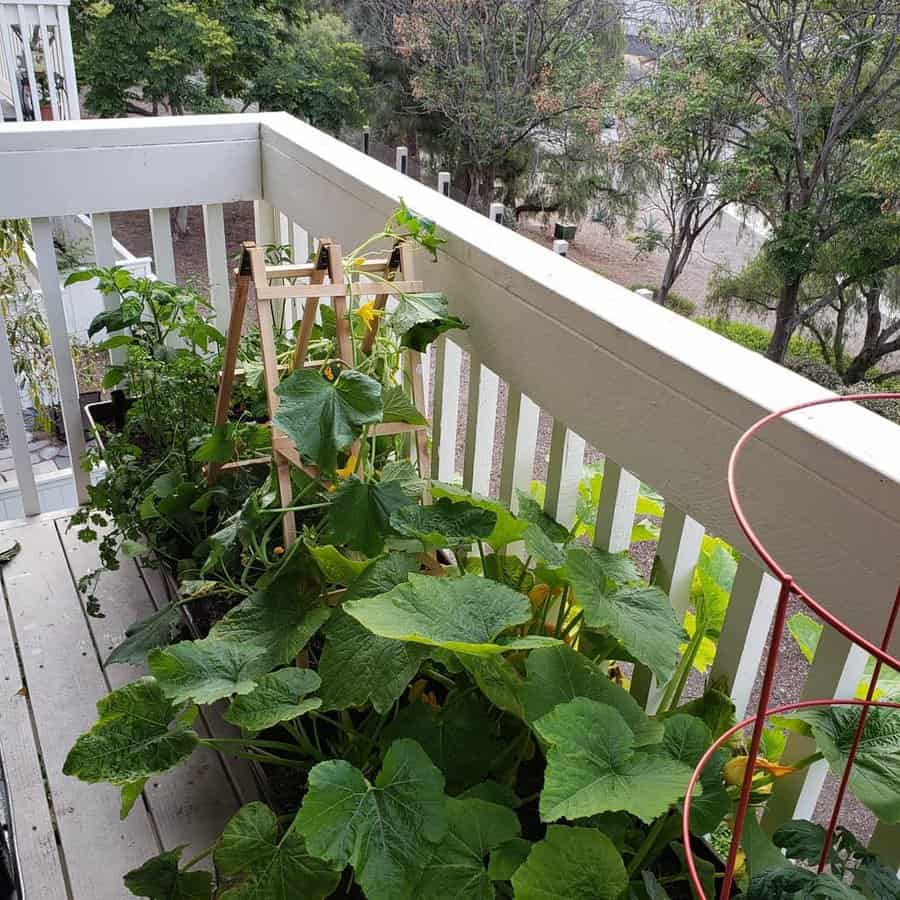 Adding a bit of greenery to your condo balcony is a great way to make the space feel more inviting. Many condo owners also use potted plants or hanging pots to add privacy to their balconies.
Condo owners may be able to get away with more permanent garden installations than apartment renters. However, it's still best to reference your building regulations before installing a large trellis or greenhouse on your balcony!
4. Flower
Some of the most beautiful flowering plants require full sun to flourish. This makes them perfect for a sunny balcony garden. But don't let that discourage you if your balcony sits on the shaded side of your building.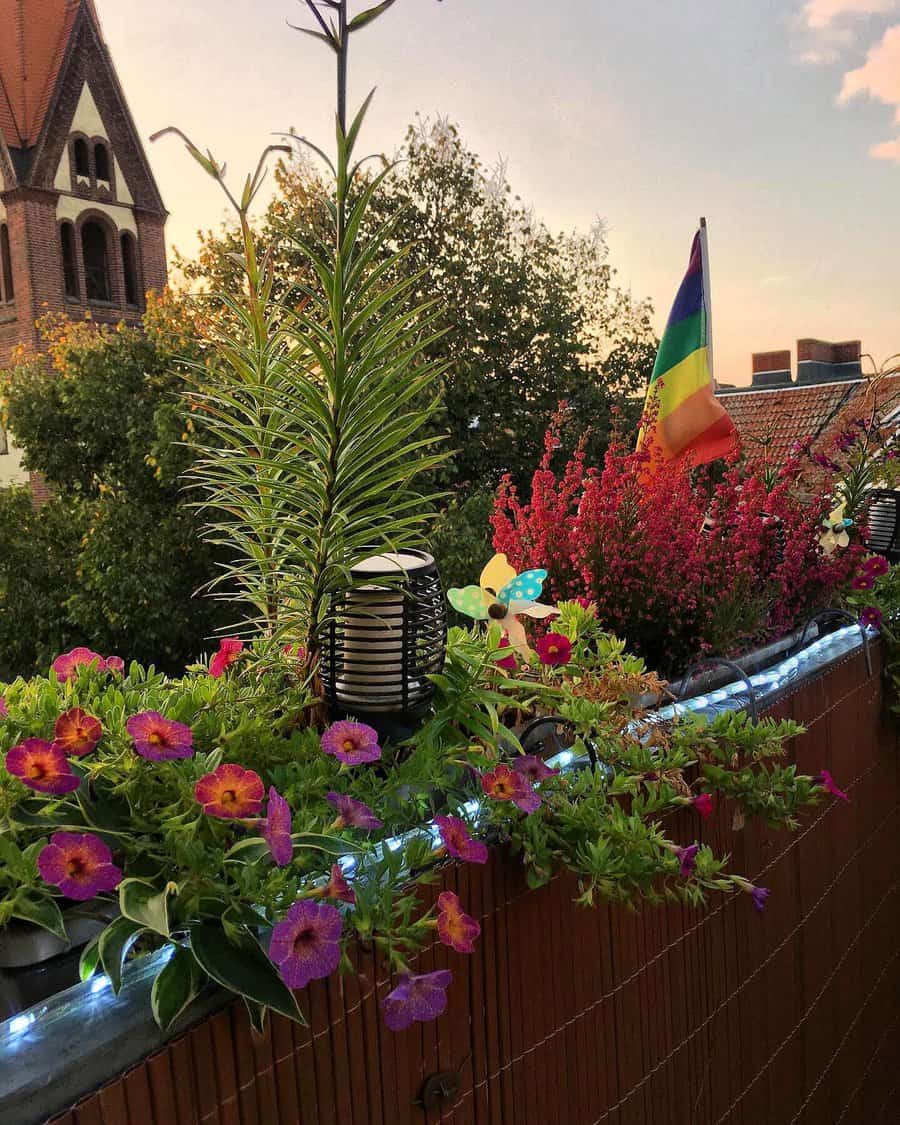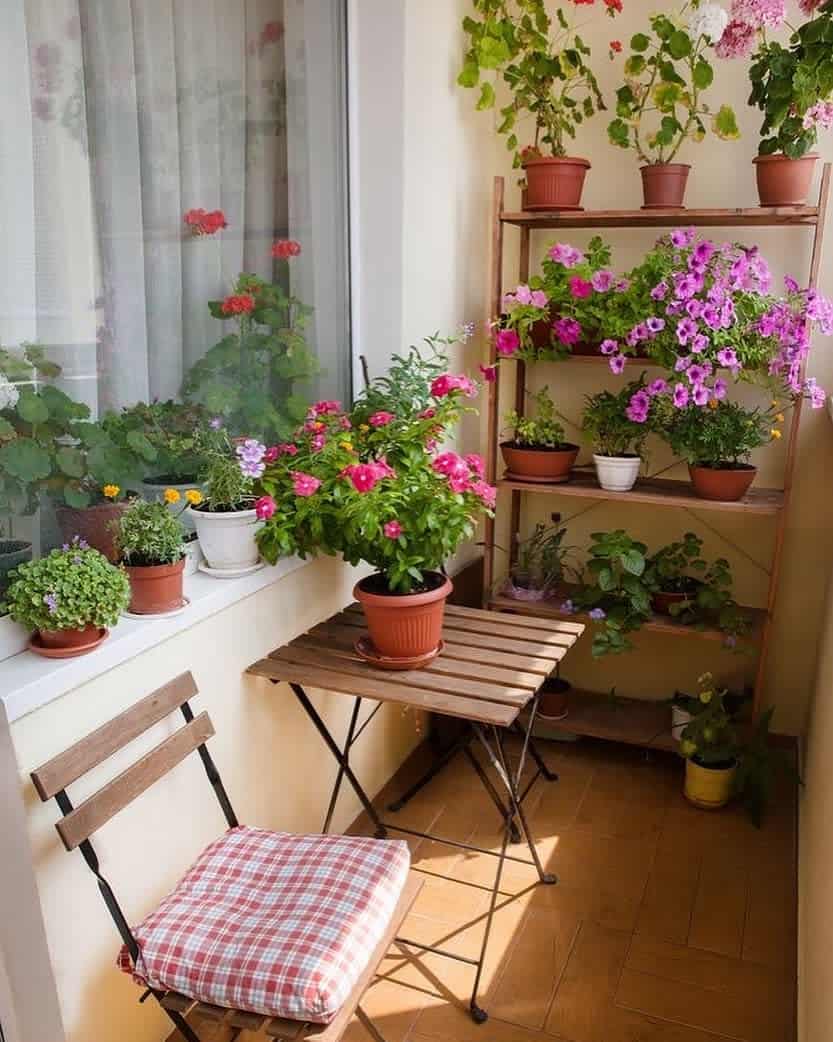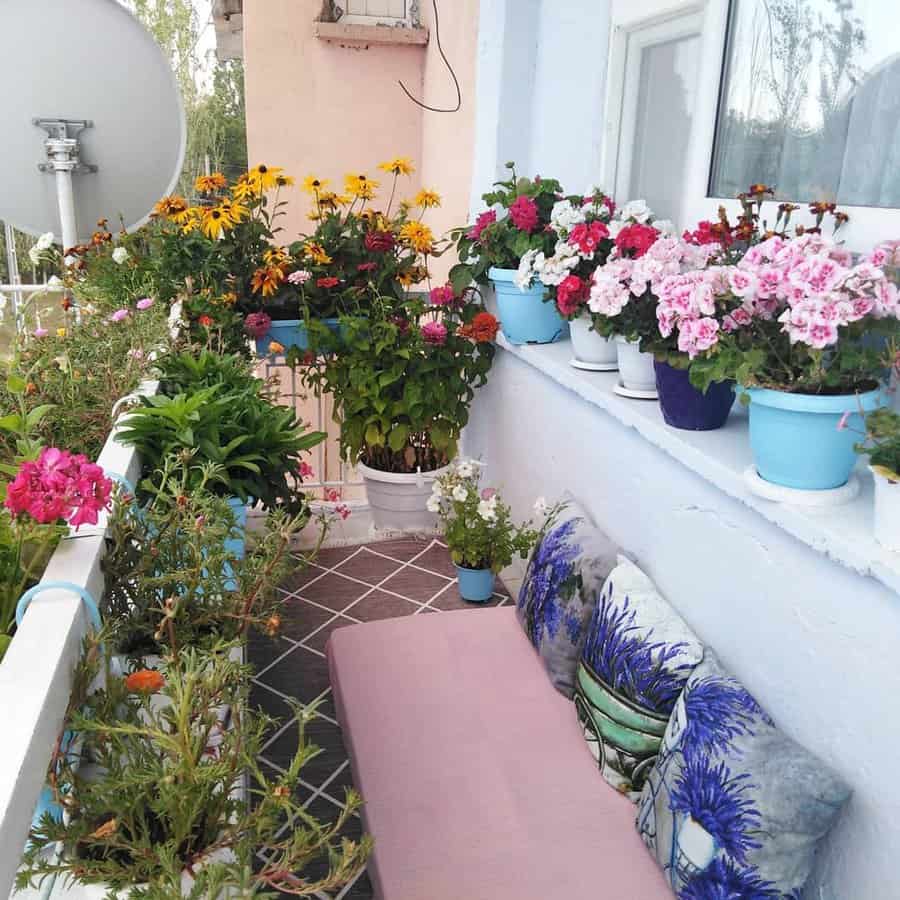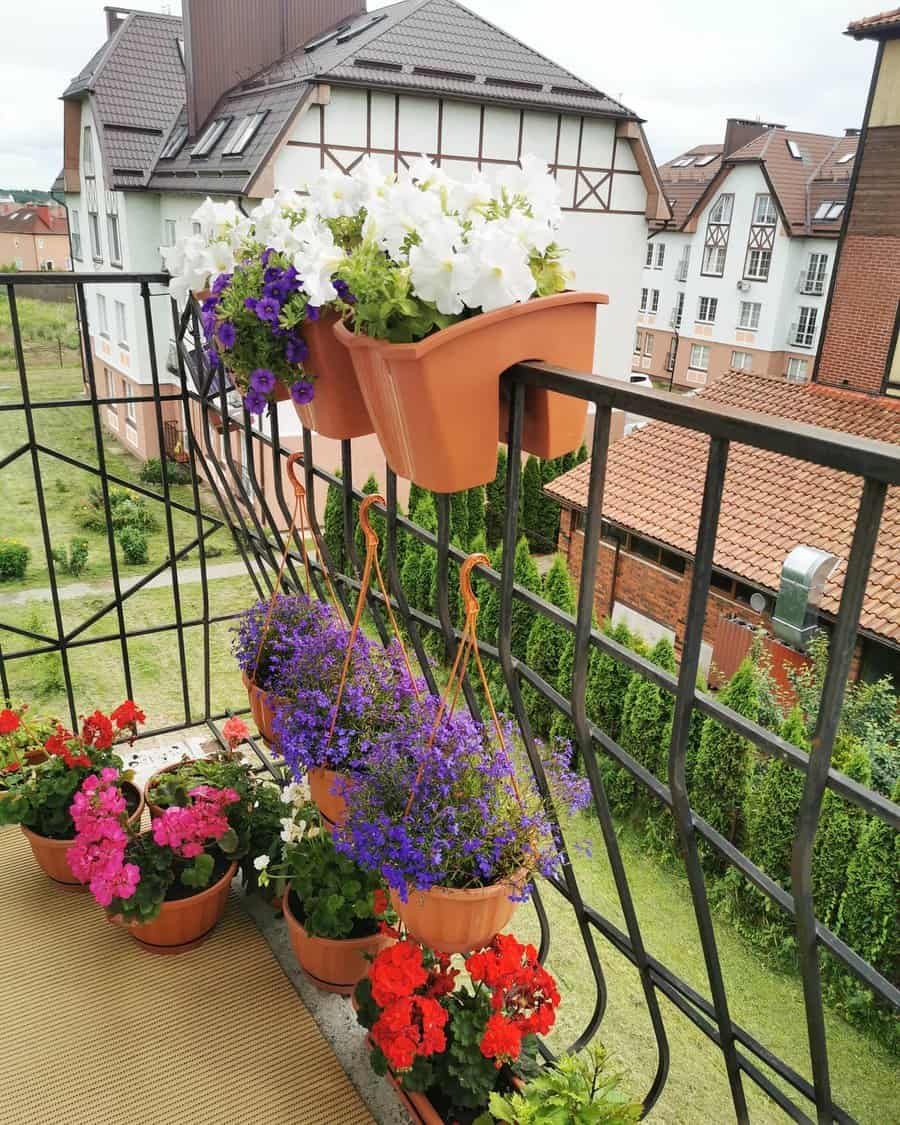 Annual flowers are great for adding seasonal pops of color to your balcony garden but won't survive more than a year. Perennials also produce vibrant blooms during the growing season but will return each year for a new display.
Keep in mind that flowers will attract pollinators. This is great news if you want to draw hummingbirds and butterflies to your balcony. Yet it's less-than-ideal for keeping insects away from your outdoor space.
5. Herb
If you enjoy spending time in the kitchen, then an herb garden is the perfect use for your balcony space. Even those living in a small apartment can find space for these compact plants!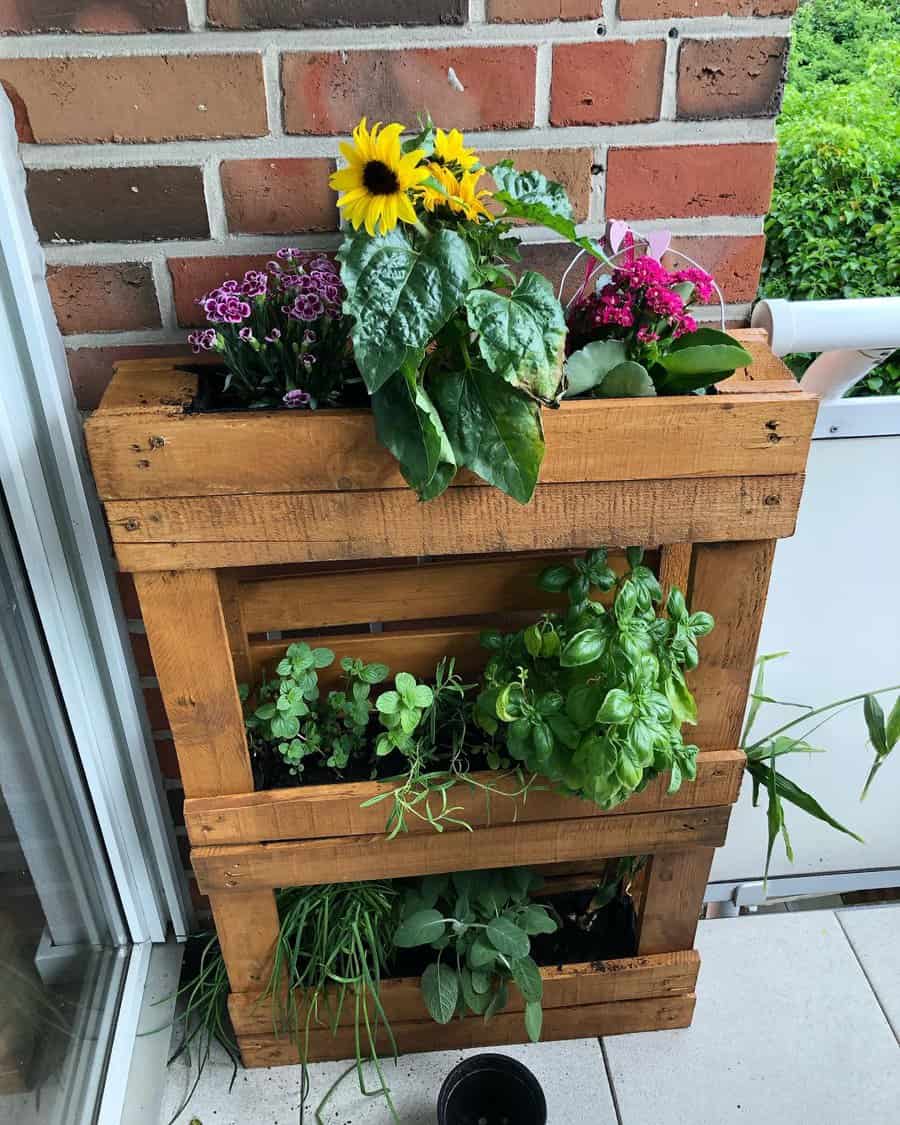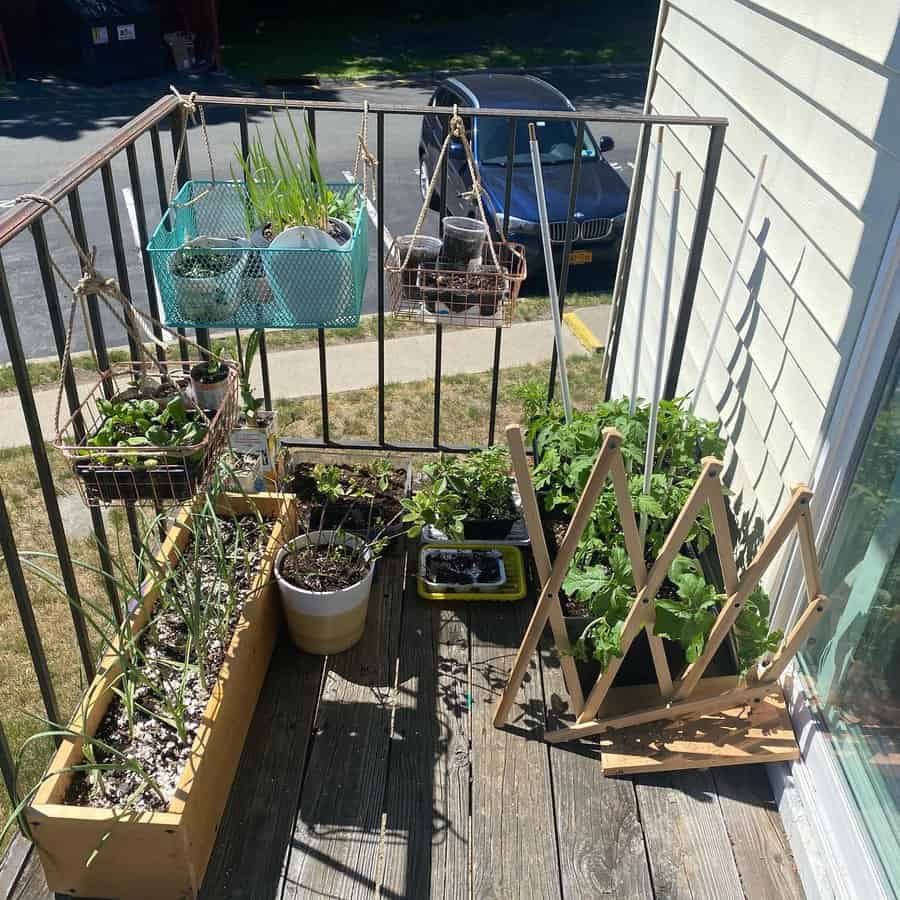 Growing herbs is one of the easiest styles of gardening. Most herb species are incredibly hardy and won't mind being left outside in the elements.
While herbs are wonderful garden inhabitants, they're even better planted alongside flowers or vegetables. Feel free to fill your container garden with a variety of herbs and other species — it won't affect your ability to harvest homegrown herbs for the kitchen!
6. Plant
Successful balcony gardening is about more than just routine care. If you start your garden with the wrong plants, no amount of fertilizer, water, or sunlight will make a difference.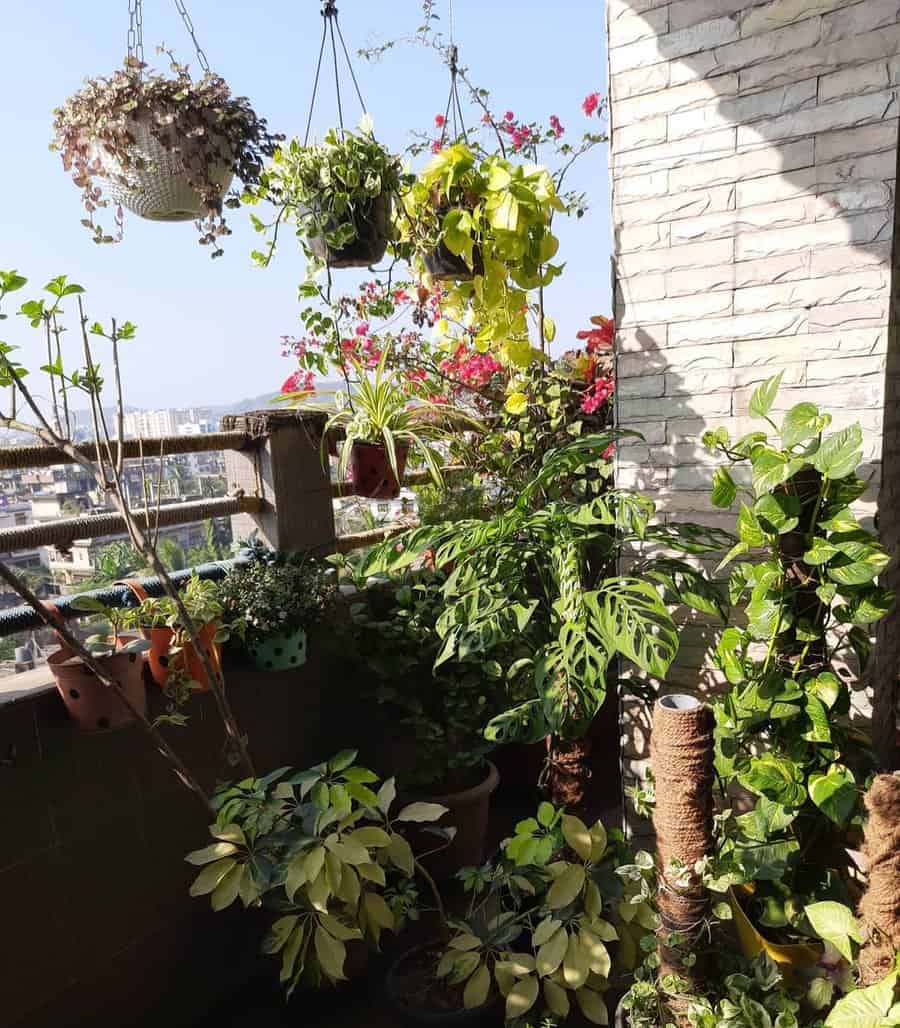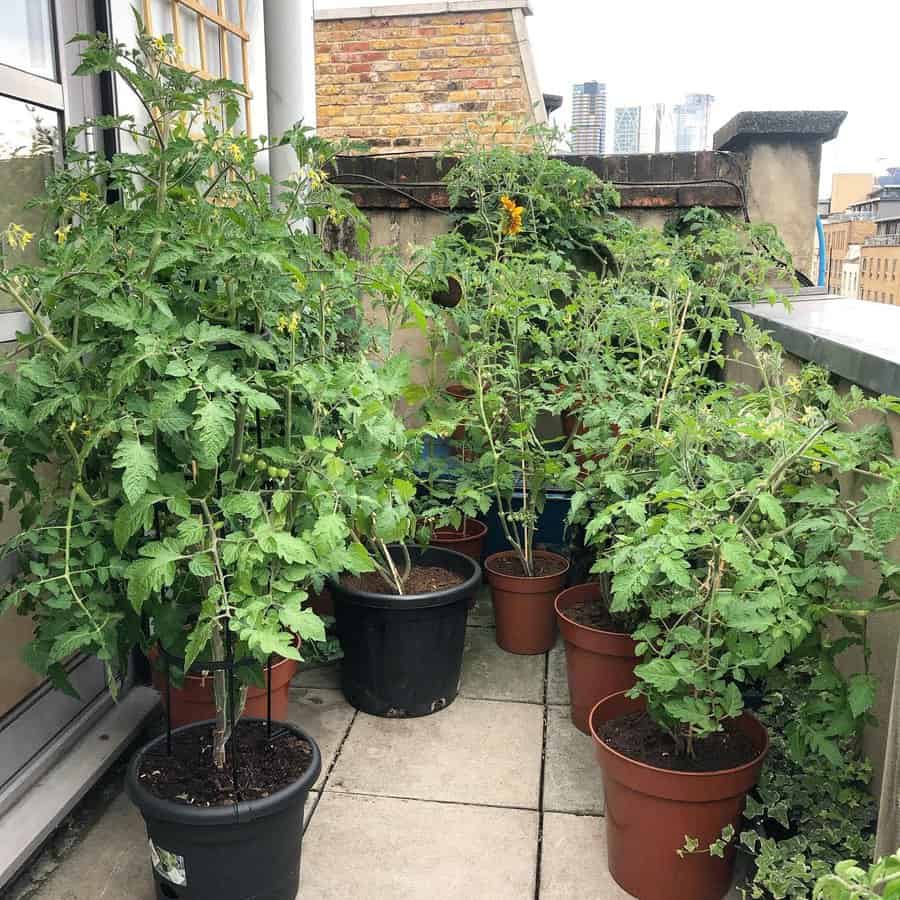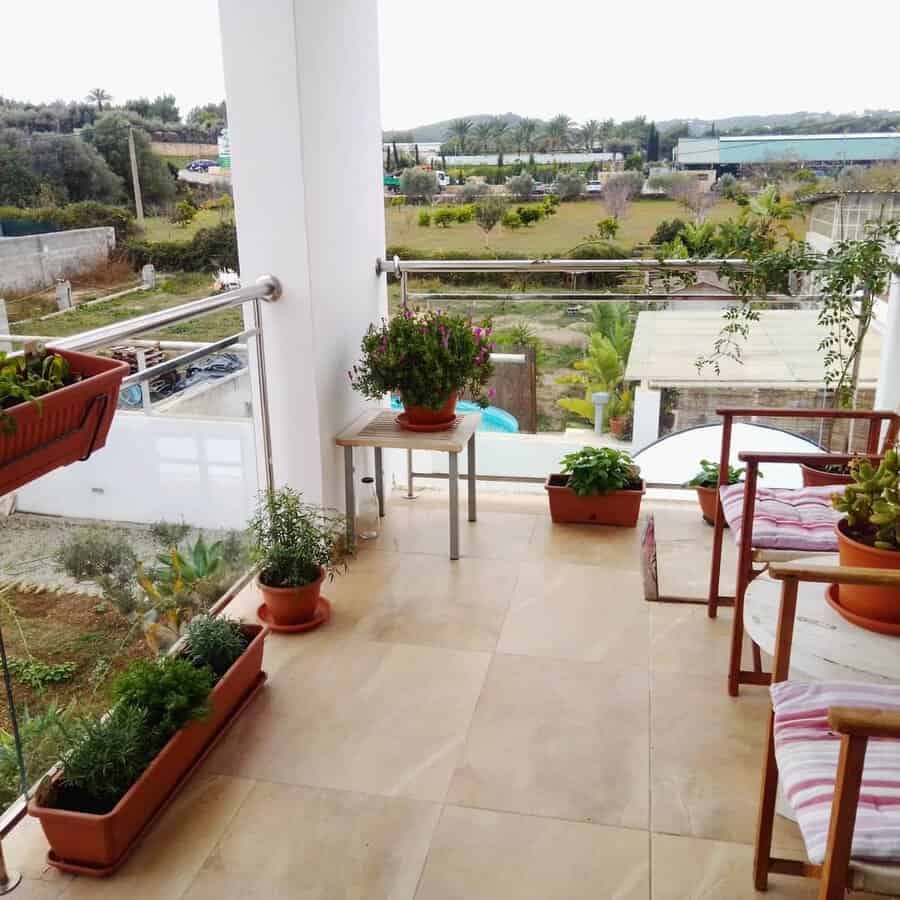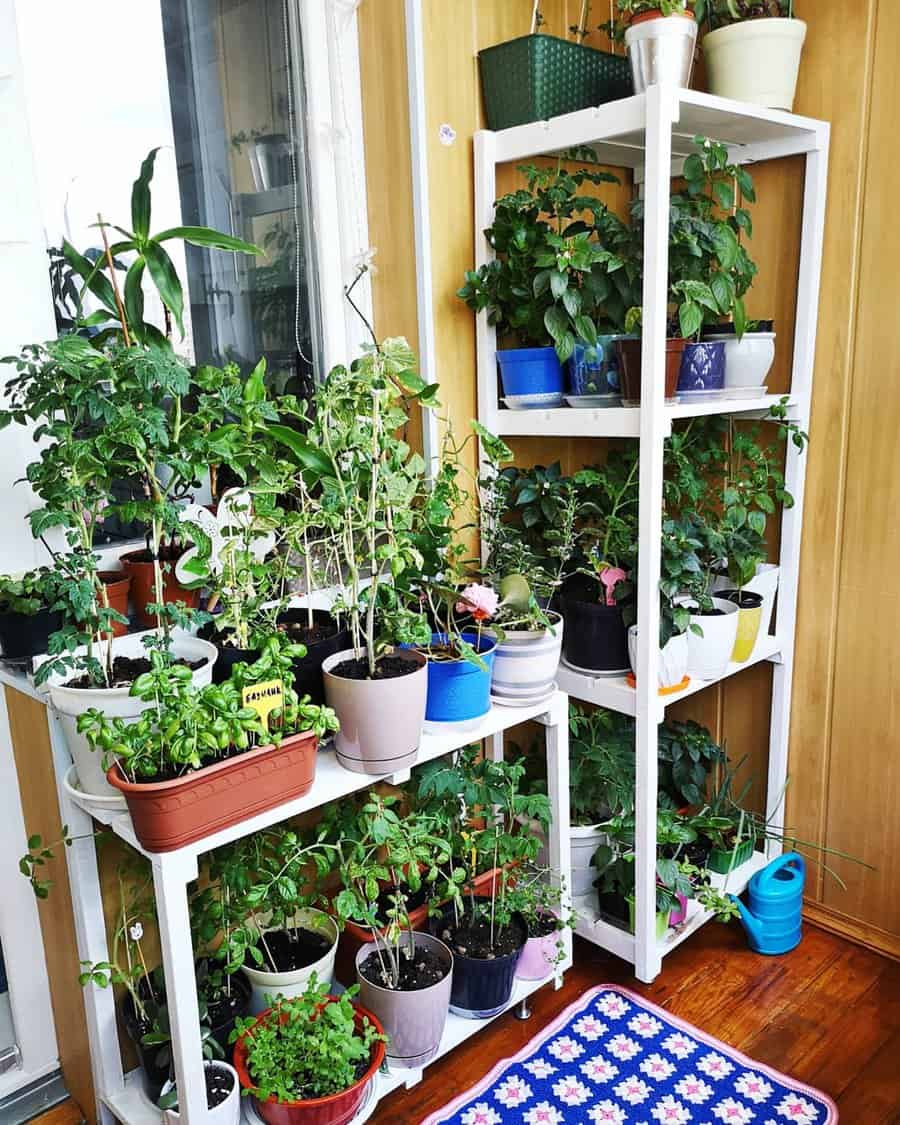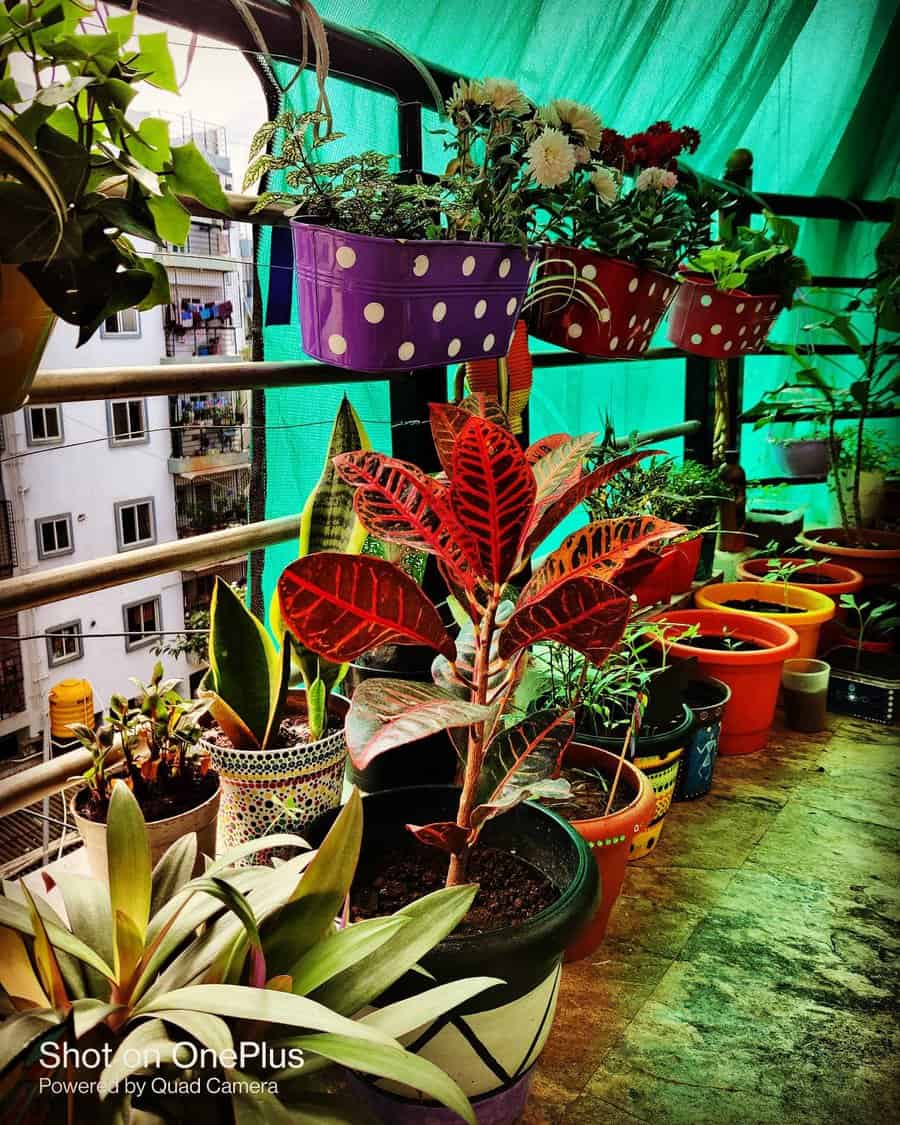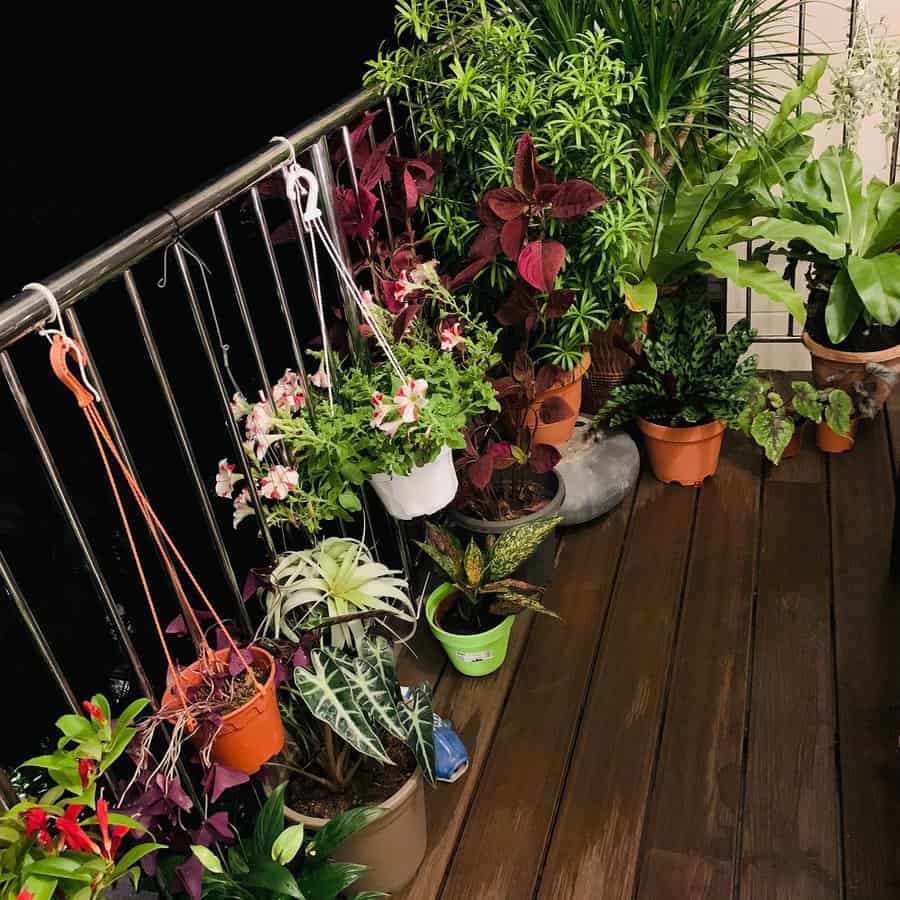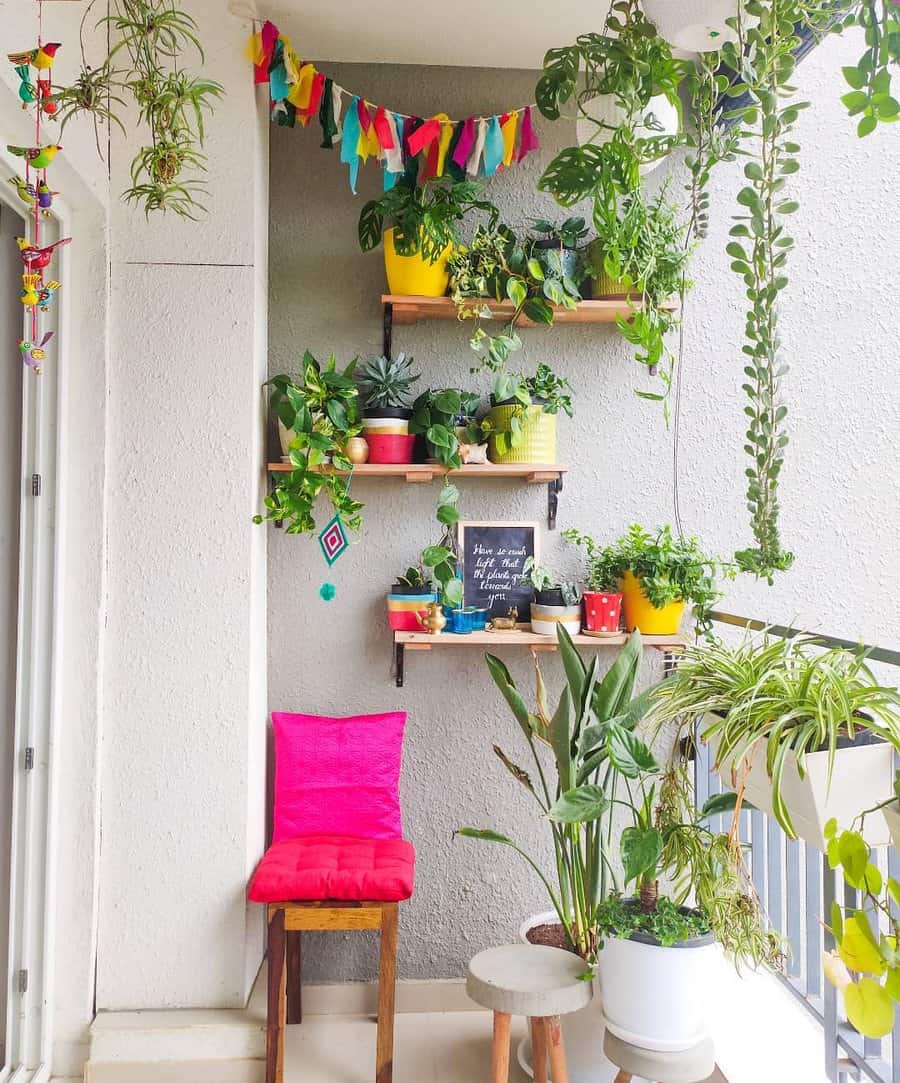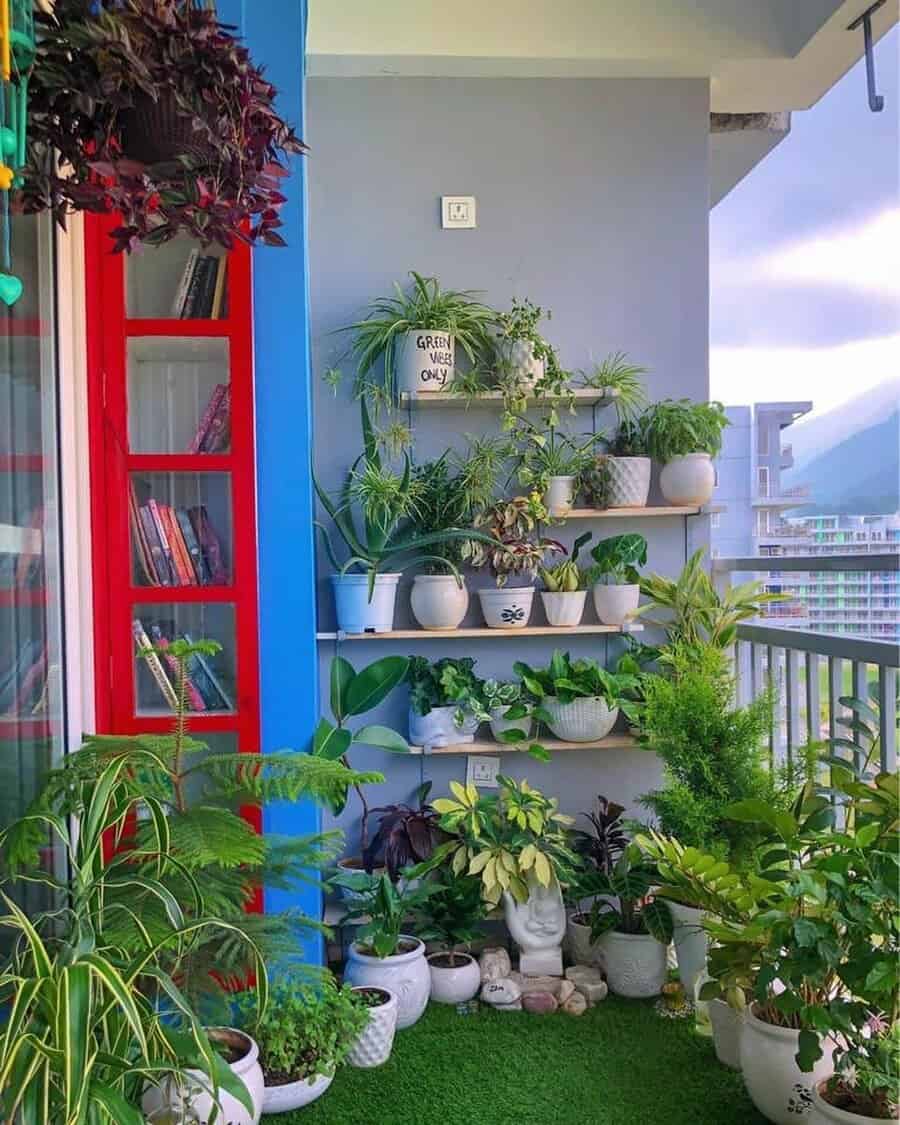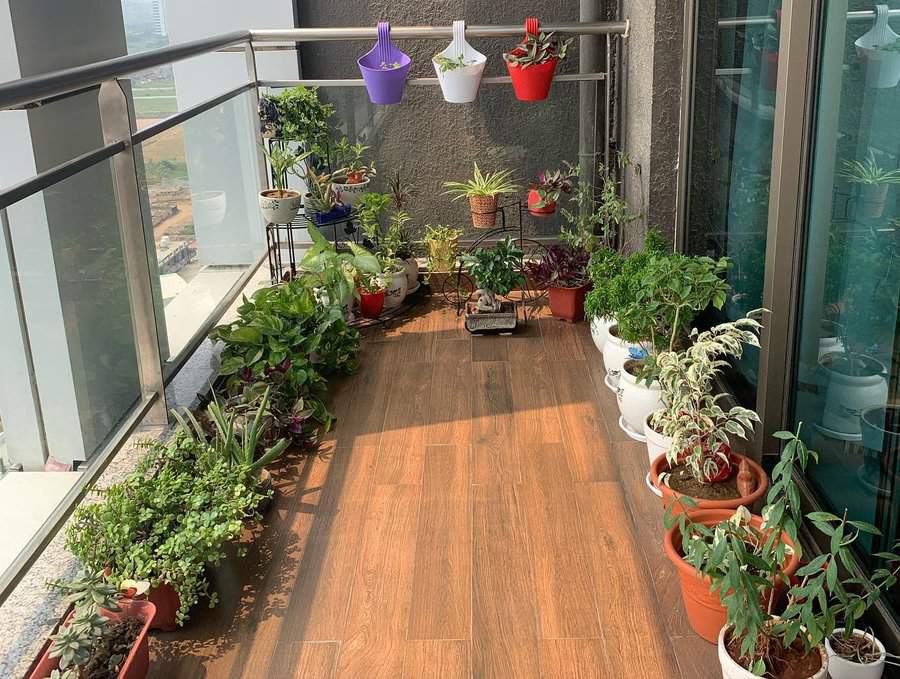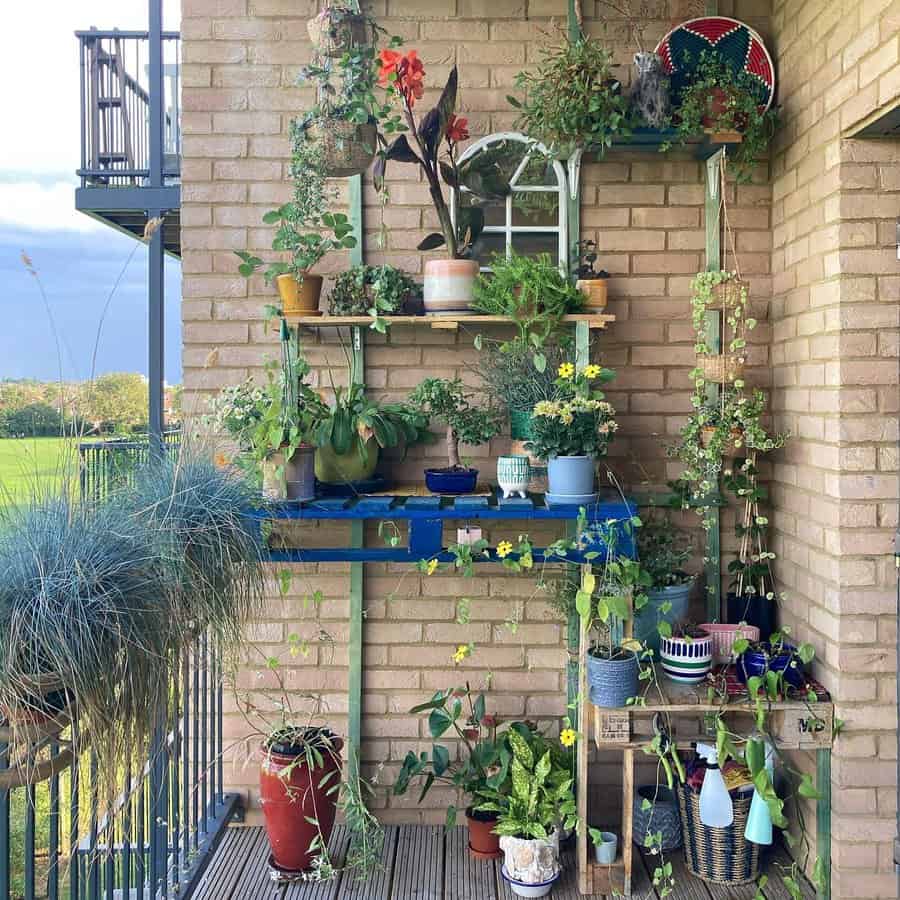 Many common houseplants work well as balcony plants. To prevent shock, allow your indoor plants to acclimate before letting them live on your balcony full-time.
Before bringing your balcony garden ideas to life, take time to observe the general climate outside your patio door. How many hours of sunlight does the space get each day? Is your balcony prone to strong winds? These factors will determine which plants will thrive in the space.
7. Pot
Nothing compares to the classic terra cotta pot. But unique containers are an excellent way to bring some color and personality to your balcony garden.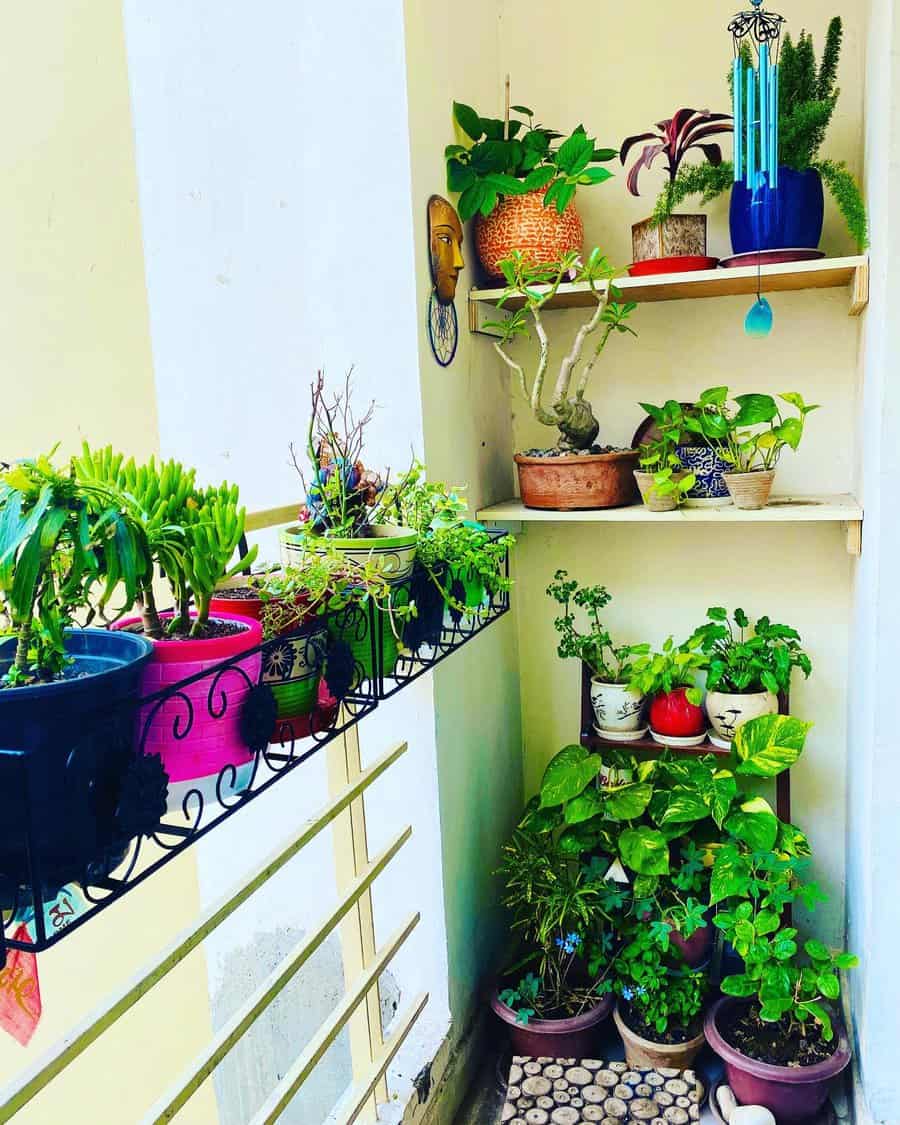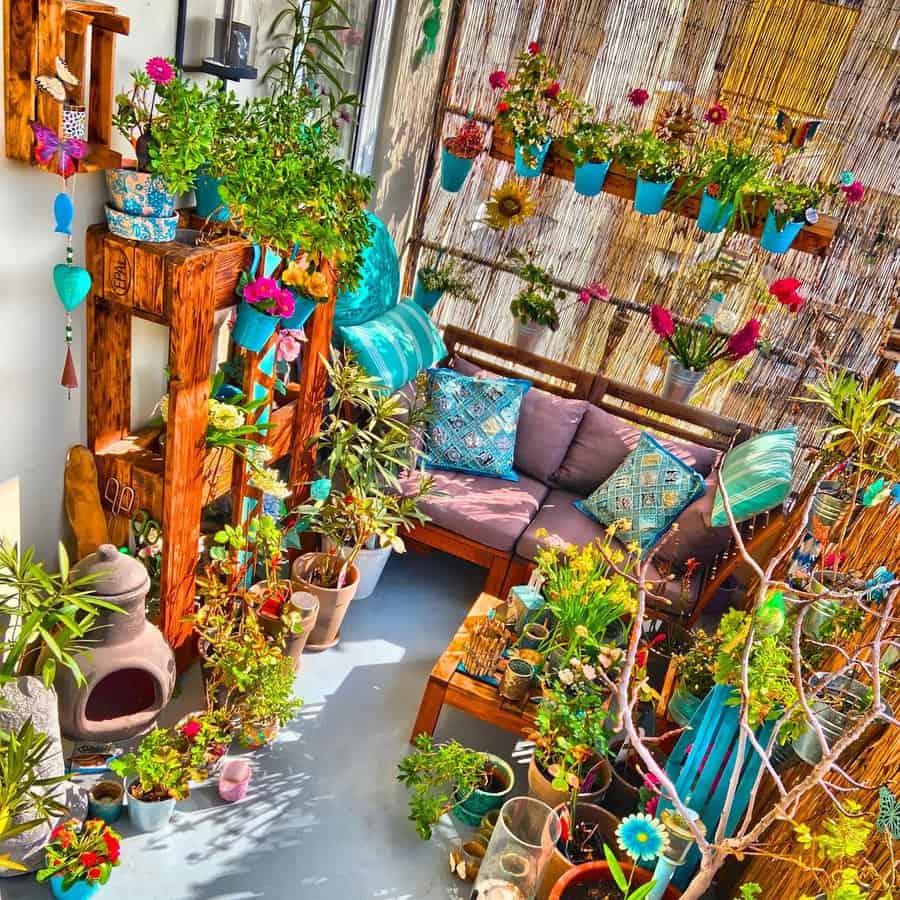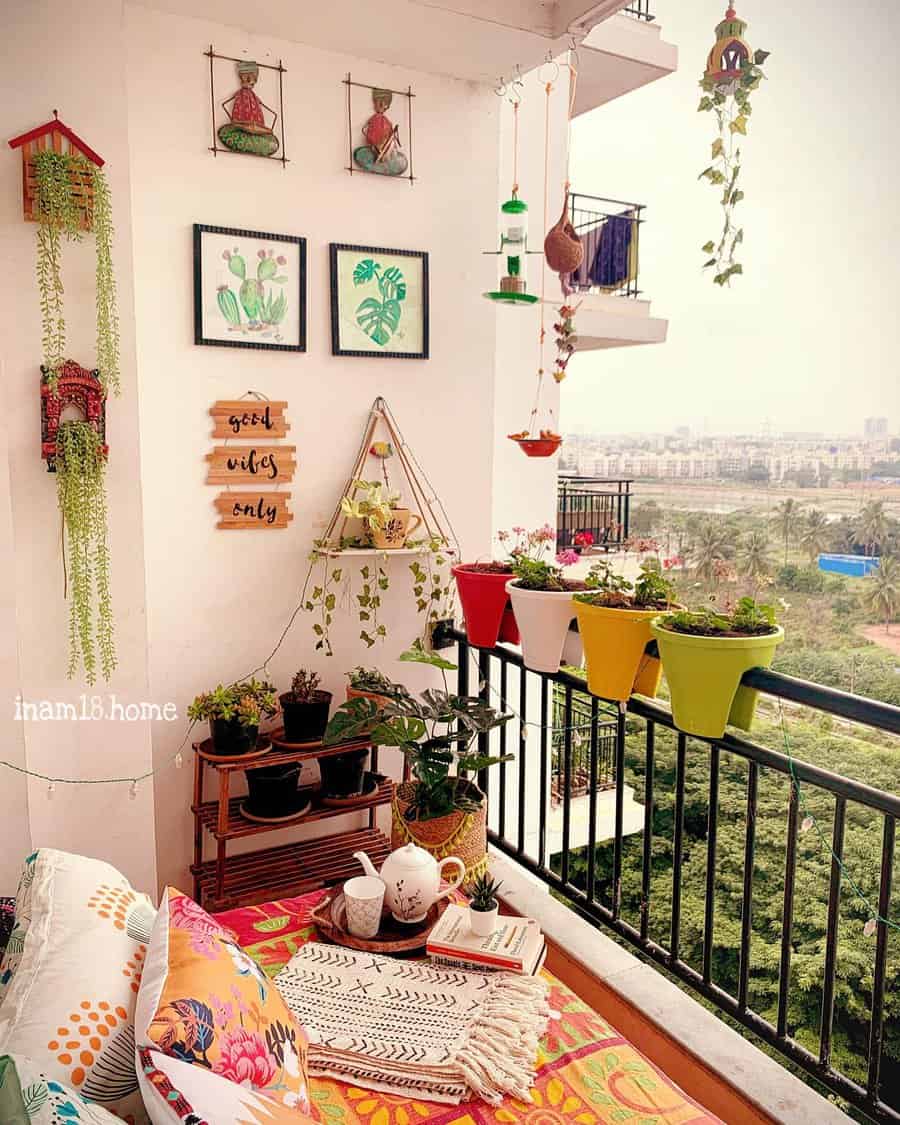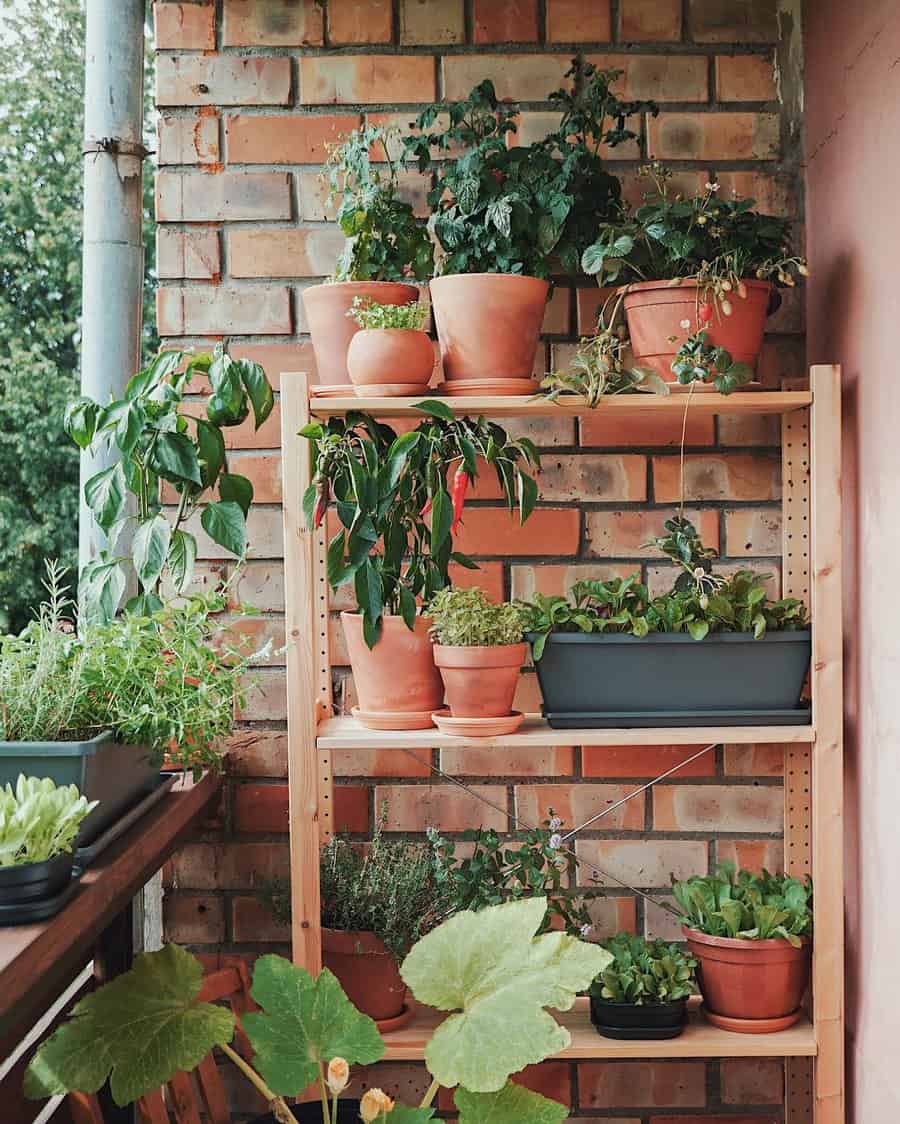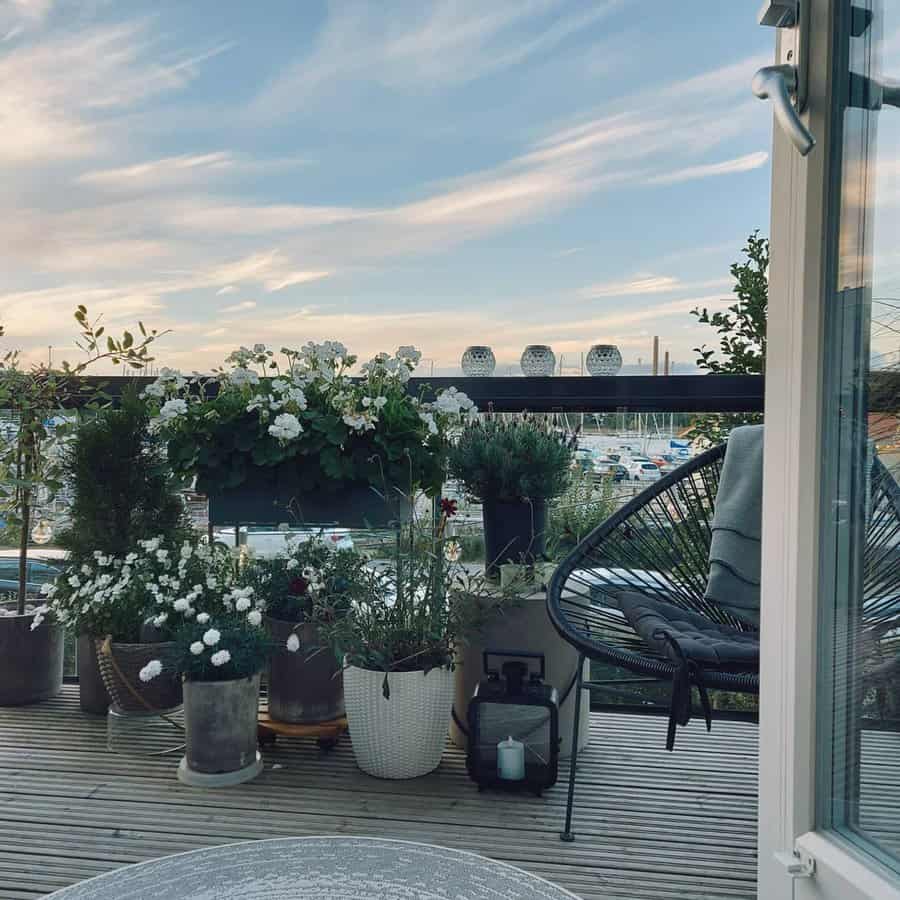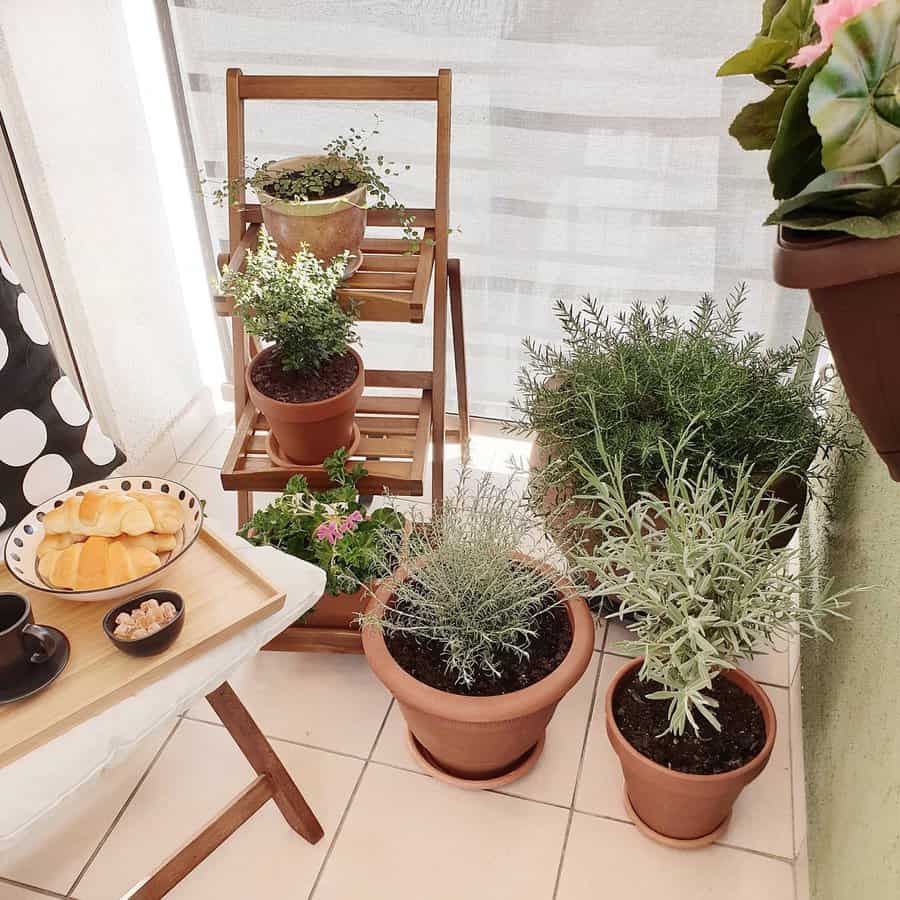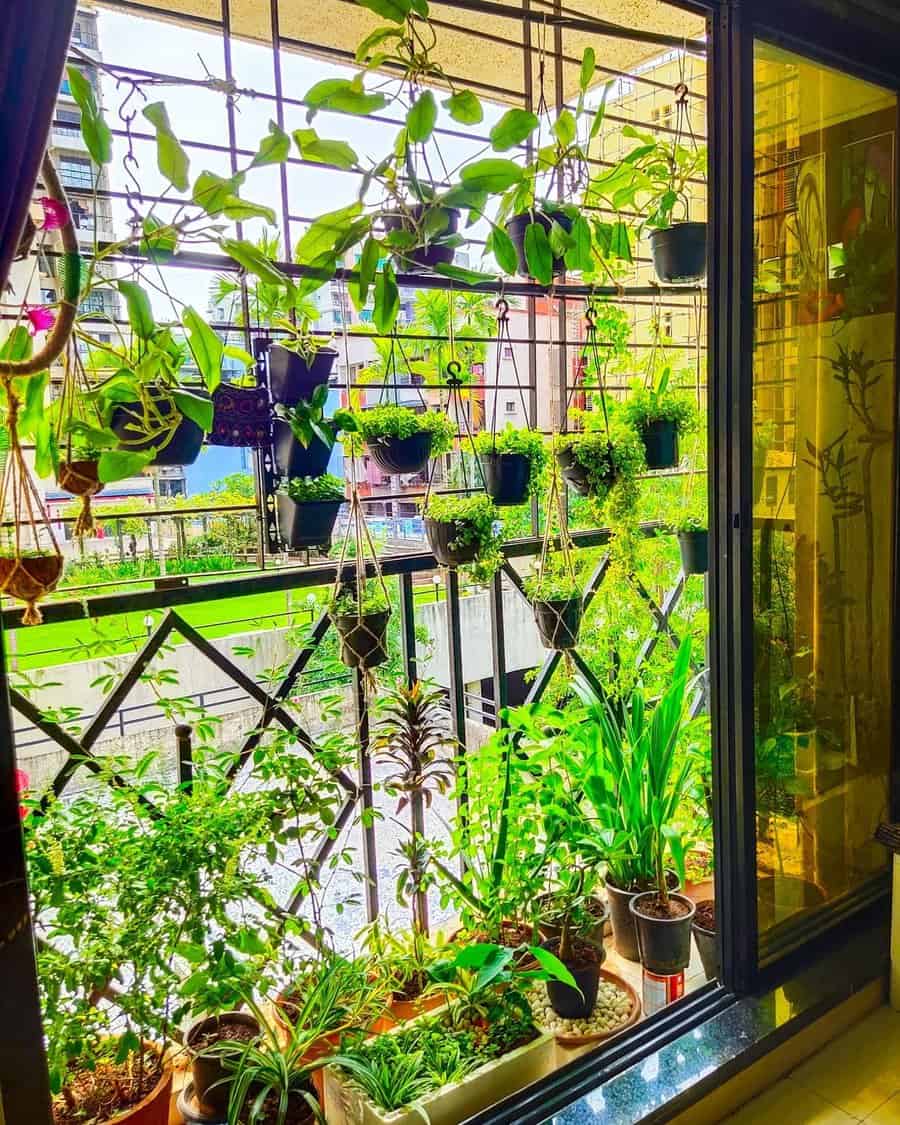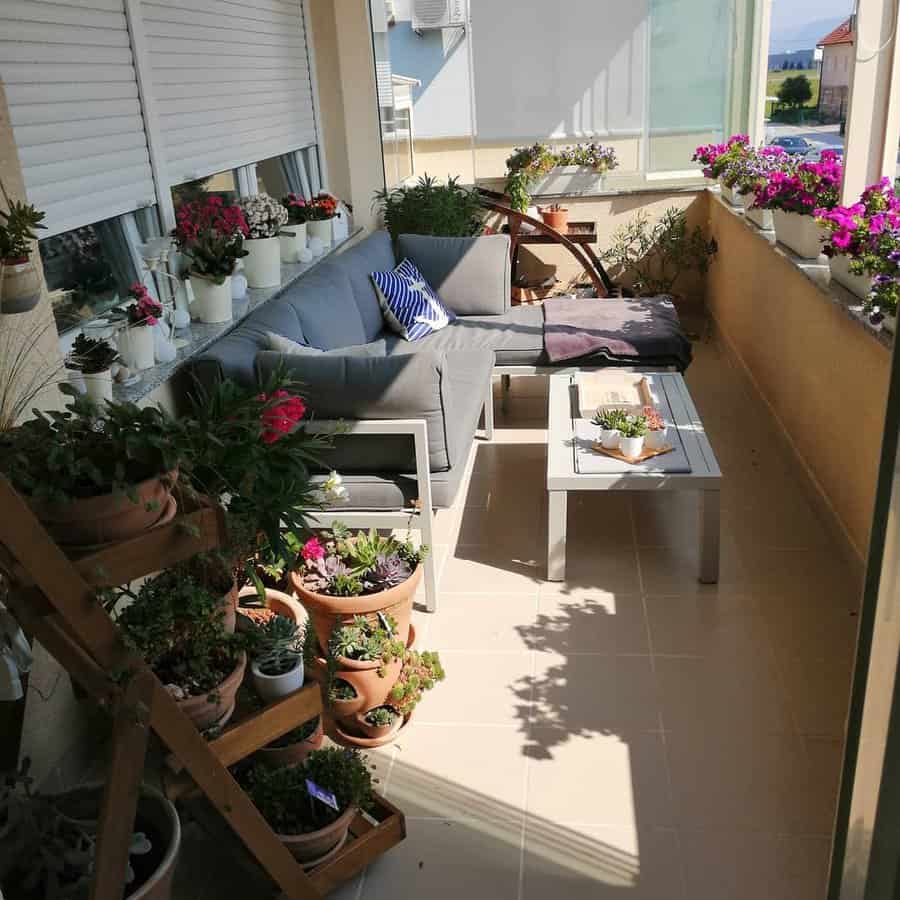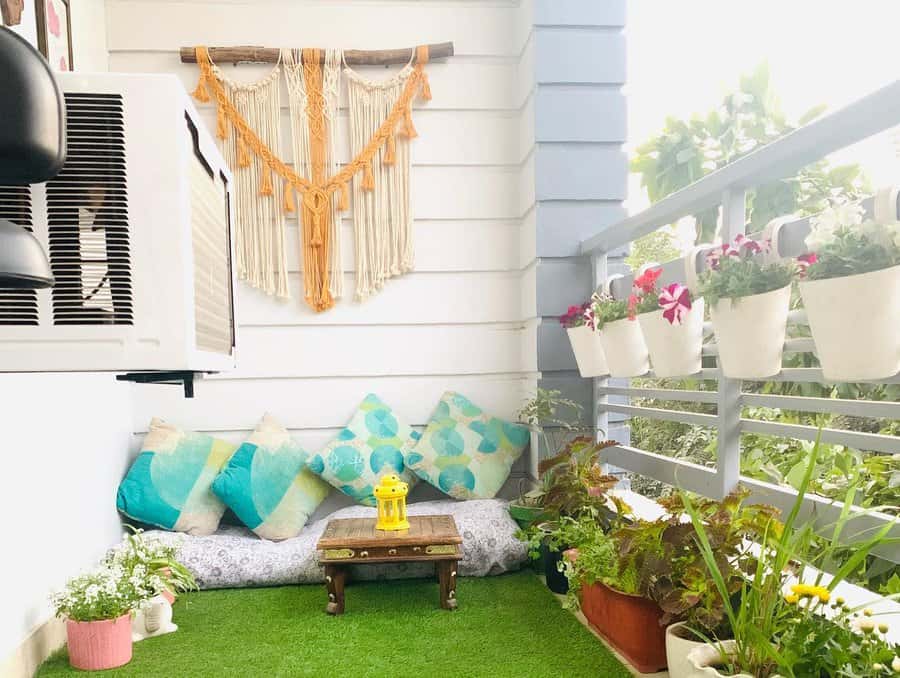 Hanging planters are ideal for a small balcony. Whether you mount these containers to a rafter, wall, or railing, they free up square footage and allow even more space for your balcony gardening ventures.
There are certain scenarios where installing a railing planter is risky. Rather than mount a gardening box to the exterior of your balcony railing — which may sit many, many feet above the ground — install it on the interior side. This offers easier access and reduces the risk of an accident.
8. Tropical
Many of the most popular ornamental plants come from tropical climates. Tropical species are a great choice for filling out a balcony garden planter, especially if you want to bridge the gap between your houseplant collection and the great outdoors.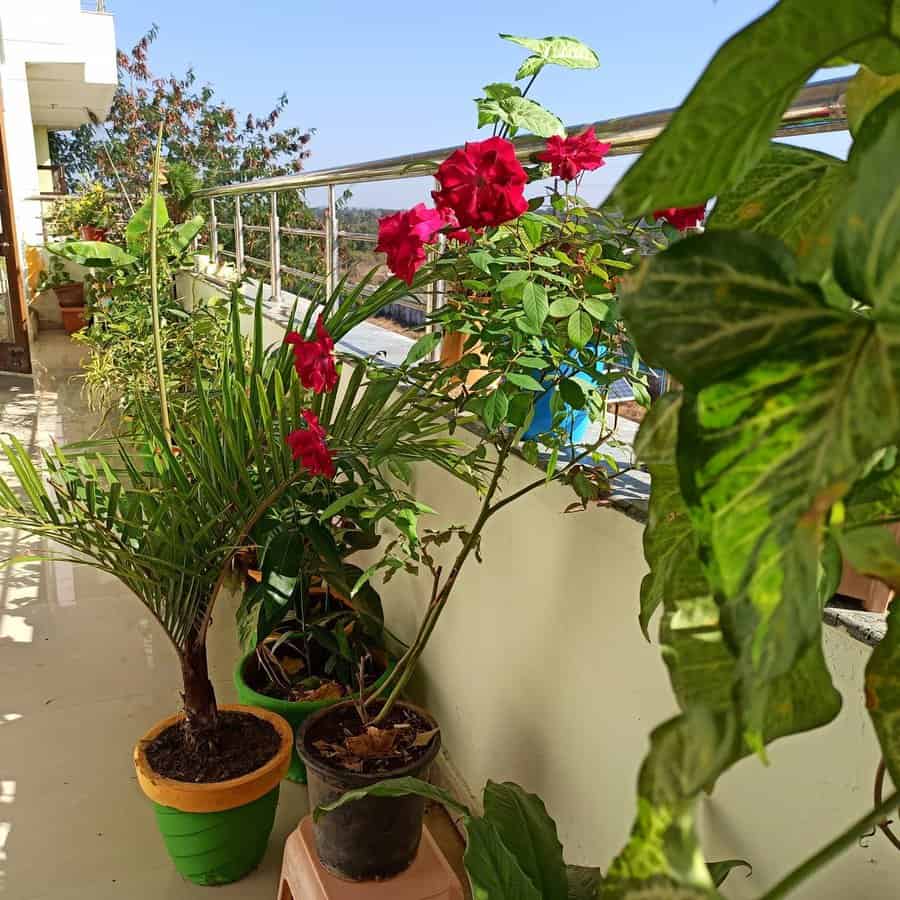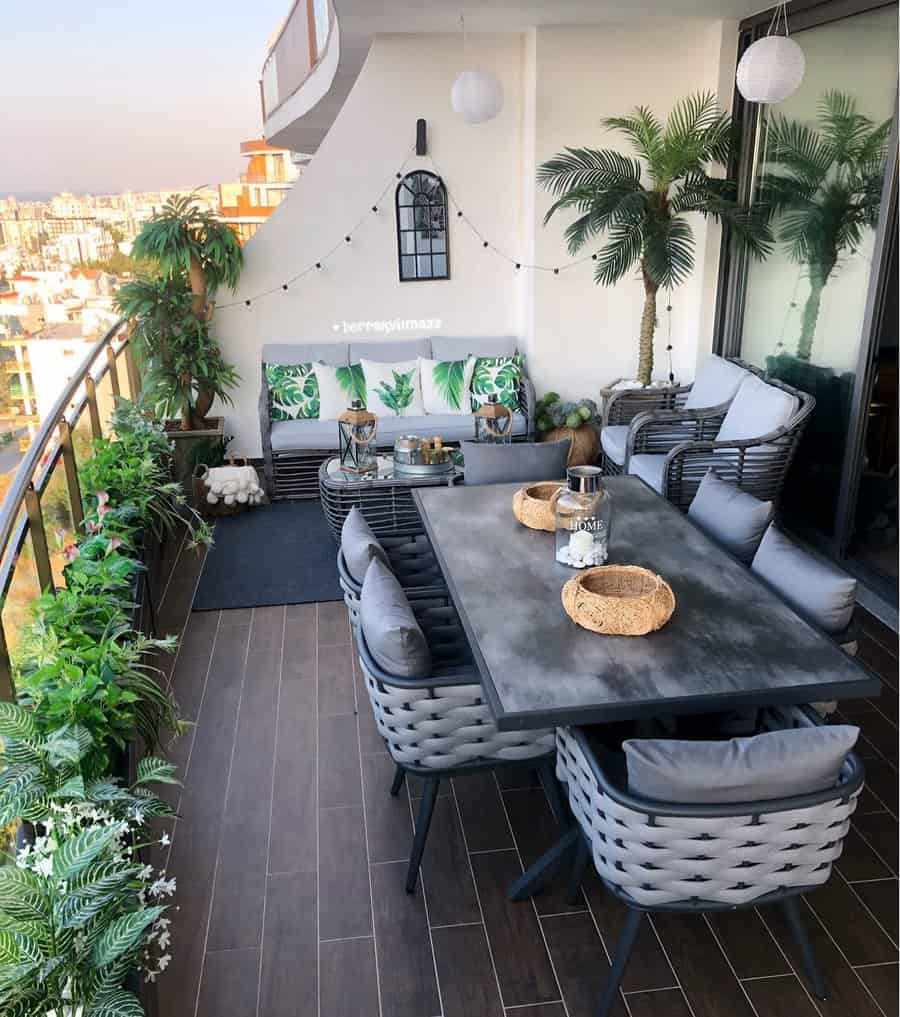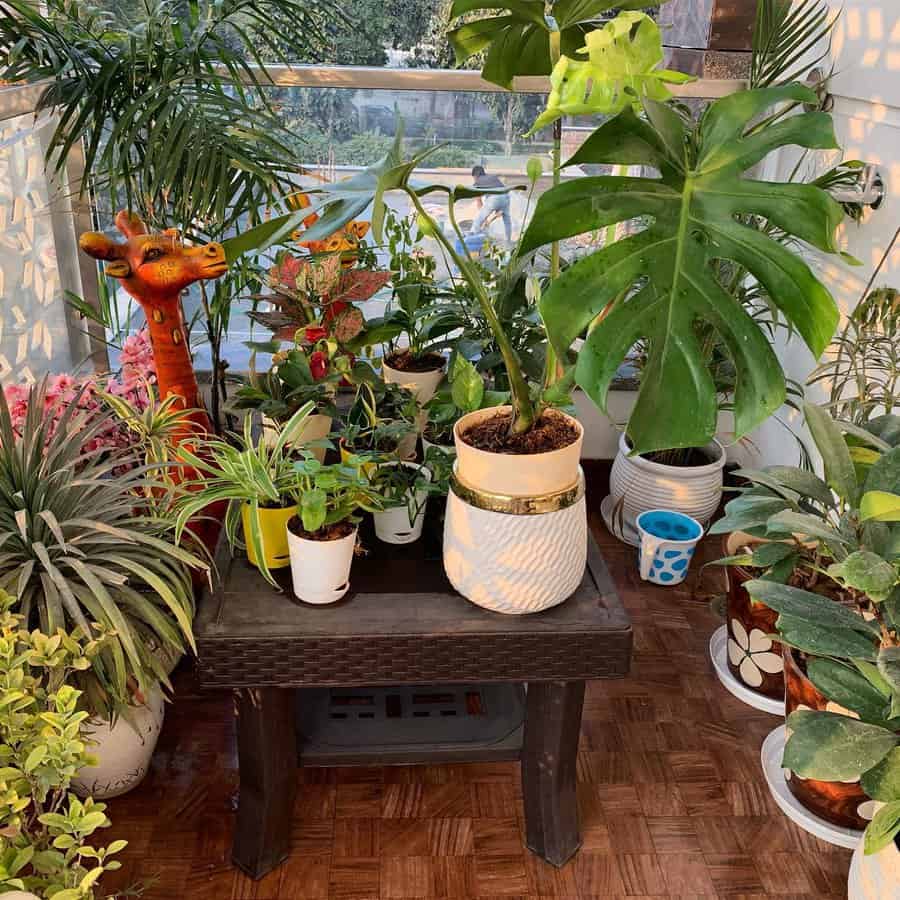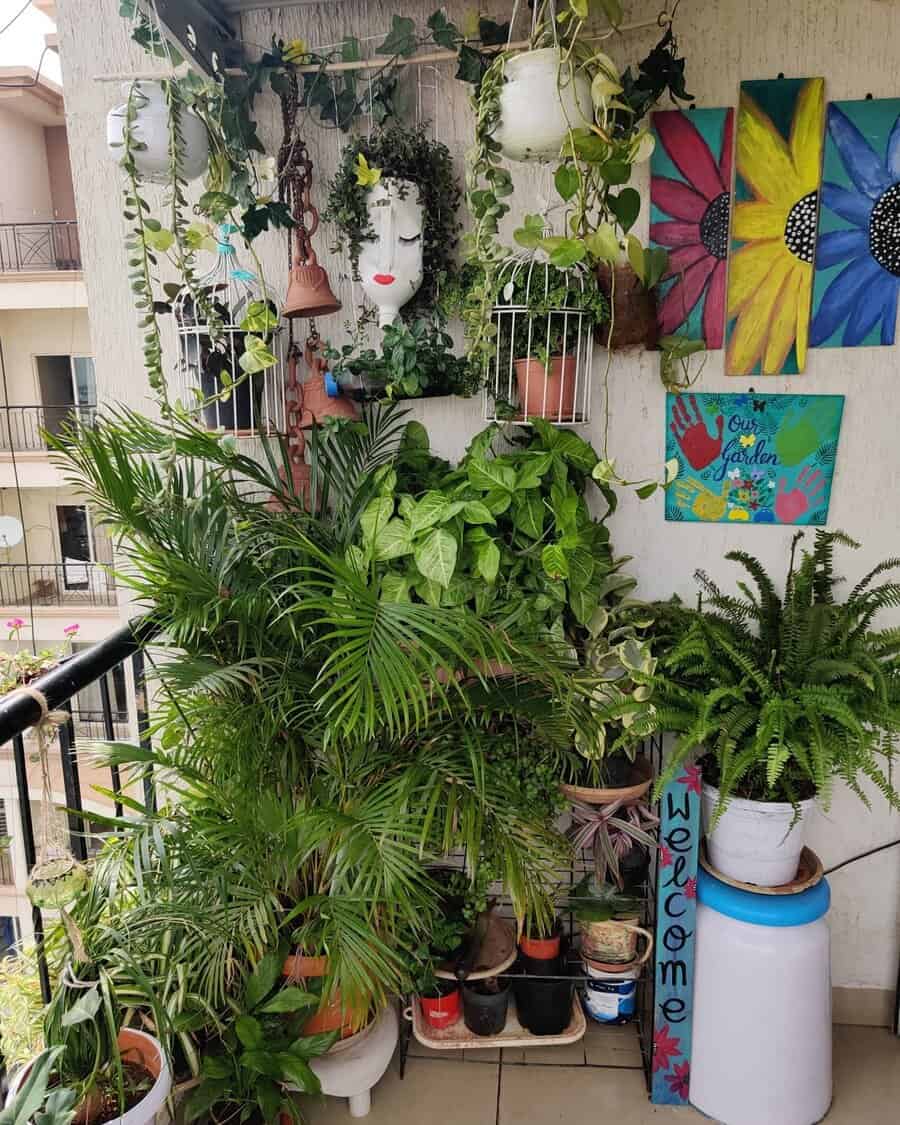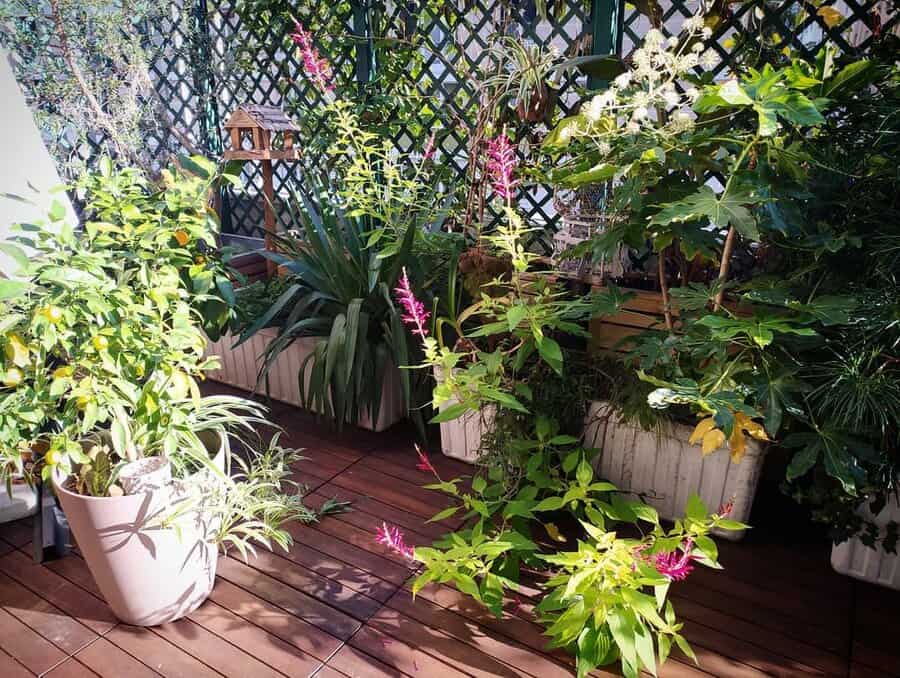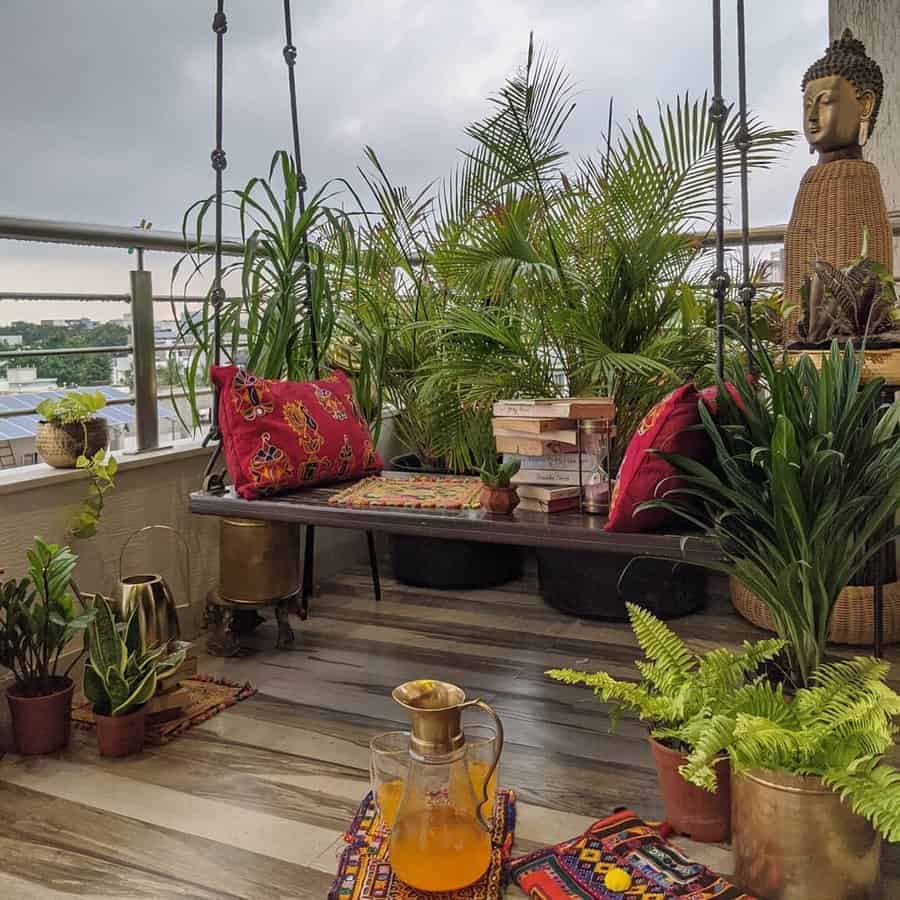 Not all tropical species will tolerate bright sunlight. Remember, many of these plants are accustomed to the shady conditions of the rainforest! Knowing the conditions of your garden balcony is just as important for tropical plants as it is for any other variety.
If you live somewhere with seasonal temperature changes, it may be necessary to bring more delicate plants indoors for winter. Take this into account when choosing gardening containers — weight is important!
9. Vertical
The biggest challenge in cultivating a balcony garden is the lack of space. Even luxury buildings rarely feature balconies that are larger than a few dozen square feet. With vertical gardening, you can easily turn a small garden into a full-scale operation.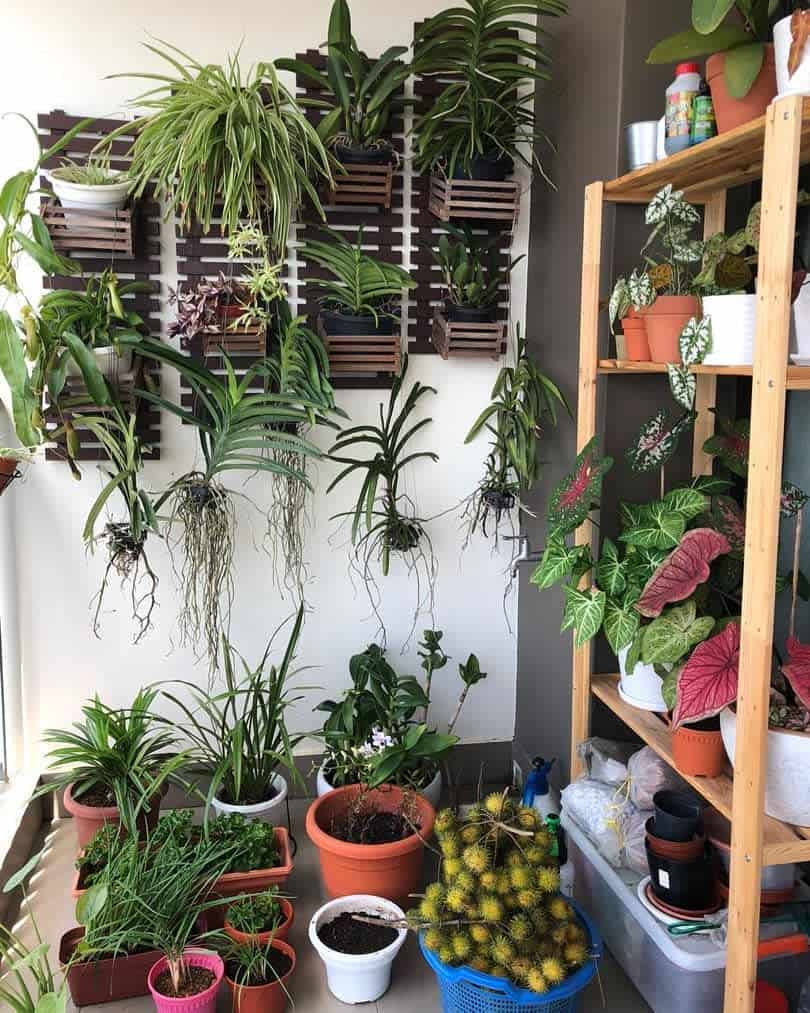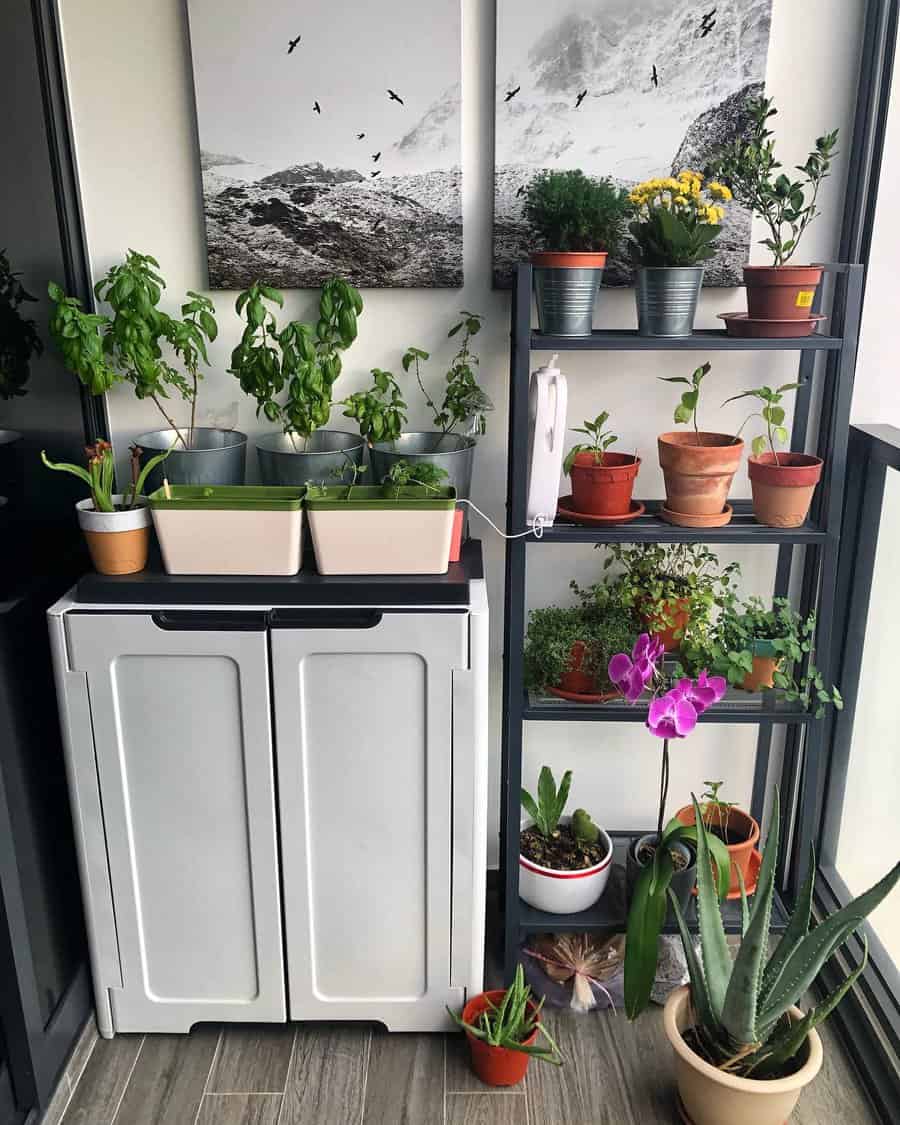 A vertical garden is the best way to make the most of the available floor space. A vertical garden can be used to grow anything — herbs, vegetables, flowers, and even succulents.
Your vertical garden can be aesthetic as well as functional. Installing a living wall will add privacy and a conversation starter to your balcony garden design. You can also use basic wooden shelves to maximize space for your balcony plants.