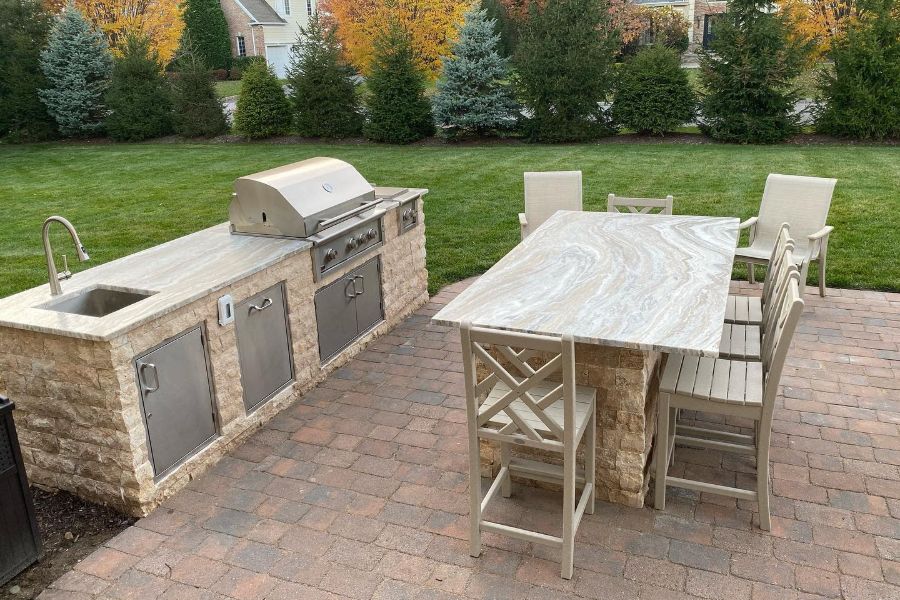 The Top 41 Backyard Kitchen Ideas
"I cook as a profession every single day of my life, and I cook to relax every single day of my life. Especially in the summer—my outdoor kitchen—is the star of the show. People are intimidated by grilling…but I think that grilling is actually the easiest technique in cooking."  –  Bobby Flay
Having an outdoor kitchen used to be a privilege enjoyed only by the wealthy. Now, these outdoor kitchens are popping up all over suburbia. Outdoor kitchen ideas now exist for smaller budgets and smaller footprints, and can include everything from a grill to a natural stone pizza oven.
If you've dreamed of adding a kitchen to your outdoor living space, take a few minutes to scroll through our collection of best backyard kitchen ideas. See how much fun outdoor entertaining becomes when you have a kitchen outside.
1. Barbecue
A barbecue grill is the mainstay of outdoor cooking, so your outdoor kitchen design should definitely include one. Nothing beats the rich smokiness of grilled food combined with al fresco dining. Thanks to the wide range of grill sizes available today, it's a pleasure that's obtainable in virtually any backyard.
Whether you prefer a charcoal grill, gas grill, or smoker—or all three—take the time to research which models work best in your outdoor space. A large stainless steel grill coordinates well with any stainless outdoor kitchen appliances, but any type of grill can work in an outdoor kitchen.
2. Covered
A covered patio or carport is an ideal location for an outdoor kitchen. Having a roof over your outdoor kitchen helps your cabinetry, appliances, and countertop surfaces last longer. It also helps shelter you and your guests from strong sunshine or light rain.
However, you can have a great outdoor kitchen without a solid roof above. A partial roof or a pergola-style roof helps delineate the space while permitting maximum air flow. Allowing climbing vines to grow along an open grid roof provides some shade without making your outdoor space feel closed in.
3. Deck
Before you plan a DIY outdoor kitchen on a deck, it's important to make sure your deck can support its weight. You also don't want to place heat-generating appliances directly on top of a wooden deck surface.
However, a deck is a great place for a simple outdoor kitchen plan that includes a grill, outdoor bar, and outdoor dining area. An outdoor-safe beverage fridge will add a lot to your outdoor kitchen even if you don't have room for other appliances.
4. Island
An indoor kitchen isn't the only place where a kitchen island is a useful feature. If you have enough room, an outdoor kitchen island can greatly streamline your ability to cook efficiently outdoors.
Design your island with a bar-height countertop and add some barstools. This creates a dual purpose dining area and food prep zone, and is a great space saver for your outdoor kitchen plan.
Your backyard kitchen can also be an island itself—just one open area where your grill, fire pit, and perhaps a gazebo will stand. Built near a swimming pool or putting green, it turns a basic outdoor space into something truly special.
5. Modern
Modern kitchen design translates well into outdoor living spaces. Stainless steel appliance surfaces coordinate well with other modern metal kitchen design elements. Glass or granite countertop options are great in a modern backyard kitchen.
Horizontal wooden fence panels are an excellent modern touch for sectioning off your backyard living areas. Border your patio with them and add them if you need more privacy around your fire pit or dining area.
With an expansive budget, your patio can be transformed into an open-air kitchen room. Leave arched openings on all sides to allow maximum air flow, but build solid walls to support a vaulted ceiling. Build a fireplace on one wall and extend your cooking area long another wall. Hang modern light fixtures and add furniture with simple lines to complete the look.
6. Patio
People often confuse the terms "patio" and "deck." A patio is generally a concrete slab that extends from the back door into the yard. It's usually at ground level and may have a tile, brick, or stone surface. A deck is built above the ground from wood or a composite material and may be several feet above the ground.
It's easier to install a concrete patio kitchen idea when the home is being built, because you can simply extend the water, electricity, and drainage lines beyond the exterior walls. Even so, you can still hire a contractor to build a full kitchen in an existing patio zone. If you have to break up an existing slab, take that opportunity to replace plain concrete with flagstone, travertine, or another attractive material.
7. Pergola
A pergola is a great addition to virtually any outdoor fireplace and kitchen idea, especially if your patio isn't covered. These backyard features are made from vertical pillars or posts that support an open roof structure. A pergola roof may be made of horizontal beams or an open lattice design.
If you want to cast living shade onto a patio built beneath a pergola, train woody vines to grow onto the roof structure. Although it will take some time, the end effect is a beautiful addition to your backyard kitchen.
8. Pizza Oven
Do you love getting crispy, chewy, oven-fired pizza from your favorite pizzeria? Don't think that a pizza oven is an outdoor kitchen feature beyond your budget. These fire-powered pizza ovens have become more affordable in recent years. In fact, you can now find a decent-quality outdoor pizza oven for around $200.
These ovens reach higher temperatures than an ordinary indoor oven, creating the signature blistered pizza crusts that you enjoy at your favorite restaurants. Even if pizza isn't your thing, this type of oven can come in handy. It's an excellent type of oven to bake better versions of many favorites, including meats, steaks, roasted vegetables, and homemade breads.
9. Rustic
A rustic style outdoor kitchen melds together the beauty of nature with the efficiency of preparing foods outside. It encompasses all the best aspects of cooking around a campfire but is far more user-friendly.
Even if you don't plan to cook by fire in your backyard kitchen, a stone fireplace is ideal in a rustic outdoor space. For design cohesiveness, use a similar stone material on your flooring and cabinet walls. Wood logs and exposed beams are other elements that really add to the rustic ambiance.
A concrete countertop is the perfect addition to a rustic backyard patio kitchen. Stain concrete outdoor countertops a warm hue to coordinate with wood finishes, or leave them grey for a stone-like appearance.
10. Small
Even a small concrete patio has enough room for an outdoor grill and a mini-outdoor kitchen zone. A wood cart with a granite countertop can provide enough prep space without encroaching into your dining zone.
As in any small area, taking advantage of vertical storage space is a must. Install shelves over your sink or prep surface and hang a small pot rack or storage basket from the ceiling. Unless you do a lot of outdoor cooking, the smallest outdoor appliances should be sufficient to meet your needs.
Outdoor Kitchen FAQs
Do outdoor kitchens need to be under cover?
Yes. Even though you can build your outdoor kitchen with weatherproof materials, an outside kitchen needs to be protected from the elements. Even if your backyard kitchen is open air, covering it will help protect it from harsh weather conditions.
What's the difference between indoor and outdoor refrigerators?
Outdoor refrigerators are usually smaller than indoor models. Most importantly, these and other outdoor appliances must be rated for outdoor use. Appliances with this rating are able to withstand the weather and temperature fluctuations of an outdoor living space.