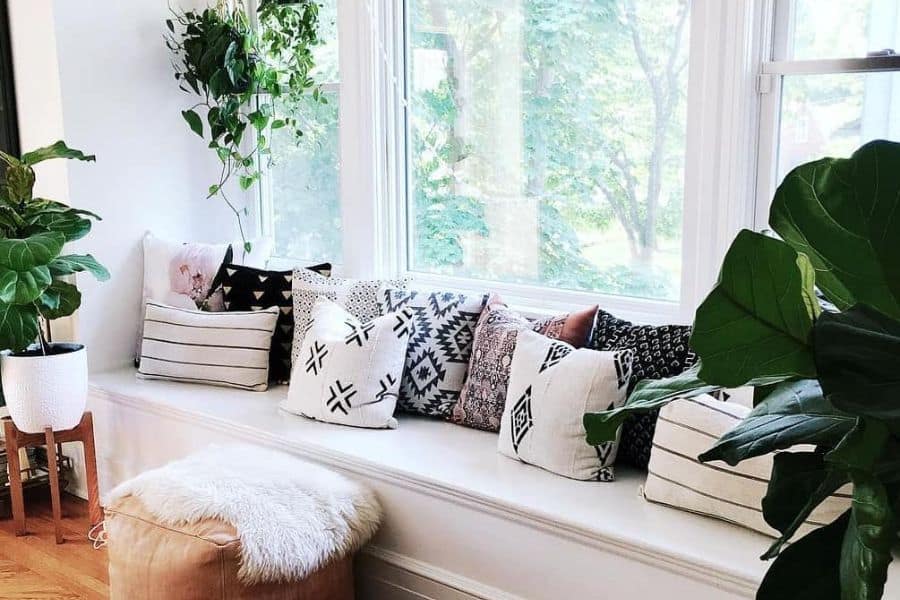 76 Easy Ways to Decorate a Bay Window
If you own an older house, especially one built in the Victorian era, there's a good chance you have at least one bay window in your home. There's also a good chance that you have no idea how to decorate it.
Bay windows might not be as popular as they once were. But that doesn't make them any less stylish. You just need to know how to get the most out of this design element's unique function and aesthetic.
These bay window ideas will help you decide on the perfect furniture, decor, and window treatments to pair with your home's classic architecture.
1. Bedroom
The master bedroom (or any bedroom, really) is a prime candidate for a bay window. Bay windows let in plenty of natural light, which can make your bedroom feel larger and brighter.
The space in front of your bay window is ideal for a reading nook, vanity, or dressing area. Take advantage of the extra floor space to store furniture or decor that would otherwise crowd the room.
While it's great that these windows let in tons of sunlight, this isn't always desirable in a bedroom. More windows also mean more concerns about privacy. Be sure to include a reliable set of curtains or blinds in your bay window design.
2. Bench
Bay windows and benches tend to go hand-in-hand. Seating is a great way to take full advantage of the natural light and view from your bay window.
If permanent seating isn't an option, place an ottoman or bench in front of your bay window. Add a seat cushion or throw pillows to your window bench for a personalized style and added comfort.
Whether you're upgrading an existing bench or installing a brand new one, don't overlook the potential for extra storage. Include compartments in your bay window seat for more functional storage and organization.
3. Blinds
Many homeowners struggle to choose the right window treatment for their bay windows. With the sheer number of window panes to be covered, it's important to opt for sleek, low-profile blinds for your bay window.
A Roman shade is a great option that looks nice pulled up or down. Wood blinds mimic the look of shutters without the permanence or expense.
You want your bay window to look bright and open, not weighed down by blinds or curtains. Choose a window treatment that matches the surrounding wall or window frame for a uniform appearance. Or draw attention to your bay window with contrasting blinds in black or white.
4. Design
Bay windows can make the perfect backdrop for your favorite furniture and decor. Leave the window panes bare for tons of natural light and a great view. You can also use curtains, shades, or blinds to add a dose of color to your bay window design.
Use windowsills to display decor but be sure not to block too much of the window itself. Potted plants are a great option, and most will thank you for being left in a bright window.
Add comfortable seating or a desk in front of your bay window — unless, of course, it's already outfitted with a built-in bench seat. This is also the spot to tuck your favorite holiday decorations depending on the season.
5. Dining Room
In many contemporary homes, the dining room feels like an afterthought. This room often offers limited floor space and suffers from a lack of natural light. Installing a bay window can fix these common problems.
A large bay window makes the perfect accessory to a formal dining room table. If you prefer a more casual dining experience, transform a corner of your kitchen into a breakfast nook with a bench seat and a small table.
Finish your dining room or kitchen bay window with roller shades or a drapery panel. Also, don't neglect the light fixtures. Your bay window won't do you much good after the sun sets, at least in terms of light.
6. Exterior
It's easy to focus exclusively on how great a bay window looks from the inside. But it's important to remember the impact this design element can have on your home's exterior.
Many homes, especially those built in the Victorian style, feature dramatic bay windows that break up the rest of the exterior. You can help your windows stand out even more by framing them with contrasting shutters or flowering baskets.
Layered bay windows might not make a difference to the interior of your house. In terms of exterior curb appeal, though, this architectural layout is a classic. Keep the area below your bay windows clean and open to maximize the impact.
7. Living Room
Use your bay window as a reverse accent wall for your living room. Keep the wall around your bay window neutral while painting the adjoining walls a more dramatic hue. This will also open up your living room space, making it feel larger.
If you want to strike a balance between natural light and privacy, cover the bottom of your bay window with a valance or half-shutters.
For a more formal living room, you can use drapery as a bay window treatment. You can hang a tension curtain rod across your entire bay window area for a simple solution. Or install a custom valance and curtains over each window for a more polished appearance.
8. Modern
For a modern take on bay window design, keep things clean and straightforward. A sleek bench seat is your best option, but you can also go with something like a desk or mid-century chaise lounge.
Don't overload your extra seating with pillows and blankets. Instead, keep the space clutter-free. You can add texture to the area with velvet upholstery, potted houseplants, or unique window treatment ideas.
The bigger your bay window the more dramatic and stylish the finished design will look. While you can't change the size of an existing bay window, you can create the illusion of a larger window frame with strategic curtain placement.
Read more: 33 Modern Living Room Ideas
9. Reading Nook
If you have a bay window sitting empty — no matter the room — few design ideas are as quintessential as a reading nook. Your top priorities for this project should be comfortable seating and adequate lighting.
Finding the right window seat can be tricky — go with your gut. Choose something that looks great and stays comfy throughout hours of reading. Set up window blinds and a lamp so you have full control of the area's lighting.
Many readers refuse to let go of their hardcovers and paperbacks. But if you enjoy using a Kindle or tablet on occasion, you can bring your quaint reading nook into the modern era by making sure you have access to an outlet.
10. Shutters
Indoor shutters are sturdy and easy to adjust if you need a change in lighting or privacy. Shutters are great for areas like the bedroom, where blackout window treatments are necessary. They're also less bulky than many other window coverings.
You can still finish your bay window with a set of traditional curtains. Drape a decorative curtain on each side of your window or hang sheer panels over the shutters themselves.
If your bay window is surrounded by a white wall, white shutters will make the space feel nice and put together. Natural wood shutters go with everything. On the other hand, contrasting shutters can be a great complement to your room's color scheme.
11. Small
Most bay window designs assume that your window is large enough for a full-length bench or sofa. If you're looking for ways to decorate a small bay window, though, finding inspiration can be hard.
Instead of a long bench, try placing an accent chair or ottoman in front of your windows. A sturdy chest can double as seating while also offering hidden storage — throw a cushion on top for comfort.
Keep the space directly in front of your windows clear to maximize the amount of sunlight that comes through. Curtains will weigh down small bay windows. Opt for Roman shades or Venetian blinds for privacy.
12. Square
Box bay windows — bay windows with a squared-off design — can add beauty and intrigue to the exterior of your home. They can also be an interesting addition to your interior floor plan.
Depending on the size, a box bay window can be turned into a private alcove with a bench seat, armchair, or writing desk. Use a screen divider or tall houseplants to separate this space from the rest of the room.
When it comes to choosing blinds or shutters for a box bay window, there's little room for error. Make sure your measurements are accurate, or else you'll end up with window treatments that gap or overlap.
13. Victorian
Many homeowners strive to make their houses look as contemporary as possible. But if you relish in the vintage details of your home's architecture, decorating a set of bay windows can be a real treat.
The best way to dress Victorian bay windows is to mostly let them stand on their own. Stick with basic window coverings, like sleek blinds, shutters, or a custom curtain set.
Keep your decor and window treatments as simple as possible. Instead of placing decorative items on your windowsills, adorn a small cocktail table or bench set in front of the window.
14. Window Seat
Whether you're dreaming of a private reading nook or some extra seating for your kitchen or living room, a bay window is the perfect spot to bring this idea to life.
Looking for more windows seat ideas? Find them here: 41 Window Seat Ideas
Many bay windows are accompanied by built-in seating. You can also use a freestanding banquette bench, armchair, or loveseat. Make wooden bench seating more comfortable with an upholstered cushion and throw pillow arrangement.
Get creative with your window seat ideas — the only rule is that the furniture must fit the space. Place a small table or desk in front of your window seat for a casual dining or work area with plenty of natural lighting.
Bay Window FAQs
Are bay windows outdated?
Many people associate bay windows with old, vintage homes. While it's true that these windows are quite common in historical Victorian houses, that doesn't mean the style itself is outdated.
Decorate your bay window with contemporary finishes — wall paint, furniture, curtains, etc. — to bring it into the modern era.
Of course, there's also nothing wrong with leaning into your bay window's vintage appeal!
What is a bow window?
Bay windows include three or more panes that angle out past the exterior wall. This design results in a boxy or trapezoidal shape.
On the other hand, bow windows feature several panes (often five or six) that gradually extend out in an arch.
A bow window is essentially a curved bay window. Today, most people group both styles under the bay window moniker.