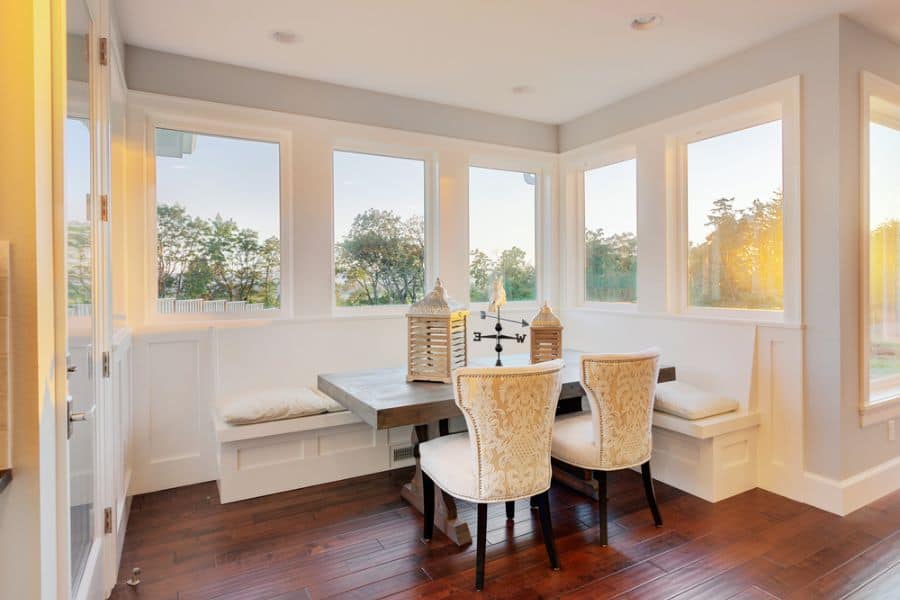 41 Window Seat Ideas for Every Room
Many homeowners dream of a cozy window seat for the aesthetic alone. While window seats are synonymous with vintage-style homes, they are also becoming more and more popular in modern, contemporary, and other trend-forward design trends.
Between secret storage and extra seating, it's hard to deny the practicality of a window seat. (And if you have a small dog or cat, they're sure to appreciate a sunbathing spot!)
The hardest part is deciding which type of window seat is best for your home. Check out these window seat ideas to discover just how broad the concept of a private reading nook can really be!
1. Get A Backless Couch
Sitting at a backless couch by the window must be one of the most delightful coziness anyone could ever experience. Cuddled up in a backless couch with warming sunrays peeking in and gentle breeze commencing through, we find ourselves lost in comfort and peace. Luckily, such backless couches are usually movable so you can easily find the perfectly snug fit for any window seat.
What's more, you are able to take it off when not needed and leave enough room for other activities! All of this makes having backless couches your best choice when looking for comfort at the same time suitable for limited living space!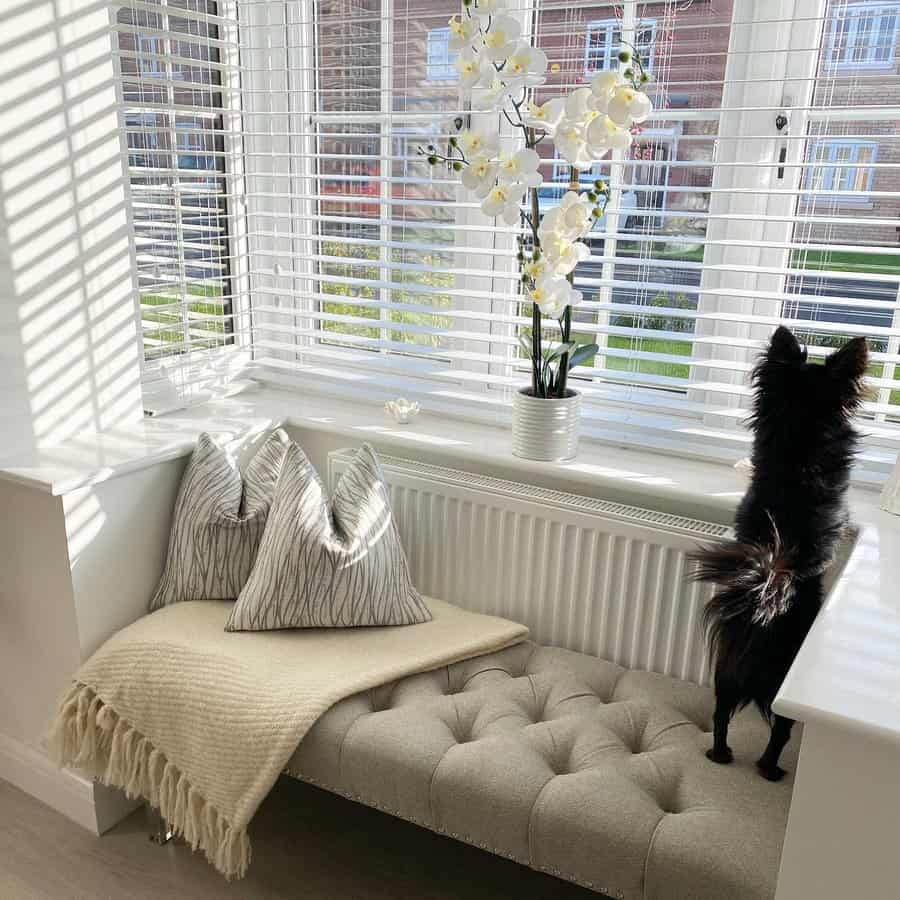 2. Throw A Comfy Foam Over It
Sitting by the window never felt so cozy — why? Thanks to a foam window seat! This makes it a little easier to forget about the world outside and just enjoy your view. It makes a great substitute for extra furniture that takes up too much space and makes cleaning all the harder. Get ready for hours of relaxation with just one simple addition of some foam!
Not only could you turn any old seat into an extraordinary place to sit, but this upgrade also makes it so much more comfy — no need to bring out the extra cushions! So while you're busy taking in your view from your window seat, let foam make it that much better.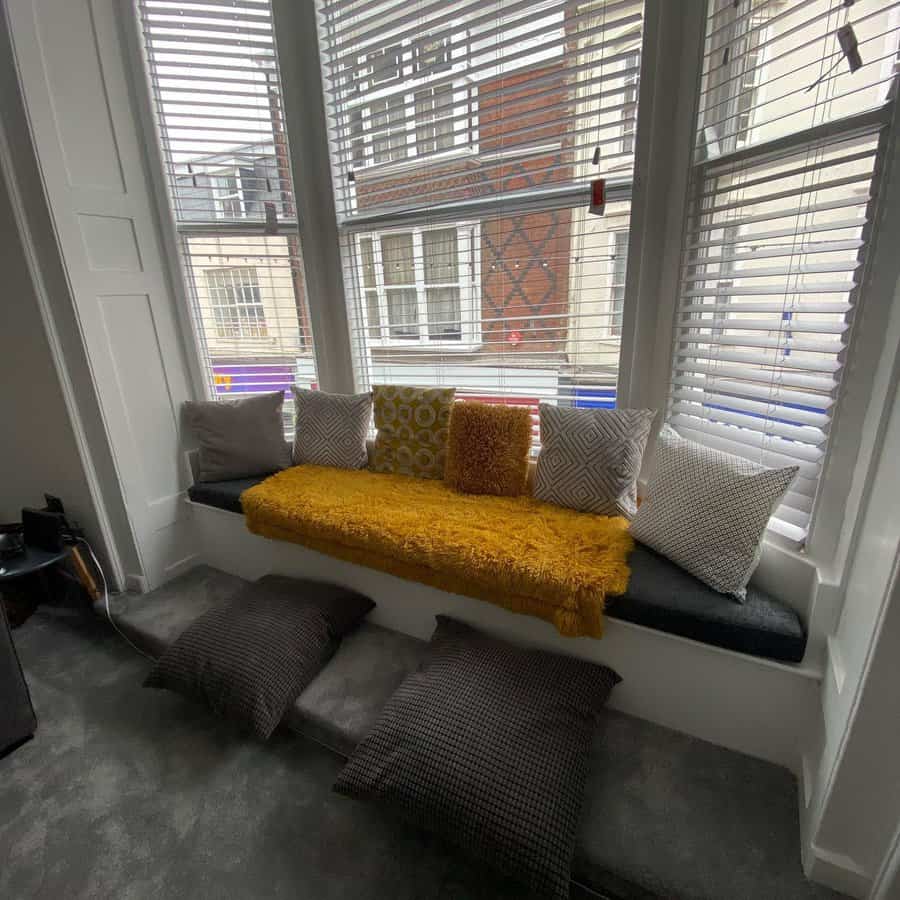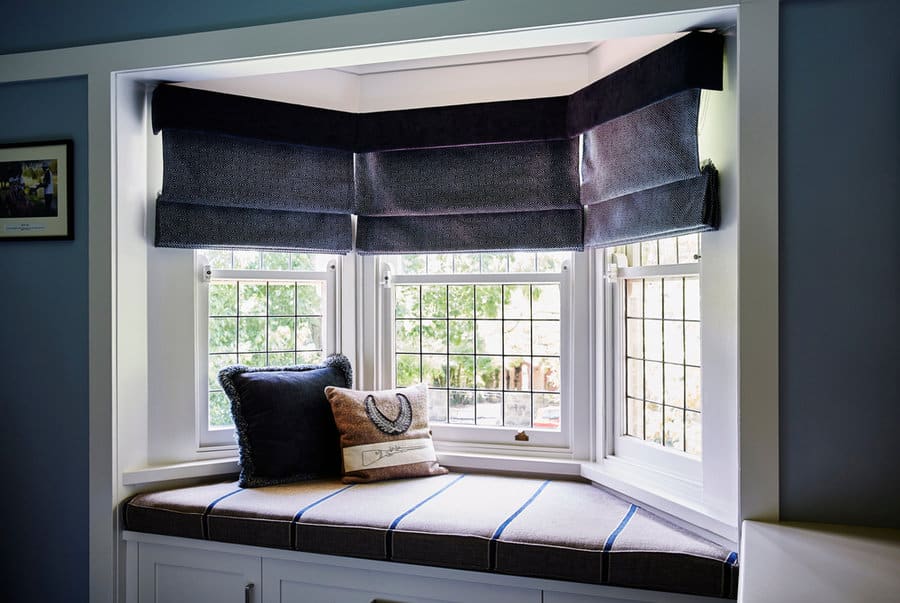 3. DIY A Mural Artwork
A window seat can be so much more than a place to sit — it adds an accent to any room in the house, especially when you personalize it with beautiful mural artwork. The perfect summer project, you'll love bringing home colorful doodles of houses and flowers.
There's nothing as special as seeing your own creativity reflected in the space around you – your little corner by the window just became something truly unique.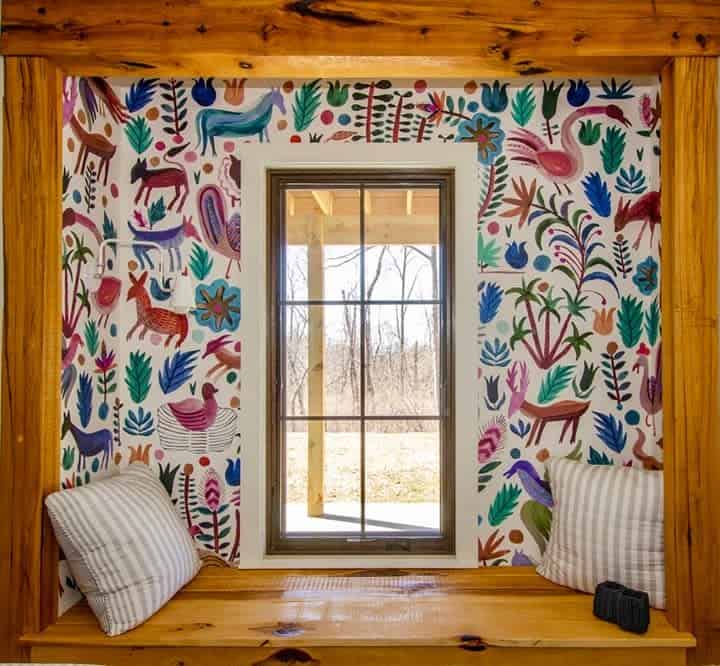 4. Hang A Pendant Lamp
Transform any window seat into something special with a pendant lamp. The ambiance adds charm to the space and serves as designated lighting for a reading or resting nook. Whether minimalistic or glamorously styled, the addition of this simple fixture adds character and practicality to your window seat.
Enhance its aura with luxurious accents and details; you'll end up with a cozy place ideal for snuggling in and taking in the pleasures of your surrounding view.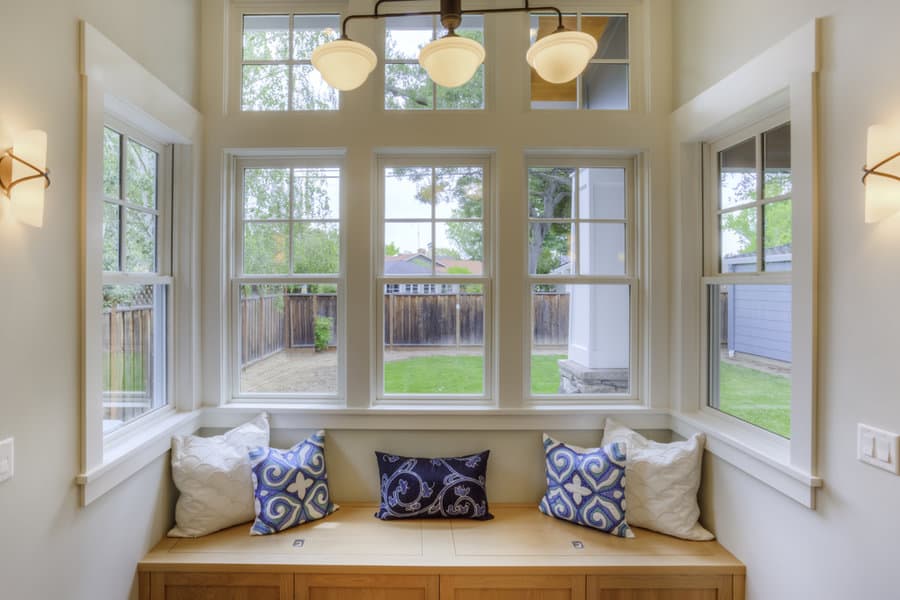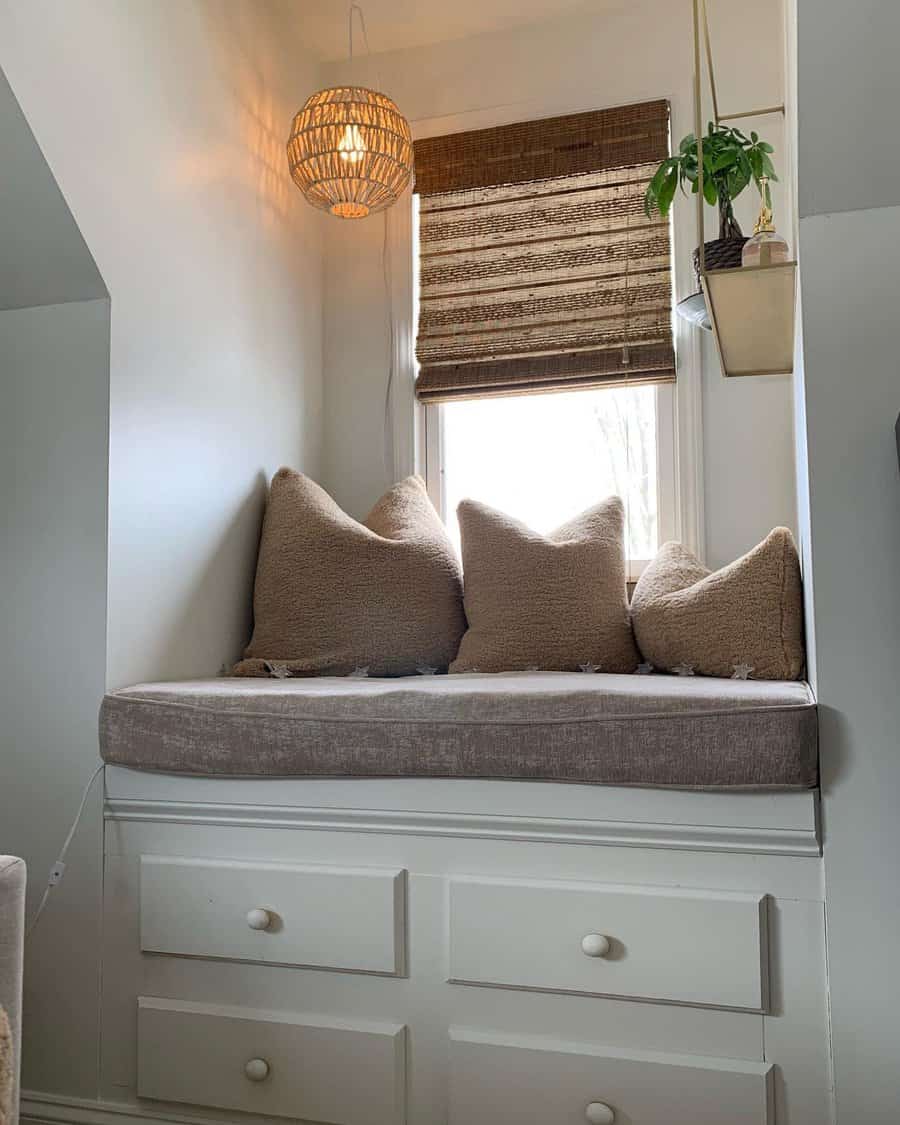 5. DIY A High Seating Area
Creating your own window seat is an exciting design opportunity, especially when you factor in the ability to design your preferred seating height. Allowing you to work with reclaimed wood or panels gives an extra touch of creativity and character, setting your design apart from off-the-shelf pieces.
Finish it off with a plush cushion atop your creation and you've got a unique spot for R&R that is true all your own.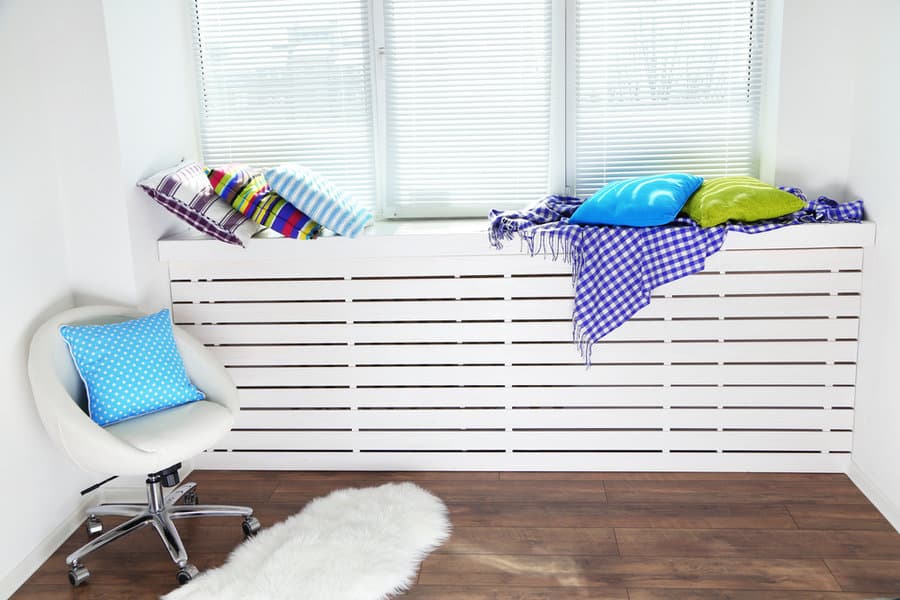 6. Add Cabinets
Window seats provide the perfect opportunity to utilize space in a creative way. By including cabinets beneath the seat, an extra storage area is revealed. A window seat with cabinets makes it easy to store items away from view while keeping them close at hand, creating a clutter-free atmosphere.
Enjoying a book or cup of coffee never felt so good as when nestled inside your own cozy corner surrounded by all of the treasures stored within its drawers and shelves.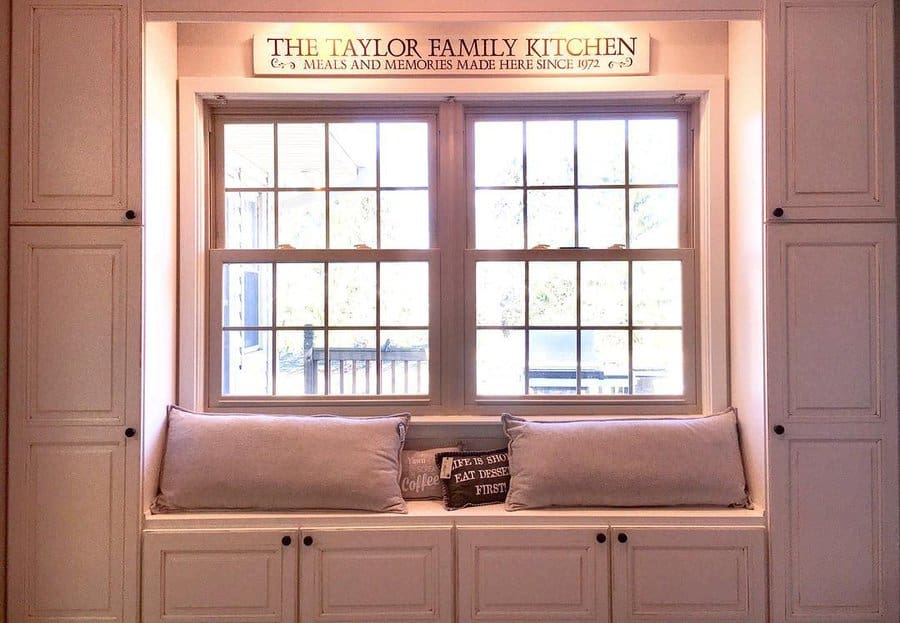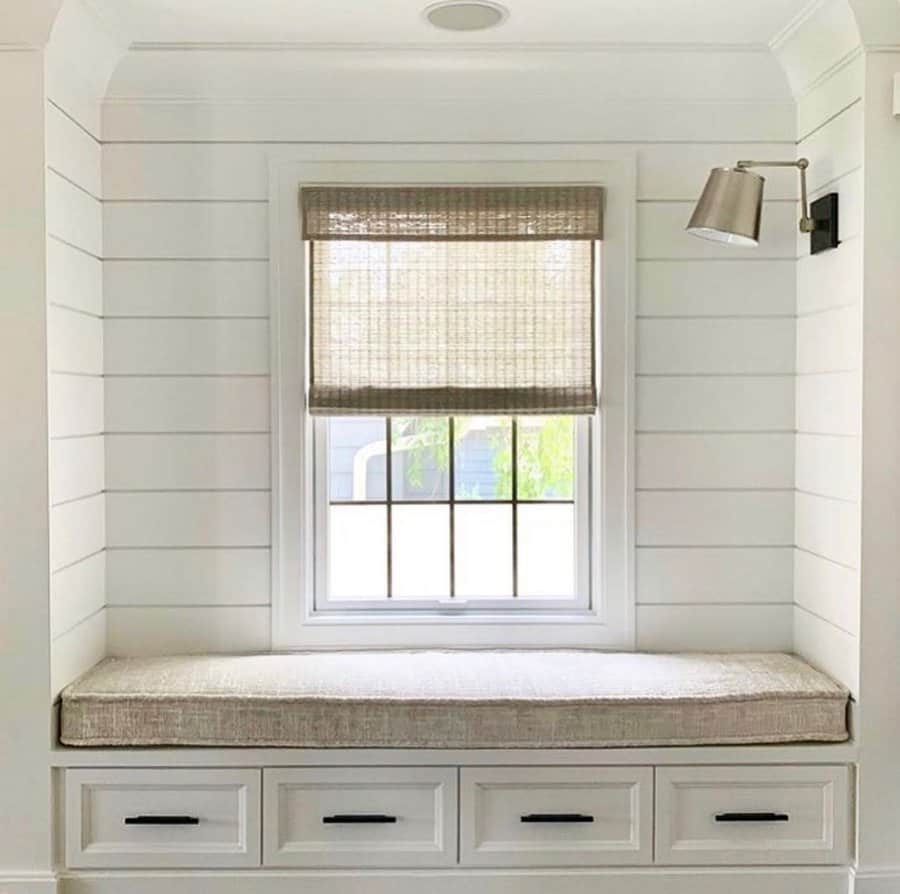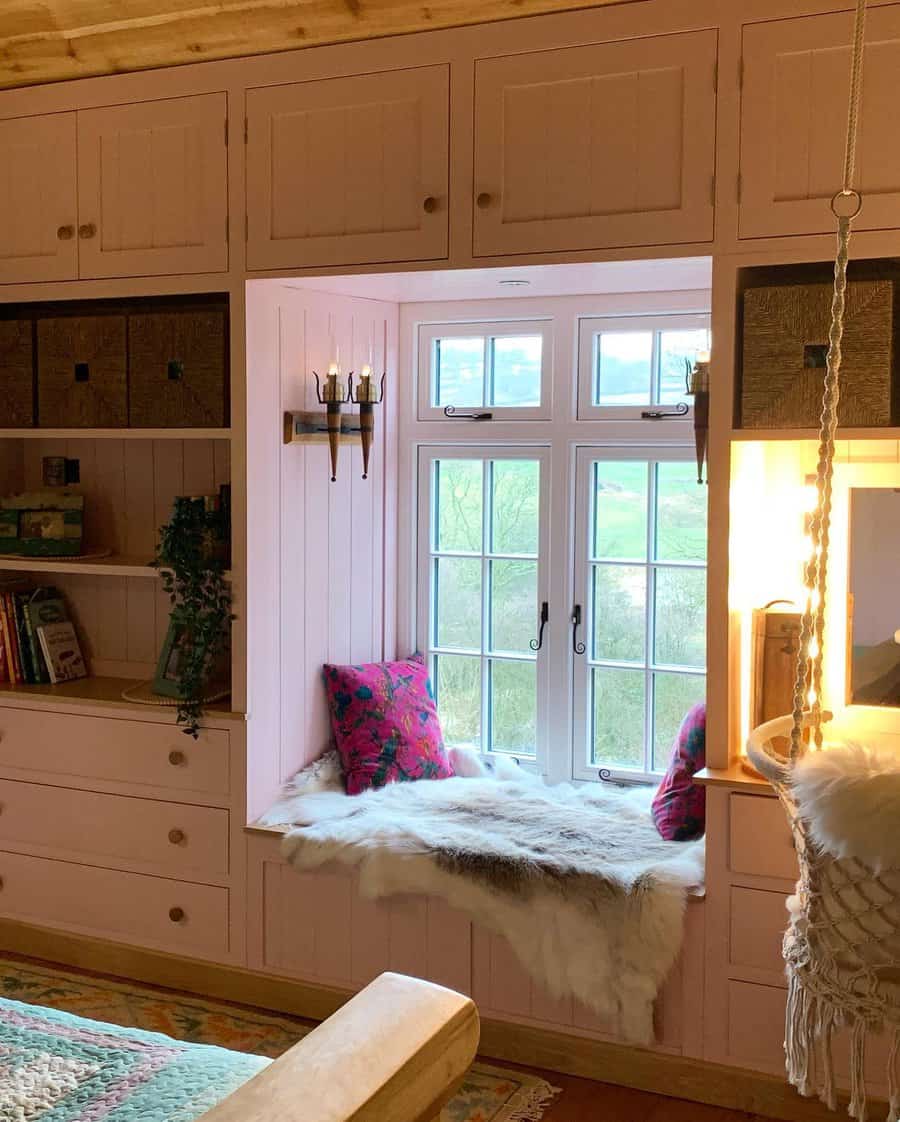 7. Install A Curtain
A window seat with a curtain lends privacy and coziness to any room. Pulling back the curtain for a view of the outside world is a small but powerful moment for the mind and body. Sitting for a time in such a spot brings peace, as if your thoughts can flow with the breeze wafting inside.
It's no surprise that so many daydreams start on such comfortable perches. Whether solitary or shared with the company, there are few spaces more inviting than one filled with sunlight, secreted away by its drapes.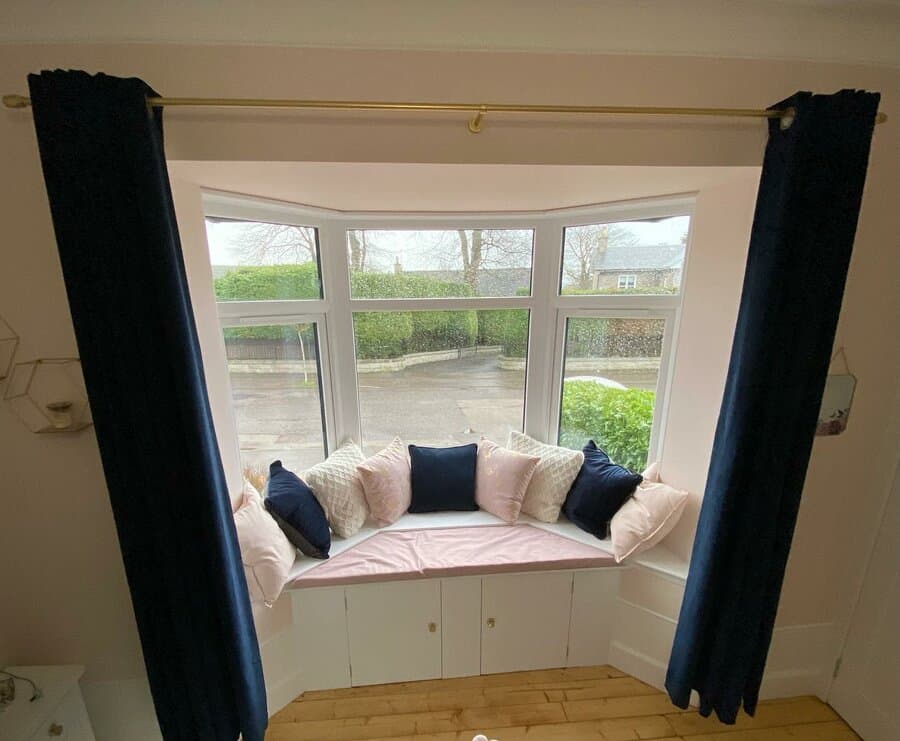 8. Incorporate Plants
Nothing brightens up a room more than a window seat adorned with plants. Incorporating greenery is an easy way to bring life and brightness into any space. From succulents to ferns, the possibilities are endless! To truly personalize your window seat, incorporate handmade macrame holders for your plants to hang from.
Not only does this incorporate texture into your room, but there's something special about surrounding yourself with the art you have created yourself. The combination of the two provides an idyllic touch to any room in the home.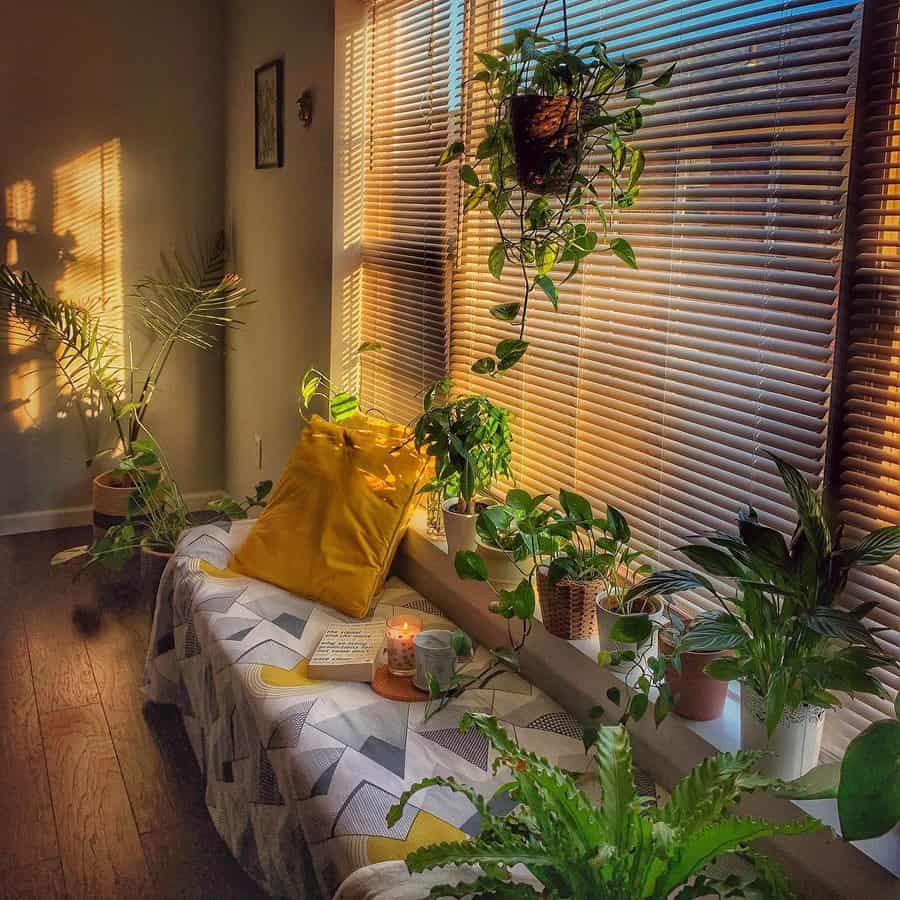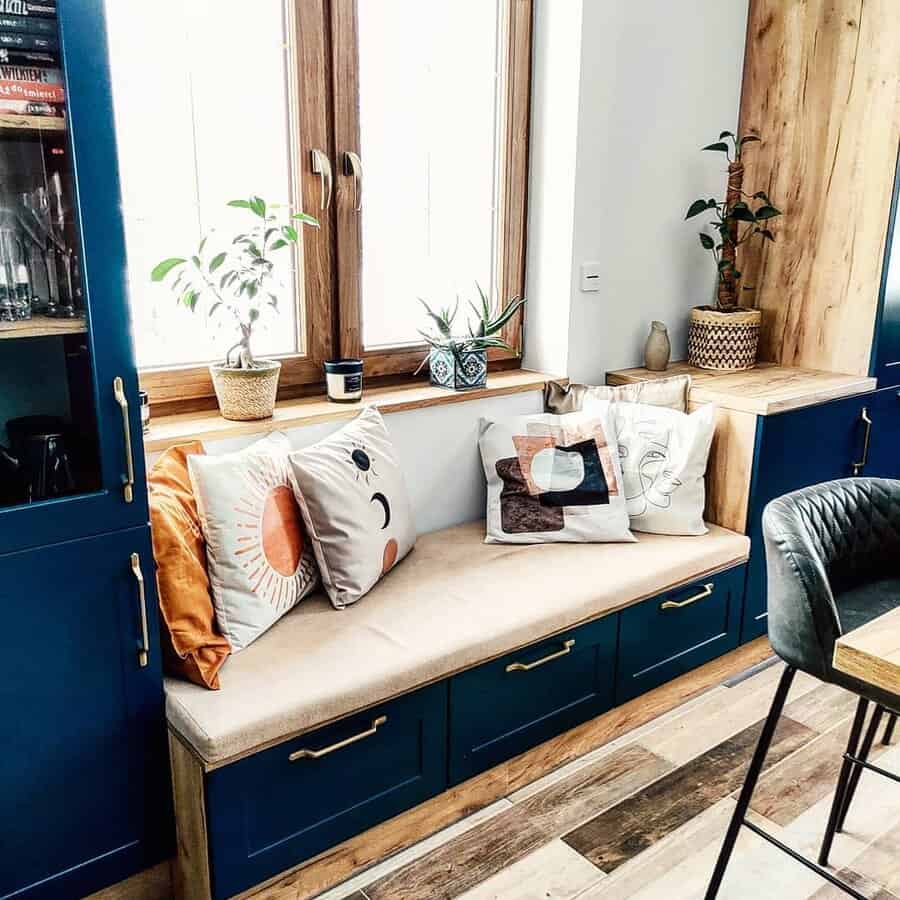 9. Add Beams
Cozying up to a window seat surrounded by cozy rustic wooden beams is the perfect way to spend an afternoon. These beams have character and give any space they are part of a unique charm, and adding them to the cozy seats of a window can be the perfect cozy nook for reflection or study.
They are sure to add that little something extra to any room, bringing in a homey feel and cozy energy for anyone who takes a seat.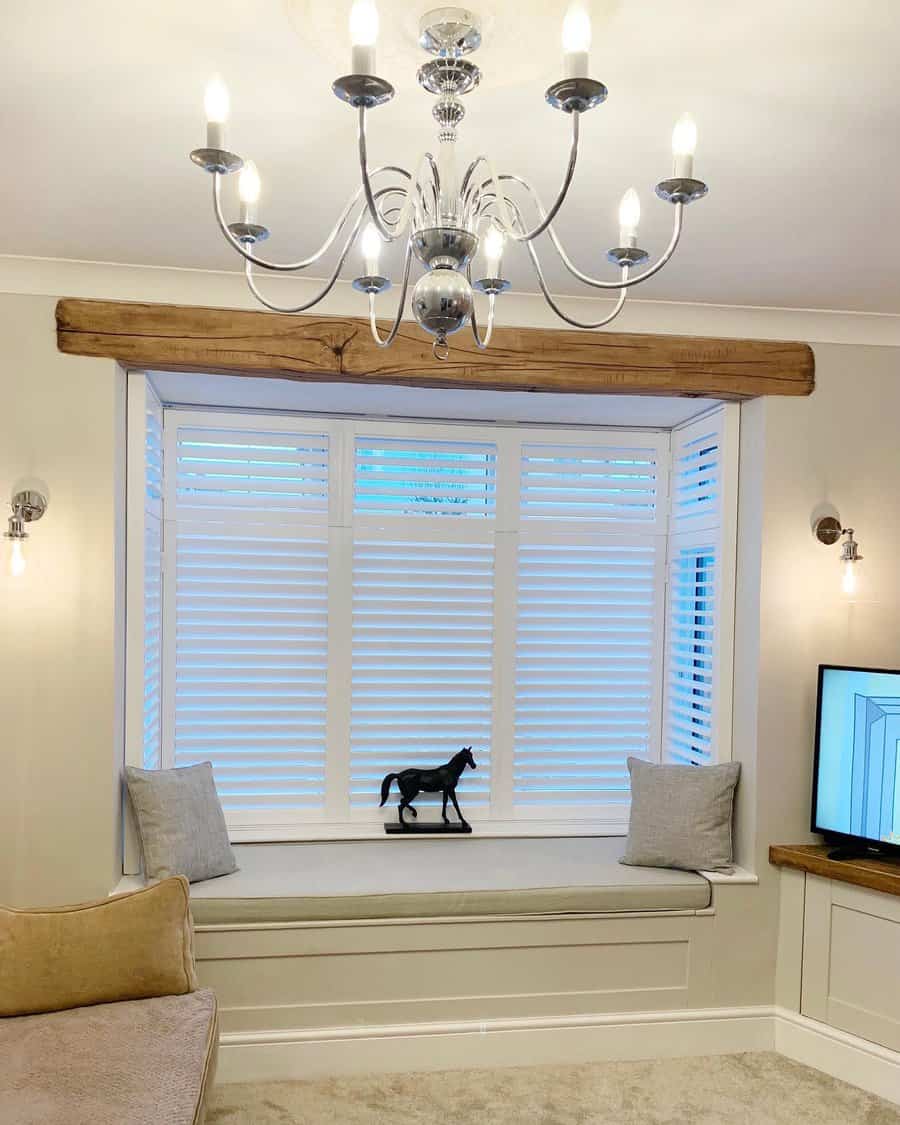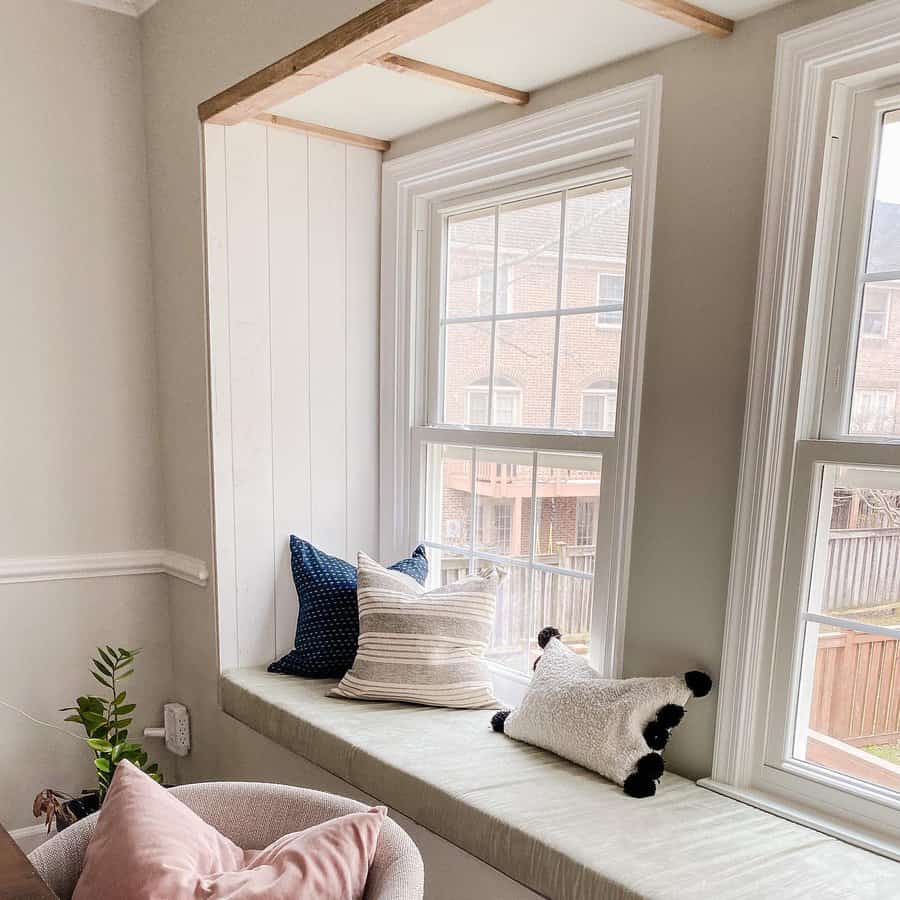 10. Install An Under-the-seat Bookshelf
With the perfect window nook created, let your imagination take flight! A window seat with an under-the-seat bookshelf is perfect for curling up with a cozy blanket and a good book.
The extra shelf space offers plenty of storage possibilities to keep essentials nearby: tuck away note cards, postcards, and other items that make perfect conversation pieces when you have visitors.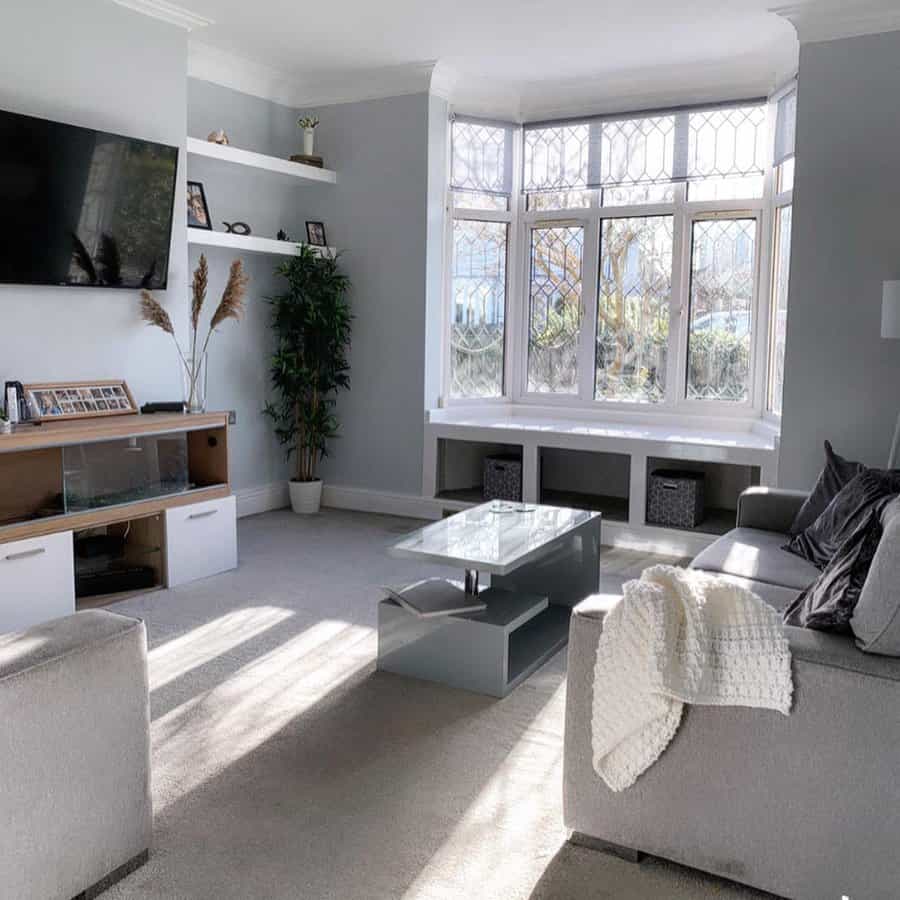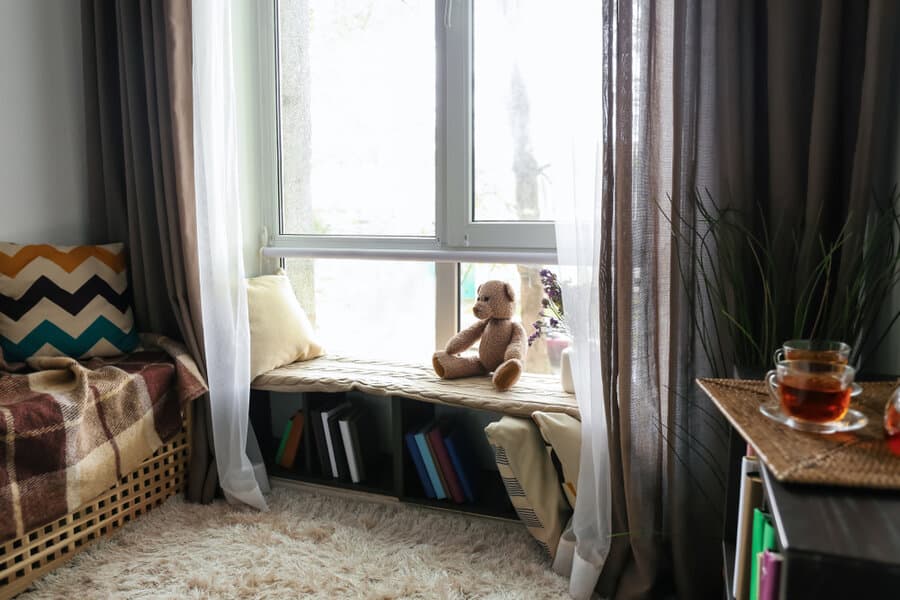 11. Utilize Empty Wall Spaces For Styling Shelves
A window seat is a wonderful way to express your creativity and styling flair. Placing items on the shelf that sets the mood of the room around it is a great way to make your home more personal.
Whether it's styling fallen branches, accentuating with wooden sculptures, or simply displaying pictures, adding styling shelves to the window seat will truly maximize its coziness. Don't forget pops of color and texture to bring life into your space!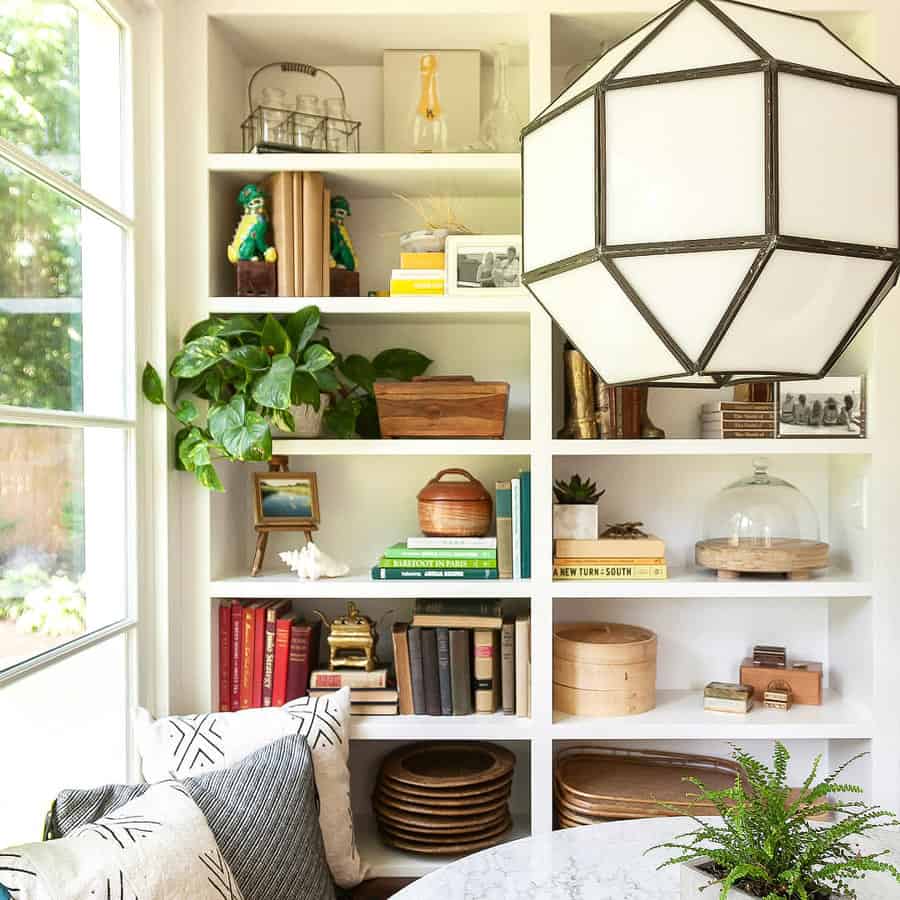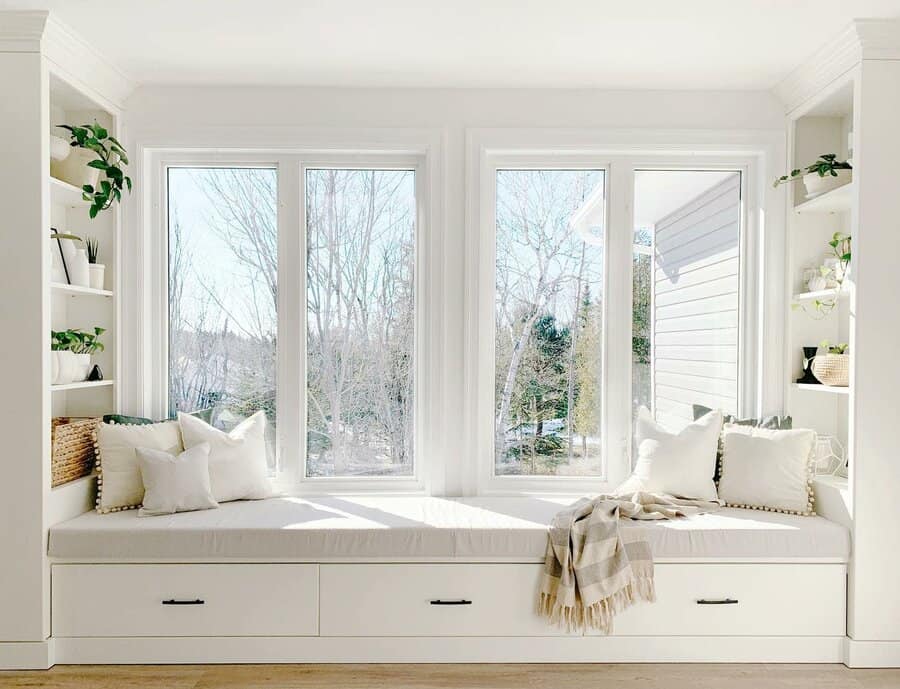 12. Turn Into A Dining Area
If you're looking for an innovative way to turn your cozy window seat into a dining area, then you've found the perfect solution. With its built-in table, that window seat can be transformed into a personal dinette in no time – great for small spaces where space is limited and every inch counts!
Plus, you'll get to enjoy those lovely views while enjoying your meal. Whether it's breakfast, lunch or dinner, you'll always be able to turn that window seat into an outdoor oasis of sorts – no matter what the season!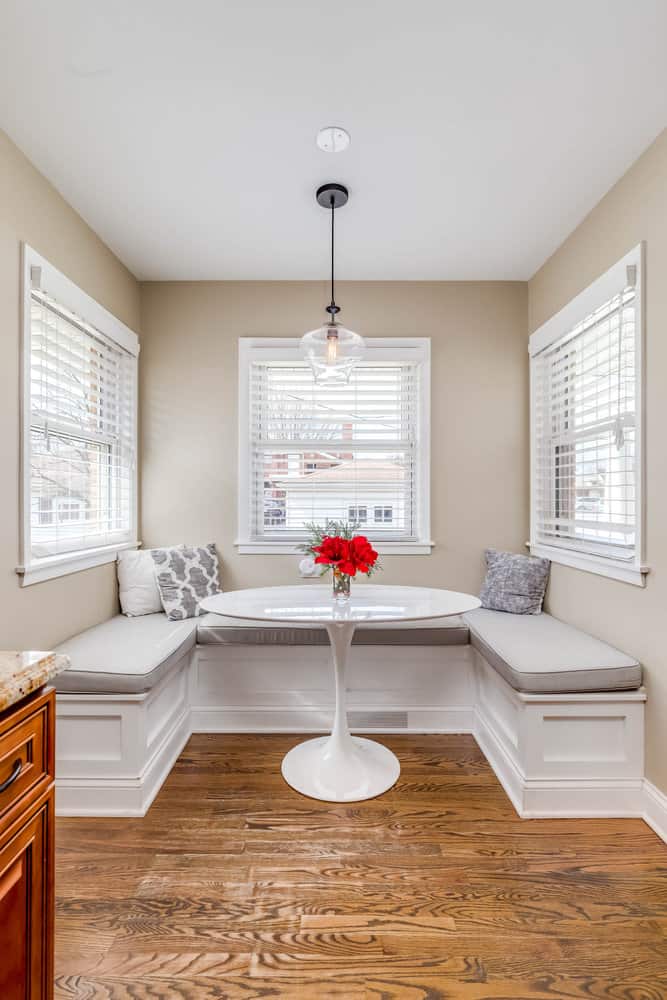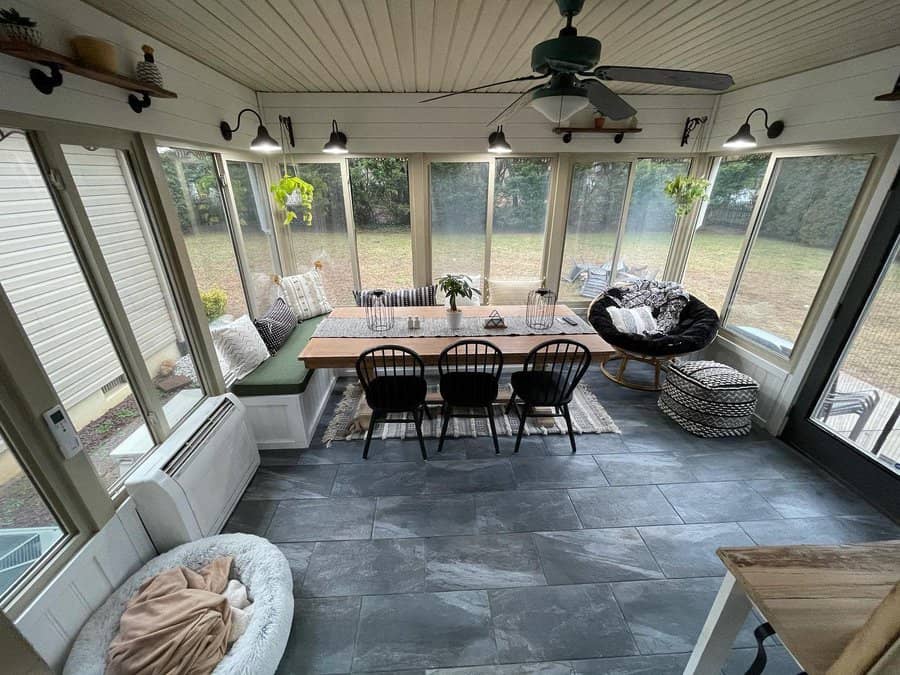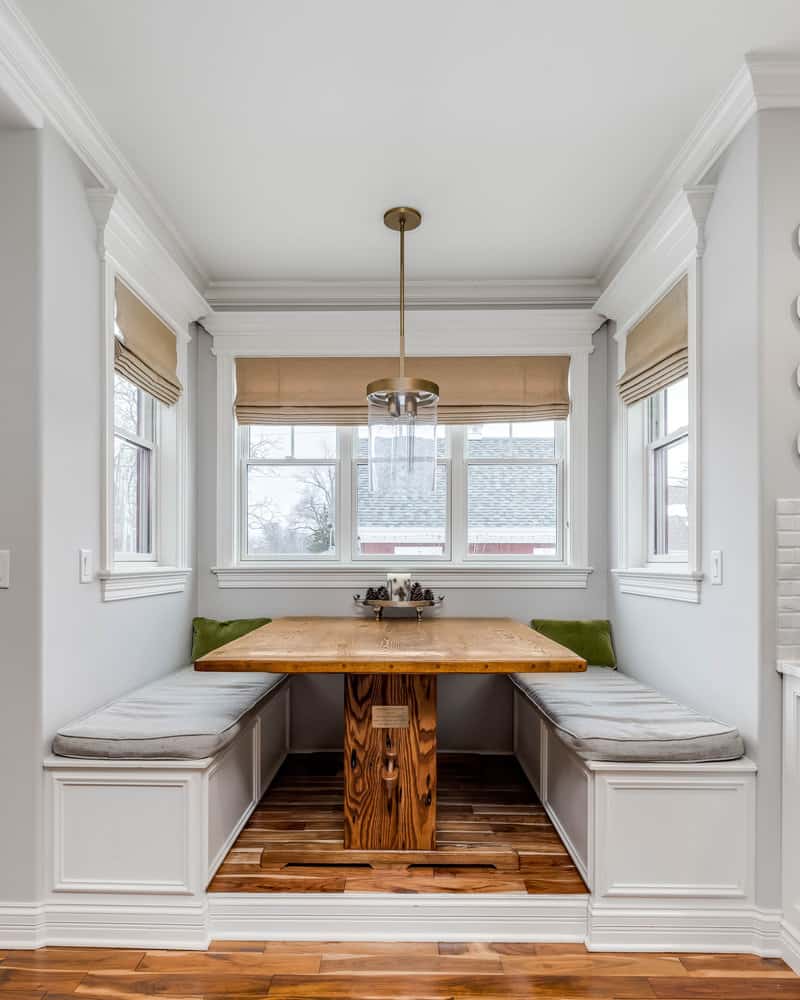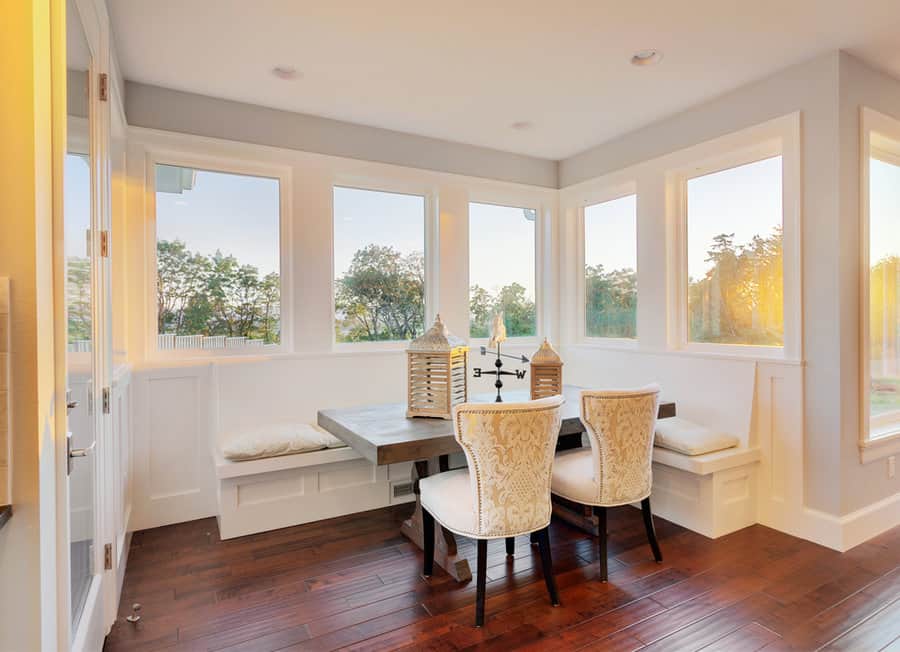 12. Add Window Blinds
There's something special about window blinds that add an extra charm to a room. A window seat provides comfort, beauty, and versatility with an easy-to-access window that allows natural light to stream in. The window can also be outfitted with window blinds for privacy as well as temperature and light control.
Not only is having a window seat a great way to save space, but it is also low-maintenance and adds a nice shadow during the day when the sun shines brightest. It's almost like gathering around the window seat offers one a peaceful refuge, no matter what season of life you find yourself in.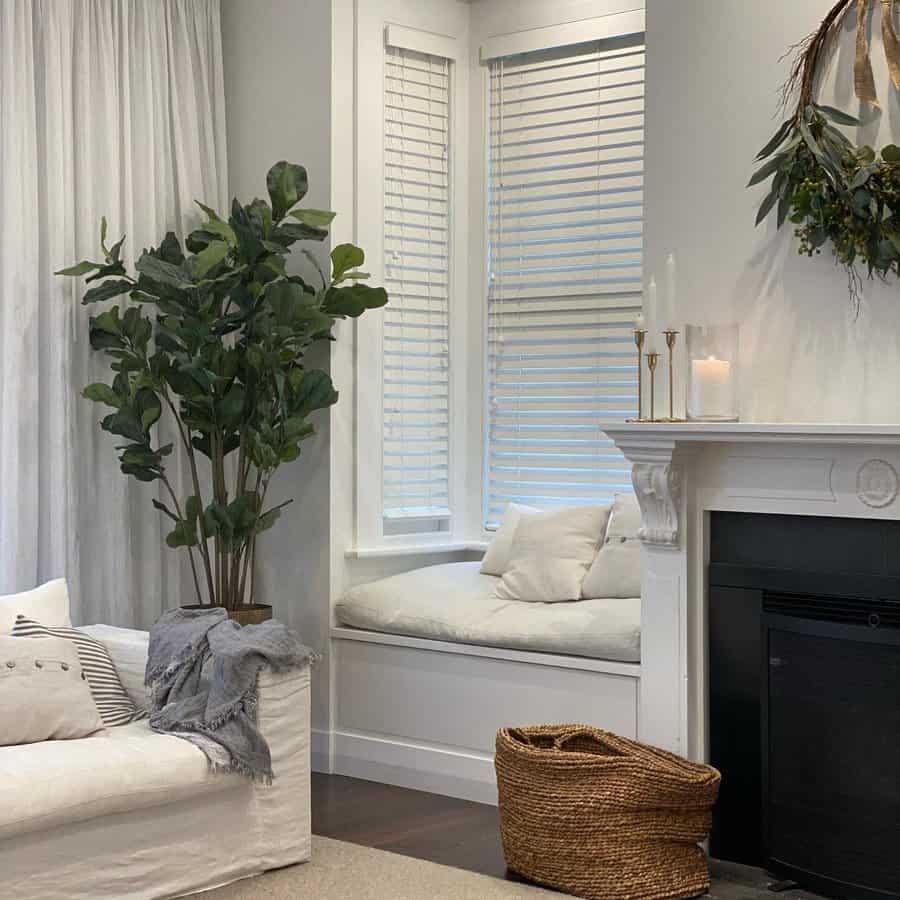 13. Opt For Linen Roll-Up Blinds To Diffuse Light
Modern window seat designs are made even better with the addition of linen roll-up blinds. They provide a crisp, clean look while diffusing light to give an inviting and inviting atmosphere. Not only modern and stylish, but these blinds also require low maintenance for years of effortless appeal.
They're perfect for those who want to give their space a modern touch without sacrificing practicality and convenience. Enjoy peace of mind knowing you now have the modern design you've been dreaming of, but with less upkeep!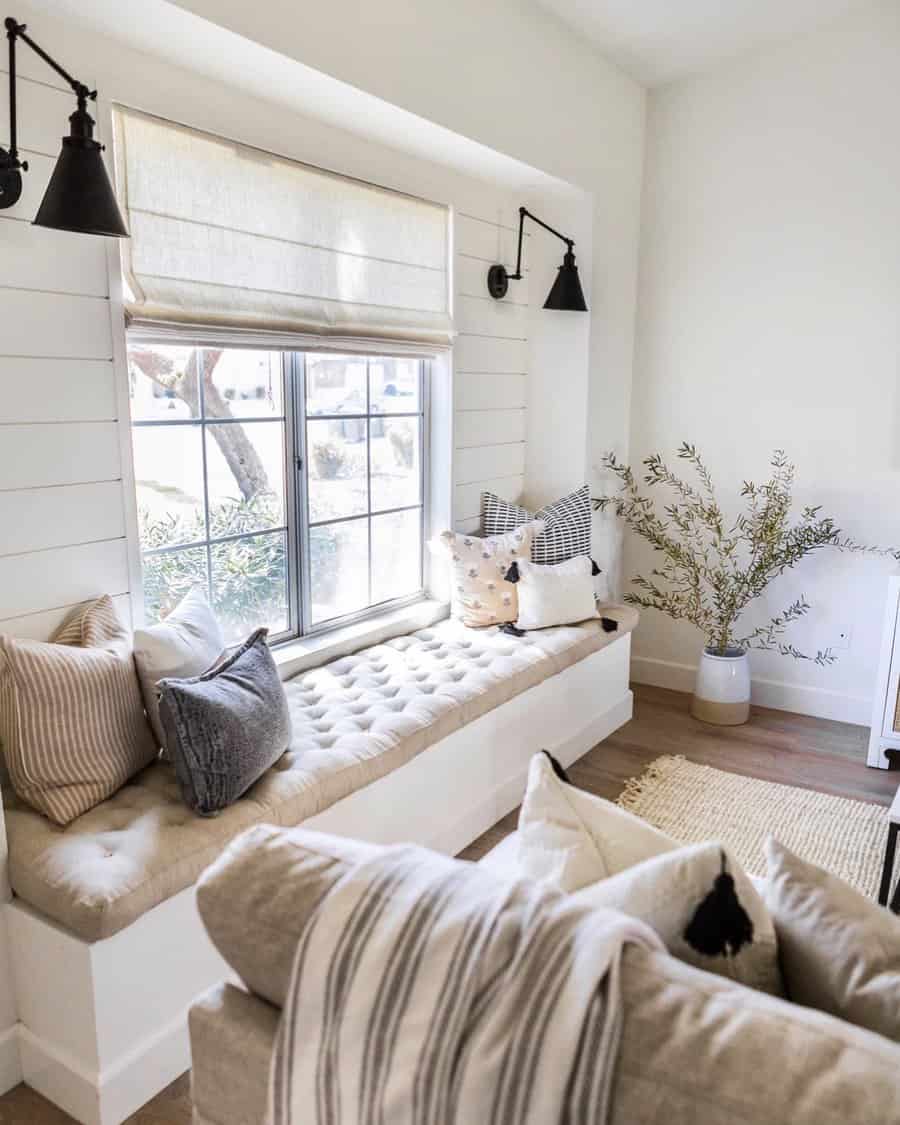 14. Add A Coffeetable
Window seating with a low coffee table is the perfect combination for cozying up and breathing in the beauty of your surroundings. Such a setup allows you to make the most of natural light for relaxation or productivity while keeping low furniture close by for functional use or styling display – picture books, vases, plants, and more!
Whether opting for an alcove seating nook or installing an entire window seat unit, take into account not only your design preferences but also how you plan to use it. Treat yourself to this cozy escape while increasing both style and functionality within your home!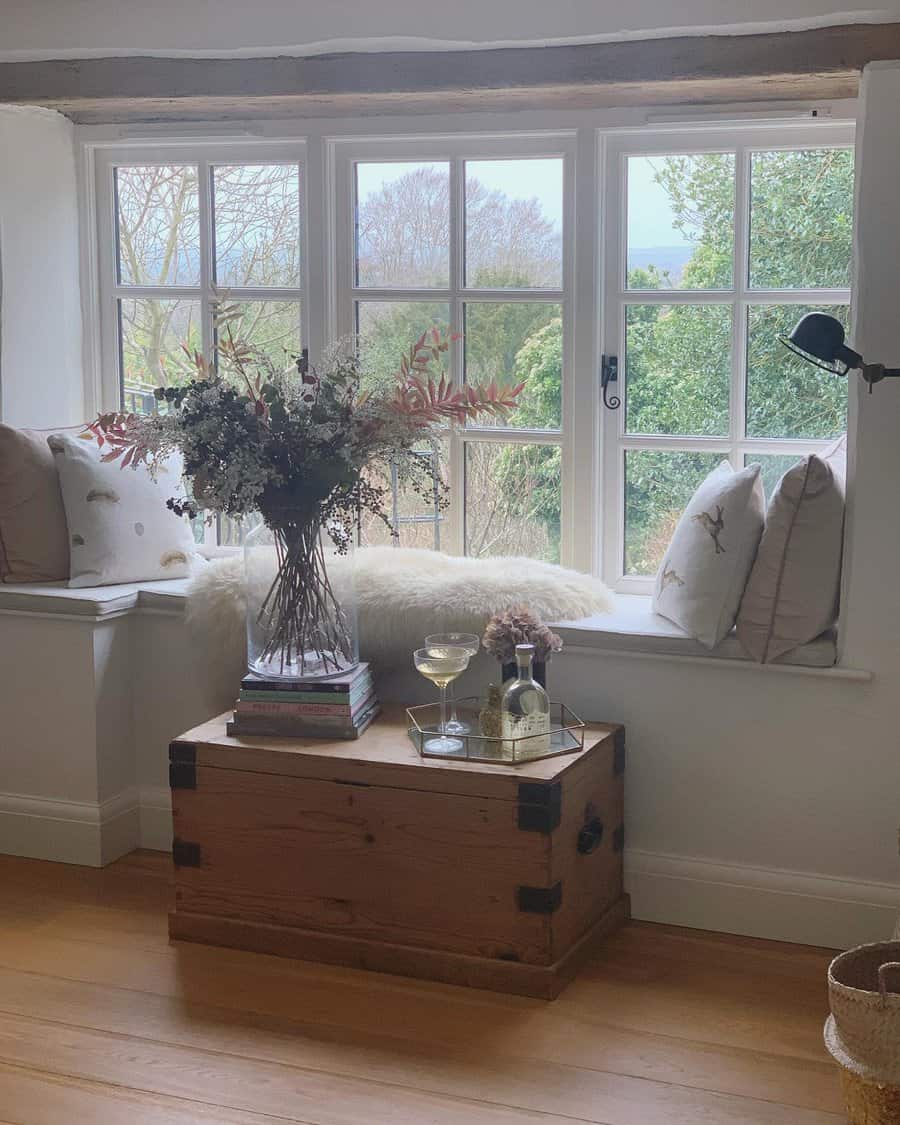 15. Build A Spacious Reading Nook
Imagine a spacious window seat with a reading nook in your home; it's almost like having an extra bed without taking up too much space. Relax in the cocoon of pillows while absorbing the sun's rays flooding through the windows. Store all your favorite reads in the built-in book shelves so you never have to worry about running out of great stories.
Surround yourself with canvas fabric and downy soft cushions, bringing comfort and luxury to your space. Fun-filled dreams await within this tiny oasis, ready for you to create them anew.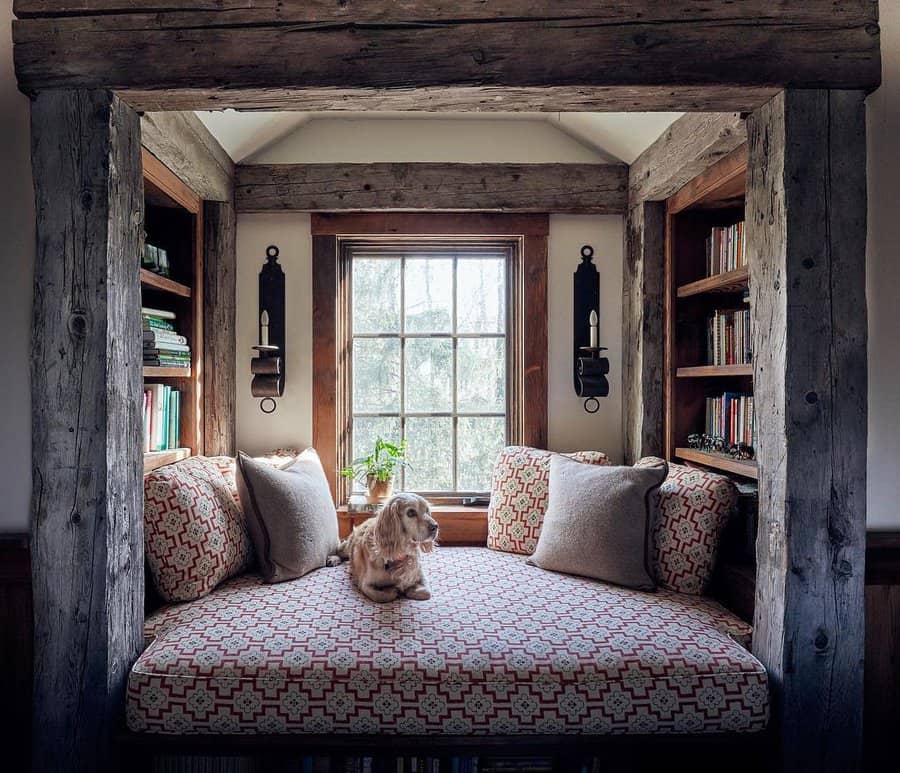 16. Utilize The Windowsill With Decor
There is something so calming about window seats. Whether you opt for a window seat as a place to relax or add window sills with decor to make the window even more inviting and warm, any window seat will be the perfect addition to your home.
You could also consider having a narrow, recessed shelf below the window sill for extra surface area and storage for any items you may need easy access to in that room. Window seats remain timeless and unique no matter what type of home you create around them.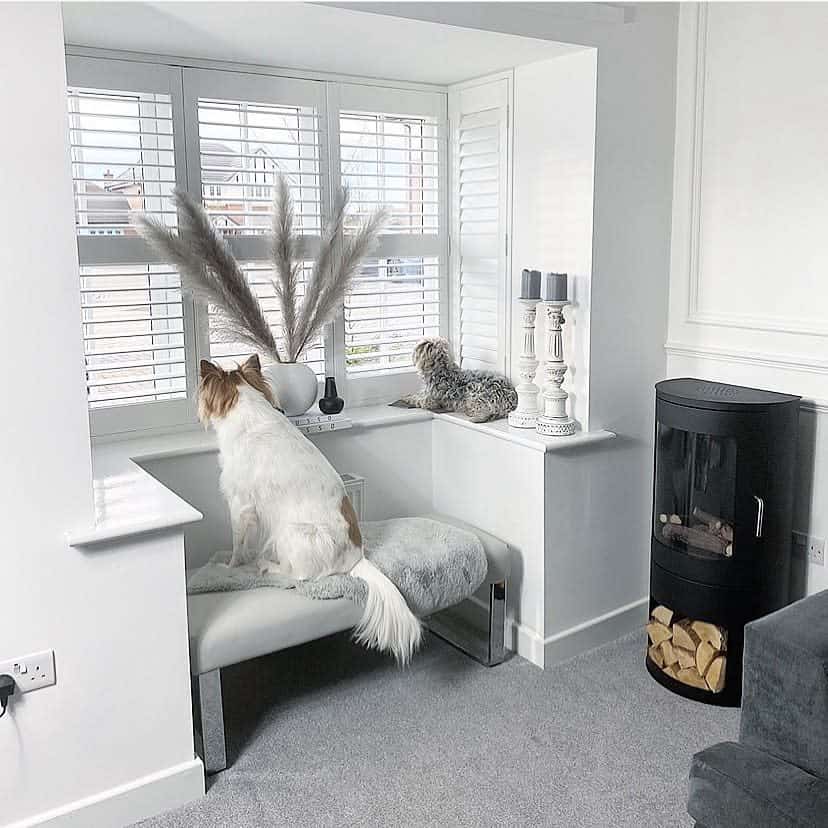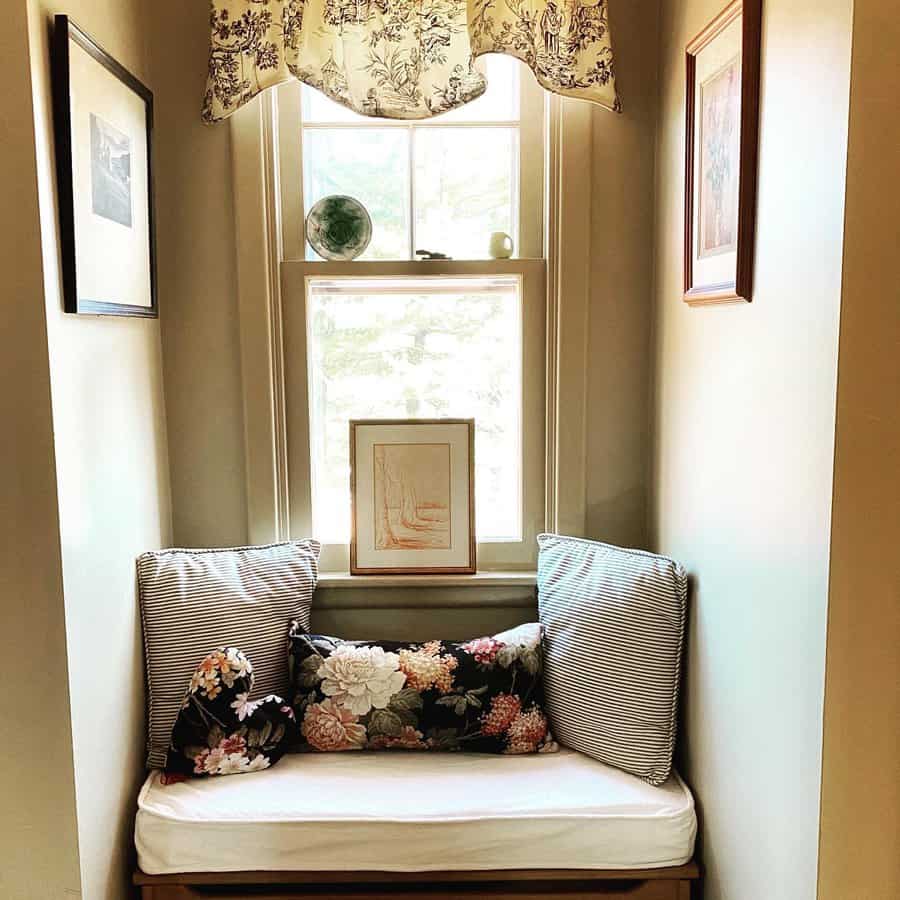 17. Go For Black Framed Windows
Nothing quite compares to the bold contrast of a window seat with its black framed windows. Not only is it visually striking, but it gives any room a certain industrial-modern vibe that's guaranteed to make an impact.
Whether it's used as a spot to sit and read or simply admire the view outside, the bold contrast of such window frames is bound to bring an eye-catching touch of modern style and drama to your cozy atmosphere.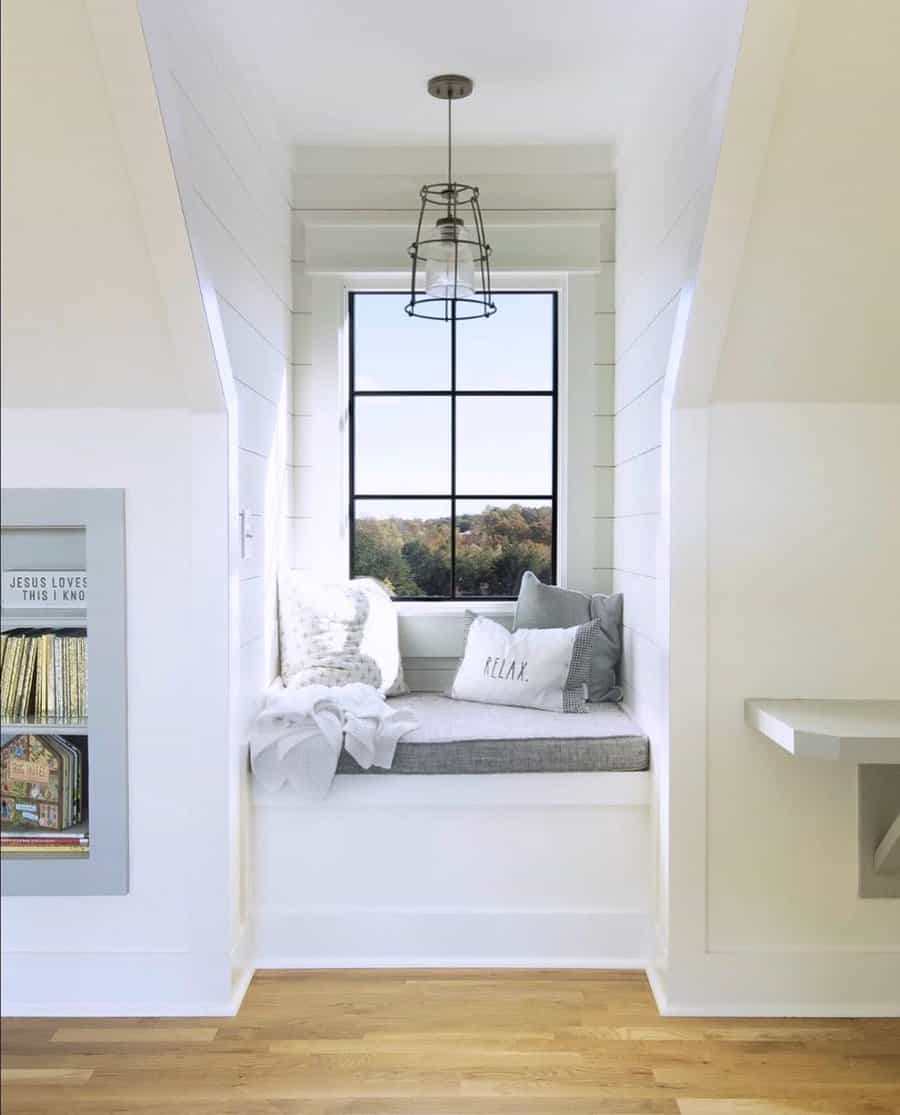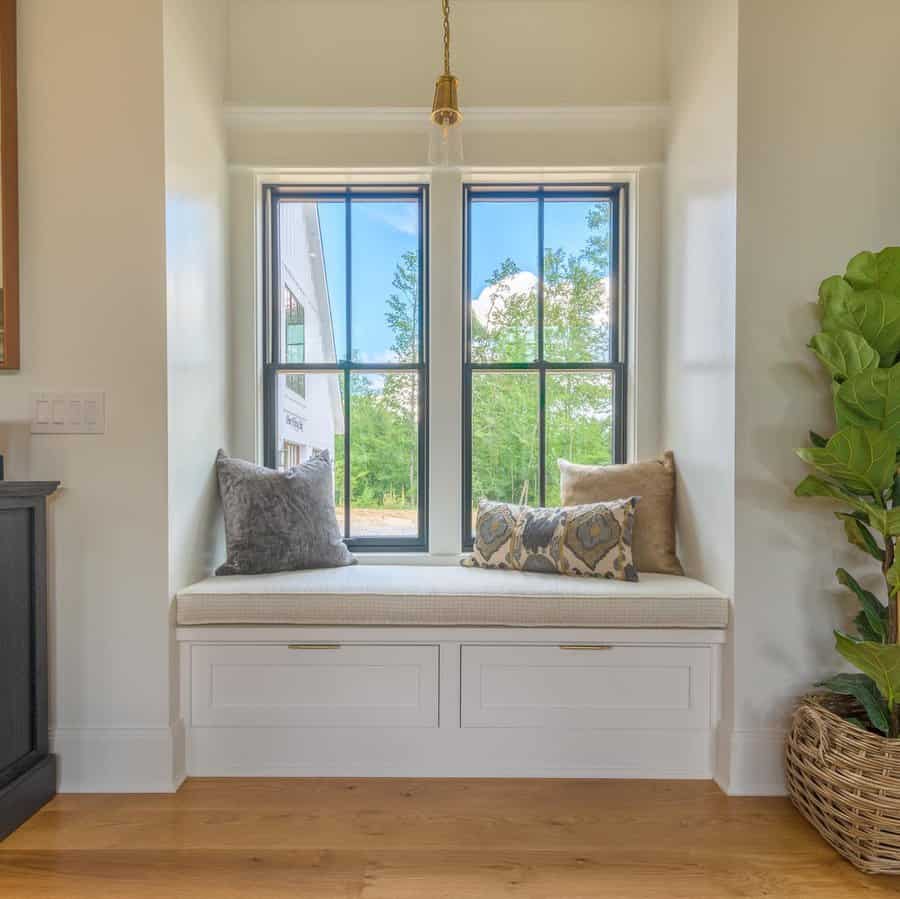 18. Elevate With A Step
An elevated window seat provides a cozy spot to curl up with a good book and enjoy a private view of the outdoors.
With an added step for elevation, you can create a miniature paradise in your living space that is perfect for large windows.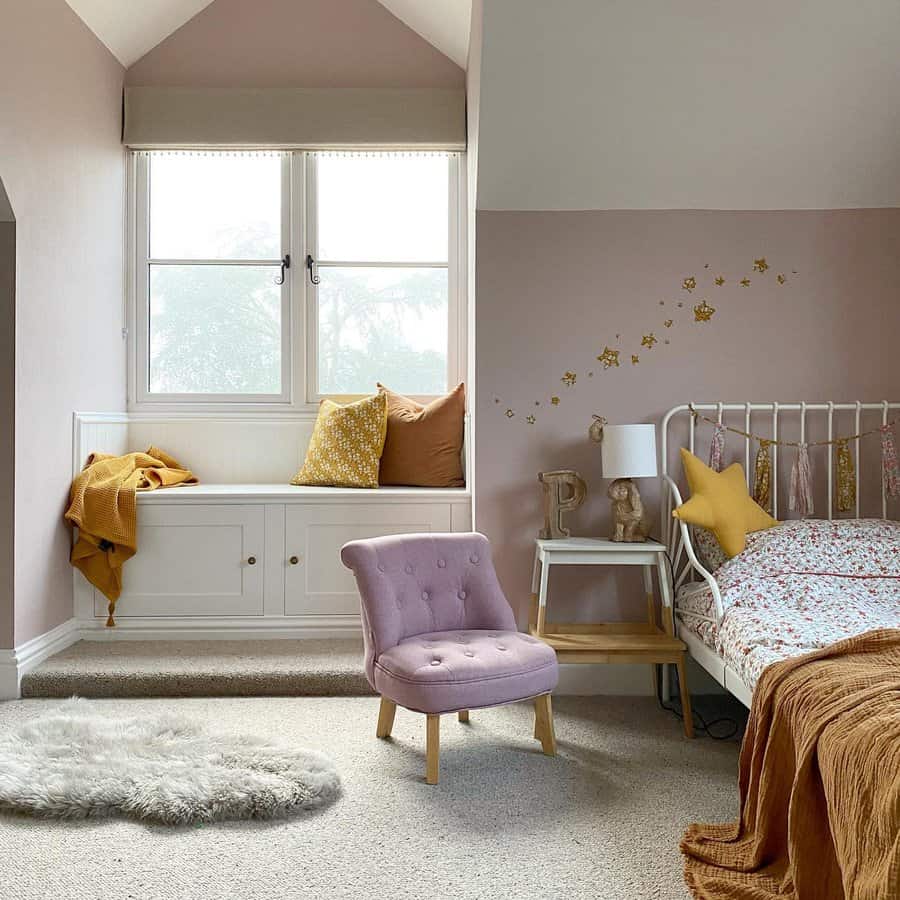 19. Keep The Windows Low
Sitting in a window seat with low windows is an experience like no other. No problem if you can't see the full picture – you can still cozy up, grab a good book and relax. Start custom building your own seating area near low windows to enjoy the view from your own comfy spot; whether it's during sunrise, sunset, or simply just when rain is pouring outside.
A low window seat setup can be the most fulfilling area of your house without having to actively go out and explore what's behind the window!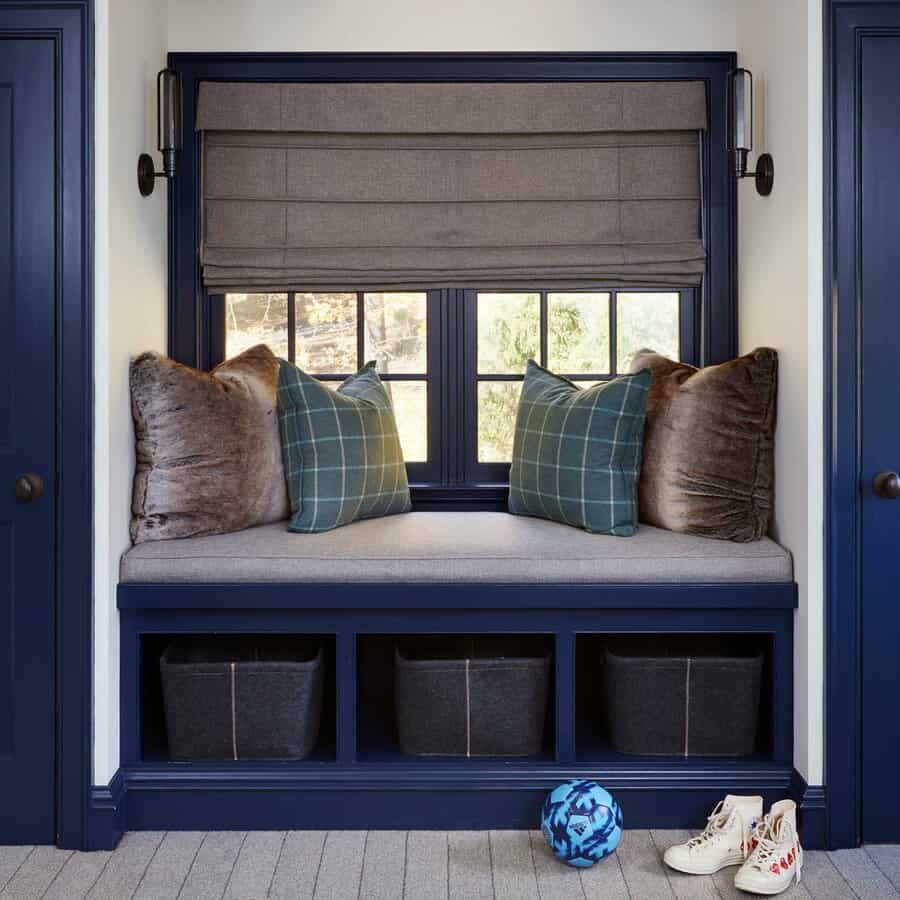 20. Play With Printed Upholstery
An eye-catching window seat with printed upholstery is the perfect way to play with prints and create an inviting atmosphere in your living space. You can mix and match different throw pillows of varying prints and sizes to create the ideal balance between functionality and style.
By changing it up seasonally, you can transform the look and feel of your room while still staying true to your core aesthetic. Investing in a window seat with printed upholstery adds sophistication and playfulness combined into one.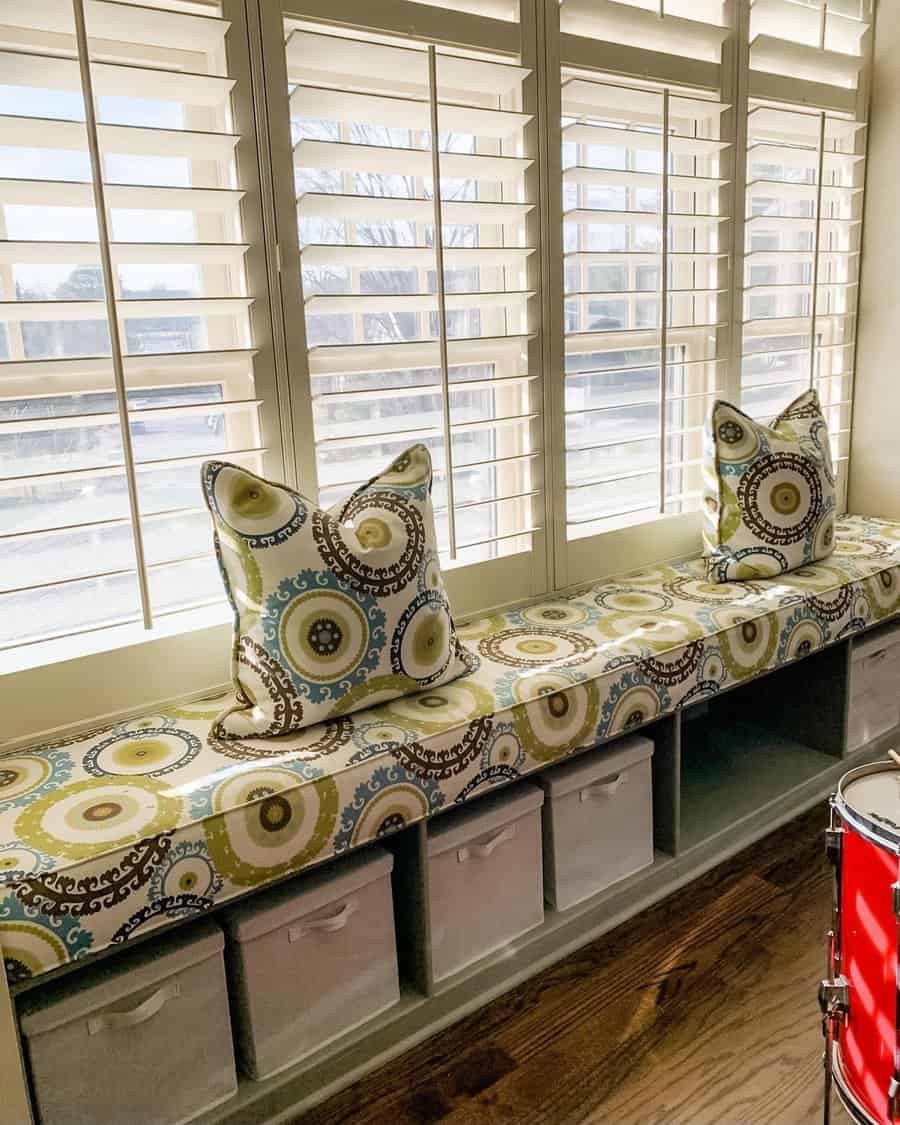 21. Add Basket Organizers
A window seat with basket organizers can add a touch of style to any room, not to mention valuable storage space! Built-in shelves with basket organizers allow for lots of open storage without sacrificing aesthetics.
Baskets enable you to store a variety of items such as books, throws, toys, or extra cushions and pillows in a neat and tidy way, allowing you to keep the area looking fresh and uncluttered. Add your favorite throw blanket or plush cushions for comfort and you've got an excellent spot for family movie nights!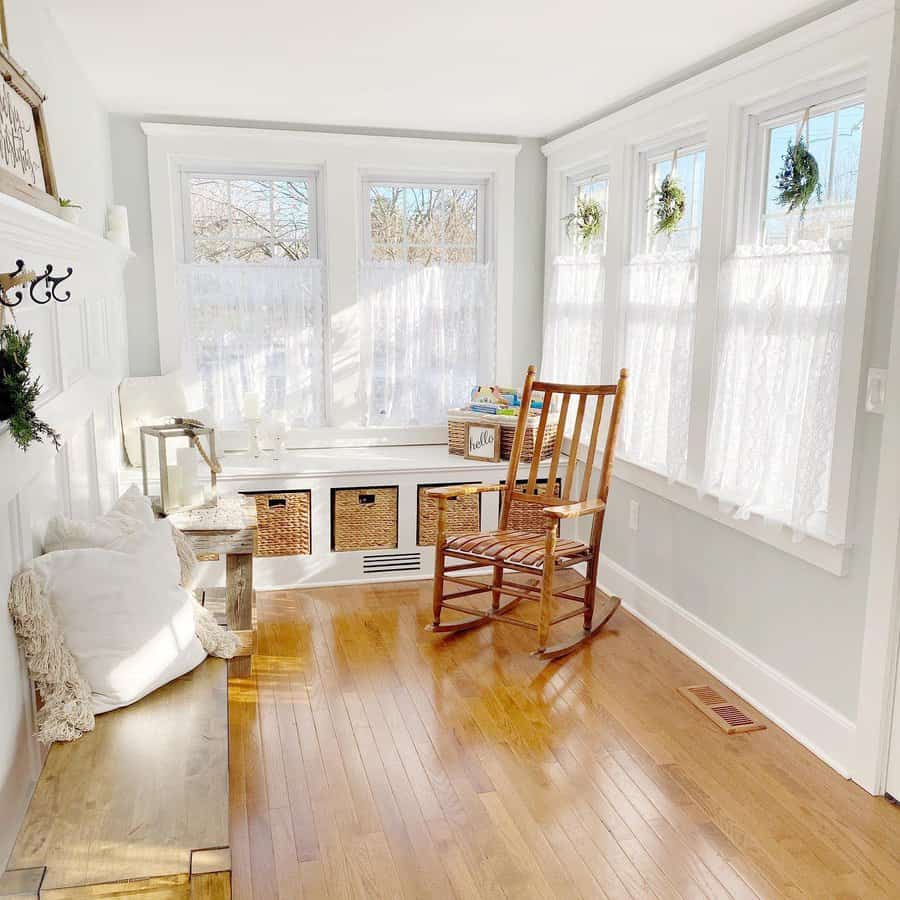 22. Add Seasonal Decor
A window seat with up-to-date seasonal decor is a great way to make your space feel more alive. It's like bringing the outside in! In the winter, you can decorate with wreaths and create an inviting atmosphere. For the summer, you can use bright and bold colors to show off that up-to-date style.
Or consider some unique color palettes like pastels or a mix of warm and cool tones. So what are you waiting for? Let's spruce up your window seat and add some life to your home!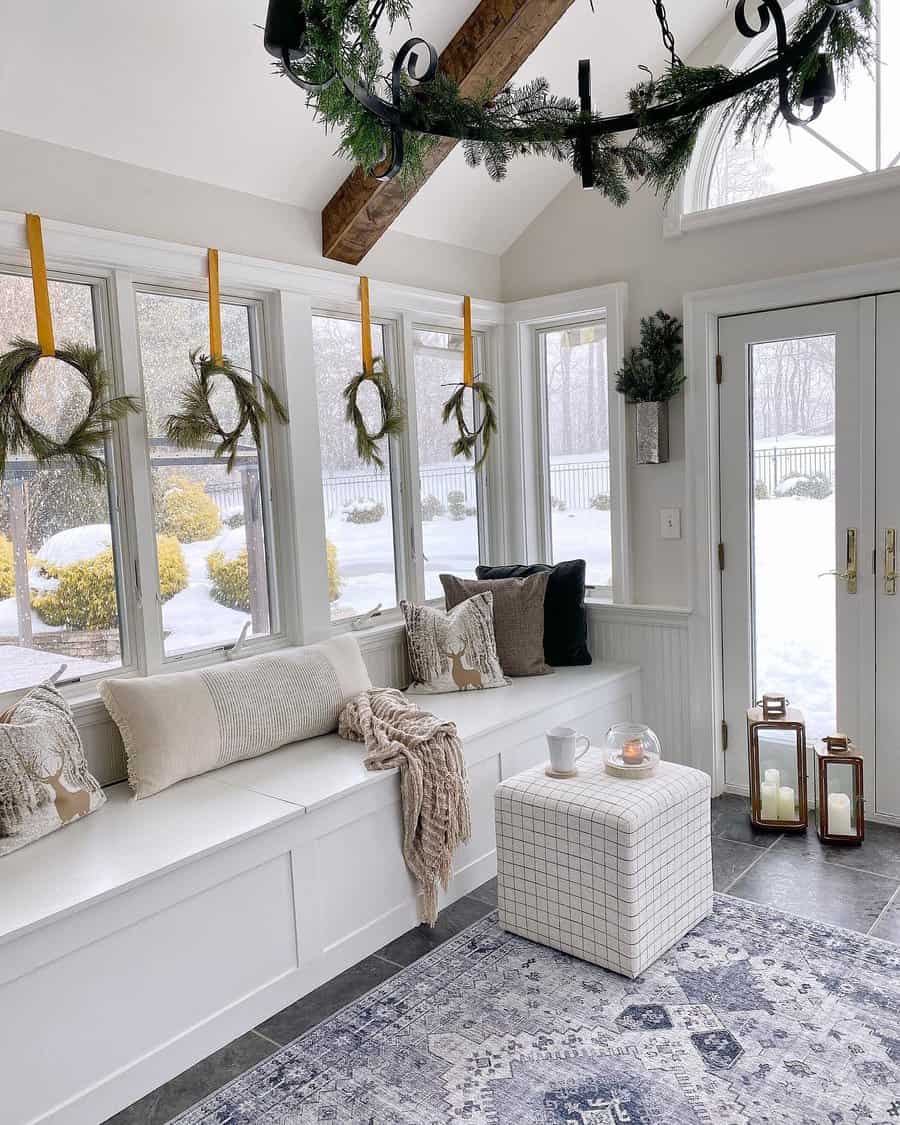 23. Frame The Window With Wooden Elements
A rustic vibe is created when adding a window seat with wood-framed windows. Not only does the warmth of the natural material create a feeling of comfort, but it also creates visual interest. Picture a morning spent lazily reading your favorite book, knowing that with every glance out of this rustic window, you'll be taking in some stunning scenery.
The clean lines and subtle curves of the frame will create leading lines up to whatever breathtaking view awaits outside. Such a spot is sure to draw more than one admiring glance from friends and family.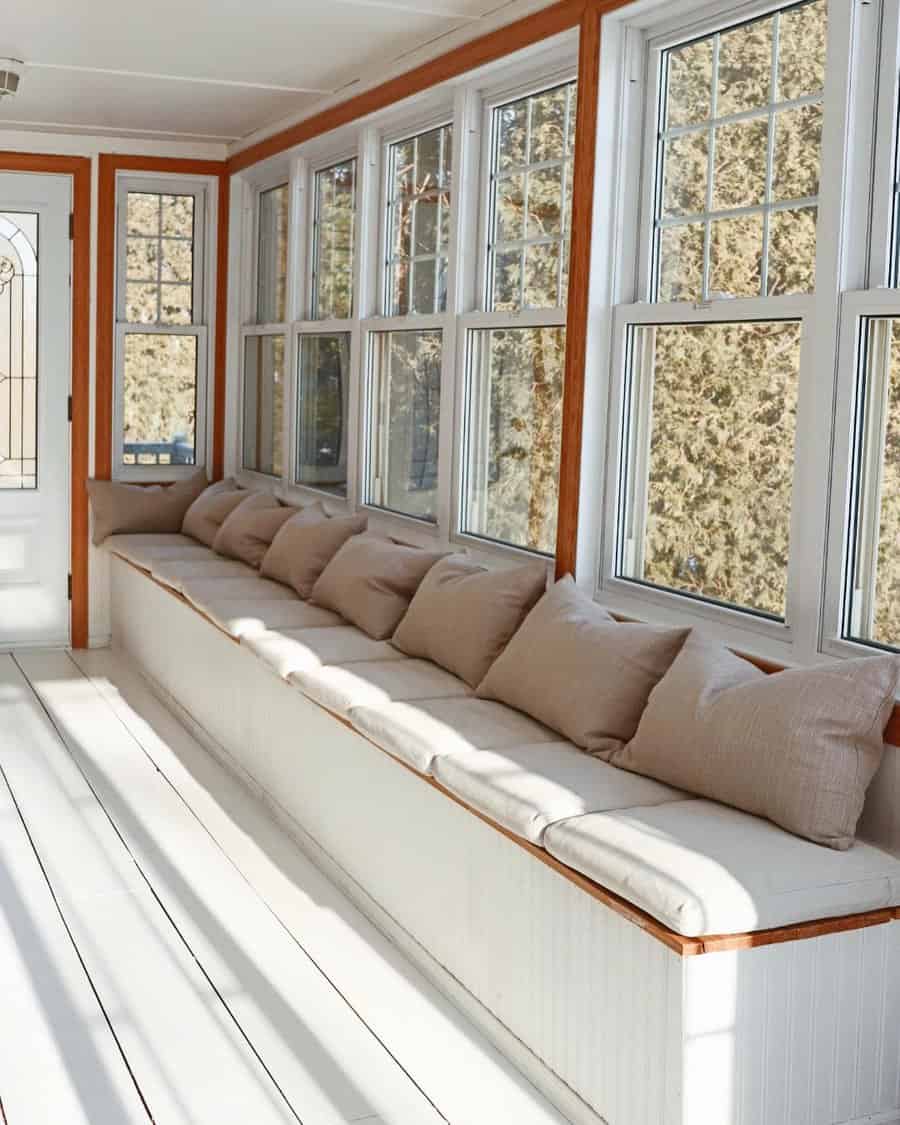 24. Keep It Bright With White
A white window seating arrangement is an all-white dream come true! Their clean and bright presence brings a minimalist appeal that stands out from traditional furniture pieces. It almost sparks ideas of hosting a gathering or even daydreaming with friends while gazing outside.
The all-white design reflects natural light and allows the home to be filled with some major style points. It's the perfect choice for anyone wanting to leave a good impression on guests.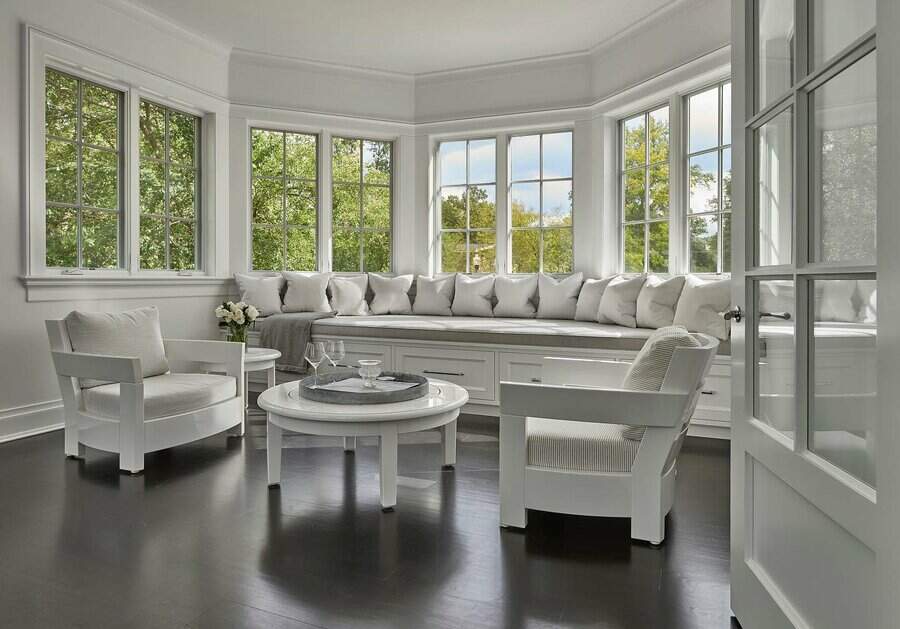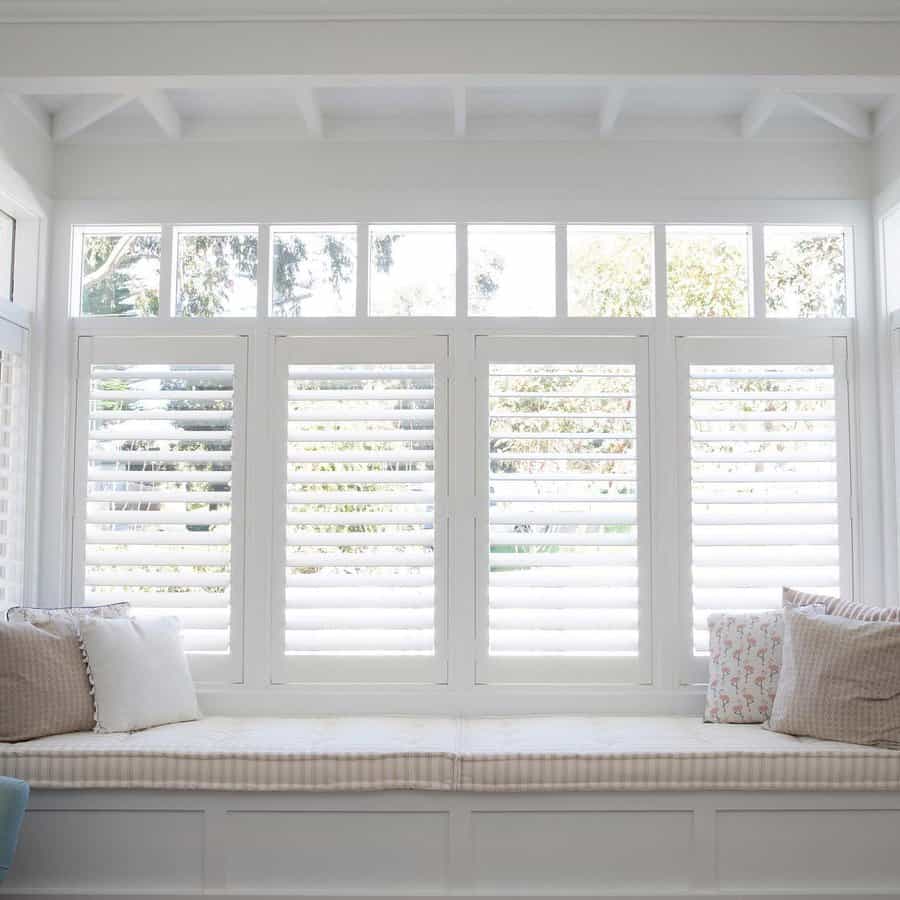 Window Seat FAQs
What type of window treatment looks best with a window seat?
Pairing the wrong window treatment with built-in seating or a bench can overwhelm the space as a whole. You also don't want to be getting tabled up in heavy drapes or cords while trying to relax with a good book.
If privacy or light control is of no concern, then consider leaving the window bare. This will maximize natural sunlight in the room and allow your window seat design to stand out as the star of the show.
For windows that need some type of interior covering, sleek blinds or shutters are great options. Or install a Roman shade for a softer appearance that will stay out of the way when the seat is in use.
How do you keep window seat cushions from fading?
Left in direct sunlight, many traditional upholstery fabrics will quickly lose vibrancy or even physically break down.
The best way to make your window seat fabrics last is to invest in high-quality fabrics designed to resist fading. Most of these fabrics will be advertised for outdoor use, such as on patio furniture.