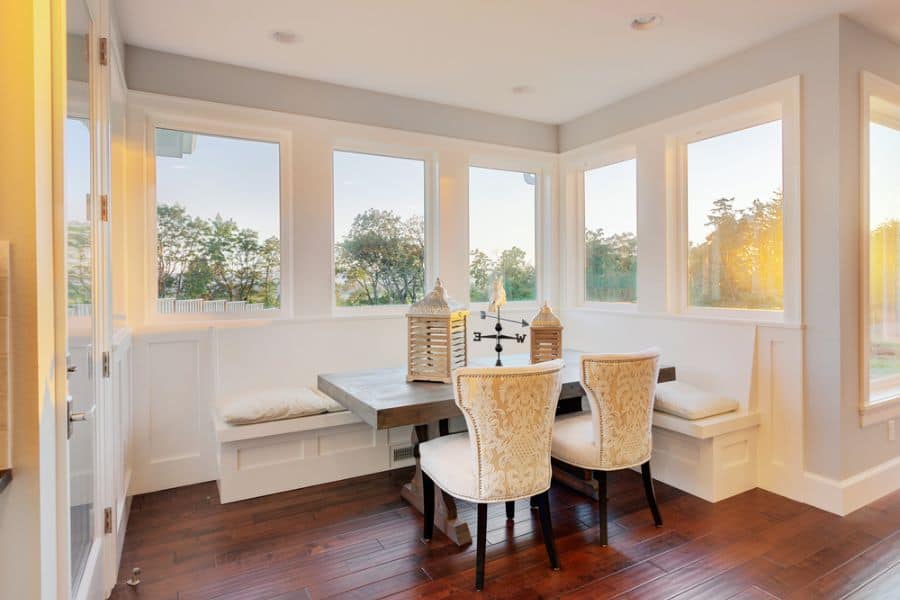 41 Window Seat Ideas for Every Room
Many homeowners dream of a cozy window seat for the aesthetic alone. While window seats are synonymous with vintage-style homes, they are also becoming more and more popular in modern, contemporary, and other trend-forward design trends.
Between secret storage and extra seating, it's hard to deny the practicality of a window seat. (And if you have a small dog or cat, they're sure to appreciate a sunbathing spot!)
The hardest part is deciding which type of window seat is best for your home. Check out these window seat ideas to discover just how broad the concept of a private reading nook can really be!
1. Bay Window
A bay window without a cozy reading nook is a sad sight to see! And there's no home aesthetic that doesn't pair beautifully with a classic seating solution.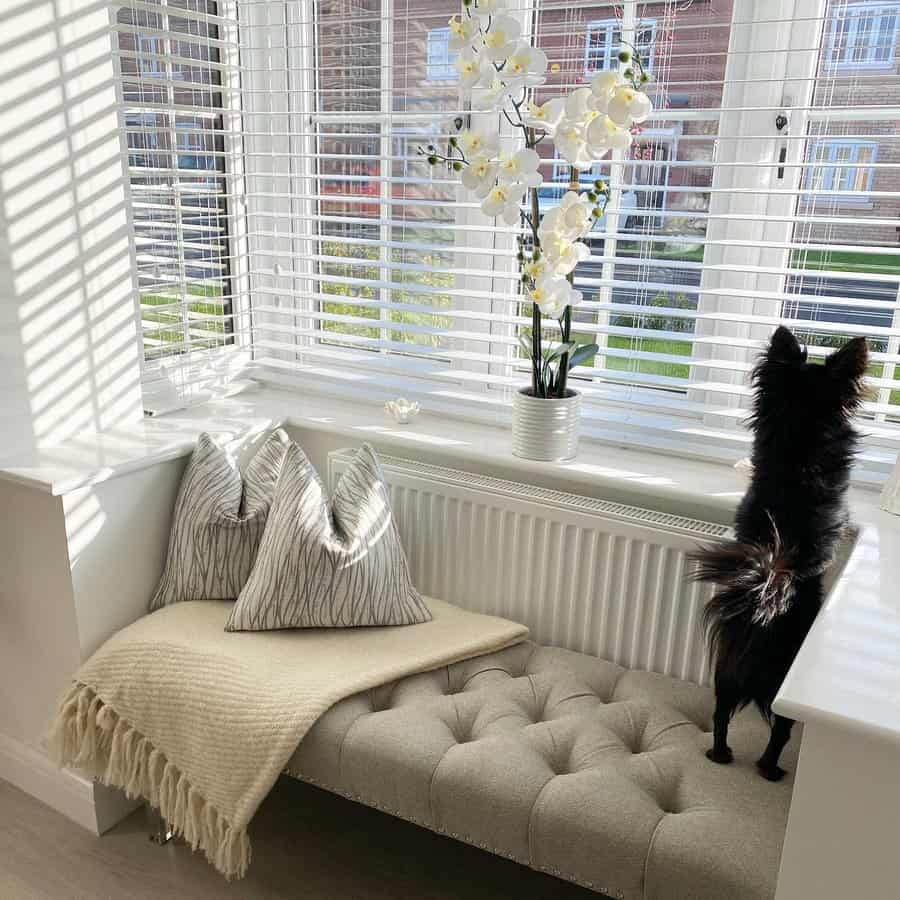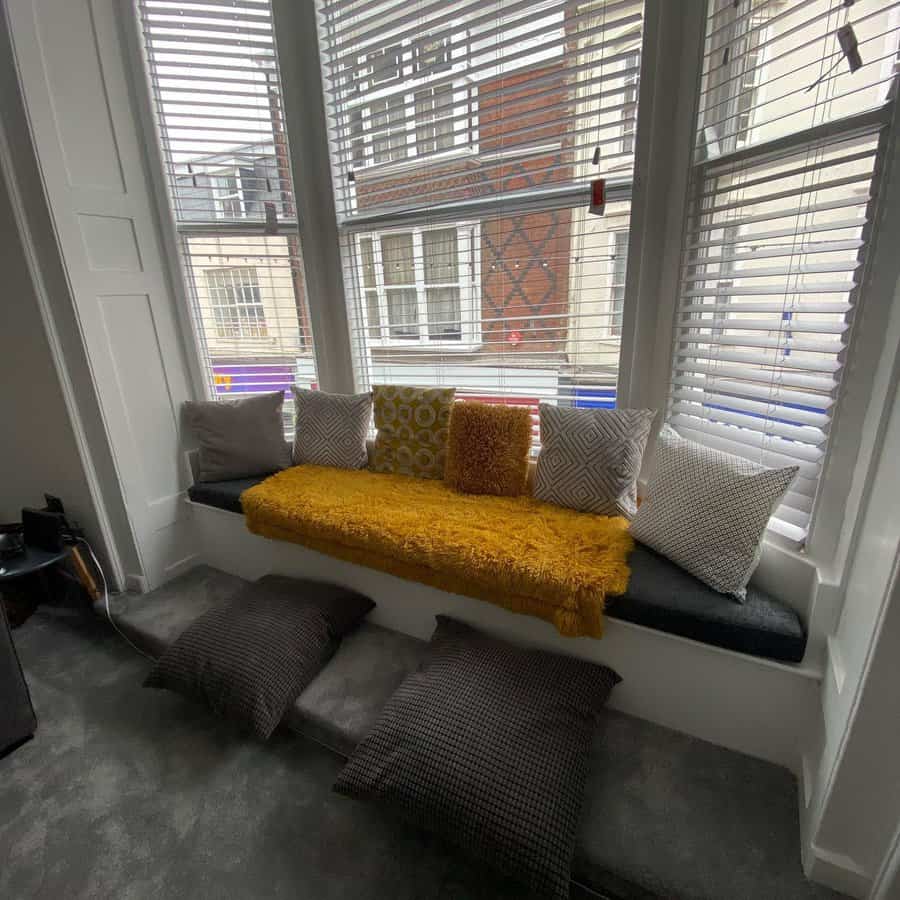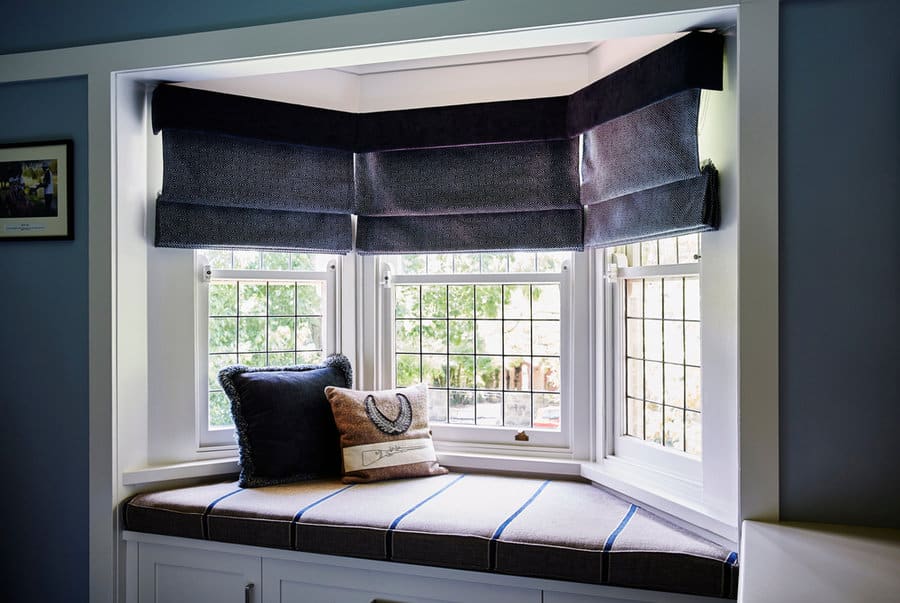 Bay windows are highly desirable, especially among homeowners who appreciate a vintage look. But that doesn't make furnishing a room with a bay window easy. Construct a built-in window seat to make the most of the space's unique shape with a minimal footprint.
If your bay window is already equipped with a bench seat, then a little updating may be all that's necessary. Fresh throw pillows and a matching coffee table can breathe new life into an existing bay window seat.
2. Bedroom
Whether you live alone, with family, or with roommates, no space is more intimate than the bedroom. If you're dreaming of curling up inside a private window nook, the bedroom is one of the most natural places to bring your vision to life.
The secret to a well-styled bedroom window seat is to give the space purpose. Allowing the bench seat to sit empty will result in it collecting unfolded laundry or miscellaneous clutter.
Solve this common problem with carefully curated pillows and blankets coordinated with your bed linens. A built-in window seat can even help conserve floor space by doubling as hidden storage for extra bedding, clothing, or other miscellaneous belongings.
3. Bench
Designing a built-in window seat does not need to involve thick upholstery or heavy-duty staples. Even something as simple as a wooden bench can transform a space from a normal windowsill into the perfect seating area.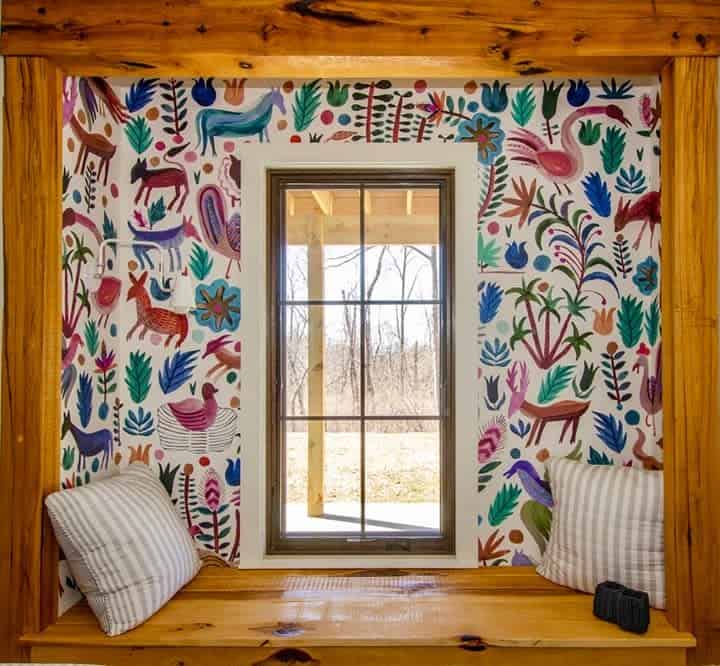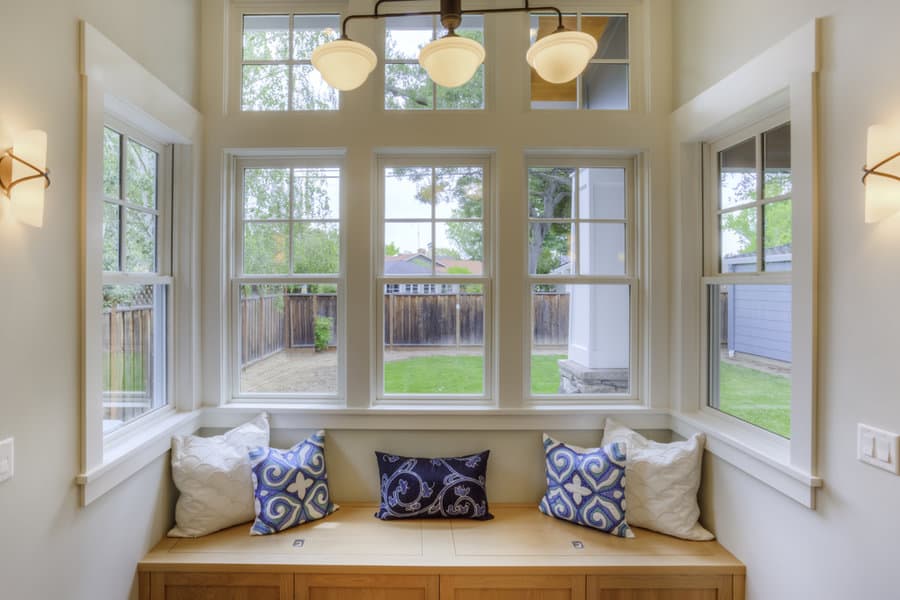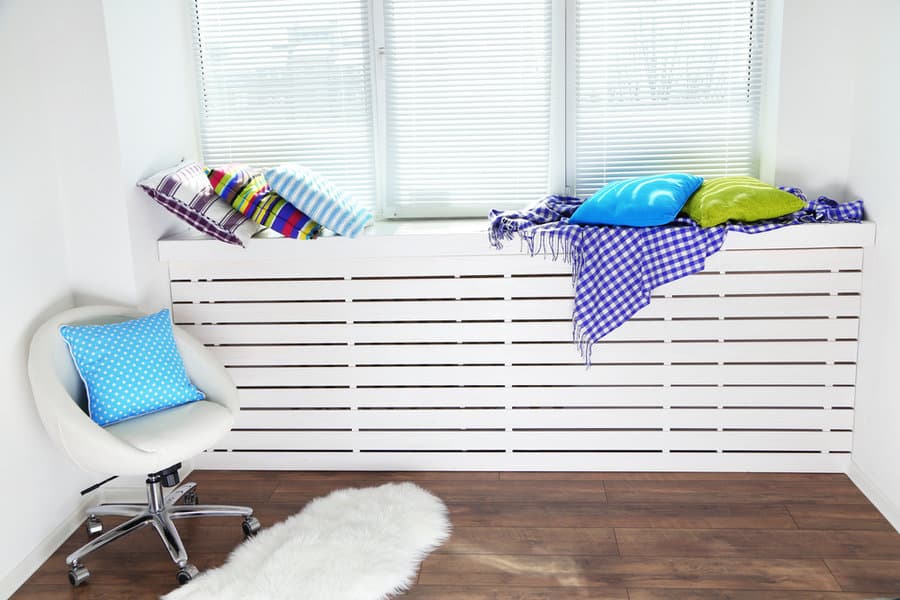 There are a wide variety of bench designs suitable for adapting to a bay window. Some are clearly built for extra seating. Others blend into the surrounding architecture (and can be used to display decor or as a makeshift bookshelf).
It's easy to add support and comfort with a set of trendy throw pillows or a custom-sewn seat cushion. If you're skilled with a needle and thread, you could even DIY your own!
4. Built-in
Anyone can place a banquette in front of a window and call it a day. But that won't always replace the classic aesthetic of a built-in window seat.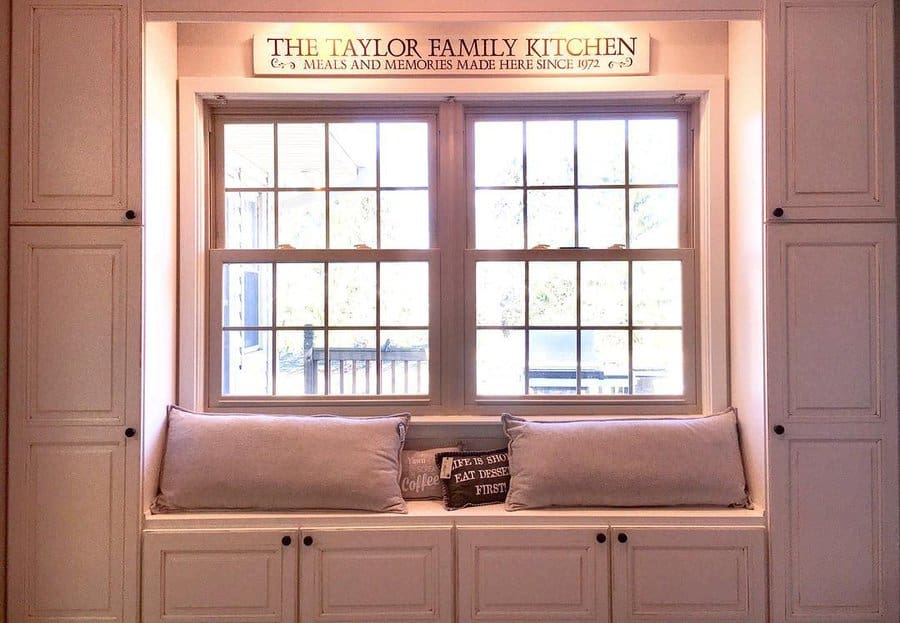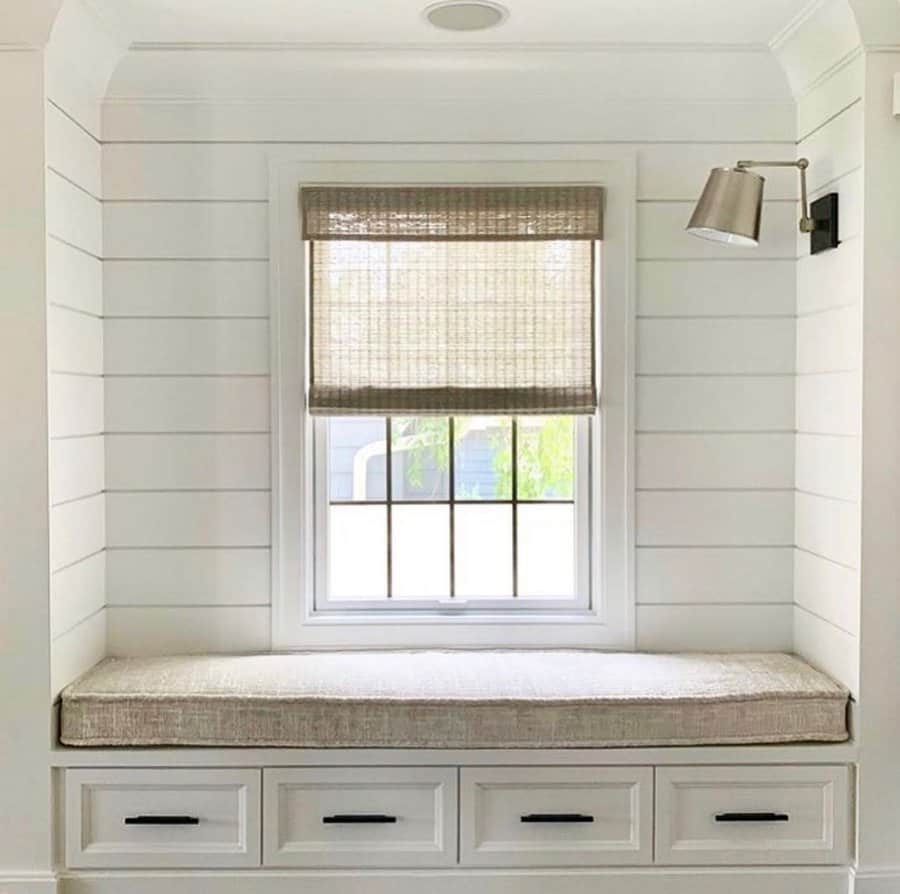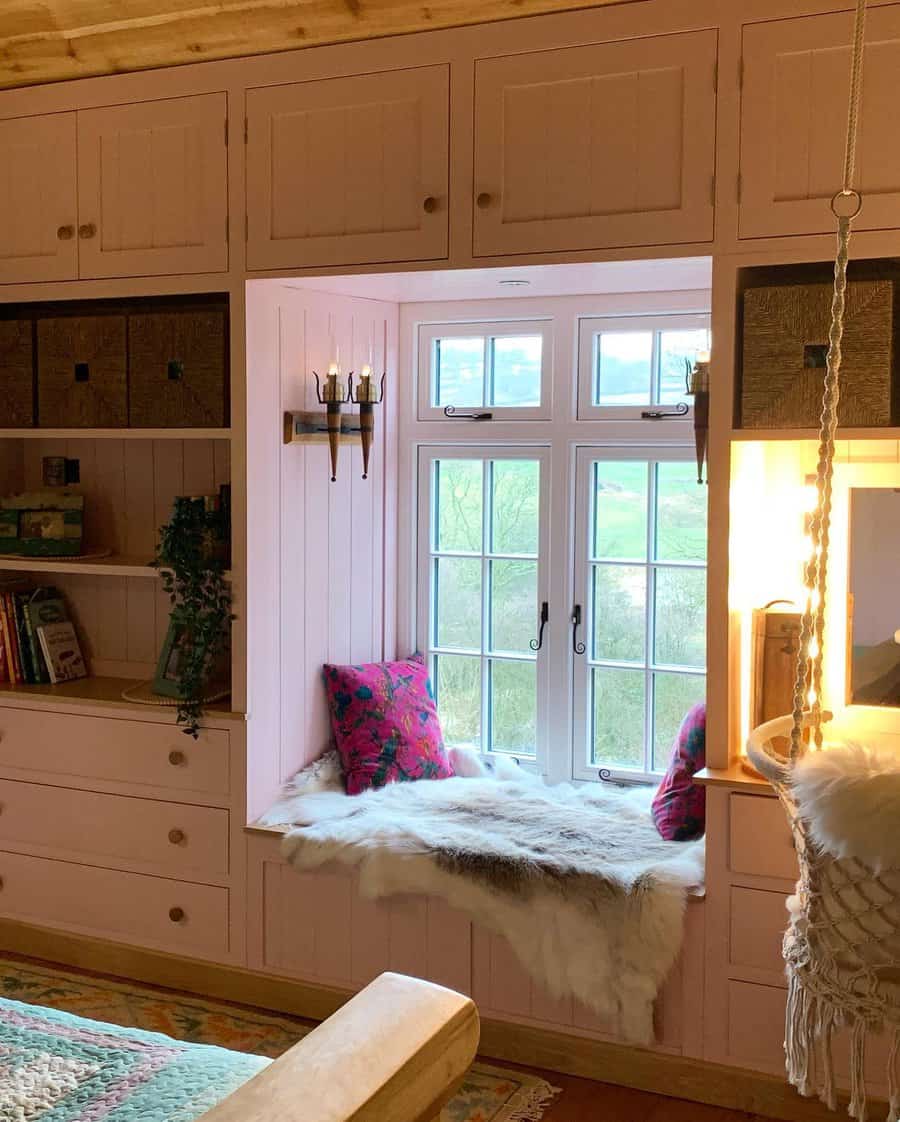 If there's one rule of home design, it's that sometimes you just need to fake it! The vast majority of homes lack built-in window seating. But it's possible to recreate this look without major construction.
Constructing built-in cabinets or shelving around your window seat will create the illusion of a recessed nook. This is an excellent solution for any living space that could benefit from extra storage, such as a mudroom or children's bedroom.
5. DIY
Furniture shopping is typically neither easy nor relaxing. Sadly, hunting down the perfect window seat is no exception. So why not DIY a window seat that fits your home's exact specifications?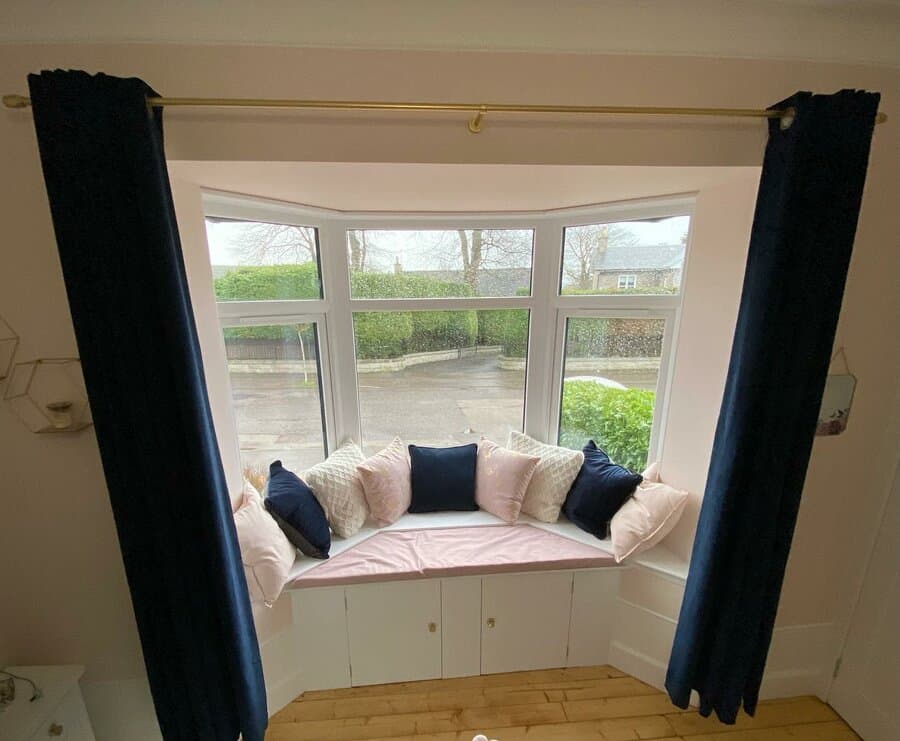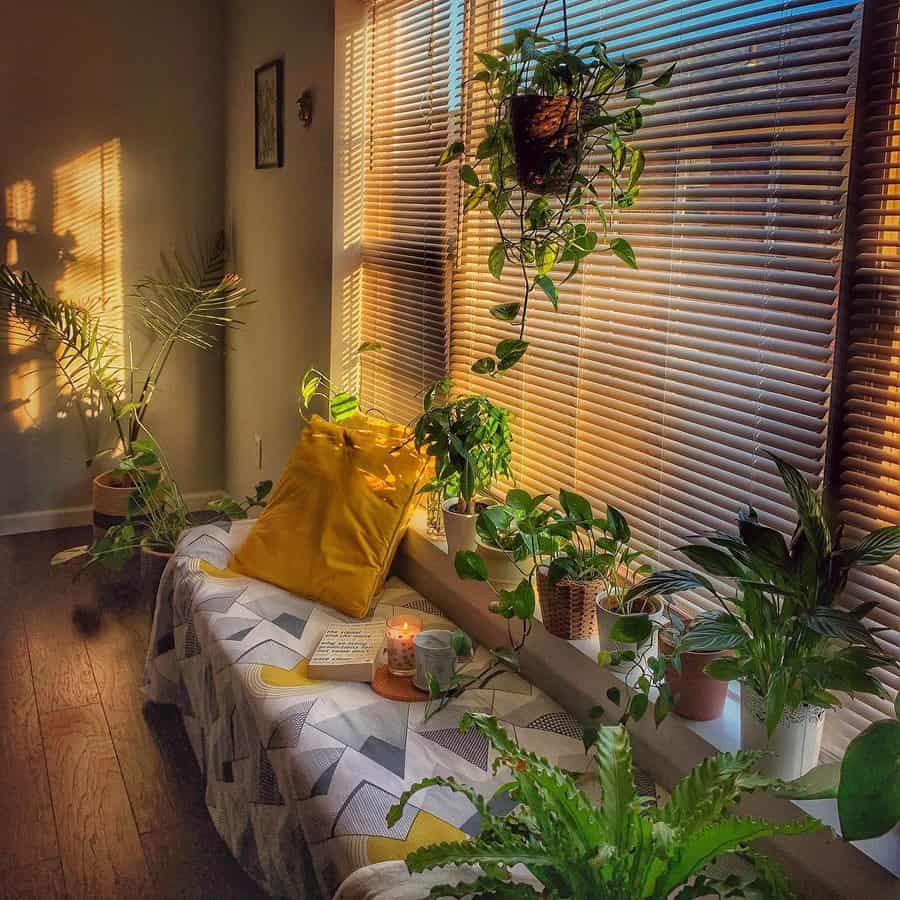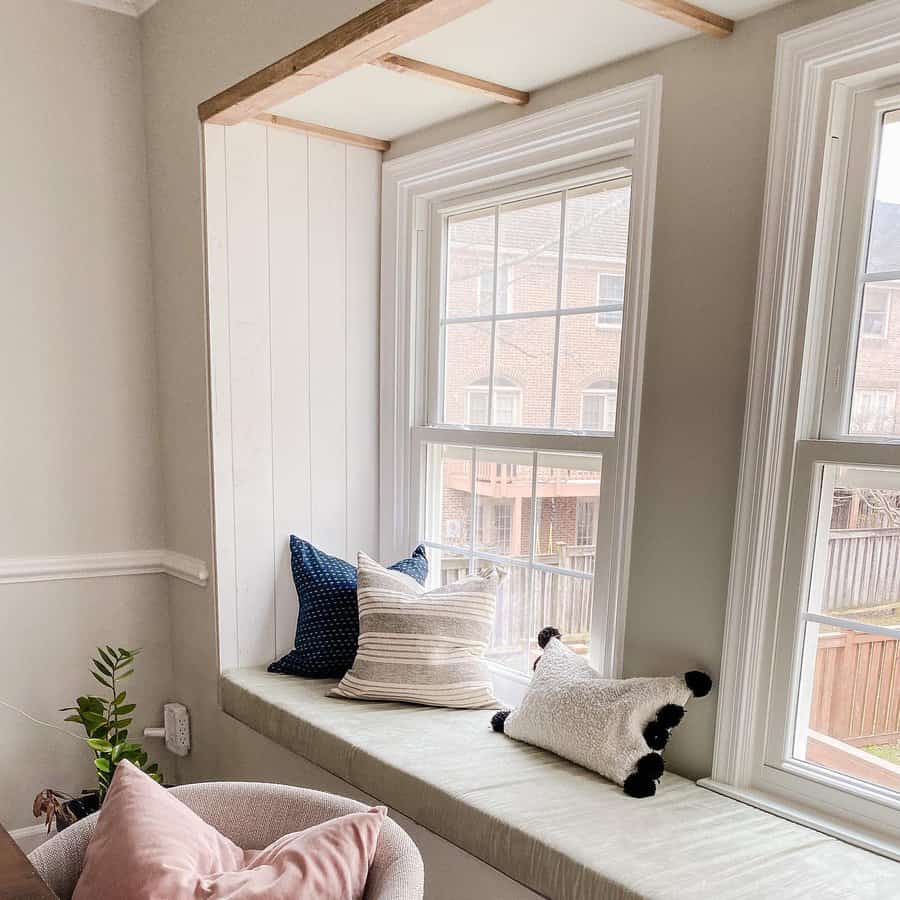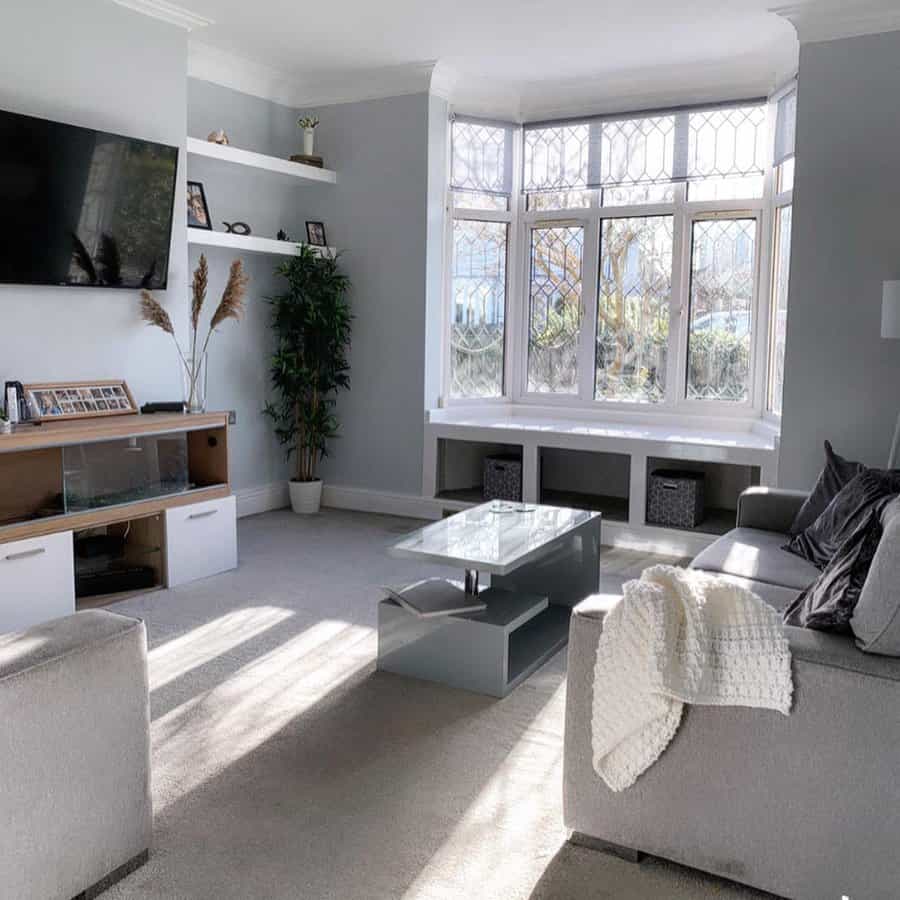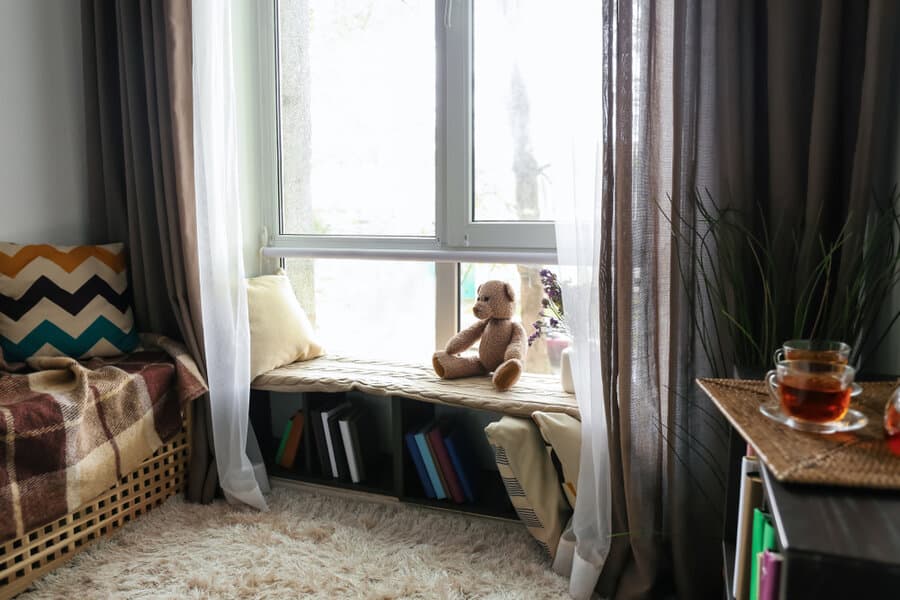 The simplest DIY window seat requires little more than a crate, chest, or basic bench. Decorative pillows are optional but always encouraged. A throw blanket can disguise the makeshift nature of your new reading nook.
Building a window seat is the perfect opportunity to include hidden storage space in your living room or dining room design. You can also transform the compartment underneath your window bench into something completely unique, like a secret pet hideout!
6. Kitchen
The breakfast nook was once a mainstay of popular kitchen design. Yet these cozy dining setups have largely fallen out of contemporary favor. And, in our opinion, it's about time they come back into fashion.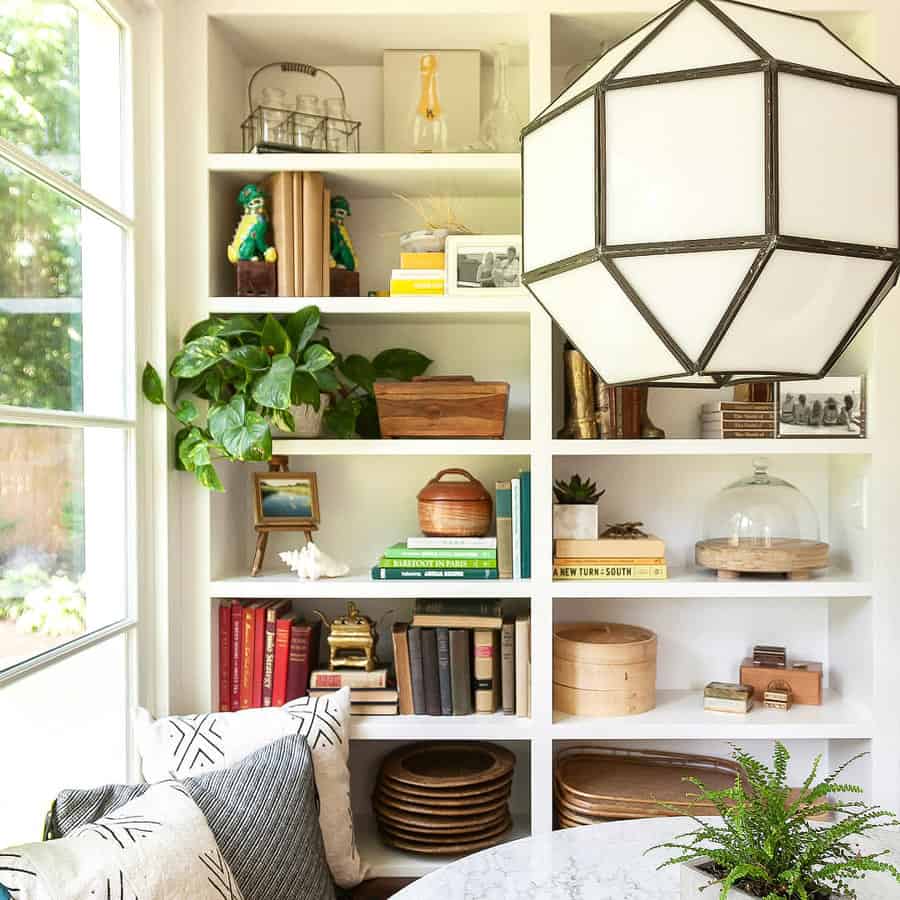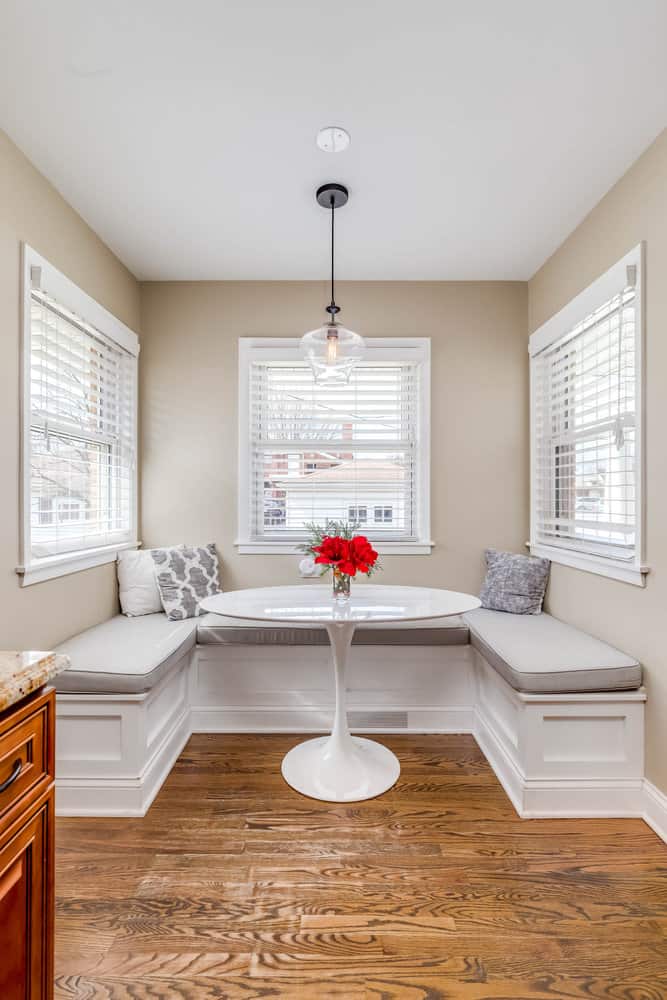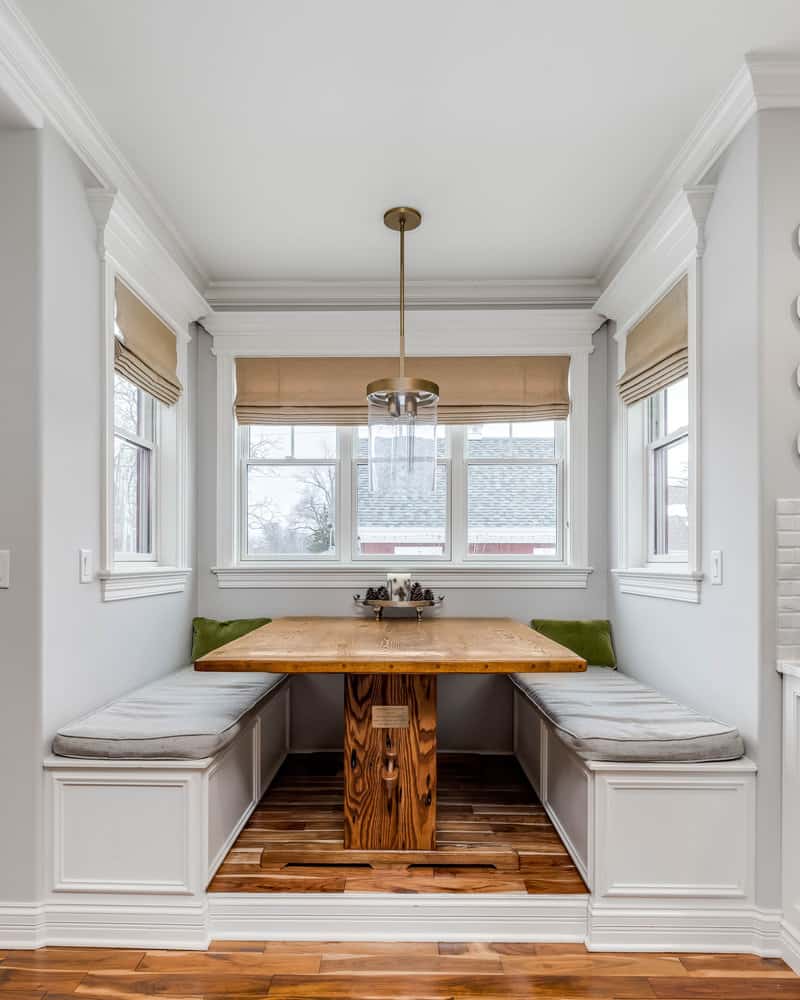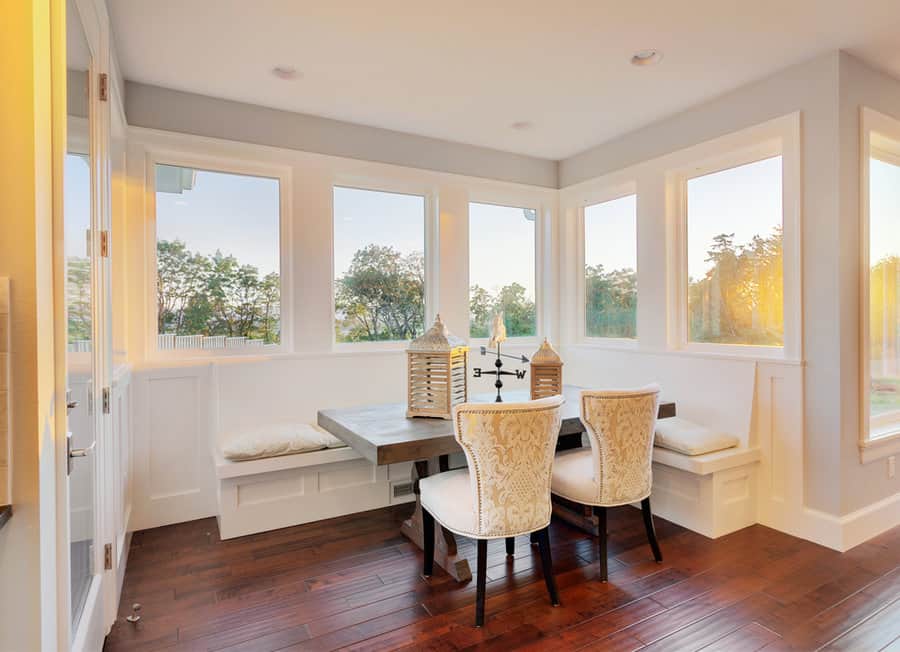 All you need for a kitchen window nook is a bench and a table. For additional seating, arrange coordinating dining chairs opposite your window seating.
Transforming your kitchen or dining room window into a dining nook is the ideal way to make the most of an otherwise small space. Plus, meals are just one reason to take a seat at your kitchen window. The space also doubles as a convenient home office or craft area for little ones!
7. Living Room
If there's one area in the home that never seems to have enough seating, it's the living room. While you can stuff the space with extra sofas and armchairs, these window seat ideas might be all you really need.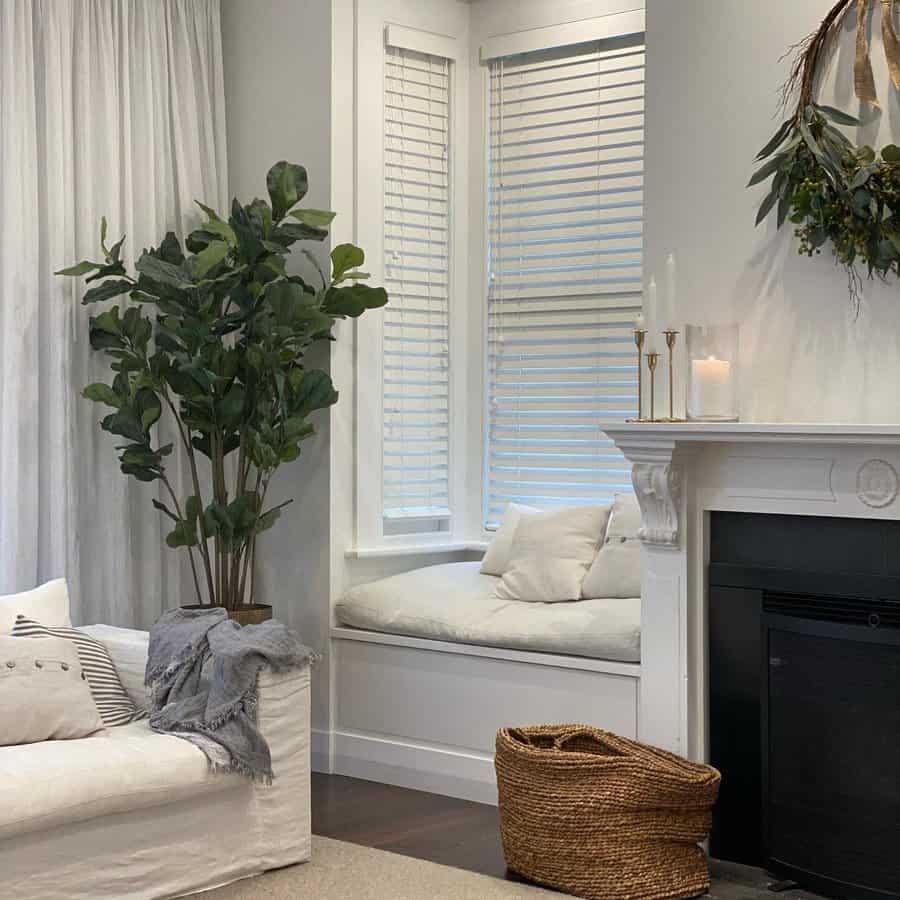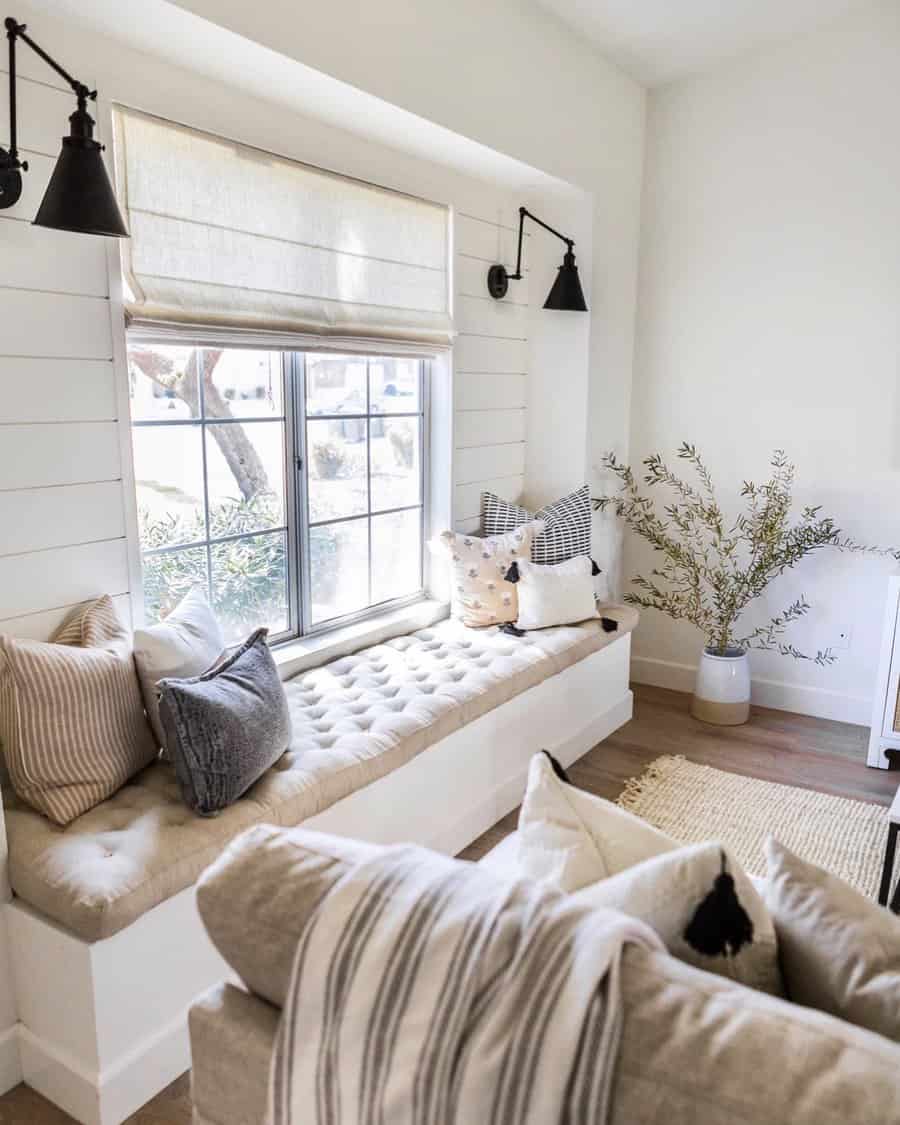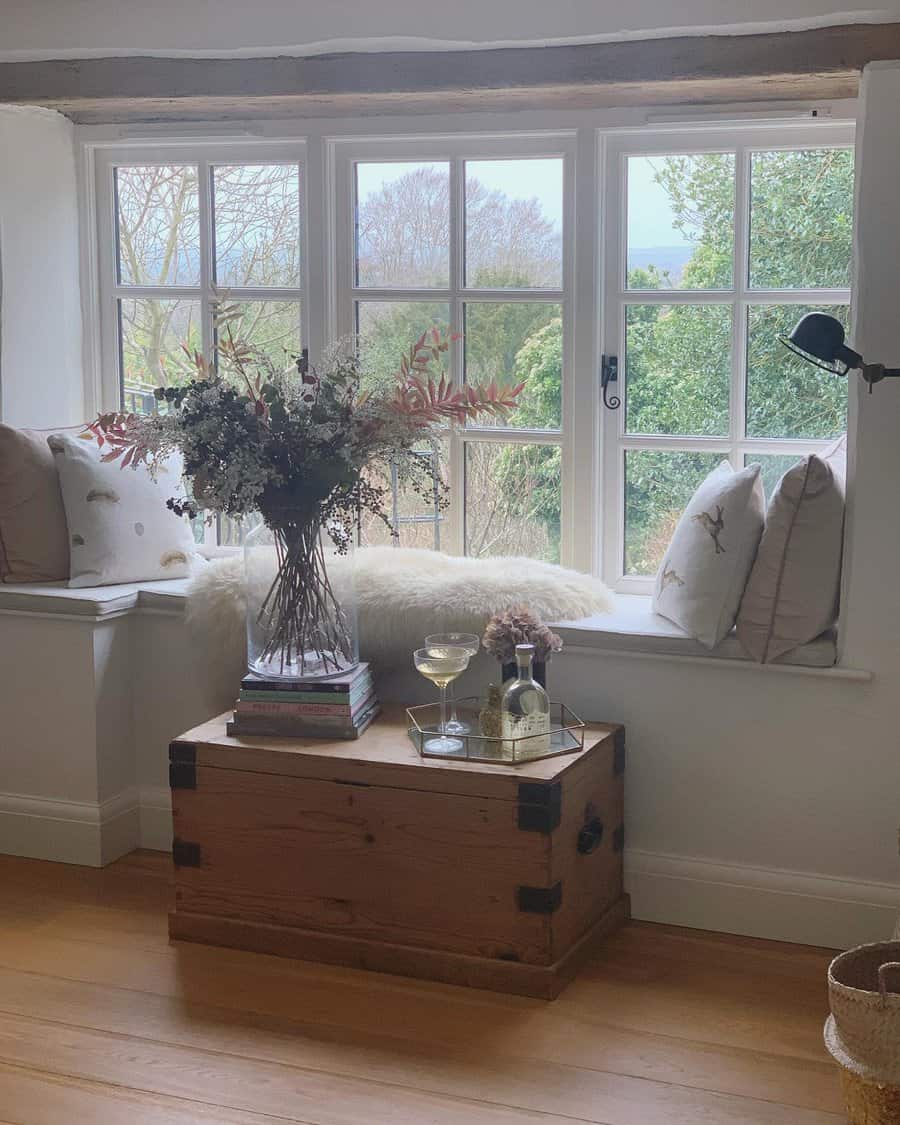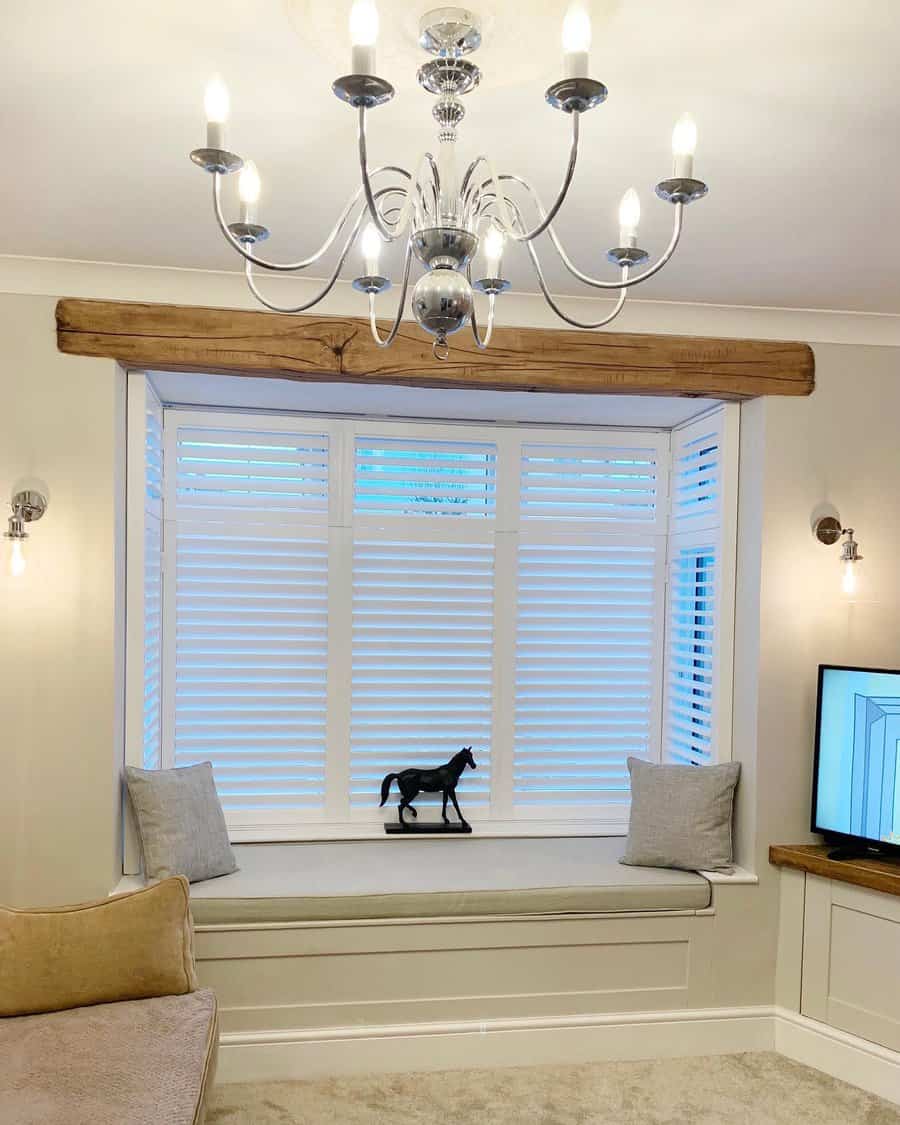 Treat your living room window bench as you would any other piece of accent furniture. The cushions and throw blankets should coordinate with your main seating upholstery. But don't be afraid to include some vibrant textiles as well.
The right window seat design can even take the place of a traditional sofa. This solution is a favorite among apartment and dorm dwellers. Or you can maximize the available seating by converting your window seat bench into a full built-in sectional.
8. Reading Nook
Yes, any window bench can be a reading nook. But there's something particularly special about a cozy nook lined with well-stocked bookshelves.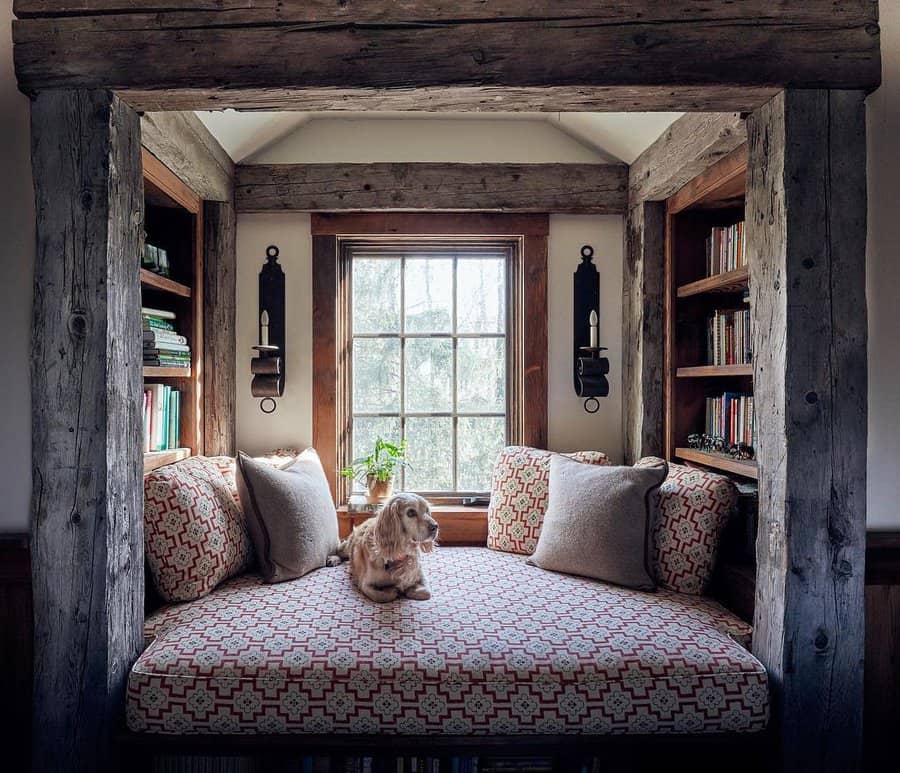 When designing a reading nook, comfort is the main priority. Invest in supportive cushions and bolsters for long reading sessions. Bigger window seats are almost always better!
Keep in mind that you won't always have light coming through the nearby windows. Install a stylish wall sconce or hanging lamp over your bench seat for reading at all hours of the day. And if you spend more time perusing ebooks than physical copies, it doesn't hurt to include a convenient outlet in your window seat design.
9. Small
Contrary to popular belief, you can create a warm and cozy nook in front of any window. There truly is no window too small or awkwardly placed for this interior design project!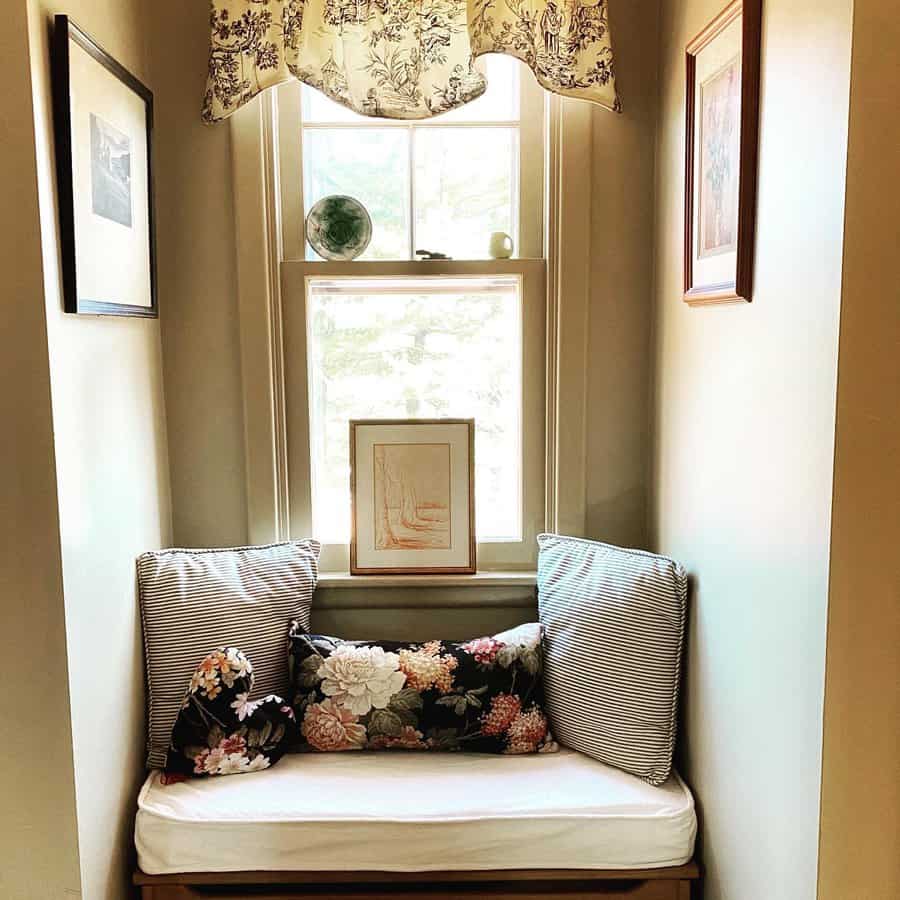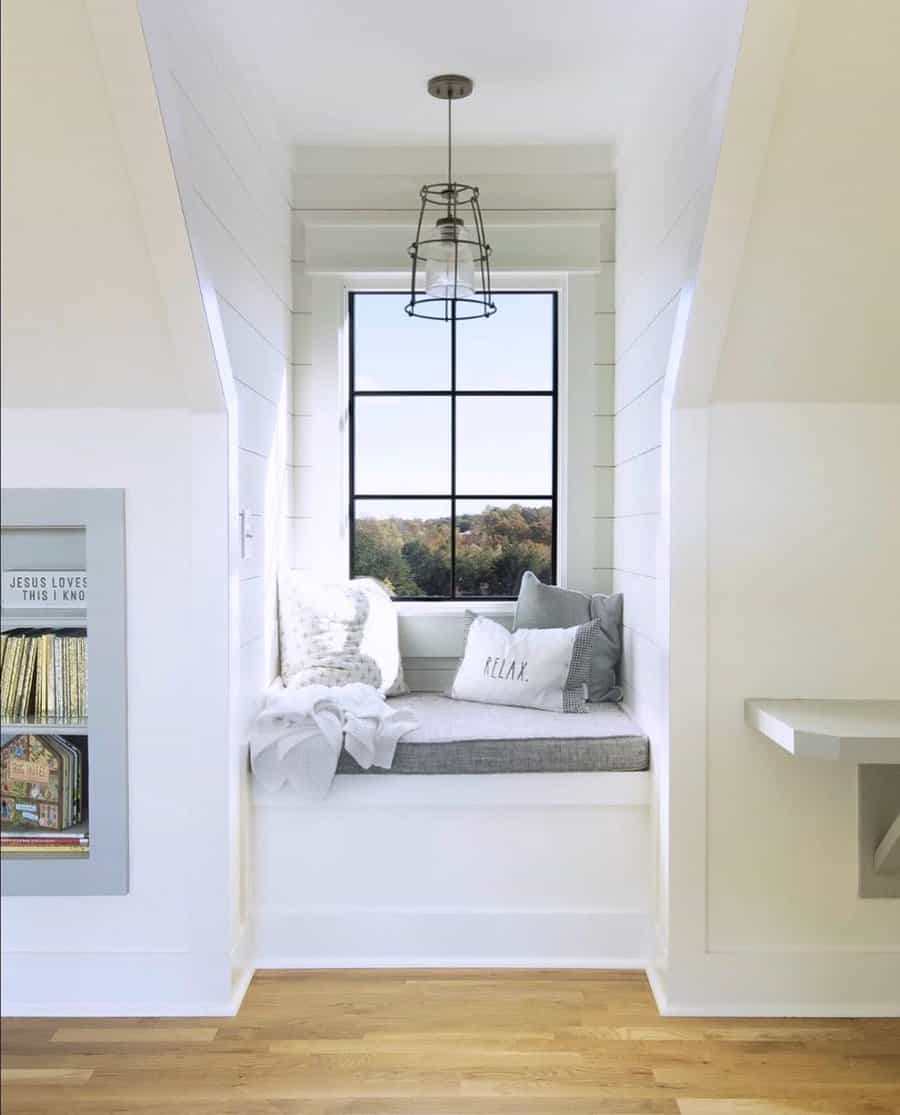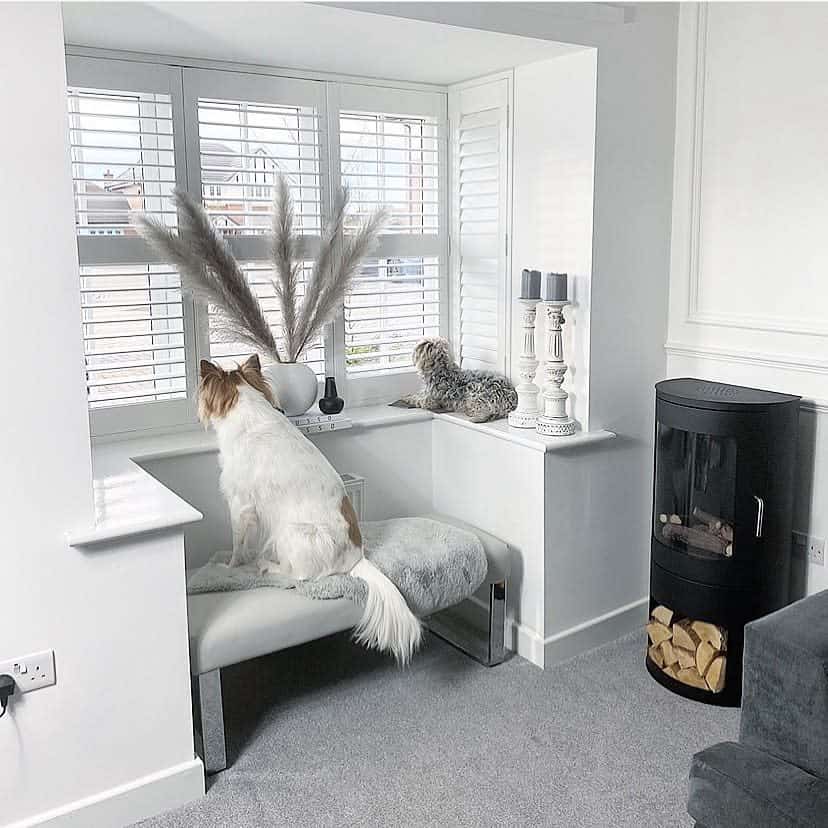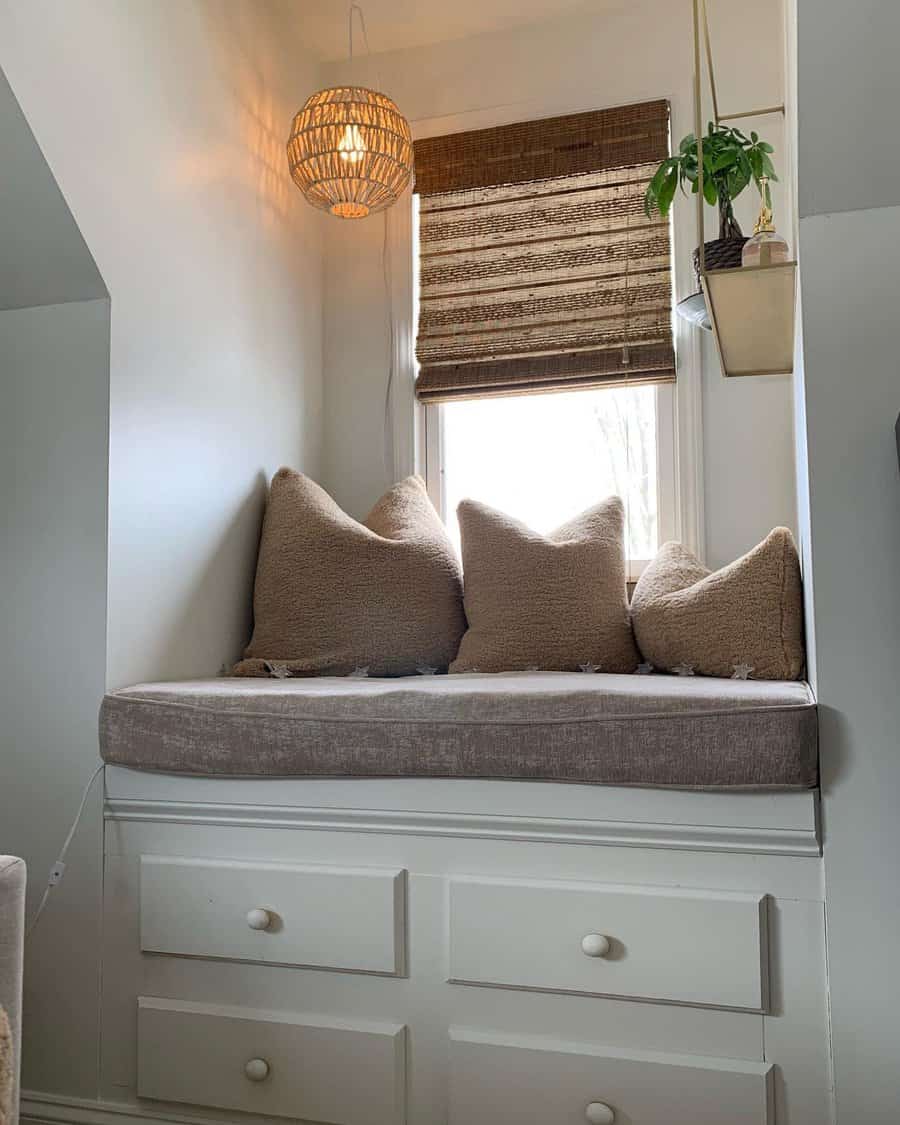 While it's true that a small window seat design won't accommodate a full-grown adult lying down, you can still utilize the space in a variety of ways. A built-in bench will make a wonderful alternative to a regular armchair, especially in a compact room.
Just because space is limited does not mean you should leave your window seat completely barren. Select one or two pieces of decor to place on the windowsill or hang from an adjacent wall.
10. Storage
It doesn't matter how small or large your home's floor plan is. At the end of the day, there's no such thing as too much storage space.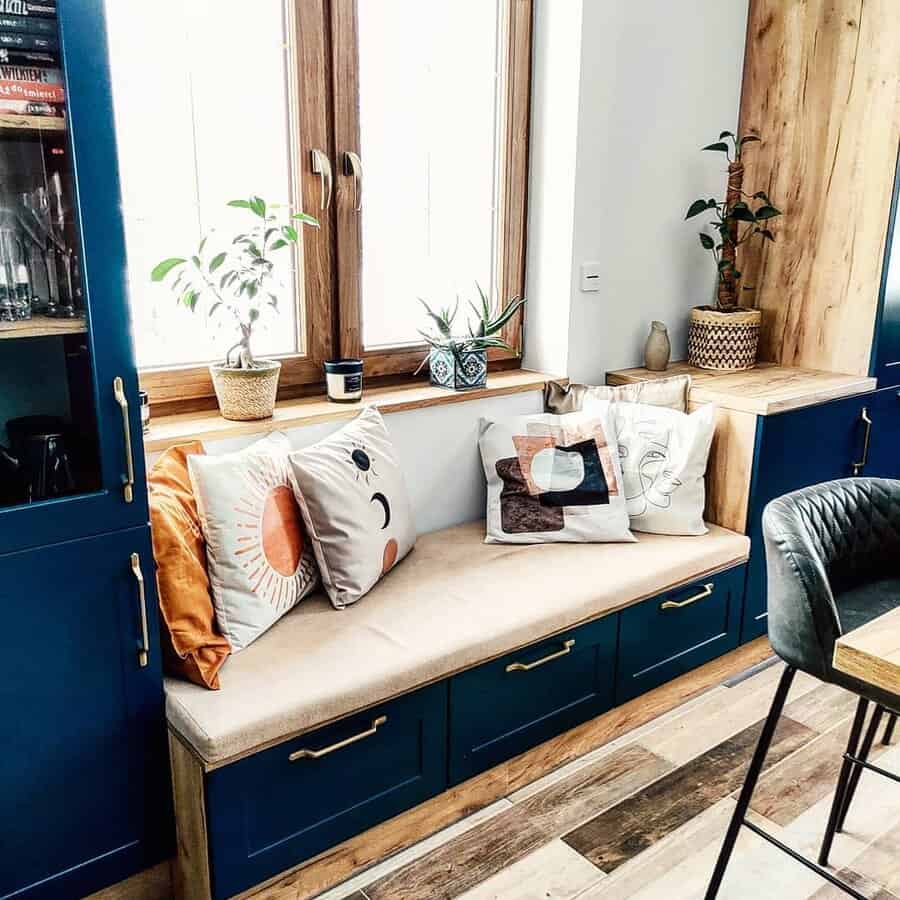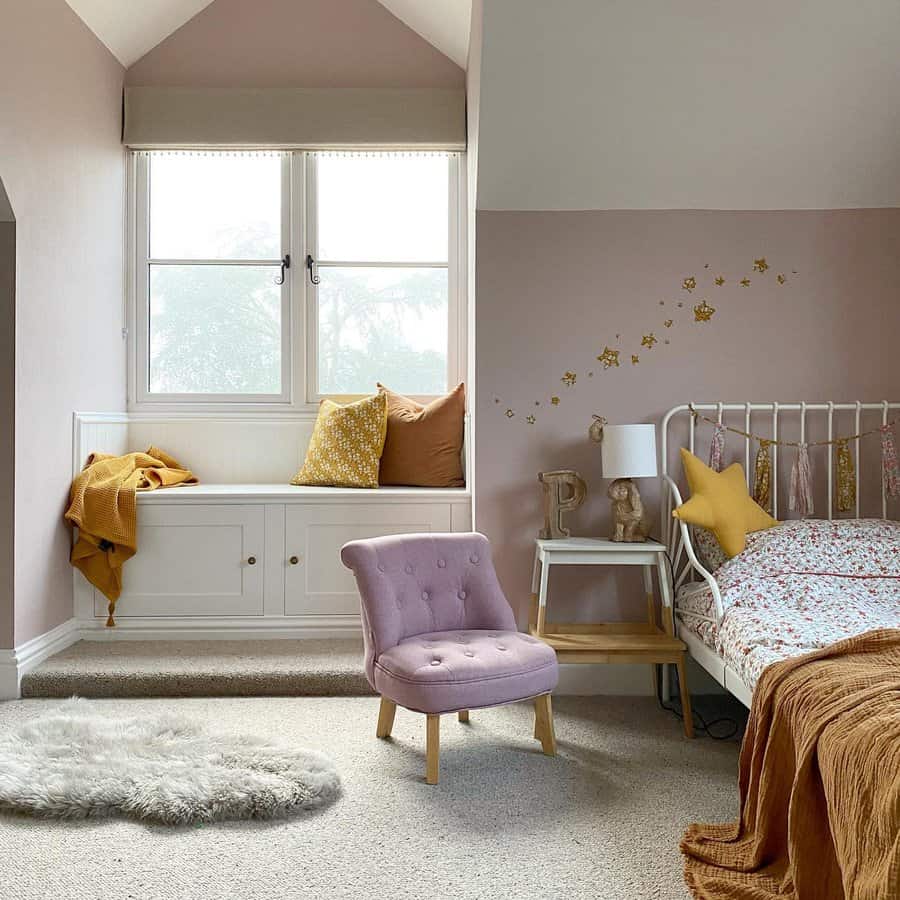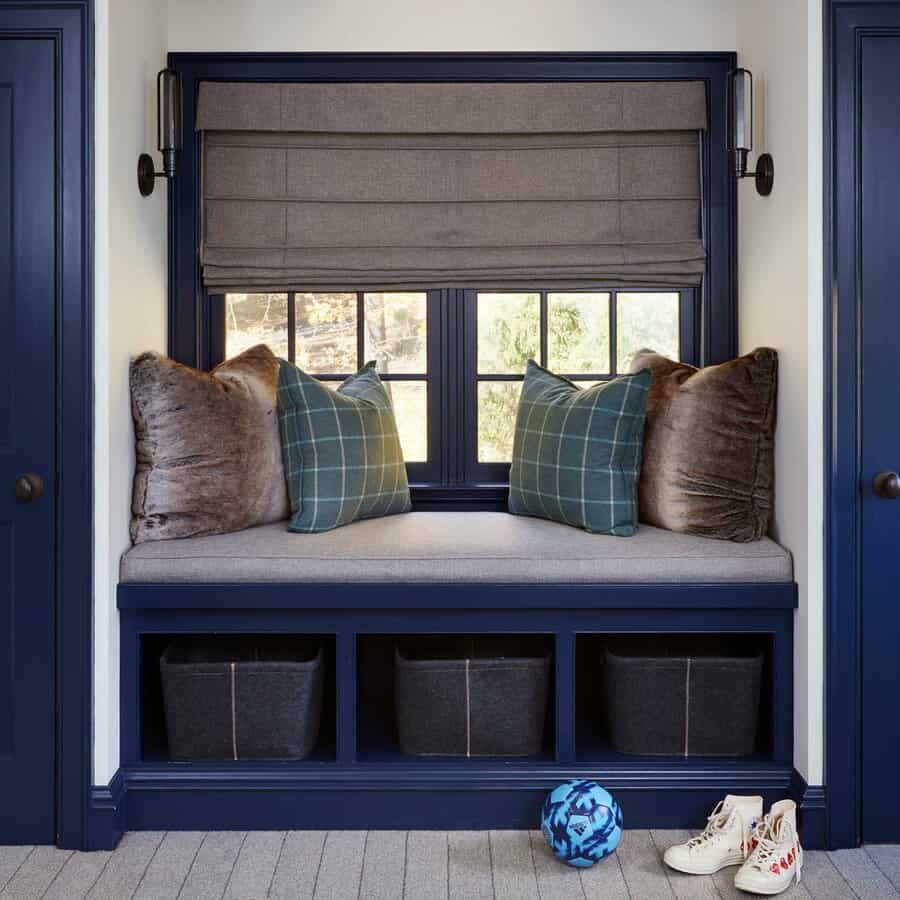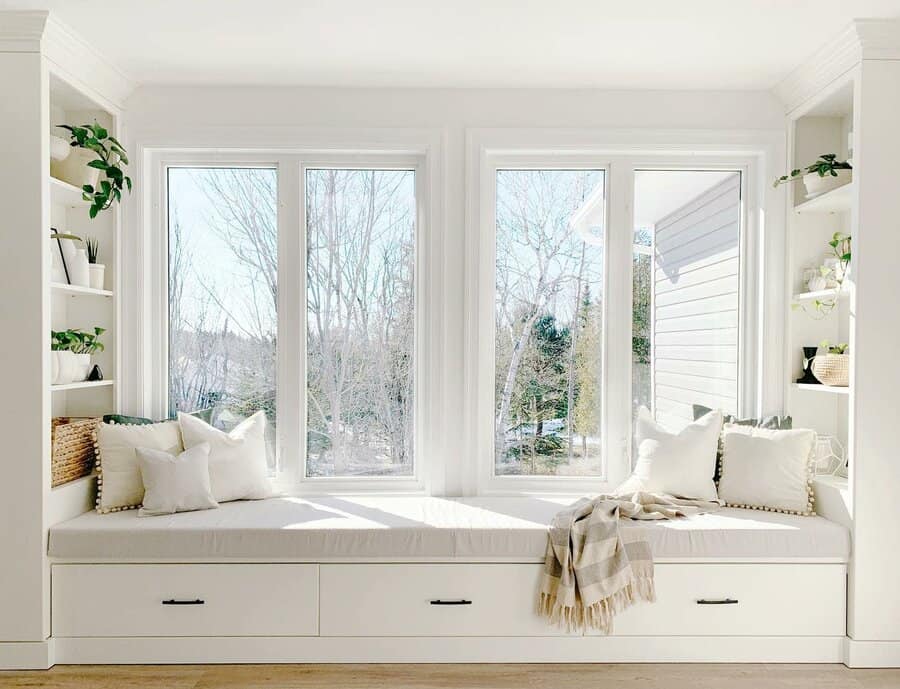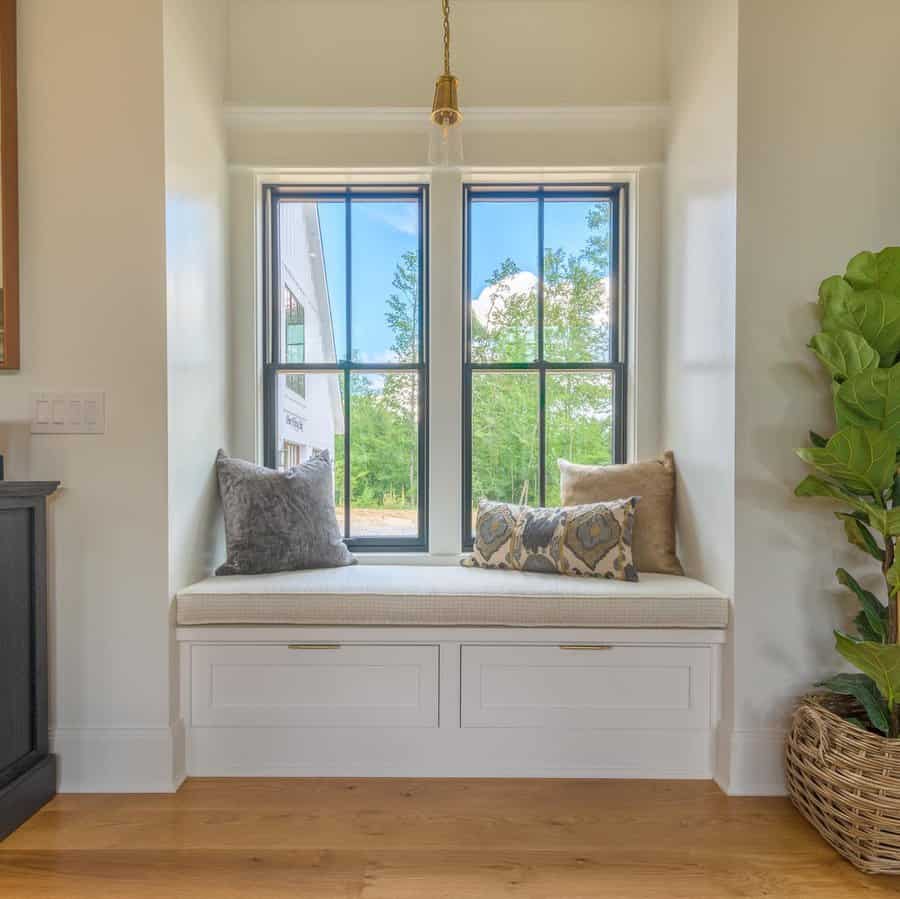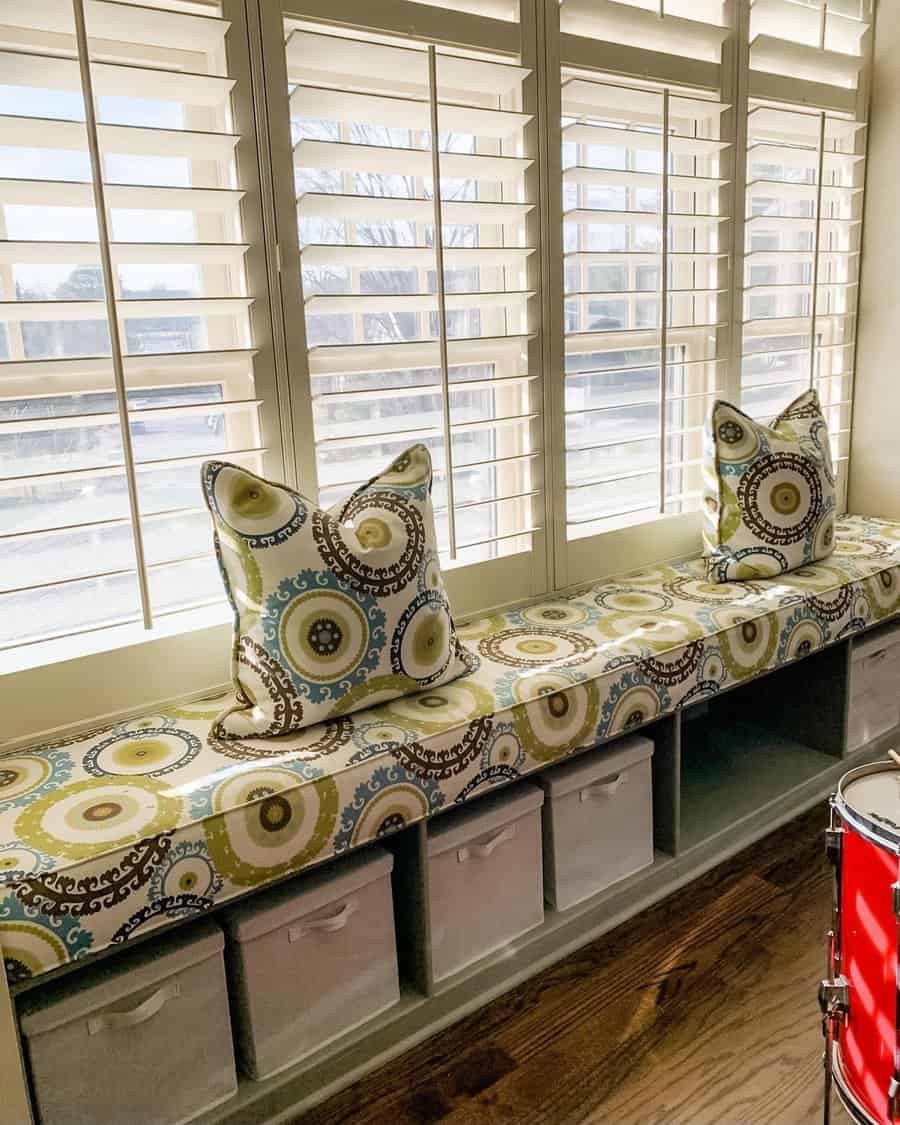 Take advantage of every opportunity to include cubbies, drawers, and shelves in your new window seat. Many window seats come pre-built with these features. But it's also incredibly easy to design your own.
Remember that storage can come in many shapes and styles. A window seat boasting bulky drawer pulls or open compartments isn't for everyone. Hidden storage is just as practical while preserving your home aesthetic.
11. Sun Room
The biggest obstacle for many window seat ideas is finding the right location. But in the case of a sunroom or covered porch, there's no shortage of window space just begging to be paired with a stylish bench or banquette.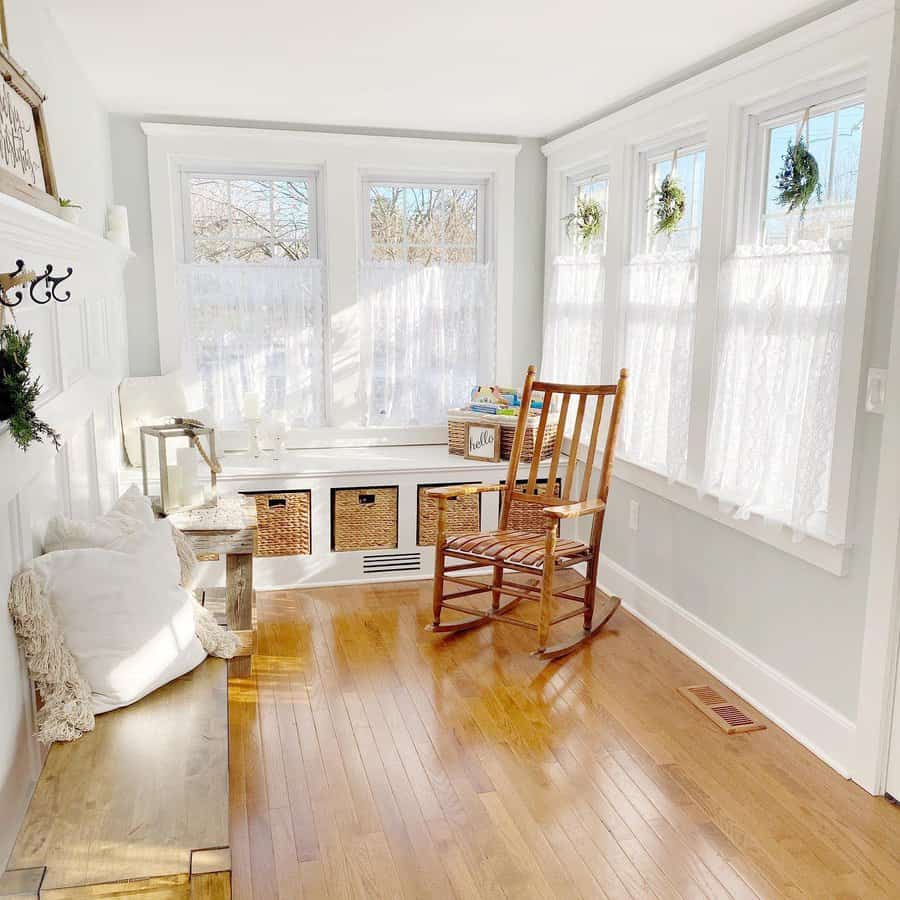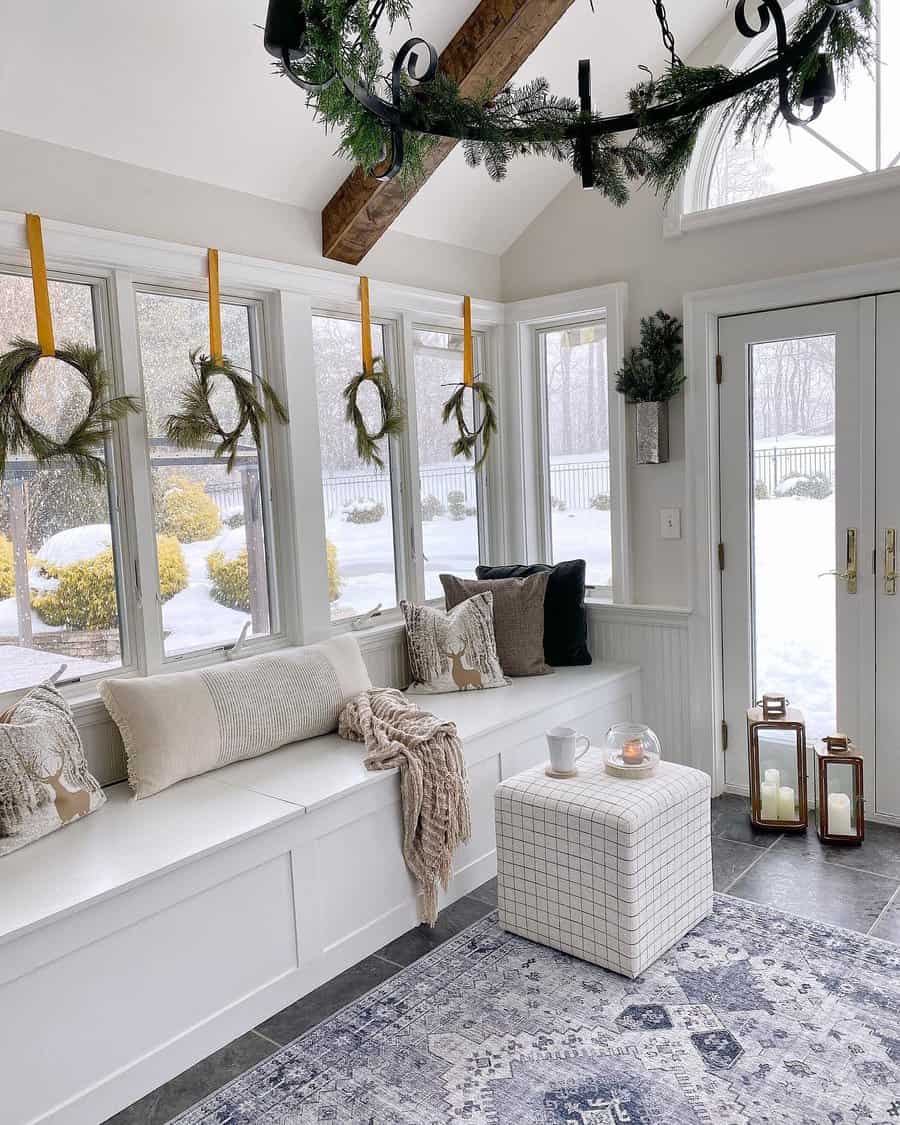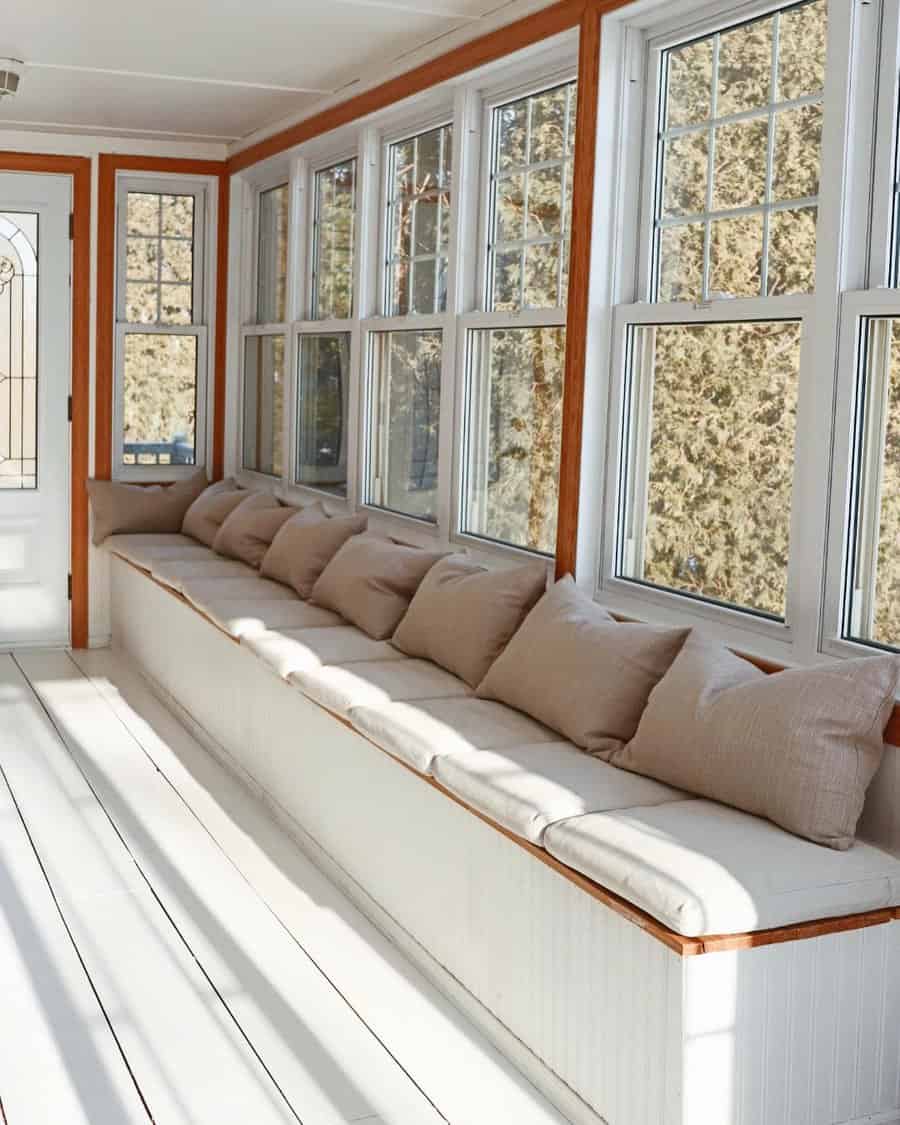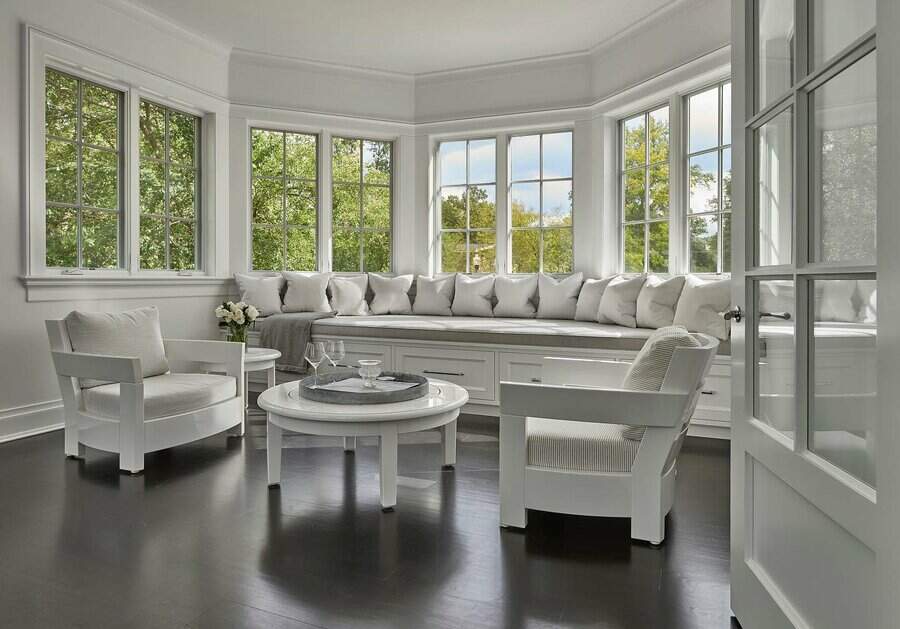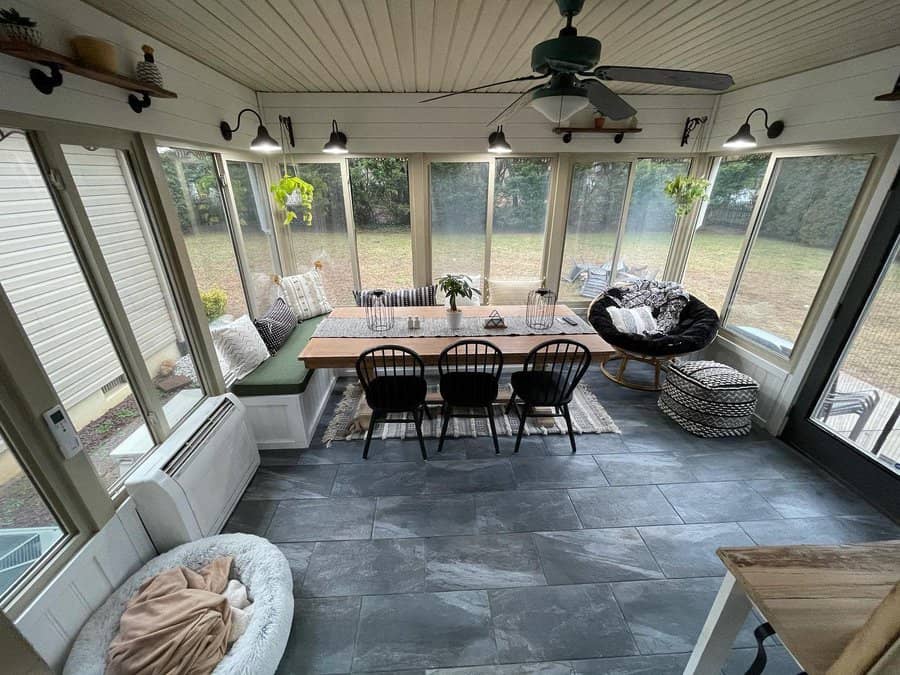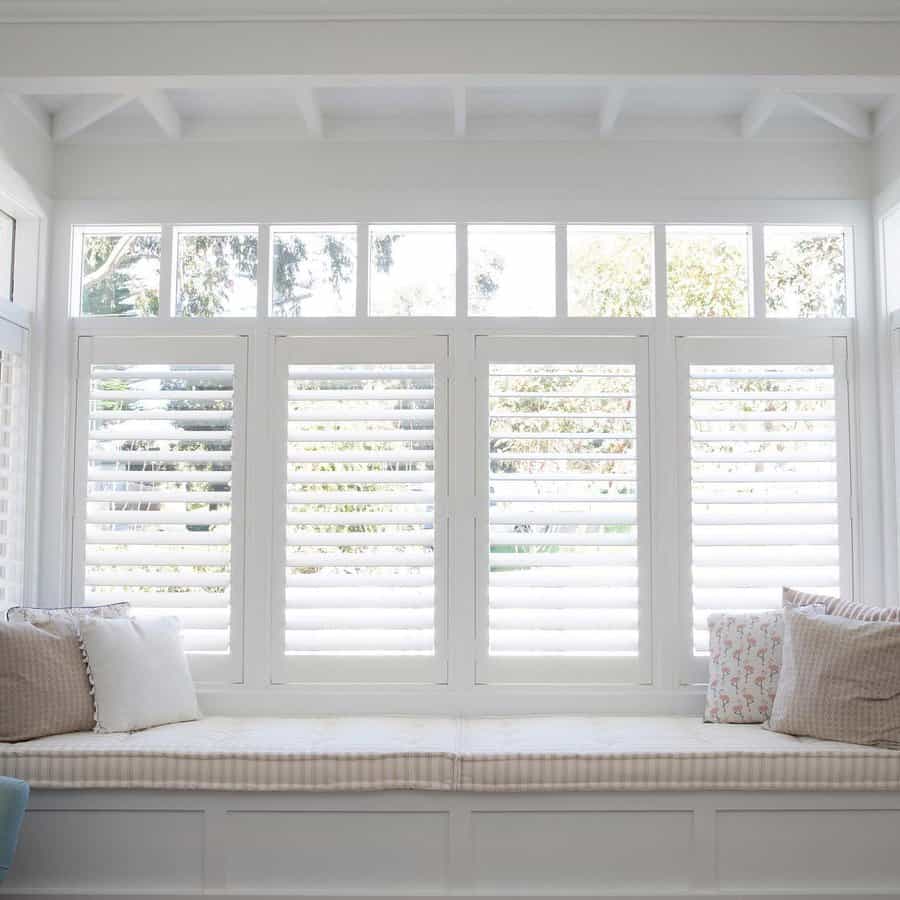 Window seating is a wonderful way to accommodate tons of potential guests without cluttering up the center of the room. Of course, you can still invest in a formal sofa or table set.
When setting up your new window seating, think of ways you can make the space multi-use. The right style of window seat can easily double as a daybed for guests. Or opt for removable cushions for a versatile storage shelf during the colder months.
Window Seat FAQs
What type of window treatment looks best with a window seat?
Pairing the wrong window treatment with built-in seating or a bench can overwhelm the space as a whole. You also don't want to be getting tabled up in heavy drapes or cords while trying to relax with a good book.
If privacy or light control is of no concern, then consider leaving the window bare. This will maximize natural sunlight in the room and allow your window seat design to stand out as the star of the show.
For windows that need some type of interior covering, sleek blinds or shutters are great options. Or install a Roman shade for a softer appearance that will stay out of the way when the seat is in use.
How do you keep window seat cushions from fading?
Left in direct sunlight, many traditional upholstery fabrics will quickly lose vibrancy or even physically break down.
The best way to make your window seat fabrics last is to invest in high-quality fabrics designed to resist fading. Most of these fabrics will be advertised for outdoor use, such as on patio furniture.