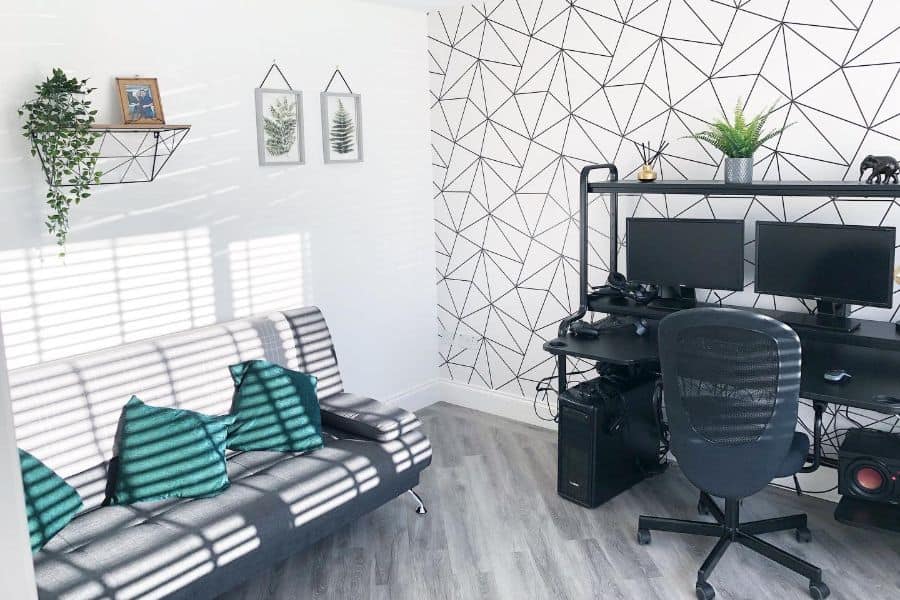 The Top 58 Bedroom Office Ideas
"These aren't pajamas. I work from home. This is my uniform." – Unknown
Although some experts advise against creating a bedroom office, it may be your only choice in a small home or apartment.
It may take some time to adjust to having your work space and bed in the same room. It can also take discipline to keep from sleeping when you should be working, and vice-versa.
As many discovered during the height of the Covid-19 pandemic, working from home can be surprisingly productive.
If your best option for a home office is your master bedroom or a guest room, take a look at these great bedroom office ideas. You'll see that it's possible to create a brilliant home office design—with a very short commute!
1. Sit-Or-Stand Ergonomic Desk
Are you tired of sitting at a desk all day long? Why not switch things up with a sit-or-stand adjustable office desk in your bedroom office? Not only does it provide a healthier and more ergonomic workspace, but it also adds a modern and sleek touch to your room. These desks come in a variety of styles and finishes to match any decor, and they can be easily adjusted with the push of a button or a manual lever.
You'll be able to switch from sitting to standing in no time, giving you the flexibility to work comfortably and creatively. So say goodbye to those uncomfortable chairs and hello to a more productive and stylish work environment with a sit-or-stand adjustable office desk.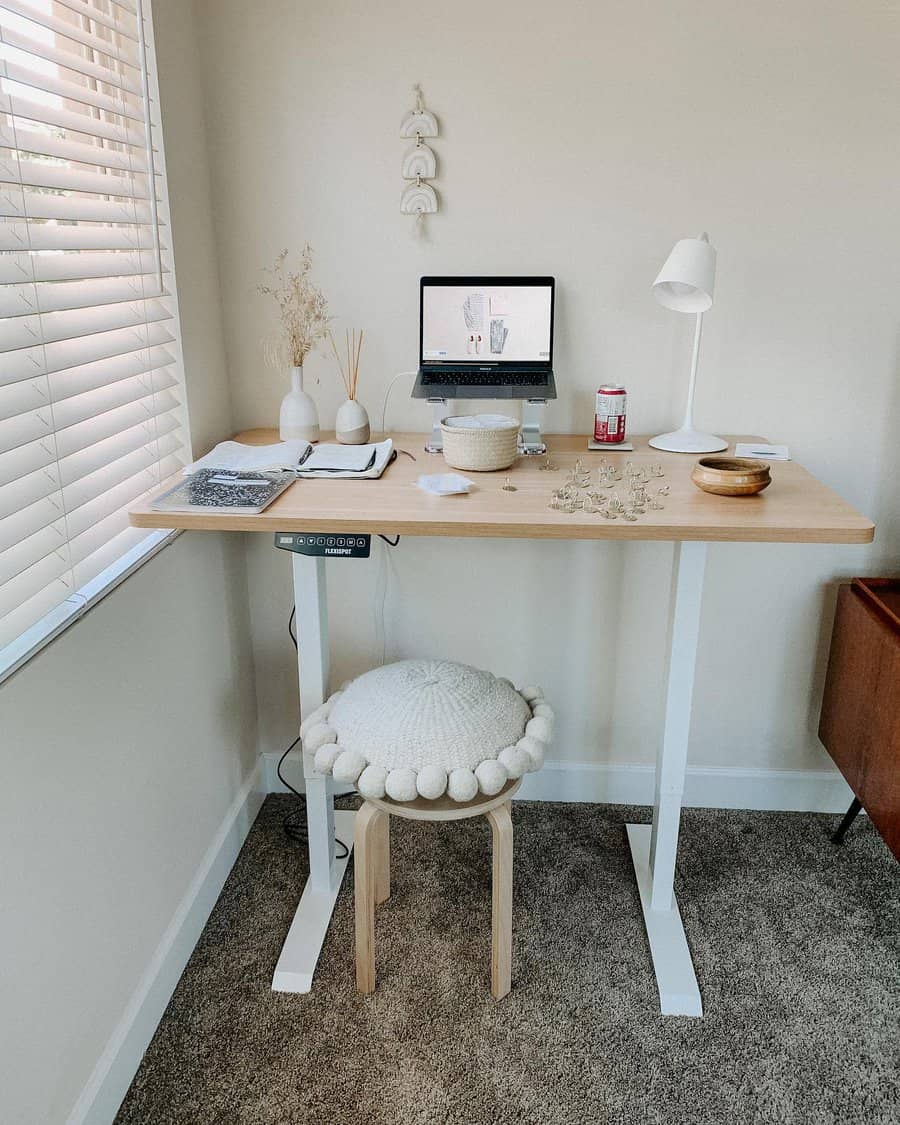 2. Built-In Desk With Shelves
When it comes to designing a bedroom office, the key is to find a balance between functionality and style. One way to achieve this is by incorporating a desk with built-in shelves, which allows for easy organization and storage of office essentials. These desks come in a variety of styles and finishes, so you can find one that fits your aesthetic and meets your needs.
Whether you prefer a sleek and modern look or something more traditional, there is a desk with built-in shelves that will work for you. With this simple addition to your bedroom, you can create an organized and efficient workspace that is both functional and stylish.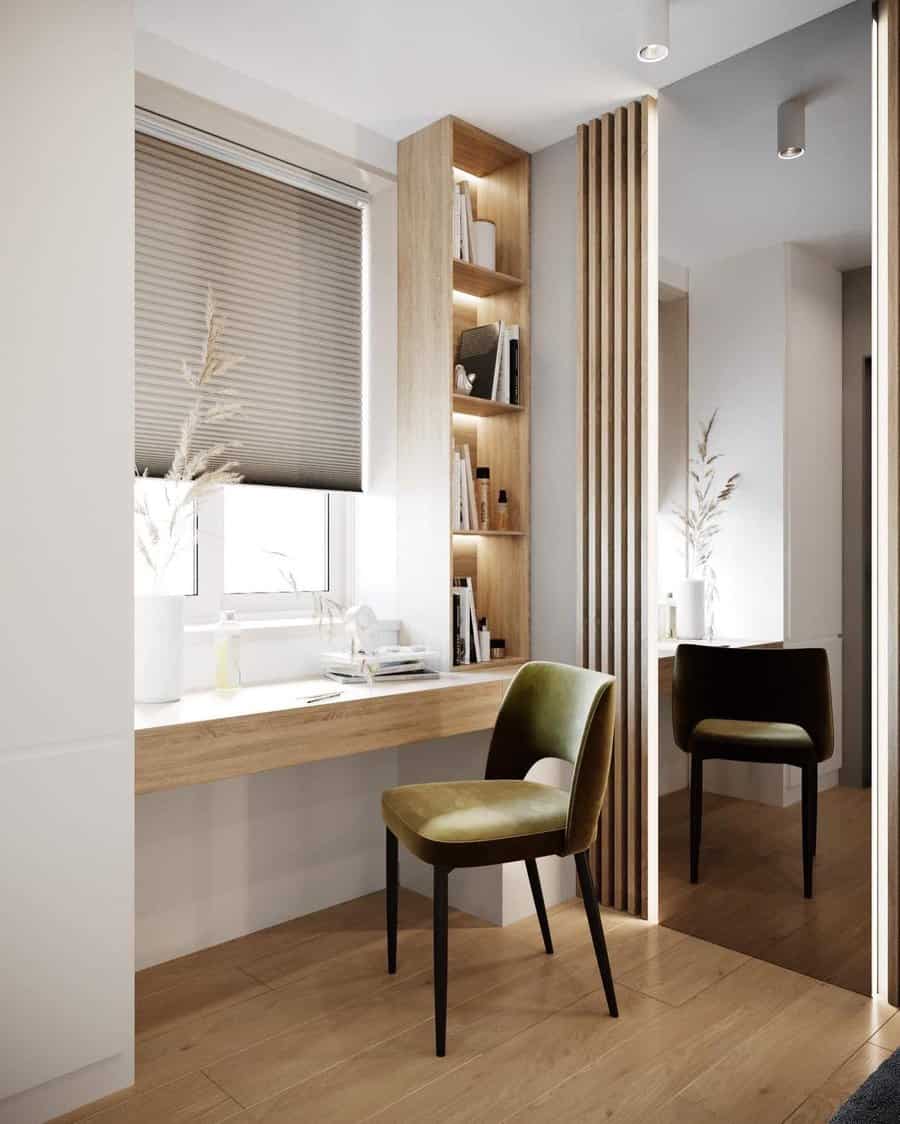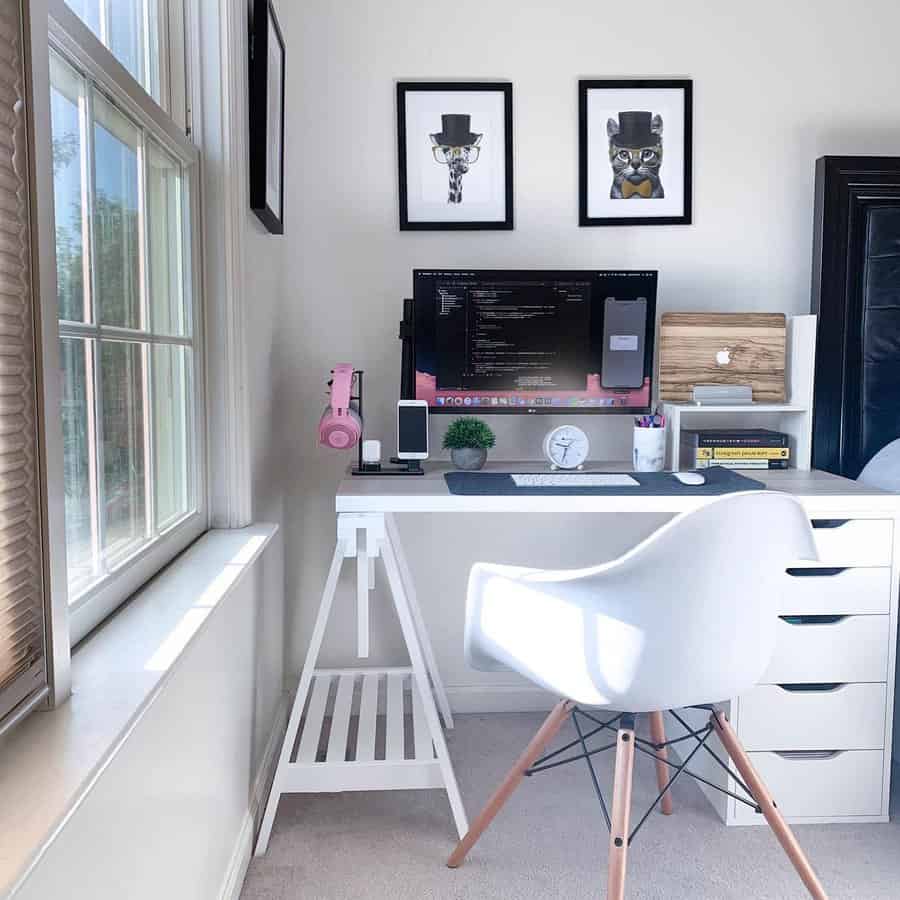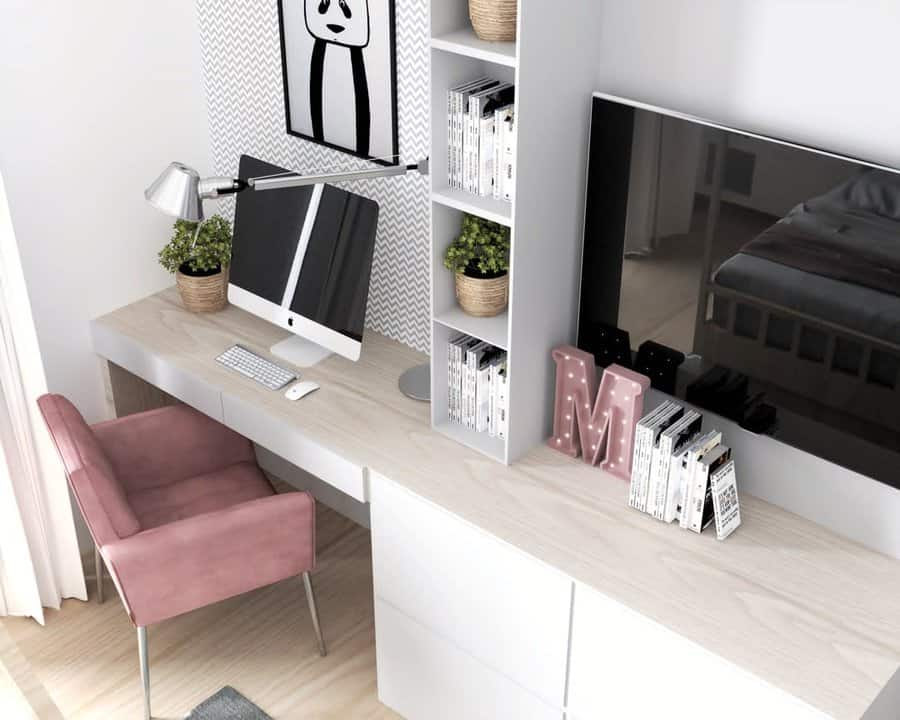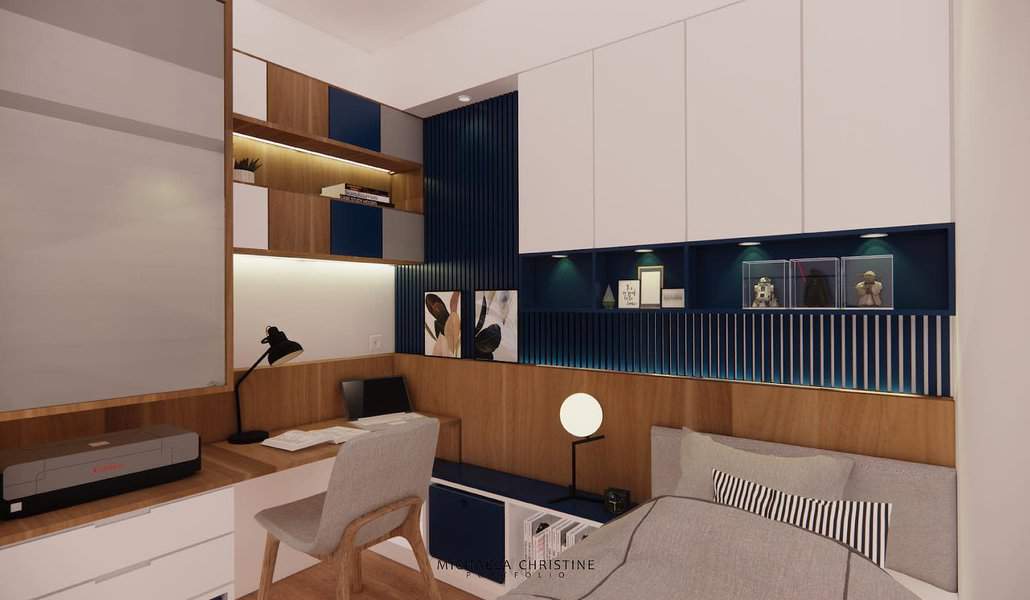 3. Corner Desk
When space is limited, it's important to make the most of every corner. That's where a corner office desk comes in handy. With its L-shaped design, it maximizes the use of space in a small room, allowing you to fit your workspace comfortably.
You can utilize every inch of your bedroom by placing the desk in a corner and taking advantage of the unused space. A corner office desk not only makes your room look more organized and tidy, but also provides a perfect workspace for those who need to stay productive in their own homes.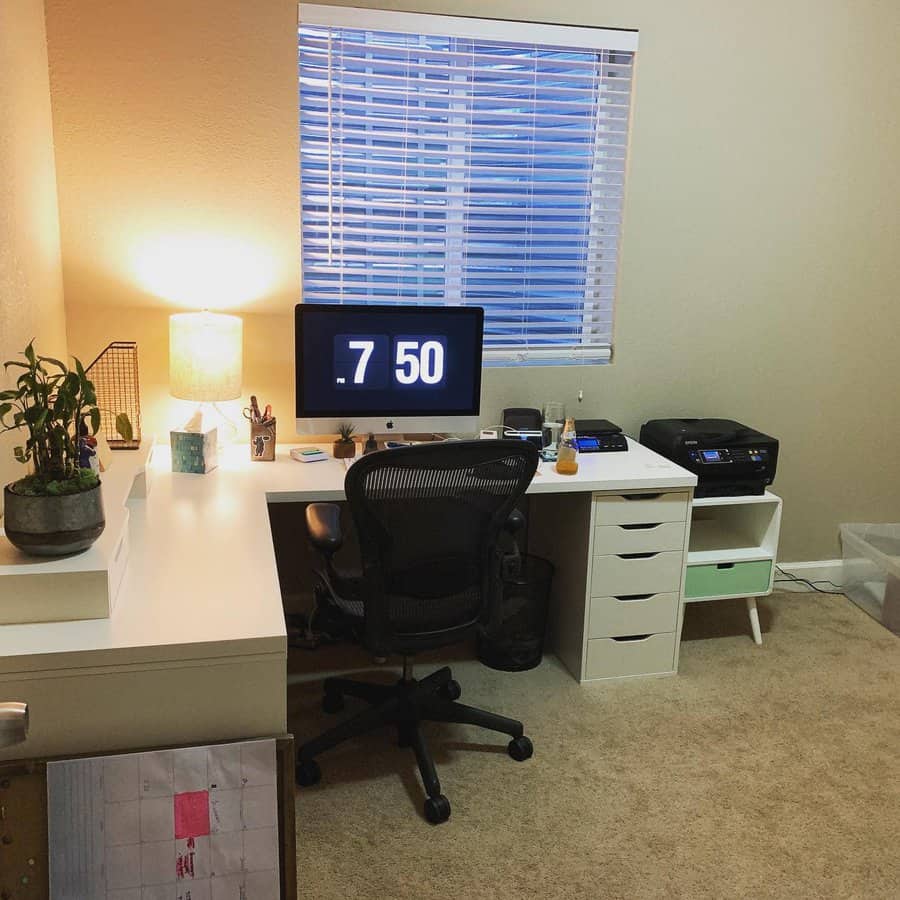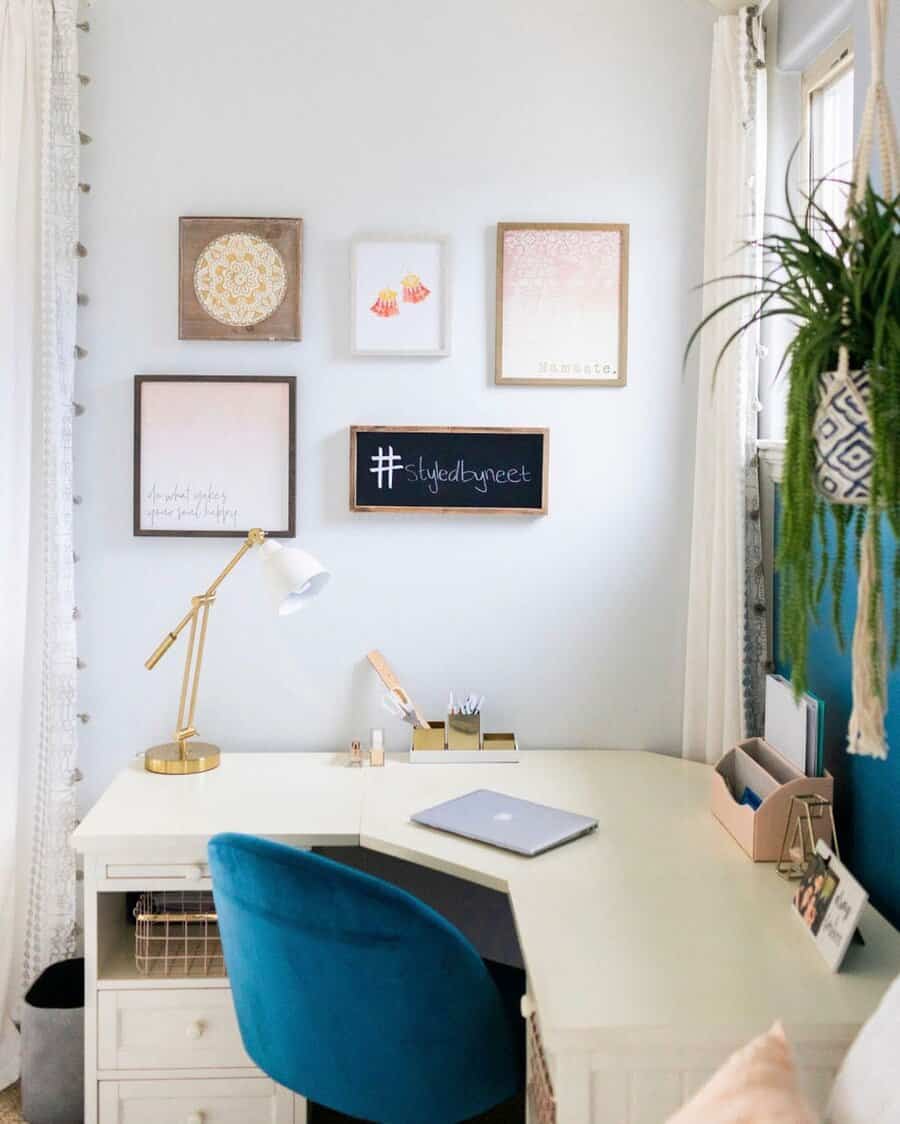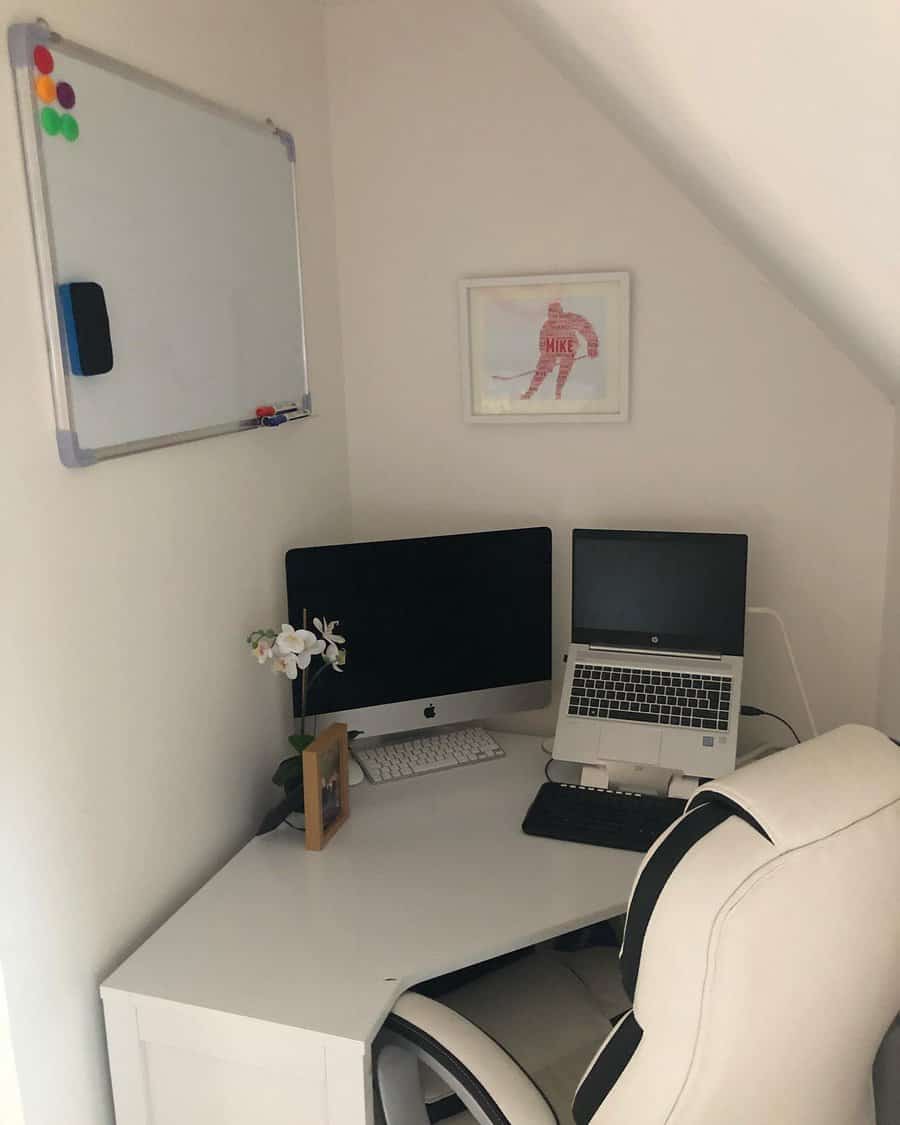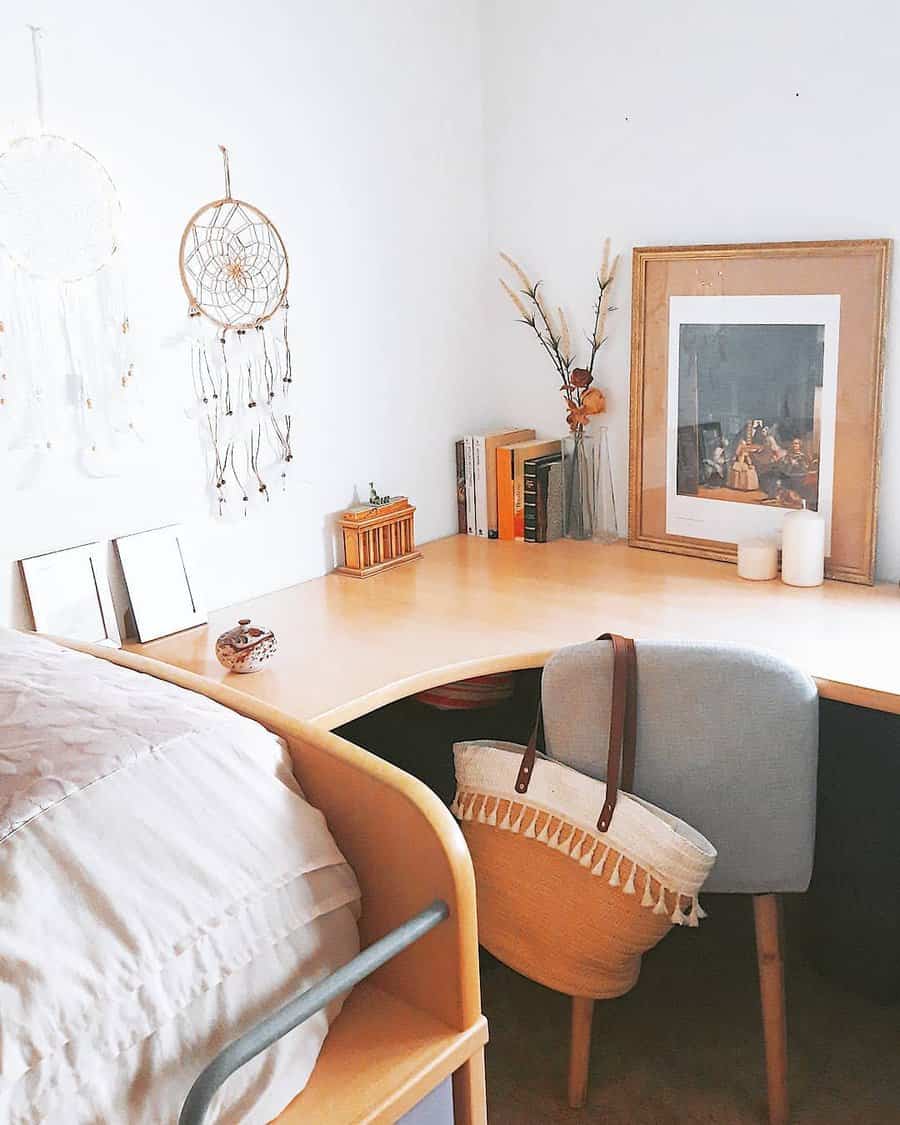 4. Desk Organizers
One way to maximize space is to invest in office desk organizers. Keeping your desk neat and tidy can help increase focus and productivity. There are many options available, from colorful pencil holders to file organizers, all of which can add a personal touch to your workspace.
A bedroom office can be both practical and stylish, with the added benefit of being just a few steps away from the comfort of your bed.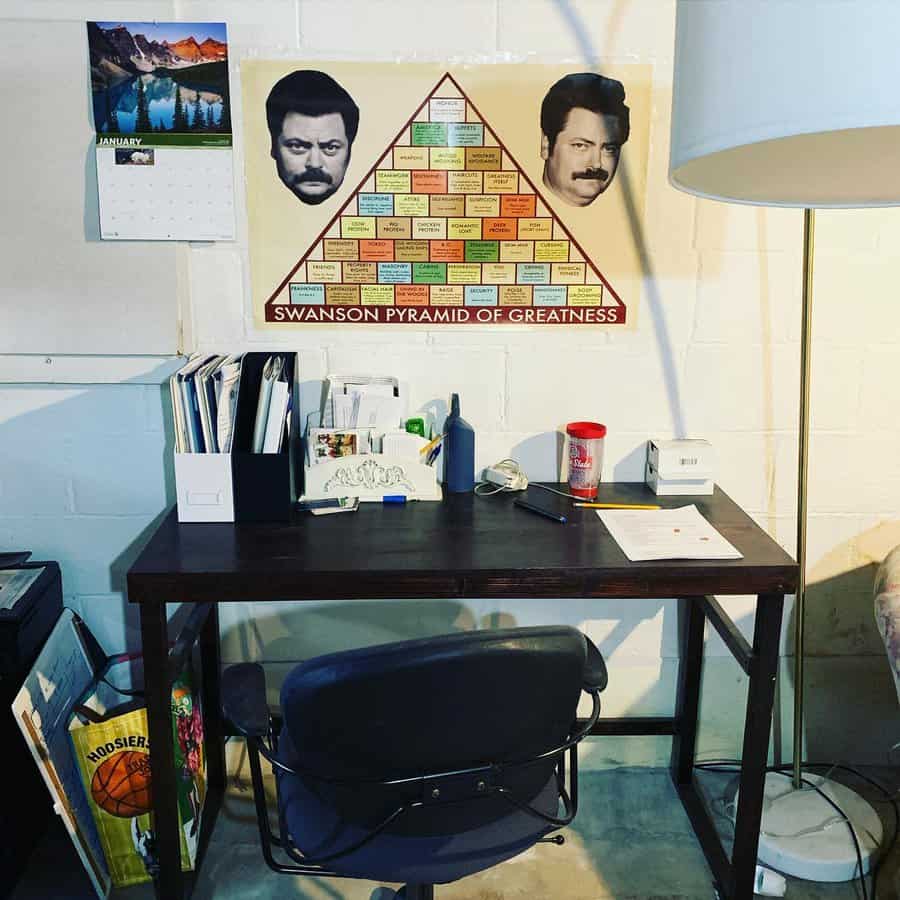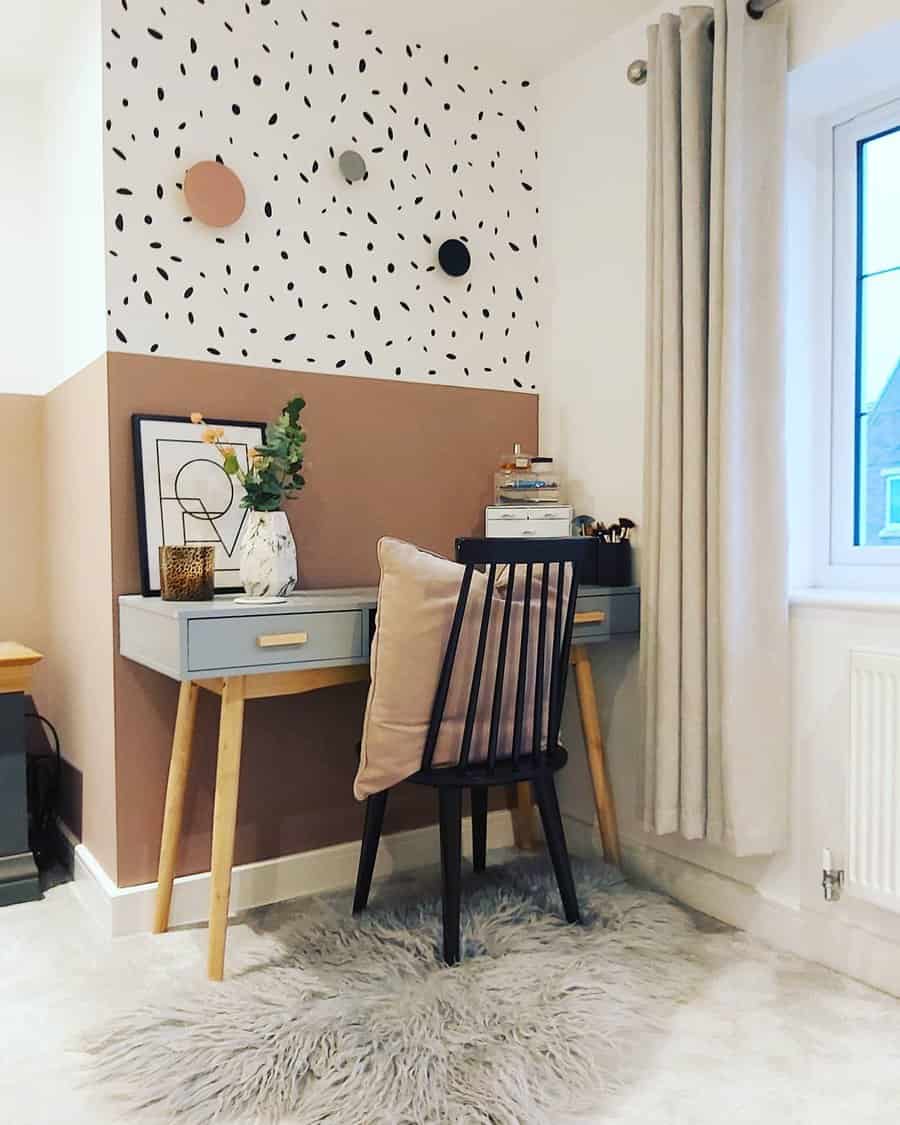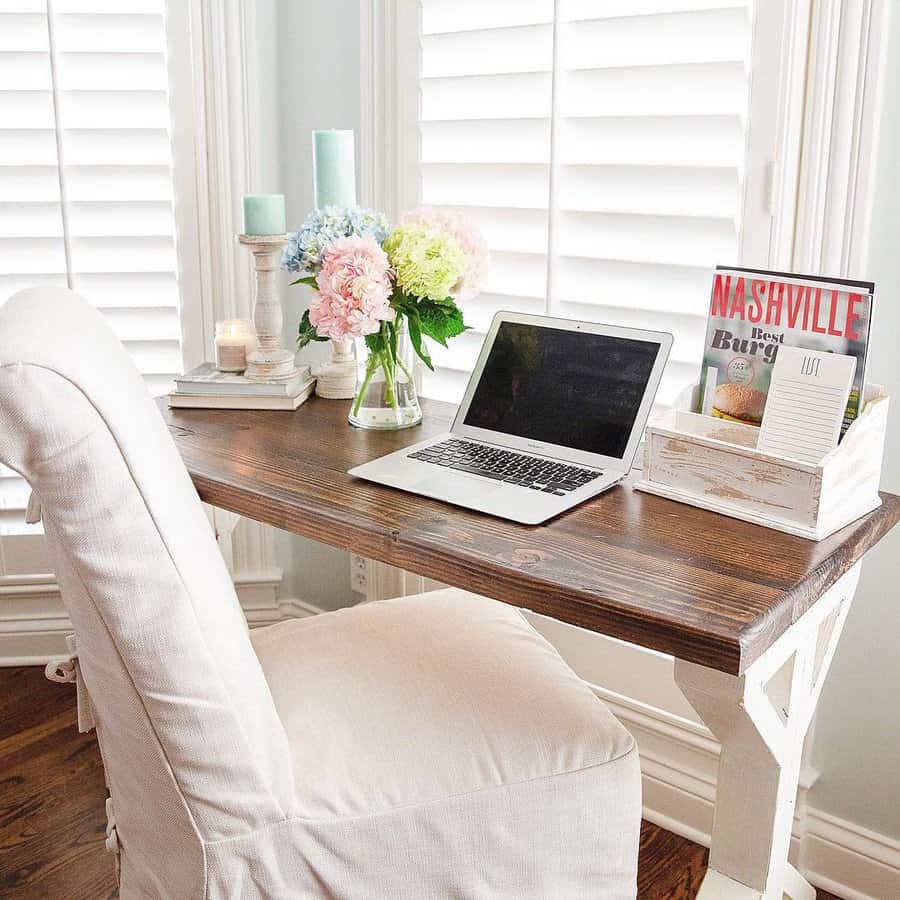 5. Floating Desk
A floating desk is the perfect addition to any bedroom office. Not only does it create a sleek and modern look, but it also frees up valuable floor space for storage. These desks come in a variety of styles, from simple and minimalist to more ornate and decorative. They can be mounted on the wall or attached to brackets for added stability, and are often made from durable materials such as wood or metal.
The beauty of a floating desk is that it can be customized to fit any size room, making it a versatile and practical choice for a variety of bedroom office setups. Whether you're looking to create a cozy nook or a spacious workspace, a floating desk is a smart and stylish choice.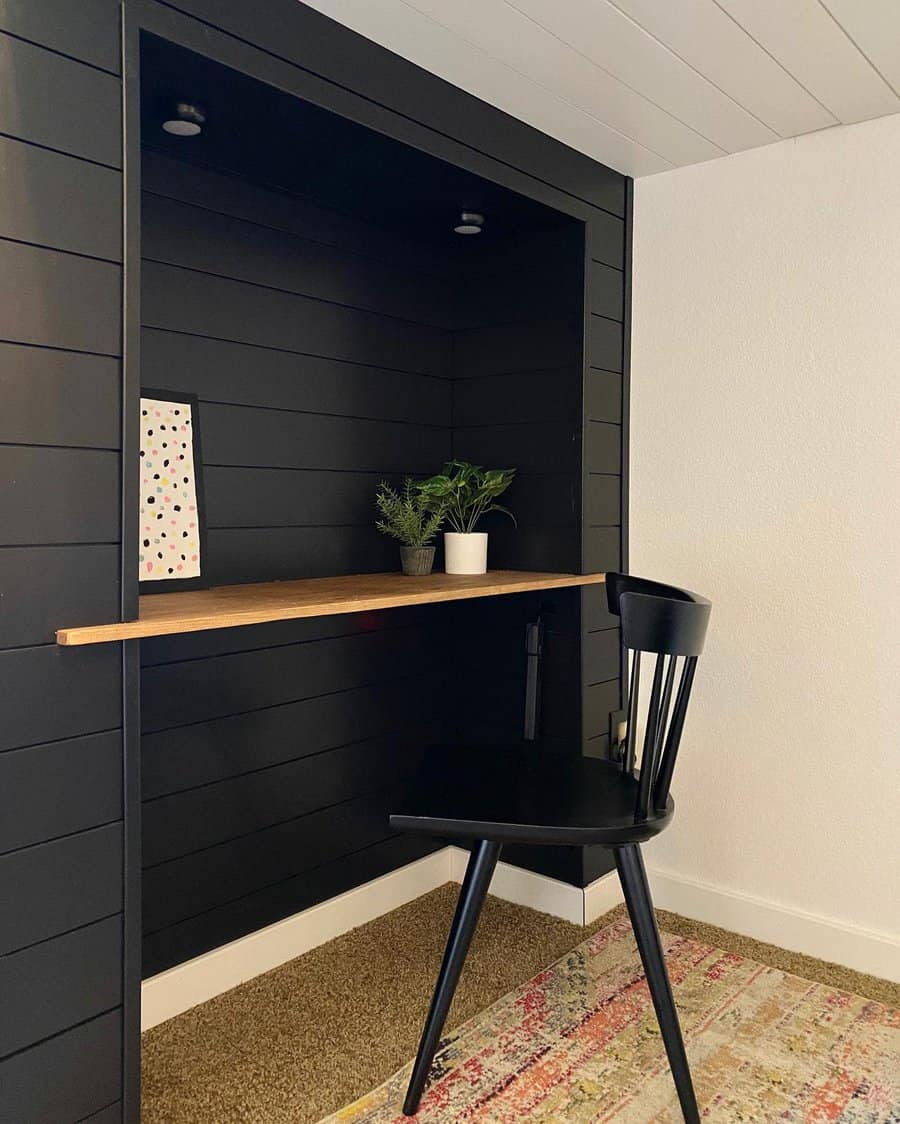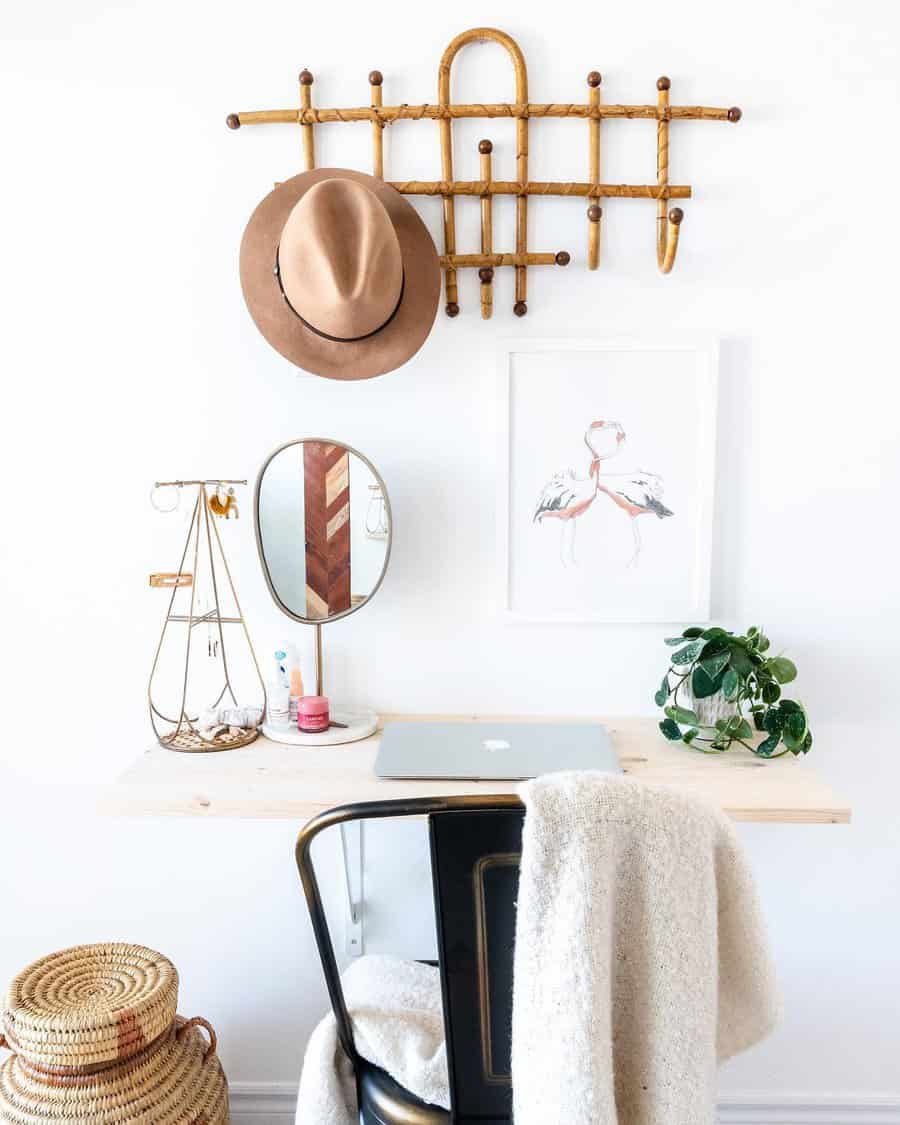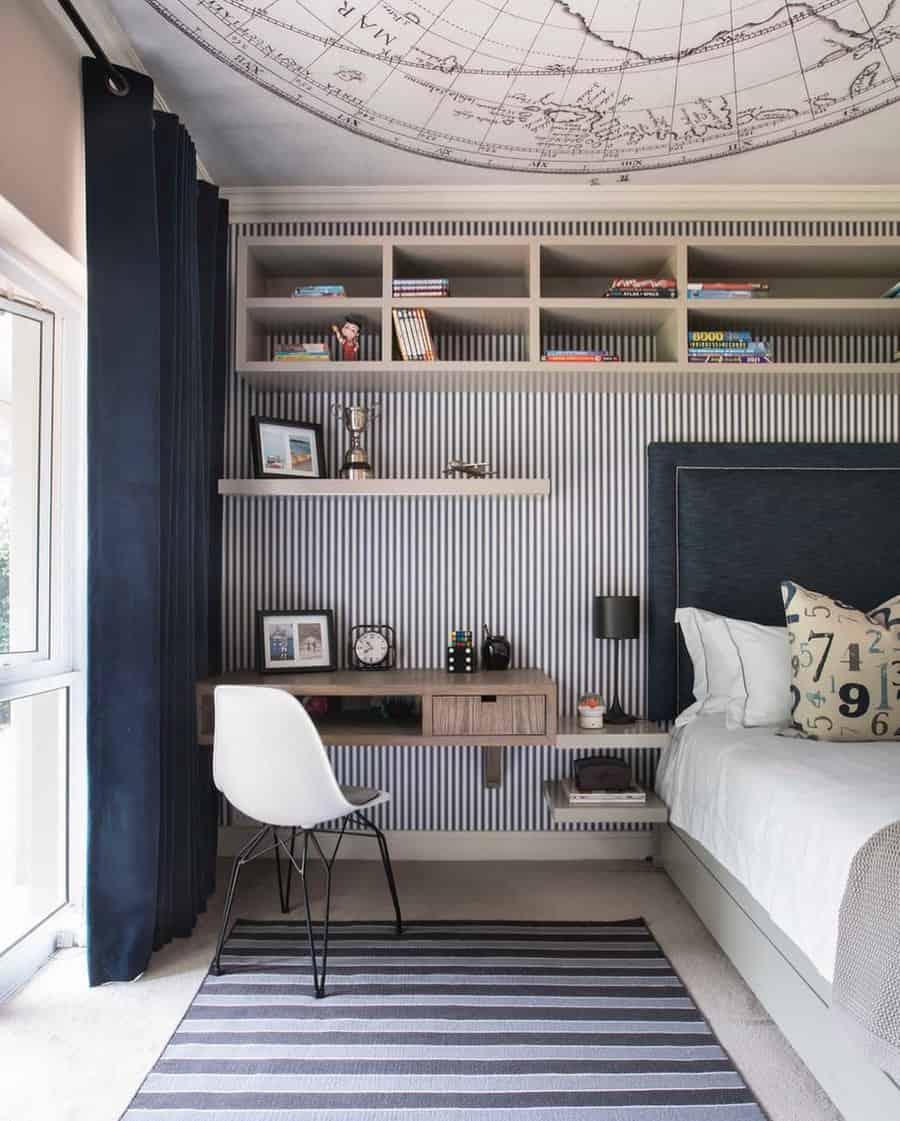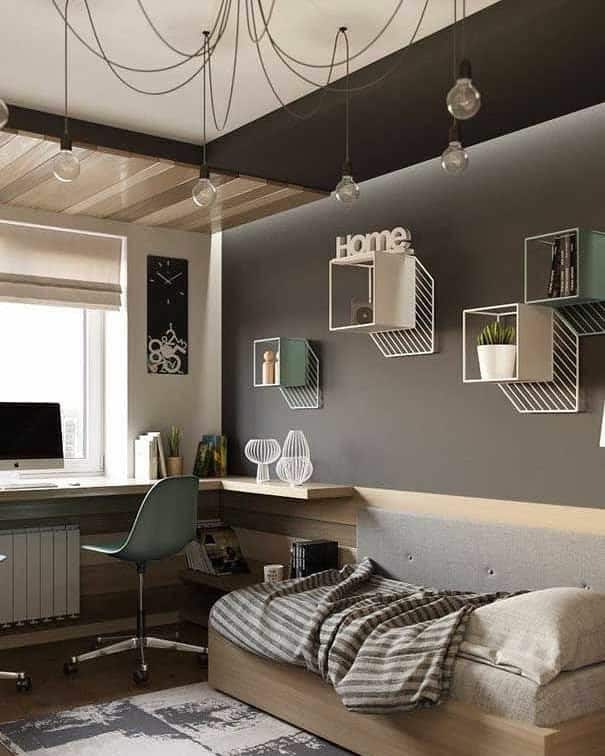 6. Wall Art
Add some pizzazz to your bedroom office with some beautiful wall art that sets the mood and boosts your creativity. Choose pieces that complement your decor and personality. If you're on a budget, consider creating your own art with inexpensive supplies.
It's a great way to express your creativity and make your office space unique. Not only does wall art add a touch of personality to your office space, it's also a great backdrop for virtual meetings and Zoom calls.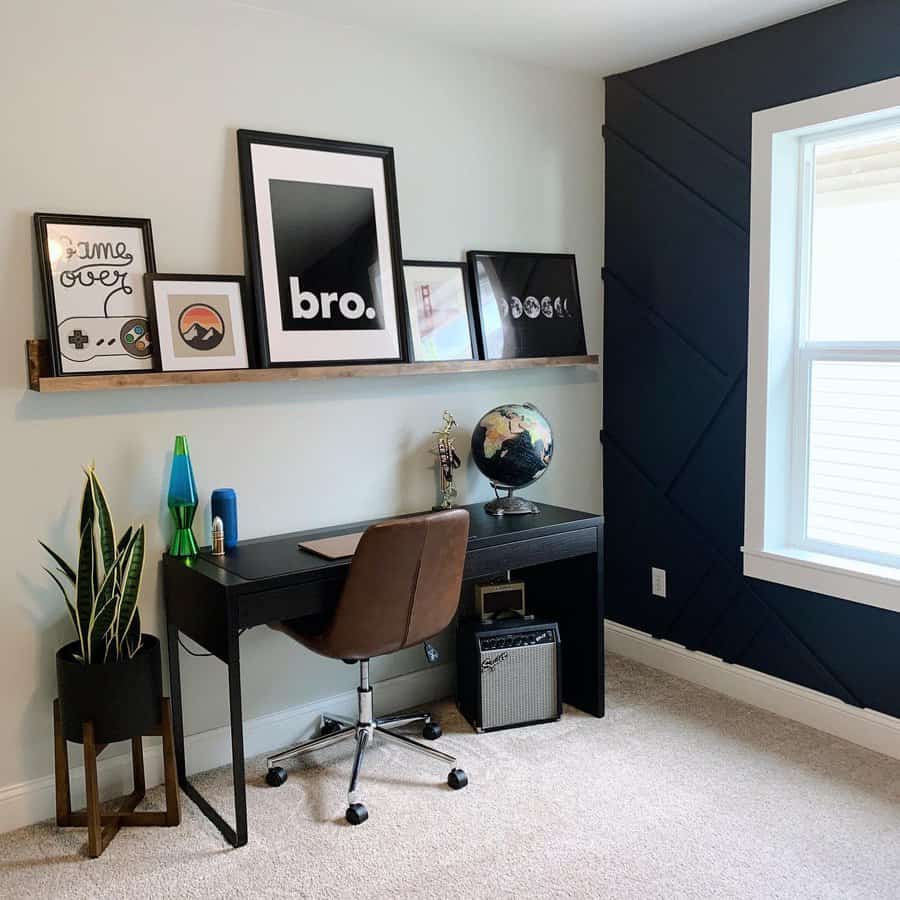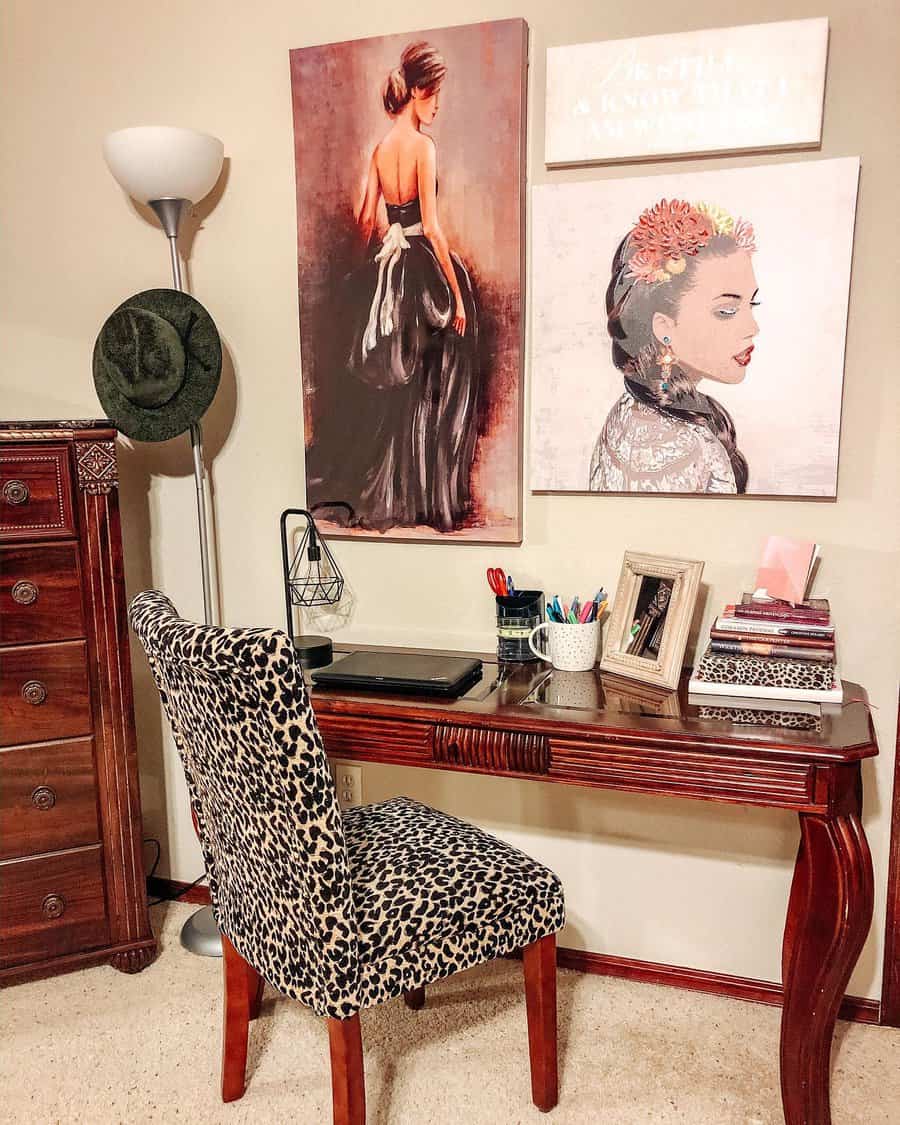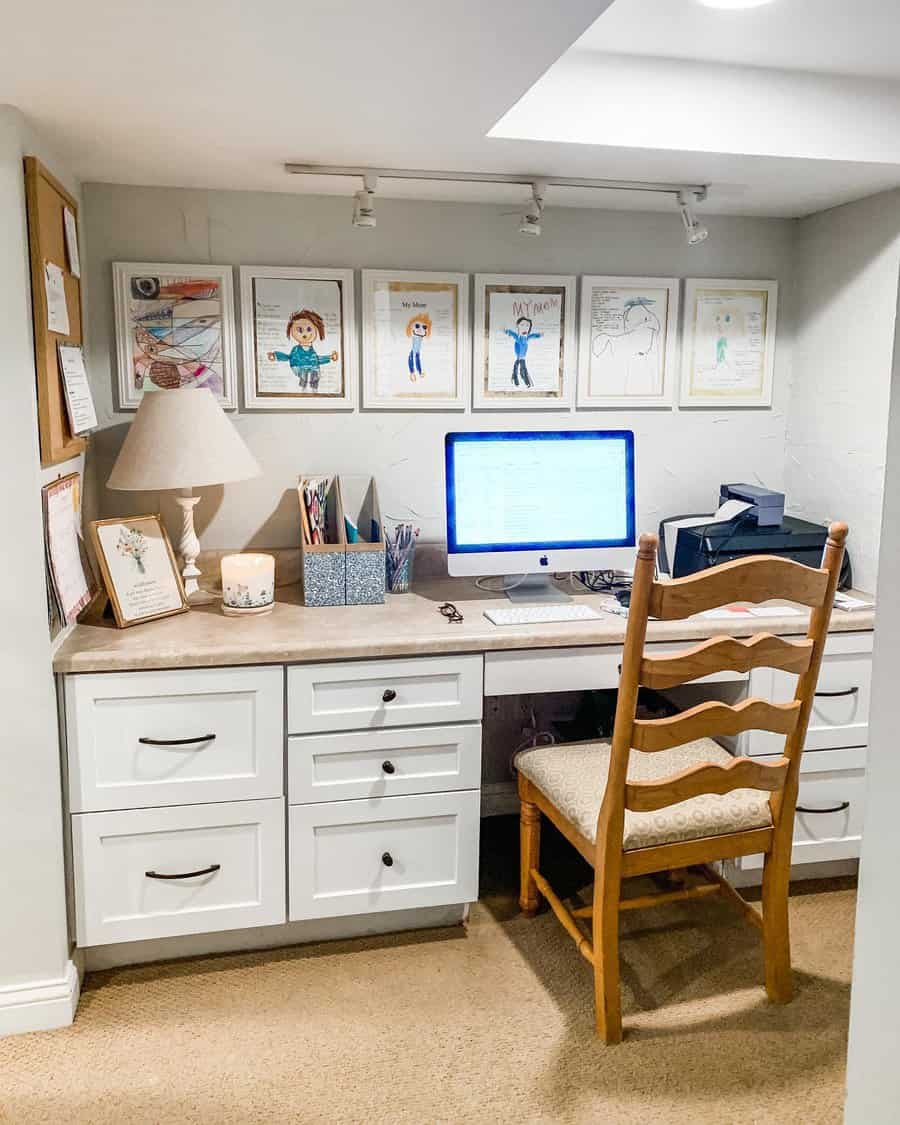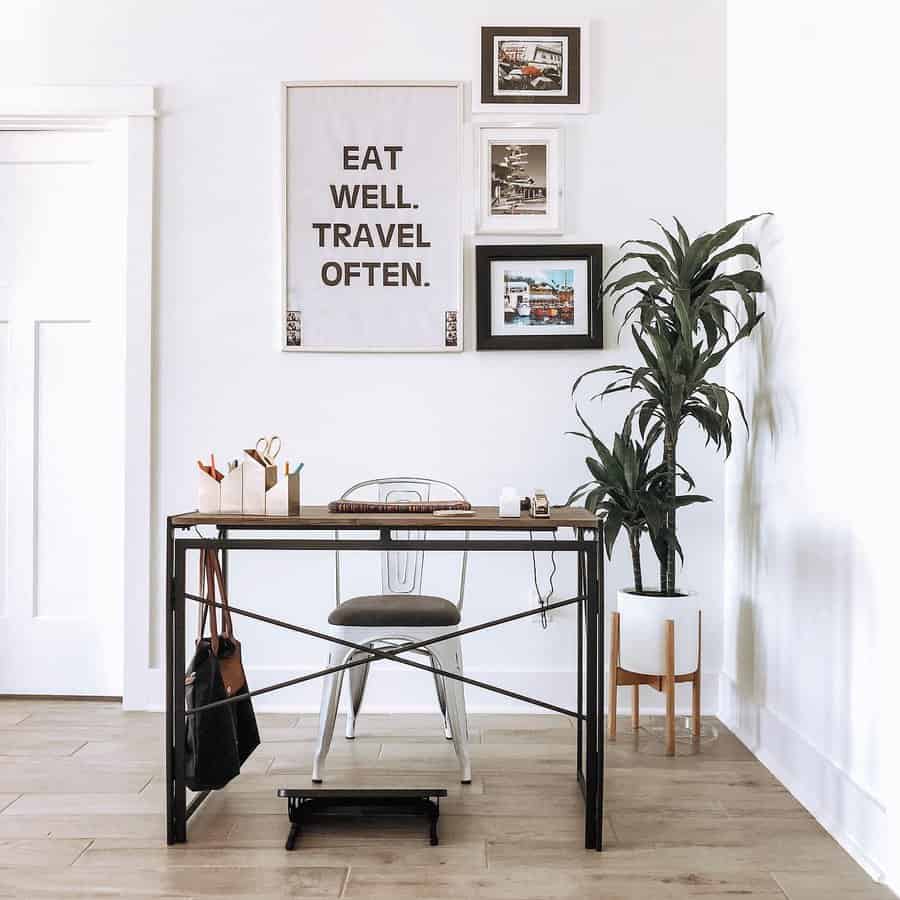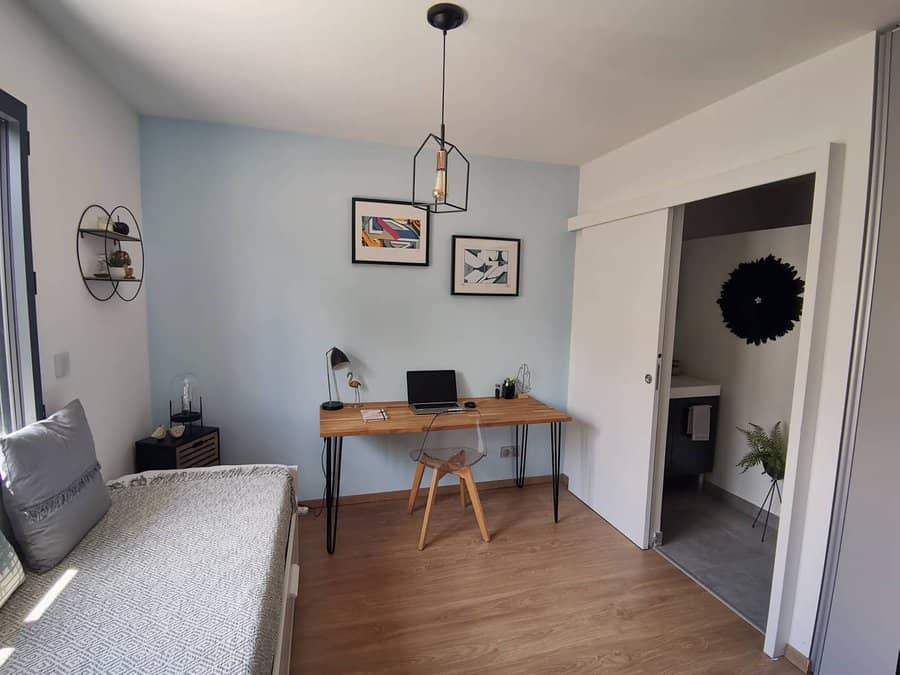 7. Bedside Office Desk
As a designer, I understand that many people nowadays have adapted to working from home. However, not everyone has the luxury of a designated workspace in their homes. That's where the idea of a bedside office desk comes in handy! It's perfect for small spaces and allows you to work from the comfort of your own bed.
You can easily slide the desk in and out from under the bed when it's not in use, and it won't take up any unnecessary space. Plus, with its practical and minimal design, it won't clash with your bedroom decor. You can add a stylish lamp and a comfortable chair to complete your cozy workspace and stay productive without sacrificing your relaxation time.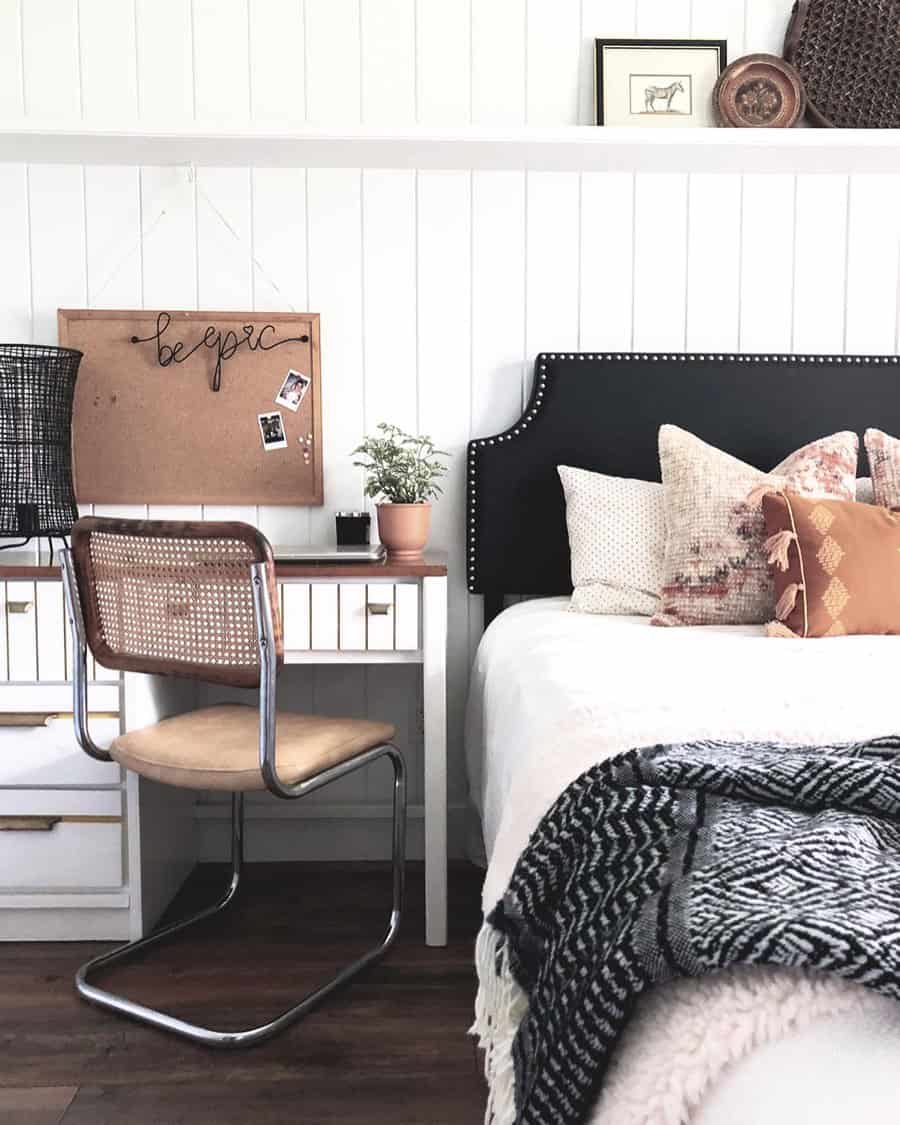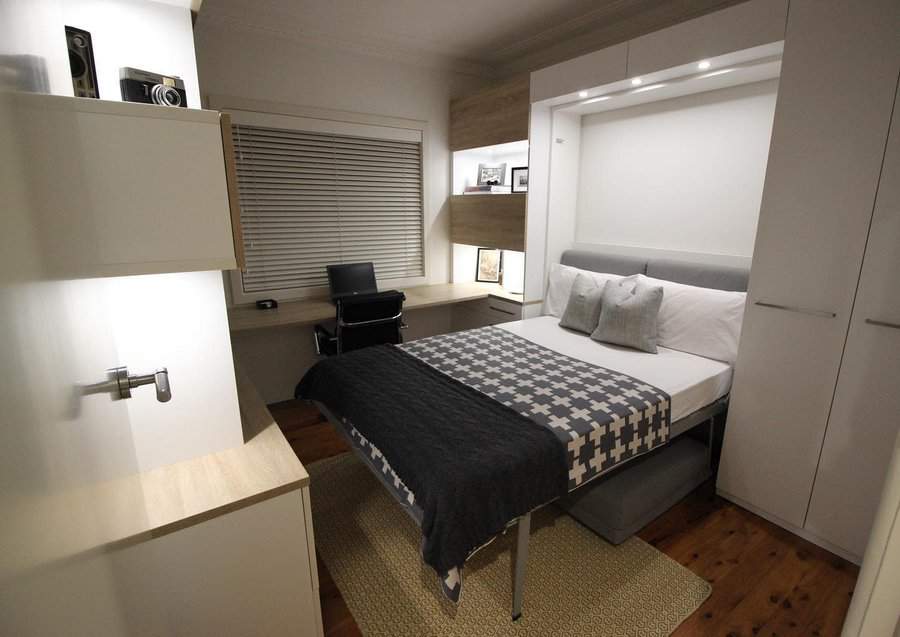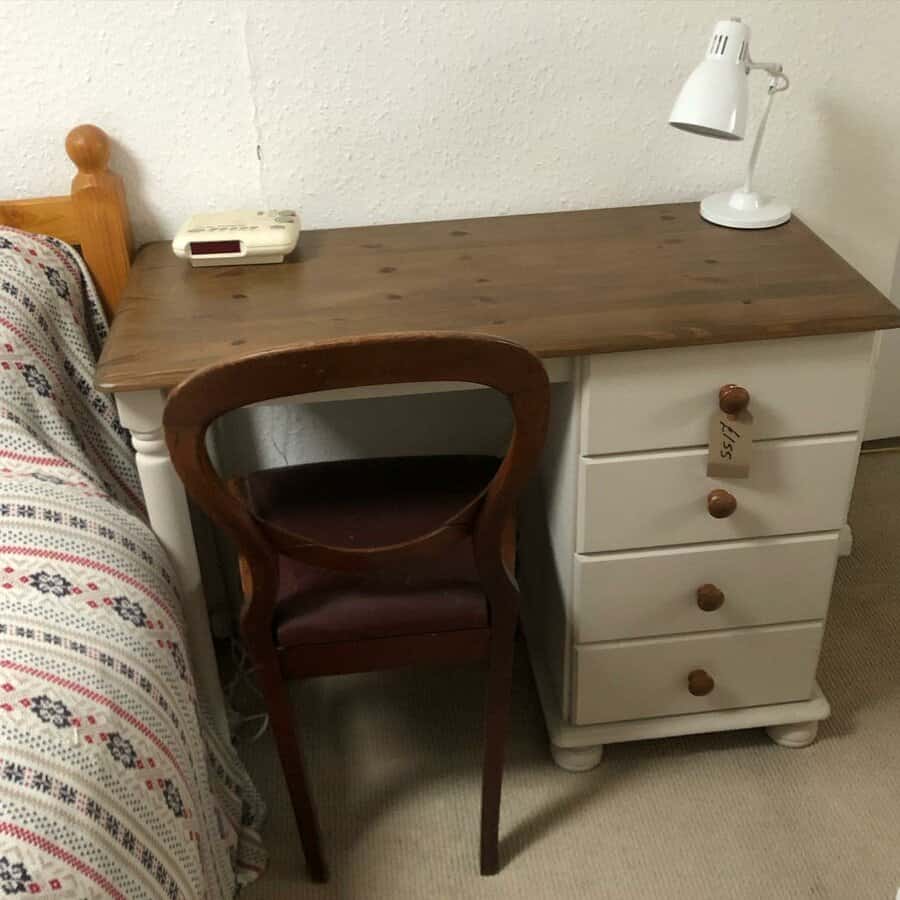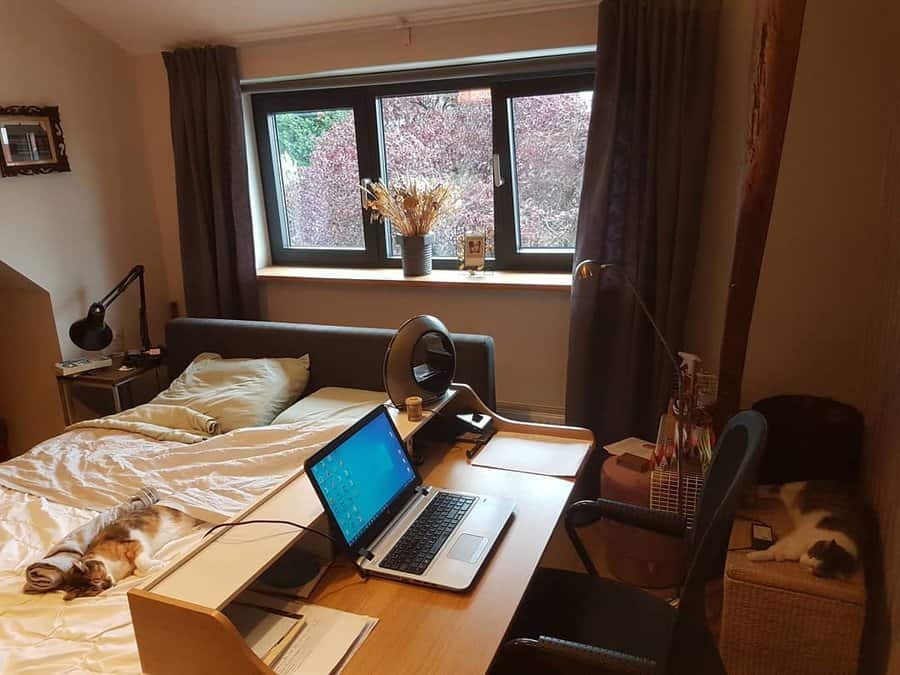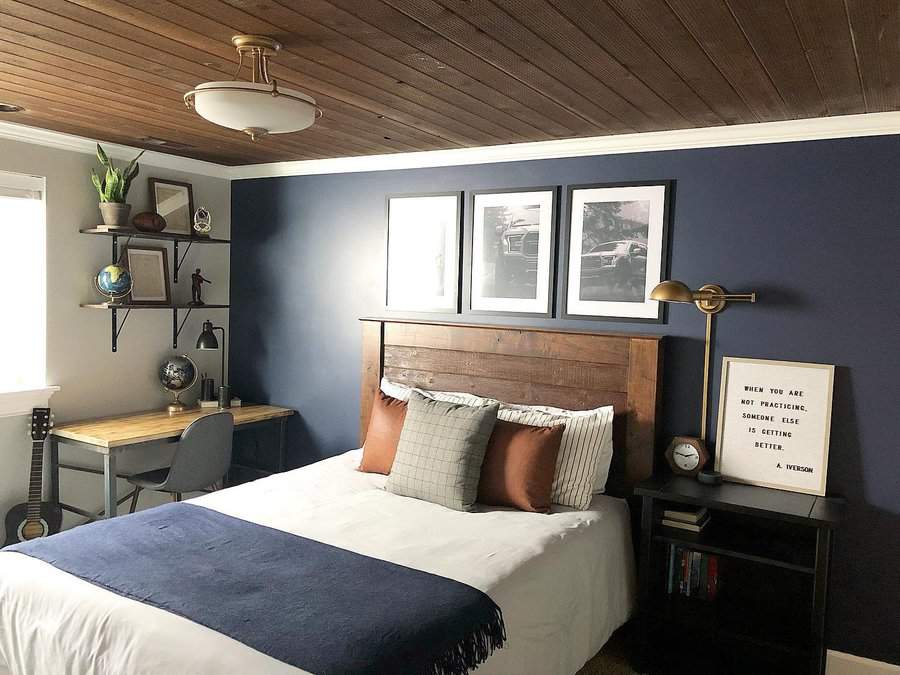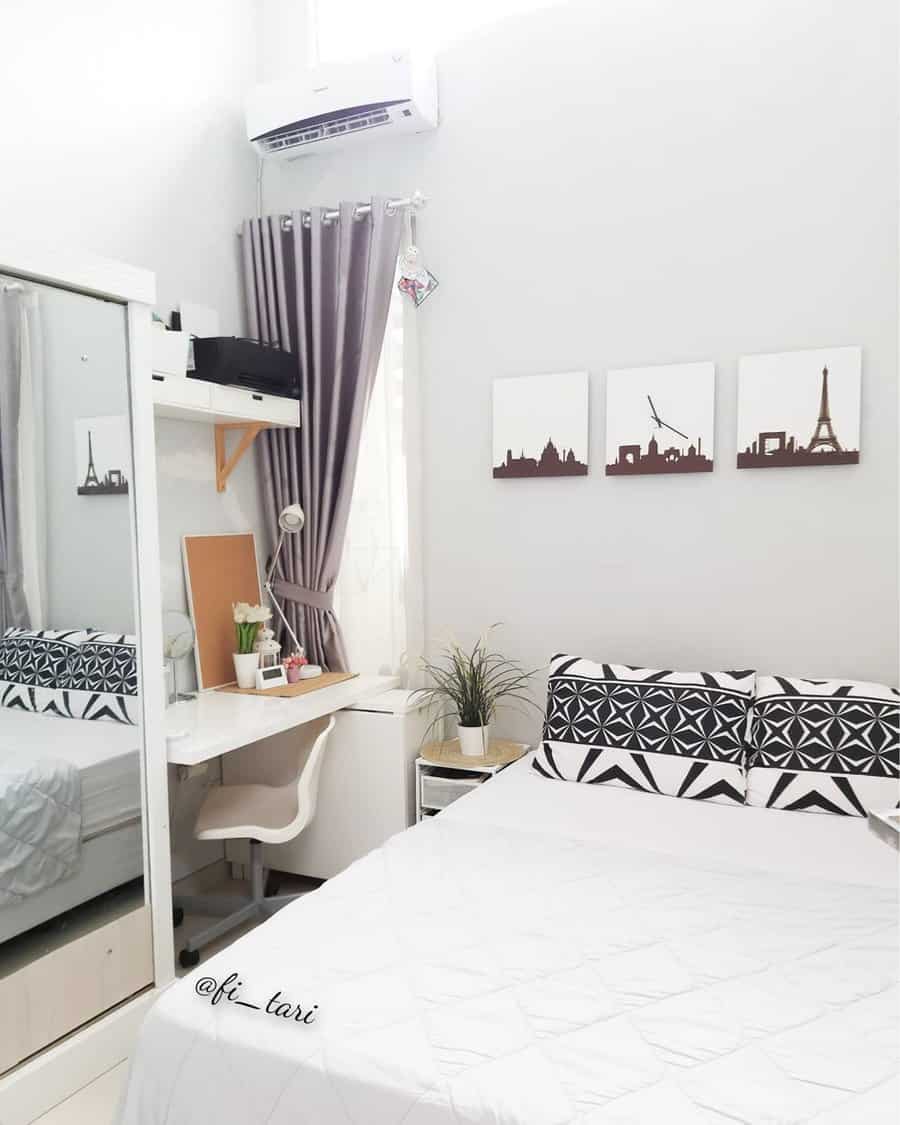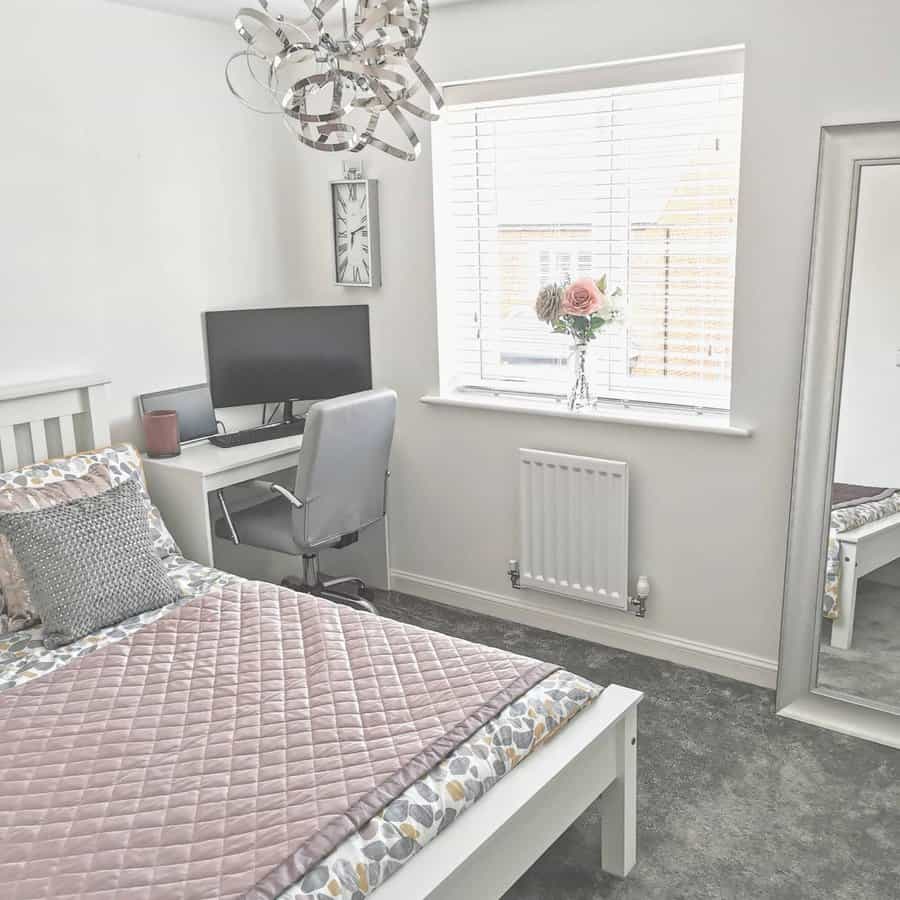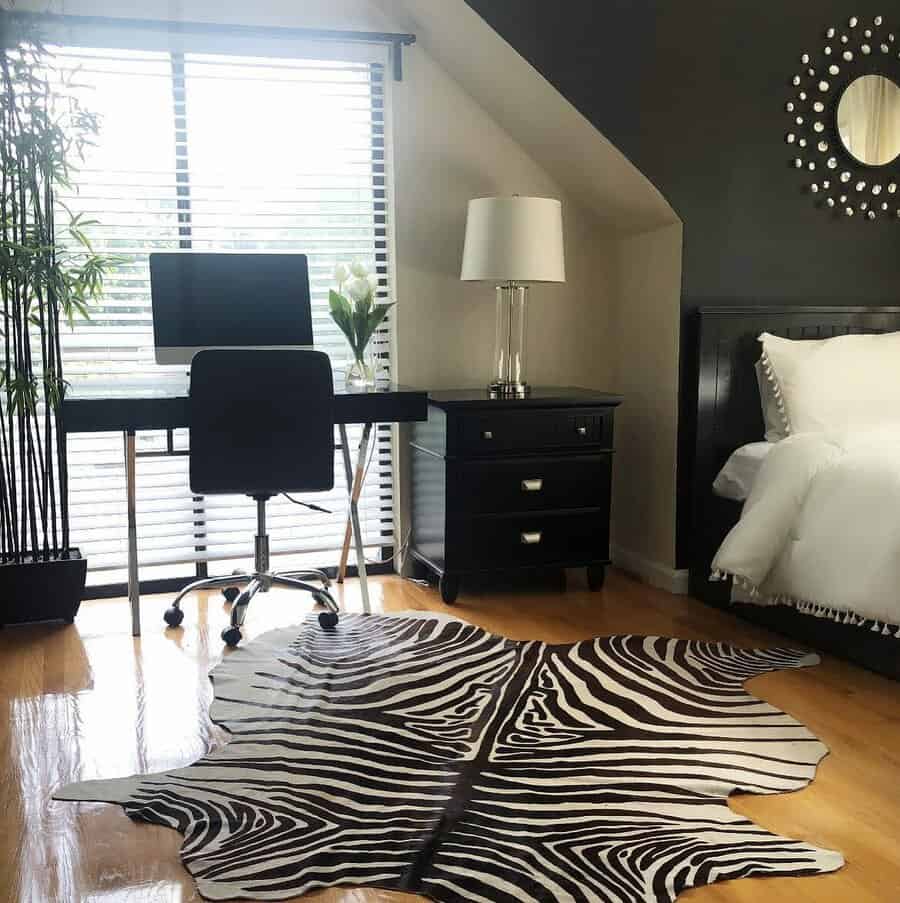 8. Floating Shelves
Creating a bedroom office space can be challenging, especially when dealing with limited floor space. But fear not, as there's a solution to maximize space and storage without sacrificing style. One of the best solutions is to add floating shelves. Not only do they look sleek and modern, but they're also incredibly functional. Use them to store books, decor, or even office supplies.
They're versatile and can be adjusted to your specific needs and preferences. So, if you're struggling to find a place for your books or decor, floating shelves are the perfect solution for your bedroom office. Not only do they free up floor space, but they also add a touch of sophistication to your workspace.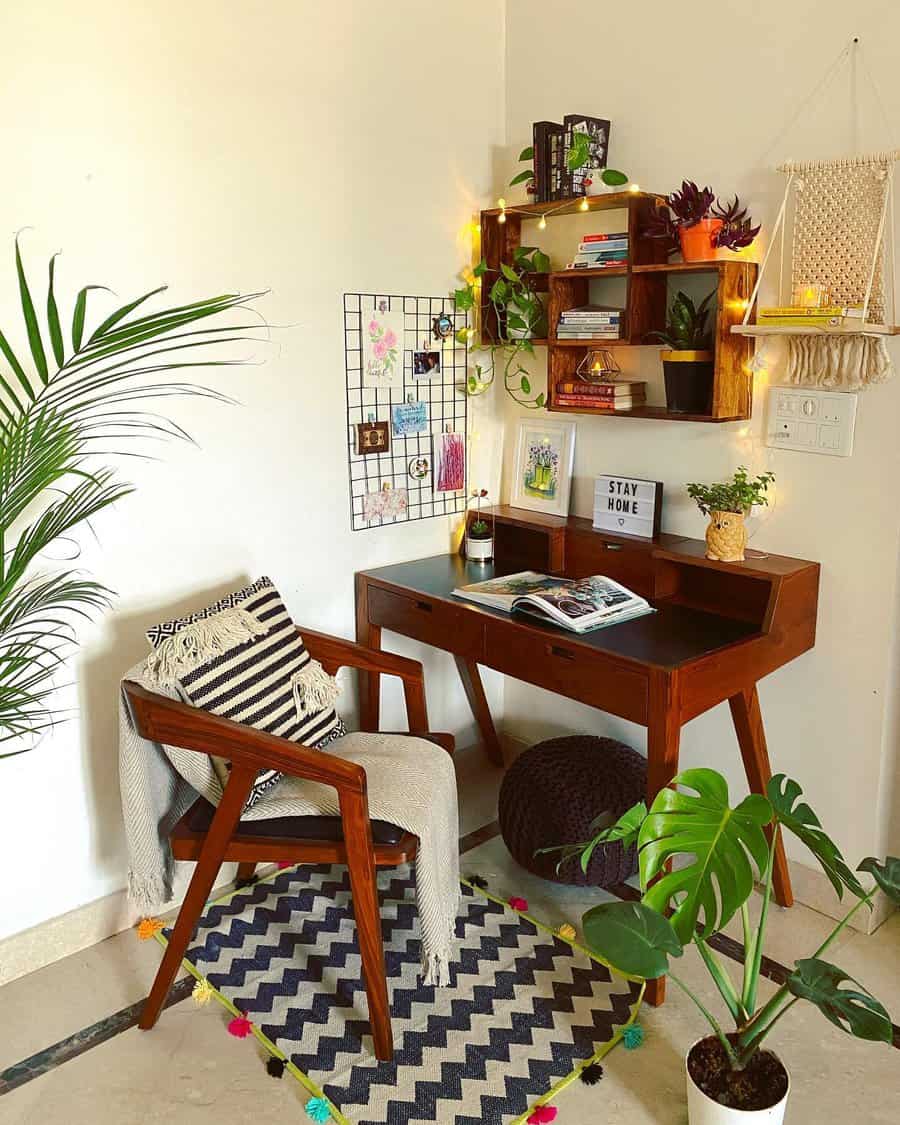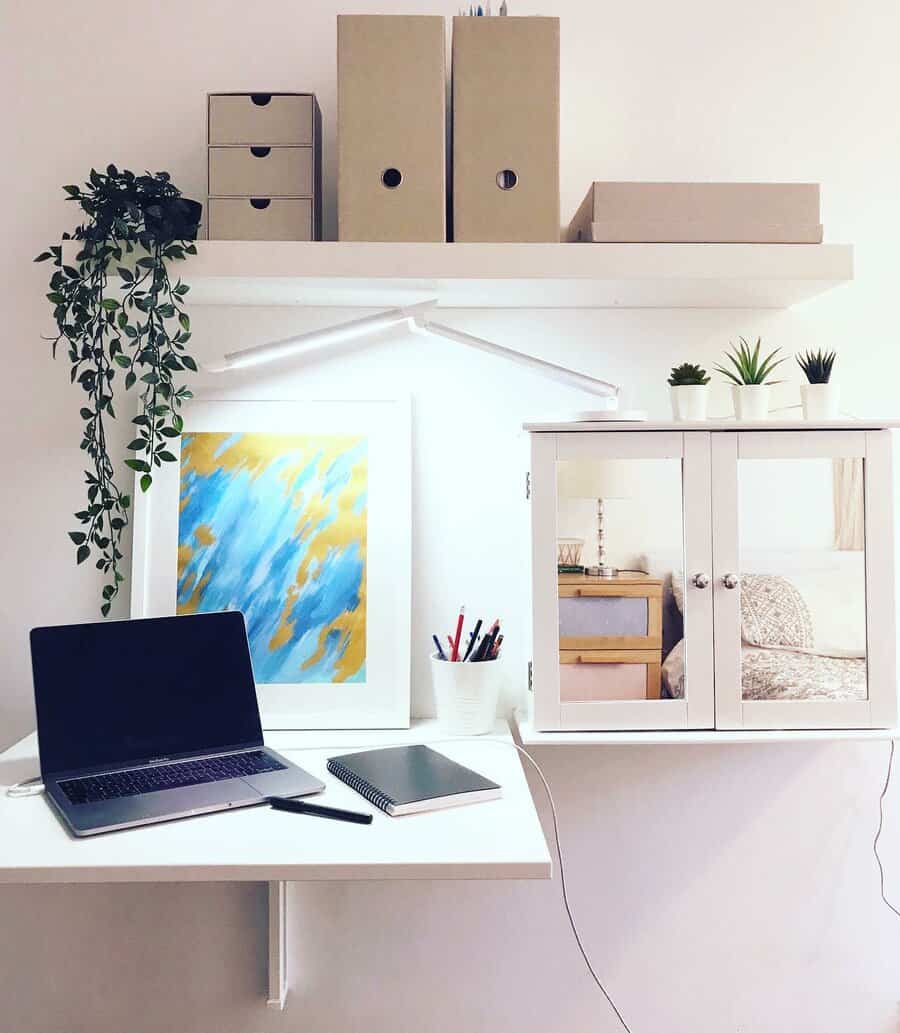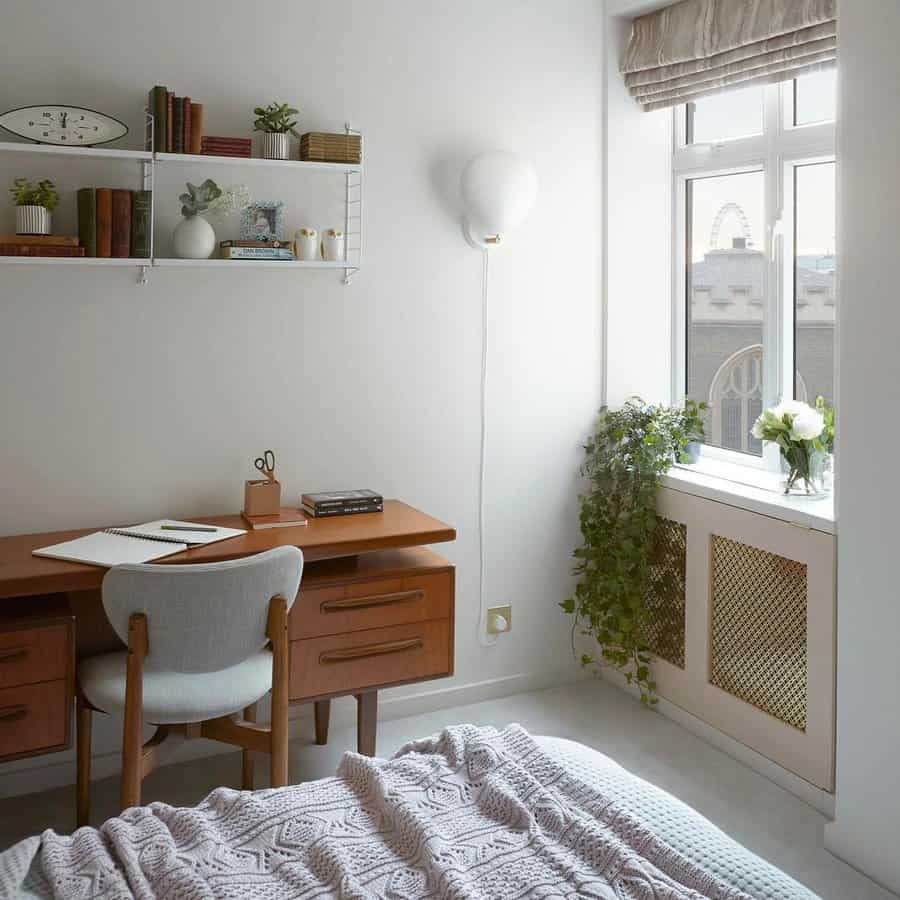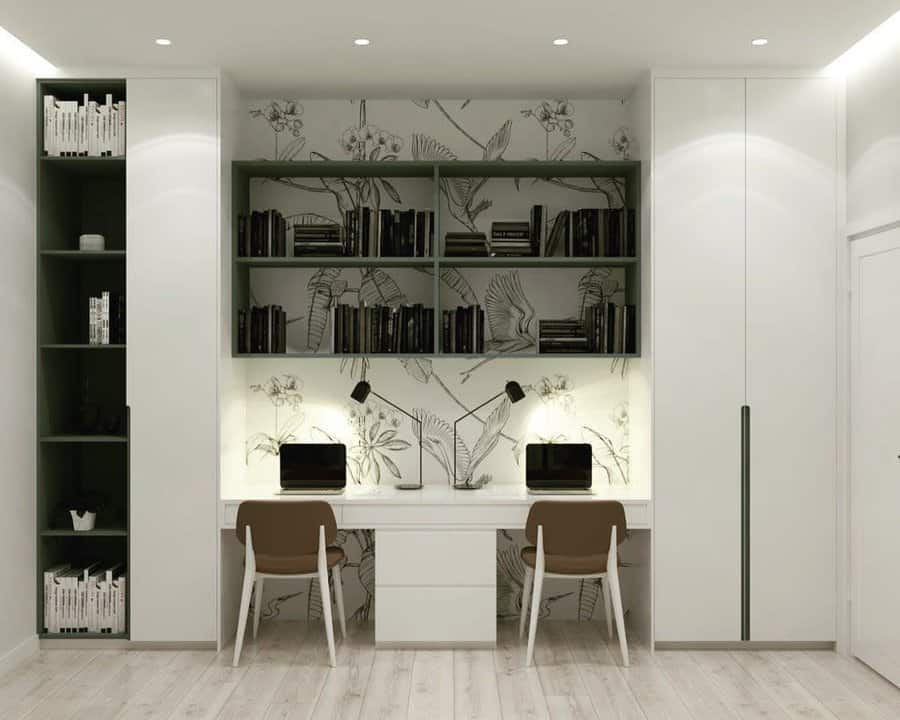 9. Swivel Chair
Adding a swivel chair to your bedroom office is an excellent way to increase productivity and comfort. A swivel chair allows for easy navigation in the workspace, and the ability to turn and pivot when multi-tasking.
Look for a chair that complements the overall aesthetic of your room and is adjustable for optimal comfort. Whether you are working on a laptop or reading a book, a swivel chair provides the perfect balance of style and function for any bedroom office.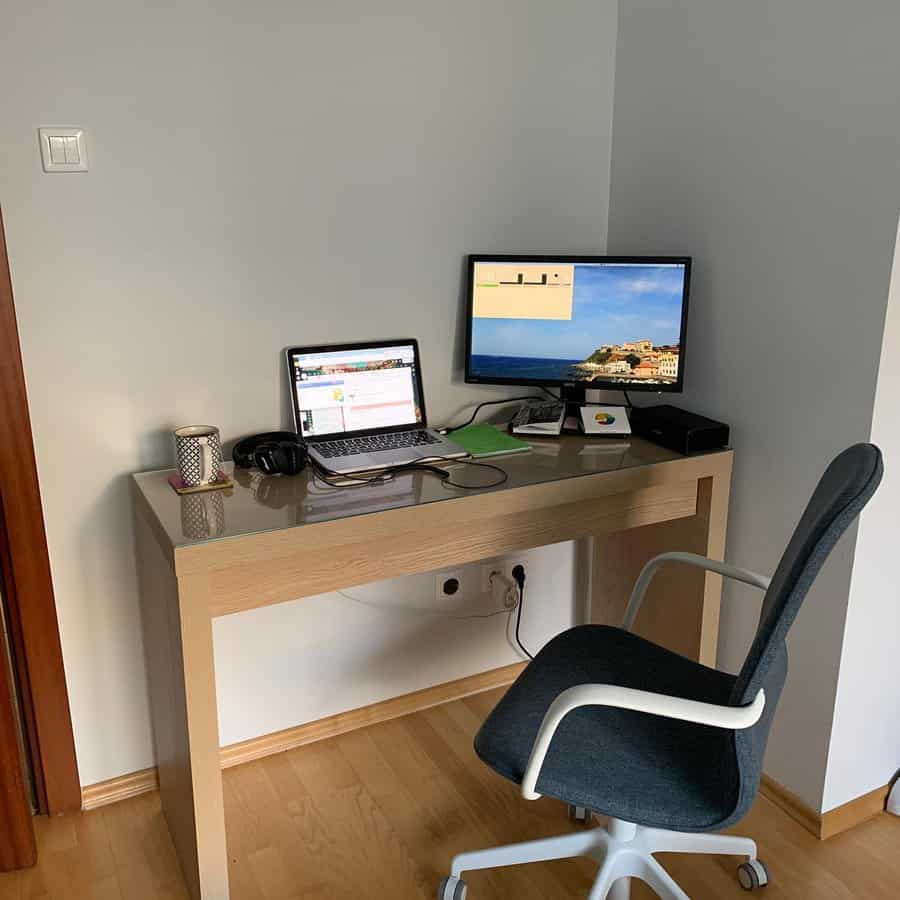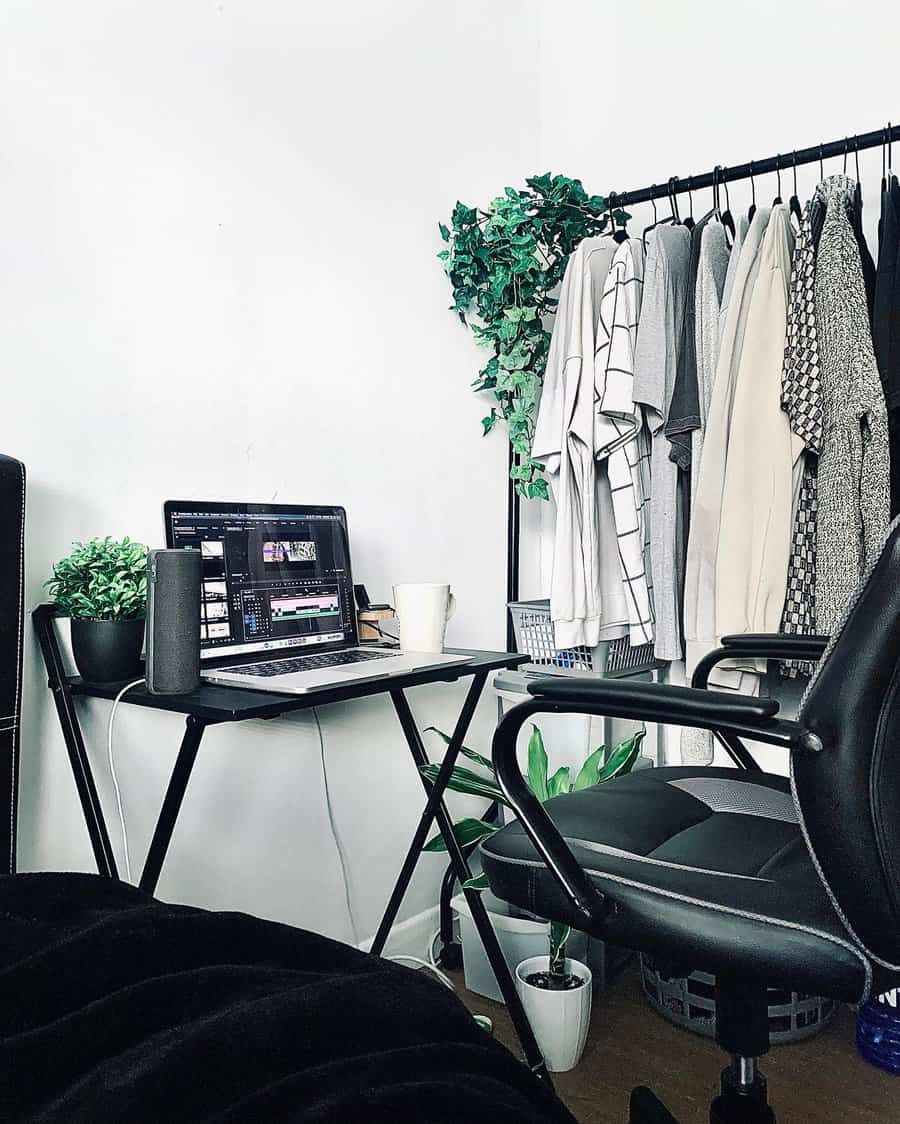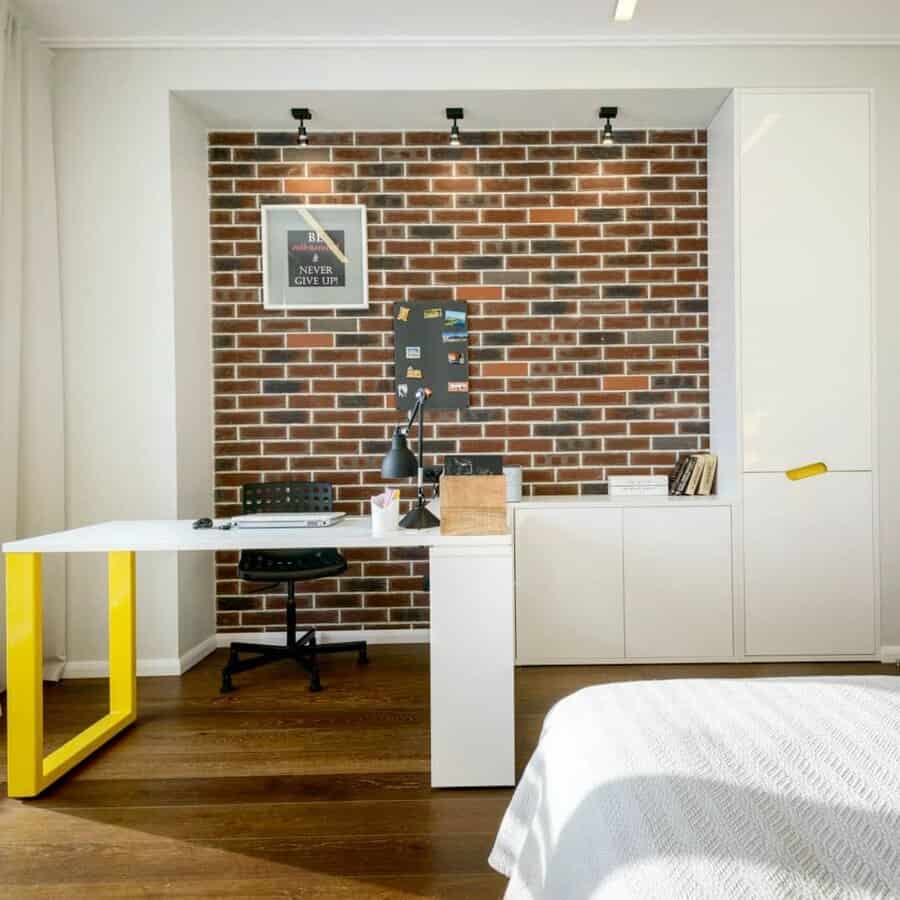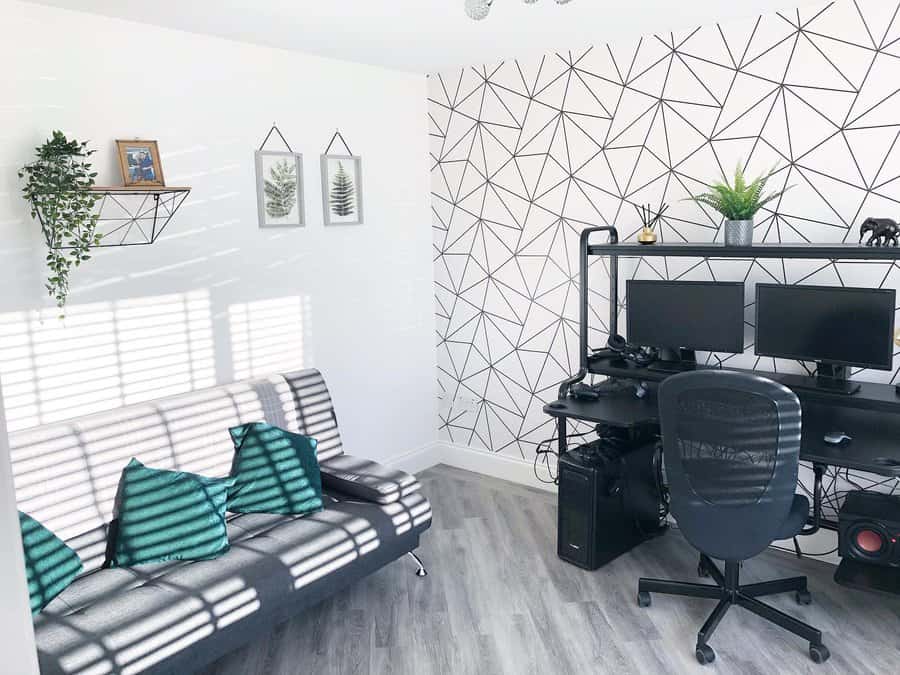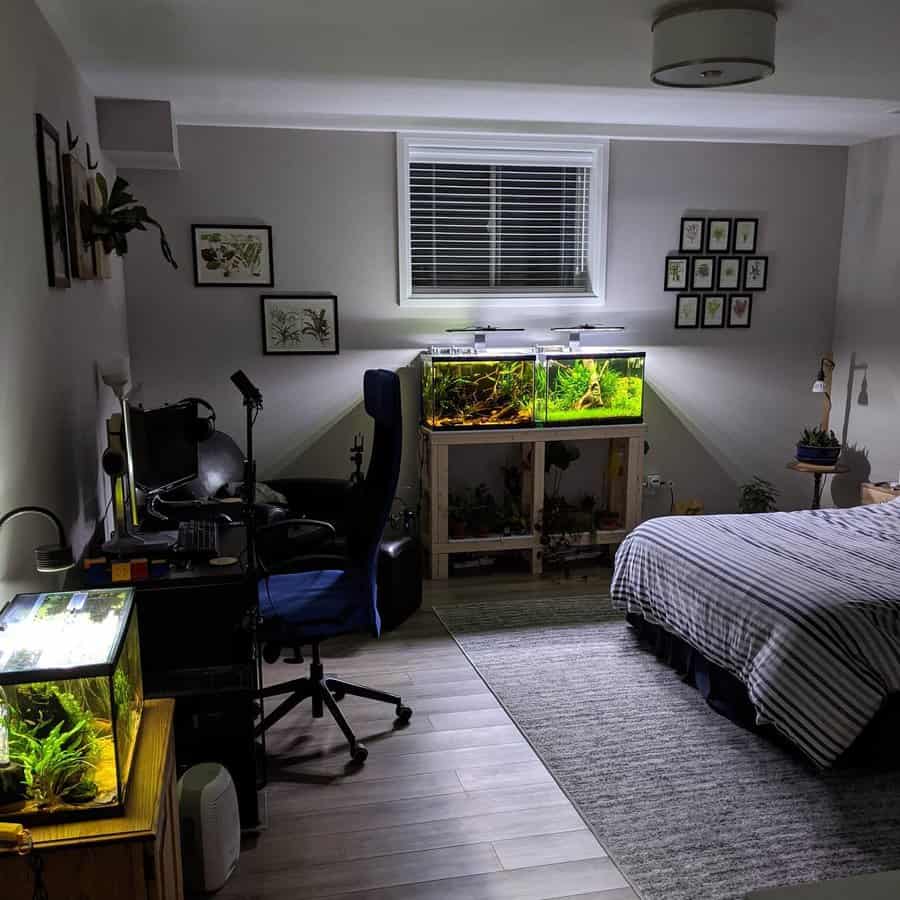 10. White Office Desk
When it comes to designing a functional yet stylish bedroom office, a white desk is a perfect choice. Not only does it offer a clean and classic look, but it also reflects light and brightens up the room. Whether you're working from home or simply need a designated spot for your laptop, a white desk can easily blend in with any bedroom decor.
And to keep your workspace organized, consider adding drawers or shelves to your desk, or even incorporating a matching white bookshelf to store your books and office supplies. With the right design and accessories, your bedroom office can be a cozy and inviting place to work, study, or simply relax.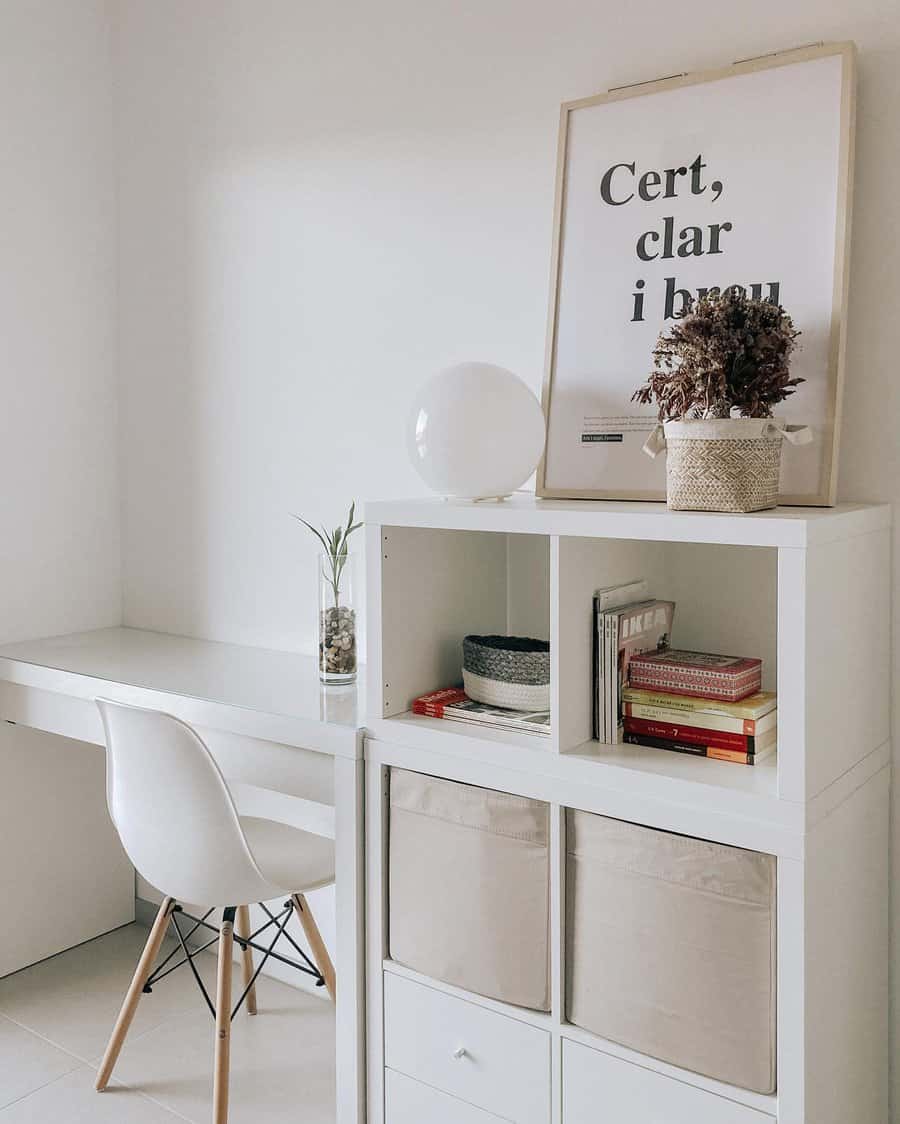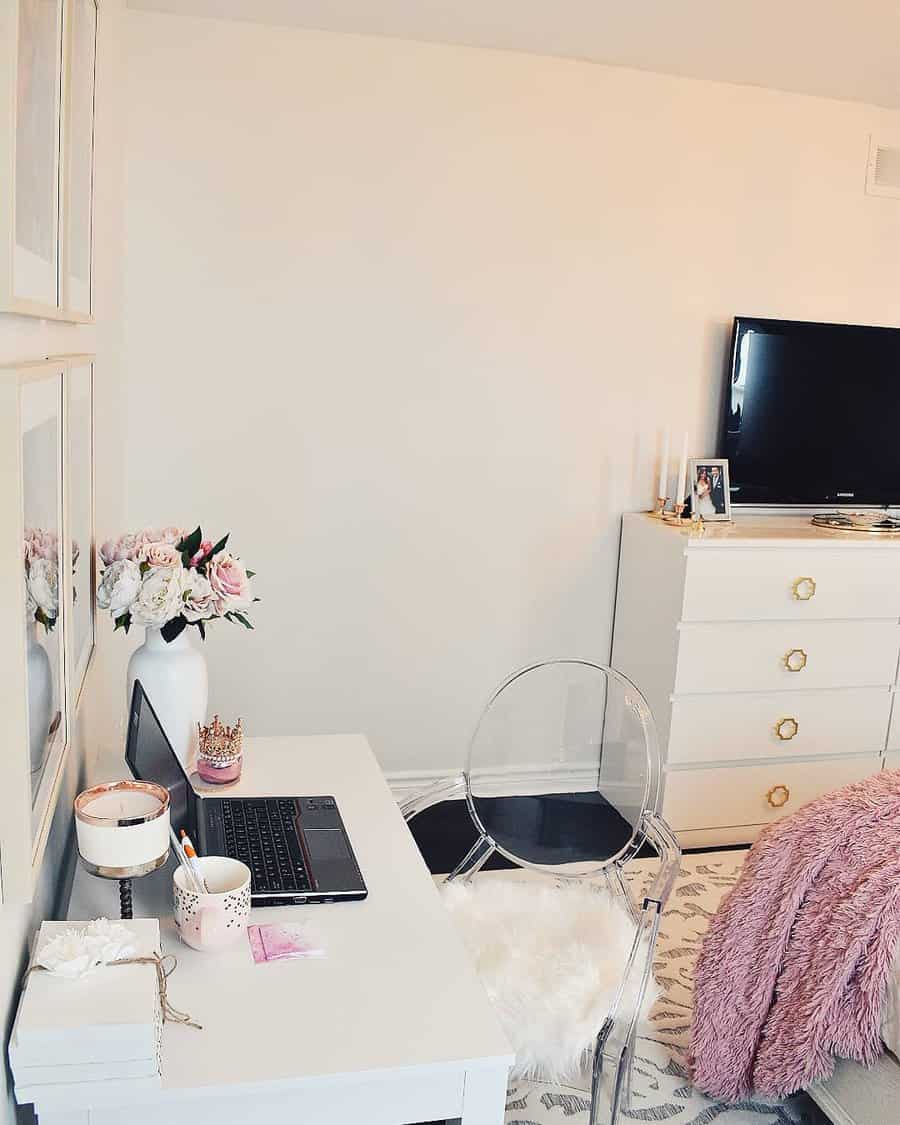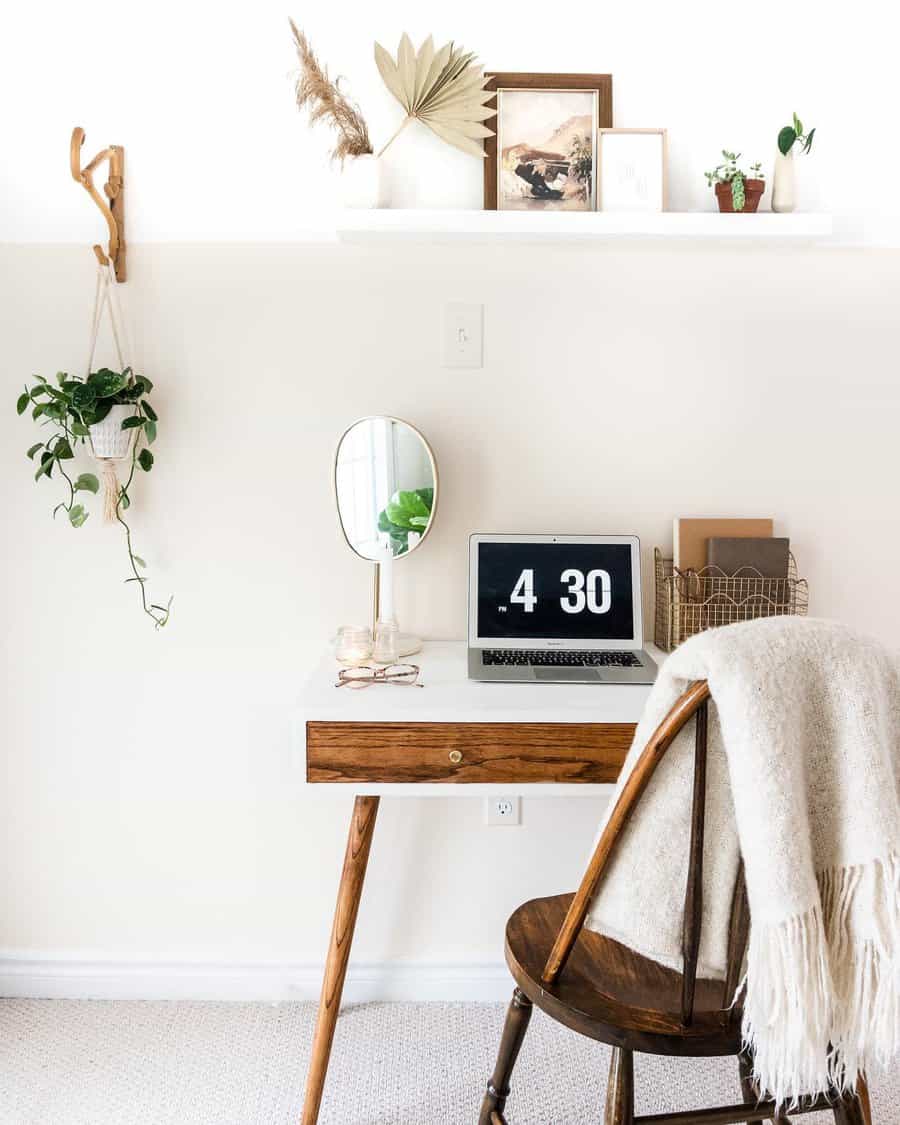 11. Rolling Tray Storage
A great way to create this space is by incorporating a rolling tray storage system. This allows you to move your office space from one room to another with ease. Whether you want to work in your bedroom or the living room, you can take your work with you.
The rolling tray storage also provides a place to store your office essentials, so you don't have to keep moving items back and forth. With this setup, you can have a functional office space without sacrificing your living space.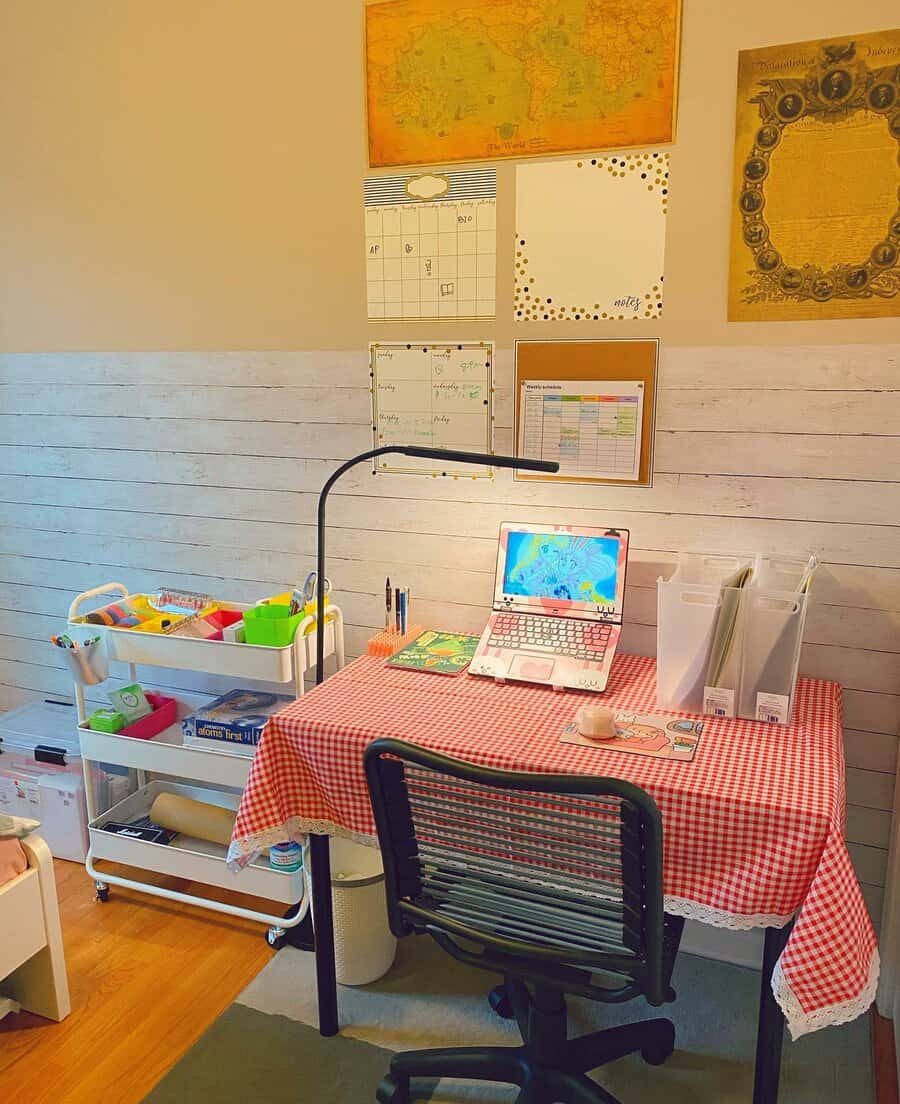 12. Incorporate Plants
Incorporating plants into your workspace can bring life to your work area and boost your mood. Consider a bedroom office desk with built-in planters, or add some low-maintenance and low-light plants to your workspace. Not only do they purify the air and add a pop of color, but they also provide a calming effect.
To maximize space, consider using a wall-mounted desk or a small floating shelf to hold your computer and other work essentials. Additionally, a canvas closet organizer can provide ample storage for office supplies and papers while being easily foldable for simple storage. With a little creativity, your bedroom office can become a peaceful, productive oasis.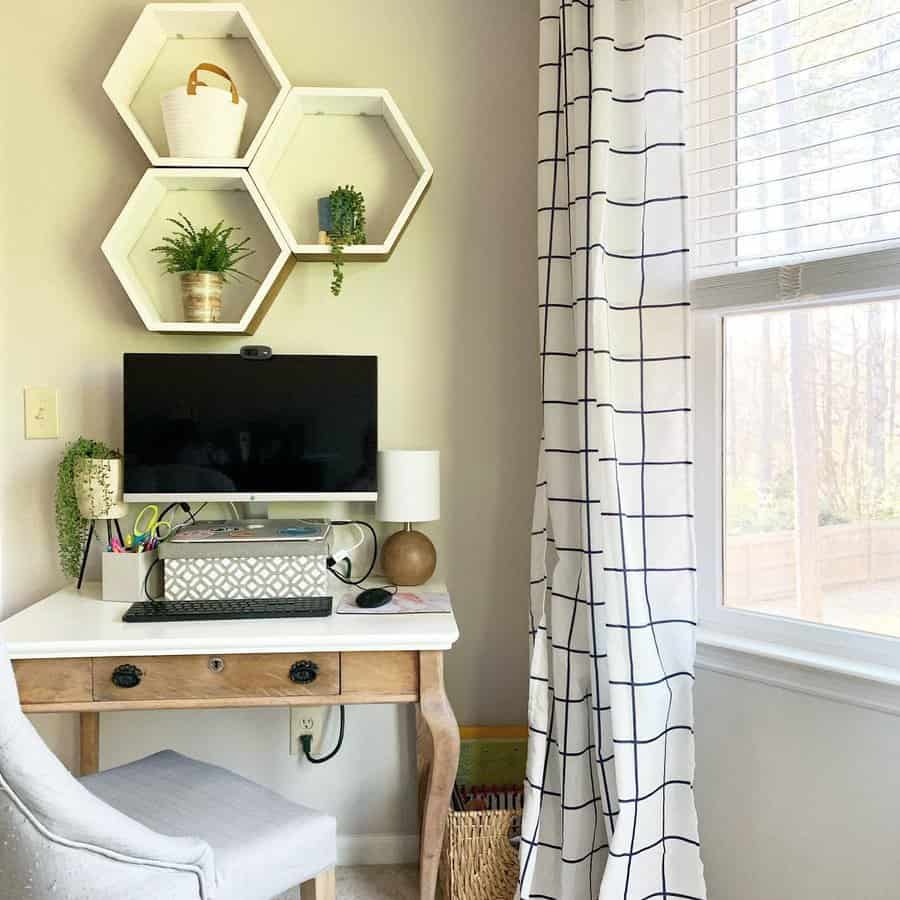 13. Repurposed Vintage Desk
If you are looking for a unique and charming way to do so, a repurposed vintage desk might just be what you need. Head over to your local thrift store and hunt for that perfect piece that speaks to you. A distressed and rustic look can add character and warmth to your space while providing a practical workspace.
Whether it's a weathered wooden desk or an old metal one, you can easily give it a new life with a fresh coat of paint or simply by adding a few decorative touches. Let your creativity run wild, and turn your bedroom into a personalized and inspiring workspace with a touch of vintage flair.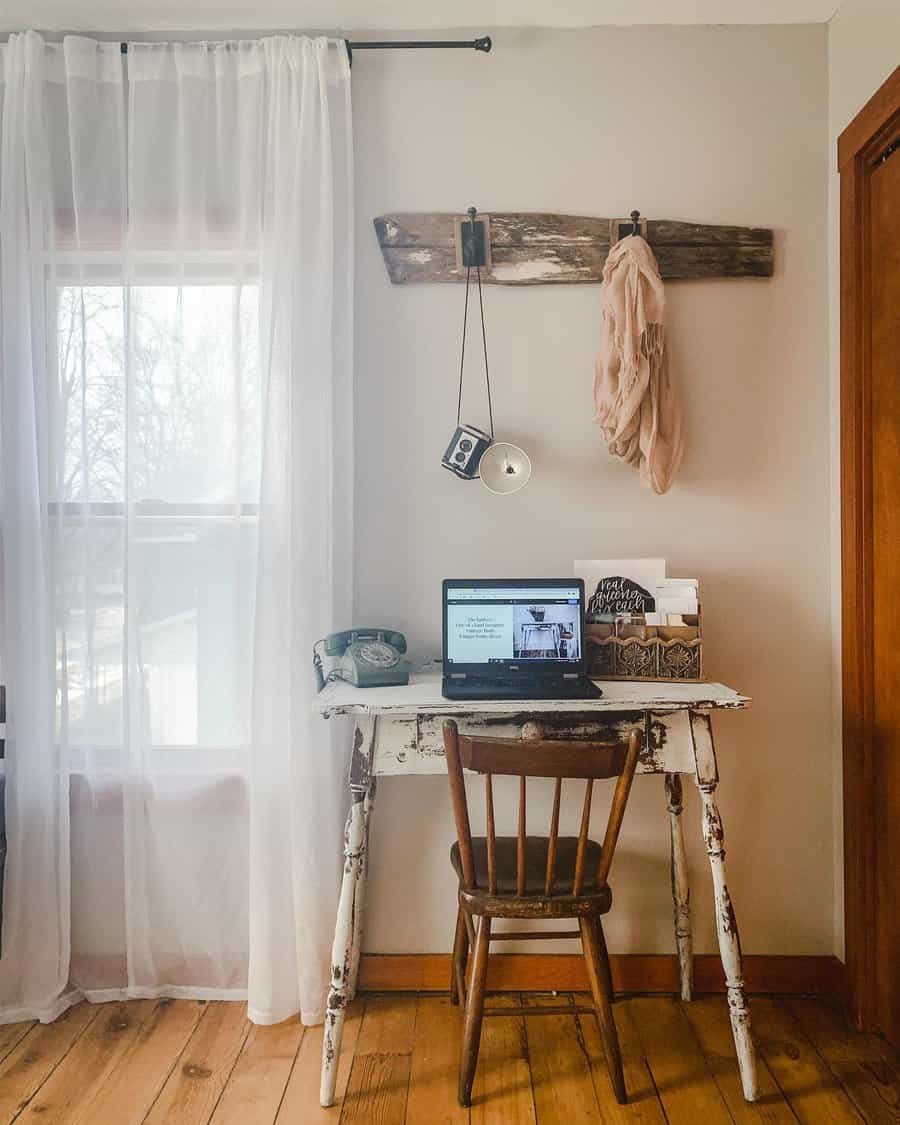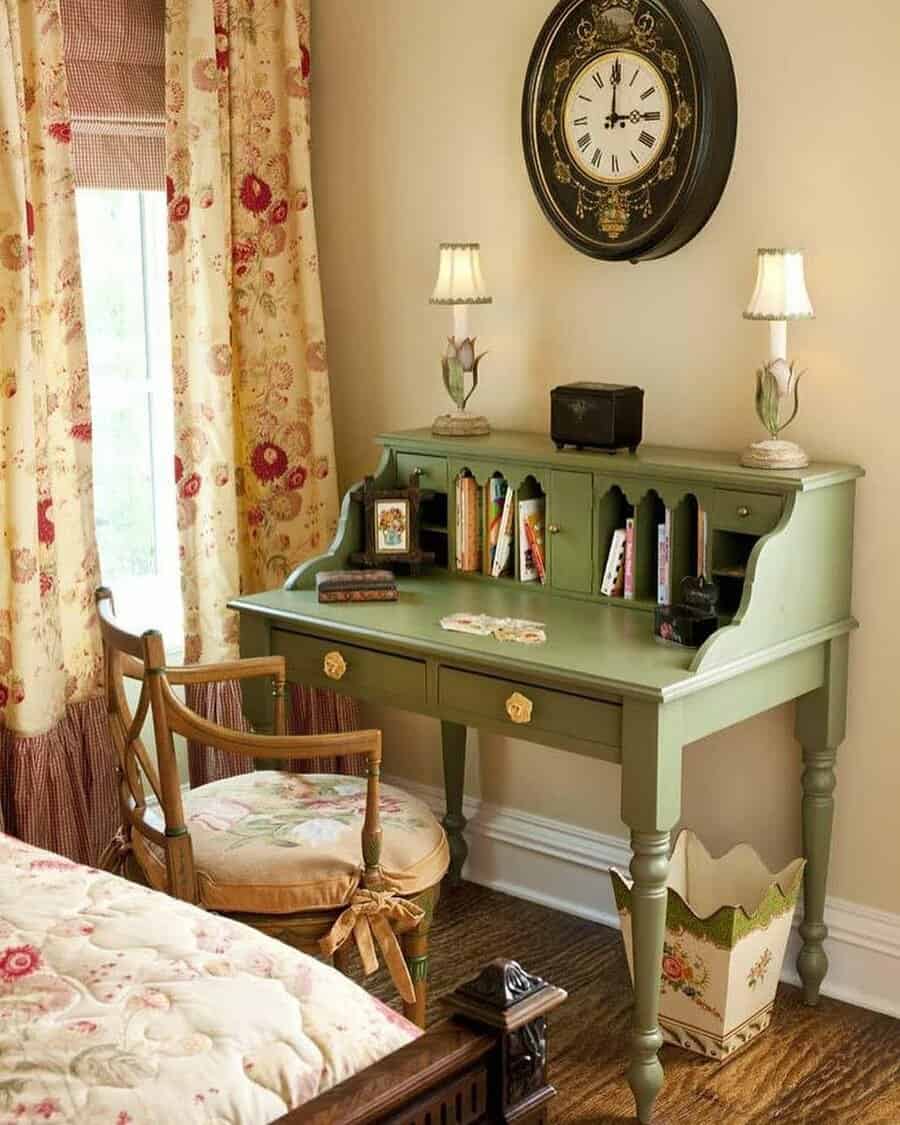 14. Plastic Organizers
Creating a bedroom office is a great way to maximize space and productivity in your home. One essential element of a bedroom office is a desk, and incorporating stackable plastic organizers can make your work area even more functional. These organizers can help you keep your workspace tidy and free of clutter, with dedicated compartments for papers, office supplies, and other items.
A bedroom office desk with stackable plastic organizers is also a great way to keep your work separate from your personal life, ensuring a better work-life balance. With the right design, you can create a functional and stylish workspace that complements your bedroom's decor, making it a comfortable and inspiring space to work in.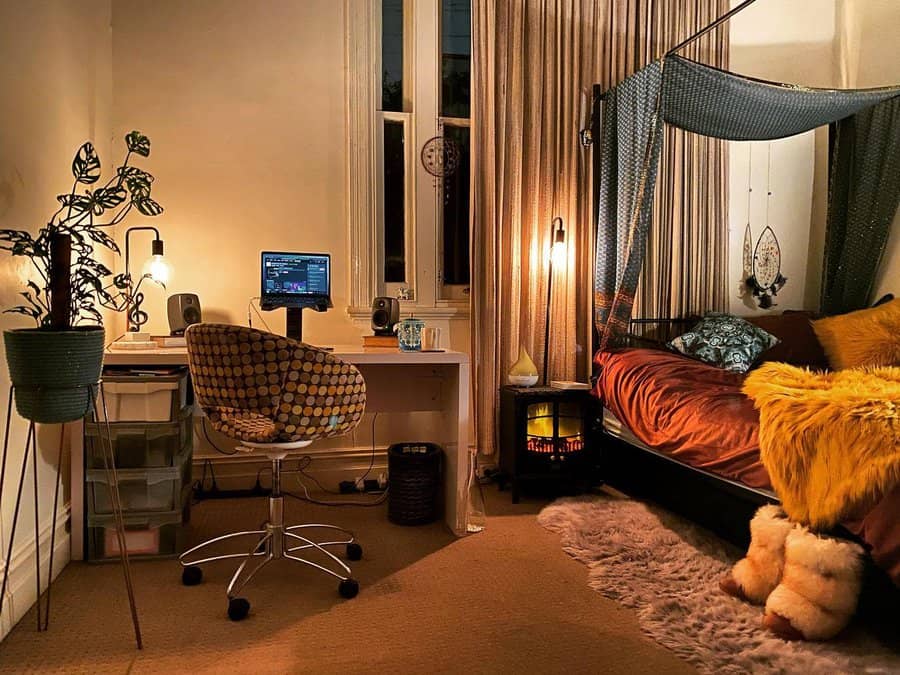 15. Multiple-Screen Set Up
Creating a functional workspace in your bedroom is a great way to maximize your home office setup. For the multi-taskers out there, a desk with multiple screens is a must-have. This setup allows you to have multiple applications and windows open at once, making it easier to switch between tasks without losing focus.
Choose a desk with ample space to accommodate your monitors, keyboard, and mouse. Don't forget to invest in a comfortable chair that provides good support and encourages good posture. With a well-designed bedroom office, you can work hard and play hard, all in one space.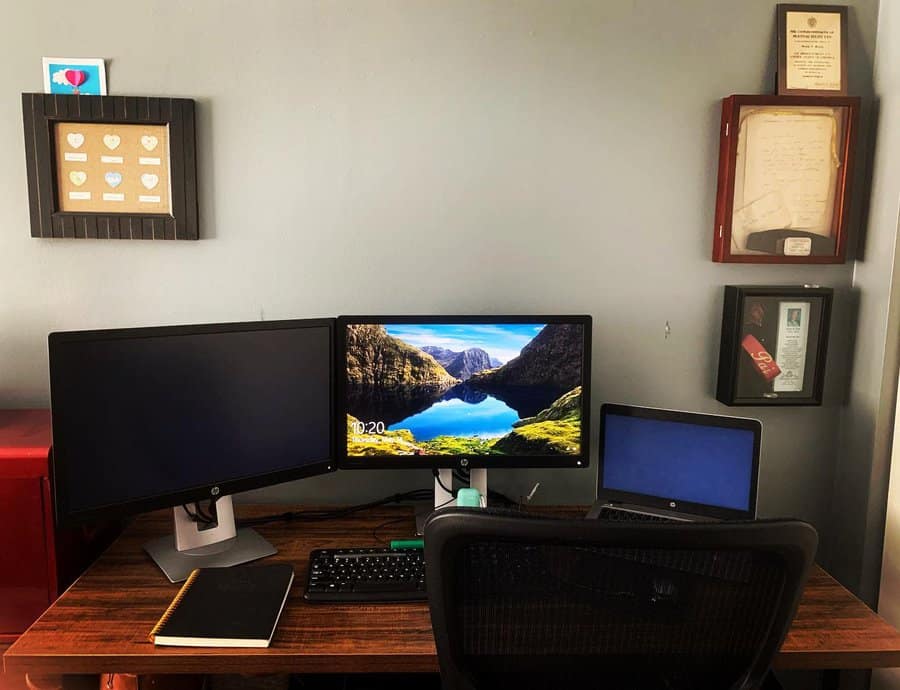 16. Motivational Quotes
Adding framed motivational quotes to your office space is a great way to keep yourself motivated and focused on your goals. Whether it's a favorite quote from a successful entrepreneur or a meaningful message from a loved one, these little reminders can keep you motivated when you're feeling overwhelmed.
So why not spice up your office space with some personalized wall decor that speaks to you and your ambitions? It's a simple and effective way to transform your bedroom into a space that's both functional and uplifting.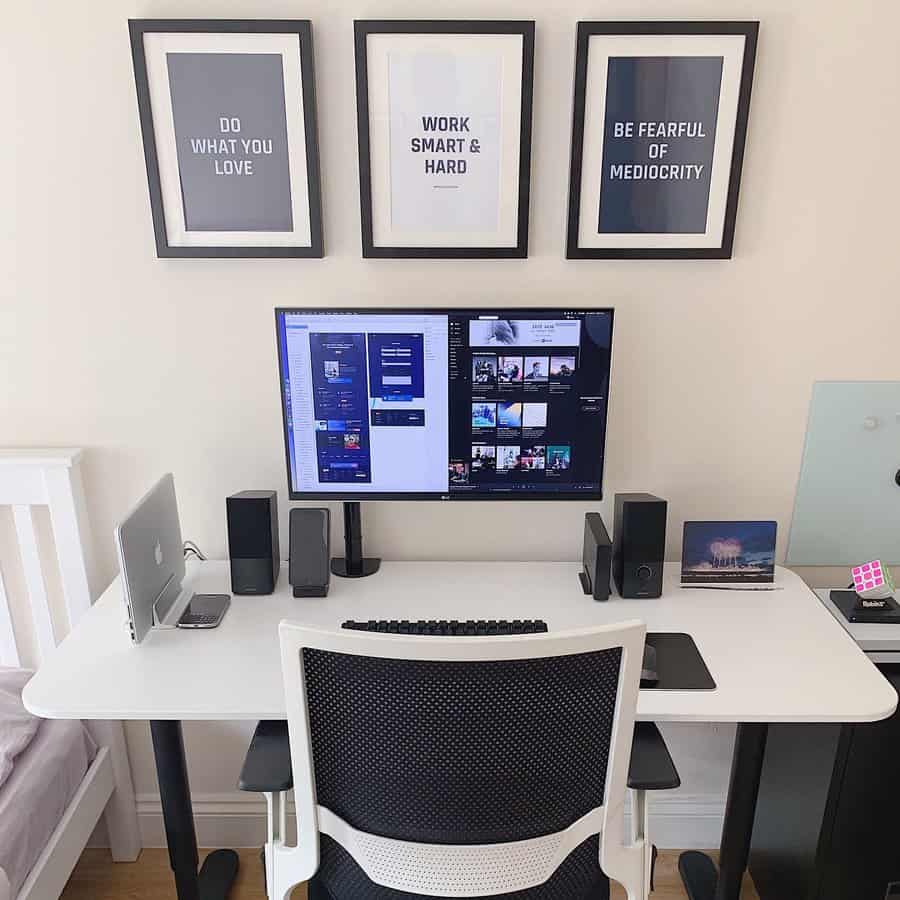 17. Cork Board
One great addition to any office setup is an office desk with a cork board. The corkboard can be used to pin up important reminders, notes, or even photos to keep you motivated throughout the day.
Additionally, it can serve as a moldboard for brainstorming sessions or as a space to display inspiration and ideas. Pair this with a comfortable chair and ample storage solutions, such as bookshelves or a filing cabinet, to create a truly productive and efficient workspace.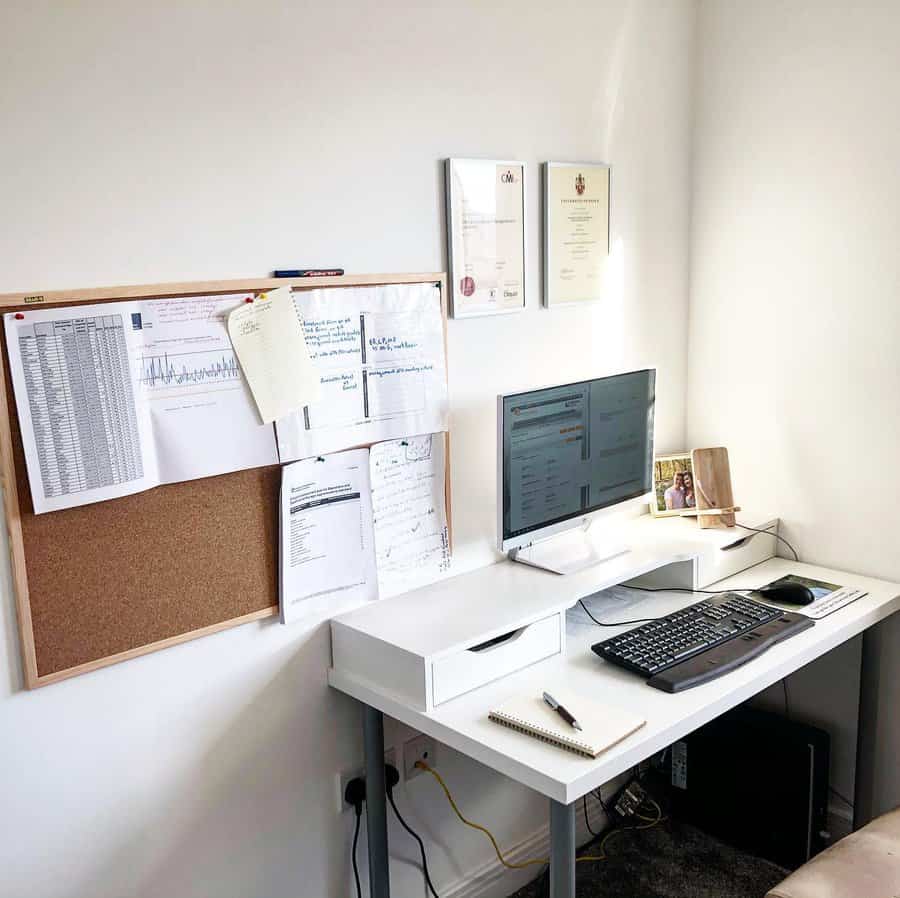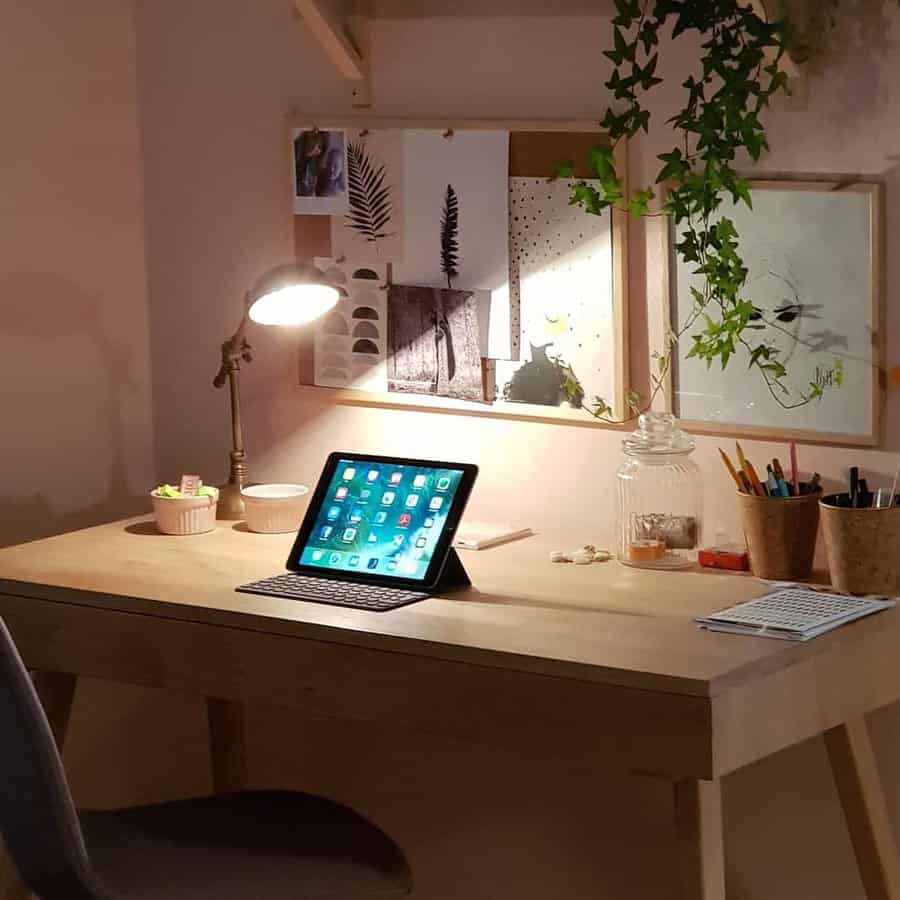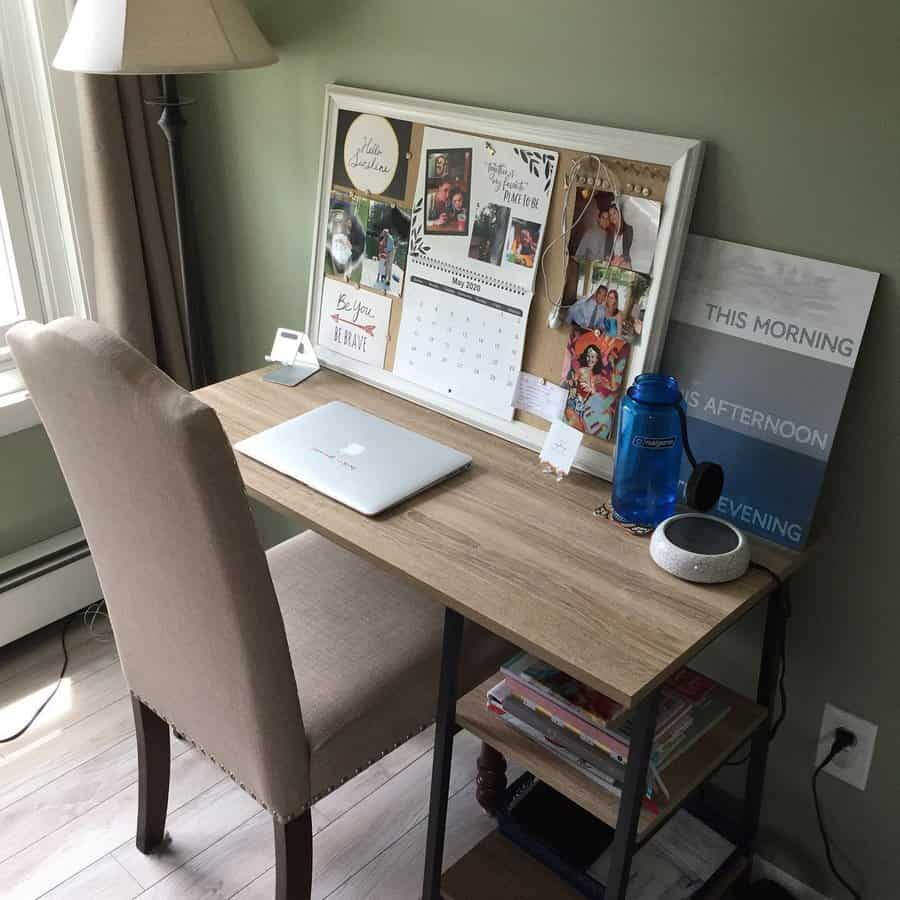 18. Pull Out Desk
Looking for a way to maximize your bedroom space and create a functional workspace? Consider incorporating an office desk with a pull-out desk! This innovative design provides the perfect solution for those who need extra desk space but don't have room for a full-sized office. The pull-out desk allows for ample workspace when needed, and can be easily tucked away when not in use, making it ideal for small bedrooms.
When selecting an office desk with a pull-out desk, be sure to consider the style, material, and storage options to ensure it complements your decor and provides the functionality you need. With this addition to your bedroom, you'll have the perfect setup for tackling work or studying from the comfort of your own home.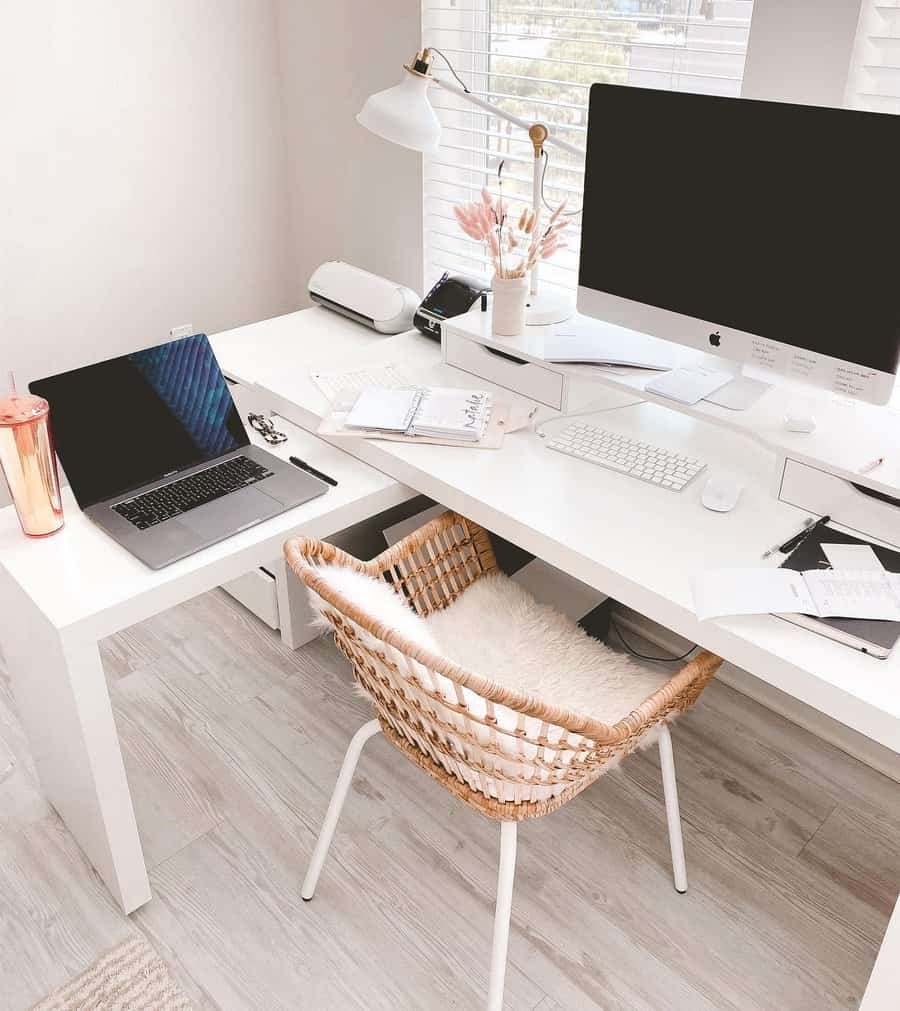 19. Wall Sconce Lamp
If you're looking to create a bedroom office that maximizes your space while keeping your work area organized and clutter-free, then incorporating a wall sconce lamp is the perfect solution! A wall sconce lamp will help eliminate the need for other lamps and free up valuable desk space. Plus, it provides ample lighting for working without having to strain your eyes.
So, whether you're writing emails or finishing up a report, a wall lamp for working is essential. With this simple addition to your bedroom office, you'll be able to create a functional and stylish workspace that allows you to focus on your work without any distractions.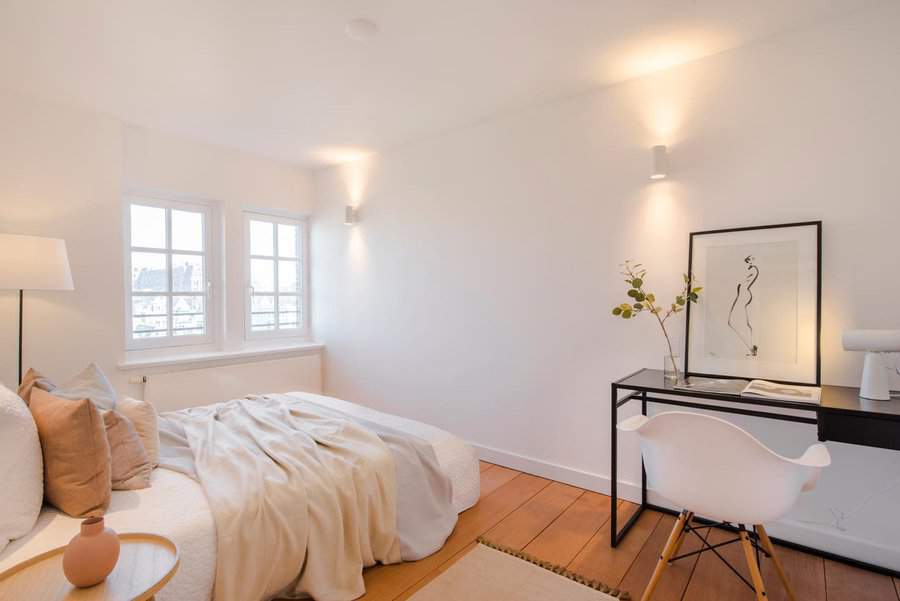 20. Pegboard Storage
A key piece for any bedroom office is a desk with storage options, such as a peg board. This feature allows you to keep your small items and craft supplies organized and within reach.
Consider a desk with a built-in peg board or install one yourself for a personalized touch. Don't let limited space hold you back – embrace the opportunity to create a functional and fashionable bedroom office with the right tools and mindset.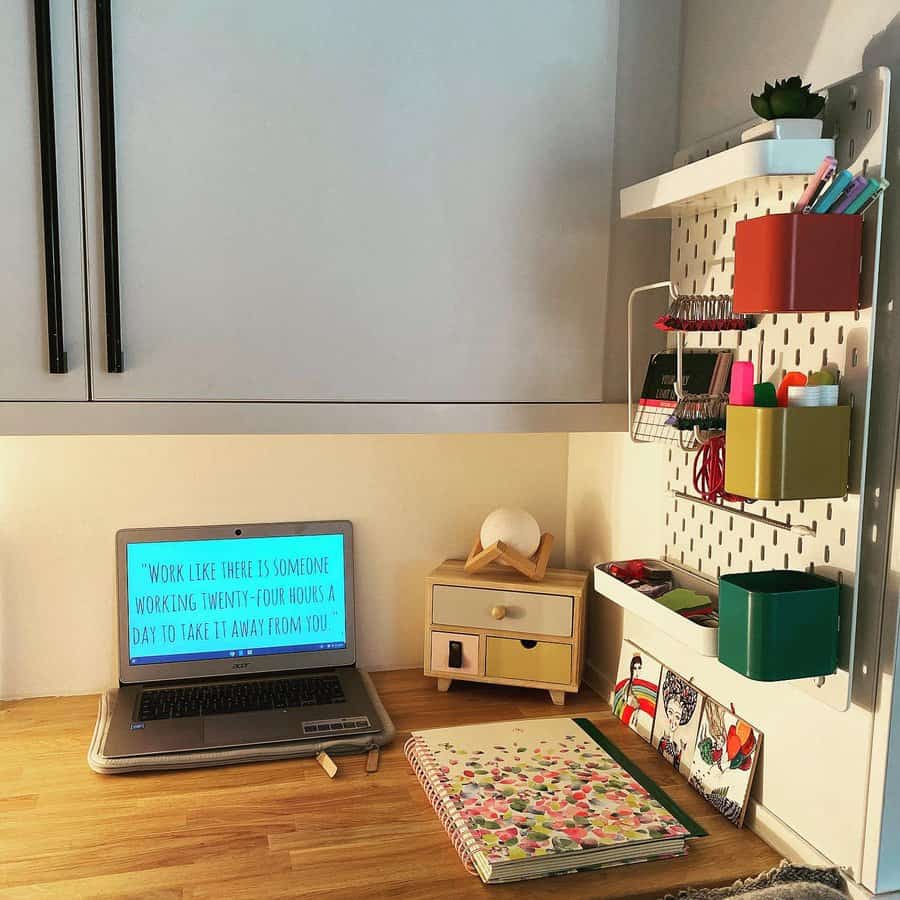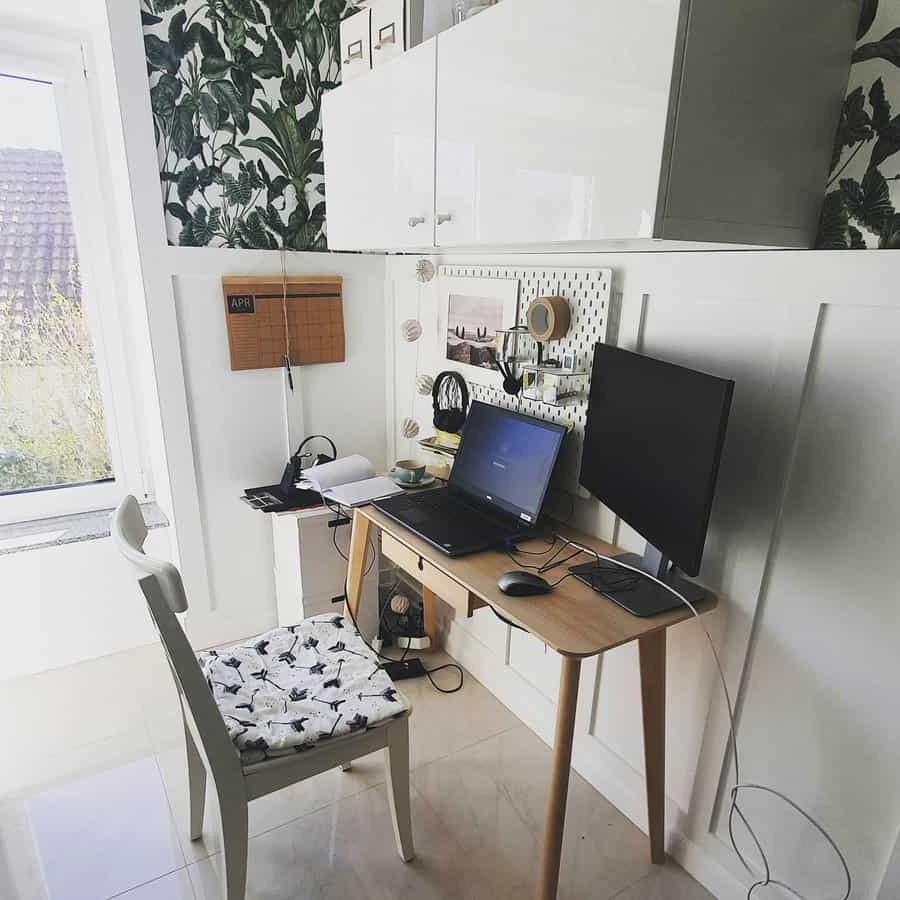 21. Basket Desk Organizers
When it comes to creating a functional and stylish bedroom office, incorporating the right elements can make all the difference. One key piece to consider is an office desk with basket organizers. Not only does this provide a designated space for work, but it also allows for easy organization and storage of office supplies.
To add a decorative touch and create a rustic ambiance, consider choosing a desk made from natural wood or featuring wood accents. By combining functionality and style, you can create a bedroom office that is both inspiring and productive.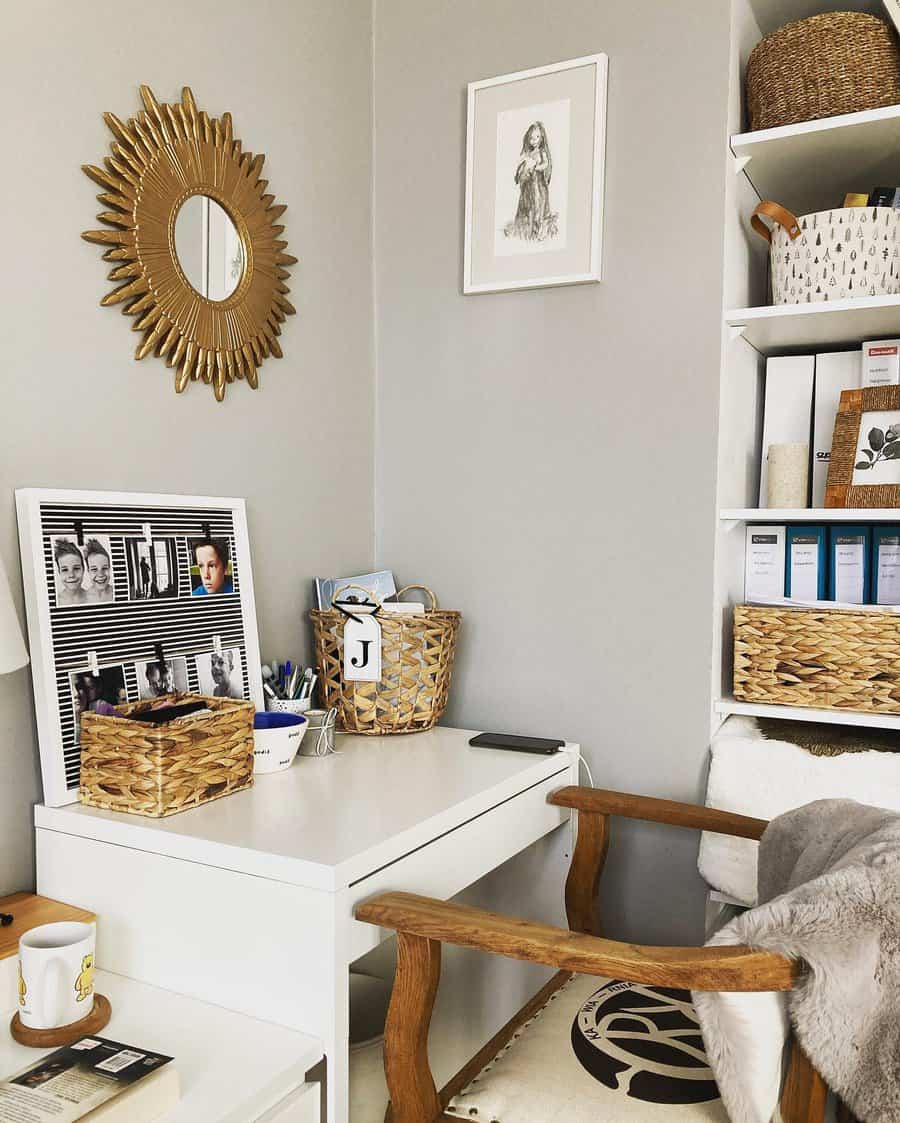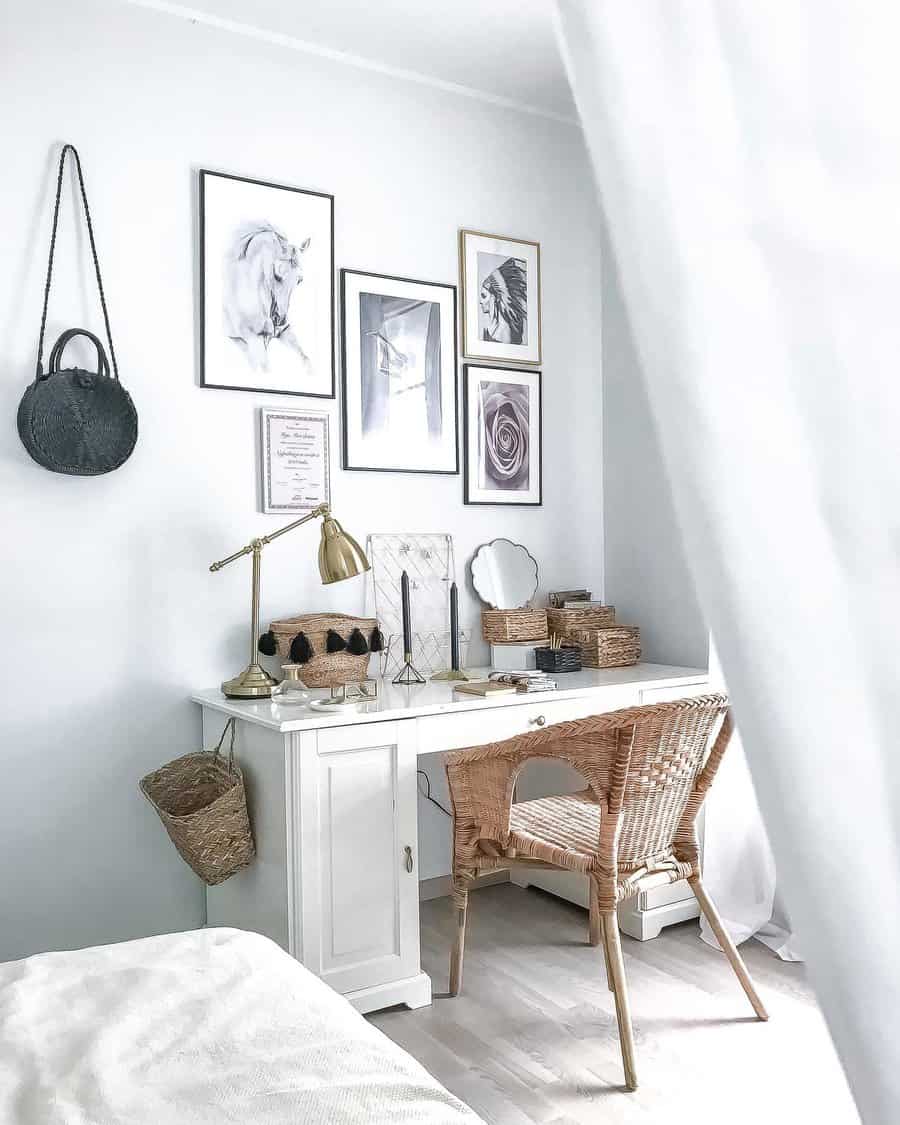 22. Glass Work Desk
When it comes to designing a bedroom office, it's all about creating a functional space that doesn't feel cramped or cluttered. A great way to achieve this is by incorporating a glass work desk. Not only does it add a touch of modern elegance to the room, but it also opens up the space visually, making it feel more spacious and airy.
Pair it with a minimalist chair and some strategically placed storage solutions to keep the area clean and organized. With a glass work desk, you can stay productive while enjoying a chic and stylish workspace in the comfort of your own bedroom.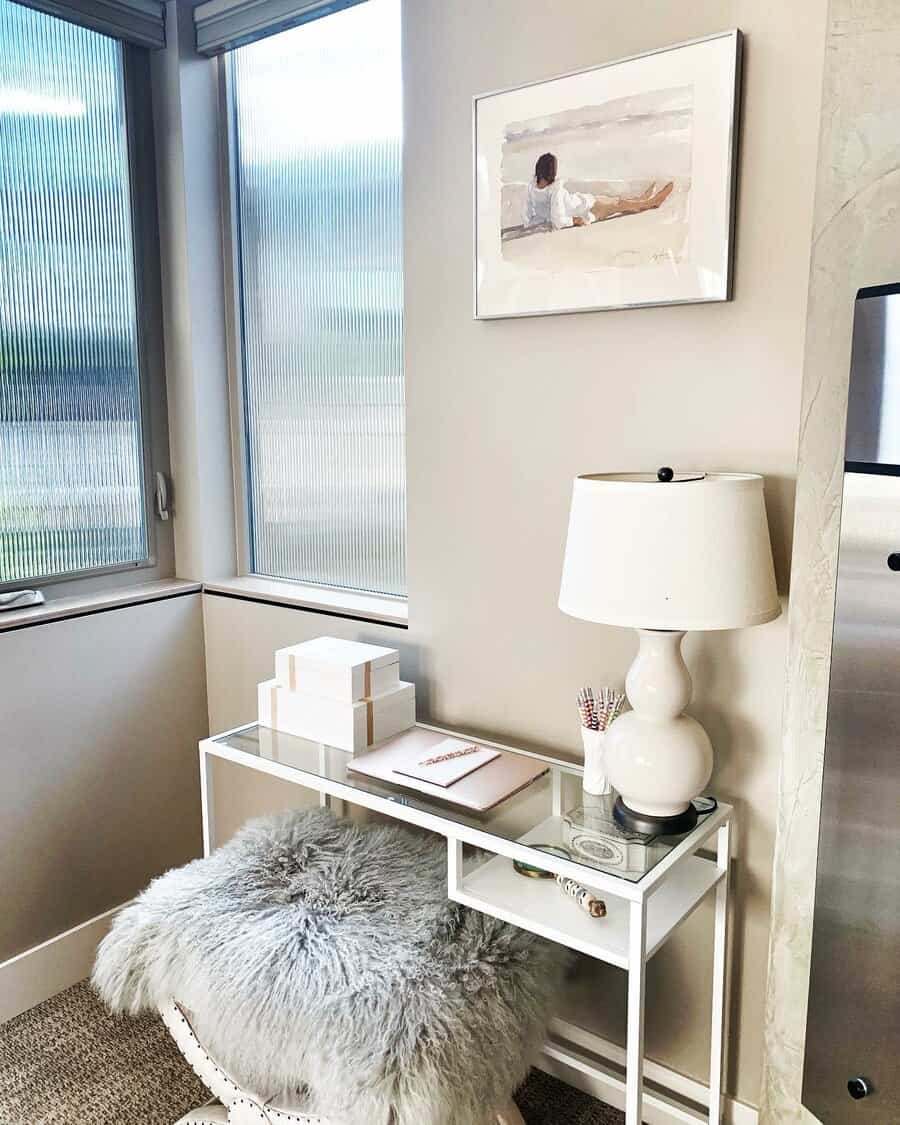 Bedroom Office FAQs
Is it bad to have your desk in your bedroom?
Some experts believe that it's harmful to both work and sleep to have an office in your bedroom. The theory is that you cannot be as productive in your bedroom as you would be elsewhere and that seeing your desk will keep you from relaxing at night. However, many people have a bedroom workspace and manage the work/life balance just fine.
Should your desk face the wall?
There's no one-size-fits-all answer for where a desk should be placed. If you have a particularly small space, there may only be one place to put it. If you're easily distracted, facing a wall may be the best way to stay focused on your work. But if you're prone to claustrophobia, you may need to face a window or the middle of the room.