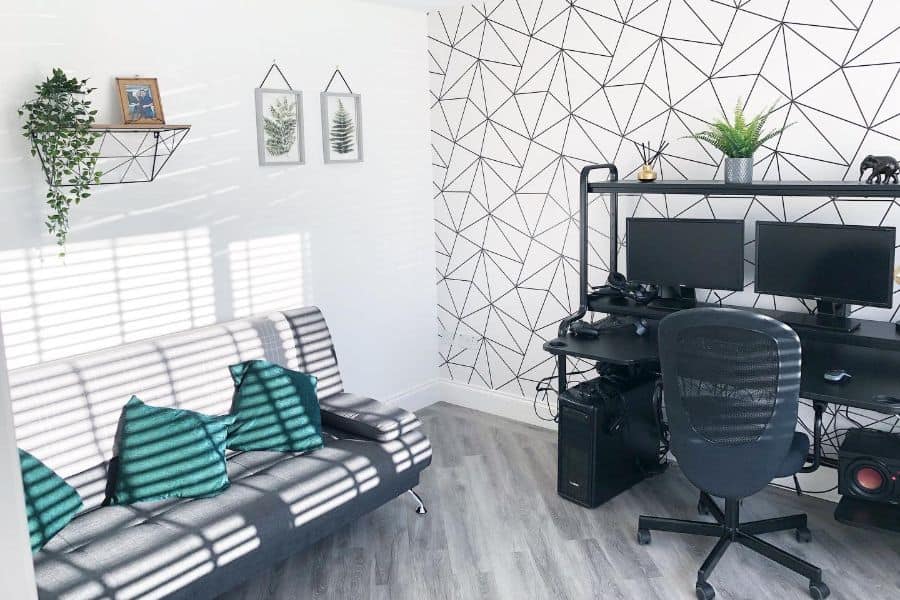 The Top 58 Bedroom Office Ideas
"These aren't pajamas. I work from home. This is my uniform." – Unknown
Although some experts advise against creating a bedroom office, it may be your only choice in a small home or apartment.
It may take some time to adjust to having your work space and bed in the same room. It can also take discipline to keep from sleeping when you should be working, and vice-versa.
As many discovered during the height of the Covid-19 pandemic, working from home can be surprisingly productive.
If your best option for a home office is your master bedroom or a guest room, take a look at these great bedroom office ideas. You'll see that it's possible to create a brilliant home office design—with a very short commute!
1. Apartment
If you live in a big city, your apartment's square footage may make your master bedroom the only feasible place to locate a home office. If you have a particularly small bedroom, your office desk might even do double duty as a nightstand.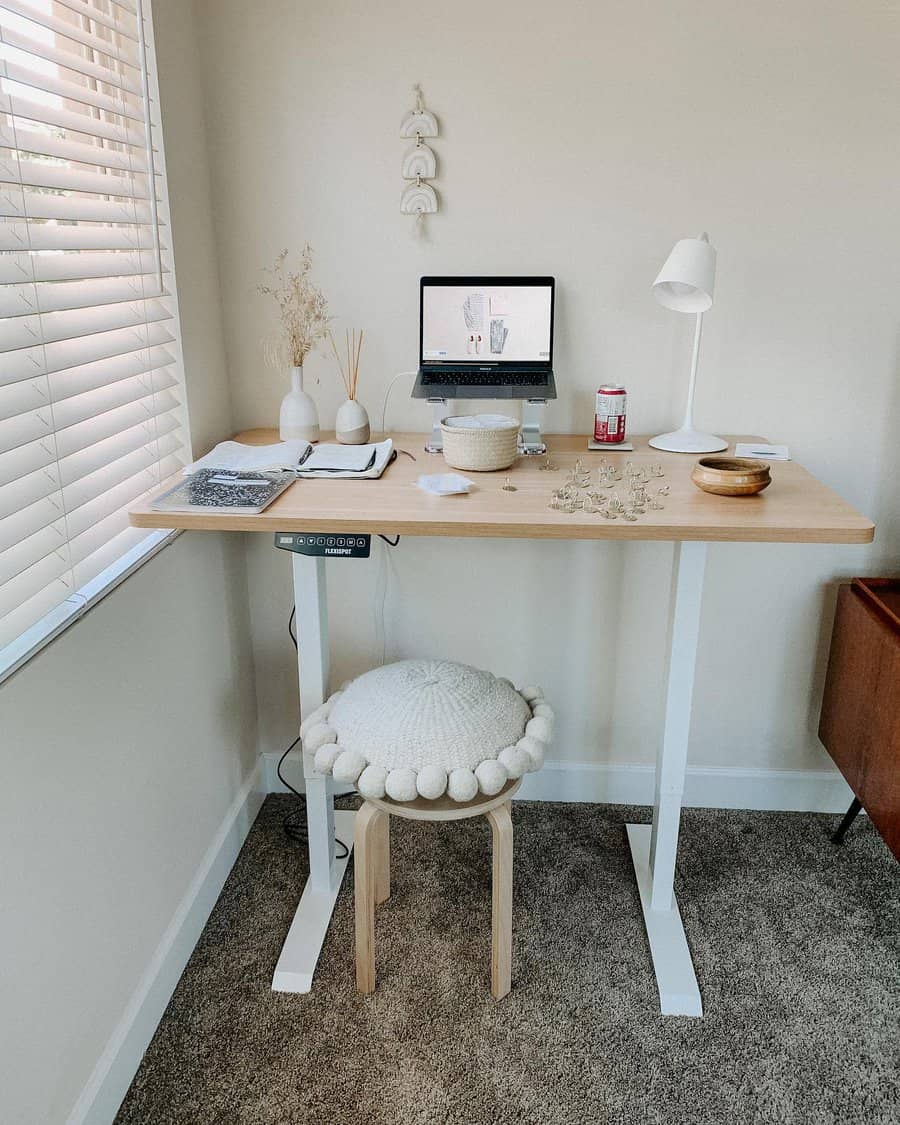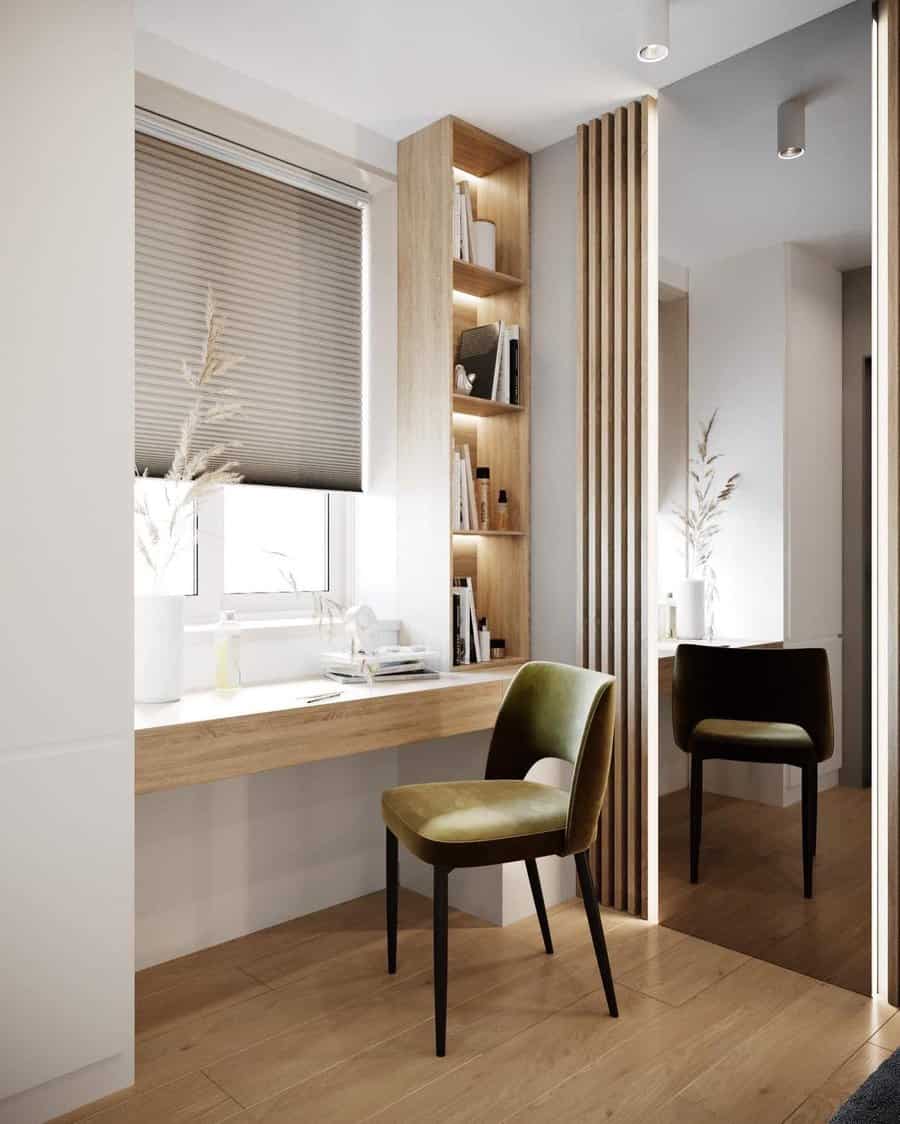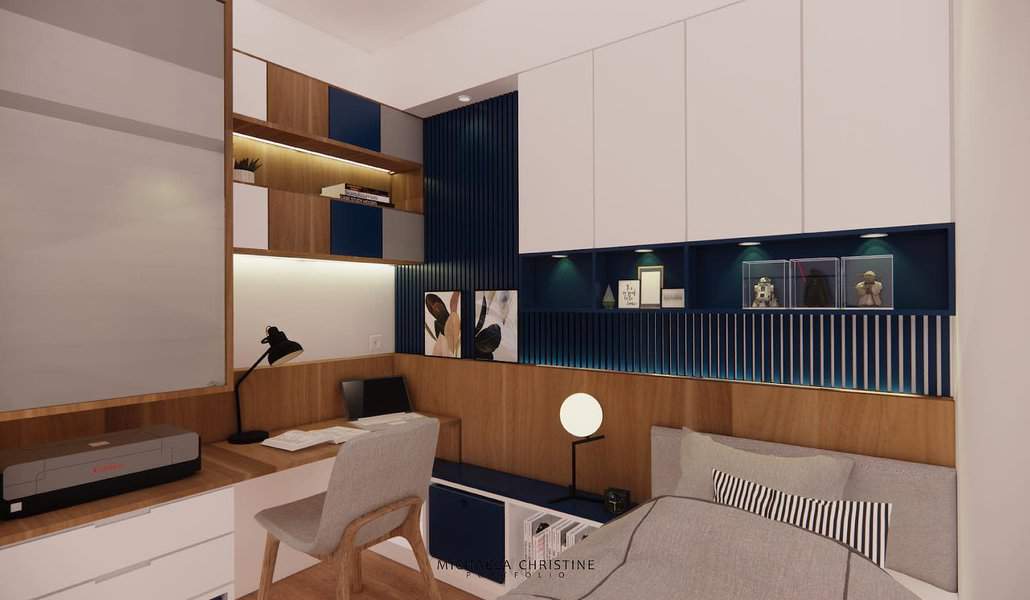 Regardless of how much room you have to work with, many home office ideas work just fine in a sleeping space. Add shelving above your desk to hold office supplies, or shop for a tall shelving unit that includes a fold-down desktop.
Keep your apartment bedroom tidy because clutter can interfere with productivity when you're on the clock.
2. Basement
A basement bedroom is often larger than an upstairs bedroom, thus affording more office space. With more floor space, it's easier to separate your work area from your sleeping area. There may even be room to incorporate a separate sitting area to further organize your space.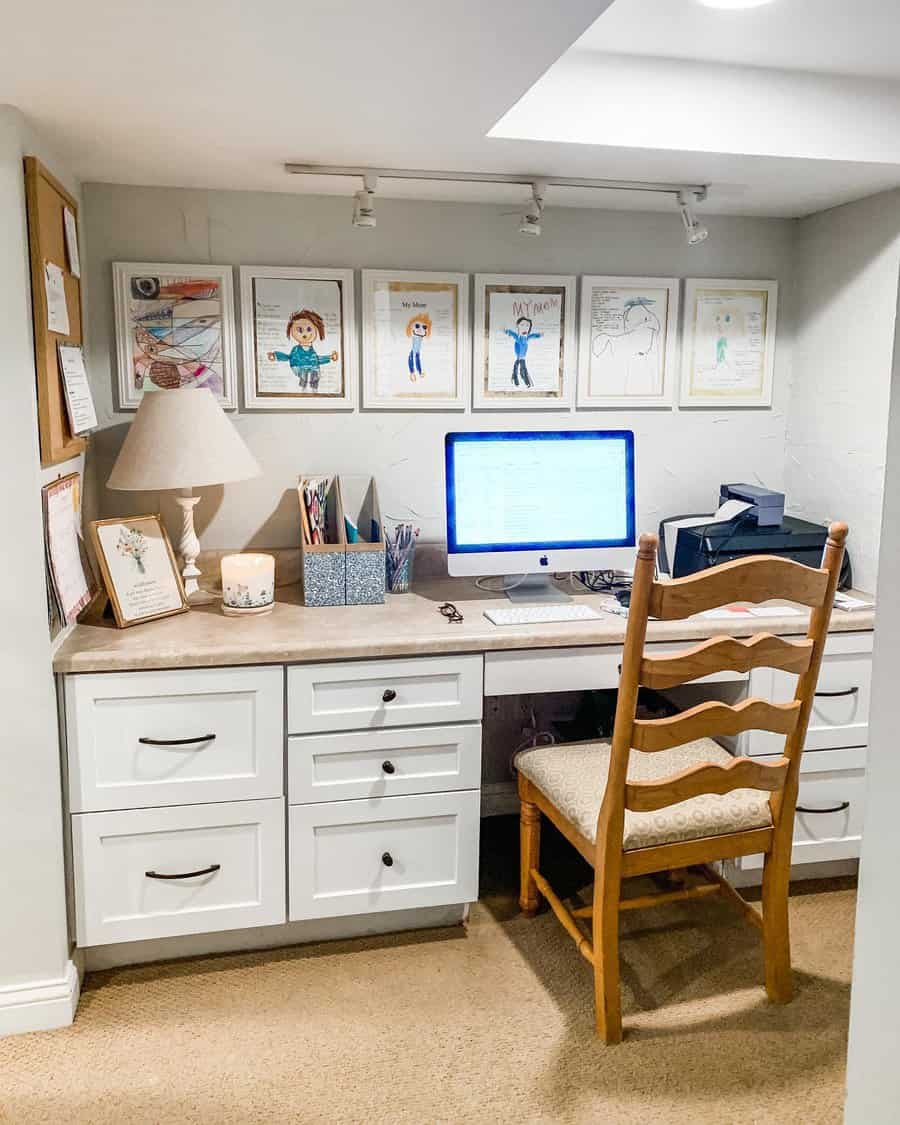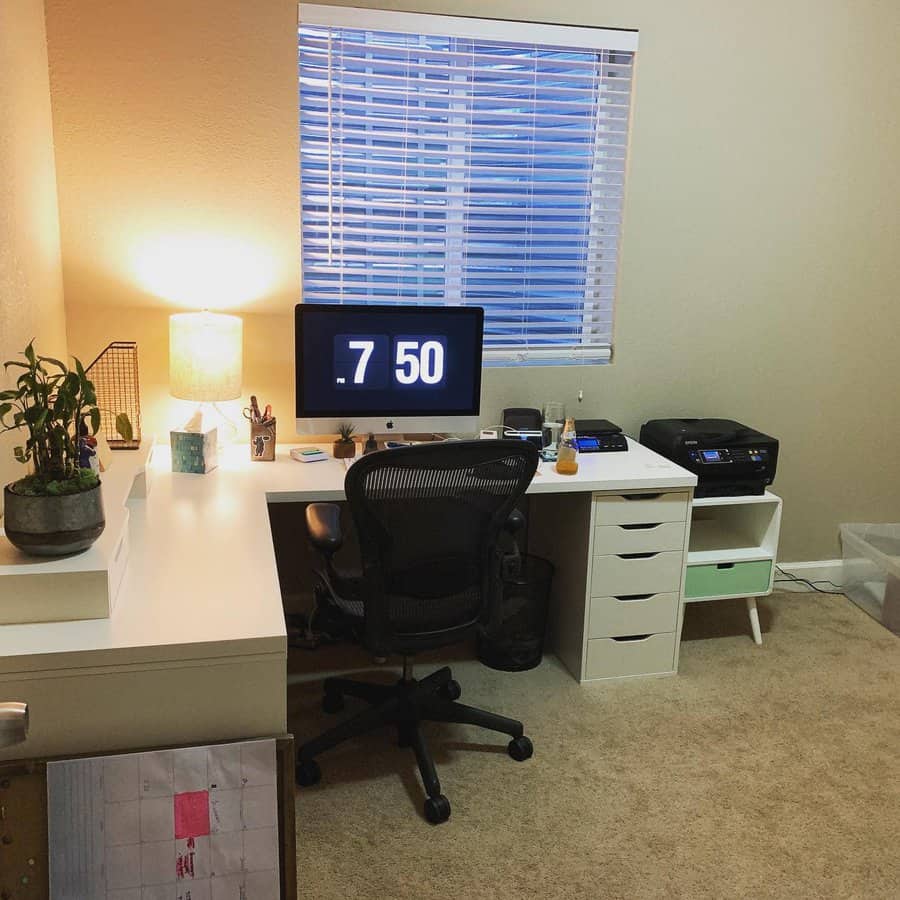 Basement bedroom ideas can accommodate industrial decor, especially if the room has exposed ceiling beams, ductwork, or exposed brick walls.
One pitfall of a basement bedroom office is that it might not have a closet. However, you can buy a wardrobe, cabinet, or another piece of freestanding furniture to hold your office necessities.
3. Contemporary
Today's extensive furniture and decor choices make it easy to create a fabulous contemporary office space in any room.
Contemporary decor is light and welcoming, uncluttered and clean. Neutral colors dominate in contemporary style and can help make a small room feel more spacious.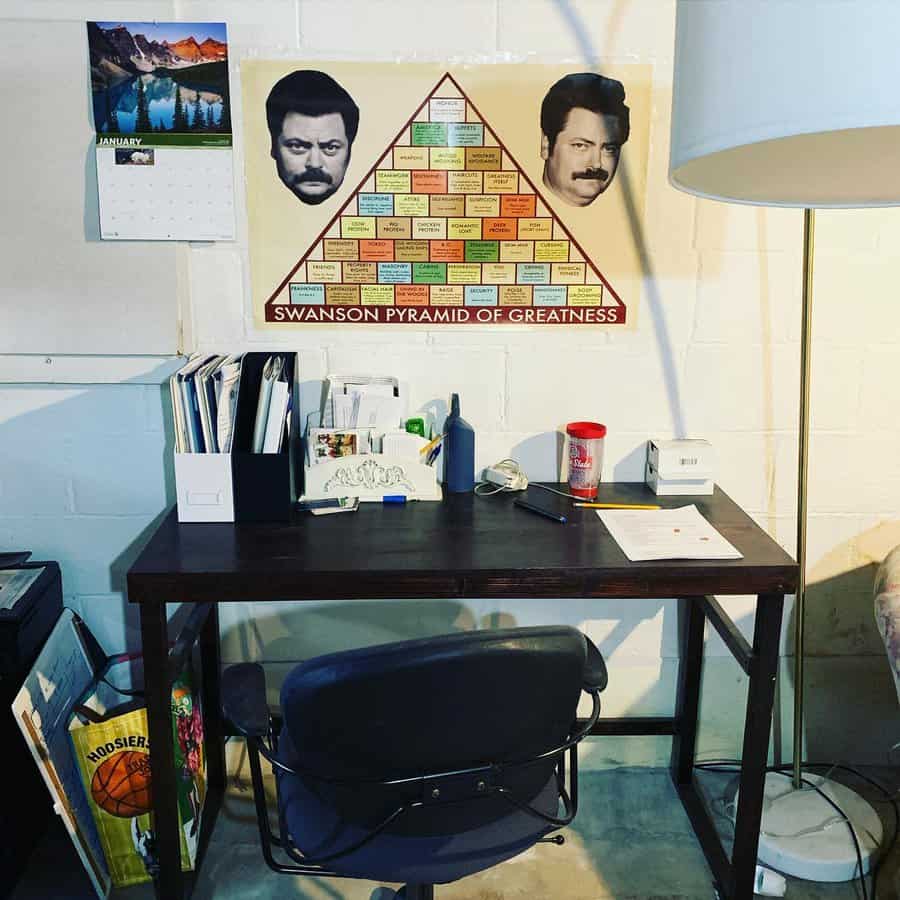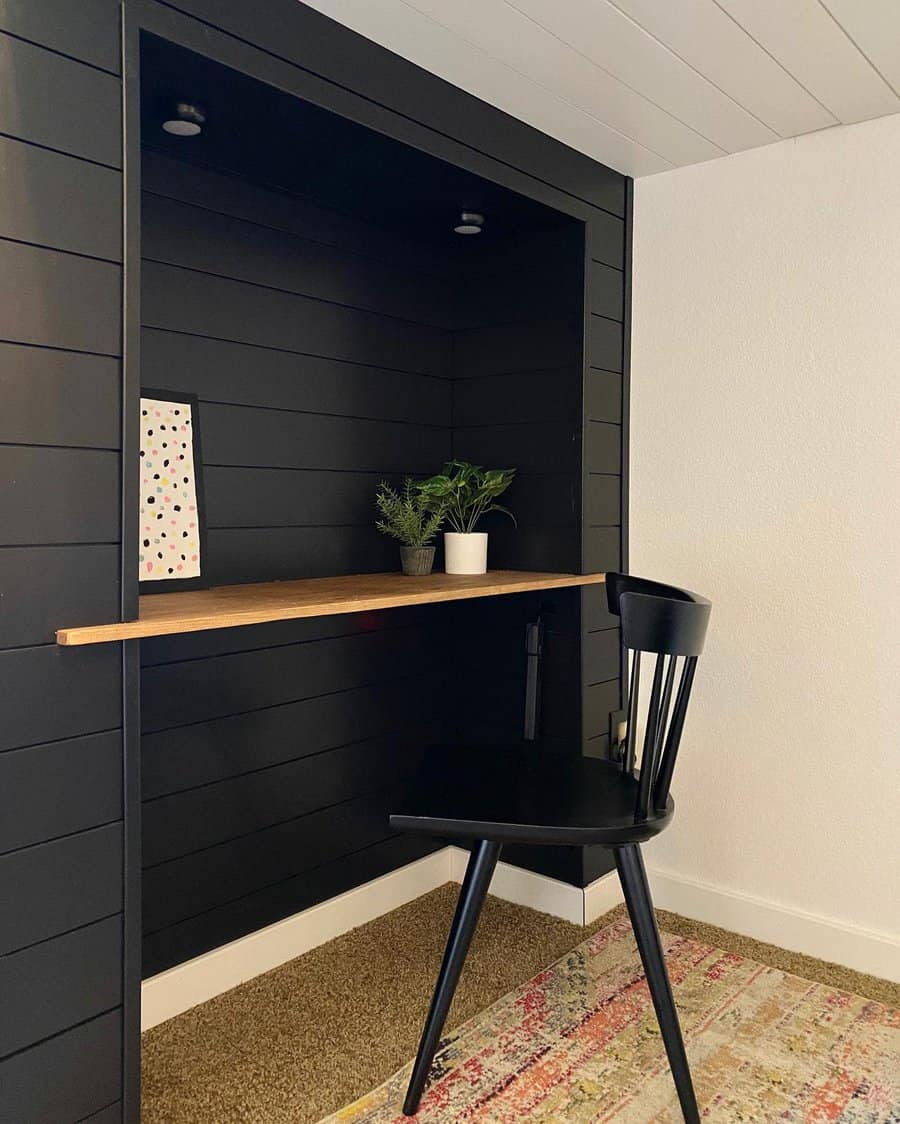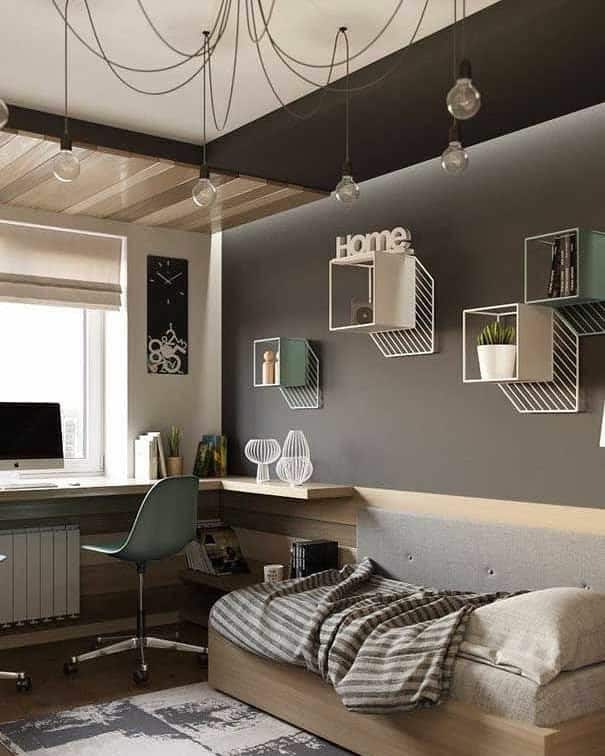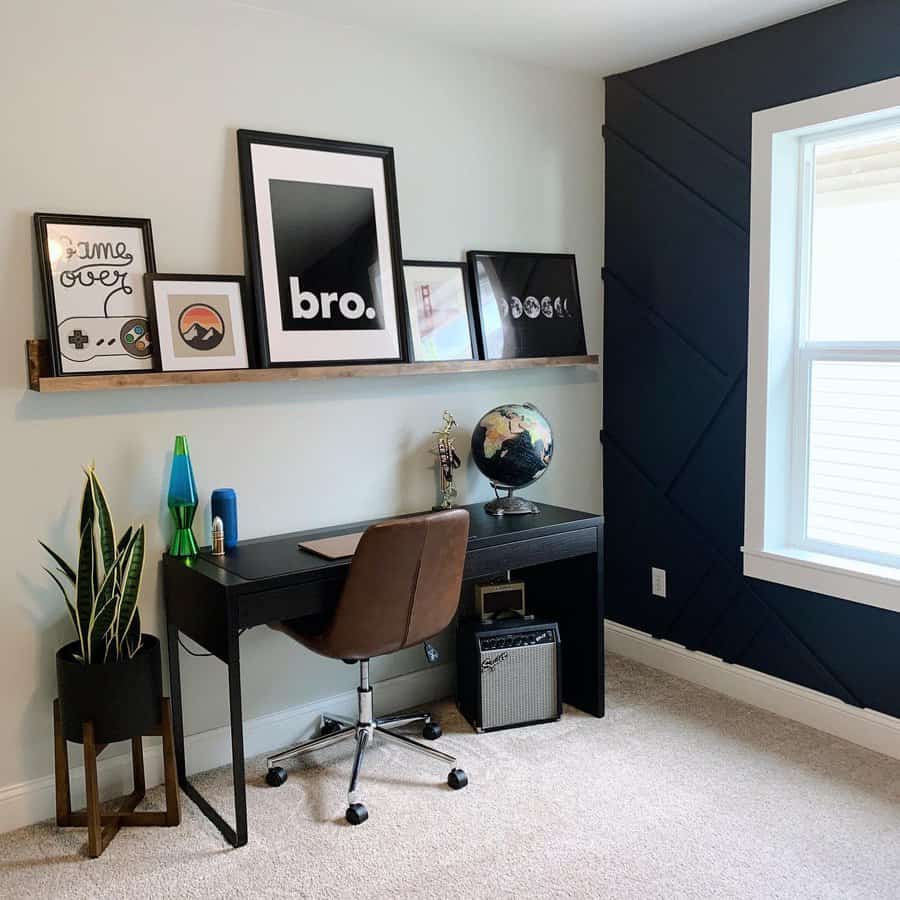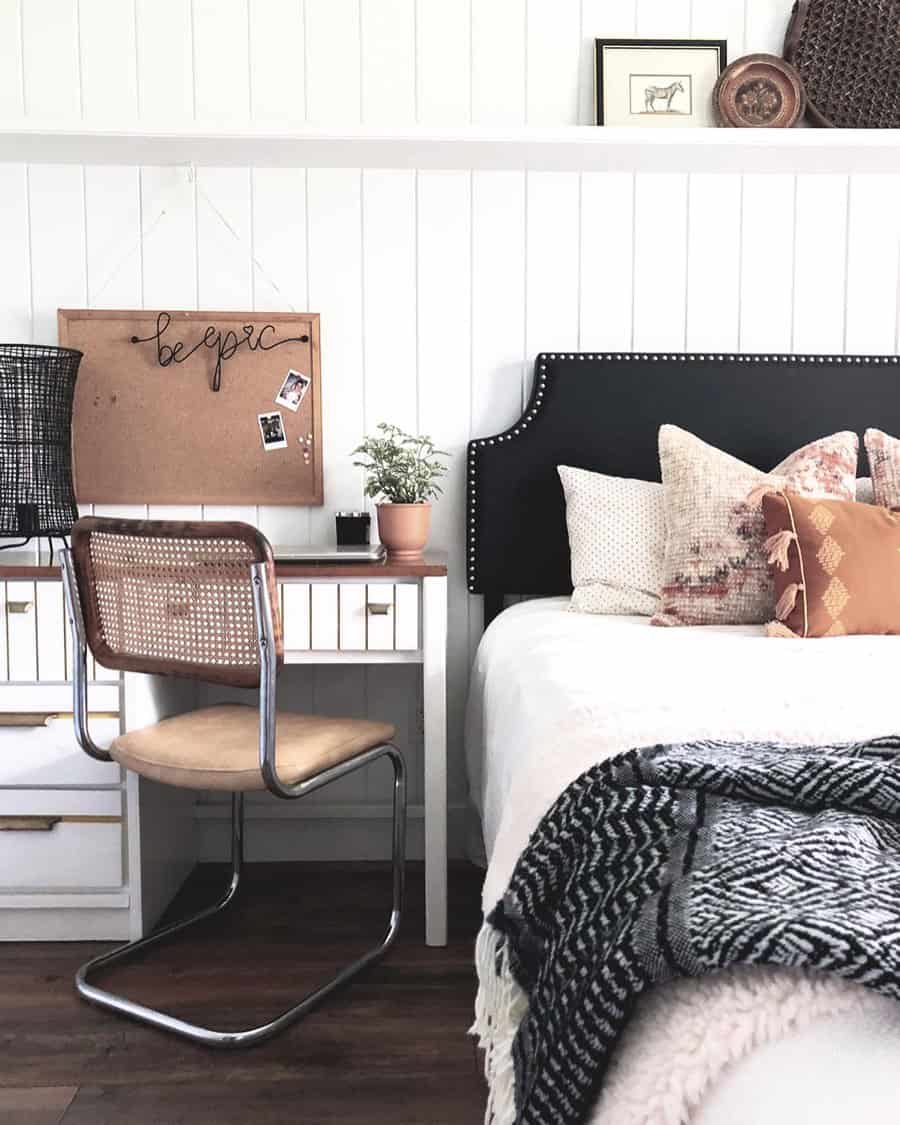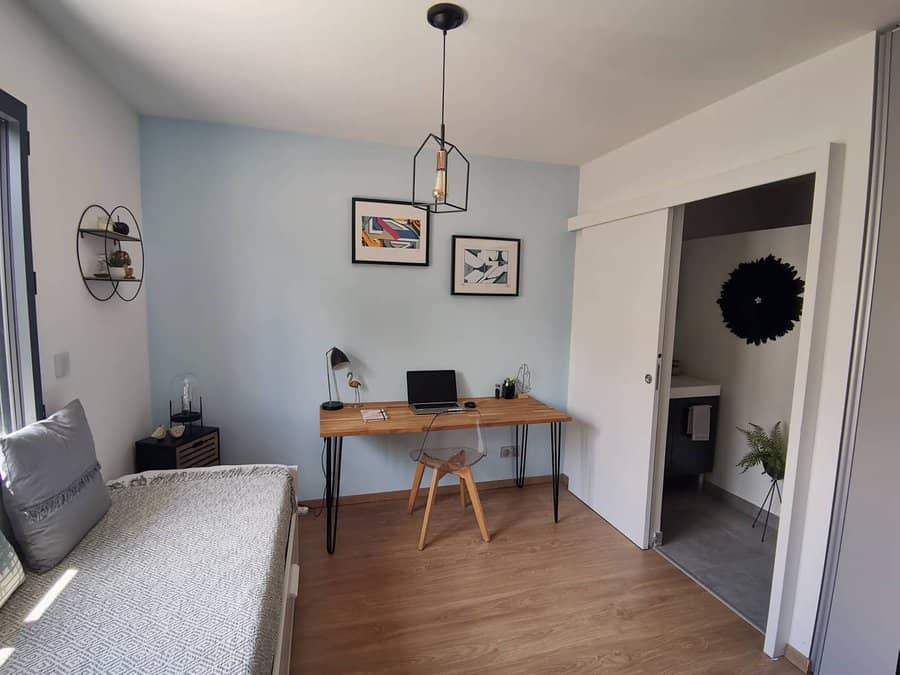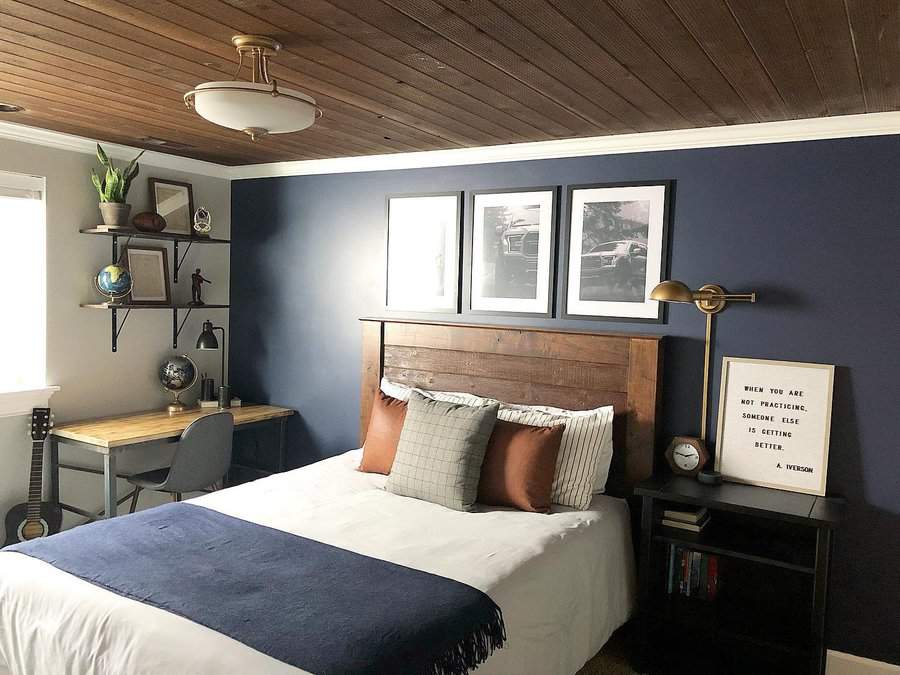 An accent wall can help define your office space. Paint it a contrasting color or cover it with a simple geometric wallpaper pattern. When most of the combination master bedroom and office space is decorated in neutral colors, it's a perfect backdrop for bold contemporary art and accessories.
4. Corner
A corner desk may be ideal in a main or guest bedroom, especially if a window is nearby to keep you from feeling claustrophobic. Keep your desk space uncluttered and well-organized. Add a floating shelf or two to hold office supply containers and perhaps a potted plant.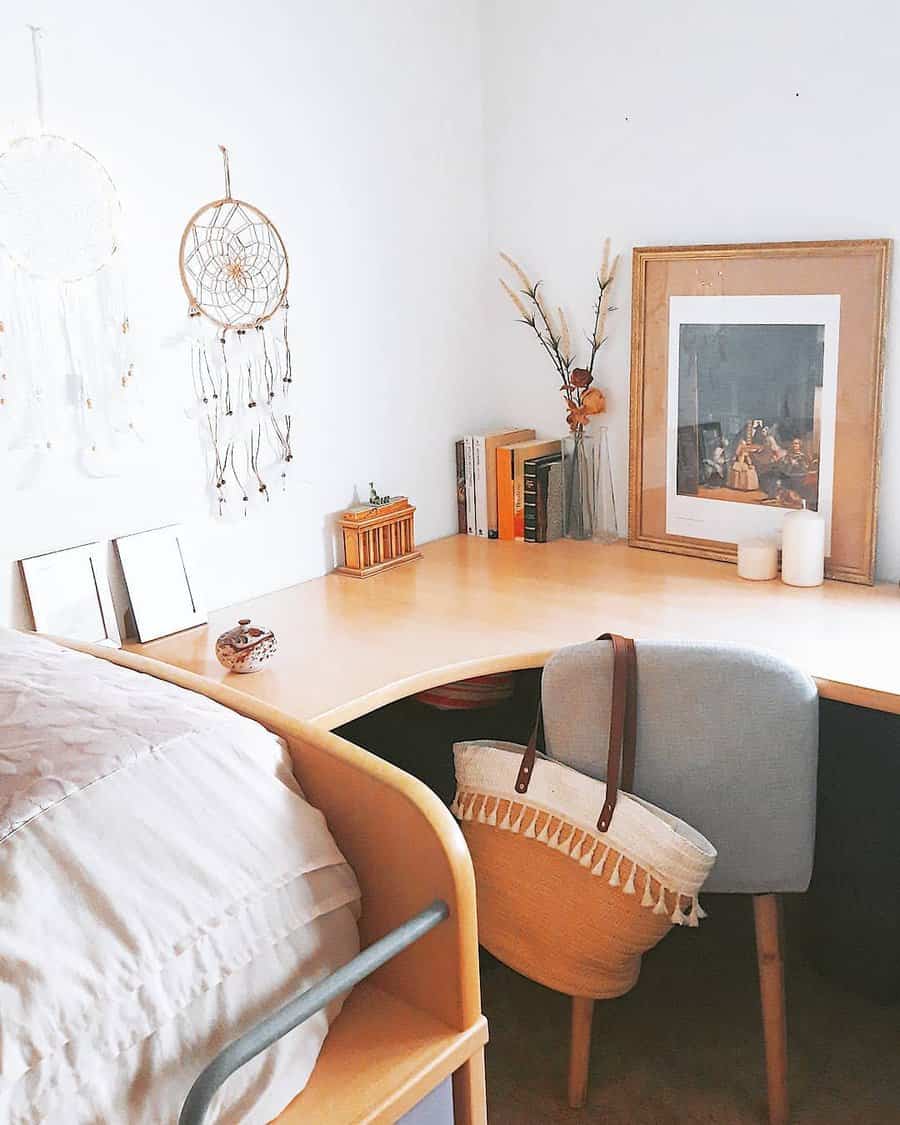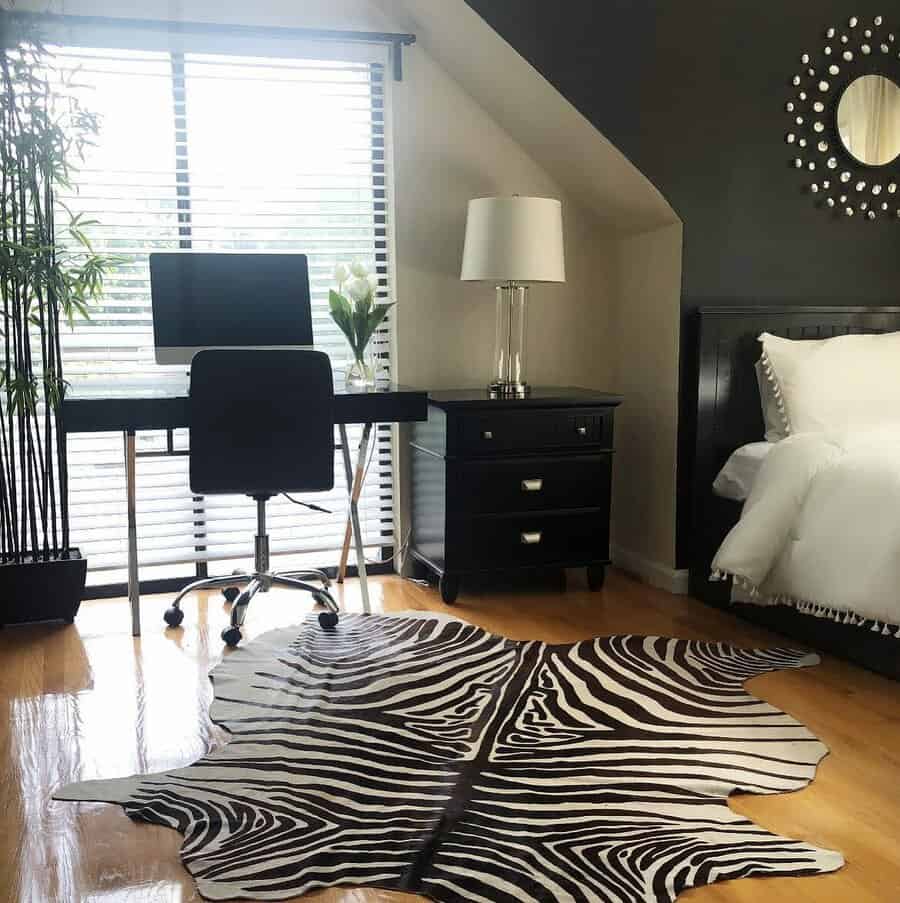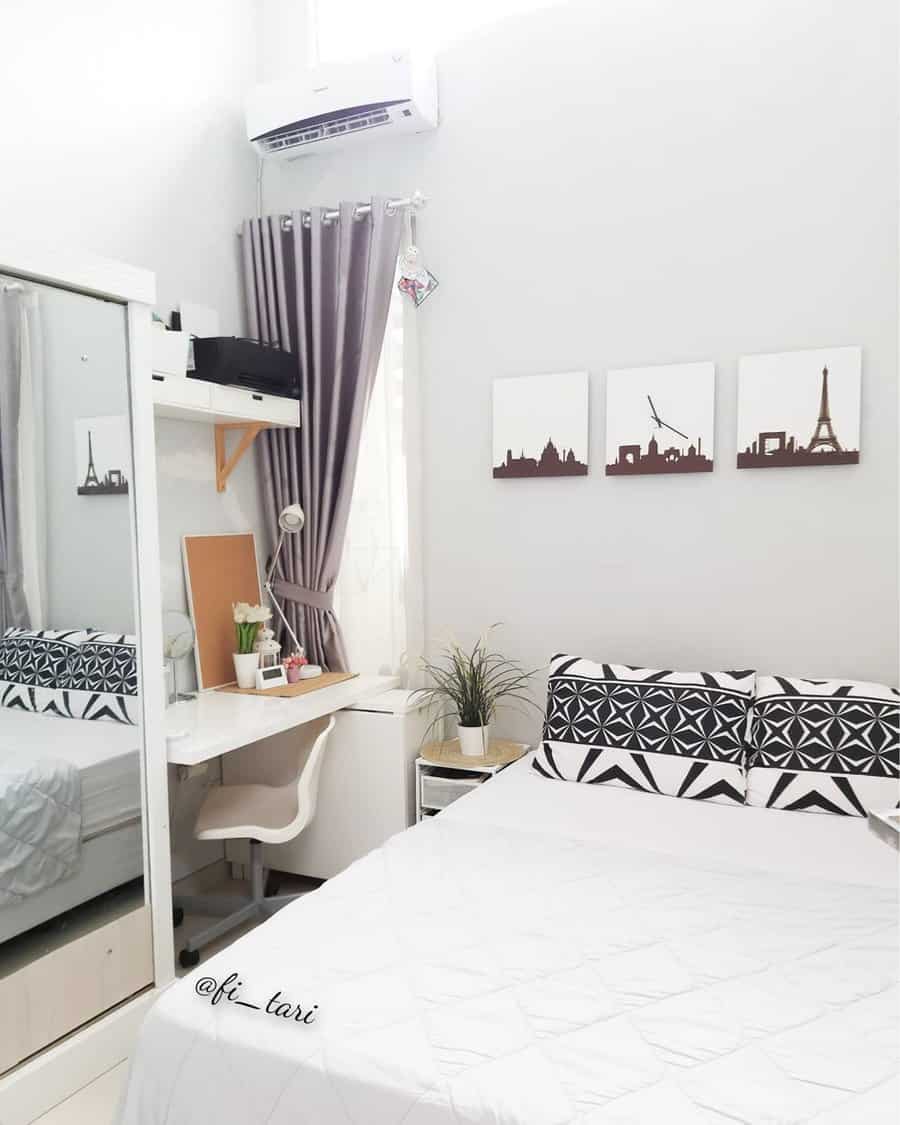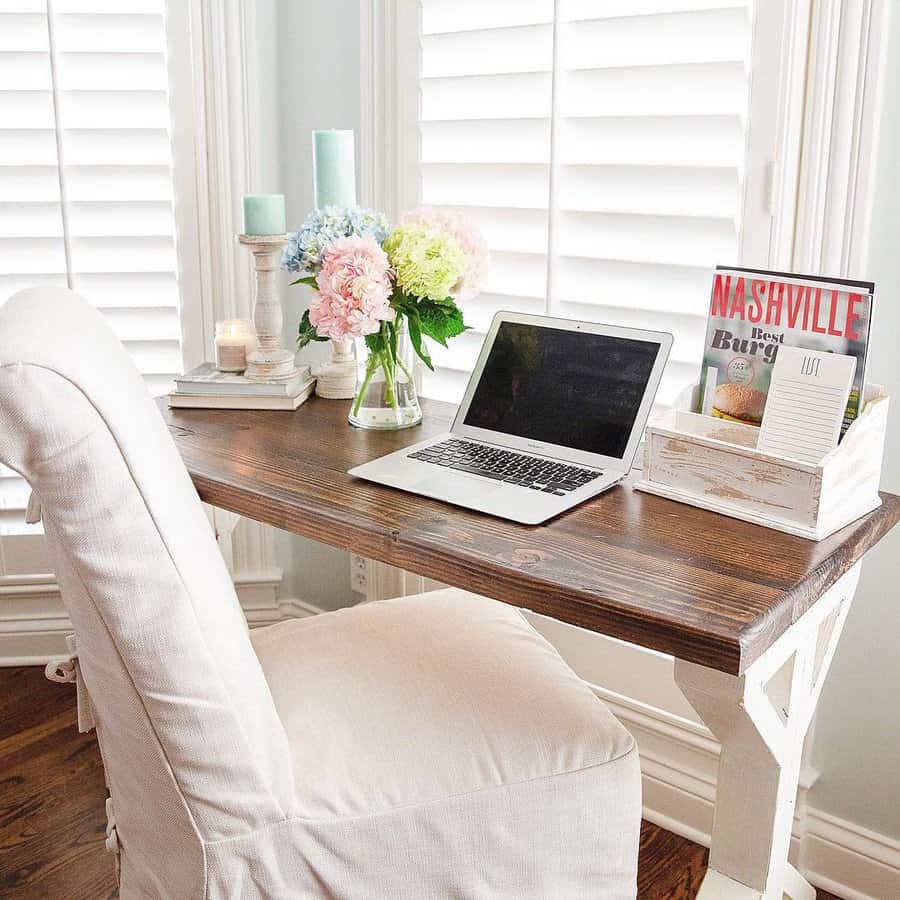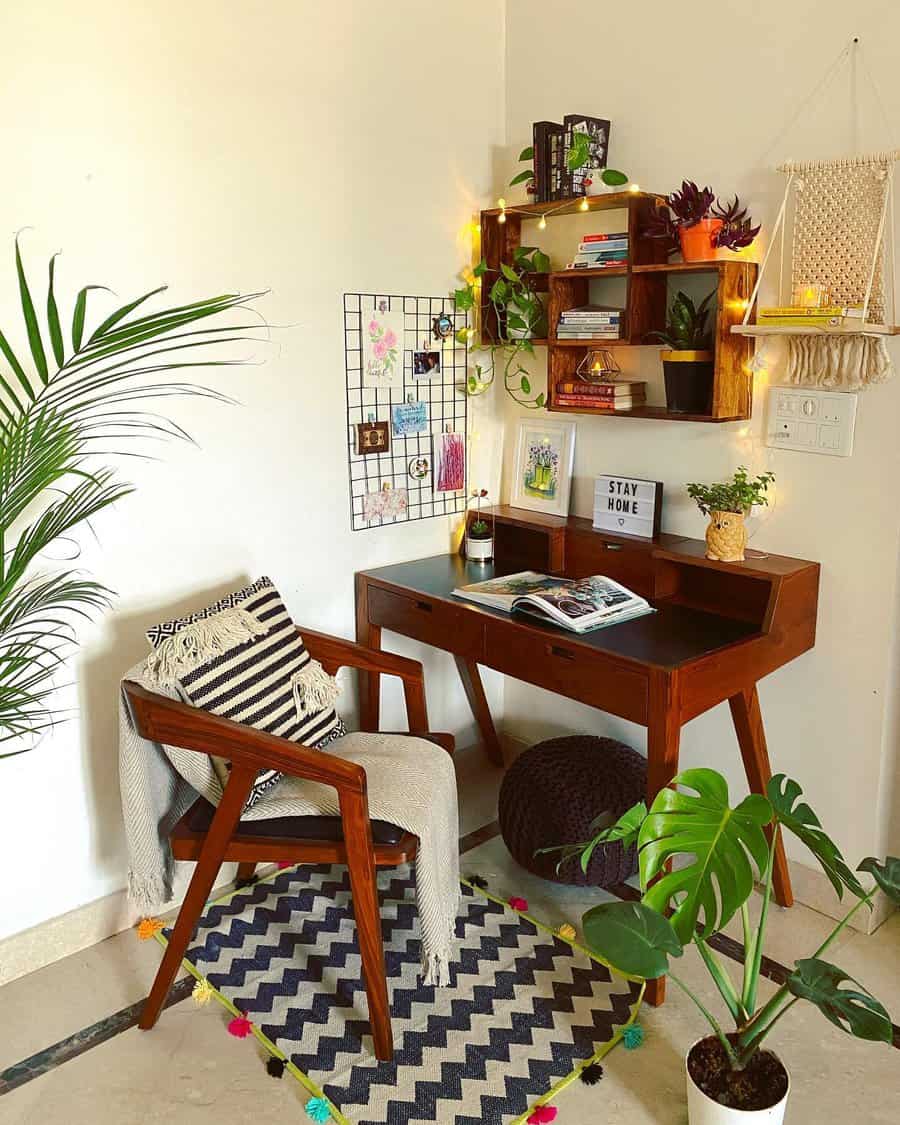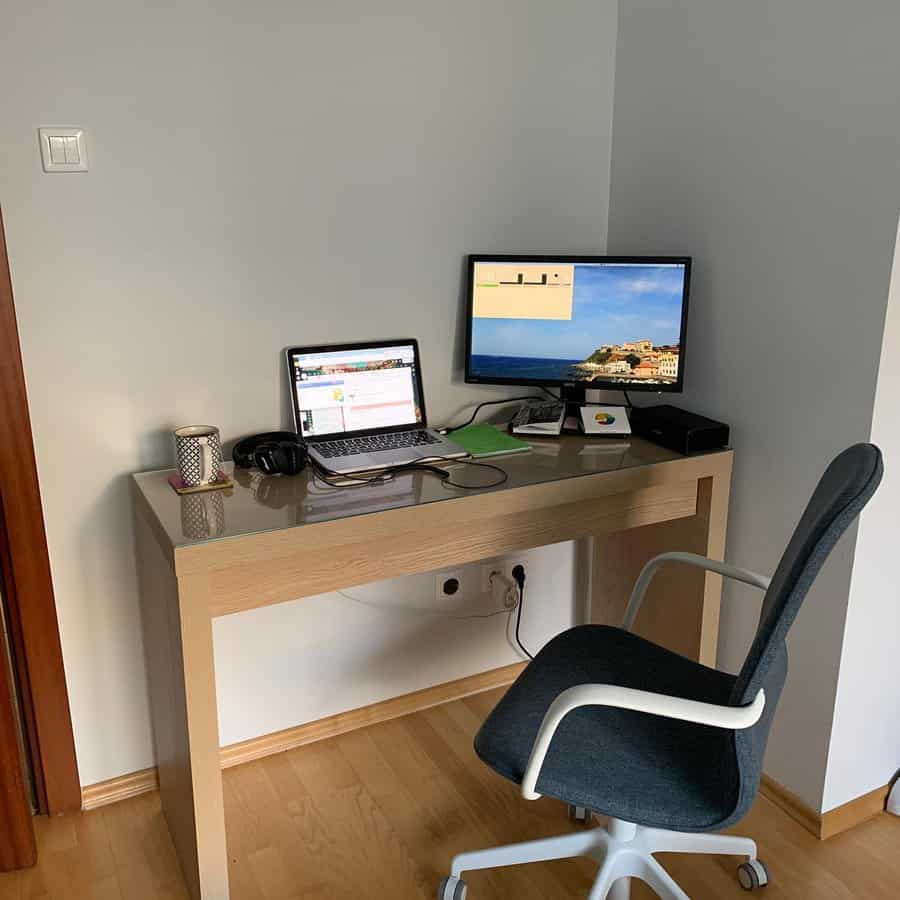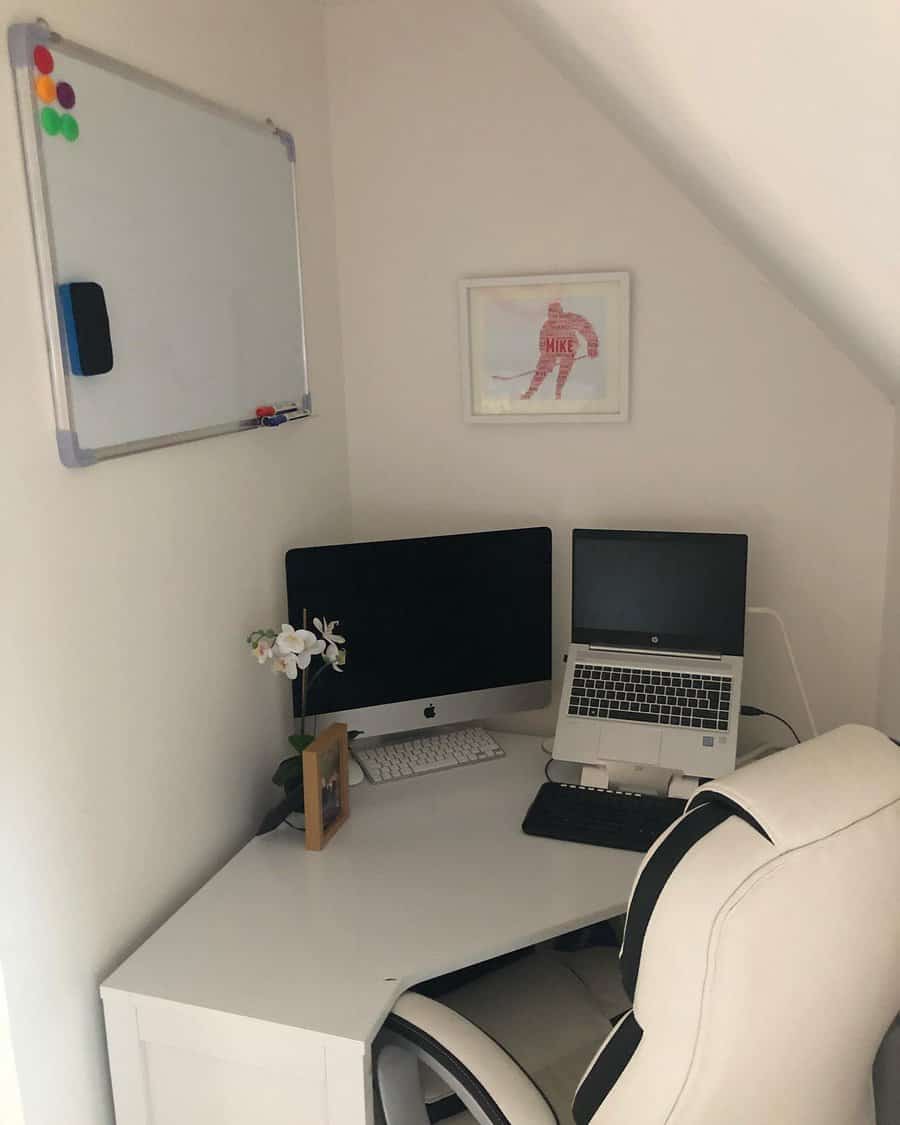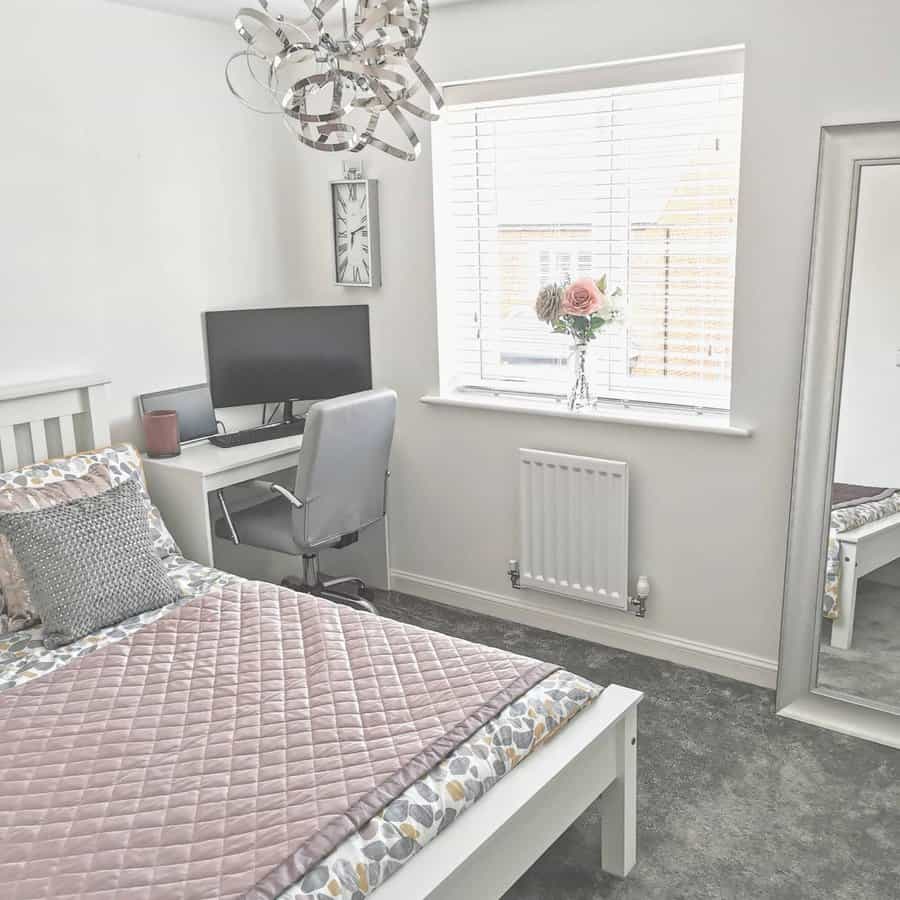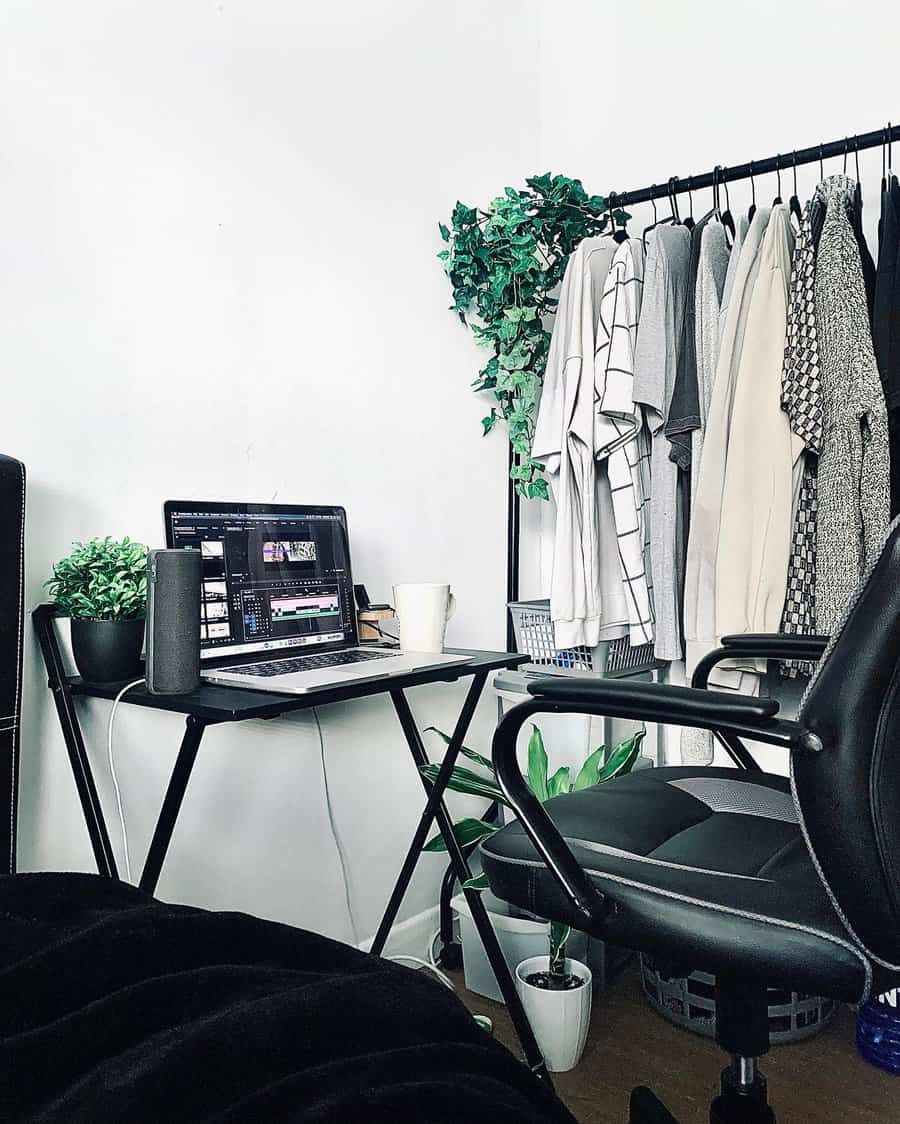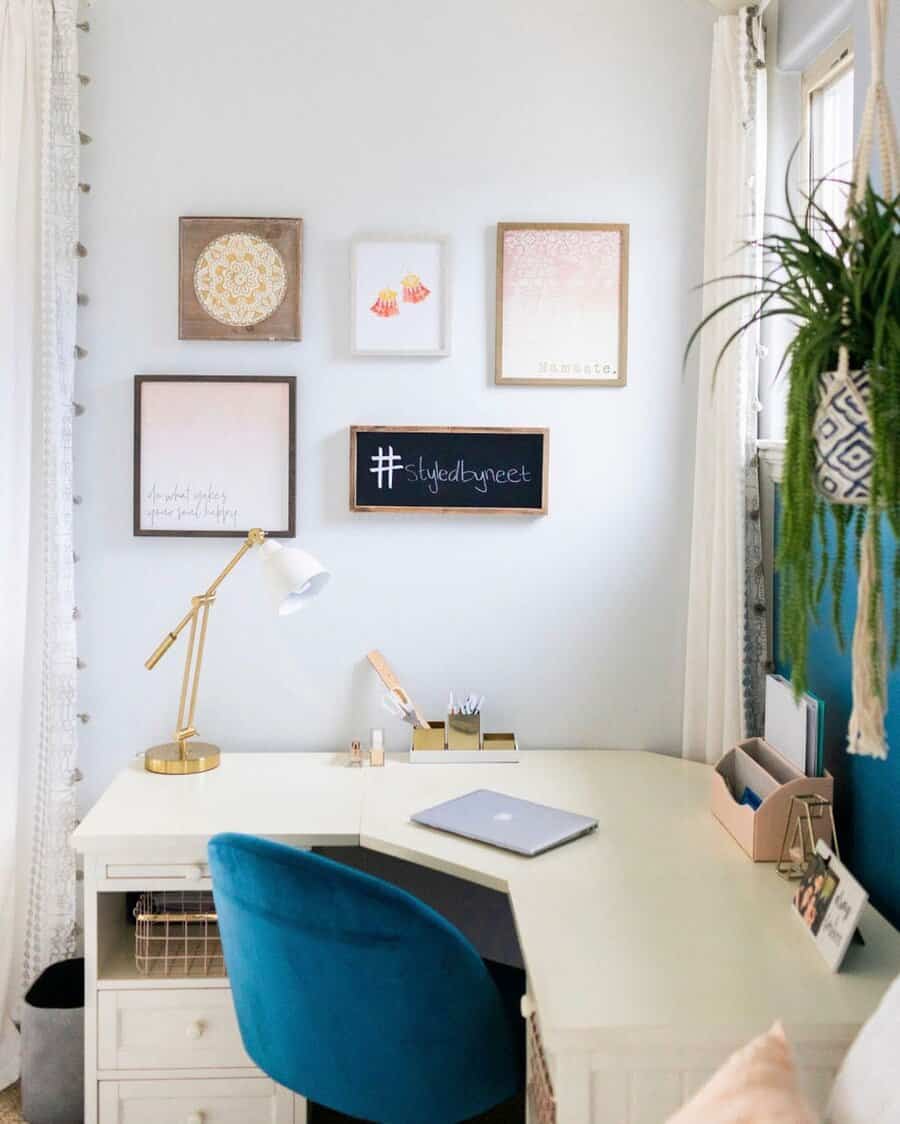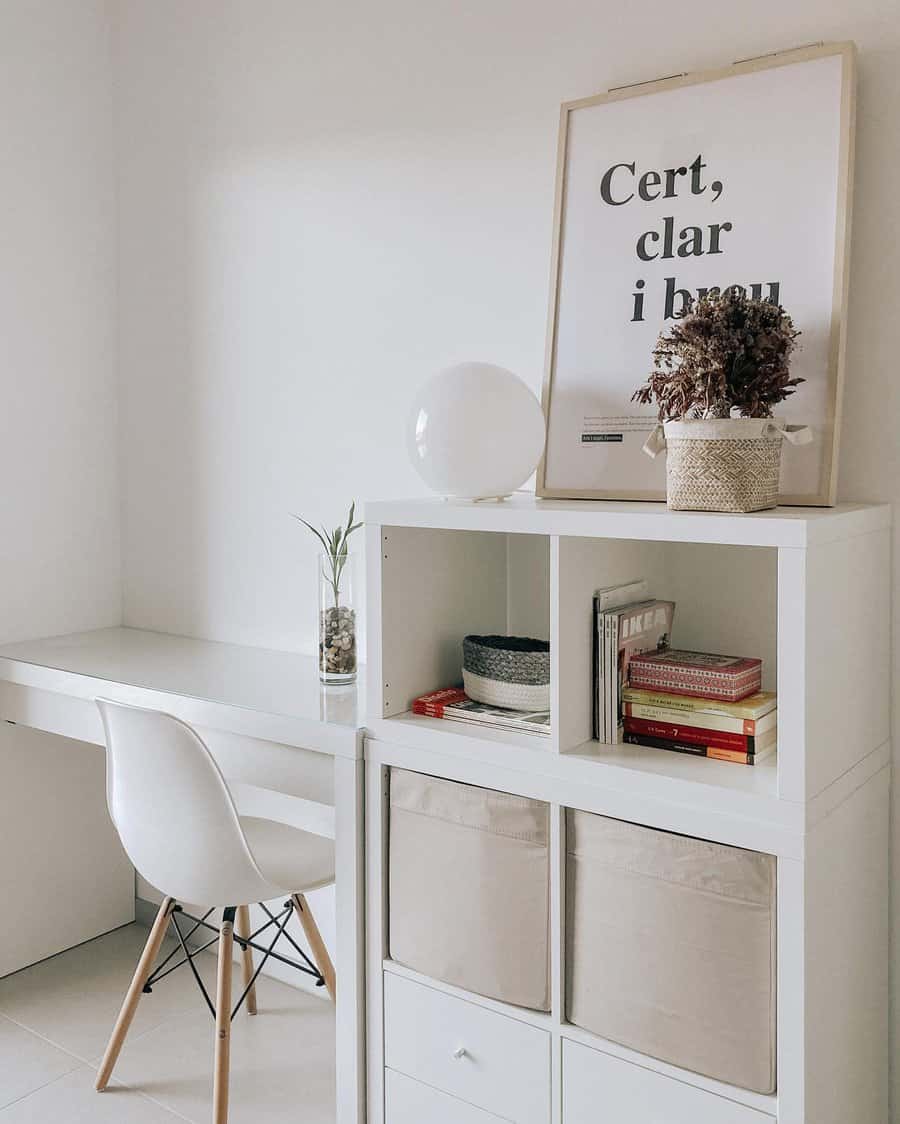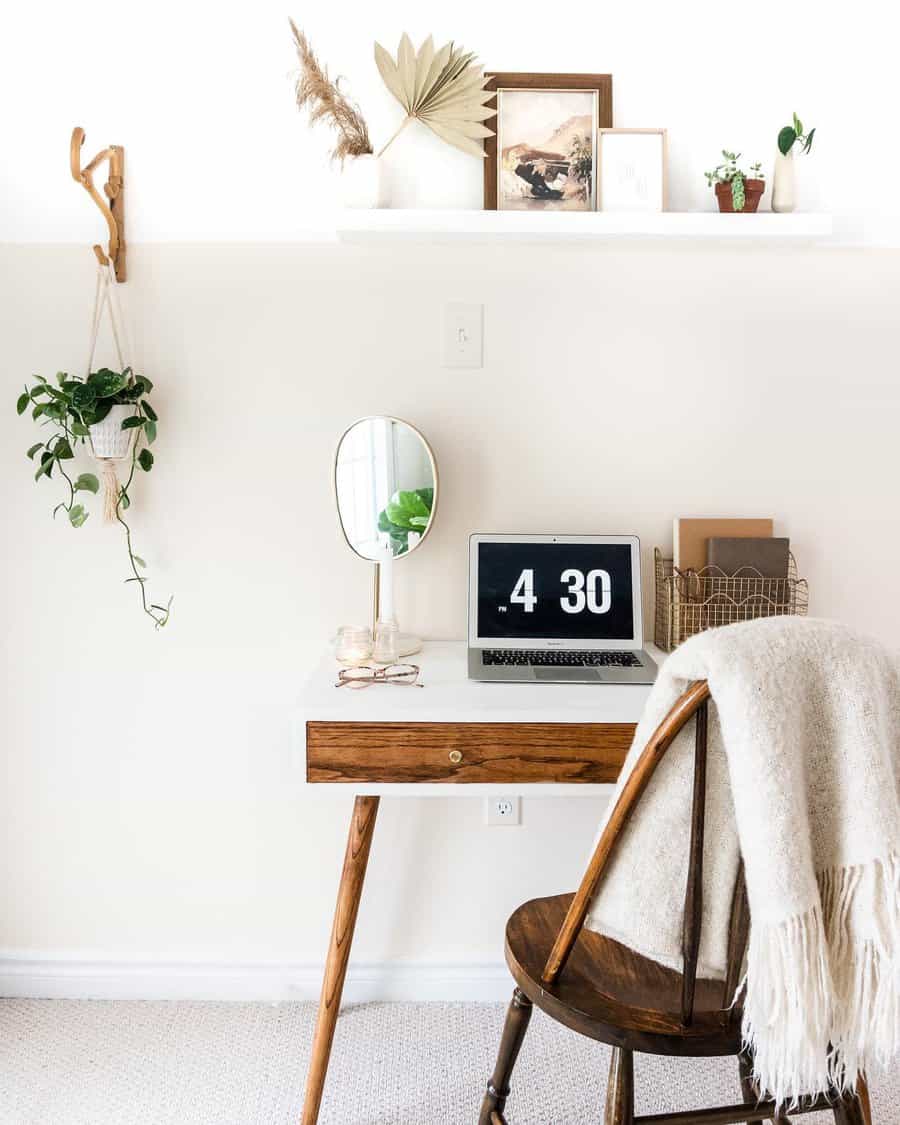 One advantage of a corner office setup is that it takes you out of the room's footpath. This is true whether you've claimed a corner in the living room, dining room, master bedroom, or guest room.
5. DIY
DIY skills come in handy when adding a workspace to your bedroom or a spare room. Ready-made furniture may not fit well into a small room, but if you can make your own desk, you'll have a custom work space solution.
If building furniture from scratch sounds daunting, buy a desk kit that you can assemble yourself.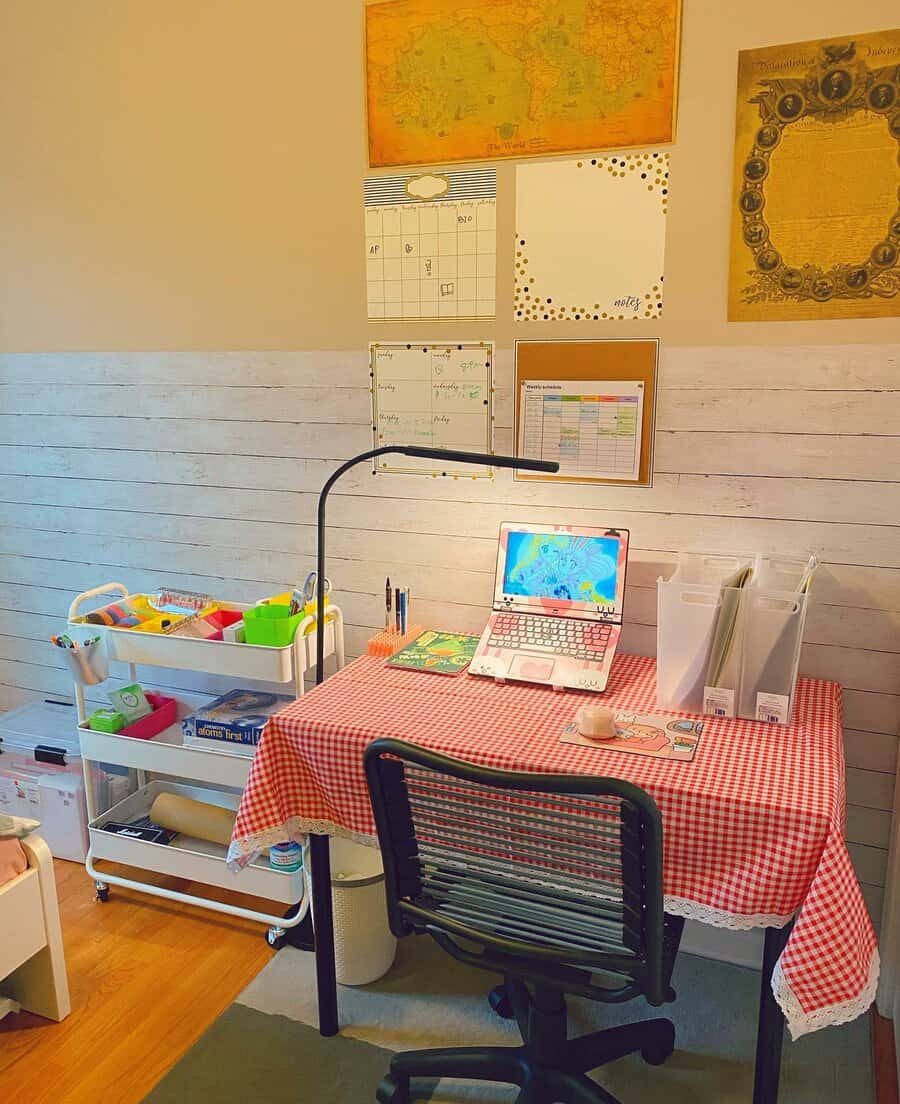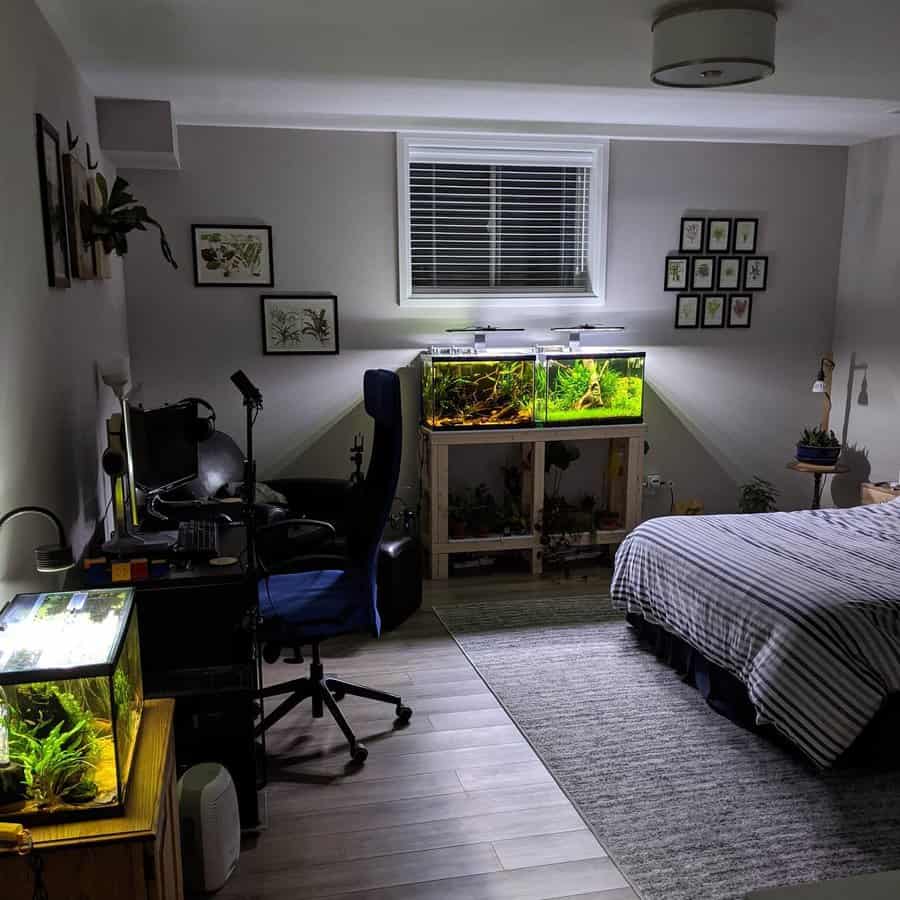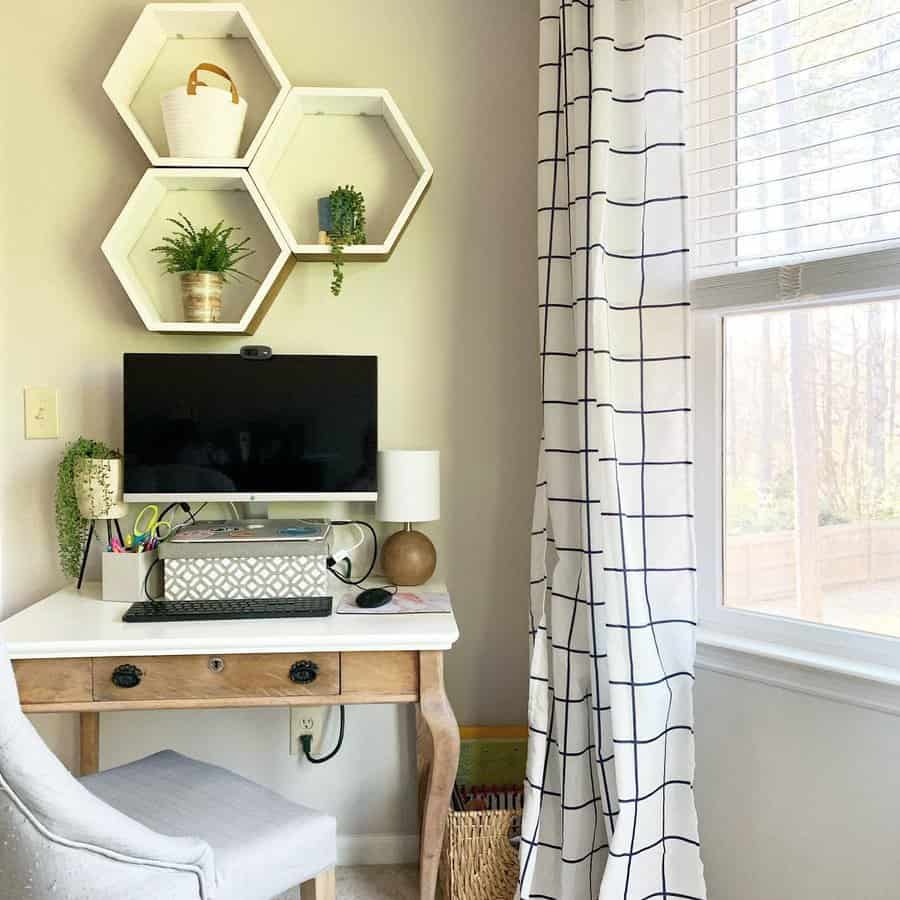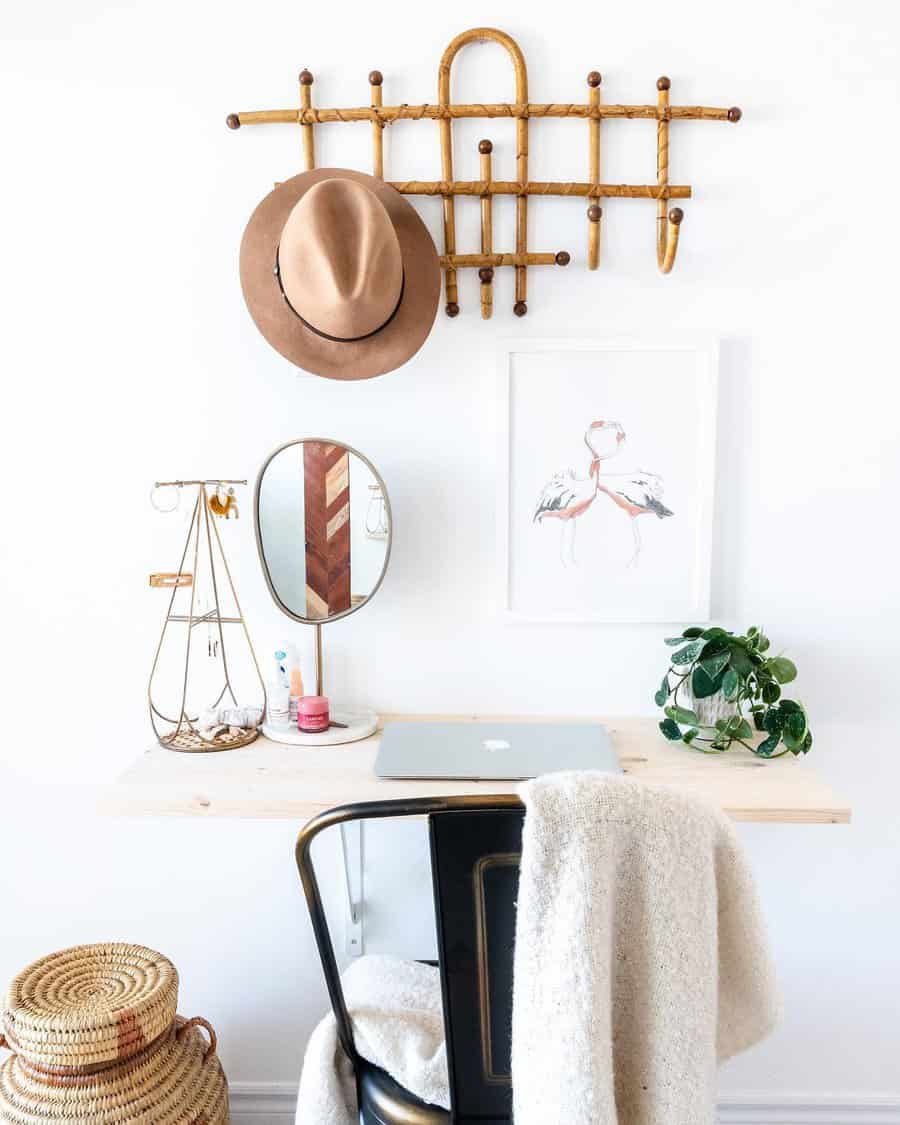 If you're struggling to come up with a small bedroom idea that will provide sufficient work space, your closet may hold the answer.
It's fairly easy to take down the closet rod and install a simple desktop, bookcase, and shelves. Watch this video to see how to turn a closet into a simple bedroom office:
6. Design
Traditionally, bedroom design is peace-inducing to help you fall asleep at night. If your bedroom doubles as a workspace, your bedroom decor may need to be a little more exciting to keep your brain stimulated during the workday.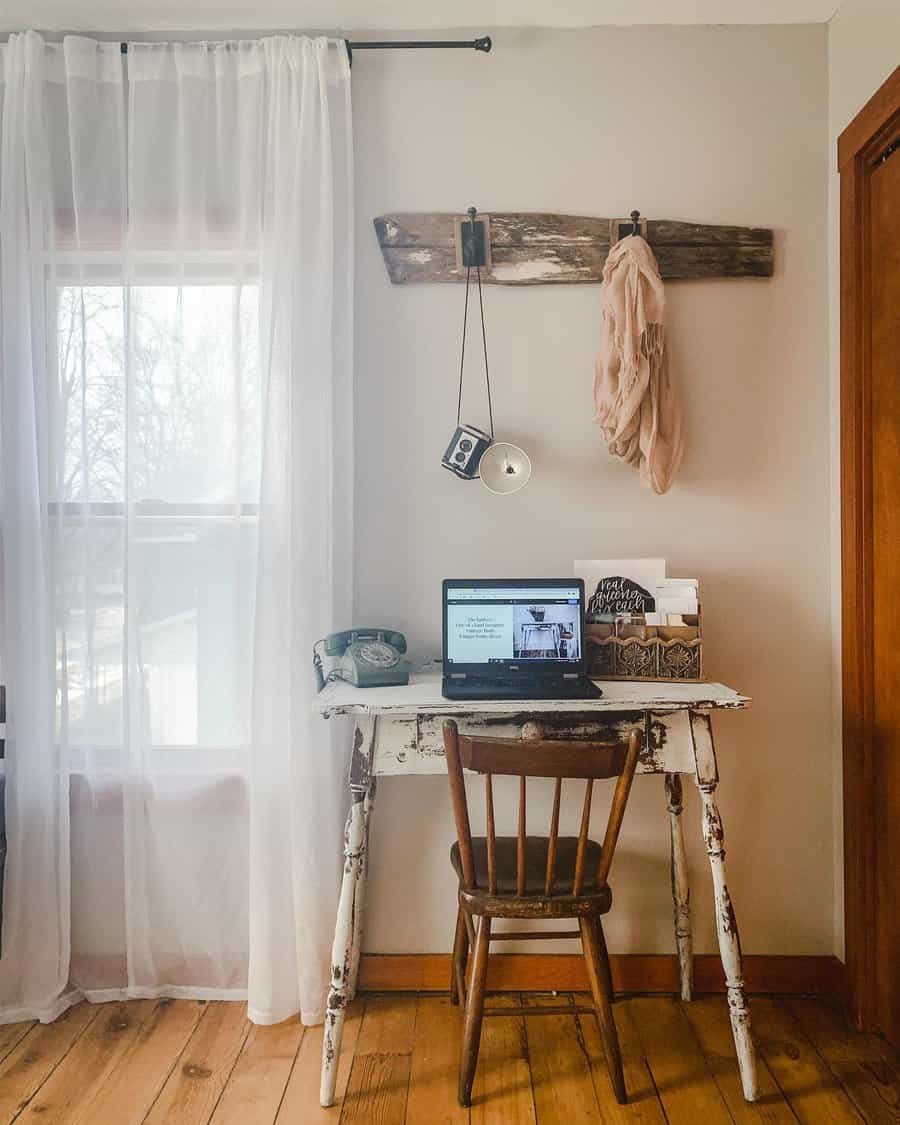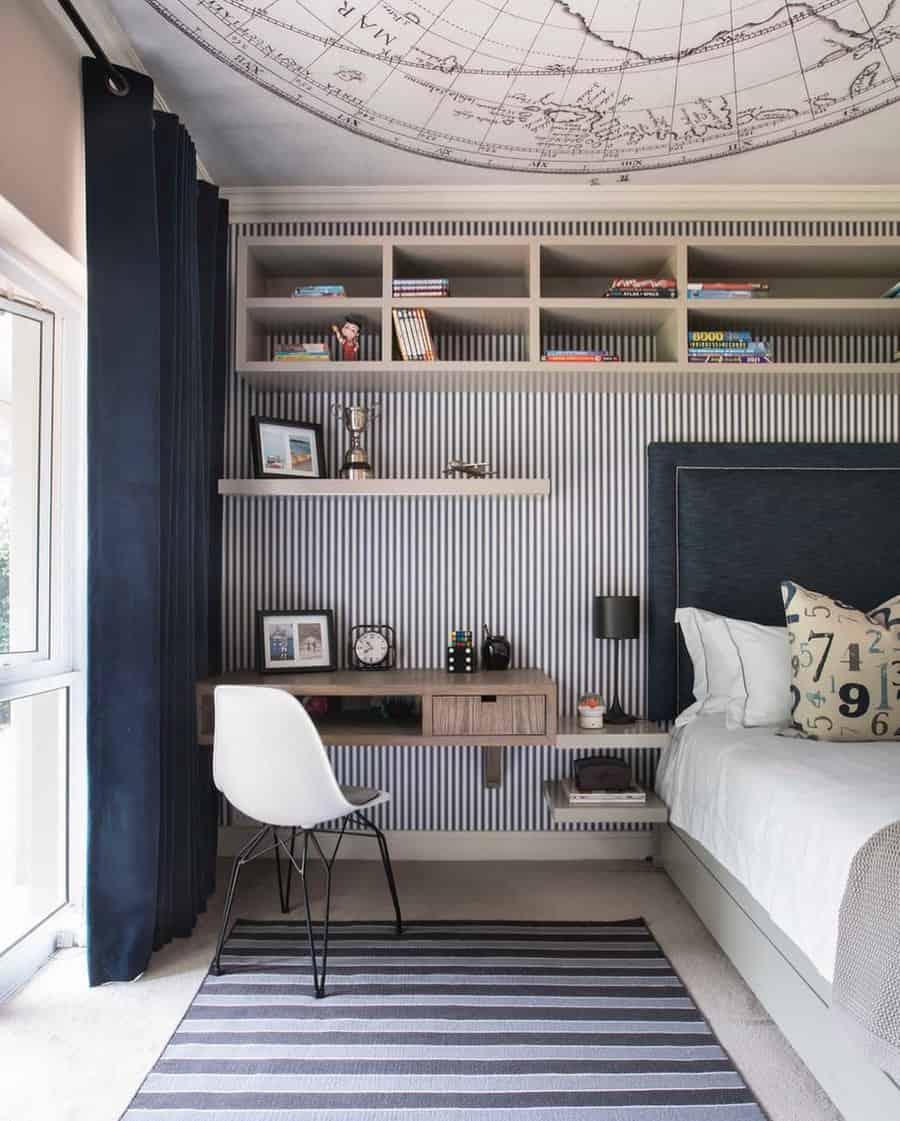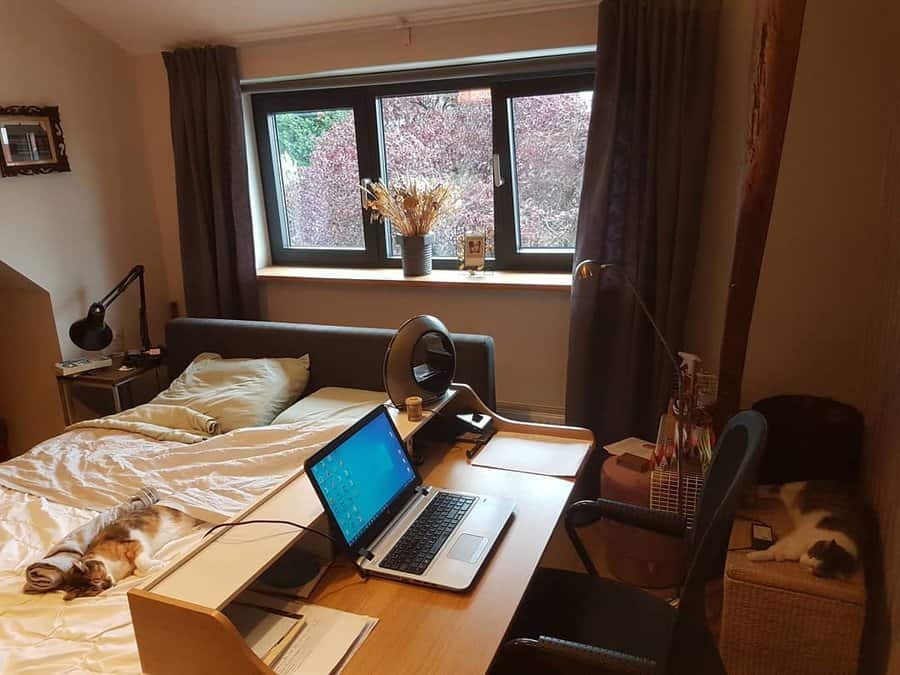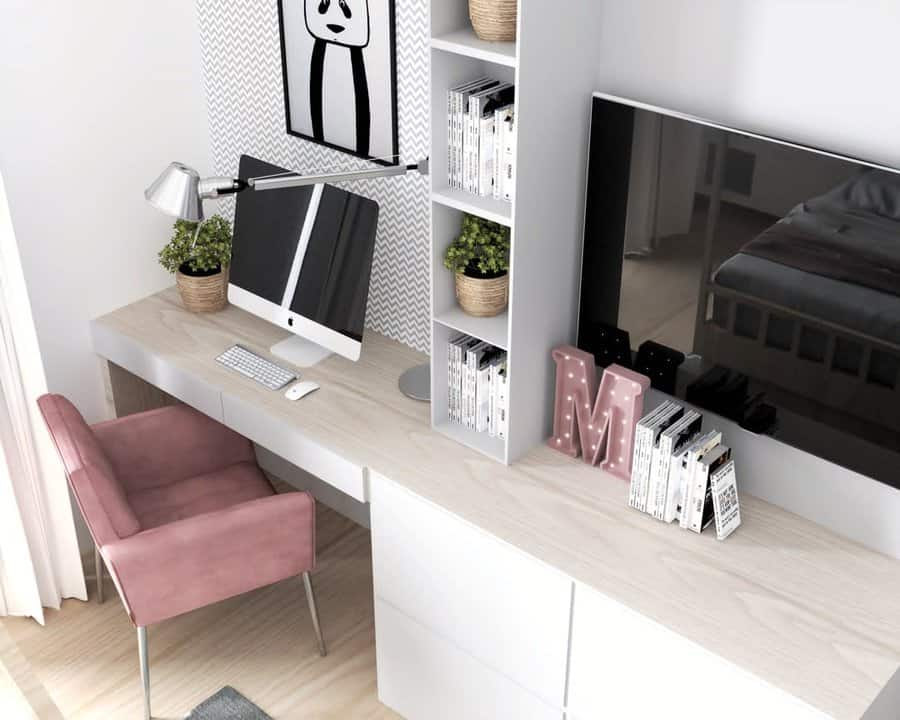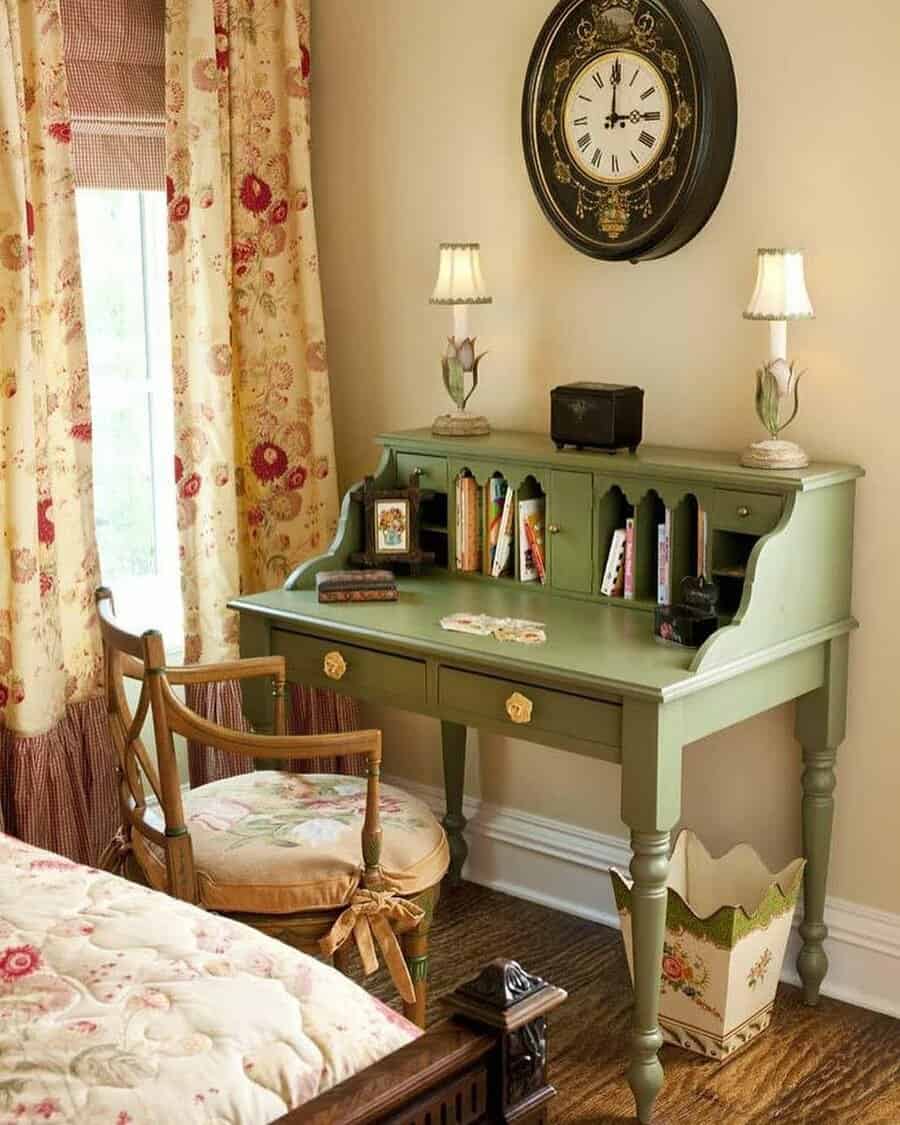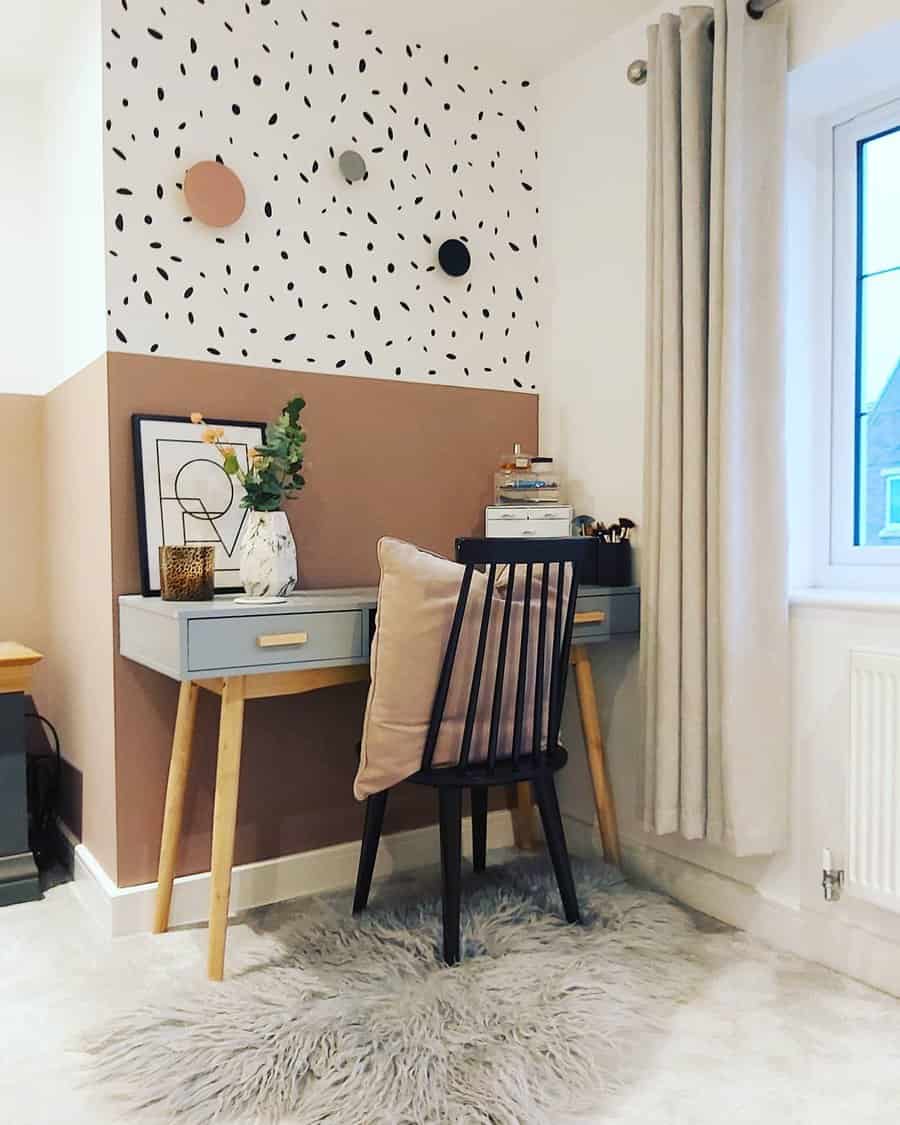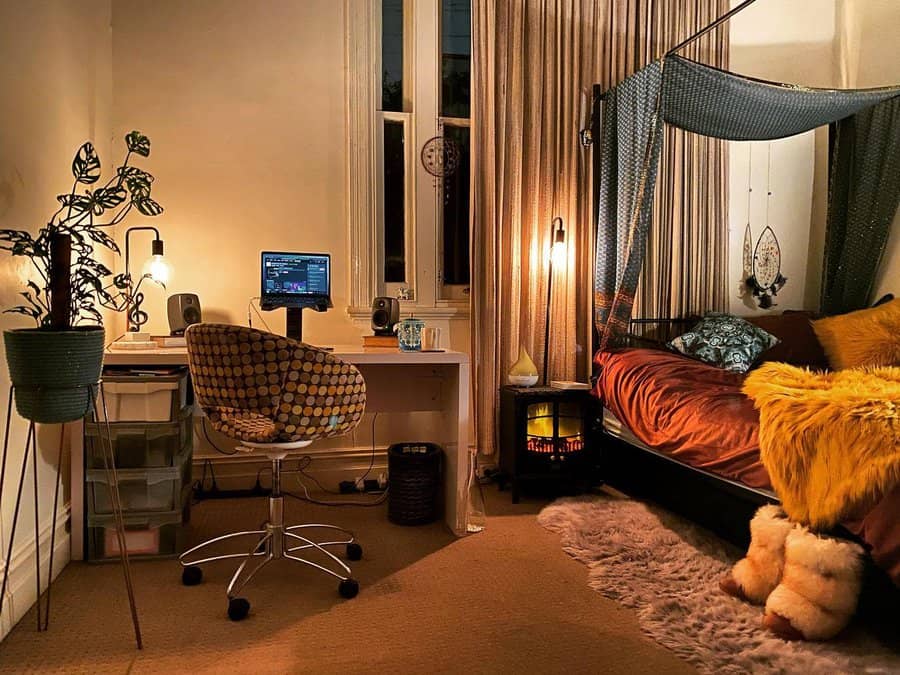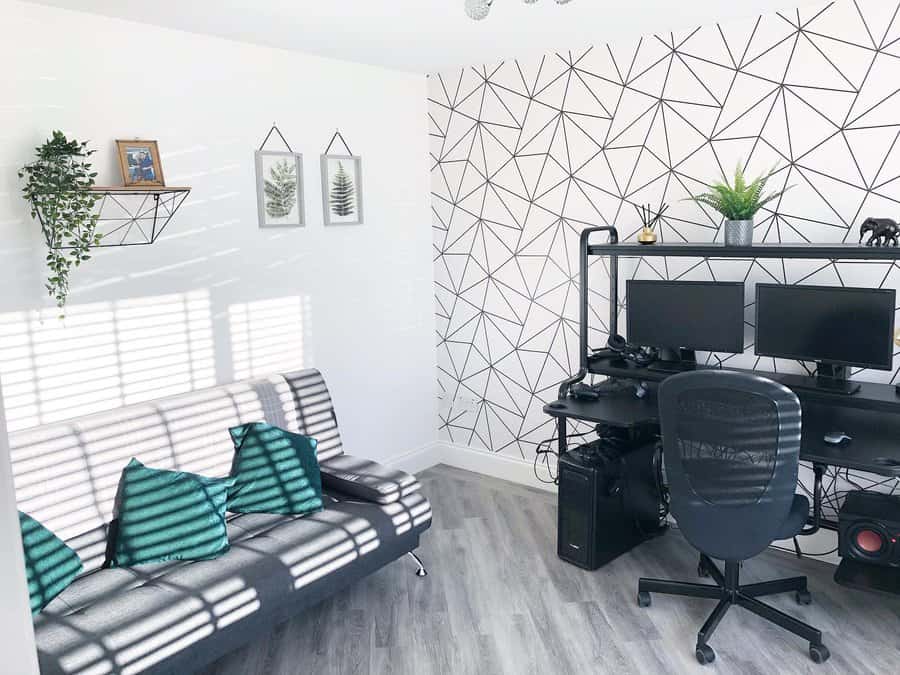 Turn to the decorating ideas that appeal to you most, whether it's clean modern lines or eclectic bohemian details. Take special care in choosing the right desk chair. Not only should it be a comfortable fit, its style should mesh with the rest of the furniture and decor selections.
7. Desk
Unless your work requires a large worktop, you'll probably want to look for small desk options for a bedroom office. Sticking to small office ideas will help prevent your office zone from visually taking over the bedroom.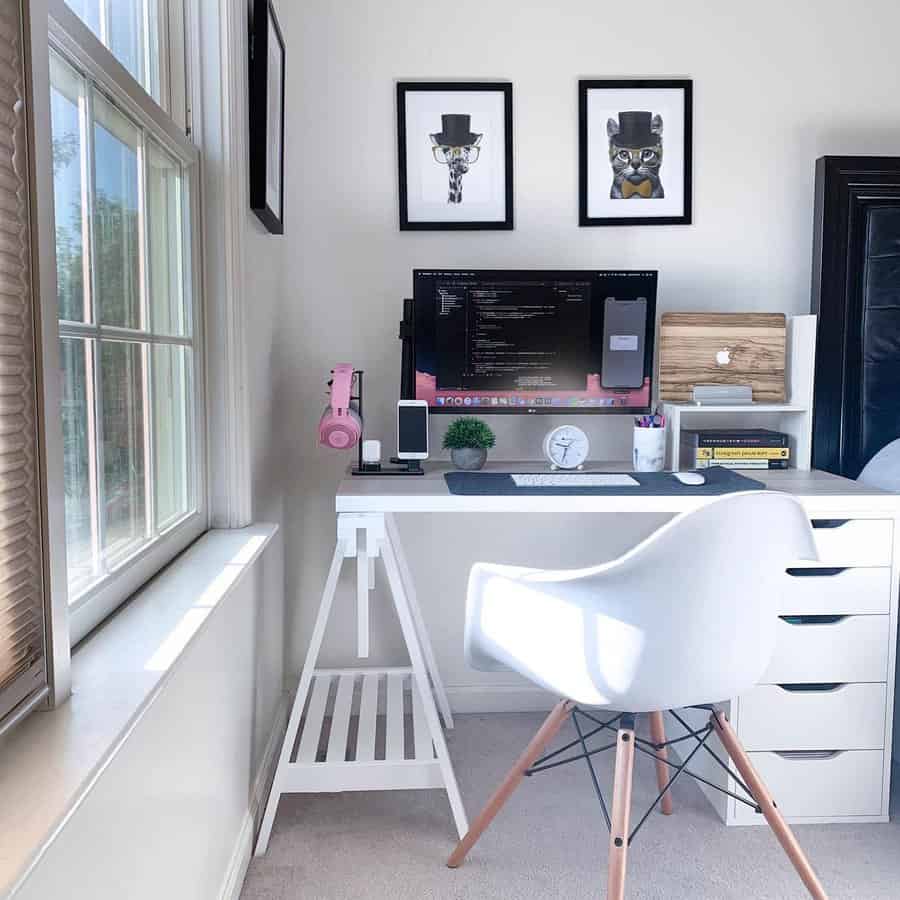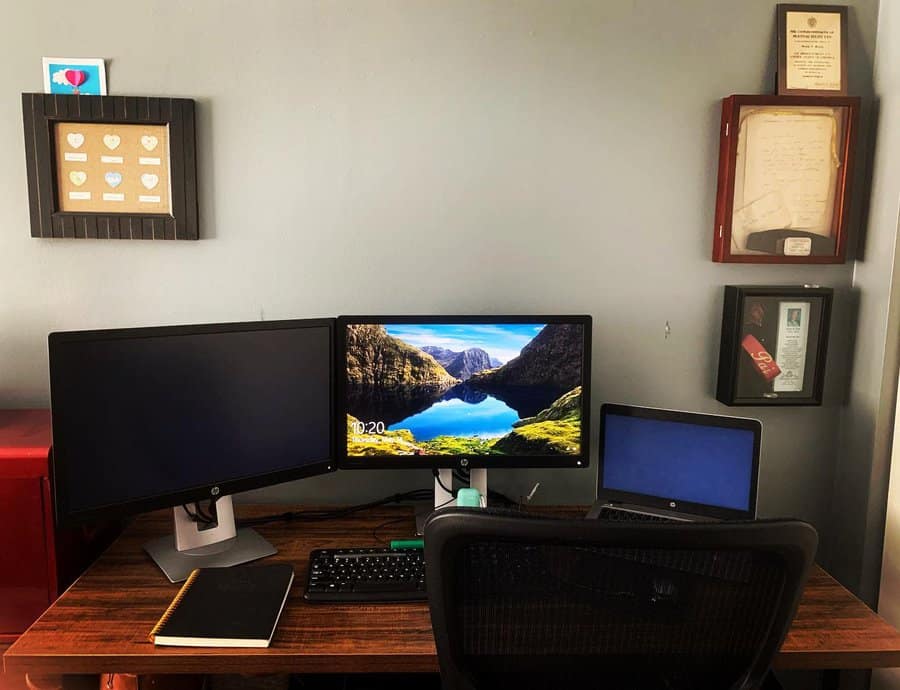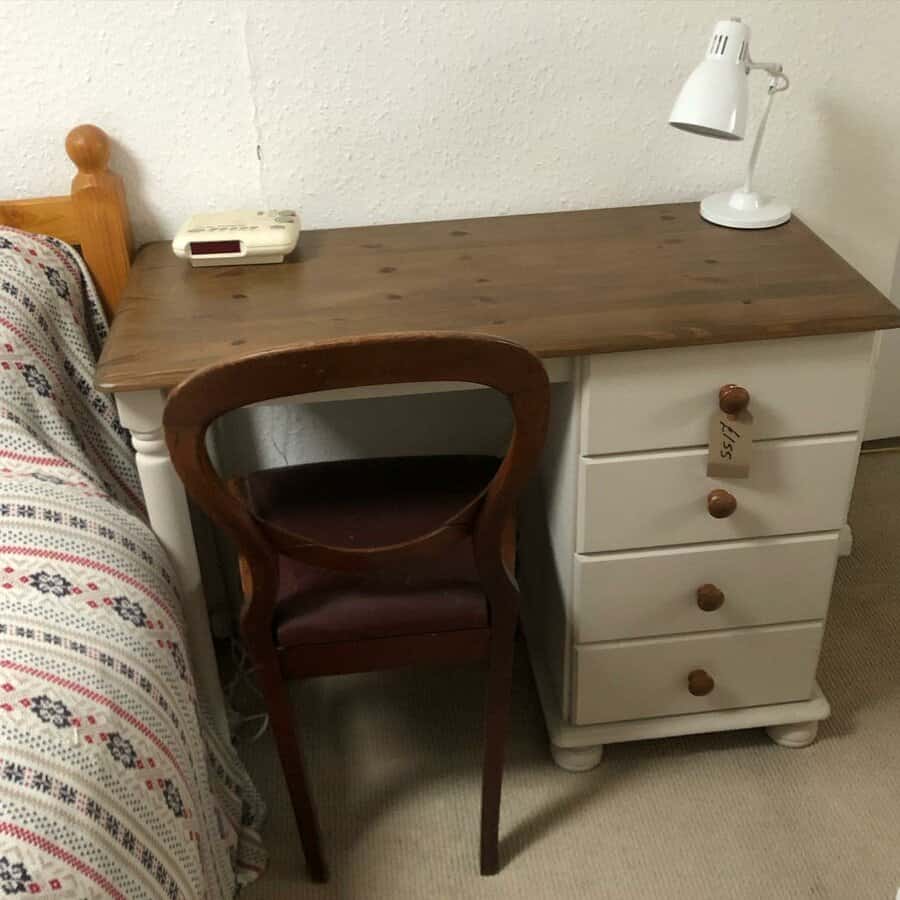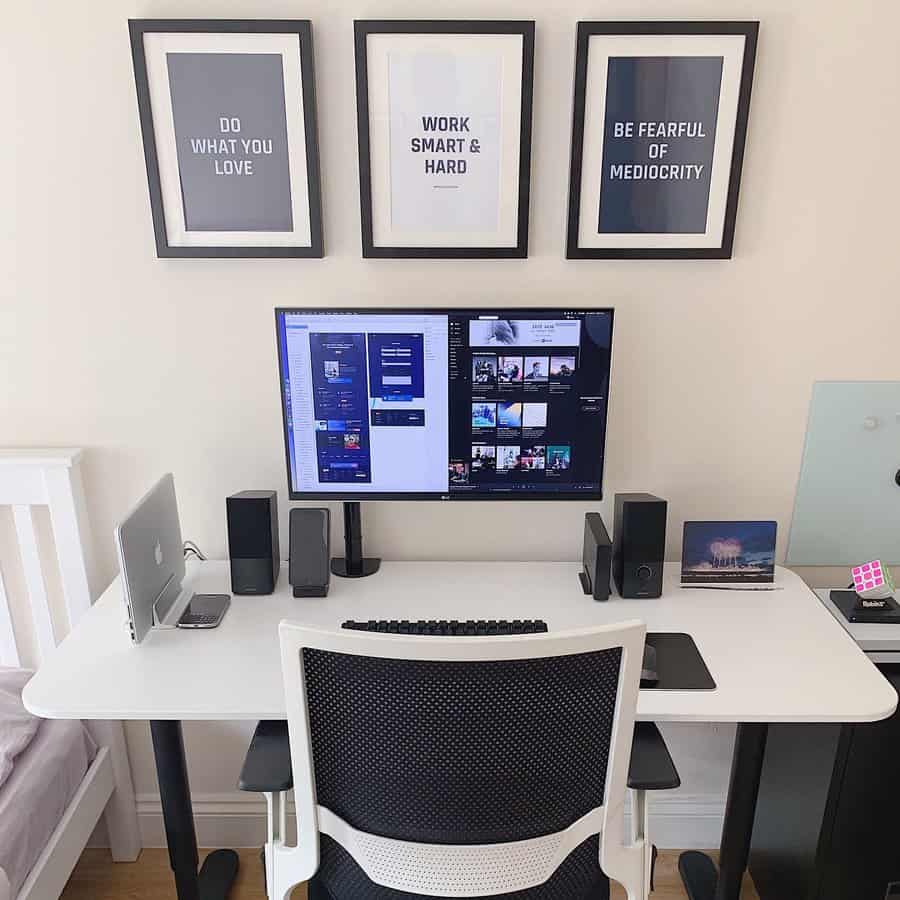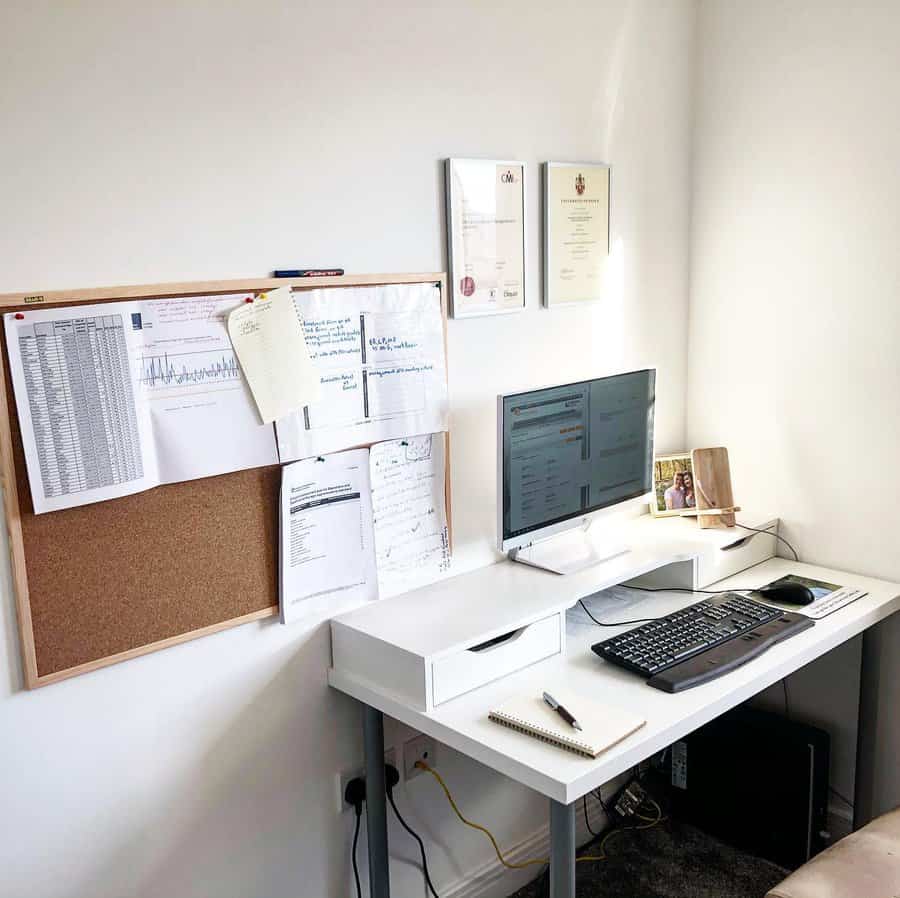 If you think your home office will be a temporary setup, look for other furniture pieces you have that could be repurposed into a desk. A small console table or even a TV tray could suffice as a desk for a limited time period.
8. Feminine
Feminine touches can make the difference between a home office you dread using and one you look forward to seeing each morning.
If your bedroom already has feminine flair, coordinate your bedroom office with the rest of your decor. If not, add ladylike touches such as a pink desk chair cushion, a vase of fresh flowers, or a lace-edged lampshade.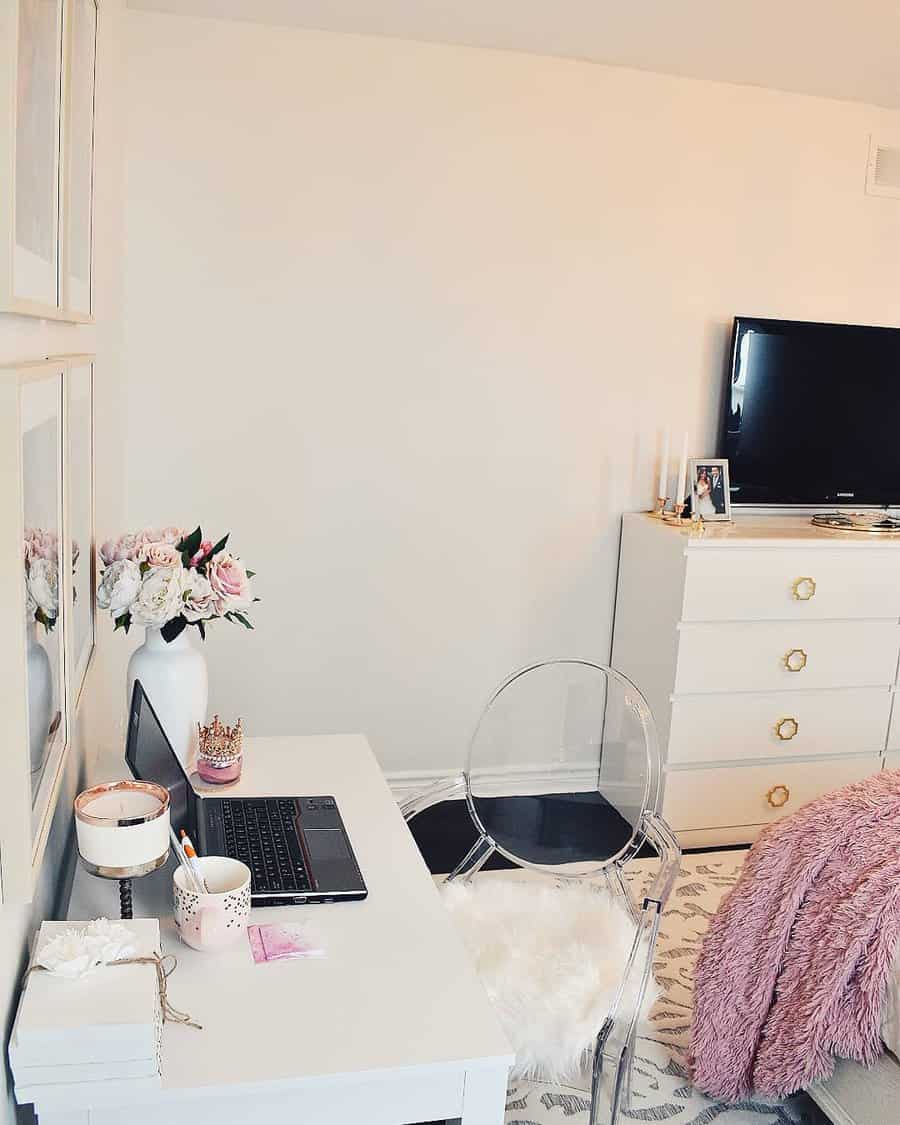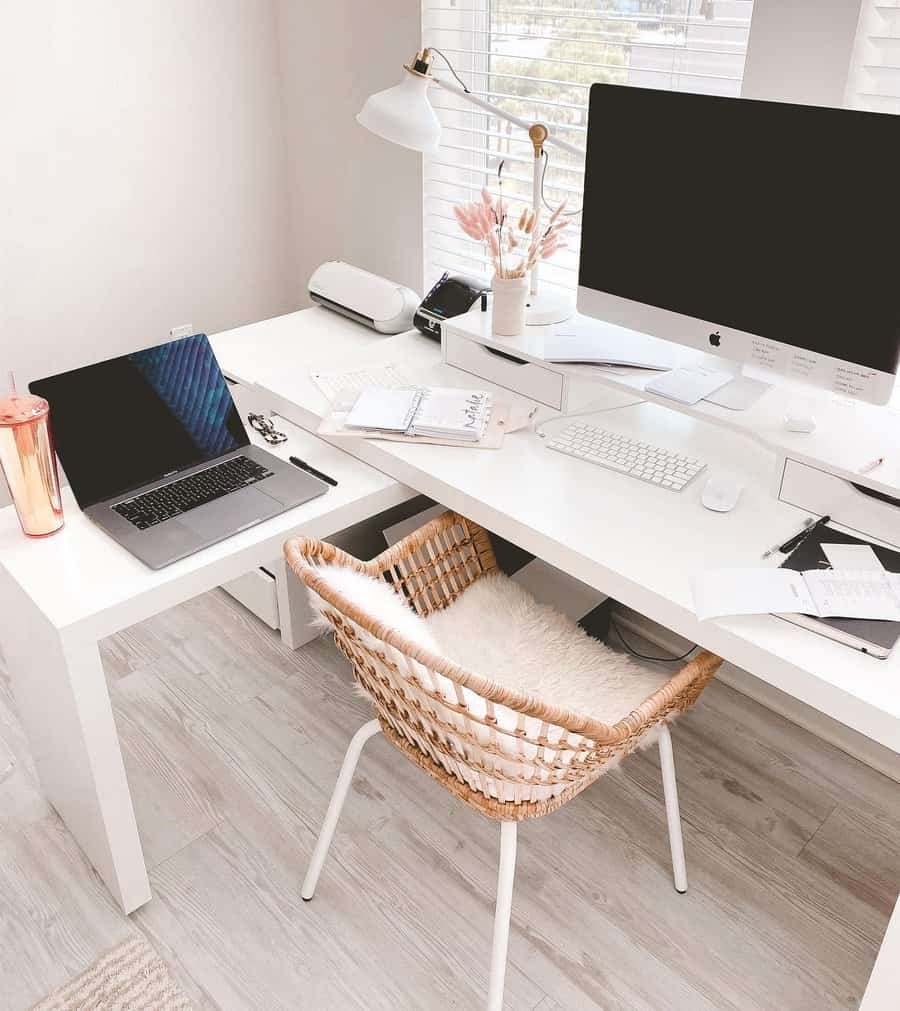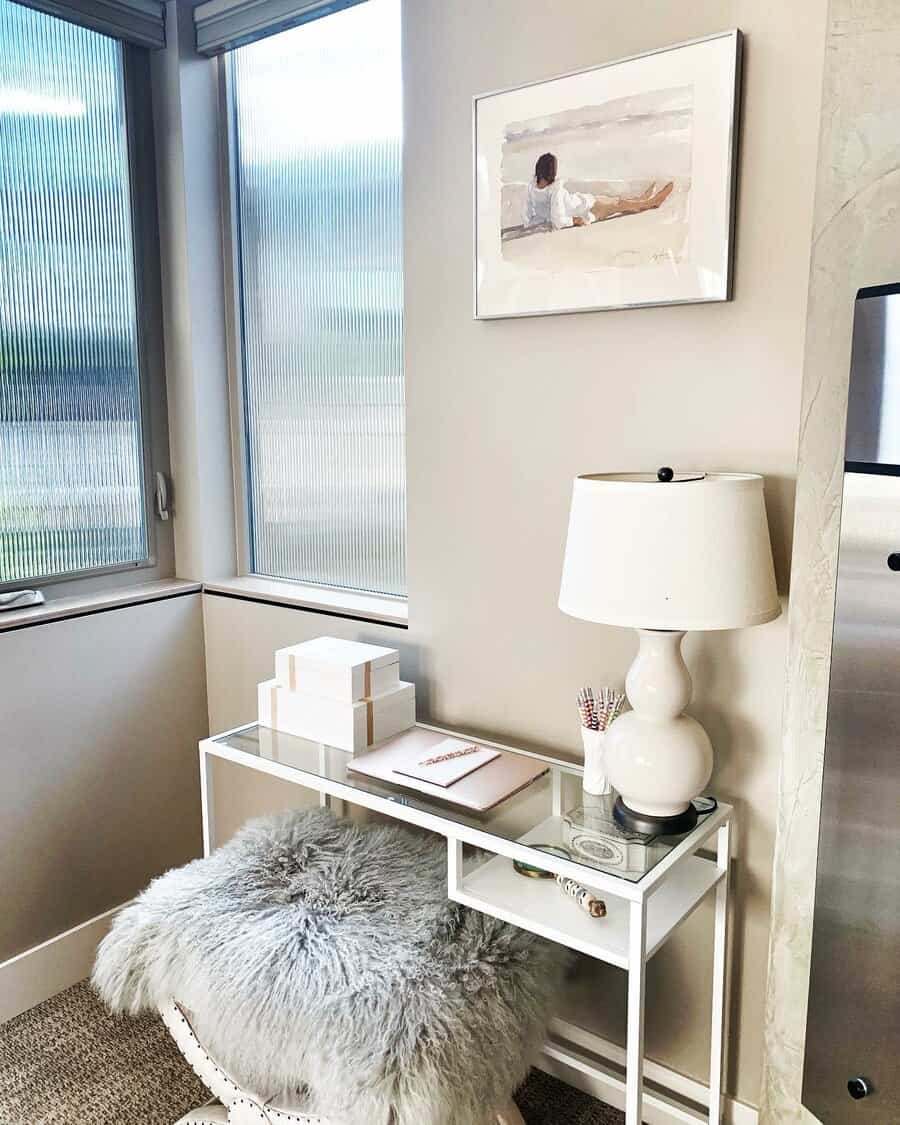 Over your desk, hang a mirror set inside a bling-covered frame, or display a series of framed pressed flowers. If you have a closet bedroom office, wallpaper the inside of it in your favorite feminine patterns and colors.
Even something as simple as a plush chenille throw blanket can soften the appearance of your bedroom office.
9. Modern
Modern design is popular in office buildings because its clean simplicity creates an open, productive work environment. You can replicate this by designing your home bedroom office in a simple, modern style.
Couple beige or white walls with simple wood furniture for a basic modern bedroom that still feels warm and welcoming.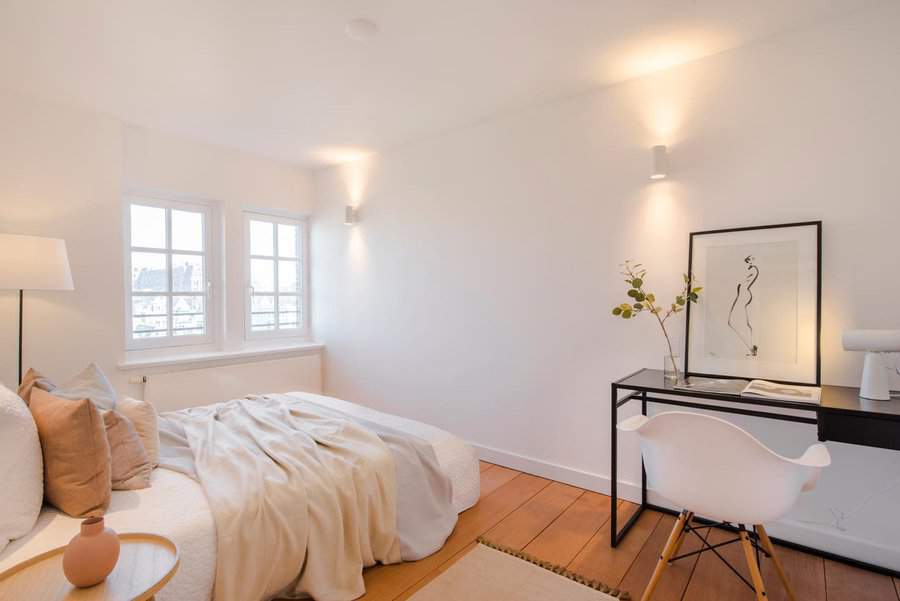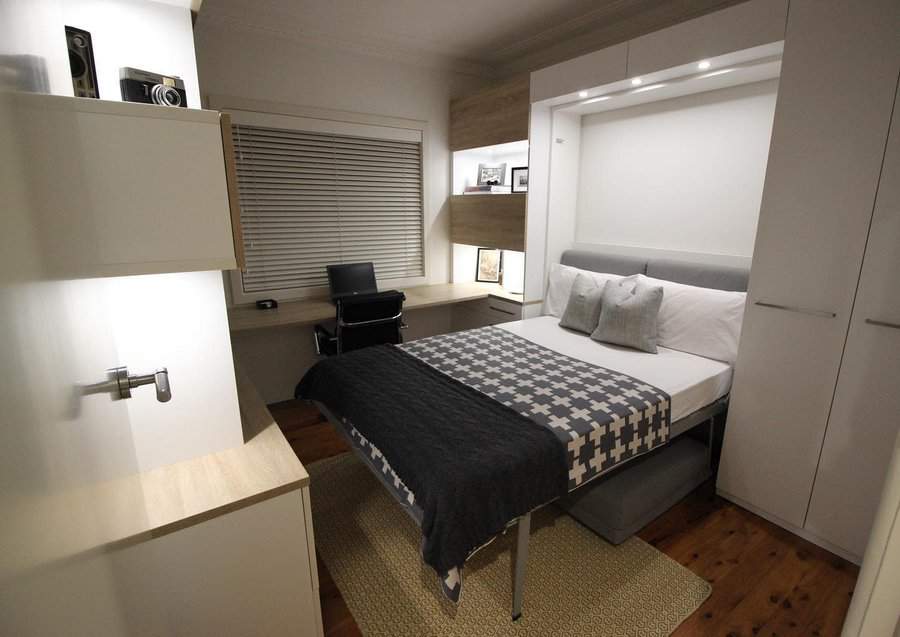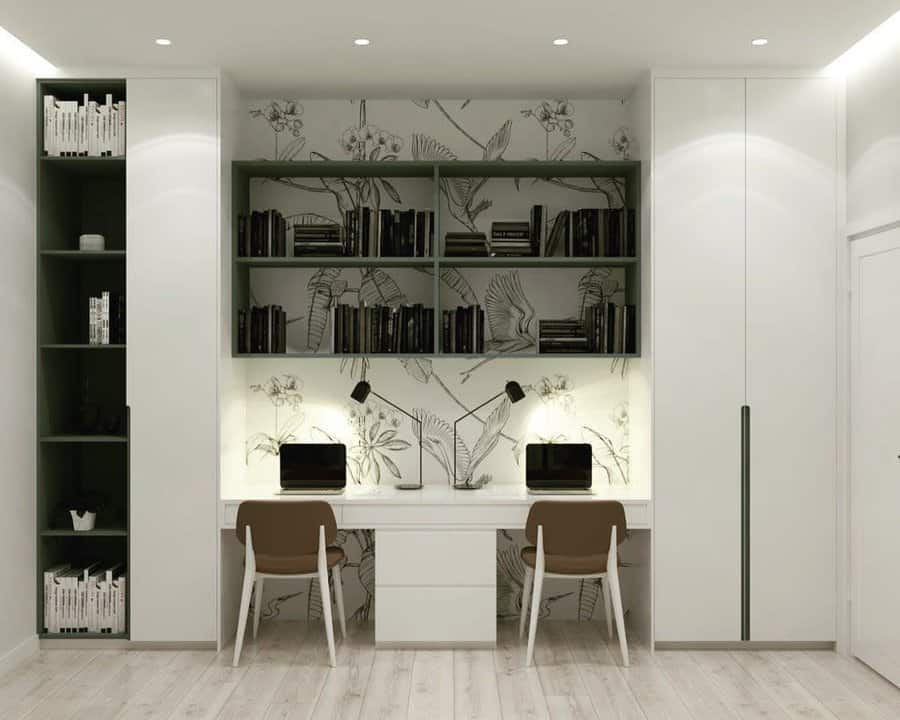 Dark colors also form a great background for a modern bedroom office. Dark grey or navy blue walls add a masculine feeling to the room and also stand as neutral backgrounds highlighting more colorful art and accessories.
Black, gold, and silver metal accents are a vital part of modern decor. Look for a desk and chair with sleek metal legs and buy a desk lamp with the same type of finish.
10. Organization
It's impossible to work effectively in a disorganized environment, so keeping your bedroom office tidy is essential. Don't use your bed as a place to drop paperwork or folders.
Ideally, avoid doing any kind of work tasks in your bed. If your office is in a guest room, be sure to include plenty of storage solutions so that you can tuck everything away neatly when guests stay overnight.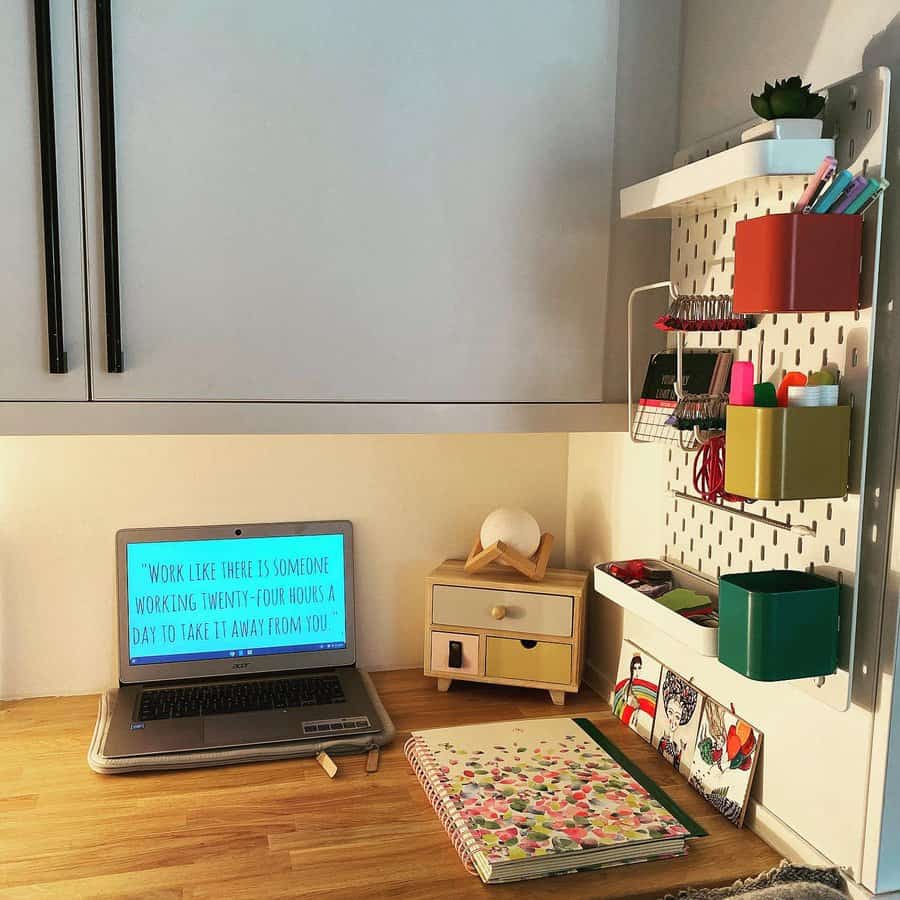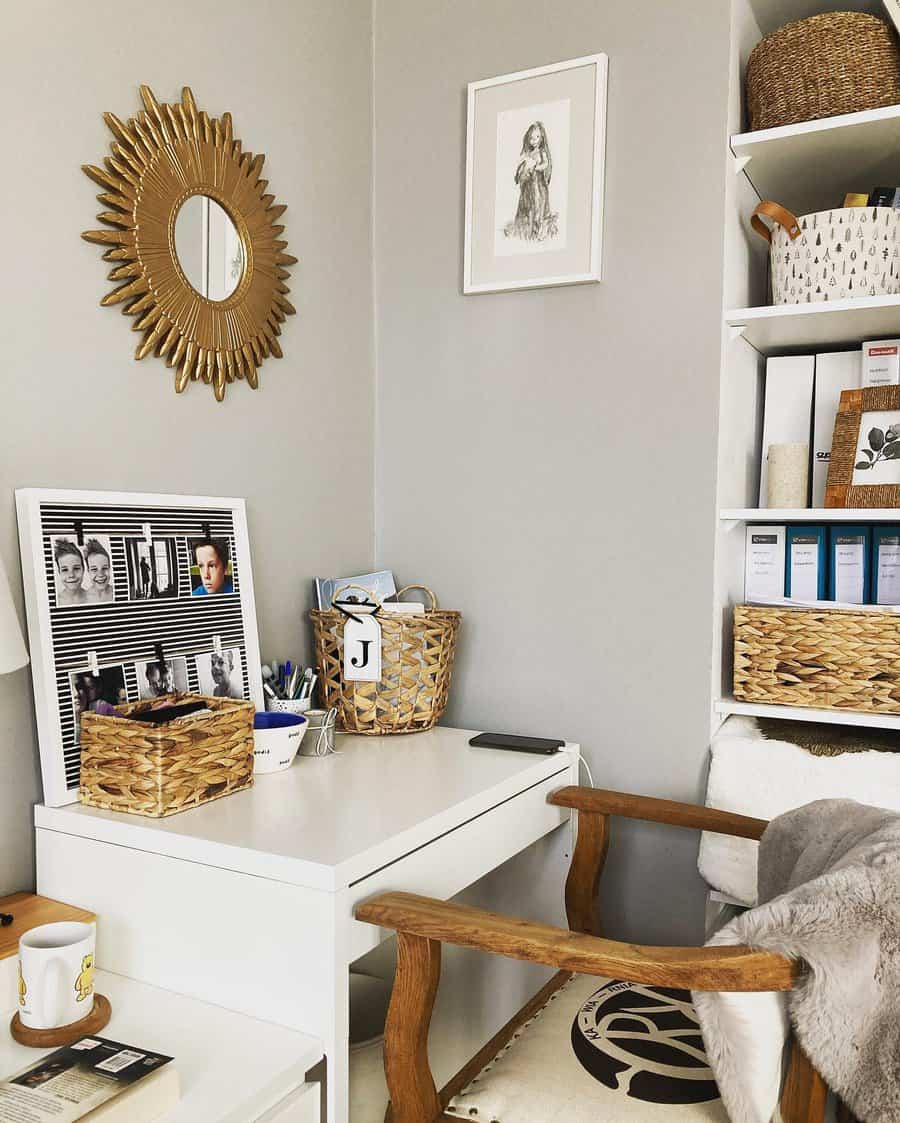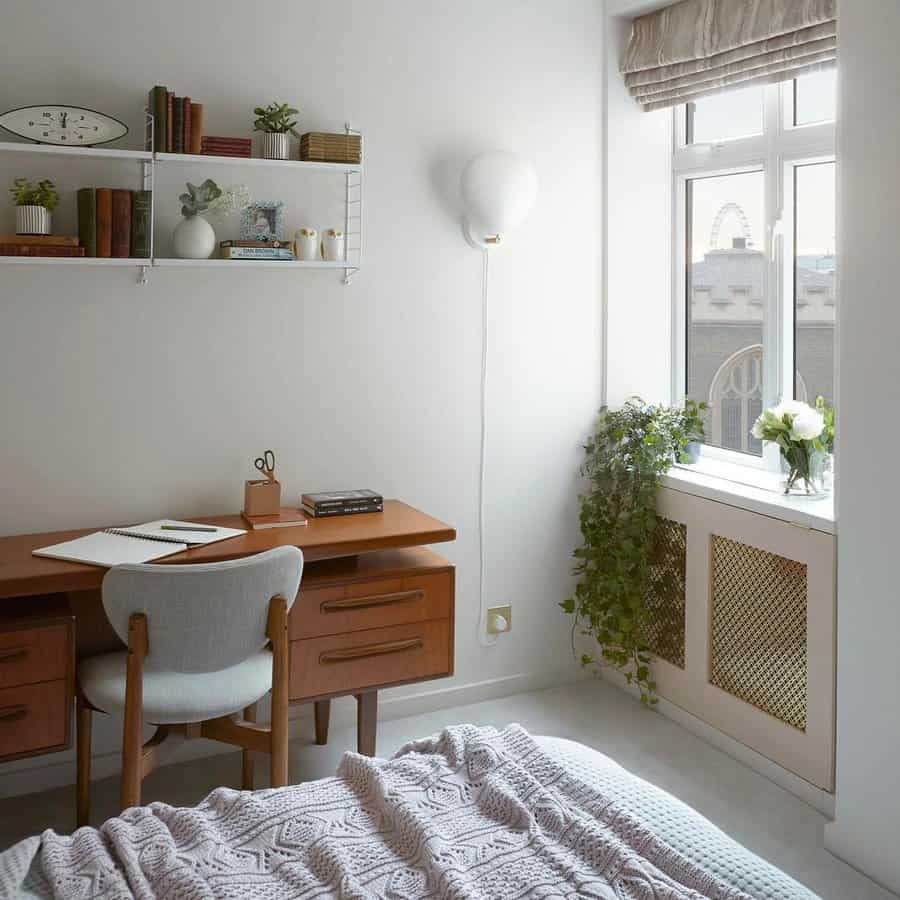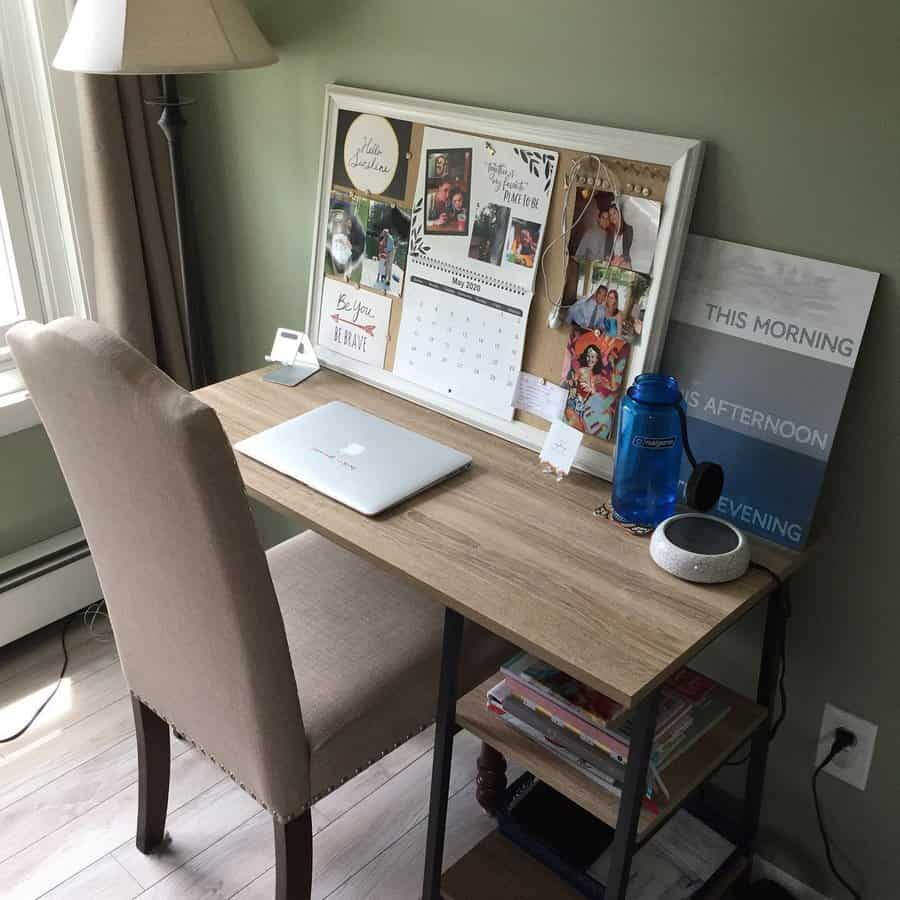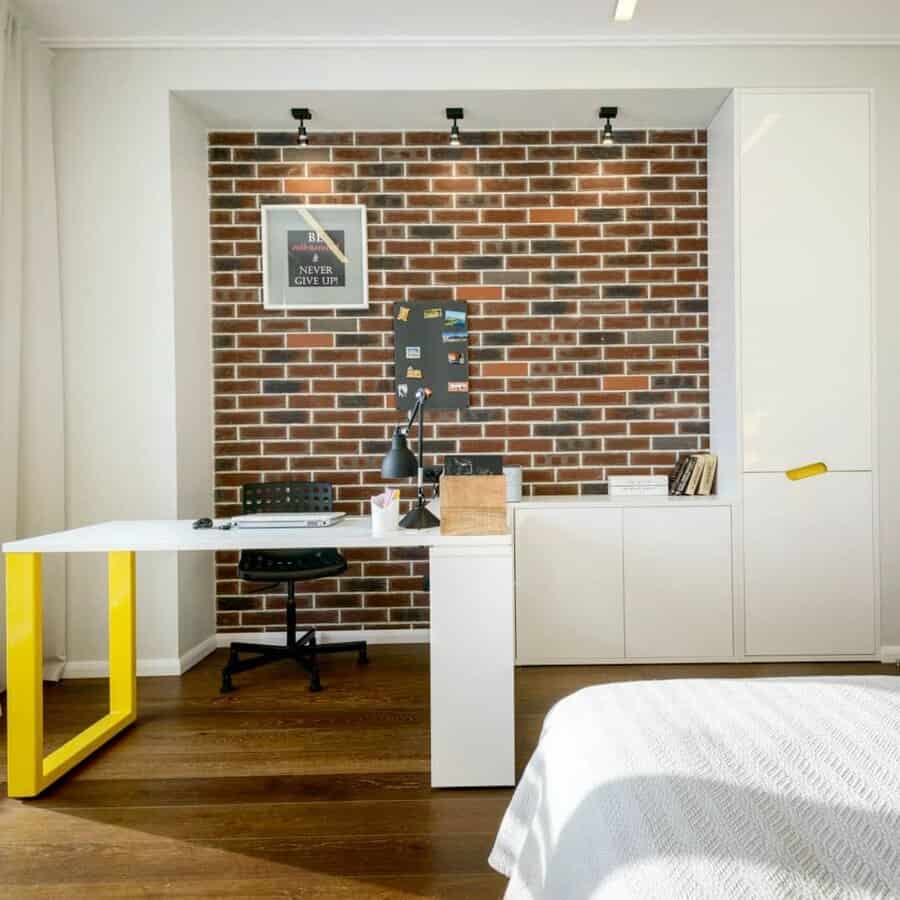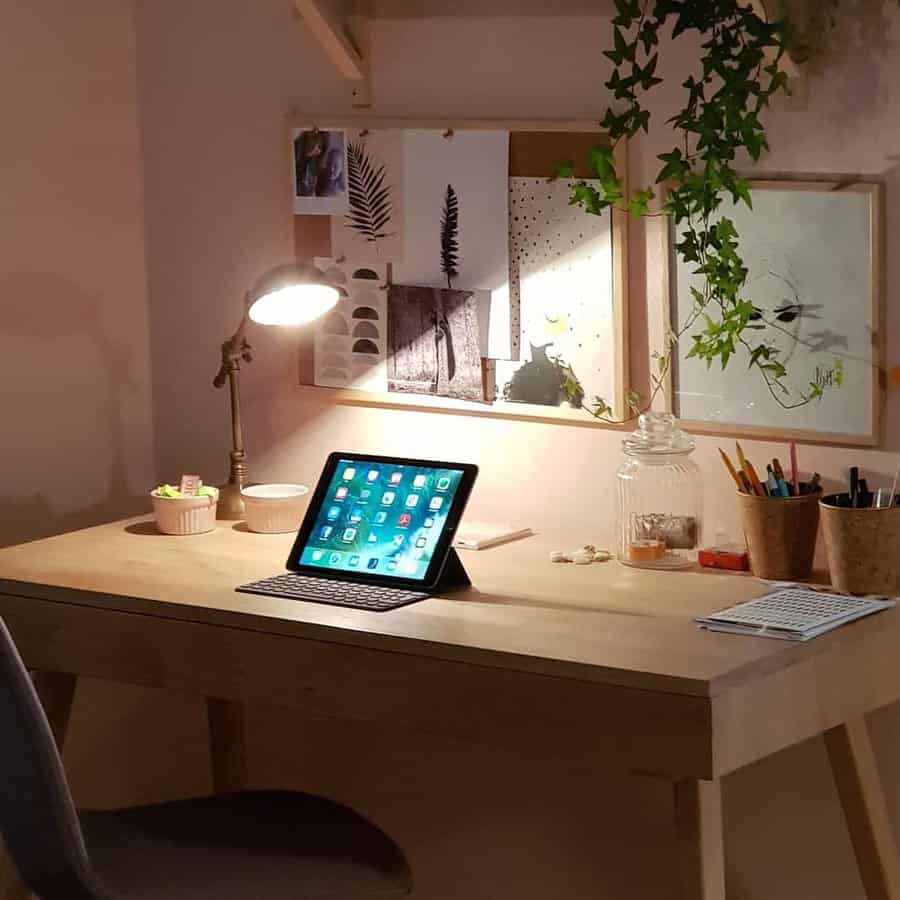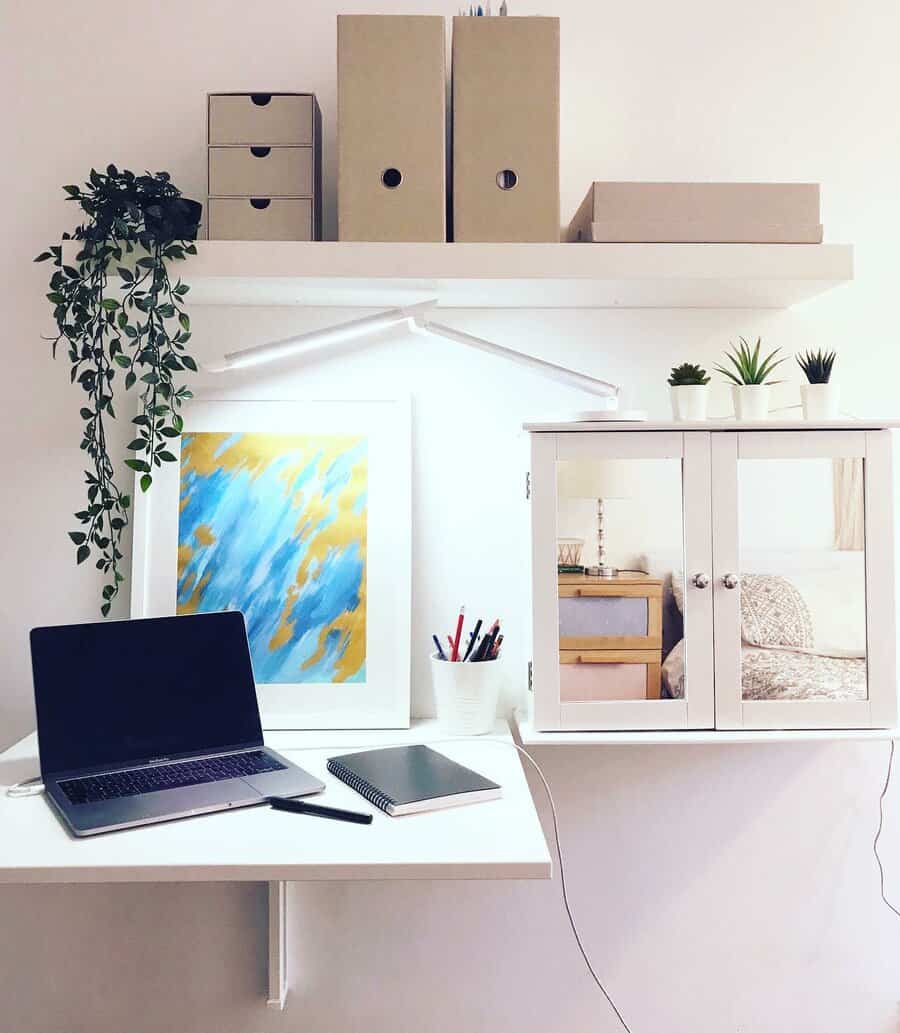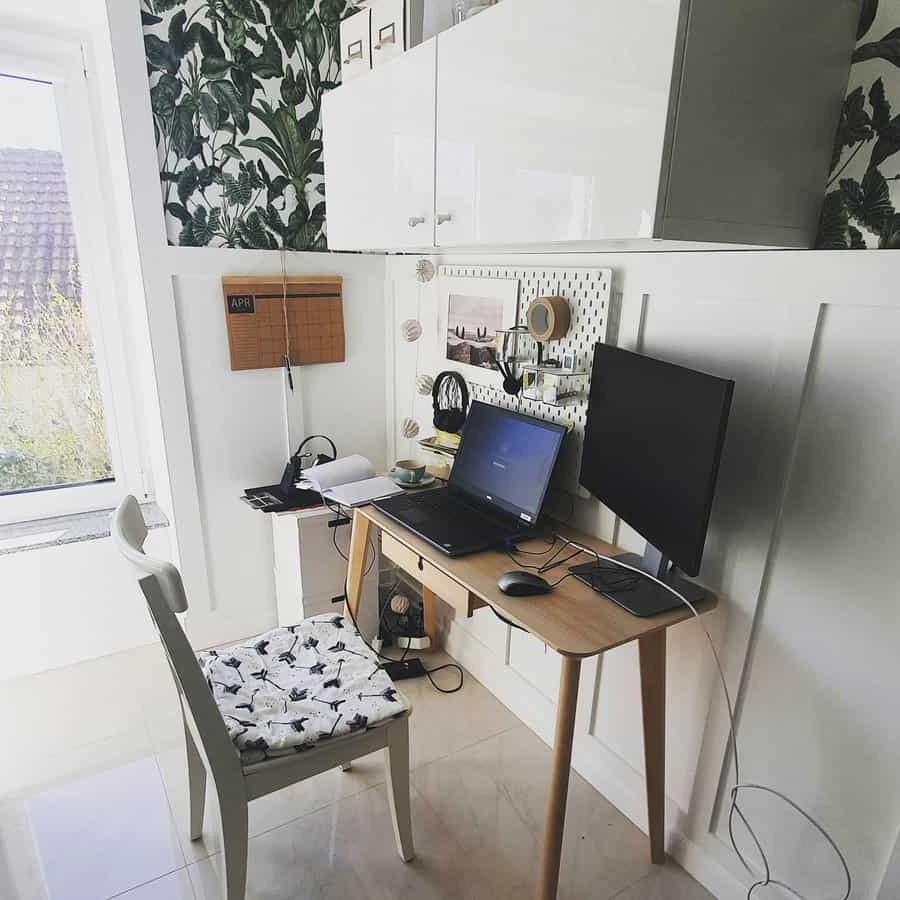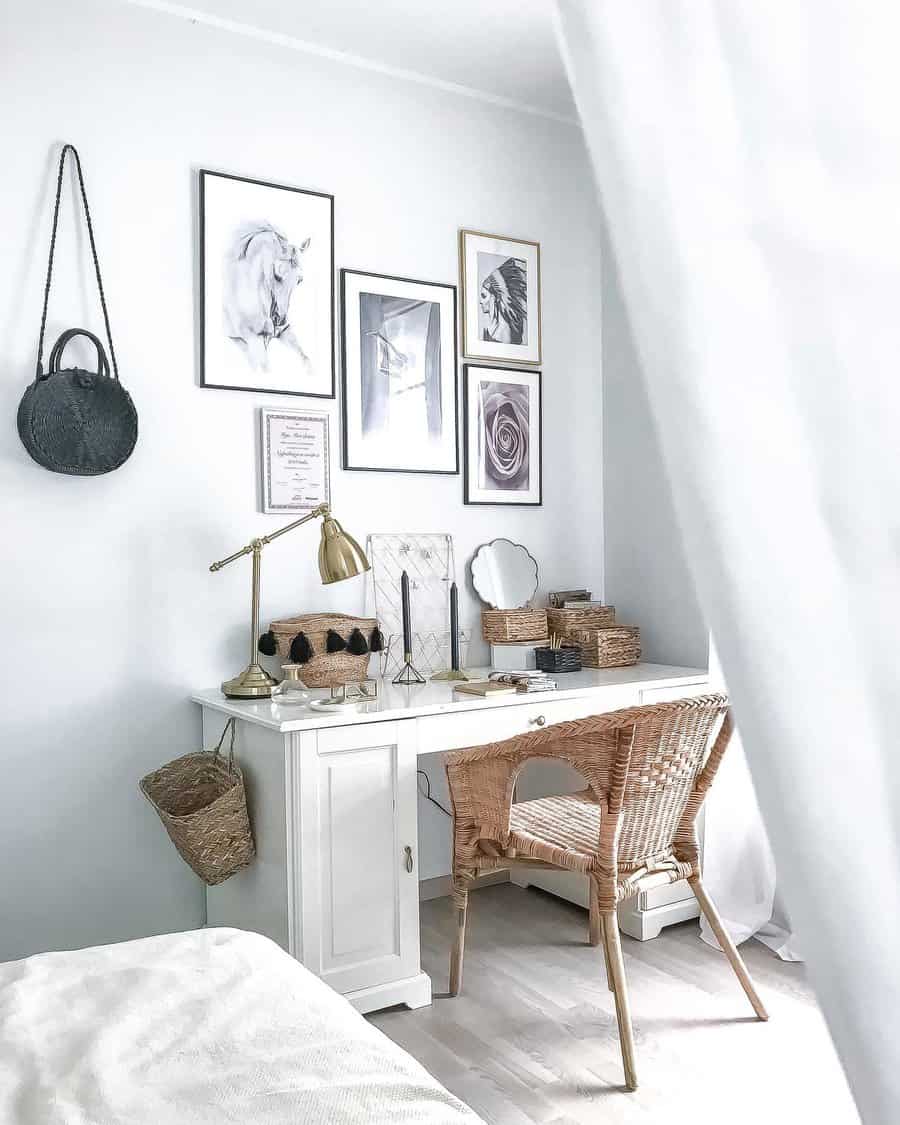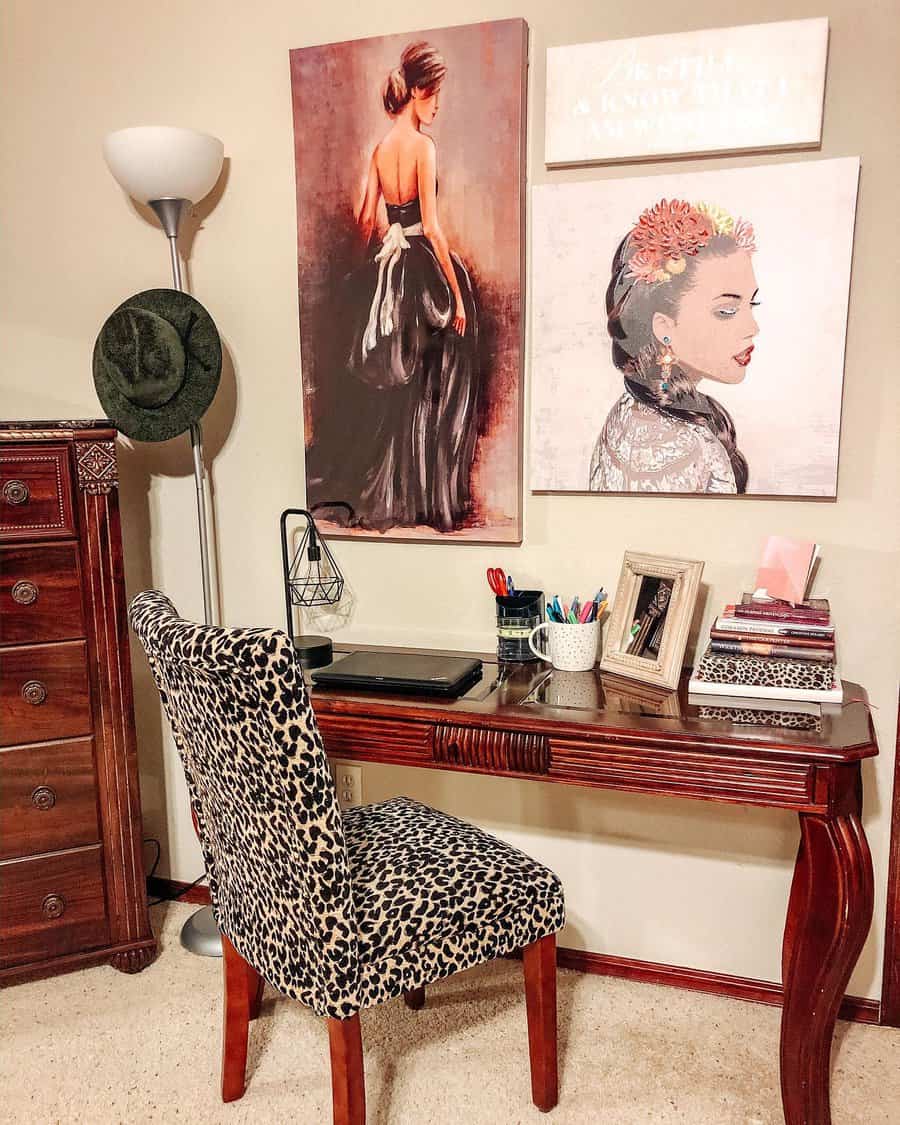 If you've turned your bedroom closet into your office space, use the closet door for extra storage space.
Hang narrow baskets on the inside and store your pens, paper clips, and other small office supplies there. Frame a small dry erase board and attach it to the closet door for a handy place to jot down appointments and to-do lists.
11. Space
Ideally, your goal should be to keep your work space and your sleep space separated as much as possible. Even if this just means using rugs to delineate each zone, do what you can to design your little office in a way that it doesn't take over the bedroom.
It can be helpful to use a dividing screen to keep your workspace out of your line of vision when you're lying in bed.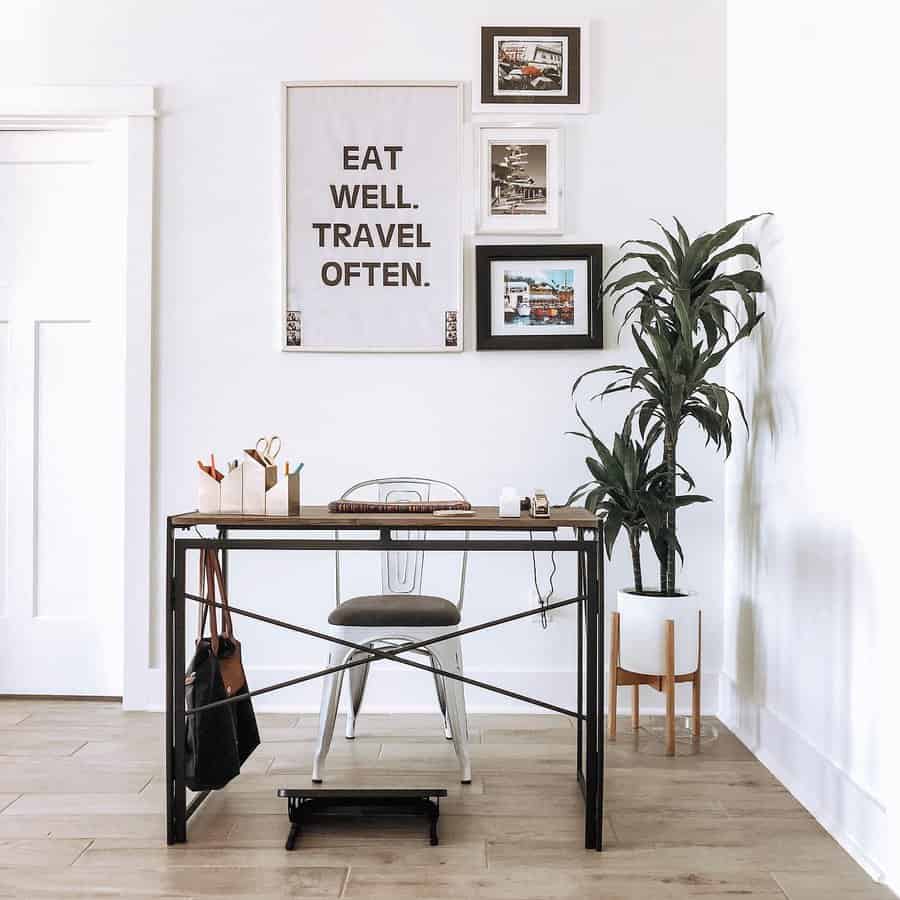 A Murphy bed is a great piece of guest room furniture to help you make the most of your available space. If you know your bedroom/office combination will be a permanent arrangement, think about replacing your own bed with a Murphy bed.
Bedroom Office FAQs
Is it bad to have your desk in your bedroom?
Some experts believe that it's harmful to both work and sleep to have an office in your bedroom. The theory is that you cannot be as productive in your bedroom as you would be elsewhere and that seeing your desk will keep you from relaxing at night. However, many people have a bedroom workspace and manage the work/life balance just fine.
Should your desk face the wall?
There's no one-size-fits-all answer for where a desk should be placed. If you have a particularly small space, there may only be one place to put it. If you're easily distracted, facing a wall may be the best way to stay focused on your work. But if you're prone to claustrophobia, you may need to face a window or the middle of the room.