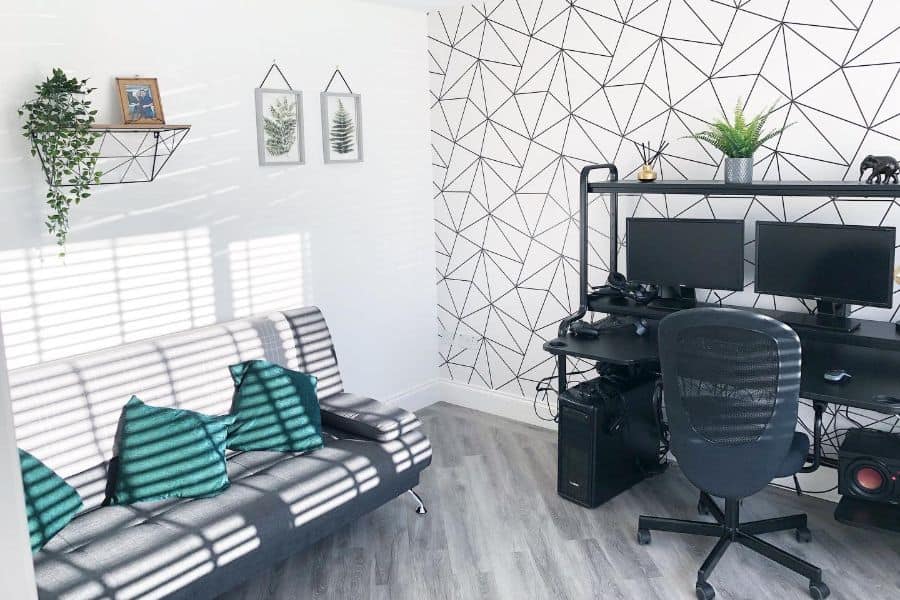 The Top 58 Bedroom Office Ideas
by — Kari Apted

Published on August 4, 2021

Updated on October 19, 2023
"These aren't pajamas. I work from home. This is my uniform." – Unknown
Although some experts advise against creating a bedroom office, it may be your only choice in a small home or apartment.
It may take some time to adjust to having your work space and bed in the same room. It can also take discipline to keep from sleeping when you should be working, and vice-versa.
As many discovered during the height of the Covid-19 pandemic, working from home can be surprisingly productive.
If your best option for a home office is your master bedroom or a guest room, take a look at these great bedroom office ideas. You'll see that it's possible to create a brilliant home office design—with a very short commute!
1. Choose a Versatile Sit-or-Stand Desk
A sit-or-stand desk is a game-changer for bedroom offices. It promotes better posture and offers flexibility by allowing you to alternate between sitting and standing throughout your workday. With various styles available, select one that complements your bedroom decor. To further enhance your workspace, pair the desk with ergonomic accessories and a comfortable chair for those times you choose to sit.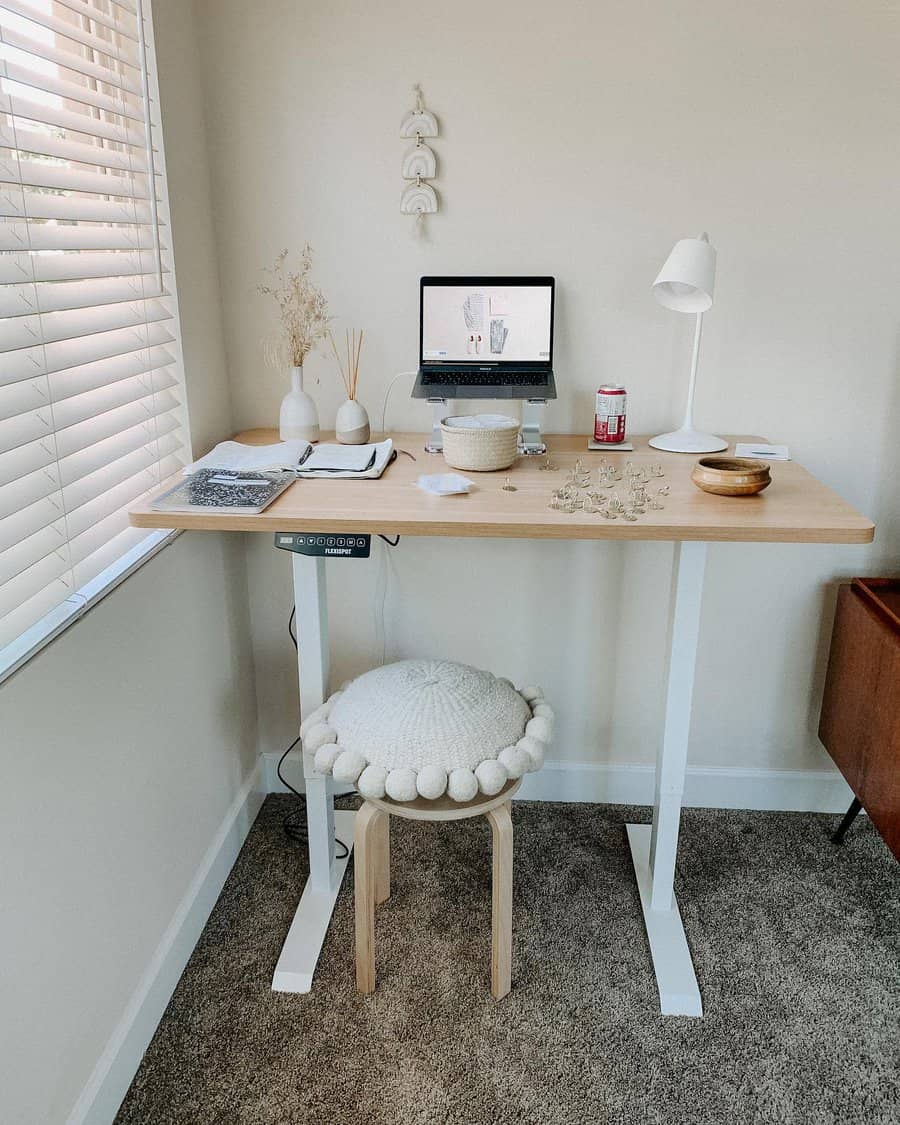 2. Maximize Space with Built-In Desks
Built-in desks with shelves are a smart solution for bedroom offices, blending functionality with style. These multifunctional pieces provide storage for office essentials while saving space. To integrate seamlessly, choose a design that resonates with your bedroom's aesthetic, be it modern or traditional. Pair with decorative storage boxes or organizers to further enhance the visual appeal and keep your workspace tidy.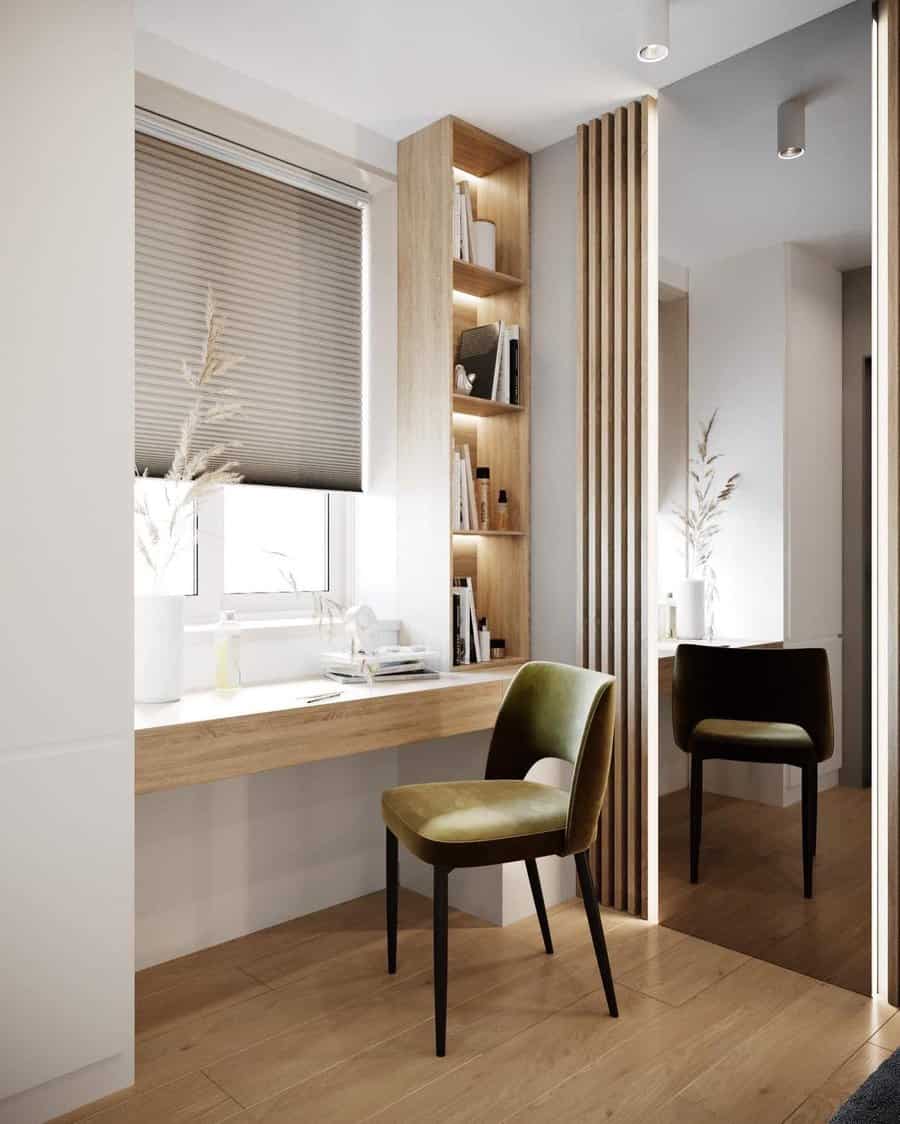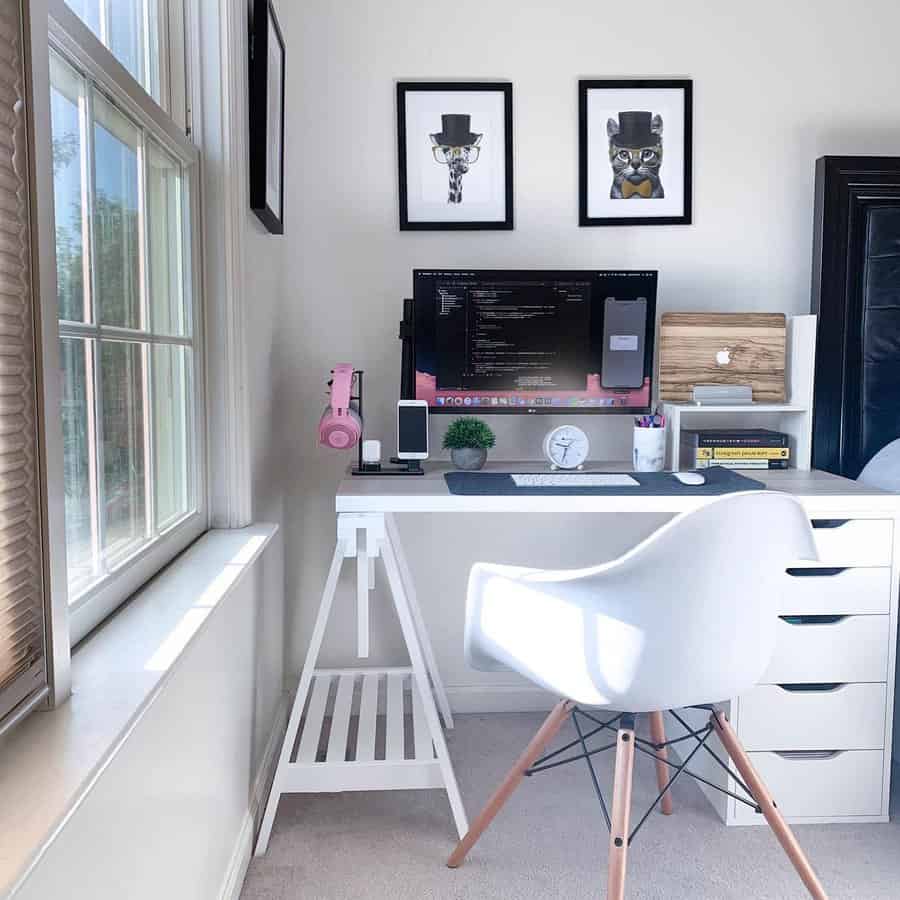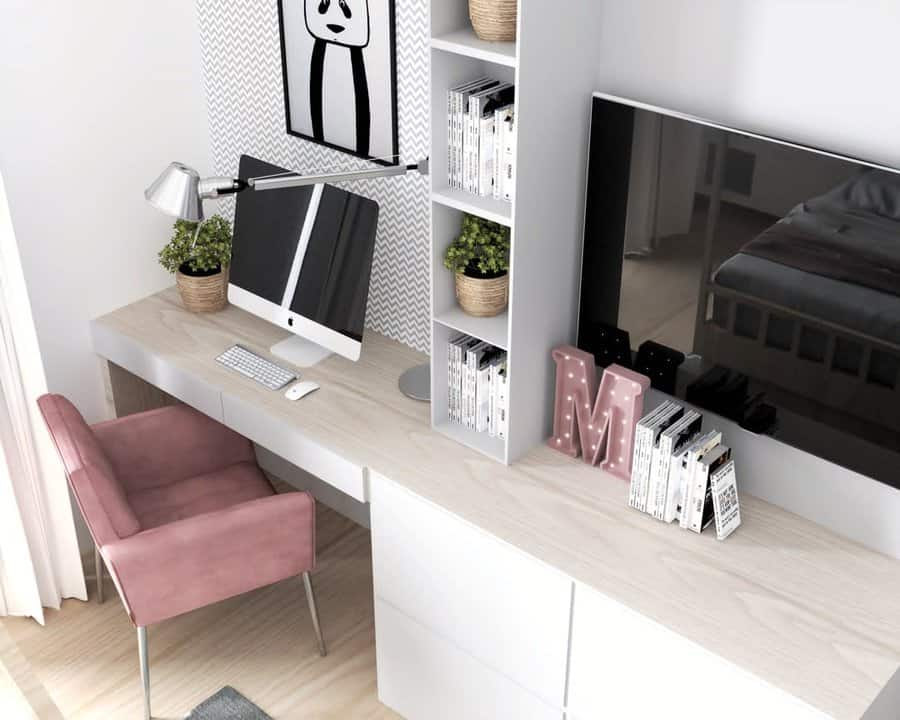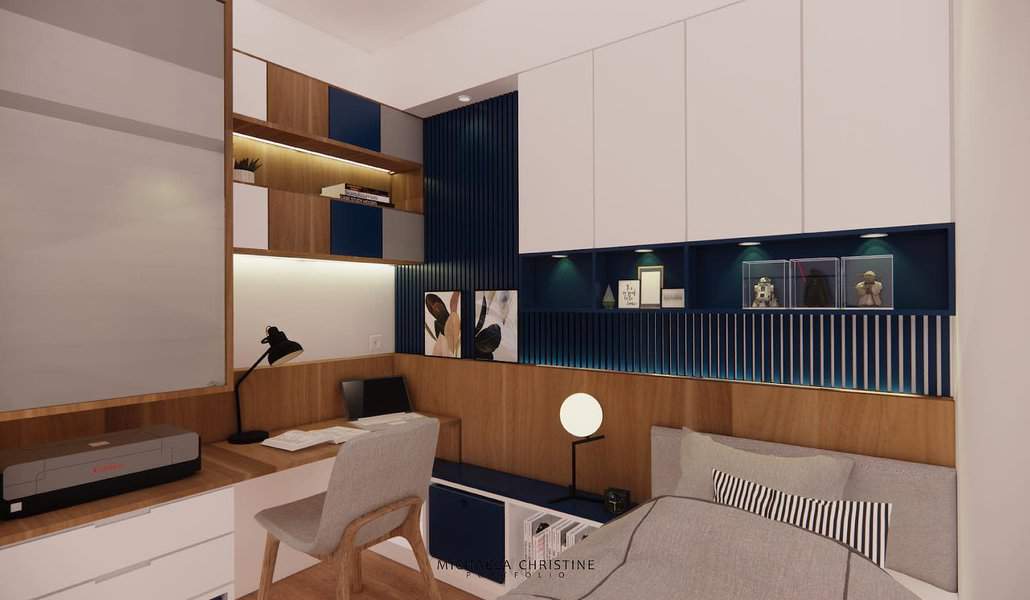 3. Optimize Corners with a Fitting Desk
Corner desks, with their L-shaped design, are perfect for maximizing limited space in bedroom offices. Positioning one in an unused corner not only capitalizes on available space but also offers an organized and efficient work area. To elevate the look, consider complementing the desk with ambient lighting or vertical shelving above, ensuring both aesthetics and productivity.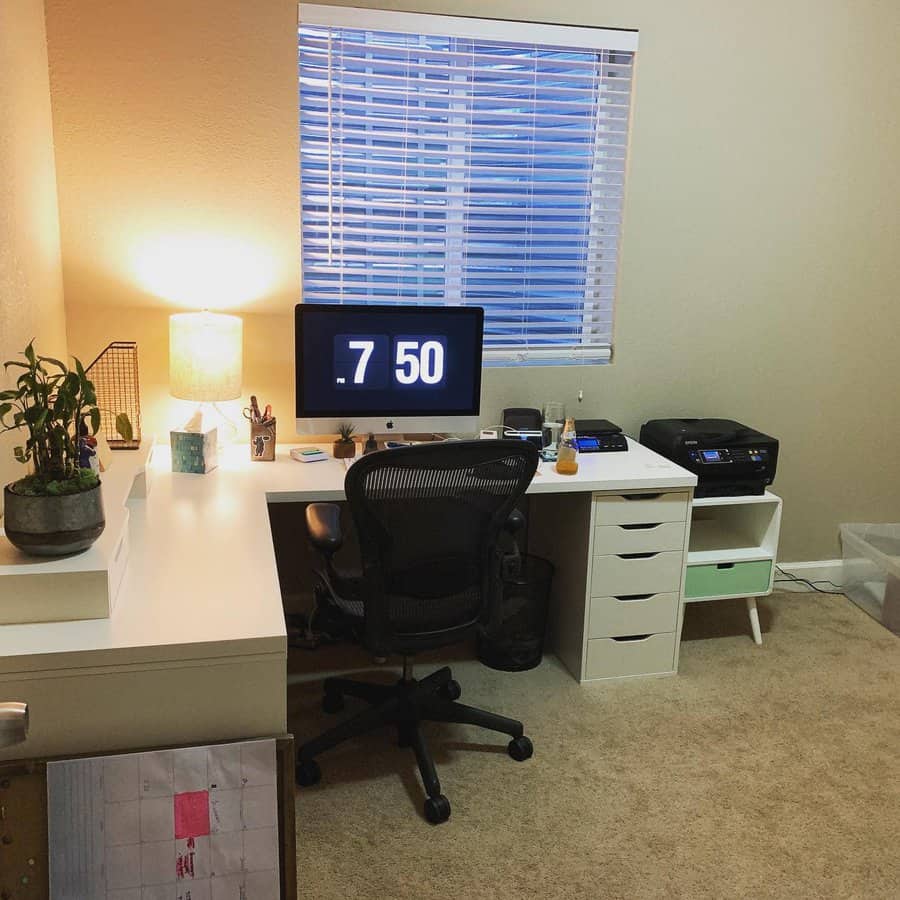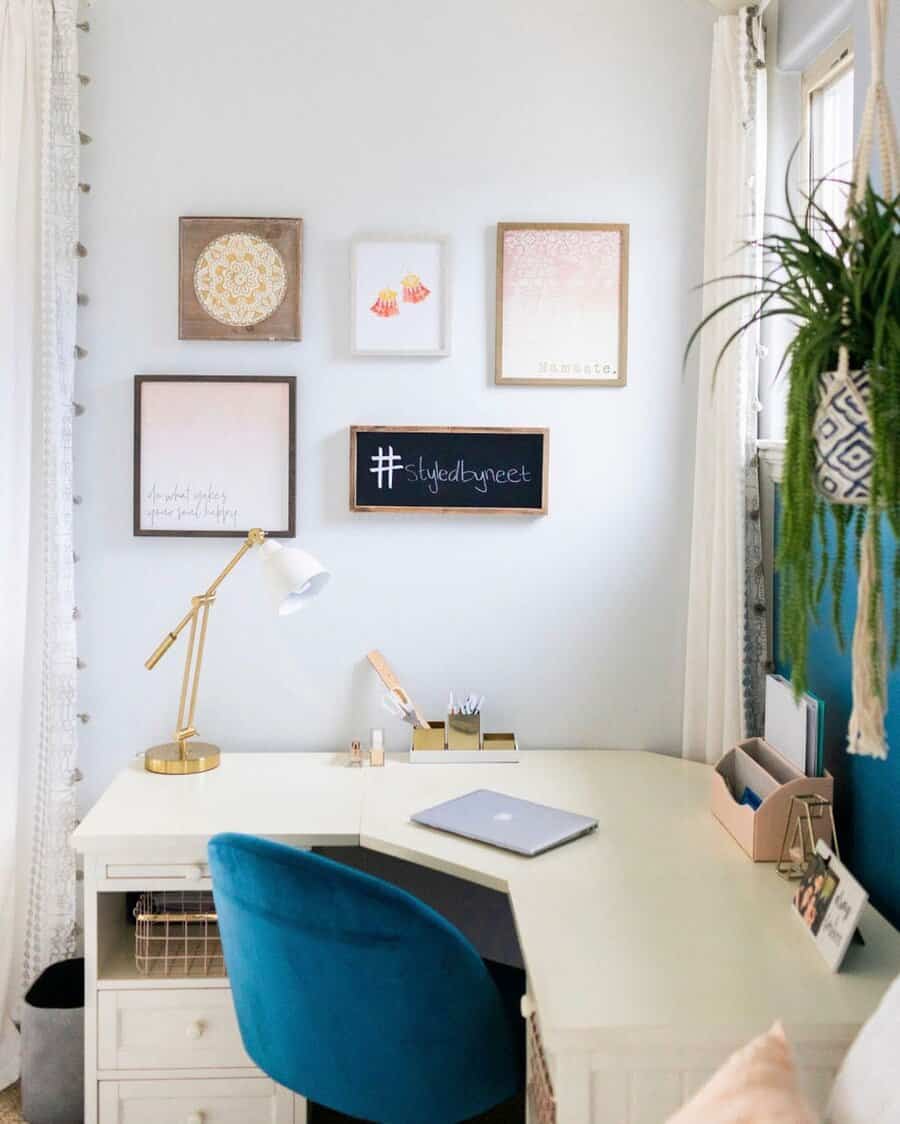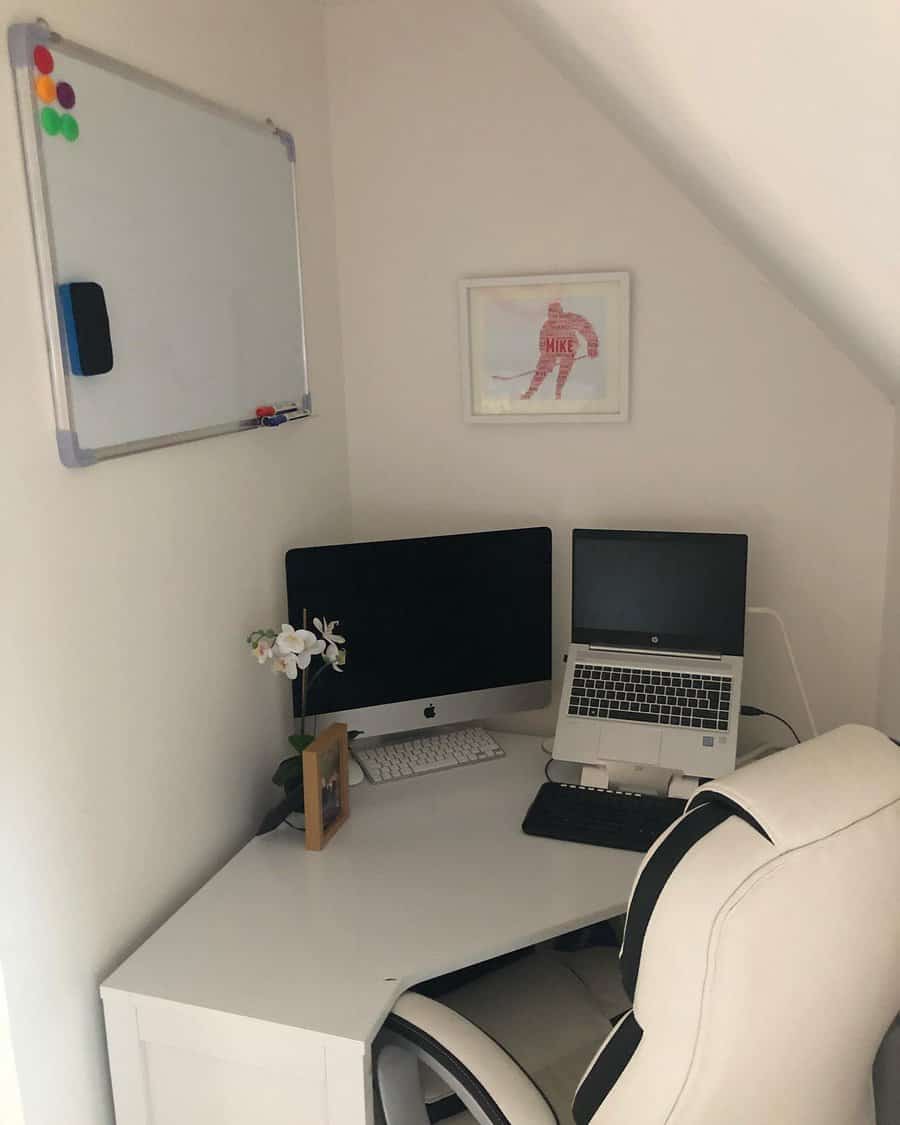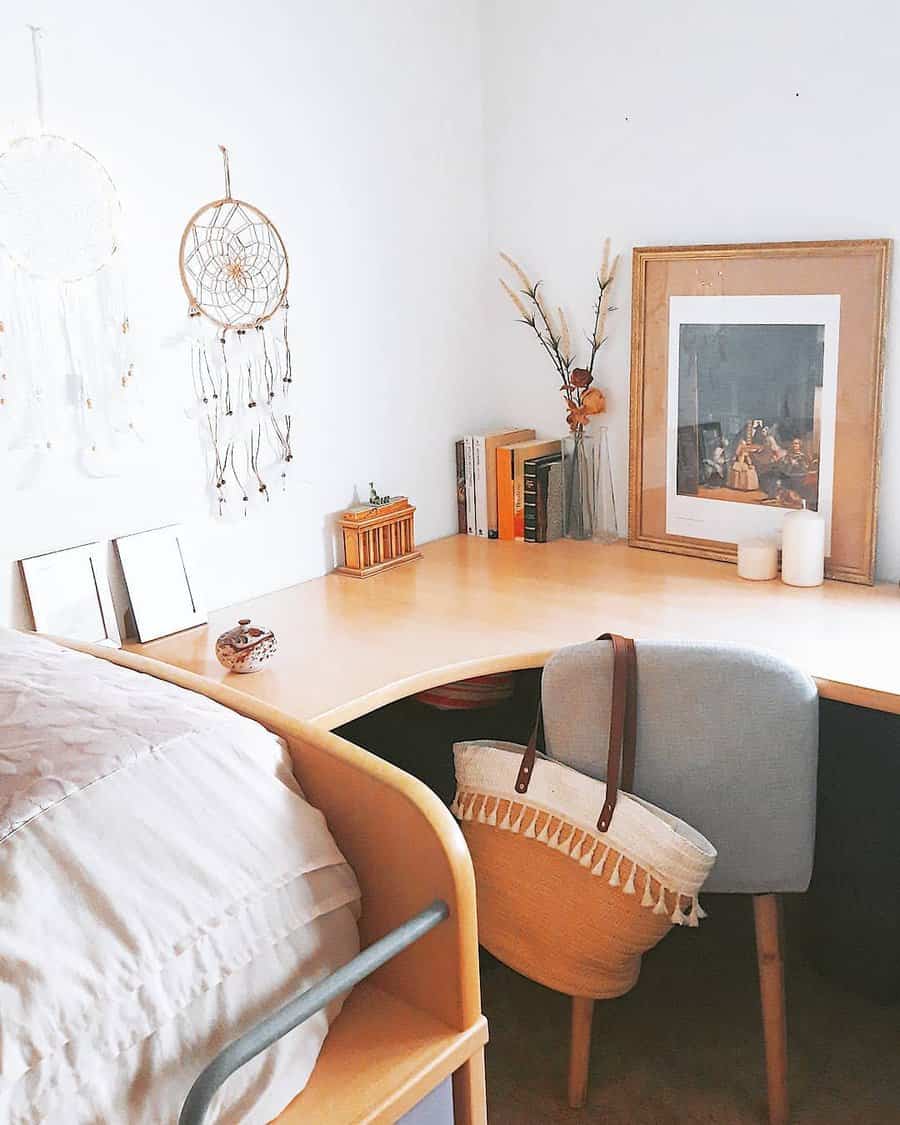 4. Keep Tidy with Sleek Desk Organizers
Desk organizers play a pivotal role in maintaining an orderly and efficient workspace. From pencil holders to file organizers, select designs that match your style while ensuring everything has its place. A neat desk boosts productivity and focus. Complement these organizers with a harmonious color palette to make your bedroom office both functional and visually appealing.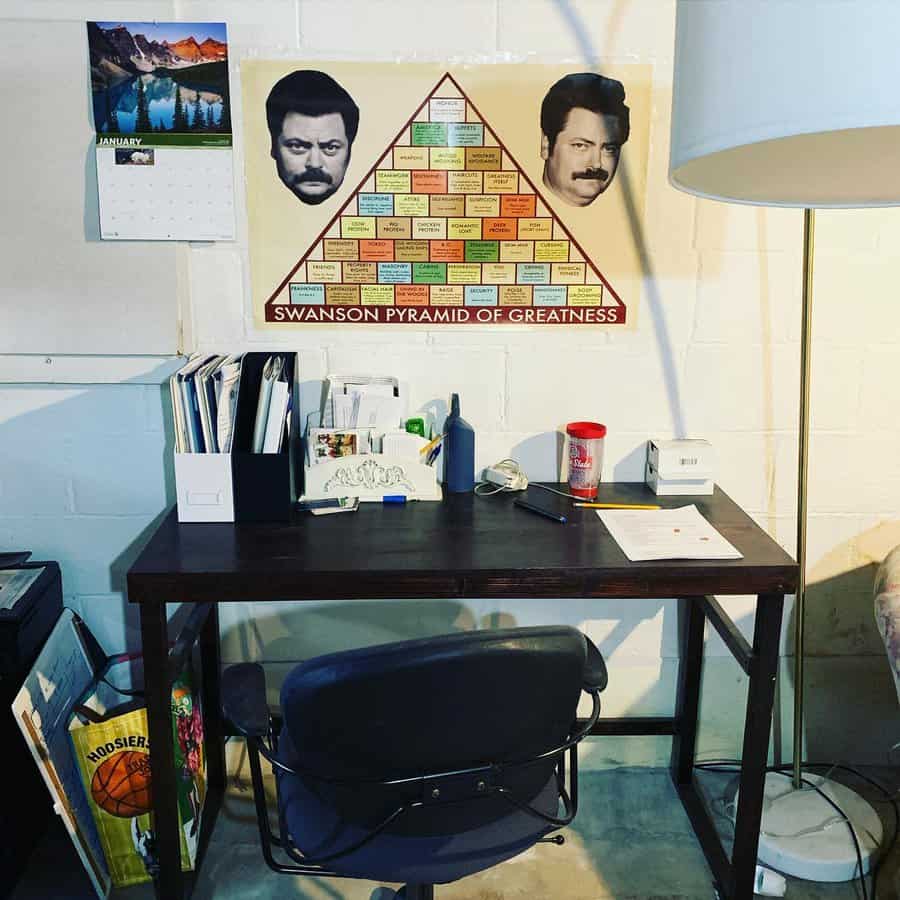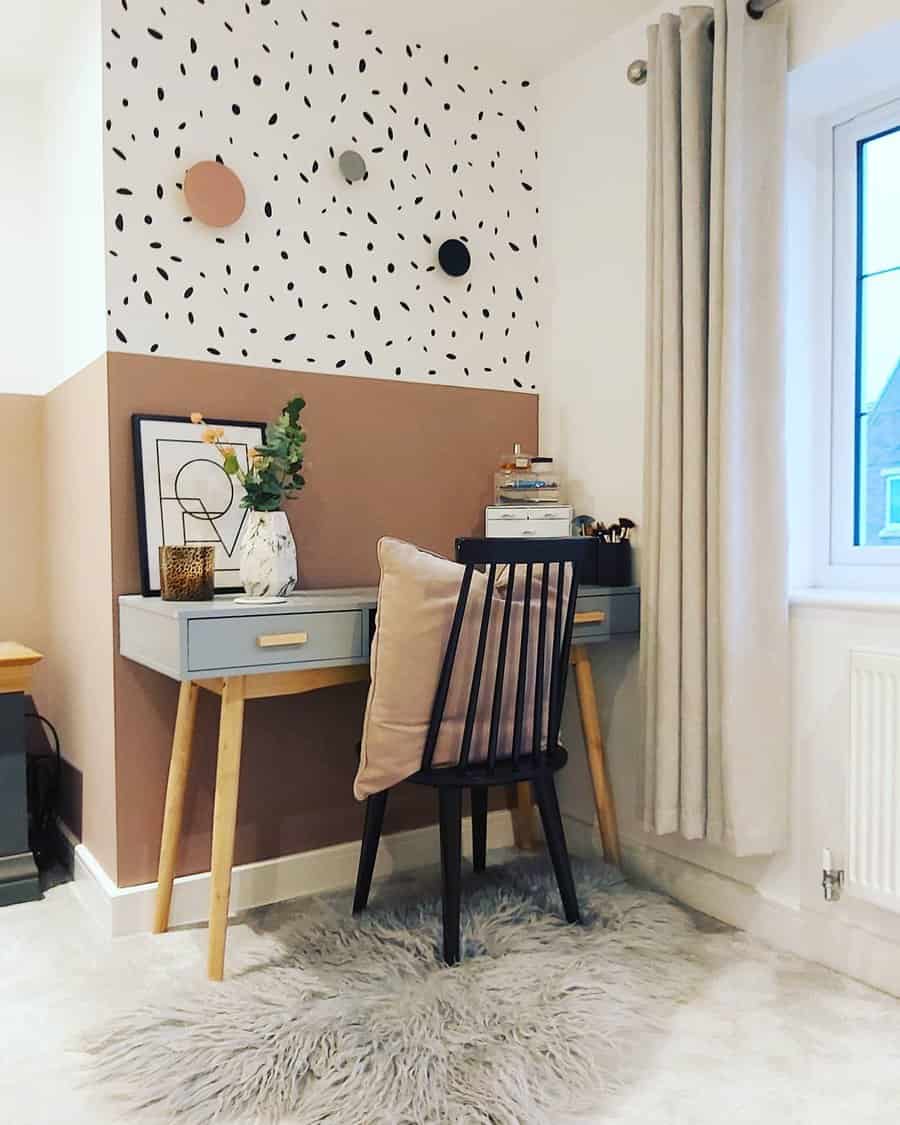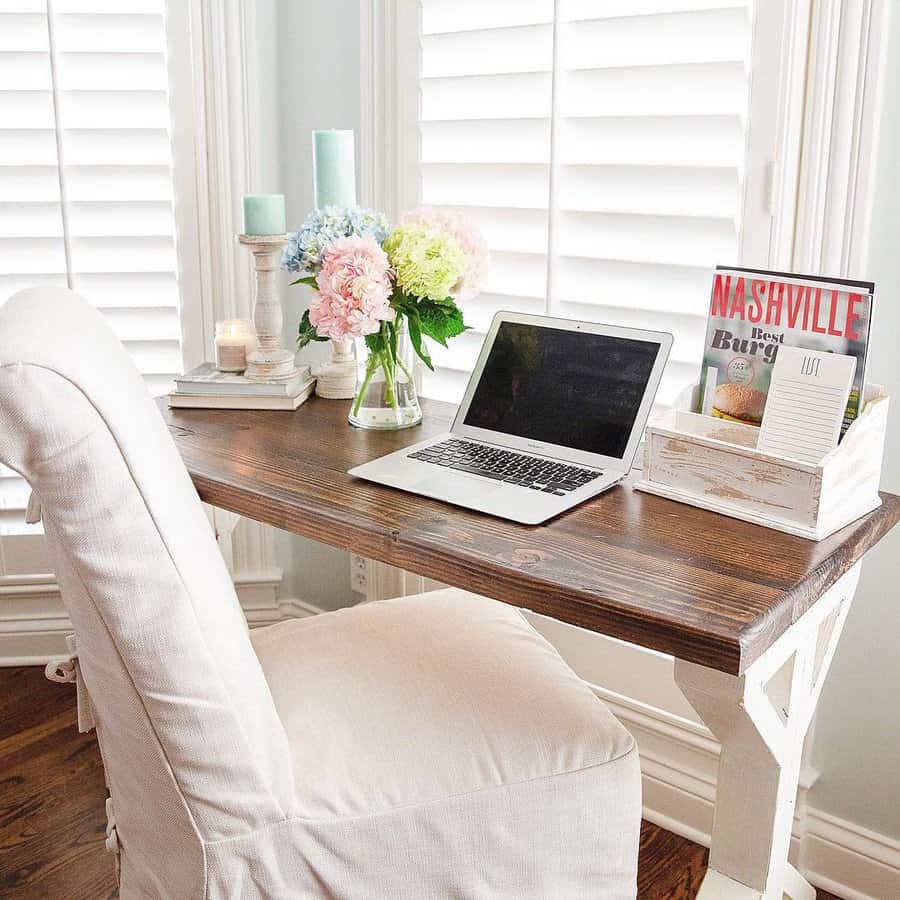 5. Enhance Minimalism with a Floating Desk
Floating desks embody the essence of minimalism, offering a sleek appearance while conserving floor space. Available in diverse designs, from starkly minimalist to ornate, it's important to pick one that aligns with your bedroom's aesthetics. Most are crafted from durable materials like wood or metal, ensuring longevity. To complete the look, accessorize with minimalist shelving above and consider under-desk storage solutions for added functionality.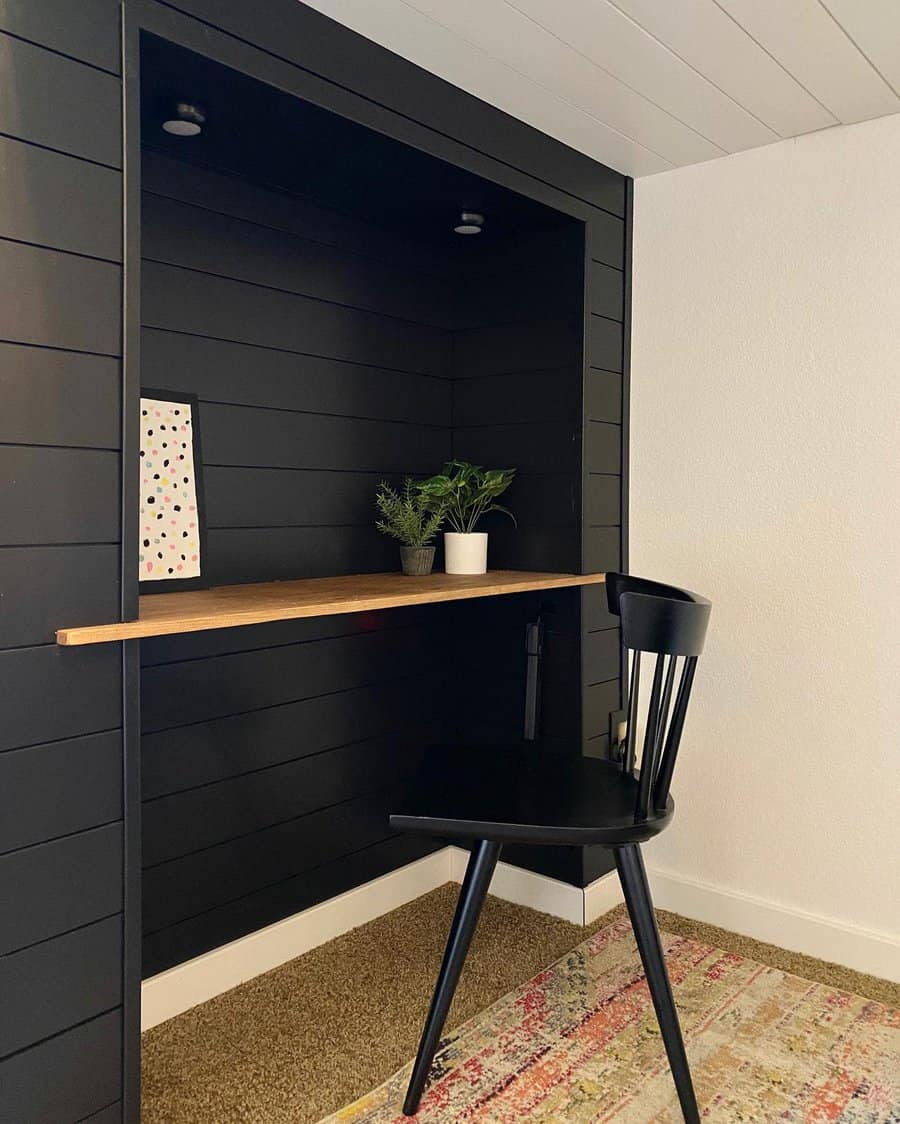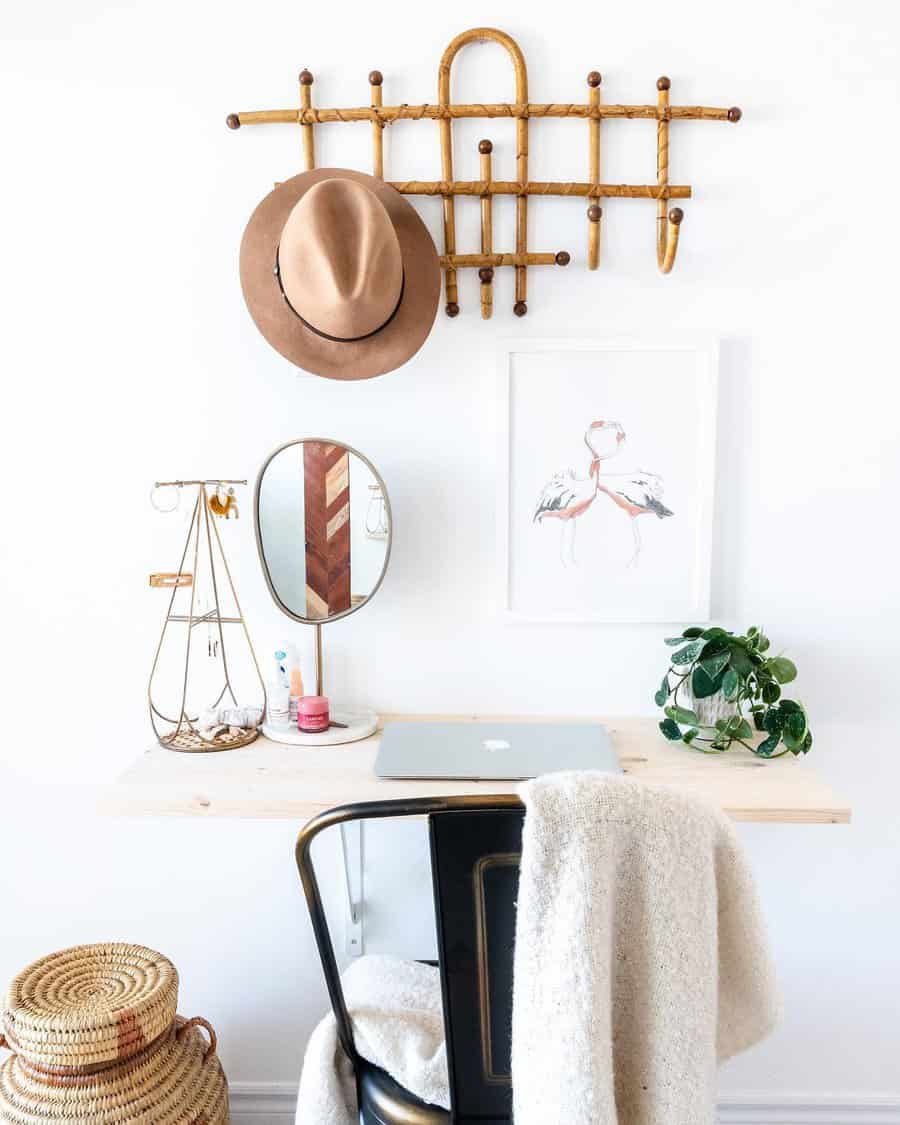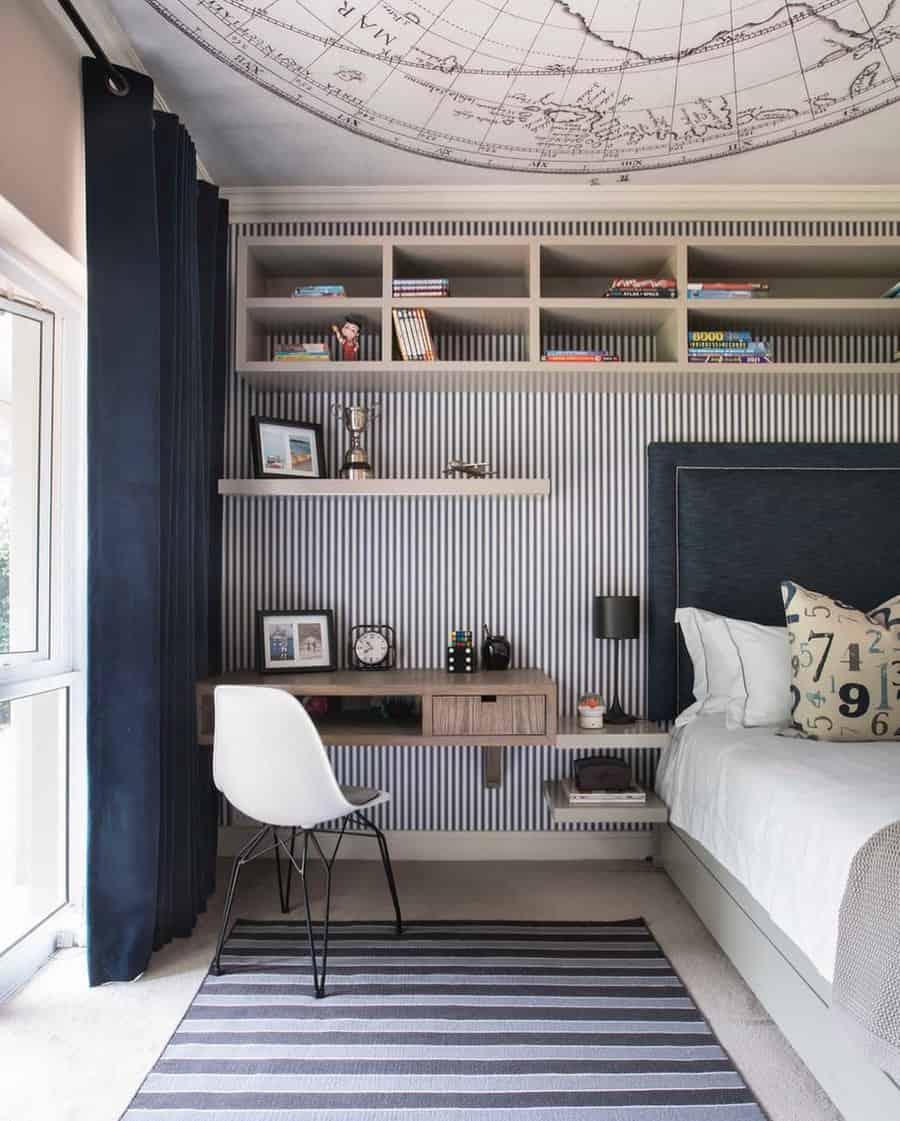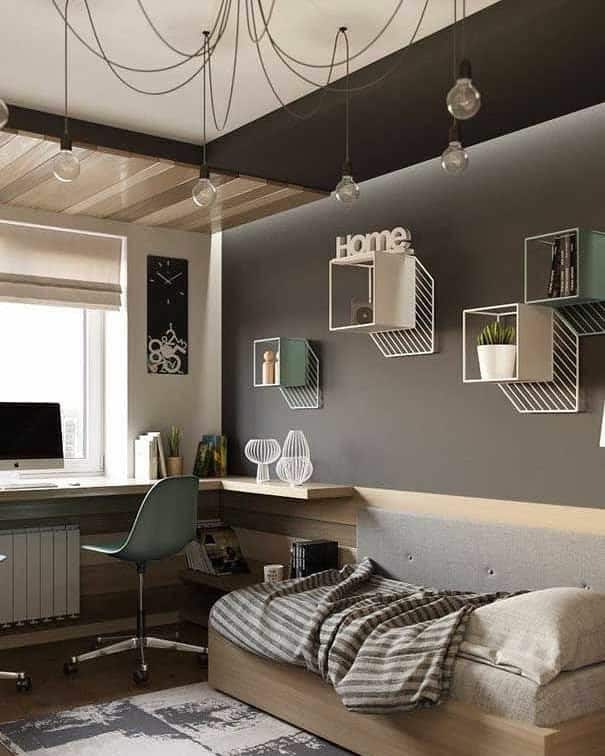 6. Elevate Mood with Inspiring Wall Art
Wall art breathes life into your bedroom office, fostering creativity and setting a motivational ambiance. Select pieces that resonate with your personality and harmonize with your decor. For budget-conscious decorators, DIY art projects offer a personal touch. Beyond aesthetics, a captivating backdrop enhances virtual interactions, making Zoom calls more engaging.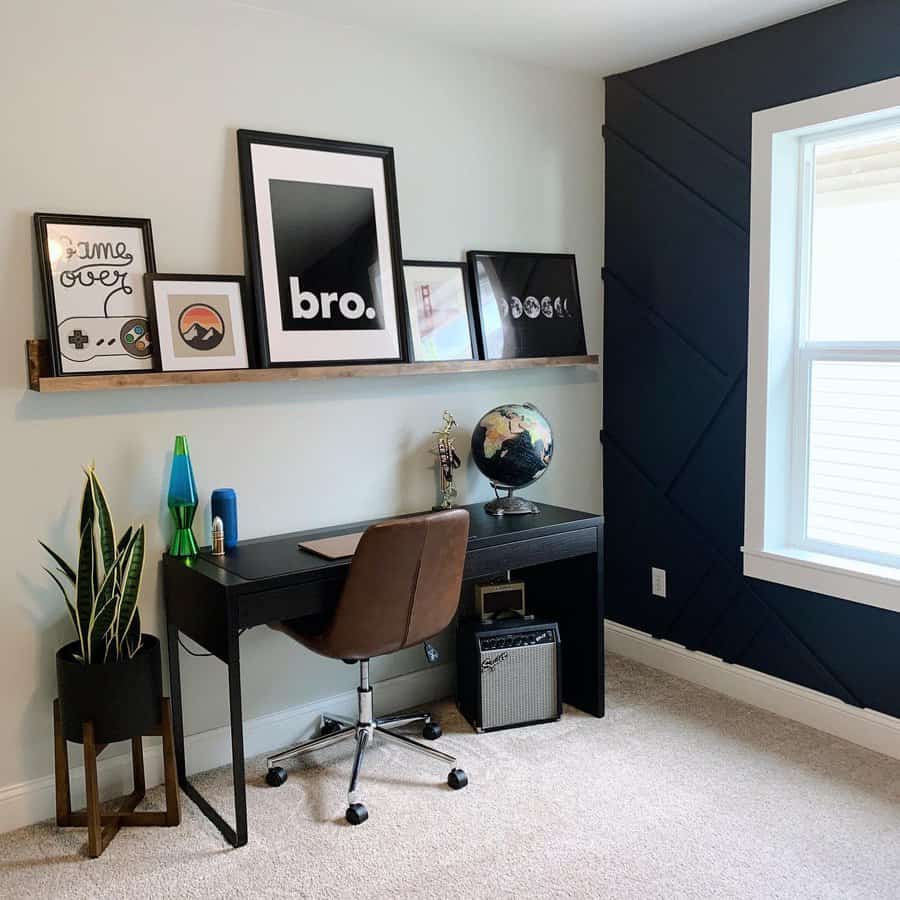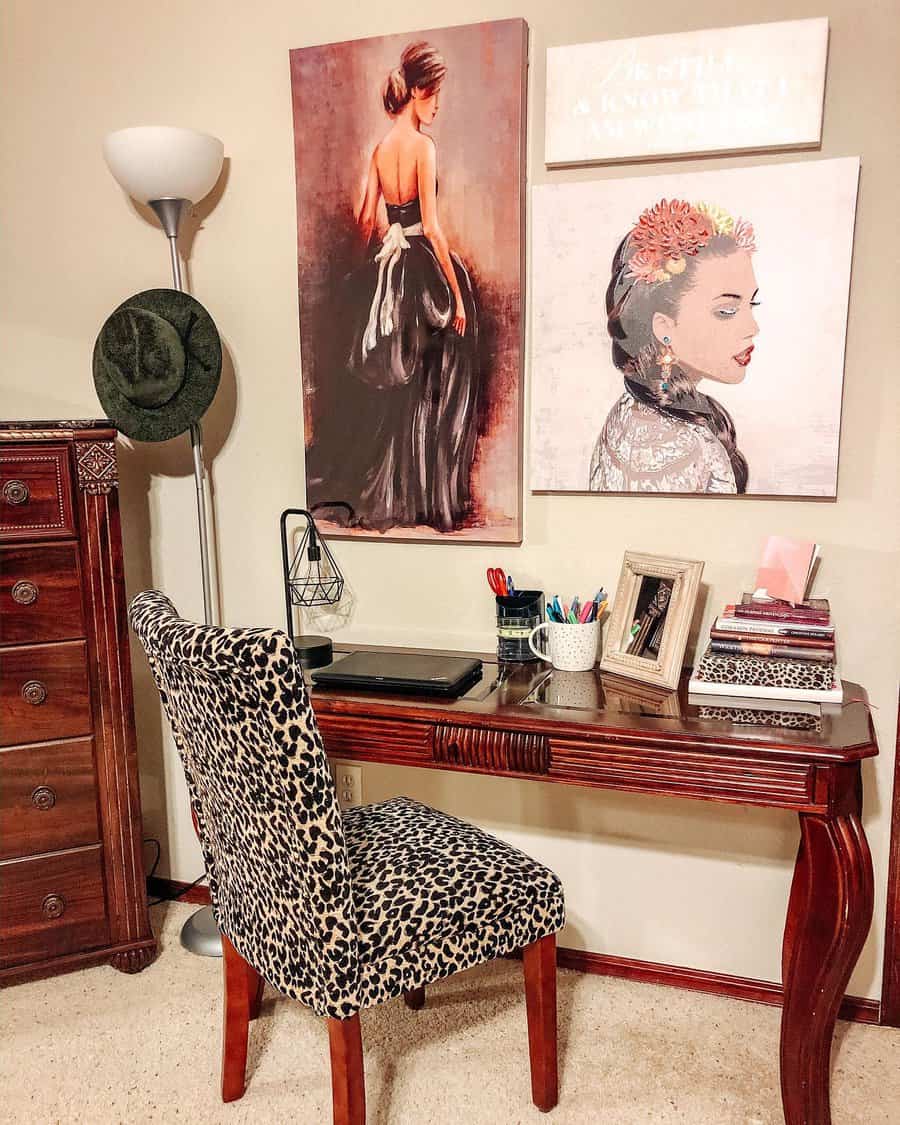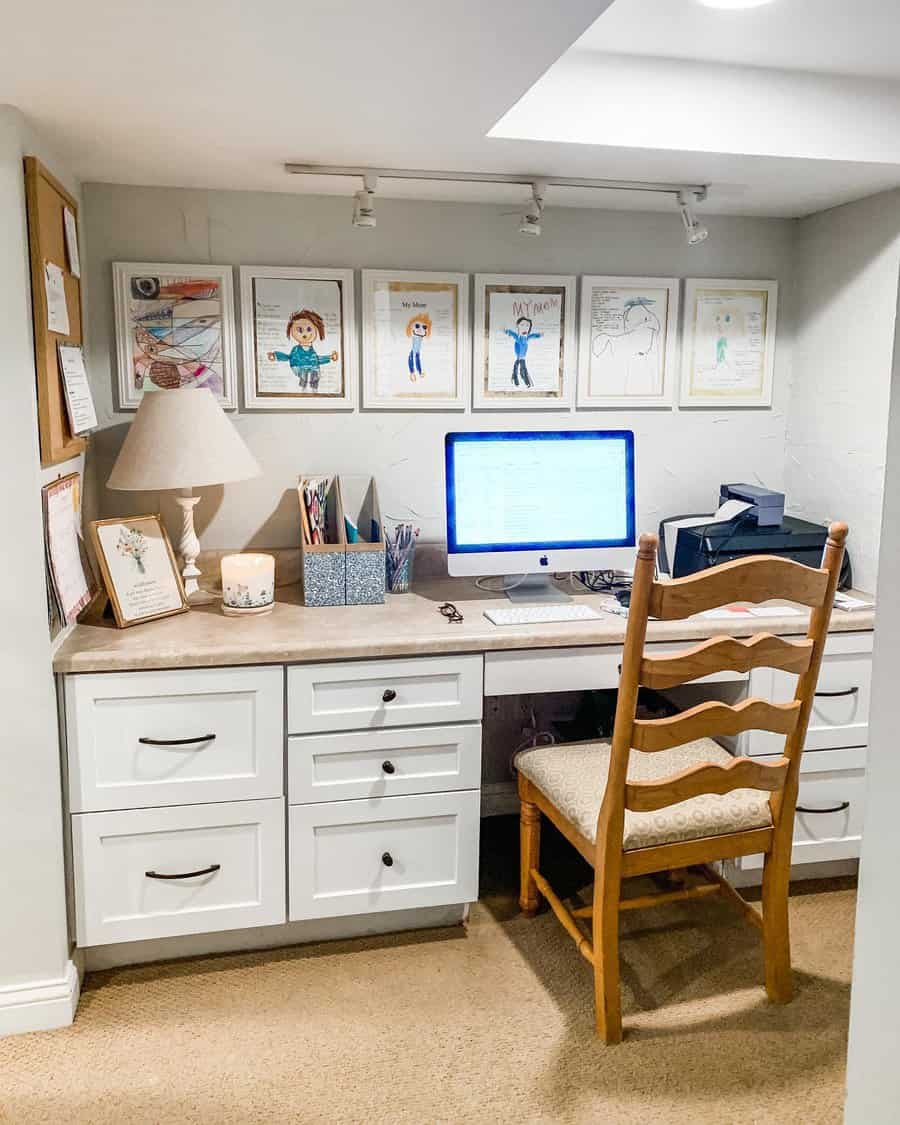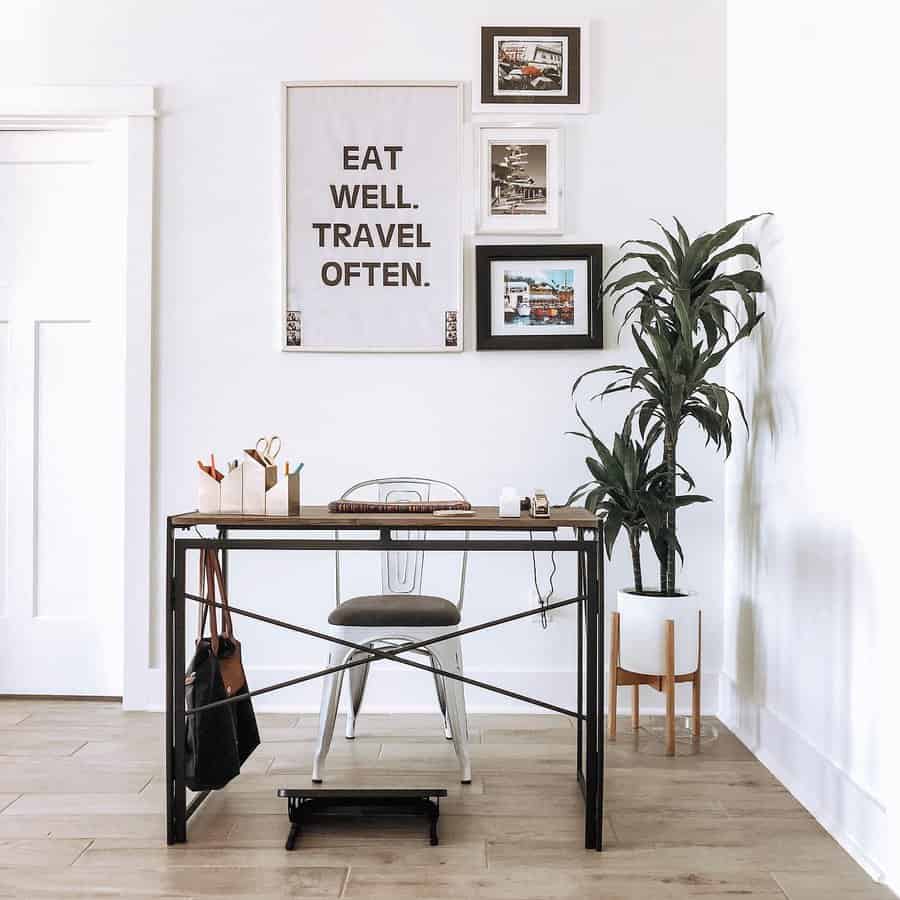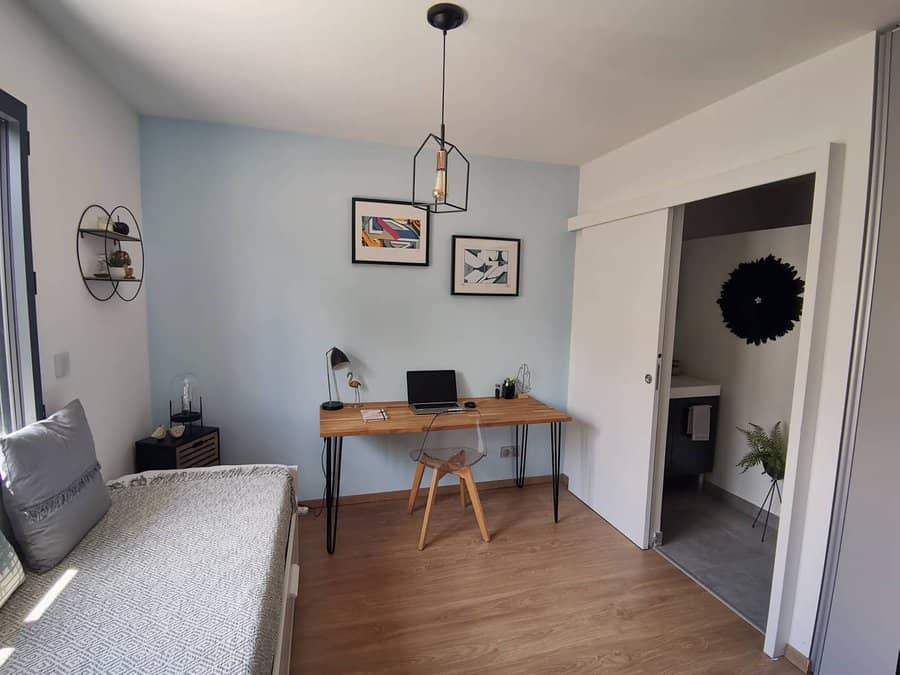 7. Merge Rest and Work with Bedside Desks
For those limited by space, a bedside desk offers a clever solution, blending rest and productivity. These desks, often slide-under designs, save space while ensuring your bed remains a comfortable work zone. To ensure harmony with your bedroom's theme, opt for a design that's both functional and aesthetically pleasing. Accentuate with a chic lamp and pair with a comfy chair, creating a cozy yet efficient workspace right by your bed.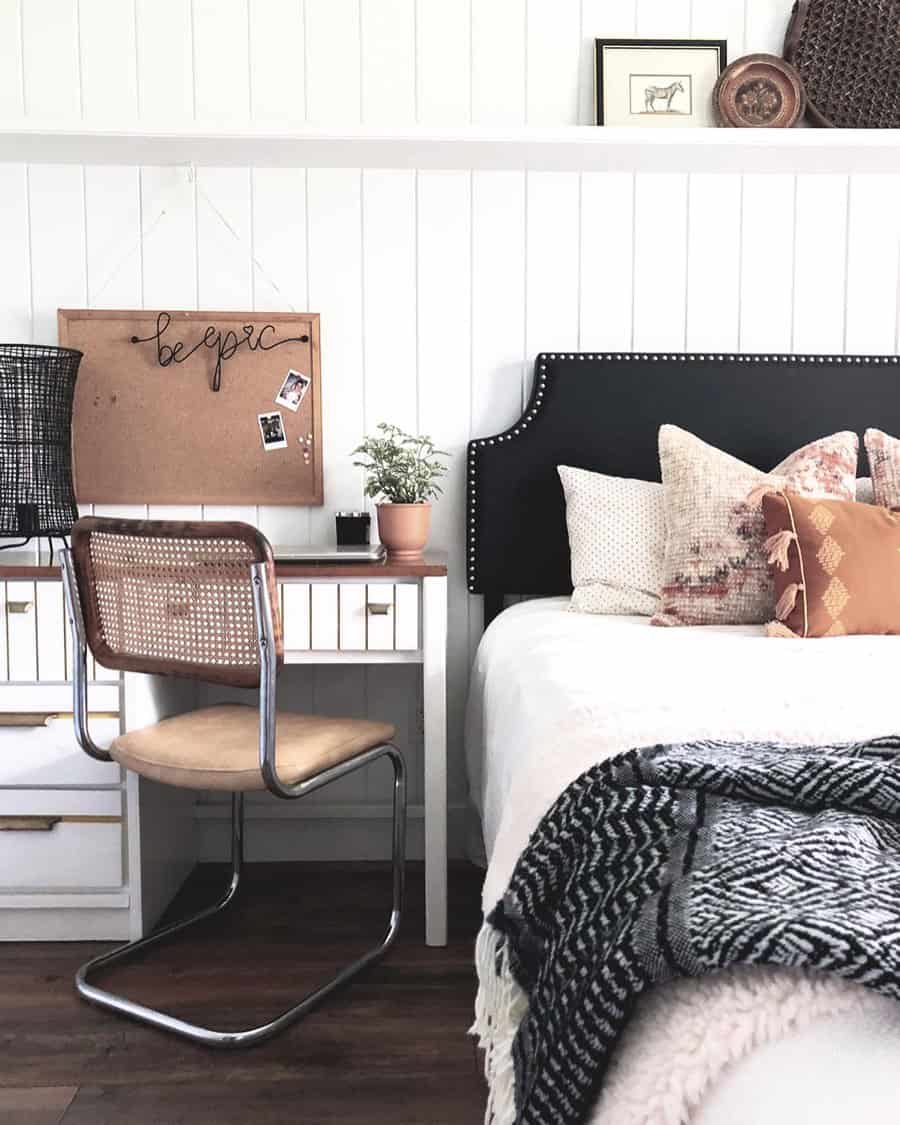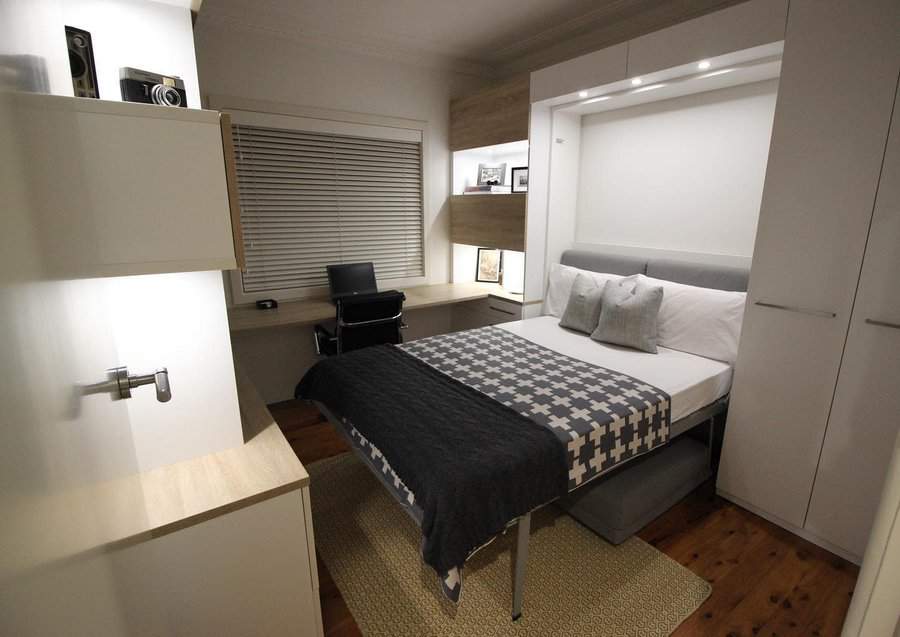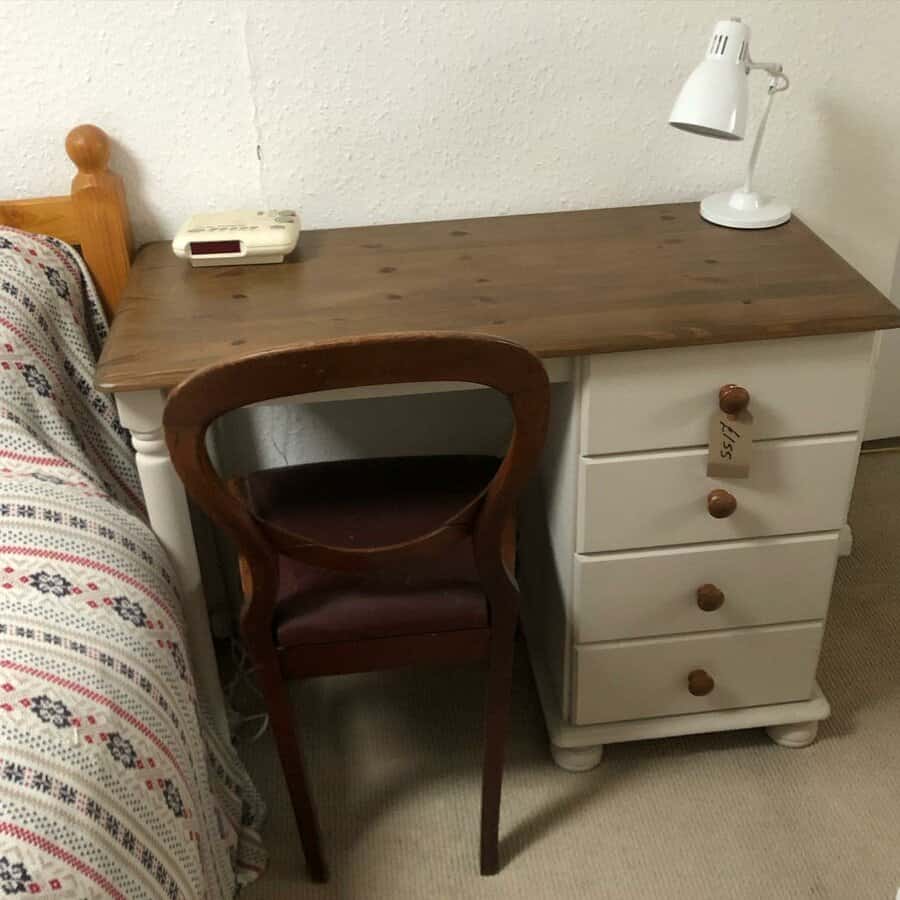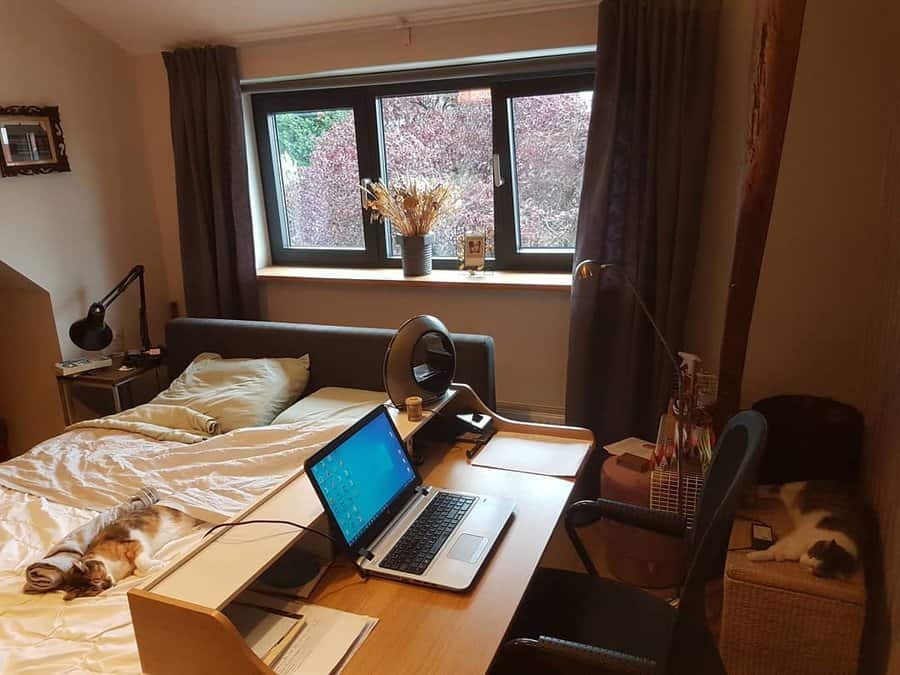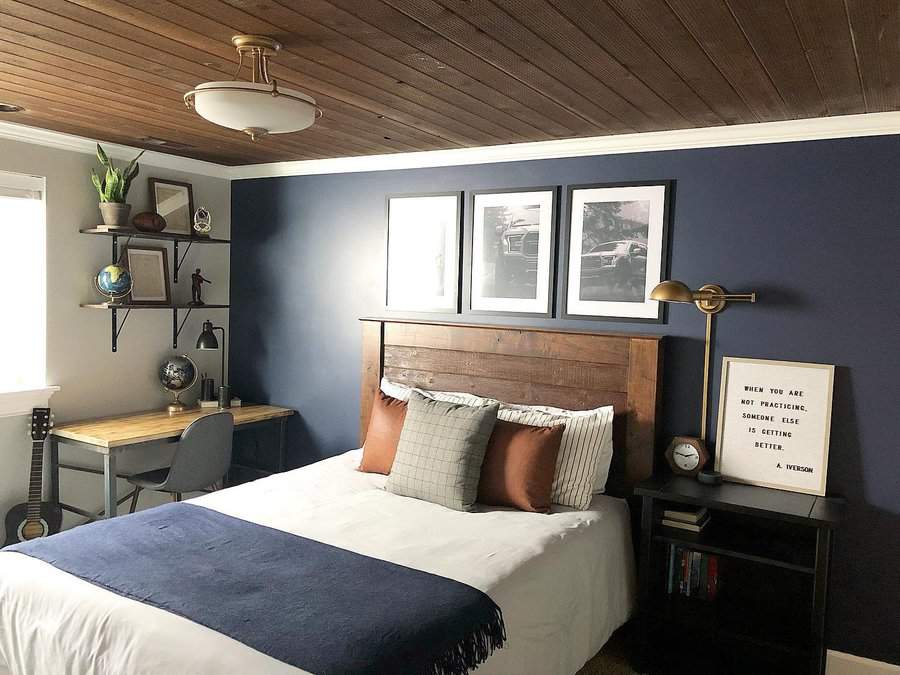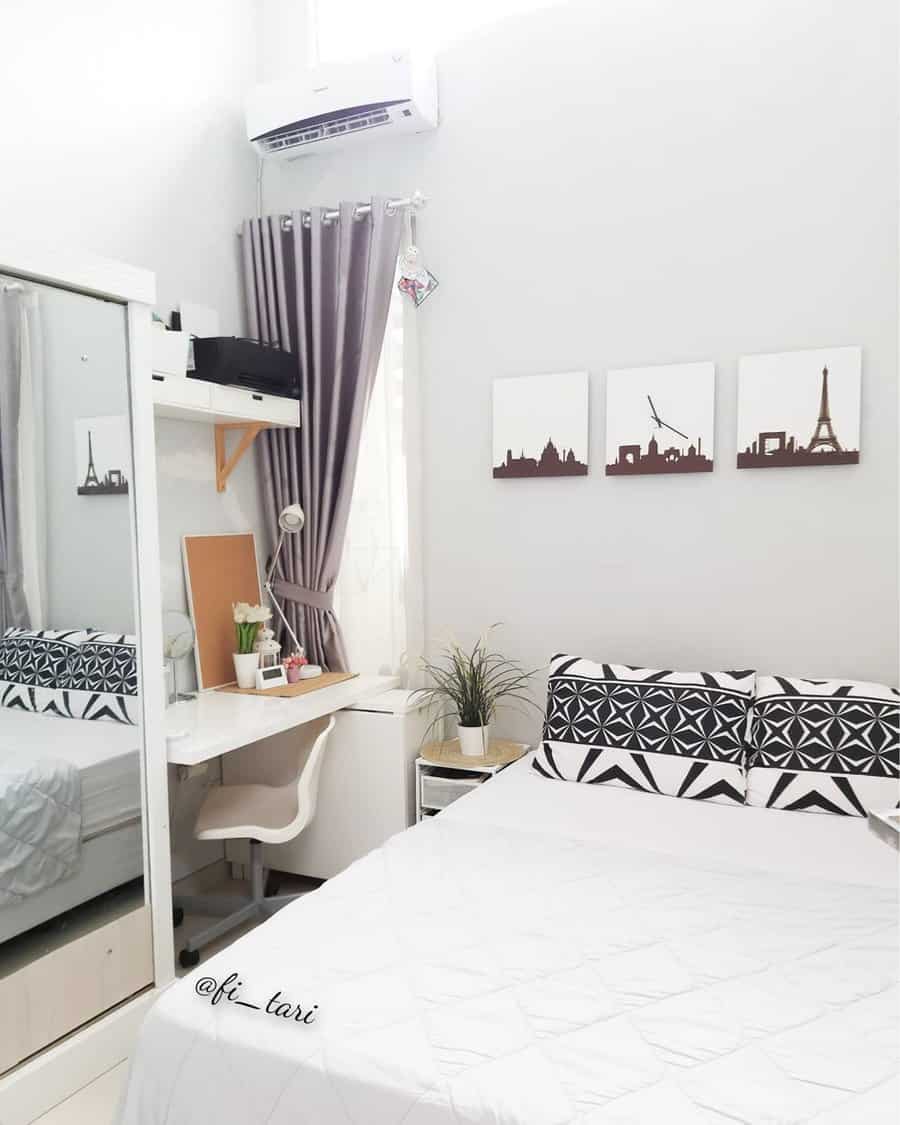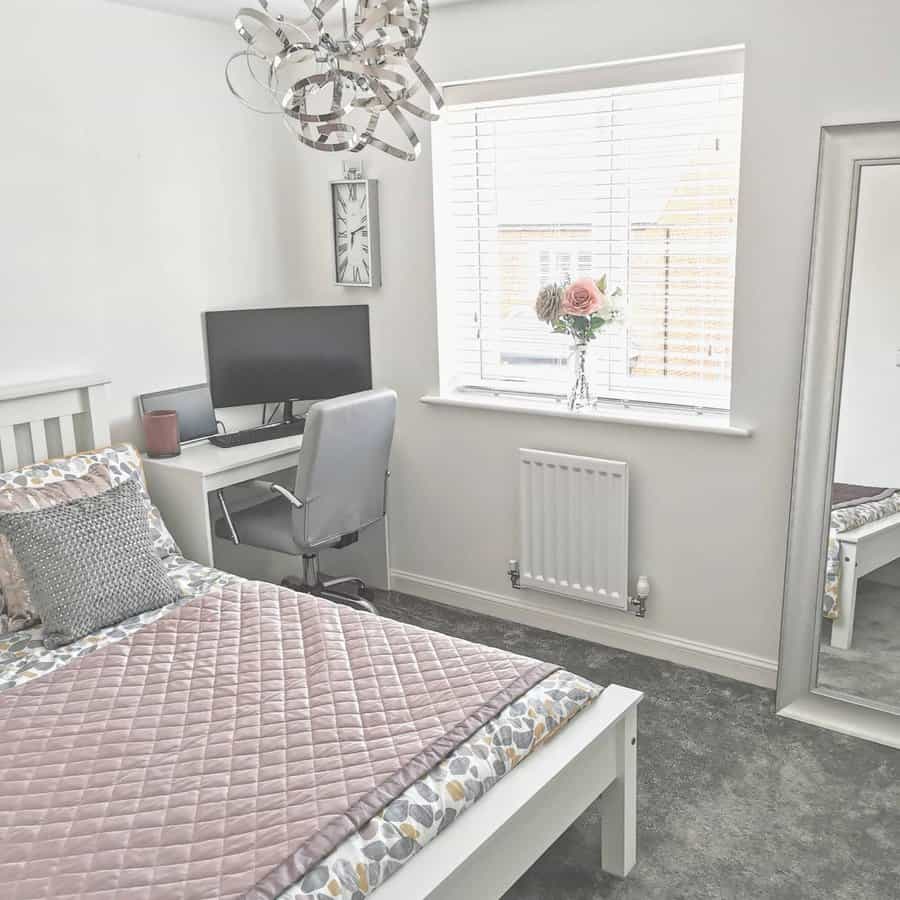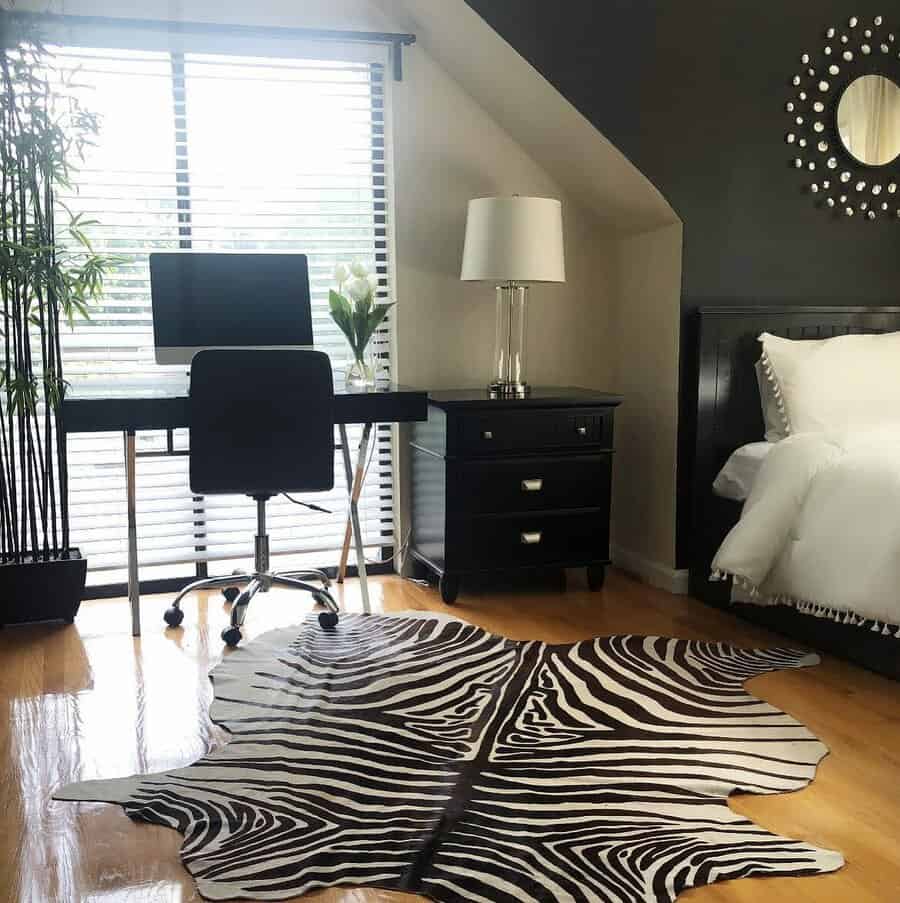 8. Create Extra Storage with Floating Shelves
Floating shelves offer a sleek solution to storage woes in bedroom offices. Perfect for housing books, decor, or office essentials, they add functionality without cluttering floor space. Given their adaptability, they can be tailored to fit any design or height preference. Beyond their utility, floating shelves introduce an element of elegance, transforming any workspace into a sophisticated haven.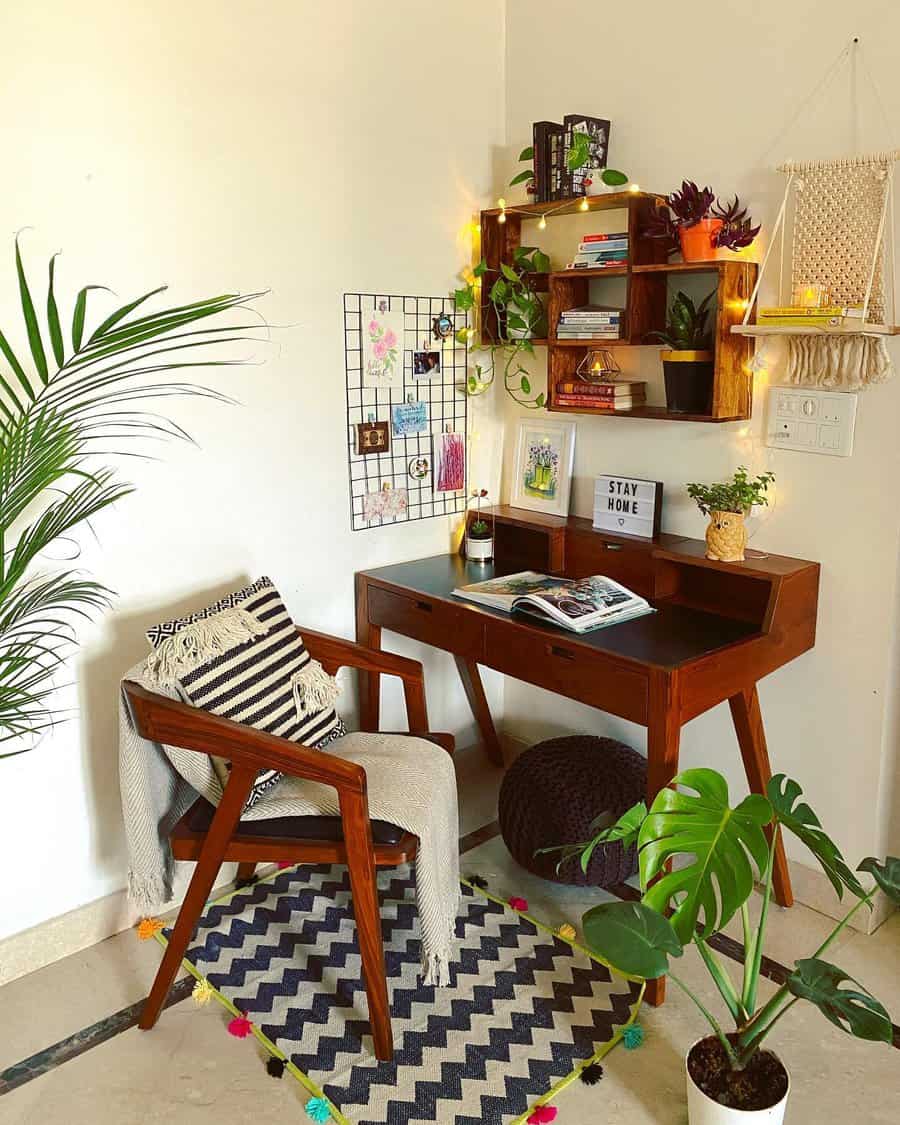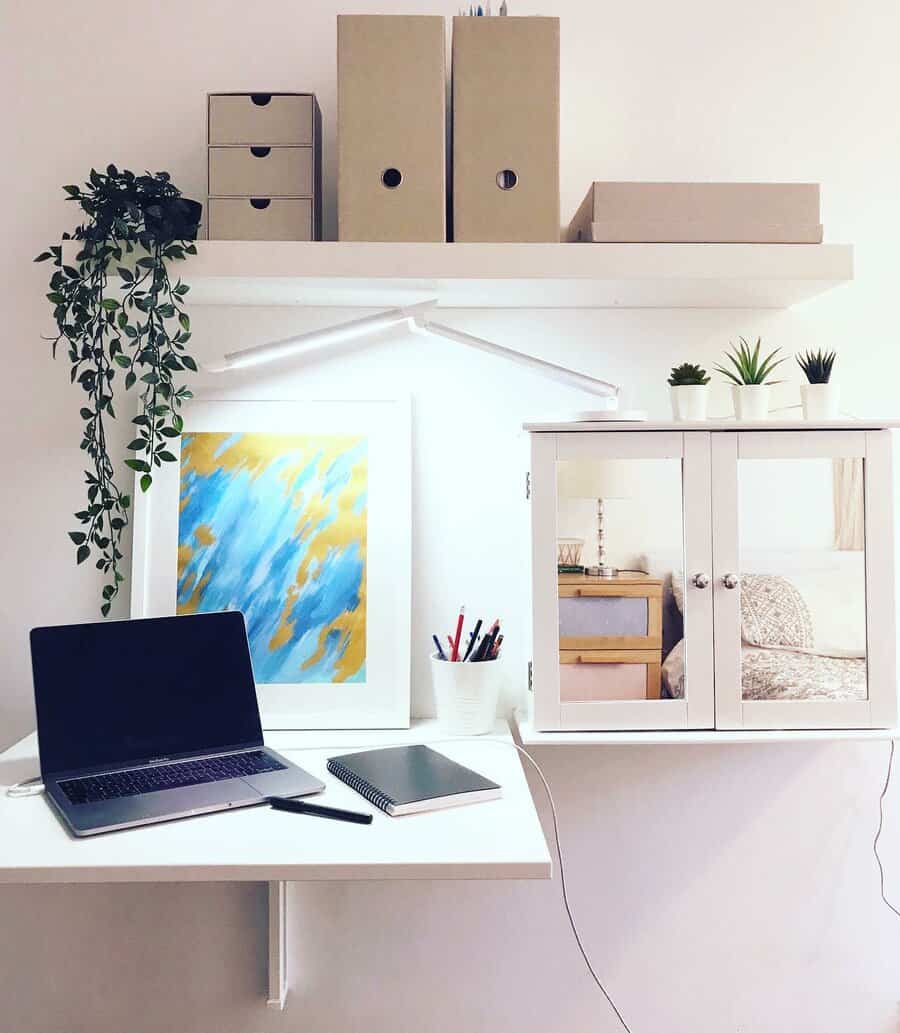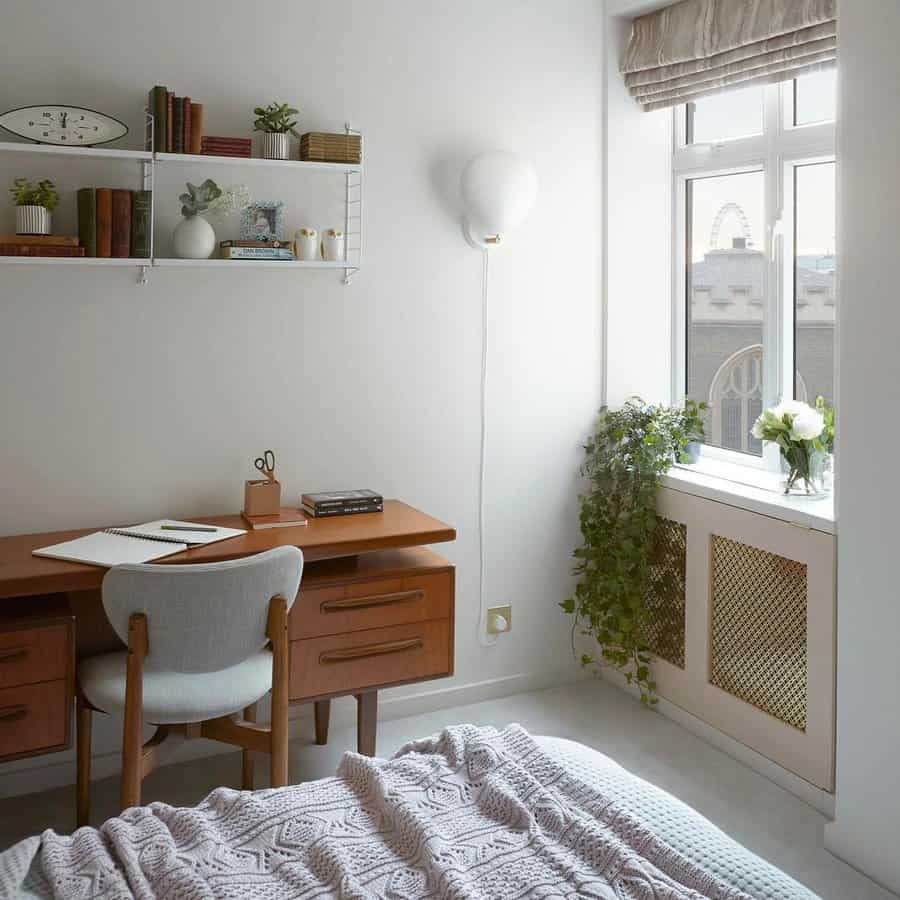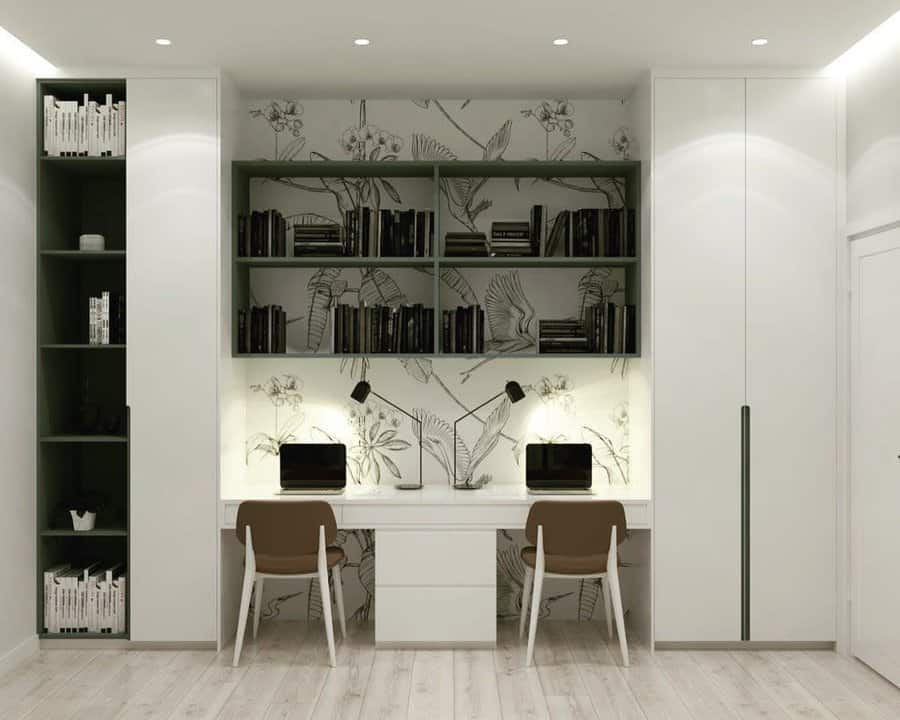 9. Prioritize Comfort with a Swivel Chair
A swivel chair melds style with ergonomics, enhancing both comfort and workspace navigation. Its pivot functionality is particularly beneficial for multitasking. When selecting one, ensure it aligns with your bedroom's aesthetic and offers adjustability features. This perfect blend of design and functionality promises efficiency for any bedroom office activity.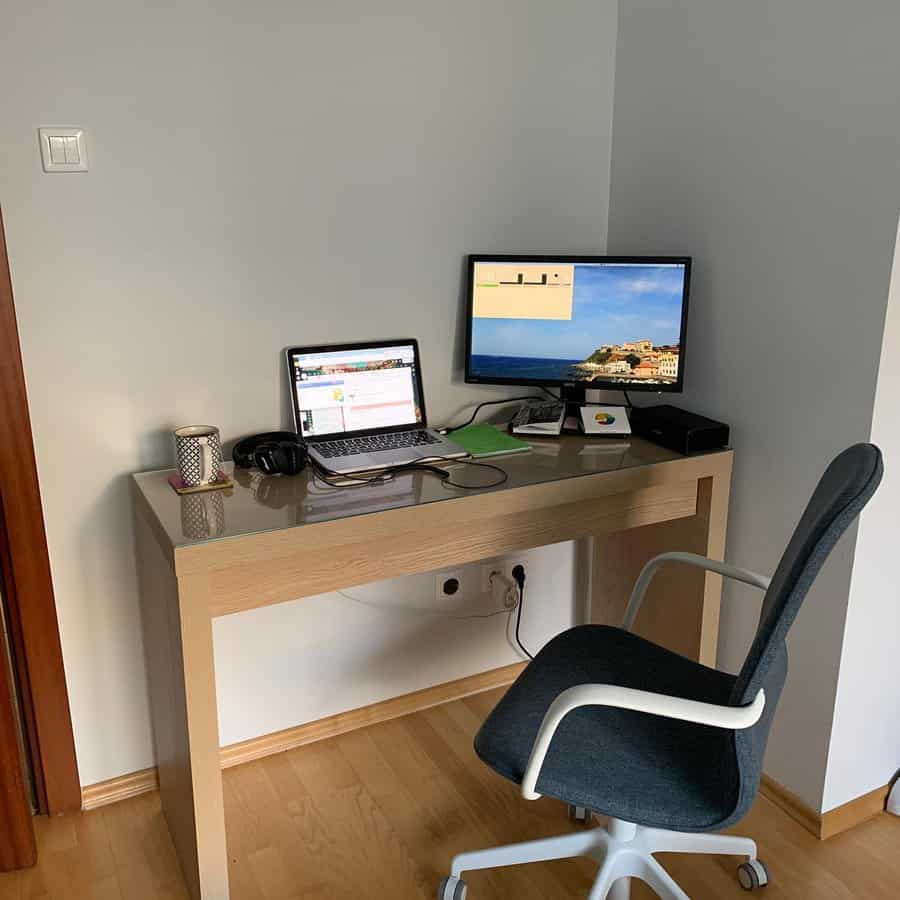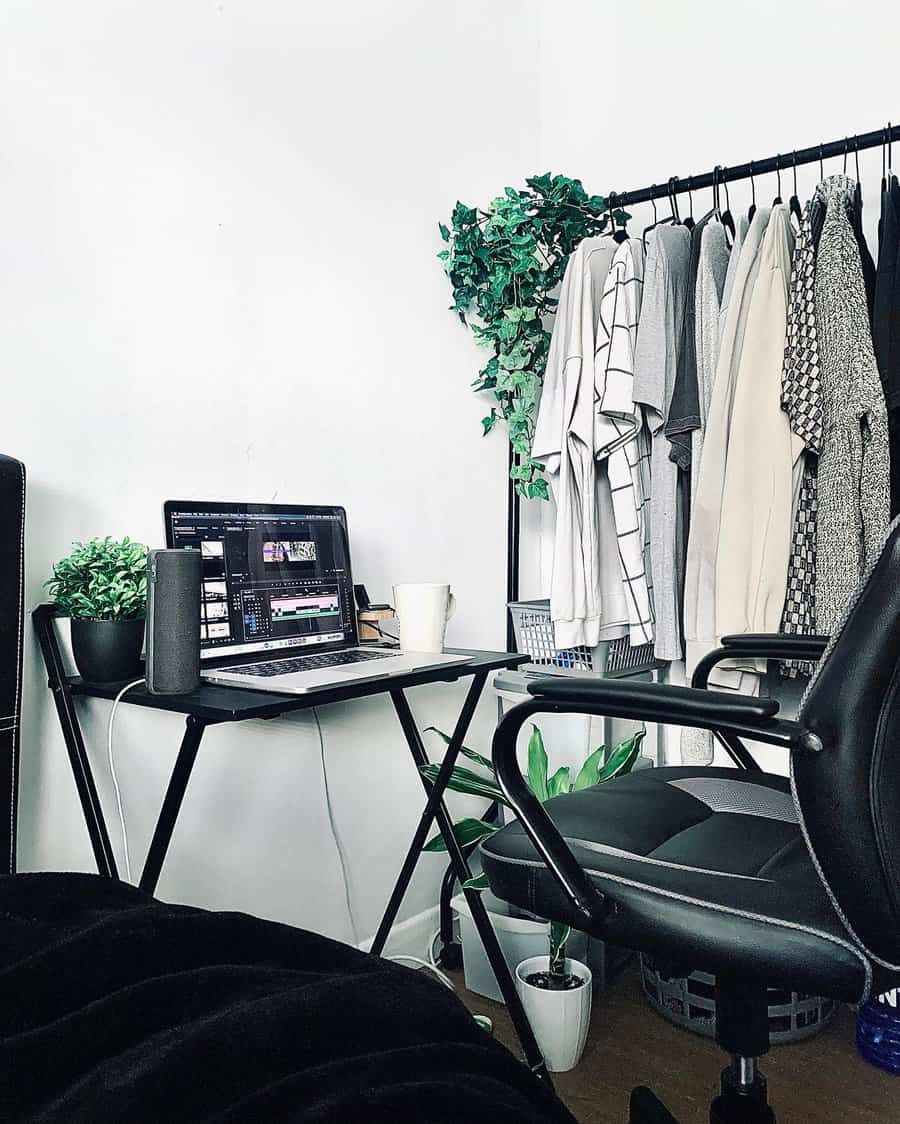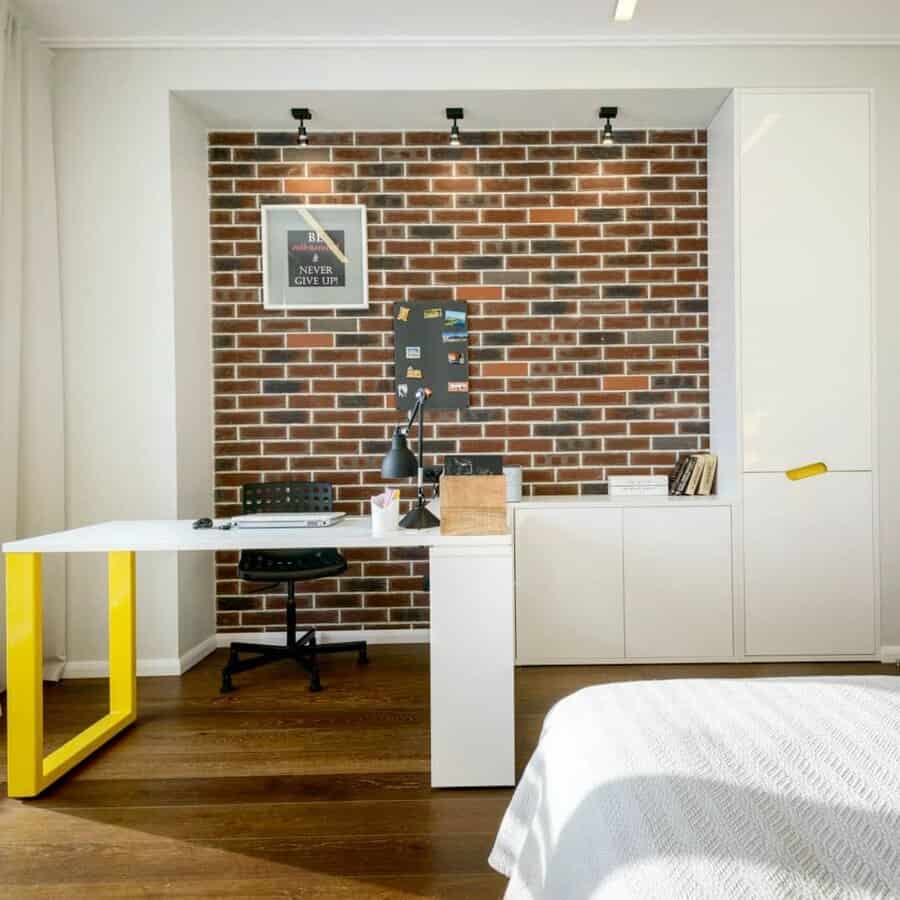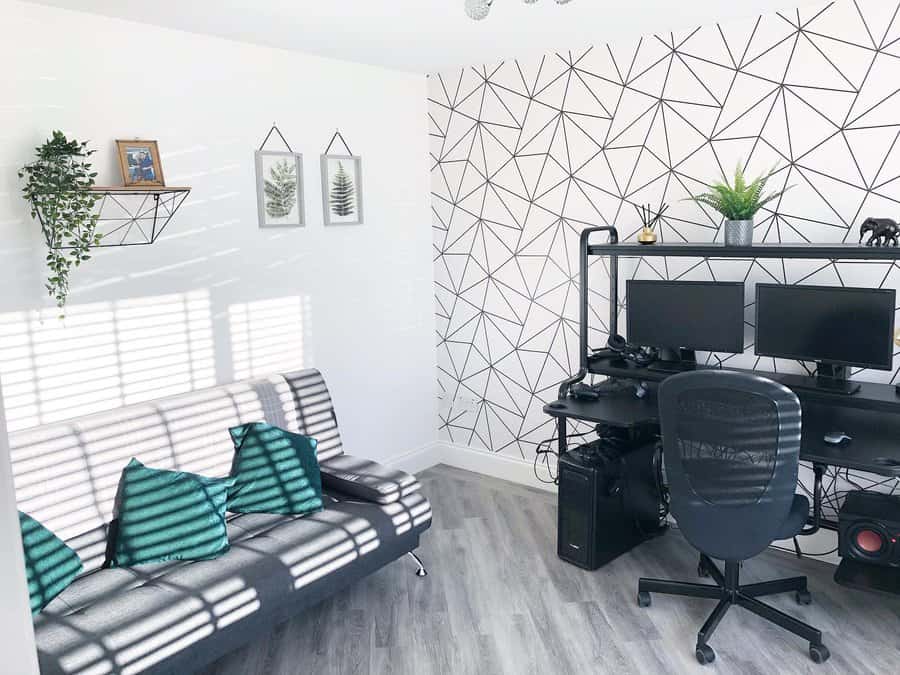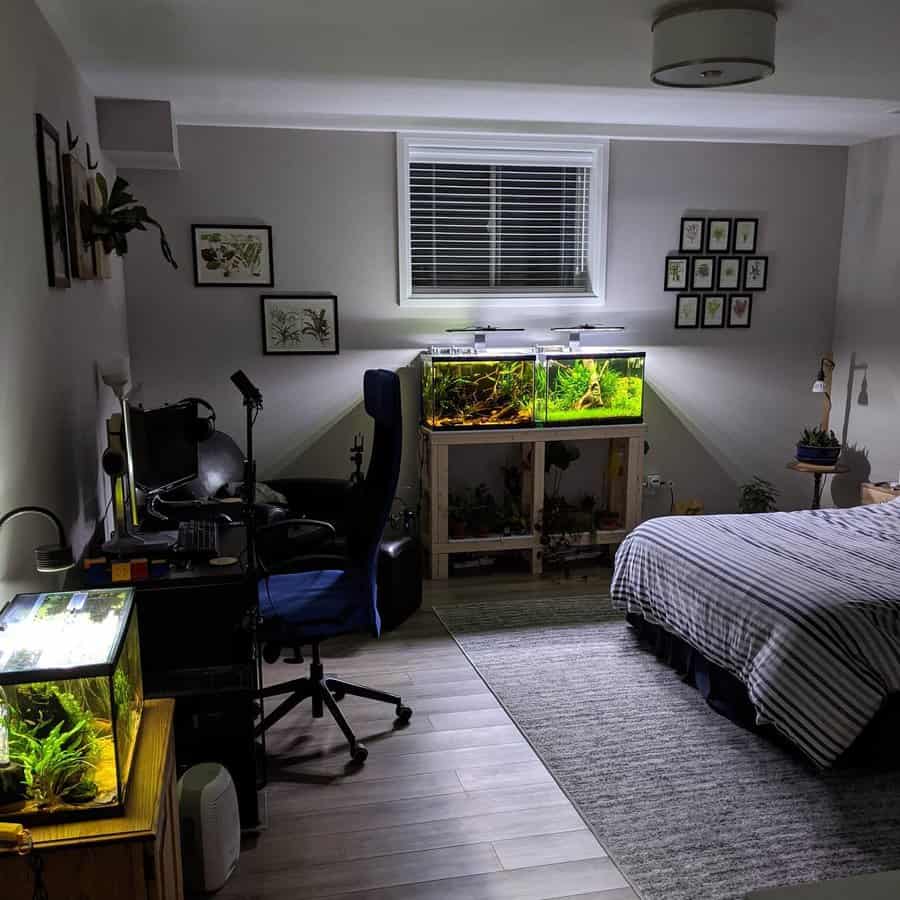 10. Embrace Clean Design with a White Desk
A white desk introduces a timeless elegance to bedroom offices, promoting a bright and airy atmosphere. Its neutral palette seamlessly integrates with varied decor styles. For added organization, opt for designs with built-in drawers or shelves. Pairing it with a coordinating white bookshelf further enhances cohesion and storage. With thoughtful accessorizing, your white desk transforms the bedroom workspace into a tranquil productivity hub.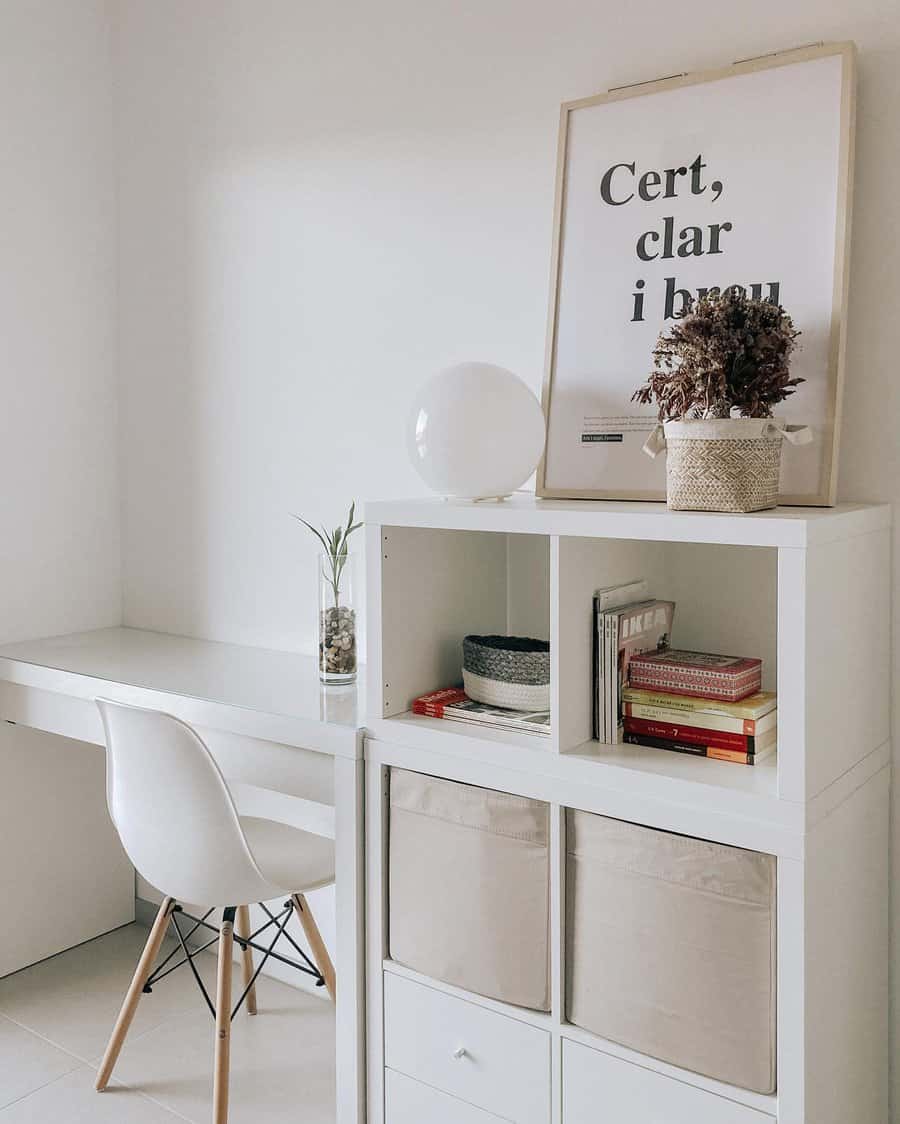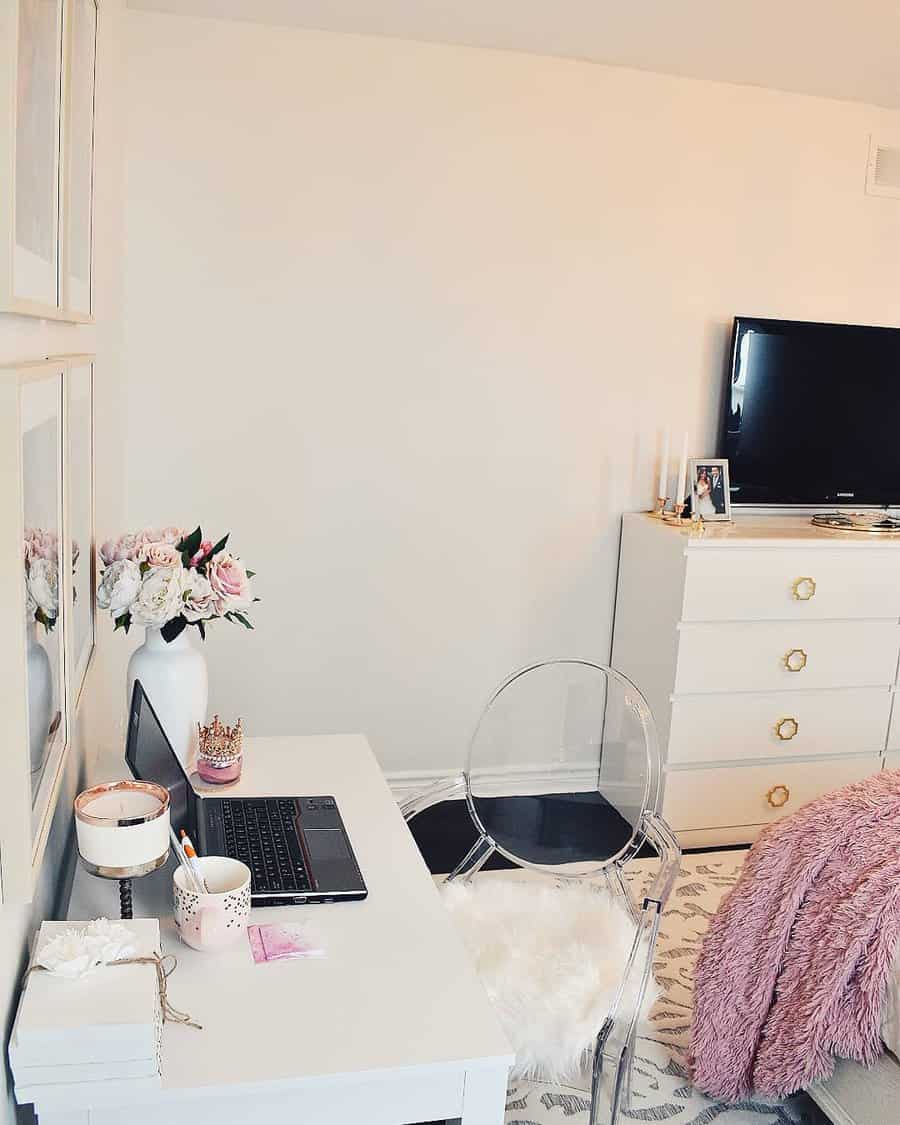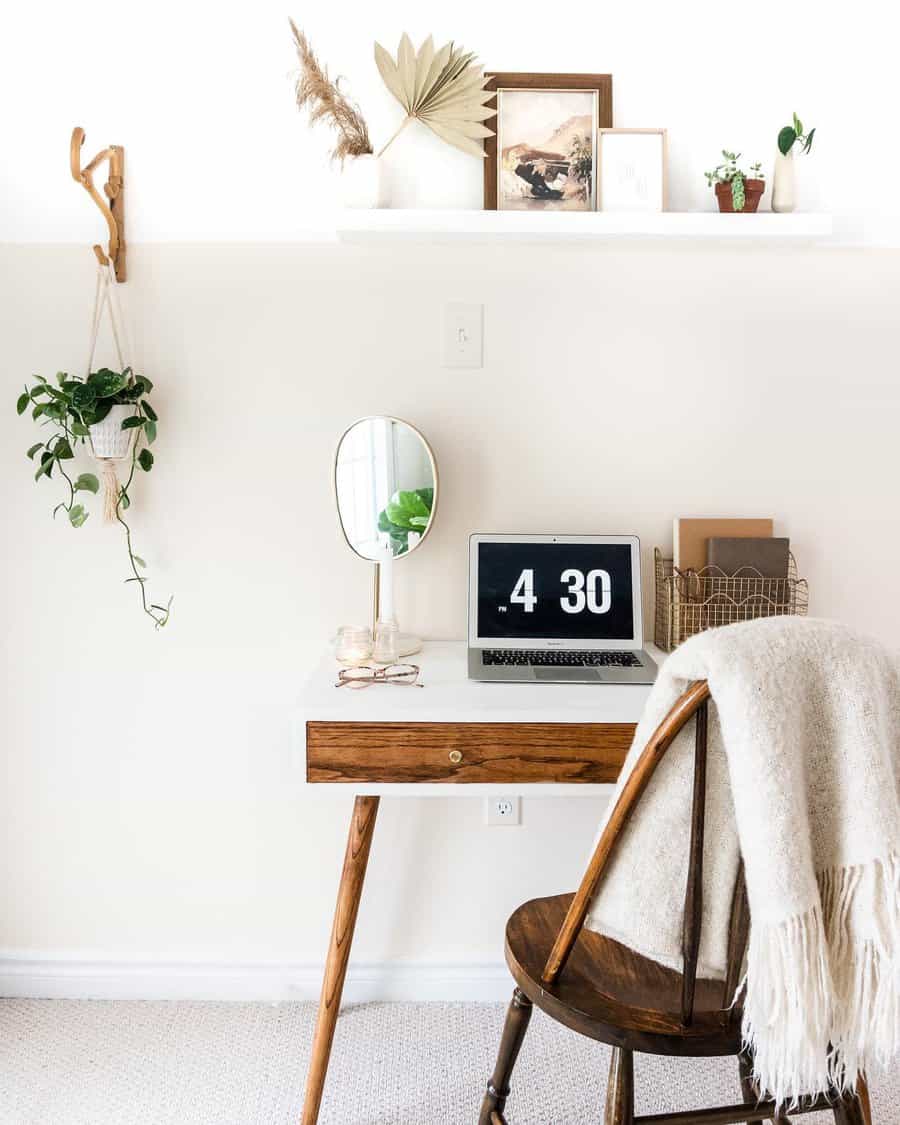 11. Stay Organized with Rolling Tray Storage
Rolling tray storage is an efficient solution for those craving mobility in their workspace. Easily transition your work area from the bedroom to the living room without the hassle of relocating items. Besides its portability, the rolling trays neatly store office essentials, eliminating clutter. This versatile storage choice ensures a functional workspace while preserving the harmony of your living areas.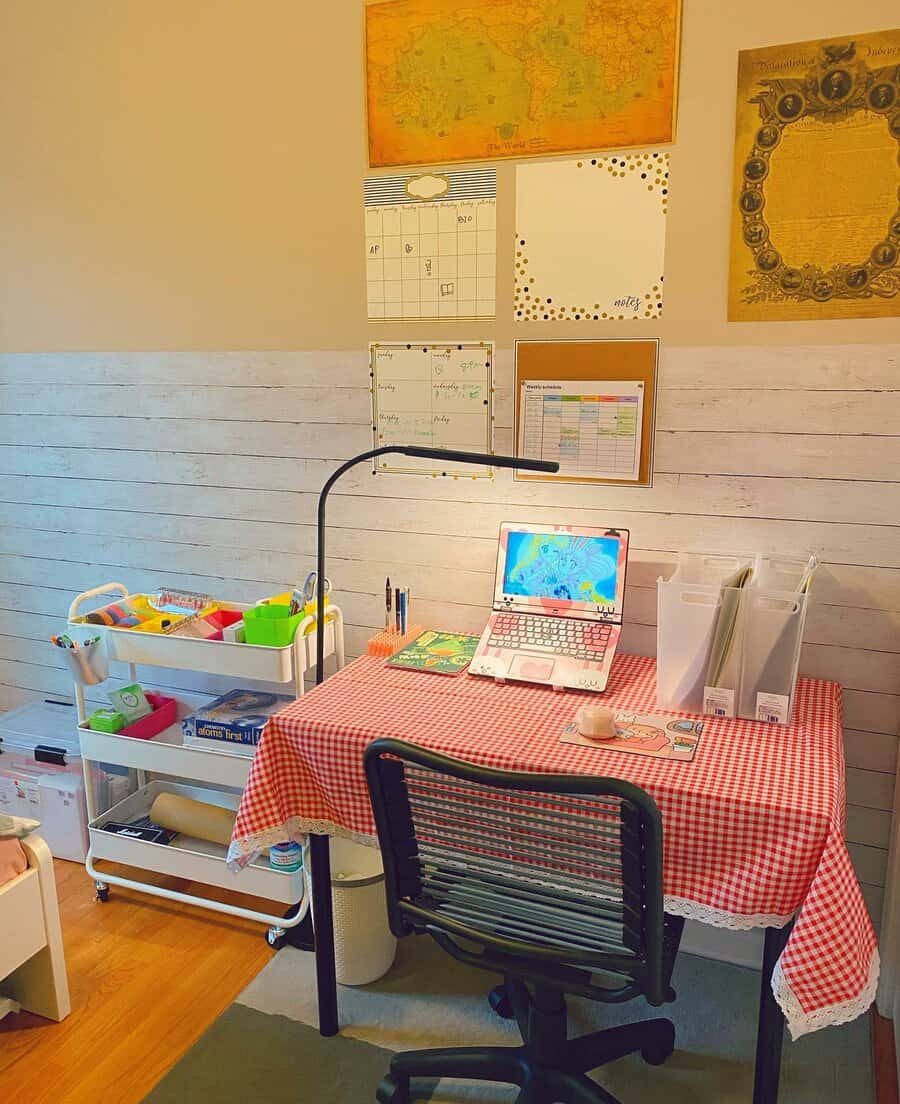 12. Boost Productivity with Greenery
Integrating plants into your bedroom office enlivens the space, enhancing mood and air quality. Opt for low-maintenance, low-light plants for effortless upkeep. Pair them with innovative solutions like desks with built-in planters or wall-mounted surfaces to maximize space utilization. Consider canvas closet organizers for accessible storage of office essentials. Merging greenery with functional design elements crafts a serene, efficient workspace.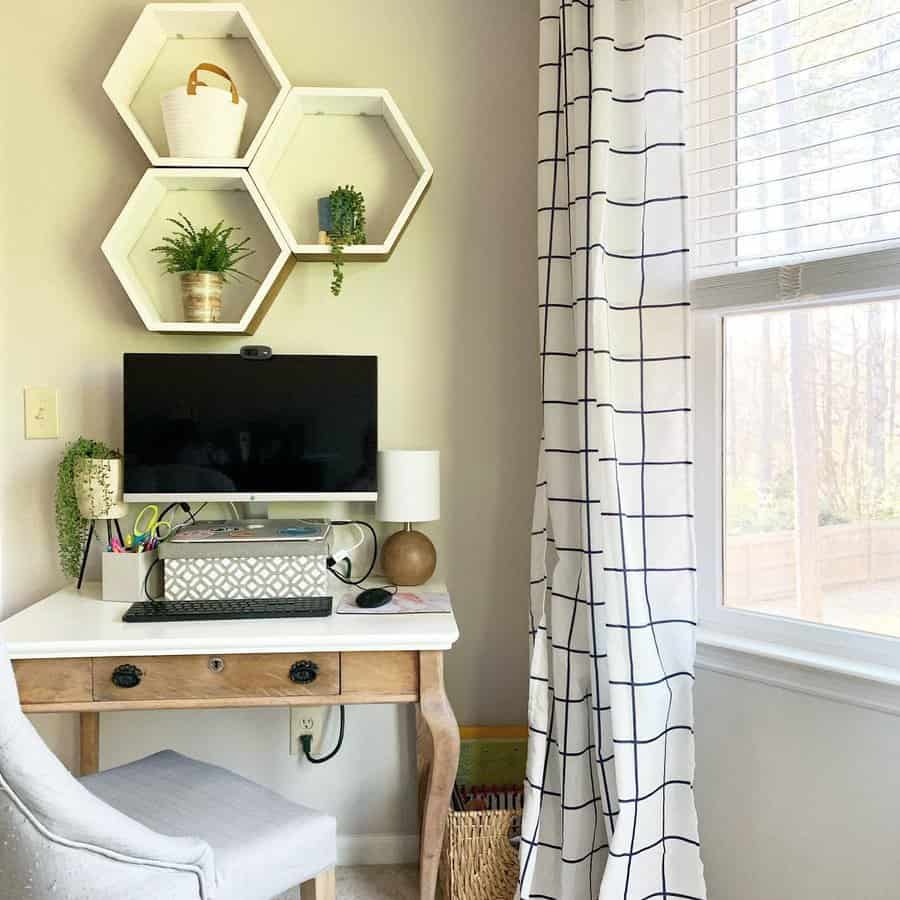 13. Add Character with a Vintage Desk
A repurposed vintage desk infuses your bedroom office with distinctive charm. Scour local thrift stores to find a piece that resonates with your style. Whether wooden with a patina of age or a metal desk craving a makeover, a bit of paint or decorative accents can rejuvenate it. Embrace the vintage allure, and craft a workspace that's both functional and brimming with personality.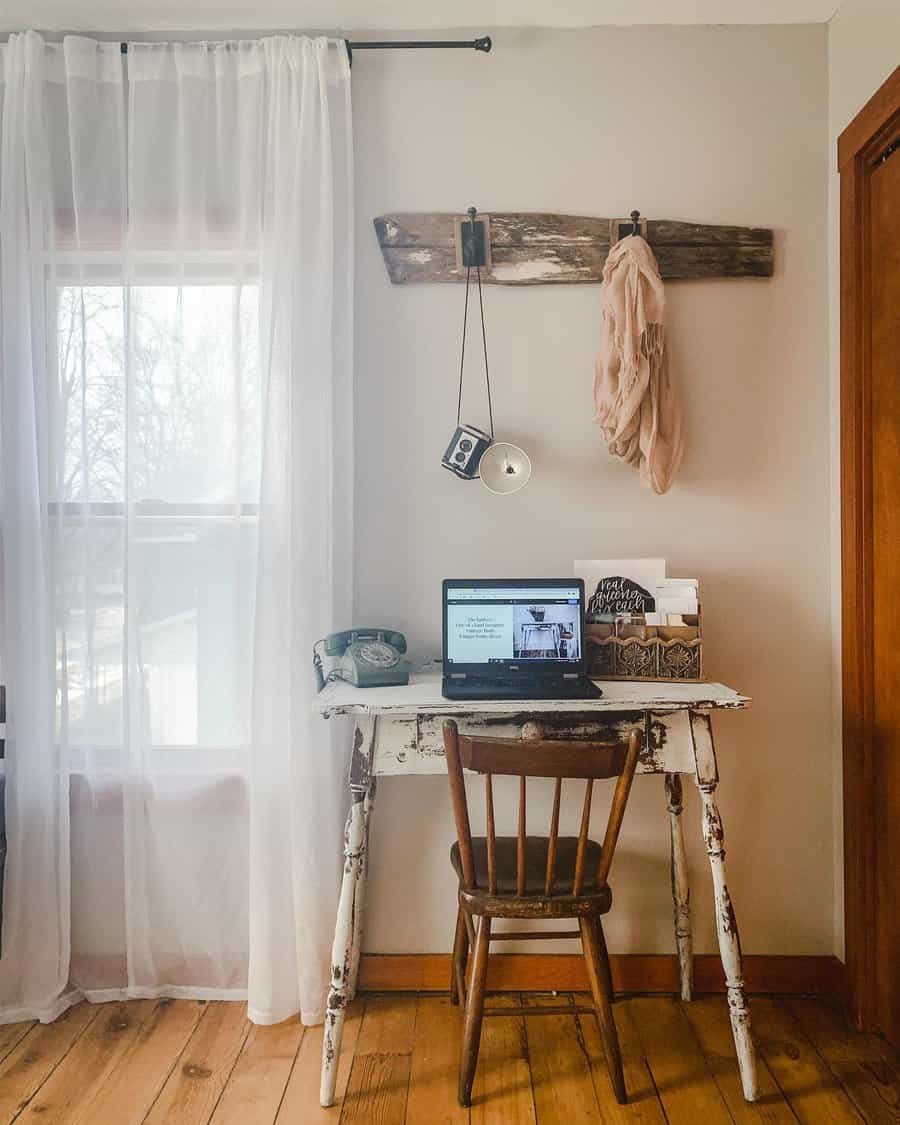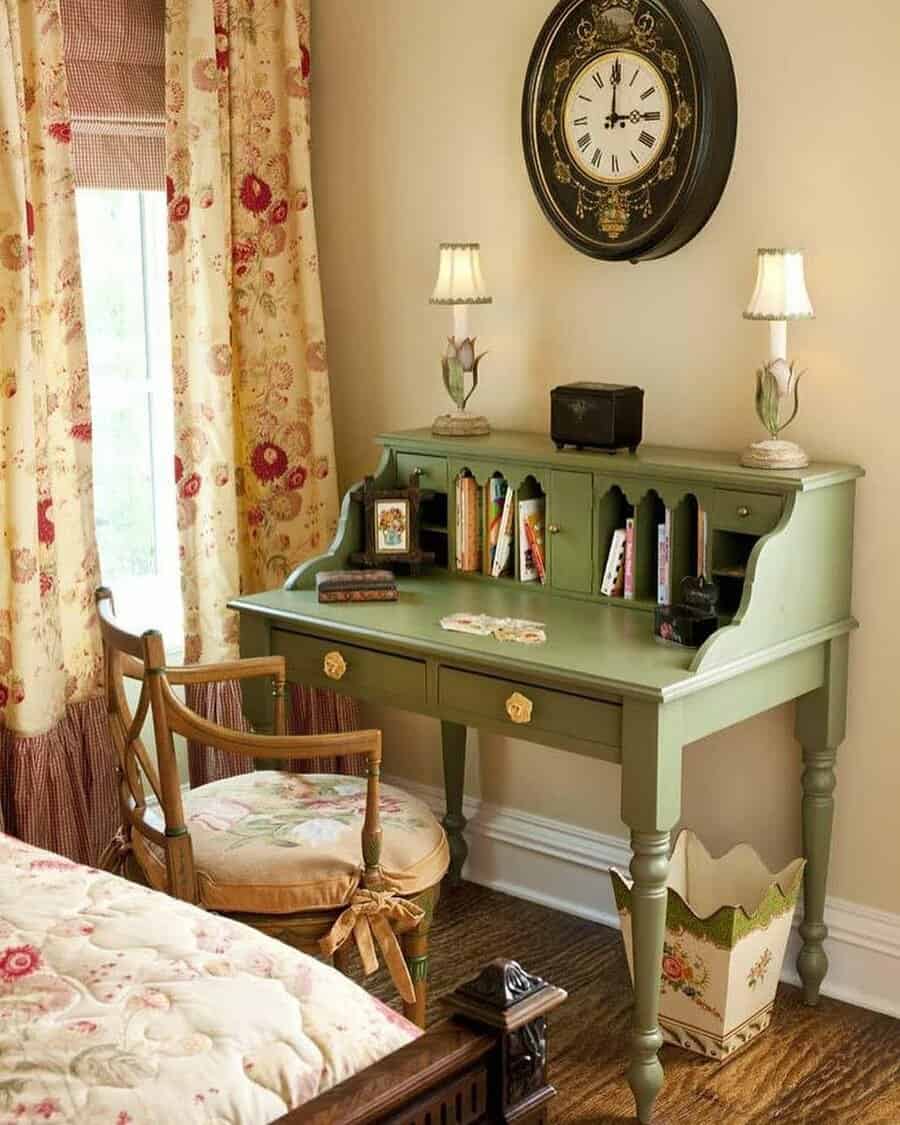 14. Sort Essentials with Durable Plastic Organizers
Durable plastic organizers, especially stackable ones, are invaluable in maintaining a clutter-free bedroom office. They offer compartments tailored for various office supplies, ensuring easy access and efficient storage. By keeping work materials neatly sorted, you draw a clear boundary between work and personal space, promoting a healthier work-life balance. Ensure the design harmonizes with your bedroom's aesthetic for a workspace that is both efficient and visually appealing.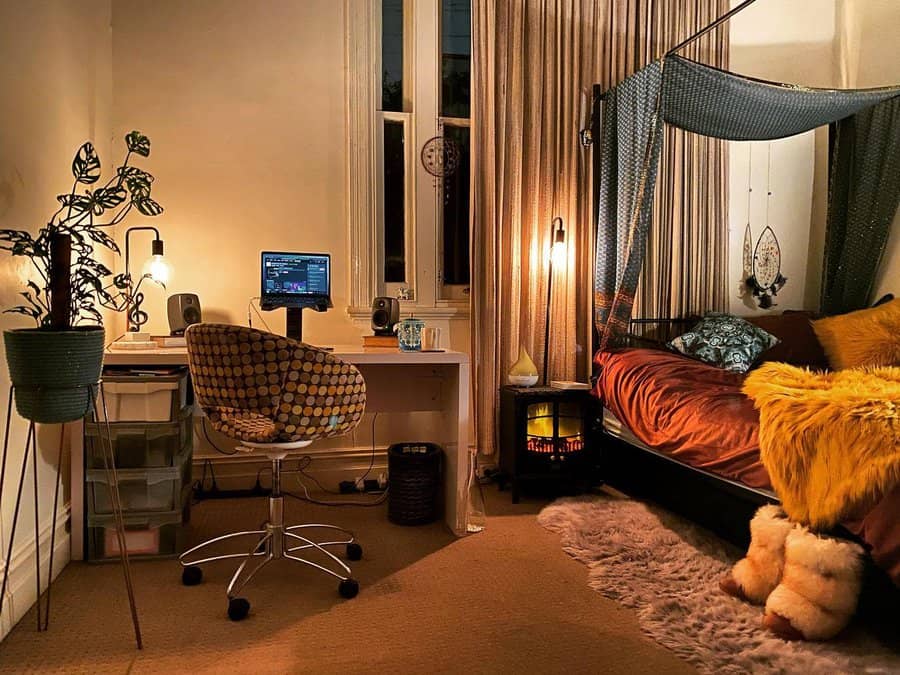 15. Enhance Multitasking with Multiple Screens
For those juggling numerous tasks, a multiple-screen setup in your bedroom office enhances efficiency. It facilitates easy toggling between applications, preventing disruption in focus. Ensure your desk is spacious enough for all monitors and equipment. Pair with an ergonomic chair for sustained comfort and posture support. When your workspace is thoughtfully crafted, it seamlessly blends productivity and relaxation.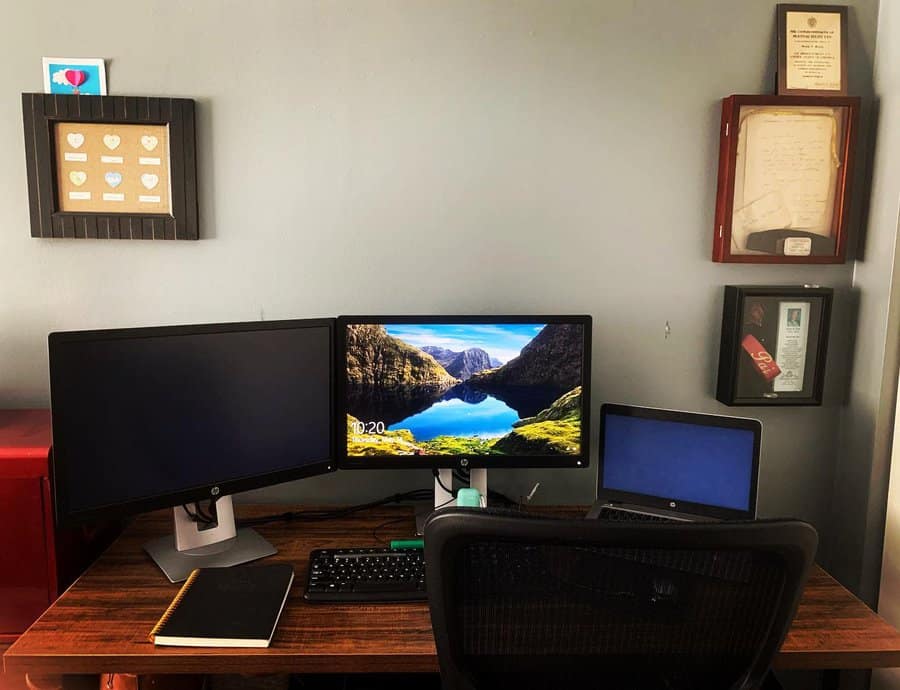 16. Stay Driven with Motivational Wall Quotes
Incorporate framed motivational quotes in your bedroom office to maintain drive and inspiration. Whether it's wisdom from renowned figures or personal affirmations, these reminders provide encouragement during challenging moments. Personalize your workspace with decor that resonates with your aspirations, crafting a setting that's both motivating and aesthetically pleasing.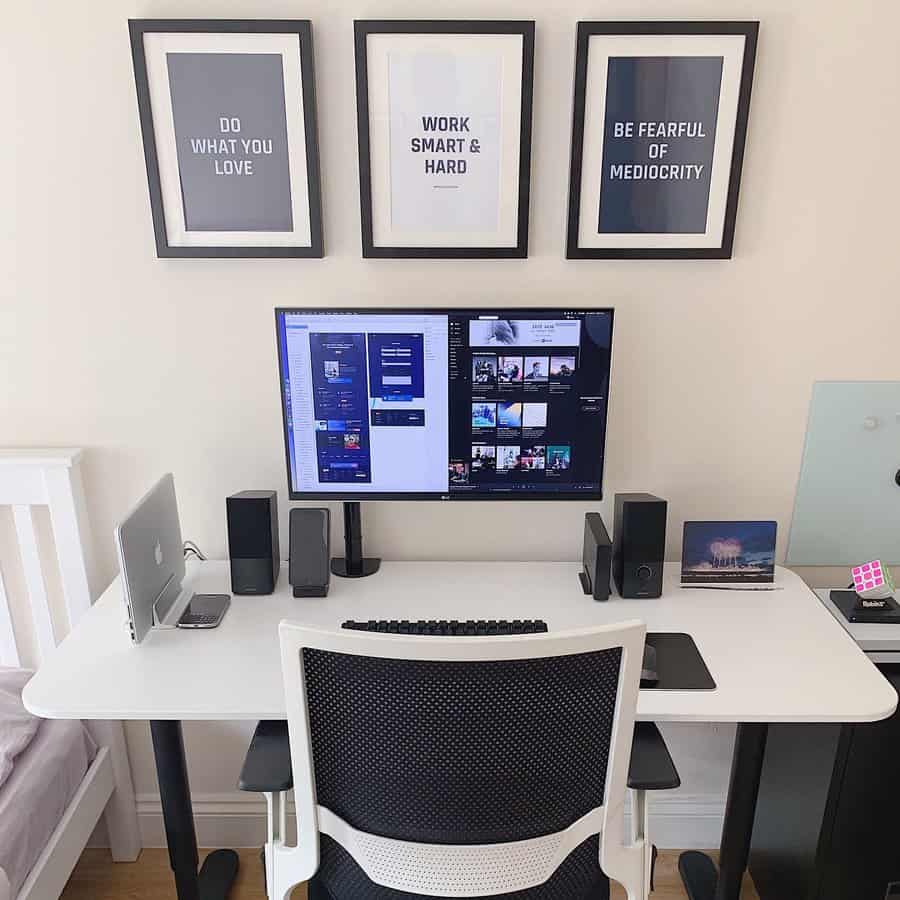 17. Capture Ideas on a Handy Cork Board
A cork board seamlessly integrates function and inspiration in a bedroom office. Pin important reminders, cherished photos, or sparks of inspiration, turning it into a dynamic visual aid. Complement the board with suitable storage options like bookshelves or filing cabinets. With the right furnishings, your bedroom becomes a hub of productivity and creativity.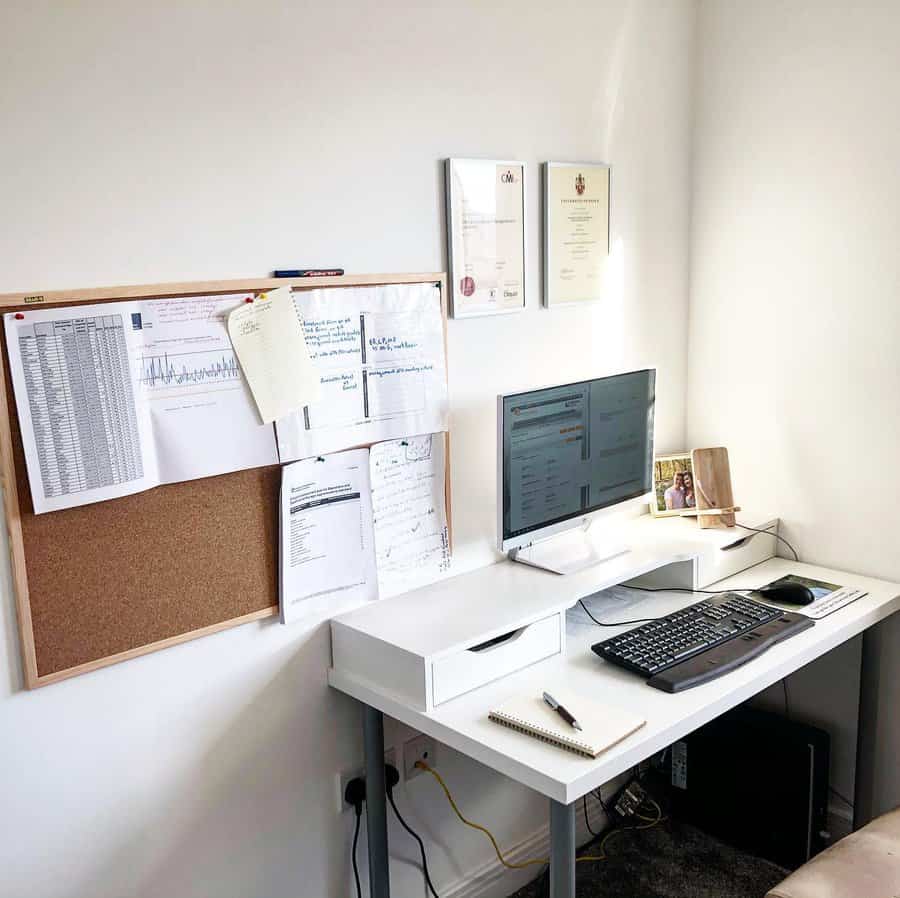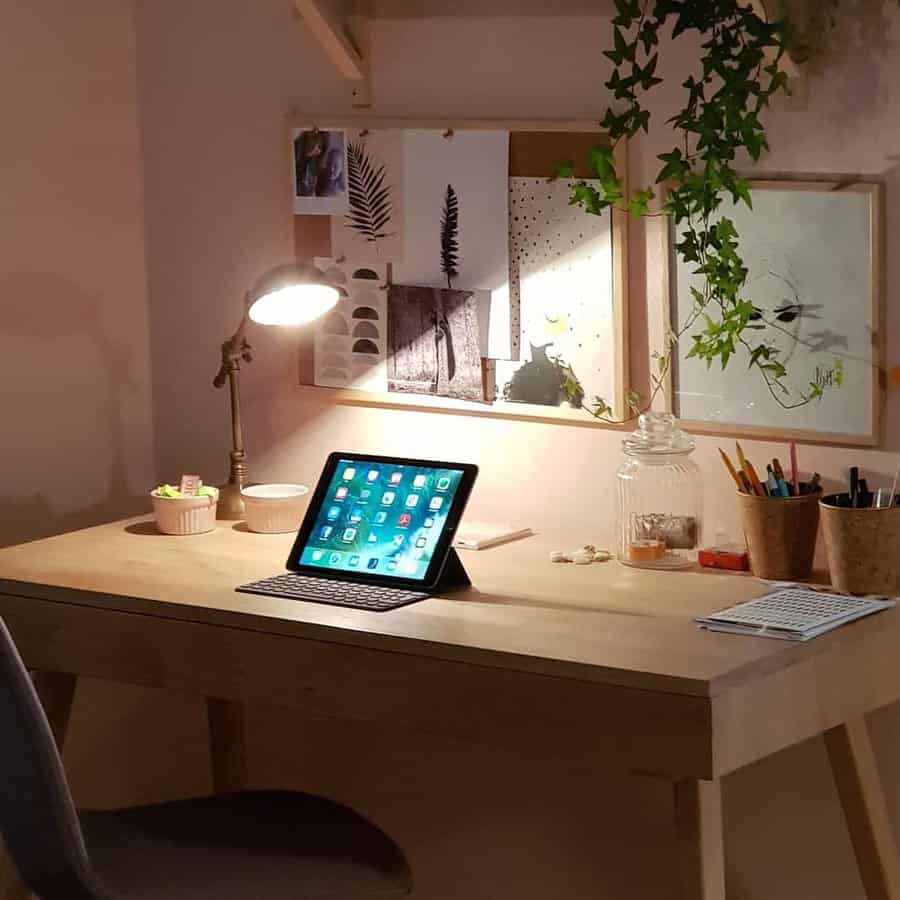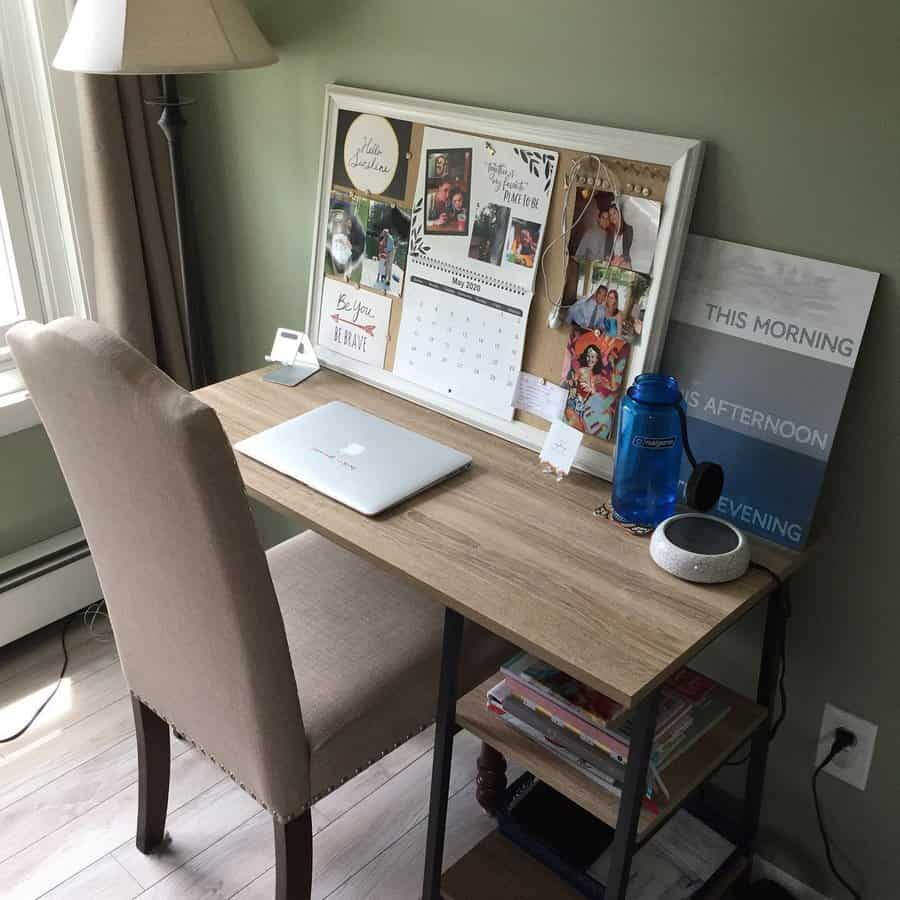 18. Save Space using a Pull-Out Desk
A pull-out desk is a game-changer for small bedrooms, offering a spacious work area that seamlessly retracts when not in use. When choosing one, prioritize style, material, and integrated storage to ensure it melds with your decor. This flexible solution transforms your bedroom into a versatile space, equally suited for relaxation and productivity.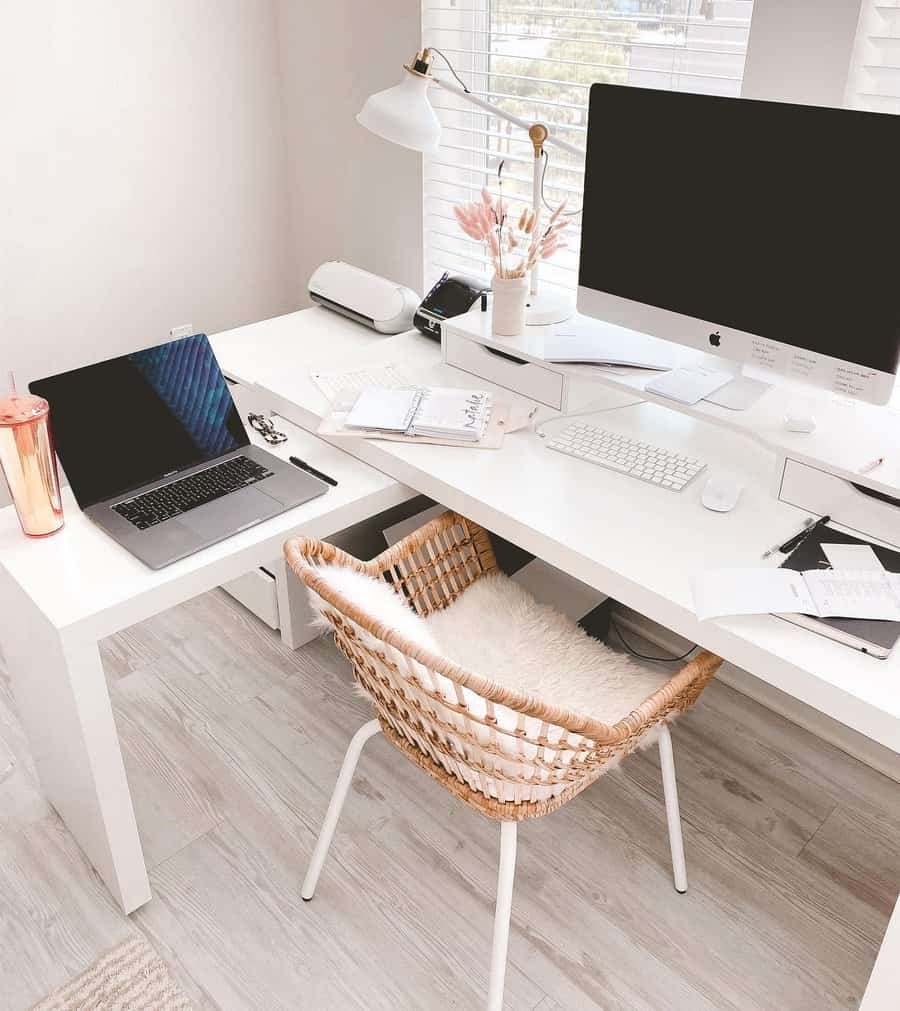 19. Illuminate Space with a Chic Wall Sconce
For a clutter-free, stylish bedroom office, consider adding a chic wall sconce. This eliminates the need for desk lamps, maximizing workspace, and ensures sufficient, eye-friendly lighting. Whether it's for reading or typing, a well-positioned wall sconce elevates your office ambiance while promoting clear, focused work.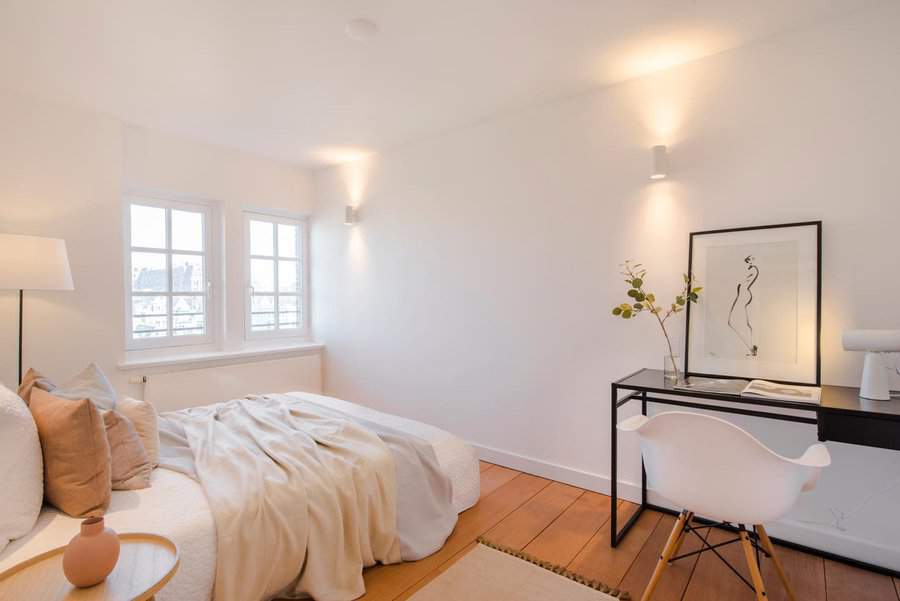 20. Customize Storage Solutions with Pegboards
Pegboards are versatile storage solutions that keep essentials at hand. Integrate one into your bedroom office setup, either built into the desk or mounted on the wall. It's perfect for organizing small items and supplies, and can be tailored with hooks and bins to fit your needs. With pegboards, you'll achieve both functionality and a touch of personalized style in your workspace.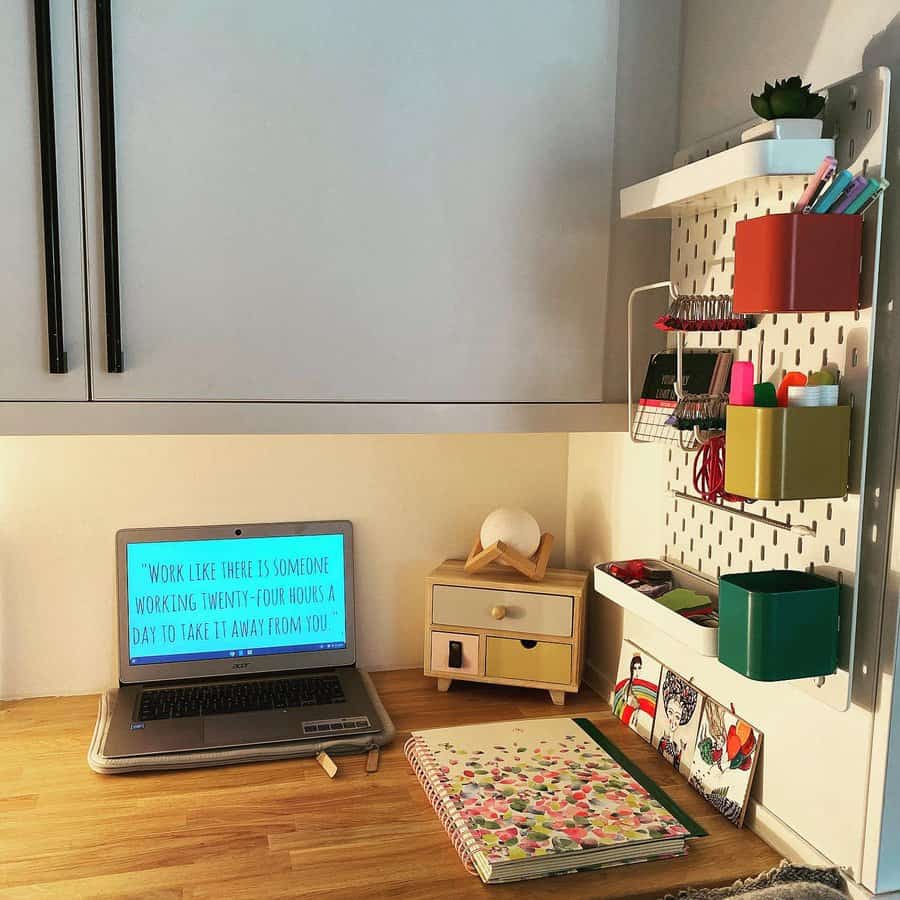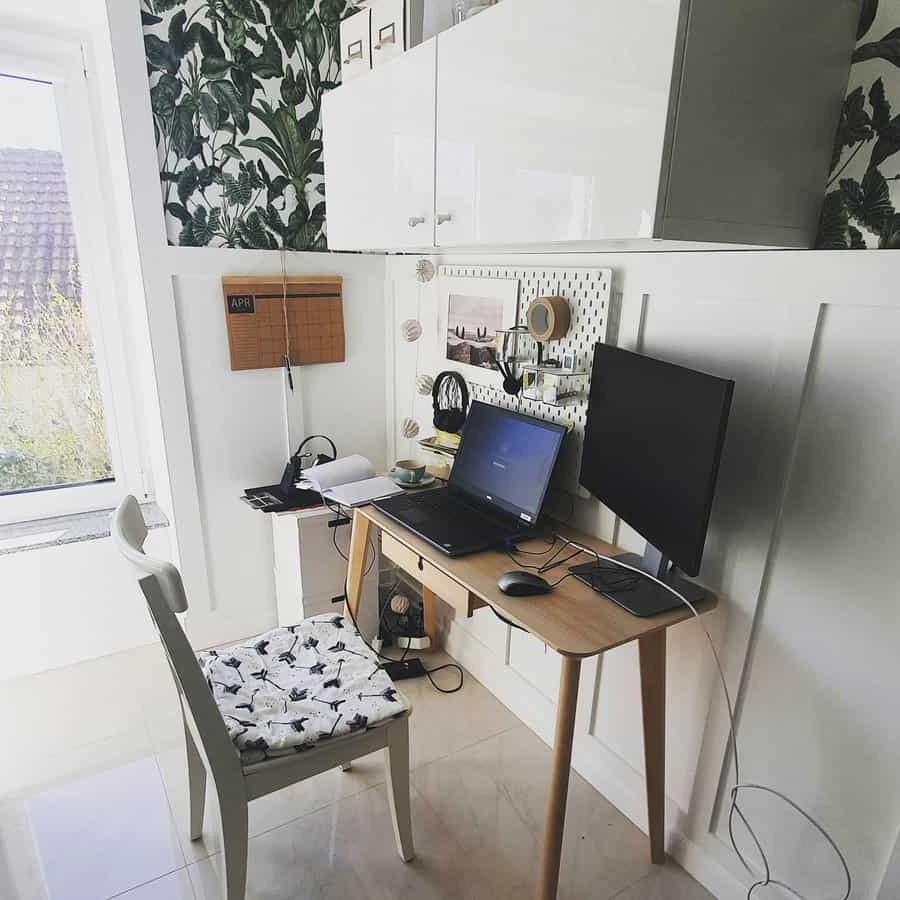 21. Neaten Up using Basket Desk Organizers
Basket desk organizers effortlessly tidy up your bedroom office, compartmentalizing supplies while adding a touch of rustic charm. Opt for a desk with integrated baskets or add your own to match the setup. Pair with natural wood accents for a harmonious and cozy ambiance, merging practicality with aesthetic appeal in your workspace.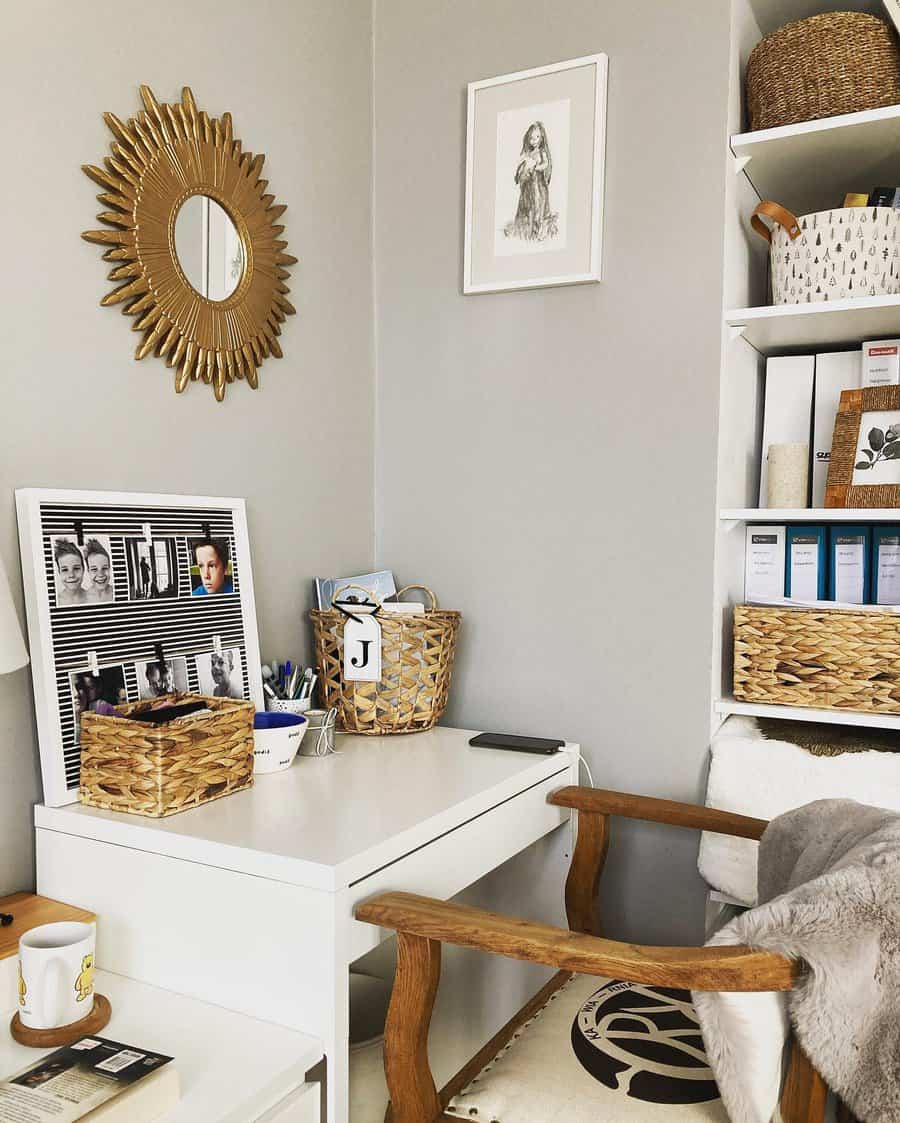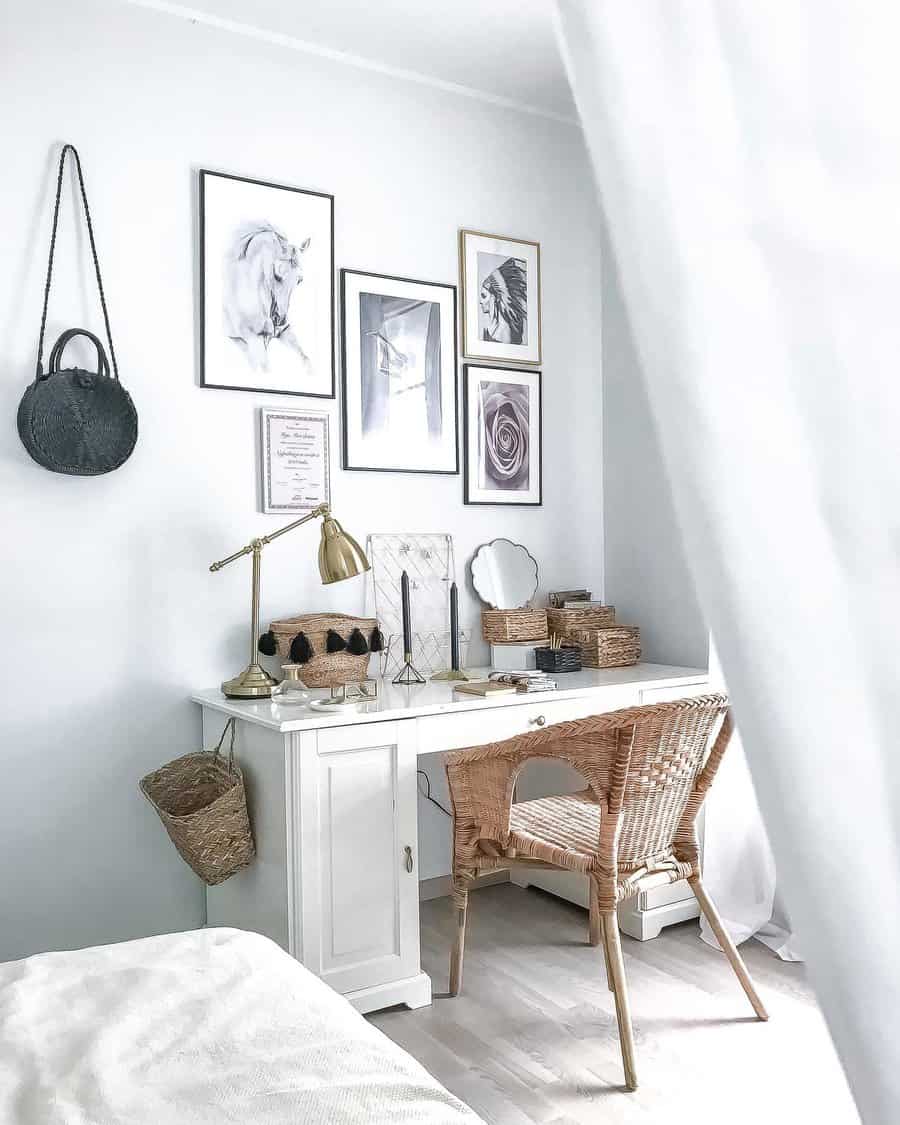 22. Opt for Elegance with a Glass Desk
Infuse sophistication into your bedroom office with the inclusion of a sleek glass desk. Its translucent nature inherently declutters, visually expanding the room while exuding contemporary grace. Complement its understated elegance with a minimalist chair and streamlined storage solutions, ensuring the workspace remains both functional and aesthetically appealing. With such a refined setup, productivity meets style, transforming your bedroom into a modern office sanctuary.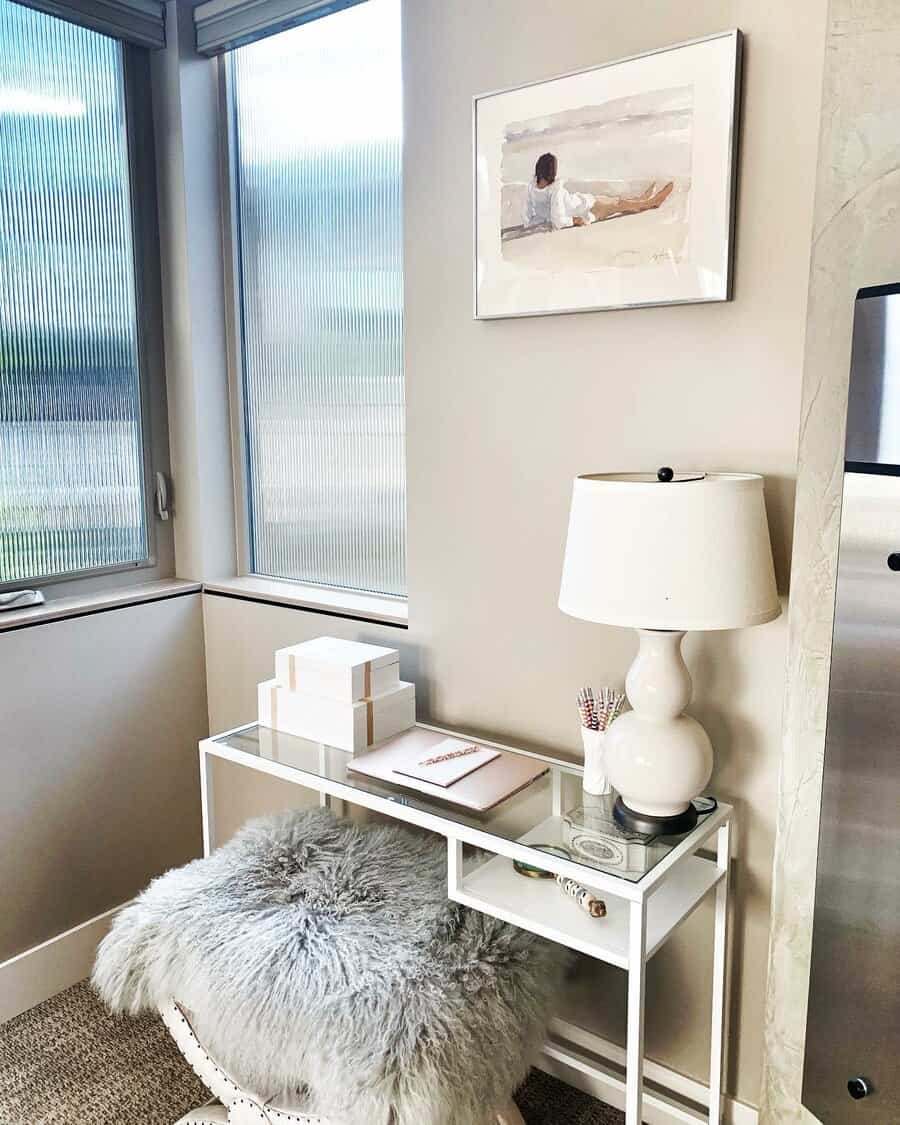 Bedroom Office FAQs
Is it bad to have your desk in your bedroom?
Some experts believe that it's harmful to both work and sleep to have an office in your bedroom. The theory is that you cannot be as productive in your bedroom as you would be elsewhere and that seeing your desk will keep you from relaxing at night. However, many people have a bedroom workspace and manage the work/life balance just fine.
Should your desk face the wall?
There's no one-size-fits-all answer for where a desk should be placed. If you have a particularly small space, there may only be one place to put it. If you're easily distracted, facing a wall may be the best way to stay focused on your work. But if you're prone to claustrophobia, you may need to face a window or the middle of the room.