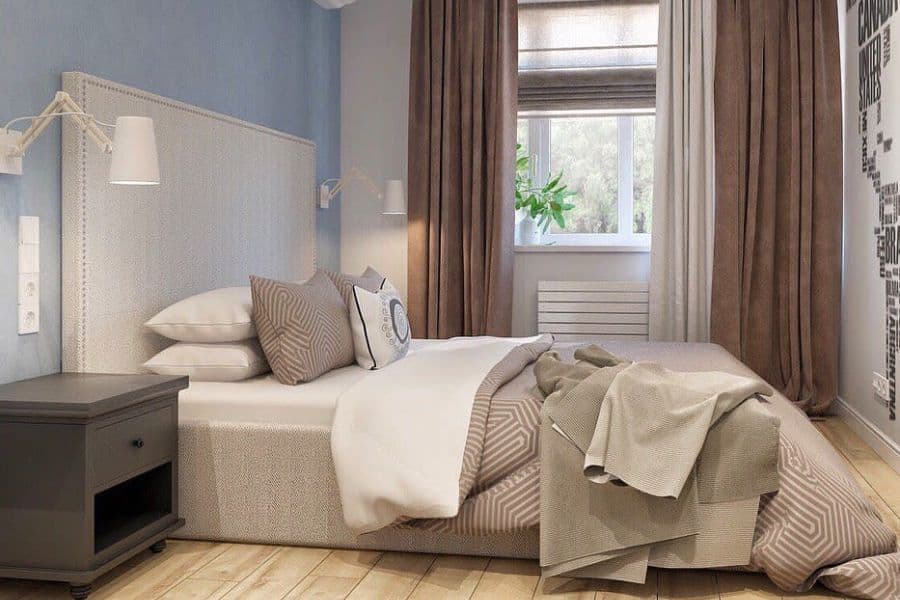 The Top 59 Master Bedroom Ideas
"My happy place is my bedroom. I love it." – Ayesha Curry
The master bedroom in your home is your personal space. This is your place to retreat and recharge.
You wake up the next morning and get ready for whatever your day will bring. To help you enjoy your bedroom, you need to have the right arrangement of furniture and decor.
It helps to look at master bedroom ideas. This helps you understand what furniture pieces work well with your master bedroom. Then you can complete the look with throw pillows, an area rug, and curtains.
These master bedroom ideas will help you find the perfect decor and arrangement for your bedroom.
1. Ceiling
The ceiling is considered the fifth wall in modern interior design. Gone are the days of plain white ceilings that disappear. Turn your ceiling into a statement by painting it a bold color. Black will make the room feel bigger by helping the ceiling to recede upward.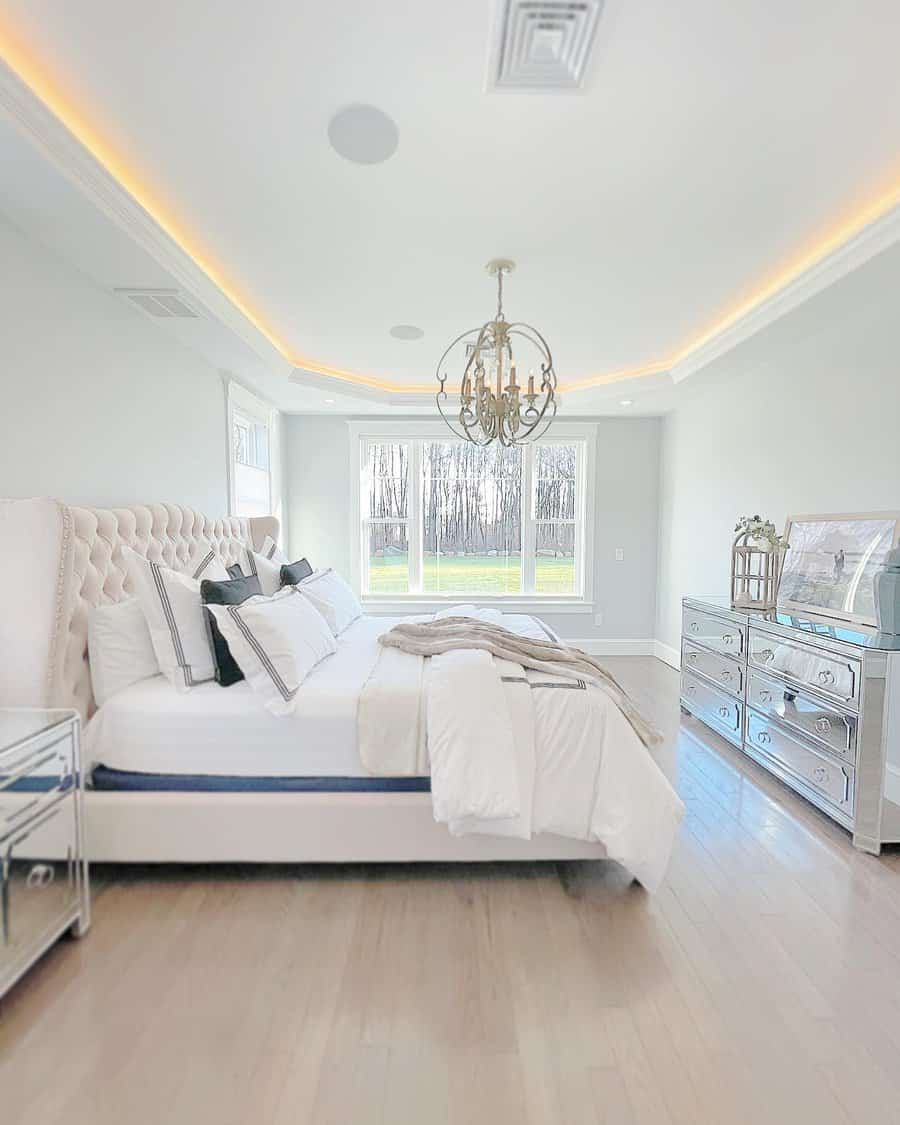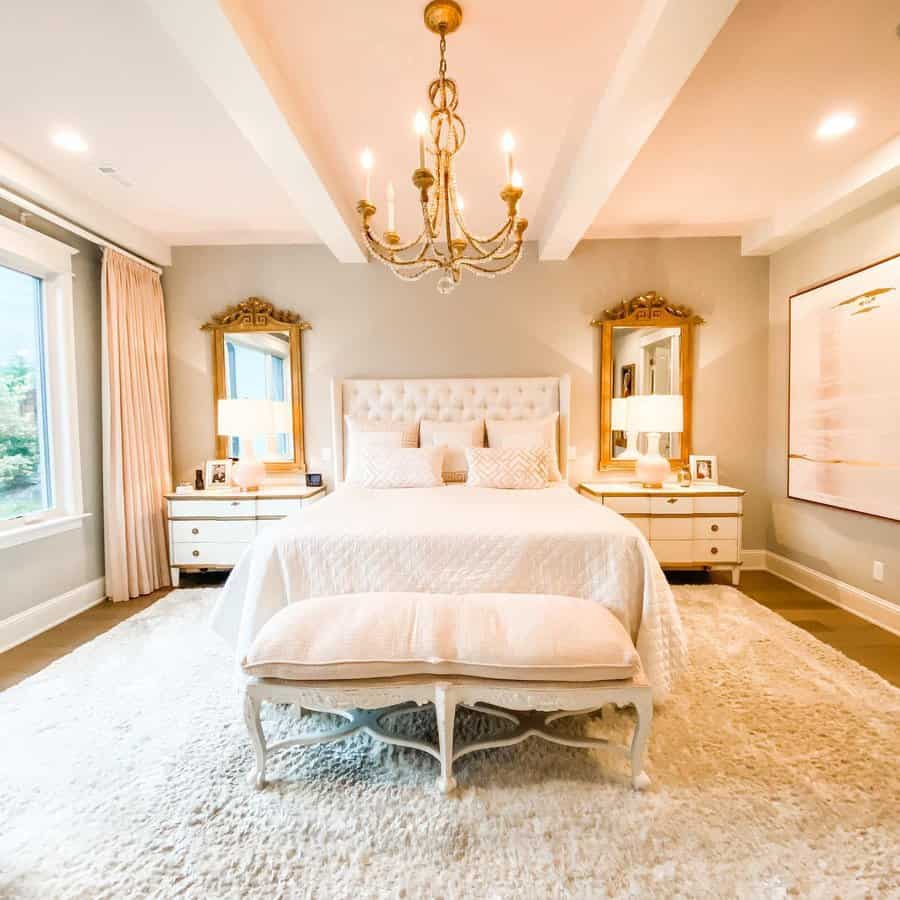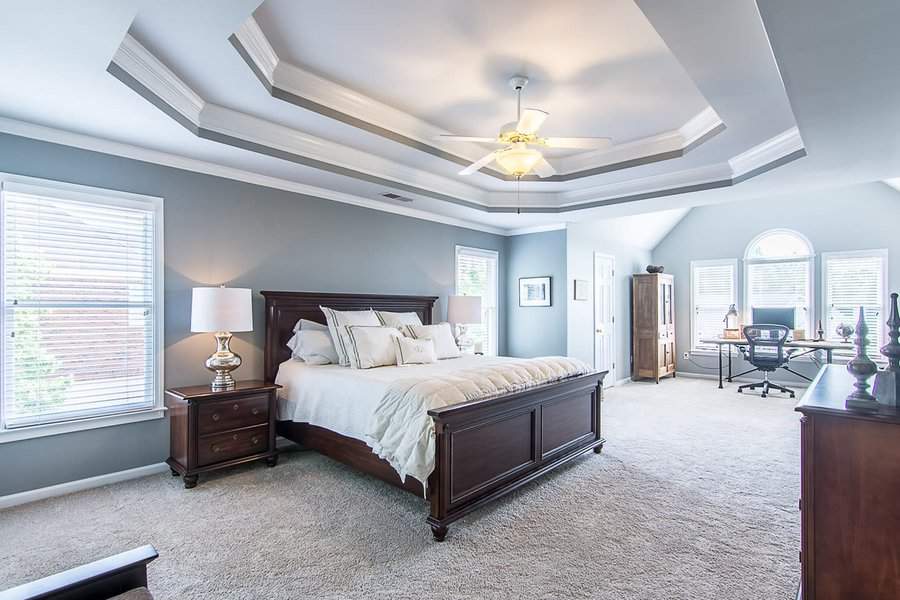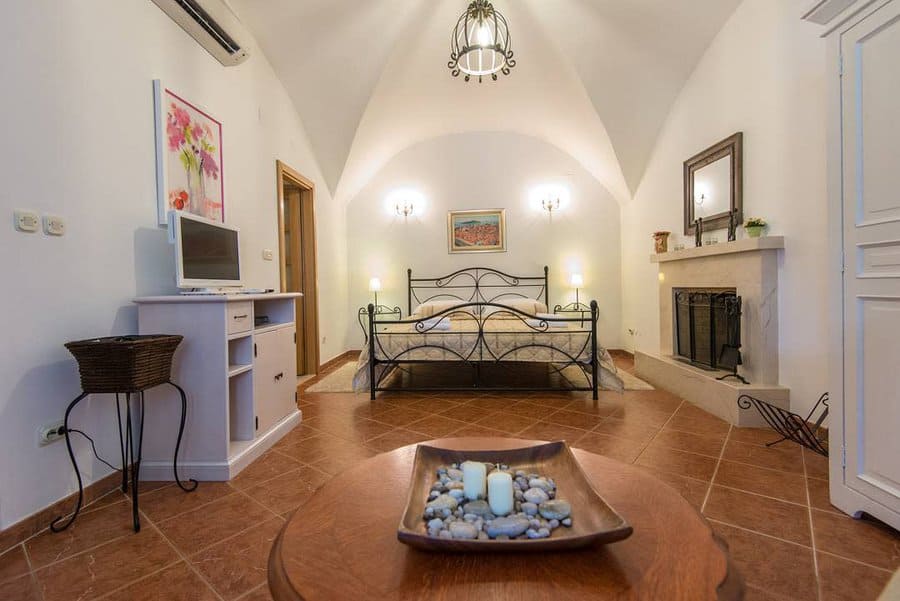 Another option is to create a statement with your light fixture or ceiling fan. Choose a bold design that will draw the eye up. A vaulted ceiling that's painted a color will make it seem more slanted and taller than it really is.
If you don't have a ceiling fan option, then try a coffered ceiling for your bedroom. These are beams that are arranged in a criss-cross pattern.
2. Curtain Ideas
There are two places where you can add curtains to your master bedroom. The first is to hang the curtains on your bedroom window. Do it right, and you can make a small bedroom feel larger.
Mount the rod above the window and close to the ceiling. Then buy curtains that extend to the floor. This will make the ceiling seem higher and the walls taller.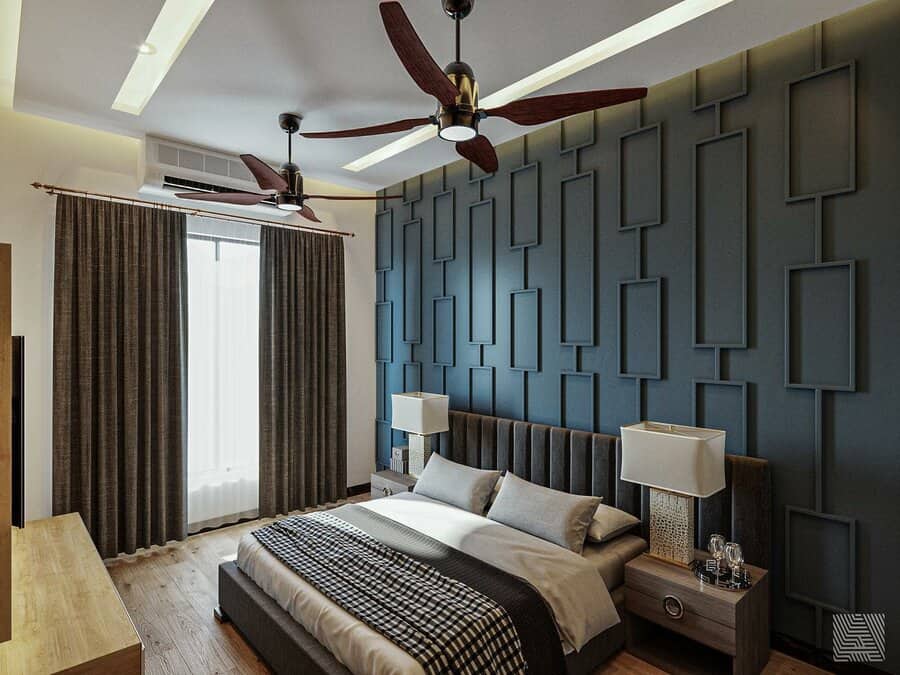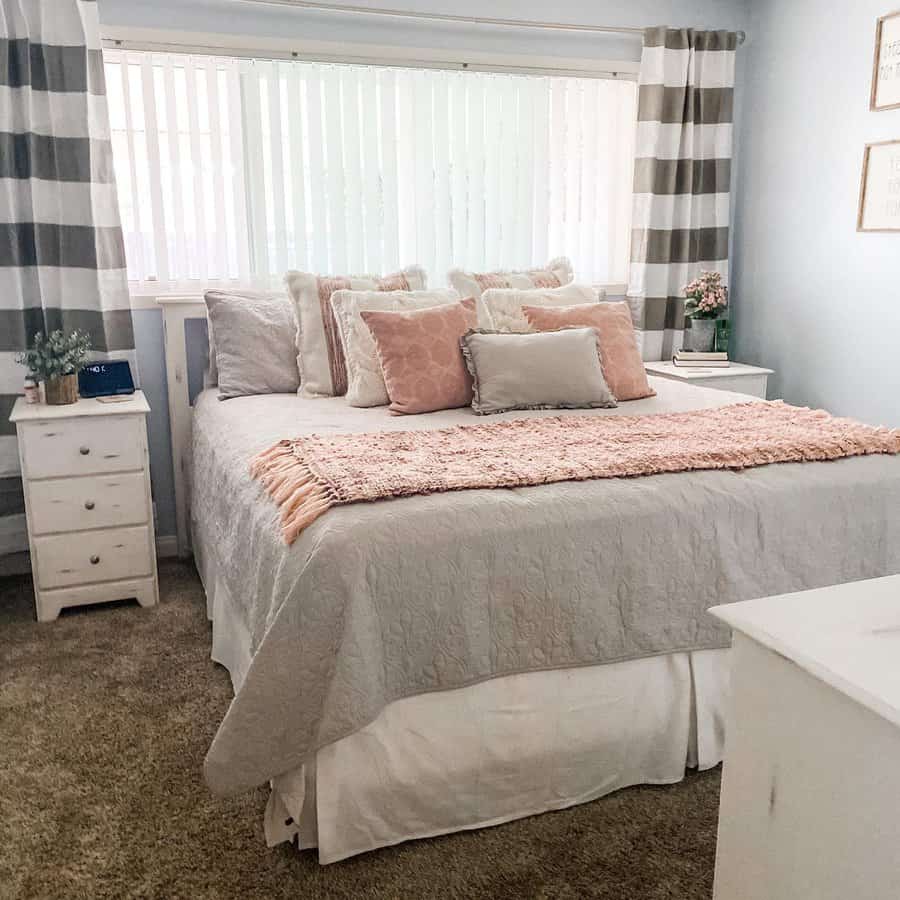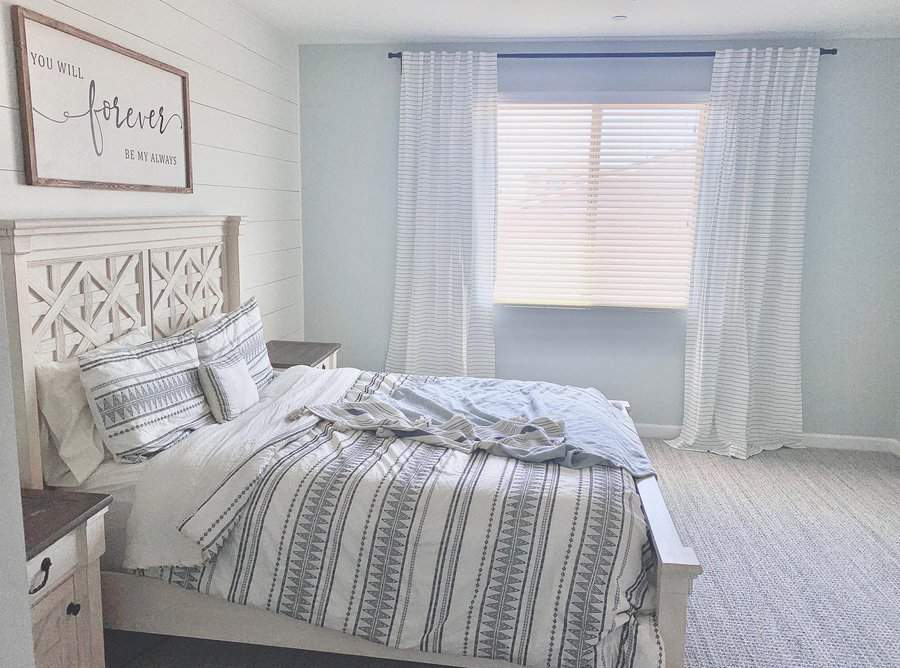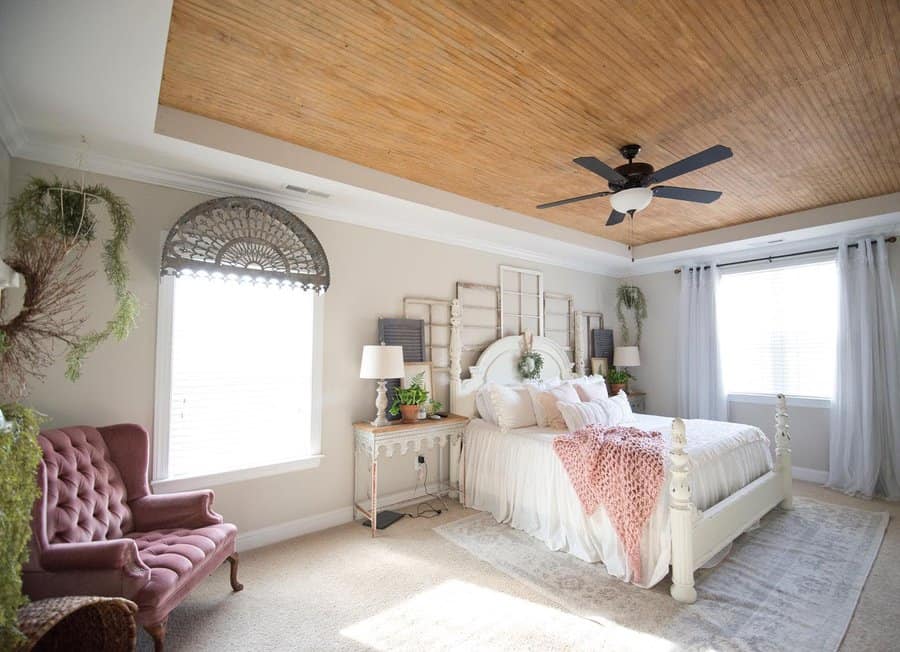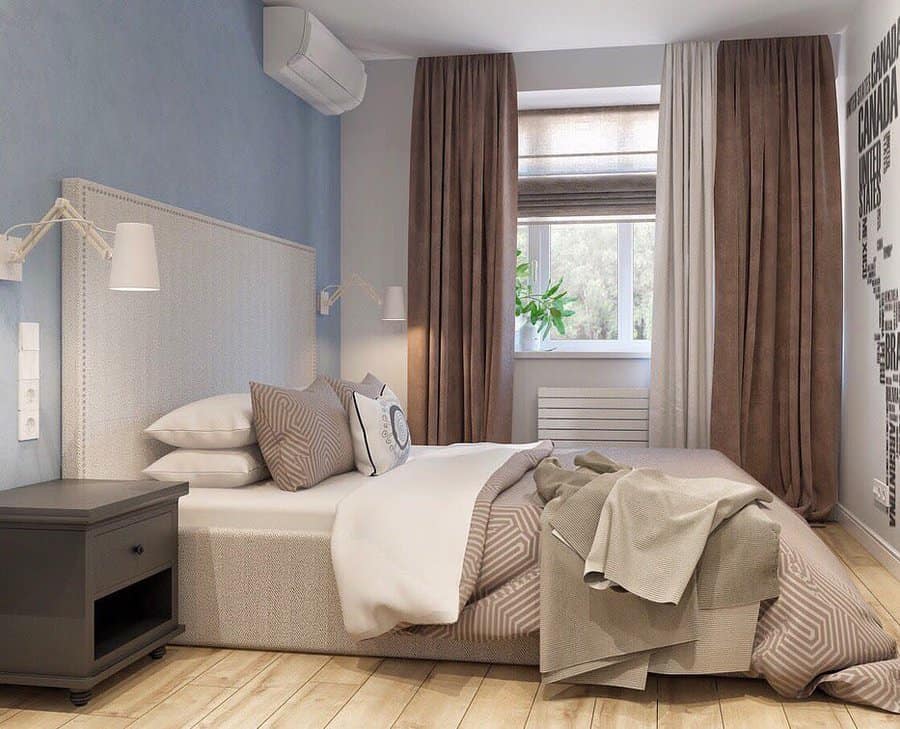 The other option is to use curtains in your bedroom design. Purchase a bed with a frame that you can turn into a canopy bed. Drape curtains from the frame and have them cascade down around the bed.
For a traditional look, choose a heavy, light-blocking fabric. For a more whimsical look, choose a lightweight fabric that looks sheer.
3. Design
Designing your master bedroom starts with choosing the right large furniture pieces. This includes your bed, headboard, and dresser. Then you need to arrange the smaller pieces, such as nightstands, floor lamps, and an accent chair.
The final step is to add decorative pieces, such as table lamps, area rug, decorative pillows, throw blanket, plants, flowers, wall decor, bedding, or anything other accent pieces you find decorative.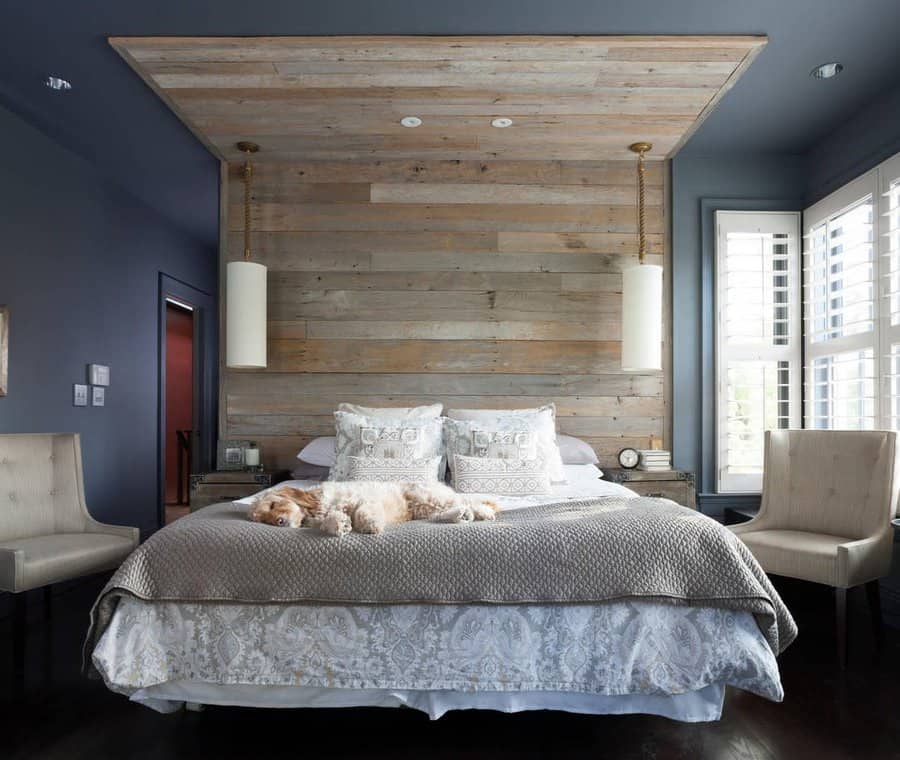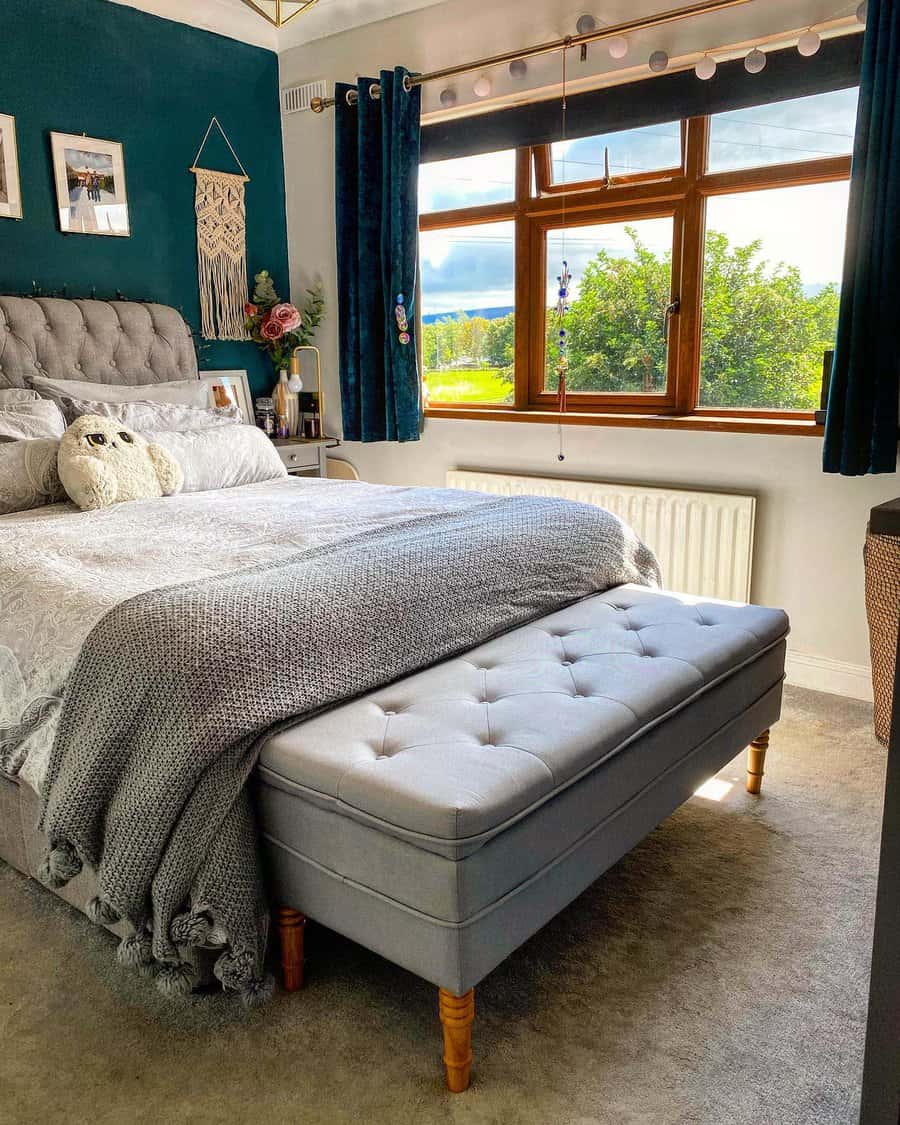 It can help to look at master bedroom design ideas to help you find a direction. You can look at ideas that use your chosen color palette to get an idea of what your bedroom will look like.
4. DIY
If you're working with a limited budget, then it can be frustrating to decorate your master bedroom. One way to save money is to take the decorating ideas you love and find a way to DIY them.
Instead of buying an expensive designer throw pillow, you can easily sew one together yourself. Or you could turn your current headboard into one that's fancier. Use fabric, buttons, and padding to turn it into a tufted headboard.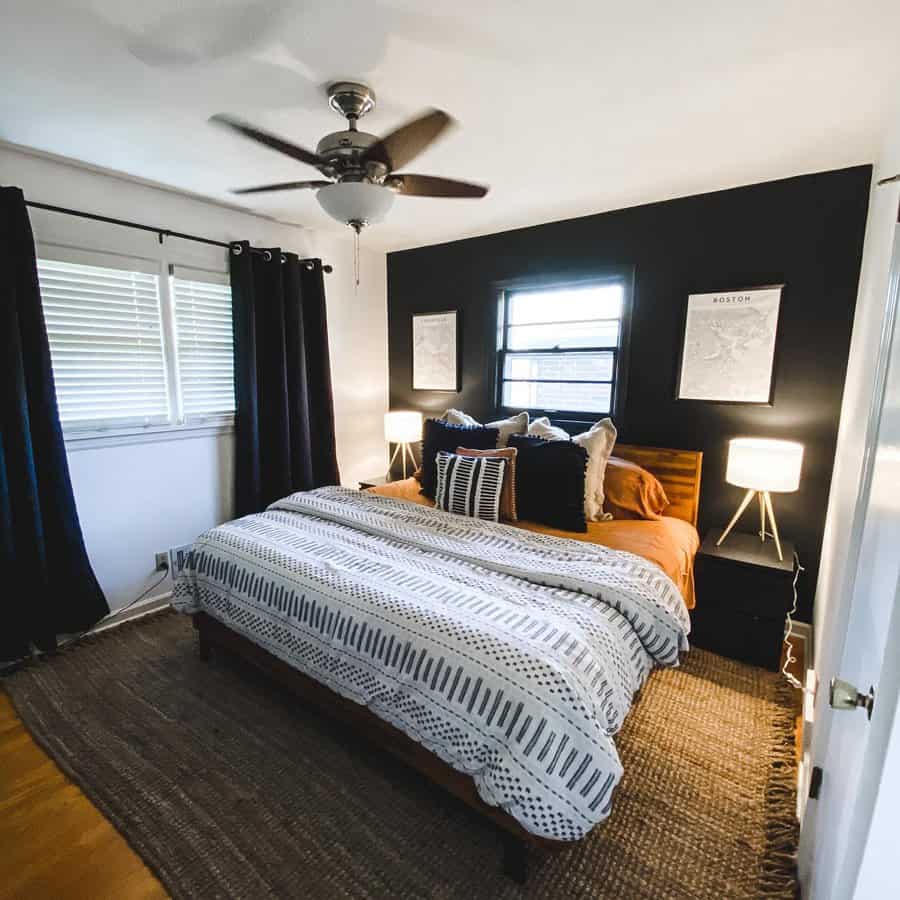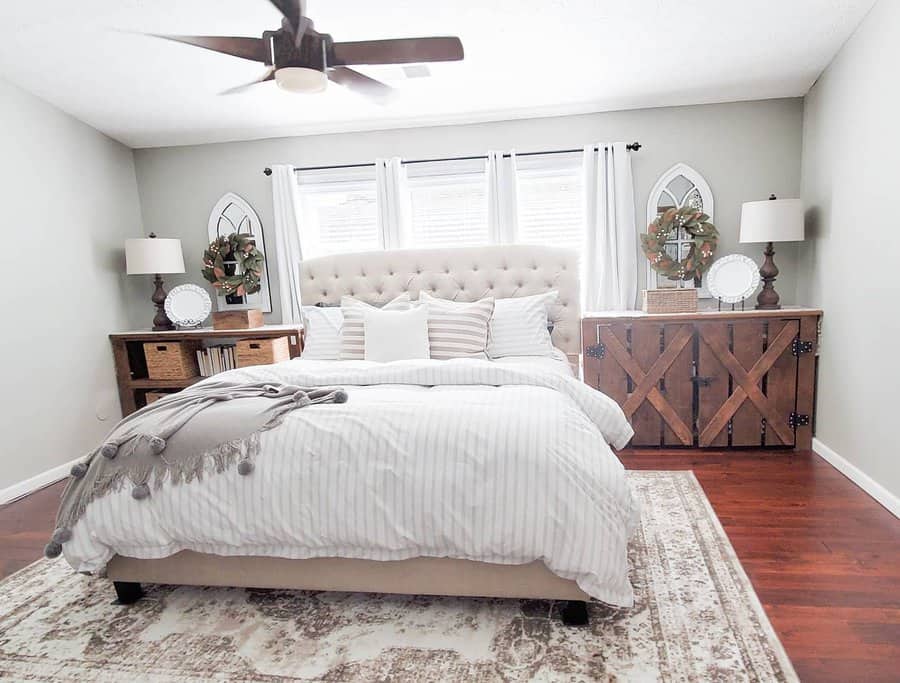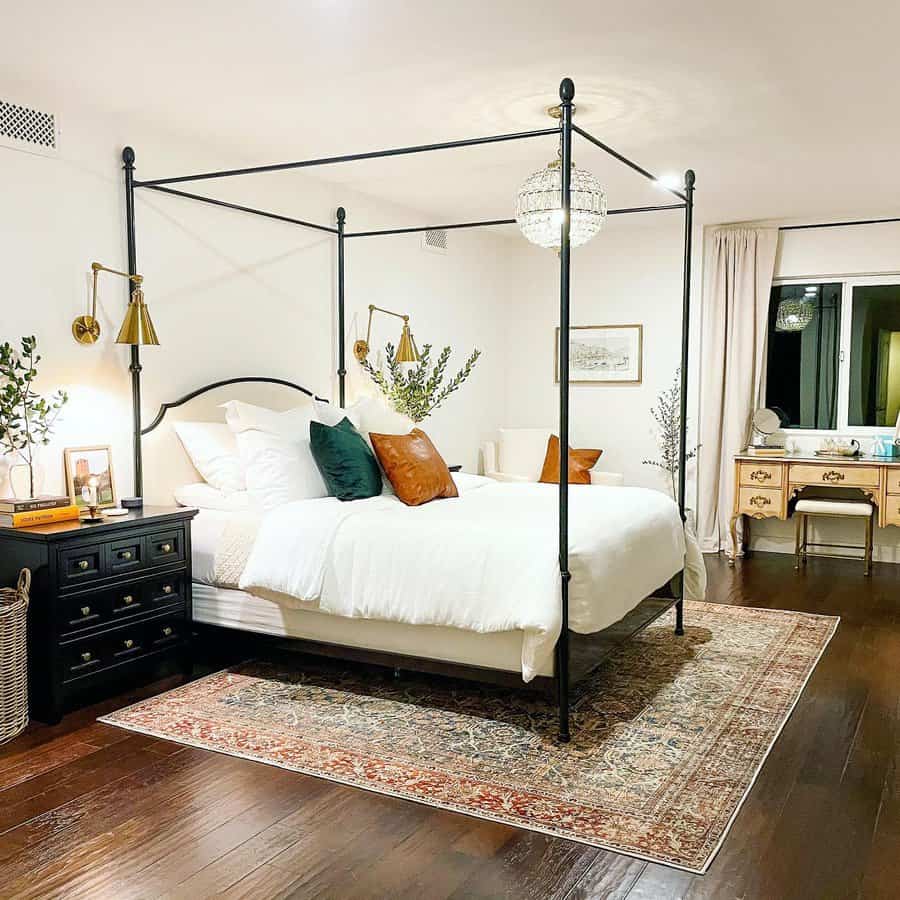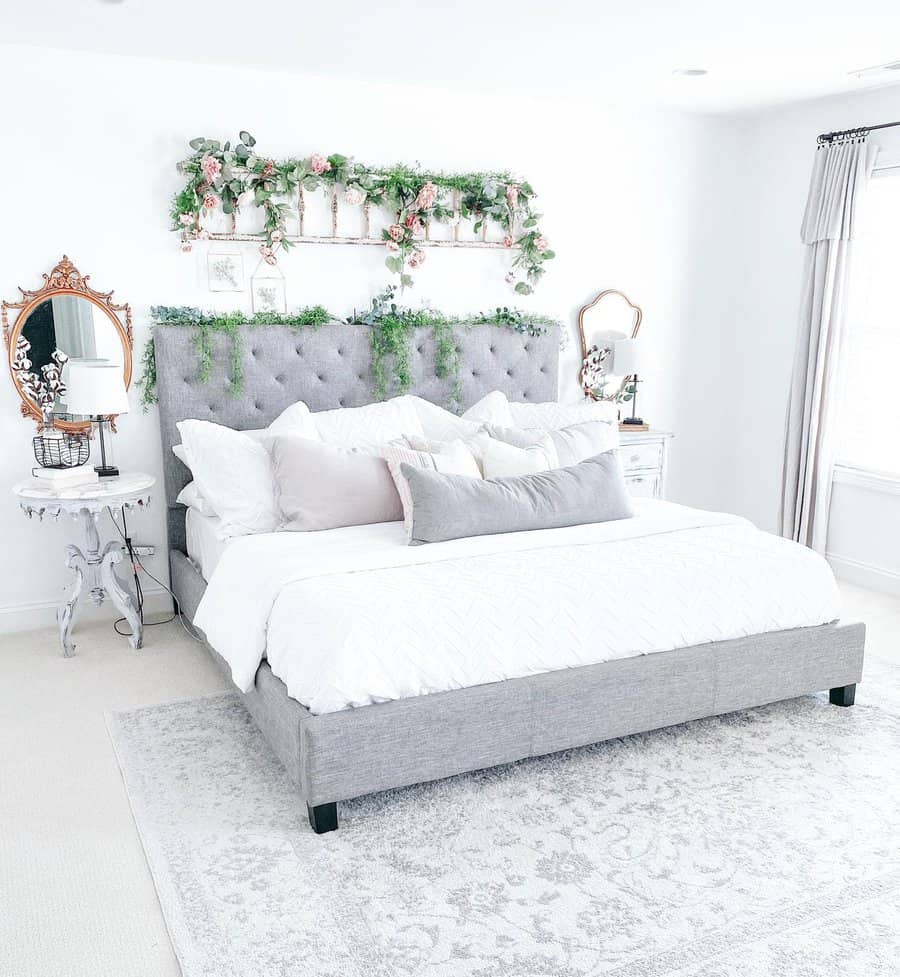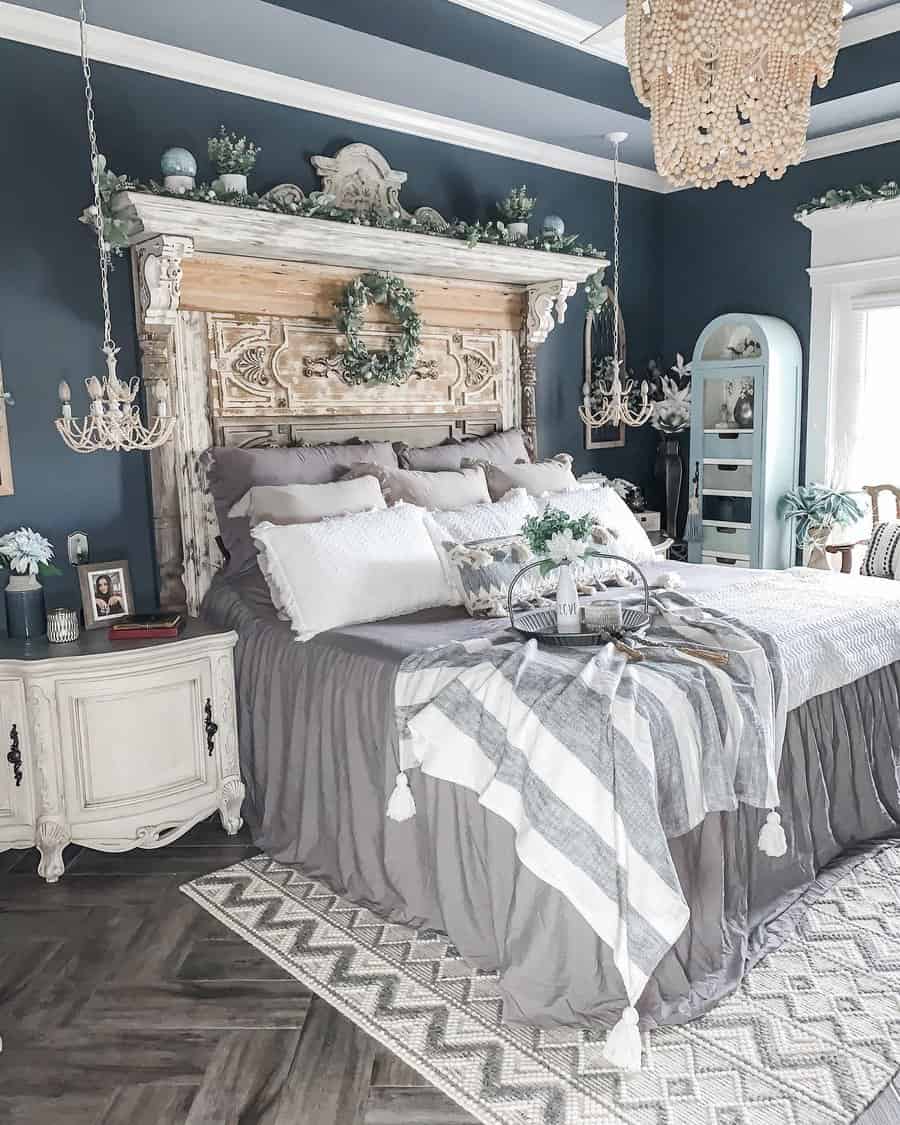 Instead of having a plain accent wall, you can use wallpaper to turn it into a statement piece. Modern wallpaper is affordable, and you can install it yourself.
Look for wallpaper with a large-scale or mural design. These will look like a custom painting on your wall and emulate a design that's much more expensive than your DIY wallpaper.
5. Farmhouse
Create the ultimate farmhouse bedroom by using reclaimed wood and handmade furniture. Skip the upholstered headboard and instead opt for one that's hand-carved from aged wood. Get creative with your bedside tables by using vintage pieces.
You could use antique sewing tables, schoolhouse desks, crates, barrels, or anything else with a flat top and the right height for your bed.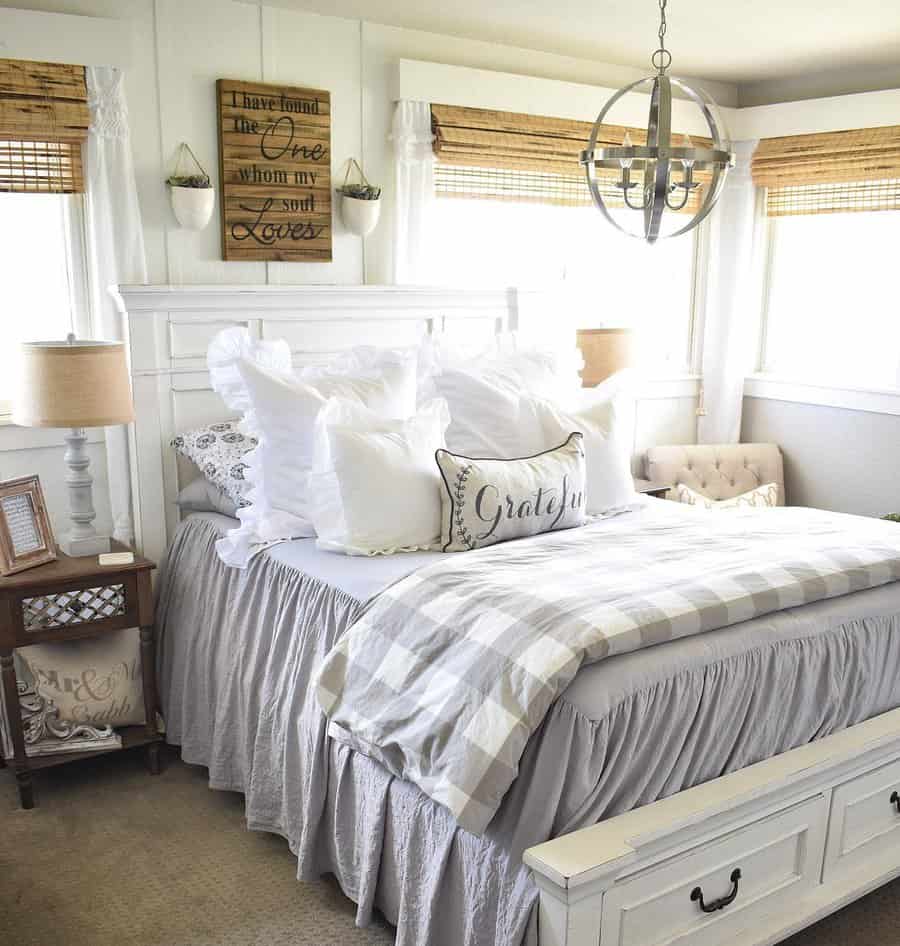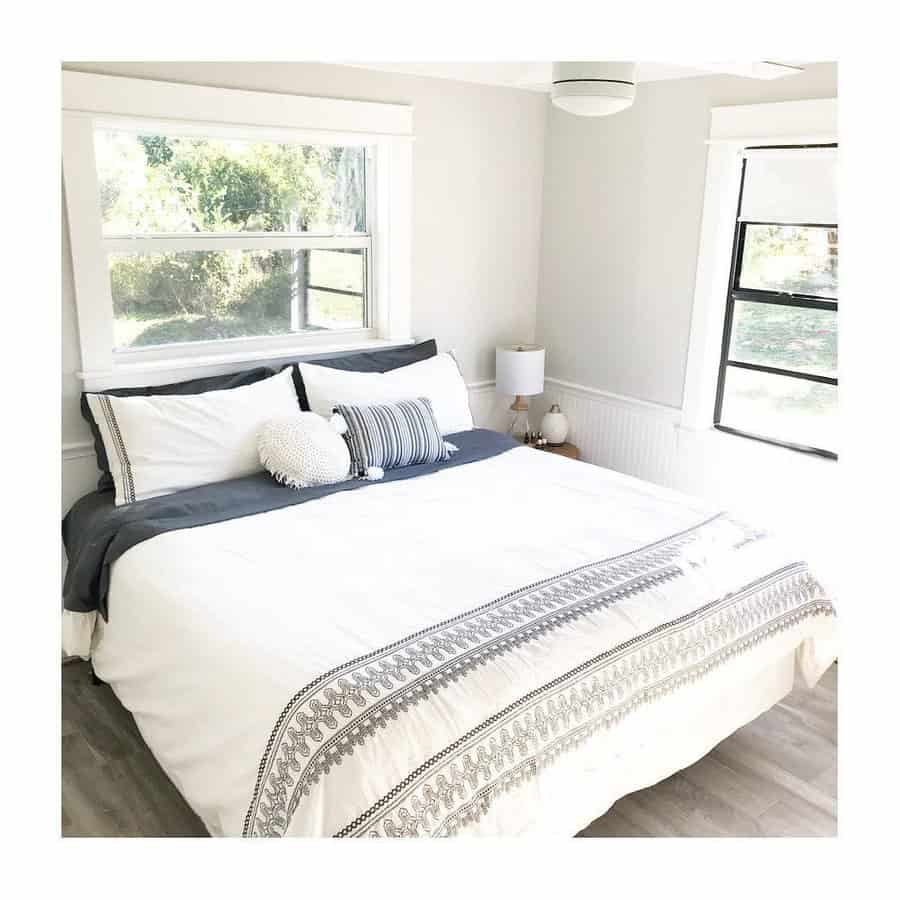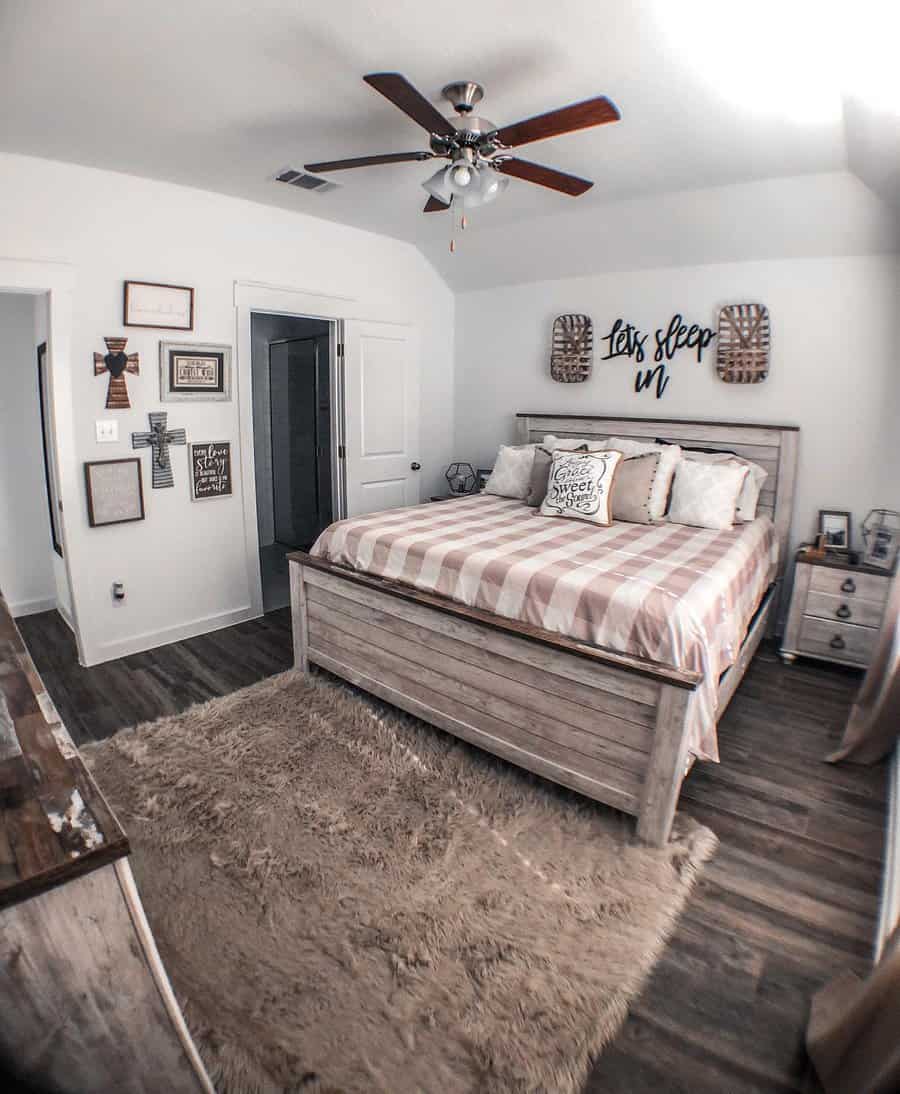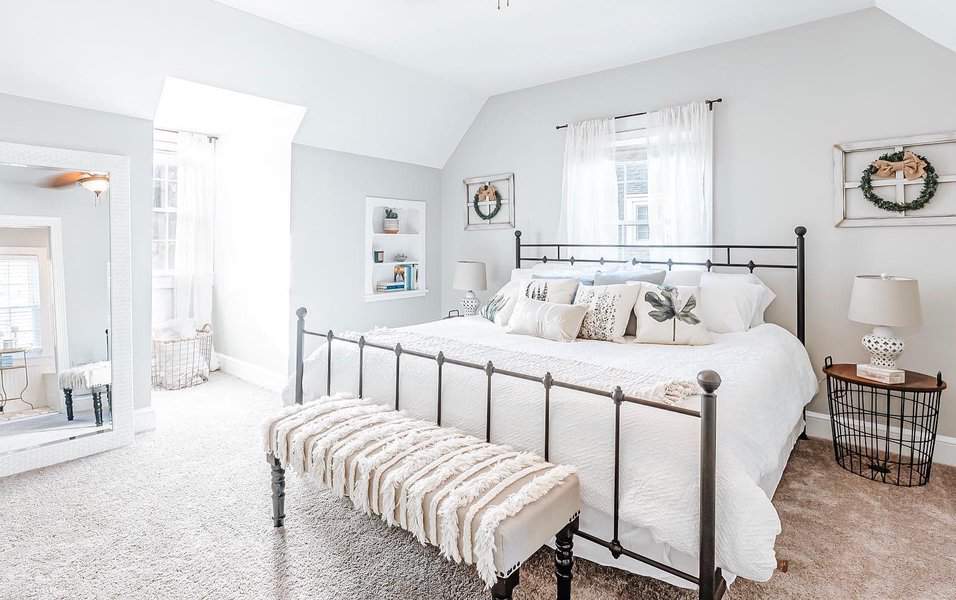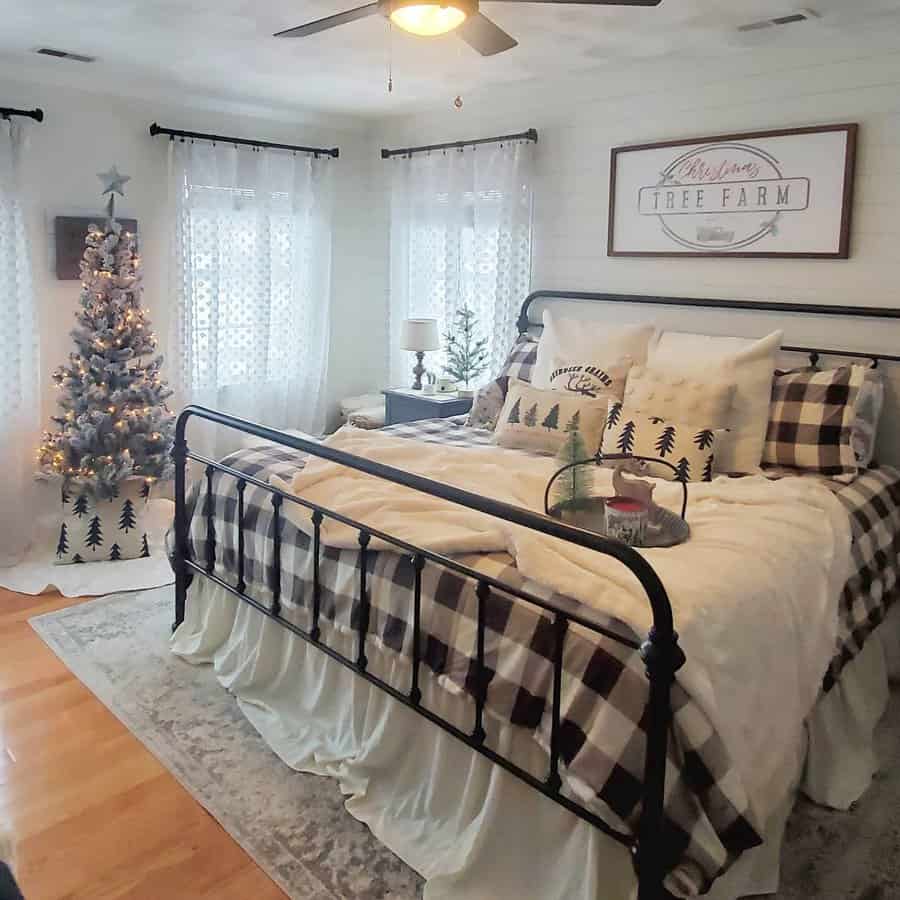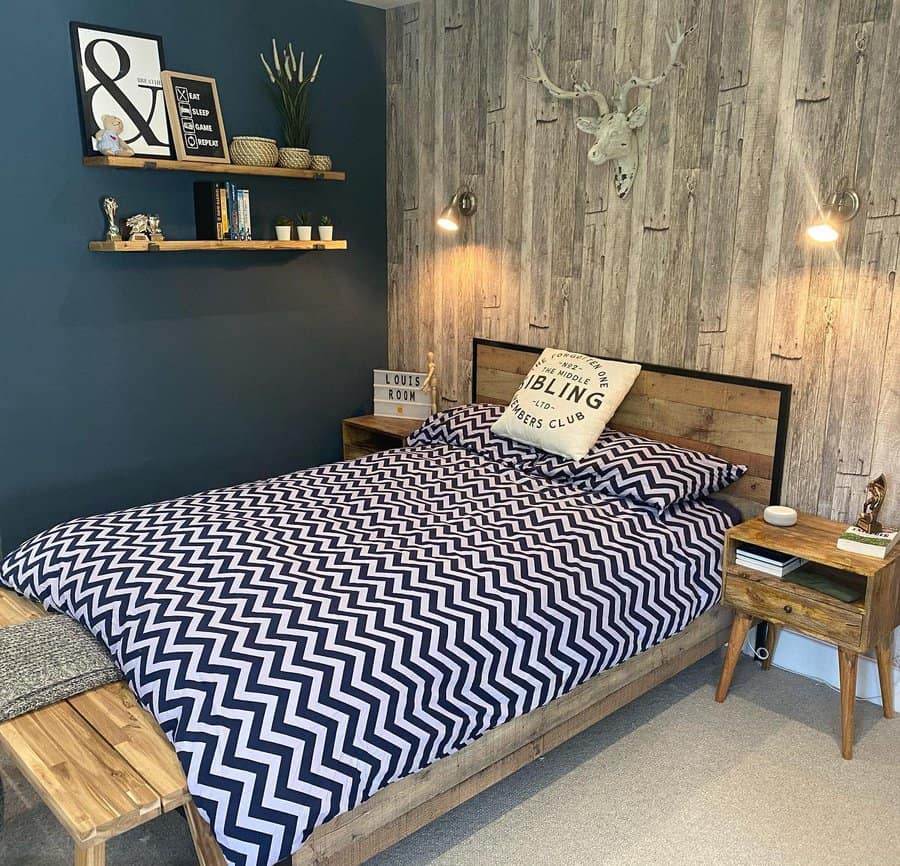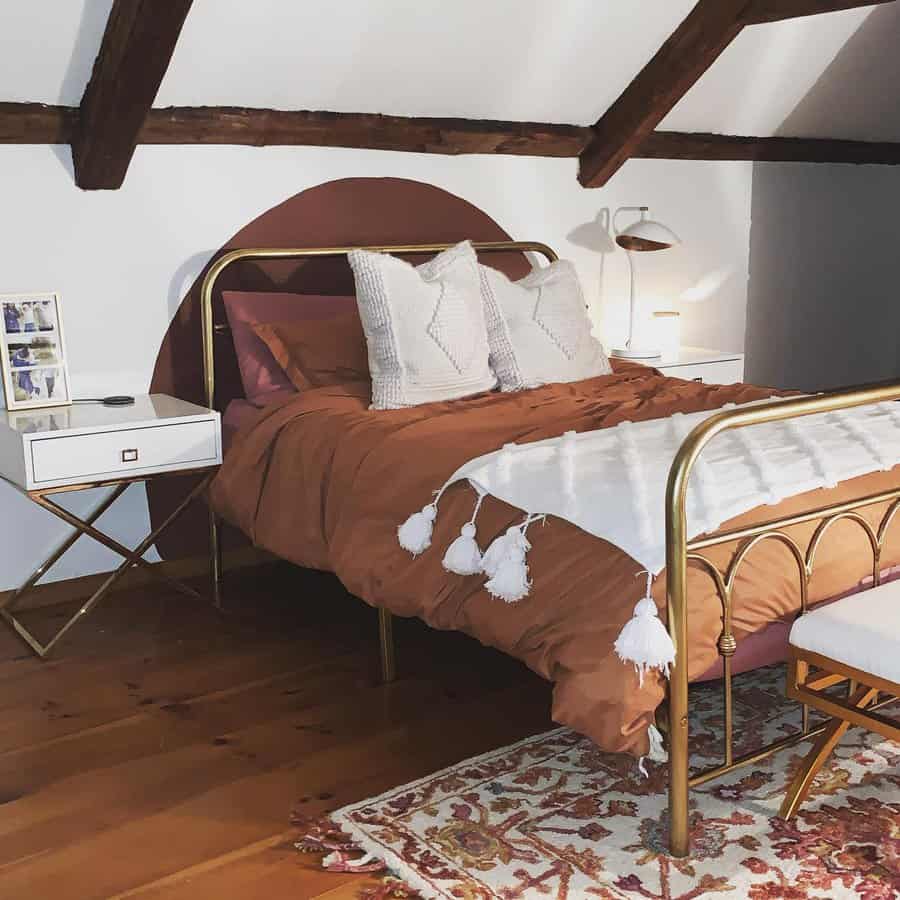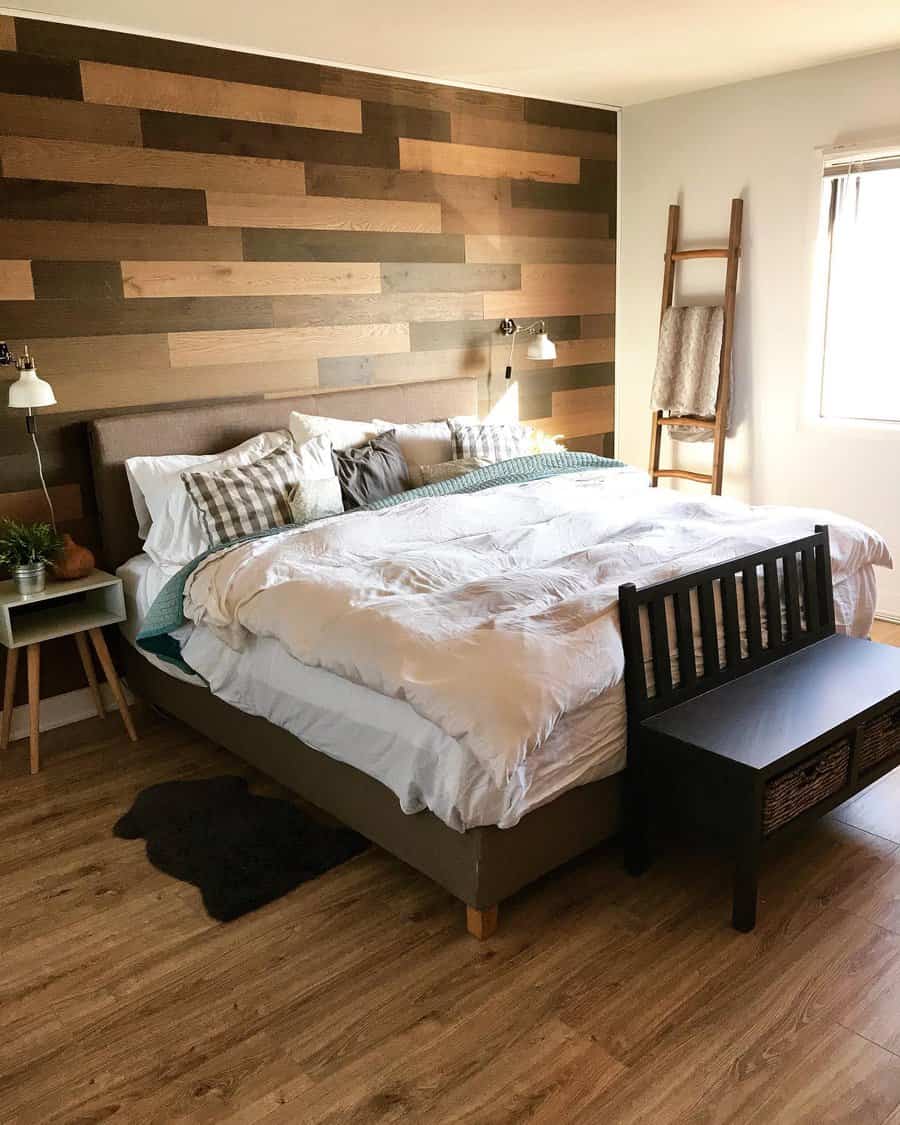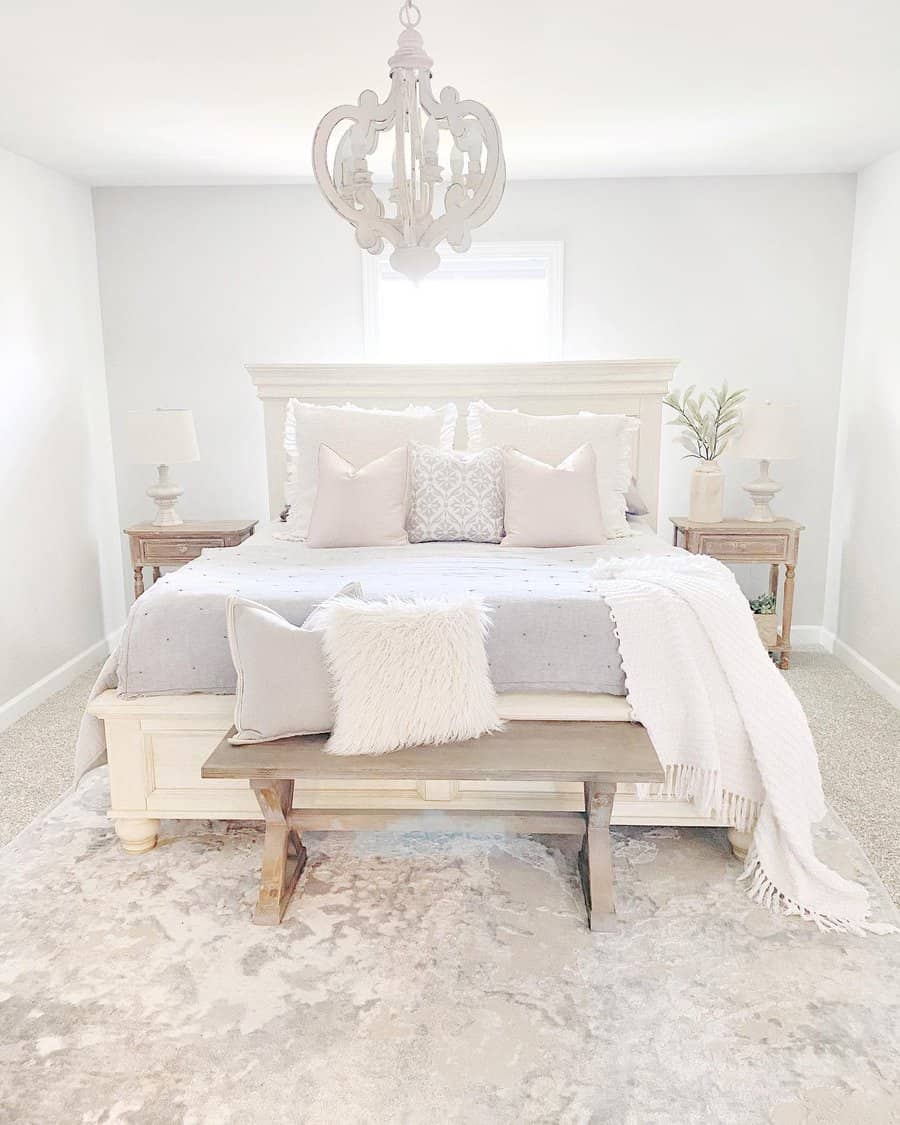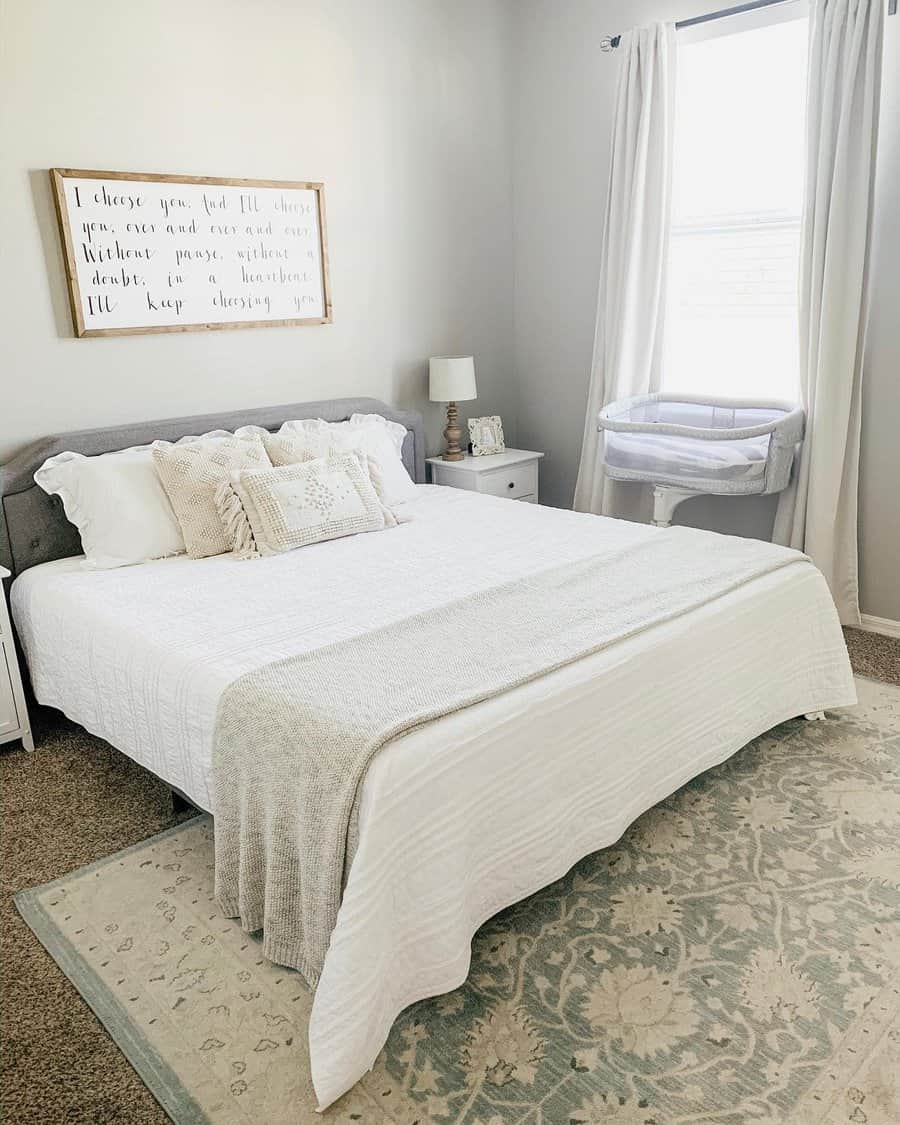 To create an authentic look, try to use furniture that you find in an antique or vintage store. These pieces will have an aged look, which is perfect for farmhouse design. Decorate your bedroom walls with tools that you would find on the farm.
6. Lighting
You need plenty of light in your bedroom when you're getting dressed. This helps you to see what you're doing and ensure you look your best. However, you also need to be able to turn it all off when you want to go to sleep.
To have the best of both worlds, you should have multiple lighting options that have independent controls.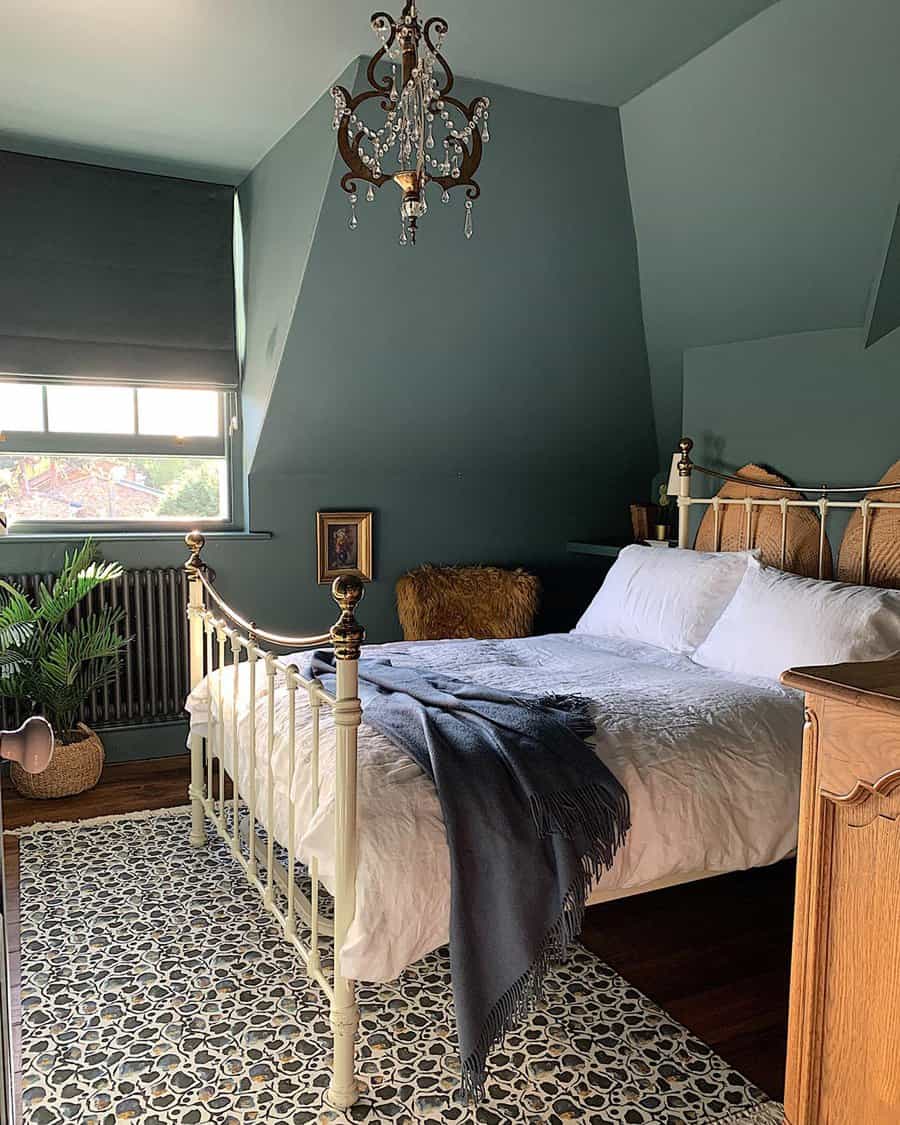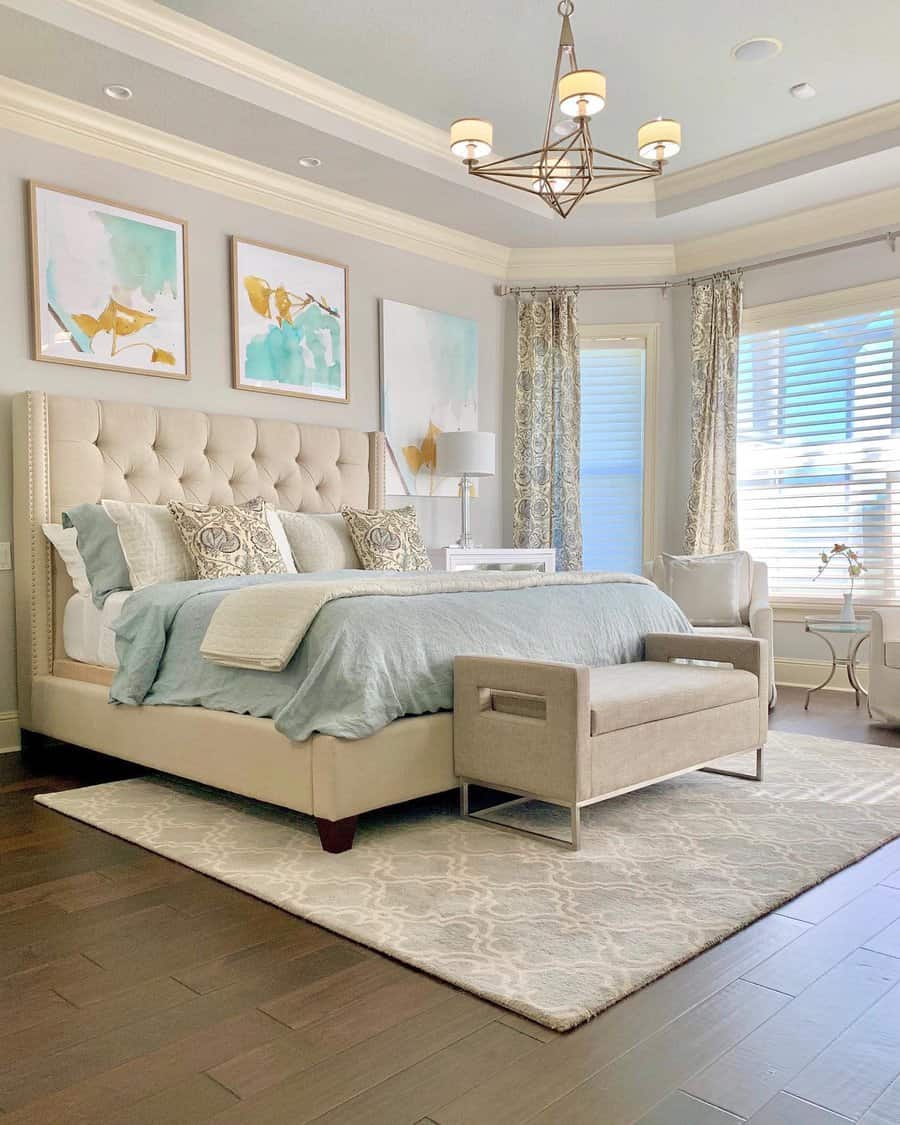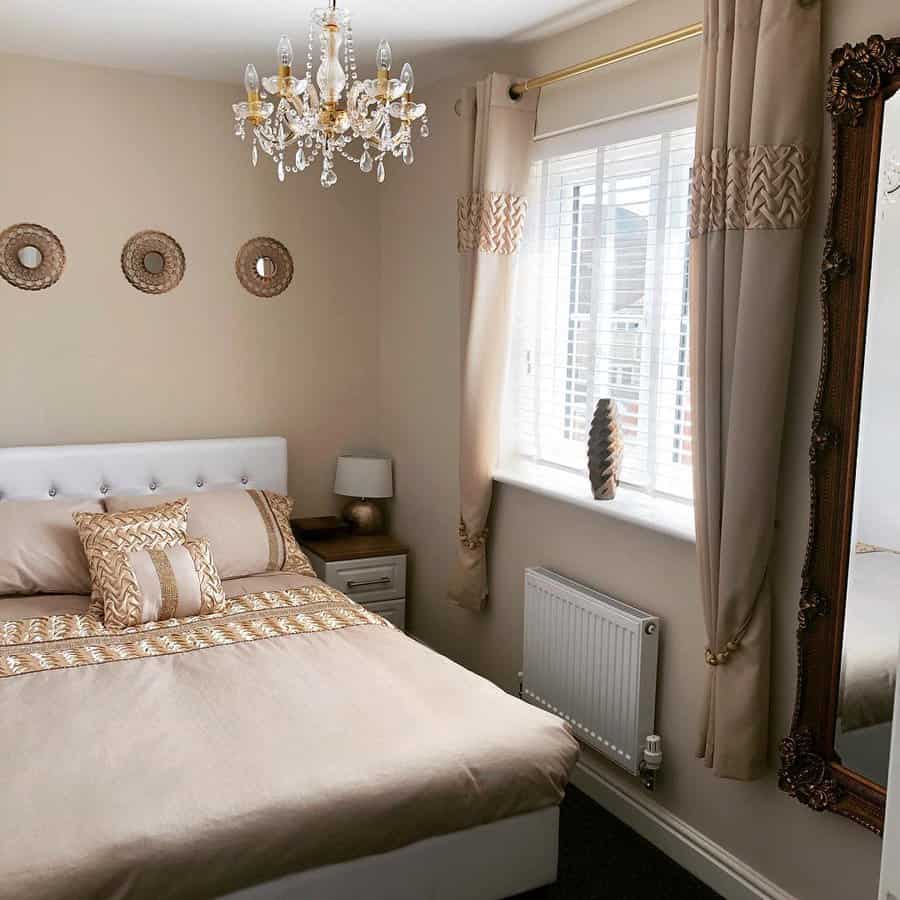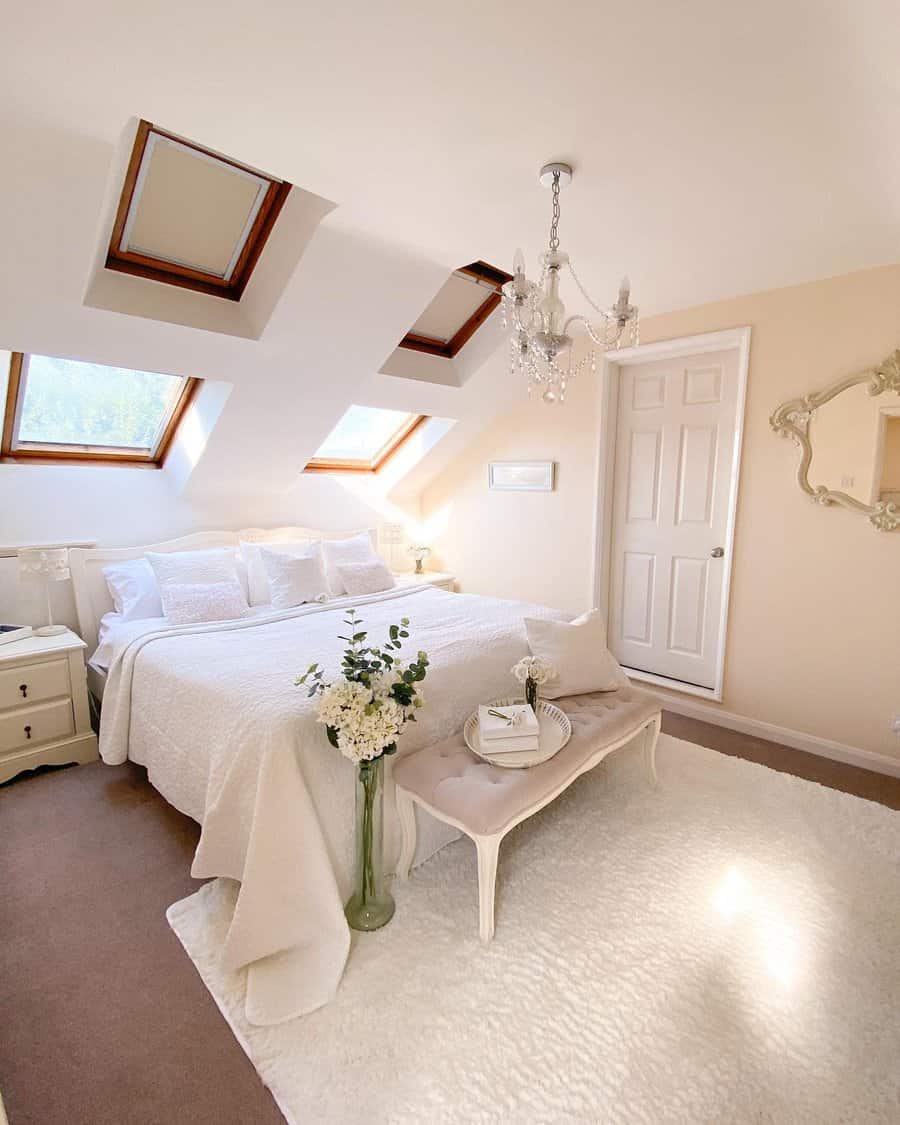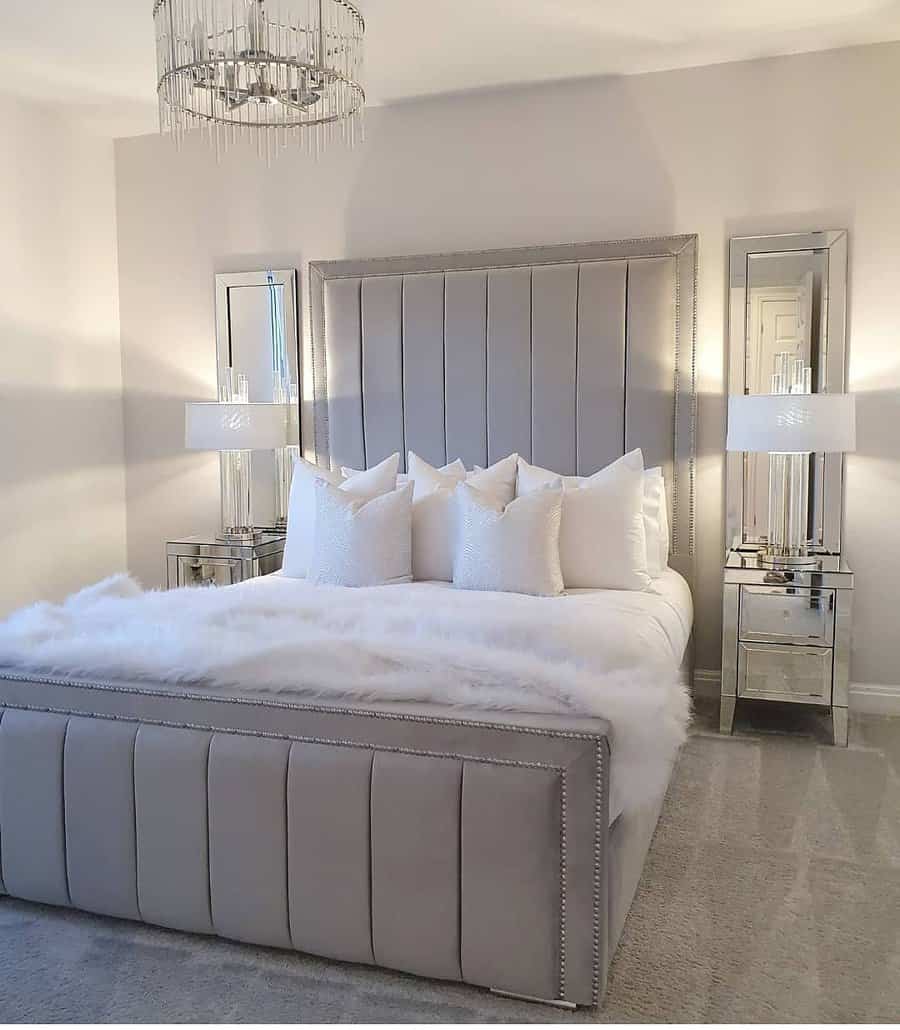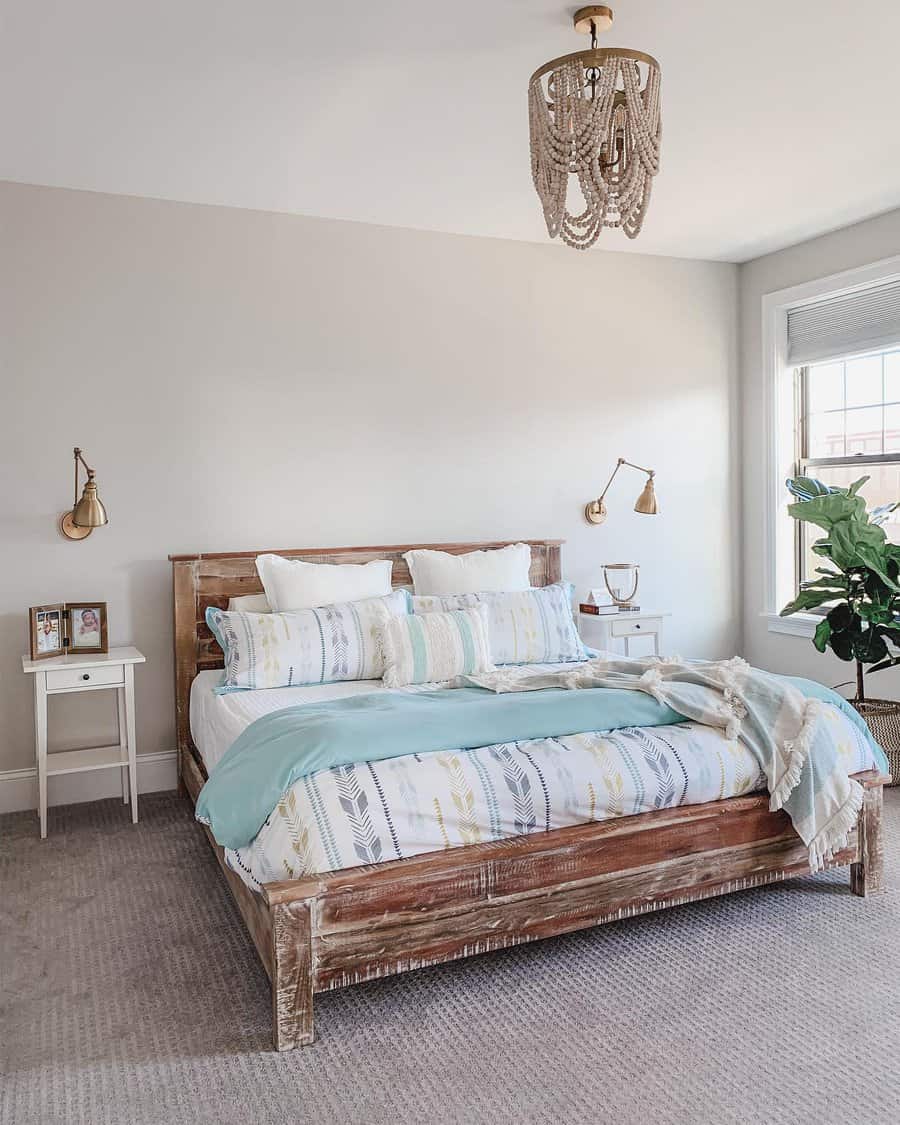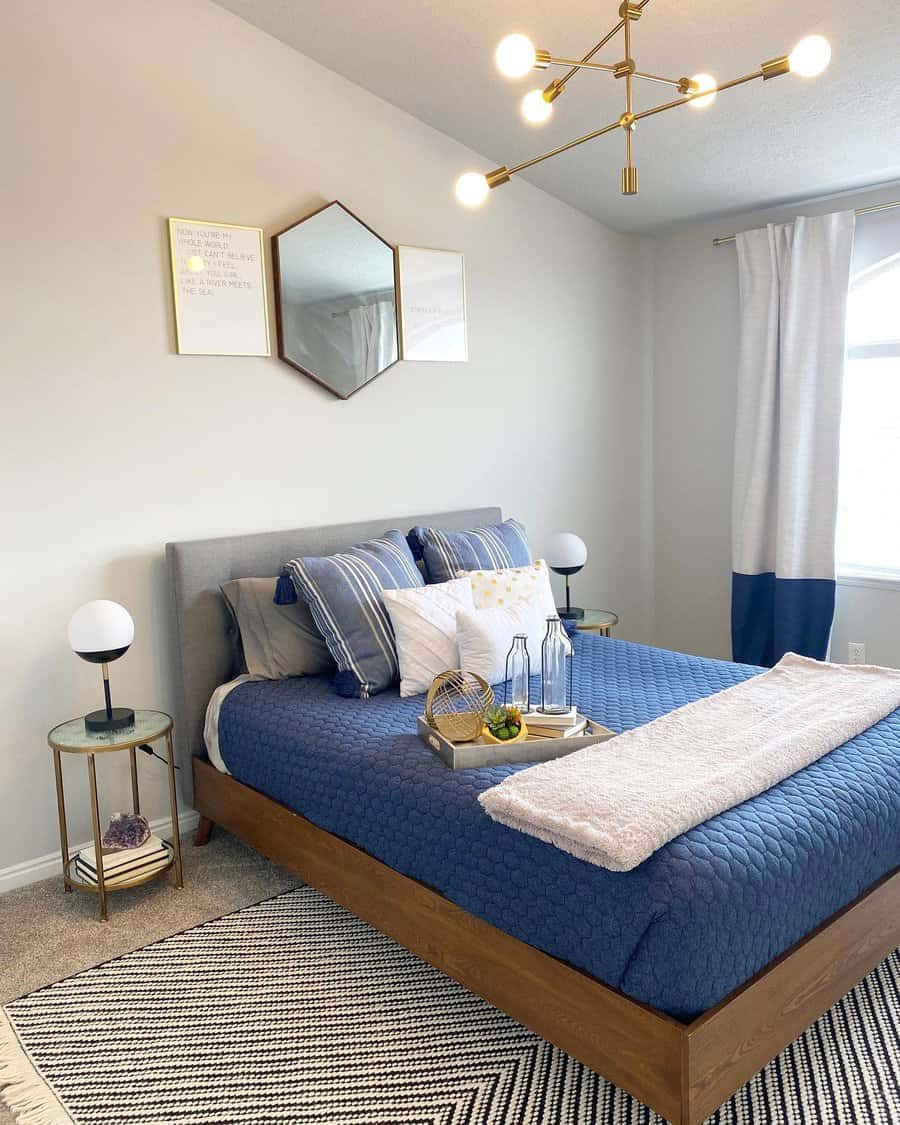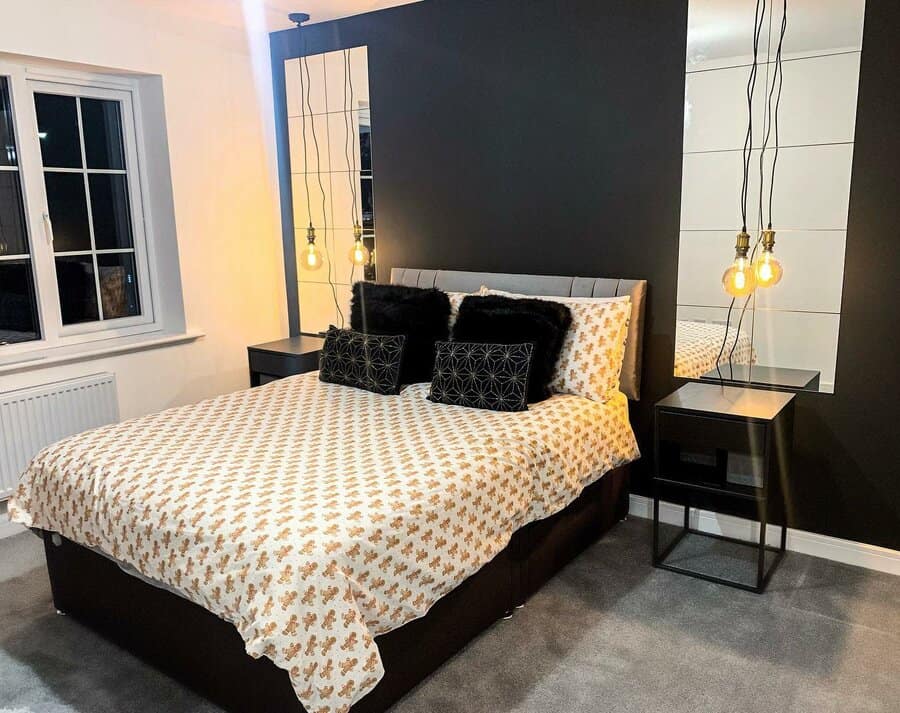 Well done bedroom decorating ideas layer the light and have at least three sources of light. Start with ambient light in your master bedroom design. This is a general light that illuminates the entire space. Then add task lighting for areas where you will do work.
Finish the design with accent lighting that highlights the design of your bedroom. This could be LED strip lighting under your bed, in the ceiling, or as a part of a wall decor design.
7. Minimalist
If disorganization and clutter cause you to stress, then you'll want to consider a minimalist design. This will limit the amount of decor and furniture in your bedroom. The increased amount of open space will help you to feel clearer mentally.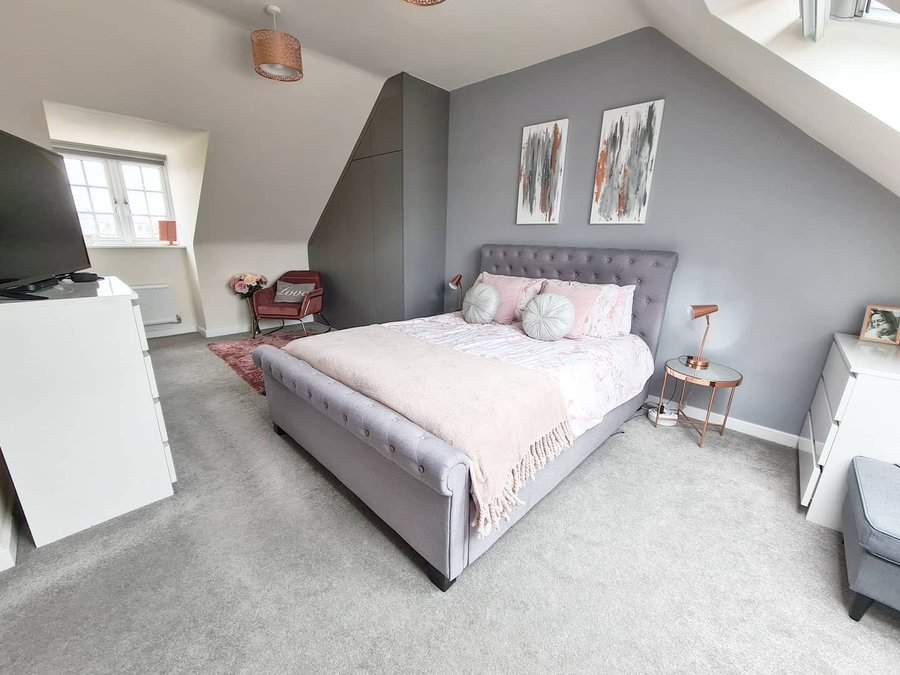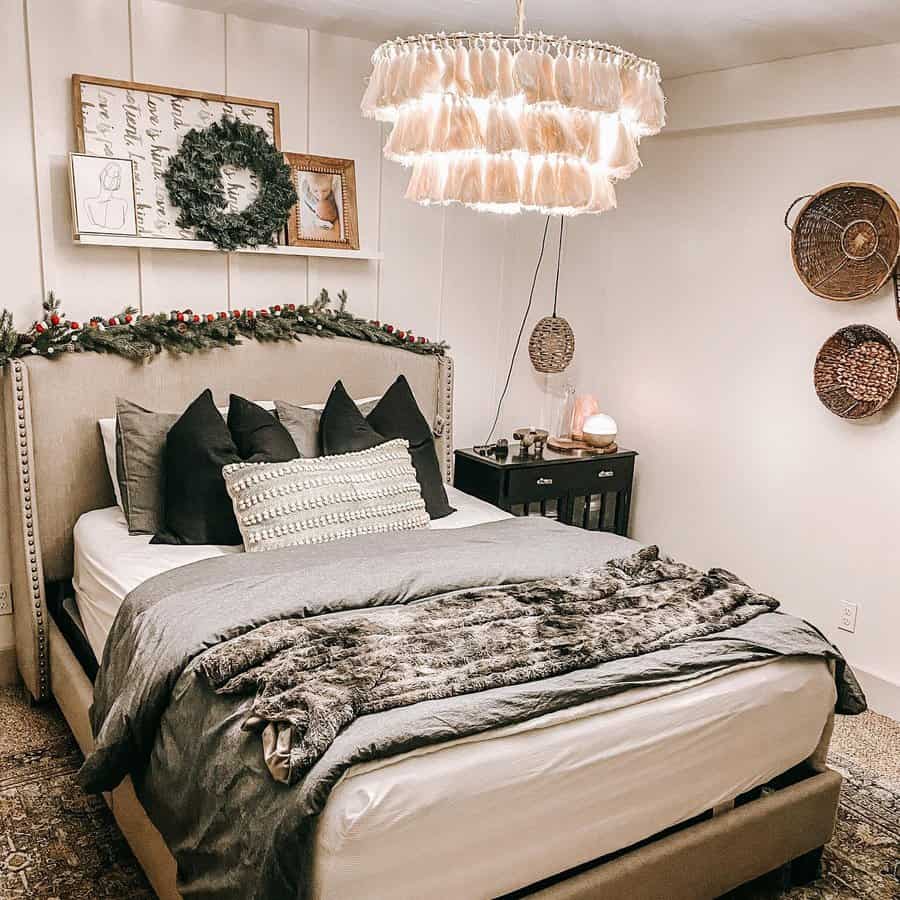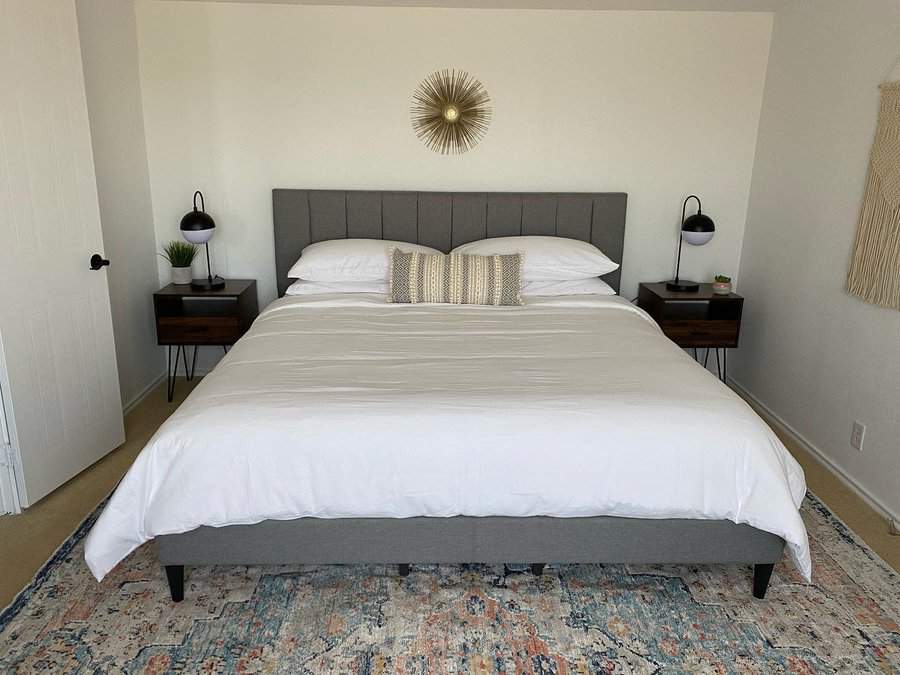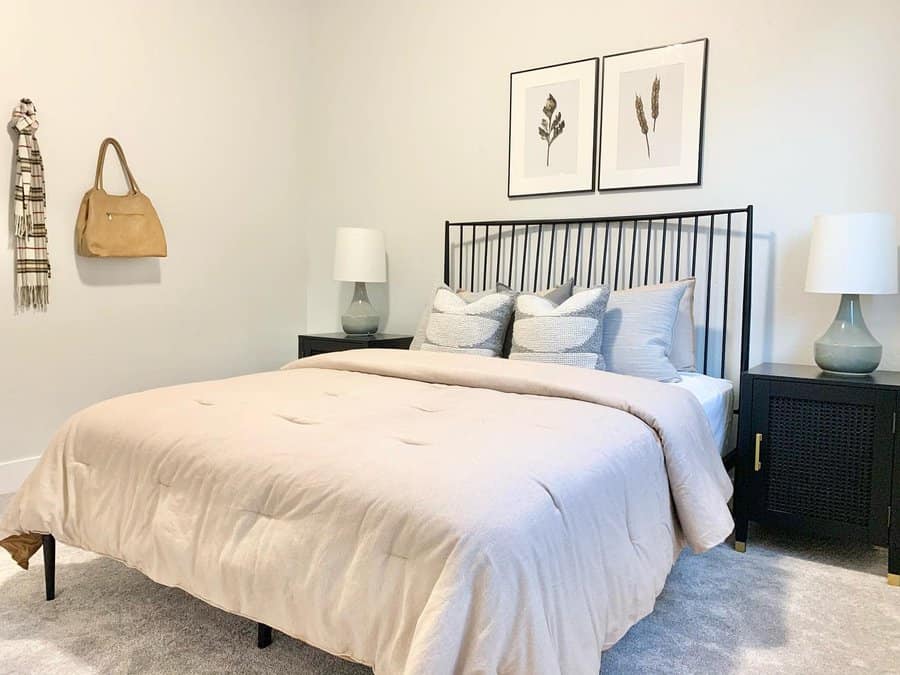 Choose a bed frame that has long, clean lines. They could be perfectly straight or have gentle curves. The key is to choose one with limited ornamentation. This isn't the time to choose that ornately carved solid wood canopy bed frame.
The rest of the furniture should have an open yet simple design. Look for pieces on legs, which will open up the room.
8. Modern
Modern bedroom design often gets confused with minimalism. However, the two have some specific differences. It can help to look at modern master bedroom decorating ideas to understand the key elements to this design theme.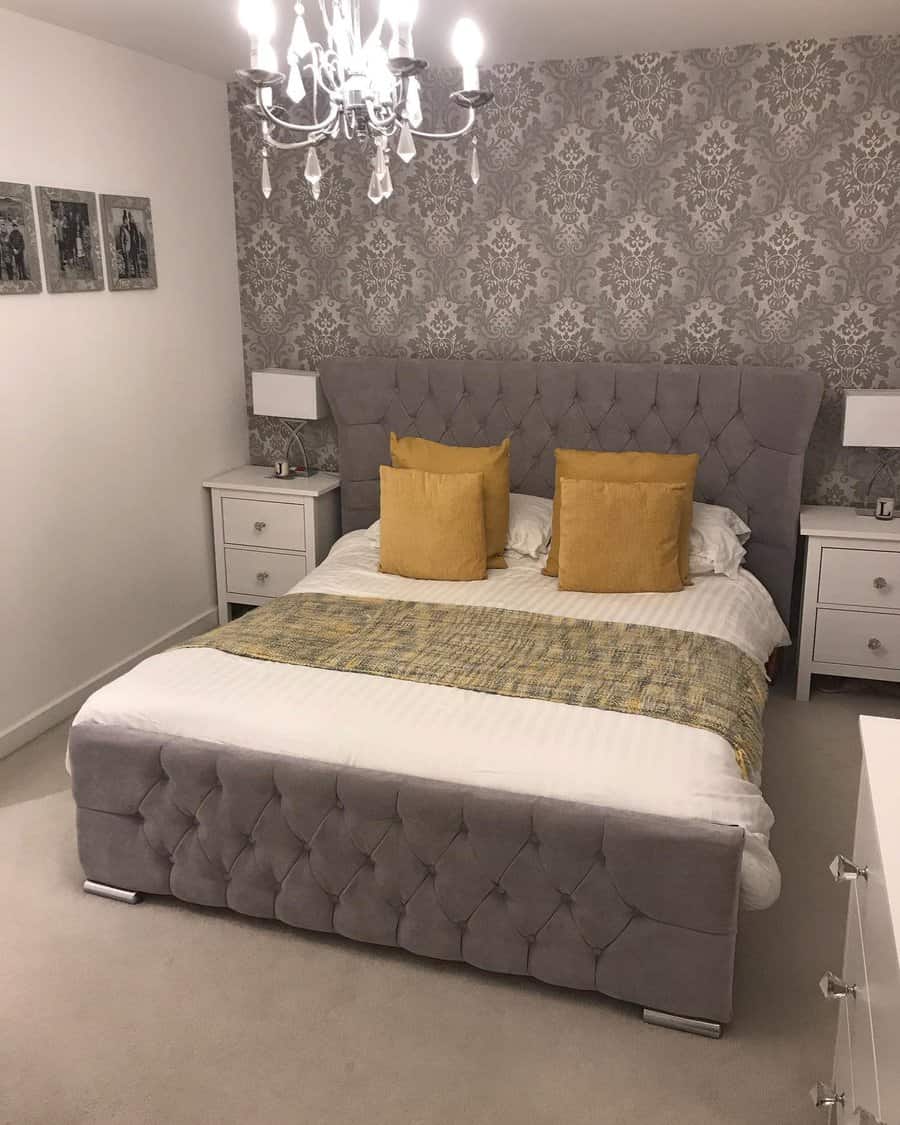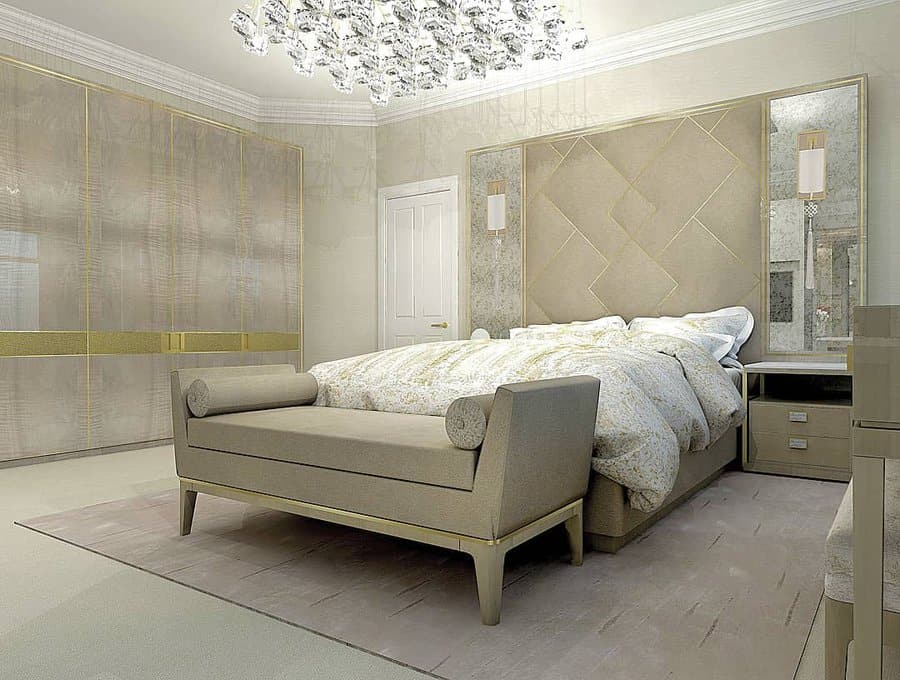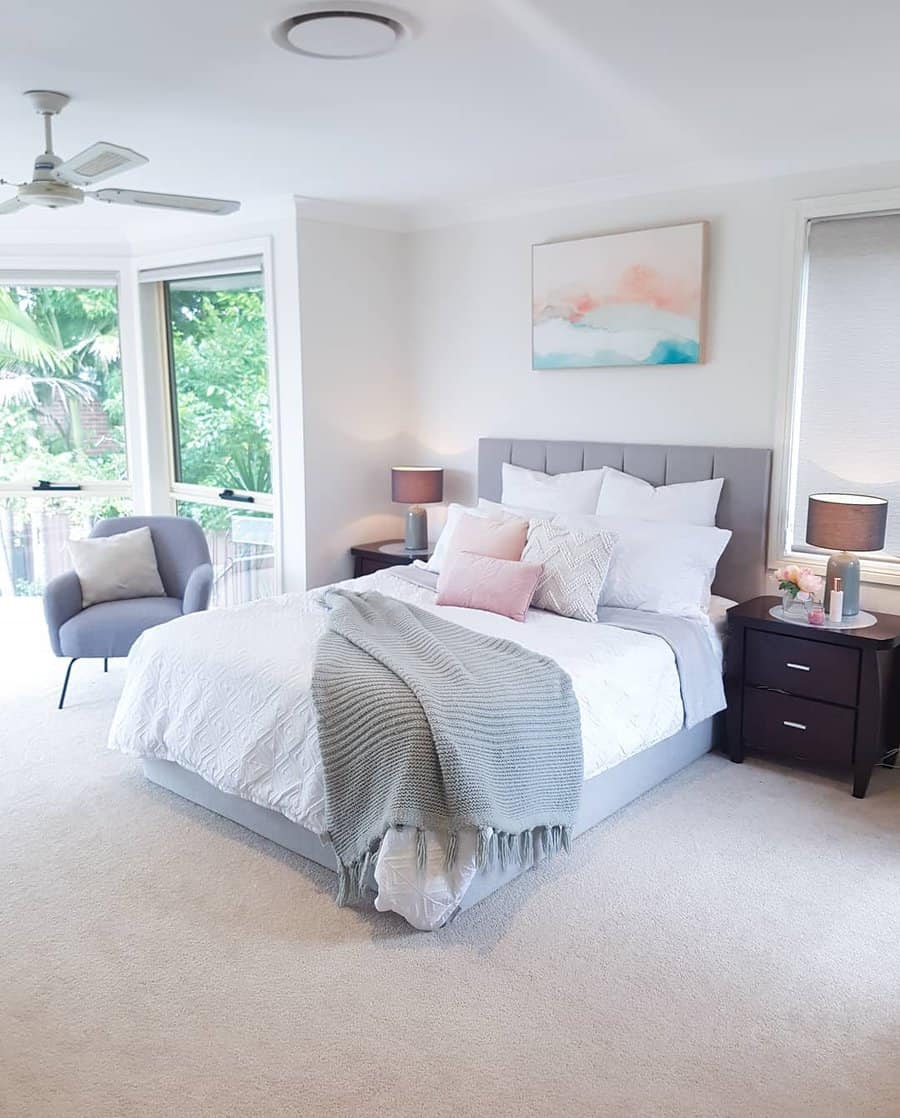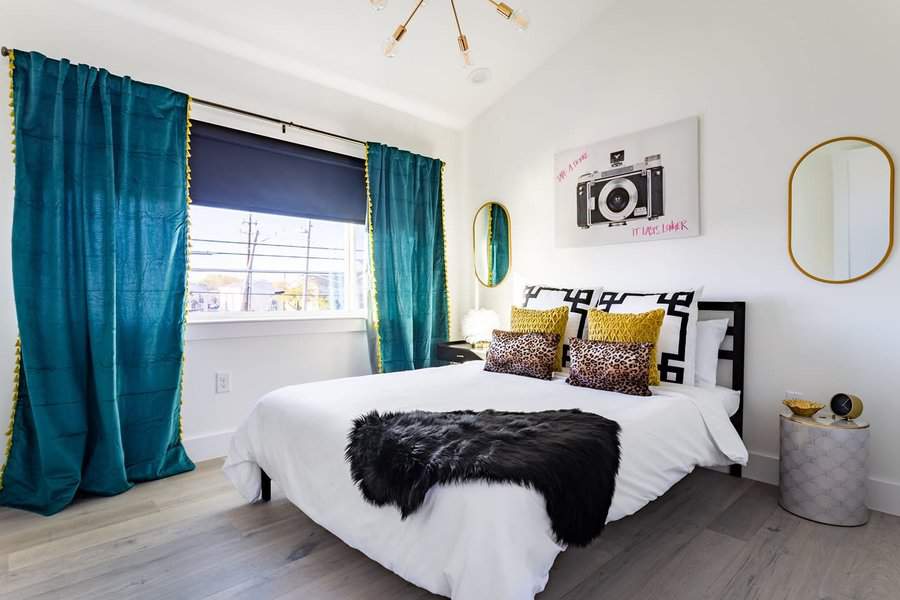 You could add a mirrored nightstand or one that's made from acrylic. Choose wood furniture that's made from light wood.
Mix elements that are crisp and structured with softer, textured elements. This creates a clean design that has a cozy and welcoming feeling. Stick with a neutral color palette for the room.
9. Neutral
Neutral colors have broad appeal and are the least likely to be not liked by someone. If you're planning on renting or selling your home, then stick with neutrals. Typically, this means white walls, but it doesn't have to.
Bright, pure white can often look harsh and cold. This is not what you want for your bedroom.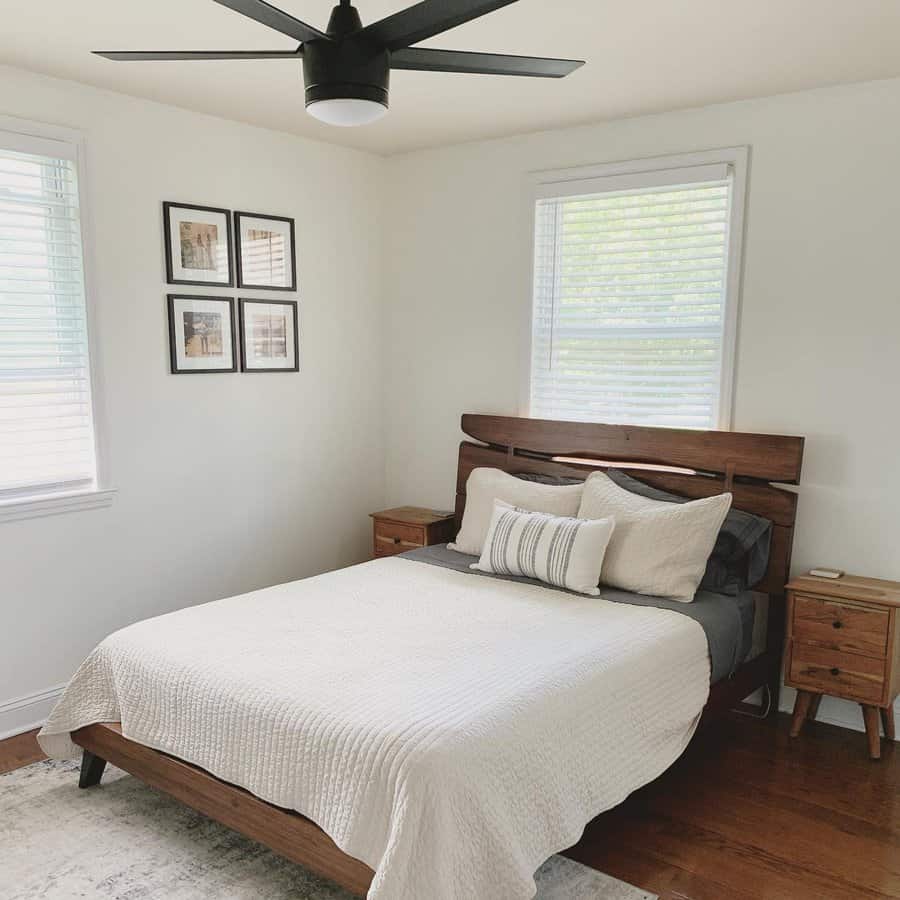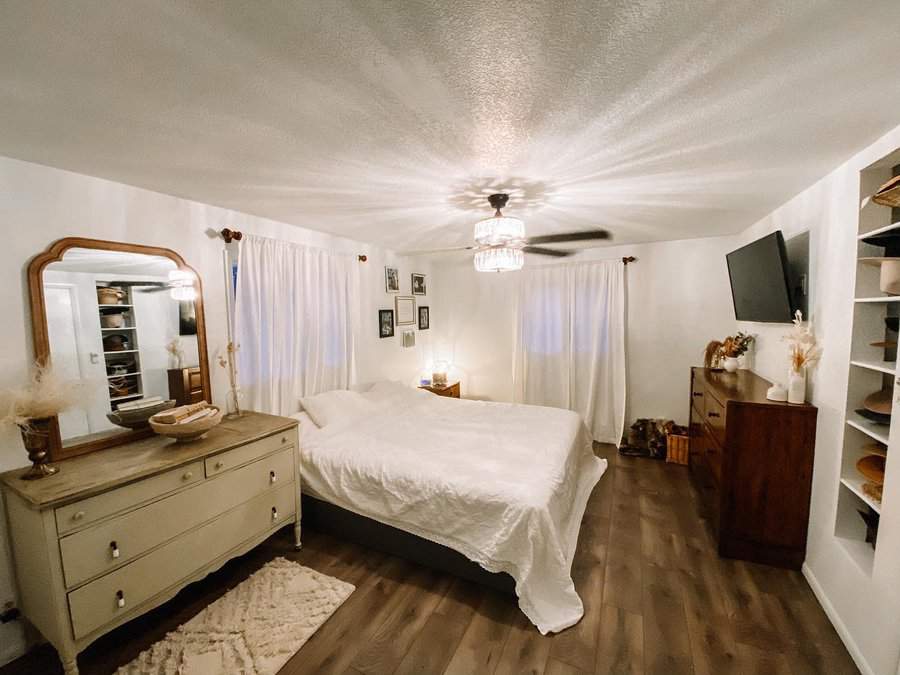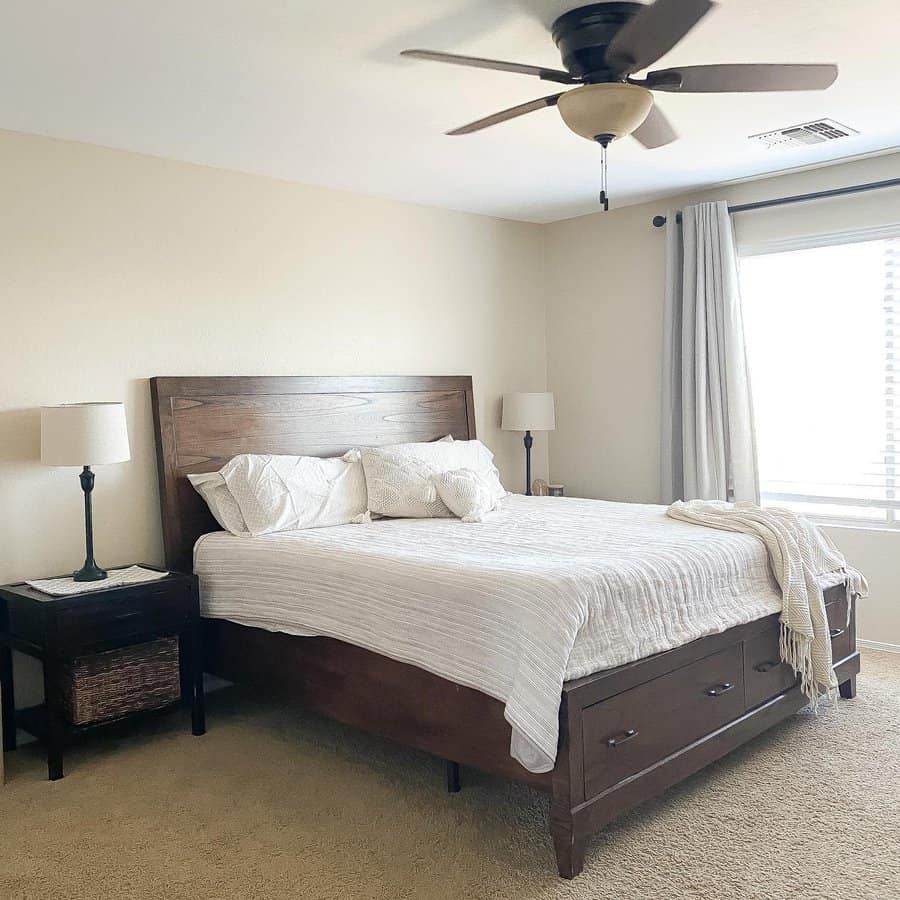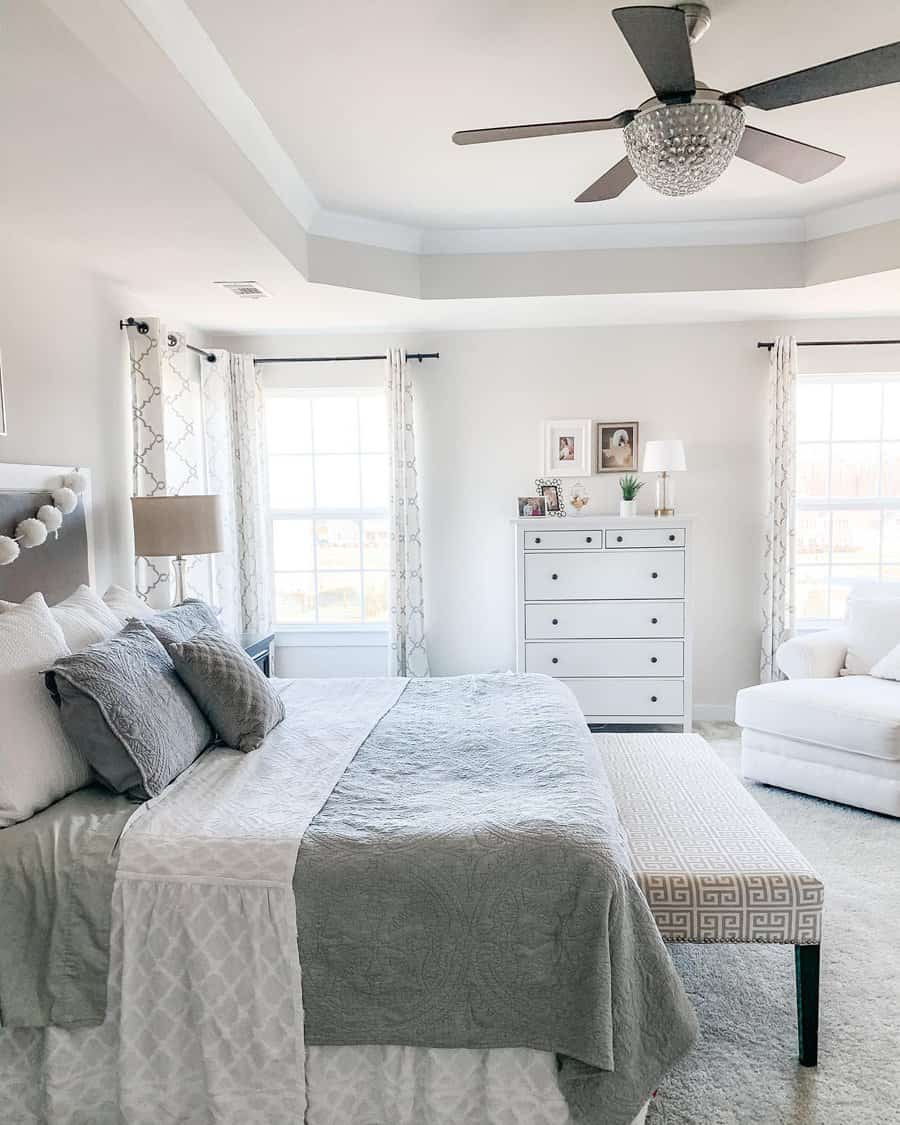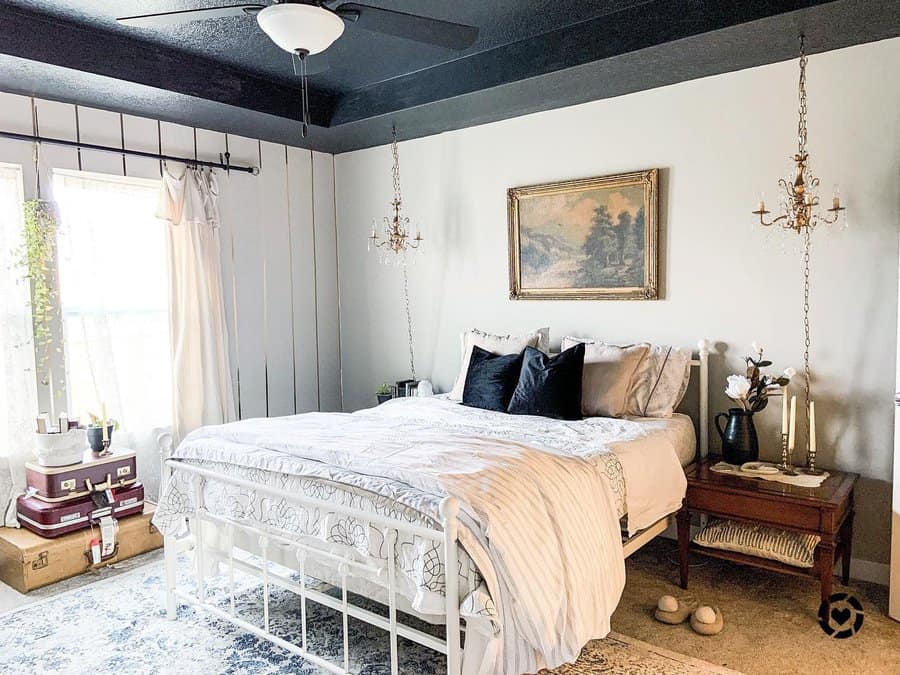 Choose softer neutrals for your interior design. Traditional neutrals are beige shades. The brown undertones have a feeling of warmth. Modern bedroom design ideas embrace grey as the neutral color of choice.
10. Suite
Having a master suite means that your bedroom is connected to a master bathroom. If you have this style of bedroom, then you'll want to ensure the design you choose from your bedroom works with the bathroom's design. Otherwise, they will clash.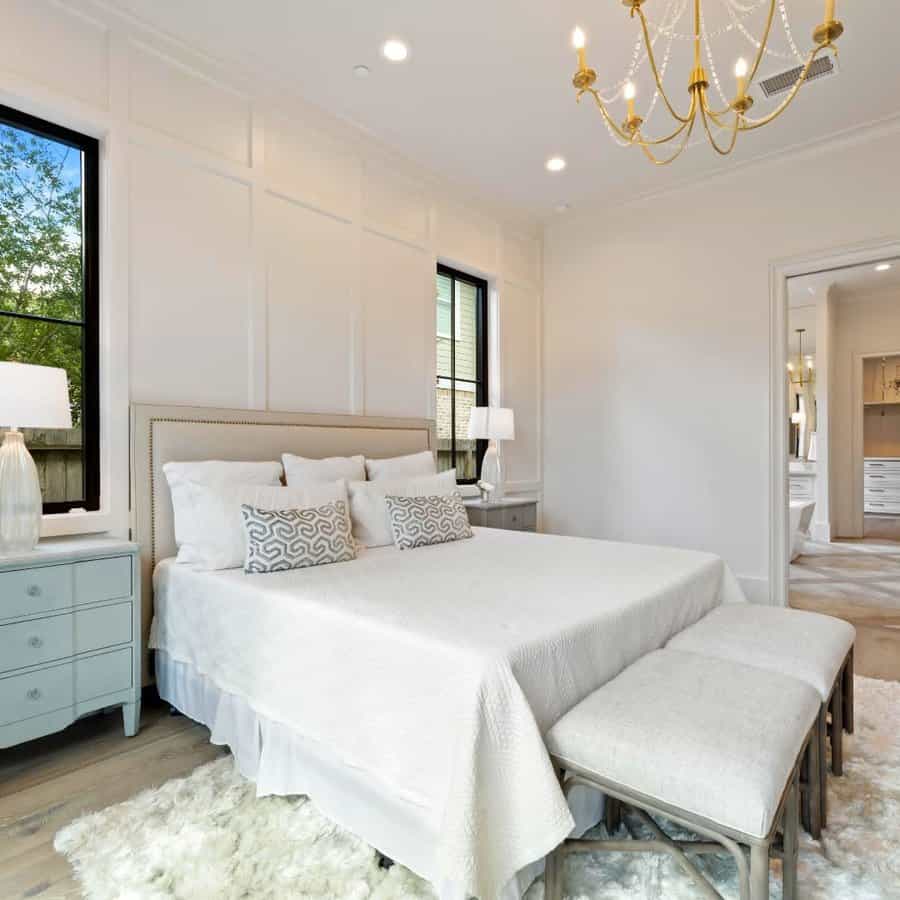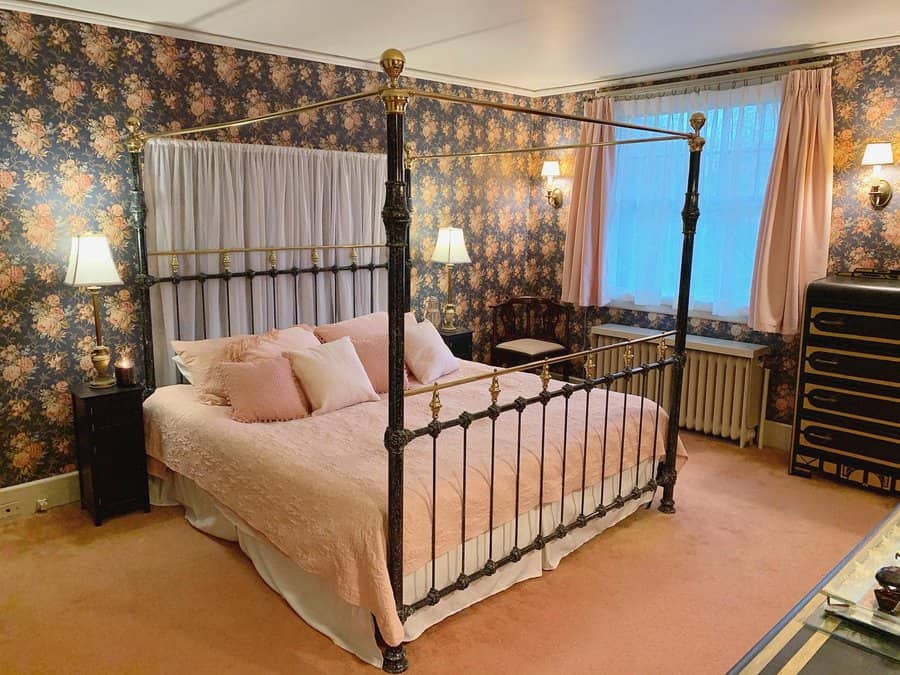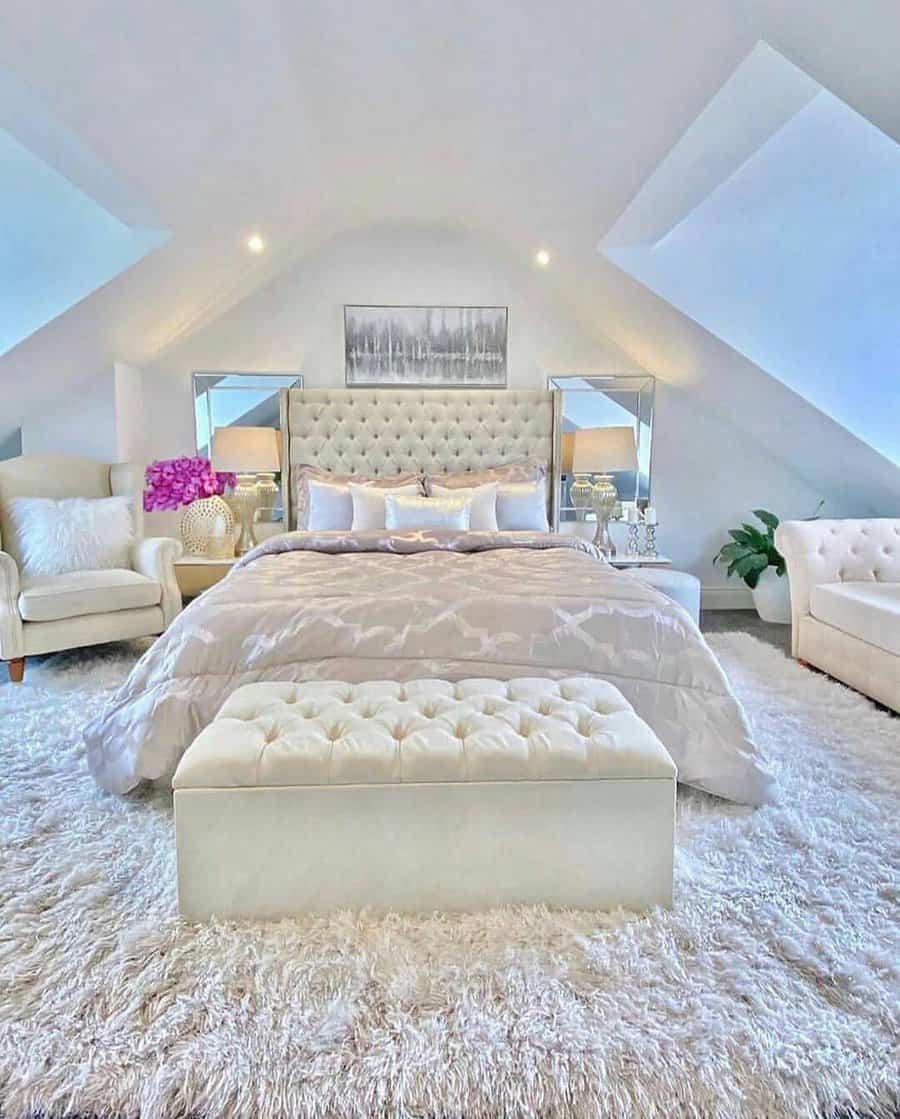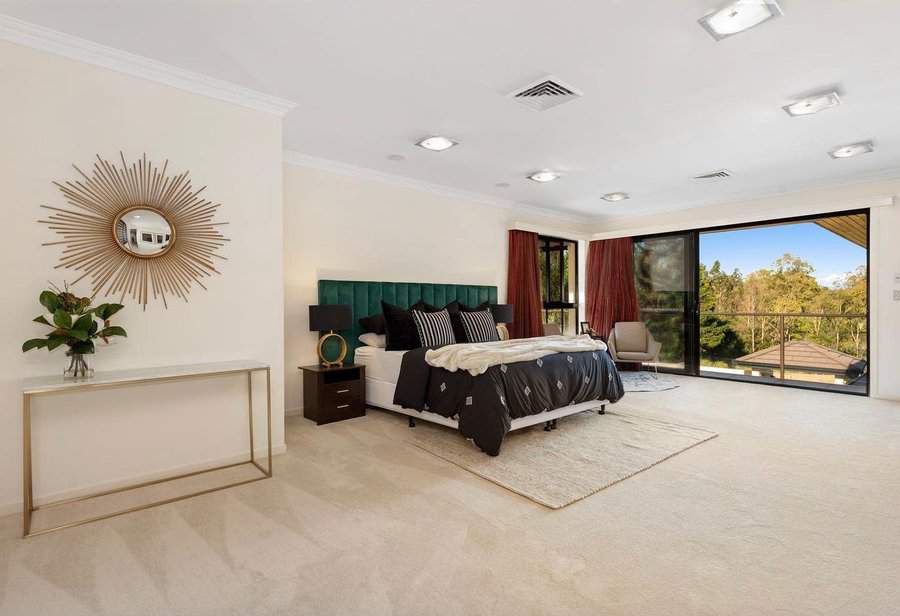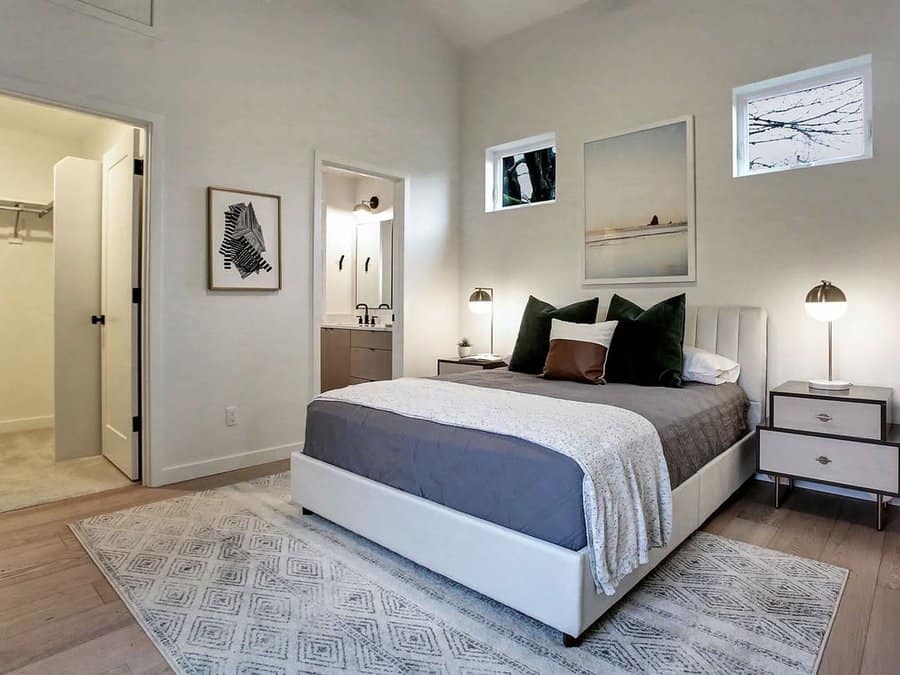 Try carrying the color scheme from the bedroom to the bathroom. Or use the same type of plant in both. You could use lighting fixtures that have a similar style in both rooms. Buy wall decor that's a set and then use some of the pieces in each room.
11. Wall Color
Technically, you can choose any color you want for the color of your bedroom walls. However, some colors work better than others. Gray walls will have a calming effect and offer broad appeal. This makes it a good choice if you plan to sell your home soon.
It will be easy to match the rest of your master bedroom decor to the grey walls for a beautiful bedroom.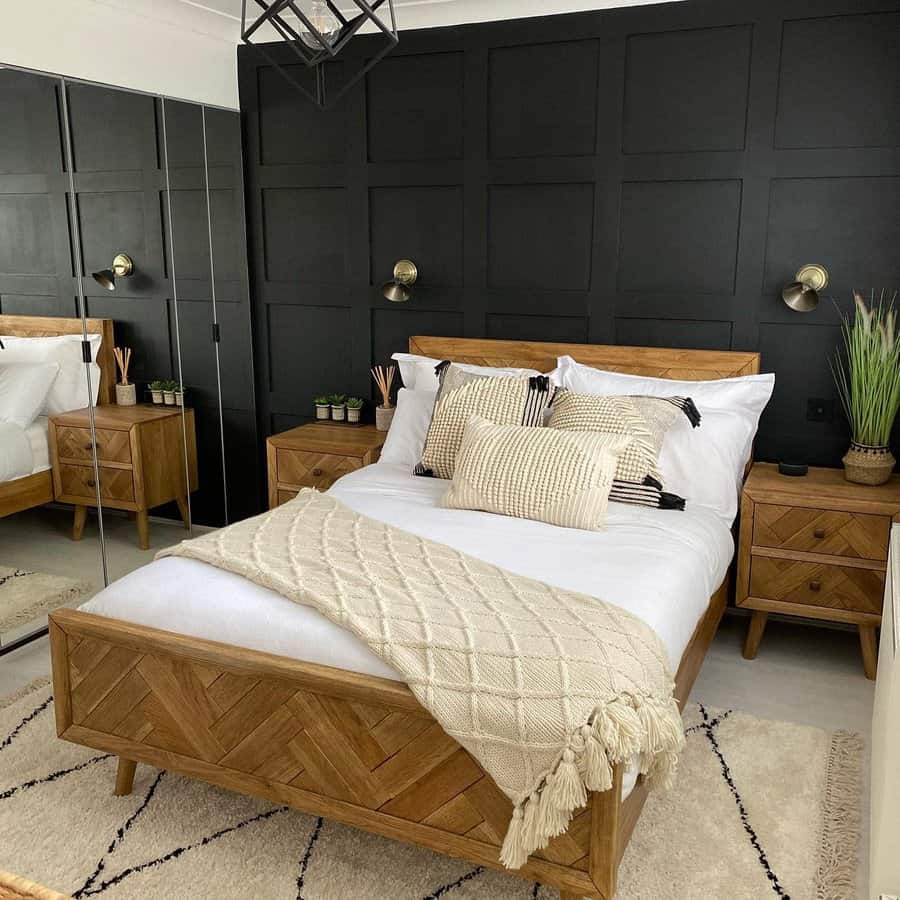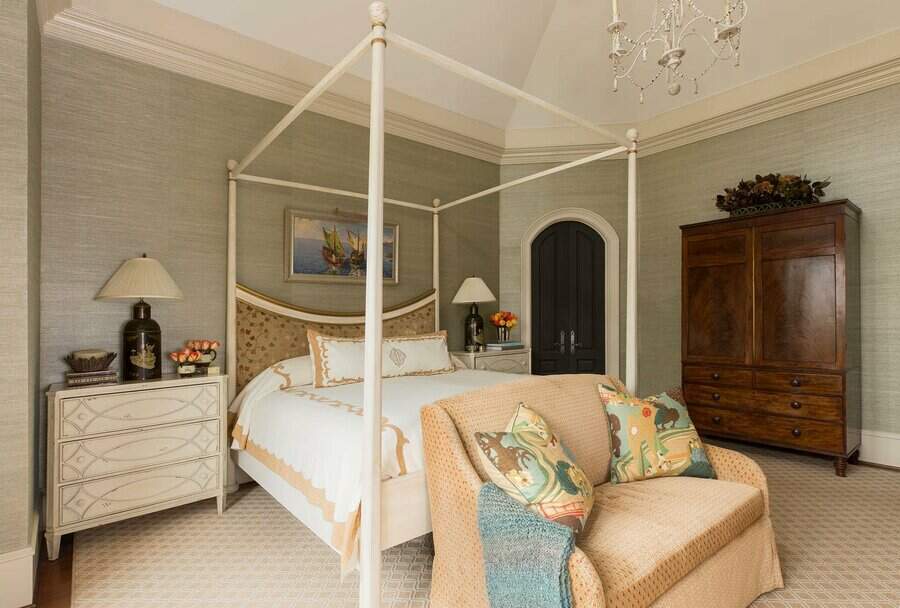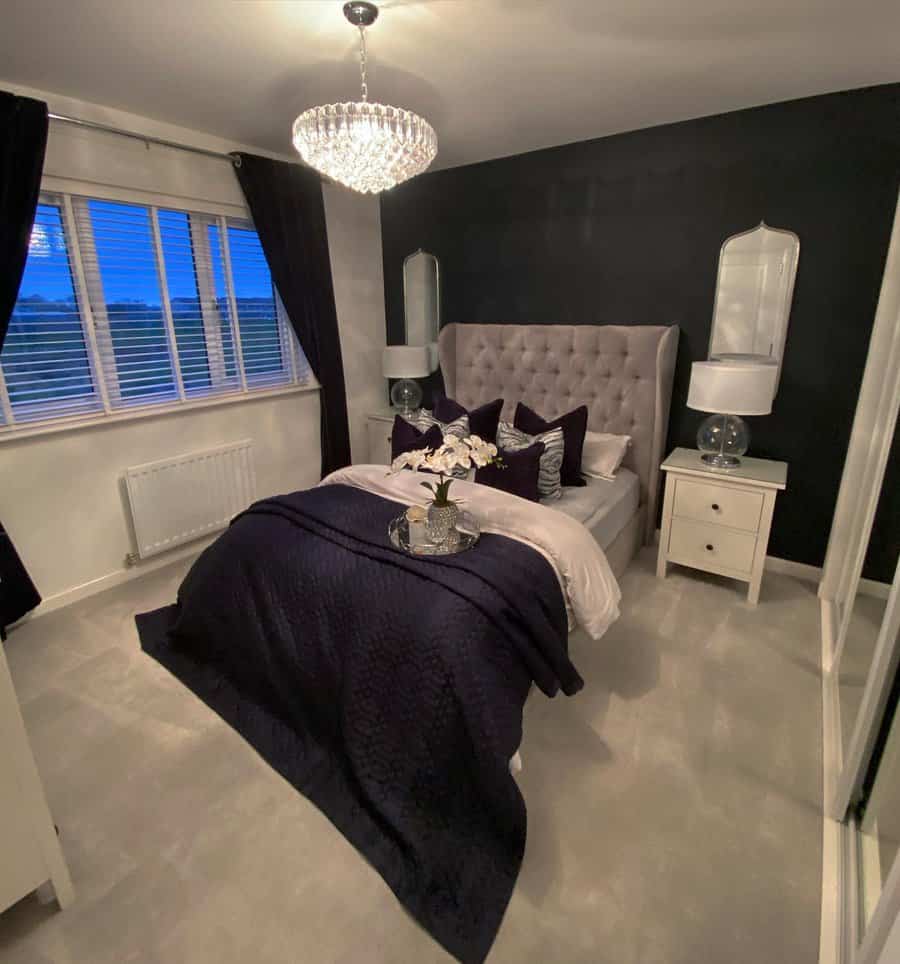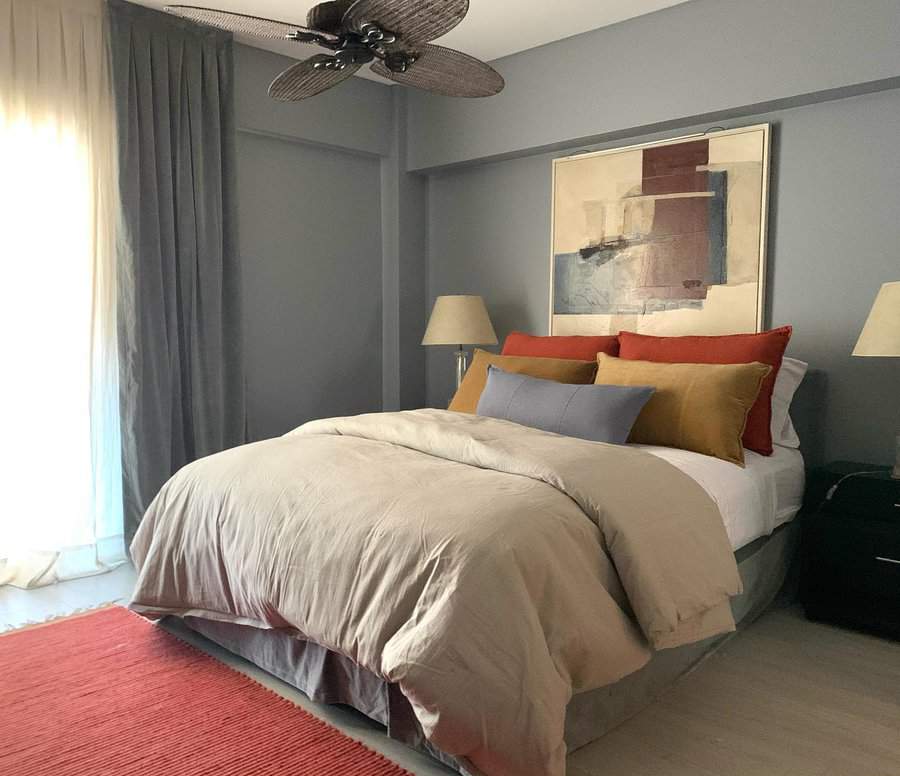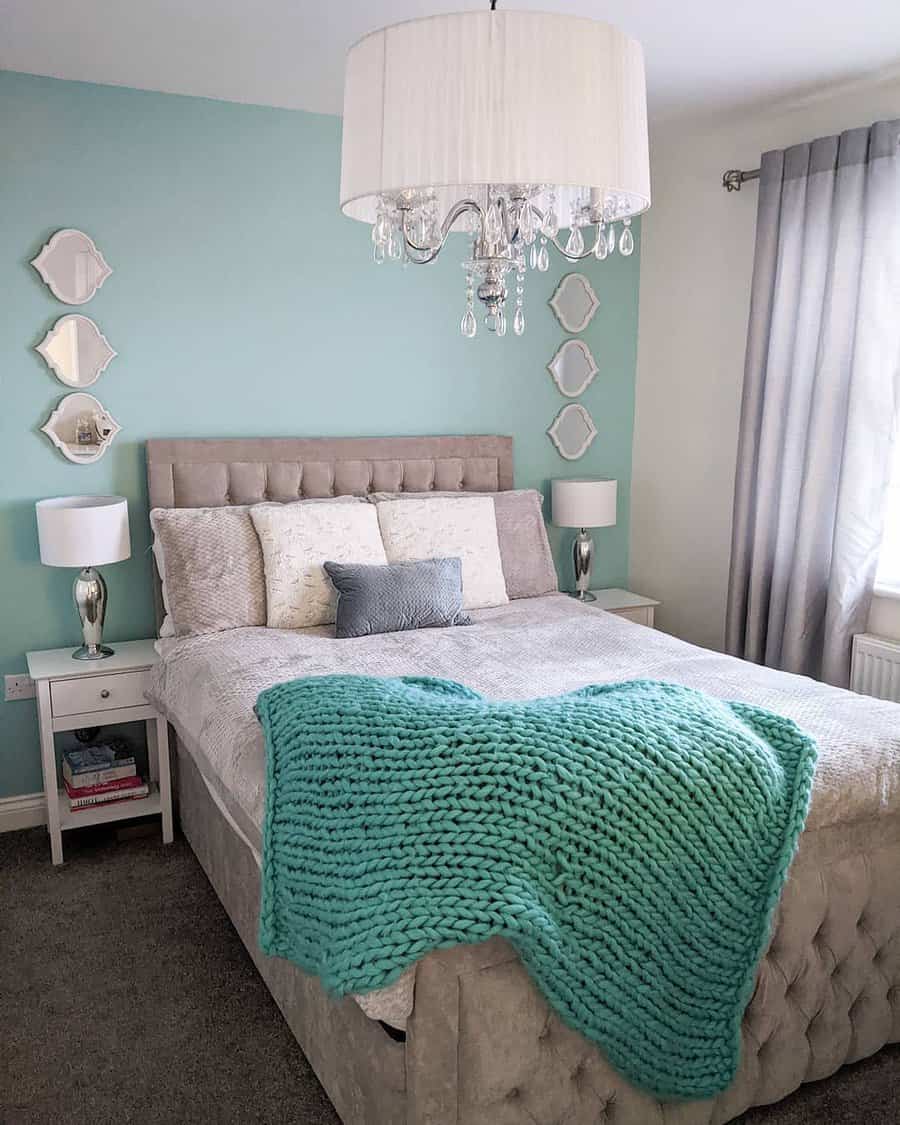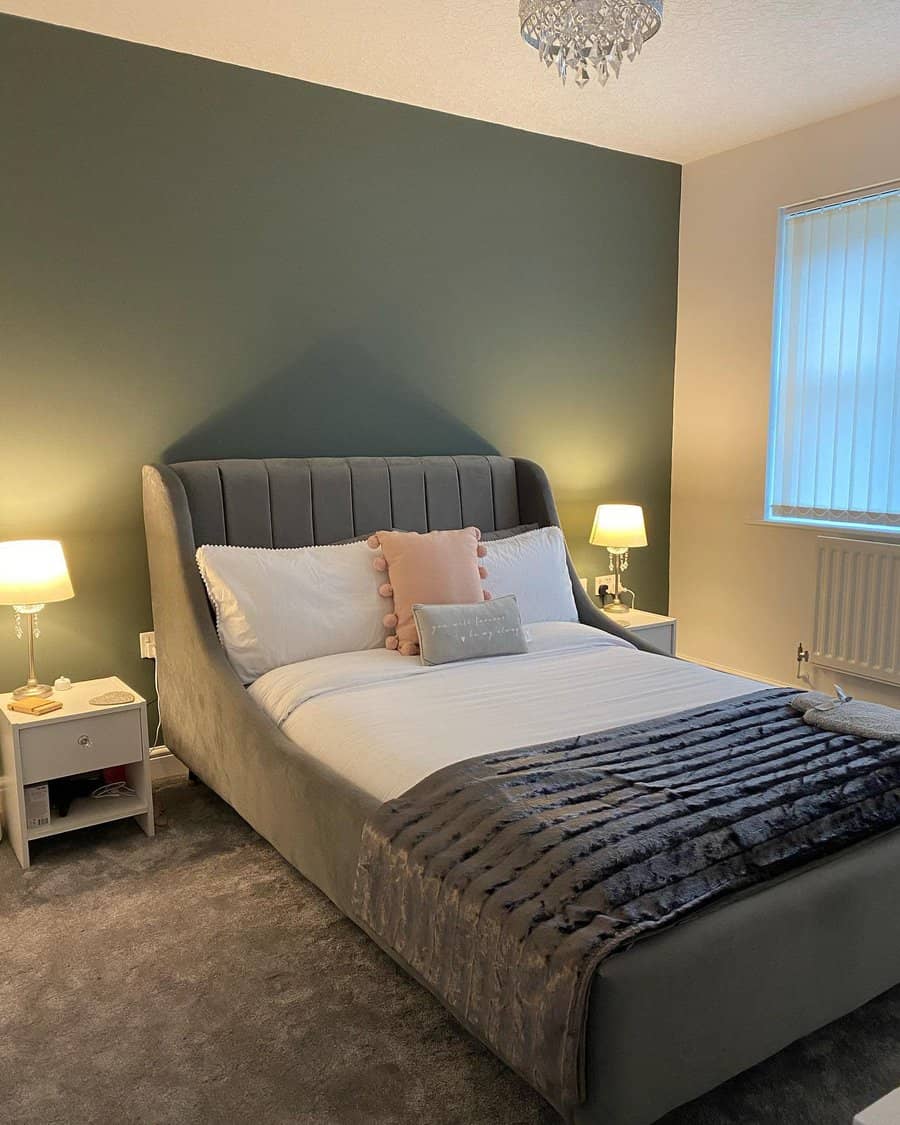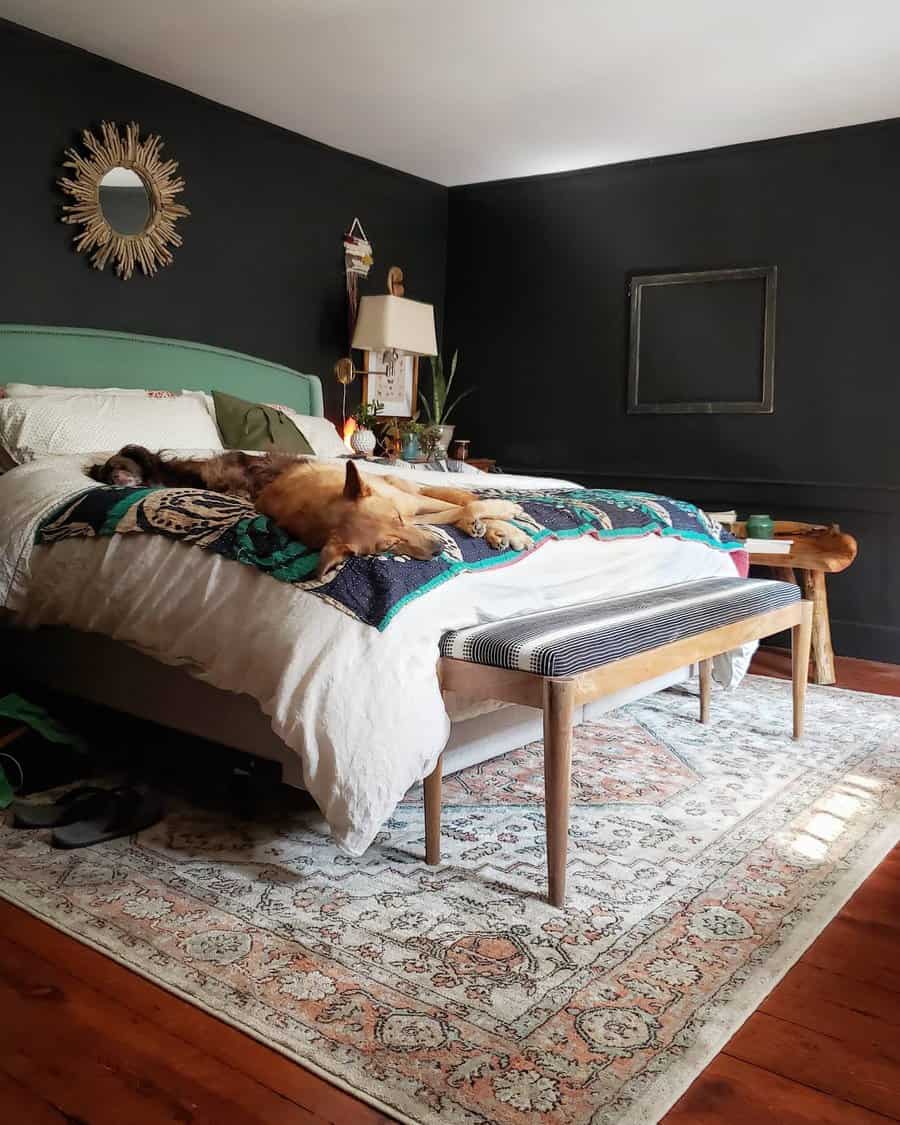 If you have a small master bedroom, then consider choosing a light color. Pastel gray, blue, and green are all good choices. If you're looking to add energy, try yellow. This color is mood-lifting but not overwhelming.
Master Bedroom FAQs
What is the best color for the master bedroom?
Colors can have a significant effect on your mood. Blue is a great option because it evokes feelings of relaxation and calmness. It will help you transition into a calm state for a more restful night's sleep. Brown and grey are also good options because they are neutral and invoking.
What should a master bedroom have?
There are several pieces of furniture that every bedroom should have. You need a bed, dresser, nightstands, and a place to sit. Other nice features are a mirror, desk, and console for the TV.
What can I do with an oversized master bedroom?
An oversized bedroom is a unique challenge because you have more space than you need for the standard master bedroom furniture. Start by dividing the floor plan into zones. You'll have one area that's meant for sleeping, with your bed and nightstands.
Another area could be meant for getting ready. It will have your dresser, armoire, or clothing rack. Other options for the additional space include a desk for working or a chair for a reading nook.