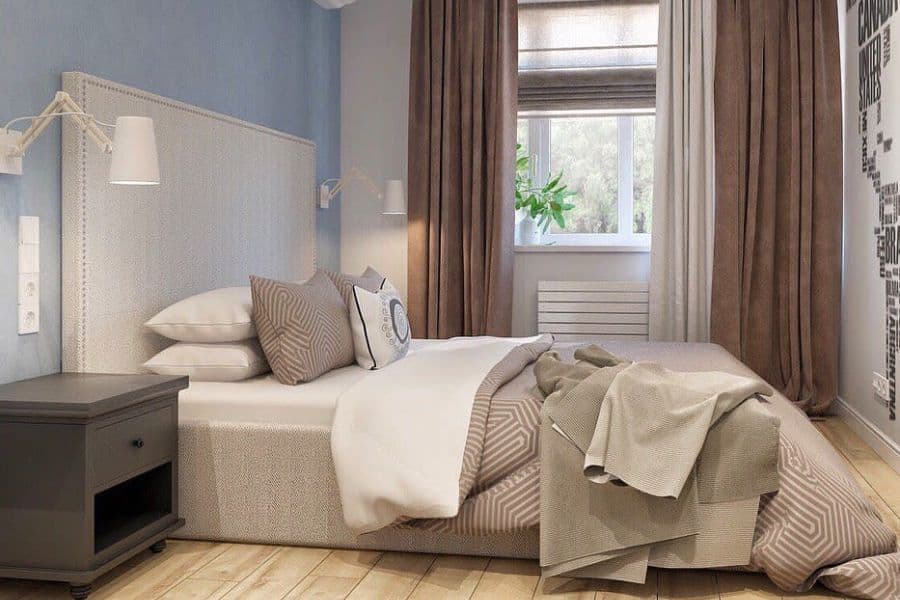 The Top 59 Master Bedroom Ideas
"My happy place is my bedroom. I love it." – Ayesha Curry
The master bedroom in your home is your personal space. This is your place to retreat and recharge.
You wake up the next morning and get ready for whatever your day will bring. To help you enjoy your bedroom, you need to have the right arrangement of furniture and decor.
It helps to look at master bedroom ideas. This helps you understand what furniture pieces work well with your master bedroom. Then you can complete the look with throw pillows, an area rug, and curtains.
These master bedroom ideas will help you find the perfect decor and arrangement for your bedroom.
1. Chandelier Lighting
Elevate the ambiance of your master bedroom with the enchanting allure of chandelier lighting. A chandelier is more than just a light fixture; it's a statement piece that adds a touch of glamour and sophistication to your personal sanctuary.
Imagine the soft glow of crystals cascading from above, creating a mesmerizing play of light and shadows. The intricate design and delicate details of a chandelier bring a sense of elegance and opulence to your space, making it feel like a luxurious retreat.
Whether your style is modern, traditional, or eclectic, there is a chandelier to suit every taste and enhance the overall aesthetic of your master bedroom. So let your imagination soar and embrace the enchantment that chandelier lighting brings to your private haven.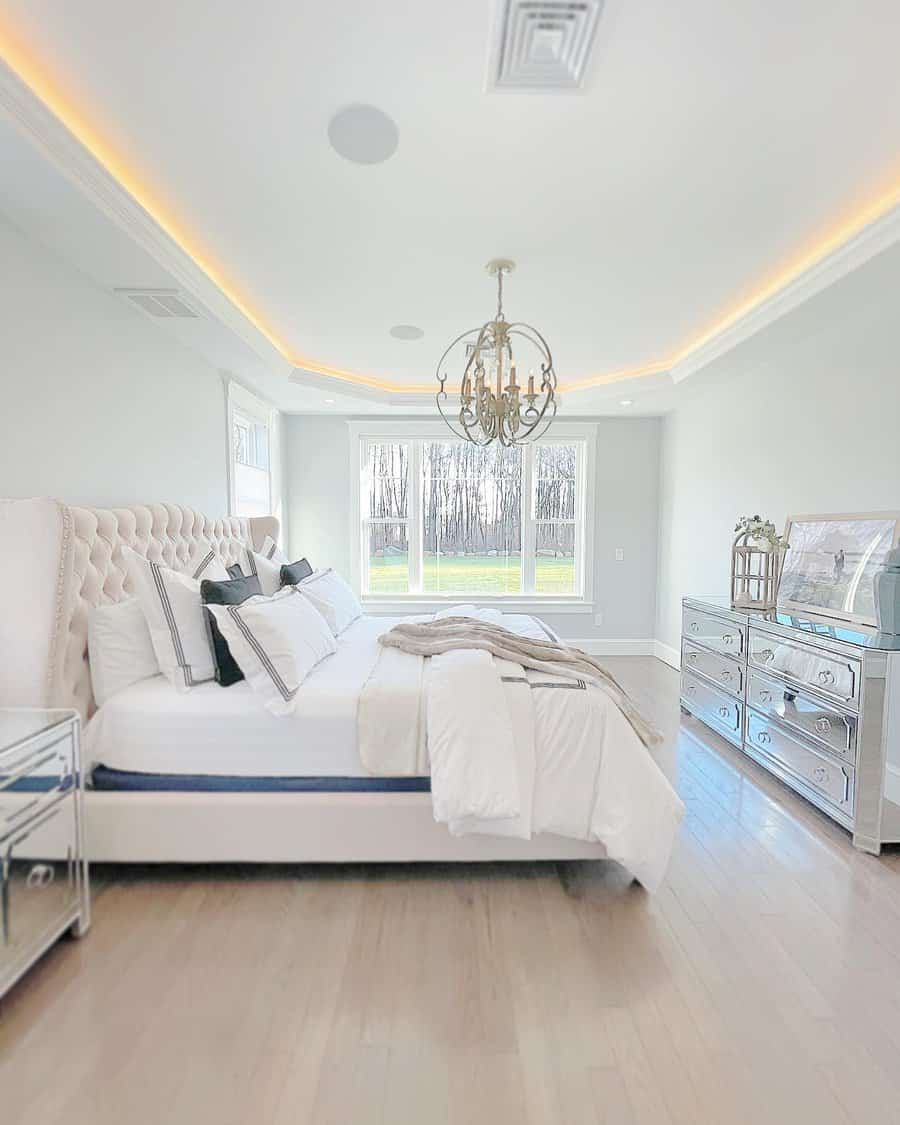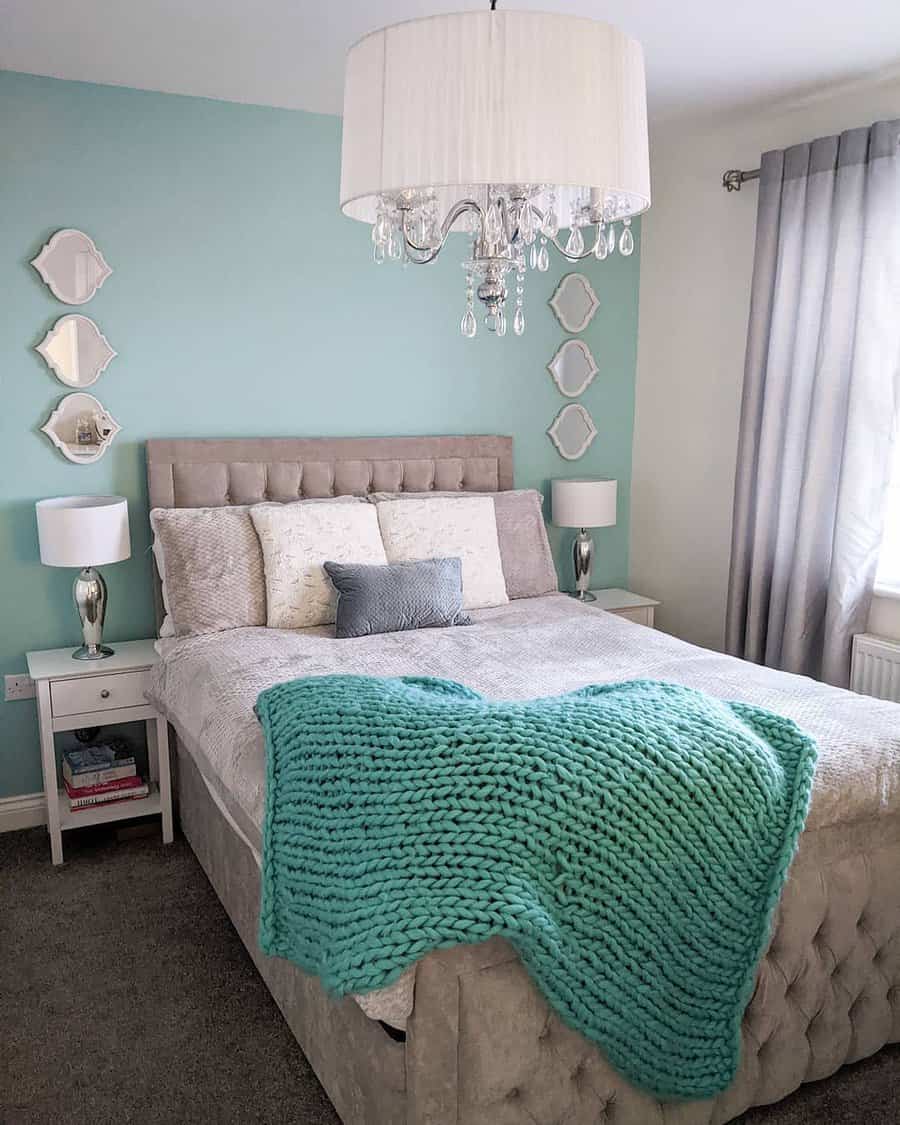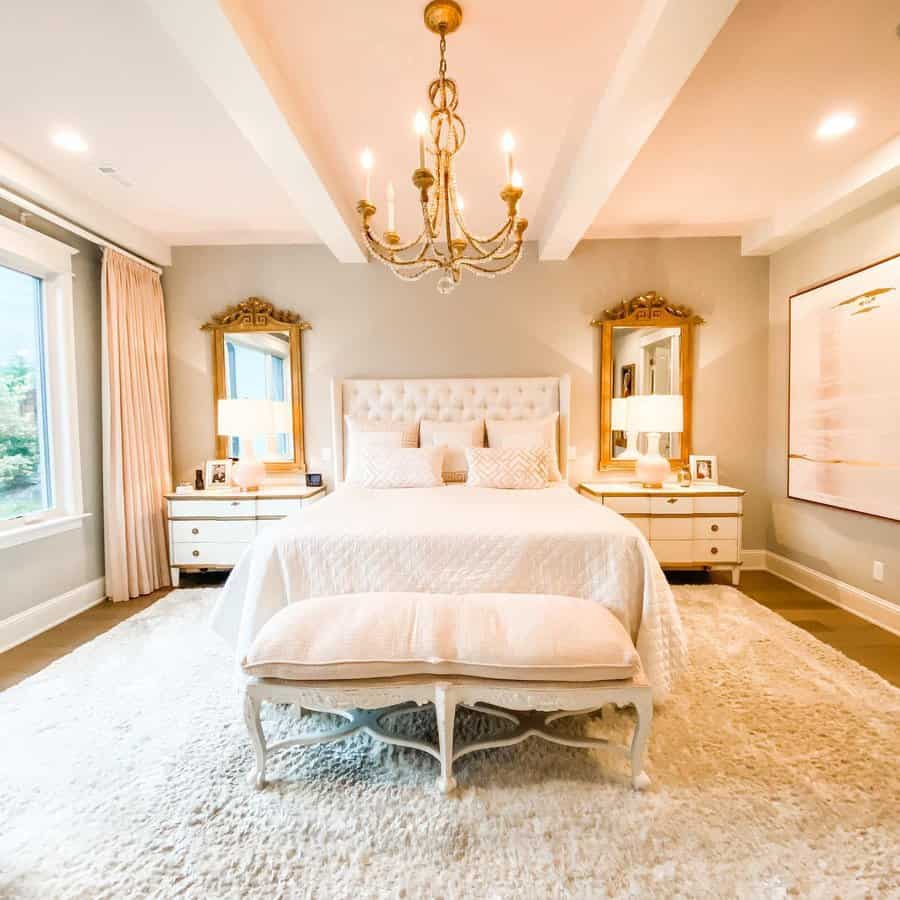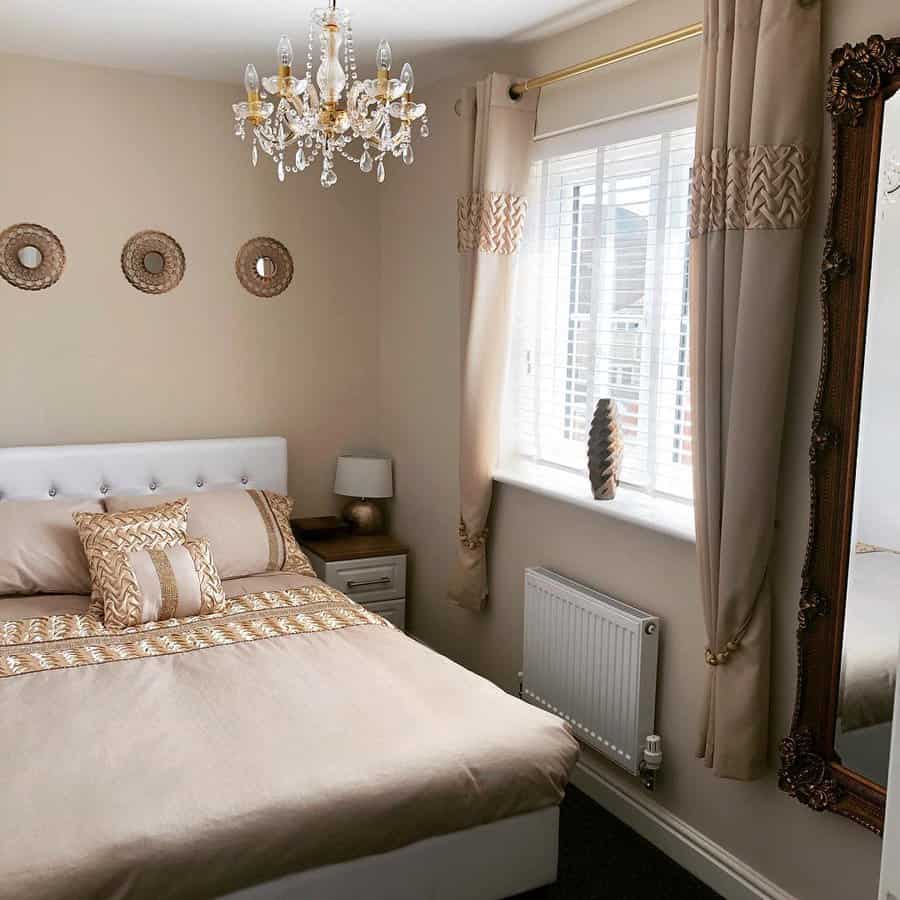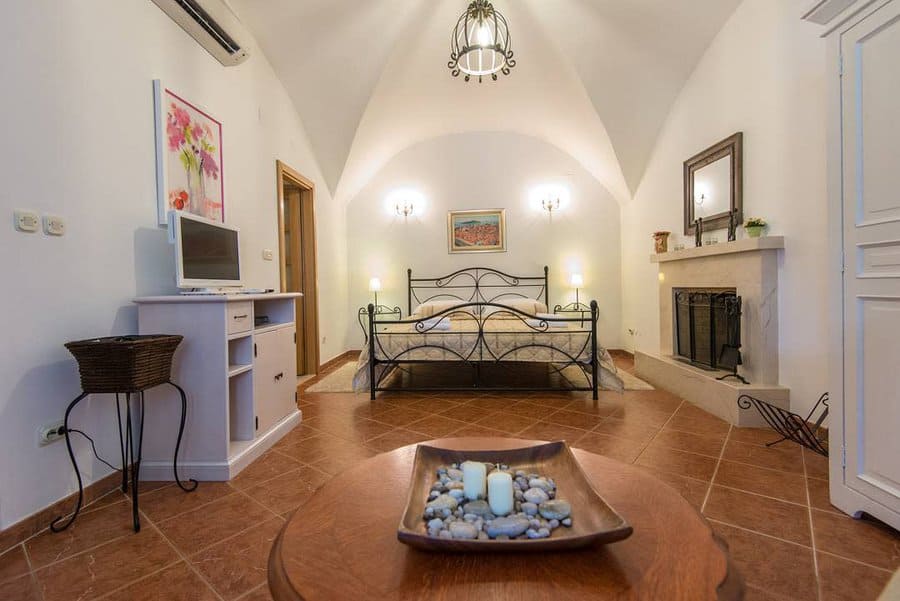 2. Wall-to-Wall Carpeting
Create the ultimate sanctuary in your master bedroom with the luxurious touch of wall-to-wall carpeting. This functional and chic flooring choice instantly adds warmth, comfort, and a sense of coziness to your personal oasis. Sink your feet into the plush, soft carpet as you start and end your day, providing a gentle and inviting surface.
The wide range of colors and textures available allows you to customize the look and feel of your space, whether you prefer a sleek and modern design or a more traditional and elegant ambiance.
Wall-to-wall carpeting not only enhances the visual appeal of your master bedroom but also helps to reduce noise and adds insulation, making it the perfect choice for creating a peaceful and relaxing retreat.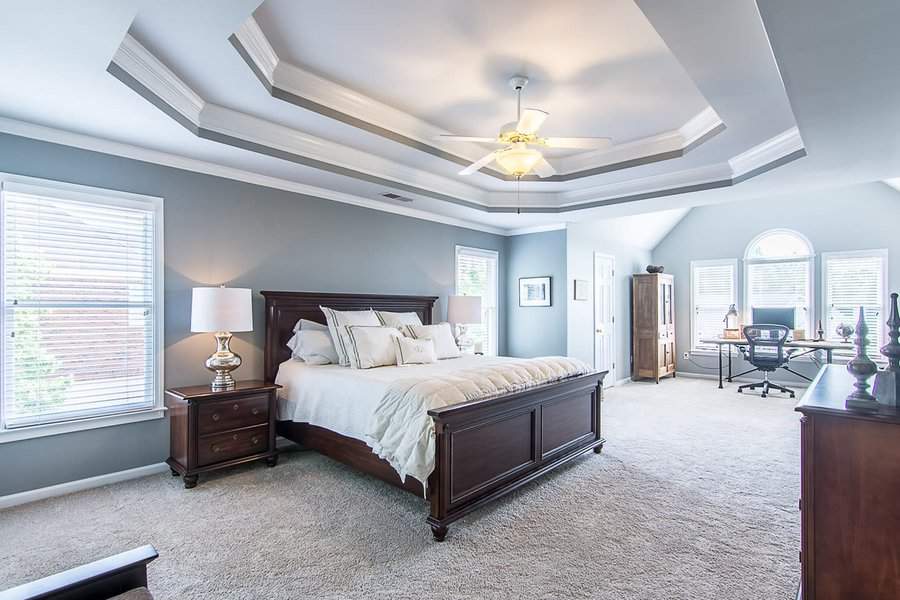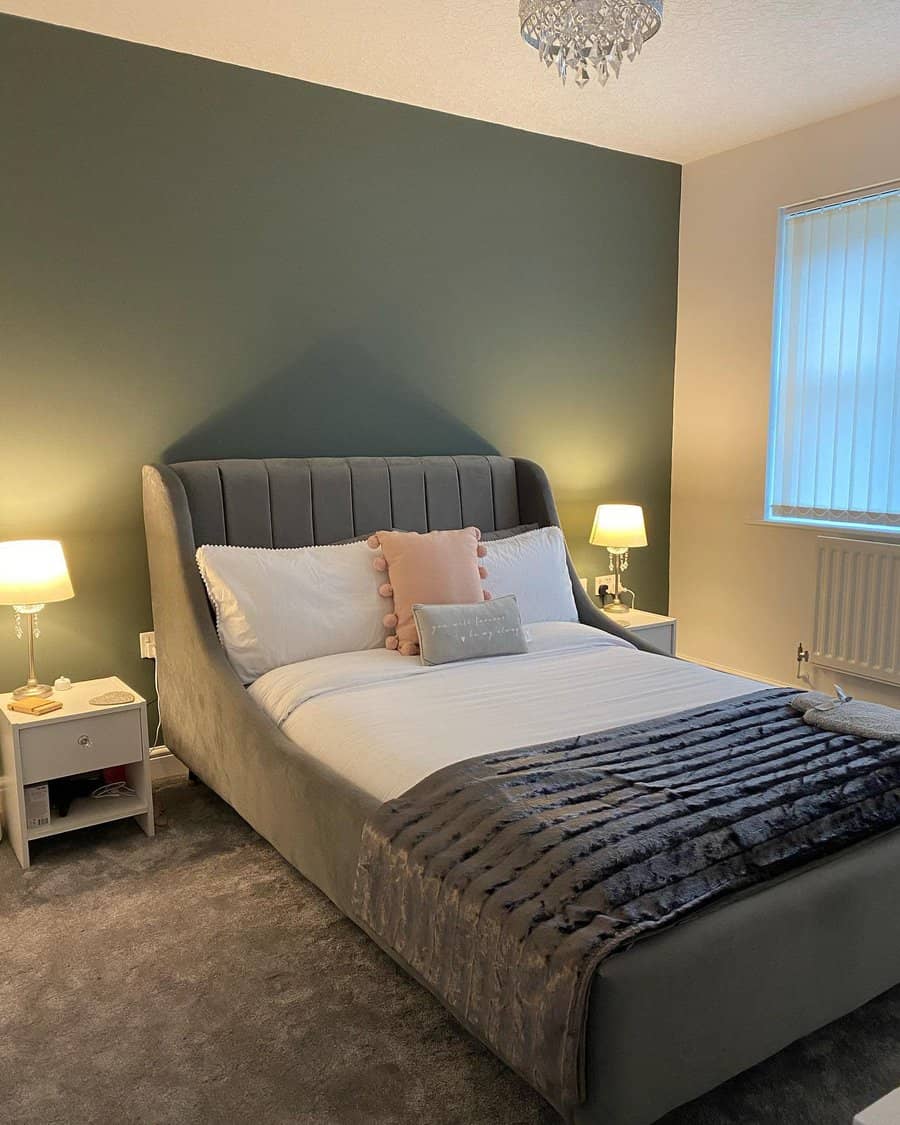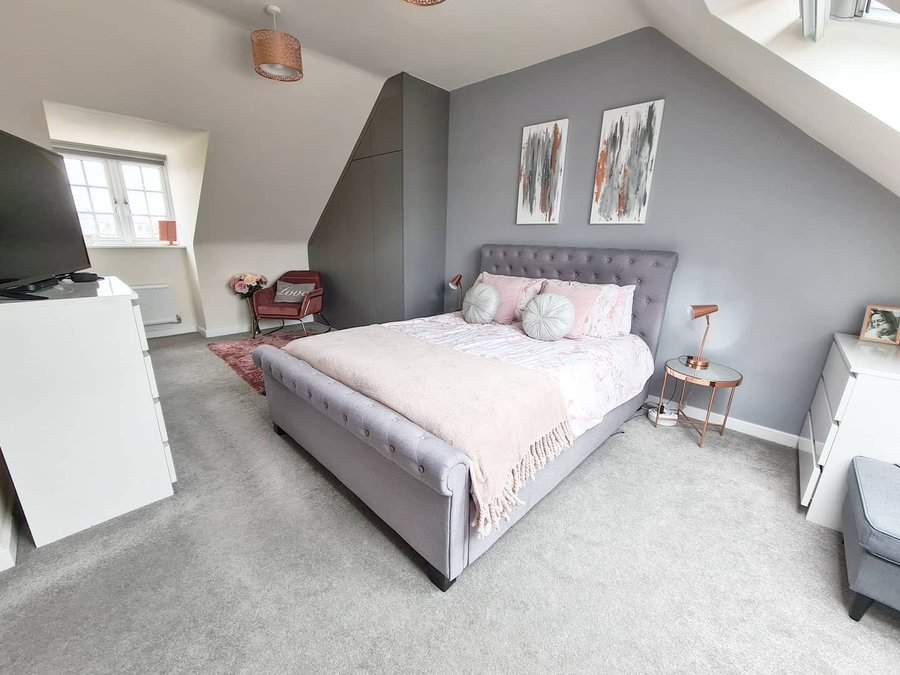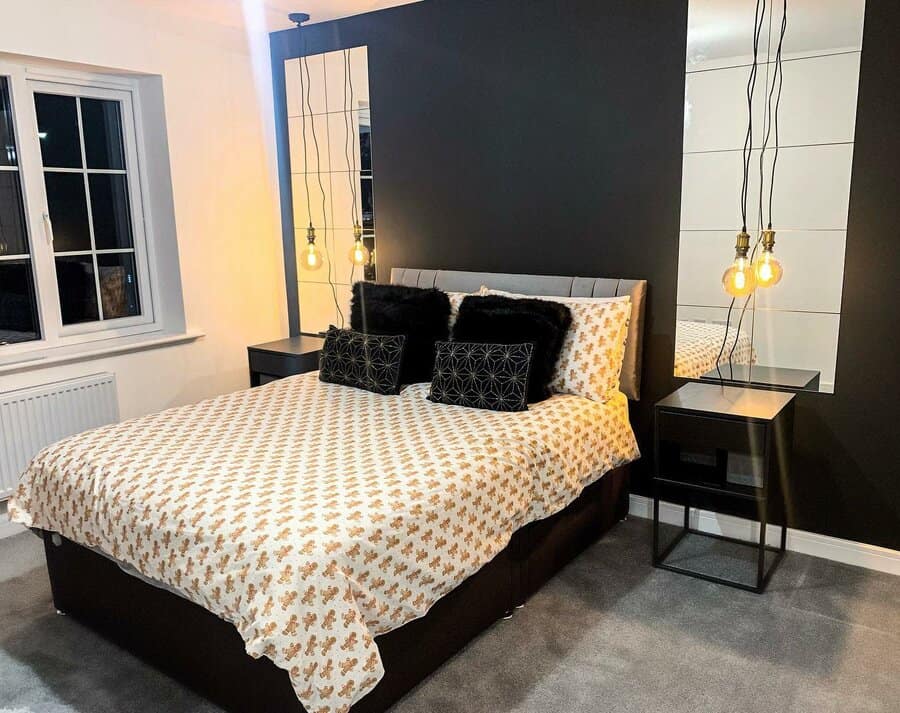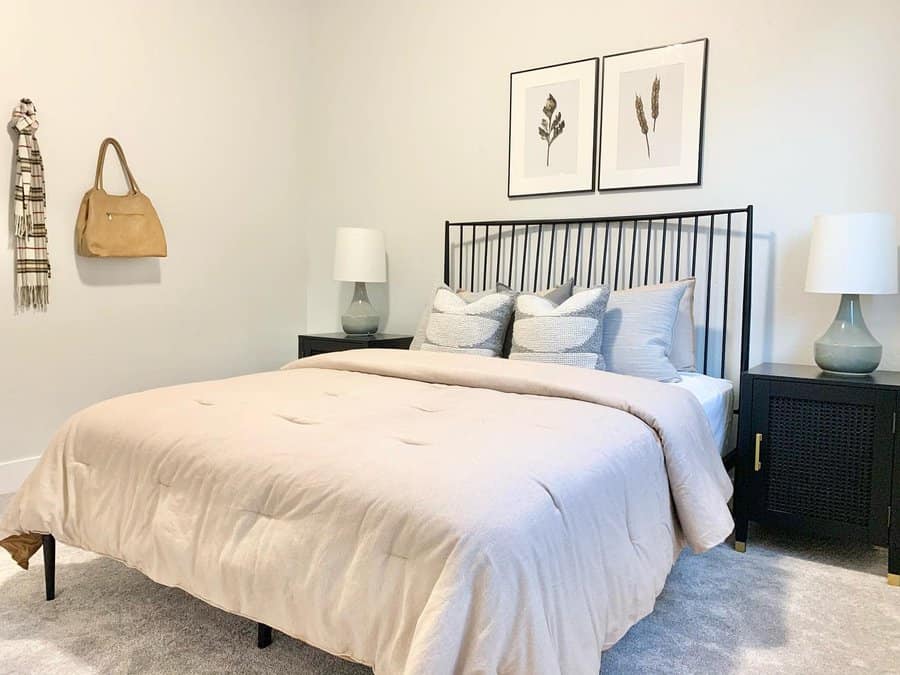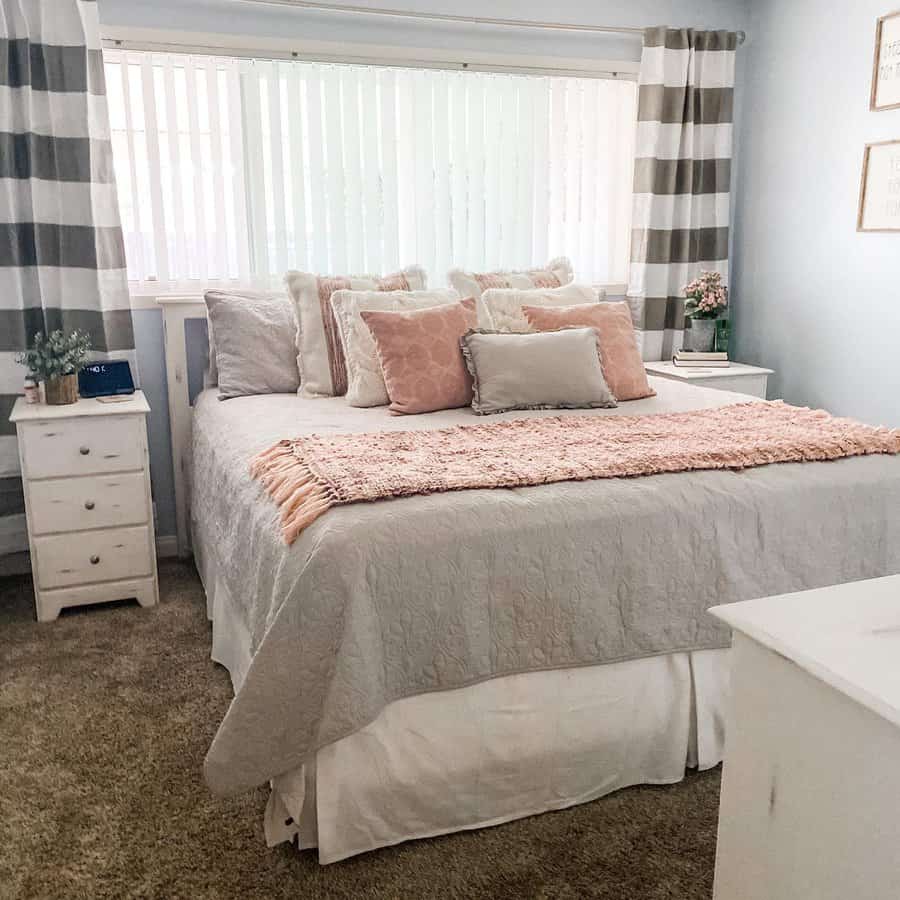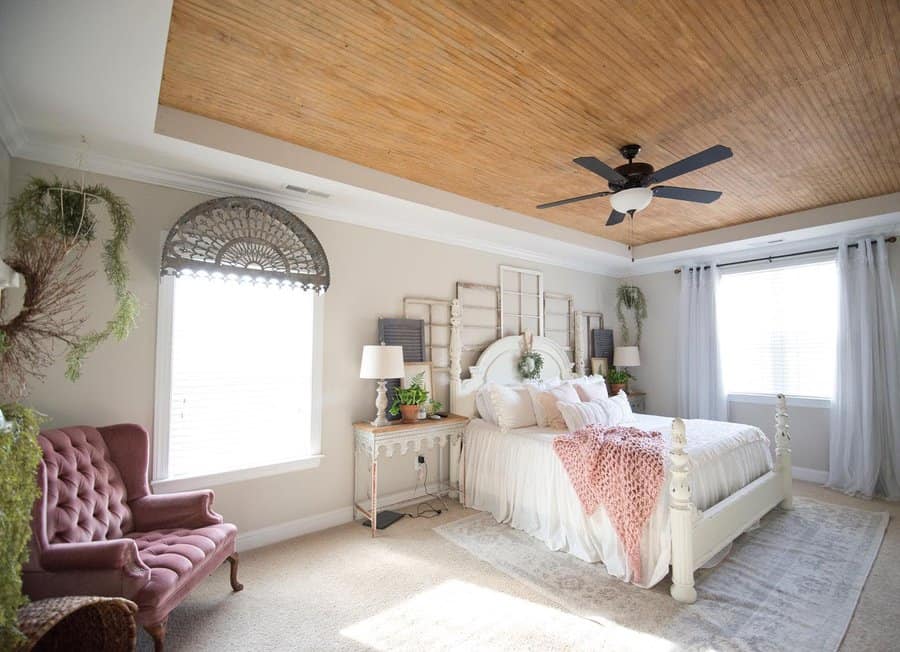 3. Board & Batten Accent Wall
Create a dreamy sanctuary in your master bedroom with a board and batten accent wall. This design feature adds a touch of visual interest and architectural charm to the space, instantly elevating the overall aesthetic. The vertical panels and horizontal battens create a sense of depth and texture, transforming a plain wall into a focal point that exudes sophistication.
If you're looking for other wall trimming styles to enhance your master bedroom, consider wainscoting for a classic and timeless look. Alternatively, shiplap can bring a coastal or farmhouse vibe, while geometric paneling can infuse a modern and contemporary feel.
Whatever your style preference, incorporating wall trimmings can add character and personality to your master bedroom, making it a true reflection of your unique taste and style.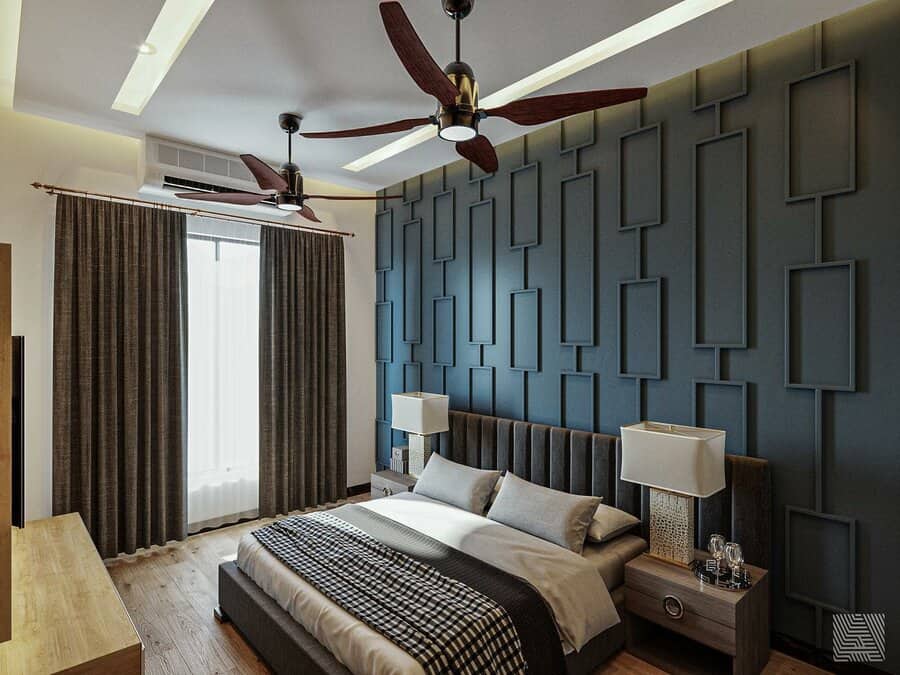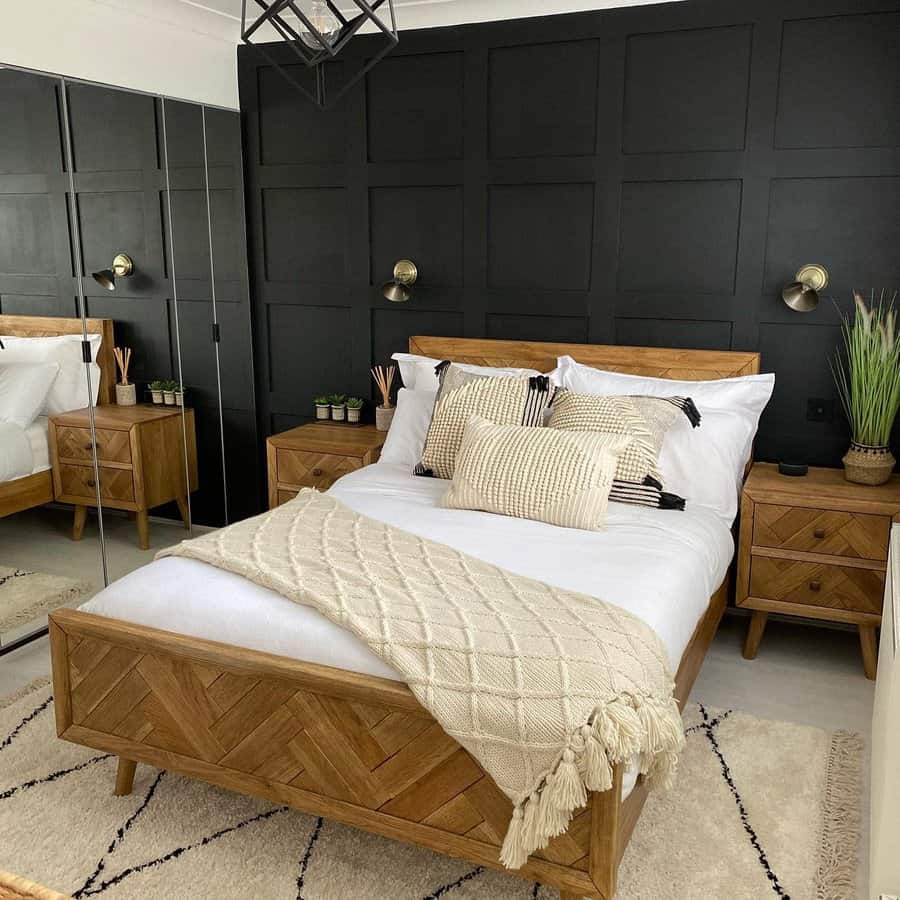 4. Floor-Length Curtains
Create the ultimate sanctuary in your master bedroom with the perfect window treatment: floor-length curtains. Whether you prefer sheer elegance or complete blackout, floor-length curtains add a touch of luxury and privacy to your space. Sheer curtains allow soft natural light to filter through, creating a dreamy and ethereal atmosphere.
They effortlessly blend with any decor style, adding a touch of romance and airiness. On the other hand, blackout curtains provide maximum light control, creating a peaceful and cozy environment perfect for restful nights. Opt for rich and opulent fabrics like velvet or linen to enhance the luxurious feel of your master bedroom.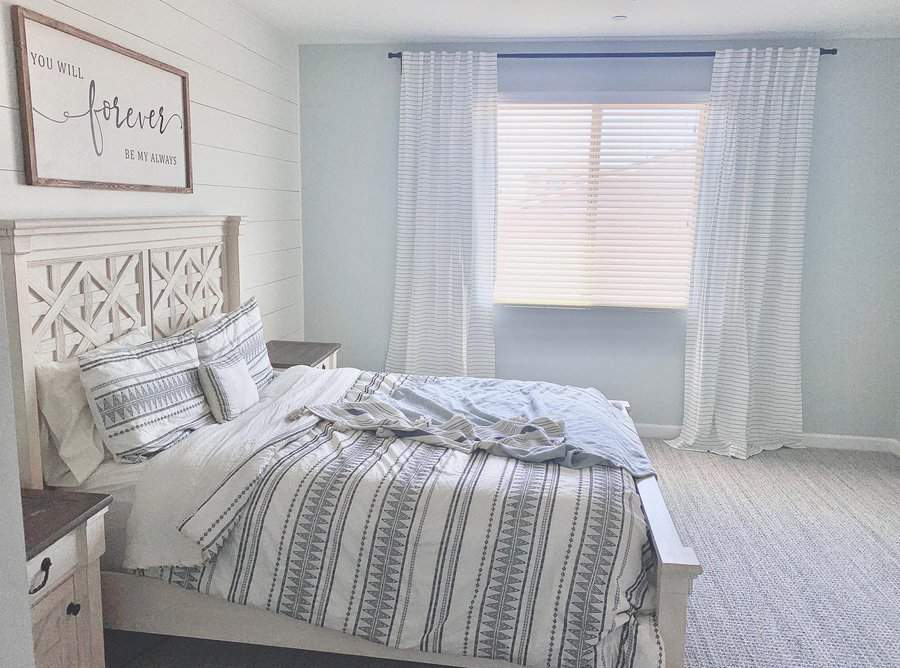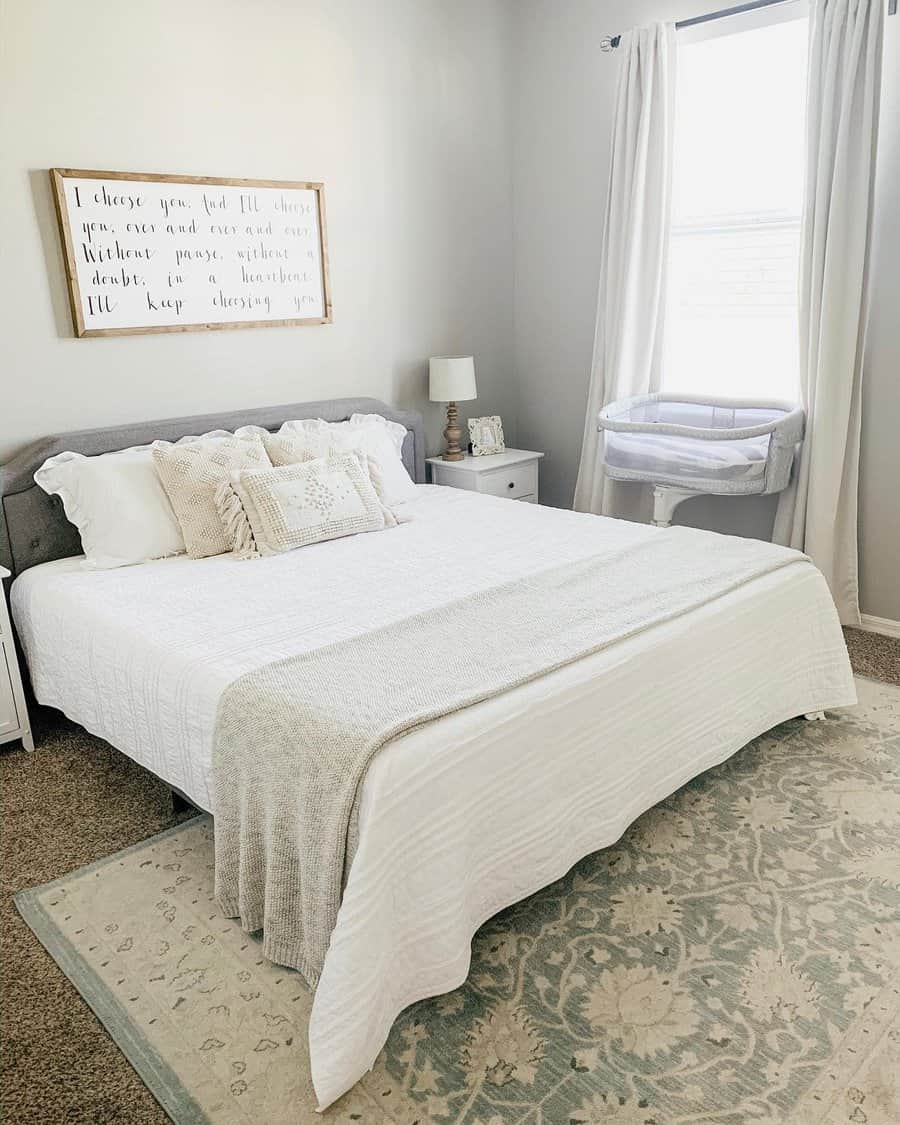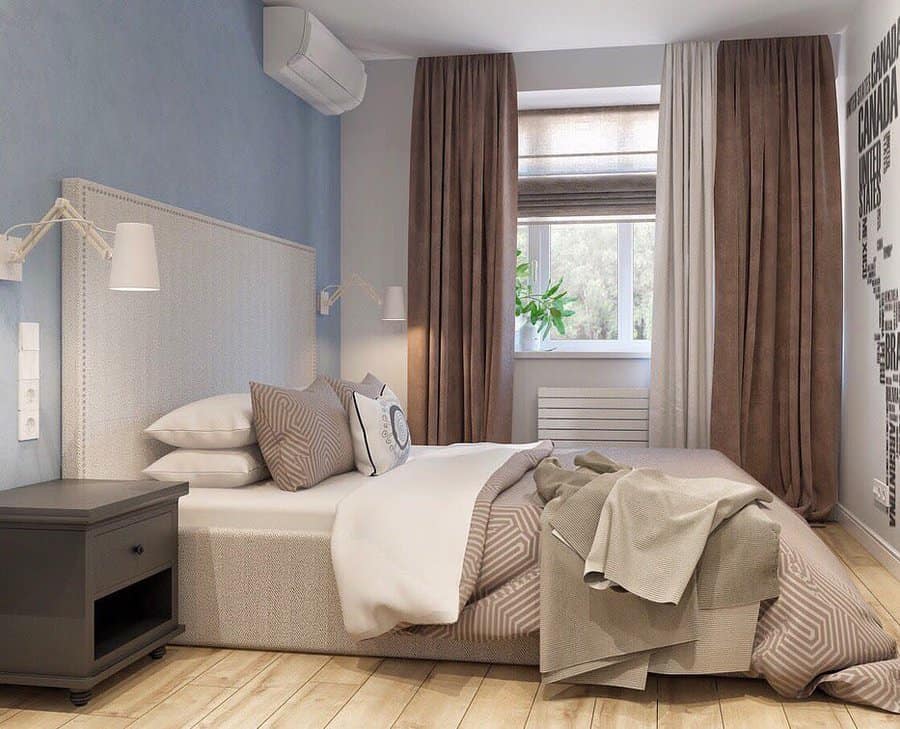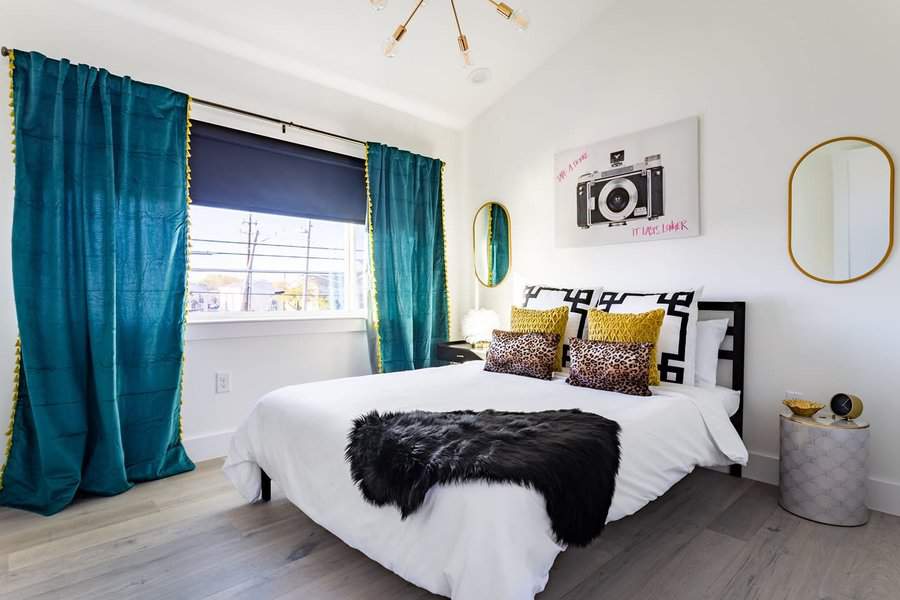 5. Wooden Headboard Accent
Transform your master bedroom into a cozy sanctuary with the rustic charm of a wooden headboard accent. For beds without a headboard, this clever solution not only adds visual interest but also brings a touch of nature indoors. The rich texture and warm tones of the wood create a focal point that anchors the bed and adds depth to the room.
Whether you opt for a reclaimed barn wood or a handcrafted piece, a wooden headboard accent brings a sense of natural beauty and warmth to your space. Pair it with crisp white bedding and earthy tones for a soothing and inviting atmosphere.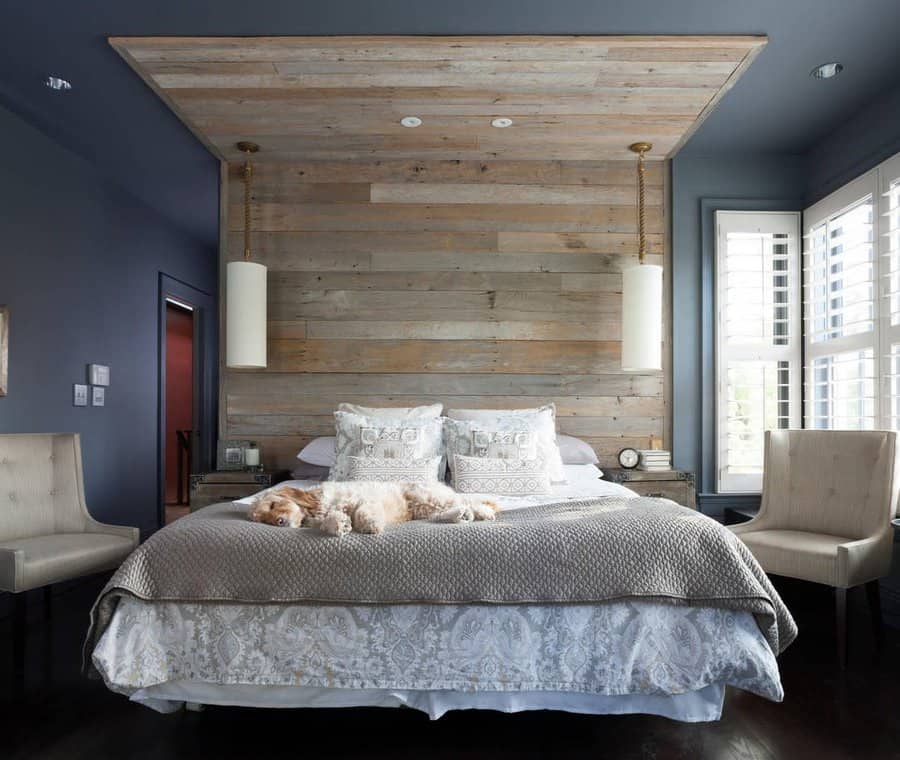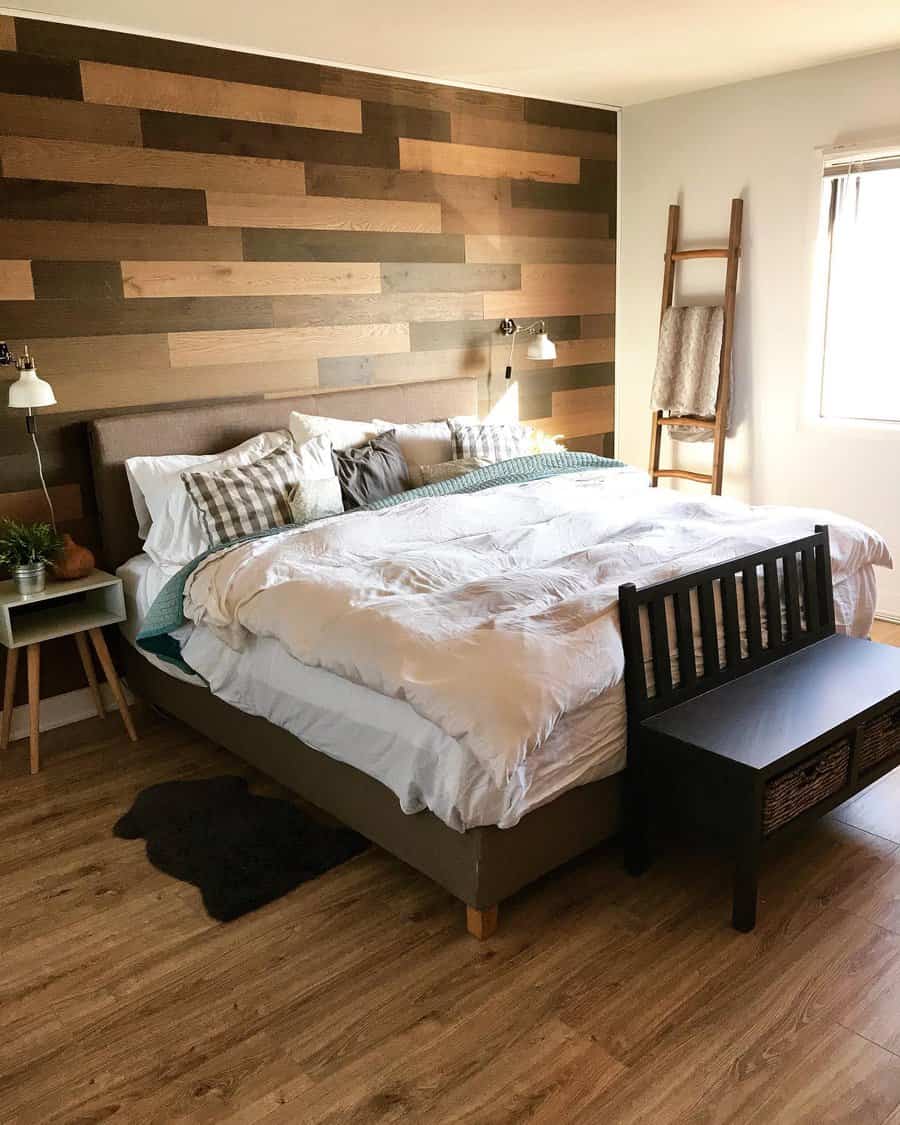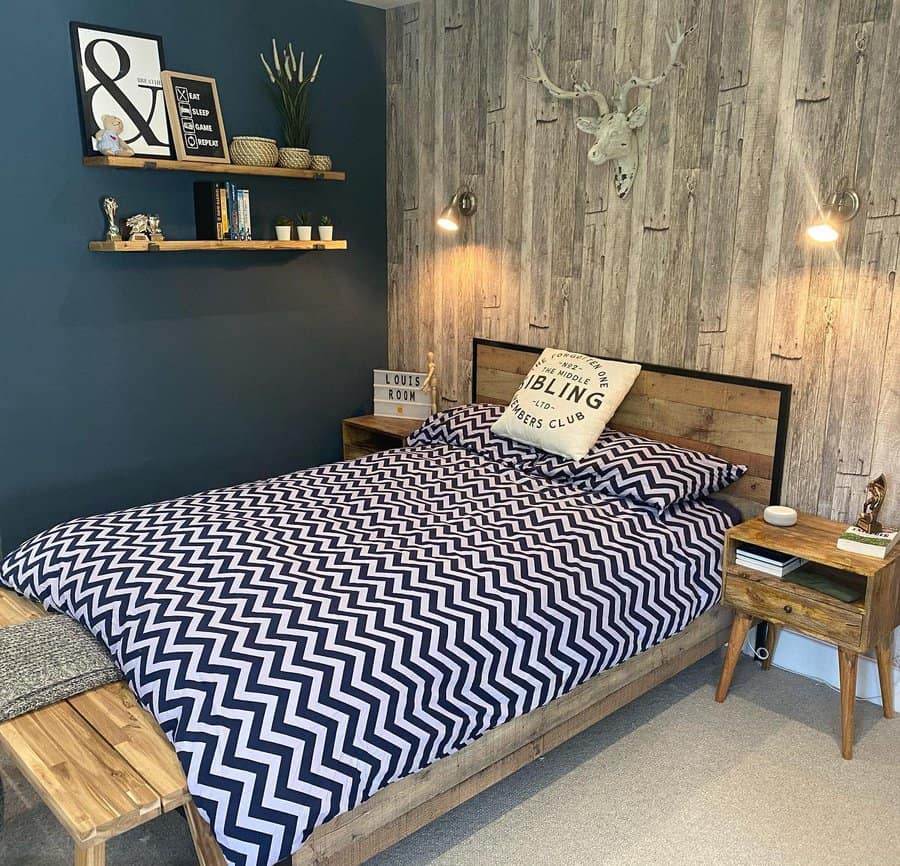 6. Wall Art
Transform your master bedroom into a sanctuary of style and personality by incorporating captivating wall art. One impactful way to elevate your space is by using headboard wall art. Create a stunning focal point behind your bed by hanging a beautiful tapestry, a collection of frames, or large canvas art. This not only adds visual interest but also brings a sense of depth and character to the room.
Choose artwork that resonates with your personal style, whether it's abstract, nature-inspired, or a cherished photograph. The possibilities are endless, allowing you to infuse your bedroom with your unique taste and create a space that reflects your personality.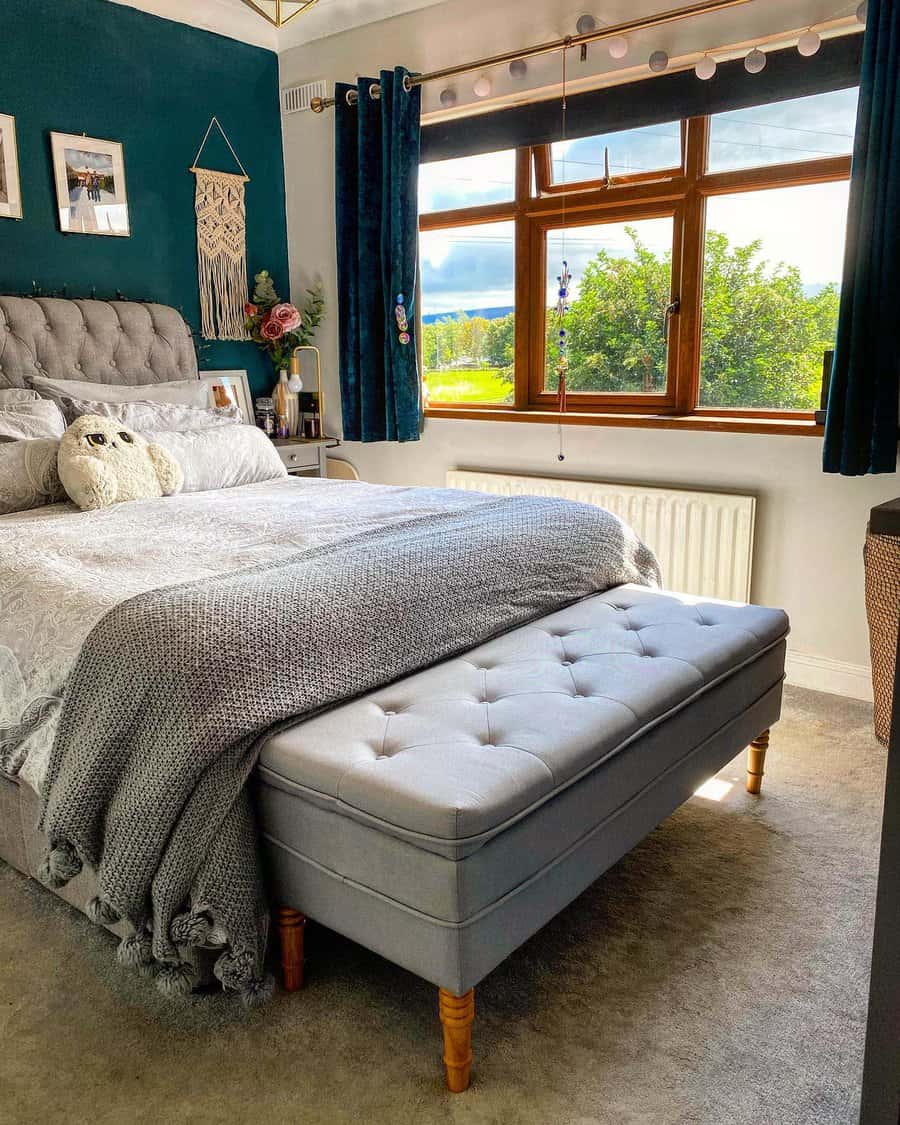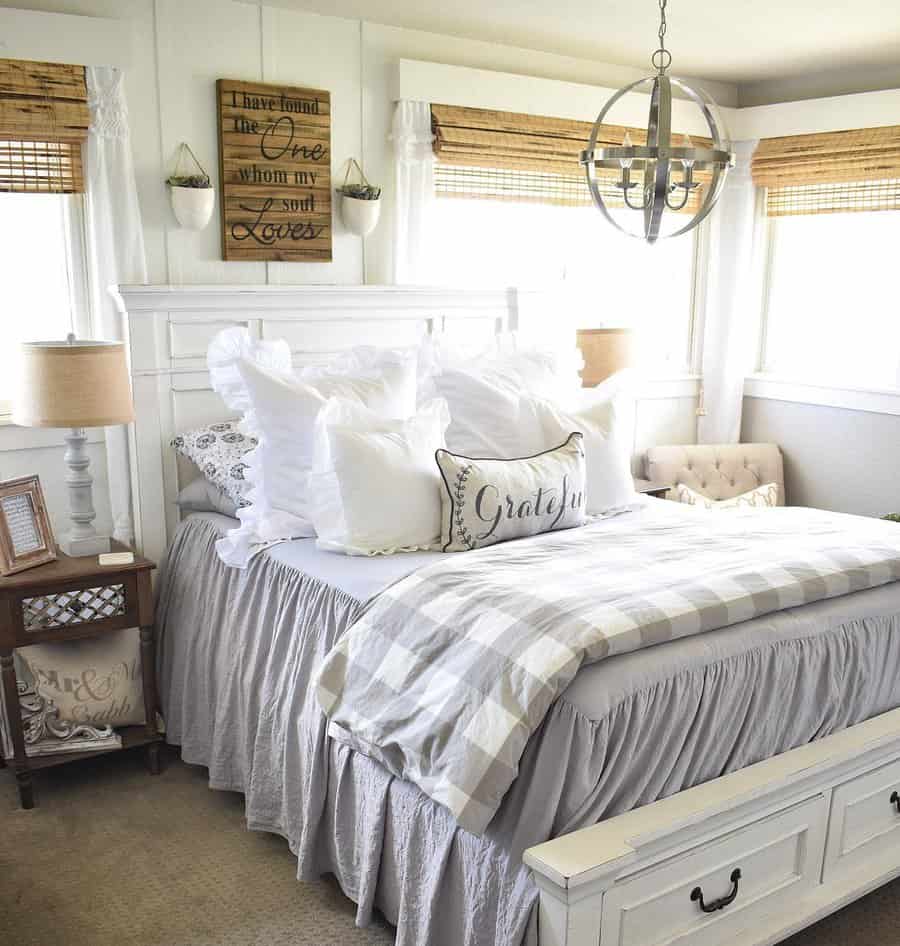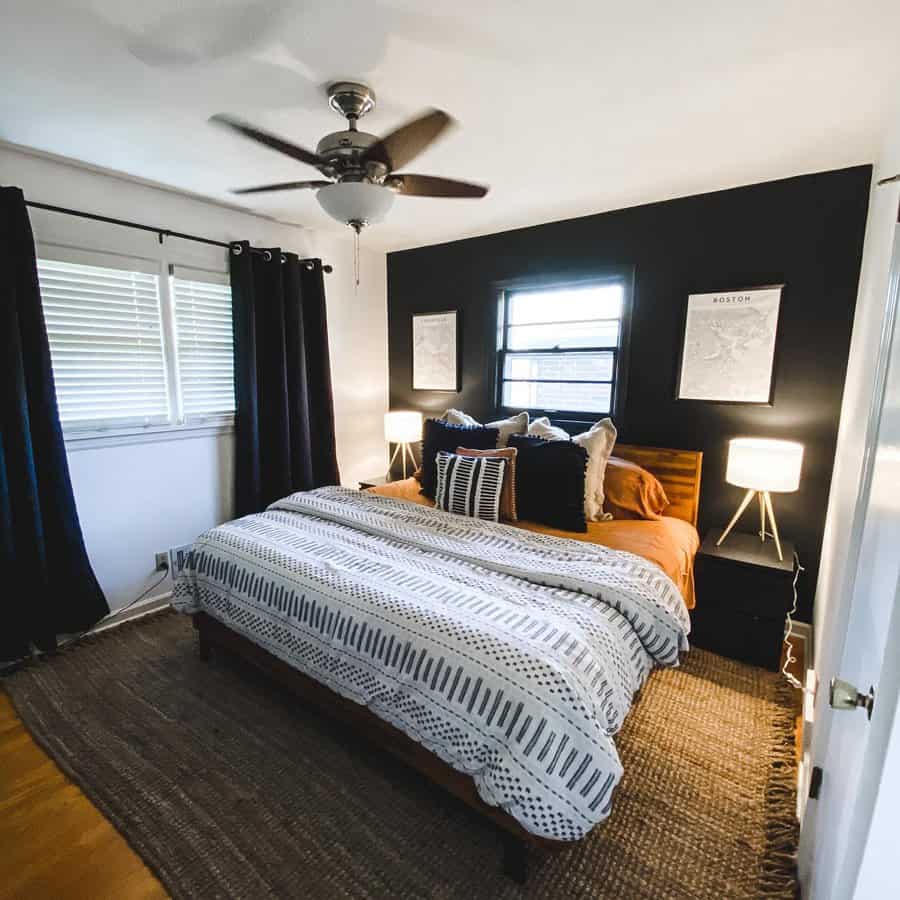 7. Plush Area Rug
Create a sanctuary of comfort and style in your master bedroom with the addition of a plush area rug. In open-plan bedrooms, a well-chosen rug can define and anchor the sleeping area, adding a cozy touch underfoot. Opt for a luxurious and soft rug that invites you to sink your toes into its plush fibers.
Whether you prefer a neutral tone that complements the overall color scheme or a bold statement piece that adds personality, the right rug can tie the entire room together. Not only does it provide warmth and comfort, but it also adds texture and visual interest to the space.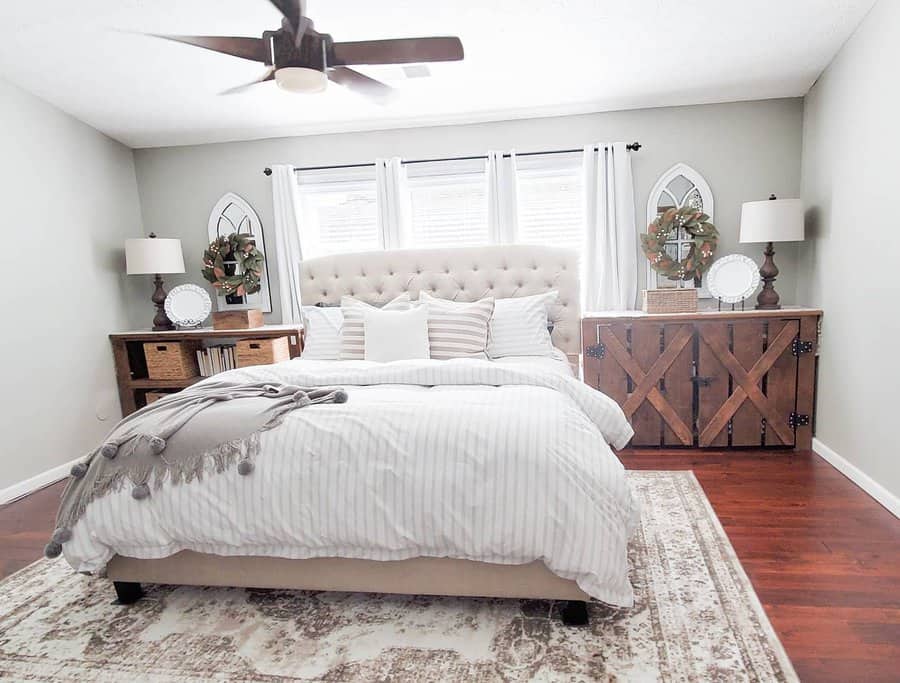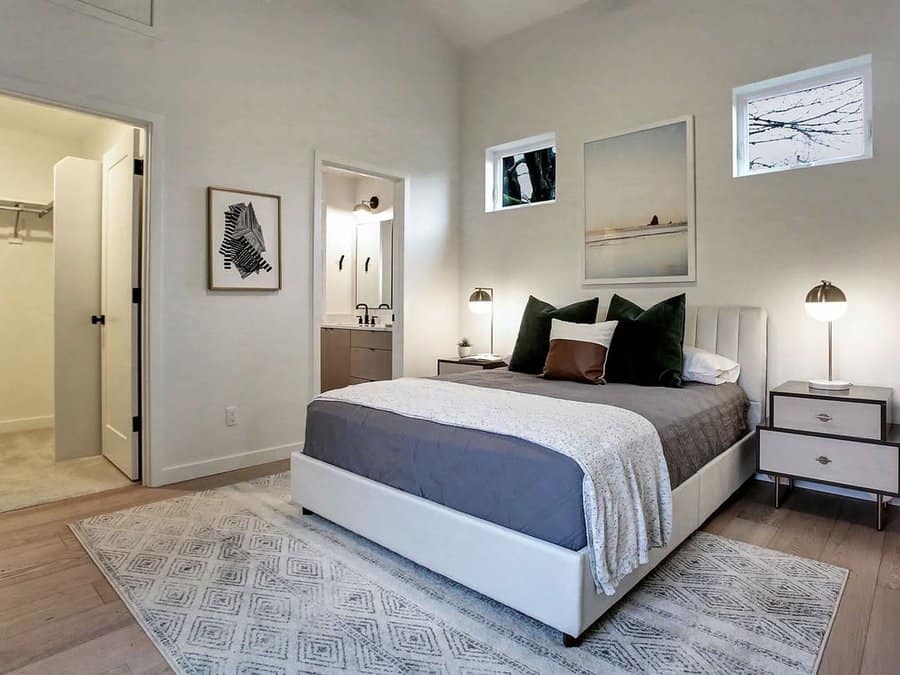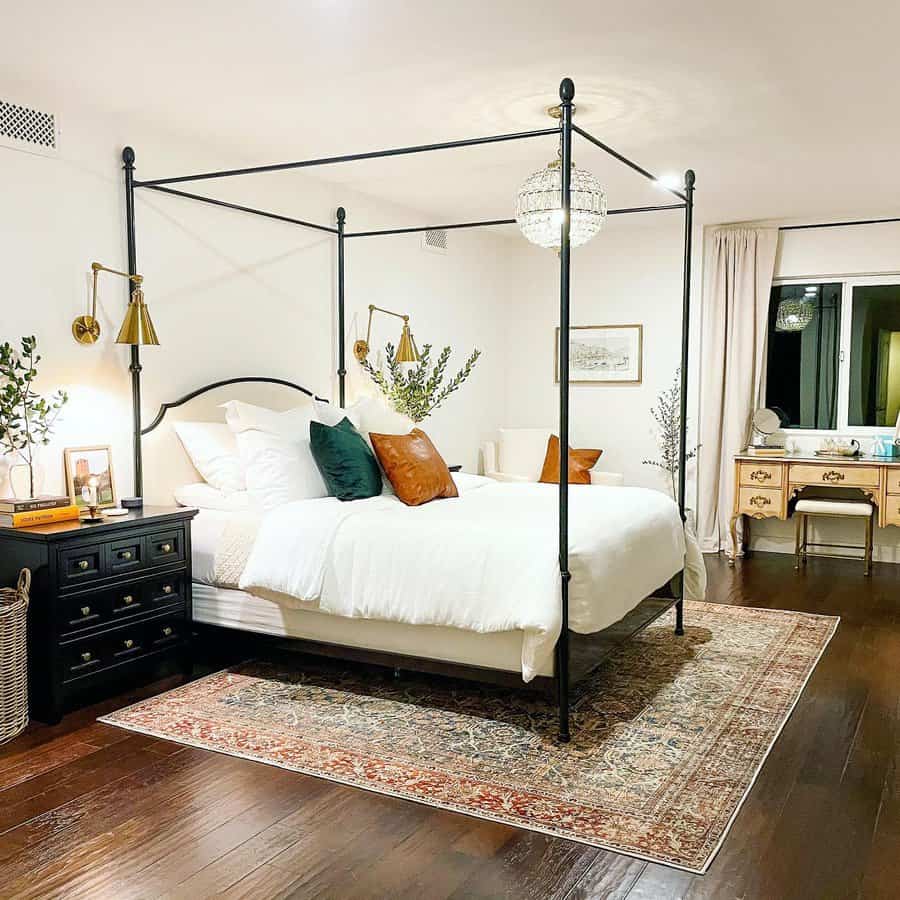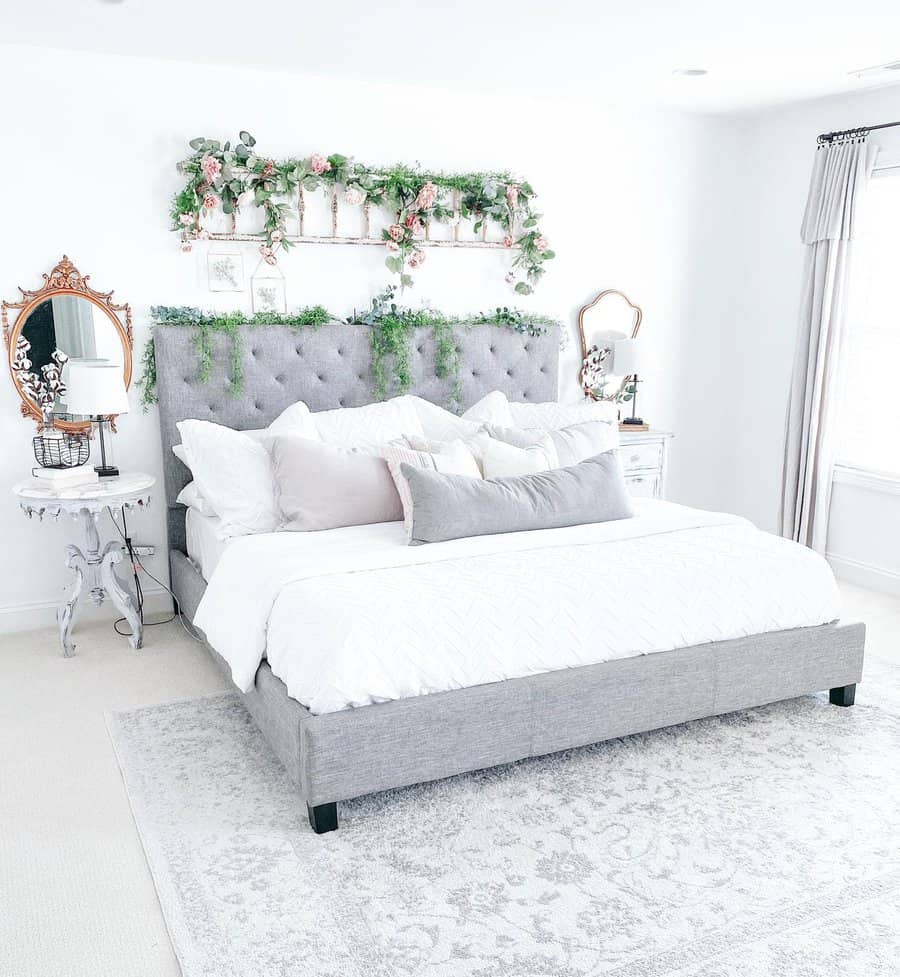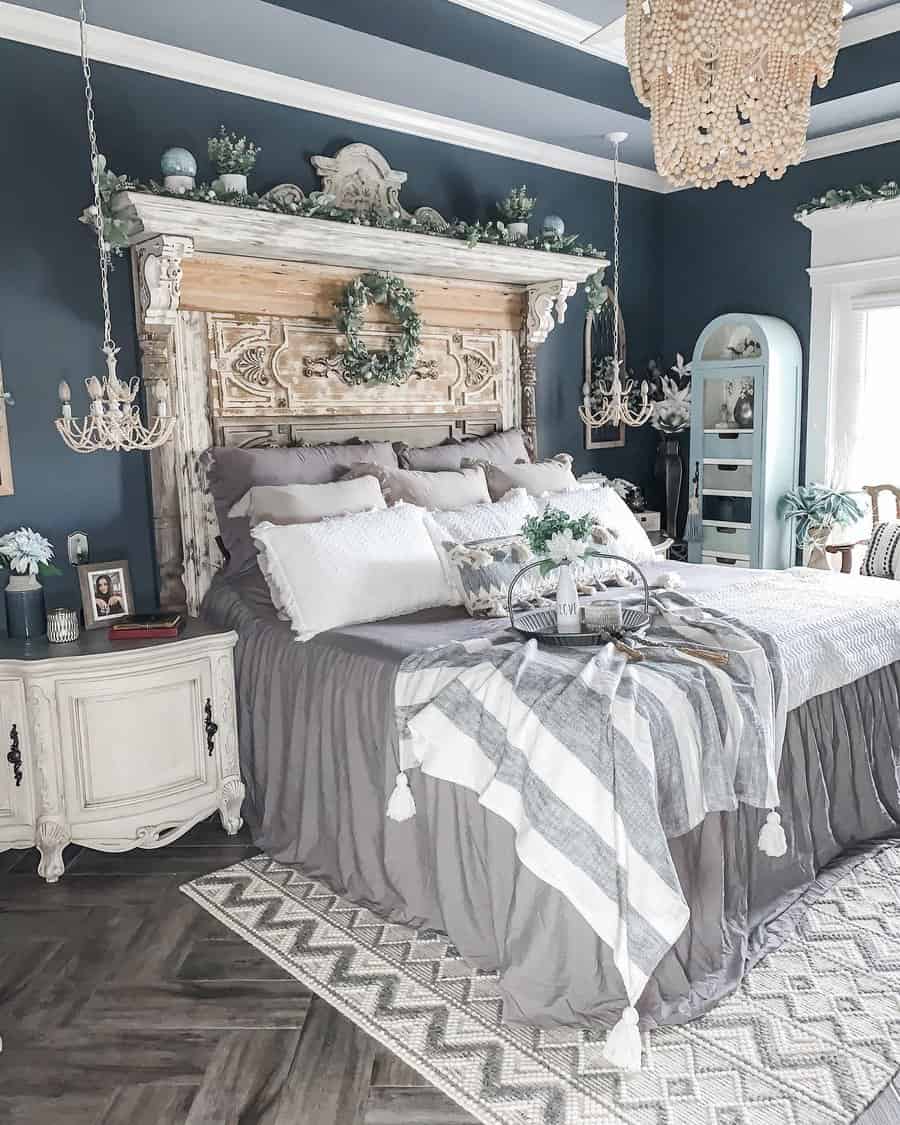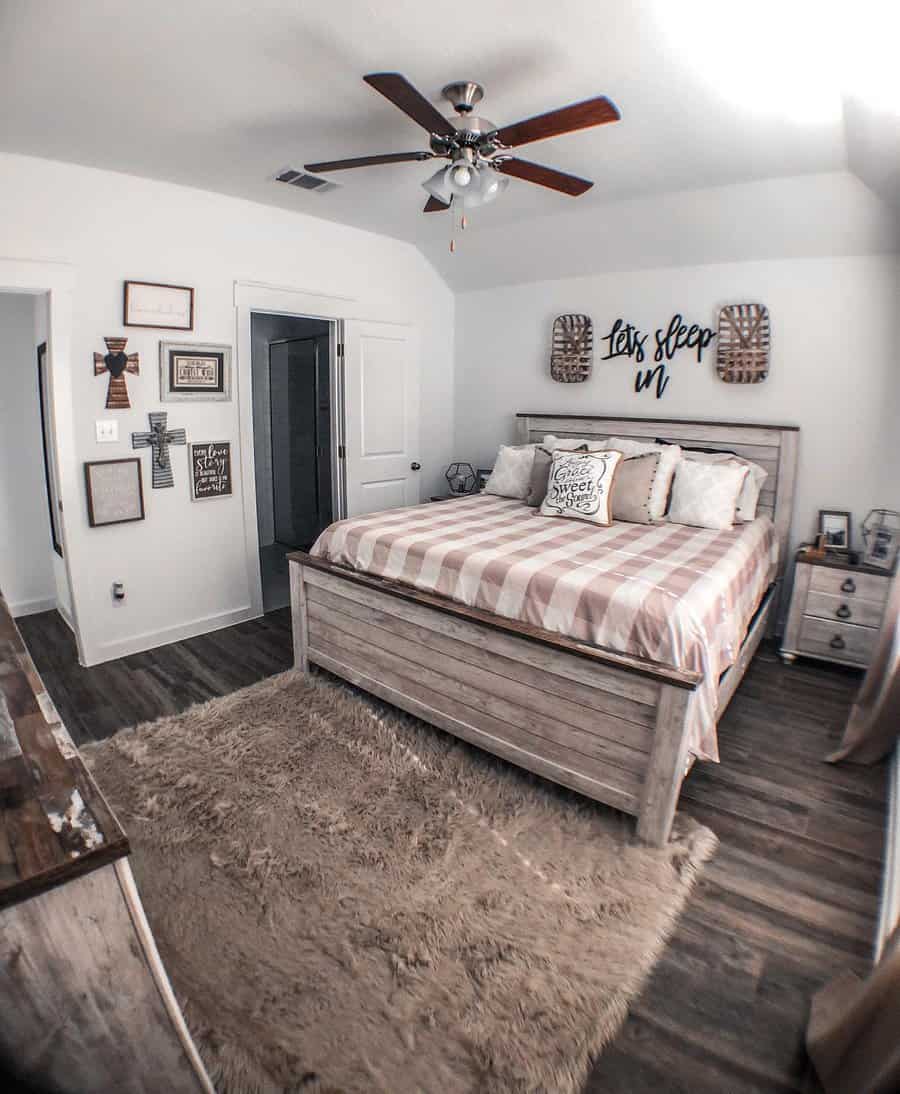 8. Coastal Interior
Create a serene coastal retreat in your master bedroom with a soothing blend of white and blue hues. Embrace the tranquility of the ocean by incorporating a coastal interior design. Opt for white-washed furniture pieces that exude a rustic yet elegant charm.
Dress your bed with crisp white linens and add pops of blue through accent pillows or a cozy throw blanket. To complete the coastal look, adorn the walls with nautical decor such as seashells, driftwood, or framed prints of lighthouses.
Let the gentle breeze flow through light and airy curtains, evoking the feeling of being near the shore. With a master bedroom inspired by the coastal ambiance, you'll experience a sense of relaxation and escape every time you step into your personal haven.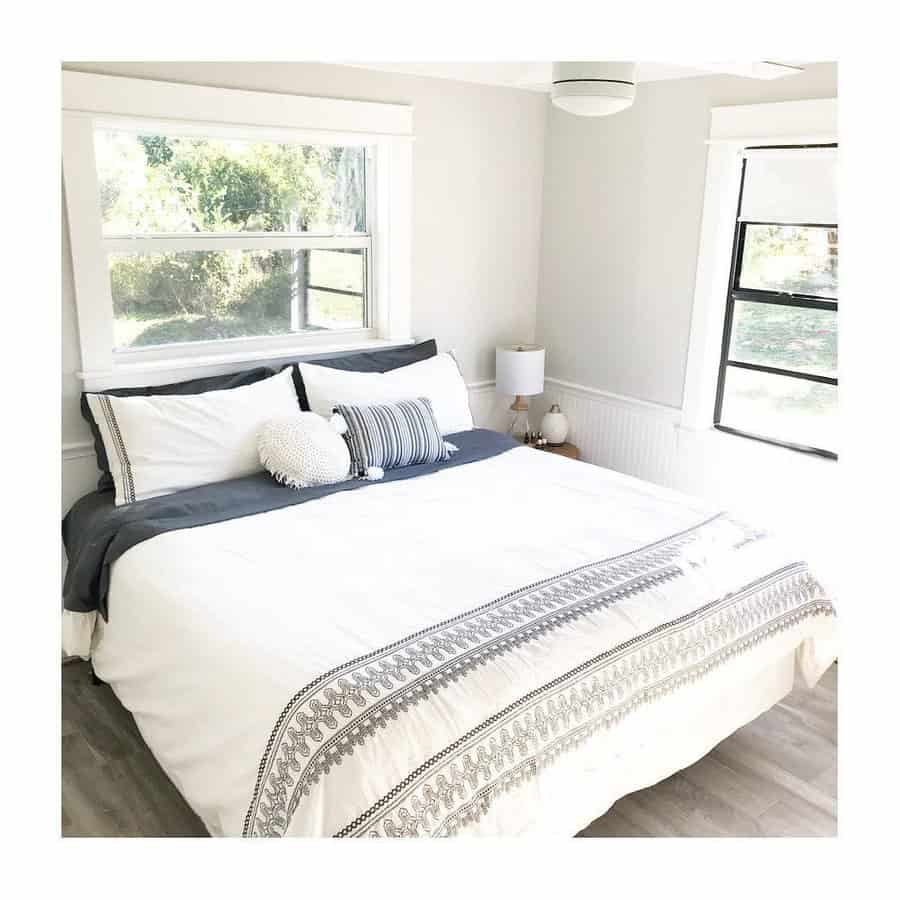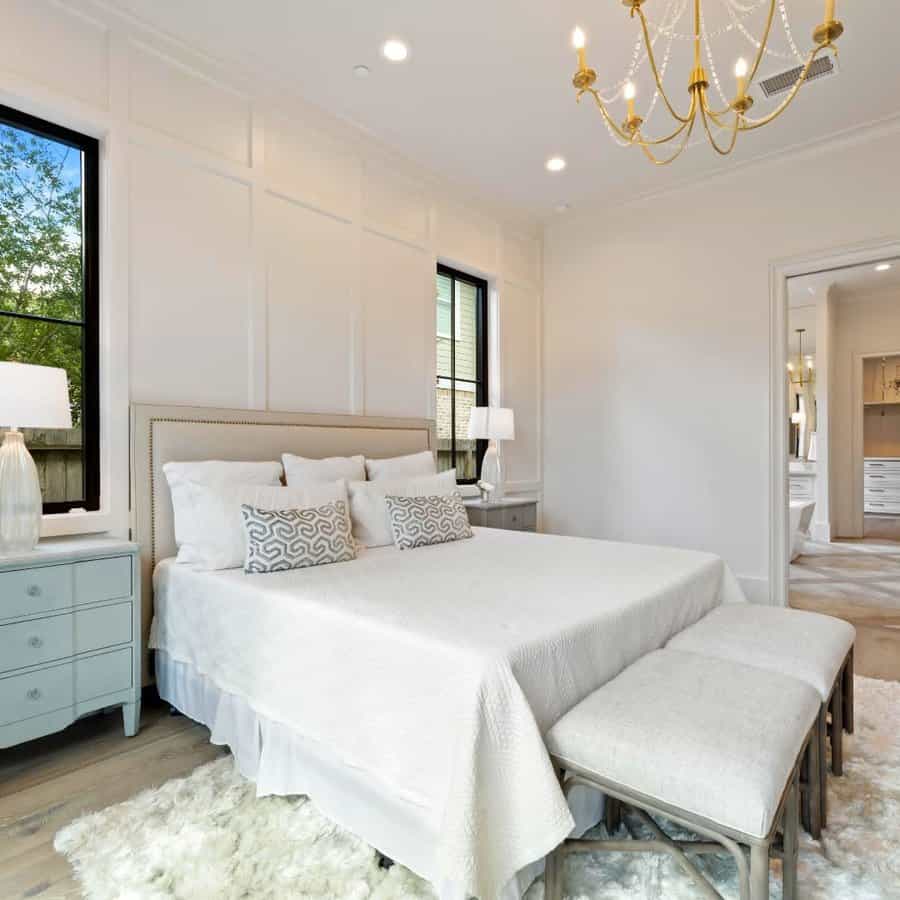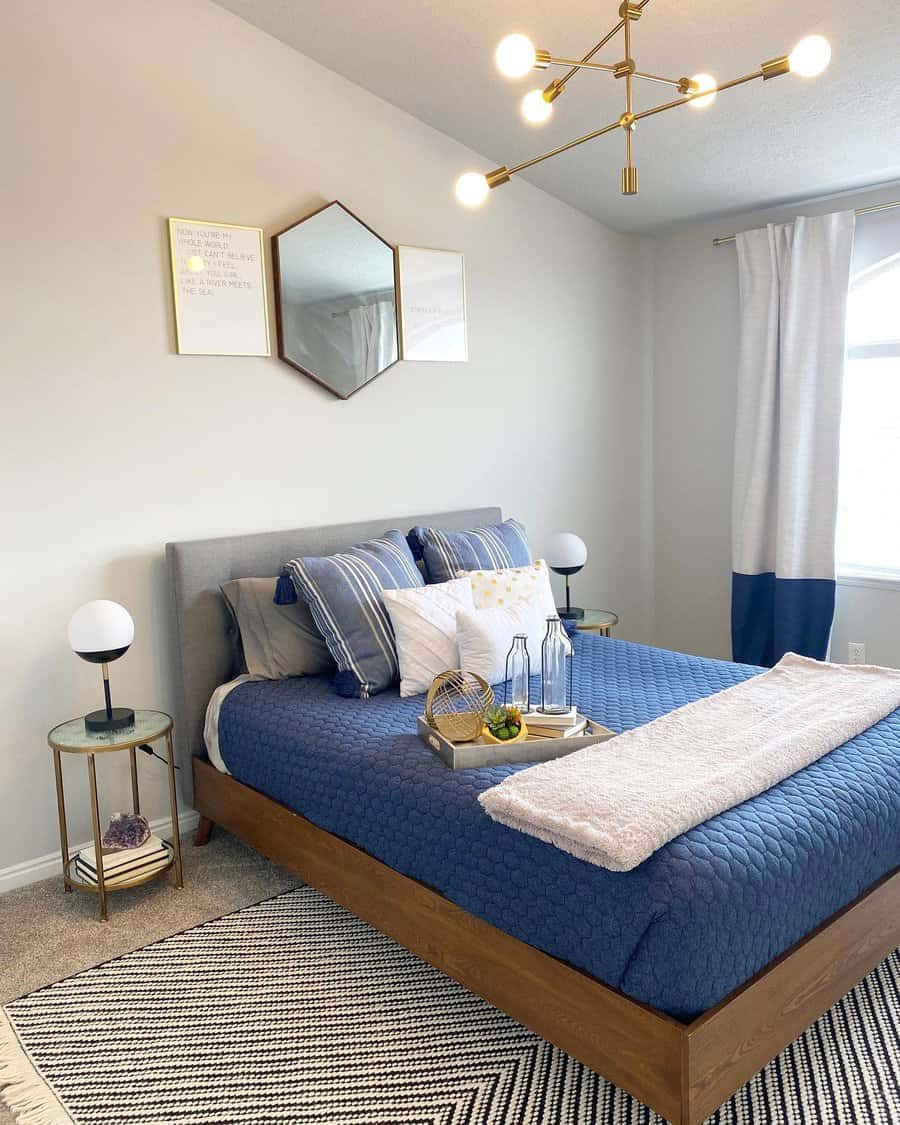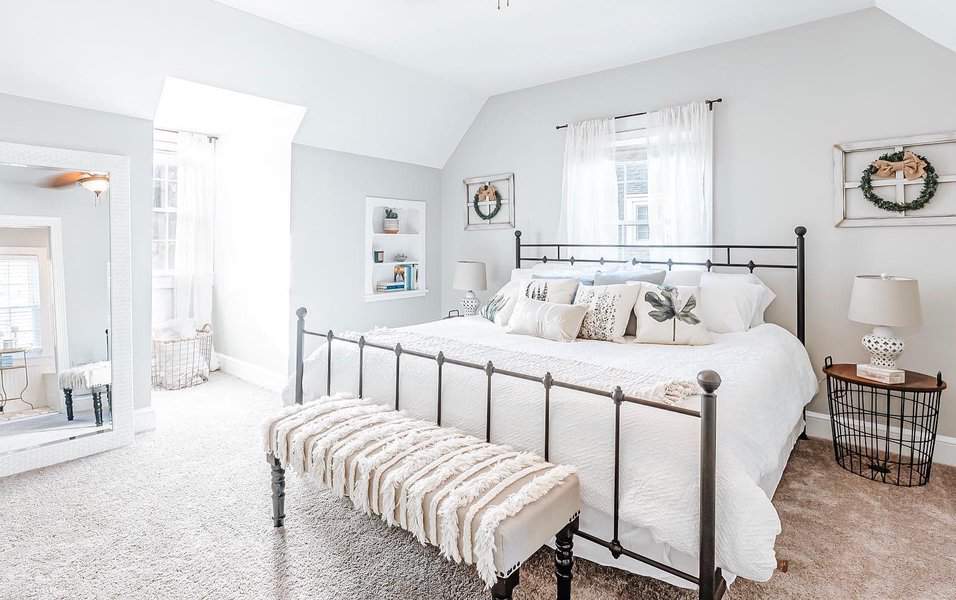 9. Sheer Curtain
Create a serene and dreamy atmosphere in your master bedroom with the ethereal beauty of sheer curtains. These lightweight and translucent curtains gently filter natural light, casting a soft and diffused glow throughout the space. The delicate fabric dances with the breeze, adding a touch of whimsy to your sanctuary.
Whether you choose crisp white sheers for a fresh and airy look or opt for pastel hues to infuse a subtle pop of color, sheer curtains bring an element of elegance and sophistication to your bedroom decor.
They provide privacy without sacrificing natural light, allowing you to wake up to the gentle rays of the sun. So embrace the enchanting allure of sheer curtains and let them transform your master bedroom into a peaceful haven of tranquility and style.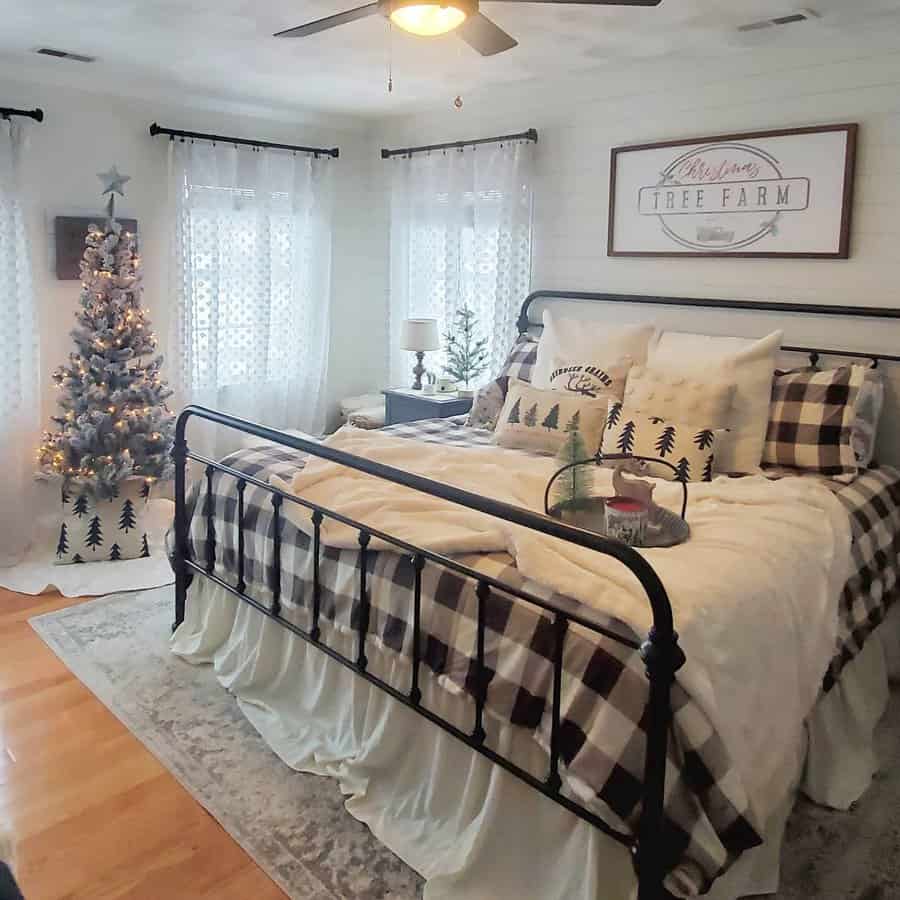 10. Exposed Ceiling Beams
These architectural features add a touch of rustic charm and visual interest to the space, making it feel cozy and inviting. Exposed ceiling beams can be made of various materials such as wood or metal, and their natural tones and textures enhance the overall aesthetic of the room.
They create a sense of depth and character, drawing the eye upward and adding a touch of architectural drama. Whether your design style is modern, farmhouse, or bohemian, exposed ceiling beams can effortlessly blend with any theme, infusing your bedroom with a touch of warmth and character.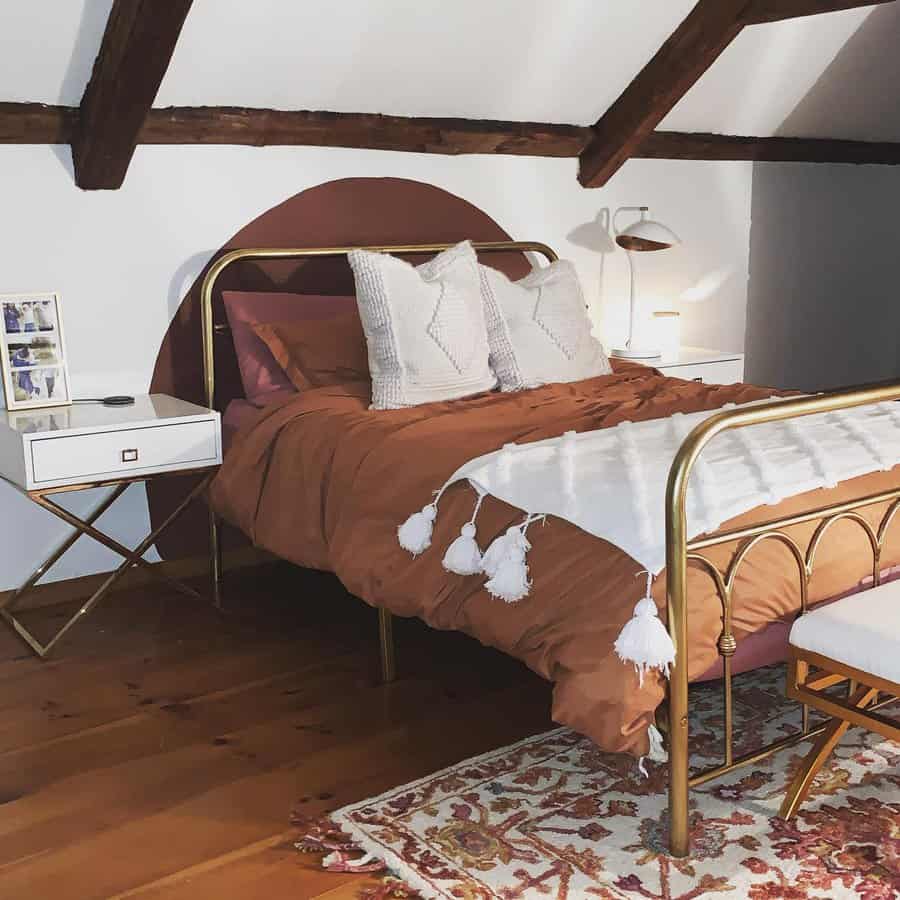 11. White-Washed Furniture
Create your own personal sanctuary with a master bedroom that exudes rustic charm and farmhouse chic vibes. A key element in achieving this look is incorporating white-washed furniture. The soft and worn texture of white-washed pieces adds a touch of vintage appeal and creates a cozy atmosphere.
To enhance the rustic aesthetic, consider adding complementary decor elements such as a reclaimed wood accent wall, vintage-inspired lighting fixtures, and cozy textiles like chunky knit blankets or linen curtains.
Accentuate the white-washed furniture with accents in neutral tones, such as natural jute rugs, woven baskets, and distressed picture frames. Introduce greenery with potted plants or a bouquet of fresh flowers to bring life and a touch of nature into the space.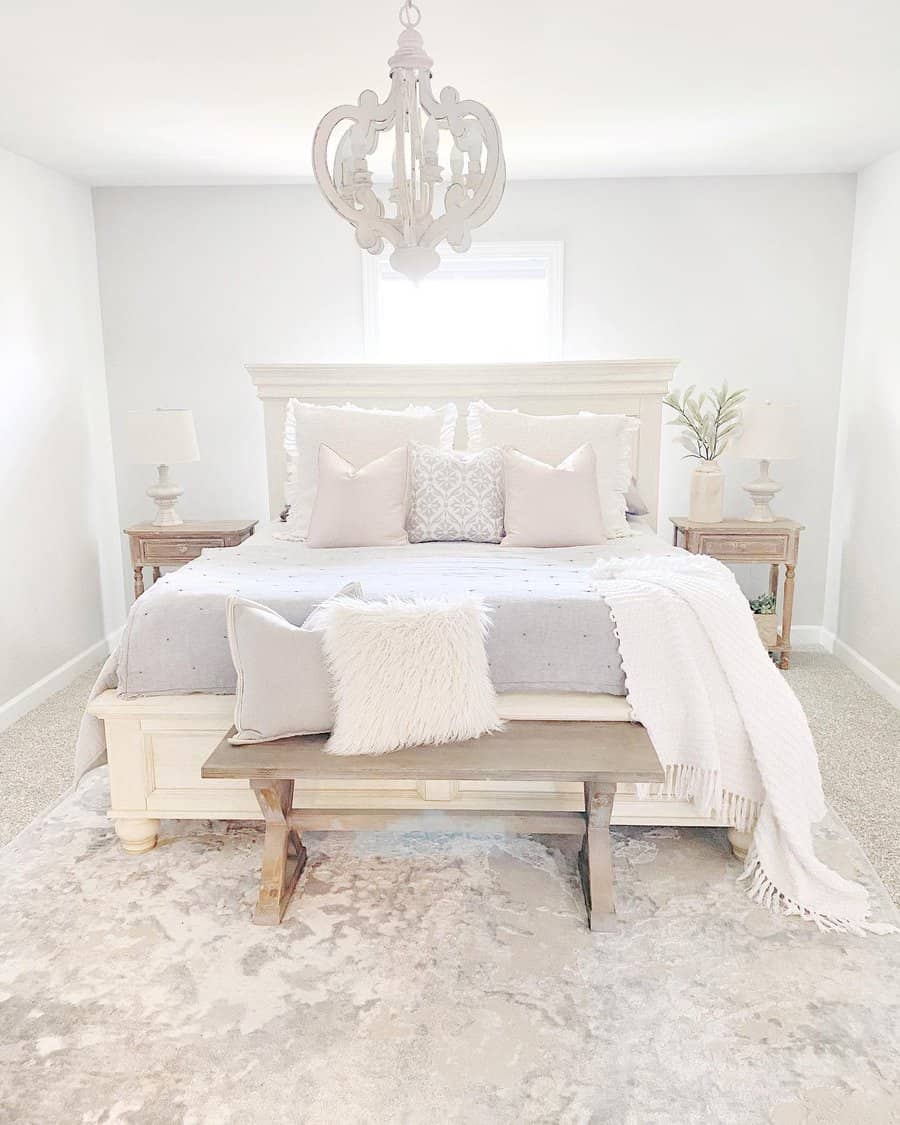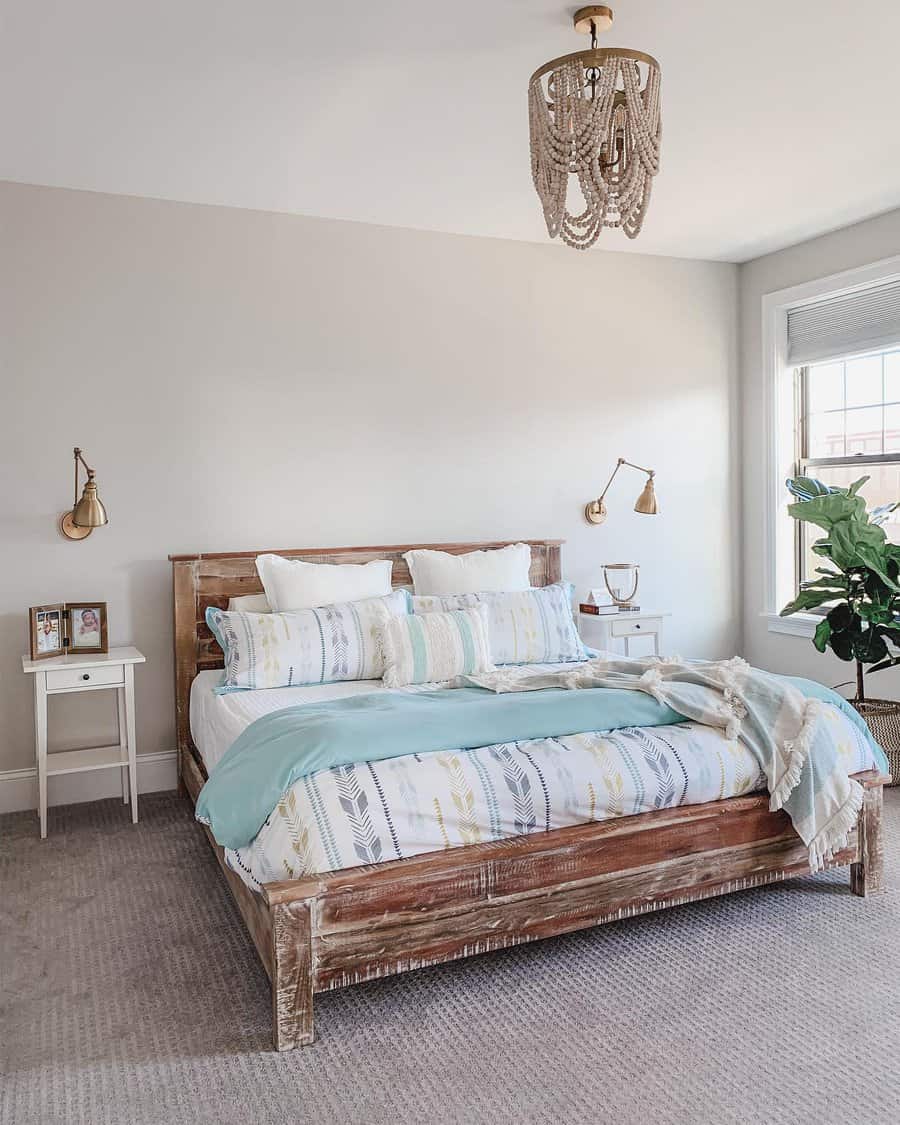 12. Dark Wallpaper
Create a master bedroom that exudes an air of elegance and masculinity with the timeless allure of dark wallpaper. This bold choice sets the stage for a space that is both refined and captivating. Dark wallpaper adds depth and drama to the room, creating a sense of intimacy and sophistication.
Choose patterns and textures that speak to your personal style, whether it's a rich damask, intricate geometric design, or nature-inspired motifs. Pair the dark wallpaper with complementing furniture pieces in rich tones like mahogany or deep walnut to further enhance the luxurious ambiance. Soften the overall look with plush bedding and layered textures, creating a cozy and inviting retreat.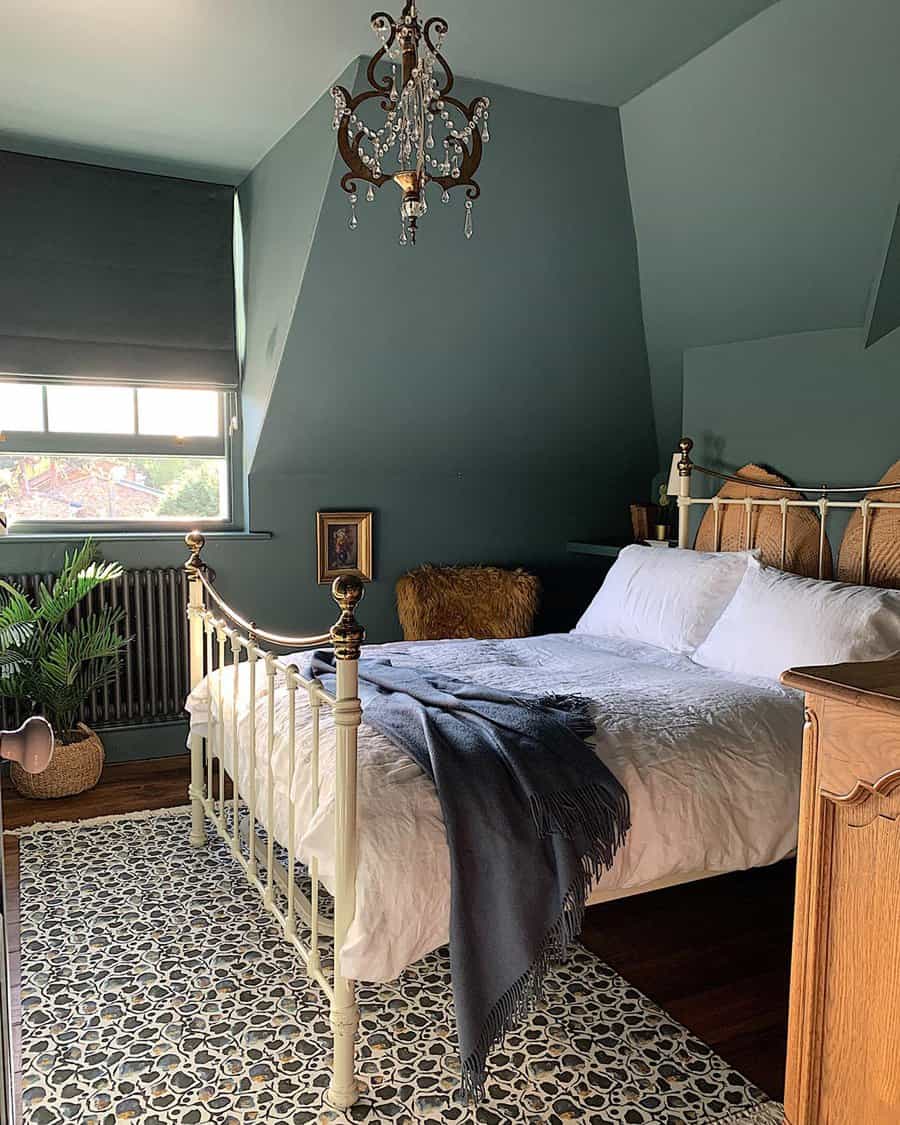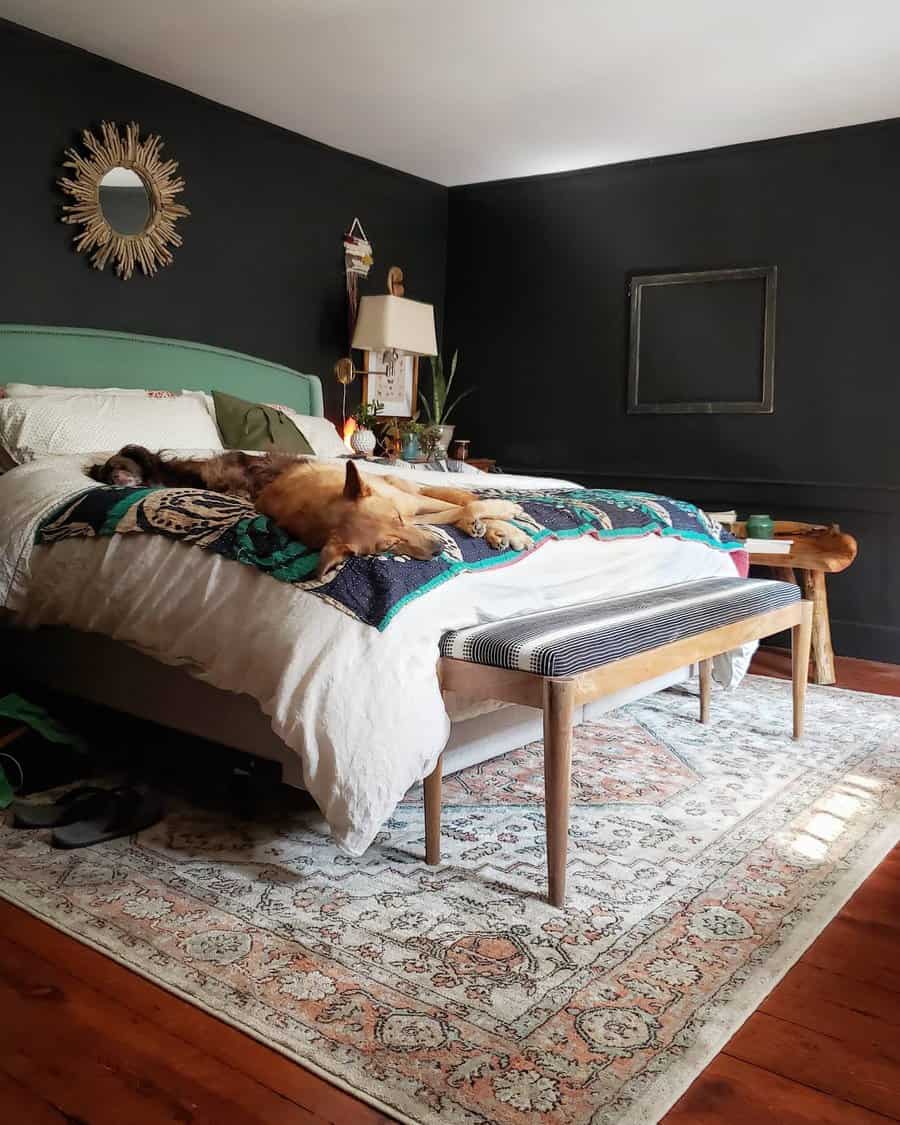 14. Bay Window
Create a serene and captivating retreat in your master bedroom with a bay window that becomes the focal point of the space. The addition of a bay window instantly adds architectural interest and allows an abundance of natural light to flood the room.
This architectural feature serves as a cozy nook where you can relax, unwind, and enjoy the scenic views outside. Enhance the beauty of the bay window with plush seating, such as a comfortable armchair or a window bench, providing the perfect spot for reading or sipping your morning coffee. Embrace the opportunity to bring the outdoors in by adorning the window sill with potted plants or stylish decor items.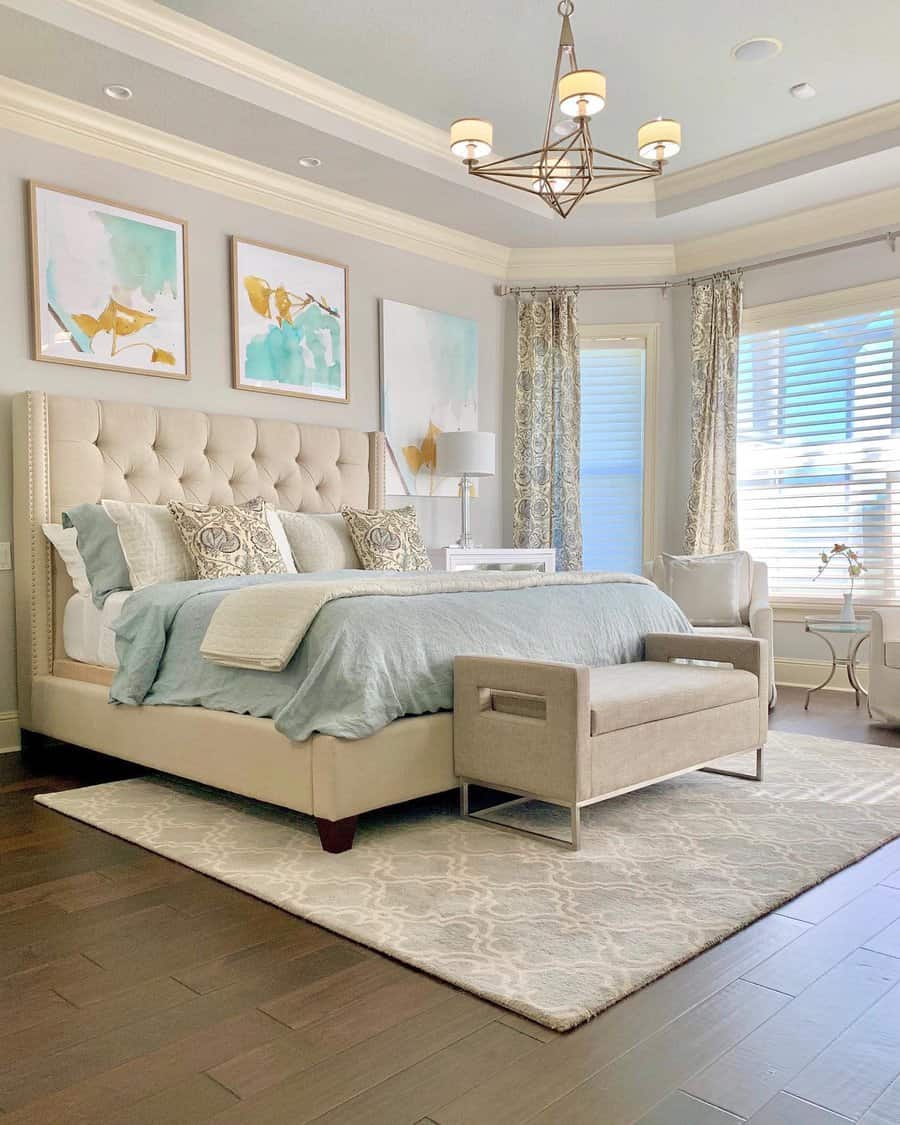 15. Skylight Windows
These architectural marvels bring the beauty of the sky indoors, filling your space with natural light and a sense of openness. Imagine waking up to the gentle rays of sunlight streaming through the skylights, creating a serene and rejuvenating ambiance.
Not only do skylight windows provide ample natural light during the day, but they also allow you to stargaze from the comfort of your bed at night, adding a touch of romance and wonder to your space.
With skylights, you can embrace the beauty of the outdoors while maintaining your privacy. They create a seamless connection to nature, making your master bedroom a tranquil retreat where you can escape from the hustle and bustle of daily life.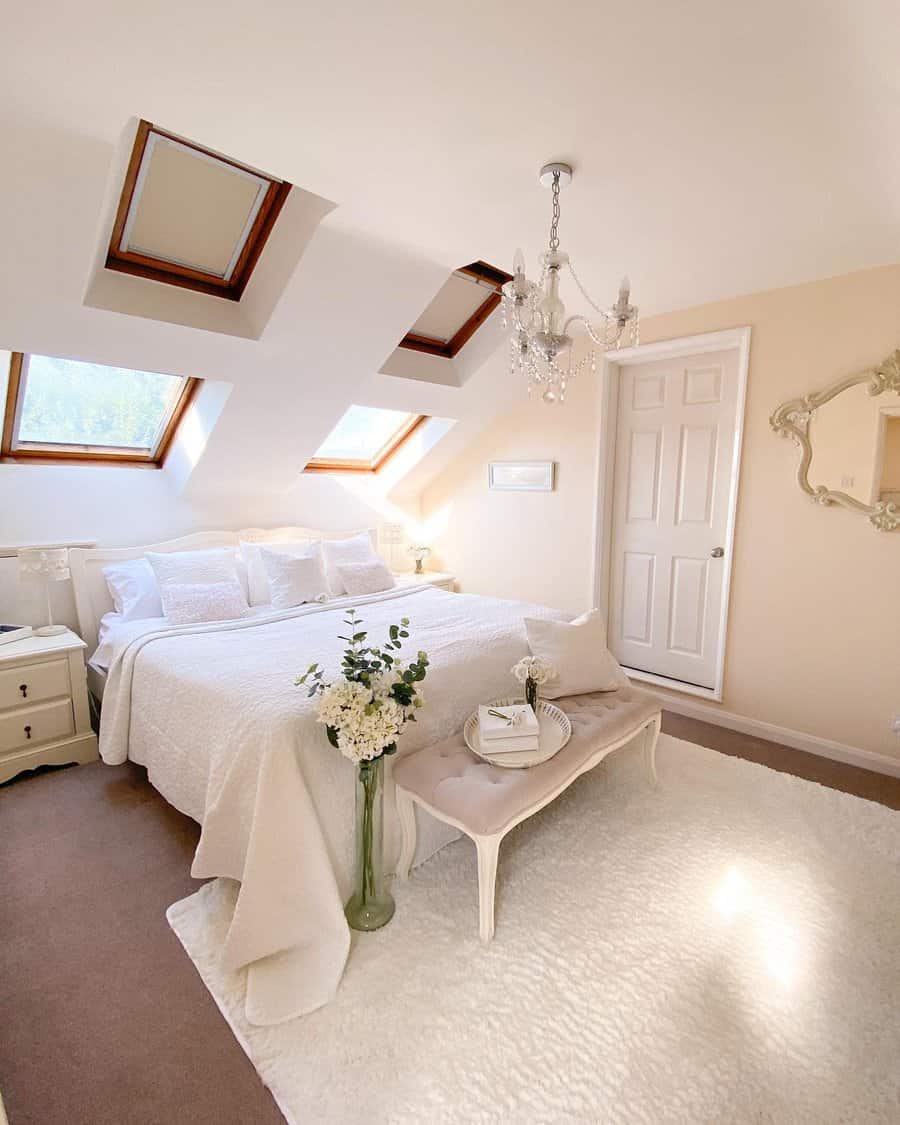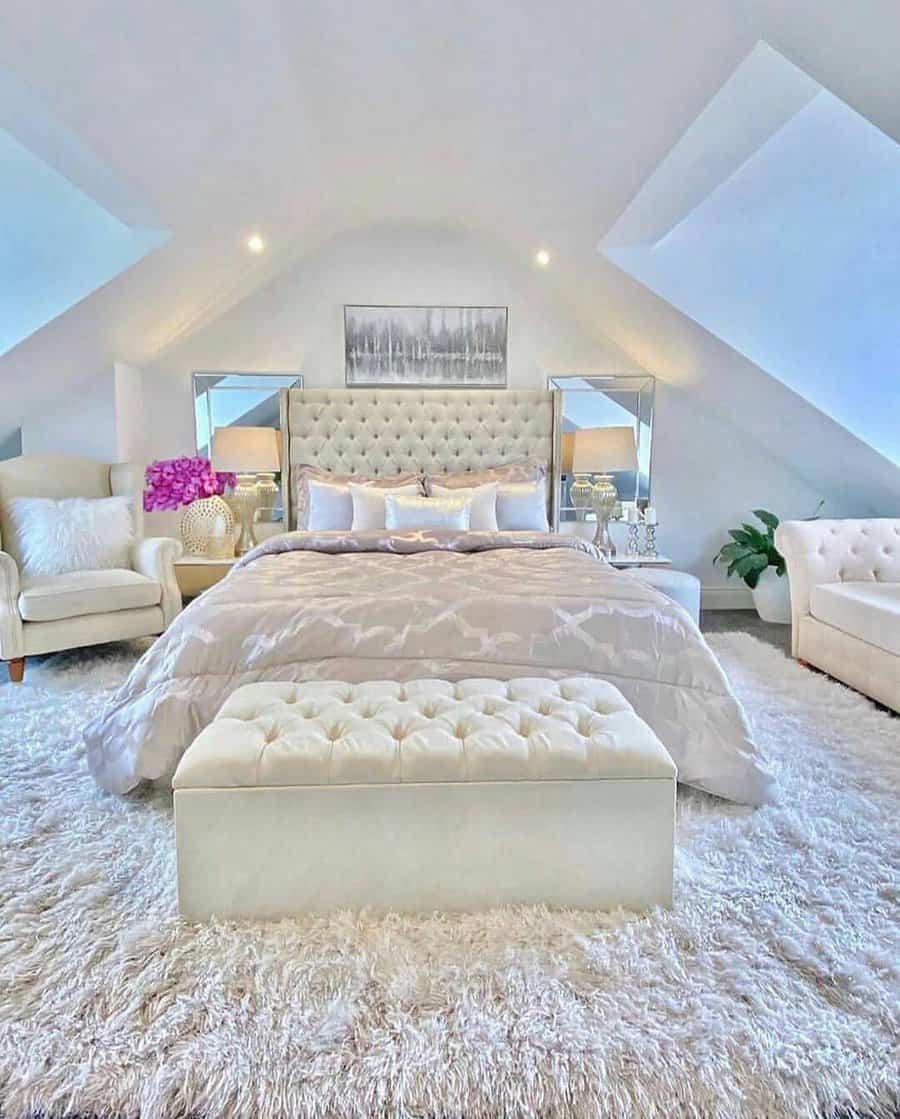 16. Oversized Bed Headboard
In large bedrooms, an oversized headboard serves as the perfect focal point, anchoring the space and making a bold statement. Choose a headboard with luxurious upholstery or a textured fabric to add depth and visual interest. The oversized proportions add a sense of grandeur, creating a room that feels both inviting and indulgent.
With the right color and design, the headboard can become a true centerpiece, effortlessly tying together the entire room's aesthetic. Whether you prefer a contemporary, minimalist look or a more opulent and traditional feel, an oversized headboard is a perfect choice for those who want their master bedroom to reflect their unique sense of style and create an unforgettable impression.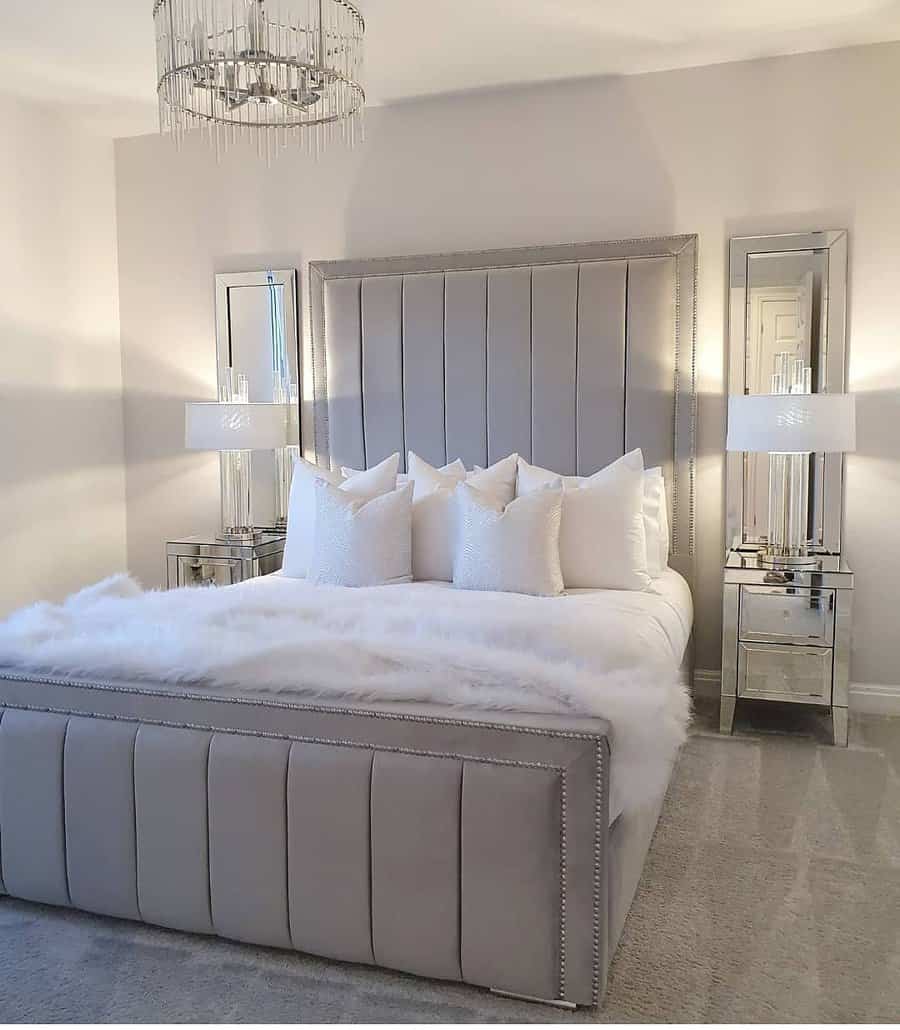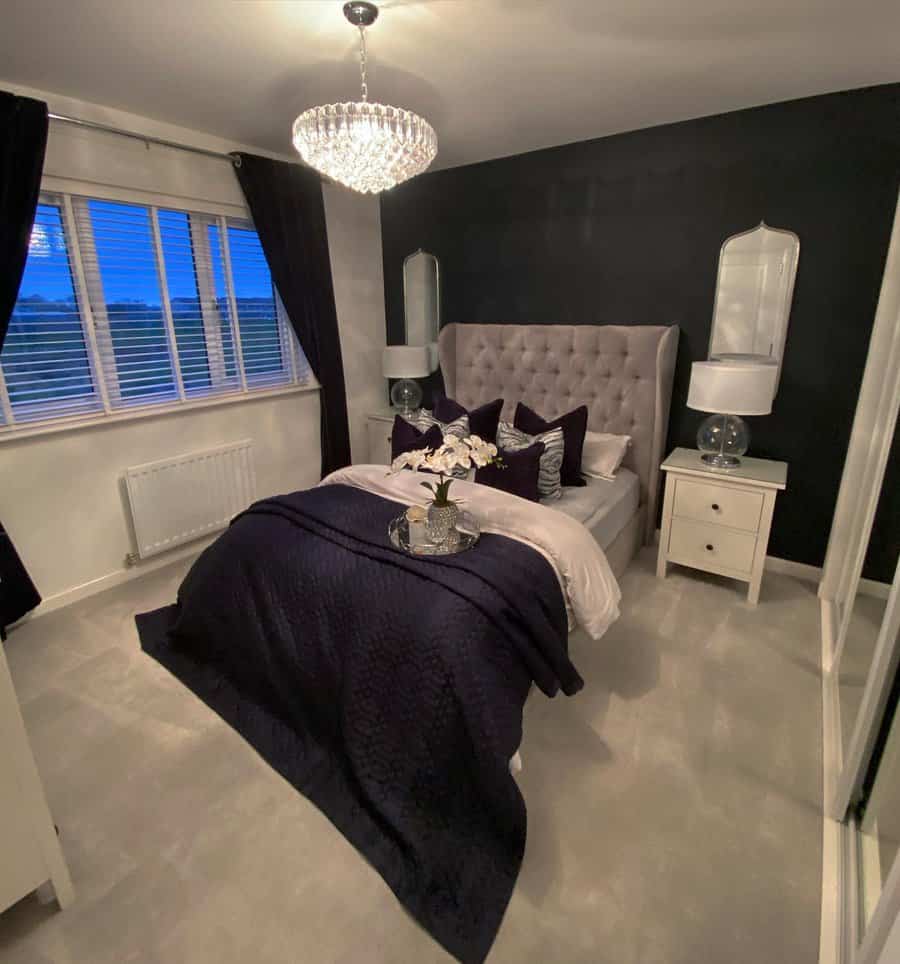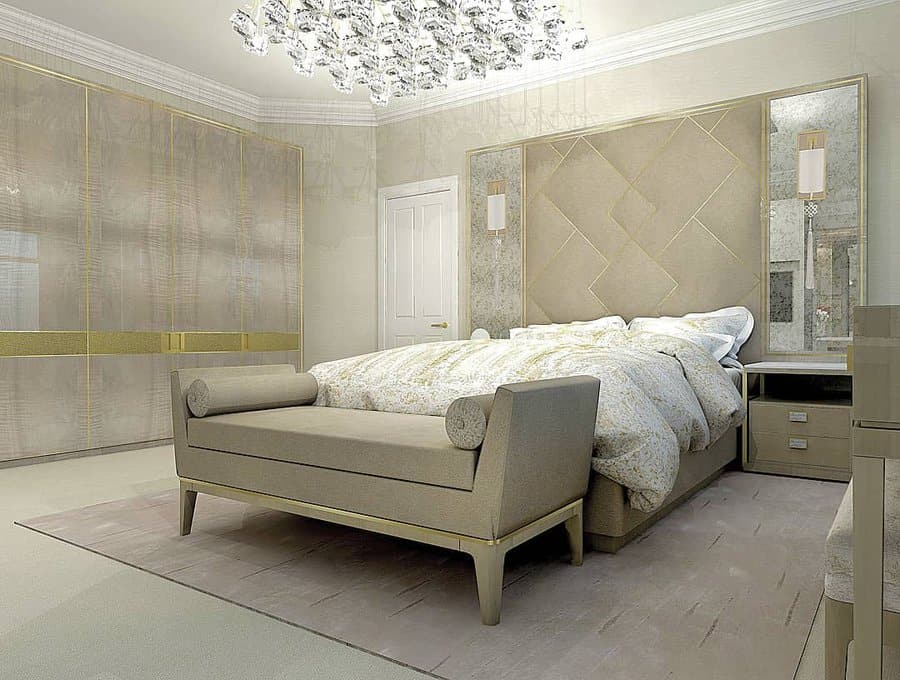 17. Hanging Bedside Lights
These captivating lighting fixtures not only illuminate your space but also add a touch of charm and creativity to your sanctuary. By opting for hanging lights, you free up precious bedside table space, allowing you to maximize the functionality of your master bedroom.
Choose from a variety of designs, from elegant pendant lights to whimsical lanterns, to find the perfect match for your personal aesthetic. Whether you prefer a minimalist, industrial, or bohemian vibe, hanging bedside lights are a fantastic way to make a statement and infuse your space with a sense of individuality.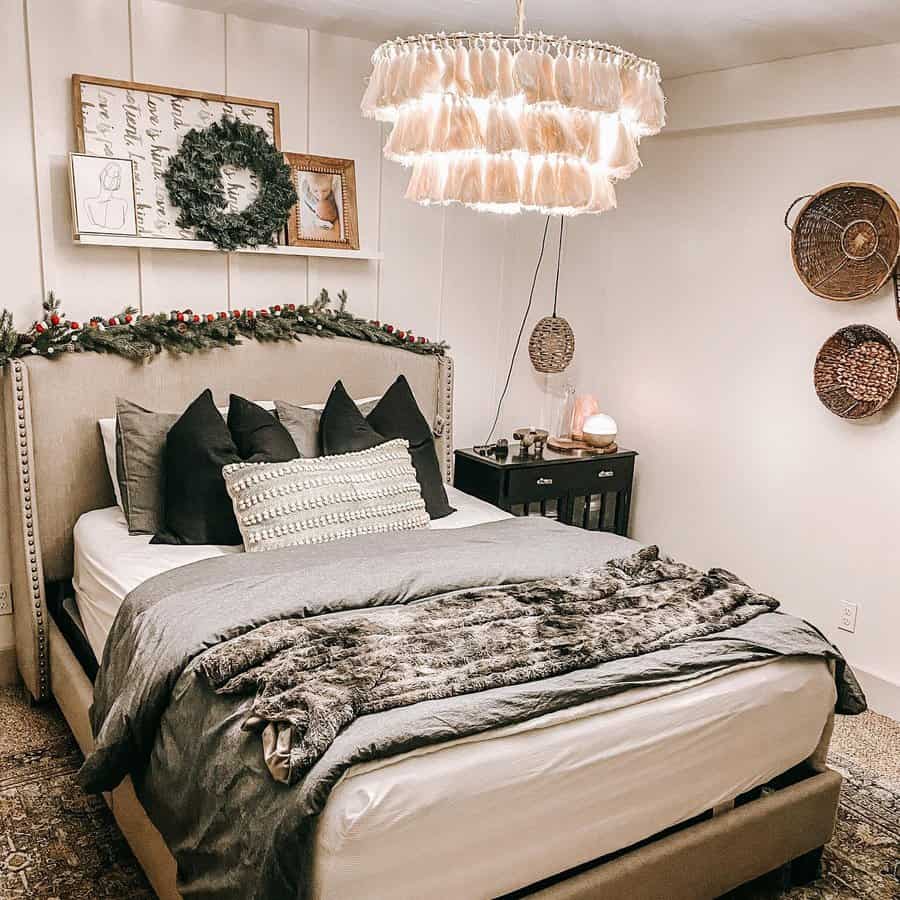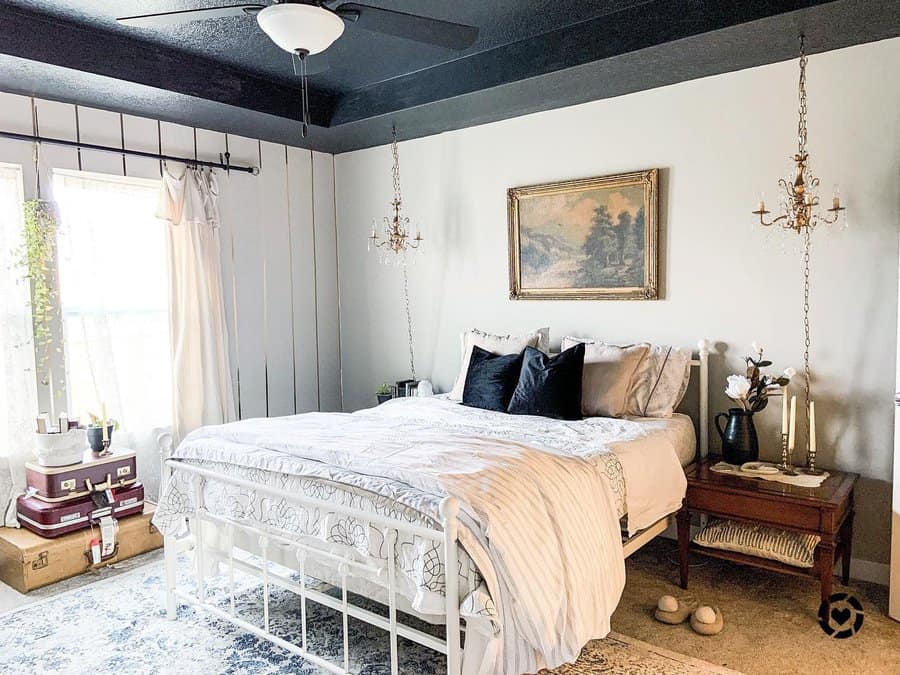 18. Clean White Bedding
There's something effortlessly chic and tranquil about crisp, white sheets, duvets, and pillows. White bedding serves as a blank canvas, allowing you to easily change the mood and style of your space by adding colorful accents or playing with different textures. It creates an atmosphere of purity and tranquility, promoting a sense of calm and relaxation.
Whether your design aesthetic leans towards modern, bohemian, or classic, white bedding seamlessly integrates into any style. It exudes a sense of luxury and sophistication while providing a fresh and clean backdrop for a restful night's sleep.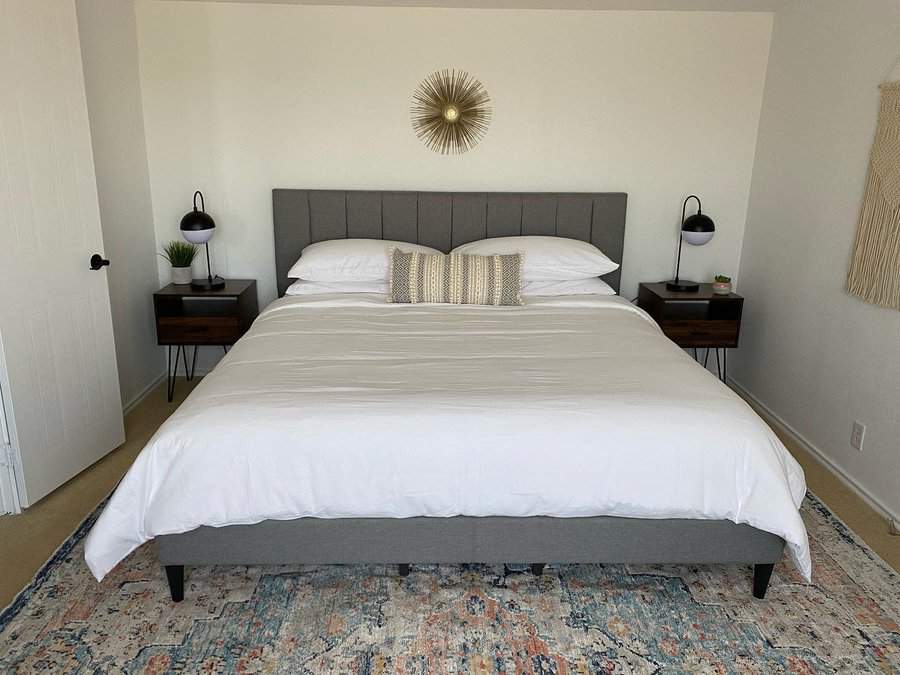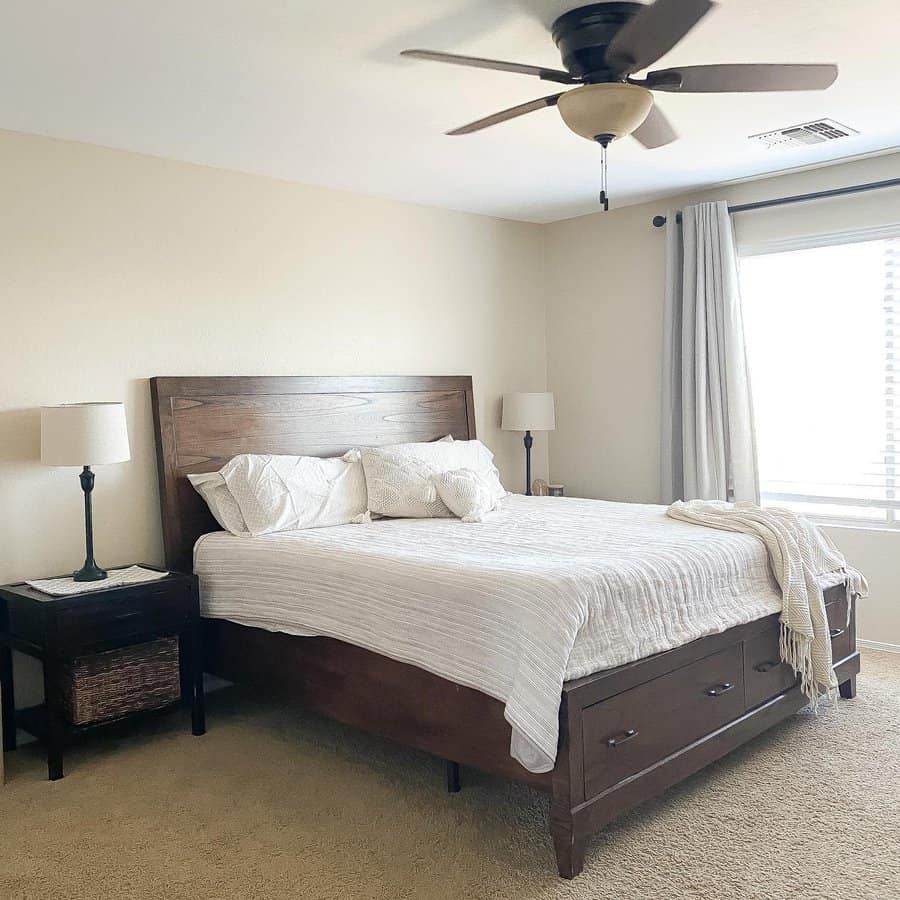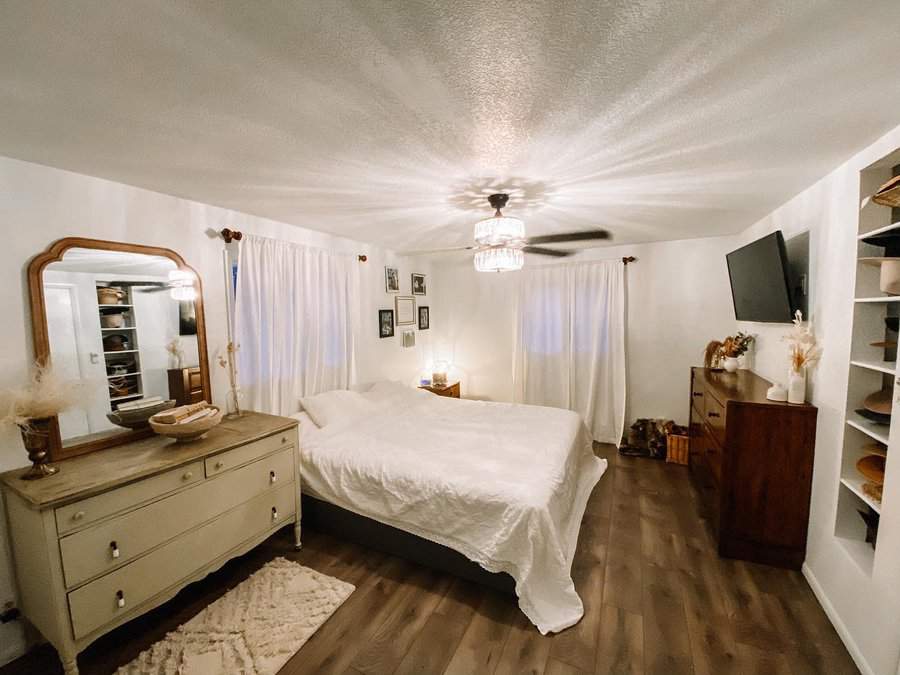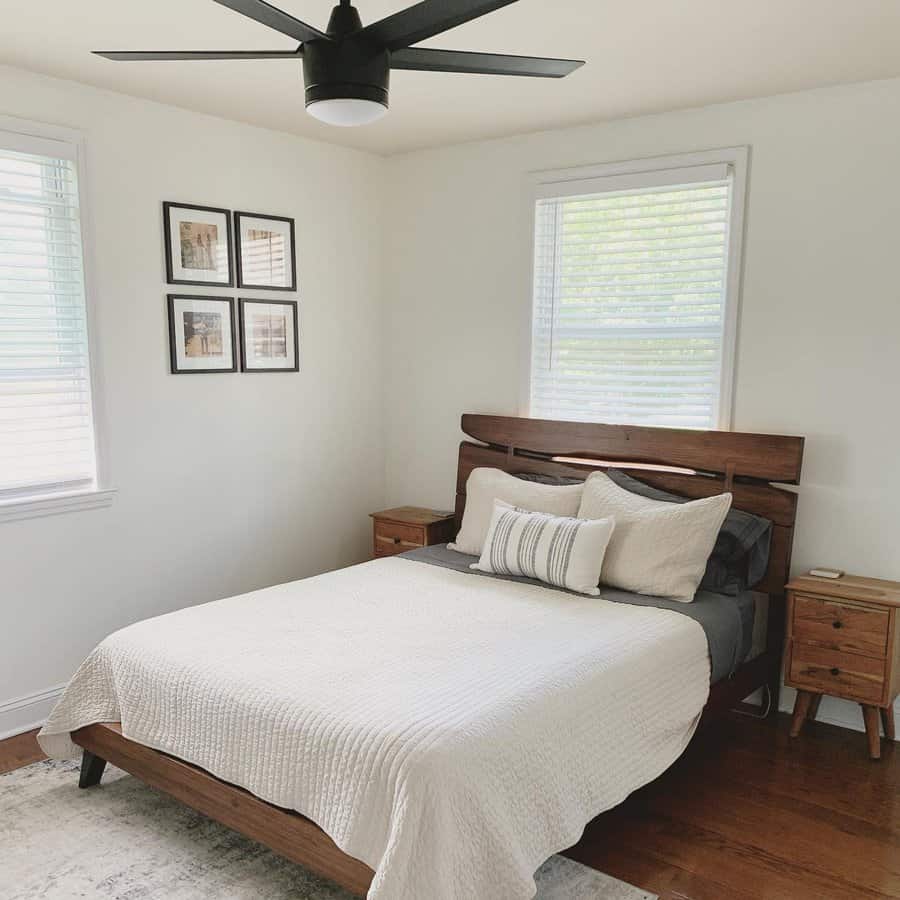 19. Decorative Wallpaper
Elevate your master bedroom to new heights of style and sophistication with the magic of decorative wallpaper. Whether you prefer bold patterns, delicate florals, or captivating textures, decorative wallpaper offers a plethora of options to create a truly personalized space.
Adorn an accent wall behind your bed with a striking wallpaper design that reflects your unique personality and sets the tone for the entire room. Let the wallpaper become the star of the show, or use it as a backdrop to highlight other design elements such as luxurious bedding, statement furniture, or artful lighting fixtures.
The transformative power of decorative wallpaper is undeniable, instantly infusing your master bedroom with character and charm.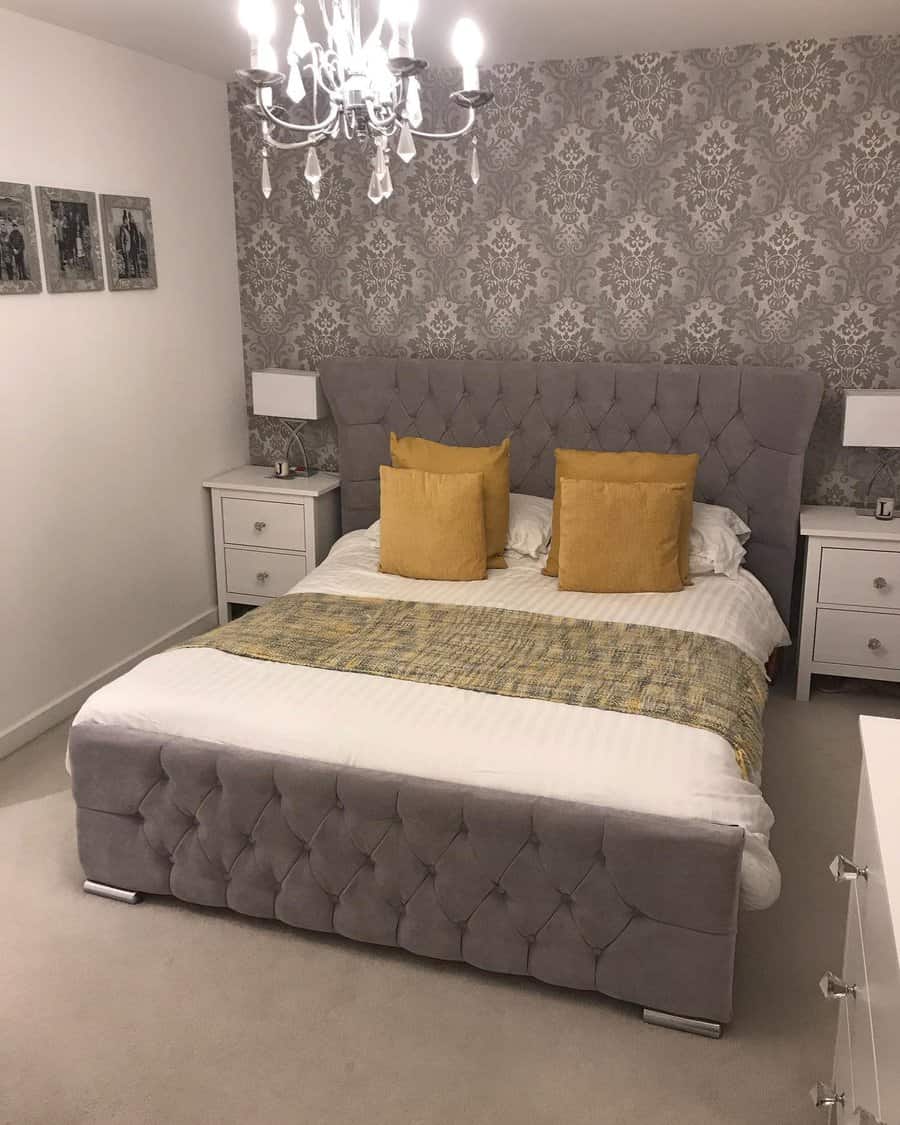 20. Pastel Interior
A pastel interior exudes a sense of calmness, perfect for unwinding after a long day. Imagine walls adorned in gentle hues of blush pink, mint green, or powder blue, creating a backdrop that instantly induces relaxation. Soft pastel bedding, plush cushions, and delicate draperies further enhance the cozy and inviting atmosphere.
Incorporate subtle pops of color through artwork, decorative accents, or floral arrangements to add depth and visual interest. This harmonious blend of pastel shades creates a dreamy and ethereal ambiance that will make you feel like you're floating on a cloud.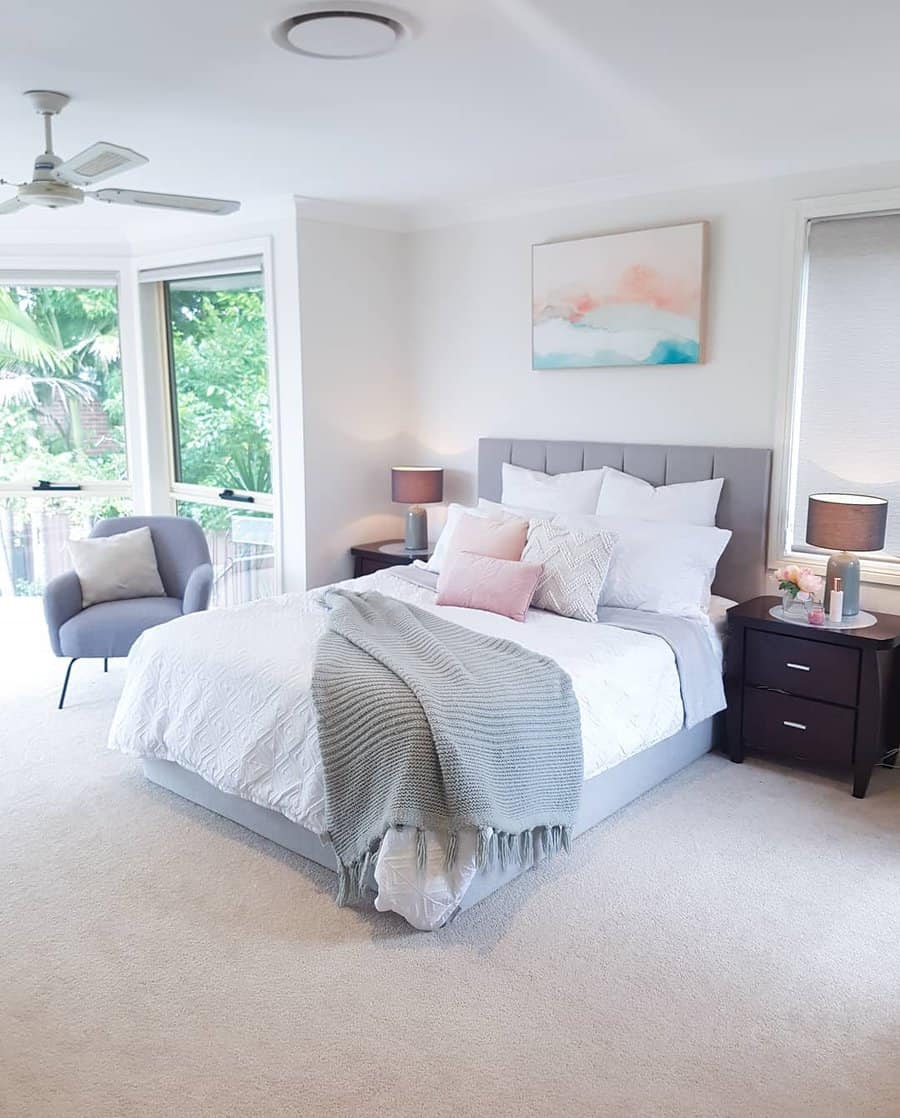 21. Throw Pillows
When it comes to creating a cozy and inviting master bedroom, throw pillows are the ultimate game-changers. These versatile and stylish accessories can instantly elevate the look and feel of your sleep sanctuary. Whether you prefer a minimalist or a more eclectic aesthetic, throw pillows offer endless opportunities for personalization and creativity.
Mix and match different patterns, textures, and sizes to add depth and visual interest to your bed. Experiment with colors that complement your overall bedroom scheme or use throw pillows as accents to introduce pops of vibrant hues. Not only do throw pillows enhance the overall aesthetic, but they also provide added comfort and support while reading, lounging, or simply enjoying your bedroom retreat.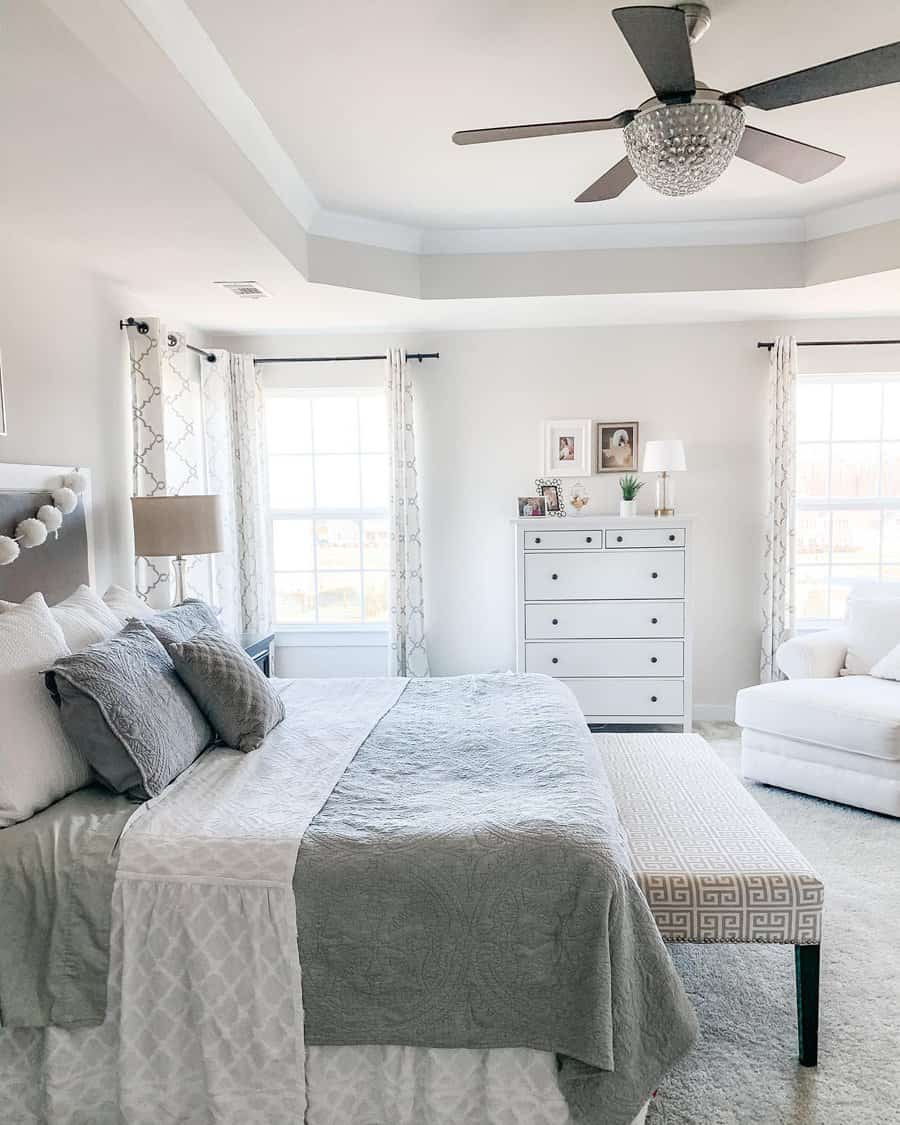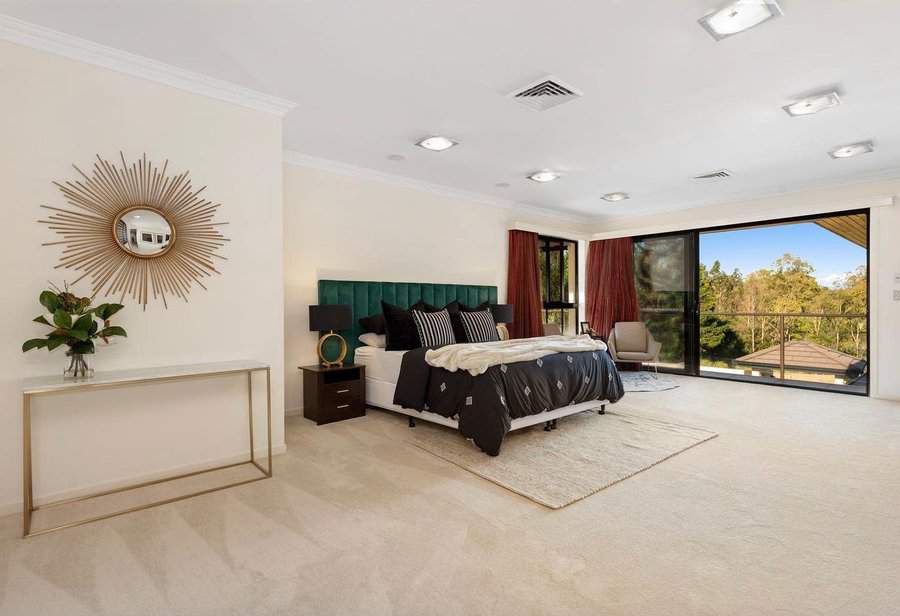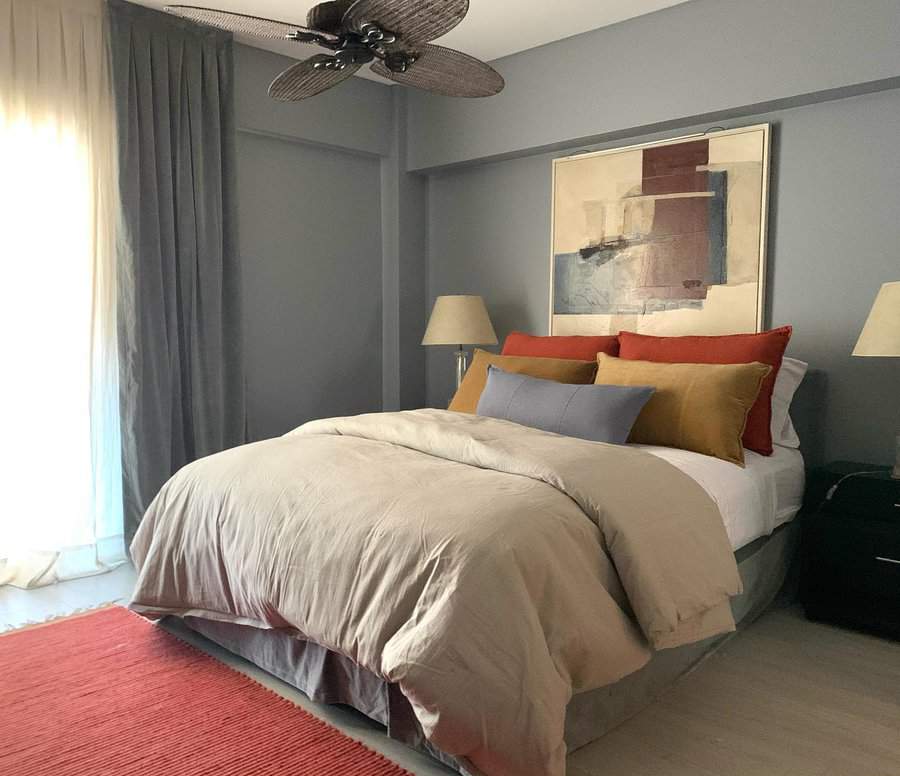 22. Canopy Bed
A canopy bed instantly adds an element of elegance and sophistication to any space, transforming it into a dreamy retreat. Whether your style is modern, bohemian, or classic, a canopy bed is a versatile choice that can be customized to suit your aesthetic. From sheer drapes that billow gently in the breeze to luxurious velvet curtains that exude opulence, the options are endless.
A canopy creates a cozy and intimate atmosphere, enveloping you in a sense of comfort and privacy. With its graceful silhouette and ethereal presence, a canopy bed becomes the centerpiece of your master bedroom, inviting you to relax, unwind, and indulge in moments of blissful solitude.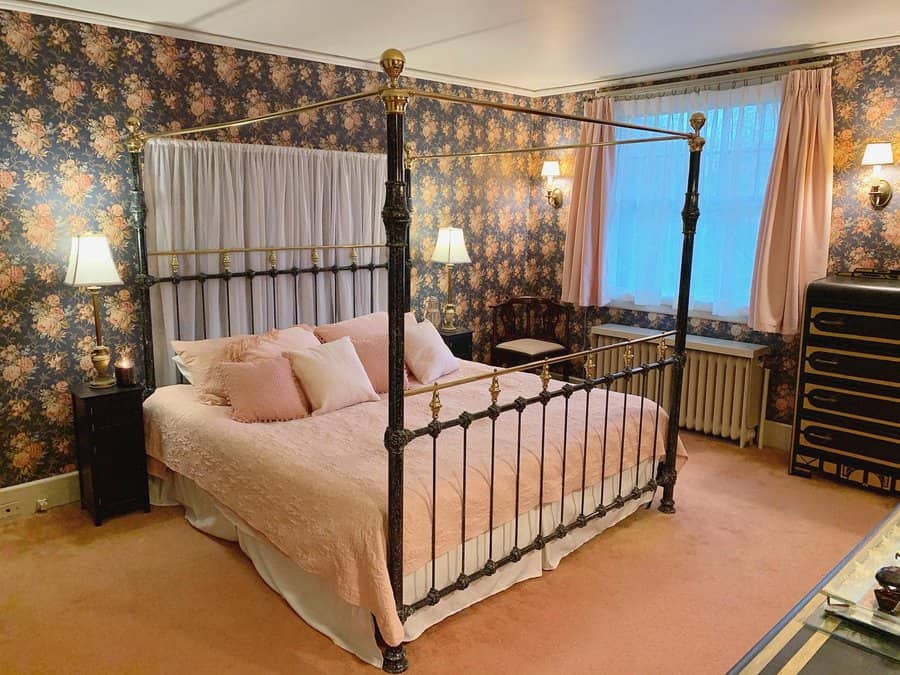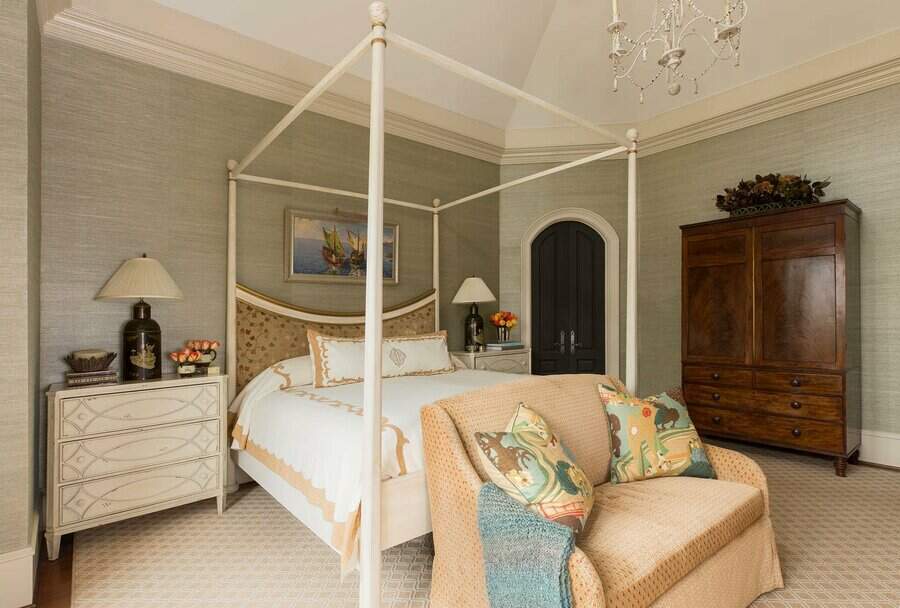 Master Bedroom FAQs
What is the best color for the master bedroom?
Colors can have a significant effect on your mood. Blue is a great option because it evokes feelings of relaxation and calmness. It will help you transition into a calm state for a more restful night's sleep. Brown and grey are also good options because they are neutral and invoking.
What should a master bedroom have?
There are several pieces of furniture that every bedroom should have. You need a bed, dresser, nightstands, and a place to sit. Other nice features are a mirror, desk, and console for the TV.
What can I do with an oversized master bedroom?
An oversized bedroom is a unique challenge because you have more space than you need for the standard master bedroom furniture. Start by dividing the floor plan into zones. You'll have one area that's meant for sleeping, with your bed and nightstands.
Another area could be meant for getting ready. It will have your dresser, armoire, or clothing rack. Other options for the additional space include a desk for working or a chair for a reading nook.