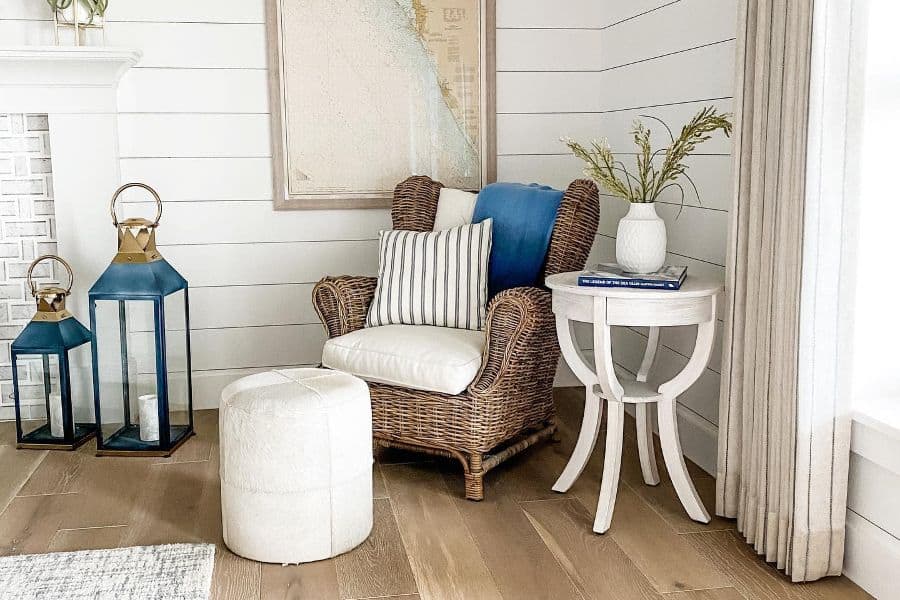 65 Coastal Decor Ideas and Pictures
Enjoy the calming colors of the ocean no matter where your home is. Decorating with coastal living in mind will give your home a relaxing yet sophisticated feel.
Creating a coastal look is about more than just using tiki torches and Hawaiian flowers. These are tacky and cheesy.
Instead, look for coastal decor ideas that will help your home look like an elegant yet humble beach house. Sometimes, all it takes is the right color scheme and a few well-placed decor pieces to create a coastal look.
These coastal decor ideas will get you inspired to turn your home into a coastal getaway.
1. Add Nautical Wall Decor
If you're looking for creative coastal decor ideas, nautical wall decor is a great place to start. Consider items such as boats, anchors, and other ocean symbols that play on the nautical theme.
Hang them up strategically in your home and it'll instantly evoke a feeling of being close to the sea without ever having to set foot in it!
Utilizing other small details such as sea shells or brightly-colored fabrics with nautical prints will tie it all together and make your home feel like it's right on the coast.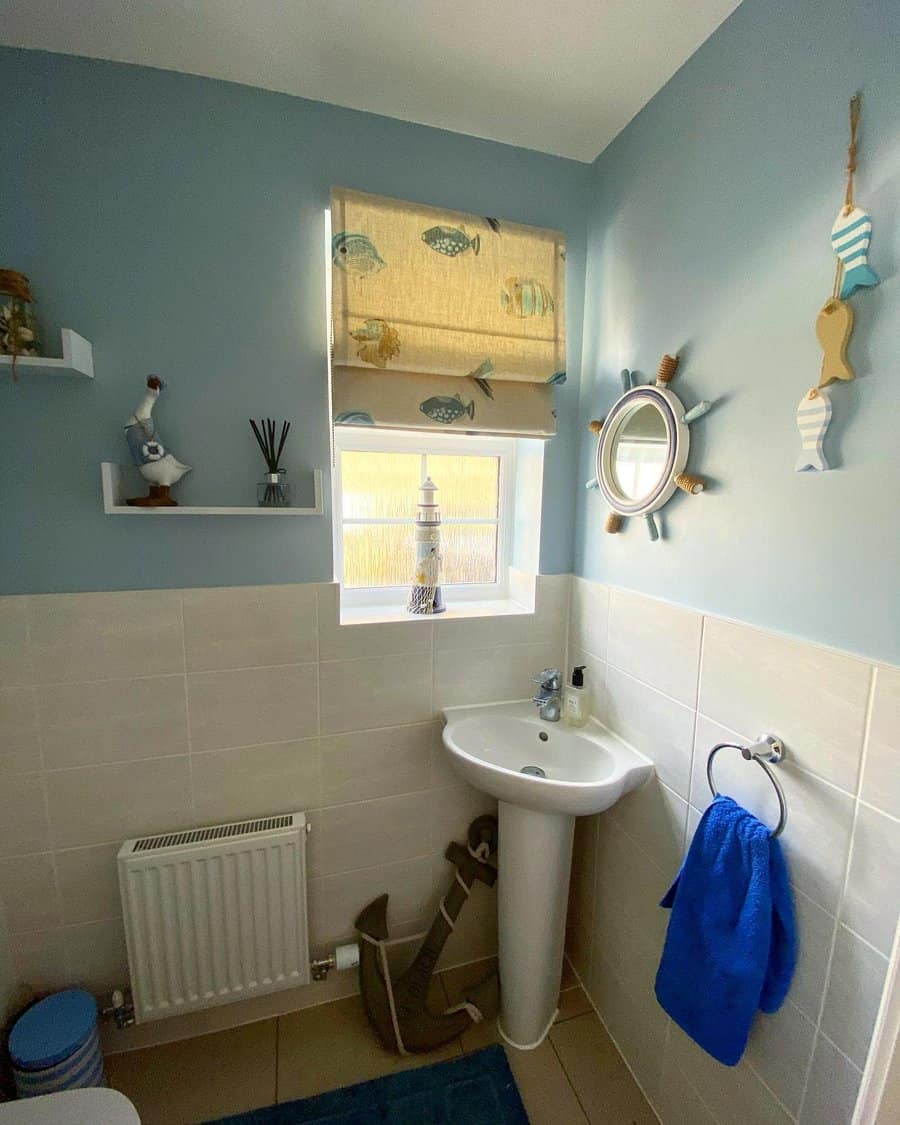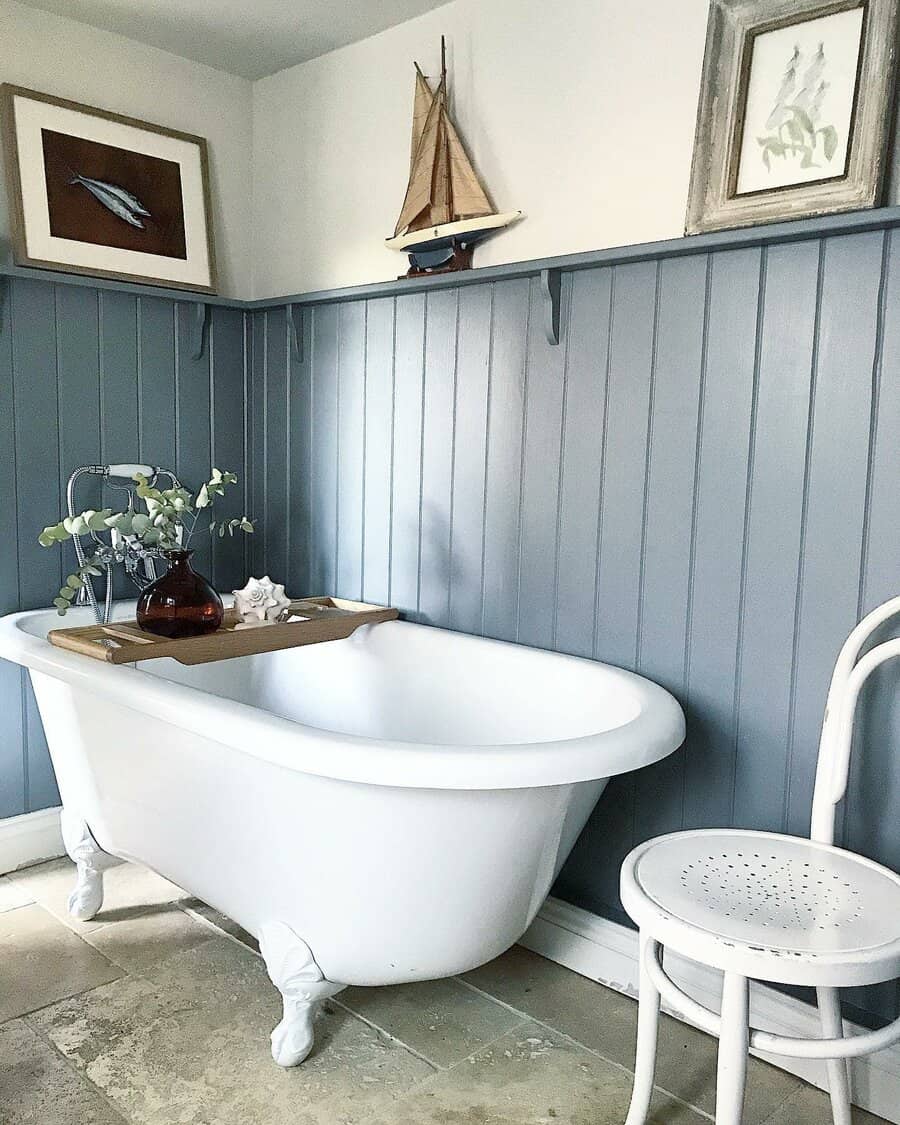 2. Opt For Shiplap Walls For An Airy Vibe
If you're looking for ideas to make your coastal decor dreams come true, shiplap walls are a must. Not only do shiplap walls add an airy feel to the space with their horizontal planks, but they bring a natural warmth to your home that can't be replicated.
For extra pizazz, consider swapping out traditional white shiplap in favor of blues or grays for a subtle ocean-inspired look.
And don't forget the finishing touches – adding some wood accents, like a rustic driftwood mirror and textured pillows, will complete the cozy atmosphere and provide you with a perfectly dreamy coastal getaway!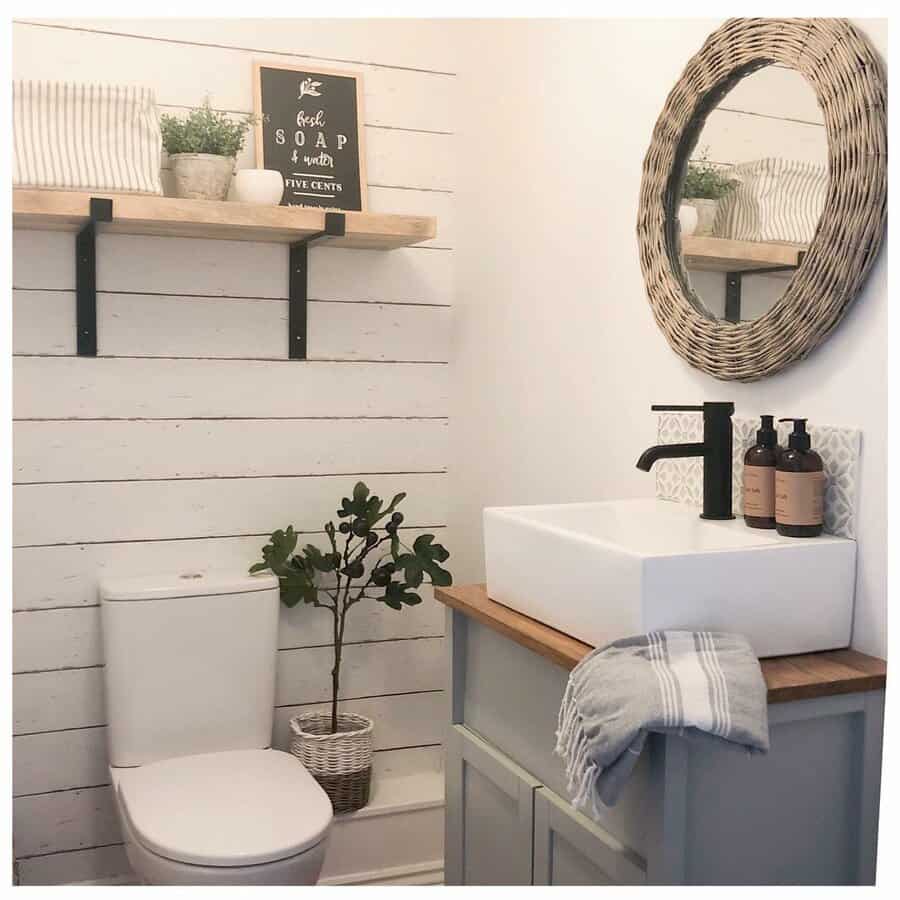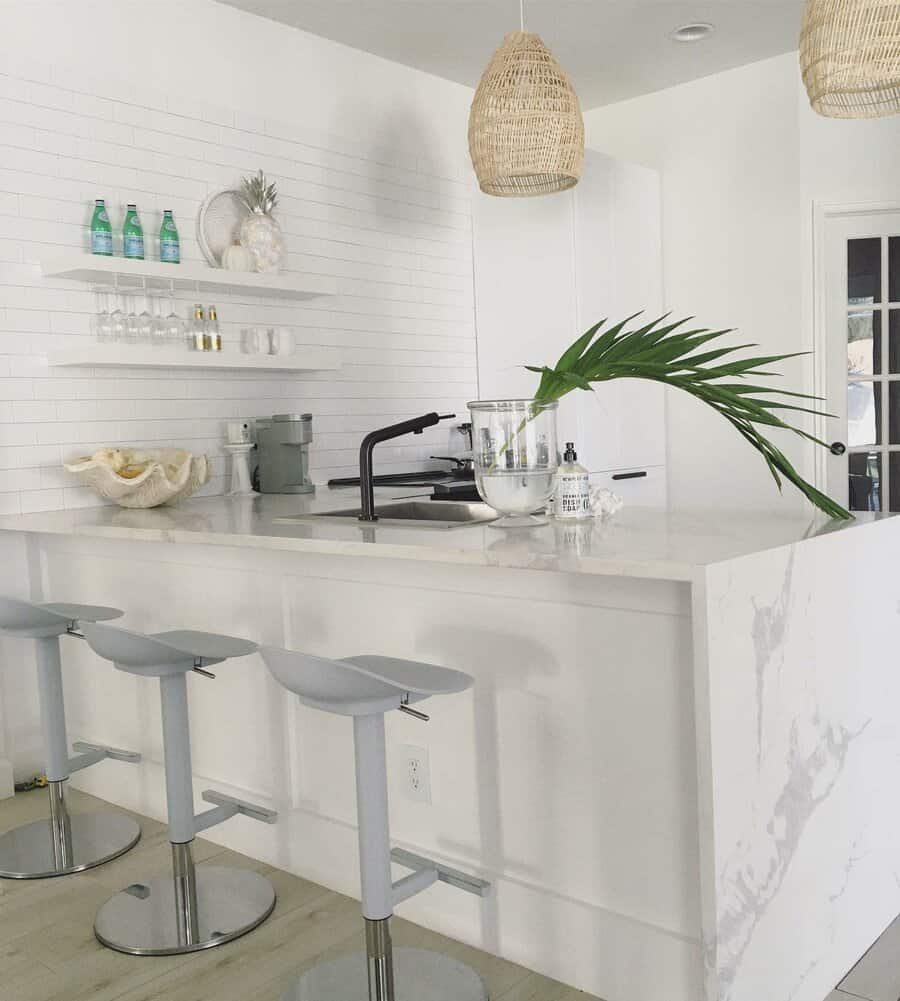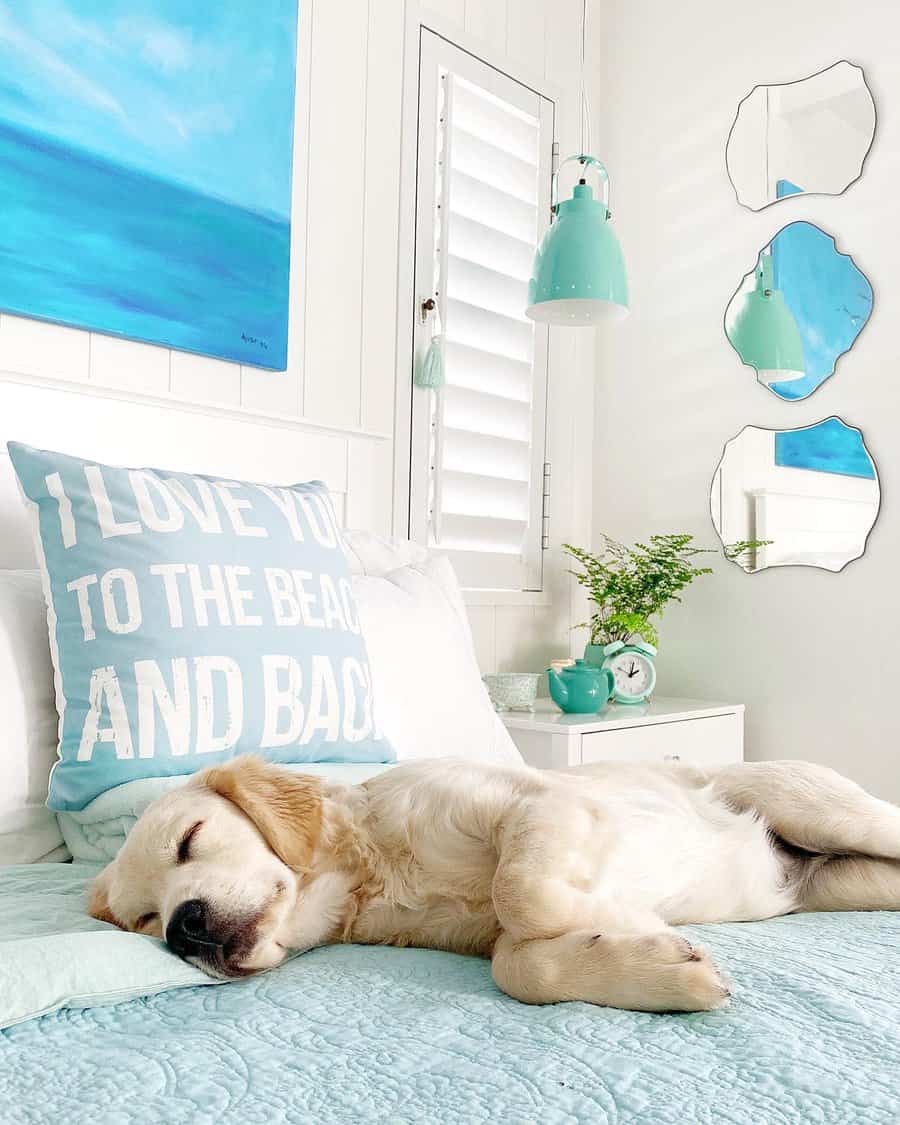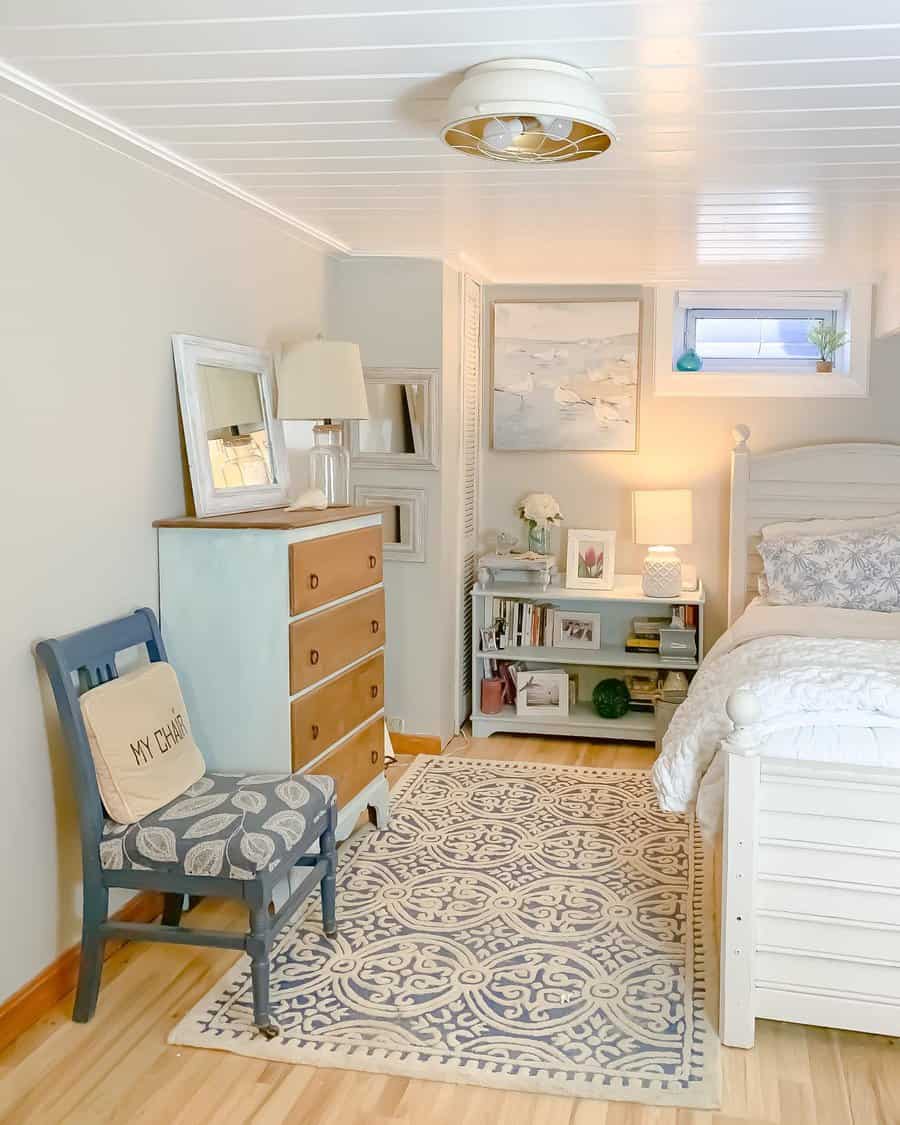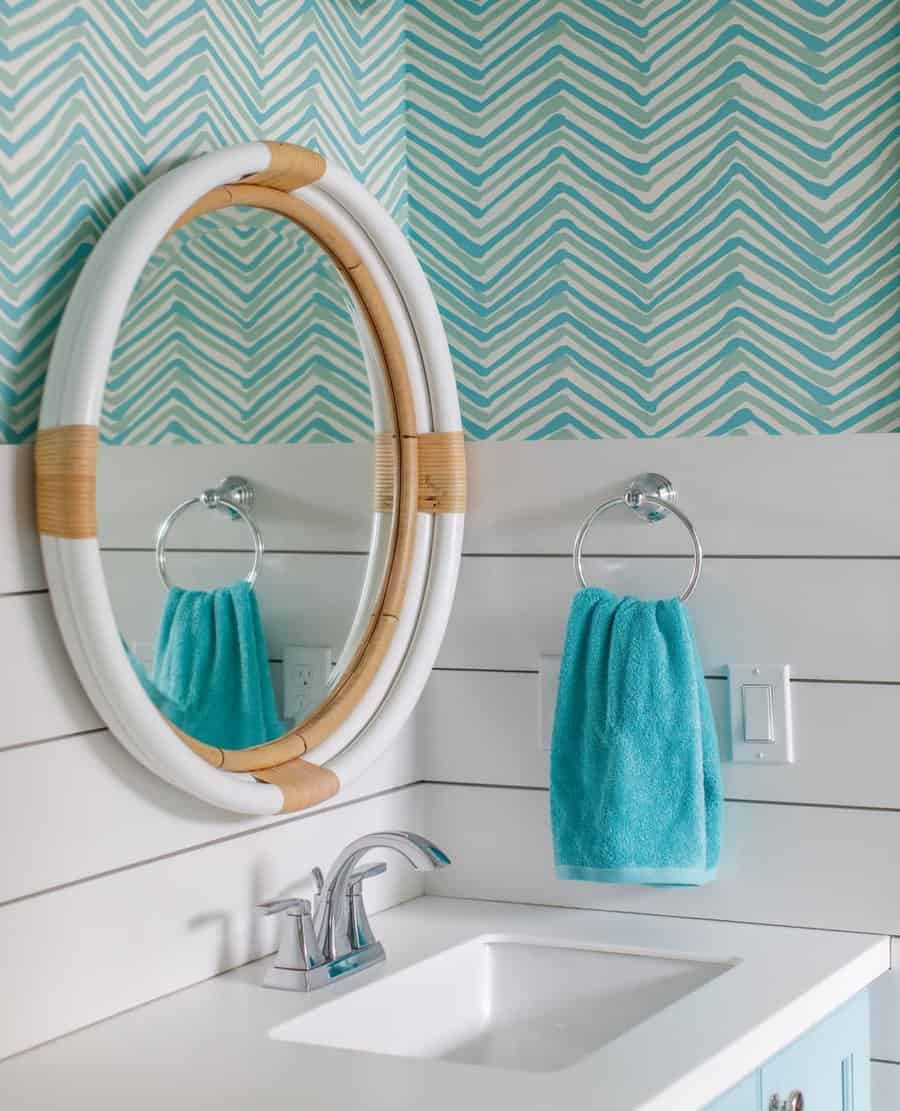 3. Inject Creativity Into Your Headboard
If you're feeling creative and looking for a bold coastal bedroom decor statement, consider adding a creative headboard! One idea is to have a paddleboard headboard that offers the perfect beach-inspired touch – plus it's functional too.
If you want something more subtle, try a raffia headboard for a natural look that adds texture and won't overpower your space. These creative ideas are sure to make your room unique, eye-catching, and stylish.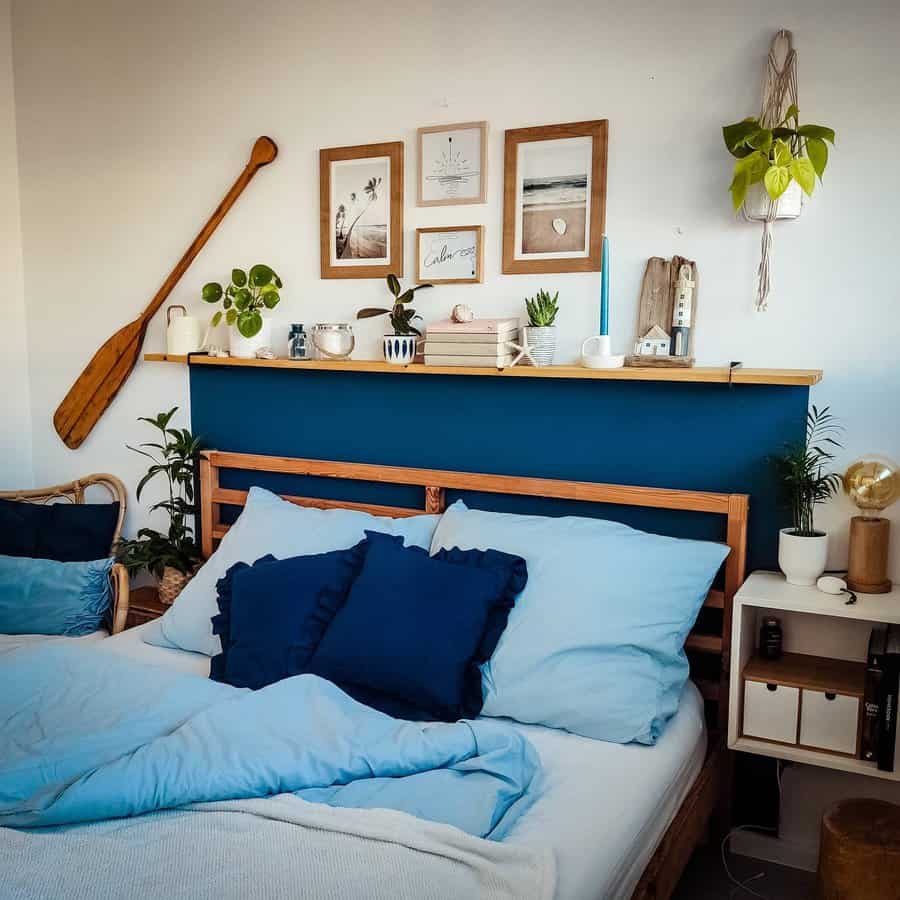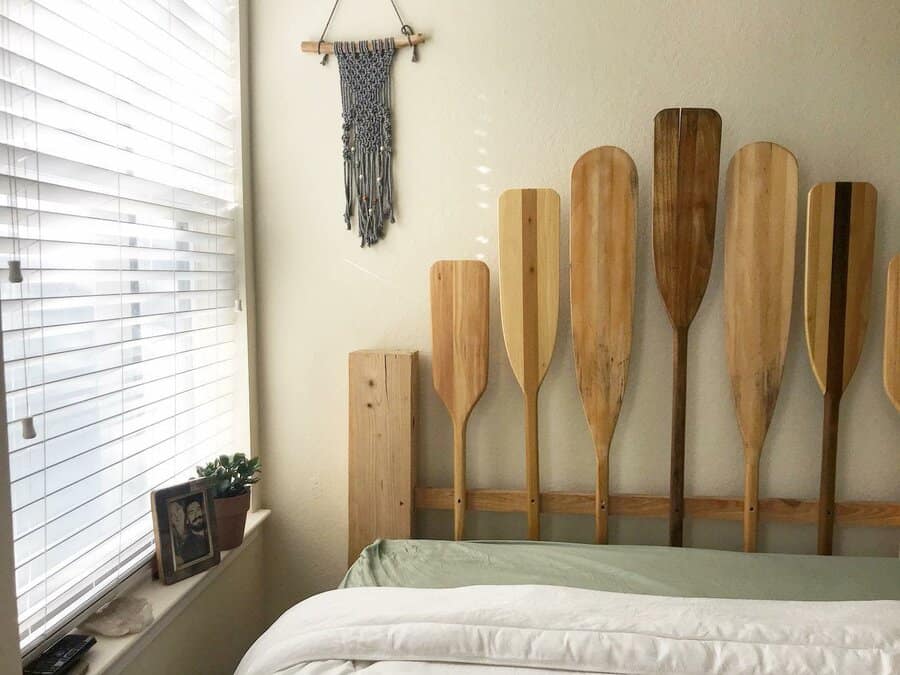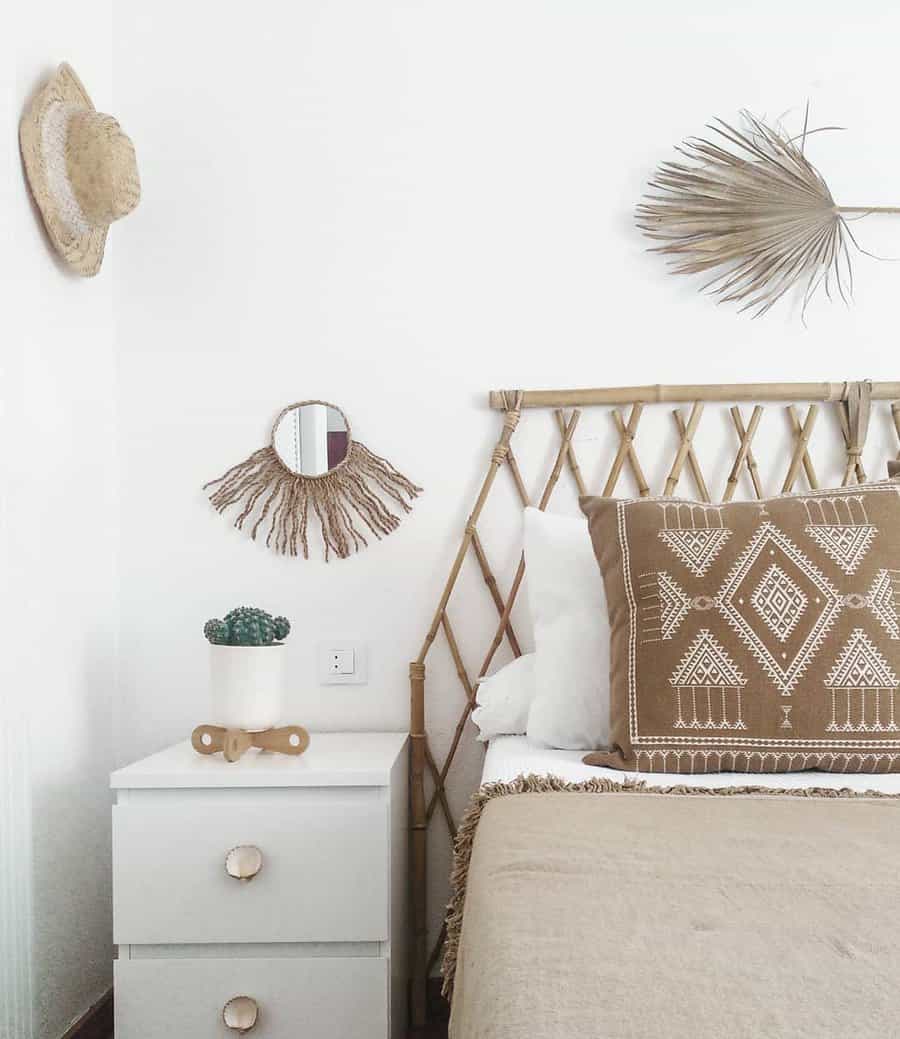 4. Sheer Curtain For Soft Diffused Light
Coast-inspired bedrooms provide an air of tranquility and relaxation. To achieve this look, start with sheer curtains that allow diffused light to flow into the room. You can further enhance the look of your bedroom by incorporating things like beach glass or driftwood artwork on your walls and using a white and blue color palette.
Top off the look with a few coastal accents, such as wicker baskets, starfish figurines, and shells added to shelves or as part of your bedding inspo. Embrace a more modern take on coastal style by opting for a rattan daybed or adjustable floor lamps beside your reading nook.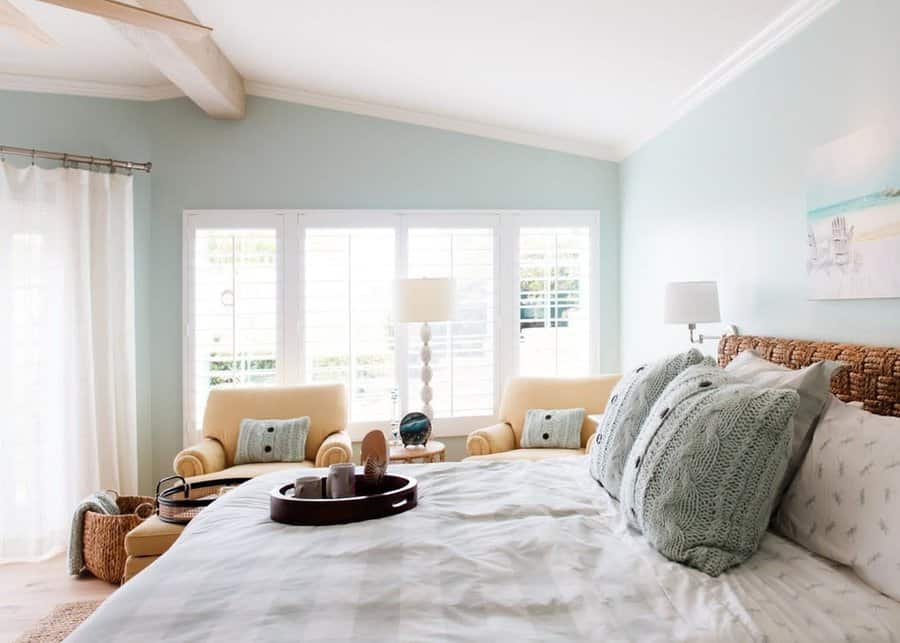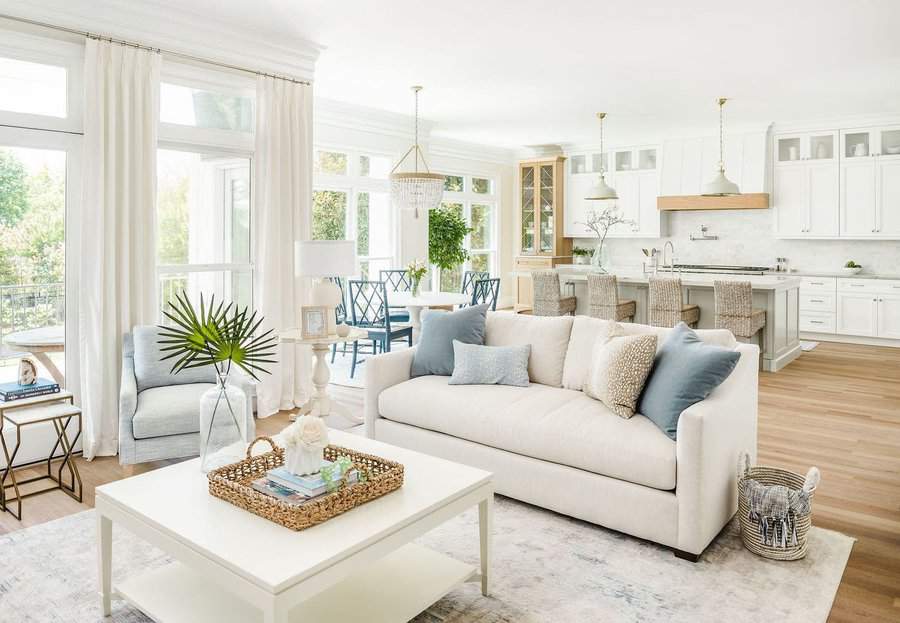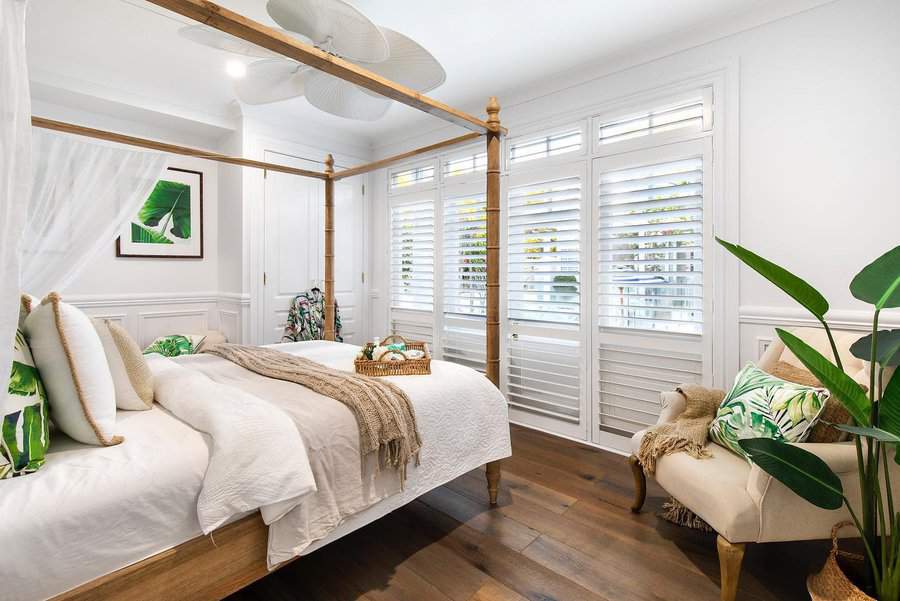 5. Install A Ceiling Fan
Coastal bedroom decor will help you create a tranquil atmosphere in your sleeping space that provides both aesthetic and functional appeal. Opting to include a ceiling fan as part of your coastal bedroom decor is an easy and inexpensive way to do this.
Not only will the ceiling fan give off cool vibes, but it's also great for circulating air when temperatures start to heat up. To keep with the beachy theme, you can find ceiling fans featuring shells, wicker or bamboo blades, or other unique designs that capture the beauty of the sea.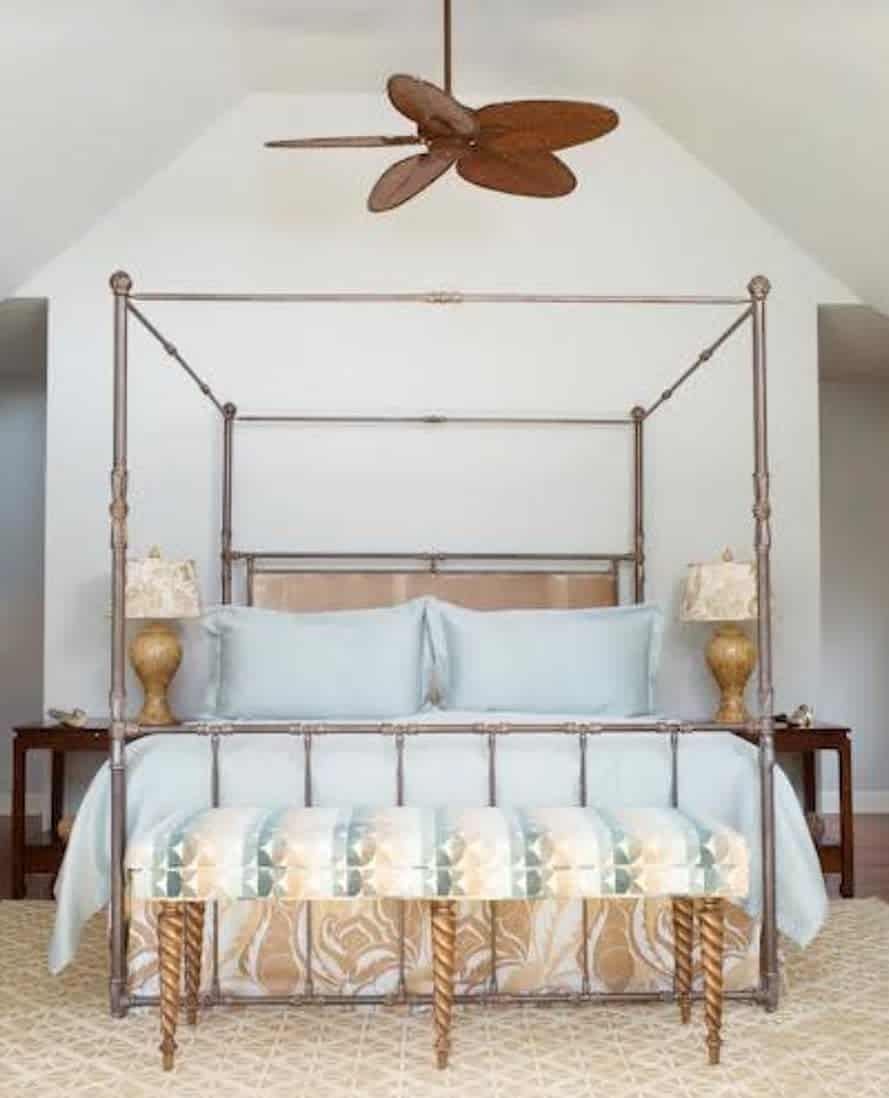 6. Pick Blue Upholstery
Get a breath of fresh air in your home by incorporating some coastal-inspired upholstery. Consider blue upholstery for chairs, sofas, and other furniture pieces to give the room an ocean-inspired feel. A fresh coat of white paint will create a clean palette to start from, letting blue accessories take the helm as the showcase accents.
Throw pillows with sandy beaches or blue lagoons designs are an easy and subtle way to tie everything together perfectly. Whether you want a more minimalist approach or more vibrant choices, there are plenty of ideas to bring the calming atmosphere of a beach right into your living room.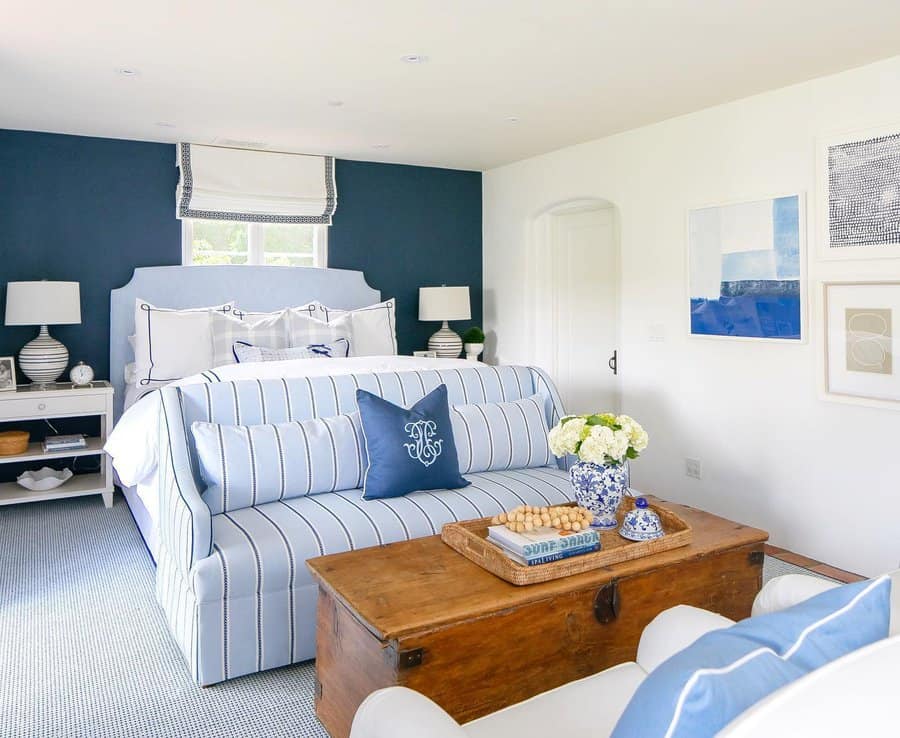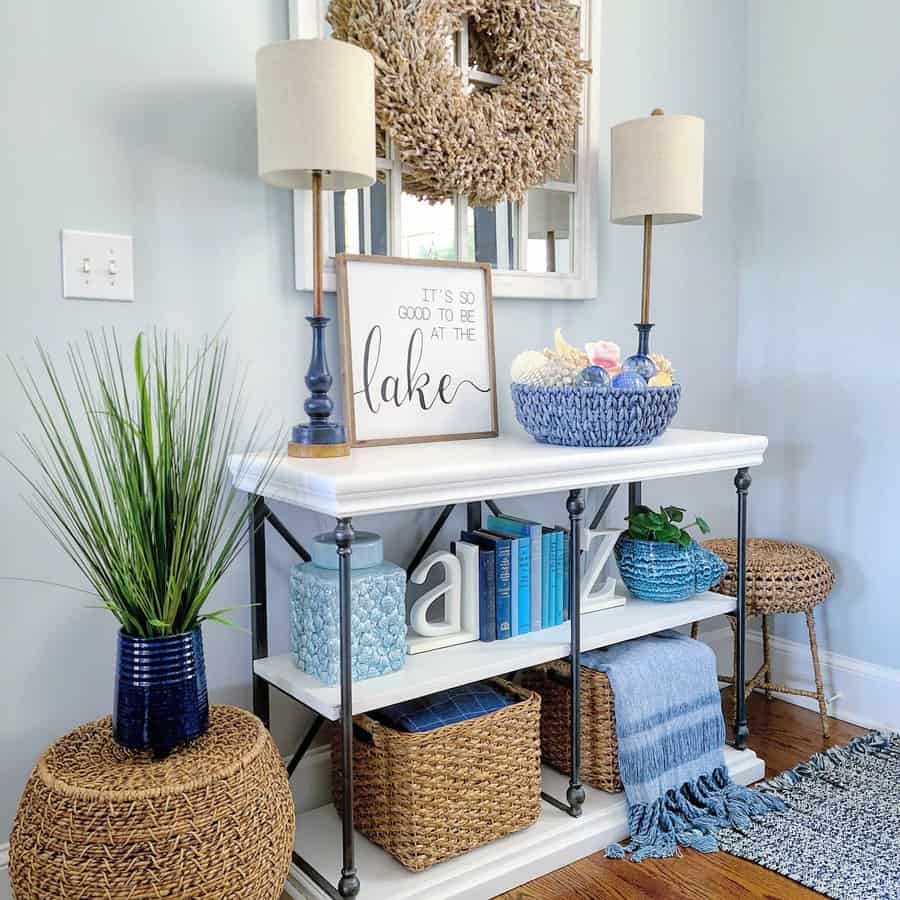 7. Add Light Wood For An Accent
To give your home a calm, beachy feel, light, airy colors and light wood accents are the perfect ingredients for coastal decor. Consider light blue for your walls – this shade is perfect for creating an inviting and serene atmosphere. Add light wood furniture pieces to balance out the light blue hues. Wood furniture creates texture and is great for achieving that coastal look.
Don't forget to accessorize with seashells, starfish, and sand dollar-inspired décor to give your home that final touch of ocean vibes. With these few ideas in mind, you'll be able to create the most stunning beach-inspired space in your home!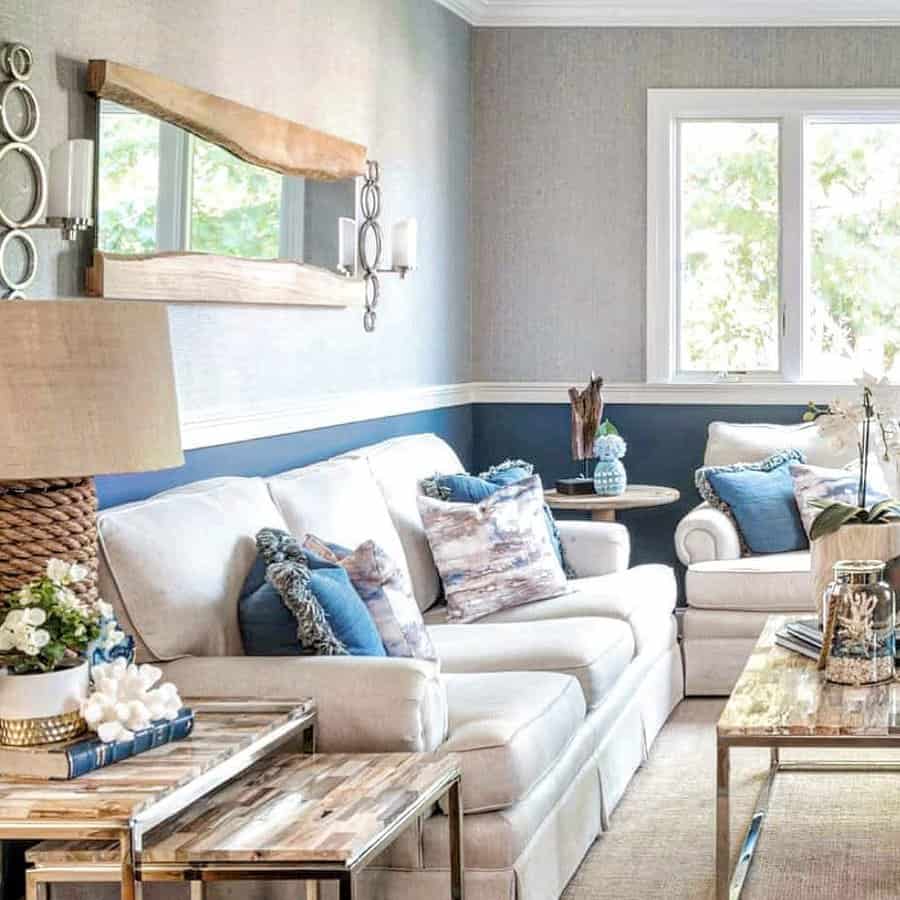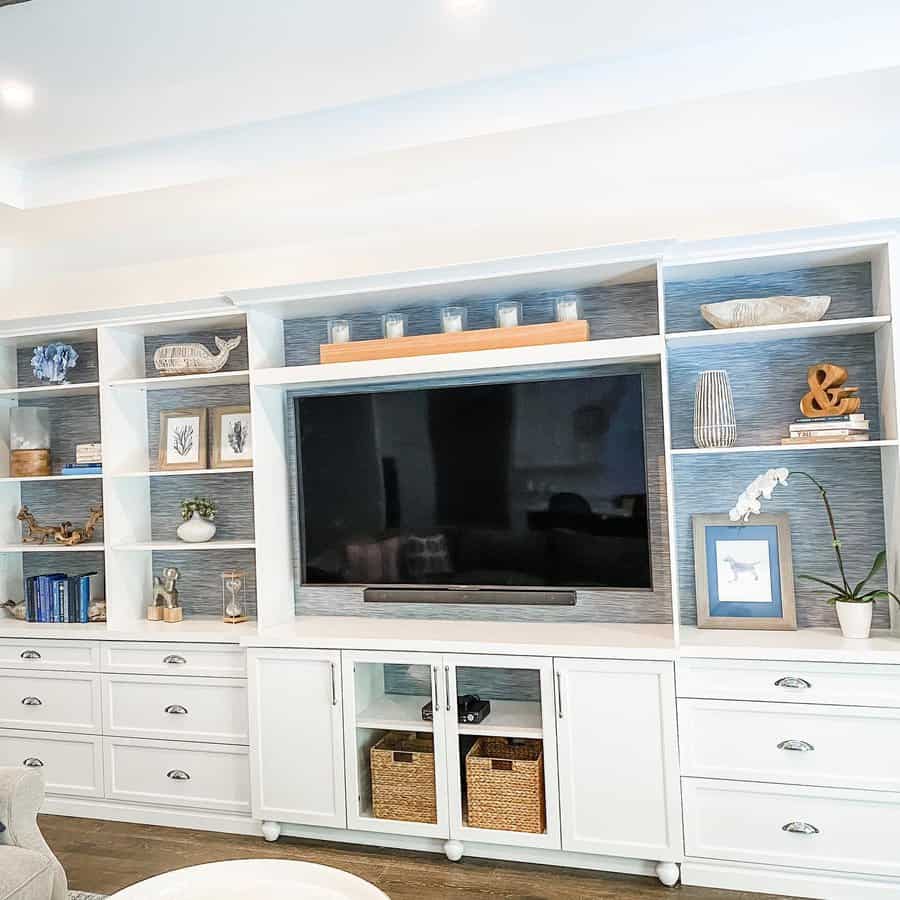 8. Pick A Blue & White Interior
Coastal decor can help you bring a little piece of the beach indoors! Whether you live near the shoreline or far away from the coast, blue and white interiors can create a refreshing atmosphere and evoke a sense of relaxation.
If blue seems too bold for your walls, shade-shifting metallic mirrors, gleaming chrome fixtures, and blue-print decorated fabric accessories are subtle ways to bring coastal elements into your home.
Incorporating timeless pieces that capture the essence of blue sea glass, such as pendant lamps, hurricane vases, and distressed furniture gives any room an effortless elegance that brings summertime vibes all year long!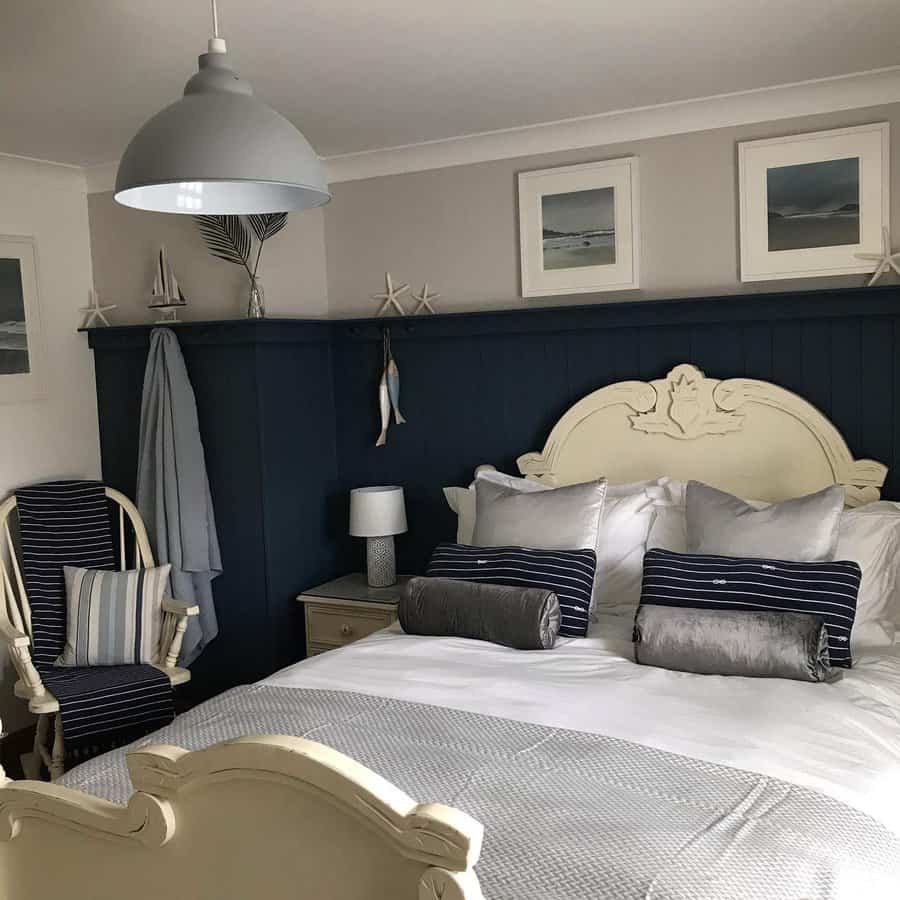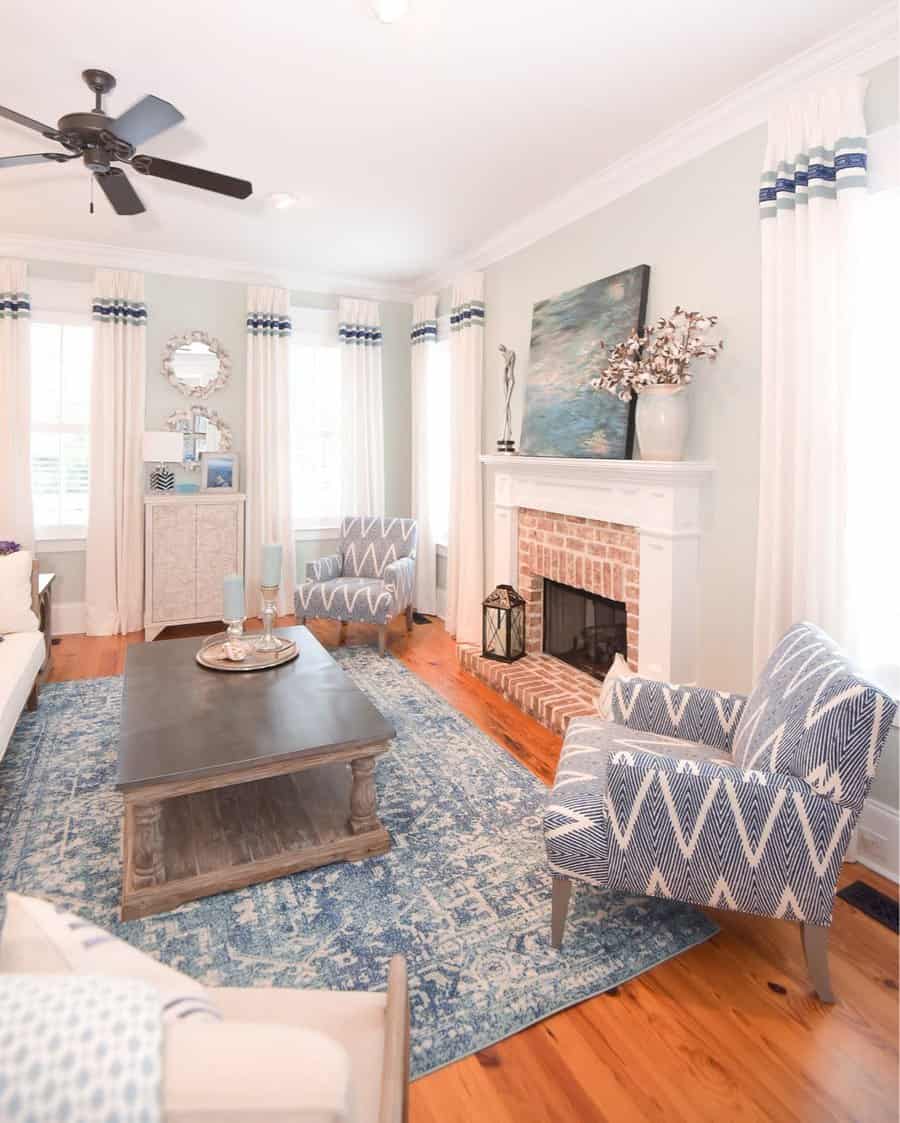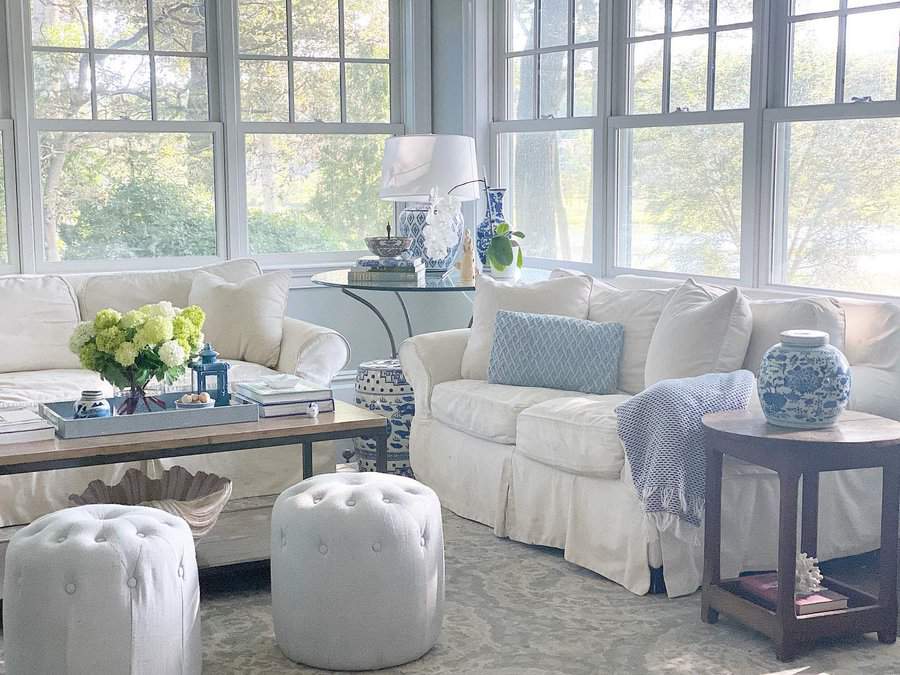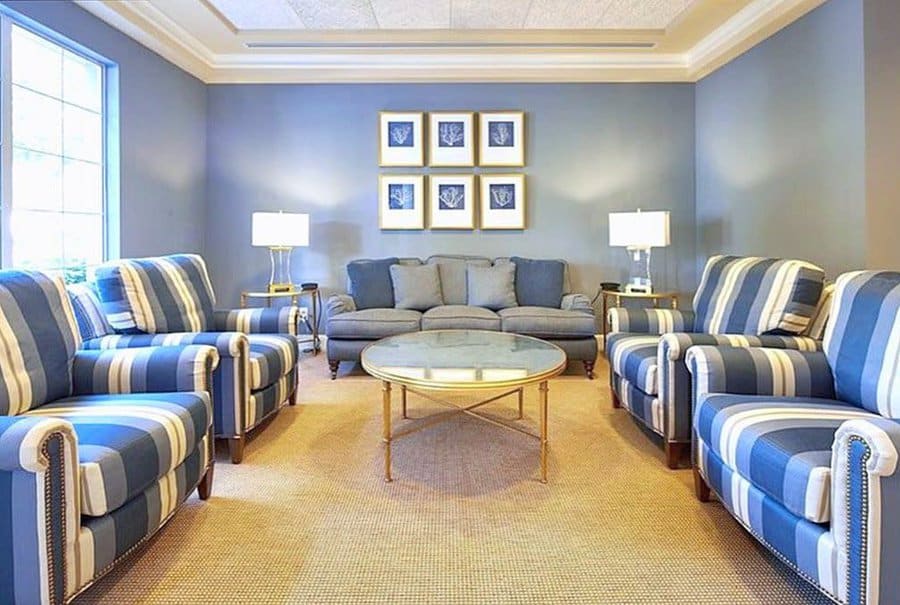 9. Incorporate Sea-neries
One of the best coastal decor ideas to inject beach vibes into your space is ocean photography and framed sceneries from the beach. Choose ocean photography with vibrant colors or tones with an exotic beach, and mix it up by featuring ocean-themed frames or old-world, vintage artwork.
Try incorporating some coastal-looking baskets for storage that bring about a natural surf element as well. Hang photographs on the walls showcasing ocean scenery, stunning beach horizons, sunsets, or scenes that remind you of paradise – these will be sure to give your space color and life!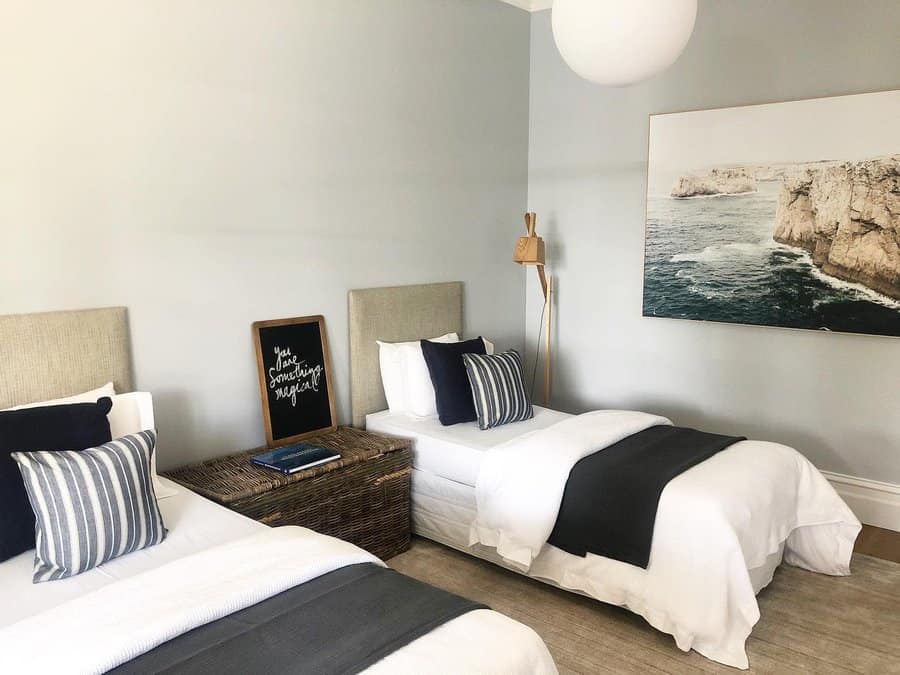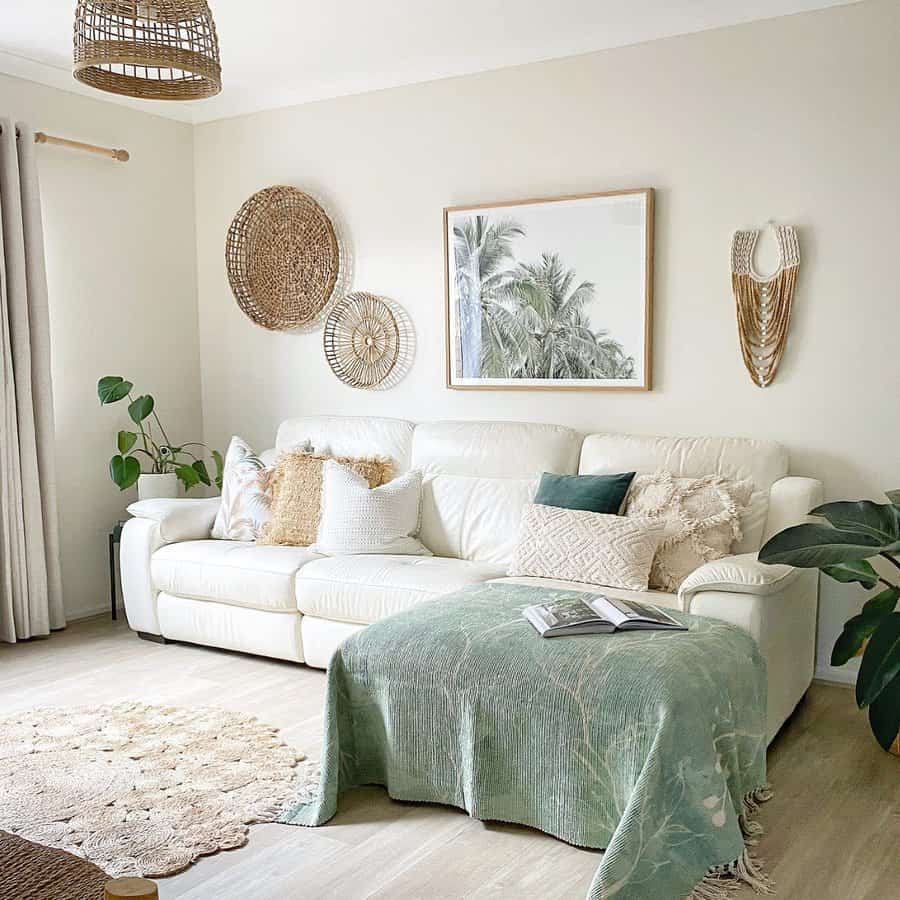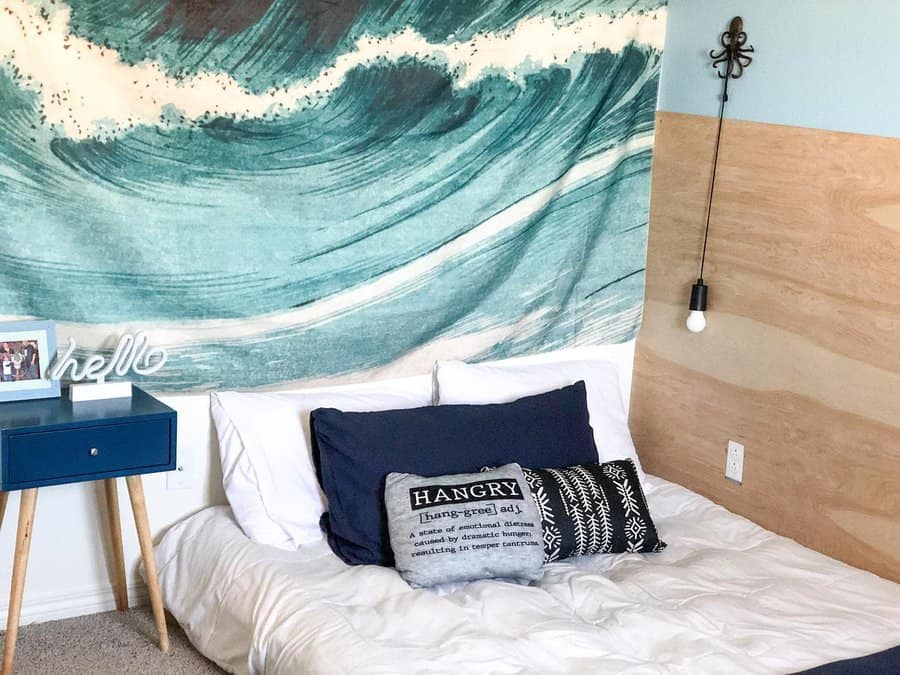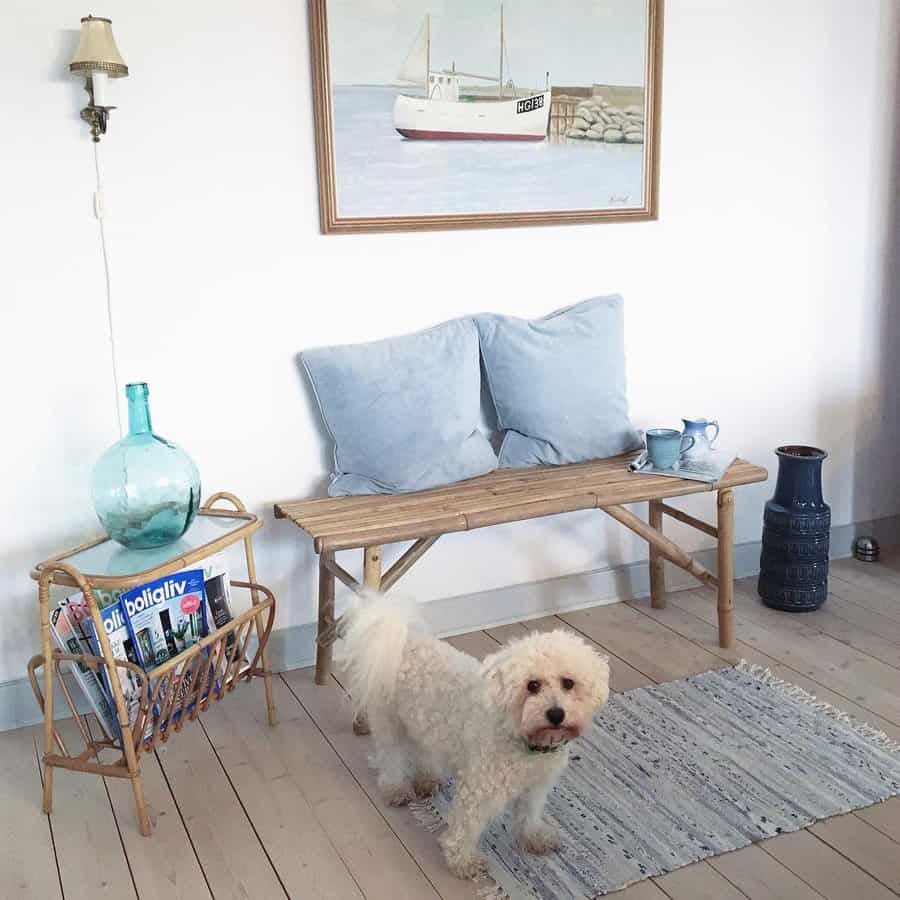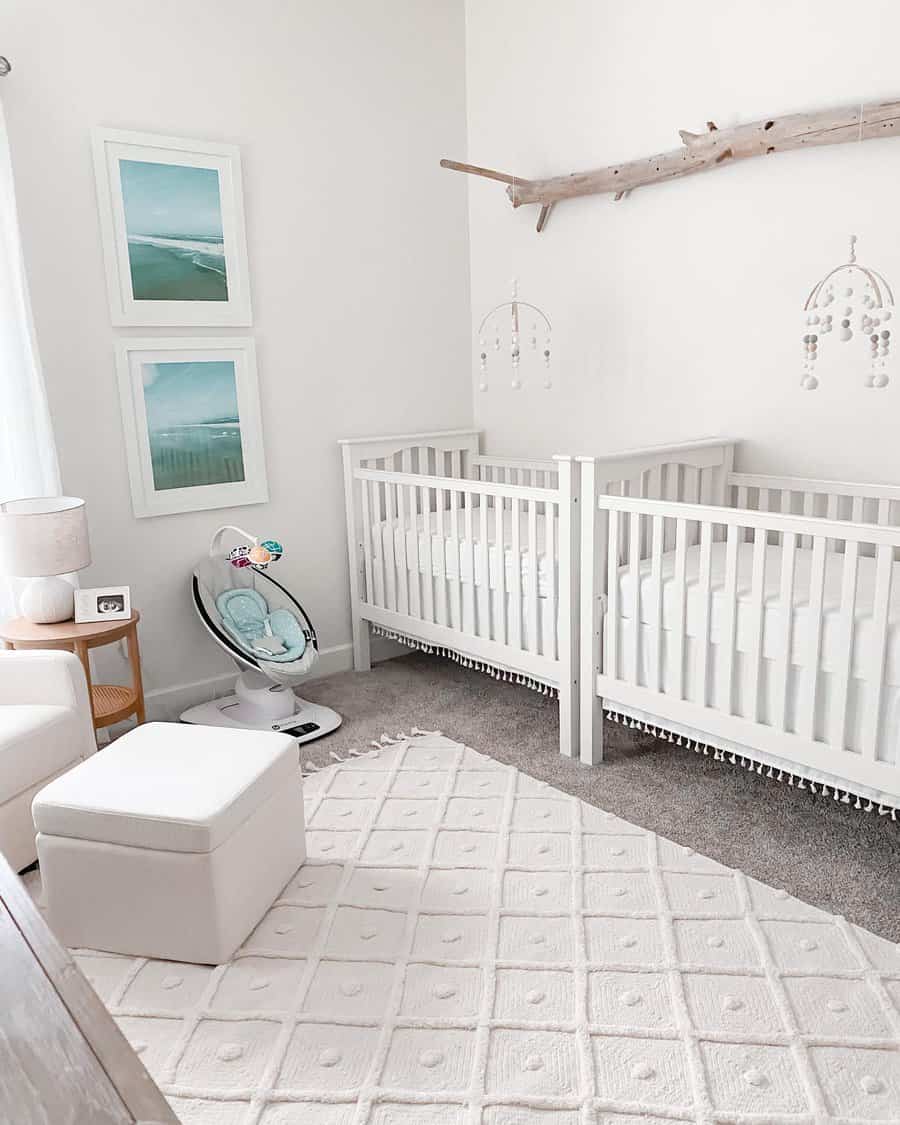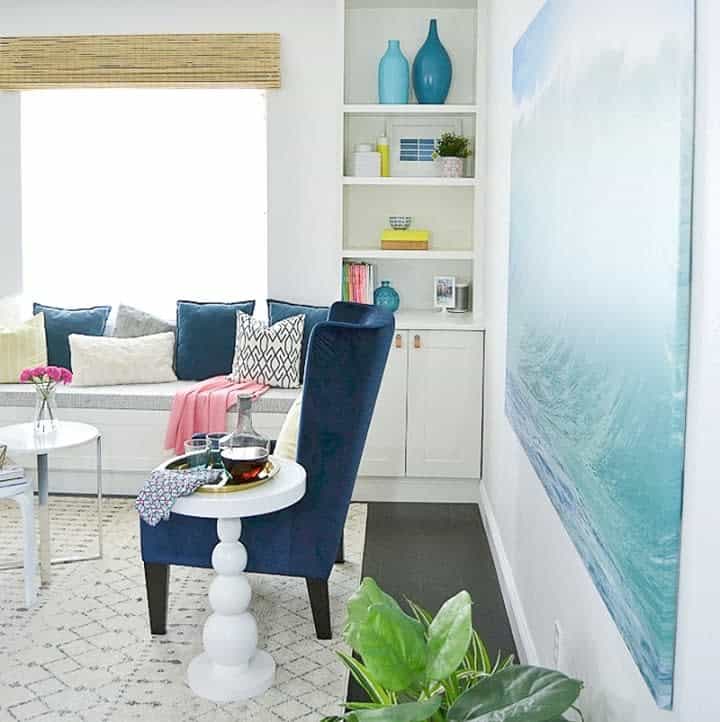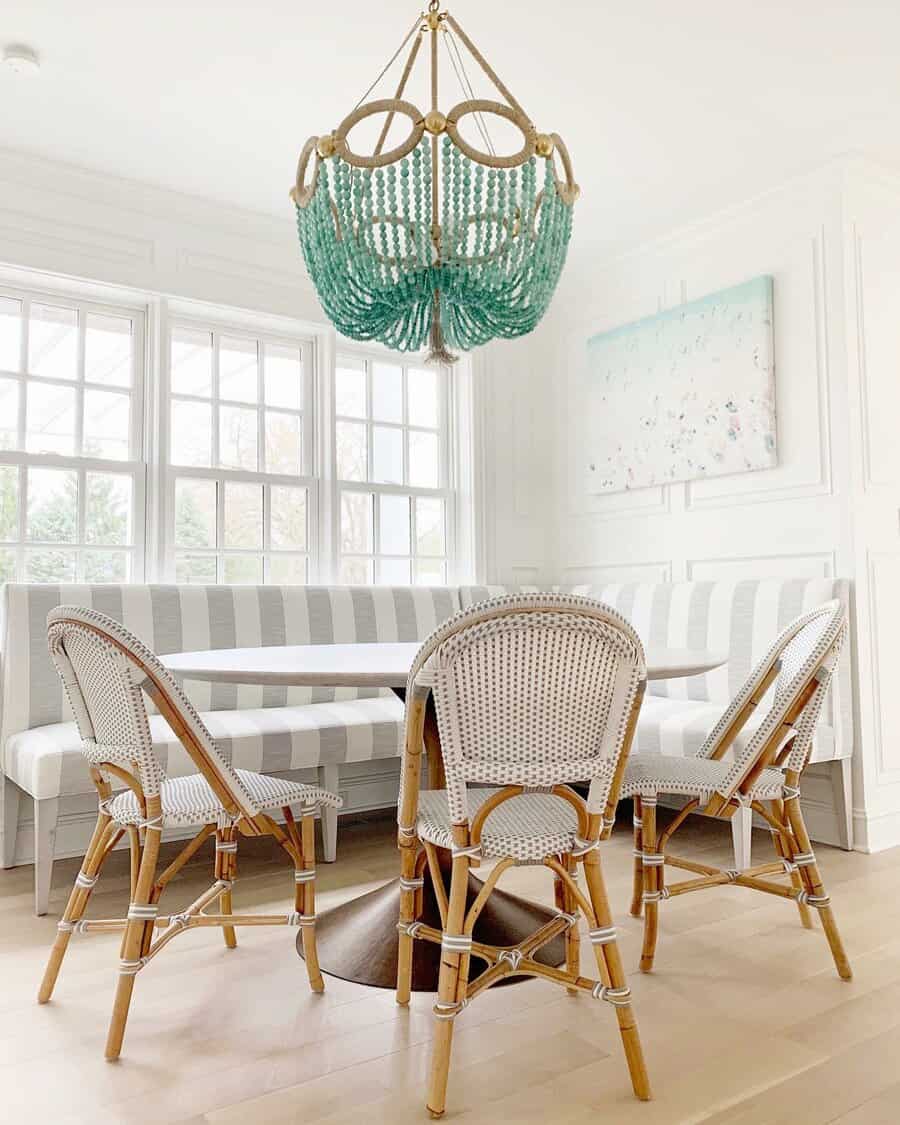 10. Set Up A Lounge Area
If you're looking for a great coastal decor idea, set up a lounge area! An inviting blue sofa or armchair can set the tone and set you up for an indoor-outdoor living. Add textures like natural woven blankets and linen throws to enhance your coastal vibe.
You can also add a touch of the sea through colorful painted ceramic planters or artwork featuring an ocean landscape.
And don't forget your accessories—a vintage rope lampshade hung from a hook on the ceiling offers subtle illumination, while warm-toned ceramics bring further definition to your beachy abode.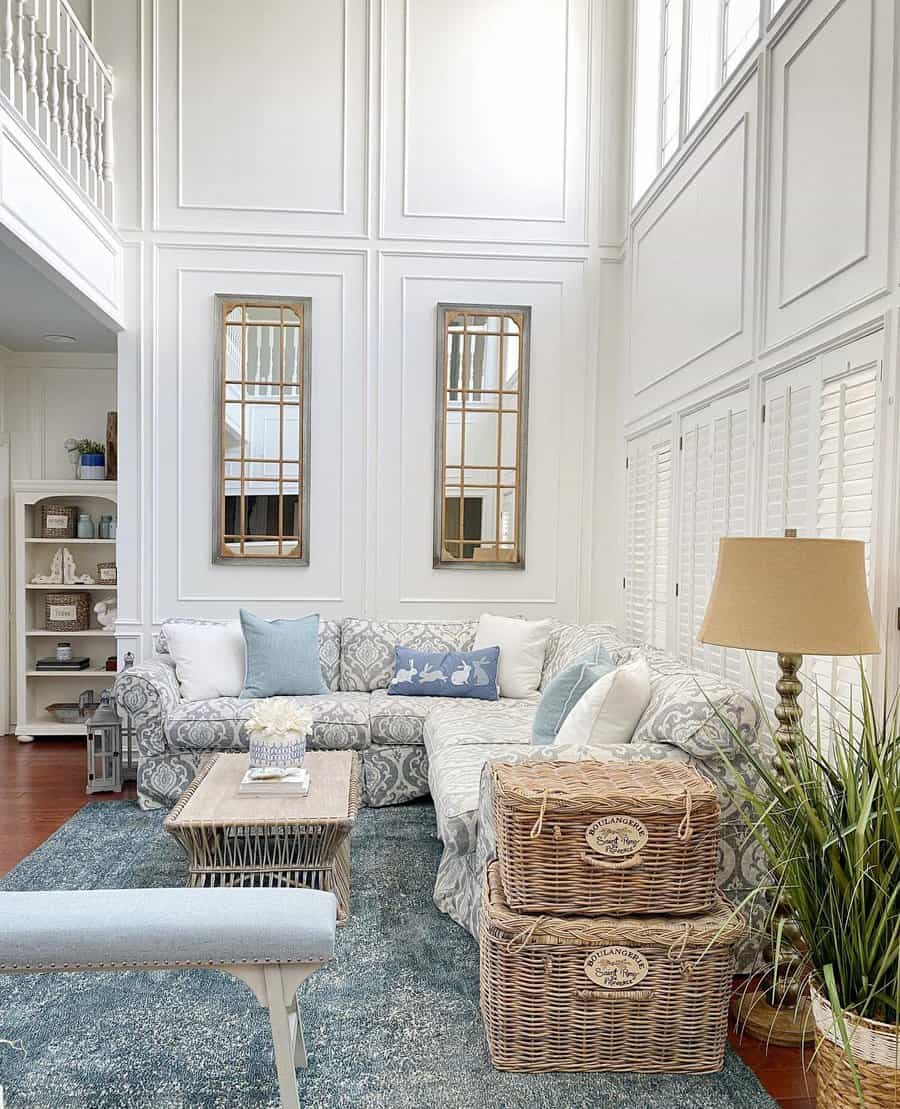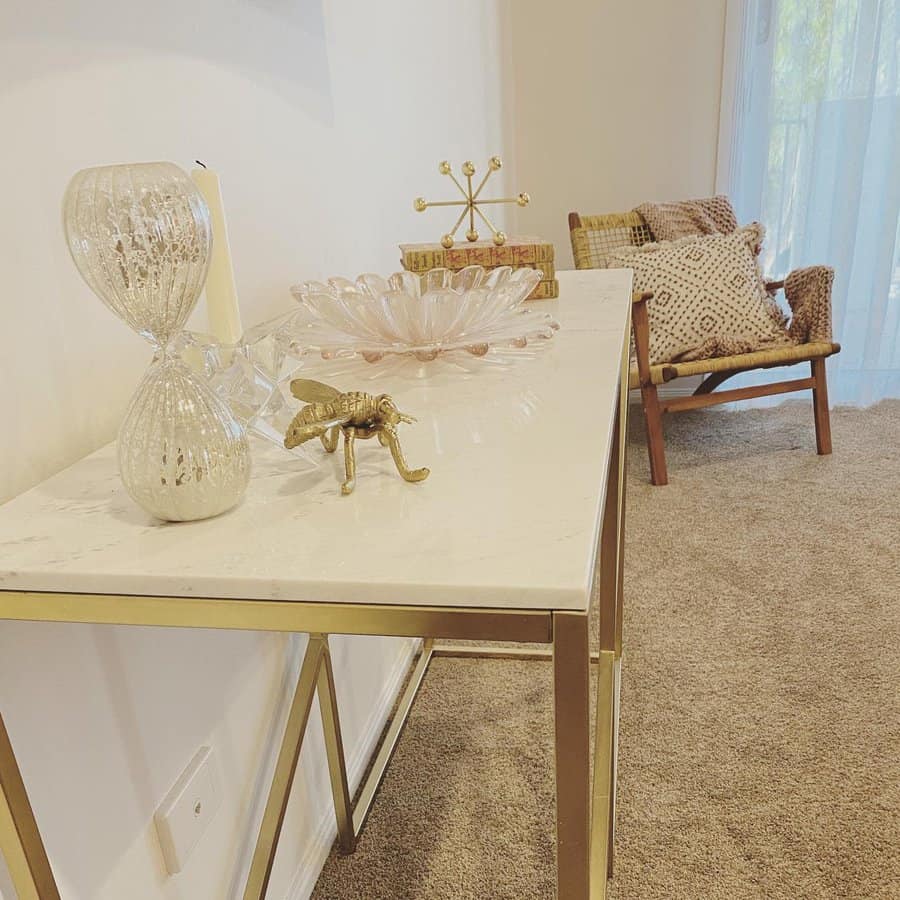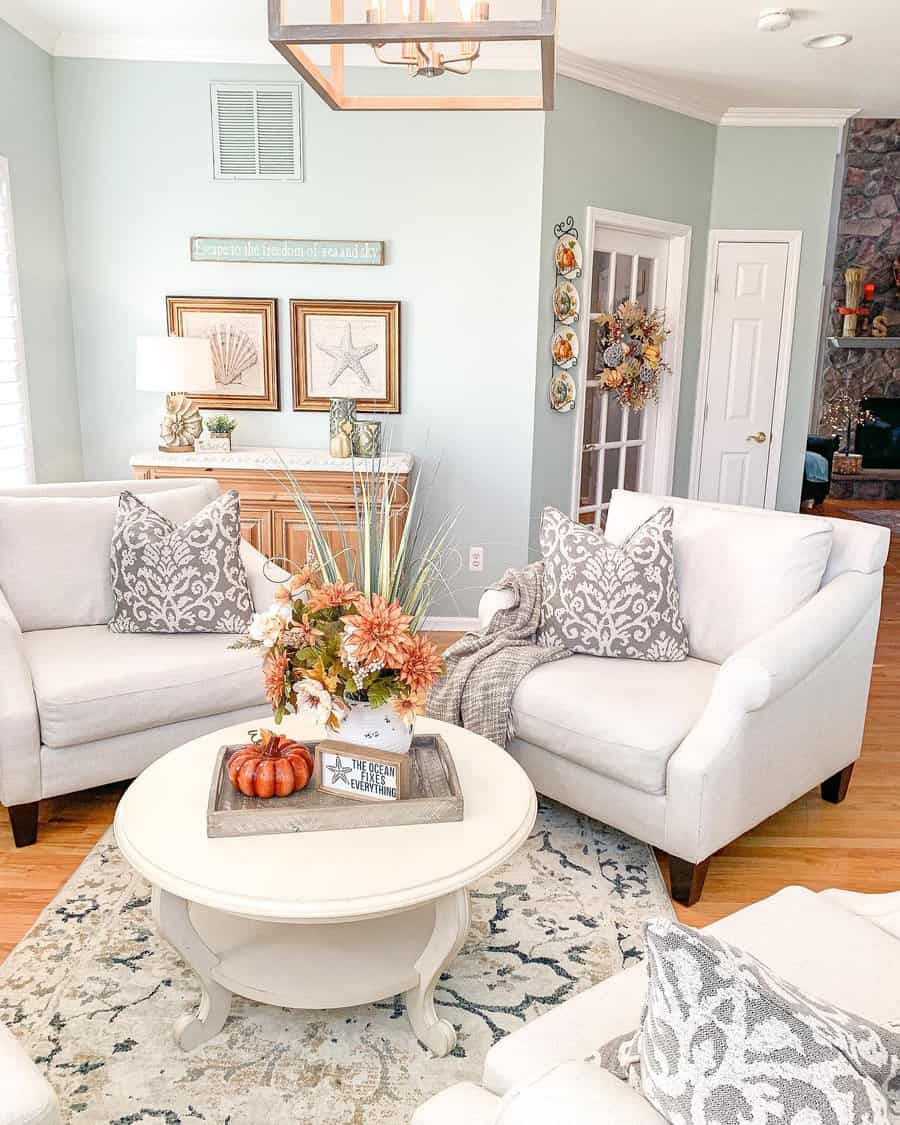 11. Handmade Boho Decor
If you're looking to give your home a coastal feel, why not set up a lounge area with furniture in shades of blue? Create an inviting atmosphere with sumptuous cushions and luxurious throws, and set the mood with ambient lighting.
Add accent pieces in calming hues such as seashell-encrusted trays, driftwood shelves, or vases filled with white starfish. With these tips, you'll easily transform your space into a casual yet sophisticated beach hideout!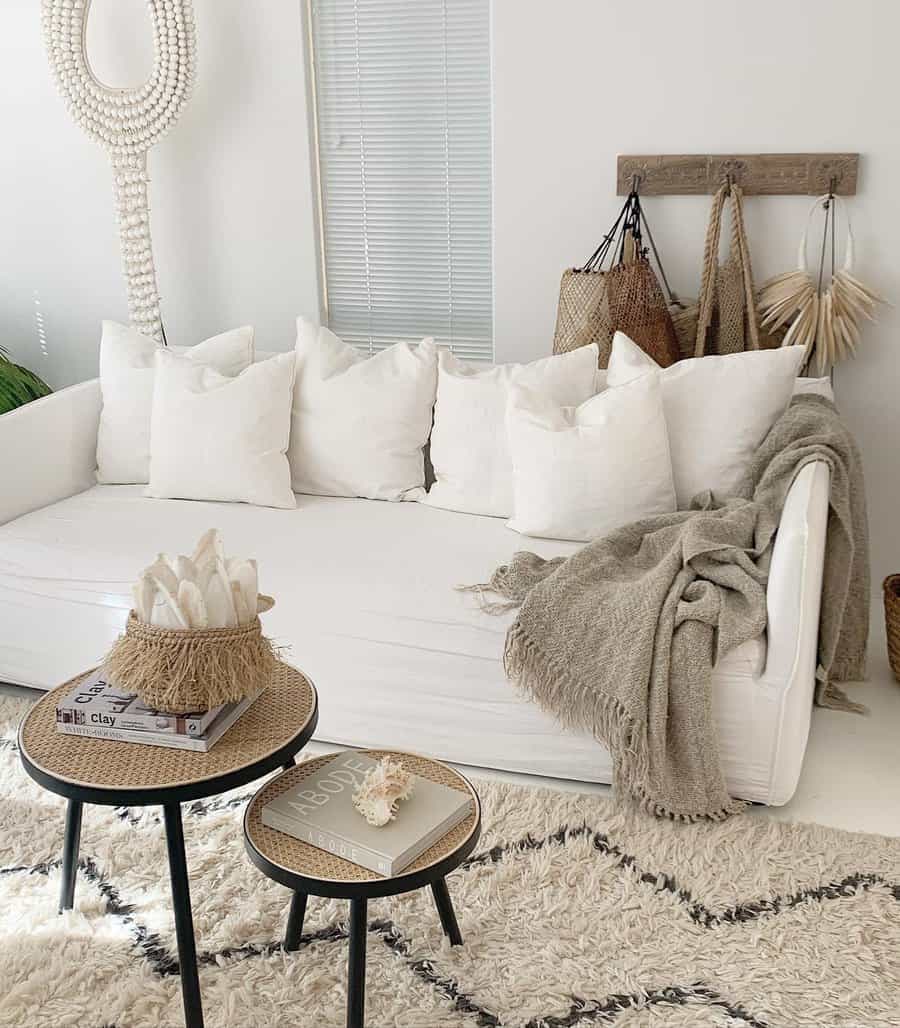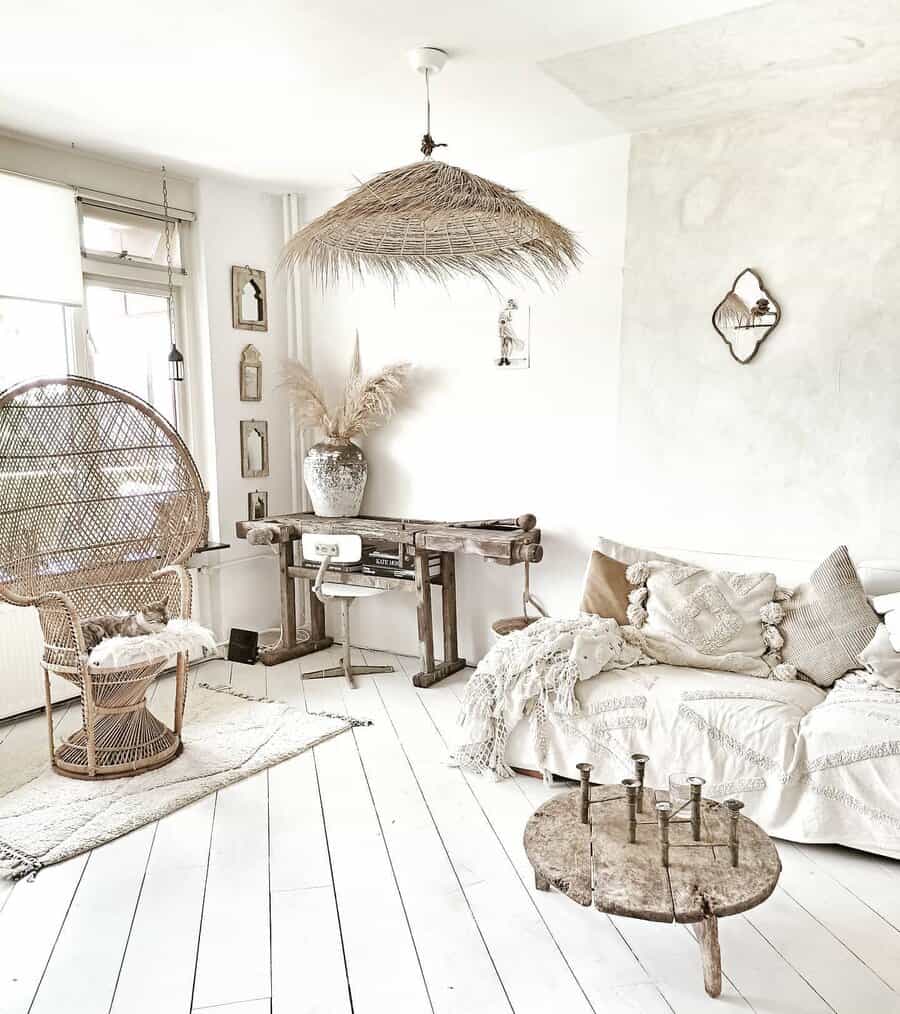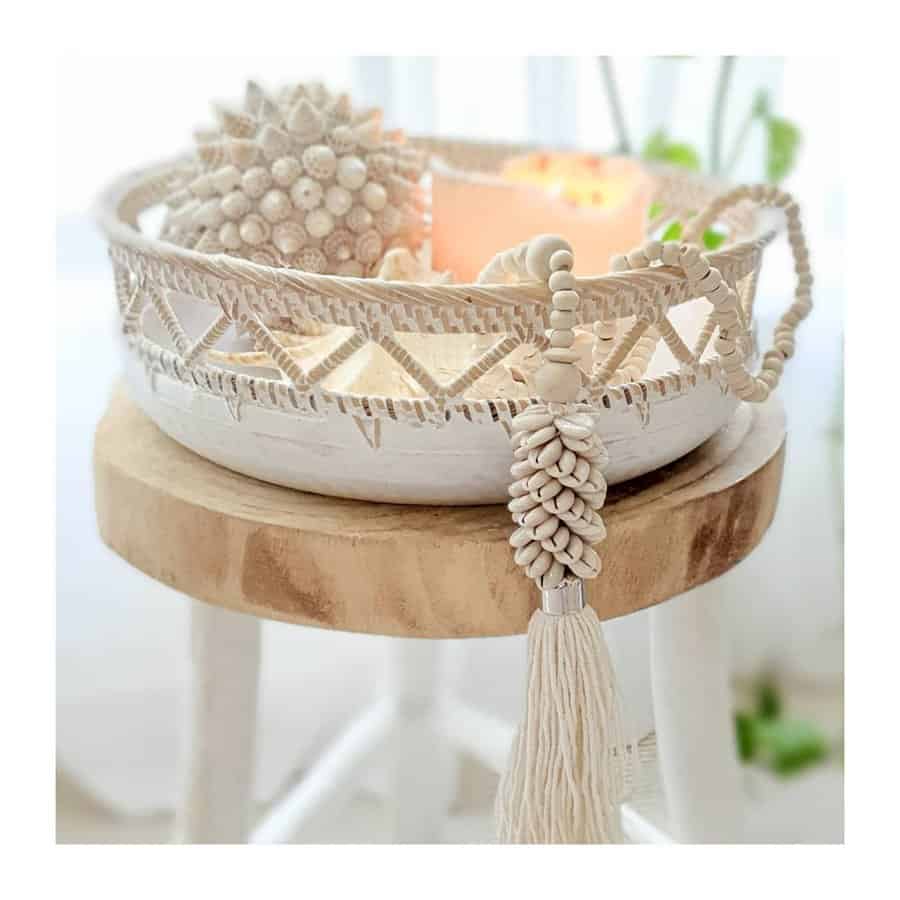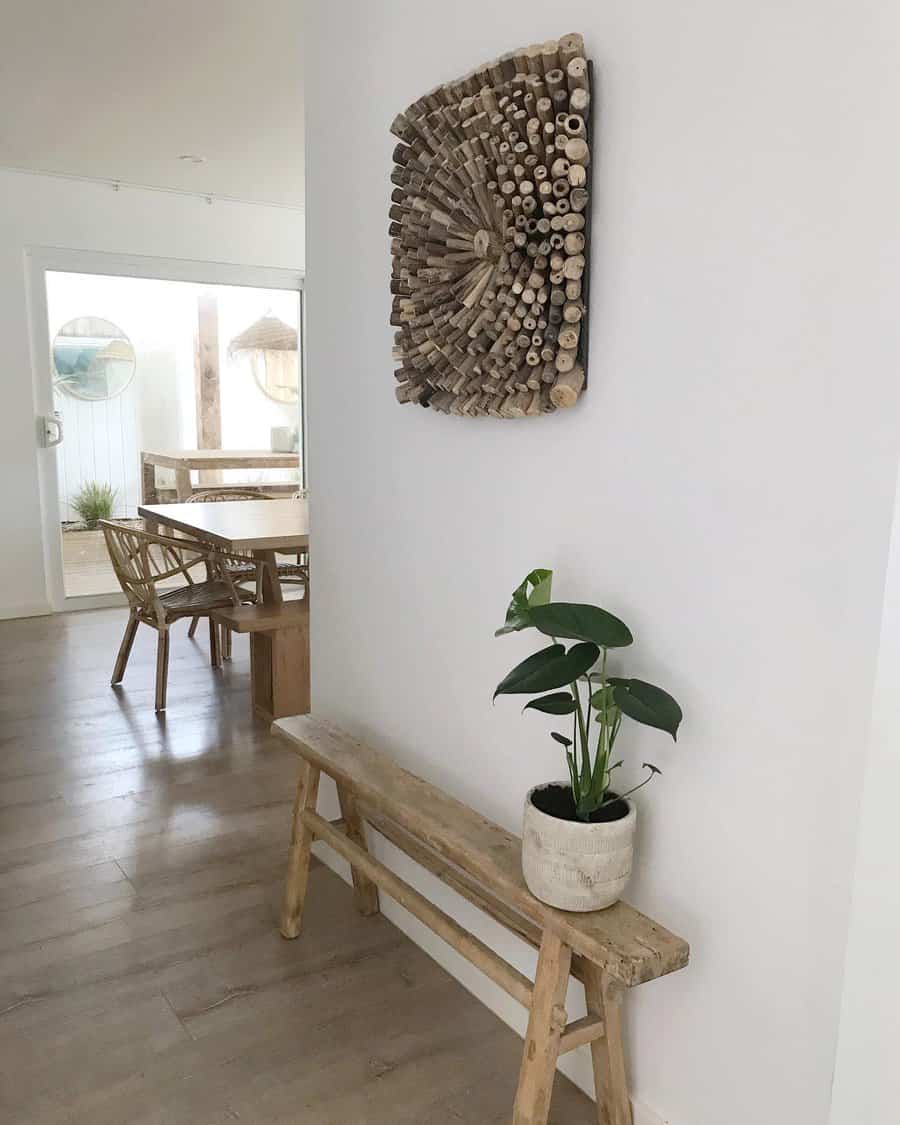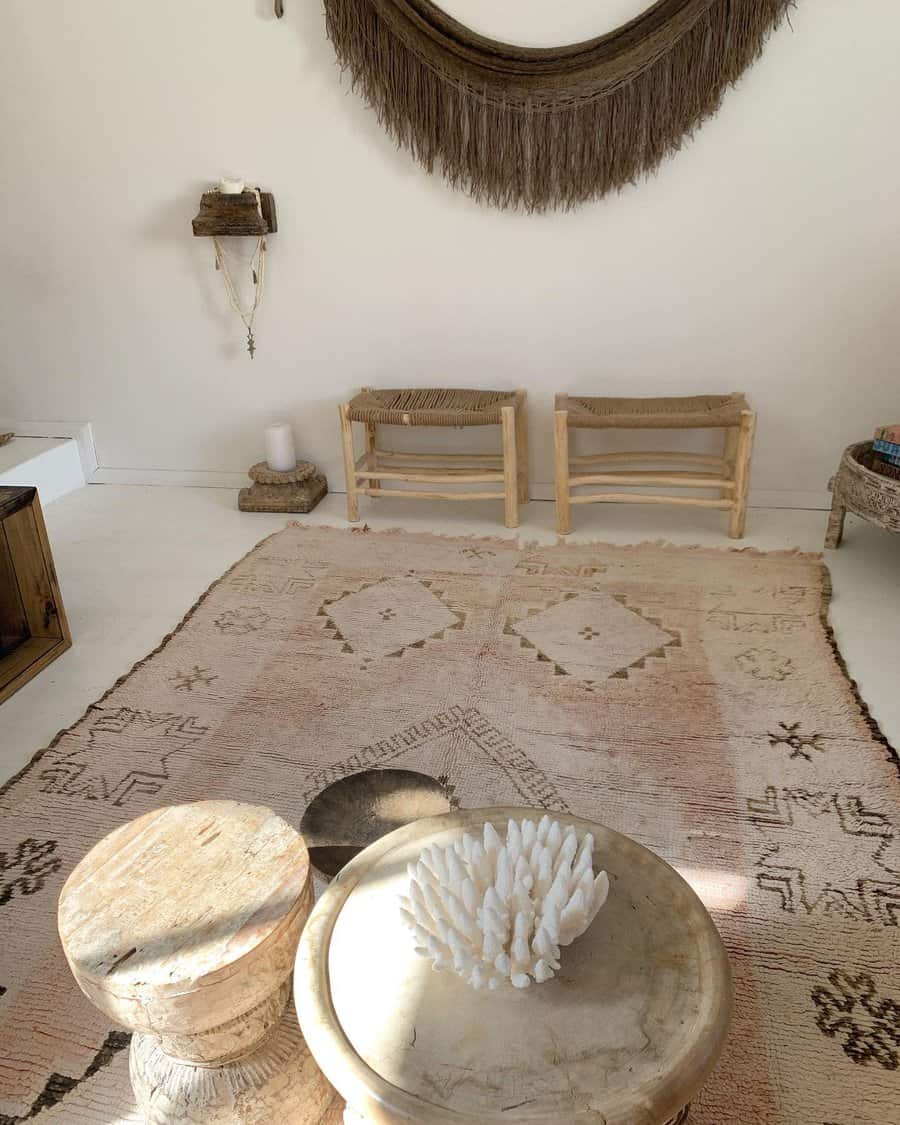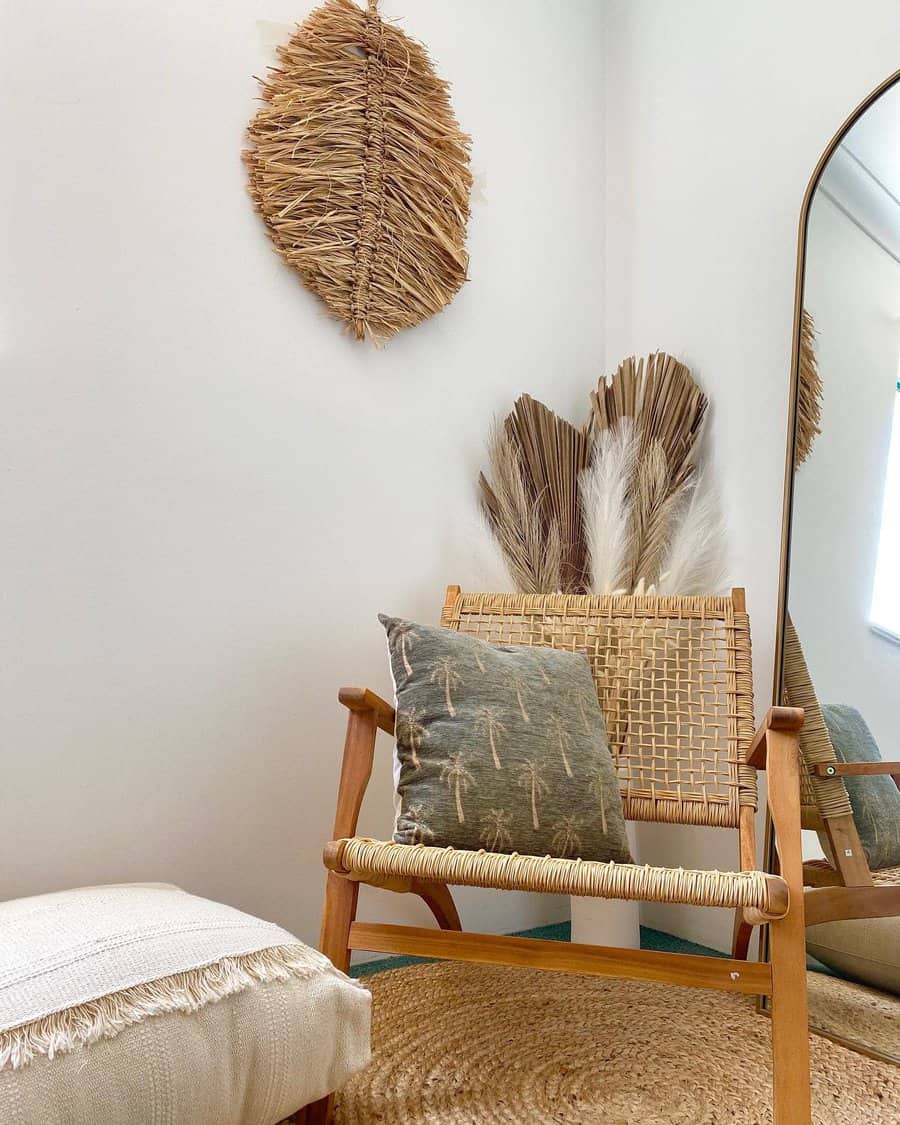 12. Add An Area Rug For A Cozy Vibe
When creating a coastal decor theme, area rugs can create not only an eye-catching layer to your interior design but also warmth and coziness. Introduce some fun patterns and natural fibers to add texture and depth, while still capturing that beloved nautical charm.
Think of faded denim blues or whispery neutrals combined with earthy tones and neutrals like warm grays and whites for a classic look with modern updates. Finish off the room with beach-inspired accessories for a complete transformation!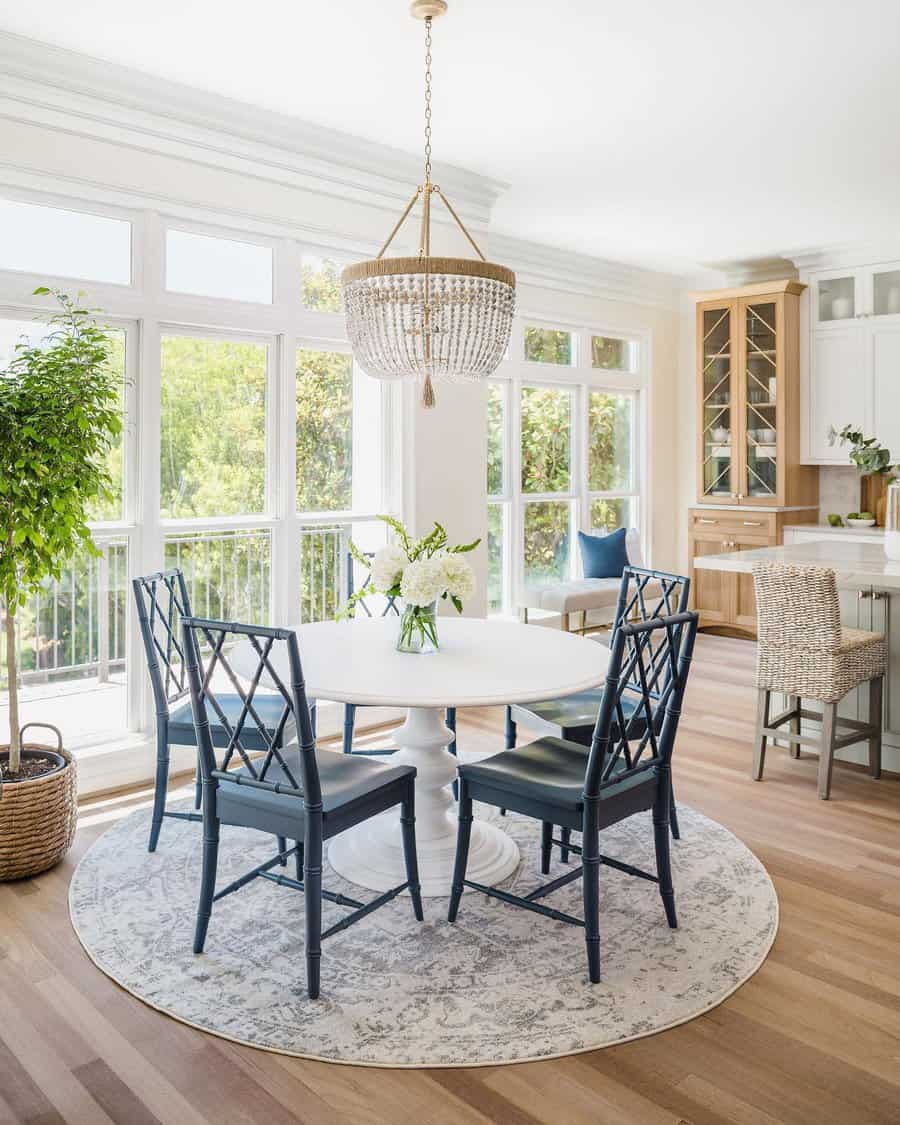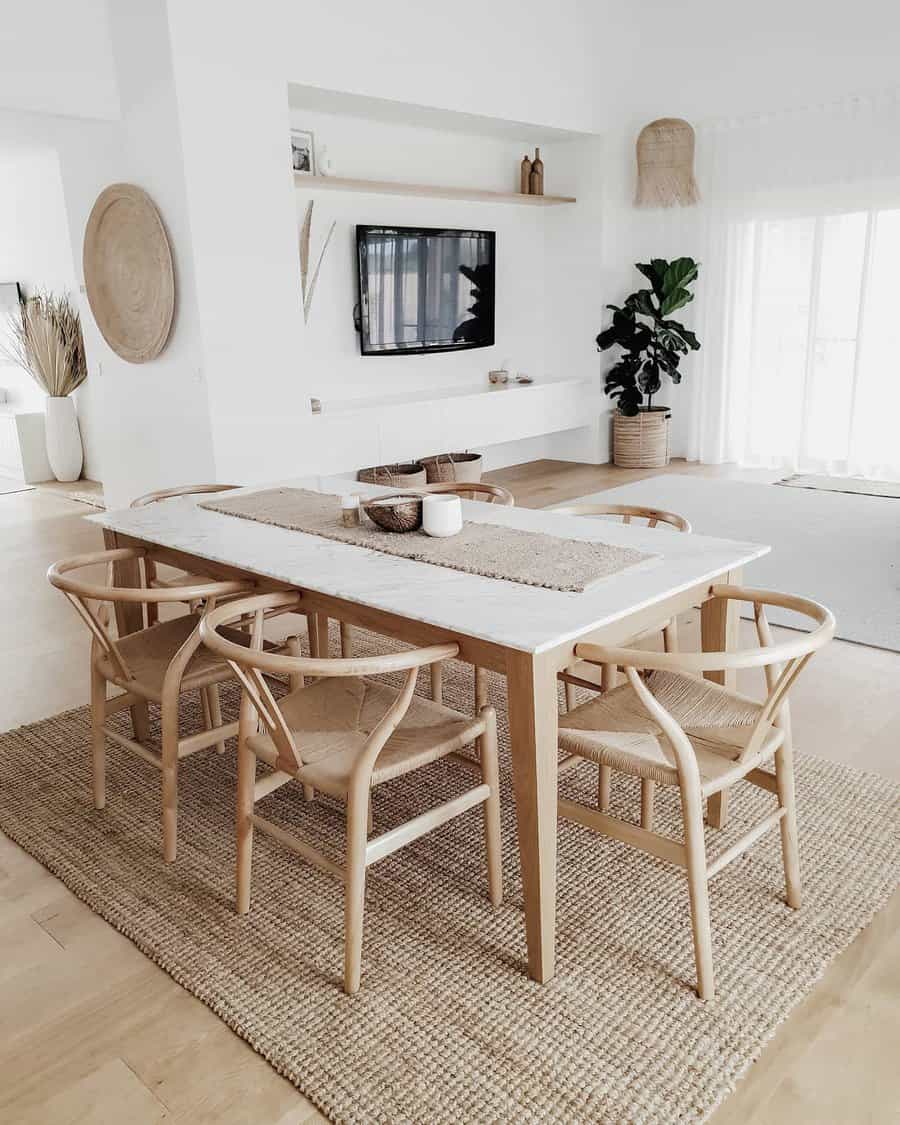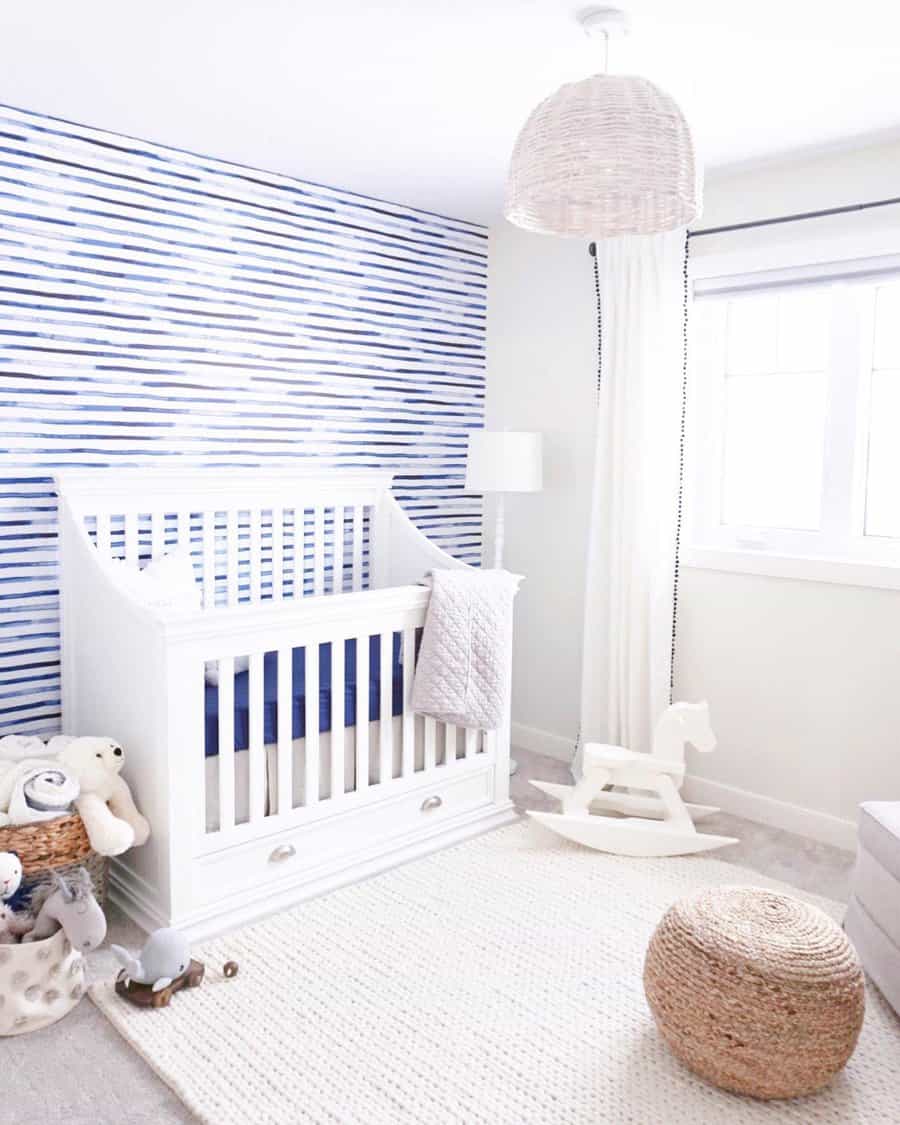 13. Woven Window Blinds To Emnate A Beach Resort
Embrace coastal living with woven window blinds to set the tone. Light curtains woven from natural fibers allow just the right amount of sunlight and a sense of airy ambiance into your home. Make use of natural elements like rattan furniture pieces and woven macramé wall hangings for added texture.
Use muted colors, such as sandy beige, muted blues, and greens, to encourage a cozy yet calming beachside vibe. Whether you opt for tropical decor or more calming, neutral tones, adding woven accents and other true-to-nature elements gives your coastal decor ideas dimension and charm.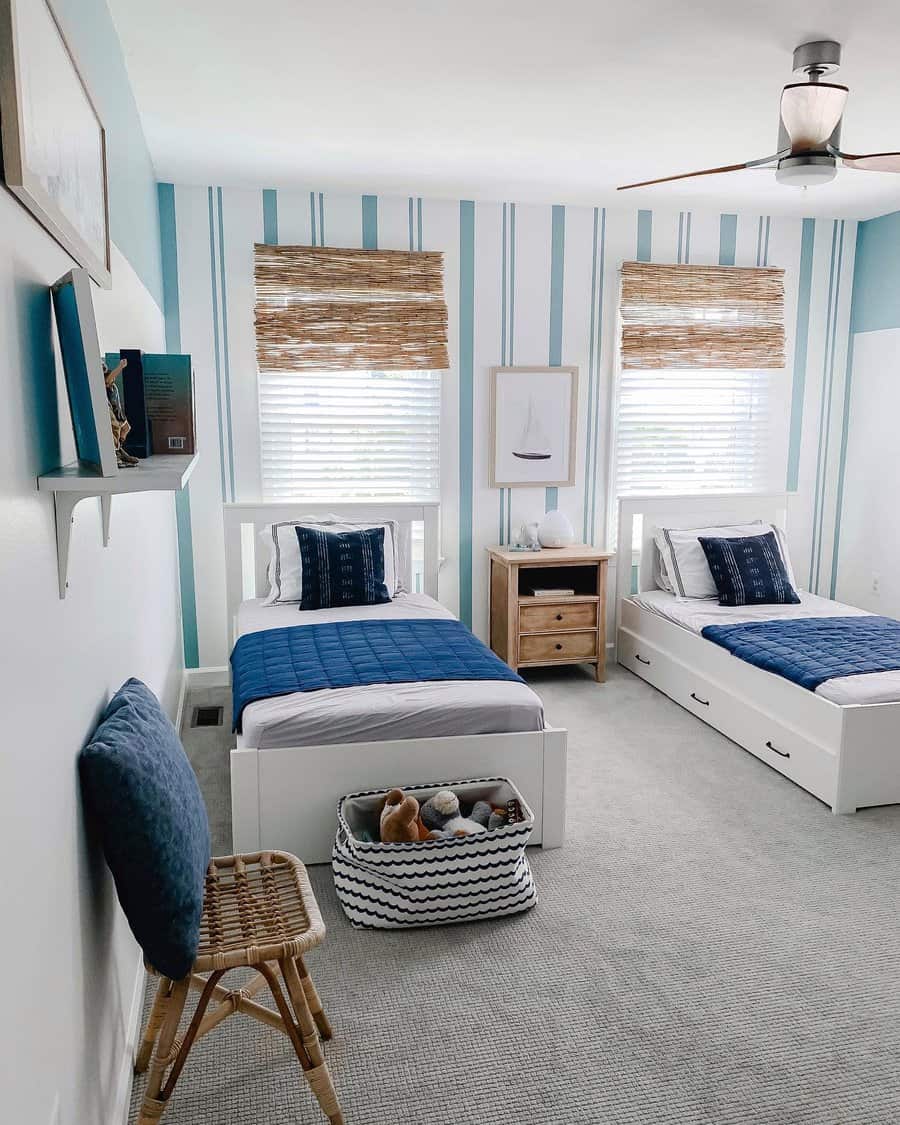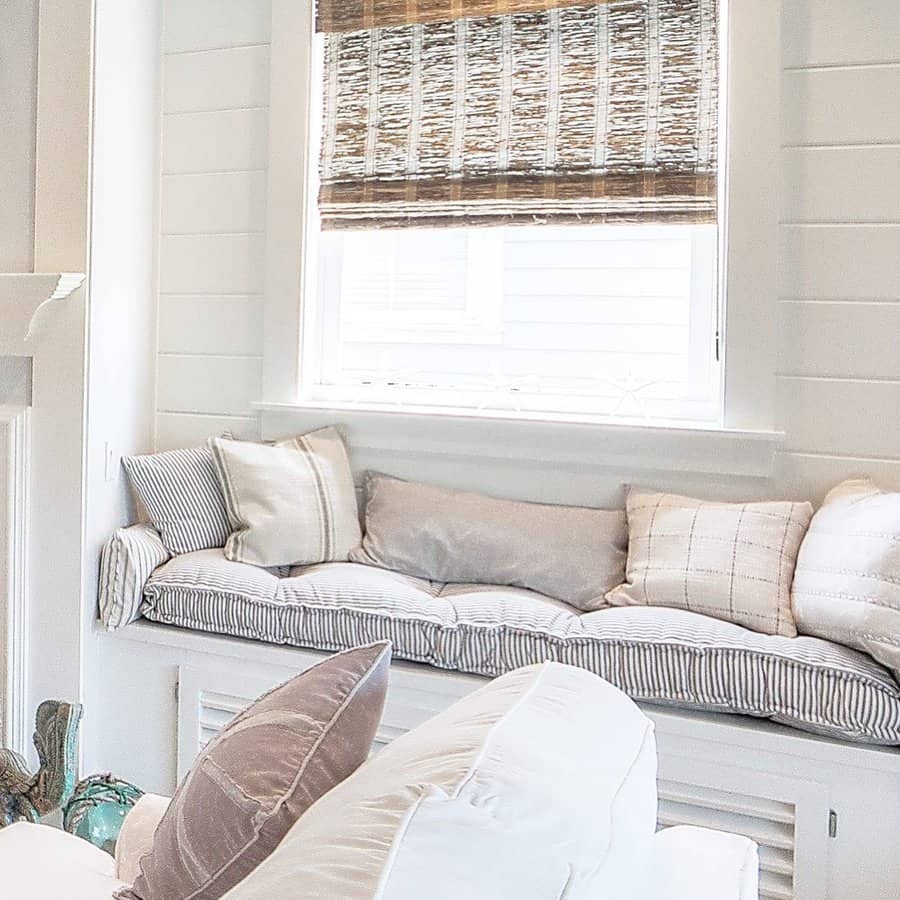 14. Transform The Room With Coastal-Themed Fittings
Decorating with a coastal theme can quickly turn any room into a tropical paradise! Begin by changing the bedding. Choose coastal-themed beddings that feel tropical and soothing. Next, add coastal throw pillows for comfort and style.
Soft blues, whites, and greens are all excellent coastal colors to choose from. Add in some coastal-inspired accessories such as starfish or seahorse decorations to give your new coastal theme an extra touch of authenticity.
Finally, don't forget the lighting! Candles, strings of twinkle lights, or crystal lamps can help bring the coastal atmosphere alive with fun sparkles. Make sure to customize your decorating ideas in a way that suits your personal taste and creates an ambiance of tranquility and coastal beauty.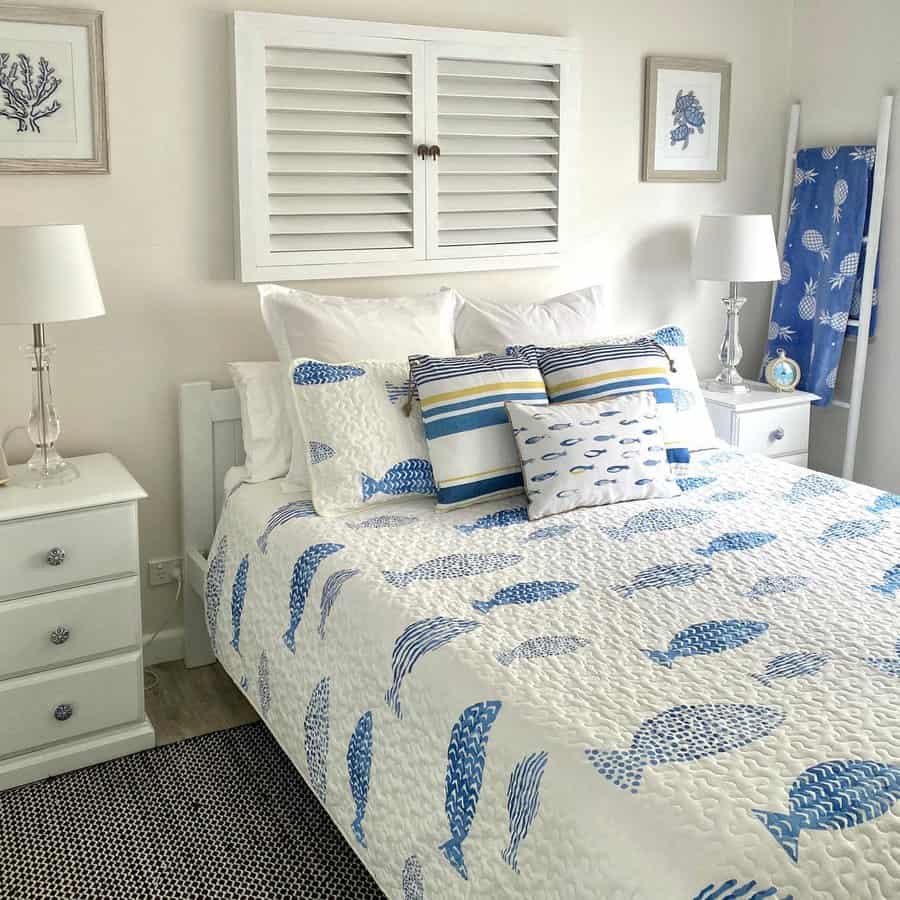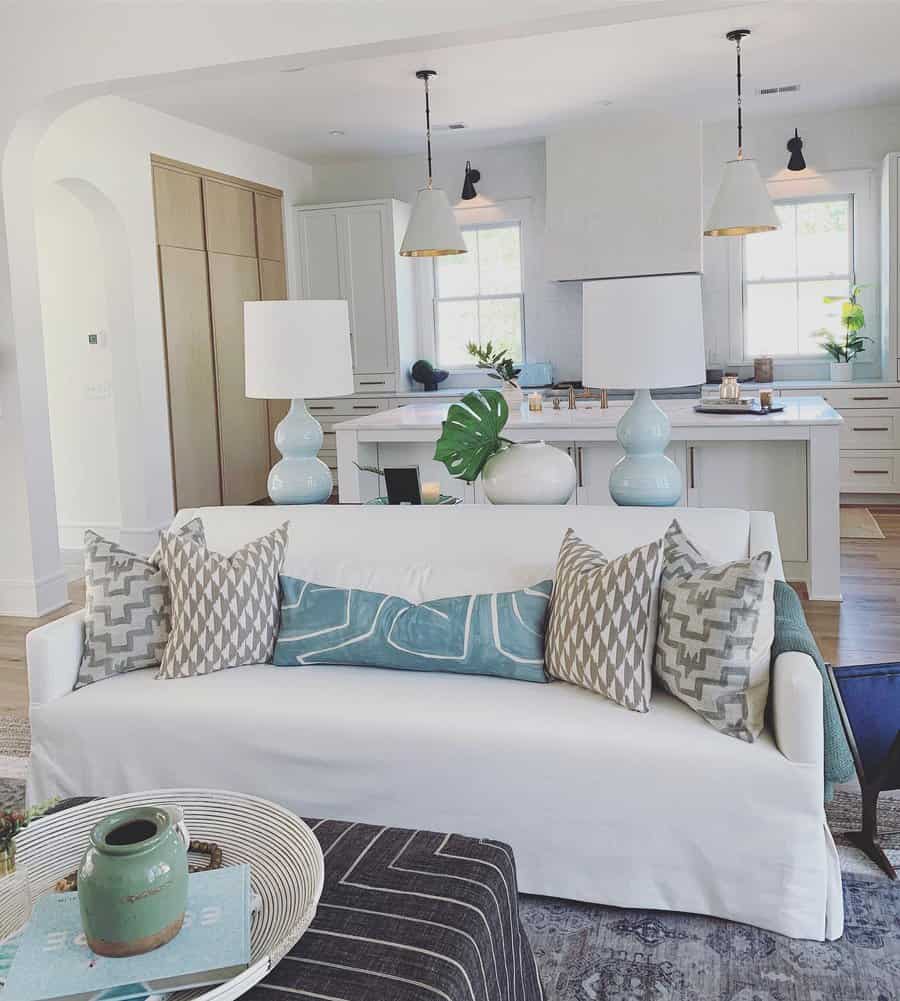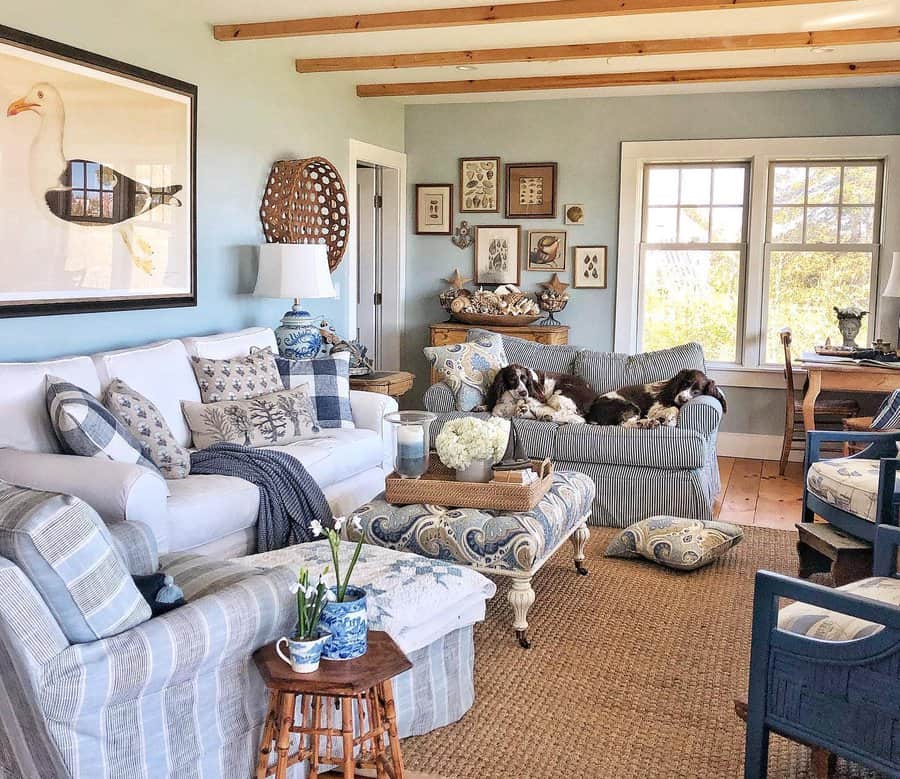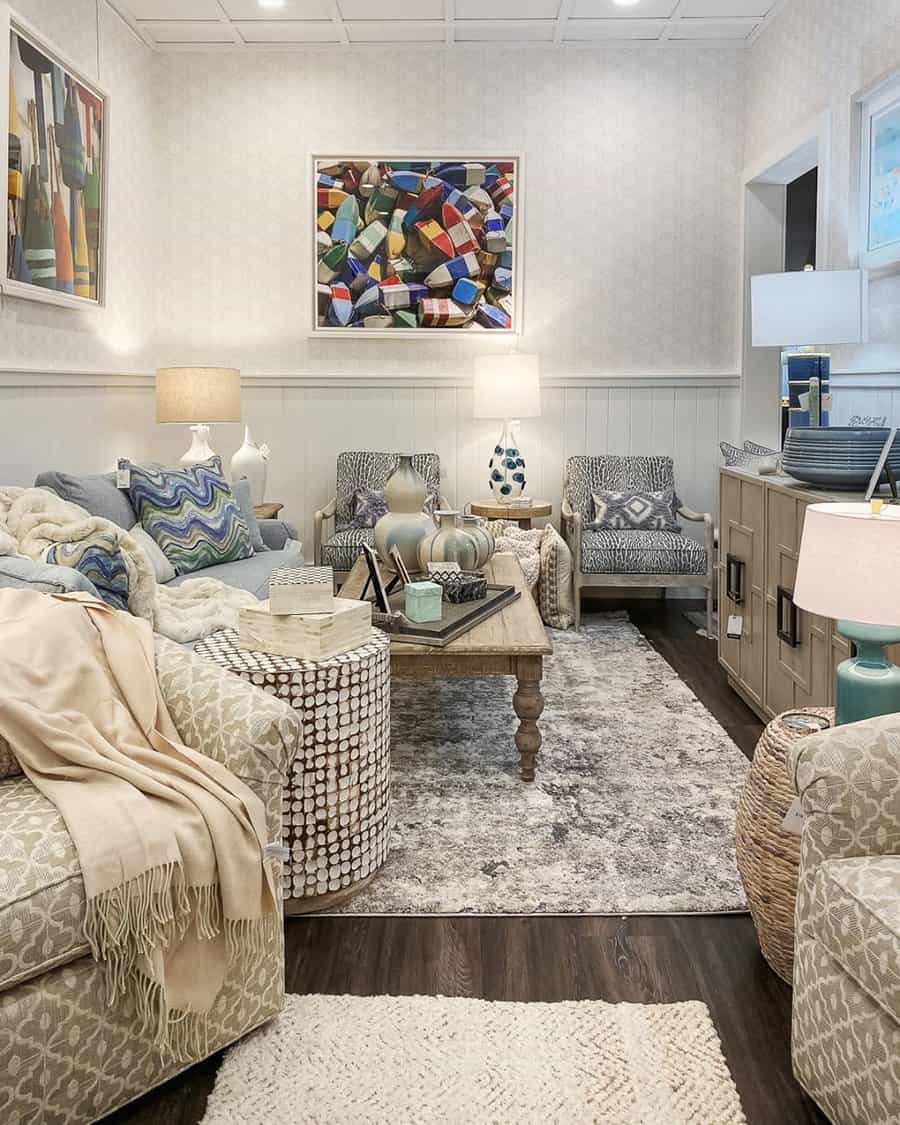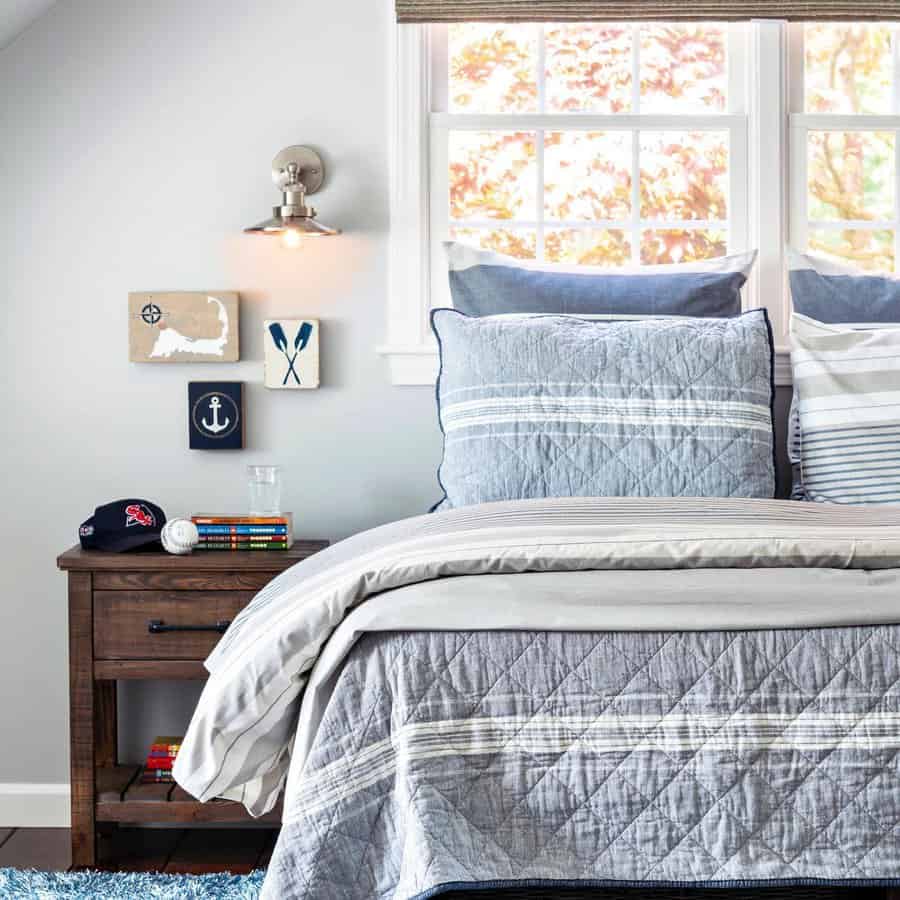 15. Make It Bright White
Coastal decor ideas don't have to be overly beach-themed. Instead of having white sand, seashells, and striped towels throughout your interior, consider all white as your go-to look! White exteriors and interiors will work with any color scheme, allowing you to explore a variety of options while still staying within the coastal aesthetic.
Plus, white tiles in the bathroom and white rugs in the living room will brighten a space up quickly. Don't forget to accessorize with light pastels or neutral colors too; this will bring subtle pops of color in without taking away from the white interior's calming vibe.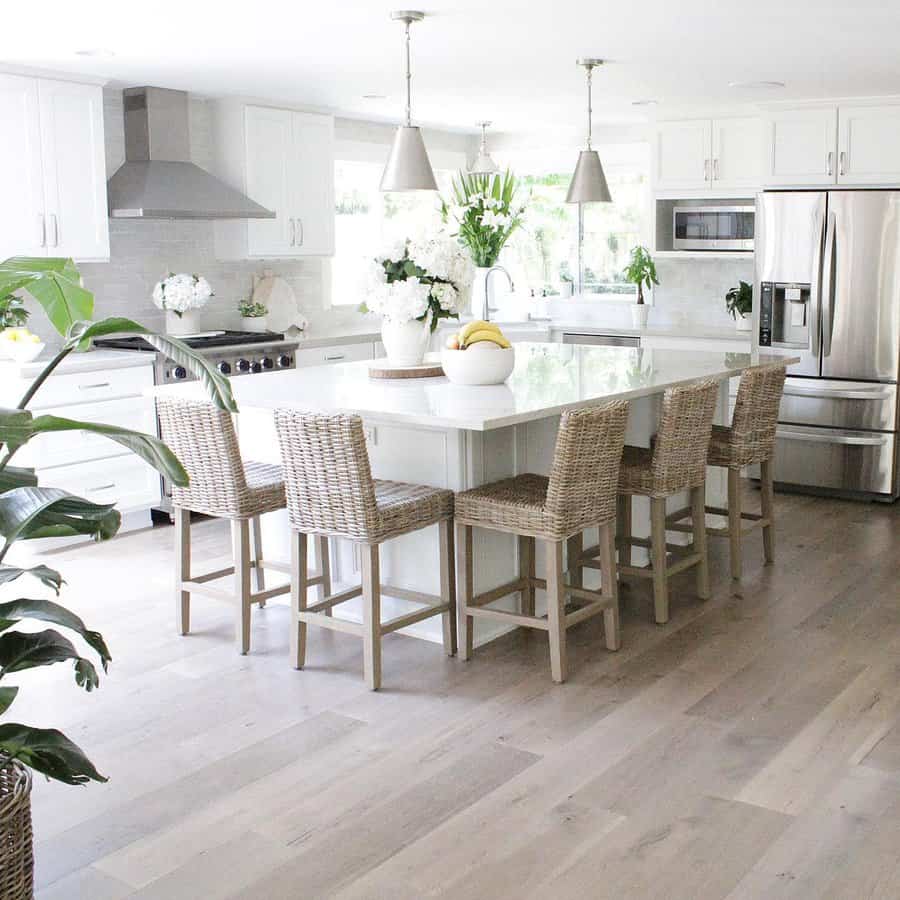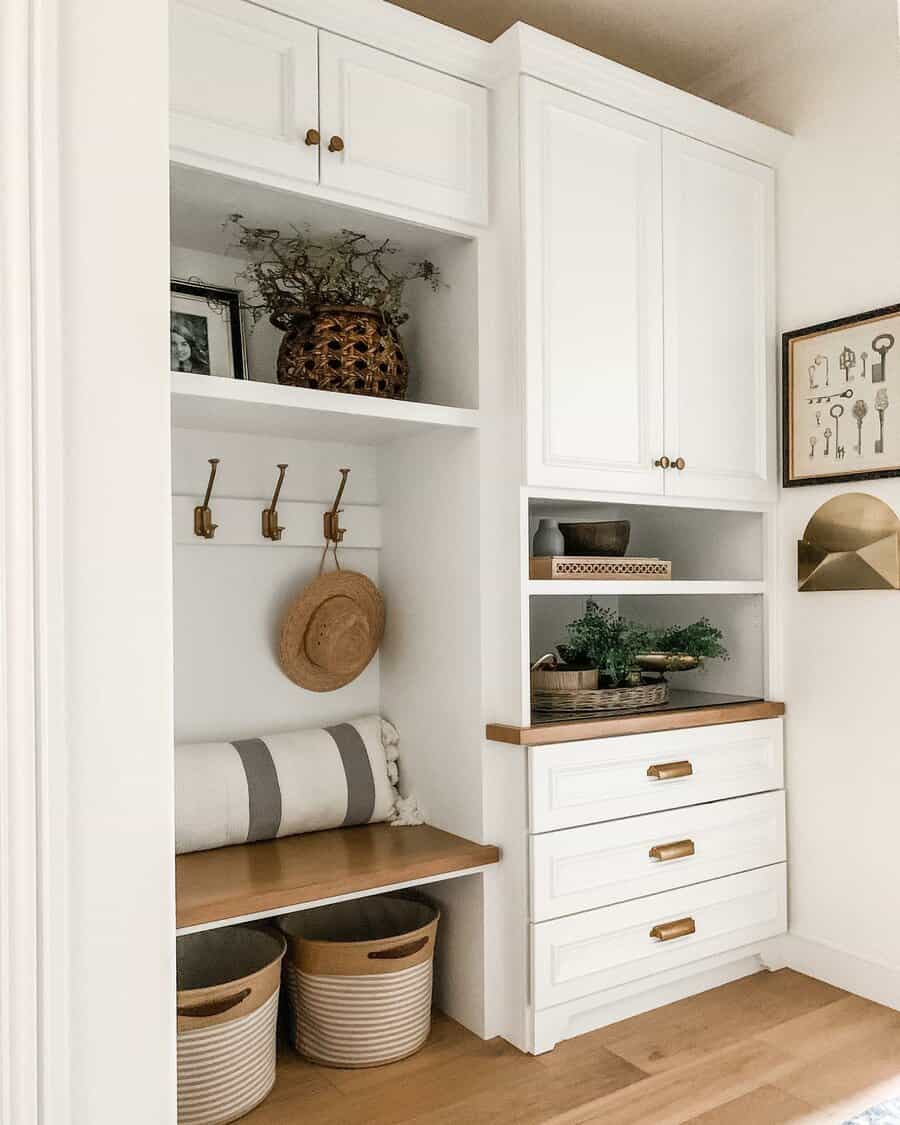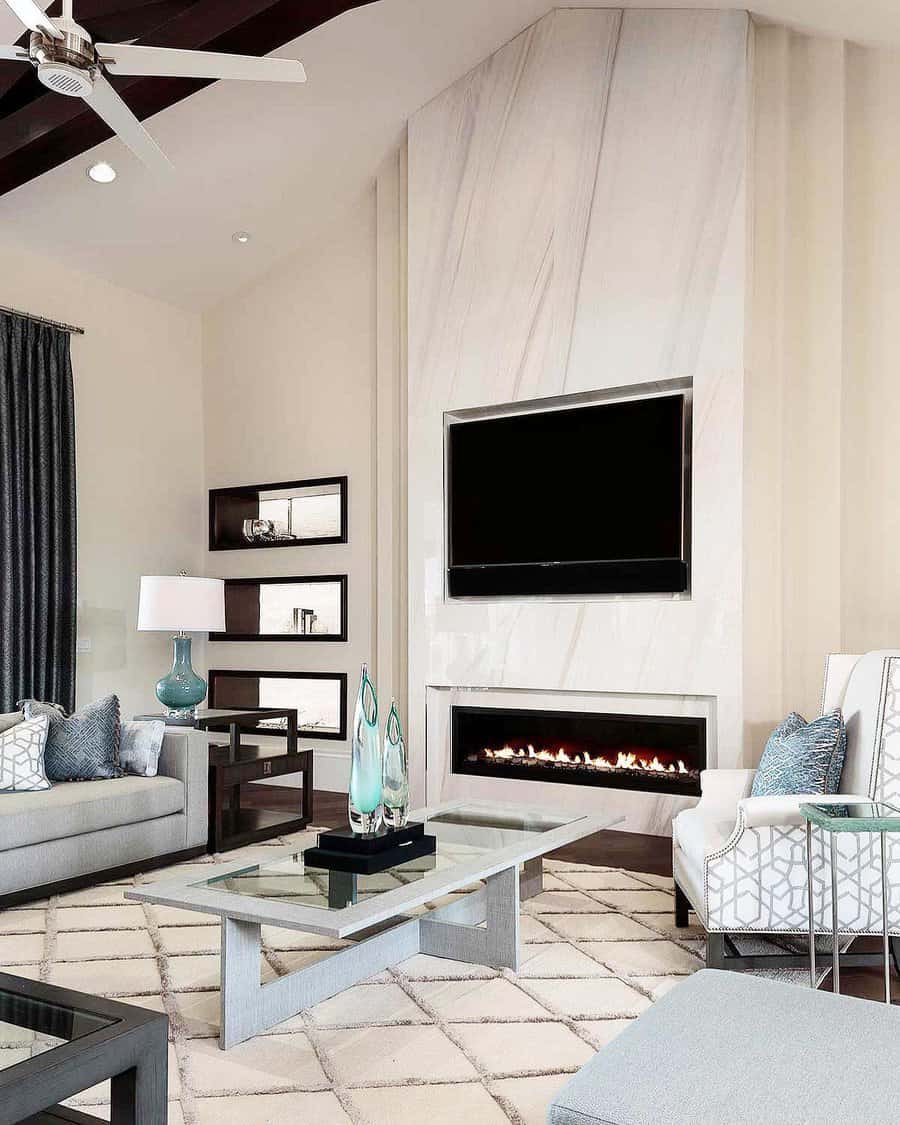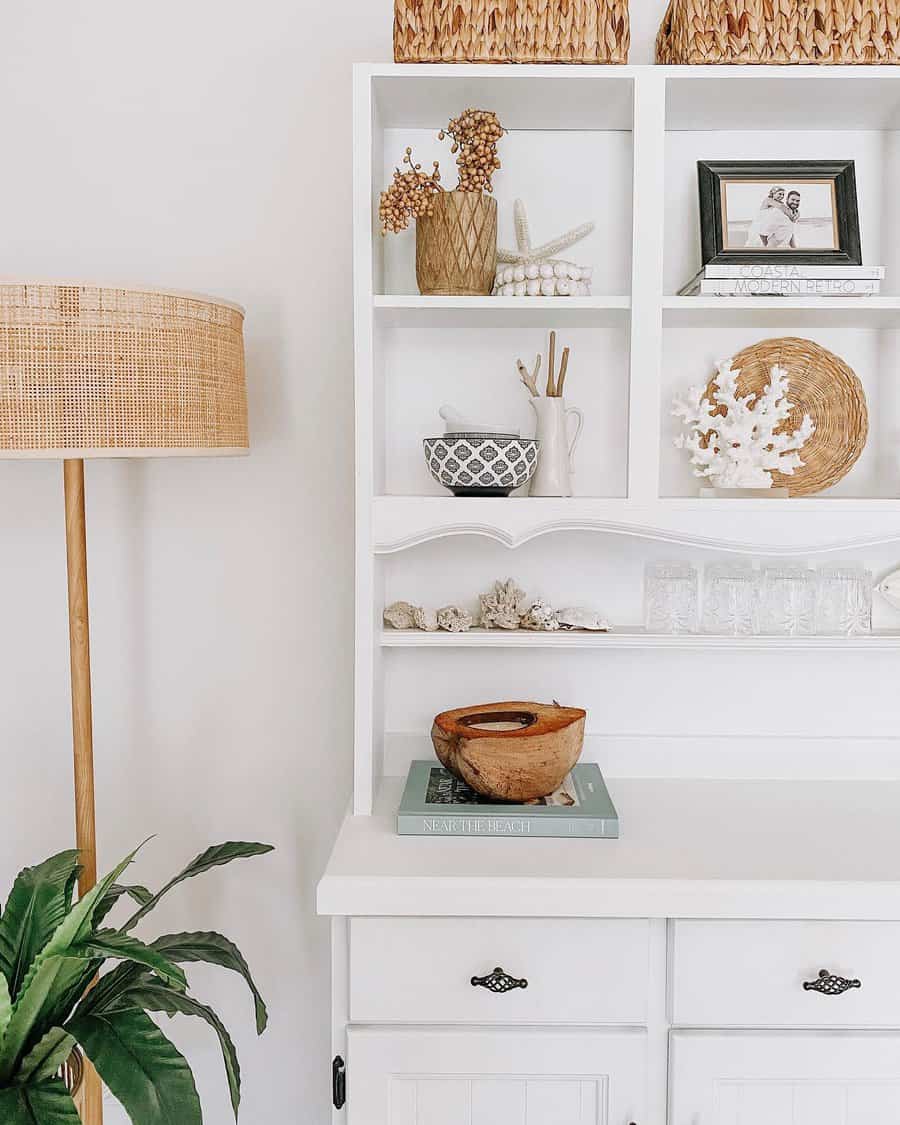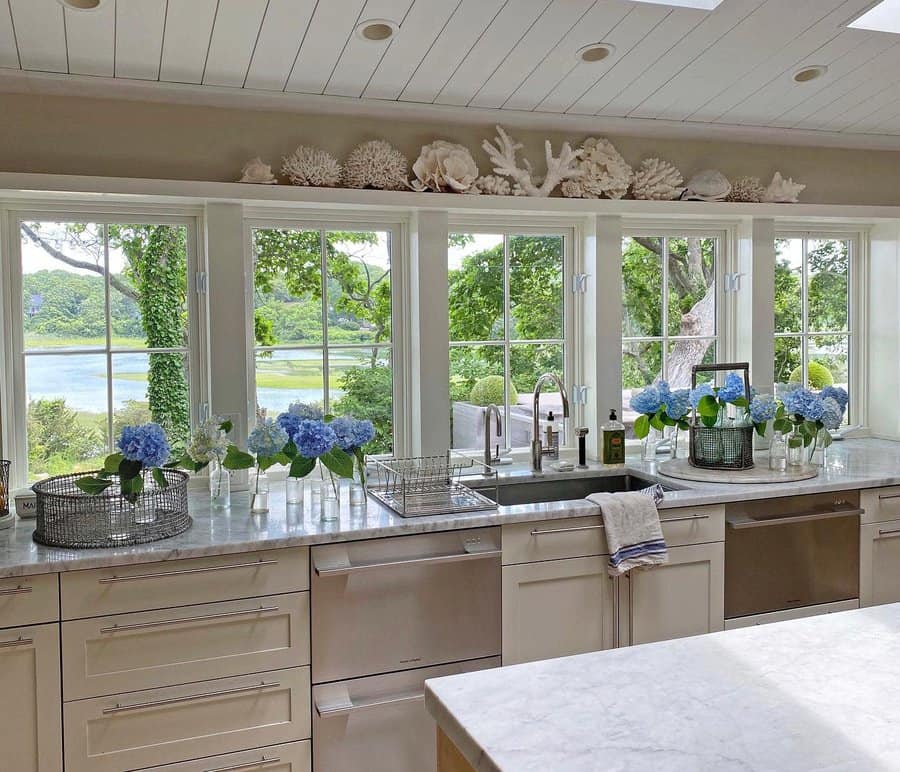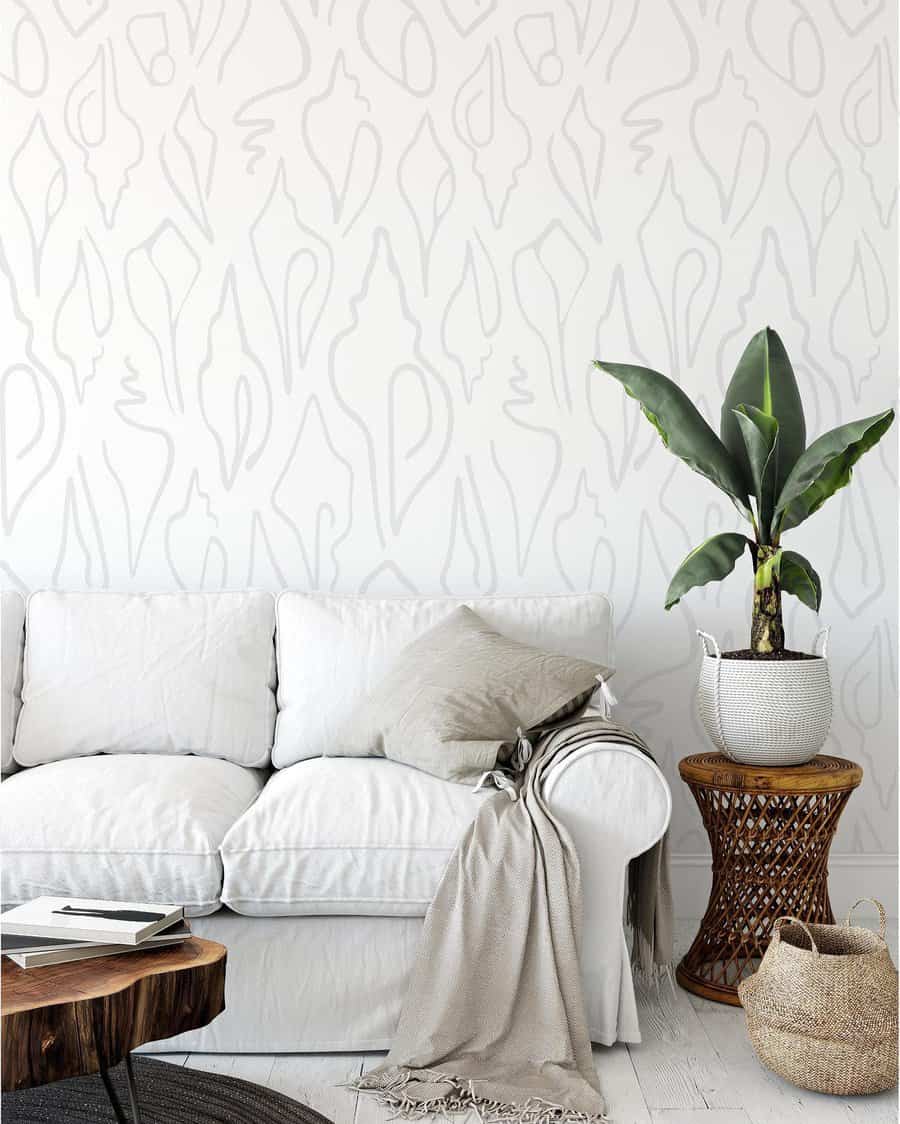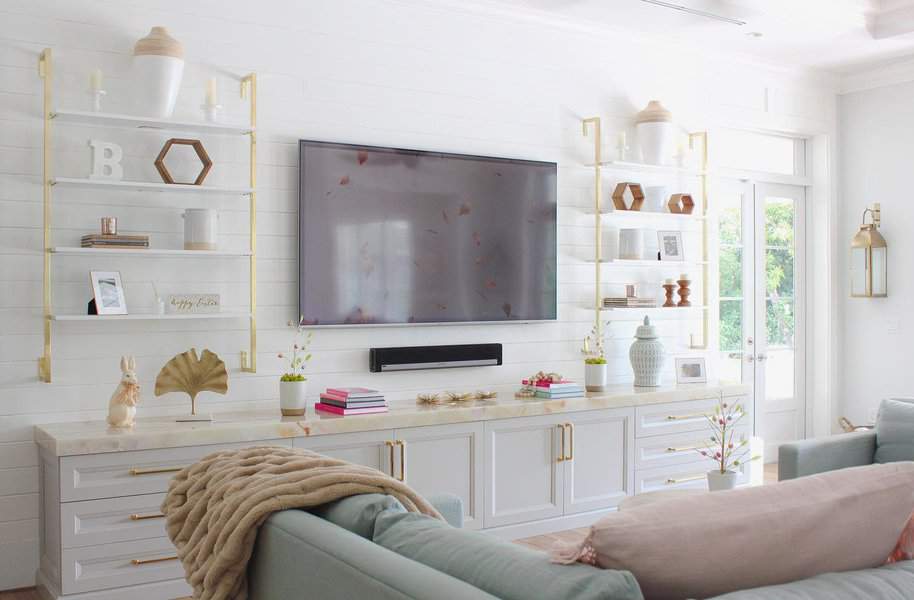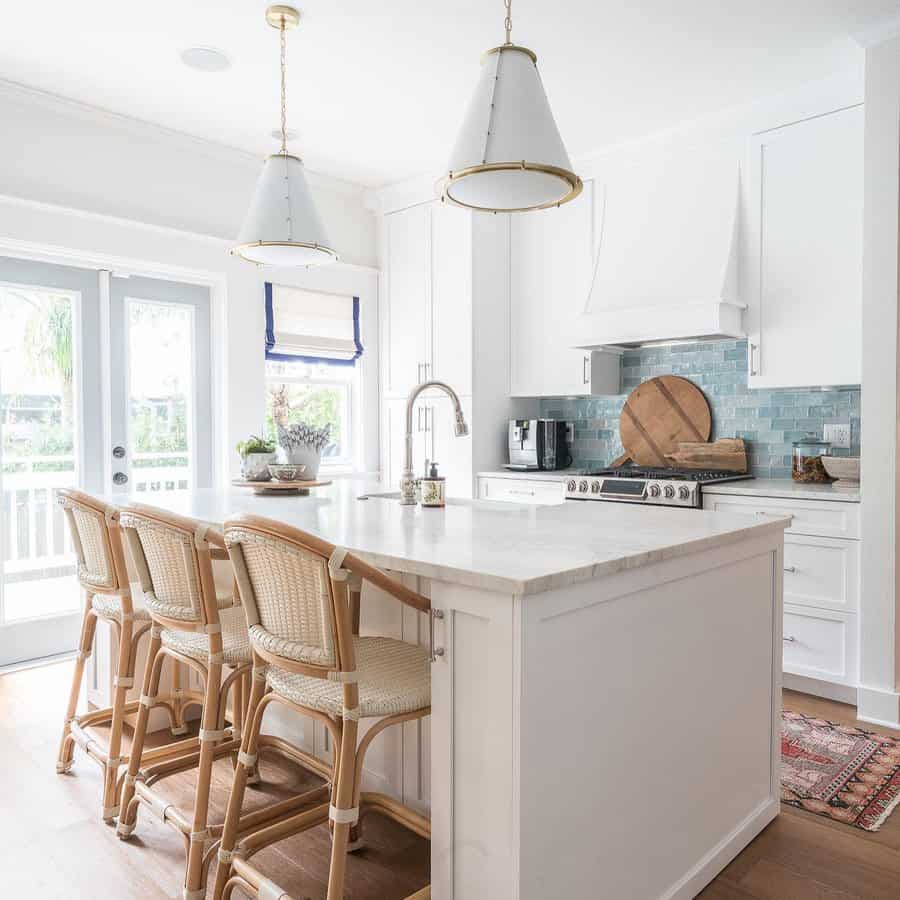 16. Opt For Light Neutrals
Coastal decor is an excellent way to brighten up a room and keep the atmosphere light and relaxed. Start by painting interior walls light neutrals, like light gray or beige. This will help bring out the more vibrant colors in your home décor.
Add details like white wood shutters, distressed wood coffee tables, decorative mirrors, or touches of blue for that classic nautical touch. Don't forget to layer your textiles with soft blue and white linens for a beautiful coastal-inspired look. With these simple ideas, you can easily create a stunning beachy escape in any living space!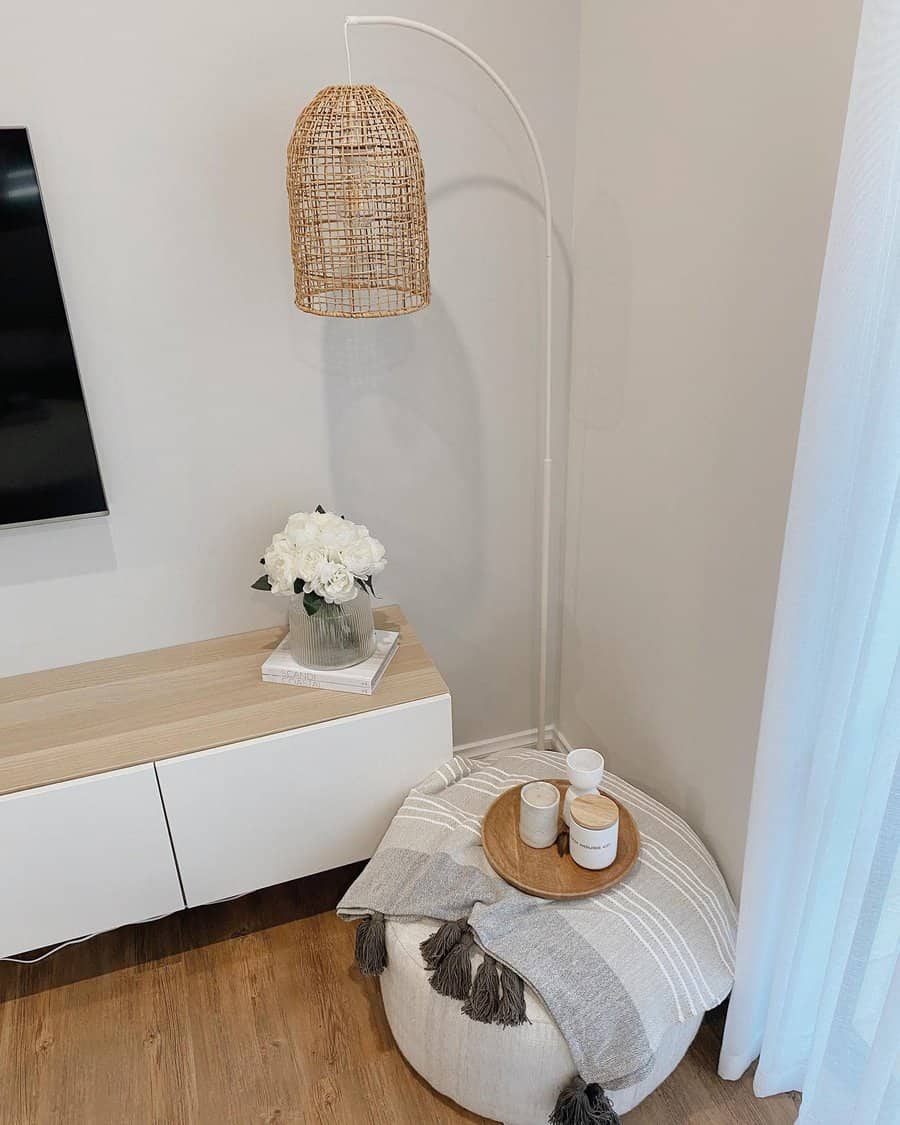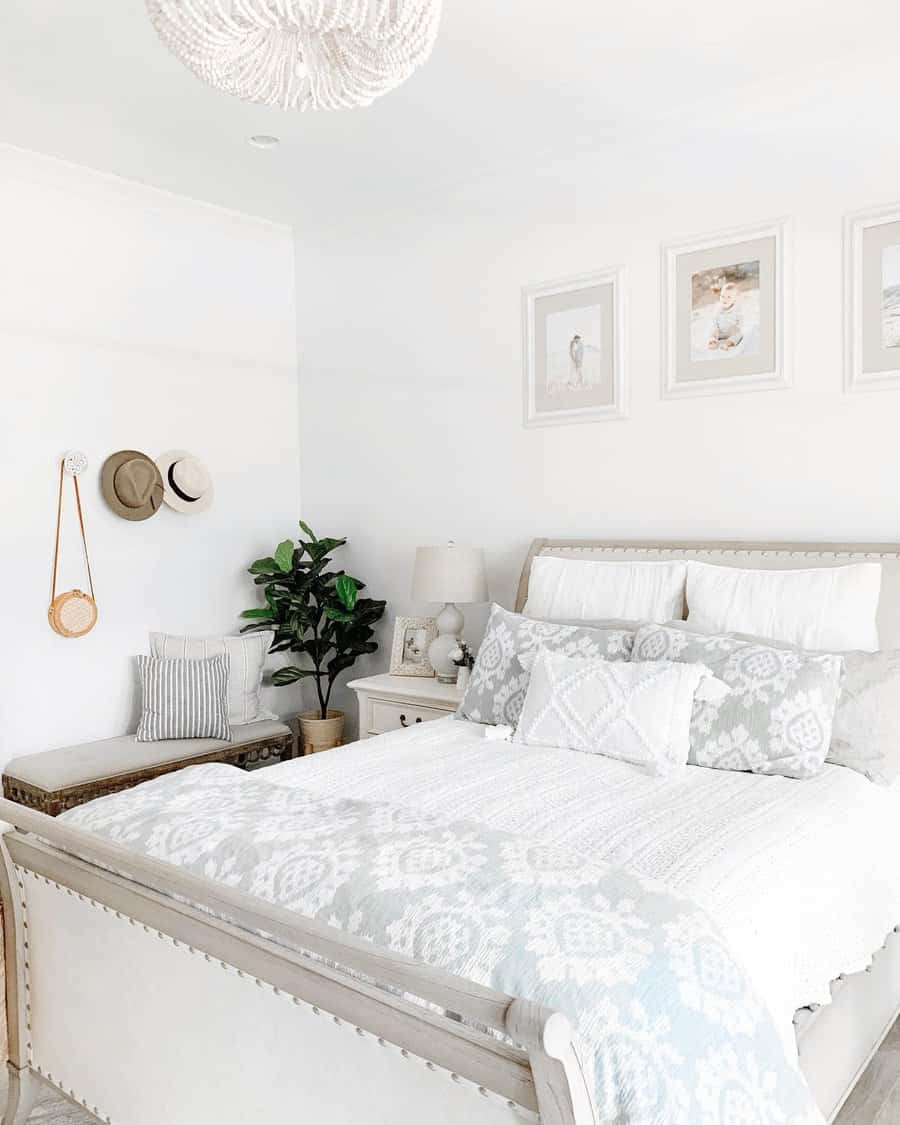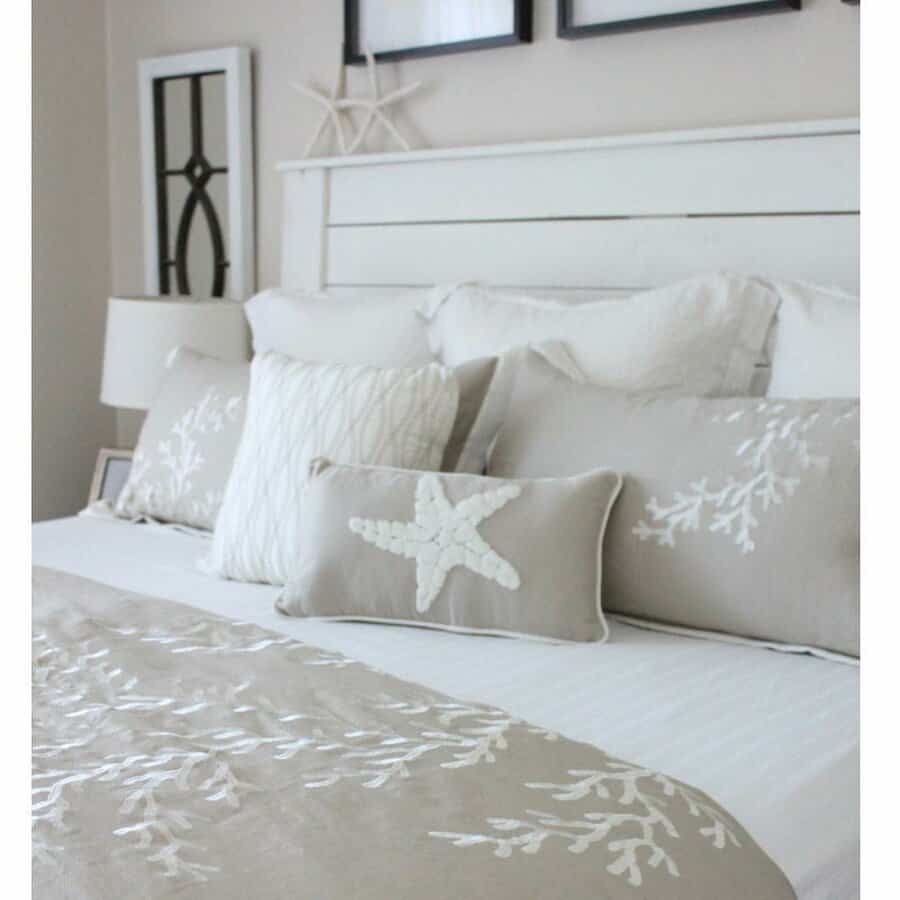 17. Add Rustic Outdoor Seating
A rustic outdoor setup can really set the tone for a beachy and coastal feel in your home. With seating made of weathered wood, a rustic and nautical vibe will be in the air! Sprinkle some fun accessories like anchors, driftwood, or shells, and don't forget to add plenty of natural lighting.
You could even hang up rope lights or rope decor to create that special coastal atmosphere you're aiming for. Whether you choose navy, teal, or pops of coral accents throughout – having the rustic outdoor seating will bring together your coastal haven.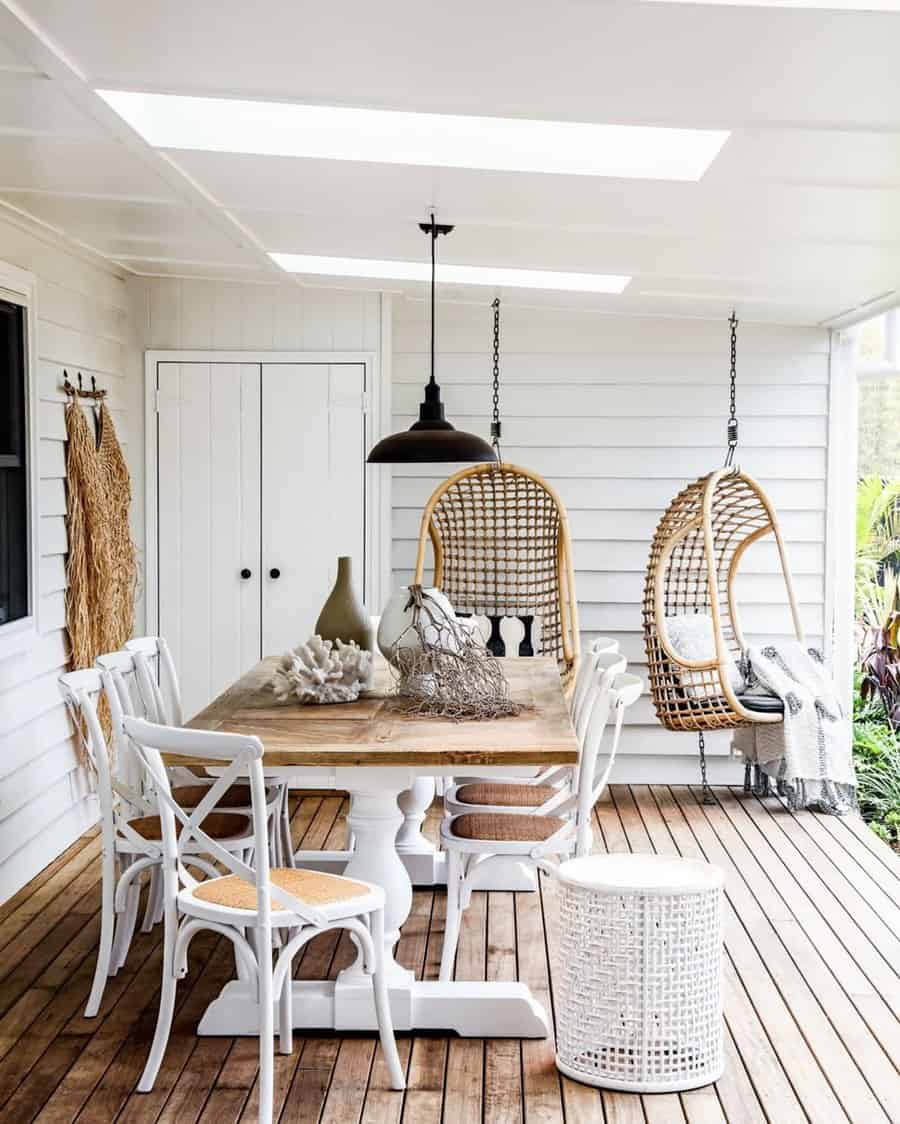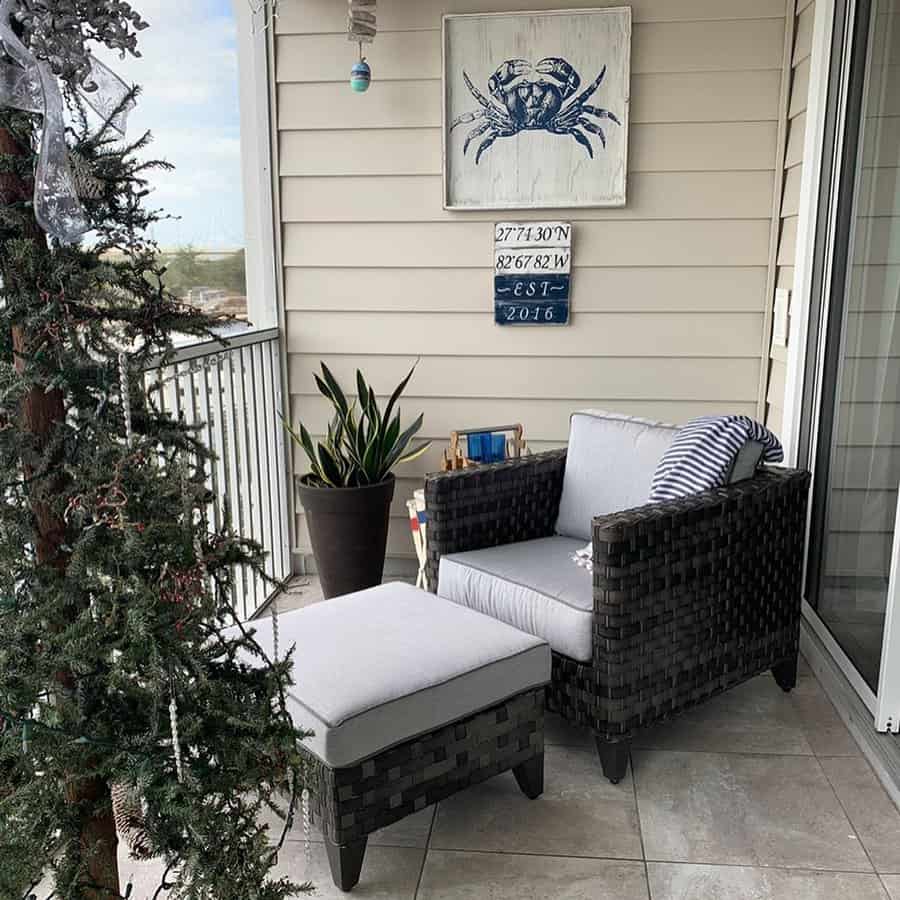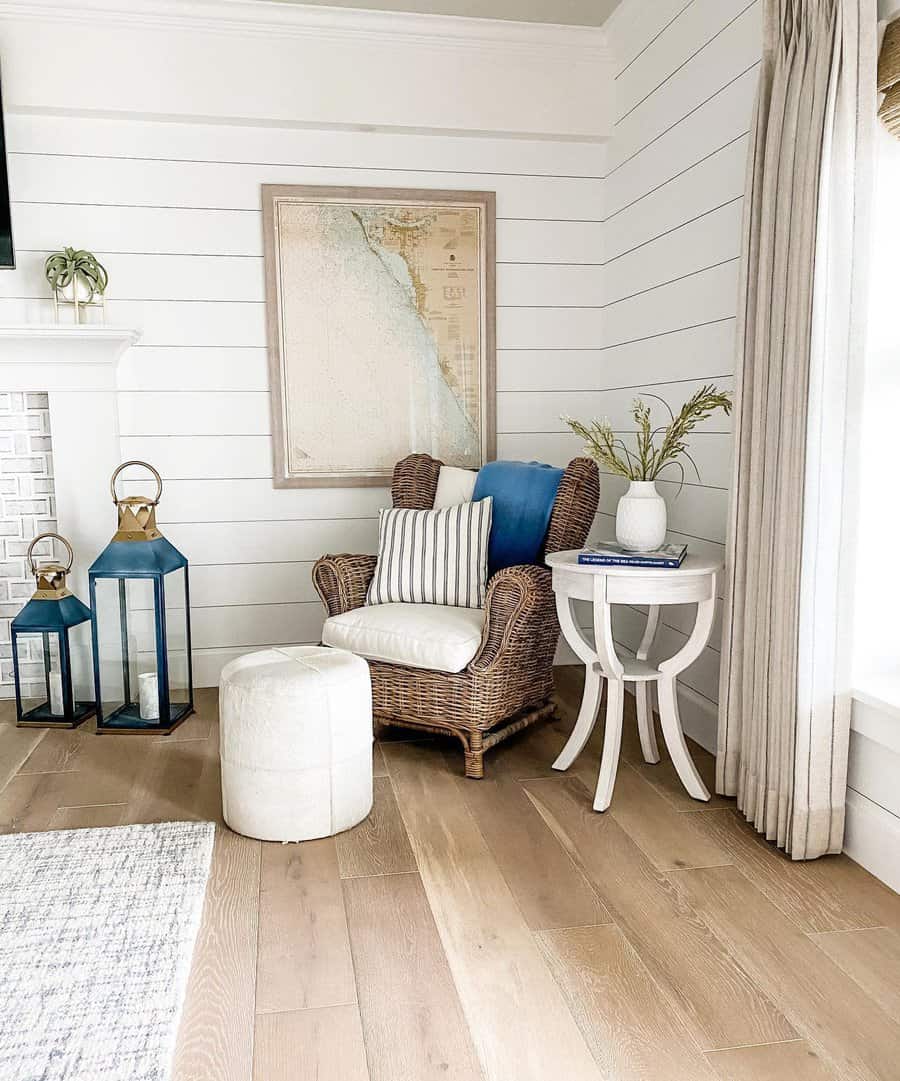 Coastal Decor Ideas
How do I make my room feel beachy?
Use the colors and materials that you would naturally find near the beach. Blues, white, and light tans are popular for the color scheme. Cedar shingles will invoke feelings of an East coast beach. While adding wicker and turquoise colors will give the room a more tropical beach feel.
What is coastal farmhouse style?
Coastal farmhouse blends the two interior design themes together. Farmhouse decor is a mix of old and new with an unassuming approach. Coastal is about embracing the water and beach lifestyle with a laid-back feel. To blend the two, place some vintage wood pieces that are more farmhouse with decorative sea glass, shells, or nautical flags.
What are some beachy colors?
Think of the colors of the water from the beach you want to emulate. This could be anything from deep blues to greys, turquoise, and even green. Then add in the colors of the sand from the beach.
This could be anything from pure white to cream, light beige, and even darker hues of taupe or even grey.
The accent color could be a bright yellow to represent the sun or a bold red to represent the umbrellas and towels that get spread out on the sand. A vibrant red and yellow are also traditional nautical colors.