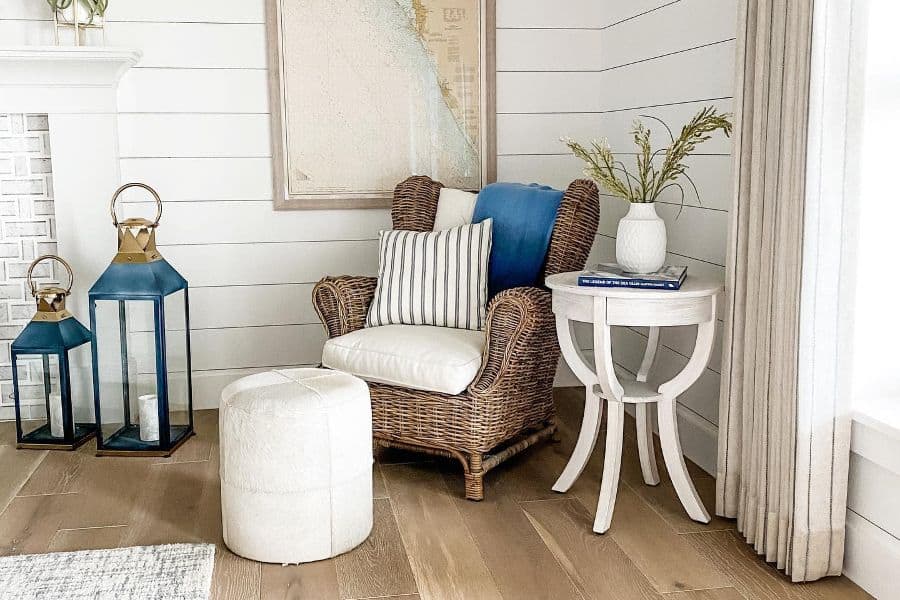 Enjoy the calming colors of the ocean no matter where your home is. Decorating with coastal living in mind will give your home a relaxing yet sophisticated feel.
Creating a coastal look is about more than just using tiki torches and Hawaiian flowers. These are tacky and cheesy.
Instead, look for coastal decor ideas that will help your home look like an elegant yet humble beach house. Sometimes, all it takes is the right color scheme and a few well-placed decor pieces to create a coastal look.
These coastal decor ideas will get you inspired to turn your home into a coastal getaway.
1. Bathroom
It's easy to create a beachy vibe into your bathroom when you're already surrounded by water. Create a mini beach oasis in your bathroom with clean white subway tile on the walls and a deep ocean blue vanity.
Or you could embrace the colors of the ocean and create a turquoise shower with handmade fish scale tiles.
The colors of the tile are random and varied, just like the colors of the water. Use pebbles or stones to create a natural floor for your shower.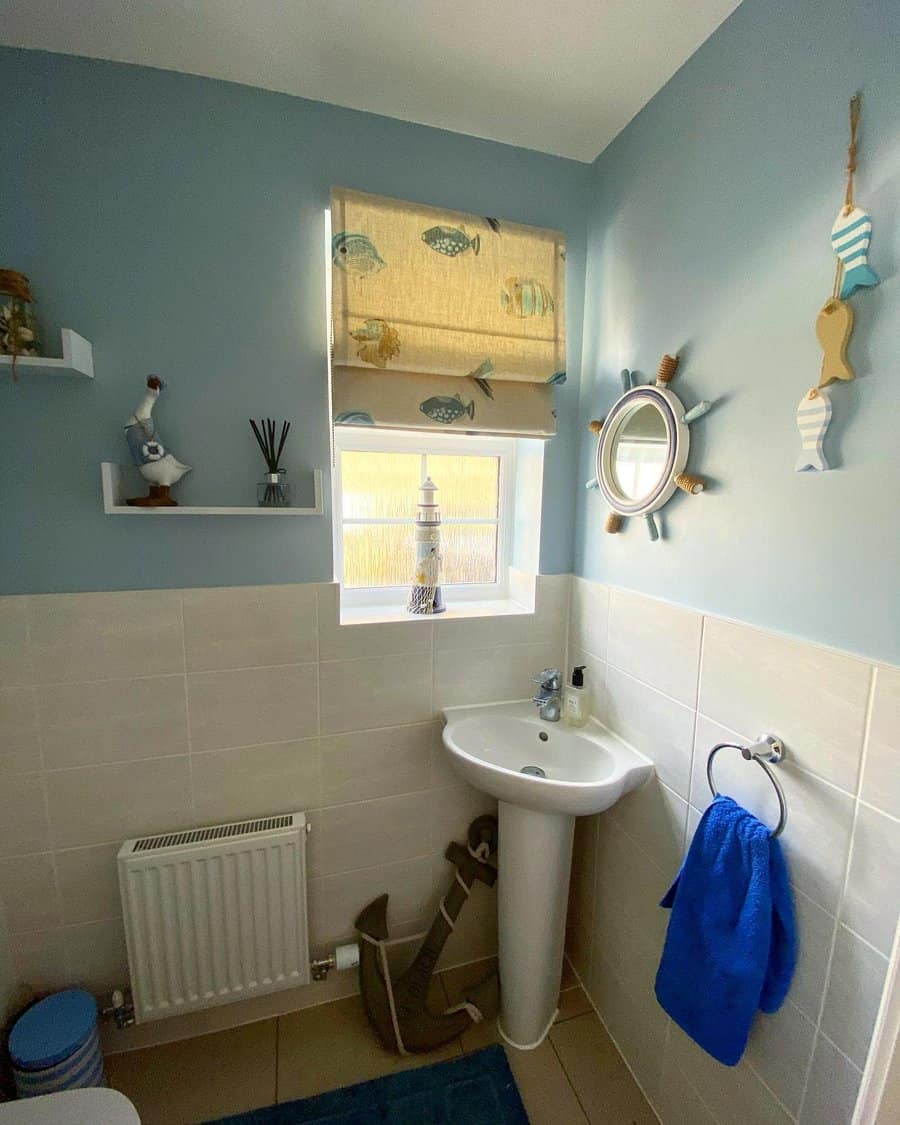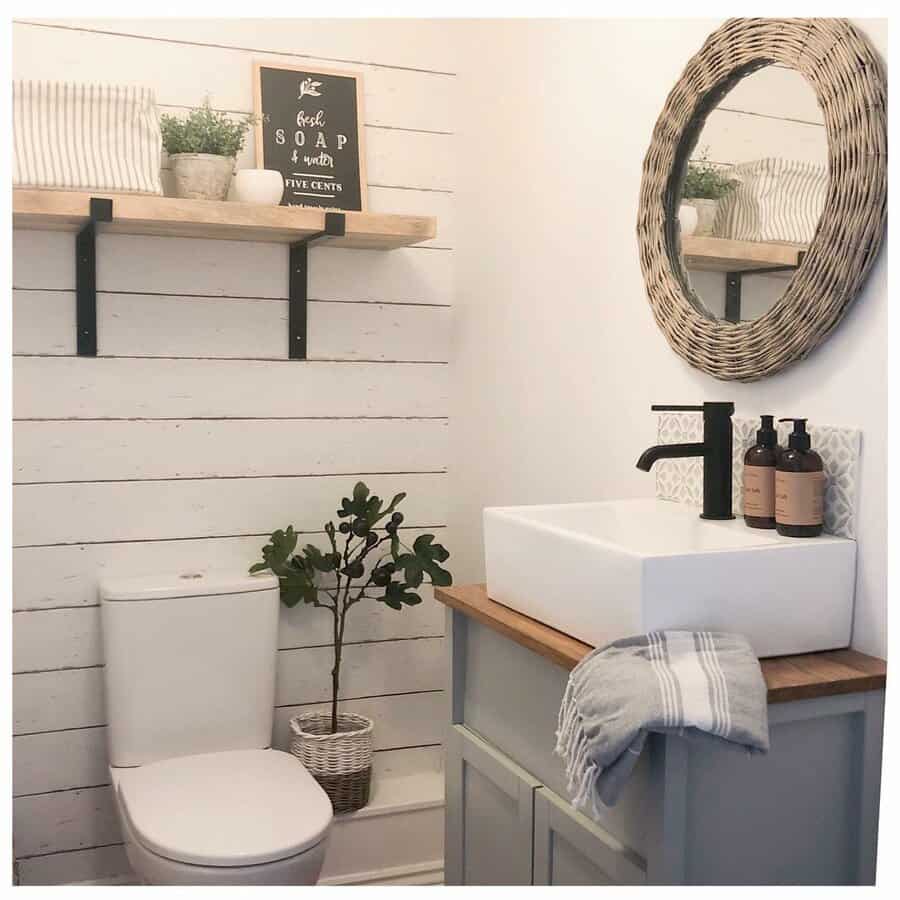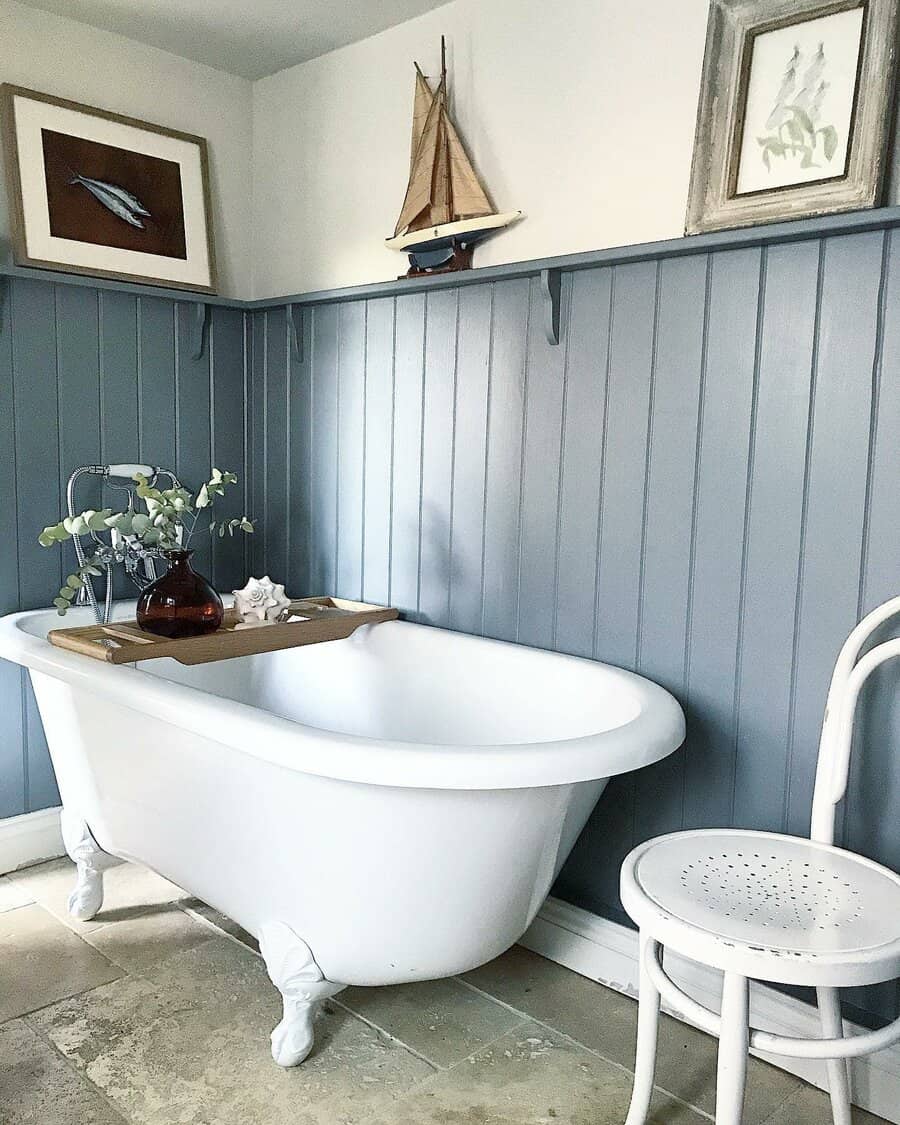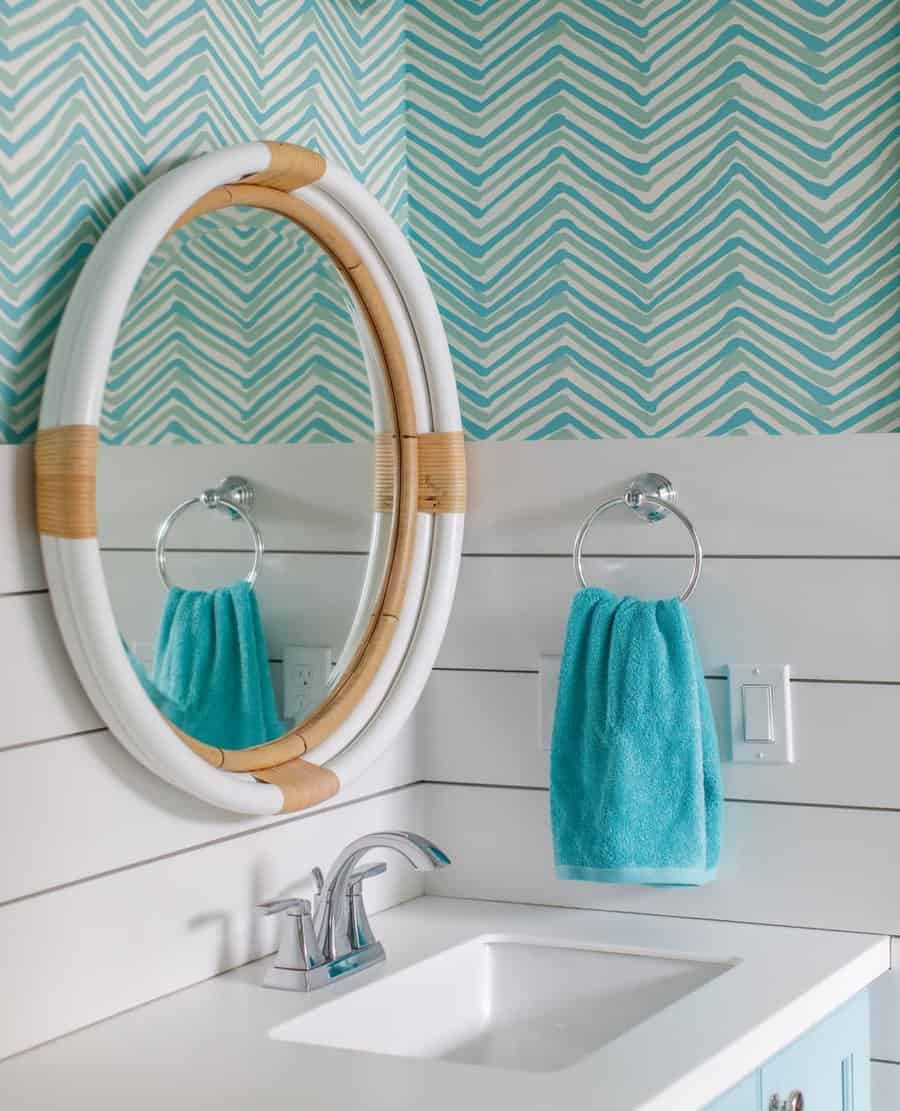 Use beach theme decor to create a tropical feel in your bathroom. You could hang photos, paintings, or pressings of tropical flowers and leaves. Wrap nautical rope around the vanity mirror for a subtle nautical touch.
2. Bedroom
Turn your personal space in a coastal bedroom with aged white shiplap on the wall behind your headboard. Start your beach theme with a new headboard and bed frame.
A woven rattan, wicker, or cane headboard will create a coastal feel. These are all good for adding natural materials and texture to your bedroom.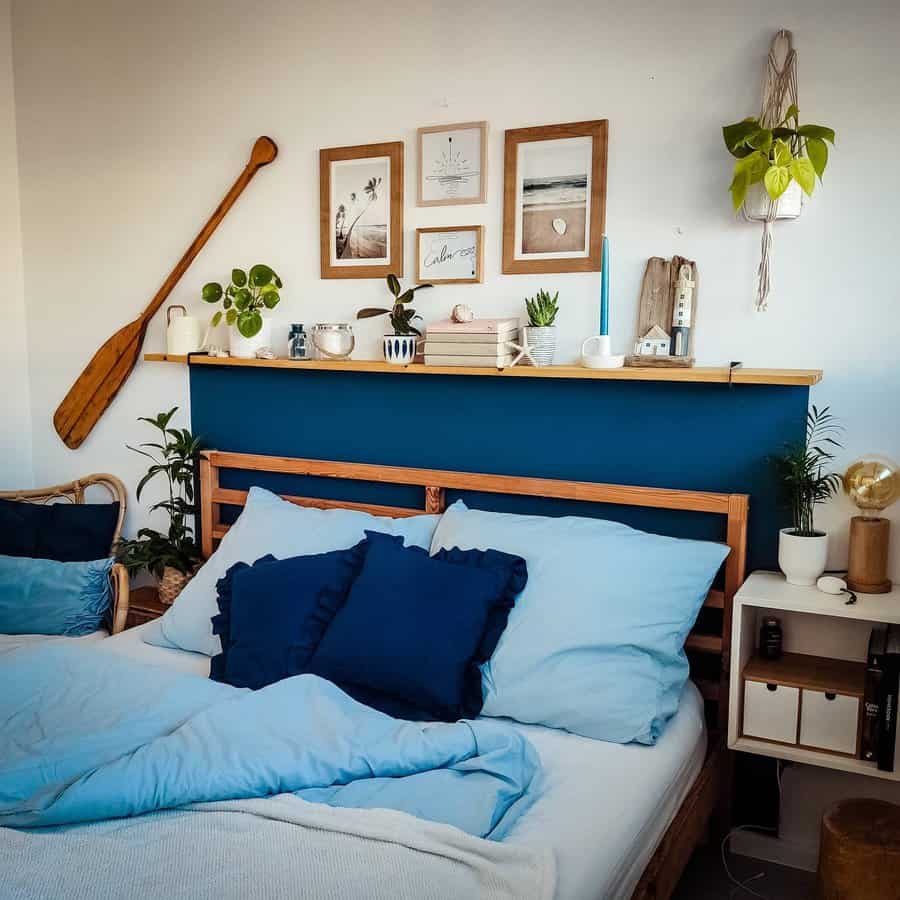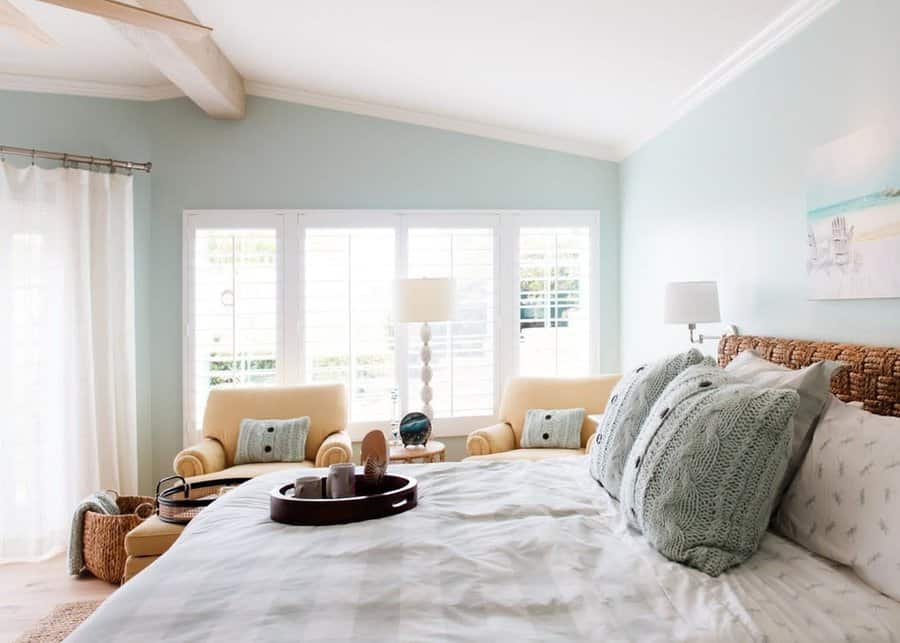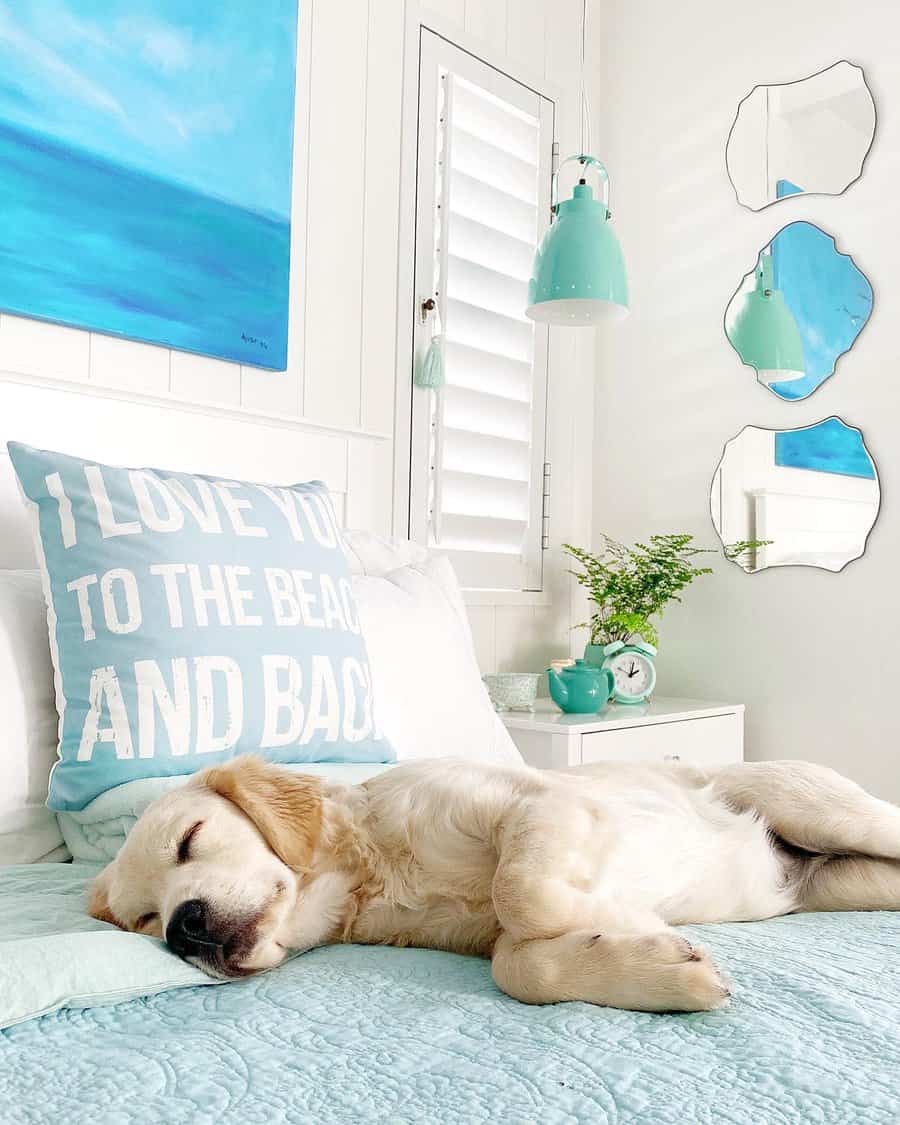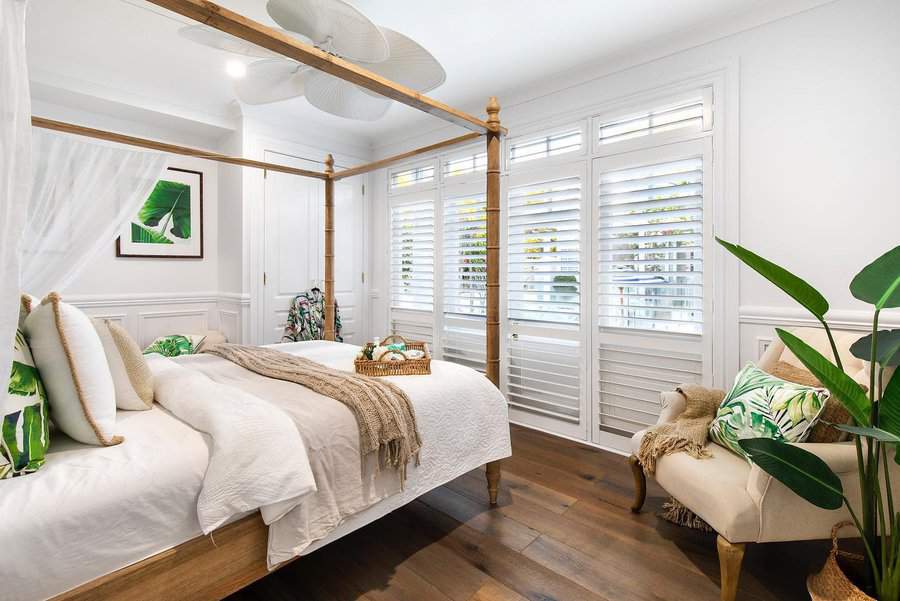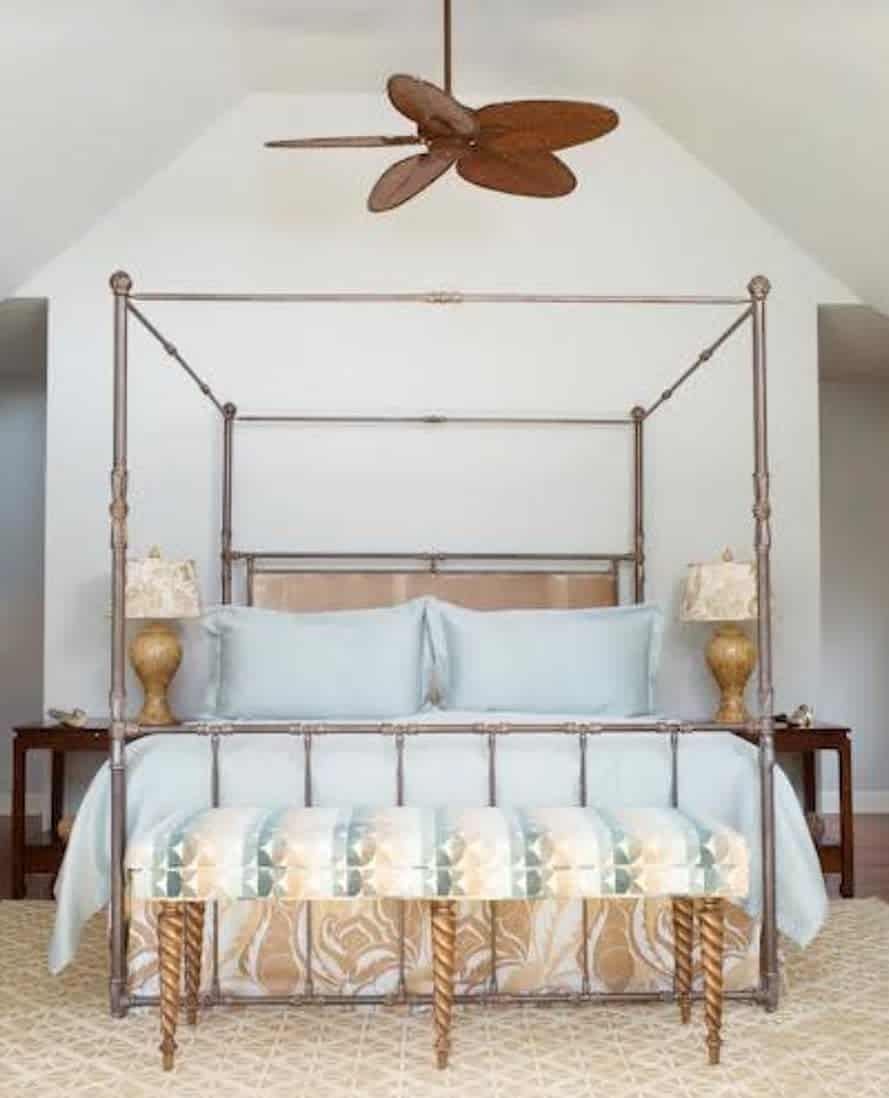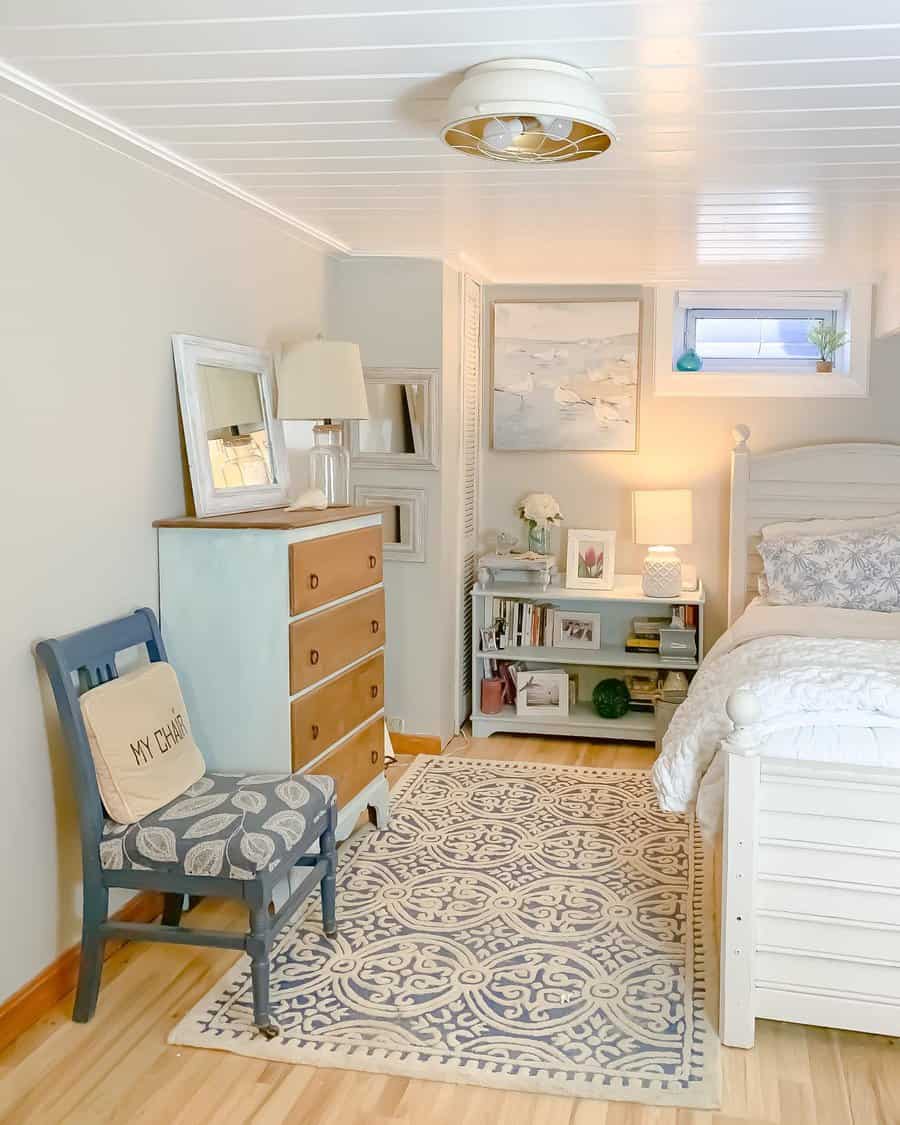 For a classier feel, consider a beige upholstered headboard. A tufted look will elevate the feel of your coastal bedroom.
Then dress the bed with a bold patterned comforter that's a vibrant blue and crisp white. It doesn't necessarily have to be a nautical pattern, but it would reinforce the theme.
3. Blue Accent
The easiest way to add blue to your coastal is with an accent wall. However, this isn't the only place you can add blue to the room.
Do more than just choose a blue paint color. Use the blue in your color palette throughout the rest of the room.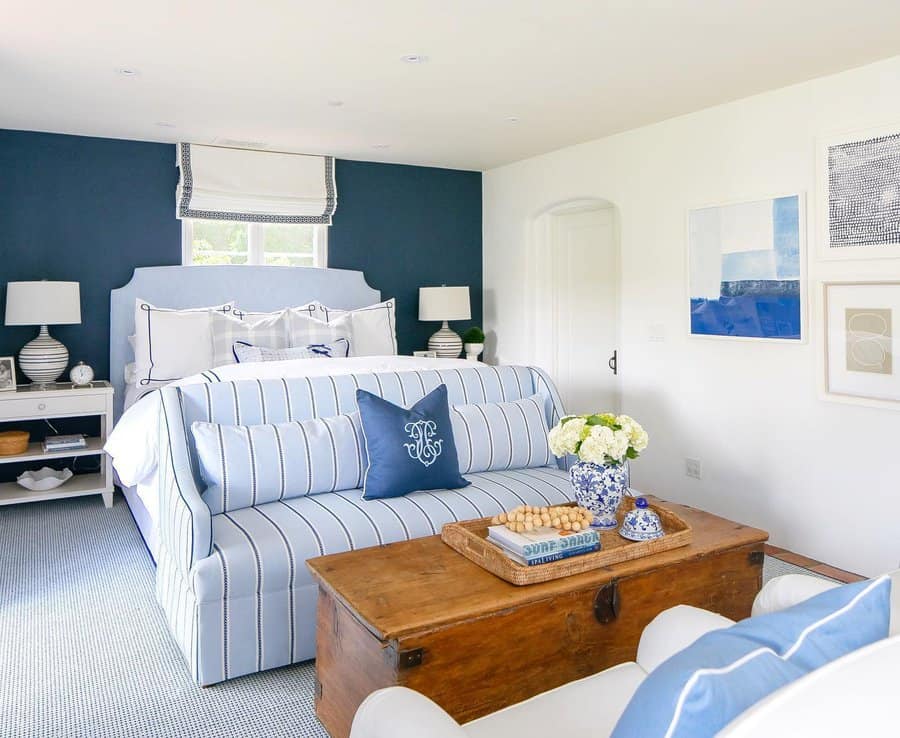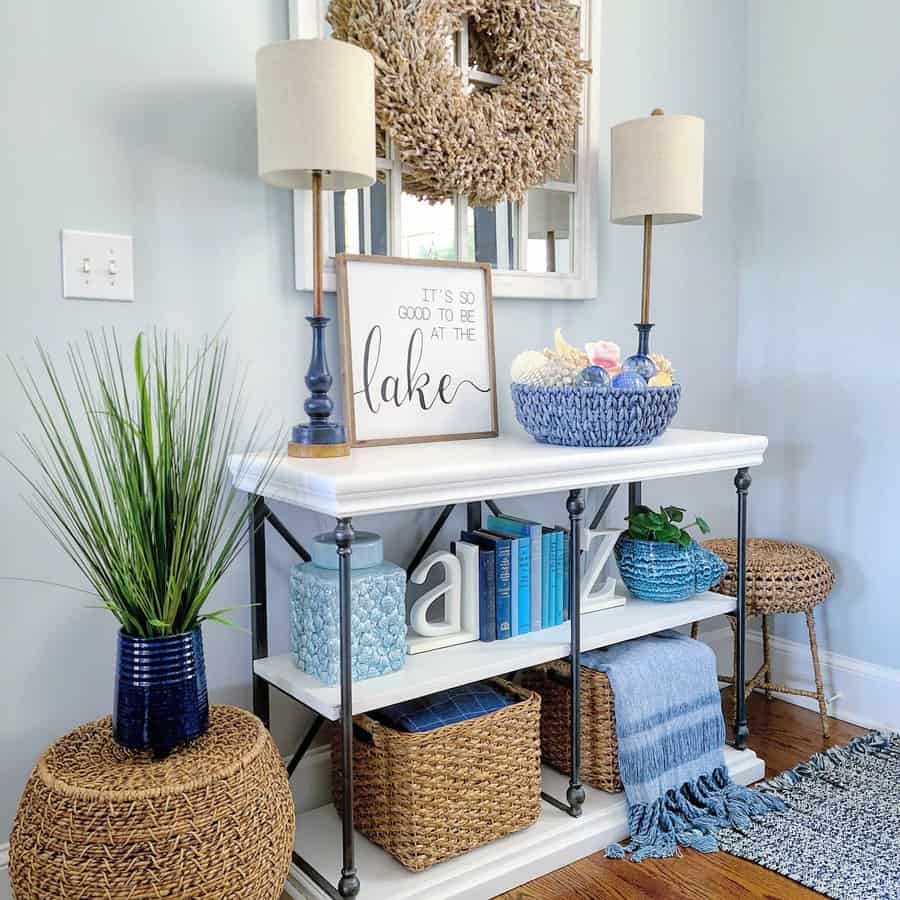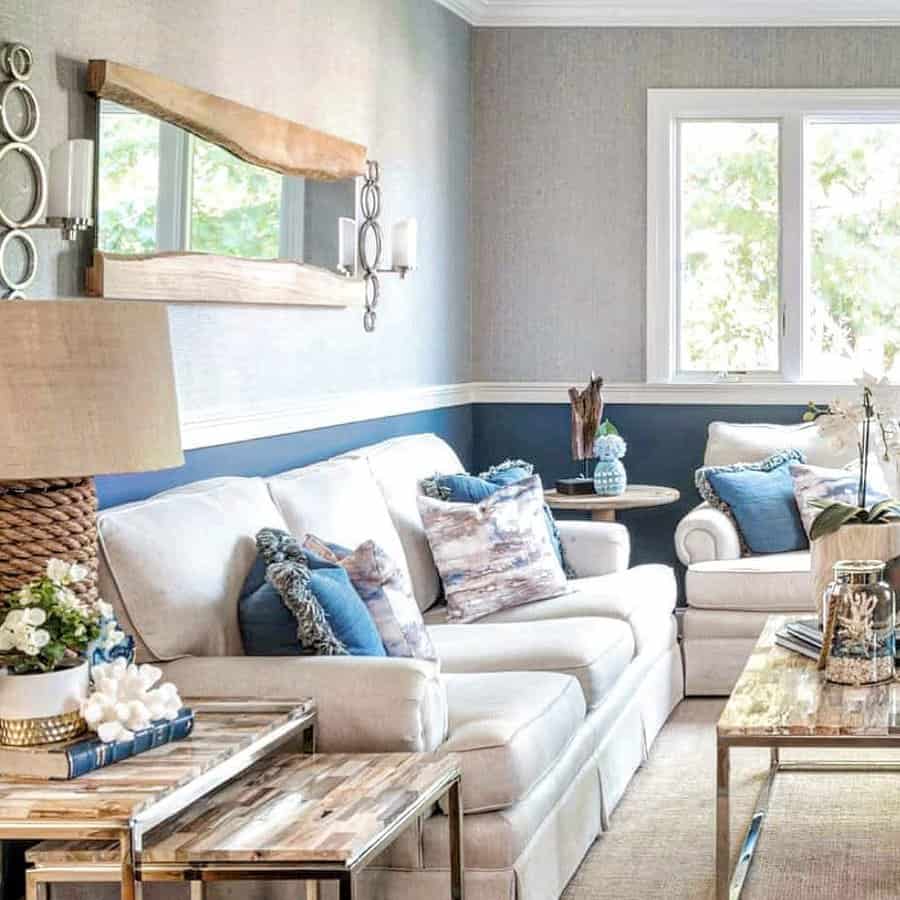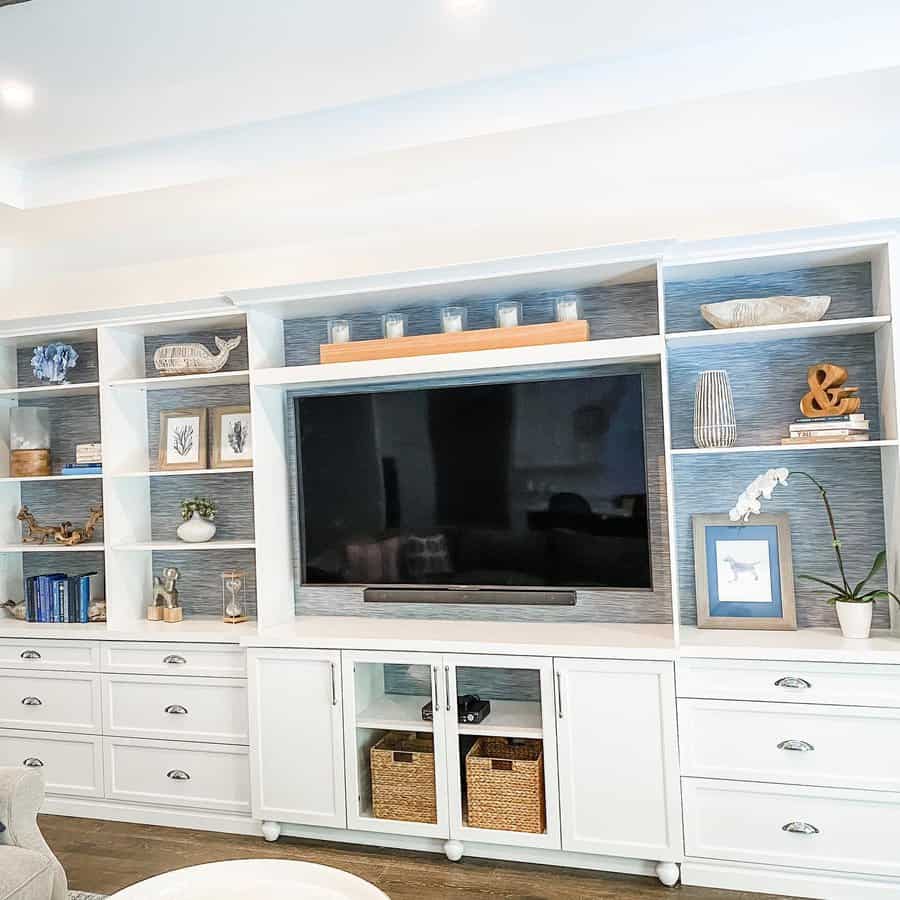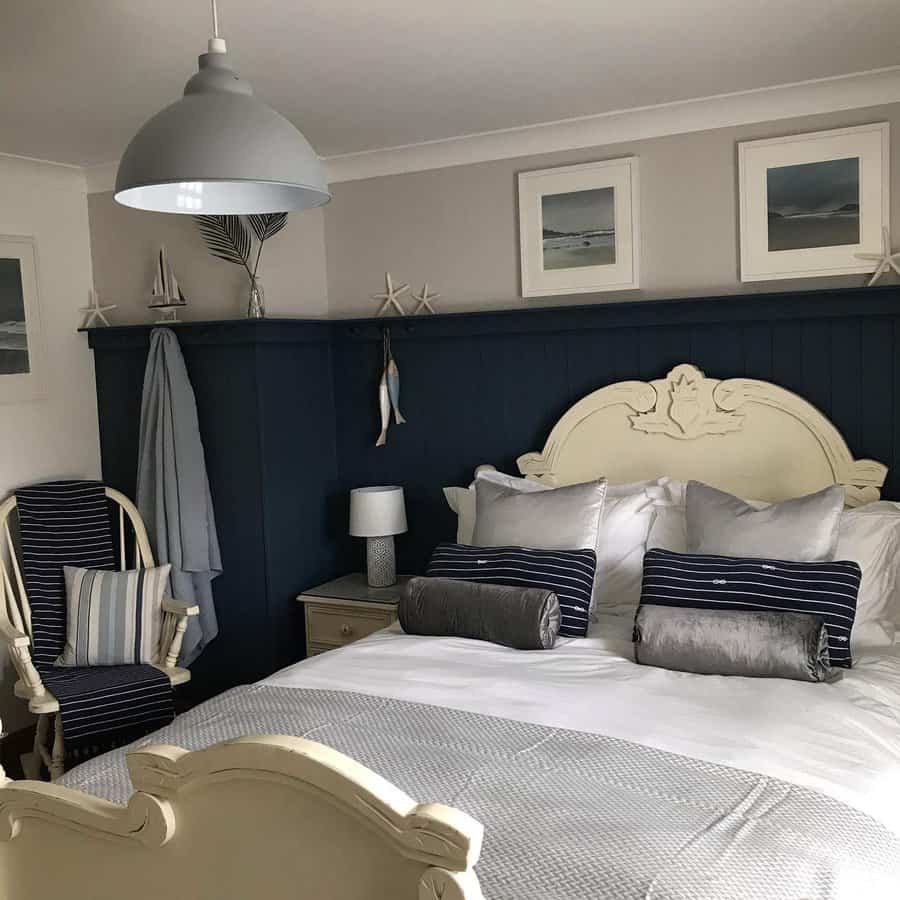 You could have an area rug that uses blue in the pattern. Or you could have accent pillows on the seating that feature blue. Don't be afraid to use blue in unexpected places.
The chandelier you choose could have blue glass. Or you could have a decorative plant with blue flowers. You could add an African Violet, Hyacinth, or Blue Glow.
4. Coastal Boho
The coastal and bohemian decor blend well together. Rattan furniture that you would use in your bohemian room will also look good in your coastal room.
You could use similar wall decor for both rooms, which makes decorating your coastal boho room easy.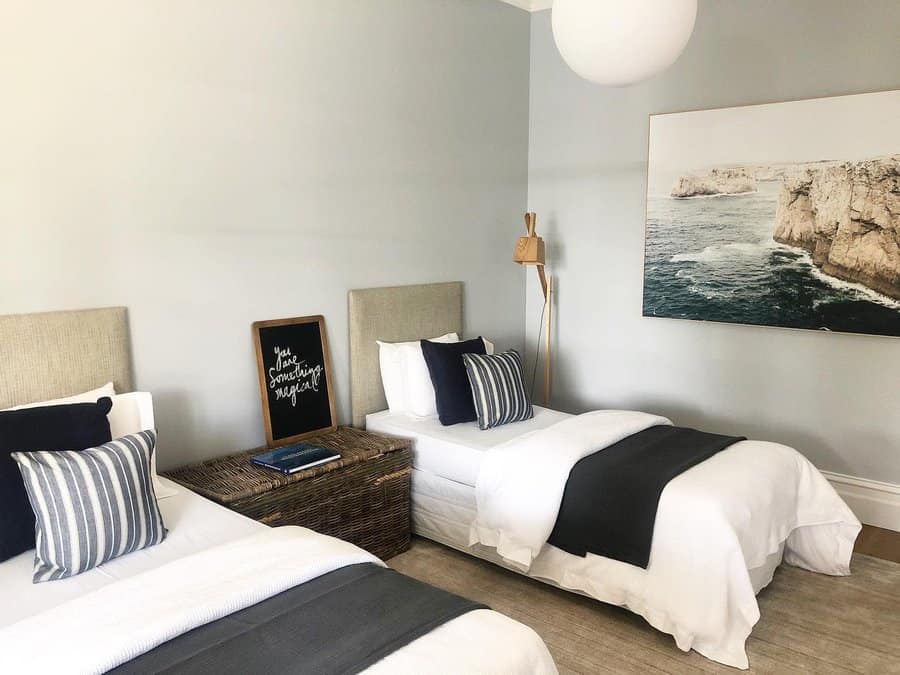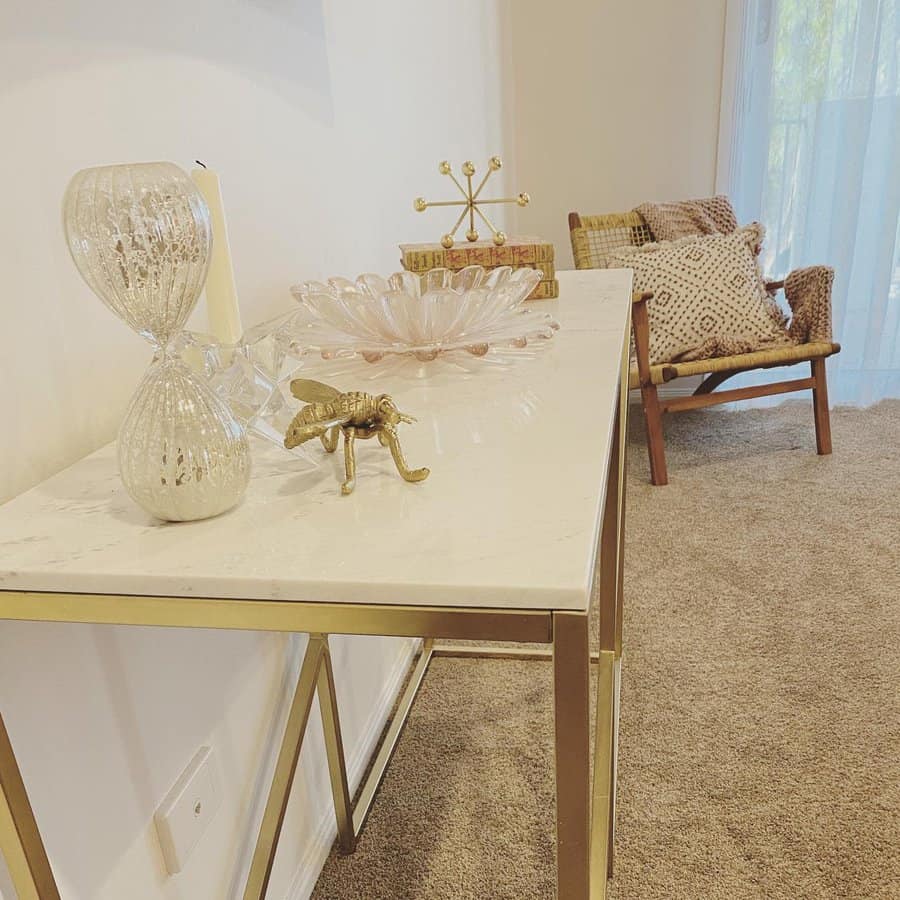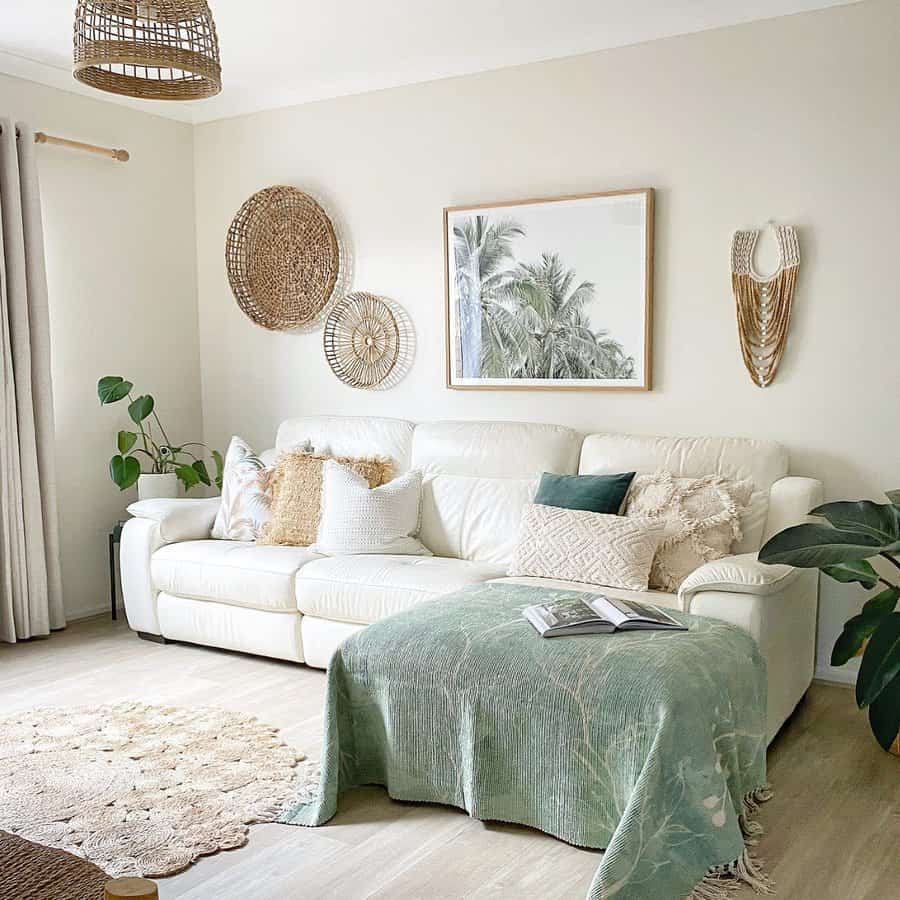 Look for handmade pieces and use either a coastal color scheme or have elements that are reminiscent of the water.
Perhaps it's a pattern that mimics waves. Or it could be a macrame wall hanging that looks like an ocean sunset.
5. Dining Room
Create a nautical theme dining room by replacing the standard fixtures and decor with coastal decorations.
The interior design of the room could be reminiscent of a ship. Mount shiplap on the walls. Use polished brass fixtures.
You could even use elements that are taken directly from a ship for an authentic interior design.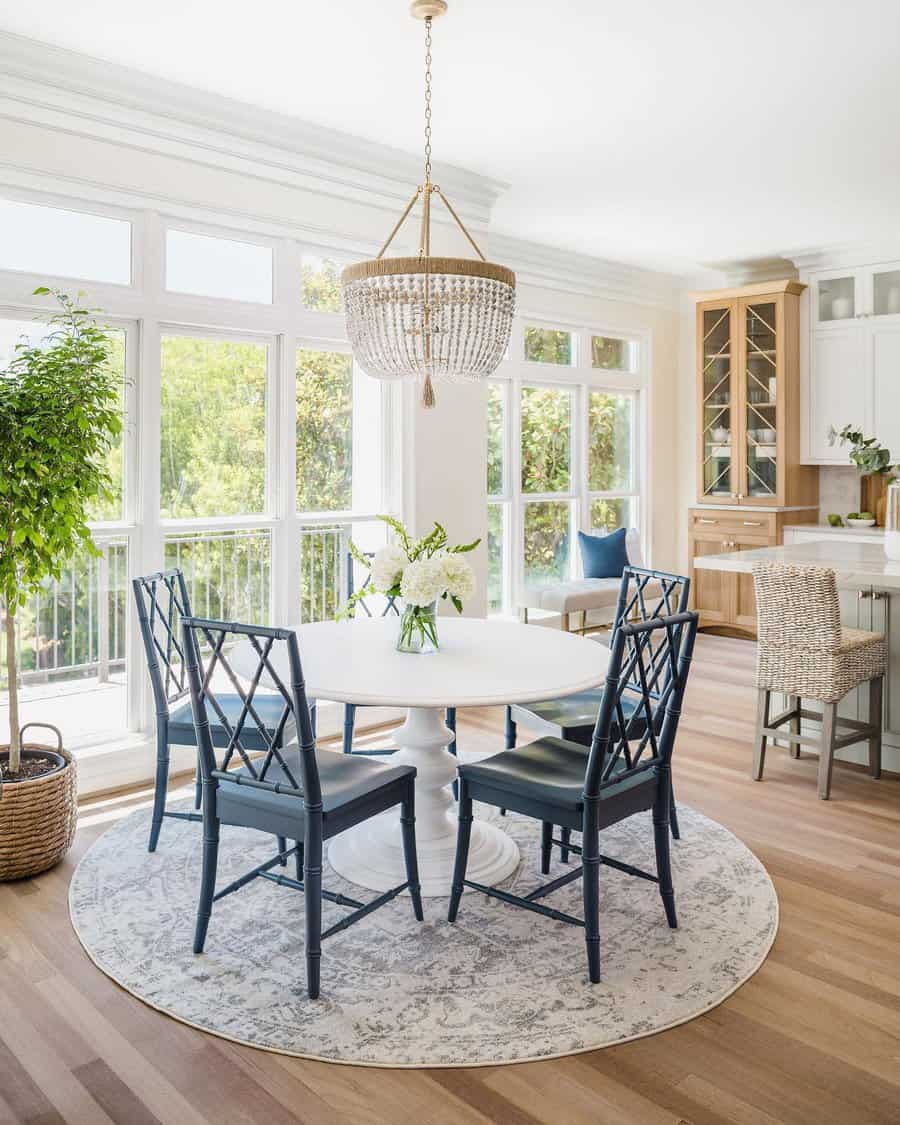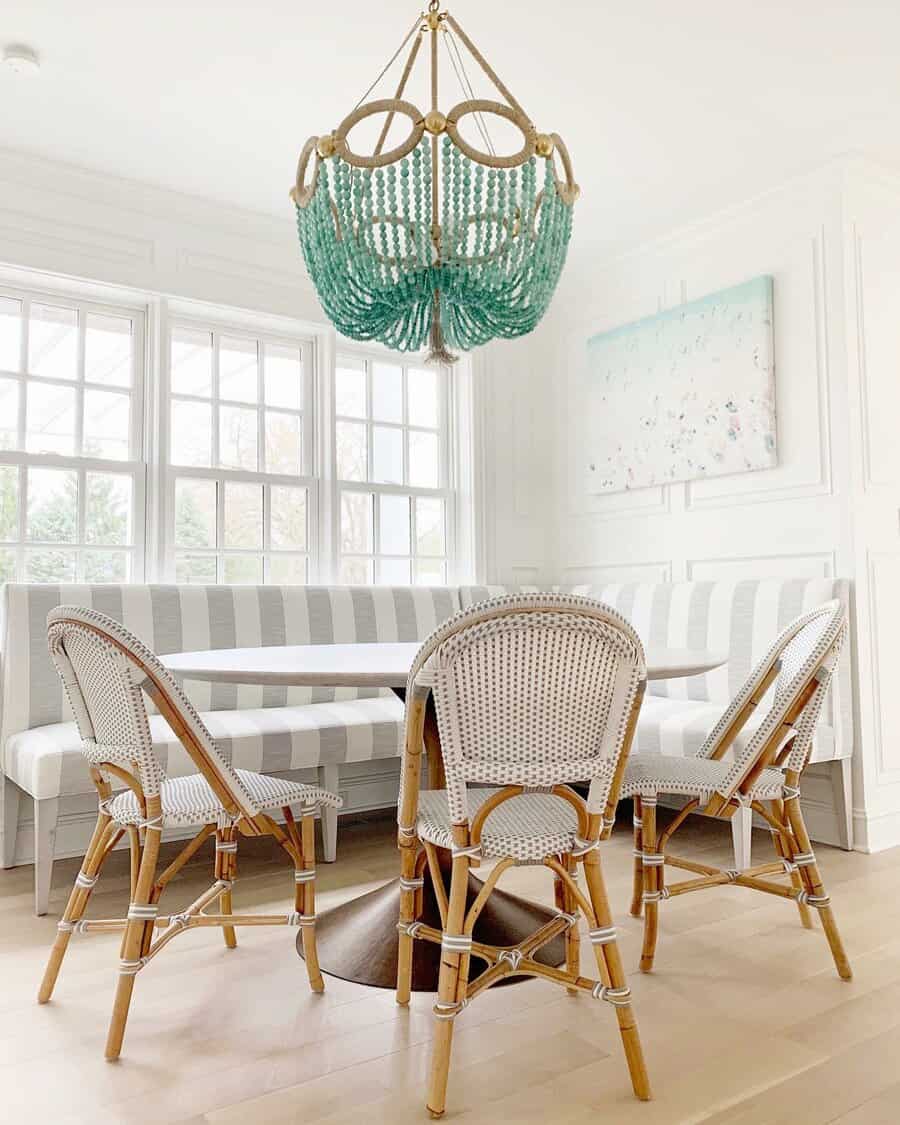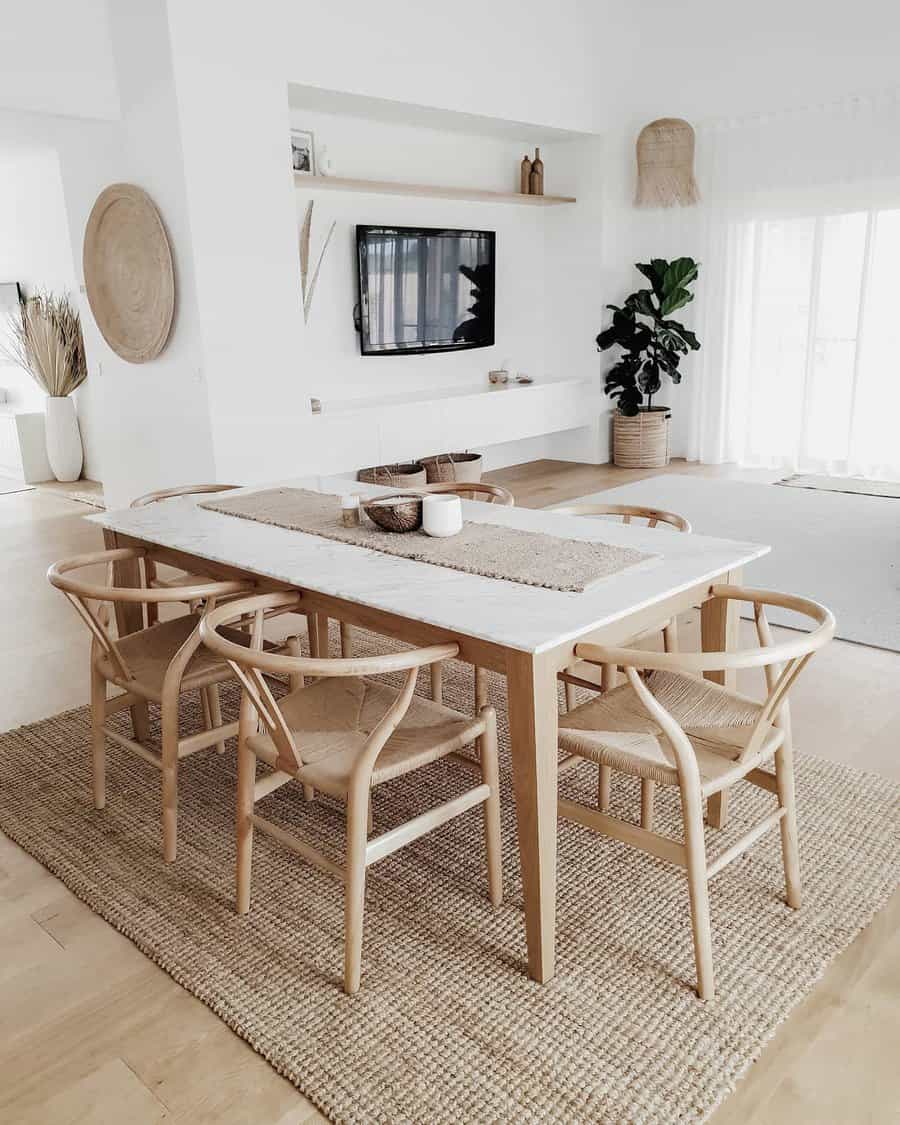 Use a ship's wheel as the chandelier. Mount sconces that are traditionally used on boats. You could even mount a giant Swordfish or Mahi Mahi on the wall. Hang glass orbs that are encased in knotted nautical rope.
6. Kids' Room
Create a whimsical nautical-themed kid's room. Create a beach cottage feel with bold dark blue and white stripes.
It could be on the walls or a pattern on the fabric for the bed and curtains. Skip the standard nautical home decor and look for more whimsical designs.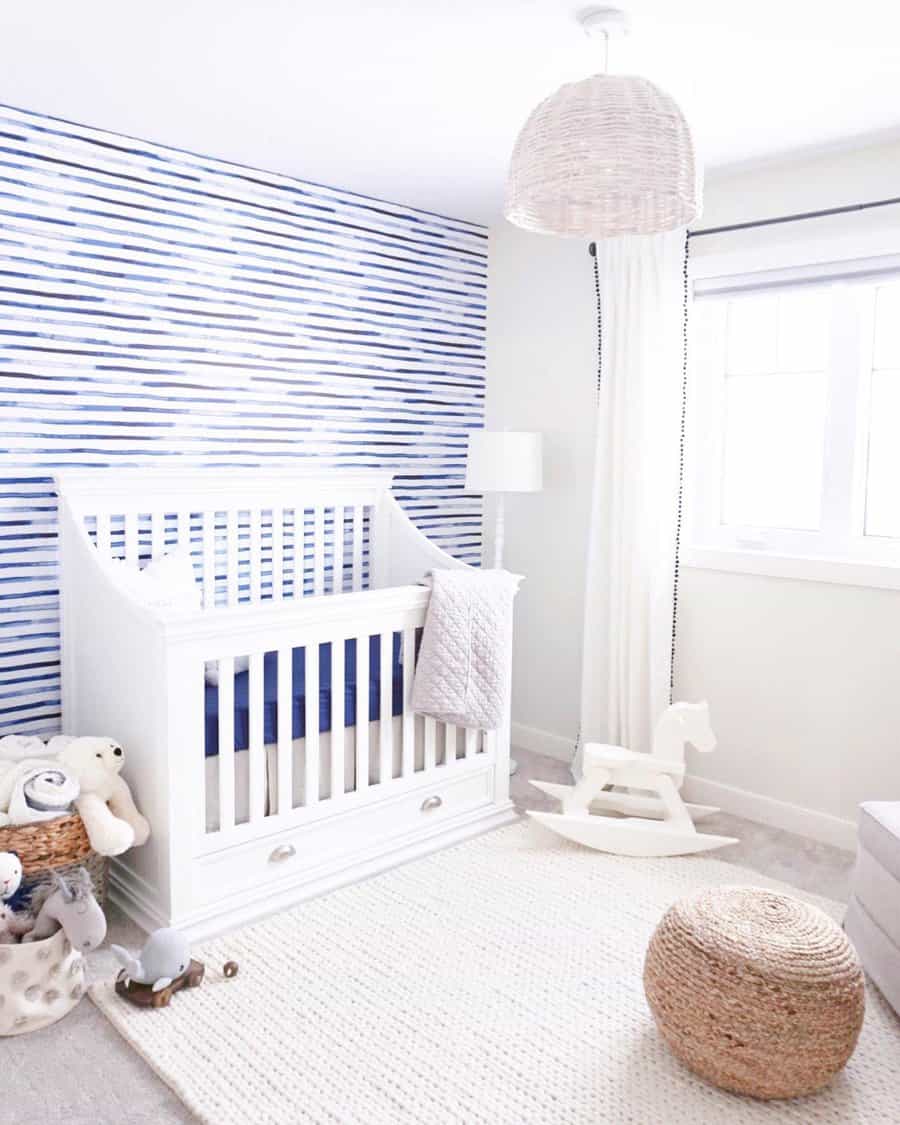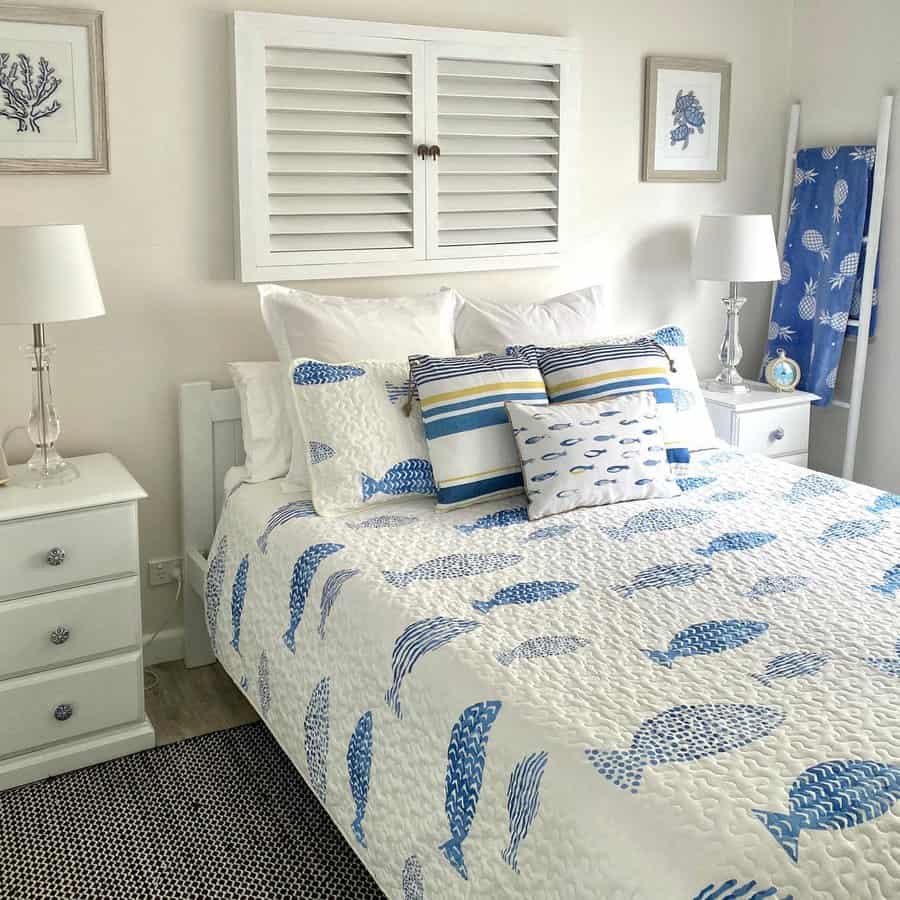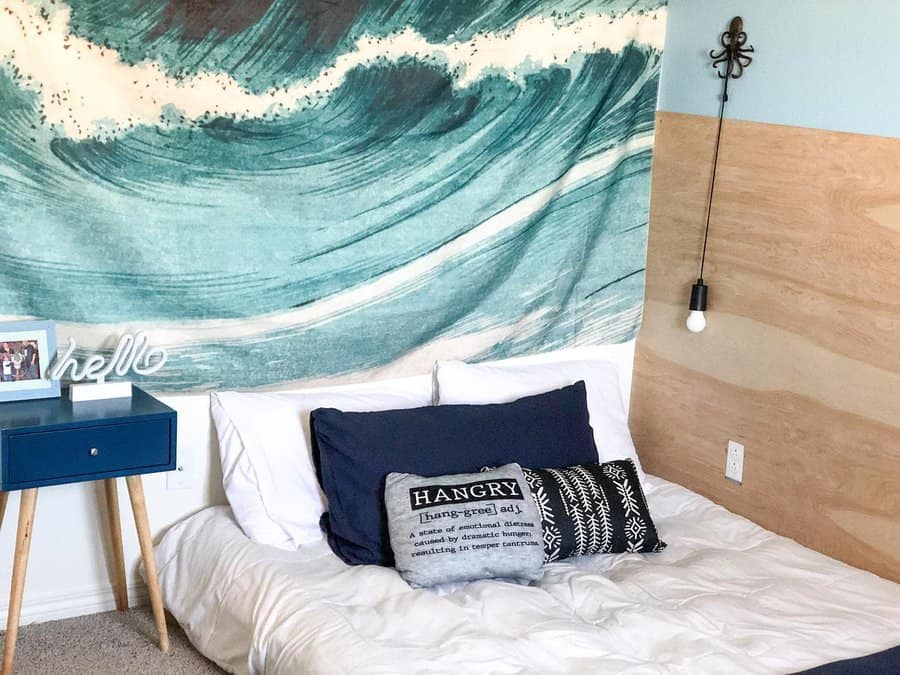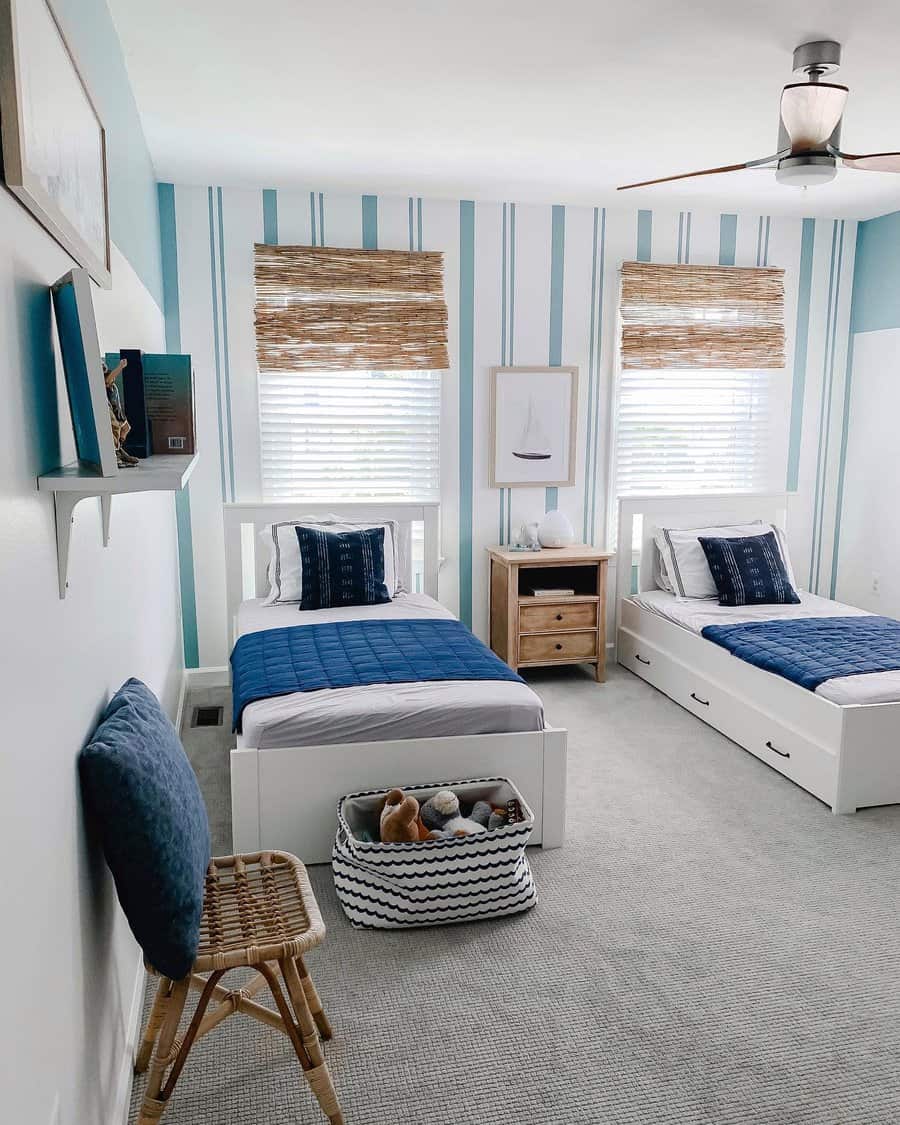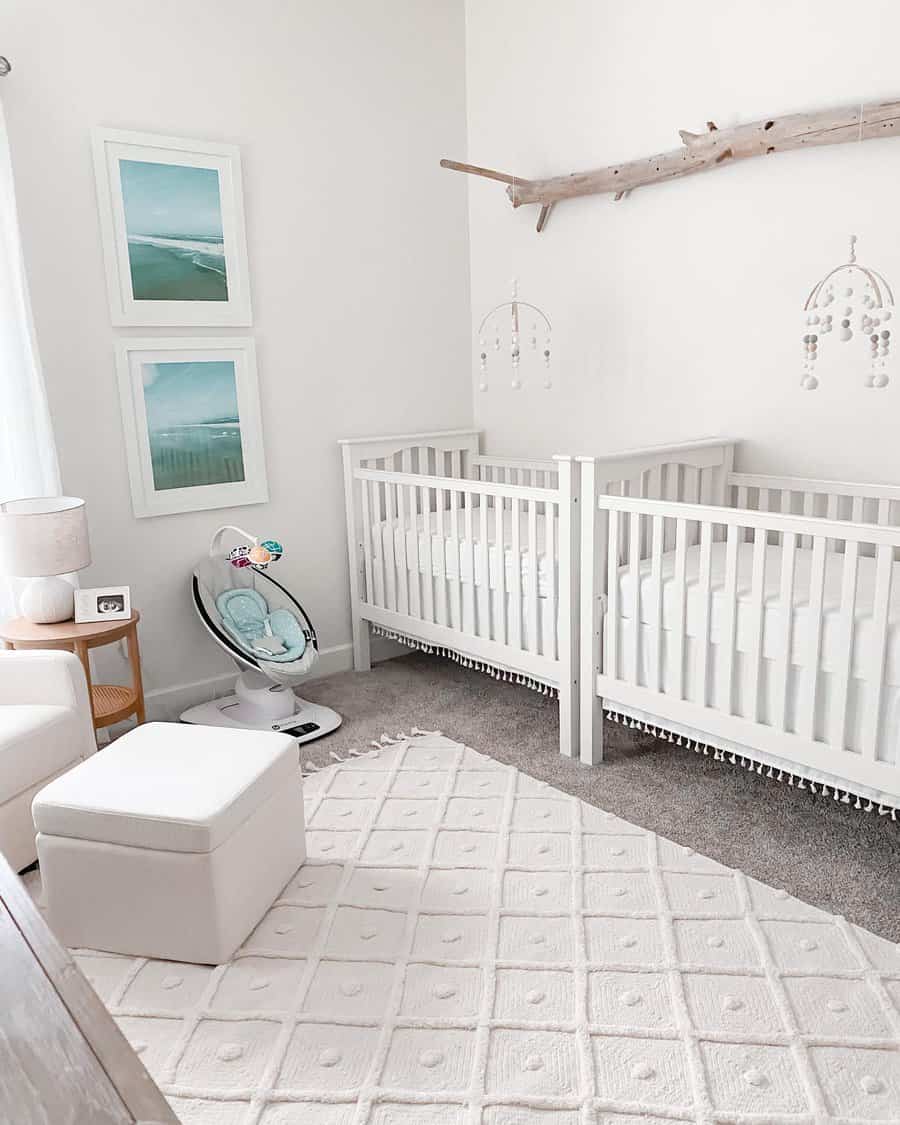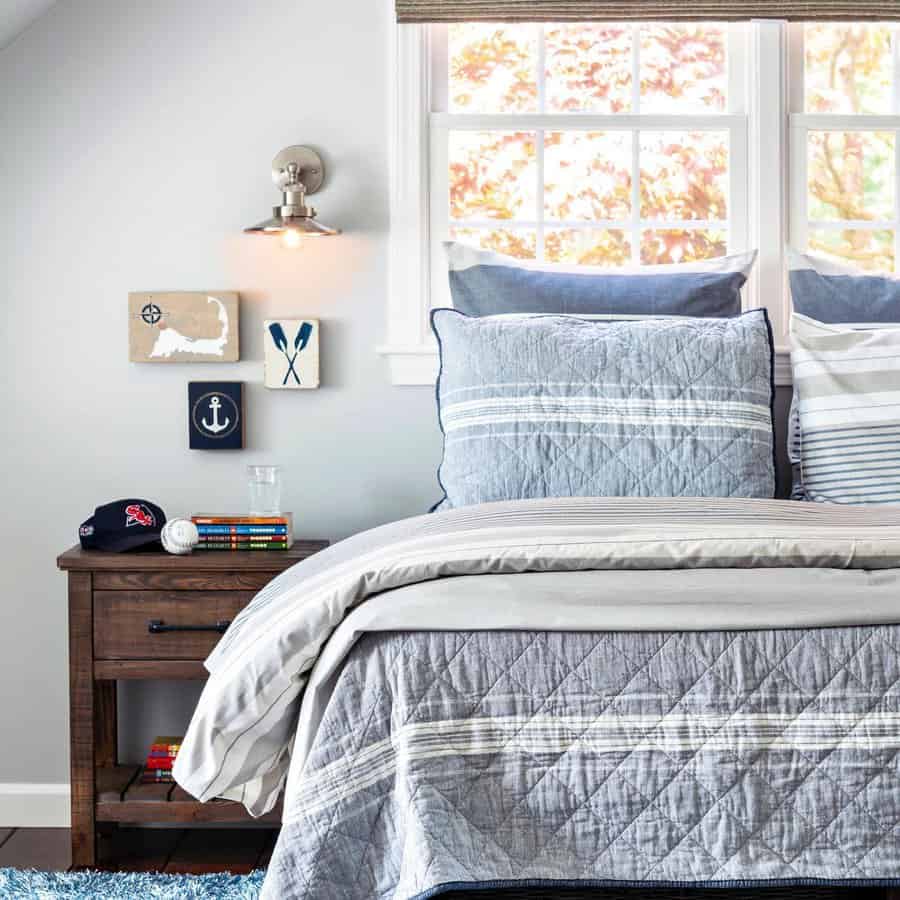 It could be a bed frame that's shaped like a boat. Or you could hang whale art or paddles on the wall.
A string of nautical flags can be draped across the wall or from the ceiling. Finish the room by spreading an area rug on the floor. It could have a fish or anchor theme.
7. Kitchen
Create a coastal vibe in your kitchen by using deep sea blue tiles for your backsplash. Line the other walls with beadboard.
Place nautical decor throughout the kitchen for a beach or seafaring touch. Replace your flooring with a polished wood plank that resembles the wood used in old ships.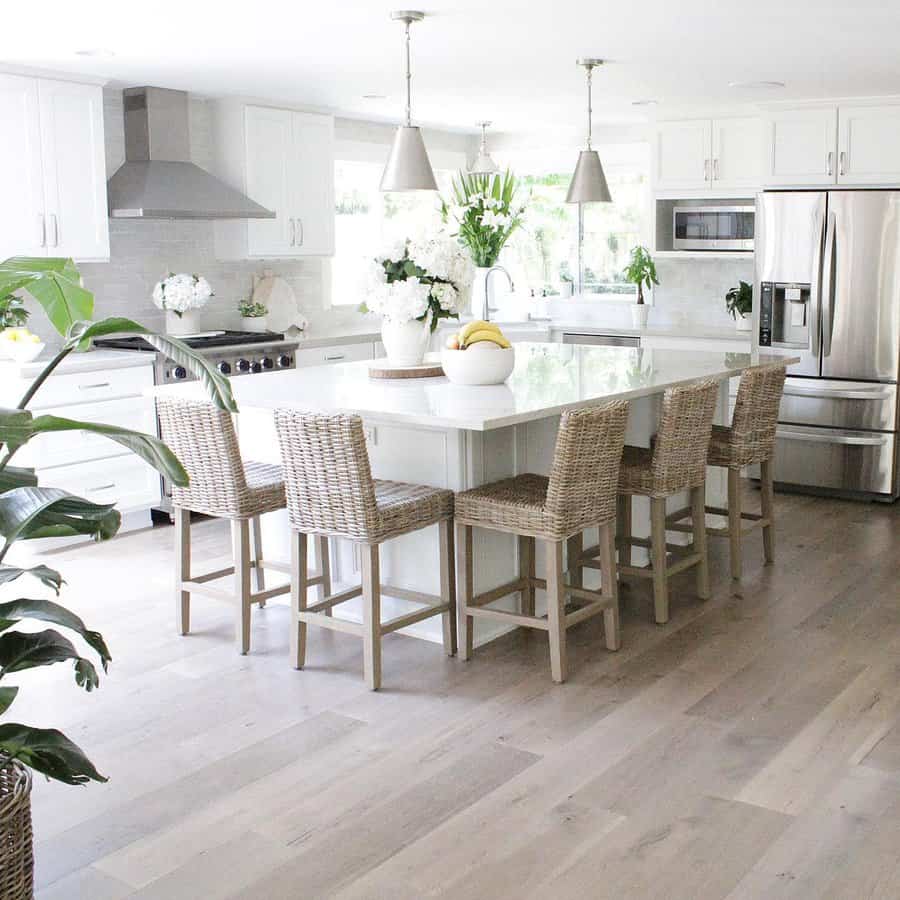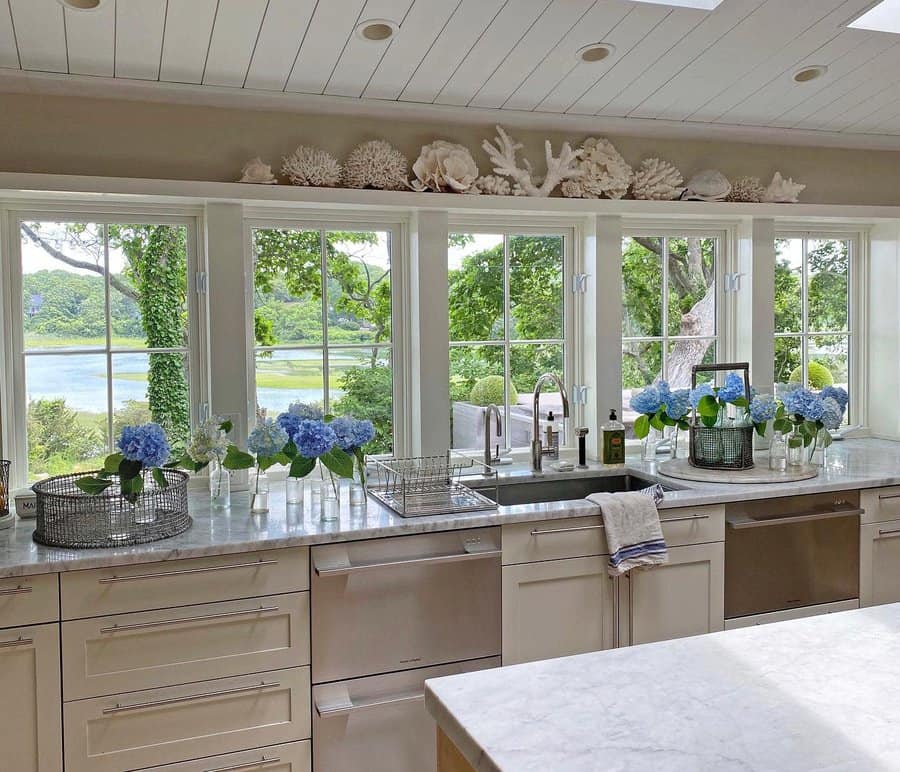 Some decorating ideas focus on the fixtures, such as lanterns for the pendant light over the kitchen island.
Others create a coastal vibe with the items that are placed on the kitchen counters. It could be an octopus that holds coffee mugs. Or try a fruit bowl that's shaped like a fish or coral.
8. Living Room
Consider using the 60/30/10 rule when decorating your coastal living room. Your primary color could be white, with a blue for the secondary color.
Then use either a bright sunny yellow or rich red for the accent color. This elegantly uses traditional nautical colors.
Look for living room ideas that use this approach when arranging the throw pillows, a coffee table, and candle holders.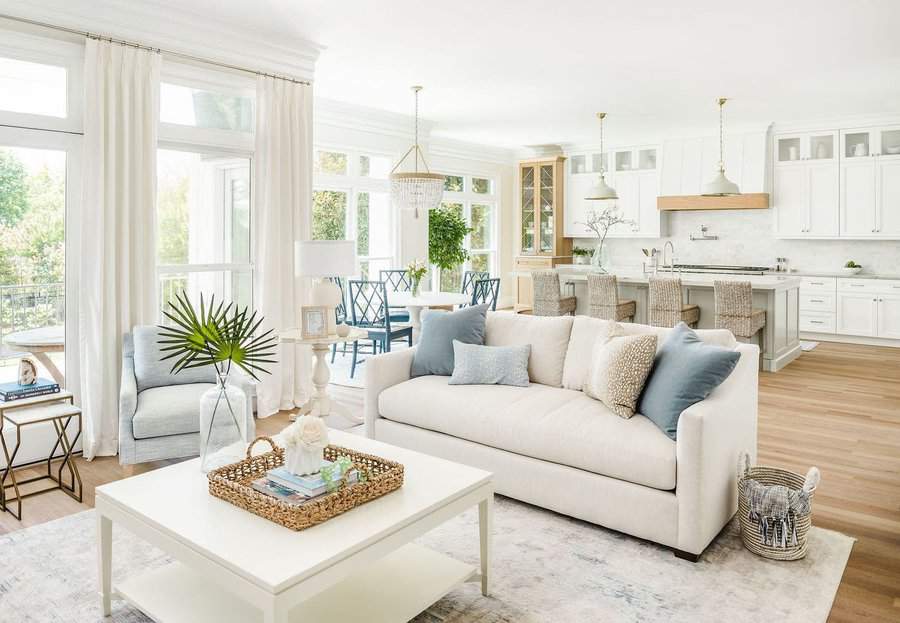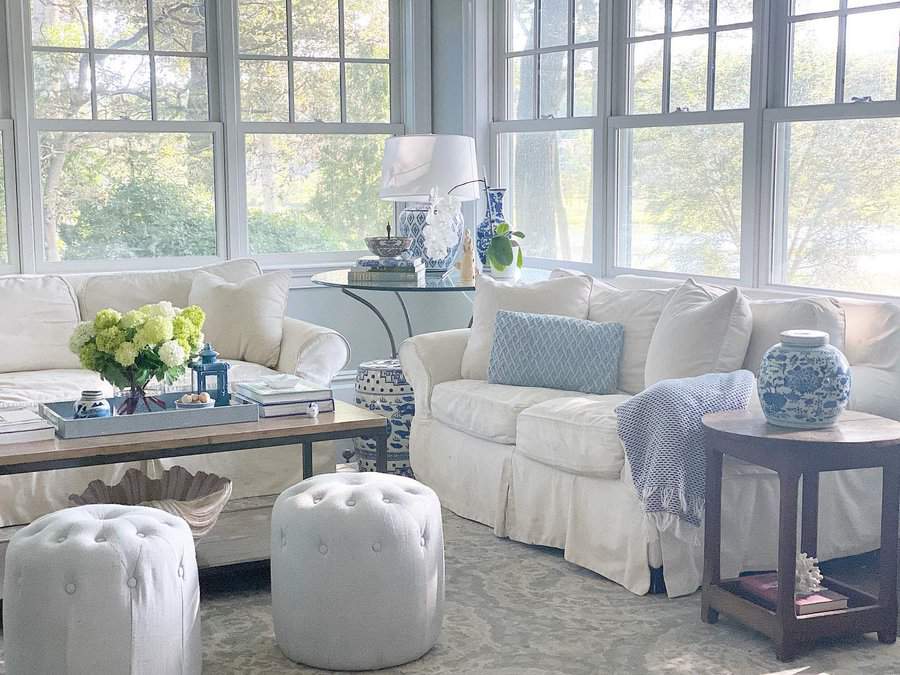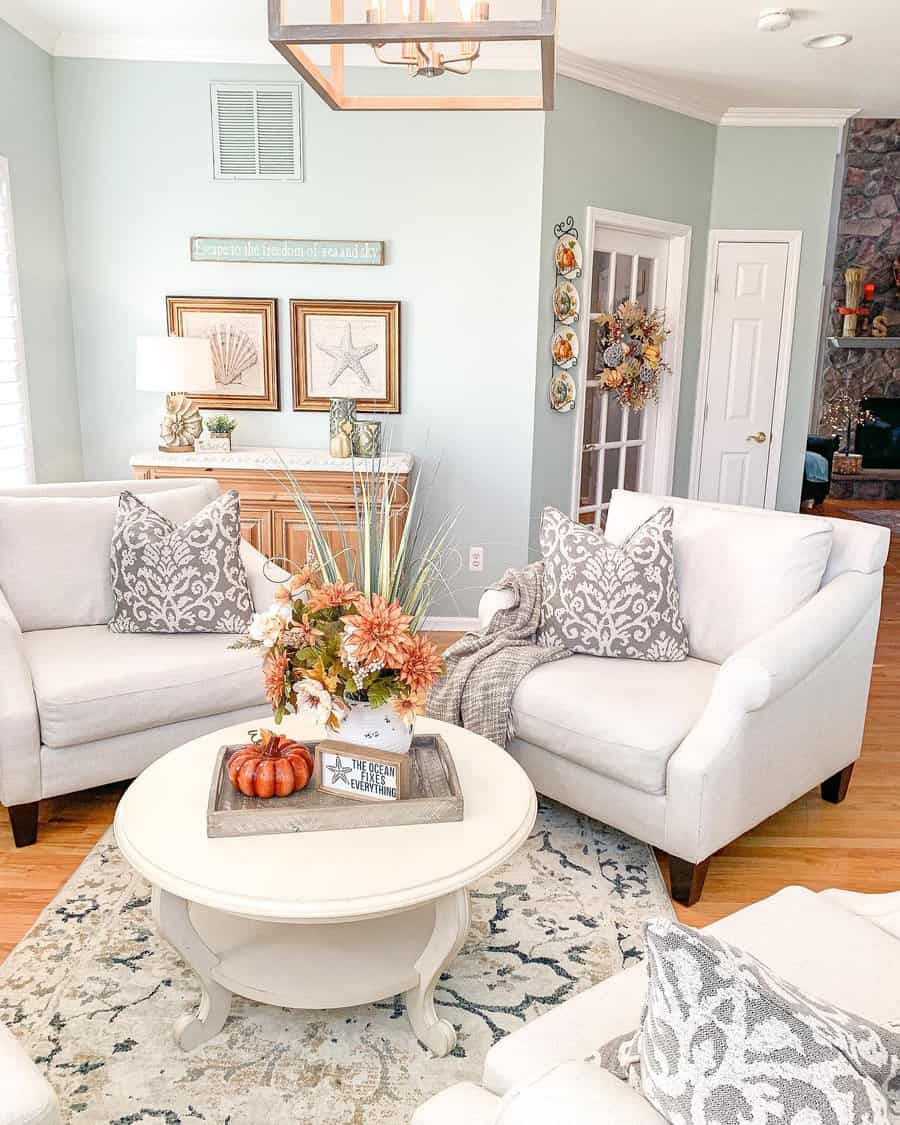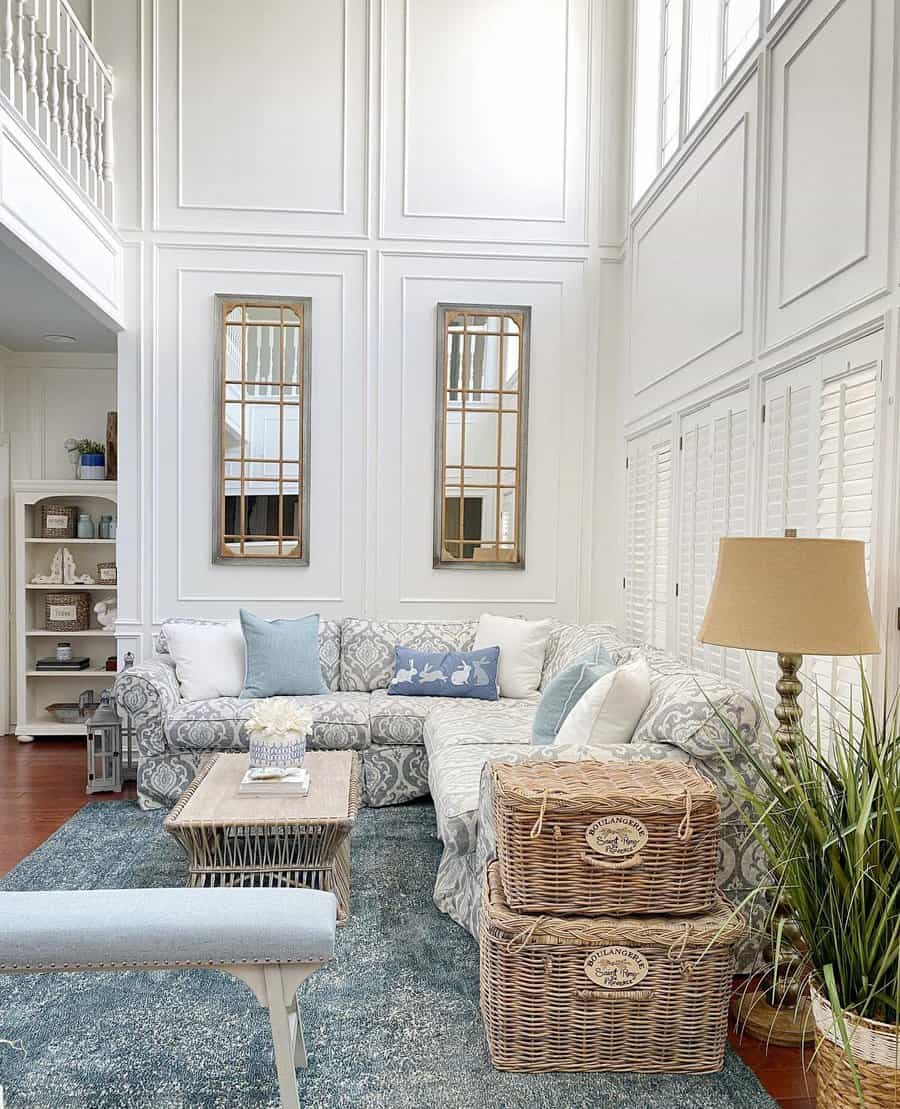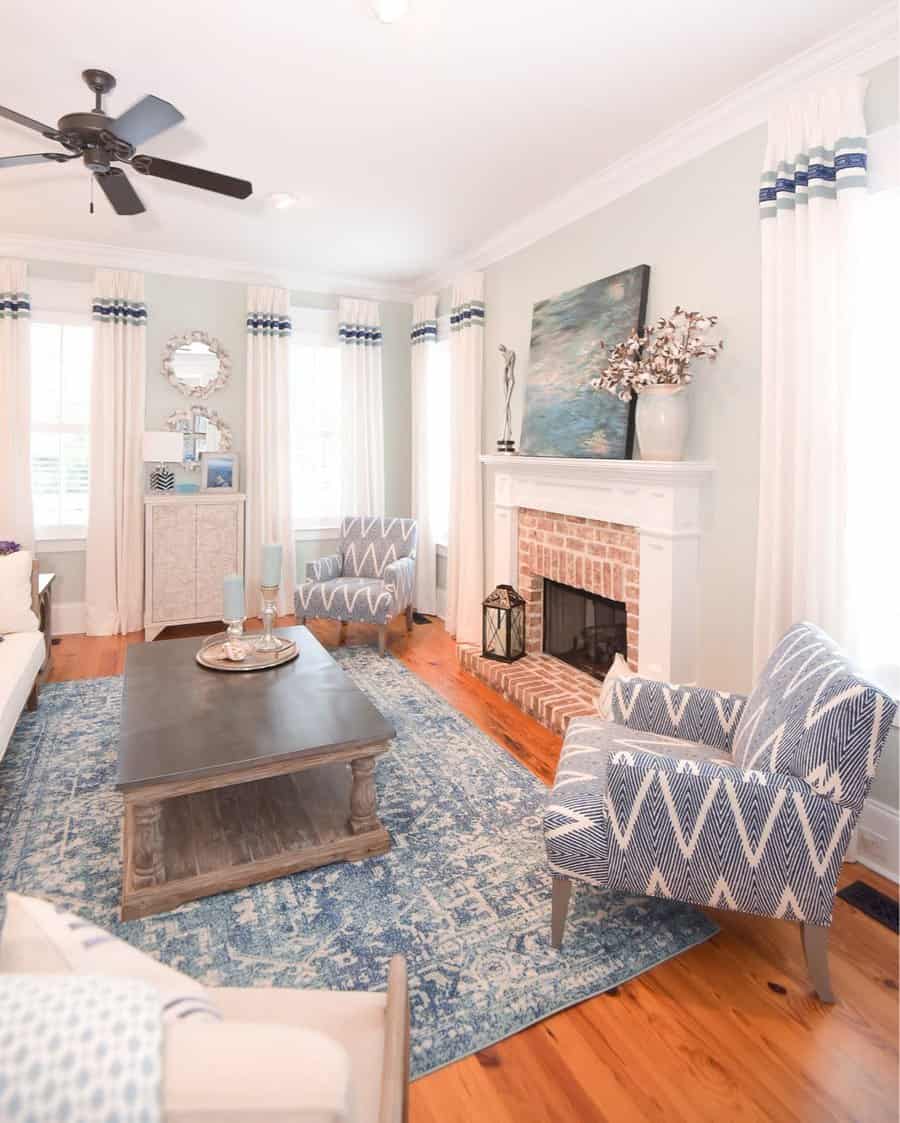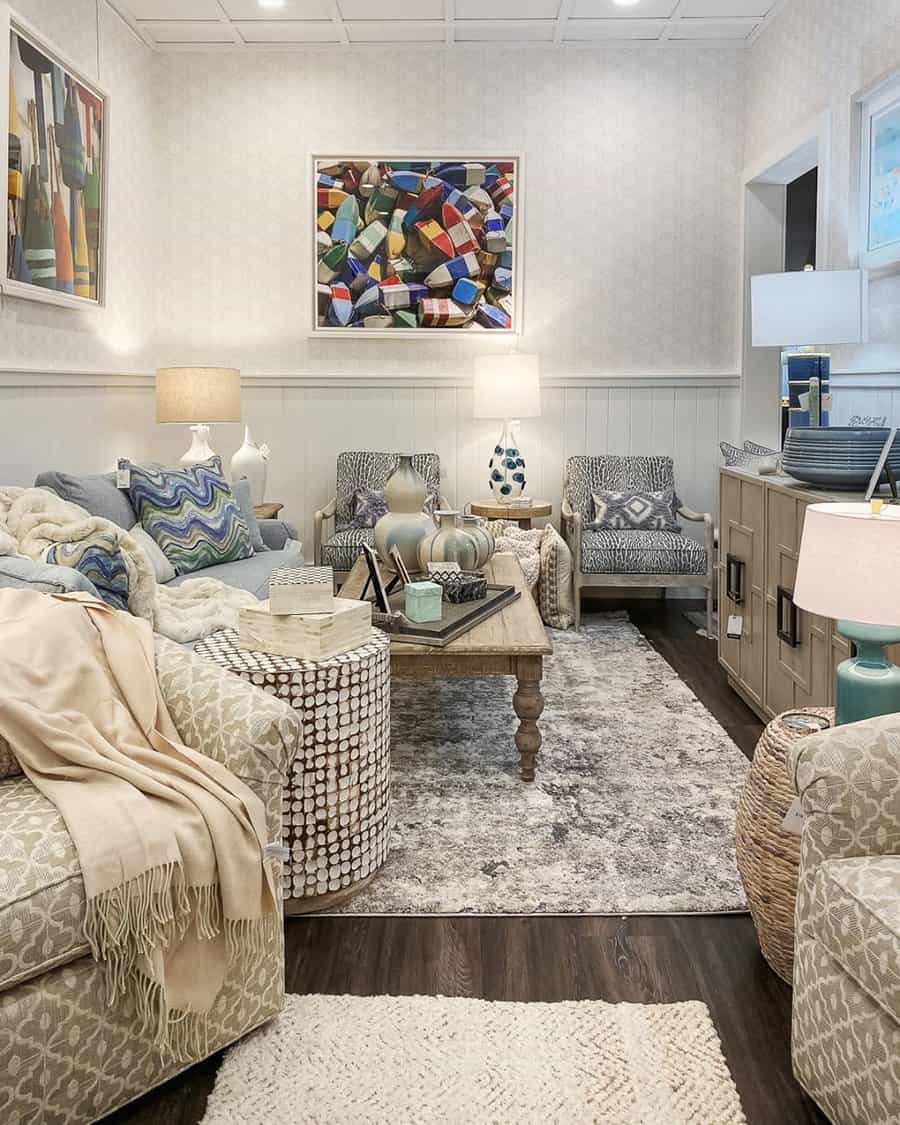 Don't be afraid to go bold with your coastal decor. Perhaps you have a peak or vaulted ceiling.
Use this open space to hang a canoe, kayak, or even rowboat. This makes a statement, sets the tone, and doesn't take up valuable living space. You can then continue this theme by mounting retro all wood paddles on the wall.
9. Modern
Coastal designs and modern trends blend together beautifully. You can use primarily neutrals to create a calming place.
Modern interior design doesn't typically have blues and greens. Leave the walls white or white soft cream color. Then use natural materials throughout the room.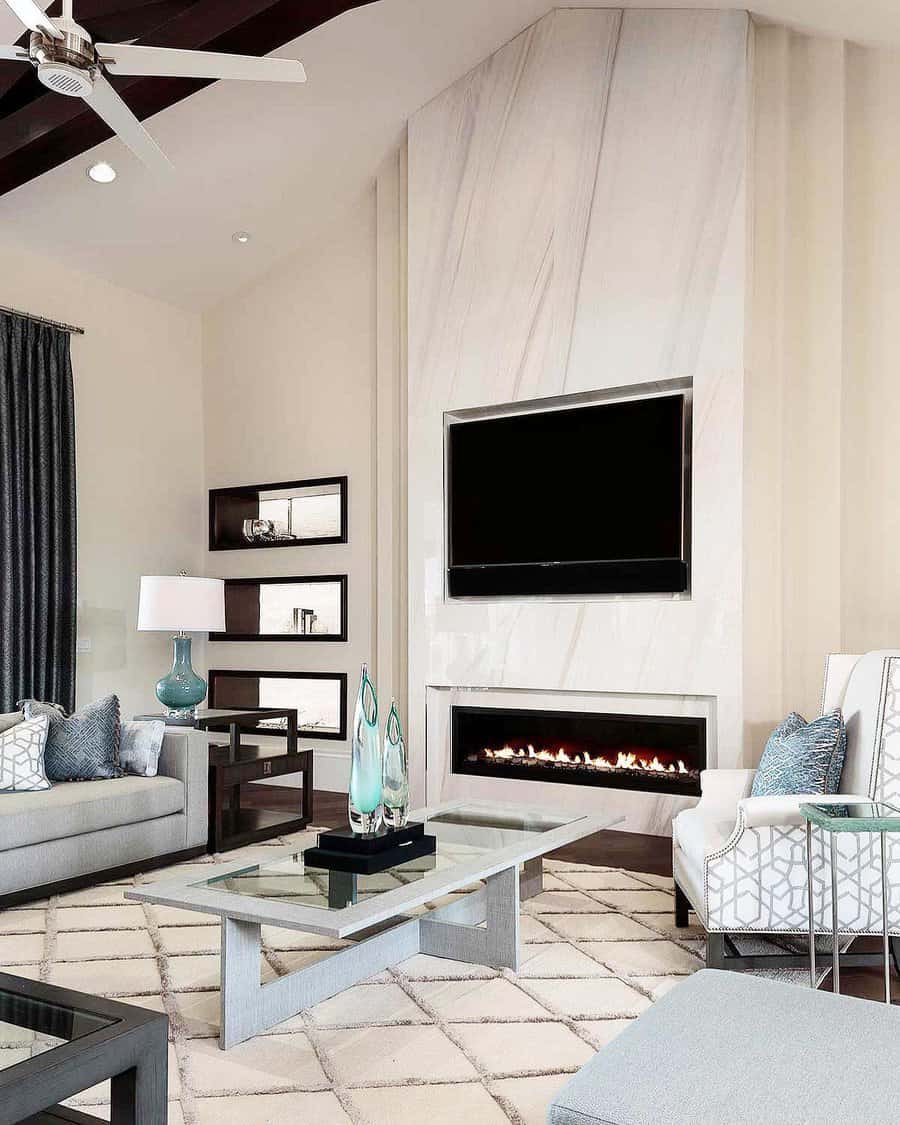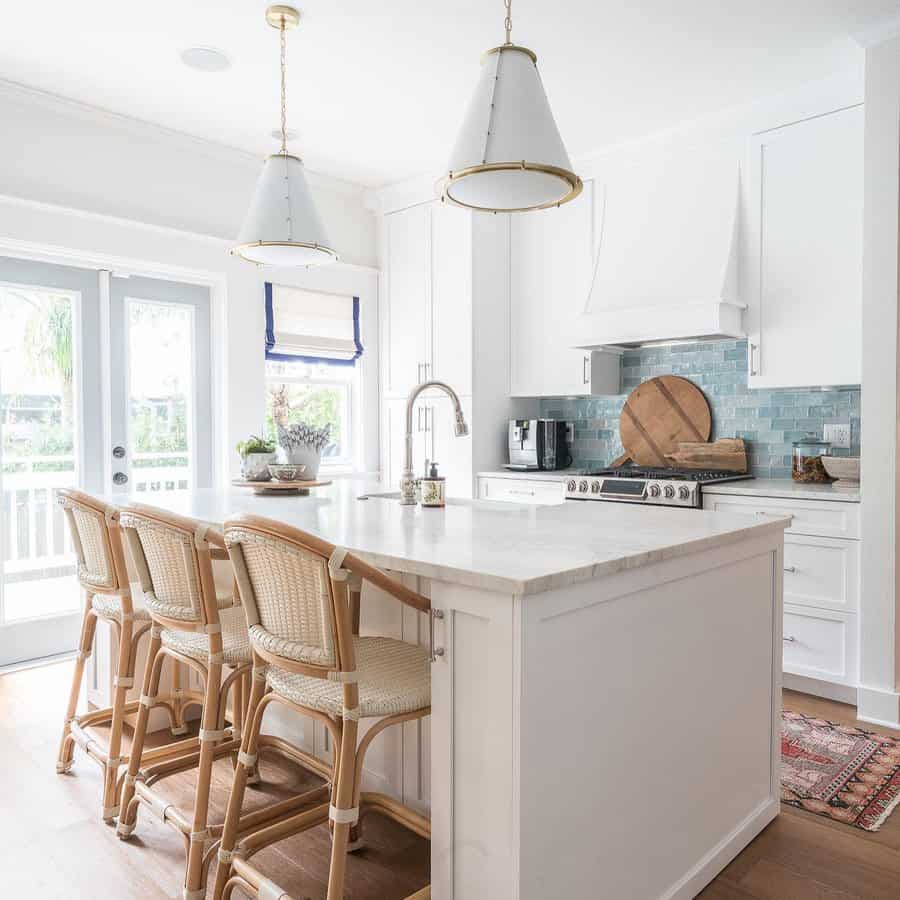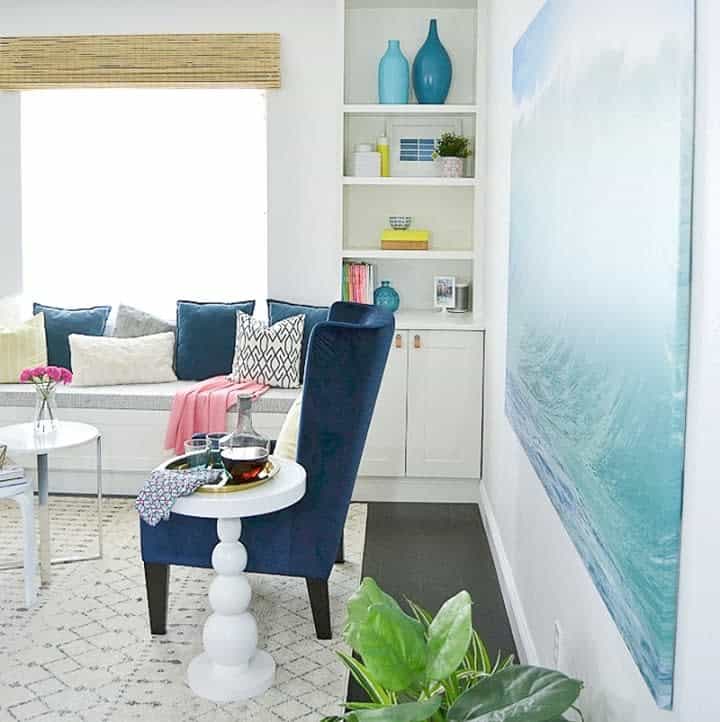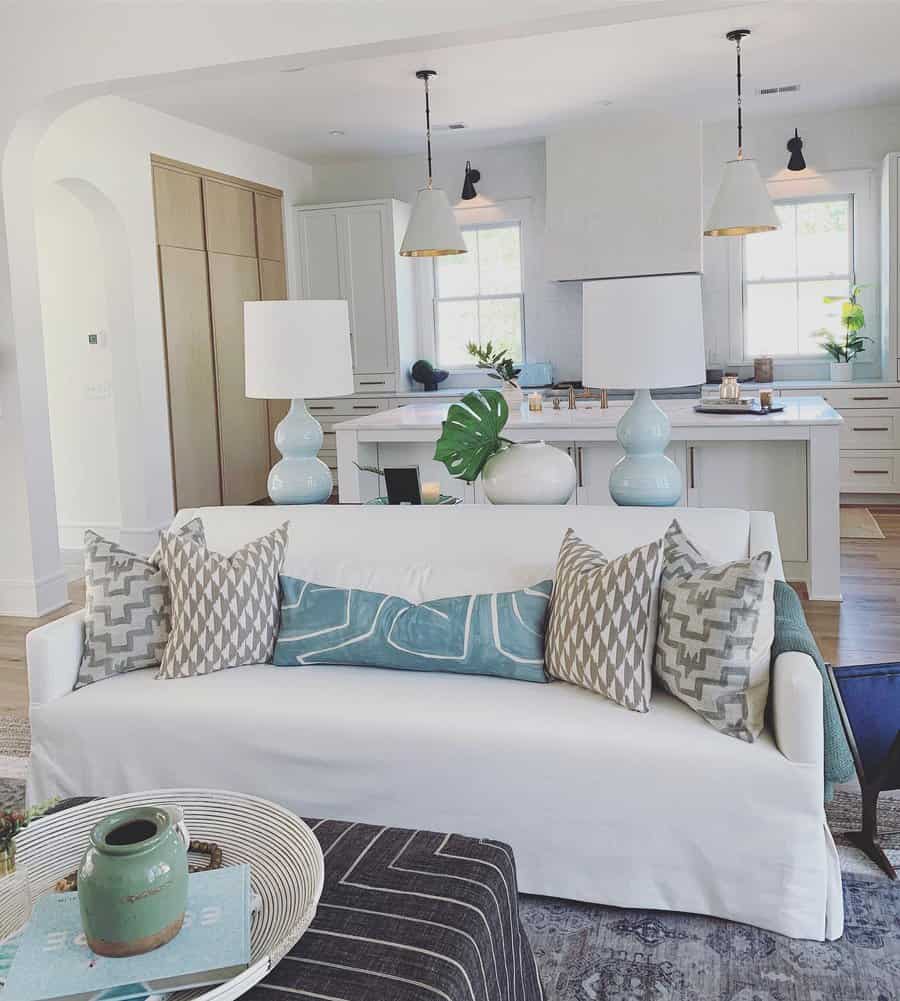 Wicker or rattan are good options for beach decor. Look for furniture that's made out of these materials or teak. It should have a simple design that isn't overly ornate to give it a modern feel.
To keep the furniture comfortable, look for furniture with deep seats that have large white upholstered cushions.
10. Natural Fibers
To give your home an authentic feel, use plenty of natural materials throughout your coastal-themed home. The best options are wicker, rattan, jute, and teak.
Wicker is actually a style of weaving when making furniture. Rattan is a type of wood that grows as a vine. You'll also see palm leaves and other plant materials that are woven into a wicker pattern.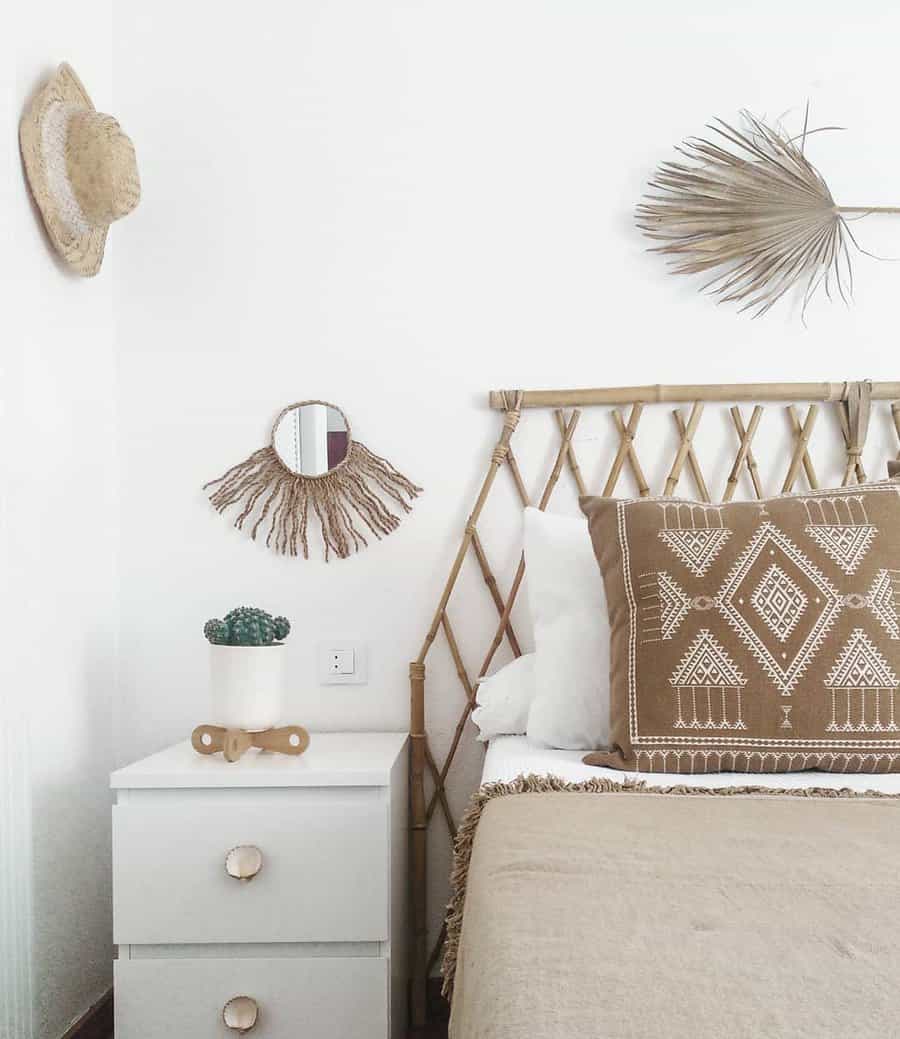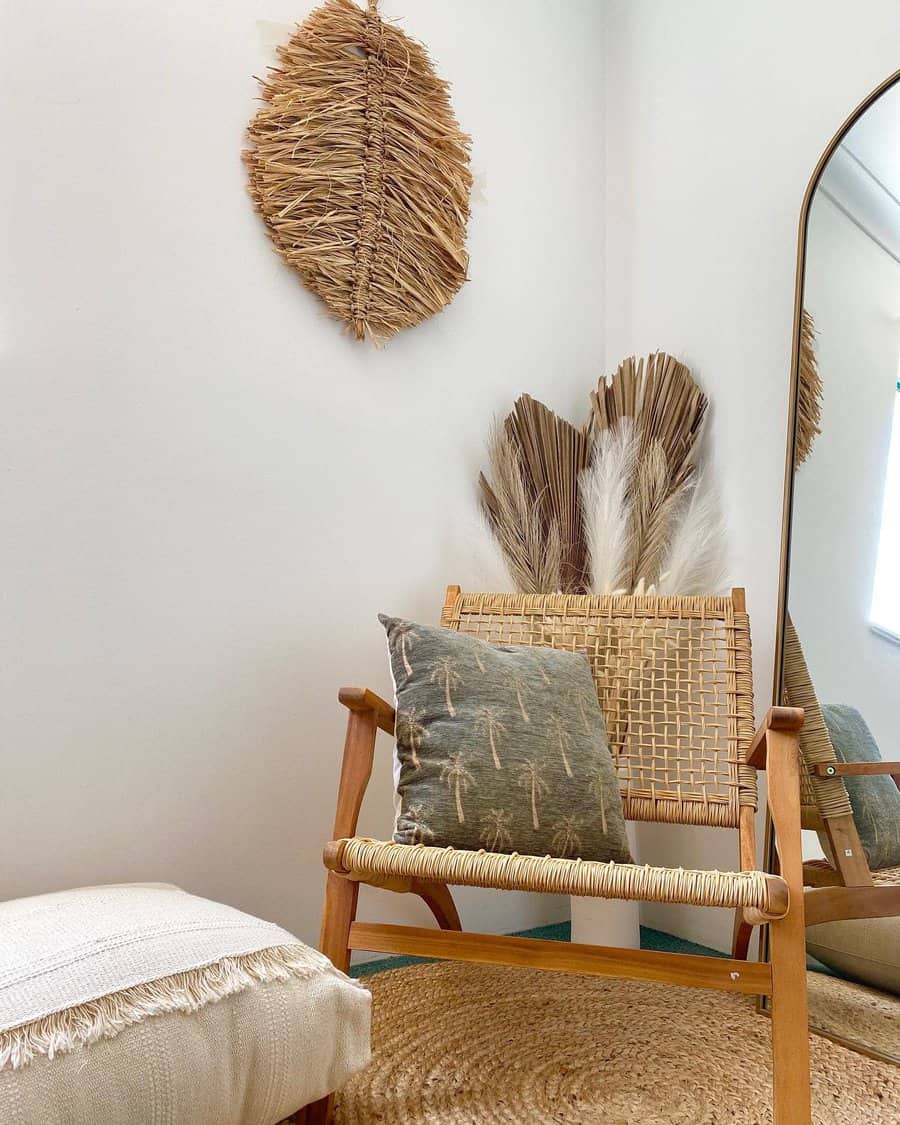 A jute rug is a bit rough and looks like a flatweave of fibers. It's incredibly durable and perfect for high-traffic areas.
Teak is a hardwood that's traditionally used in high moisture areas. This makes it commonly used on ships and boats. Using it in your home will give it a coastal feel.
11. Neutral
Many coastal decorating ideas embrace a neutral color palette. This helps the room to have a universally appealing and calming feel. Luckily, you can find many nautical elements that are naturally neutral in color.
Seashells are a perfect example of this. Linen and canvas are fabrics that look beautiful and give your home a nautical feel. You could use them to upholster the furniture and dress the windows.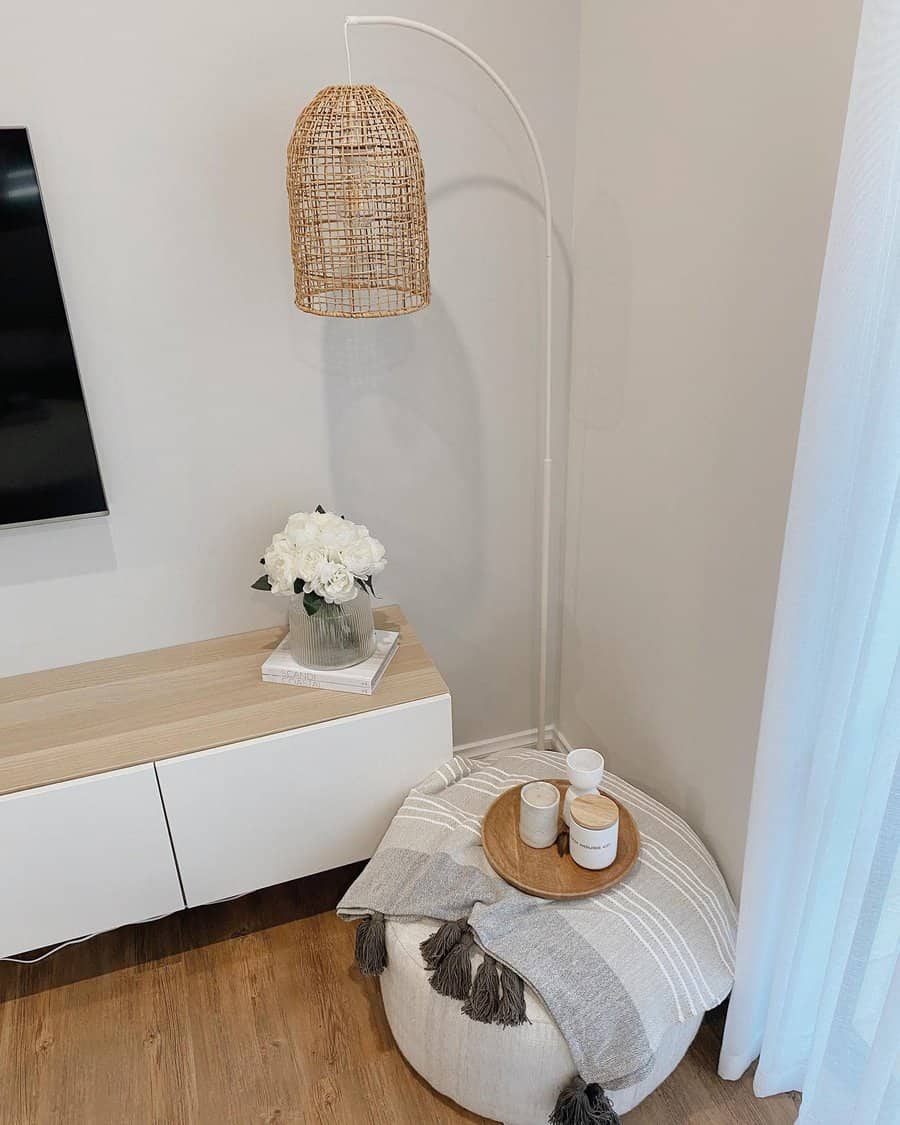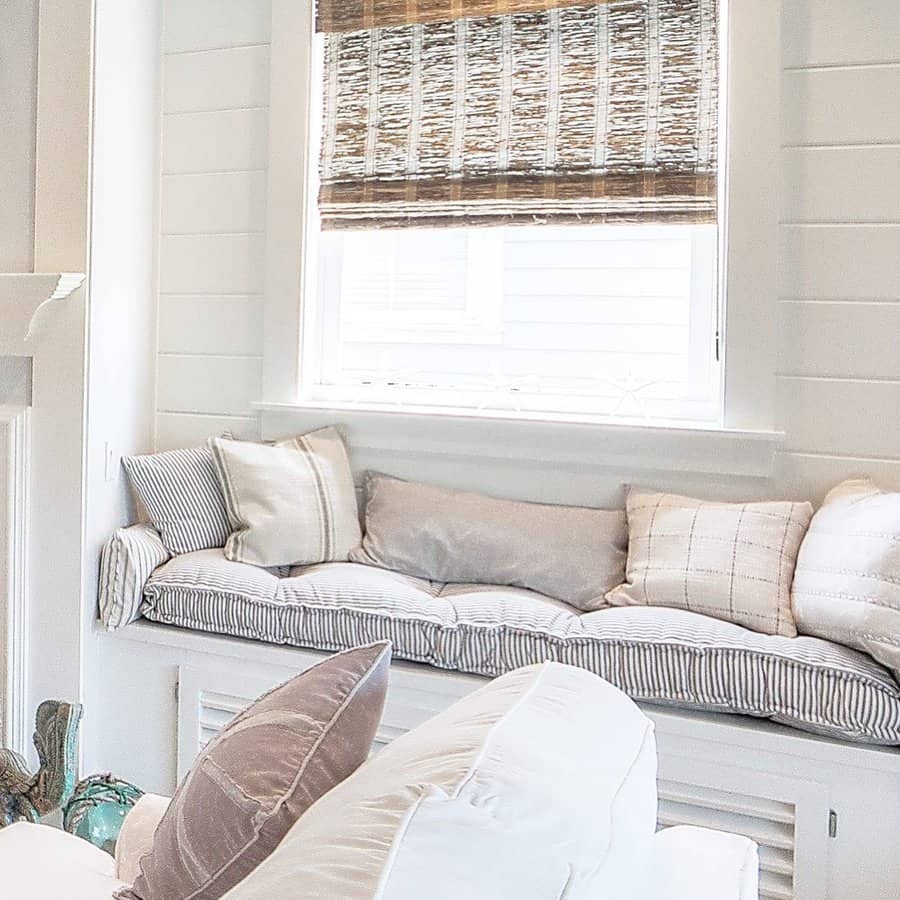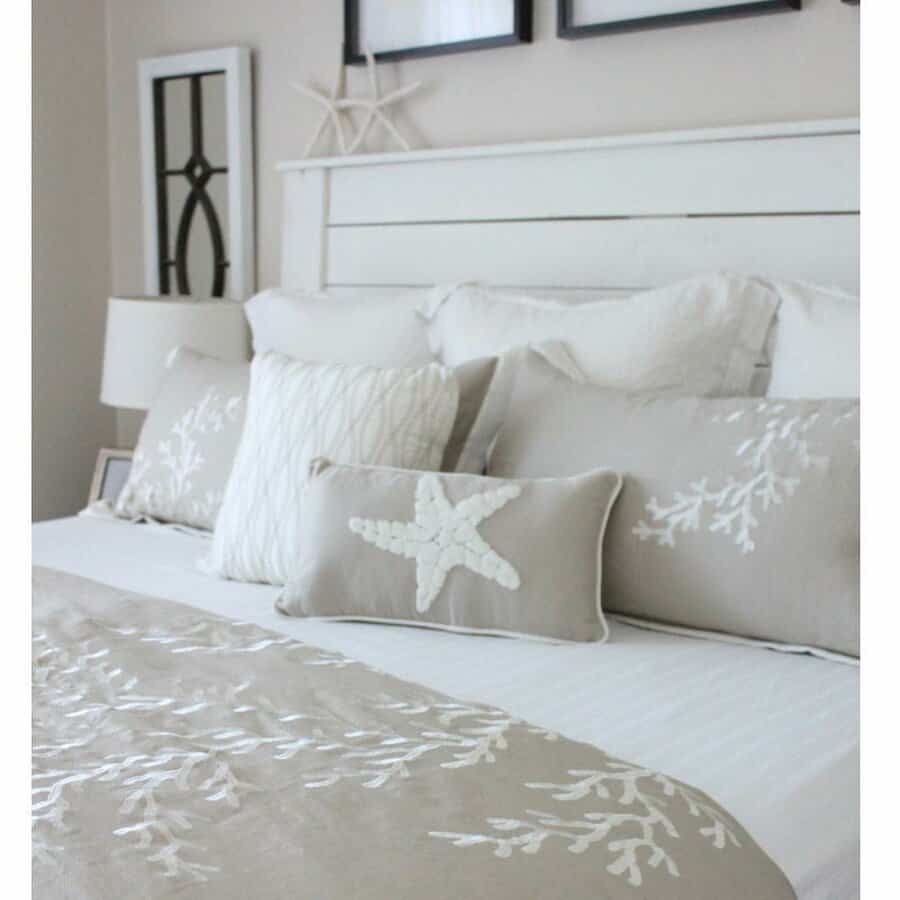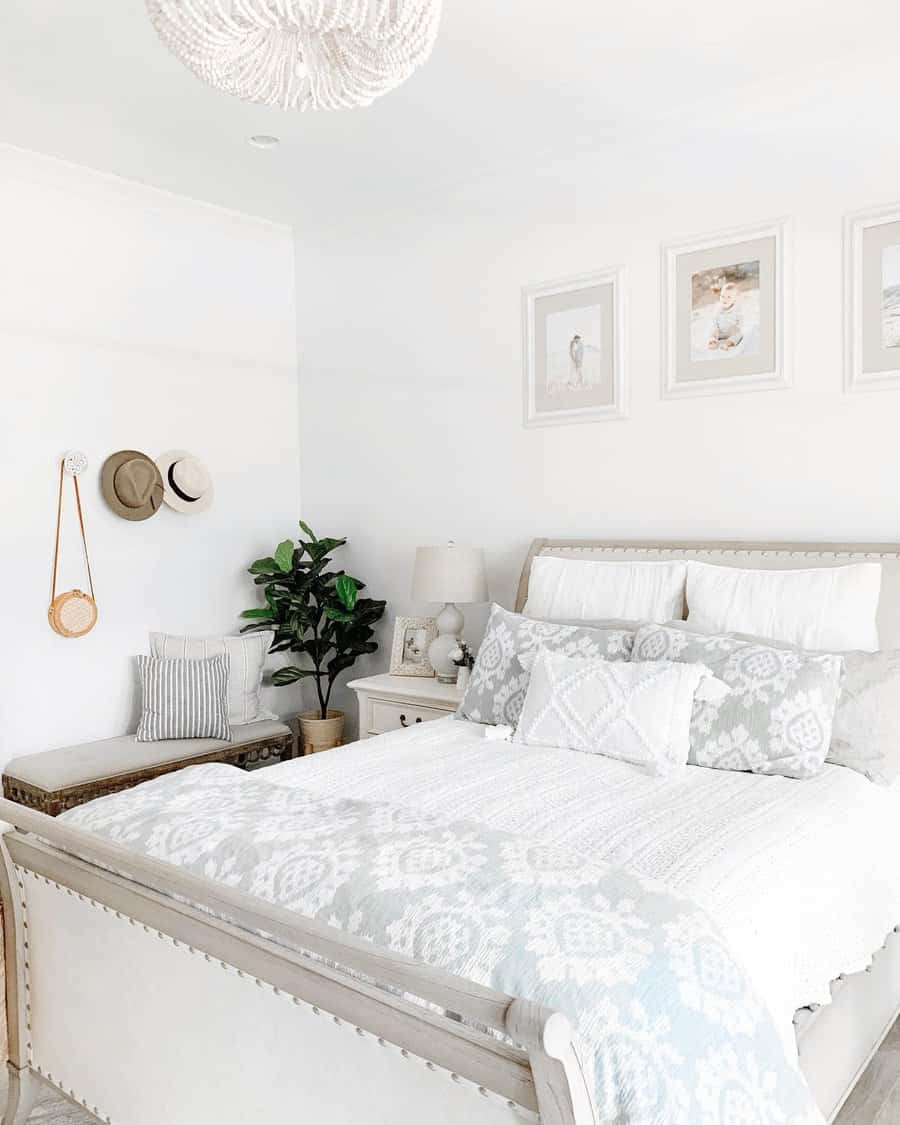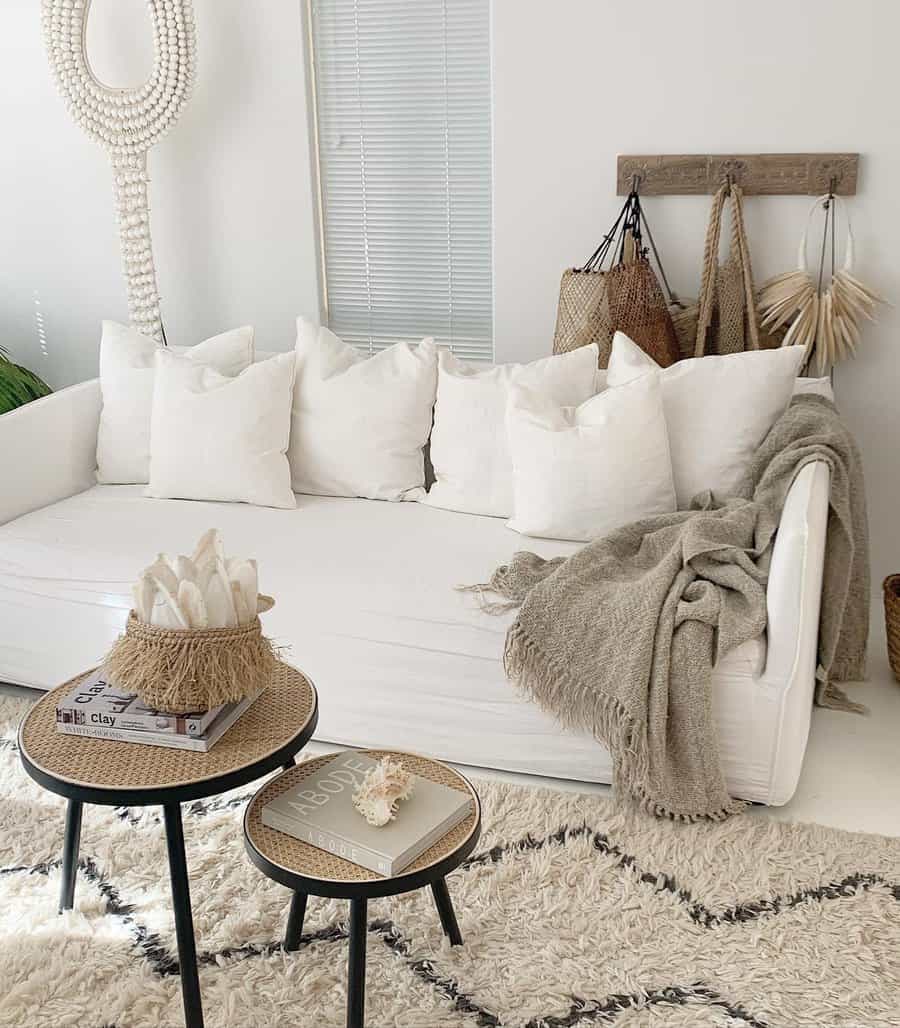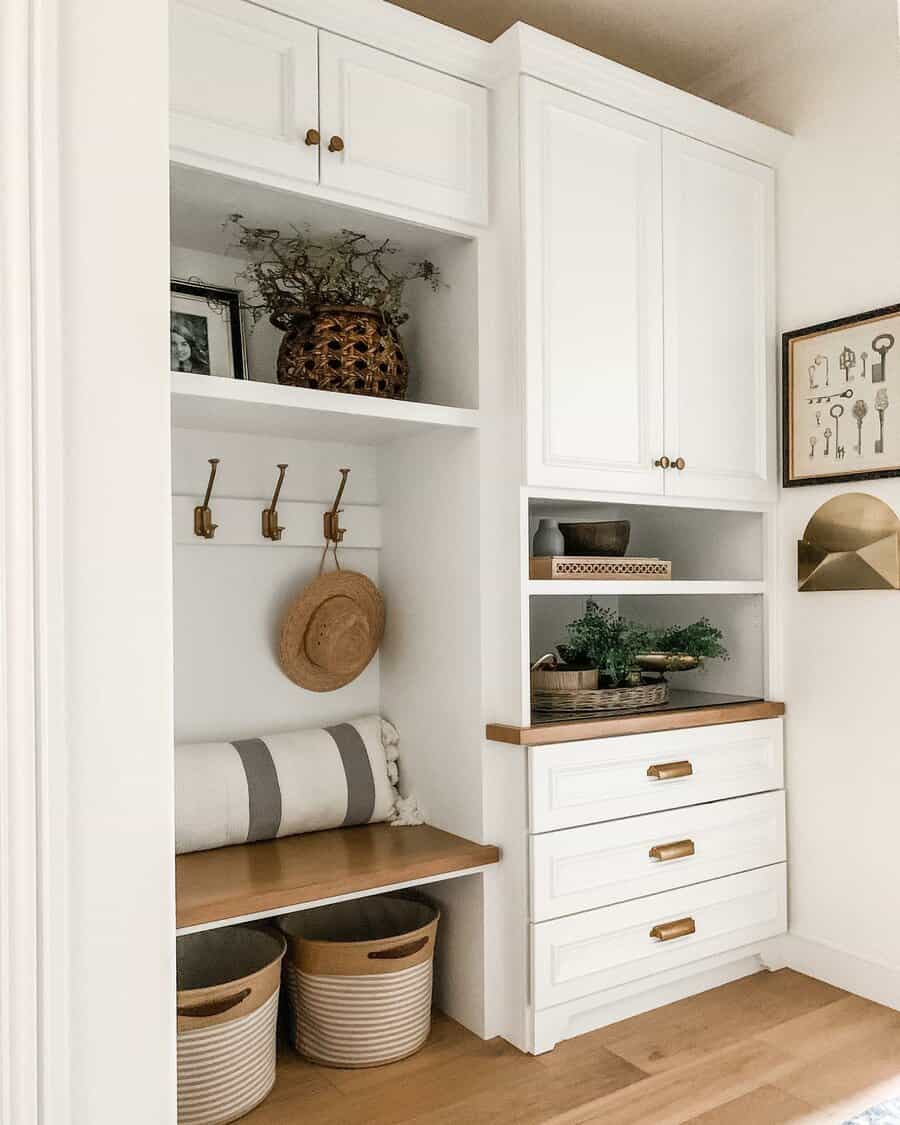 To keep your neutral room from looking too bland, add colorful accent pieces. This could be a brightly colored side lamp placed next to the sofa. Or it could be a bold chandelier that proudly hangs in the center of the room.
12. Outdoor
Turn your backyard into a DIY beach spot that's complete with a small pool and sand. Plant large palms and lush greenery around the area for your own coastal oasis.
If water isn't a possibility, then build a fire pit. You could have soft white sand filling a large circular area. In the center, place a firepit. Then arrange Adirondack chairs around the firepit.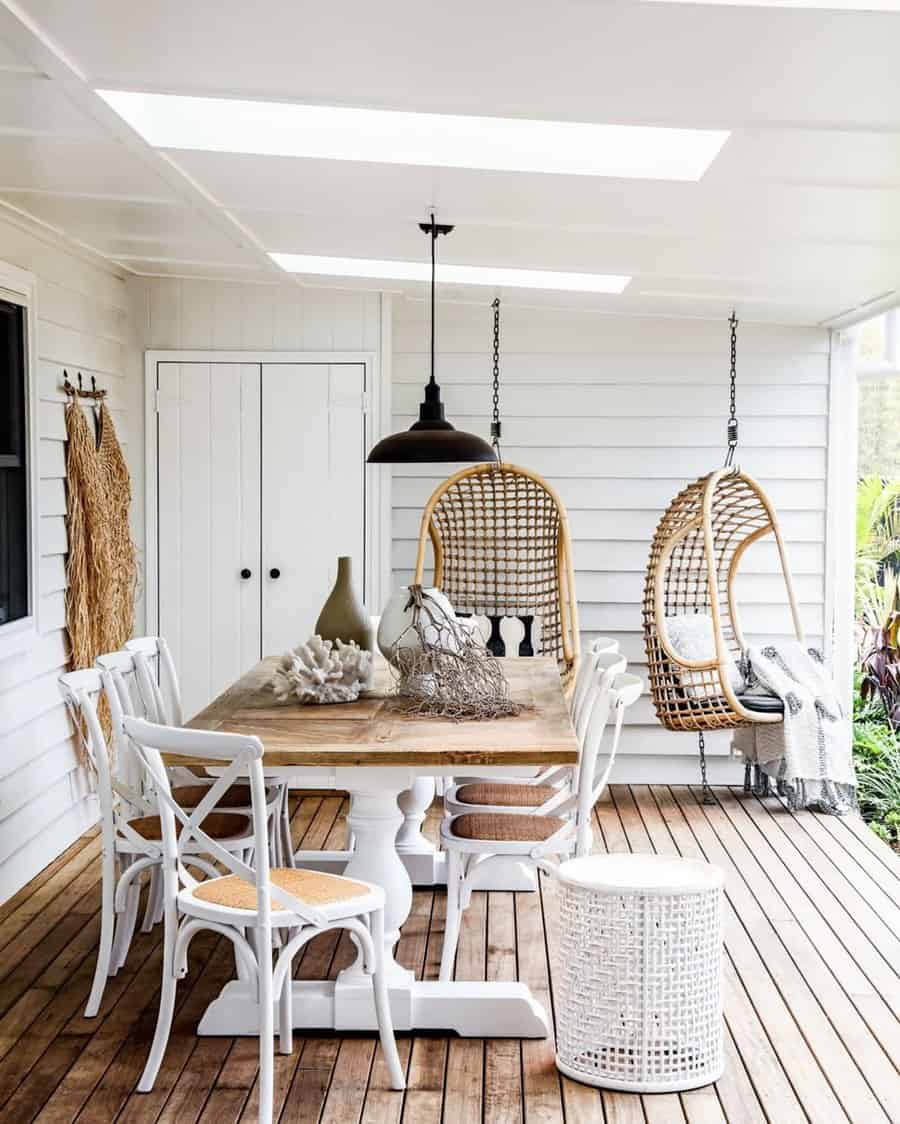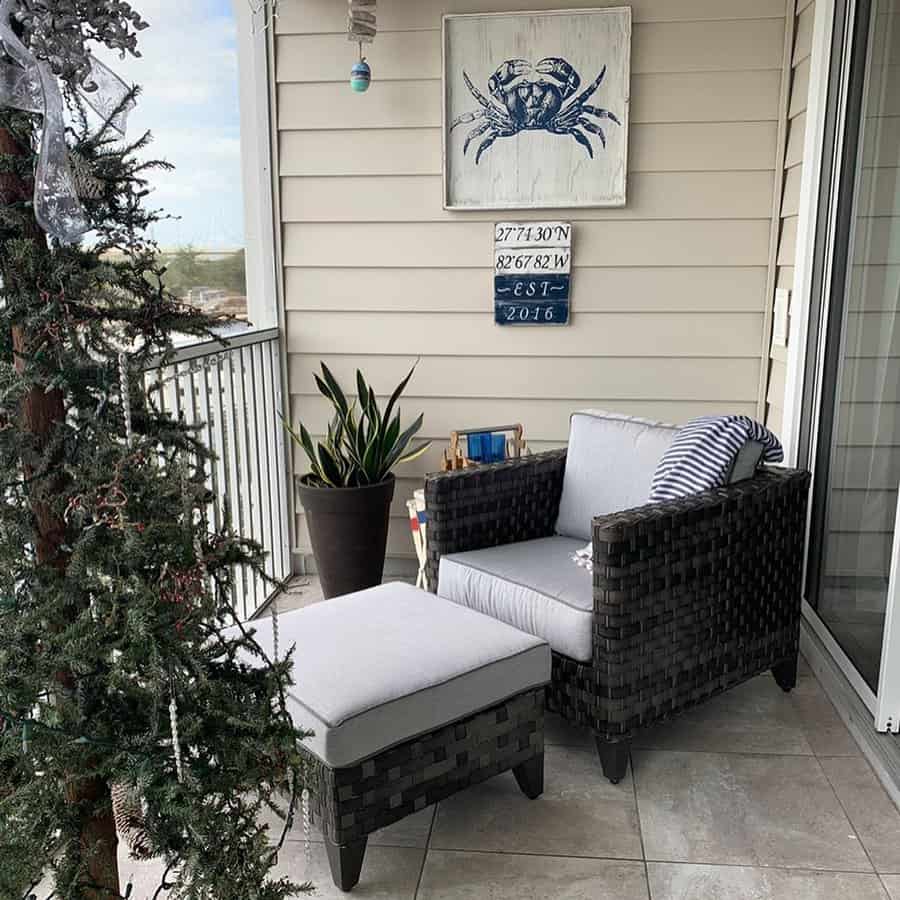 If you aren't ready to turn your entire backyard into a mini beach, you can still celebrate the coastal style. Try a more elegant coastal design with large outdoor sofas and accent chairs arranged on a spacious hardwood deck.
Place a coffee table in the middle. Build a pergola overhead or have large umbrellas creating shade.
13. Rustic
Give your home a comfortable, lived-in feel with rustic coastal decor. This could be reclaimed or salvaged wood.
You could even find old ship wood to use. Perhaps you use the wood to create a decorative accent wall. Or you build a new mantel for your fireplace.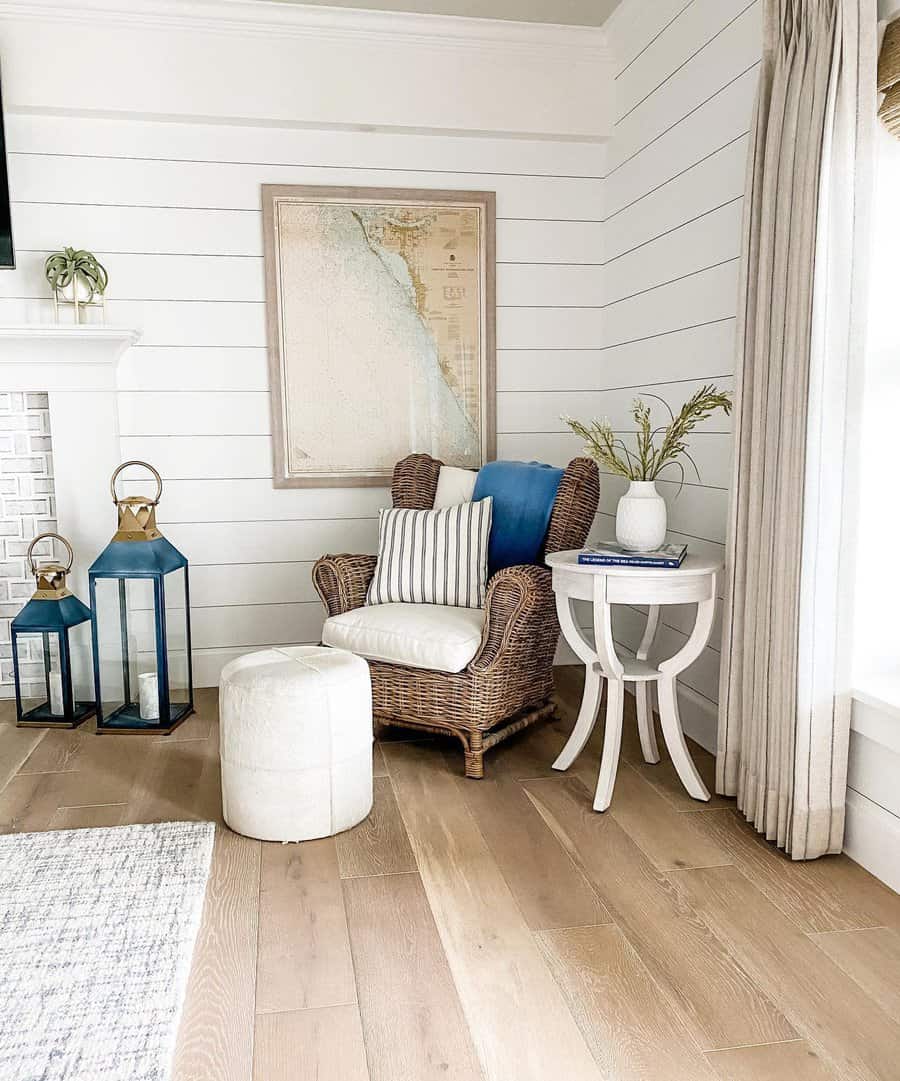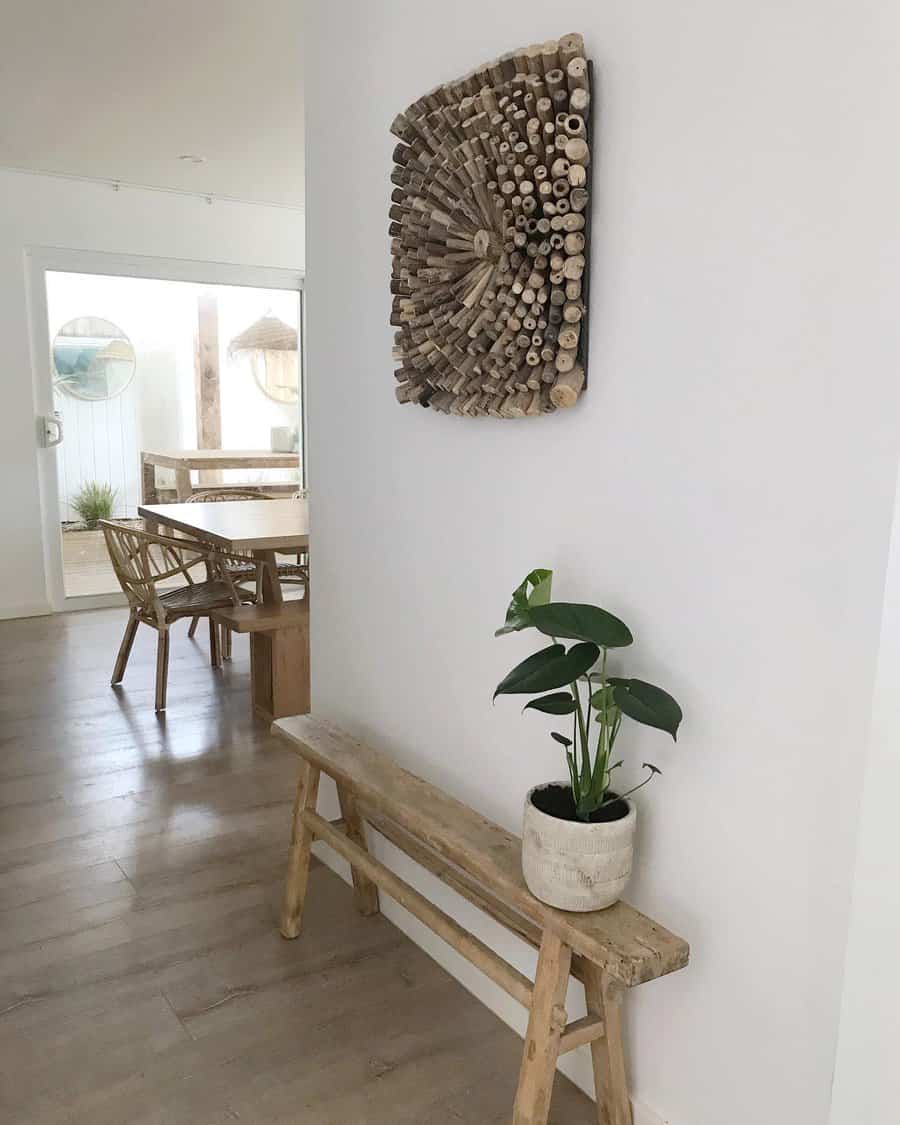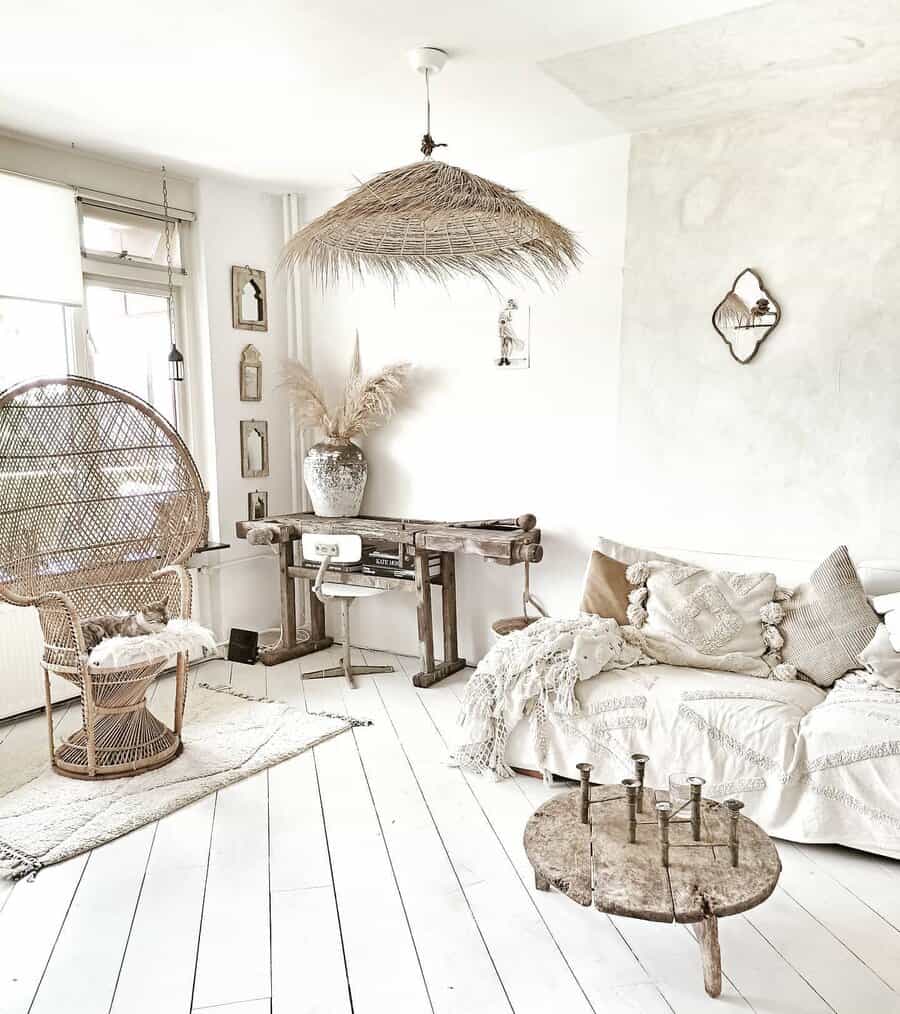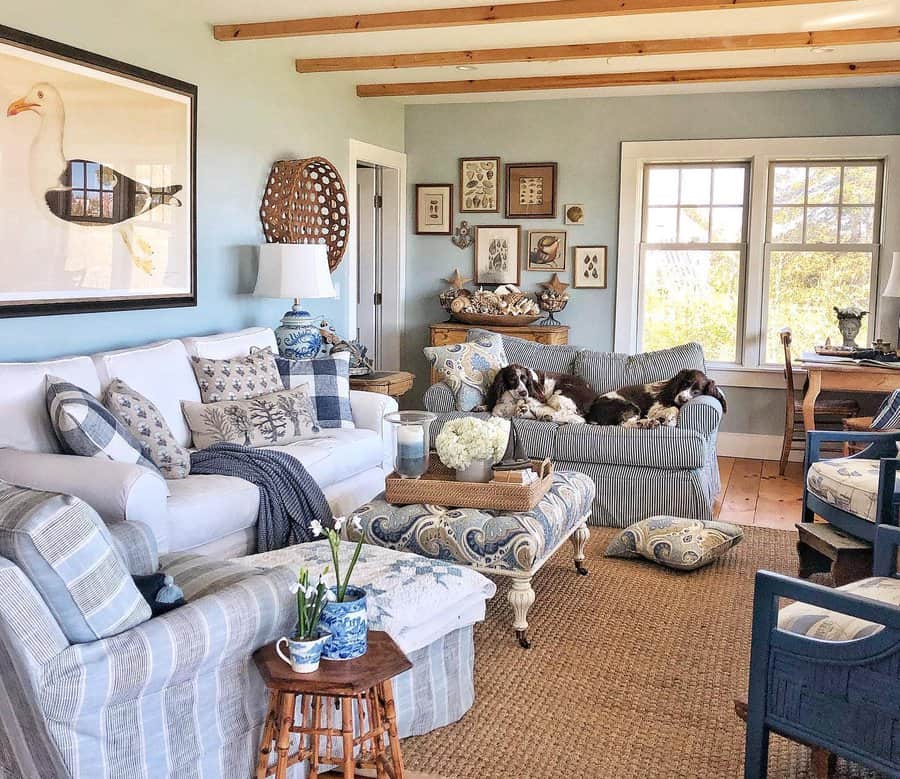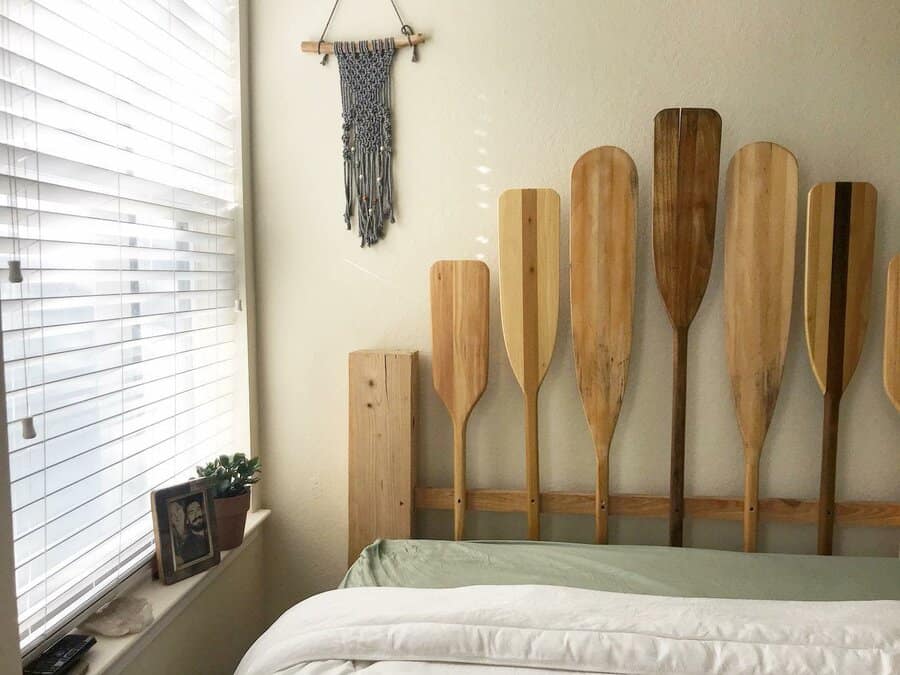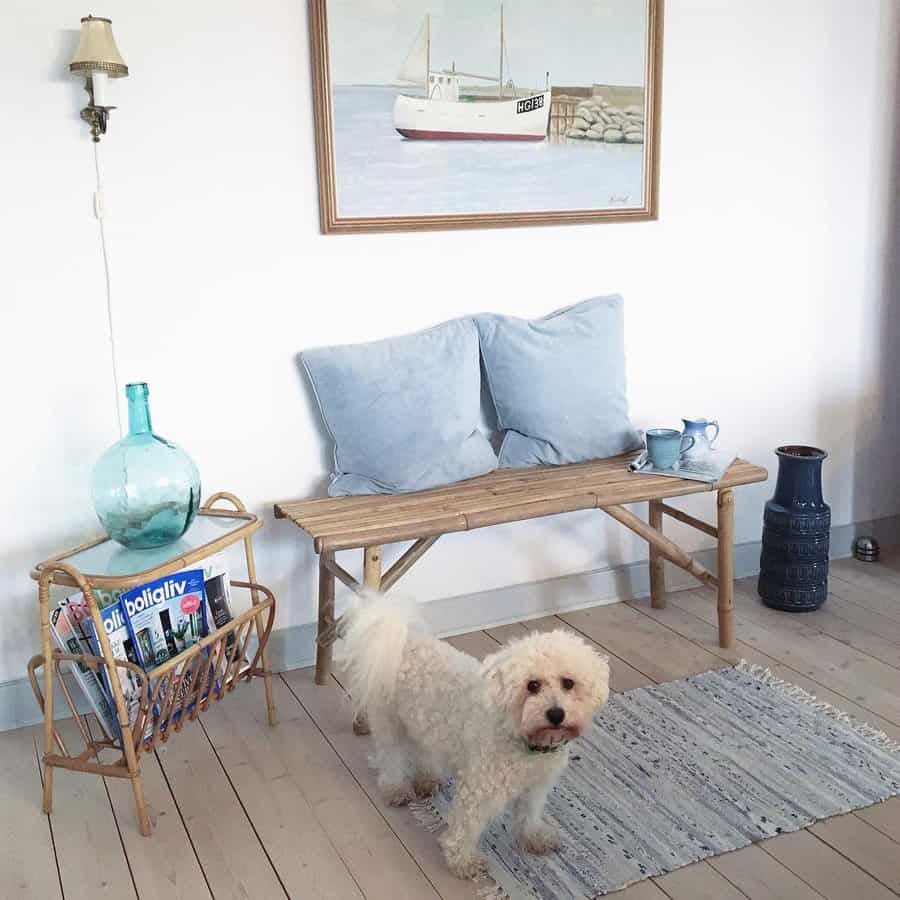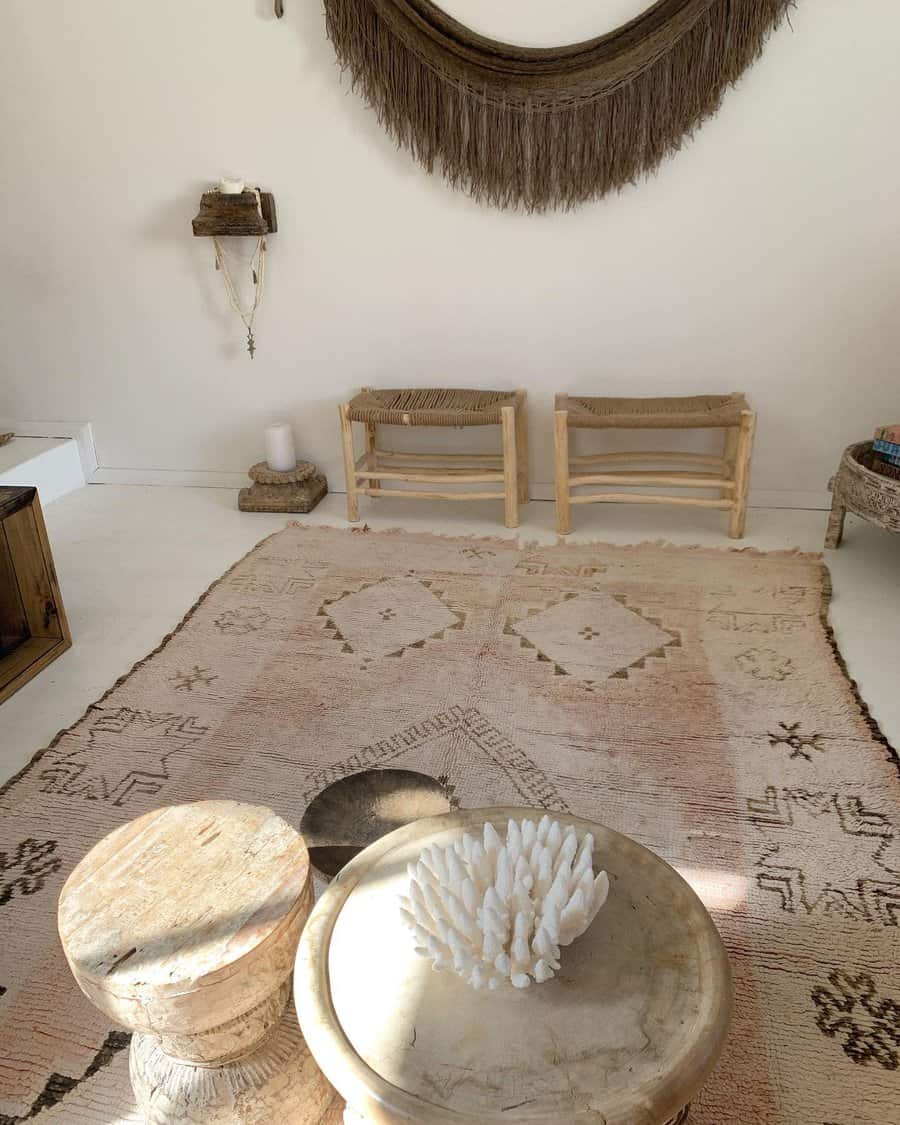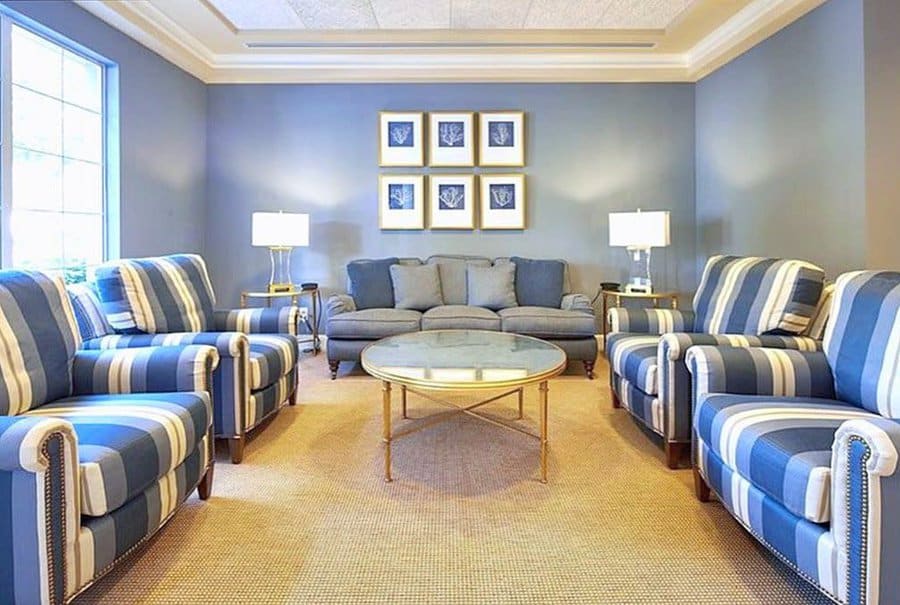 Use large beams on the ceiling to give your home a coastal interior. You could place a vintage coffee table in your living room that has sea life carvings. A vintage area rug in your bedroom will add a natural, lived-in feel.
14. White
Creating a beach style for your all-white room is a smart approach. All-white rooms can look bland and sterile.
Using beachy decor for your interior will add natural materials and texture to the room. This creates depth and visual interest without losing the all-white aesthetic.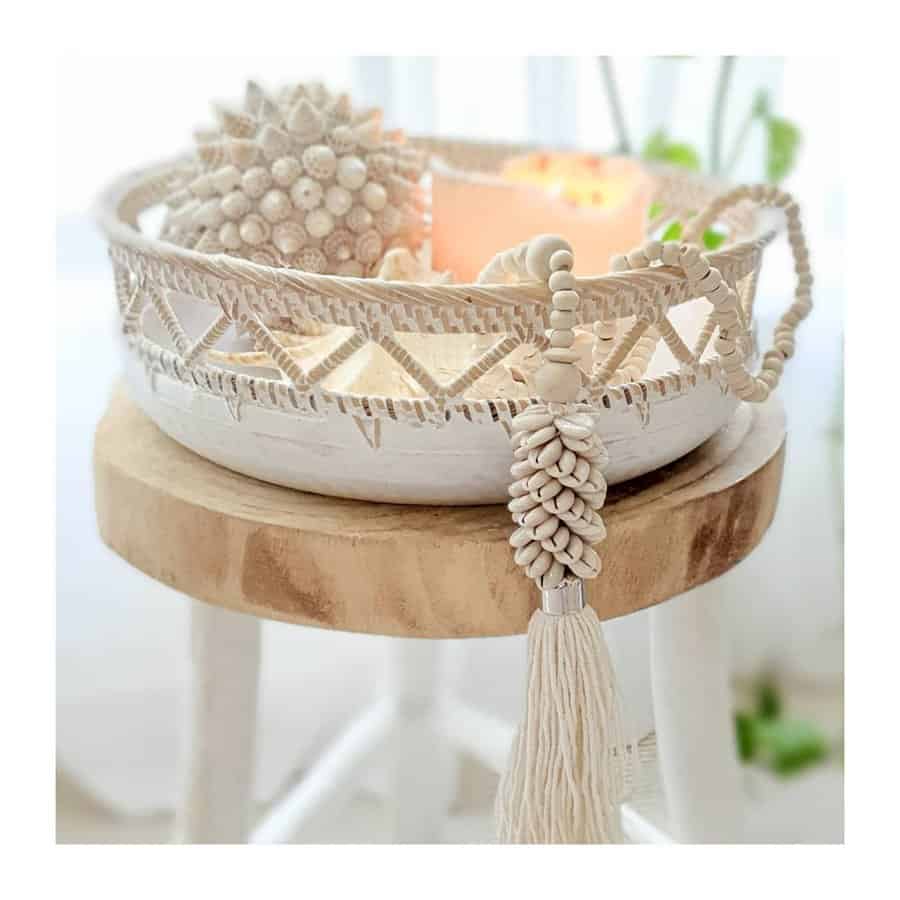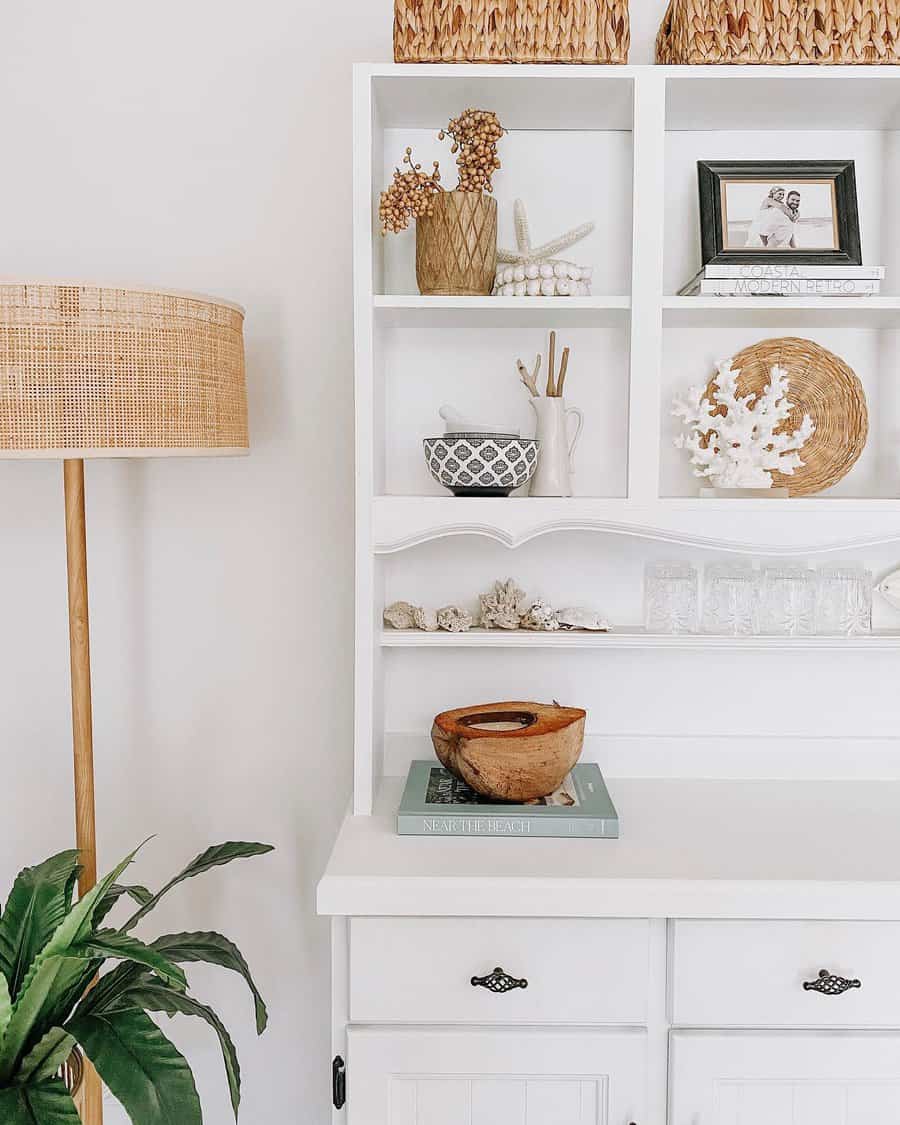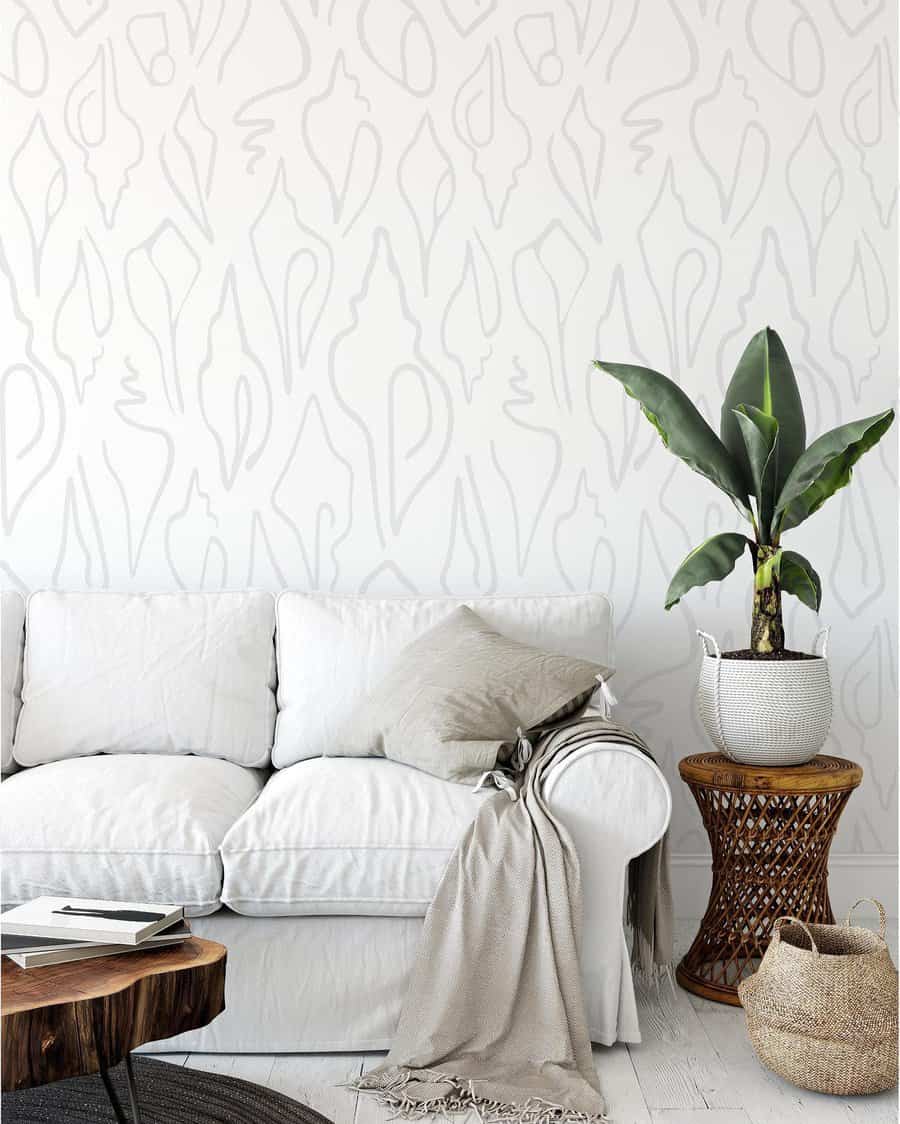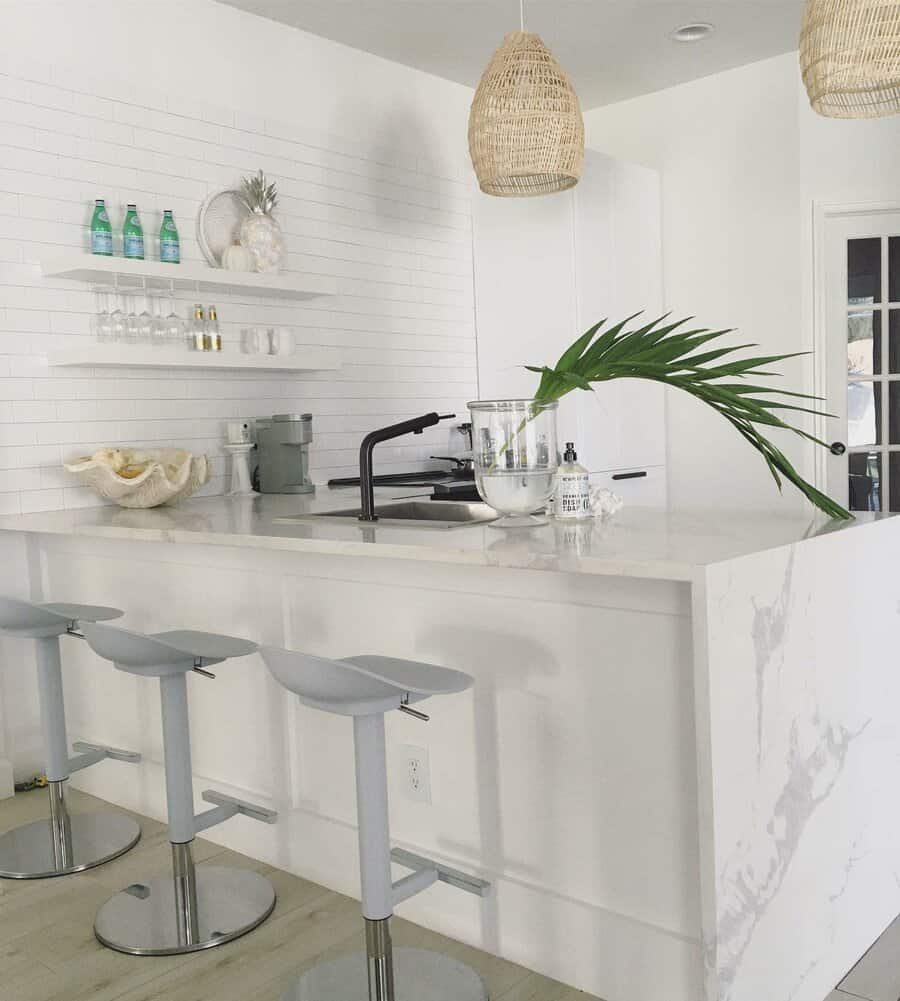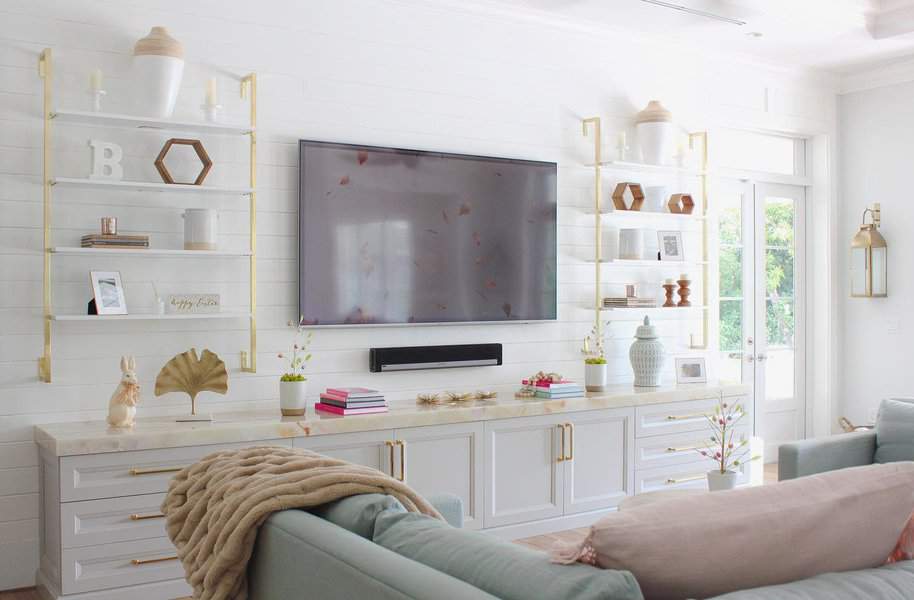 Try using light wood for the furniture with white upholstery. Or you could have driftwood mounted on the wall.
You could have window treatments or throw pillows that are a white on white embroidery design that features sea life, shells, or coral. The embroidery creates texture, while the white on white color scheme keeps the design subtle and elegant.
Coastal Decor Ideas
How do I make my room feel beachy?
Use the colors and materials that you would naturally find near the beach. Blues, white, and light tans are popular for the color scheme. Cedar shingles will invoke feelings of an East coast beach. While adding wicker and turquoise colors will give the room a more tropical beach feel.
What is coastal farmhouse style?
Coastal farmhouse blends the two interior design themes together. Farmhouse decor is a mix of old and new with an unassuming approach. Coastal is about embracing the water and beach lifestyle with a laid-back feel. To blend the two, place some vintage wood pieces that are more farmhouse with decorative sea glass, shells, or nautical flags.
What are some beachy colors?
Think of the colors of the water from the beach you want to emulate. This could be anything from deep blues to greys, turquoise, and even green. Then add in the colors of the sand from the beach.
This could be anything from pure white to cream, light beige, and even darker hues of taupe or even grey.
The accent color could be a bright yellow to represent the sun or a bold red to represent the umbrellas and towels that get spread out on the sand. A vibrant red and yellow are also traditional nautical colors.