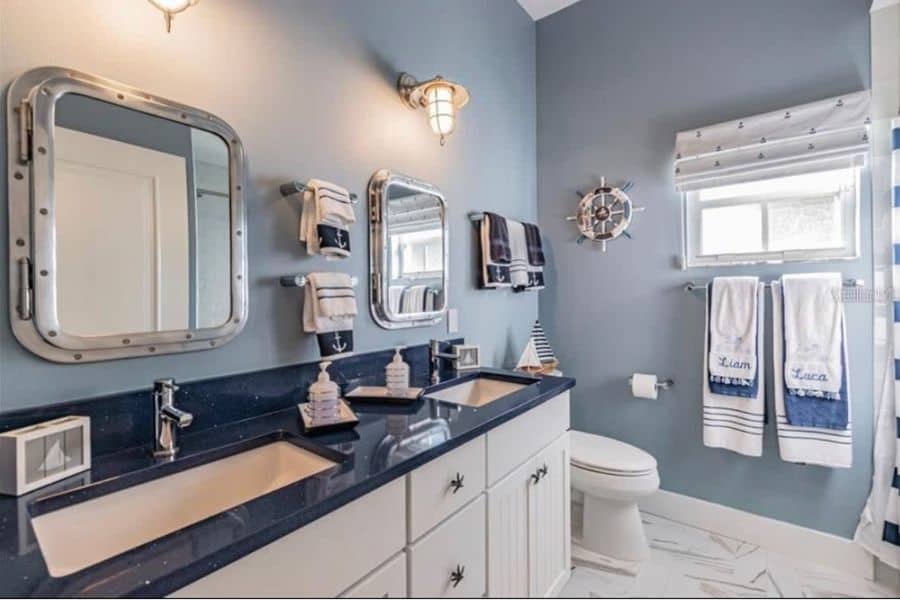 The Top 34 Coastal Bathroom Ideas
"Don't take anything too literally. When throwing a coastal theme dinner, don't just put seashells on the table. Instead, think about the colors and tones of seashells, what they remind you of and go from there." – Jeremiah Brent
The beach vibe is a laid-back one that inspires thoughts of the perfect vacation. Consider channeling the feeling of your favorite coastal location during your bathroom makeover.
Start with a new shower curtain and then take it a step further. Change the wall color, switch out the tiles, and add beach-inspired decor.
These coastal bathroom ideas will have you dreaming of your next oceanside getaway.
1. Navy Blue Bathroom
If you're dreaming of the perfect coastal escape, why not take that beachy feeling straight into your bathroom? A navy blue bathroom creates an instant feeling of a tranquil and serene atmosphere, with its deep shades of blue reminiscent of an ocean.
Consider adding gold fixtures or rattan for a warm contrast to the cool palette, instantly creating a luxurious yet calming room. Just be sure to include plenty of glass – whether it's jar candles for a soft glow or even an infusion of actual sea-glass pieces!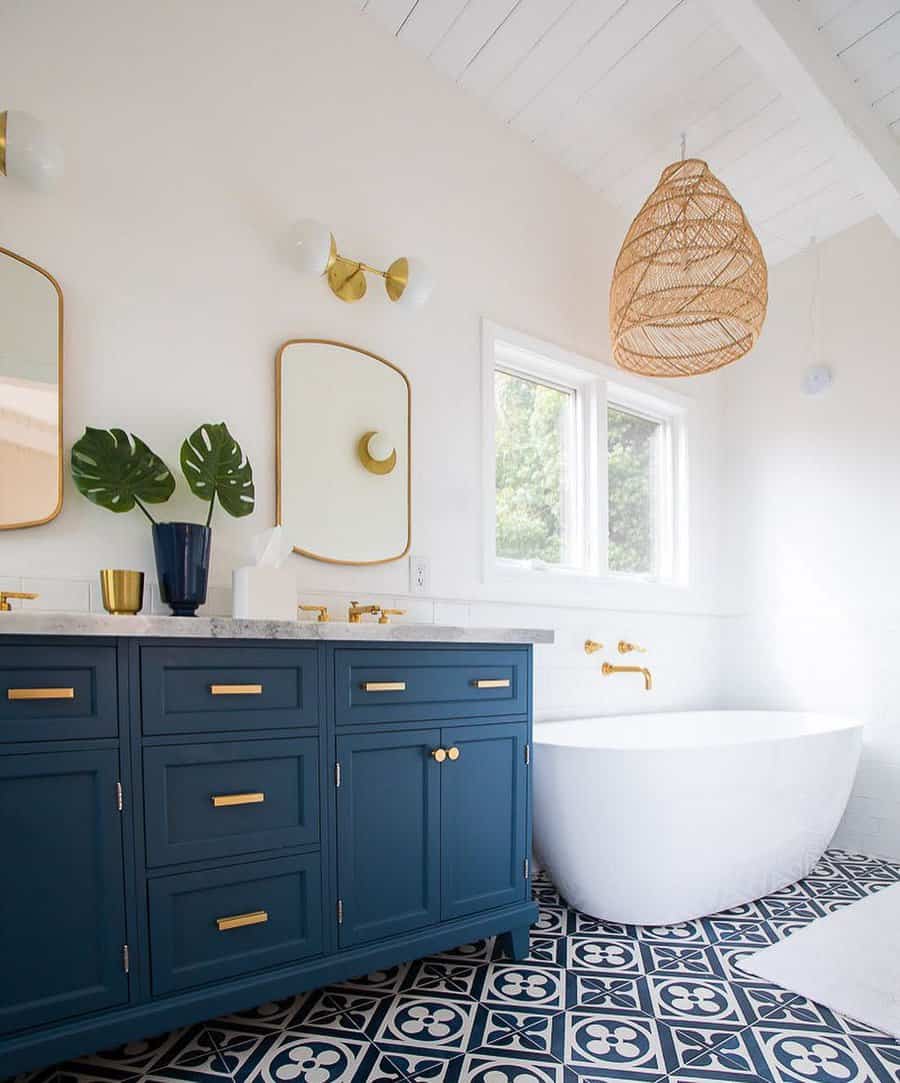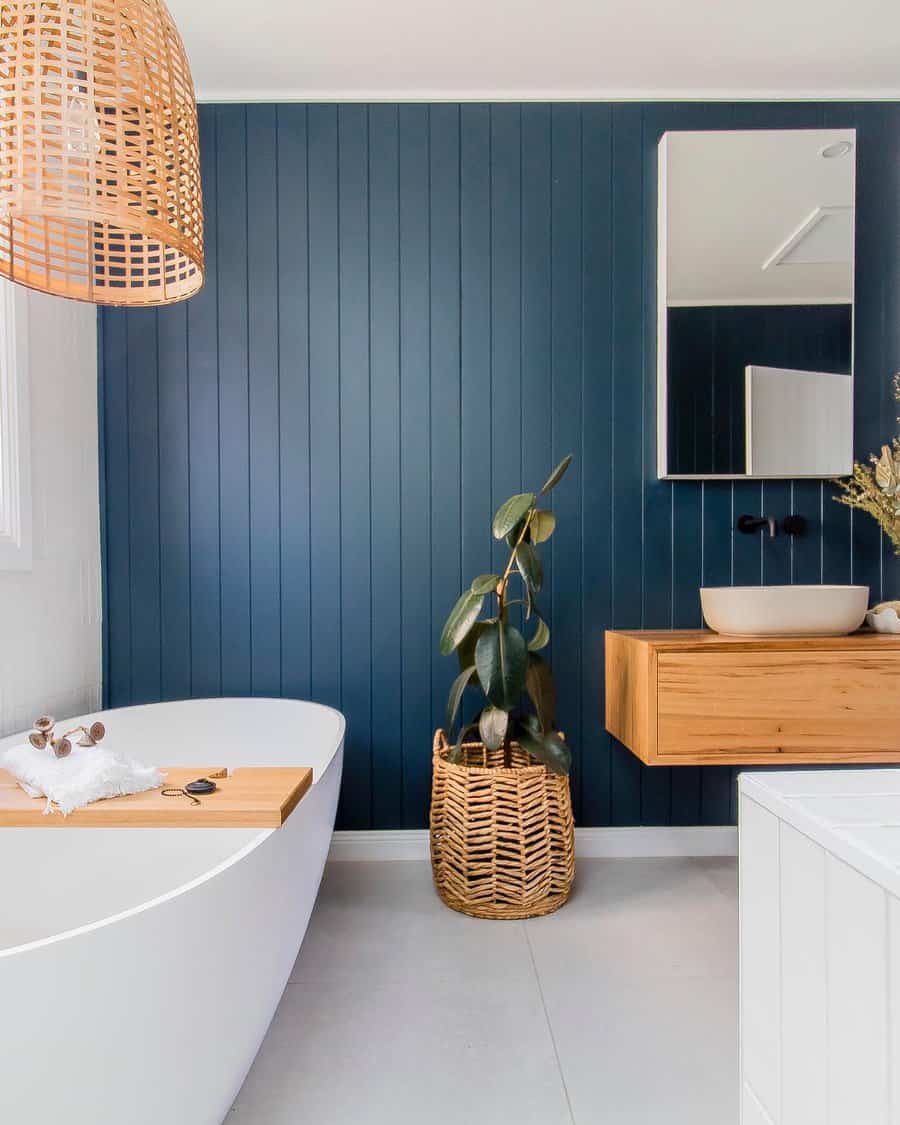 2. Boho Chic Coastal
Transform your bathroom by bringing in some coastal vibes! Create a boho-chic coastal bathroom with white walls, rattan and wood furniture, ocean-inspired accessories, and bright green plants. These pieces will come together for an inviting atmosphere of natural beauty and tranquility—perfect for a relaxing soak in the tub.
Complete the look by adding accent tiles with sandy shades, finished off with wispy white curtains for a warm summer glow. With these creative coastal bathroom ideas, you'll be transported to a tropical paradise every time you enter your bathroom!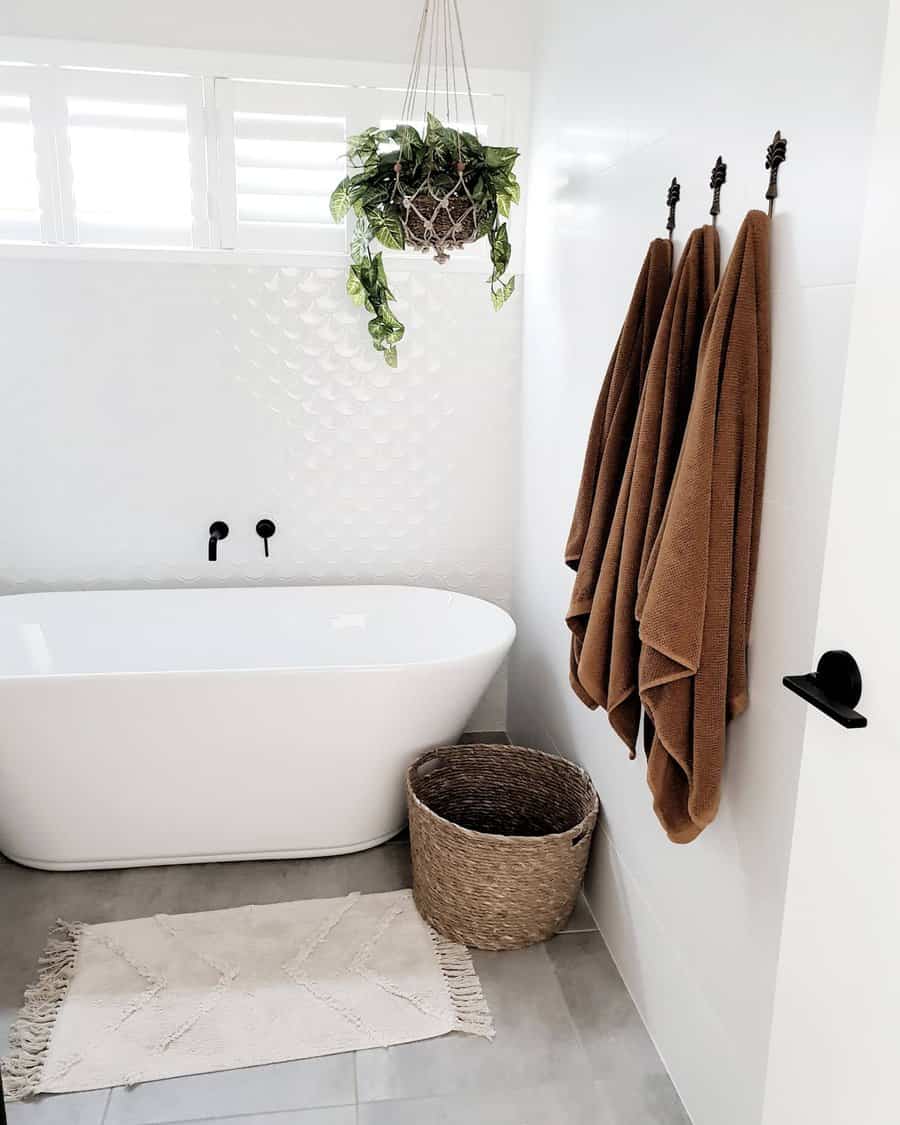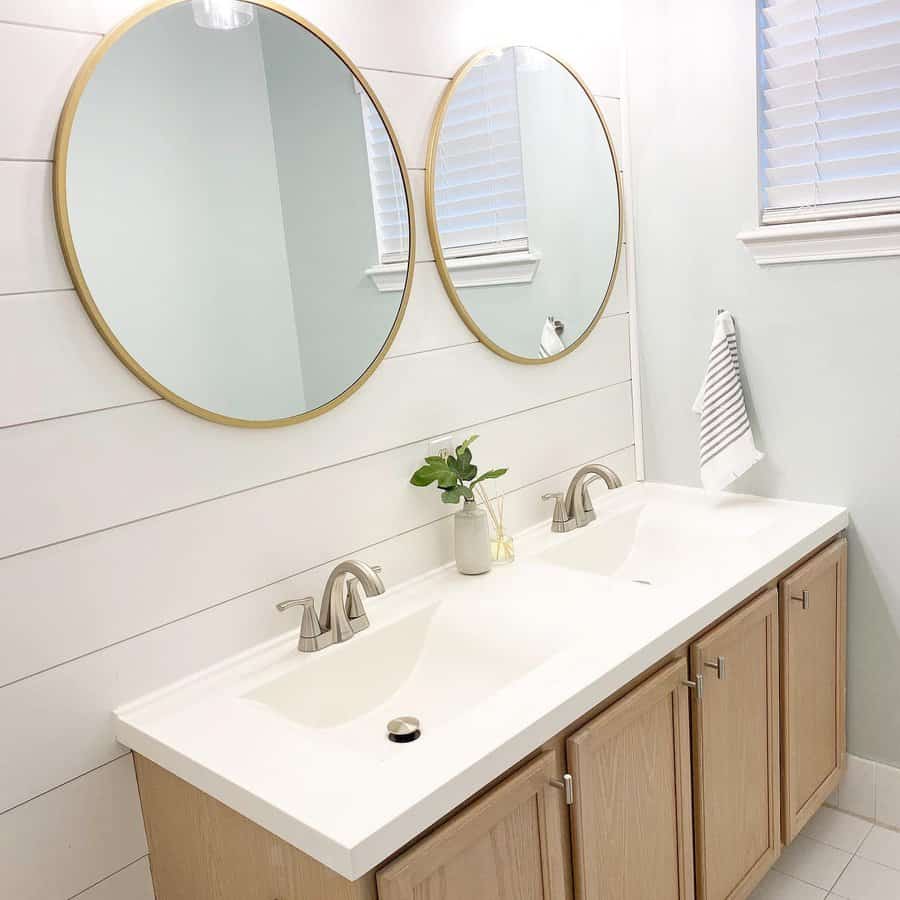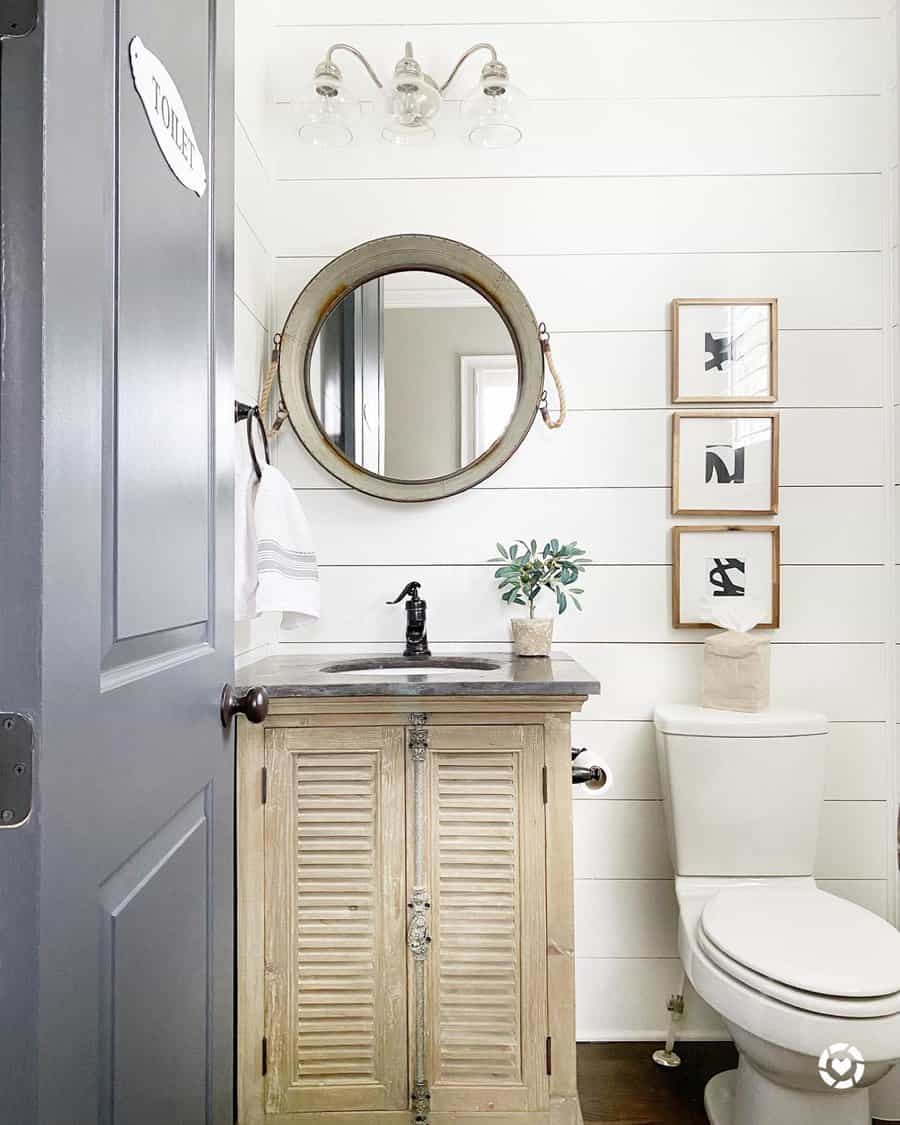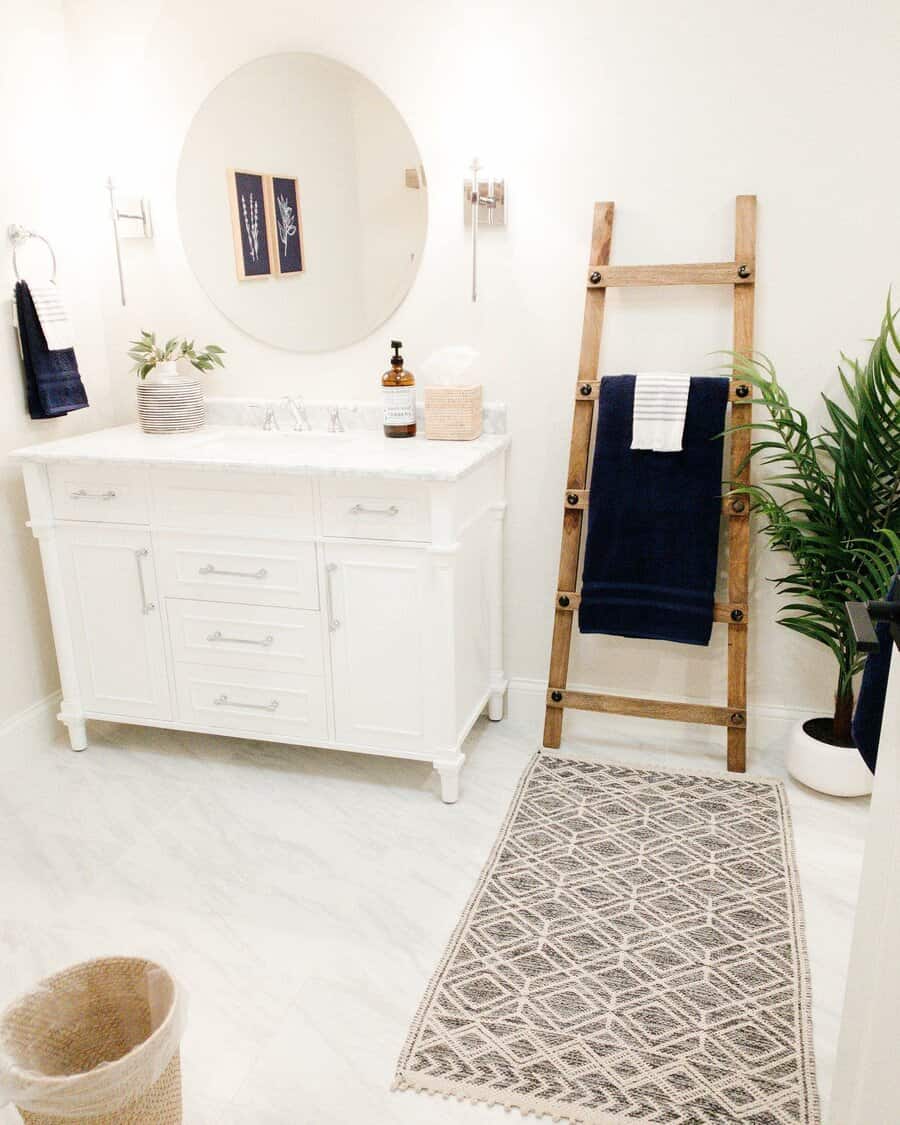 3. Bright & White
If you're looking for a bright and cheery atmosphere in your bathroom, try adopting coastal bathroom ideas. Consider having white walls or adding white accents to the room, such as beach-themed art, tiles, or wood flooring. Bring in some boisterous energy with peppy blues and greens set against the neutral whites.
Why not take inspiration from seaside living – hang a fisherman's net along an entryway or over the window? A fun touch would be to adorn your bathroom mirror with nautical-patterned decals reflecting sunny rays of sunlight.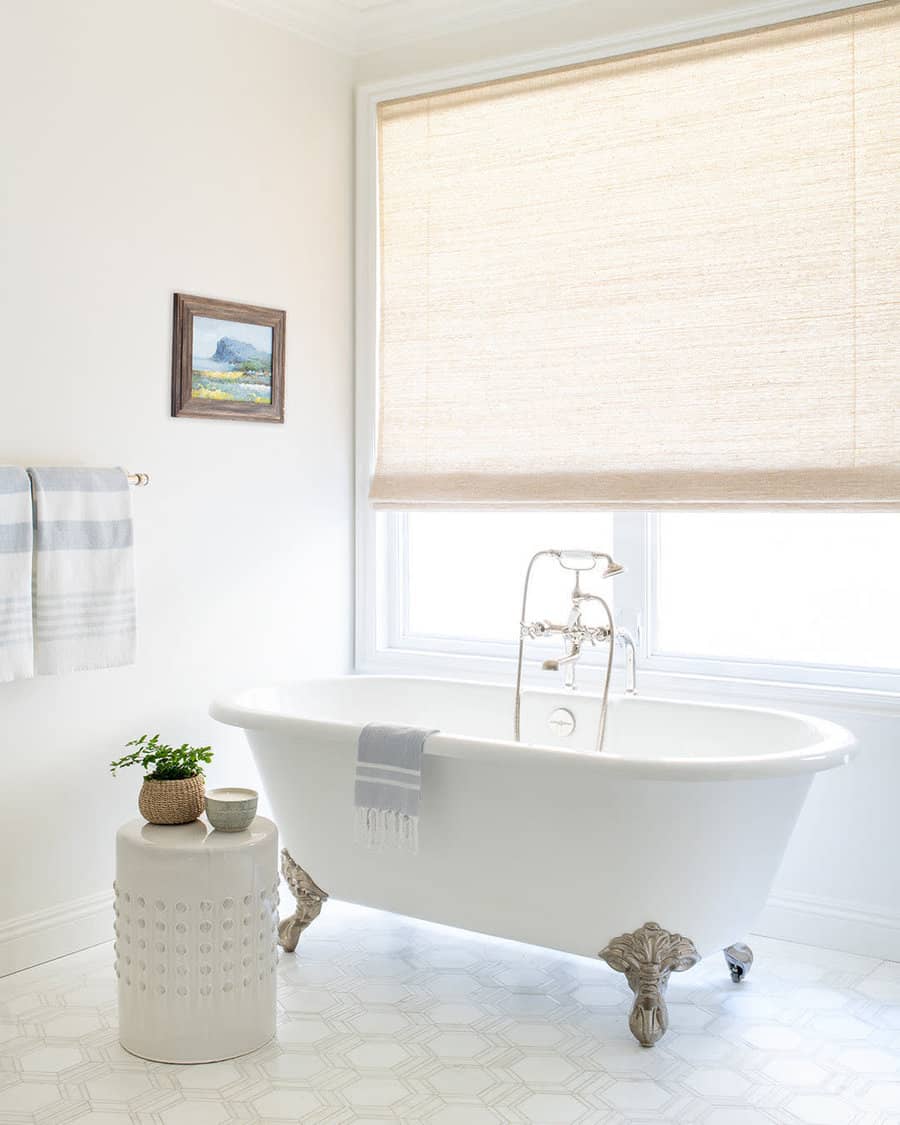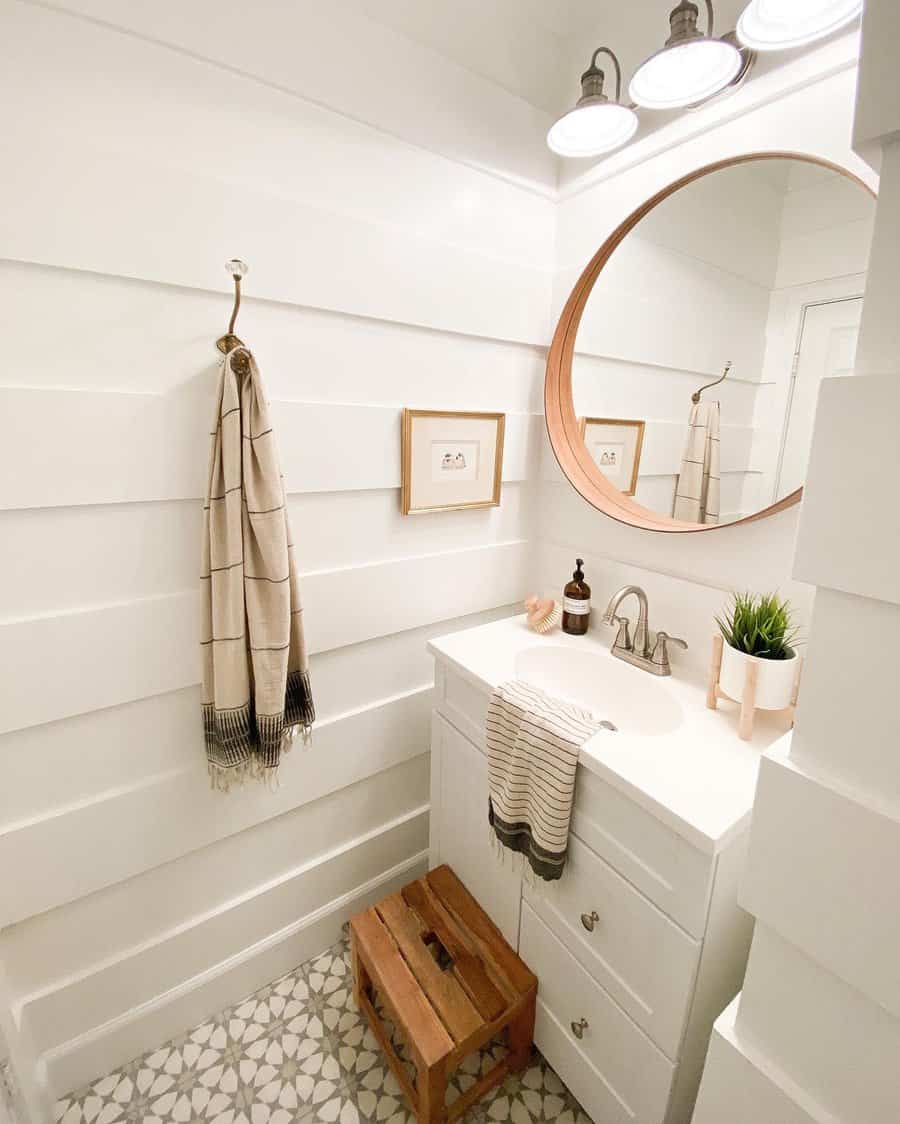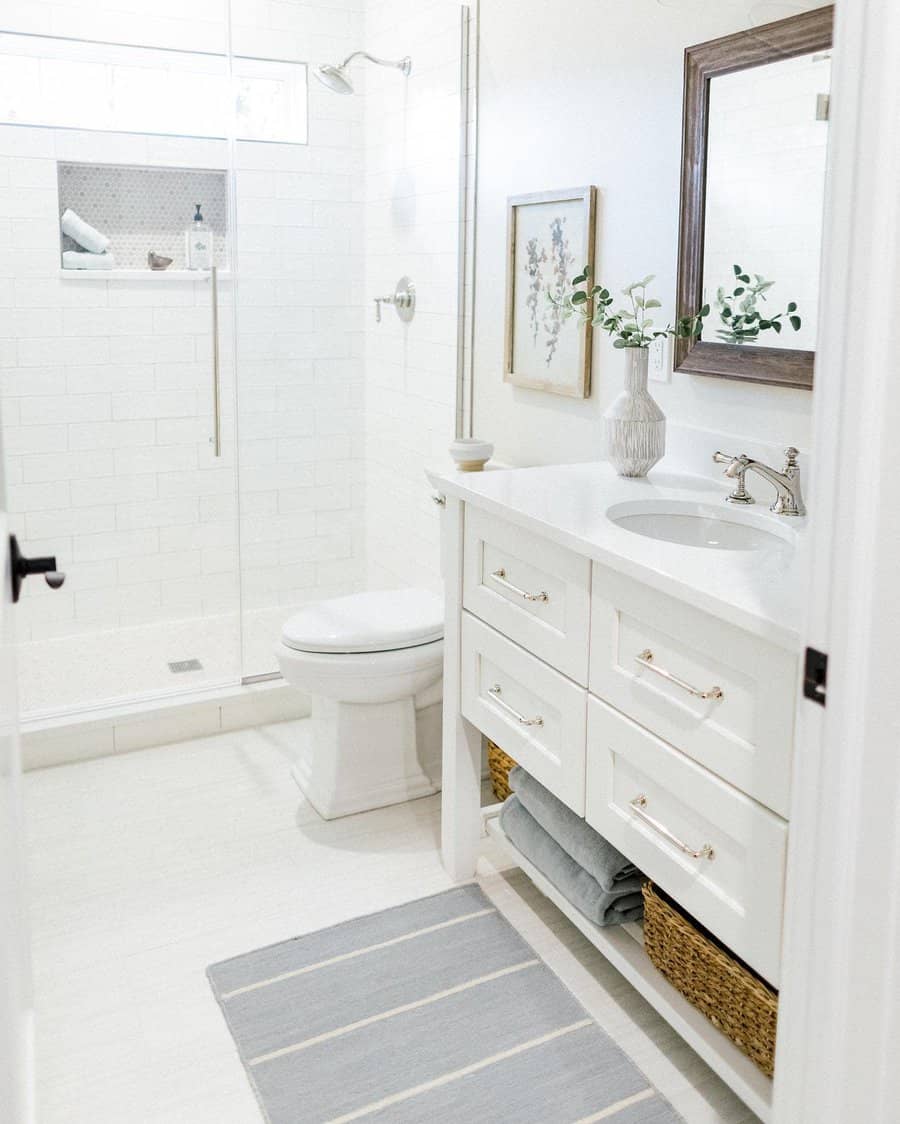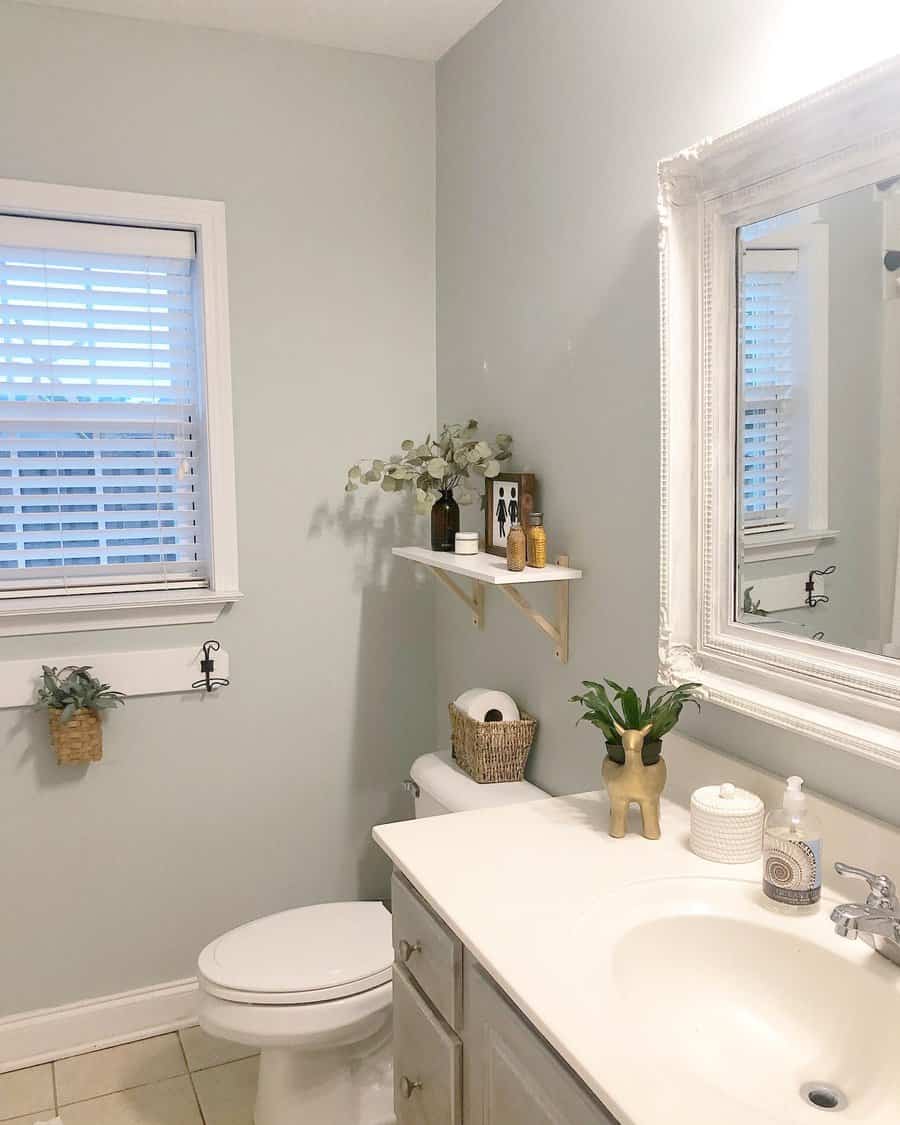 4. Gold Fixtures
If you're looking for something creative for your coastal bathroom, why not go for gold? Incorporating some elegant gold fixtures in your coastal design creates just the right ambiance needed to turn a plain and ordinary bathroom into a stunningly beautiful space.
The use of sparkling golden faucets, light fixtures, and decorative pieces will draw the eye and bring all the elements of the room together. You can also add texture to your design with some stunning handcrafted tiles while introducing a calming blue tone with textiles and artwork. The possibilities are endless when it comes to creating your own unique coastal-style bathroom!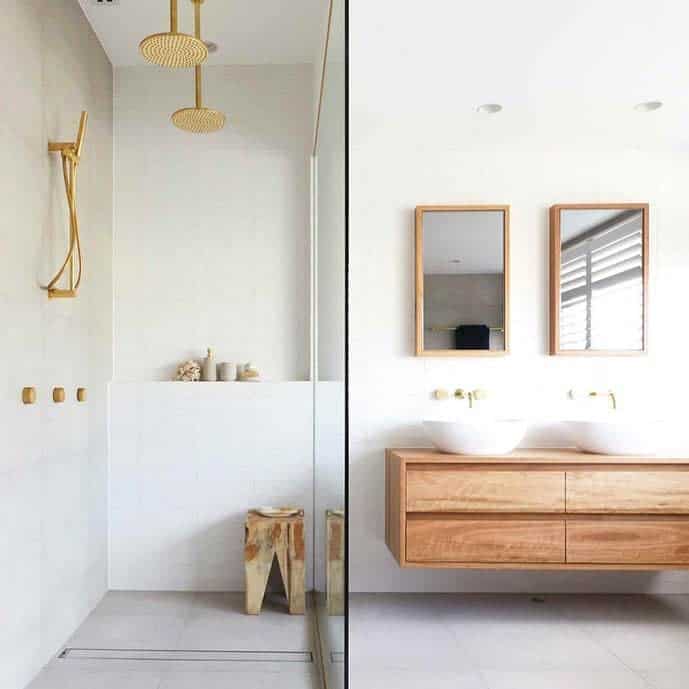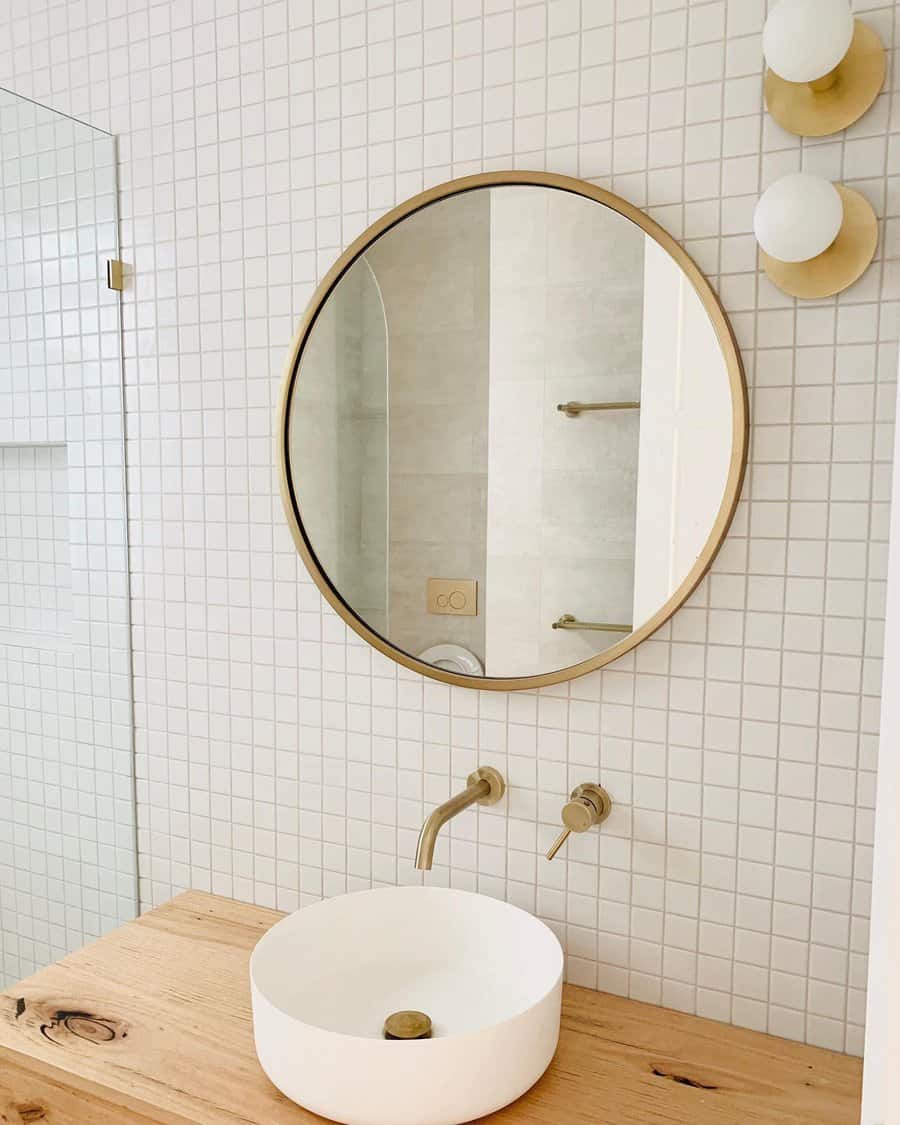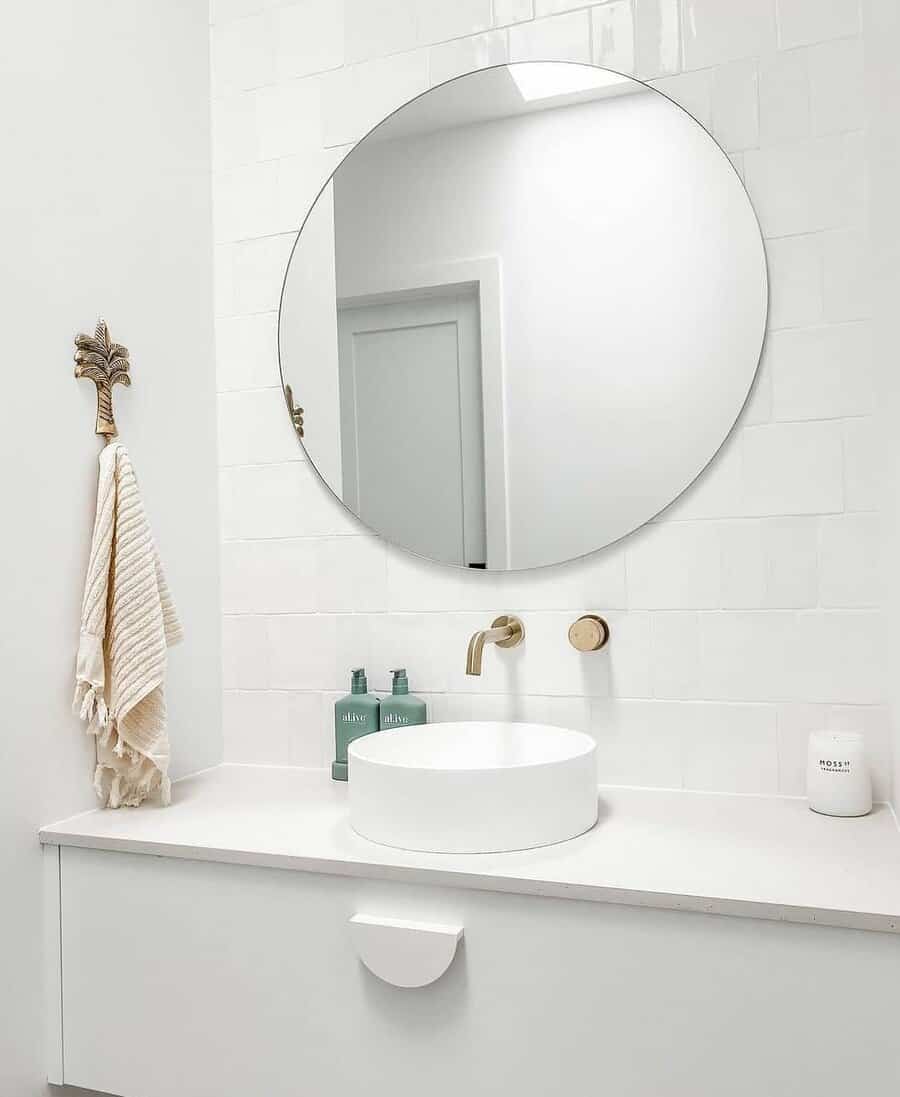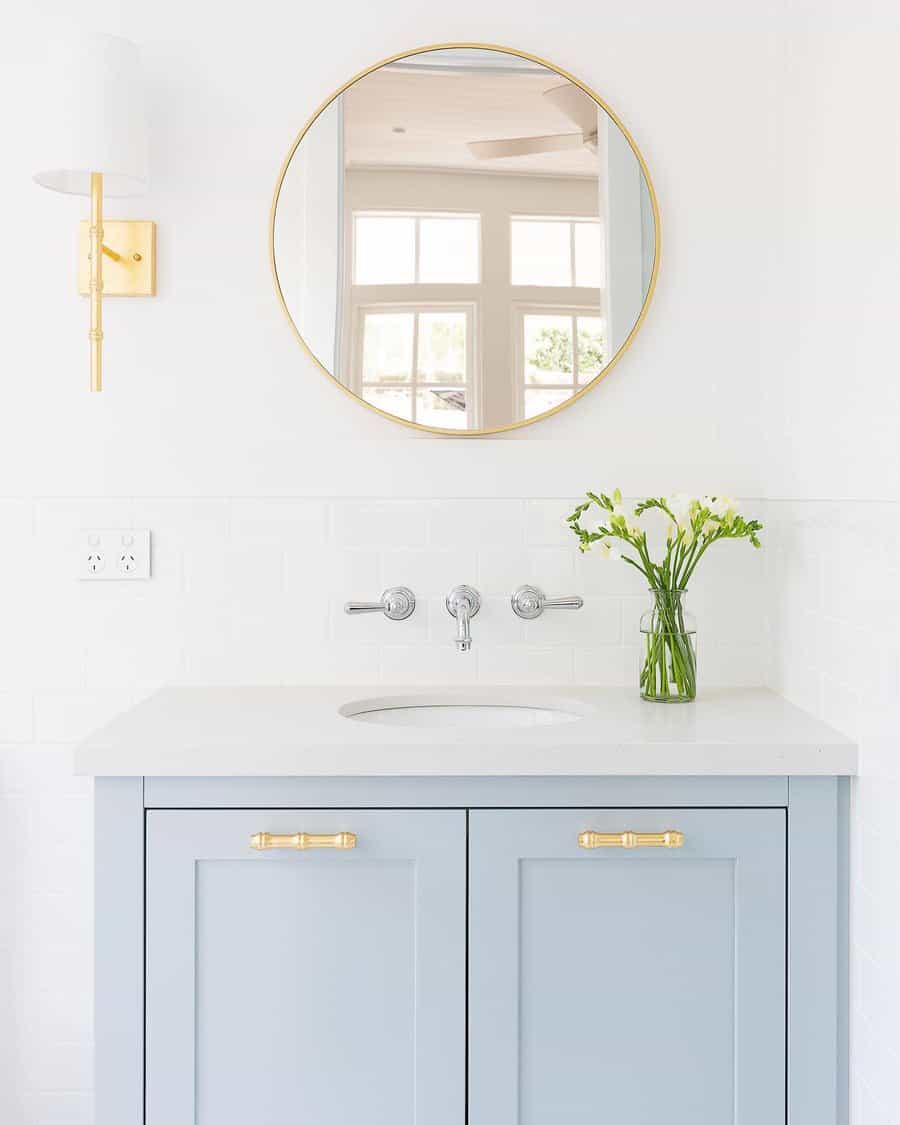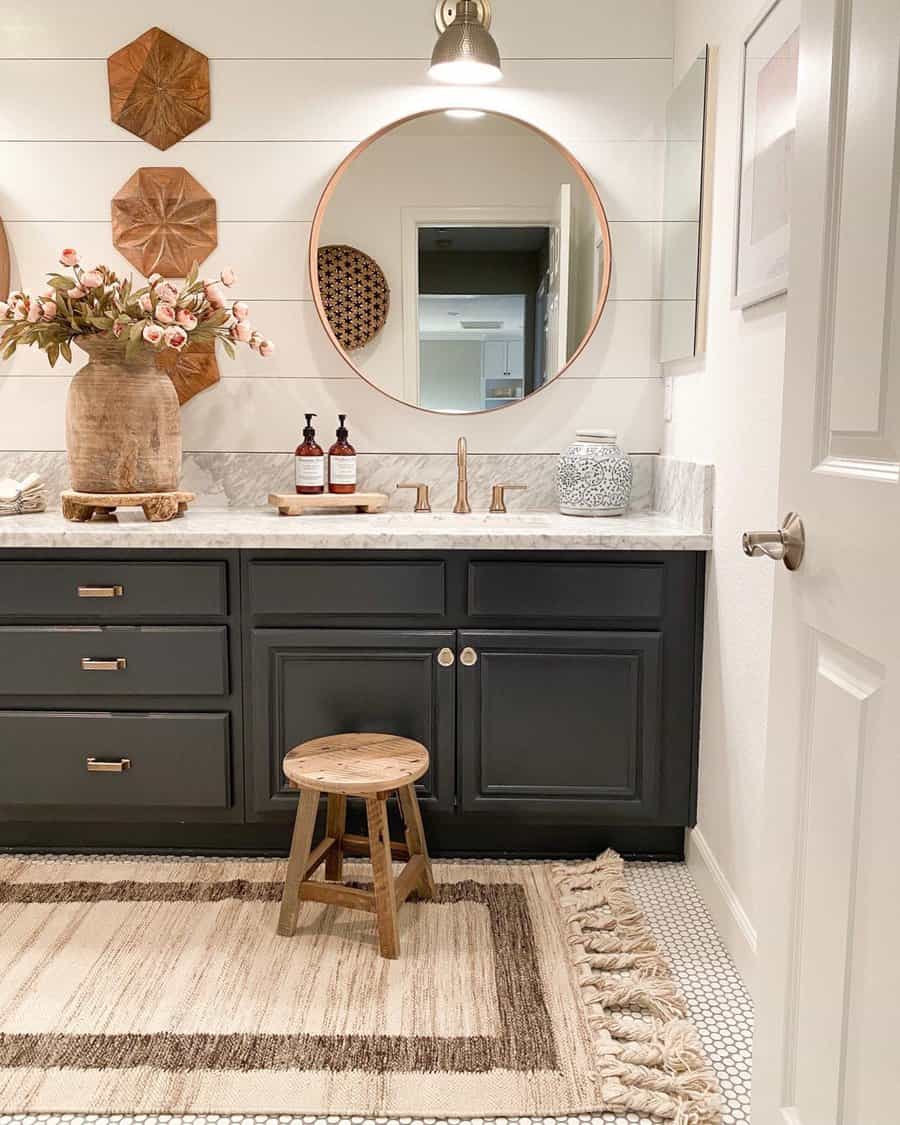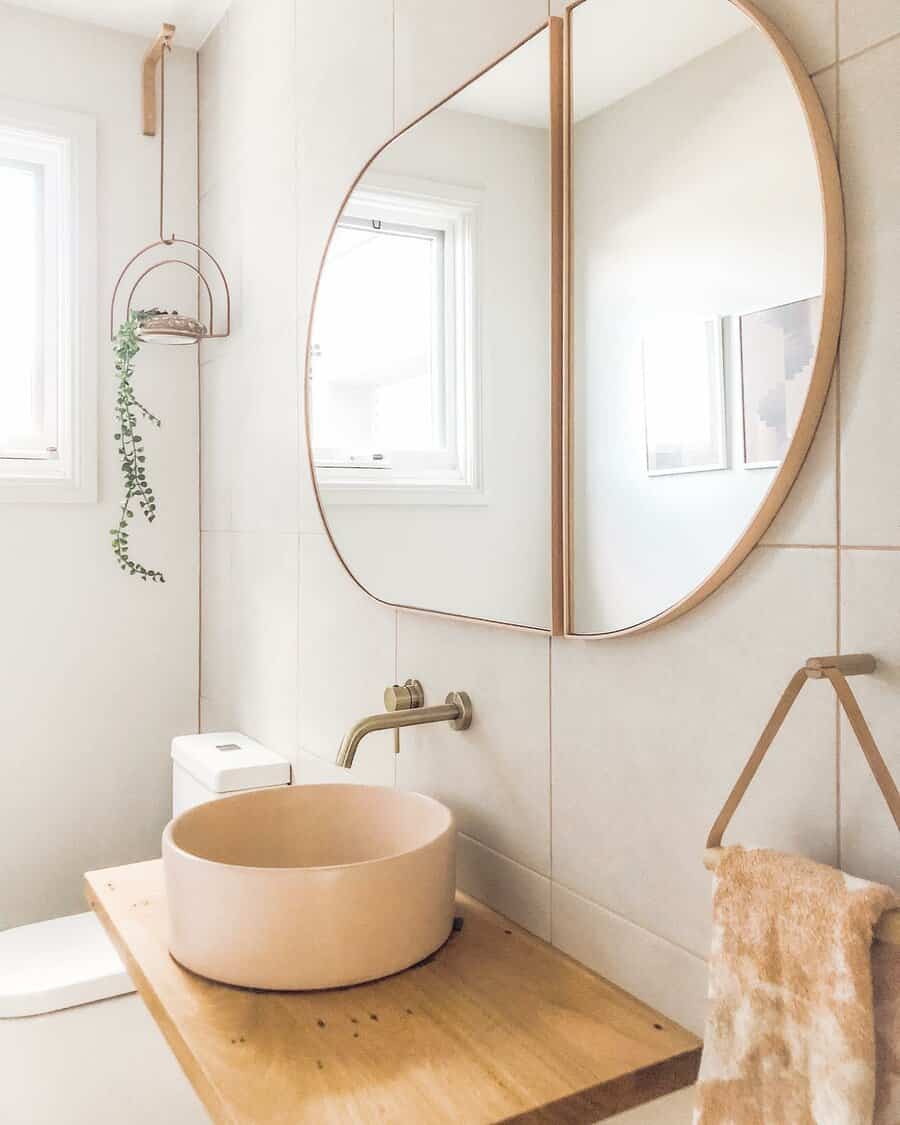 5. Beveled Tiles
Looking for some creative ideas for the bathroom of your coastal home? Beveled tiles can make for a great starting point when it comes to revamping the area.
With its intricate designs and unique shaping, beveled tiles provide an excellent interior design opportunity that can help bring life to your bathroom while also adding that touch of beach-style flair.
From full walls covered in beveled tiles to accent pieces that capture its essence – let your imagination run wild with this timeless trend.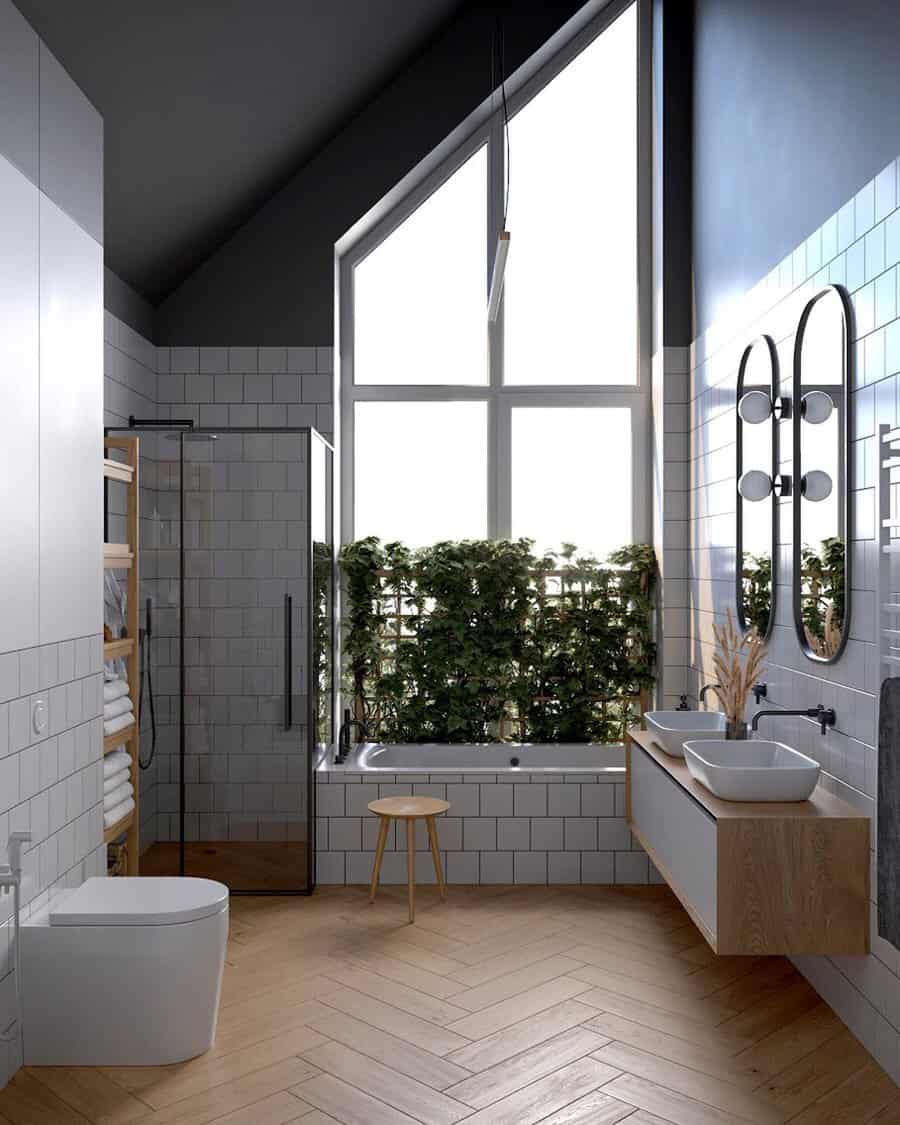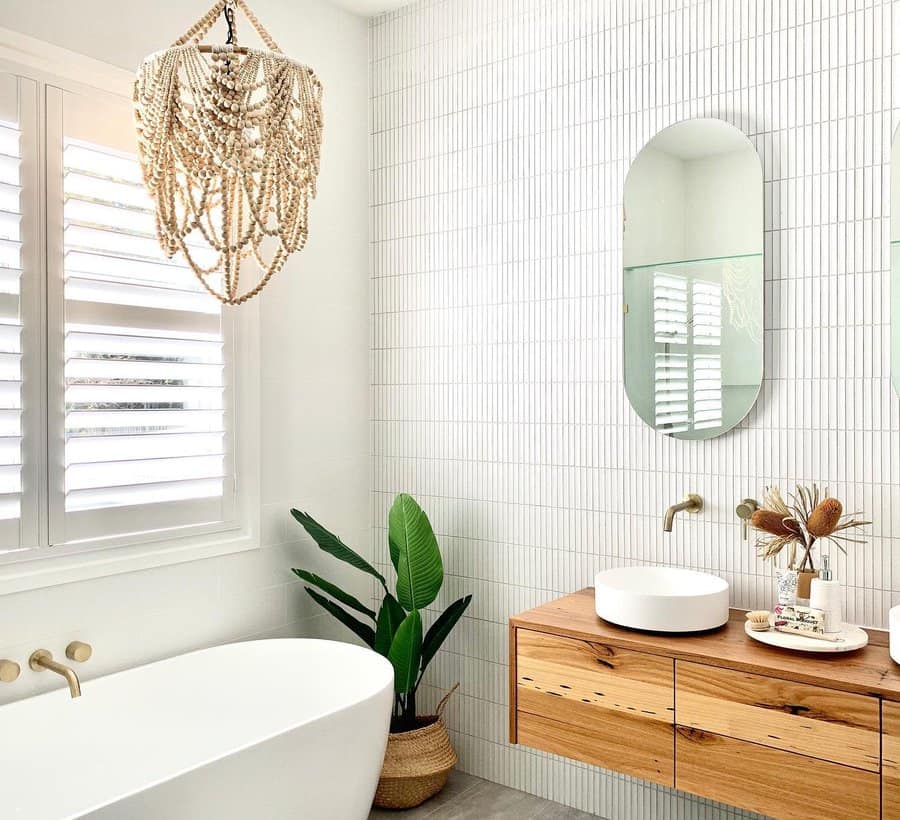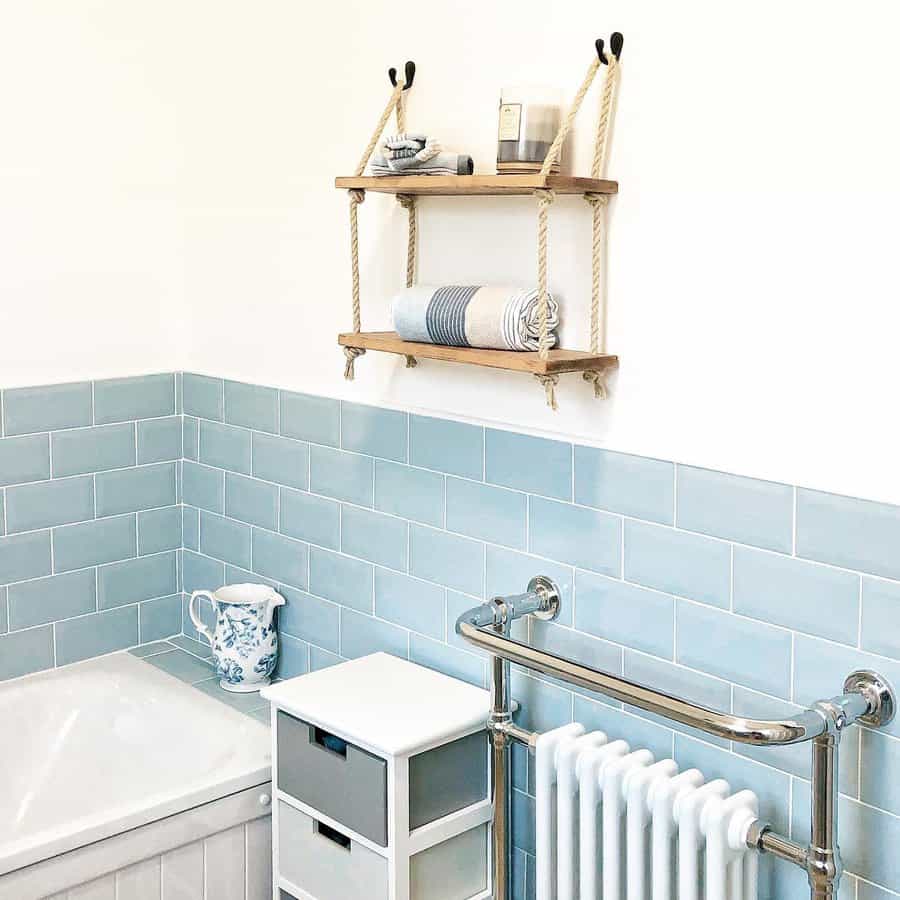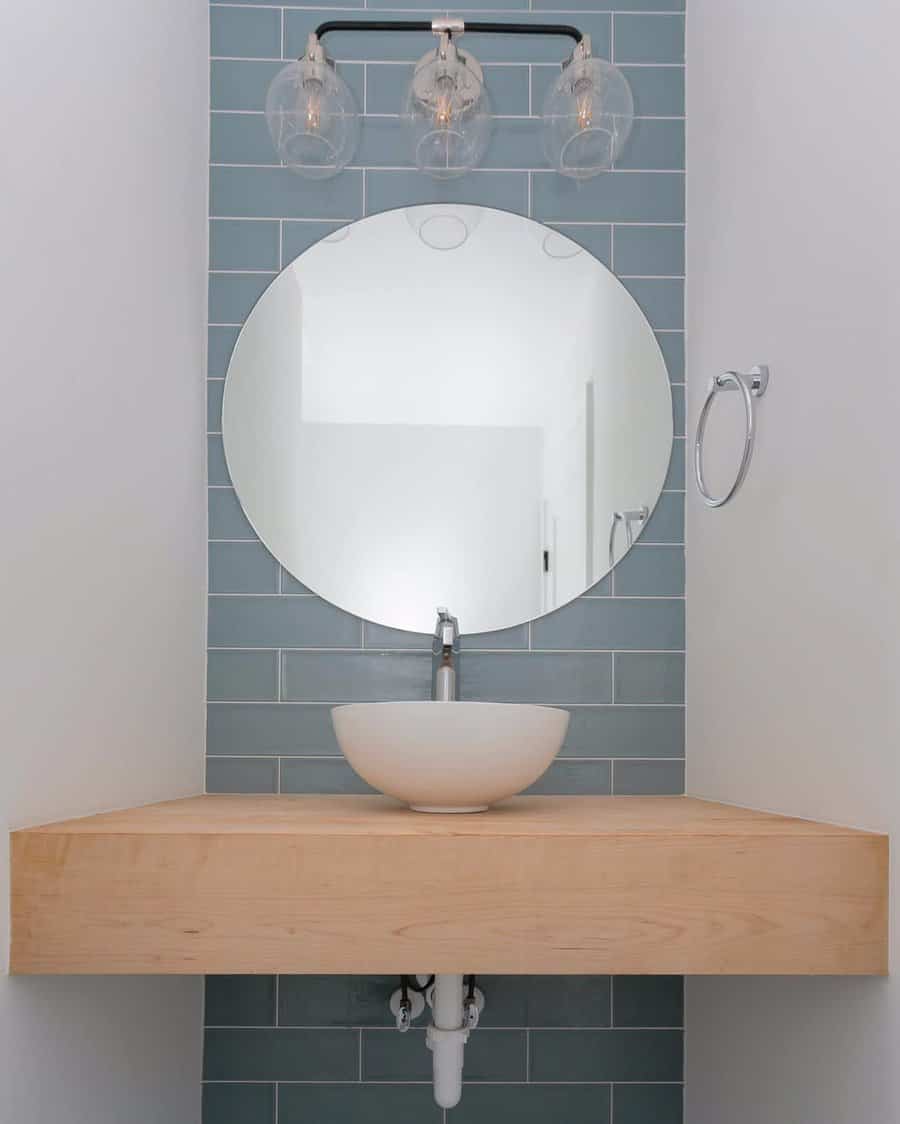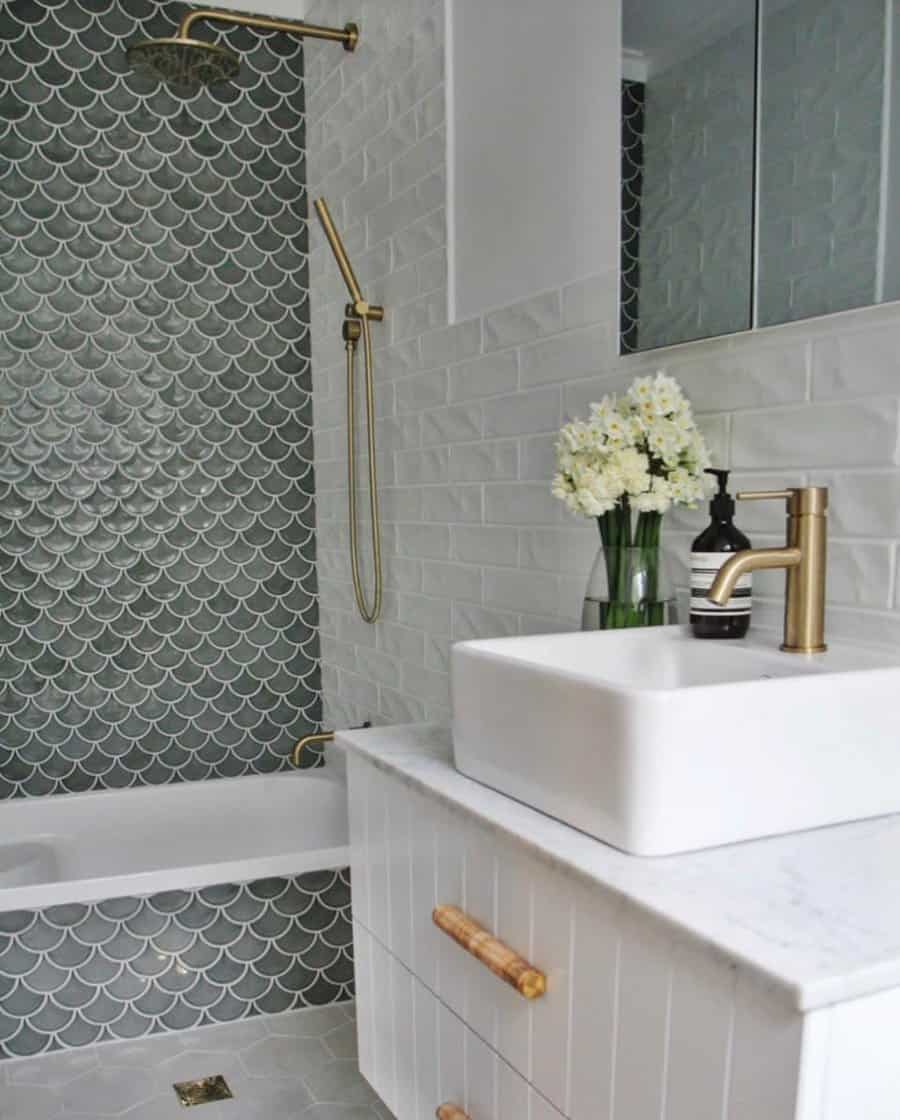 6. Nautical Wall Decor
If you want to create a refreshing coastal-inspired bathroom, look no further than nautical wall decor! It's the perfect way to bring the ocean breeze indoors and make your bathroom feel like a personal beach hideaway. Layer neutral tones with teal blues and choose accessories like netting, sea shells, anchors, and starfish to really complete the look.
Paint wood paneling or accent walls white for a sleek finish that pairs perfectly with wooden towel racks and countertops. With the right combinations of bright colors and textures, you can create a stunning retreat that will make your dampest days seem brighter.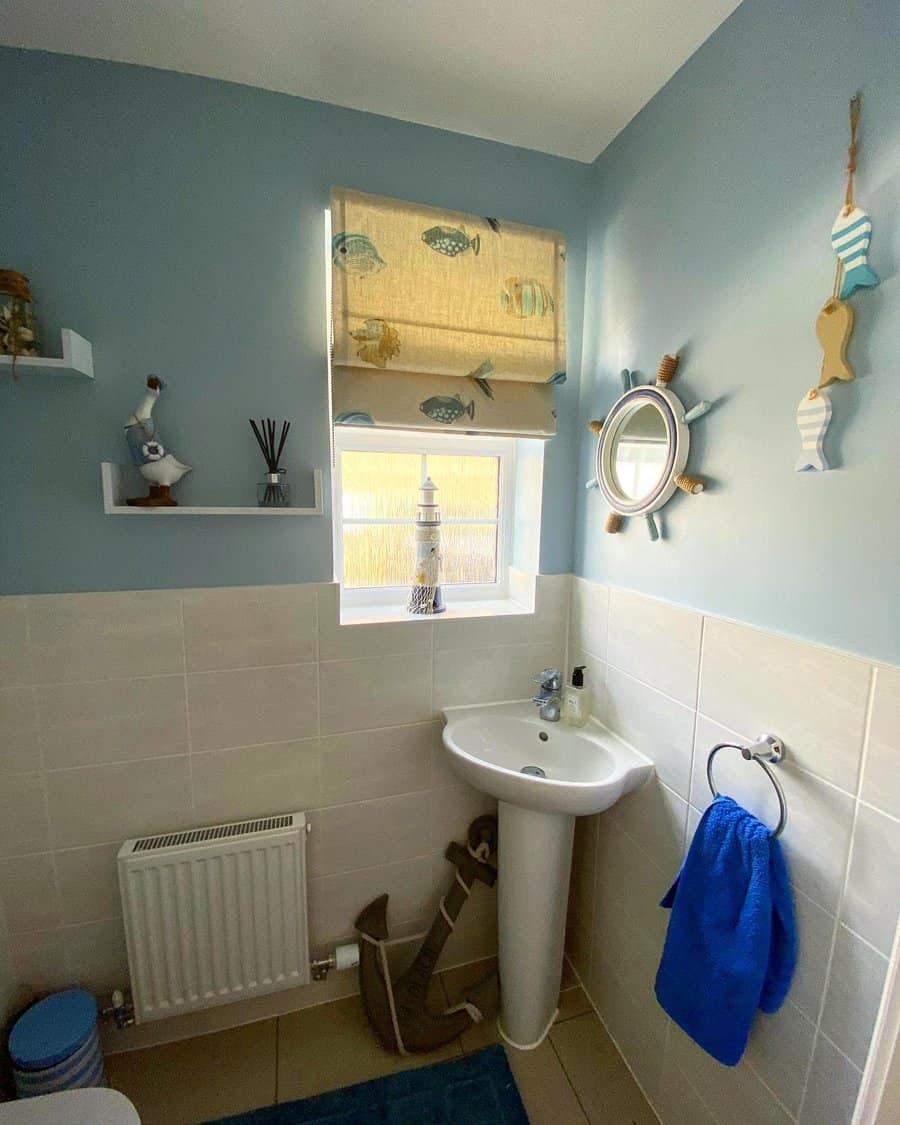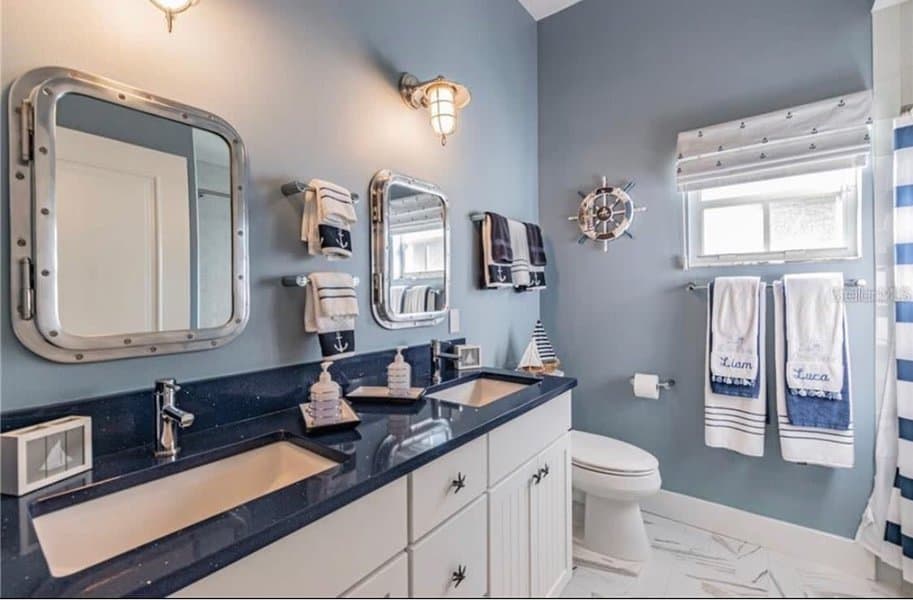 7. Decorative Wallpaper
If you want to give your bathroom a coastal makeover that is both stylish and creative, decorative wallpaper is the way to go! A beach-inspired design with starfish, shells, and seagrass nuances gives a relaxing, spa-like atmosphere that's sure to provide you with pure bliss.
You can even take it a step further by adding a few knick knacks such as starfish soap dishes and clamshells used as tissue holders. The possibilities are endless when it comes to transforming your space into an oasis right near the sea.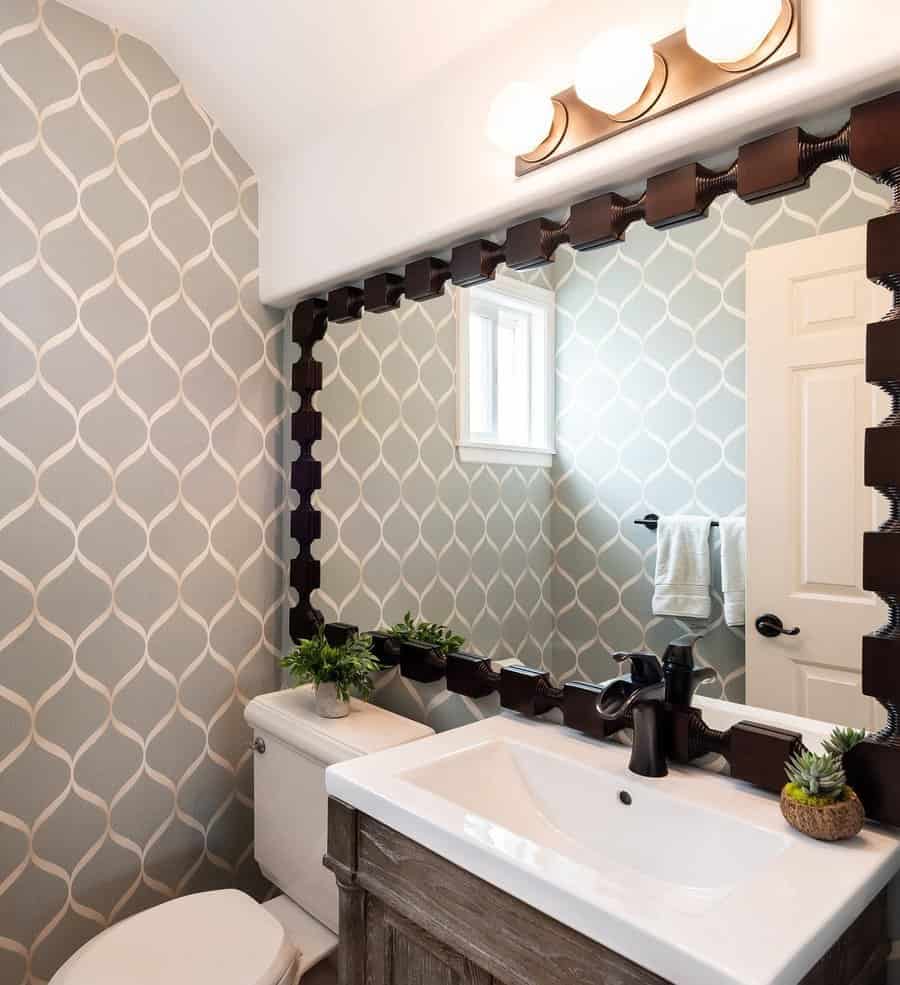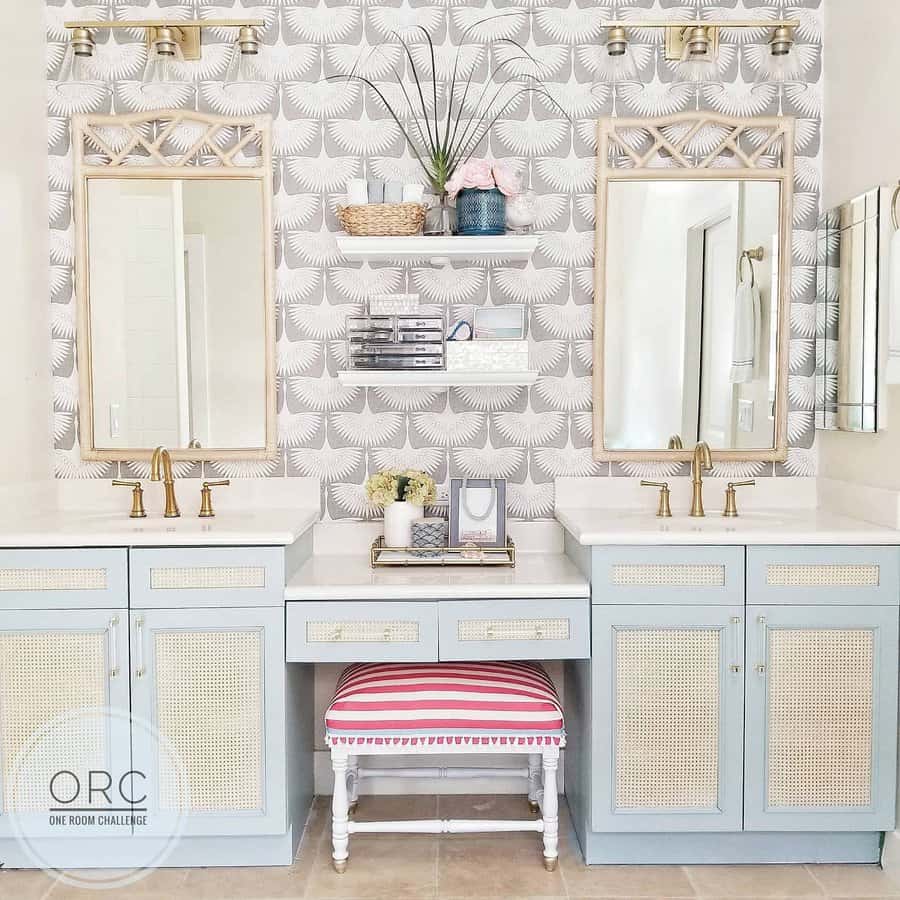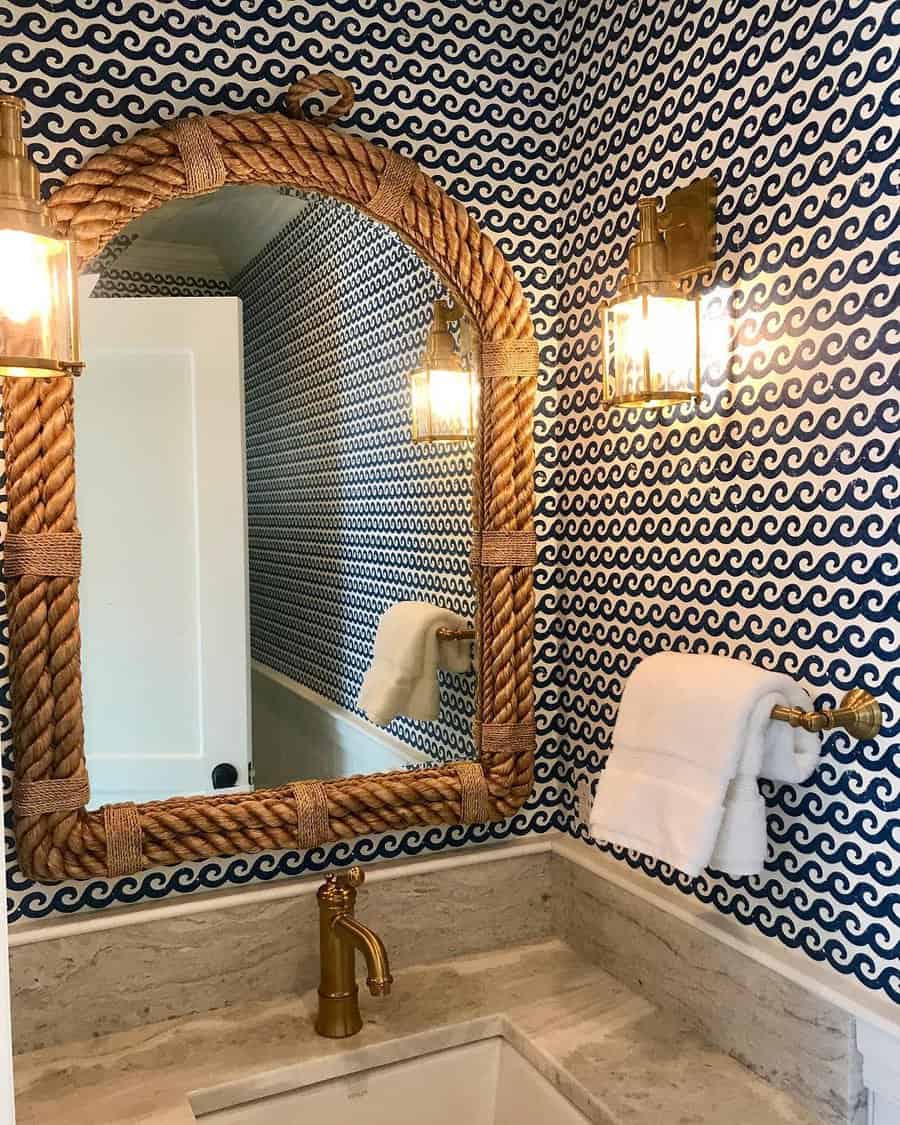 8. Wood Pallet Accent Wall
If you love the coastal look, why not bring it into your home with a rustic, beach-inspired bathroom? A wood pallet accent wall gives off an effortless, breezy feeling that is perfect for any bedroom or bathroom in your home.
By adding a few dried driftwood pieces and some seashells, you can create unique decorations that evoke images of the ocean. To complete your coastal look, add a wooden floor and some light blue walls to simulate views of the sea and sky.
For extra texture, hang up woven basket wall hangings or simple tiki torches outside your window. With these creative ideas, you can design a beachside oasis in your very own bathroom!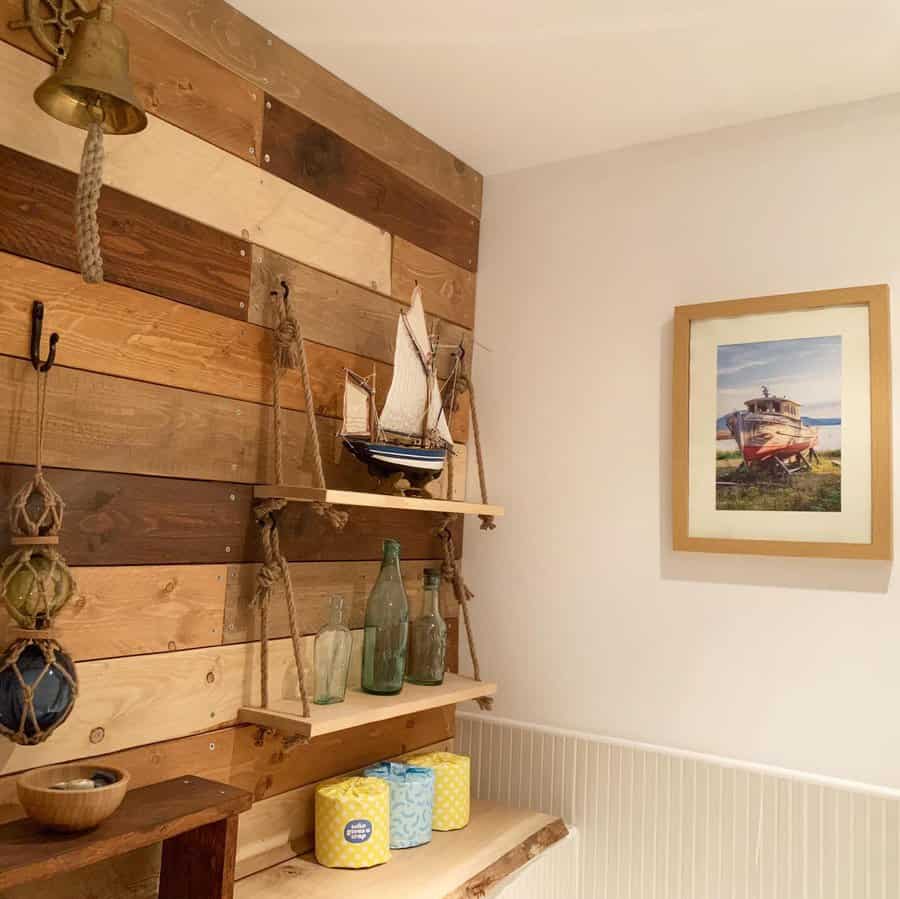 9. White-Washed Furniture
Consider stylish white-washed furniture, vintage shabby-chic roots fused with modern design, and just the right art pieces to lend your space a reclaimed-style ambiance.
Bring in handcrafted elements like wicker baskets, burlap weaves, inspired fabrics with playful patterns, seashells, and beachy driftwood – these will add warmth to the tone of the décor. Finish off with coastal or nautical accents – the right lighting fixtures and details can inspire a comforting beach bungalow to feel!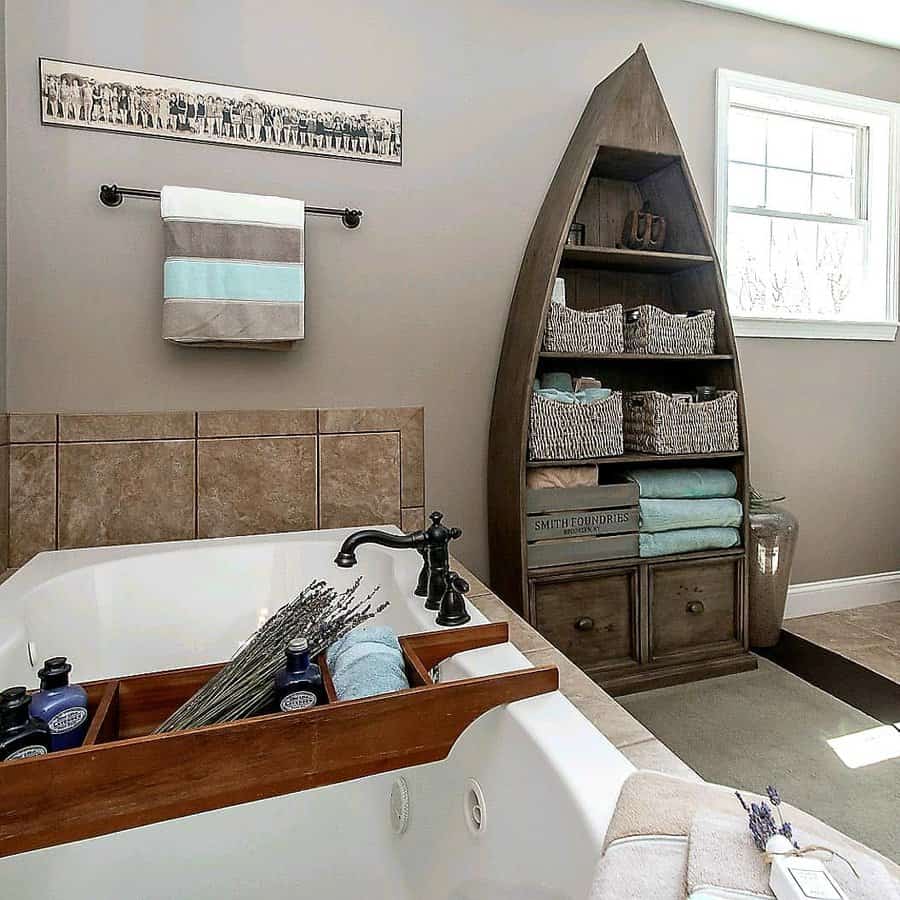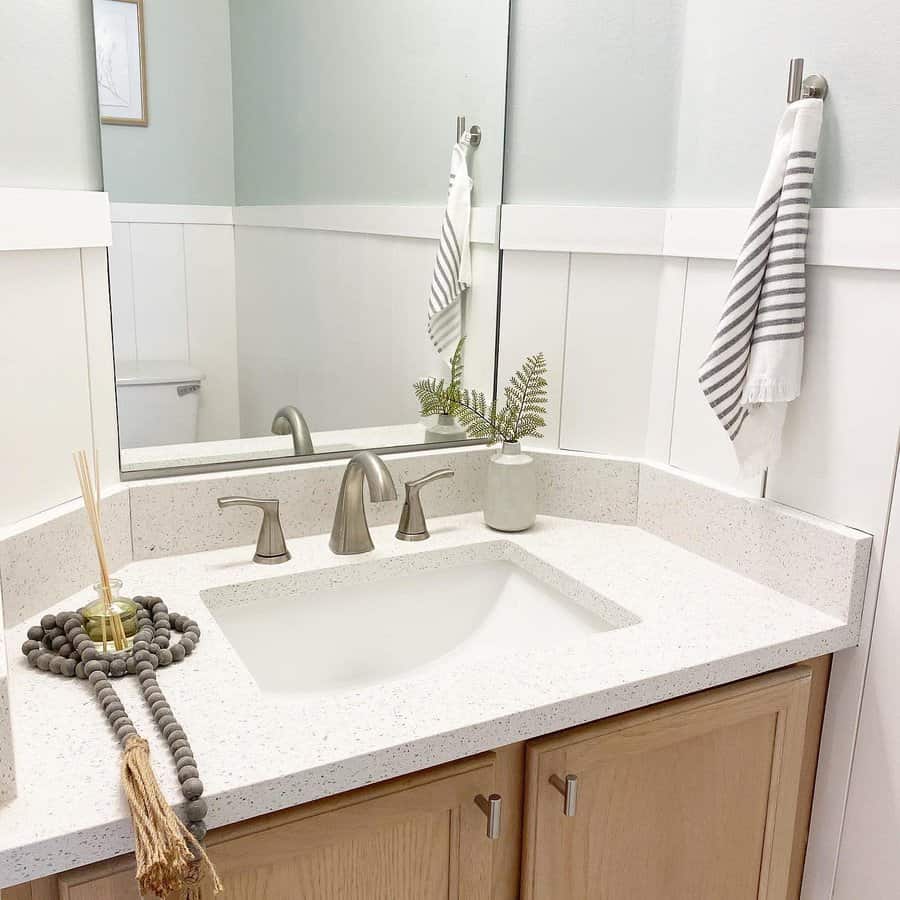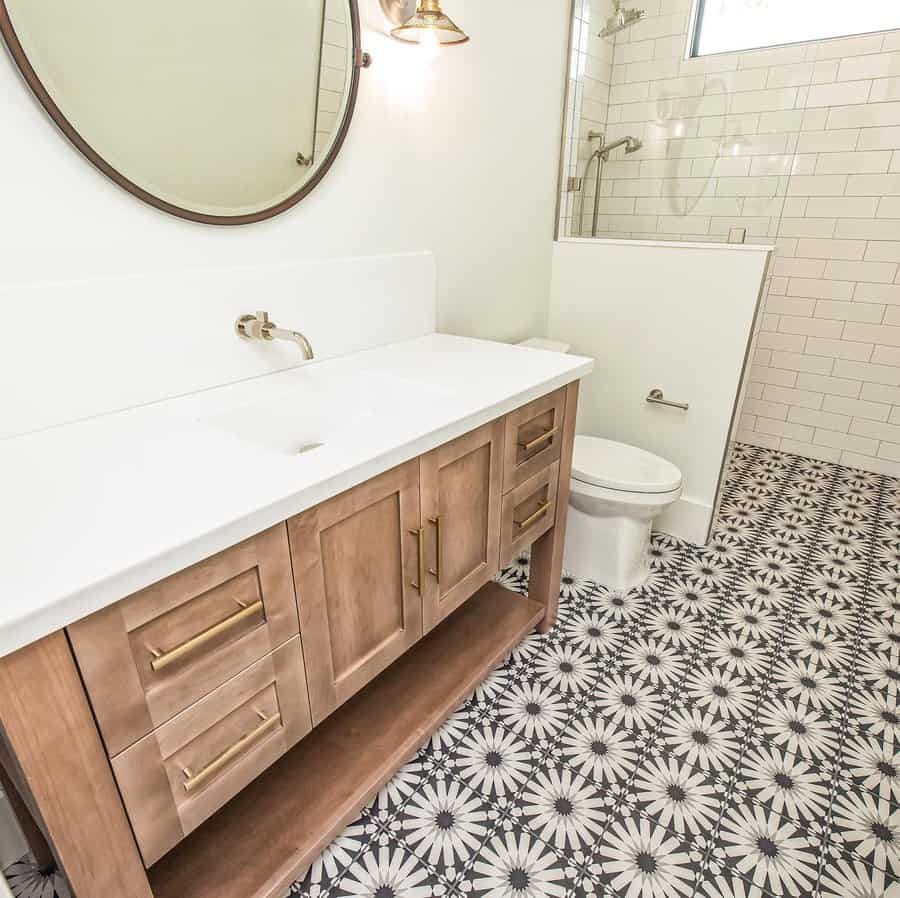 10. White & Wood Bathroom
Transform your bathroom into a coastal paradise with a creative mix of white and wood. Paint the walls white to allow the focus to be on breathing life into your decor. Introduce natural wood elements for an earthy, zen-style vibe – think beach driftwood, baskets, and even ceramic tiles that mimic a wooden floor.
Furniture such as a rustic beach-style dresser can also add character and charm. To complete your coastal look, add in details like blue and sandy hues, string lights, and ocean wall art for a perfect blend of sophistication and tranquility. Creative coastal bathrooms are sure to delight!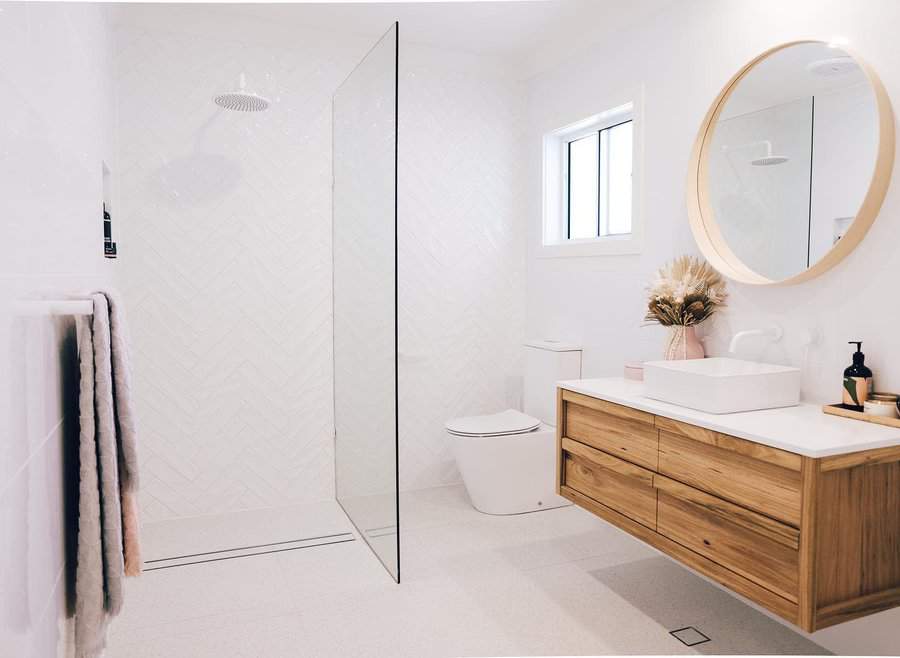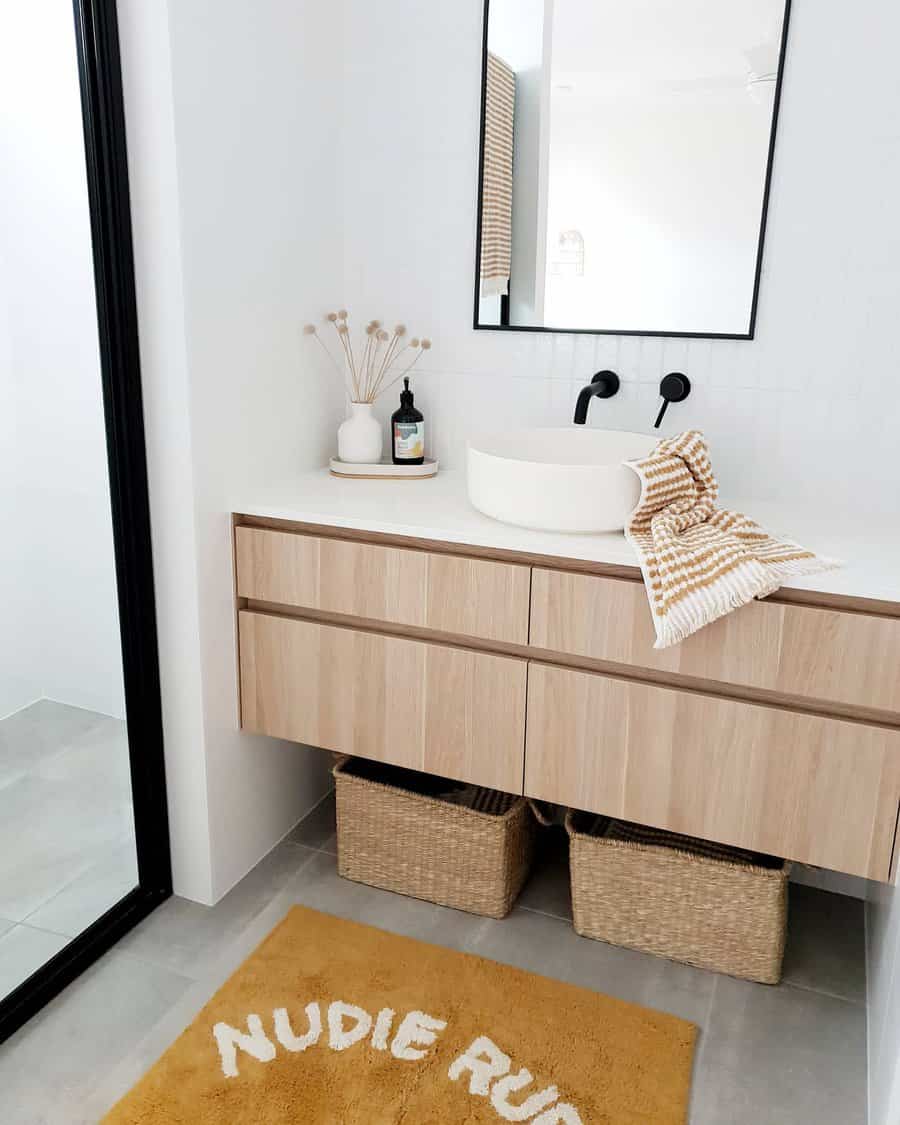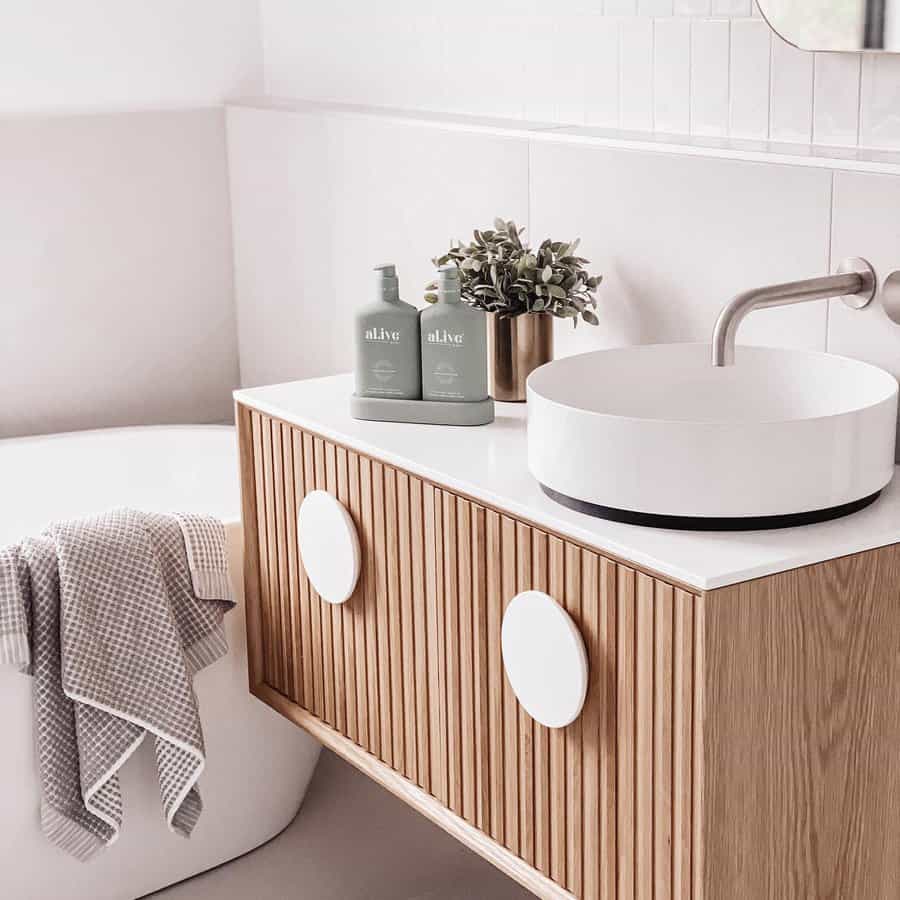 Coastal Bathroom FAQs
Why are bathrooms beach-themed?
Color can affect your mood, so choosing beachy colors is a great way to create a calm and relaxing space. Blue is an ocean color and also a calming color. Neutral tones are also soothing and mimic the colors of the sand.
How can I make my bathroom look beachy?
Use the materials that you would find at the beach. Hardwoods like teak or bamboo are perfect. Jute or hemp can add texture. Wicker or woven cloth baskets look coastal while also helping you stay organized.
How do you style a coastal bathroom?
You could take a literal approach with decorative items with umbrellas, palm trees, and shells. However, taking an understated approach with natural woods, yachting rope, or ocean colors will look more sophisticated and less kitschy. The approach you take will depend on the feeling you want to create in the bathroom.