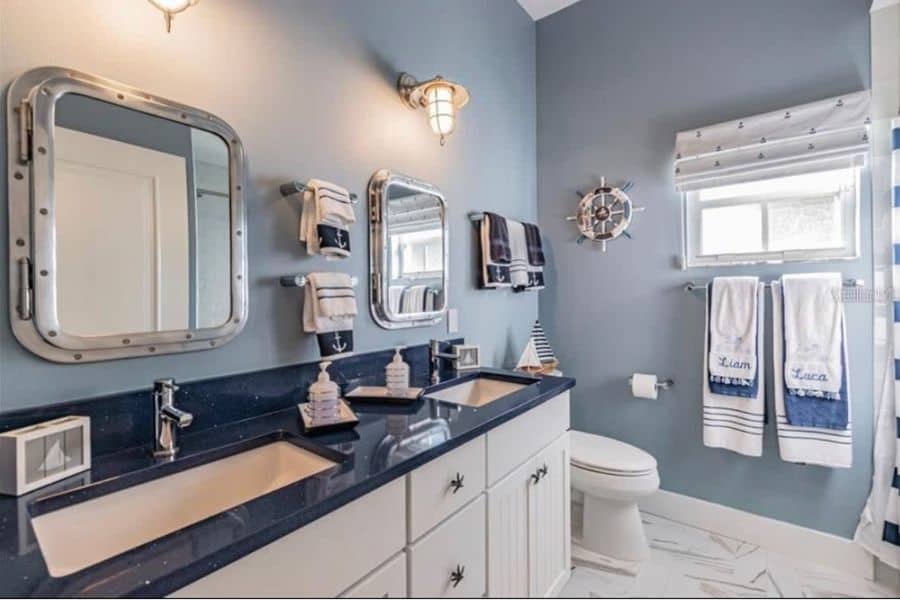 The Top 34 Coastal Bathroom Ideas
"Don't take anything too literally. When throwing a coastal theme dinner, don't just put seashells on the table. Instead, think about the colors and tones of seashells, what they remind you of and go from there." – Jeremiah Brent
The beach vibe is a laid-back one that inspires thoughts of the perfect vacation. Consider channeling the feeling of your favorite coastal location during your bathroom makeover.
Start with a new shower curtain and then take it a step further. Change the wall color, switch out the tiles, and add beach-inspired decor.
These coastal bathroom ideas will have you dreaming of your next oceanside getaway.
1. Blue Accent
Blue is the color of the sea and the perfect paint color for your beach-themed bathroom. The traditional approach is to simply paint the walls blue. However, this isn't your only option. Paint your flat panel cabinets blue and give the vanity a fresh and modern feel.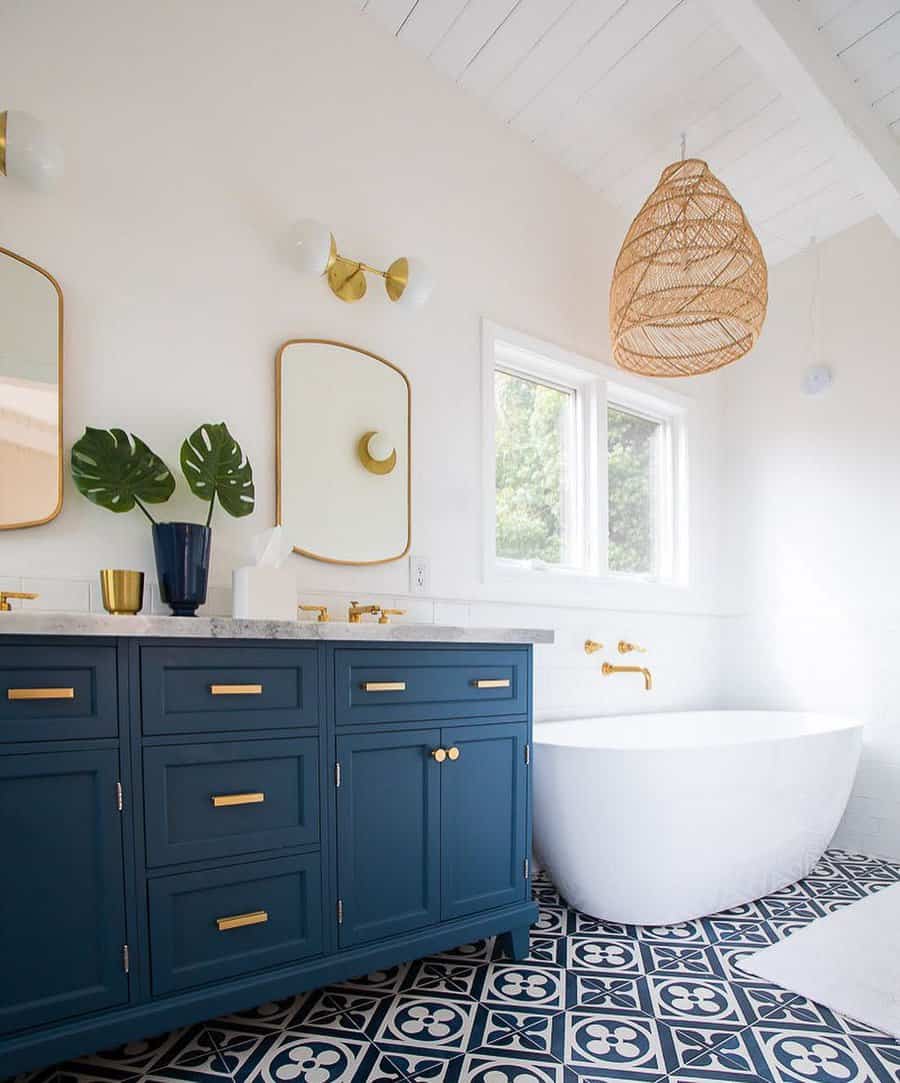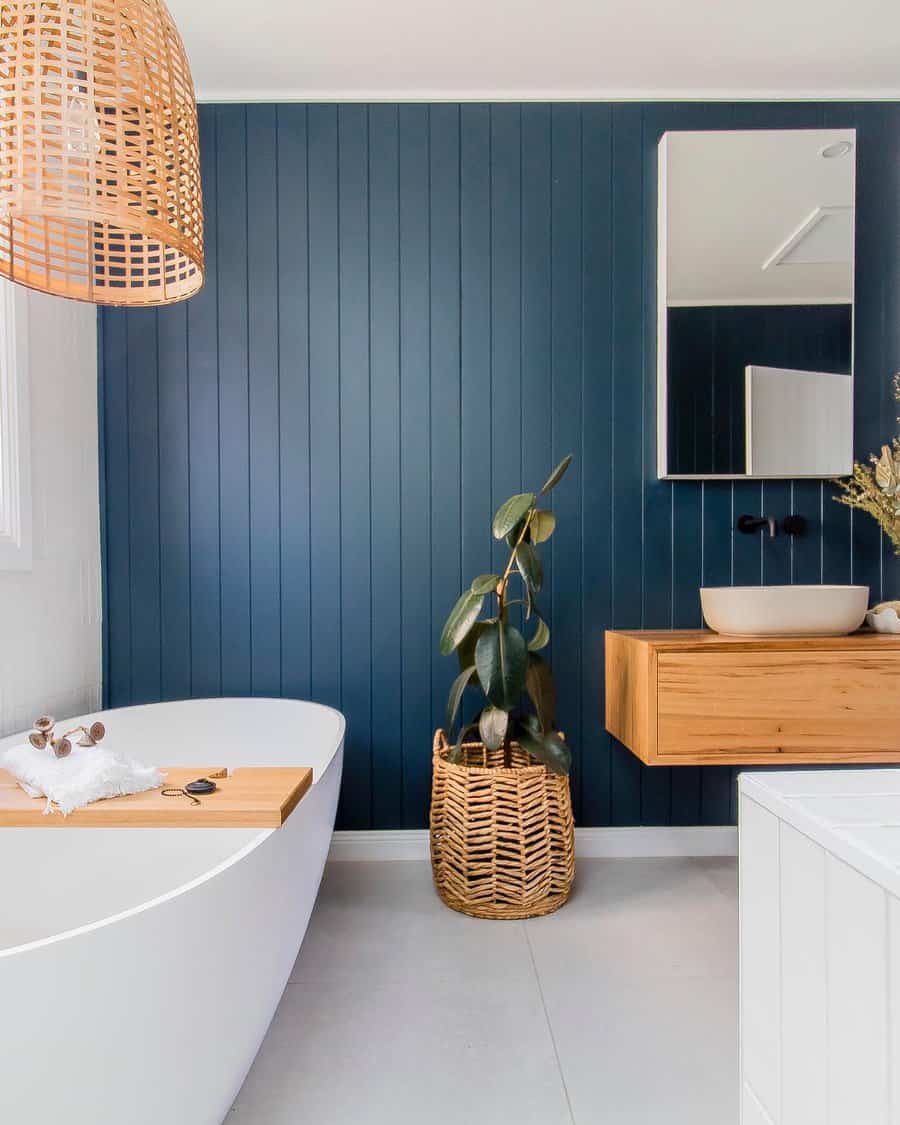 For a bold design, paint the ceiling blue. A pale shade will mimic the sky, while a deeper hue will look more regal and sophisticated as it mimics the color of the ocean. If you're doing a bathroom remodel you could choose a bold blue color to mimic the colors of the water.
2. Boho
Embrace your creative side and wanderlust nature with a boho coastal look in your beach bathroom. Choose a mosaic tile design for your shower or vanity area.
If small tiles are too busy for your bathroom, consider a larger handmade tile. Handmade Moroccan tile Comes in a variety of blue and green shades. You could also get it in a fish scale design for a beachy feel.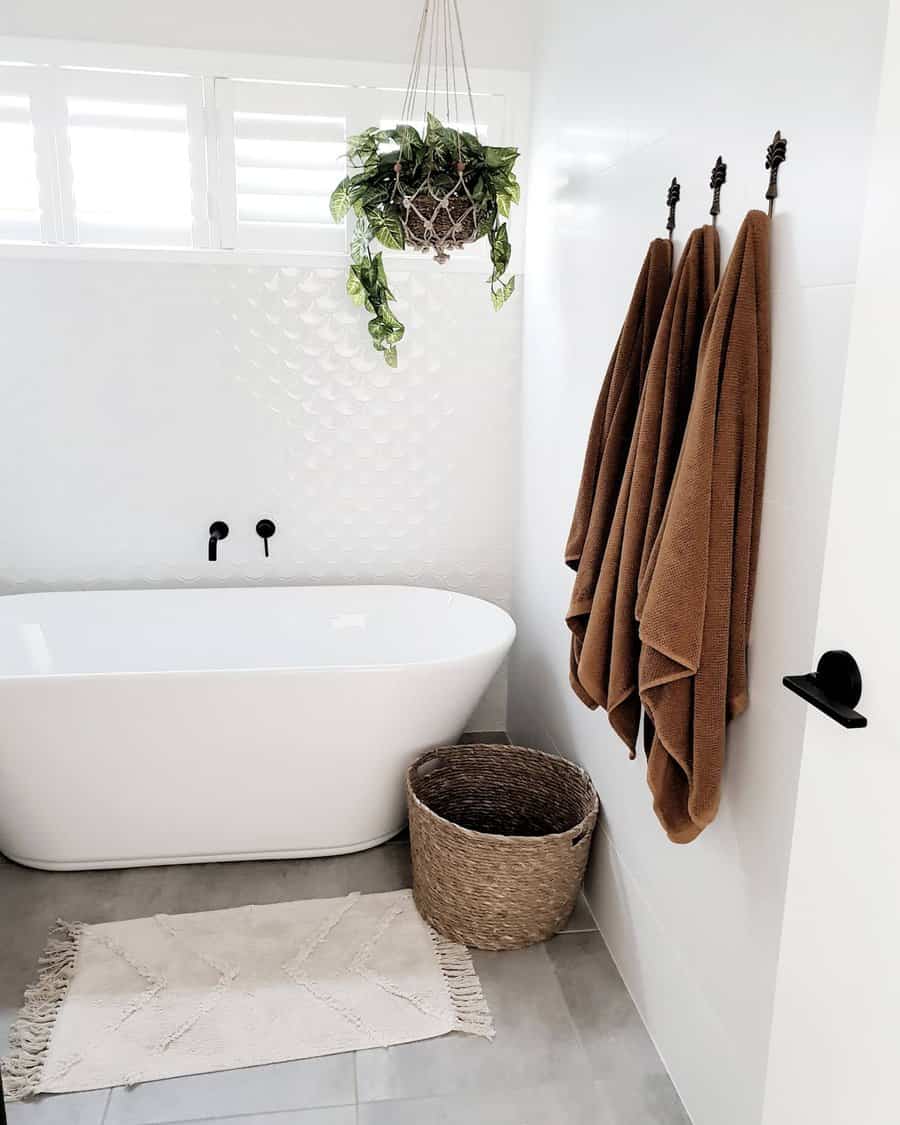 Finish your bathroom with a vintage clawfoot tub. This will give your bathroom an eclectic feel and balance the bold tile. Add a handmade wooden stool or hand-carved wood shelves. This will give your bathroom an organic feel. It also helps to look for pieces that are made in far-off tropical places.
3. Farmhouse
Combining coastal design and farmhouse decor is the perfect combination for creating a coastal theme while also giving your home a warm and lived-in feeling. Add shiplap to the walls and paint it white. You don't have to do the entire bathroom; just an accent wall is enough.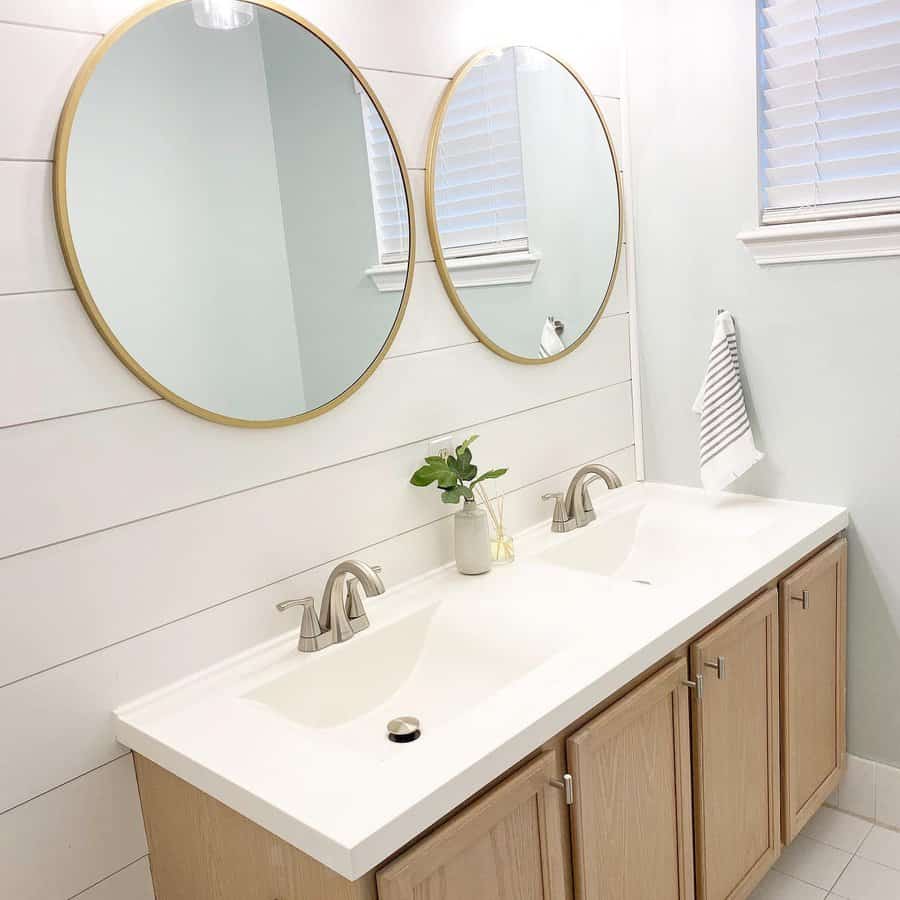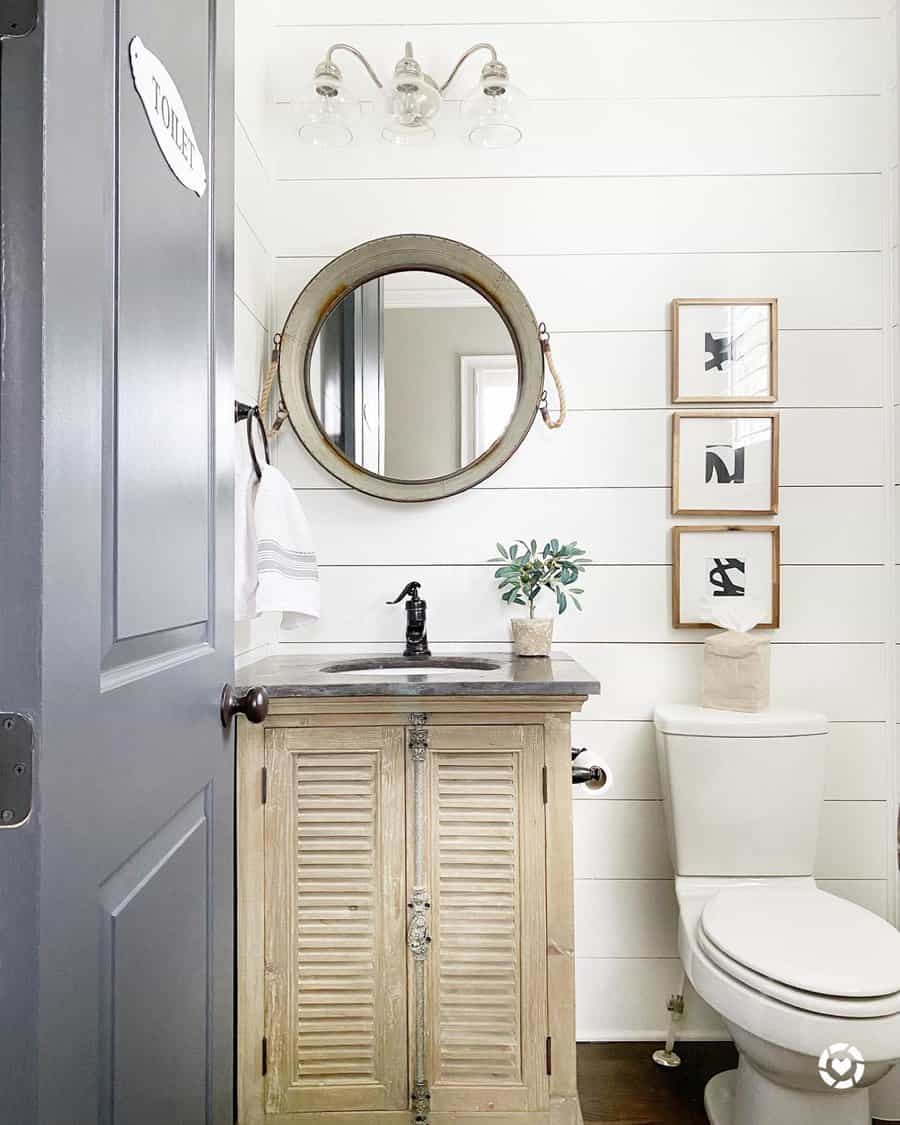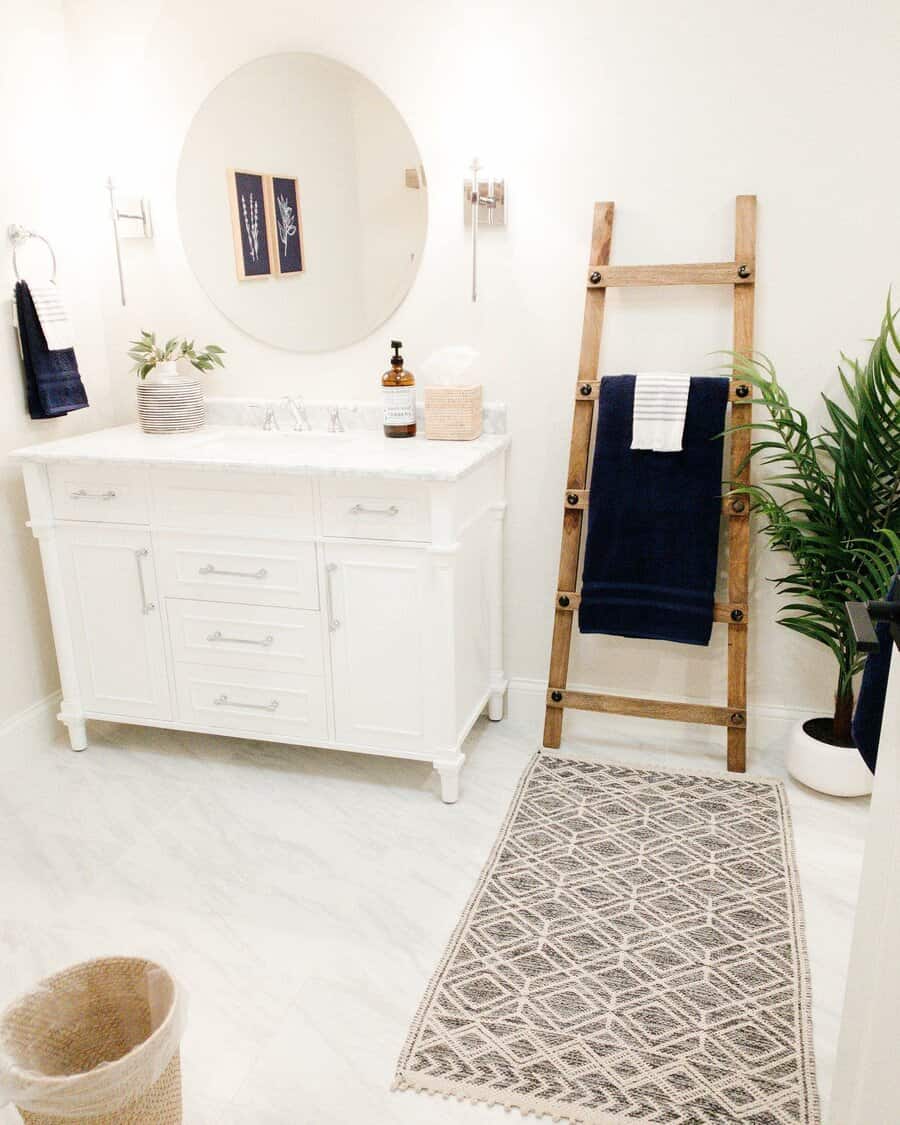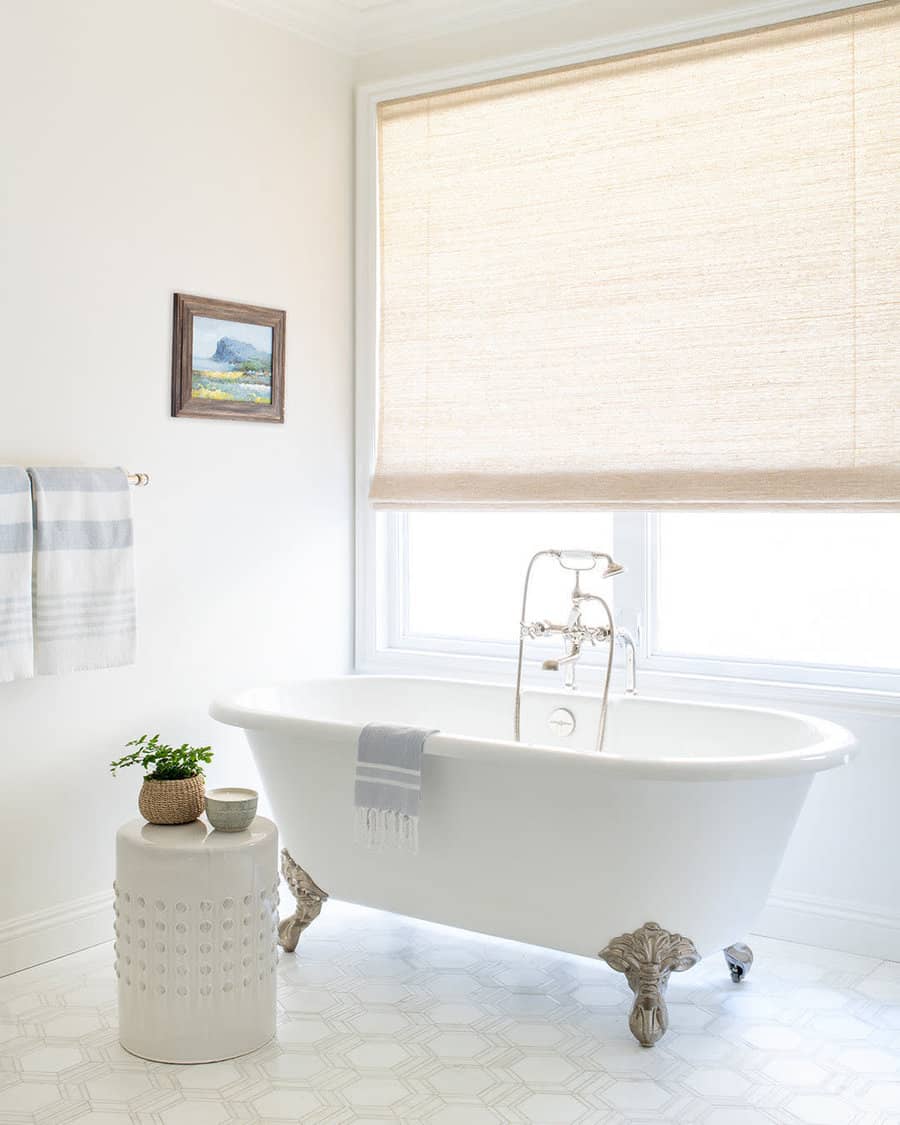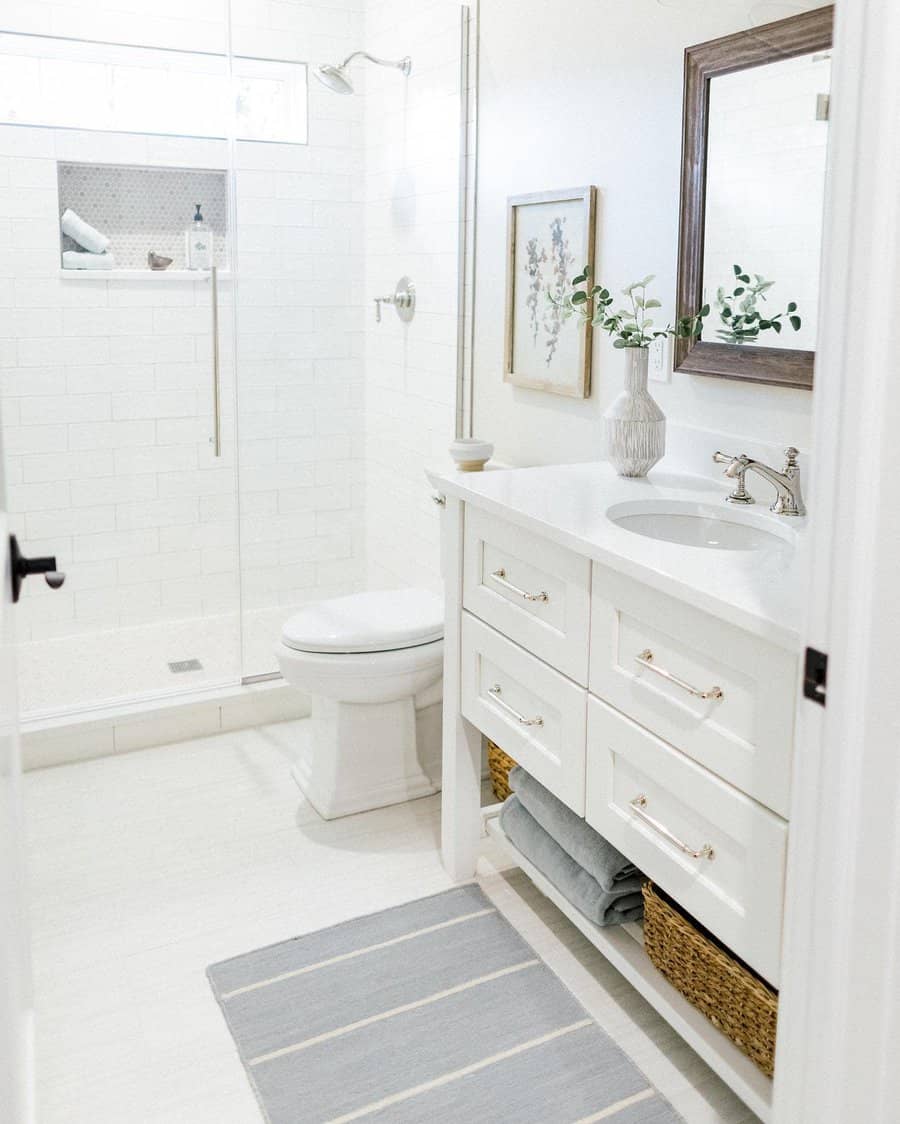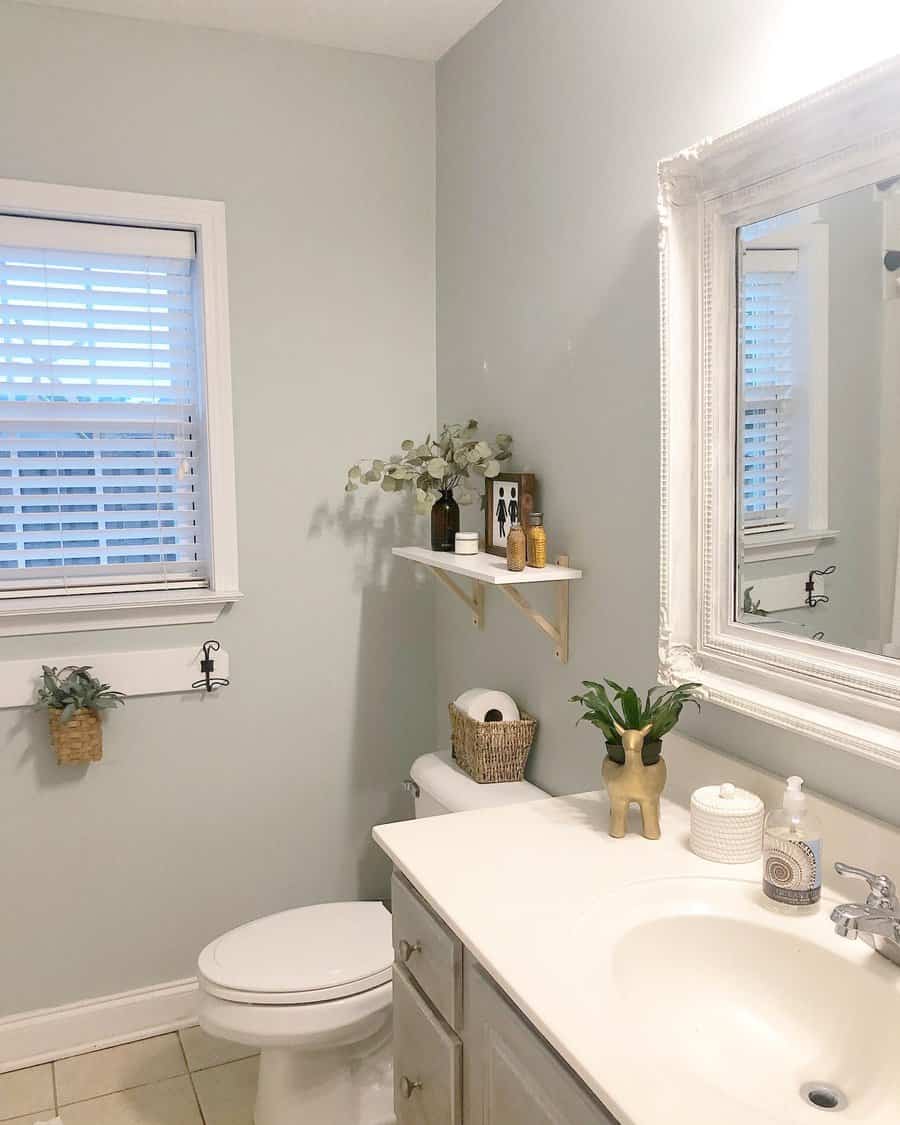 Look for salvaged or handmade wood pieces, such as a shelving unit, vanity cabinet, or chair. It should look well worn and imperfect. Add authentic nautical decorative items, such as markers, brass light fixtures, or a pulley.
4. Metallic Accent
Metal and the ocean don't generally get along well. The salt in the water and the oxygen in the air work together to corrode and rust your metal.
A similar effect happens in your bathroom since it is also a high moisture environment. This is why using nautical metal fixtures is perfect for your master bathroom.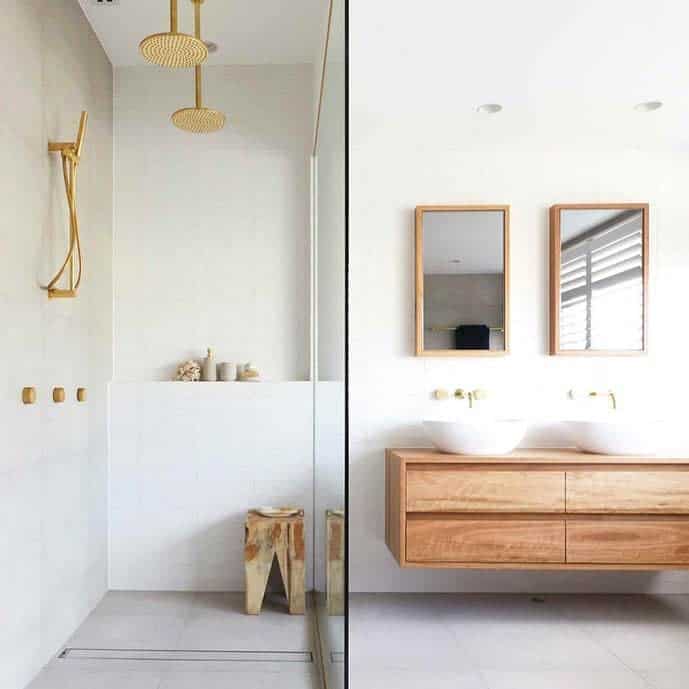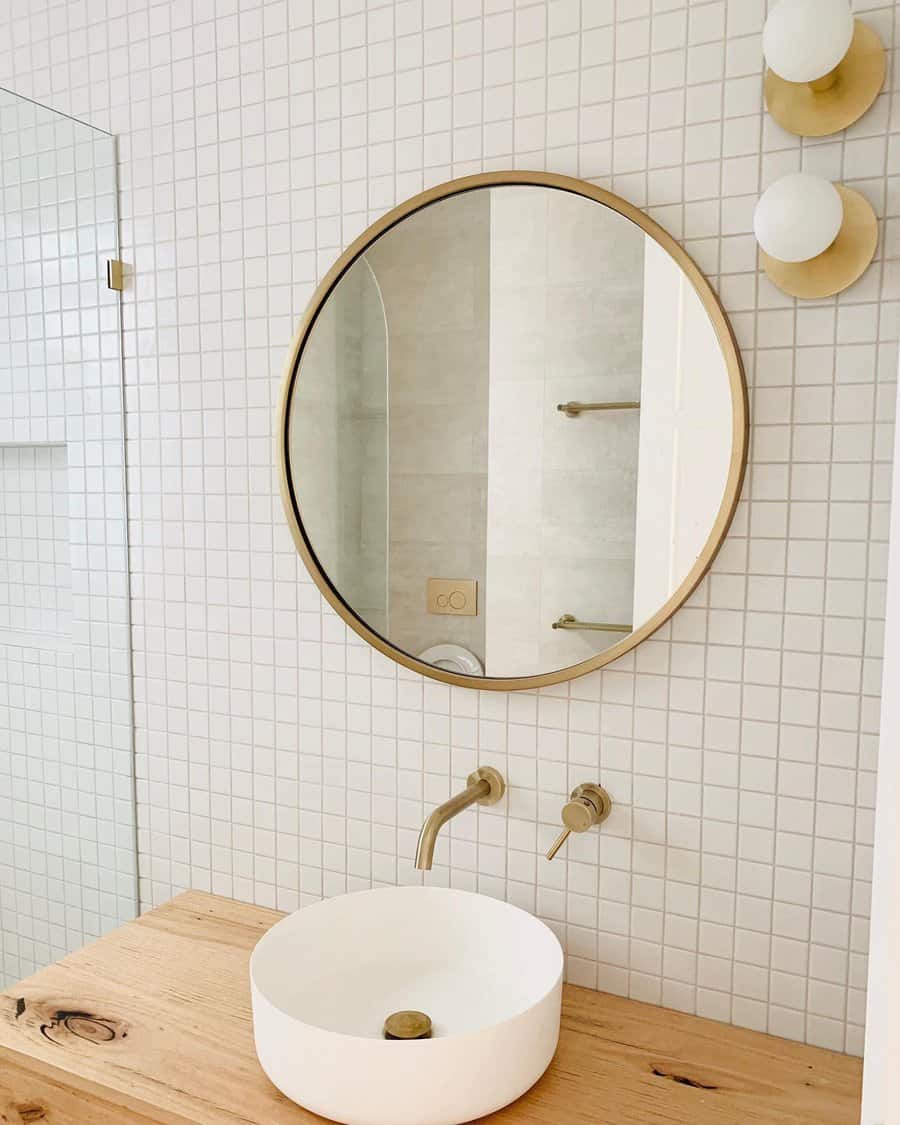 Try using a nautical-inspired sink faucet with your vessel sink. Or mount brass wall sconces on either side of the vanity mirror.
Use boat-worthy metal accents and hardware for the drawer pulls and other metal elements in the room. Not only will this give your bathroom an authentic feel, but it will also give it more durability and corrosion resistance.
5. Minimalist
You shouldn't use a lot of coastal decor in your minimalist master bath.
Stick with a floating vanity, glass pane shower enclosure, mirror, and toilet for the bathroom design. Bathroom decor would add clutter, which goes against the main principle of minimalism.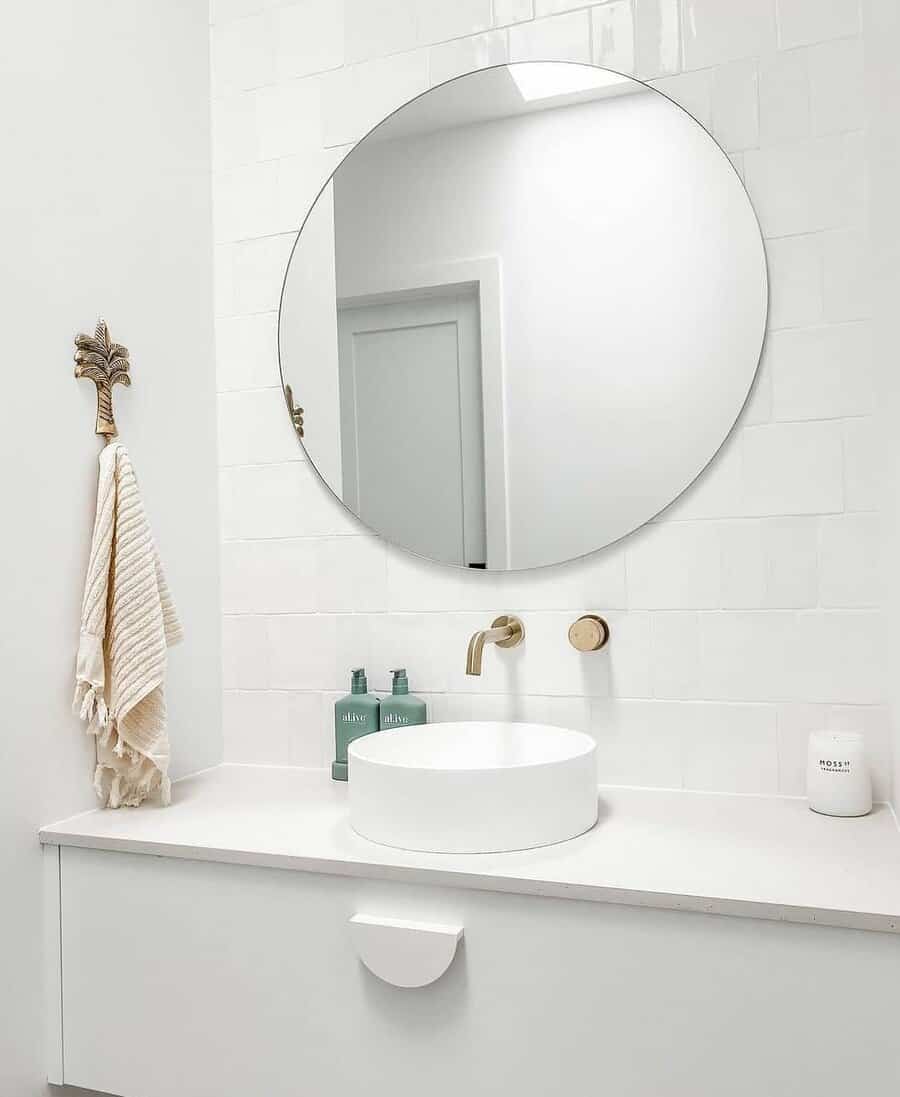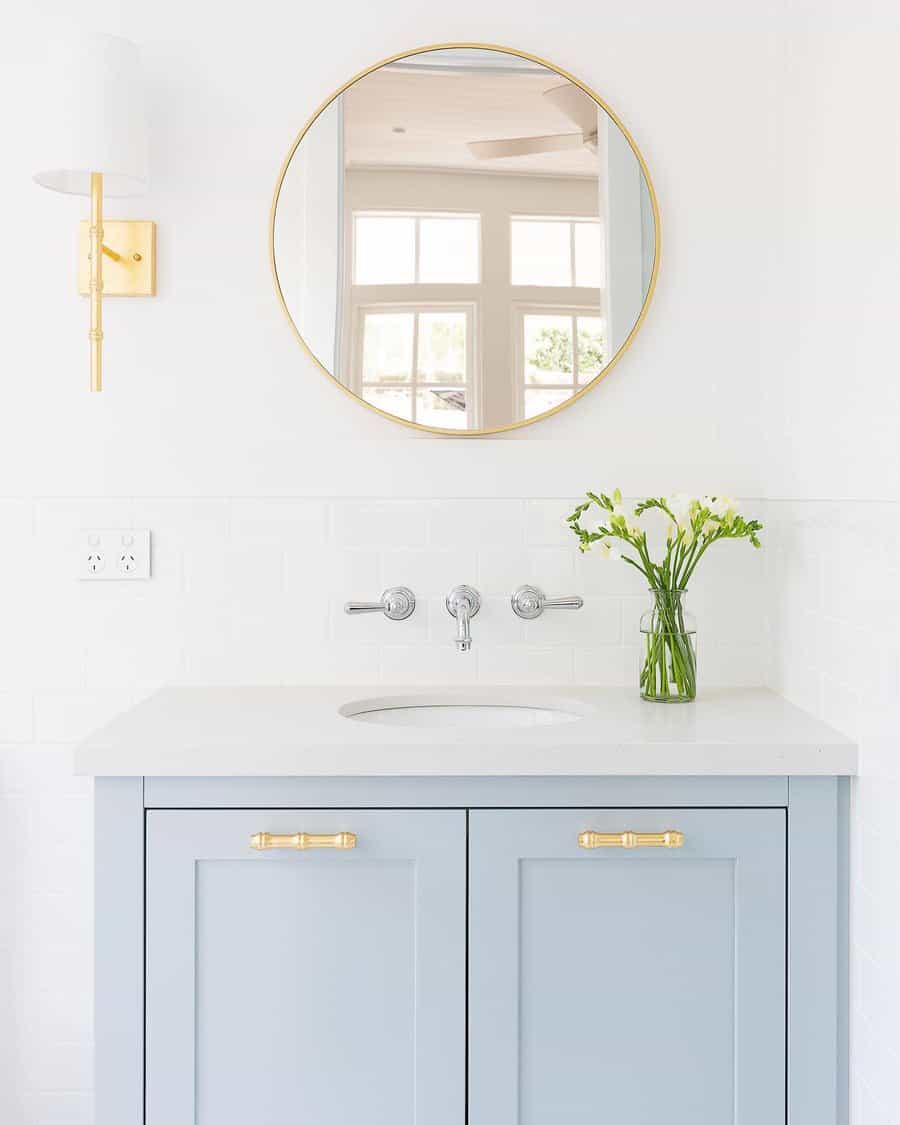 Channel a coastal feel by using wood, shades of blue, sea glass, and coastal plants. This keeps the design minimal while also creating a calming and bright bathroom. Consider also adding texture with strategically placed woven baskets and matching pendant light.
6. Modern
A coastal design theme and modern trends blend well together to create a sophisticated and almost elegant master bathroom.
Start with a marble countertop that is in a fresh white color. Then combine it with a darker wood. You could do this by oiling teak or using mahogany. Then use gold for the metal fixtures.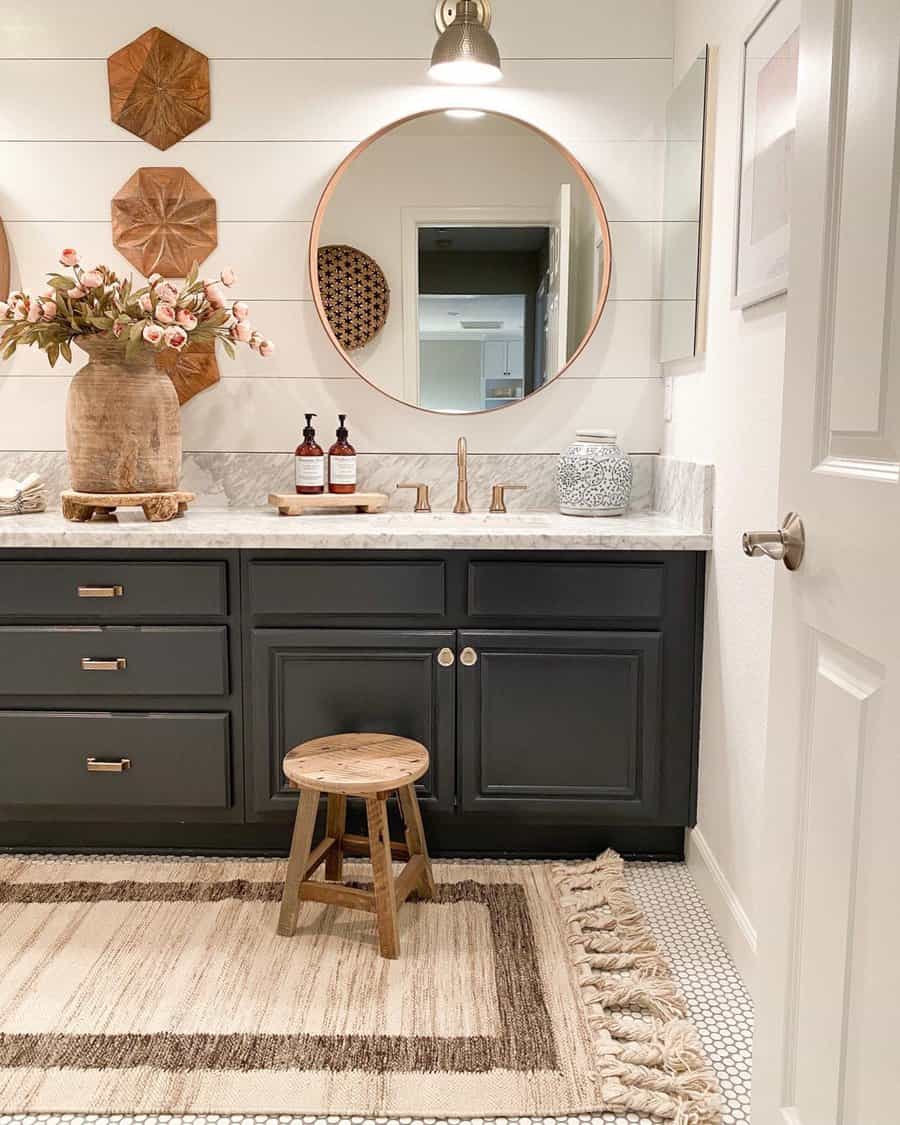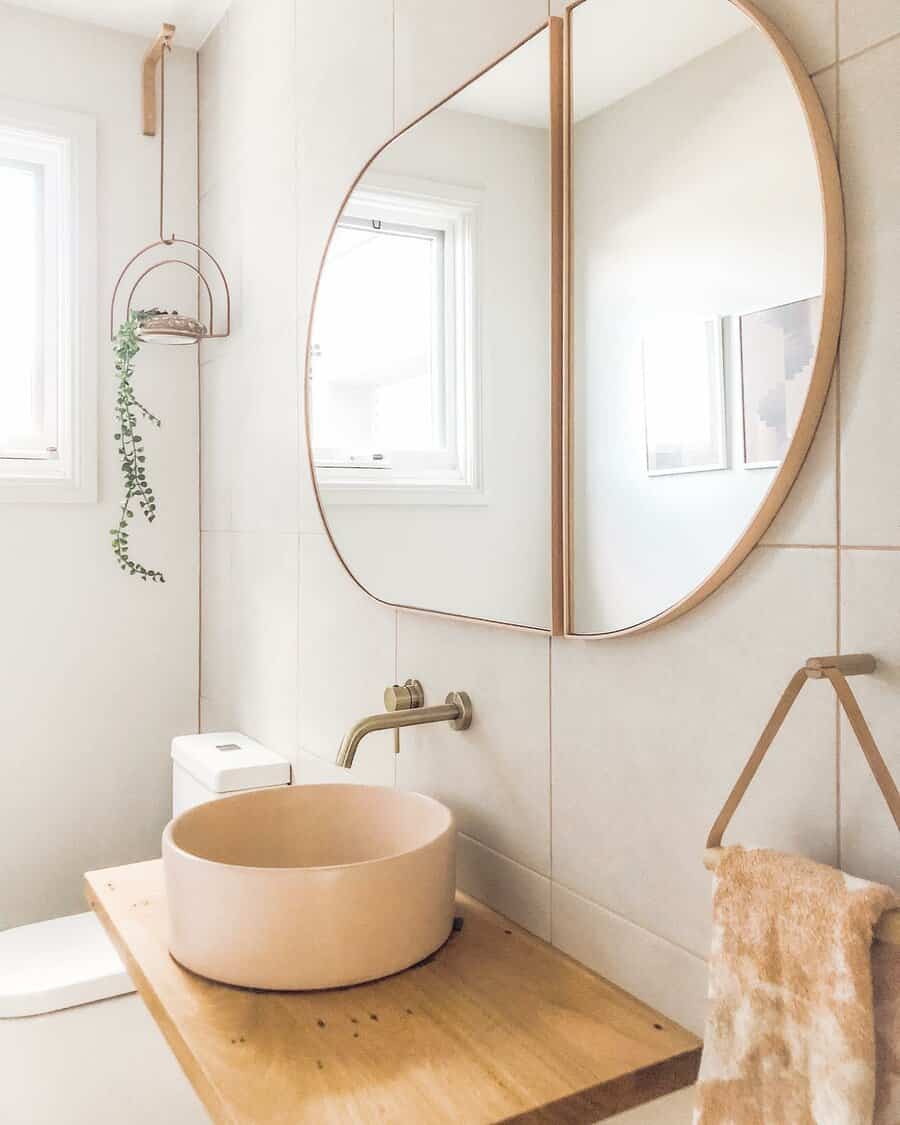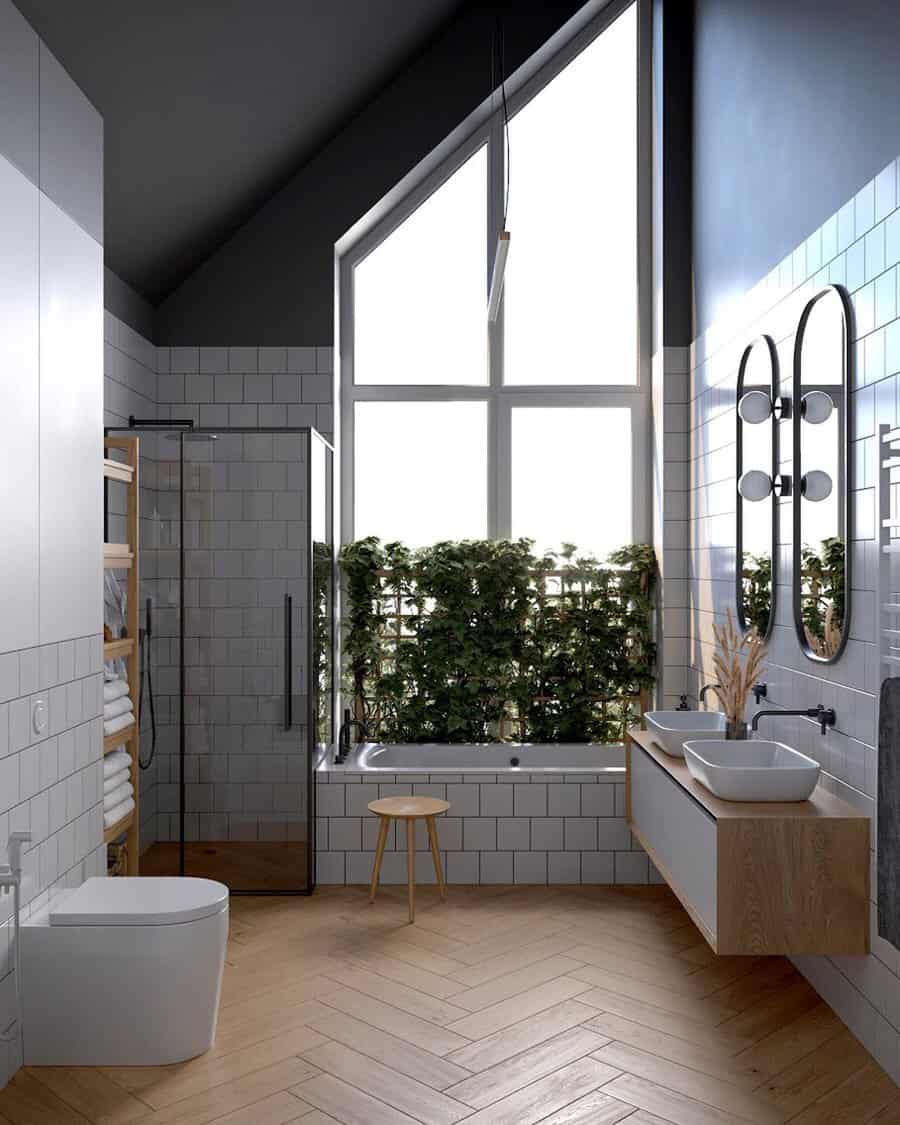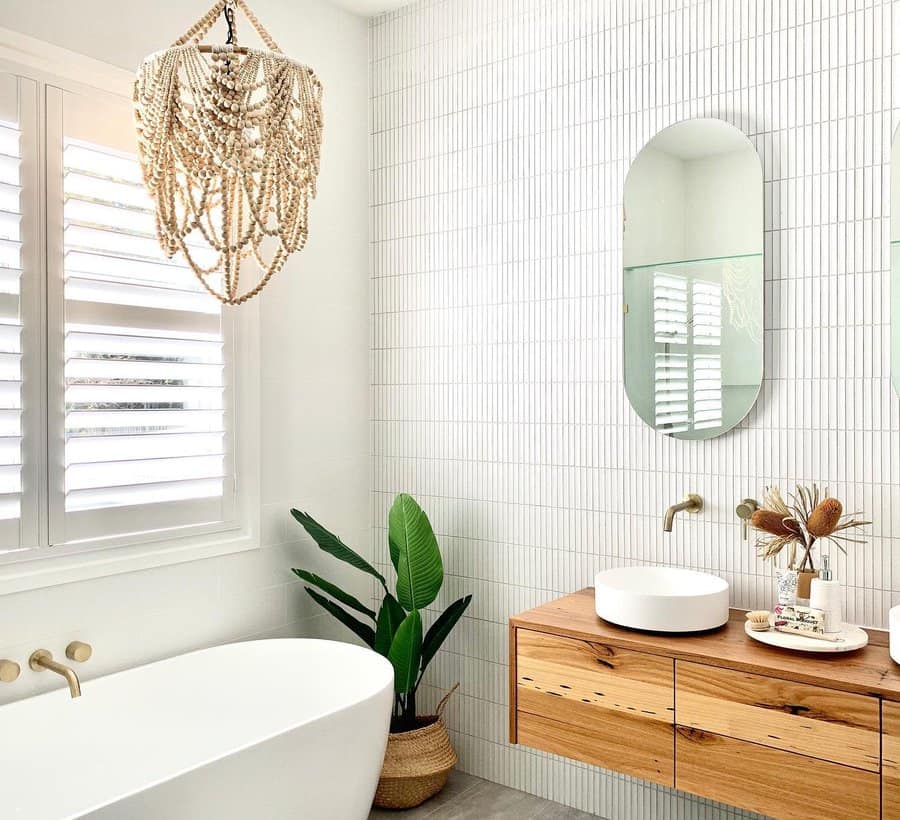 Choose pieces that have minimal detailing and design. Focus on clean straight lines for the vanity, shelving, and shower. Slab-style cabinet doors are perfect for the vanity to create hidden storage space.
The shower area could have large glass sheets as the enclosure. You could also leave everything open and build a wet room.
7. Nautical
Embrace the open ocean with nautical bathroom ideas. This is slightly different than a beach-style themed bathroom. Use a mirror that has rope for the frame. Or a round mirror that looks like a porthole.
Use a dark blue color and pair it with crisp white. Then use bright red and yellow as accents. If you have a tub, look for a white or slightly off-white shower curtain that's a canvas to mimic the sails on a ship.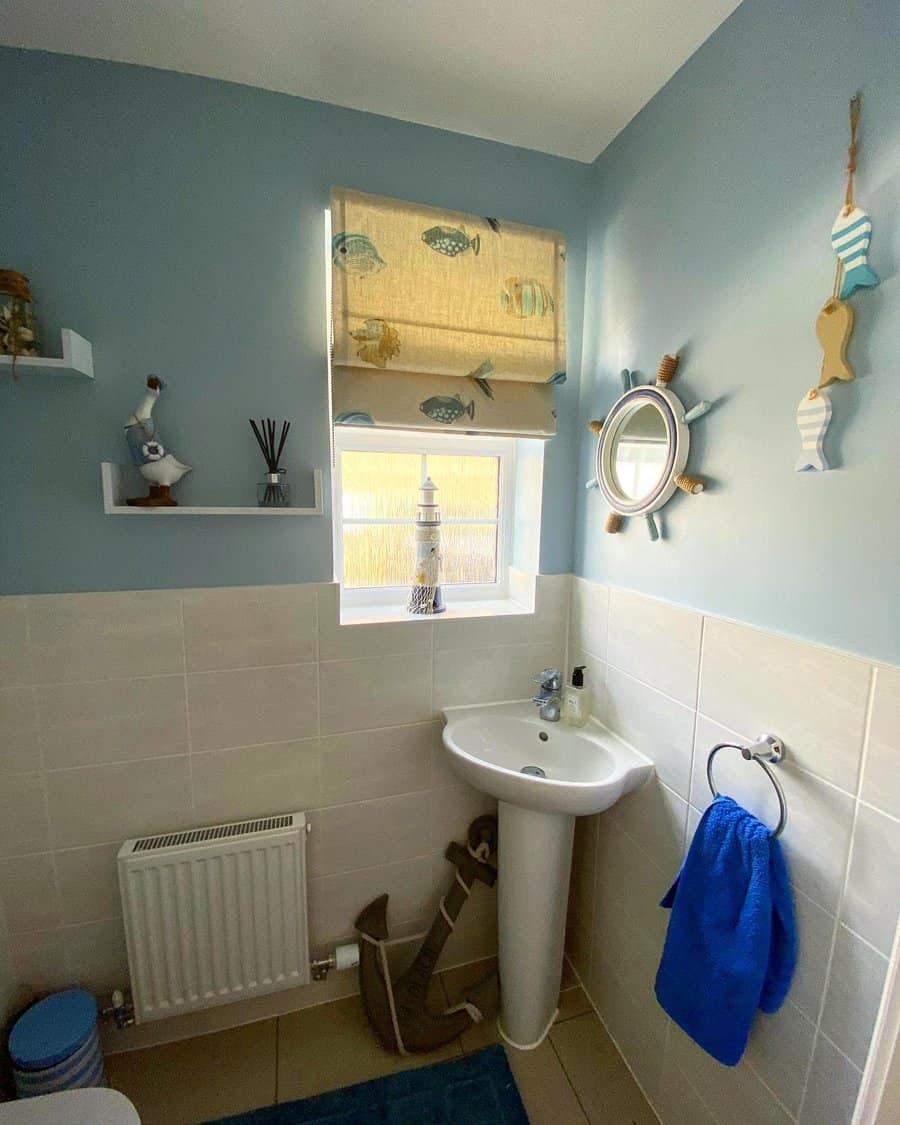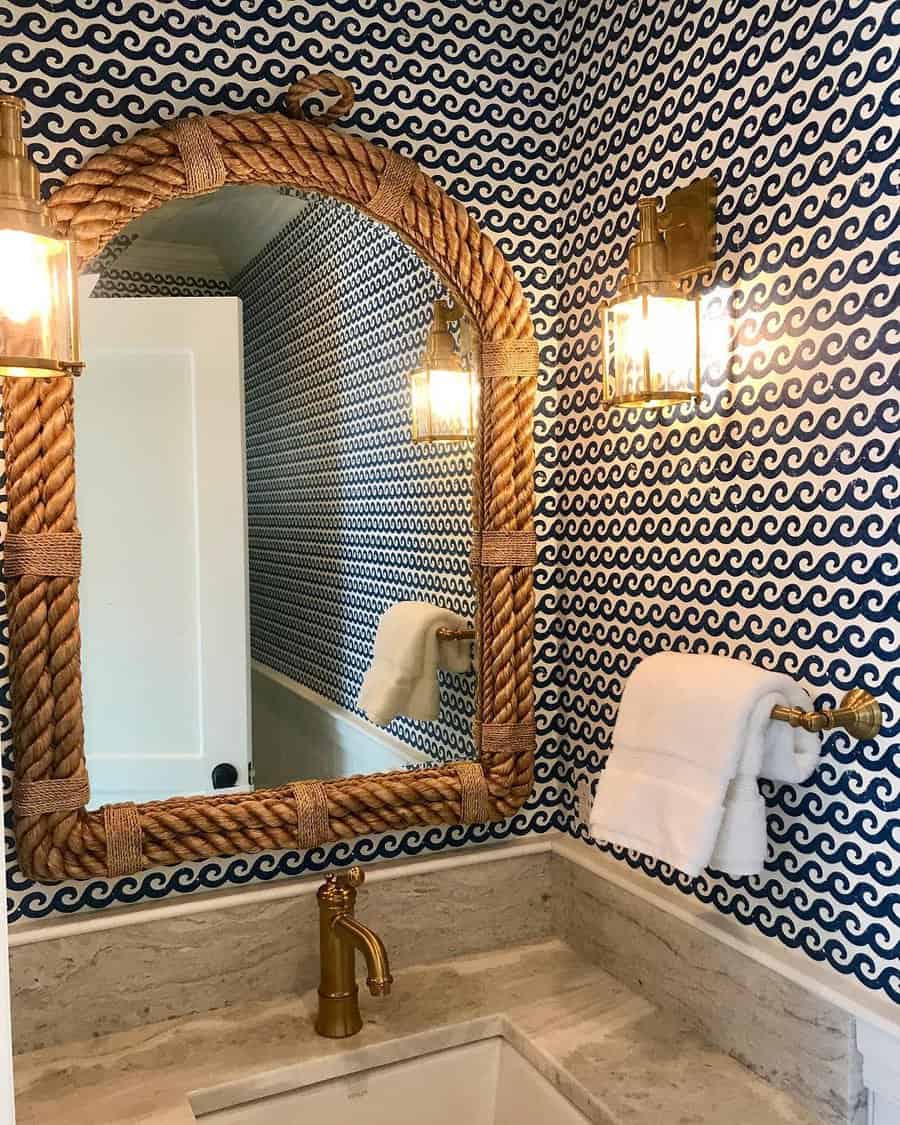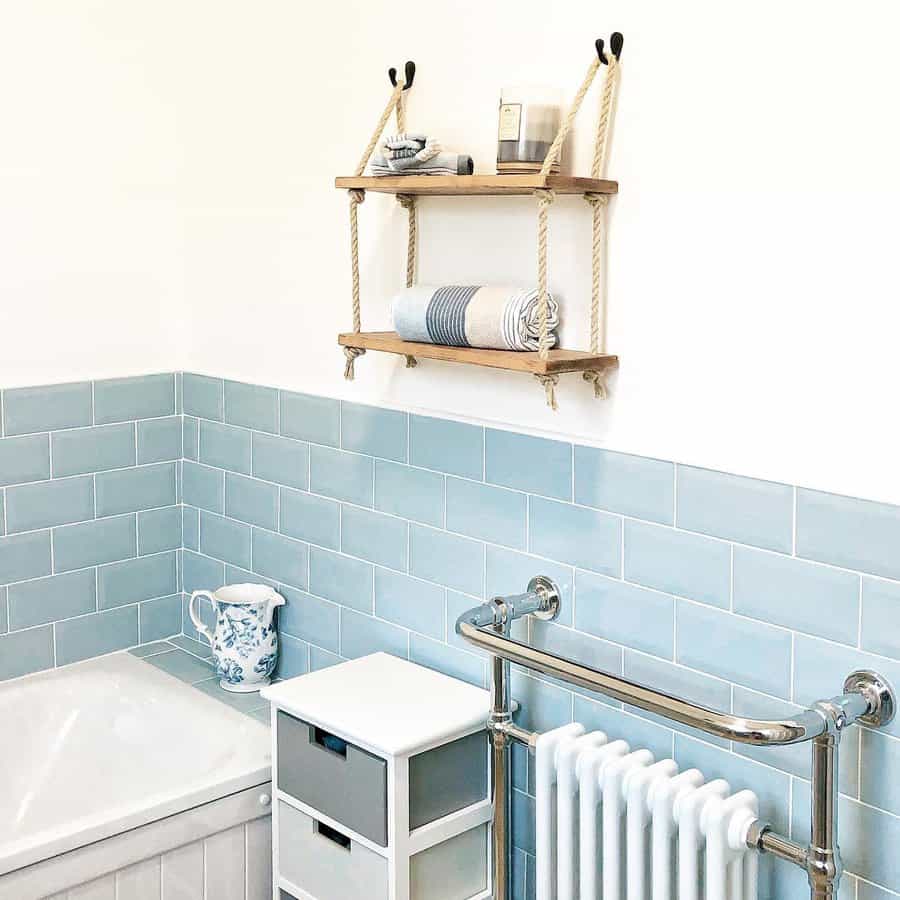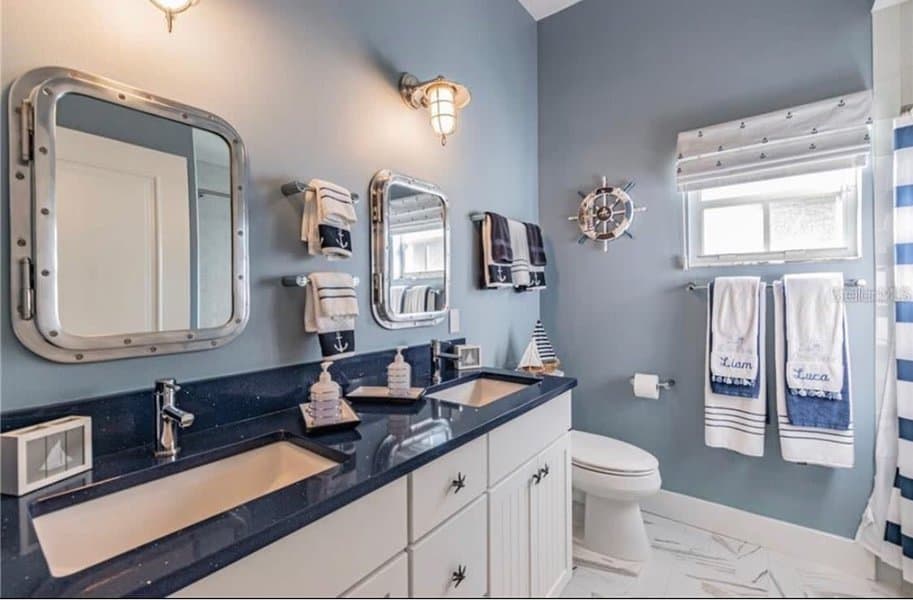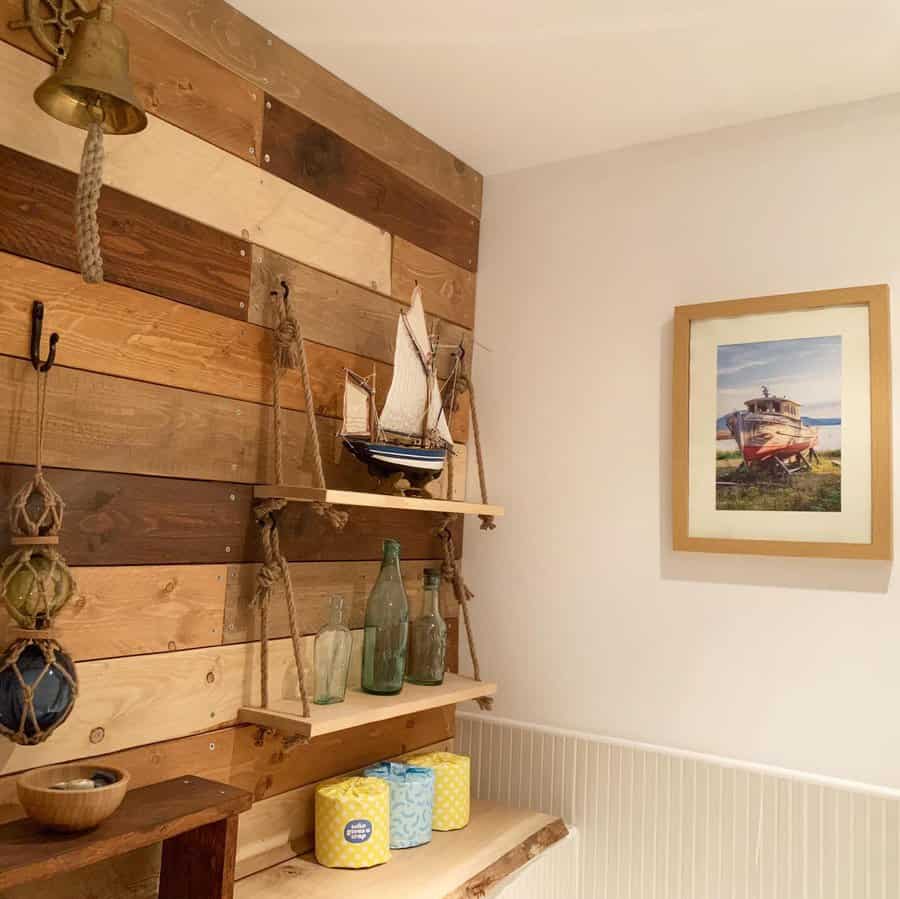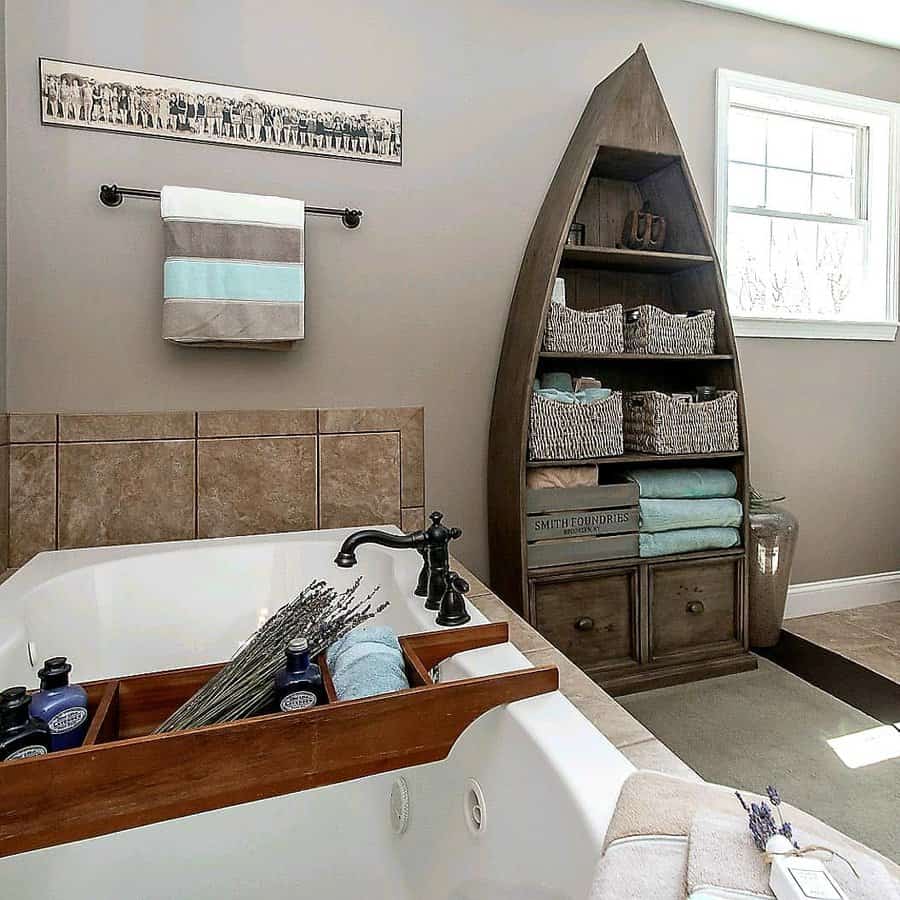 Use elements that you would find on a yacht or sailboat as decor, for example. Nautical lamps have a cage over them to give them durability and a unique look. You can find similarly inspired designs for use in your bathroom.
8. Neutral
Neutral colors are perfect for creating a calming yet beachy feel. Choose colors that resemble the colors of the sand, such as light beige and cream. Use a few shades that are both light and dark. This adds depth to the room and keeps it from feeling stark and sterile.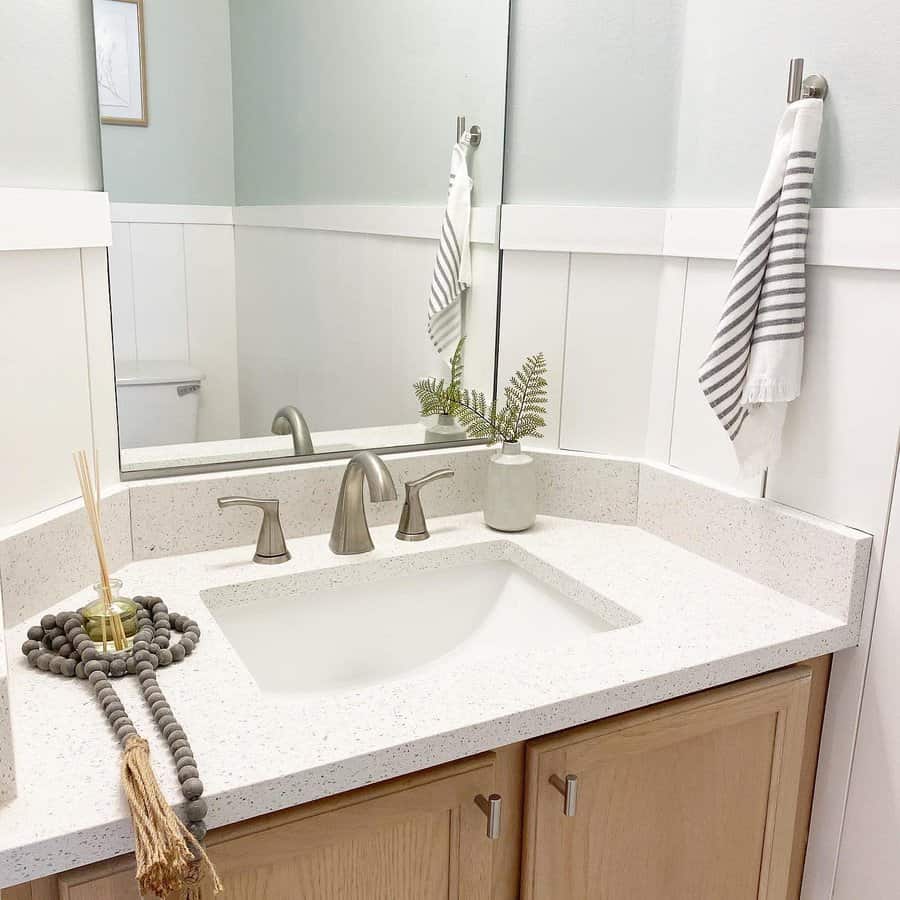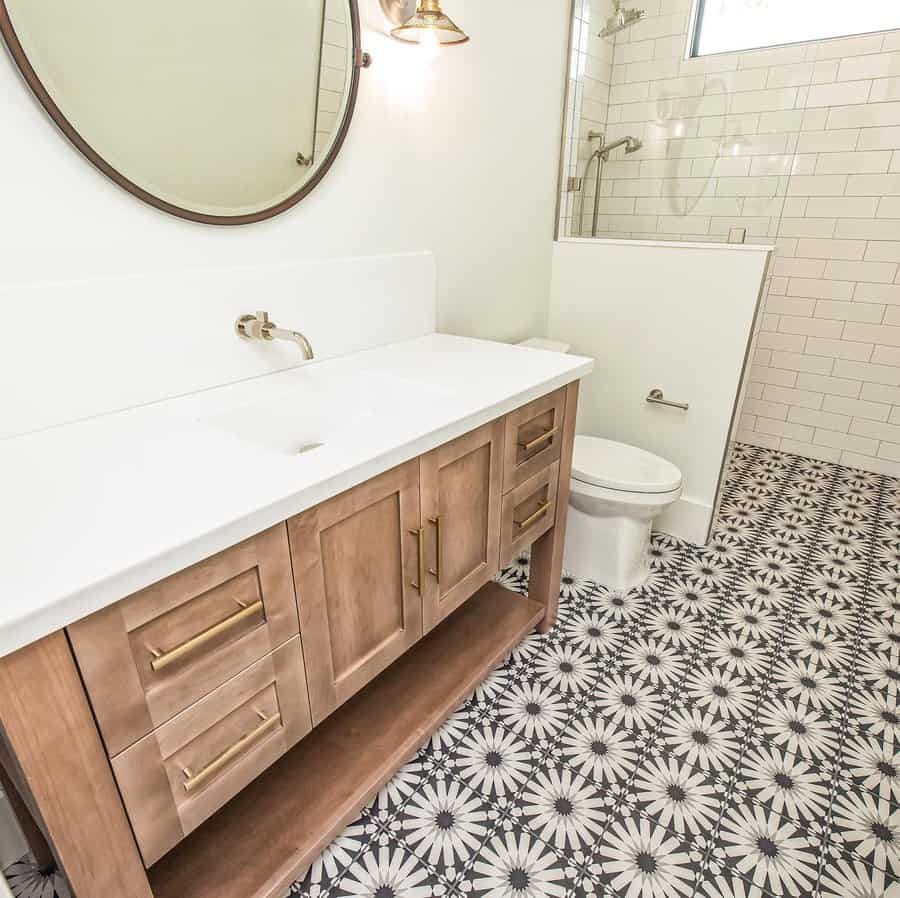 Neutrals are also good because you can find them easily in natural materials. This makes it easy to add texture, which brings warmth to the bathroom. You can easily do this with beach materials, such as rope, wicker, wood, and shells.
9. Powder Room
Your powder room is small, with just a bathroom vanity and toilet. You can give it a beach house feel by adding decorative sea glass in the form of a chandelier. Or a beachy vibe with a teak framed vanity mirror.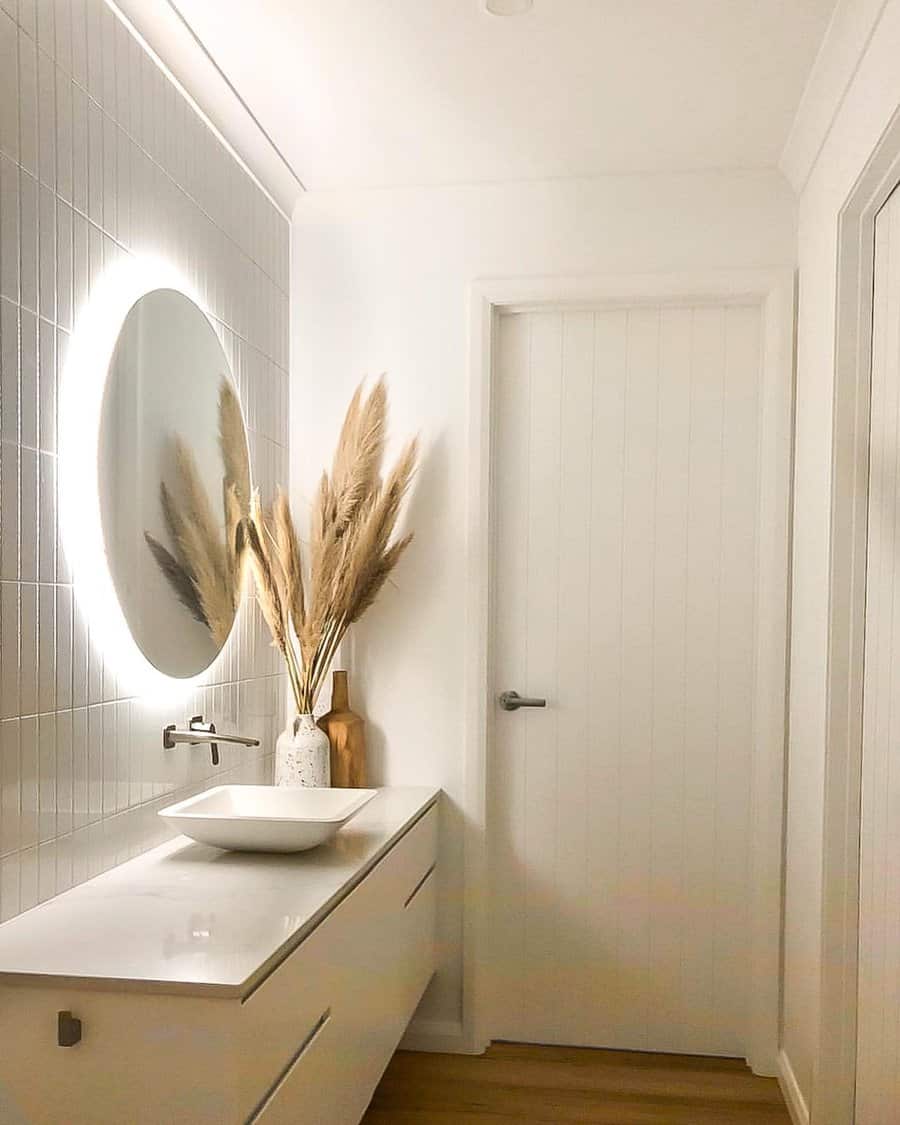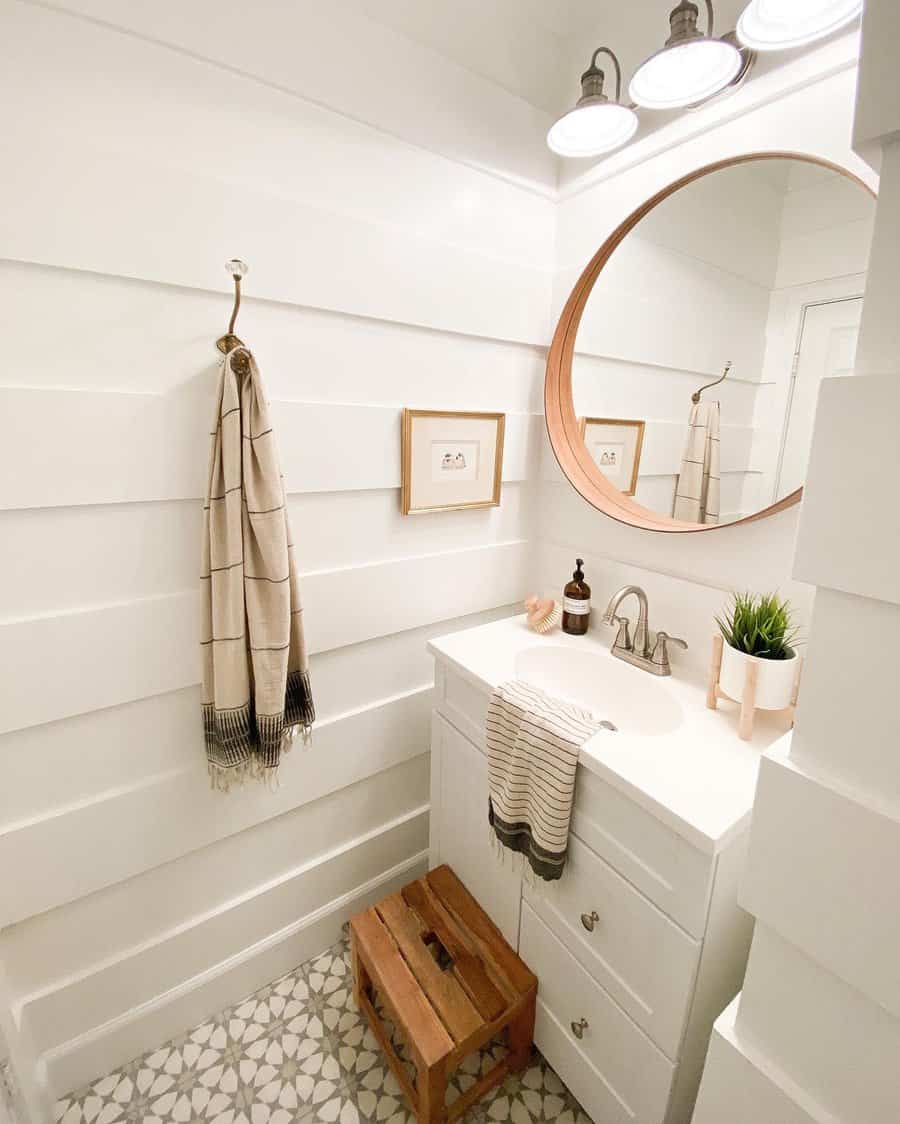 Use more delicate decor in your powder room that isn't durable enough for a master bathroom that you use every day. It's the perfect place for displaying your collection of seashells or shark teeth. Arrange clear glass jars on floating shelves to display your collections.
10. Wall
Your bathroom walls are the perfect place for creating the kind of coastal vibe you want accent wall. You could use clear glass tile that is the colors of the water. It should be a range of blues and greens with a few white or clear tiles thrown in. Small pebbles or stones will give you the durability of tile but with a more organic feel.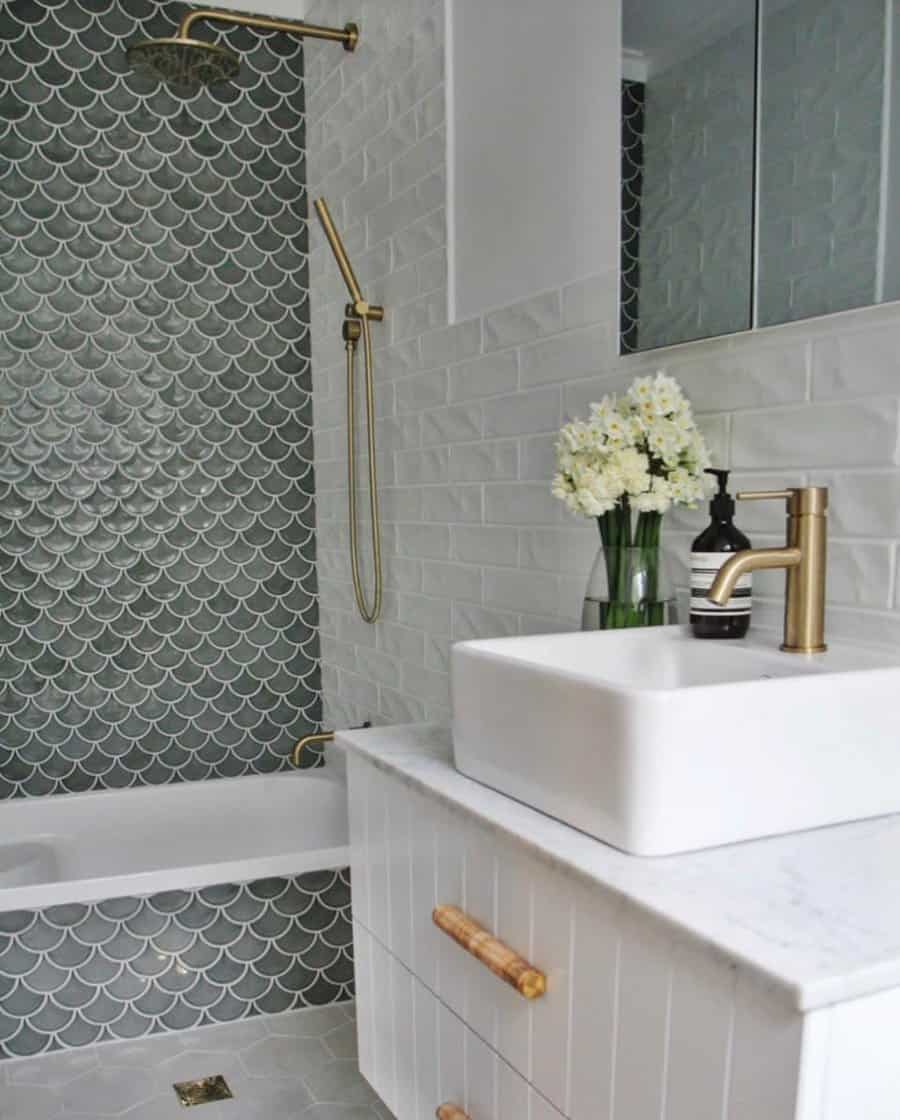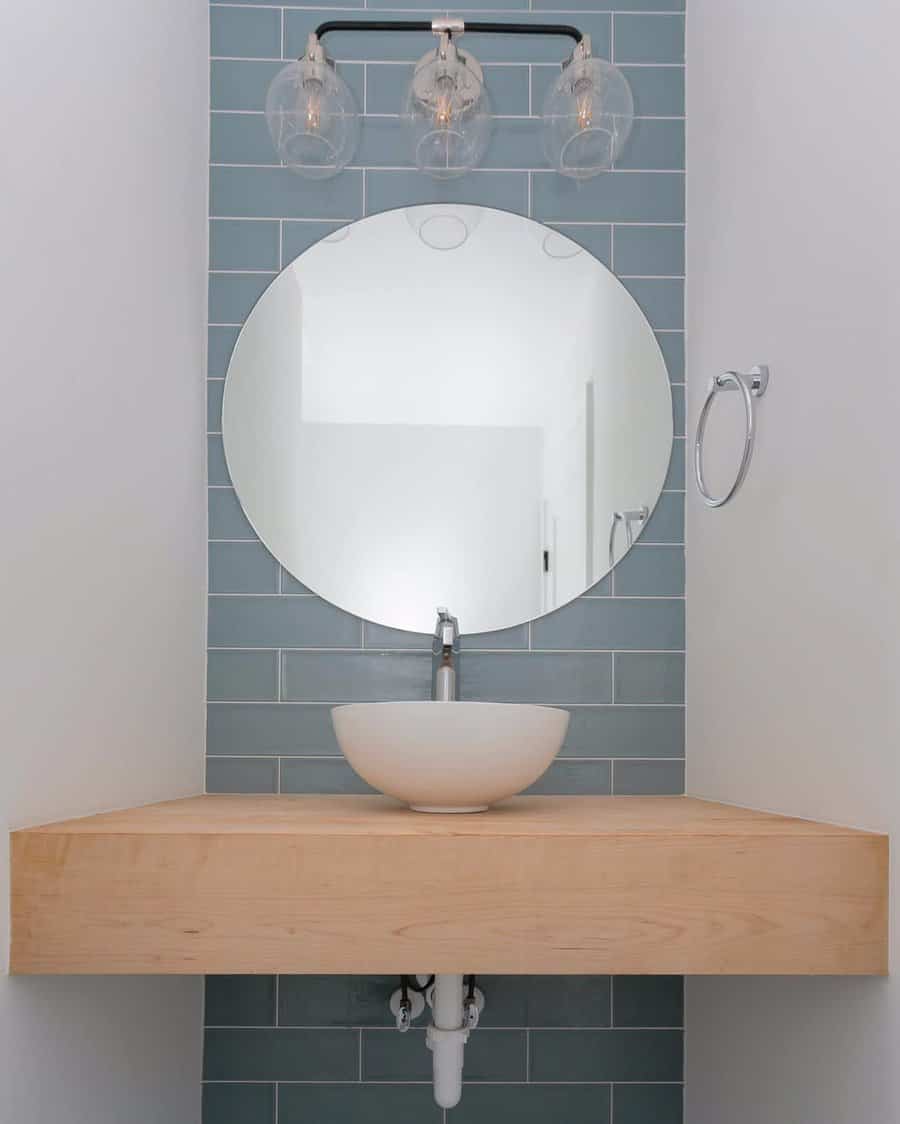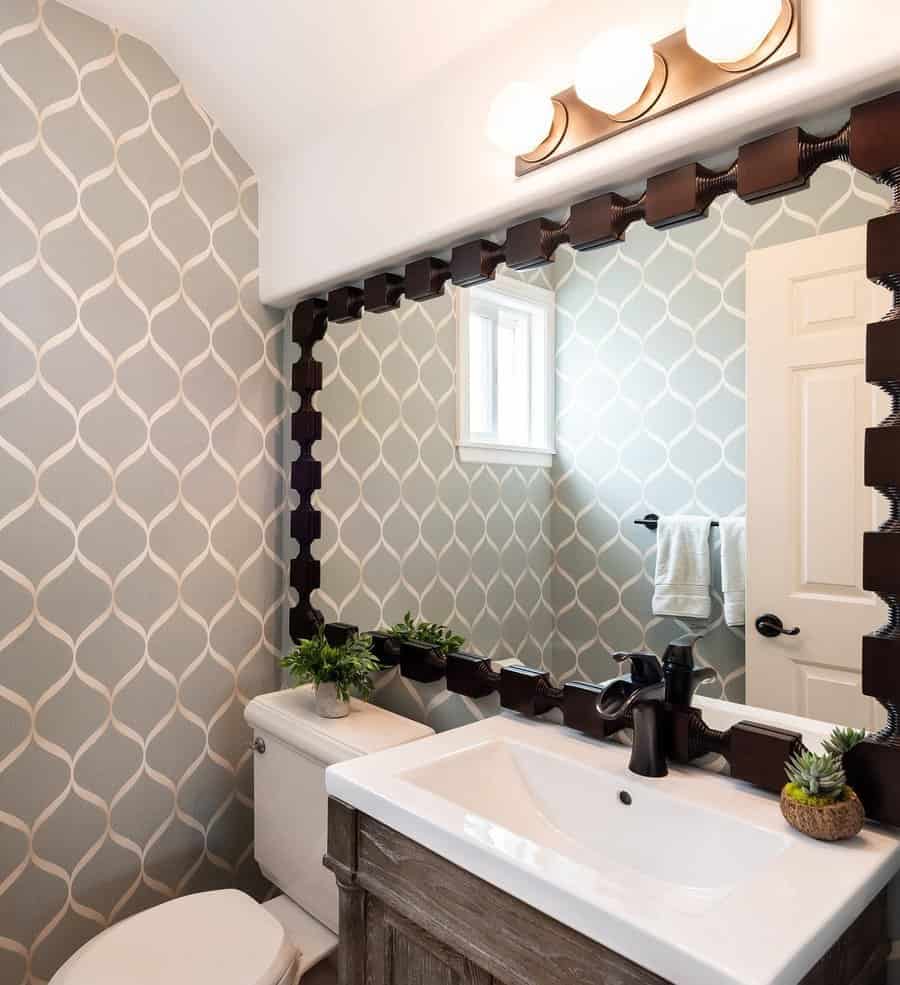 You can get more creative on the walls that won't get wet. You could paint or wallpaper them. Another option is to use wood shiplap or cedar shingles.
11. White
The all-white design theme was one that was in full swing for several years. However, it is starting to fall out of favor because it's so hard to keep clean. It also feels a bit bland and cold. Giving your all-white bathroom a coastal vibe is perfect for adding warmth and comfort to a sterile white room.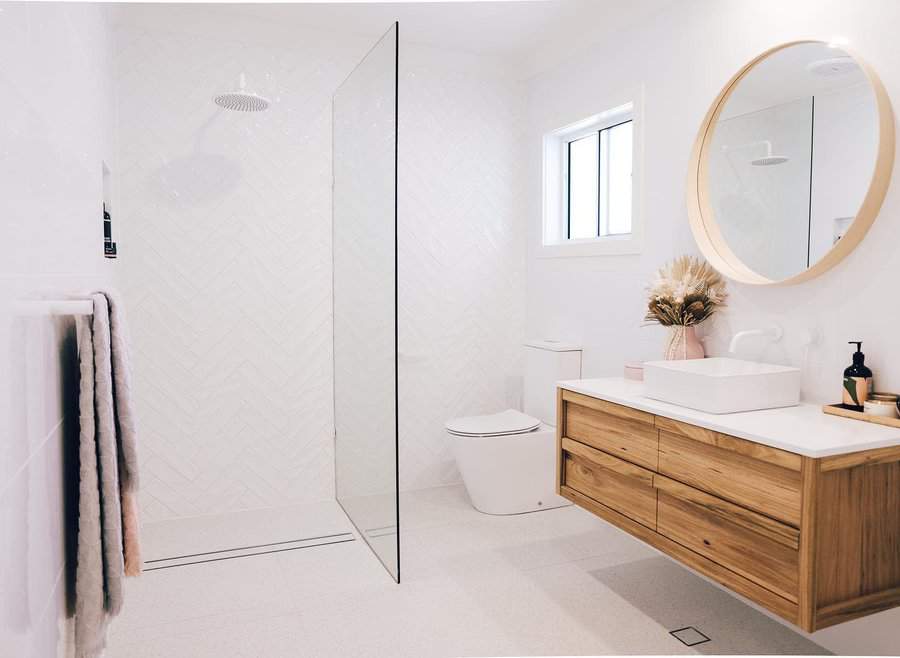 Keep the white walls and white tile. Add to it natural materials like metal and wood. Gold metal fixtures add color and warmth without taking away from the white theme. Wood has a similar effect and can give your bathroom a coastal feel. Try using the wood for the vanity, countertop, flooring, mirror frame, or shelving.
12. Wicker/Bamboo and Furniture
To give your bath the ultimate coastal feel, you need bamboo or wicker furniture. It should have a woven rattan design. This is the furniture you typically see on decks and patios but is actually commonly used in coastal environments. It's durable to the high humidity and provides a level of breathability that keeps things fresh.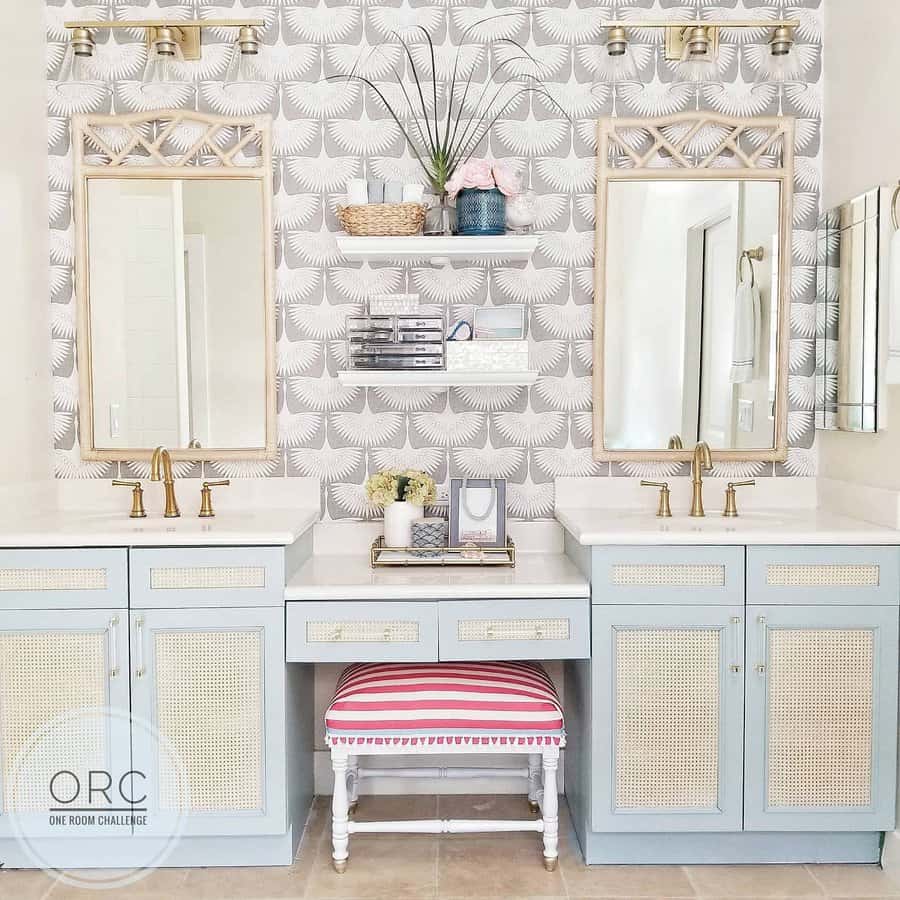 Choosing traditional rattan furniture will give your bathroom a boho or vintage feel. There are also modern designs that can keep your bathroom looking fresh and in line with current trends.
13. Wood Accent
Skip the pressed wood and plywood as these have no place in a coastal environment. The high humidity will cause them to swell, warp, and split. It also makes them a terrible idea in your bathroom. Instead, use hardwoods that are impervious to water. Teak and bamboo are popular options.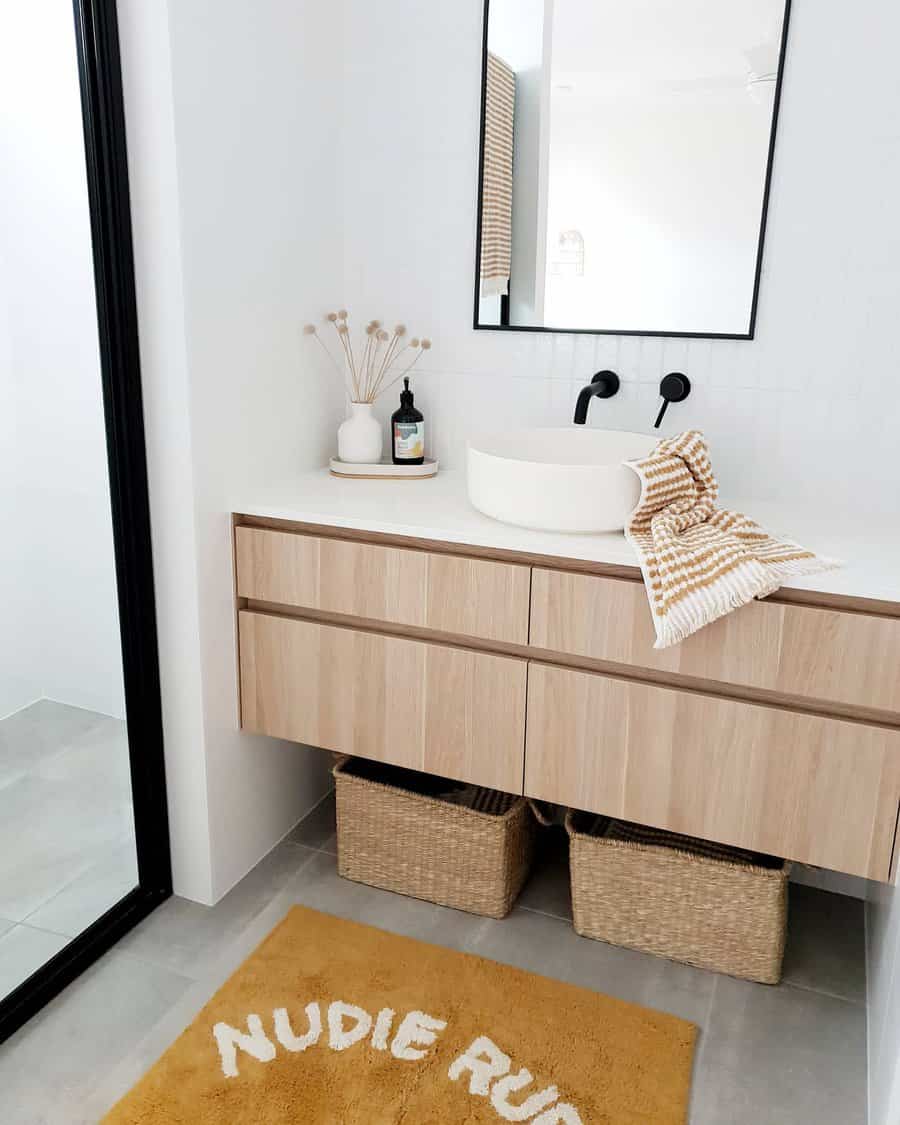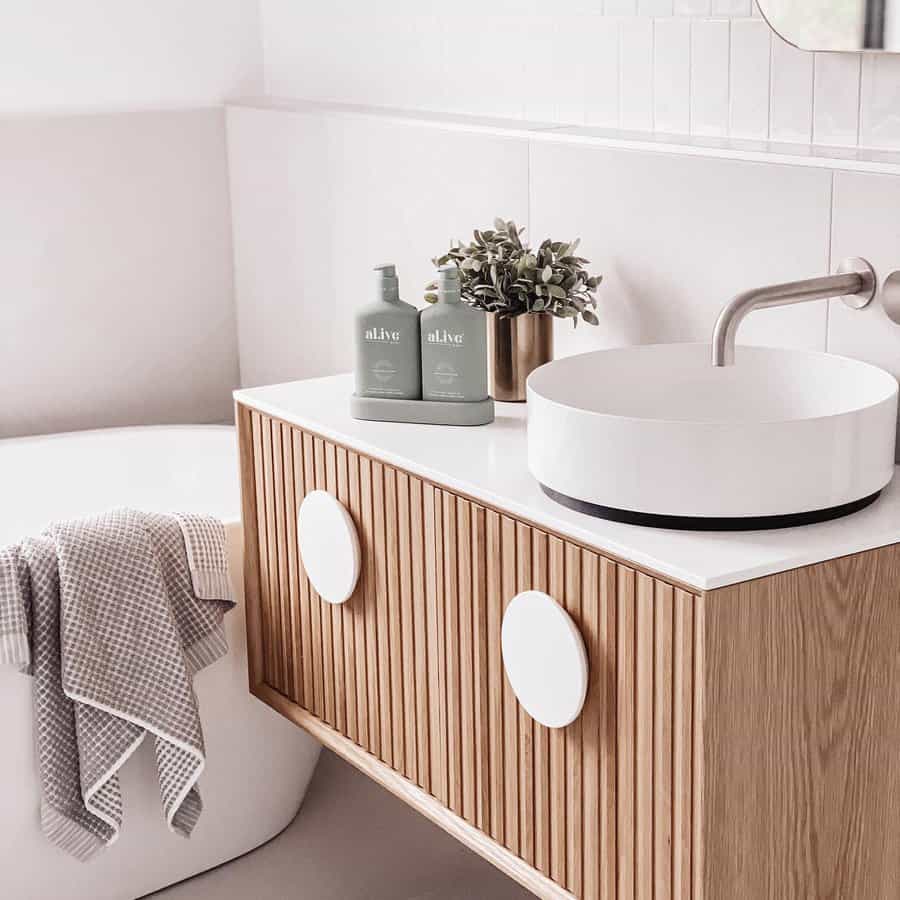 Driftwood is also a great option. This is wood that's been exposed to salt water and the elements for so long that it goes through a decomposition process. It becomes impervious to water and incredibly durable. You can find driftwood on all coastal shores throughout the world that's formed from a variety of wood types.
Coastal Bathroom FAQs
Why are bathrooms beach-themed?
Color can affect your mood, so choosing beachy colors is a great way to create a calm and relaxing space. Blue is an ocean color and also a calming color. Neutral tones are also soothing and mimic the colors of the sand.
How can I make my bathroom look beachy?
Use the materials that you would find at the beach. Hardwoods like teak or bamboo are perfect. Jute or hemp can add texture. Wicker or woven cloth baskets look coastal while also helping you stay organized.
How do you style a coastal bathroom?
You could take a literal approach with decorative items with umbrellas, palm trees, and shells. However, taking an understated approach with natural woods, yachting rope, or ocean colors will look more sophisticated and less kitschy. The approach you take will depend on the feeling you want to create in the bathroom.