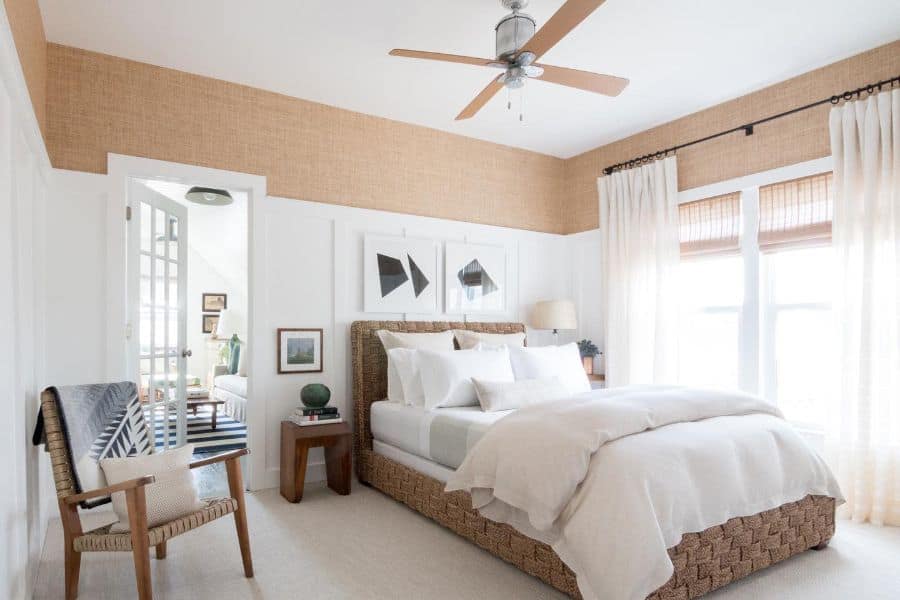 55 Dreamy Coastal Bedroom Ideas
You long to return to the white-sand shores of your last vacation. You relaxed on the deck of your vacation home and watched the waves lazily lap at the shore.
The beach house had a relaxed feel that was welcoming yet sophisticated. If only you could achieve the same kind of interior design success in your own home.
The good news is that you can. With the right furniture and decor, you can create your own coastal escape in your bedroom. Wake up each morning to cool blue tones and natural fabrics paired with light wood furniture.
These coastal bedroom ideas will have you creating your own coastal escape in your master bedroom.
1. Bohemian
A bohemian coastal bedroom design combines a beach theme with the worldly elements of boho design.
Take a worldly approach when creating your coastal look. Look for decorating ideas that embrace handmade pieces or those from far-off places around the world. This gives your bedroom a feeling of travel and creativity.
You could have a hanging chair that's handwoven rattan or wicker. Hang decor that's made from beach elements, such as paintings done on coconut shells, palm leaves, shells, or driftwood. Look for weavings that are crafted by artisans.
2. Contemporary
Your contemporary coastal style should be easy, breezy, and relaxing. Choose furniture that has a modern feel with clean lines and minimal ornamentation. Use crisp white bedding that's paired with a lightweight comforter.
Create plenty of light with lightweight curtains that won't block the light. This will keep your bedroom feeling fresh and bright.
Use items that you find at the beach to decorate your bedroom. This could be a jar full of sea glass or shells artfully arranged in a shadow box.
3. Decor
Your coastal bedroom decor should be items that remind you of the ocean. It could be things you find at the beach.
Or it could be items that you'd normally see on the coast. Perhaps you create a beach style with sand dollars, starfish, or seashells.
Whatever you do, stay away from the touristy and kitschy items. This will have your bedroom looking like a Margaritaville. If this is your thing, great, but it'll look tacky and cheesy with a distinct lack of class or sophistication.
4. DIY
You don't have to buy items to give your bedroom a subtle coastal charm. The next time you're at the beach, you can collect sea glass, shark teeth, or shells.
Then fill glass apothecary jars or vases with them. Arrange them on your dresser, floating shelf, or nightstand.
Hang driftwood on your wall as decor. Use small pieces to build a frame for pictures or a mirror.
Create a wind chime or mobile by drilling small holes in shells or glass and using fishing lines to string them together. They'll create a gentle "clink" sound when you turn your fan on.
5. Furniture
Light-colored wood and white furniture are perfect for your beach bedroom. The style you choose will depend on the bedroom ideas that appeal to you the most.
Perhaps you want a coastal bedroom that's reminiscent of the northeast with a Cape Cod coastal vibe. Then in your guest bedroom, you want to take a southern approach and channel the Caribbean.
The northern coastal bedroom will look good with white wood furniture that has a weathered look. Then pair it with muted or subdued blues and greys.
The Caribbean room will look beautiful with wood, rattan, wicker, and other woven furniture. Look for materials that are naturally found in the areas where the coast is that you want to emulate.
6. Headboards
Your bed is typically the room's focal point, so your headboard is the perfect place to create a beach theme.
Consider using teak for your bedroom furniture to have a solid base for your coastal bed. Blend the headboard with the rest of your bedroom design.
A woven rattan headboard will add texture and inspire coastal feelings. Or it could be a crisp bright white and made of wood panels to resemble the white shutters you find on elegant beach homes. If you'd like a softer look, consider one that's upholstered tufted linen.
7. Master Bedroom
Your master bedroom is the perfect place to create a coastal-themed escape. Turn it into a beach-themed bedroom and have a tropical oasis that you can escape to each night.
When creating your bedroom makeover, don't forget the details. Even your bedding should embrace the beach bedroom vibe.
Skip the flannel, wool, satin, and silk. These are fabrics that will not make sense in your coastal-themed bedroom. Instead, stick with cotton and linen. These are cooler fabrics that are commonly used in coastal homes.
Keep your master bedroom feeling classy by adding coastal elements in an understated way. Perhaps you hang art on the wall that features a coastal theme. Or you could have a chandelier that's made of driftwood or many small wooden beads.
8. Modern
Modern coastal-themed bedrooms don't look like you're at the beach. Instead, they invoke the feeling of the coast with a subtle beachy style. Use fabrics, patterns, and coastal colors.
Canvas, linen, and coastal grasses are all good options. Pair cream shades and crisp white with shades of blue. Anything from a deep navy to more Caribbean teal and greens will work.
This will create a fresh, clean design with plenty of texture. Choose furniture that's made of teak, which is a classic wood used on boats. Brass for your fixtures will mimic the look of hardware on boats.
9. Neutral
Coastal design and neutrals go well together, and you can achieve this look in your bedroom. It's also a nice approach to coastal casual in your guest room.
The neutral colors will have a universal appeal and be welcoming to anyone that visits you. Stick with a color palette that uses shades of white, cream, and beige. Try to emulate the colors of the sands and seashells.
The beach decor you use could also use these colors naturally by choosing elements that are constructed of natural materials. Lay down a woven area rug that's made from grasses or plant leaves.
These rugs are incredibly durable, add texture to the room, and are naturally a neutral color.
Instead of adding a reclaimed wood, or a pallet wood accent wall, craft yours out of teak or cedar. Try using flat wood shingles instead of planks for a coastal vibe.
10. Rustic
True beach homes have a lived-in feel. They don't have brand-new furniture, and the elements in the home are ones that have been there for many years.
Adding rustic pieces to your coastal living room or bedroom gives your home an authentic feel and one that doesn't feel overly styled.
Start your makeover by heading to the coast. Look for an antique or used furniture shop.
Buy what the locals buy when furnishing their homes. This will help you create a coastal home that feels like you could step outside and be just steps away from the sand and surf.
11. Small
You can create a beachy vibe no matter how small your bedroom is. Look for decor ideas that help your room to feel larger. Stick with a lighter color scheme. If you want darker colors, keep them low, such as a dark blue area rug.
Create a beach cottage feel by keeping the decor simple. Add items that have a worn or vintage feel. Use plenty of fabrics and textiles to create a cozy space. Hang sheer curtains that allow for plenty of light to filter in while giving you privacy.
12. Wall
Your bedroom walls are like a blank canvas that are just waiting for you to create a nautical or coastal theme on them.
A simple approach is to paint the walls a soft white, blue, grey, turquoise, or light beige. Then hang nautical decor on them.
A single large piece will make a statement, or you could have several smaller pieces for a gallery wall.
Instead of hanging coastal decor, turn the wall into a statement piece. Modern wallpaper comes in a variety of bold designs.
You could have a single mural design of a large octopus stretching its tentacles around the room.
Or perhaps a sunset beach scene is the perfect addition. For a traditional look, you could choose a deep navy with a crisp white repeating pattern.
13. White
If you've always wanted a white bedroom and didn't know where to get started, using a coastal theme is a smart approach. Coastal elements use natural materials to add warmth and texture to your all-white bedroom.
Use a soft white linen for the fabrics. This material is coastal and has texture to break up the white. Incorporate light wood furniture. A light sand area rug or carpet can be on the floor.
Then choose polished nautical brass to add warmth and break up the white visually. The metal lets you add color without deviating from the white theme.
Coastal Bedroom FAQs
How do I make my room feel beachy?
Add elements that you could find on the coast to your home. This could be natural materials like driftwood, shells, sea glass, coastal grasses, and sea stones. It can also be decorative items such as natural fiber line that was traditionally used on ships. Other items like wire baskets, rustic wood furniture, and cedar shingles can all create a beachy feel.
Is coastal decor going out of style?
Traditional coastal elements never go out of style. Keep things simple and classy, and you'll create an elegant yet comfortable bedroom. Soft neutrals and shades of blue are also universally appealing. Modern neutrals and bold maximalism are both trending right now. You can do either with a coastal feel to keep your beach-inspired room feeling fresh.
What are some beachy colors?
Think of the colors that you would find at the beach. This could be shades of blue and turquoise to mimic the water. A bright yellow can represent the sun. Neutrals in shades of white, cream, and beige can mimic the sand. A pale or bright blue can represent the color of the sky on a warm summer day.