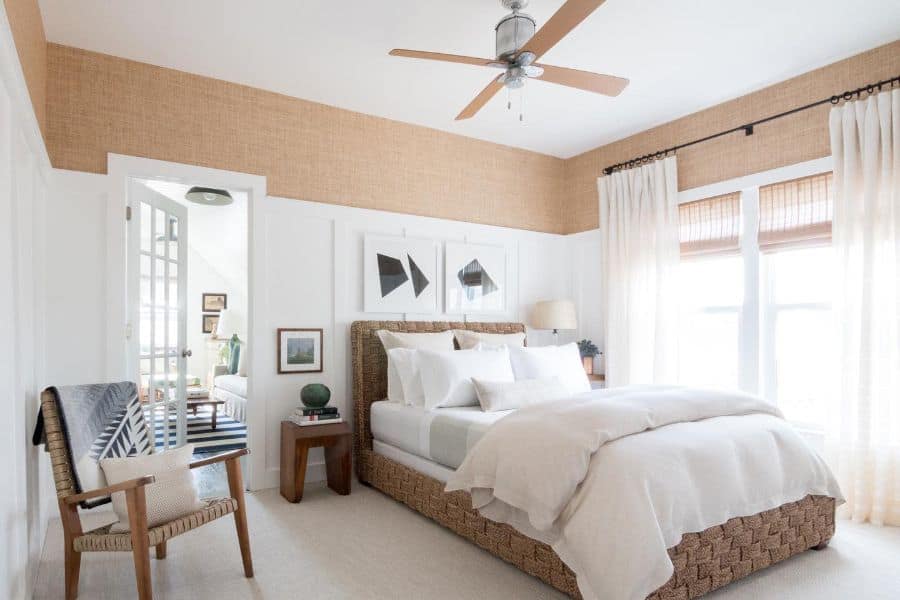 55 Dreamy Coastal Bedroom Ideas
by — Andra DelMonico

Published on April 16, 2021

Updated on October 20, 2023
You long to return to the white-sand shores of your last vacation. You relaxed on the deck of your vacation home and watched the waves lazily lap at the shore.
The beach house had a relaxed feel that was welcoming yet sophisticated. If only you could achieve the same kind of interior design success in your own home.
The good news is that you can. With the right furniture and decor, you can create your own coastal escape in your bedroom. Wake up each morning to cool blue tones and natural fabrics paired with light wood furniture.
These coastal bedroom ideas will have you creating your own coastal escape in your master bedroom.
1. Create a Dreamy Coastal Oasis with Bohemian Textiles
Immerse your bedroom in dreamy coastal serenity by infusing Bohemian textiles. Incorporating this style is all about harmonizing textiles and colors. To achieve the look, embrace items like throw pillows, fringe blankets, and macramé wall hangings.
Play with a mix of patterns and textures, prioritizing balance over strict uniformity. For a touch of coastal freshness, consider introducing live plants like succulents. In crafting your coastal bedroom, let your creativity flow freely for a tranquil and vibrant space.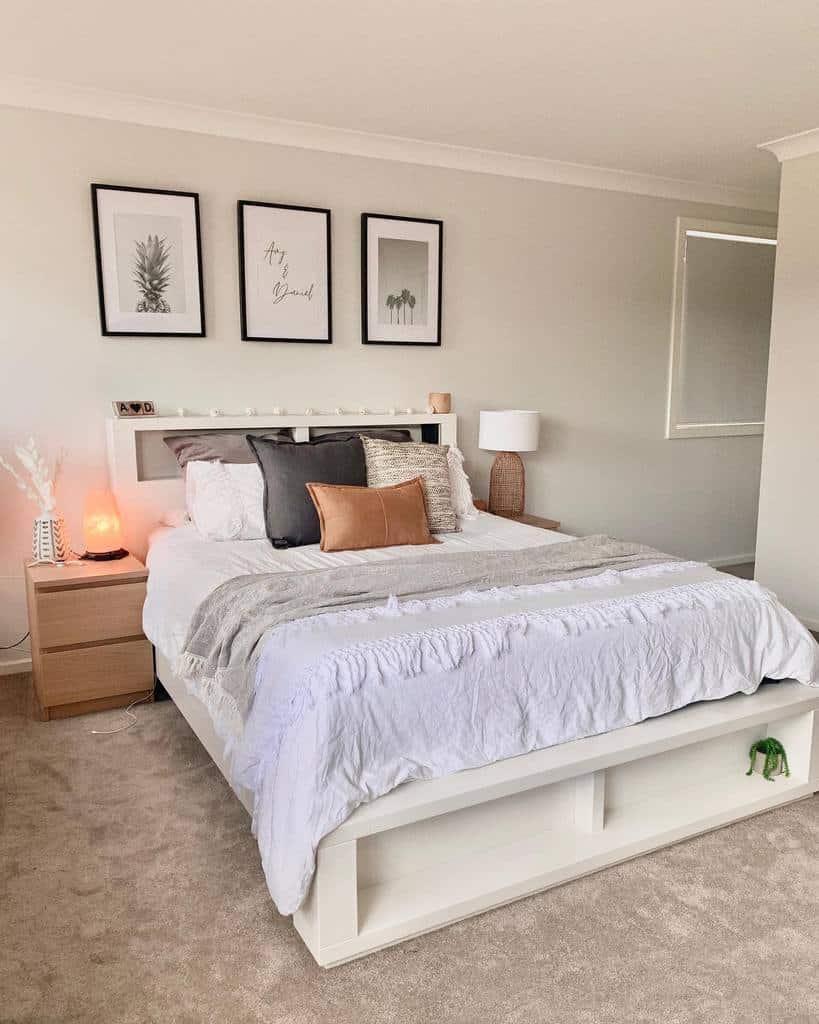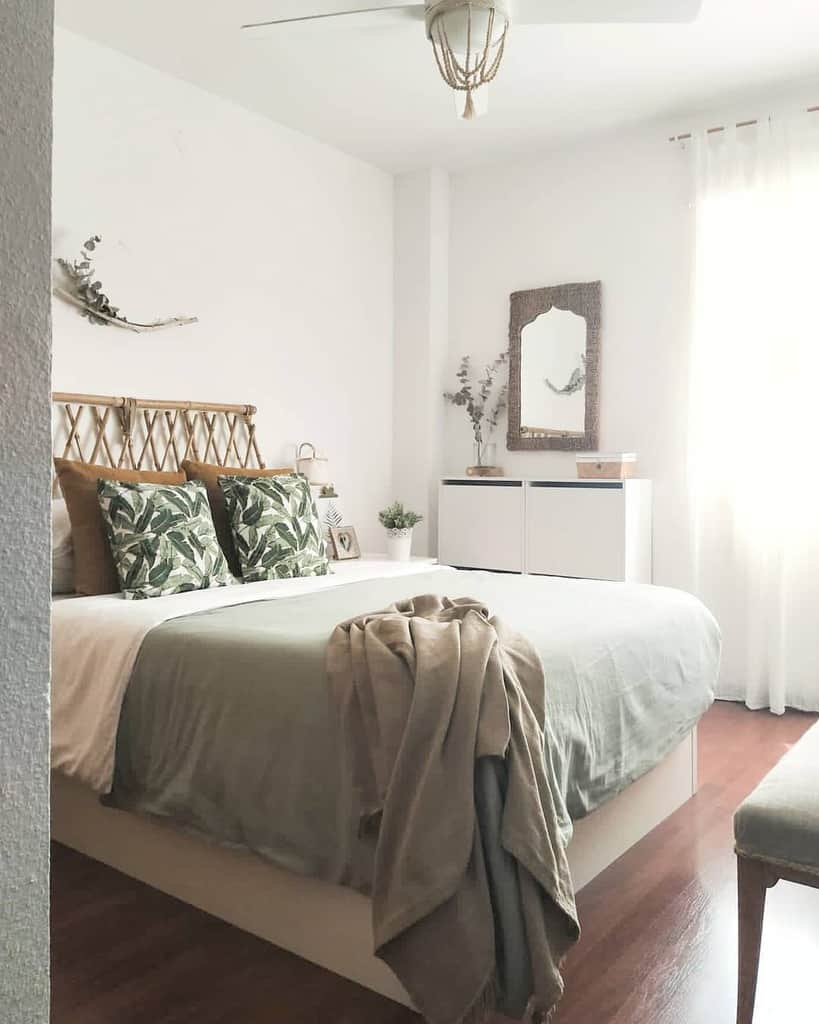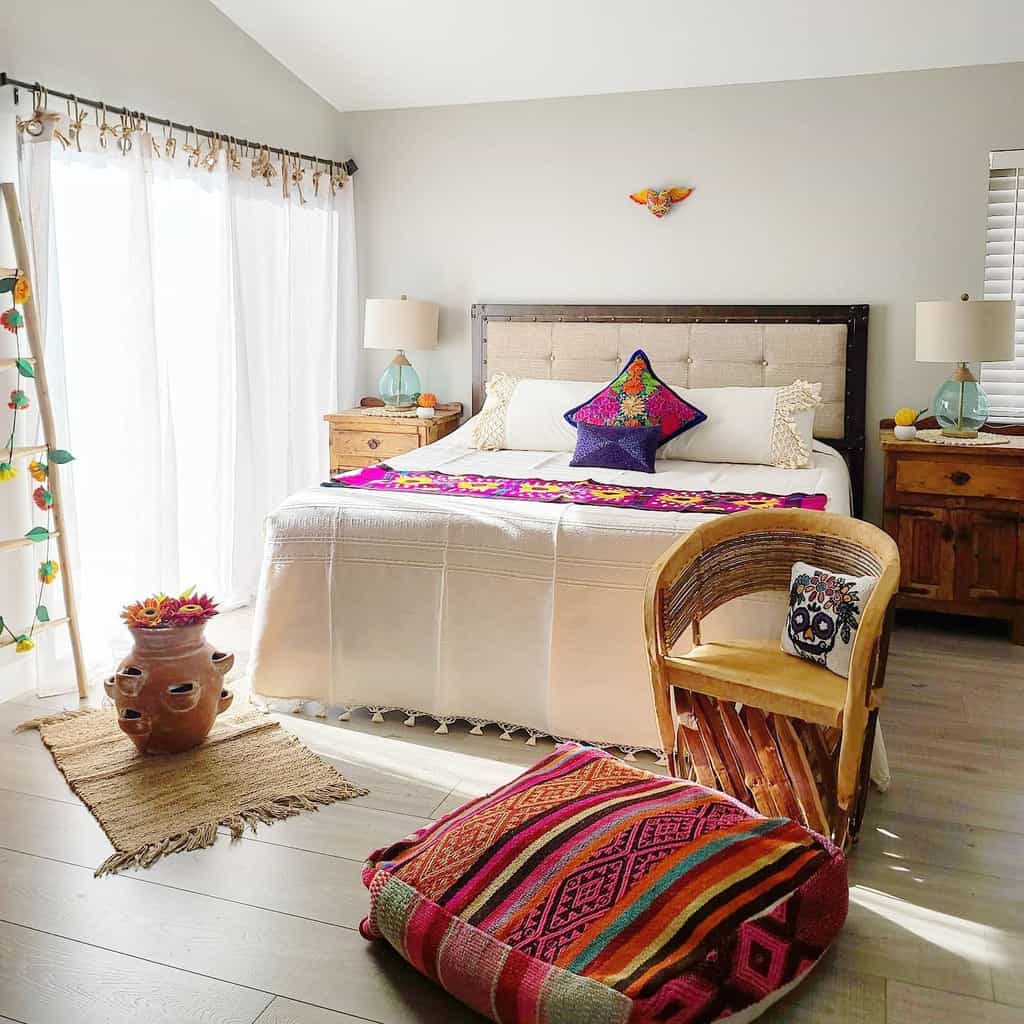 2. Infuse Dreaminess with Playful Coastal Prints
Infuse your bedroom with coastal charm using playful prints. Opt for printed bedding and curtains, incorporating printed accents for a contemporary coastal vibe. Experiment with colors and textures to create a cozy atmosphere, making the most of the natural coastal light. Consider, for instance, using blue printed bedding and matching curtains to brighten and welcome the room, with hints of white for a fresh touch. This sets the stage for a cozy and creatively inspiring space.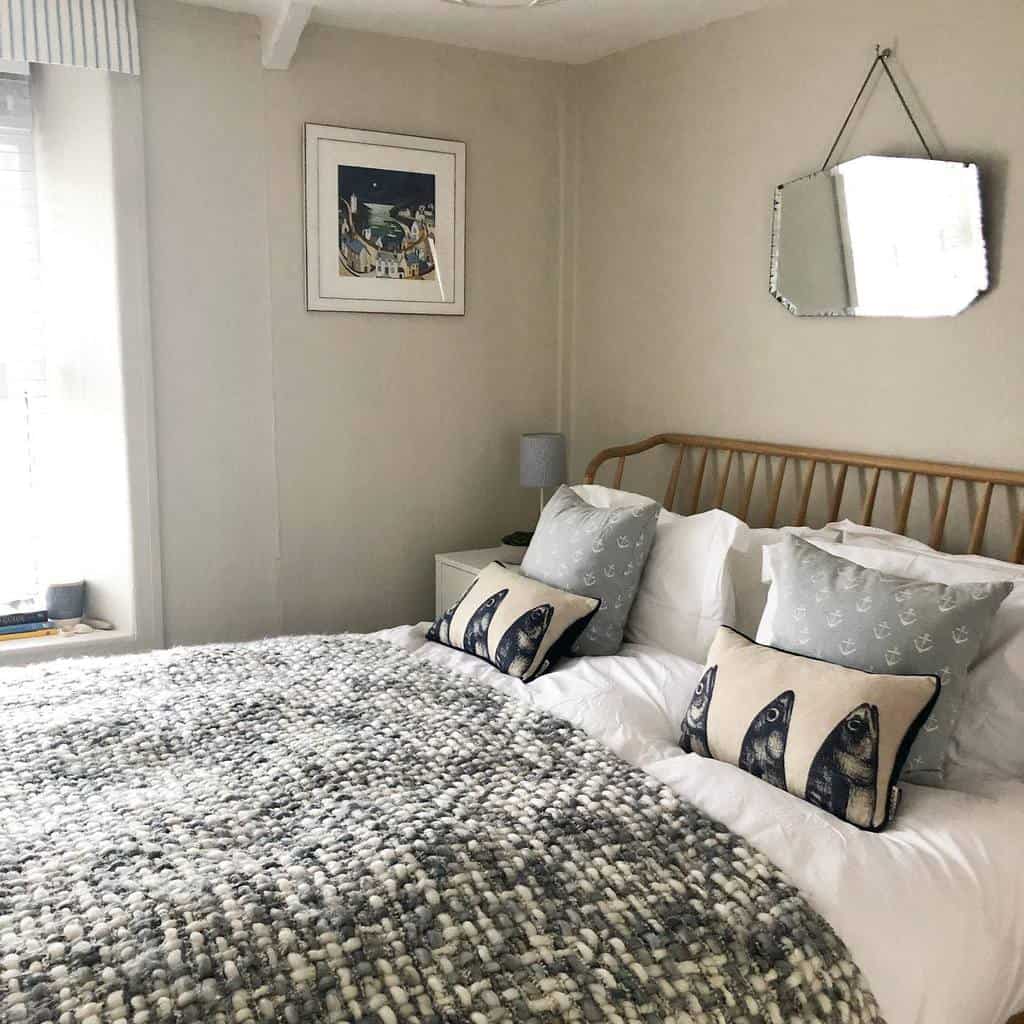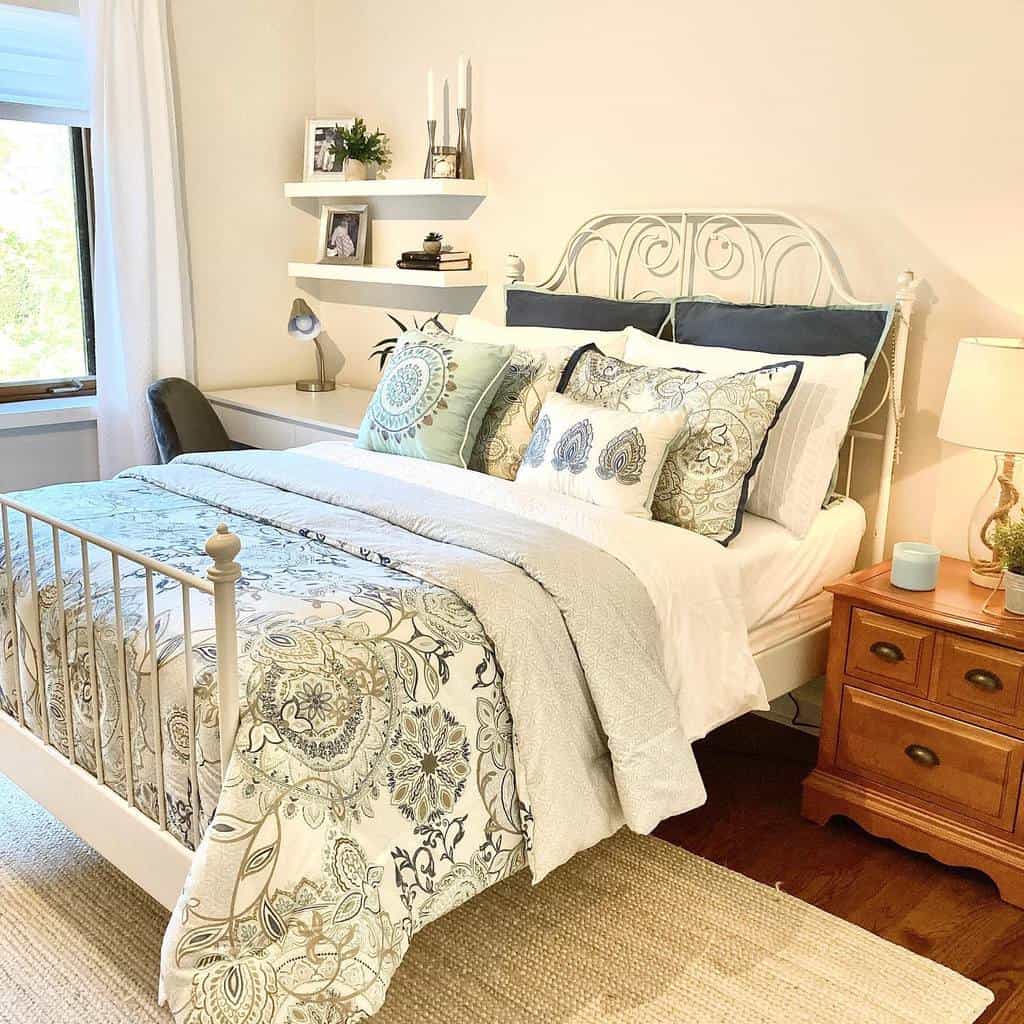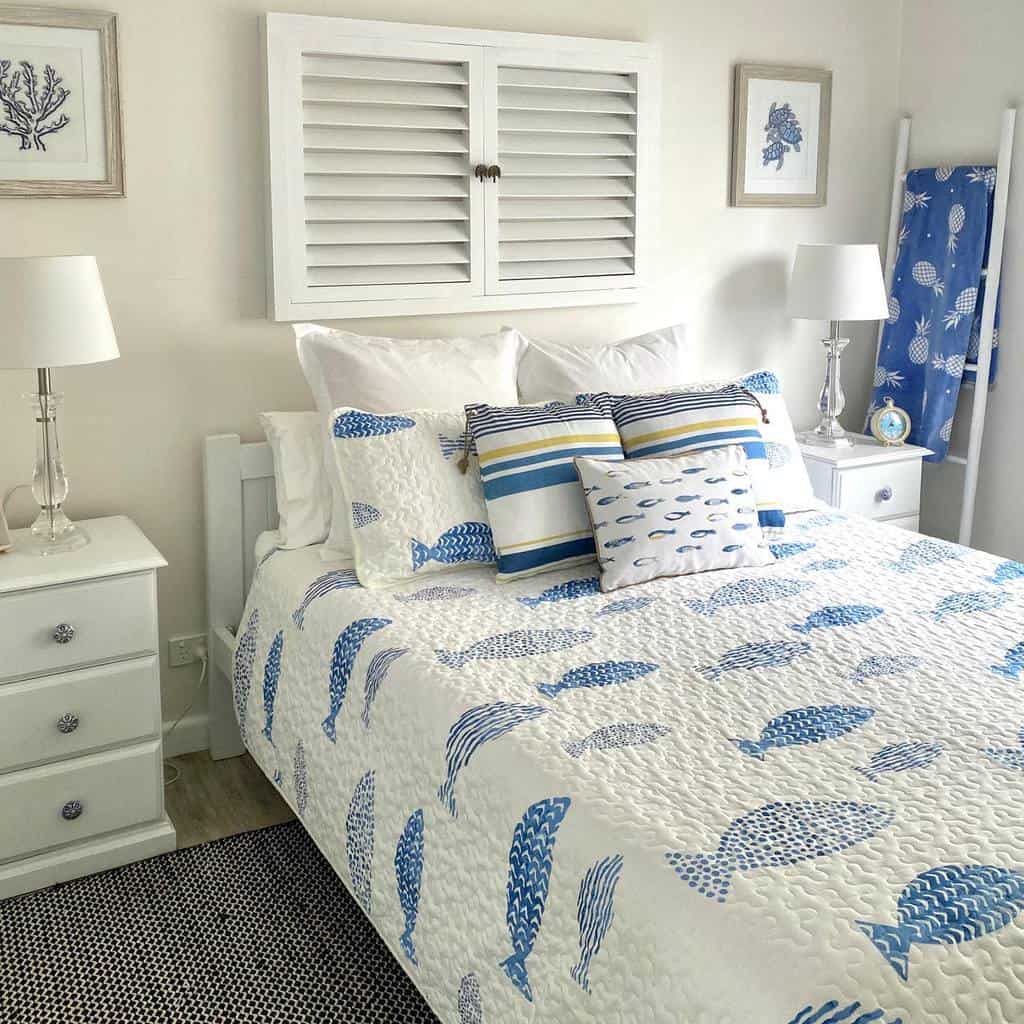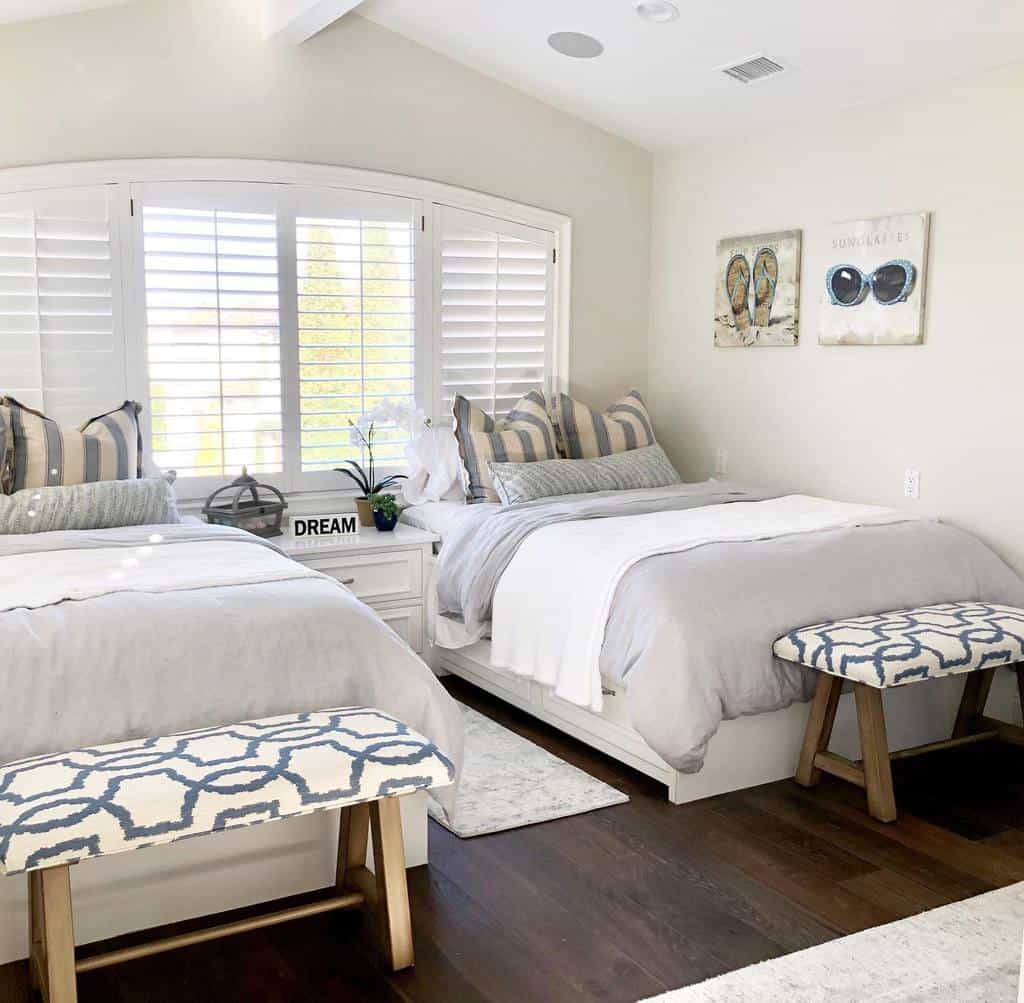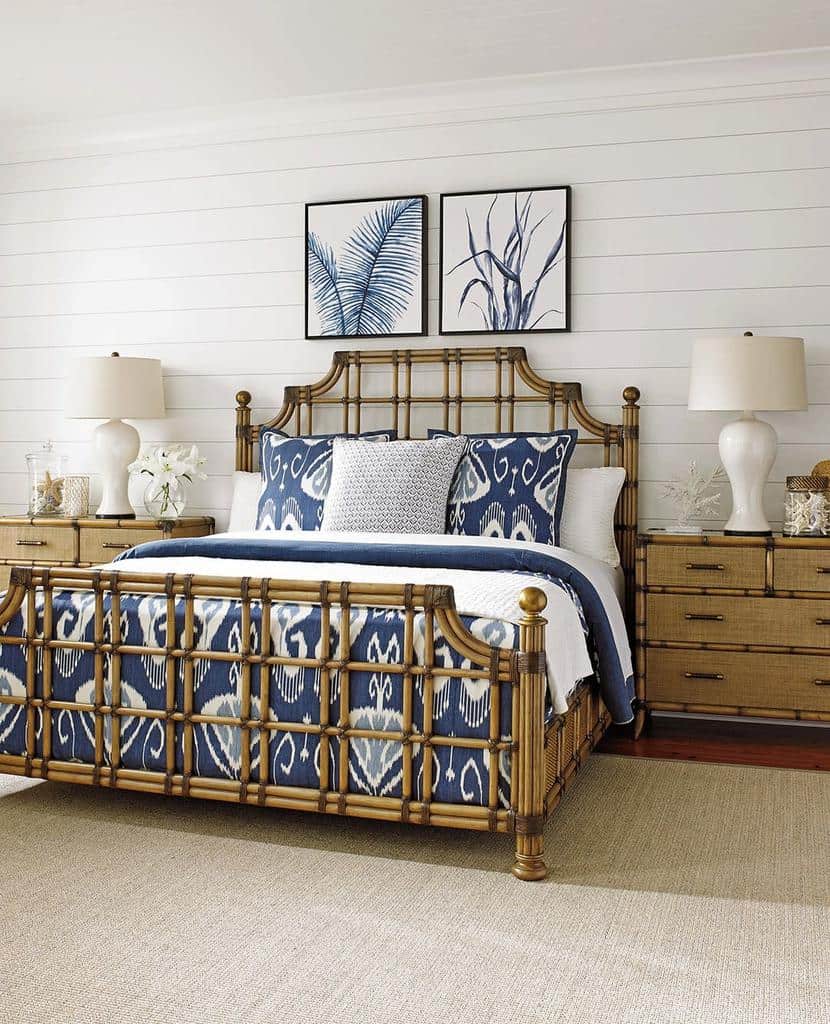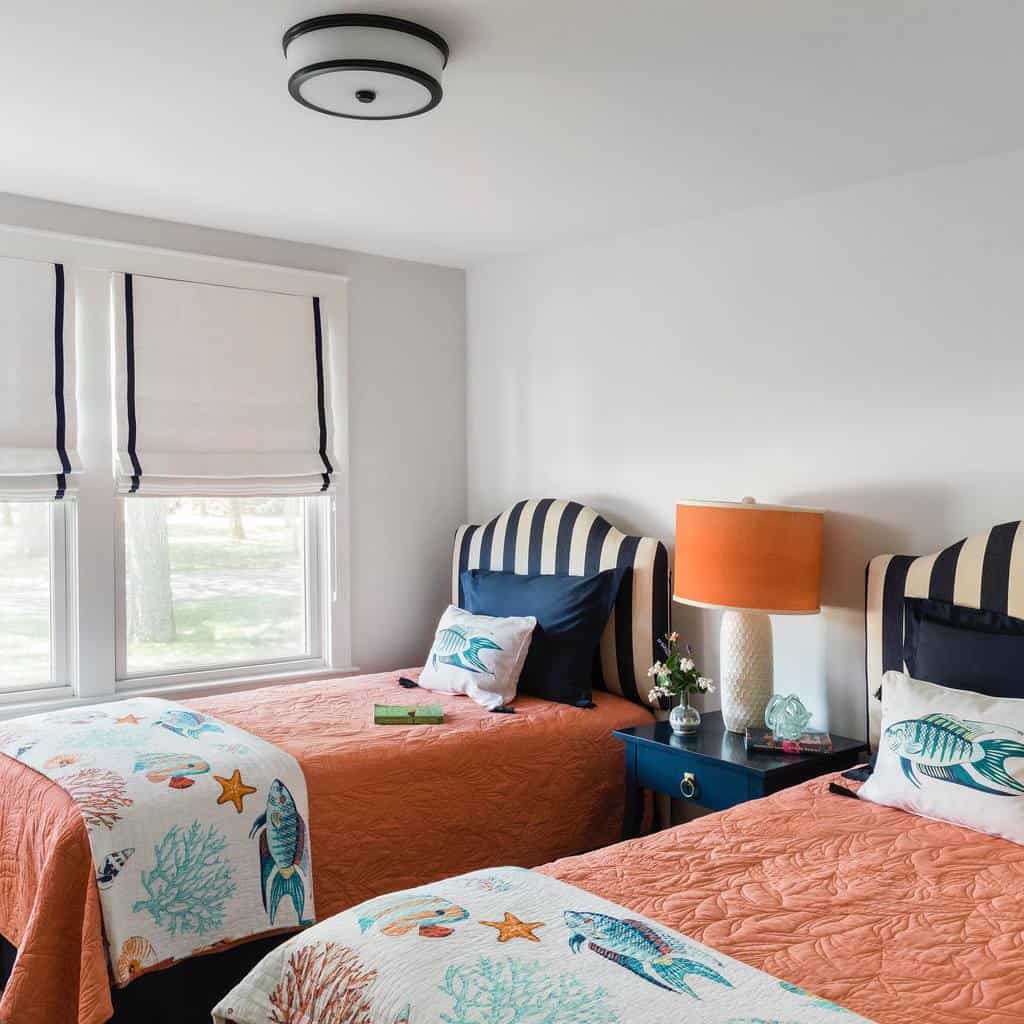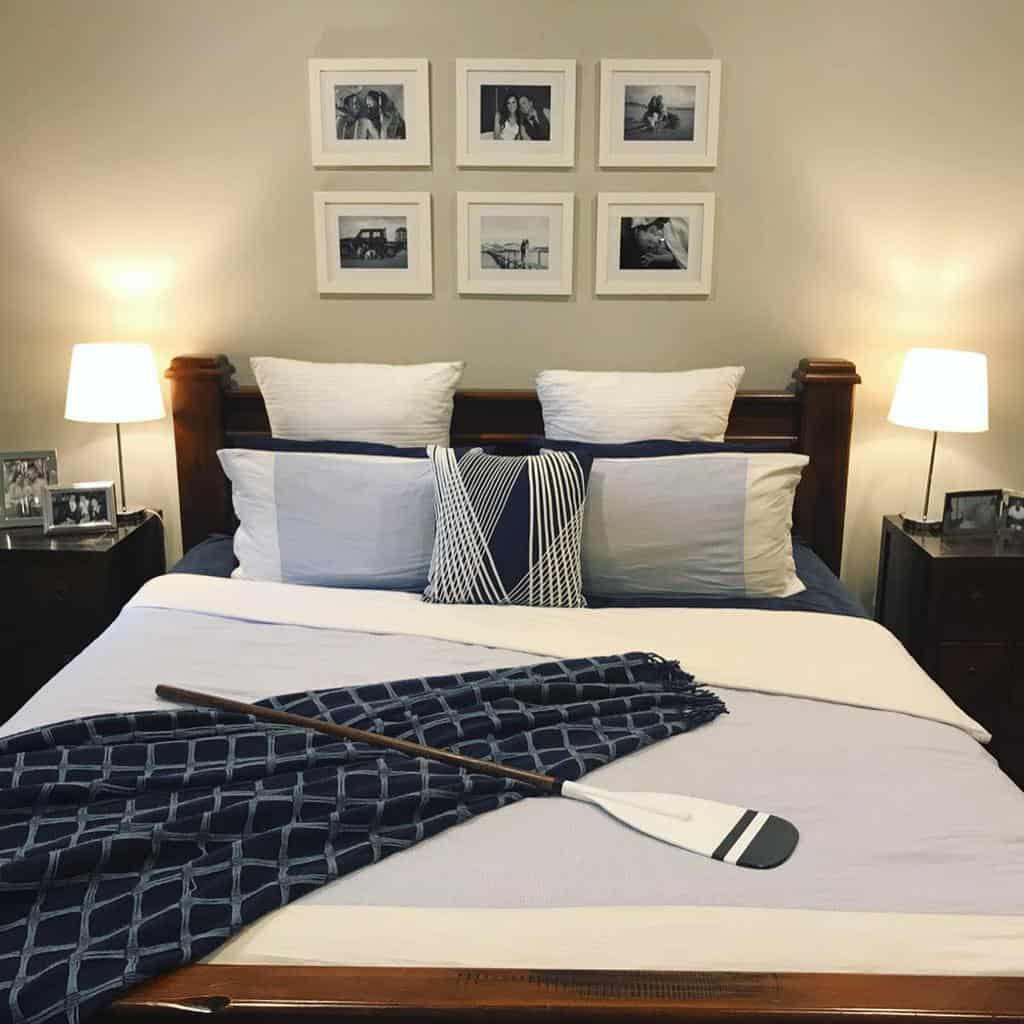 3. Elevate Coziness with an Ocean-Inspired Area Rug
Enhance bedroom coziness with an ocean-inspired area rug, infusing coastal charm into your home. Choose a bed with a rug that complements in color and texture, adding depth and character to the room. Opt for wall-to-wall sea-inspired hues like deep blues and sage greens for an instant coastal ambiance.
Layer your bedding with whites, grays, coral, and blues to evoke the feeling of waking up by the oceanside every morning. To complete the coastal look, adorn your bedroom with seashells, starfish, and driftwood pieces. With these tips, creating your own dreamy coastal oasis is both achievable and convenient.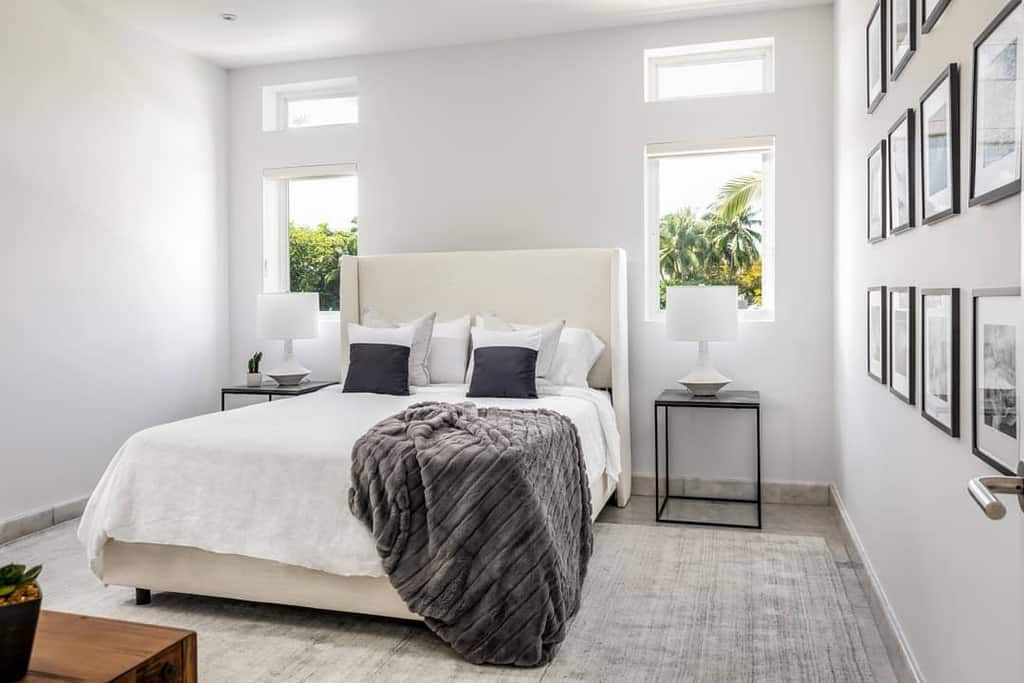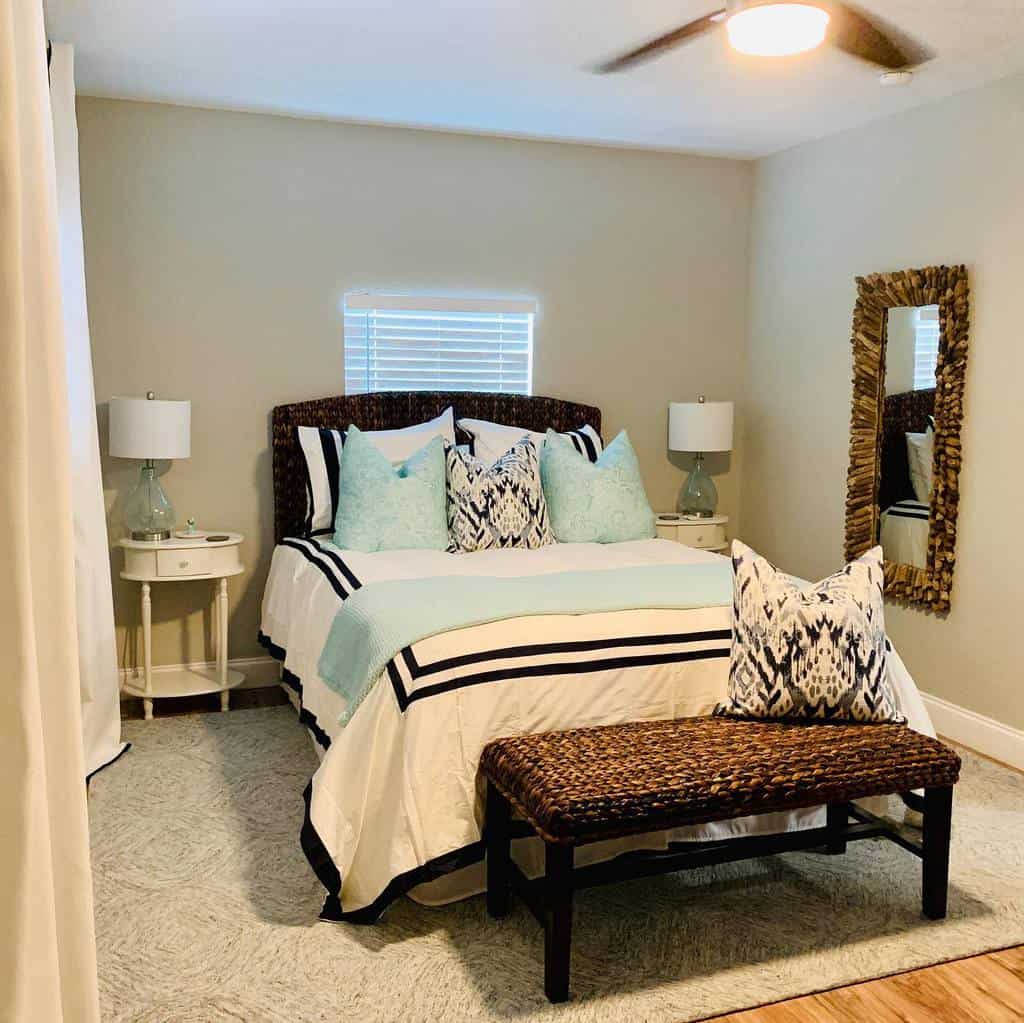 4. Soothe the Senses with Serene Light Colors
Indulge your senses with calming light colors to infuse coastal tranquility into your bedroom. Opt for softer pastel blues and muted hues, such as a light blue on the walls, and complement them with off-white furniture and décor for an airy seaside-inspired atmosphere.
Expand your color palette to include light creams and soft browns, while incorporating natural woven rugs for added texture. Transform your space into a daily coastal retreat with these serene and soothing design choices.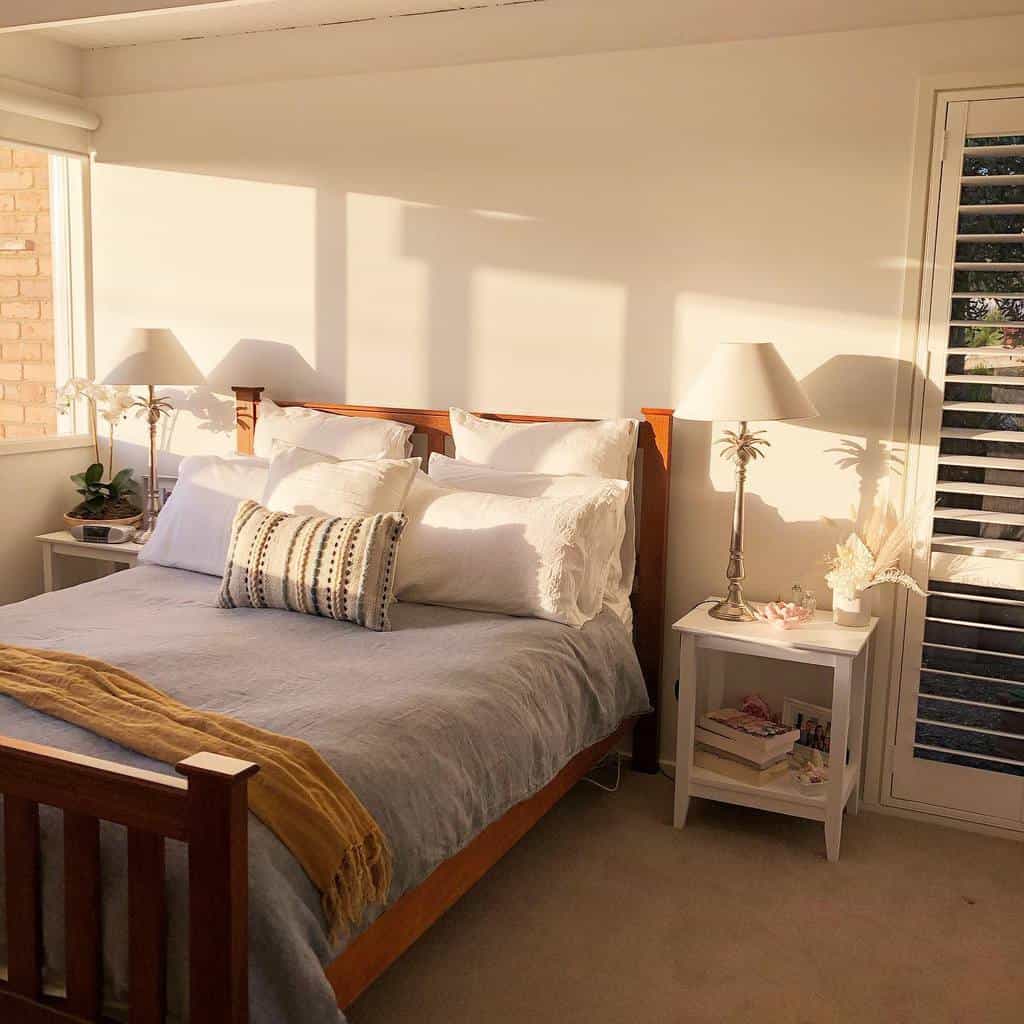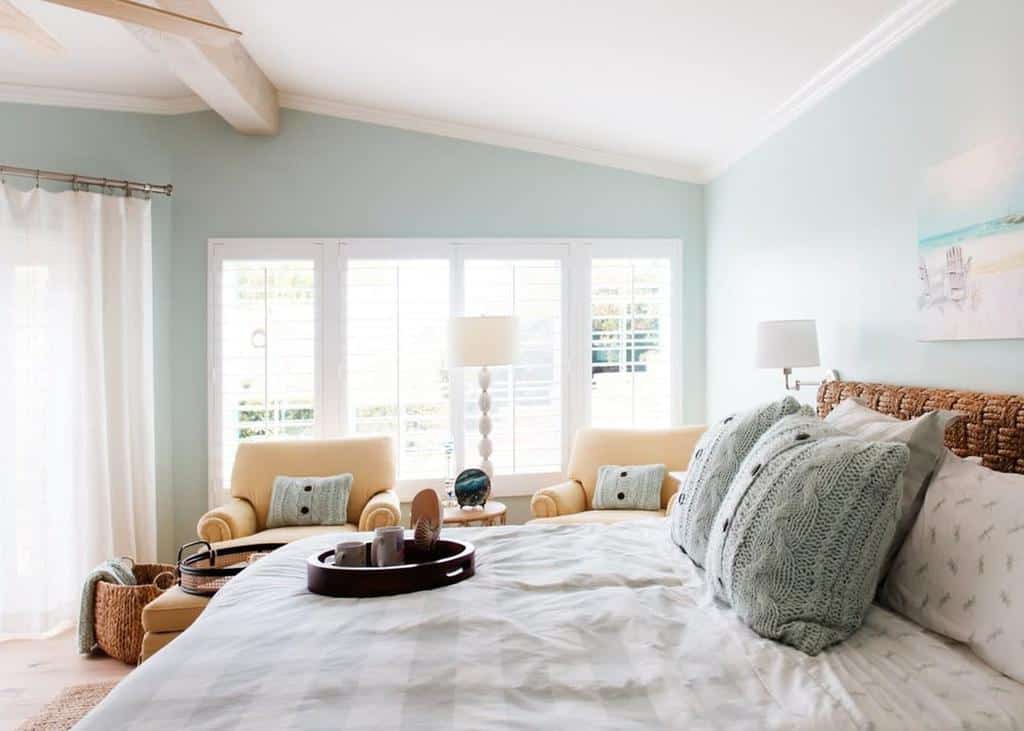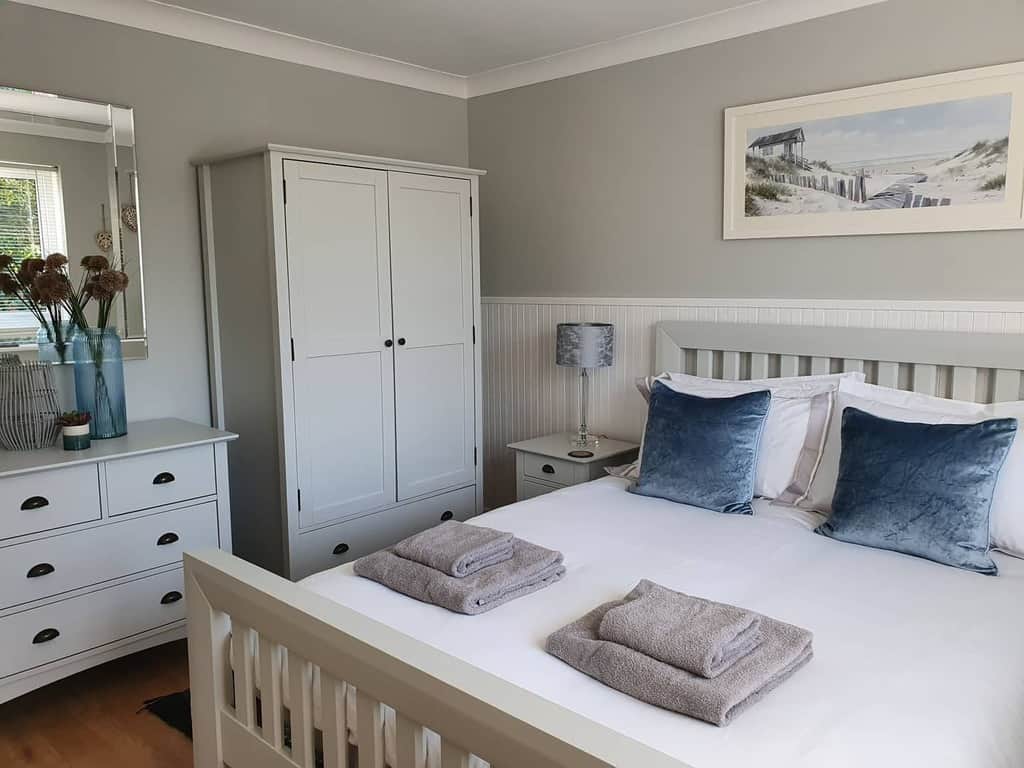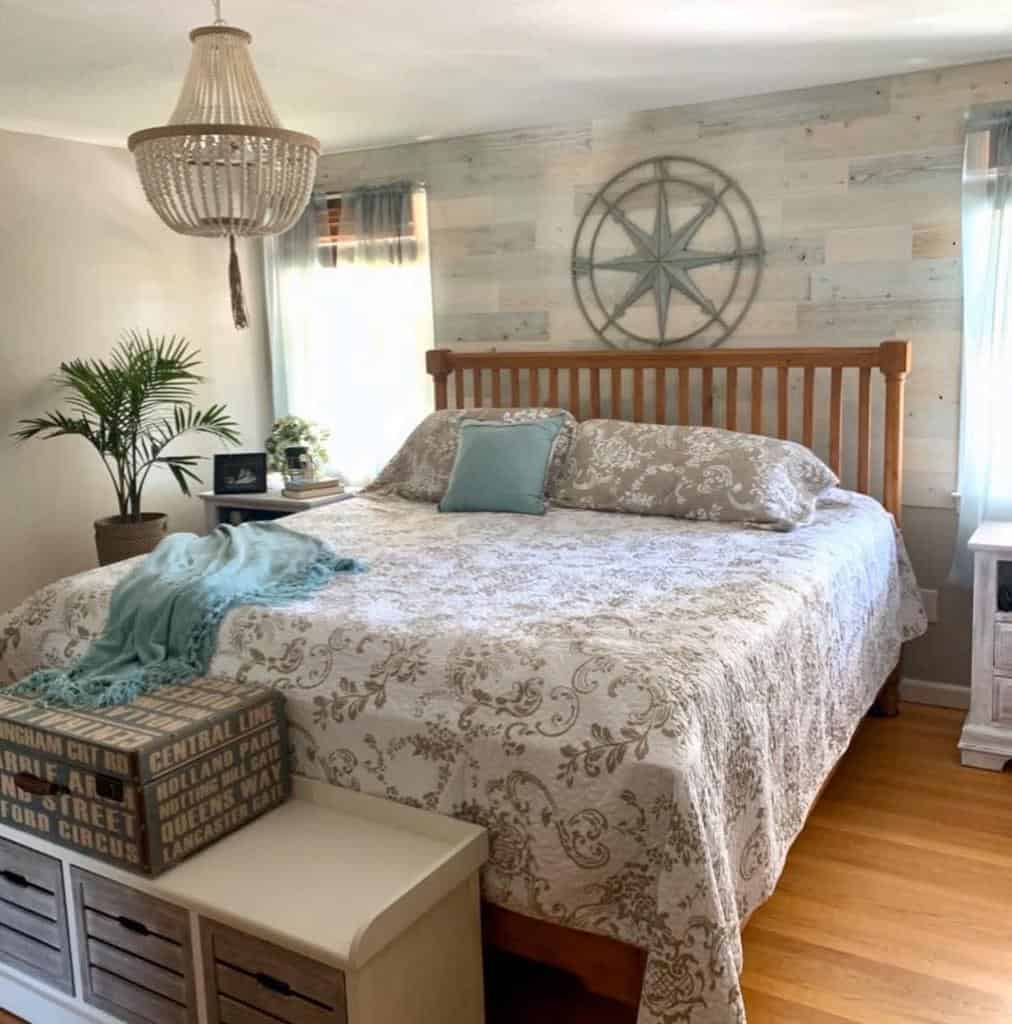 5. Dive into Coastal Serenity with Blue Accents
Delve into coastal tranquility by enhancing your bedroom with calming blue accents. Create a serene atmosphere with white walls and blue furnishings. Integrate various shades of blue into your bedding and curtains, ensuring they harmonize with navy, white, teal, and sea green for a restful night's sleep. Elevate your coastal bedroom experience with the combination of soft blues, fresh white linens, and wooden furniture for a dreamy and rejuvenating ambiance.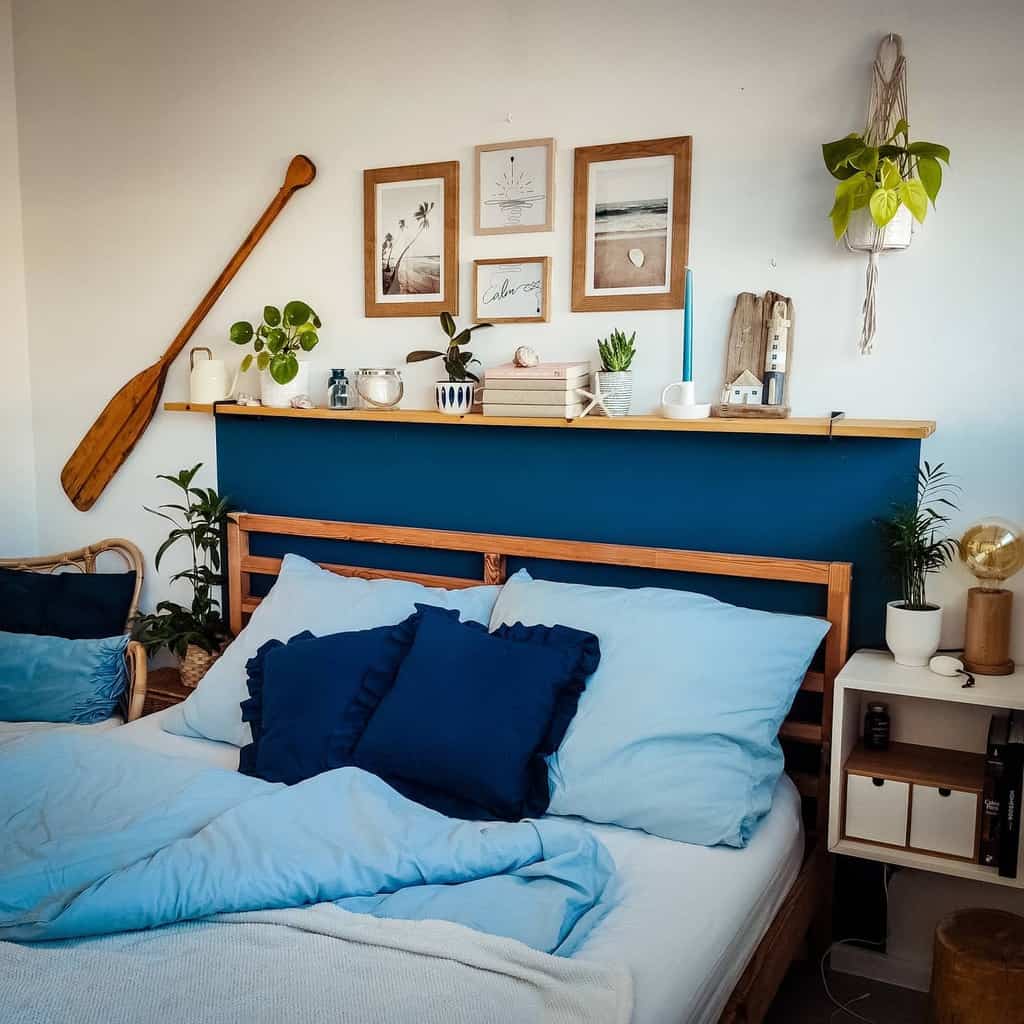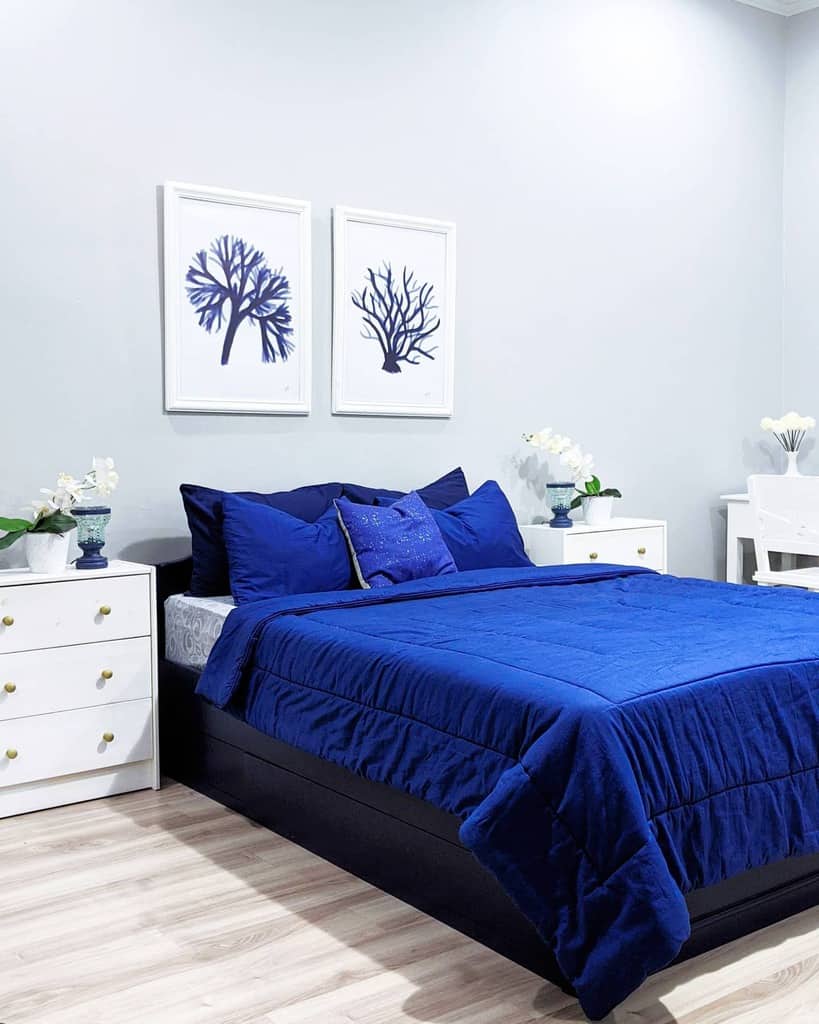 6. Breathe in Freshness with Shiplap Walls
Evoke a coastal ambiance of freshness in your bedroom with the addition of shiplap walls. The rugged wood paneling not only brings texture and depth but also maintains an airy feel. To intensify the beach-inspired atmosphere, combine shiplap with a palette of whites and blues, like a white-washed driftwood bed frame paired with navy or soft-toned linens.
To enhance the shiplap walls further, embellish your space with seaside-themed decor, such as seashells, starfish, and driftwood. A finishing touch could involve displaying vases filled with shells, creating a serene coastal retreat within your very own bedroom.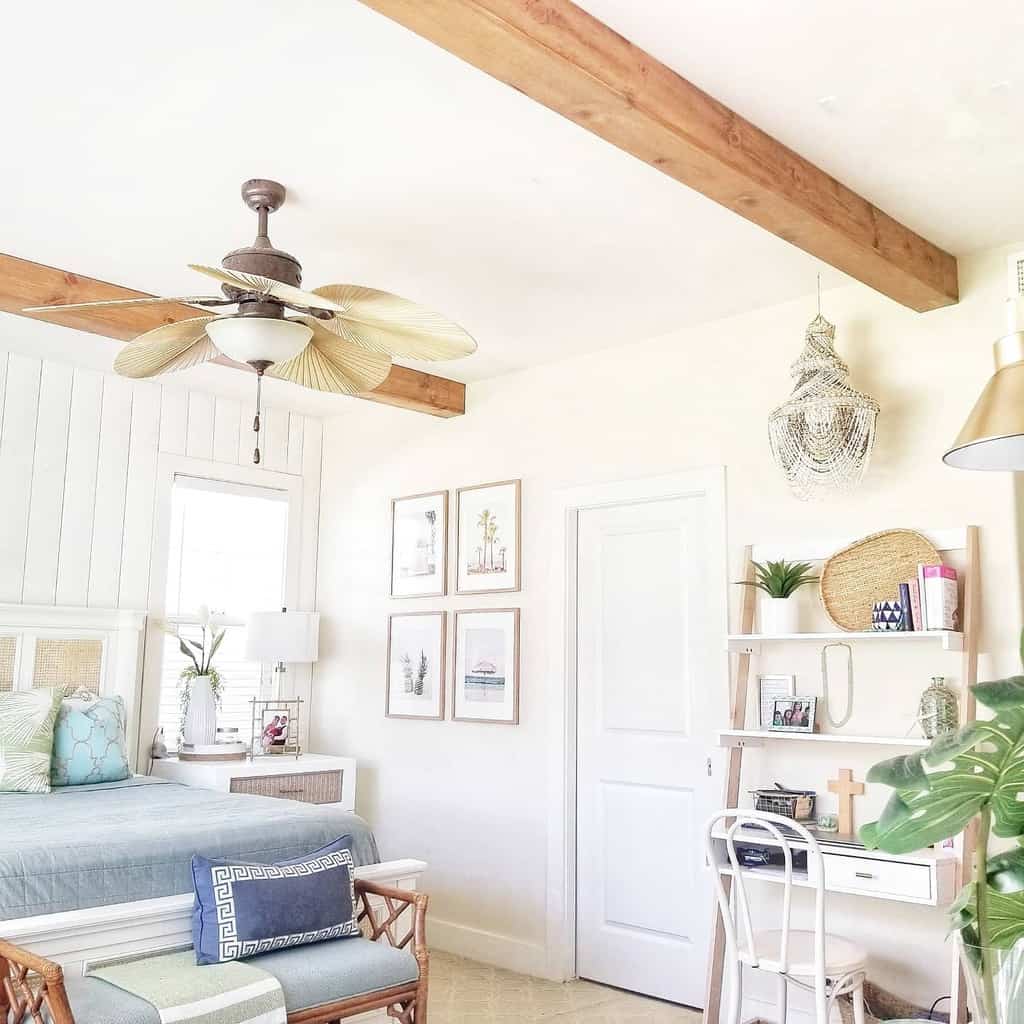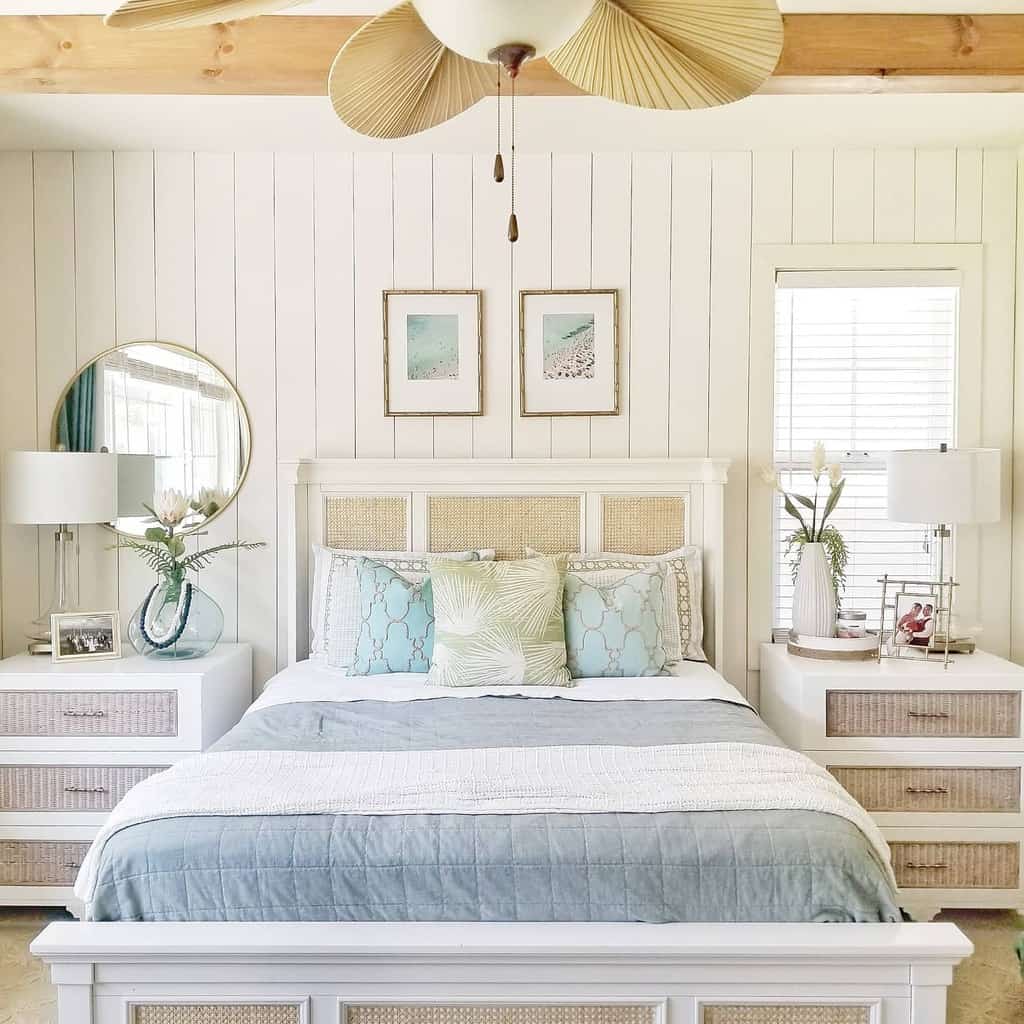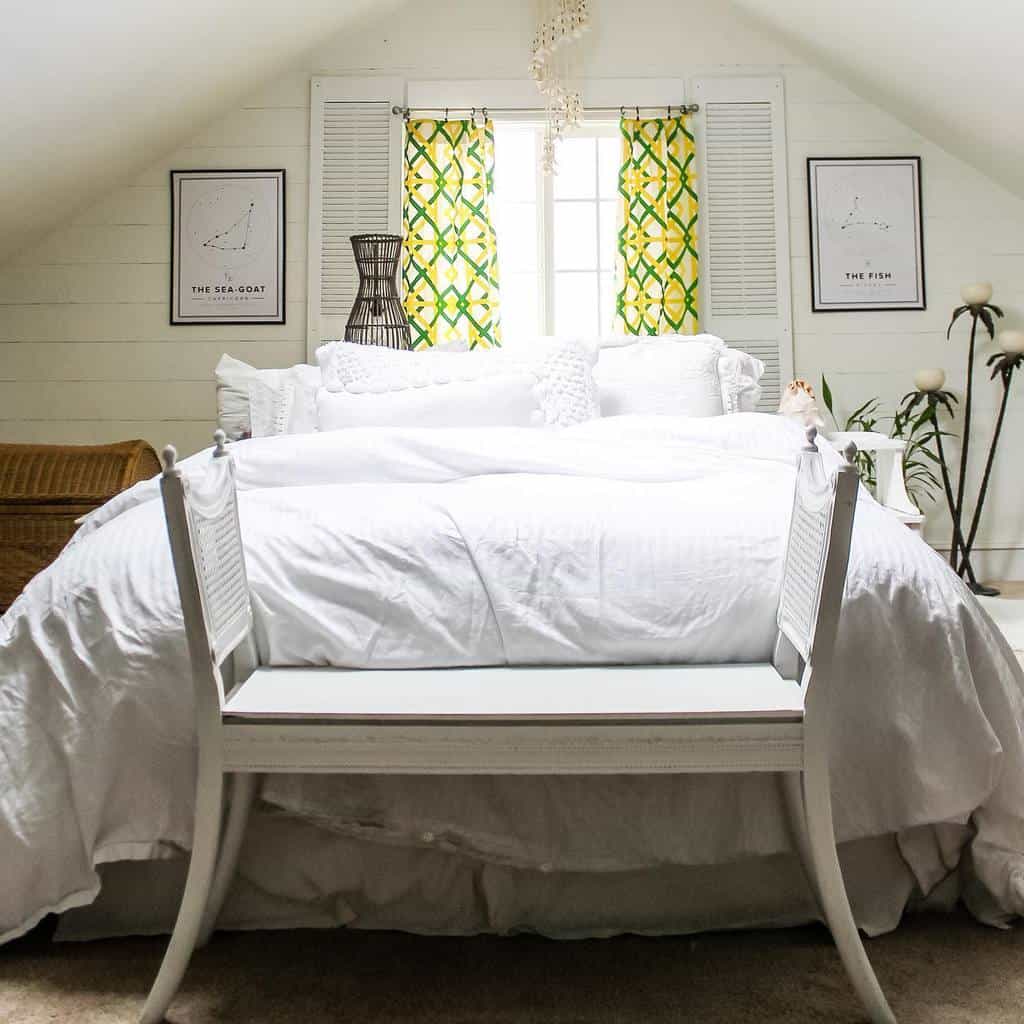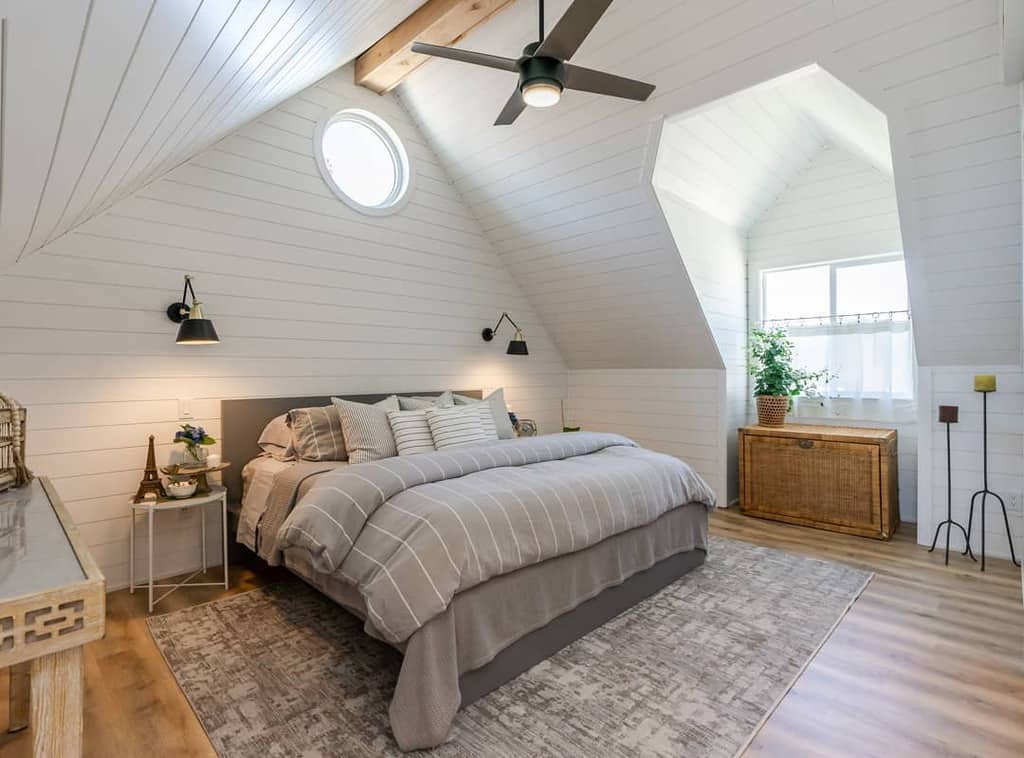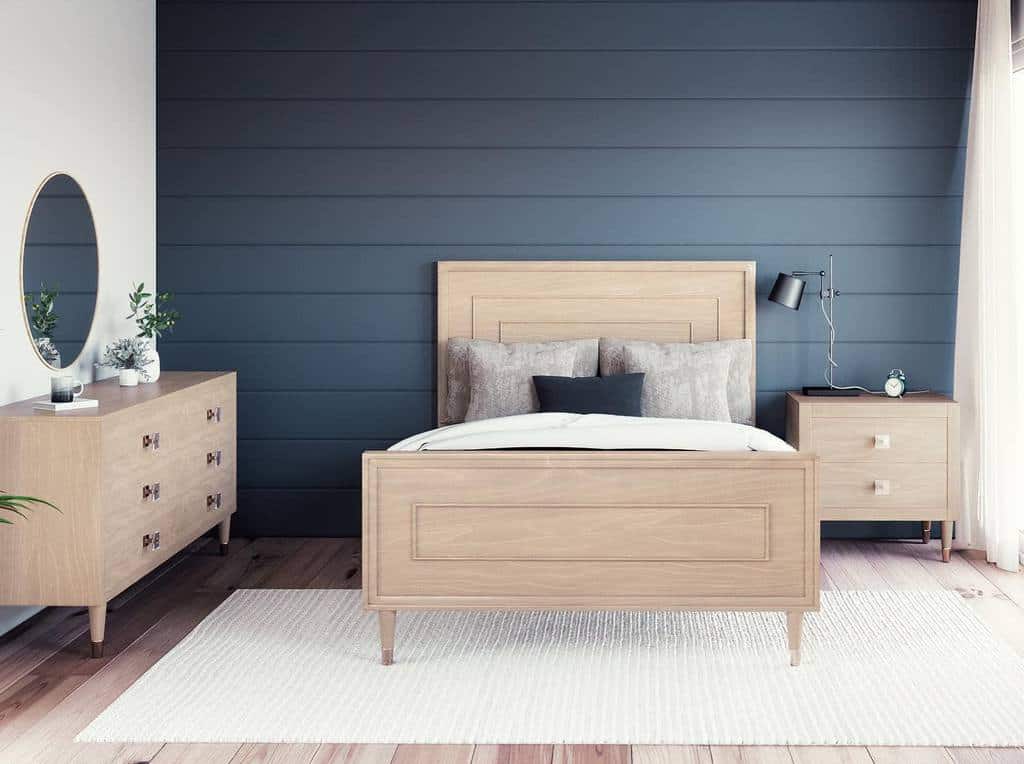 7. Coastal Chic: Adorn with Boat Paddles
For a beautiful and tranquil coastal bedroom, consider boat paddle wall art as your source of inspiration. This unique art not only connects you with the outdoors but also serves as a captivating statement piece, infusing texture and personality without overpowering the space.
Opt for a variety of colored boat paddles to bring vibrancy and warmth to your room. To perfect your coastal bedroom oasis, introduce blue accent pieces or shell decorations, resulting in a beachy retreat that beckons relaxation.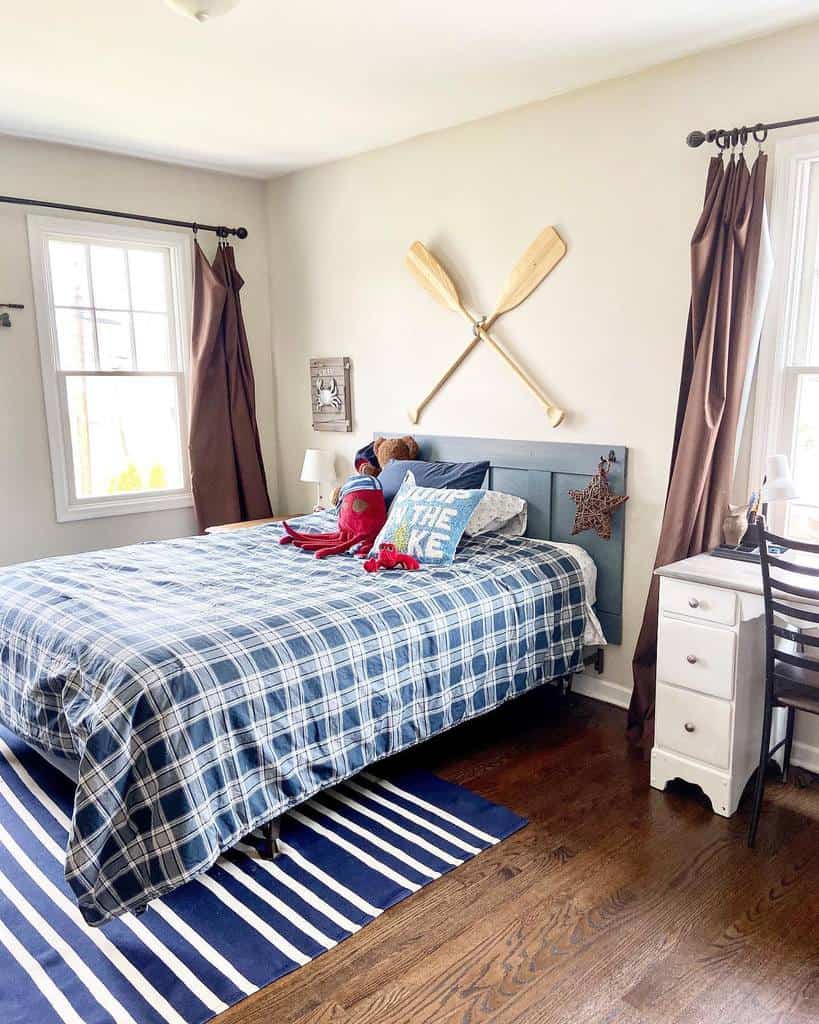 8. Serene Dreams: Monochromatic Bedroom Palette
Craft a coastal-themed bedroom that seamlessly fits your interior by opting for a monochromatic palette. Select shades that range from light to dark, with airy whites on the walls, dimension-enhancing black pieces, and added interest through gray hues. Find accessories like wooden furniture, nautical-inspired wallpaper, and playful textiles to create a cohesive look. With these strategies, you'll effortlessly achieve a breezy, beach-inspired bedroom.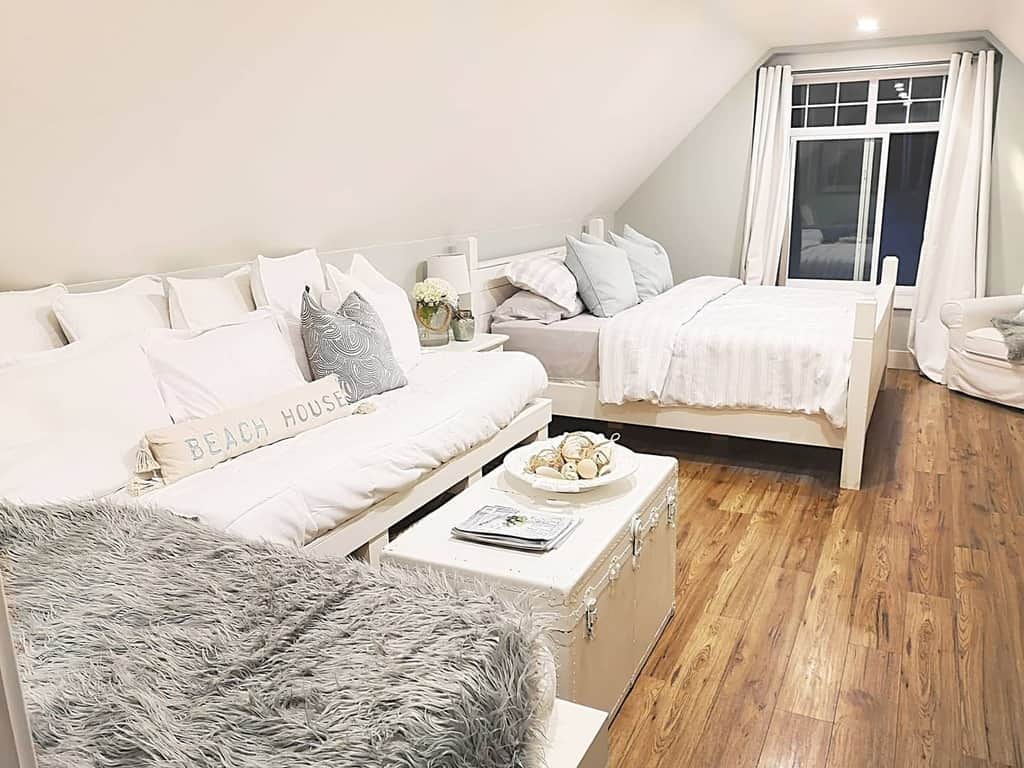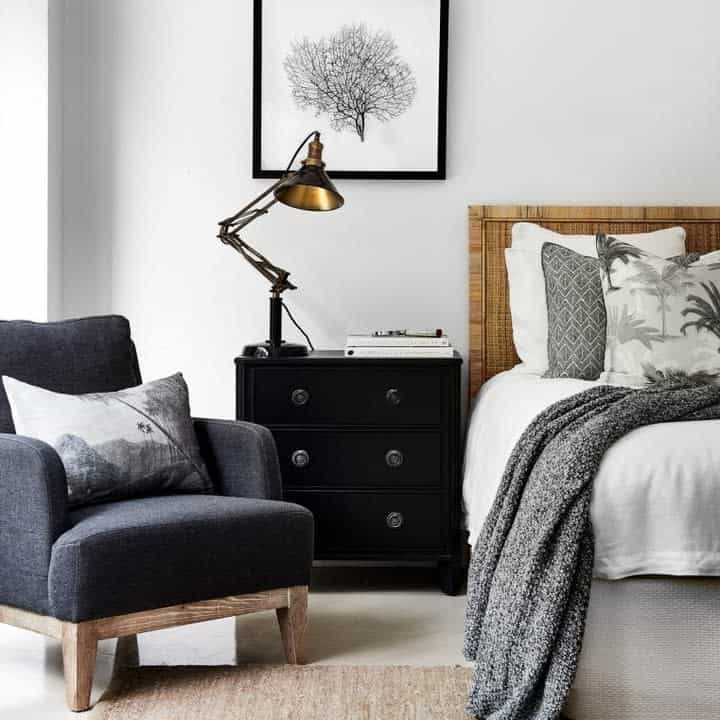 9. Seaside Elegance: Nautical Wall Art Decor
To infuse maritime charm into your bedroom, consider these coastal bedroom ideas to adorn your walls. Start by selecting nautical art pieces, like framed sailboat prints or fishing nets draped over oars, to breathe life into your space.
Opt for artwork that encapsulates the essence of the sea with a soothing palette of blues and greens. To soften the ambiance, hang a framed beach painting or dedicate an accent wall to abstract ocean-themed pieces, such as tranquil watercolor landscapes. When you combine these elements, you'll create a cozy sea-inspired haven in your bedroom.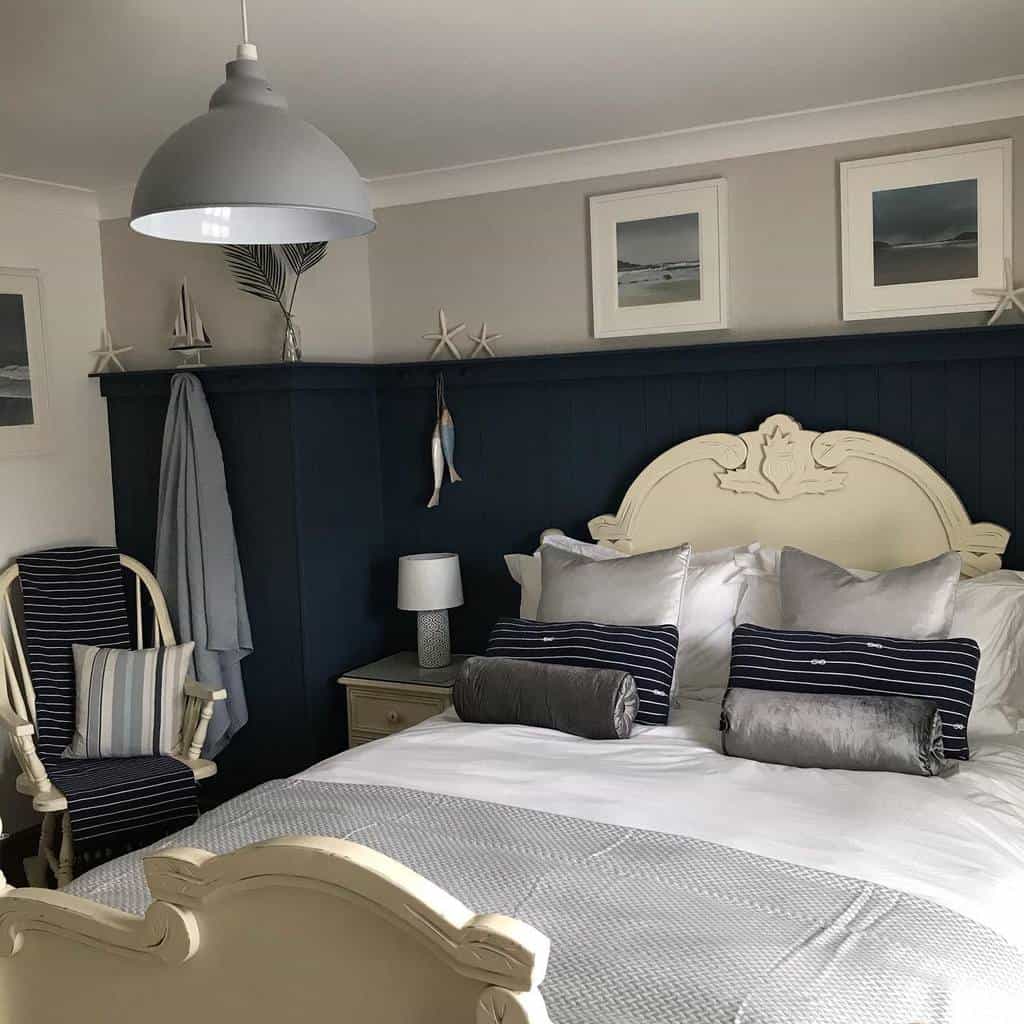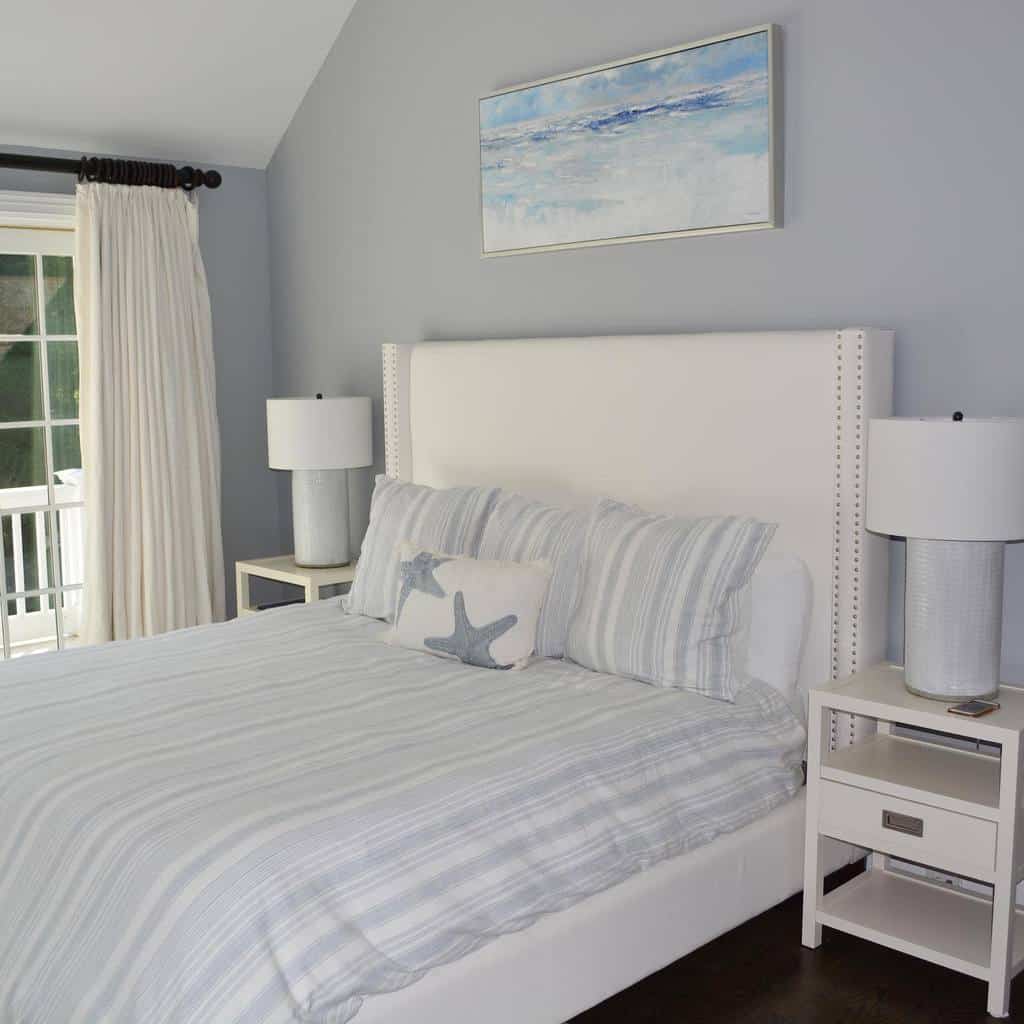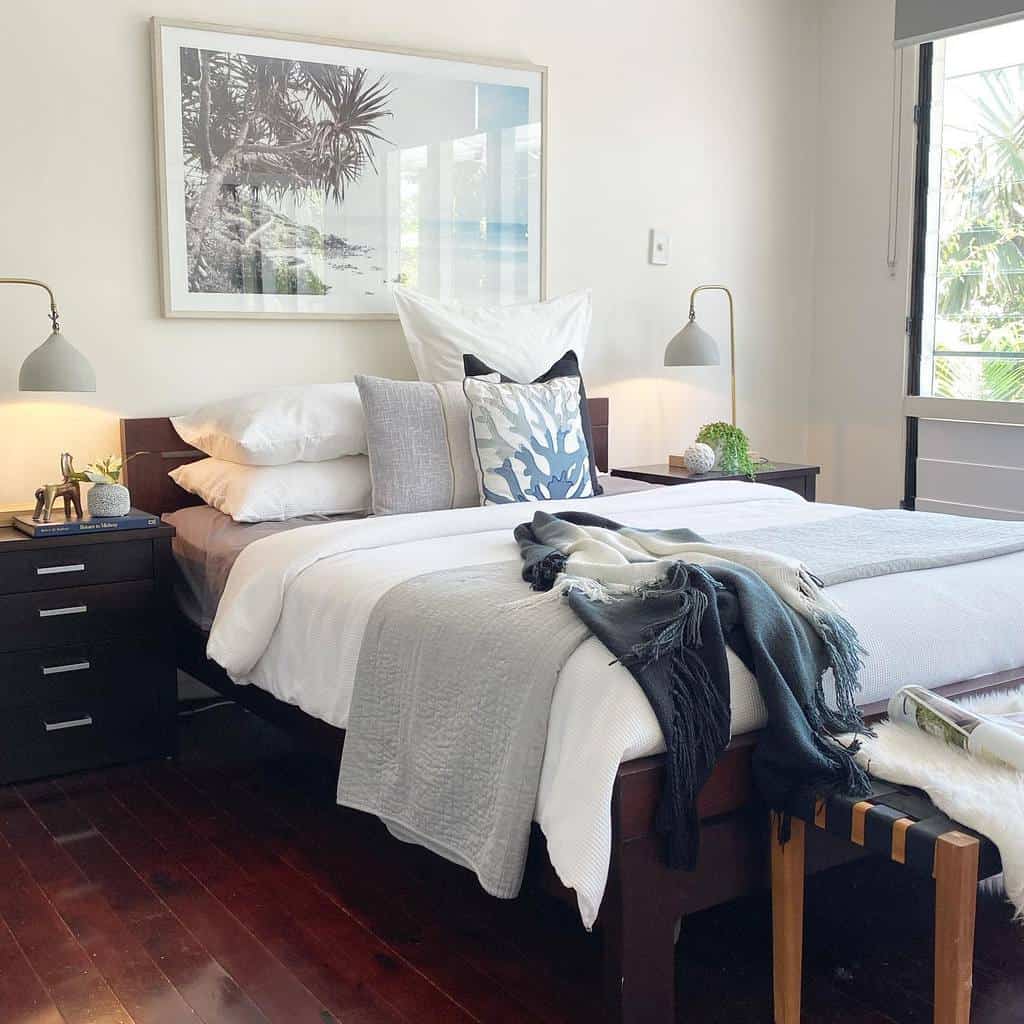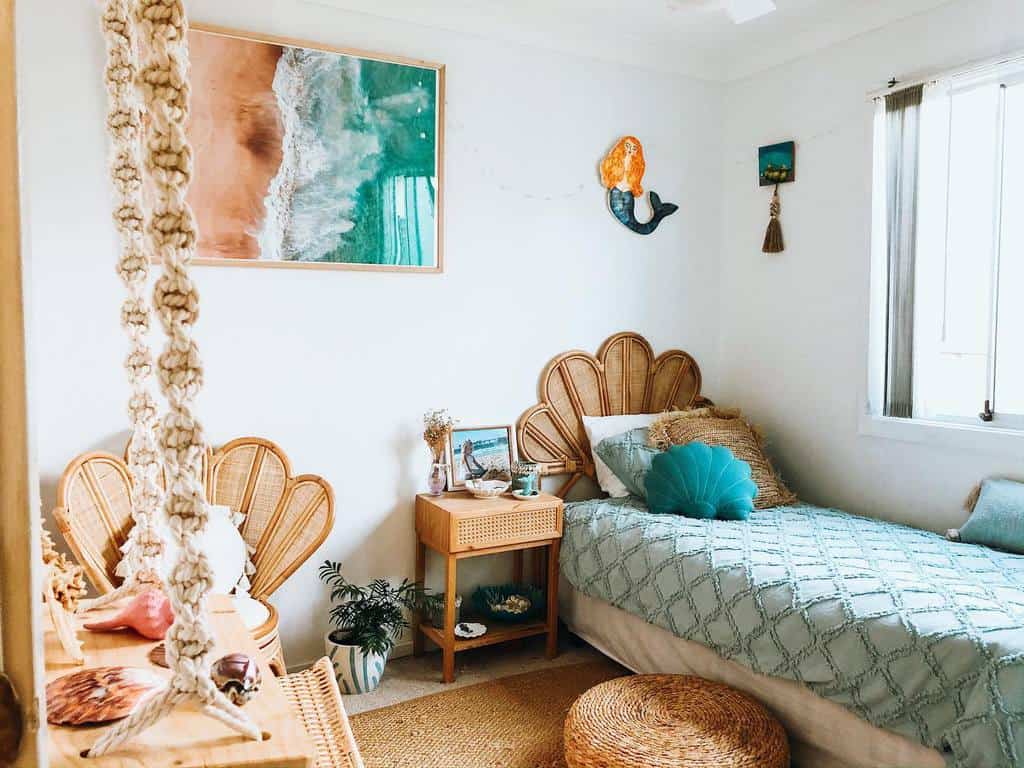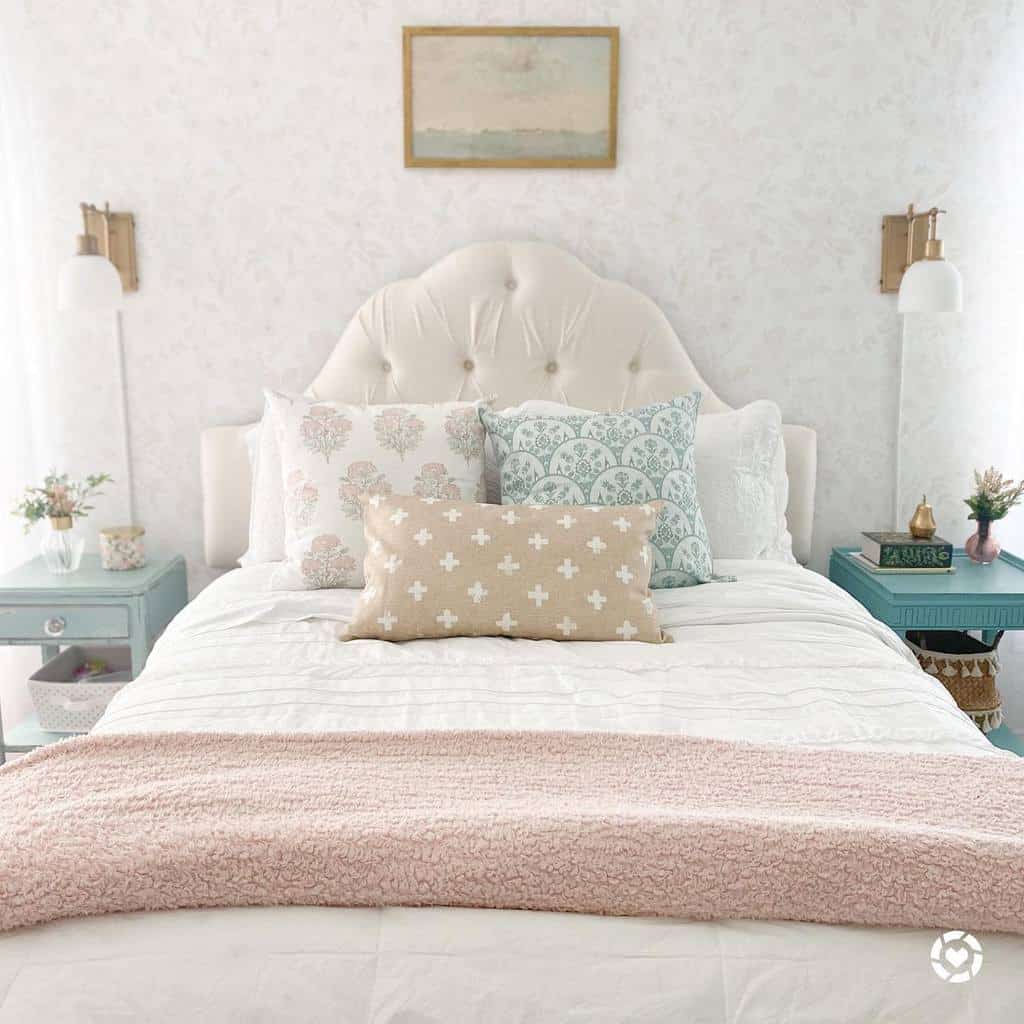 10. Expand Horizons with Full-Glass Bedroom Views
To achieve a sun-kissed coastal vibe in your bedroom, it's essential to create the perfect atmosphere. Begin by installing a full glass window to flood your space with natural light and open up the room. Enhance the aesthetics with sheer curtains that provide both privacy and the option to manipulate the incoming light's intensity. For a truly relaxing and soothing ambiance, choose a color palette dominated by soft blues and greens to transport yourself to the breezy beach days, right within your own sanctuary.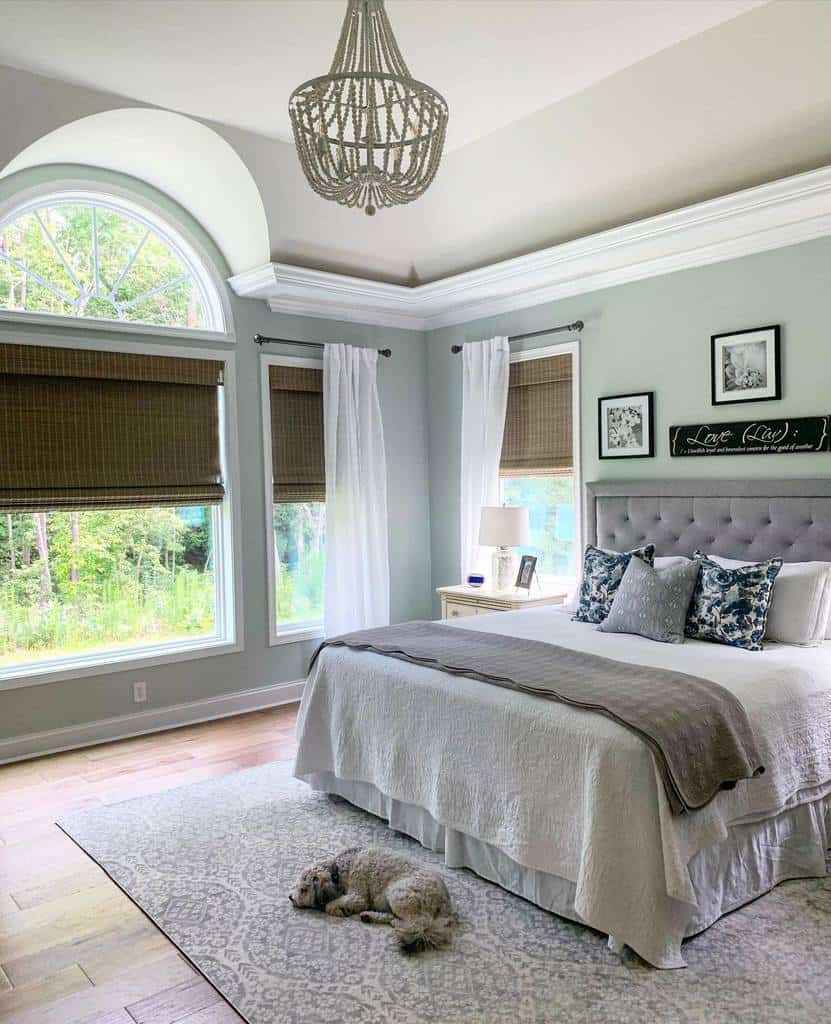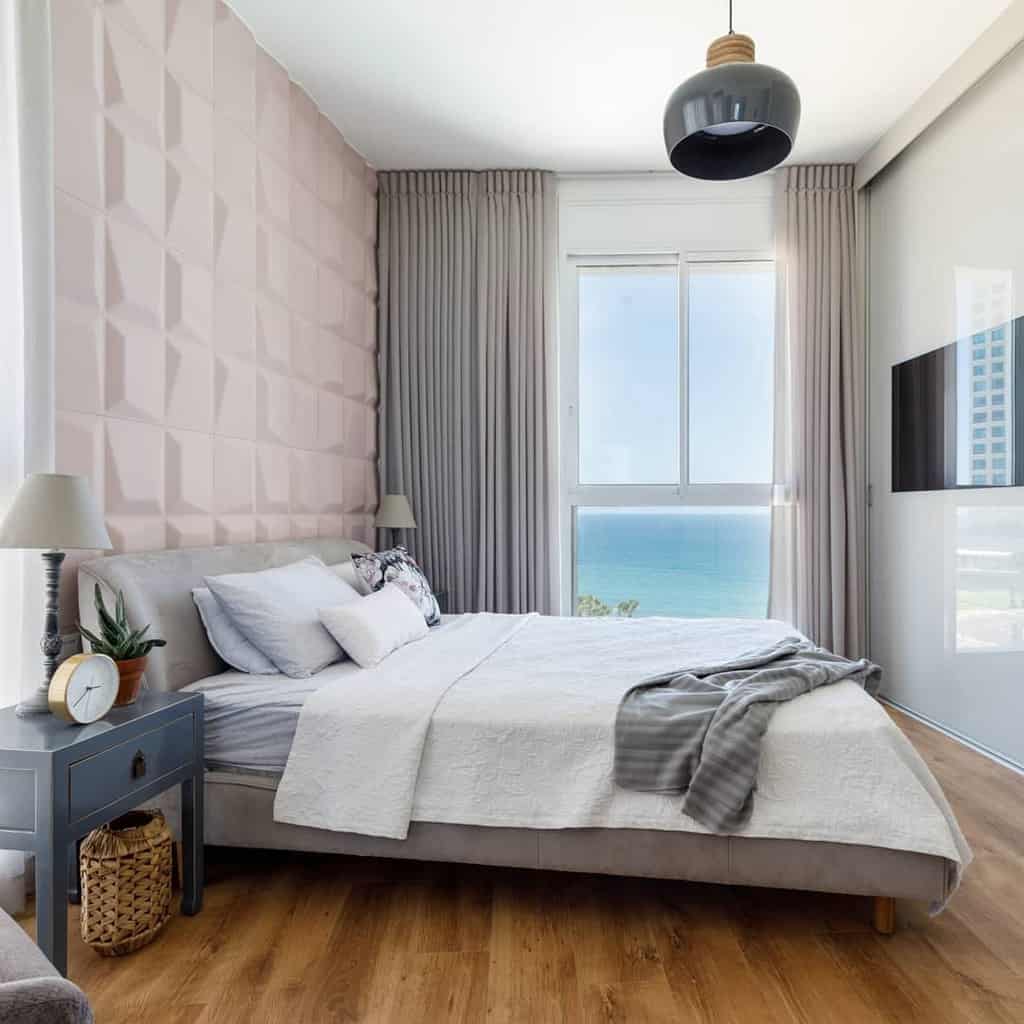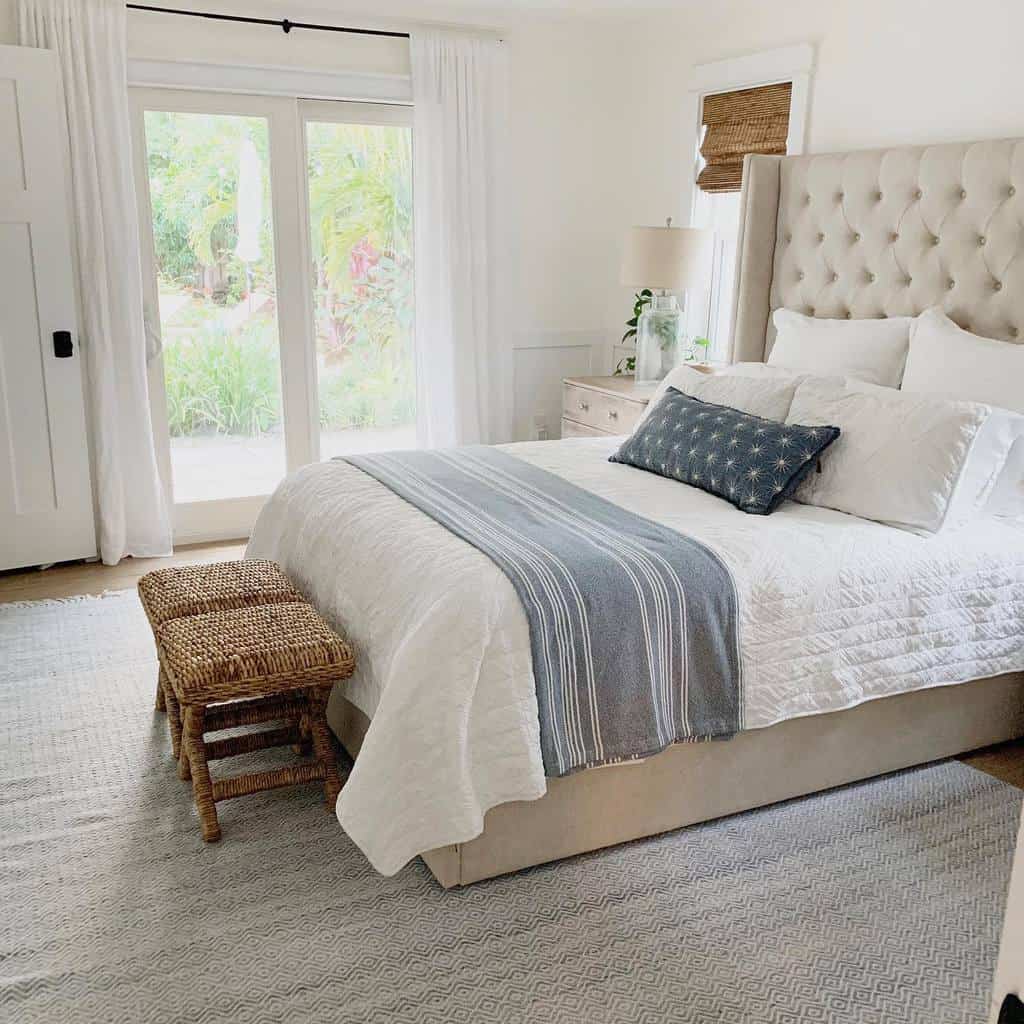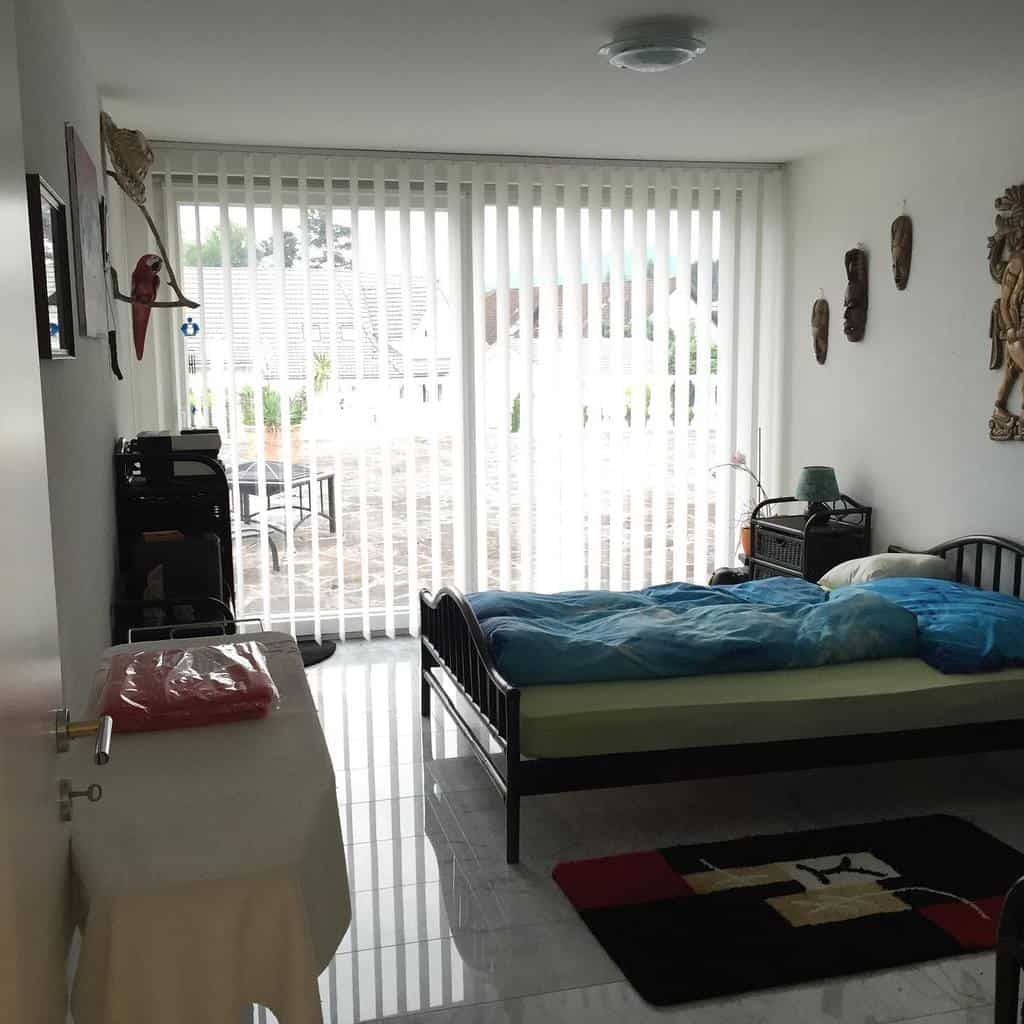 11. Dream Big with Oversized Headboards
Turn your bedroom into a coastal sanctuary by incorporating oversized headboards, complemented by fresh white sheets and vibrant blue and green hues. Infuse luxury with plush velvet throw pillows and oversized knit blankets for a cozy and welcoming ambiance.
Add a touch of drama with elegant statement fixtures like oversized pendants or sculptural lamps. Complete the look by accessorizing with natural elements such as seashells, coastal artwork, or driftwood centerpieces. These creative ideas allow you to effortlessly craft the ideal seaside oasis in any bedroom.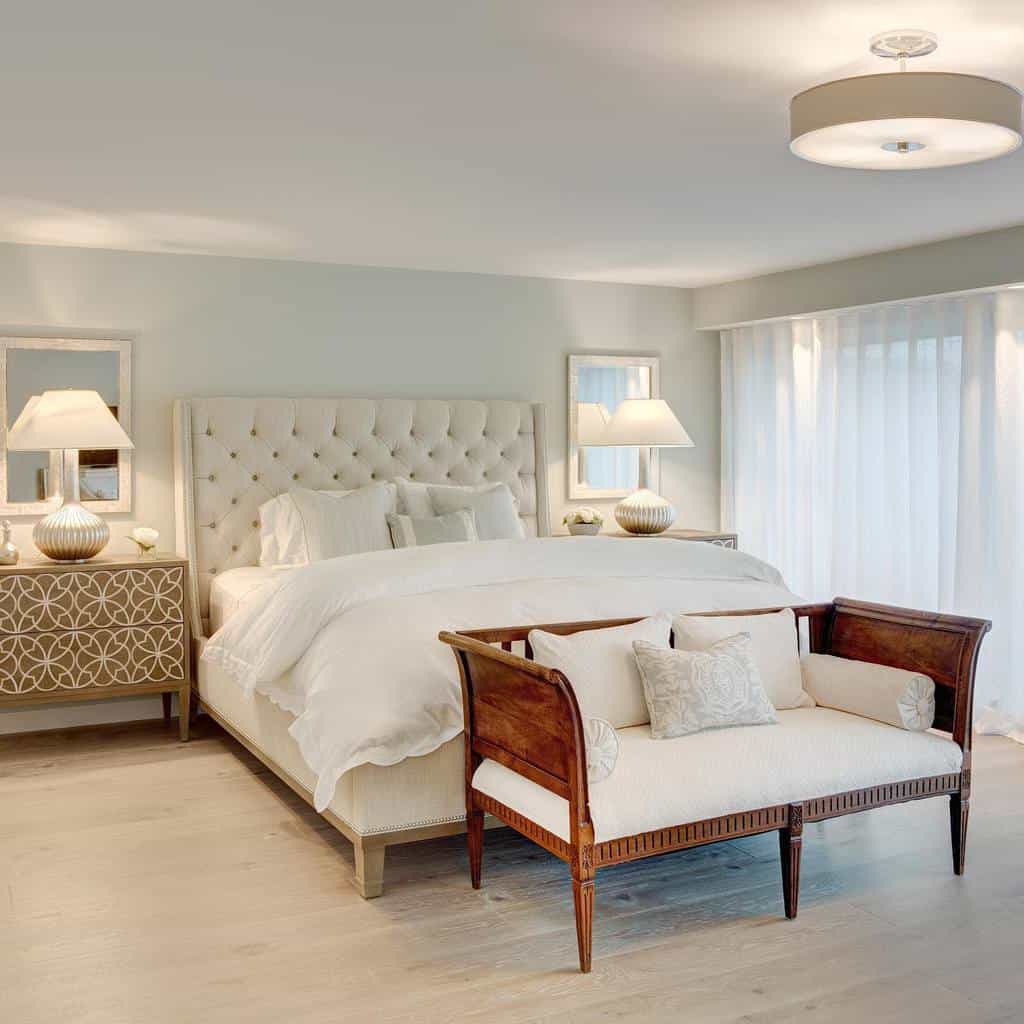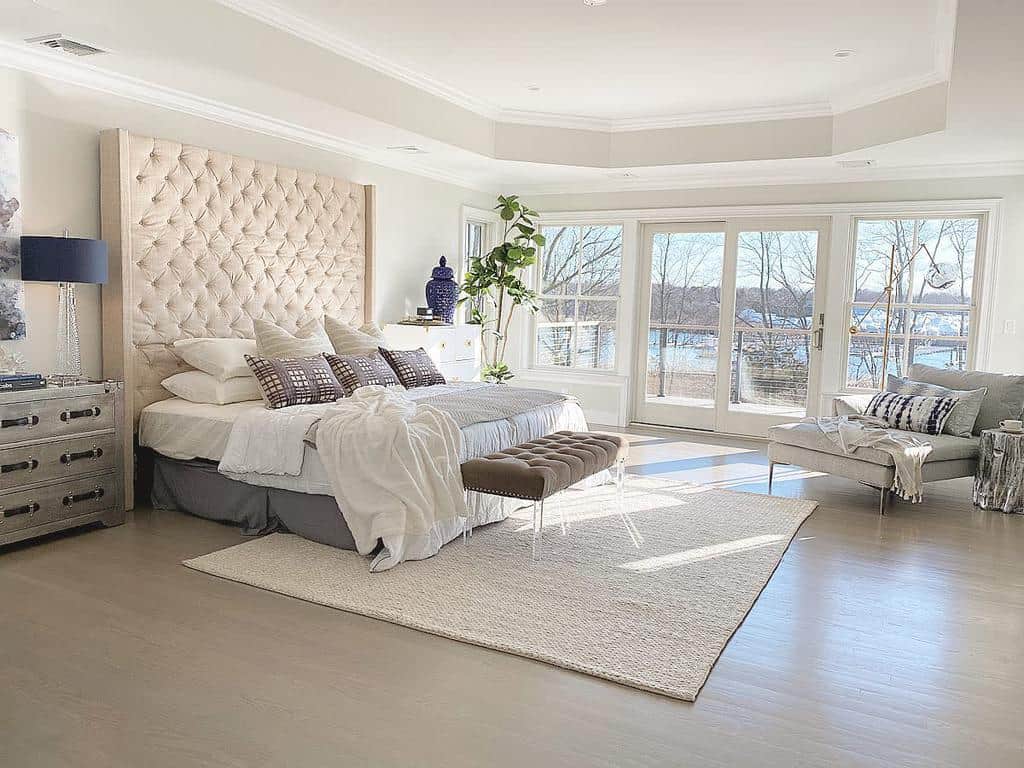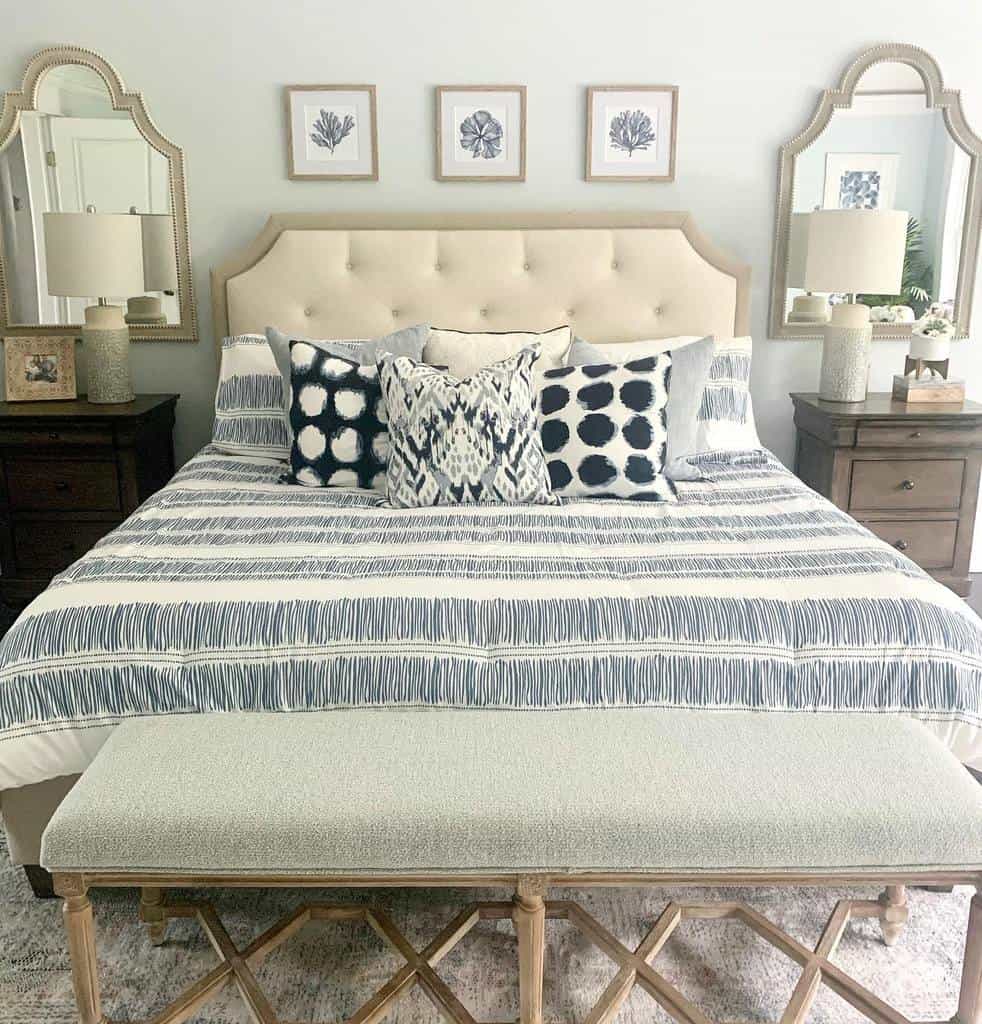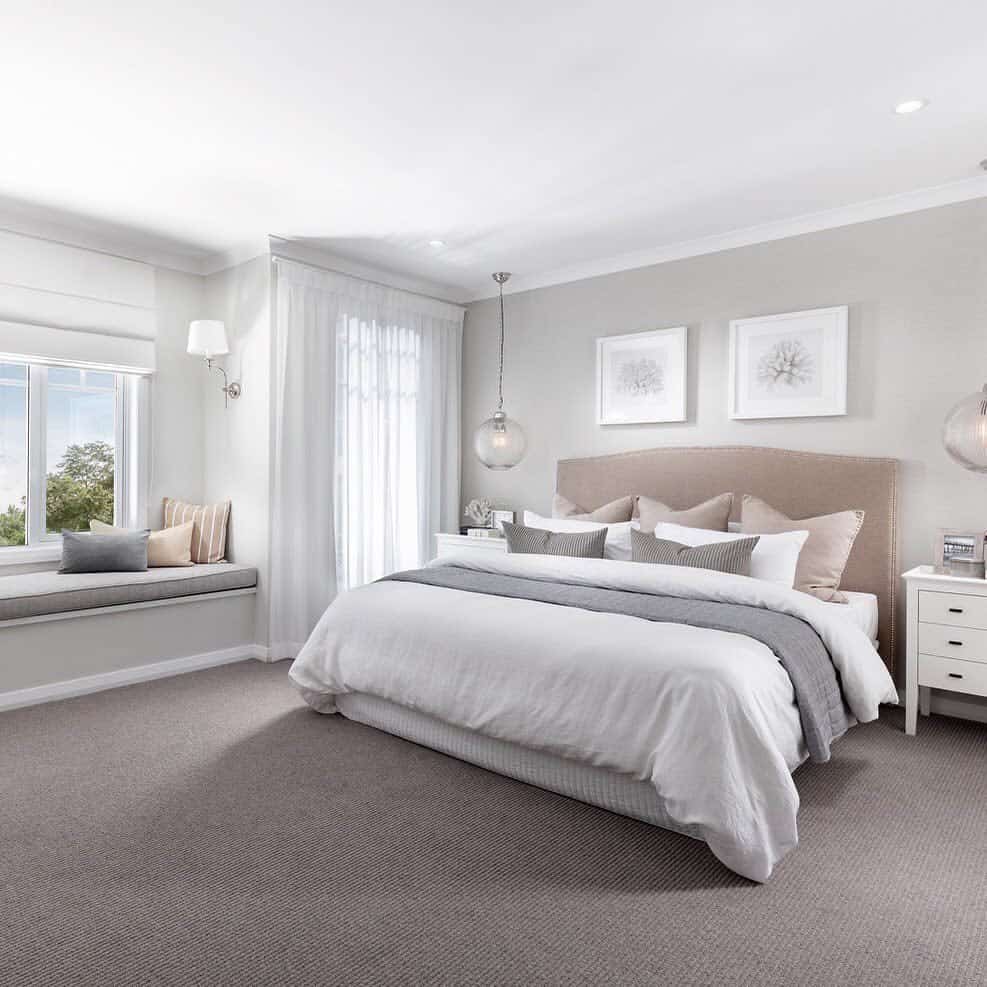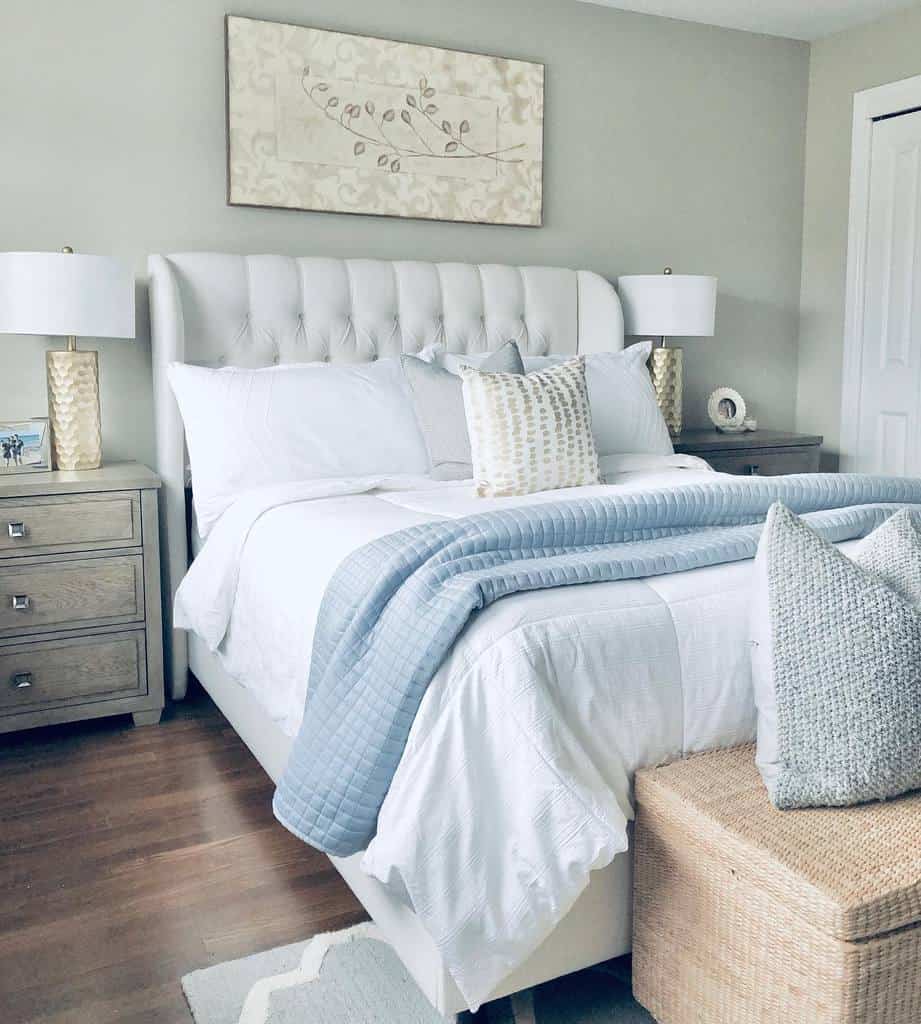 12. Embrace Nature: Coastal Bedroom Greenery
Creating a serene coastal bedroom is a delightful endeavor. Start by introducing beachy colors like cool blues and sandy tones, but exercise moderation to maintain a balanced look. For a touch of nature, incorporate plants such as bamboo and dried bouquets, infusing the outdoors without overwhelming the design. Texture is key, so consider adding layers with textiles like linen or jute to evoke the feeling of a beach day. Keep these tips in mind while brainstorming cozy coastal bedroom ideas for your home.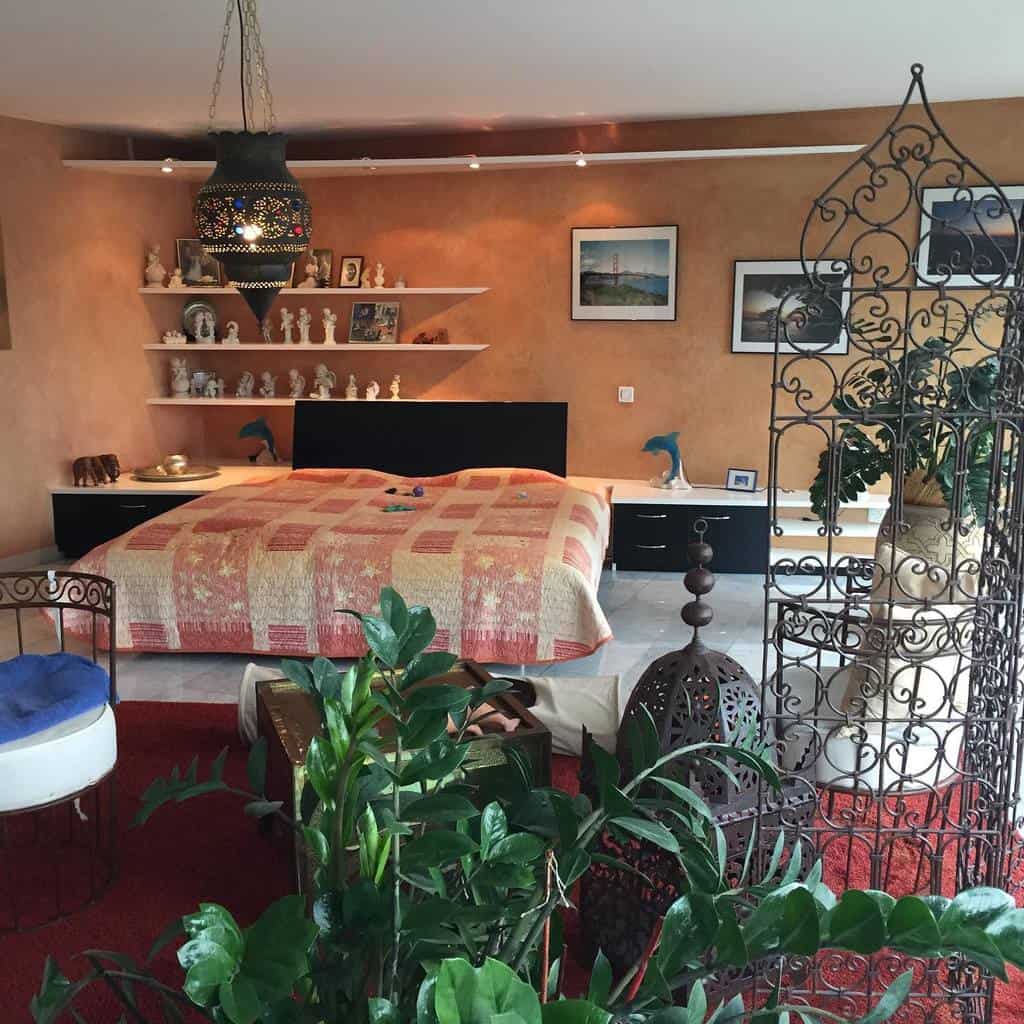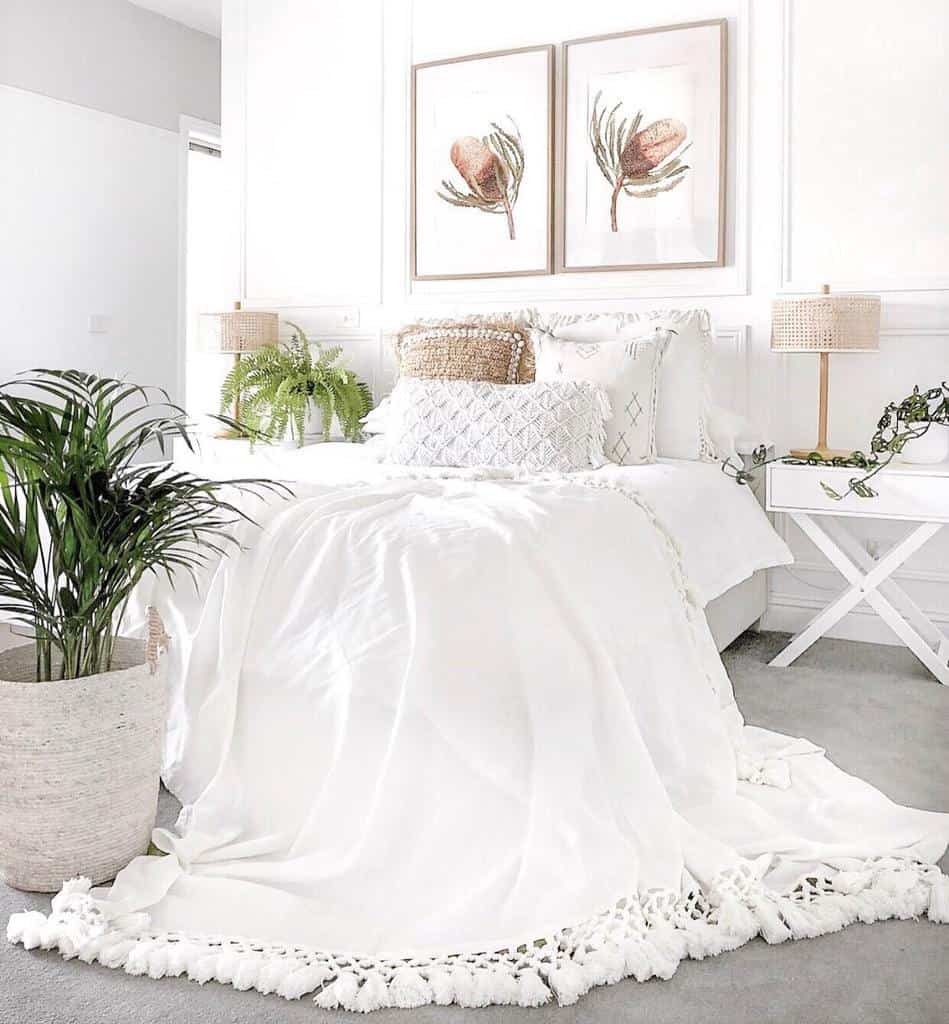 13. Timeless Tranquility: A White Haven
Achieving the ideal coastal bedroom is as simple as embracing an all-white interior. White not only amplifies the room's brightness but also fosters a serene ambiance. The versatility of white allows it to seamlessly pair with any accessory colors of your choice.
Opt for white walls, bed linens, and curtains to create a cohesive look. Incorporate white furniture pieces like chairs, cupboards, and side tables to unify the design and achieve the full coastal bedroom experience.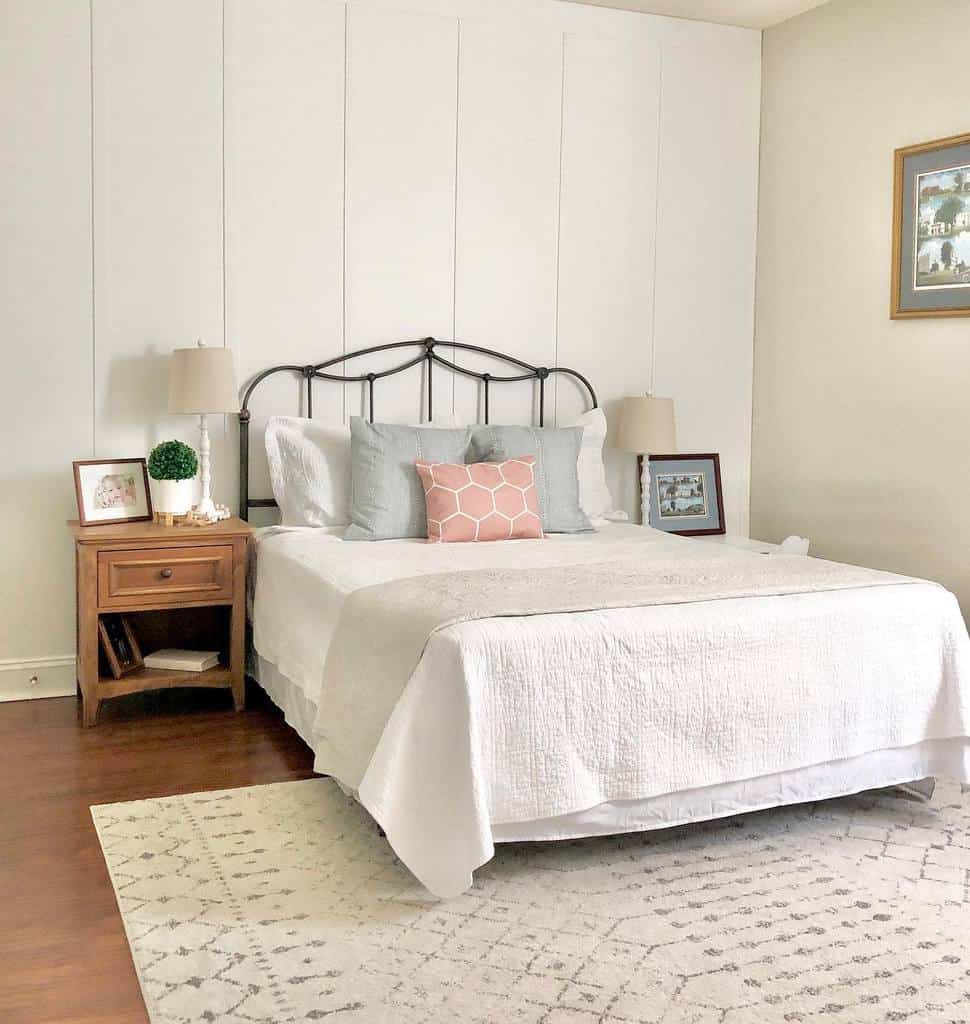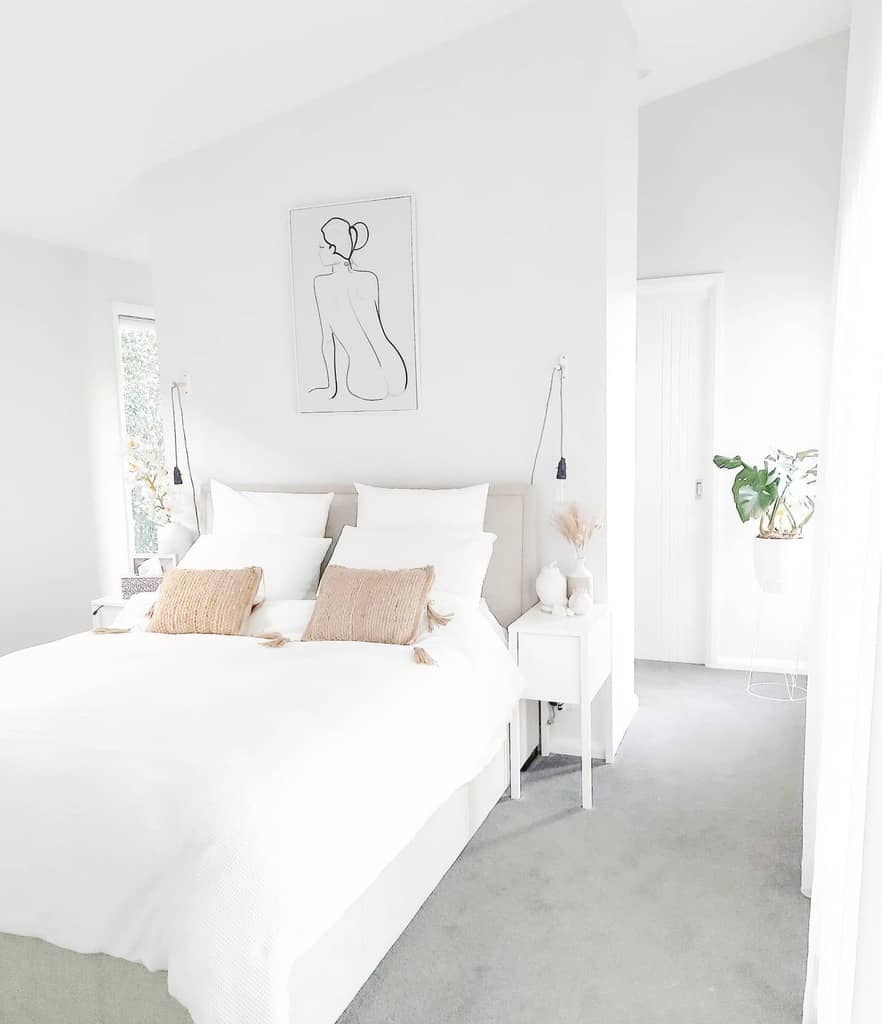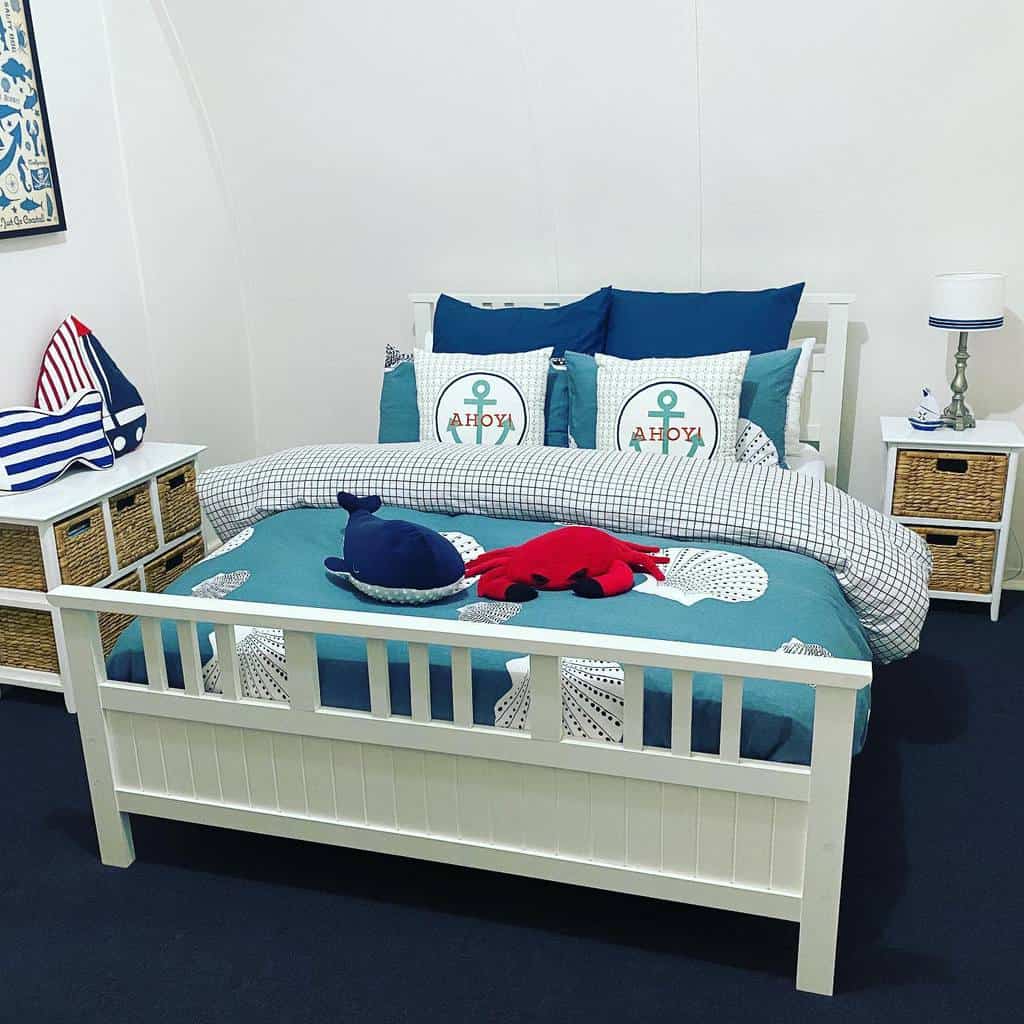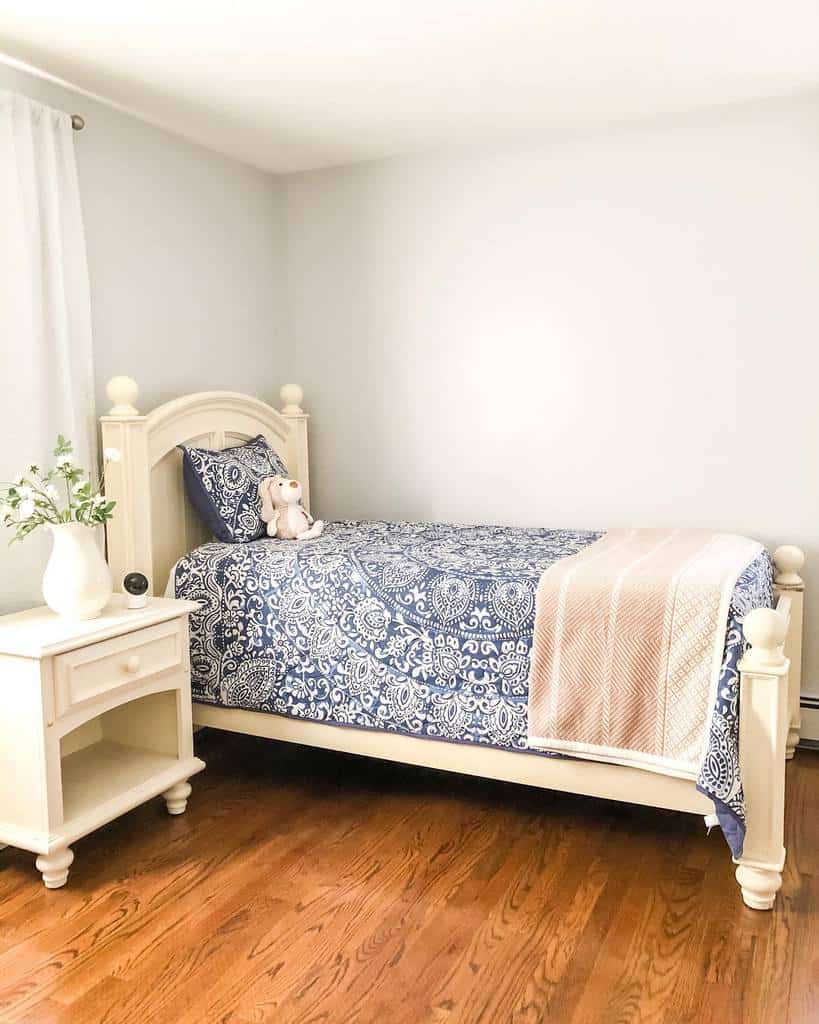 14. Coastal Harmony: Mix Wood and Blue Accents
For a relaxing and airy coastal bedroom, harmoniously mix natural elements like wood and blue fittings. Begin by selecting furniture pieces with a bleached-out wood appearance for your bed frame and bedside table. Then infuse sea foam hues into your decor, with curtains, throw pillows, and area rugs being excellent choices for incorporating these soothing tones.
To enhance the room's aesthetic, introduce striped bench seating and wall tapestries for a touch of graphic appeal. Complete the look by brightening the space with delicate silver frames or geometric shell sculptures. Even small additions can make a significant difference in achieving your coastal-inspired bedroom.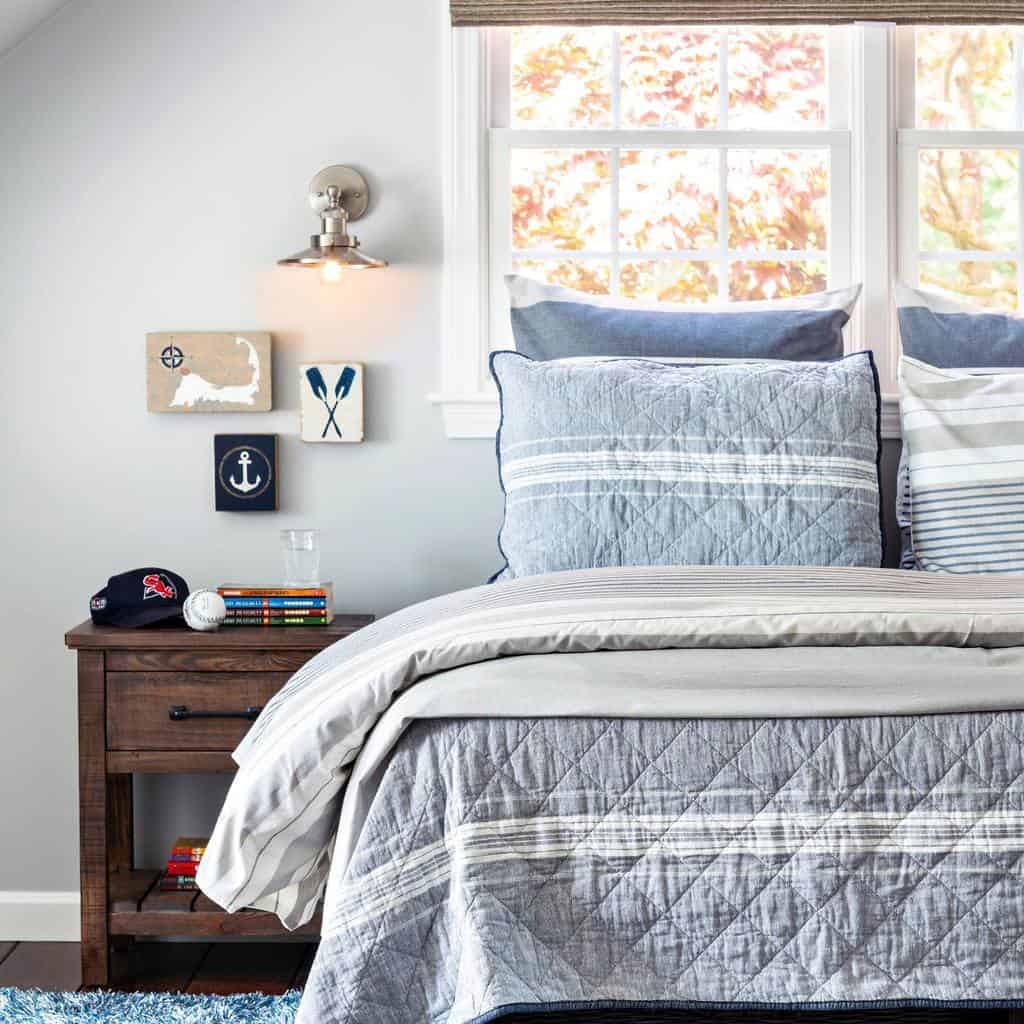 15. Earthy Bliss: Coastal Bedroom in Natural Tones
For a coastal bedroom with a serene, organic feel, opt for earthy colors and natural fabrics. Light blues, grays, whites, and beiges evoke the calming influence of the ocean without overwhelming the space. Embrace natural linen bedding to introduce texture and reflect the softness of sand and sea.
Incorporate decorative shells collected from your beach adventures to tie the room's elements together beautifully. To add a timeless and elegant touch, select rustic wood accents. Finally, complete the tranquil coastal retreat with throw pillows in ocean-inspired colors for an instant calming effect.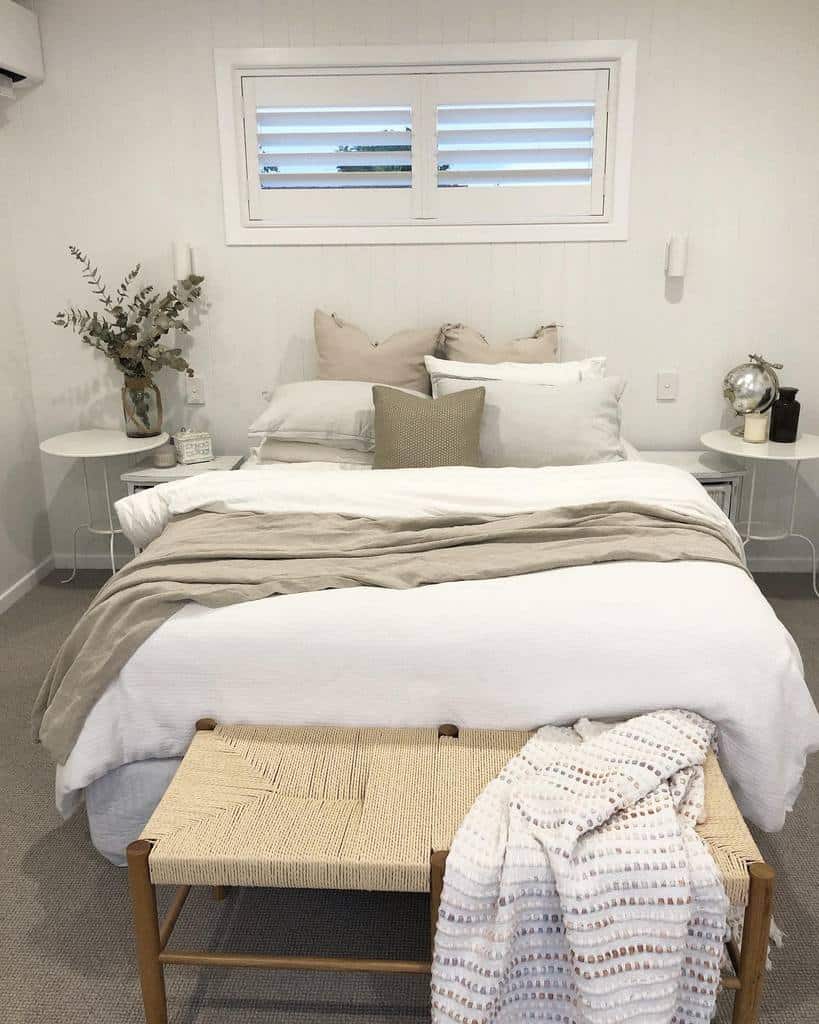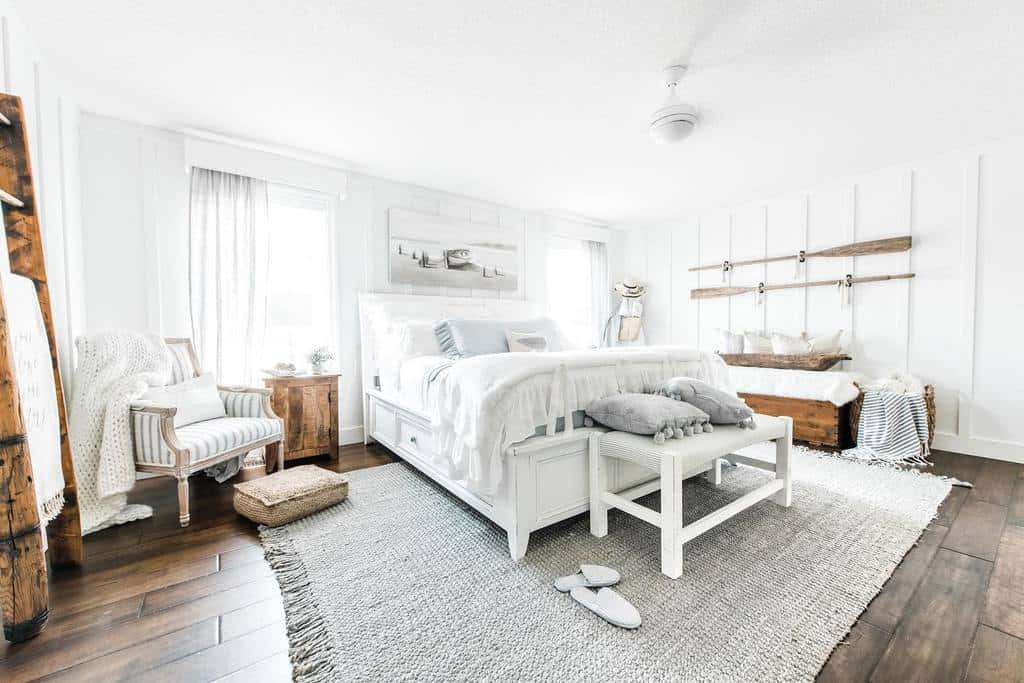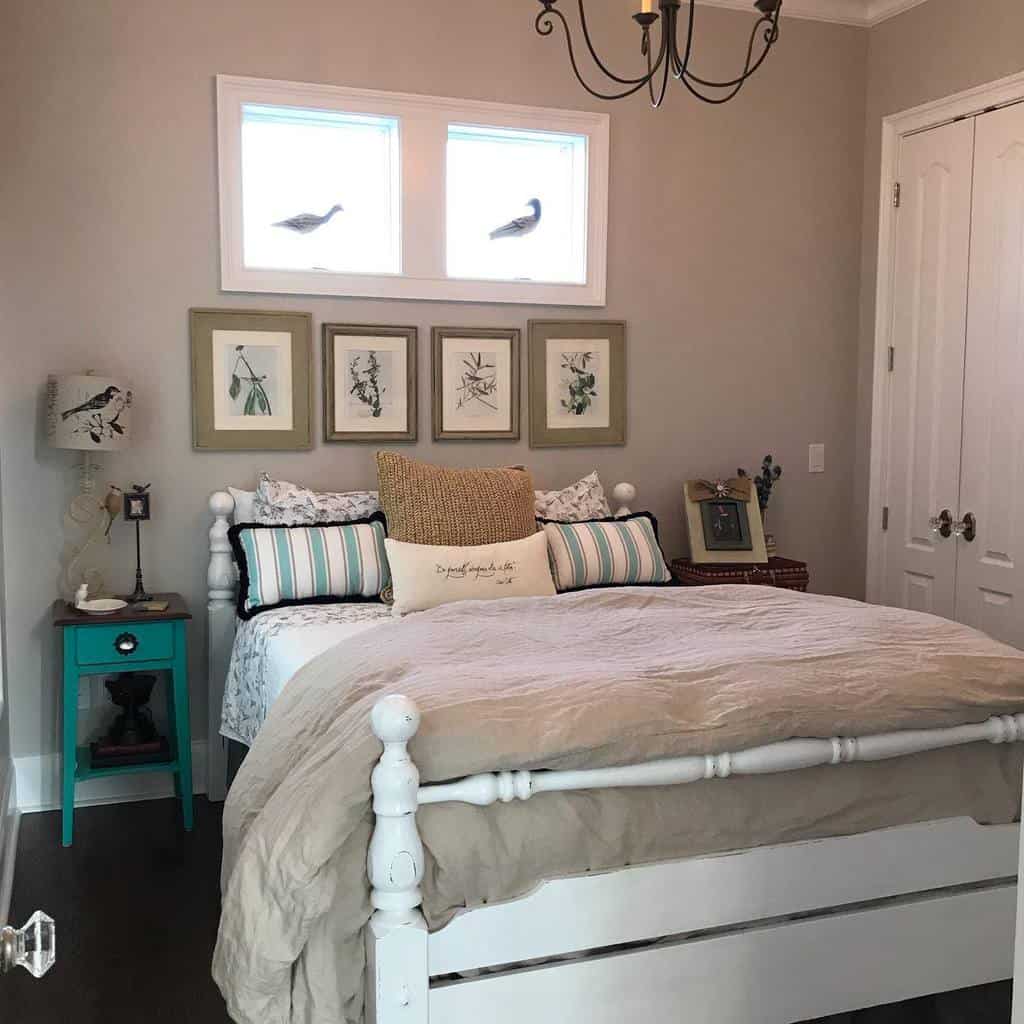 16. Dive into Coastal Dreams with Decorative Wallpaper
For a creative coastal bedroom, consider incorporating decorative wallpaper to set the tone. Choose a wallpaper that resonates with the soothing ambiance of the ocean, featuring muted tones and gentle patterns in cool blues, soft greens, and subtle whites, reminiscent of understated sandy beaches.
Complement this with patterned throw pillows, light linens adorned with beach motifs, and the addition of driftwood headboards or nightstands. These simple enhancements will transport the serenity of the beach into your very own bedroom.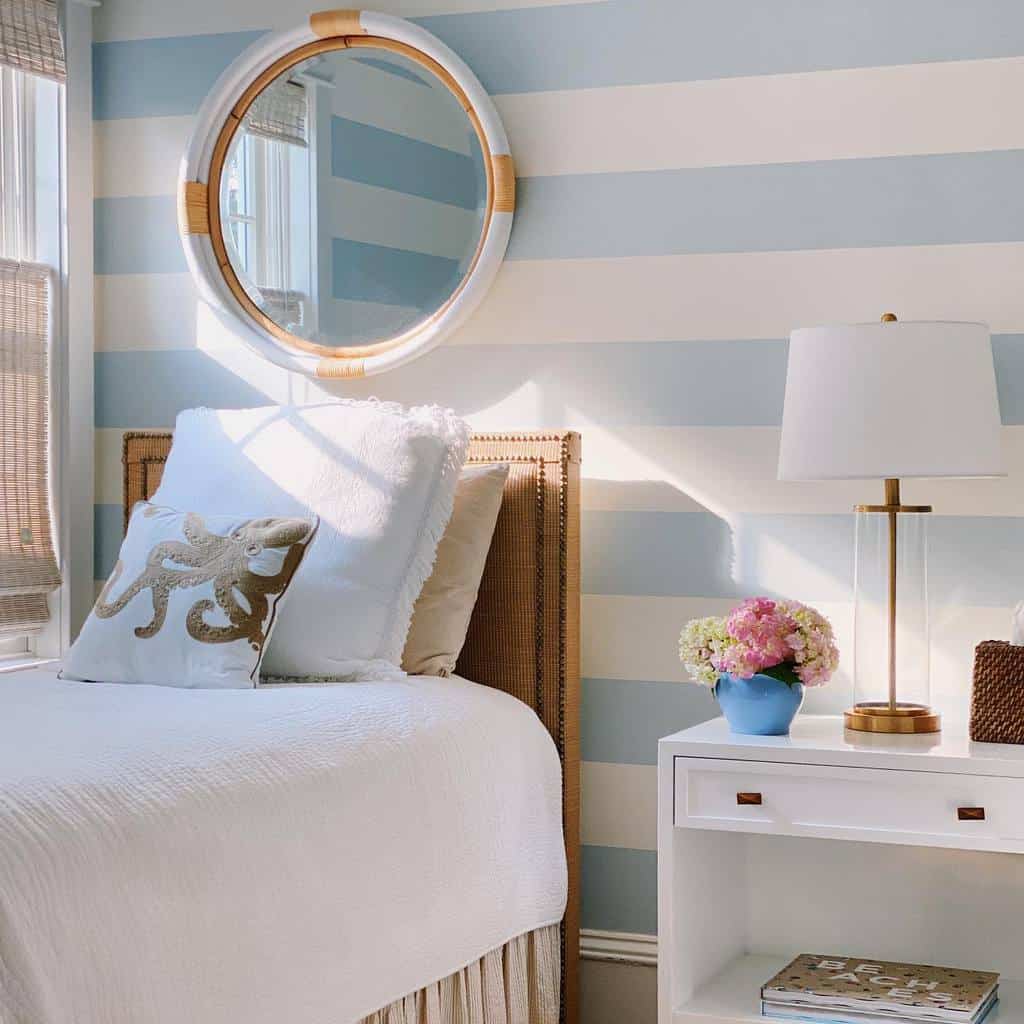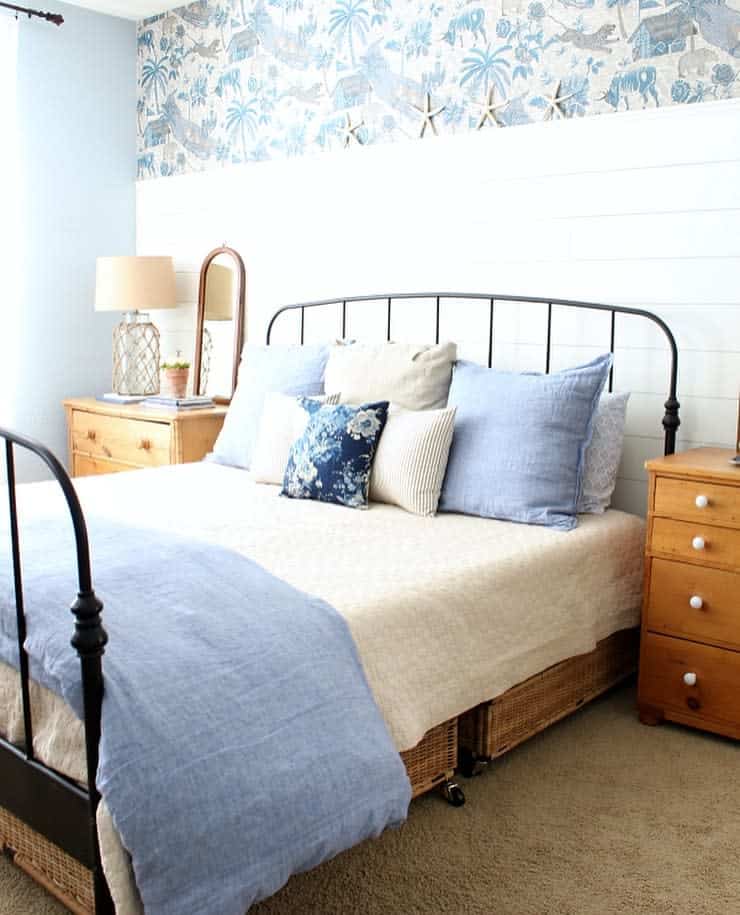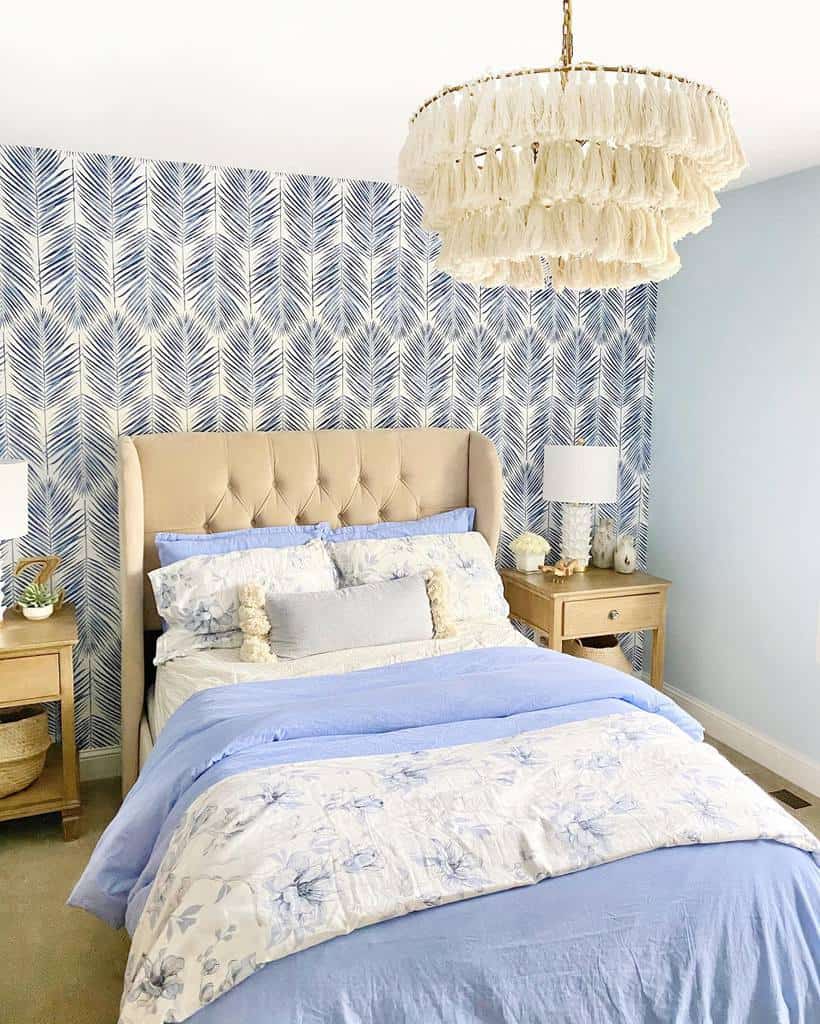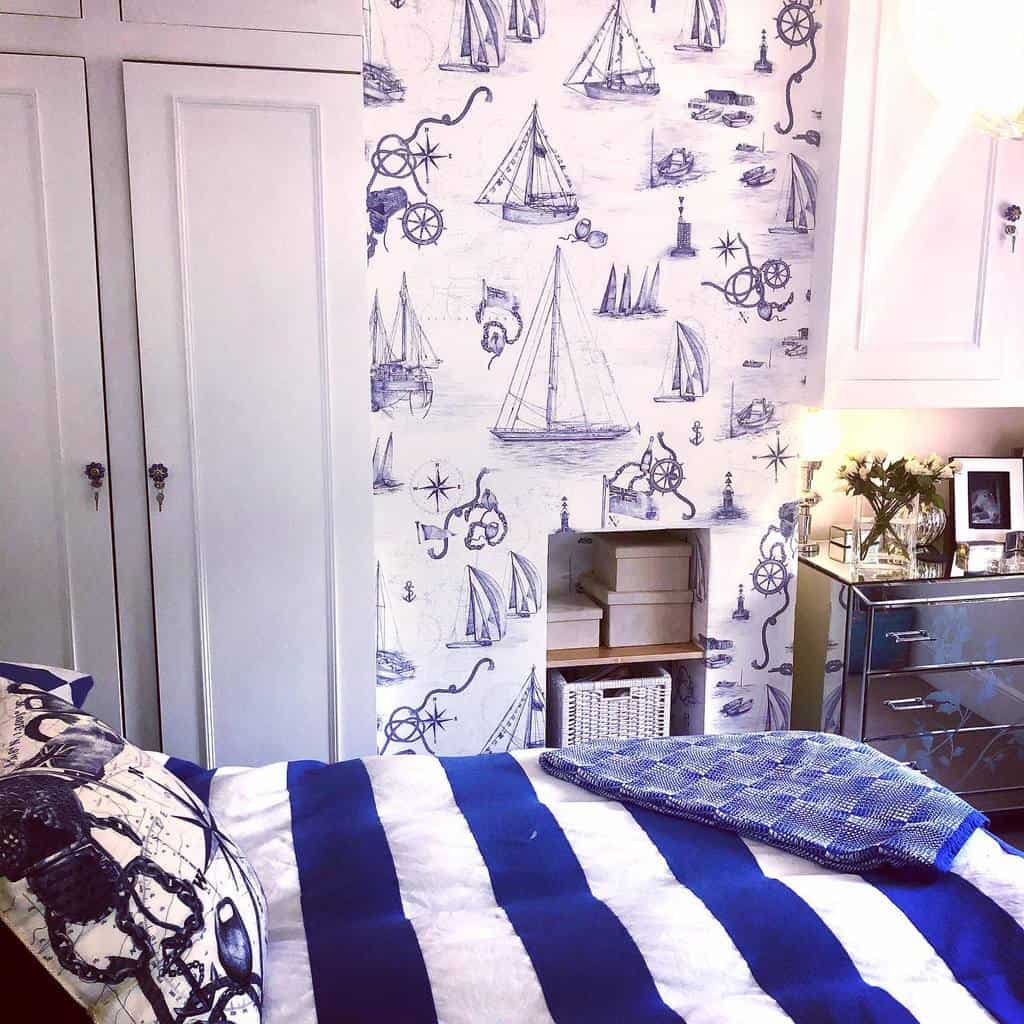 Coastal Bedroom FAQs
How do I make my room feel beachy?
Add elements that you could find on the coast to your home. This could be natural materials like driftwood, shells, sea glass, coastal grasses, and sea stones. It can also be decorative items such as natural fiber line that was traditionally used on ships. Other items like wire baskets, rustic wood furniture, and cedar shingles can all create a beachy feel.
Is coastal decor going out of style?
Traditional coastal elements never go out of style. Keep things simple and classy, and you'll create an elegant yet comfortable bedroom. Soft neutrals and shades of blue are also universally appealing. Modern neutrals and bold maximalism are both trending right now. You can do either with a coastal feel to keep your beach-inspired room feeling fresh.
What are some beachy colors?
Think of the colors that you would find at the beach. This could be shades of blue and turquoise to mimic the water. A bright yellow can represent the sun. Neutrals in shades of white, cream, and beige can mimic the sand. A pale or bright blue can represent the color of the sky on a warm summer day.