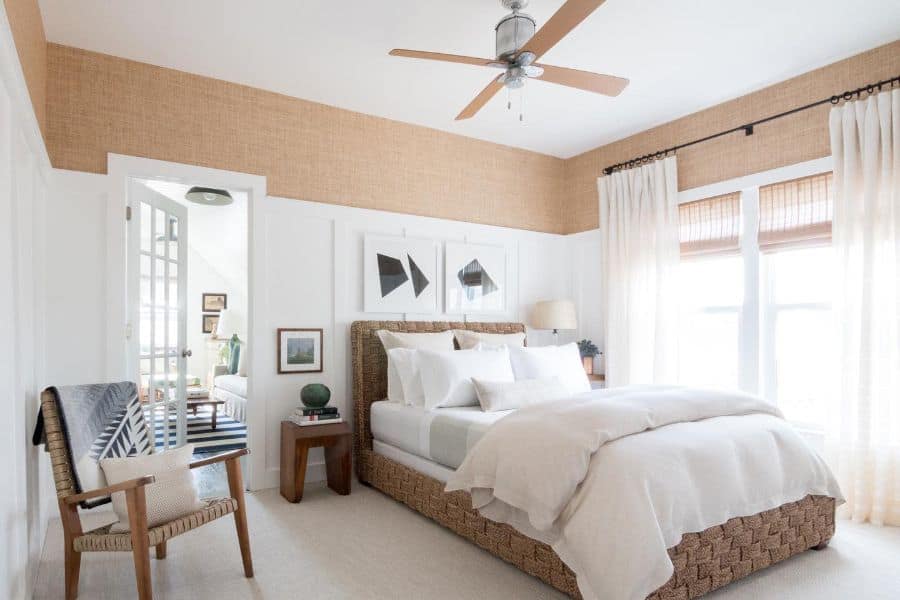 55 Dreamy Coastal Bedroom Ideas
You long to return to the white-sand shores of your last vacation. You relaxed on the deck of your vacation home and watched the waves lazily lap at the shore.
The beach house had a relaxed feel that was welcoming yet sophisticated. If only you could achieve the same kind of interior design success in your own home.
The good news is that you can. With the right furniture and decor, you can create your own coastal escape in your bedroom. Wake up each morning to cool blue tones and natural fabrics paired with light wood furniture.
These coastal bedroom ideas will have you creating your own coastal escape in your master bedroom.
1. Opt For A Bohemian Interior With Textile
If you want to add a little Bohemian flair to your bedroom, coastal bedroom ideas are perfect. There is so much that you can do with this style – it's all about playing with textiles and colors. Throws pillows, fringe blankets, and macramé wall hangings can help bring together a Bohemian-inspired look.
Mix patterns and textures together, and don't be afraid to push the limits of what works in the space – aim for balance rather than matching everything. Also try adding in live plants such as succulents to really make the room feel alive and tranquil. Let your creativity run wild when designing your coastal bedroom!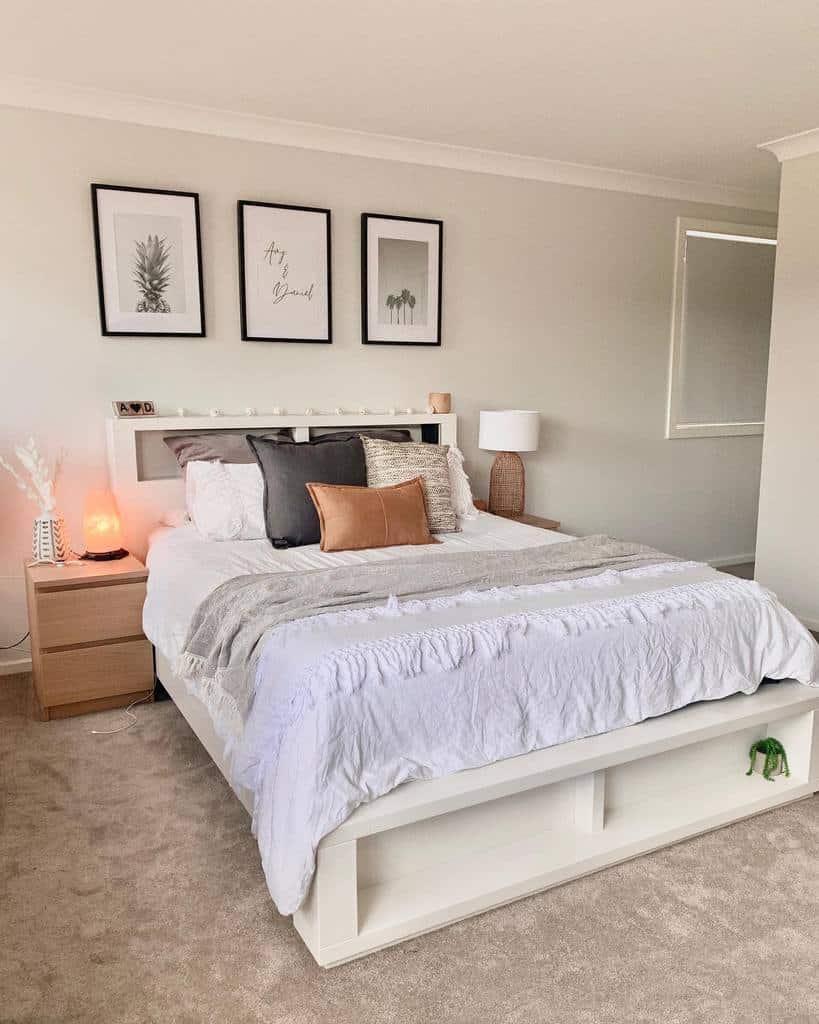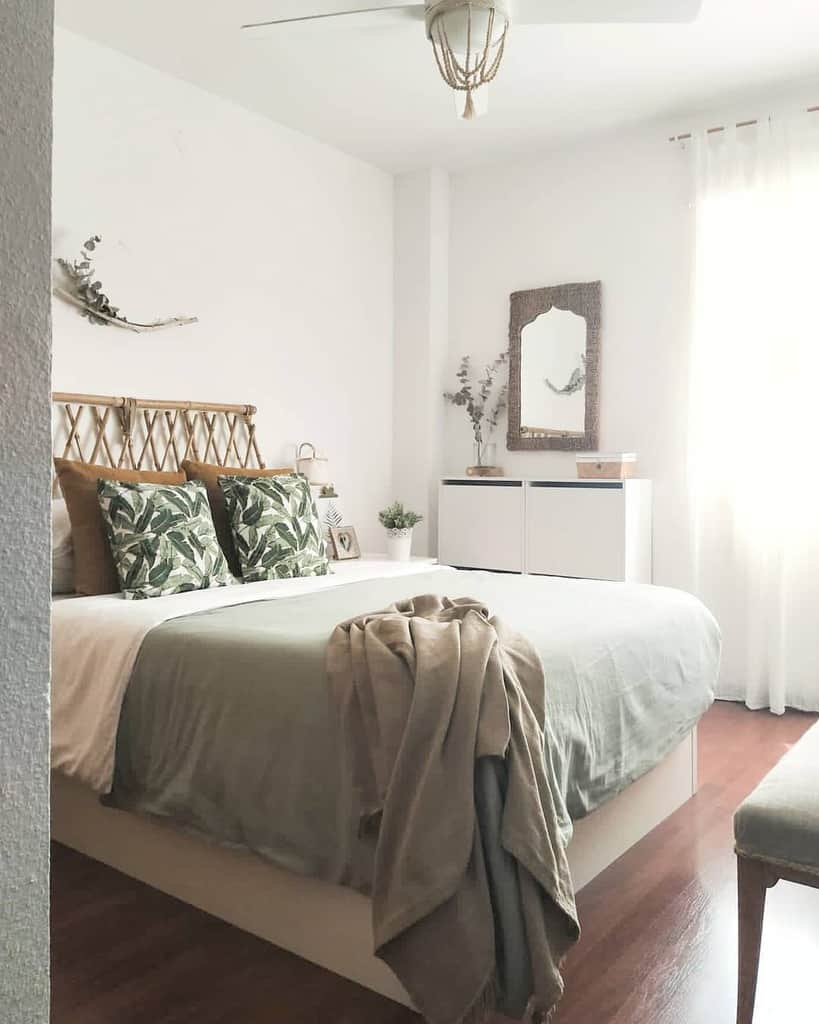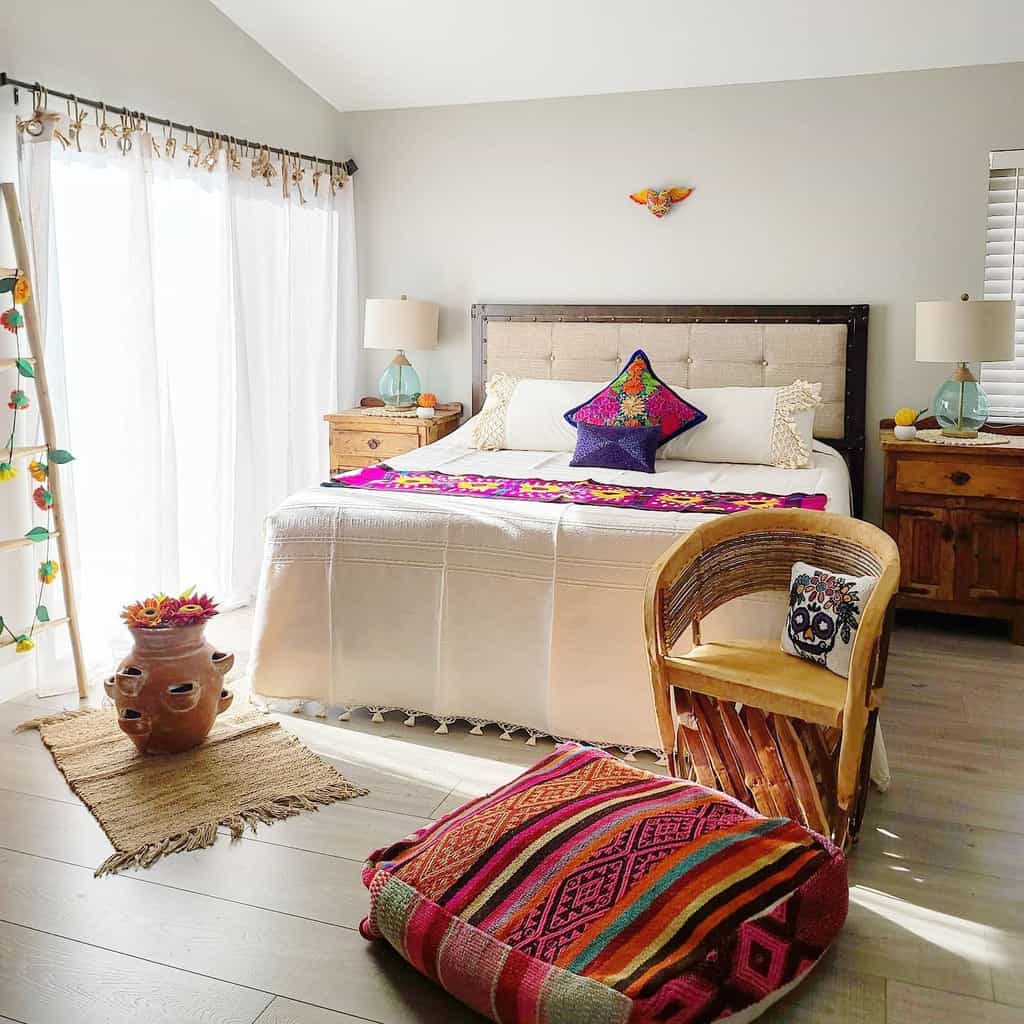 2. Play With Prints
Create a contemporary coastal interior in your bedroom with printed beddings, and printed curtains, and add a few accent pieces incorporating prints. Play around with different colors and textures to create a comfortable atmosphere, while utilizing the natural sunlight that most coastal bedrooms have.
For example, you can use blue printed bedding to create a bright and welcoming room together with printed curtains accompanying it. Allow subtle hints of white to give the room an overall fresh feeling. This can make for the perfect place to cozy up while also getting creative ideas flowing!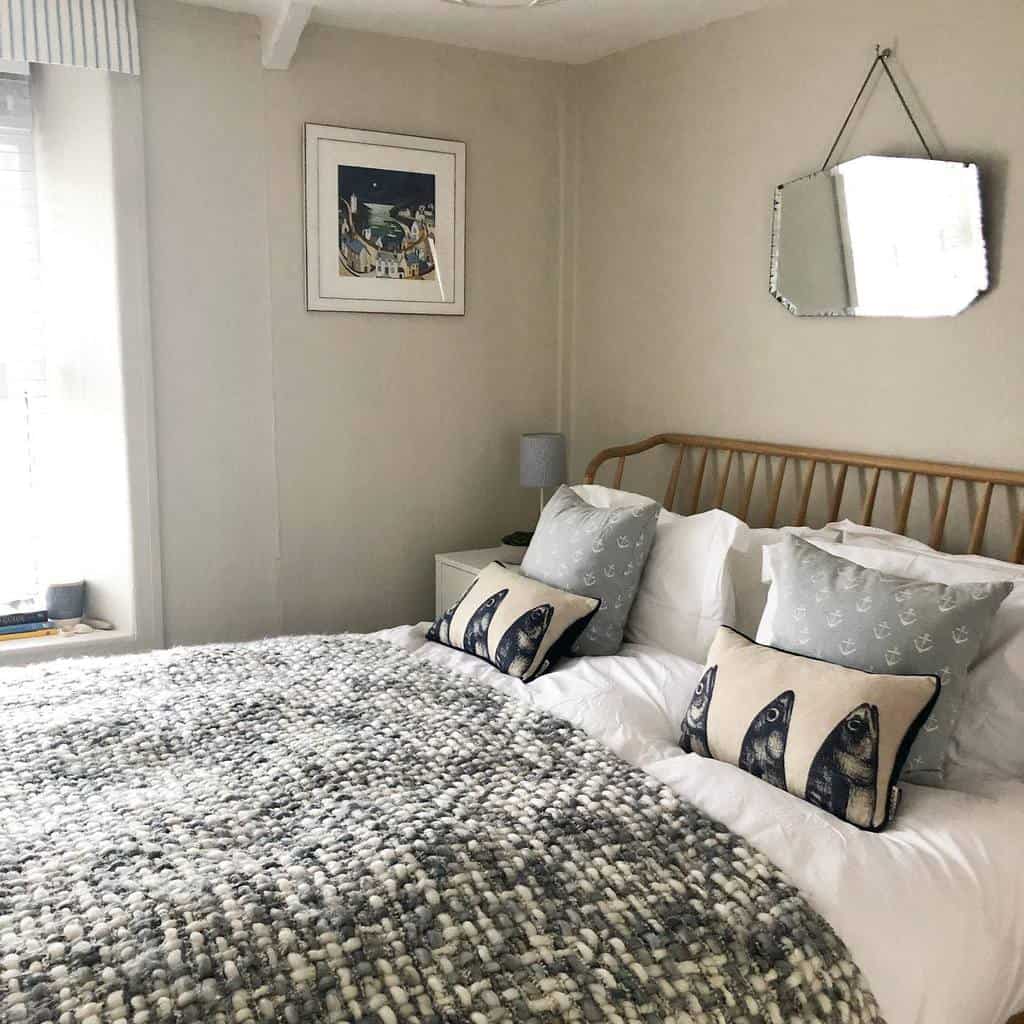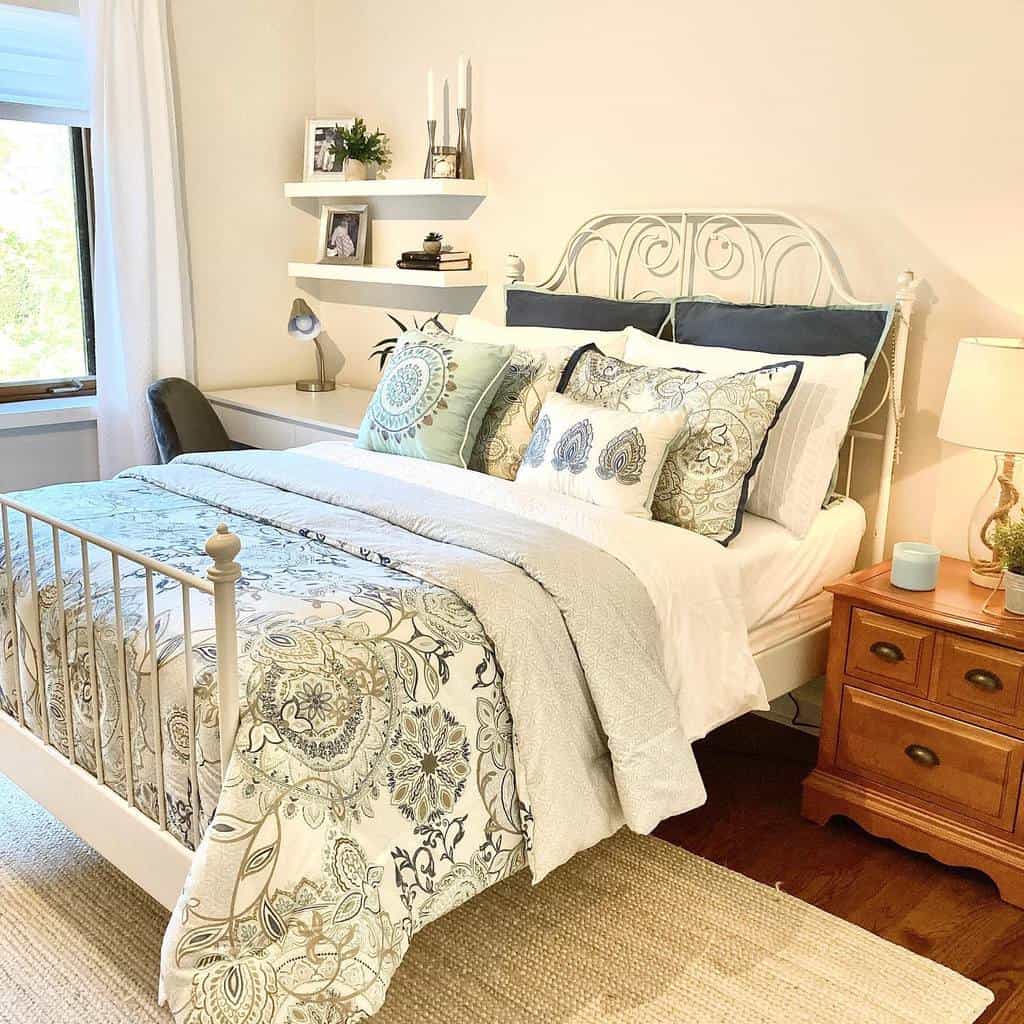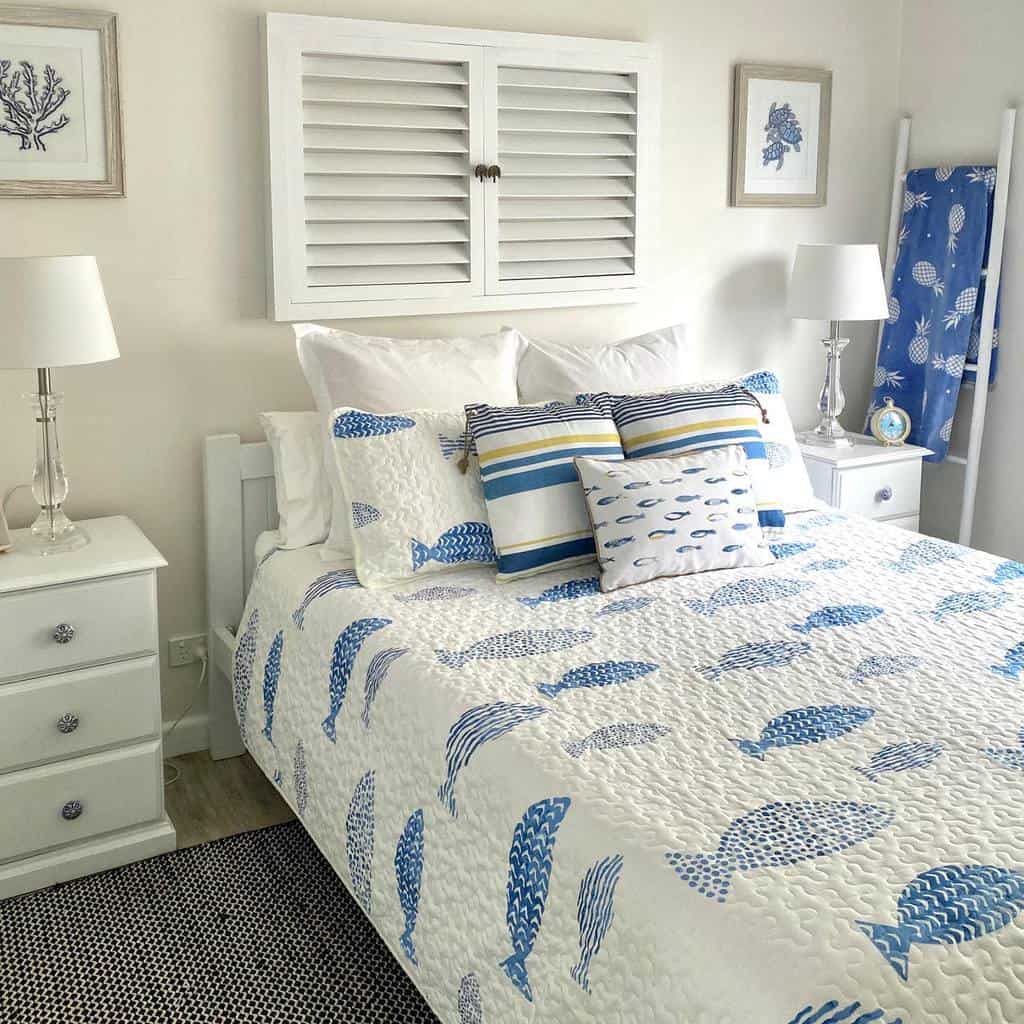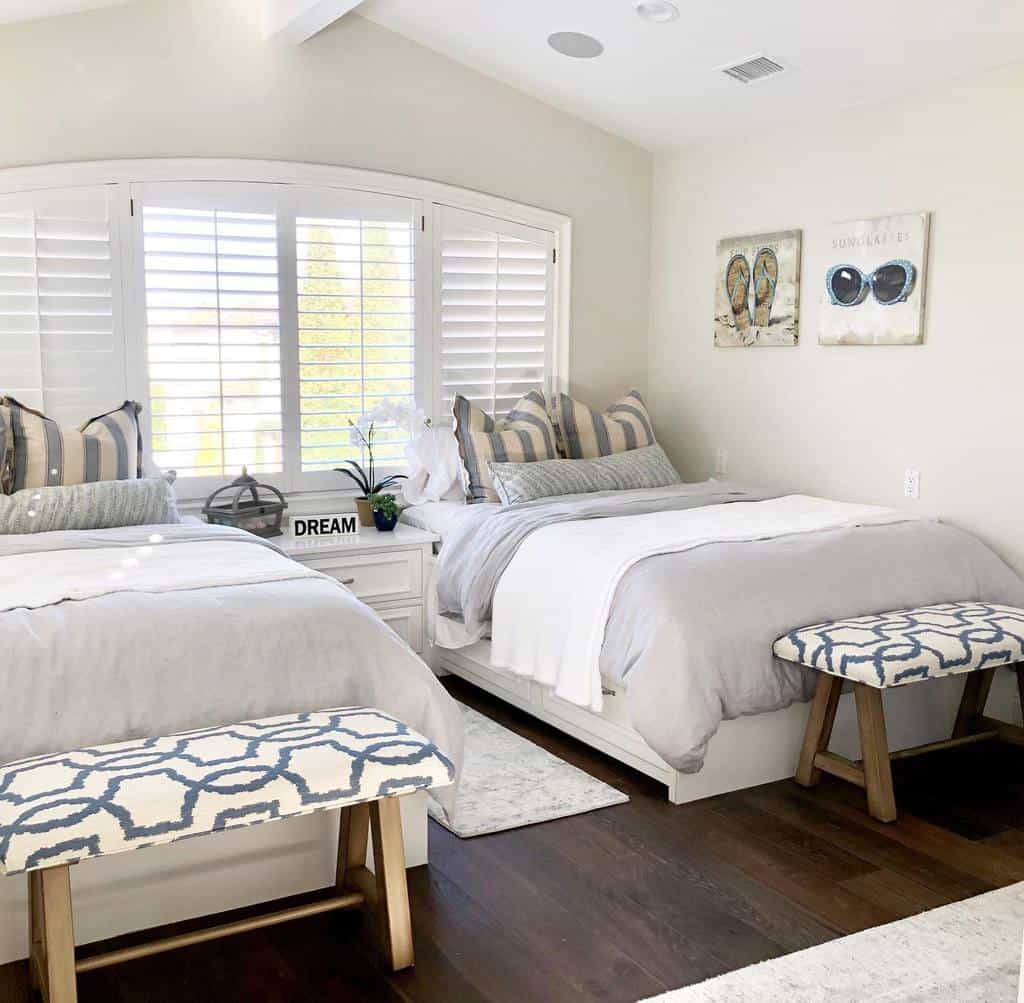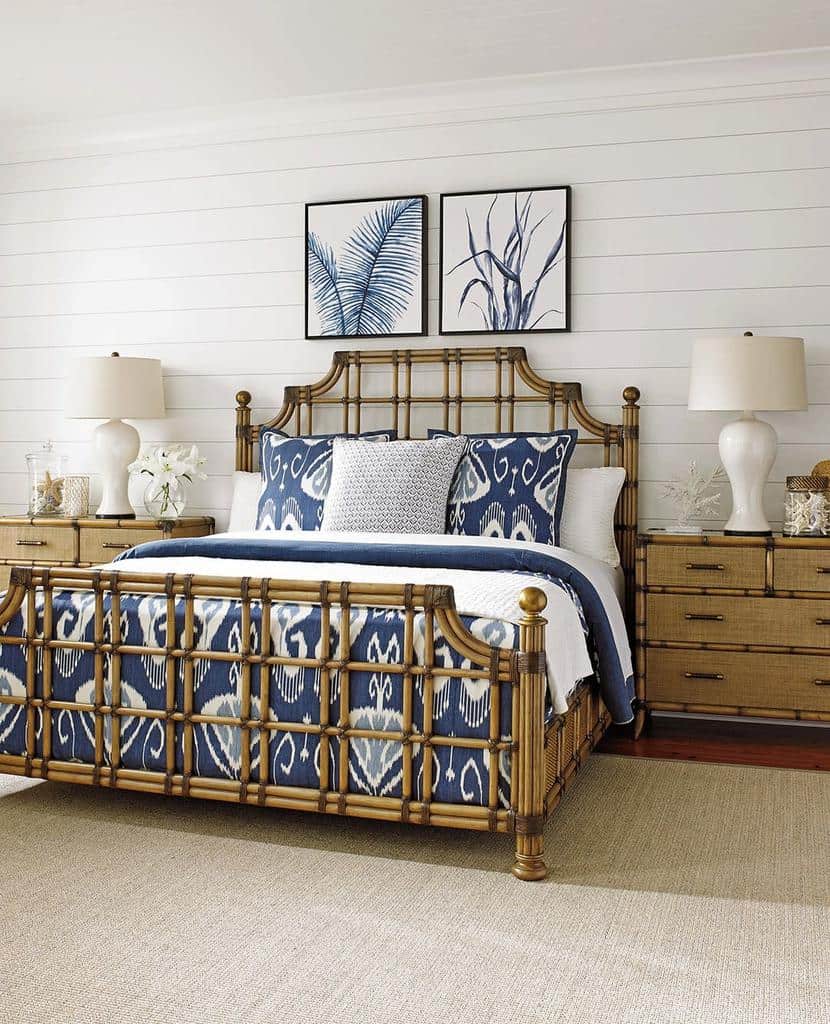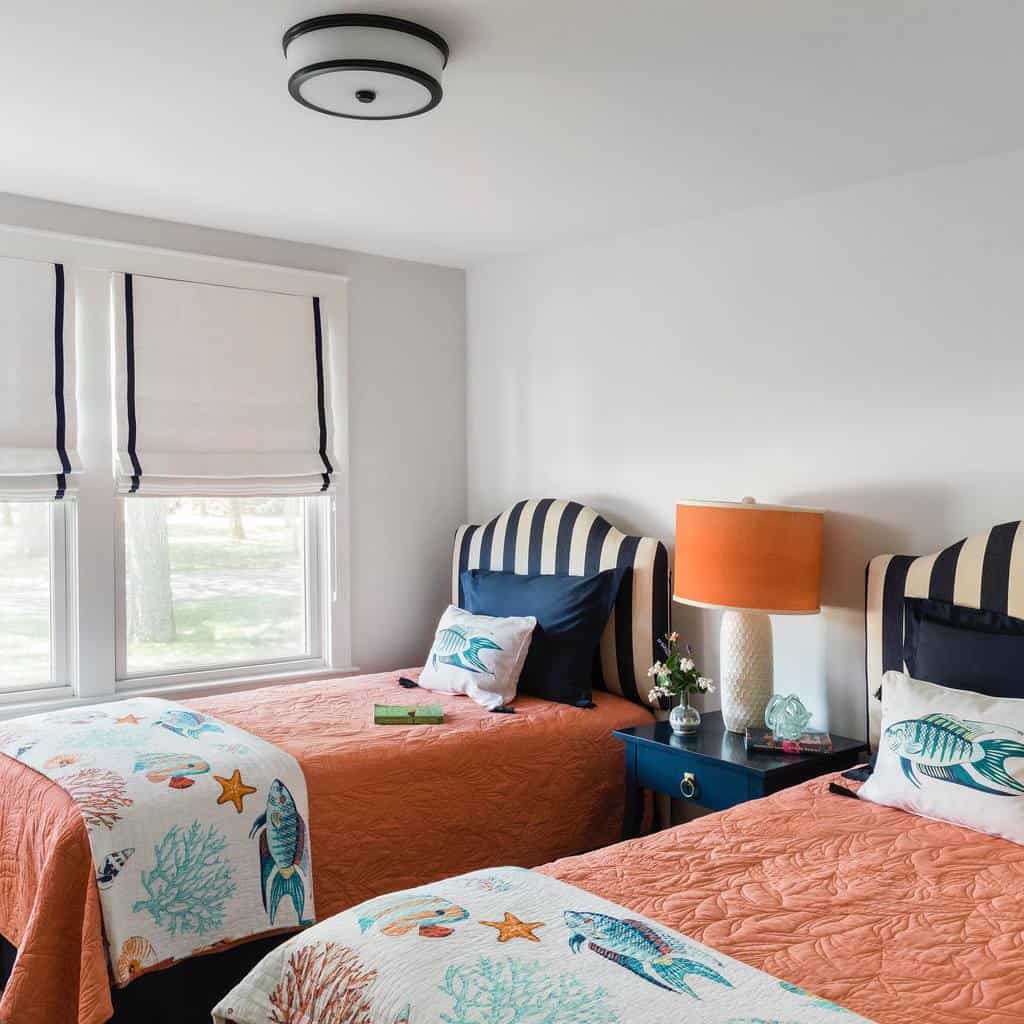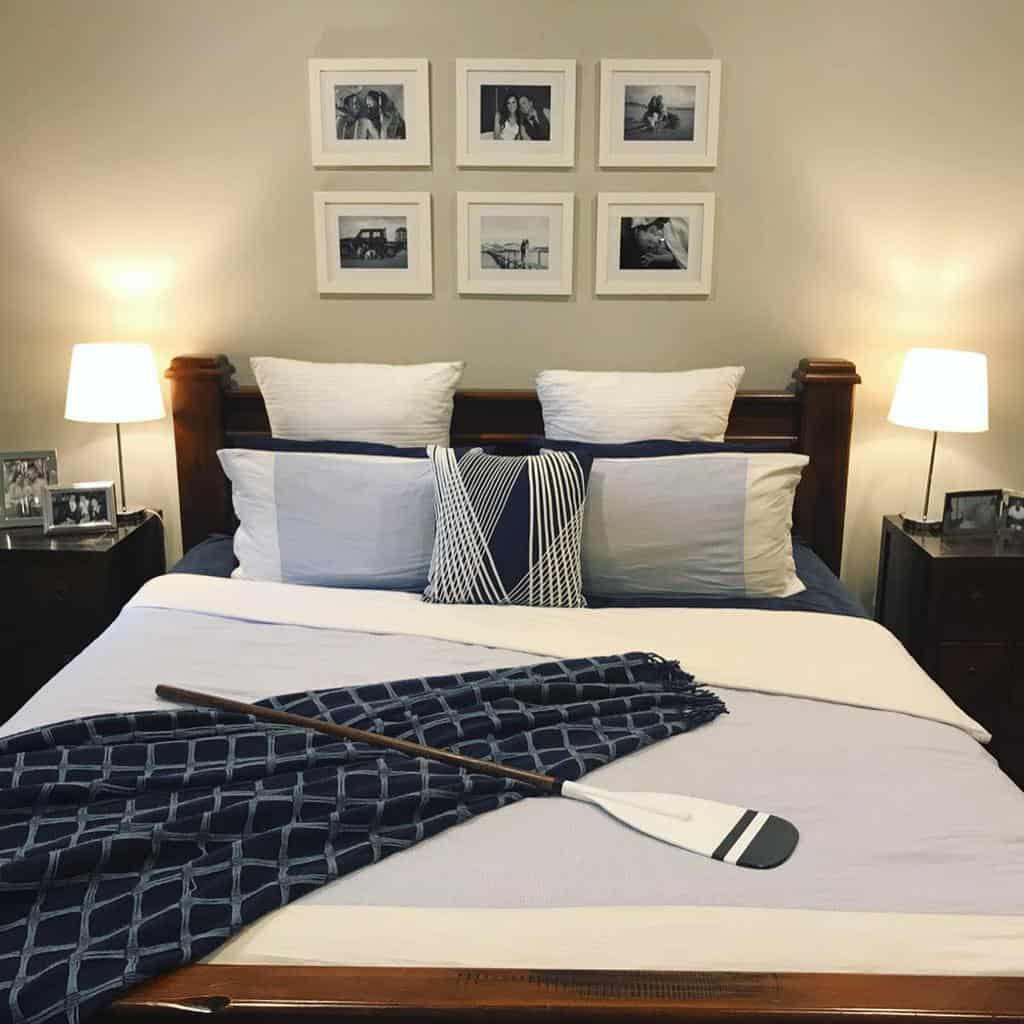 3. Add An Area Rug
Coastal bedroom ideas are perfect for anyone who wants to bring a hint of the beach into their home. A bed with an area rug that is complementary in color and texture can add character and dimension to the room, while wall-to-wall sea colors such as deep blues and sage greens immediately put you in a coastal state of mind.
Layer bedding with whites, grays, coral, and blues so that every morning you feel like you are waking up by the oceanside. And for the finishing touch, incorporate seashells, starfish, and driftwood pieces throughout your bedroom for that added touch of coastal charm. With these tips in hand, creating your own dreamy oasis is achievable and easier than ever!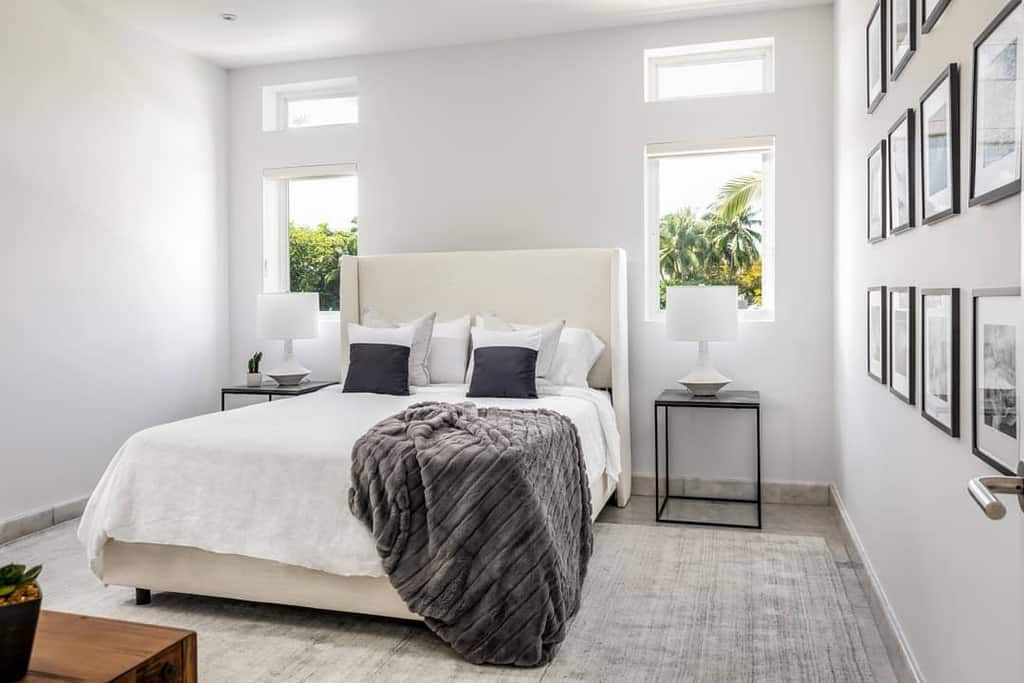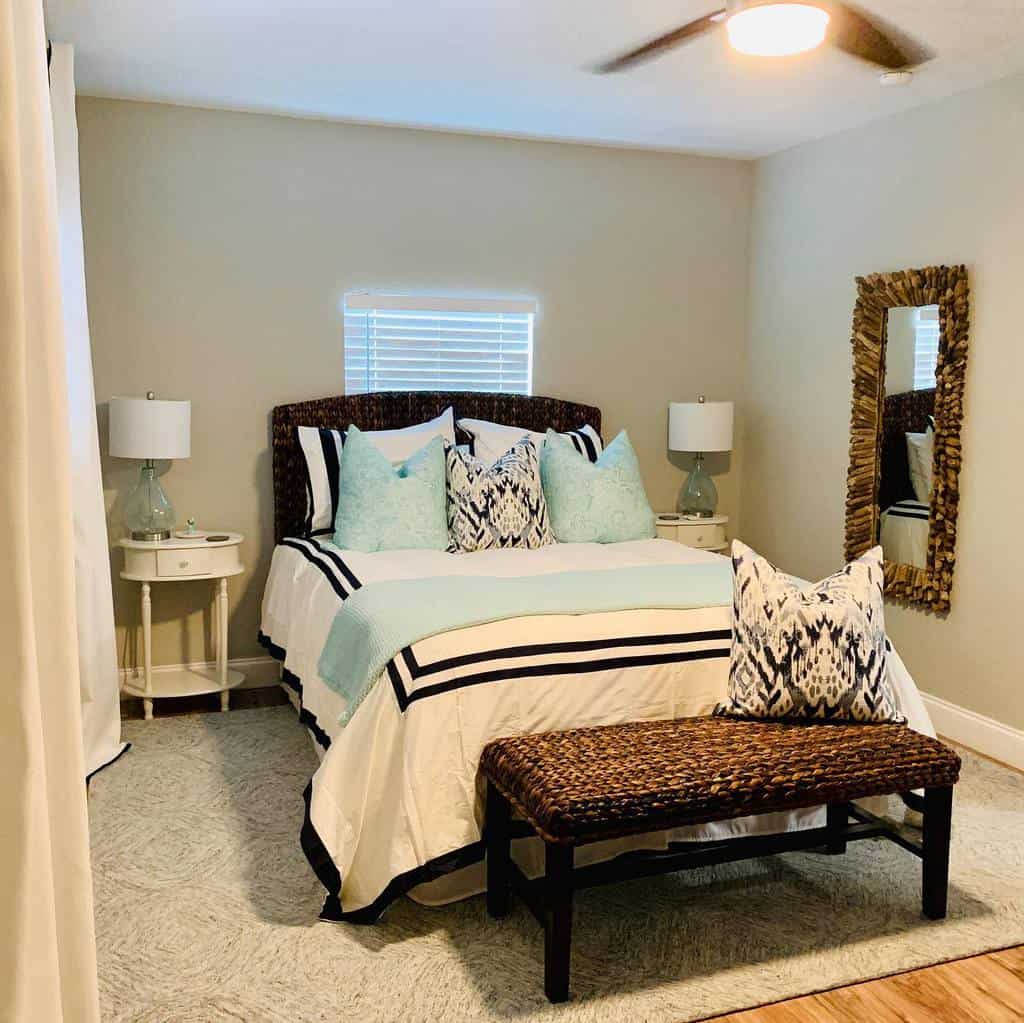 4. Choose Light Colors
If you are looking for the perfect coastal bedroom ideas, then light colors can be a great way to bring that homey beach feeling right into your bedroom. Using softer pastel blues and muted colors, like a light blue on the walls, paired with off-white furniture or décor accents can help create an airy atmosphere inspired by the seaside.
Consider transitioning your color palette to include light creams and light browns while adding light textures like natural woven rugs to complete the look. There is nothing quite like being able to come home to a relaxed ambiance inspired by the coast every day!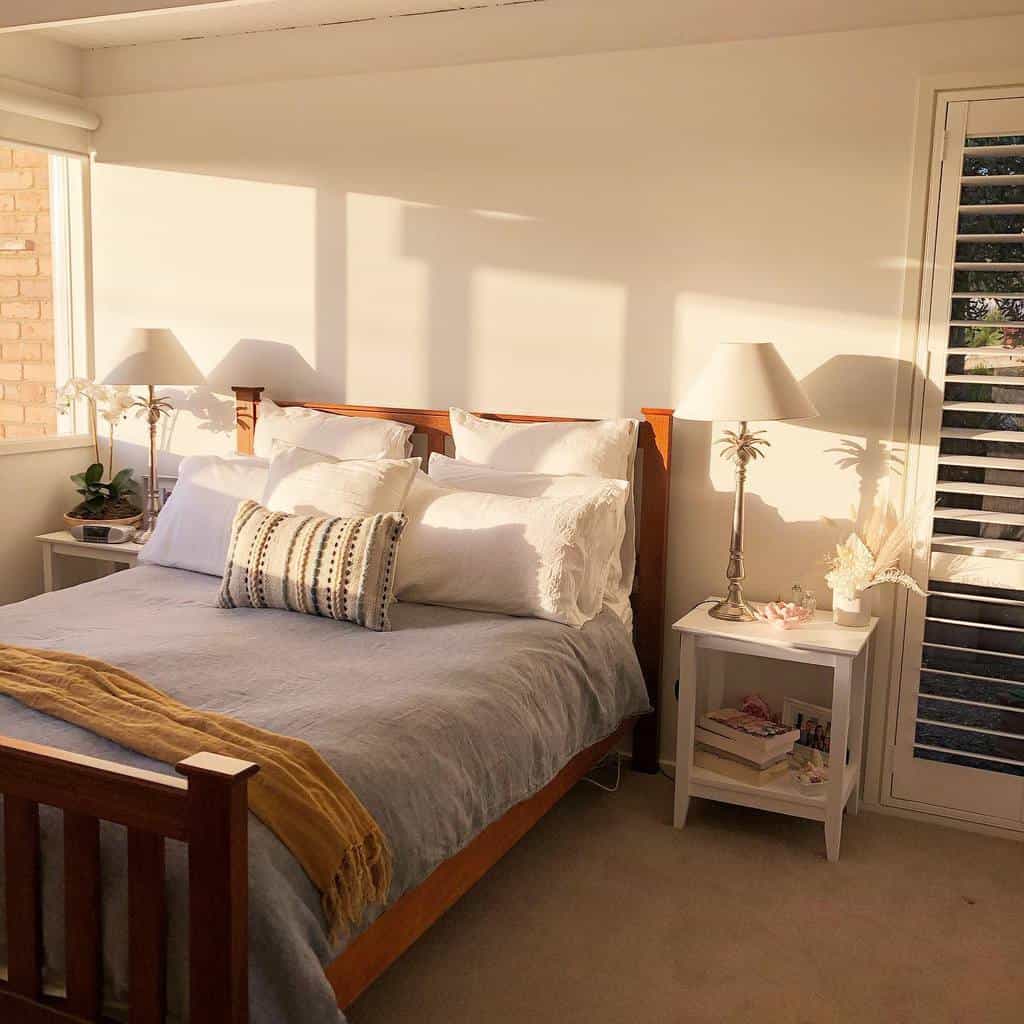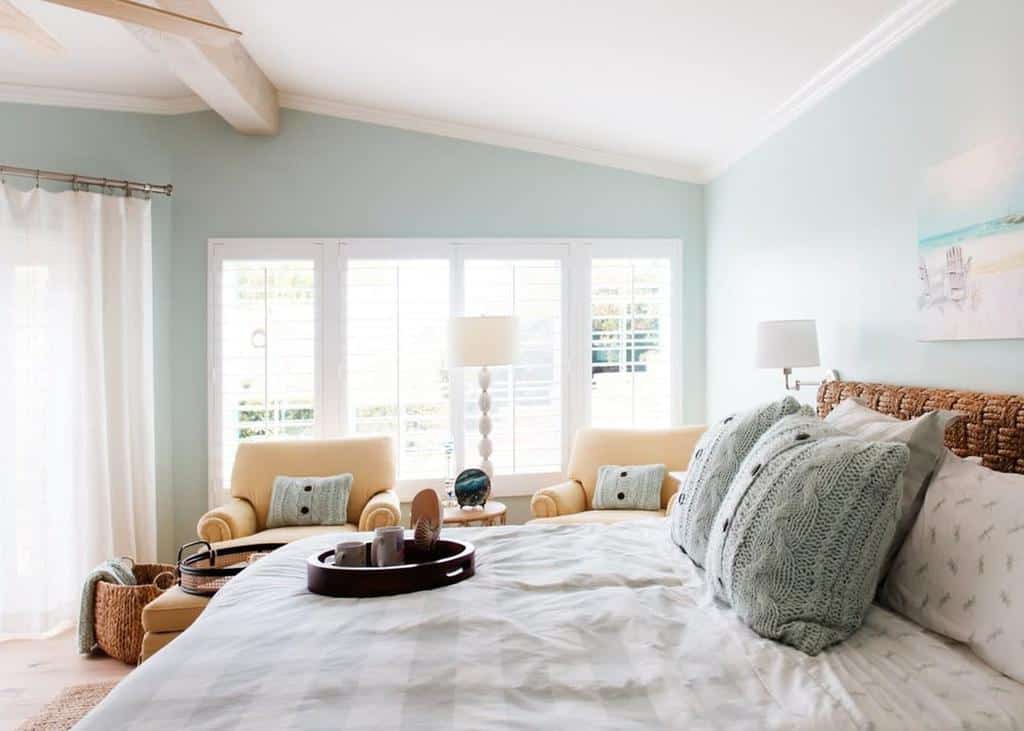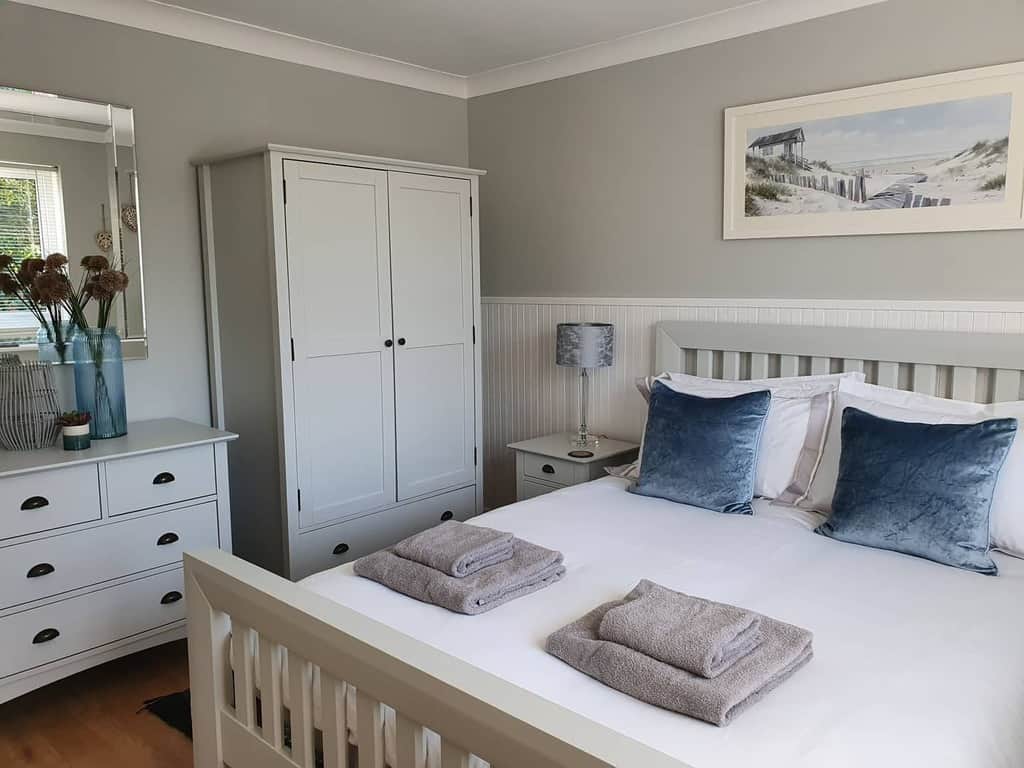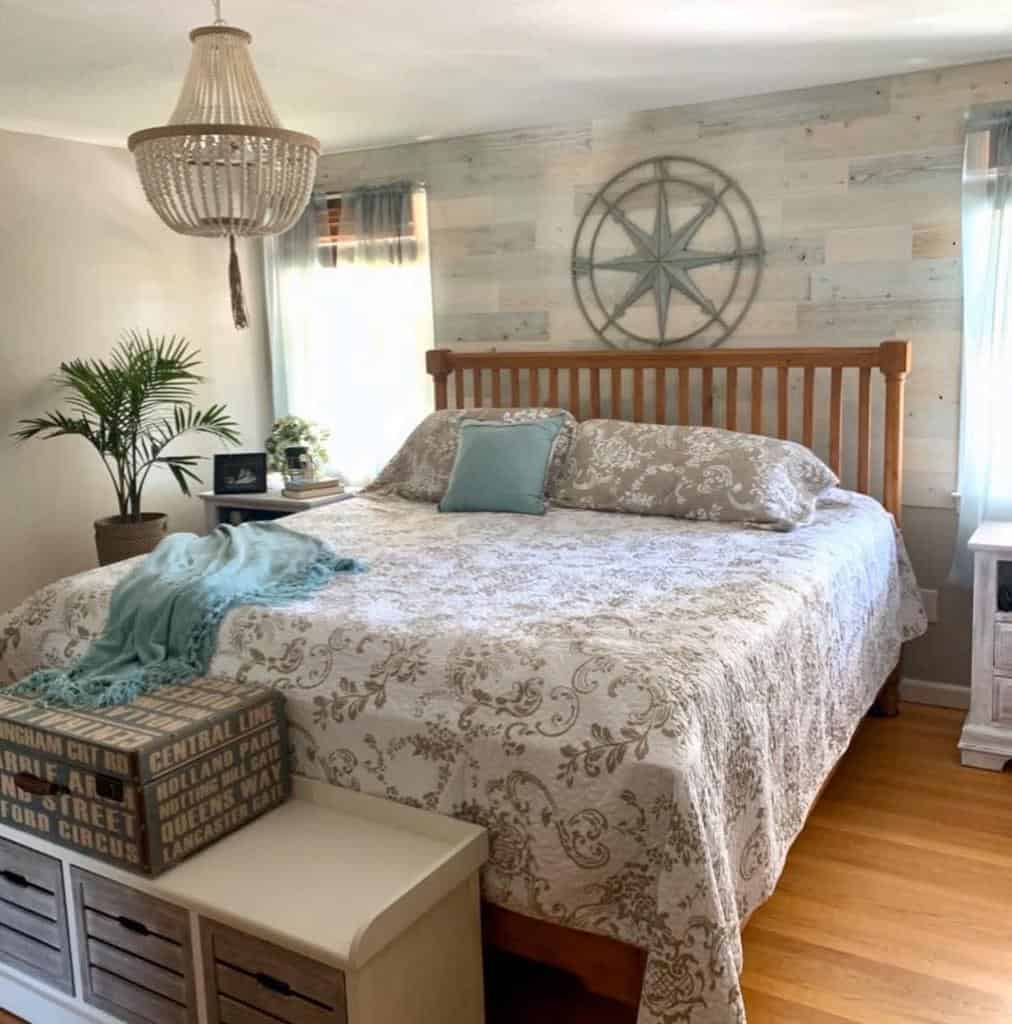 5. Transform The Room With Blue Fittings
Create a white wall bedroom with blue fittings for a beautiful and cozy coastal atmosphere. Bring the calming effects of the sea into your bedroom by adding shades of blues to your bedding and curtains.
Navy, white, teal, and sea green – all tones should complement each other for the perfect touch for a restful sleep after days of hectic activities. With soft blues, white linens, and wooden furniture pieces, you can most certainly liven up your coastal bedroom experience.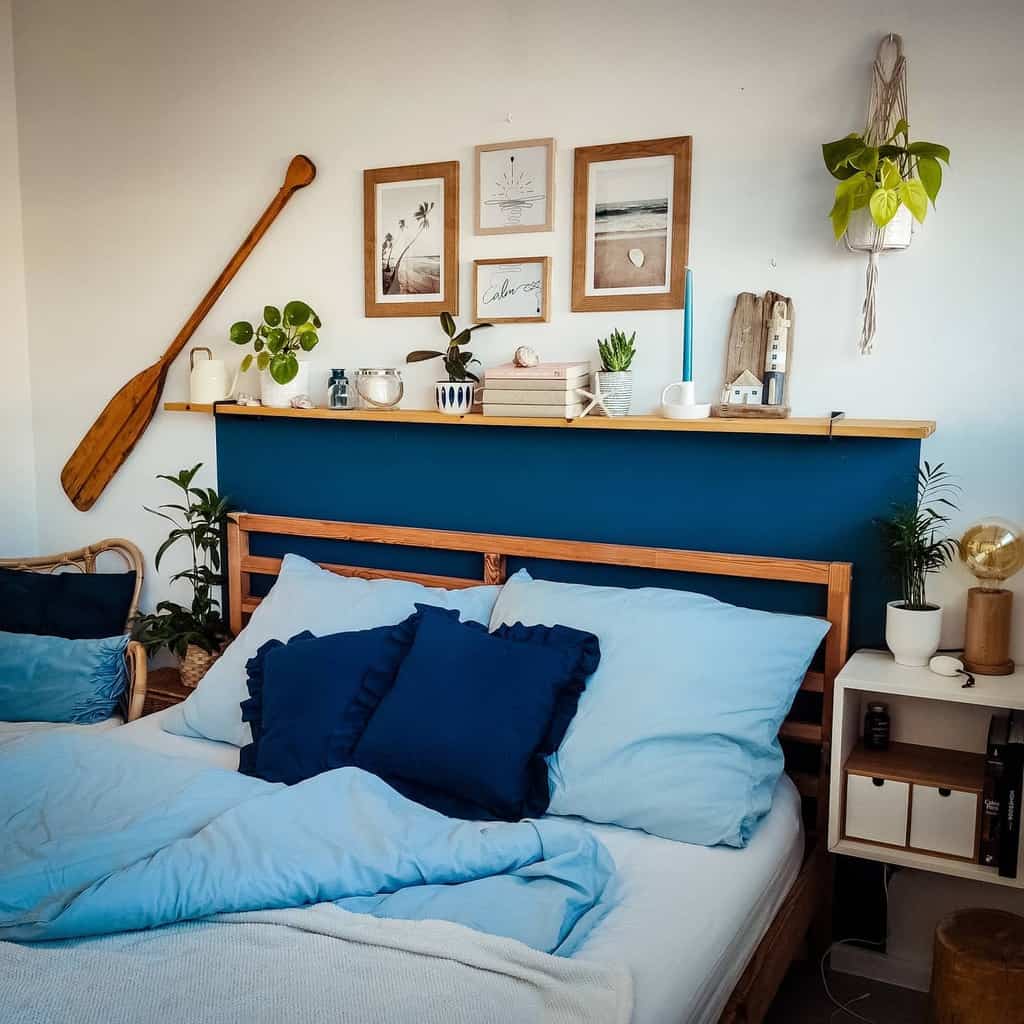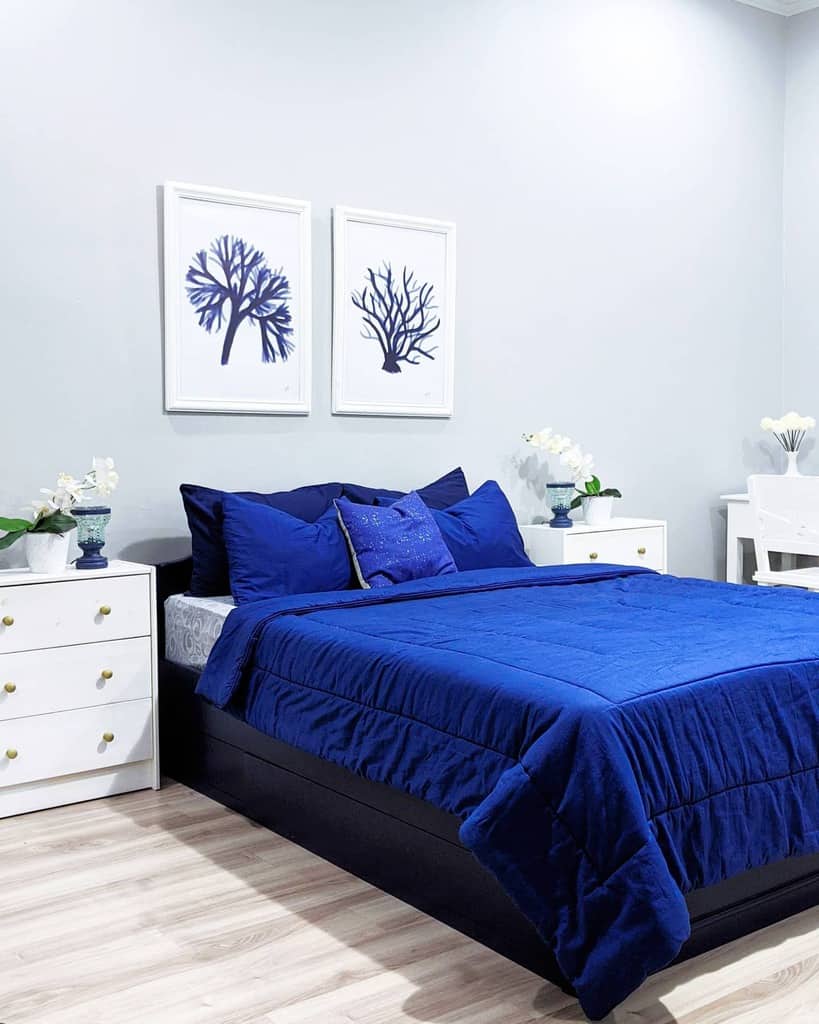 6. Shiplap Walls For An Airy Ambiance
For those looking for coastal bedroom ideas, shiplap walls are the perfect way to bring the outdoors feel into your home. The rugged wood paneling of the shiplap will add texture and depth to any room, while still maintaining an airy ambiance.
To maximize the beachy vibes, pair shiplap with whites and blues throughout your space, like a white-washed driftwood bed frame paired with linens that are navy or muted tones.
To accentuate the shiplap walls even more, bring in decorations like seashells, starfish, and driftwood—or display vases filled with shells as a finishing touch to create a relaxing coastal retreat in your own bedroom.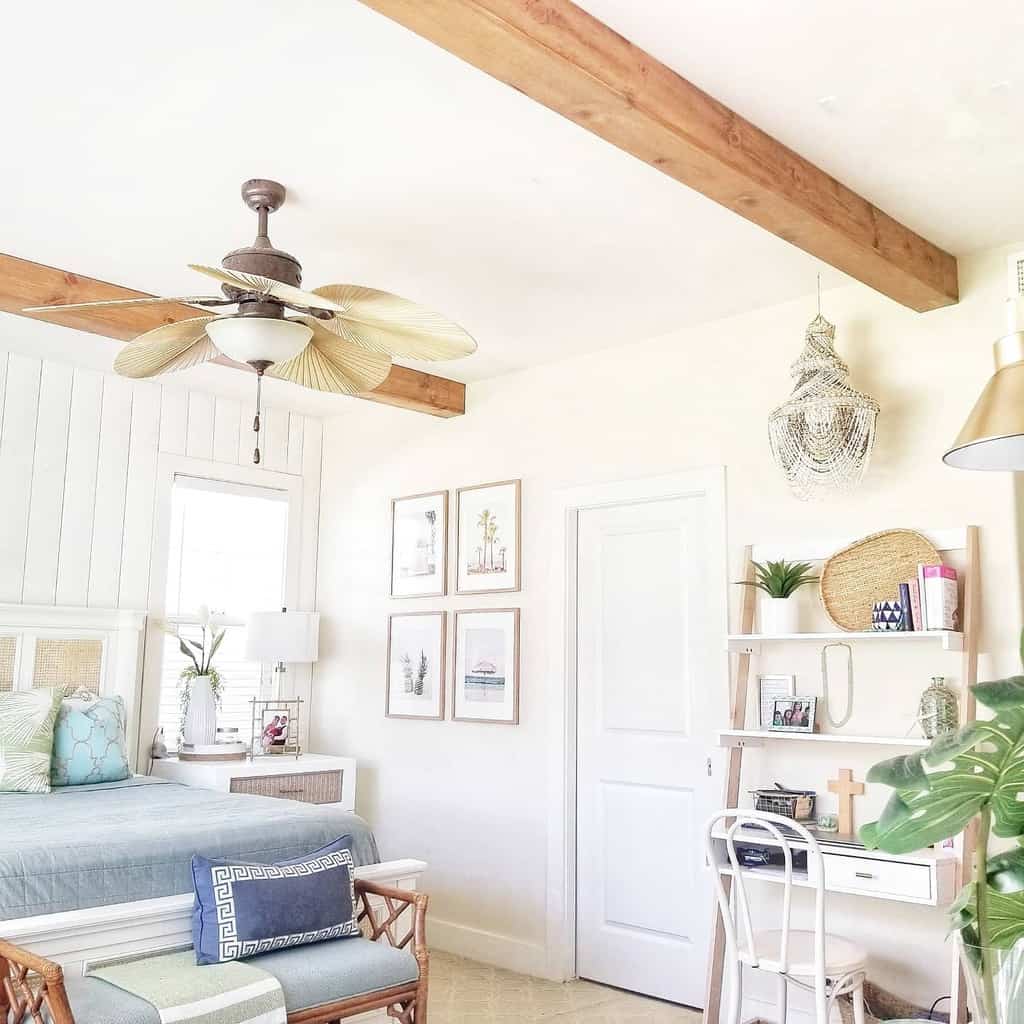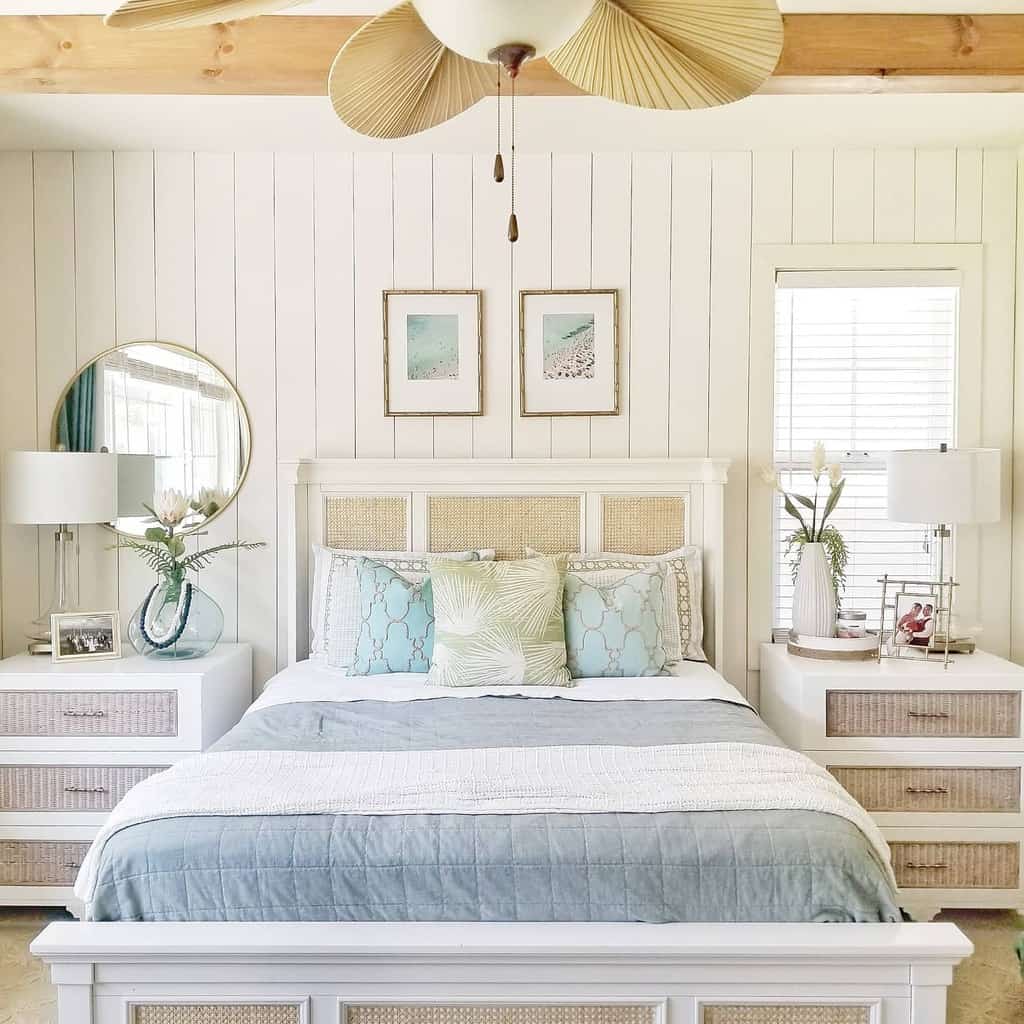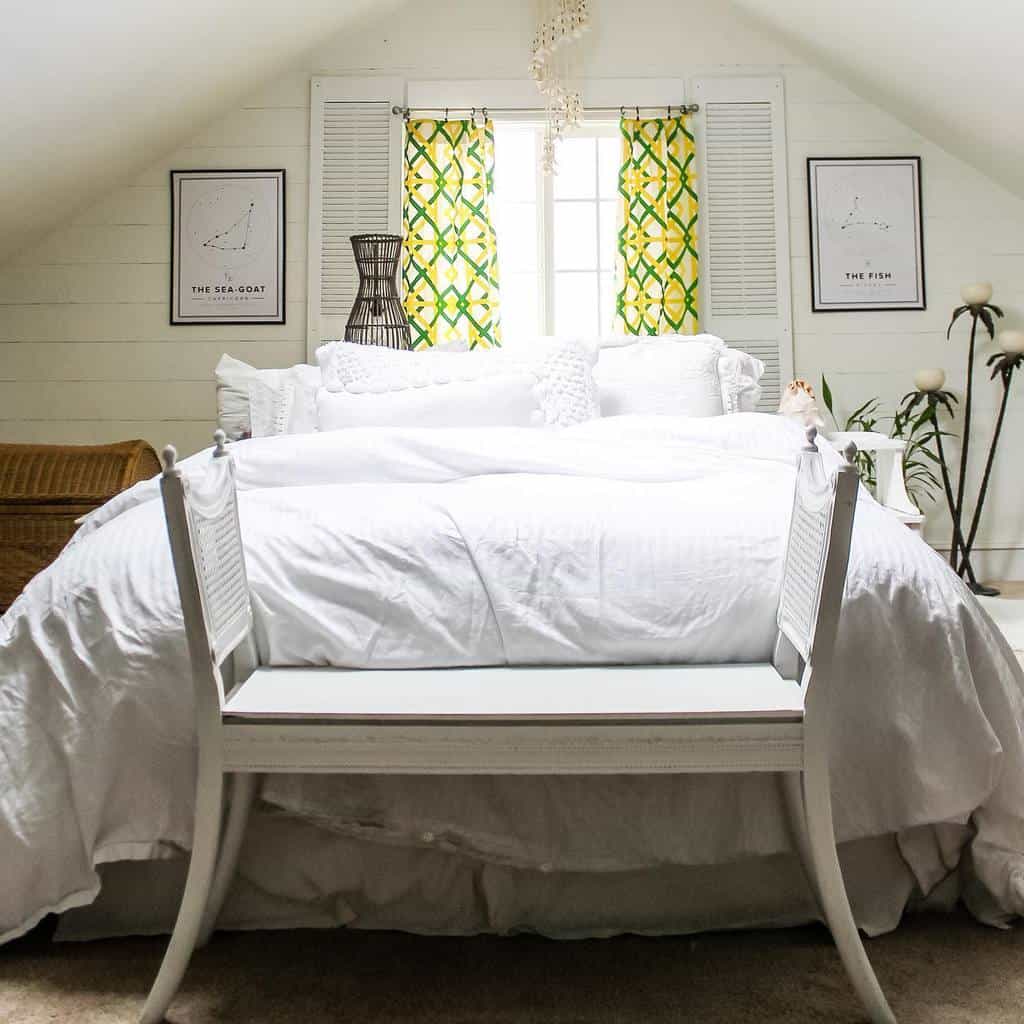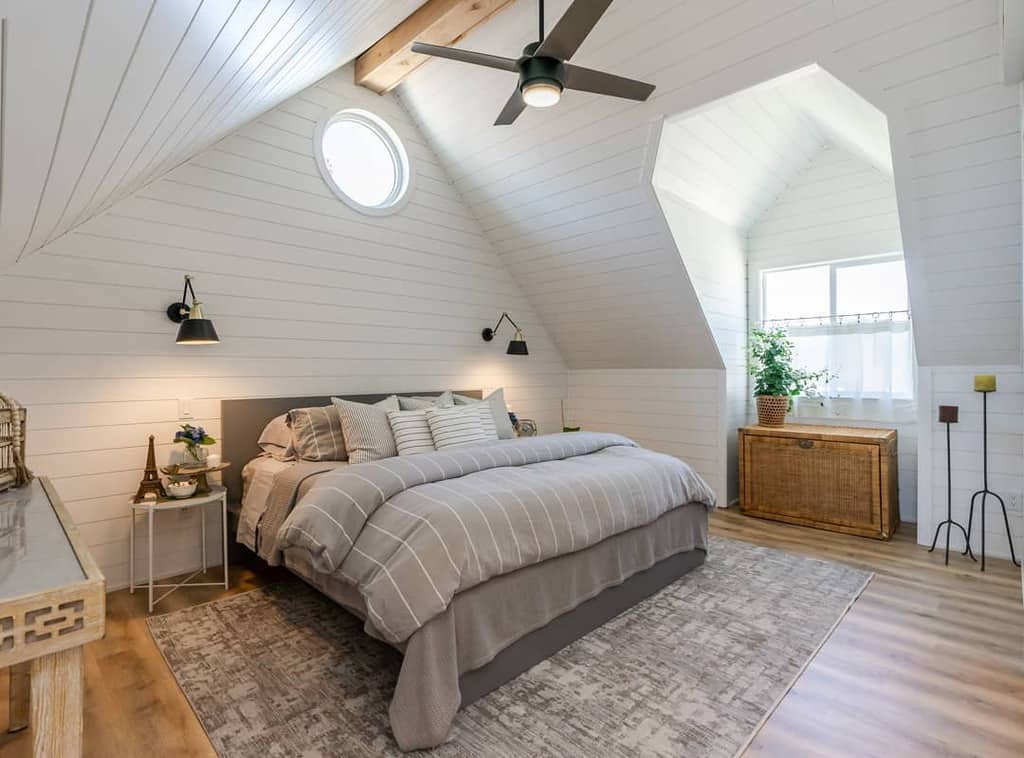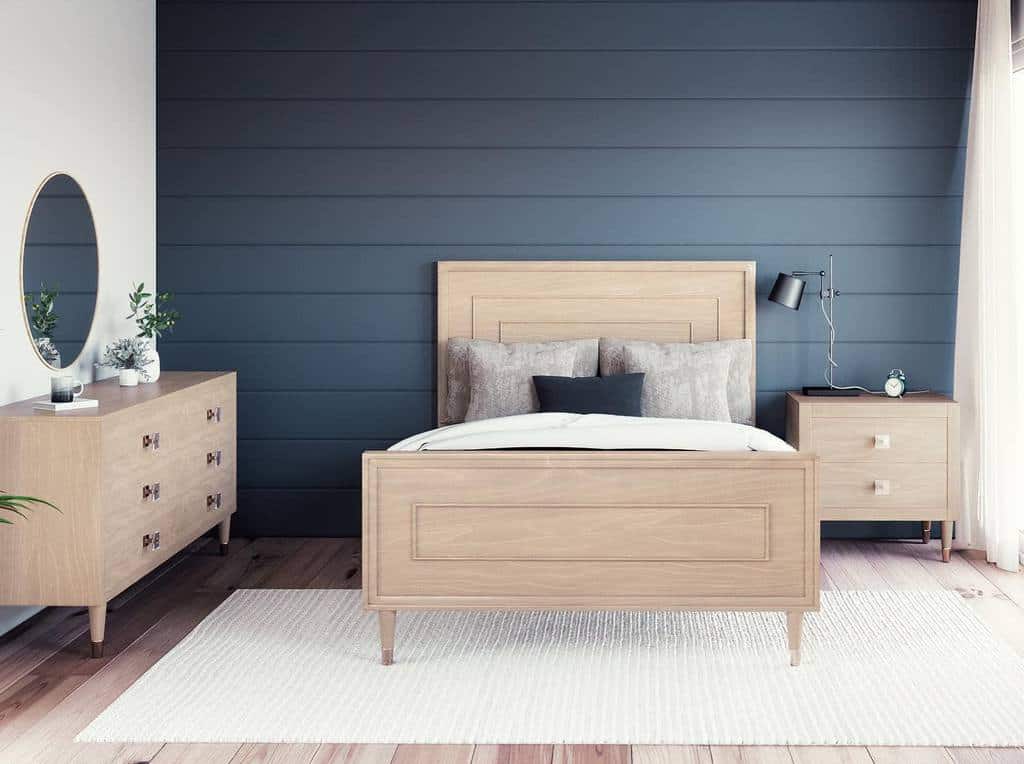 7. Decorate With Boat Paddles
If you want to create a coastal bedroom that is both beautiful and tranquil, look no further than board paddle wall art as your inspiration. Not only does board paddle art bring a touch of the outdoors into your home, but it also serves as a statement piece that adds texture and personality without overwhelming the space.
Try to choose board paddles in an array of colors to truly brighten your room and make it inviting and fun. To complete your coastal bedroom oasis, add some blue accent pieces or shell decorations and you'll end up with a beachy space that you can't wait to relax in.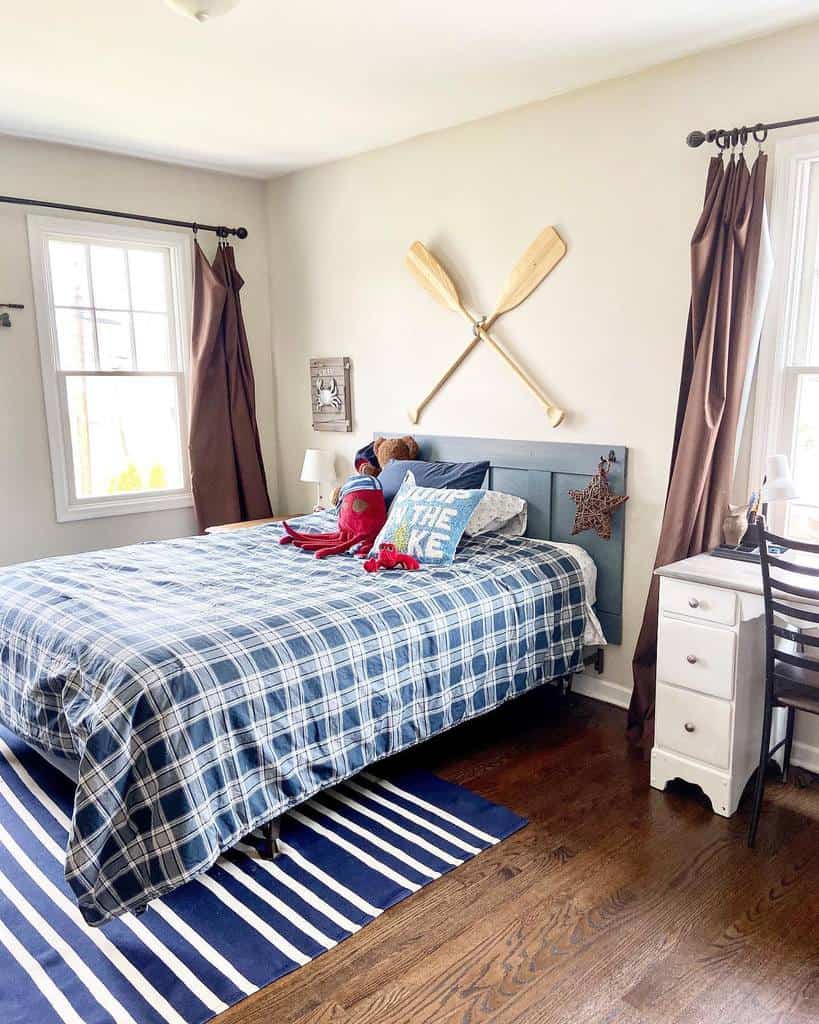 8. Choose A Monochromatic Palette
Why not create a coastal-themed bedroom that fits perfectly into your interior? Start by choosing a monochromatic palette with shades varying from light to dark. You can dawn the walls with a soft airy shade of white, incorporate black pieces to add dimension and incorporate grey hues for an added layer of interest.
Easily find accessories such as wood furniture, nautical-inspired wallpaper, or fun textiles to tie everything together. With these tips in mind, you're sure to have a breezy, beachy-looking bedroom!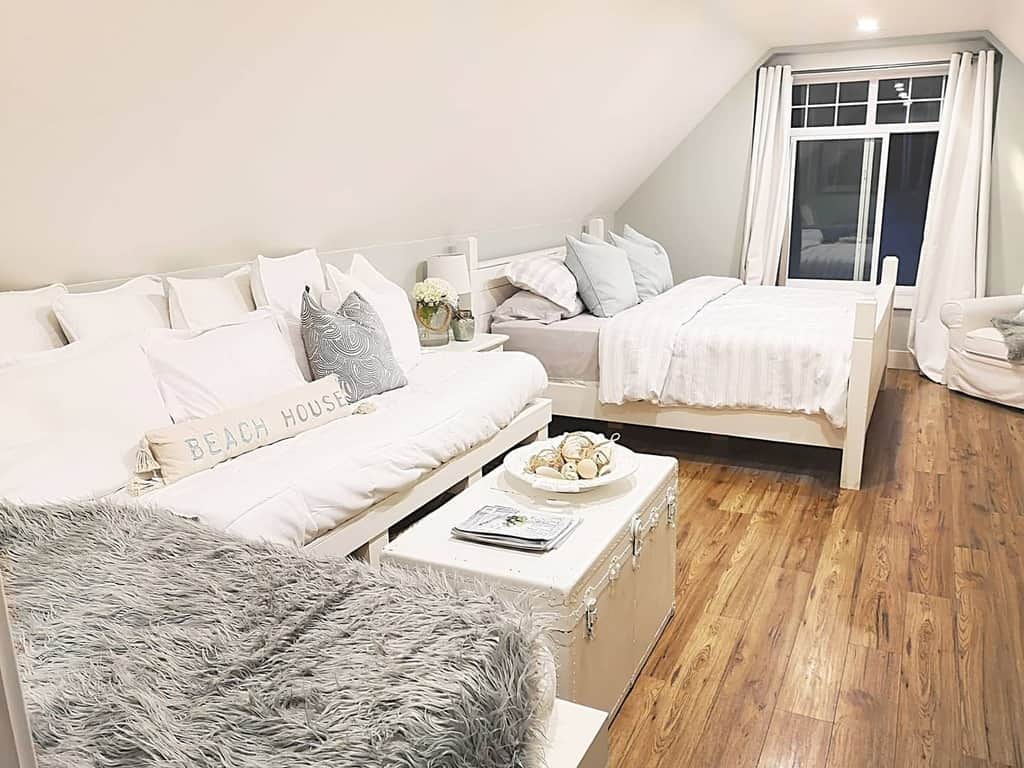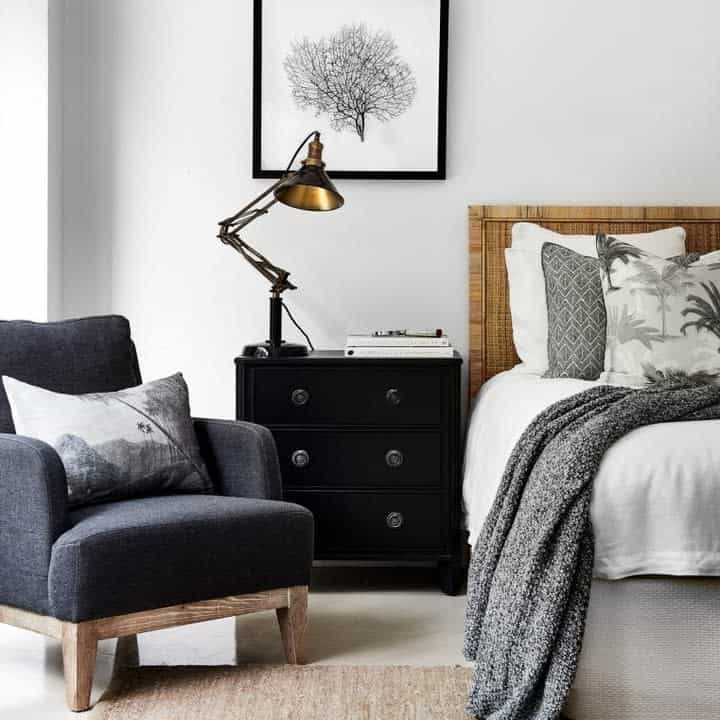 9. Decorate The Walls With Nautical Art
If you're looking for a way to add some maritime flavor to your bedroom, a few simple coastal bedroom ideas can bring your walls to life. Start by bringing the walls to life with nautical art, such as framed prints of sailboats or fishing nets draped over oars.
Look for pieces that evoke the feeling of being near the sea, with soothing blues and greens making up the base palette of your walls.
Soften things up a bit by hanging a framed painting of the beach, or set aside an accent wall and fill it with more abstract ocean-themed artwork such as tranquil watercolor landscapes. Put all of these pieces together and you have yourself a cozy sea-inspired haven!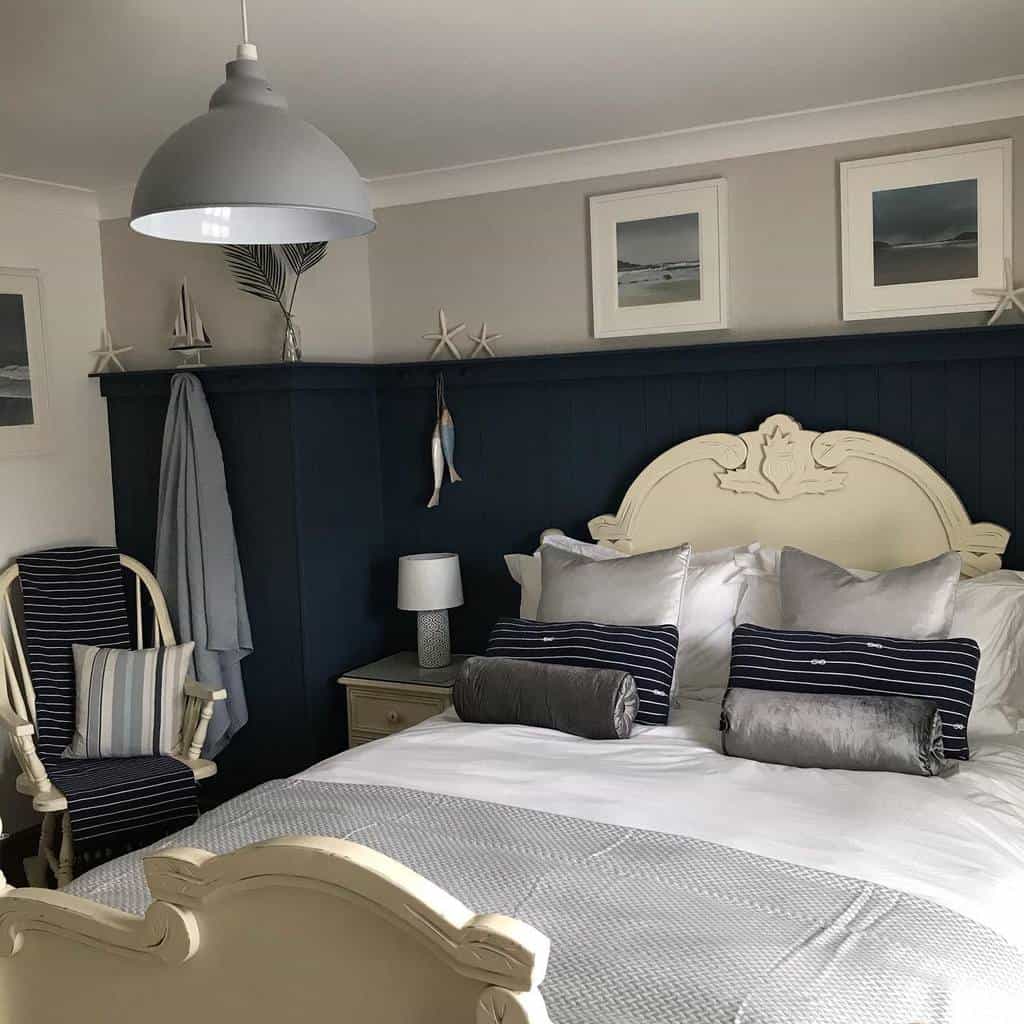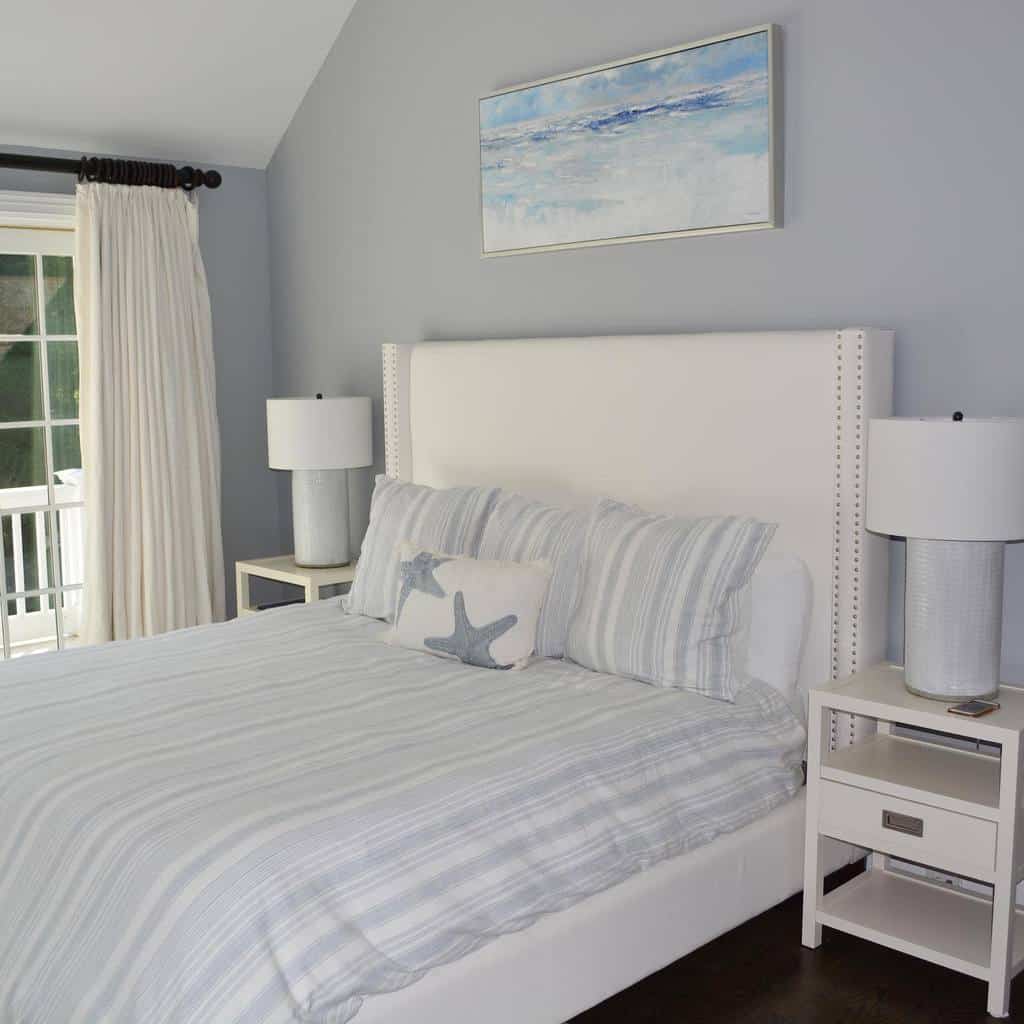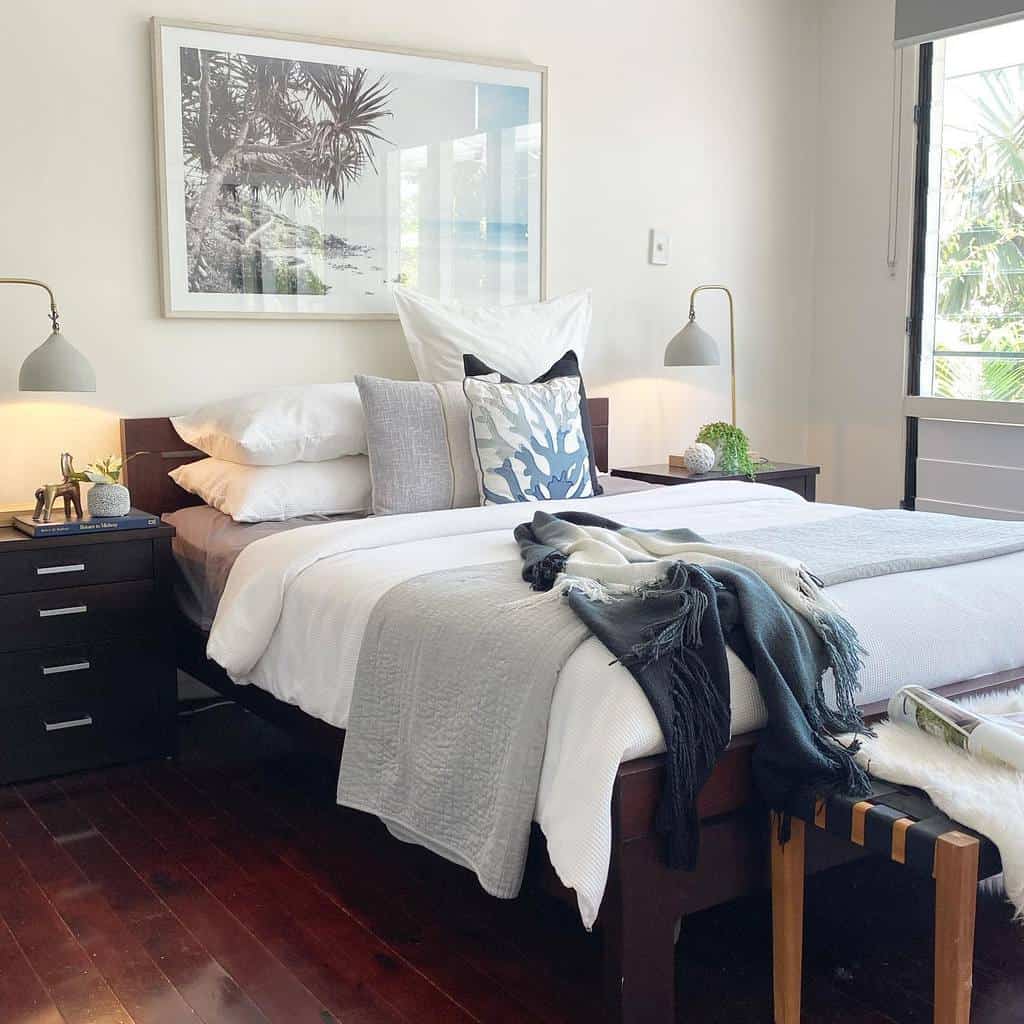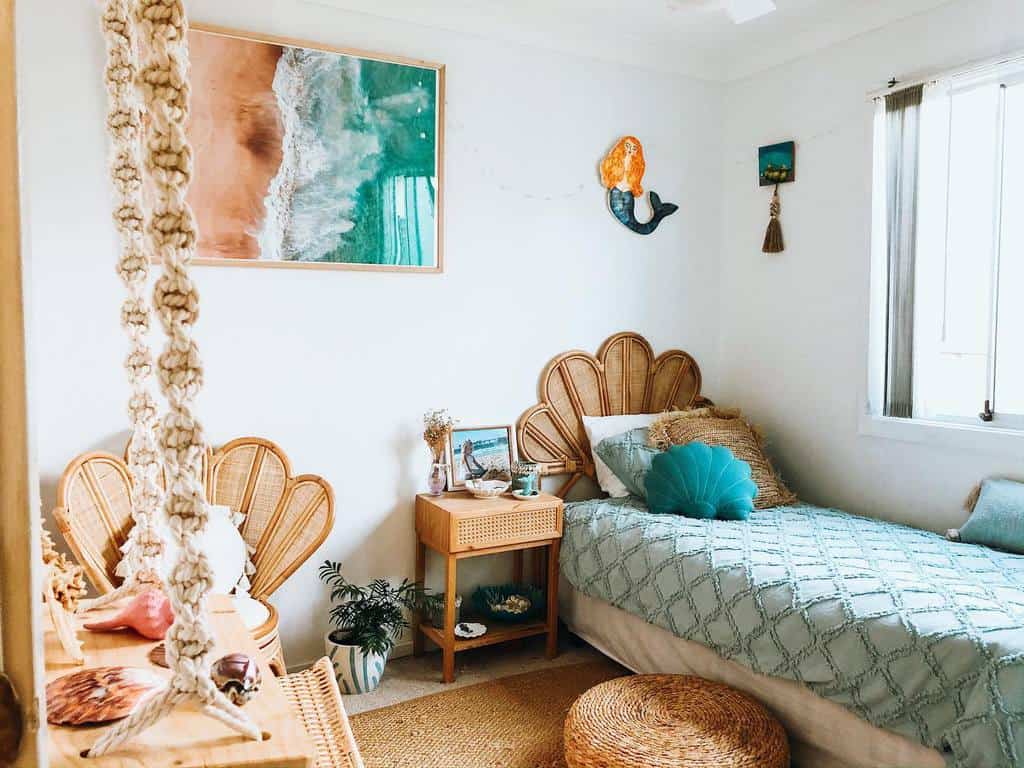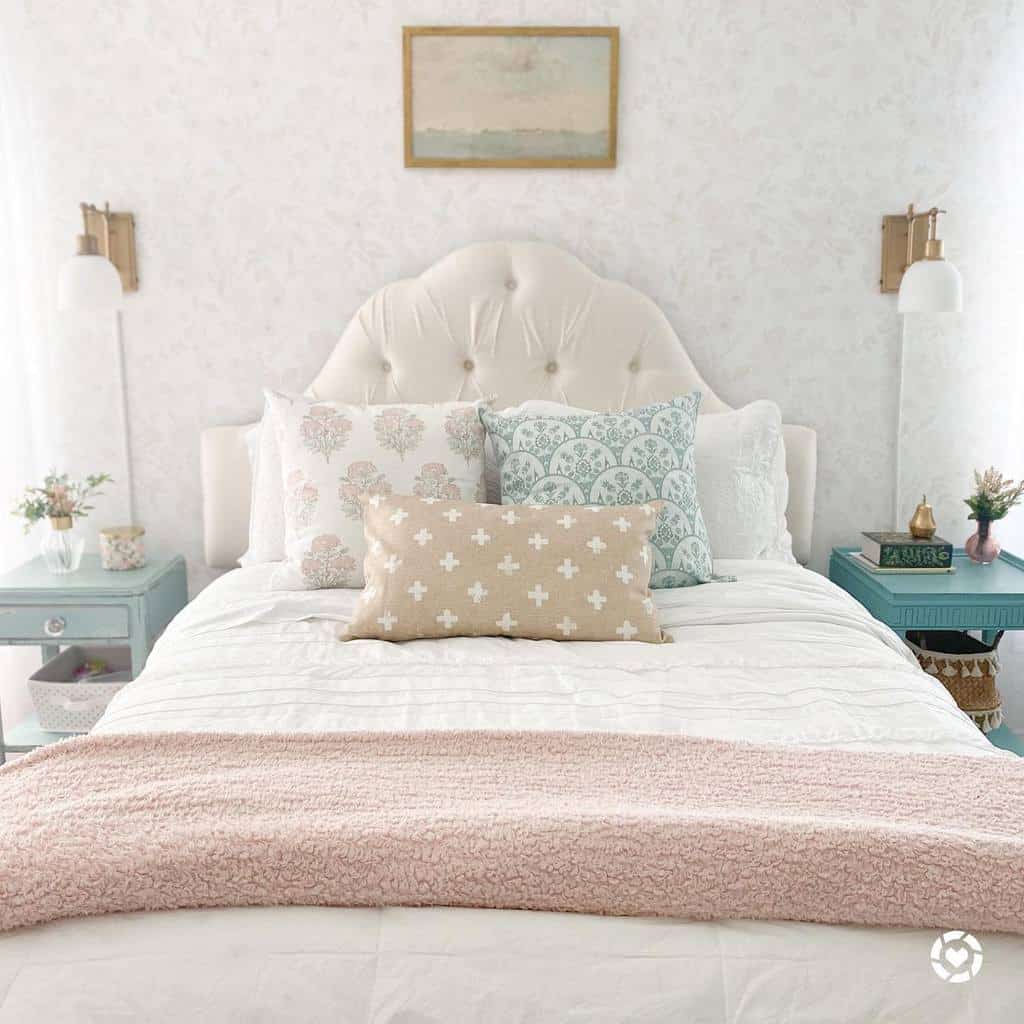 10. Full Glass Window To Open Up The Room
If you're going for that sun-kissed coastal look in your bedroom, creating the perfect atmosphere can be easy with the right elements. Start by installing a full glass window to open up your space and bring in more natural light.
Add sheer curtains for privacy, but also to play with different lengths of light coming into your room. For ultimate relaxation and calming atmosphere, select a color palate full of soft blues and greens to evoke breezy beach days from the comfort of your own home.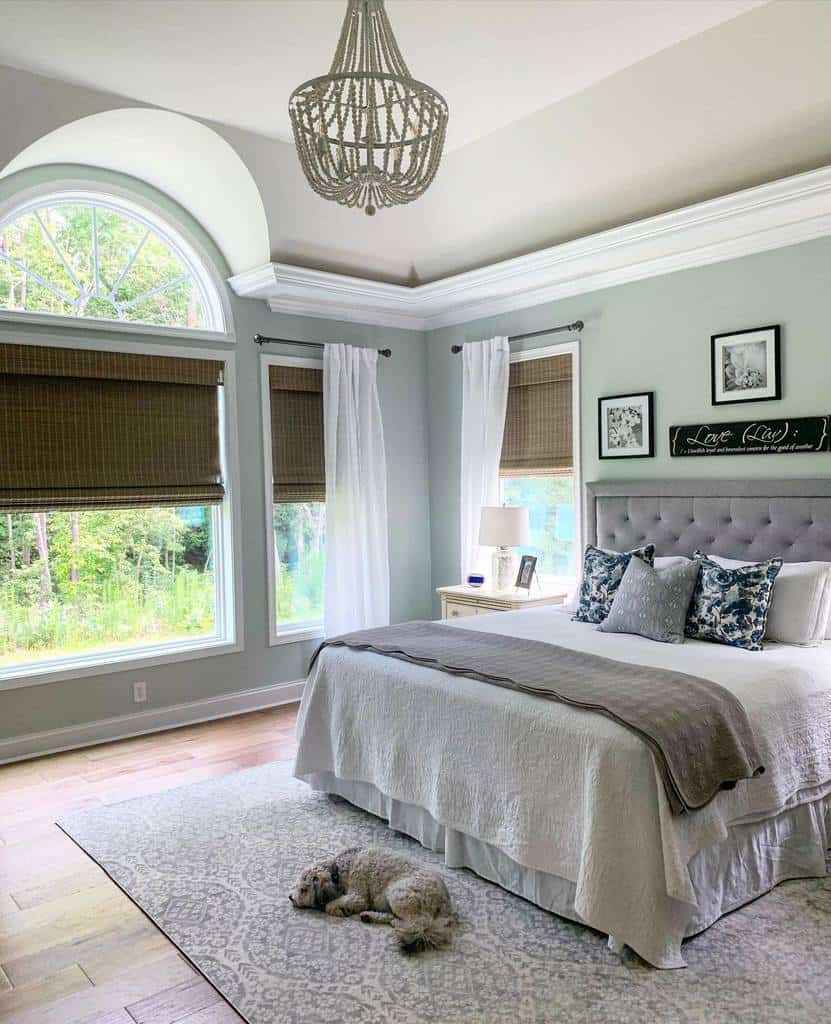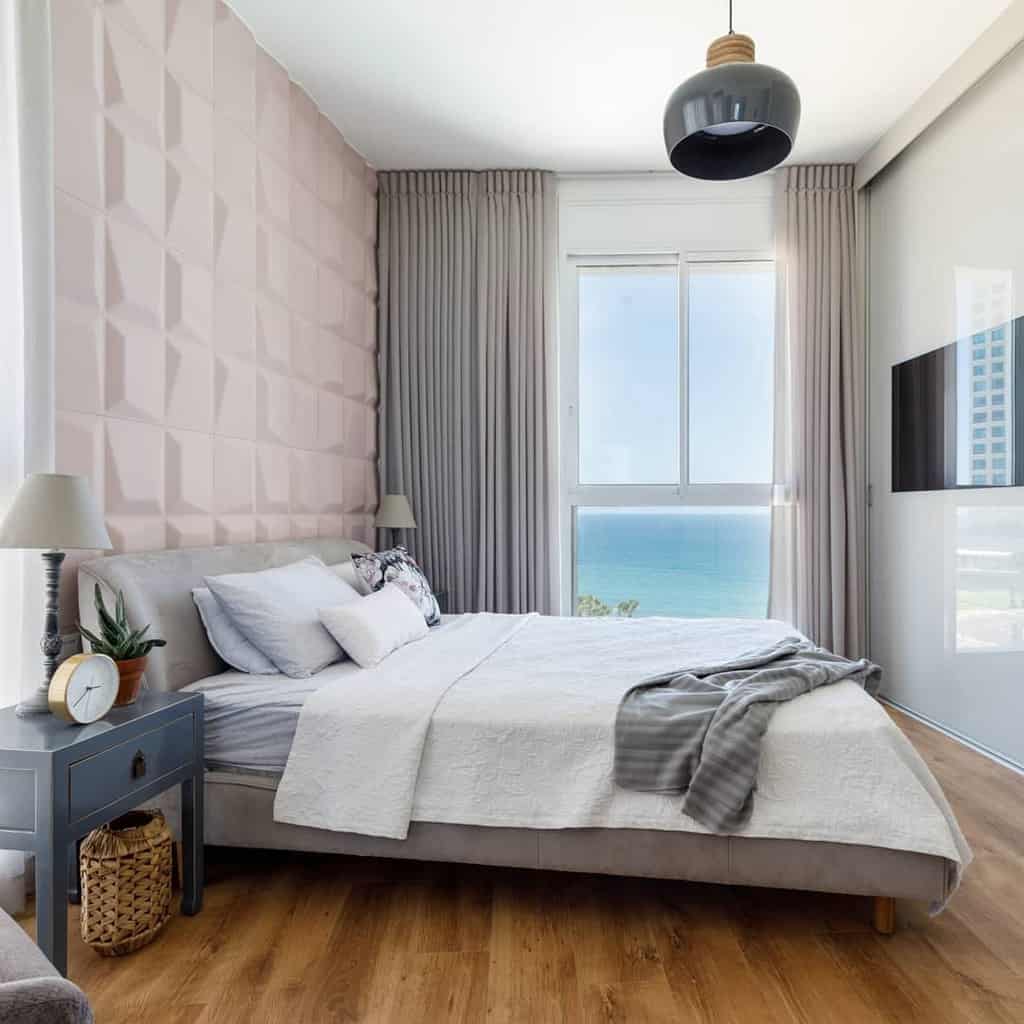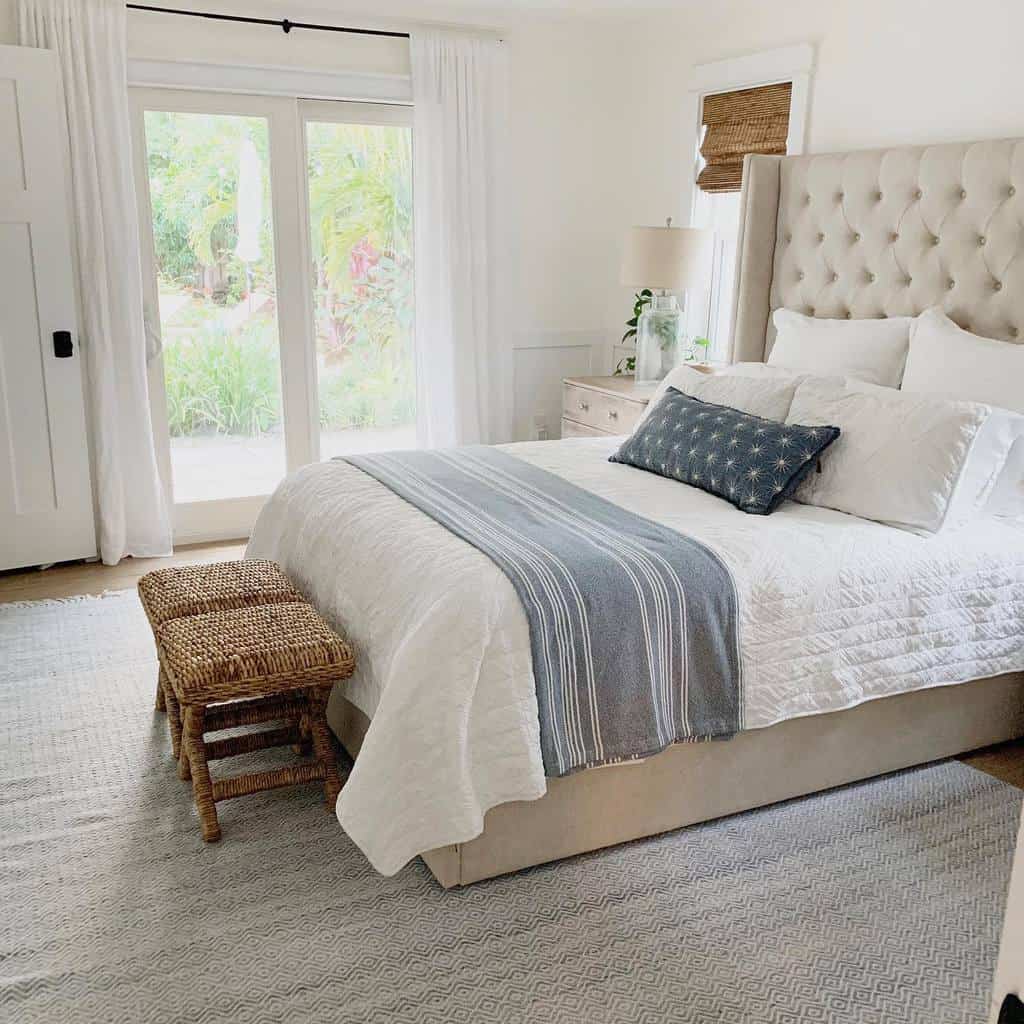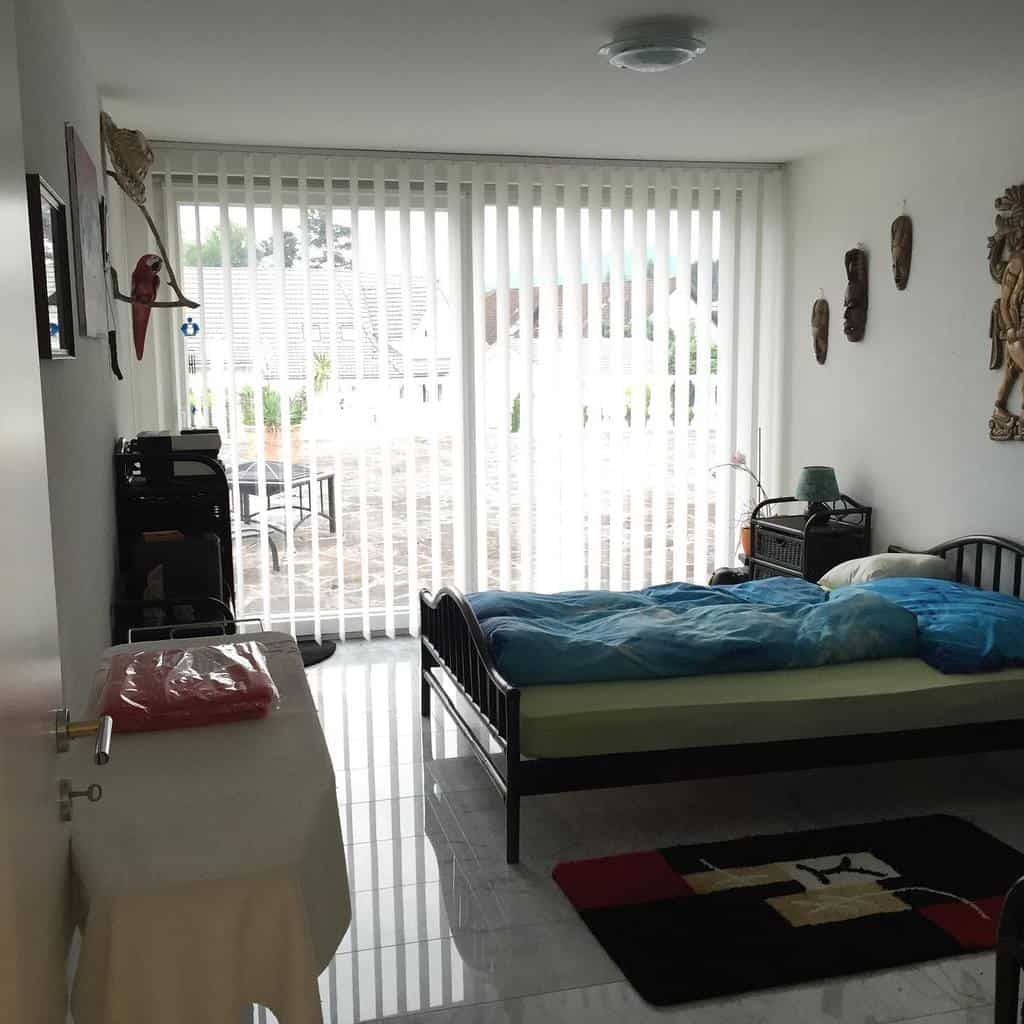 11. Oversized Headboards For A Luxurious Feel
Transform your bedroom into a coastal retreat with oversized headboards, crisp white sheets, and bright colors such as blue and green. Add luxurious touches with velvet throw pillows or oversized knit blankets to make the room cozy and inviting. Install elegant statement fixtures like oversized pendants or sculptural lamps to bring some drama.
For a finishing touch, accessorize with natural elements such as seashells, coastal artwork, or driftwood centerpieces – the possibilities are almost limitless! With these creative ideas, you can easily create the perfect seaside oasis in any bedroom.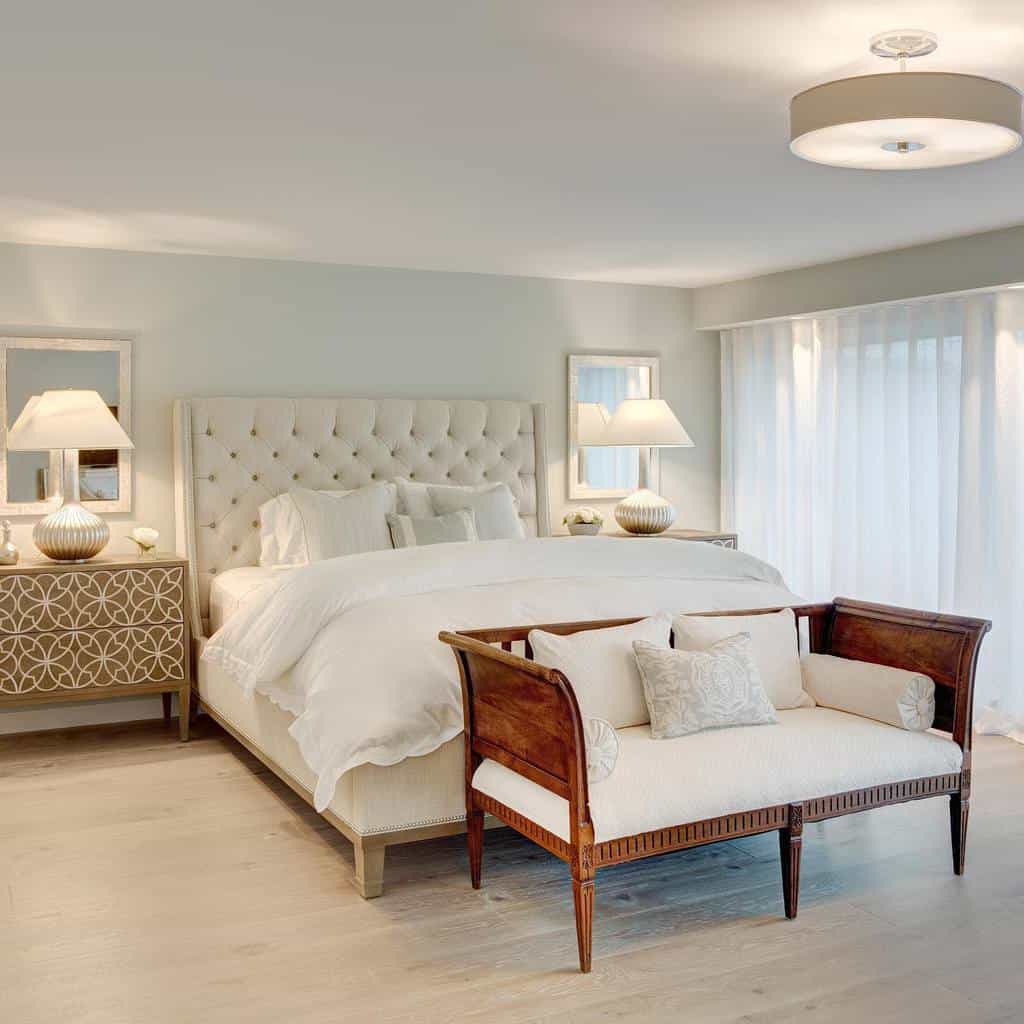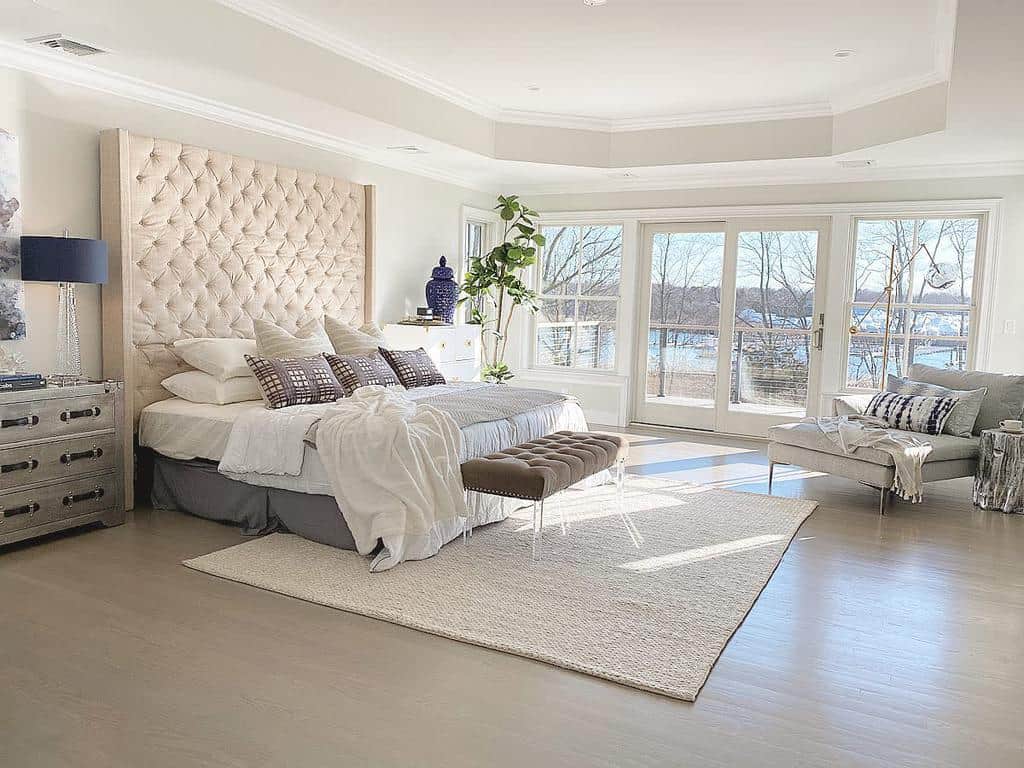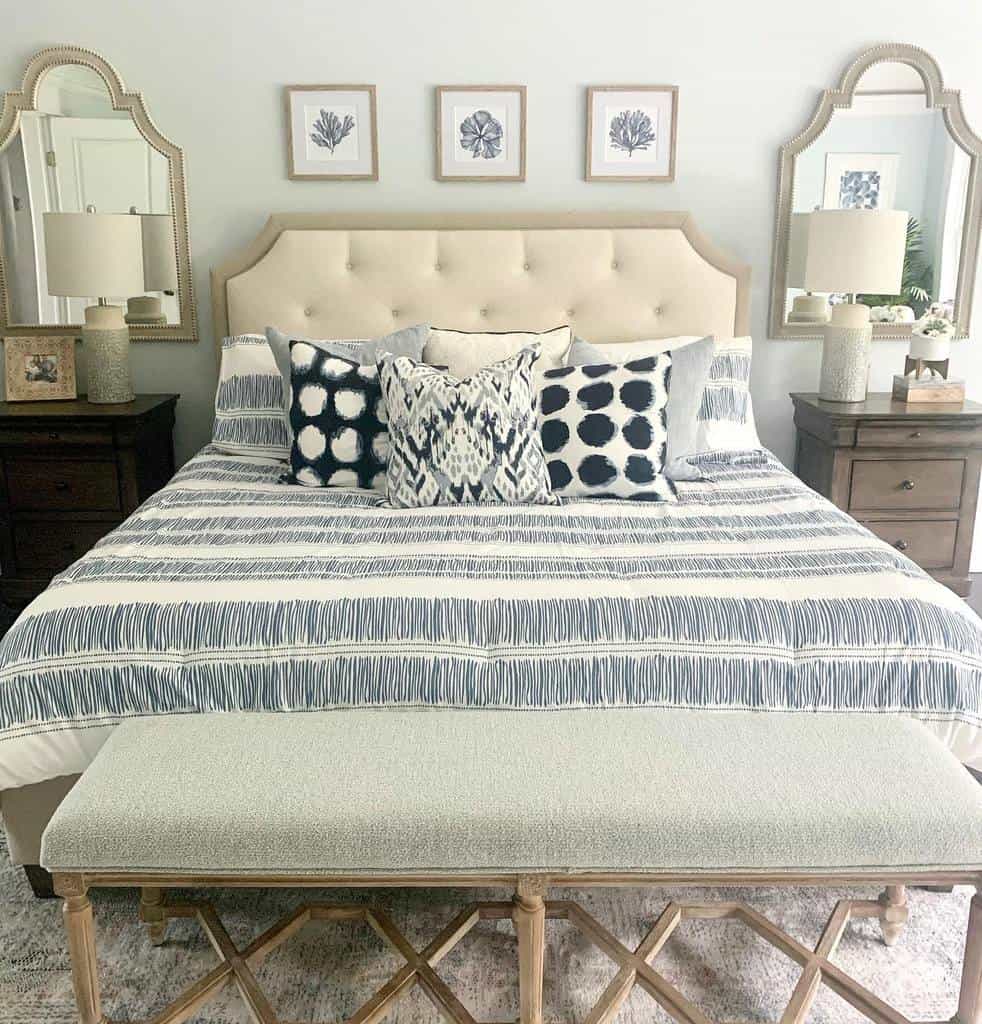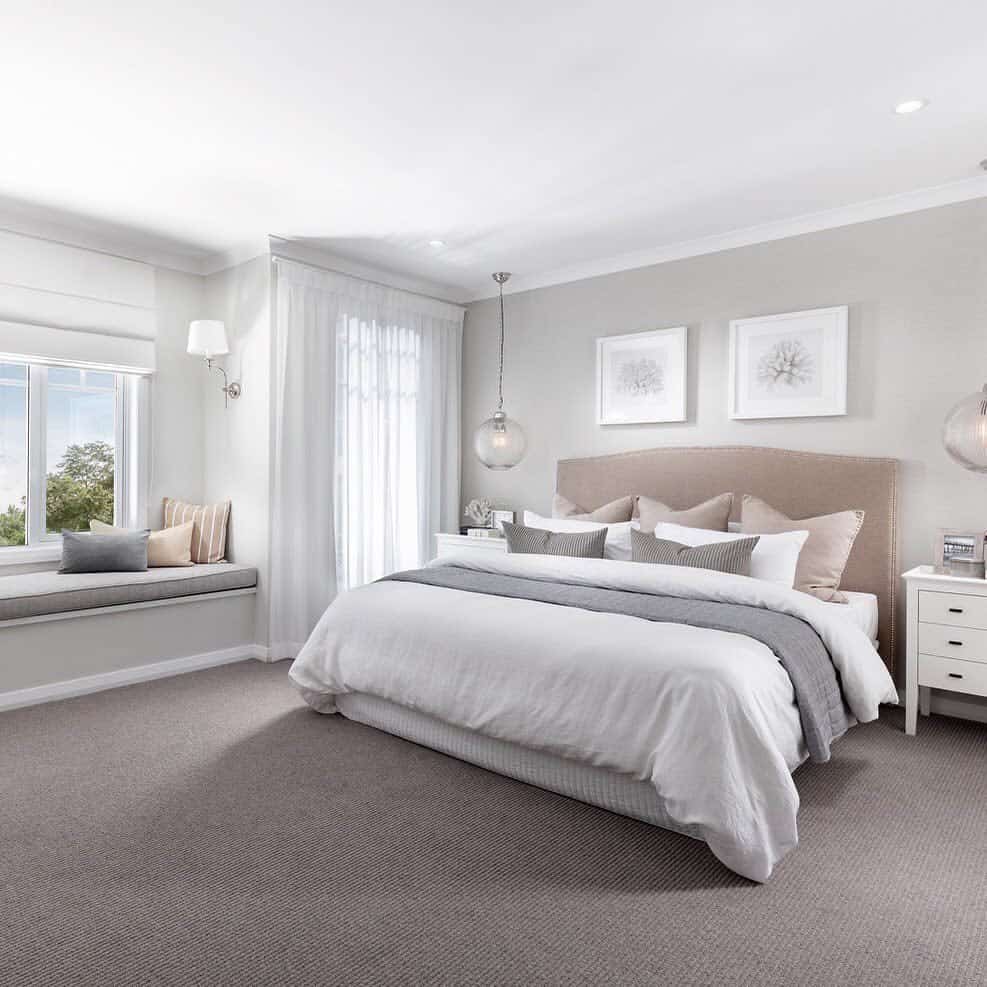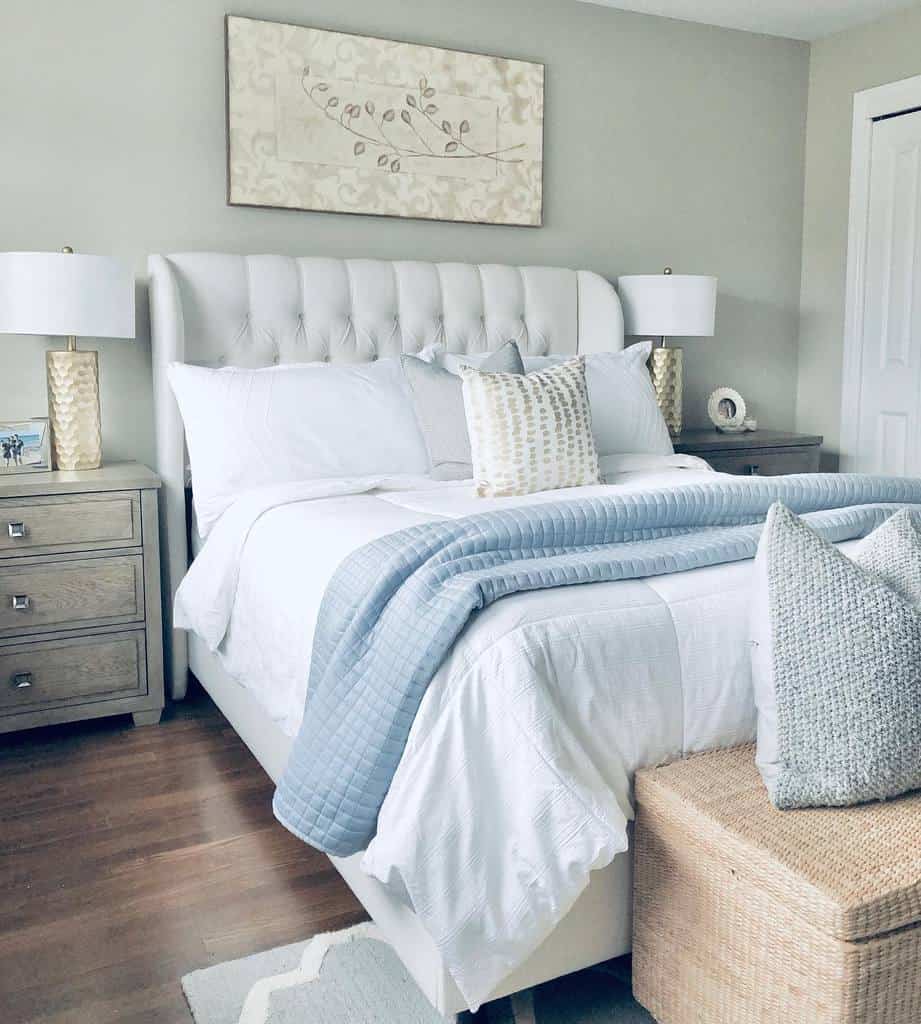 12. Incorporate Plants Into Your Bedroom
Creating a tranquil, coastal-inspired bedroom atmosphere is easy and fun. One simple way to incorporate a seaside look into your space is through color. Cool blues and sandy shades radiate beachside vibes, but make sure not to go too overboard—too many of these hues can dull the room down. Next, incorporate plants into your bedroom!
Natural elements like bamboo and dried bouquets bring a touch of the outdoors in without overpowering the design. Lastly, don't forget texture!
Adding texture with textiles like linen or jute can bring an extra layer to your bedroom atmosphere that will remind you of a day at the beach. Take these tips into account when brainstorming cozy coastal bedroom ideas for your home.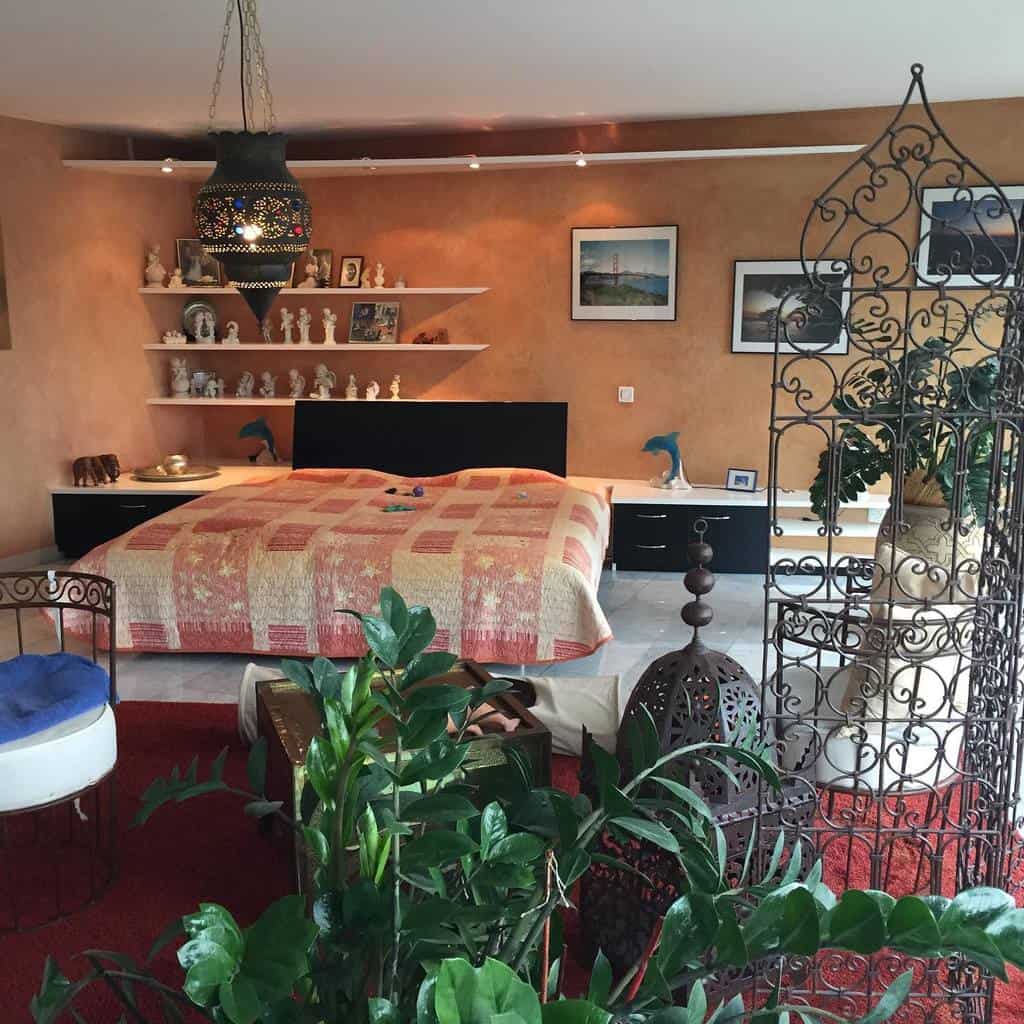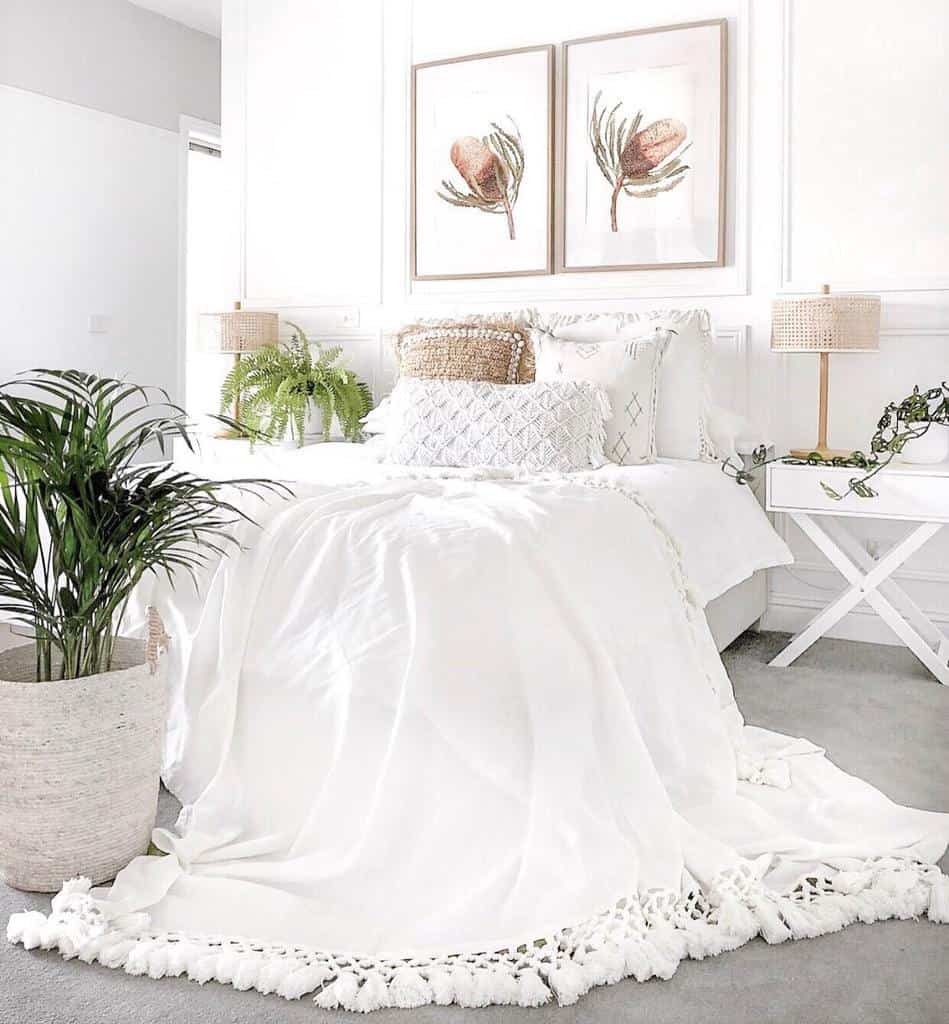 13. Go For A White Interior
Creating the perfect coastal bedroom can be made easy by sticking to white tones! An all-white interior space will not only brighten up the room, but it will also give off a calming atmosphere. According to interior design experts, white is a fantastic color since it can complement any other colors in your favorite accessories.
Take advantage of white walls and choose white bed linens and curtains that create a seamless look. You can also use white furniture pieces such as chairs, cupboards, and side tables to tie the design together and make your coastal bedroom complete!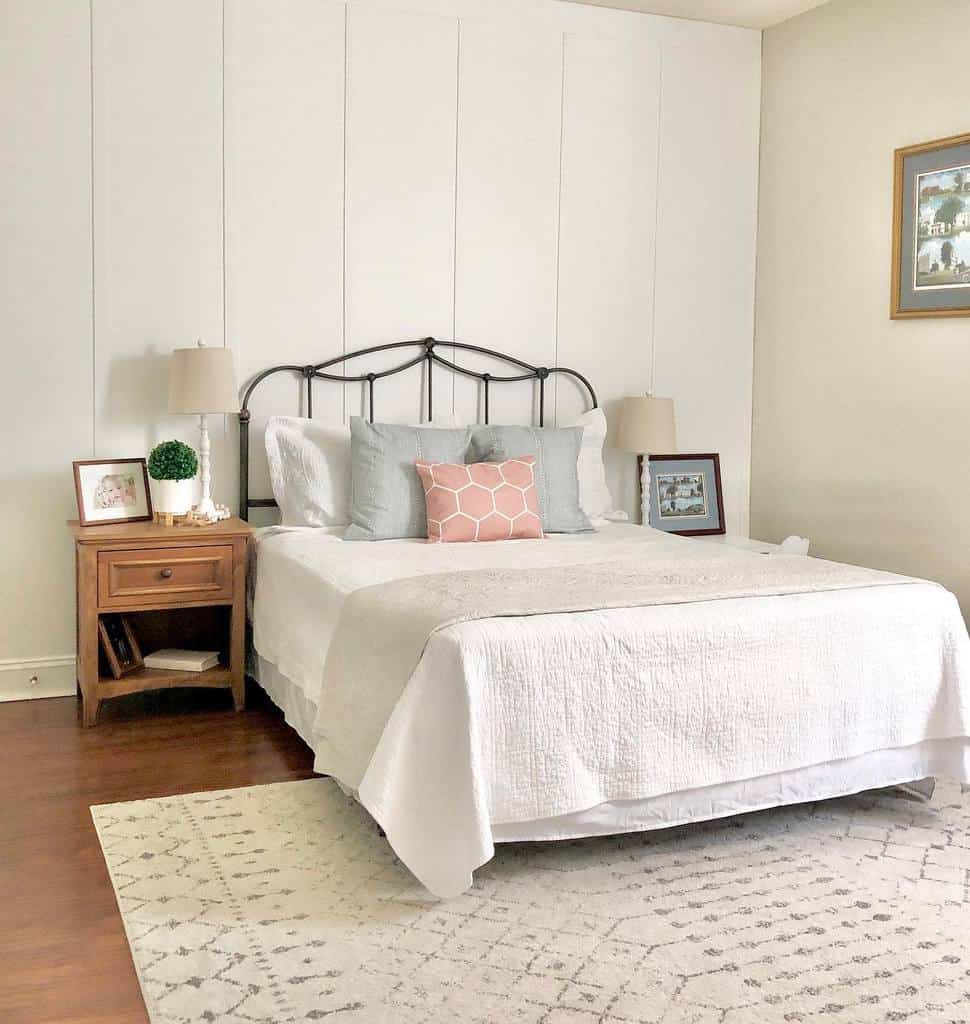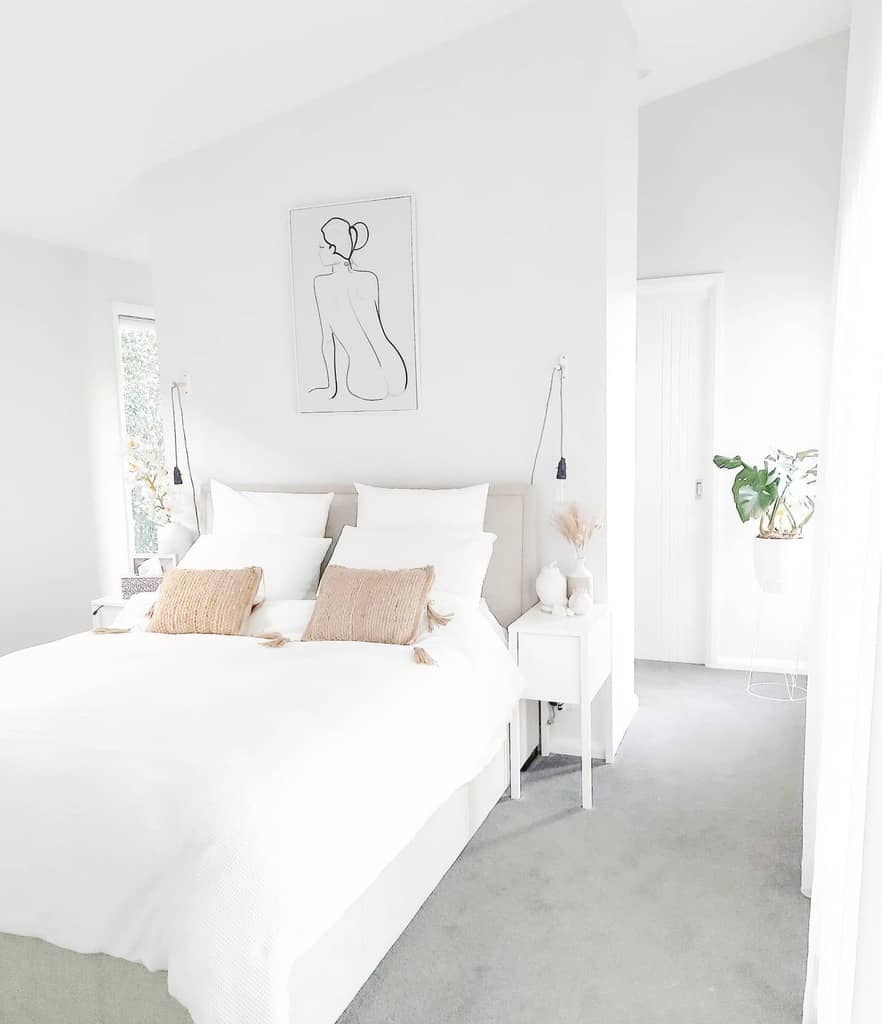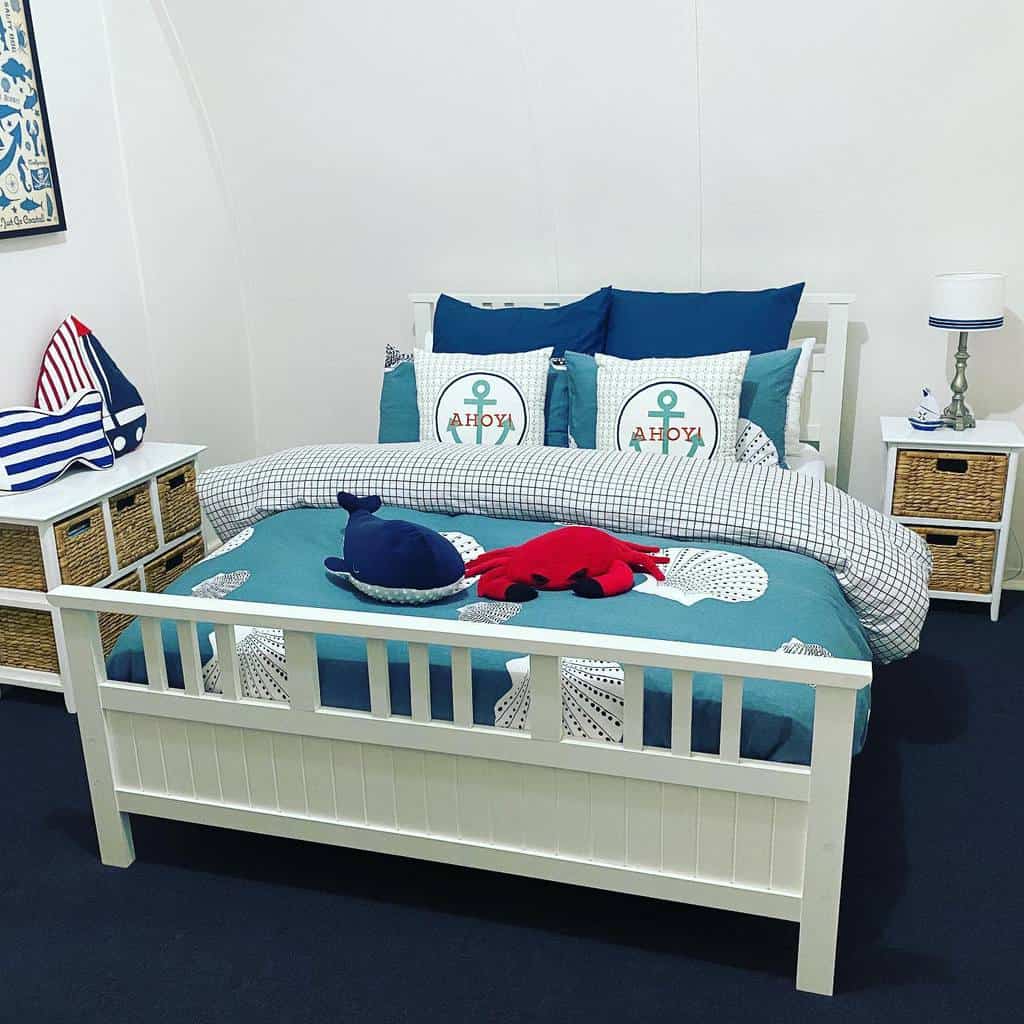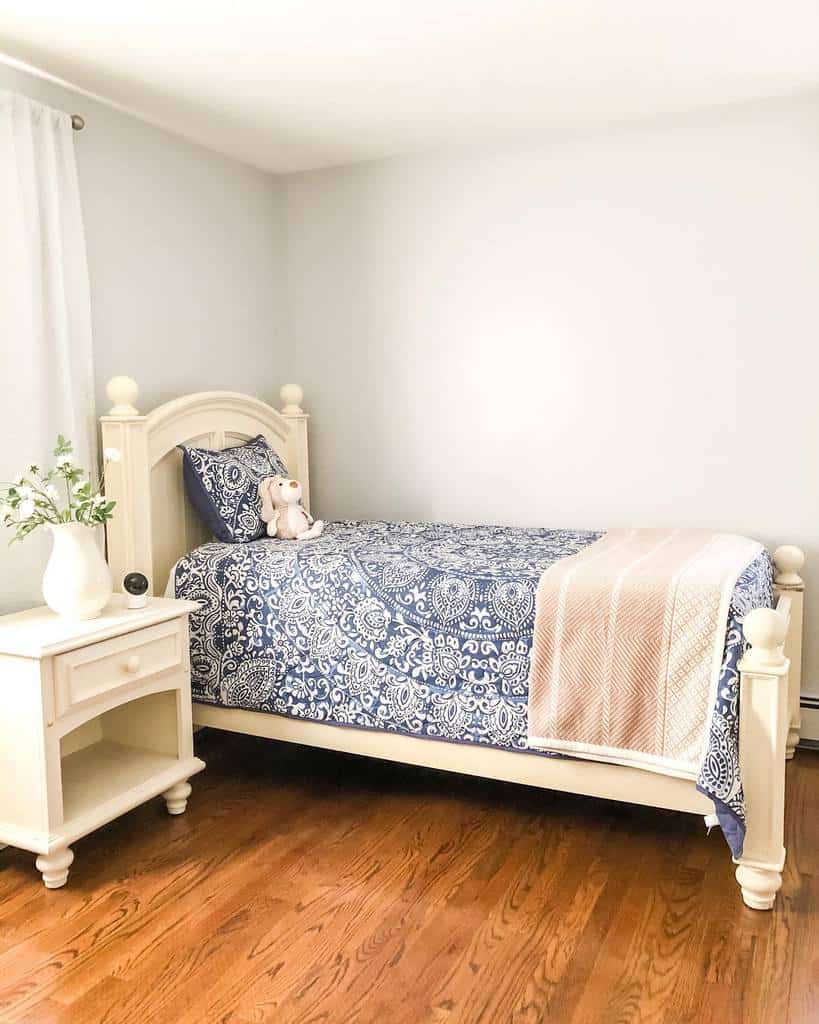 14. Mix Wood With Blue Fittings
Coastal bedrooms offer the opportunity to mix materials like wood and blue fittings for an airy, relaxed atmosphere. If you want to capitalize on this mix of natural elements, start off by finding unobtrusive pieces with bleached-out wood looks for your bed frame and bedside table.
Then mix in sea foam hues for accents – curtains, throw pillows, and area rugs are all great ways to use these calming tones to perfection. Once you have these touches in place, you can add more graphic appeal with striped bench seating and wall tapestries.
Finally, don't forget to brighten the room up with delicate silver frames or geometric shell sculptures – just a few small items can go a long way toward finishing off your coastal-inspired bedroom!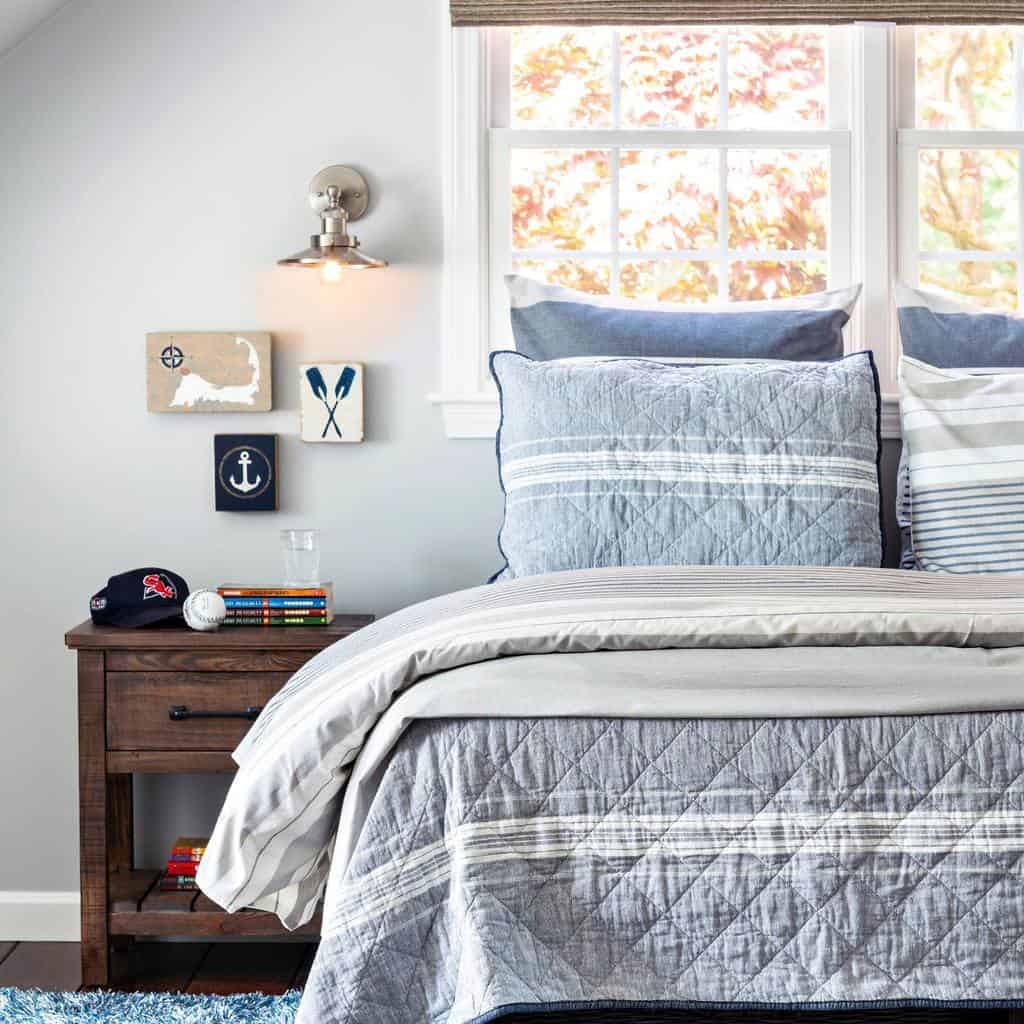 15. Choose Earthy Colors
When decorating a coastal bedroom, choose earthy colors and natural fabrics to create an organic feel. Light blues, grays, whites, and beiges bring the ocean indoors without feeling overwhelming. Natural linen bedding adds texture and interest while reflecting the softness of the sand and sea.
Decorative shells found on your beach adventures will complete the look by tying everything together beautifully. For a final touch, choose rustic wood accents to give your space a timelessly elegant feel.
Add a few throw pillows in colors inspired by the ocean for an instant calming effect for a tranquil coastal retreat.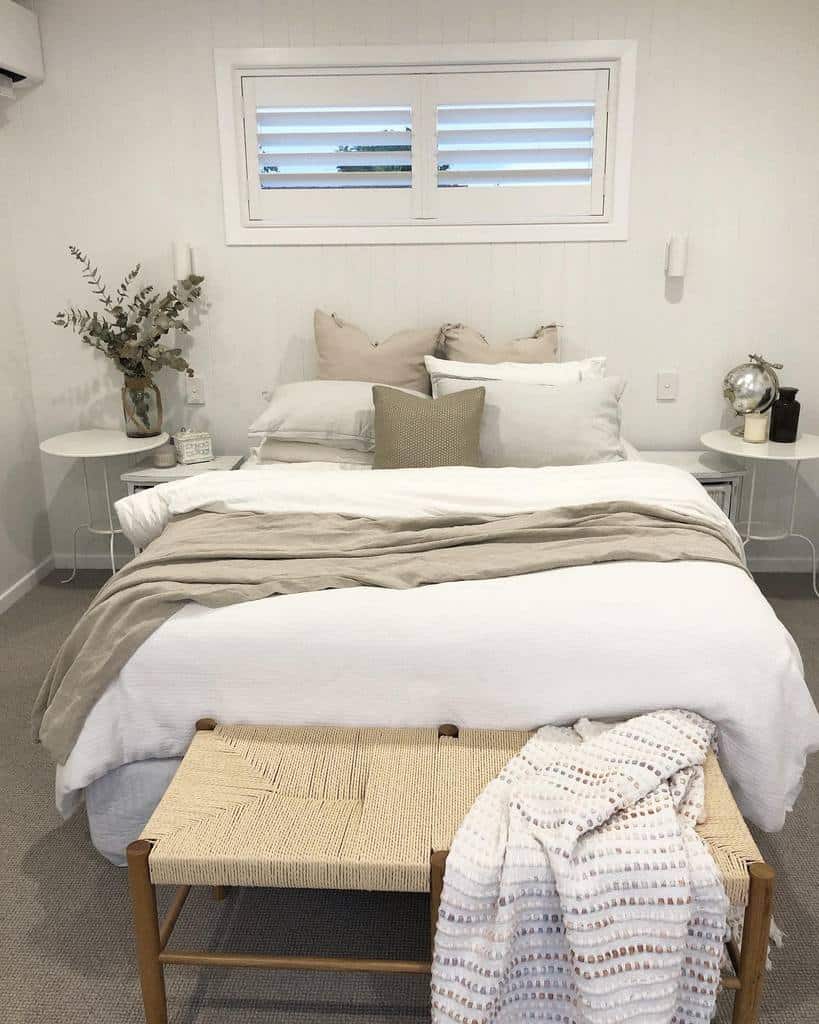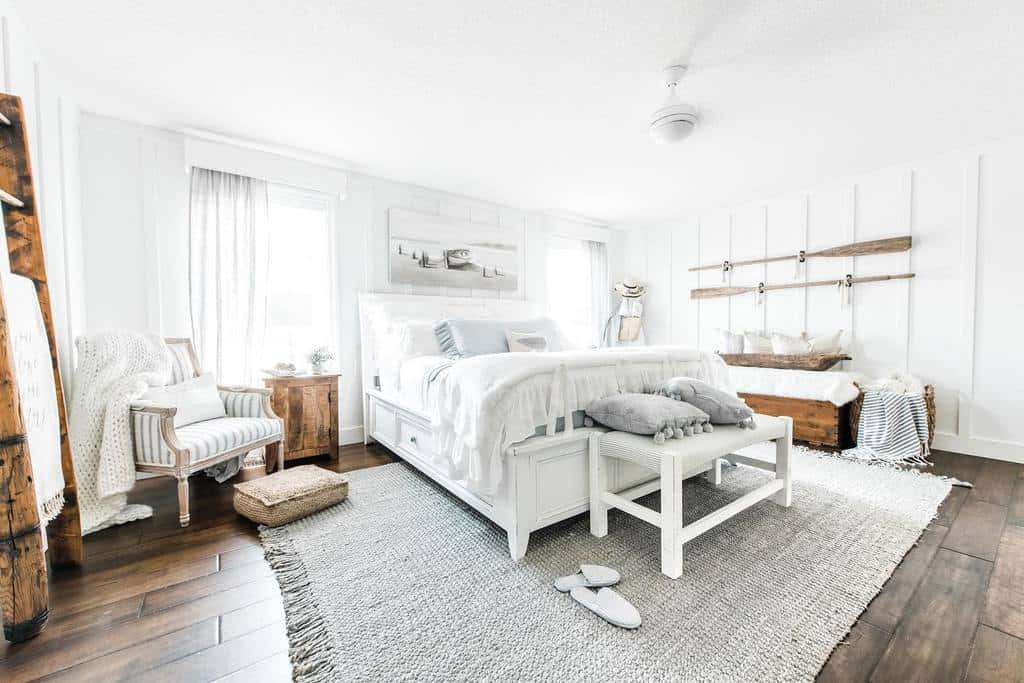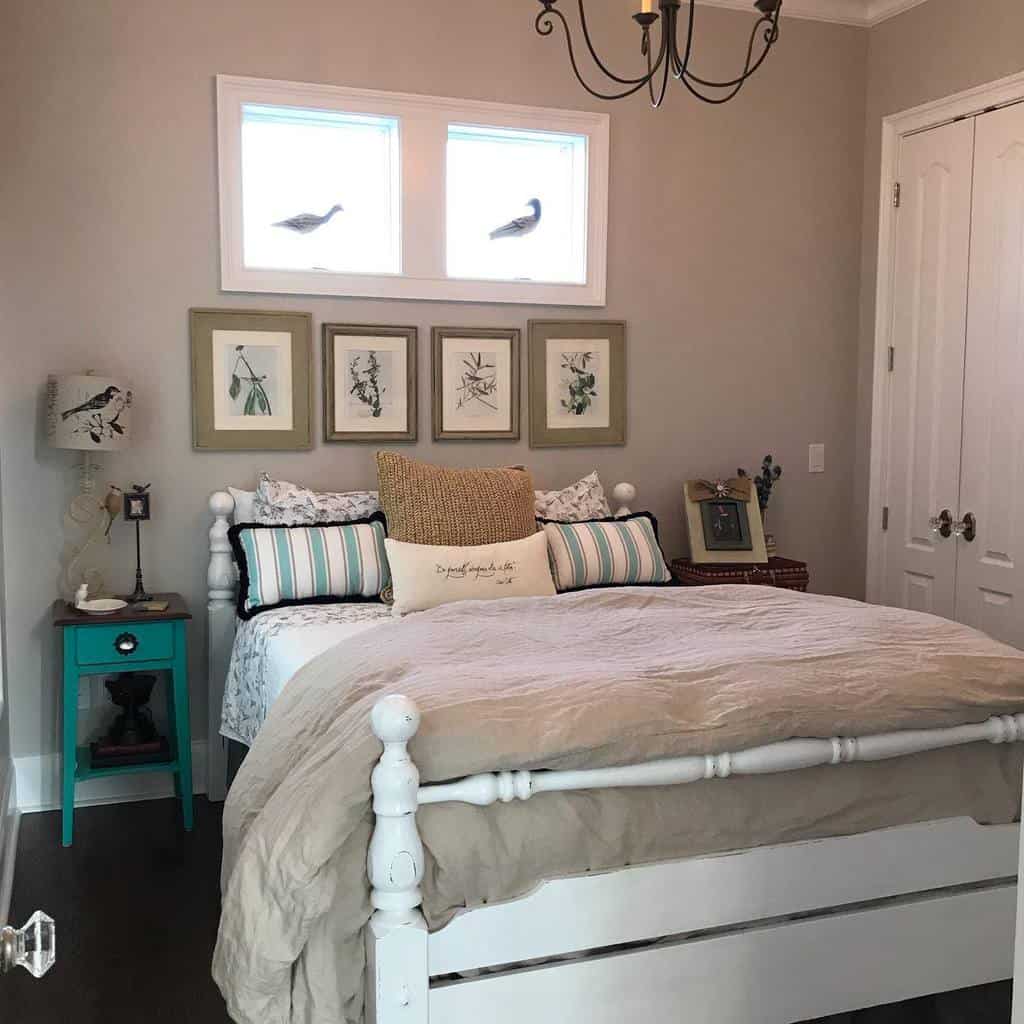 16. Install Decorative Wallpaper
If you're looking for creative coastal bedroom ideas, why not try installing decorative wallpaper? A well-chosen wallpaper will help create a soothing atmosphere in your space and evoke a sense of the ocean. Look to muted tones and gentle patterns for ocean themes– think cool blues, soft greens, and subtle whites evoking understated sandy beaches.
Other easy coastal touches include patterned throw pillows, light linens with beach motifs, and driftwood headboards or nightstands. With just a few of these simple decorations, you'll be able to bring the serenity of the beach into your own bedroom.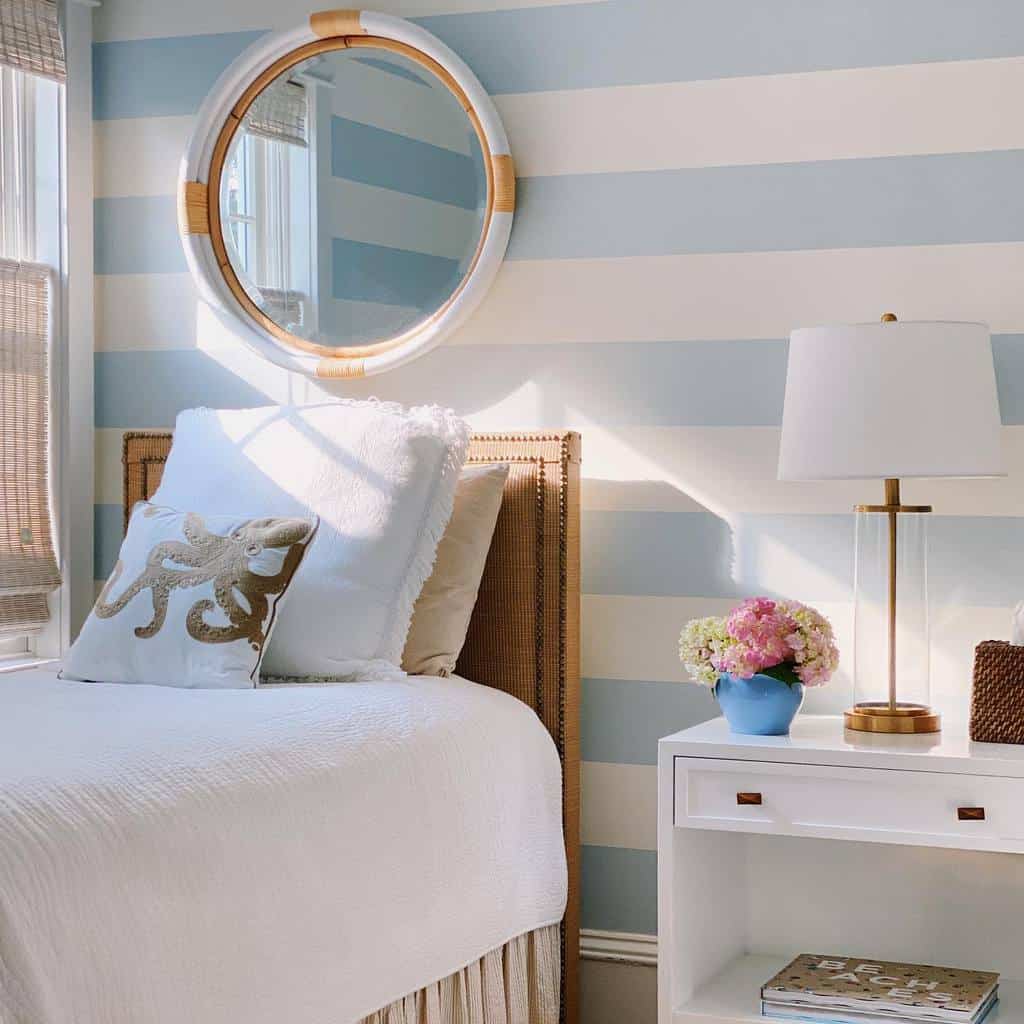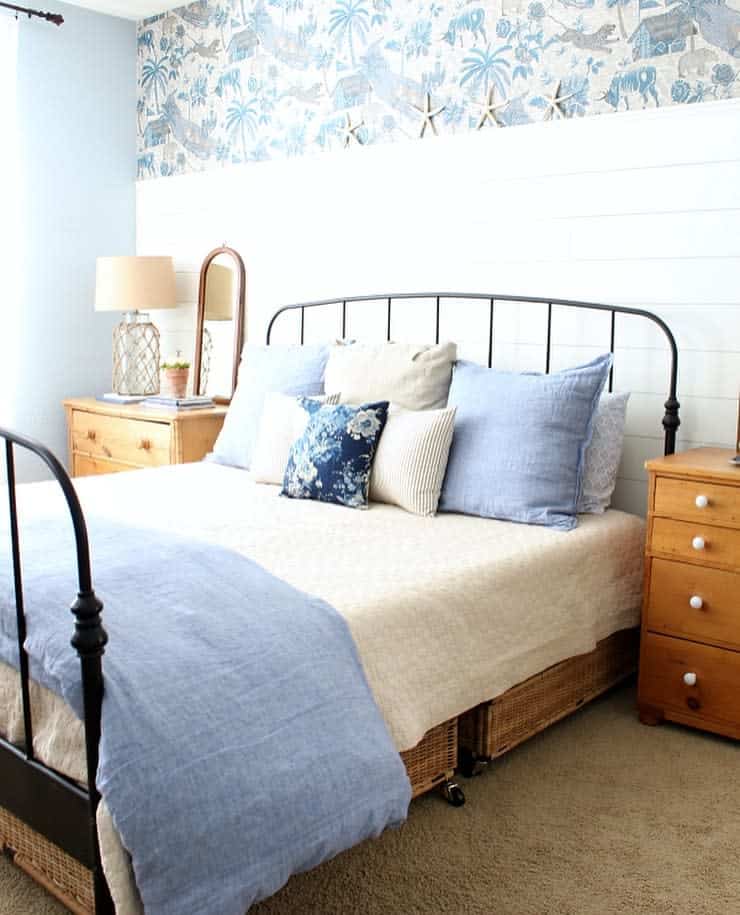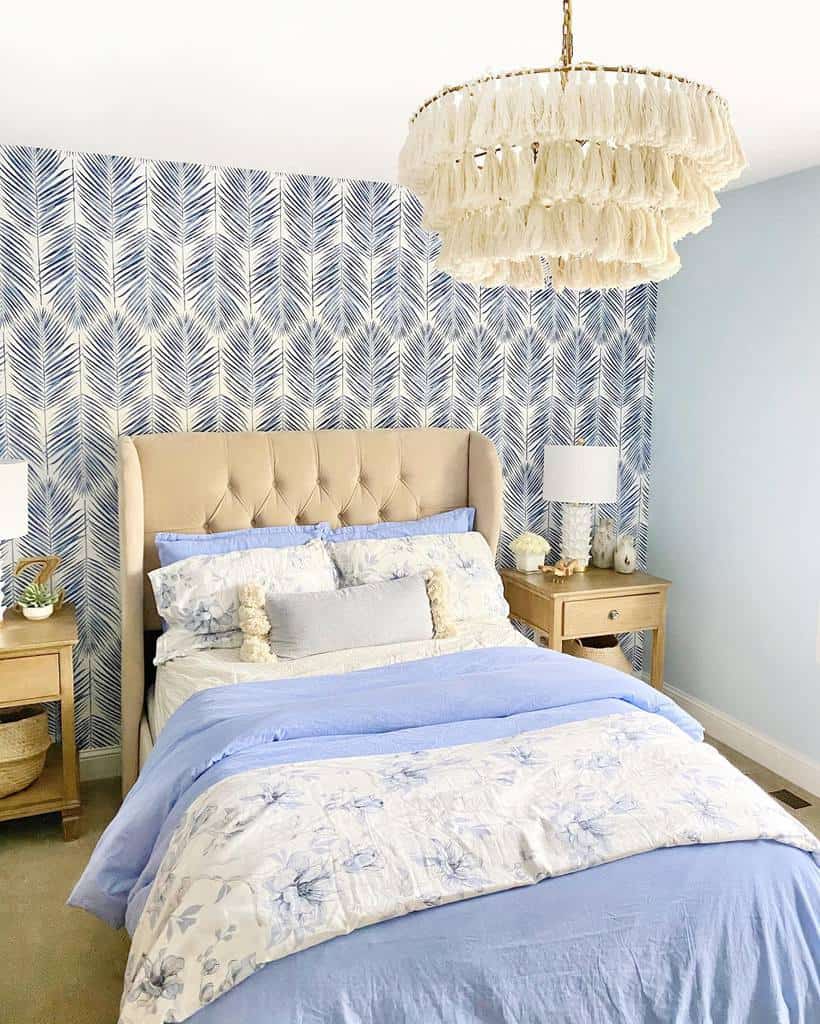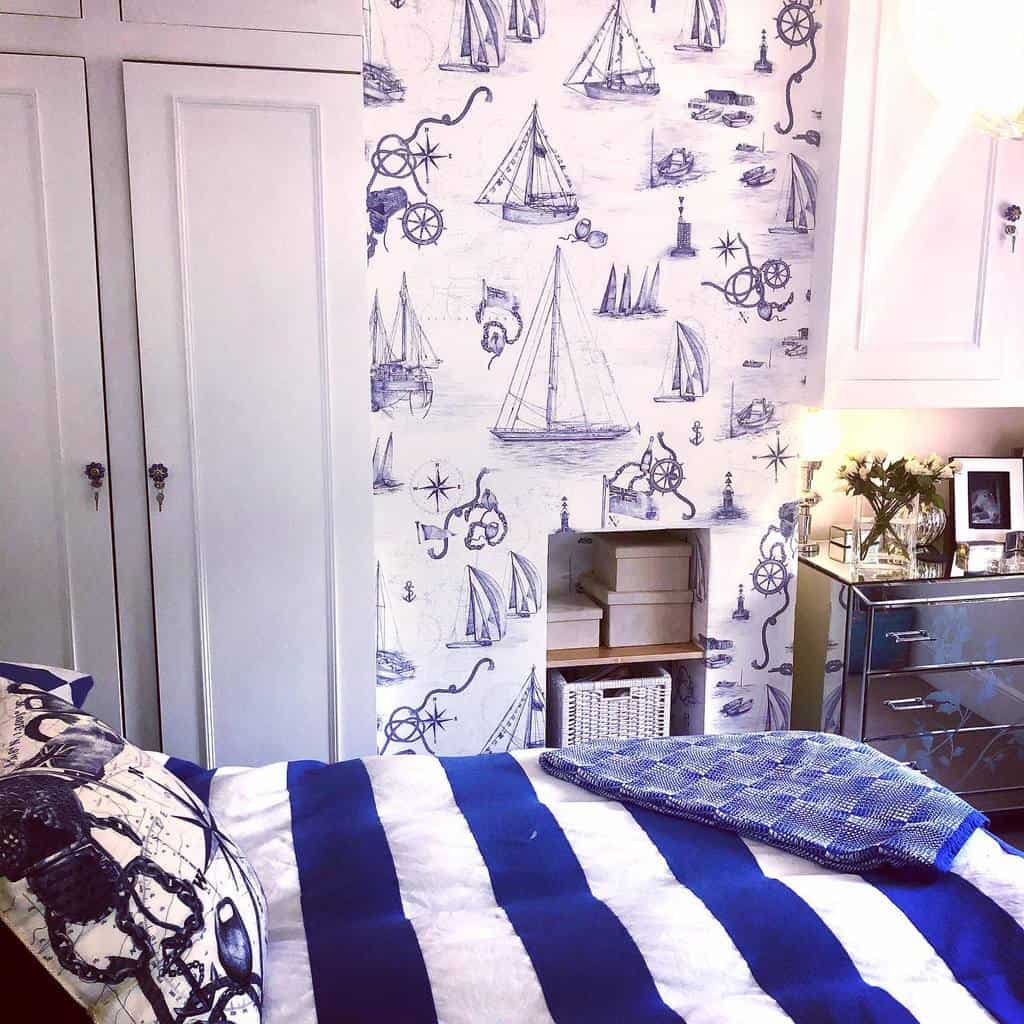 Coastal Bedroom FAQs
How do I make my room feel beachy?
Add elements that you could find on the coast to your home. This could be natural materials like driftwood, shells, sea glass, coastal grasses, and sea stones. It can also be decorative items such as natural fiber line that was traditionally used on ships. Other items like wire baskets, rustic wood furniture, and cedar shingles can all create a beachy feel.
Is coastal decor going out of style?
Traditional coastal elements never go out of style. Keep things simple and classy, and you'll create an elegant yet comfortable bedroom. Soft neutrals and shades of blue are also universally appealing. Modern neutrals and bold maximalism are both trending right now. You can do either with a coastal feel to keep your beach-inspired room feeling fresh.
What are some beachy colors?
Think of the colors that you would find at the beach. This could be shades of blue and turquoise to mimic the water. A bright yellow can represent the sun. Neutrals in shades of white, cream, and beige can mimic the sand. A pale or bright blue can represent the color of the sky on a warm summer day.