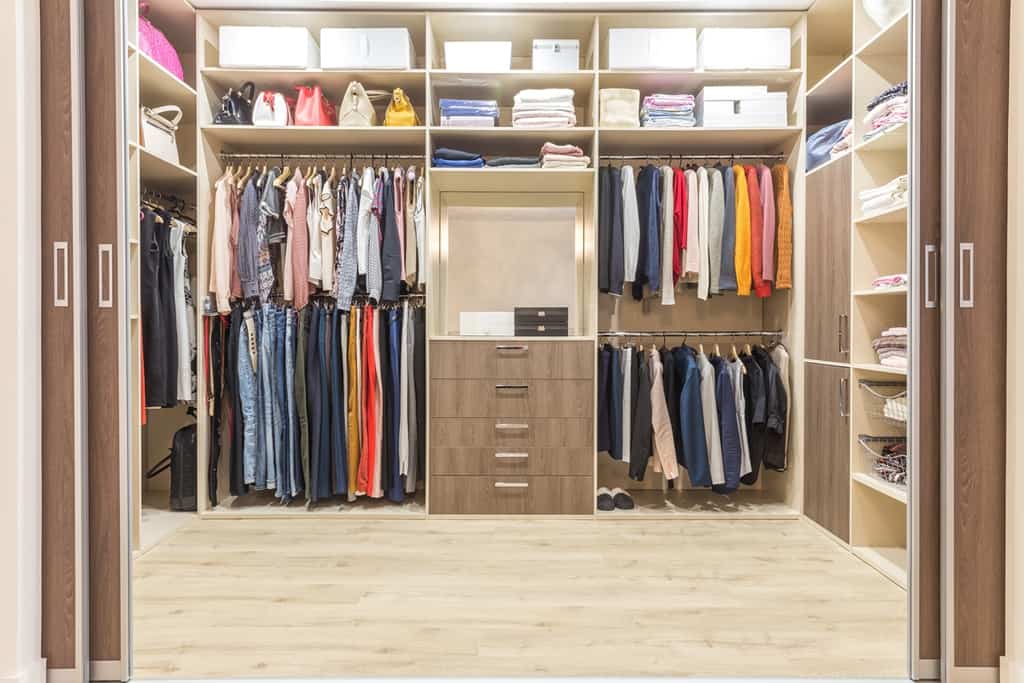 How to Cover a Closet Without Doors
If you live in a small apartment or home, you know the frustration created when you try to open your closet doors. Whether they are swing open or bi-fold, opening closet doors takes up additional floor space that you just don't have. In addition, you have to be careful about furniture placement so that the doors don't bang into the furniture. The easiest solution is to take the doors off the closet. But now you have a new problem, how do you cover the open closet with doors? 
Try one of these ideas to cover your closet that will take up less space while still looking stylish.
Curtains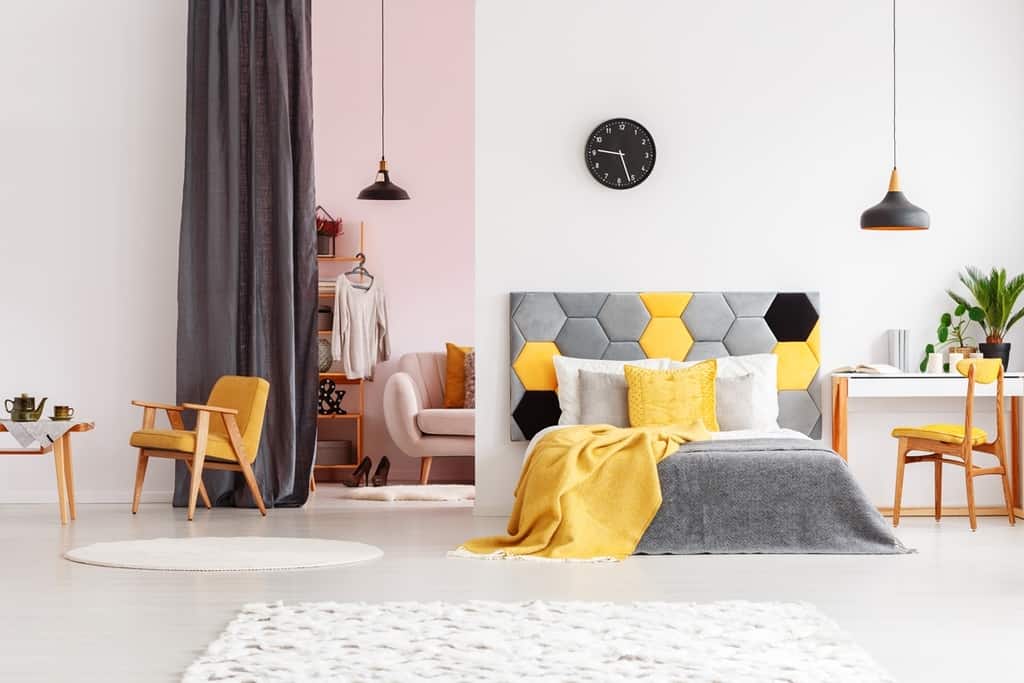 One of the easiest solutions is to add curtains. This is a doable DIY project that anyone can accomplish. It's also possible to add curtains in an apartment or rental home where you don't want to create holes. Start by choosing your installation method. A temporary and removable solution is to use a tension rod. You could mount a curtain rod with screw-in rod supports for a more permanent option. For a traditional look, choose a rod that mounts into the wall. For a modern feel, choose a set of ceiling curtain tracks.
Once you've chosen the rod, you can choose your curtains. The fabric should have a thick, dense weave that will block your ability to see into the closet. Choose a color or pattern that complements the rest of your bedroom design. 
Elevate the Look
Try mounting the curtain rod on the inside of the closet. This creates a clean design on the outside. The curtains should be long enough to just skim above the floor. Too short, and they will look awkward. Too long, and they'll pool in a pile on the floor and look sloppy. Additionally, add tiebacks or hooks that will hold the curtains out of the way when you want to access the closet.
Beads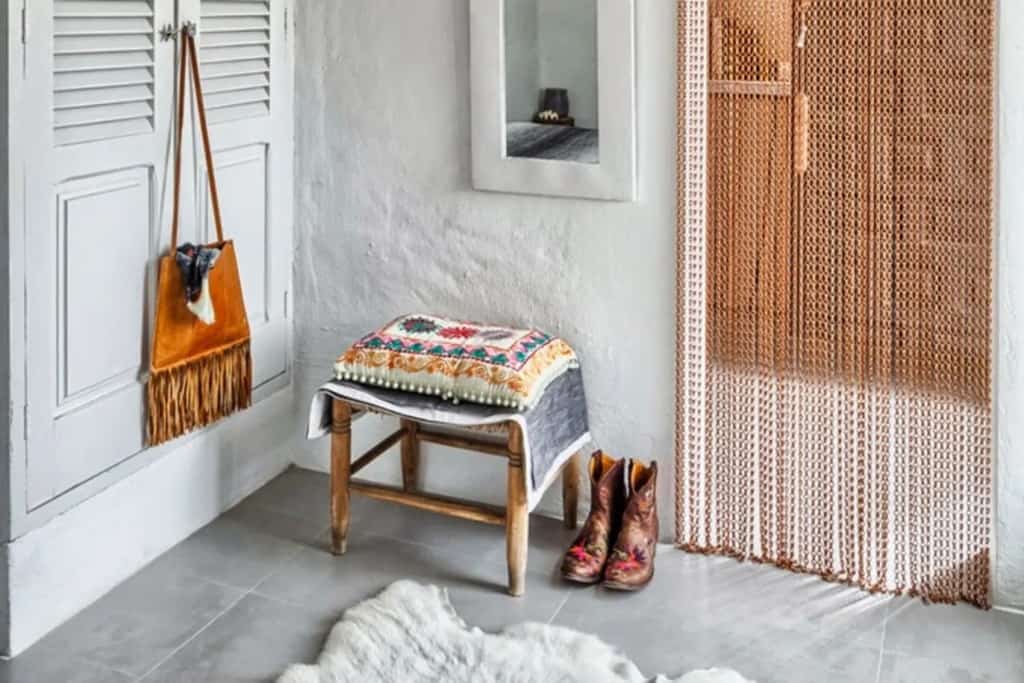 Give your closet a vintage or bohemian feel with a beaded curtain. There are curtains made from brightly colored beads, wood, or bamboo. Some have a random pattern, while others will have a decorative design. If you're looking for more of a visual block, choose a curtain that has beaded strings placed close together and maintain the same width as the entire length of the curtain.
Curtains with more space between the strings or varying widths allow you to see through the strings more easily. As someone who has had a beaded curtain in a doorway, there are some drawbacks to using a beaded curtain. They can get annoying as you move the beaded strings out of the way every time you want to walk through the door. They can get caught on your hair or clothing as you move through the curtain. Depending on the material they are made out of, the beads can make noise when they move, which can be annoying.
Give It a Unique Look
You can use a beaded curtain in your glam bedroom. Choose a beaded curtain that's made from glittery beads or crystals. This style of beaded curtain will sparkle and catch the light. Another option is to choose one made of metallic beads. These curtains will add an extra touch of glam to your bedroom. The individual strings of beads will swing and move, catching the light, adding movement and shine.
Roman Shades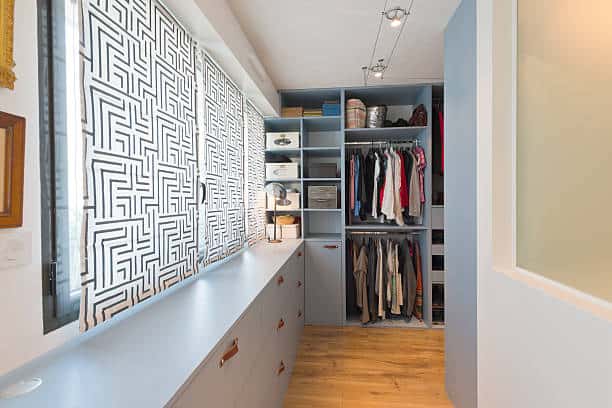 The primary function of Roman shades is to be a window covering, but that doesn't mean they can't serve another purpose. Using them to cover your closet door opening is a smart solution because it's a classic decor piece that adds a touch of sophistication to any room. Additionally, because they are traditionally a window treatment, you can create a faux window look in your bedroom. Turn the light on in the closet behind them and create the illusion of your bedroom being brighter.
Roman shades are made of a single piece of fabric that's gently folded over itself as it cascades down the length of the window. When you pull the string the raise them, the folds sit on top of each other to compact down as they rise to the top of the window. The same function would happen in your closet doorway. If you have tall ceilings, mount the shade above the door frame so that when you raise the curtain, it neatly tucks up and out of the way.
The drawback of this option is that you'll likely have to purchase a custom shade. However, doors are typically a standard width, so once you have your shades made, you can take them down and move with them easily. There are also several DIY options that make it an affordable home improvement option.
Folding Screen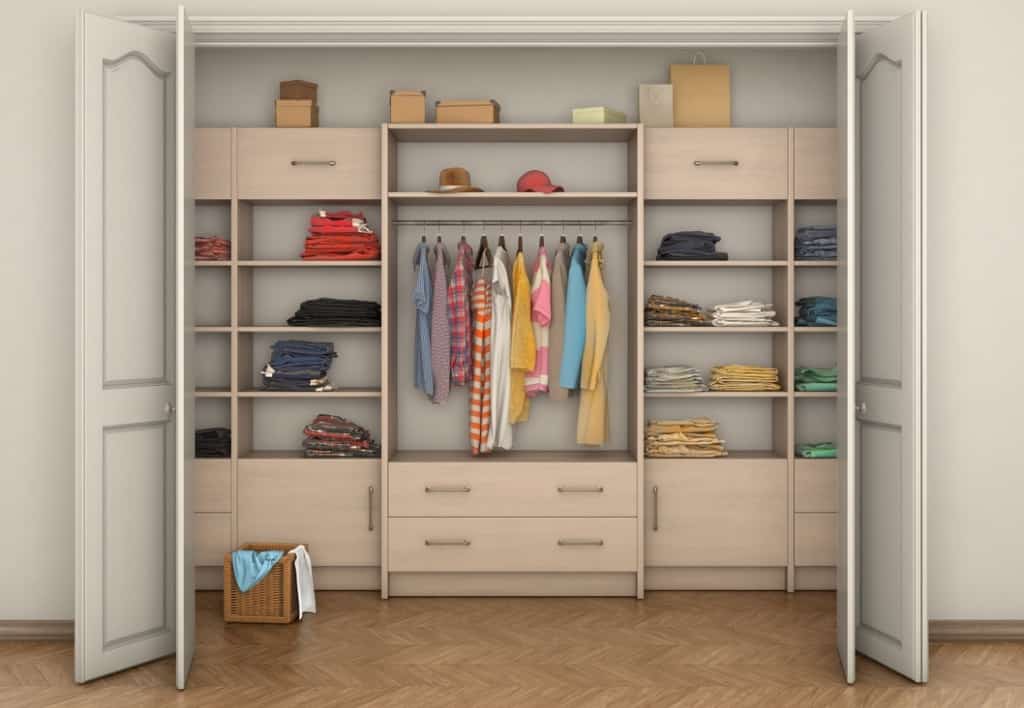 Traditionally, folding screens are used as room dividers. They typically have three or more panels that are connected with hinges. You can angle each panel so that the screen stands on its own. For your bedroom, you can use your folding screen to block the view of your open closet. What's nice about folding screens is that you can purchase them in a wide range of lengths and heights. This lets you create the perfect look for your bedroom. If you have a wide opening for your closet, you may want to use two screens. They will be lighter weight and easier to move.
Choose a screen that suits your bedroom's decor style. A bohemian screen could be made from hand-carved wood with an intricate design. An art decor screen will look sophisticated and elegant with elaborate decoration and touches of gold. If you love the farmhouse look, try a folding screen made from slatted panels or panels that are styled like barn doors.
For maximum effect, choose a folding screen that's taller. You shouldn't be able to see over it when standing in your bedroom. This means choosing a screen that's close to six feet tall.
Saloon Panels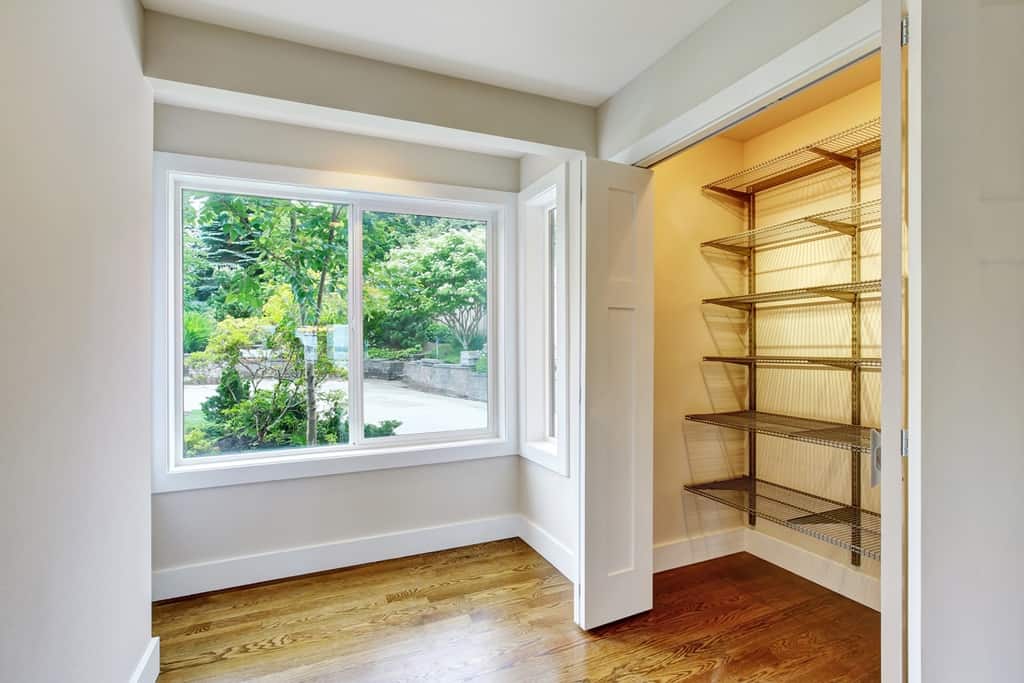 While saloon panels are technically doors, they don't function as a traditional door. This makes them ideal for taking up less space while also adding a unique style to your bedroom. While you could go traditional with western style saloon doors, there are other options. Traditional saloon doors tend to lack vertical height. They don't reach the floor, and they are easily seen over the top. Instead, look for a modern version of saloon doors that are the full height of your closet door space, with a small opening at the top and bottom.
Modernize Your Saloon Panels
Instead of sticking with the traditional wood doors, try glass panels instead. The frosted glass gives your closet and bedroom a modern feel while also blocking the view into the closet. For a sleek look, stick with unadorned large glass panels. For a vintage-inspired look that still feels modern, choose glass doors with a solid black frame that creates the look of multiple panels.
Accordion Screen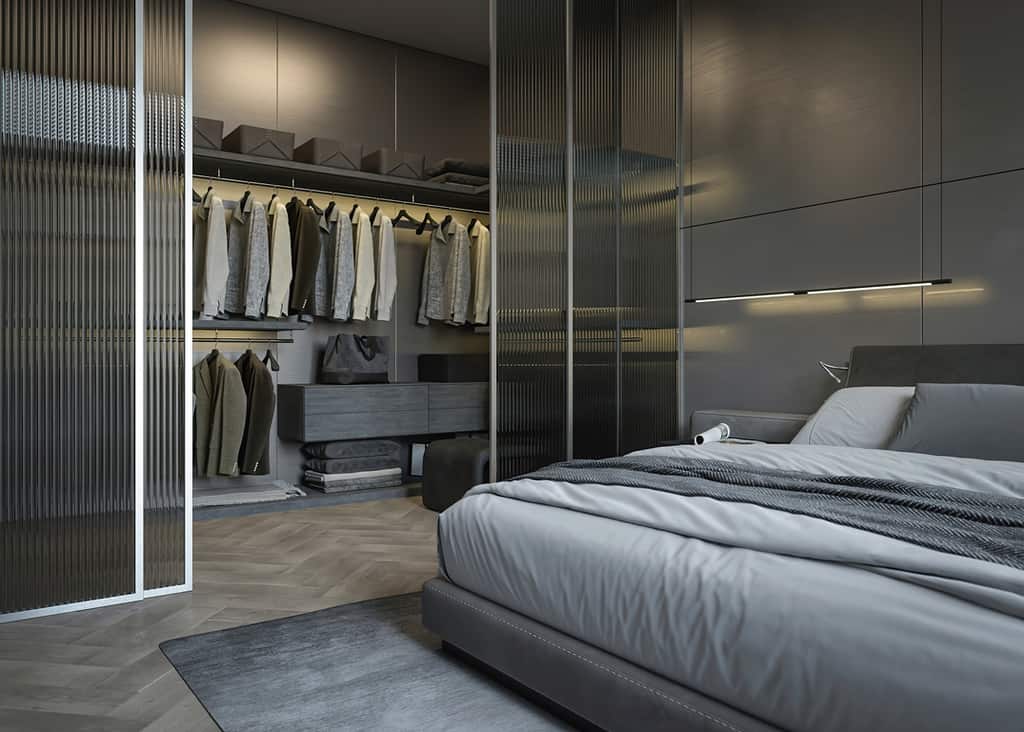 An accordion screen is perfect for small spaces. They are similar to bifold doors, but the folding panels are much smaller. This helps the screen to take up less space. Accordion screens are made from vinyl material. There's a track that the screen will hang from, and you'll slide the screen open and close on the track. To help keep the door closed, small magnets will hold the door in place.
These screens are perfect for small spaces or rental properties. They are affordable and lightweight. However, they aren't the best option if you're looking for a permanent option. They tend to look lower quality than other options on this list. They also come in a limited set of color options. However, there are faux wood options that can give your bedroom an earthy look.
Large Mirror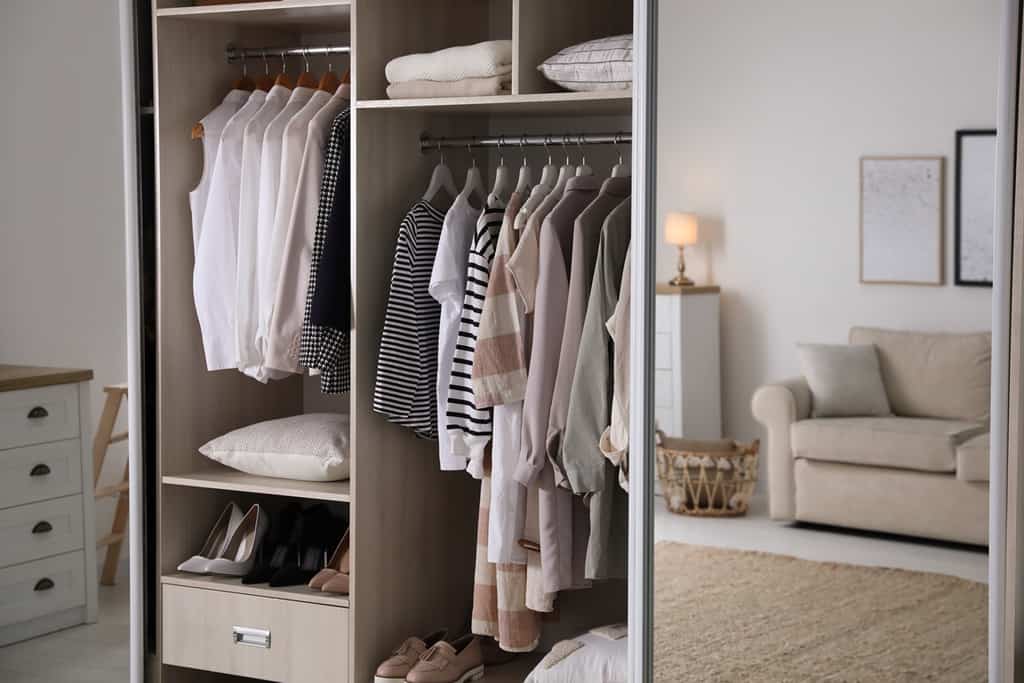 Placing a large mirror in your bedroom helps it feel bigger and brighter. However, it can be challenging to find a large empty wall to hang your mirror or enough floor space for a freestanding mirror. Instead, use a mirror to cover the opening to your closet. One option is to mount the mirror on wheels. Then you can easily move the mirror out of the way and then back in front of the closet. Choose a full-length mirror that lets you see your entire outfit. 
Another option is to cover a barn-style door with a mirror. While this is technically a door, it's a new take on a popular space-saving door option. Rolling barn doors sit flush against the wall and hang from a track mounted on the wall above it. There are wheels on the door that allow the door to roll back and forth. This door style doesn't take up a lot of floor space in the room but does require you to have a blank wall next to the closet that's large enough for the door to roll in front of when the door opens. Instead of leaving this door plain, mount a large mirror on it. Now it looks like the mirror is mounted on the track. A large mirror of this size will help your bedroom feel significantly larger and brighter. To give the mirror a bit more style, add a frame around the mirror in metal or wood.