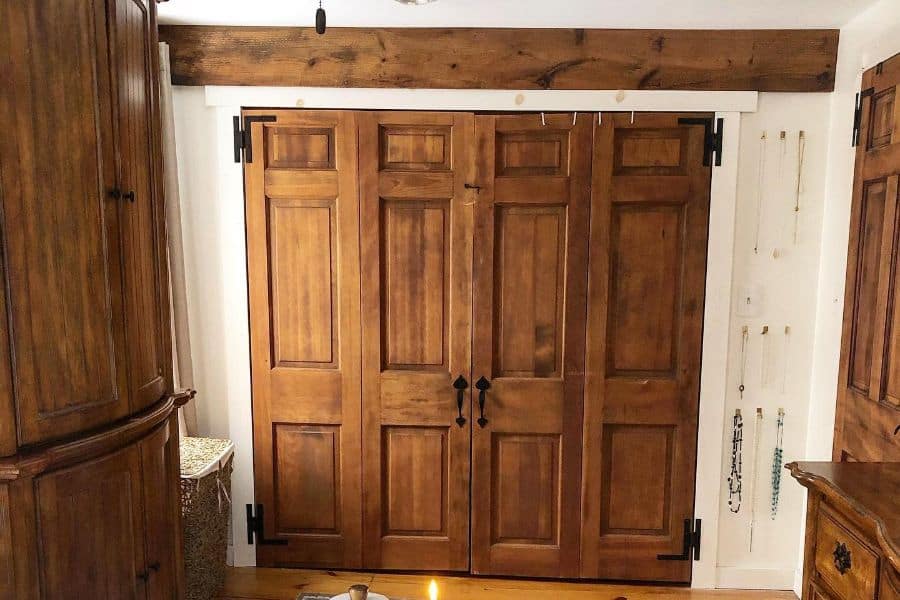 The Top 52 Closet Door Ideas
by — Kari Apted

Published on September 16, 2021

Updated on October 14, 2023
"The closet door is open for me, where I left it; since I left it open, it has graciously stayed open." – Allen Ginsberg
Closets are ideal storage spaces, largely because you can shut the door and hide the mess. Closet doors are one of those often-overlooked features that can make or break a room's interior design.
The ideal closet door doesn't necessarily have to match the room's other doors. A mirrored door, bifold door, or barn door are all excellent choices when you want to explore creative closet door ideas. Scroll through our best closet door collection and see all the ways you can jazz up this essential feature.
1. Slide with Rustic Barn Door Style
Introduce a touch of rustic charm to your bedroom with a sliding barn closet door. This design not only provides easy access to your wardrobe but also infuses a farmhouse-style elegance. To complement this look, consider using antique or distressed furniture in the room. The sliding feature is an added bonus, conserving floor space that traditional doors would occupy. When selecting, ensure the door's style and finish align with your overall décor.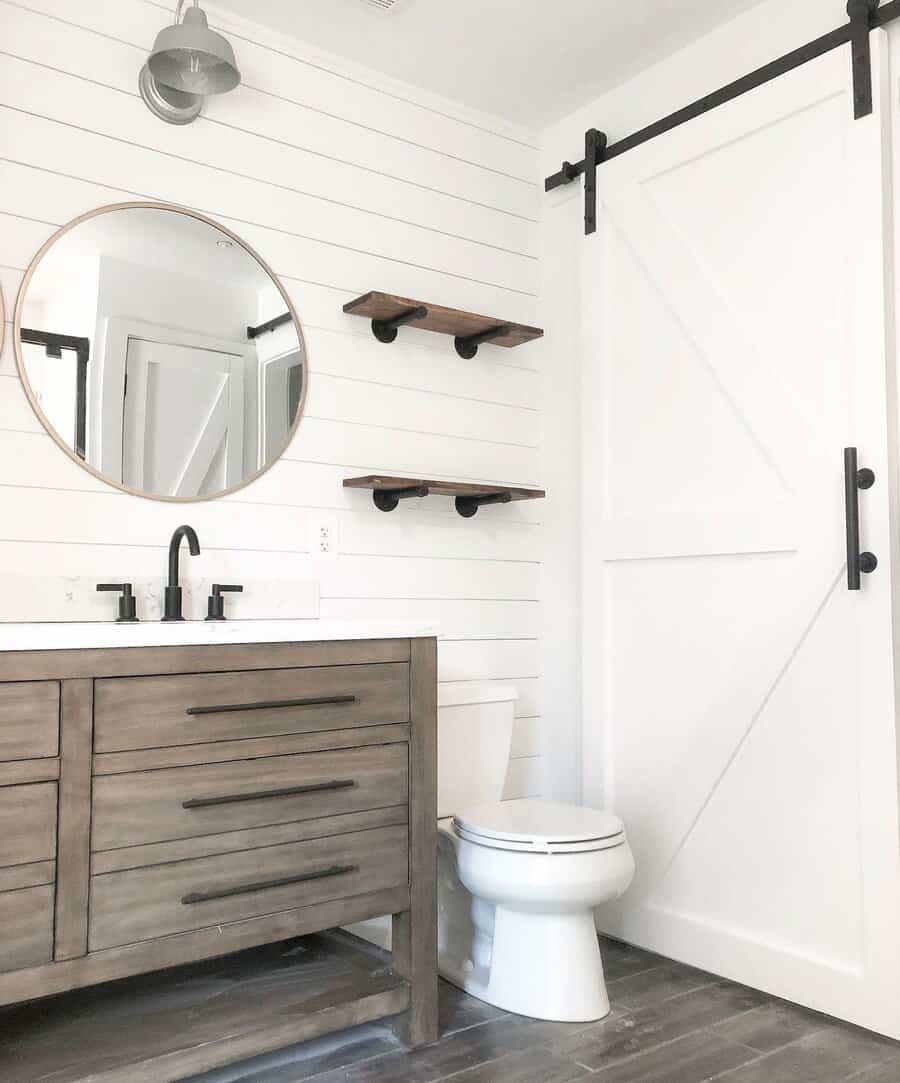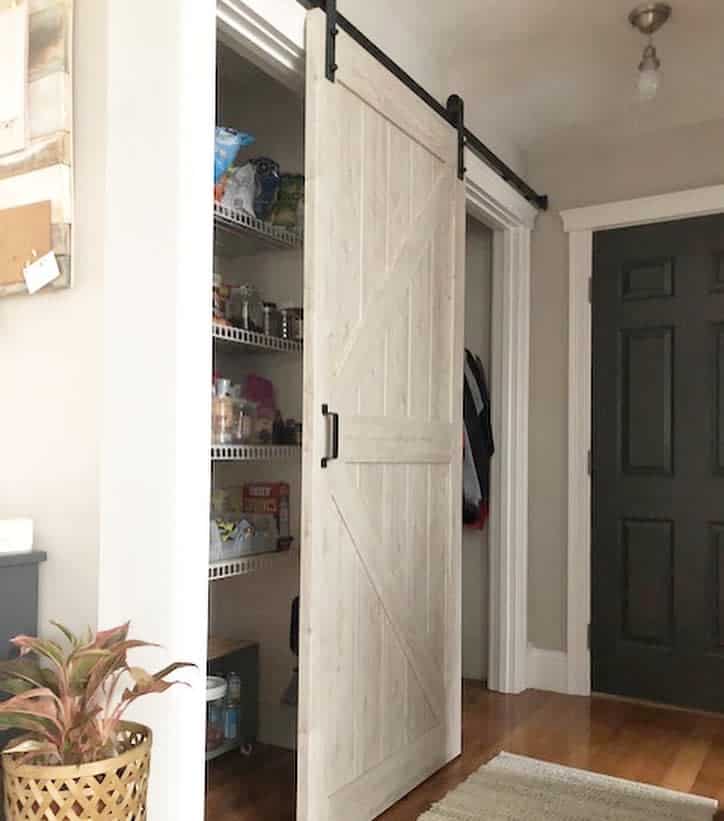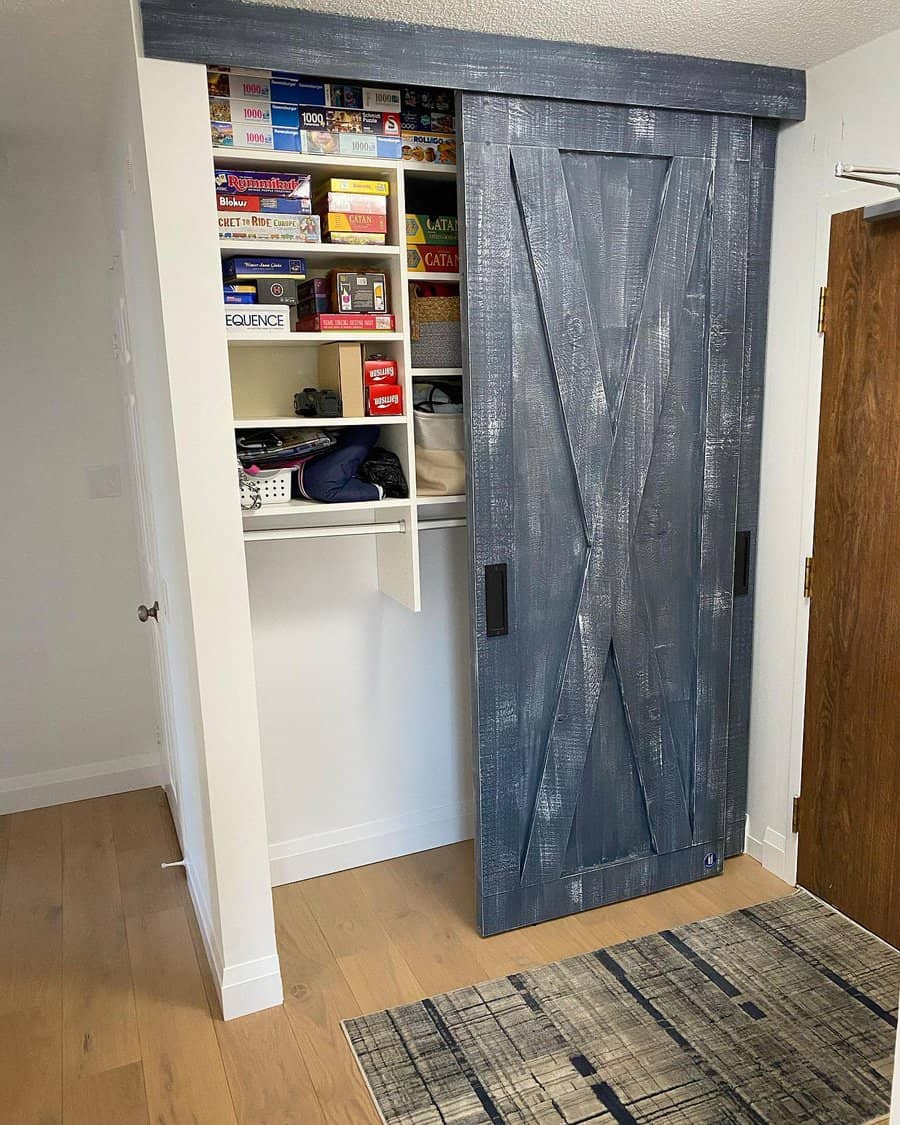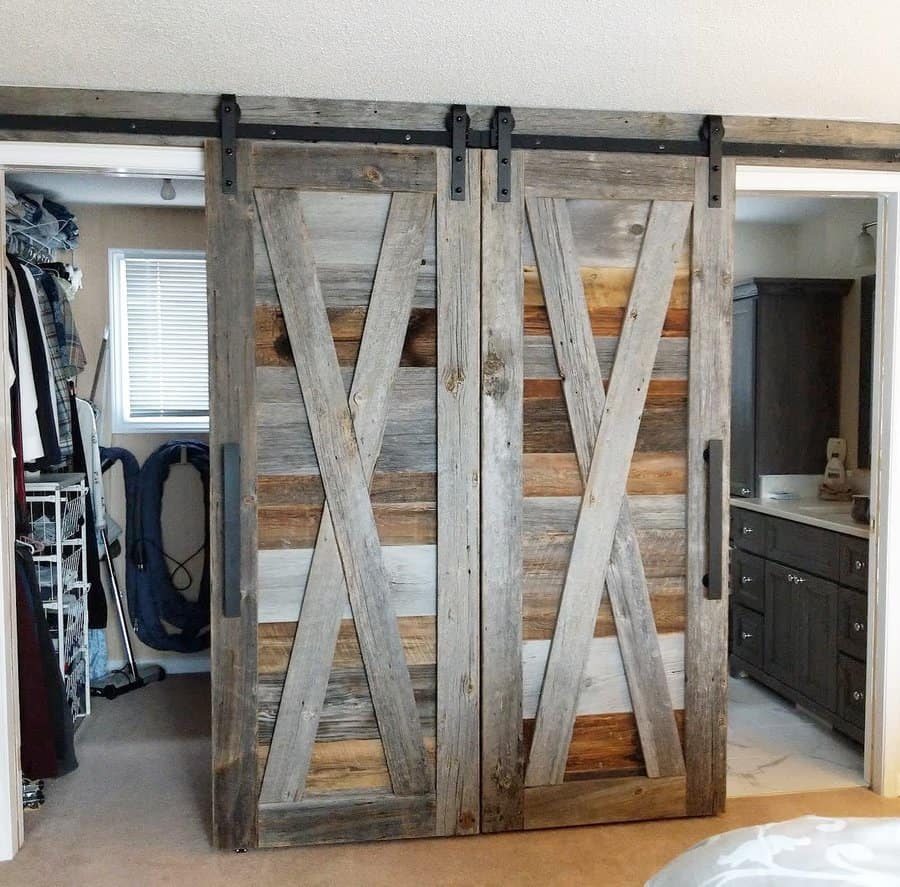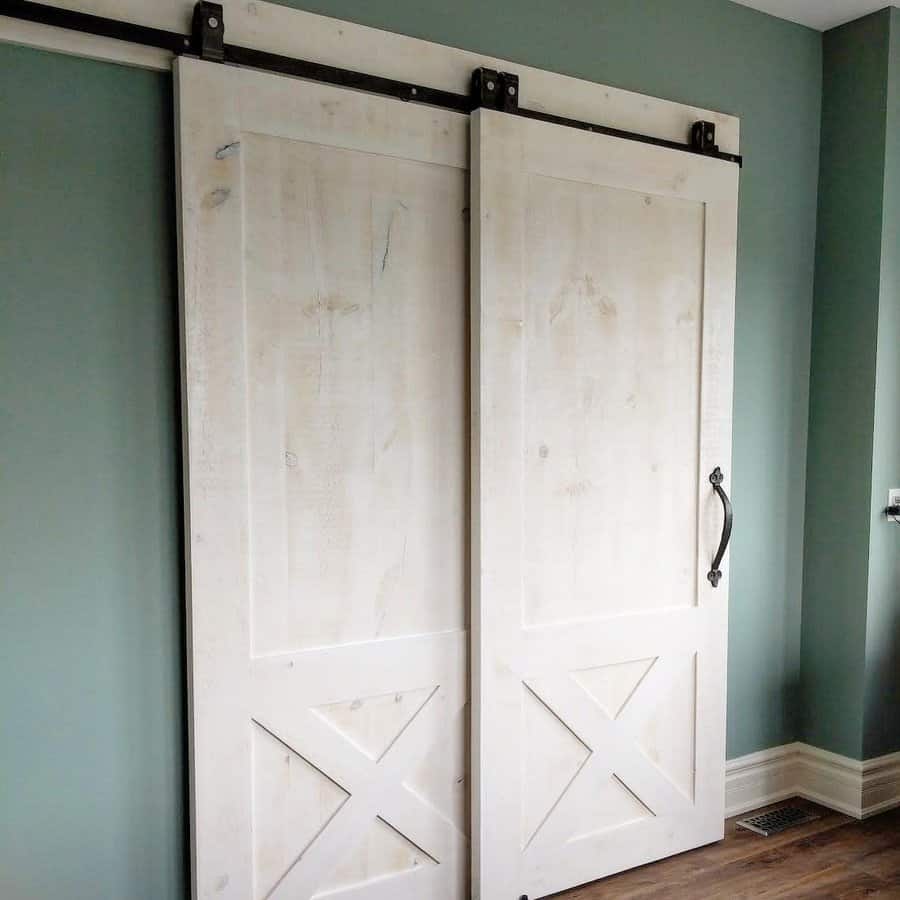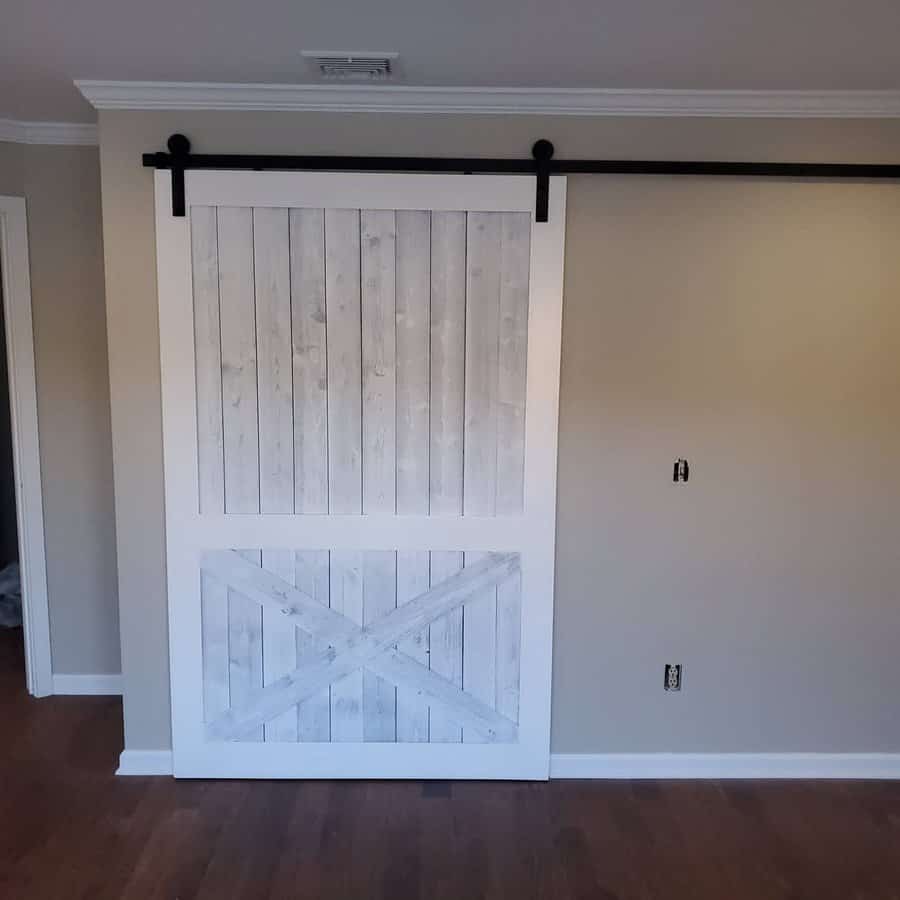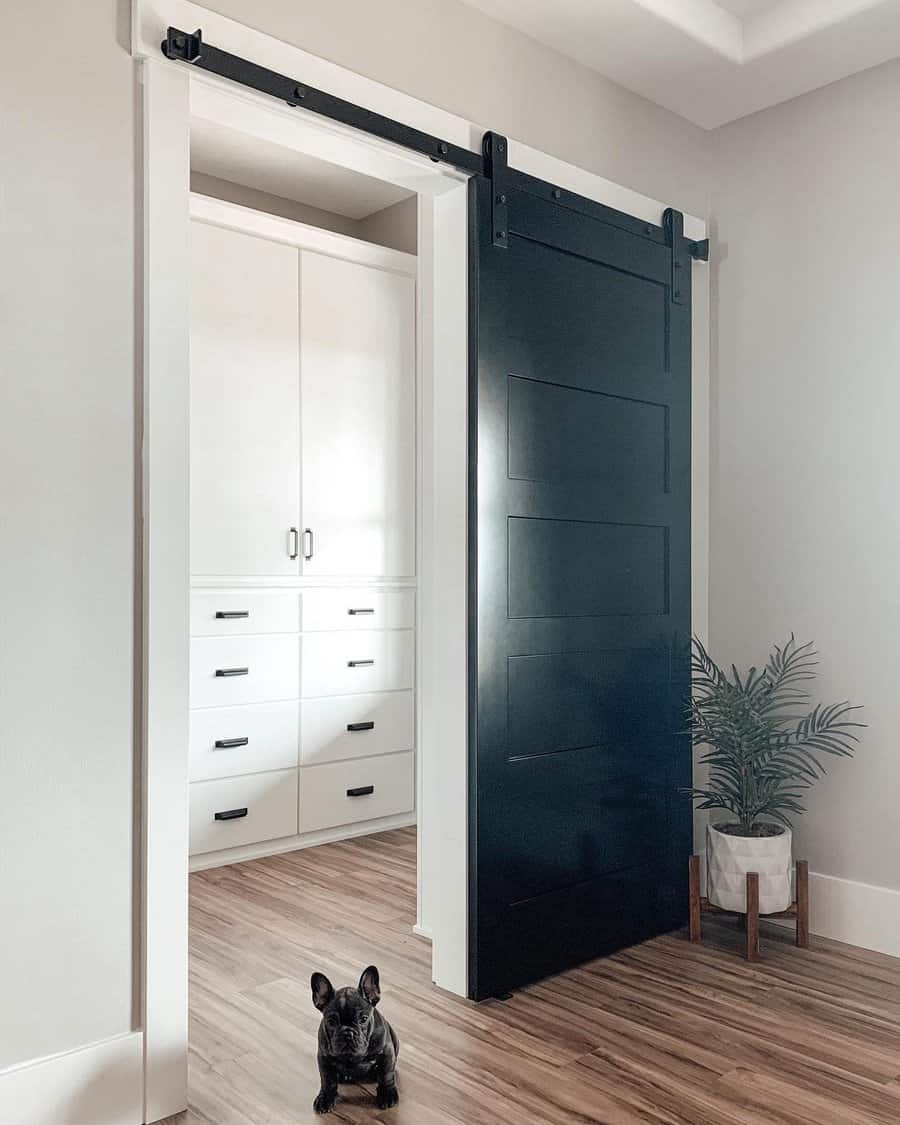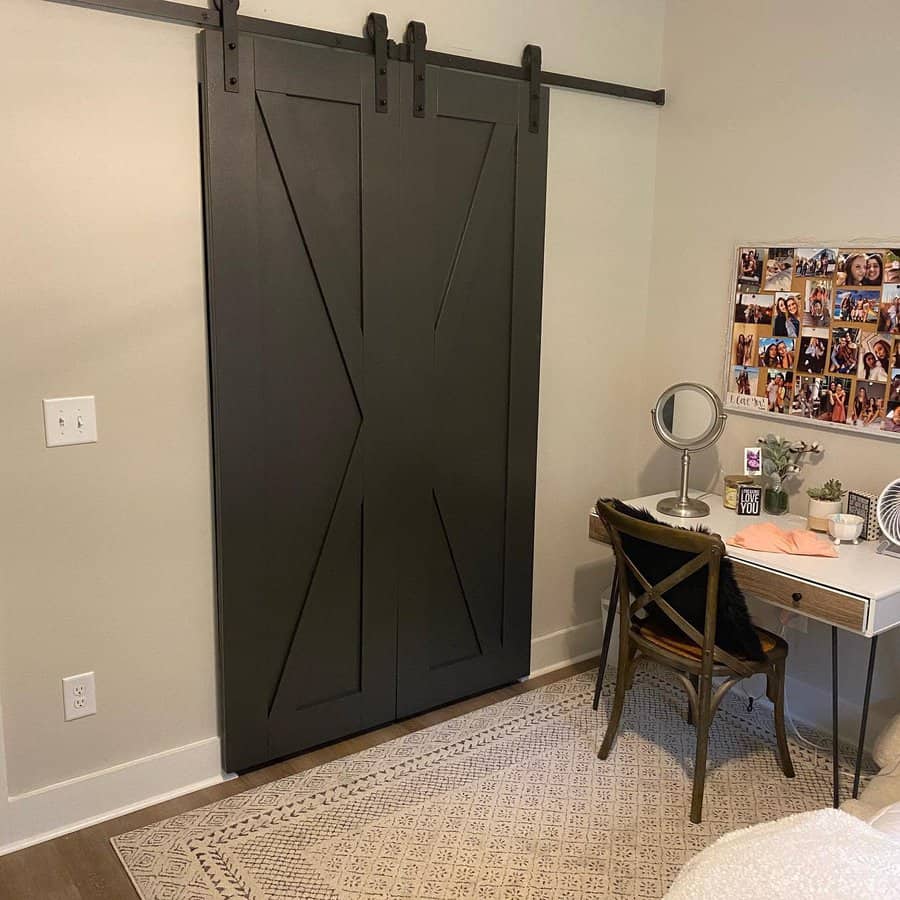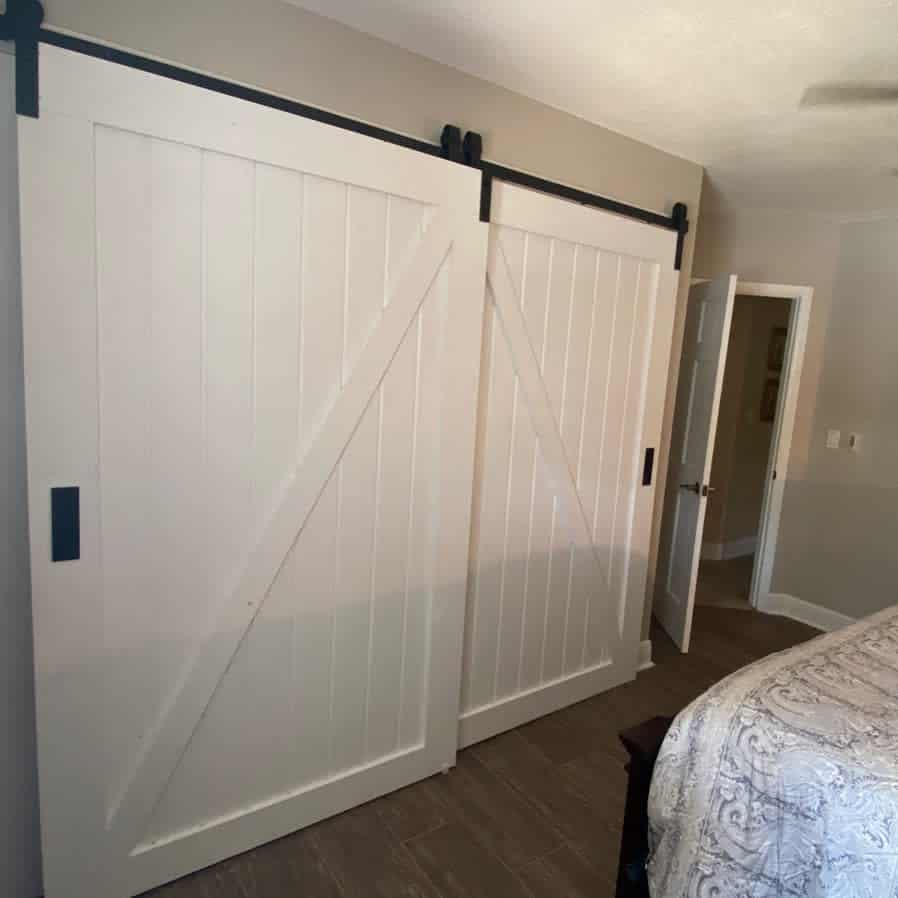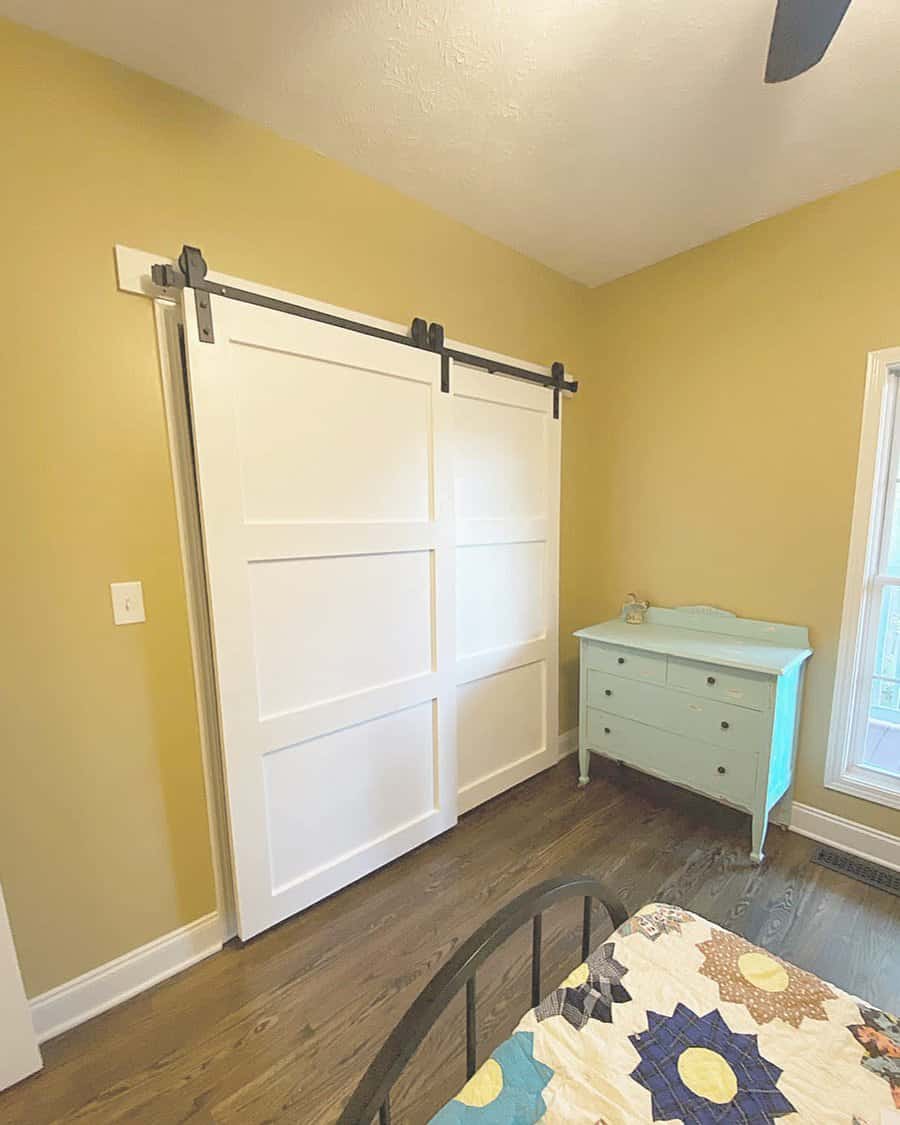 2. Freshen Up with White Closet Doors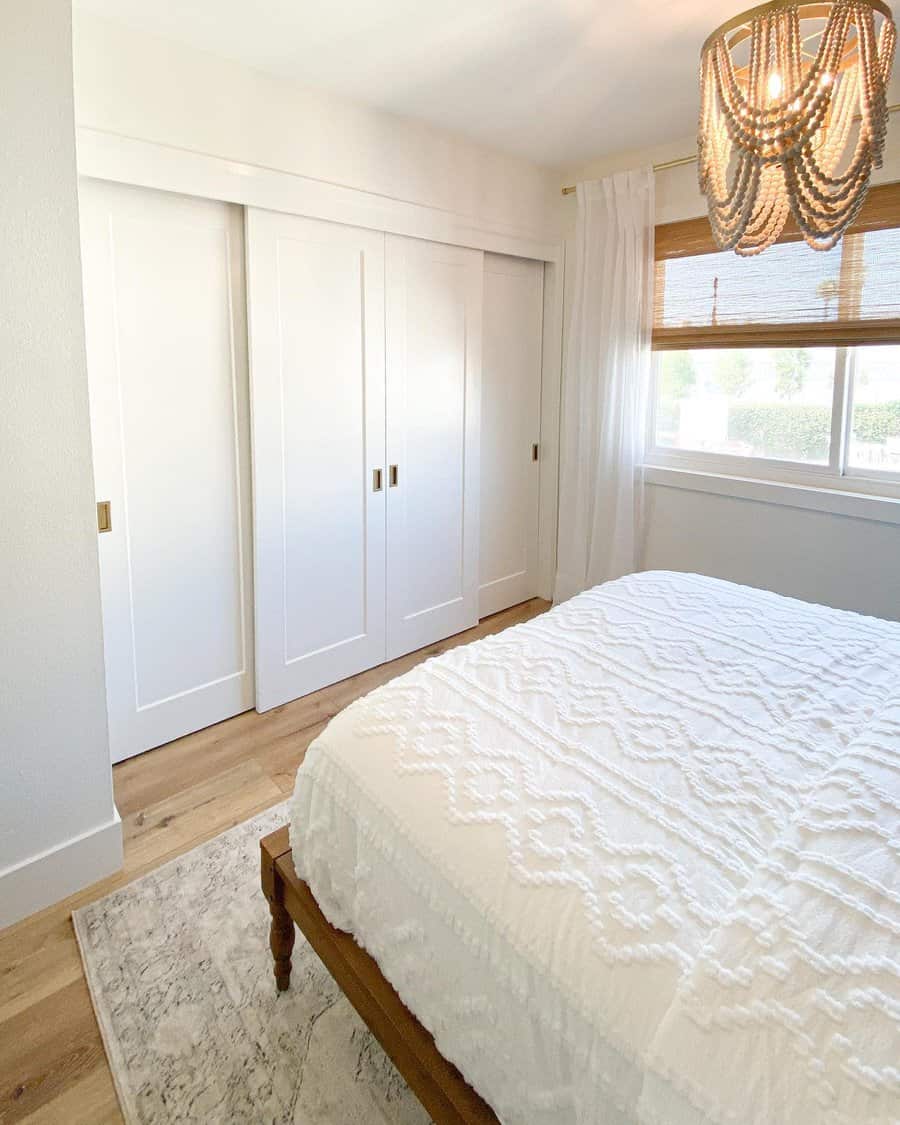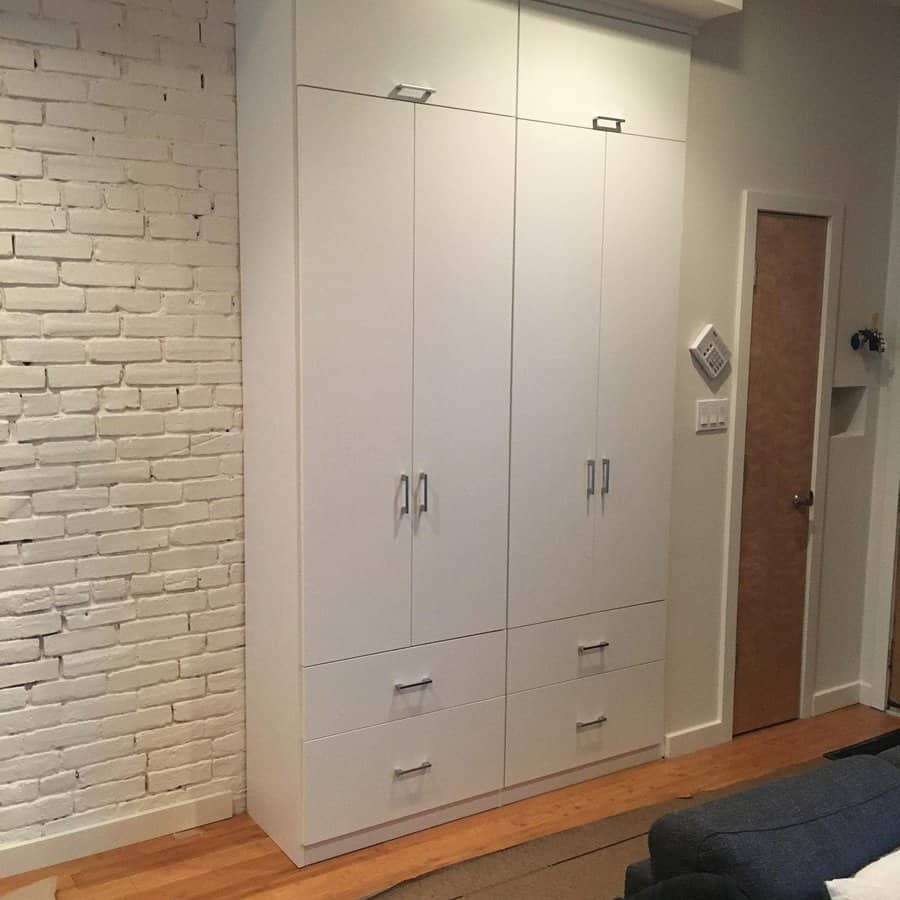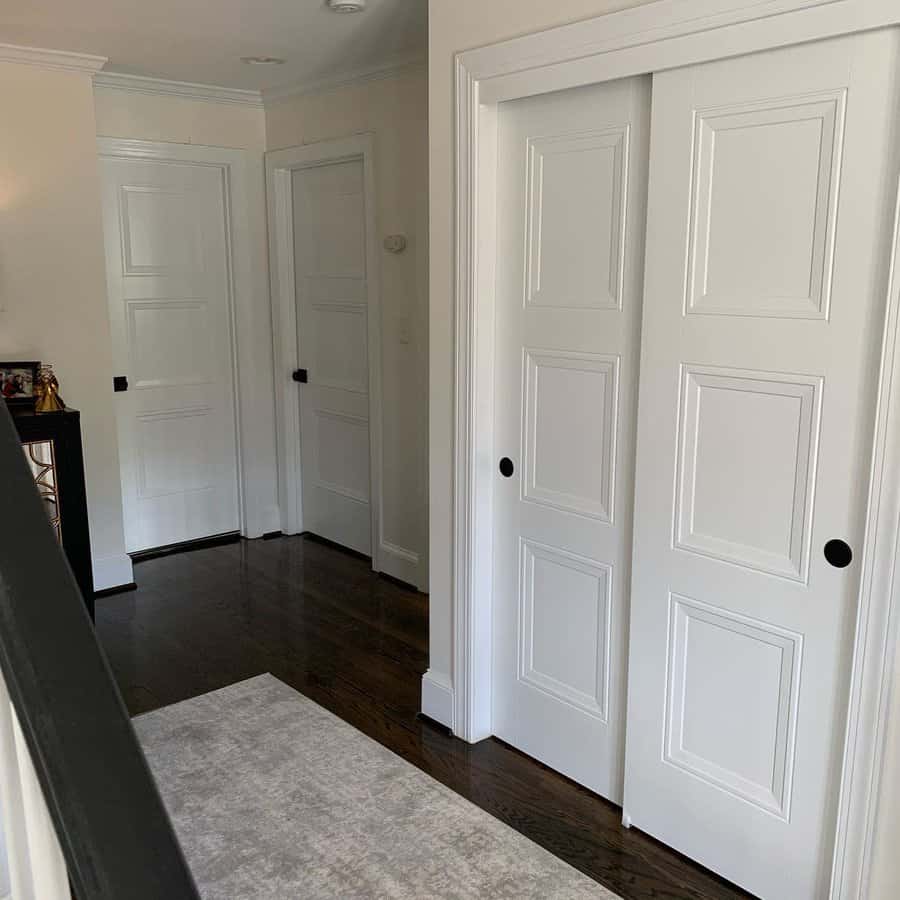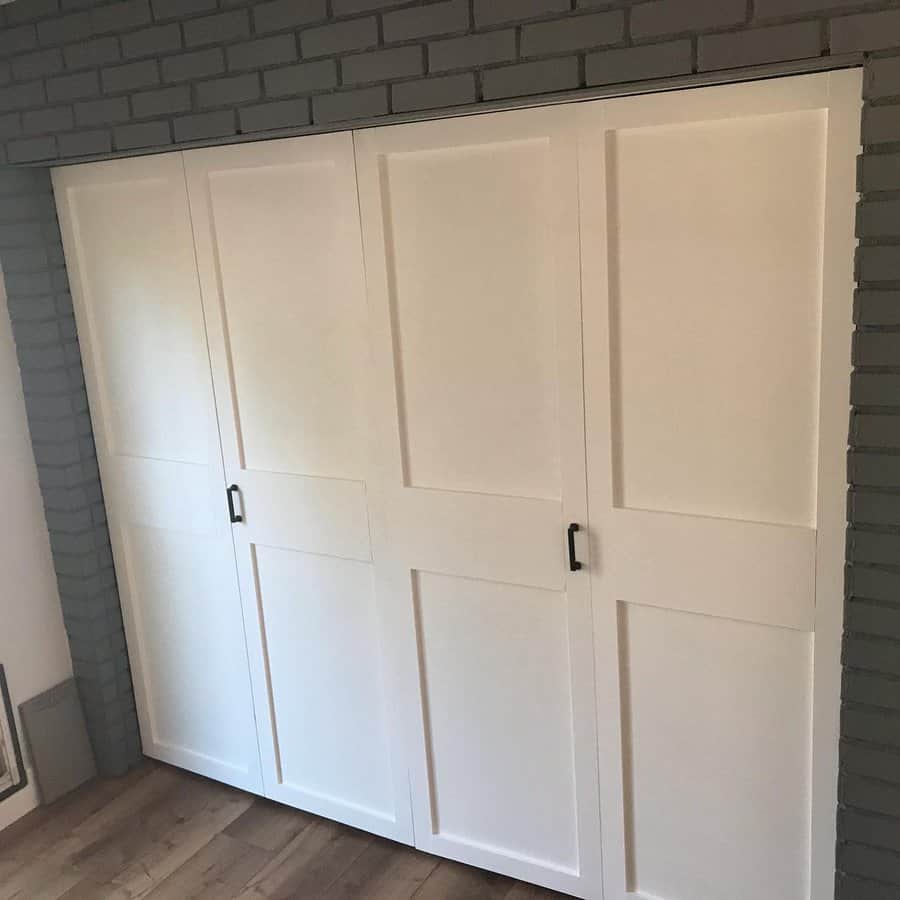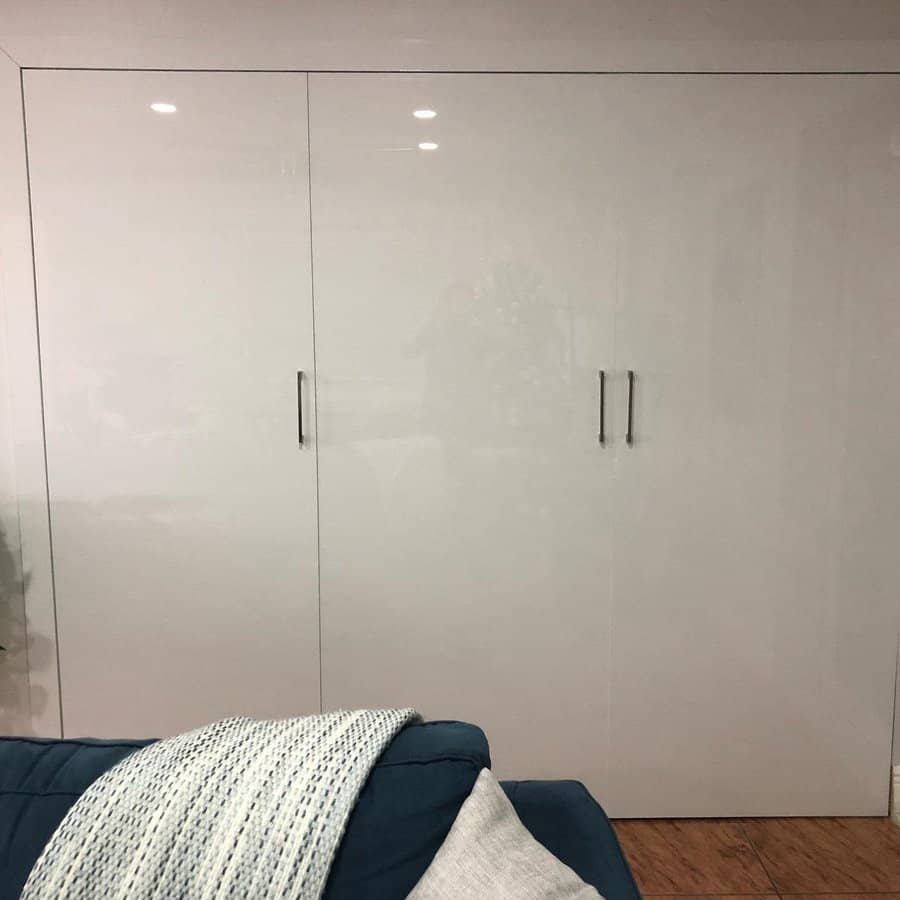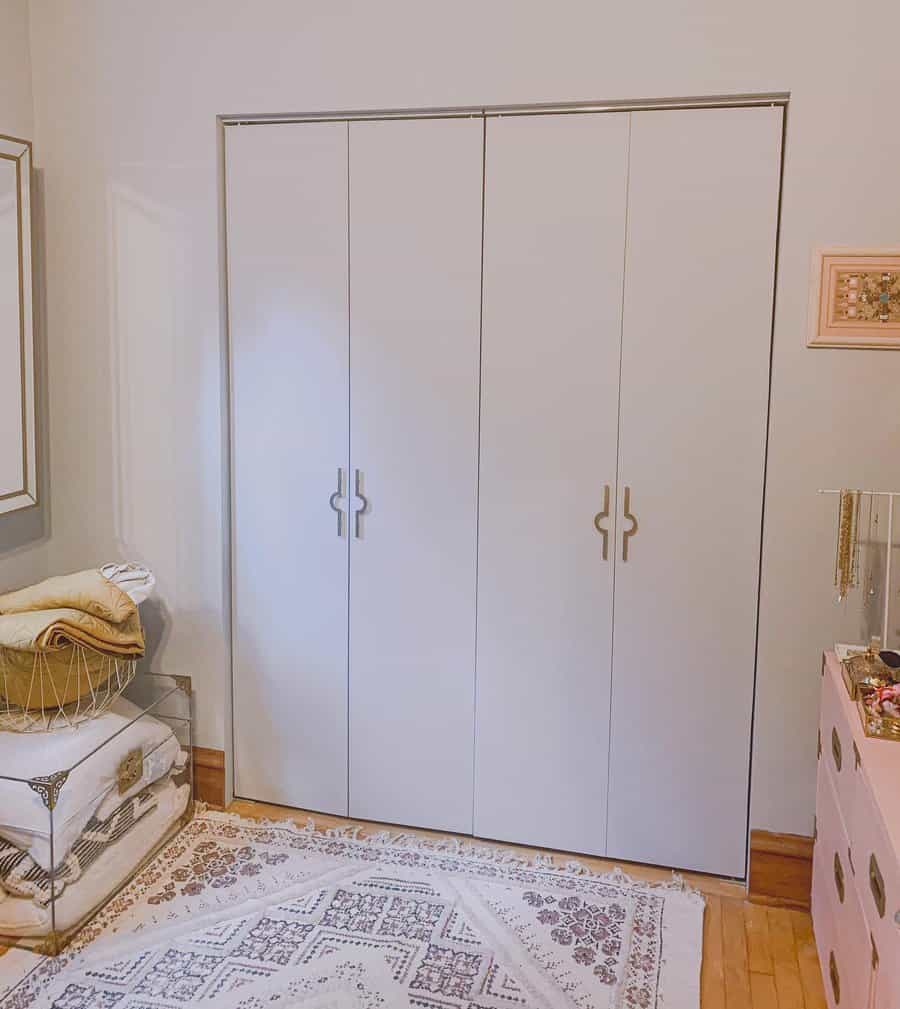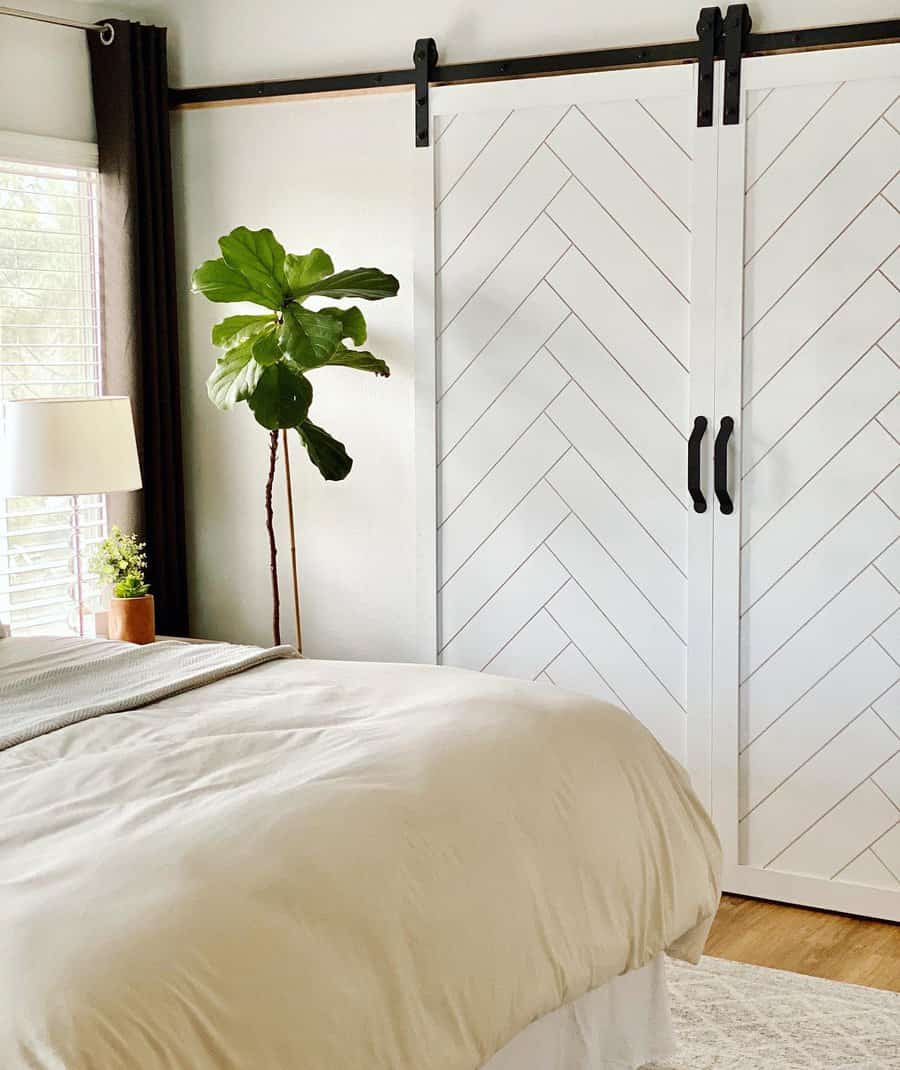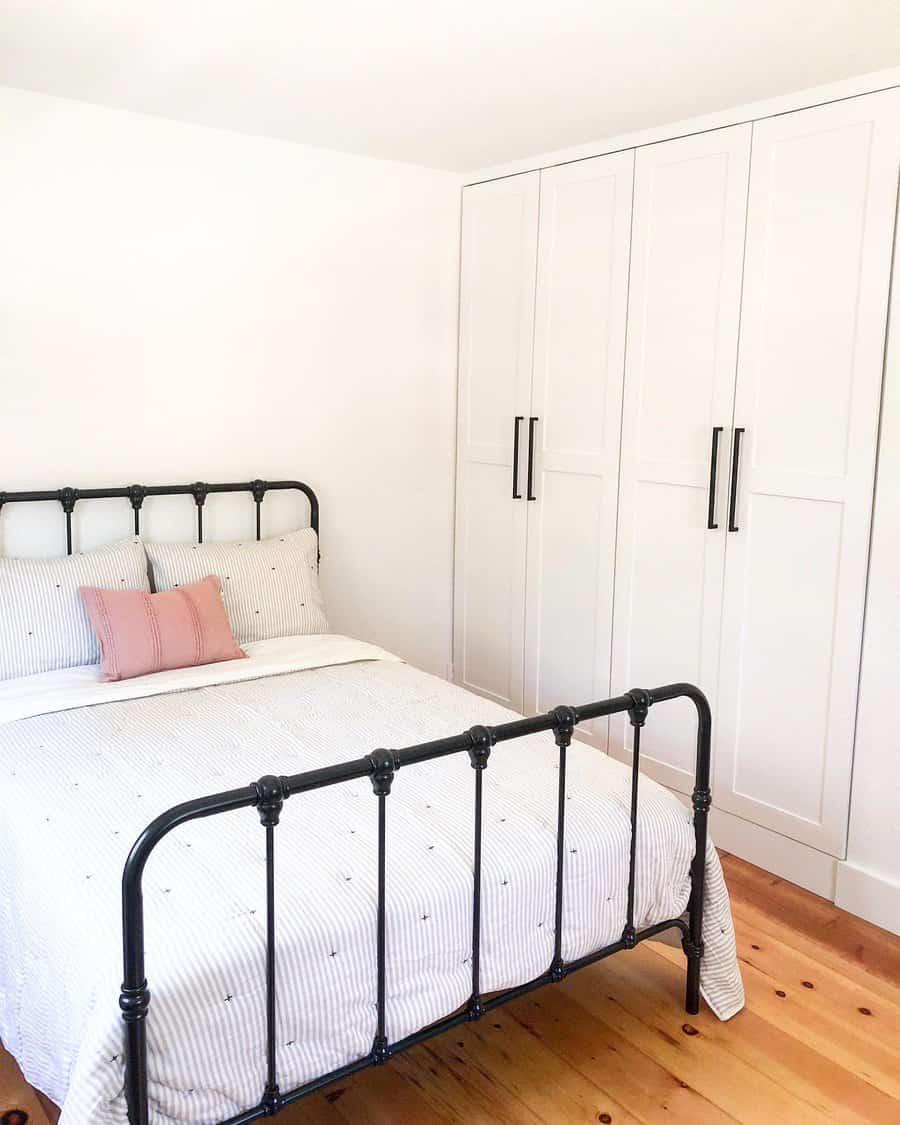 3. Elevate Elegance with Gold Fixtures
Infuse luxury into your space with a white closet door adorned with gold fixtures. This combination exudes a bright, clean ambiance while adding sophistication. To further enhance this elegant design, complement the door with gold-accented decor items or neutral-toned furnishings. Whether your room leans traditional or modern, this pairing seamlessly elevates your space, making your closet a standout feature.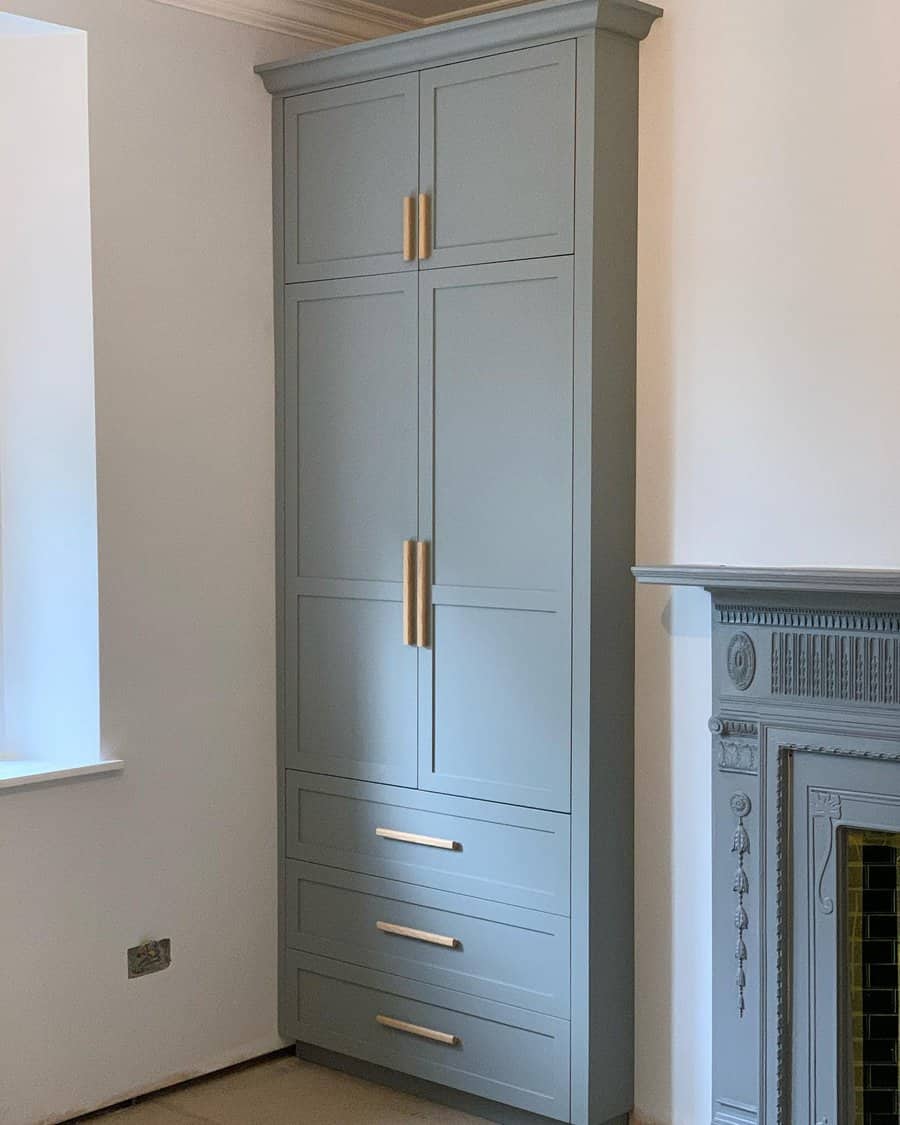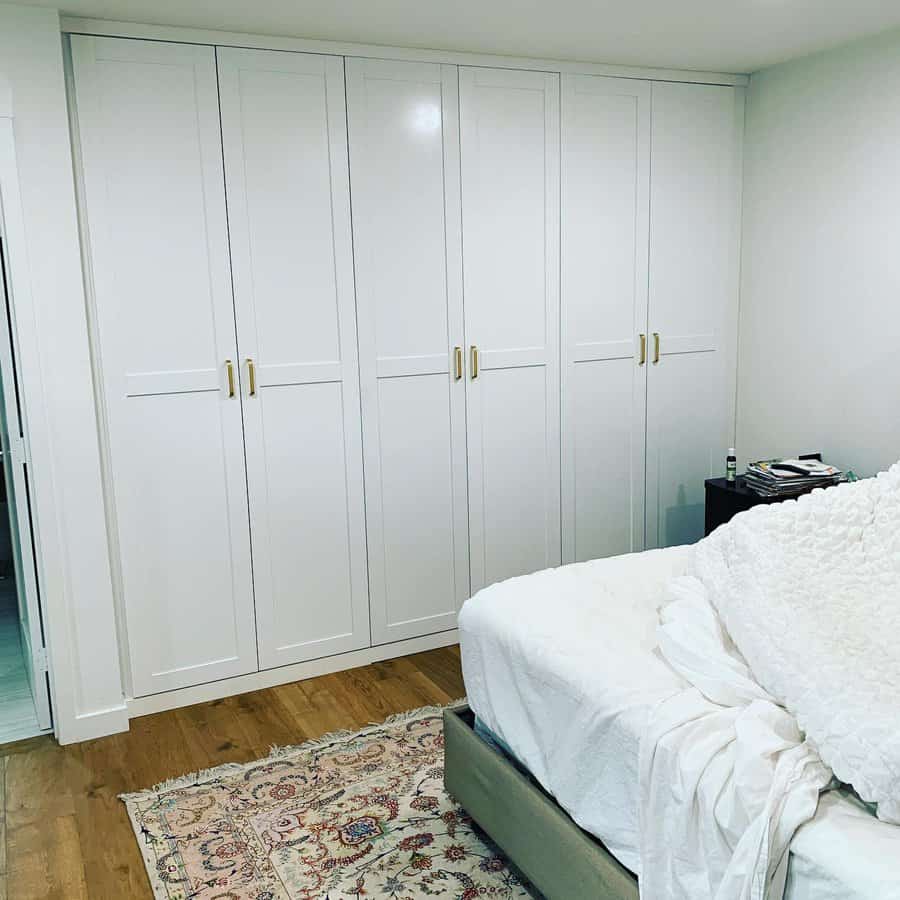 4. Embrace Warmth with Wooden Doors
Wooden closet doors radiate warmth and bring authentic charm to spaces. They blend seamlessly across decor spectrums, from rustic charm to sleek modernity. For a tailored appearance, consider decorative moldings, intricate carvings, or even a unique paint hue. Beyond aesthetics, their robust nature ensures durability, striking the balance between form and function in your room.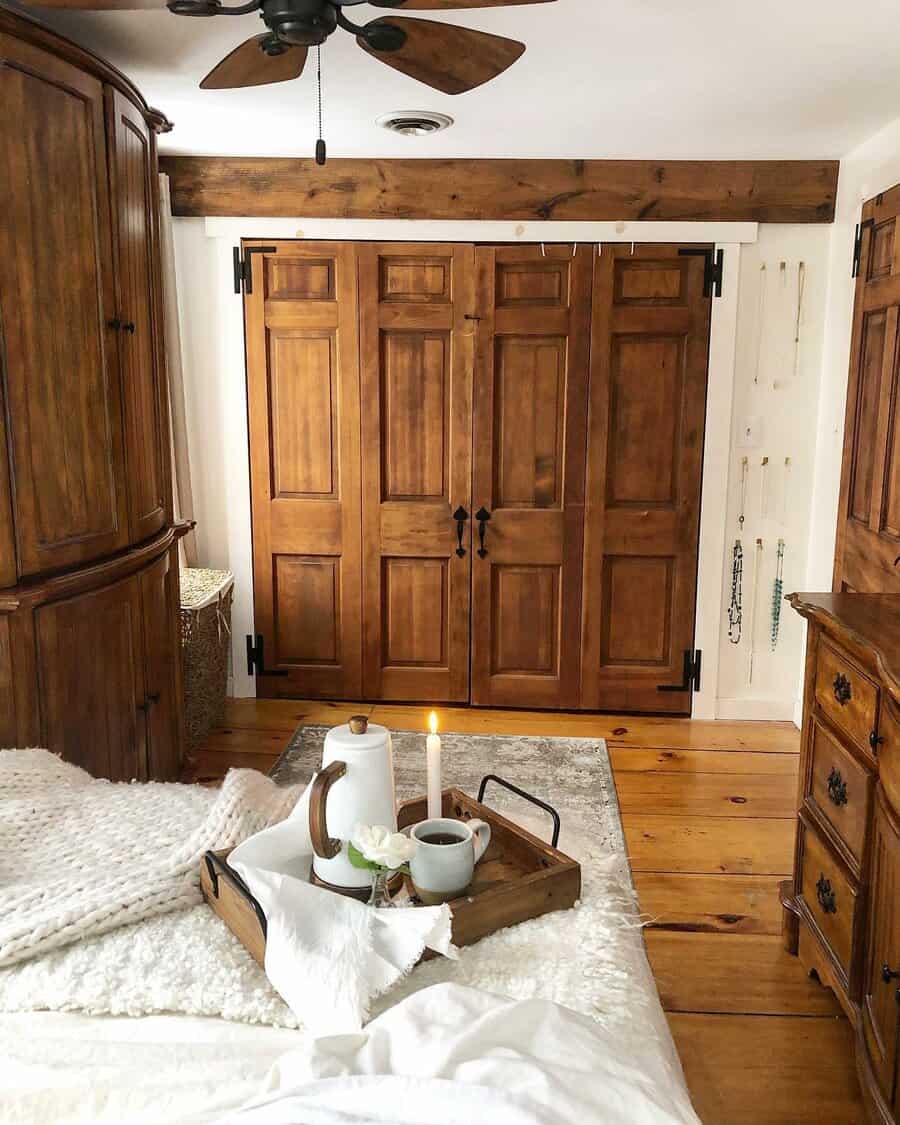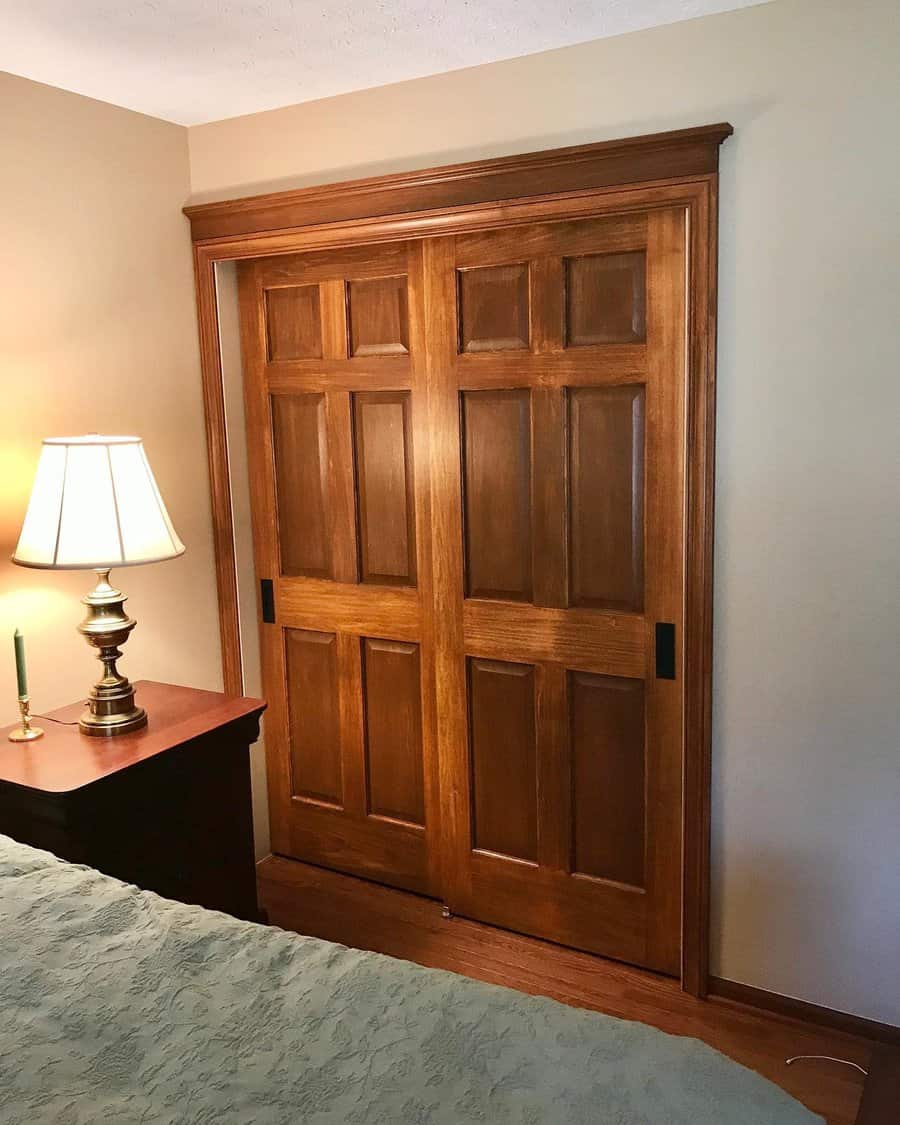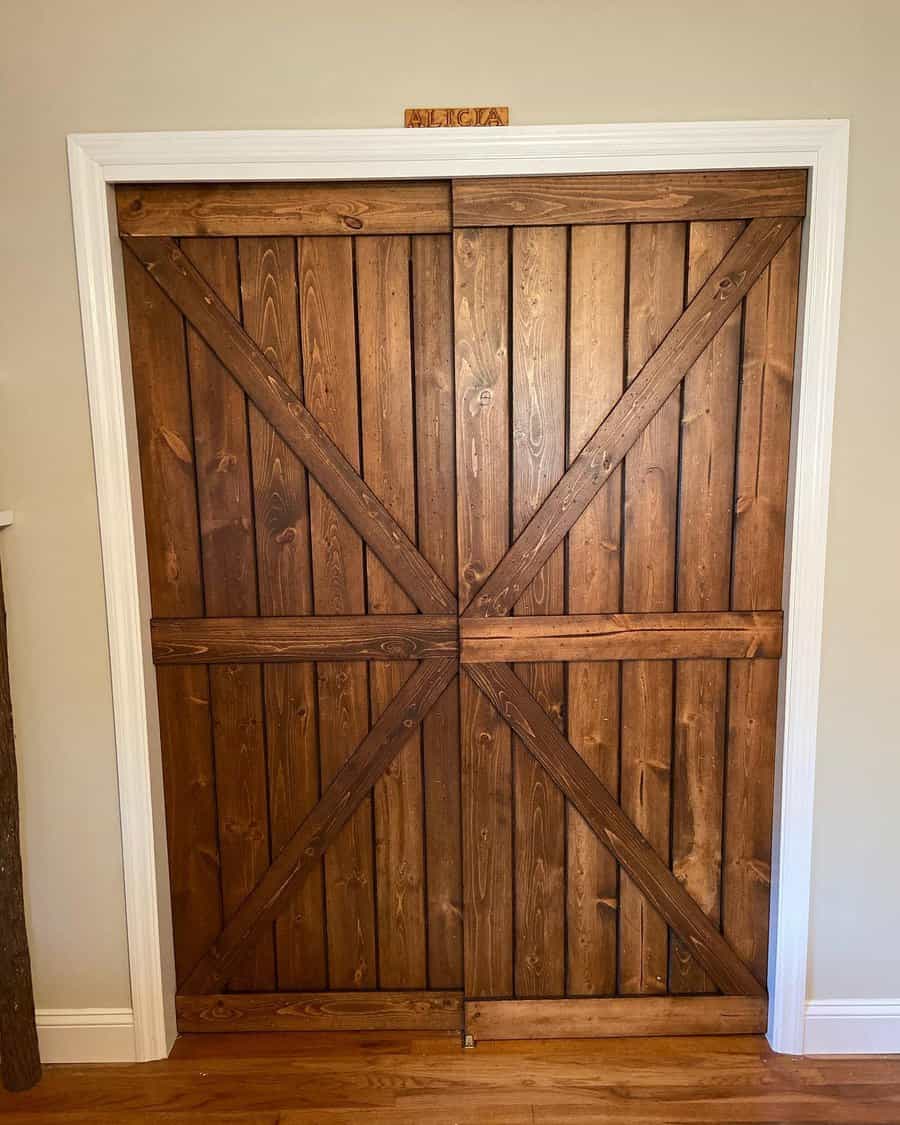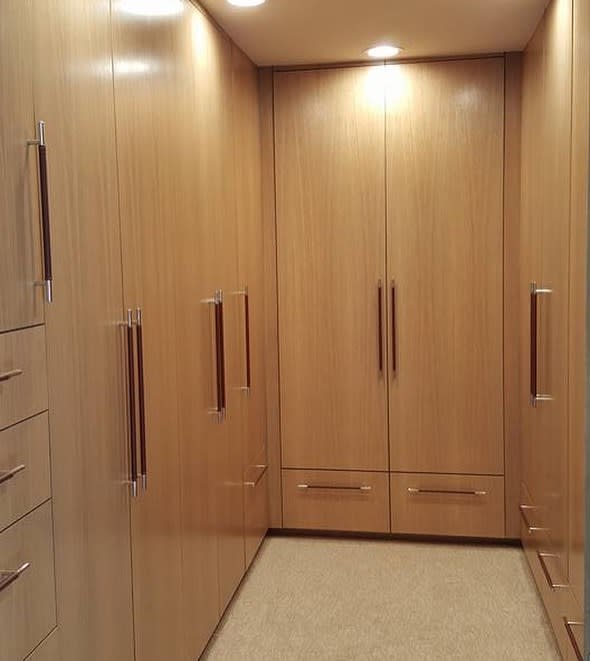 5. Add Depth with Mirrored Doors
Mirrored closet doors effortlessly combine style and utility, amplifying a room's brightness and creating an illusion of more space. These doors double as a handy outfit checker, adding an element of elegance and glamour. To harmonize with the overall room aesthetic, frame the mirrored door with a matching or contrasting trim. This blend of style and function can seamlessly elevate any bedroom decor.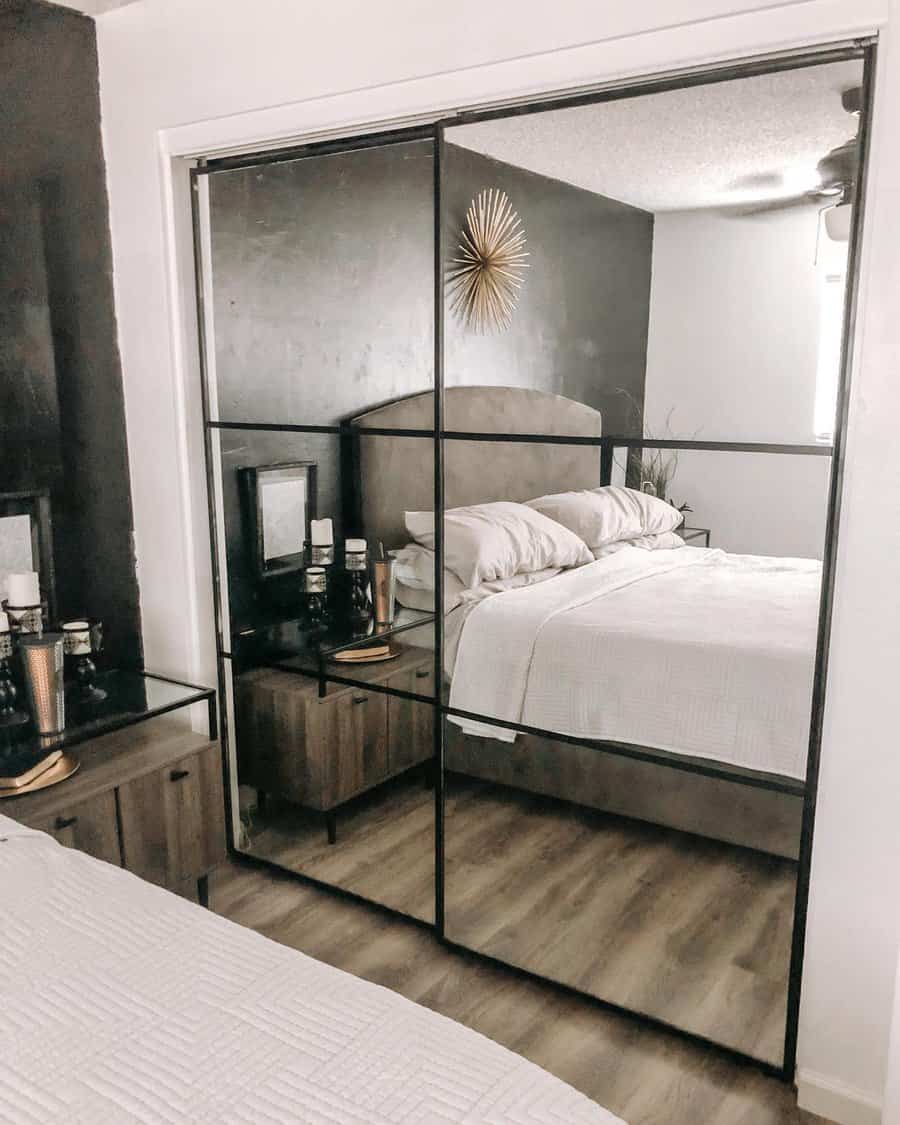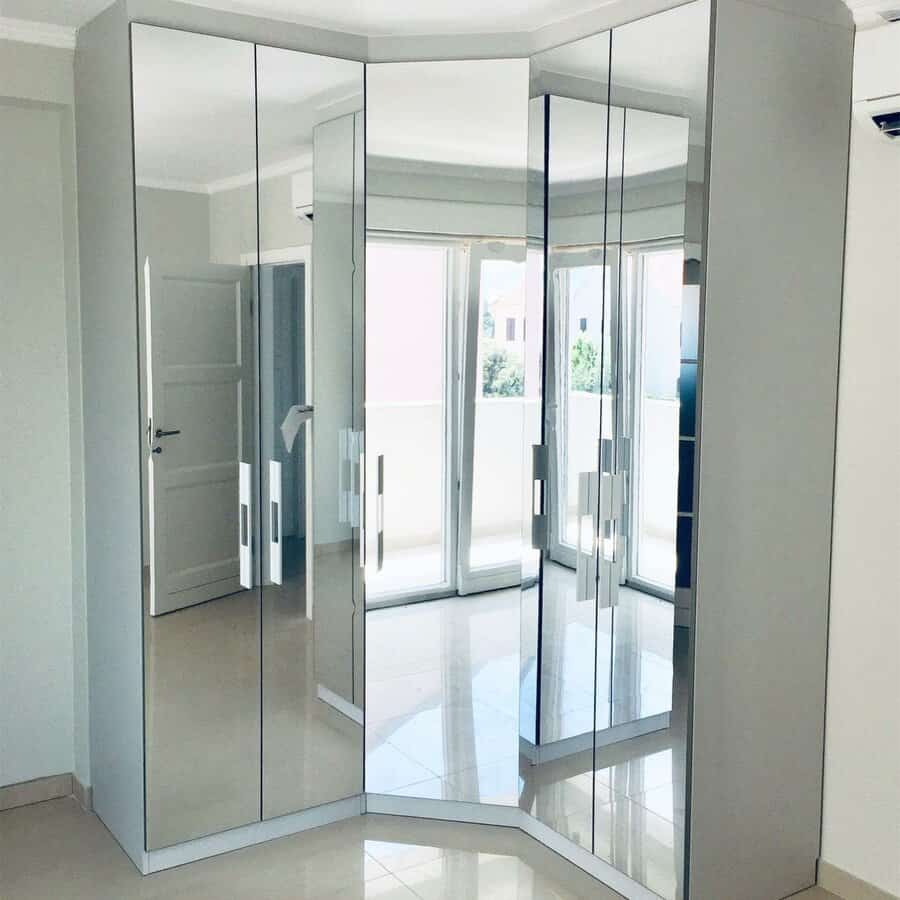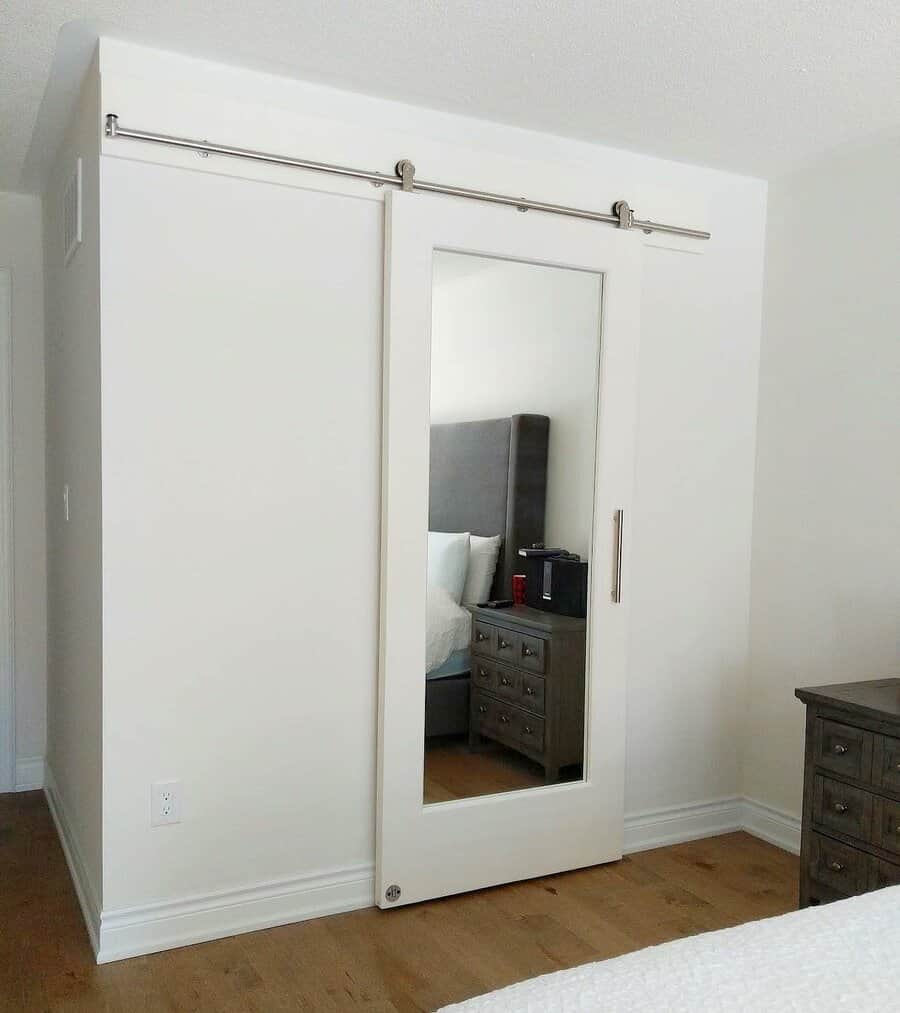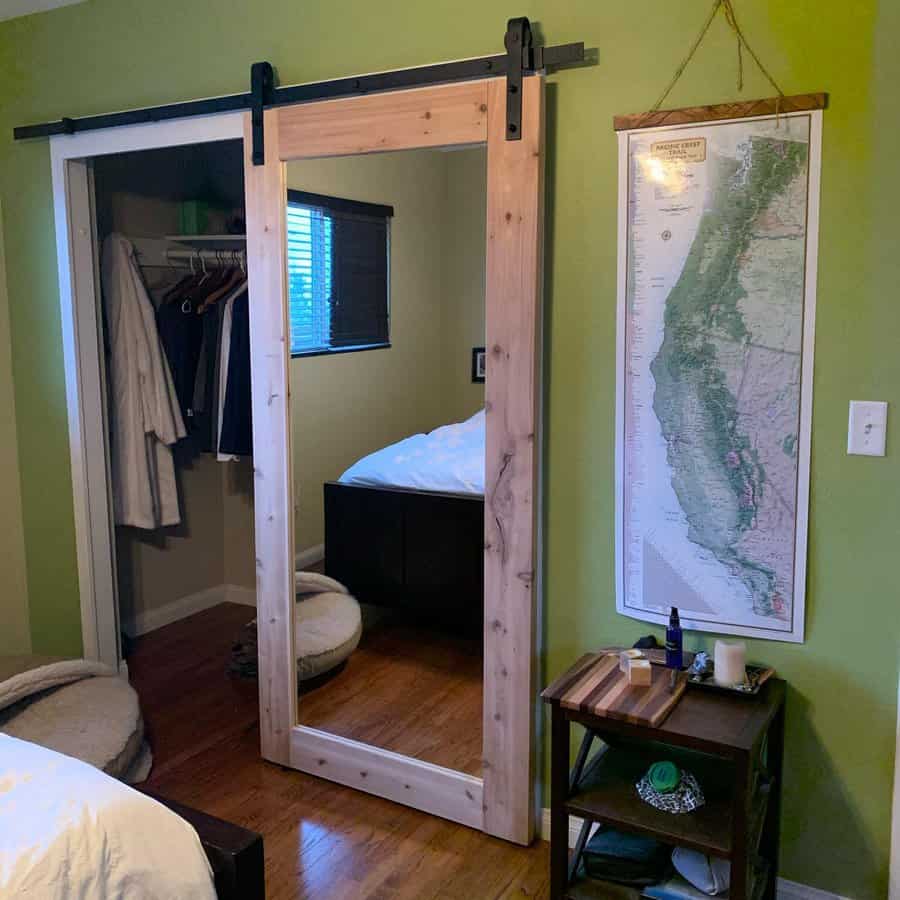 6. Enhance Detail with Door Trimming
Incorporating trimmings on closet doors offers a distinctive flair, turning a simple door into an eye-catching design element. Experiment with materials and patterns, whether outlining the door or creating intricate inlaid patterns. Besides aesthetic enhancement, trimmings effectively mask any gaps, ensuring a polished finish. For those seeking a budget-friendly transformation, adding door trimmings is a worthwhile DIY endeavor that refreshes room aesthetics swiftly.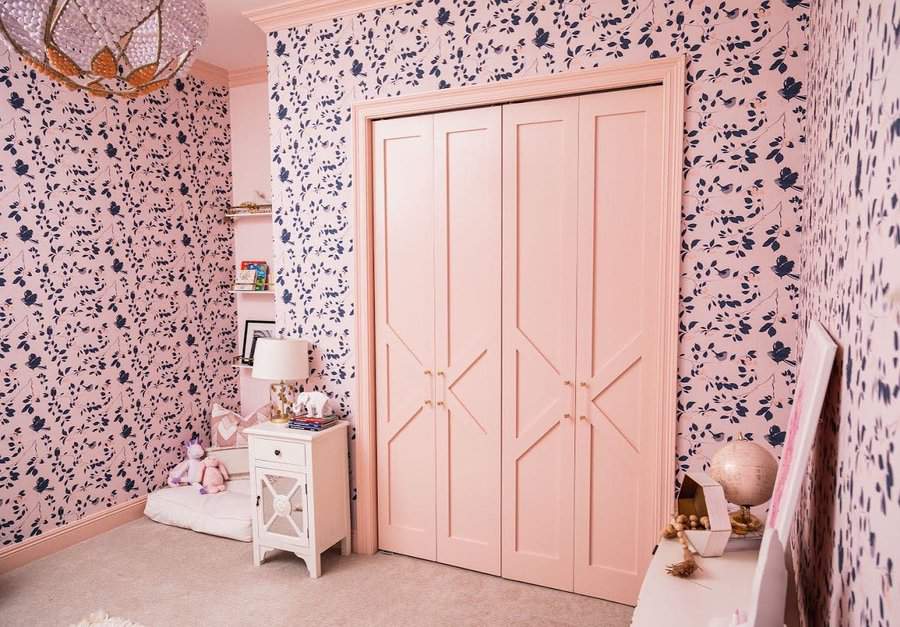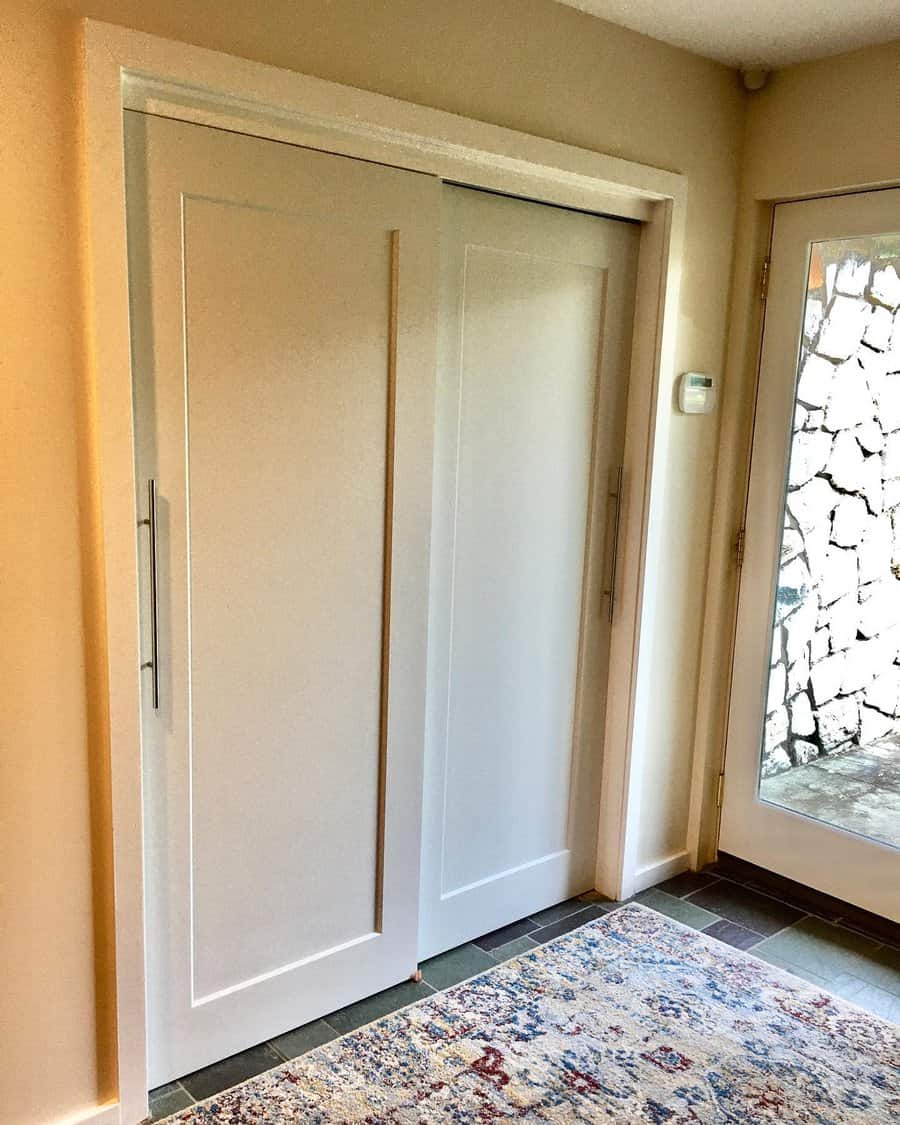 7. Intrigue with Mesh-Designed Door
Mesh-designed closet doors blend form and function, offering unique visual interest while promoting airflow. Their semi-transparent nature seamlessly complements both modern and rustic interiors. Beyond mere aesthetics, the mesh doubles as a convenient backdrop for displaying jewelry or accessories. For those eyeing an industrial or farmhouse twist, mesh doors are a chic, transformative choice for closets.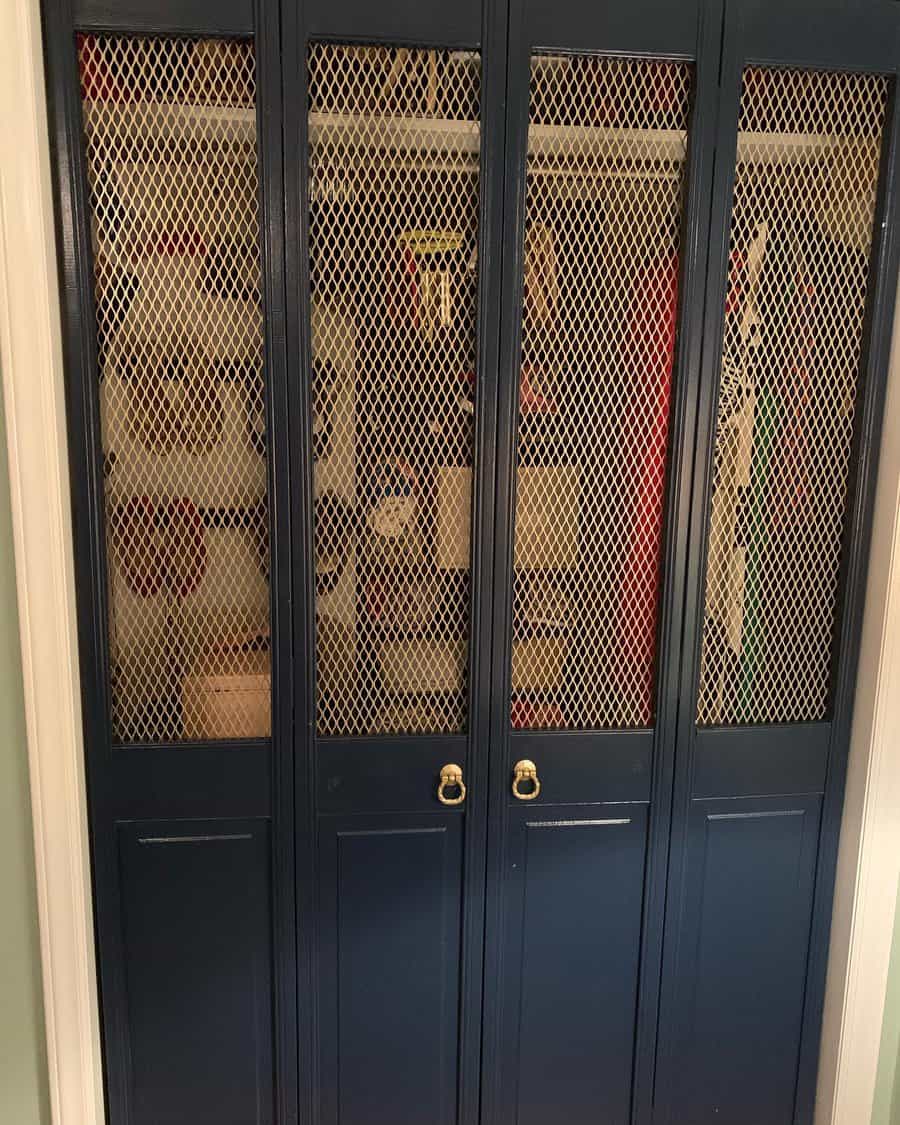 8. Class Up with Double French Doors
Double French closet doors infuse rooms with an unmistakable touch of sophistication. Their design not only complements but often becomes a focal point, regardless of whether the surrounding decor is traditional or contemporary. Beyond their aesthetics, these doors strike a balance between offering privacy and easy access, making them an ideal choice for spaces that prioritize storage. Pair with stylish handles to further enhance their elegance.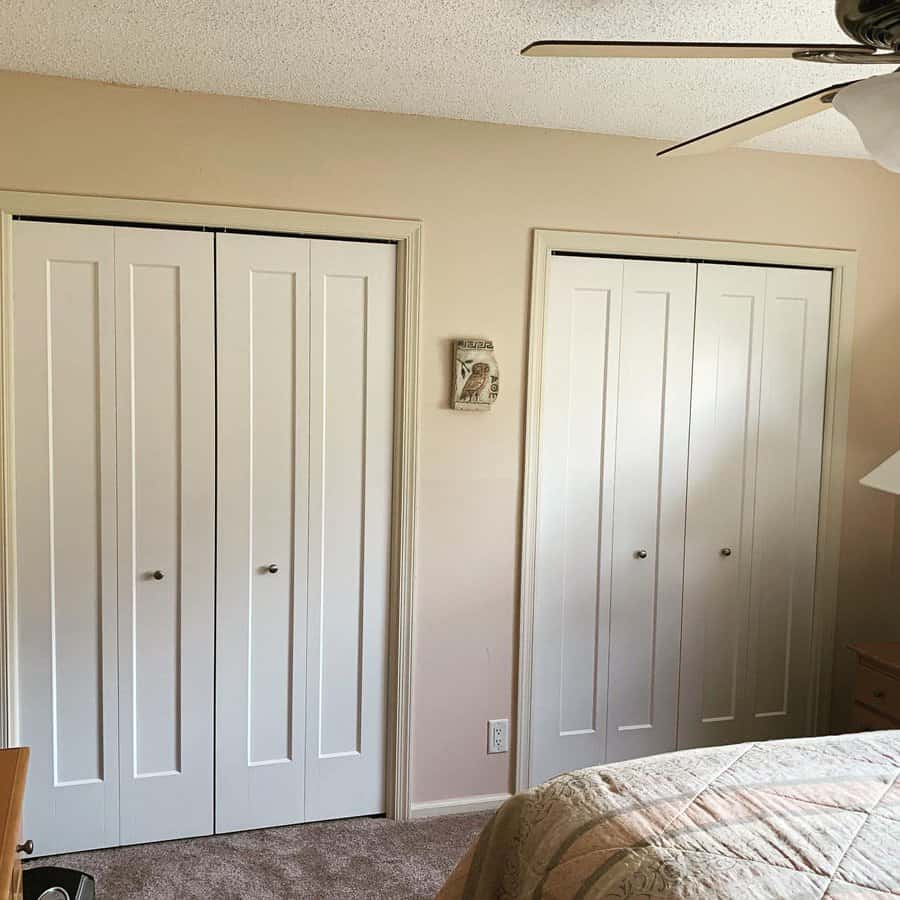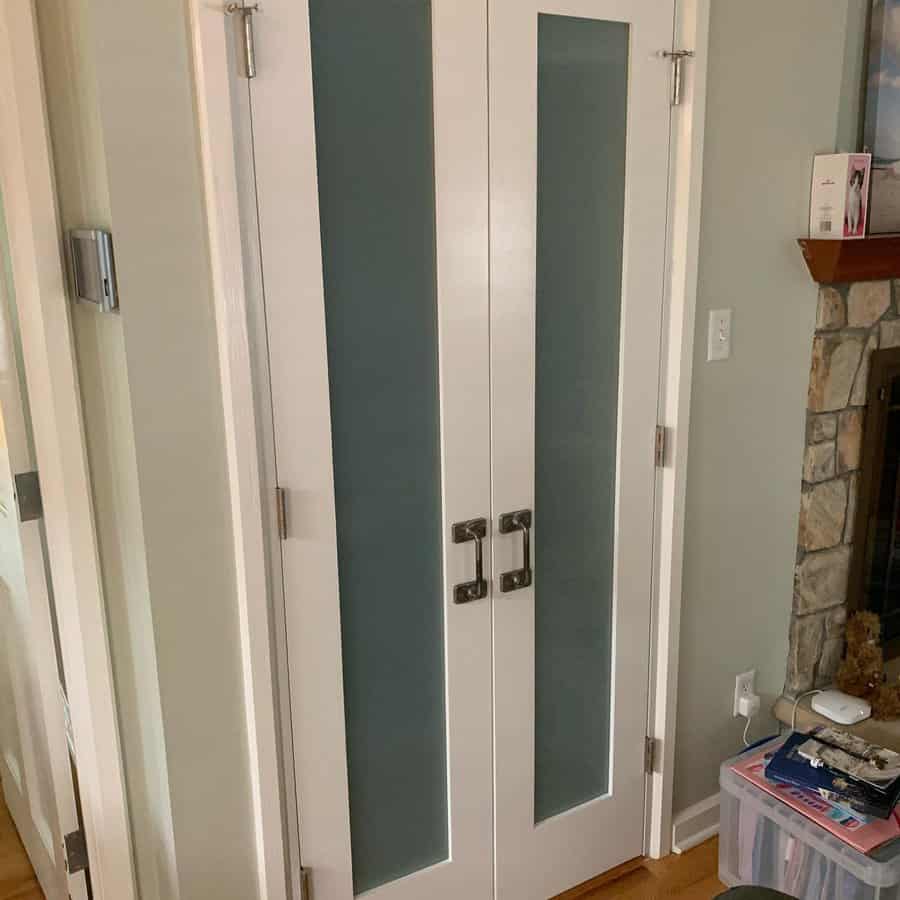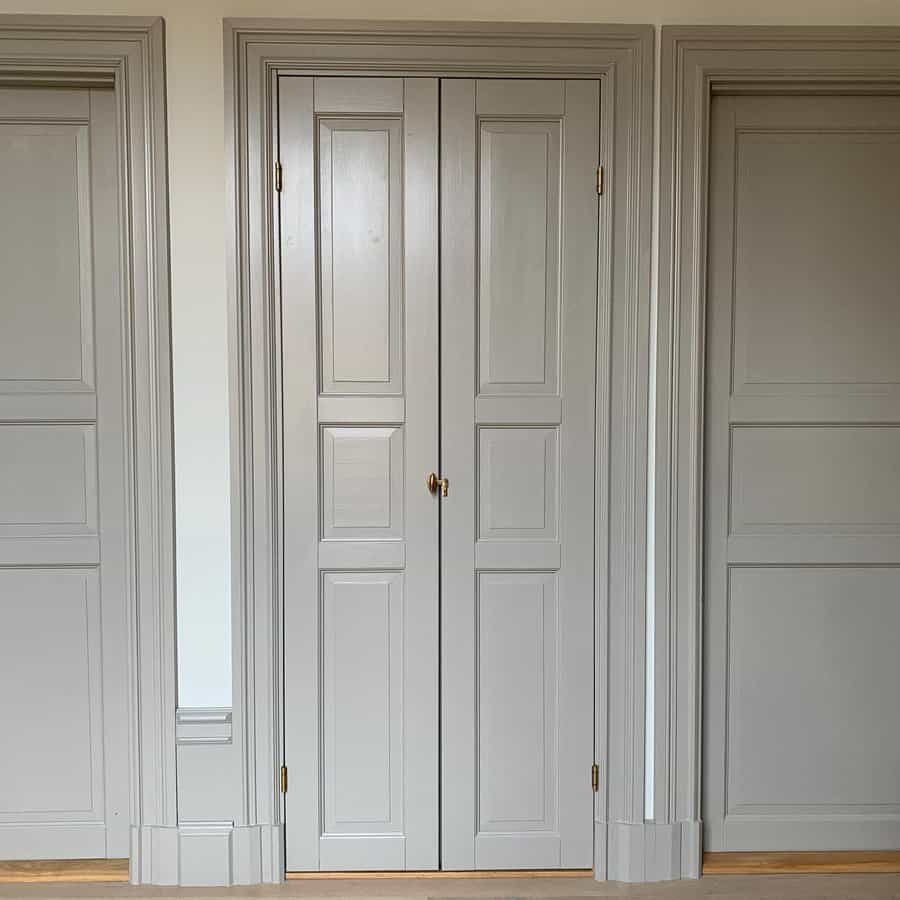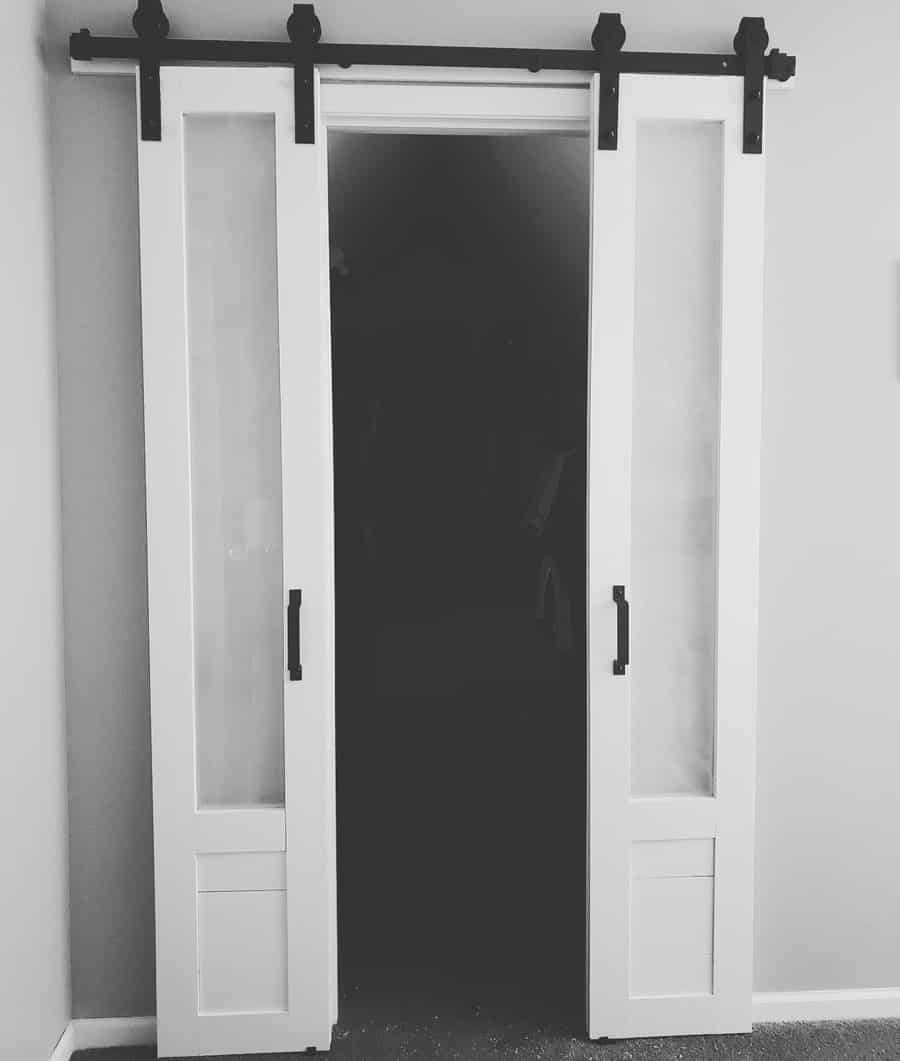 9. Keep It Sleek with Modern Slides
Modern handleless sliding closet doors are the epitome of minimalistic elegance, streamlining bedrooms with their unobtrusive design. Their seamless integration into room decor emphasizes a contemporary aesthetic, free from the clutter of handles or knobs. For those looking to shed the weight of dated designs, these doors usher in a fresh, efficient approach to room updates. Complement with neutral palettes or geometric patterns for a cohesive look.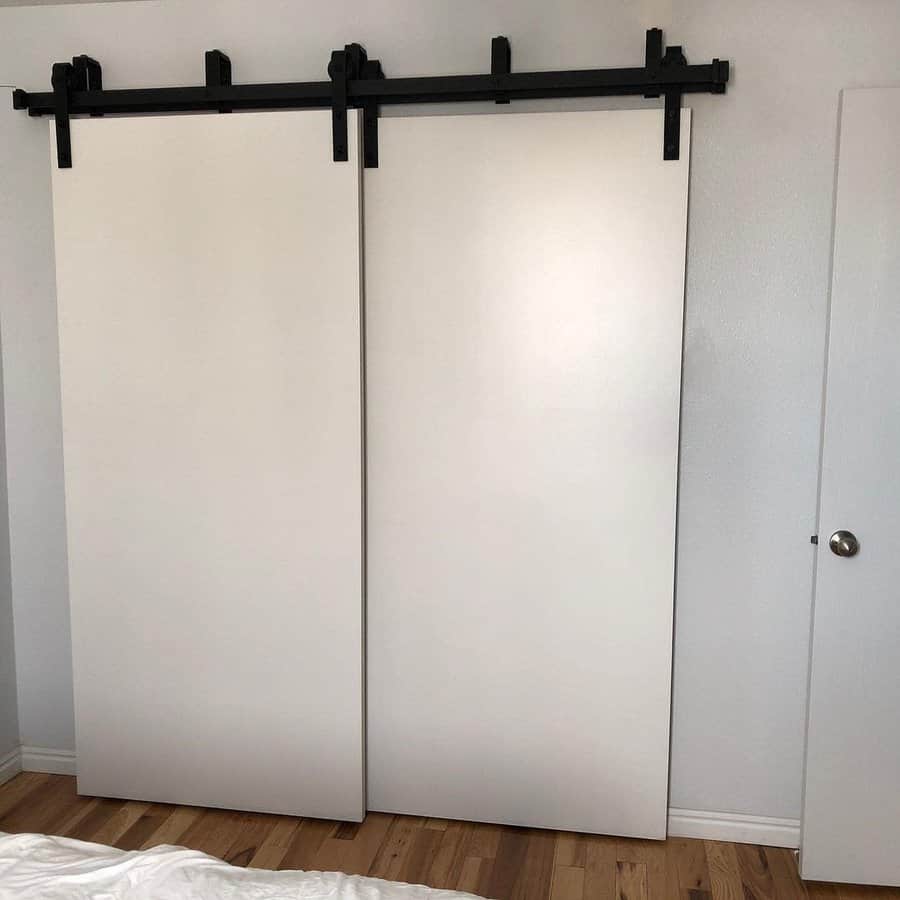 10. Define Edges with Black Metalware
Closet doors adorned with black metalware bring a blend of modern elegance and bold sophistication. These stark contrasts become eye-catching elements, compatible with a myriad of color schemes. To harmonize the door's aesthetic, consider pairing with metallic accents or monochromatic room decor. Regardless of your design inclination – be it minimalist or eclectic – black metalware adds a definitive edge to your ensemble.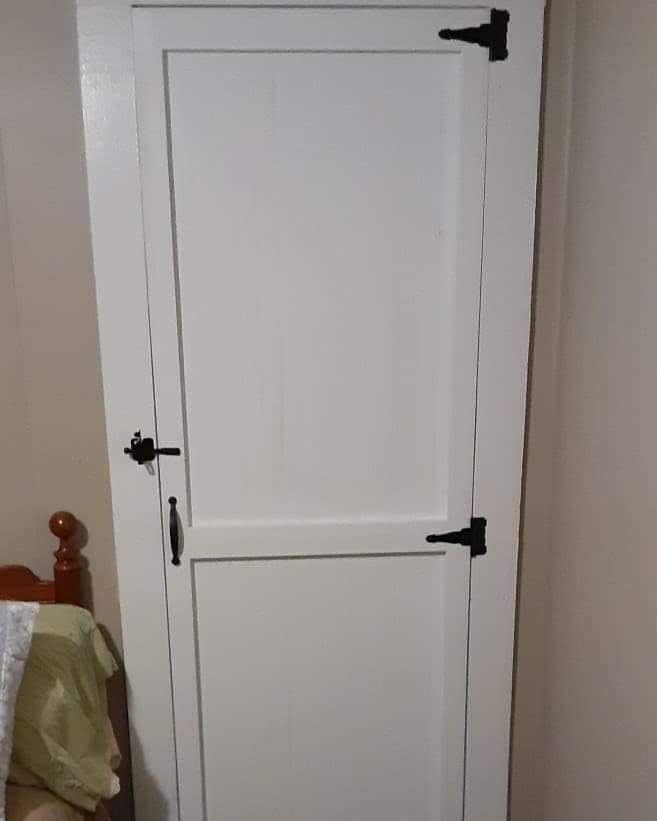 11. Enjoy Texture of Laminated Wood
Laminated wood closet doors present a stylish yet economical option for those seeking the appeal of wood without the cost of solid variants. Crafted with a veneer bonded to a robust core, they combine aesthetics with resilience. Available in diverse finishes, from authentic wood grain to vibrant paints, these doors cater to diverse design tastes. For budget-conscious upgrades that don't skimp on style, laminated wood is an exemplary choice.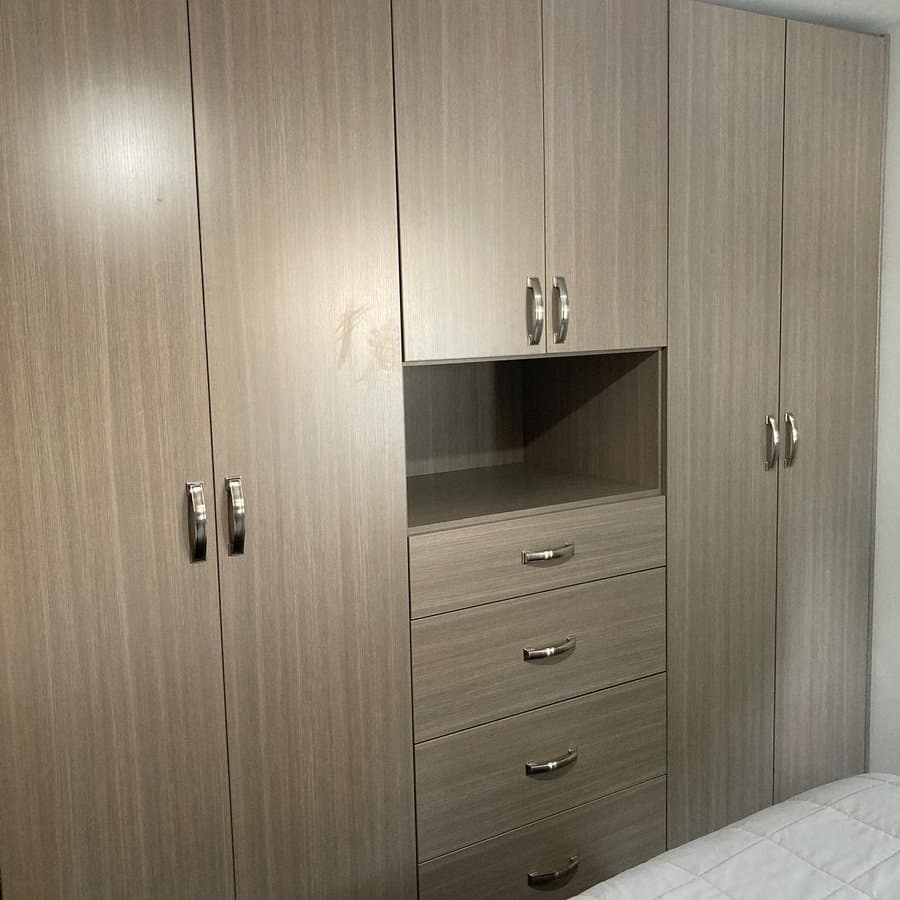 12. Opt for Semi-Privacy with Frosted Glass
Frosted glass closet doors gracefully merge style with semi-privacy, allowing glimpses without revealing the entire contents. They brighten spaces by diffusing light, casting a serene ambiance. While adept at masking potential closet disarray, their design versatility ranges from minimalist patterns to intricate motifs. Whether anchoring a contemporary vibe or a classic appeal, frosted glass doors enrich any room's aesthetic. Pair with complementary hardware to accentuate their charm.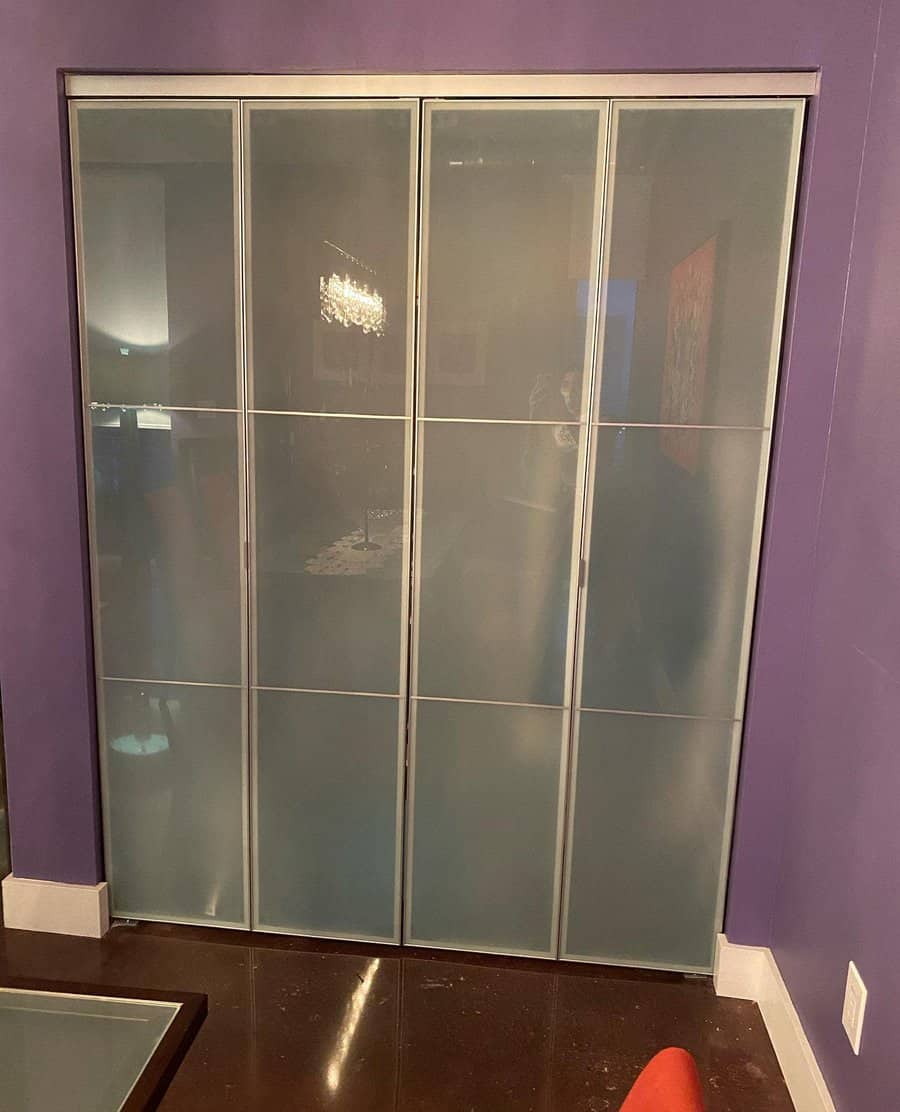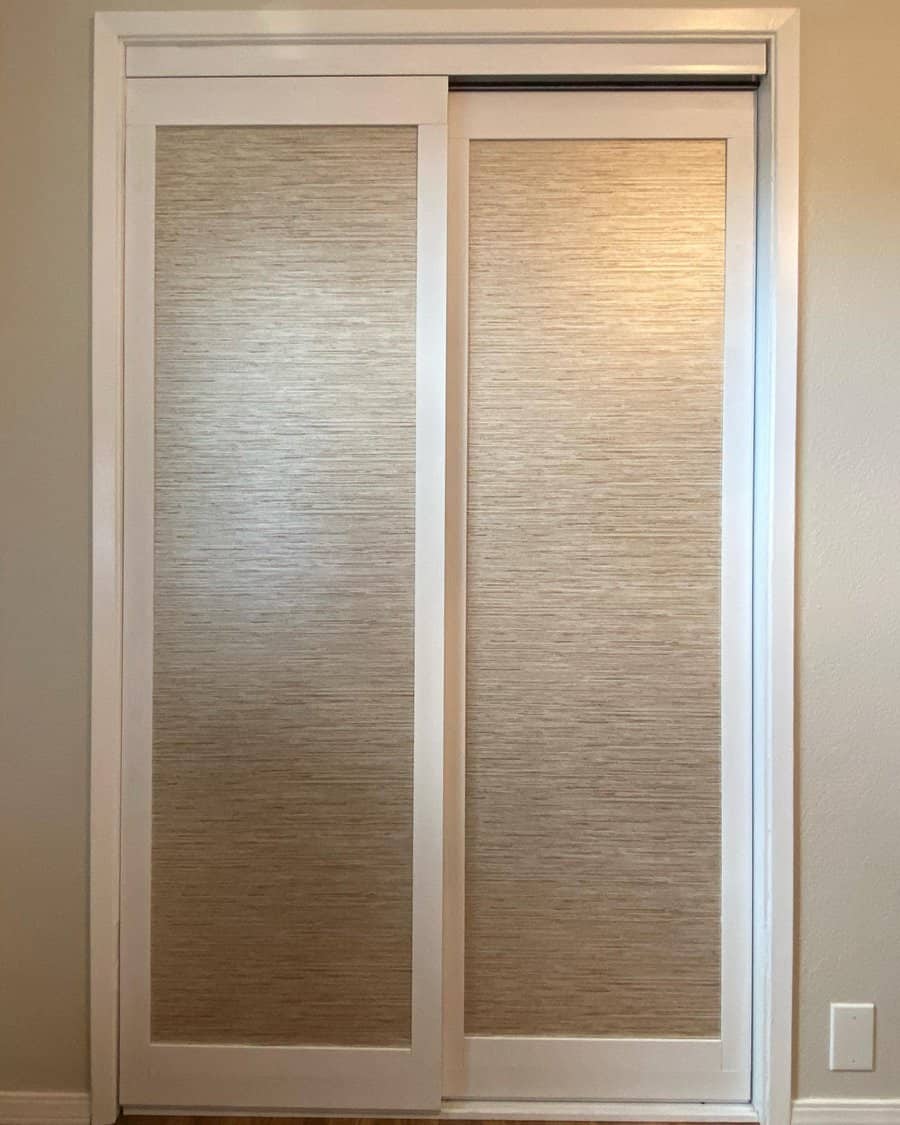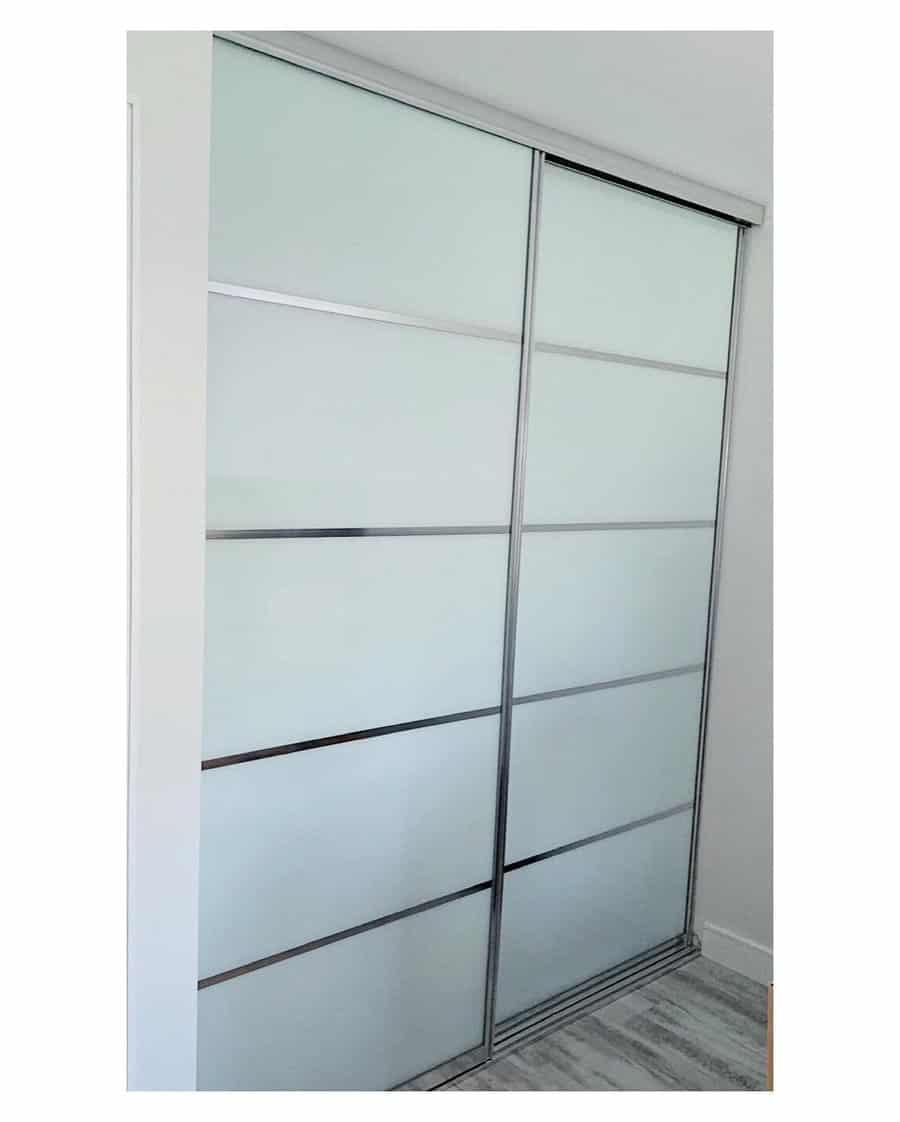 13. Channel Homeliness with Farmhouse Doubles
Farmhouse double closet doors exude rustic allure, often showcasing distressed wood paired with vintage-inspired hardware. Their design imbues spaces with a comforting, homey aura, fitting not just bedrooms but also mudrooms or pantries. Beyond their aesthetic charm, the double doors facilitate convenient access. Either embraced in their natural wood grain or painted for a pop of color, these doors effortlessly infuse spaces with personality and time-honored elegance.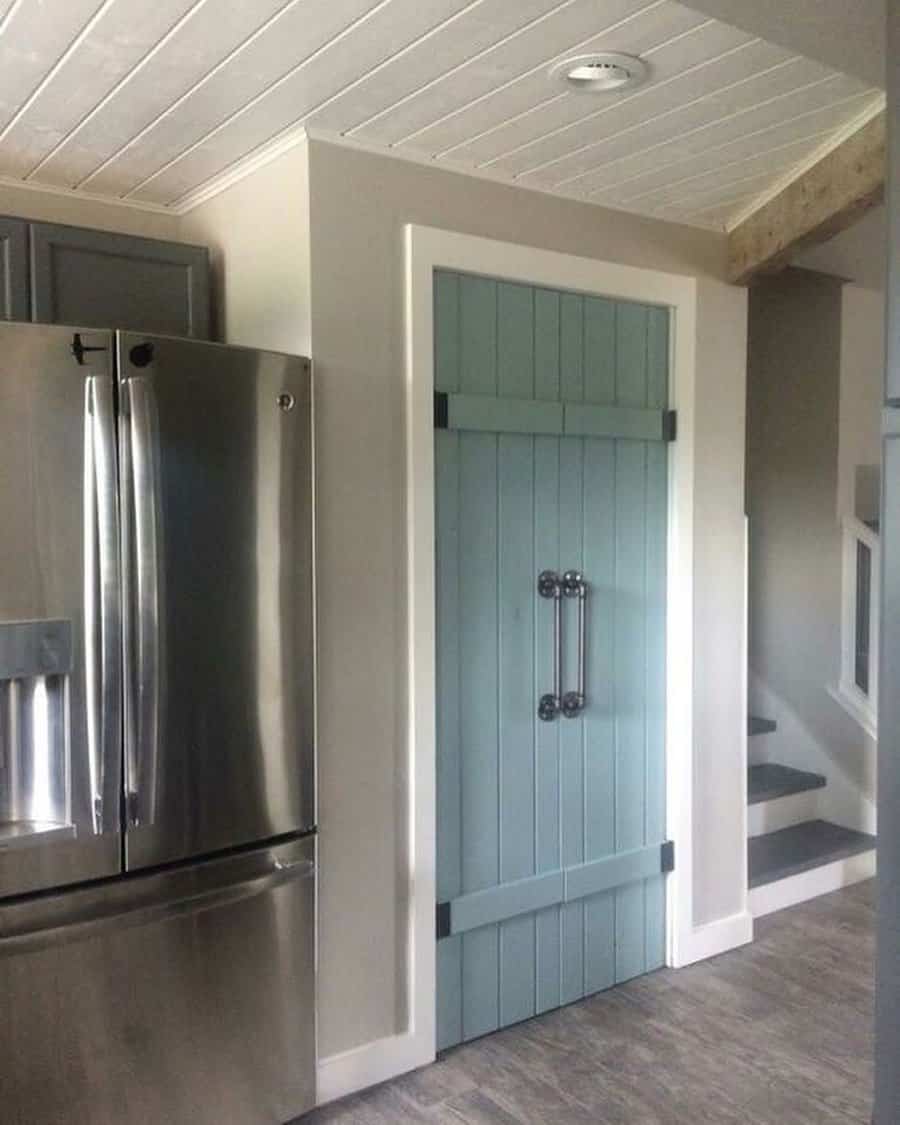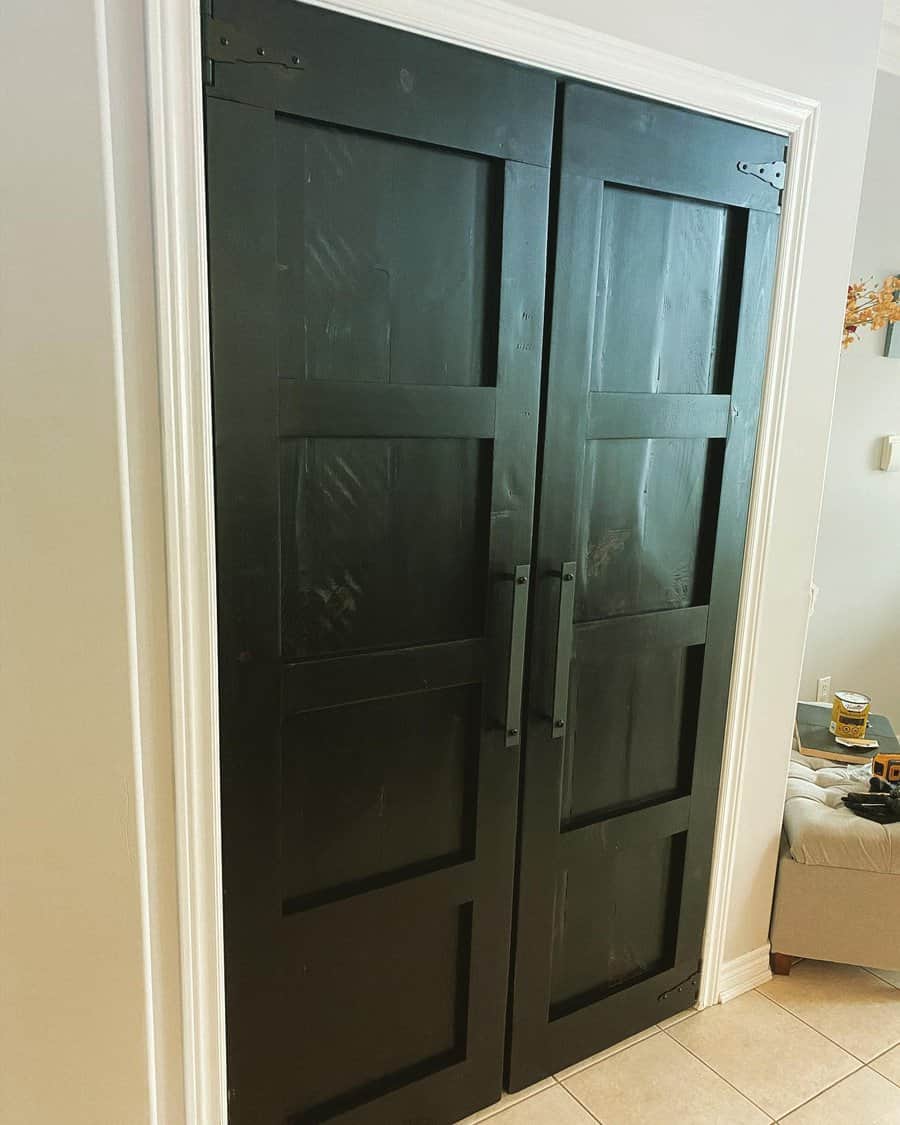 14. Indulge in Coastal Charm with Shiplap
Shiplap closet doors channel a coastal charm, melding rustic appeal with a fresh, airy vibe. Their textured, horizontal lines captivate, transforming even the simplest doors into character-rich focal points. The classic white hue amplifies brightness, giving rooms a spacious feel. Durable and low-maintenance, shiplap doors are ideal for those yearning for a blend of enduring style and relaxed elegance. Consider brass or matte black hardware to complete the look.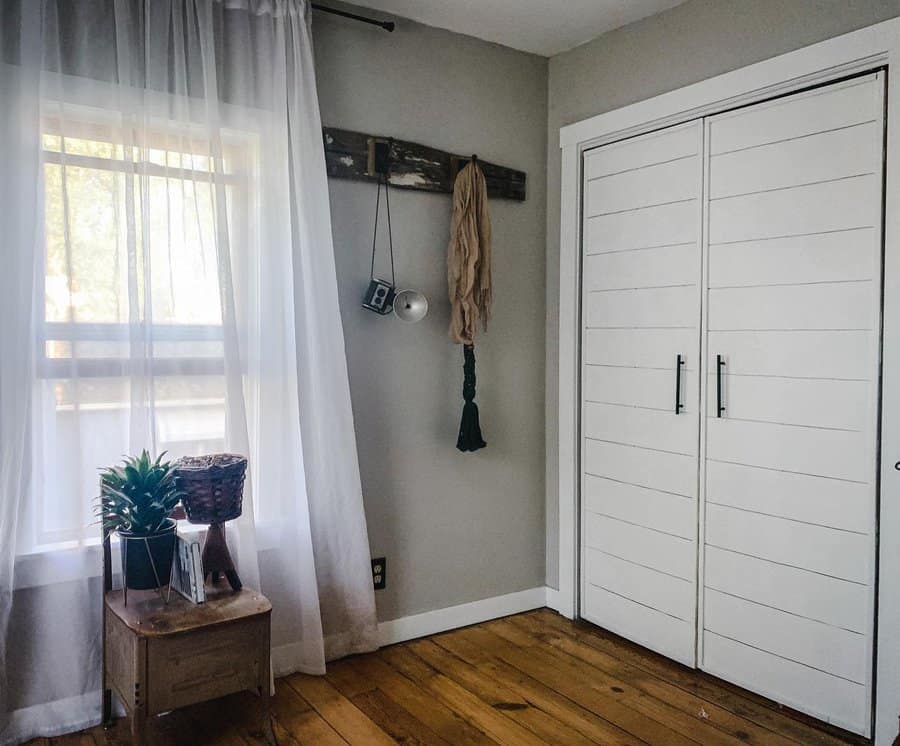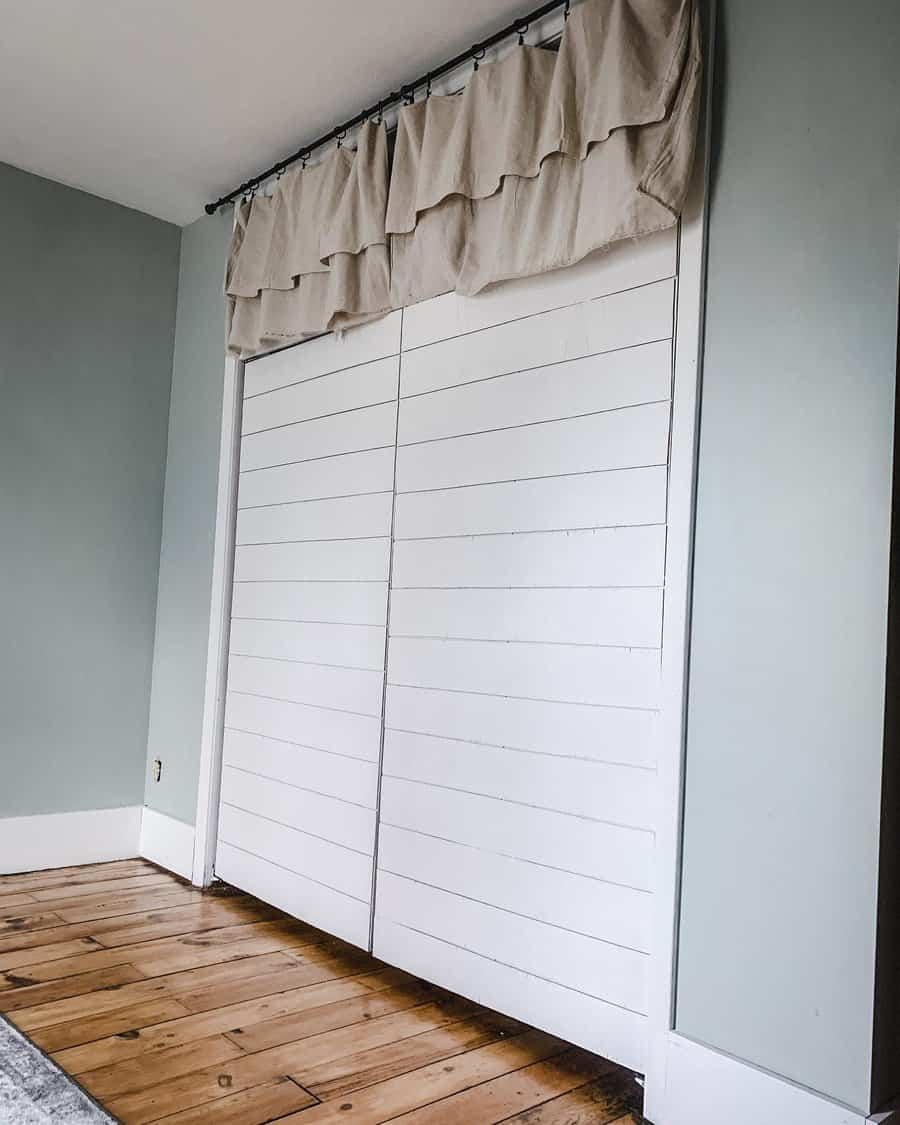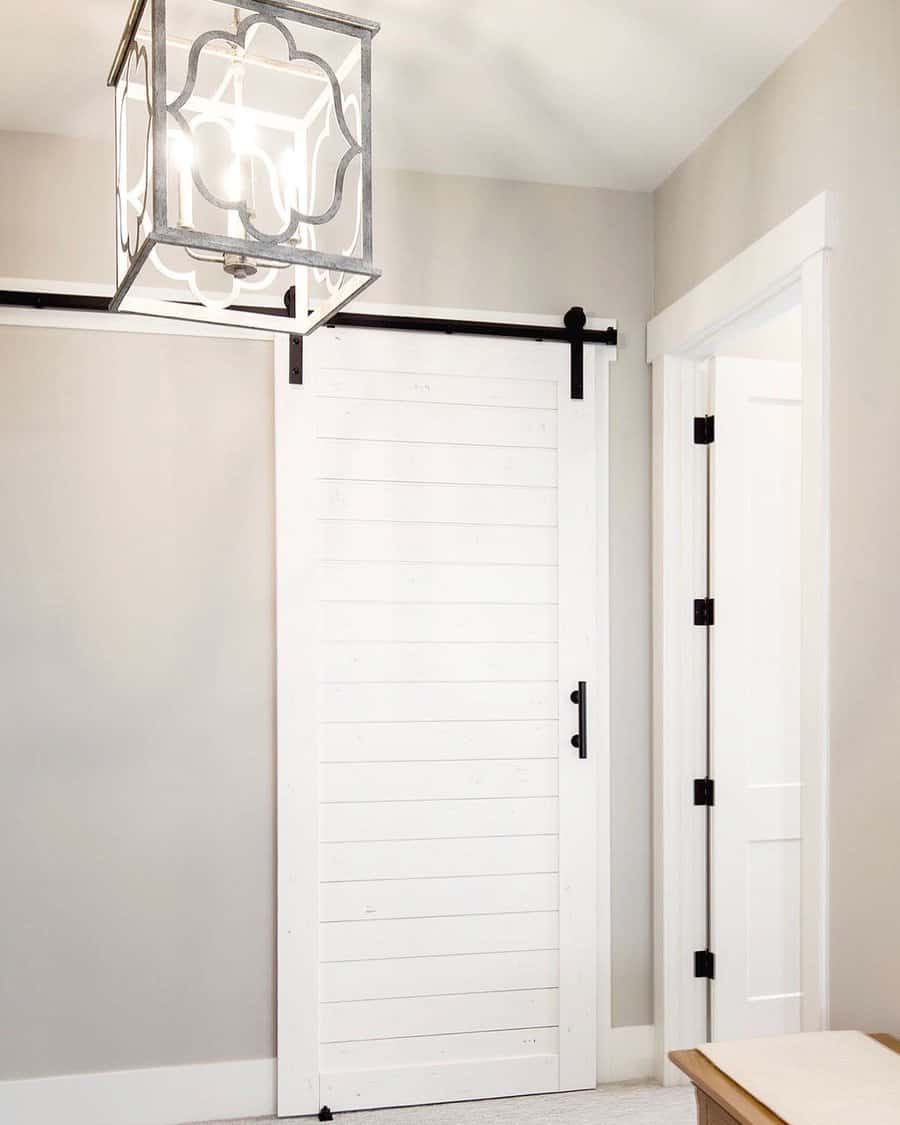 15. Integrate Views with Windowed Doors
Windowed closet doors breathe life into spaces, combining functionality with an expansive feel. The translucence, whether from clear or frosted glass, paired with frames of your choice, ensures cohesion with your room's design. As natural light filters through, it not only illuminates the closet's interior but also adds a warm ambiance. For those aiming to merge style with practical visibility, windowed closet doors strike the perfect balance. Opt for tinted glass for a hint of color or decorative frames for added flair.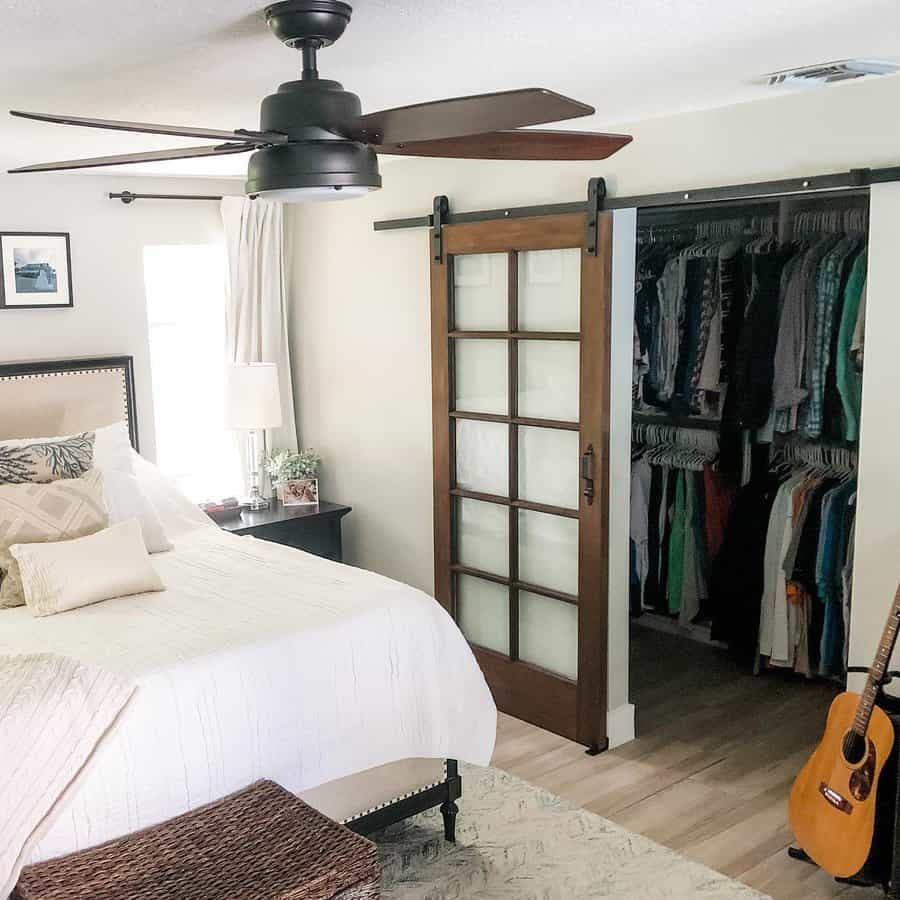 16. Achieve Vintage Appeal with White-Washed
White-washed sliding closet doors effortlessly transport vintage charm into modern spaces. Characterized by their weathered look, the diluted white paint technique accentuates wood grains and textures. This door style exudes an antiqued elegance, seamlessly blending form with function. Beyond aesthetics, the sliding mechanism conserves space and ensures hassle-free accessibility. For those desiring a hint of nostalgia with contemporary benefits, white-washed doors are an inspired choice. Consider pairing with antique handles for an added retro touch.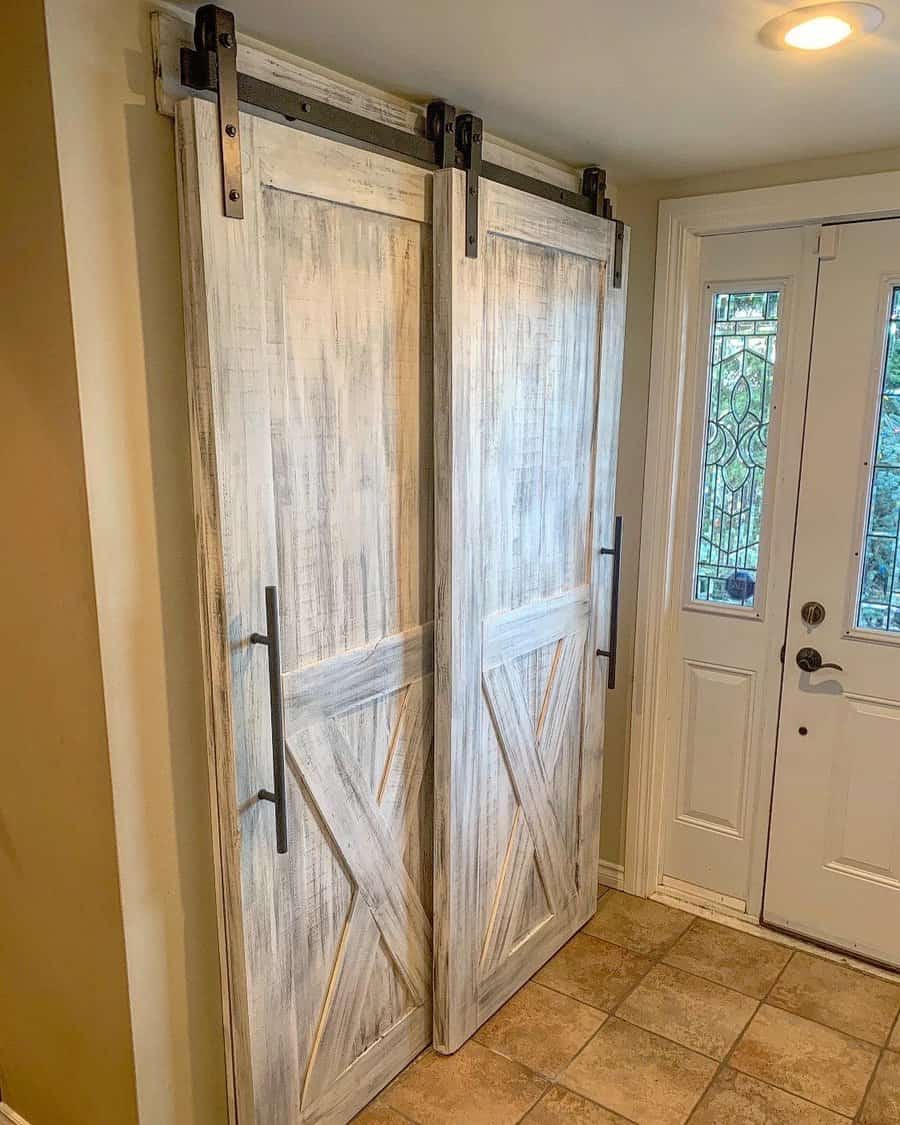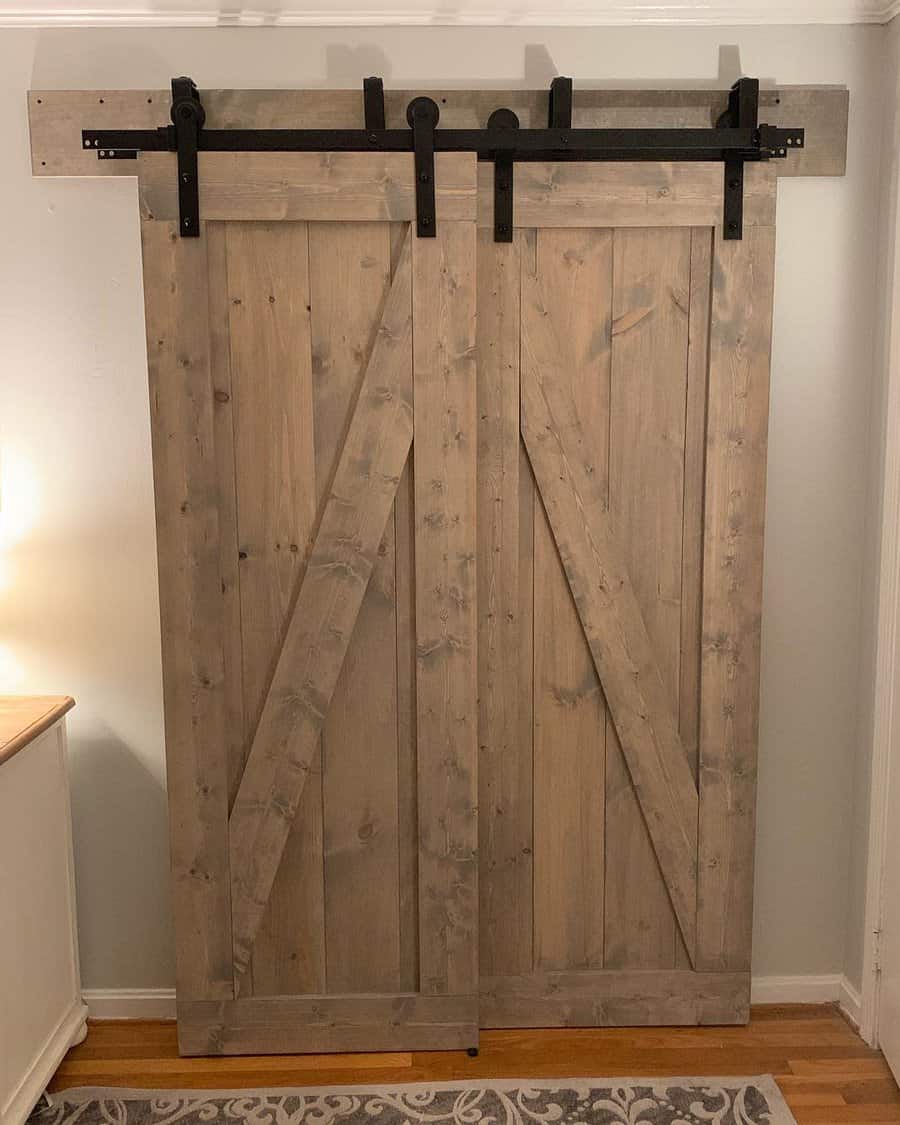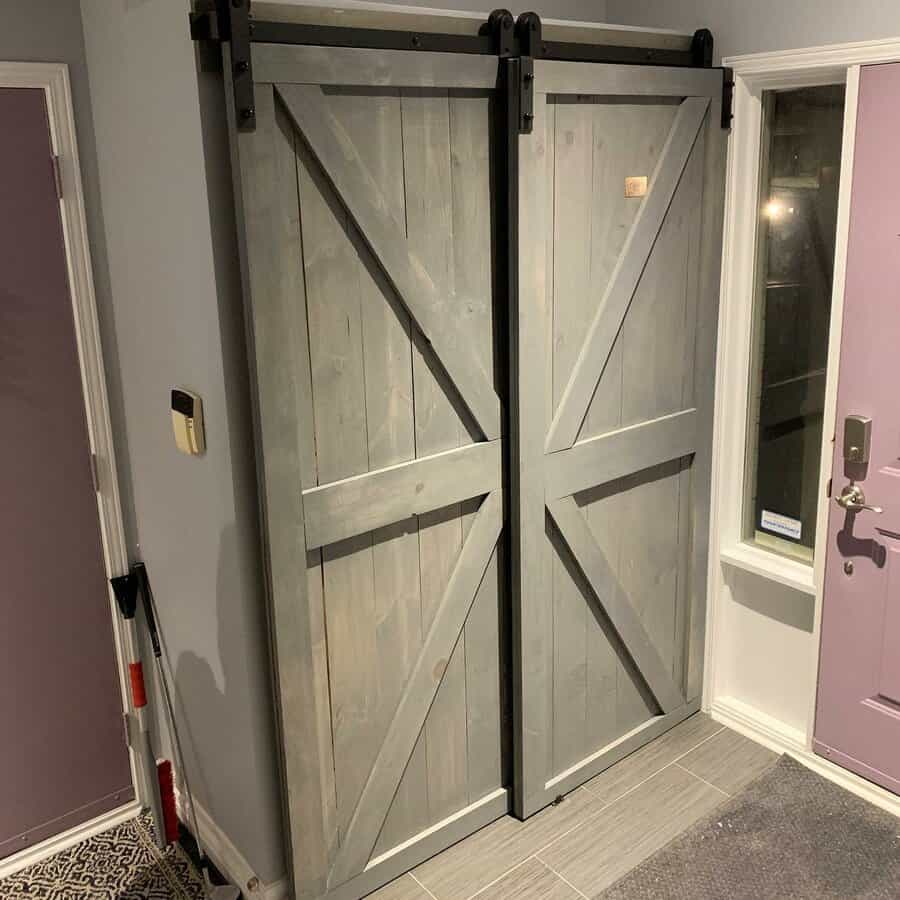 17. Personalize with Decorative Wallpaper Doors
Decorative wallpaper offers a transformative touch to ordinary closet doors, elevating them to statement pieces. Whether it's bold prints capturing your vivacity or subdued patterns exuding understated elegance, there's a design for every palette. This cost-effective makeover adds depth and individuality to rooms. To ensure longevity, choose high-quality wallpaper and seal it properly, resulting in closet doors that are both functional and distinctively stylish. Pair with complementary hardware for a cohesive look.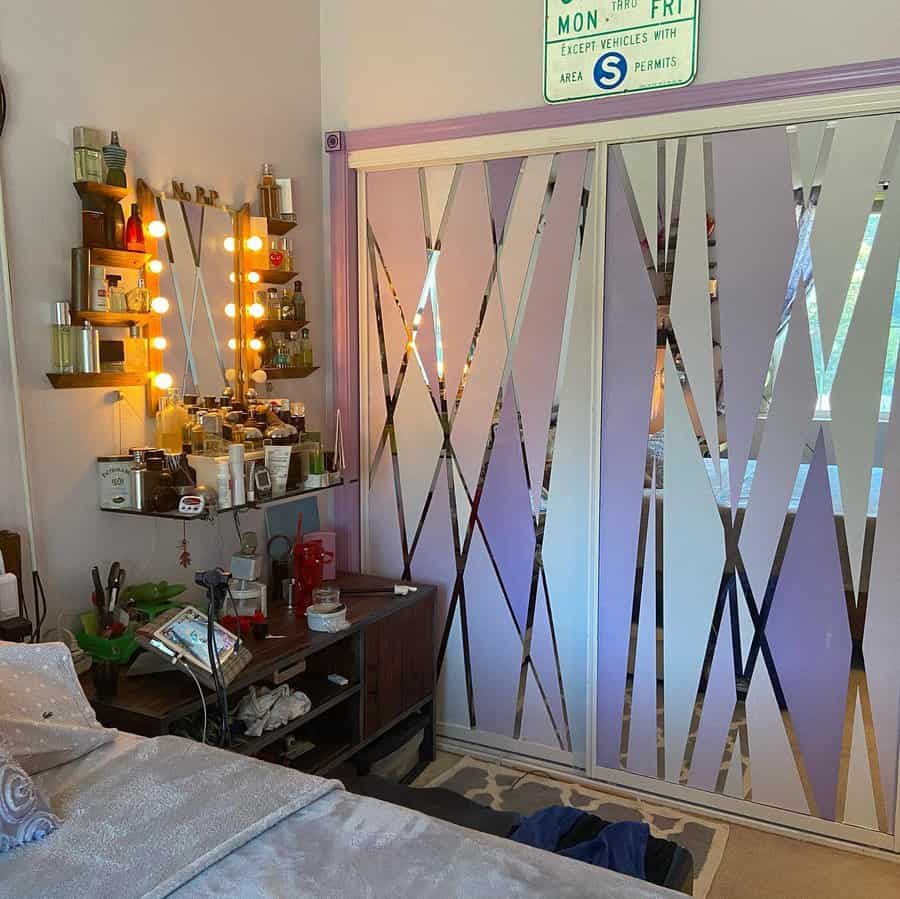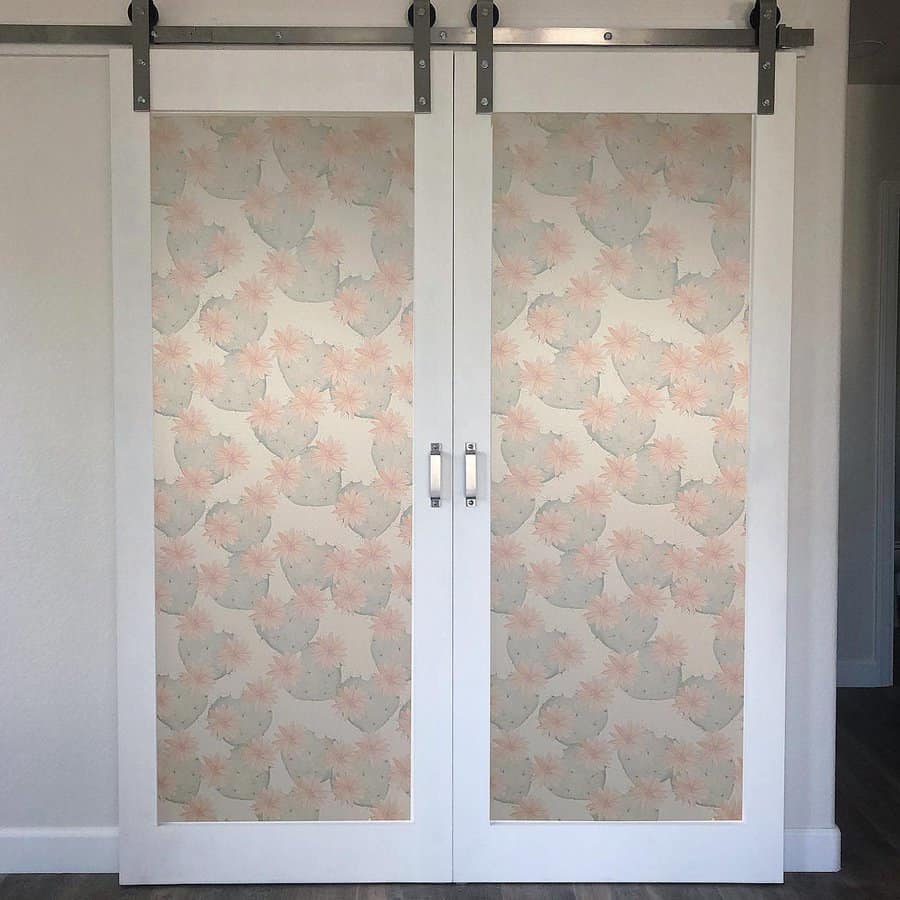 Closet Door FAQs
How can I cover my closet without a door?
If you cannot find a closet door idea that suits you, a curtain can be a great choice for covering up a messy closet space. Curtains are an easy DIY closet door covering, and they're affordable for those on a tight budget. Fabric panels or a beaded curtain are two possible choices.
Should a closet door open in or out?
A swinging door should open out into the room instead of into the closet. If it swings into the closet, it can block access to clothing and accessories stored on the wall behind the door.