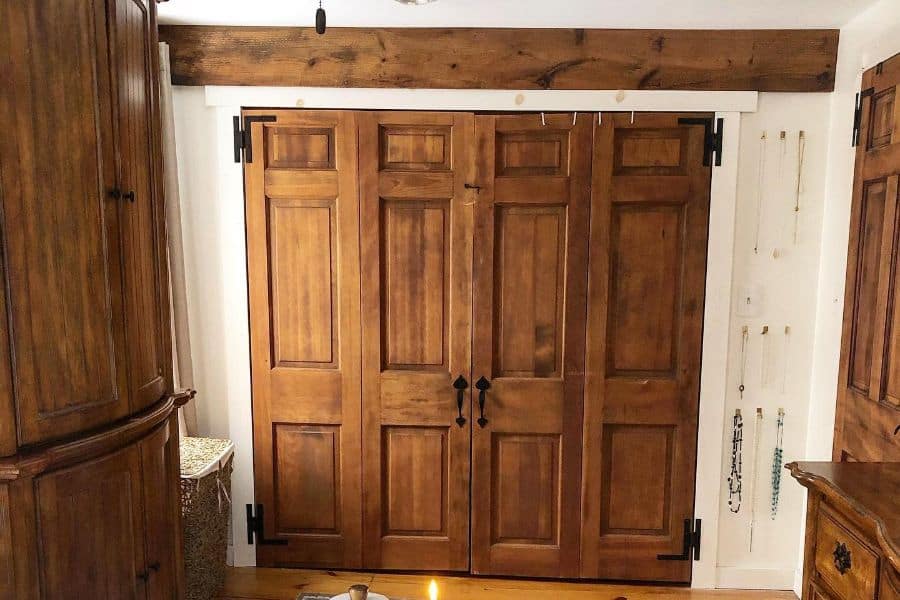 The Top 52 Closet Door Ideas
"The closet door is open for me, where I left it; since I left it open, it has graciously stayed open." – Allen Ginsberg
Closets are ideal storage spaces, largely because you can shut the door and hide the mess. Closet doors are one of those often-overlooked features that can make or break a room's interior design.
The ideal closet door doesn't necessarily have to match the room's other doors. A mirrored door, bifold door, or barn door are all excellent choices when you want to explore creative closet door ideas. Scroll through our best closet door collection and see all the ways you can jazz up this essential feature.
1. Use Sliding Barn Doors
If you're looking for a way to add some rustic charm to your bedroom while also saving space, a sliding barn closet door might just be the perfect addition. Not only does it offer easy access to your closet, but it also adds a touch of farmhouse-style elegance to your room.
Plus, the sliding mechanism helps to free up valuable floor space that a traditional swinging door would take up. With a variety of styles and finishes to choose from, you're sure to find a sliding barn closet door that fits perfectly with your décor and helps you make the most of your space.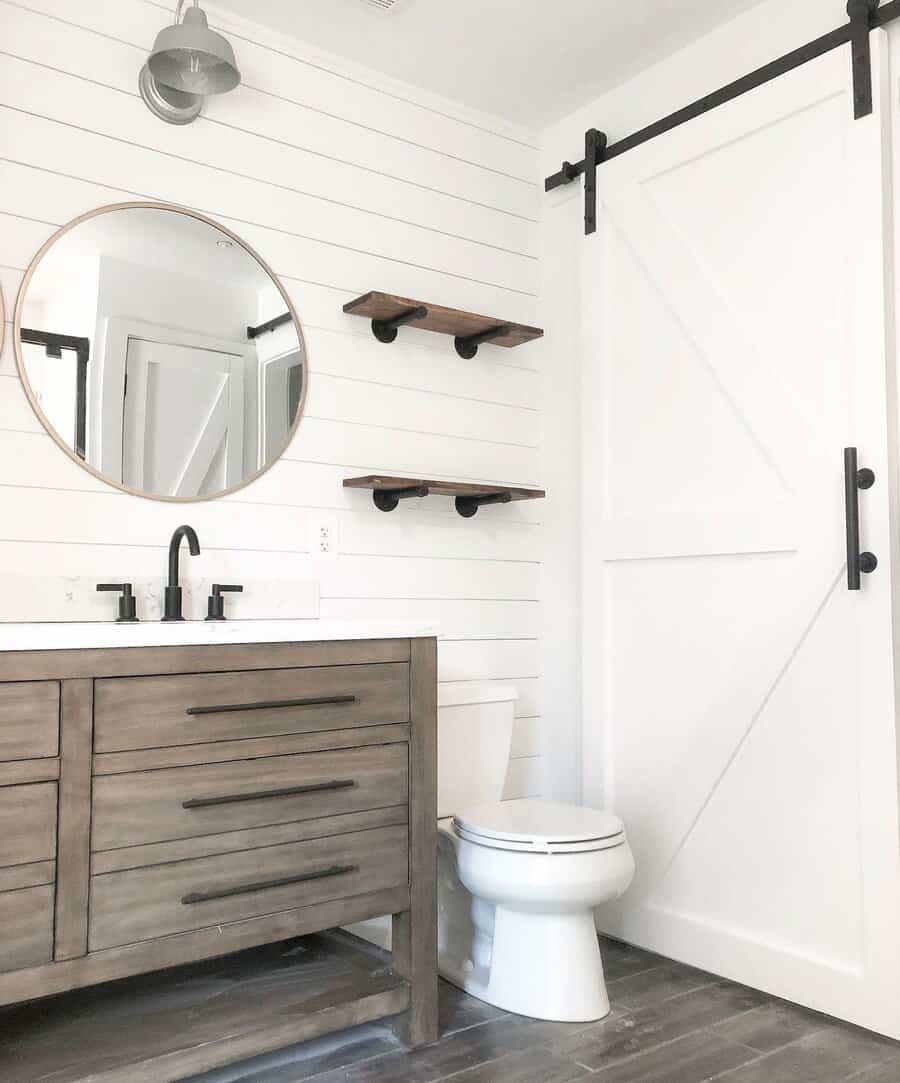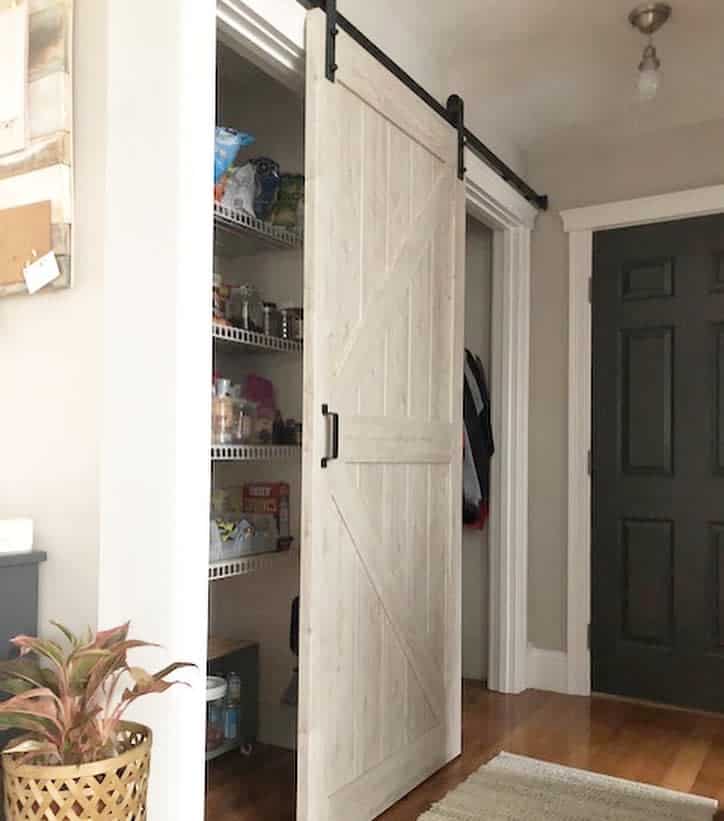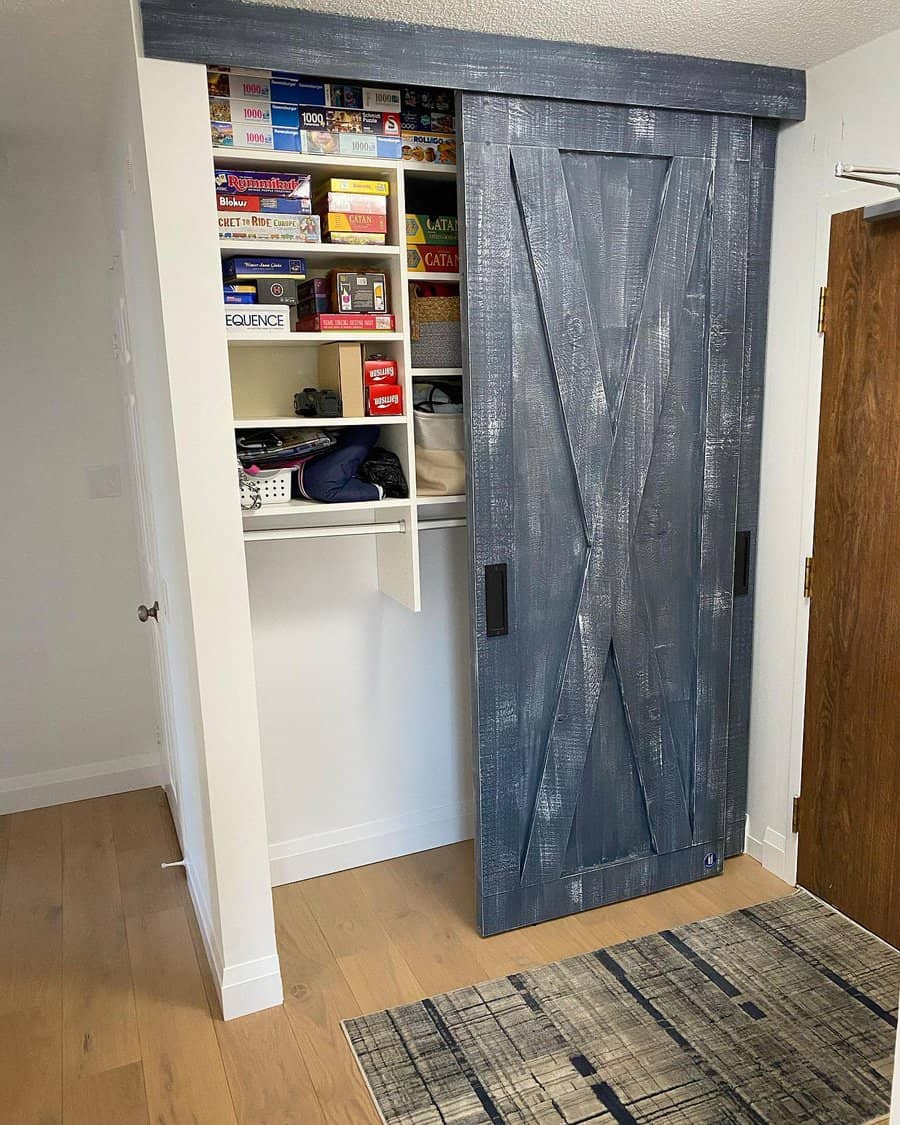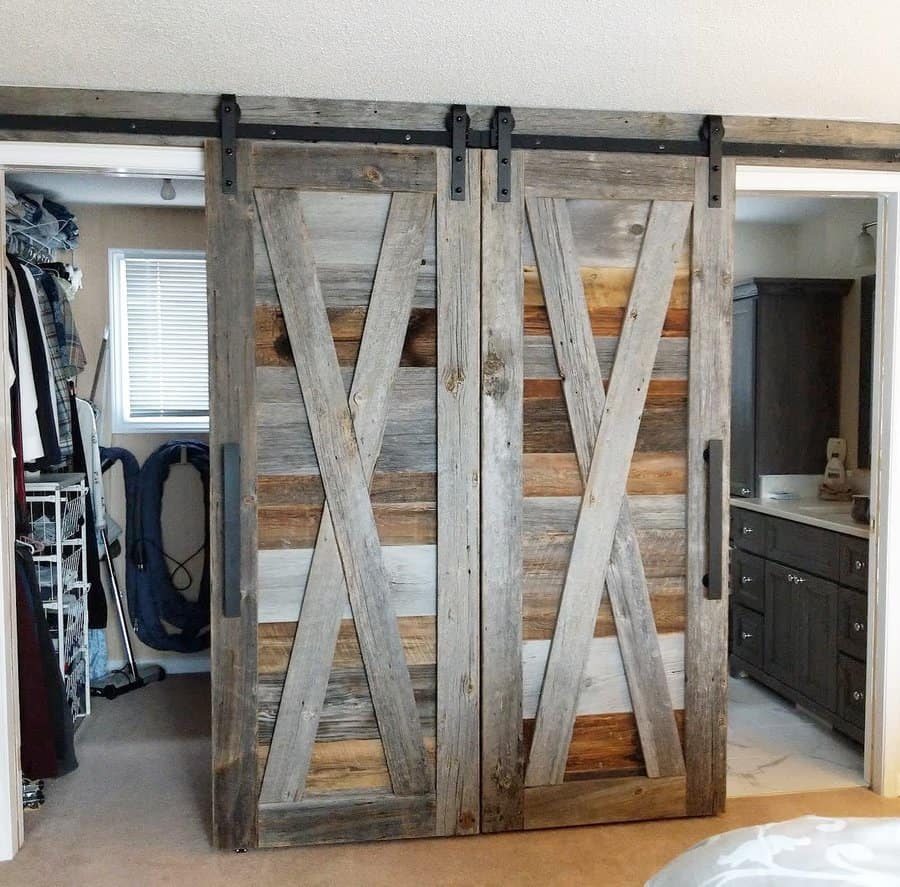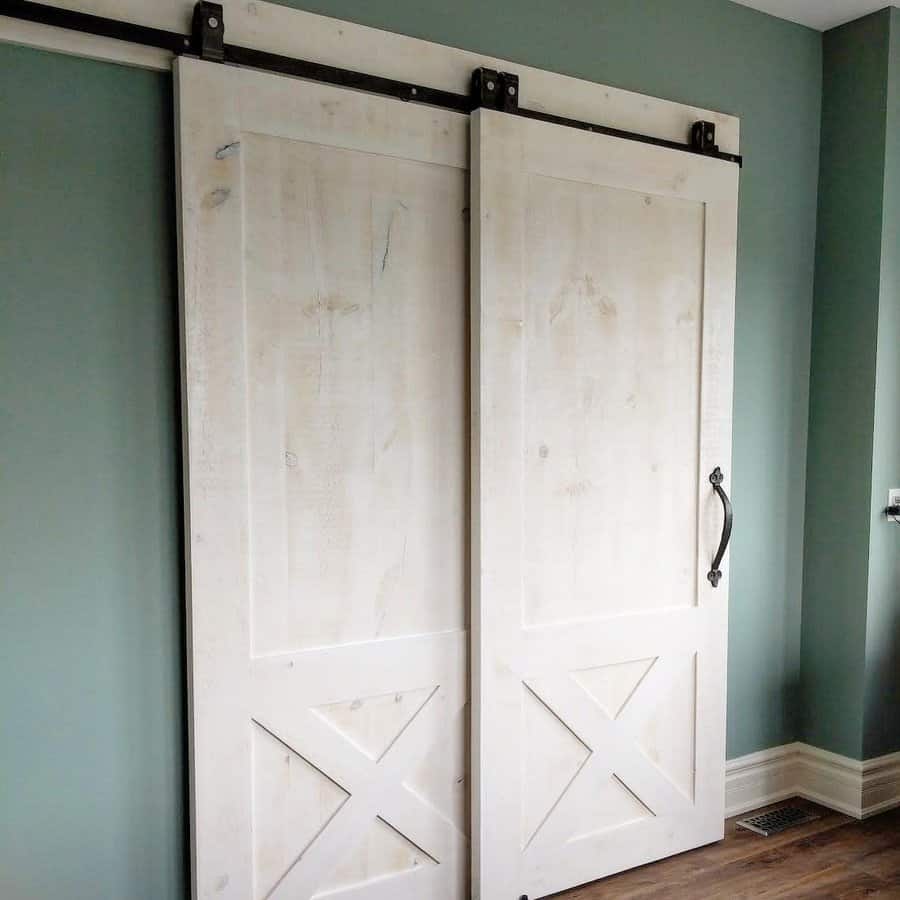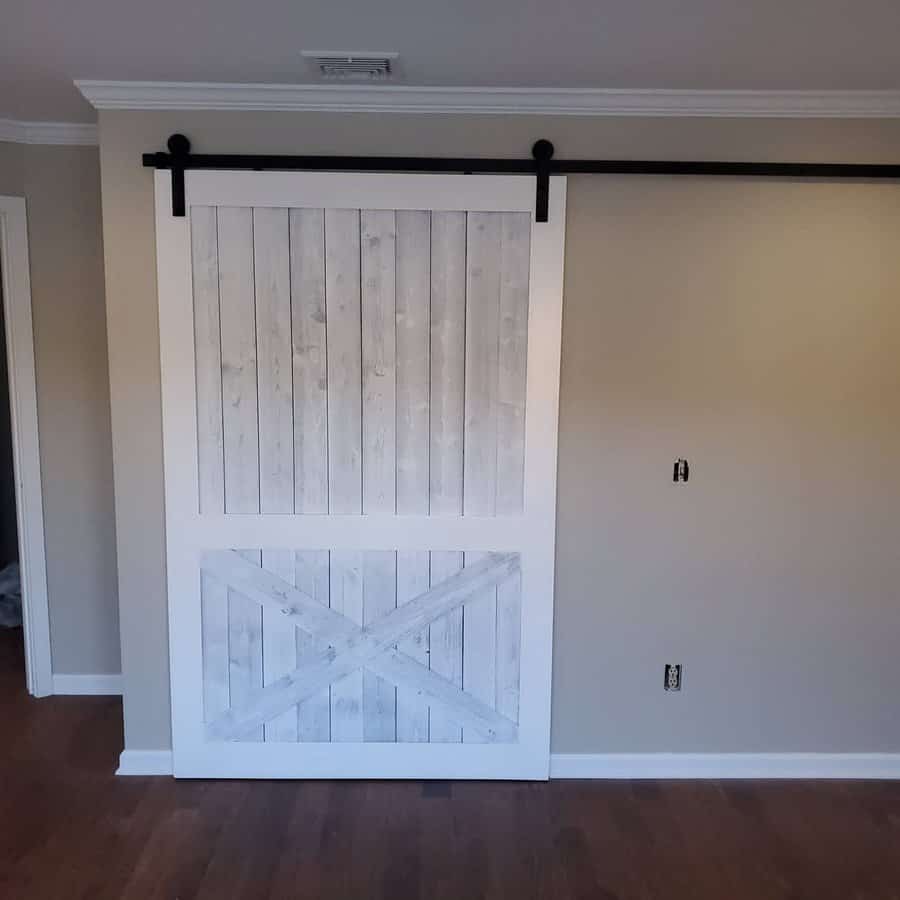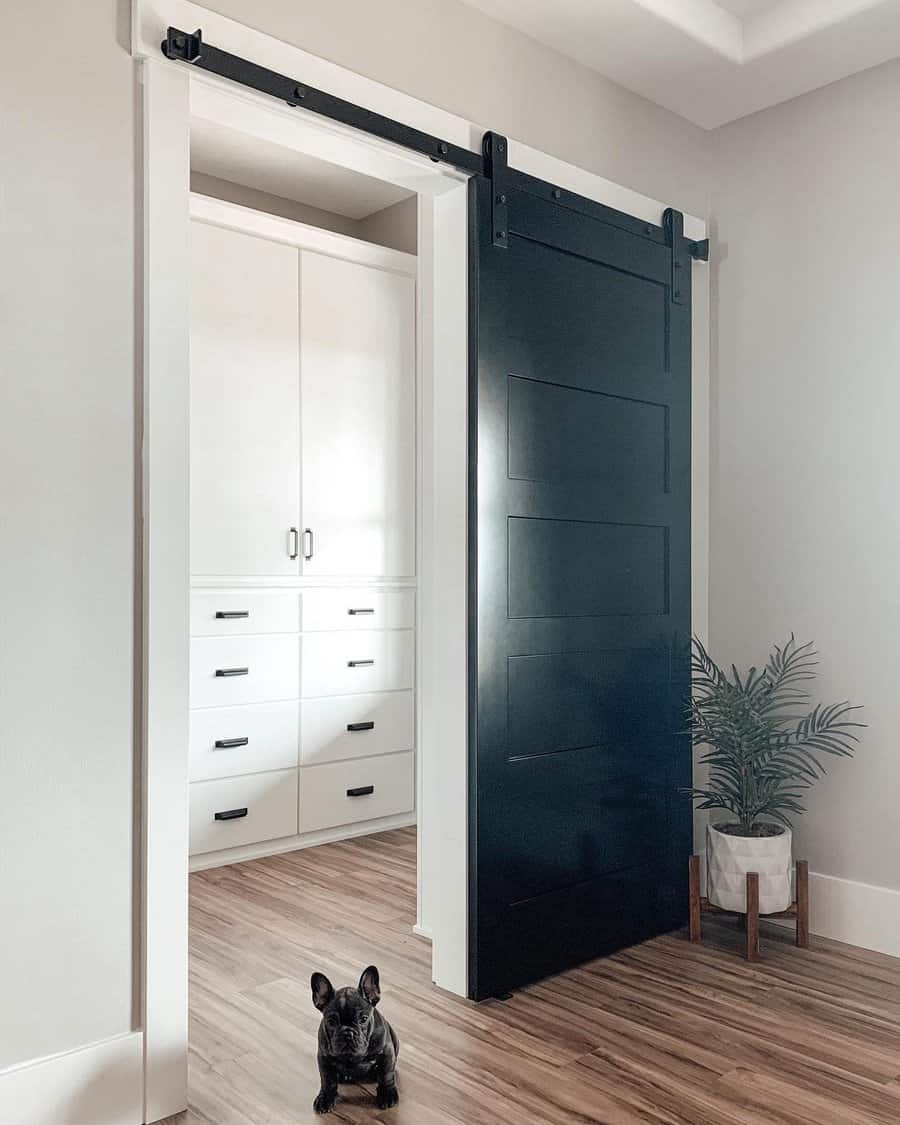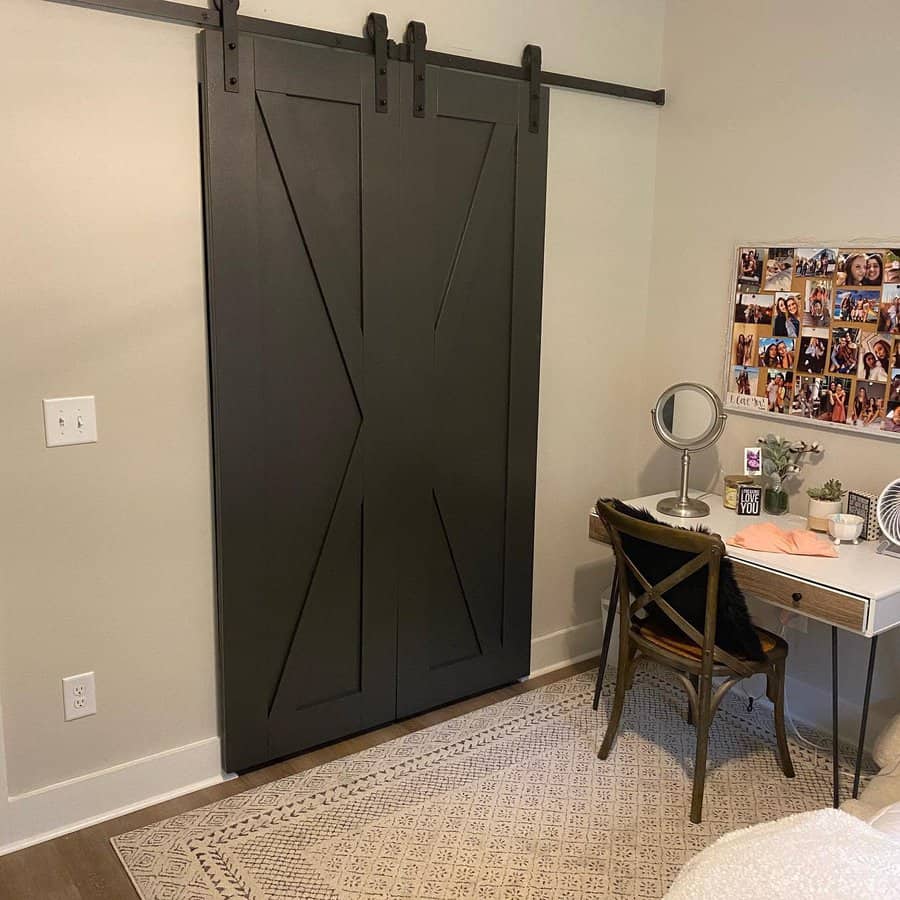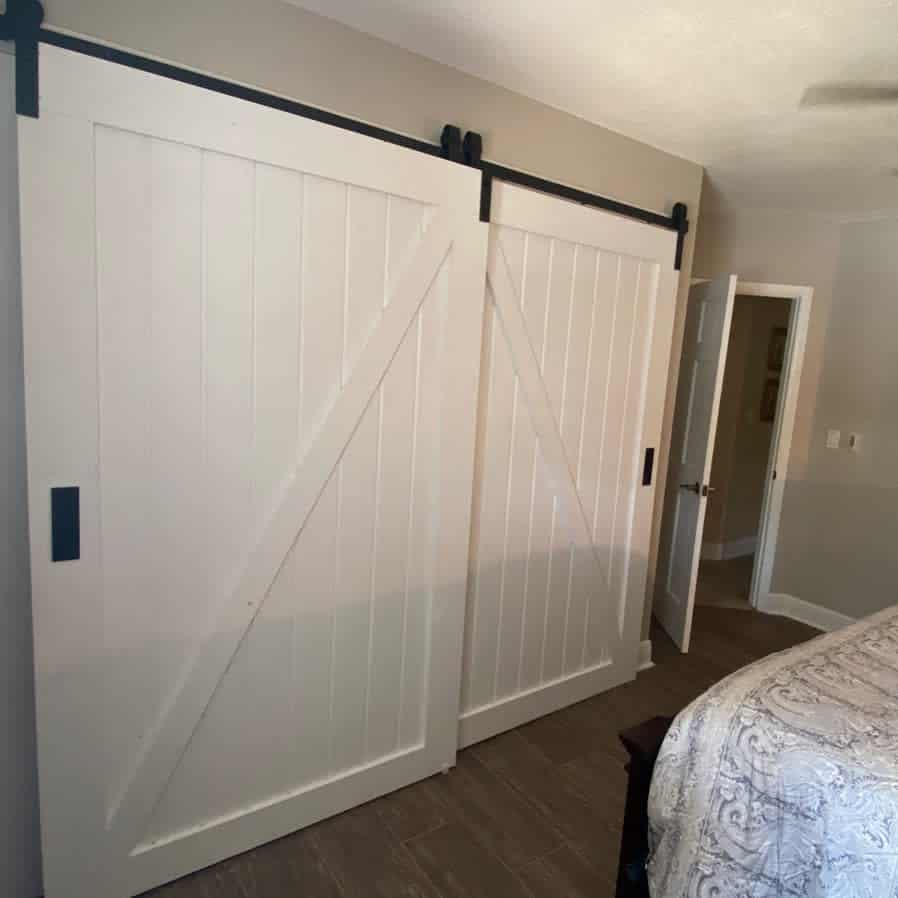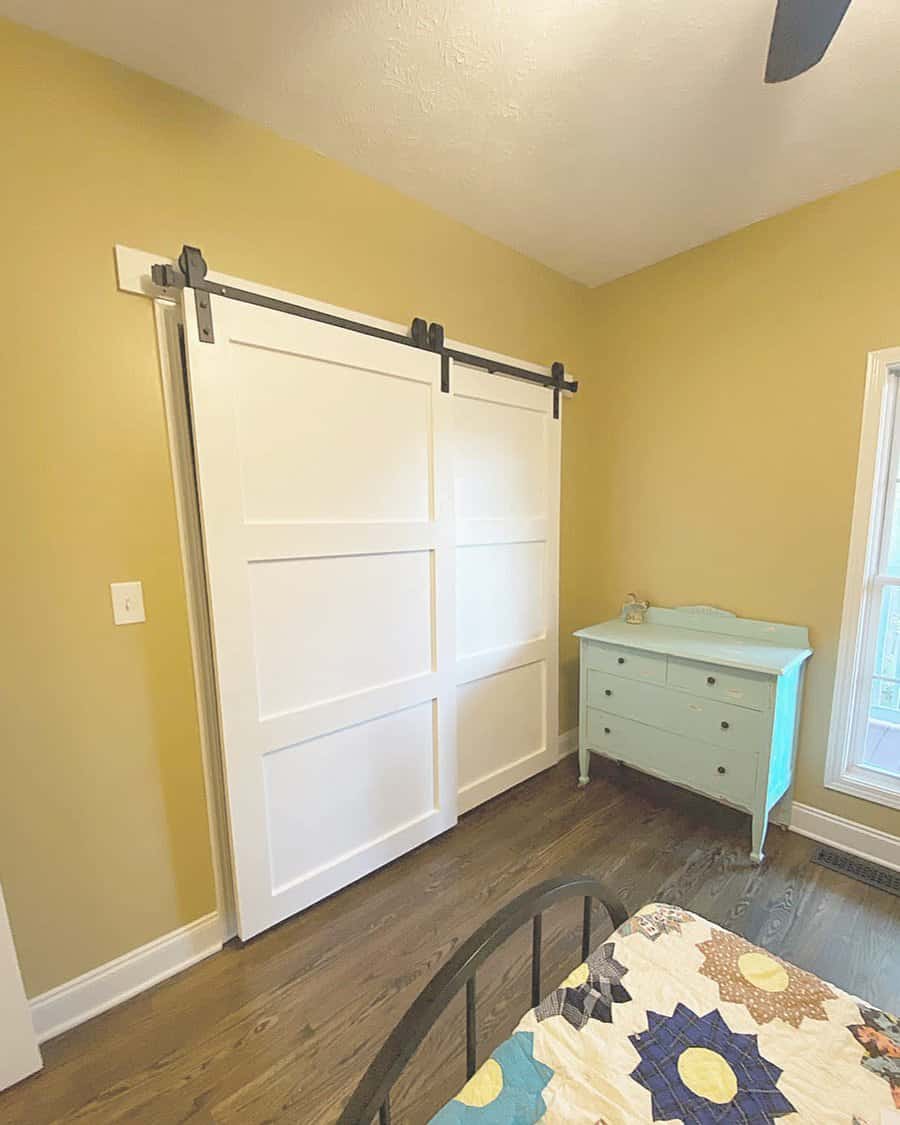 2. White Closet Door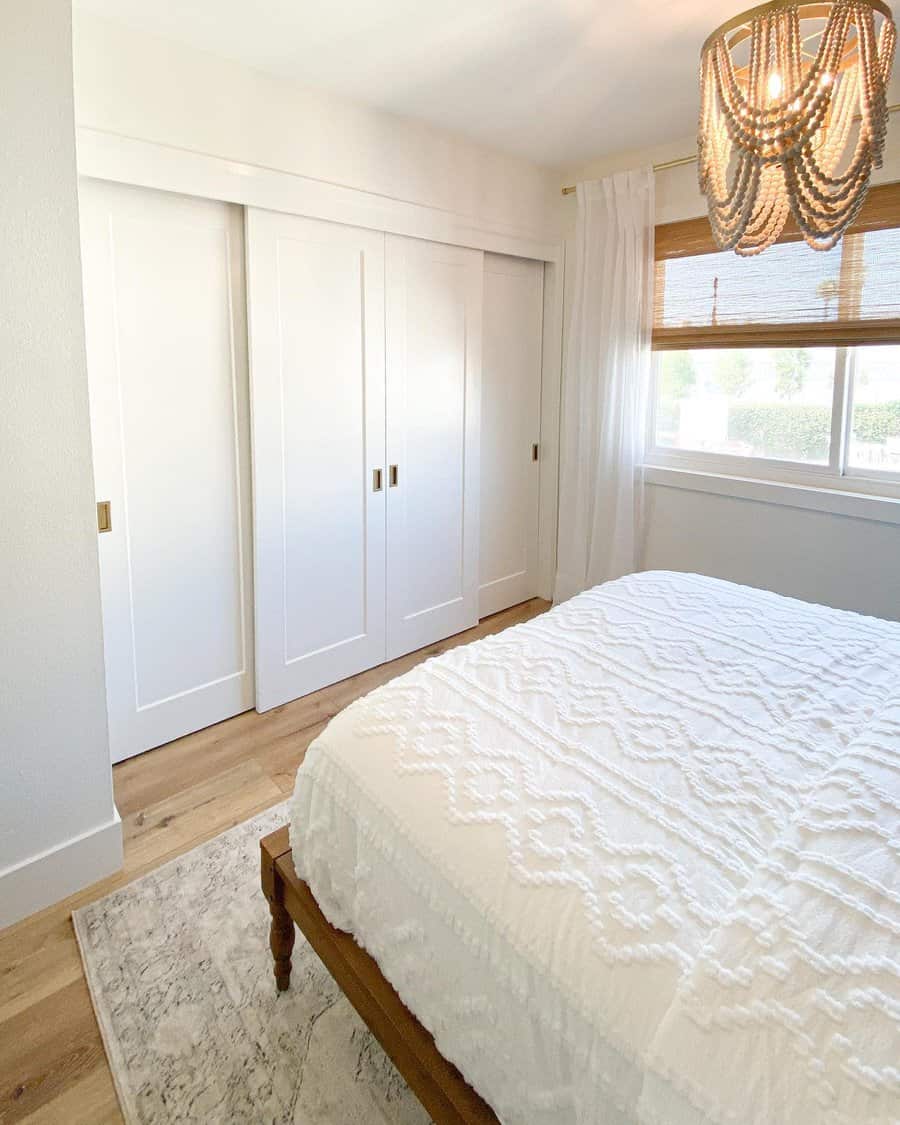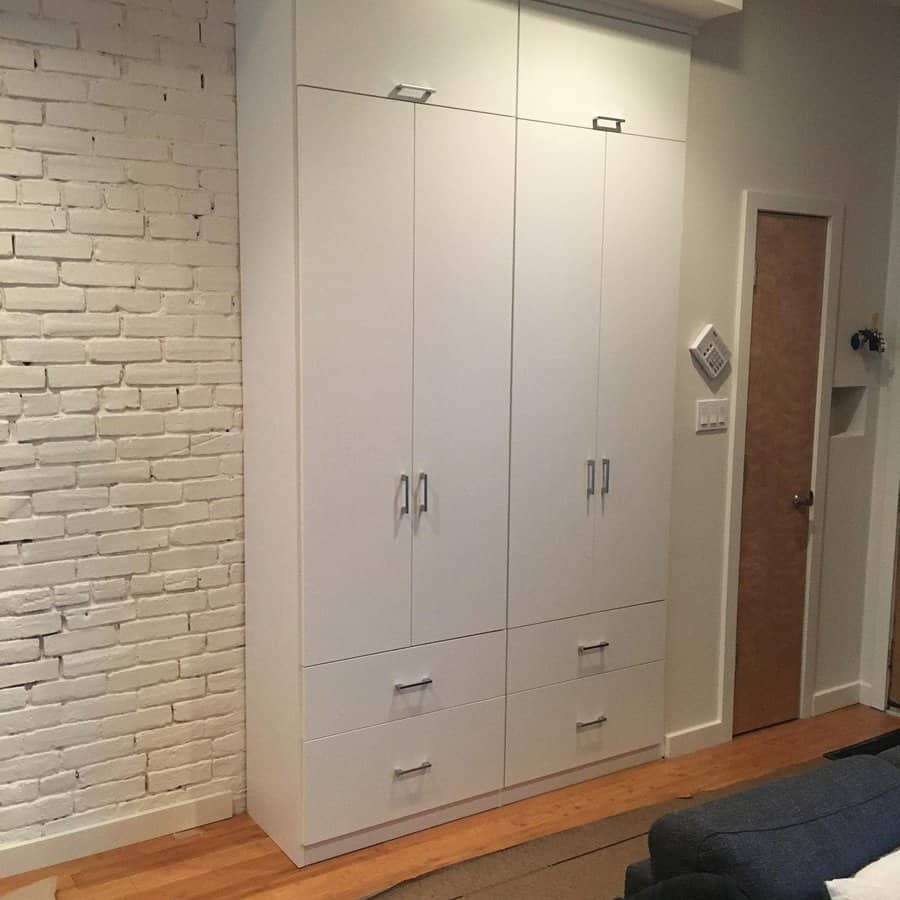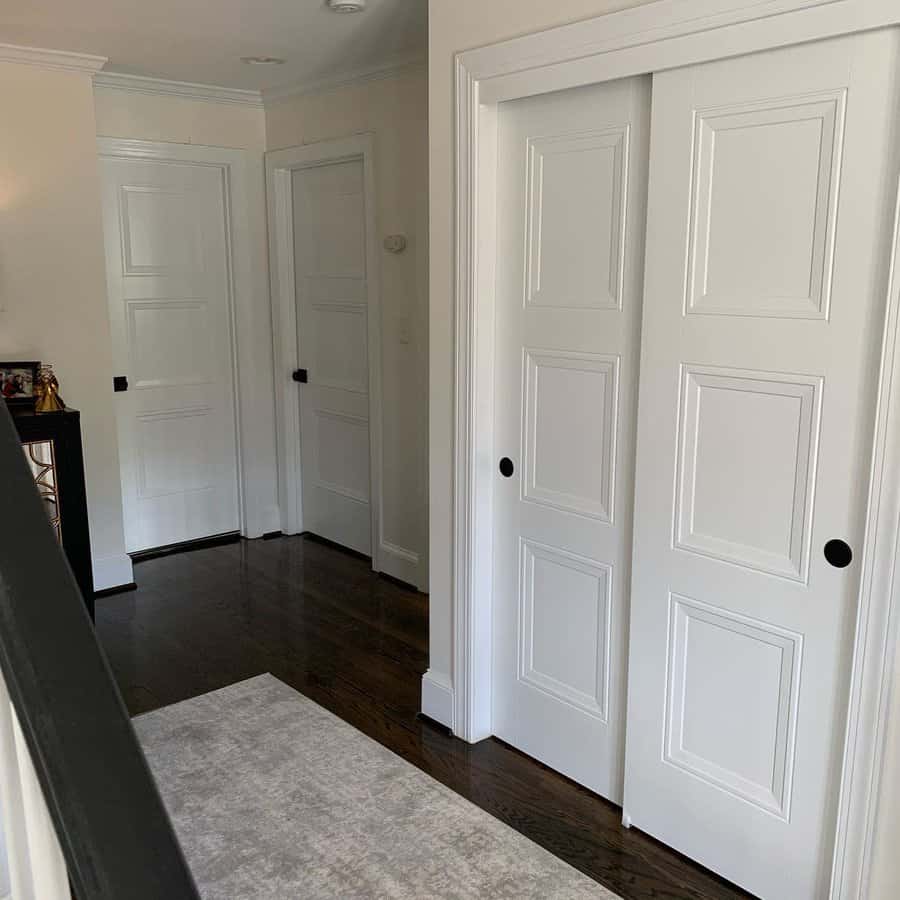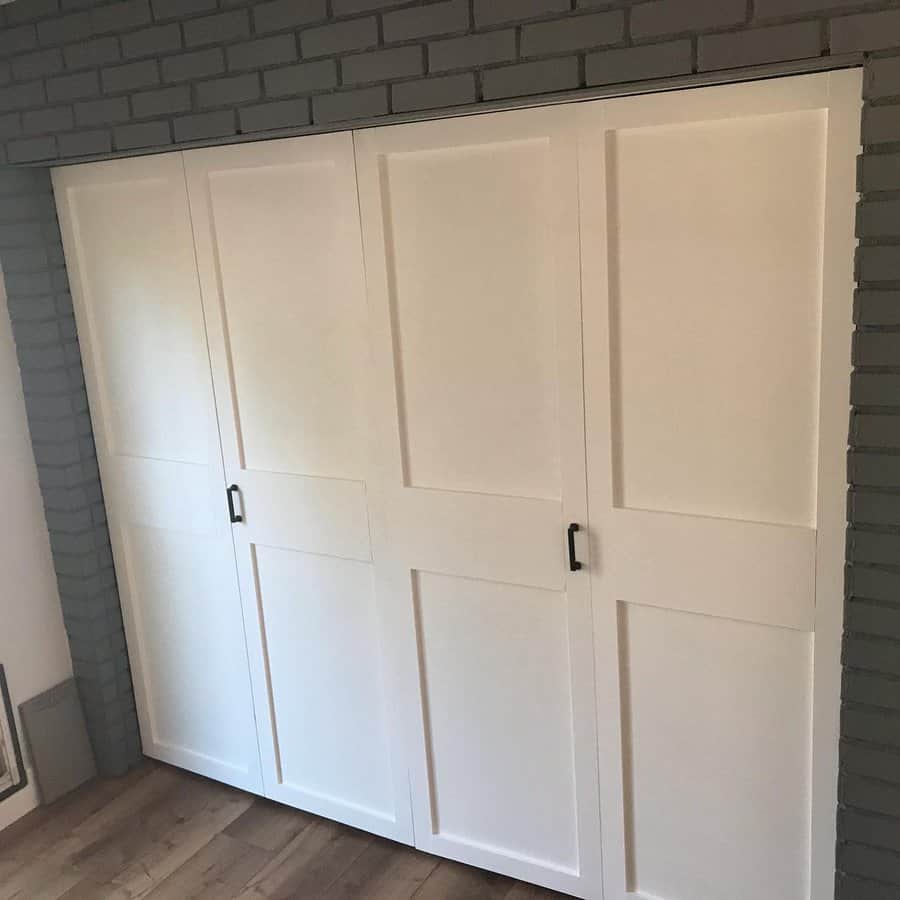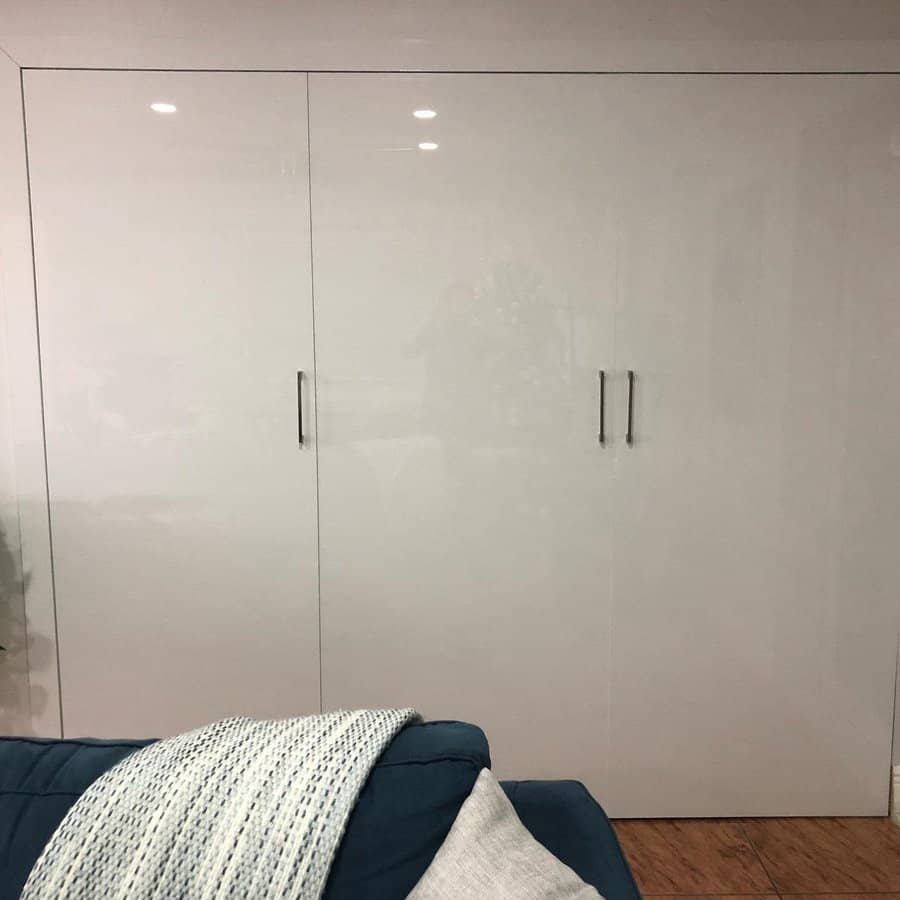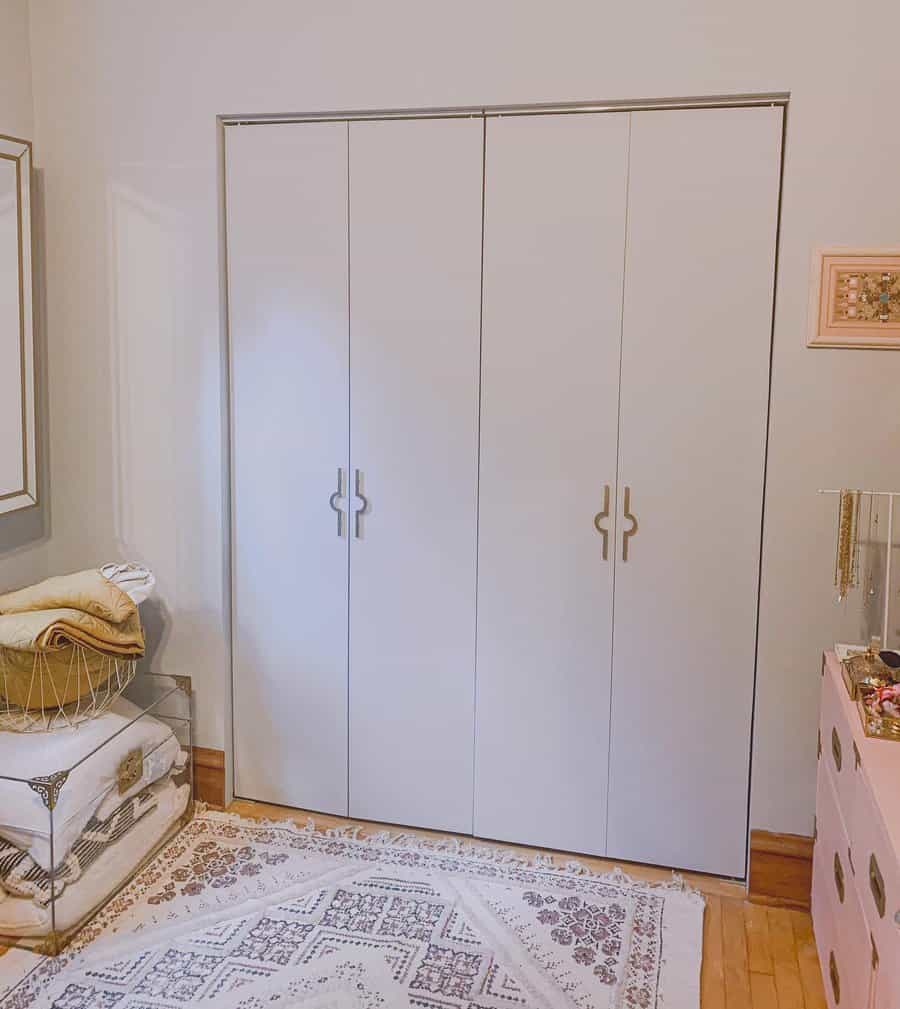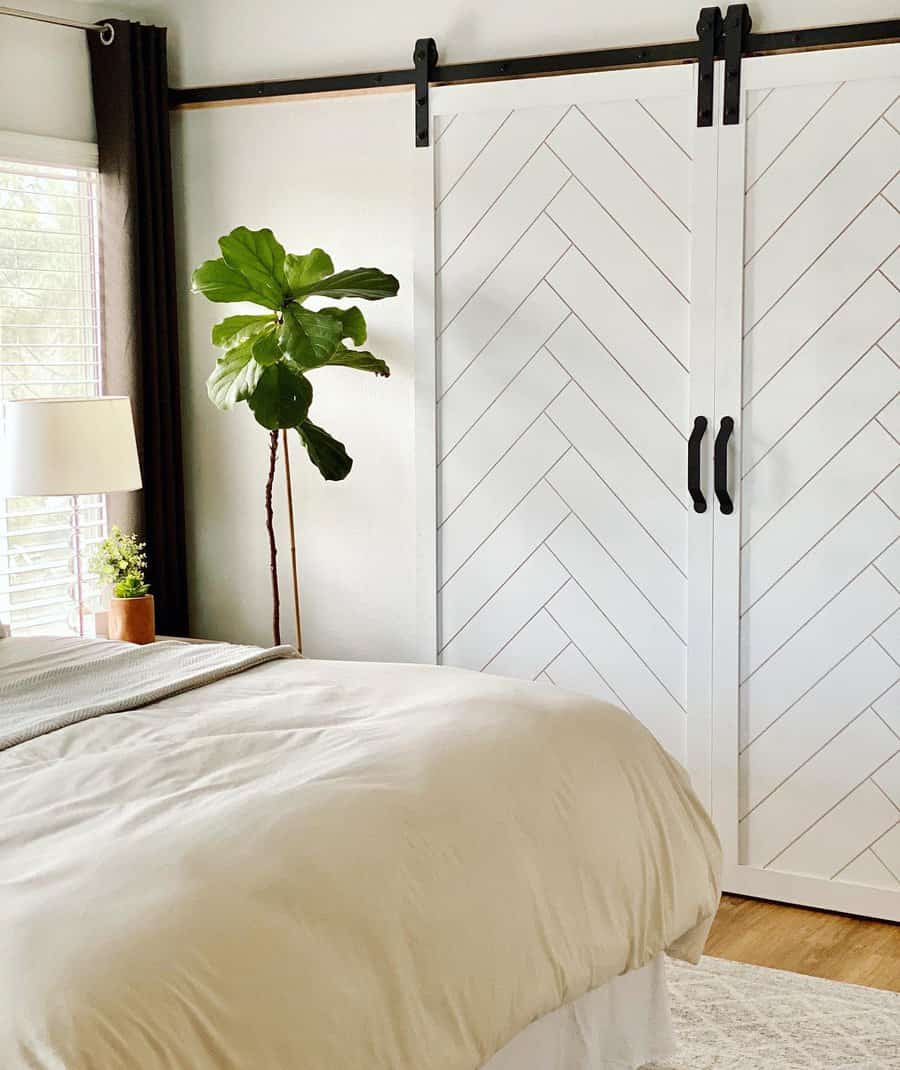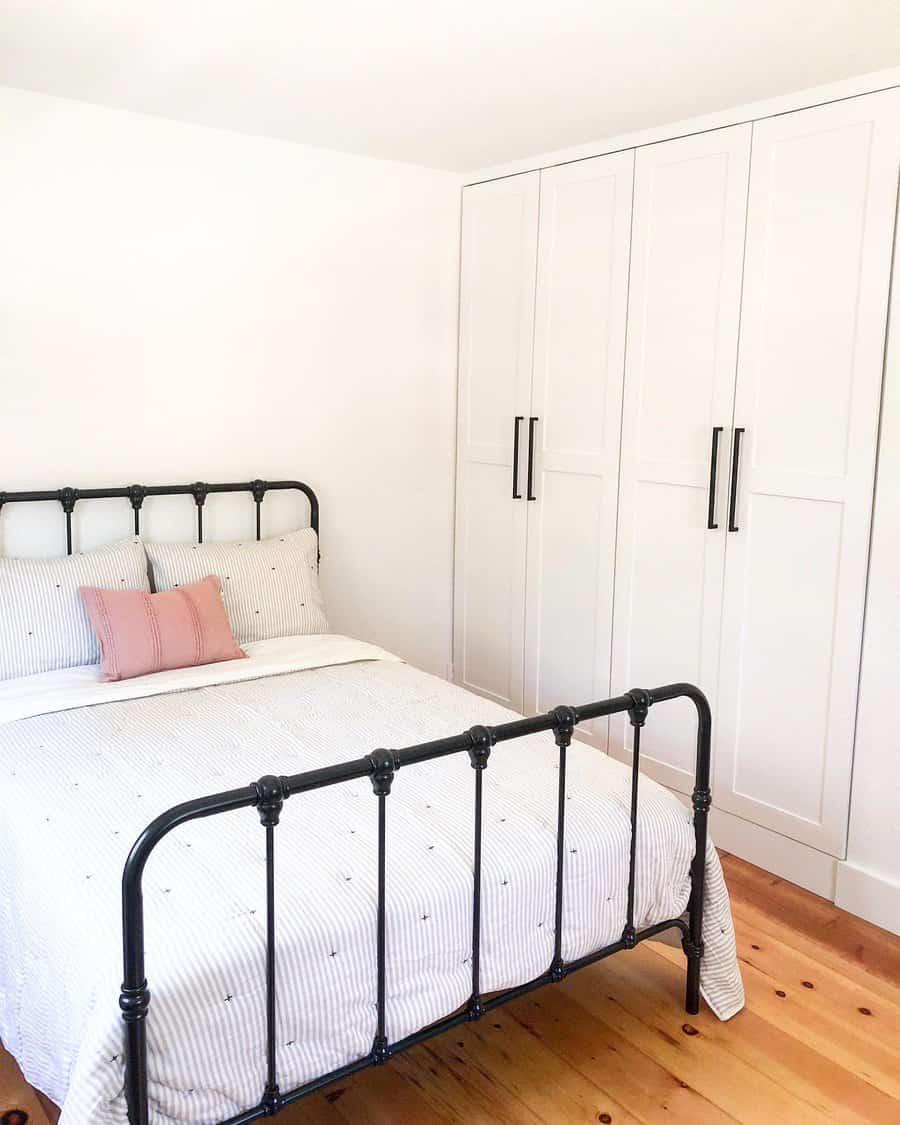 3. Closet Door With Gold Fixtures
A white closet door with gold fixtures is a simple yet elegant way to elevate the look of your closet. The white color gives a clean and bright feel to the room, while the gold fixtures add a touch of luxury and sophistication. The contrast between the white and gold create a visually stunning effect that will impress anyone who walks into the room.
Whether you have a traditional or modern design style, this combination will work perfectly and instantly upgrade the overall look of your space. With a little creativity and attention to detail, a white closet door with gold fixtures can be the perfect finishing touch to your dream closet.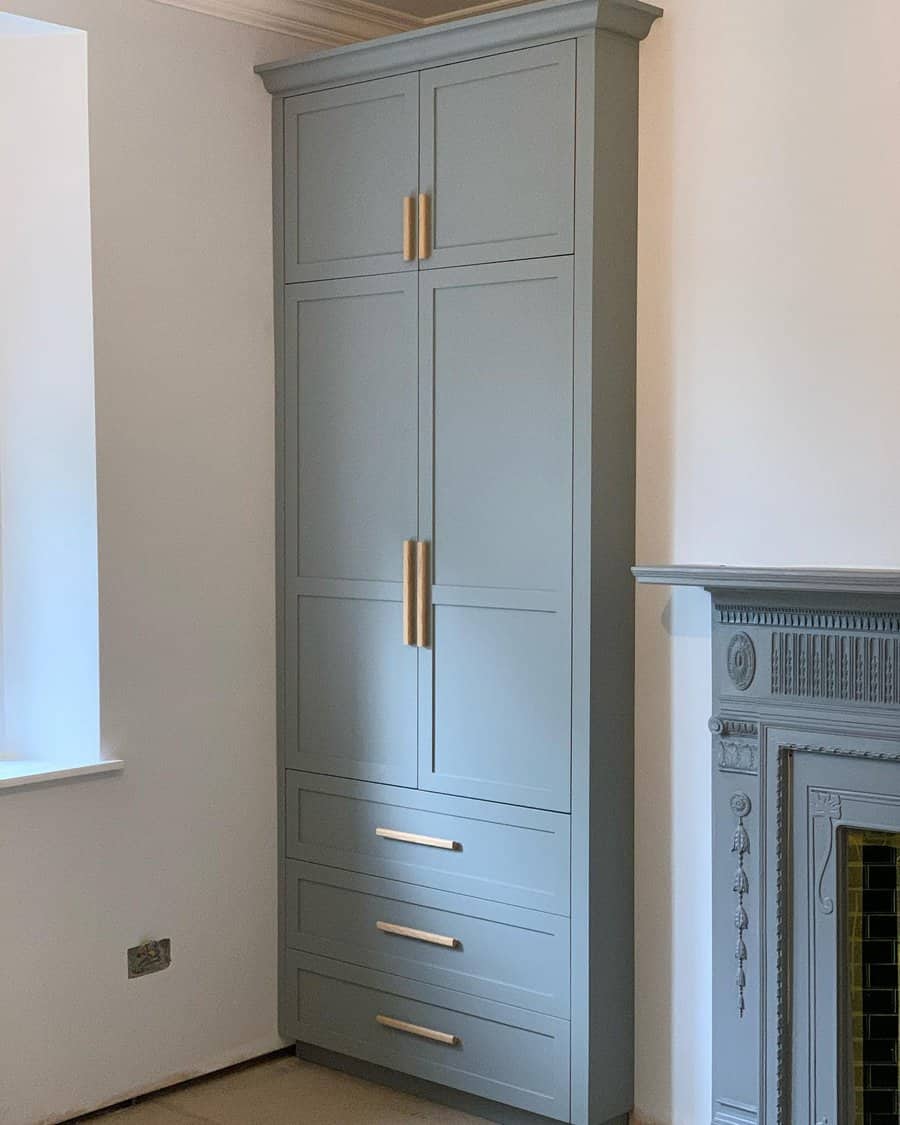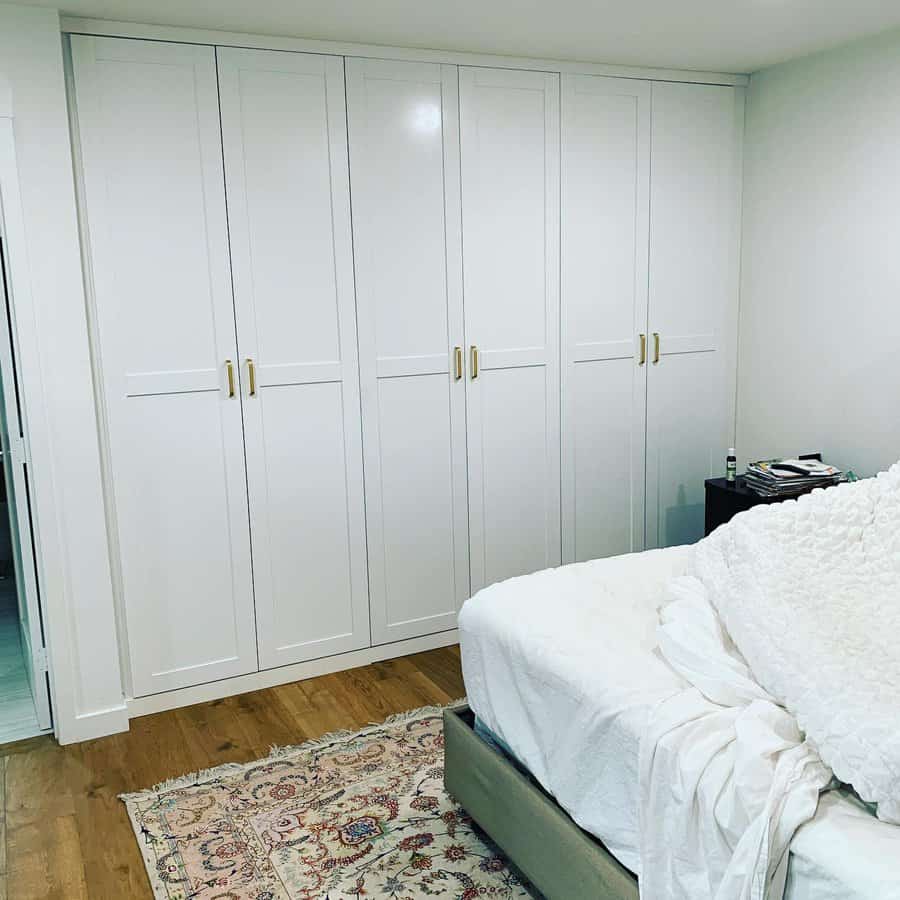 4. Wooden Closet Door
A wooden closet door can add warmth and character to any room. With its natural texture and color, it can complement a variety of decor styles, from rustic to modern. A solid wood door can also provide durability and privacy, making it a practical choice for a closet.
To enhance the look of a wooden closet door, you can consider adding decorative elements such as molding, carved details, or a fresh coat of paint. With a little creativity, a wooden closet door can become a focal point of your room's design, while serving its practical purpose.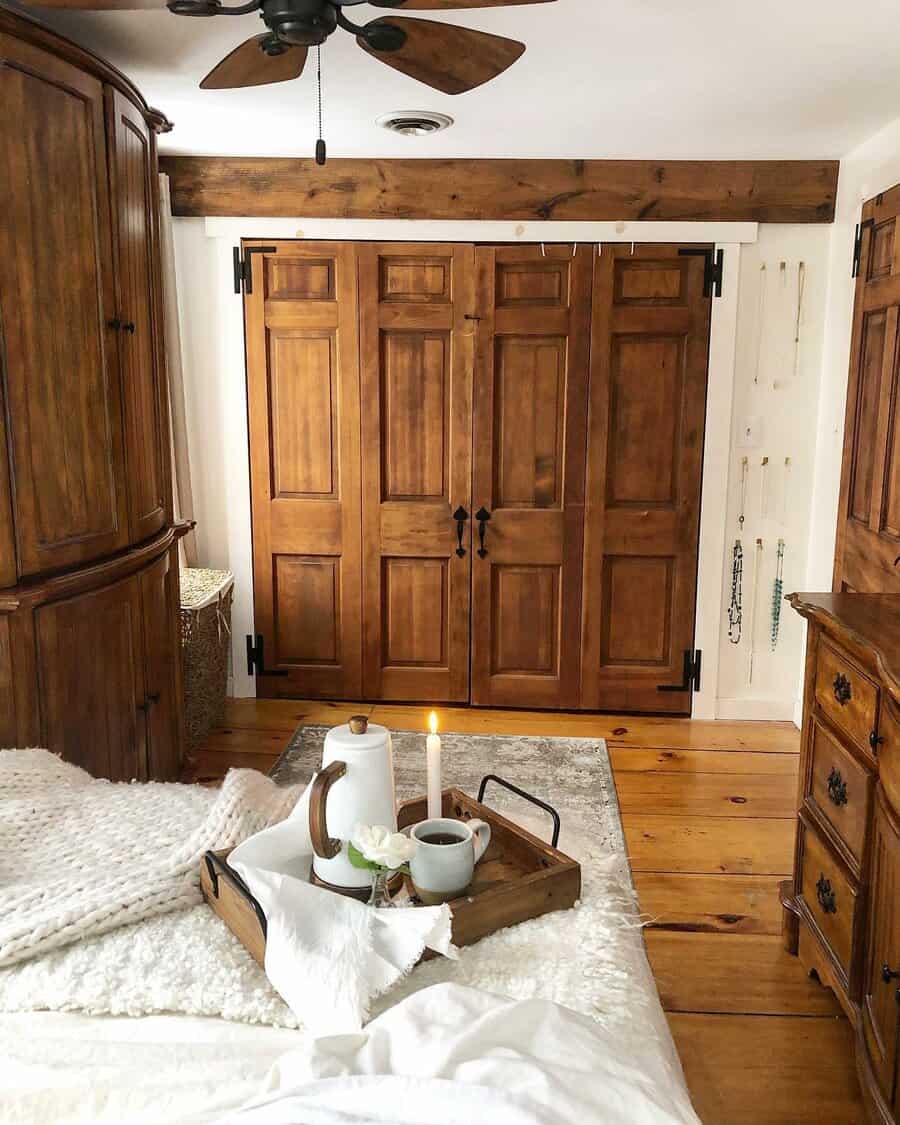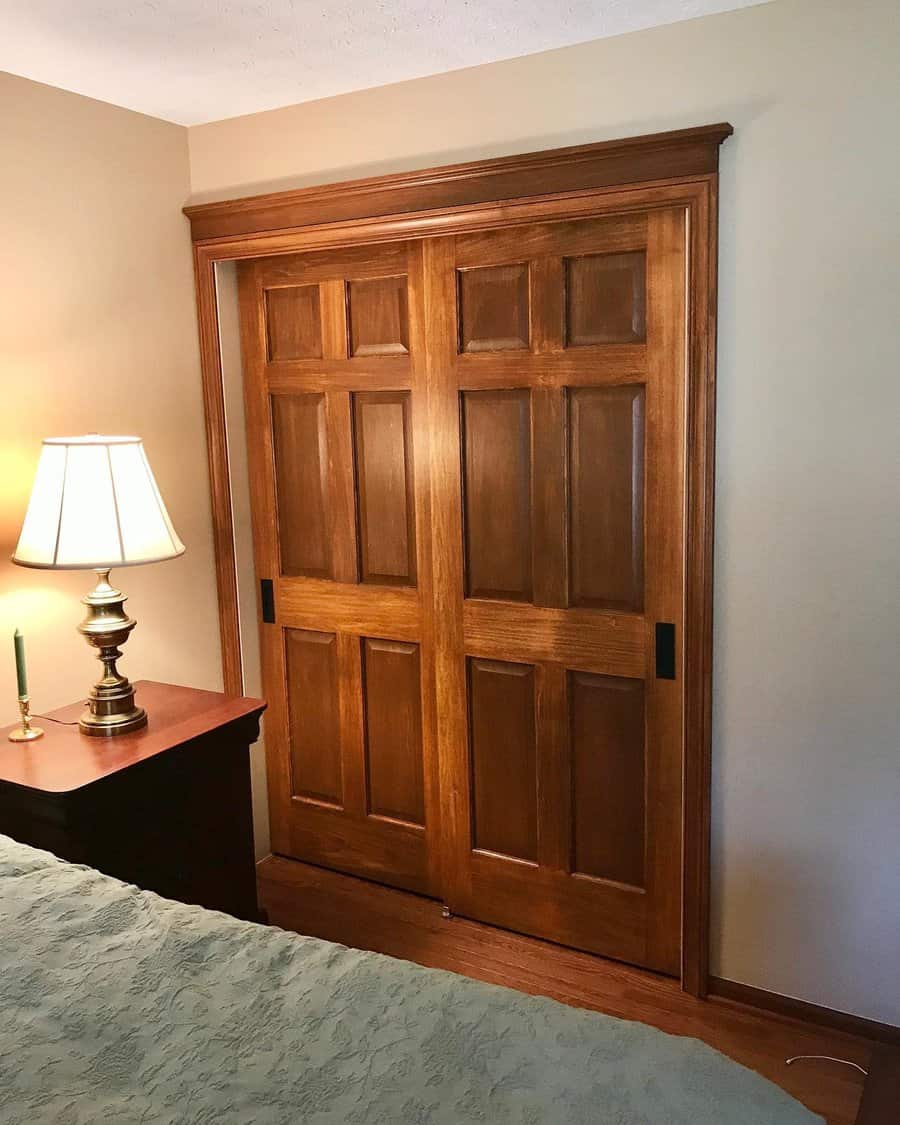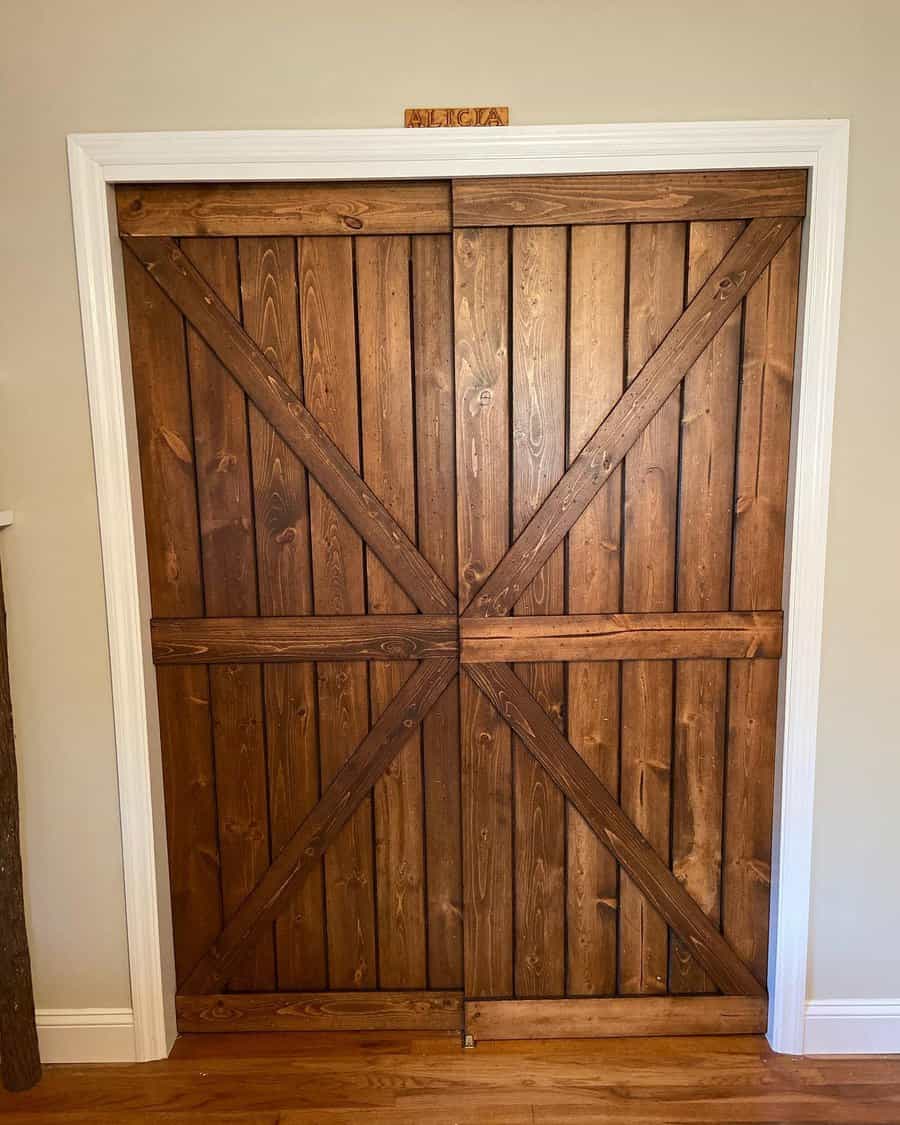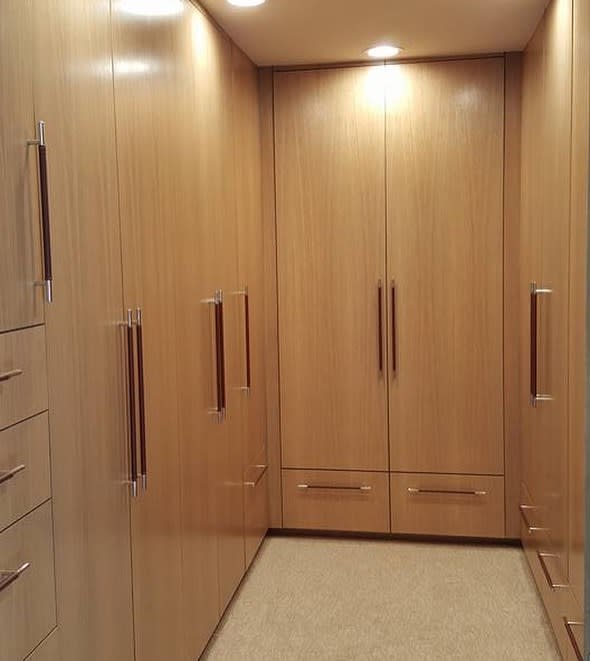 5. Mirror Closet Door
A closet door with a mirror can be a great addition to any bedroom. Not only does it serve as a functional piece to hide your clothes and shoes, but it also adds a touch of elegance and glamour. The mirror on the door can make the room feel bigger and brighter, and it's perfect for those who need to check their outfits before heading out.
With a sleek and modern design, a closet door with a mirror can be a stylish and practical choice for any home. It's an easy way to elevate the look of your space while also maximizing functionality.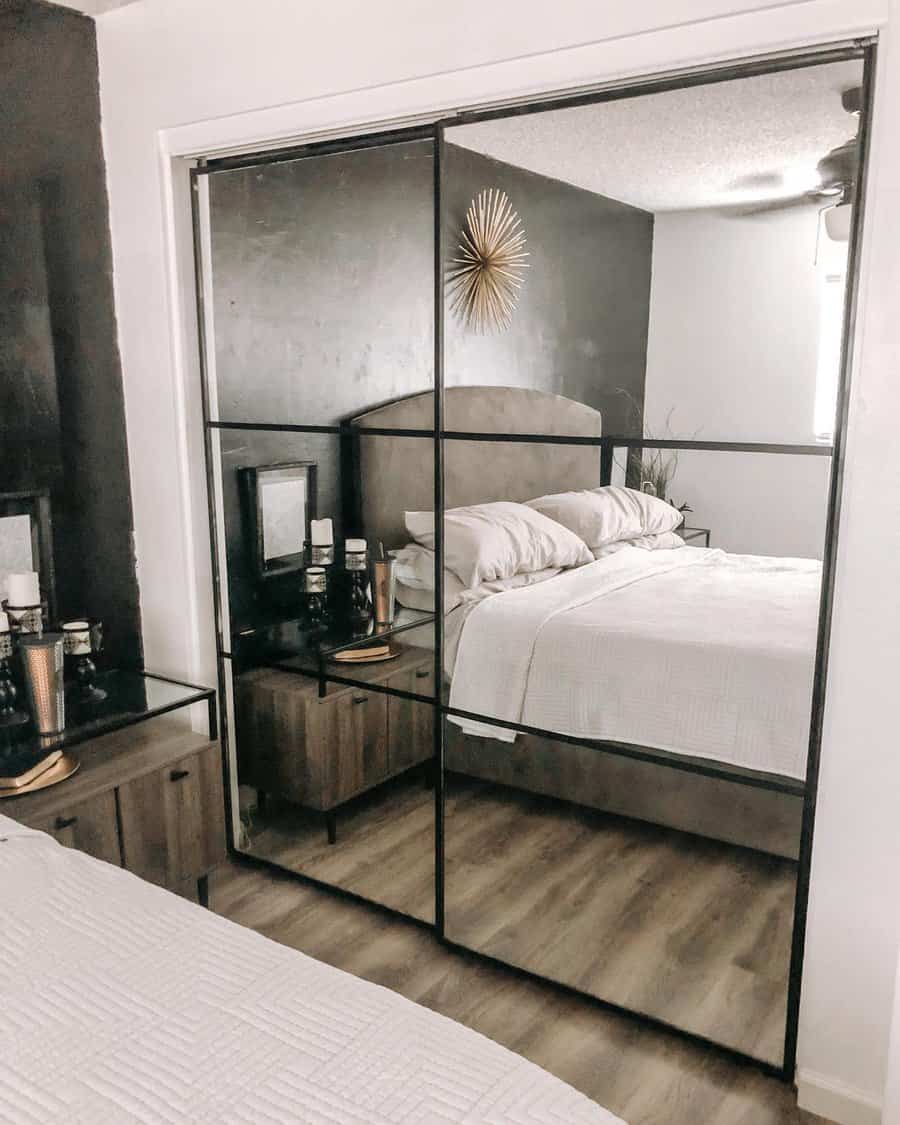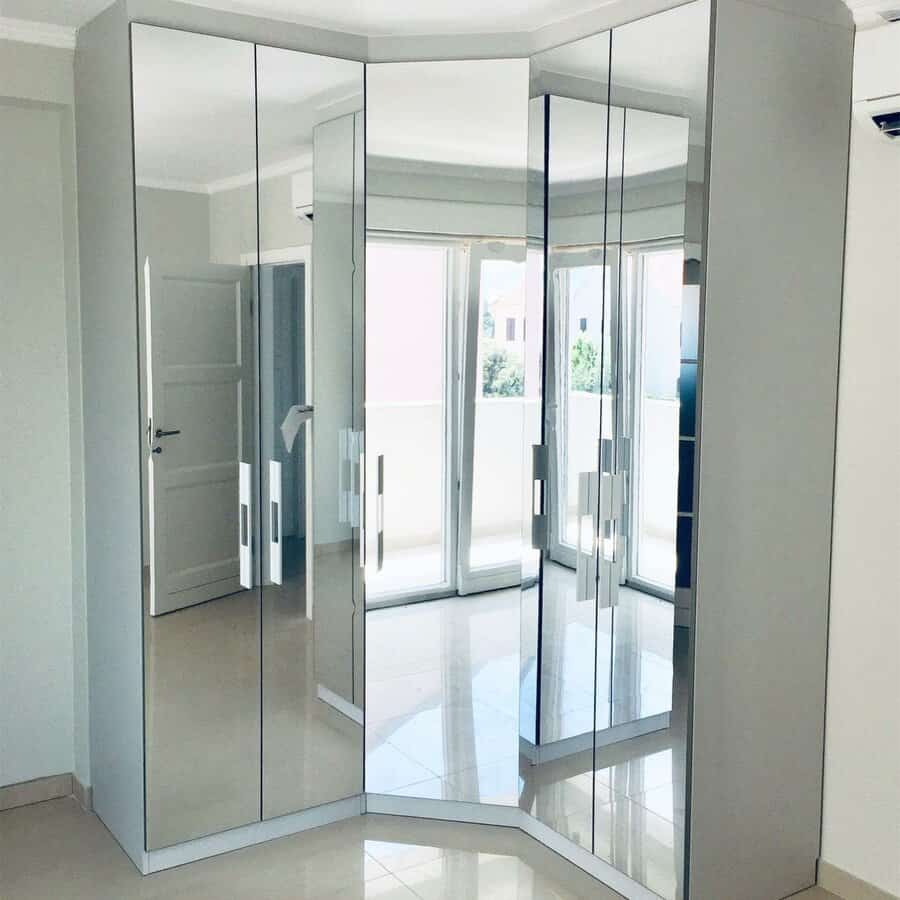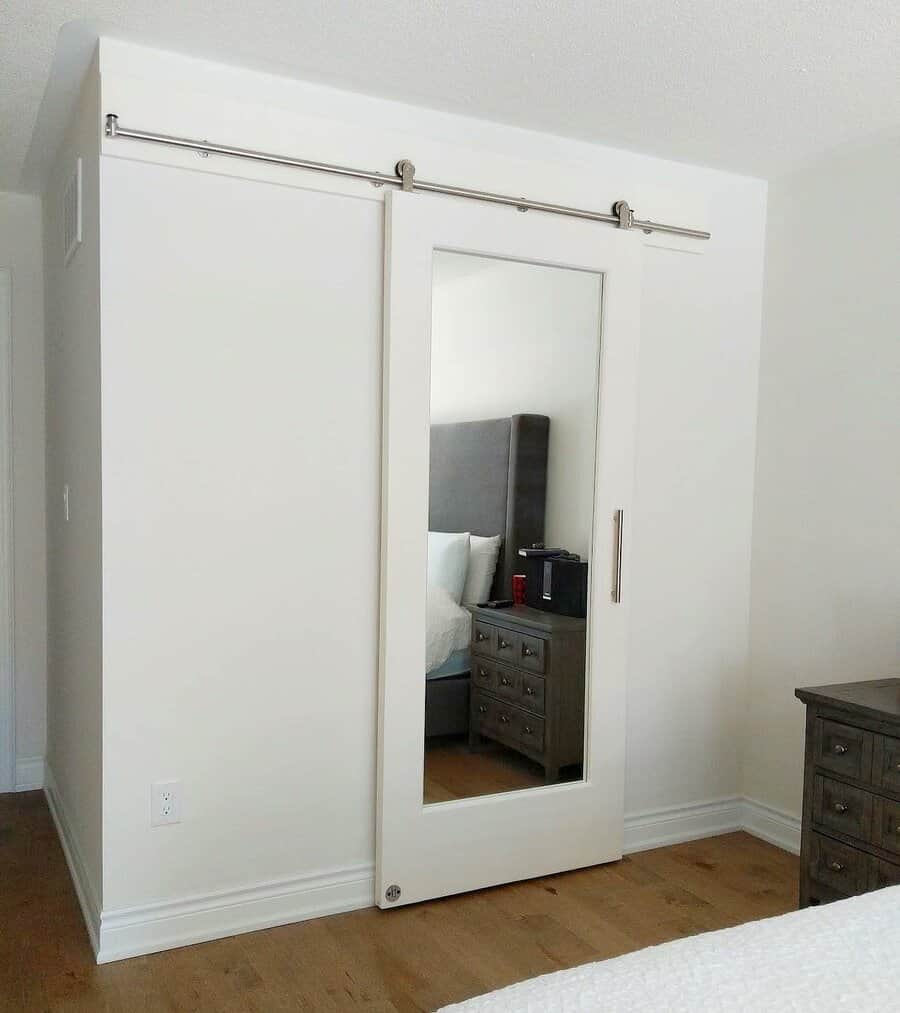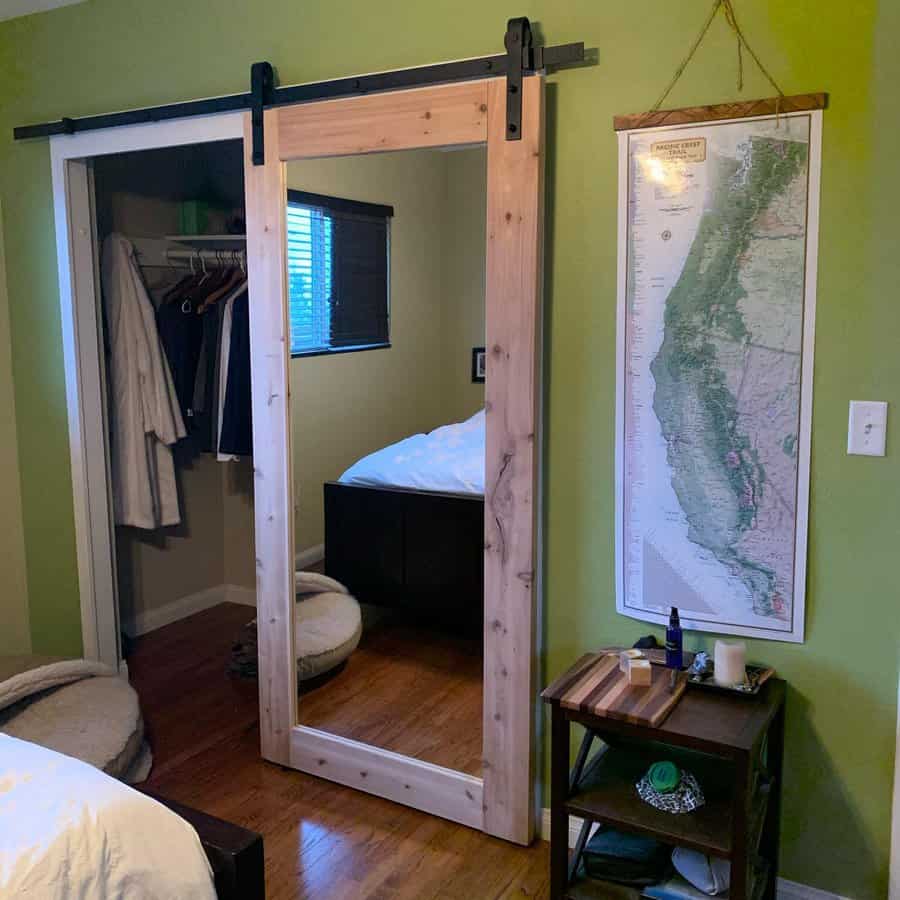 6. Closet Door With Trimming
Closet doors can be a simple yet stylish addition to any room, and adding trimmings can elevate their appearance. Adding trimmings to closet doors can create a bold and eye-catching design, giving your space a unique and personalized look.
Trimmings can come in a variety of materials and can be added to the perimeter of the door or in a pattern for added interest. Not only does it add a touch of elegance, but it can also hide any unsightly gaps between the door and the frame. Adding trimmings to your closet doors is an easy and affordable DIY project that can transform the look of your space in no time.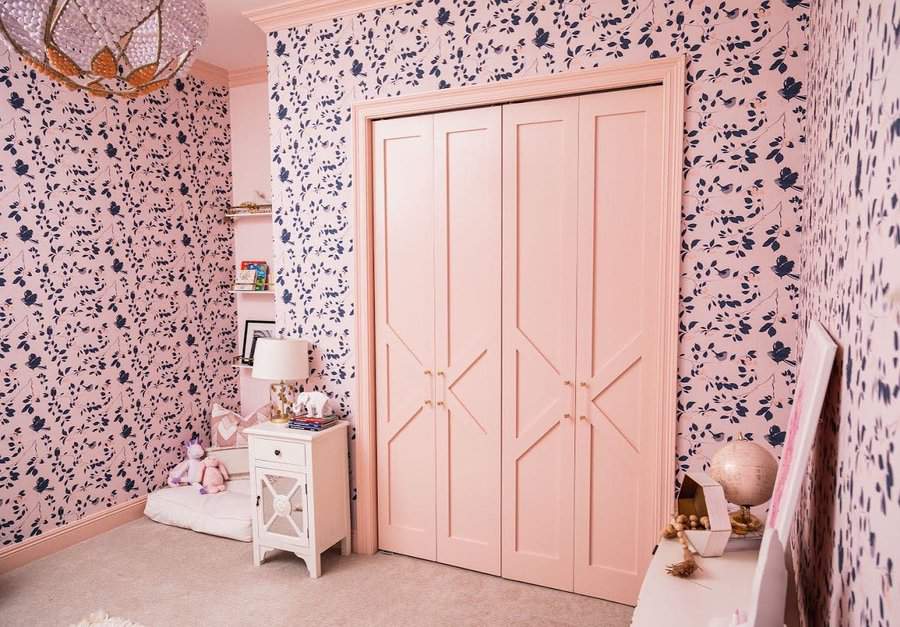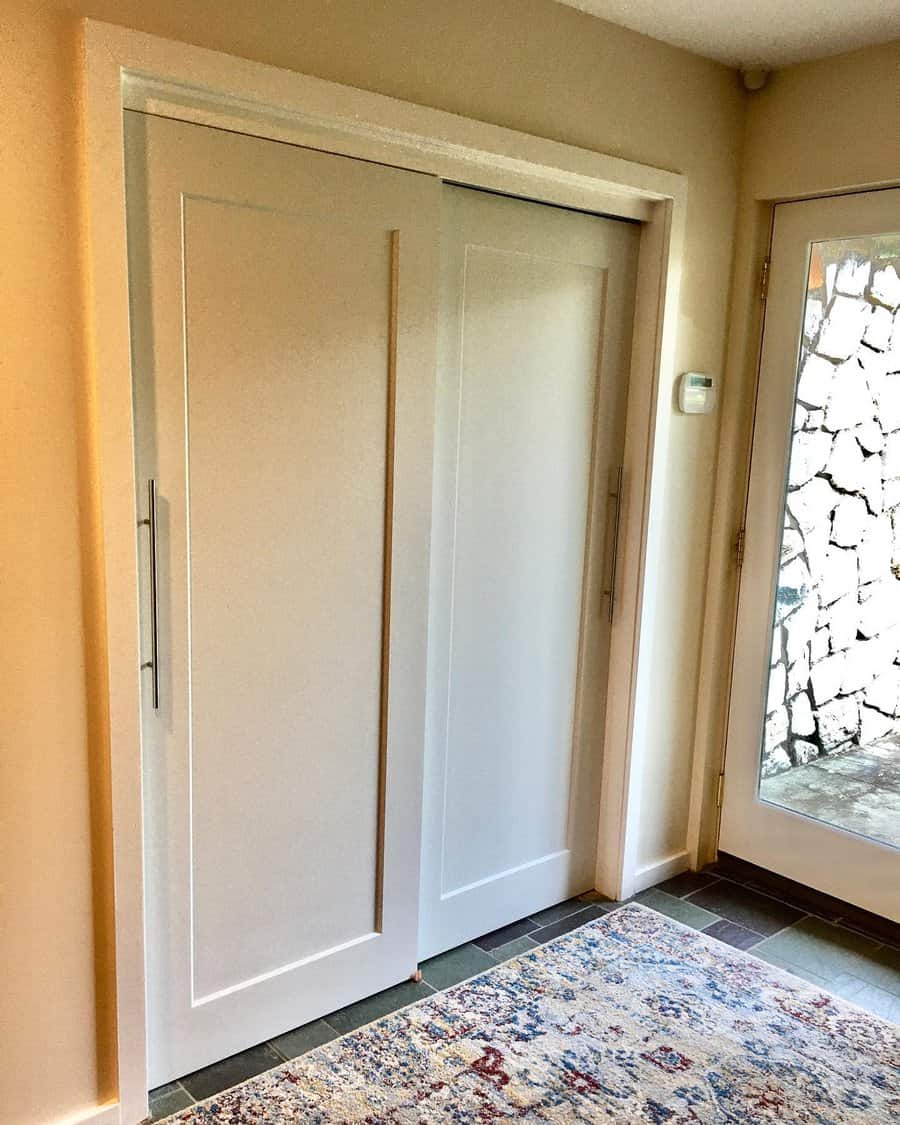 7. Closet Door With Mesh
A closet door with wire mesh can be a stylish and functional addition to any home. Not only does it allow for air ventilation, but the semi-see-through design adds a unique touch to the space. Whether you have a modern or rustic decor style, this type of door can fit right in.
The wire mesh can also serve as a great backdrop for hanging jewelry or accessories, making it a dual-purpose feature. If you're looking to add an industrial or farmhouse flair to your space, consider replacing your traditional closet doors with wire mesh ones for a chic upgrade.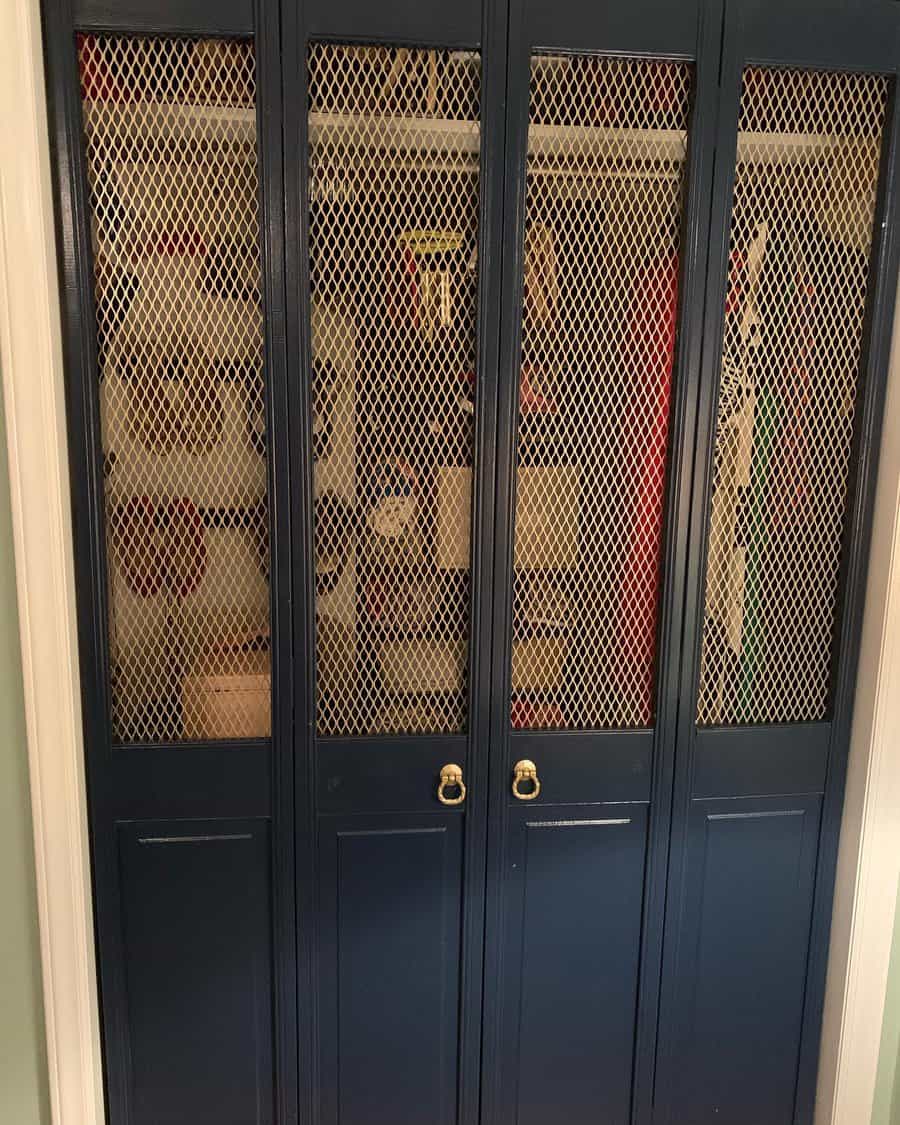 8. Double French Doors Closet
French double closet doors can instantly elevate the aesthetic of any space they're installed in. These doors are designed to seamlessly blend in with the surrounding decor, while still making a statement with their elegant and sophisticated style.
With their timeless appeal and versatility, French double closet doors can suit a variety of design preferences, from traditional to modern. The beauty of these doors is that they provide both privacy and accessibility, making them perfect for any room where storage is a priority.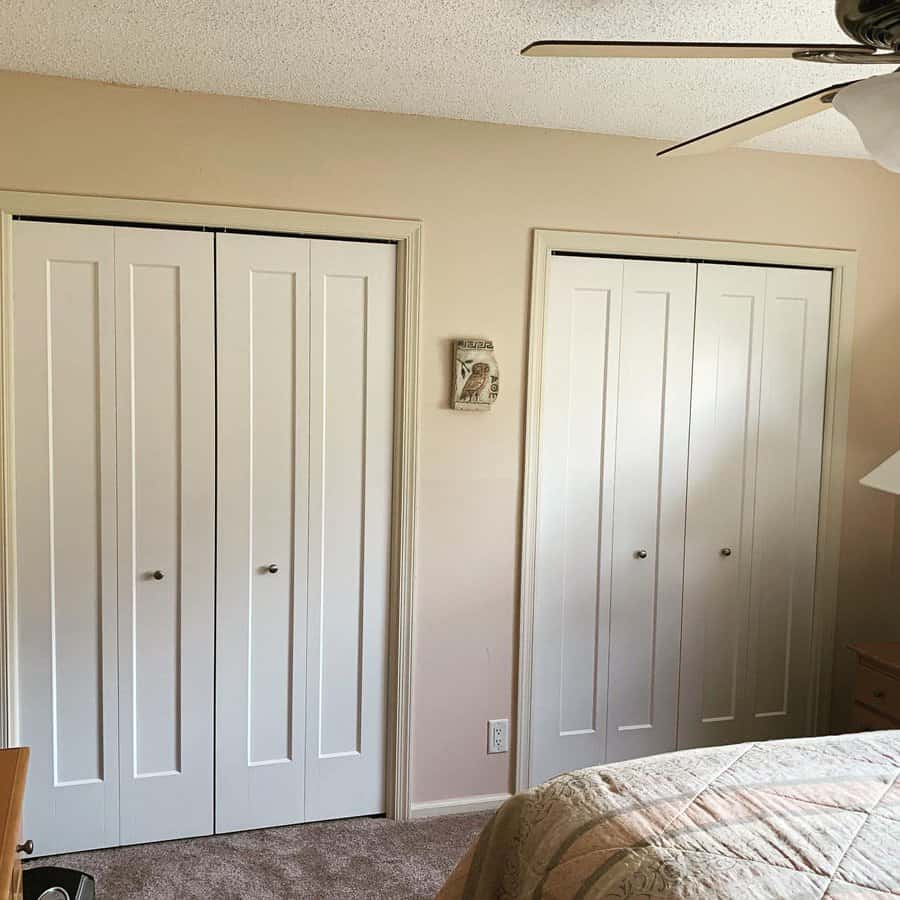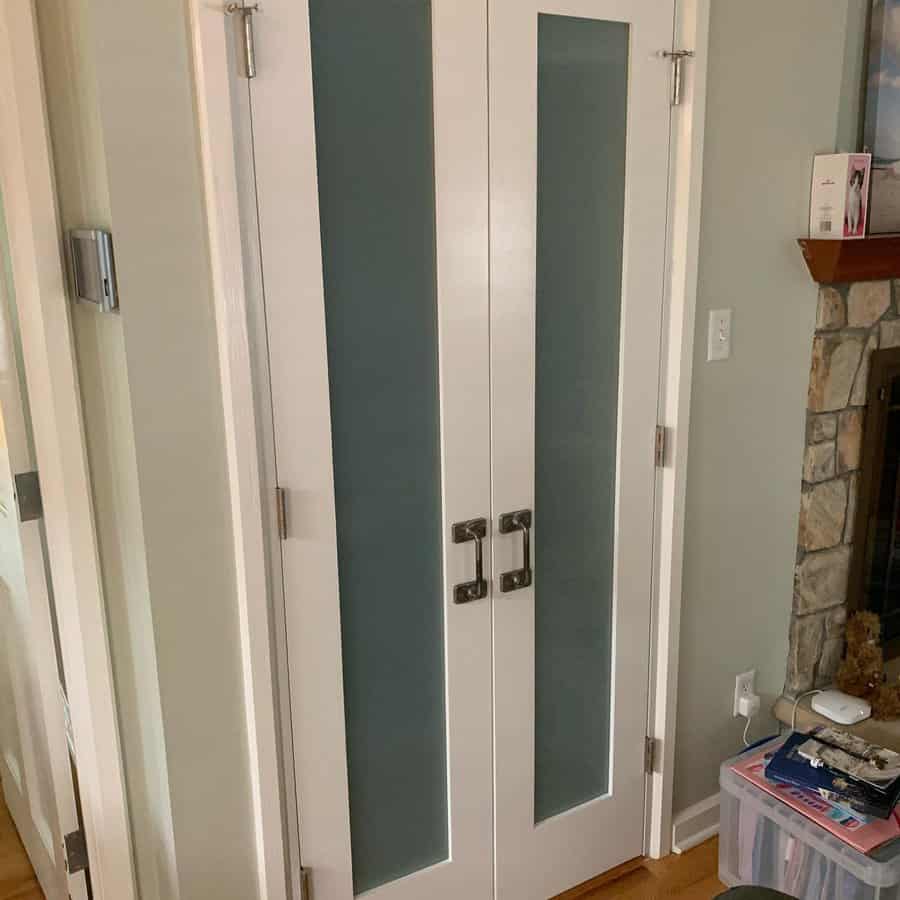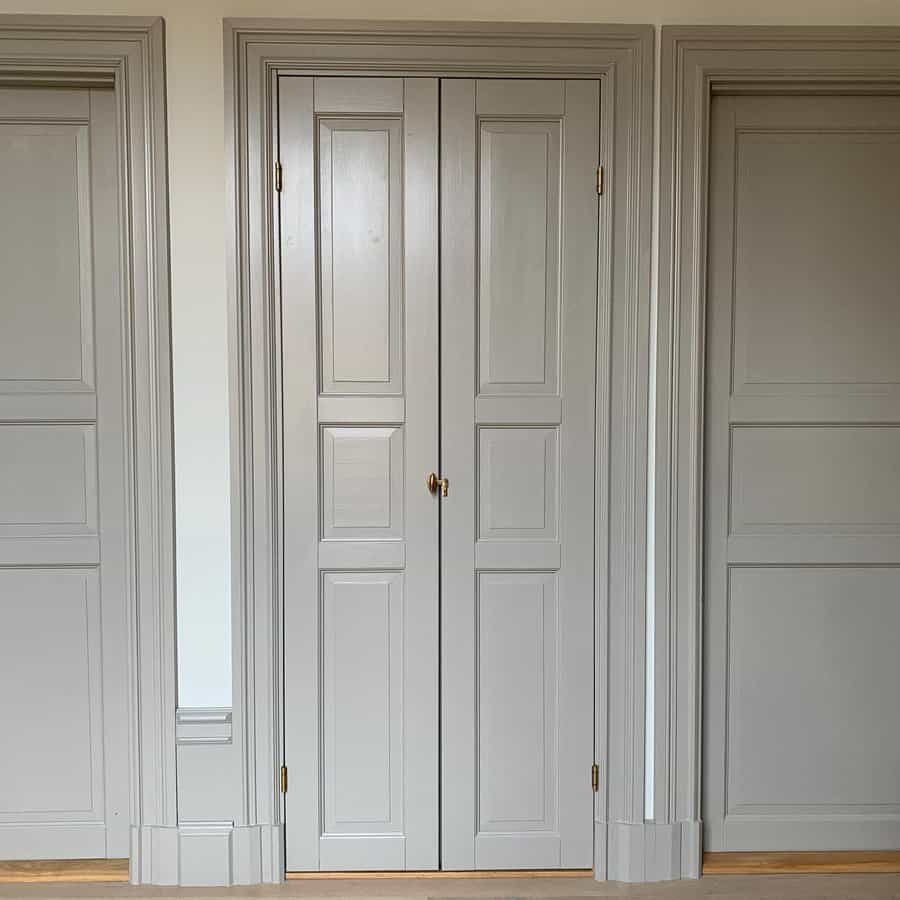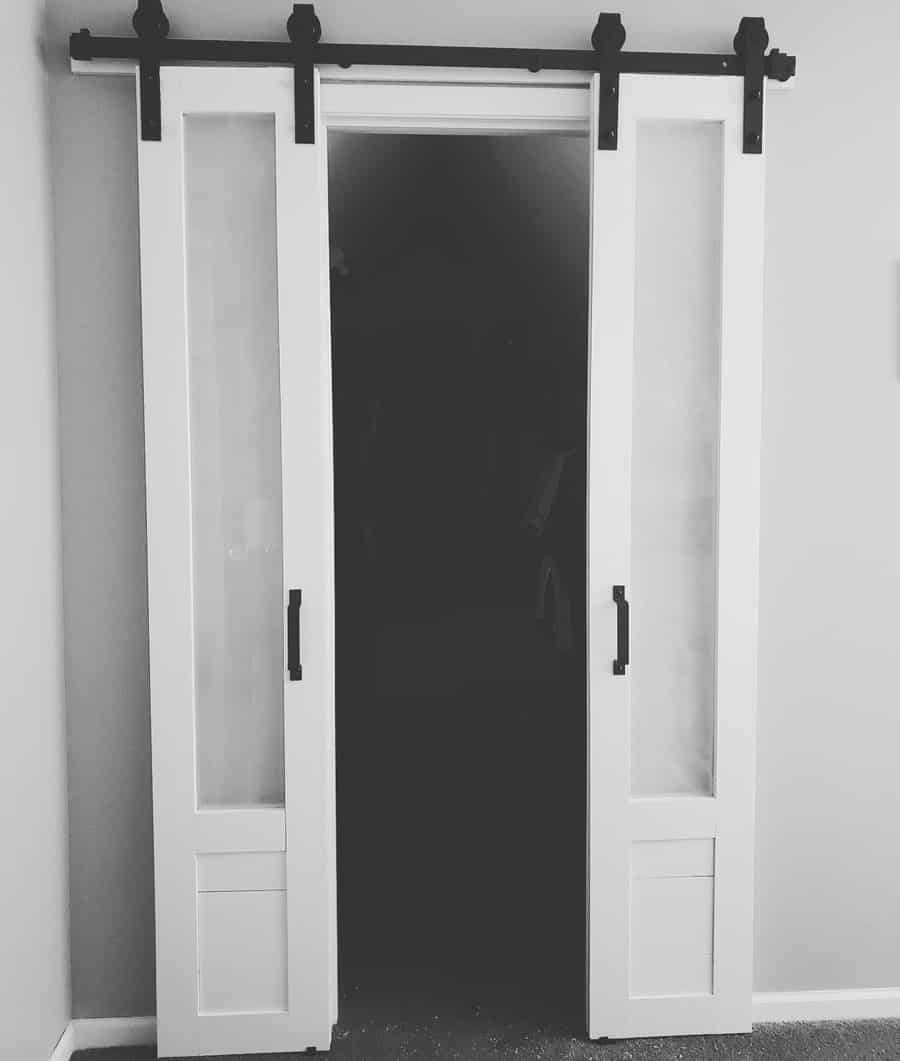 9. Modern Sliding Door
Upgrade your bedroom with a sleek and modern touch by installing handleless sliding closet doors. The seamless design will add a minimalistic touch to your space while also providing easy access to your belongings.
With no handles or knobs, the doors blend seamlessly into your decor, creating a clean and contemporary look. Say goodbye to clunky and outdated closet doors, and hello to a more streamlined and efficient space. Give your room the stylish and functional update it deserves with these modern handleless sliding closet doors.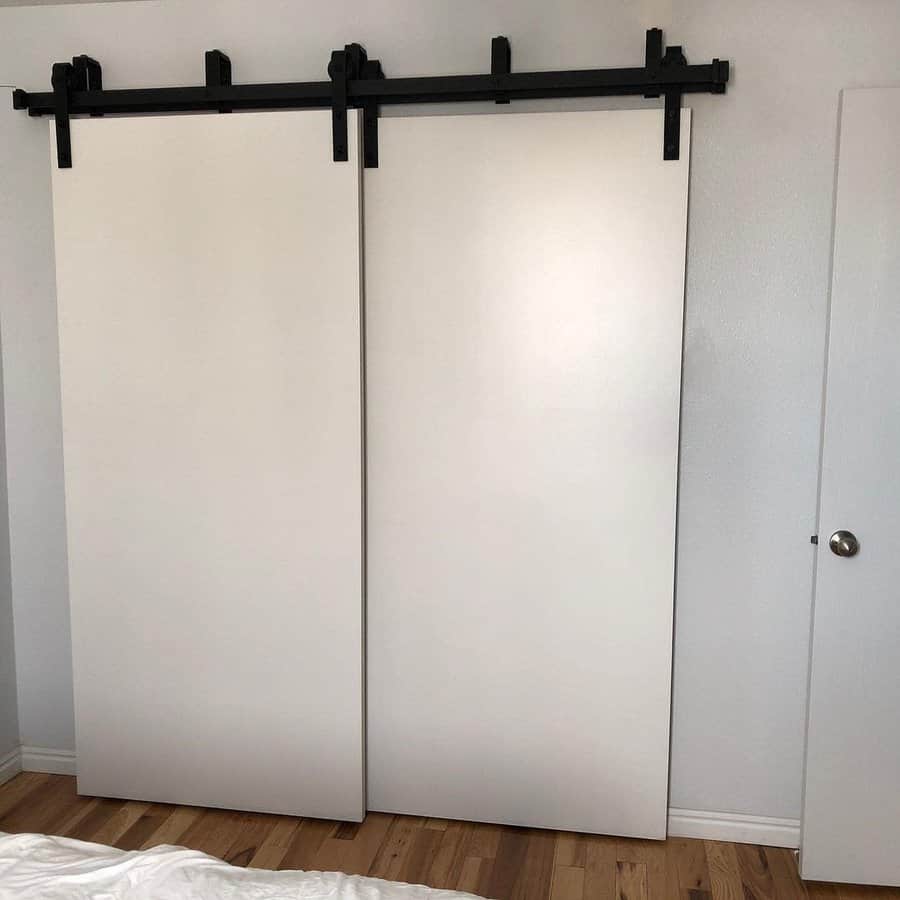 10. One-Closet Door With Black Metalware
A closet door with black metalware is the epitome of elegance and modernity. Its bold appearance makes a statement and creates a visually striking focal point in any room. The black metalware not only provides a sleek and contemporary look but also complements any color scheme or design style.
It's the perfect addition to any home seeking a touch of sophistication and modernity, without compromising on practicality. Whether you prefer a minimalistic approach or an eclectic vibe, a black metalware closet door is the perfect way to add a bold and elegant touch to your space.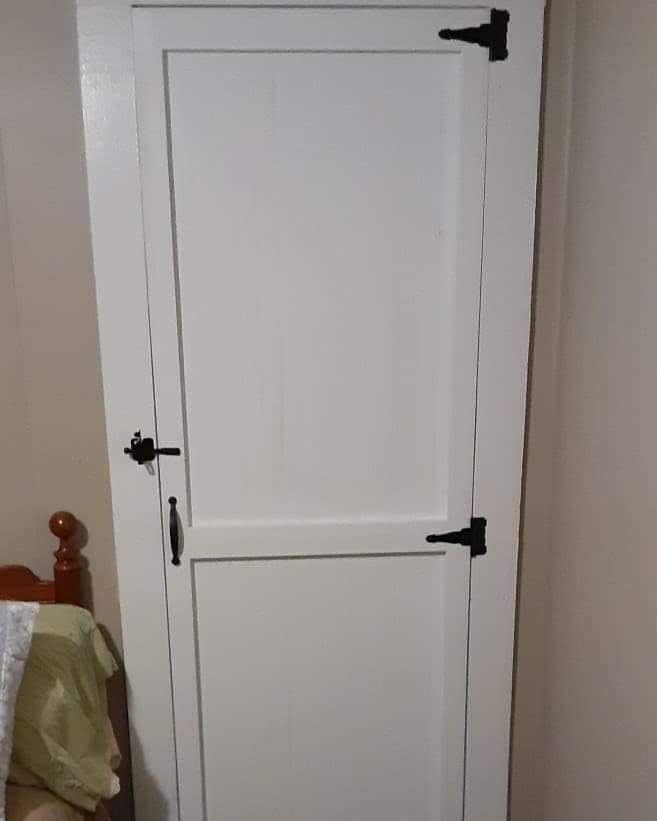 11. Laminated Wood Closet Door
Looking for a cost-effective way to upgrade your closet doors? Consider laminated wood closet doors. These doors offer an affordable alternative to solid wood doors, without sacrificing style or durability. They are made from a thin layer of wood that is bonded to a high-density fiberboard or particleboard core, creating a sturdy and attractive door.
Plus, with a wide range of finishes available, from natural wood grain to painted options, laminated wood closet doors are a versatile choice that can fit any design aesthetic. So if you want to update your closet doors without breaking the bank, laminated wood closet doors might be the perfect solution.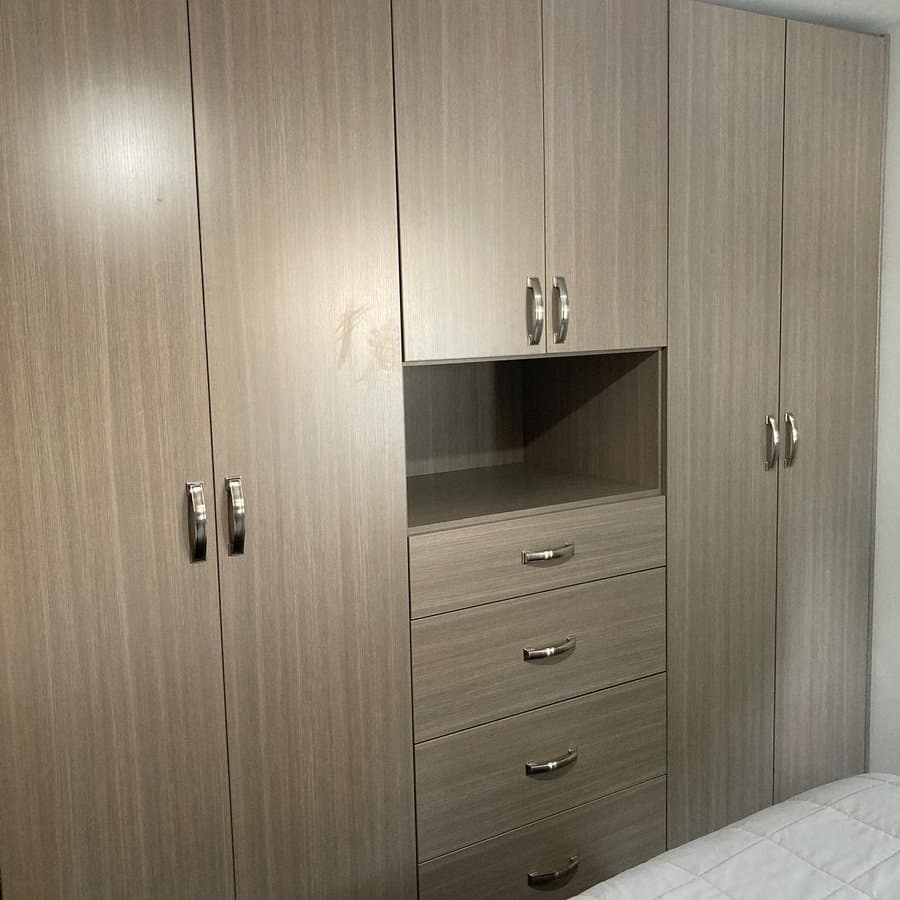 12. Frosted Glass Closet Door
Frosted glass closet doors add a touch of elegance and privacy to any room. They are a great option for those who want to showcase their wardrobe while still maintaining a level of discretion. The frosted glass allows light to flow through the room, creating a soft and inviting ambiance.
Not only do they look sleek and stylish, but they also provide a practical solution to hiding cluttered closets. Plus, with a variety of designs and textures to choose from, you can find the perfect frosted glass doors to match any decor style. Whether you want a more modern or traditional look, these doors are sure to elevate any space.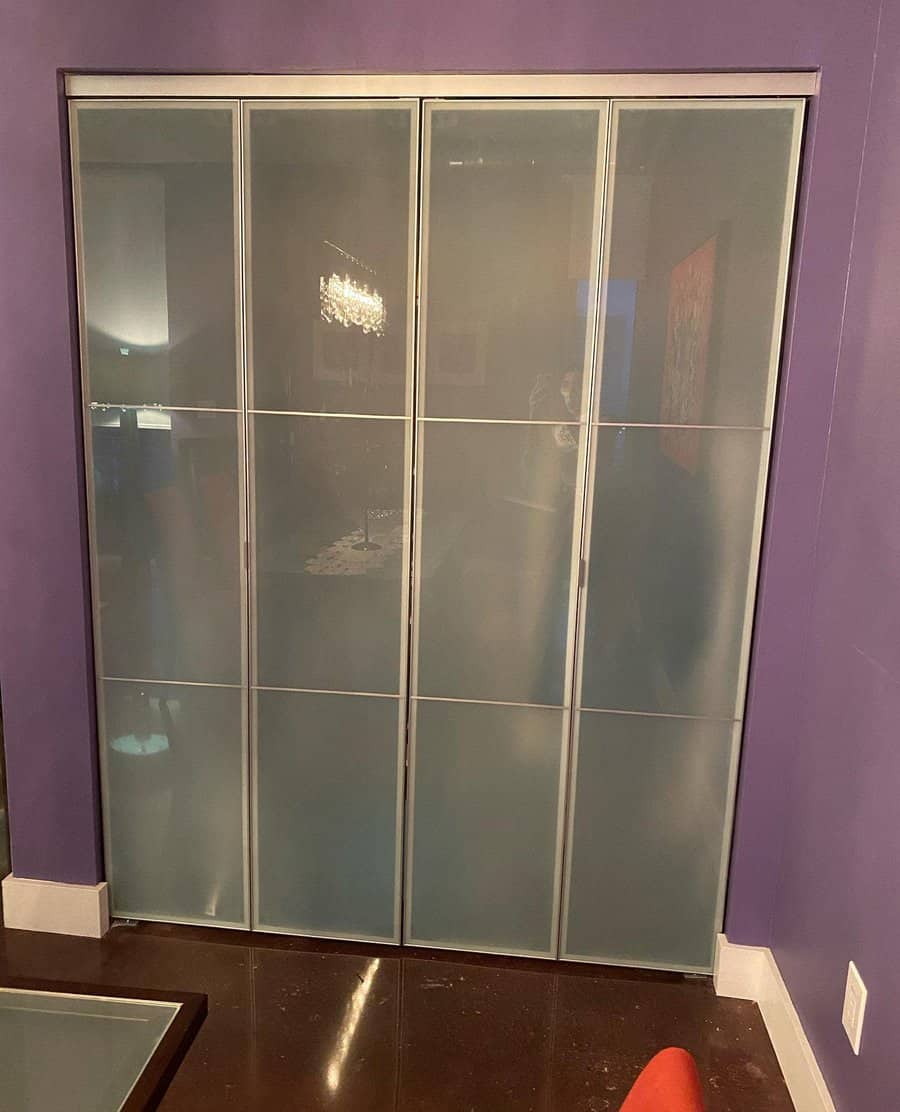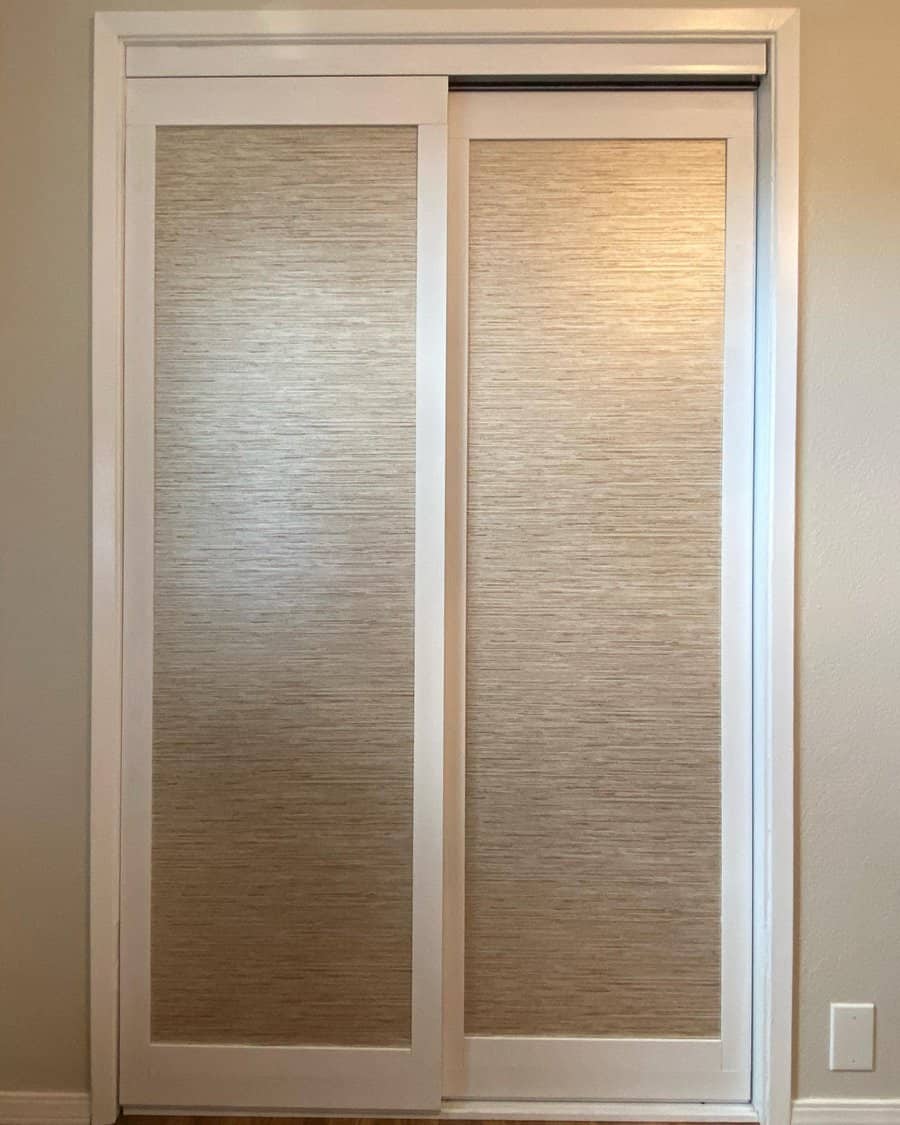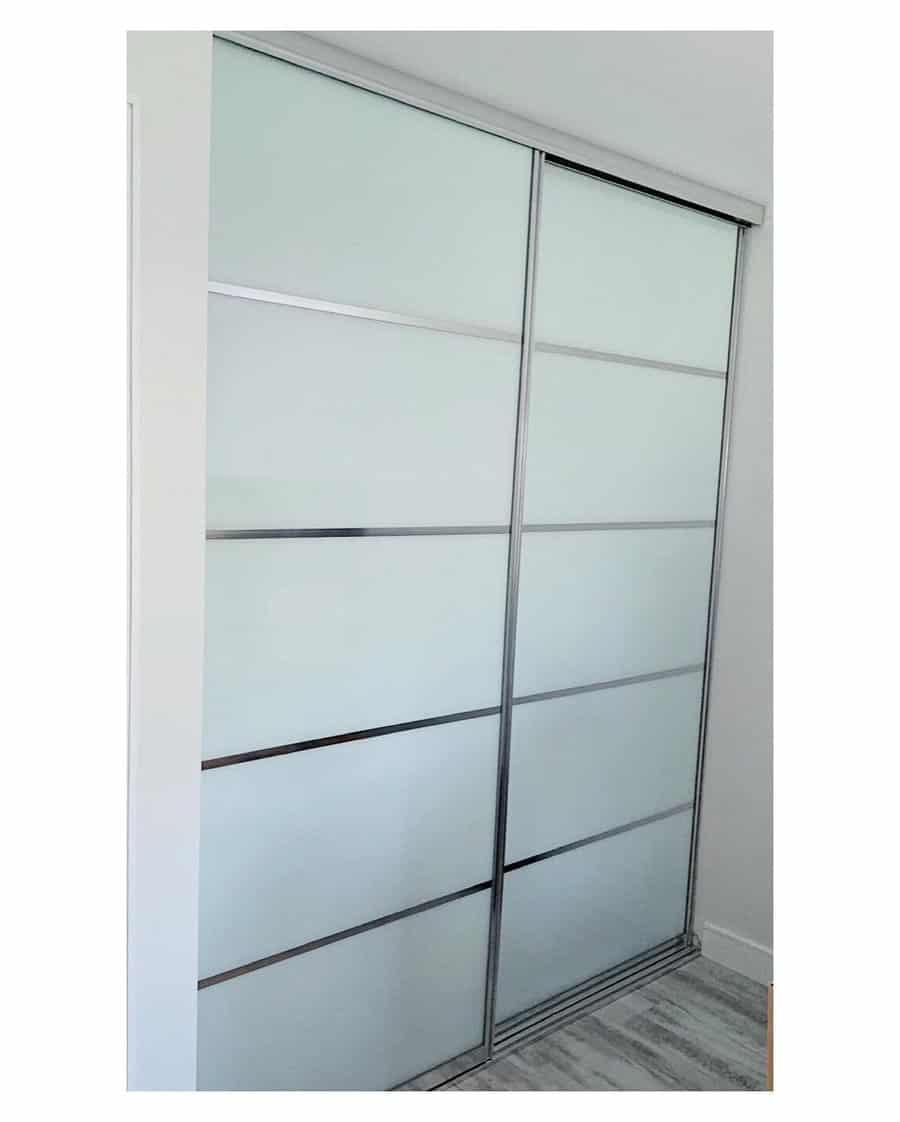 13. Farmhouse Double Closet Door
Farmhouse-style double closet doors are a wonderful way to add rustic charm to your home. These doors often feature distressed wood and classic hardware, giving your closet a warm and inviting feel. They are perfect for a farmhouse-style bedroom, but can also work well in other areas of the home, such as a mudroom or pantry.
The double doors allow for easy access to your belongings, while also providing an attractive focal point in the room. Whether you choose to leave the wood natural or paint it a vibrant color, these doors are sure to add character and style to any space.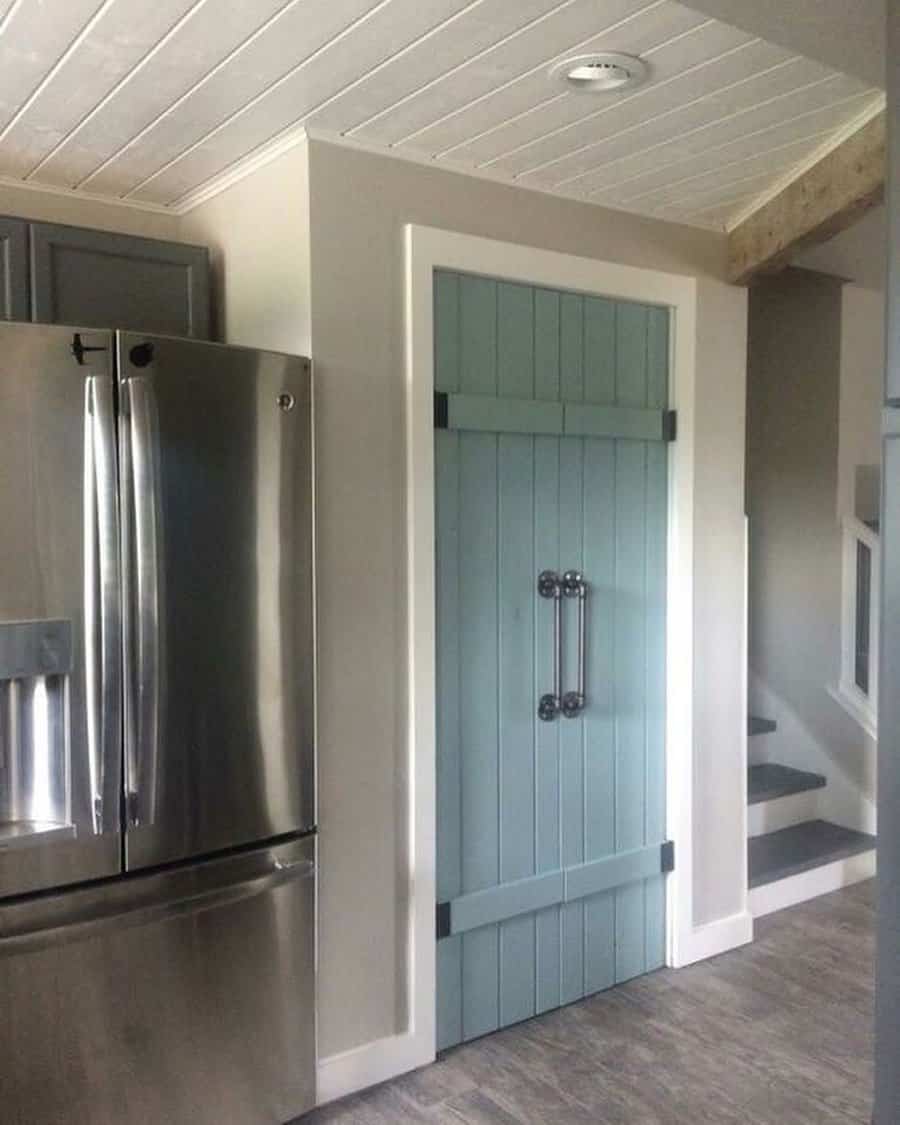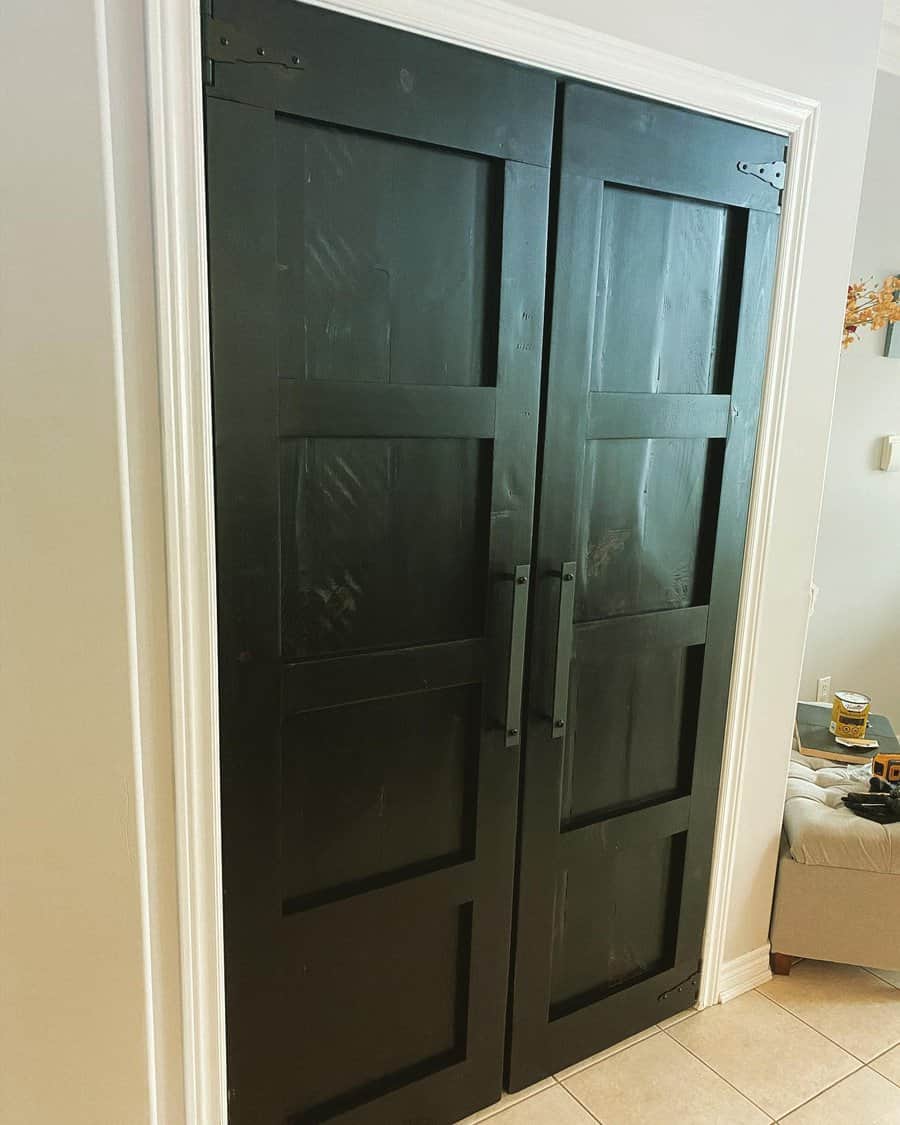 14. Shiplap Closet Door
A white shiplap closet door is a stunning addition to any room. Its shabby chic style gives a unique and rustic touch that adds character and warmth to your space. The textured, horizontal lines of shiplap provide visual interest and depth to an otherwise plain door.
Its white color creates a bright and clean atmosphere that makes your space feel larger and more open. A shiplap closet door is not only stylish but also durable and easy to maintain. With its simple yet charming design, a white shiplap closet door is a perfect choice for those who want to add a touch of timeless elegance to their home.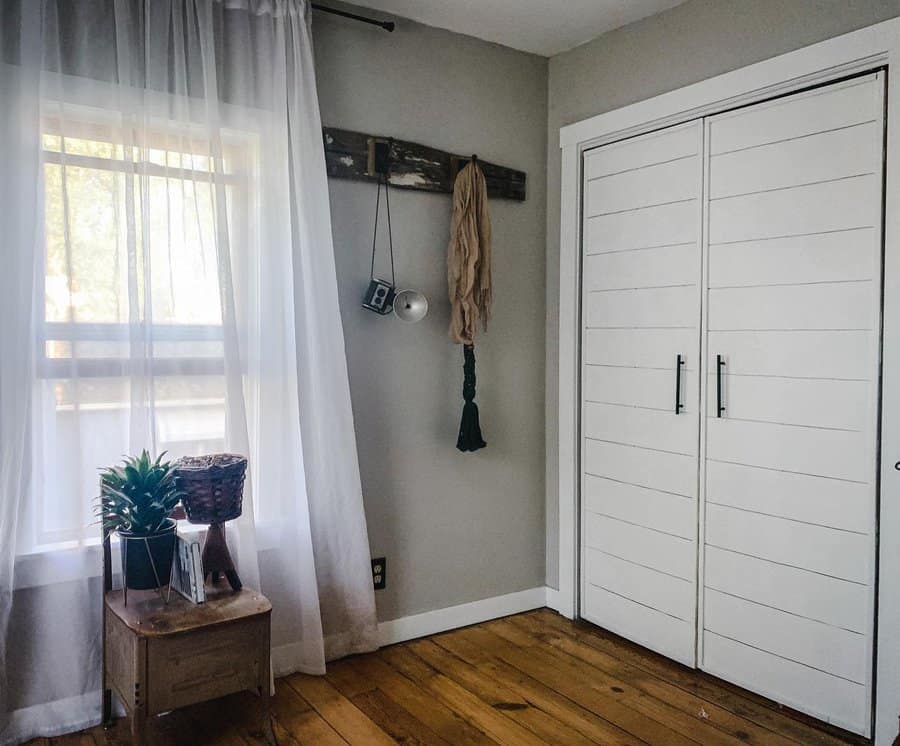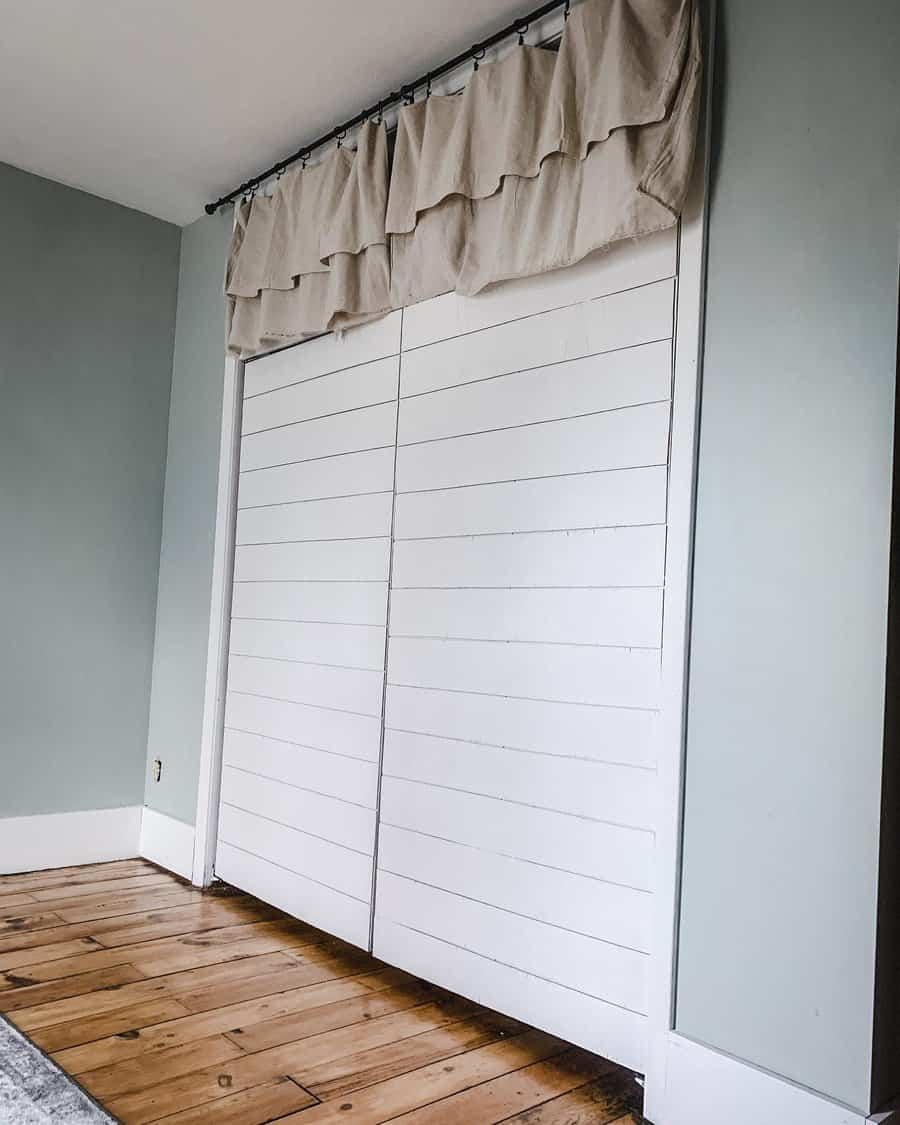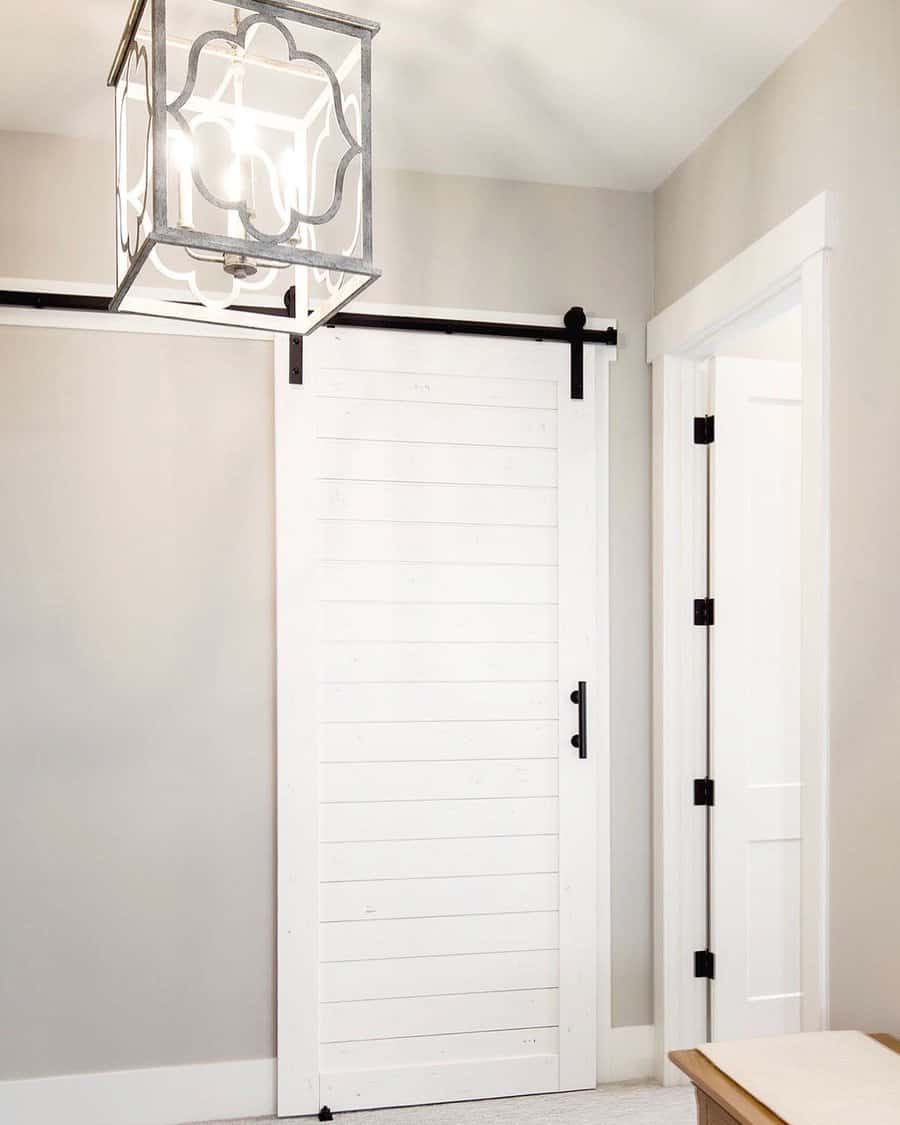 15. Window Closet Door
A closet with see-through doors provides an open and airy feel to a space while still offering easy access to your clothing and belongings. With a variety of styles and materials available, including frosted glass and modern metal frames, you can find the perfect door to match your décor.
Plus, the natural light that passes through the see-through window panes can brighten up your closet and make it easier to find what you're looking for. Whether you're renovating your bedroom or simply updating your closet doors, window sliding closet doors are an excellent choice for both form and function.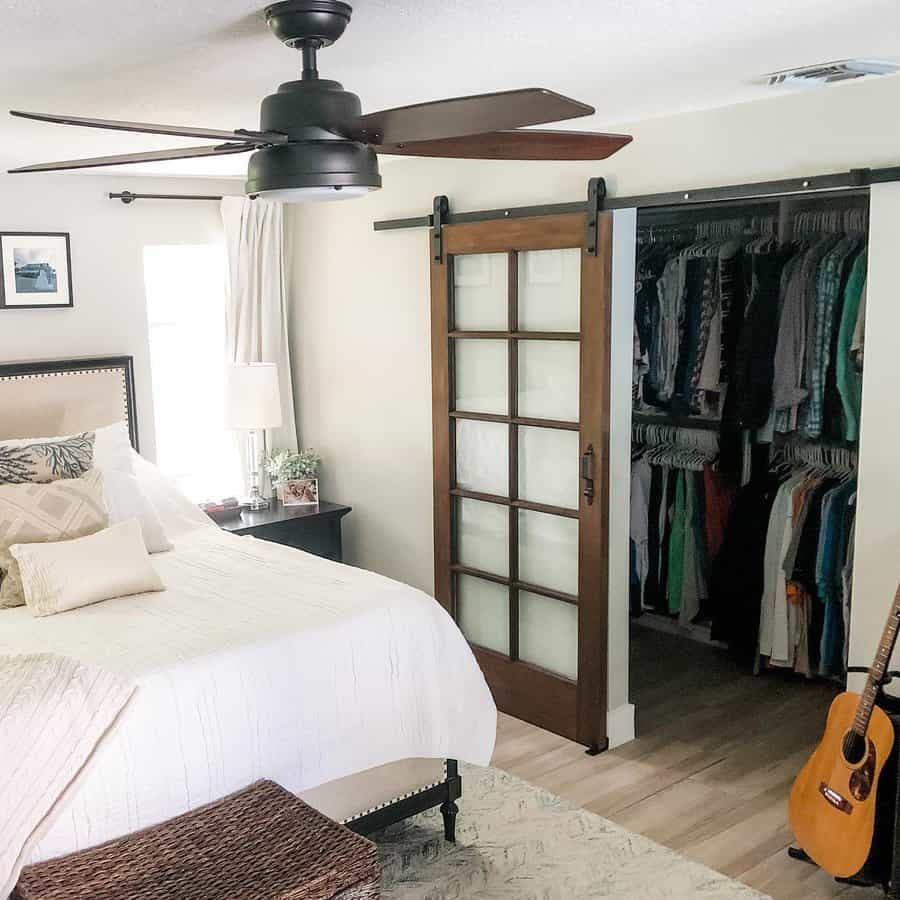 16. White-Washed Closet Door
If you're looking for a unique and stylish way to spruce up your closet, a white-washed sliding closet door might just do the trick. With its rustic yet modern look, this type of door adds a touch of personality and charm to any bedroom.
White-washing is a simple painting technique that involves applying diluted white paint to wood, creating a beautiful weathered effect that's perfect for a sliding door. This type of door is not only aesthetically pleasing but also functional, as it saves space and allows easy access to your clothes and accessories.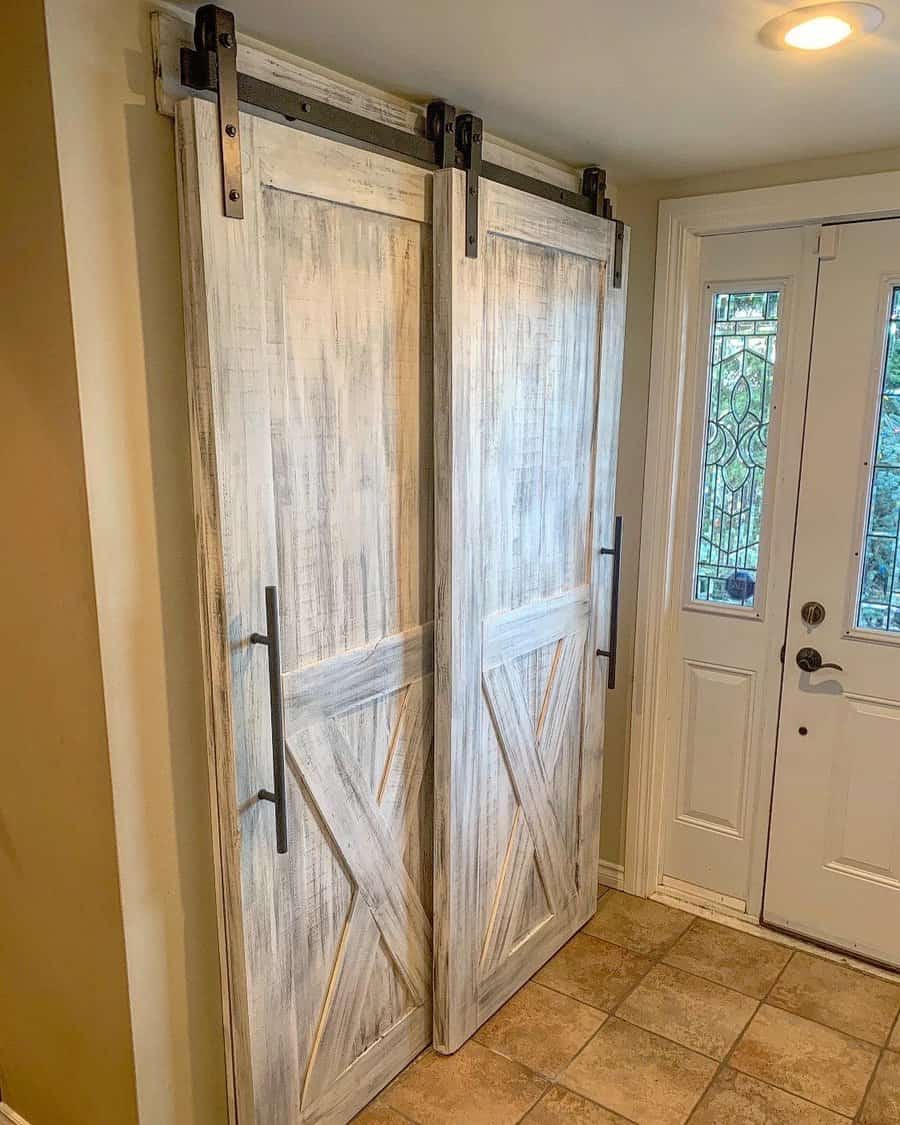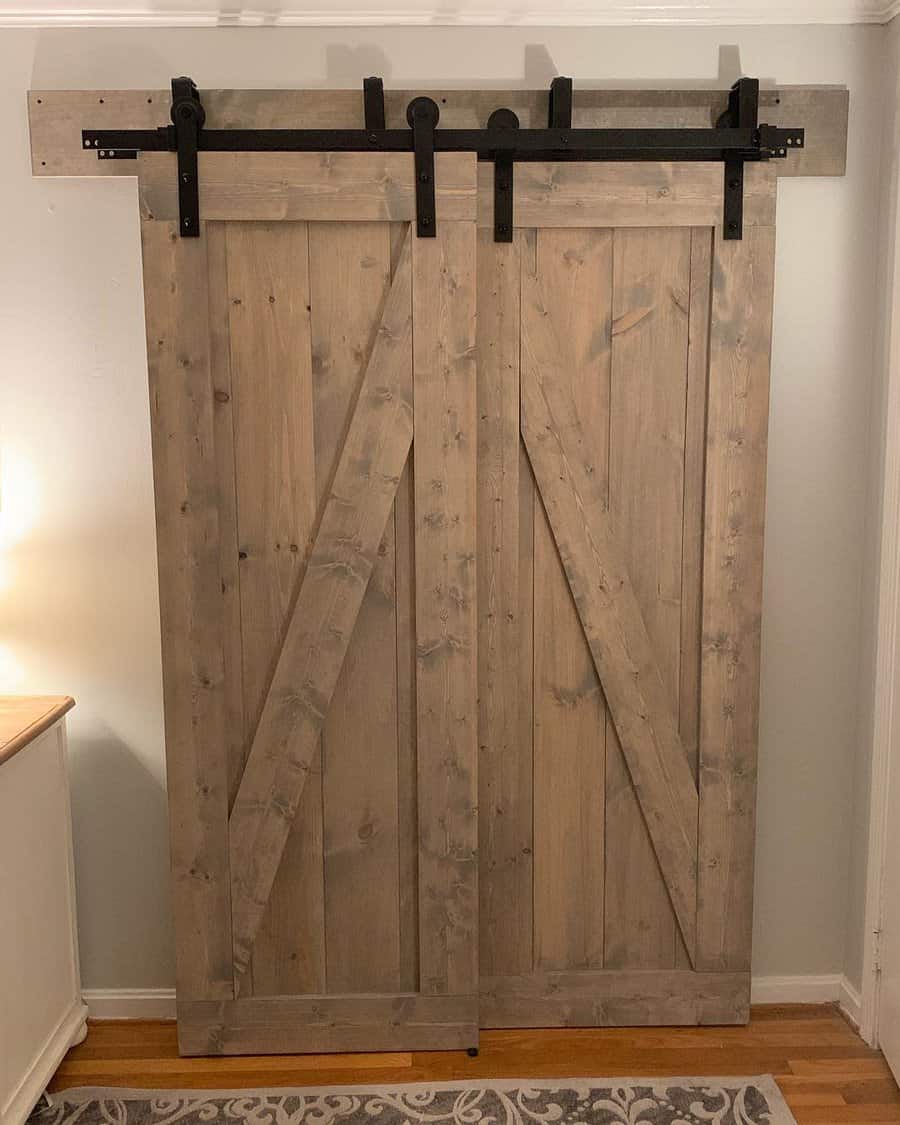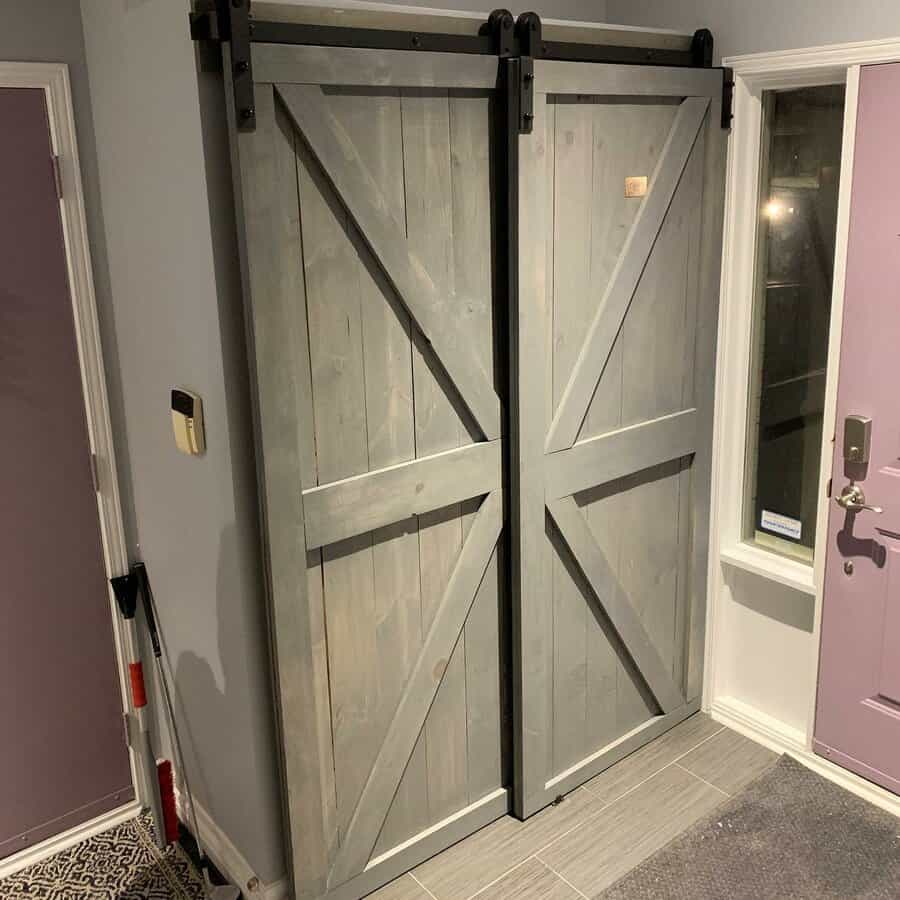 17. Closet Door With Decorative Wallpaper
Say goodbye to boring closet doors and hello to a creative touch with decorative wallpaper. You can turn your closet doors into works of art by applying wallpaper that matches your personality and style. Go for a funky and vibrant print, or choose something more understated with subtle patterns or textures.
The options are endless, and it's an easy way to add character to any room without breaking the bank. With a few simple steps, you'll have a closet door that not only functions as it should but also serves as a unique design feature.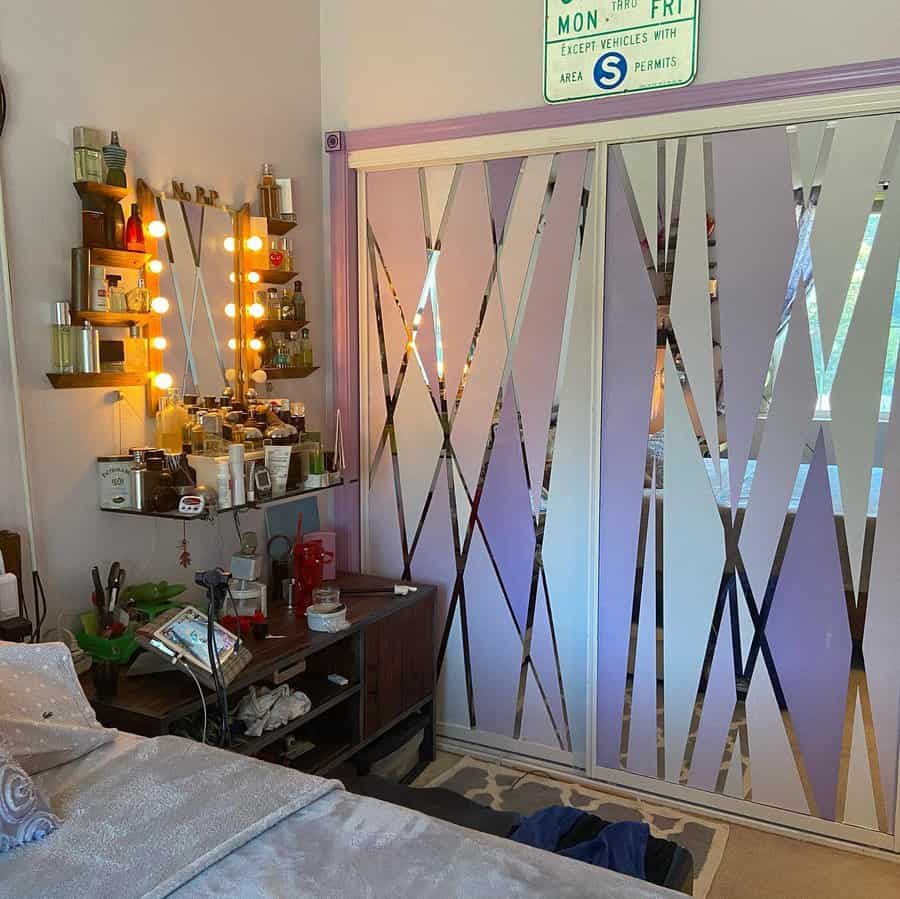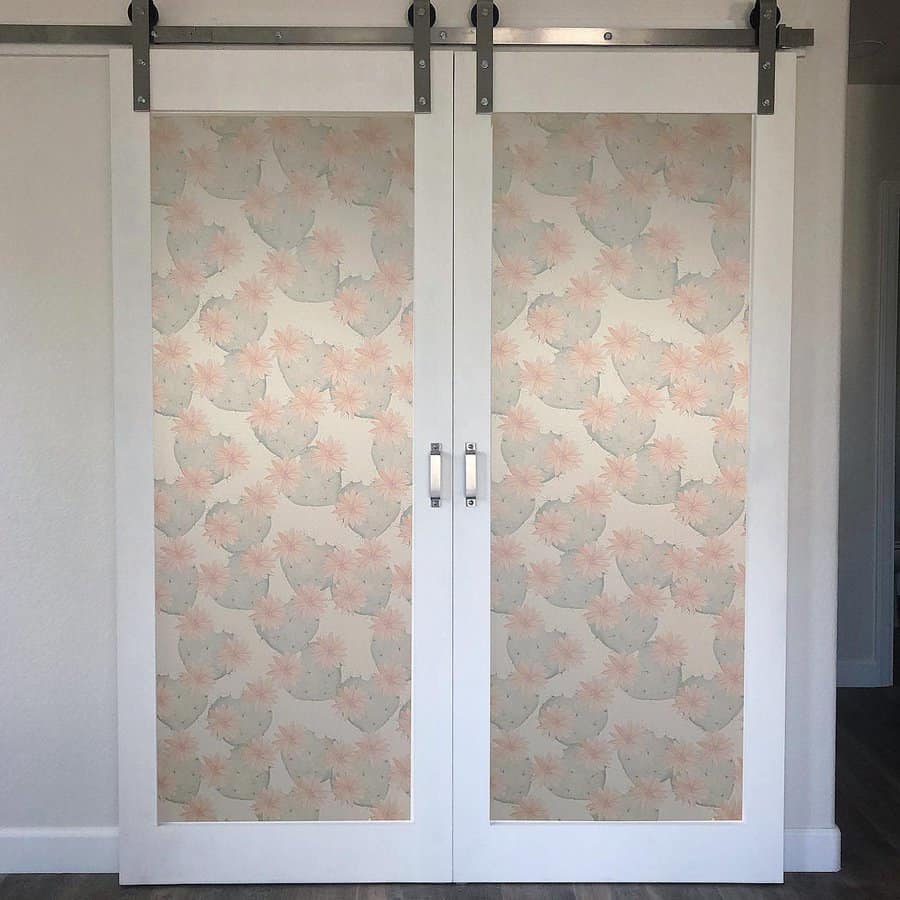 Closet Door FAQs
How can I cover my closet without a door?
If you cannot find a closet door idea that suits you, a curtain can be a great choice for covering up a messy closet space. Curtains are an easy DIY closet door covering, and they're affordable for those on a tight budget. Fabric panels or a beaded curtain are two possible choices.
Should a closet door open in or out?
A swinging door should open out into the room instead of into the closet. If it swings into the closet, it can block access to clothing and accessories stored on the wall behind the door.