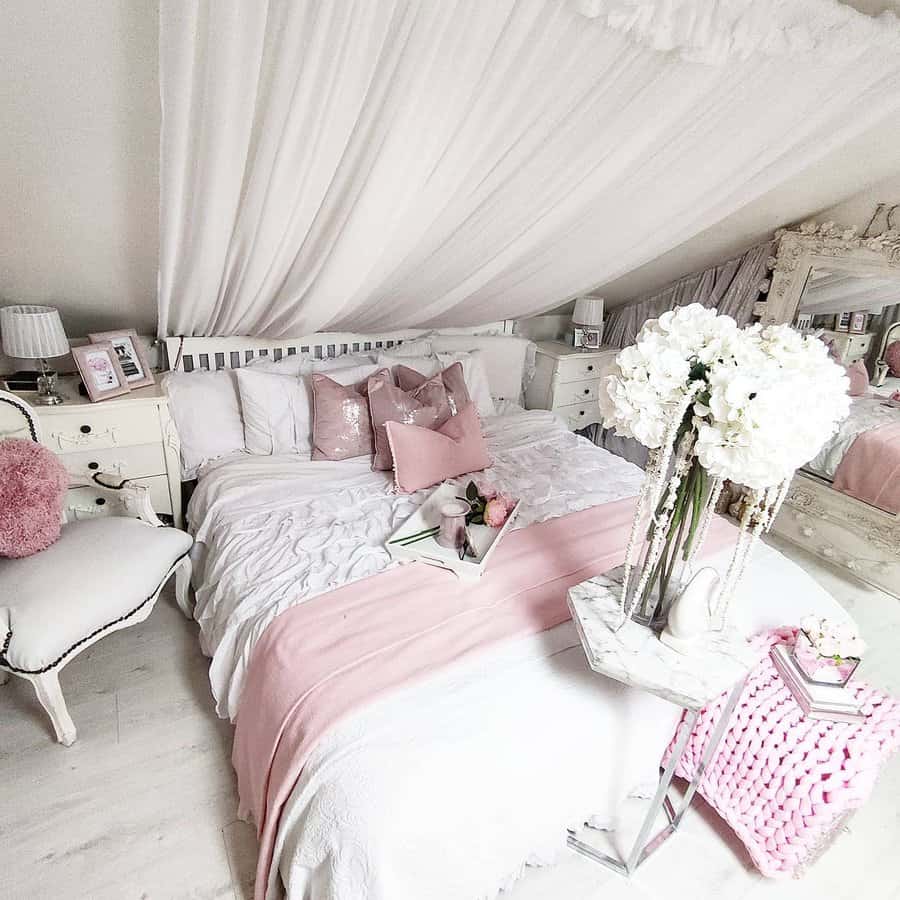 36 Cozy Bedroom Ideas and Designs
The bedroom is more than just a place to sleep – it's a personal sanctuary, a space to relax, rejuvenate, and escape from the hustle and bustle of daily life.
Creating a cozy atmosphere is crucial in making this space truly inviting. In this article, we'll explore an array of cozy bedroom ideas, ranging from the thoughtful selection of soft textiles, warm lighting, to strategic furniture placement.
Whether you have a spacious room to work with or are trying to make the most of a smaller space, we've got tips and inspiration to help you craft your perfect cozy bedroom retreat.
1. Glamorous Chic Bedroom Design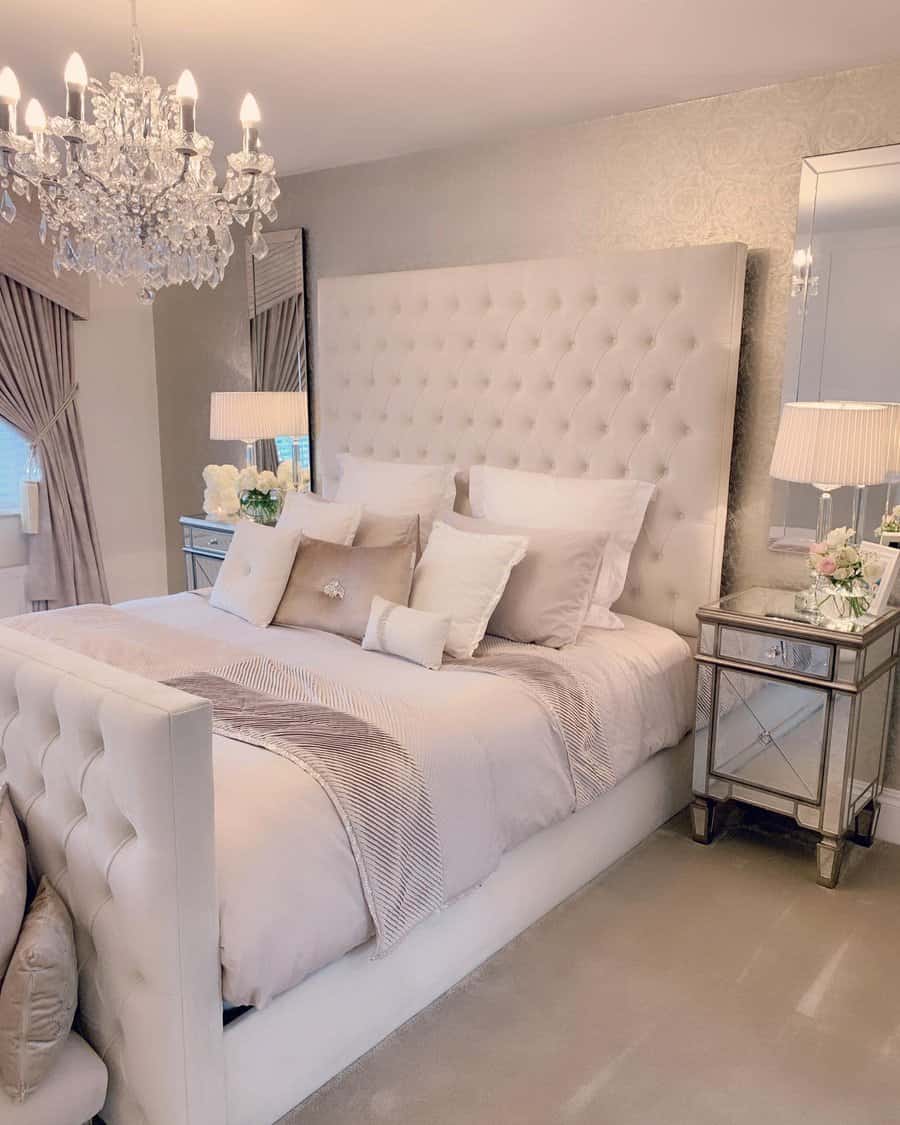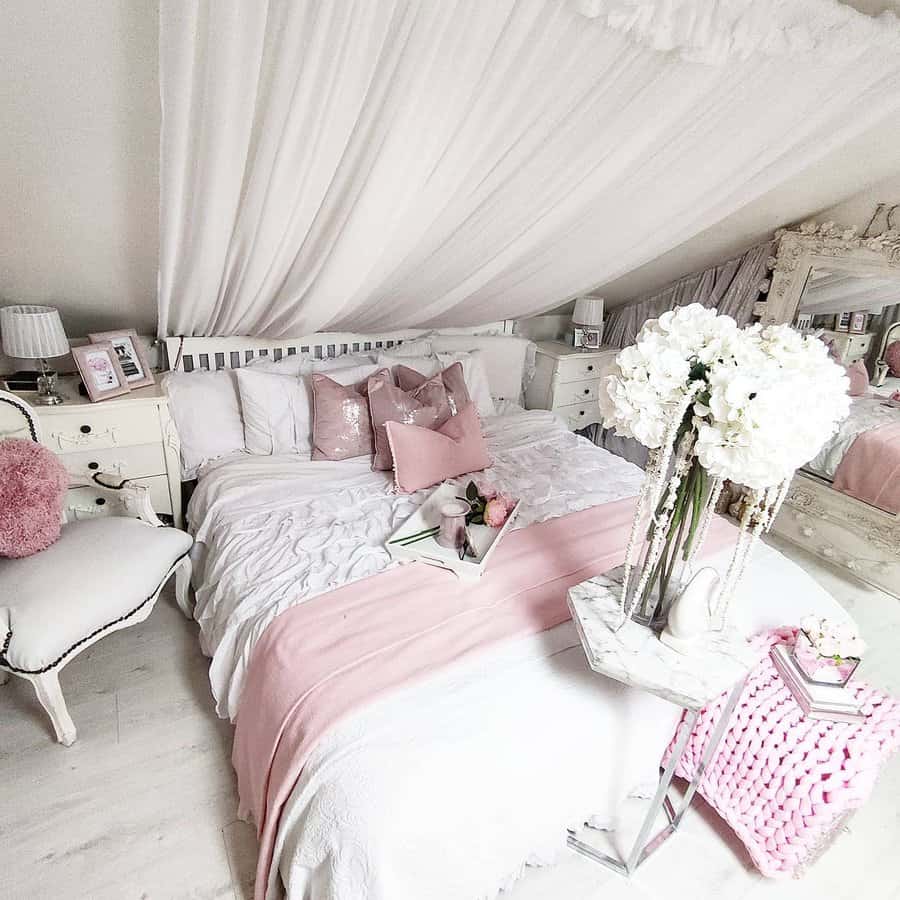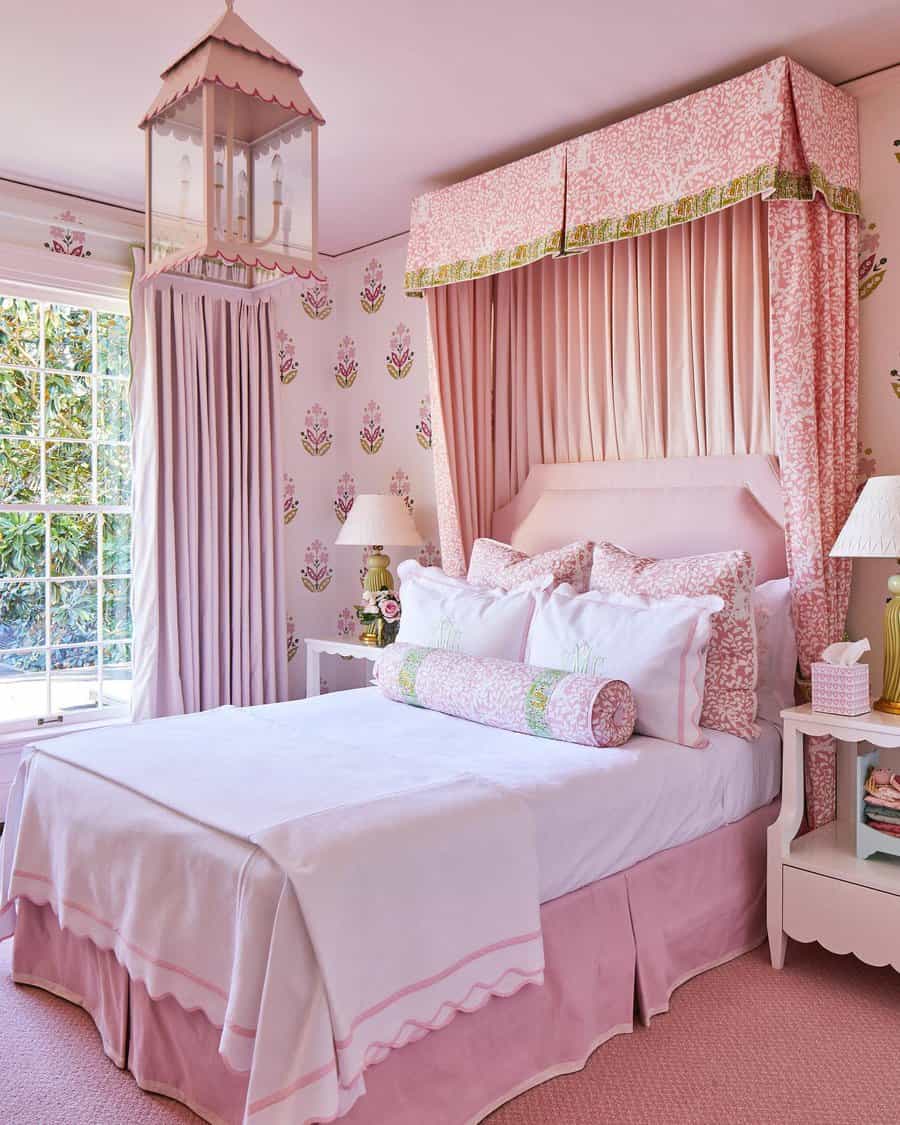 2. Rustic Sanctuary Bedroom Design
A rustic bedroom is a haven of tranquility, where natural elements blend seamlessly with cozy aesthetics. Picture a room adorned with the rich texture of wood, where every step is met with the comforting touch of a reclaimed hardwood floor.
Exposed ceiling beams add an enchanting architectural detail, evoking a sense of rustic authenticity. Enhance the organic ambiance with lush greenery, as plants breathe life into the space, bringing a touch of freshness and serenity. Incorporate rattan accents, such as a stylish chair or a decorative basket, to infuse natural woven beauty into your sanctuary.
When it comes to linens, opt for earthy tones and soft fabrics that evoke a sense of relaxation and comfort. The rustic bedroom design celebrates the beauty of simplicity and embraces the imperfections that make each piece unique.
Unwind in this serene oasis, where the harmonious blend of wood, exposed beams, plants, rattan, and soothing linens transports you to a place of timeless rustic allure.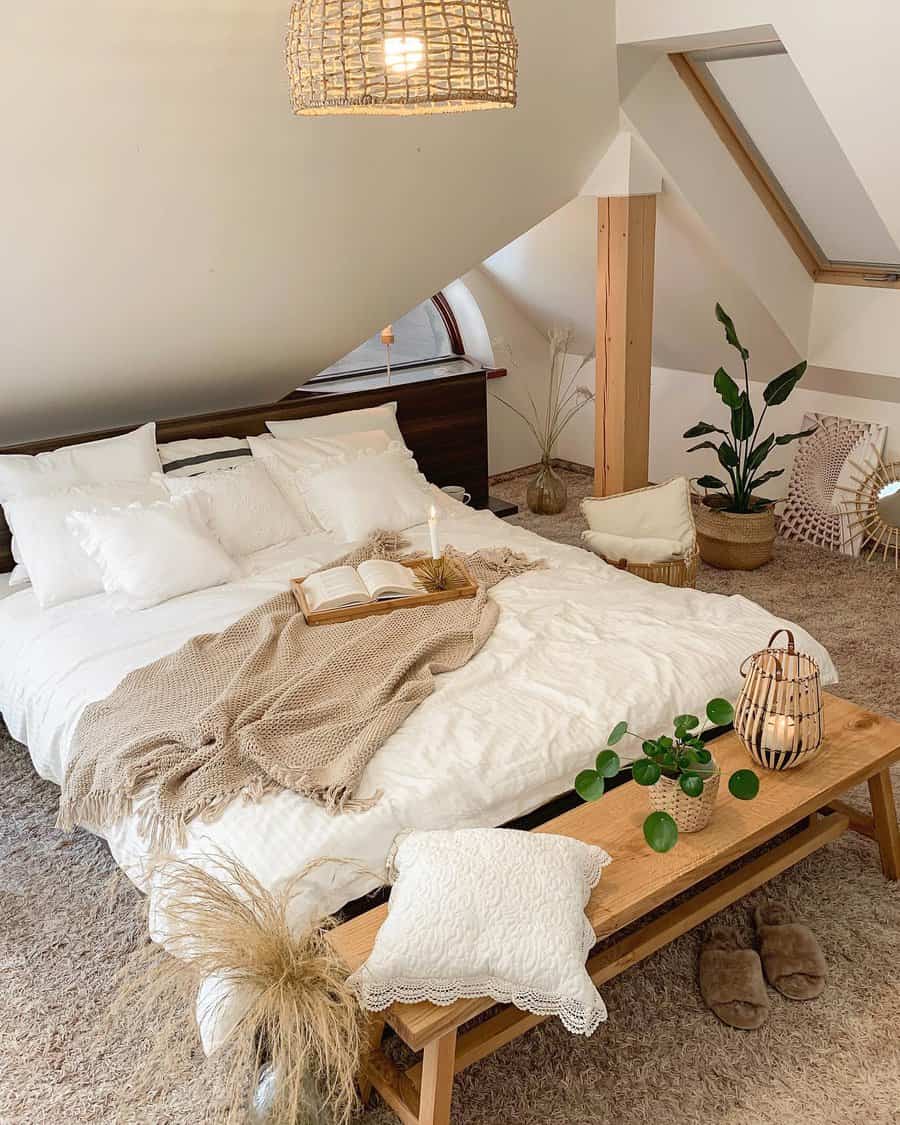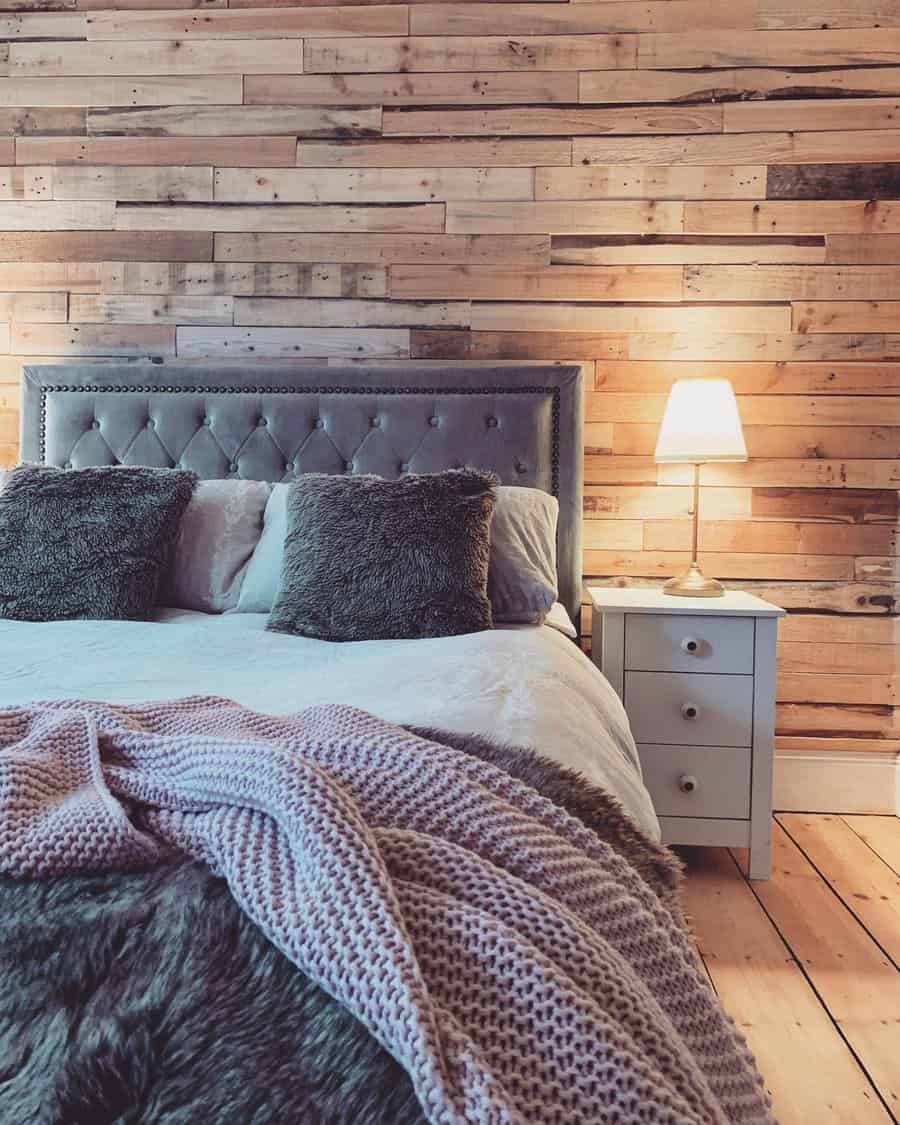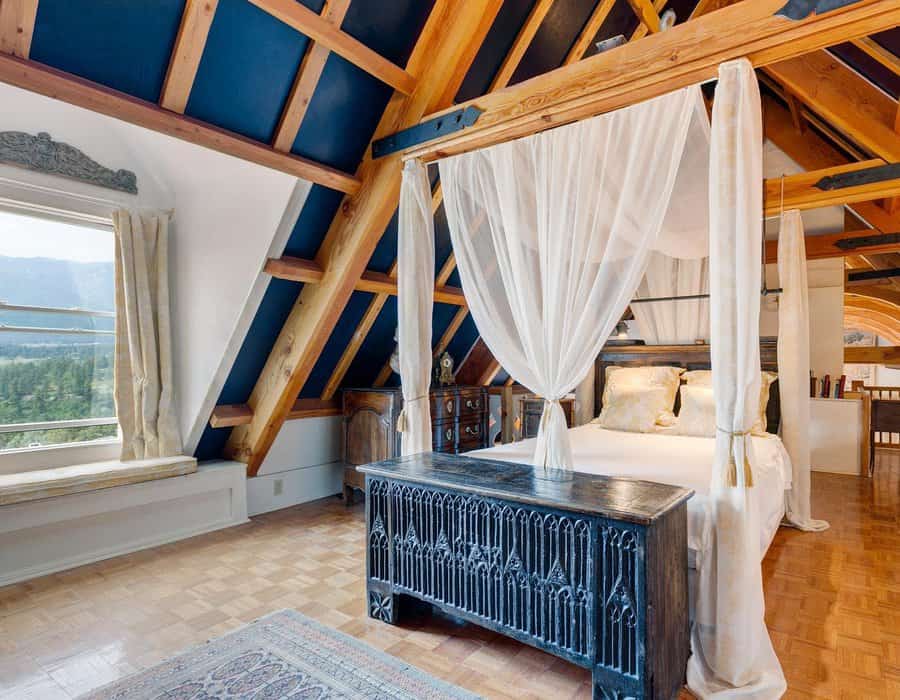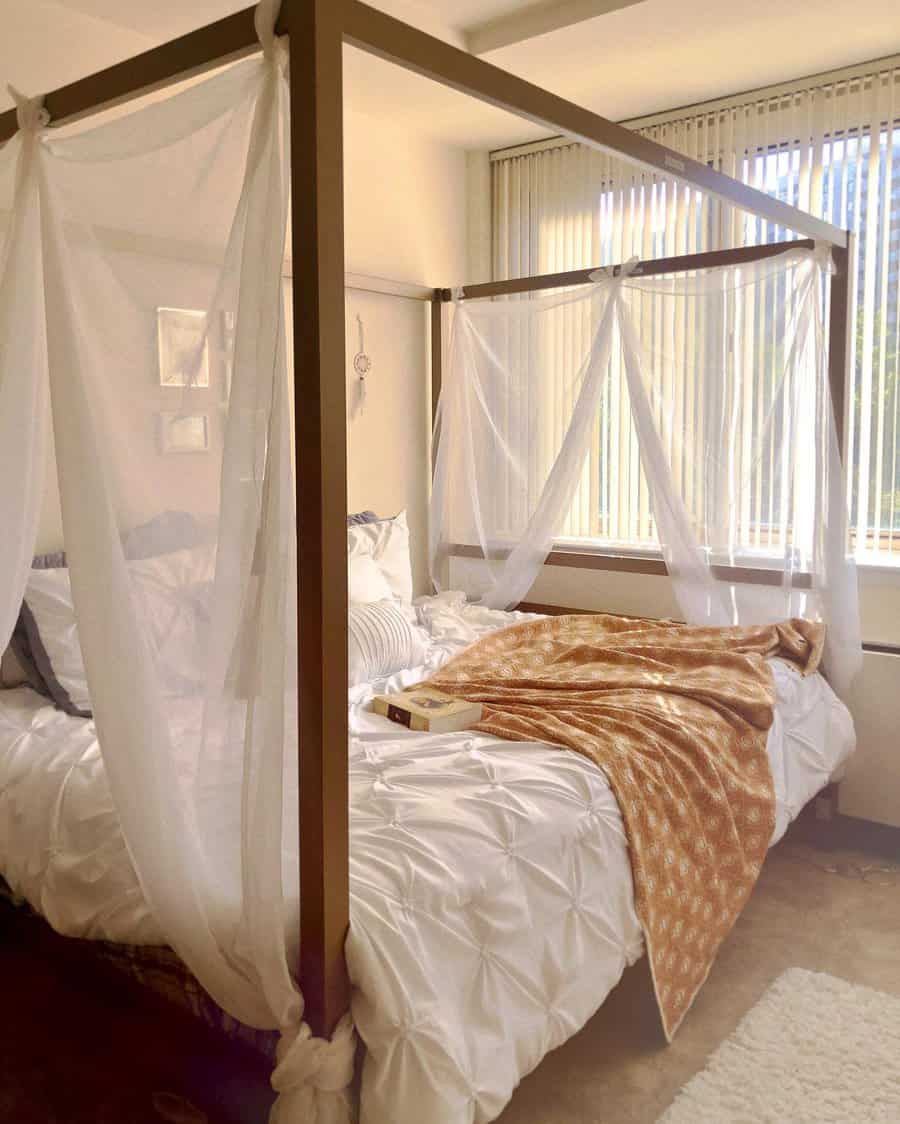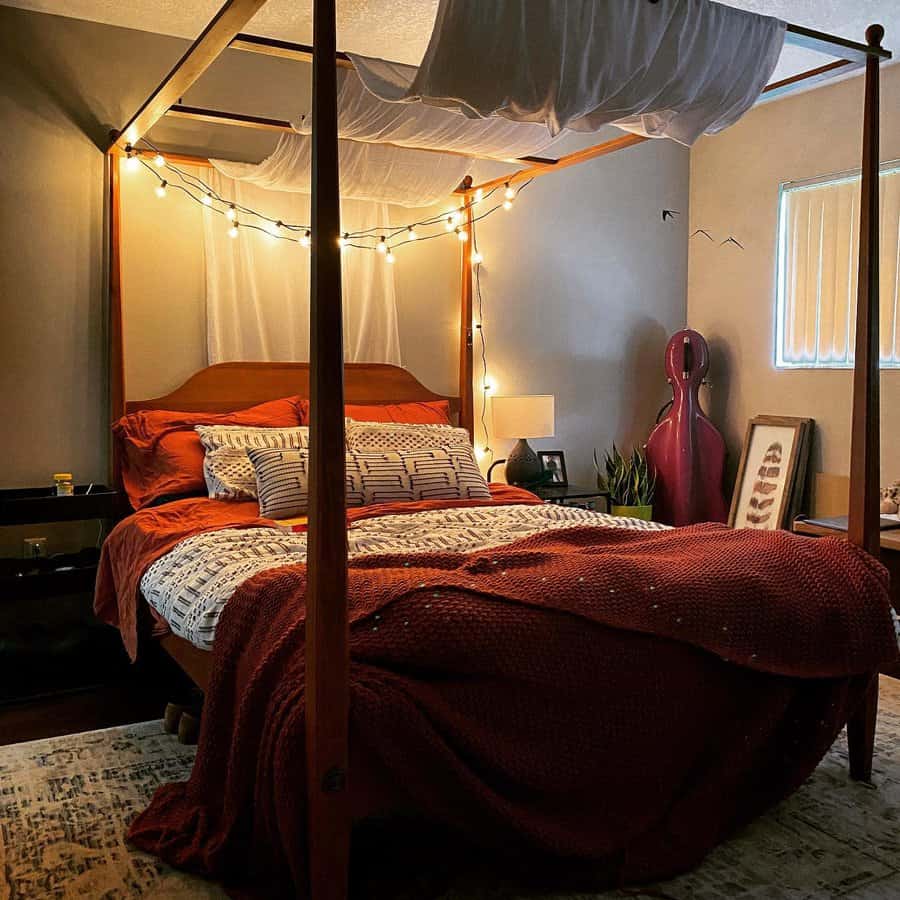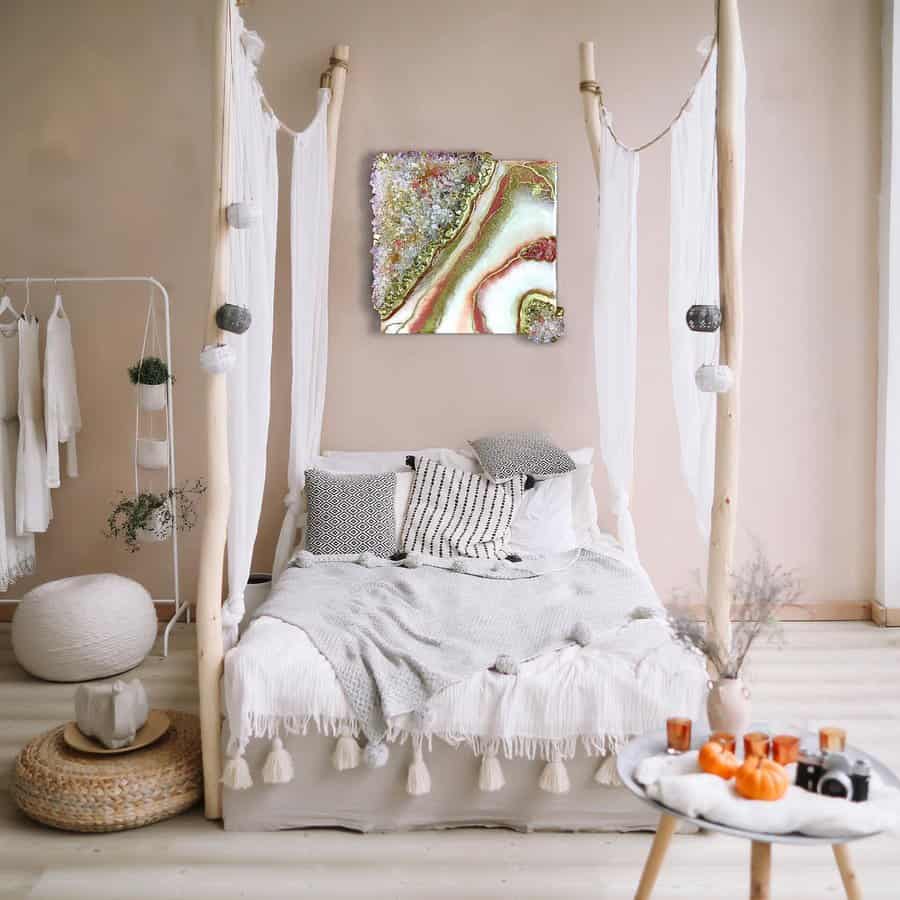 3. Monochromatic Bedroom Design
Embracing a monochromatic color palette allows for endless possibilities and an enchanting sense of cohesion. Imagine a bedroom adorned in shades of soothing grays or calming blues, with layers of texture and varying tones that add depth and visual interest.
From the walls to the bedding, curtains, and even the furniture, every element harmonizes in a symphony of monochromatic beauty. This design concept is incredibly versatile, as it can be adapted to suit any style, whether it's modern, minimalist, or even a touch of vintage charm.
By playing with different shades, patterns, and textures, you can create a space that is both visually stunning and uniquely yours. A monochromatic bedroom invites relaxation and promotes a sense of serenity, allowing you to unwind and recharge in a tranquil environment. It's a canvas for creativity, offering a blank slate to experiment with subtle contrasts, luxurious fabrics, and captivating accessories.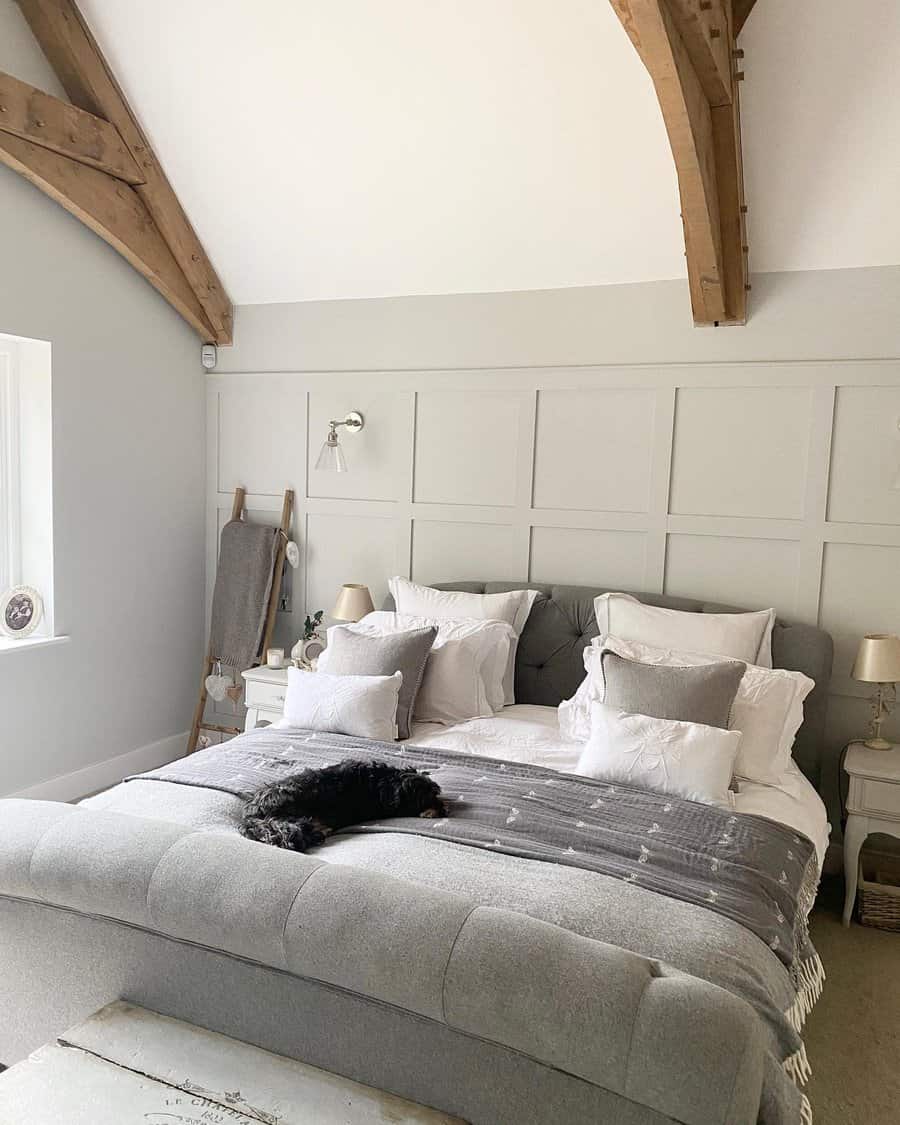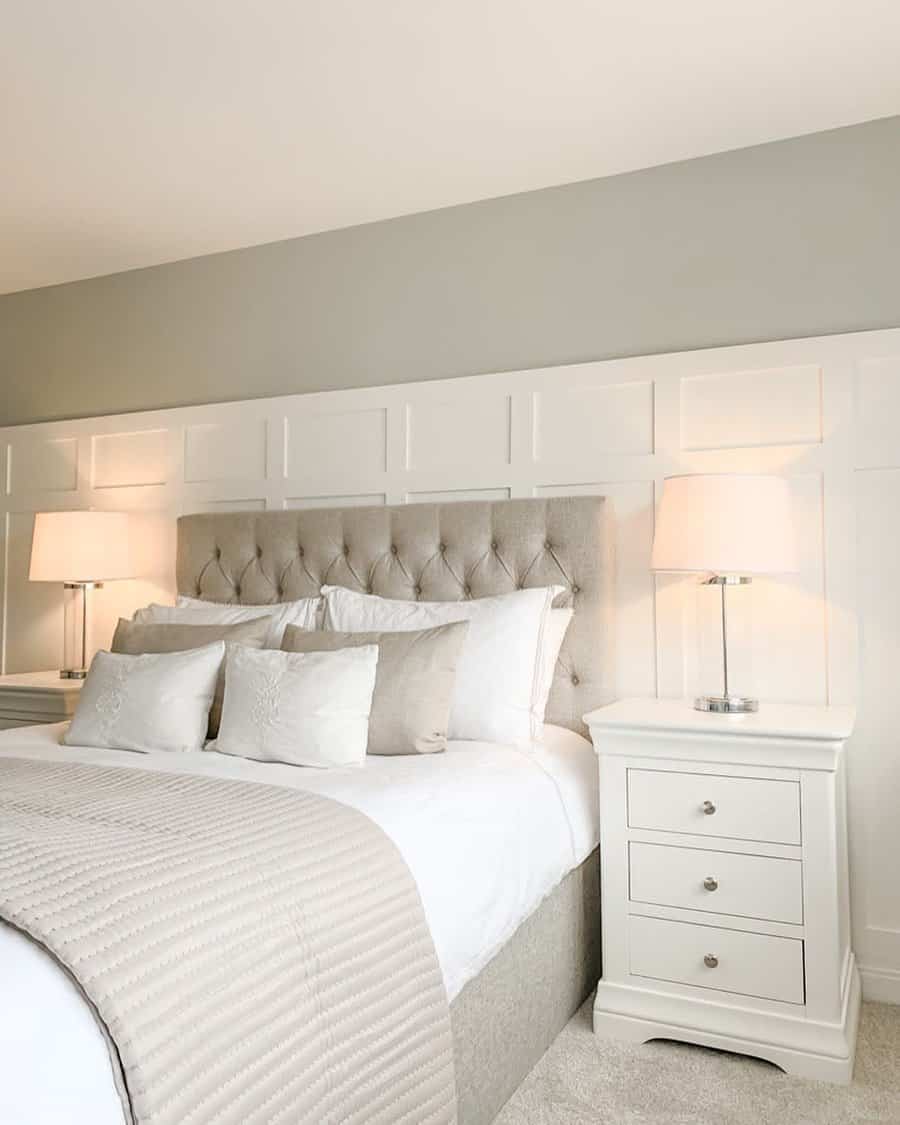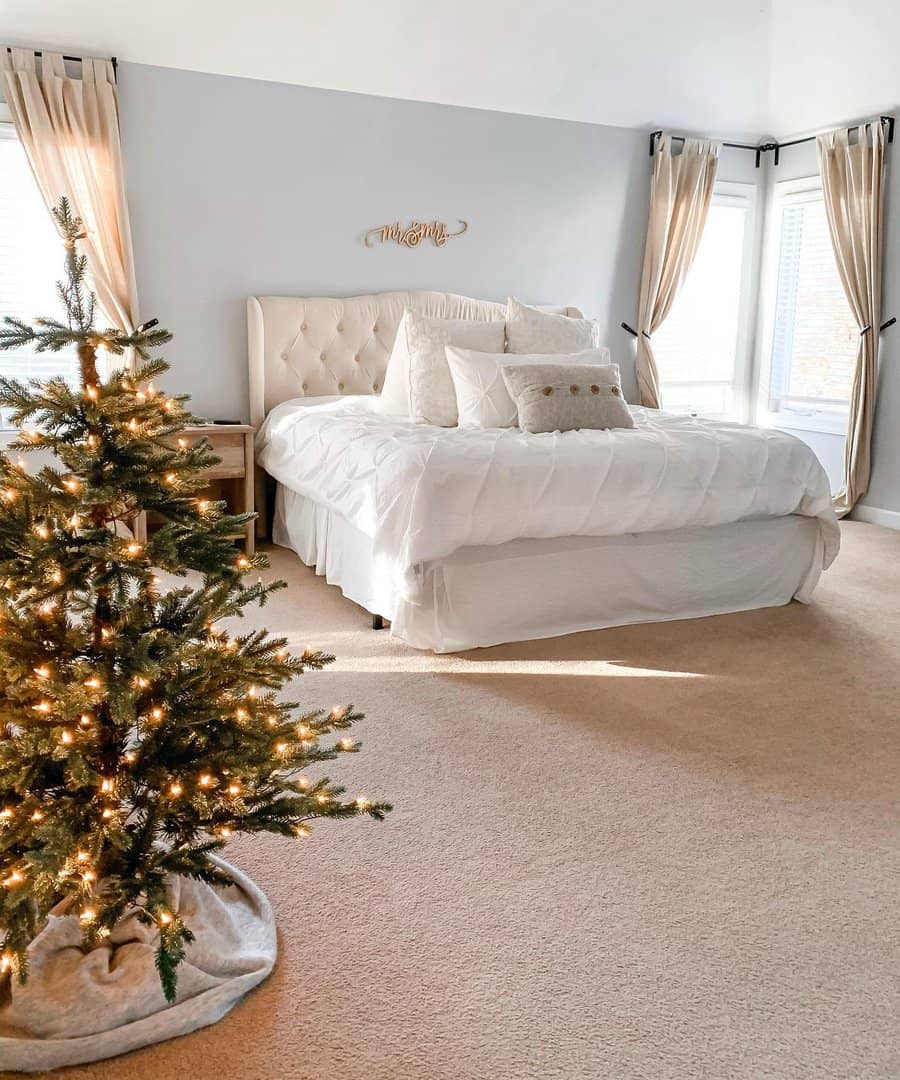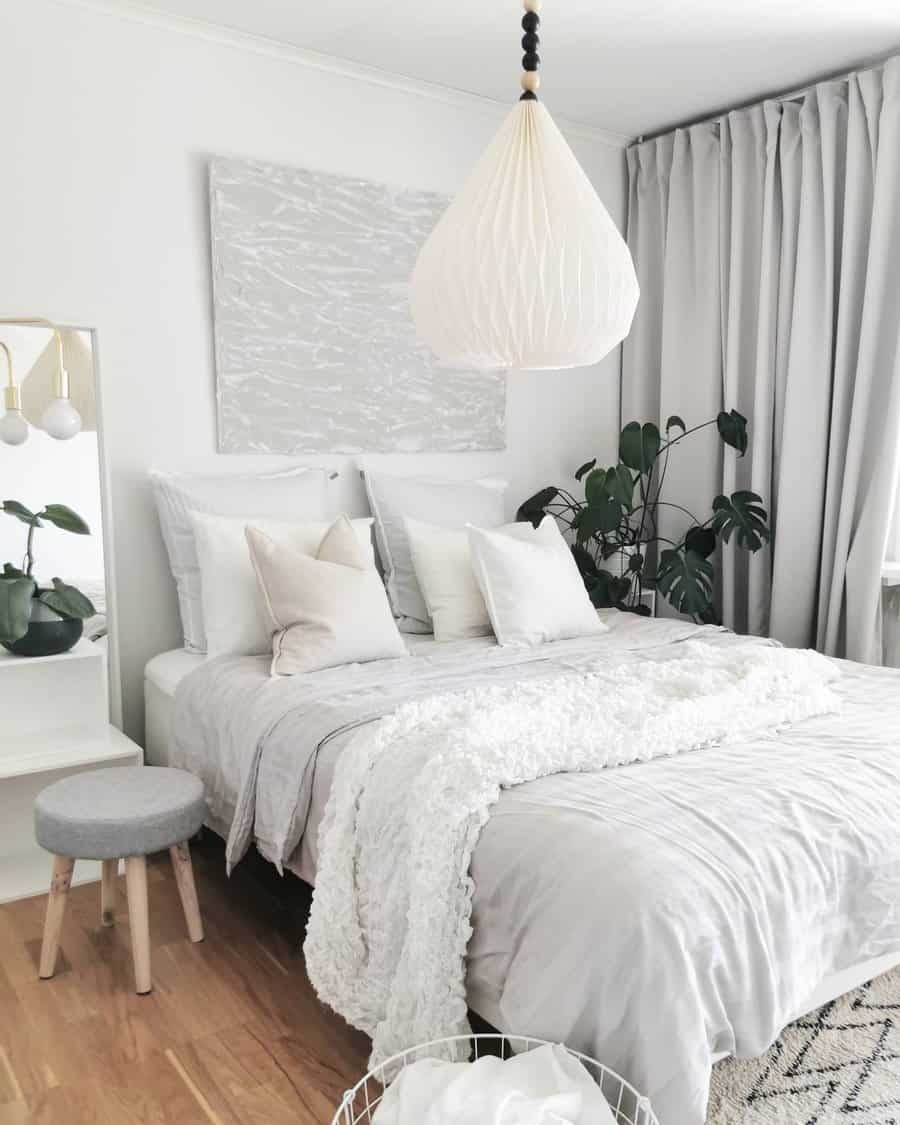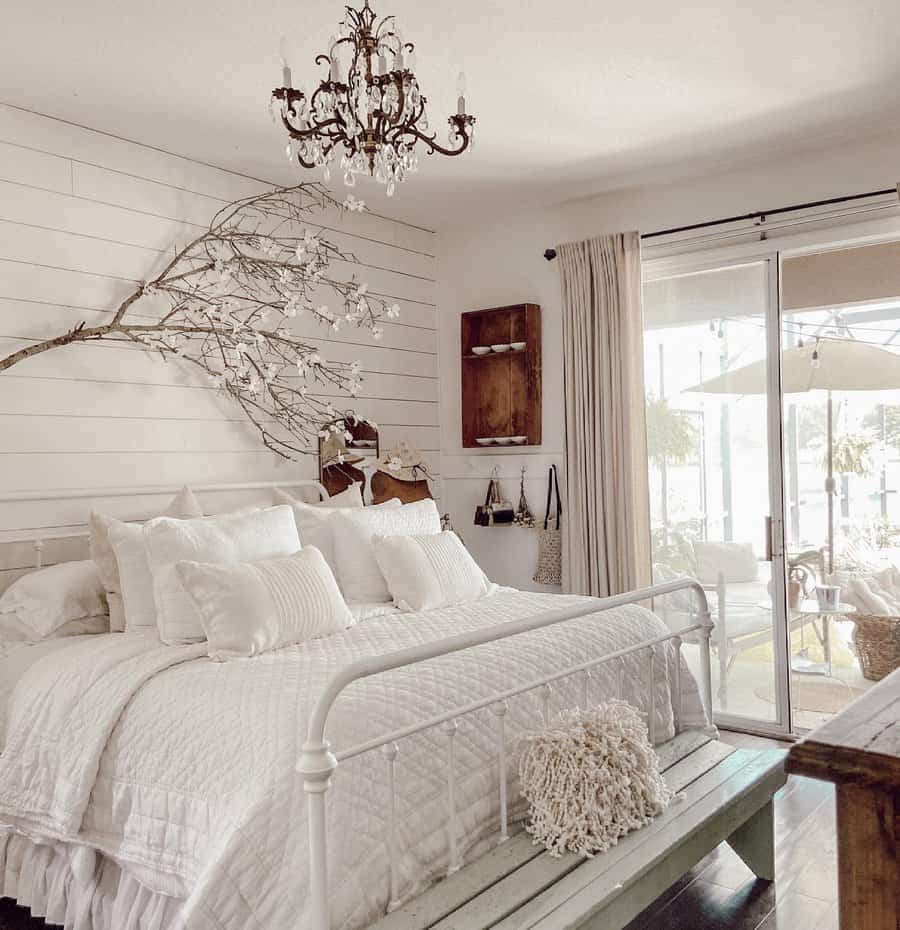 4. Vintage Farmhouse Bedroom Design
Picture a haven of tranquility with shiplap walls that exude warmth and character, creating a captivating backdrop for your dreamy sanctuary. Embrace the allure of vintage decor, with carefully curated pieces that tell stories of days gone by.
Imagine a weathered dresser adorned with delicate trinkets, or a distressed bedside table showcasing treasured heirlooms. To enhance the farmhouse aesthetic, opt for white-washed wood elements that add a touch of rustic sophistication. From a reclaimed wood headboard to whitewashed ceiling beams, these elements infuse your bedroom with a sense of history and authenticity.
Soft, neutral tones such as cream, beige, and pastel hues create a serene ambiance, while layers of textured fabrics like linen and burlap add depth and coziness to the space. Complete the look with vintage-inspired lighting fixtures, plush rugs, and floral accents that bring a touch of nature indoors.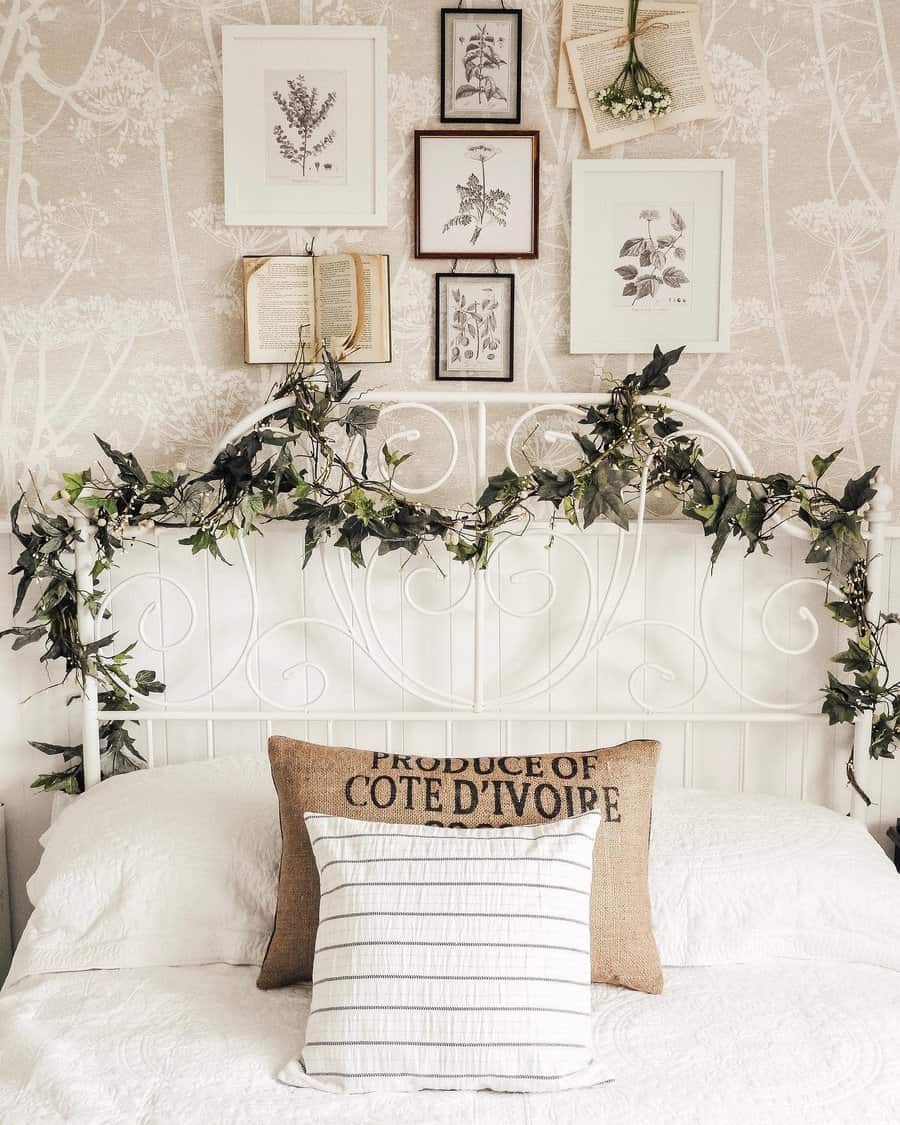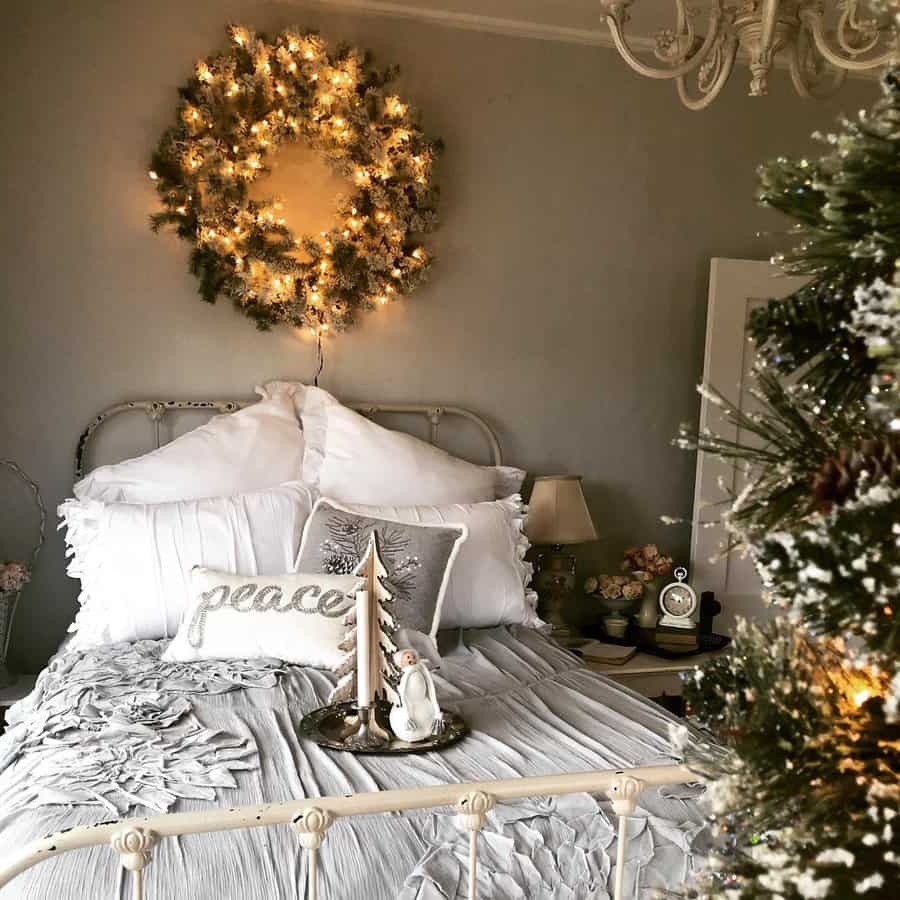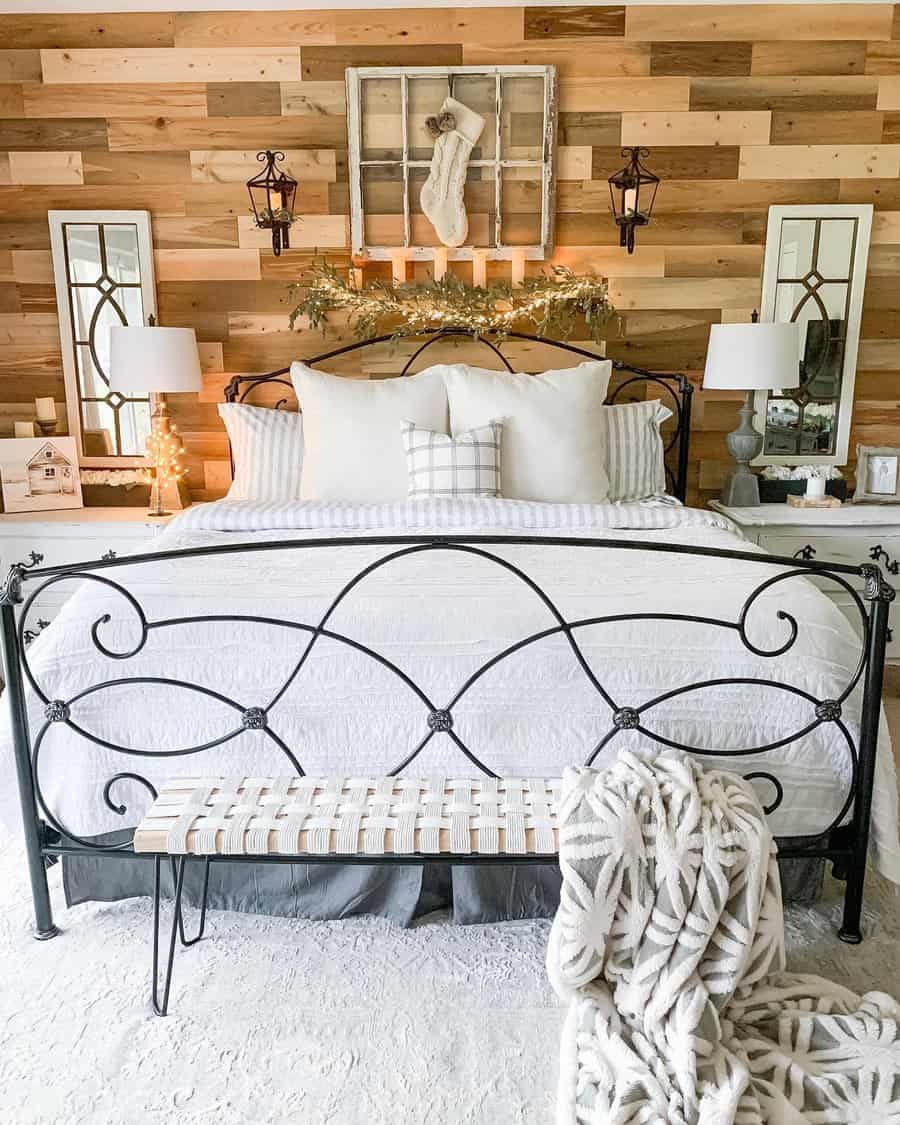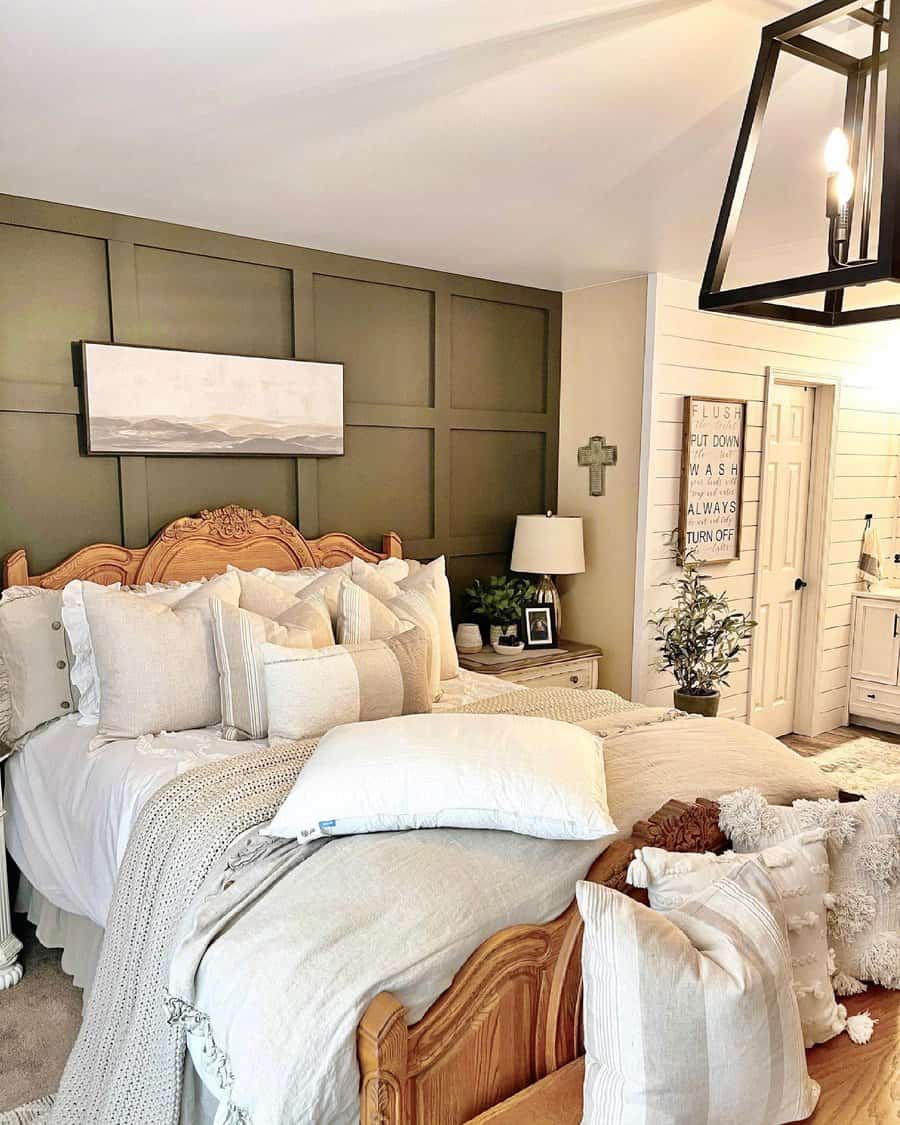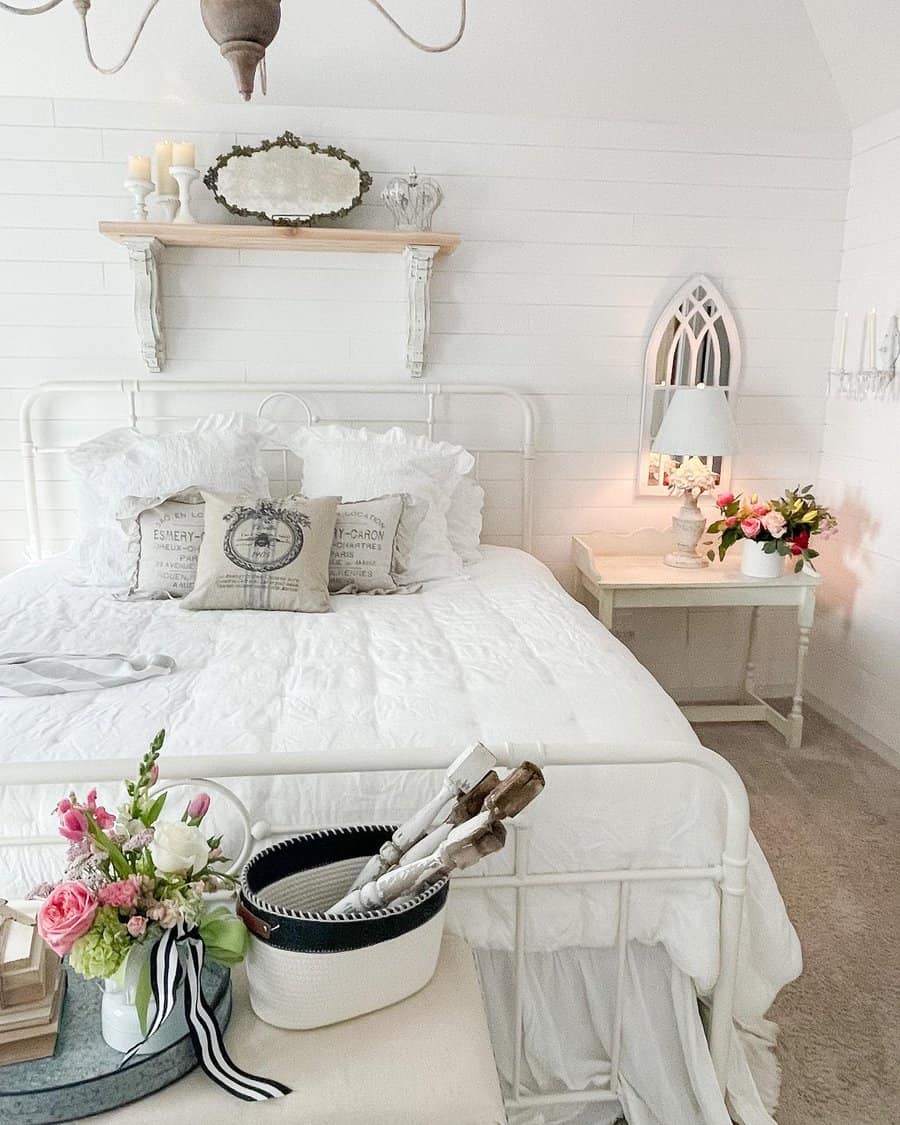 5. Maximalist Bedroom Design
Prepare to immerse yourself in a world of vibrant colors, lavish textures, and an explosion of patterns with the mesmerizing allure of a maximalist bedroom. Embrace the art of print on print as you curate a space that exudes boldness and personality.
Picture a sumptuous bedroom adorned with a luxurious velvet dimpled headboard, inviting you to sink into a realm of comfort and opulence. Surround yourself with an array of throw pillows, each boasting its own unique pattern and texture, adding layers of visual interest and plushness to your sanctuary. From rich tapestries to intricate geometric prints, the possibilities are endless in this maximalist paradise.
Let your imagination run wild as you blend contrasting hues and mix various prints fearlessly. Every inch of your maximalist bedroom becomes a canvas for self-expression, allowing your personality to shine through. So go ahead, indulge in the indulgence, and create a mesmerizing oasis where color, texture, and print come together in perfect harmony.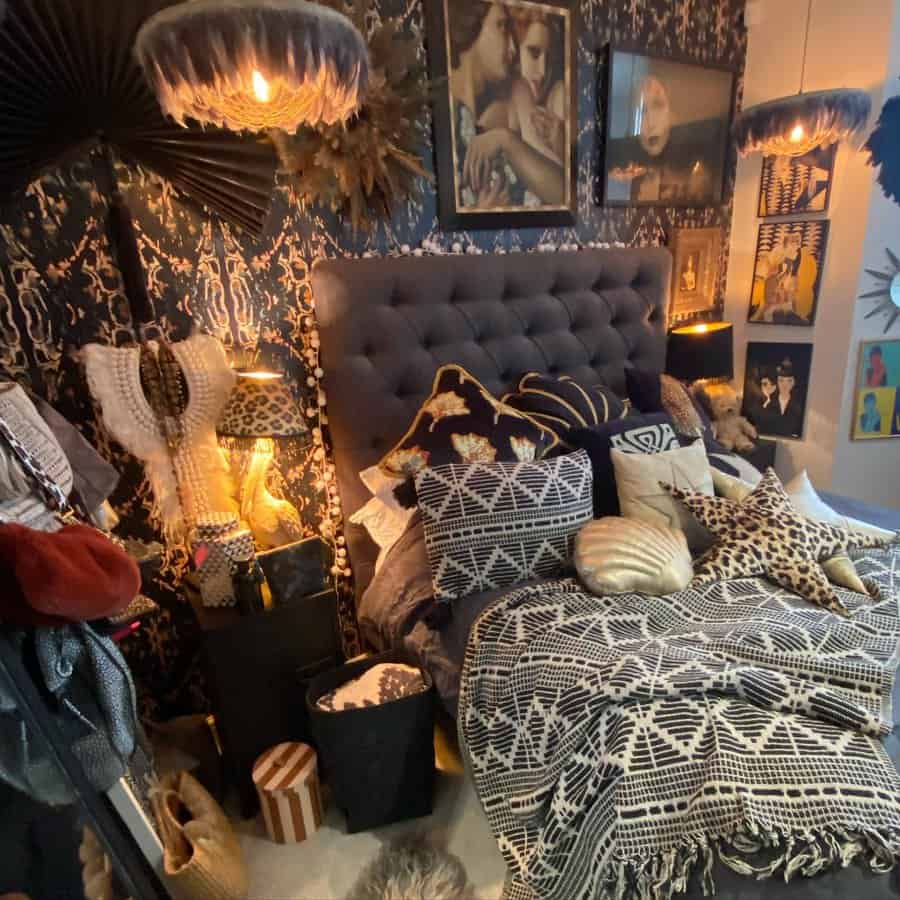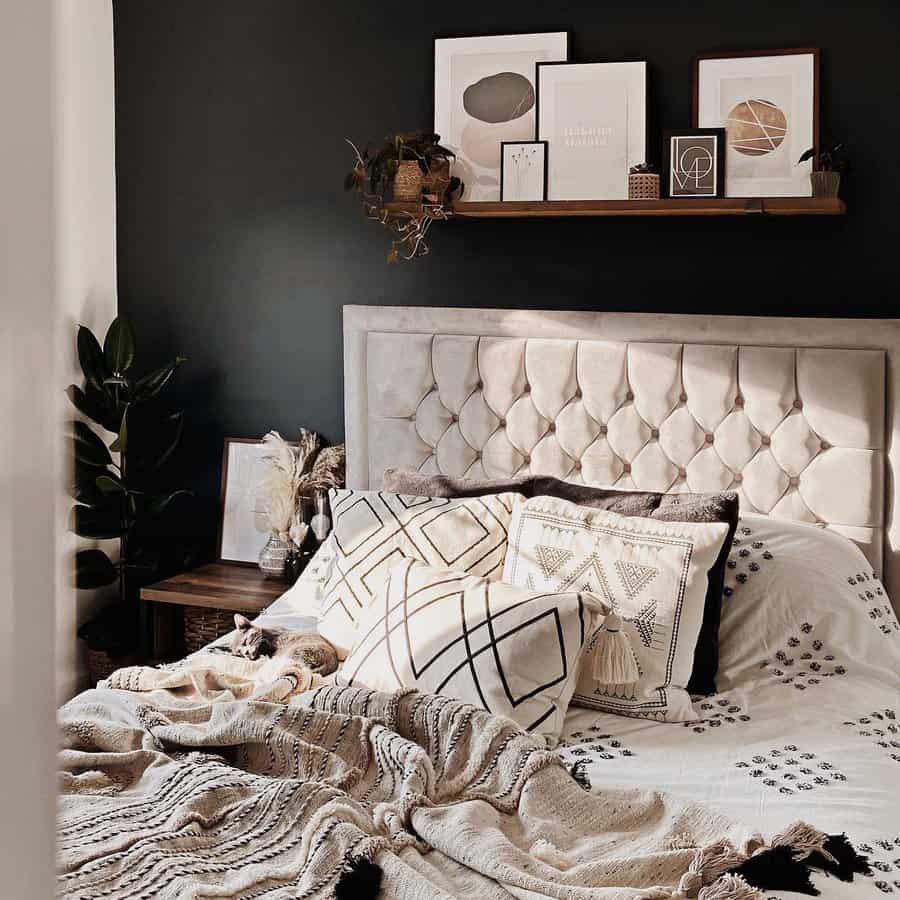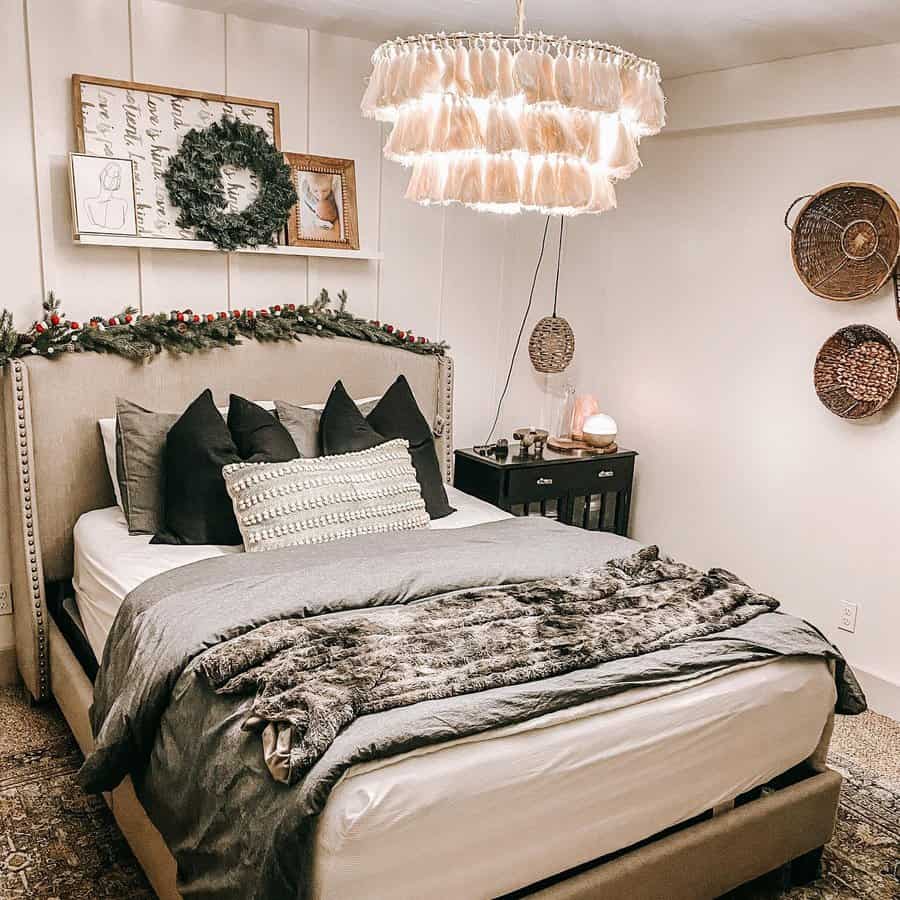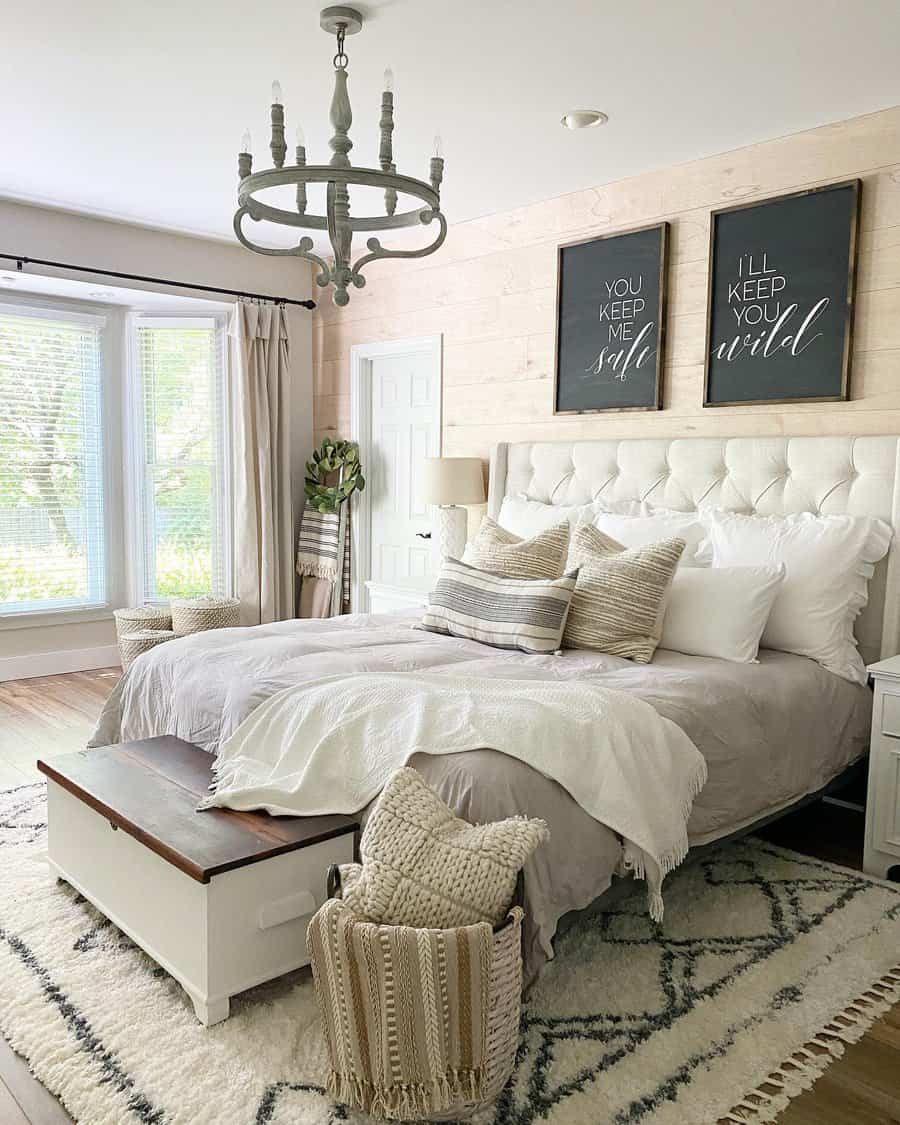 6. Fairy Wonderland Bedroom Design
Prepare to be whisked away to a magical realm with the enchanting wonder of a fairyland-inspired bedroom design. Imagine stepping into a dreamy sanctuary where whimsy and imagination reign supreme.
One key element to create this ethereal ambiance is the clever use of string lights. Drape them delicately around the room, allowing their soft, twinkling glow to transport you to a starlit wonderland. To add an extra touch of enchantment, incorporate sheer curtains that gently billow with the breeze, creating a sense of mystery and allure.
The sheer fabric acts as a veil, diffusing light and casting a soft, ethereal glow throughout the space. With the combination of string lights and sheer curtains, your bedroom becomes a magical haven that evokes a sense of wonder and awe. It's the perfect place to let your imagination roam free and embrace the fairy within.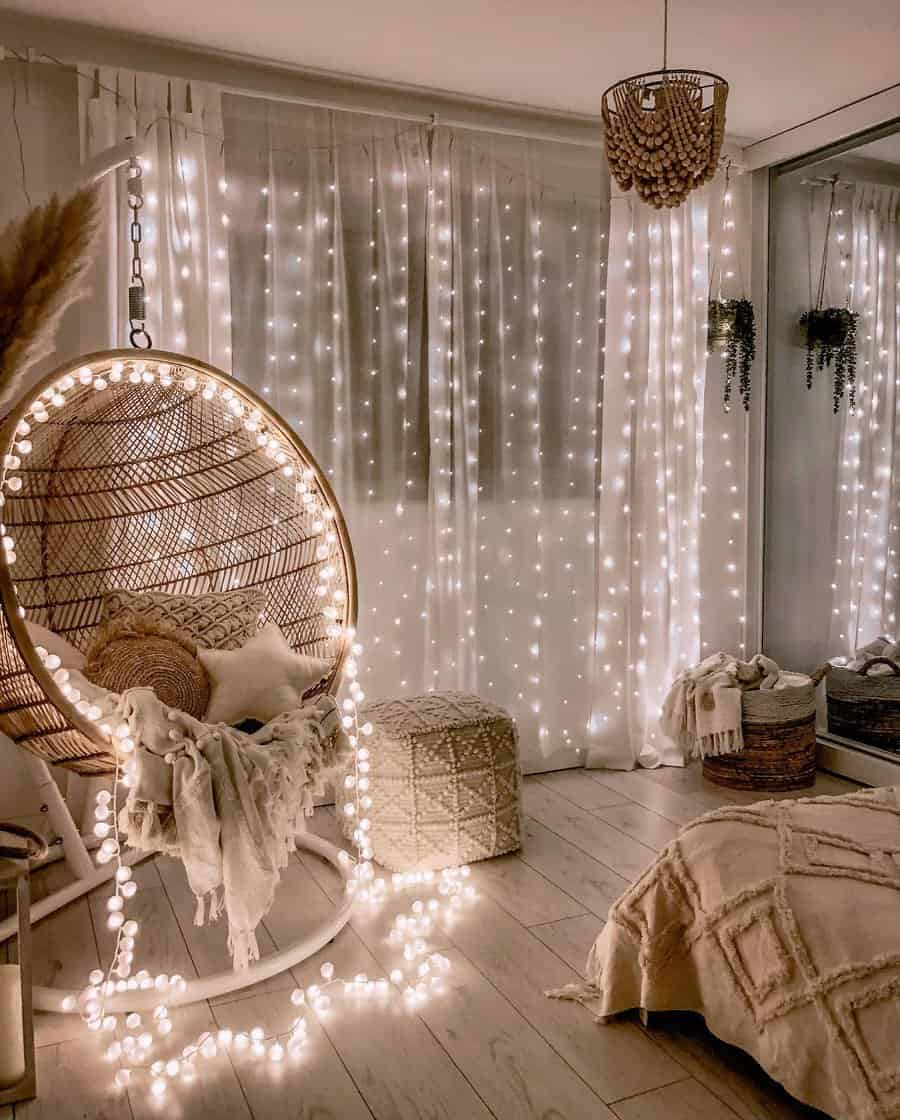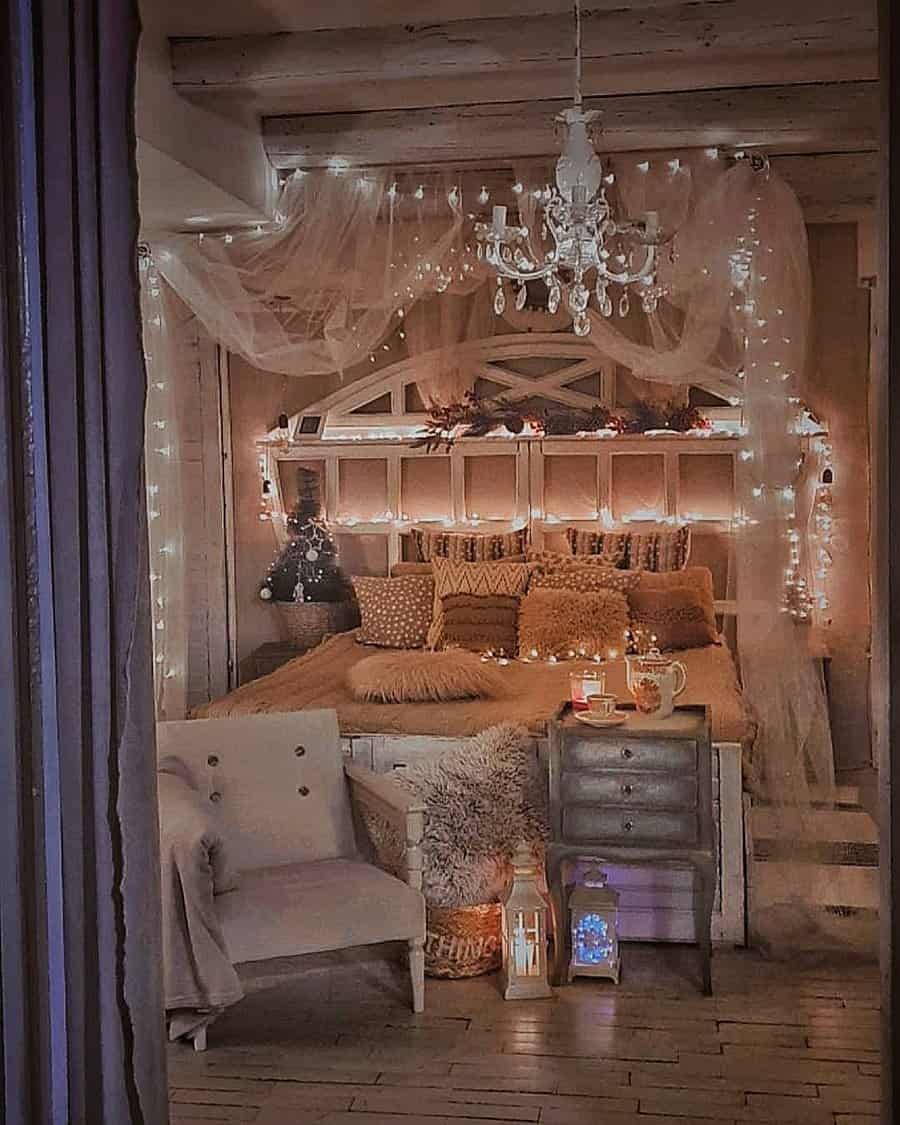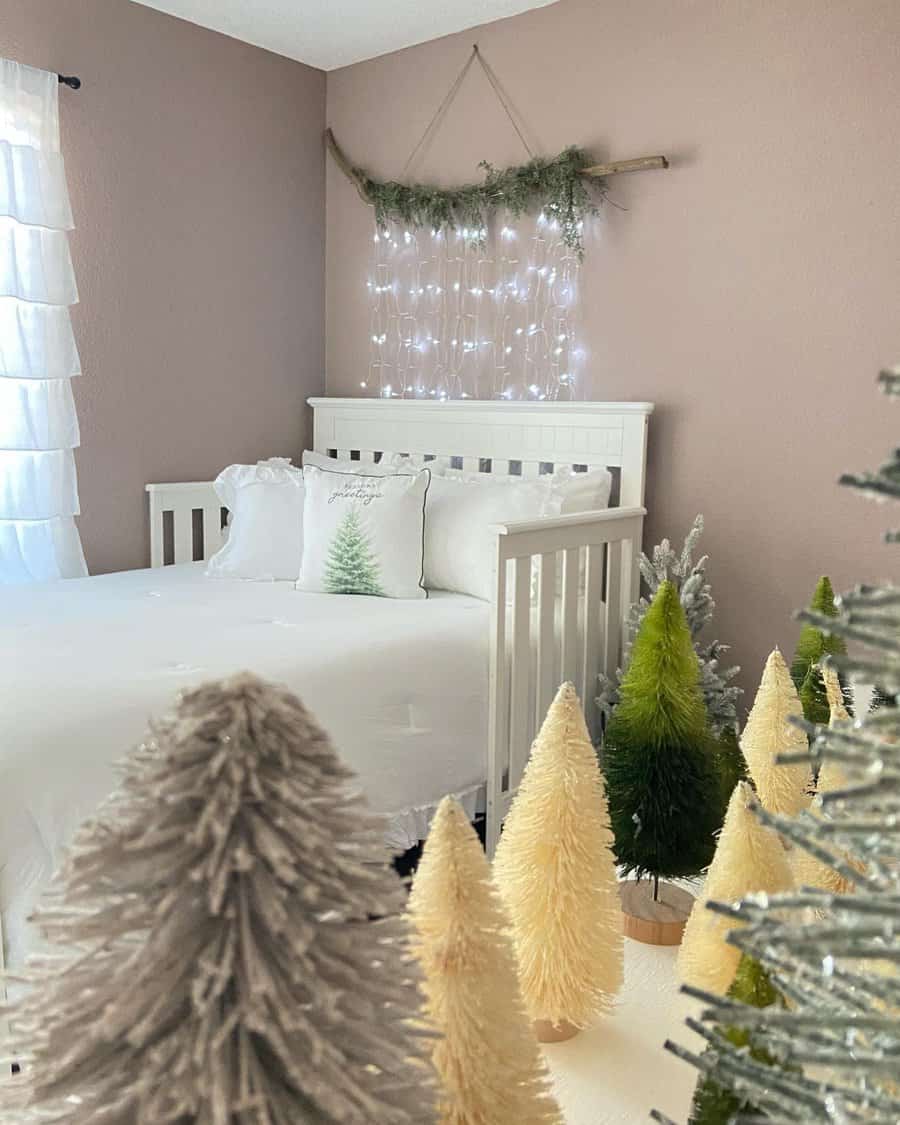 7. Contemporary Chic Bedroom Design
Start by adorning your walls with captivating printed wallpaper, showcasing bold patterns or serene nature motifs that set the stage for tranquility.
Illuminate the space with a sleek and minimalistic modern lamp, casting a warm and inviting glow that enhances the ambiance. Embrace the allure of metallic accents, infusing touches of gold, silver, or copper in your decor pieces, such as picture frames, decorative bowls, or even a chic metallic-accented headboard.
The interplay of textures and finishes adds depth and visual interest to your contemporary haven. Balance the clean lines with plush bedding and soft textiles, creating a cozy retreat where you can unwind. Don't forget to add a touch of your personal style through carefully curated accessories and artwork that speak to your taste and aspirations.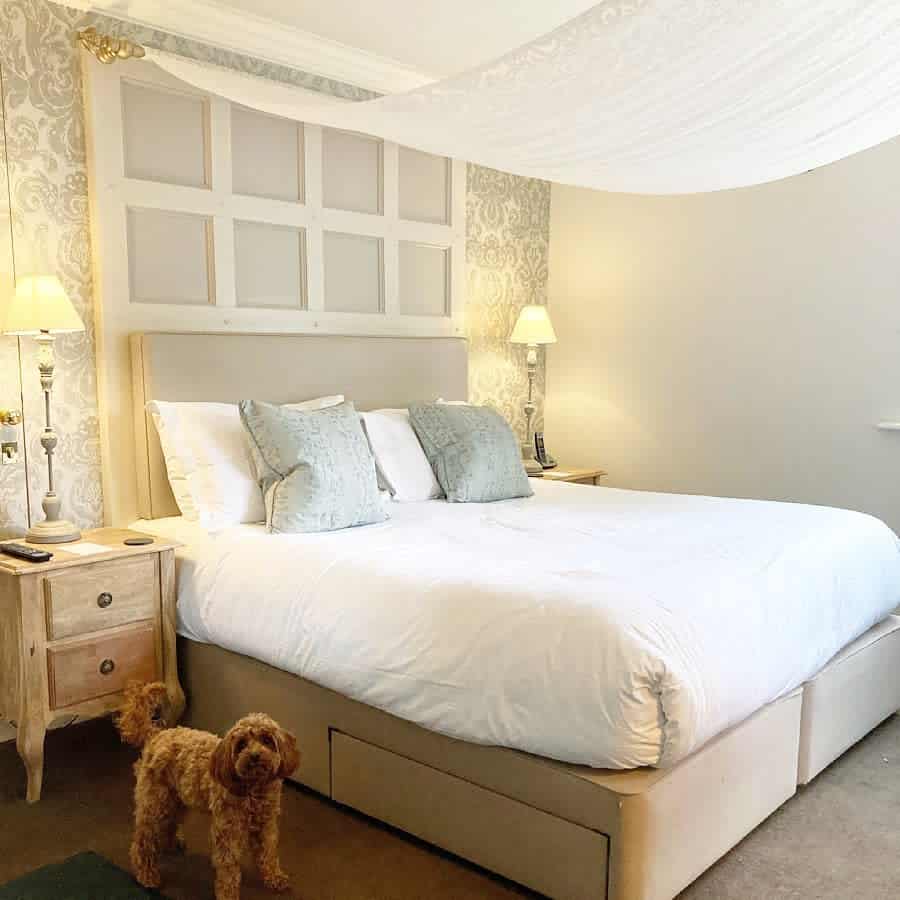 8. Industrial Bedroom Design
To add warmth and character, incorporate a stunning wooden accent wall that brings a touch of rustic charm to the industrial setting. The juxtaposition of rough, exposed brick and rich, weathered wood creates a visual feast for the eyes while adding depth and visual interest to the room.
Embrace the power of contrast by combining sleek metal elements with soft, cozy textiles, such as plush rugs and luxurious bedding. Opt for statement lighting fixtures with industrial undertones, like vintage-inspired pendant lights or sleek metal sconces.
Complete the look with curated vintage furniture pieces and industrial-inspired decors, such as metal-framed mirrors and repurposed factory signage. This unique blend of dark walls, a wooden accent wall, and industrial elements culminate in a bedroom that is undeniably cool, effortlessly chic, and brimming with personality.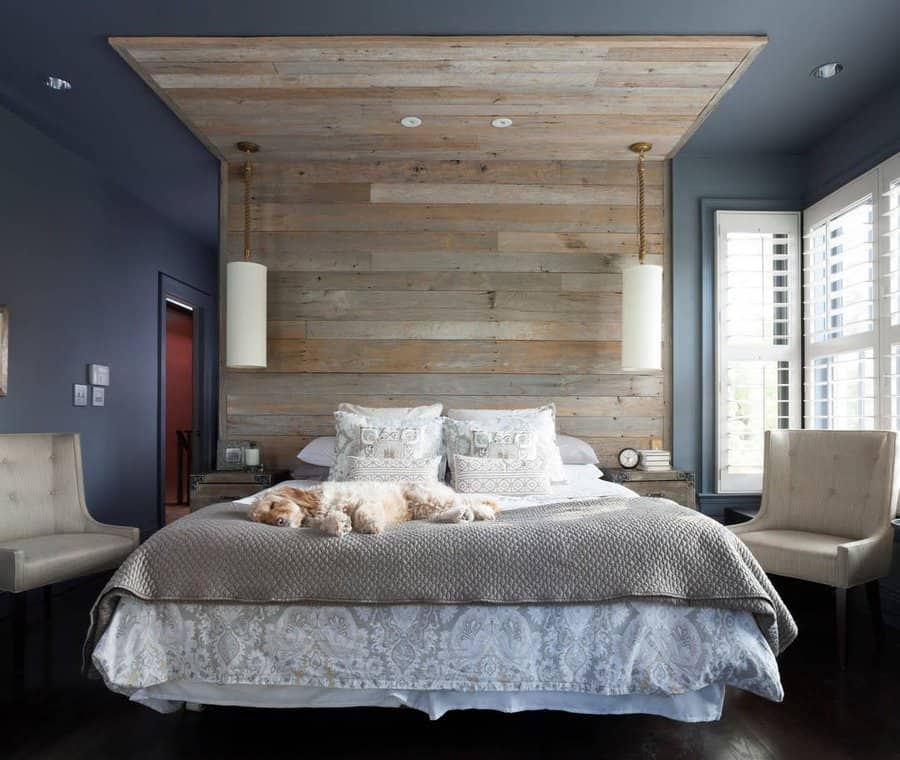 9. Organic Modern Style Bedroom Design
Introduce the soothing texture of rattan through stylish furniture pieces like a woven headboard or a chic armchair. Complete the look by bringing the outdoors in with lush greenery, allowing plants to breathe life into your sanctuary.
A wall adorned with hanging planters or a corner adorned with a cascading vine instantly adds a touch of freshness and vitality. The organic modern style embraces neutral color palettes, allowing natural materials and textures to take center stage.
Think soft earth tones, muted grays, and gentle whites, creating a tranquil atmosphere that encourages relaxation. Layer the space with cozy textiles, such as faux fur throws or woven blankets, to add warmth and comfort.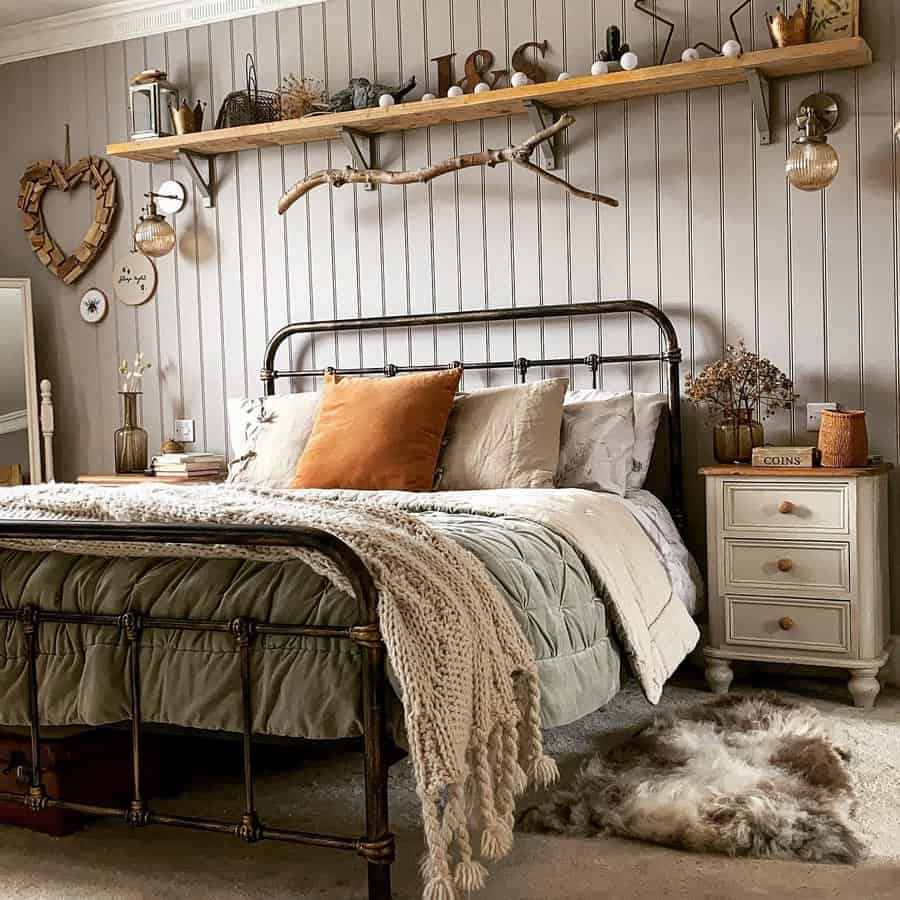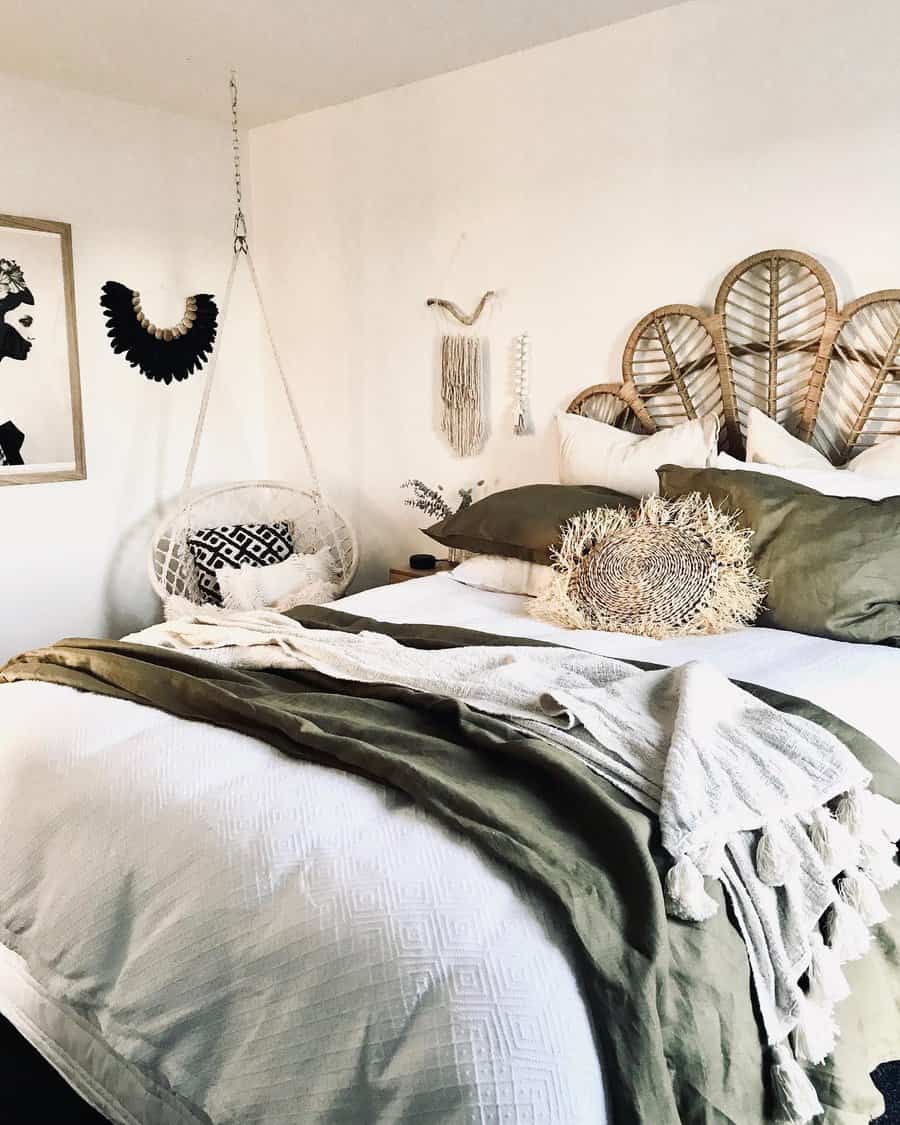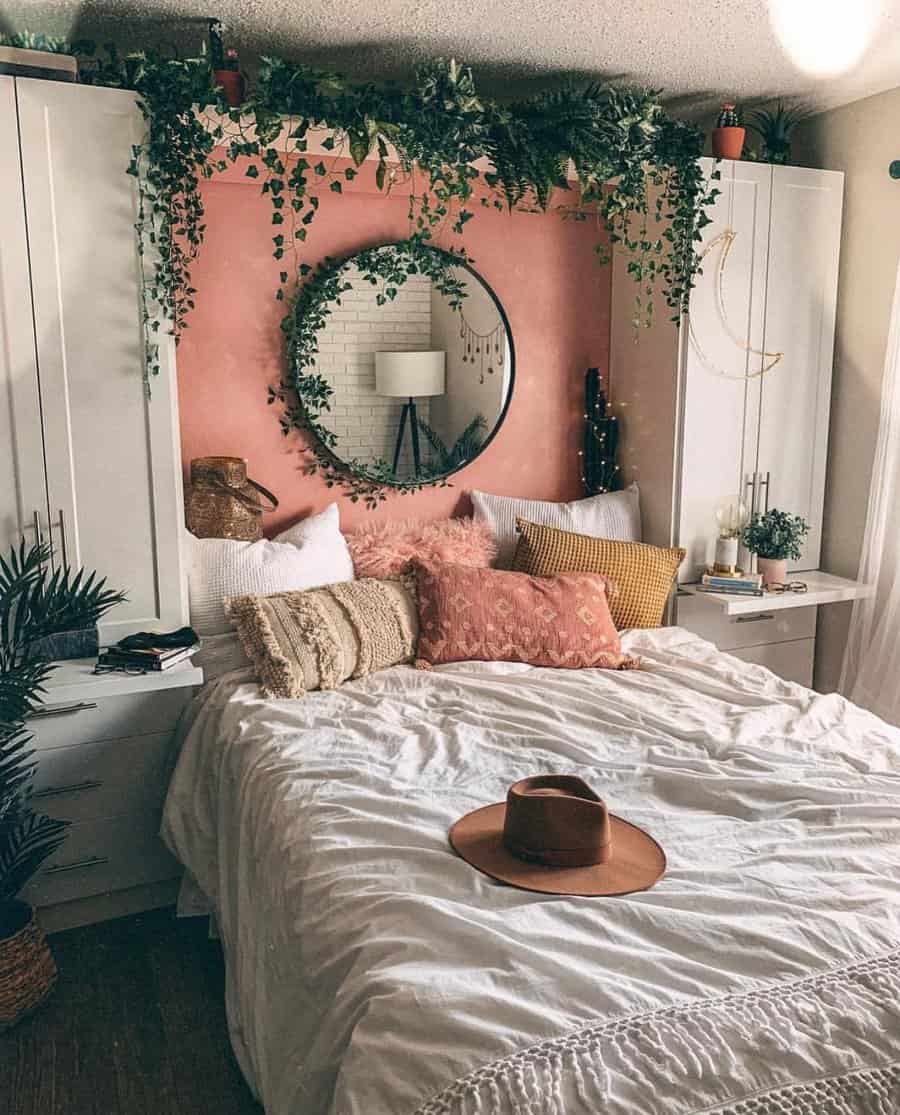 10. Bright White Bedroom Design
A white bedroom is a canvas for your imagination, allowing you to create a serene retreat that reflects your personal style. Picture white walls that provide a clean and fresh backdrop, while accentuating the play of light and shadow.
Combine different shades of white, from pure snow to creamy ivory, to add depth and warmth to the space. Incorporate luxurious textures like plush bedding, fluffy rugs, and soft curtains to create a cozy atmosphere.
Introduce touches of natural elements, such as wooden furniture or potted plants, to bring a sense of serenity and connection with the outdoors. Whether you prefer a minimalist approach or want to layer white with pops of color, a white bedroom design offers endless possibilities.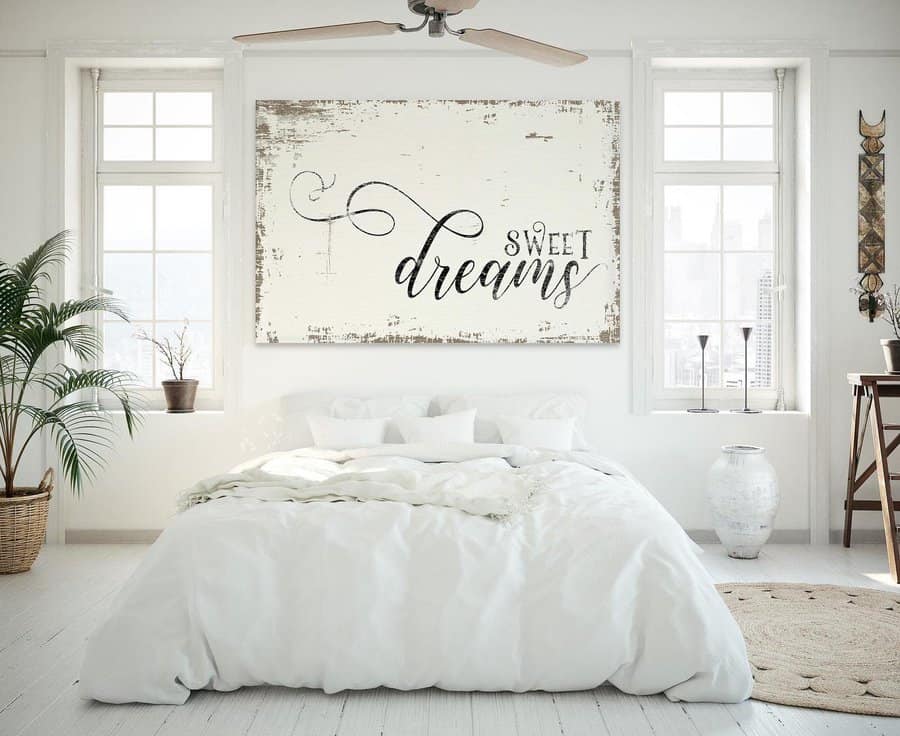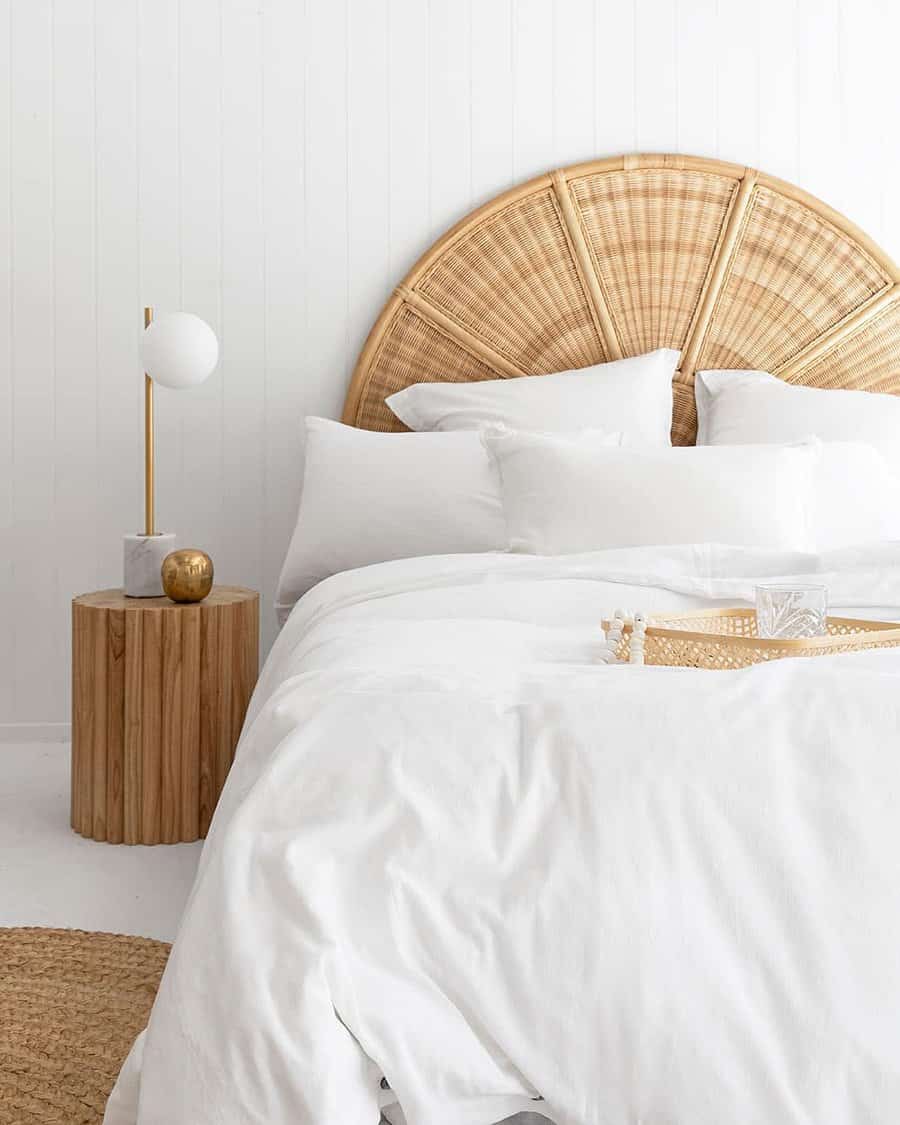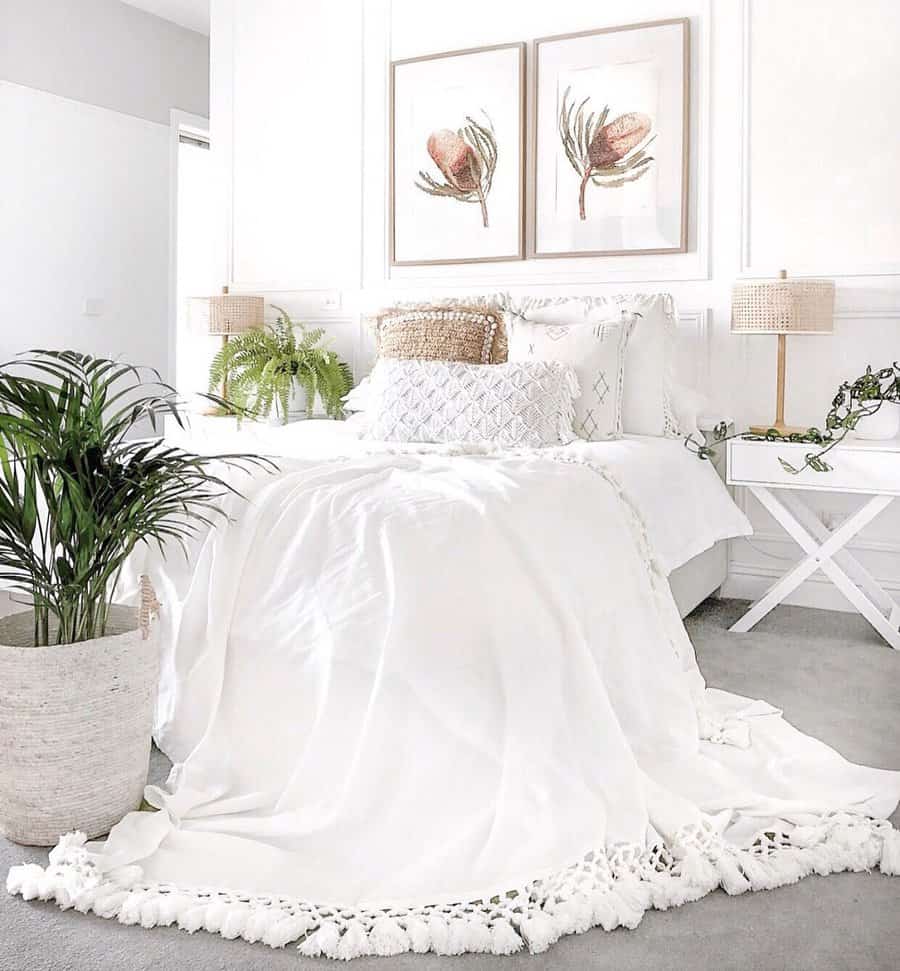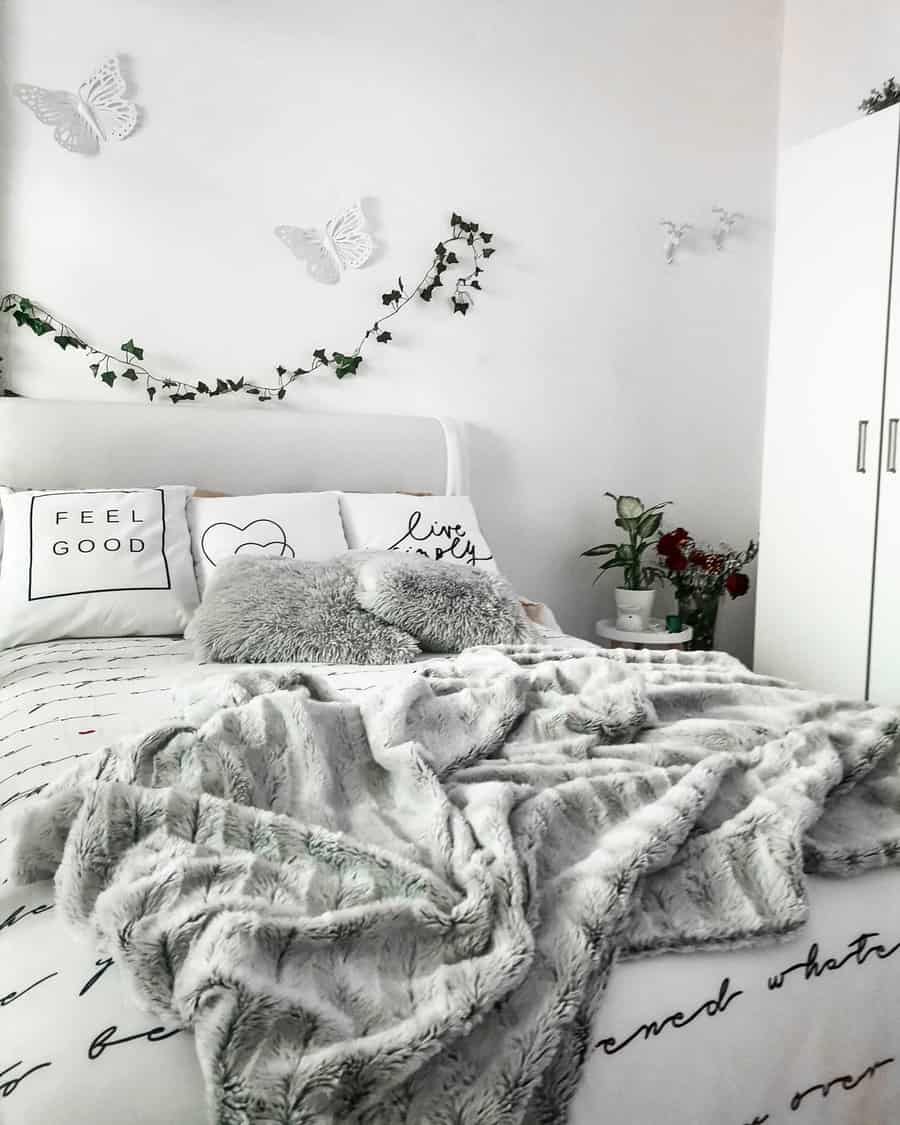 11. Book Lovers' Bedroom
Enter the enchanting realm of a book lovers' bedroom, where literary treasures and cozy ambiance collide in perfect harmony. Picture floating shelves adorned with a curated collection of beloved books, inviting you to escape into captivating tales.
The air is filled with the gentle presence of lush plants, creating a refreshing and serene atmosphere. A vintage lamp, with its soft glow, casts a warm light over the pages of your favorite novels as you immerse yourself in their captivating narratives. This bedroom design idea captures the essence of a peaceful reading sanctuary, where imagination takes flight and relaxation reigns supreme.
With strategically placed floating shelves, your literary companions become both a source of inspiration and an elegant decorative element. The presence of greenery adds a touch of natural beauty, fostering a sense of tranquility and serenity. The vintage lamp not only provides functional lighting but also adds a nostalgic charm, harking back to the cozy reading nooks of yesteryears.