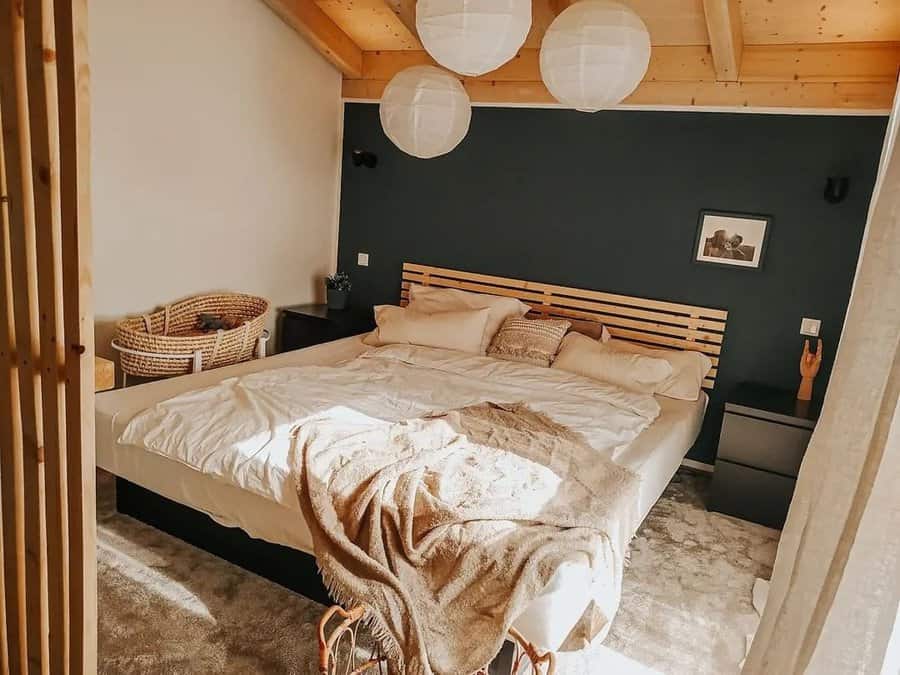 31 Bedroom Decorating Ideas
by — Andra DelMonico

Published on June 8, 2022

Updated on September 24, 2023
Unlike the other rooms in your home, your master bedroom is all yours to do with as you like. Love the color purple and want an entirely purple room? Go for it. Is it the height of trending interior design? No, but that is ok. Decorating ideas are suggestions but not the rule for your bedroom. Ultimately, your bedroom should be a reflection of who you are and your sense of style and taste. It should be your sanctuary where you can escape and recharge. These bedroom ideas will help you create a perfect space for you.
1. Soothing Neutrals: Embrace Calm & Simplicity
Your bedroom is the last place you see when bedtime comes and the first vision in the morning. Decorating it to your tastes is a joy! One of the most creative aspects of decorating your bedroom is choosing bedding that speaks to you.
Try something unusual, like a bed with a dimpled headboard or bedside lamps with a warm glow. Make sure bedsheets and bed throw pillows match for an inviting space and don't forget about adding some colorful wall art for an extra creative flair.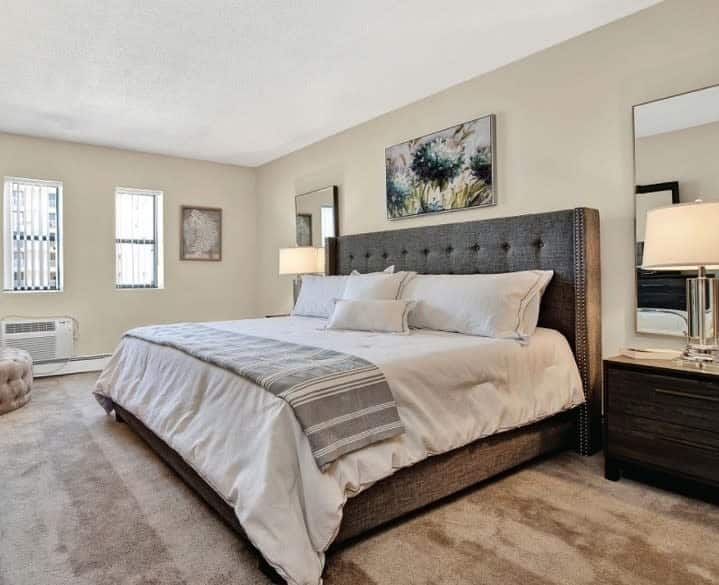 2. Wall Art Inspirations: Elevate Your Bedroom Walls
Your bedroom walls should be a reflection of who you are and what you love. Hang art on the wall that speaks to you. Arrange pictures of people who you care about most. The decor should bring you peace and joy.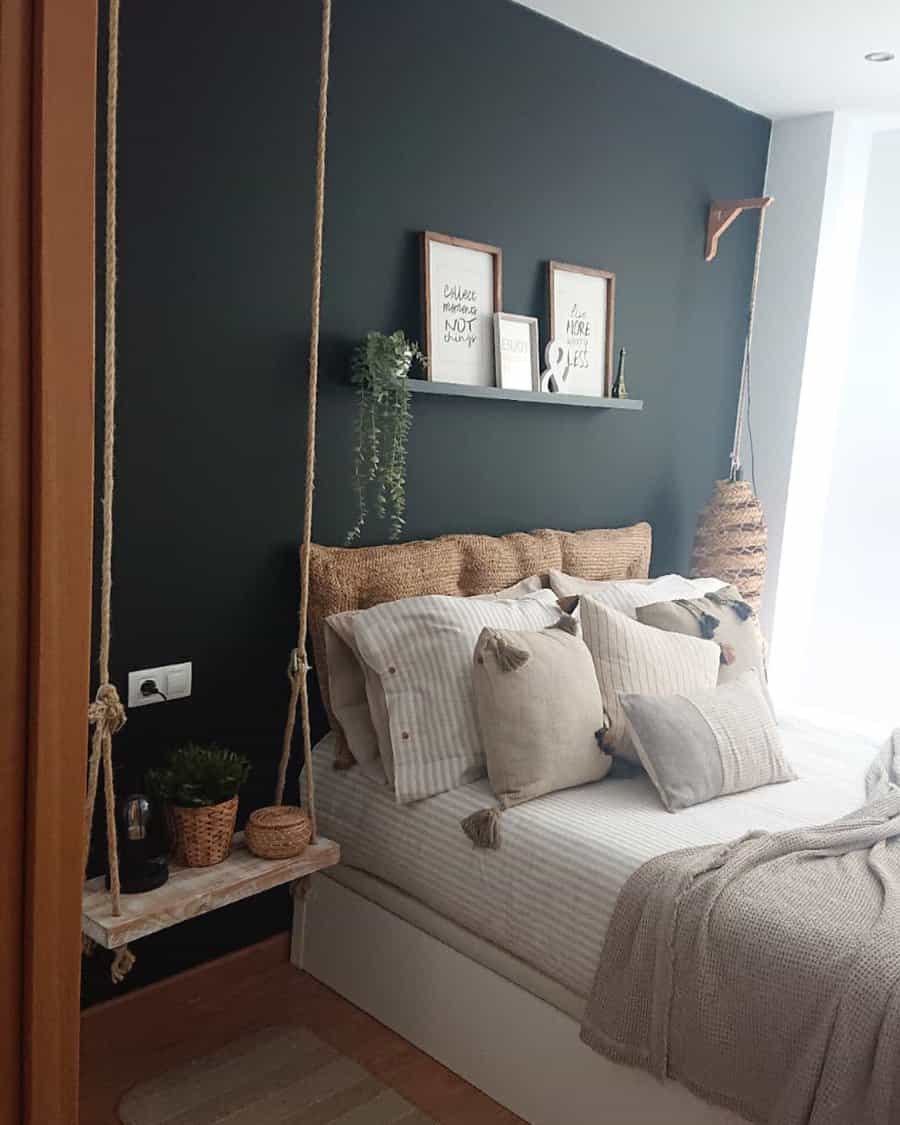 Hang a mirror on a wall to make the space feel bigger and brighter during the day. Just make sure it does not directly face the bed. You can paint the walls a relaxing blue, gray, or green color if you own your home. These are calming and soothing colors that will create the perfect environment for relaxing and sleeping.
3. Ceiling Designs: Draw Eyes Upward with Unique Ideas
Modern bedroom design ideas embrace the idea of decorating the ceiling. A bold approach is to paint the ceiling. You could continue the color of the walls up to the ceiling for a uniform look.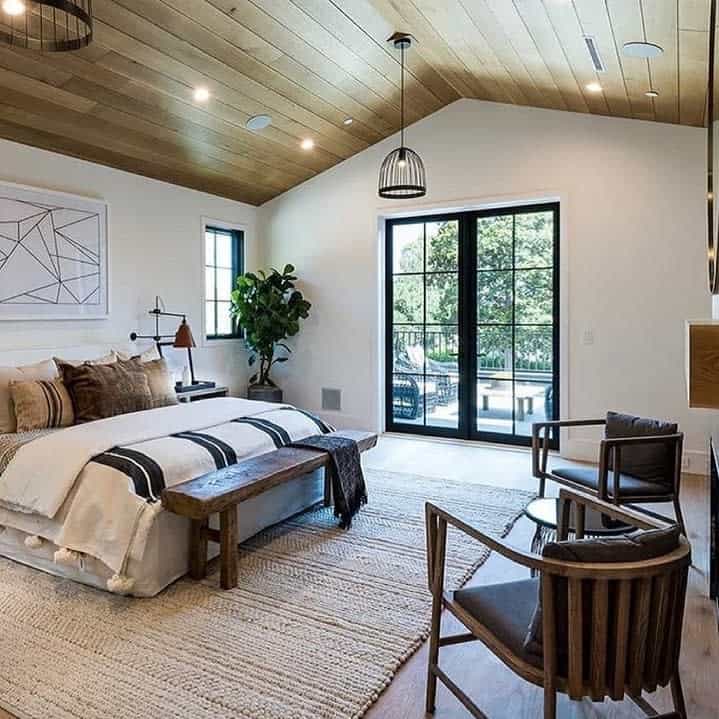 Another option is to pick a complementary color. If a colored ceiling does not suit your style, consider adding decorative trim. This could be something as simple as a modern molding around the outside or a drop tray ceiling panel. Or you could opt for something elaborate that channels the decorative trim you would see in traditional Victorian homes.
4. Vintage Elegance: Dive into Shabby Chic Ideas
Creating a chic bedroom is about embracing current trends but also not going over the top. Pick a few trends that coordinate together and create a contemporary design that feels fresh. If you want to create a chic design style in your bedroom, start with your bed.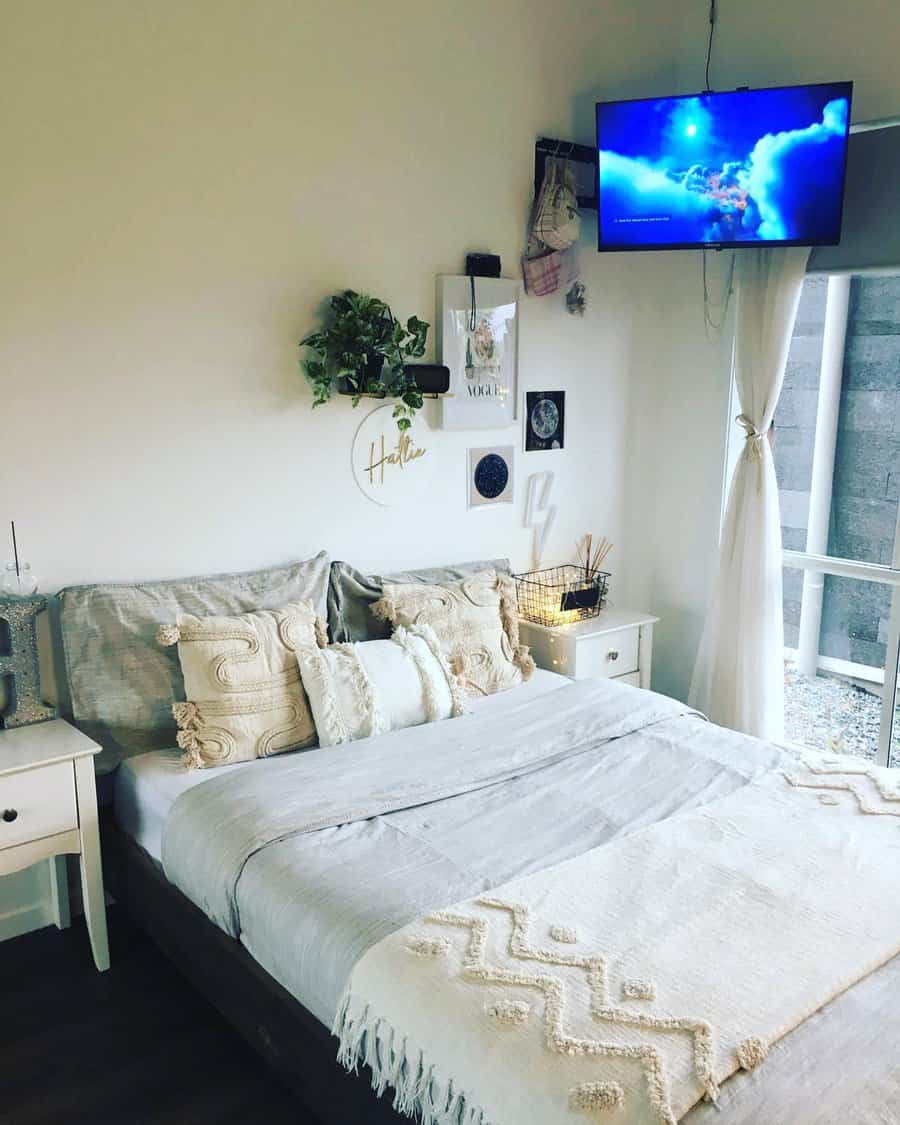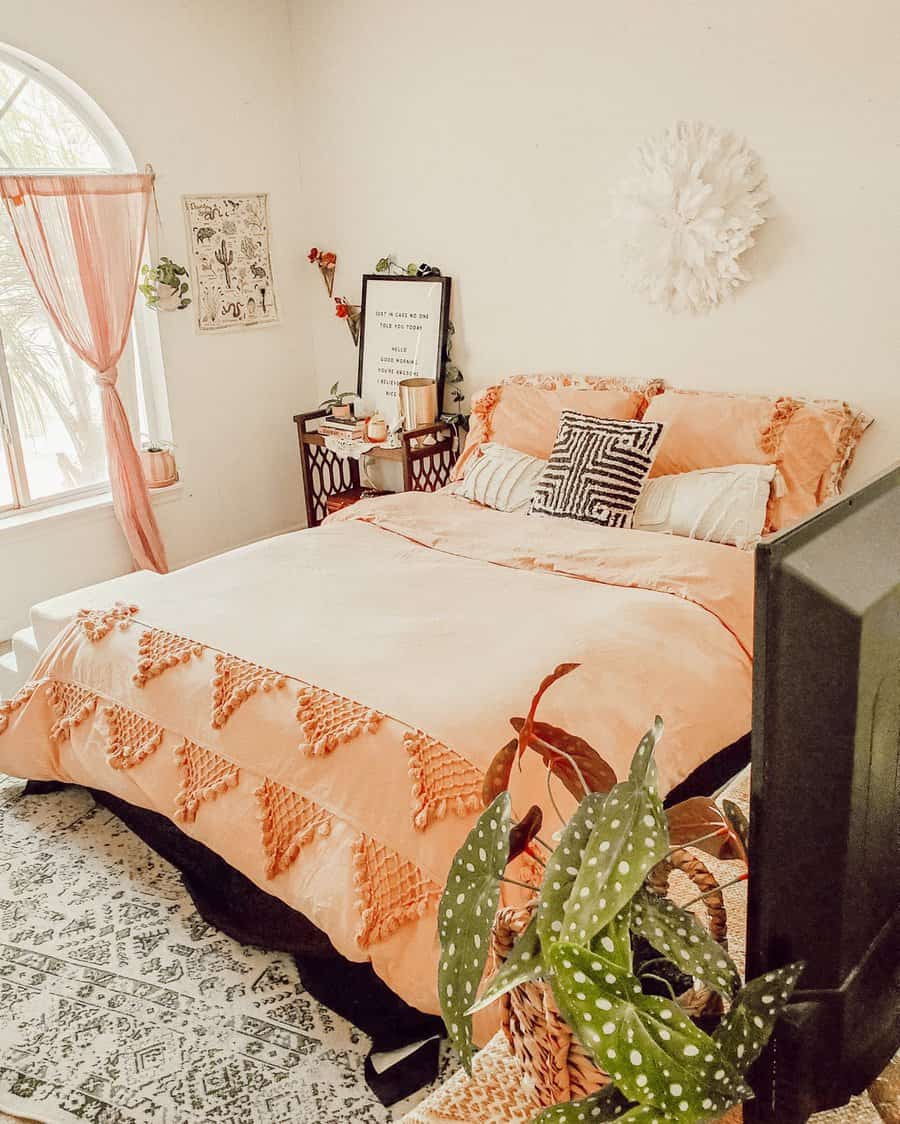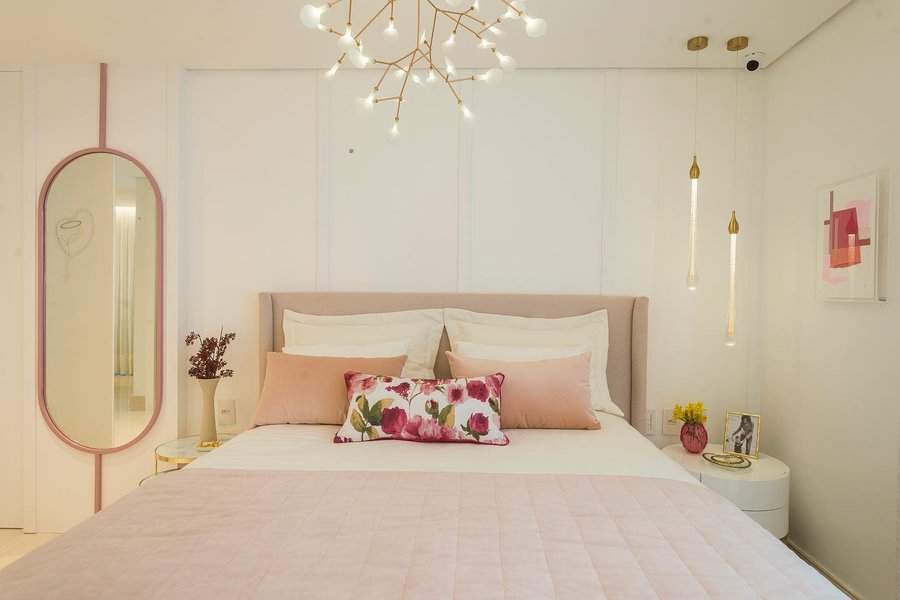 Replace your old and tired bed frame with a light wood frame and upholstered headboard. The bed frame should have ornamentation, but not too much. Completely lacking carvings or design will look too modern, while too much will look too traditional. Additionally, you can make a big impact with the light fixture you choose. Look for one with a decorative design or unique shape.
5. Whimsical Kids' Rooms: Spark Imagination & Fun
A kid's bedroom should be a fun space to be. Instead of choosing boring and bland bedroom furniture, choose furniture that is a fun color or quirky design.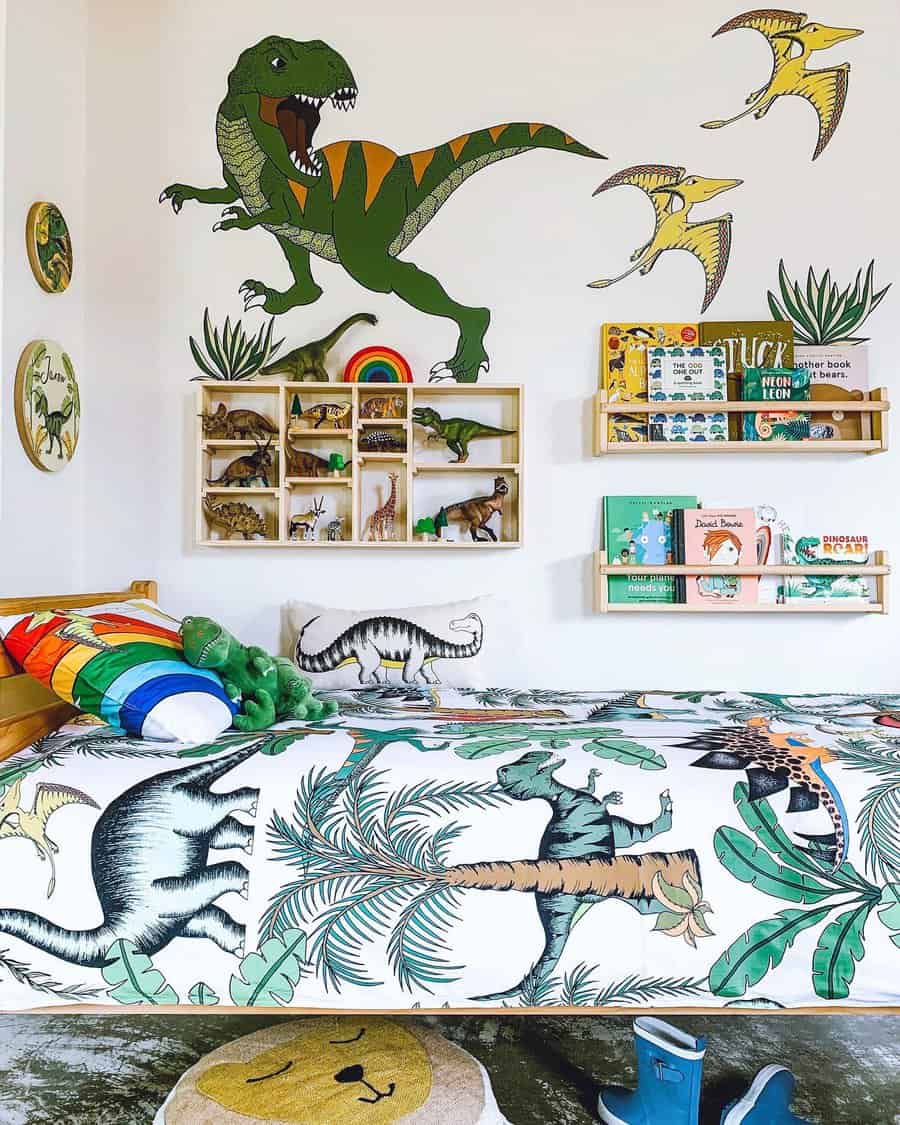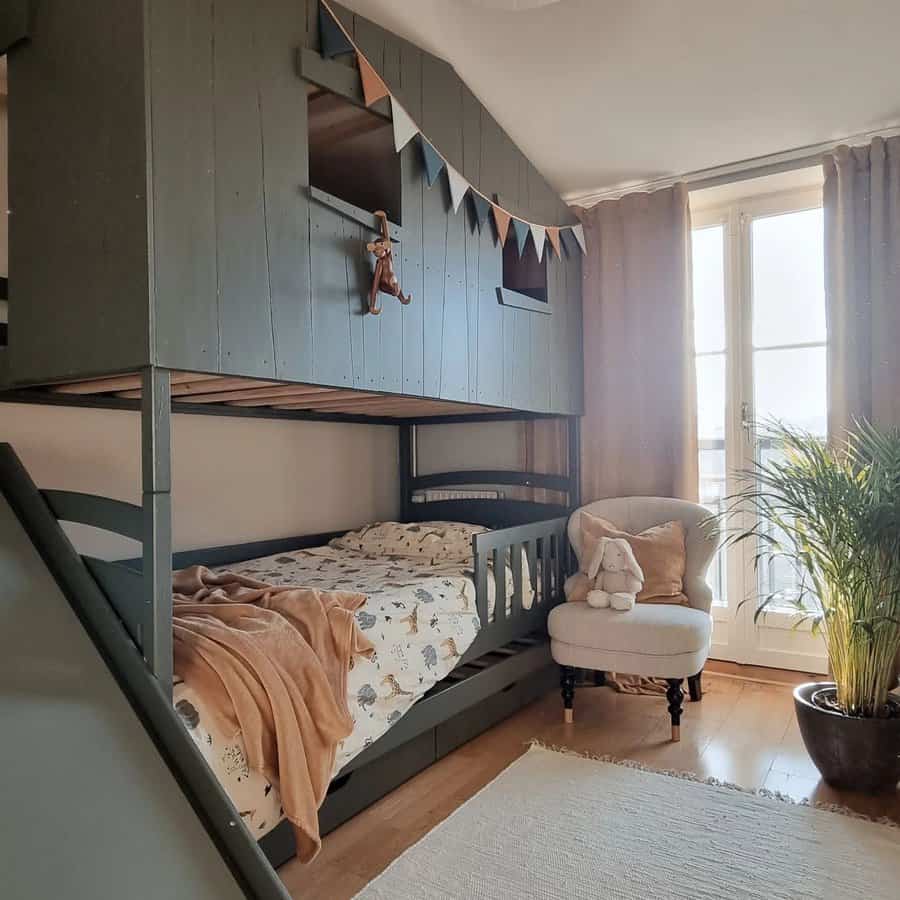 Instead of decorative pillows in delicate fabrics, choose fun pillows that reflect the child's interests. Do not buy wall decor, have your child do fun DIY projects that you can then hang on the wall. That way, they can take ownership of the design of their room. As they get older, they can update the decor with new projects or choose their own decor.
See more kids' bedroom ideas here.
6. Illuminating Ideas: Perfect Bedroom Lighting Solutions
You need more than one lighting source in your bedroom. Ambient light, usually a light centrally located in the ceiling, will illuminate the entire bedroom. This light is good for daytime and general use. You should also add task lighting. This is a more focused, directed light that you add to workspaces. Common places for task lighting include the nightstands, desks, and vanity.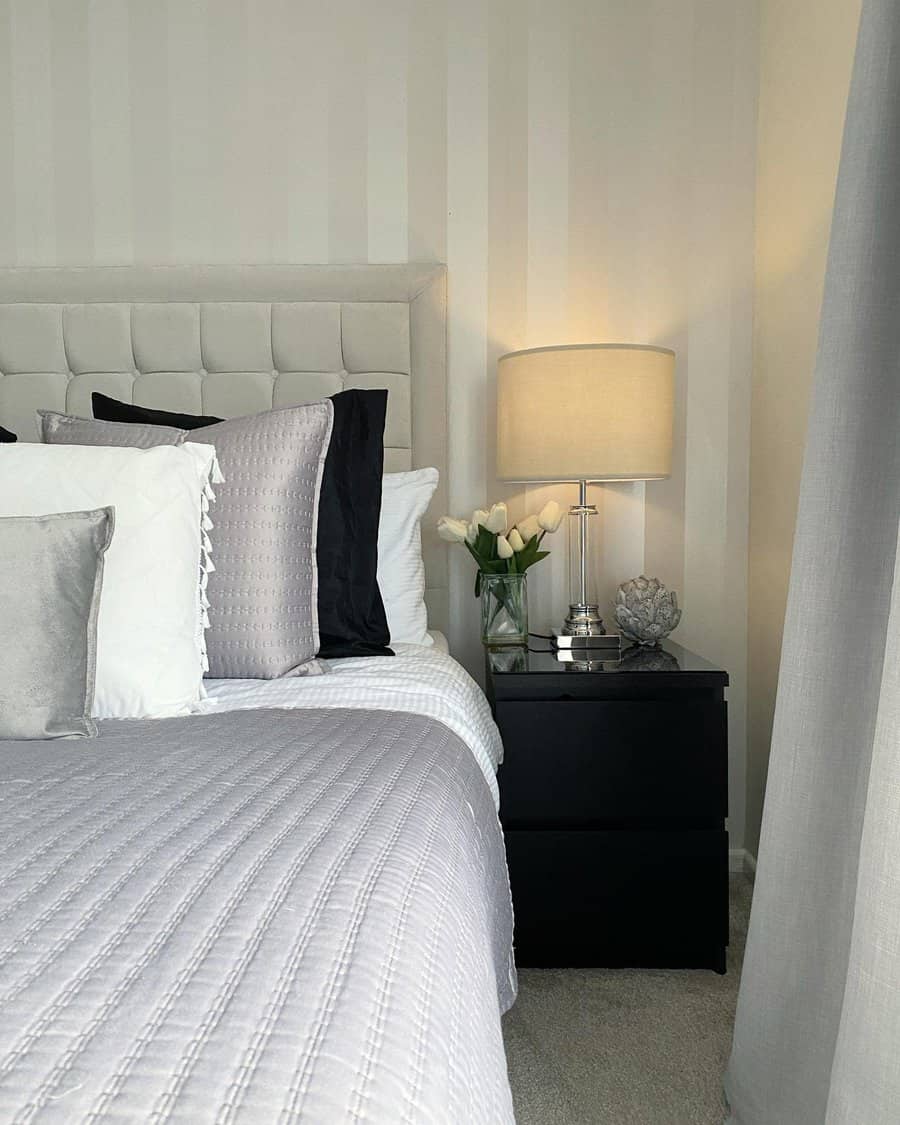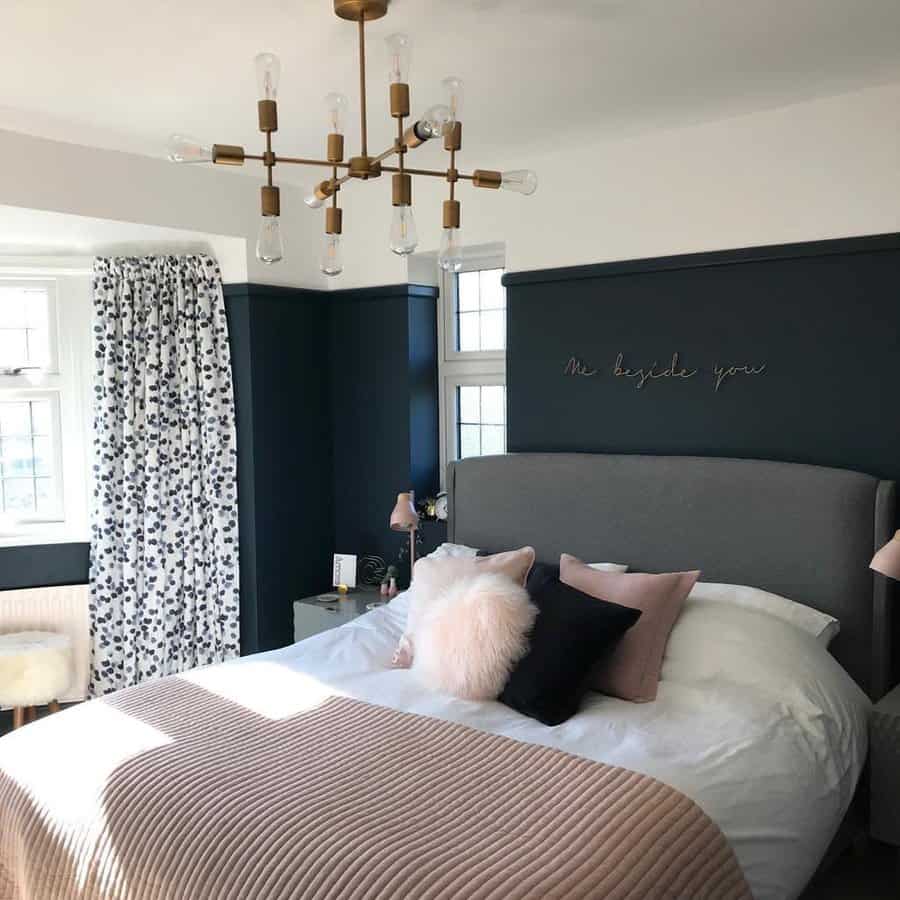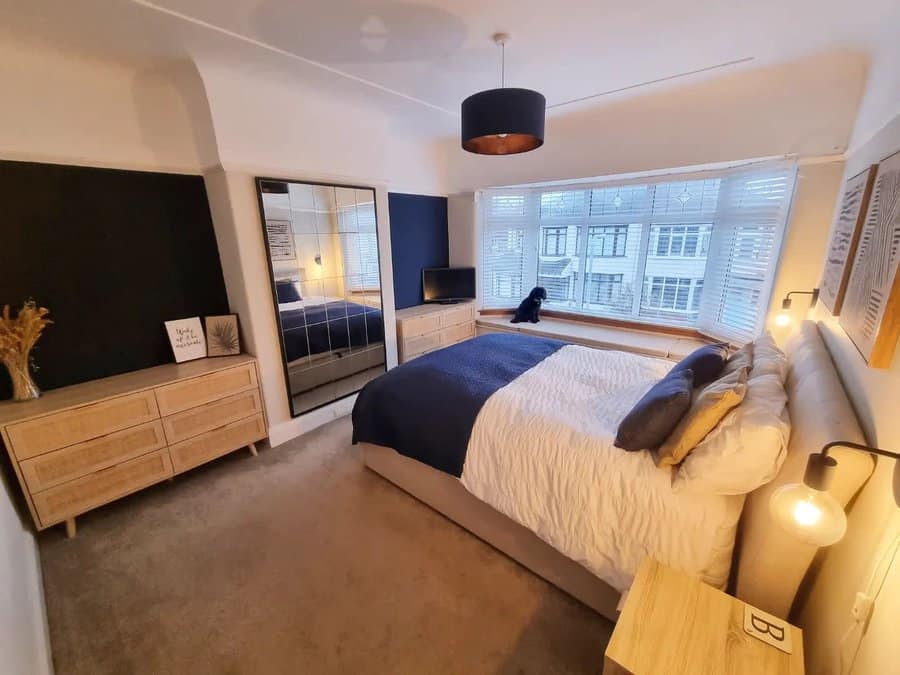 Finally, the last type of lighting to add is accent lighting. You can look at small bedroom ideas for inspiration on where to add it. You could add accent lighting underneath the bed or illuminate the ceiling.
See more bedroom lighting ideas here.
7. Urban Retreat: Loft-Style Bedroom Designs
Create a loft-style bedroom even if you do not have a loft. This modern bedroom idea creates more usable space in your bedroom by lifting the bed high enough to create a usable space underneath.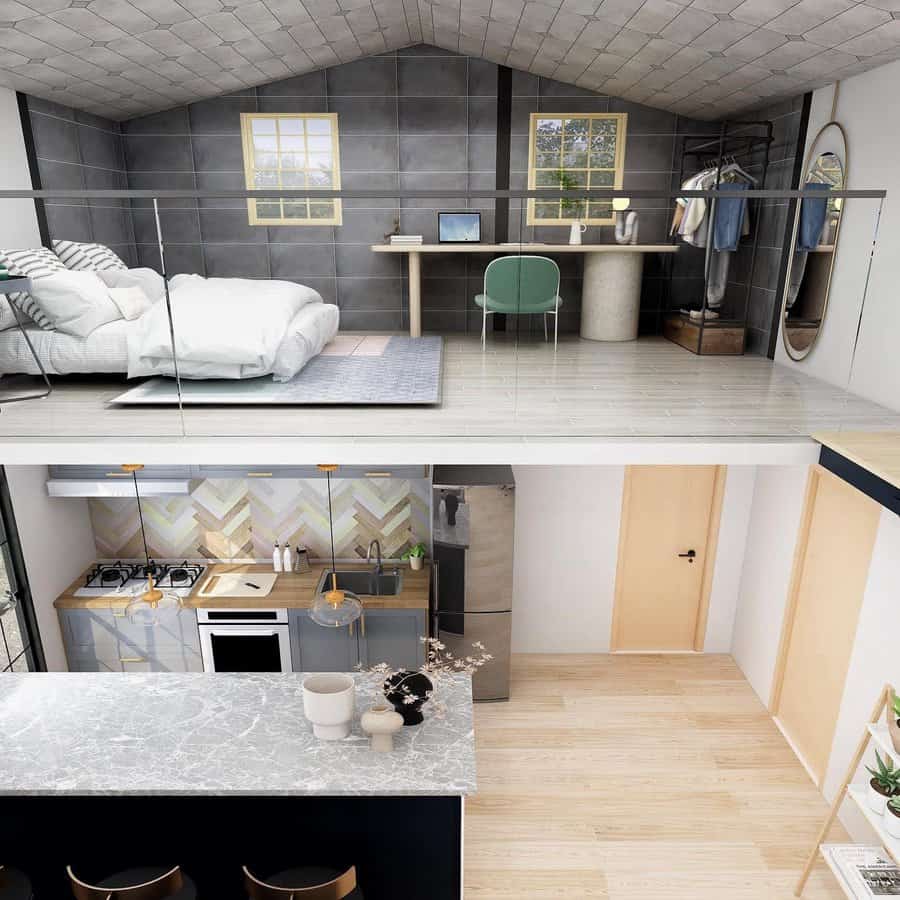 You can buy a bed frame that's tall with a built-in closet or desk underneath. If you do not like the idea of having a visible desk prominently placed in your bedroom, you can add doors or curtains to the loft frame. Close off the desk space when not in use so that it creates a divided separate space.
See more loft bed ideas here.
8. Masterful Retreats: Luxurious Master Bedroom Ideas
The master bedroom is usually the biggest bedroom in the home, giving you more space to work with. This lets you choose a larger bed frame. It could have a broader or longer stance or a structure that is more solid for a more visually imposing setup.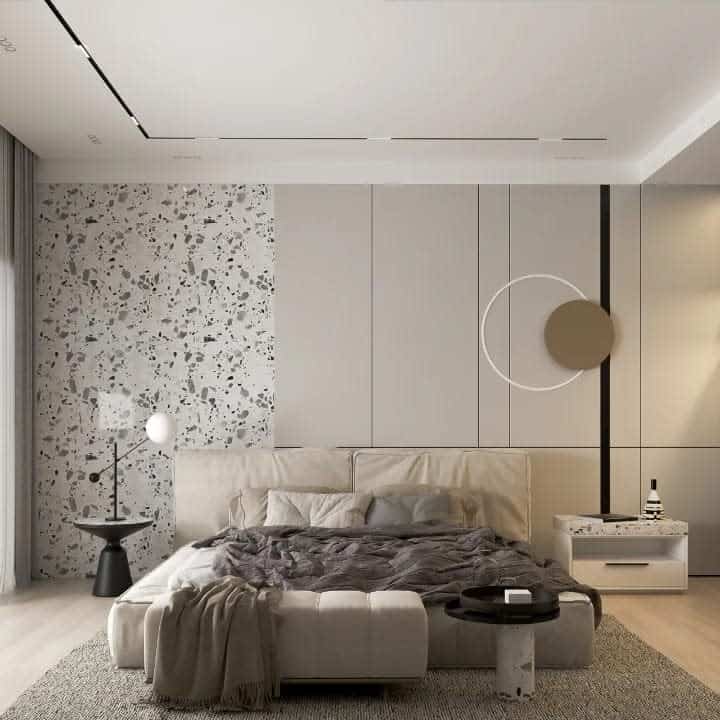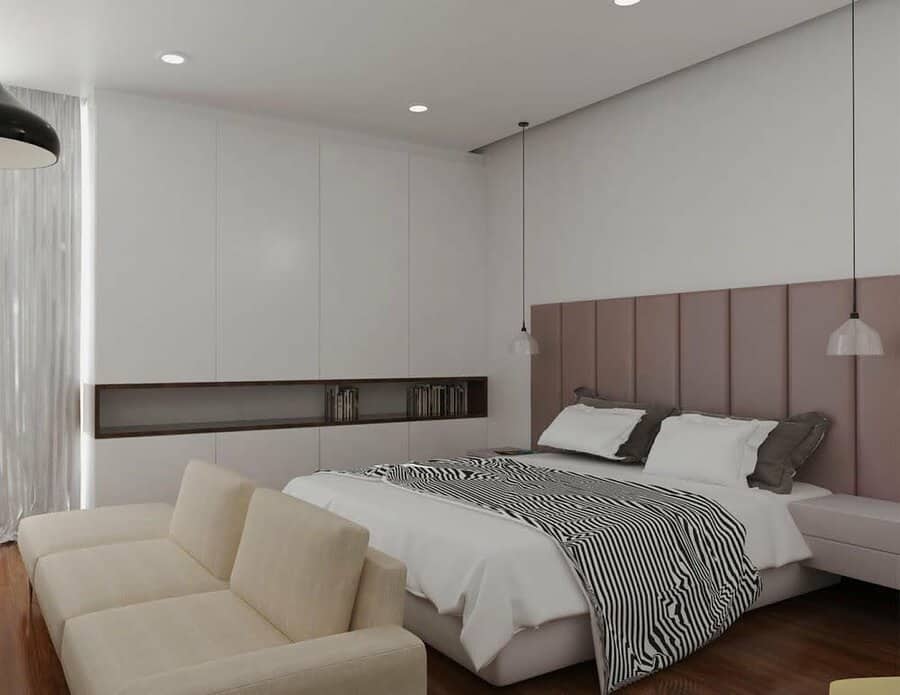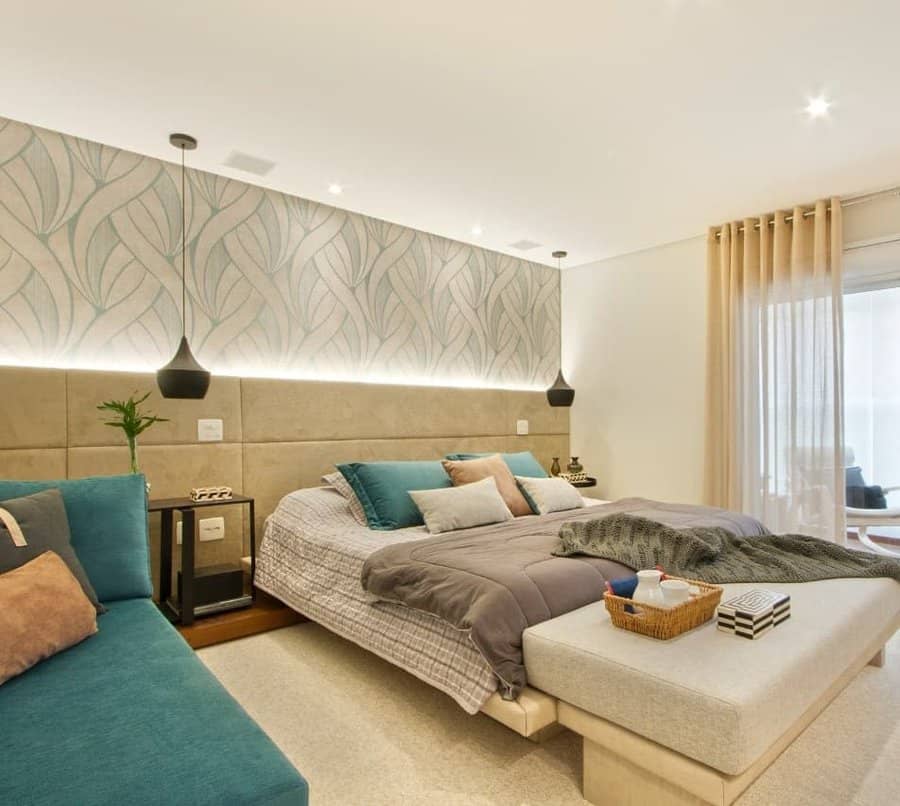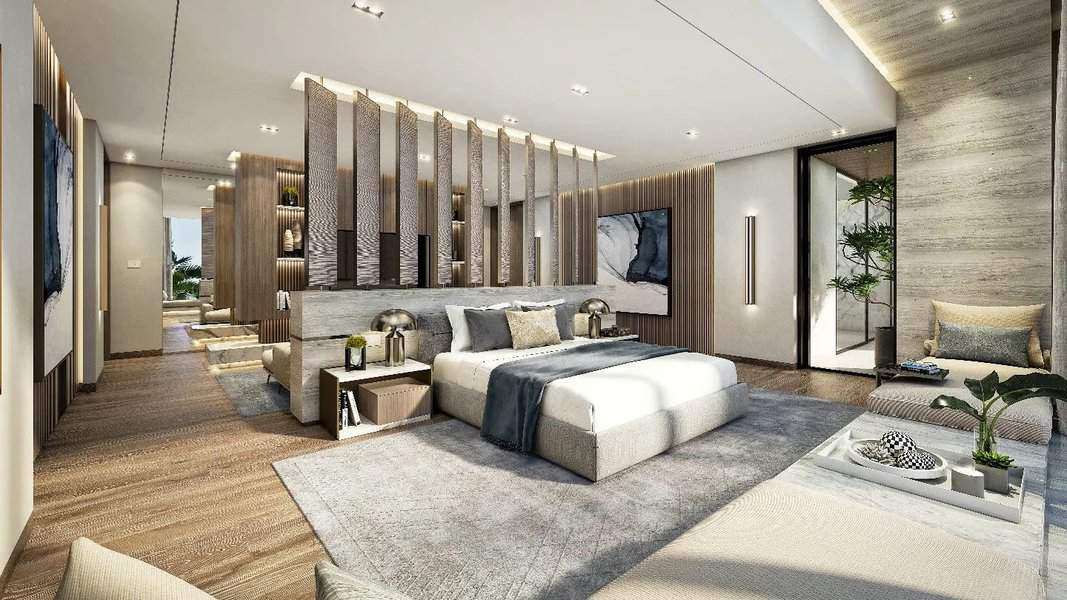 If you have a large enough bedroom, you could add a canopy bed. There are modern options from home decor retailers like West Elm and Pottery Barn. These modern designs have straight lines and minimal ornamentation, helping them feel fresh and not overly stuffy like traditional designs.
See more master bedroom ideas here.
9. Creative Paint Ideas: Transform Your Space with Color
Choosing the right color scheme is essential for turning your bedroom into a relaxing space where you can get a restful night's sleep. This is why blue bedrooms are so popular. Blue walls create a calming space that lowers stress levels and encourages sleep.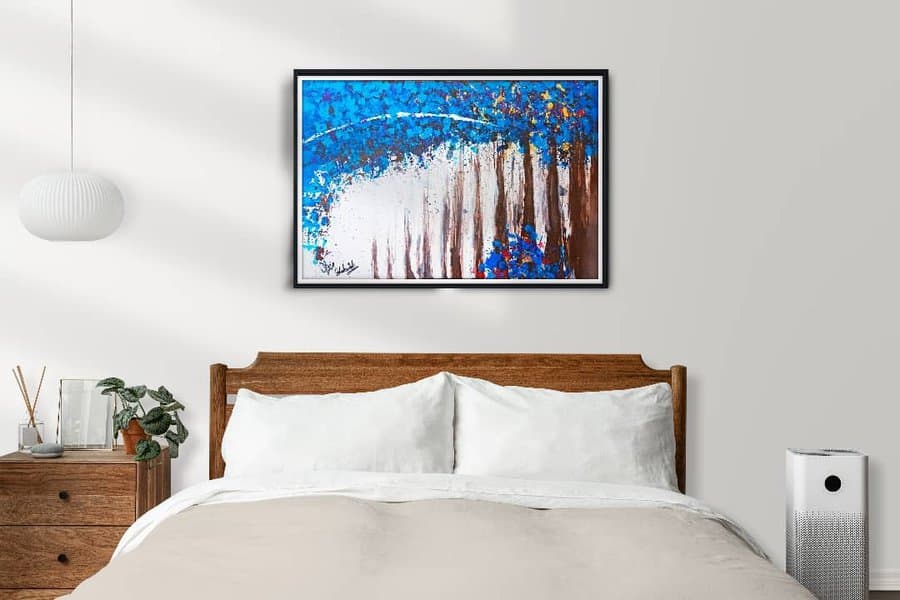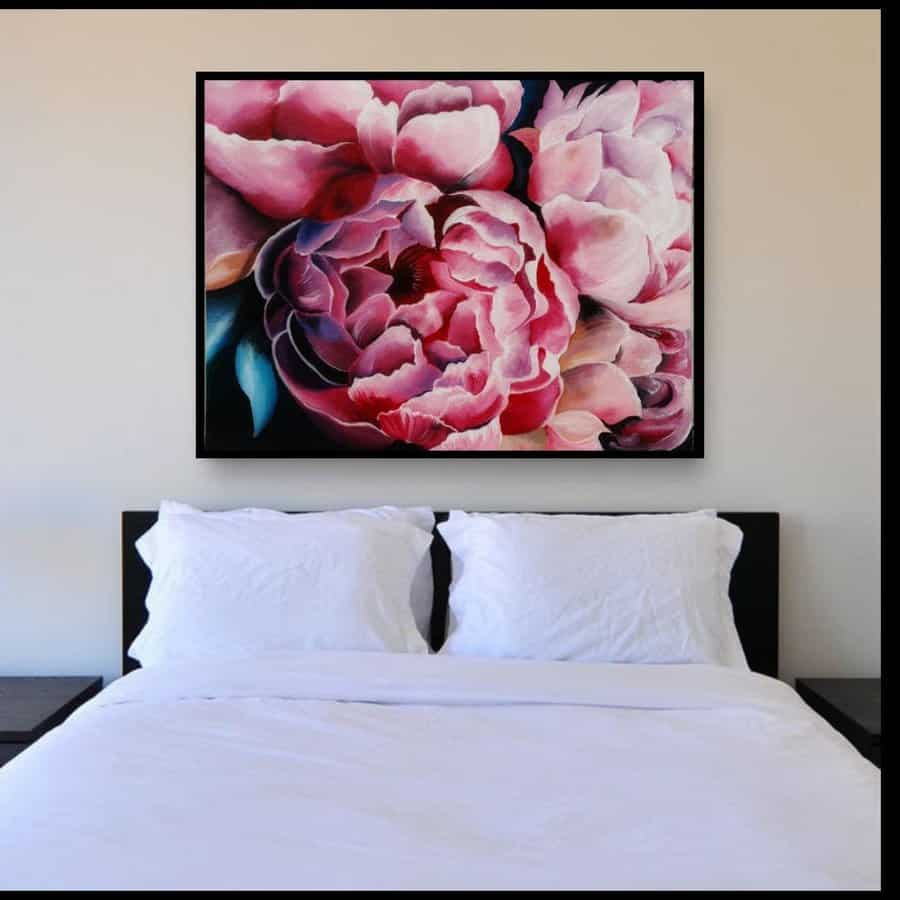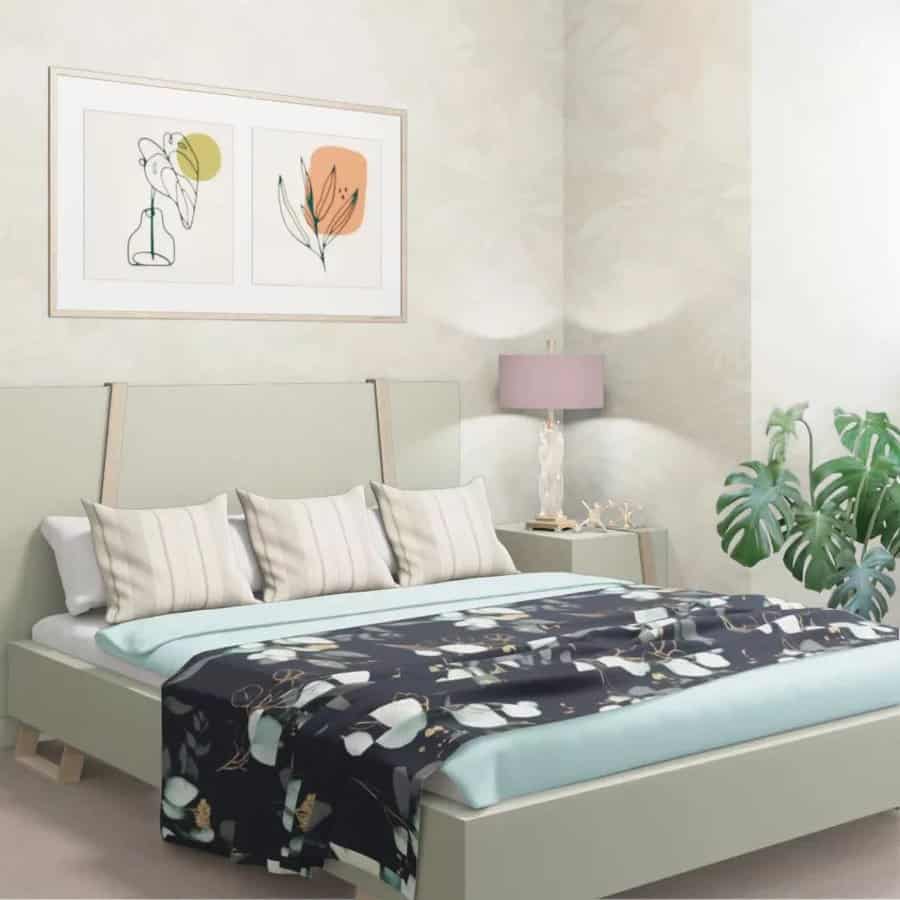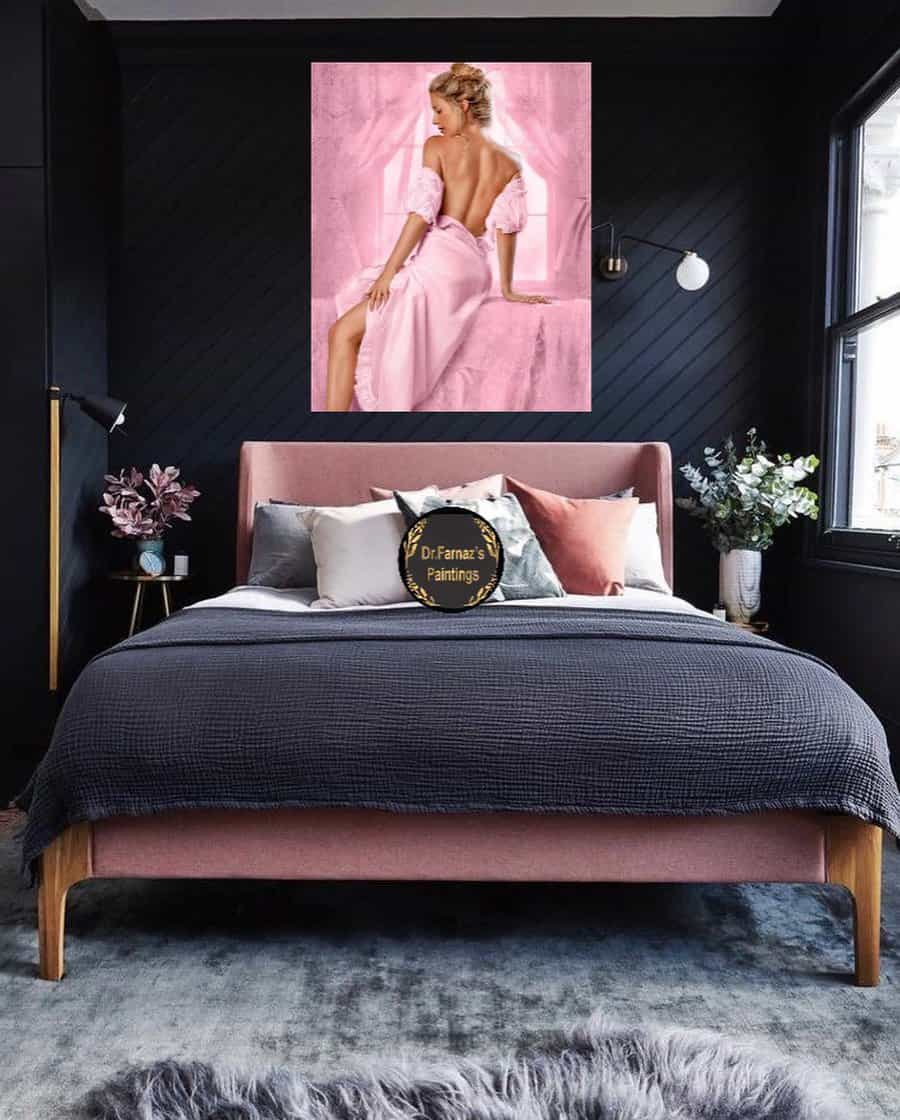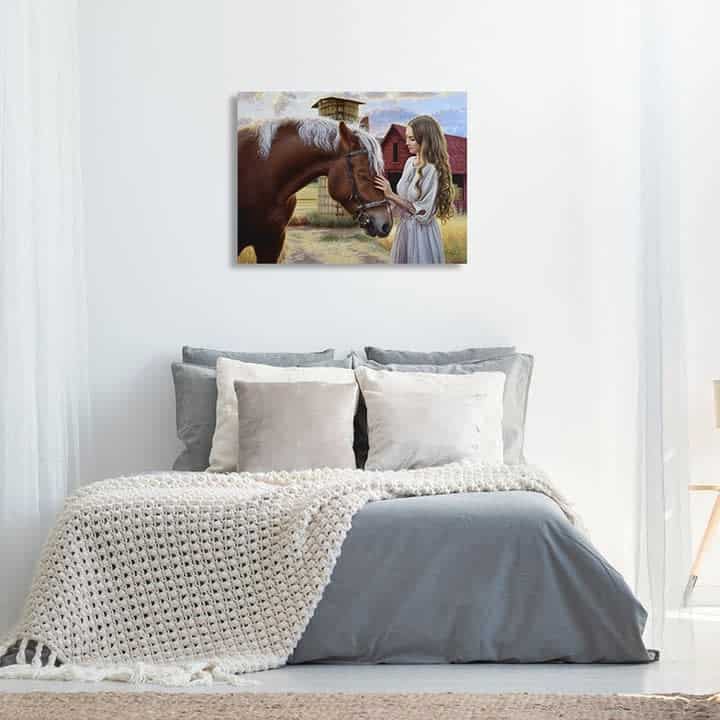 Choose a paint color that isn't too bright or vibrant. The wall color should be soothing, so a pale blue or a darker shade are good choices. If you are not ready for an all blue room, you could just paint an accent wall.
10. Greens in the Bedroom: Incorporate Nature with Plants
Adding plants to the bedroom is a popular bedroom decor idea because they add natural color and a sense of calm. Choose the right plants, and they can also improve the air quality by increasing the amount of oxygen, helping you sleep better. Plants also work with any interior design theme.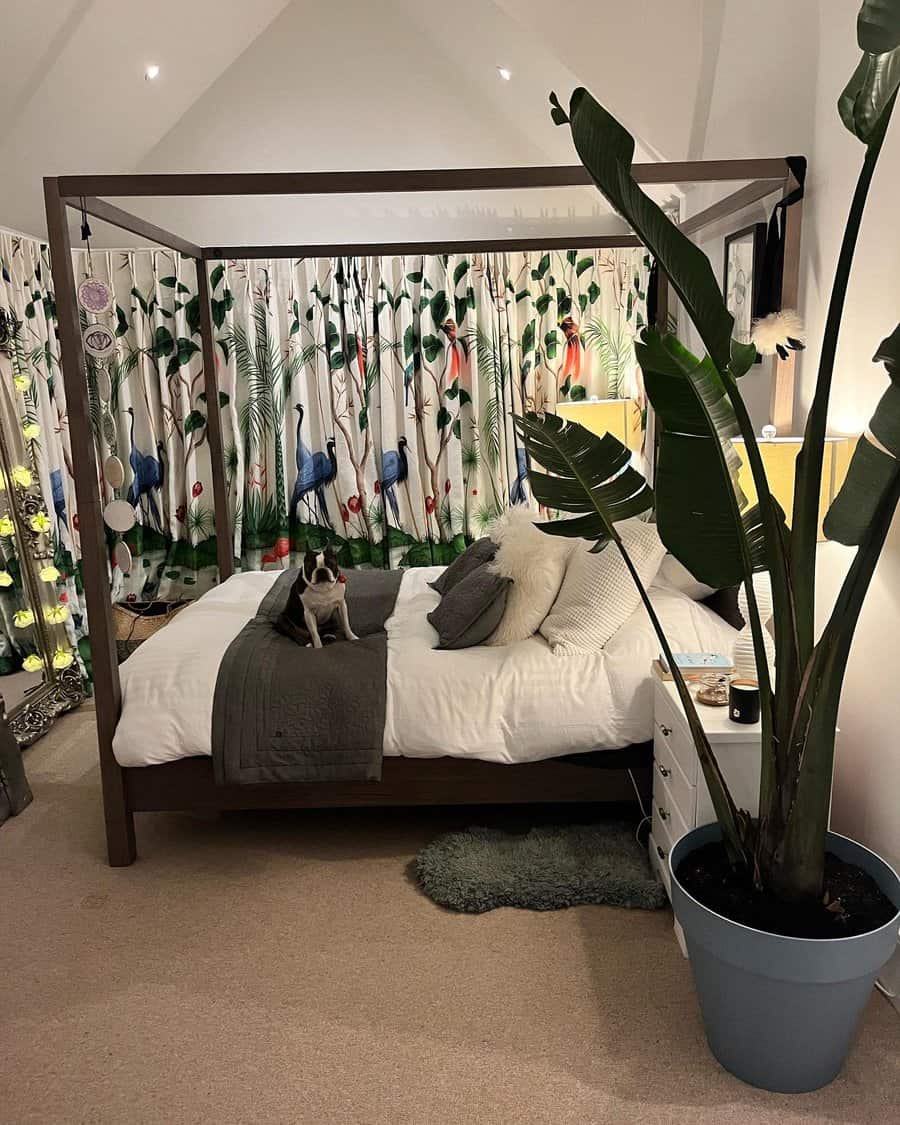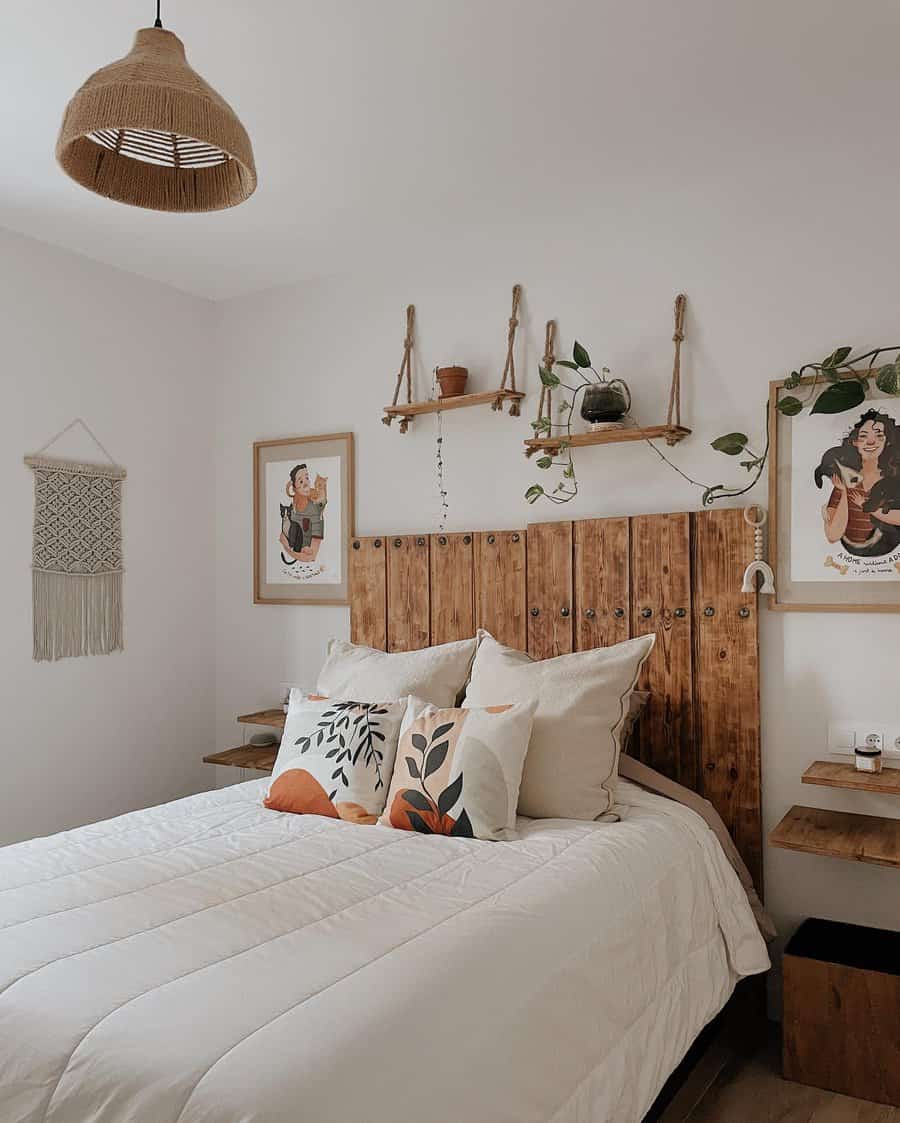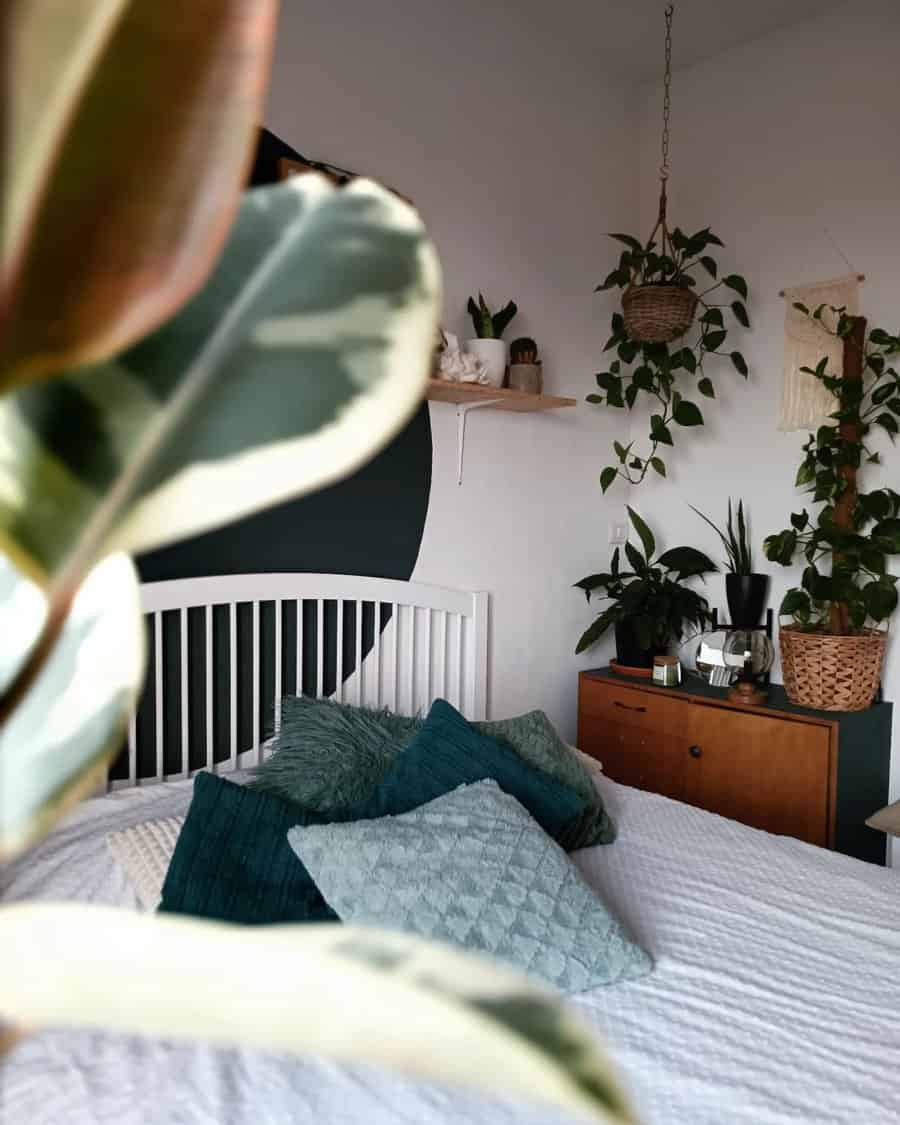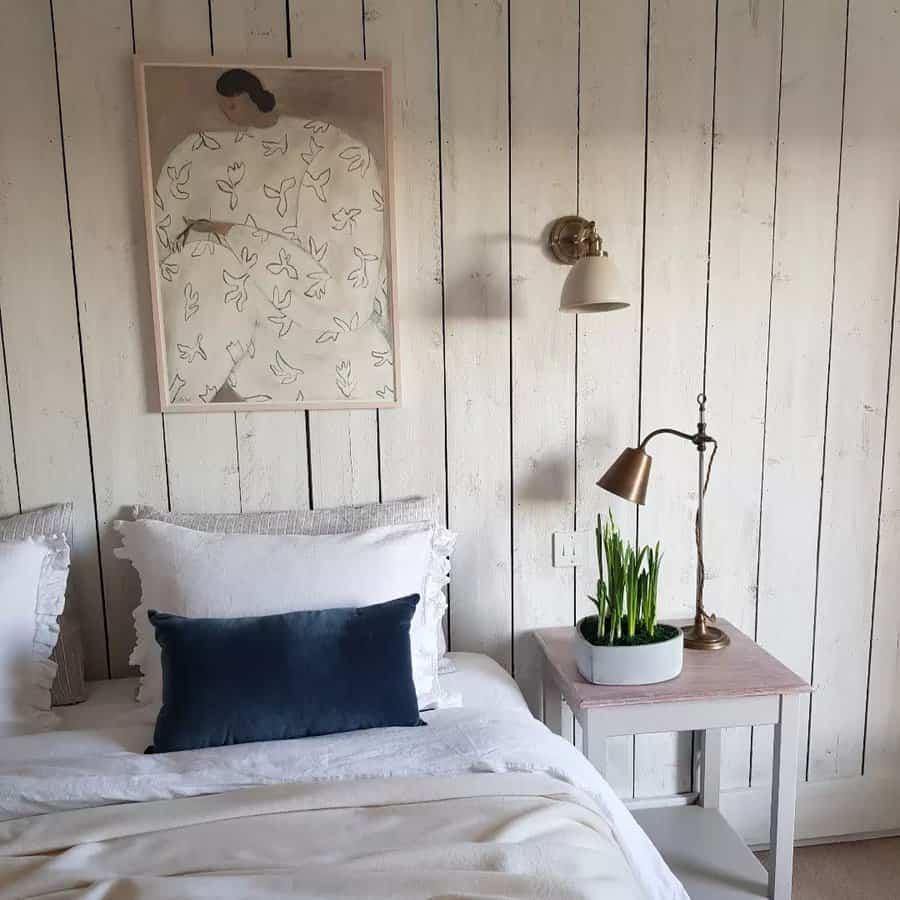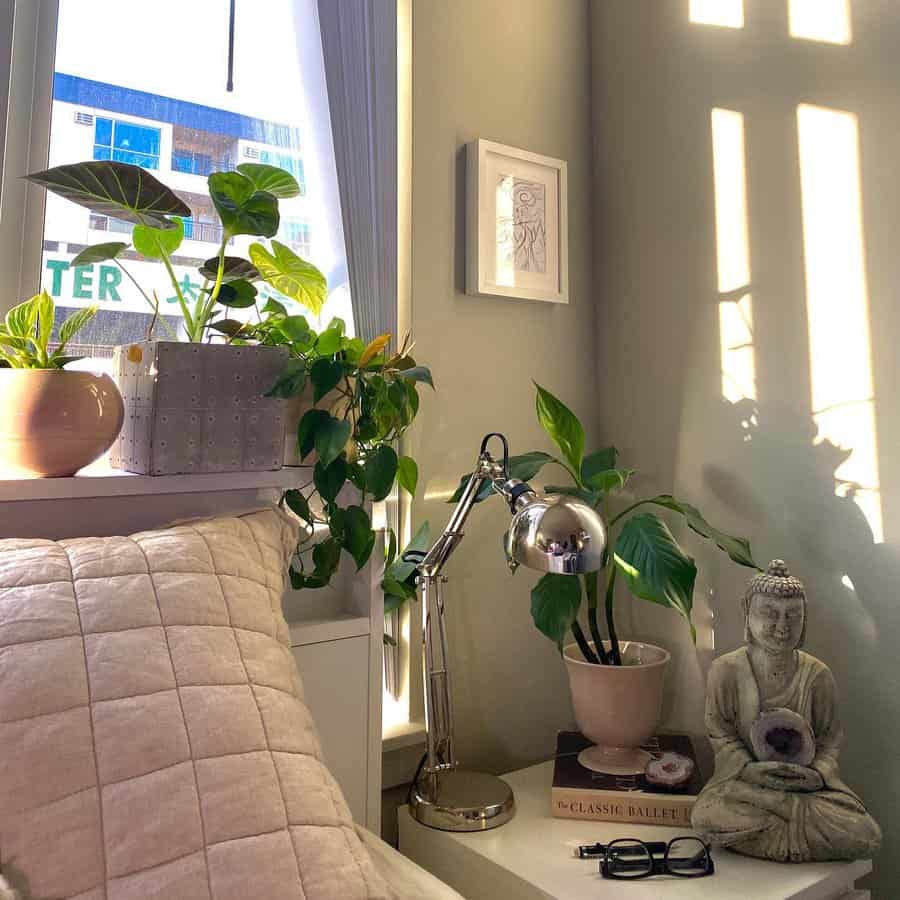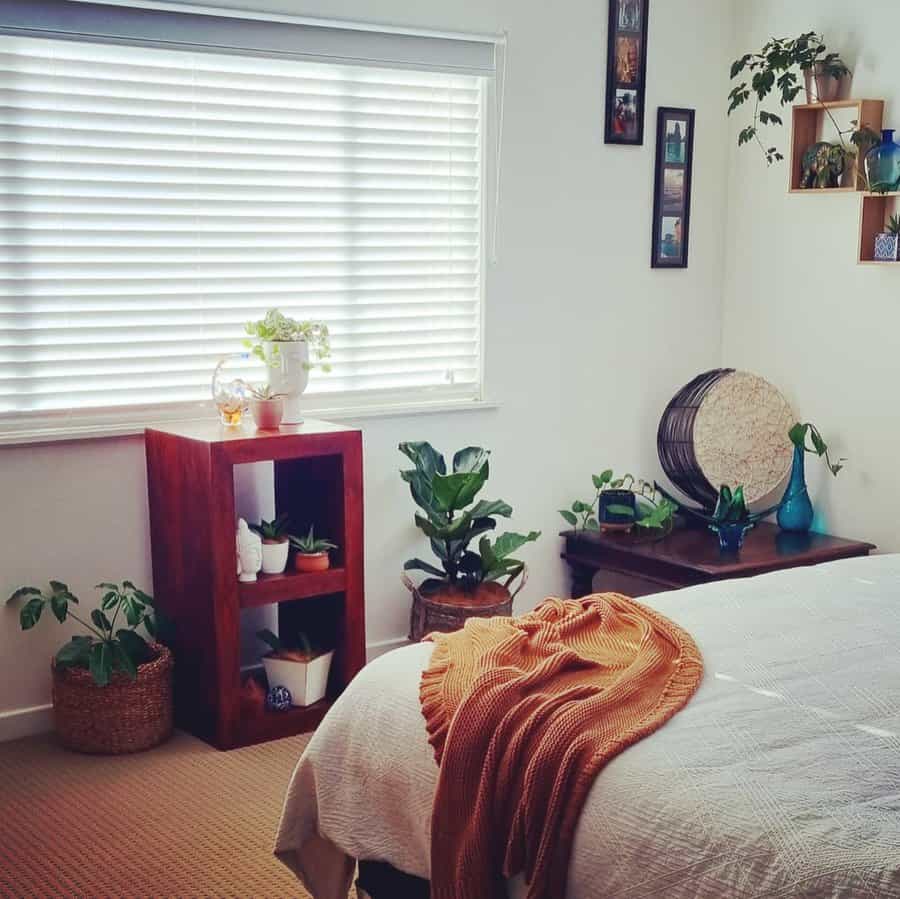 A larger fiddle leaf or palm in a large floor pot can look elegant in a corner. Draping vines can look bohemian. A blooming plant looks cottage or farmhouse chic. Choose a pot that's in the style of your bedroom to further the design and decor of the room.
11. Twin Bed Layouts: Stylish Rooms with Double Bed Ideas
If you have a dedicated guest bedroom in your home, it can be useful to add two beds instead of one. This creates more functionality in the room by increasing the number of individual sleepers that can use the space. If it is a small room, you can limit the other furniture in the space.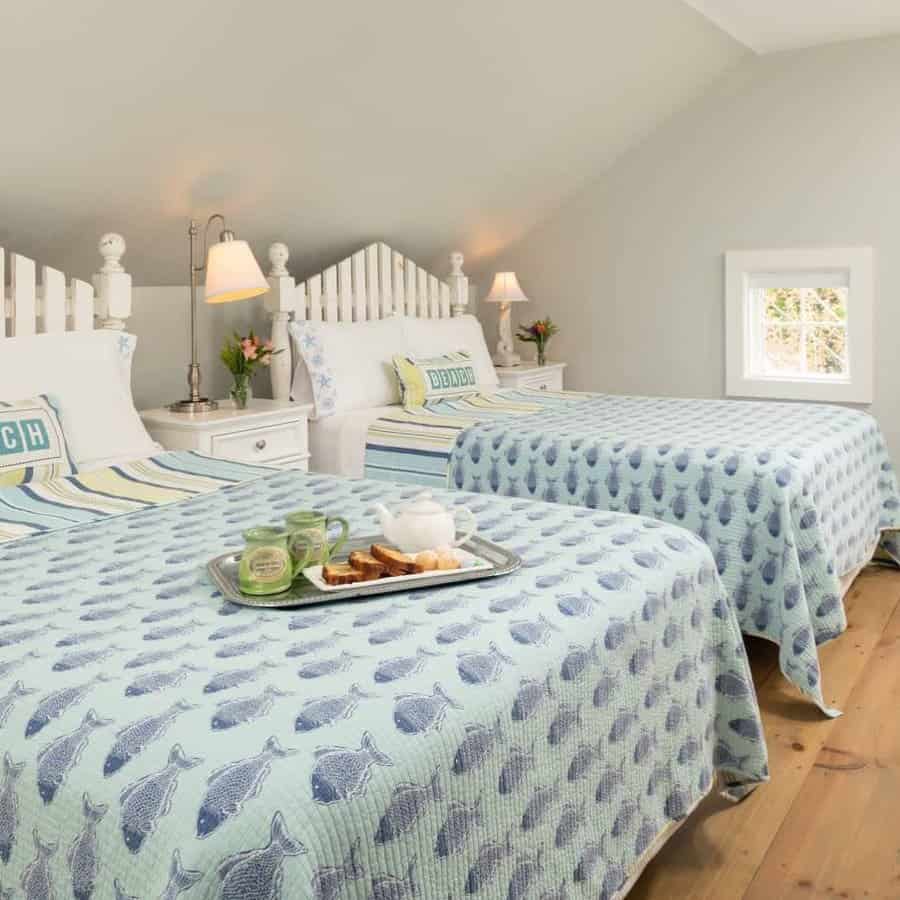 Instead of multiple bedside tables, you can have one placed between them with two table lamps, similar to the setup that you see in hotels. This reduces the amount of floor space that the furniture takes up to allow enough room to move around.
12. Quirky & Playful Designs: Add a Splash of Fun
If you are looking for a creative way to spruce up your bedroom, light blue walls and peach furniture could be just the ticket. Blue is said to promote thoughtfulness, so light blue walls will set a tranquil tone in the room while the light peach furniture injects a dose of warm energy.
A light blue and light peach combination creates the perfect balance between coolness and warmth that can help transform any bedroom into a stylish haven.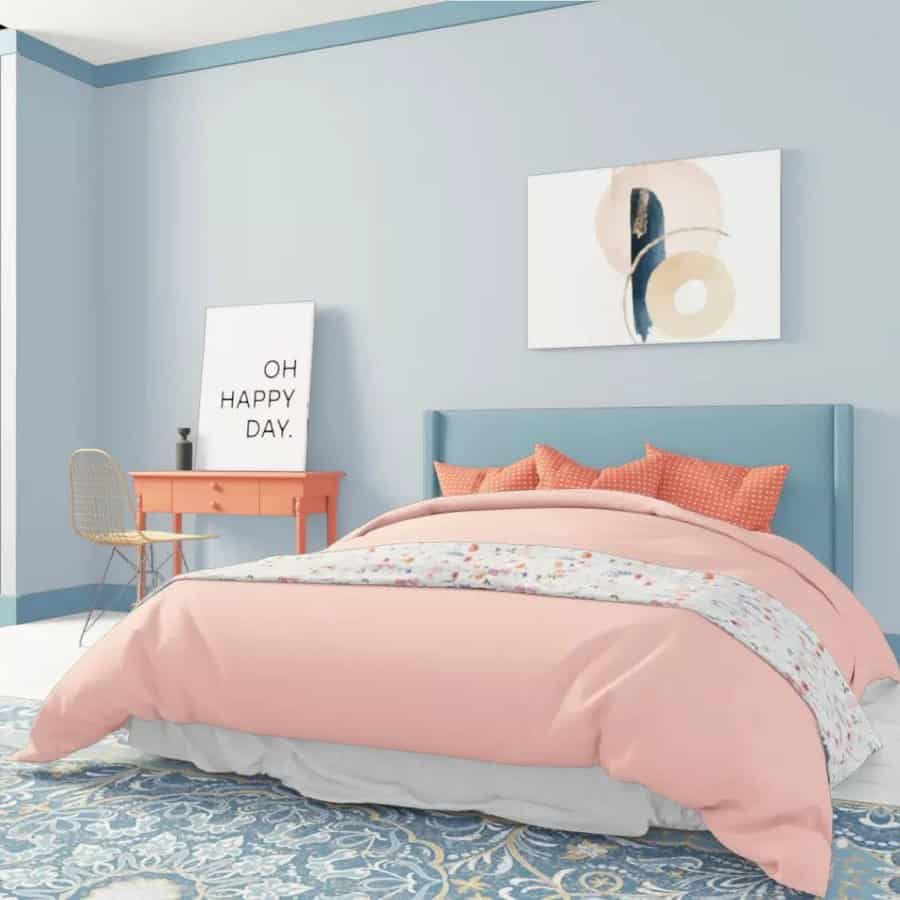 14. Blast from the Past: Nostalgic Bedroom Themes
Create a nostalgic atmosphere with stunning floral curtains, accompanied by pastel beddings for an elegant yet cozy look. Don't forget to add some life to the ensemble by placing soft potted flowers on the bedside table or accentuating the space with feminine details like ribbon laces and scented candles. When it comes to bedroom decorating, the possibilities are endless – so don't be afraid to experiment and explore until you find the perfect look that's all yours!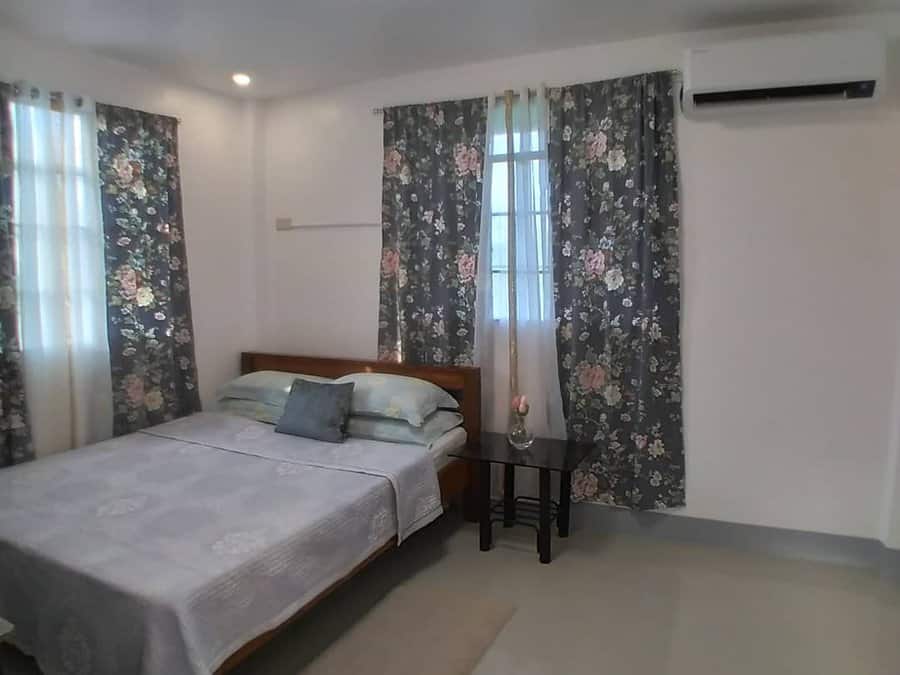 Bedroom Decor FAQs
What do you need in a bedroom?
When arranging your bedroom, you need a bed frame, headboard, at least one nightstand, dresser, mirror, lighting, vanity, and a place to sit down other than the bed. Once you have the basic elements in the room, you can add decorative elements like window curtains, plants, art, and an area rug.
How can I make my bedroom more inviting?
Adding natural materials brings a comforting warmth to the space, making your bedroom feel more inviting. Using soft-touch fabrics is also good because they invoke feelings of comfort and warmth. Try layering these fabrics with a rug on the floor, bed linens, and window treatment.
Is it okay to have a mirror facing your bed?
Technically, you can place a mirror anywhere you want in your room. However, experts recommend that you do not. There's a theory that a mirror reflects energy back out, so having it face the bed can mess with the energy in the room and the energy around and over the bed. This can disrupt your sleep patterns.